Law and order is a wonderful thing, and I'm all for it. But I object to petty, hair-splitting legalism and heavy-handed overzealousness on the part of the local police. Especially the small town badge-happy self-important deputy sheriff who's determined to advance his career by taking a bite out of crime, no matter how petty the crime may be. Or the morbidly obese constable who hides in the roadside bushes with a radar gun. Some examples are shown below, along with examples of sheer stupidity exhibited by judges and other government officials.


---
Appellate panel rules Philly teacher who was stabbed 20 times, 10 times from behind, was a suicide. An appellate court panel in Philadelphia has unbelievably ruled the brutal death of a 27-year-old teacher in January 2011, who died from 20 stab wounds including 10 from behind, was a suicide. The panel upheld a prior ruling that Ellen Greenberg had somehow killed herself, which would be a real feat considering the massive stab wounds to her neck and head from behind. They blasted the police investigation as "deeply flawed," according to court documents. "The family of Ellen Greenberg, 27, has fought for more than a decade to overturn the city's ruling over the death of the teacher, whose corpse was riddled with stab wounds, including 10 to the back of the head and neck," the New York Post reported. The teacher's family hired a team of experts following her death who noted that a knife in her apartment was overturned, potentially indicating that she had been in a struggle with an assailant. They also surmised that a deep gash to the back of her head most likely rendered her unconscious and unable to fend off her attacker. One of the stabs from behind reached her spinal column. Another from the front penetrated four inches into her heart. She was discovered with a knife in her chest and with bruising.
While Millions Invade America, DHS Fights the Heat. With 8,000 attempted invasions by illegal aliens a day and even major cities like New York, Los Angeles and Chicago drowning under the tide of invaders, Mayorkas and DHS took a break to talk about the weather rather than the 2.4 million illegal alien apprehensions in 2022. "110 degrees is not a nice day at the beach," Mayorkas pontificated. "Extreme heat is no longer a looming threat in a climate change-driven future. It is an urgent, dangerous, and deadly problem in our country." Extreme heat, also known as summer, is normal in states like Florida, Texas and Arizona where Mayorkas ominously warned the population was on the verge of death due to global warming. The biggest threat to Texas and Arizona isn't coming from a summer heat wave, but a mass invasion of illegals flooding across the border. Every effort that Texas and Arizona have made to slow down the invasion has been undermined by Mayorkas and his boss who sued Arizona for putting up a wall of shipping containers and Texas for putting barriers on the Rio Grande.
Age is only a number until you are totally incompetent. President Trump's presidency looks more and more successful every day by comparison [to Biden]. Who wouldn't love to have those gasoline prices back? What mom wouldn't love to go grocery store shopping and pay Trump prices when putting items in the cart? People were better off under Trump's policies and I have not mentioned China running around the world or Iran making noises or Mexico turning more violent by the week. Yes, President Biden looks old and its scary every time he goes off script. He might get away with it if results were different, but they are not.
Maui's Emergency Operation Chief, Whose Agency Failed To Sound Wildfire Sirens, Had No Relevant Experience. Herman Andaya, the administrator of Maui's Emergency Management Agency (EMA), had no prior experience in disaster response before taking on his role in the county government's crisis response agency, according to CBS News. The EMA is reportedly the agency responsible for setting off emergency sirens which did not blare as devastating wildfires engulfed huge swaths of Maui and killed at least 110 people, CBS News reported. Andaya was reportedly hired for the job in 2017, beating out 40 other qualified candidates for the role, according to local outlet Maui Now. Andaya's prior experience indicates that he worked for six years as the mayor of Maui's chief of staff, from 2011-2017, and as a bureaucrat in Maui's housing administration for four years between 2003 and 2007, according to his LinkedIn profile. None of the other roles listed in his career history pertain to emergency operations or other related fields.
Maui emergency services chief resigns. Maui Emergency Management Services administrator resigned Thursday. Administrator Herman Andaya was in charge of the response to the wildfires on Maui and his qualifications came under question upon review. It quickly became clear that Andaya was in over his head. It is reported that he was not on the island when the fires began on Maui. As I wrote for our VIP subscribers yesterday, Andaya had no experience in emergency management. He was hired in 2017 but it looks like he was hired due to his political connections, not his expertise in emergency management. His background is in law and political science. He was hired without ever having held a full-time job in emergency management. He was the chief of staff for former mayor Alan Arakawa. Andaya was hired over 40 other applicants for the job.
Much like Barney Fife, but better at math.
Accidental fatal shooting of IRS agent by another agent raises more concerns. An IRS special agent was shot and killed during a training exercise on a Phoenix gun range by another agent Thursday, sparking an investigation by the FBI. ABC 15 News broke the story that the shooting and death had occurred outside of Anthem on a range used by multiple law enforcement agencies. FBI officials released a statement on Thursday evening confirming the death of the agent but did not share further details about what exactly happened on the range. The Federal Bureau of Prisons (FBOP) also issued a statement that it was investigating a "shooting incident" at the Federal Correctional Institutional (FCI) Phoenix firing range Thursday afternoon but could not confirm additional details.
The Secret Service Gives Up. After an 11-day alleged investigation, the Secret Service announced today that it cannot identify the person who left cocaine in the White House. The Service says that there were no usable finger prints on the bag that held the cocaine, and not enough DNA for an identification. So the investigation is being closed. No one is going to buy this. The general area is under video surveillance, and there is a log of people who enter the West Wing. There are a maximum of several hundred possible suspects; this apparently is the explanation of why there is not more helpful surveillance video: [...]
Biden Treasury Secretary Janet Yellen Blasted for Repeatedly Bowing to Her Chinese Counterpart in Beijing. Joe Biden's Treasury Secretary Janet Yellen was in China this week and just couldn't seem to stop bowing to her Chinese counterpart in Beijing. The optics are absolutely terrible but Yellen didn't seem to mind even though she had to know that multiple cameras were rolling the entire time. What an embarrassment.
Treasury Secretary Janet Yellen is slammed for bowing multiple times to China's vice-premier. Treasury Secretary Janet Yellen was slammed for bowing multiple times when she met with China's vice premier He Lifeng, as some critics say the protocol error is a sign of American weakness. Yellen, who served as chair of the Federal Reserve before becoming Joe Biden's top financial official, wrapped up her first visit to China as treasury secretary on Sunday. Moments after bowing at least three times, Yellen then stumbled over He's name, calling him 'Vice Premier Hu.'
The Press Slobber Over Justice Ketanji Brown Jackson, but Inadvertently Expose She's Terrible at Her Job. Another Supreme Court term has wrapped up, and it wasn't short on controversial landmark decisions. [...] Justice Ketanji Brown Jackson made her mark, and not in a good way. In what is being heralded as a triumph of diversity, Jackson used more words in oral arguments than any other justice over the last year. That's being spun as evidence of her immense qualification and ability. [Tweet] There's something to be said about humility and realizing you don't have all the answers, but that's a completely foreign concept to Jackson. She attempted to bully her way through her first term, to the point that she ended up writing three solo dissents. But while members of the press are heralding that as a show of strength, it's really an inadvertent admission that she's just a terrible justice. [...] Solo dissents, by their very nature, should be incredibly rare and reserved for only the most extenuating of circumstances. Any justice making common use of them, much less writing three of them in a single first term, is advertising that their arguments are terrible and constitutionally illiterate, to the point that they weren't able to garner a single other justice's support.
The CDC Gives Advice for Men Who Want to 'Breastfeed'. Individuals and once-reputable organizations are going to absurd lengths to perpetuate the myths that people can be born in the "wrong body" and that plastic surgery and drug injections can actually change one's sex. Those who perpetuated this nonsense were once limited to the fringes of society; now, it's become mainstream. Even though polls show a large majority of Americans reject radical left-wing gender ideology, health organizations and even our government have been bullied into endorsing it lock, stock, and barrel. The Centers for Disease Control and Prevention (CDC) did itself no favors during the COVID pandemic, having endorsed universal masking and vaccines for children. Now it has managed to beclown itself once again by giving advice to biological men on how to "breastfeed."
Seven Truths to Unmask the Regressive Left. [Scroll down] Look at those who lead us! Joe Biden has been on the wrong side of history for 45 years. John Kerry lectures us on our climate footprint while jetting around on his wife's private jet or yacht. Merrick Garland slaps the Resident's son on the wrist despite devious tax evasion actions and an illegal gun purchase. Kamala Harris epitomizes how derelict our government is (can anyone really look to her as possible presidential material?). Pete Buttigieg triangulates the least damning actions with which he can get away, lacks the seriousness expected of a cabinet member and focuses on wordsmithing over actual meaningful accomplishment: for example, changing the worldwide definition of the aviation term NOTAM from "Notices to Airmen" to "Notices of Air Missions" to be more "inclusive of all aviators and missions." (The rest of the world kept the old definition.) Leaders of the free world, indeed. When was the last time the best and brightest among us were leading us? Great leaders keep their heads down these days.
Carpetbagger!
Dem in Congress said the quiet part out loud on MSNBC, that Trump 'needs to be shot'. Call it a "Freudian slip," where a person accidentally says what she really is thinking. Stacey Plaskett is a nonvoting member of Congress, a delegate representing the US Virgin Islands in the House of Representatives. She was born and grew up in New York City, and graduated from the elite and expensive Choate Rosemary Hall prep school in Connecticut before going on the School of Foreign Service at Georgetown and law school at American University. She says that she and her family frequently visited St. Croix, where her parents are from, in her childhood, and that apparently was good enough for the voters to choose her to represent them in Congress.
LA County Closes Beaches Over Soaring Levels Of Filth And Mismanagement. Los Angeles County closed a series of beaches in early June due to soaring levels of filth. A post shared by Los Angeles Public Health's Twitter account revealed Monday many of the county's most popular beaches are currently closed due to "recent sewage discharge." Malibu Lagoon State Beach and areas a quarter mile to the north and south were officially closed, while a slew of other popular tourist and local hangout spots received ocean water use warnings. Sweetwater Canyon at Carbon Canyon Beach, Santa Monica Pier and Mother's Beach (also known as Marina Beach) in Marina Del Rey, three of the most popular spots in the county, also received warnings due to excessive levels of bacteria. Each of the locations exceeded health standards during recent testing.
The Biden admin, with the help of the complicit media, sure pretends a lot. Incompetence runs deep in the Biden administration.
• They didn't seem to prepare for the disaster in Afghanistan.
• They didn't control the border.
• They also couldn't control inflation and don't seem to have a clue on what causes it (hint, massive regulations and their destructive energy policies).
• And they couldn't even keep baby formula on the shelves or valuable drugs in the pharmacies.
But we are supposed to believe that these people can control temperatures, sea levels, and storm activity forever if we just give them trillions of dollars and allow them to destroy industries that use natural resources. Everything in the Biden administration seems to involve endlessly offering talking points, which the media gladly regurgitates without doing research or asking questions. Facts haven't mattered for a long time.
Democrats Are The Brainless Party. Meanwhile, Pennsylvania Sen. John Fetterman, the darling of the left, had this to say to a witness during a Senate Banking Committee hearing this week: "Is it a staggering responsive ... responsibility ... that the the head of a bank could literally could literally crash our economy. Astonishing. That's like if you have, I mean like ... and, and they also realize is that-that-that now they have, it's in the guaranteed a guaranteed way to be saved, by again by no matter no matter how, you know. So, it's, it's, you know, isn't it appropriate that the those kinds of this kind of control should be more stricter to prevent this kind of thing from going? Or should we just go on and start bailing and sailing whoever bank, regardless of how however there's their conduct is?"
Burning Down Barriers: Female Firefighter Conference Causes 'Out of Control' Forest Fire. Female firefighters taking part in a Women-in-Fire Training Exchange program — intended to promote "mental health and gender diversity and inclusion" — accidentally caused an "out of control" forest fire in Banff National Park. Residents in the surrounding areas were evacuated and several buildings were damaged on May 3 after the female firefighters initiated a prescribed burn that quickly escalated into an uncontrolled blaze.
American Despotism. The incompetent ruling class and its priesthood clamoring for simony desires the honor of ruling without being capable of the work and thus fails to solve basic problems. Government monopolies introduce outsourcing, nepotism, and bureaucratic ineptitude, vividly exposed in the Flint water crisis. Complaints about simple incompetence, such as mailing notices of court hearings nine days after the fact, are attributed to "unconscious bias" and "institutional racism." Finance capitalism no longer delivers products that work. CEOs outsource production with an eye to quarterly profits or deliver substandard goods.
Kim Gardner [has been a] student at SLU nursing school since 2021, [and the] Missouri AG wants answers. St. Louis Circuit Attorney Kim Gardner has been enrolled in a post-Master's nursing program at Saint Louis University (SLU) since 2021, the university registrar's office confirmed to News 4 Investigates. This week Missouri Attorney General Andrew Bailey subpoenaed SLU and another healthcare clinic asking for information about Gardner. The AG is trying to remove Gardner from office, saying she has willfully neglected her duties as the Circuit Attorney.
The Editor says...
How many other public officials are enrolled in college classes when they are supposed to be working? How many public employees appear to be busy, but are in fact doing nothing?
Dem Congresswoman Forgets Her Words, Hot Mic Catches Her Getting Directions through an Earpiece. A recent video clip of a Congresswoman appears to show her receiving directions through an earpiece, leading many to question the authenticity of her words and whether she was simply a puppet being directed by others. [Video clip]
Horrifyingly incompetent Biden official looks poised to fail upwards (again). In the real world, being bad at your job will get you fired. Yet, in the government, being bad at your job will get you a massive promotion. At least, that's seemingly the takeaway from the Biden administration's bizarre decision to nominate Julie Su to be its next labor secretary. [...] Su currently serves as deputy labor secretary, but she is seeking Senate confirmation for a promotion to replace outgoing Labor Secretary Marty Walsh. However, prior to becoming a deputy in the Biden administration, she was labor secretary for the state of California — and her tenure was an absolute disaster. Su personally oversaw the state's distribution of expanded COVID-19-era unemployment benefits, massively expanded payouts subsidized by federal taxpayers thanks to the so-called CARES Act passed in March 2020. Under her watch, the state gave tens of billions of dollars away to scammers, by its own admission. At least $11.4 billion and possibly up to $31 billion were lost to fraud, local media reported .
Deciphering the Government's Invisible Ink. Did you know the U.S. essentially invented, owned, and controlled the internet until 2016? And that a Democrat congress essentially forfeited the most potent technical advantage on earth? Russia, Iran, North Korea, and China, in particular, now have an equal footing with us on internet control. Everything runs on the internet, and we handed away the keys to the kingdom to enemies who will now use that "equality" to disadvantage us. Was that decision altruistic or just plain stupid?
The Priorities Of Our Own Government Are Completely Upside Down. When you consider good to be evil and evil to be good, of course your priorities are going to be completely and utterly messed up. The White House, the halls of Congress, and the federal bureaucracy and filled with people that have an extremely warped view of the world. As a result, they are incapable of making the right choices even if they were inclined to do so. Pretty much the best that we can hope for is for them to do nothing, because everything that they "accomplish" ends up being diametrically opposed to the interests of the American people.
Time to Deal with Root Causes, Not Symptoms. US politicians have perfected the art of dealing with symptoms of problems but not their root causes. This is because a politician has only two real jobs: to get reelected and to collect sufficient donations to enable reelection. All other considerations — including the principles, tenets, morals, and ideological foundations — are negotiable in completing those two endeavors. They are not problem-solvers, as it is better for them that certain problems persist because dealing with the symptoms of the underlying root causes is good politics for them and helps with the donations!
Why the U.S. didn't notice leaked documents circulating on social media. A trove of leaked Pentagon documents were circulating online for months without being discovered by the U.S. government — raising questions about how the administration missed them. Images of the classified documents that circulated on social media in recent days were posted to a popular messaging website as far back as January. But they appear to have only caught the government's attention around the time they were first reported in the media in early April. "No one in the U.S. government knew they were out there," one U.S. official said.
Biden Admin Was Caught 'Off Guard' Again by Classified Intel Leak. Scores of highly classified documents appearing to contain intelligence about foreign countries gathered by the United States have been posted online in recent days, drawing a significant amount of of [sic] hand-wringing and outcry from Biden administration officials who were caught "off guard," especially those at the Pentagon. According to The New York Times, the latest "batch of classified documents that appear to detail American national security secrets from Ukraine to the Middle East to China surfaced on social media sites on Friday, alarming the Pentagon and adding turmoil to a situation that seemed to have caught the Biden administration off guard." Can anyone think of a situation in the last two-plus years in which the Biden administration was not caught off guard?
Alvin Bragg's Case Against Trump Shows Complete Ignorance and Manipulation of Basic Accounting. The dumbest case ever just got dumber. The charges brought against President Trump by New York City DA Alvin Bragg make no sense. You would think that if you were going to indict a President of the United States that you would have a case. But this case offers nothing. DA Bragg should resign. His case against Trump is shockingly weak. On Tuesday, immediately after receiving the indictment against President Trump, TGP analyzed the document. What stuck out was that Soros-backed Manhattan DA Alvin Bragg claims in his charges that President Trump made the accounting entries himself related to this case. The Gateway Pundit pointed out previously that this is nonsense. No CEO in the world presiding over a billion-dollar company is making entries in General Ledger or cutting checks. This is total nonsense.
Bragg's 'Indictment' Even Fails as an Indictment. It's always possible to be surprised. The indictment brought by Manhattan's elected Democratic district attorney Alvin Bragg against Donald Trump is even worse than I'd imagined. Bragg's indictment fails to state a crime. Not once ... but 34 times. On that ground alone, the case should be dismissed — before one ever gets to the facts that the statute of limitations has lapsed and that Bragg has no jurisdiction to enforce federal law (if that's what he's trying to do, which remains murky). Bragg's indictment charges 34 counts, just as we said it would, based on media reporting that clearly came from illegal leaks of grand-jury information — a crime, you can be sure, that goes in the overflowing bucket of serious offenses that Bragg refuses to prosecute. The 34 counts are arrived at by taking what is a single course of conduct and absurdly slicing it into parts, each one of which is charged as a separate felony carrying its own potential four-year prison term.
Yes, the indictment is inadequate on its face, but that doesn't matter. If you read through the conservative internet today, you'll see myriad articles and videos pointing out that Alvin Bragg's Statement of Facts and Indictment against Donald Trump are utterly baseless. In a decent system, they would be tossed out of court immediately. However, I'm here to tell you that this is not how things work in progressive/leftist judicial systems. They like going through the motions, but the system always works toward a single leftist end, law and rules [notwithstanding]. As I said, lots of lawyers have pointed out that Alvin Bragg's indictment is so flawed that it should be thrown out on an immediate motion to dismiss. Here are just a few examples from across the political spectrum: [Video clip]
Biden's Defense Department Turns Tail and Runs After Russia's Challenge Over the Black Sea. Two weeks ago, a pair of Russian Su-27 fighters based in Crimea, Occupied Ukraine, intercepted a USAF MQ-9 drone in international airspace over the Black Sea. The fighters made several increasingly aggressive passes at the drone, first dropping aviation fuel in what seemed to be an attempt to damage sensors on the MQ-9, and then one of the Russian fighters collided with the drone. The drone crashed into the Black Sea due to this sterling airmanship by the Russian pilot.
'Unacceptable incompetence': CDC made dozens of basic data errors on COVID, epidemiologists find. The CDC found itself hoist with its own petard by making 25 basic statistical and numerical errors related to COVID-19, particularly with regard to children, while purporting to expose COVID vaccine misinformation, according to an analysis led by University of California San Francisco epidemiologists. The preprint, which has not yet been peer-reviewed, documented 20 errors that "exaggerated the severity of the COVID-19 situation" and three that "simultaneously exaggerated and downplayed" severity, while one each was neutral or exaggerated vaccine risks. More than half were from 2022, but nearly as many were made in the first two months of 2023 as in all of 2021, they found. Several errors were related to the agency's COVID data tracker, which failed to align with its National Center for Health Statistics (NCHS), and the CDC corrected at least in part 13 of the 16 errors brought to its attention.
Clueless Leaders Don't Understand Why Recruitment for Woke Military is Down. Recruitment in our newly woke military is down across every division and the leaders of our armed forces don't know why or are pretending not to know why. The reasons are obvious to millions of average of Americans, some who served and even those who did not. The people who would normally enlist have been demonized by the woke left which the military now celebrates. The COVID vaccine mandates are also playing a role.
South Carolina comptroller to resign after $3.5 Billion error. Embattled South Carolina Comptroller General Richard Eckstrom will resign next month after a $3.5 billion accounting error in the year-end financial report he oversaw. The state's top accountant will leave the elected post he has held for 20 years on April 30, according to a copy of the resignation letter obtained by The Associated Press.
Is the Biden administration deliberately ignoring a chemical disaster in East Palestine? Third-party testing has found that highly toxic dioxin, a result of burning vinyl chloride, is present throughout East Palestine. The residents, including children, are showing scary symptoms that make sense only if they've been exposed to dioxin. The federal government has been working hard to pretend this hasn't happened. On February 3, 2023, a Norfolk Southern train pulling 150 cars derailed in East Palestine, Ohio. Twenty of those cars were carrying hazardous chemicals, including vinyl chloride. On February 6, decision-makers at Norfolk Southern opted to detonate the derailed train cars that carried the chemicals, releasing a host of toxins, including dioxin, into the environment.
The FDA commissioner does not understand how American insurance works. The US FDA commissioner Robert Califf runs the only federal agency with the legal authority to demand companies run RCTs to prove their products work as condition of marketing in the US. It now seems he wants insurers to do his job for him. Sadly, his comments betray that they does not understand insurers' finances. Specifically, Robert Califf has argued that 'Insurers must do more to help providers participate in clinical trials that can confirm the effectiveness of drugs granted accelerated approval' and elaborated: [...] But this is incorrect. Dr. Califf appears to misunderstand the most basic fact about insurers. The Affordable Care Act capped the percent of profit insurers can take at 20%. This simple act changes the incentives for insurers. They make more money the more we spend, not the less.
As China's Blue-Water Navy Continues Massive Expansion, US Navy Secretary Says Climate Is His 'Top Priority'. China's People's Liberation Army Navy (PLAN) surpassed the U.S. Navy in fleet size sometime around 2020 and now possesses roughly 340 warships, according to the Pentagon's 2022 China Military Power Report, released in November. Moreover, China's fleet is expected to grow to 400 ships by 2025. Meanwhile, the U.S. fleet consists of fewer than 300 ships, with a Pentagon goal of 350 manned ships by 2045, according to the U.S. Navy's Navigation Plan 2022, released last summer. So, what is the U.S. Navy under Joe Biden doing about this sobering reality? As reported by the Washington Examiner, Secretary of the Navy Carlos Del Toro has said, multiple times, that fighting climate change has been one of his biggest priorities since taking office.
Incompetence rewarded, throughout the U.S. government. Perhaps the most pressing problem this nation faces is the incompetence of the Department of Education. Despite the illusionary claim that the United States has the best educational system in the world it ranks 38th in math scores and 24th in science scores in the world. In an age of technology this is a terrible statistic which threatens to make the United States a third world nation in the long run. [...] There is a more fundamental flaw in our educational system and it is promoting students based on age and not achievement and teaching to class sizes greater than 25. Large class sizes means that slow, medium, and fast learners are pooled together. Teaching to the average student means that slow learners learn very little and fast learners get bored out of their skulls.
Will This Be the Last Year for Daylight Saving Time? It would be so much easier if DST were permanent. Why it isn't is basically a matter of time — literally. Making DST permanent is a popular issue for Congress to address and rid us of this inconvenient and unhealthy change of clocks. But Congress has failed us. Let's face it; changing DST is not a burning national issue. Although a bill is introduced every year in both the House and Senate, Congress never seems to get around to passing it despite bipartisan support.
The Editor says...
If the Congress can't even accomplish this, what can they do?
Biden Budget: The COVID Ratchet is Permanent. As all the world knows, the Biden administration finally got the federal budget out last week. Sorta. If you went to the govinfo budget page on Thursday it just showed the president's Budget Message and the Public Budget Database. That's odd because the Budget Message lists 400 employees of the OMB who contributed to the Budget. You'd think that a couple of them could have whipped out the Historical Tables in time for the Thursday rollout. The partial budget rollout was inconvenient for me because my usgovernmentspending.com uses several of the Historical Tables, including Table 3.2 - Outlays by Function and Subfunction, Table 2.1 — Receipts by Source, Table 7.1 — Federal Debt at the End of Year, and so on. But I was able to assemble the data from the Excel files in the Public Budget Database. So if one elderly man can do it at home on a teeny little fanless PC, what about the Charge of the 400 at OMB?
Nuclear Base Focuses on Diversity, Fails Nuclear Inspections. Every July, Minot Air Force Base, the only one to contain two 'legs' of the nuclear triad, celebrates 'Diversity Day'. Held at the Jimmy Doolittle Center, named after the hard-charging Air Force pioneer who led the first air raid into Japan after Pearl Harbor, Diversity Day showcases "many different cultures along with other diversities such as religion and disabilities" representing the various cultures at Minot Air Force Base." Jimmy would not approve. A culture notably absent from the Diversity Day festivities at Minot is a culture of competence. Two Air Force commanders have been fired after their units failed nuclear surety inspections. Another four of their subordinates also went out the door. Firings have become common at Minot AFB which maintains a unique status in the nation's defense and in the botched leadership that focuses on diversity and political correctness over national security.
The dumbest five minutes of Congress, ever: Dems demand sources from journalists who exposed government-media censorship complex. "I don't quite understand what Substack is," mutters Rep. Sylvia Garcia (D-TX) at one point, which underscores the idiocy you are about to watch. The House Weaponization Subcommittee decided to call Matt Taibbi and Michael Shellenberger to discuss their publication of the Twitter Files, which apparently was so great a threat to democracy (according to Garcia and her fellow Democrats) that, er ... none of them bothered to find out what Substack was, nor glean what and when both Taibbi and Shellenberger published and in what sequence. Get ready for seven minutes of brain-warping idiocy on those points, on top of which Democrats apparently now think journalists have a duty to reveal sources to government. And if you think Garcia's lack of research into Substack is the stupidest moment in this utter fiasco, just wait until she asks about Bari Weiss: [Video clip]
The Peter (Buttigieg) Principle. In the 1960s, there was a professor and business analyst named Laurence J. Peter. He became famous for coming up with something called the Peter Principle. The informal way to describe it was this: In a business hierarchy, an employee does well and is promoted. He does well in his new, higher-level job and is promoted again. He does well in that position and is promoted yet again. Finally, he rises to a job that is beyond his abilities. He is no longer promoted and stays in the job he does not do well. "In a hierarchy, every employee tends to rise to his level of incompetence," Peter wrote. "In time, every post tends to be occupied by an employee who is incompetent to carry out its duties. Work is accomplished by those employees who have not yet reached their level of incompetence."
The Stupid Act. After a recent hurricane, Puerto Ricans desperately needed fuel. Fortunately, an oil tanker was right offshore. Unfortunately, the United States government forbade it to come ashore! [...] The Jones Act forbids shipping anything between American ports in ships that are not U.S. built and crewed. This makes goods cost more (the average Hawaii family must pay $1,800 more a year) and sometimes, as happened in Puerto Rico, makes a crisis worse. Yet America's shipping lobby claims this law is a good thing.
GAO: FBI, Capitol Police failed to share information of threats before January 6 riot. The Government Accountability Office (GAO) released its report on the January 6, 2021 attack on the Capitol. The non-partisan government watchdog found that the U.S. Capitol Police and the FBI properly identified credible threats to the Capitol in the lead-up to the January 6 protest that turned into a riot but did not share information about those threats. There were 10 federal agencies responsible for protecting the Capitol that day and none of them fully processed or shared critical information about threats to the Capitol with each other. These threats included those of militia groups who were arming themselves in preparation for that day. The report specifically points to the FBI as the agency that did not follow policies for processing tips, including tips that included information related to potential violence on January 6. This lack of properly following guidelines did not allow the information to be developed into reports shared with other agencies.
The Editor says...
The Department of Homeland Security was created soon after the September 11, 2001, attacks in order to make it easy for various law enforcement agencies to share information. And yet they don't.
Ohio Train Disaster Exposes Hollowness, Incompetence of Identity-Obsessed Ruling Class. The massive train derailment near East Palestine, Ohio, created one of the worst ecological disasters on U.S. soil in decades. On top of that, it exposed the looming, pervasive incompetence and callousness of the woke ruling class. A 50-car train operated by Norfolk Southern derailed Feb. 3 near the small town of East Palestine. It was no ordinary derailment, since the train was carrying a variety of chemicals, some of which are quite dangerous. [...] One would think all this would elicit some kind of response from President Joe Biden and his fellow Democrats, who are always so concerned by various environmental causes. But this disaster elicited crickets. Biden didn't show up in East Palestine, nor did his administration or the media seem to pay much attention.
Fiddling while Ohio burns. I'm calling it. We have finally hit rock bottom. Aided and abetted by the craven corporate media, the American liberal-left establishment has pushed the boundaries of ineptitude to the point of parody. And now Donald Trump is poised to steal the left's lunch, eat it and let it swirl around in the toilet — along with the liberal elite's political credibility. Last week, Donald Trump's re-election campaign announced plans to visit the small town of East Palestine, in Columbiana County, Ohio. This is the town where, several weeks ago, the powers-that-be deemed it a good idea to set fire to a derailed train that was carrying large amounts of poisonous chemicals. Ever since, East Palestine's working-class residents have been posting videos of the aftermath on social media. These show dead animals, skin rashes, rainbow-coloured water and desperate pleas for help. Meanwhile, federal and state officials largely ignored the matter. Today Trump came to town. Dear reader, it doesn't matter if you think Donald Trump is literally Hitler, a conman, a showboat or a female-genitalia-grabbing, corrupt Russian asset. Or even if any of that is true. The fact is that the supposedly progressive left and its liberal allies have enabled him to swoop into places like East Palestine because they themselves have long abandoned the working-class folk who live there.
The White House Finally Decides Who to Blame for the East Palestine Disaster. After weeks of inaction, the White House has finally decided who to blame for the ecological disaster currently unfolding in East Palestine, OH. In a shocking, completely unexpected turn of events, it's not US Transportation Secretary Pete Buttigieg who is at fault. He's too busy taking "personal time" anyway. Rather, those dastardly Republicans have struck again. Apparently, somehow, they are singularly responsible for an axle breaking on a train despite Democrats having total government control for the last two years.
Buttigieg will visit East Palestine, Ohio when the time is right. Transportation Secretary Pete Buttigieg confirmed today that he will pay a visit to East Palestine, Ohio almost three weeks after a Norfolk Southern freight train derailed. Large amounts of toxic chemicals were spilled or burned off. Residents were forced to evacuate out of fear for their health. Since that night on February 3, Buttigieg and President Biden have received intense backlash for not visiting East Palestine, a small town of 4,700. The criticism increased when Biden chose to travel to Ukraine and show support for Zelensky instead of going to Ohio at any point since the derailment occurred. Buttigieg has written a letter to the CEO of Norfolk Southern demanding that the railroad company make the residents whole after the disaster. I'm sure that will do the trick. Why bother to go to the community and speak with the residents in person, finding out firsthand what their needs are? He can just write a letter. Buttigieg is someone who fails up. He's inept in his job and unwilling to step aside.
Report: Biden's DOD Allowed An Unsecured Server To Spill Sensitive American Military Emails Online For Two Weeks. No wonder the Chinese Communist Party (CCP) is so confident they can win a war against the United States. The Biden regime is so clueless they cannot even properly secure sensitive military information. For two full weeks an unsecured Department of Defense (DOD) server was leaking military emails online and no one noticed until Monday. The culprit was a so-called misconfiguration that left the server without a password. The server was loaded with files containing sensitive personnel information from the past several years, including a completed SF-86 questionnaire. A SF-86 personnel questionnaire has bountiful amounts of background information on security clearance holders valuable to enemies of America.
Where are the toxicologists for East Palestine? East Palestine, Ohio needs toxicologists — especially environmental toxicologists — pronto. Where will they be found? Well, it won't be the federal government. No doubt, the cadre of EPA toxicologists are already occupied connecting asthma in children to gas stoves. And the EPA chief, Michael Regan, can't be bothered with real-time environmental catastrophes as he deems the only crisis worth addressing "environmental racism." (Oh, the irony!) Meanwhile, don't expect any white-skinned non-DIE toxicologists or other disaster response crews to be sent to East Palestine. The so-called sec of transportation, "What-Me-Worry" Pete Buttigieg, has already complained that infrastructure construction crews have too many white guys. Good luck to pathetic Pete in finding enough Black/African-American and LGBTQ++ toxicologists to assay East Palestine.
How Pete Buttigieg and Washington lobbyists are fueling the US airline crisis. Transportation Secretary Pete Buttigieg is coming under fire over disasters ranging from the airlines' holiday meltdown to the train wreck that has spilled chemicals in Ohio — and critics are blaming his cozy ties with the industries he's supposed to regulate. Outrage over US air chaos spilled into President Biden's State of the Union Address earlier this month. The commander-in-chief vowed to crack down on excessive fees, saying "airlines can't treat your child like a piece of baggage" and demanded that "airlines show you the full ticket price upfront and refund your money if your flight is canceled or delayed." Less than a month earlier, however, Southwest Airlines — which had canceled 17,000 flights over the holiday season, blaming the weather amid a breakdown in its systems — promoted five top executives under the budget carrier's new CEO, Bob Jordan.
The Headlines on Fetterman's Latest Health Crisis Are Truly Unbelievable. John Fetterman is back in the hospital again, this time for multiple weeks as he battles clinical depression (at least, that's the official narrative). That marks the second time since taking office that the Pennsylvanian senator has been admitted for serious health issues. The scene is a continuation of the 2022 campaign, in which Fetterman and his handlers did their best to hide the extent of his problems. An MSNBC reporter was famously lambasted for truthfully reporting that he was having trouble understanding people and seemed to be unable to process small talk. Then the debate happened; it was no longer arguable that Fetterman was completely unqualified and incapable of performing the duties of a senator. Those who said that publicly were called "ableists," with Fetterman's wife leading the way, backed by a compliant media desperate to ensure Democrats held the US Senate. That gaslighting continues to this day, and the headlines covering Fetterman's latest health crisis are simply unbelievable. [Numerous tweets] You see, the story here isn't that a man and his surrogates scammed a state into electing him when he wasn't healthy enough to do the job. The story is just how courageous he is for not being able to do his job.
The 'let's try it again' leftist balloon PR blitz. Modern electoral government is a highly scripted activity; it is not an institutional culture that is inherently poised for spontaneous action. This is the great risk that the public faces with elected leaders who are otherwise merely legacy political ideologues like Trudeau or proxies like Biden: when actual national security requires actual civilian leadership, they are unprepared or unqualified, or both. They are not trained in leadership or military operations or strategy. They are completely dependent, especially in Biden's case, given his obvious mental dysfunction, on an unorganized cabal of various advisers and handlers. And those political appointees are not directing their attention to national leadership or national security or national defense, but to private interests that can be affected through government institutional manipulation. For them, national security is merely national theater.
African Reporter Goes All Emperor's-New-Clothes on Karine Jean-Pierre: 'You Don't Seem a Good Fit for This Job'. The whole world knows that Karine Jean-Pierre is unfit to be White House press secretary; any doubters can consult the evidence of every day's press briefing for fresh evidence. KJP has become notorious for giving answers that have nothing to do with the questions she is supposed to be answering, relying over-heavily upon the canned answers provided in her briefing book, and ignoring reporters who are liable to ask inconvenient questions. But for the same reasons that she got the job in the first place, the establishment media has been reluctant to call her out and state the obvious: that a random person off the street would likely do a better job than she does. On Tuesday, however, Karine Jean-Pierre finally had her Emperor's-New-Clothes moment: Cameroonian reporter Simon Ateba told her during a White House press briefing, "You don't seem a good fit for this job."
Things sure are great with Pete Buttigieg as the U.S. Secretary of Transportation! Peter Paul Buttigieg doesn't really have anything in his resumé that would indicate he knew how to run an entire nation's worth of critical transportation infrastructure. But he was hand-picked by Joe Biden to by the Secretary of Transportation, so it felt like, I dunno, maybe we should give him the benefit of the doubt. After two years, though, I think we're all out of benefits and the only thing we have left is doubts.
Do We Need a Department of Transportation? [Scroll down] Government regulators have no real track record at improving anything, let alone system performance. Regulators typically make things worse. Let's take a look at the Department of Transportation (DoT). It's stated mission is "To deliver the world's leading transportation system, serving the American people and economy through the safe, efficient, sustainable, and equitable movement of people and goods." The DoT was established in 1966 and combines thirteen agencies that cover all aspects of transportation from air, road, and rail travel to the administration of the Great Lakes St. Lawrence Seaway Development Corporation. Its FY23 budget is $105 Billion, up from the FY21 budget of $87.6 Billion and it employs over 58,000 personnel. What has the DoT done for us? In addition to the failures listed above, there is plenty more where those came from. First off, the Federal Aviation Administration, one of the DoT agencies, failed miserably in certifying the 737 Max jet, causing two major crashes and the loss of many lives. While spending over $16.9 billion (FY23) on mass transit the U.S. has failed to modernize its system. The Motor Carrier Act of 1980 removed much of the price controls and red tape in the railroad industry, resulting in a 159% increase in productivity and a real price decline of 44%. Now, the Surface Transportation Board is starting to regulate reciprocal switching agreements. The net effect will be to bog down the rail industry and increase prices. With the ongoing failures of the Department of Transportation, is it fair to place the blame on one person? No. This is a system problem that needs to be dealt with in a different way. What needs to be done is to start to dismantle the DoT, agency by agency. Let's start with the FAA.
Bumbling FAA [is] Focused on 'LGBTQI+' Inclusivity, 'Herstory,' 'Gender-Neutral' Language. The Federal Aviation Administration (FAA) has been focused on "LGBTQI+" inclusivity and "gender-neutral" language under President Joe Biden — even as it has struggled to manage the nation's commercial air traffic. On Wednesday [1/11/2023], the FAA ordered the first nationwide "ground stop" since Sep. 11, 2001, after a computer system failed overnight, grounding thousands of flights and throwing the country's air traffic into chaos. It was the second crisis in as many months, after a winter storm snarled air travel during the holiday season.
Pete Buttigieg called out after FAA system failure grounds all flights. Rep. Andy Biggs: ["]I'm not surprised. It's unpleasant that I have to say that. But I'm not surprised that he doesn't know anything because that's consistent with how he's handled any kind of question or issue that we've had in our transportation sector since he became secretary. But what's chilling about this today is the fact that this is happening. We've known about apparently overnight, and he has no idea what happened or how they're going to fix it and how long it's going to last. That has an enormous impact on our economy and travelers today.["]
We can't trust the FDA. Alzheimer's is a terrible disease. It robs people of their personality and eventually their humanity. It can turn the most intelligent and vital people into shells of their former selves, and cracking the code for how to treat it is rightfully a top priority. Scientists have theories for what causes the decline, but both diagnosing and explaining the course of the disease are still mostly mysterious. But with the aging of Western populations the burden of the disease is increasing every year. Biogen claims to have a drug that will slow the process. The problem is that if it does anything at all, and that is in question, it doesn't do much. Yet the FDA not only approved it despite Biogen's own studies indicating that it didn't work, it did so over the objections of its independent advisory committee. The committee's objections were so strong that 3 of the members resigned in disgust.
White House Press Secretary Karine Jean-Pierre: Incompetent but Failing Upward. One of the bestselling books of the 1970s was "The Peter Principle," a business management book by Laurence J. Peter and Raymond Hull. The book's premise, in a nutshell, was that people get promotions based on their performance in their previous jobs until they are ultimately elevated to a position in which they're incompetent, since skills and success in one position don't necessarily ensure success in the next. "In a hierarchy," Peter said, "every employee tends to rise to his level of incompetence." Put another way, as the disclaimers say in investment brokers' ads: "Past performance is no guarantee of future results." Both Peter and Hull are long since deceased. Still, if publisher William Morrow & Co. were to commission someone to update a new edition of the book, White House press secretary Karine Jean-Pierre could be cited as Exhibit C of the "Peter Principle" at the highest levels of government. (President Joe Biden and Vice President Kamala Harris would be Exhibits A and B, but that's another story for another day.)
California girl issued an official license to keep a pet unicorn. A handwritten letter from a young girl led animal care and control officials in California to issue the child a pre-approved license to keep an unusual pet — a unicorn. Los Angeles County Animal Care and Control said in an Instagram post that it received a handwritten letter in the mail from a local girl named Madeline. The letter reads: "Dear LA County, I would like your approval if I can have a unicorn in my back yard if I can find one. Please send me a letter in response." The post said officials received "so much joy" from the letter that they decided to respond.
If the TSA can't keep weapons off planes, why [does it] exist? A passenger on an airline flight brandished a box cutter and threatened to stab someone on the plane. No, this is not a reference to the 9/11 hijackers. This happened on November 11, 2022, on a Frontier Airlines flight from the Cincinnati/Northern Kentucky International Airport. The question is how it could have happened. The TSA was created to protect passengers and crew from events like this. The agents are notorious for confiscating shampoo, nail clippers, and other mundane things, but somehow a passenger smuggled a box cutter on board an airplane.
You'd Better Be Prepared for the Perfect Transportation Storm. Pete (Buttigieg) is nowhere to be found — at least not anywhere near the problems he's supposed to prevent. Loaded ships are still waiting off the coast of California because there aren't enough trucks that meet the state's emission standards to unload them — and it's going to get worse in 2023, when more rules kick in. The ports are choked with cargo containers while perishables spoil and store shelves run empty. It's a government-created problem. What is the government's solution? Mandate that port employees work overtime loading the trucks that aren't there.
Tens of thousands of migrants have cases thrown out of immigration court, as docs not filed. Tens of thousands of illegal immigrants had their cases thrown out by immigration judges after documents were not filed in time by Department of Homeland Security officials, according to newly released data. Data obtained and analyzed by the Transactional Records Access Clearinghouse (TRAC) at Syracuse University, found that 63,586 cases were dismissed in FY 2022 as of the end of September because officials, mainly Border Patrol agents, are not filing the Notice to Appear (NTA) in time. Migrants who are apprehended by Border Patrol after entering the U.S. illegally in many cases are released into the U.S. with an NTA, which gives them a court date and address to appear for their immigration hearings. NTAs are typically submitted to the immigration court by Immigration and Customs Enforcement (ICE) using data from Customs and Border Protection (CBP).
[The] Border Patrol [is] sending migrants to [the] wrong offices with no paperwork. We have long been aware of the flood of humanity arriving at the nation's southern border for the past two years and the expectations that many of these migrants bring with them. (The "Biden, Let Us In" shirts are still showing up regularly.) Hundreds of thousands of these border jumpers escape without any form of processing and are classified as "gotaways" by the Border Patrol. Among those who are interviewed, most wind up being sent on buses and planes to other parts of country, much to the consternation of the liberals who had proudly declared their enclaves to be "sanctuary cities" until some actual people in need of sanctuary began showing up. But even among those who went through the full round of "processing" upon their arrival, problems have been developing.
Assistant principals reportedly let four armed teens INTO locked school because police were outside. In a scene that would not have even made the final cut for "Idiocracy," four masked teenagers with guns were allegedly given access to a high school by two of its administrators who believed it was unsafe for them to stay outside because — wait for it — there were police officers nearby. On September 14, security officers at Garret Morgan High School in Cleveland, Ohio, spotted the four teens approaching the school and proceeded to call 911. During the call, multiple people could be heard yelling to keep the school locked down and prohibit the gang from entering. "Do not let them, do not let anybody through that door, people," one man can be heard saying in the call recording obtained by Fox8. [...] Despite performing what should have been the obvious action by normally thinking people, two school administrators, Christopher Kane and Carolyn Elias, reportedly allowed the four teens to enter the school via the gymnasium and dining area. "Two assistant principals from leadership let the males into the building," one witness wrote in a statement.
Atlanta Fed President Reveals Five Years Of Trading Violations; Claims He "Didn't Understand" Disclosure Obligations. One year after the Fed was rocked by a trading scandal which cost the jobs of three Fed henchmen, including Dallas and Boston Fed presidents, Kaplan and Rosengren, and Fed vice-chair Richard Clarida (who couldn't wait to be sacked for cause or otherwise just to get back to Pimco) after financial disclosures showed they had been trading extensively in individual stocks in 2020 during a period in which the Fed engaged in extraordinary market interventions as a result of the coronavirus pandemic, moments ago Atlanta Fed president Raphael Bostic joined the club of inglorious Fed traders when he revealed he had improperly disclosed financial transactions for the past five years because he incorrectly interpreted policies governing personal investments. [...] In other words, the first black and openly gay president of the Atlanta Fed was violating pretty much every rule in the book. His excuse? It was "inadvertent."
IRS Sent Out Over $1 Billion In Child Tax Credit Payments To The Wrong People. The Internal Revenue Service (IRS) sent over $1.1 billion in child tax credit payments to incorrect recipients during the COVID-19 pandemic, according to an audit by the Department of the Treasury's Inspector General (IG) for Tax Administration on Tuesday. The IRS sent the payments to 1.5 million people between July and November of 2021 during the pandemic, according to the audit's report. Additionally, the IG noted that 4.1 million taxpayers did not receive payments they should have, amounting to $3.7 billion withheld. The incorrect payments were made to recipients whose dependent children, required to claim the credit, did not meet the age requirements (i.e., under 18 years old), were deceased, or had been claimed on another filer's return. These were a small proportion of the 178.9 million child tax credit payments made during the period, totaling $76.7 billion.
LA public officials accidentally broadcast TV warning telling [the] entire city to evacuate. Los Angeles County residents were in for quite a scare as they accidentally received an emergency evacuation notice on their TVs. An evacuation order for Eastern North Pacific Ocean, Guadalupe Island, Los Angeles, and Ventura County was issued at around 5 pm on Wednesday. However, a little over an hour later, authorities pulled the notice and the Ventura County Sheriff's Office later announced it was 'sent in error by the County of Los Angeles.'
The Editor says...
Ri-i-i-ight. It was "sent in error by the County of Los Angeles," is a handy way to phrase it, so nobody will ask who pushed the button? and did anyone get fired for this? Malfunctions of this sort — whether due to hackers or to incompetent government employees — accomplish only one thing: They train you to ignore "emergency alerts" from any level of government.
Inspector general says DHS allowed unvetted, dangerous Afghans to reach the U.S.. The Homeland Security Department failed to fully vet some of the Afghan evacuees it brought into the U.S. during last year's airlift, the department's inspector general said in a devastating audit, which warned that some people who "posed a risk to national security" were indeed let into the country. One evacuee, just liberated from prison by the Taliban, was cleared to reach the U.S. Another reached the U.S. and was released, only to have the FBI conclude three months later that the evacuee "posed national security concerns." The evacuation was constructed so hastily that the department wrote procedures on the fly, with screening decisions made "on an ad hoc basis," said the audit, released Tuesday [9/6/2022].
The baby formula shortage. [Thread reader] I'll show with the following timeline that the FDA not only moved at a glacial pace to investigate and rectify the problem, but was utterly incompetent in doing so. [#1] FDA was made aware of potential shortages due to global supply chains in March of 2020 [#2] On Sept 20, 2021 the FDA was made aware of a seriously ill child with cronobacter infection, which has been detected in formula before [#3] The next 3 days the Abbott plant in Sturgis was investigated and given the all clear, with no issues found [...] Fast forward to May 18th when the Democrats introduced bill H.R. 7790 "Infant Formula Supplemental Appropriations Act." The bill is only 4 pages long, but doesn't actually address any specifics about how to solve the formula issue. Essentially this bill is just a blank check to the FDA for $28 million to be spent on "salaries and expenses". In reality, it's pay raises for unelected, unaccountable bureaucrats that have proven to be utterly incompetent in addressing all issues surrounding the shortage. 192 House Republicans voted against this bill. They voted against it because it took no direct action to increase the supply of formula, or solve any issue surrounding it.
Axios: Biden and team stunningly unprepared for their trillion-dollar Academia bailout. After nearly two years of talking about it, Joe Biden finally rolled out his student-loan forgiveness plan ... and apparently nothing else. According to Axios, the White House didn't bother to gather the data on eligibility, didn't create a system which would check it, and has no system yet in place to fully complete the process. Did Biden drop the ball again — or did he never expect to be allowed to run with it in the first place? [...] I mean, why not wing it? The executive-order-driven policy will only cost between $605 billion and $1 trillion, most of which will land in this fiscal year while inflation's already raging. No biggie! More seriously, this looks like a lot of Joe Biden's policymaking — impulsive, unprepared, and entirely reactive. Biden and his team have had seventeen months to get these pieces in place for this policy decision. Instead, it looks like someone just pulled together a few talking points at the last minute and bundled it into a memo for Biden to wave at a presser.
Total chaos as millions of student loan borrowers rush to get Joe Biden's $10,000 debt amnesty. They blew out their own website based on the high volume of traffic from those seeking the $10,000 debt freebie. Seems that Joe took the Obamacare rollout fiasco as a model, not a warning. They never set up a special website for this matter at all before the debt forgiveness plan was announced, which might have saved the rest of their website, and still don't have any plans to do it. Plan? What plan? They have no idea how many people will apply for the $10,000 freebie. They have no idea what it will cost.
This Woman Is the Worst Mayor in America. What is Weaponized Governmental Failure? Simply put, it's the process by which urban socialist Democrats intentionally muck up the basic tasks of municipal governance and create such soul-crushing environments that middle-class taxpayers and voters decamp for the suburbs, thus leaving an electorate incapable of throwing off the political machine. My theory is that Weaponized Governmental Failure, or WGF for short, was arrived upon serendipitously. At some point in the 1990s, Democrats noticed that some of their worst mayors — like Washington, D.C.'s Marion Barry — were simply unbeatable despite dismal performances. And, at that point, it became recognizable to urban socialist Democrats that if you governed badly enough, if you refused to fill potholes or police the streets or solve traffic problems or provide functional public education, the middle-class voters who would consider voting Republican and therefore could put your political power at threat would just ... leave. And when they left, what remained would be a thin crust of rich people relatively easy to govern because they provide their own public services in the form of private school attendance for their children, private security for their neighborhoods, and so forth.
Covid-19 fraud is one big reason why the public doesn't trust their government. Recently, a government report revealed that COVID-19 relief efforts led to possibly the largest fraud in the history of America. The Washington Post reported that unemployment benefits of an estimated $163 billion were paid to undeserving individuals due to either error or fraud. In the Economic Injury Disaster Loan program, around $58 billion was paid to companies that shared the same addresses, phone numbers, bank accounts, or other data as other applicants — a clear indication of fraud. Why did this happen? The first reason is antiquated computer systems[.] The federal and state governments have separate databases to store the same information and isolated systems to perform the same function. At times departments within both state and federal governments have separate databases for the same data. The systems do not always share information with each other. The outcome is data redundancy, data inconsistency and no proper tracking.
America Needs Leaders With Fresh Eyes. Military service over the last two decades can do a lot to prepare someone for action in the public arena. But former service members must break free of the servile mindset pervading the U.S. military if they are to rise to the leadership challenges facing America. To advance in today's military, asking questions, calling out problems, or being anything other than a yes-man is frowned upon, even outright punished. Loyalty to "the system" is valued above warfighting skill, leadership, and critical thinking. And yet, look at the record of this "system" since World War II: failure to accomplish political objectives in Vietnam, Beirut, Kosovo, Somalia, Iraq, Afghanistan, Libya, and Syria. Even worse, government has depleted economic, diplomatic, and information resources in pursuit of what turned out to be failed objectives.
Biden's press secretary claims the overturning of Roe v. Wade was 'unconstitutional'. White House press secretary Karine Jean-Pierre is rapidly building a reputation for herself as the high priestess of ill-preparedness. "I would have to get back to you on that" is her typical reply to even the most elementary of questions. She also isn't exactly an adept wordsmith. If she continues down this path, perhaps someday she may surpass Kamala Harris. Just yesterday, Joe Biden signed an executive order that ensures access to abortion for women following the Supreme Court's decision to overturn Roe v. Wade (1973).
Gasoline, Electricity, and Biden's Fuel for the Inflation Fire. You may recall that earlier this summer, in response to poor and middle-class Americans' suffering record gas prices across the country, the Biden administration floated the idea of government-supplied "gas rebate" cards. Most of the ideas about money that originate from people who've never worked for a company with a profit motive are, naturally, terrible. The one thing that the Biden administration has in spades is people who lack experience working with money that isn't someone else's. This is evidenced by the fact that the median years of private sector business experience among his appointees is zero. Yes, that's right. Zero.
When The Just Go to Prison. Daniel Hale, dressed in a khaki uniform, his hair cut short and sporting a long, neatly groomed brown beard, is seated behind a plexiglass screen, speaking into a telephone receiver at the federal prison in Marion, Illinois. I hold a receiver on the other side of the plexiglass and listen as he describes his journey from working for the National Security Agency and the Joint Special Operations Task Force at Bagram Air Base in Afghanistan to becoming federal prisoner 26069-07. Hale, a 34-year-old former Air Force signals intelligence analyst, is serving a 45 month prison sentence, following his conviction under the Espionage Act for disclosing classified documents about the U.S. military's drone assassination program and its high civilian death toll. The documents are believed to be the source material for "The Drone Papers" published by The Intercept, on October 15, 2015. These documents revealed that between January 2012 and February 2013, U.S. special operations drone airstrikes killed more than 200 people — of which only 35 were the intended targets. According to the documents, over one five-month period of the operation, nearly 90 percent of the people killed in airstrikes were not the intended targets.
CIA director 'very proud' of Afghanistan analysis the led to the disastrous withdrawal. Close enough for government work' has taken on a whole new dimension in the Biden era with the remarks reportedly delivered by CIA Director William Burns Wednesday at an Aspen Security Forum discussion.
Biden's top 68 appointees have just 2.4 years of business experience, analysis finds. A new report from the Committee to Unleash Prosperity claims that most of President Biden's top officials have no business experience at all. Economists Stephen Moore and Jon Decker analyzed the work records and resumes of 68 officials, including Biden himself and his Cabinet members, advisers and regulatory officials. Moore has been a frequent commentator on tax issues and advised Trump on his tax plan, along with former GOP presidential candidate Herman Cain. Along with Larry Kudlow, he helped pen the Trump 2017 tax cuts.
No business at the White House: Biden's inexperienced lackeys unlikely to pull US out of inflation doom. You've heard the saying, "Get woke, go broke." Well, that is exactly what is happening to America as President Biden prioritizes woke concerns such as climate change and gender and racial "equity" over sound economic management. With inflation hitting a spine-chilling record 9.1%, there is fat chance of his know-nothing administration having the competence and know-how to pull us out of this doom spiral. It's no accident, either, since Biden deliberately has appointed people who tick the right "diversity" boxes, in terms of their physical appearance, with no concern about whether they are qualified to oversee a $6 trillion federal government. A staggering new report from the Committee to Unleash Prosperity shows that most of Biden's top officials have zero experience in business. Economists Stephen Moore and Jon Decker analyzed the work records and résumés of 68 officials with carriage of the economy and found almost two-thirds have zero business experience, including Biden himself.
62 Percent of Biden Officials Who Handle Economic Policy Have Zero Years Business Experience Per Report. An explosive new analysis published by the Committee to Unleash Prosperity reveals that Democrat President Joe Biden's administration has very few business-oriented officials in the administration and that the vast majority of people handling economic policy for the United States government under Biden have no business experience whatsoever. The 15-page report, authored by economist Steve Moore and the Committee to Unleash Prosperity's executive director Jon Decker, was provided to Breitbart News exclusively ahead of its public release. The headline of the report is: "Not Ready for Prime Time Players: Majority of Biden Appointees have Zero Years of Business Experience." The report analyzes the backgrounds of the "top 68 officials in the Biden administration, starting with the president himself, and including cabinet members, regulatory officials, and White House advisers."
Cataloguing Biden's Ineptitude On Inflation. The public would do well to ignore anything Biden says about inflation, given his horrible track record when it comes to this topic. Since prices started their upward climb in March 2021, Biden has by turns claimed that it was the result of a booming economy, that it was temporary, that it was the result of supply chain bottlenecks, and most recently that Vladimir Putin is to blame[.] When not making fact-free claims like those, Biden simply lies. Take his oft-repeated claim that Europeans have it far worse on inflation. Even Newsweek magazine felt obliged to conclude in its fact check "that Biden's statement that U.S. inflation is the 'lowest of almost every major nation' is largely inaccurate." We don't expect readers to simply take our word for it that Biden has been out to lunch on inflation. So we assembled a handy chart showing the annualized rate of inflation each month since January 2020. It matches up that record with statements Biden made about inflation.
Is the U.S. Forest Service our most inept federal agency? One would assume that after more than 100 years of practice, a federal agency would be able to do its job correctly. However, that is not the case with the U.S. Forest Service. At least in New Mexico, it has been unable to consistently prevent its prescribed burns from escaping and becoming raging wildfires. New Mexico is a nearly ideal location for wildfires. It is high and dry to begin with and is in the midst of a mega-drought making it even drier than usual. Additionally, the Forest Service's fire suppression model for nearly a century has been to try to extinguish almost all fires instead of permitting frequent low intensity burns — which were the historic norm. Even when the Forest Service has attempted to thin forests by mechanical means, it has often faced intense opposition from various environmental groups impairing its ability to do so.
Do Republicans Even Know What Democrats Did to Them With This Anti-Gun Bill? The economy is primed to enter a recession as the second-quarter report is bound to show another period of economic contraction. The supply chain crisis is still ongoing. The pain at the gas pump lingers. Inflation is torching the wallets of working Americans. American mothers still can't find baby formula. The southern border remains a mess. There is not a single crisis that's being managed in any meaningful way. Biden's crew has done nothing. They can't even get a WNBA star out of Russia who's supposedly being unlawfully detained.
Team of Fools: Biden's Cabinet Picks Prove He is Unfit to Lead. I have written extensively about Biden's shortcomings. Nothing exceeds his capacity for choosing the wrong people. [...] And now we come to little Pete Buttigieg, our stalwart Secretary of Transportation. His qualification for the job? Buttigieg was mayor of a small town in Indiana. Joe Concha, writing in The Hill, calls this "amateur hour." We have what Concha refers to as "a massive supply-chain breakdown exploding across the country that will impact every American, particularly the lower and middle classes. Restaurants, stores, and small businesses that provide products and services to people will all be negatively affected as the cost to the consumer goes up." What did Buttigieg do about it? "He took a months-long parental leave," said Liz Peek, "after adopting twins with his husband." Buttigieg attempted to defend his performance by saying, "We're doing a lot." He should have stayed out on paternity leave. The country would be better off.
The Biden team seems to have given up on doing anything about inflation and high gas prices. Treasury Secretary Janet Yellen has changed her tune from calling it "transitory" to saying that she expects it to persist for a while. [...] They don't actually want to do anything because it would interfere in that "incredible transition" Joe Biden was talking about to a fossil-free environment. Sen. John Kennedy (R-LA) sums up the Biden Administration's response, as only he can. It's hard to beat Kennedy when it comes to the folksy quotable. "When I feel inadequate, I just look around. On really bad days, I see liars, and frauds, and meatheads in every direction." Kennedy said this is what the Biden-Harris D.C. has given the American people.
Tucker Carlson: Biden's Lunatic War Against Putin [is] Crushing The U.S. Economy. Let's say just for the sake of a mind experiment, that you're the secretary of transportation for the United States of America. That's a big job, but what would you do all day? Well, [...] your first concern would be the price of diesel fuel. Diesel fuel is what makes transportation possible in this country. [...] Your second concern, if you were transportation secretary, would be domestic air travel. This is a huge country. It's far too big a country not to have reliable commercial flights from one place to another. [...] So, that's what you would be worried about if you were the secretary — diesel and airlines — and yet, remarkably, in less than a year and a half under Joe Biden, both of these things, fuel costs and air travel have gone dramatically in the wrong direction. The price of diesel is now hit its highest price ever recorded in history. [...] Wasn't it just the other day that the United States was energy independent? Yes, but now we're begging dictatorships to sell us oil, but it won't be enough. Industry officials are predicting shortages very soon. [Video clip]
Politico: FDA timeline shows bungling on formula shortage — but also months of inaction by Biden. When Robert Califf testifies today in a House committee hearing, the FDA commissioner will blame "mailroom issues" for a lack of response to the origins of the infant-formula shortage. However, Politico's report on Cardiff's prepared testimony raises a few other questions that neither Cardiff nor Politico address. If the FDA finally figured out what was going on in early February, why did it take the White House an additional three months to react to it?
FDA admits hobbled response to baby formula crisis. Top officials at the Food and Drug Administration admitted they took too long to respond to a baby formula shortage and were hobbled by bad decisions and problems related to COVID-19, including a whistleblower report about a formula factory that was lost in the mail. Top FDA officials and company executives from the nation's three baby formula manufacturers answered questions Thursday from House lawmakers about a massive shortage triggered by the closure of one of the nation's largest production plants and exacerbated by a slow government response. FDA Commissioner Robert M. Califf told lawmakers that government regulators made mistakes along the way that led to the prolonged production problems that have left shelves empty of baby formula.
Karine Jean-Pierre giggles when asked about White House point person on formula crisis. Incoming White House Press Secretary Karine Jean-Pierre was asked who is running lead on the baby formula crisis for the White House? Her reaction was disturbing. During a press gaggle on Air Force One, she giggled and said she doesn't know who that person is but she'd find out. The reporters took the answer in stride. Imagine if the previous president's press secretary delivered that answer (and giggle) to such an important question for so many families right now. The baby formula crisis is real and it has a lot of moms in a panic due to the shortage of products on store shelves. Imagine being one of those moms going from store to store searching for a canister of baby formula. This woman can't even name someone working on the problem in the White House.
Clueless, pharma-infested FDA now says independent media is "leading cause of death in US". The leading cause of death in the United States today is not heart disease but rather "independent media," according to U.S. Food and Drug Administration (FDA) chief Dr. Robert Cardiff. A Joe Biden appointee, Califf claimed during a recent appearance on CNN that independent media outlets must be purged from existence immediately if there is to be any hope of ending the scourge of death throughout the country. Only corporate-controlled, government-approved fake news outlets like CNN should be allowed to exist and spread information online, Califf maintains. Allowing free speech, he says, will result in "deadly misinformation" spreading and influencing people's health decisions.
Report: White House "panicked" at lack of tools to keep abortion legal. How do you end up caught off-guard, as WaPo says Team Biden was, by a Supreme Court ruling? Did they somehow miss the news that hearings were held in the Dobbs case six months ago? Did they ... not anticipate that a 6-3 conservative Court might seize the opportunity to overturn Roe? The Biden White House seems forever late in responding to events. They were still pushing Build Back Better last fall after public anxiety over inflation had begun to rise. Stephen Breyer's retirement seemed all but assured this year given the electoral reality of the midterms yet it still took Biden and his crew weeks to interview candidates before settling on Ketanji Brown Jackson. Why didn't they have someone in mind and ready to go for the likely vacancy?
It's Not Just Joe Biden. The United States Has A Potemkin Government. Joe Biden's shameful performance at the White House Easter egg roll Sunday was another strong visual indicator that he is not really governing this country. And he's not the only sham authority in this country — our nation is replete with them. [...] Can you think of any domain in which the federal government has been successful in the past, say, 20 years? Have we won any wars? Is our military even ready should China make a move? Is our nation in good economic health? Is our infrastructure strong, clean, and advanced? Are our education systems and families producing a majority of citizens who are competent and productive? Are our streets clean, lively, and safe? Or do we have record numbers of homeless people, record numbers of unparented children, record numbers of people on street and pharmaceutical drugs, record numbers of people failing to create or sustain families, and record numbers of barren, hysterical harpies and neurotic, emasculated men, with most being subsidized somehow by a shrinking number of people who work at legitimately productive and joyous vocations? Does our nation look thriving, vigorous, and advancing to you, or like essentially a people that has lost its will to live? At the same time, does any person in the federal government appear to have any of this under control, or even possess a plan for leading us out of any of these fiascos?
Inflation exposes the arrogance of the Biden Democrats. Of all the Democrats' gestures of contemptuous indifference toward ordinary people, President Joe Biden's 8.5% inflation rate is the most provocatively insouciant. Bidenflation, more than any of his many other culpable failures, will prompt voters to respond in November with a gut punch to the party's solar plexus. One should not minimize the impact of other blows to public morale from outrages such as the cultural revolution against every traditional norm, the disgrace of U.S. capitulation to a ragtag army of medieval Afghan farmers, Biden's abandonment of national sovereignty at the Mexican border, or the performative diktats of his tinpot COVID bureaucrats. All these contribute to our sour national mood. [...] Biden's decision to print money, enthusiastically backed by congressional Democrats, has produced the sharpest inflation spike in four decades. This was entirely predictable and frequently predicted.
The Weakest Presidential Line Of Succession Ever. As Vladimir Putin floats terrifying hints of Russia's willingness to use nuclear weapons against countries that assist in Ukraine's defense against Moscow's brutal invasion, the United States is saddled with a president teetering on the brink of senility, and a woman one heartbeat away from the presidency who is as dependably incompetent as she is undependable in prepping herself on national and international issues. Polling makes clear that the public is fully aware of, and disconcerted by, the alarming shortcomings of President Joe Biden and Vice President Kamala Harris alike; but at the same time, there is little if any appreciation of the unprecedented vulnerability to the United States due to those further down in the line of succession. Old age, timidity, and lack of qualification abound among those who might be thrust into the job of most powerful individual on earth, charged with leading the free world.
Denver man faces felony after city accuses him of making pickleball court without permission. A 71-year-old Denver man is facing a felony charge after city officials say he made a pickleball court without permission. With prosecution on the table, some believe the punishment doesn't fit the crime. "The whole pickleball community is really saddened and shocked," said Jan Devor, a friend of 71-year-old Arslan Guney and fellow pickleball player. Guney and others use a basketball court at Denver's Central Park Recreation Center for pickleball. Last Monday, the markings on the court had faded, so Guney re-marked them with a Sharpie. Three days later, an arrest warrant for felony criminal mischief was issued for Guney. The court document also claims ten thousand dollars in damages.
Democrats plot to halt inflated gas prices by ... printing more money. Democrats don't seem to ever learn Economics 101, do they? That's obvious enough in their various bone-headed schemes to beat soaring gas prices at the pump by throwing new money at the problem. [...] The logic of this bad idea is that gas prices can be treated with COVID-style stimulus checks — everyone gets one, and the Fed can print up another batch of cash to take care of the payouts.
The Fed Has One Job To Do, And Blew It. Along with President Joe Biden and Congress, the Federal Reserve has a responsibility to manage inflation, a job it was established to do. And just like Biden and Congress, the Fed has failed at its job. At the Fed's own website, it states clearly what its primary job is, by law: "Conducting the nation's monetary policy by influencing money and credit conditions in the economy in pursuit of full employment and stable prices." Well, today, we have neither "full employment" nor "stable prices." On Tuesday, the government reported that wholesale prices, that is prices just a step before retail, surged 10% in February. As bad as that number was, it didn't include the huge jump in energy prices following Russia's invasion of Ukraine. Consumer prices rose "only" 7.9% in February. So expect them to go even higher next month. This inflation came thanks mostly to absurd policies — paying people to stay home while spending trillions of dollars of "stimulus" on federal programs not related to COVID — pursued by the Democrats who control both Congress and the White House.
The Air Force Went Woke, Its Planes Won't Fly. Chief of Staff Charles Brown and Chief Master Sergeant Kaleth Wright have made diversity and wokeness into the core of the Air Force's mission. Meanwhile the planes won't fly. Brown has spent the past few years unleashing worthless diversity reviews to try and blame the Air Force for a supposed lack of diversity, even though it now has a black chief of staff and a black top enlisted leader. The military justification for their divisive shenanigans was that diversity equated somehow to military readiness. How is the Air Force's readiness? The latest numbers show that the Air Force has made no progress in improving the readiness of its planes with a rate of 71.5% or 7 out of 10 planes in 2021. The United States Air Force is supposed to have mission capable rates of 75% to 80%, but about the only aircraft that meet that criteria are the unmanned drones. The high ratings of the drones disguise the fact that the actual numbers, when broken down by aircraft, are worse.
The Squishy Political Rise of the Beta Male. There are certain "qualities" that this new class of "leaders" all possess. They went to good schools. They have multiple degrees. They have most likely not spent a large part of their life in the private sector. They probably had an Alpha male father. They tend towards being on the thin side. They eat healthily and exercise regularly. They are at some level aware of their Beta status and therefore deeply insecure. They socialize almost exclusively with people like themselves. They don't yell... in public. They have fixers who handle the dirty work. They like well-worn paths and tracks. They speak in jargon. They don't think outside the box and, in fact, specialize in building boxes. They believe in focus groups and task forces. They treat staff poorly. They over-react. They truly believe themselves to be a new superior form of human and, therefore, should automatically be treated as such. And because of all that, they know better.
Pentagon audit says dozens of potentially dangerous Afghans [were] let loose in U.S.. Afghan evacuees made it to U.S. soil without being checked through all the government's security databases, an inspector general reported Thursday in a devastating investigation that confirms critics' worst fears about the program. After rerunning some of the names, officials spotted at least 50 Afghans with "potentially significant security concerns" who made it the U.S. despite the Biden administration's assurances to the contrary. Making matters worse, the government appears to have lost track of most of them inside the U.S., the Defense Department's inspector general said. It looked at a sampling of 31 security risk evacuees identified as of Sept. 17 and found only three could be located.
A scam run from a California prison highlights government inefficiency. One of the benefits to society from imprisoning criminals is that, while they're imprisoned, they cease committing crimes. However, when it comes to the government's failure to take good care of taxpayer money, two men's stints in California's prisons gave them the time to engage in a massive fraud netting them $5 million in both state and federal unemployment funds. Think about that: our governments are so inefficient that they hand out COVID unemployment funds to nonexistent people created by prisoners.
It's a Mad, Mad, Mad, Mad Administration! Witnessing events as the currently installed regime does its best to manage the mess it's made, I'm reminded of the 1963 movie, "It's a Mad, Mad, Mad, Mad World," [...] In my mind, that movie title aptly describes just about everything the current occupant of the Oval Office and his installed regime have done for over a year now, and they aren't slowing down. Exceeding expectations for failure at every step, with every single scheme, and while facing real-world challenges that come to every president and his administration, the man and his minions have increasingly demonstrated a complete lack of understanding of cause-and-effect, logical outcomes, and the sound governance of our citizens.
The State Department Gives Instructions for Americans Fleeing Ukraine — and They Make No Sense. After Joe Biden spoke to Vladimir Putin Saturday, it doesn't appear we are any closer to having any clear picture of what's going to happen between Russia and Ukraine. Is it all one big ruse, where Putin gets concessions on NATO and his energy demands, while Biden gets to claim he saved Europe? Or is an invasion truly imminent, as the White House has repeatedly stated? What we do know is that Americans are being urged to flee Ukraine, and the U.S. State Department has released instructions on where to go. The problem is that they make no sense. [Tweet]
Crime Soars as Harris County Sheriff Focuses on Preferred Pronouns for Transgender Staff. Cities throughout the nation broke their record homicide rates last year, and Houston saw a 71 percent increase in homicides from 2019 to 2021. As crime soars, law enforcement in the Houston area had a deadly stretch last week with three officers killed, another three shot, and a K9 stabbed. Amid these tragedies, Sheriff Ed Gonzalez released a memo to all Harris County sheriff's office staff on Monday, asking that they "always be respectful of employee's [sic] pronouns and gender identity."
Colossal Incompetence: Biden officials [were] completely unprepared for fall of Afghanistan, leaked memo shows. It's not huge news that the Biden administration was a colossal failure on Afghanistan, or that Joe Biden still thinks there's nothing to apologize for. What's news now is the colossal incompetence that went on inside that administration as Afghanistan was collapsing, according to a leaked memo that Axios got hold of: [...] The group involved here, known as the "deputies small group" of lower-level officials in charge of this operational planning, didn't know what they were doing. Apparently, they hadn't even started thinking about evacuating Afghan translators and collaborators until the day the capital fell. [...] They were a little slow on the uptake, and in any case, didn't give this issue much attention at all. They had no idea who they needed to get out of there. They had no idea where to take them for stopovers. In the end, they ended up transporting people who couldn't get visas the normal way, while the actual allies, and a lot of Americans, were simply left behind, out of sight, out of mind, no problematic 'optics' for Team Biden, which is the only thing they cared about.
Biden Is Going Green, Even If It Kills Us. The Biden administration's determination to make its climate agenda a central factor in U.S. foreign policy could be the greatest threat to human survival in our times. This leap into the climate-change rabbit hole has distracted the White House from the old-fashioned — but painfully present — task of making sure Americans are not devastated by a major war. By stirring partisan politics and dubious science into their recipe for national security, this administration risks getting the single most important responsibility of the federal government horribly wrong. For starters, their climate agenda lacks legitimacy. [...] Furthermore, the judgments of this administration are highly suspect. They can't even get the science around Covid-19 right. The scientific consensus changes weekly. And a coronavirus is a lot less complicated than the global climate. But it's not just questions of science the administration has gotten wrong. From inflation to border security, the White House insists it has all the right answers, when clearly it does not.
Department of Homeland Security Warns That Domestic Terrorists With Hammers and Power Saws Are Plotting to Destroy the Power Grid. [The] Department of Homeland Security is a joke. It exists solely as a jobs program for paranoids specializing in manufacturing [specious] threats while ignoring real ones. [...] According to the FBI toad, domestic violent extremists have two things in common. They are driven by racial hate... and they are Donald Trump supporters. These alerts exist for one purpose. They create a patina of proof for the fear-and-smear campaign the Biden junta is carrying out on its domestic opponents. Relentlessly tying real people and real patriots who are concerned about the erosion of civil liberties under the illegal and unnecessary Wuhan virus regulations to potential terrorist acts is not only dishonest, it sets a predicate for treating them like terrorists and incarcerating them for long periods of time without any real intention of trying them for a crime... sort of like the January 6 political prisoners.
Why Was Malik Faisal Akram Ever on US Soil? There are many lessons to be drawn from last Saturday's hostage crisis at Congregation Beth Israel in Colleyville, Texas. First, reports that Malik Faisal Akram's antisemitic hostage-taking had disrupted Beth Israel's livestreamed Shabbat services proved more prescient than those reporters perhaps realized. Orthodox Judaism does not permit electronic streaming on the Sabbath, and it was revealed that Beth Israel is a Reform synagogue. This is relevant because Reform Judaism is not merely theologically liberal in the extreme, discarding the binding authority of Jewish law and placing an obtuse focus on the concept of "tikkun olam" ("repair of the world"), but is so uniformly politically progressive as to be a de facto wing of the Democratic Party itself. Sure enough, Itamar Gelbman, a conservative former congregant at Beth Israel, wrote a viral Facebook post divulging that the rabbi had denounced Israel as an "apartheid state" and precluded congregants from concealed carrying. This is by now old hat to ponder, but still: At a time of rising antisemitism at home and abroad, when will liberal Jews ever learn to protect themselves?
Our current leaders have outlived their usefulness. Our esteemed media and "party leaders" created Biden the President. There seems to be no clear path away from three more years of this torture. It's a given that Kamala would be an equally awful choice. Having her meaninglessly cackling to other world leaders, or unthinkingly directing our military towards rash actions, might be even worse for the American people than what Joe's being directed to do and say. If this were the corporate world, our two "heads of state" would be relieved of their positions, pronto. There wouldn't be mere whispers about incompetence but real consequences: The company's stock would plunge and stockholders and the board would demand change. Too bad government doesn't run that way.
Mediocrity in power. Every nation has its fair share of people with no useful abilities, yet harboring considerable ambition and an insurmountable craving for la dolce vita. The longing is there, but with no means for its realization. So, what are they to do? Sooner or later the mediocre find a workable solution: they go into politics. A sufficiently high position in a government structure that doesn't require any special abilities or talents gives a nearly assured opportunity to receive lucrative benefits, including money, respect, and influence. [...] This is how the selection process works: mediocrities float to the top. Thus, government agencies accumulate a number of bureaucratic politicians for whom the main goal in life is to hold on to their positions and, if possible, move up the career ladder. The good of the country and its people becomes secondary and intrusive. Many professional bureaucrats possess just one talent: seizing and holding onto power.
Homeland Security Launches 'Climate Change Professionals Program' Amid Historic Illegal Border Crossings Surge. The Department of Homeland Security has announced a "climate change professionals program" while the historic number of illegal border crossings continues to increase. Officials expect illegal crossings at the southern border to hit 2 million in 2021 for the first time in history, but DHS officials announced a program to tackle the "growing focus on adapting to climate change and resilience." "The Climate Change Professionals Program will be instrumental in helping the Department adapt to our changing climate by providing hands-on experience and guidance to young professionals interested in climate adaptation and resilience," said Secretary Mayorkas.
Can The U.S. Military Still Protect Americans? A few years ago there were troubling signs when the Iranian navy captured two U.S. Navy command boats and ten sailors; a U.S. Army tank crew finished in fourth place, behind Germany, Denmark, and Poland, in a North Atlantic Treaty Organization tank "rodeo;" and when "whistleblowers" admitted that an unacceptable number of U.S. aircraft were not airworthy and lacked capable mechanics, spare parts, and even the pilots necessary to fly them. More disconcerting and recent are the U.S. Navy's extraordinary construction woes in what has become the most expensive aircraft carrier in the world, the U.S.S. Gerald Ford. The designers abandoned the time-proven cable system for the carrier's elevators, the steam-driven aircraft catapult, and the hydraulic-engine arresting system in favor of electromagnetic systems. As with many "adaptive technologies," they are great when they work; however, the Ford's sea trials have been ongoing for years without all of these vital functions performing reliably, and the ship's full deployment is not expected until 2024.
Probe launched after medics refuse to care for man in cardiac arrest over dubious COVID rule: police. A third-party investigation is underway in a California city after two mask-wearing fire department paramedics allegedly refused to enter a rehab facility to render assistance to a man suffering cardiac arrest. About an hour later, the patient was tragically pronounced dead at a local hospital after being transported there. An officer responding to the scene in Rialto, California, said on his bodycam, in footage obtained by Fox 11 Los Angeles through a freedom of information request, that the medics wouldn't come inside because of some COVID-19-related rule, and that the patient, who reportedly wasn't breathing pursuant to the 911 call, needed to be brought out to them.
Man Dies Of Heart Attack Because Paramedics Refuses To Enter His Building Due To Commiefornia COVID LAWS. Paramedics in Southern California refused to enter a post-acute-care facility to treat a man in cardiac arrest last month because of "some COVID-19 law," according to a Rialto Police Department report. Body camera footage shows an officer arriving at the Rialto Post Acute Care Center on the evening of Nov. 11 and greeting two paramedics from the Rialto Fire Department, who were standing outside with their masks on. The first 30 seconds of the footage are muted, which is standard for many police body cameras, but the officer wrote in his report that the paramedics were there for an unrelated patient and said the facility was being "problematic." [Video clip]
The Editor says...
If your fear of germs is that intense, you shouldn't be a paramedic.
Years of Delays, Billions in Overruns: The Dismal History of Big Infrastructure. As Honolulu sprawled into new suburbs west of Pearl Harbor over the last two decades, city planners proposed an ambitious rail transit line that would sweep riders 20 miles into downtown. The $4 billion estimate in 2006 was hardly cheap, amounting to $200 million per mile. The cost escalation since then has been an engineering marvel all its own. Concerns over Native Hawaiian burial grounds stalled early construction, then problems with welding and cracks in the tracks appeared. Earlier this year, engineers realized that in some sections, the wheels were a half-inch narrower than the rails. Order new wheels? Tear up the tracks? The launch dates slipped forward and the cost estimates crept upward — at latest count, $11.4 billion, with a target completion date of 2031.
Parents sue medical examiner over suicide ruling for woman who died of 20 stab wounds. The parents of a Pennsylvania woman who died of 20 stab wounds are taking the medical examiner's office to court for declaring her death a suicide. Ellen Greenberg's parents have been granted a non-jury trial in their lawsuit against the coroner's office over her January 2011 death in her Philadelphia apartment, CBS Philly reported. "We look forward to the trial in hopes of obtaining justice for Ellen," Sandra Greenberg, Ellen's mother, told the outlet. On the day of her death, Ellen, 27, had returned home to her apartment early from her first-grade teaching job on account of a snowstorm. She was later discovered dead on the kitchen floor by her fiance, Sam Goldberg, when he returned home from the gym.
Fake Fact Checkers Smeared Rand Paul as Liar over 'Gain of Function'. Now that the sociopaths at the National Institute of Health (NIH) have finally admitted to funding gain of function research — which we all knew to be the case — it's time to once again look back at all the fake fact checkers who furthered the lie that the NIH did NOT fund gain of function. [...] This is, after all, the same federal government that pays people not to work, pours money into failing schools and green energy boondoggles, that runs guns to Mexican drug lords, and just handed our mortal enemies in Afghanistan hundreds of American hostages and tens of billions of dollars in operational U.S. weaponry. So, of course, we're helping the Communist Chinese enhance their biological weaponry.
FBI incompetence let Anwar al Awlaki slip away, say retired investigators. More than 20 years after 9/11, two key investigators who made the case their lives' work have revealed they are still haunted by the fact that the FBI let the terrorists' spiritual adviser slip away, only to inspire more deadly attacks in the name of Islam. In an exclusive interview, New Jersey criminal investigator Jim Bush and FBI agent Bob Bukowski, who are both retired, told the Washington Examiner never-revealed details about how they pieced together some of the players behind the plot to hijack four commercial planes and kill 2,977 people. But the case that capped the careers of two seasoned investigators brought both triumph and disappointment, and they are only now learning why Imam Anwar al-Awlaki eluded them in the months after the attack.
America's Intelligence Community — A study in consistent failure. Despite the fact that as a nation we expend billions of dollars to fund numerous three-letter agencies, history has proven that those who are charged with reading the intentions and capabilities of our potential competitors are never able to get it quite right. [...] One of the most basic functions of our government is to ensure a strong national defense. In order to do that we must not only have robust and capable armed forces but also have an intelligence community that will facilitate the employment of these forces. In addition, they must be accurate in their assessment of threats that could impact our survival as a nation state. Unfortunately, history shows this is not the case. To date, based on past performance it appears that we are not getting our return on our national intelligence investment — something needs to change soon — our national survival depends on it.
The Bidenization of America. Bidenization may be defined as a conspicuous and humiliating failure in every major area of government activity. This catalog of disasters is too well-known to readers to require a long telling but it is notable that there is no precedent for a United States administration being uniformly consistent in turning every major public policy area to disaster.
The Cowardly Actions Of America's Joint Chiefs of Staff. This article argues that if indeed the principal members of the Joint Chiefs of Staff (JCS) unanimously supported the disastrous mechanics of Joe Biden's pullout from Afghanistan (as claimed by the president), then truly the JCS principals, America's top military leaders, are nothing but cowards. Strong words, but these individuals are cowards for not strongly opposing such ineptitude by the president in the first place and secondly, for not "manning up" to turn in their uniforms and resign from active service for what happened in Afghanistan. America needs courageous patriots for leaders, not cowards — whatever happened to "duty, honor, country"? Has America's military ethos been replaced by adherence to leftist wokeness and attention to perceived white supremacy and white rage?
Trump: Biden Handling of Afghanistan : 'Dumbest Move' Ever Made Perhaps in the History of Our Country. As the U.S. casualty count is trending in the wrong direction in Afghanistan, President Joe Biden is taking heat from all sides for the handling of the withdrawal of U.S. forces from the Central Asian nation. During an appearance on FNC's "Hannity" on Thursday, former President Donald Trump, Biden's predecessor, called the move by the Biden administration to withdraw military forces before evacuating non-military personnel the "dumbest move" in perhaps the history of the country.
Biden Turns Afghanistan Into A Slaughterhouse, Taliban Into A Military Superpower. A day after at least 13 U.S. soldiers were killed at the Kabul airport, it's still unclear how many Americans will be abandoned in Afghanistan by the Biden administration. What we do know, though, is that most of the U.S. weaponry in the country will not be recovered. It's as if Joe Biden himself was the military procurement chief for the Taliban. Until Thursday [8/26/2021], there had been no U.S. combat casualties in Afghanistan since February of last year. But a bloodbath that the entire world outside of the White House saw coming arrived, and it became the deadliest day in the country for American troops since 2011, when — yes, that's right — Biden was vice president. Homicide bombers and gunmen, reportedly from that brood of terrorist vipers called the Islamic State, killed at least 60 Afghans in addition to the American servicemen, and wounded more than 140. These horrific deaths and dismemberments are squarely on Biden, who rejected military leaders' advice, has resorted to blaming the victims, and once again demonstrated that he has miserable, if not depraved, foreign-policy instincts.
Unreal: Biden Team Gave the Taliban a List of Americans and Afghan Allies. The Biden Administration has shown stunning incompetence throughout the whole Afghanistan debacle. But this latest news may take the cake for outrageous and inconceivable action. According to Politico, U.S. officials gave the Taliban a list of names of American citizens, green card holders, and Afghan allies to grant entry into the airport. [...] This is insane, since the Taliban is looking to kill anyone who worked with the U.S., and has beheaded and killed Afghan allies in the past. Why would you give them what amounts to a "kill list" or hostage list? They are our enemies. Now, even if they don't nab those allies at the airport, they will have their name and can hunt them down. It's already been reported that the Taliban has been going house to house to hunt people down to kill them and their families and you give them a list? Who in the military thought that this was a good idea? U.S. Central Command is refusing to comment on the report, which means you know it's true.
The Only Way Back To Deterrence Is Firing Biden's Entire National Security Team. As commander-in-chief, Biden is at fault for this disaster. But his senior national security advisers also bear responsibility for implementing his irresponsible Afghanistan policies instead of resigning and reporting them to Congress. It's important to stress that Biden had bad instincts on national security when he was a younger man. Former Secretary of Defense Robert Gates wrote that Biden "has been wrong on nearly every major foreign policy and national security issue over the past four decades." Now that Biden appears to be suffering from mental decline, he is making national security decisions that are irrational and dangerous. This extends beyond Afghanistan, to nuclear talks with Iran and failing to secure our southern border. In a perfect world, Biden would immediately resign, be impeached, or be removed from office under the 25th Amendment for this unprecedented incompetence and dereliction of duty.
Afghanistan proves our failed generals no longer care about winning. To the surprise of only the Biden administration and its top brass, the Taliban retook control of Afghanistan last week after 20 years of frivolous American adventurism. It was a spectacular failure of American diplomacy, statecraft, intelligence and, most of all, military capability. In short, mission very much not accomplished. But that's pretty much standard operating procedure for the nearly useless behemoth called the Pentagon, which hasn't won a war since the kinder, gentler American government changed its name from the War Department to the Defense Department shortly after World War II. If you're always on defense, you're losing. Largely thanks to the CIA and special forces, the punitive expedition against the launching pad of 9/11 was swiftly completed, the primitive Taliban scattered, and an example made. But then that soft-headed American notion of mission creep and "nation building" took hold, abetted by a succession of weak presidents and a careerist military utterly unfamiliar with the sweet smell of victory.
Taliban Fighters [are] Now Well-Equipped for Decades. As if it were not enough that the Taliban took complete control of Afghanistan — imposing its will and murderous tactics on innocent citizens; endangering Americans still present in the country; and complicating efforts to extract Afghans who provided important support, such as translators — it gets worse. The Taliban has also seized tens of billions of dollars of military equipment and supplies, which were formerly under the control of Afghan security forces. More than $28 billion was spent equipping the Afghans between 2002 to 2017. Expenditures after that are harder to come by, but since deliveries were continuing until just last month, it is safe to assume that the total amount is much more. Indeed, the Taliban captured essentially all the necessary ingredients to fully equip both an army and an air force, spanning the gamut from 600,000 rifles and machine guns; 76,000 vehicles, such as high-mobility multipurpose wheeled vehicles, armored trucks, and pickups; radios, night vision googles, and drones; and 208 helicopters and fixed-wing aircraft. Of equal significance are the amounts of supplies it acquired in the process: millions of rounds of ammunition, spare parts, grenades, uniforms, boots, meals, fuel, and rockets — enough to sustain Taliban military efforts for years.
U.S. Embassy in Kabul Sends Out Thousands of Blank VISA Documents Which Are Easy to Falsify and Makes Things Worse. David Fox is an American trapped in Kabul who appeared on a video report with ABC to highlight the situation faced by thousands of Americans attempting to evacuate the region. While he was describing the dangerous situation around the Kabul airport, Mr. Fox also pointed out a very serious issue. ABC buried the lead. According to his report, the U.S. State Department responded en masse to all the people trapped in Afghanistan reaching out for help. The U.S. Embassy consular services department sent a document with instructions to assist Americans and eligible Afghans claiming Special Immigrant Visa (SIV) status. The document looks exactly like an approved VISA document except there is no filled in name, no serial number and no barcode. As Mr. Fox notes, the document is easily able to be forged which makes the Kabul airport situation even worse, as it is likely the people who receive this response from the consular's office will duplicate it and share it with friends or family who can then use it in an effort to get to the United States.
Biden's Botched Afghanistan Withdrawal Puts Spotlight Back on Defense Sec. Lloyd Austin's Special Waiver. President Joe Biden's botched withdrawal from Afghanistan has put a spotlight back on the controversial waiver Congress used to confirm the nomination of now-Secretary of Defense Lloyd Austin. Austin has come under fire for his admission this week that the United States military does not have the capability to help the thousands of Americans stranded outside the Kabul, Afghanistan, airport. Austin said, "We don't have the capability to go out and collect up large numbers of people." Austin's involvement in the botched withdrawal from Afghanistan follows as Rep. Jim Banks (R-IN), the chairman of the Republican Study Committee (RSC), urged Republicans in January to vote against Austin's waiver to allow him to serve as the defense secretary.
Are We in a Revolution and Don't Even Know It? Two years ago, it would have been considered absurd that youth would ride bikes into drug stores and steal with impunity as security guards watched, or thieves could enter into Neiman-Marcus department stores and skip out with thousands of dollars of rich people's favorites. Over $2 billion in "stuff" was destroyed in 2020. And almost none of the violence was ever properly investigated, the perpetrators arrested, charged, tried, convicted, sentenced, or incarcerated. In such revolutionary times, no one knows any more what is and is not a crime. Illegally storming the border when positive for COVID-19? Destroying a public statue of George Washington or Thomas Jefferson? Looting a corporate chain store? Knocking out an Asian-American septuagenarian? Or turning over the tables of Jewish-Americans as they eat? Taking over municipal blocks and declaring the confiscation an autonomous zone? Not crimes. "Illegal parading" inside the U.S. Capitol building? Crime.
Americans trapped in Kabul told to fill out an online evacuation form as Taliban take over. The State Department on Sunday [8/15/2021] told Americans in Kabul that their best chance of survival is to hide. "The security situation in Kabul is changing quickly including at the airport. There are reports of the airport taking fire; therefore we are instructing U.S. citizens to shelter in place," the U.S. Embassy in Afghanistan said in a statement published on its website on Sunday. The embassy then told everyone that even as the Taliban took over Kabul, it is vital to have the proper paperwork in order.
Congressman Doug Lamborn Recently Questioned Defense Secretary Austin and Joint Chief Chair Milley About Afghanistan, What They Said Should Get Them Fired Today. Many people have wondered how the Biden administration could get the collapse of Afghanistan so horribly wrong and botched completely the withdrawal of U.S. forces. To that point there is a little known Question and Answer session by Colorado Congressman Doug Lamborn (CO, CD05) that deserves some attention. Approximately 7 weeks ago, June 23rd, Defense Secretary Lloyd Austin and Joint Chiefs Chairman Gen. Mark Milley testified in front of the House Armed Services Committee about their budget requests. Rep Doug Lamborn took this opportunity, he only had 4 minutes, to ask some very specific questions about Afghanistan and his concerns for early reports of the Taliban surging back into control.
First Afghanistan, then COVID. The eyes of the country are glued on the debacle unfolding with the Afghan withdrawal. It is surely correct to pull out of that backward hellhole. But Joe Biden and those advising him have demonstrated their utter incompetence to do it in any order. The most notable of this group include the 'woke' Chairman of the Chiefs of Staff Mark Milley, the pathetically weak Secretary of State Antony Blinken and the effete National Security Advisor Jake Sullivan. But they are far from alone. Below this group are levels upon levels of entrenched swamp creatures just as bad as their leaders are. This cadre cycles from one government agency to another, or back and forth between Washington-related think tanks and government positions. Never leaving the Washington bubble, these people preen about with their ribbons, diplomas, and job titles, projecting themselves as the smartest of the smart. But by the results of their handiwork, they show themselves to be incompetent and clueless about the real world. Their 20-year record just in Afghanistan back to the Bush-Cheney administration proves that.
What I learned about imposters from the private sector. I met some of those fired managers as they literally applied for jobs similar to my humble position. At forty-plus years of age, they had stagnated in jobs where productivity had been not only unrewarded, but discouraged. As one of them told me, his daily task was to make sure to justify his own position, mostly by stifling good suggestions from subordinates for so long that, when and if he finally approved them, it made him look good. It was always safer, however, to obstruct. Some of these former managers admitted to me that they had never felt qualified to hold the titles they did and that they had been in a constant struggle to make it appear as if they knew what they were doing. It is called, by some, imposter syndrome. I was astounded to have learned that bureaucratic ineptitude is not restricted to government. It is a feature of any large organization in which the lower levels no longer have unfettered communication with top management. Protecting one's turf takes precedence over the greater good. In government, it is worse. No one, with the possible exception of President Trump, understood the problem and sought to correct it.
Gardner meltdown deepens: Who falsely put prosecutor's electronic signature on 28 cases? Incompetence might only be a secondary issue in the scandal at the St. Louis Circuit Attorney's office. Yesterday [7/21/2021], KSDK reported that Kim Gardner's office had repeatedly failed to show up at hearings or respond to a judge's order in a murder case, leading to the dismissal of the charges and the apparent flight of the subject. Gardner's office tried to pass this off as confusion over maternity leave, which itself is rather suspect. Late last night, the maternity leave excuse became even more threadbare. KSDK reports that Kim Arshi, the original prosecutor in the case who went on leave, has resigned after finding that someone used her electronic signature without her consent in as many as 28 cases — including the infamous case of Brandon Campbell.
St. Louis chief prosecutor Kim Gardner accused of dereliction of duty. Kim Gardner was supposed to be tough on crime. Gardner, the first black woman to be elected St. Louis's Circuit Attorney, campaigned on progressive changes and vowed to go after criminals and hold them accountable. She did flashy interviews on 60 Minutes and Nightline and grabbed even more headlines when she sued the city, its police union, and five others in 2020 for what she called a racist effort to block her reform agenda. Today, she stands accused by members of the public, her former employees, and a circuit court judge of a dereliction of duty. Her office has been faulted for making egregious errors that led to the dismissal of three murder cases in a week. They've also been accused of turning their backs on the families of victims and have been no-shows to multiple court hearings. "Kim Gardner is a poor excuse for a prosecutor," Cierra Moore told KSDK.
Kimberly Gardner's St Louis Prosecutors Don't Show Up To Court, Known Felon Accused of First Degree Murder Released. This is just incredible. Jaw dropping. Circuit Attorney Kimberly M Gardner is the same prosecutor filing charges against the McCloskeys for defending their home in Saint Louis. Incredibly her office was charging a previously convicted felon with first-degree murder, and the prosecutor assigned to the case took maternity leave leaving no one to show up in court. After three missed court hearings by prosecutors, the judge was forced to drop a murder case because no one other than the defense, a public defender, was showing up in court. This is a jaw-dropping example of a prosecutors office is a state of horrible mismanagement. Compounding the issue Ms. Gardner doesn't even attempt to justify the collapse of the justice system; she just says whoopsie.
What Happened to Bill Barr? There are two competing pictures of Bill Barr's tenure as attorney general. There is the decisive Bill Barr who ended the farcical Mueller probe, making the determination that President Donald Trump had not obstructed justice. There is the nonpartisan Bill Barr who stood up to Congress and promised to take on Big Tech. There is the outspoken, seemingly fearless Bill Barr who challenged our intelligence communities as he opened the Durham investigation into the FBI's surveillance of the Trump campaign. And then there is the attorney general who left the Department of Justice (DOJ) with zero investigative results and few tangible achievements other than ending the politically driven Mueller probe. An attorney general who kept the DOJ's investigation of Hunter Biden hidden from public view during a crucial point in the presidential election. An attorney general who publicly stated that he had not seen a level of fraud that would have altered the outcome of the 2020 presidential election — exactly when Trump was petitioning various state courts seeking to review the legality of the election. [Video clip]
Cotton: Biden's Crime Policy Is 'I Hope You Don't Get Shot'. Sen. Tom Cotton (R-AK) slammed President Joe Biden's recent remarks on rising violent crime, claiming that the president's crime policy could be summed up as "I hope you don't get shot" on "Life, Liberty, and Levin" Sunday evening. "He said that crime goes up in the summertime, so we should expect crime to continue to rise over the next three months, as if he's trying to apologize in advance for what he knows is going to be a dangerous summer," Cotton told host Mark Levin. "I guess Joe Biden's crime policy is 'well, I hope you don't get shot when you go out to a restaurant with your husband or wife this summer.'"
Stunning development in big N.J. corruption case as judge tosses charges against former candidate. In a major setback for state prosecutors, the bribery and corruption case against Jason O'Donnell, a former Democratic legislator who was running for mayor in Bayonne, was thrown out of court Thursday [6/3/2021] after a judge found the candidate had committed no crime. The judge dismissed the indictment because she said O'Donnell had no power to make any promises in return for a $10,000 cash payment he allegedly accepted from an informant during an undercover sting operation. "Jason O'Donnell had nothing to offer him," said Superior Court Judge Mitzy Galis-Menendez, noting that he was not a public official at the time. "I think you need more than mere words." The Attorney General's office said it plans to appeal.
The Editor says...
Seems like the agency conducting the sting operation would have known "that he was not a public official at the time."
Biden's DHS Issues Another Baseless White Supremacy Warning For Tulsa Race Massacre Centennial Events. After months of failed predictions concerning potentially violent acts committed by white supremacists, President Joe Biden's Department of Homeland Security issued another blanket statement warning law enforcement, organizers, and attendees of the Tulsa Race Massacre centennial commemoration events that they could be targets of extremism. Just last week, DHS said the "events associated with the 100th anniversary of the Tulsa Race Massacre ... probably are attractive targets for some racially or ethnically motivated violent extremist-white supremacists to commit violence."
Feds never alerted authorities about San Jose shooter Samuel Cassidy's manifestos in 2016: report. In 2016, federal officials detained the San Jose man accused of killing nine of his colleagues last week, finding him with books on terrorism and detailed writings about how much he hated the people at his work — but nobody bothered to alert local authorities, according to reports.
How to Prevent Another Colonial Pipeline [Incident]. [Scroll down] For example, most computer networks are open and store data without any protection. Operating systems, likewise are commercial (off the shelf) and are not encrypted. Network protocols and the Internet all rest on standards shared globally and are easily hacked. Even much of the Defense Department's intellectual property is stored without encryption protection because of obsolete rules the Pentagon follows. These rules say that if an item is not classified, in the Pentagon it isn't supposed to be stored in encrypted format. The National Security Agency (NSA) controls encryption in the U.S. government, and the strict separation of classified from non-classified information is their mantra. While the Pentagon has begun characterizing some information as "sensitive but unclassified," it is not entitled to NSA sponsored encryption. Whether sensitive but unclassified information can be protected by law from disclosure appears highly questionable, because DOD says it is not national security information. Unfortunately this is complete nonsense.
California Controller Wrote 49 Million Checks, but Claims She Can't Locate Any of Them. As California state controller, Betty Yee's job includes being "responsible for accountability and disbursement of the state's financial resources," according to her office's official website. Yee's office issued 49 million checks in payments worth $320 billion in 2018 in her capacity as "chief fiscal officer" for the state whose economy is the fifth-largest in the entire world. The state's 2020 budget was $208.9 billion, but Yee's office payments often cover multiple-year obligations. Her job description also makes her "responsible for auditing all funds disbursed by the state and all claims presented for payment to [her office]. Performs independent audits of government agencies that spend state funds." Given Yee's job duties and actions, Open the Books Chairman Adam Andrzejewski may be forgiven for being mystified by the California State Controller's claim to be "unable to locate or otherwise provide" documentation of any of those payments.
Biden's Horrible Colonial Pipeline Messaging Failure. Apparently, the Biden administration's policy is to allow U.S. companies that provide vital services to be extorted by foreign hackers. An Eastern European group of hackers, known as DarkSide, shut down Colonial Pipeline's computer network late last week, causing gas prices to spike and gas stations in several states to run dry, and the White House's response was one of casual indifference. "Typically, that's a private sector decision," Anne Neuberger, deputy national security adviser for cyber and emerging technologies, told reporters after being asked whether Colonial Pipeline would need to pay a ransom to get control of its system back.
Gas Lines Return as Woke Deep State Fails to Stop Cyber Attack. Welcome to Jimmy Carter 2.0, to an America saddled with a failed president and a failed Deep State whose minions worry about everything except what actually matters. The [...] FBI and the [...] CIA have one [...] job, and that's to protect our way of life. Period. And the fastest way to unravel our way of life — the most effective, deadly, and destructive way — is to interrupt the free flow of oil. Therefore, outside of physical threats to American persons and property, the FBI and the CIA should be focused almost exclusively on ensuring the energy that keeps our way of life alive is not interrupted. Well, once again, these feckless Deep Staters have failed. Instead of being focused on stopping a VERY successful cyber-attack on a crucial oil pipeline, these useless idiots have been focused on using the correct pronouns.
Racket of the Week: The $2 Billion Deli. Back on April 15th, investor David Einhorn, author of Fooling Some of the People All of the Time, wrote a letter to investors that began with an assessment of the state of the financial services sector: ["]Many who would never support defunding the police have supported — and for all intents and purposes have succeeded — in almost completely defanging, if not defunding, the regulators... quasi-anarchy appears to rule in markets... For the most part, there is no cop on the beat. It's as if there are no financial fraud prosecutors; companies and managements that are emboldened enough to engage in malfeasance have little to fear.["] Einhorn went on to list examples of that "quasi-anarchy," mentioning the investigation by New York Attorney General Letitia James of Tether, a cryptocurrency that had risen above $40 billion in market capitalization. At the end of February, James found that Tether was hiding $850 million in losses, and its "claim that its virtual currency was fully backed by U.S. dollars at all times was a lie." For all that, the company wasn't shut down, there were no charges, and trading was only halted "with New Yorkers." It's not every day that a company gets caught in a $40 billion lie by a regulator and is only barred from trading to some customers.
Small Businesses Fight Arbitrary Shutdowns. No event in history has devastated small businesses like the coronavirus shutdowns. In the first three months (February to April 2020) of the pandemic, mandates requiring restricted access, social distancing, and periodic closures caused the number of small business owners to fall 22%. After seven months of such restrictions, a Federal Reserve survey found that 44% of small businesses had debts of more than $100,000, up from 13% in 2019. Three out of every ten said they wouldn't survive 2021 without government assistance. One report said 27% of small and medium businesses had to reduce their workforce, and 48% had to lay off at least half their employees. Among the worst hit is the restaurant industry: 110,000 had closed for good by December 2020. Federal relief, which could have served as a lifeboat, was poorly administered. Less than two weeks after the SBA received its first application for the emergency Paycheck Protection Program (PPP), the money ran out. The initial $350-billion fund was meant for businesses with under 500 employees, but it was disbursed on a first-come, first-served basis. Big banks put their largest clients first at the expense of struggling small businesses.
Report: Biden Has Andrew Cuomo Lead White House COVID Calls with Governors. Embattled New York Governor Andrew Cuomo (D) has reportedly taken over the leadership of the weekly White House conference calls with the nation's governors about the coronavirus pandemic, since President Joe Biden does not join them. Philip Wegmann of RealClearPolitics reported Monday [4/26/2021] that Biden and Vice President Kamala Harris have both opted not to join the weekly conference calls with governors, unlike former President Donald Trump and Vice President Mike Pence.
Biden, Harris Skipping Weekly COVID Calls With Governors, Leaving Cuomo in Charge. Governors have become frustrated because President Joe Biden has not attended a single weekly COVID briefing. Vice President Kamala Harris has only attended one so far. [...] So Cuomo, the man under investigation for nursing home deaths and sexual harassment, leads the calls now.
Governors Complain That Biden, VP Skip Weekly COVID Calls. The phone calls come from inside the new administration, but the president is not on the line. In fact, Joe Biden has not dialed in to any of the weekly COVID-19 coordinating calls with the nation's governors since he came into office, a sharp contrast with his predecessor and a break from last year's pandemic ritual. Every Tuesday, usually at 11 a.m. EST, all 50 governors dial in to the same conference call to coordinate federal and state responses to the coronavirus crisis. And until this past January, they heard each time from the vice president. Mike Pence, as head of the White House COVID task force, led those weekly discussions. Donald Trump dropped by from time to time. The calls continue under the current administration but without Biden. "It's been a real frustration, I think it's safe to say, for all 50 governors," New Hampshire's Chris Sununu told RealClearPolitics.
Biden's bizarre kabuki. No one greeted the Prime Minister of Japan, Yoshihide Suga, a head of state, when he arrived at the White House last Friday for the first state visit President Biden's overseers allowed him to have since his installation. A door guard had to admit Mr. Suga and he stood around in the foyer surely wondering if he had the date wrong or was at the wrong address, while someone summoned the Vice President from somewhere. Mr. Suga then stood before the press while a grim-faced Mrs. Heiress nattered on about the terribly gun-violent country he was visiting, that there was no question that this gun violence must end and how she, that she and Mr. Biden were thinking of the families of the gun-violence victims [...] Then she smiled and tossed her Breck-girl hair and welcomed the Prime Minister of Japan and [...], who are these people? Granny and Uncle Jed had better company manners. You can't see Mr. Suga's entire face, but his eyes look confused about the [situation] he'd been dropped into and he was probably counting the minutes until he could leave. I was embarrassed for Mr. Suga and the Japanese who had to watch their leader be treated as if he didn't matter. Who's in charge of protocol in Mr. Biden's White House? Is it the same person who led the Dalai Lama through the kitchen and out the back door by the garbage bags after his state visit with Obama?
FedEx mass shooter was reportedly 'known' to authorities. The gunman in the FedEx shooting spree was previously known to federal and local authorities — and had been flagged up to law enforcement by a concerned family member before the deadly attack, according to a report Friday [4/16/2021]. The suspect, who committed suicide after killing eight at the Indiana facility Thursday night, has not been publicly identified by police. But CNN reporter Ana Cabrera said he's no stranger to law enforcement. "Authorities were warned about FedEx suspect's potential for violence in the past, sources say," Cabrera tweeted. "The suspect in the Indianapolis mass shooting was known to federal and local authorities prior to the attack."
The FBI is very good at woke politics, not so good at catching killers. After the horrendous Colorado shooting last week, we learned that the alleged shooter, Ahmad Al Aliwi Alissa, had a record of violence and arrests. His brother described him as mentally ill, paranoid and "very anti-social." He was also on the FBI's radar because of someone with whom he associated. In this, Alissa joins a long list of "known-wolf" killers, including Nidal Hasan, the Fort Hood shooter; the Tsarnaev brothers, who conducted the Boston Marathon bombing; Omar Mateen, the Pulse nightclub shooter in Florida; and some of the 9/11 hijackers. The FBI's failure to catch that last set of perpetrators is especially enraging — and shows the agency has been atrophying for a long time. "For two and a half weeks before the attacks," as Slate noted, "the US government knew the names of two hijackers. It knew they were al-Qaeda killers and that they were already in the United States."
An FBI so corrupt it lets mass shooters rampage needs to go. The New York Times reported on March 27 that Syrian-born Colorado mass shooter Ahmad Al Aliwi Alissa had been on the FBI's radar before he murdered 10 people in a grocery store. "The suspect's identity was previously known to the F.B.I. because he was linked to another individual under investigation by the bureau, according to law enforcement officials," the Times says. [...] It seems the FBI is not very good at this "stopping mass shooters" thing. This is not an anomaly in the FBI's history. It in fact appears to be a pattern of negligence. During the Barack Obama presidency, Sen. Rand Paul, R-Ky., grilled FBI Director James Comey about the "known wolf" problem — of 14 Islamist attacks in the U.S. during Obama's tenure, the FBI had been aware of at least 12 before the violence erupted, and did nothing. For example, the 2009 Fort Hood shooter, who killed 13; the Boston Marathon bombers of 2013 who killed three and injured 264; and the Pulse nightclub shooter who killed 49 people and wounded 53 more. All were known to the FBI and several had been interviewed by the FBI before they went on killing sprees. The FBI had also been warned numerous times about the Parkland, Florida school shooter, before he killed 17 and injured 17 more in 2018. It also knew beforehand about the 2018 Nashville, Tennessee Waffle House shooter, who killed four and injured two more, and the 2020 Nashville RV bomber.
Colorado, the Rocky Mountain Shooting Gallery. Another mass shooting occurred this past week in Colorado, a state that had more than its share of similar shootings over the past few decades. [...] [The shooter] was already known to the FBI, "linked to another individual under investigation by the bureau" according to the New York Times. Yet this happened under the FBI's noses. Perhaps they were busy with other important cases. Like the 50 plus agents investigating Trump-Russia collusion, spying on the Trump campaign and administration. Or the dozen plus agents sent urgently to investigate a NASCAR garage door handle with a loop that someone thought might resemble a noose. As The Last Refuge points out, this is yet another of many potential terrorism-related mass shootings where the shooter is known to the FBI, yet they did nothing to prevent the shooting. If only the shooter were a garage door handle, then the FBI might have investigated seriously and might have actually preempted the mass casualty event.
Republicans Furious After DHS Releases Migrants into US Without Court Dates. Furious Republican lawmakers sent a scathing letter to the Department of Homeland Security this week after the agency reportedly released illegal migrants into the United States without court dates. "Despite your repeated claims that 'the border is secure,' these reports raise serious questions about DHS' commitment to faithfully enforcing the law," said the statement signed by 14 legislators. "Multiple Border Patrol agents confirmed the new process to Fox News, revealing that they have been directed to use prosecutorial discretion to forgo the hours-long process of paperwork required to issue an NTA amid the surge of migrants at the border," reports Fox News.
So the FBI knew all about the Colorado shooter.... What, exactly, are the taxpayers paying for in the highly politicized and loaded-for-money wokester FBI these days? The recent mass-shooting out of Colorado, from a murder-spewing freak they knew about, would suggest nothing. While they were out there busy looking for 'white supremacists' this admitted refugee from Syria was making plans to kill. And he's not the first. [...] The prevalence of spray-shooters ought to leave the FBI no time for political persecutions that benefit only Democrats. They need focus now on real threats and be on the hot seat if they don't.
FBI Knew Boulder, Colorado, Suspect Identity Prior to Shooting. A reminder: 50 FBI agents were enlisted within the Trump-Russia investigation to push a narrative. 13 FBI agents were dispatched to Talladega speedway to investigate a garage pull-down rope and push a narrative. Thousands of FBI hours have been spent investigating the January 6th Washington DC protest, and once again another terrorist carries out a mass shooting where the FBI knew the suspect in advance. The FBI knew in advance the Pulse Nightclub shooter (Omar Mateen) and were tipped off by the local sheriff. The FBI knew in advance the San Bernardino Terrorists (Tashfeen Malik). The FBI knew in advance the Boston Marathon Bombers (the Tsarnaev brothers) tipped off by Russians. The FBI knew in advance the Garland, Texas, shooters (Elton Simpson and Nadir Soofi). The FBI knew in advance of the Parkland High School shooter (Nikolas Cruz). The FBI knew in advance of the Fort Hood shooter (Nidal Hasan); and now the FBI knew in advance of Ahmad al-Aliwi Alissa. [...] Meanwhile the political FBI agents chase the ghosts of mysteriously invisible white supremacists conducting random acts of unidentified racism.
The Chinese know very well with whom they're dealing. On Thursday [3/18/2021], during a meeting in Anchorage, China's top diplomat and its Foreign Minister showed Secretary of State Tony Blinken (an empty suit) and national security adviser Jake Sullivan stunning disrespect. It was almost as if the Chinese knew that these are weak, self-loathing, confused men — and it turns out they did know. [...] Blinken opened the meeting with a two-minute attack against China for its failure to follow global rules and norms. To his credit, he did mention "our deep concerns with actions by China, including Xinjiang, Hong Kong, Taiwan, cyber-attacks on the United States, [and] economic coercion towards our allies." However, he somehow failed to mention either COVID or the Uighurs — that is actual or negligent biological warfare and mass genocide. Hmmm. The Chinese were not impressed. Top Diplomat Yang Jiechi, who was there with Foreign Minister Wang Yi, launched into an 18-minute long lecture against America which showed how closely the Chinese watch American news. He castigated America for an election that caused many Americans to doubt our democracy, the way Black Lives Matter highlighted human rights problems, Washington's many alleged cyberattacks, and America's habit of meddling in foreign affairs. It was the verbal equivalent of slapping Blinken across the face with a glove and calling him a knave and a churl.
US Falls Into 4 Traps Set by the CCP in US-China Talks. After Biden's inauguration on Jan. 20, Anthony Blinken, the U.S. secretary of state spoke with Yang Jiechi, member of the CCP's Politburo, and President Joe Biden spoke with CCP leader Xi Jinping. Judging from their public statements, each side took a different tone. In fact, as far as the current state of U.S.-China relations is concerned, it is the CCP that has begged the United States to stop the decoupling and sanction. Without substantial proposals (or concessions) from the communist regime, there would be no need for the United States to hold the meeting at all. Before the U.S. administration had any clear policy toward the CCP, it actually "invited" the CCP to come to the talks, falling into the "dialogue trap" set up by the CCP.
Complete Foreign Policy Disaster in Alaska During U.S-China Summit — Secretary Blinken Destroyed by His own Arrogance. To say the first major diplomatic summit between the United States and China was an unmitigated mess would be an understatement. Apparently U.S. Secretary of State Tony Blinken thought it would be of value for the domestic audience if he was to lambast the Beijing delegation in public and on camera. His efforts were a complete fail as the Chinese knew everything was presented for domestic consumption... so, the Red Dragon threw fire right back onto the purple hair and obviously stunned an unsettled U.S. Secretary. The train wreck was started by challenging China publicly, in front of the international press, likely believing such an aggressive posture would weaken Republican criticism about the Job Biden administration being soft/weak on China. However, using a joint press conference as the forum only provided insult to the Beijing delegation. Public insults are expressions of weakness, not strength.
'One of the most incompetent displays I've ever seen:' Expert slams Biden and Blinken for China summit 'disaster'. A former CIA and National Security Council official called on Biden to replace Secretary of State Anthony Blinken in the wake of the US-China summit in Alaska that devolved into insults and little progress. Former CIA analyst and National Security Council chief of staff Fred Fleitz said "it was one of the most incompetent displays I've ever seen by an American diplomat." [...] According to Just the News, Fleitz said "Insulting the Chinese just before the talks begin, before the cameras causing them to lose face. I just thought, 'This is amateur hour.'"
There is No Biden Administration. The Biden administration was built out of the wreckage of the Obama and Sanders campaigns, but staffers and appointees are only loyal to whoever can get them their next job. That's not Obama and it's not Biden who can't name his own Secretary of Defense. It's the think tanks and non-profits who built the Obama administration and built an even more radical Biden admin. But non-profits and think tanks can't actually run a government. Neither can Biden. That's why there isn't a Biden administration. There's an ongoing Netroots conference on government property. That's why Jen Psaki can't answer any real questions. The press secretary is supposed to speak for the White House, but there's no one to speak for. Like a plane with no airport, she keeps circling back because there's no administration position.
The Military's Mission is National Security, Not 'Equality'. President Biden — or whoever is making the actual policy decisions for the country these days — is damaging the national security of the United States by allowing women and transgenders to assume an ever-increasing role in front-line combat operations. "Biden's" policy weakens our military preparedness by putting misplaced considerations of gender neutrality and political correctness ahead of the best military strategy for protecting American interests. At a rambling and largely incoherent speech on Monday, March 8, where he forgot the name of his Secretary of Defense and referred to the Pentagon as "that outfit," Biden made the following bizarre statement: [Omitted for brevity] No one had ever asked the current administration when "maternity flight suits" or "updated hairstyles" — whatever that means — would be ready for women in the military, but our ersatz president volunteered the information anyway, much to the total confusion of the audience at hand.
Report: Biden CBP Facilities Are a Horror Show With Kids Sleeping on the Floor and Going Hungry, and It Gets Worse. Whether the Biden wants to admit it or not, it's a crisis at the border. [...] The Biden team is claiming that their response is humane, but as this new, CBS News report explains, they've reactivated a crisis — which President Donald Trump effectively solved — with their horrendous policies. So no, it isn't humane when they trigger a flood and can't effectively deal with it because of the massive amount of people.
Soros' SF DA Chesa Boudin Tried Zero Murders and Only 2 Sex Assaults. There's a pro-crimes arms race among Soros DAs bent on freeing the most criminals and convicting the fewest. But even within that fishbowl, Chesa Boudin, Weatherman royalty backed by Soros, is something special. The Marina Times, which California Democrats have been trying to stamp out, has the numbers and they're something special. [...] Just keep in mind, Chesa Boudin is the DA of San Francisco, not a small town in Iowa. These are staggeringly insane numbers that paint a picture of a justice system that has essentially shut down.
Hey, de Blasio, where's that stinkin' cleanup you promised? Somewhere in the piles of garbage lining the streets of Bushwick, residents might find Mayor de Blasio's word. It's been six months since the mayor promised to pump more money into the city's street-cleaning efforts. And the trash problem has only gotten worse. De Blasio in September announced initiatives to reallocate Sanitation Department funding to bolster litter-basket pickups in communities hit hardest during the pandemic, including Bushwick in Brooklyn. But according to the official mayoral report of "acceptably clean city streets," street cleanliness there plummeted to 33.3 percent in January, compared with 86.1 percent the month before. The same neighborhood scored 95.4 percent a year ago.
The #BlueAnon Dossier: The Conspiracies Promoted by the Conspiracy-Hating Press. This past Thursday, on March 4, Washington was paralyzed. The National Guard troops were placed on high-alert with their unloaded weapons, the security fencing surrounding the Capitol was fortified, and Congress suspended its daily schedule. This was all done in preparation for a renewed assault on our nation's capital and our democracy. The reason? The devotees of Qanon — that amorphous and overhyped cabal of political zealotry — were supposedly claiming that is the true inaugural date and that a failure of a Trump swearing-in ceremony would lead to renewed violence. [...] This non-episode reveals two details on the whole Qanon issue. One is that the press is intent to use this group as a political tool to attack conservatives, presenting their crackpot theories as mainstream thought within the movement. This attempt however exposes the other issue. In order to wield this weapon, the media needs to both pay close attention to Q theories, and then they need to broadcast them. What takes place then is the press taking these conspiracies far more seriously than anyone on the right; almost anytime I have heard of a Q talking point it is being promoted by someone in the press[.]
Portland police officers 'guarding' Fred Meyer dumpsters as residents seek discarded food. Roughly a dozen Portland police officers faced off with a small group at a Northeast Portland Fred Meyer on Tuesday after people tried to take food that had been thrown away. Workers at the Hollywood West Fred Meyer threw away thousands of perishable items because the store, like many others, had lost power in an outage brought on by the region's winter storm. Images on social media showed mountains of packaged meat, cheese and juice, as well as whole turkeys and racks of ribs that had been tossed into two large dumpsters near the store.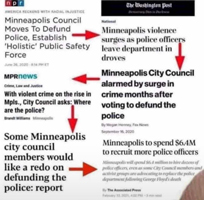 How Minneapolis created a crime wave (in the progressive media's own words). I apologize for not knowing who created the chart [left], and for being unable to obtain permission to use it. But it is too good not to share with readers. I suspect that whoever put it together would appreciate having it spread far and wide. The main reason that I like it so much is that it uses progressive mainstream media headlines to make its point. We bemoan the censorship that social media and the MSM exercise to protect their phony narratives. But often, carried away by their own crazy beliefs, they report on absurd actions with a halo of righteousness, and then can't ignore the consequences.
Public Servants or Parasites? [Scroll down] Don't forget the FBI. It's in a class all by itself. Our sworn law enforcement agents initiated a coup attempt against a duly elected president. They set a perjury trap for his national security advisor. They even falsified evidence to a FISA court. I've heard the arguments that the FBI rank and file are honest and professional. We shouldn't blame the whole FBI for a "few bad apples." What complete balderdash! If most of them were honest, where were the whistleblowers during the investigation of President Trump? As far as being professional, how did they fail to prevent the Boston Marathon bombing — even after they'd received a tip that the Tsarnaevs were up to something? I have the same question about the Pulse Nightclub massacre. Was it also just a "few bad apples" that tried to frame Richard Jewell for the Atlanta Olympics bombing? The FBI even had warnings about the 9/11 attack, yet failed to act. Of course, our highly professional FBI agents were able to determine that a noose was really a garage-door pull. It only required 15 agents and five days to make that determination. That is some cunning police work! It appears that the FBI is either using their badges to target political enemies, or they're just a modern-day version of the Keystone Cops in tailored suits.
Trump Offered Assistance Multiple Times to DC Officials Before January 6th. Former White House Chief of Staff Mark Meadows joined Maria Bartiromo yesterday on Sunday Morning Futures. During their discussion, Mark Meadows dropped this BOMB on the power-drunk Democrats who are out for blood. According to Mark Meadows President Trump offered Capitol Police, national guard and even offered the Department of Defense to help protect Washington DC prior to the January 6th protests.
Trump Offered to Deploy 10,000 National Guard Troops in DC Ahead of Jan. 6: Mark Meadows. Former President Donald Trump offered to deploy 10,000 National Guard troops in Washington D.C. prior to Jan. 6, the day of the Capitol building breach, according to former White House chief of staff Mark Meadows. Meadows told Fox News' "Sunday Morning Futures" that although Trump had been vocal about offering Capitol Police and National Guard presence at the Capitol on multiple occasions last month, his offer was rebuked "every time." "We also know that in January, but also throughout the summer, that the president was very vocal in making sure that we had plenty of National Guard, plenty of additional support because he supports our rule of law and supports our law enforcement and offered additional help," Meadows told host Maria Bartiromo. "Even in January, that was a given, as many as 10,000 National Guard troops were told to be on the ready by the Secretary of Defense" Meadows said.
Homeland Security briefing issued day before Capitol riots shows how multi-pronged system failed to warn of impending unrest. A Department of Homeland Security intelligence briefing has revealed how officials failed to identify and thwart threats of unrest ahead of the Capitol riots last month, with thousands of troops now still stationed in Washington in the wake of the unrest. 'Nothing significant to report,' read a national summary from DHS' Office of Intelligence and Analysis that was sent to law enforcement agencies across the country on January 5, a day ahead of the riots that would bring five deaths and extensive damage to the Capitol. The DHS office was set up in the wake of 9/11 to share intelligence among federal, state and local law enforcement and prevent potential violence or similar attacks. It's the office that should have warned of a Capitol attack.
Law enforcement failed to act on intel ahead of Capitol riot: report. A sprawling network of federal and local law enforcement across the US that is designed to stave off terrorist threats failed to protect the Capitol on Jan. 6 because officials did not act on intelligence that had been gathered prior to the riot, a report said Monday [2/8/2021]. The intelligence included warnings from federal-local law enforcement "fusion centers" across the country that warned of protesters traveling to DC with weapons, the Wall Street Journal reported, citing internal documents viewed by the newspaper. An FBI field office also warned the federal and local agencies handling security for the protest of demonstrators sharing maps of the Capitol and a "call for war," the Journal reported. But despite the warnings, the intelligence arm of the Department of Homeland Security wrote there was "nothing significant to report" in a Jan. 5 memo to law enforcement across the country.
The Editor says...
The whole purpose of the Patriot Act and the establishment of the Department of Homeland Security was — ostensibly — to make it easier for law enforcement agencies to exchange information and cooperate with each other. Incidents like this could easily make one wonder if DHS is incompetent.
Pro-Trump Meme Maker "Ricky Vaughn" Indicted For Using Twitter to 'Spread Election Disinformation' to Hillary Clinton Voters in 2016. A pro-Trump meme maker and Twitter troll was indicted Wednesday by the feds for using the social media platform to 'spread election disinformation' to Hillary Clinton voters in 2016. "Ricky Vaughn" AKA, Douglass Mackey, used Twitter to post memes and troll Hillary Clinton during the 2016 presidential election cycle. 31-year-old Mackey was arrested in West Palm Beach on one charge of conspiracy against rights and faces up to 10 years in prison. According to the unsealed indictment, Mackey conspired with others on Twitter to encourage black people to cast their votes via text message.
Alt-right Twitter troll 'Ricky Vaughn' busted for voter disinformation. The man behind pro-Trump Twitter troll account "Ricky Vaughn" was busted in Florida on Wednesday for spreading disinformation during the 2016 presidential election in a scheme to limit black turnout, officials said. Douglass Mackey, 31, was arrested in West Palm Beach on one charge of conspiracy against rights, for which he faces up to 10 years in prison. Between September and November 2016, Mackey allegedly conspired with others to use social media messaging to encourage blacks to cast their votes via text message so their ballots wouldn't count, according to Brooklyn federal prosecutors.
A Democrat Was Exposed Committing Same Election Fraud Scheme That Trump Supporter Was Just Arrested For — No Action Is Being Taken Against Her. News broke yesterday that the Feds arrested and indicted a Trump supporter for using the social media platform Twitter to 'spread election disinformation' to Hillary Clinton voters in 2016. 31-year-old Douglass Mackey, who went by "Ricky Vaughn", was arrested in West Palm Beach on one charge of conspiracy against rights and faces up to 10 years in prison. He was charged due to memes he posted to Twitter trolling Hillary supporters to stay home and text their votes in. But, guess what. Democrats were just caught doing the exact same thing. And she's still walking around, scot-free. Could it be that the new Administration has a double standard for "voter fraud"? Far-left activist and "comedian" Kristina Wong posted the same fake voting meme on Twitter in 2016 — but she targeted Trump supporters!
SF DA Boudin Skips Memorial For Women Killed By Drunk Parolee — to Tweet About Inmates Not Receiving Vaccines. On Friday afternoon [1/22/2021], a grieving mother who'd flown to San Francisco from Japan to collect her daughter's body and belongings spoke at a memorial for that daughter, which was held on a sidewalk near the intersection where a drunk parolee in a stolen car mowed her and another woman down on New Year's Eve. After running over Hanaka Abe, 27, and Elizabeth Platt, 60, the parolee kept going, but was quickly apprehended by law enforcement. The crash has been big news in San Francisco because the man who committed the horrific crime shouldn't have been on the street. Troy McAllister, 45, was released from prison and placed on parole in April 2020 after serving five years for robbery. He was arrested in November and December on felony charges, but instead of actually filing the charges the San Francisco DA's office simply notified McAllister's parole officer that he'd been arrested [...]
The Capitol Hill Riot Was Pelosi's Fault, Not Trump's: Why couldn't Congress' private police force of 2,000 protect it from a mob of hundreds? [Scroll down] The media claimed that the Capitol Police were overwhelmed by a massive riot. Except that the number of violent rioters was, at most, in the hundreds, while the Capitol Police could deploy a force the size that protects entire cities to protect a few buildings from hundreds of people. Media narratives have blamed President Trump for not calling out the National Guard, but the military should not have been needed to supplement a police force as big as those of Atlanta or Denver, but was not tied down with an entire city to police, and really only had one simple job. And it catastrophically failed at that one job. When Black Lives Matter rioters, incited by Democrats and the media, besieged the White House, 60 members of the Secret Service's Uniformed Division were injured holding the line while President Trump and his family were taken to a bunker. 11 members of the Service were hospitalized due to the violence of the BLM riot that Democrats falsely claimed was peaceful. Much of the heavy lifting was done by the Park Police, another one of the innumerable mini police forces swarming the city, which has only 641 sworn officers spread across three cities.
An L.A. councilman lied to the FBI. Probation officials say he deserves no jail time. It was the first blockbuster case to surface in the federal corruption probe of Los Angeles City Hall — a multi-count indictment accusing former Councilman Mitchell Englander of taking envelopes of cash, lying to the FBI about that money and obstructing its investigation. Englander, while serving in office, made false statements to FBI agents during three separate interviews, prosecutors said, providing untrue information about his dealings with a businessman who gave him $15,000 in two casino bathrooms. The case was resolved quickly, with Englander pleading guilty to a single count of scheming to falsify material facts. But now, prosecutors are voicing objections to the sentence recommended by federal probation officials: three years' probation, a $9,500 fine and no jail time or community service.
NYC landlord being evicted while delinquent tenants live rent-free. A well-intentioned "eviction moratorium" effort by the government to prevent renters from finding themselves out on the streets after government shutdowns eliminated their jobs did little or nothing to prevent the damages sustained by landlords. It also never answered the question of what would be done about all the back rent that was going to come due when the moratoriums expired. These challenges are already taking their toll in New York City and, in one case, we're seeing a twist on the usual depressing tales. One landlord and owner of a modest apartment building in the Inwood neighborhood of the Big Apple is now facing eviction himself. The reason is that some of his tenants are simply refusing to pay their rent even if they kept their jobs or other sources of income through the pandemic.
Colorado Woman Receives Dozens Of Unemployment Debit Cards In The Mail. Dozens of unemployment cards are showing up at the wrong address in Longmont. When the first white envelope showed up with Sharlene Kesler's mail, she didn't think much of it, other than to return it to sender, but then more showed up. "It's my address but it's not my name. I don't know any of these people," Kesler told CBS4. She recalls it started about four weeks ago. "Then the next day I got two, then almost every day I'd get a couple," she said. Currently, it's up to three or five a day. Just recently, Kesler inspected one of the envelopes to see if it was some kind of scam.
The 2020 List of the 10 Worst Mayors in the Nation. In celebration of a 2020 that desperately needs to come to an end, here is a list of the Top 10 Worst Mayors in the nation. These mayors most definitely use Orwell's 1984 as their policies and procedures manual, if not their Bible. It comes as no surprise that all 10 of the mayors on the list are Democrat (something about that political party), and that five of the 10 are mayors of West Coast cities (something about the Pacific Ocean). Several of the mayors have overseen a mass exodus of people from their cities, and even their state in a 10-month period. But most of all, every one of these mayors stand out as abject failures of governance, with constituents that literally despise them.
Girlfriend of Nashville bomber Anthony Warner told cops he was making bombs last year. Nashville police were warned in 2019 that Anthony Warner was making a bomb inside his RV — but nothing was done to stop him. Warner's girlfriend told Nashville cops on Aug. 21, 2019, that he "was building bombs in the RV trailer at his residence," according to a report Tuesday [12/29/2020] in The Tennessean. City cops passed the tip off to the FBI and ATF. But when authorities showed up at Warren's door no one answered, and a subsequent request to search the property was denied, The Tennessean reported. Warner's bomb-making then continued unhindered until Christmas morning, when he detonated explosives in the vehicle and leveled a stretch of downtown Nashville.
Democrat Governors Freed the Criminals and Killed the Elderly. In March, Governor Cuomo's administration ordered nursing homes to accept infected coronavirus patients and prohibited even testing incoming patients for the virus. The same month that Cuomo began the process of infecting countless nursing home residents with the virus, he also began freeing thousands of criminals from prison to protect them from the virus. Over 3,000 criminals have been freed from New York State prisons to protect them from the virus, and New York City's Mayor Bill de Blasio freed 1,500 criminals, and they swiftly began committing a variety of crimes, but despite the media hype claiming that prison was a death sentence and a campaign by woke celebs like John Legend, criminals were not at risk. Only 19 inmates in New York State actually died of the virus.
U.S. Supreme Court Pushes Off Pennsylvania Case Until After Inauguration Day. Jonathan Turley: "Inaugurations are like cats: it is hard to get either to walk backwards."
Is it fear? When it comes right down to it, people are just plain scared to support Donald Trump's efforts to prove voter fraud. Republican legislators in Pennsylvania, Georgia, Nevada, Arizona, Michigan, and Wisconsin are scared to use their powers to invalidate fraud in their states. Judges are scared to take up the cases. And Republican state executives are scared to investigate the fraud allegations. Case in point: Georgia. Just what are these people afraid of? One can only guess. It certainly isn't fear of the voters, because every one of these spineless Republican politicians will lose his seat in his next election without a doubt. It could be fear of Democrat legislators, but political differences have been present since the founding and couldn't be much of a factor. It could be fear of Big Media, which would hound any Trump-supporters mercilessly. It could also be fear of violence from Antifa and Black Lives Matter. And then there are the stories of payoffs from China. Maybe they are afraid of getting cut off from their Sugar Daddy.
Oregon's Public Health Authority Announces Covid Deaths While Dressed as a Clown. In what has to be one of the most bizarre and mind-warping decisions of all time, Claire Poche, a senior official of the Oregon Health Authority gave a Covid update today while wearing a complete clown costume. The makeup, the red tie, the polka dots. The whole thing. It's hard to even express how awkward this is. [Video clip]
SF DA Chesa Boudin surveys crime victims on how to make life easier for their attackers. Chesa Boudin, the radical left-wing San Francisco District Attorney on whose watch San Francisco has become a crime-infested Caracas-like hellhole, is starting to draw criticism from crime victims for his unwillingness to prosecute crimes. And adding insult to injury, he's now using them as fodder for a survey on how to make their attackers' lives better. [...] The aim of course is to use the responses to advance his political career, smothering out the victims' real concerns in order to advance his let-'em-out political agenda in a quest for higher office. Always the P.R. man, Chesa is focused on gaslighting the public for his own self-aggrandisement, claiming he's prosecuting criminals, while he's mainly attempting to get the victims of crimes he never prosecuted to answer his survey with carefully worded options on what his priorities should be, leaving off the option of 'prosecuting violent crime' and taking violent thugs off the streets as choices.
Soros-Funded Prosecutors Put 'Social Justice' Above Law and Order, Analysts Say. Self-styled progressive political activists who win election as district attorneys with financial support from wealthy donors have made "social justice" initiatives more important than public safety, legal analysts say. George Soros, the Hungarian American billionaire investor, stands out as the big donor behind a super PAC that helped elect district attorneys who have overseen a dramatic increase in crime. The Justice and Public Safety super PAC feeds into a larger network of local political action committees. Some of the district attorneys elected with its support have attracted media attention for their antipathy toward law enforcement. "I refuse to call them progressives," Charles "Cully" Stimson, a senior legal fellow at The Heritage Foundation, said in an interview with The Daily Signal, adding: "There's nothing progressive about what they're doing."
REPORT: Nearly 70% Of Portland Rioters Had Charges Dropped By Progressive DA. Nearly 70% of the individuals arrested during the riots and unrest in Portland, which stretched from the end of May through early October, had their charges dismissed by the Multnomah County District Attorney's office, according to data released Thursday [10/8/2020]. The Portland DA "released a new statistical dashboard that analyzes protest-related cases referred to his office by law enforcement for prosecutorial review and potential issuing," the office announced on in a statement on Thursday, laying bare Multnomah County's strategy in handling cases of individuals arrested during protests, demonstrations, riots, and unrest, referred to them by Portland's Police Department.
Oops! What an unfortunate error! Better luck in 2024.
L.A. County: Over 2,000 mail-in ballots sent without the option to vote for president. Nearly 2,100 mail-in ballots were sent to voters in Los Angeles without the option to vote for the next president of the United States, according to the Los Angeles Times. Los Angeles County Registrar-Recorder/County Clerk's office declared them "faulty ballots," the report noted. "While this has impacted a very small number of Los Angeles County voters ... we nevertheless apologize to those affected by the mistake," said Michael Sanchez, a spokesman for the county clerk's office, according to the LA Times.
The Editor says...
This tells you one thing about the Los Angeles County election officials: Nobody checks the ballots before they are sent out. Or worse, they knew there was an omission and thought nobody would notice. Or worse still, they hate President Trump so much that they were willing to interfere in the election. In any case, I can confidently predict the number of county officials who will lose their jobs as a result of this: Zero.
NY Attorney General: We Should Just Ignore Some Arrest Warrants. NY Attorney General Letitia James had decided to make an example of the police-shooting death of Allan Feliz in 2019 and use that as an excuse to push for a rather radical change in NYPD policy. Feliz was pulled over by an NYPD sergeant named Jonathan Rivera last October and provided someone else's ID (his brother's) when asked for his driver's license. The brother had some outstanding warrants for minor infractions. An altercation ensued, leading to Feliz being shot and killed by the officer. Using that incident as an example, the AG is now recommending that officers no longer conduct arrests of individuals during traffic stops if they have outstanding warrants for a variety of classes of minor offenses. These would include bench warrants for failing to appear in court or more minor, public nuisance offenses.
A "Culture of Lawlessness" in D.A. Offices. U.S. Attorney William McSwain of the Eastern District of Pennsylvania blames Philadelphia District Attorney Larry Krasner for the rise in violence in the City of Brotherly Love. Krasner's policies, McSwain announced, "create a culture of lawlessness; they leave criminals emboldened; and they have inevitable consequences." Indeed, since Krasner took office in 2018, homicides are up 49 percent and shootings have climbed by 59 percent. If the trend holds, Philadelphia will tally more than 450 homicides in 2020 — the highest count in nearly 30 years. Crime is spiking precisely because Krasner isn't holding serious offenders accountable.
NYPD Should Stop Making Traffic Stops, Attorney General Says. New York's attorney general on Friday recommended the New York Police Department get out of the business of routine traffic enforcement, a radical change she said would prevent encounters like one last year in the Bronx that escalated quickly and ended with an officer fatally shooting a motorist. Attorney General Letitia James, who acts as a special prosecutor appointed to investigate certain police killings, argued that traffic stops for minor infractions often end in violence and that Allan Feliz's death last October after he was pulled over for a seat belt violation "further underscores the need for this change."
Man Suspected in Seattle Homicide Had Been Turned Free by Leftist Prosecutors 34 Times. Seattle Police think that well-known homeless man Travis Berge killed a 30-year-old woman on Thursday morning [9/17/2020]. Police were called about a body in the city's Cal Anderson Park, and officials then went on the hunt for Berge, the Post Millennial reported. Officials soon found Berge in a nearby building. At first, they thought he was barricaded in the building, but after a SWAT team entered, they found the suspect at the bottom of a tank that contained 50 gallons of water and bleach. A HAZMAT crew was then called in to try and make sense of the situation.
Seattle Mayor Jenny Durkan to Possibly Face Federal Charges Over CHOP/CHAZ. Heavy emphasis on the use of "possibly" here, but reports are that Seattle Mayor Jenny Durkan could face federal charges for her role in encouraging and coddling the CHOP/CHAZ, an "autonomous zone" that ultimately left several people dead, never mind all the destruction and harassment of local businesses.
U.S. Prosecutors' Bid to 'Bury' Evidence Draws Judge's Wrath. In March, federal prosecutors in Manhattan said they had won a major victory in the government's fight to enforce sanctions on Iran when a jury convicted an Iranian man who was accused of illegally funneling more than $115 million to his family business. Within months, though, the case fell apart, and prosecutors asked the judge to dismiss the charges against the man, Ali Sadr Hashemi Nejad, after acknowledging problems in the way they had turned evidence over to the defense. In one instance, a prosecutor had proposed to a colleague that they "bury" a document that should have been provided to the defense. The judge overseeing the case soon vacated the conviction and started her own inquiry.
Oops: Hundreds of Michigan Overseas Mail-in Ballots Omitted a Pretty Important Name. Are hundreds of Michigan voters who serve in the military or live overseas about to get mail-in ballots that are missing a pretty important name? Election officials recently discovered that, in lieu of Mike Pence, was the name Jeremy Cohen, Jo Jorgenson's Libertarian running mate. [...] The Michigan Secretary of State's Office confirmed the error, and apologized, adding that she doesn't know how many of these ballots were already sent out.
Oregon catches arsonist in the act, lets him out, surprised to find he sets new fires. There's stupid, there's pig-stupid, and there's Oregon. That's the astonishing picture we have here where a suspect, Domingo Lopez, Jr., 45, who had been arrested just 12 hours earlier for setting fires, got somehow let out and proceeded to commit to more arson, with the Antifa weapon of choice, the Molotov cocktail, as if that couldn't be foreseen. The second time around, he set six fires. Who needs global warming with guys like this? The big fail here was from the justice system, which let the known firebug, freshly caught in the act, out and about. Obviously, there's something going on with this. How could anyone in authority be this stupid? It's sheer lunacy to let a caught-in-the-act arsonist out at a time of high fires and not guess he'll go back to the same thing he was caught doing earlier. But that's exactly what happened.
Portland mayor piously turns down Trump's offer of police aid, finds his apartment's lobby overrun by protestors. Portland's mayor, Ted Wheeler, has already made his city a punchline internationally, vacuously mouthing the platitudes of Black Lives Matter, and watching mobs riot and burn his city for 92 days straight, with no effort to contain it. Democrats bristle at Republican efforts to pin rioting on poor Democrat rule, but are cut off at the pass when Portland is brought up. Nobody can argue about the incompetence there. Even the people in Minneapolis console themselves with the thought that as bad as their city is, at least it's not Portland.
De Blasio's inability to make a decision could be death knell for NYC restaurants. City restaurateurs reacted with shock and disbelief to Mayor de Blasio's lack of urgency to reopen eating places indoors — an industry that employs over 300,000 people and is an indispensable part of the Big Apple's social and business fabric. More than 1,000 of the city's 25,000 sit-down eateries have closed since the start of the pandemic — and a prolonged shutdown without a blueprint to reopen threatens to sink many more by winter's end. "When outdoor dining is done, when PPP loans and SBA loans are spent, it's over," said Aquavit owner Hakan Swahn. "Any restaurant will quickly run out of cash. Without indoor dining and any additional government financial assistance we will not be open very long."
Soros DA Diana Becton Requires Officers Consider Whether a Looter "Needed" Stolen Goods Before Charging. Last week we brought you the story of Nichelle Holmes, a Deputy District Attorney in California who made social media posts proclaiming "We want more than a citation for vandalism" for the couple who painted over a Black Lives Matter mural in her jurisdiction. The office has now charged the couple with a "hate crime." Holmes' boss, Diana Becton, is in her first term as elected District Attorney, one of a number of district attorneys heavily supported by lefty billionaire George Soros. Sources tell RedState that as soon as Becton took over she implemented major changes in the way the office was run and in the way crimes were charged and how aggressively cases were prosecuted. One recent change, which I'll address further in a moment, has to do with charging people for "looting," which is basically stealing during a state of emergency (i.e., protests or riots). Becton is BFF's with St. Louis' Kim Gardner and Chicago's Kim Foxx, who've been in the news for their terrible policies.
Traffic Court Notices In Chicago Have Been A Mess, The Court Clerk Says It's Racist To Ask Why. Cook County, IL includes the city of Chicago and has a population of more than 5 million people. It's a big job to manage all of the court dates for the county and that's especially true in the midst of a pandemic. Traffic cases in the county have been moved entirely online in the form of Zoom meetings, but many people aren't getting the message. In fact, some people are getting the wrong message in the form of court date notifications telling them to show up at the courthouse. But when they get there they find themselves waiting for hours in a line that stretches for several blocks. When they finally get to the front of the line they are informed that traffic cases are handled online and while they were waiting in the line, they missed their online court dates.
Mostly Illiterate Corrupt St Louis County Prosecutor Indicts Two Police Officers For Firing on a Criminal Who Tried to Run Them Over. St Louis County Prosecuting Attorney Wesley Bell and his new Head of the St Louis County Conviction Review Unit, Dana Balzer, held a press conference on Friday to discuss an investigation into the recent Galleria Mall shooting in St Louis. Then Bell surprised onlookers by announcing charges against two police officers in a separate investigation who reportedly fired at a suspect after the suspect reportedly tried to run them over. Neither Bell or Balzer had any idea what they were talking about in regards to the arrests of police officers. Bell appeared to have trouble reading his notes and appeared severely incompetent and perhaps illiterate.
Delusional Democrats intent on trying to fool Americans. Every day, evidence mounts that Democratic politicians are delusional by design. They may or may not believe their increasingly absurd versions of unreality, but they are intent on fooling the rest of us until Election Day. Take New York's version of Dumb and Dumber, Gov. Cuomo and Mayor de Blasio. This dimwit duo doesn't just deny the errors that have made New Yorkers' lives worse than they needed to be during the pandemic. Like true delusional Dems, Cuomo and de Blasio actually pose as our saviors. The governor's shameless vanity poster celebrating his leadership through the pandemic took the cake. It did not mention the more than 32,000 deaths on his watch, nor his disastrous nursing-home policy, and it pretended the virus originated in Europe, rather than China.
Andy Ngo posted this but I'm thinking — Is this official on crack? [Video clip]
Baltimore Mayor Gives Up, Says City Will Support Rioters After Columbus Statue Toppled. Baltimore Mayor Bernard C. "Jack" Young defended hoodlums who toppled a statue of Christopher Columbus on Saturday and chucked it into the city's Inner Harbor like a piece of trash. Folks, this is an elected official charged with protecting the city. If this were the military he would be court marshaled for dereliction of duty. This is a shameful failure on the mayor's part to fulfill the obligations of his office. It is his duty to enforce city laws, and he has not only failed to do so, but is contributing to the lawlessness by supporting the rioters.
Cancel Culture Is Now Invading The American Workplace. Spearheaded by the recent protests and riots over the unjust killing of George Floyd, the dogmatic outrage and conceit that inform cancel culture are now invading the American workplace. As the outrage foments, it's no longer enough that politicians and public figures get pitchforked into online kangaroo courts. Adam Rapoport, the editor-in-chief of food magazine Bon Appétit was recently forced to resign after a photo from almost two decades ago surfaced of him dressed in a Halloween costume viewed by some as a Puerto Rican stereotype. [...] Rapoport is not alone. Los Angeles Magazine now has a running list of editors, celebrities, and athletes who are being canceled in the current wake of the BLM protests. These are, however, high profile instances. Sadly, it's reasonable to assume that cancel culture and its wild arsenal of accusations of racism, sexism, and privilege will infest the average American workplace wholesale soon.
Jay Inslee Laughs About Antifa's Rebellion in Seattle as He Demobilizes National Guard. As antifa militants have taken over six blocks of Seattle's Capitol Hill district, calling it the "Capitol Hill Autonomous Zone" or the "People's Republic of Capitol Hill," Gov. Jay Inslee (D-Wash.) laughed about this open rebellion, saying he hadn't heard about it. Inslee added that the National Guard is demobilizing, and his chief of staff suggested that even if an open rebellion had broken out on the streets of Seattle, it would be up to "local authorities" to fight it.
Jay Inslee Had No Idea Anarchists Had Taken Over His State's Largest City. Washington Democratic Gov. Jay Inslee was oblivious to the anarchist insurrection taking over Seattle Wednesday when he was asked about the rogue militia during a coronavirus press briefing. "Governor, I'd like to ask you about what's going on in Seattle. There's this thing called the 'Capitol Hill Autonomous Zone.' What's your thought about the fact that the protestors have taken that over and not allowing people to come and go freely?" one reporter asked. "Well that's news to me," Inslee said caught completely blindsided by what was happening in his state's largest city. "I'll have to reserve any comment about it. I have not, I have not heard anything about that from any credible source."
Minnesota AG Keith Ellison May Have Just Screwed Up Case Against George Floyd Cops. I'm no legal expert, but I wondered to myself if Keith Ellison hadn't overcharged the cop who killed George Floyd. Now there's someone much smarter than I who agrees. Andy McCarthy, who writes for National Review, is a former federal prosecutor and has been a trusted guest on my radio show for the better part of 20 years. He believes Ellison might have just colossally screwed up his case against the cops. My words, not his. McCarthy called Ellison's amended charges "dangerously flawed." Overcharging is tantamount to over-promising. It's perceived as overly punitive and less thoughtful in some cases. Sure, everyone's angry. Sure, Floyd's death appears to be criminal. But you've got to be able to prove what you charge.
Bernard Kerik rips Cuomo's inaction as riots raged: 'New York City is burning ... where are you?'. Former New York City Police Commissioner Bernard Kerik called on Gov. Andrew Cuomo Tuesday [6/2/2020] to step up and take control of the rioting and looting in New York City instead of shifting the blame to New York City's "incompetent" Mayor Bill de Blasio. "He [Cuomo] specifically criticized the NYPD," Kerik told "Tucker Carlson Tonight." "Well, if the NYPD was not doing their job, and the mayor is not doing his job, New York City is burning. Where are you? Where is the New York state police? "Why weren't you involved from the beginning? What are you doing other than talking?" Kerik went on. "This isn't a competition for criticism. We already know that de Blasio is incompetent, in my opinion. We know he is a super left-wing radical. We know he sympathizes with a number of these protesters..."
Open Letter From LA County Public Health Professionals: Ferrer "Not Qualified," Ignored Early Coronavirus Outbreak Warnings. [Scroll down] As Ms. Ferrer stepped into the role of Director, she replaced a career employee in the Department, Cynthia Harding, who has a very strong epidemiology background, and who had ably done the job as "acting" director for over two years with Dr. Jeffrey Gunzenhauzer as Acting Health Officer for the same time period, following the retirement of Dr. Jonathan Fielding. [...] Once Ms. Ferrer was appointed as Director, one of her first moves was to notify all department program directors that she was to be the ONLY voice and contact with the Board offices. This broke down a chain of communication in place for many years that allowed local public health managers to assist constituents that contacted their local Board offices about a variety of health issues and act quickly on public health threats. Ms. Ferrer is the ONLY control point for Board questions and communication in the department. Even now, many managers complain that they don't know what's going on and are not being well utilized for the pandemic.
Kentucky Representative Thomas Massie Touches the Third Rail — Reveals DC's Biggest Secret. With congress saying they will not be returning to work next week, it appears Kentucky representative Thomas Massie has decided to use the opportunity to expose Washington DC's biggest secret. Something 99% of American voters do not understand: [...] You see, congress doesn't actually write legislation. The last item of legislation written by congress was sometime around the mid 1990's. Modern legislation is sub-contracted to K-Street. Lobbyists write the laws; congress sells the laws; lobbyists then pay congress commissions for passing their laws. That's the modern legislative business in DC.
British town uses Oregon's 'exploding whale' fiasco to teach social distancing. A town in England used Oregon's "exploding whale" incident to teach a lesson about the importance of social distancing during the coronavirus outbreak. The Doncaster Council shared the tale of a sperm whale that died and washed ashore near the city of Florence, Ore., in November 1970. City officials attempted to blow up the 45-foot, 8-ton mammal — a plan that went "horribly wrong," the council said in a thread on Twitter. At the time, the Oregon State Highway Department decided to use 20 cases of dynamite to disintegrate the mammal. They believed seagulls and other scavengers would clean up any remains. A military veteran at the scene reportedly warned officials against using so much dynamite, and the official in charge admitted he wasn't sure how much would be enough. But the plan went ahead anyway.
The Editor says...
The exploding whale story is not a lesson on social distancing. It is a lesson about government incompetence.
Moving at Trump Speed. The federal bureaucracy doesn't work like a business. It is built on moving slowly so that it can justify continuing to employ thousands of people who study issues, consider possibilities, formulate plans, and then someday get around to recommending courses of action. Then they wait indefinite periods for decisions to be made by executives whenever it is politically expedient. When a decision is finally made or a law enacted, tens of thousands more are employed to implement the decisions and oversee citizen compliance. As a result, the federal government is the world's largest, most inefficient, least effective, and most self-protective organization.
The CDC was Fighting Racism and Obesity Instead of Stopping Epidemics. The occasional outbreak only calls the CDC's general incompetence to everyone's attention. The rest of the time its incompetence, like that of other government agencies, just ticks along wasting money. In 1999, the CDC announced a plan to end syphilis in 5 years. The Clinton era National Plan to Eliminate Syphilis was an unserious social welfare proposal that wanted to battle racism and was such a success that by 2018, syphilis rates had hit a new record high. [...] In 2011, Hillary Clinton had promised an "AIDS-free generation" by, in part, using the CDC. Like her presidency, the "AIDS-free generation" never arrived and was never going to. In 2016, Obama allowed Joe Biden to use the CDC for his Cancer Moonshot political stunt. "If I'm elected president you're gonna see single most important thing that changes America, we're going to cure cancer," Biden promised last year. Joe Biden can't cure anything.
Ohio Official Who Claimed 100,000 Covid-19 Cases in the State Says She Was 'Guesstimating'. The director of Ohio's Department of Health, Amy Acton, shocked a lot of people on Thursday when she said in a press conference that she believed 100,000 Ohioans had already contracted Covid-19. [...] The Columbus Dispatch offered effusive praise of Acton for being a "voice of knowledge." [...] But Director Acton forgot to mention a small detail about her Apocalypse Now statement; it wasn't true.
FBI missed chances to stop domestic terror attacks because of lack of follow-up: DOJ watchdog. The FBI missed opportunities to stop domestic terrorists from killing Americans because field offices failed to further investigate individuals who had been labeled homegrown violent extremists, the Justice Department watchdog said in a scathing report released Wednesday [3/4/2020]. At least six terrorists who later carried out attacks killing a total of 70 people were on the FBI's radar prior to the attacks. However, the agents quickly closed the cases, concluding the suspects were not threats to national security, according to the Justice Department inspector general. Among the more high-profile individuals the FBI failed to recognize as a potential source of terrorism were Omar Mateen, who killed 49 individuals at the Pulse nightclub in Orlando in 2016, Nidal Hasan, who massacred 13 people at Fort Hood, Texas, in 2009, and Esteban Santiago, who killed five people in a 2017 terror attack at the Fort Lauderdale-Hollywood International Airport.
Explosive Book Shows How FBI and Media Destroyed an Innocent Man. The Suspect by Kent Alexander and Kevin Salwen is a must-read book. It details how Richard Jewell was accused of being the bomber at the 1996 Atlanta Olympics. Instead of being a hero for saving many lives, he became the main person of interest by the FBI and the press. Former U.S. attorney Kent Alexander and former Wall Street Journal reporter Kevin Salwen reconstruct all the events leading up to, during, and after the Olympic bombing, showing how much of the law enforcement evidence was ignored, mainly because of tunnel vision.
Judicial Watch Claims FISA Judge Was Just A 'Rubber Stamp'; Her Sudden Retirement Leaves Unanswered Questions. Justice Collyer, head of the FISA Court gave the FBI hell over the Carter Page file, but are her own hands in this scandal really so very clean themselves? Was that judge truly doing the job she was sent there to do? Or was she merely 'phoning in' one of the most critical jobs in protecting the rights of citizens against abuses by their own government? We have some serious questions.
St. Louis City Government Goes Orwellian, Bans Second Amendment in Parks. On 13 December, 2019, Lyda Krewson, the Mayor of St. Louis, Missouri, signed a city ordinance purported to ban guns from St. Louis City parks. It was passed by a vote of 16-2. The bill used a novel approach to circumvent the Missouri State protections for Second Amendment rights. Bill No. 134 declared that St. Louis parks and recreation facilities are "child-care" facilities, and are, therefore, banned from allowing firearms in them.
Predication Is for Chumps: The Sorry Lesson Linking Crossfire Hurricane to Robert Hanssen. [Scroll down] What this means is that there wasn't sufficient "predication" to even open an investigation of the Trump campaign, much less to engage in the intrusive electronic surveillance that the FBI conducted for month after month. It may be worthwhile to examine the FBI investigation, codenamed Crossfire Hurricane, in light of the Hanssen case and to compare the predication according to which, in one case, a Full Investigation on a presidential campaign was opened and, in the other case, no investigation at all was opened on one of the most damaging spies in US history. Briefly, predication for such an investigation requires an "articulable factual basis" that "reasonably indicates" that something that constitutes a federal crime or a threat to the national security may exist. A reasonable person should be able to look at a statement of the known facts and say, yes, these facts give reason to believe that the crime or threat may exist.
DOJ Makes Jaw-Dropping Admission in Flynn Case — Prosecution "Mistakenly" Attributed Wrong Notes to Wrong FBI Agents. Prosecutor Brandon Van Grack sends a letter to Flynn's defense team today containing a stunning, almost impossible to comprehend, admission of a mistake central to the claims of the prosecution. In March 2018 the FBI presented notes taken by agents Pientka and Strzok, now they say they made a 'mistake'. For almost two years the DOJ misidentified, misattributed, and never corrected that the authors of the Flynn interview notes were actually reversed. All of the notes attributed to FBI Agent Peter Strzok actually were taken by FBI Agent Joseph Pientka, and vice-versa.
DHS drug detector devices can't spot fentanyl at the border: Audit. Homeland Security spent millions of dollars on drug detection devices for use at the border even though the detectors can't reliably spot the type of deadly synthetic opioid fentanyl that is pouring across the border, the department's inspector general said in a report this week. Not only do the devices fail to spot fentanyl at less than 10% purity — which is the level most commonly smuggled across the border — but Customs and Border Protections' Office of Field Operations (OFO) didn't even have guidelines on how to use or update the detectors, the inspector general said. Since fentanyl is a synthetic drug and its chemical signature can change, not having the most up-to-date library to match samples against could mean officers are missing the latest formulation of the drugs.
The Editor says...
Yeah, but there's a police dog in Doorknob, Oklahoma, who can detect fentanyl from half a mile away, if your car has out-of-state license plates.
Richard Jewell was a victim of 'fake news'. Few things enrage journalists more than when President Trump accuses the media of creating 'fake news' or calls them the 'enemy of the people'. Reporters and pundits understandably take it as a threat — not only to themselves but also to the First Amendment and the bedrock notion that a free press is necessary for a free society. Some have interpreted Trump's remarks as emerging fascism or even wondered if they could end up in jail for criticizing this administration (though the media curiously didn't make as much of a stink when President Obama was trampling reporters' constitutional rights). Yet to date, no journalists have been locked up. No fascist measures have been taken against the press.
Clint Eastwood's Richard Jewell is a masterpiece. Richard Jewell, the film, is a perfect analogy for what the FBI and DOJ have done to President Trump, Michael Flynn, Carter Page, George Papadopoulos, and the American people. Clint Eastwood's new film is the true story of how the FBI destroyed the lives of Richard Jewell and his mother after the 1996 bombing at Centennial Park in Atlanta during the summer Olympics. Jewell was a security guard at the park who noticed an unattended backpack under a bench. He alerted other police on the scene, who determined that it was indeed a bomb. Jewell and the other police immediately began moving people away from the scene. The bomb did explode; two people were killed and many were injured, but Jewell's actions saved many lives.
Clint Eastwood Says 'Richard Jewell' Is "A Great American Tragedy". In Clint Eastwood's latest project, he explores the famed story of Richard Jewell, the security guard celebrated as the life-saving hero of — and later accused of being the terrorist behind — the deadly bombing at the 1996 Olympic Games in Atlanta. Calling Jewell's story "a great American tragedy," the director told reporters at Richard Jewell's AFI Fest world premiere Wednesday that he wants to convey to audiences that "we shouldn't jump to conclusions right away, and we should go back to the basics of innocent until proven guilty. That's not happening in a lot of situations nowadays, it didn't happen in his case definitely," pointing out that the real-life Jewell died of a heart attack at age 44, and the stress of his time in the spotlight "probably didn't help."
Clint Eastwood flips script on fake news in new movie. Clint Eastwood's latest directorial effort has the media in its sights. "Richard Jewell" tells the story of one of the earliest notable victims of out-of-control government agencies and fake news. Richard Jewell saved countless lives at the 1996 Summer Olympics in Atlanta, Ga. Working security, the man found a backpack with three pipe bombs in it. He alerted police and helped to evacuate the area. Though his actions were nothing short of heroic, Jewell was then at the center of a media firestorm. With outlets reporting incomplete and false information, Jewell was painted as a prime suspect. It didn't help either that federal agencies went along with this narrative and did their best to make Jewell out to be guilty.
The Confrontation Clause and the Case of Aaron Von Ehlinger. You may be familiar with the case of Richard Jewell. Jewell was a security contractor for the 1996 Olympic Games in Atlanta, Georgia. On July 26, 1996, a backpack full of explosives and debris like nails is detonated during a public event at Centennial Olympic Park, killing one and injuring a dozen or so others. Richard Jewell was quickly identified as a suspect for several reasons. Primary among those reasons, Jewell was in proximity to the bomb and also filmed purchasing nails from a local hardware store. His name and photo appeared on the front page of every newspaper in the country and he was vilified as a ruthless killer. Only there was a problem with this narrative: Jewell was innocent and law enforcement and the press identified the wrong man in their haste. Jewell would eventually win a defamation lawsuit against the government and the press, but years later he dies lonely and isolated. The damage was done. The example of Richard Jewell provides a stark reminder of why due process matters.
China unveils "doomsday" missiles, while the Pentagon is focused on making sure transgenders feel safe in the military. Losing a war means losing our country. While China prepares to win its next conflict, our brass is more concerned with hurting someone's feelings.
Adam Schiff, the Lady Macbeth of the House. There are numerous people in Congress who should not be there for a variety of reasons: ignorance, incompetence, uncompromising partisanship, lack of patriotism, a dark heart full of hate, and sheer moonbattery. Rep. Alexandria Ocasio-Cortez, for example, is shockingly ignorant of American history, basic economics, and essential science. Rep. Hank Johnson worried some years ago that the island of Guam might "tip over" because most of the population was on one side of it. Rep. Sheila Jackson Lee, while watching the Mars Rover on Mars, asked where the flag that had been planted on the moon in 1969 was. It is a long list, and it would be hilarious if such things were not actually spoken by people elected to represent their portion of America's citizens. [...] When one considers the countless crazy utterances of Joe Biden, Nancy Pelosi, Harry Reid, Chuck Schumer, and Elizabeth "Fauxcahontas" Warren, we enter new and nuttier territory.
911 dispatcher scolds caller stranded in floodwaters shortly before she drowns. [Scroll down] Her call to 911 was answered by then-dispatcher Donna Reneau, who was working her last shift as a 911 operator after she had presented her resignation earlier this month, NBC affiliate KARK reported. During the call, Stevens told Reneau she was unable to get out of her car because she did not know how to swim. As waters continued to rise up past Stevens' chest and cover her vehicle, she panicked and repeatedly said, "I'm going to die." Reneau told her, "You're not going to die" and "I don't know why you're freaking out."
Horrifying audio reveals 911 dispatcher on her final shift lecturing a woman for accidentally driving into flood waters before she drowned. Horrific 911 audio has revealed a dispatcher lecturing a distraught woman who feared for her life after driving into flood waters and telling her to 'shut up' in the moments before she drowned. Debra Stevens, 47, had been delivering newspapers in the early hours of August 24 in Fort Smith, Arkansas, when she accidentally drove into rising flood waters that swept her SUV off the road.
As Long as Enemies of the State Keep Dying Before Trial, No One Should Trust the State. At this writing, it seems unlikely that we'll ever know who killed [Jeffrey] Epstein, whether it be himself or someone else. What we do know is that, if we take the government at its word, they were incompetent and negligent to an unfathomable extent. Being insanely stupid and lazy is their defense. [...] The carelessness of the powers that be reflects their confidence that they shall never, ever, be held accountable for anything.
Inspector General: Border Patrol Failed to Collect DNA for Ten Years, Let Violent Criminals Walk Free. The Office of Special Counsel has found that Customs and Border Patrol's (CBP) "noncompliance with the law has allowed subjects subsequently accused of violent crimes, including homicide and sexual assault, to elude detection even when detained multiple times by CBP or Immigration and Customs Enforcement (ICE)." The law requires that CBP collect DNA from individuals held in their custody in order to run the material against the FBI's database of violent criminals. The agency has failed to do this for 10 years, allowing violent criminals to walk free.
Cosmic Injustice. Mayor Michael Bloomberg used to sermonize to the nation about gun-control, global warming, the perils of super-sized soft drinks, smoking, and fatty-foods in his efforts to virtue signal his moral fides — even as his New York was nearly paralyzed by the 2010 blizzard that trapped millions of his city's residents in their homes due to inept and incompetent city efforts to remove snow. [...] New Yorkers in 2011 were worried more about the piles of snow on the sidewalks than they felt threatened by 32-ounce Cokes — while realizing that no snow blocked either the Bloomberg official or private residence.
Re-assigning one person is a meaningless gesture.
Barr Removes Federal Prisons Chief in Wake of Epstein Death. U.S. Attorney General William Barr on Monday removed Hugh Hurwitz, the acting director of the federal Bureau of Prisons, a little over one week after alleged child sex trafficker Jeffrey Epstein died in a New York City prison. Hurwitz, who has been in his role since May 2018, has been reassigned in the Bureau of Prisons as the assistant director of department's Reentry Services Division.
Barr removes Bureau of Prisons director after Epstein's death. Attorney General William Barr announced the appointment of a new director for the Bureau of Prisons on Monday, a week after accused child sex trafficker Jeffrey Epstein was found dead in his federal prison cell. [...] Numerous glaring problems at the prison were revealed in the wake of Epstein's death.
The Authorities Should Assume that Epstein was Murdered. [Scroll down] In the official version of the Epstein case, at least as has been made public, we have a virtually unbelievable string of irresponsible and negligent actions by MCC authorities leading to the suicide. It goes as follows:
• On July 23, Epstein was found with injuries leading authorities to believe he had attempted suicide or been attacked -- authorities assumed the former.
• He was placed on suicide watch but taken off it only six days later, and authorities failed to follow other procedures standard in such circumstances.
• Epstein was supposed to be assigned a cellmate, but his was quickly transferred.
• He was supposed to be monitored every 30 minutes but was not.
• The guards assigned him were not regular correctional officers, and they were overworked, tired, and supposedly fell asleep.
• Despite Epstein's high profile there were no video cameras observing him.
• Despite what authorities assumed was an earlier suicide attempt, he was given ordinary prison clothes and bedding, which he could use to hang himself.
• He was also placed in a cell with a high bunk bed, also creating a danger he could use it to hang himself, which according to authorities occurred.
This alleged string of negligent actions is sufficient to impute a kind of murderous recklessness if true and ought to be investigated as such, at least as a starting point.
Epstein's life and death sow distrust of the authorities. According to the latest reports, Epstein was placed on suicide watch after he tried to kill himself in July, then he was placed under special observation. So, how did he kill himself? The ludicrous-sounding conspiratorial answer is that Epstein was killed by someone trying to keep him from talking. The innocent explanation is that prison guards and their bosses don't care at all — they utterly failed at their jobs in a very high-stakes circumstance, suggesting that failure is routine in this federal prison.
Warden of [the] jail where Jeffrey Epstein killed himself [has been] reassigned on orders of Attorney General William Barr. The warden of the federal jail in New York City where wealthy financier Jeffrey Epstein killed himself was replaced Tuesday [8/13/2019] on the orders of Attorney General William Barr pending ongoing investigations into the incident, the Justice Department said. The U.S. Bureau of Prisons also placed two staffers at the Metropolitan Correctional Center who had been assigned to Epstein's cell unit on administrative leave as probes into the death of the accused child sex trafficker continue. "Additional actions may be taken as the circumstances warrant," said Justice Department spokeswoman Kerri Kupec.
Do Suit-Wearing Jihadis Own the FBI? In 2010, when investigative journalist and researcher Patrick Poole saw a photo of a recent "FBI Citizen's Academy" class in front of the U.S. National Counter Terrorism Center, he saw a familiar face. Hamas leader Sheikh Kifah Mustapha. Mustapha is an unindicted co-conspirator in the largest terrorism financing trial in U.S. history — US v. Holy Land Foundation for Relief and Development (HLF), Northern District of Texas, 2008 — where HLF and its leaders were proven to be a part of the designated Foreign Terrorist Organization Hamas. Mustapha was a top official at HLF. As a part of the FBI's Citizens Academy, Mustapha was given a tour of FBI Headquarters, the FBI training academy in Quantico, Virginia, the National Counterterrorism Center (NCTC), and other government spaces. It was reported Mustapha asked "very detailed questions" about the inner-workings of these government organizations. Read: espionage.
After deadly NH biker crash, thousands of out-of-state traffic notices found untouched by Massachusetts RMV. Tens of thousands of paper notices detailing traffic infractions involving Massachusetts drivers in other states sat untouched in 53 bins at a state facility in Quincy, a preliminary review by the Massachusetts Department of Transportation found. Among them: a May 11 report of a drunken-driving violation in Connecticut by Volodymyr Zhukovskyy, 23, a truck driver from West Springfield, Massachusetts. Connecticut notified the Massachusetts Registry of Motor Vehicles about Zhukovskyy's incident electronically and through a mailed notice that would have gotten into one of the bins, the report released Monday [7/1/2019] says. Under state law, Zhukovskyy's commercial driver's license should have been immediately terminated and his right to drive a passenger vehicle suspended.
Alabama woman loses unborn child after being shot, gets arrested; shooter goes free. A woman whose unborn baby was killed in a 2018 Pleasant Grove shooting has now been indicted in the death. Marshae Jones, a 27-year-old Birmingham woman, was indicted by a Jefferson County grand jury on a manslaughter charge. She was taken into custody on Wednesday [6/26/2019]. Though Jones didn't fire the shots that killed her unborn baby girl, authorities say she initiated the dispute that led to the gunfire. Police initially charged 23-year-old Ebony Jemison with manslaughter, but the charge against Jemison was dismissed after the grand jury failed to indict her.
Mother gets jailed for a week, loses her job and kids after being wrongly arrested due to police error. Police wrongly arrested and jailed an Ohio mother earlier this month, acting on a warrant intended for a drug-trafficking suspect who shared the same name. But before law enforcement realized the mistake, the innocent woman had spent a week behind bars, lost her job and temporarily lost custody of her children in the meantime.
Guns don't kill people; negligent bureaucrats kill people. On previous occasions, we have mentioned the fact that specific screw-ups by federal officials have placed guns in the hands of some of America's most notorious mass shooters. If not for sloppy record-keeping and boneheaded mistakes by individual officials, the shooters in incidents in Charleston, S.C., at Virginia Tech, and in Sunderland Springs, Texas, would not have been permitted to purchase guns. There could be many, many similar cases where guns were used in crimes other than mass shootings. One could add to that body count the tragedy of Operation Fast and Furious.
Cops Raid Innocent Grandma's Home, Mistake Grandpa's Ashes for Heroin, Arrest Her. A family is speaking out against the NYPD after they were raided by multiple cops, had their house destroyed, and false charges brought against them for vials of ashes containing their late patriarch. The incident happened last year as Lucia Santiago, 65, was awakened in her bed by heavily armed NYPD officers and forced into the living room.
Uber driver identified as Somali war criminal. Yusuf Abdi Ali, "an alleged Somali war criminal accused of burning men alive and shooting a captor five times at point-blank range", yet still, "Uber and Lyft approved him to drive". There has been first hand accounts and media investigations authenticating the identity of Ali. His passengers were at serious risk because with that kind of background, no one knows what could provoke an unleashing. The case of Ali, Uber and Lyft is an extraordinary embarrassment to the FBI and Transportation Security Administration who did background checks but no one in those organizations considered doing a simple online search.
Florida wants to execute Robert Joseph Long. His real name is Bobby Joe Long. Does it matter? Last week, the governor ordered the state to kill a man named "Robert Joseph Long." The name appeared just like that, eight times, in a death warrant signed April 24 authorizing the state to execute Long for a 1984 Hillsborough County murder. A letter that accompanied the warrant referred to him as "Robert Joe Long." So did the original sentencing paperwork. Here's the problem: That's not his legal name. The man the state wants to execute is Bobby Joe Long.
DA knew Jeffrey Epstein was a dangerous pedophile when arguing for leniency. The Manhattan DA's office had graphic and detailed evidence of pedophile billionaire Jeffrey Epstein's depravity when a prosecutor inexplicably argued for leniency during his 2011 sex offender registry hearing, The [New York] Post has learned. In advance of the hearing, then-deputy chief of Sex Crimes, Jennifer Gaffney, had been given a confidential state assessment that deemed Epstein to be highly dangerous and likely to keep preying on young girls, the DA's office admitted in its own appellate brief eight months after the hearing. The brief has been sealed since 2011, but The Post obtained it Thursday [4/11/2019] after suing to get it unsealed.
Government 'Oversight' Is a Very Bad Joke. Government "oversight" is more about legitimizing a decrepit system than it is about overseeing anything. In other reports of mismanaged government agencies — and are there any other kind? — the offending bureaucrats have 30 days to respond to the auditors and then nothing ever changes and people rarely are punished. Then there are follow-up reports that document a lack of progress in implementing the previous report's reforms — and then more findings.
Chicago Prosecutor Joseph Magat Drops All Charges Against Jussie Smollett. In a stunning development Cook County Asst. State Attorney Joseph Magat decided to drop all charges against Jussie Smollett for perpetrating a hate hoax crime. All of the investigative evidence is solid; all of the evidence that proves Jussie Smollett did perpetrate the hoax is solid; and the police are angry with State Attorney Magat. It appears the Asst. State Attorney felt the crime was not really that big a deal.
There's a miasma of corruption around the Obamas, even now. The political muscling of the Chicago cops (led by a black police chief, no less) from the Obama machinery suggests that the Obamas knew that the [Jussie Smollett] case was fraudy (much as the rest of us suspected from the start, given the odd circumstances of the claimed racial/anti-gay attack, in polar vortex weather, late at night, in left-wing Chicago), and thought their buddies in the FBI would do a better job of covering for them, keeping the case alive. Those are the same FBI buddies who allowed Hillary Clinton to be questioned by FBI agents over her illegal private server with aides complicit in the act serving as lawyers (unprecedented) and the foofaraw about the case against her opening and shutting a couple times, each without incident. The same FBI that employed the likes of FBI lovebirds Peter Strzok and Lisa Page to cook up that "insurance plan" against the election of President Trump. There's no doubt that that Obamified agency has political players more interested in politics than law enforcement.
Volunteers Kicked Out of Nat'l Park for Cleaning It During Shutdown — Without a Permit. As the government shutdown enters week five, debris, trash, and snow are piling up at national parks across the country as the bureaucrats who get paid to maintain them stay home. Luckily, however, volunteers from all walks of life have stepped up to fill their shoes and they've been doing a fantastic job — that is, when the government isn't kicking them out. A group of libertarians in Tennessee has been volunteering at national parks to do the bureaucrats' jobs and they were doing it successfully, until this week.
Vermont Learns Police Can't Conduct NICS Checks AFTER Passing Bill. Vermont thought background checks were these easy things that anyone could get. The state passed a universal background check bill and figured all was well. However, the state has learned that the background checks performed by state police are less comprehensive than the NICS checks.
School Called Cops On Student Using $2 Bill To Buy Chicken Nuggets! Sometimes I really wonder how educated those are who are working in our schools. This story involved a number of educated adults, who all should have immediately recognized a $2 Bill.
'Clerical error' leads to murder defendant's release from jail. According to court records, a clerical error in court led to the release of a Mecklenburg County inmate facing a first degree murder charge. Sergio Coello-Perez had a day and half of freedom that started Thursday [12/27/2018 morning. He had spent six months behind bars.
Clerk who thought New Mexico was foreign country refused to give out marriage license. A District of Columbia clerk and a supervisor refused to accept a New Mexico man's state driver's license as he sought a marriage license because she and her supervisor believed New Mexico was a foreign country.
The Migrant Caravan of Diseases. The Centers for Disease Control (CDC) recently announced the formation of a task force to investigate a new mysterious illness afflicting primarily children. Acute flaccid myelitis (AFM) is a polio-like illness believed to be caused by a virus. But in contrast to polio, which has been mostly eradicated, except in a few pockets around the globe, AFM is on the rise. The disease sleuths at the CDC are befuddled. Unlike in the movie The Andromeda Strain, where a crack team of scientists, within a few days, identified and cured a mysterious illness from far beyond the reaches of our galaxy, a bureaucratic behemoth full of scientists is stumped. When a government agency either does not know the answer, or for political reasons does not want to acknowledge and reveal the answer, they form a task force. By the time the task force settles on a meeting schedule and what types of snacks to serve during meetings, AFM will either disappear naturally or become a mass extinction event.
Are we looking at some real DHS incompetence at the Tijuana line? The news has been out for days, that the caravan migrants making their way up from Mexico would be entering the U.S. illegally through Tijuana. Not just any place from Tijuana, but a very specific place, Playas de Tijuana, where the land touches water so it's exceptionally easy to pinpoint on the vast 1,954-mile stretch of the U.S. Mexico border. It's where the organizers of the caravan, Pueblo Sin Fronteras, have a known base of operations. They used it for the April operation and now they are using it for the current one. [...] What they did, for them, was Mission Accomplished. They were able to demonstrate that the U.S. is a paper tiger as far as the border goes, and there is no reason to fear jumping the border illegally. The border in fact, remains a joke and the U.S. in fact is powerless. That was the purpose of the show. They demonstrated for the TV cameras that they can jump the border any time they like and there's not a thing the U.S. can do to stop it.
Brenda Snipes, idiocy and how to destroy the electoral system. Firing Miriam [Oliphant] was not easy for Gov. [Jeb!] Bush despite the obvious need to do so, and the Democrats' reaction threatened to paralyze the state government. He actually stated his intention to keep her in January of 2003, and sacked her in November of that year, after accepting the condition imposed by the Democrats that whoever was appointed to replace her had to be a black Democrat woman. Seriously. No kidding. That became the litmus test to be appointed as Supervisor of elections in Broward. Not the best person. Not a qualified man woman or in-between. A black, Democrat, woman. And the one Black Democrat woman the Democrats shoved down Gov. Bush's throat to allow for the removal of the unbelievably incompetent Oliphant was... This school principal from Pompano Beach with no experience, no intelligence and no qualifications except her loyalty to the Party: Brenda Snipes.
The FBI still hasn't found these 9/11-era terrorists. After 9/11, the FBI warned the public about a number of potential terrorists they believed were being groomed for an encore attack. The feds described them as "the next Mohamed Atta" and put them on their Most Wanted Terrorists list. Today, these dangerous suspects remain on that same list and are still at large. Yet oddly, the FBI no longer talks about them. The only thing that's changed, besides the descriptions of their appearances, is that the FBI is now offering bigger rewards for them, along with several key al Qaeda leaders also still on the loose. Families of 9/11 victims want to know why, after two wars costing trillions of dollars, do we appear no closer to capturing these top terrorists? Did the FBI stop hunting for them? Has it given up hope of finding them? Terrorism experts are equally troubled by the delay in bringing them to justice.
1,464 Western Australian government officials used 'Password123' as their password. A security audit of the Western Australian government released by the state's auditor general this week found that 26 percent of its officials had weak, common passwords — including more than 5,000 including the word "password" out of 234,000 in 17 government agencies.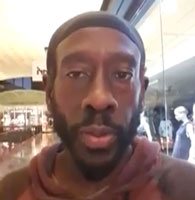 Ex-teacher threatens '200-plus' tank assault, prompting district to tighten security: report. School officials in a Florida community say they have heightened security after a former teacher threatened to "seize" a school board building using "200-plus armored tanks." Authorities identified the former employee as David Givins, a former third-grade teacher at North Hialeah Elementary School, Miami FOX affiliate WSVN-TV reported.
The Editor says...
The officials in charge "have heightened security" just in case this lunatic really does have 200 tanks, and 199 like-minded friends to drive them. Brilliant. I feel so much safer with people like this in charge of public safety.
Feinstein, Strzok, and the Sinister Russia Probe. One of the salient facts to remember in the wake of the firing (finally!) of Peter Strzok is that the man was the chief of the Counterespionage Section of the FBI. [...] Now roll back five years to when it was discovered that Dianne Feinstein's chauffeur of twenty years (!) was a spy for the People's Republic of China. (Well, five years for Dianne. The rest of us found out only last week.) How was it possible the then-chair of the Senate Intelligence Committee was under such intimate covert surveillance by China for decades? Where was our counterespionage on that one? Not doing a lot of countering.
Prosecutors drop all Trump inauguration rioting cases. Federal prosecutors announced Friday that they will drop all charges against activists arrested and accused of rioting during President Trump's inauguration. The decision follows two unsuccessful trials in which jurors either acquitted or deadlocked on charges against members of a largely black-clad anti-capitalism march. Other cases were dropped after a judge found prosecutors improperly withheld evidence.
As the Wiseguys Turn: McCabe, Comey, and the FBI Boys. [Scroll down] But that's what happens when you have career liars-for-hire running the investigative agencies instead of, you know, real investigators. Back in the early days of the Bureau, the FBI would take law-enforcement pros and make them get law degrees; now it hires lawyers and gives them a badge and a gun.
FBI admits it got multiple tips about Oklahoma City shooter. The FBI is now saying that it received tips about the Youtube channel of the Oklahoma City Shooter, but deemed it wasn't worth a followup.
A Housing Boom, Then a Volcanic Eruption. Lava flows from the Hawaiian volcano Kilauea have destroyed at least 26 homes and disrupted thousands of lives in the past two weeks. Reading this news, you might wonder why some Hawaii residents have chosen to live at the foot of an active volcano. The strange truth is that the state government encourages them. Kilauea, located on the southeast side of the Big Island, is one of the most active volcanoes in the world. In geologic terms, it has been continuously erupting since 1983, when a lava flow destroyed 16 homes in a subdivision called Royal Gardens. Seven years later, what remained of the town of Kalapana was flattened by another Kilauea eruption, which ended up burying more than 100 homes, a church and a store.
Looking for 'solutions' to mass killings? Start with punishing failure. Law enforcement keeps failing, and people keep dying. Where are the consequences? Where is the accountability? Despite receiving a warning directly from the Russian government, the FBI failed to stop the Tsarnaev brothers from staging the Boston Marathon bombing. Despite having plenty of resources, the Charlottesville police failed to stop a car attack that left a woman dead. The FBI interviewed Omar Mateen, the Orlando Pulse nightclub shooter, and considered criminally investigating him. They didn't — possibly because his father was an FBI informant. The FBI also missed numerous "red flags" before the San Bernardino shooting. And despite having lots of warning, the FBI, the Broward County schools and the Broward Sheriff's Department under Sheriff Scott Israel all failed to stop Nikolas Cruz from shooting up a high school.
Faithless in Holy Week. The FBI, which has in its ranks many good accountants, has apparently done a reasonable job on tracking terrorist finances. It has been a bust in "disrupting" terrorism. As noted, they missed the Pulse shooter. The undercover agent assigned to the group that tried to kill Pamela Geller encouraged them and never did a thing to stop them or even to alert authorities to the attack. Then there was the Tsarnaev case, where ignoring Russian warnings, the FBI sat by and the brothers murdered three men (and got away with it due to fumbling by the Boston law enforcement agencies) and proceeded in time to bomb a marathon route[.] I won't even go into the number of times where the FBI agents entrapped mentally deficient men into acts for which they then took credit for stopping. But there have been many such incidents: Jerry Drake Varnell, a paranoid schizphrenic, in 2017, the depressive Aby Rayyan in 2016, the delunsional Sami Osmakac in 2012, and Peyton Pruitt, who suffers from "mental retardation, autism, and attention deficit disorder," in 2015.
How is the FBI so ignorant about the threat of Islam? Immediately following 9/11, FBI Director Mueller began meeting with leaders of Muslim Brotherhood/Hamas organizations at FBI Headquarters to include the Council on American Islamic Relations (CAIR), the Muslim Public Affairs Council (MPAC), the Muslim American Society (MAS), the American Muslim Council (AMC), which was founded by an Al Qaeda financier, and many other hostile groups to "better understand" the "muslim community." Today on the FBI's website we see their main "outreach partners" in the muslim community are: the Muslim Brotherhood's All Dulles Area Muslim Society (ADAMS) in Sterling, Virginia; the Muslim Public Affairs Council (MPAC); and Muslim Advocates, which works closely with the U.S. Muslim Brotherhood and is ideologically aligned with them. The FBI has no training on the actual threat of Islam, and no training on sharia — the doctrine 100% of the jihadis state is the blueprint for why and how they fight. In UTT's experience, all of the federal agents who attend our training programs, including FBI Joint Terrorism Task Force (JTTF) personnel, have never heard the material we present, yet all of them agree it is critical to protecting their local communities.
Muslims gets special use permit to build mosque in Coldwater. The Coldwater Planning Commission approved a special use permit to construct a mosque for the American Moslem Society at 129 Perkins St., Coldwater, where they now have a cultural and worship center. Mayor Tom Kramer said the project "is no different than the other 30 churches we have in town. The Muslim population is a very important part of our community." Planning Commission Chairman Aloha Miller called the project "a beautiful building that will make the area look nice."
The Editor says...
A politician, or anyone else, who sees no difference between a mosque and a church is an uninformed and incompetent doofus. A new mosque might "make the area look nice," if you have no idea what goes on inside. In the same way, one could construct an abortion clinic that looks like a bank, or a whorehouse that looks like a library, and shallow-thinking city officials would be happy with it.
Laura Ingraham: Broward County Deputies Told Not to Enter School. This seriously changes everything. We may have finally gotten to the bottom of why the Florida school shooter was able to take the life of 17 of his fellow students. Previously, we reported that on-duty police officers at the site of the shooting neglected to enter the building while the shooting was ongoing, which could have cost an untold number of lives. Then the Broward County Sheriff attempted to defend his department, despite the clear cowardice displayed by his officers. Now we just received shocking news that the on-duty deputies were ordered not to engage with the shooter or enter the building.
The Editor says...
It sounds like the officials in charge were intentionally trying to make the situation worse, so that it would have a greater political effect. Much like the way Barack H. Obama slow-walked his response to the Deepwater Horizon oil spill, in order to maximize the damage and bring condemnation to oil companies in general.
FBI bureaucratic failures and willful blindness rack up a horrifying body count. After [a young man] gunned down 17 people at Stoneman Douglas High School in Florida, FBI special agent Robert Lasky, head of the bureau's Miami division, said he "truly regrets" the pain caused by the FBI's failure to act on a tip about the shooter. The FBI said it had no way to trace the tip, then FBI boss Christopher Wray said the message was never passed on to the FBI's Miami field office, as official protocol required. Relatives of the victims might have noted the passive verb construction. In typical style, Wray failed to name the person who never passed on the tip, and offered no explanation why that person might have done so. [...] Who are the FBI agents, and their bosses, who looked the other way in the Fort Hood, Boston Marathon and Orlando terrorist attacks? What, exactly, are they doing now? As in the Florida high-school shooting, the victims and their loved ones deserve some answers.
'School shooter in the making': All the times authorities were warned about Nikolas Cruz. Nikolas Cruz's dangerous and disturbing behavior was flagged repeatedly to authorities, both local and federal, over a span of two years starting in February 2016. But no one stopped him before he killed 17 people at Marjory Stoneman Douglas High School in Parkland. Here's a time line of incidents where Cruz was reported to law enforcement. Many of the incidents involve the threat of a school shooting.
Hawaii worker who sent false missile-attack alert is fired. One employee also resigned prior to disciplinary actions being taken and authorities are in the process of suspending another worker without pay, Logan said. It was reported earlier that the employee intentionally sent the message thinking the island was being attacked, the FCC said in a stunning reversal after officials had insisted the alert was the result of a mistaken keystroke. [...] During the investigation, [Brig. Gen. Bruce] Oliveira said the employee, who had worked at the agency for more than 10 years, had a history of confusing drills and real-world events. In fact, the worker had made similar mistakes twice before, officials said.
Employee who sent out false Hawaii missile alert is FIRED and state emergency management administrator RESIGNS. The employee who sent out a false missile alert in Hawaii earlier this month has been fired and the emergency management administrator of the state has resigned. This follows the official report into the debacle which revealed the unidentified staff member genuinely thought Hawaii was under attack and issued it in panic. The employee has still not been named since they sent out the phone alert at 8.07 am on January 13, sparking mass panic across the state.
Hawaii emergency management stuck a password on a sticky note. Could things possibly get any worse for the people over at the Hawaii Emergency Management Agency (HI-EMA)? Why, yes! The worsitude comes in the flimsiest but all too familiar of forms: a yellow sticky note, spotted in an Associated Press photo from July, at the agency's headquarters at Diamond Head, bearing a password and stuck to a computer screen. While there's a press photographer in the room, obviously.
Democratic Governor of Hawaii Couldn't Notify Public That Missile Alarm Was False Because He Didn't Know His Twitter Password. Say what you want about President Trump, but at least he knows his Twitter password. Hawaii Governor David Ige, a Democrat, now says he couldn't inform state residents that a warning of an imminent missile attack was a false alarm because he forgot his Twitter password.
Hawaii governor couldn't warn public of missile 'crisis' because he forgot password. The governor of Hawaii wanted to inform the public that they would not die in a ballistic missile attack — but he forgot his Twitter password. Gov. David Ige said on Sunday that he could not access his Twitter account on the morning of Jan. 13 — while Hawaiians were reeling after receiving the false emergency missile alert on their cell phones. "I have to confess that I don't know my Twitter account log-ons and the passwords," Ige said, according to the Honolulu Star-Advertiser.
Texas Tech student questioned by TSA for brandishing school's 'finger gun' salute. Taking a semester off from Texas Tech University to help her family recover from Hurricane Harvey, Diana Durkin was thrilled to return to campus for her sophomore year. But ironically, it was her enthusiasm that nearly halted her plans when she was stopped by the TSA before a Jan. 6 flight out of William P. Hobby Airport in Houston.
TSA Agents Don't Know What The District Of Columbia Is. Transportation Security Administration officers continue to be confused about their nation's capitol. District of Columbia Del. Eleanor Holmes Norton sent a letter Tuesday to TSA Administrator David Pekoske Wednesday about a Washington, D.C. resident who had issues at the Newark International Airport with her driver's license. Holmes Norton said that a TSA officer denied that the I.D. was valid and had to consult with colleagues before allowing the D.C. resident to catch her flight.
The FBI Record on Fighting Terrorism.. [Scroll down] Many Americans assume, however, that at least in the area of Islamic terrorism, the FBI has kept Americans largely safe. Not so fast. The record doesn't quite show that. In fact, the agency has blundered many terrorism investigations and thus jeopardized the security of Americans. [... For example,] The FBI has flat out denied that Las Vegas shooter Steven Paddock has any Islamic terror connections, but the reality is it really doesn't know enough about him to make such a claim. Indeed, ISIS never takes credit for attacks that are not its own and on three occasions, it has announced Paddock was connected to ISIS. It even revealed Paddock's Islamic name: Abu Abdul Barr al-Amriki. Also, Paddock made trips to the Middle East. Given the FBI's record, ISIS's statements may be more credible than the FBI's denials.
The TSA Flunks Yet Another Airport Security Test; How Many More Chances Will It Get? Anyone standing in an endless security line at the airport can at least take comfort in the fact that it's keeping air travel safe. Right? Wrong. It turns out that the government-run TSA repeatedly fails to do its job properly.
Air Force launches review after failing to enter Texas shooter's criminal history in FBI database. He had a history of abusing his ex-wife and stepson as well as a bad-conduct discharge from the Air Force, yet the suspect in the Texas church massacre was able to obtain multiple firearms legally after passing background checks. How? It turns out Holloman Air Force Base officials failed to enter Devin Patrick Kelley's 2012 court-martial and conviction on two counts of domestic assault into the federal database. "Initial information indicates that Kelley's domestic violence offense was not entered into the National Criminal Information Center database by the Hollomon Air Force Base Office of Special Investigations," the USAF said in an email statement.
The Air Force says it failed to follow procedures, allowing Texas church shooter to obtain firearms. The Air Force says it failed to follow policies for alerting federal law enforcement about Devin P. Kelley's violent past, enabling the former service member, who killed at least 26 churchgoers Sunday in Sutherland Springs, Tex., to obtain firearms before the shooting rampage. Kelley should have been barred from purchasing firearms and body armor because of his domestic violence conviction in 2014 while serving at Holloman Air Force Base in New Mexico. Kelley was sentenced to a year in prison and kicked out of the military with a bad conduct discharge following two counts of domestic abuse against his wife and a child, according to Air Force spokeswoman Ann Stefanek.
Air Force Error Allowed Texas Shooter To Pass Firearm Background Check. The U.S. Air Force failed to report Texas church shooter Devin Kelley's misdemeanor domestic violence charge to the FBI allowing him legally purchase firearms. The U.S. Armed Forces are required to report dishonorable discharges and misdemeanor assault charges to the FBI's National Instant Criminal Background Check System, that in turn would alert a firearms seller to deny purchase to any such offender. Kelley was convicted of misdemeanor domestic violence against his then-wife and stepson in 2012, earning him a year in military prison and a bad conduct discharge. He reportedly beat his wife during the incident and badly fractured his stepson's skull. These charges should have denied him legal access to firearms.
Jihadism's E-Z Pass to New York. Seeking to absolve themselves of any responsibility, the assembled hacks cast Saipov as a "lone wolf" whom no one could have seen coming. Never mind that the FBI had once interviewed him about his terrorist connections. According to media reports, two suspected terrorists under investigation by the FBI and Homeland Security had listed Saipov as their "point of contact." Some lone wolf. Vigilant government officials uncowed by political correctness could certainly have seen him coming. A perfect storm of liberal idiocy made his terrorism possible, starting with the "diversity lottery program" that mindless multiculturalists in Congress started to ensure that foreigners who hate America had a shot at citizenship too. It is now known that Saipov attended a mosque in Paterson, New Jersey that de Blasio prided himself on protecting from NYPD scrutiny. Before de Blasio, the NYPD used to send plainclothes detectives into it and kept an eye on new arrivals from ethnic Islamic communities.
Feds Keeping Homeland Secure with Fake Sex-Trafficking Busts. As America debates how to handle terrorist attacks like the one in New York City yesterday, the U.S. Department of Homeland Security (DHS) and the FBI are busy helping small-town police arrest people for prostitution and marijuana. In Louisiana this week, the FBI helped arrest — and publicly ridicule — 57 men who responded to fake (adult) prostitution ads. Meanwhile in North Carolina, DHS has pitched in to help round-up people with small amounts of marijuana or cocaine on them. Local media described the DHS efforts as a "human trafficking case." But the only offenses any suspects were arrested for were drug possession, driving with a revoked license, and parole violations — all state-level offenses, and mostly misdemeanors.
Yet Another Radical Islamic Terror Attack That Could Have Been Prevented. It didn't take long before we learned that the alleged New York terrorist who plowed into pedestrians in a well-planned attack that killed eight had been on the government's radar. That makes 10 terror attacks over the past eight years carried out by Islamic extremists "known to authorities."
Rest Easy, America, The FDA Is Keeping 'Love' Off Our Food Labels. Bloomberg reports that an artisan baker in Massachusetts got a warning letter from the FDA last Tuesday complaining, among other thing, about an ingredient listed on the label of a bag of its granola. "Your Nashoba Granola label lists ingredient 'Love,'" the letter reads. It goes on to inform the baker that "Ingredients required to be declared on the label or labeling of food must be listed by their common or usual name (21 CFR 101.4(a)(1)). 'Love' is not a common or usual name of an ingredient, and is considered to be intervening material because it is not part of the common or usual name of the ingredient." Translation: Your attempt at light humor isn't funny to us rule-enforcing bureaucrats down in the bowels of some dreary federal building.
A bakery listed 'love' in the ingredients. The food cops had something to say about it. Among the myriad problems the FDA listed after inspecting Nashoba Brook Bakery's manufacturing facility: Love in the granola. Deep in a Sept. 22 warning letter by Food and Drug Administration to the Concord, Massachusetts, manufacturer is this admonishment: "Your Nashoba Granola label lists ingredient 'Love.' Ingredients required to be declared on the label or labeling of food must be listed by their common or usual name [21 CFR 101.4(a)(1). 'Love' is not a common or usual name of an ingredient, and is considered to be intervening material because it is not part of the common or usual name of the ingredient."
Food Truck Giving Free Food to Hurricane Workers, Kicked Out of Town for Not Having a Permit. After Irma devastated Florida, most restaurants and stores were shut down in certain areas. Green Cove Springs was one of those places. So, when Jack Roundtree, owner of the Triple J BBQ food truck, arrived in town, not only was he welcomed with open arms — he was desperately needed. As he sold BBQ to paying customers, Roundtree used the extra money to feed utility workers for free for all their hard work. However, once officials saw a man who'd dare sell food in their town without paying them first, police were called in to make quick work of this entrepreneurial good samaritan.
Houston FEMA flood map missed 75 percent of flood damages, says new study. FEMA's 100-year flood plain map doesn't have the best reputation in Bayou City — just ask any Houstonian whose home was outside the flood risk zone yet still filled with water during one if the city's many and recent flooding events. Still, a new study by Rice University and Texas A&M-Galveston suggests FEMA's hazard mapping may be even less accurate than most people think. Researchers examined flood damage claims from several southeast Houston suburbs between 1999 to 2009 and found that FEMA's flood predictive maps failed to show 75 percent of flood damage.
Murderers, Rapists And Pedophiles Got Government Security Clearances. The head of the Pentagon's Defense Security Service says the troubled and clogged process to grant security clearances has led to criminals receiving access to classified information. "I've got murderers who have access to classified information," Daniel Payne, head of the Defense Security Service, said during a conference Wednesday [9/6/2017], McClatchy reports. "I have rapists. I have pedophiles. I have people involved in child porn." The Defense Security Service grants temporary security clearances for civilian workers and contractors, and the Department of Defense (DOD) has been so hard pressed for employees with clearances that some criminals have slipped through.
The NSA Must Be Reined In. More than 230,000 computer systems from across the globe were recently attacked by a vicious ransomware virus, named "Wanna Cry," that crippled computers for some of America's largest companies, including FedEx. The virus, one of the largest of its kind, was paid for by the American taxpayers. How did this happen? How did this life threatening tool end up in the hands of seemingly illiterate hackers? Simple answer: government incompetency. The NSA has spent the last decade building up an arsenal of digital doomsday weapons completely in the dark. The American public has been barred from seeing exactly how much of their money is used by the NSA to create these monstrosities.
Ignorance of the Law is no Excuse — Unless You're a Refugee. A man in Manchester, NH was arrested on six counts of domestic violence. "According to court paperwork, he was accused of striking, pushing, grabbing, kicking and pulling out the hair of a woman who was 27 weeks pregnant at the time." It was evidently an open and shut case. The man, 33 year old Augustin Bahati, is a refugee from the Congo who was "resettled" in 2015. He, like many refugees, has been placed in Manchester, and many cities like it, without the permission, and quite often without even the knowledge of the city. The feds, under Obama, just brought in refugees and quietly bussed them to cities around the country. [...] You may be thinking — oh great — another immigrant clogging up the judicial system, and another for which we taxpayers must pay to incarcerate. You'd be wrong. He got off scot-free.
Amish Man Sentenced to 6 Years in Prison for Improper FDA Labeling. Samuel Girod is a farmer who belongs to the "Old Order Amish community" and a father to twelve in Bath County, Kentucky. According to Ricochet, the 57-year-old Girod got in trouble with the government after selling homemade herbal remedies, [...] Girod, who said the FDA had no right to oversight since he made herbal remedies, wouldn't let them in. His deeply-held beliefs require he "avoid the modern world as much as possible, including modern pharmaceuticals." Unsurprisingly, the FDA disagreed with his assessment of their level of possible involvement, so the federal behemoth came down on him for the "vague medical claims" on his labels.
It's Not Your Father's FBI. Omar Mir Seddique, also known as Omar Mateen, was an American mass murderer who killed 49 people and wounded 58 others in a mass shooting at the Pulse gay nightclub in Orlando, Florida, on June 12, 2016. He had been interviewed by the FBI three times and was on their radar because he had made comments sympathetic to terrorists and attended the same Florida mosque as a suicide bomber named Moner Abusalha, who had gone to Syria to blow up Syrian government soldiers in 2014. When asked why Mateen was dropped from the FBI list, Comey indicated that the FBI's concerns about Mateen were eased after a witness told the bureau that Mateen got married, had a child and found steady work. Oh! [...] Many innocent individuals have been under FBI surveillance but the real reason for the FBI failures may be due to an increase in a PC policy.
North Carolina man receives shocking $100 million charge on water bill. The News & Observer of Raleigh reports that Kieran Healy of Orange County in central North Carolina got a water bill for $189.92. The service charge was a dollar shy of $100 million.
Inept or crooked, Comey deserved to be fired. While President Donald J. Trump fired former FBI Director James Comey on May 9, Barack Obama should have sacked him July 5. Comey's behavior in the E-mailgate investigation suggests either staggering incompetence or a clumsy effort to whitewash Hillary Clinton's crimes. During Clinton's July 2 interrogation at FBI headquarters, she was not under oath. How could the FBI possibly reach in its probe "the last step of a year-long investigation" — as Comey described it at a July 7 House Government Oversight Committee hearing — without a potential perjury conviction hanging over her head? Given Clinton's peanut-allergy-like aversion to the truth, not swearing her in confirmed either the FBI's grotesque ineptness or a deliberate loophole to allow her to slither free.
For 18 years, I thought she was stealing my identity. Until I found her. [Scroll down] Finally, the DMV told me that I wasn't the victim of identity theft; there was simply another Lisa S Davis with the same birthday in New York City. Our records were crossed. When cops run a license, they don't check the person's address, signature, or social security numbers. They check the name and the birthday, and both the other Lisa S Davis's and mine were the same. We were, in the eyes of the law, one person, caught in a perfect storm of DMV and NYPD idiocy.
Senate staffers' ID cards have photo of smart chip, no security. The Government Accountability Office repeatedly warned of gaps in federal information security, including the lack of two-factor authentication on critical federal systems like those at OPM. And during President Barack Obama's "cyber-sprint," many more agencies did roll out smartcards for authentication. But apparently Congress never took its own advice. A letter from Senator Ron Wyden (D-Ore.) to the Senate's Committee on Rules and Administration last week pointed out that while many executive branch employees now have PIV cards with chips embedded in them, Senate employees get ID cards with a picture of a chip on them.
Massachusetts Prepares to Vacate Nearly 24,000 Tainted Drug Convictions. Massachusetts prosecutors will move in mid-April to vacate nearly all of the roughly 24,000 drug convictions tainted by a single corrupt forensic lab chemist, The Boston Globe reported Saturday [3/25/2017], marking the denouement of one of the largest drug lab scandals in U.S. history. A Massachusetts prosecutor told the state's Supreme Judicial Court last week that D.A.'s would seek to keep fewer than 1,000 of the 24,000 convictions tainted by drug lab chemist Annie Dookahn, who pled guilty in 2012 to falsifying test results in favor of law enforcement and tampering with evidence over a nine-year period starting in 2003.
FBI Undercover Agent Was In Car Behind Terrorists And Failed To Stop Attack. An FBI undercover agent encouraged a terrorist to "tear up Texas" before the 2015 Garland, Texas shooting, and was at the crime scene and failed to stop or engage the perpetrators. This was revealed in an investigation by CBS's "60 Minutes" that aired Sunday. The Garland shooting left two terrorists, Elliot Simpson and Nadir Soofi, dead. They attempted to attack an event featuring cartoons of the Muslim prophet Mohammed, but were stopped by local police.
Iraqi insurgent fighter allegedly lied about identity, got through 'extreme' vetting. Federal lawmakers are investigating how a former Iraqi insurgent fighter was able to lie about his identity and still get through America's 'extreme' vetting process. The Senate Homeland Security and Governmental Affairs Committee has asked Attorney General Jeff Sessions to find out why the terror suspect's pending arrest was allegedly spiked just over a week before the election. Trump had run on a tough-on-terror platform and had been critical of President Obama's refugee policy.
Watchdog: Obamacare Exchanges Fail to Detect Counterfeit Documents. Obamacare exchanges are failing to verify key enrollment information, according to a new report by the Government Accountability Office (GAO). This new report is the latest in a long line finding that controls on federal and state Obamacare exchanges are abysmal. As part of its review, GAO tested application and enrollment controls on the federal exchange and two state exchanges (California and Kentucky). Ten fictitious applicants were created to test whether verification steps including validating an applicant's Social Security number, verifying citizenship, and verifying household income were completed properly.
The American Indian Word for Woman Now Deemed "Offensive". You may remember the term "squaw". It's the Narragansett (American Indian) word for "woman" dating back to at least the 17th century. Algonquian dialects also employed the word. But now, your PC betters have deemed the term Offensive.
Agents and Agencies. The failures of the intelligence community leading up to 9/11 are well documented, and there is very little reason to believe that the reforms undertaken since then have radically improved things. Coordination among relevant agencies, which include law-enforcement agencies, remains shockingly poor. Orlando, San Bernardino, Boston, Fort Hood — when was the last time we had a domestic terrorist attack in which the perpetrators were not already on the authorities' radar or in a position in which they obviously should have been?
Ft. Lauderdale Fighter Claimed He Was Being 'Forced to Fight for ISIS'. Pamela Geller is reporting that the Ft. Lauderdale shooter today was previously known to the FBI, and that in November he had walked into an FBI office in Anchorage, Alaska[,] claiming he was being forced to fight for ISIS.
Ft. Lauderdale shooting suspect made confused visit to FBI, said US intelligence forced him to watch ISIS videos. Estaban Santiago, the 26-year-old airline passenger accused of shooting up a baggage claim area at the Ft. Lauderdale-Hollywood airport Friday [1/6/2017], leaving five dead and eight injured, visited the FBI Anchorage field office and told officers he was being forced to watch ISIS videos, law enforcement sources told Fox News. The visit took place last November. The sources said Santiago told agents that US intelligence had infiltrated his mind and were forcing him to watch ISIS propaganda videos. "In November 2016, Esteban Santiago walked into the Anchorage FBI Field Office to report that his mind was being controlled by a U.S. intelligence agency," a senior federal law enforcement official said.
The Editor says...
Hmmm. There are two mutually-exclusive possibilities here: [#1] His mind was being controlled by a U.S. intelligence agency, in which case the federal government is culpable in the Fort Lauderdale shooting; or [#2] his mind was not being controlled by a U.S. intelligence agency, in which case the federal government should have locked him up immediately, and put him on the no-fly list, and made sure he never had access to firearms again until his mental problems were resolved. But none of that happened, so in either case, the federal government is culpable in the Fort Lauderdale shooting. The FBI had this guy in their office and let him go.
DHS 'snafu' gives Illegal aliens green cards. [T]hanks to the Obama administration's incompetence that's been observed repeatedly, upon taking office on Jan. 20, 2017, President Trump will face an immigration and homeland security behemoth gone berserk. For example, a report released by the Department of Homeland Security's Office of the Inspector General admits that the U.S. Citizenship and Immigration Services problems experienced in the agency's so-called Green Cards issuance program are far worse than originally believed. The audit was conducted as a follow-up to a March 2016 report in which the DHS OIG revealed that the USCIS had sent hundreds of Green Cards to the wrong addresses.
Department of Homeland Security Overwhelmed by Green Card Catastrophe. The U.S. Citizenship and Immigration Services (USCIS) has issued thousands of duplicate green cards to immigrants, including many that include incorrect information and allow these individuals to stay longer than permitted in the United States, according to a new government oversight report that warns the Department of Homeland Security is incapable of tracking immigrants who may pose a security risk to the United States. USCIS, which handles immigration cases and the distribution of green cards, was found to have produced at least 19,000 green cards during the past three years that were duplicates or contained incorrect information, according to a new report by the Department of Homeland Security's inspector general.
HUD Has No Answer For Why Its Financial Books Are Worthless. Department of Housing and Urban Development (HUD) officials refuse to explain why they haven't fixed poor accounting practices and useless financial books their inspector general (IG) has been exposing for four years. It's not clear whether HUD officials understand what they're doing is wrong because, their spokesman, Brian Sullivan, told The Daily Caller News Foundation Investigative Group that "HUD does apply generally accepted accounting standards." Not so, said the IG, whose most recent audit found 11 "material weaknesses," seven "significant deficiencies" in internal controls, and five instances of "noncompliance with applicable laws and regulations."
No More Accidental Criminals. Consider the retiree on a snowmobile outing in Colorado who got lost in a blizzard and unwittingly crossed into a National Forest Wilderness Area; the Native Alaskan trapper who sold 10 sea otters to a buyer he mistakenly believed was also a Native Alaskan; and the 11-year-old Virginia girl who rescued a baby woodpecker from her cat. The first two incidents resulted in misdemeanor and felony convictions, respectively, while the third led to a fine (later rescinded) and threats of prosecution. All three qualify as federal crimes, even though the perpetrators had no idea they were breaking the law. The federal code contains something like 5,000 criminal statutes and describes an estimated 30,000 regulatory violations that can be treated as crimes.
Washington at Its Worst: Senate Passes Non-Existent Bill. On Tuesday night, the Senate voted to proceed to the continuing resolution, a bill that will allegedly fund the government until Dec. 9. The only problem is that there isn't actually a bill yet. There is no text. There is no agreement between Democrats and Republicans on what the bill will fund — Planned Parenthood, the Export-Import Bank, control of the internet — all of it remains a mystery. Yet the Senate voted 89-7 to proceed to this nonexistent bill. The Senate operates under complex parliamentary rules that require a series of votes in order to "proceed to" or "get onto" a bill. The vote Tuesday night was the first in what will be a series of votes on the continuing resolution, or spending bill.
N.M. fire started by feds has rural residents devastated, angry. Residents of this tiny Mozano Mountain community were devastated when a fire last month scorched 18,000 acres and destroyed a dozen homes. When they learned it was started by the federal government, they were angry. The Dog Head Fire broke out June 14 when U.S. Forest Service workers and a private contractor were using a giant shredder to clear forest debris in an ironic bid to prevent a blaze. The equipment, called a masticator, is believed to have thrown the spark that ignited the blaze that burned out of control for nearly two weeks. "The start of the fire has been confirmed with equipment operating in the forest service lands on a thinning project," said Elaine Kohrman, U.S. Forest Service supervisor.
FBI Failed To Contact Americans On ISIS Kill Lists. According to a report by Circa News, the lists, which are not public but encrypted online, name over 15,000 people the terrorist organization wants to see snuffed out by sleeper cells or lone wolves in New York, Texas, Florida and California. The lists reportedly include names of college professors and military personnel, as well as art collectors and homemakers. In a sampling of 24 individuals contacted in Texas, 22 told Circa they were not made aware by government officials that they are the targets of the terror group.
Lessons from Fort Hood and Asking the Right Questions in Orlando. In 2009, debilitating coordination problems within the [FBI] kept it from capitalizing on early intel about Nidal Hasan, a radicalizing Muslim Army officer who was emailing AQAP's Anwar al-Aulaqi nearly a year before the officer went on a shooting rampage at Fort Hood, firing more than 200 rounds and killing 13 people. In the email, Hasan asked whether a Muslim US solider who committed fratricide would be considered a martyr in the eyes of Islam. To the FBI's credit, the email "tripped the wire." An agent and analyst singled it out despite a crushing workload. The signal was found amidst the noise — but the FBI's coordination weaknesses then let it get lost again.
How Obama Officials Cried 'Terrorism' to Cover Up a Paperwork Error. After seven years of litigation, two trips to a federal appeals court and $3.8 million worth of lawyer time, the public has finally learned why a wheelchair-bound Stanford University scholar was cuffed, detained and denied a flight from San Francisco to Hawaii: FBI human error. FBI agent Kevin Kelley was investigating Muslims in the San Francisco Bay Area in 2004 when he checked the wrong box on a terrorism form, erroneously placing Rahinah Ibrahim on the no-fly list. What happened next was the real shame. Instead of admitting to the error, high-ranking President Barack Obama administration officials spent years covering it up.
Flashback: Does The Government Still Think This Cub Scout Is A Terrorist? Let's go back in time to The New York Times' 2010 article about then-eight-year-old Mikey Hicks. Was he a cub scout or a terrorist? His parents knew. In fact, most people with cognitive function would know that he's not hell bent on attacking the country, but our government wasn't sure. He could be the face of absolute evil, so thank goodness the U.S. Senate could bar him from buying a firearm since he's on one of the many terror watch lists maintained by the FBI. He never had any due process of law concerning his designation as someone who might be the next bin Laden, but who cares — due process is killing us.
Liberal Blogger: Senate Democrats Forced Me To Side With The NRA. The criteria concerning how one catches the attention of the FBI who maintains the database isn't really known. It doesn't seem to be specific, as a cub scout was considered to be suspicious of terrorist activities back in 2010. The point is the kid, Mikey Hicks, is innocent. I'm sure there are many more Americans wrongfully placed on these lists, but with no due process — it's difficult to get your name cleared. Nevertheless, [forget] due process if it means restricting gun rights, am I right Democrats? Now, Drum is in favor of other gun control initiatives, like a ban on high-capacity magazine, but he gives a forceful "no thanks" concerning stripping an American's gun rights if they happen to catch the eye of the FBI.
FBI never even VISITED the gun store after owner reported suspicious Omar last month when he tried to buy ammo and surveillance has since been erased. A gun store owner who reported Orlando shooter Omar Mateen to authorities weeks before the massacre has said the FBI did not investigate the store and that no copies of surveillance had been taken. Robbie Abell, co-owner of Lotus Gunworks, told ABC news that while there was a follow-up conversation with agents, the FBI never visited the south Florida store after he alerted them and failed to investigate further. Mateen came into the store in May and asked for heavy-duty body armor like the kind used by law enforcement, which they did not sell.
A Modest Proposal for Improving U.S. Intelligence Operations. While the distressing failures of the FBI and local law enforcement to follow through on evidence that the shooter, Omar Mateen, was a dangerous radicalized person, no apparent effort was made to suspend his security guard license or keep watch on his firearm and ammunition purchases. Internal operating instructions of the FBI limited the amount of time they could keep watch on him and both the local and federal authorities were paralyzed by fear of being dubbed Islamophobic. So chilling accounts by his fellow workers were discounted as the result of prejudice, and a report by a local gun shop that he'd tried without success to purchase "body armor and bulk ammunition from the store" was ignored. Although the FBI interviewed Mateen in 2013 and 2014 following reports by his fellow workers nothing was done — not even to suspend his security licenses or keep tabs on his firearm and ammunition purchases.
Government Rates 99% of Federal Employees 'Fully Successful' or Higher. According to a recent study by the Government Accountability Office, virtually all federal employees are above average. In a five-scale rating system, 74 percent of federal employees were given the highest two ratings of "exceeds fully successful" and "outstanding." Including the middle category of "fully successful" encompasses more than 99 percent of federal employees, leaving less than one-half of one percent as either "minimally successful" or "unacceptable." Under a normal, bell curve distribution, an equally low percentage of employees would be rated in the lowest and highest categories. Yet, for every federal employee with the lowest "unacceptable" rating, 386 employees receive the highest "outstanding" rating.
In The Federal Government, All The Workers Are Way Above Average. A review of federal worker performance ratings by the Government Accountability Office found that 99.5% of them got a "fully successful" rating or above. More than a third were given the highest rating of "outstanding." At the other end of the spectrum, just 0.4% of federal workers were rated as "minimally successful" and 0.1% as "unacceptable." Anyone who has ever had the misfortune of dealing with federal bureaucrats, or who has read countless reports from government auditors detailing gross incompetence across every federal agency, can attest to the fact that these ratings are ludicrous.
DHS ordered me to scrub records of Muslims with terror ties. Amid the chaos of the 2009 holiday travel season, jihadists planned to slaughter 290 innocent travelers on a Christmas Day flight from the Netherlands to Detroit, Michigan. Twenty-three-year old Nigerian Muslim Umar Farouk Abdulmutallab intended to detonate Northwest Airlines Flight 253, but the explosives in his underwear malfunctioned and brave passengers subdued him until he could be arrested. The graphic and traumatic defeat they planned for the United States failed, that time. Following the attempted attack, President Obama threw the intelligence community under the bus for its failure to "connect the dots." He said, "this was not a failure to collect intelligence, it was a failure to integrate and understand the intelligence that we already had." Most Americans were unaware of the enormous damage to morale at the Department of Homeland Security, where I worked, his condemnation caused. His words infuriated many of us because we knew his administration had been engaged in a bureaucratic effort to destroy the raw material — the actual intelligence we had collected for years, and erase those dots. The dots constitute the intelligence needed to keep Americans safe, and the Obama administration was ordering they be wiped away.
Federal officials delayed San Bernardino terrorist attack probe. A report today [6/2/2016] by the Department of Homeland Security Inspector General concludes that the field office director at the U.S. Citizenship and Immigration Services "improperly delayed" investigators from Immigration and Customs Enforcement from conducting a "lawful and routine law enforcement action" after the San Bernardino terrrorist attack last December. The report will be posted soon on the Inspector General's website. Inspector General John Roth conducted the investigation at the request of Sen. Ron Johnson, Chairman of the Committee on Homeland Security and Government Affairs. Roth notes that the "situation" was "corrected" once the incident was "elevated" to supervisors. But the report provides new evidence that despite extensive money and effort spent to help federal agencies better coordinate and cooperate, especially when it comes to terrorist-related risks, inter-agency bungling continues.
America's nuke program runs on floppy disks. A report from the Government Accountability Office finds US government agencies spend $60 billion a year operating and maintaining outdated systems — three times more than is spent on upgrades, per CNN. One such system: the Pentagon's IBM Series-1 computer which uses 8-inch floppy disks "in a legacy system that coordinates the operational functions of the nation's nuclear forces," including intercontinental ballistic missiles and nuclear bombers.
US military uses 8-inch floppy disks to coordinate nuclear force operations. The U.S. Defense Department is still using — after several decades — 8-inch floppy disks in a computer system that coordinates the operational functions of the nation's nuclear forces, a jaw-dropping new report reveals. The Defense Department's 1970s-era IBM Series/1 Computer and long-outdated floppy disks handle functions related to intercontinental ballistic missiles, nuclear bombers and tanker support aircraft, according to the new Government Accountability Office report.
USDA Awards $746,827 to Improve 'Shopping Practices of Adolescents'. Secretary of Agriculture Tom Vilsack announced Thursday [5/19/2016] six universities have been awarded nearly $3.8 million in funding by the U.S. Department of Agriculture (USDA) for programs designed to help fight obesity. The USDA's program descriptions for the six grants include:
• $746,827 to the University of Kentucky for the testing of the program "Smart Shopping." According to the program description, Smart Shopping is "aimed at improving the shopping practices of adolescents with the ultimate goal of increasing fruit and vegetable intake."
• $797,995 was awarded to the University of New England, Biddeford, Maine for the "Supermarket Science: Multipronged Approaches to Increasing Fresh, Frozen and Canned Fruit and Vegetable Purchases" program.
• The University of Maryland received $943,287 for a program designed to enhance implementation of school wellness policies. The efforts['] goal "is to create health promoting school environments that support healthy growth/development of children to prevent obesity."
An Answer to TSA Incompetence: Less Government. The Transportation Security Administration has become infamous over the years for things that it doesn't allow on planes. Consider these examples of the Keystone Cops in action.
• Confiscating a plastic hammer from a mentally retarded man.
• Detaining a woman for carrying breast milk.
• Hassling a woman for the unexplained red flag of having sequentially numbered checks.
• Demanding that a handicapped 4-year old boy walk through a metal detector without his leg braces.
• Putting an 8-year old cub scout on the no-fly list.
• Stopping a teenager from flying because her purse had an image of a gun.
• Seizing raygun belt buckles and Kitty Cat keychains.
But now the TSA is moving with such tortoise-like inefficiency that even the passengers without plastic hammers and kitty cat keychains aren't getting on planes. Our cousins across the Atlantic are amused by the TSA's incompetence.
Wyoming welder, facing $16M in fines, beats EPA in battle over stock pond. A Wyoming man threatened with $16 million in fines over the building of a stock pond reached a settlement with the Environment Protection Agency, allowing him to keep the pond without a federal permit or hefty fine. Andy Johnson, of Fort Bridger, Wyoming obtained a state permit before building the stock pond in 2012 on his sprawling nine-acre farm for a small herd of livestock. Not long after contruction [sic], the EPA threatened Johnson with civil and criminal penalties — including the threat of a $37,500-a-day fine — claiming he needed the agency's permission before building the 40-by-300 foot pond, which is filled by a natural stream.
The Editor says...
This sounds like an Eighth Amendment issue: Does the act of building a stock pond justify fines of $37,500 per day? Does the pond do that much damage? For that matter, can anyone beyond Mr. Johnson's fence tell if he has stock pond or not>
No regrets expressed by officials in dismissed freeway case. The charges were formally dismissed Monday [4/25/2016] at the request of prosecutors after undisclosed questions arose about the case's evidence.
The Editor says...
They got the wrong guy, in other words.
State Dept. Hack Who Issued Visas to 9/11 Hijackers Still Employed by State Dept.. Writing at PJ Media, Nicholas Ballasy passes along a story that — in a sane world — would startle regular Americans and merit front page headlines around the country. But, given the legendary incompetence of Democrat administrations, it's not and it won't.
Killer Illegal Immigrant ICE Failed to Detain Now on ICE's Most Wanted List. Immigration and Customs Enforcement is adding the illegal immigrant arrested and then released after killing 21-year old Sarah Root while street-racing drunk to ICE's Most Wanted list, according to Sen. Ben Sasse (R-NE). Edwin (Eswin) Mejia, an illegal immigrant from Honduras, absconded after ICE declined to detain him — as his crimes "did not meet ICE's enforcement priorities" as laid out by the Obama administration — and he posted bail.
Feds hold man's check, confuse service dog with terrorist. Sometimes truth is much stranger than fiction. On Monday [3/28/23016], the New York Post, citing a report at KTVU, reported that a man's payment was placed on hold because someone confused a dog's name with terrorists. The Post reported: ["]The Department of Treasury flagged a California man's bank account — because his dog's name, Dash, was similar to a term used for ISIS in the Islamic world, Daesh.["]
Immigration Printed, Mailed Hundreds Of Inaccurate Green Cards. Immigration officials sent hundreds of green cards to incorrect addresses, fueling national security concerns they "may have fallen into the wrong hands," a new Department of Homeland Security (DHS) Office of Inspector General report finds. U.S. Citizenship and Immigration Services (USCIS), using a 480-percent-over-budget automated immigration processing system that has increased green card errors rather than reducing them, printed "potentially hundreds" of green cards with the wrong names or sent them to the wrong addresses in recent years. That error "has created potential security concerns about documents that cannot be accounted for or that may have fallen into the wrong hands," the IG found.
More Government Abuse: 120 Years in Prison for Firing Two Shots in the Air. An Army veteran has been charged with 12 criminal counts for firing two shots off in the air that hit no one. He didn't hurt anyone. This is a case of blatant prosecutorial abuse.
The Absurdly Harsh Penalties that Sparked the Oregon Rancher Protest. In addition to the long-running conflict between ranchers and the federal government over control of land in the West, the case illustrates the practical impossibility of challenging harsh mandatory minimum sentences as violations of the Eighth Amendment's ban on "cruel and unusual punishments." The first fire set by the Hammonds, which Steven Hammond said was intended to eliminate invasive species on their property, ended up consuming 139 acres of federal land. The second fire, which was aimed at protecting the Hammonds' winter feed from a wildfire sparked by lightning, burned about an acre of public land. Although the Hammonds did not seek the required government permission for either burn, the damage to federal land seems to have been unintentional. In 2012 they were nevertheless convicted under 18 USC 844(f)(1), which prescribes a five-year mandatory minimum sentence for anyone who "maliciously damages or destroys, or attempts to damage or destroy, by means of fire or an explosive," any federal property.
'It's Because I'm Black, Isn't It?' Race makes people crazy, but often not in the way you'd expect. A nation watched wide-eyed as Melissa Harris-Perry of MSNBC complained that the Star Wars franchise was racist because the major villain is "black." Darth Vader is black in the sense that Johnny Cash or Ben Roethlisberger or certain figures from Arthurian legend are "black" — white guys in black outfits — so people kept waiting for Harris-Perry, "America's foremost public intellectual," to crack and let us know that she was joking. But she wasn't joking.
Gov't Watchdog: HUD's Financial Books Are Impossible To Audit. A government watchdog says it can't audit billions in Department of Housing and Urban Development (HUD) spending because the agency's financial books are kept so poorly. HUD's financial statements and systems are missing records, inaccurate and sometimes even violated federal laws, according to a HUD inspector general report released Monday [11/30/2015]. Included among the programs with useless financial accounting records is nearly $20 billion at the Government National Mortgage Association.
Homeland Security [is] Running Hundreds of Sensitive, Top Secret Databases Vulnerable to Attacks. The Department of Homeland Security is running hundreds of sensitive and top secret databases without the proper authorization, leaving the agency unsure if it can "protect sensitive information" from cyber attacks. An audit released publicly Thursday [11/19/2015] by the inspector general found multiple areas of weaknesses within the agency's information security programs. Specifically, the department is operating 136 "sensitive but unclassified," "Secret," and "Top Secret" systems with "expired authorities to operate."
TSA Says 73 Employees Were on Terror Watch List. A few months ago, top TSA officials were forced to hand over their plastic badges and report for bin-stacking duty after it was discovered that 95% of the time, fake, planted "bombs" and "firearms" were able to make it swiftly through security at a bunch of American airports (just don't wrap your face powder up in your underwear or they'll spill out the contents of your luggage across the "security screening area" with abandon, before testing you and your laptop for exploses, because obviously you're a terrorist, boarding a flight to that high-impact target Cleveland at an ungodly morning hour... not that I'm bitter). Anyway, the malfeasance inside the TSA extends throughout the agency, apparently, from line workers, to top brass and even to HR.
6 Million Un-Dead Have Social Security Numbers, Audit Finds. An internal audit out this week reports that there are 6 million people with Social Security numbers who were born more than 112 years ago. Unless there is a Missouri's worth of extremely aged Americans, what this means is that Social Security didn't get the death information that it was supposed to receive on these people. These un-dead aren't collecting benefits, apparently, but it's still a huge problem, the auditors note, because those "live" numbers can be, and have been, used to commit fraud.
The Editor says...
Guess who is using one of those very old Social Security numbers.
Obama promises to vet Syrian migrants, can't even run immigration database. The disastrous ObamaCare website wasn't an extraordinary exception to the way this administration does things. [...] Did anyone really expect another outcome? The VA records system is a disaster. The ObamaCare database was a disaster. The only database that works is the one used to track Democratic voters.
A decade into a project to digitize U.S. immigration forms, just 1 is online. Heaving under mountains of paperwork, the government has spent more than $1 billion trying to replace its antiquated approach to managing immigration with a system of digitized records, online applications and a full suite of nearly 100 electronic forms. A decade in, all that officials have to show for the effort is a single form that's now available for online applications and a single type of fee that immigrants pay electronically. The 94 other forms can be filed only with paper.
EMT Suspended Without Pay for Stopping to Help a Choking 7-Year-Old Girl. What would you risk to save a child's life? A New York EMT didn't hesitate to act when he found out that a girl was choking, but it may have cost him his job.
ObamaCare Still Can't Catch Fraudulent Enrollees — Audit. The Government Accountability Office sent 10 auditors with fictitious enrollment information to the federal healthcare.gov site as well as two state-run ObamaCare exchanges, to sign up for subsidized insurance. While eight didn't make it through the initial identity-checking process, all 10 eventually obtained coverage, even though four obviously had made up Social Security numbers that started with "000." They all were able to keep their coverage despite filing fake follow-up documentation. In addition, the GAO tried to sign eight more up for Medicaid coverage. Three made it through the process, and four ended up getting subsidized private coverage instead.
Easy To Cheat Obamacare, Medicaid? GAO Says No Sweat. How easy is it to cheat Obamacare or Medicaid to receive highly subsidized federal health insurance? Very, it turns out, according to a U.S. General Accountability Office (GAO) and its undercover operation. All 10 fictitious Obamacare applicants who worked for GAO were approved for federal government subsidies and issued health insurance coverage, many using phony Social Security and a fictitious employer. Seven out of eight other applicants to Medicaid insurance were also approved.
Remind me again: Why does the Department of Energy exist?
Obama Administration Yawns As Energy Dept. Gets Hacked 159 Times. USA Today obtained federal records showing that the Department of Energy was successfully hacked 159 times between 2010 and 2014 ) — potentially putting the nation's power grid at risk and nuclear stockpile at risk. A third of these intrusions were "root compromises," the paper found, which means that the hackers gained administrative privileges, giving them wide access to the Energy Department network. The USA Today investigation also found that 19 of the successful attacks involved the National Nuclear Security Administration, which is responsible for managing the nation's nuclear weapons stockpile.
HUD Allowing Wealthy Families To Live In Public Housing While Poor Families Linger On Waiting Lists. Welfare benefits like food stamps and public housing are supposed to be a "safety net" to protect our poorest and most vulnerable citizens. But does a family with a half million dollars in income really need a government-provided safety net? According to a report by the Washington Post, an audit of the public housing assistance provided by the Department of Housing and Urban Development (HUD) found more than 25,000 "over income" families who earned more than the maximum income for public housing but were still allowed to remain.
Indian restaurant fined for trying to hire Indian waiter. An Indian waiter in an Indian restaurant — imagine that! City bureaucrats slapped a $5,000 fine on a Midtown Indian restaurant for trying to hire a server who is Indian, according to official documents. Following an inquiry by The [New York] Post, the city's Commission on Human Rights — which cited the eatery two years ago — said it's assessing its practices. Commission staffers have been trawling Craigslist to ensnare unwary restaurant owners who violate the law for things like seeking a "waitress" instead of a "wait-person."
30 Blocks of Government Incompetence. There were two accidents on the Schuylkill Expressway last Monday morning. You know what this meant. I had the pleasure of traveling to work on the scenic 30 Blocks of Squalor. The 30 blocks from 69th Street in Upper Darby to 39th Street in West Philly is a tribute to government incompetence, failed government policies, shoddy union labor practices and fiscal mismanagement. This entire thirty block trek could be completed in 5 to 10 minutes if the hundreds of union government drones in the Philadelphia Streets Department would get [to work] and [synchronize] the lights. The blocks are identical in distance. They don't need advanced degrees in physics or calculus to set the lights to go green every ten seconds in order.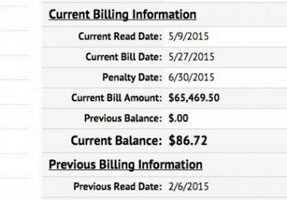 Some still struggle with wildly inaccurate water bills from city. Baltimore says it has fixed its well-known water bill problems — grossly inaccurate bills, haphazard record-keeping, a dysfunctional bureaucracy — but reports from city customers suggest that debugging the long-troubled system is no easy task. Take the case of Jacqueline Robarge, a Remington homeowner who recently found herself facing a $65,469.50 quarterly water bill.
The Editor says...
Obviously the biggest problem with this utility bill is that it does not specify the number of gallons of water used by the customer. That's a feature that would add a sanity check and error-correction mechanism for cases like this one. Also note that the billing amount looks like it could easily be 65535 minus the actual amount owed, which would mean there's a binary inversion somewhere in the billing computer.
Wyoming law could mean jail for sunset picture, claims critic. A new Wyoming law theoretically could land a nature lover in prison simply for taking a picture of a Cowboy State sunset and proudly entering it in a photo contest, at least according to one critic's reading of it. The law, dubbed the Data Process Bill, makes it illegal to "collect resource data" from any land outside of city boundaries. Critics, including University of Denver Law Professor Justin Pidot, say it appears aimed at stopping self-appointed watchdogs from documenting pollution of waterways caused by runoff from farms and ranches.
School freaks out over boys baseball storage shed. One of the parents knew the owner of a company that made precast one-story buildings. The company offered to donate the manpower and materials to build the boys a shed. [...] "It cost the booster club zero," Carl told me. And that was that — until a few months ago. That's when officials with the Clark County School District showed up at the school and demanded that the storage shed be torn down. They said it violated Title IX. [...]In other words, for every boy sport there must be a girls alternative. And in the case of Arbor View High School — if the boys have a storage shed — the girls must have a storage shed.
Leaving a Guy Imprisoned for Five Days Without Food, Water Not Enough to Get Fired from DEA. Can we hire Drug Enforcement Agency (DEA) head Michele Leonhart back just to fire her again? Technically she's resigning, but everybody knows she's being forced out because her agency had become too lawless, even in an administration that seems to believe in few checks on executive power. Here's the latest example: Back in 2012, the DEA snatched up Daniel Chong near San Diego in a marijuana-related raid (it was April 20) of a friend's home. Chong was not charged with any crime at the time. Instead, he was forgotten entirely. The problem was that Chong was forgotten while he was handcuffed in a DEA holding cell with no food and water. For five days.
Mayor Mike's Dislikes. Cigarettes are the latest vice to come under fire from Bloomberg, who recently lost his battle to ban large sodas. He has previously banned or tried to ban trans-fats, smoking in public places, salty food, and traffic in the city.
The Complete List of Everything Banned by Mayor Michael Bloomberg. Michael Bloomberg leaves office tomorrow [1/1/2014] after 12 years as New York City's mayor. No mayor in recent memory has added so much to a city. Or taken so much away. To remember him properly, here's a list of everything Bloomberg banned during his time in office.
Let's Talk about the Clueless Financial Regulators. [Scroll down] The point is that all regulatory bureaucrats are useless, especially financial regulatory bureaucrats. Which bureaucrat at the SEC stopped Bernie Madoff from ripping off thousands of rich Americans? Which bureaucrat stopped those greedy bankers? Which bureaucrat at the FHFA stopped Fannie and Freddie in time? Which bureaucrat at the independent FCC stopped President Obama's improper arm-twist to push "net neutrality?"
Feds to Weigh Children in Daycare. Bureaucrats from the U.S. Department of Agriculture (USDA) will weigh and measure children in daycare as part of a study mandated by First Lady Michelle Obama's Healthy Hunger-Free Kids Act. The agency published a notice in the Federal Register on Friday [3/20/2015] proposing data collection on what meals are served in professional and home daycare facilities and how much physical activity children perform. Aside from assessing how healthy the food in daycare is, the USDA will also check the weight and height of roughly 3,000 children.
'We're really sorry': US sends 14,000 draft notices to men born in 1800s. [T]he Selective Service System mistakenly sent notices to more than 14,000 Pennsylvania men born between 1893 and 1897, ordering them to register for the nation's military draft and warning that failure to do so is "punishable by a fine and imprisonment."
Y2K bug triggers army conscription notices sent to 14,000 dead men. A year 2000-related bug has caused the US military to send more than 14,000 letters of conscription to men who were all born in the 1800s and died decades ago. Shocked residents of Pennsylvania began receiving letters ordering their great grandparents to register for the US military draft by pain of "fine and imprisonment."
Foreign backpacker arrested for staying in US half hour too long. A backpacker visiting from South America is locked in federal detention after reportedly over-extending his stay by 30 minutes. A Seattle immigration attorney has taken on the case for free, saying it's "absurd." For six months Diego Simonassi said he roamed freely about the United States, backpacking all over the country. But, when his time was up on June 14 and he tried to enter Canada to continue his trip, he didn't know he needed a visa to get through the border. Canadian authorities at the Peace Arch crossing turned him back to the US side. But it was 30 minutes passed [sic] midnight.
Pinterest Users, Beware: Giving Cooking Advice Could Be a Crime. You'd better think twice before you recommend that fellow Pinterest users substitute fat-free evaporated milk for heavy cream. You just might end up on the wrong side of the law. That's the risk you run in North Carolina, where dispensing free dietary advice on the Internet got Steven Cooksey threatened with criminal penalties. What did Cooksey do? According to the Carolina Journal, in May of 2009, Cooksey started a blog on which he described his ordeal with diabetes and told readers how a new diet helped him through his illness. His website explicitly informed viewers that he wasn't a doctor or a nutritionist. That was enough to alarm the North Carolina Board of Dietetics and Nutrition. In January of 2012, the board warned Steve that he could not give readers personal advice on diet, whether for free or for compensation, because doing so constituted the unlicensed practice of "dietetics." And unlicensed dietetics is a misdemeanor in North Carolina.
Taxman auctions widow's home over $6 bill. A Pennsylvania judge ruled that it's perfectly OK for state tax authorities to have sold a widow's home at auction because she failed to pay a $6.30 tax bill.
Bureaucracy doesn't just hurt — it kills. Government death panels weren't invented by Obamacare. By hiding a list of 1,600 veterans waiting to see doctors in Phoenix, the Department of Veterans Affairs is accused of 40 deaths of those who died for lack of care. Keeping them off the official list concealed the backlog and made VA bureaucrats look better and qualify for bonuses. So far, no firings, no disciplinary actions, no screaming on the evening news has resulted, although the inspector general for VA is looking into it at the insistence of Arizona lawmakers.
Portland reservoir as a latrine? It'll be moot once EPA rule kicks in. Portland's now-infamous teenager who was caught on camera urinating into a reservoir there apparently told an online news site that he was relieving himself on a wall. Although tests on the open-air reservoir came back clean, the ick factor was enough for officials to go ahead with their plan to drain all 38 million gallons of drinking water and send it into the sea.
These 3 fails show U.S. is an awful boss. Before taxpayers lost $529 million on solar energy company Solyndra and $10.5 billion on GM, the US government had a long history of backing the wrong horse. Many of the great industries in US history — from the fur trade to steamships, railroads, chemicals and airplanes — failed in the hands of government but succeeded thanks to private entrepreneurs. A closer reading of American history may have avoided the colossal mistake of President Obama's $700 billion stimulus bill.
Student Visa Program Vulnerable to 'Potential Terrorists'. The Department of Homeland Security (DHS) cannot account for nearly 50,000 foreign students taking advantage of a student work visa program, according to a new report released by the Government Accountability Office (GAO) on Friday [3/7/2014]. The program is a threat to national security and vulnerable to potential terrorists, said Sen. Chuck Grassley (R., Iowa), who asked the GAO to review the program.
U.S. has lost track of tens of thousands of foreign students who came study to then took jobs. The federal government has lost track of tens of thousands of foreign students who came to the U.S. to study and then took jobs, often in violation of the terms of their visas, according to a new internal audit. U.S. Immigration and Customs Enforcement doesn't even consistently collect information or have the tools to monitor all of the foreign students who take part in the optional practical training (OPT) program, the Government Accountability Office said in a new report released late Friday [3/7/2014].
Man's good deed lands his home on DEA list of meth labs. On Jan. 5, 2012, Paul Valin called the police to report he'd found a backpack containing what he believed to be meth-making equipment. That simple act of good citizenship landed his and wife Cindy's house on the National Clandestine Laboratory Register, the federal Drug Enforcement Agency's list of meth labs. [...] The fact that Valin found the backpack more than 15 miles from his house isn't the sort of thing the DEA or any other division of the Department of Justice would have checked on before publishing his address on the NCLR.
Parent of dying boy has to prove her son can't take standardized test. Andrea Rediske's 11-year-old son Ethan, is dying. Last year, Ethan, who was born with brain damage, has cerebral palsy and is blind, was forced to take a version of the Florida Comprehensive Assessment Test over the space of two weeks last year because the state of Florida required that every student take one. His mom has to prove that Ethan, now in a morphine coma, is in no condition to take another test this year.
D.C. man on trial for one shotgun shell — wasn't given David Gregory deal. A year ago this month, the attorney general for the District of Columbia let NBC News anchor David Gregory off scot-free for possession of a "high capacity" magazine because doing so "would not promote public safety." Now, Irvin Nathan refuses to use that same prosecutorial discretion for an average citizen who violated a bizarre technicality that makes empty casings and shells a crime as serious as having an illegal firearm.
Big government is really good at one thing:&nbsp the voice mail runaround.
EDD answers only 10% to 17% of calls from jobless, records show. On any given day in recent months, as many as 90% of callers to the Employment Development Department seeking information about missed payments or unprocessed claims failed to reach a live worker, according to agency phone records obtained by The [Los Angeles] Times. Callers who don't get through to staff are routed to a recorded voice directing them to seek answers on the EDD website or get help through an automated self-service phone number — options that many unemployed workers have already tried in vain.
Virtuoso's flutes destroyed by US Customs. Before you whine about an airline temporarily losing your luggage, think of poor Boujemaa Razgui. The flute virtuoso who performs regularly with The Boston Camerata lost 13 handmade flutes over the holidays when a US Customs official at New York's JFK Airport mistook the instruments for pieces of bamboo and destroyed them.
Tone Deaf? Musician claims feds destroyed rare flutes at airport. A Canadian musician claims that U.S. Customs officials seized and destroyed 11 rare flutes as he passed through New York's John F. Kennedy International Airport last week. The reason? Concerns they were an ecological threat.
5 Political Fallacies Too Many Americans Embrace: [#4] There's no need to worry because politicians know what they're doing. The primary reason most Americans don't pay attention to politics is that they just assume that despite all of the feuding and fighting, politicians generally know what they're doing and won't let anything too horrible happen to the country. This is no longer a safe assumption because the people running the government aren't competent, they're not making decisions based on what's best for the country, and most government employees are just following orders, not trying to improve the system.
ATF Ruins the Lives of Disabled Teenagers to Solve a Problem the Bureau Created. Nearly one year ago, the Milwaukee Journal Sentinel reported on an ATF sting gone bad when the bureau tried to catch bad guys by setting up a store. The sting ended in a damaged rent space, $35,000 in stolen goods and with a fully automatic machine gun lost on the city streets. Now it appears ATF failed during another store front sting and is punishing teenagers they convinced to help them by throwing them in jail.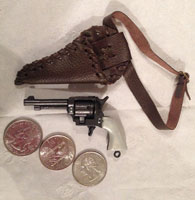 TSA agent confiscates sock monkey's toy pistol. "Rooster Monkburn" the cowboy sock monkey is without his pistol, thanks to a diligent TSA agent in St. Louis. Phyllis May of Redmond, Wash. says she is "appalled and shocked and embarrassed all at the same time" about the incident that happened on Dec. 3.


US's top secret launch nuclear launch code was frighteningly simple. For nearly 20 years, the secret code to authorize launching U.S. nuclear missiles, and starting World War III, was terrifyingly simple and even noted down on a checklist. From 1962, when John F Kennedy instituted PAL encoding on nuclear weapons, until 1977, the combination to fire the devastating missiles at the height of the Cold War was just 00000000. This was chosen by Strategic Air Command in an effort to make the weapons as quick and as easy to launch as possible, as reported by Today I Found Out.

Countless Government Operator Errors — And Obama Wants to Give Us More. We are currently hobbled by a whole host of federal government debacles. An endless litany of Government Operator Errors (GOEs). Many are chronic. Social Security, Medicare and Medicaid are staring down $84 trillion in unfunded liabilities — simply staggering, nationally debilitating GOEs. And there is oh-so-much-more.

Woman Forced To Strip And Serve Jail Time For Overdue Ticket. A North Texas woman was handcuffed, stripped down and booked into jail — all because of an overdue traffic ticket. It was just a ticket. Sarah Boaz was cited in August after an officer said she ran a stop sign.

It's ILLEGAL for federal employees to check their work email during the government shutdown. Federal employees who have been furloughed could lose their jobs if they check their work email during the government shutdown. The prohibition comes from an obscure law known as the Antideficiency Act that was first passed in 1884, the Washington Post reports. Federal agencies say a violation of the law could result in a termination of employment.

Warning: Our Government Is a Threat to Public Safety. Have you noticed the common thread among several mass killings and homeland security incidents lately? Time and again, it's the control freaks in Washington who have fallen down on their jobs, allowing crazies, creeps and criminals to roam free and wreak havoc while ignoring rampant red flags.

Underzealous Prosecutor Fails To Press 'Terroristic Threats' Charges. Normally, when a story involves someone being arrested for conveying a "threat" via social media, the protagonist usually has yet to hit the legal drinking age. And usually the protagonist ends up facing serious "terroristic threat" charges for firing off an ill-advised statement that is subsequently stripped of context and offered up by prosecutors [...] as evidence of another youthful terrorist-in-the-making. This particular case has none of the above.

Senators Wyden & Udall Ask...
If The NSA Is So Confused About Its Own Capabilities, Why Do We Trust Them With All That Data? As you may remember, one of the points made by the NSA in its defense was that its surveillance systems were so complex that no one person actually understood them all. That leads to a rather obvious question... If the NSA can't even keep track of how its systems work, how can we trust them to know that the system isn't being abused (or that it's accurately doing what the NSA claims)[?]

How Much Has Detroit's Police Force Been Cut? No One Knows. Soon after the city of Detroit filed for bankruptcy, many blogs and news sites began running "facts" about the city. One common "fact" repeated often was that "the size of the police force in Detroit has been cut by about 40 percent over the past decade." Although it makes for interesting reading, just how much the police department has been cut is not that simple to determine and is another example of the city's dysfunction.

Woman Settles With Chicago Over $100,000 Parking Fine. A Chicago woman has settled with the city of Chicago after she was left with more than $100,000 in parking fines when her ex-boyfriend abandoned her car in an inaccessible airport parking lot for nearly three years.

The Editor says...
Common sense would suggest a ceiling on parking fines, perhaps equal to the auction value of the offending vehicle. But most traffic fines and parking fines have only a thin connection to common sense or public safety — they are all about raising money.

Man Accused of Blowing Up Dog Not Charged With Animal Cruelty. A man accused of blowing up his daughter's dog because he was mad at her is being held on $500,000 bail, but not for harming the pet pooch. "In the animal cruelty statute in the state of Washington it talks about animal suffering," Undersherriff Dave Cox told ABC News. Since the dog died instantaneously and didn't suffer before it died, "the prosecutor was concerned about that verbiage," Cox said.

Lying as a Way of Life. Society is increasingly unable to solve its pressing problems not for lack of a solution or resources, but primarily from an unshakable determination not to face politically inconvenient facts. Take for example, Chicago's new crime-fighting strategy. "Chicago police are going to hand deliver letters to people suspected of committing or being victims of gun crimes in an effort to stem violence in the city, according to a new report." This is a triumph of PR over policy, fiction over reality and madness over sanity.

Feds Unwilling or Unable To Stop Illegal Checks. A Long Island, N.Y., woman has spent nearly two years trying to convince the Internal Revenue Service and the U.S. Postal Service that persons with Hispanic-sounding surnames using her address to obtain tax refunds from the IRS are part of a fraud scheme. She has not found a government agency that will stop the phony tax refunds from arriving in her mailbox. Instead, federal and state authorities pass the buck. The checks, including some offering payment for Hurricane Sandy "relief" to people who may not exist, keep coming.

Washington Deserves a Declaration of Incompetence. According to a House Judiciary Committee statement, the Justice Department's inspector general "found that the number of known or suspected terrorists admitted to the Witness Security Program is unknown, that DOJ has lost track of two suspected terrorists in the program, and that critical national security information is not being shared with other agencies," including the FBI. Such confirmed or assumed terrorists previously on the federal No Fly List did not have their new names added to the list. Thus, "several known or suspected terrorists have been able to board commercial airplanes in the United States."

The Orwellian government depends on a continuous state of emergency.
Warning Pollution. Anyone waiting even a short time for a train on the Metro will be told at least once not only that if he sees something to say something, but also to not smoke in the Metro system — perhaps an announcement left over from Metro's origins in 1976, when smoking was more common. Riders are also told to not sit on escalators and that wet floors are slippery, and sometimes they are privy to pages for individual employees, which in the age of cell phone ubiquity seems absurd.

Homeland Security: Stop Complaining or Face Arrest. [Scroll down] That's when the trouble began. A Tennessee Department of Environment and Conservation deputy director warned the group that "unfounded complaints about water quality could be considered an 'act of terrorism.' We take water quality very seriously. Very, very seriously." Attendees stared dumbfounded as the speaker continued, "You need to make sure that when you make water quality complaints you have a basis, because federally, if there's no water quality issues, that can be considered under Homeland Security an act of terrorism." After a brief moment of stunned silence, one audience member asked if the speaker could "say that again, please."

Capitol Hill Police Block Tea Party Activists from Immigration Rally. Capitol Hill police left a voicemail for Kevin Mooneyhan, Deputy Executive Director of Tea Party Patriots, saying that "your people" only are permitted to assemble for the event on the west side of the Capitol. The activists' presence at the immigration event on the east side supposedly violates the terms of the Tea Party's permit. Mooneyhan was instructed to move any activists who planned on attending the Tea Party rally away from the immigration event. Keep in mind, the immigration event is hosted by sitting members of Congress. The notion that citizens can't attend an event featuring duly elected Representatives in a public space is absurd. "The Capitol police are violating our rights to assembly and association," Mooneyhan told Breitbart News. "How does our permit limit the rights of individuals to attend public events? It's intimidation."

The New American Enemies List. The CIA and FBI knew of the suspicious activity of the Boston bombers, of Major Hasan, and of Anwar al-Awlaki. And they did nothing to preempt their violence. The FBI is said to be carefully avoiding monitoring mosques, although all of the above terrorists were known by many fellow Muslim worshipers to be either disturbed or extremist or both.

A flawed federal law enforcement agency? The federal government maintains a bewildering number of armed law enforcement agencies, including the 295 armed Social Security special agents, for whom 174,000 .357 Sig 125 grain bonded jacketed hollow point bullets were recently put up for bid. A much larger armed police force consists of about 2000 agents in the State Department's Bureau of Diplomatic Security. According to the New York Post, that police force is seriously compromised because numbers of people with hidden criminal backgrounds have been hired. This makes them unable to participate in criminal prosecutions.

Obama's Snooping Excludes Mosques, Missed Boston Bombers. The White House assures that tracking our every phone call and keystroke is to stop terrorists, and yet it won't snoop in mosques, where the terrorists are. That's right, the government's sweeping surveillance of our most private communications excludes the jihad factories where homegrown terrorists are radicalized. Since October 2011, mosques have been off-limits to FBI agents. No more surveillance or undercover string operations without high-level approval from a special oversight body at the Justice Department dubbed the Sensitive Operations Review Committee. Who makes up this body, and how do they decide requests? Nobody knows; the names of the chairman, members and staff are kept secret.

Too bad to check: US won't allow Canadian relief for OK to cross border? The people of Oklahoma can use every resource available after two weeks of tornadoes and destruction. Our friends to the north have rallied to their cause, gathering badly-needed supplies of food, water, and other necessities. However, Canada can't get their trucks across the border, thanks to US regulations — and the absence of a federal declaration of disaster.

Witness protection program lost two former 'known or suspected terrorists'. The U.S. Marshals Service lost two former participants in the federal Witness Security Program "identified as known or suspected terrorists," according to the public summary of an interim Justice Department Inspector General's report obtained by CNN. The Marshals Service has concluded that "one individual was and the other individual was believed to be residing outside of the United States," according to the summary.

Terrorists given new identities allowed to board commercial flights, IG report finds. An investigation of the Justice Department's witness protection program uncovered glaring security problems that allowed terrorists who had been given new identities after cooperating with U.S. prosecutors to board commercial flights in the United States. In some cases, suspects whose names were on federal watch lists that were meant to keep them off commercial aircraft were nevertheless able to board flights because the Justice Department had failed to add their new, government-issued identities to counterterrorism databases.

Terror database too vague to flag Boston suspect. The Terrorist Identities Datamart Environment list, known as TIDE, was the government's attempt after the Sept. 11 attacks to consolidate a hodgepodge of watch lists, and ensure that every law enforcement agency would be alerted when it came into contact with a possible terrorist. But TIDE has ballooned to 875,000 records, and critics say it is so all-encompassing that its value has been diminished. The database includes the names of young children of suspected terrorists and of people who have been cleared of suspected links to terrorism, officials say. A single credible tip raising "reasonable suspicion" is enough to add someone to the list.

Woulda. coulda. shoulda. Starting with 9/11, Washington has been quick to holler "no one's connecting the dots!" whenever there's been an attack. But when it comes to ensuring those dots are collected, it's another story. Now we have the bombings in Boston, and we are seeing the same dynamic. Of all the questions, surely the most salient are these: What could the FBI have learned, when could it have learned it — and would it have made a difference?

One for the Citizens. This marks something of a royal flush or bases-loaded home run in incompetent intelligence, something that required actual skill and will be difficult to surpass. We can top this off with the sudden Mirandizing of Dzhokhar just as FBI questioning was starting to get answers. Reports suggest that an FBI agent raced out to get a sympathetic judge to handle it. Anybody want to bet that the agent in question had "Mohammed" in his name? One thing for sure: there will be no worthwhile investigation or punishment involving any of this.

The Supreme Court vs. Freedom of Information. Let's say a resident of New York drives to Virginia in order to visit relatives and a member of her family uses her car to visit a prostitute one night and ends up getting arrested. The owner has zero knowledge of this illegal activity and is of course never charged with any crime, let alone convicted of one, yet the police still seize the car as part of an asset forfeiture proceeding. That's the controversial tool allowing law enforcement to take private property suspected of being used to facilitate a crime without first obtaining a criminal conviction against the owner of that property. Shouldn't the New York-based car owner be permitted to file a Virginia Freedom of Information Act request as part of her efforts to get her property back? Not in the eyes of the U.S. Supreme Court.

Top Intel Official: U.S. 'Took All Appropriate Steps' Before Boston Bombing. Director of National Intelligence James Clapper already believes there was no intelligence failure in the lead-up to the Boston Marathon bombings, despite an inquiry into the matter only just beginning.

This is why we have lawyers and juries:
Social Security comes after man for $895 overpayment they made to his mom. Imagine if your parent received an over-payment from the government but decades later, the government took the money out of your tax return.

82-Yr-Old Activist Breaches "Stringent Security" At U.S. Nuclear Weapons Lab. In an inconceivable breach, an 82-year-old nun along with two other seniors somehow managed to evade what the U.S. government calls the "most stringent security in the world" to break into a nuclear weapons laboratory often referred to as the "Fort Knox of Uranium." So much for the feds protecting nuclear labs from a terrorist attack with topnotch — and costly — security systems; this staggering story comes from the Y-12 National Security Complex in Oak Ridge, Tennessee. It's operated by the National Nuclear Security Administration (NNSA), which is responsible for the management and security of the country's nuclear weapons, nuclear nonproliferation and naval reactor programs.

The Editor says...
Top-notch is a hyphenated word. Five point penalty. See me after class.

Investigate Employer Who Filed 37,375 Bad W-2s in One Year. Investigate the employer who — according to the Office of the Inspector General of the Social Security Administration (SSA) — filed 37,375 inaccurate W-2s in tax year 2005. In fact, investigate all employers who have similarly filed massive numbers of bad W-2s. Forget the employers who filed 100, 200 or even 500 bad W-2s per year. Give them a pass — for now. Focus only on those that filed thousands.

Teacher Sues School over Suspension for 'Weapons' Charge: Showing Students Garden Tools. Attorneys for The Rutherford Institute have filed a civil rights lawsuit against a Chicago public school district on behalf of a second-grade teacher who was suspended after he displayed garden-variety tools such as wrenches, pliers and screwdrivers in his classroom as part of a "tool discussion" in his class. [...] Bartlett was subsequently penalized with a four-day suspension without pay — charged with possessing, carrying, storing or using a weapon.

The Editor says...
The teacher must not have known about the "Screwdriver Free Zone" signs in front of the school.

Miami code enforcement to nuns: Stop feeding the poor.
Mother Teresa's Miami soup kitchen harassed by the powerful. Thirty-three years ago, Mother Teresa of Calcutta came to Miami to put her merciful motto of love into action: "To serve the poorest of the poor." Since then, each morning a group of sisters of the congregation of the Missionaries of Charity, donning their distinctive white blue-bordered saris, passes through the gates of their beloved Overtown convent — where they live without air conditioning, washing machines or television — and cross the street to enter the world of the poor: a soup kitchen founded by Mother Teresa.

Government Gave 4,317 Aliens two Social Security Numbers Apiece. A report from the Social Security Administration Inspector General (IG) found 4,317 instances where a non-citizen was able to obtain two Social Security numbers, including 542 instances that happened since 2001. "We identified 4,317 instances where the Numident record of 2 SSNs assigned to noncitizens contained matching first, middle, and last names; dates and places of birth; gender; and fathers' and mothers' names," the IG reported on Dec. 10, 2012.

Phoenix to Recruit Minority Lifeguards — Even If They Can't Swim. In a bizarre case of affirmative action run amok, Phoenix is recruiting minority lifeguards for its public pools — even if they can't swim.

City Recruits Minority Lifeguards Even if They Can't Swim. In a staggering case of affirmative action gone wild, officials in a major U.S. city are actually recruiting minorities to be lifeguards at public pools even if they're not good swimmers. It's all in the name of diversity. [...] Blacks, Latinos and Asians who may not necessarily qualify can still get hired, says the city official who adds that "we will work with you in your swimming abilities."
...but only if you're black.

Lawmakers call for probe into 'botched' ATF sting in Milwaukee. Several members of Congress are calling for an investigation into an embarrassing series of blunders made by the Milwaukee arm of the U.S. Bureau of Alcohol, Tobacco, Firearms and Explosives after a newspaper reported this week that the agency conducted a months-long undercover operation that cost taxpayers thousands of dollars and netted very few results.

D.C. man who shot dogs biting boy could face charges. The incident unfolded Sunday afternoon [1/20/2013], after three pit bulls attacked an 11-year-old boy as he rode his bicycle through the Brightwood neighborhood of Northwest, according to a police report. When the man, a neighbor, saw the boy being mauled by the dogs, he went inside his home and got a gun. The man killed one of the dogs. The gunfire attracted the attention of a police officer in the area near Eighth and Sheridan streets, where the attack occurred. The officer responded and shot the other two pit bulls as they continued to attack the boy.

New York City Hits Sandy Victims With 'Failure To Maintain' Property Citation. Residents in one Queens neighborhood are crying foul after they were written up for failing to clean up the city's own mess. It is yet another new complication in life after Superstorm Sandy.

DHS Boss, In Charge Of Cybersecurity, Doesn't Use Email Or Any Online Services. We've talked in the past about the problematic efforts to push for new cybersecurity regulations, especially when little to nothing has been done to show the actual problem. There has been quite a turf war over who would "own" cybersecurity within the federal government, with some wanting to give it to the Defense Department, where the NSA would control it (along with all your info), and others wanting to give it to the Department of Homeland Security.

Katrina 2012. When you vote for big, crappy, incompetent government run by a tool in a bomber jacket, don't be shocked when you get big, crappy, incompetent government run by a tool in a bomber jacket.

A post-election warning to liberals and conservatives alike. To those liberals suffering in New York and New Jersey who voted for President Obama and Mayor Bloomberg, enjoy the Hurricane Sandy recovery effort. We get the government we deserve and what we have now are angry citizens whose cries for help are not being returned, regardless of what a pre-election President promised.

Fakakta FEMA. "It's been the worst nightmare possible," said Vinny Accetta, a Staten Island resident from the flooded Midland Beach area. He, his wife, Devon, and their toddler twins are staying with relatives seven miles from their home. Eight days after Hurricane Sandy, Accetta is still waiting for FEMA to come and assess the damage to his home. After the hurricane, he was given a case number by FEMA. Now he waits in the cold. "FEMA came to my block and a few neighbors were assessed," he said. "I asked the worker if he could check my home and he replied, 'You're not on my list.'"

Obama's Nameless War With a Nameless Enemy. Just why and how has this refusal to name the Islamist enemy come to characterize the four years of Obama's presidency? Because President Obama agrees with the view that Islamists as a force in world affairs are not be shunned and that wisdom dictates coming to terms with those among them who are hot engaged in active hostilities at this moment. The idea is defective, because common to all Islamists is Muslim supremacism and the undeviating pursuit to subvert the non-Islamic world. Yet, since Barack Obama took office, Islamist antagonists, other than those involved in active hostilities like al Qaeda and the Taliban, whose hostility cannot be denied or ignored, have gone unnamed.

Fox News Contributor Can't Accept New Heart for Wife Due to Government Regulations. [Charles Payne's] friend recently lost his daughter. Payne's wife needs a heart transplant. His friend offered them his daughter's heart. Overwhelmed, they accepted. Then the government got involved.

Bribe wasn't big enough, so city inspector's conviction overturned, appeals court rules. Dominick Owens, 46, twice took bribes of $600 to issue certifications of occupancy for four newly constructed homes he hadn't inspected, a jury found following a trial in November. [...] But the sentence was reversed Thursday [10/11/2012] in a ruling issued by the Seventh Circuit of the U.S. Court of Appeals. Justices ruled that Owens should not have been convicted because prosecutors didn't prove the bribes he took were worth more than $5,000, as the law requires.

Open hatch sank Port Authority's $500G boat. A $500,000 Port Authority patrol boat sank this month after a veteran police sergeant took the advice of a clueless civilian safety instructor — and opened a hatch while it was under water, The [New York] Post has learned. "It was like opening a window during a carwash," one PA insider lamented of the screw-up off Breezy Point, Queens, that left 11 people scrambling for their lives.

Intrusion embarrasses 'Fort Knox of uranium'. Officials like to refer to the Y-12 National Security Complex as the Fort Knox for highly enriched uranium, which is why an unprecedented incursion by an 82-year-old nun and two fellow protesters has critics mocking the notion that the weapons plant is secure.

Officials: Federal Agencies Often Don't Share Tips on Potential Terrorist Activity. The Homeland Security and Justice departments since 2008 have been teaching federal officials and police to deposit, through a secure network, reports of suspicious behavior while being mindful of civil liberties. The point of the technology is to piece together terrorist plots before they are executed. But, some criminal justice experts say, a major obstacle is dampening the effectiveness of the initiative. Work is slow-going in connecting local agencies to fusion centers, intelligence facilities partly funded by the government that vet reports for possible distribution through the Nationwide Suspicious Activity Reporting Initiative.

Insult added to injury:
Florida man who lost hand charged with feeding gator. A Florida airboat captain whose hand was bitten off by a 9-foot alligator faces charges of feeding of the animal.

In Colorado wildfires, why won't the Forest Service use the biggest firefighting tool available? My friend and fellow climate skeptic, nationally syndicated radio host Lars Larson, asks some pointed and pertinent questions about what appears to be some of the most idiotic policy ever devised by government.

Border Patrol union blasts Homeland Security instructions to 'run away' and 'hide' from gunmen. Border Patrol agents in Arizona are blasting their bosses for telling them, along with all other Department of Homeland Security employees, to run and hide if they encounter an "active shooter." It's one thing to tell civilian employees to cower under a desk if a gunman starts spraying fire in a confined area, say members of Tucson Local 2544/National Border Patrol Council, but to give armed law enforcement professionals the same advice is downright insulting. The instructions from DHS come in the form of pamphlets and a mandatory computer tutorial.

$5B Camo Snafu. Over the next year, America's largest fighting force is swapping its camouflage pattern. The move is a quiet admission that the last uniform — a pixelated design that debuted in 2004 at a cost of $5 billion — was a colossal mistake. Soldiers have roundly criticized the gray-green uniform for standing out almost everywhere it's been worn. Industry insiders have called the financial mess surrounding the pattern a "fiasco."

Blood Money. This account of a traffic fatality in South Carolina is perplexing in many ways. For example, is it customary for the deceased to be charged with having his own blood washed off the asphalt?

Not Being a Felon Is Not Enough to Avoid Going to Federal Prison for Being a Felon in Possession of a Gun. Following some lengthy, in-depth investigative work, USA Today has discovered more than 60 North Carolina men serving federal sentences for violating gun laws it turns out they didn't actually violate.

Quit worrying about "urban sprawl" and start worrying about federal stewardship. The federal government owns and manages a full third of the United States' surface area. The Department of Interior entities responsible for stewarding said land, including the NPS, the BLM, and the Forest Service, can all boast of cringe-worthy backlogs of deferred maintenance in the billions of dollars.

NJ dad saves 5-year-old, car plunges over cliff, dad gets traffic tickets. Some stories so teem with action that they create a nightmare for headline writers. This one not only teems with action but has a galling anticlimax.

Many more stories (about cops) like this can be found here.

Reluctant to raise taxes, some states push the tax man on tougher collection enforcement. Dentist Frank Illuzzi was stunned when Vermont tax collectors began demanding a 6 percent sales tax on the value of toothbrushes and floss he hands out to patients.

The Editor says...
Sales taxes are usually levied on items based upon the prices of items as they are sold — not the MSRP or someone else's estimate of the value of those items. If the dentist gives you a toothbrush, then the sale price is zero, and so is the tax.

Woman gets 20 years for firing warning shot. Marissa Alexander had never been arrested before she fired a bullet at a wall one day in 2010 to scare off her husband when she felt he was threatening her.

Detroit groundskeeper fired after finding loaded gun, handing it to cops. A Detroit groundskeeper, who turned in a loaded handgun he found hidden in weeds while working, was fired by the Wayne County Department of Public Services, MyFoxDetroit.com reports. John Chevilott, who is just two years shy of retirement, found the loaded snub-nosed revolver on May 3 when he and his crew were mowing a lawn in Wayne County. Chevilott secured the gun, waiting for police to drive by so he could hand it over to them.

Government Issues Study of a Study About Studies. The Pentagon was inundated with so many studies in 2010 that it commissioned a study to determine how much it cost to produce all those studies. Now the Government Accountability Office has reviewed the Pentagon's study and concluded in a report this week that it's a flop.

FAA rips Delta passenger for filming bird strike with iPad. Grant Cardone, 54, became a viral hit after posting a video of birds being sucked into the engine of his Los Angeles-bound Delta flight on April 19. The plane was forced to turn back to the airport and landed safely, the New York Post reports. Soon afterward, Cardone received an official letter from the FAA complaining the video was taken illegally because he used his iPad to film the strike, and use of portable electronic devices is prohibited during "critical" phases of a flight, such as takeoffs. Electronic devices also cannot be used during an in-flight emergency.

The Editor says...
Really? I would think that an in-flight emergency would be the best time to start taking pictures. And if the plane is in a Muslim-induced tailspin, there's no reason to stay off the phone.

20 Years for Standing Her Ground. "I got five baby mammas, and I put my hands on every last one of them except for one," Rico Gray confessed during a November 2010 deposition. "The way I was with women ... they had to walk on eggshells around me." He recalled punching women in the face, shoving them, choking them, and tossing them out the door. Yet somehow, after one of those women fired a warning shot into the ceiling of her Jacksonville, Florida, home to scare him away during yet another violent outburst, prosecutors managed to convince a jury that Gray was the victim. As a result, Marissa Alexander, a 31-year-old mother of three, faces 20 years in prison for standing her ground against an abusive husband.

Are the investigators incompetent or just running out the clock?
Political slowdown in Corzine probe? The FBI, two US attorneys, the Securities and Exchange Commission, the Commodity Futures Trading Commission and several congressional committees all say they're looking into the firm's spectacular collapse last fall — and at just who's responsible for the mysterious disappearance of $1.6 billion in customer money in its final days. Yet investigators say they're having a tough time assigning culpability. Then-CEO Jon Corzine insists he was clueless about what was happening; mass confusion is the best explanation the probes seem to have found.

Border Agent Indicted For Violating Illegal Alien's Rights. In almost total secrecy, the Obama Justice Department has charged a U.S. Border Patrol agent, Luis Fonseca, for depriving the rights of a yet to be identified illegal alien at the Border Patrol station located on Imperial Beach, California, last July. Fonseca, however, was not indicted until a week ago. Agent Fonseca, 32, allegedly kneed and choked an unidentified alien during his tour near the Mexican border last summer. During his arraignment on Monday April 16, he entered a not guilty plea.

Feds can't deport illegal immigrant arrested 35 times in Alabama. Officers in Hueytown [Alabama] arrested an illegal immigrant on drug charges recently. When they ran his name through the system, they learned he had previously been arrested 34 times in Alabama. Despite his record, the government refuses to deport him.

Corzine Steals Billions Sans Charges, Errant Whale Watcher Faces Prison. Which would you imagine might attract more aggressive enforcement from the Justice Department: the theft of $1.2 billion from supposedly segregated customer brokerage funds, or lying about an alleged incident of whistling to attract the attention of a whale so that whale watchers could get a better peep? If you said the latter, then you appreciate the extent to which federal law enforcement priorities have run off the rails.

Energy Dept. offers prize to create mobile apps that already exist. The Department of Energy announced Thursday a $100,000 prize for software developers to come up with mobile applications to tell consumers how much energy they are using. But there's already an app for that. A quick scan of the iTunes and Android markets shows nearly two dozen existing applications that accomplish the same purpose — helping users keep track of their energy consumption at home.



Gun-tracking operation caught top suspect, then let him go. Federal agents stopped the main target of the ill-fated Operation Fast and Furious in May 2010. After they questioned him, he disappeared back into Mexico, and the program went on to spiral out of control.

Fast and Furious: Primary Target Arrested and Released in 2010. Operation Fast and Furious, the Obama Administration's deadly gun-running outrage that put American weapons in the hands of Mexican cartel killers — while putting hundreds of Mexicans, plus at least two American law enforcement officers, in the ground — was ostensibly supposed to catch some big-time drug lords by pumping U.S. guns into their organizations, then following the trail of bullets to the big fish, who would then be nailed on firearms charges. It never made a lot of sense, particularly given that no real effort was made to actually track the guns — they've been recovered from corpse-littered crime scenes, with hundreds of guns still unaccounted for.

More about Fast & Furious.

Tea Party Leader's Gun Arrest Highlights Tyranny of Law. Tea Party Patriots co-founder Mark Meckler was arrested on a firearms violation for declaring a locked, cased, unloaded gun at LaGuardia. Don't you feel safer?

DC Resident Fined Thousands For Not Recycling Cat Litter. Dupont Circle resident Patricia White says she has been fined eight times for throwing homemade cat litter in her trash. The fines total $2,000. White says she shreds old newspaper and junk mail to use as cat litter. She believes she is helping the environment by reusing the paper and avoiding cat litter you will find in stores. After being fined several times, White says she called the Department of Public Works inspector who issued the tickets. According to White, the inspector admitted to digging through trash looking for violations.

Don't mention Islam, says new anti-terror plan. The White House wants to use U.S. Attorneys to coordinate outreach to immigrant groups that produce Muslim terrorists, according to a new policy. The White House-appointed U.S. Attorneys will work with Muslim groups to avert terror attacks, which the new policy dubs "violent extremism," and will give them access to law enforcement information, aid Muslim bloggers and re-train law enforcement departments around the country. ... Also, the new report does not mention Islam, whose texts are often used to provide the impetus and rationales for that spur terror strikes by Muslims.

Lawmakers Blast Administration For Calling Fort Hood Massacre 'Workplace Violence'. Sen. Susan Collins on Wednesday [12/7/2011] blasted the Defense Department for classifying the Fort Hood massacre as workplace violence and suggested political correctness is being placed above the security of the nation's Armed Forces at home. During a joint session of the Senate and House Homeland Security Committee on Wednesday, the Maine Republican referenced a letter from the Defense Department depicting the Fort Hood shootings as workplace violence. She criticized the Obama administration for failing to identify the threat as radical Islam.

Firing Incompetent Employees 'Would Harm The Agency's Work,' SEC Chief Says. Perhaps no failure was as avoidable as that of the Bernie Madoff scheme. After all, outside parties basically put the case together and brought it to the Securities and Exchange Commission (SEC). Yet, the SEC did nothing until it was far too late. Eventually the SEC's human resources department and an outside law firm advised the agency on how to handle these regulatory failures. Their recommendation: fire the manager responsible. SEC Chair Mary Schapiro's response? No, as such "would harm the agency's work."

Bringing down Bastrop's burned trees with bureaucracy. Josh Van Buren of Taylor's Tree Service is listening to two contractors explain the bureaucracy involved with felling a tree burned in September's wildfires. The charred 70-foot pine in the public right of way has been designated a risk and must come down. But Van Buren, with a chain saw in hand, can't just cut the tree down. Because the Federal Emergency Management Agency requires it, there are photographs to take, GPS information to record and paperwork to fill out.

Obama Justice Department Sends Border Agent to Prison for "Violating Rights" of Drug Smuggler. After a complaint from the Mexican government, a U.S. Border Patrol agent has been sentenced to two years in prison for "violating" the constitutional rights of a 15-year-old drug smuggling suspect by not "lifting his arms properly." The Obama Justice Department has accused the agent of using "unnecessary force," in handling the suspect while handcuffed.

U.S. border agent jailed for improper arrest of suspected drug smuggler. A U.S. Border Patrol agent has been sentenced to two years in prison for improperly lifting the arms of a 15-year-old drug smuggling suspect while handcuffed — in what the Justice Department called a deprivation of the teenager's constitutional right to be free from the use of unreasonable force.

With Gibson, Obama 'actively discouraging' jobs. Three House Republicans sent a letter yesterday [9/8/2011] to Attorney General Eric Holder, Interior Secretary Ken Salazar, and U.S. Fish and Wildlife Services Director Daniel Ashe challenging two raids on a Gibson Guitar Corporation factory by federal agents. ... The Department of Justice is reportedly investigating whether Gibson violated Indian export laws by importing "sawn wood" for their guitars, which in turn would violate the U.S. Lacey Act of 1900.



More about the raid on Gibson Guitar.

Contract Dispute Grounds Firefighting Planes. Nearly half of the federal government's firefighting air tankers are siting idle at a California airport, grounded by the Obama administration in a contract dispute just weeks before wildfires swept through Texas killing a mother and her child, and destroying 100,000 acres.

Government Sues Trucking Company for Taking Keys Away From Alcoholic Driver. Citing a violation of the Americans with Disabilities Act, the Obama administration is suing a trucking company for taking the keys away from an Arkansas driver and eventually firing him after he admitted he was battling alcohol abuse.

Feds to Drunk Drivers: Keep On Truckin! The Old Dominion Freight Line trucking company, based in North Carolina but with 211 service centers across the country, found itself with a personnel problem back in June 2009. An employee with an otherwise clean record approached management and confessed he had a drinking problem. Following U.S. Department of Transportation regulations, the company suspended this employee from his driving position, and referred him for substance abuse counseling. The company took one other action: they told the alcoholic that they would never let him drive trucks for them again, even after he finished his counseling program.

State of Illinois Pays Violent Offenders and Sex Criminals to Baby-sit Children. Leave it to Illinois to make sure violent criminals have state sponsored work. Would you believe the state could pay a convicted rapist to baby sit children?

Federal woodpecker regulation ruins 11-year-old humanitarian's summer. [Mary Katharine Ham complains] about a federal agent dropping the hammer on an 11-year-old for having the temerity to rescue a protected species of woodpecker. The fine on the young girl has since been rescinded, not thanks to common sense, but thanks to media coverage.

Empathy thrown under Obama's bus. Schylar Capo, 11 years old, of Virginia, ... made the mistake of rescuing a woodpecker from the jaws of a cat and nursing him back to health for a couple of days, and for her pains, was visited by a federal Fish & Wildlife gauleiter (with accompanying state troopers) who charged her with illegal transportation of a protected species and issued her a $535 fine. If the federal child-abuser has that much time on his hands, he should have charged the cat, who was illegally transporting the protected species from his gullet to his intestine.

Woman Ticketed For Using City Trash Can. An elderly Upper East Side woman claims a sanitation agent chased her, threatened her with arrest and slapped her with a ticket for putting day-old newspapers in a city trash can. Darbe Pitofsky, 83, said she was on her way for a cup of coffee around 6:30 a.m. on June 25 when she threw a brown bag filled with old papers in a city litter basket near her apartment on East 71st Street.

Child pornography found on Assistant U.S. Attorney's computer. Iowa Republican Sen. Chuck Grassley sent a letter to Attorney General Eric Holder Thursday [7/7/2011] requesting an explanation as to why the Justice Department declined to file charges against a federal prosecutor with child pornography found on his work computer. ... Grassley further questioned why the department kept employing the individual for at least two months following the report...

The Purposeful Flooding of America's Heartland. Some sixty years ago, the U.S. Army Corps of Engineers (USACE) began the process of taming the Missouri by constructing a series of six dams. The idea was simple: massive dams at the top moderating flow to the smaller dams below, generating electricity while providing desperately needed control of the river's devastating floods. ... But after about thirty years of operation, as the environmentalist movement gained strength throughout the seventies and eighties, the Corps received a great deal of pressure to include some specific environmental concerns into their MWCM (Master Water Control Manual).

Update:
The Corps of Engineers Doubles Down on Flood Folly. It has been five months since the Missouri River overcame its banks, and for that entire time, the U.S. Army Corps of Engineers has been peddling the line that there was nothing they could have done to avoid the worst flooding to ever occur on this river. The Corps claims that its stewardship of the six massive dams on the upper Missouri River was without flaw, and the flood of 2011 was due to extraordinarily strong spring rains in Montana. The statements of Corps representatives from the beginning have been inconsistent at best, and arguably deliberately misleading.

FEMA grant denied because of 'insufficient damage'. Jefferson County resident Jonathan Stewart said he laughed in shock after the Federal Emergency Management Agency (FEMA) claimed the house his family lost in the deadly April 27 twister was 'not unsafe to live in'. The devastating reality is the house is now a concrete slab surrounded by rubble.

Computer errors let violent California prisoners go free. A computer system that lacked key information about inmates factored in the release of an estimated 450 prisoners with a "high risk of violence," according to the California inspector general.

Once Again, FBI's 'Muslim Outreach' Welcomes Terror-Tied Man. Despite knowing the Hamas ties of Kifah Mustapha, the FBI gave him a guided tour of a top-secret counterterrorism center and access to classified investigative techniques.

Family Facing $4 Million in Fines for Selling Bunnies. Almost nine months after a Missouri dairy was ordered to stop selling cheese made from raw milk, I share details of another hare-raising story from the Show-Me State: John Dollarhite and his wife Judy of tiny Nixa, Mo., have been told by the USDA that, by Monday [5/23/2011], they must pay a fine exceeding $90,000. If they don't pay that fine, they could face additional fines of almost $4 million. Why? Because they sold more than $500 worth of bunnies — $4,600 worth to be exact — in a single calendar year.

Three Convicted in Terror-Related Cases Later Granted U.S. Citizenship. Three people convicted of crimes as a result of a terrorism-related investigation by the Department of Justice (DOJ) were later naturalized as U.S. citizens by the Obama administration, according to federal auditors.

Don't We Have Enough Criminal Citizens Now? Of all the fighting we legal citizens of this country have had to do to try to stop this anti-American, anti-U. S. Constitution, anti-responsible fiscal housekeeping, Socialist-communist government save for one half of the otherwise corrupt Congress from absolute criminal actions intent on the total destruction of our once good and honest country; we are now faced with openly dishonest and country killing "in-your-face-America" decisions by its leadership.

Texas county official says "stupid" feds sparked fire. The fight between Texas and Washington, D.C., over wildfires in the Lone Star State just got nastier. A county official in the Texas Panhandle is now blaming a federal agency for starting one of the fires through carelessness.

Mopping up the raw-milk mob. Federal agents watched the home closely for a year, gathering evidence. Then, in a pre-dawn raid, armed members from three agencies swooped in. No, this is not a retelling of the lightning U.S. commando attack in Abbottabad, Pakistan, that killed terrorist leader Osama bin Laden. Rather, the target of the raid late last month by U.S. marshals, a state police trooper and inspectors from the Food and Drug Administration (FDA) was Amish farmer Dan Allgyer of Kinzers, Pa. His so-called "crime" involved nothing more than providing unpasteurized, or raw, dairy milk to eager consumers here in the Washington area.

Mothers crying over raw milk. Four weeks after the government moved to shut down Amish farmer Dan Allgyer for selling fresh, unpasteurized milk across state lines, angry moms who made up much of his customer base rallied on the Capitol's grounds Monday to demand that Congress rein in the food police.

DHS Can't Account for 10 Libyan Men It Caught and Released Inside U.S.. Even as President Barack Obama continued the U.S. military intervention in Libya's civil war — with armed Predator drones beginning patrols over that North African country on Thursday — U.S. Immigration and Customs Enforcement (ICE), the division of the Department of Homeland Security responsible for enforcing immigration laws, could not account for 10 Libyan men it had caught and released inside the United States since July 2009.

Man Sentenced to Seven Years in Prison for Lawfully-owned Guns. The Philadelphia Daily News reported on a disturbing story that should horrify every gun owner in this nation. Brian Aitken, a 25-year-old successful media consultant who was going through a separation with his wife, was in the process of selling his home in Colorado and moving to a suburban New Jersey apartment to be closer to his two-year-old son when he was arrested in an odd series of events.

Mother Jailed for Enrolling Kids in Another School District. An Akron, Ohio, woman was released from jail on Wednesday after serving 9 days of a 10-day sentence for enrolling her children in a neighboring school district. Kelley Williams-Bolar, 40, was convicted of two felony counts of tampering with records by providing false information on sworn registration forms, applications for free or reduced-price school lunches, and other forms she submitted to the Copley-Fairlawn School District, where she enrolled her two daughters.

Valpo sixth-grader handcuffed over spilled milk. A 12-year-old faces two counts of resisting law enforcement for his alleged actions when he refused to clean up spilled milk in the Ben Franklin Middle School cafeteria. A police officer was helping supervise the lunch period on Tuesday, because both the principal and assistant principal were in a meeting, and the boy got into a confrontation with a school staff member.

Citizen activist grates on state over traffic signals. David N. Cox says he was merely exercising his right to petition the government, but a state Department of Transportation official has raised allegations that Cox committed a misdemeanor: practicing engineering without a license. Cox and his North Raleigh neighbors are lobbying city and state officials to add traffic signals at two intersections as part of a planned widening of Falls of Neuse Road. After an engineering consultant hired by the city said that the signals were not needed, Cox and the North Raleigh Coalition of Homeowners' Associations responded with a sophisticated analysis of their own.

Citizens Must Know Their Place. In North Carolina, some state functionaries and politicians believe citizens must be credentialed by the state in order to be allowed to analyze and criticize certain state government plans. Absent those credentials, citizen transgressors should be investigated and potentially face criminal penalties. Would anyone be surprised that those politicians were Democrats? The issues have to deal with road-widening and traffic signals in the city of Raleigh, the kind of local matter that is mundane unless it involves the streets your children travel.

All Aboard for Gun Safety? From the New York City Department of the Absurd, Division of Performance Art, Bureau of Toys, comes a real-life poster currently displayed on subway cars rumbling through New York. These things used to be called "public service announcements." Lately, however, what with their cartoonish presentation, hypersimplified language, and bizarre messages both obvious and obtuse, I'm not sure what they are.

Government Screw-Up Of The Day. A significant production problem with new high-tech $100 bills has caused government printers to shut down production of the new notes and to quarantine more than one billion of the bills in huge vaults in Fort Worth, Texas and Washington, CNBC has learned. The total face value of the unusable bills, $100 billion, represents more than ten percent of the entire supply of U.S. currency on the planet.

FAA loses track of 119,000 aircraft. The Federal Aviation Administration is missing key information on who owns one-third of the 357,000 private and commercial aircraft in the U.S. — a gap the agency fears could be exploited by terrorists and drug traffickers.

The Editor says...
This is an inexcusable breach of national security. Who will be fired for this gross incompetence? Probably nobody. If the FAA were a private company that lost track of one third of its inventory, it would either go out of business or the stockholders would fire the entire board of directors.

Granny's $100 ticket — for throwing out newspaper. An elderly Manhattan woman living on Social Security was slapped with a $100 ticket — for throwing away a newspaper in a city trash can. Delia Gluckin, 80, tossed the paper, which was in a white plastic shopping bag, in a bin right outside her Inwood apartment building Saturday morning [12/4/2010] and was immediately ambushed by a Department of Sanitation agent wielding a handheld computerized ticket book.

Family: New Jersey man serving 7 years for guns he owned legally. Everything Brian Aitken was or had worked for was wiped away one winter afternoon after his mother called the police on him.

The FBI's Outreach to Terrorism. Terrorism expert Patrick Poole reported recently the known Hamas operative Kifah Mustapha — an unindicted co-conspirator in the Texas Holy Land Foundation (HLF) trial whose name appears on America's highest terror watch list — was given a tour of the top-secret National Counterterrorism Center and other secure government facilities, including the FBI's training center at Quantico, Va. The tour is part of a six-week "Citizen's Academy" Muslim community outreach program hosted by the FBI.

Felons Can't Own Guns, So How Did This Guy Acquire Three Gun Companies? Authorities have a lot to answer for in the case of convicted kidnapper Lee Booth.



This is an original compilation, Copyright © 2013 by Andrew K. Dart
---
Fast & Furious: The Gun Walking scandal
This topic now has its own page, located here.
---

One Business Filed 37,375 Bad W-2 Forms — and Is Getting Away With It. A single employer filed 37,375 W-2 forms in tax year 2005 on which the Social Security Number and the name did not match. These "no-match" W-2 forms often — but not always — represent an illegal-alien worker fraudulently using someone else's Social Security number or a fake number. An employer who files 37,375 no-match W-2s in one year is almost certainly employing many thousands of illegal aliens — and knows it. Yet there is no indication our federal government has taken any action to stop this employer from continuing to employ mass numbers of illegal aliens.

County Sues Farmer, Cites Too Many Crops. DeKalb County is suing a local farmer for growing too many vegetables, but he said he will fight the charges in the ongoing battle neighbors call "Cabbagegate." Fig trees, broccoli and cabbages are among the many greens that line the soil on Steve Miller's more than two acres in Clarkston, who said he has spent fifteen years growing crops to give away and sell at local farmers markets.

The dark, dark world of illegal Segway tours of Washington, D.C.. In Washington, D.C., it is illegal to talk about the monuments or the history of the city if a person pays you to take them around town. That is, unless you pay the government $200 and pass a 100 question multiple-choice exam. The District requires that all tour guides get a tour operator's license, which can be obtained by paying an application fee, a license fee and an exam fee, all of which total $200, and taking the exam.

Emergency Bill to Close Tax 'Loopholes' Includes $46 Million Tax Loophole. A bill titled "The American Jobs and Closing Tax Loopholes Act of 2010" that will add $115 billion to the federal deficit between now and October 2011, and that the Democratic leadership intends to push through Congress before they leave for their week-long Memorial Day recess, includes a special $46 million tax loophole for Hollywood movie and television producers.

Enemy of the States. [Scroll down slowly] The federal government is willfully obstructionist and incompetent when it comes to securing the border. Border patrol agents need to wait for the Parks Service before they can enter the parkland and preserve what makes up the vast majority of the Arizona border area, leaving huge gaps where drugs and people swarm north.

Woman Accused Of Hitting TSA Agent Over Applesauce. A judge Tuesday [4/20/2010] threw out a case against Nadine Hays, who is accused of hitting a TSA agent who allegedly tried to take away her elderly mother's applesauce — if she stays out of trouble for six months.

More about the TSA.

Meter, timer blamed for $600 bill. Kathy Roberts got a $600 water bill last month for 96,000 gallons. She says her water consumption didn't go up and her normal monthly bill from the Cocoa water division doesn't top $30. A plumber didn't find any leaks, so she blames a new digital meter installed in April.

The Editor says...
The water meter can't possibly be wrong — after all, it has computer chips in it, and computers never mis-count, especially when used outdoors in an area that has more thunderstorms than any other part of the country.

Avoiding the slick spots. The U.S. Environmental Protection Agency is a perplexing beast. While the agency remains hellbent on regulating colorless, odorless and likely harmless greenhouse gas emissions, it has been utterly incapable of living up to its name with respect to the Gulf oil spill. Not only was the EPA caught entirely unprepared for the oil spill, but also last week it actually tried to interfere with BP's efforts to use a chemical called Corexit to speed up dispersal of the oil. When the EPA told BP that it should use a less toxic chemical, BP rightly ignored the order because it's the oil, not the dispersant (stupid) that is the real threat to the environment, and there is no better option than the detergentlike Corexit.

The Editor says...
How does the EPA presume to have the authority to tell BP what to do in international waters?

More about the EPA.

NYPD detectives now have to ask for permission to use unmarked cars. Detectives who need to park near courthouses now have to ask for permission if they want to use their unmarked cars, the Daily News has learned. The directive comes in the wake of revelations by The News that the NYPD has been towing unmarked cop cars, leaving detectives stranded with no way to transport suspects, witnesses or victims.

Littleton fires judge who issued warrant for overdue DVD. The City Council fired longtime Municipal Judge James Kimmel on Tuesday night after he issued an arrest warrant for a teenager who had an overdue $30 DVD from a local library.

States give inmates access to personal data of others. Prisons in eight states let convicts work in jobs that give them access to Social Security numbers and other personal information for the public, despite years of warnings that the practice should end, a federal audit finds.

Homeland Security Reports Losing Guns. The nation's Homeland Security officers lost nearly 200 guns in bowling alleys, public restrooms, unlocked cars and other unsecure areas, with some ending up in the hands of felons. The problem, outlined in a new federal report, has prompted disciplinary actions and extra training.

TSA Dodges Congressional Investigation of Breach. Osama bin Laden has approximately 53 half-siblings. Last week, ABC reported that 12 of them have FAA pilot's licenses, making them "eligible to fly aircraft anywhere in the United States." While this is indeed an eye-opener of a headline, Osama bin Laden's high-profile siblings and the FAA are a small concern compared to the threat posed by thousands of would-be foreign pilots routinely granted pilot licenses thanks to the Transportation Safety Administration (TSA).

Rep. Hank Johnson: Guam could 'tip over and capsize'. Rep. Hank Johnson (D-Ga.) is afraid that the U.S. Territory of Guam is going to "tip over and capsize" due to overpopulation. Johnson expressed his worries during a House Armed Services Committee hearing on the defense budget Friday [3/26/2010].

Democrat Rep. wonders if additional Navy personnel will make Guam 'tip over and capsize'. Rep. Hank Johnson, D-Ga., was questioning Admiral Robert Willard about the Navy's plans to relocate 8,000 personnel and their families to Guam. After noting at some length that the island is narrow, Johnson says "My fear is that the whole island will become so overly populated it will tip over and capsize."

The Editor says...
If a Republican had demonstrated such monumental ignorance, does anyone believe this would not be front-page news?

Dumb Dems to be Drummed Out. The good news is that we may be on a verge of a wave election where some of the dead wood is removed. Speaking of dead wood, who is the dumbest Democratic Congressman of them all? Two recent nominees: Congressman Hank Johnson of Georgia, who is concerned that if more US troops move to Guam, the island will tip over. ... [and] Congressman Phil Hare of Illinois, who seems unaware that the Declaration of Independence and the Constitution are separate documents, and that only one is the law of the land.

There's no IQ test for serving in Congress. Q: How many Marines does it take to capsize the island of Guam? The correct answer is, "You are asking the wrong question." The correct question is how many congressmen are stupid enough to think you can capsize an island? A: So far as we know (praise God!) just one...

Hank Johnson warns Guam might capsize.

Saving Guam from Capsizing All in a Day's Work for U.S. Congressmen. Could Guam capsize? This is not a question a lot of people would think to ask. ... This is exactly why we have politicians. Politicians know to study and be concerned about actual important issues so the average citizen doesn't have to worry about anything more consequential than which funny outfits he should dress his pets in. Our politicians are our best and brightest, and that's why we put them in charge of what's most important in this nation.

Gun Nuts at 30,000 Feet? [Scroll down] Some would-be marshals were hired even after they repeatedly shot flight attendants in mock hijack-response training exercises. One marshal groused that the training for new marshals was "like security-guard training for the mall." ... The air marshal who brandished his weapon had twice applied to be a cop in Philadelphia but failed the police department's psychological tests; the marshal was also rejected in his attempt to get a job as a prison guard. The marshal had received only two weeks of training at the time he threatened scores of coach passengers.

How AP Helped Cover for a Female "Captain Bligh": It was big news when Capt. Holly Graf was fired as skipper of the USS Cowpens. But the story behind the story is how www.MilitaryCorruption.com unearthed a dramatic photo of Graf's cruiser nearly hitting the destroyer the USS John S. McCain while drag racing at sea and coming within 300 feet of collision. Many media outlets in this country wanted to quote us and publish the photo. But some — like the AP — wanted to avoid the truth.

Caught on Camera — Crazed Captain of Cruiser Cowpens. It's been said a picture is worth a thousand words. We can only hope the one [in this article] is worth a court martial, even if it makes the Navy blanch to punish an incompetent and unstable "politically correct" poster girl for all the super feminists at the Pentagon and the U.S. Naval Academy.

TSA Hands Al-Qaeda Its Playbook. In a blunder of astonishingly poor judgment, the TSA allowed one of its most sensitive documents, the Standard Operating Procedures (SOP) manual, to be posted online. And then, instead of admitting the seriousness of its security breach, the TSA tried to take the position that the information wasn't that important. Only after Congress got involved did TSA take any action.

Bureaucrats With Badges. Shortly after the Transportation Security Administration assumed control of airport security and [Conrad] Burns was still serving in Congress he was at Washington's National Airport for a flight home. National is the airport used almost exclusively by members of Congress to fly in and out of the nation's capital. Burns showed his U.S. Senate identification to a TSA agent who refused to accept it, telling him she was not familiar with the government-issued photo ID. He had to produce another form of picture ID she demanded. In an attempt to be funny, Burns offered his Sam's Club shopping card. The agent accepted it and sent Burns on his way.

The Federal Bureau of Non-Investigation. On Monday, ABC News first reported that Fort Hood shooter Maj. Nidal Malik Hasan had reached out to al Qaeda associates prior to his attack. There were good reasons to speculate that one of these al Qaeda figures is Anwar al Awlaki — an al Qaeda recruiter who acted as a "spiritual advisor" to two of the 9/11 hijackers. Awlaki preached at a mosque Hasan attended in 2001 and praised Hasan's attack on his web site Monday morning [11/9/2009].

A top psychiatrist at Walter Reed warned Fort Hood about Hasan. This is really looking bad for the brass at Fort Hood. One of the top psychiatrists at Walter Reed was so concerned about Hasan, that he wrote a memo outlining his belief in the terrorist's incompetence and reckless behavior.

The FBI in peace and war. Twice we have suffered slaughters of US citizens on American soil — once on 9/11 and again at Fort Hood. In both cases the FBI had advance information which might have stopped the plots and twice they failed to share it. The first time they claimed it was because of the "Gorelick wall" although bureaucratic inertia and FBI problems with computers were claimed to have played a role as well. This time, it will be interesting to see the excuse.

Citizenship study guide bungles US history. The publishers of "Twenty-Five Lessons in Citizenship" claim to have sold 1 million copies in the past 83 years to people preparing to take the United States citizenship test. But what does the book teach those eager new Americans? Its 101st edition informs them that Alexander Hamilton served as president and that the Superior Court is California's highest court, and suggests citizens "must" vote.

From yard sales to jail yards. When federal agents can swoop down on your personal garage sale and arrest you for selling the wrong old doll, this is no longer the land of the free. Yet just such a scenario is possible because of a campaign called Resale Roundup, which stems from last year's jobs-destroying Consumer Product Safety Improvement Act. We wonder what's next: handcuffing 10-year-olds for improperly mixing roadside lemonade?

Well, now that you mention it...
California city shuts down girl's lemonade stand. Eight-year-old Daniela Earnest has made lemonade out of lemons in more ways than one this week. Hoping to raise money for a family trip to Disneyland, the Tulare girl opened a lemonade stand Monday [8/3/2009]. But because Daniela didn't have a business license, the city of Tulare shut it down the same day.

The Editor says...
I'm so glad our government keeps us safe from little girls' lemonade stands. Here's another one:

Sweet Lemonade Kid $lapped. Three sourpuss Parks Department agents put the squeeze on a 10-year-old girl in Riverside Park yesterday, slapping the tyke with a $50 ticket for hawking lemonade without a permit. Clementine Lee, who lives just blocks from the Upper West Side park, had dreamed of opening a lemonade stand since last year and took advantage of yesterday's beautiful weather to set up shop.

'Lemon' Law Kid Back in Drink Biz. The 10-year-old West Side girl who got a $50 ticket for selling lemonade in Riverside Park was back in business yesterday and had a special customer — Parks Commissioner Adrian Benepe. Clementine Lee set up her stand in Columbus Circle, where Benepe bought three cups at 50 cents a pop.

Bureaucrat scuffs dream of homeless shoe shiner. He sleeps under a bridge, washes in a public bathroom and was panhandling for booze money 11 months ago, but now Larry Moore is the best-dressed shoeshine man in the city. When he gets up from his cardboard mattress, he puts on a coat and tie. It's a reminder of how he has turned things around. In fact, until last week it looked like Moore was going to have saved enough money to rent a room and get off the street for the first time in six years. But then, in a breathtakingly clueless move, an official for the Department of Public Works told Moore that he has to fork over the money he saved for his first month's rent to purchase a $491 sidewalk vendor permit.

Swine Flu: Conservative Republicans Want to Kill You. At a press conference yesterday [4/27/2009], Homeland Security Secretary Janet Napolitano — you know, the official in charge of border security who doesn't think illegally crossing into America is a crime — did her best to cover all the bases as well as her own bureaucratic rear end. She literally spoke out of both sides of her mouth in the same sentence as she tried to explain just what the government meant by a "public health emergency."

Woman gets 30 days in jail for texting in court. A Utah mother of four small children has been jailed on a judge's order to serve 30 days behind bars for allegedly sending a text message while she was watching a court proceeding. The report comes from her father-in-law, Dennis Jackson, who told WND of the series of events that left his daughter-in-law, Susan Henwood, imprisoned.

Teenage hiker's calls ignored; no street address. Teenage hiker David Iredale used his cell phone to call Australia's equivalent of 911, seven times pleading for rescue after he became lost in tough scrubland and ran out of water in 100-degree heat. Each time he got through, he was told he needed to give a street address before an ambulance could be sent. Shortly after the final call, Ireland collapsed and died of thirst.

Food stamp rule frustrates police in North Dakota. [John] Schweitzer's misfortune should have been an open-and-shut legal case. The thief was caught on video surveillance, and he used his own food stamp swipe card to pay for groceries before leaving with Schweitzer's wallet. But a federal law prohibiting the disclosure of information about food stamp recipients — even to law enforcement, unless a specific name is provided — meant it would take months and a lot of legwork before an arrest was made.

Feds' red tape left medical devices infected with computer virus. The Conficker Internet virus has infected important computerized medical devices, but governmental red tape interfered with their repair, an organizer of an antivirus working group told Congress on Friday [5/1/2009]. Rodney Joffe, one of the founders of an unofficial organization known as the Conficker Working Group, said that government regulations prevented hospital staff from carrying out the repairs.

Prosecutor Appeals After Judge Drops Rape Charges Against Liberian Over Lack of Interpreter. The prosecutor in the case of a Liberian native charged with repeatedly raping and molesting a 7-year-old girl said Monday that he is filing an appeal of a controversial judge's ruling that dismissed all charges because an interpreter who spoke the suspect's rare West African dialect could not be found.

Man, 81, charged for clearing pothole for repair. An Ohio man said he chipped away loose material to prepare a pothole for repair and thought he was helping the city, not breaking the law. An undercover police officer spotted 81-year-old James Stacy in the street near Stacy's home with a pickax and a broom last week.

Criminal Intent. House Bill 1690 by Rep. Terry Keel comes in response to complaints that the City of Dallas has abused its public nuisance law, under which it may fine the property owner $500 for each day the nuisance exists and even place a lien on the property. Although the law has historically been used to shut down brothels, Dallas is utilizing it to extract revenue from ordinary businesses located in high-crime areas. For example, a carwash in a low-income neighborhood was targeted, even though those running it had nothing to do with criminal activity.

Living proof that the minimum wage is too high already...
Prisoner wrongly freed after officials get phony, typo-filled fax. Officials mistakenly released a prisoner from a Kentucky facility after receiving a phony fax that ordered him freed, and it took them nearly two weeks to realize it. The fax contained grammatical errors, was not typed on letterhead and was sent from a local grocery store.

Police said natural causes; funeral home said gunshots. A man's death that police and a medical examiner had said was the result of natural causes has been ruled a homicide after a funeral home found three bullet holes in his body. The Kansas City Star reported Thursday that the wounds — two of them in Anthony Crockett's head — were noticed by funeral home workers after the man's body was embalmed.

Forgotten, man sits in jail for two years. Joseph A. Shepard Sr. sat in local jails for almost two years, assuming that his lawyer was making progress on his case and that drug-related charges against him would soon be resolved in federal court. [...] Shepard, 53, is a man the system forgot, apparently ignored by his own attorney — and the prosecutor and judge — as days ticked by in a municipal lockup where he was confined to a cell 23 hours a day.

What idiots!
Controversial Muslim group gets VIP airport security tour. The Department of Homeland Security took a Muslim group with known past ties to terror organizations on a VIP tour of security operations at the nation's busiest airport at the same time British authorities were working to break up a plot to blow up U.S. airlines.

U.S. Issued 3,400 Visas to Immigrants from 'State Sponsors of Terror' in 2008. A little-known State Department program has allowed about 3,400 immigrants to come to the U.S. in 2008 from the four nations that a currently listed by the State Department as "state sponsors of terror" — Iran, Cuba, Syria and Sudan. According to a State Department report on the Diversity Immigrant Visa Program, 691 visas were granted to immigrants from Cuba, 1,435 to immigrants from Iran, 1,147 to immigrants from Sudan and 94 to immigrants from Syria.

FBI: Still not retooled for terror. This weekend's arrest of 17 homegrown al Qaeda wannabes just across the border in Canada is a nightmarish reminder of the horrors that have been — and could be — right here at home again if we don't fully get our counterterrorism act together soon. By many accounts, despite a ballooning budget and staff, the FBI is still struggling to get its arms around its newly reinvigorated counterterror (CT) mission — a critical capability that could prevent another 9/11.

The FBI Closes a Window to the Truth. [Paul] Charlton, who was fired by the Justice Department in 2006 for trying (without success) to force the FBI to record confessions in Arizona, had been sorely frustrated by its policy. "We lost cases, we had to plead down cases, we had to drop cases just because of this policy," he recalls in a phone interview. The Justice Department, finally waking up to the arrival of the 21st century, now has a task force reexamining the virtual ban on recording, which by any reasonable standard is as obsolete as J. Edgar Hoover. But the FBI shows no openness to change.

Rewrite Texas Graffiti Laws. If a graffiti "artist" spray-paints your house or business, you could be the one who draws the attention of law enforcement. Many Texas cities, including Houston, Dallas, San Antonio, and Fort Worth, have adopted ordinances creating a criminal offense for property owners who fail to clean up graffiti.

FAA outage reveals odd computing practices. By using computing practices that would be considered poor in credit card networks or power plant operators, for example, the FAA was vulnerable to a problem caused when new software was loaded at the Atlanta center that distributes flight plans. Because the FAA relies on just two computing systems, one in Atlanta and one in Salt Lake City, to handle that chore for the entire nation, the software glitch all but sank the system Tuesday [8/26/2008].

FAA Points Finger at Switch for Server Crash. Earlier this week, the FAA servers in Atlanta responsible for handling all flight plans across the country crashed leaving massive flight delays at several major airports including Atlanta, Boston, Washington D.C., and Chicago. Many would be surprised to hear that as important a task as these computers handled, the technology in use was from the 1970's. One obvious question after the servers went down from many was — where are the backup systems?

The FBI's Upgrade That Wasn't: $170 Million bought an unusable computer system. "We had information that could have stopped 9/11," said Sen. Patrick J. Leahy (Vt.), the ranking Democrat on the Senate Judiciary Committee. "It was sitting there and was not acted upon. … I haven't seen them correct the problems. … We might be in the 22nd century before we get the 21st-century technology."

AT&T disaster recovery awes Homeland Security. To a government employee, for whom efficiency is something one hears about but is rarely able to achieve, the efficiency which the market can provide can seem like magic: mysterious and forever out of reach.

Incompetence at the FBI is compromising presidential power. This is another fiasco for the FBI, which may simply be incapable of effective counterterrorism. Every independent group that has looked into the FBI — including the Robb-Silberman commission — has found that the agency is failing in that duty. Whatever discipline is handed out for this latest foul-up, the country needs to debate again whether domestic antiterror functions should be taken from the FBI and given to a new agency modeled after Britain's MI5.

FBI Wiretaps Dropped Due to Unpaid Bills. Telephone companies have cut off FBI wiretaps used to eavesdrop on suspected criminals because of the bureau's repeated failures to pay phone bills on time. A Justice Department audit released Thursday blamed the lost connections on the FBI's lax oversight of money used in undercover investigations. Poor supervision of the program also allowed one agent to steal $25,000, the audit said.

Top terrorist sighting raises no FBI interest. Two Americans believe they have spotted Adnan el-Shukrijumah, the al-Qaida operative identified as "the next Mohamed Atta" at a location near Bakersfield, Calif., but have been unable to get the FBI or Homeland Security to investigate.

Maybe they're too busy investigating stuff like this:
"Weapon of Mass Destruction" Targets Sex Shop In Waldo, Florida. The device, discovered Sunday morning [5/28/2006], was made of two gallon-size sports drink jugs connected by hoses. Someone set it on top of the store's window air conditioning unit. … Under state law, by the book, deputies say the device is a weapon of mass destruction. "They're looking at hundreds of thousands of dollars in fines, and … 30 years in jail," Faulk said.

Emergency manager didn't break off travel plans when bridge fell. The Minnesota Department of Transportation's head of emergency management was attending a Harvard University program on terrorist attacks and natural disasters when the Interstate 35W bridge collapsed on Aug. 1. Instead of rushing back to help coordinate the response, Sonia Kay Morphew Pitt stayed at Harvard for another two days and then spent eight days in Washington.

Update: The chickens have come home to roost.
MnDOT fires manager accused of improper travel. The Minnesota Department of Transportation on Friday [11/09/2007] fired the emergency manager whose frequent travel came under scrutiny, including her decision to remain out of state for several days after the Interstate 35W bridge collapse. Sonia Morphew Pitt, who had been director of Homeland Security and Emergency Management, committed "serious employee misconduct" by misusing state resources and putting her personal life ahead of her professional obligations, the agency said.

Speaking of the I-35 bridge...
Bridge collapse: A half-inch closer to why. The collapse of the Interstate 35W bridge may have originated with the failure of gusset plates that were sized a half-inch too thin in the original 1960s design, the National Transportation Safety Board (NTSB) said Tuesday [1/15/2008]. In a Washington news conference, NTSB Chairman Mark Rosenker also said there were no indications that Minnesota's upkeep of the bridge played any role in its collapse — a statement that immediately unleashed political debate, with Gov. Tim Pawlenty scolding critics for leaping to conclusions and DFLers insisting that the full cause has yet to be found.

The Editor says...
The politicians (in Minnesota and Washington) can't afford to have anyone discover that the original design was faulty. Their crisis mode and proposed highway taxes depend on a finding that the bridge collapsed due to lack of maintenance.

Self-defense is, inexplicably, no defense. On Sunday, Bob Mette and his son, Mike, 30, will go to the game at Soldier Field to watch the Bears play the Lions. On Monday, Bob will drive Mike to Iowa, to prison. Mike Mette, until recently a Chicago police officer, is scheduled to begin serving a 5-year prison sentence. His crime? According to the judge's ruling, Mike threw one punch at an angry drunk who chased Mike down the street and attacked him verbally, physically, repeatedly.

Girl, 10, Arrested for Using Knife to Cut Food at School. A 10-year-old Florida girl faces felony weapons charges after bringing a small steak knife to school to cut up her lunch, according to a report on MyFOXOrlando.com. School officials say the Ocala 5th grader had brought a piece of steak for her lunch, and a four and a half inch steak knife with which to cut it. According to the report, a couple of teachers took the utensil and called authorities, who arrested the girl and took her to the county's juvenile assessment center.

Many more stories like this are on the Zero Tolerance Page.

Police in Laramie, Wyo., Cite Teen Girls Who Threw French Fries for 'Hurling Missiles'. Three 13-year-old girls accused of throwing french fries during lunchtime at their school were cited for "hurling missiles," an adult infraction covered by city ordinances.

TSA can't believe MacBook Air is a real laptop; owner misses flight. The TSA has been known to take issue with products designed in Cupertino before, but for one particular traveler, it was Apple's thinnest laptop ever that caused the latest holdup. Upon tossing his ultra-sleek slab of aluminum underneath the scanner, security managed to find enough peculiarities to remove it from the flow, pull it aside and wrangle up the owner for some questions.

Did someone mention the TSA?

Death Investigation Deficiencies: "The Mississippi medical examiner system doesn't exist, except in name only." So says Dr. Vincent DiMaio, a renowned forensic pathologist, and author of the guiding textbook for medical examiners. And he isn't alone. Talk to forensic pathologists across the country about how the state of Mississippi conducts its forensic autopsies and you'll get chuckles, exasperated sighs and indignation. What you'll be hard-pressed to find, however, is anyone outside the state who thinks things are being done properly.

NOPD officer punished for wearing the wrong uniform. With minutes left in the last shift of his 35-year New Orleans police career, Sgt. Bobby Guidry received a call from a supervisor telling him he had been suspended for wearing the wrong uniform shirt, the veteran officer said.

Prosecute the shooters, not the guns. Of some 2,500 stolen bikes recovered by the police breaking a thriving ring of thieves, only 55 have been claimed by previous owners, and only 18% of thefts were reported to police. This indicates that most who have their bikes stolen feel informing the police is a waste of time. Not everyone bothers to register their bikes or take down serial numbers and such. What's the point?

EEOC: An Out-of-Control Taxpayer-Financed Agency. You need not be an American citizen to use a federal agency to file a lawsuit on your behalf. In what other country is there an agency that would help you sue yet another government agency or a private company if you weren't a citizen? And provide you with an interpreter to do so? Not one that I can think of. This case would be entirely moot if we had an "English First" rule in our schools and required everyone to learn English for employment. I have given up on the idea that such common sense will again prevail in our society.

Historic Whiskey Could Go Down the Drain. Here's a sobering thought: Hundreds of bottles of Jack Daniel's whiskey, some of it almost 100 years old, may be unceremoniously poured down a drain because authorities suspect it was being sold by someone without a license. Officials seized 2,400 bottles late last month during warehouse raids in Nashville and Lynchburg, the southern Tennessee town where the whiskey is distilled.

Update:
State settles for a sip of Jack. A yearlong standoff between an avid Jack Daniel's collector and Tennessee liquor control agents has ended in compromise and the return of most of the man's million-dollar whiskey collection.

No Parking Spot? Here Are About 142,000 Reasons. Why is it so hard to find a parking place in New York City? There are a lot of reasons, but this may be the most infuriating: The city has given out no fewer than 142,000 free parking permits to public employees and others. That's twice as many as City Hall had estimated were in circulation. And after two months of research, city officials cannot say who has them all.

Beer runners' flour trail a recipe for trouble. Two people who sprinkled flour in a parking lot to mark a trail for their offbeat running club inadvertently caused a bioterrorism scare and now face a felony charge. The sprinkled powder forced hundreds to evacuate an IKEA furniture store Thursday [8/23/2007].

Referring to the item immediately above:
Stupidest Terrorist Overreaction? Is this the stupidest terrorist reaction yet? "Two people who sprinkled flour in a parking lot to mark a trail for their offbeat running club inadvertently caused a bioterrorism scare and now face a felony charge." The competition is fierce, but I think we have a winner. What bothers me most about the news coverage is that there isn't even a suggestion that the authorities' response might have been out of line.

Questions for the Pentagon: In the sorry tradition of shooting the messenger, the Pentagon is cashiering its top expert on Islamist doctrine, Stephen Coughlin. Some members of Congress are now contemplating hearings to ask why. Along with drawing attention to Coughlin's research, now circulating on the Internet, the growing controversy has thrown a spotlight on Coughlin's alleged nemesis at the Pentagon, a top aide named Hesham Islam — whose tale deserves closer attention.

Public Land Mismanagement and Environmental Irresponsibility. Decades of fire suppression by the Forest Service have disrupted natural fire cycles and turned many western forests into tinderboxes waiting to burn. Dense stands of spindly deadfall and underbrush now occupy land once characterized by open savannahs and large, widely spaced trees. One result is larger, more intense fires that burn the publicly owned forests to the ground. Indeed, by the Forest Service's own estimates, 90 to 200 million acres of federal forests are at high risk of burning in catastrophic fire events.


---

Uncle Sam is afraid to say what he means
because he might offend the people who are determined to kill us all.



This topic now has its own page, located here.
---

State seizes antique gambling equipment. Antique gambling equipment, including a roulette wheel dating to the 1880s, was seized from an antique store here by state agents under a state law prohibiting the possession of unlicensed gambling equipment. "Some of these things are over 100 years old," said Ron Turner, owner of the Cowboy Cabin. "These are not gambling devices. These are antiques. It's a historical collection. This never is, nor will be, a gambling establishment."

Denver Mint Requires Visitors to be Ungroomed. When taking a tour of the U.S. Mint, certain items are prohibited, including...
Cameras or camera cell phones
Handbags, book bags, backpacks, purses, fanny packs, diaper bags
Packages of any type
Strollers
Food or beverages of any kind
Video recorders or any type of recording device
Tobacco products
Personal grooming items (makeup, hair brush or comb, lip or hand lotions, etc.)

Illegals caught at BWI, released. Federal authorities late last week detained and later released eight illegal aliens from Mexico who authorities said were acting suspiciously near a gate at Baltimore-Washington International Thurgood Marshall Airport. Officials said the illegals were detained Saturday morning [4/29/2006] near Gate D3, a Northwest Airlines gate, after federal air marshals noticed them gathered in the area with no carry-on luggage. … ICE officials said they were investigating possible connections between the illegals and a human-trafficking or human-smuggling operation, but would not comment on why they released the illegals.

McNab v. United States: Invalid Foreign Laws Lead to Years in U.S. Prison. The Supreme Court is currently considering whether to take the case of four businesspeople sent to prison for importing lobster tails from Honduras. Their convictions are predicated on supposed violations of the Lacey Act, which makes it a crime to import "fish or wildlife taken ... in violation of any foreign law." Here, the foreign laws are Honduran fishing regulations that have been declared null and void in Honduras, but are somehow still being enforced by American federal courts.

Zero Tolerance for Security Guards. Security guard George Stevenson chased a suspected burglar onto Arlington Elementary School property and through the school itself. When he was apprehended, the suspect was armed with a knife. According to school officials, however, the real criminal was Stevenson. Because he carried an otherwise legal pistol, Stevenson was arrested and charged with felony possession of a weapon on school property.

Government Puts Rat Control Business Out of Business. The Arizona Structural Pest Control Commission (ASPCC) halted a teenager's innovative — and popular — rat control business because he failed to hold a $78 state-regulated commercial pest control license and pass an exam covering over 40 pages of laws and rules unrelated to his mesh wire rat prevention devices.

[If you build a better mousetrap, Big Brother will find a way to regulate and tax it.]

$58,000 Spent Fighting Over a Treehouse. Two anonymous complaints about a treehouse have cost a Clinton, Mississippi homeowner at least $28,000 in legal fees and local taxpayers about $30,000 in a fight to have a playhouse torn down.

Homeowner reconsiders mowing lawn after jail stint. Linda A. Ballew spent four nights in the Harris County Jail for ignoring court orders related to a long-running dispute about her overgrown lawn before she finally agreed to cut the grass Tuesday [6/5/2007].

Failure to Water. In another example of overcriminalization, police in Orem, Utah decided to enforce an ordinance against neglected yards by arresting Betty Perry, a grandmother and widow who was seriously negligent in watering her lawn. The 70-year old was handcuffed, arrested, and taken to jail.

She has been in the news before!
Gardening Grandma Arrested for Failure to Prune. On April 3, 2002, Kay Leibrand surrendered to the police. She was fingerprinted. They took her mug shots. The 61-year old grandmother and software engineer was told that she had broken the law. She might go to jail or perhaps she would get off with just a fine. On May 30, 2002, she was arraigned. Her crime was allowing street-side xylosma bushes to grow more than two feet high. … Never before in city history had it prosecuted a resident for such horticultural excess.

Woman Arrested for Making Faces at a Dog. A prosecutor has dropped charges against a woman who was arrested for staring at and making faces at a police dog.

Pennsylvania Woman Cited for Cursing at Toilet. A Scranton woman who allegedly shouted profanities at her overflowing toilet within earshot of a neighbor was cited for disorderly conduct, authorities said. Dawn Herb could face up to 90 days in jail and a fine of up to $300.

Update:
Potty mouth protected by First Amendment. A woman who was cited for loudly cursing at her overflowing toilet — and then at a neighbor who told her to quiet down — has been acquitted on First Amendment grounds.

Guards make woman remove bra that triggered metal detector at Idaho courthouse. Security guards refused to allow a woman into a federal courthouse in Idaho until she removed a bra that triggered a metal detector. Lori Plato says she and her husband, Owen Plato, were stunned when U-S Marshals Service employees asked her to remove her bra after the underwire supports set off the alarm.

Truancy for Parents in Texas. Texas may join the ranks of states like Minnesota and California who are attempting to use the criminal law as a parenting tool. A proposal in the state legislature would charge parents with a misdemeanor and a fine if they fail to attend a parent-teacher conference at their child's school.

See a Smoker in a Non-Smoking Area? Call 911. If you catch someone smoking in a non-smoking area in Omaha, Neb., call the police. The Omaha Police Department is encouraging city residents to call 911 in the wake of the citywide ban on smoking that went into effect on Oct. 2.

[Is that what the designers of the 9-1-1 system had in mind?]

Subway Rider Busted for Selling a Token. Transit police handcuffed and cited a man who sold a $1.75 subway token to another rider who was having trouble with a token vending machine. Transit authority spokeswoman Jocelyn Baker … acknowledged that [Donald] Pirone sold the token at face value and did not make a profit. But the law is the law, she said.

HPD still issuing tickets for license plate borders. "It was never the intention of the Legislature for people to be receiving traffic citations for having license brackets," said state Sen. Tommy Williams, R-The Woodlands, who sponsored the bill. "It's clearly out of bounds for them to be issuing tickets now." ... The [Houston police] department's most prolific officer, Matthew Davis, issued at least 1,216 license bracket tickets since January. He wrote 30 in one day in February and has issued more than 200 since [Governor] Perry signed Williams' bill.

Innocent Man Stuck With 100 Parking Tickets. After two years, innocent man is still fighting parking tickets incorrectly issued because of a personalized license plate. In the two years since San Carlos resident Nick Vautier moved to California's San Francisco Bay Area, he has received over a hundred parking tickets worth $3000. He is not responsible for a single one of them, but several jurisdictions continue to prosecute him without ever having established any guilt.

Why was Cho Free? Now comes news that a court in 2005 found Virginia Tech gunman Cho Seung-Hui to be "mentally ill" and an "imminent danger to others" — but then let him go.

The Wait for License Plates Still Tops Seven Weeks. More than two years after installing a new computer system that cost twice as much as expected, the state Division of Motor Vehicles is still taking more than seven weeks to mail out license plates and vehicle titles — more than twice as long as it took before the system was installed, records show.

Is this any way to help the homeless? Mary Baker and Ruth Neikirk love to cook. What's more, they love to cook for poor people. They do it frequently, preparing meals at home and bringing them to their church in Virginia. … The people they cook for love it too. But there's a problem. It was "criminal activity." The Fairfax County health department points out that — horrors — Mary and Ruth are actually preparing food and serving it to people! Without a license!

Wabash Valley woman didn't realize second cold medicine purchase violated drug laws. When Sally Harpold bought cold medicine for her family back in March, she never dreamed that four months later she would end up in handcuffs. Now, Harpold is trying to clear her name of criminal charges, and she is speaking out in hopes that a law will change so others won't endure the same embarrassment she still is facing.

Buy too much cold medicine, go to jail. [Sally] Harpold is a grandmother of triplets who bought one box of Zyrtec-D cold medicine for her husband at a Rockville pharmacy. Less than seven days later, she bought a box of Mucinex-D cold medicine for her adult daughter at a Clinton pharmacy, thereby purchasing 3.6 grams total of pseudoephedrine in a week's time.

Step Away from the Cold Medicine. As is often the case with policies aimed at curbing the drug supply, civil liberties were one of the first casualties of the meth hysteria. Several cities and states, for example, quickly made it illegal for businesses to sell customers combinations of ingredients that together, are used to make meth, but that are perfectly legal if bought separately. Sell bhutane [sic], cold medicine, and matches to the same customer, and an unknowing store clerk could well be arrested. These laws effectively deputized private business to begin policing the shopping habits of their customers — never a good idea.

[Certain combinations of products cannot be purchased simultaneously without sounding an alarm. Try this experiment at your own risk: Go to Radio Shack and try to buy a speed dialer and a 6.5536 MHz crystal at the same time.]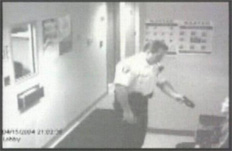 Police Hit Grandmother With Taser Gun Five Times. Beverly Kidwell, 68, was in the waiting room of the police department in suburban Dayton when the incident occurred. … Kidwell said she waited a long time in the lobby and, when she got up to leave, the officer hit her with the Taser gun.

Illustration courtesy nbc4i.com

[That sounds like a one-sided story, but what could the other side possibly be?]

Take 32 Grams of Tylenol and Call Me in 25 Years. In 2004 a Florida jury convicted Richard Paey of drug trafficking involving at least 28 grams of the narcotic painkiller oxycodone, which carries a mandatory minimum sentence of 25 years. But there was no evidence that Paey, who has suffered from severe chronic pain for two decades, planned to do anything with the pain reliever except relieve his pain. … This penalty is both cruel and unusual; first-time offenders charged with unauthorized possession of prescription drugs typically get probation.

Boulder Woman Jailed Over Garage Door. A Boulder woman was out of jail Thursday, after being locked up over the weekend for installing a new garage door. The Boulder Daily Camera reported in its Thursday editions that Megan Forbes was arrested and taken to jail on Sunday [4/9/2006] for failing to show up on a court summons she received for replacing her original garage door with a new one.

Risk of not knowing technology: jail. The AP recently ran a story about a substitute teacher who was convicted of exposing students to pornography. Her contention that it was inadvertent because she couldn't keep up with pop-ups seems plausible, but the equally non-tech-savvy jury didn't buy it (despite the fact that the prosecution never even made a reasonable case by checking for spyware). What seems particularly Kafka-esque is the potential 40-year sentence she faces.

What is wrong with the legal system in this country?
Michael Jackson Called for Jury Service. Authorities want Michael Jackson back in court — this time as a juror. Jackson received a jury summons at his Neverland Valley Ranch, four months after he was acquitted of child molestation charges.

Elderly Woman Slammed in the Slammer. In a very sad story, 78-year-old Garland resident Betty Smith related her horrendous tale of woe to Dallas County Commissioners at their January 9th meeting. Her story of abuse by the Dallas County judicial system and Sheriff's Department began when she was awakened by knocks on the door at 4:00 one morning. The officer told her she was being arrested for illegally ordering a duplicate copy of her driver's license. Never mind that Ms Smith's car had been carjacked not long ago, along with her purse and personal belongings, including her driver's license. … On the way to jail, the deputy told her that her record indicated that she had committed a homicide in Arizona.

Woman slammed against car by San Jose police officer wins appeal. [Scroll down] [Laura] Bushell-McIntyre, a pediatric nurse who had just graduated from San Jose State, was attending the fraternity party when police arrived in response to a disturbance call. The court said she had complied with Officer William Foster's request to leave the house, but touched his badge after repeatedly asking him for his badge number. Foster then put her in a pain compliance hold and slammed her against a car, the court said.

They're being called the Kutztown 13. They are a group of high schoolers charged with felonies for bypassing security with school-issued laptops, downloading forbidden internet goodies and using monitoring software to spy on district administrators. … The administrative password that allowed students to reconfigure computers and obtain unrestricted internet access was easy to obtain. A shortened version of the school's street address, the password was taped to the backs of the computers. The password got passed around and students began downloading such forbidden programs as the popular iChat instant-messaging tool.

Editor's Note: The school administrators acted with incompetence, putting the admin password on the back of the computer. The kids who figured out how to use the computers to their full potential are the people who should go to the head of the class — not to prison.

Gonzales asked to probe prosecution of agents. Rep. Dana Rohrabacher yesterday asked Attorney General Alberto R. Gonzales to investigate what he called "the exceedingly harsh prosecution" of two U.S. Border Patrol agents now facing 20 years in prison for shooting a suspected drug smuggler in the buttocks.

Connecticut Court Rules on Self Defense Shooting. The state's highest court ruled Friday [7/9/2004] that a cab driver had no right to carry the pistol he used to shoot a robber because his taxi is not a place of business.

Dialectical Justice: Most criminals are well aware that bank robbery is major crime that usually draws in the FBI and earns the thief years in the slammer. Those currently casing a bank in California should be on notice that even if caught they could get away with only 60 days in jail, four months less than the mandatory maximum for first-time DUI. To draw such a softball sentence, combined with media protection, it appears to help if the criminal is a professional ethnic and Marxist anti-war activist such as Carl Pinkston.

It's called hibiscus, but it won't get you high. Landscape contractor Blair Davis was in his northwest Harris County home around 2 p.m. when there was a knock at his door. Davis said he hadn't even gotten his hand on the doorknob when it flew open and he was looking at the barrel of a pistol. Behind the gun were about 10 members of the Harris County Organized Crime and Narcotics Task Force, who burst into the home, guns drawn, and began shouting at him to get down on the floor.

Editor's Note: Even if this had actually been marijuana, which it wasn't, is marijuana really that dangerous? Can you say, "Excessive force?"

Town Battles Army Corps Over Permafrost. Challenging an Army Corps of Engineers assertion that permafrost 20 inches thick is a "navigable water" of the United States, an Alaskan borough attempting to build public playgrounds and athletic fields on a two-acre parcel of permafrost has sued the Corps over its enforcement of the Clean Water Act. "This case is a classic example of the Corps operating without boundaries, limits, or common sense in its application of the Clean Water Act," said Russell Brooks, managing attorney of Pacific Legal Foundation's (PLF) Northwest Center.

So Much Has Changed in Just 60 Years. One survey a few years back showed that a full one-third of the American people fear the government. It has become intrusive and secretive. Franklin Roosevelt managed a truly global war, with 12 million Americans under arms, using a White House staff of about 15 people. There are now thousands on the White House staff, and they can't even manage a very small war in a little country.

Clarence Thomas laments marijuana ban. Rehnquist concurred. O'Connor is just unpredictable. She has endorsed states rights for marijuana but not for abortion. The other six justices, we can now say, is consistent in its centralization of power to Washington. This paves the way for federal agencies, such as the Department of Homeland Security, to control every private exchange of money and goods in the U.S.

Terrorism? Naah … . When explosions killed fifteen people and injured over 100 at an oil refinery in Texas City, Texas, on March 23, 2005, the FBI quickly ruled out terrorism as a possible cause. When a group calling itself Qaeda al-Jihad and another Islamic group both claimed responsibility, the FBI was still dismissive. But then it came to light that investigators did not even visit the blast site until eight days after the explosions — and eight days after they ruled out terrorism as a possibility.

Many more terrorist attacks have been reported as "isolated incidents." See this page.

Security at Supermax slammed in fed report. Prison officials allowed convicted terrorists in the federal super-maximum lockup in Florence to communicate with outside radicals for years and subsequent steps taken to shut down the links have serious gaps. … The FBI, which handles letters from the most dangerous prisoners, is supposed to produce translations within 60 days, according to the report. In reality, it sometimes takes as long as six to 18 months, the report says.

[Why do known terrorists have mail privileges at the "Supermax" prison?]

Dubai undertow: How about that INS official who mailed Mohamed Atta his visa six months to the day after he died in an unusual flying accident in Lower Manhattan? How about leaving the ports to those State Department chaps who approved the September 11 killers' laughably incomplete paperwork ("Address in the United States: HOTEL, AMERICA")? Or how about those officials at Federal Aviation Administration headquarters who on the morning of September 11 found it all a little too much and just walked out of the room? After all, all those guys still work for the U.S. government. By golly, if we're gonna have security breaches at American ports, let's make sure they're all-American security breaches.

More about the Dubai port deal is on this page.

Boston transit police begin passenger ID stops. Although officials would release few details about the initiative, the identity checks will mark the first time local rail and subway passengers will be asked to produce identification and be questioned about their activities.

When sexism claims are a real hoot. You've probably heard of Hooters — the restaurant chain known for attracting male customers by hiring waitresses who are well-endowed and dressed to show it. The firm now employs more than 30,000 people. Some would consider this a success story, but our government didn't. Not because Hooters is using sex to sell — but because its waitresses are — get ready — women! "Discrimination!" cried the EEOC.

NOAA's radio transmitters missing backup power. During the power failure two years ago, the NOAA (National Weather Service) radio station serving NYC was dead.

When date rape is a life sentence: I opened the floodgates recently with a column about Rich Gorman, a former Florida State University student who is serving a five-year prison sentence for a "rape" that involved a 5- to 15-second sex act. He stopped immediately when she said "stop," and asked, "What's wrong?" — not the usual query of a rapist — and then gave his soon-to-be accuser a ride home.

The employee whose office let 9/11 hijackers into the US gets a bonus. The State Department official who was forced to retire because her office allowed most of the September 11 hijackers into the United States has won an "outstanding performance" award of $15,000.

It's now a crime to delete files: International Airport Centers sues former employee, claiming use of a secure file deletion utility violated federal hacking laws.

More information about secure file deletion is on this page.

Court Declares Atheism a Religion. A federal appeals court has sided with a Wisconsin prison inmate who claimed his constitutional rights were violated with officials would not allow him to create a study group for atheists. In its ruling, the Seventh U.S. Circuit Court of Appeals ruled that Wisconsin prison officials were mistaken when they did not recognize atheism as a religion.

U.S. Fish and Wildlife Service hasn't done its job. The U.S. Fish and Wildlife Service has failed to conduct mandatory status reviews for nearly all of the 100 Florida species currently on the federal endangered species list, according to a legal challenge announced [recently] by Pacific Legal Foundation's Atlantic Center.

Mail Sent to Walter Reed Never Delivered. Turns out the trouble at Walter Reed Army Medical Center, the focus of a firestorm of criticism over poor treatment of wounded war veterans, reached into the mailroom. The Army said Friday [6/15/2007] that it has opened an investigation into the recent discovery of 4,500 letters and parcels — some dating to May 2006 — at Walter Reed that were never delivered to soldiers.

Would the FBI Have Heeded "Able Danger"? I really don't think the FBI would have acted on the information. Instead, today, we'd be sweeping under the rug yet more ineptitude by the, unfortunately, "lead agency" in the War on Terror. Let's look at what the FBI has done with other similar information they received before and, even worse, after 9/11.

Secret CIA details found easily on Internet: report. The names of Central Intelligence Agency (CIA) personnel, including covert operatives, internal telephone numbers and locations of two dozen CIA installations can be found through Internet searches, a US newspaper has reported. Through online services that provide public, legally obtained information for a fee, a reporter netted a directory of 2,600 CIA employees and 50 internal phone numbers, according to a Chicago Tribune investigation.

DHS Gets Another F in Computer Security. Most federal agencies that play key roles in the war on terror are doing a dismal job of protecting their computers and information networks from hackers and viruses, according to portions of a report to be released by a key congressional oversight committee Thursday [3/16/2006]. The Department of Homeland Security, which is charged with setting the government's cyber security agenda, earned a grade of F for the third straight year from the House Government Reform Committee.

Homeland Security secretary has stopped using e-mail. If you're like most of us, your e-mail box fills up daily with pure junk. I'm not just talking about spam, though that's certainly a problem. I'm talking about chain letters, stupid jokes forwarded 384 times, news you don't need, even wedding invitations. Homeland Security secretary Michael Chertoff found a solution to his e-mail problem: He no longer uses it.

Ineptitude Has Become a Hallmark of the Port Authority. It is reasonable to ask: How many major blunders and missteps arising from poor judgment and faulty analysis is any one governmental agency entitled to before heads roll and new management and strategies put in place? The recent history of Port Authority projects suggests that the organization is in serious need of an overhaul.

State Department criticized for purchasing Chinese PCs. A State Department purchase of more than 15,000 computers built by the Lenovo Group of China is starting to draw criticism in the latest sign of American unease about the role of foreign companies in the American economy.

The Editor says...
Setting aside the impact on our economy for a moment, what about the security risks of buying computer hardware from a Communist country which is a potential enemy? How does anyone know that the computers are free of built-in timed-release viruses and military-grade spyware?

Visa And A Prayer. A bruised and betrayed Britain vows to kick out foreign Muslim clerics who inspire violence and hatred while blocking entry of radical imams. But America keeps ushering them in — by the hundreds. Are we really that stupid? Yes. Since 9-11, the multiculturalists at the State Department have admitted more than 1,000 religious workers from Muslim nations, including terror hotbeds like Pakistan. In fact, they've granted religious-worker visas to 113 imams from that country alone, immigration records show.

Woman threatened with arrest because of a bumper sticker. A Denver police sergeant is under investigation for allegedly threatening to arrest a woman for displaying on her truck a derogatory bumper sticker about President Bush.

Meter reading without sanity checking: An Illinois woman received a $74,000 water bill for allegedly using ten million gallons of water. Of course it was the result of a faulty meter. A utility bill like this should never have been mailed.

FBI, Please Protect Us from Terrorists and the ACLU. Does the FBI suspect that the ACLU is planning a terrorist attack? If not, why is the FBI wasting time and resources monitoring such groups when it admits it cannot process the information it already has?

Editor's Note: I'm not a big fan of the ACLU, as you can see here. The ACLU is one of the most destructive forces acting upon our traditional American culture, and is especially threatening our freedom of religious expression in public places. The ACLU is a lot of things, but it's not a violent terrorist organization.

An Object Lesson in Incompetence at the Social Security Administration. This is one man's anecdote about a mixup at the Social Security Administration (SSA). The software that the SSA uses to sort mailing addresses when sending out social security cards has a bug which causes correct ZIP codes in some addresses to be replaced with incorrect ZIP codes.

Regulating cornrows: Usually, the established businesses get away with using licensing boards and "safety" regulations to crush competitors. That's unfair. And if the question is who's protecting the public, it seems to me Taalib-Din Uqdah has done much more than the bureaucrats who wanted him to spend 125 hours studying shampooing.

Domestic Violence & Show Trials With Predetermined Outcomes. Introduced in the 1980's with good intentions, these laws have mutated into a system of repression, power and control, manipulated by the domestic violence industry and exploited by vengeful spouses seeking advantage in divorce and child custody.

Lost in translation. The federal Bureau of Prisons is holding 119 persons with "specific ties" to international Islamist terrorist groups, yet has no full-time Arabic translators or a system to monitor their communications, according to Congressional sources and a whistleblower who now fears retaliation from inmates.

False negatives on fingerprints: An accused murderer using an alias had been stopped and fingerprinted three times, but IAFIS (the FBI's Integrated Automated Fingerprint Identification System) didn't match his fingerprints to those on file under his real name.

Are people working under false identities at DOD? How many people using false identities have been employed by the Defense Department? Are some illegal aliens? As of now, the government does not have definitive answers to these questions.

Setting terrorists free: The Department of Homeland Security is releasing drug smugglers and human traffickers, and perhaps even suspected terrorists and violent felons, as a matter of policy — because it doesn't have the resources to keep them in custody.



---

Uncle Sam loses stuff

This subsection has moved to a page of its own, located here.


---

Security Gaffes Cited in Courthouse Spree. The deputy, a 51-year-old woman just 5 feet tall, was simply no match for the inmate she was escorting to the courtroom, a 6-foot-1, 200-pound former college linebacker on trial for rape. Authorities say Brian Nichols overpowered deputy Cynthia Hall, took her gun, and easily gained access to the courtroom, where he went on to kill the judge and a court reporter. Security cameras captured images of him overpowering the deputy, but no one, it turned out, was watching the screens.

Freeze! I just had my nails done! How many people have to die before the country stops humoring feminists? Last week, a defendant in a rape case, Brian Nichols, wrested a gun from a female deputy in an Atlanta courthouse and went on a murderous rampage. Liberals have proffered every possible explanation for this breakdown in security except the giant elephant in the room… The New York Times said the problem was not enough government spending on courthouse security. Yes, it was tax-cuts-for-the-rich that somehow enabled a 200-pound former linebacker to take a gun from a 5-foot-tall grandmother.

Inaugural doomsday? [Recently] it was revealed that the FBI is on the verge of scrapping a $170 million computer overhaul the agency said was critical in the war against terrorism. The computers don't work. The bureau will pay a research firm $2 million to discover what's wrong and see if it can be fixed. Adding ludicrous to stupid, The New York Times reported some veteran agents are resisting the transition to computers because they favor pens and pads.

Update:
Lockheed Martin Picked for FBI Computers. Lockheed Martin Corp. will build a new computer system for the FBI in an effort to put to rest the bureau's multimillion-dollar troubles with technology. The Sentinel system, the replacement for a failed computerized case management project, is expected to cost $425 million and be finished in late 2009, the FBI's chief information officer said Thursday [3/16/2006] at a news conference.

Ohio Man Loses Home and Business After Allowing Employees to Play Golf. William Pierce had no way of knowing he was violating a labor regulation because the DOL had not yet informed employers that flextime was illegal. The Department of Labor sued him in 1989 for willfully violating the Fair Labor Standards Act and ordered him to pay $50,000 in fines.

Don't Pay for an Airline Ticket with Cash. Willie Jones paid cash for a ticket to Houston, where he planned to purchase plants and shrubbery for his business. But by paying in cash, Jones immediately aroused suspicions that he was a drug dealer. Carrying large amounts of cash and being an African-American apparently fits the DEA's profile of such a criminal.

The Diane Klieman Story: Special Agent Diane Klieman thought that working for the Custom Service at JFK Airport was the right way to continue to serve her country. She turned out to be wrong. Almost dead wrong!

Police seize legal gunowner: A gunowners group is protesting the seizure of a legally armed citizen in a bookstore by two police officers who responded to an anonymous caller alarmed by the weapon.

The Kevin Mitnick Case: Kevin Mitnick's sixth Amendment right of a speedy trial was violated. Should this not be taken into account when passing sentence? The amount of $80 million estimated for the supposed damages he caused are also out of hand. At no time did he deprive anyone of their property by removing or damaging it — nor did he use any information he obtained for financial gain — instead pursued knowledge over monetary reward. It is preposterous to punish activities that society normally rewards and encourages.

Hate Tour. How the State Department invites and pays for extremists to visit the US. Inviting members of extremist organizations or individuals that refuse a rational, civilized debate is, frankly, a waste of money. If, moreover, the Americans chosen to meet with the program's foreign participants happen to be hard-line critics of the US, we have a recipe for disaster.

A heartless homeland security screw-up: Do you remember when immigration officials sent out flight school visa approval notices for two of the 9/11 hijackers — six months after they had committed their suicide attacks on America? President Bush proclaimed his outrage, four federal immigration officials were reassigned, and Washington vowed that such embarrassing bureaucratic paperwork snafus would never happen again. I'm sorry to report to you that it has, in fact, happened again.

Release of Home Addresses Angers Concealed-Carry Licensees: A Second Amendment group says the sheriff in Shelby County, Ohio, had no right to release the home addresses of 87 people licensed to carry concealed pistols.

Controlling Pests or Controlling Competition? The Pacific Legal Foundation challenges a California licensing law that would require a 30-year business veteran to become an apprentice.

Justice for little Angelo: It is too bad that only one man will go to jail for this crime. There ought to be room in a cell somewhere for the social workers and their bosses who made this murder possible in the face of blatant evidence about the dangers that an infant could see, even if the responsible adults refused to see.

Is talking about online gambling illegal? According to the U.S. Justice Department, I may have just committed a felony. Federal prosecutors say helping Americans find online casinos or sports betting operations could amount to "aiding and abetting" illegal gambling, a crime punishable by up to two years in prison.

Not Guilty By Reason of Limited English Proficiency: In a terrifying blow to the future of law enforcement and criminal proceedings, Pennsylvania prosecutors were forced to drop drug charges against a man after a Pennsylvania Superior Court declared a search void due to the accused's inability to understand English.

Government Workers: Working Hard or Hardly Working? [In May 2004], the General Accounting Office (GAO) made headlines with its report that scores of high ranking employees from eight federal agencies had degrees from bogus colleges or unaccredited schools.

Unintended Consequences? In August, 1991, 18 EPA agents burst into the offices of Higman Sand and Gravel with guns drawn. After 53 years in business with a spotless record, the owners found themselves in federal court, accused of illegally storing hazardous waste. The EPA agents had found a small quantity of paint thinner dumped on the property. At trial, it was discovered that the paid informant had done the deed. He stood to gain $24,000 if the owners been convicted, in addition to the $2,000 he had already been paid for the hot tip.

Suit filed after cops confiscate motor home: A California man has filed suit in U.S. district court in Detroit after police from Royal Oak, Mich., confiscated his motor home because it allegedly bore "obscene" pro-life messages.

FDA Takes Tyranny to the Heartland. In this age of almighty government, nearly every blade of grass is regulated, oftentimes heavy-handedly, as Michigan farmer Richard Hebron found out when the Michigan Department of Agriculture (MDA), on Oct. 13, 2006, carried out a highly orchestrated sting operation against him for transporting unpasteurized, unprocessed milk of the highest quality to enthusiastic consumers. That day, his wife also was served a warrant in the dragnet.



---

The George Norris Subsection:

Feds raid orchid-grower's home: George Norris said he believes his troubles may stem from the US Fish and Wildlife Service's use of CARNIVORE, a government system that can tap into computer e-mails. "They showed me page three of a five-page e-mail from several years ago where I was being offered smuggled plants," he said. "They did not show me pages four and five, which were my answer to this fellow, telling him we would not buy any such plants that were undocumented. This was so old that I don't even remember this e-mail."

Editor's Note: In case the link to that article goes nowhere, the full text of the story can be found here.

Orchids… not Osama. The Fish and Wildlife Service can walk into anyone's home at any time and tear it apart without even having to say what it is they are looking for; they spend taxpayer money on wild goose chases like this one, ripping apart lives for the sake of a few orchids that are legally in this country in the first place.

Criminalizing everyone. "You don't need to know. You can't know." That's what Kathy Norris, a 60-year-old grandmother of eight, was told when she tried to ask court officials why, the day before, federal agents had subjected her home to a furious search. The agents who spent half a day ransacking Mrs. Norris' longtime home in Spring, Texas, answered no questions while they emptied file cabinets, pulled books off shelves, rifled through drawers and closets, and threw the contents on the floor. The six agents, wearing SWAT gear and carrying weapons, were with — get this — the U.S. Fish and Wildlife Service.

Norris Orchid Saga continues. I've written extensively here about the drama surrounding George Norris and Manuel Arias Silva's troubles with the law. Both are elderly and in ill health, and from what I can gather from those "in the know", they are not big bad orchid smugglers guilty of stripping the wild of rare orchids species, but victims of a complicated web of petty politics, egos, and treachery.

Sad News About George Norris, the Orchid Man. There are ironies upon ironies in this set of events. The chief among them is that George Norris, as part of the orchid-growing and -trading community, is dedicated to the preservation of orchid species and especially interested in the preservation and propagation of rare and endangered species. The law which he was accused of breaking (provision of the CINES treaty) was ostensibly designed to preserve endangered orchid species, but it has financially ruined a thriving orchid business and orchid-grower, making the fate of orchid species more precarious by culling from the ranks of civil society someone who lived and breathed orchids.

The Unlikely Orchid Smuggler: A Case Study in Overcriminalization. George Norris, an elderly retiree, had turned his orchid hobby into a part-time business run from the greenhouse in back of his home. He would import orchids from abroad — South Africa, Brazil, Peru — and resell them at plant shows and to local enthusiasts. He never made more than a few thousand dollars a year from his orchid business, but it kept him engaged and provided a little extra money — an especially important thing as his wife, Kathy, neared retirement from her job managing a local mediation clinic. Their life would take a turn for the worse on the bright fall morning of October 28, 2003, when federal agents, clad in protective Kevlar and bearing guns, raided his home, seizing his belongings and setting the gears in motion for a federal prosecution and jail time.


---

Jailing the innocent: Every day, many Americans commit crimes of which they are unaware. Many of the crimes with which Americans are charged are absurd.

Report: Overextending the Criminal Law

President Bush's secret service buffoons: [The Secret Service recently] investigated renowned editorial cartoonist Michael Ramirez… because Ramirez drew a provocative cartoon that was clearly intended to defend the president.

Silencing Student Speech — And Even Artwork — in the Post-Columbine Era: The relevant supreme court cases, and how they have been misapplied.

Judge kills death sentence because jurors read the Bible. Although Robert Harlan was convicted of kidnapping, raping and murdering a 25-year-old woman and shooting another woman passer-by who tried to help, leaving her paralyzed, a Colorado judge overturned his death sentence because some jurors had read the Bible during their deliberations.

Why the Fourth Amendment is Right and Bush and Ashcroft are Wrong: Various news stories in recent years document the fact that police have on numerous occasions battered down doors, entered the wrong houses and even killed innocent people. These no-knock raids illustrate very clearly just how little protection Americans have against being subjected to unreasonable searches and seizures of their persons and property.

Shrink-Wrapping Our Rights: Laws relating to computers, software, and the Internet are being proposed and passed at such a breathless rate that even those of us trying to follow them are having trouble keeping up. Unfortunately, some bad laws, such as the Uniform Computer Information Transactions Act (UCITA), are likely to encourage other bad laws, such as proposals to increase surveillance of the Internet.

Everyone is checked for guns — except known terrorists! Database used on law-abiding Americans while al-Qaida and other enemies get a free ride. Even the names of suspected al-Qaida cell members in the U.S. would not show up in a background check by a gun store.

Did You Hear the One About the Armed Robber Who… A pro-Second Amendment group says the Ninth Circuit Court of Appeals has "lost its marbles," after throwing out the conviction of an armed robber who didn't mean to show his loaded gun to a bank teller.

Call A Cop, Go To Jail. There seems to be a law against holding cash. Robert R. Reiner had $350,000 of his father's money that he wished to deposit in the bank. He asked the police to help provide security. They called the feds and the feds took the money — presumably on the principle of guilty until proven innocent.

Upload a File, Go to Prison. Two congressmen introduce a bill to criminalize the uploading of copyright works to peer-to-peer networks. The penalty: five years in prison and $250,000 in fines. Critics say the law goes too far.

DigitalConsumer.org Have you ever made a tape of your favorite songs to enjoy in your car stereo? Have you ever bought a CD and ripped it to your portable MP3 player? If so, you should know that recent changes to copyright law have been used to take away your personal use rights to the media you legally acquire. That means that activities like making mixes or copying music to a portable player are quickly being restricted or prevented.

Shift-Key Case Rouses DMCA Foes. Critics say it's the absurdity of the unforeseen consequences of the Digital Millennium Copyright Act that necessitates a change in the law. The DMCA goes too far and sends a chilling effect through the academic community, they say.

Everyone a criminal: Today, Americans draw prison sentences for unknowingly violating vague regulations, the meanings of which are interpreted by the regulatory police who enforce the regulations.

The U.S. police state: Attorney Russ Stein details his arrest for "idling." You have to read it to believe it.

Detroit's voter rolls in question: Despite having died eight years ago, Kathe Beddow still retains one mortal privilege: The right to vote. The city Elections Department in July sent Beddow a voter registration card, even though she hasn't voted in more than a decade.

Arrested for catching a mouse? A California law requires a trapping license in order to kill mice. The Animal Protection Institute of Sacramento pushed the bill, which mandates anyone who takes furbearing mammals or non-game animals must purchase a trapping license by passing a complex test and paying a fee of $78.50, the San Francisco Chronicle reported.

The crime of distributed computing: Misapplication of Georgia's anti-hacking laws puts an honest technician in hot water.

This ties in nicely with the Draconian Punishment of the Month: In the 7th century B.C., an Athenian named Draco established a code of laws which, rather than promoting stability and equality as expected, became known for their terrible severity. Even 2600 years later, we use the word Draconian [for cases like the ones on this page.]

Illinois Home Schoolers Told to Resist Demands of Area Superintendent: The Home School Legal Defense Association is urging home-schooling families in northeastern Illinois to ignore demands that they attend a pre-trial hearing to prove they are in compliance with the law.

Senate Asked to Probe FBI Case. According to congressional sources, the two prominent senators have written to Sen. Orrin Hatch, R-Utah, chairman of the Judiciary Committee, asking for hearings on the growing crisis of espionage failures at the FBI.

The confederacy of dunces: FBI orders the wrong man arrested at airport; he was held for three weeks.

Air Force radio frequency jams garage door openers. A secretive Air Force facility in Colorado Springs tested a radio frequency this past week that it would use to communicate with first responders in the event of a homeland security threat. But the frequency also controls an estimated 50 million garage door openers, and hundreds of residents in the area found that theirs had suddenly stopped working.

[Of all the wide-open frequencies in the radio spectrum, the Air Force just had to have this frequency that is being used by 50 million devices? We're supposed to assume the interference is justified, because after all, it's for "homeland security", which has become the government's new trump card.]

First Responders: Historically, police departments, fire departments and EMTs have all had their own independent communications equipment, so when there's a disaster that involves them all, they can't communicate with each other. A 1996 government report said this about the *first* World Trade Center bombing in 1993: "Rescuing victims of the World Trade Center bombing, who were caught between floors, was hindered when police officers could not communicate with firefighters on the very next floor."

Property Rights In Radio Communication: The FCC has been unable to keep up with the pace of change in radio communication since the end of World War II. It took the FCC nearly 10 years to finalize allocation and assignment criteria for television. For four of those years, it had to impose a "freeze" on the licensing of stations. It was almost 30 years before the FCC was able to change those specifications with the Low Power TV proposal. It took the FCC three years to settle a dispute between FM radio and VHF television over the same frequencies, and it took 10 years to reallocate some frequencies from UHF television to mobile radio. Access to channels is thus constricted by a bureaucracy which frequently needs 10 years to make a major decision, and the result is a backlog of applicants that can only be described as chaotic.

EPA Seeks Faith-Based Grants For Green Causes: The director of an Environmental Protection Agency energy program told a meeting of environmentalists Thursday [12/19/2002] that the White House's faith-based initiative should include federal grants for religious groups that advocate green causes.

Blacks and Guns: Unfortunately, the way police crack down on crime — by cracking down on all kinds of minor infractions, looking for excuses to search people, being suspicious of everyone who looks suspicious — is a great irritant to the law-abiding citizens.

Persnickety police prompt panic in Pasadena: Woman gets the run-around while threatened on the freeway by an armed man... who eventually got away.

Feds decline private assistance - again! Rick Stanley, the Libertarian candidate for U.S. Senate, was characteristically blunt. "Two years ago, when the fire started at Mesa Verde National Park, local volunteers showed up with bulldozers and water trucks. They could have put the fire out in a matter of hours. But the National Park Service was unwilling to accept private assistance. Twenty-four-thousand acres of beautiful forest land was incinerated before that fire burned itself out."

Forest Service ignores offers of Russian help: The Associated Press reported that then-District IX FEMA director Buddy Young went to the [Los Alamos] fire and publicly announced, "You will not bring the Russian planes in here: We're not having any Russians coming here and fighting our fires."

FBI Looking Into Los Alamos Breach. The FBI has conducted two interviews and may schedule a third with the woman who walked out carrying classified documents from what's supposed to be one of the most secure facilities in the world, the Los Alamos National Laboratory, CBS News has learned. The incident has exposed continuing security weaknesses at Los Alamos, which has been the focus of security and management scandals for seven years.

The forest service smokescreen: Last summer, four young firefighters died at the Thirtymile Fire in Washington state's Okanogan National Forest... because of the Forest Service's gross incompetence. And not a single person has been held publicly accountable for the fatal failures.

Disputed Air ID Law May Not Exist: A recent lawsuit filed by Electronic Frontier Foundation founder John Gilmore against U.S. Attorney General John Ashcroft, United Airlines and several others challenges the requirement that airline flyers present government-issued identification in order to travel within the United States. The suit claims unpublished federal regulations have created an "internal passport" for Americans in violation of the U.S. Constitution. As it turns out, there may be no such law on the books.

Parents of 2-year-old 'streaker' taken to court: Court claims 4th Amendment doesn't apply to social workers. Because a 2-year-old, acting in typical toddler fashion, ran out of the house naked chasing a cat, a social worker demanded entry into the North Carolina child's home to interview all children in the household, ultimately landing the parents in court.

Tommy Thompson's Reign Of Terror: The government claims a crisis of unpaid child support. Leading scholars have declared these claims to be everything from a "myth" to a "hoax." Yet some in the Bush administration seem determined to continue the failed policies of the Clinton years. Health & Human Services Secretary Tommy Thompson recently announced mass arrests of parents he says have disobeyed government orders.

Radiation Levels at the Capitol are 65 Times EPA Standards for that Facility: Vice President Dick Cheney just announced that nuclear power should be part of our national energy strategy. But a little-noticed 11th-hour regulatory action by the Clinton administration may block the way. (Thanks a lot, Bill.)

Man Imprisoned 30 Years for Crime FBI Knew He Didn't Commit: Representatives on the House Government Reform Committee showed a rare display of emotion on Thursday [5/3/2001], as they heard the story of a man who spent 30 years in prison for a crime the FBI knew he did not commit.

FBI and Anthrax: Another TWA 800 in the Making? In the fruitless attempt to locate the perpetrators of the anthrax attacks that took place in the U.S. after the Sept. 11 hijackings, the FBI is once again ignoring evidence that conflicts with its predetermined and wrongheaded theory of who was behind this biowarfare.



---

The Steven Hatfill Subsection

Who Carried Out the Anthrax Attacks? Calling it a "Cold Case," the report noted that after five years, 53,000 leads, and 6,000 subpoenas, the FBI still has no arrests. [Jim] Stewart asked, "So who did it? Former Attorney General John Ashcroft once singled out Dr. Steven Hatfill, a bioweapons specialist, as a 'person of interest.' But there have been no charges." That statement shortchanges the facts surrounding the government's wrongful pursuit of Hatfill and its destruction of his life and career. In fact, Hatfill has sued the government for invasion of privacy, and he has sued the media, including the New York Times, for defamation.

The Crucifixion of Steven Hatfill: Almost oblivious of the fact that they are in effect charging Dr. Hatfill with wantonly murdering five innocent fellow Americans, the media have swarmed around him like angry bees, dredging up incidents in his distant past to justify their continuing attacks.

Ashcroft May Target Hatfill With RFK Tactics: In an attempt to justify the harassment of Dr. Steven Hatfill, the Department of Justice may resort to tactics used by Robert Kennedy against the Mafia, Hatfill's friend and spokesman Pat Clawson told NewsMax.com.

UPI Exclusive: FBI is tracking Hatfill: Fifteen months after a series of anthrax-laced letters killed five Americans, the FBI again intensified its acknowledged interest in bio-war expert Stephen Hatfill, conducting a search of a Maryland state park and openly tracking him around Washington streets, despite emerging concern over their methods.

Another Richard Jewell? A lawyer has said that if Steven Hatfill is guilty in the anthrax attacks, he must be the dumbest criminal going.

Rogue Elephant: Ask Dr. Steven Hatfill if he thinks this is a new and improved FBI. Spurred on by a university research professor and a New York Times columnist, the FBI has turned Hatfill's life inside out.

A person of interest: Is a vote for a Republican a vote for a police state? Those who saw Dr. Steven Hatfill's Fox News press conference on Sunday, Aug. 25, must be asking themselves this question. Once again, the FBI and Department of Justice (so-called) are displaying what former Scripps Howard News Service editor Dan Thomasson calls "a callous disregard for a citizen's rights."

Judge dismisses anthrax libel case. A federal judge on Friday dismissed a libel lawsuit filed against The New York Times by a former Army scientist once identified as a person of interest in the 2001 anthrax attacks. U.S. District Judge Claude Hilton in Alexandria dismissed the case a week after lawyers for the Times argued that Steven Hatfill should be considered a public figure under libel law, which makes it much more difficult for a public figure to win a judgment than a private citizen.

Silence = Danger: A judge orders journalists to name their confidential sources. The order arises in a civil suit filed by Steven Hatfill, the bioterrorism expert whom federal investigators suspected was behind the 2001 anthrax mailings. A former federal employee, Hatfill claims that the Justice Department and the FBI, by leaking to the press information about their suspicions of him, violated his rights under the federal Privacy Act.

The News Media Vs. the Innocent. Years ago, Ray Donovan, Ronald Reagan's Labor Secretary, was prosecuted for corruption, only to be acquitted. After the verdict, Donovan asked plaintively, "Which office do I go to to get my reputation back?" Steven Hatfill knows where to go to get his reputation back. But upon arriving there, he finds the door blocked by someone who says her privileges are more important than his good name. That someone, of course, is a journalist. And, not surprisingly, she enjoys the broad support of other journalists, who have proved to be slow learners about the obligations they share with their fellow citizens.

$5.8 million for scientist in anthrax lawsuit. The Justice Department has agreed to pay $5.8 million to settle a lawsuit with former Army scientist Steven Hatfill, who was named as a person of interest in the 2001 anthrax attacks. Hatfill claimed the Justice Department violated his privacy rights by speaking with reporters about the case. Settlement documents were filed in federal court Friday [6/27/2008].

How the FBI Botched the Anthrax Case: The anthrax investigation, almost from the beginning, was hampered by top-heavy leadership from high ranking, but inexperienced FBI officials, which led to a close-minded focus on just one suspect and amateurish investigative techniques that robbed agents in the field the ability operate successfully.

The Anthrax Fiasco: Throughout one of the largest investigations in law-enforcement history, agents were fixated on a "lone wolf" theory that Director Robert Mueller's FBI, for all intents and purposes, now admits was wrong. Helped along by a sympathetic press corps, the obsession with a domestic perpetrator has ended up in a dead end. … The FBI's mad scientist theory also fit the agenda of the political left, which didn't want the trail of evidence to prove state-sponsorship of terror — particularly by Iraq.

Steven Hatfill Vs. The Media: If the left wants an example of the Bush Administration's incompetence in the war on terror, they've got it in the case of former government scientist Dr. Steven Hatfill, who was falsely accused of the anthrax murders. The U.S. Government "has determined that settlement is in the best interests of the United States and has agreed to pay Dr. Hatfill and his attorneys $2.825 million dollars and purchase for Dr. Hatfill an annual annuity of $150,000," the Department of Justice said in a statement released on Friday, June 27. But there was no apology for ruining an innocent person's life and career.

Update:
NY Times Wins in Libel Suit Brought By Former Anthrax Suspect. A federal appeals court is handing a legal victory to the New York Times by upholding a lower court's ruling tossing out a former Army scientist's claim that he was libeled by the newspaper in columns which linked him to the deadly anthrax attacks in 2001. The 4th Circuit Court of Appeals, based in Richmond, Va., ruled that the scientist, Stephen Hatfill, was a public figure in the national debate over bioterrorism preparedness.

Apparent suicide in anthrax case. Bruce E. Ivins, a scientist who helped the FBI investigate the 2001 mail attacks, was about to face charges. … Ivins died Tuesday [7/29/2008] at Frederick Memorial Hospital after ingesting a massive dose of prescription Tylenol mixed with codeine, said a friend and colleague, who declined to be identified out of concern that he would be harassed by the FBI.

The anthrax case and the suicide. There still have been no media mea culpas in the public lynching of Steven Hatfill. There is still no resolution on the anthrax attacks — resolution the public deserves to have and the victims' families needs to know.

After Suicide, Feds Consider Closing Anthrax Case. The chief suspect in the anthrax attacks now dead, the Justice Department is expected to decide within days whether to close what had been one of its most high-profile unsolved cases. Five people died and 17 others were sickened when anthrax-laced letters began showing up at congressional offices, newsrooms and post offices soon after Sept. 11, 2001.

FBI used aggressive tactics in anthrax probe. Before killing himself last week, Army scientist Bruce Ivins told friends that government agents had stalked him and his family for months, offered his son $2.5 million to rat him out and tried to turn his hospitalized daughter against him with photographs of dead anthrax victims.

Bruce Ivins Wasn't the Anthrax Culprit. Despite the seemingly powerful narrative that Ivins committed suicide because investigators were closing in, this is still far from a shut case. The FBI needs to explain why it zeroed in on Ivins, how he could have made the anthrax mailed to lawmakers and the media, and how he (or anyone else) could have pulled off the attacks, acting alone. I believe this is another mistake in the investigation.

Bad 'News'. This may mark the end of the anthrax story but the reckless destruction of people's reputations and the disrupting and blighting of their lives in the media is continuing on. There is much to be said for the British practice of limiting what can be reported in the media about someone on trial until after that trial is over. Once a charge has been made and publicized from coast to coast — if not internationally — later exoneration will never get the same publicity, so the damage cannot be undone.

The Anthrax Truth Movement: On Wednesday [8/7/2008], the FBI released a raft of documents to buttress its case against Bruce Ivins, whom the government says bears "sole responsibility" for the 2001 anthrax attacks. … The FBI's cartload of paper is unlikely to settle the case. Like 9/11 and the Kennedy assassination, the anthrax attack bears the hallmarks of a tragedy destined to spawn innumerable alternative theories.

Prosecutors Clear Hatfill in Anthrax Case. Federal prosecutors yesterday [8/8/2008] officially "excluded" scientist Steven J. Hatfill from involvement in the deadly 2001 anthrax mailings, formally closing the door on a costly episode that sidetracked the FBI's search for the real culprit for nearly five years.

U.S. settles with anthrax mailings subject Steven Hatfill for $5.82 million. The former Army scientist who was the prime suspect in the deadly 2001 anthrax mailings agreed Friday [8/8/2008] to take $5.82 million from the government to settle his claim that the Justice Department and the FBI invaded his privacy and ruined his career.

What If the FBI Is Right About Bruce Ivins? One of the most frequent questions asked [about bioterrorism] is, "If the Unabomber had been a biologist instead of a mathematician, could he have produced a sophisticated bioweapon?" The answer has always been "No: That would require a team of individuals." However, if the FBI is right about Ivins, such a lone individual can produce such a weapon.

The Anthrax Attacks Remain Unsolved. The FBI's six-year investigation was the largest inquest in its history, involving 9,000 interviews, 6,000 subpoenas, and the examination of tens of thousands of photocopiers, typewriters, computers and mailboxes. Yet it failed to find a shred of evidence that identified the anthrax killer — or even a witness to the mailings.

FBI and Media Corruption in Anthrax Case. The FBI has officially "closed" the case and conveniently blames a dead man, who committed suicide under FBI pressure, for the anthrax murders. The FBI blames "the late Dr. Bruce Ivins" and claims that he "acted alone in planning and executing these attacks." But the "evidence" is unconvincing and the case should still be considered unsolved.

Who Was the Real Anthrax Mailer? There's a gaping hole in the FBI's argument that U.S. Government scientist Bruce Ivins was the anthrax mailer. In addition to the 100 scientists with access to virulent anthrax from Ivins's flask whom the FBI claims to have ruled out, one unauthorized individual had a special kind of access — the kind you get when you steal something.

Obama Obstructs Oversight of FBI in Anthrax Case. Despite bipartisan congressional support for examining the FBI's gross mishandling of the post-9/11 anthrax attacks, President Barack Obama is telling Congress that he doesn't want the agency to be scrutinized and held accountable.

The Wrong Man. In the fall of 2001, a nation reeling from the horror of 9/11 was rocked by a series of deadly anthrax attacks. As the pressure to find a culprit mounted, the FBI, abetted by the media, found one. The wrong one. This is the story of how federal authorities blew the biggest anti-terror investigation of the past decade — and nearly destroyed an innocent man.


---

Nobody went more overboard in preparation for Y2K than the FBI.
The FBI and the mad bombers. (Posted on December 9, 1999.) The FBI is warning us, through its Project Megiddo report, that right-wing Christians are dangerous terrorists prone to incite violence in the weeks ahead.

Death by the FDA: Is the FDA out to deliberately kill Americans? No, but the end result is the same.

Culture Problems at Justice: A 76-year-old disabled man was evicted because his caretaker brought cocaine into the apartment. In another case, an elderly woman was evicted because her mentally disabled daughter, who lived with her, was found in possession of cocaine in a location blocks away from the apartment. These extraordinary injustices are tallied as victories in the war on crime.

Whatever Happened to Equal Protection? Prosecutorial abuse has reached new heights in Idaho. A white husband is being prosecuted for committing a hate crime for coming to the aid of his wife, who was assaulted by a black man.

Honest and hard-working need not apply: I have been struck by the stark differences between how the U.S. government postures itself toward an ever-growing number of citizens who insist that agencies be tolerant, friendly, honest, fair and generous to the population versus the manner in which so many federal agencies treat their own employees, which is very bad.

Back to Abuse of Power
Back to the Home page