Property Seizures:


This is an original compilation, Copyright © 2023 by Andrew K. Dart

FBI sued after allegedly losing hundreds of thousands in rare coins during raid. Two Americans are alleging the FBI lost or stole their property after seizing it through a "shady" process. "All we know is that their property was in a box and safe before the FBI broke into the box," Joe Gay, an attorney with the nonprofit law firm Institute for Justice, told Fox News. "Once the FBI broke into the box, we honestly don't know exactly what happened." "We don't know if they lost it. We don't know if somebody pocketed it and walked away," he continued. "We have no way to know." The Institute for Justice filed two lawsuits Friday on behalf of clients who had property seized from their safety deposit boxes in a March 2021 FBI raid on U.S. Private Vaults, a Beverly Hills-based company. After prevailing in court, and the FBI agreeing to return their property, both Don Mellein and Jeni Pearsons discovered some of their property was missing and suspect the FBI's haphazard raid or sticky fingers are to blame.
FBI Accused of Stealing or Losing Seized Property, Including Cash and Gold Coins Worth Hundreds of Thousands of Dollars. Civil asset forfeiture. It's one of the few topics that bring together both sides. Two Americans have accused the FBI of stealing or losing their property, including gold coins worth hundreds of thousands of dollars. No one even knows exactly what happened.
FBI Sued for What Elderly Man Says Happened to His Coin Collection: Report. A Beverly Hills man has sued the FBI to get his property back after the agency allegedly took hundreds of thousands of dollars worth of gold coins he had stored in a safety deposit box, items he was told they would never return even though he was never charged with any crimes. The man's attorney told Fox News that the FBI had raided a California-based safety storage company on suspicion of laundering money for drug dealers, but while in the pursuit of those charges, the bureau also raided the company's suite of safety deposit boxes, broke into all of them, and confiscated every customer's property whether they ended up connected to any drug dealers or not. Worse, these folks were told that the "law enforcement" agency had no intentions of ever giving back their valuables and cited "civil asset forfeiture" rules as their excuse to keep $86 million in cash and other valuables.
The FBI Took Her Life Savings But Won't Say What She Did Wrong. The FBI seized Linda Martin's $40,200. It didn't charge her with a crime, and the notice the FBI sent her did not say why it was trying to keep her money forever. Yet Linda's savings have been in the government's hands for nearly two years. What started as a simple decision to save for a home has now become a nationwide class action lawsuit. Linda Martin lives in the expensive Los Angeles real-estate market. When Linda began to save for a down payment, she wanted to rent a safe deposit box because, in Linda's own words, she is "a shopper." Linda knew that if she could use her ATM card to spend that money, there would be a chance she would use it on something she wanted but didn't really need. So she decided to put the cash in cold storage.
Sixth Circuit Rules Owners of Cars Taken by Asset Forfeiture Have Constitutional Right to a Hearing Within Two Weeks of Seizure. In many states, asset forfeiture laws allow law enforcement agencies to seize valuable property based on mere suspicion that it was used in a crime, and then keep it even if the owner was never convicted of any crime. On top of that, some force owners to wait many months before they even have a chance to challenge the forfeiture in a hearing. Yesterday, in Ingram v. Wayne County, the US Court of Appeals for the Sixth Circuit issued a decision holding that the Due Process Clause of the Fourteenth Amendment requires the government to give owners a hearing within two weeks, in at least some cases where their cars seized through asset forfeiture. The ruling also features a compelling concurring opinion by Judge Amul Thapar, a prominent conservative jurist often considered a potential future Supreme Court nominee.
Civil Forfeiture: How the Government Makes Billions by Taking Americans' Private Property. Police officers raided Cristal Starling's New York apartment when they suspected her then-boyfriend of dealing drugs, in October 2020. And while Ms. Starling was never suspected or charged with any wrongdoing, police seized $8,040 of her hard-earned cash. But because law enforcement seized Ms. Starling's money through a process called civil forfeiture, they were under no obligation to return it. And they didn't. Instead, they transferred it to the Drug Enforcement Administration (DEA). It's still there. Meanwhile, Ms. Starling's ex-boyfriend was acquitted after a jury trial. "Criminal forfeiture happens after a criminal conviction," Kirby Thomas West, an Institute for Justice (IJ) attorney, told The Epoch Times. "Civil forfeiture, on the other hand, happens often when there's no criminal process at all."
Taxes Aren't The Only Form Of Legalized Government Takings. Over the last 20 years, this racketeering scheme, which is often called "civil asset forfeiture," has netted over $68 billion for local and federal governments. In fact, over a 20-year period, the U.S. Department of Homeland Security has seized (and kept) more than $203 million in cash from travelers at O'Hare International Airport and, in most cases, no charges were ever filed. In the United States, the government can raid citizens' homes and keep property even though the citizen has never been convicted of a crime! Welcome to the murky world of civil asset forfeiture, where the government needs only a preponderance of evidence to seize your belongings, including cash. This is because the proceedings are civil, not criminal, and the higher standard (beyond a reasonable doubt) does not apply. Criminal asset forfeiture kicks in only when someone has been found guilty beyond a reasonable doubt for a crime from which they profited directly. Even if an alleged criminal is found not guilty in a criminal trial, is it possible for the government to keep that individual's property? The answer to that question is a frightening yes.
SCOTUS OKs IRS Slithering Into Accounts & Taking $$$. The U.S. Supreme Court unanimously okays the IRS plodding through taxpayers' bank records in secret, warrantless fishing expeditions. The IRS can also collect unpaid taxes from family members and associates without legal ties to those accounts. And now we will have 80,000 more IRS agents to do it. Forget about getting your money back. When the government does its asset forfeitures, even the innocent often can't get their money and other assets back. The Court noted that "the authority vested in tax collectors may be abused, as all power is subject to abuse" and that "Congress has given the IRS considerable power," the Supreme Court's 9-0 ruling in Polselli v. IRS declined to restrict the IRS's authority.
South Dakota Farmers Face Carbon-capture Land Theft. Farmers in South Dakota are facing egregious intimidation tactics by a private company that wants to use eminent domain to confiscate valuable farmland for carbon-capture pipelines. Summit Carbon Solutions requested a restraining order against Brown County farmer Jerad Bossly. The company claims he threatened the lives of its representatives who showed up unannounced to survey his property, a farm that has been in his family for four generations. He told The New American that when they arrived, he was about 12 miles away, working in a field. His wife was home, recovering from gallbladder surgery, and was taking a shower when the Summit surveyors knocked at her door. They entered the house, but finding no one there, they proceeded to an outbuilding where one of them walked in.
The Editor says...
"Carbon capture pipelines" are one of the dumbest ideas ever proposed. First of all, it's carbon dioxide they're after, not carbon. Second, there's no real reason to remove carbon dioxide from the air, because that's what trees and grass do. CO2 is not a pollutant. Third, nobody will never be able to remove CO2 from the air as fast as China and India are putting it into the air. But most of all, if CO2 must be extracted from the atmosphere, that can be done anywhere in the world. If CO2 must be sequestered, extract it from the air at the same place it is to be stored. No CO2 pipelines are necessary.
Minnesota County Had No Right to Confiscate Elderly Woman's Home Equity, Supreme Court Rules. The Supreme Court has ruled in favor of the plaintiff in Tyler v. Hennepin County, finding that county officials violated the Takings Clause of the Fifth Amendment by seizing not only back taxes owed by an elderly home owner but also the equity she had accumulated in her condo. The case centers around Geraldine Tyler, a 94-year-old woman, whose $40,000 home was seized by Hennepin County, Minn., due to $15,000 in unpaid taxes and fees. However, after the sale of the property, local officials kept the surplus $25,000 profit instead of returning the funds to Tyler. "A taxpayer who loses her $40,000 house to the State to fulfill a $15,000 tax debt has made a far greater contribution to the public fisc than she owed," Chief Justice John Roberts wrote in a majority opinion published on Thursday. "The taxpayer must render unto Caesar what is Caesar's, but no more."
The Usual Suspects in Tyler v. Hennepin County. "Home equity theft" is a term sometimes applied to a practice currently permitted in a handful of states whereby a property owner who owes unpaid property taxes can, under certain circumstances, be subject to a foreclosure process that ultimately deprives him or her of the entire property interest, including any equity in excess of the amount owed. This lost equity can be substantial, and home equity theft has been criticized as both an improper windfall for government and a serious injustice to the former property owner. Tyler v. Hennepin County arose from such a foreclosure.
The government seized this 94-year-old woman's condo, sold it for $40k, and didn't give her a penny. Here's your daily reminder that you don't actually own property if the government can seize it for not paying property tax: [Tweet] [...] Whatever reason Mrs. Tyler had for not paying the tax bills, the county should have compensated her for the sale of the condo. The only money to which they could reasonably lay claim from the sale was the full amount of unpaid taxes and fees, not the value of the property itself.
Deciphering the Government's Invisible Ink. Civil asset forfeiture laws allow law enforcement and other agencies to seize your personal property and retain it indefinitely. They just have to have reason to believe it was involved in the commission of a crime, even if the person was acquitted or never charged. If you have heard of this process, the seizure of assets from drug lords or such probably comes to mind; sadly though, it's been used too many times on innocent people who can't afford to fight back! And here's the kicker... the federal government receives up to 80% of whatever the state seizes. A friend I knew lost an airplane he used to transport Freon across the southern border. He loaned the aircraft to a friend, and although there was no criminal action, the plane was confiscated because R-22 Freon is regulatorily banned here in the States. Our voluminous laws allow all kinds of takings.
'Outrageous': Confiscation of $40,000 in life savings finally decided. A federal case against the nearly $40,000 a trucker was carrying to buy a new rig for his company, but was confiscated by the government, has been dismissed. WND reported only a few weeks ago that the money, actually $39,500, had been returned to business owner Jerry Johnson. But the case was continuing over issues of interest and lawyers' fees, and now the Institute for Justice says those have been resolved and the case has been dismissed. The cash was confiscated when Johnson was at the Phoenix, Arizona, airport in 2020. There was no reason for the confiscation, except that he was carrying money, the IJ said.
Seize property to build wind and solar farms, says JP Morgan chief. The chief executive of JP Morgan has suggested that governments should seize private land to build wind and solar farms in order to meet net zero targets. Jamie Dimon, the longstanding boss of the Wall Street titan who donates to the Democratic Party, said green energy projects must be fast-tracked as the window for averting the most costly impacts of global climate change is closing. In his annual shareholder letter, Mr Dimon said: "Permitting reforms are desperately needed to allow investment to be done in any kind of timely way. "We may even need to evoke eminent domain — we simply are not getting the adequate investments fast enough for grid, solar, wind and pipeline initiatives."
The Editor says...
There is no rapidly-closing window. Global warming, at the rate of one degree per century, is not a cause for alarm, and even if new laws could stop the weather from changing — which is impossible — land seizures for new solar panels and windmills wouldn't be justifiable, nor would they be of any benefit in the long run.
The FBI took her life savings. Now she's fighting to help others get theirs back. Linda Martin thought she was being responsible by putting her nest egg in a safe deposit box where she wouldn't be tempted to touch it. She never imagined the FBI would seize her life savings. "They didn't tell us why they took our money. They haven't told us anything as far as what we did wrong," Martin, 58, told Fox News. "We haven't done anything wrong. We work and we saved our money because we were trying to save and buy a house." Two years later, Martin still doesn't know why her money was taken or if she'll ever get it back.
Fight escalates over car confiscated from innocent man by county. It was about three years ago that Detroit resident Robert Reeves inadvertently got on the wrong side of law enforcement officials in Wayne County. And a lawsuit has just now been filed seeking a court decision that would punish officials who have waged their campaign against him. It got started, according to a report from the Institute for Justice, when Reeves, an auto mechanic and construction worker, in 2019 visited a job site where there were pieces of construction equipment that allegedly had been stolen from Home Depot. He arrived in his 1991 Chevrolet Camaro, but police, disregarding his statements that he knew nothing about any thefts, and ignoring that there was no evidence against him, seized his car.
Judge tosses lawsuit against FBI after bureau 'stole' millions in jewelry, cash from 1,400 safe deposit boxes. Once again, the deep state is guilty of protecting its own at the expense of ordinary Americans. Last month, a federal judge in California tossed out a lawsuit alleging that the FBI literally stole millions in cash, jewelry, and other valuables out of some 1,400 safe deposit boxes after raiding a private company believed to be involved in money laundering for criminals. "A lawsuit filed in August alleged the FBI and the US attorney's office in Los Angeles obtained warrants against US Private Vaults in Beverly Hills, California, by concealing critical details from the judge who approved them," Business Insider reported in early October. "In his ruling, District Court Judge R. Gary Klausner found no impropriety in the way the government got or executed the warrants for the raid. He dismissed the class-action suit filed on behalf of the people whose boxes had been seized." Klausner, a George W. Bush appointee, acknowledged in his ruling that the vault company was shut down after the 2021 raid, and its owners have since pleaded guilty to a conspiracy to launder drug money.
Judge dashes city's hopes that its car confiscation scheme will escape review. A federal judge has dashed hopes by officials in Wilmington, Delaware, that their scheme to confiscate vehicles will escape review. [...] In 2021, two victims of Wilmington's tow-and-impound racket, Ameera Shaheed and Earl Dickerson, filed a lawsuit seeking to bring an end to Wilmington's unconstitutional impound system. "This is a great decision, and we can't wait to get the city and the towing companies under oath at deposition," said IJ Attorney Will Aronin. "Wilmington empowered these companies to keep and scrap thousands of cars in exchange for running the city's impound program. That's unconstitutional and today's victory brings us one huge step closer to shutting the system down for good." The IJ explained Wilmington "contracts out its municipal impound system to private towing companies and funds the whole system by letting these companies wrongfully take and keep people's cars." The system puts Wilmington people at risk of losing their vehicles to an impound system that profits from scrapping the cars that are taken.
California police stole $17,000 from these sisters. Did you know police steal more from Americans every year than burglars do? Civil asset forfeiture (CAF) is a legal practice so bad and so unethical that most people won't believe it's true until they read up on it. But under this system, police are allowed to take your property if they even just suspect you of a crime (No, not charge you with a crime. No, not convict you for a crime. Suspect). And they basically just get to keep it unless you have the ability (i.e. the funds) to challenge them in court and prove your innocence. It's a total perversion of our Constitution, which is supposed to ensure individuals are innocent until proven guilty and which places the burden of that proof on the accuser (the state).
When it comes to the FBI, the hits just keep coming. The FBI is alleged to have misled a judge to authorize the wrongful seizure of $86 million in cash and valuables from 1,400 safe-deposit boxes in a bank vault in Beverly Hills — and is now refusing to return the money: [...] It turns out that the FBI agents didn't tell the judge that they intended to seize everything from any box with $5,000 or more in cash or goods. The lawsuit is necessary because the FBI now refuses to return the wrongfully seized items. If this reminds you of the lies told to spy on Carter Page, giving it access to Trump's own communications, it should. The agency has gone totally rogue.
Is the FBI descending into a smash-and-grab gang? The FBI has been under an unfavorable spotlight over its politicized activity under color of law enforcement — from colluding with Facebook to draconian raids on political operatives in the party out of power, to excessive force on disfavored activists. But a case out in Los Angeles suggests there's more than just a political ethics problem — there seems to be a straight ethics problem, a downright crime problem, and the shocking thing is that nobody seems afraid of going to jail for it.
The FBI Lied to a Judge So They Could Bust Open Thousands of Safety Deposit Boxes. According to a new report from the LA Times, FBI agents busted into thousands of safety deposit boxes in California. After they rummaged through the private property of innocent people, it turns out they lied to a federal judge to get access to the boxes in the first place. "The privacy invasion was vast when FBI agents drilled and pried their way into 1,400 safe-deposit boxes at the U.S. Private Vaults store in Beverly Hills. They rummaged through personal belongings of a jazz saxophone player, an interior designer, a retired doctor, a flooring contractor, two Century City lawyers and hundreds of others," the LA Times reports. "Agents took photos and videos of pay stubs, password lists, credit cards, a prenuptial agreement, immigration and vaccination records, bank statements, heirlooms and a will, court records show. In one box, agents found cremated human remains."
With the FBI seizing phones and computers, Congress should act. Peter Strzok, one of the major players in the Russia hoax against President Trump, put out a tweet boasting about how many cell phones the FBI has taken from people who support President Trump or question the 2020 election. [...] As Mike Lindell said when his phone was taken, he runs everything through it: his business and his personal life. Heck, even his hearing aids are managed through his phone. Presumably, though, like the other people from whom the FBI has seized their electronics, Lindell can replace phones and computers and, if he's smart, he has backups in his home or on the cloud. What about those people, though, who lack the means instantly to replace a seized computer or telephone? What are they supposed to do when the FBI walks away with it and refuses to return it for days, weeks, months, or years?
The Editor says...
That's the risk you take when you live on crutches: Carrying a cell phone with you everywhere leads to a life lived on crutches. The GPS is a crutch. Your social media feed is a crutch. An internet search engine is a crutch. The telephone itself is a crutch. You only realize it when someone knocks the crutches out from under you.
FBI Lied To Court En Route To Seizing Property Owned By Private Vault Company Customers. There is no doubt civil asset forfeiture perverts law enforcement's incentives. When a government agency can directly profit from seizing people's property, it will do this as often as it can. And when the justice system is skewed against people seeking to have their property returned, it greases the wheels for abuse. In forfeiture cases, the government is allowed to treat seized property as presumptively guilty, placing the burden of proof on people whose property has been seized to prove they acquired it legally. Inverting the burden of proof makes it less likely seizures will be challenged since citizens aren't guaranteed free representation in what is ostensibly a civil case. That means if people can't afford to hire a lawyer (or realize legal fees will exceed the value of the seized property), the government gets to keep everything it stole. The FBI used this leverage to seize everything agents found in private storage boxes owned by customers of US Private Vaults.
FBI affidavit misled a magistrate judge on a search warrant in plot to seize and forfeit contents of safety deposit boxes. In a case with a direct bearing on the search warrant issued on Mar A Lago, the March 22, 2021 FBI raid on a private safe deposit box operator in Beverly Hills, California just got even dodgier, according to court documents released by different federal judge than issued the warrant. You may recall that the FBI raided US Private Vaults in Beverly Hills and seized the contents of boxes of people accused of no crimes. Eric Boehm of Reason reports on the latest revelations that show a pattern of FBI abise of magistrate judges for the purpose of obtaining search warrants that amount to fishing expeditions — a violation of the Fourth Amendment[.]
Kansas Seized $21 Million From People Over the Past Two Years. Most Were Never Convicted of a Crime. Law enforcement in Kansas raked in $21 million through civil asset forfeiture over the past two years, according to a report released this week by the Americans for Prosperity Foundation (AFPF). The report, drawing on a new state database, found that Kansas police seized $21.3 million from people in the state between July 2019 and the end of 2021. Of those cases, less than one-quarter of the owners have been convicted of a crime. Under civil asset forfeiture laws, police can seize property suspected of being connected to criminal activity without charging the owner with a crime. Law enforcement groups say it's a vital tool to disrupt drug trafficking and criminal networks by targeting their illicit revenues. However, civil liberties groups, news outlets, and a broad spectrum of advocacy groups have published numerous reports over the years arguing that asset forfeiture lacks due process protections and often targets everyday people, rather than cartel lords.
Surprising Absolutely No One, Kansas Law Enforcement Can't Accurately Track Forfeitures. Cops love laws when they're using them against people, no matter how esoteric or misunderstood (by cops) the laws are. When laws are applied to them, they're far less concerned about being law-abiding. Kansas implemented a law in July 2019 that required all law enforcement agencies to track and report forfeiture amounts. This hasn't gone well for the dozens of agencies now expected be just a little bit more accountable, as Duane Schrag reports for KCUR.
Kansas law enforcement routinely produces error-filled reports on seized cash and property. A push three years ago for more accountability from Kansas law enforcement agencies that seize cash, cars and contraband — often without filing criminal charges against the owner — has generated a wealth of new information. On examination, however, the numbers often don't add up. A review of nearly 2,000 reports filed so far found widespread inconsistencies in the way seizures are reported. More than half of the law enforcement agencies have failed to report some of their seizures as required and have done so with the blessing of the Kansas Bureau of Investigation, which is charged with gathering and posting the information on a publicly accessible website. "It was the Legislature's intention that we know the value of seizures, no matter at what stage in the process they are, whether they are pending, whether they have concluded," said Rep. John Carmichael, D-Wichita. "The intention was to have that data available so that the Legislature could look at additional legislation to deal with what most of us perceived to be the overuse of civil asset forfeiture."
FBI records on search for fabled gold raise more questions. A scientific analysis commissioned by the FBI shortly before agents went digging for buried treasure suggested that a huge quantity of gold could be below the surface, according to newly released government documents and photos that deepen the mystery of the 2018 excavation in remote western Pennsylvania. The report, by a geophysicist who performed microgravity testing at the site, hinted at an underground object with a mass of up to 9 tons and a density consistent with gold. The FBI used the consultant's work to obtain a warrant to seize the gold — if there was any to be found. The government has long claimed its dig was a bust. But a father-son pair of treasure hunters who spent years hunting for the fabled Civil War-era gold — and who led agents to the woodland site, hoping for a finder's fee — suspect the FBI double-crossed them and made off with a cache that could be worth hundreds of millions of dollars.
After Roe, Here Are Seven More Precedents the Post-Trump Supreme Court Should Smash. [#4] Kelo vs. City of New London: America's government, at all levels, has always had the power to appropriate private property for its own ends. The Fifth Amendment, though, restrains this eminent domain power by requiring that all seizures be compensated (no Zimbabwe stunts allowed), and requiring that any seized land be for "public use." Not "public interest," but rather "public use." But 2005, the Supreme Court's liberal faction gutted this protection. The city of New London, Connecticut decided to seize the homes of Susette Kelo and her neighbors, not to build roads or schools or a dam, but simply to transfer the land to a private developer. Redevelopment, the city claimed, would benefit the public by providing increased tax revenue. Inexcusably, Justice Anthony Kennedy joined with the Court's four liberal justices to uphold New London's land seizure as a valid instance of "public use." In a poetic twist, the planned redevelopment never materialized and Pfizer, the intended beneficiary, instead closed its campus in the city as soon as generous tax breaks expired. The land once occupied by Susette Kelo's home is now a vacant lot, a fitting testament to progressive social engineering visions.
Home Theft. Did you know that in some states, if you miss one tax payment, local politicians will take your home, sell it and keep all the profits? Really. Tawanda Hall was behind on her taxes. She was on a payment plan but had missed $900. She didn't expect Southfield, Michigan, to take her entire house because of that. It was worth $286,000 more than what she owed. "I'm still in shock," says Tawanda Hall in my new video. "They took my whole house, my whole family's livelihood." John Bursch, a lawyer for the county, says while this practice may sound unfair (yes, it sure does), "It's also unfair to force those who pay their taxes to subsidize those who don't."
Boston Police Use Asset Forfeiture Funds to Secretly Purchase Stingray Spy Device. Civil asset forfeiture is a pernicious policy in its own right. It is nothing more than legalized, institutionalized, government-sanctioned theft. Forfeiture laws flip due process on its head and create perverse "policing for profit" incentives. It's bad enough that police can take people's stuff, oftentimes without even charging them with a crime. But the damage done by this insidious policy is magnified when police use asset forfeiture money to fund the ever-growing surveillance state. Such was the case in Boston. In 2019, the Boston Police Department bought a cell-site simulator with a price tag of $627,000. But the BPD didn't have money in its budget for such an expenditure. It paid for the invasive and controversial surveillance tech with asset forfeiture money. Commonly known as "stingrays," cell-site simulators essentially spoof cell phone towers, tricking any device within range into connecting to the stingray instead of the tower, allowing law enforcement to sweep up communications content, as well as locate and track the person in possession of a specific phone or other electronic device.
Hochul's $200M 'shovel-ready' boondoggle would destroy a community. Gov. Kathy Hochul made headlines recently by announcing the FAST NY Shovel-Ready Grant Program, which promises up to $200 million to attract high-tech industry, especially semiconductor manufacturers, to New York by developing potential sites statewide. The release cites the White Pine Commerce Park in Onondaga County, which Hochul visited this year (bringing along Sen. Chuck Schumer and US Deputy Secretary of Commerce Don Graves) to tout efforts to lure a chip-maker there with huge amounts of state and federal money. But Hochul doesn't mention that the White Pine site she wants to offer up to the semiconductor manufacturer is far from "shovel-ready" — in fact, it's already taken. It's taken by Paul and Robin Richer, who live there in a home Paul's dad built himself in the 1950s on rural Burnet Road. And it's taken by their neighbors, many of whom also live in the homes they grew up in as children. County officials plan to use eminent domain to take the homes in this longstanding community, bulldoze them and turn the land over to a private company.
Democrat Congressman Suggests the Redistribution of Trucks. In the wake of the Freedom Convoy in Canada, there's a convoy of American trucks heading to Washington, D.C. in time for next week's State of the Union address. [...] And now, one Democrat congressman has an idea that may or may not be a joke, but it's definitely a way to one-up Justin Trudeau. Rep. Ruben Gallego (D-Ariz.) quote tweeted an article about the American convoy on its way to D.C. by saying, "Perfect time to impound and give the trucks to small trucking companies looking to expand their business." [Tweet] Yes, you read that right. Gallego has suggested — possibly tongue-in-cheek, but who really knows these days — that the feds seize the trucks and redistribute them to other companies.
Ottawa Mayor wants to sell off the Freedom Convoy trucks. Most of the action we've been seeing in Canada as part of Justin Trudeau's almost unbelievable "Emergencies Act" declaration has come from the Prime Minister himself. He's been ordering financial institutions to freeze people's assets and block their transactions (or at least trying to) and allowing the arrest and confinement of people who have committed no acts of violence or property damage. But Trudeau isn't the only one getting in on the emergency power game. As our Redstate colleague Madeline Leesman reported today, the Mayor of Ottawa, Jim Watson, has clearly seen the benefits of exerting some totalitarian power of his own. He plans on confiscating and selling off the trucks that took part in the convoy. But to put a little bit of positive spin on the situation, he's at least consulting with the Parliament before doing it.
Ottawa Mayor Announces Cars Seized During Freedom Protests Should be Sold to Cover Costs Incurred by City. The regime is very upset with the serfs. How dare they challenge Justin's ridiculous COVID orders! [Tweet] Ottawa Mayor Jim Watson told the CBC that the regime has the power to do this now that the Emergency Act was invoked by Prime Minister Trudeau. [Tweet]
Progressives, Thou Shalt Not Steal. When the State seizes what you own, what is taken does not make others rich or even well off. What is seized finds its way into the pockets of the political elite and their supporters. [...] This is precisely what is happening under Biden's policies. Workers are staying home, even with 10 million job openings; productivity is falling; and shortages are appearing. Supply chain shortages have given rise to hoarding on the part of fearful consumers, and hoarding causes further shortages. And at the heart of the supply-chain crisis lies government support for those who refuse to work. Once the State has no compunction about stealing on a massive scale, why would it hesitate to take life as well?
'David Burge' Goes Ballistic Over Civil Asset Forfeiture After Dallas Cops Snatch $100K From Innocent Woman. On Tuesday, CBS Dallas glorified an incident at Dallas Love Field Airport in which a 25-year-old woman traveling with $100,000 in cash had it seized by the cops in what's known as civil asset forfeiture. [...] In short, the network spun an egregious theft from an innocent, uncharged citizen by making it about a 'cute' police K-9. [...] And where does that confiscated money go? It stays right there with the cops, natch, so they can spend it on surplus armored MRAPs and such, a reward for keeping us citizens safe from the danger of people driving around with cash.
"Cash Is Not A Crime": The Raw Tyranny Of Civil Asset Forfeiture. On May 14, 2019, Ameal Woods drove from rural Mississippi to Houston with $42,300 in cash. He was ready to achieve a major goal he and his wife had worked, saved and borrowed for: Purchasing a second semi truck for the fledgling trucking business he operated with his brother, and perhaps a trailer, too. Along Interstate 10 in Texas, however, his entrepreneurial dream turned into a nightmare. It started when Woods was pulled over by a Harris County sheriff's deputy who claimed Woods had been following too closely behind the truck in front of him. The deputy asked Woods if he was carrying drugs or money. Seeking to be cooperative, Woods said he was carrying cash in the trunk and consented to a search of his vehicle. The deputy proceeded to the trunk, took the money, handed Woods a receipt, and sent him on his way without charging him with anything.
The Editor says...
If following a truck too closely was really a crime, every driver in Houston would be guilty.
The Nature of Tyrants. Government is always a blunt instrument and men are not angels so to avoid office holders and bureaucrats from abusing the rights of the people they first had to demonstrate there was a compelling government interest in declaring your backyard a wetland or banning a certain activity. Put another away, it was the duty of the government to make the affirmative argument. Citizens did not have to justify their rights to exercise them. They were assumed. Property is a useful metric in this regard because it is simple and the economic basis of Western society. [...] In the United States, property rights barely exist now. This story about the Feds smashing into a private business and taking their stuff sounds like something from North Korea or maybe Australia. For reasons they feel no need to explain, they broke into a private bank vault and stole the property of the customers using the service and refuse to return the property. By any reasonable moral standard, this is theft and worse, it is legal plunder. The state is plundering the citizens. Like all criminals, conmen and sociopaths, the state is throwing up a dust storm of legal points to distract from the moral point at the center.
Federal authorities cash in on safety box seizures as owners fight back. Married couple Jeni Pearsons and Michael Store aren't wealthy. Pearsons works at a nonprofit theater in Los Angeles, and Store is a transportation coordinator in the film industry. The couple has been saving for retirement for years, buying silver here and there when they could afford it. To keep their property safe, they rented a safe deposit box at U.S. Private Vaults. They thought everything was above board until news broke earlier this year about a raid at the Beverly Hills business. The government alleged that the company conspired with customers to sell drugs, launder money, and stash ill-gotten goods. Armed with a warrant, FBI and Drug Enforcement Administration agents spent five days ripping several hundred safety deposit boxes out of the walls and laying claim to its contents. Prosecutors argued they were within their rights and that the boxes contained weapons and drugs. They also took jewelry, precious metals, and stacks of money to an undisclosed warehouse. Their final haul was worth around $86 million.
FBI says fortune seized in Beverly Hills raid was criminals' loot. Owners say: Where's the proof? After the FBI seized Joseph Ruiz's life savings during a raid on a safe deposit box business in Beverly Hills, the unemployed chef went to court to retrieve his $57,000. A judge ordered the government to tell Ruiz why it was trying to confiscate the money. It came from drug trafficking, an FBI agent responded in court papers. Ruiz's income was too low for him to have that much money, and his side business selling bongs made from liquor bottles suggested he was an unlicensed pot dealer, the agent wrote. The FBI also said a dog had smelled unspecified drugs on Ruiz's cash. The FBI was wrong. When Ruiz produced records showing the source of his money was legitimate, the government dropped its false accusation and returned his money.
Cori Bush, Elizabeth Warren will introduce bill to give HHS power to impose eviction moratoriums. Progressive lawmakers will introduce legislation this week that will give the Department of Health and Human Services the authority to create federal eviction moratoriums — pushing back against a recent decision by the Supreme Court that ruled the agency did not have the authority to do so. The introduction of the legislation, sponsored by Rep. Cori Bush, D-Mo., and Sen. Elizabeth Warren, D-Mass., comes weeks after the high court blocked the Biden administration's eviction moratorium, ruling the Centers for Disease Control and Prevention did not have authority to impose the freeze. The CDC is one of the arms of HHS.
The case for impeachment. Article II of the U.S. Constitution requires the President to take an oath to "faithfully execute the office of President of the United States," and "preserve, protect and defend the Constitution of the United States." The Vice President takes a similar oath, promising to "support and defend the Constitution of the United States." [...] The Supreme Court held that Joe Biden's moratorium on eviction effectively confiscates the private property of landlords without just compensation in violation of the Fifth Amendment. Biden reimposed the moratorium in contemptuous defiance of the Supreme Court.
Supreme Court eviction ruling puts new pressure on Pelosi. House Democrats and Republicans are clamoring for congressional action following Thursday's [8/26/2021] Supreme Court ruling striking down President Joe Biden's eviction moratorium. The high court decision on Thursday shifts the moratorium fight back to Congress, where disagreements between parties and within the Democratic caucus have blocked legislative action. House Speaker Nancy Pelosi issued a statement on Friday opposing the ruling but gave no clear indication about how Congress would attempt to resolve the issue. The House is not set to reconvene until Sept. 20.
A spot of good news in sea of bad news. On Thursday [8/26/2021], a grim day, in a depressing month, in a terrible year, there is some good news: the Supreme Court killed the CDC's efforts to destroy private property. In a per curium decision, the six non-leftist Supreme Court justices held that the CDC lacks the authority to impose eviction moratoriums. This is a huge victory, not just for property-owners, but for the American way of life.
Supreme Court Ends Biden's Eviction Moratorium. The Supreme Court on Thursday [8/26/2021] rejected the Biden administration's latest moratorium on evictions, ending a political and legal dispute during a public health crisis in which the administration's shifting positions had subjected it to criticism from adversaries and allies alike. The court issued an eight-page majority opinion, an unusual move in a ruling on an application for emergency relief, where terse orders are more common. The court's three liberal justices dissented. The decision puts hundreds of thousands of tenants at risk of losing shelter, while the administration struggles to speed the flow of billions of dollars in federal funding to people who are behind in rent because of the coronavirus pandemic and its associated economic hardship. Only about $5.1 billion of the $46.5 billion in aid had been disbursed by the end of July, according to figures released on Wednesday, as bureaucratic delays at the state and local levels snarled payouts.
Supreme Court Strikes Down Biden Eviction Moratorium. The Supreme Court struck down the Biden administration's eviction moratorium in a 6-3 decision on Thursday [8/26/2021]. The Centers for Disease Control and Prevention issued the moratorium earlier this month to cover counties with "high" or "substantial" coronavirus spread, which as of Wednesday included the vast majority of counties in the U.S. The order was issued after a previous nationwide moratorium instituted during the Trump administration expired on July 31.
Are We in a Revolution and Don't Even Know It? By continuing to suspend rental payments to landlords who have no redress to the courts for violations of their contractual leases, the government essentially has redefined private property as we know it. Who really owns an apartment or a room in a house if the occupant has not paid rent since last spring? Is the de facto owner the renter in physical control of the unit, or the increasingly impotent title holder who must still pay the insurance, taxes, and upkeep?
Major Landlords Sue L.A. For $100 Million Over Eviction Moratorium. GHP Management Corp. and several other companies owned by developer Geoffrey Palmer are suing the City of Los Angeles for $100 million over its eviction moratorium, saying the policy has resulted in massive losses to the firm. The suit further alleges that the plaintiffs cannot find help from banks, who will not refinance mortgages on properties that fall under the city's eviction moratorium. The Biden administration and Democrats in state and local governments have cast such moratoria as measures to protect the poor, but they could hurt the poor in the long run by making it less likely that developers will build housing in Democrat-run cities, or that they will invest in low-income housing at all.
How States Could Constitutionally Assume Abandoned Responsibilities of the National Government. The COVID pandemic has witnessed the exercise of state "police powers" on a scale and scope unprecedented in America's peacetime history. Out of fear of contagion, massive amounts of private property in the form of shops, restaurants, bars, and other businesses were peremptorily seized and shuttered. The rights of landlords to collect rents and evict tenants were suspended. The ability of people to cross from one state to another was hobbled by regulations, quarantines, and delays. And most of this was accomplished by governors and mayors acting by decree, with only the most tenuous of statutory authorizations. Initially implemented for what was to have been a brief period of medical unreadiness, the restrictions and impositions were extended month after month in the name of protecting Americans from a threat the specific magnitude of which was never clearly defined. Although some raised concerns about the legality of and need for these coercions, most Americans obediently submitted to them.
Tenant Eviction Moratoria Are More Than Unconstitutional; They're Insurrectionary. State and federal tenant eviction moratoria go beyond "unconstitutional." They're a direct assault on the constitutional order itself. They represent insurrection from above. I'm not prone to overstatement. Read on. Surf the web, and you'll find many critics of the moratoria — even in the establishment media. Under special fire is President Joe Biden's purported extension of the Centers for Disease Control and Prevention (CDC) federal moratorium. Critics note that Biden has been able to cite no legal support for his action. Critics also argue that the CDC's order exceeds the scope of Congress's authorizing statute and of the regulation issued under it. A majority of the Supreme Court agrees with this position. Critics further claim that if we do read Congress's statute broadly enough to authorize the CDC's order, then Congress exceeded its power to delegate to an executive agency. While they acknowledge that the modern Supreme Court has expanded greatly the scope of Congress's power under the Constitution's Commerce and the Necessary and Proper Clauses, they contend that the order exceeds the scope of this expansion.
The Bill Comes Due After the DOJ Capitalizes on Brett Kavanaugh's Cowardice. As I feared, Brett Kavanaugh's cowardice in not vacating the stay on the original eviction moratorium is coming back to haunt property owners across the country. In my previous pieces on this topic, I noted that Kavanaugh had the chance to join the conservatives, vacate the stay on the original moratorium, and do so in a way that clearly prevents any future issuance given how blatantly unconstitutional this theft of property is. Instead, perhaps in some misguided attempt to get the left to love him, the Trump-appointed justice joined the liberals, allowing the moratorium to continue and expire. By doing so, Kavanaugh created a path for Joe Biden and the CDC to essentially game the system, bankrupting more landlords before any new challenge can make it through the courts. Biden admitted yesterday that is their plan.
Biden's Unprecedented Attack on the Constitution. Joe Biden certainly isn't the first president to violate his oath of office, but he might be the first in memory to openly brag about doing it. As Biden announced a new "eviction moratorium," he informed Americans that the "bulk of constitutional scholars" would say the Centers for Disease Control and Prevention eviction moratorium is "not likely to pass constitutional muster." Not likely? It already failed. In June, Justice Brett Kavanaugh agreed with the majority Supreme Court that the CDC "exceeded its existing statutory authority," even though he allowed the order to sunset. The president admitted as much, noting that the new moratorium is meant to give the administration time to act on "rental assistance" before the court again shuts it down. What stops Biden from stalling and trying a third time? A 10th time? Biden admitted to the media that he would be circumventing the courts, the law, and his oath of office, in which he promised, to the best of his ability, to "preserve, protect, and defend the Constitution of the United States," not to infringe on the property rights of Americans to placate crackpot socialists in his party.
'Borderline illegal': Courtesy tows remain Philly's persistent parking nightmare. Gary Isaacs returned home from a trip to California in January to discover his car missing from its Center City parking spot and two alarming letters in the mail. The Philadelphia Parking Authority, in a letter dated Dec. 22, informed Isaacs that it had towed and impounded his car. And a notice from the Philadelphia Court of Common Pleas, dated Dec. 30, warned him that the car was scheduled to go on the auction block. "YOU ARE HEREBY GIVEN NOTICE," the court wrote, "that the vehicle listed below will be sold at auction and your legal and equitable interest in that vehicle will be extinguished. ..." Isaacs was mystified. He'd last parked his 2005 BMW on Camac Street, within the area covered by his parking permit — not in a loading zone on Lombard Street, as the PPA was contending in its letter. The next day, he called the parking authority, hoping to clear up the misunderstanding. A woman there said his car had apparently been "courtesy towed" from Camac to Lombard because while he was gone, his original parking space had been declared a temporary no-parking zone, reasons unknown.
Democrats target rich people's retirement accounts to pay for progressive wish-list items in $3.5T spending bill. Democrats on Capitol Hill are reportedly setting their sights on wealthy people's "super-sized retirement savings accounts" as one way to pay for a litany of progressive wish-list items included in their mammoth $3.5 trillion spending plan. Politico reported Tuesday that congressional Democrats are "aghast" that some people have managed their wealth responsibly and amassed multimillion-dollar individual retirement accounts while others have next to nothing — an unacceptable imbalance in the democratic-socialist state the lawmakers hope to create. These so-called "Mega-IRAs" are said to be on the table to "bankroll their multitrillion-dollar plan of liberal spending priorities."
President Biden Announces on Live TV That He Intends to Break His Oath of Office. President Biden knows that the CDC's eviction moratorium is illegal, having, per Gene Sperling, "not only kicked the tires," but "double, triple, quadruple checked." He also knows that the Supreme Court has ruled that it is illegal, and that the majority of the legal scholars he has consulted think that the Court is correct. And yet, because a bunch of progressives have spent the day complaining, Biden announced just now that he intends to violate his oath and reissue the order anyway. "The bulk of the constitutional scholars," Biden admitted at his press conference just now, "say it's not likely to pass constitutional muster." Then he said that he was prepared to try his luck anyway.
US seizes $1.6 million 'Epic of Gilgamesh' tablet from Hobby Lobby. A 3,500-year-old clay tablet that bears the text of one of the world's oldest works of literature and was purchased by Hobby Lobby in 2014 for $1.6 million has been forfeited to the United States, the feds announced. The tablet, which contains a portion of the "Epic of Gilgamesh," came from the area of modern-day Iraq and was illegally shipped to the US in 2003, the Department of Justice alleged. The tablet, known as the "Gilgamesh Dream Tablet" because it contains a portion of the poem in which the protagonist describes his dreams to his mother, was sold several times with a "false letter of provenance," according to the DOJ, before Hobby Lobby purchased it at an auction hosted by Christie's for $1.6 million. Representatives for Christie's did not return The [New York] Post's request for comment.
Affidavit: FBI feared Pennsylvania would seize fabled gold. An FBI agent applied for a federal warrant in 2018 to seize a cache of gold that he said had been "stolen during the Civil War" while en route to the U.S. Mint in Philadelphia, and was "now concealed in an underground cave" in northwestern Pennsylvania. That's according to court documents unsealed Thursday [6/24/2021]. The FBI had long refused to confirm why exactly it went digging on state-owned land in Elk County in March 2018. After meeting with the treasure hunters in early 2018, the FBI brought in a contractor with more sophisticated instruments. The contractor detected an underground mass that weighed up to nine tons and had the density of gold, the affidavit said. The FBI said in the newly released court documents that it feared the state of Pennsylvania would claim the gold for itself, setting up a costly legal battle. That amount of gold would be worth hundreds of millions of dollars. Federal authorities say the dig came up empty. But the father-son duo who brought a small army of federal agents to the site remain convinced the FBI uncovered something there — and their lawyer is still pressing the case, successfully suing for access to government emails about the dig.
Feds accused of seizing $85 million from safe deposit boxes without 'any legal basis'. Hundreds of people storing valuables in safe deposit boxes in Los Angeles may never see their cash, precious metals and heirlooms again, unless a federal judge intervenes in the next week. Several are suing the government for seizing the contents of about 800 boxes as part of a March raid of the storage provider, U.S. Private Vaults (USPV), which was indicted for conspiracy to sell drugs and launder money. The Institute for Justice (IJ) is seeking class-action status for a May lawsuit by several owners alleging "shocking, unconscionable, and unconstitutional" behavior by the government. IJ attorney Robert Frommer accused the feds of an "$85 million cash grab" from people who were not accused of wrongdoing.
The FBI Returned This Innocent Couple's Safe Deposit Box. It Refuses To Give Back Many Others. "The silence is deafening," said attorney Jennifer Snitko, who briefly choked up on Thursday [6/10/2021] as she exited the West Los Angeles Federal Building on Wilshire Boulevard, home to the FBI's area field office. She'd just piled into a small interrogation room to meet with two agents. Rifling through a brown paper bag, she furnished a series of documents and items recently withdrawn from sterile bags marked EVIDENCE. None seemed more out of place than a folded, thin white paper with a cross. It was a baptismal certificate. "Evidence of what?" asks her husband Paul Snitko. They're still not sure. Jennifer wasn't there to defend a client. It was her and her husband in the hot seat, tasked with proving that they were worthy of retrieving a trove of deeply personal items that the FBI seized about three months ago — without a warrant — from the U.S. Private Vaults (USPV) in Beverly Hills, California.
FBI wants to keep fortune in cash, gold, jewels from Beverly Hills raid. Is it abuse of power? When FBI agents asked for permission to rip hundreds of safe deposit boxes from the walls of a Beverly Hills business and haul them away, U.S. Magistrate Steve Kim set some strict limits on the raid. The business, U.S. Private Vaults, had been charged in a sealed indictment with conspiring to sell drugs and launder money. Its customers had not. So the FBI could seize the boxes themselves, Kim decided, but had to return what was inside to the owners. "This warrant does not authorize a criminal search or seizure of the contents of the safety deposit boxes," Kim's March 17 seizure warrant declared.
The FBI Seized Heirlooms, Coins, and Cash From Hundreds of Safe Deposit Boxes in Beverly Hills, Despite Knowing 'Some' Belonged to 'Honest Citizens'. Dagny discovered that the FBI had seized the contents of her safe deposit box — about $100,000 in gold and silver coins, some family heirlooms like a diamond necklace inherited from her late grandmother, and an engagement ring she'd promised to pass down to her daughter — almost by accident. She'd been asked by a friend to recommend a convenient and secure location for keeping some valuables. Dagny searched Yelp to find the phone number for U.S. Private Vaults, a Beverly Hills facility where she'd rented a safe deposit box since 2017. That's when she saw the bad news. "Permanently closed." After a brief moment of panic, some phone calls, and several days, Dagny and her husband Howard (pseudonyms used at their request to maintain privacy during ongoing legal proceedings) figured out what happened. On March 22, the FBI had raided U.S. Private Vaults. The federal agents were armed with a warrant allowing them to seize property belonging to the company as part of a criminal investigation — and even though the warrant explicitly exempted the safe deposit boxes in the company's vaults, they were taken too. More than 800 were seized.
Supreme Court Strikes Down Warrantless Gun Seizure 9-0. In some ways this was a very narrowly tailored opinion, in that the Second Amendment was not invoked at all, only the Fourth. And indeed, Justice Samuel Alito' concurring opinion specifically states that "Our decision today does not address those issues" in relation to the constitutionality of red flag laws. However, the decision was a blow for individual rights against warrentless police seizures in the home. Also, by explicitly including guns as property that is equally protected from such warrentless seizures, the Supreme Court has properly supported Second Amendment rights against the state's overreach.
This 9-0 SCOTUS Ruling on Guns Shows Just How Extreme (and Dangerous) the Biden Administration Really Is. Did you hear that Joe Biden's Department of Justice wanted the Supreme Court to rule that police could search Americans' homes for firearms — and confiscate them — without a warrant? In the case of Caniglia vs. Strom, this issue was in play. Had SCOTUS ruled that police could do that, your Second Amendment rights would have been in grave jeopardy.
New Jersey gym owners who refused to close say state 'seized' all their legal defense funds. The co-owner of a New Jersey gym who refused to remain closed through COVID-19 lockdowns enacted and prolonged for months by Democratic Gov. Phil Murphy said Wednesday state officials have "seized" the business' legal defense funds. "Moments ago @GovMurphy and his cronies seized 100% of @TheAtilisGym legal defense money ($173,613.60) in the middle of our appeals process — effectively and intentionally interfering with our right to council. If you think that's gonna make us stand down, you're delusional," Ian Smith, co-owner of the Atilis Gym in Bellmawr, N.J., wrote on Twitter.
Justin Amash Introduces Bill To End Civil Asset Forfeiture Nationwide. Rep. Justin Amash (L-Mich.) on Thursday introduced a bill to end civil asset forfeiture, which allows the government to take property from someone without ever charging them with a crime. Law enforcement on the local, state, and federal levels can seize assets if they were thought to be used in connection with illegal activity. That's often based solely on suspicion, though. Many people never receive their items back, even if they were acquitted or never charged in the first place. Since 2000, state and local governments have robbed people of more than $68 billion. Police often deposit those sums into slush funds for their departments. What's more, the property seized doesn't necessarily have to have been used by the alleged criminal in question. Such was the case with Kevin McBride, who had his Jeep taken by police in Tucson, Arizona, after his girlfriend allegedly used it to sell $25 worth of weed to an undercover cop.
Homeland Security Seized $2 Billion in Cash From Travelers at U.S. Airports. Customs and Border Protection (CBP) and other Department of Homeland Security agents seized more than $2 billion in cash from travelers in U.S. airports between 2000 and 2016, according to a new report by the Institute for Justice, a libertarian public interest law firm. The institute's report is the first to comprehensively analyze the use of civil asset forfeiture by federal law enforcement in airports, where multiple news investigations have revealed horror stories of passengers having their money taken even though they weren't ever charged with a crime. Take a case that Reason covered: Rustem Kazazi, a U.S. citizen who tried in 2018 to get on a plane to return to his native Albania from Cleveland Hopkins International Airport. Kazazi had roughly $58,000 in cash in his luggage, money he said he was taking to repair a house he owned and possibly to buy another. Kazazi was strip-searched by CBP agents, who also seized his life savings. The agency claimed the cash was "involved in a smuggling/drug trafficking/money laundering operation," despite there being no proof of that.
Woman Turns to Supreme Court to Get Her Guns Back. In 2013, Lori Rodriguez called San Jose police to her home because her husband was having a mental health crisis and making violent threats. Seven years later, she is petitioning the Supreme Court to force the city to return her guns. "It's not right. I shouldn't have to do this to get back what's mine," Rodriguez told the Washington Free Beacon. "They violated several of my constitutional rights." Rodriguez claims police ordered her to open the couple's gun safe so they could seize all of the weapons in the home after her husband was detained for making threats that the city says included "shooting up schools." Cops seized not only her husband's weapons but also the guns that were personally registered to Rodriguez. The city has repeatedly rebuffed her requests to return her property.
Bill designed to clamp down on property seizures in Arizona advances. Arizona lawmakers are moving to erect new hurdles to protect individuals from having their property seized by the state. SB 1556 would end the ability of prosecutors to be able to take property simply by convincing a judge that it is connected to criminal activity. Instead, they would have to actually first convict someone of a crime. The 6-4 vote Wednesday [5/20/2020] by the House Judiciary Committee came over the objections of prosecutors who argued that it would impair their ability to protect Arizonans from criminal activity. But Sen. Eddie Farnsworth, R-Gilbert, who crafted the change, said their real objection is that the current law allows prosecutors — and the police agencies involved in the case — to keep what they seize.
COVID-19 Panic Buying Reminds Us 'Price Gouging' Is Good. One of the most absurd and infuriating stories that illustrates how foolish it is to crack down on entrepreneurship comes from 2005's Hurricane Katrina disaster. When John Shepperson saw many had lost power from the storm and needed generators to restore electricity to their homes, he was inspired. The Kentucky resident bought 19 generators, rented a truck, and drove "600 miles to a part of Mississippi that had no electricity," John Stossel reported. While he could have probably charged more, he offered to sell the generators for twice what he paid for them. "People were eager to buy," says Stossel. "But Mississippi police said that was illegal." So Shepperson was arrested for the crime of selling a legal good to willing buyers. Who, then, benefited from Mississippi's anti-price gouging law? Not those who needed power. The police confiscated Shepperson's generators, said economist Mark J. Perry, and they "never made it to consumers with urgent needs who desperately wanted to buy them."
Newsom executive order allows California to commandeer hotels, motels to house coronavirus patients. Gov. Gavin Newsom, the California Democrat, released an executive order on Thursday [3/12/2020] that includes the authority for Sacramento to take over hotels and motels for medical use for coronavirus patients, in a move he said will help the state of 40 million prepare for any widespread outbreak. Some patients in the state have already been moved to hotels. The Desert Sun reported that a 120-room hotel in San Carlos, which is near San Francisco, has been already tapped to house passengers from the Grand Princess cruise ship. The first-term governor told reporters that besides hotels and motels, state officials are also scouting for potential lodging in "mothballed" facilities and state parks. The executive order, according to the report, has been designed to allow the state's Health and Human Services Agency and the Office of Emergency Services to commandeer private property for coronavirus treatment.
Missouri Cops Used Federal Loophole To Seize $2.6 Million From Drivers Who They Never Charged With Crimes. A new report uncovers a shocking civil asset forfeiture practice that allowed Missouri police to seize at least $2.6 million during traffic stops in a single year. As part of a larger series on national asset forfeiture cases organized by the Pulitzer Center, St. Louis Public Radio reported that St. Charles County law enforcement coerced at least 39 unsuspecting motorists into signing over their assets in 2018. According to the report, officers would lie in wait for a car committing a minor traffic violation. Upon seeing the minor violation, officers would then pull the car over, question the motorist, and then direct them to a private towing lot owned by Superior Towing. While in the lot, officers would ask more questions and search the vehicle, all in the hopes of finding large amounts of cash or connections to drugs.
The "Officer-Friendly" Police Fantasy. Asset-forfeiture laws give police sweeping arbitrary power over Americans' wallets, cars, and homes. Indiana Solicitor General Thomas Fisher told the Supreme Court in 2018 that the government is entitled to confiscate cars that exceed speed limits by 5 miles per hour — a standard that would justify seizing most vehicles. Between 2001 and 2014, lawmen seized more than $2.5 billion in cash from 60,000 travelers on the nation's highways — with no criminal charges in the vast majority of cases, the Washington Post reported. Police have been trained to confiscate private property of drivers by absurdly claiming that "trash on the floor of a vehicle, abundant energy drinks, or air fresheners hanging from rearview mirrors" are signs of criminal activity.
Trump Admin. Prepares Court Filings to Seize Private Land in Texas for Border Wall: Report. The Trump administration is preparing to submit court filings as early as next week as a necessary step toward seizing private land in Texas for its wall on the border with Mexico, NBC reported Thursday. Administration officials still haven't said how much the government will compensate affected landowners. "I still think we're on track to get the land we need for 450 miles" of border wall, Acting Commissioner of Customs and Border Protection Mark Morgan told reporters on Thursday [11/14/2019].
The Editor says...
If you own land that directly abuts the international border, and there is not a wall in place already, your land is of very little value: Perhaps less than zero. Sorry about the property seizure, but the addition of a wall or fence will increase the value of the remainder of your land. Maybe you can write off the value of the seized acreage.
America under Attack. One of the greatest dangers at this time is the unlawful seizure of property through taxation and other legislation. Bernie Sanders's promise to tax stock market transactions for the sake of paying off student loan debt and offering free tuition in the future is precisely this sort of seizure. Sanders's proposal would confiscate an estimated $2.2 trillion over ten years, much of it from retirees and small investors. This massive transfer of funds from one class of citizens to another, based entirely on political expediency, violates the Constitution's protections of equality and its prohibition of unlawful seizure.
High-speed rail route took land from farmers. The money they're owed hasn't arrived. John Diepersloot squinted under a bright Central Valley sun, pointing to the damage to his fruit orchard that came with the California bullet train. He lost 70 acres of prime land. Rail contractors left mounds of rubble along his neat rows. Irrigation hoses are askew. A sophisticated canopy system for a kiwi field, supported by massive steel cables, was torn down. But what really irritates Diepersloot is the $250,000 that he paid out of his own pocket for relocating wells, removing trees, building a road and other expenses.
John Paul Stevens Is Still Trying To Defend the Kelo Debacle. John Paul Stevens has had it rough. In 2005, Stevens, then an associate justice of the U.S. Supreme Court, authored one of the worst SCOTUS decisions of the past 50 years. Kelo v. City of New London let a local government bulldoze a working-class neighborhood so that private developers would have a blank slate on which to build a luxury hotel, a conference center, and various other upscale amenities. The city's goal was to erase that existing community via eminent domain and replace it with a new commercial district that would (maybe? hopefully?) fill the local coffers with more abundant tax dollars. Stevens, the poor soul, has been catching [flak] for this lousy ruling ever since. Kelo is "the most un-American thing that can be done," declared Democratic Rep. Maxine Waters of California, an outspoken liberal.
Florida City Tries To Steal an Elderly Man's House Over Uncut Grass. The city of Dunedin, Florida, wants to foreclose on a private home because the owner, Jim Ficken, owes the city over $29,000 in fines. The crime for which he is threatened with home loss? Having his lawn grass be too tall (over 10 inches) for a period of eight weeks last summer. The city fined him $500 per day of violation, with no warning. Ficken was out of town at the time, settling his mother's estate. Ficken hired a handyman to deal with his lawn while he tended to his dying mother and then to her estate, but in a cruel twist, the handyman also died during the Fickens' ordeal, leaving the lawn uncut.
8 Times Barack Obama Abused His Power To Appease His Base. [#3] Federal land grabs: In an effort to cement his environmental legacy, Obama used the final weeks of his presidency to create more federally protected national monuments than any other president — expanding the amount of federally protected land and water by over 550 million acres. This raised serious questions that he was abusing the Antiquities Act in order to impose extreme environmental restrictions on public land. While any president has the authority to declare national monuments, the Antiquities Act dictates that these monuments must be "confined to the smallest area compatible with proper care and management of the objects to be protected." That is not what Obama did. Many of these declarations faced local opposition, but Obama was far too concerned with his legacy to take into account the concerns of those impacted by his actions.
The 'parade of horribles' is here — will the justices revisit Kelo? America's founders enshrined property rights in our Constitution, not just because they thought it would provide a strong blueprint for a free market but because they saw ownership as an essential human right. Thus, the final draft of James Madison's Fifth Amendment has no wiggle words or loopholes. It states unequivocally that private property shall not "be taken for public use, without just compensation." And yet despite this clear guidance, courts are expanding what can be considered public use, steadily eroding protections in takings law.
A critical Supreme Court victory for property rights. With each of President Trump's appointments to the judiciary, and especially to the Supreme Court, the activist Left has tried to scare Americans into believing that they are creating judges and courts with no common sense or fairness. Nothing could be farther from the truth. And clear, non-partisan evidence of this comes through every so often with a ruling that is both revolutionary in nature and broadly agreed to by jurists from widely divergent political backgrounds. Last week, a unanimous Supreme Court ruled that law enforcement can no longer make grossly disproportionate seizures of property, even from people who owe money after being convicted of crimes.
Confronting Government's Revenue Addiction. The law of civil forfeiture allows police and prosecutors to seize and keep cash, cars, homes, businesses and property of all kinds without ever criminally charging or convicting the owners. As originally conceived, it was to be a deterrent by which law enforcement would transfer the ill-gotten gains of crime to the public treasury. But, as so often happens with governmental power, it has transmuted over the years into a semi-criminal operation in and of itself.
Supreme Court curbs power of government to impose heavy fines and seize property. In a unanimous decision, the Supreme Court on Wednesday ruled to drastically curb the powers that states and cities have to levy fines and seize property, marking the first time the court has applied the Constitution's ban on excessive fines at the state level. Justice Ruth Bader Ginsburg, who returned to the court for the first time in almost two months after undergoing surgery for lung cancer, wrote the majority opinion in the case involving an Indiana man who had his Land Rover seized after he was arrested for selling $385 of heroin. "Protection against excessive fines has been a constant shield throughout Anglo-American history for good reason: Such fines undermine other liberties," Ginsburg wrote. "They can be used, e.g., to retaliate against or chill the speech of political enemies. They can also be employed, not in service of penal purposes, but as a source of revenue."
Federal jury rules government can seize Mongols motorcycle club's trademark. In a closely watched trial with possibly far-reaching legal implications, a federal jury decided Friday that the notorious Mongols motorcycle club must forfeit the logos worn by its members, finding in favor of prosecutors' novel claim that there is a direct link between the club's crimes and its well-known, trademarked insignia. The jury's verdict Friday marked the end of the second phase of a trial focusing on forfeiture of assets. In the first phase last month, the jury found the club, which was established in Montebello in the 1970s, guilty of racketeering and conspiracy to commit racketeering.
They were acquitted of drug trafficking, but Uncle Sam wants to keep their property anyway. Jerry Shults and his daughter, Amy Herrig, were recently acquitted of drug trafficking charges, but the government is not done with them yet: It wants to take much of their money and property using controversial federal forfeiture laws. The father and daughter team behind a vast retail network of synthetic marijuana products called spice is scheduled to go on trial for a second time in Dallas in March. This go around, they will be trying to stop the government from taking their considerable fortune, including an exotic fishing camp, airplanes and bank accounts worth millions.
California set to seize 1,100 miles of coastline. The California Coastal Commission is set to empower local government to take thousands of properties through eminent domain along 1,100 miles of coastline to prepare for sea level rise. Despite California being battered by 4-8 inches of torrential rain and flooding from an El Niño weather cycle, E&E News reported that the State of California in late January will authorize eminent domain authority for local jurisdictions to implement a "managed retreat" policy that will allow taking and demolishing coastal homes and businesses. The California Coastal Commission circulated an 87-page "Draft Residential Adaptation Guidance" in March regarding how communities could proactively address sea level rise impacts through Local Coastal Programs (LCPs). Although the CCC draft did not adopt specific retreat guidance, the California Special Districts magazine expects that the CCC will predict a sea level rise of 2.5-5.5 feet and the elimination of 31-67 percent of Southern California beaches by the year 2100.
The Editor says...
Do the California politicians really think there's an impending disaster resulting from rising sea levels? (There isn't.) Or do they just want to own all the beaches?
Twenty Things You Probably Didn't Know about Kamala Harris. [#3] Harris also has been a strong advocate of civil asset forfeiture. She supported a bill in California that would have allowed prosecutors to seize assets before initiating criminal proceedings — a power now available only at the federal level — if there were a "substantial probability" they would eventually initiate such proceedings. Besides cases involving violent crimes, the legislation allowed seizures in cases involving such crimes as bribery, gambling, and trafficking endangered species. Harris endorsed the bill after then-attorney general Eric Holder sharply limited civil asset forfeiture among federal prosecutors.
NYC's De Blasio Threatens Landlords "We Will Take Your Buildings Away". Communist Mayor of New York City Bill De Blasio plans to spread the news about his Progressive (communist) accomplishments during a country tour, and he might visit Iowa. He has dreams of becoming president one day. In his sixth State of the City address, he presented himself as the protector of the working man ready to steal from the evil rich to give to them. He will gladly seize the private property of landlords he deems unworthy.
Chicago Seized And Sold Nearly 50,000 Cars Over Tickets Since 2011, Sticking Owners With Debt. According to a WBEZ analysis of thousands of towing records and invoices, the city regularly pulls residents into a nexus of ticket-related debt and car seizures that is stunning in its scope. In 2017 alone, Chicago booted more than 67,000 vehicles for unpaid tickets. In about a third of those cases, the driver couldn't afford to remove the boot, and the vehicle was later towed to a city impound lot. Of those 20,000 impounded cars, more than 8,000 ended up like Botello's: They were sold off, with the owners receiving none of the sale proceeds. Instead, the city and its towing contractor pocketed millions of dollars, while residents were left with ticket debt.
Indiana Solicitor General: It's Constitutional to Seize a Car for Driving 5 MPH Over the Speed Limit. Civil asset forfeiture is such a farce that it took Supreme Court Justice Stephen Breyer only about 100 words to twist Indiana's solicitor general into admitting that his state could have the power to seize cars over something as insubstantial as driving 5 miles-per-hour over the speed limit. Yes, really.
Judge rules in favor of Portsmouth Toyota dealer, says city did not establish need in eminent domain case. A judge has ruled that officials in Portsmouth have not established a sufficiently compelling need to take 4.6 acres of land from a local car dealer. In September 2016, city councilors voted to take the land at Toyota of Portsmouth on Greenleaf Avenue to preserve a 1968 sewer line that serves residents on Lois Street and a portion of Middle Road. A total of 31 homes and a condominium association with more than 100 units use the sewer system. The following month, the city council appropriated $345,000 to pay owner James Boyle for the property, based on an appraisal that the land was undevelopable, despite his lawyer's objections it is worth 10 times more.
A big win for the little guys. In a big win for the little people, Philadelphia last week agreed to rein in its civil-forfeiture program and pay $3 million to innocents whose property it wrongly confiscated. Attorneys with the Institute for Justice sued in 2014 over policies that let law enforcement take property "suspected" of being tied to crime — even when the owner clearly wasn't part of the crime. The lead plaintiffs were Markela and Chris Sourovelis, whose home was seized after their son was busted for selling $40 worth of drugs outside it. Neither parent ever did anything wrong. In fact, they were driving their son to a court-ordered rehab program the day the police took their home.
Philadelphia Will Dismantle Its Asset Forfeiture Program and Pay $3 Million to Victims. Four years after Philadelphia police seized the home of Markela and Chris Sourovelis for a minor drug crime committed by their son, the city has agreed to almost completely dismantle its controversial civil asset forfeiture program and pay $3 million to its victims. The Institute for Justice, a libertarian public interest law firm, announced today that the city had agreed to a settlement in a federal civil rights class-action lawsuit challenging its forfeiture program. "For too long, Philadelphia treated its citizens like ATMs, ensnaring thousands of people in a system designed to strip people of their property and their rights," Darpana Sheth, a senior attorney at the institute, said in a press release. "No more. Today's groundbreaking agreement will end years of abuse and create a fund to compensate innocent owners."
Iowa Supreme Court Closes Warrant Loophole, Slams U.S. Supreme Court For Weakening Fourth Amendment. The Iowa Supreme Court ruled that impounding a car and conducting an inventory search without a warrant violated the Iowa Constitution's protection against "unreasonable searches and seizures." Although the Iowa Constitution's provision is similarly worded to the Fourth Amendment of the U.S. Constitution, the Iowa Supreme Court decided to "stake out higher constitutional ground" and "reach results different from current United States Supreme Court precedent under parallel provisions." [...] Not only is this decision a victory for private property and civil liberties, the case is a potent reminder for how state constitutions can better protect individual rights when federal courts refuse to do so.
The Justice Department Didn't Charge Him With a Crime. It's Going to Take $39,000 from Him Anyway. In order to get back any of the money that the New Hampshire State Police took from him, Edward Phipps has agreed to let federal prosecutors keep most of it, even though he has not been charged with any crimes. The cops took the cash during a traffic stop in 2016. Phipps wasn't even in the car at the time. The police pulled the driver over for tailgating and for going one whole mile per hour over the speed limit. A search turned up a bag full of $46,000 cash in the trunk. Police then brought in a drug-sniffing dog, which came up empty. Though they have presented no evidence of any criminal act, police took the money and federal prosecutors declared their intent to force the forfeiture of the funds, so they could keep it. Phipps came forward in July 2017 to indicate that the cash was his, and he said it was obtained legally.
Federal Judge Breaks Up Albuquerque's Car Theft Ring. U.S. District Judge James Browning, in a decision issued on Monday [7/30/2018], said those features make Albuquerque's forfeiture ordinance inconsistent with the constitutional guarantee of due process. "The City of Albuquerque has an unconstitutional institutional incentive to prosecute forfeiture cases," he writes, "because, in practice, the forfeiture program sets its own budget and can spend, without meaningful oversight, all of the excess funds it raises from previous years." Furthermore, the program "violates procedural due process, because owners have to prove that their cars are not subject to civil forfeiture."
Georgia Sheriff Buys $70K Dodge Charger Hellcat With Forfeiture Funds. Gwinnett County Sheriff Butch Conway thinks his department's $70,000, 707-horsepower Dodge Charger Hellcat (black with tinted windows, natch) is a perfectly normal policing tool to buy with federal asset forfeiture funds. The U.S. Department of Justice disagrees. The Justice Department sent a letter last week demanding that the Georgia county reimburse it for the "extravagant" muscle car, which was purchased with funds from the Equitable Sharing Program — a federal program that funnels hundreds of millions of dollars a year in asset forfeiture revenues to local and state police departments.
Police Seized Property of Close to 1,000 People in Michigan — Without Ever Convicting Them of Crimes. Close to 1,000 people in Michigan had their property seized by police or government officials last year even though they were neither convicted nor sometimes even charged with committing a crime. That's the bad news. The good news is that we have this information at all. In 2015 Michigan passed legislation that mandated local law enforcement agencies report more information to the state about the extent of their seizures. The Department of State Police just released its first report that encompassed all agencies for a full calendar year. Law enforcement agencies across the state seized more than $13 million in cash and property in 2017. And while State Police Director Kriste Etue claims in the report's introduction that all those seized assets were "amassed by drug traffickers," that's not really what the numbers show.
Miami Police Return $20K in Glittery Cash Illegally Seized from Stripper. The Miami-Dade Police Department must return nearly $20,000 in cash to a woman after prosecutors admitted that officers illegally searched her car and seized several lawfully owned guns. The Miami Herald reports that the department will also pay $3,000 in legal fees to Lizmixell Batista, a dancer at the local Cheetah Gentleman's Club, and her husband, Ras Cates. The case is textbook example of how asset forfeiture laws and the drug war incentivize constitutional violations and bad police work.
Trump, Ryan, and Walker Want to Seize Wisconsin Homes to Build a Foxconn Plant. Powerful forces — including Wisconsin Governor Scott Walker (R), the Taiwanese manufacturing giant Foxconn, and President Donald Trump — have aligned, to turn more than 1,000 acres of Wisconsin farmland and family homes into an LCD screen manufacturing facility. Reason visited the village of Mt. Pleasant to speak with homeowners facing the threat of eminent domain, and the local government officials responsible for acquiring the land on behalf of Foxconn, which is receiving $4.5 billion in subsidies and tax breaks. The project was sold to the public with a promise of 13,000 jobs and billions in additional tax revenue. To assemble land for the project, local officials have already declared entire neighborhoods to be "blighted," with the goal of seizing homes with eminent domain, a legal term that typically describes the process of taking property from a private owner to facilitate a public use.
Her "Little Pink House" Was Her Castle Until The Government Said It Wasn't. If Little Pink House, a new movie starring Catherine Keener and directed by Courtney Balaker, were the usual Hollywood tale of humble citizens abused by a mighty corporation and its political allies, you could expect it to find its way to a happy ending, with the little guys prevailing and their powerful antagonists getting their comeuppance. Little Pink House isn't that kind of film. It recounts the true story of Susette Kelo (played by Keener) and her working-class neighbors in the Fort Trumbull neighborhood of New London, Conn., whose homes were seized by eminent domain to clear the way for an upscale private development at the behest of Pfizer, the Big Pharma colossus. The tiny band of homeowners, represented by idealistic lawyers from the Institute for Justice, fought their eviction all the way to the Supreme Court — and lost. In one of the most infamous decisions in its history, the court ruled, 5-4, that property owners can be stripped of their land whenever the government decides that a wealthier owner would put it to more lucrative use.
In New York, Blight Is Whatever Officials Say It Is. Eminent domain abuse has reared its head in East Harlem. New York City officials plan to seize a family-owned dry cleaning business, raze the buildings, and hand the forcibly vacated land to a private developer. City officials insist that the property is "blighted," the condition of severe disrepair required to trigger a taking under state eminent domain law. But as Damon Bae, whose parents opened Fancy Cleaners after immigrating from Korea in 1981, told the New York Daily News, "the only 'blight' was in the [city-owned] vacant lots the city allowed to sit empty" nearby. In other words, the local government created the very conditions it is now using as a pretext for seizing the property. Unfortunately for the Baes and others like them, the U.S. Supreme Court rubber-stamped a similar land grab in 2005's Kelo v. City of New London decision.
Making the government less larcenous. Civil forfeiture is the power to seize property suspected of being produced by, or involved in, crime. In this Through the Looking Glass, guilty-until-proven-innocent inversion, the property's owners bear the burden of proving that they were not involved in such activity, which can be a costly and protracted process as persons must hire lawyers and do battle with a government wielding unlimited resources. Law enforcement agencies get to keep the profits from forfeited property, which gives them an incentive to do what too many of them do — abuse the process. But, then, the process — punishment before a crime is proven — is inherently abusive.
Baltimore police keep 94 percent of seized cash, report says. Data presented to the Baltimore City Council Tuesday [4/3/2018] revealed that over a period of five years police seized more than $10 million from drug and gambling investigations but only returned $643,000, The Baltimore Sun reported. The data was revealed after a Baltimore councilman called for "a full accounting of all seized guns, drugs, dirt bikes, and cash over the last five years."
Alabama Senate Considers Curtailing Civil Asset Forfeiture. The people's representatives in the Alabama State Legislature are considering curtailing the power of the state's law enforcement officers from seizing the property (including the money) of individuals who have not been convicted of any crime. Some sheriffs and other police agencies do not support this proposal, however. In fact, two law-enforcement officials are so adamant that lawmakers not revoke this power that they have penned an op-ed in opposition to the bill, and in that article they are remarkably frank about how fruitful the civil asset forfeiture policy has been for cops in the Heart of Dixie. Just how profitable has the program been in Alabama? A report published earlier this year revealed that in 2015, Alabama law enforcement seized nearly $2.2 million! The data was gathered from 14 of the state's 67 counties. It isn't unexpected, then, that police officials do not want that gravy train derailed. In their op-ed published on February 12 on AL.com, Brian McVeigh, Calhoun County district attorney and president of the Alabama District Attorneys Association, and Dave Sutton, sheriff of Coffee County and president of the Alabama Sheriffs Association, vigorously pleaded for protection of their power to seize people's property without due process.
Dutch Police to Seize Clothing, Jewelry From 'Youths' Who Can't Explain How They Got It. Have you ever looked at how people dress and wondered how they afford it? Maybe they borrow them from wealthier friends, or know how to score on eBay. Or maybe they are criminals. Authorities in Rotterdam, Holland, are now going to always go with "criminals" — and may seize your outfit right there in the street. [...] We've had civil asset forfeiture for decades in this country, and it's allowed police to seize a lot of private property from law-abiding people. It's also done nothing to deter criminals. In fact, it's a good way to make young people resent police on sight.
Don't Register Anything. Like too many jurisdictions, Hawaii requires gun owners to register their firearms. Also like an excess of other control-freaky places, the state requires medical marijuana users to register themselves with the state Department of Health. As it turns out, those who dutifully abide by both requirements find themselves in trouble. Hawaii may allow the use of marijuana for medicinal uses, and even require registration of its users, but the state continues to regard the practice as a violation of federal law.
Feds issue 4,000 orders to seize guns from people who failed background checks. Federal authorities sought to take back guns from thousands of people the background check system should have blocked from buying weapons because they had criminal records, mental health issues or other problems that would disqualify them. A USA TODAY review found that the FBI issued more than 4,000 requests last year for agents from the Bureau of Alcohol Tobacco Firearms and Explosives to retrieve guns from prohibited buyers. It's the largest number of such retrieval requests in 10 years, according to FBI records [...]
Senators Push To Defund Jeff Sessions' Civil Asset Forfeiture Expansion. Asset forfeiture — a practice that allows police to seize property suspected of being connected to criminal activity, even when the owner is not charged with a crime — has come under criticism in recent years from lawmakers and advocacy groups across the political spectrum. Police groups and prosecutors, as well as law-and-order conservatives like [Attorney General Jeff] Sessions, argue it is an essential tool to disrupt organized crime by cutting off illicit proceeds. Civil liberties advocates say it leaves far too few protections for property owners and creates perverse profit incentives for law enforcement.
Has asset forfeiture gone too far? Truck seizure case sparks outrage, a call for change. Two years ago, Gerardo Serano — an American citizen, Kentucky farmer and a one-time GOP Kentucky statehouse candidate — was driving his brand new, $60,000 Ford F-250 pick-up truck to visit relatives in Mexico, snapping pictures along the way, when Customs and Border Patrol agents halted him at the border, demanded his cell phone, and asked him why he was taking pictures. "I just wanted the opening of the bridge. I was gonna take the opening of the bridge, the entrance of the bridge. That's all I wanted to do," Serano told Fox News. As a self-proclaimed student of the Constitution, Serano said he knew his rights, and protested to Customs and Border Patrol agents vehemently when they asked him to unlock his phone. [...] He was detained, but never arrested, nor charged, nor tried, nor convicted. However, agents did seize his prized new truck. Two years since its seizure, they have yet to give it back.
Sessions welcomes restoration of asset forfeiture: "I love that program". Attorney General Jeff Sessions welcomed the restoration of the practice of asset forfeiture Friday [9/1/2017] in a speech at a law enforcement conference in Alabama. "I love that program," Sessions said. "We had so much fun doing that, taking drug dealers' money and passing it out to people trying to put drug dealers in jail. What's wrong with that?" Sessions, reviewing some of the steps the DOJ has taken recently under his watch, went off script from his prepared remarks to express his excitement about the restoration of the controversial practice.
Forfeiture Loot Corrupts Justice. In Ohio during the 1920s, people caught with "intoxicating liquors" could be tried by rural mayors, who were paid for each conviction and authorized to impose fines that were split between the village and the state. Four decades later, mayor's courts in Ohio were handling traffic cases, which did not reward the mayors directly but generated substantial income for their villages. According to the U.S. Supreme Court, both of these arrangements violated the right to due process, since the judges had a financial incentive to find people guilty. Civil asset forfeiture creates a similar problem, encouraging police and prosecutors to take property from innocent owners and turn a deaf ear to their objections. That is what happened to Rhonda Cox, whose pickup truck was seized in 2013 by Pinal County, Arizona, sheriff's deputies when they arrested her son for installing stolen parts in it.
Guilty Until Proven Innocent. The United States Government seized more from private citizens than burglars in 2014. Current federal laws regarding civil asset forfeiture are overstepping private property rights under the Fifth Amendment of the US Constitution. Under the Fifth Amendment it is the obligation of government to provide evidence against private individuals whereas current civil asset forfeiture laws require private citizens to prove innocence. Civil Asset Forfeiture, where government confiscation is acceptable if it's in the name of protecting the United States against drug lords by taking away private property. It is time for the federal Department of Justice to catch up with states like New Mexico where the burden of proof is on the state to provide the evidence that the seized property is associated with drug sales, rather than putting the burden on the citizen to provide evidence that their property is NOT associated with the purchase of drugs. In the fight against justice reform Jeff Sessions, fortunately, appears to be a lone supporter of Civil Asset Forfeiture at the Dept of Justice.
U.S. Supreme Court Upholds Abusive Civil Forfeiture Law, Allows Police to Keep $201,000 in Cash from Legal Home Sale with No Proof of Criminal Activity. In refusing to hear a challenge to Texas' asset forfeiture law, the U.S. Supreme Court is allowing Texas police to keep $201,000 in cash primarily on the basis that the seized cash — the proceeds of a home sale — was being transported on a highway associated with illegal drug trade, despite any proof of illegal activity by the owner. Asset forfeiture laws, which have come under intense scrutiny and criticism in recent years, allow the police to seize property "suspected" of being connected to criminal activity without having to prove the owner of the property is guilty of a criminal offense. Lisa Leonard, the owner of the $201,000, had asked the U.S. Supreme Court to compel Texas to return her money, given that she was innocent of any crime. In a written opinion that denounced the profit incentives that drive asset forfeiture schemes, Justice Clarence Thomas concluded, "This system — where police can seize property with limited judicial oversight and retain it for their own use — has led to egregious and well-chronicled abuses."
Policing for Profit: Jeff Sessions & Co.'s Thinly Veiled Plot to Rob Us Blind. [Scroll down] Most recently, under the guise of "fighting crime," [Jeff] Sessions gave police the green light to rob, pilfer, steal, thieve, swipe, purloin, filch and liberate American taxpayers of even more of their hard-earned valuables (especially if it happens to be significant amounts of cash) using any means, fair or foul. In this case, the foul method favored by Sessions & Co. is civil asset forfeiture, which allows police and prosecutors to "seize your car or other property, sell it and use the proceeds to fund agency budgets — all without so much as charging you with a crime." Under a federal equitable sharing program, police turn asset forfeiture cases over to federal agents who process seizures and then return 80% of the proceeds to the police. (In Michigan, police actually get to keep up to 100% of forfeited property.)
An immigrant couple was forced to close their business after the IRS seized and sold their property in a day. Tony and Somnuek Thangsongcharoen immigrated to the U.S. from Thailand in 1983 and opened Mii's Bridal and Tuxedo. But after over 30 years in business, their business is gone. [...] The IRS has been found violating the law when it comes to seizures in the past, and now the owner's of Mii's are the latest to accuse the agency of an improper and reckless seizure and sale of their property in a recently filed lawsuit against the U.S.
The New DOJ Guidelines On Asset Forfeiture Are Obscene. The Justice Department's new guidelines on civil asset forfeiture are an obscenity to our founders and the Constitution they wrote. Attorney General Jeff Sessions released the directive today he claims will actually help make sure criminals can't keep their ill-gotten gains, but are really just an affront to the Fourth Amendment. The key factor in the new guidelines is that the federal government no longer has to pay attention to state and local laws which make it harder for police to seize assets without a criminal conviction. One of the few things Attorney General Eric Holder got right during his tenure was telling federal agencies they had to follow state law with the equitable-sharing program. Sessions is undoing this policy.
Jeff Sessions Announces Justice Department Will Increase Asset Forfeiture. U.S. Attorney General Jeff Sessions said the Justice Department will issue new directives to increase the federal govenment's use of civil asset forfeiture, a controversial practice that allows law enforcement to seize property from suspected criminals without charging them with a crime. Speaking at a National District Attorneys Association conference in Minneapolis Monday [7/17/2017], Sessions said state and local law enforcement could expect changes from U.S. Attorneys in several areas: increased prosecution of gun crimes, immigration offenses, gang activity, and prescription drug abuse, as well as increased asset seizure by the federal government.
IRS shuts down mom and pop dressmaker, sells dresses within hours. The unmarked vehicles arrived in the morning. More than 20 armed agents poured out. Hours later, Mii's Bridal & Tuxedo was out of business after serving customers for decades. Its entire inventory of wedding gowns and dresses as well as sewing machines and other equipment were sold at auction. The hastily-called sale held inside the store netted the IRS about $17,000 — not enough to cover the roughly $31,400 in tax debt alleged, court records show. The balance is now likely unrecoverable.
Civil Asset Forfeiture: Where Due Process Goes to Die. Current asset-forfeiture practice, like much that is wrong with U.S. law enforcement, has its roots in the so-called war on drugs. The practice of seizing assets is ancient: It dates back at least to 17th-century maritime law, under which ships illegally transporting goods would be seized, along with the contraband inside. Asset forfeiture was used against bootleggers during Prohibition, but it really came into its own in the Reagan era, when the Comprehensive Crime Control Act of 1984 empowered federal and local law-enforcement agencies to take property from drug kingpins for their own use. The sudden, unlikely inventory of exotic cars and yachts possessed by law-enforcement agencies inspired that great cultural document of the 1980s: Miami Vice. Asset forfeiture creates an obvious conflict of interest for law-enforcement agencies: Because the proceeds go into their budgets, they have a vested interest in maximizing the use of forfeiture in their jurisdictions. You will be less than surprised to learn that this has produced some serious abuses, and the law-enforcement tool intended to be used against centimillionaire cartel bosses inevitably ends up being used to harass — and loot — nobodies in East Funky. That is the nature of such innovations in government. It is why the city won't fix your potholes but the revenue-producing red-light camera is never on the fritz for long.
The IRS Can Seize Your Money Based on a Hunch. This Bill Would Bring That to an End. The federal government currently wields a tremendous amount of power over the citizens of the United States, far more than the Founders intended. One manifestation of federal overreach is civil asset forfeiture. This practice allows the federal government to confiscate the wealth of its citizens upon the mere suspicion of wrongdoing. The IRS, not content with expropriating the wealth of its citizens on April 15 every year, has now taken up the practice of seizing funds that have been involved in perfectly legal transactions on the basis of a hunch.
The DEA's Warrantless Cash Grab. Do you want to know the dirty secret about how the Drug Enforcement Administration (DEA) confiscates suspected drug traffickers' money? The truth is, it's not hard: Agents just go to an airport and wait for cash to drop into their laps. A March report by the Justice Department's inspector general (I.G.) found the DEA seized a whopping $4 billion in cash over the past decade using civil asset forfeiture, mostly from airports, train stations, and bus terminals. Contrary to DEA rhetoric, these seizures have little to do with ongoing criminal investigations and everything to do with bringing in money. In 81 percent of the cases the I.G. reviewed, there were no accompanying criminal charges.
Meet the Texas Lawmaker Fighting Trump on Civil Asset Forfeiture. When the White House hosted a meeting of sheriffs from across the country last February, President Donald Trump joked about destroying the career of a Texas state senator who supported reforms to civil asset forfeiture laws — a controversial practice where police can seize cash and property of people suspected — but in most cases never convicted or charged with a crime. Though Trump's comments were meant to support police, they've had the opposite of their intended impact — it's re-energized the push for reform. Texas state senator Konni Burton was one of many local lawmakers outraged by Trump's comments.
DOJ Budget Ramps Up Funding for Eminent Domain' Land Acquisition' in Potential Effort to Clear Way for Border Wall. Tuesday's Department of Justice budget proposal asks Congress for $1.8 million to "meet litigation, acquisition, and appraisal demands during the construction along the border between Mexico and the United States." The money will be used to devote 20 new staff members, including 12 attorneys, to the Environmental and Natural Resources Division's Land Acquisition Section (LAS). This small section of the DOJ handles litigation that arises when the federal government uses its "eminent domain" power to seize land for public projects.
Will Border Wall Divide the Right Over Eminent Domain? President Trump's border wall could potentially drive a wedge into the GOP as building the structure would require acquiring private property including through eminent domain, which flies in the face of traditional conservative support for property rights. Conservative property owners along the border in Texas oppose the wall, according to the South Texas Property Rights Association, which represents more than 600 landowners.
Civil forfeiture has ruined countless lives. It's long overdue for reform. According to a report by the Institute for Justice, a public interest law firm, the Justice Department's Assets Forfeiture Fund skyrocketed from just under $94 million to more than $4.5 billion between 1986 and 2014. State and local law enforcement can get a cut of the action, too, thanks to a program that Congress also created in the 1980s. Under "equitable sharing," police and prosecutors can bypass state laws and collaborate with a federal agency to forfeit property under federal law. If successful, local and state agencies can even receive up to 80 percent of the proceeds.
Government Burglars. [Scroll down] So, exactly what "enforcement" is the inspector general talking about? Civil asset forfeiture. You know, that fancy, legalistic three-word phrase for stealing. Without investigating the source of the money or even harboring minimal suspicion, and obviously without any charge being leveled, much less a conviction, the IRS swoops in and seizes the money in a business's bank account. "IRS procedures dictate that the overall purpose of its civil forfeiture program is to disrupt and dismantle criminal enterprises," notes the TIGTA. Nonetheless, the report adds, "Most people impacted by the program did not appear to be criminal enterprises engaged in other alleged illegal activity; rather, they were legal businesses such as jewelry stores, restaurant owners, gas station owners, scrap metal dealers, and others." Why is the IRS going after hardworking business owners rather than criminals? Simple. It's easier to rob unsuspecting innocents than devious crooks.
The Other Side of Legalized Theft. During a meeting with county sheriffs in February, Donald Trump was puzzled by criticism of civil asset forfeiture, which all the cops in the room viewed as an indispensable and unobjectionable law enforcement tool. "Do you even understand the other side of it?" the president asked. "No," one sheriff said, and that was that. [...] Civil forfeiture lets the government confiscate property allegedly linked to crime without bringing charges against the owner. Since law enforcement agencies receive most or all of the proceeds from the forfeitures they initiate, they have a strong financial incentive to loot first and ask questions never, which explains why those sheriffs were not eager to enlighten the president about the downside of such legalized theft.
Clovis Family Wins Lawsuit, Forcing California DOJ to Return 500 Guns. A Clovis family won a court case against the California Department of Justice that forces the state agency to return 500 guns it had confiscated from Albert Sheakalee. The CA DOJ raided Sheakalee's house in 2015, alleging he was listed in the state's Armed Prohibited Persons (APPS) database. Sheakalee's attorney won the case by arguing that the CA DOJ had not notified Sheakalee that he was on the APPS. Moreover, his attorney, Mark Coleman, stated that "the justice department broke a promise to Sheakalee to keep the raid confidential until a court hearing determined whether he was mentally fit to own guns." According to the Fresno Bee, Sheakalee was arrested, but he "had no prior criminal history." [...] No charges were ever brought against Sheakelee; nonetheless, the CA DOJ held onto the guns.
DOJ Seized 541 Guns From This Man With No Charges Filed, but He Fought and Got Them All Back!. A California Federal Firearms License holder who had his entire firearms collection of 541 guns seized with no charges filed against him, has had his guns returned. Albert Sheakalee, who lives in the Clovis area, went through mental health treatment in 2014. He has had a clean criminal record all of his life and owns a retirement home. He is a retired budget director of Fresno Community Hospital, and has held a FFL for more than two decades. However, under the Obama administration, the Justice Department went after his guns without any charges or guilt of any crime being obtained, a clear violation of the Fifth Amendments protections that he not be deprived of his rights (specifically the right to keep and bear arms). A press release at the time by then-state Attorney General, now Senator Kamala Harris barred him from owning guns and brought about a 12-hour raid on his home by the Bureau of Firearms Special Agents on November 12, 2015. He was subsequently arrested for allegedly possessing illegal firearms.
DEA Seized $4 Billion From People Since 2007. Most Were Never Charged with a Crime. A report by the Justice Department Inspector General released Wednesday [3/29/2017] found that the DEA's gargantuan amount of cash seizures often didn't relate to any ongoing criminal investigations, and 82 percent of seizures it reviewed ended up being settled administratively — that is, without any judicial review — raising civil liberties concerns. In total, the Inspector General reports the DEA seized $4.15 billion in cash since 2007, accounting for 80 percent of all Justice Department cash seizures. Those figures do not include other property, such as cars and electronics, which are favorite targets for seizure by law enforcement.
States Seize Control of Civil Asset Forfeiture. Last week, in refusing to consider a civil asset forfeiture case on procedural grounds, Supreme Court Justice Clarence Thomas cast doubt that these practices could stand up constitutionally or be sustained by historical practice. We share his doubt. Civil asset forfeiture is a procedure where state and federal government actors seize property from private citizens under the suspicion that the property is somehow involved with a crime. Those citizens are rarely charged or convicted of criminal behavior, but the property is brought into a civil court of law, wherein the government must meet what is usually a low burden to "prove" that property's guilt.
A Monumental Mistake. In December, in the final weeks of his presidency, President Obama single-handedly created the 1.35 million-acre Bears Ears National Monument in southeastern Utah, despite opposition from the state's governor, its congressional delegation, and the local elected officials that represent the area. Obama did so using his executive powers under the 1906 Antiquities Act, a Progressive Era law that allows presidents to unilaterally declare federal land off limits to most forms of development. The local backlash was fierce. Representative Jason Chaffetz called the decision "a slap in the face to the people of Utah." Governor Gary Herbert said it "disregards the well-being and interests of rural Americans." And Senator Mike Lee vowed to "work tirelessly with Congress and the incoming Trump administration to honor the will of the people of Utah and undo this designation."
Texas landowners fight federal government over Red River 'land grab'. In 1941, Ken Aderholt's grandfather built a single-story brick house along the banks of the Red River — a shallow and serene waterway serving as the boundary between Texas and Oklahoma — where the Aderholts have farmed wheat and raised cattle for generations. The federal government is now claiming the land the house sits on is public. It declared hundreds of thousands of acres of private land along the 116-mile stretch of river that Oklahoma and Texas share as government property.
THIS is going to "make America great again?"
Interior nominee Ryan Zinke defends expansive federal reach in land policies. Rep. Ryan Zinke, the nominee to head the Interior Department, will cast himself Tuesday [1/17/2017] as a champion of the federal government expanding its reach over federal lands, in a move that could signal friction with his own GOP colleagues. He also hinted, in testimony prepared for his confirmation hearing Tuesday afternoon, that President-elect Donald Trump's promised infrastructure plans will include money to shore up the crown jewels of the national park system, many of which are crumbling under a $12 billion maintenance backlog. Mr. Zinke will call himself an "unapologetic admirer of Teddy Roosevelt," saying the former president "had it right" when he expanded the government's reach to millions of acres of lands.
The Little Rascals Of Government Want Your 401K Account. The 401(k) was a private industry solution to providing pensions without bankrupting companies. The program has helped millions of people like me to benefit directly from the stock market's incredible rise since Reagan became president. Employees squirrel away some pre-tax money in a savings plan, which employers match. The money is invested in mutual funds. Then at 59½, they can start drawing money down.
Does Anyone Besides Jeff Sessions Defend Today's Civil-Forfeiture Practices? For Christos and Markela Sourovelis, for whom the worst thing was losing their home, "Room 101" was Courtroom 478 in City Hall. This "courtroom"'s name is Orwellian: There was neither judge nor jury in it. There the city government enriched itself — more than $64 million in a recent eleven-year span — by disregarding due-process requirements in order to seize and sell the property of people who have not been accused, never mind convicted, of a crime. The Sourovelises' son, who lived at home, was arrested for selling a small amount of drugs away from home. Soon there was a knock on their door by police who said, "We're here to take your house" and "You're going to be living on the street" and "We do this every day." The Sourovelises' doors were locked with screws and their utilities were cut off. They had paid off the mortgage on their $350,000 home, making it a tempting target for policing for profit. Nationwide, proceeds from sales of seized property (homes, cars, etc.) go to the seizers. And under a federal program, state and local law enforcement can partner with federal authorities in forfeiture and reap up to 80 percent of the proceeds. This is called — more Orwellian newspeak — "equitable sharing."
Lands activists urge Trump to revoke Obama's national monuments. Western lands activists are urging Donald Trump to test the limits of executive power by revoking millions of acres that President Obama set aside as national monuments, setting up a landmark legal battle over one of the nation's most frequently used environmental protections. Such a step would be historic. No president has undesignated a national monument created by his predecessor, and it's unclear whether he has the authority to do so. But Obama administration critics say now is the time to try to establish a precedent. They say Mr. Obama has wildly abused presidential power in using the 1906 Antiquities Act to cordon off huge swaths of land and sea — mostly along the West and East coasts — to prevent energy exploration. In total, he has earmarked at least 553 million acres of land and water as national monuments, far more than any other president.
Forest Service trying to seize private land from Montana ranchers. Chris Hunter and his co-owners of Wonder Ranch in southwestern Montana have decided it's their time to be brave. They're taking on the government and fighting for land that is rightfully theirs. "It is daunting and depressing, we felt afraid and cornered," Hunter told me about the government's actions. "You feel double crossed by your own government. You either have to sue them or it's a done deal. It doesn't feel like America, it feels like we are living in one of the horrible dictatorships that we read about in history books." The issue is that the U.S. Forest Service likes a quarter-mile-long trail that happens to cut across Wonder Ranch's private land. For decades, the ranch's owners have happily granted access to both the public and government employees anytime they've wanted to use the trail, which happens to cross through their front yard. It's been an amicable relationship, but an uncertain one.
Bible-quoting cowboy wants $50 million over seized horses. "Doc" Mishler says city officials seized his two horses illegally after he rode across the Outerbridge Crossing from New Jersey to Staten Island as part of his mission to raise awareness about child hunger.
DEA Targeting Innocent Americans — Accessing Their Travel Data To Seize Cash Via Civil Assets Forfeiture Laws. The latest abuse of civil asset forfeiture laws involves air and rail travelers being targeted and fleeced by a federal agency. The Drug Enforcement Administration is pulling Americans' travel data en masse from airline and Amtrak records, profiling individuals with "suspicious" travel habits, and targeting them for searches as part of the nation's drug interdiction efforts. But, according to a damning article last week in USA Today, the goal of this massive operation is neither to confiscate drugs nor to make arrests — it's to seize and forfeit cash via civil asset forfeiture laws. Seize, they have. Over 10 years, DEA agents deployed at 15 airports across the country have brought in $209 million in alleged drug funds, money that the DEA and its local agency partners spent with little oversight or accountability. But while agents generated a mountain of cash, they produced hardly any arrests, indictments, or convictions.
For Americans Who Had Cash Seized By Government, a Chance to Get It Back. According to a GOP source, the IRS told the House Ways and Means Oversight Subcommittee that it will send letters to everyone the agency seized money from for alleged structuring violations, which involves making consistent cash transactions of just under $10,000 to avoid reporting requirements, starting in October 2009. The GOP source said that amounts to roughly 700 cases, and those involved will have the opportunity to file petitions for remission or mitigation — akin to a petition for a presidential pardon — with the tax agency. Once petitions are filed, the IRS will review them and determine if the petitioner qualifies to get all or some of his or her money back.
States crack down on government cash grabs. States across the country are revising laws that allow police to seize a person's cash and property without a conviction, following widespread complaints about agencies profiteering off such legislation, holdovers from the "Miami Vice" cocaine era. Right now, 47 of the 50 states allow so-called civil asset forfeitures, with New Hampshire set to effectively end such practices, which allow property and currency to be seized even if it's only suspected of being connected to a crime. The changes in New Hampshire and elsewhere follow numerous, high-profile cases in which Americans have had their cash and other assets seized by state- and local-level police agencies without being convicted and of police departments appearing to aggressively pursue such cases to fill their coffers.
New Mexico Ended Civil Asset Forfeiture. Why Then Is It Still Happening? Let's revisit a state law that emerged out of criticism of the process police use to seize assets they suspect are linked to crimes and keep those assets without having to convict the owner of anything. It's called civil asset forfeiture. Critics say it's abused by local police departments that see forfeiture as a source of funding. And New Mexico made news last summer when it passed a law ending that practice. NPR's Martin Kaste reports on how the new law is working out.
New frontiers in asset forfeiture. The most common form of property seized is cash. In fact, carrying large amounts of cash is now in and of itself viewed as suspicion of criminal activity. People who still do carry a lot of cash today have as much to fear from law enforcement as they do from criminals, particularly if they're planning to fly or drive on a highway that passes through a "forfeiture corridor." The police theory has been that because most criminals work with cash (probably true), most people carrying a lot of cash are probably criminals (probably not true). Don't want to be under suspicion? Don't carry cash. But the Oklahoma state police are now using some new technology that could make that advice obsolete.
OHP Uses New Device To Seize Money Used During The Commission Of A Crime. You may have heard of civil asset forfeiture. That's where police can seize your property and cash without first proving you committed a crime; without a warrant and without arresting you, as long as they suspect that your property is somehow tied to a crime. Now, the Oklahoma Highway Patrol has a device that also allows them to seize money in your bank account or on prepaid cards. It's called an ERAD, or Electronic Recovery and Access to Data machine, and state police began using 16 of them last month. Here's how it works. If a trooper suspects you may have money tied to some type of crime, the highway patrol can scan any cards you have and seize the money.
The Editor says...
This is not an improvement. It's still based on the suspicion and opinion of a lone state trooper, not a judge or jury.
You Don't Have to Be a Criminal for the IRS to Seize Your Bank Account. Like many other police agencies, the IRS has extensive and easily abused civil-forfeiture powers. The idea behind civil forfeiture is that criminals should not be allowed to profit from their crimes, and that their ill-gotten loot — cash, cars, real estate — should find its way to the public fisc. In practice, that does happen, but forfeiture also provides a sweet stream of lightly overseen revenue for police agencies, hence the temptation to abuse. As those who followed the horrifying case of former House speaker Dennis Hastert know, there exists a class of financial crime called "structuring," a variation on money-laundering. Federal law requires banks to report transactions of $10,000 or more. As a result, criminals involved in cold-cash enterprises such as prescription-opiate trafficking or political corruption often limit their bank withdrawals to amounts just under the reporting threshold in order to avoid detection.
IRS Took $43 Million From Innocent Americans Under 'Structuring' Law. The IRS has seized $43 million from more than 600 individuals by accusing them of violating "structuring" laws even when there has been no evidence of criminal wrongdoing, according to testimony heard at the House Ways and Means Committee today [5/26/2016]. In 2012, two armed IRS agents went to the farm of Randy Sowers, a dairy farmer for over three decades, to notify him that the IRS had seized the business' bank account, which held more than $60,000. The agents told Sowers the IRS had done so because of structuring laws. When an individual conducts a cash transaction in excess of $10,000, according to federal law, the bank must file a currency transaction report with the Treasury Department. It is unlawful for an individual to break up or "structure" cash deposits into amounts below $10,000 to avoid federal currency reporting.
IRS took $43M from Americans under 'structuring' law without evidence. The IRS has seized $43 million from more than 600 individuals by accusing them of violating "structuring" laws even when there has been no evidence of criminal wrongdoing, according to testimony heard at the House Ways and Means Committee today [5/26/2016]. In 2012, two armed IRS agents went to the farm of Randy Sowers, a dairy farmer for over three decades, to notify him that the IRS had seized the business' bank account, which held more than $60,000. The agents told Sowers the IRS had done so because of structuring laws.
First, the IRS Took $68K From Connecticut Bakers. Now, It's Investigating Them. [Scroll down] David Vocatura had made cash deposits of under $10,000 into the bakery's account, but only after a bank employee called the bakery in 2007 to tell them that deposits of more than that amount required them to submit additional paperwork. "The terminology that they used was never really explained to us in detail," David Vocatura told The Daily Signal. "We just thought it was an inconvenience or a nuisance for [the bank]." Regardless of the bank employee's instructions, the IRS agents told David Vocatura that he had broken the law, which gave the tax agency the authority to empty the bakery's bank account, containing $68,382.22. And the IRS did.
IRS to Face Lawmakers After Thousands Seized From Small Business Owners. For more than four years, Maryland dairy farmer Randy Sowers has been fighting the federal government, asking it to right what many say was a wrong. In Feb. 2012, two federal agents told Sowers, who owns South Mountain Creamery in Frederick, Md. that the Internal Revenue Service was seizing more than $60,000 from his farm's bank account under a subset of civil forfeiture laws governing cash transactions. According to the IRS, Sowers had committed structuring violations. Structuring is the act of making consistent cash deposits or withdrawals of under $10,000 to avoid government reporting requirements. But the dairy farmer didn't know he was doing anything wrong, and because Sowers and his wife sold milk at local farmer's markets — where customers paid primarily in cash — they frequently made cash deposits into the business's bank account.
Donald Trump is now threatening the 401(k)s of ordinary Americans. Who owns the most U.S. Treasury bonds? China? Japan? Saudi Arabia? The answer: None of the above. It's us. We Americans own almost $5 trillion in Treasury bonds, all told. That's more than twice as much as China, Japan and all the oil exporting countries put together. And so when Donald Trump monkeys with the U.S. government debt, as he has in two interviews in the past few days, this isn't just a matter of abstract economics or of sticking it to foreigners. It's about threatening to take your personal 401(k) out into the back yard and beat it like, as they say, "a rented mule."
How police took $53,000 from a Christian band, an orphanage and a church. [Scroll down] Eh Wah managed the band's finances, holding on to the cash proceeds it raised from ticket and merchandise sales at concerts. By the time he was stopped in Oklahoma, the band had held concerts in 19 cities across the United States, raising money via tickets that sold for $10 to $20 each. The sheriff's deputies in Muskogee County, Okla., pulled Eh Wah over for a broken tail light about 6:30 p.m. on Feb. 27. The deputies started asking questions — a lot of them. And at some point, they brought out a drug-sniffing dog, which alerted on the car. That's when they found the cash, according to the deputy's affidavit. There was the roughly $33,000 from ticket sales and donations, much of it earmarked for the religious college back in Burma, according to Eh Wah and the band members.
Obama just gave cops the OK to simply take your stuff. When Attorney General Loretta Lynch decided late last year that the Justice Department would end the federal civil-asset forfeiture program, criminal-justice reform advocates proclaimed it a "significant deal. But late last month, less than four months later, the Obama administration reversed itself and reinstated the Asset Forfeiture Fund's Orwellian "equitable sharing" program. That's a shame, particularly when the only supporters of the policy are the law-enforcement agencies that directly benefit from it. Indeed, the federal program's combined annual revenue has grown more than 1,000 percent in the last 15 years, filling the coffers of federal, state and local police departments.
Guilty Until Proven Innocent. After a months-long trip to visit extended family in Cincinnati, Charles Clarke was approached by local law enforcement while preparing to board a flight home to Orlando. A tip from a ticket agent, who claimed that Clarke's bag smelled like marijuana, had spurred the encounter. The officers, who were working with the Drug Enforcement Administration, began quizzing Clarke, a 22-year-old African-American and college student, on his travel plans. They also asked him if he was carrying cash. Believing he had nothing to hide from law enforcement, Clarke consented to a search of his carry-on bag. Clarke was carrying approximately $11,000 in cash, money he had obtained through legal means, including his job and student loans. Before taking his trip, he had decided to bring the money with him because his mother, whom he lives with, was moving and Clarke did not want his money to be lying around for movers to find.
Florida Governor Signs Forfeiture Reform into Law. Florida Gov. Rick Scott signed legislation that requires law enforcement to make an arrest before seizing property believed to be connected to a crime and increases the evidentiary standard the government needs to permanently keep seized property. The bill also offers procedural reforms, such as a $1,000 filing fee and $1,500 that the government needs to pay before beginning forfeiture proceedings against seized property. The bond would be payable to the property owner if the government fails to produce evidence that the property is connected to illicit activity.
New Obama Regulations Will Push Private Retirement Savings Into Government Accounts. If you thought Obamacare was terrifying, just wait until you read about what President Obama's regulatory agencies are planning to do with your retirement savings. According to an alarming report in the Wall Street Journal, government regulators at the Labor Department will be implementing new rules at the end of the year that will eventually force private retirement investments into government accounts. How? By making private investment options, specifically IRAs, too burdensome, a liability and expensive.
DOJ Restarts Program Used to Take People's Property Without Due Process. Congress, in 1984, passed the Comprehensive Crime Control Act, which created the Department of Justice's Assets Forfeiture Fund and allowed bureaucrats to develop the Equitable Sharing Program. Deposits to the fund grew from nearly $94 million in 1986 to $4.5 billion in 2014. The Equitable Sharing Program is, however, a symptom of the real issue. State and local law enforcement agencies working with federal agencies, through drug tasks forces or the like, can seize property and allow the federal government to adopt it to begin forfeiture proceedings under federal forfeiture laws. Federal forfeiture laws lack any substantive protections for innocent property owners. Seized property can be subjected to forfeiture based on "a preponderance of the evidence," or a 51 percent likelihood that case the government made against the property is true.
Supreme Court Rules Against Freezing Assets Not Tied to Crimes. The government may not freeze assets needed to pay criminal defense lawyers if the assets are not linked to a crime, the Supreme Court ruled Wednesday [3/30/2016] in a 5-to-3 decision that scrambled the usual alliances. The case arose from the prosecution of Sila Luis, a Florida woman, on charges of Medicare fraud that, according to the government, involved $45 million in charges for unneeded or nonexistent services. Almost all of Ms. Luis's profits from the fraud, prosecutors said, had been spent by the time charges were filed.
Sneaky feds restart vile, corrupt civil asset forfeiture program. The federal government is bringing back its Equitable Sharing Program just months after shutting it down. The "Department of Justice" announced the decision to bring the civil asset forfeiture program back this week, meaning participating local and state law enforcement agencies will enjoy getting a piece of the pie whenever a task force seizes property.
Lawmakers Urge IRS, Justice Department to Return $29K Seized from Dairy Farmers. A bipartisan group of lawmakers on the House Ways and Means Committee is urging the Justice Department, Treasury Department, and Internal Revenue Service to return money "inappropriately" seized by the IRS under civil asset forfeiture. Led by Oversight Subcommittee Chairman Peter Roskam, R-Ill., and Ranking Member John Lewis, D-Ga., the group of 14 lawmakers also called on the agencies to give property owners the opportunity to petition the government for funds seized for structuring violations, which involve making consistent cash transactions of just under $10,000 to avoid bank reporting requirements.
Law Enforcement Seized This Oklahoma Man's Truck Without Charging Him With a Crime. When Stephen Mills learned that the Grady County Sheriff's Department seized his Ford F-250 back in 2010, he figured it would be a matter of days before police returned the vehicle to him and his wife. It wasn't.
Trump and Eminent Domain. It's a relatively new phenomenon for the government to seize property on behalf of private development projects. And yet, so very many of these projects somehow used to get done. Only one thing is certain when it comes to eminent domain: Those who have their property seized don't get paid enough for it. Admittedly, trying to clear out all the homes from a certain area can be a seemingly insurmountable challenge. But there are free-market solutions.
Beware America, President Obama has put politics into your pensions. The federal government is going to allow retirement investments to be subjected to politically correct funny business due to a new guidance issued by the U.S. Labor Department that puts the government's thumb on the scale in favor of so-called "socially responsible" investments. Prior to the Obama administration action, these politically correct investment vehicles needed to match their peers by meeting the same fiduciary standards in order to qualify for inclusion in a 401(k) or pension plan. In fact, in previous guidance offered the financial services industry, the Labor Department flatly stated that the occurrence of these funds in a qualified pension plan should be "rare."
An unexpected New Year's present from Congress: Property rights. State and municipal law enforcement agencies make big money seizing property from owners who have not been convicted or often even charged with a crime, on the pretext that it was somehow involved in criminal activity. The burden falls upon property owners to prove it wasn't, and they might have to go to great effort and expense to recover what's theirs. It sounds terribly un-American, but it is a routine practice in most states. Some states, such as New Mexico, have already begun to reform it, requiring a criminal conviction before property can be lawfully seized. When state laws are passed restricting this dubious police practice, the cops sometimes circumvent them by involving the feds. That's because assets seized through joint federal task forces fall under federal law instead.
The Justice Department just shut down a huge asset forfeiture program. The Department of Justice announced this week that it's suspending a controversial program that allows local police departments to keep a large portion of assets seized from citizens under federal law and funnel it into their own coffers. The "equitable-sharing" program gives police the option of prosecuting asset forfeiture cases under federal instead of state law. Federal forfeiture policies are more permissive than many state policies, allowing police to keep up to 80 percent of assets they seize — even if the people they took from are never charged with a crime. The DOJ is suspending payments under this program due to budget cuts included in the recent spending bill.
If You Like Your 401(k), You Can Keep Your 401(k): Obama Labor Dept. Sets Stage for Nationalizing Retirement Accounts. In 2013, in a little-heralded case, the U.S. Court of Appeals for the Seventh Circuit rejected the Obama Labor Department's attempt to punish voluntary retirement plan service providers. The DOL, under the direction of the controversial, radical leftist Tom Perez, had tried to force providers of 401(k), 403(b), IRA, and related services to adopt a massive new set of regulations known as "fiduciary" responsibilities. The Seventh Circuit slammed the door shut on Labor and the Supreme Court thereafter declined to hear the appeal, which meant that the Obama administration had lost in the highest court in the land. Of course for the "most transparent administration ever", that step simply meant that the court's opinion was to be rejected and that Obama would use his infamous pen to rule by executive fiat.
Bureau of Land Management shows contempt for property rights. Since 2008, the Bureau of Land Management has claimed up to 90,000 acres of private property inside Texas along the Red River as federal land. For nearly seven years, affected property owners along the river tried to settle these disputed titles with BLM. And for nearly seven years (and counting), BLM failed to come to the table. Last month, those property owners — represented by the Texas Public Policy Foundation's Center for the American Future — filed the federal lawsuit of Aderholt v. BLM to end BLM's arbitrary seizure of their homes. In the past two weeks, the state of Texas and the Texas General Land Office have joined this lawsuit.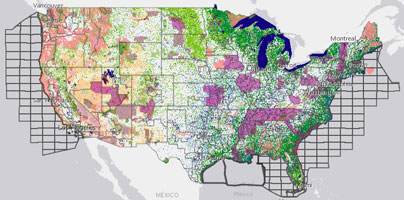 Uncle Sam Owns This Much Of America. Uncle Sam owns nearly one out of every three acres in the United States — 640 million acres of the entire country's 2.27 billion acres. But "a picture is worth a thousand words," according to Texas Republican Rep. Louie Gohmert, chairman of the House Committee on Natural Resources' Subcommittee on Oversight and Investigations. So, his full committee created an interactive map revealing every acre the federal government owns in each congressional district, color-coded by agency. Those 640 million acres aren't enough for the White House and federal bureaucrats, as they're constantly trying to grab more for environmental reasons, Gohmert says.
George P. Bush [is] Going to Court Over BLM 'Land Grab'. The Texas General Land Office is bidding to become involved in a property dispute over a 116-mile stretch along the Red River that pits the federal Bureau of Land Management against various deed holders who have claimed ownership of the area in question for generations. Land Office Commissioner George P. Bush, the son of former Florida governor and current Republican presidential candidate Jeb Bush, said his agency has standing to join a federal lawsuit challenging BLM claims since it manages the mineral holdings on a 113-acre tract in Wilbarger County that is part of the contested area.
Feds [Took] $4.5 Billion Worth of Private Property From Americans in 2014. The Department of Justice took $4.5 billion in private property including cash, cars and homes from Americans in 2014, which includes both civil and criminal forfeitures, according to a report from the Institute for Justice. A majority, or 87 percent, of the forfeitures by the government from 1997 to 2013 were civil forfeitures, while only 13 percent were criminal. "Under civil forfeiture laws, the government can seize this property on the mere suspicion that it is connected to criminal activity," the report, entitled "Policing for Profit," said. "No charges or convictions are required."
Donald Trump's Putrid Embrace of Eminent Domain Abuse. [Scroll down] In Kelo, the famous Supreme Court eminent domain ruling which Trump has repeatedly praised, the government's land grab wiped out an entire neighborhood, not "a corner of a piece of property." Similarly, when New York officials wielded eminent domain in order to clear space for the Barclay's Center basketball arena in Brooklyn, the government's bulldozers laid waste to multiple homes and businesses. An entire city block was erased from the map. The examples of this sort of eminent domain abuse go on and on.
Government takes family's land near Area 51. Private land overlooking the secret base at Area 51 has officially been taken from the owners and transferred to the United States Air Force. Last month, the U.S. Air Force condemned the Groom Mine property when the family who owns it rejected a government buyout they felt was unjust.
Judge: NYC Seizing Thousands Of Cars Without Warrants Is Unconstitutional. Under an aggressive policy meant to combat unlicensed vehicles for-hire, the New York City Taxi & Limousine Commission (TLC) has seized over 21,000 cars since 2012. After a seizure, commission inspectors pressure owners to plead guilty and pay hundreds of dollars in fines to recover their property. The Commission's citywide dragnet not only cracked down those who compete with established transportation companies, but also ensnared regular New Yorkers, who were simply driving their friends, family, neighbors — and even nuns — around the city. After the TLC seized their cars without warrants, five owners sued in federal court last year. As they asserted in their complaint, the government cannot "seize property without judicial process and hold the property hostage."
The Government Land Grab Case That Could Forever Change Private Property Rights. Ken Aderholt was born in Harrold, Texas, and grew up on the state border, news channel 6 reported. Aderholt's family has been running cattle on land near the Red River since 1941 and hoped to pass the land on to their children as it was passed on to them but the BLM has swooped in to take it and the reason why will stun you.
States go after unclaimed property, use it to patch budgets. When Americans lose track of money — in neglected bank accounts, paychecks they forgot to cash and elsewhere — state governments are increasingly aggressive in taking control of the cash.
Is The Bureau Of Land Management Attempting A Land Grab On The Red River? Land disputes between private citizens and the federal government — represented by the Bureau of Land Management — have been a hot topic since the standoff at Cliven Bundy's ranch in Nevada last year. With the Bundy Ranch incident still fresh in the minds of conservatives who considered the dispute a land grab on the part of the Bureau of Land Management, reports out of Texas — along the Oklahoma border at the Red River — have been circulating for the past year and change.
'Very Little Protection' for Property Owners in Decade Since Kelo Ruling. A public interest lawyer whose firm represented homeowners in a controversial case regarding eminent domain 10 years ago told lawmakers that the U.S. Supreme Court has left private property owners with "very little protection" if a city wants to take their residences for developmental purposes. Dan Alban, an attorney for the Institute for Justice, a firm that represents people whose rights, the outfit determines, are being violated by the government, appeared before the Senate Subcommittee on the Constitution to say what he characterized as the "infamous" Kelo v. City of New London case can be used to "transfer perfectly fine private property to a private developer based simply on the mere promise of increased tax revenue."
Donald Trump Trashes the Constitution, Endorses Eminent Domain Abuse. Earlier this week Republican presidential candidate Donald Trump told Fox News that he totally supports the Supreme Court's shameful 2005 eminent domain decision in Kelo v. City of New London. "I think eminent domain is wonderful," Trump declared. It was not a particularly surprising comment. After all, as I noted here yesterday, Trump has a long record of seeking to personally profit from eminent domain abuse. One such incident occurred in 1994 when Trump joined forces with government officials in New Jersey in a legally unsuccessful attempt to kick an elderly widow out of her Atlantic City home in order to make room for a limousine parking for the nearby Trump Plaza hotel and casino.
Critics: Obama Admin. Tries To Hide Land Grab From Western States. The Obama administration has opted not to list the greater sage grouse under the Endangered Species Act (ESA), instead using land use plans which basically amount to an underhanded land grab, according to critics. "The 15 amended federal land use plans the Interior Department is using to substitute for listing the greater sage grouse under the Endangered Species Act perpetuate a top-down, penalty-based approach that ultimately harms sage grouse conservation efforts," Brian Seasholes, director of the libertarian Reason Foundation's endangered species project, told The Daily Caller News Foundation.
The Air Force Is About To Seize 400 Acres Of Private Land In Nevada. The Cliven Bundy case showed lots of Americans that the federal government is guilty of some pretty egregious abuses of property rights with respect to its dominant position as a landowner in the West, and particularly in Nevada. But the Bundy situation was one thing. After all, Bundy's rights in question involved grazing rights on government land and the feds' appropriating his livestock following a sketchy, if not downright crooked, legal process. There is another Nevada land case which is considerably worse, and that one — which involves nuclear testing, airstrikes and Area 51 — is coming to a head now.
Air Force wants owners to give up property near secret Area 51. They're being told to take a $5.2 million "last best offer" for their property by Thursday [9/10/2015] — or the government will seize it through condemnation.
Feds fighting to keep cash seized from person never charged with crime. Federal prosecutors are battling in court to keep $167,000 in cash seized in a 2013 traffic stop, despite the motorist never being charged in the incident and the Obama administration clamped down this spring on such asset seizures and forfeitures. The case — which highlights the ongoing concerns about the government unjustly seizing money and property — began when a Nevada state trooper pulled over the motorist on a cross-country trip to California. The trooper stopped Hawaii resident Straughn Gorman's motor-home in January 2013 for allegedly going too slow along Interstate 80.
In Trashing Land, The EPA Has Nothing On The Forest Service. Americans now comprehend fully the disdain the Environmental Protection Agency (EPA) has for truth-telling, the rights of others, and the environment. [...] Even so, the EPA has nothing on the U.S. Forest Service. In documents filed days ago in a federal district court in Arkansas, the agency and its lawyers demand dismissal of a $5 million lawsuit against the United States for decades of tortious use and abuse of a Scot-Irish family's farmland settled one hundred years before the Ozark National Forest's creation made the Forest Service the family's neighbor. Worse yet, Conner Eldridge, the United States Attorney for Arkansas, argues that, because the Forest Service trespassed upon Matthew McIlroy's farm for years, the government owns the land! The assertion, which has no factual or legal support, is asinine, absurd, and in conflict with an admonition of the Supreme Court of the United States.
Feds fighting to keep cash seized from person never charged with crime. Federal prosecutors are battling in court to keep $167,000 in cash seized in a 2013 traffic stop, despite the motorist never being charged in the incident and the Obama administration clamped down this spring on such asset seizures and forfeitures. The case — which highlights the ongoing concerns about the government unjustly seizing money and property — began when a Nevada state trooper pulled over the motorist on a cross-country trip to California. The trooper stopped Hawaii resident Straughn Gorman's motor-home in January 2013 for allegedly going too slow along Interstate 80.
Nine Times the Government Stole Americans' Cash, Cars. Today [6/16/2015], The Heritage Foundation releases "Arresting Your Property: How Civil Asset Forfeiture Turns Police Into Profiteers." This booklet highlights the important problem of civil asset forfeiture and tells lawmakers how states and the federal government can help fix these broken laws. The booklet reveals the dark side of civil forfeiture, where the government seizes your property without ever convicting you of, or even charging you with, a crime, and then keeps the profits for its own coffers.
Another 'Barbarous Relic'. That's the headline over a Financial Times editorial calling on authorities to consider phasing out the use of cash — by everyone, not just governments. [...] In any event, the FT is promoting the idea that cash is another barbarous relic at a time when our own government is moving to attack the use of even moderate amounts of cash in the most startling ways. This story is being covered by, among others, the Daily Signal, which is published by the Heritage Foundation. It has released a book on how civil asset forfeiture makes a mockery of property rights and, as Heritage puts it, "turns the police into profiteers." The stories it has uncovered are heartbreaking.
Arresting Your Property: How Civil Asset Forfeiture Turns Police Into Profiteers. Civil asset forfeiture is a law enforcement tool with a dark side. Meant to ensure that "crime does not pay," civil forfeiture laws allow police to seize property they merely suspect was involved in criminal activity. In many states, law enforcement authorities can keep whatever they seize as profits — leading some agencies to treat civil forfeiture as a way to raise revenue, often at the expense of innocent property owners. Every American knows that in a court of law they are innocent until proven guilty, but civil forfeiture flips this on its head: Your property is guilty until you prove your own innocence.
Federal Prosecutors Fight Back After Judge Orders Motorist Be Returned $167K Seized. After a federal judge ordered the government return $167,000 law enforcement seized from a motorist driving through Nevada, federal prosecutors are fighting the decision. The U.S. attorney's office in Reno, Nev., filed documents with the 9th Circuit Court of Appeals in San Francisco, Calif., earlier this month calling on the court to revisit a decision requiring the government to return cash it seized from Straughn Gorman several years ago. Gorman was never charged with a crime.
Dairy farm fined $30,000 by IRS for depositing legally earned money in less than $10,000 increments. A farmer in Maryland has been targeted by the IRS for depositing amounts under $10,000, in order to avoid excessive paperwork. Randy Sowers wasn't doing it to launder money, but merely to avoid the hassles of paperwork meant to catch illegal activity. Yet the IRS is now treating him like a common criminal, seizing his money.
Dairy farmer fighting feds after IRS milks him for $30,000. Randy Sowers built his dairy farm over three decades into a thriving business. After kick-starting with a $100,000 loan, today the South Mountain Creamery has 1,000 cows and 70 employees delivering milk, ice cream and other products to homes in the Washington, D.C., area. But the Maryland farmer's operation suffered a big setback when the IRS swooped in to seize tens of thousands of hard-earned dollars from his account, claiming he violated an obscure banking law.
Bipartisan Group of Lawmakers Asks Treasury Department to Return $29,500 Taken From Innocent Dairy Farmers. A bipartisan group of lawmakers on the House Ways and Means Oversight Subcommittee is coming together to ask the Treasury Department to return nearly $30,000 it seized from Maryland dairy farmers in 2012. The letter, sent August 11 to Treasury Secretary Jack Lew, calls on the agency to return $29,500 the Internal Revenue Service seized from Frederick-based dairy farmers Randy and Karen Sowers through civil asset forfeiture. The lawmakers also asked Lew to review similar cases and return money seized by the tax agency under the practice.
'Despotic Power' in the Decade Since Landmark Eminent Domain Ruling. An attorney for the organization that represented homeowners in a controversial U.S. Supreme Court case that made it easier for governments to appropriate property and hand it over to another private entity for economic development purposes said the ruling continues to pose a threat to all landowners and called on lawmakers to address the potential abuse of eminent domain. Dan Alban, an attorney for the Virginia-based Institute for Justice, told the House Judiciary Committee that studies show that the outcome of the Kelo v. City of New London case, decided by the high court 10 years ago, "disproportionately impacts minorities, the less educated and the less well-off" and provides the government with "despotic power."
SCOTUS Curbs Gov't Property Grab Abuses, Vindicates Extorted Raisin Farmers. The Fifth Amendment provides that "private property" shall not "be taken for public use, without just compensation." When I wrote my book, The Original Constitution, I had to address the question of whether the Fifth Amendment phrase "private property" referred only to real estate or whether it included movable goods and other personal property. The answer is not clear from the text, because the historical record shows that in another part of the Constitution (Article IV, Section 3, Clause 2) the word "property" refers only to land. Accordingly, I canvassed the history relevant to "takings." I found an Anglo-American tradition of compensating for seizures of personal property that extended back to Magna Carta and continued to the time the Constitution was drafted. I concluded, therefore, that the Fifth Amendment protected a right to be compensated for all property taken.
SCOTUS Sides With Raisin Farmer — Deals Blow To USDA Crop Seizures Without Compensation. The case was Horne v. U.S. Dept of Agriculture. Essentially a raisin farmer was fined (and the price of his crop similarly assessed) for not forfeiting their harvest to the USDA in a program where the government regulates supply and demand through production controls. SCOTUS ruled 8-1 (Sotomayor dissent) the U.S. government cannot "take", or force destroyed, farming crops without compensation to the farmer under the fifth amendment "takings" clause.
Supreme Court strikes down federal raisin program as unconstitutional. Score one for the little guy. The Supreme Court sided with a renegade raisin farmer Monday [6/21/2015] in his battle against a federal program designed to keep excess raisins off the market. A majority of justices ruled that the Agriculture Department program, which seizes excess raisins from producers in order to prop up market prices during bumper crop years, amounted to an unconstitutional government "taking." But they limited their verdict to raisins, lest they simultaneously overturn other government programs that limit production of goods without actually seizing private property.
Bias alert:
Why is the plaintiff described as "a renegade raisin farmer?"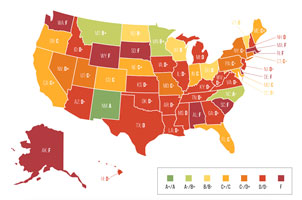 This Map Details Whether Asset Forfeiture Laws in Your State Are Good or Awful. The liberty-loving activists at FreedomWorks has produced a useful tool to examine the quality of civil asset forfeiture laws (the rules that allow police to seize and often keep money and property from busts) across the states. They've put together a new map that grades each state and the federal government on the basis of the following questions:
• What is the standard of proof the government must meet to forfeit a person's property?
• Who has the burden of prove innocence or mistake — the government or the property owner?
• What percentage of forfeiture funds are retained by law enforcement?
In Chicago, a Public University Tries to Seize Private Property. Should a public university be allowed to seize private property from people who don't want to sell? That's what Northeastern Illinois University is trying to do. The school is located in a north side Chicago neighborhood with an eclectic offering of restaurants and mom-and-pop stores. Many of the small businesses in the area have been in the owners' families for generations — but that's not what university officials want on their campus. The university is suing to bulldoze those private businesses and turn over the property to a private developer instead.
Police, Prosecutors Fight Aggressively to Retain Barbaric Right of "Civil Asset Forfeiture". Efforts to limit seizures of money, homes and other property from people who may never be convicted of a crime are stalling out amid a wave of pressure from prosecutors and police. Their effort, at least at the state level, appears to be working. At least a dozen states considered bills restricting or even abolishing forfeiture that isn't accompanied by a conviction or gives law enforcement less control over forfeited proceeds. But most measures failed to pass.
Brace for [a] Massive Private-Property Land Grab. The chutzpah of Barack Obama has no limits, and the man has no shame. [...] The small article in my local paper, the Contra Costa Times, was headlined, "With new EPA water rule, Obama again takes executive action on environment." The fact that it was a small article on the inside of the paper is illustrative that the liberal media find nothing wrong with the president using the power of an executive order to bypass Congress and get what he wants.
This is exactly the treatment you would expect in Mexico or Cuba or North Korea:
DEA to traveler: Thanks, I'll take that cash. A DEA agent boarded the train at the Albuquerque Amtrak station and began asking various passengers, including [Joseph] Rivers, where they were going and why. When Rivers replied that he was headed to LA to make a music video, the agent asked to search his bags. Rivers complied. Rivers was the only passenger singled out for a search by DEA agents — and the only black person on his portion of the train, [his attorney, Michael] Pancer said.
This took place on an Amtrak train.
Black aspiring businessman has $16,000 life savings seized by DEA agents. It was a lifetime ambition for 22-year-old Joseph Rivers to arrive in Los Angeles and become a big name in the music business. And he nearly made it... until a team of DEA agents put a stop to everything by snatching his life savings without even charging him with a crime. The aspiring businessman from the outskirts of Detroit had managed to scrape together $16,000 and was finally on the train to Los Angeles when the justice department stepped in, reported the Albuquerque Journal. Officers found Joseph's thousands of dollars stashed in a bank envelope and questioned him about the origins of the cash.
---
"All persons born or naturalized in the United States, and subject to the jurisdiction thereof, are citizens of the United States and of the State wherein they reside. No State shall make or enforce any law which shall abridge the privileges or immunities of citizens of the United States; nor shall any State deprive any person of life, liberty, or property, without due process of law; nor deny to any person within its jurisdiction the equal protection of the laws."


—

Constitution of the United States
Amendment #14, Section 1.

---

Public Pressure Forces IRS To Give Back Money To Civil Forfeiture Victim. After publicly humiliating the Internal Revenue Service, a North Carolina man received more than $100,000 from the agency. Lyndon McLellan had the bank account for his convenience store seized by the IRS, and at first he wasn't even sure why. The agency used civil asset forfeiture laws to take McLellan's money without convicting or charging him of a crime. The IRS said it suspected McLellan was violating federal structuring laws, which prohibit making multiple cash deposits of less than but near $10,000.

Feds to return $107G they seized from NC business owner, attorneys say. Lyndon McLellan fought the law — and apparently, he won. The North Carolina business owner for months has been battling the federal government after IRS agents last fall seized $107,000 from him, under a controversial practice known as civil forfeiture. But his attorneys at the Institute for Justice announced Thursday [5/14/2015] that the IRS and Department of Justice have moved to dismiss the case and give him back his money. "What's wrong is wrong, and what the government did here was wrong," McLellan said in a statement Thursday. "I just hope that by standing up for what's right, it means it won't happen to other people."

IRS Seizes Over $100,000 From Innocent Small Business Owner, Despite Promise To End Raids. Wielding a banking law intended to thwart drug trafficking and money laundering, the IRS has a new target in its sights: a rural convenience store that sells catfish sandwiches. Lyndon McLellan lost over $107,000 in an IRS raid after the agency seized the bank account belonging to his small business, L&M Convenience Mart in Fairmont, North Carolina. "It took me 13 years to save that much money and it took fewer than 13 seconds for the government to take it away," he said. Like thousands of other victims of civil forfeiture, the government never charged Lyndon with a crime. Now, with help from the Institute for Justice, he's fighting back to regain his hard-earned cash.

United States v. $107,702.66: North Carolina Civil Forfeiture. Lyndon McLellan has spent more than a decade running L&M Convenience Mart, a gas station, restaurant, and convenience store in rural Fairmont, North Carolina. Then, one year ago, without any warning, agents from the IRS seized his entire bank account, totalling more than $107,000. With that, Lyndon entered the upside down world of civil forfeiture, where the government can seize and keep ordinary Americans' property without ever charging them with a crime. The IRS and Department of Justice are pursuing forfeiture of Lyndon's money despite a recent policy change designed to prevent precisely these kinds of cases.

Shriveled grapes, shriveled liberty. In oral arguments Wednesday [4/22/2015], the Supreme Court will hear the government defend its kleptocratic behavior while administering an indefensible law. The Agricultural Marketing Agreement Act of 1937 is among the measures by which New Dealers tried and failed to regulate and mandate America back to prosperity. Seventy-eight years later, it is the government's reason for stealing Marvin and Laura Horne's raisins.

Frustration continues with aggressive tax-refund seizures. More than 77 million American have received tax refunds — but others may not be so lucky. CBS News has been investigating complaints that refunds are being seized by the government without notice.

Uncle Sam may have picked the wrong cash cow. Randy Sowers always expected the government to show up one day and ask where all the cash he was depositing at his bank came from. He thought he had the right answer: from his business selling eggs and milk at farmers markets. But under a federal law designed to target money laundering, Sowers and his Maryland dairy farm lost a big chunk of that income — $29,500 — to the government. Three years later, he hasn't gotten any of it back and almost certainly never will. In the court of public opinion, however, South Mountain Creamery has become a potent symbol for the movement against civil asset forfeiture.

Civil Asset Forfeiture Case Has a Happy Ending. In 2013, IRS agents showed up at Carole's door and told her they had seized all the money in the bank account for her business, Mrs. Lady's Mexican Food. But they didn't charge her with a crime. The only reason her money was seized was the fact that Carole made frequent cash deposits under $10,000. Even that is not illegal — it just looks suspiciously like a "structuring" method used by real criminals to hide illegally gotten gains. The problem is, the IRS didn't stop to investigate why Carole made deposits the way she did. She became "guilty until proven innocent."

Obama holding off on Utah land grab. Property rights advocates and conservatives were breathing a sigh of relief after President Obama completed his first visit to Utah without turning vast chunks of the state into a new national monument. Mr. Obama traveled to Utah late last week just as Republican Rep. Rob Bishop, a leading opponent of the president's campaign to declare huge swaths of Western lands off-limits to development, is preparing to unveil a new proposal that would give the state more control over the land-use process.

White House looking to creep into 401(k)s. Under the false pretense of calling for new and tougher so-called fiduciary standards for financial brokers, advisers and retirement plan representatives, the White House once again horned in on Wall Street's compensation formulas. However, what the president surely knows is that a vast majority of retirement plans — IRAs and 401(k)s — are in simple fee-based products like mutual funds.

You Say Debt Relief, I Say Theft. As someone who sides with Germany in the matter of Greek debt, I often hear that creditors should be held culpable for driving deadbeats like Greece to the brink of bankruptcy. That's true to an extent, but not when the debtor is a government. Nation-states have confiscatory powers that allow them to do to their creditors what medieval kings did to their Jews. It's a big mistake to pretend that a country like Greece is more vulnerable than it really is.

Small Justice. Eric Holder's divisive tenure at the Justice Department is coming to a close, in at least one area, on a somewhat positive note. Last month, the outgoing attorney general announced that he would scale back the Justice Department's "equitable sharing" program, under which state and local police forces could use federal law to seize property and assets from citizens without charging them with crimes. When operating on federal mandates, the police departments kept up to 80 percent of the seized assets, while federal agencies "adopted" the rest. "With this new policy, effective immediately, the Justice Department is taking an important step to prohibit federal agency adoptions of state and local seizures, except for public safety reasons," Holder said.

IRS Seizes First, Asks Questions Later. When Carole Hinders answered a knock at the front door of her home in August 2013, she was confronted by two IRS agents. They told her they had just cleaned out the entire bank account of the restaurant, Mrs. Lady's Mexican Food, that Hinders had owned and operated in tiny Spirit Lake, Iowa, for the past 30 years. The IRS seized more than $32,000. While Hinders stood in shock, the IRS agents told her that her cash deposits looked suspicious. Based on that suspicion alone, the IRS had authority to seize her entire bank account using a federal legal procedure known as civil forfeiture. Hinders protested that she'd get a lawyer and fight the seizure. She still remembers the disdainful response of one of the agents: "Well, you can try."

Report: IRS Seized Thousands of Bank Accounts Without Filing Criminal Charges. The Internal Revenue Service seized hundreds of millions of dollars from thousands of bank accounts over the past decade, often without proof of any criminal wrongdoing, according to a report released by the Institute for Justice this week. The Institute for Justice, a public-interest law firm, said the IRS practiced a "seize first, ask questions later" strategy when it seized $242 million in more than 2,500 cases from 2005 to 2012.

President Obama's 2016 budget targets retirement accounts. In truth, the president's budget is really more of a "wish-list" than anything else, but it's a good indication of where the administration is headed. This year's version of the budget included a number of provisions targeting retirement accounts. That was no surprise, as provisions aimed at retirement accounts have been a regular feature in budgets in recent years. What was a surprise, however, is how many proposals were targeting retirement accounts, and how many new proposals there were.

Another Step Down The Long, Slow Road To IRA Nationalization. Bottom line, the Fed is not going to be in a position to write blank checks to the US government indefinitely without becoming insolvent and causing an epic currency crisis. And when that happens, where else can Uncle Sam go? Who else will buy his debt? Simple. You. More specifically, your retirement account.

Feds drop controversial forfeiture case led by Obama AG pick Lynch. After nearly three years of legal battles, the federal government last week dropped its case against the Hirschs, who own a distribution company that serves convenience stores on Long Island. The government agreed to return more than $446,000 in assets and cash seized by the Internal Revenue Service in 2012 under federal civil asset forfeiture laws, even though the Hirsch family was never charged with a crime. [...] Why was the IRS interested in the Hirsch Family in the first place? Under federal law, all bank deposits of more than $10,000 must be reported to the IRS. The Hirschs never deposited more than the legal limit, but the officers who investigated the family wrote in an affidavit that daily deposits ranging from $500 to $9,000 were suspicious enough to seize their bank account.

Eminent domain use for possible Olympic site feared. Should Boston ultimately be tapped to host the 2024 Summer Games, the use of eminent domain will be a tempting option to help clear prized land for Olympic venues, but deploying it, warns a legal expert, could cause disastrous ripple effects with lasting economic harm. "There is a long history of using eminent domain to try to promote economic development. Most of the time what happens is it tends to destroy more development than it actually creates," said Ilya Somin, a George Mason University property law professor. "It destroys existing businesses and homes. It undermines the security of property rights and it tends to destroy people's social ties in their neighborhoods."

'Twas the Night Raid Before Christmas. In the midst of buying your own gifts for family and friends this holiday season, remember that the cops can just as easily seize your property, your rights and even your shark fins.

Cops Seized Couple's $160,000 Wine Collection — And Want to Destroy It All. The police, who had made undercover buys at the home before, easily found what they were looking for. And they found lots of it. In a raid that lasted twenty hours, police seized thousands of ounces of alleged contraband from the couple's home. In addition to the seizure, police charged Mr. Goldman with a crime. So just what was it that led police to target the homeowners? Cocaine? Marijuana? Meth? Raw milk? None of the above. This bizarre and infuriating case involves no illicit substance whatsoever. It's a case about wine. Legally purchased wine, at that.

The bipartisan plan to end IRS stealing. The IRS has the power to seize small cash deposits under $10,000. These deposits seem suspicious because cash deposits over $10,000 trigger a bank report to authorities. Terrorists, drug dealers, and money launderers all make cash deposits under $10,000 to avoid triggering the bank report. The illicit practice is called "structuring." The problem is that many small businesses accept cash payments and make large deposits that happen to fall under $10,000. Sadly, this attempt to crack down on terrorist funding is used by the IRS to abuse small businesses.

Highway seizure in Iowa fuels debate about asset-forfeiture laws. By the time the encounter was over, the gamblers had been detained for more than two hours. Their car was searched without a warrant. And their cellphones, a computer and $100,020 of their gambling "bankroll" were seized under state civil asset-forfeiture laws. The troopers allowed them to leave, without their money, after issuing a traffic warning and a citation for possession of marijuana paraphernalia that carried a $65 fine, court records show. Months later, an attorney for the men obtained a video of the stop. It showed that the motorists were detained for a violation they did not commit — a failure to signal during a lane change — and authorities were compelled to return 90 percent of the money.

Police Use Department Wish List When Deciding Which Assets to Seize. The seminars offered police officers some useful tips on seizing property from suspected criminals. Don't bother with jewelry (too hard to dispose of) and computers ("everybody's got one already"), the experts counseled. Do go after flat screen TVs, cash and cars. Especially nice cars. In one seminar, captured on video in September, Harry S. Connelly Jr., the city attorney of Las Cruces, N.M., called them "little goodies." And then Mr. Connelly described how officers in his jurisdiction could not wait to seize one man's "exotic vehicle" outside a local bar.

IRS uses drug trafficking and terror laws to seize bank accounts from taxpayers without ANY proof of a crime. The federal government is using a legal process called 'civil forfeiture' to seize massive amounts of money from unsuspecting Americans — without alleging that they've committed any crimes. [...] In one case, the IRS took $446,000 from a mostly cash-only small business that distributes candy, snacks and cigarettes to convenience stores. Brothers Jeffrey, Richard and Mitch Hirsch lost that money two years ago when the federal government raided their bank account. In another, the government grabbed $33,000 from Iowa restaurateur Carole Hinders, who deals only in cash. No criminal charges have been brought in either case.

Law Lets I.R.S. Seize Accounts on Suspicion, No Crime Required. For almost 40 years, Carole Hinders has dished out Mexican specialties at her modest cash-only restaurant. For just as long, she deposited the earnings at a small bank branch a block away — until last year, when two tax agents knocked on her door and informed her that they had seized her funds, almost $33,000. The Internal Revenue Service agents did not accuse Ms. Hinders of money laundering or cheating on her taxes — in fact, she has not been charged with any crime.

Asset seizures fuel police spending. Police agencies have used hundreds of millions of dollars taken from Americans under federal civil forfeiture law in recent years to buy guns, armored cars and electronic surveillance gear. They have also spent money on luxury vehicles, travel and a clown named Sparkles. The details are contained in thousands of annual reports submitted by local and state agencies to the Justice Department's Equitable Sharing Program, an initiative that allows local and state police to keep up to 80 percent of the assets they seize.

Why is Social Security seizing your tax refund over your relatives' debt? CBS News first met Mary Grice in April after her tax refund of almost $3,000 dollars had been confiscated, she said, without notice. It turned out the Social Security Administration had seized her refund, claiming her family received too much in death benefits after Grice's father died — in 1960. Grice, who was five years old at the time, says she never got a penny and calls the loss of her refund an injustice. "They feel that, 'We're the government, we can do whatever we want, however we want, whenever we want.' and it's so unfair," she said.

Feds raid S.C. home to seize Land Rover in EPA emission-control crackdown. When it comes to environmental regulation compliance, the Department of Homeland Security isn't playing — as evidenced by a recent federal raid of a South Carolinian's home to confiscate a Land Rover that violated EPA emission rules. Jennifer Brinkley said she saw a line of law enforcement vehicles approaching her home and wondered what was wrong, the local WBTV reported. Homeland Security agents then went to her 1985 Land Rover Defender and lifted the hood. "They popped up the hood and looked at the Vehicle Identification Number and compared it with a piece of paper and then took the car with them," she said, WBTV reported.

Homeland Security Seizing Cars That Violate EPA Standards. Jennifer Brinkley of North Carolina says when saw a line of law enforcement vehicles coming up her driveway earlier this month she didn't know what to think. "I haven't done anything wrong." According to WBTV, the Homeland Security agents were not there to take her away, they were looking for illegally imported Land Rover Defenders.

New York's smallest piece of private land. The Hess Triangle is a tiny piece of private property in Greenwich Village. Manhattan historian Joyce Gold explained the origins of the property: After World War I, New York City seized a beautiful residence and tore it down so it could extend Seventh Avenue and the west side subway below it. The city left the building's owner, David Hess, only a tiny scrap of property so small it requested he donate the triangle to make way for a sidewalk. Hess refused, took the city to court, and won.

Atlantic City property owner fights eminent domain case. Charles Birnbaum wants to keep the three-story brick walkup on Oriental Avenue in Atlantic City that his family has owned for 45 years. But the 67-year-old may not have a choice. New Jersey's Casino Reinvestment Development Authority has targeted the property as part of a redevelopment project slated for an area near the Revel Casino Hotel and plans to take it through eminent domain. Birnbaum's lawyers contested the move today [5/20/2014] before a Superior Court in Atlantic County, calling the state agency's condemnation proceedings unlawful.

The heavy hand of the IRS seizes innocent Americans' assets. Terry [Dehko], who came to Michigan from Iraq in 1970, soon did what immigrants often do: He went into business, buying Schott's Supermarket in Fraser, Mich., where he still works six days a week. The Internal Revenue Service, a tentacle of a government that spent $3.5 trillion in 2013, tried to steal more than $35,000 from Terry and Sandy that year. Sandy, a mother of four, has a master's degree in urban planning but has worked in the store off and on since she was 12. She remembers, "They just walked into the store" and announced that they had emptied the store's bank account. The IRS agents believed, or pretended to believe, that Terry and Sandy were or conceivably could be — which is sufficient for the IRS — conducting a criminal enterprise when not selling groceries.

The heavy hand of the IRS seizes innocent Americans' assets. The civil forfeiture law — if something so devoid of due process can be dignified as law — is an incentive for perverse behavior: Predatory government agencies get to pocket the proceeds from property they seize from Americans without even charging them with, let alone convicting them of, crimes. Criminals are treated better than this because they lose the fruits of their criminality only after being convicted.

The Long History Of BLM's Aggressive Cattle Seizures. Beginning in the late 1980s, BLM adopted aggressive tactics in the West, leading to large-scale cattle seizures and a disruption of life for ranchers that had utilized public lands for decades prior. While the press has showered attention on Cliven Bundy, a polarizing man who prompted a tense standoff between Bundy's well-armed militia supporters and federal police, the struggle between ranchers and the BLM is much broader.

Judge Jeanine Links Nevada Land Grab to Solar Energy Plant. This week, United States Senate Majority Leader Harry Reid continued trashing ordinary Americans over land grabs. And you need to be concerned because the land grabs haven't ended. And who knows? Will your land be next?

BLM on Texas Land: Not a Land Grab, It's Already Ours. The U.S. Bureau of Land Management (BLM) Oklahoma Field Office responded to Breitbart Texas about the so-called Red River "land grab" by emphasizing that parcels in question are already held in the public domain and BLM-managed. The Bureau claims it is not they who are declaring the ownership but that settled case law long declared it to be government land.

The Land Grabbing Feds. In October 1980, Gerald Chaffin threw gasoline on his wood-frame home and burned it to the ground. He did it at the behest of the federal government. His crime? The BLM controlled the land on which his home had been located. He was the third owner of the home, which had stood for 37 years to house oil workers. His house, the BLM said, was trespassing. It would have to go. Three decades later, Americans are still fighting the same battle.

Texas AG Abbott to BLM: 'Come and Take It'. After Breitbart Texas reported on the U.S. Bureau of Land Management's (BLM) intent to seize 90,000 acres belonging to Texas landholders along the Texas/Oklahoma line, Texas Attorney General Greg Abbott questioned the BLM's authority to take such action. "I am about ready," General Abbott told Breitbart Texas, "to go to the Red River and raise a 'Come and Take It' flag to tell the feds to stay out of Texas." Gen. Abbott sent a strongly-worded letter to BLM Director Neil Kornze, asking for answers to a series of questions related to the potential land grab.

BLM Eyes 90,000 Acres of Texas Land. After the recent Bundy Ranch episode by the U.S. Bureau of Land Management (BLM), Texans are becoming more concerned about the BLM's focus on 90,000 acres along a 116 mile stretch of the Texas/Oklahoma boundary. The BLM is reviewing the possible federal takeover and ownership of privately-held lands which have been deeded property for generations of Texas landowners.

Federal government seizes $424 million in tax refunds from children to pay back old debts owed by their parents. Hundreds of thousands of U.S. citizens are getting shocking letters in their mailboxes instead of tax refund checks — nastygrams informing them that the federal government has seized their money to repay debts their parents decades-old debts that they never settled. In some cases, they're debts the parents never knew they had. And no one warned their children. The 2008 Farm Bill included a single line that made it possible, allowing the government for the first time to hunt down individual taxpayers who have owed Uncle Sam money for more than ten years.

Someone Tucked an Obscure Line into the Farm Bill That Allows the Treasury Department to Destroy Due Process. The Washington Post has an outrageous story about how the Treasury Department is going after thousands of Americans to collect on debts — which may not have ever been real debts — it says deceased family members owed the government. [...] Except, it's illegal. Debts owed by the dead do not transfer to their children, to be paid out of their own assets. Tax refunds are money refunded to Americans because of tax overpayments. That money belongs to citizens, not the government. These cases come with no notice, just a letter that the government has intercepted the tax refunds, along with threats that failure to comply may be reported negatively to credit rating agencies. In [Mary] Grice's case, the government seems to have gone out of its way not to notify her at all.

Update:
Feds Stop Snatching Tax Refunds — Because They Got Caught. The confiscations without warning that were taking place were allowed because someone — we still don't know who — snuck a change of the statute of limitations into the 2008 farm bill. So from that perspective, "current law" allowed Treasury to do what it was doing. But children are not obligated to pay their parents' debts from their own assets, according to the Federal Trade Commission. Treasury was violating that in taking the children's tax refunds. And there's the matter of due process, which the federal government was just ignoring outright. Someone should face prosecution for violating Americans' rights.

People With Old Social Security Debts Get Reprieve. The Social Security Administration had been participating in a program in which thousands of people were having their tax refunds seized to recoup overpayments that happened more than a decade ago.

Social Security stops trying to collect on old debts by seizing tax refunds. The Social Security Administration announced Monday [4/14/2014] that it will immediately cease efforts to collect on taxpayers' debts to the government that are more than 10 years old. The action comes after The Washington Post reported that the government was seizing state and federal tax refunds that were on their way to about 400,000 Americans who had relatives who owed money to the Social Security agency. In many cases, the people whose refunds were intercepted had never heard of any debt, and the debts dated as far back as the middle of the past century.

Victory! Social Security suspends stale-debt collection program. Huge win for justice and good sense: facing a mounting public furor, "The Social Security Administration announced Monday that it will immediately cease efforts to collect on taxpayers' debts to the government that are more than 10 years old." [WaPo] Credit goes above all to the Washington Post and its reporter Marc Fisher for exposing the most outrageous features of the IRS's refund-interception program last week, as recounted in this space; I like to think I helped as well by beating the drum early and repeatedly since then with Cato's help. Overlawyered's Facebook post on the subject has been seen by more than 60,000 people and shared more than 700 times in the past few days.

Eminent domain often leaves broken communities behind. Weeds and rubble cover 90 acres along Long Island Sound. A room with cinder-block walls sits locked in an empty in Brooklyn basement. And a gleaming industrial palace has failed to bring jobs to the banks of Ohio's Mahoning River. These are monuments to failed central planning. Eminent domain, state and local subsides, and federal-corporate partnerships have yielded these lifeless fruits, failing to deliver the rebirth, community benefits and jobs they promise — but succeeding in delivering profits to the companies that lobby for them. The economic philosophy at work here isn't capitalism or socialism. It's corporatism: the belief that government and business should work together.

EPA land grab? Agency claims expanded authority over streams, wetlands. In what critics are describing as a government land grab, the Environmental Protection Agency proposed a change Tuesday [3/25/2014] to the Clean Water Act that would give it regulatory authority over temporary wetlands and waterways. The proposal immediately sparked concerns that the regulatory power could extend into seasonal ponds, streams and ditches, including those on private property.

EPA Unveils 'Largest Expansion' of 'Authority to Regulate Private Property'. The Environmental Protection Agency today unveiled its proposed rule to bring natural and man-made bodies of water big and tiny under the purview of the Clean Water Act, sparking accusations that the administration has embarked on an unprecedented breach of private property rights without scientific basis. This launches a "robust outreach effort" to gather input in shaping a final rule over the next 90 days, the EPA said, maintaining that the rulemaking isn't groundbreaking but a clarification effort needed to clearly define streams and wetlands protection after Supreme Court decisions in 2001 and 2006.

House Republicans lay into EPA 'land grab'. The Environmental Protection Agency says a rule it proposed this week merely clarifies its existing authority over the nation's waterways. Republicans say it's "the biggest land grab in the history of the world," as House Appropriations Committee Chairman Hal Rogers, R-Ky., called it. There is some certainty about the EPA's rule defining the waters of the United States — the buzz it has generated is not going away any time soon. The EPA, in conjunction with the Army Corps of Engineers, says the proposed rule would clarify which streams, rivers, wetlands and other waterways are within its regulatory jurisdiction. It would bring a majority of those waterways under EPA control, which drew backlash from conservatives and industry groups.

Driver Who Had $50,000 Seized By A Nevada Cop Is Getting His Money Back. After Tan Nguyen was pulled over for driving three miles above the speed limit, he had $50,000 confiscated by a Nevada deputy. According to Nguyen, that money was casino winnings. As reported last week at Forbes, Nguyen "was not arrested or charged with a crime — not even a traffic citation." He filed a lawsuit in federal court, arguing his civil rights were violated by an "unconstitutional search and seizure." In that lawsuit, Nguyen claimed Deputy Lee Dove, who had pulled him over for speeding, threatened to seize and tow his car unless he "got in his car and drove off and forgot this ever happened."

Florida Court Allows Taking Of Private Land To Build A Major League Soccer Stadium. Last Friday [1/31/2014], the Orlando Sentinel and News 13 Orlando both reported that a Florida Circuit Court upheld the City of Orlando's decision to take private property located on West Church Street to build a soccer stadium for Orlando City SC, which is Major League Soccer's newest expansion team.

More about taxpayer-funded sports facilities.

Small businesses claim U.S. government stealing their ideas. "They stole all my stuff and used taxpayer money to do it," John Hnatio, a Maryland small business owner, says of the U.S. government. Hnatio claims the government has put his company, FoodquestTQ, nearly out of business by stealing his firm's software that was designed to be licensed to the Food and Drug Administration to monitor food safety. The FDA "took our ideas, plagiarized my doctoral dissertation on which a patent was based, and then they infringed on our patent. The result was that it decimated our business," he adds.

Obama's Plan to Snatch Your Savings. In his first term, Obama managed to get his paws on health care, banking, energy, student loans, the auto business, and more. Now he has his sights set on your 401(k). The left has had its eye on retirement savings for years, but so far takeover attempts have been rebuffed.

And here's how he will do it:
There's Something About MyRA. By now, you may have heard about MyRA. The acronym, which President Barack Obama stumbled over in his State of the Union speech Tuesday night, stands for My Retirement Account. Obama introduced the new plan like this: "MyRA guarantees a decent return with no risk of losing what you put in." On Wednesday, the administration said it will launch a pilot program of the "new, simple, safe and affordable 'starter' retirement savings account" by the end of the year.

myConstitution. President Obama has just announced the creation of a new program, which he calls myRA, as part of an overarching agenda he's implementing, which could well be called myConstitution. [...] Creating a new type of retirement account certainly doesn't sound like a president carrying out his constitutional duty to take care that the laws be faithfully executed. And even if this isn't technically the creation of a new kind of IRA but merely a rebranding of existing Roth IRAs (it's a bit hard to tell), the administration's choice of language strongly suggests that Obama is engaging in an alternative form of lawmaking — and is proud of it.

Beck Slames Obama "MyRA" Plan: Biggest Heist in History. Glenn Beck slammed President Obama's "myRA" proposal on his radio program Thursday as a "bigger lie than 'if you like your doctor you can keep your doctor.'" The initiative was unveiled by the president during his State of the Union address on Tuesday as a way to help more people save for retirement.

Expert: Obama's 'myRA' violates multiple investment laws. President Obama's new and low-budget proposal to help Americans build a tiny nest egg appears to violate federal laws barring retirement plan sponsors from steering investments to self-serving accounts, in this case the Treasury's own bonds, according to a new analysis. The "myRA" plan Obama unveiled in his State of the Union address would also be outlawed in the private finance world because it offers no investment diversification and amounts to a conflict of interest, violations that call for fines up to $100,000 and up to a year in prison.

NYC alarms with notice: 'Immediately surrender your rifle'. New York City authorities have been sending out notices to residents who own guns that now violate new ammunition capability laws, demanding they relinquish their weapons — and even though the notifications may just be standard police procedure, the text is a shocker. At issue: Weapons that hold more than five rounds of ammo, The Blaze reported.

ACLU Wins Victory Against Border-Agent Laptop Seizures. A Massachusetts federal judge denied a motion by the government to dismiss a complaint filed on behalf of the organization created to raise legal funds for a soldier accused of leaking information to WikiLeaks. At issue is whether government agents possess broad powers to search electronic devices at the border without justification.

Cleveland settles federal lawsuit over confiscated gun. The city of Cleveland will return Derrick Washington's .38-caliber Taurus as part a settlement in a federal court battle over the city's seizure of the weapon, Washington's lawyer says. The gun was confiscated and never returned even after a city prosecutor refused to press charges, citing a lack of evidence.

Growing Use of Civil Forfeiture Creates Nightmares for Small Business Owners. Imagine that you run a grocery store with your daughter, a store you have owned for thirty years. Imagine that just last year the IRS found no violations in an audit of your store. Now imagine that, despite continuing your sound business practices, you awake one day to find the IRS has seized your entire bank account. The IRS has used a technique called civil forfeiture against you and you find your Constitutional guarantee of innocence until proven guilty has been completely reversed. That is the nightmare that Terry Dehko and his daughter Sandy Thomas found themselves in on January 22, 2013.

Give Us Cash or Lose Your Kids and Face Felony Charges. Imagine getting pulled over while on a family vacation and having small-town cops accuse you and your family of being drug couriers. Then imagine hearing that you have two options: Fork over your cash and continue on your vacation or face felony charges for money laundering and child endangerment, in which case you go to jail and your kids get handed over to foster care. That's what happened to Ron Henderson and Jennifer Boatright while traveling through Tenaha, Texas, a town that regards piracy as just another way to raise revenue.

Greens cheer EPA wetlands proposal. Business groups and Republicans in Congress have opposed the EPA's move, which they call an unprecedented "power grab" that could give it power to interfere with private lands. They say that the agency's scientific research has not been thorough enough to warrant a new regulation. On Wednesday, Reps. Lamar Smith (R-Texas) and Chris Stewart (R-Utah) sent a letter to the White House's budget office alleging that the EPA was "rushing forward" with its effort to issue the new regulation. "Such unrestrained federal intrusion poses a serious threat to private property rights, state sovereignty and economic growth," they wrote.

Gangster government in a Seattle parking lot. Government has increasingly taken on the role of predator, extorting from citizens what it wants on pain of incarceration through its monopoly on the legitimate use of force, and lavishing on its own members higher pay and benefits than enjoyed by ordinary people. The members of the City Council of Seattle who voted to use eminent domain ought to be hounded out of office in the next municipal elections. They are tyrants.

Seattle seizes elderly woman's parking lot to turn it into — a parking lot. The city of Seattle is forcing a 103-year-old woman to give up her private waterfront parking lot to make way for a city-owned parking lot. The City Council voted Monday to use its power of eminent domain to acquire the lot owned by Spokane resident Myrtle Woldson, who has repeatedly turned down offers to purchase the property, Q13FOX.com reported.

Eminent Domain Abuse is Making a Comeback. The use of eminent domain to seize mortgages from investors has been in the news recently. But, because of efforts to rescind protections enacted by state courts and legislatures, we're likely to hear more about traditional eminent domain abuses: the seizure of modest, well-maintained homes and businesses to benefit wealthy, politically connected developers.

Bullied by the IRS. I've always paid my taxes and have never been arrested or charged with any crime in my life. I am a successful small-business man. But in January of this year, I woke up to find that my business' entire bank account — more than $35,000 — had been wrongly seized. [...] Adding insult to injury, federal civil forfeiture law does not even grant me a hearing before or soon after they snatched my account. They've had my money for 10 months. I've been forced to spend thousands of dollars on lawyers just to get a hearing before a judge. Even more bizarre, under civil forfeiture, the government's case is not against me, but against my property. This is why the official case has the ridiculous name, United States of America v. $35,651.11 in U.S. Currency. This is not just absurd; it's unconstitutional.

California raisin grower battles federal order taking almost half his crop. As raisin grapes produce only a single crop per season, [Marvin] Horne could lose a hefty slice of his harvest. But, like all raisin growers in the United States, he is used to having part of his crop taken from him. Since 1949, the government has been taking its share of their harvests under a Department of Agriculture protectionist order — Marketing Order 989 — originally designed to keep prices high and growers in business.

Left With Nothing. On the day Bennie Coleman lost his house, the day armed U.S. marshals came to his door and ordered him off the property, he slumped in a folding chair across the street and watched the vestiges of his 76 years hauled to the curb. [...] The duplex in Northeast Washington that Coleman bought with cash two decades earlier was emptied and shuttered. By sundown, he had nowhere to go. All because he didn't pay a $134 property tax bill.

Eminent domain and the Sacramento Kings. Apparently we have arrived in the brave new world where the government can seize the property of private businesses such as Macy's or of individual homeowners and declare that it's in the public interest to put a privately owned soccer stadium in its place. And this assertion is made in the face of historical evidence, as [Ilya] Somin points out, that sports stadiums almost always turn out to be economic losers for the communities where they are constructed.

Widow Who Lost $280k Home Over $6 Gets Hearing. A western Pennsylvania woman whose $280,000 home was sold at auction over $6.30 in unpaid interest won a court decision Monday [8/19/2013] allowing her a fresh opportunity to argue she should not lose her home.

Pennsylvania Court Strikes Blow Against Asset Forfeiture Regime. A Commonwealth Court ruling is being hailed as a victory for property rights and a small blow against civil asset forfeiture laws, which allow the state to seize private property that may be connected to a crime. In a decision filed last month, Commonwealth Court Judge Dan Pellegrini called the state's civil asset forfeiture law "state-sanctioned theft" and ordered a lower court to re-examine a recent forfeiture case in Centre County.

Taken. The basic principle behind asset forfeiture is appealing. It enables authorities to confiscate cash or property obtained through illicit means, and, in many states, funnel the proceeds directly into the fight against crime. In Tulsa, Oklahoma, cops drive a Cadillac Escalade stencilled with the words "This Used To Be a Drug Dealer's Car, Now It's Ours!" In Monroe, North Carolina, police recently proposed using forty-four thousand dollars in confiscated drug money to buy a surveillance drone, which might be deployed to catch fleeing suspects, conduct rescue missions, and, perhaps, seize more drug money.

Eric Holder steals George Zimmerman's gun. Attorney General Eric Holder has confiscated George Zimmerman's gun. Even though Mr. Zimmerman was acquitted by a jury in the death of Trayvon Martin, the Justice Department on Thursday [7/18/2013] ordered the Sanford police to put a hold on the evidence from the trial, which includes the Kel Tek 9mm handgun. It is not clear what federal law or legal procedure allows Mr. Holder to stop a police chief in Florida from returning a firearm to an innocent man.

Avenging the raisins. Like many New Deal programs, raisin rationing was instituted under the foolish belief that manipulating the market to raise the price of raisins would make more money for the growers and improve the valley's economic health. Hence, the Raisin Administrative Committee, a cartel that dictates how much of the crop will be taken each year to reduce supply. In 2003, the government board dictated that 47 percent of the raisins grown that year would be confiscated with nothing for the growers. That was too much to swallow for Marvin and Laura Horne, farmers and processors in Fresno.

The Supreme Court vs. Freedom of Information. Let's say a resident of New York drives to Virginia in order to visit relatives and a member of her family uses her car to visit a prostitute one night and ends up getting arrested. The owner has zero knowledge of this illegal activity and is of course never charged with any crime, let alone convicted of one, yet the police still seize the car as part of an asset forfeiture proceeding. That's the controversial tool allowing law enforcement to take private property suspected of being used to facilitate a crime without first obtaining a criminal conviction against the owner of that property. Shouldn't the New York-based car owner be permitted to file a Virginia Freedom of Information Act request as part of her efforts to get her property back? Not in the eyes of the U.S. Supreme Court.

Congress working to strip presidential land grab power. If you think national monuments are statues of George Washington and Abraham Lincoln, welcome to the crazy catalog of federal land grabbing tools. These "monuments" are actually large areas that are supposed to be small, and can be created out of thin air by the president with the stroke of a pen. This extraordinary power has been abused by presidents of both political parties time and again to bypass Congress in creating national park-size units — a congressional power — at his own whim to satisfy his Big Green constituents.

Fight for the right to grow raisins. Since the 1930s, the Agriculture Department has turned California raisin growers into pawns of its Raisin Administrative Committee, which can commandeer up to half of the farmer's crop and then pay them little or nothing for the product. Marvin Horne, a 67-year-old raisin farmer in Fresno, Calif., was fined almost $700,000 for refusing to surrender control of much of his harvest to the government committee in 2002. Horne, who has been growing raisins for more than 40 years, has battled the raisin committee for more than a decade and describes its regime as "involuntary servitude."

Obama Wants Americans' Hard-Earned Retirement Savings. Last year Washington raked in $1.16 trillion in individual income tax revenue and expects to squeeze $1.36 trillion out of taxpayers in 2013. But President Obama wants more — and he's coming after your retirement.

Here Comes Obama's Raid on Your Retirement. This sounds like it will only attack the "rich" today, but don't bet on it. Note that "other retirement accounts" is likely to mean aggregation of all retirement assets, including the actuarial value of pensions and similar.

Obama Budget to Cap Retirement Accounts at $3 Million. The budget President Barack Obama will submit on April 10 will contain a proposal that would prohibit individuals from accumulating more than $3 million in Individual Retirement Accounts (IRAs) and tax-preferred retirement accounts.

The Editor says...
Remember, the income tax originally affected only the wealthy, and affected them only a little. Tyranny starts small and grows incrementally.

Obama eyes taking millions of acres to save habitat from global warming. A large purchase in Florida's Everglades, for example, is aimed in part at preserving grasses that can help prevent rising water from flooding the area and destroying animal habitat. The new strategy, produced by several federal and state agencies and tribal groups, would expand that program to protect habitat under global warming pressure and used by everything from butterflies and robins to foxes and even coral. For example, more habitat for grizzly bears would be set aside so they can move north as their habitat warms.

Obama admin looking to set aside millions of acres for habitat preservation. The federal government already manages nearly one third of the surface area of the United States, but inefficient federal bureaucrats, dependent on DC for their funding and often motivated by political externalities, do not make the best environmental stewards — far from it.

Federal plan aims to help wildlife adapt to climate change. Developed along with state and tribal authorities, the strategy seeks to preserve species as global warming alters their historical habitats and, in many cases, forces them to migrate across state and tribal borders. Over the next five years, the plan establishes priorities for what will probably be a decades-long effort. One key proposal is to create wildlife "corridors" that would let animals and plants move to new habitats. U.S. Fish and Wildlife Service Director Daniel M. Ashe said such routes could be made through easements and could total "much more than 1 million acres." The plan does not provide an estimate of the cost.

The Editor says...
"The plan does not provide an estimate of the cost" because the cost is inestimable. Once again, if you questioned these people, I believe you would find them all to be firm believers in Darwin's "survival of the fittest." Yet they seem to think wild animals need "corridors" to get to their new homes — assuming the animals can detect any climate change and assuming they elect to move. These "corridors" will naturally fall right across the land with the greatest petroleum reserves, preventing Big Oil from making money. This is nothing more or less than another big government land grab. The people who come up with these ideas don't care about killing jobs and seizing private land.

First, They Came For The Cypriots... Markets tumbled after Cyprus and the EU said they might tax private bank accounts to pay for a bailout. Arbitrary property grabs are a new low and a bad precedent in this crisis. Worse still, it can happen here.

DHS steals TechCrunch founder's boat over paperwork error. Michael Arrington is a prominent tech blogger, who sold his site Tech Crunch to AOL in 2010. As such, this particular story of government overreach, starring a gleeful bureaucrat taking the property of a citizen operating in good faith, may get a wider audience than the usual conservatives and libertarians who catch wind of such things. Good. For every story that gets attention, there are countless abuses that don't.

The Feds Want Your Retirement Accounts. Quietly, behind the scenes, the groundwork is being laid for federal government confiscation of tax-deferred retirement accounts such as IRAs. Slowly, the cat is being let out of the bag.

Utah Resident Forced to Forfeit Gun Used to Stop Home Invasion. In late January, 64-year old Clare Niederhauser was arrested for shooting at burglars fleeing from his property. At a plea deal hearing, he apologized for firing the shots, agreed to pay a $700 fine, take a weapons class, and forfeit the weapon he used. Fellow residents of Layton, UT are coming to the aid of the elderly man, who was arrested after firing a shot at a burglar's vehicle and a fleeing accomplice after they attempted to break in to his property with a crowbar.

What John Adams Foretold Has Come True. [Scroll down] What's next? Confiscation! "The Obama administration is reportedly moving on plans to nationalize private 401k and IRA retirement accounts, and replace them with government sponsored annuities (aka Treasury bonds that the Treasury currently can't sell to anyone but the Fed)." Obama has begun a plan to nationalize (aka confiscate) private pensions and to eliminate private retirement accounts, including IRAs and 401k plans. Think it can't happen here? Think again!

Is your 401K about to be nationalized? The $19.4 trillion sitting in personal retirement accounts like the 401K may be too tempting an apple for a government that is quite broke, both monetarily and morally. The U.S. Consumer Financial Protection Bureau director Richard Cordray recently mentioned these accounts in a recent interview, stating "That's one of the things we've been exploring and are interested in, in terms of whether and what authority we have."

Nature Conservancy embroiled in another land grab scandal. One of Big Green's biggest outfits, the Nature Conservancy (2011 revenue $997 million; assets $6 billion), is once again under fire. The new accusation is that it used improper influence over an elderly landowner to get her to donate her family property. This time it's the 16,500-acre Roberts Ranch in Larimer County, Colo., owned by a 92-year-old woman.

Legislator eyes unused gift card value. Rep. Fred Kessler (D-Milwaukee) said today [12/26/2006] that the value of unused gift cards should go to the state treasury — not to the merchant — and that change will be part of a bill he'll introduce in the legislative session starting in January. Kessler said millions of dollars a year go unused by gift card recipients, and retailers are allowed to book the unused values after the cards expire.

Europe starts confiscating private pension funds. Obviously, this is a cautionary tale for America. If fiscal austerity becomes a real issue in the U.S. the way that it's been reaching critical mass in Europe — don't think that U.S. lawmakers regard your either your personal wealth or money they might owe you as sacrosanct. Government has a habit of looking out for itself.

European nations begin seizing private pensions. People's retirement savings are a convenient source of revenue for governments that don't want to reduce spending or make privatizations. As most pension schemes in Europe are organised by the state, European ministers of finance have a facilitated access to the savings accumulated there, and it is only logical that they try to get a hold of this money for their own ends.

Obama Expands ATF's Right to Seize Guns Without Due Process. Obama has expanded civil-forfeiture rules making it permissible for the Bureau of Alcohol, Tobacco, Firearms, and Explosives (ATF) to seize weapons from citizens without the hassle of due process. This effectively gives Attorney General Eric Holder, of Fast and Furious fame, extended power over guns and gun-related property. The rules were broadened under the guise of giving the ATF authority "to seize and administatively forfeit property involved in controlled substance abuses." And if that doesn't strike you as extreme on first glance, consider the fact that this expansion of civil-forfeiture allows the ATF to forego almost all "due process" in making their seizures — in effect, placing the burden of proof on the citizen instead of federal agents.

Judge Says 10 Rare Gold Coins Worth $80 Million Belong to Uncle Sam. A judge ruled that 10 rare gold coins worth $80 million belonged to the U.S. government, not a family that had sued the U.S. Treasury, saying it had illegally seized them. [...] In 2003, [Israel] Switt's family, his daughter, Joan Langbord, and two grandsons, drilled opened a safety deposit box that had belonged to him and found the 10 coins. When the Langbords gave the coins to the Philadelphia Mint for authentication, the government seized them without compensating the family. The Langbords sued, saying the coins belonged to them.

The Editor says...
The moral of the story is simply this: Don't ever tell the government what you own, if it's made of gold.

Governments mull radical solution to underwater mortgages: seize them. With millions of homeowners still underwater, some local governments are considering a novel solution: condemning their mortgages through the power of eminent domain.


Norfolk, Virginia Attempts To Silence Free Speech. Something terrible is underway in Norfolk, Virginia, that should disturb all Americans who value property rights and free speech. Central Radio Company, which first opened 78 years ago and has been at its current location of 1083 West 39th Street for 50 years, is currently under siege. First officials at the Norfolk Redevelopment and Housing Authority attempted to seize their property in order to transfer it to Old Dominion University, which currently has no specific site development plan for Central Radio's property. The owners of the company, Bob Wilson and Kelly Dickinson, rightfully objected to the eminent domain proceedings. They then commissioned a 375-square-foot banner (left) and hung it on their building to protest the taking.

Pushed out and shut up: 78-year-old business fights back against eminent domain, censorship. One business's eminent domain nightmare has also turned into a case about protection under the First Amendment. Central Radio Company, a small business in Norfolk, Va., may soon become a victim of eminent domain, but in the meantime it has also been ordered to remove a giant banner protesting the impending seizure.



Sign code as a weapon. A drearily familiar dialectic is on display here: Government is behaving badly in order to silence protests of other bad behavior. It is violating the Constitution's First Amendment, stifling speech about its violation of the Fifth Amendment, as it was properly construed until 2005.

When the looter is the government

. In the lawsuit titled

United States of America v. 434 Main Street, Tewksbury, Massachusetts

, the government is suing an inanimate object, the motel [Russ] Caswell's father built in 1955. The U.S. Department of Justice intends to seize it, sell it for perhaps $1.5 million and give up to 80 percent of that to the Tewksbury Police Department, whose budget is just $5.5 million. The Caswells have not been charged with, let alone convicted of, a crime. They are being persecuted by two governments eager to profit from what is antiseptically called the "equitable sharing" of the fruits of civil forfeiture, a process of government enrichment that often is indistinguishable from robbery.

County Sheriff Enjoys Fruits of Forfeitures

. The sheriff's office in Douglas County, Neb., just finished a new $4.2 million crime lab and police-dog center thanks to money seized from people driving by on Interstate 80. That money is a small part of a large and controversial asset-forfeiture program known as "equitable sharing."

Marcy woman forced to sell property in eminent domain battle with MV Edge

. A Marcy woman has spent her golden years fighting her own government for land that's been in her family for more than 100 years and on Thursday [7/28/2011], she lost that battle.

Does your laptop have rights?

For many airline passengers, carrying a laptop or smartphone through security is as familiar a part of the travel ritual as removing their shoes. But for travelers arriving in the United States from other countries, the process is not always so simple; thousands have had their electronic devices not just screened but confiscated, and sometimes not returned for months.

Stopping the government land grab

. The Virginia General Assembly last week gave its first approval to a constitutional amendment restoring the sanctity of private property in the commonwealth. The measure was made necessary by the reckless 2005 Supreme Court decision Kelo v. New London, which gave towns and cities free rein to grab land for the use and benefit of well-connected developers.

Whatever happened to Kelo's land?

Years Later, Land Seized in Kelo Decision Used for Debris Dump

. In 2005, Kelo v. City of New London made eminent domain infamous. The widely reviled Supreme Court ruling gave the go ahead for the city of New London to use eminent domain for taking private property in order that it be given to a private company for "economic development."

Justice apologizes to Kelo

. The New London v. Kelo decision allowed the city of New London to force the Kelos and their neighbors to sell their houses to the city of New London, Connecticut, on the premise that a developer would build something that would generate more taxes. The state Supreme Court voted 4-3 to go along with this idiocy, as did the U.S. Supreme Court later, 5-4. The project went belly up and the result is New London lost residents and revenue.

Dreams Demolished: 10 Years After the Government Took Their Homes, All That's Left Is an Empty Field. Though Kelo and her neighbors lost, the case became one of the most contested in the high court's history, and it sparked reform in the vast majority of the states. But the land where their homes once stood remains vacant, now a decade later. The city spent $78 million bulldozing the homes and preparing the area for development, but so far, all plans have fallen through.

Kelo v. New London: Central Planning Does Not Work, Ruins Lives. First some quick background on the case. The city of New London, Connecticut, created an economic development plan to please a corporate resident, Pfizer. As part of this economic development plan, the city used its power of eminent domain to take a total of 15 private homes. The land taken through eminent domain would then be turned over to a private developer through a low-cost, long-term lease. One of the properties taken was the home of Susette Kelo, the named party in the case. This was the first piece of property Susette had ever owned in her life. She was very proud that was she was a homeowner. However, within one year of acquiring the home, she was told to either sell her land or it would be taken by the government through eminent domain.

'Kelo' Revisited. New London, population 27,000, a rundown onetime whaling port on the Atlantic coast that never recovered after the whaling industry died at the end of the 19th century, is a desolate-looking city. [Michael] Cristofaro, a 52-year-old New London-born computer network engineer, and I were in its most desolate neighborhood — actually, ex-neighborhood, for there was not a residential property left standing on the entire tract.

Seized property sits vacant nine years after landmark Kelo eminent domain case. The controversial Supreme Court ruling that expanded eminent domain to give government the right to take private property to allow economic development may have been all for nothing, according to a report. Nine years after the high court sided with a Connecticut municipality in Kelo v. City of New London, a ruling Associate Justice Antonin Scalia has likened to the court's disastrous Dred Scott decision, the 90-acre plot once earmarked for office buildings, luxury apartments and a new marina, remains vacant.

Reflecting on Kelo nine years later. It's been nine years since the Supreme Court, expressing their decision in the writings of John Paul Stevens, decided to fundamentally change the Takings Clause of the constitution in the case of Kelo v. City of New London. On this auspicious anniversary, a diarist at Redstate decides to take a fresh look at how wonderfully that exercise in freedom worked out for the citizens, and what they received in exchange for their liberties.

The Government's License to Steal

. In the late 1990s, after a public backlash against the use of civil asset forfeiture to take money and property from innocent people, seven states passed laws assigning all proceeds from such forfeitures to public schools or the general fund instead of police departments and prosecutors' offices. The idea was to reduce the incentive to seize assets from innocent owners and to target people based on the value of their property instead of the seriousness of their crimes. In Indiana, the state's original constitution called for criminal forfeitures to be earmarked for a school fund, and recent attorneys general have applied that provision to civil forfeiture as well. But thanks to various evasive maneuvers, very little forfeiture money actually ends up in the fund.

Eminent domain, by any other name ... still stinks

. Imagine you come home from work one day to a notice on your front door that you have 45 days to demolish your house, or the city will do it for you. Oh, and you're paying for it. This is happening right now in Montgomery, Ala., and here is how it works: The city decides it doesn't like your property for one reason or another, so it declares it a "public nuisance."

How Liberals Want to Control Your Life

. [Scroll down] One of the more frightening aspects of the new administration's liberal impulses is the ability to take one's personal property. [Terence P.] Jeffrey recalls the case of neighbors in Fort Trumbull, Conn., who had their homes condemned because they didn't bring in enough tax revenue. That move was a vivid contrast to what the Founders envisioned. "They believed redistributing property was beyond the legitimate scope of any government," Jeffrey writes.

Confiscating your property

: Zaher El-Ali has repaired and sold cars in Houston for 30 years. One day, he sold a truck to a man on credit. Ali was holding the title to the car until he was paid, but before he got his money the buyer was arrested for drunken driving. The cops then seized Ali's truck and kept it, planning to sell it. Ali can't believe it. "I own that truck. That truck done nothing."

Good Riddance!

Justice Stevens voted to sustain racial quotas, created "rights" out of thin air for terrorists, and took away American citizens' rights to their own homes in the infamous "Kelo" decision of 2005. ... Justice John Paul Stevens wrote the Supreme Court opinion that expanded the Constitution's authorization of seizing private property for "public use" to seizing private property for a "public purpose."

Justice Stevens was no champion of the little guy

. President Obama said his nominee to replace John Paul Stevens on the Supreme Court would "be someone who, like Justice Stevens, knows that in a democracy, powerful interests must not be allowed to drown out the voices of ordinary citizens." Tell that to the "ordinary citizens" of New London, Conn., whose homes were stolen by the government for use by real estate developers at the request of the largest drug company in America — with the approval of Justice Stevens.

Hotel Conference Center May Trump Private Property in Eminent Domain Case

. In Auburn, New York, the city is threatening to invoke eminent domain to seize private property for a private hotel conference center, saying the public good outweighs the private property rights of some citizens.

Big Blighters

. After Kelo v. City of New London, the 2005 decision in which the U.S. Supreme Court approved the forcible transfer of property from one private owner to another in the name of "economic development," 43 states passed reforms that were supposed to curb eminent domain abuses. But most states still allow condemnation of property deemed to be "blighted," and many of them define that condition so broadly that it has become a synonym for coveted, as illustrated by two recent New York cases.

Court Rules Private Land Can Be Seized for NBA Arena

. New York's highest court ruled Tuesday [11/24/2009] that it's lawful for a state economic development agency to seize private land to build an arena for a professional basketball team. The 6-1 ruling by the New York State Court of Appeals allows the contentious $4.9 billion, 22-acre Atlantic Yards project in Brooklyn, N.Y., to proceed. The proposed development includes office towers, apartments and a new arena for the NBA's New Jersey Nets.

Property Owners Get Dunked On

. New York judges served up what basketball fans call a facial on Tuesday [11/24/2009], when an appellate court ruled that the state may seize homes and small businesses in Brooklyn for the benefit of a private developer and the New Jersey Nets. The decision represents a backward step for the effort to protect property rights at the state level since the Supreme Court's 2005 decision in

Kelo v. New London

.

More about

taxpayer-funded stadiums and arenas

.

Federal prosecutors scoop up millions for victims as greedy bad guys go to jail

. The Manhattan U.S. attorney's office collected more than $450 million from criminal forfeitures between Oct. 1, 2008, and Sept. 30, 2009. When civil proceeds are added, the total jumps to $570 million — more than 11 times the office's annual budget. What doesn't get turned over to victims goes to Justice Department coffers.

Legalized larceny posing as forfeiture

. The Supreme Court seems to think that anything is permissible in the name of fighting crime. On June 24, 1996, United States vs. Ursery, the court ruled that civil punishments in addition to criminal punishments do not constitute double jeopardy. Asset forfeitures came to prominence in the war against drugs. They have not dented drug use but they have made thieves out of law enforcement officers.

Hold On to Your Assets

. This fall, the U.S. Supreme Court will hear oral arguments in

Alvarez v. Smith

, a challenge to the state of Illinois' Drug Asset Forfeiture Procedure Act (DAFPA). The six petitioners in

Alvarez

each had property seized by police who suspected the property had been involved in a drug crime. Three had their cars seized, three had cash taken. None of the six were served with a warrant, none of the six were charged with the crime. All perfectly legal, at least until now.

The Forfeiture Racket

: Over the past three decades, it has become routine in the United States for state, local, and federal governments to seize the property of people who were never even charged with, much less convicted of, a crime. Nearly every year, according to Justice Department statistics, the federal government sets new records for asset forfeiture.

Municipal land-grabbing powers should be curtailed

. The Frontier Centre for Public Policy today released a study from policy analyst Joseph Quesnel which looks at the practice of municipal expropriation for economic development. In his study, Quesnel argues that this practice must be curbed as it prone to serious abuse.

U.S. gives Flight 93 site landowners one week to sell

. The federal government issued an ultimatum yesterday [6/5/2009] to people who own land designated for the Flight 93 memorial in Western Pennsylvania: They have one week to reach an agreement on the sale of their land or the government will initiate proceedings to seize it.

Racing Past the Constitution

: In 2006, supposedly to "address the negative impact that riverboat gaming has had" on Illinois horse racing, the Legislature — racing interests made huge contributions to Gov. Rod Blagojevich — mandated a transfer of 3 percent of the gross receipts of the four most profitable casinos, those in the Chicago area, to the state's horse-racing tracks. This levy, subsequently extended to run until 2011, will confiscate substantially more than $100 million. What is to prevent legislators from taking revenues from Wal-Mart and giving them to local retailers? Or from chain drugstores to local pharmacies? Not the tattered remnant of the Constitution's takings clause.

Mayor Daley Seizes Land for Unfunded Project

. Chicago Mayor Richard Daley has kicked hundreds of families out of their homes and relocated a cemetery full of buried bodies to build a whopping $15 billion airport expansion Chicago residents oppose, airlines don't want and he doesn't have the money to build. The kicker is that Daley stands a solid chance of getting a good chunk of the boondoggle funded in Washington's forthcoming stimulus bill under Barack Obama's pledge to dramatically increase infrastructure spending.

Eminent Domain and the Eighth Commandment

: Our parents taught us from childhood that it is wrong to take from others what doesn't belong to us. Yet, when we grow up we learn we can get away with it as long as we have the right excuses and rationalizations. The first step in rationalizing this kind of action is to give it an innocuous label. It is best to use the Latin expression eminent domain, instead of by the vulgar term "stealing."

Tiny bit of land triggers big fight over city powers

. When finished, the .09-acre patch of land near the Galleria will be the city's smallest park. Too small even for a basketball court, Post Oak Lane Park might be big enough for a game of horseshoes, a few benches and greenery. Using its power of eminent domain, the city of Houston seized the land for the park from brothers James and Jock Collins last year.

Dems Target Private Retirement Accounts

. Democrats in the U.S. House have been conducting hearings on proposals to confiscate workers' personal retirement accounts — including 401(k)s and IRAs — and convert them to accounts managed by the Social Security Administration. Triggered by the financial crisis the past two months, the hearings reportedly were meant to stem losses incurred by many workers and retirees whose 401(k) and IRA balances have been shrinking rapidly.

Irish Government Raids Private Pensions To Pay For Spending

. The Irish government plans to institute a tax on private pensions to drive jobs growth, according to its jobs program strategy, delivered today. Without the ability sell debt due to soaring interest rates, and with severe spending rules in place due to its EU-IMF bailout, Ireland has few ways of spending to stimulate the economy. Today's jobs program includes specific tax increases, including the tax on pensions, aimed at keeping government jobs spending from adding to the national debt.

Private Pensions For Public Spending

. Ireland says it will seize parts of its citizens' private pensions so politicians can spend more — a truly awful idea that may be coming to a government near you. Ireland? Surely, it can't happen here, you say. But it can. Indeed, governments at both the state and federal level have moved more than once to seize all or part of the money you've saved for retirement.

Is Your IRA Going To Be Raided?

The notion of government raiding personal retirement accounts for funds may seem extreme. Perhaps it shouldn't. Other governments have done it. Argentina did in 2008. Ireland has indicated it might. The worsening financial crisis may eventually move other countries in that direction.

Surely the US would never do so

. Actually, there is little basis for assuming they would not and factual evidence they would. Here are three good reasons to believe they would...

Move Over New London

. The Texas Legislature did pass a law in 2005 that banned the use of eminent domain for "economic development" takings. But the law contained an exception for takings designed to eliminate "slum or blighted areas." The city has done its homework and determined — to no one's surprise — that the entire area is blighted. Yet the city's own study clearly shows there is vibrant economic activity taking place within this "blighted" area.

Is There A War Brewing on the War on Drugs?

House Resolution 1658, due to be voted on this week, would require the government to meet more stringent reporting requirements concerning assets seized in drug busts. Presently, assets may be seized by the police without a defendant being convicted, upon suspicion of such property being used to manufacture or distribute illegal narcotics. Between 1985 and 1995, the Departments of Justice and Treasury seized nearly $4 billion in assets from US citizens, according to government reports.

Raid targets Mongols motorcycle gang

. In an unusual maneuver, the feds are also seeking to seize control of the Mongols' trademarked name, which is typically accompanied by its cherished insignia — a ponytailed Genghis Khan-like figure riding a chopper. U.S. Attorney Thomas P. O'Brien said if his plan is successful, the government would take over ownership of the trademark, and anyone caught wearing a Mongols patch could have it seized by law enforcement on the spot.

That's Not Blight — It's New Jersey

. The usual M.O. for city fathers eyeing some juicy piece of property is to declare the homes of people living there "blighted." That's just what happened to Lori [Ann Vendetti] and her neighbors. She says that when Long Branch first started to talk about a redevelopment plan in the mid-1990s, no one even suspected their homes were being targeted for teardown. Then they found that their neighborhood was officially declared blighted.

Fear of eminent domain grips PG neighborhood

. Residents of a working-class neighborhood near the New Carrollton Metro station say Prince George's County is trying to bring the area into a sweeping redevelopment project that could replace their homes with high-end condos, shopping and restaurants.

This Is Not Your Land Anymore

. The legal phrase "eminent domain" has become all too familiar to nonlawyers in recent years as the U.S. Supreme Court has gradually expanded the power of municipalities to condemn private property and seize it for "public" use — even if they just end up handing property over to another private party.

Farmers upset over Perry veto of eminent domain bill

. One Central Texas farmer said Monday he was "dumbfounded" by Gov. Rick Perry's veto of an eminent domain bill designed to protect landowners when the state wants to take their property. Robert Fleming is not alone in an area worried about the massive Trans Texas Corridor proposal. The planned route cuts through Fleming's Bell County farms.

More information about the

Trans Texas Corridor

.

Eminent Domain Threatens Property of Poor and Minorities

. It has been two years since the U.S. Supreme Court issued its landmark property rights decision in Kelo v. City of New London. It remains one of the most controversial and unpopular decisions in the history of the Court because it basically stripped away the Fifth Amendment's protection of private property from government abuse of its power of eminent domain.

Conservatives on the march for private property

. It is remarkable how the 2005 Supreme Court's 5-4 decision in Kelo v. City of New London, Conn., has riled normally apathetic Americans and motivated them into asserting people power over the twin powers of government and money. Thirty state legislatures have passed laws or constitutional amendments to limit the effect of the Kelo ruling and provide protection against abusive seizures of private property for other private purposes.

Socialism for the rich

: The rich have learned to adapt socialist policies to their own benefit. For example, the city of Riviera Beach, Florida, is planning to demolish a working class neighborhood under its power of eminent domain, in order to prepare the way for a marina for yachts, luxury condominiums and an upscale shopping district.

A Man's Home is Uncle Sam's Castle

. Possession may be nine-tenths of the law, but not when the law wants your possessions. … This is why principle matters, folks. Not too many complained when the EEOC sued business after business for alleged discrimination, or when the nanny state foisted mandate after mandate upon them. But one thing leads to another. Compromise the principle of private property rights and you've created a slippery slope, one of whose steeper drop-offs is called eminent domain, and at whose terminus can be found the netherworld of tyranny.

Eminent Domain Victim of the Month

: Imagine you sign a two-year lease with your landlord. After the first year, you decide you're tired of paying rent and would like to buy the property instead. You make him an offer, which he rejects as too low. In response, you go to the board of aldermen and ask them to declare the apartment blighted, condemn it, and turn it over to you for redevelopment. It might sound absurd, but something very similar is happening right now in Saint Louis.

New South Dakota Measure Favors Railroads Over Private Property Rights

. Railroads operating in South Dakota will have an easier time seizing private property under state Senate Bill 174, which became law July 1. Proponents say the law will improve the state's bulk commodity transportation system, but opponents say it threatens property rights.

How Californians are being escheated

. Escheat is a feudal concept that arose from the despotism of the Dark Ages. It stemmed from the principle that property rights depend upon the sufferance of the sovereign, and when a person dies or disappears without heirs, his property reverts to the feudal lord. California revived this medieval doctrine in 1959 and began seizing personal assets on the smarmy pretext that after a few years of account or safe-deposit box inactivity, property is obviously "lost," and the state needs to "protect" it by selling it off and depositing the proceeds into the general fund. Today in California, no one's property is safe.

Landowner Asks Supreme Court to Hear Eminent Domain 'Extortion' Case

. Claiming he is the victim of legalized extortion carried out under eminent domain powers, a landowner in New York is asking the Supreme Court to hear his case. Landowner Bart Didden claims in a petition that a developer convinced the village of Port Chester, N.Y., to seize his land through eminent domain after Didden had refused to pay the developer $800,000.

Susette Kelo Lost Her Rights, But She Will Keep Her Home

. Susette Kelo's little pink cottage — the home that was the subject of a landmark U.S. Supreme Court case and a national symbol of the fight against eminent domain abuse — will be spared from the wrecking ball.

The Last Two Kelo Holdouts Fold

. Susette Kelo and Pasquale Cristofaro, plaintiffs in the infamously historic U.S. Supreme Court decision of last year have reached an agreement with the Stalinists in New London, Connecticut who chose to sieze their property to give it to another private party that will generate more tax revenue for them.

Property Rights on State Ballots

. The [Supreme] Court's narrow majority gave a green light for politicians to take property through eminent domain for pretty much whatever reason they liked. … If anything positive came from this atrocious, activist decision, it was to spark a national backlash in favor of property rights.

Kelo's Backlash: Imminent Success?

The Kelo backlash isn't just alive — it's thriving and producing results that can only be described as historic. … As of July 3rd, the number of states that have passed reforms has grown to 25 — out of 45 states that had legislative sessions this year. And, it is possible that, in the next month, that number could grow to as high as 29. … In all the states that have passed reforms, the situation has improved — often dramatically.

Executive Order: Protecting the Property Rights of the American People

. It is the policy of the United States to protect the rights of Americans to their private property, including by limiting the taking of private property by the Federal Government to situations in which the taking is for public use, with just compensation, and for the purpose of benefiting the general public and not merely for the purpose of advancing the economic interest of private parties to be given ownership or use of the property taken.

The pirates of eminent domain

: If state and local governments can force a property owner to surrender his land so it can be given to a new owner who will put it to more lucrative use, no home or shop in America will ever be safe again.

New American Tea Party

: Kelo backlash could lead to restoration of property rights lost to smart growth and eminent domain abuses.

The Right to Private Property is a Civil Right

. Property owners are reeling from recent decisions of the U.S. Supreme Court in which the Court relegated the right to own property to second-class status. However, the Court's actions are inconsistent with our Constitution and denigrate the role private ownership of property plays in our system of government.

The Tyranny of Eminent Domain

: You do not own your property. That is the meaning of the Supreme Court's June 23 [2006] ruling in Kelo v. City of New London, which held that local governments may use the power of eminent domain to transfer private property from one private owner to another in pursuit of "the public interest."

A year after Kelo

. While eminent domain makes sense when it is used to clear the way for such things as railroads or utilities, it's hard to see how the "public use" requirement embodied in the Fifth Amendment is satisfied when, as former Justice Sandra Day O'Connor noted in her dissent, the government is simply replacing a Motel 6 with a Ritz-Carlton.

Kelo Outrage Fuels a Surging Property Rights Movement

. The Kelo decision was actually one of the best things that ever happened to the national property rights movement, as it clearly imprinted the precarious nature of private property rights in the public consciousness and has inspired significant reforms nationwide.

Facing Down The Bulldozers

. It is true, notes Steven Eagle, a law professor at George Mason University, that the Fifth Amendment gives little guidance on how to distinguish legitimate from illegitimate uses of eminent domain. But that's because whatever other abuses King George had perpetrated, he did not go around throwing people out of their homes to build mansions for the wealthy. Deployment of eminent domain powers for economic redevelopment projects — as New London is doing — was simply not something that the founders anticipated.

Master of Your Domain: The Impact of the Kelo Decision

. Several states — including Alabama, Delaware, Ohio, and Texas — have succeeded in passing eminent domain reforms, but most of these do not have any real teeth. According to Timothy Sandefur of the Pacific Legal Foundation, laws like those in Alabama and Texas leave open the door to eminent domain abuse by still allowing governments to take land they deem "blighted."

Eminent Domain, Private Property, and Redevelopment

: Eminent domain is the power governments have to confiscate, or take, private property as long as it is for a legitimate "public use" and property owners receive "just compensation." Whereas eminent domain was initially intended to ensure that public services, such as roads and highways, were available to the public, local and state governments often use eminent domain for any project that is considered economically beneficial. Public use, as a practical matter, has morphed into a more ambiguous "public benefit." An estimated 10,000 cases between 1998 and 2002 involved projects where private parties benefit substantially from government seizures of property under the banner of economic development or urban redevelopment. [PDF]

Court rules local governments can seize homes

. In a blow to U.S. farmers, a divided Supreme Court ruled today [6/23/2005] that local governments may seize people's homes and businesses for private economic development projects. The court ruled 5-4 that boosting economic growth outweighed a homeowner's property rights. The case involved a homeowner who refused to sell her property to the city of New London, Conn. The city wanted the property so a private developer could build a hotel, shopping and housing complex.

Property Rights Protection Get Bogged Down

. Despite the widespread concern that swept the country following the

Kelo

decision, state and federal elected officials have done little to strengthen the protection of property rights. With the exceptions of the House bill and new laws in Alabama and Texas, property rights initiatives in other states and in the U.S. Senate have been bogged down in legislative committees, in large part due to opposition from mayors, developers, and economic development officials who stand to see their power diminished.

Supreme Court Rules Government can seize your home

. The American Conservative Union sharply condemned [the recent] highly controversial 5-4 Supreme Court ruling that local governments may use eminent domain to take people's homes and businesses and turn them over to private developers. … "It is outrageous to think that the government can take away your home any time it wants to build a shopping mall," said ACU Chairman David Keene.

Supreme Court Rules Cities May Seize Homes for Private Use

. The Supreme Court today [6/23/2005] effectively expanded the right of local governments to seize private property under eminent domain, ruling that people's homes and businesses — even those not considered blighted — can be taken against their will for private development if the seizure serves a broadly defined "public use."

Kelo in mass quantities:

Florida City Plans to Drive 6,000 Citizens from Their Homes

. "It can't happen here" was the prevailing initial response of Florida's public officials after the U.S. Supreme Court ruling in June 2005 in Kelo v. City of New London. The state's attorney general even issued a statement evidently intended to calm Floridians' fears that their local governments suddenly had carte blanche authority to seize private property.

States may raze Court's domain ruling

. Policy makers from Texas to New Jersey have similar responses to [the recent] Supreme Court ruling that makes it easier for the government to seize private property through eminent domain: no thanks. The decision was seen initially as a loss for private property owners, but it may lead to a backlash. A groundswell of support for homeowners and property rights has galvanized state legislatures to rein in eminent domain authority.

Excellent! Confiscating property

: The Court's decision helps explain the vicious attacks on any judicial nominees who might use framer-intent to interpret the U.S. Constitution. America's socialists want more control over our lives, property and our pocketbooks. They cannot always get their way in the legislature, and the courts represent their only chance.

This land is your land. No. Your land is their land

. There was one problem with John Revelli's property: It was on such a prime location, the government virtually stole it.

They Can't Take That Away From Me… Unless They Can

. Put simply, cities cannot take someone's house just because they think they can make better use of it. Otherwise, argues Scott Bullock, Mrs Kelo's lawyer, you end up destroying private property rights altogether. For if the sole yardstick is economic benefit, any house can be replaced at any time by a business or shop (because they usually produce more tax revenues). Moreover, if city governments can seize private property by claiming a public benefit which they themselves determine, where do they stop?

City to seize church by eminent domain

. The city of Long Beach, Calif., is using the power of eminent domain bolstered by last summer's U.S. Supreme Court ruling to condemn a Baptist congregation's church building.

Another government taking

: Conaway Ranch is a 17,300-acre spread north of Davis, Calif. … Yolo County wants the land. In 2004, county supervisors voted to seize the ranch by eminent domain. "We want to keep it from being developed," explained Supervisor Mike McGowan.

New chance to curtail eminent domain abuse

. Carl and Joy Gamble, retirees who lived in the same house in Norwood, a Cincinnati suburb, for more than three decades, did not realize their neighborhood was "deteriorating." Neither did the Norwood City Council, until it heard about developer Jeffrey Anderson's plan to build offices, condominiums, chain stores and a parking garage there.

Kelo's Implications are Horrendous

. Kelo does not mean the end of private property per se, but it does mean the end of anyone's secure possession, be the owner an individual or a corporation. To the extent that Americans still possess constitutional rights, Kelo could mean their end as well.

Black Activists Call for Eminent Domain Restrictions in Virginia

. The push to restrict the use of eminent domain for private development in Virginia is getting an extra shove from black activists worried the homes and businesses of minorities could be the main targets of real estate developers and local governments hungry for more tax revenue.

Your Home is Your Cottage

. Property rights are in trouble just about everywhere. The latest trend hits an economic right Americans have traditionally taken for granted: the right to build or buy the biggest home you can afford.

A New (London) Low

. The U.S. Supreme Court recently found that the city's original seizure of private property was constitutional under the principal of eminent domain, and now New London is claiming that the affected homeowners were living on city land for the duration of the lawsuit and owe back rent. It's a new definition of chutzpah: Confiscate land and charge back rent for the years the owners fought confiscation.

Hands off our homes

. A grass-roots movement has arisen to keep other people's hands off private homes. Libertarian groups such as the Institute for Justice, which were campaigning against eminent-domain abuse before

Kelo

, report an upsurge in support, both moral and monetary.

The left is eyeing your home

. When the Supreme Court decided seven weeks ago in Kelo vs. New London to loosen constitutional restraints on local governments taking your house and selling it to Wal-Mart, it triggered a wave of public revulsion from New England to South Los Angeles. … Rep. Maxine Waters (D-Los Angeles) cosponsored a successful amendment to stop federal Community Development Block Grants from going to any locale that doesn't prohibit eminent domain seizures for private development. … House Minority Leader Nancy Pelosi (D-San Francisco) opposed Waters' amendment, arguing that the Supreme Court decision "is almost as if God has spoken."

Editorial Comment:

Actually there's more truth than poetry in that statement, because if the government is Congresswoman Pelosi's god, then her god

has

spoken.

It takes a village … of property owners

. Governments historically use eminent domain to acquire private property for "public use," defined as a road, bridge or a school. Here, the city bluntly acknowledges its goal — a higher tax base.

Private Property in Peril

. Property owners beware. If an owner does not make maximum productive use of his property, government is now empowered to transfer the property to another person.

School district sells 24.7 acres to Home Depot for $30 million

. Three years after using eminent domain to take possession of a 24.7-acre parcel in Kearny Mesa, the San Diego Unified School District is selling the vacant land to Home Depot for $11.2 million more than it paid. The school board was scheduled today [11/09/2004] to authorize the district to begin escrow on the $30 million sale. District officials said the site is unsuitable for a school and there is no other school district use for it.

Arkansas wrongly seized, sold man's home, justices rule

. The Supreme Court declared Wednesday [4/26/2006] that a state must take steps to ensure that a property owner is sufficiently notified of a tax delinquency before it seizes and sells a home. The decision revealed an irritation among the majority for how Arkansas officials used the "extraordinary power" to seize a home.

Land Seized for Animal Shelter May Be Sold to Developer-Donor

. A year after Los Angeles seized three acres from a private company to construct a public building, a city councilman wants to sell the land to another private firm for a commercial development.

PBS Analysts Ridicule Eminent Domain Concerns of Conservatives

. During PBS's coverage Wednesday [9/14/2005] of the Senate hearing with Supreme Court nominee John Roberts, analysts ridiculed the concern of some conservative Senators over the Supreme Court's recent eminent domain ruling and mocked the role of naive talk radio hosts.

Private Property at the Mercy of Government

. When, if ever, does government have the power to take the property of A and turn it over to B? According to a June 23 ruling by the U.S. Supreme Court (Kelo vs City of New London), government can do that whenever it thinks that B will pay more in taxes.

New book Opening the Floodgates

: Eminent Domain Abuse In the Post-Kelo World.

Supreme Court OKs Expansion of Takings Power

. The U.S. Supreme Court gave a major victory to urban planners, large property owners, and government in the Kelo v. New London decision announced June 23. The major losers are those who treasure private property rights and the respect for those rights set forth in the U.S. Constitution and those with the least political power to protect themselves.

Take That, David

. An application has been made to condemn the family home of Supreme Court Justice David Souter, to make way for hotel development.

Kelo Ruling Puts American Dream at Risk

: Justice David Souter is probably breathing a sigh of relief. Last month, New Hampshire voters rebuffed attempts to seize the Supreme Court justice's home and transform it into a private inn. This effort was an orchestrated protest of the Supreme Court's 5-4 decision in Kelo v. New London, in which Souter joined the majority. While theatrical, the proposed seizure of Souter's home is not surprising: There are few recent Supreme Court cases that elicit as visceral a reaction as Kelo. As well it should.

Missouri Bank Refuses to Finance Eminent Domain Development Projects

. A Missouri-based bank has announced it "will not lend money for projects in which local governments use eminent domain to take private property for use by private developers," making it the second lending institution in the nation to do so.

Supreme Court Ruling Opens the Door to Abuse

. Economic theory tells us that secure private property rights are one of the essential foundations of a free society and an important engine of growth. By raising the odds that eminent domain powers will be exercised expansively, the Kelo decision has seriously undermined those rights.

Sentence First, Verdict Later

. In Kelo v. New London the Court moved us further away from the "red state" view of property rights by giving virtually carte blanche to local governments to seize, and demolish any person's home. … The Court declared that the involuntary transfer of property from you to any corporation, shopping mall or other business interest can be a lawful exercise of government power.

Reaction to the Supreme Court Decision in Kelo Eminent Domain Case

. The U.S. Supreme Court has given a major victory to urban planners, large property owners, and government in the Kelo decision announced June 23. The major losers are those who treasure private property rights and the respect for those rights set forth in the U.S. Constitution and those with the least political power to protect themselves.

Human rights v. property rights

: Property rights are human rights to use economic goods and services. Private property rights contain your right to use, transfer, trade and exclude others from use of property deemed yours. The supposition that there's a conflict or difference between human rights to use property and civil rights is bogus and misguided.

With just a few additional ingredients, the Kelo decision could result in a

Zimbabwe

situation.

Lessons from the Kelo Decision

: One week after the Kelo decision by the Supreme Court, Americans are still reeling from the shock of having our nation's highest tribunal endorse using government power to condemn private homes to benefit a property developer. Even as we celebrate our independence from England this July 4th, we find ourselves increasingly enslaved by petty bureaucrats at every level of government. The anger engendered by the Kelo case certainly resonates on this holiday based on rebellion against government.

Florida Eminent Domain Plan Could Be the Largest

. The project, potentially one of the country's largest eminent domain seizures, has placed Riviera Beach at the center of a nationwide battle over whether government should be allowed to seize property for private development.

Why we need conservative judges

: Citizens don't need their lives defined by others. They need protection. And the vulnerable particularly need protection. Protection means having a legal code that has integrity and having judges that see their job as relating to that law to protect people from the unjust encroachment by others. I would say a society of tyranny is one in which it is never clear what the law is and how I am protected. Ironically, this also characterizes a liberal society. This couldn't have been driven home more clearly than by the Supreme Court's recent eminent-domain decision in the Kelso v. City of New London case.

Never Mind the Kelo, Here's Scott Bullock

. It was rather shocking that a majority of the Supreme Court would permit this type of abuse. We're in an America where, as Justice Sandra Day O'Connor points out, church property can be taken for a Costco, a farm can be turned into a factory, and a neighborhood can be leveled for a shopping mall. Most people cannot believe that this can happen in this country and the Supreme Court gave sanction to that with their decision.

The Supreme Court's reverse Robin Hoods

: No one disputes that this power of "eminent domain" makes sense in limited circumstances; the Constitution's Fifth Amendment explicitly provides for it. But the plain reading of that Amendment's "takings clause" also appears to require that eminent domain be invoked only when land is required for genuine "public use" such as roads. It further requires that the government pay owners "just compensation" in such cases. The founding fathers added this clause to the Fifth Amendment … because they understood that there could be no meaningful liberty in a country where the fruits of one's labor are subject to arbitrary government seizure.

When Justices become dictators

: This week, the Supreme Court of the United States once again proved that it is a feckless, dictatorial and altogether ridiculous body. Its latest spate of decisions reveals legislative usurpation, disingenuous deference and silly inconsistency. But, of course, what else should we expect from the court that tells us our Constitution protects pornography but not political advertising, sodomy but not the Ten Commandments, and mentally disabled murderers but not private property?

Theft by government

: As the nation was waiting to see where the Supreme Court would tolerate displaying the Ten Commandments, the court violated one.

Your house could be a parking lot

. Think your house is your castle? Our country's Founders thought so. They put three provisions into the Bill of Rights to protect it. But last week, the Supreme Court said the government can take away your house just because it thinks someone else could make better use of your home or business than you can.

Your castle no more

. The U.S. Supreme Court is allowing a local government to kick out of the house in which she was born 87-year-old Wilhelmina Dery and her husband who has lived there with her for 60 years. Why? The government wants to seize their property, bulldoze their house and many others and sell the land to businesses and developers for private uses.

High Court to homeowners: Stick 'em up!

It's like a bad dream, or a summer disaster movie. But this is real. We live under a regime that can and often does grab our homes and small businesses to create what politicians call "economic development." The process is simple: the government takes our property, pays us what it thinks the property's worth, and then hands our property — in finely crafted "sweetheart deals" — to developers and big corporations that will produce greater tax revenue.

Eminent injustice in New London

. Would your town's tax base grow if your home were bulldozed and replaced with a parking garage? If so, it may not be your home for long.

Damaging 'Deference'

: The question answered Thursday was: Can government profit by seizing the property of people of modest means and giving it to wealthy people who can pay more taxes than can be extracted from the original owners? The court answered yes.

Supreme Court Ruling on Seizure of Private Property Highly Disturbing

. Justice Sandra Day O'Connor wrote the dissenting opinion for the court, arguing against the unconstrained authority of government to displace families and small businesses in order to accommodate developers. "The specter of condemnation hangs over all property," stated the Justice in her opinion.

Eminent domain ruling 'disastrous'

. A ruling handed down today by the Supreme Court paves the way for local governments to seize private property and hand it over to developers and other private businesses. … While eminent domain may be necessary to build public projects such as roads and bridges, this decision will allow private homes to be taken to build shopping malls, hotels and theaters.

Supreme Court: Public Use is Whatever Governments Say

. "This is a dark day for property owners throughout the country and particularly for citizens living anywhere near covetous local governments," said William Perry Pendley of Mountain States Legal Foundation.

Hail seizers! The New York Times cheers on the land grabbers

. According to the Court, the Fifth Amendment, which allows the government to take property "for public use" provided it pays "just compensation," is a license to transfer any parcel of land from its current owner to someone the government thinks will make better use of it.

This Land is My Land

: Reforming Eminent Domain after Kelo v.City of New London. On June 23, 2005, the U.S. Supreme Court upheld the city of New London's use of eminent domain to condemn several properties the city claimed stood in the way of additional tax revenues and new jobs. However, Justice Stevens, author of the majority opinion in Kelo, explained that nothing precludes states from restricting their takings power. Doing so is a first step toward assuring homeowners that they can keep what they own.

EFF raises the Gadsden flag in protest of Supreme Court property rights decision

. The Gadsden flag was the fighting standard chosen by American patriots during the Revolutionary War. The English government was infringing upon the fundamental rights of life, liberty and property, and, as a result, the American colonists revolted. The Gadsden flag, with the famous words "Don't tread on me," best portrayed their sentiment.

Property Damage

: With yesterday's U.S. Supreme Court decision in Kelo v. New London, the nation's highest court has essentially given federal, state and local governments an unlimited ability to take a private citizen's property as long as proper payment is made. The Fifth Amendment to the U.S. Constitution prohibits private property from being taken through eminent domain without "just compensation," but it further stipulates that the property must be taken for a "public use." In Kelo, the Supreme Court watered down the public use requirement so as to make it almost meaningless.

Kelo, GM, and the Stimulus: Three Examples of Government-Induced Failure

. On November 9, pharmaceutical giant Pfizer announced that it would abandon its eight-year-old research and development facility in New London, Connecticut. That decision effectively ended the chances of any additional development taking place in the city's Fort Trumbull area, the subject of June 2005's infamous Kelo v. New London Supreme Court decision. Citing what Justice John Paul Stevens called a "carefully formulated ... development plan," the Court's decision allowed the city to condemn and bulldoze dozens of houses. Today, the area, except for the politically connected Italian Dramatic Club, is a vacant wasteland.

House takes aim at Supreme Court's controversial ruling on property rights

. The House this week is expected to approve legislation that would overturn a 2005 Supreme Court decision holding that state and local governments can take private property under the principle of eminent domain in order to further their economic development plans. The 2005 decision,

Kelo v. City of New London

, was seen by Republicans in particular as a case of government overreach. The Fifth Amendment to the Constitution limits the authority of government to seize property, by requiring compensation and mandating that the land taken be put to public use.

House votes to overturn Supreme Court decision on eminent domain

. The House on Tuesday afternoon [2/28/2012] approved legislation that overturns a 2005 Supreme Court decision that affirmed the ability of states to take control of private property under the doctrine of eminent domain and hand it to another private developer.

Taking back property rights

. Congress is taking steps to reverse a Supreme Court decision that turned a thriving middle-class community into a waterfront wasteland. It's about time

Kelo

was knocked off-kilter.

Justices Back Forced Sale of Property

. The Supreme Court gave cities broad power Thursday [6/23/2005] to bulldoze homes and small stores to make way for business development, a ruling the dissenters said put shopkeepers and homeowners at the mercy of revenue-hungry governments. The 5-4 ruling against a small group of residents in New London, Conn., goes further than ever before in allowing government to invoke its power of "eminent domain" to seize private property from unwilling sellers.

Supreme Court Rules Cities May Seize Homes

. Cities may bulldoze people's homes to make way for shopping malls or other private development, a divided Supreme Court ruled Thursday, giving local governments broad power to seize private property to generate tax revenue. In a scathing dissent, Justice Sandra Day O'Connor said the decision bowed to the rich and powerful at the expense of middle-class Americans.

New Jersey to Expand Seizures in Gun Cases

. A New Jersey state assemblyman has introduced a bill that would allow the government to seize the home or car of anyone whose property contains an illegal firearm. In New Jersey, nearly every gun is considered "illegal."

The abusers of eminent domain

. What the Supreme Court in the 18th century found unthinkable, the Supreme Court of the 20th century made lawful. In Berman v. Parker, a 1954 case, a unanimous court permitted eminent domain to be deployed for purposes of what was then called "urban renewal." Berman's narrow exception soon became an open floodgate of eminent-domain abuse.

Supreme Court taking on sticky issue of eminent domain

. The American Dream is to start a small business and develop it through years of hard work and investment. Location is the key to most businesses, and entrepreneurs typically build their reputation at a particular spot. But lately, many have been greeted by a surprise message from city hall: Their town is taking their property for the benefit of someone else. A lifetime of effort is suddenly snuffed by the arbitrary decision of a few councilmen or unelected city planners.

Confiscating homes

. What would you call it if someone forced you to sell your home, even though you didn't want to sell and didn't agree to the price? You would call it theft and phone 911. But the realm of government is cloaked in terminology designed to hide unpleasant realities. When the government does this, it's called "eminent domain," and it's legal.

The Asset Forfeiture Manual

: Judges, lawyers, and other government officials enjoy various levels of personal immunity provided by both law and "professional courtesy." How do you sue a lawyer for malpractice? You hire another lawyer - if you can find one who'll take the case. How do you sue an IRS agent for violating your Constitutional rights? Only with great difficulty. How you sue a judge for railroading you in court? You don't.

Ashcroft Orders Destruction of DOJ Documents

. The Department of Justice requested the Government Printing Office to order depository libraries to remove and destroy five publications regarding asset forfeiture no longer to be available to the general public.

Socialism is evil

. What is socialism? We miss the boat if we say it's the agenda of left-wingers and Democrats. According to Marxist doctrine, socialism is a stage of society between capitalism and communism where private ownership and control over property are eliminated. The essence of socialism is the attenuation and ultimate abolition of private property rights. Attacks on private property include, but are not limited to, confiscating the rightful property of one person and giving it to another to whom it doesn't belong.

Bandits with Badges

: Society has no problem with law enforcement fighting crime or even confiscating property used in a criminal enterprise but, as with any law, the good intent for which the law was created, has been immensely abused to the point that innocent citizens are losing everything they ever worked for without even being charged or convicted of a crime. Clearly, states need to pass laws to safeguard the rights of the innocent from zealot law enforcement agencies run amuck from the smell of greed.

The War on Crime

: Today, more than 200 different kinds of forfeiture laws exist in America, and items are often seized on mere suspicion. Some 80% of people who have their property seized are never formally charged with a crime. Attempts to recover seized property is a legal nightmare for private citizens.

Government seizures begin to spur backlash

. While the U.S. Constitution allows governments to use eminent domain, that power generally had been restricted to acquiring land to build roads, schools and other infrastructure government needed to carry out its role of providing for the public welfare. But scholars say that began to change in the 1950s when local governments began using eminent domain as a means to clean slums.

Highway "forfeiture traps" are apparently still alive and flourishing

. A few years ago these forfeiture traps on interstate highways were getting a lot of media attention. Television news shows such as 20/20 and 60 Minutes aired exposes on forfeiture traps in Volusia County, Florida, and Sulphur, Louisiana. Local police in these small towns made millions of dollars in profits by trolling the interstate highways and stopping travelers with out of state tags. The police typically claimed some traffic infraction, asked permission to search the car and got it, found no drugs but some cash, then brought in a drug sniffing dog, and after getting it to "alert," seized all the travelers' money.

DEA's crazy train

: "Amtrak is providing federal drug police in Albuquerque with ticketing information about passengers," writes Jeff Jones in the April 11 [2001] Albuquerque Journal, "and Amtrak police get 10 percent of any cash seized from suspected drug couriers at the Downtown station."

Government Property Seizures out of Control

: Across America, the Drug Enforcement Administration is seizing the luggage, cash and cars of hapless travelers. And the government is keeping the property of people who have committed no crime.

Railway Bandits

: Amtrak manages to lose money on 39 of its 41 routes, but that doesn't stop it from making a killing off some of its customers. In Albuquerque, New Mexico, Amtrak officials cut a deal with the Drug Enforcement Administration: In exchange for giving the drug police access to its booking system, Amtrak gets 10 percent of any money the cops take from hapless passengers.

Legislator eyes unused gift card value

. Rep. Fred Kessler (D-Milwaukee) said today [12/26/2006] that the value of unused gift cards should go to the state treasury — not to the merchant — and that change will be part of a bill he'll introduce in the legislative session starting in January. Kessler said millions of dollars a year go unused by gift card recipients, and retailers are allowed to book the unused values after the cards expire.

Europe starts confiscating private pension funds

. Obviously, this is a cautionary tale for America. If fiscal austerity becomes a real issue in the U.S. the way that it's been reaching critical mass in Europe — don't think that U.S. lawmakers regard your either your personal wealth or money they might owe you as sacrosanct. Government has a habit of looking out for itself.

European nations begin seizing private pensions

. People's retirement savings are a convenient source of revenue for governments that don't want to reduce spending or make privatizations. As most pension schemes in Europe are organised by the state, European ministers of finance have a facilitated access to the savings accumulated there, and it is only logical that they try to get a hold of this money for their own ends.

Related stories: To Protect and Collect

Why the Civil Asset Forfeiture Reform Act Will Not Significantly Reform the Practice of Forfeiture Supreme Court Says Police May "Impound" House:

The Supreme Court ruled 8-1 Tuesday (02/20/2001) that Illinois police acted constitutionally when they kept a man from entering his trailer home while they spent two hours getting a search warrant.

Plunder Patrol: The alarming saga of IRS abuse

: The Internal Revenue Service (IRS) is our nation's largest law enforcement agency. Armed with virtually unlimited power, it collects not only taxes, but intimate details about the personal lives of virtually every American.

Not So Eminent Domain

. On June 23, 2005, the U.S. Supreme Court said that New London, Connecticut, could force the sale of Susette Kelo's house. The question before the court had been whether the city's plan for her neighborhood — private condos, a privately owned hotel, and laboratories for a private-sector corporation, Pfizer Inc. — was a "public use" under the 5th Amendment of the Constitution. The city said it was, because it would generate taxes and jobs. Five of the nine members of the court swallowed that argument. By one vote, Susette Kelo lost.

Back to

Abuse of Power

Back to the

Home page