American Despotism. Cronyists used the 9/11 terrorist attacks, which could have been prevented by simple fixes (like the new reinforced cockpits), to create the Transportation Security Administration (TSA), with a budget of $8.6 billion and 65,000 employees. "What the TSA is good at," writes J. D. Tuccille, "is high-visibility groping, scanning, and confiscating. Making people drop their pants, take off their shoes, and surrender their shampoo annoys people in a way that says 'we're doing something' without actually accomplishing anything." While spending millions on new gadgets, the TSA has an 80 percent to 97 percent failure rate at discovering weapons.
Trans woman left sobbing in JFK Airport after TSA agent hit her testicles: report. A transgender woman was left in tears at JFK Airport after she claimed a TSA agent punched her in the testicles while she was going through security, the Daily Mail reported. The unidentified flyer took to social media to vent about the incident, in which she said the agent "humiliated" her in front of everyone in a series of posts that have since been deleted, according to the outlet. "hi so a tsa agent at jfk airport punched me in the genitalia, yelled at me for having a penis (?) and humiliated me in front of everyone after i told her to please stop," she captioned a photo of her crying in the airport bathroom, according to a screenshot of the post. But the embarrassment didn't stop there, according to the woman. "[The TSA agent] followed me into the women's bathroom and began talking about me to a coworker while I sobbed in a stall," she wrote, asking friends on the internet for advice as to what she should do.
The Editor says...
The whole purpose of being a transvestite is apparently to attract attention and sympathy on the internet. Too many people are wallowing in self-pity because of their self-inflicted problems.
TSA Still Molesting at Warp Speed. I traveled to Hartford, Connecticut last week for a conference. It was the first time since the start of the pandemic that I had the pleasure of being pawed by TSA agents. Alas, since 2020, neither I nor the Transportation Security Administration have become corrigible. Flying out of Washington National Airport on Thursday, I saw a special entry for the CLEAR program that enables people who pay $189 a year to skip TSA lines. I lambasted this program here back in December. Travelers stand in photo kiosks that compare their face with a federal database of photos from passport applications, drivers' licenses ,and other sources. TSA promises that its new airport regime will respect Americans' privacy. Fat chance: TSA previously promised no traveler would be delayed more than 10 minutes at TSA checkpoints.
Facial Recognition Comes to a TSA Checkpoint Near You. Facial recognition technology has come a long way in recent years, spurred in equal parts by convenience and the priorities of government snoops. Now, if you plan to go a long way via air travel, you can expect to be required to stare into a camera as a computer algorithm scans your features to make sure you're no imposter. The TSA is trying out facial recognition technology at airports as a means of ensuring that travelers are who they claim to be and speeding security lines. It's, maybe, an improvement for impatient travelers, but even more so for the never-satisfied security state.
TSA argues for impunity for checkpoint staff who rape travelers. Two years ago, at least a dozen women on a Qatar Airways flight to Sydney were ordered off the plane at Doha Airport in Qatar and subjected to forced vaginal examinations. [...] If you think that this couldn't happen in the USA, or that the victims would fare better with government authorities and in the courts in the USA than in Qatar, think again.
TSA Spends $18 Million on 'Non-Binary Screening Systems'. According to a report from Fox News, The Transportation Security Administration (TSA) has been spending $18.6 million it received in funding in order to develop, test and deploy "non-binary screening systems." The TSA says the change will "advance civil rights."
TSA spends $18.6 million on 'non-binary screening systems' set to roll out in January. The Transportation Security Administration (TSA) has been spending $18.6 million it received in funding in order to develop, test and deploy "non-binary screening systems," according to a new report. The funding from the FY22 Omnibus Appropriations fund, Biden's yearly government spending budget, has been used to improve Advanced Imaging Technology (AIT) units in airport checkpoints, working with the manufacturer to update the algorithm for "increased accuracy and efficiency." The new technology will roll out at airports in January, but individuals who feel their gender was incorrectly assumed now have the option to ask for a re-screening before submitting to a physical pat-down.
TSA now wants to scan your face at security. Here are your rights.. Next time you're at airport security, get ready to look straight into a camera. The TSA wants to analyze your face. The Transportation Security Administration has been quietly testing controversial facial recognition technology for passenger screening at 16 major domestic airports — from Washington to Los Angeles — and hopes to expand it across the United States as soon as next year. Kiosks with cameras are doing a job that used to be completed by humans: checking the photos on travelers' IDs to make sure they're not impostors. The TSA says facial recognition, which has been banned by cities such as San Francisco, helps improve security and possibly also efficiency. But it's also bringing an unproven tech, with civil rights ramifications we still just don't understand, to one of the most stressful parts of travel. After hearing concerns from Washington Post readers who encountered face scans while traveling, I wanted to know how the TSA is using the tech and what our rights are. Everybody wants better safety, but is this really safer — and what are its real costs?
TSA's scanner 'inclusive' upgrade for transgender passengers costs taxpayers $18.6 million. The Transportation Security Administration is spending more than $18.6 million of taxpayer money to update airport screening protocols and technology to be more inclusive of transgender, nonbinary and gender-nonconforming passengers. A large portion of the money is going to develop and deploy new gender-neutral body scanner technology throughout the nation's airports. The TSA hopes the new technology will help reduce the pat-downs and other invasive screen procedures that are required when transgender individuals trigger body scanners "in a sensitive area."
TSA required strip-search of transgender teen at RDU, violating rights, lawsuit says. A Raleigh mother has filed a federal lawsuit against the TSA, arguing that the airport security agency violated her transgender teenager's rights by requiring a strip-search at the airport. Jamii Erway, 15 at the time, had a valid boarding pass when she passed through security in 2019. When she triggered a "false positive," the lawsuit said, a TSA screener told her she would have to have her genitals inspected in a private room. The TSA "advised Jamii that she was not free to leave until she submitted to such a search, in violation of TSA policy, the Fourth Amendment, and state law rights of Jamii, and the boundaries of civil and decent society," according to the suit.
Common sense isn't common anymore. We are trained monkeys, following senseless pronouncements that improve nothing. Start with the airport. For some reason, my TSA Pre-check status didn't make it onto my ticket. So I was in the line that required me to take off my shoes and stand with arms over my head to be scanned. I put every [...] thing in bins, of course. My iPad in a separate one, of course. I was behind another elderly lady, this one with some major physical issues. The TSA agents took her sturdy, three-footed cane and handed her a slim wooden one to get through the scanner ordeal. It was barely enough to keep her upright. Once she was through the scanner, they pulled her aside, and I watched as she was patted down, head to toe, for about five minutes. This lady was so clearly not a terrorist that a caveman could have told you so. Old, overweight, barely able to walk. Ankles so swollen that it looked painful. I got to watch her ordeal because they patted me down, too, all because I'd forgotten I had a pill in my pants pocket that I was meant to take on the flight. I was made to take it out, show it to the agent, and then they patted me down, focusing on that darned now-empty pocket. Maybe it was a terrorist weapon?
What TSA Did With A Trump Supporter Will Make Your Blood Boil. You know those First Amendment freedoms, about peaceable assembly? Trump wasn't the only one our government was ready to play fast and loose with. At present, while the Capitol is swarming with National Guards, we're seeing some really odd surveillance of citizens who have not been charged with having committed any crimes. If the details of a story Jack Prosobiec shared are accurate, America is in worse shape than we thought. A few pundits, like Dennis Prager, who have been concerned that the events on January 6th could be leveraged the very same way a certain group of 1930s German politicians leveraged the Reichstag Fire to eliminate their political competition are increasingly looking like they might be onto something. We will include the text of the alleged incident which — for lack of any identifying information — we can neither confirm nor disprove. The credibility of the story, and whether anyone else claims to have had similar experiences, we will leave to those who have more direct knowledge of the events.
Man and daughter detained, questioned at airports for being at the DC Trump rally. [Scroll down] I arrived in Newark NJ last night and proceeded to passport control, as I have done numerous times in the past with absolutely no issues, and was stopped at immigration and told I needed to follow them into the back room and be interviewed/interrogated. At this point I am beyond upset (I'm a tax paying law abiding American with absolutely no record) and asked curtly what is going on??? (They also took my adult daughter in for questioning.) The officer informed me that due to facial recognition I have been flagged as a participant in the DC domestic terrorist attack on the capitol and they needed to question me!!! I was shocked. I told them I did travel to DC on Jan 6th to attend the rally and to listen to the President BUT I was absolutely no where near where the incident occurred and how is it possible for me to be associated at all with the few radicals that went into the capitol when the majority of the people at the rally were peaceful and respectful? Are we as Americans no longer allowed the right to assemble? Thankfully the officer was very nice and after my initial shock I was able to answer his questions calmly and we were let go. Only on my way home did I realize the reality of what had just happened.
Paging airline passengers: You left $926,030.44 in cash at TSA checkpoints. Those plastic bins at airport security checkpoints where you deposit your valuables for screening are doubling as bank teller windows for the Transportation Security Administration. Passengers left behind nearly $1 million at airport security checkpoints during fiscal year 2019, which ended last Oct. 1, according to a newly released report by the TSA. Officers collected $926,030.44 in U.S. currency and $18,899.09 in foreign currency that was left behind in the form of coins and cash from Oct. 1, 2018, through Sept. 30, 2019.
Homeland Security Seized $2 Billion in Cash From Travelers at U.S. Airports. Customs and Border Protection (CBP) and other Department of Homeland Security agents seized more than $2 billion in cash from travelers in U.S. airports between 2000 and 2016, according to a new report by the Institute for Justice, a libertarian public interest law firm. The institute's report is the first to comprehensively analyze the use of civil asset forfeiture by federal law enforcement in airports, where multiple news investigations have revealed horror stories of passengers having their money taken even though they weren't ever charged with a crime. Take a case that Reason covered: Rustem Kazazi, a U.S. citizen who tried in 2018 to get on a plane to return to his native Albania from Cleveland Hopkins International Airport. Kazazi had roughly $58,000 in cash in his luggage, money he said he was taking to repair a house he owned and possibly to buy another. Kazazi was strip-searched by CBP agents, who also seized his life savings. The agency claimed the cash was "involved in a smuggling/drug trafficking/money laundering operation," despite there being no proof of that.
World-Renowned Malian Musician Claims JFK Airport TSA Agents Destroyed His Custom-Made Instrument. A world-renowned kora player says that his custom-made instrument was ruined after going through TSA at New York's John F. Kennedy International Airport. Ballaké Sissoko, one of Mali's most prominent musicians, shared photos of his ruined kora and a statement on Facebook on Wednesday, blaming the "ignorance" of the TSA agents that handled it. The statement said that after Sissoko and his trio 3MA, which brings together string instruments from Mali, Morocco and Madagascar, concluded their recent tour in the United States, he boarded an overnight Air France flight back to Paris, where he lives, landing on February 4.
O'Rourke's America. With apologies to Margaret Atwood and a thousand other dystopian novelists, we do not have to theorize about what an American police state would look like, because we know what it looks like: the airport, that familiar totalitarian environment where Americans are disarmed, stripped of their privacy, divested of their freedom of speech, herded around like livestock, and bullied by bovine agents of "security" in a theatrical process that has an 85 percent failure rate because it isn't designed as a security-screening protocol at all but as a jobs program for otherwise unemployable morons.
Somewhat related:
JFK Airport's Terminal 1 launches facial recognition boarding. A biometric self-boarding gate has officially been launched at John F. Kennedy International Airport's Terminal 1, officials said Tuesday [10/8/2019]. Lufthansa has deployed the paperless, high-tech boarding process — which uses facial recognition technology to verify travelers with a photo capture — at its largest US gateway at the Queens airport. Air France, Japan Airlines and Norwegian Airlines are expected to follow suit at the terminal, officials said.
TSA makes you suffer because it's afraid to do security right. [Scroll down] After 10 days away, it felt like a police state, starting with the chaotic JFK Terminal 4 arrivals area. TSA workers shouted rude insults — "Can't you people listen!" — to fliers trying to navigate a cattle-pen maze of barriers and passport-reading screens, half of which didn't work. The NYPD's proliferating concrete barriers make Times Square, many Midtown streets and the Wall Street area look like a war zone. So do machine-gun-toting cops and National Guard troops at Grand Central Terminal and Columbus Circle. Why the contrast? Israeli personnel are trained to profile, while American ones are forbidden to profile due to politically correct revulsion over "discrimination." Israeli agents can focus on those who might truly be dangerous, while ours are trained to regard every human being as an equivalent threat. So our police practice wholesale crowd control that mainly makes life hell for pedestrians. The TSA subjects obviously harmless people to public harassment. See, no discrimination here, folks!
Save us from the pointless burdens of the TSA. The people shuffle along, shoeless, ready for their full-body check. Their belongings have been taken from them. If they question any part of this, in any way, they are quickly removed and taken to an undisclosed location. No, it's not prison — it's the security check at your local airport. Why do we stand for it? The Transportation Security Administration was established in the wake of 9/11, when Congress passed the Aviation and Transportation Security Act. Before that, private security agencies hired by the airlines handled security at the airports.
When transgender travelers go through scanners, the next step is often invasive. [Scroll down] TSA rules require that passengers be searched by officers of the same gender as they present. But, according to Olivia, the TSA supervisor told her that she would have to be patted down by a male officer. After Olivia refused to be searched by a man, the officers told her that because she was not consenting to a search, she could not board her flight and would be escorted out of the terminal.
The Editor says...
Problems encountered by transvestites during airport searches (or anywhere else) are problems they have brought upon themselves. The purpose of the TSA, as I understand it, is to prevent suspicious, dangerous, or unstable people from boarding airplanes. If the screener and the prospective passenger can't even agree on the passenger's gender, or if the passenger is concealing his or her identity, that's a giant red flag. Take the bus.
'You ugly!!!': Airport guard fired for slipping mean note to random traveler. It looks like the TSA is hiring the cast of "Mean Girls" now. A traveler passing through security at Rochester International Airport got an unexpected sick burn from an employee — when she handed him a folded-up note that said, "You ugly!!!" Neal Strassner, 40, said he was handed the small, folded-up piece of brown paper by a female worker before collecting his things at the checkpoint in June. [...] The woman, an employee of Virginia-based security company VMD Corp., which contracts with the TSA, has since been fired, the agency has confirmed. "TSA holds contractors to the highest ethical standards and has zero tolerance for this type of behavior," a statement from the agency read.
Woman sues TSA claiming she was forced to show genitals in 'horrific' strip search. A Nevada woman has sued the Transportation Security Administration after officers allegedly made her expose her genitals and show them a feminine hygiene product she was using as part of an in-depth screening at an Oklahoma airport, according to a report published Saturday [6/8/2019]. Rhonda Mengert of Las Vegas filed the lawsuit in response to a strip search she claimed officers at Tulsa International Airport asked her to do on May 12, AP reported. She said the incident has led to severe emotional distress and was a violation of her rights.
Hate Long TSA Lines? Hate Them Enough to Get Your Eye Scanned Instead? The Transportation Security Administration (TSA) has few diehard fans (if any at all among readers of this column). Our federal airport security monopoly is slow, inefficient, and often handsy. You might think you would jump at any chance to cut down on your interfacing with TSA "service." But is it worth forking over an iris scan? Customers of a private security service called "Clear" can just breeze through their red-roped entrance — calling it a "line" would be a misnomer, because there usually isn't any — to an independent identification kiosk. After the normal TSA-managed x-ray of their person and effects, they are through security in a fraction of the time.
TSA Once Again Fails To Do Its Job As Passenger Carries Firearm Past Security. The Transportation Security Agency (TSA) was created to stop another terrorist attack like the one we saw on 9/11, but the agency has only proven that it's good at making people feel uncomfortable and late for their flight. It also has allowed so many contraband items to go through its security checkpoints that it's a wonder another terrorist action hasn't occurred. Especially because this recent failure by the TSA involved someone getting a gun through.
TSA moving to all floppy-ear airport dog force because pointy-ear dogs 'scare children'. The Transportation Security Administration is in the process of swapping out pointy-ear dogs for floppy-ear ones in an effort to put more of the public at ease when interacting with its canines. "We've made a conscious effort in TSA ... to use floppy ear dogs," TSA Administrator David Pekoske said during a recent tour of operations at Washington Dulles International Airport northern Virginia. "We find the passenger acceptance of floppy ear dogs is just better. It presents just a little bit less of a concern," Pekoske said. "Doesn't scare children." Around 80 percent of the 1,200 canines TSA uses nationwide are ones with droopy ears, versus 20 percent that have cone-shaped ones.
Homeland Security Will Let Computers Predict Who Might Be a Terrorist on Your Plane — Just Don't Ask How It Works. You're rarely allowed to know exactly what's keeping you safe. When you fly, you're subject to secret rules, secret watchlists, hidden cameras, and other trappings of a plump, thriving surveillance culture. The Department of Homeland Security is now complicating the picture further by paying a private Virginia firm to build a software algorithm with the power to flag you as someone who might try to blow up the plane. The new DHS program will give foreign airports around the world free software that teaches itself who the bad guys are, continuing society's relentless swapping of human judgment for machine learning.
Daisy Fuentes BLASTS The TSA For Making Her Disrobe While Giving A Chick In A Burka A Pass. Model and former MTV VJ, Daisy Fuentes Marx, posted her annoyance at TSA showing two standards for passengers — one for models in tank tops and a sweater, and another for Muslim women in a full burka and niqab. What?!? TSA gives women in a full burka with their face covered a free pass through the security screening?
US airport opens first fully biometric terminal. What if you could simply look at a screen for two seconds and check in for your flight? Imagine glancing at a screen for another two seconds to drop off your bags at a luggage station? How easy would it be to merely look at another screen to breeze through ID checks at TSA security checkpoints or the departure gate? All this, without having to use your passport. Well, now you can.
Dear TSA, Please Stop Molesting Kids At The Airport. [Scroll down] The boy looked innocent enough to me — which might be exactly what the little would-be villain had in mind. When the father inquired, the agent told him, right before touching his son's crotch, that this sort of thing had become necessary due to drug mules using children. If you don't think the terrorists have won, you probably haven't visited an airport in a while. Not only do these places needlessly gobble up hours of our day and billions of our dollars, but here that we collectively lose all dignity and act like a bunch of automatons just so they'll let us out of the place. Though sometimes it seems like we might never escape. If we really wanted to slow the caravan from Central American down, we would make them enter through a TSA checkpoint. It is at those checkpoints that we suspend our disbelief and pretend that (often) disheveled and (very often) rotund government agents who separate us from our water bottles possess the expertise to ferret out terrorist plots.
Go Ahead and Pack Your Weed This Thanksgiving — the TSA Probably Won't Find It. The Transportation Security Administration (TSA) says this Thanksgiving season could be its busiest on record. More than 25 million people will board flights, the agency expects — an increase of 7 percent from 2017. With that in mind, the agency wants to make sure passengers know ahead of time what they can and cannot take through security. Turkeys are fine (as long as they're frozen), as are pies and even vegetable peelers. Banned items include the usual suspects: pocket knives, firearms, explosives, more than 3.4 ounces of most gels and liquids, etc. Whether or not TSA agents will actually find such items in your carry-on luggage is another question. A survey from Stratos Jets, a company that coordinates private plane charters, suggests the answer is probably no.
The Editor says...
Seems like a non-issue to me. Who uses marijuana to hijack an airplane?
Trans-friendly TSA Bill Introduced in Congress. Representative Kathleen Rice (D-N.Y.) has introduced a bill in Congress that would force the Transportation Security Administration (TSA) to adopt "gender neutral" screening policies. While civil libertarians have long criticized the TSA for its privacy violations, transgender-rights activists contend that the TSA's treatment of transgender and non-binary individuals is the battle worth fighting. The "Screening with Dignity Act" asks the TSA to implement new training methods and privacy protections. The bill also asks the TSA to conduct a cost analysis for recalibrating full-body screening technology so that transgendered individuals are not "mis-gendered" during the X-ray screening process. The bill's 15 Democratic co-sponsors want the machines' technology to be updated so as to be able to "distinguish between foreign objects and human body parts" — presumably at the expense of the taxpayers.
TSA may stop screening passengers at 150 airports. The TSA is considering nixing passenger screening at more than 150 airports across the country, a new report reveals. The proposal, laid out in documents by a TSA working group, would get rid of screening at some small and medium-size airports serving aircraft with 60 or fewer seats, according to CNN. If the passengers on those planes are connecting at a larger airport, they would instead be screened there. The documents say there could be some risk associated with the move, stating there would be "small (non-zero) undesirable increase in risk related to additional adversary opportunity." The move would save $114 million per year, the documents show.
Why Can't We Sue the TSA For Assault? When I was in Congress and had to regularly fly between DC and Texas, I was routinely subjected to invasive "pat-downs" (physical assaults) by the Transportation Security Administration (TSA). One time, exasperated with the constant insults to my privacy and dignity, I asked a TSA agent if he was proud to assault innocent Americans for a living. I thought of this incident after learning that the TSA has been compiling a "troublesome passengers" list. The list includes those who have engaged in conduct judged to be "offensive and without legal justification" or disruptive of the "safe and effective completion of screening." Libertarian journalist James Bovard recently pointed out that any woman who pushed a screener's hands away from her breasts could be accused of disrupting the "safe and effective completion of screening." Passengers like me who have expressed offense at TSA screeners are likely on the troublesome passengers list.
After pointlessly groping countless Americans, the TSA is keeping a secret watchlist of those who fight back. "I need a witness!" exclaimed the security screener at Ronald Reagan Washington National Airport. Because I had forgotten to remove my belt before going through a scanner, he explained, I must undergo an "enhanced patdown." I told him that if he jammed his hand into my groin, I'd file a formal complaint. So he summoned his supervisor to keep an eye on the proceedings. I thought of this exchange last week when the New York Times revealed that the Transportation Security Administration has created a secret watchlist for troublesome passengers. The TSA justified the list by saying that its screeners were assaulted 34 times last year, but did not release any details about the alleged assaults.
Orlando International Airport to scan faces of US citizens. Florida's busiest airport will be the first in the nation to require a face scan of passengers on all arriving and departing international flights, officials said Thursday, a move that pleases airport executives but worries privacy advocates.
Look What TSA Did To This 96-Year-Old Woman! If anyone tries to use a wheelchair-bound, 96-year-old woman to smuggle drugs or weapons onto a plane in at least one airport, we are safe. TSA in a Virginia airport put an elderly woman through the ringer of pat downs, searching her for any illegal contraband. The video has gone viral, and people are furious.
TSA comes under fire for 'prolonged and repetitive' pat down of a 96-year-old woman in a wheelchair. A video of a 96-year-old woman being forced to endure a 'prolonged and repetitive' pat-down by airport security in Virginia has gone viral — and left many questioning why such behavior was necessary in the first place. Jeanne LaBrier Clarkson posted a six minute video of her mother at Washington Dulles International Airport on May 15. 'The 3 of us were all in wheelchairs. Only my 96-year-old mother was subjected to this prolonged, repetitive search,' Clarkson said in the video that has been viewed just under 9 million times.
The TSA Will Get Friendly With Your Thigh Even If It Did Nothing Wrong. [Scroll down] Just the same as John and doubtless thousands of other individuals, a professional, shall we say thorough TSA inspector explained to me how he was going to run his hands inside my waistband (which, the imaging resulting in what it did, is arguably passable) — but also run them up and down my legs, in a manner of unwelcome and quite awful foreplay. As part of the sheeple, I allowed the employee to proceed without objection, as well as swab my fingers, and continued on my way after being green-lit several moments thereafter. But why did this full pat-down occur?
LaGuardia Airport's security robot is giving women the creeps. The operators of La Guardia Airport are paying thousands of dollars every month renting a security robot to patrol the airport — but the bot is creeping out women while the crooks look on and laugh. "It's upsetting to have that thing creep up on you," said one female security guard at the airport, adding that she had just fended it off with a luggage cart. "It's [an annoyance]. It keeps bothering people." The airport deployed the R2-D2-esque Knightscope K5 three months ago to roll around outside Terminal B, recording everything with its four cameras, microphones and sensors.
Here are 1,366 well sourced examples of Barack Obama's lies, lawbreaking, corruption, cronyism, hypocrisy, waste, etc.. [#41] The Obama administration gave a very invasive patdown to a three-year-old boy in a wheelchair, which caused the boy to tremble in fear. The Obama administration gave an aggressive patdown to a seven-year-old girl with cerebral palsy. The Obama administration said that a four-year-old girl was a "high security threat." The Obama administration placed an 18-month-old girl on its no fly list. The Obama administration gave a patdown to Henry Kissinger. The Obama administration forced a 95-year-old cancer patient to remove her adult diaper and fly without it. The Obama administration ripped open the urostomy bag of a 61-year-old bladder cancer survivor, and forced him to fly covered in his own urine. The Obama administration harassed a sick 3-year-old boy, and caused him to miss his flight. [...] [#118] The Obama administration labels anyone who objects to the TSA's sexual harassment as a "domestic extremist."
Mary Berry discusses airport arrest after security mistook her flour for drugs. Former "The Great British Bake Off" star Mary Berry has seen the world through her culinary adventures, but one travel experience she'll never forget is being arrested at an airport when security mistook her baking ingredients for drugs. On April 20, the 83-year-old Brit revealed on "The Graham Norton Show" that she was detained at unidentified air hub 25 years ago for carrying suspicious substances. "I was going to the U.S. to do some cookery demonstrations and was worried that there might be problems. So I weighed out all the ingredients — flour, sugar — and put them all in little plastic bags," Berry recalled, according to Bristol Live "When I arrived at the airport the sniffer dogs made a bee-line for me. "Suddenly I was surrounded by uniformed people and my assistant and I were put in separate cells," she added of the "alarming" incident.
Woman fined $500 for saving free Delta Air Lines snack. A Colorado woman is facing a $500 fine from U.S. Customs and Border Patrol for saving a free apple she received as a snack from Delta Air Lines on her way back to the United States from Pairs, France. Crystal Tadlock told Fox 31 Denver, toward the end of her flight from Paris, flight attendants passed out apples in plastic bags as a snack. Tadlock put the fruit in her carry-on to save for when she was hungry during the second leg of her trip. [...] When questioned about the snack, Tadlock explained she received the apple from the airline and asked if she could throw it away or eat it, Fox 31 reported. The Customs agent allegedly told her no and fined her $500 for carrying the undeclared fruit.
Arizona residents will soon need 'travel ID' to board planes. The Arizona Department of Transportation has announced that state residents will require a new form of identification to pass through Transportation Security Administration screeners in the near future. As of Oct. 1, 2020, Grand Canyon state residents traveling out of Phoenix Sky Harbor International, Phoenix Mesa-Gateway, Flagstaff, Tucson International and Yuma International airports will need to carry "Voluntary Travel IDs" or be grounded, AZ Family is reporting. The new ID will also be requisite to access restricted federal buildings and military bases, as standard credentials will no longer suffice.
The Editor says...
That doesn't sound voluntary to me.
Screening Snacks May Be Part Of Stricter Airport Security. These days, snacks and other items may be part of screening at airports across the country. There are no changes to what you're allowed to carry on, but the screening at security has become stricter.
84-Year-Old Holocaust Survivor Abused by TSA Draws Ominous Parallel With Her Time in Auschwitz. The TSA is, without a doubt, one of America's most corrupt and incompetent agencies whose ostensible job is fighting terrorism. However, last year, they became apparently so unsatisfied with the mere ability to strip search babies, remove colostomy bags, beat up blind cancer patients, and fondle your genitalia, that they announced a more invasive physical pat-downs. The pat-downs, which TSA warned would probably prompt assault complaints with the police department because of their invasive nature, have been implemented and an 84-year-old holocaust survivor has become the TSA's latest victim. Eva Mozes Kor exposed her abuse by TSA in a Tweet on Sunday, explaining how she was forced to undergo a "very demeaning body search" just to board a plane. In her Tweet, she drew a parallel with the TSA and Auschwitz.
A Warning to Gun Owners Regarding Political Agendas and Democratic Dominated Police States. In late January, a Colorado teacher, while traveling in NY, was arrested by local authorities at the Airport in Albany, NY (ALB) as she declared her legally-owned and correctly packaged-for-travel pistol (in checked baggage) to SW Airlines for her trip home. TSA enforces federal law, so they don't care. But local authorities, enforcing state law (or at least their interpretation of it), made the arrest, after SW Airlines turned her in. This is just the latest in a endless series of arrests by state authorities in NY, NJ, MD, CA, et al of hapless out-of-state gun-owners who made the mistake of trying to fly out of ALB, JFK, LGA, EWR, et al, or who voluntarily "reported" their guns to local police, naively thinking they were thus in compliance with local laws.
Brie Larson discusses unwanted advances from TSA agent. A vocal advocate for women's rights and sexual-assault survivors, actress Brie Larson revealed that she was recently forced to navigate an uncomfortable encounter with a male TSA agent at airport security. "I merely smiled at a TSA agent and he asked for my phone number. To live life as a woman is to live life on the defense," the 28-year-old Oscar winner wrote to her 633,000 Twitter followers.
8 Really Bad Laws That Went Into Effect Today. [#6] Remove your electronics and prepare for pat-down: Starting today [10/1/2017], the Transportation Safety Administration (TSA) will require all passengers going through security screening to remove any electronics larger than a cellphone from their bags and place them in separate bins. [...] Most of what the TSA does at airports is kabuki security theater. The agency has wasted billions of dollars, while perfecting the fine art of harassing travelers.
Pittsburgh airport will become the first since 9/11 to let people without tickets past security checks. Those old romantic moments of seeing a loved one off at the airport gate are back — in Pittsburgh. The city's airport this Tuesday will become the country's first since 9/11 to allow people without tickets past security checkpoints to shop or bid farewell to loved ones. But the Association of Professional Flight Attendants — representing American Airlines employees — thinks it'll be a bad presence that'll only risk public safety and cause congestion.
Owner Is Angry His 20-Pound Lobster, Dinnah, Was Photographed by the T.S.A.. In the final hours of his life last weekend, he was plucked from anonymity, nestled in darkness at the bottom of an insulated cooler and given a name: Dinnah, like how a Mainer might pronounce the last meal of the day. His fate was sealed, literally, with Dinnah placed at the bottom and a layer of smaller friends on top in the cooler, which was wrapped with duct tape. His owner, Christopher Stracuzza, a 32-year-old auto-body repairman from Savannah, Ga., wanted Dinnah, a hulking 20-pound American lobster, and another 20 pounds of more-modest crustaceans to reach their final destination peacefully.
Bay Area airport screener pleads guilty to taking bribes. A supervisor screener who used to work at San Francisco International Airport pleaded guilty to receiving a bribe and turning a blind eye as 50 pounds of cocaine went through his X-ray machine.
Has There Ever Been a 'Book Bomber'? Perhaps you heard the news that the Transportation Security Agency, under the leadership of John Kelly, is planning to add new abusive screening procedures before Americans can board flights — including banning altogether the carrying on of laptop computers aboard international flights. He is also planning to adopt a policy currently being tested in Sacramento to examine the books you bring aboard the plane to read. [...] I'm really beginning to wonder about the appointment of John Kelly by President Trump. He seems to follow in a list of Department of Homeland Security secretaries more determined to violate the privacy rights of American citizens than to help them travel more safely. In all the years since 2001, has a laptop computer ever been used to bring down an airliner? Haven't they all been screened for years to make sure they are just laptop computers? Or was that just a ruse to make us wait in longer lines? How is it that laptops pose a special hazard to international flights and not domestic?
The TSA Turns Harassing Travelers Into a Fine — and Pointless — Art. [T]he TSA's working theory seems to be, if you make everybody dump their sandwiches, tablets, and paperbacks into separate bins at the security checkpoint, we vastly increase the chance of intercepting backpack nukes and rocket-propelled grenades, which themselves could be mistaken for sandwiches, tablets, and paperbacks. Sure, the guards may still need some guidance as to which confiscated items are safe for noshing, but the security measures will be covering all bases. The TSA has been quietly implementing the new rules at airports around the country, resulting in predictable screams when security guards at Kansas City International Airport forced passengers to dump paper products, even including documents and Post-It notes, out of their carry-ons.
At LA airport's new private terminal, the rich can watch normal people suffer. [Scroll down] The screen shows travellers hauling bags through packed terminals, queuing in long lines, looking harassed and being swallowed into pushing, shoving paparazzi scrums — routine hazards for the 80 million people who pass through LAX each year. "There they process thousands of people at a time, they're barking. It's loud. Here it's very, very lovely," said Gavin de Becker, who runs the new terminal, called Private Suite. He wasn't wrong. The $22 [million] facility, the first of its kind in the US, opens on Monday [5/15/2017], giving the 1% a whole new way to separate themselves from everyone else's reality.
Your Friendly TSA Agent Is About To Get A Lot Friendlier. If you thought your last pat-down at the airport was bad enough, you ain't seen nothing yet. Because the new "screenings" done by the Transportation Security Administration are going to get a lot more "intimate." In the past, agents had five options for patting down travelers who refused the body imaging or were pulled out of line at random. Now there's just one — and it's pretty bad.
TSA implementing new pat-down procedures. The Transportation Security Administration (TSA) is implementing a more "comprehensive" procedure for pat-downs at airports, Bloomberg reported Friday [3/3/2017]. A handful of different types of physical pat-downs have reportedly been replaced by a single approach. "I would say people who in the past would have gotten a pat-down that wasn't involved will notice that the [new] pat-down is more involved," TSA spokesman Bruce Anderson told the publication.
Those airport pat-downs are about to get more invasive. While few have noticed, U.S. airport security workers long had the option of using five different types of physical pat-downs at the screening line. Now, those have been eliminated, replaced instead with one universal approach. And this time, you will notice. The new physical touching — for those selected to have a pat-down — will be more invasive in what the federal agency describes as a more "comprehensive" physical screening, according to a Transportation Security Administration spokesman. Denver International Airport, for example, notified employees and flight crews on Thursday that the "more rigorous" searches "will be more thorough and may involve an officer making more intimate contact than before."
Get ready for more 'thorough' pat-downs at the airport. Passengers at U.S. airports chosen for physical pat-downs will reportedly face a more "comprehensive" screening after a 2015 audit that apparently showed some safety vulnerability. Bloomberg reported that airport employees have already been notified at some locations that they need to employ a "more rigorous" and "thorough" screening. The screenings will reportedly include "more intimate contact" than before. The new measure also applies to airline pilots and flight attendants.
U.S. Marshals Scan Passenger Retinas to Board Flight. During the war on terrorism, Americans compromised their liberties to fight for freedom. Now, during the war on immigration, Americans will again be compelled to sacrifice liberties for American sovereignty. In the name of security, anywhere, anytime. All measures will be justified, everyone will be authorized and the population will be controlled.
The Illusion of Freedom: The Police State Is Alive and Well. [Scroll down] In fact, the American police state has continued to advance at the same costly, intrusive, privacy-sapping, Constitution-defying, relentless pace under President Trump as it did under President Obama. [...] The TSA hasn't stopped groping or ogling travelers. Under the pretext of protecting the nation's infrastructure (roads, mass transit systems, water and power supplies, telecommunications systems and so on) against criminal or terrorist attacks, TSA task forces (comprised of federal air marshals, surface transportation security inspectors, transportation security officers, behavior detection officers and explosive detection canine teams) continue to do random security sweeps of nexuses of transportation, including ports, railway and bus stations, airports, ferries and subways, as well as political conventions, baseball games and music concerts. Sweep tactics include the use of x-ray technology, pat-downs and drug-sniffing dogs, among other things.
New York mother battling breast cancer says she was 'violated' by TSA. A breast cancer patient currently undergoing chemotherapy is speaking out after an incident in which she believes the TSA at Los Angeles International airport crossed the line while performing a security check. Denise Albert was flying home to New York Sunday night when she says a TSA agent put her hands on her buttocks and crotch and then patted her left leg all the way down to the ankle, applying pressure the whole way. In the incident, captured on video, the TSA agent then goes back up and repeated the process along Albert's right leg.
TSA = Jobs Program For Idiots. The TSA is full of ignorant goobers and child molesters. It's a federal jobs program for idiots who cannot find productive work. It is nothing more than Kabuki theater to make the morons among us feel safe.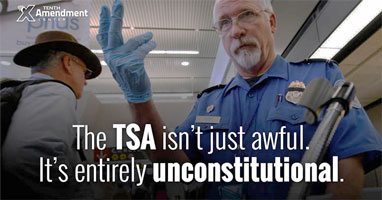 TSA: Turning Romantic Moments Into Dystopian Nightmares. In the past, they saw loved ones and friends off right before they set out to freely travel the world. Today, they goodbye as those same friends and relatives line up like prisoners in a jail or internment camp at the security checkpoint. From there, passengers must prove to a federal agent they are innocent before they are allowed to get on board the plane. As part of that process, they must take off clothing and subject themselves to all sorts of intrusive searches, no matter how absurd or unreasonable. Even then, they can be kept from boarding due to a no-fly list. That whole time, badged federal agents can detain and question passengers at their discretion.
TSA computers, not humans, to scan carry-ons. In a first in the U.S., the Transportation Security Administration said Tuesday [7/5/2016] that it plans to begin using computed-tomography or CT scanners to inspect carry-on bags at one checkpoint in the Phoenix airport by the end of the year.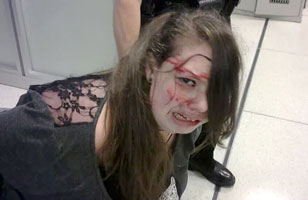 This Is How They Protect Us! A partially blind, partially deaf young woman returning home from treatment for a brain tumor was brutally smashed to the ground by goon tug TSA "security" while her mother, a nurse, was shoved away. [...] This is America today. We are forced to pay for our own brutilization by a criminal element that has taken refuge in "security" that "protects us." We are in far more danger from the security forces allegedly protecting us than we are from terrorists. Indeed, the security forces are the terrorists.
TSA Agents Beat and Jail Disabled Teen With Brain Cancer. Nineteen-year-old Hannah Cohen and her mother Shirley are suing the TSA after a Thursday [6/30/2016] incident in which agents at the Memphis International Airport beat and jailed the young woman during a security check. According to WREG Memphis, the Cohens were traveling from Memphis to Chattanooga, a trip they have been making for 17 years so that Hannah can receive brain cancer treatment at St. Jude Hospital.
Loathsome TSA Bloodies And Bruises Young Woman During Screening Process. Charges were eventually dropped against Hannah [Cohen], but her family has filed lawsuits against Memphis Airport, Airport Police, and the Transportation Security Administration. In response to this horrible event, TSA rep Sari Koshetz said, "Passengers can call ahead of time to learn more about the screening process for their particular needs or medical situation." This is the same TSA that saw a staggering 95% failure rate when airport screeners failed to stop Homeland Security agents armed with guns, fake bombs and other contraband from making it through the screening process 67 out of 70 times during a nation-wide test of the system. But throw a disabled young woman in their midst, and they'll take her down before you can say abusive behavior.
Family files lawsuit after TSA agents allegedly assaulted disabled daughter. The family of a disabled St. Jude Hospital patient has filed a lawsuit against the Transportation Security Administration after officers allegedly left her bruised and bloodied at a Memphis airport Thursday [6/30/2016]. According to WREG-TV, 19-year-old Hannah Cohen was heading home to Chattanooga after receiving treatment for a brain tumor when there was an incident at the security checkpoint at Memphis International Airport.
Airport security fix: better training — for humans and dogs. Critics say the agency gives the appearance of airport security without doing much to make air travel safe. Screeners performed dismally in tests last year involving mock weapons and bombs being smuggled through checkpoints. The TSA suffers from understaffing, low morale and high turnover.
Airports are fed up with the TSA. Here's why it will be hard to break up with them. Airports are sending the Transportation Security Administration (TSA) a clear message: start doing your job well or you are out. Unfortunately for the Port Authority of NY and NJ and others making similar demands, the TSA is like the pesky tenant who continually games the system in order to avoid eviction. Let's begin with the basic facts: the number of TSA screeners available has gone down, creating significantly longer passenger wait times at checkpoints. And when it takes two or three hours to make it through security, people miss flights — and tempers flare.
The War Against Guns. As American airport security lines are backed up for hours on end, causing many people to miss their flights, the administration and the media seem to believe that it has all been caused by circumstances beyond their control. If a Republican had been in charge, he would have been taxed with gross incompetence and negligence.
TSA "Addresses" a "Problem". [Scroll down] Haroon Nikizad is suing the TSA for the price of his lost ticket. Good luck with that; one of the reasons that bureaucrats are so unaccountable is that the courts have granted them a Patent of Nobility that immunizes them against legal accountability. To inconvenience, hassle, rip off or abuse some mere citizen is just a matter of modern-day droit du seigneur. Nikizad arrived at the recommended two hours lead time only to find that the TSA was going all out to excel their usual three-ring stumblebum slapstick security circus show. He was still in line for his ritual groping when his flight's pilot not-flying wished the tower good day and changed to the RAPCONs departure frequency. He [had made an error]. He trusted the TSA.
Your Government Is Failing You: We're not any safer, just more miserable. This summer, air travel is for people who expect to go to hell and want to know what it will be like. Security lines have reached epic lengths in many airports. Thousands of travelers have missed flights. And the Transportation Security Administration now advises passengers to arrive two hours before departure for domestic flights — and three in some places. The agency in charge of aviation security has become a major problem. That's odd, because it was supposed to be a solution. Nearly 15 years after it was created, it's a case study of how firm, well-intentioned government intervention can produce an exploding cigar.
TSA finally got the hint over those nightmare airport security lines. Travelers reported moving quickly through airport checkpoints Friday [5/27/2016] after authorities opened extra screening lanes and used bomb-sniffing dogs to give some passengers a break from removing their shoes.
American Airlines: 70,000 People Have Missed Flights Due To The TSA. American Airlines is not thrilled with the recent trend of TSA lines and slowdowns, and the company claims that delays in screening have caused 70,000 people to miss their flights this year. An additional 40,000 bags did not make it to their destinations due to the TSA. American thinks that the TSA isn't doing enough to ensure that lines don't get out of control.
TSA Says Passengers Only Have Themselves to Blame For Long Lines. In a new statement, the TSA placed blame on passengers, claiming that individuals are at fault for showing up to checkpoints unprepared. "Individuals who come to the TSA checkpoint unprepared for a trip can have a negative impact on the time it takes to complete the screening process," the agency said in a press release, which also included travel tips to help cut down on delays. The release also blamed the uptick in wait times on shrinking staff and a rise in travelers. Chicago's O'Hare Airport, for instance, has seen an 8 percent rise in travelers since the start of the year, but has not increased the number of TSA screeners on hand.
Happy Memorial Weekend from the TSA! Passengers have begun lining up in airports across the country as Memorial Day weekend begins — and TSA must deal with record attendance. More than 38 million Americans are expected to travel between Thursday and Monday, including 2.6 million by plane. TSA still lacks staff to face peak traffic over the summer, despite plans to hire more than 700 new screeners by mid-June.
TSA PreCheck the answer to airport woes? Think again. With the Transportation Security Administration warning passengers that long lines at major airports are not going away, it seems the only immediate relief in sight is the TSA's PreCheck option — designed to get passengers through security faster. But critics aren't so sure. They say the pass is just a moneymaker for the TSA that's facing its own application backlog and doesn't always work at certain airports, anyway.
Mad about long lines at the airport? Here's a more frightening reason to hate TSA. As more and more examples of the ineptness and incredible incompetence of TSA management is exposed, the more that airlines, airports, and the flying public will demand that the TSA be privatized. But we're talking about tens of thousands of union jobs at stake. And Democrats in Congress would never allow it.
An Answer to TSA Incompetence: Less Government. The Transportation Security Administration has become infamous over the years for things that it doesn't allow on planes. Consider these examples of the Keystone Cops in action.
• Confiscating a plastic hammer from a mentally retarded man.
• Detaining a woman for carrying breast milk.
• Hassling a woman for the unexplained red flag of having sequentially numbered checks.
• Demanding that a handicapped 4-year old boy walk through a metal detector without his leg braces.
• Putting an 8-year old cub scout on the no-fly list.
• Stopping a teenager from flying because her purse had an image of a gun.
• Seizing raygun belt buckles and Kitty Cat keychains.
But now the TSA is moving with such tortoise-like inefficiency that even the passengers without plastic hammers and kitty cat keychains aren't getting on planes. Our cousins across the Atlantic are amused by the TSA's incompetence.
Airports are fed up with the TSA. Here's why it will be hard to break up with them. The "Screening Partnership Program," or SPP, was included in the 2001 law that created the TSA as a way to test whether private security screeners, operating under TSA oversight, could provide the same level of service as the newly minted security agency. And there are good reasons to think they could. Multiple studies have found that SPP screeners provide security at least as good as that provided by the TSA. They've also found that SPP screeners are cheaper and could save as much as $200 million a year if used at major airports across the U.S. And SPP screeners tend to outperform their TSA counterparts in terms of efficiency and customer satisfaction. One study found that private screeners at the San Francisco airport were 65 percent more efficient than their federal counterparts in Los Angeles.
American Airlines Hiring Company to Help Run Security Lines. American Airlines says it will spend $4 million for contractors who will help manage checkpoint lines and get passengers through security more quickly.
Burlington College. [Scroll down] It turns out the lines in the girls' bathrooms aren't all that long compared to the ones at the security gates at O'Hare Airport in Obama's hometown of Chicago. This, thanks to the unionized incompetence of Obama's Transportation Security Agency, which has had some 400 of its own employees convicted of crimes but has yet to catch a single terrorist. What it has caught, however, is travelers; at O'Hare, there have been some 4,000 of them who have missed a flight due to the long security lines, and the traveling public is unsurprisingly furious. Travelers at O'Hare are told to arrive more than two hours ahead of their flight thanks to the slow-moving security lines, which is a sufficient irritant. But what's worse, and more dangerous, is the obvious weakness the TSA's traffic jams present; all it would take is a terrorist with a powerful bomb in a large rolling suitcase getting halfway through the security maze before lighting off the device, and you'll have a Brussels or a Domodedovo writ large on our shores.
TSA's Union Power Grab: Thousands Slowing Down Airports. When it comes to public employee unions, there's no such thing as a coincidence. All you travelers stuck in mile-long TSA security lines are pawns. Convenient political pawns. Big Labor bosses want more power and more money. Stranded travelers are just the latest victims in this age-old game of D.C. extortion. Union leaders want you to think the fault lies with a stingy Congress unwilling to fork over enough money to fill screener shortages. White House spokesman Josh Earnest poured more partisan fuel on the fire last week by blaming the nationwide slowdowns on "the inability of Republicans in Congress to govern the country."
TSA is still ruining everything! Last fall, Kemberlee Kaye reported on the continued incompetence of the Transportation Security Administration (TSA) and suggested that a smart presidential candidate should add become a "strong proponent of defunding the TSA." Now, as one party has a presumptive nominee and the other is still fighting over the matter, it turns out that things have already changed at the TSA! Changed as in gotten far, far worse, as airlines report that some 4,000 passengers have missed flights at O'Hare Airport because of the long wait times since February, and there have been reports of screening hold-ups, delayed baggage transport, and difficulties at many other airports.
Sen. Durbin: 58 more security officers going to O'Hare ASAP. Sen. Dick Durbin said Tuesday [5/17/2016] that the Department of Homeland Security will send 58 more additional [sic] security officers to O'Hare International Airport immediately to help cut security wait times that have stretched two hours or more. Durbin said he spoke to DHS Secretary Jeh Johnson and received assurances Tuesday that the agency was working to alleviate the horribly long lines that have caused thousands of passengers to miss their flights.
Long TSA lines snake through Atlanta airport. Travelers faced a rough Monday morning [5/16/2016] at Atlanta's Hartsfield-Jackson International Airport as security wait times climbed to over an hour. People took to social media to post photos of the line snaking through the main security area and into baggage claim.
Stranded travelers sleep on cots in TSA nightmare. The TSA's notorious checkpoint delays were so bad at Chicago's O'Hare Airport over the weekend that an airline had to set up cots for its fliers. "We held 30 flights [on Sunday], and 450 passengers missed their flights because of TSA delays," American Airlines spokesman Ross Feinstein told The [New York] Post. "This weekend was probably the worst since spring break," said the rep, whose airline was forced to put out about 100 cots for stranded customers. "Our concern is the summer, which is spring break every day from June till September."
Hundreds stranded, passengers sleeping in cots: TSA security lines of up to three hours cause chaos at Chicago O'Hare. More than 400 passengers missed their flights on one night thanks to TSA security lines of up to three hours on Sunday [3/15/2016] at Chicago O'Hare International Airport, as the growing crisis at the agency causes travel chaos across the nation. Dozens of the passengers were forced to sleep on cots at the nation's third-busiest airport Sunday night, because extremely long security lines kept them from making their flights. And the lines didn't improve Monday morning, as the lines wound back and forth through the hallways during the early morning rush when passengers were told to expect waits of as long as three hours for international flights.
Passenger Films Agony Over Unbelievably Long TSA 'Line From Hell'. Sean Hoffman recorded the video of a massive line of humanity inside Chicago's Midway Airport Thursday [5/12/2016]. "I just couldn't believe it," he told Inside Edition. "It was mindblowing." The video seems to sum up widespread anger Americans are feeling about the long lines at TSA checkpoints.
NYC Airports: We Can No Longer Tolerate TSA's 'Inadequacy'. Management of the New York City area's three major airports is fed up with long lines at security check points, and they have given the Transportation Security Administration an ultimatum: Either shorten the lines or we'll find someone else to do it.
The use of airport security as a weapon against political opponents:
Is the U.S. Government Now TRACKING 'Right-Wing Extremists'? It started last summer. I don't consider myself a "right-wing extremist" — but the far-Left Southern Poverty Law Center (SPLC) does, and the FBI uses the SPLC as a resource. Since then, every time I fly — and I fly almost weekly — I can't check in online. I am always directed to go to the airline counter. There — as soon as I present my identification — the trouble starts. It generally proceeds like this: [1] The clerk types a great deal, frowns at the screen, types some more, asks me what my middle name is, types still more, looks at me quizzically, and gets on the phone. [2] They're very secretive about these calls, sometimes even moving to a different desk to make them. They refuse to tell me anything about them afterward, including who they called or why. [3] The call usually takes around ten minutes. The whole process takes fifteen or twenty minutes. Then I am checked in and allowed to go to my gate.
No, Budget Cuts Aren't Why You're Waiting Hours To Get Through Airport Security. Air travelers are in for a long hot summer. News reports show airport security lines stretching across airports and tell of passengers forced to wait hours for the privilege of taking their shoes and belts off and getting patted down by a TSA agent. These delays are costing passengers time and airlines money. American Airlines says that 6,800 missed flights in one week in March because of delays getting through airport security checkpoints. Some airports are recommending that passengers arrive three hours before their flight.
How to fix the TSA and make air travel fun again. Newark Liberty International, which runs a close second to JFK on Fox News' list of US airports with "the worst TSA checkpoints," also was slammed for lax screening and reports of employee theft. That resulted in a rare occurrence in government: Several employees were actually dismissed. Not to be outdone, a screener at JFK last summer was likewise busted for theft, trying to abscond with a passenger's Rolex watch. Another TSA security screener at JFK was arrested three weeks later on an unrelated theft charge.
The worst TSA checkpoints in the US. The Transportation Security Administration is the federal agency everybody loves to hate. Call them "necessary evil" if you will, but bad-mouthing them all the time is not always fair. Some checkpoints have been organized in a way that makes the job easier, while others are lacking the infrastructure or staff to get people faster through security.
TSA comes under fire again as 6,800 American Airlines passengers miss their flights in one week. American Airlines joined a list of critics blasting the Transportation Security Administration (TSA) for long lines, closed checkpoints and missed flights yesterday, when it branded the organization's service 'unacceptable' and said it had gotten 'exponentially' worse. The remarks came after it was revealed that a shocking 6,800 of the airline's customers had missed their Spring Break flights in just one week last month, NBC reported. 'The lines at TSA checkpoints nationwide have become unacceptable,' American spokesman Ross Feinstein said in a statement Wednesday [4/13/2016].
TSA: Beefed up airport security could roil summer travel lines. Bomb blasts in Brussels two weeks ago have caused U.S. security officials to do a reassessment back home, meaning summer travelers will likely see a bigger police presence and more random searches before flying this year. TSA Administrator Peter Neffenger told reporters Friday that the agency has significantly stepped up its visible presence after the Brussels blasts, just one effort to deter would-be copy cats from targeting U.S. airports and train stations.
10-year-old girl's Capri Sun container leads to TSA pat-down. A California dad is livid after the discovery of a Capri Sun juice pouch in his 10-year-old daughter's carry-on handbag led to an extensive frisking from a Transportation Security Administration agent — and he caught the entire uncomfortable encounter on video. "Maybe the TSA agents were bad apples, maybe they were undertrained, maybe they need re-training, maybe they did everything by the book," Kevin Payne, the girl's dad, told WNCN. "I don't really know. But it was an uncomfortable situation."
TSA Can Now Force You Through Those Ghastly Body Scanners. The Department of Homeland Security was rather busy last month. It apparently included granting the Transportation Security Administration the right to force airline passengers through those creepy body scanner machines. In the past, passengers had the option to opt out of going through the scanners and could ask to go through a metal detector and get a pat-down instead. The new rule will still allow travelers to opt out if they desire, but now TSA officers can deny individuals this privilege and force them to go through the machines at will.
One-third of all Americans own a gun, it's time for TSA to stop discriminating. On a recent flight from Nashville to Washington, I approached the TSA counter only to realize my drivers' license was tucked away in a pocket of my jeans at home. Unfazed, I pulled out my handgun carry permit to identify myself to the agent. The card bears my picture, my full legal name, my date of birth, and a hologram with the state seal. Further, as any firearm owner knows, the process of obtaining your handgun license is significantly more involved than obtaining a drivers' license. It requires completion of a safety course, a fingerprint, and a thorough background check. If that's good enough to carry a weapon, then surely it is sufficient as a form of identification to board a plane, right? Wrong. As I handed over my permit, I was met with a look of immediate disapproval.
Weapons smuggled past TSA screeners with ease: officials. Two top federal watchdogs warned Tuesday [11/3/2015] that the Transportation Security Administration agents are failing in their mission to secure airports — and are allowing weapons to slip through their supposedly thorough checks. One lawmaker who reviewed classified information on the number of times weapons were smuggled past TSA screeners in undercover tests called their performance "horrific."
The Editor says...
How many unionized/black/female TSA employees will lose their jobs over this? I'd bet on the number zero. Stories like this prove that airline passengers are being searched for no reason other than the illusion of security. Those who really want to smuggle weapons aboard an airplane are able to do so, right under the TSA's virtual nose.
TSA screener charged with stealing $7,000 diamond watch at JFK airport. A TSA screener at John F. Kennedy International Airport was charged with steeling a passenger's $7,000 diamond watch, authorities said. The screener, Margo Louree-Grant, 41, of Brooklyn, admitted taking the "Diamond Master" watch at a JFK checkpoint on Aug. 26, but told investigators she destroyed it after fearing she would be caught, said Joe Pentangelo, a Port Authority Police spokesman.
TSA agent accused of sexually molesting college student who claims he demanded she go into a bathroom to be searched. A college student has alleged that she was sexually assaulted by a TSA agent at LaGuardia airport who was in official uniform and demanded that she 'go into a bathroom to be searched.' The 22-year-old, who has not been named, says the incident happened after she got off a Southwest airlines flight from Salt Lake City at 8 p.m. and was apprehended on the third floor of Terminal B. She described how the agent, now named as Maxie Oquendo, 40, lured her into the restroom, according to The New York Post and told her that said had to be searched and then molested her.
Singer Accuses TSA of Sexual Assault; TSA Disagrees. [Scroll down] Let's remember that, for the TSA, doing their normal duty can be sexual assault. At least one agent (we have only caught one so far) was deliberately using the system to trigger an alert on attractive travelers so he could put his hands on them. Also, when a man pretended to be a TSA agent and got women to cooperate with a "search" he was treated as a "sexual assault" suspect. Doing what the TSA does is sexual assault. How many terrorists have they prevented from flying? Zero.
TSA Spent $160 Mil For Scanners With A 96% Failure Rate. When Congress decided to let the federal government take over airport security in the wake of 9/11, critics said it would only make matters worse. Fourteen years later, it looks like the critics had it exactly right. On Monday [8/17/2015], Politico broke the news that the federally run TSA has spent $160 million — or more than $150,000 per unit — on body scanners meant to prevent fliers from bringing contraband onto planes. And what did taxpayers get for their money? A recent security audit found that TSA scanners failed to stop explosives and weapons 96% of the time.
Morrissey says TSA screener groped him at San Francisco airport. The Transportation Safety Administration has denied allegations made by singer Morrissey that he was groped by a security screener at the San Francisco International Airport. Morrissey said he was leaving the San Francisco airport Monday [7/27/2015] and heading to London when he was stopped by a TSA security screener and sexually assaulted.
Are airport security checks a total waste of time? Tests show TSA 96% failure rate in spotting weapons. The new leader of the Transportation Security Administration said on Wednesday [7/29/2015] his top priority would be to close security gaps at airport checkpoints where an internal report showed 96 percent of undercover tests failed.
Lost, stolen, broken: TSA pays millions for bag claims, USA Today investigation finds. The Transportation Security Administration paid passengers $3 million over the last five years for claims that airport security screeners broke, lost or stole their luggage or items inside, according to a review of about 50,000 complaints. After investigating to determine if TSA or its agents were responsible, the agency approved or settled with passengers in about 15,000 cases — nearly 1 out of 3 claims filed from 2010 to 2014. Payments ranged from a few bucks for missing food or medicine to several thousand dollars for jewelry, electronics and other items passengers said were broken or disappeared in TSA's hands.
Orlando airport 2nd in nation in TSA claims. The Transportation Security Administration paid more than $130,000 over the past five years to settle claims that its workers at Orlando International Airport had stolen, damaged or lost passengers' items. Between 2010 and 2014, Orlando International passengers filed 2,054 claims against the TSA. Of those, the TSA settled and paid the passengers 656 times. Another 323 claims remain unresolved. Of large airports, only Dulles International paid more claims on a per-passenger basis.
TSA Official Tweets Photo of Passenger's Luggage Contents. A spokeswoman for the Transportation Security Administration on Tuesday [6/30/2015] posted photos online of a passenger's luggage, which contained large amounts of cash, despite admitting it violated no laws or regulations. Agency spokeswoman Lisa Farbstein posted a photo on Twitter showing a bag she said contained $75,000 in cash. "Is this how you'd transport it?" she asked. "Spotted this traveler's preferred method."
TSA Failures Point to Need for Private Airport Security. In an exclusive scoop, ABC News is reporting that the Transportation Security Administration failed to stop undercover agents in 67 out of 70 recent probes of TSA screening. These agents carried fake weapons through checkpoints at major airports across the country and were not stopped. ABC reports that Jeh Johnson was "apparently so frustrated by the findings he sought a detailed briefing on them last week at TSA headquarters." Johnson has good reason to be frustrated: Such a high failure rate is unacceptable.
Investigation: Undercover agents snuck fake explosives, banned weapons past TSA. Undercover agents were able to sneak fake explosives and banned weapons through Transportation Security Administration checkpoints, in an investigation that revealed a massive, system-wide security failure at America's airports. The findings were part of a DHS inspector general probe. The report is still classified, but Fox News has confirmed the investigation found security failures at dozens of airports. Homeland Security officials confirmed to Fox News that TSA screeners failed 67 out of 70 tests — or 96 percent — carried out by special investigators known as "red teams."
TSA chief ousted after 95 per cent of agents failed explosives and weapons screening test at airports. Homeland Security Secretary Jeh Johnson said on Monday he reassigned the acting administrator for the Transportation Security Administration (TSA) after earlier ordering improved security at U.S. airports. The moves follow media reports that checkpoint screeners failed to detect mock explosives and weapons in 95 percent of tests carried out by undercover agents. Johnson said in a statement that Melvin Carraway, an 11-year veteran of the TSA, would be reassigned to serve in the Office of State and Local Law Enforcement at Department of Homeland Security headquarters.

Not fired, not "ousted," just moved to a different desk.
Acting TSA head reassigned after watchdog report reveals airport security failings. The acting head of the Transportation Security Administration was reassigned late Monday [6/1/2015] after a watchdog report revealed undercover agents were able to sneak fake explosives and banned weapons through checkpoints as part of an investigation that revealed a massive, system-wide security failure at America's airports. Homeland Security Secretary Jeh Johnson announced that TSA Acting Administrator Melvin Carraway had been sent to work in the department's Office of State and Local Law Enforcement.

TSA missed weapons, explosives in 95% of security tests. No one enjoys going through screening at the airport, but at least it's making us all safer, right? And there was that one time you made it through with a Swiss Army knife in your backpack, but surely any real weapons or explosives would be spotted, right? ABC News is reporting that, in an internal investigation conducted by the Department of Homeland Security, the Transportation Security Administration (TSA) failed to detect banned weapons and fake explosives smuggled in by undercover agents posing as passengers 95% of the time.
TSA Records Detail Alleged Sexual Assaults of Travelers at Three U.S. Airports. Judicial Watch announced today [5/12/2015] it obtained 58 pages of records from the Transportation Security Administration (TSA) that detail alleged sexually-related assaults on passengers by TSA personnel at three major U.S. international airports. The documents describe incidents at Denver International Airport, Los Angeles International Airport, and Chicago O'Hare International Airport.
DHS Secretary: 'We Should Not Profile at Airports'. Homeland Security Secretary Jeh Johnson said his agency considered signing on to the Justice Department's expanded non-profiling policy earlier this year, but because that policy was developed for law enforcement, it "didn't quite fit" for airport screeners. "But TSA knows my view that we should not profile at airports," Johnson told the a Senate Homeland Security Oversight hearing on Tuesday [4/28/2015].
Possible victims of TSA groping contact Denver authorities; 2 security agents fired. More than two people have come forward with allegations that security agents at Denver International Airport groped them.
TSA agents fired for conspiracy to fondle passengers at DIA. The Transportation Security Administration has fired two screening agents following an investigation into allegations they conspired to target certain passengers for extra screening with the intended purpose of groping men one of the agents found attractive. The TSA contacted the Denver police sex crimes unit in mid-March to report they had received an anonymous tip on November 18, 2014. A screener had confessed that he "gropes males who come through the screening area."
TSA agents clear SLA terrorist for expedited security screening. Two angry US senators want to know why the Transportation Security Administration allowed a woman who admitted she planted bombs under police cars in the 1970s to join a program that lets selected passengers board planes with less rigorous screening than other fliers. A TSA screener recognized Sarah Jane Olson, 67, boarding a flight at Minneapolis-St. Paul airport in June 2014, and asked a supervisor why she had been allowed into the PreCheck program, according to a report by the Department of Homeland Security's inspector general.
The TSA uses a 92-point checklist to decide whether you're a terrorist. Since 2007, specially trained TSA officers have used a system called Screening of Passengers by Observation Techniques (SPOT) to eyeball air travelers and determine whether they're a threat to flight safety. But the TSA's unofficially confidential checklist of factors for analysis is enough to make you roll your eyes (surprisingly, that's not one of the things agents are watching for).
Port Authority perks: No airport lines and golf cart rides to the gate. Some of the perks of being a commissioner for the Port Authority of New York and New Jersey were revealed today [2/12/2015] with the release under a long-standing public records request of so-called "Special Passenger Assist" documents showing that several members of the powerful bi-state agency, their friends, and family members, were routinely helped by airline personnel and airport staff, given police escorts and granted special treatment that helped them navigate the airports operated by the Port Authority and avoid lines or crowds.
Confessions of a former TSA officer. I hated it from the beginning. It was a job that had me patting down the crotches of children, the elderly, and even infants as part of the post-9/11 airport security show. I confiscated jars of homemade apple butter on the pretense that they could pose threats to national security. I was even required to confiscate nail clippers from airline pilots — the implied logic being that pilots could use the nail clippers to hijack the very planes they were flying. Once, in 2008, I had to confiscate a bottle of alcohol from a group of Marines coming home from Afghanistan. It was celebration champagne intended for one of the men in the group — a young, decorated soldier. He was in a wheelchair, both legs lost to an I.E.D., and it fell to me to tell this kid who would never walk again that his homecoming champagne had to be taken away in the name of national security.
Air Travel Privacy. In earlier responses to security threats the FAA issued a secret regulation that allowed airlines to demand photo identification and instituted a new profiling program called CAPPS (Computer Assisted Passenger Pre-screening System) based on travel data airlines routinely collected. New proposals advocate using biometric credentials for "trusted travelers" and using extensive data mining of credit history, criminal records, and travel patterns to profile all airline passengers. NASA has even suggested developing "non-invasive neuro-electric sensors" or brain scans at the security gate to see if people are having suspicious thoughts. The stated goal of these new proposals is to rely on technology to reduce the "hassle factor" in airports and to reduce security threats. The core idea is to focus security resources on suspicious travelers, while ensuring that most people are not inconvenienced by heightened security. Terrorists, however, have been known to go to great lengths to look like most people.
Only a little off-topic:
How to travel like a spy. A 14-page document from the Central Intelligence Agency carrying the arduous bureaucratic title of "Surviving Secondary: An Identity Threat Assessment of Secondary Screening Procedures at International Airports" offers a case in point. Translated into normal English, this means how undercover agents can avoid trouble when going through passport and custom controls. Although the study deals narrowly with the CIA's concern that its clandestine agents will be stopped in passport checks and their false identities exposed, its information holds interest to anyone who travels internationally.
Racial profiling will still be allowed at airports, along border despite new policy. As the Obama administration prepares to announce new curbs on racial profiling by federal law enforcement, government officials said Friday [12/5/2014] that many officers and agents at the Department of Homeland Security will still be allowed to use the controversial practice, including while they screen airline passengers and guard the country's southwestern border.
DHS Sec. Doesn't Deny Report TSA Considering Carry-on Luggage Ban. DHS Secretary Jeh Johnson did not deny reports that the TSA is considering a carry-on luggage ban on flights during the upcoming holiday season. "Without a doubt, our counterterrorism efforts and concerns continue to focus, to a degree, on aviation security, which is the reason why we directed certain enhancements at airports overseas in our screening of people before they get on airplanes, and we continually evaluate whether more is necessary without unnecessarily burdening the traveling public," Johnson told CNN's Jake Tapper on Thursday [12/4/2014].
Profiling: Sin or Survival Instinct. The overwhelming majority of terrorist attacks have been committed by Middle Eastern men between the ages of 18-35. And yet, such men wearing Islamic apparel breeze pass TSA at the airport, due to hypersensitivity against profiling. Meanwhile, an old white-haired Caucasian grandmother confined to a wheel chair is all but strip searched by TSA.
Government employees and politicians gets special status from TSA. Government employees and politicians get preferential treatment from the Transportation Security Administration simply for being government employees and politicians. Meanwhile, everyone else is stuck in an "aviation security caste system" based on dozens of watchlists compiled by the TSA, FBI and other law enforcement agencies, along with a secret formula the TSA believes can sort passengers based on hypothetical analyses and conjecture. That's the conclusion drawn by Hugh Handeyside, a staff attorney for the ACLU, who reviewed a recent audit of the TSA, every traveler's favorite government pseudo-police force.
Zipping through airport security? TSA says 50 percent of travelers do. More than half the people passing through U.S. airports now receive preferential security treatment because they pose no clear threat to aviation safety, federal officials say. The shift has significantly reduced the lines at security checkpoints, according to the Transportation Security Administration, reflecting the goal of TSA Administrator John S. Pistole to move away from a "one-size-fits-all" approach to screening passengers. For years, the TSA faced criticism from Congress, the travel industry and fliers for giving the same scrutiny to grandmothers, toddlers, airline pilots, soldiers and other seemingly harmless passengers that it gives everyone else.
Naked full-body scanners failed to detect weapons: study. Not only did the body scanners at some U.S. airports expose a traveler's every line and curve, they weren't very good at finding weapons, researchers say. [...] Researchers described the scanner as ineffective for screening contraband against those who had access to the machine to test and refine their methods, the study shows. The scanners were used by several U.S. airports at security checkpoints between 2009 and 2013, but were bombarded with criticisms over privacy concerns because it showed Transportation Security Administration officers what is essentially a naked body under a pile of clothes.
Fake screener probes passengers at SFO. The allegedly drunk man suspected of posing as a security screener at San Francisco International Airport long enough to direct a couple of women into a private booth for pat-downs has been identified as a private-equity executive with a big-time international resume. Eric McLean Slighton, 53, who has addresses in both San Francisco and Hong Kong, was arrested on suspicion of public drunkenness following the bizarre episode at the A-side security checkpoint of the International Terminal about 12:30 p.m. Tuesday [7/15/2014], according to law enforcement sources.
Is The TSA The Most Monstrously Incompetent Agency In History? The Transportation Security Administration (TSA) has identified a massive new threat to domestic airline security. No, it's not ISIS, Al Qaeda, or the Taliban. It's the dead battery on your smartphone. [...] Your cell phone is evidently part of a "global threat environment," and so it must be turned on in order to prove that it's a legitimate mobile device. "Powerless devices will not be permitted onboard the aircraft," the TSA now threatens. "The traveler [with a powerless device] may also undergo additional screening." It seems the only truly powerless device in this situation is the traveler, who must yet again submit to the whims of an incompetent and unthinking bureaucracy.
Reporter stopped by TSA agent who didn't know District of Columbia is in US. It's something most students learn in elementary school — the United States is made up of 50 states and the District of Columbia. But Channel 9's Justin Gray found out it's a lesson that an Orlando agent with the Transportation Safety Administration seems to have missed. Gray, who lives in Washington, D.C., was flying out of Orlando International Airport when a TSA agent said Gray's District of Columbia driver's license wasn't a valid form of identification. Gray said his license is legal and up-to-date, but the TSA agent didn't seem to know what the District of Columbia was when Gray arrived at the security checkpoint over the weekend. When Gray handed the man his driver's license the agent demanded to see Gray's passport.
The District of where? Geography-challenged Orlando TSA agent rejects D.C. drivers license. According to [WFTV], Justin Gray — a D.C. resident — was flying out of the airport and attempted to use his driver's license as his form of identification when passing through a security checkpoint. The TSA agent attending to Mr. Gray rejected the license and demanded his passport. Mr. Gray, who did not have his passport on his person, asked the agent why it was necessary, and the agent responded that he did not recognize Mr. Gray's Washington, D.C. driver's license. Mr. Gray briefly questioned the agent and quickly realized he did not know where the District was located, according to WFTV. He was eventually able to make it though the checkpoint, and then Mr. Gray complained about the incident to at TSA supervisor.
TSA Goes Coin-Flipping. The biggest threats to airline passengers have consistently come the TSA. TSA baggage screeners have stolen passengers' valuables, committed rape, groped women, humiliated breast cancer survivors, strip-searched infants, bullied the elderly, fondled genitals, and disassembled prosthetic devices on wounded military. TSA has also been identified as a major security risk when it comes to safeguarding the personal data of passengers. In fact, the TSA has made flying America's worst travel experience.
It Ought to Be Curtains for the TSA. It has been the worst-kept secret of the last decade: a truth that dared speak its name only when muttered quietly, a ruse that has been justified and rejustified on grounds that would never traditionally pass muster; and a target for Americans across the political board — for the recalcitrant, for the complaisant, and for those somewhere in between. It, of course, is the TSA — that vain, extravagant, and unhappily anxious piece of post-9/11 performance art that has been extended far beyond Broadway and out onto a permanent tour of the provinces, in whose airports a cast of little Napoleons engage gravely in what has become nothing less than an impudent con.
'We laugh at naked bodies and take take apple butter from old ladies'. A former TSA officer has confirmed many of the worst suspicions about airport security screeners: they stop passengers for having an attitude, they confiscate snow globes from children and nail clippers from pilots, they profile passengers based on their nationality. And yes, they do see travelers naked in the X-ray photos. In a confessional piece for Politico, former TSA agent-turned-writer Jason Harrington spills the secrets on the ways that the security workers pass the time during their long shifts.
Ex-TSA Agent: Yes, America, We Saw You Naked. And We Laughed At You. Thousands Standing Around. Taking Sense Away. Touching Stuff Aggressively. Whatever you want to call TSA, this former agent confirms that most of what the agency does amounts to ridiculous security theater. [...] We paid for this systematic invasion of privacy, we're still paying for it, and the Democrats have unionized it despite their promise not to, making it more difficult to fire those who gawk at us and mock us and are not making us any safer.
Dear America, I Saw You Naked. More than a million people saw the video within a few days of its being posted. Finally, the public had a hint of what my colleagues and I already knew. The scanners were useless. The TSA was compelling toddlers, pregnant women, cancer survivors — everyone — to stand inside radiation-emitting machines that didn't work.
TSA Harasses Police Chief. Traveling by commercial airlines from Albuquerque, NM to Las Vegas, NV, [Police Chief Shane] Harger was asked by TSA to show his credentials. Minutes later a man flashed a badge claiming to be a federal agent (agency unknown) also demanding to see Harger's credentials. Harger was told that he was a person of interest, and the federal agent wanted to know where he was going and why. Bear in mind, no one is required to provide this information under these circumstances. Harger said that the federal agent told him that the he, the federal agent, was paid to be suspicious of everyone.
5 firearms a day found at TSA checkpoints in 2013. Transportation Security Officers found more than 1,800 firearms in carry-on luggage at checkpoints all over the United States in 2013. Of the 1,813 firearms — or 5 firearms a day, on average — found at TSA check points in 2013, 1,477 or 81 percent were loaded. The number of found firearms was a 16.5 percent increase from 2012's total of 1,556.
Records Prove Muslim Brotherhood Delegates Skipped Airport Inspections. Newly released records confirm a 2012 Investigative Project on Terrorism (IPT) report that the State Department cleared the way for a visiting delegation of Muslim Brotherhood officials to enter the country without undergoing routine inspection by U.S. Customs and Border Protection agents.
Court Rules No Suspicion Needed for Laptop Searches at Border. A federal court today [12/31/2013] dismissed a lawsuit arguing that the government should not be able to search and copy people's laptops, cell phones, and other devices at border checkpoints without reasonable suspicion. An appeal is being considered. Government documents show that thousands of innocent American citizens are searched when they return from trips abroad.
Interior border guard checks spur ACLU complaint. Border Patrol agents routinely violate the constitutional rights of southern Arizona residents when they stop drivers at interior checkpoints on major highways and state routes near the border, according to an official complaint filed Wednesday [1/15/2014]. The complaint sent to Homeland Security's Office for Civil Rights and Civil Liberties alleges that checkpoint agents conduct searches and detain people without justification and use immigration enforcement as a pretext for "fishing expeditions" for potential criminal activity.
The TSA Continues to Expand Its Reach. The Transportation Security Administration had another year characterized by abuse, theft, and violations of civil rights. There was a steady stream of children being tormented, property being stolen, and genitals being grabbed this year, as usual. Americans are being searched without probable cause or warrants while being threatened with arrest over loudspeakers if they talk back to the checkpoint agents. There are too many of these stories to count and this behavior has been standard operating procedure since the TSA was created. Some of the agency's recent advancements deserve to be mentioned, however. Checkpoints are now involving a much deeper look into traveler's private personal information. Nothing short of a criminal background check will allow a person to fly in America anymore.
TSA Offers 'Transgender Travelers' an Advice Page. The TSA is well-known for being too aggressive in its body searches, so it shouldn't be surprising in the Obama years that the TSA has a web page titled "Transgender Travelers: Special Considerations." "TSA recognizes the concerns members of the transgender community may have with undergoing the security screening process at our Nation's airports and is committed to conducting screening in a dignified and respectful manner," they promise. First, they reasonably suggest that your birth date, name, and gender on your reservation match your government ID. [...] Then there are those pat-downs that can go wrong.
An Israeli security expert on why the TSA is all wrong. I've been writing for years about how awful US (and European) airport security is and how much better and more effective the Israeli model is. Now here's a real expert [...] Rafi Sela, former head of security at Tel Aviv - Ben Gurion Airport with seven reasons why the TSA is so awful.
Seven Reasons the TSA [Stinks]. For a bunch of people in snappy uniforms patting down crotches, the TSA is remarkably unpopular. Nobody likes going through security at the airport, but you probably figured most of it had a point. All those hours spent in line with other shoeless travelers are a necessary precursor to safe flying. It's annoying, but at least it wards off terrorism. That's all [nonsense]. The TSA couldn't protect you from a 6-year-old with a water balloon.
Abolish the TSA. The TSA's value proposition to provide security as a trade-off for infringing on rights is flimsy; despite years of service and billions of dollars, the agency fails to prevent the initiation of force. As we've seen, the government agency's existence increases the threat to today's traveler. The TSA's power is arbitrary. Agents disrupt travel, molest passengers at random, and are frequently accused, charged and jailed for petty and worse crimes including sexual and physical assault — and acts of terrorism.
Travelers left $500,000 in spare change in airport security bins in 2012. The U.S. House of Representatives voted Tuesday [12/3/2013] to pass a bill that donates to the United Service Organizations the combined loose change that travelers across the country forget to retrieve from airport security bins. The USO is a nonprofit benefitting members of the U.S. military and their families.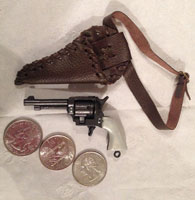 TSA agent confiscates sock monkey's toy pistol. "Rooster Monkburn" the cowboy sock monkey is without his pistol, thanks to a diligent TSA agent in St. Louis. Phyllis May of Redmond, Wash. says she is "appalled and shocked and embarrassed all at the same time" about the incident that happened on Dec. 3.


Report: TSA searching records of passengers before they reach airport. The Transportation Security Administration (TSA) is screening people before they get to the airport by looking at records in government and private databases, according to a report. The new screening system goes beyond the regular background check the government has conducted for years, according to the New York Times. Travelers' passport numbers will now be scanned, which is routine when crossing the border. Officials will also tap into other databases run by the Department of Homeland Security.

An obvious affront to the First Amendment:
TSA introduces loudspeaker warnings threatening travelers with arrest for cracking a joke about airport security. Travelers who attempt to make a joke about strict security procedures at airports have been warned they face arrest. A loudspeaker announcement made by the Transport Security Administration warns the public: 'Any inappropriate remarks or jokes concerning security may result in your arrest.' Concerned passenger Matt Miller recorded the loudspeaker message while passing through George Bush Intercontinental Airport in Houston, Texas.

Dr. Ben's Prescription for Shutdown Pain. A few weeks ago, I arrived from Europe at one of the Washington area's international airports. The wait in the customs line approached an hour, because there was only one customs agent working as more than 20 of the booths stood empty. I was told by a Transportation Security Administration (TSA) agent that this was a result of sequestration and it was designed to inflict maximum inconvenience on travelers so they would realize no part of the federal budget can be cut without horrible consequences.

Satan-obsessed former Los Angeles airport screener busted for making threats on eve of 9/11 anniversary. A Satan-obsessed airport security screener who allegedly made creepy comments to a teen traveler in June is behind bars on suspicion of calling in threats to LAX and taping a menacing note inside his closet invoking the Sept. 11 anniversary, FBI officials said. Nna Alpha Onuoha, 29, worked for the TSA for seven years but was recently suspended after Los Angeles high school student Sarina Frauenfelder accused him of making inappropriate comments about her apparel as she passed through security June 16, a well-placed source told the Daily News.

The Editor says...
Of course, it's illegal to inquire if someone is Satan-obsessed before hiring him or her.

Ladies, prepare for TSA Operation Boob Squeeze. Ladies, it seems the terrorists have finally come up with a way to make our lives even worse without ever blowing up a single tourist attraction. Apparently, on "credible intelligence" that has taken the security world by storm, Heathrow airport security is on high alert for any woman who looks like she might have breast implant, because explosive-laced fake boobies are the new weapon in the war on freedom.

Fear of Flying. I don't know how many people still enjoy flying, but I'm one of those who dread every moment of the experience. But I'm not referring to the traditional trepidation some people have about soaring through the air at 30,000 feet; I'm talking about the drill we must submit to before we ever get into our seats.

TSA searches valet parked car. She says she had no warning that someone was going to search her car after she left to catch her flight. So the woman contacted [WHEC]. We found out it happened to her because she valet parked her car. Those are the only cars that get inspected. So if security feels it is necessary to search some cars in the name of safety, why not search all of them?

The TSA agents who can't tell a hero from a terrorist. A wounded war veteran has described the moment security agents treated him like a 'terrorist' on a recent trip to California because he couldn't raise his injured right arm in a full-body scanner and his dress uniform contained 'too much metal.'

Wounded warrior treated 'shamefully' by TSA screeners. When a decorated, disabled and retired Marine corporal traveled to Sacramento to receive an honor from his state representative, he received dishonorable treatment from security officers. Although Cpl. Nathan Kemnitz wore his medal-laden Marine Corps uniform on his trip to be honored as his legislative district's veteran of the year, it earned him no preferential treatment with Transportation Security Administration or Sacramento, Calif., security officers, according to Military Times.

Complaints pile up over airport border guards. Dozens of travellers arriving home at Ottawa International Airport have filed complaints about rude treatment and harassment by Canada Border Services Agency officers, including one who allegedly asked a young woman if she was menstruating. Many of the complaints share a consistent theme: the aggressive tone of border officers who greet them when they return home.

TSA to use bomb sniffing canines to speed up lines. The security lines at many airports are long and slow, and it looks like the Transportation Safety Administration agrees. The government agency has begun a pilot program using dogs to pre-screen passengers in security lines in an effort to hasten the pace of travel.

The Editor says...
I have a better idea: bomb-sniffing pigs! Why? Because the people who are most likely to bring a bomb to the airport are the people who don't want to have pig snot all over them when they blow themselves to bits. If you don't like pigs, stay away from the airport. Problem solved.

The New American Enemies List. The CIA and FBI knew of the suspicious activity of the Boston bombers, of Major Hasan, and of Anwar al-Awlaki. And they did nothing to preempt their violence. The FBI is said to be carefully avoiding monitoring mosques, although all of the above terrorists were known by many fellow Muslim worshipers to be either disturbed or extremist or both. In contrast, the NSA monitors, we are told, nearly everyone's communications rather than focusing on Middle Eastern male Muslims, even though Middle Eastern male Muslims have been involved in the vast majority of post-9/11 terrorist plots. The NSA is the electronic version of the TSA, which feels it is noble and liberal to stop an octogenarian in a wheel chair for special frisking as proper compensation for every focused look at a West Bank resident or Pakistani visitor on his way into the United States.

It's better to take our chances with the Muslim terrorists than to forfeit our liberty.
Are you Willing to Die for your Freedom? [Scroll down] I'm willing to die for my freedom. I'm certainly willing to take the slightly-increased risk of dying in a terrorist attack that ostensibly will result from the government not sifting my email and monitoring all my calls and banking activity and who knows what else. At this point, I'm becoming convinced it's not worth it. We're groping children and Korean War vets in airports as part of an expensive show of security. We're teaching our kids to put up with government intrusion into our lives. On my most recent flight, I saw a father help his 5-year-old son remove his shoes and show him where to put them, how to remove his belt, how to wait his turn, how to go through security and comply with routine government searches. It's not worth the toll on our freedom and our veneration of freedom.

"Justice is supposed to be blind, not stupid."
US snooping is slippery slope to abuse of civil liberties. A Top Israeli security official zeroed in on the American system of airline security: "You worry about what people are carrying. In Israel we worry about who the people are." [...] The sweeping collection of data on private behavior is every bit as indiscriminate and flawed as the airport-screening system. In both, everybody is guilty until proven innocent. Because one terrorist hid a bomb in his shoe, we all must remove our shoes before flying. Because one terrorist hid a bomb in his underwear, we all are subject to X-ray- like screenings.

What is the difference between a hunch and a profile?
Dept. of Homeland Security: Laptops, Phones Can Be Searched Based on Hunches. U.S. border agents should continue to be allowed to search a traveler's laptop, cellphone or other electronic device and keep copies of any data on them based on no more than a hunch, according to an internal Homeland Security Department study.

TSA = Thousands Standing Around. [P]aying passengers are commanded each day to surrender their canes, dentures, prosthetic limbs, bottles, stuffed animals and other personals and necessaries — a sort of inverse profiling, where the very people who present the lowest possible threat are counterintuitively hassled and probed for gratuitous "security inspections," X-raying and explosive-residue swabbing.

TSA gets rid of full-body scanners at US airports. The full-body scanners that caused an uproar for taking semi-scandalous snapshots of fliers at security checkpoints have been removed from America's airports. The move comes after a congressional mandate and several complaints lodged by privacy-rights activists who likened the scanners to a virtual strip search.

U.S. Grants Saudis Privileges to Help Them Through Airport Security. The Obama Administration is making it easier for Saudis to get through security at airports. In fact, now they will be allowed to bypass custom authorities due to an agreement quietly signed between U.S. Secretary of Homeland Security Janet Napolitano and Saudi Arabian Interior Minister Prince Mohammed bin Nayef. After the September 11 terrorist attacks, Saudi Arabia acknowledged 15 of the 19 hijackers were Saudi citizens.

TSA agents 'humiliated' wounded Marine with aggressive inspection: report. Transportation Security Administration inspectors forced a wounded Marine who lost both of his legs in an IED blast and who was in a wheelchair to remove his prosthetic legs at one point, and at another point to stand painfully on his legs while his wheelchair was examined, according to a complaint a congressman has registered with the TSA. Rep. Duncan Hunter said in his letter Monday [3/18/2013] that the Marine, who is still on active duty and showed TSA agents his military identification, was still forced to undergo that scrutiny.

The Editor says...
You could file a complaint every time you fly, and nothing would change.

Female senator tweets about 'very uncomfortable' screening by TSA. Sen. Claire McCaskill (D-Mo.) complained Monday she was subject to a very uncomfortable screening by the Transportation Security Administration (TSA). McCaskill tweeted about the experience before boarding a flight on Monday [3/11/2013]. The senator, who has complained about the TSA's security techniques in the past, tweeted that she was selected for a pat-down and that the experience was not a pleasant one.

Former Newark Airport TSA screener says the job does little to keep fliers safe. It is perhaps America's most unsafe airport. Despite being the launching point for one of the planes hijacked on 9/11 — Flight 93, which crashed in Pennsylvania — Newark Airport has had numerous security violations since. The latest: a fake bomb that made it past Transportation Security Administration officers. Here, a Newark TSA screener who recently left the agency tells how silly policies and lazy workers do little to stop real threats.

TSA allows knives on planes, flight attendants union calls decision 'dangerous'. The Transportation Security Administration announced Tuesday that U.S. airline passengers will soon be allowed to carry small knives in their carry-on bags, a move that prompted swift condemnation from a flight attendants union. The union for Southwest Airlines flight attendants called the decision "dangerous" and "designed to make the lives of TSA staff easier, but not make flights safer."

Kansas lawmakers want to end TSA's bad touch. Some lawmakers in Kansas want a state law that would make it "illegal for Transportation Security Administration screeners to touch an airline passenger's private parts as they conduct a pat-down," according to the Kansas City Star newspaper. "Air travelers are subjected to aggressive, humiliating pat-downs, many of which would land the average stranger off the street in jail," the newspaper quoted state Rep. Brett Hildabrand, a Republican from Shawnee, as saying.

'I don't want to go to Disney World anymore'. Nathan and Annie Forck were flying out of their home state of Missouri on a February 8 flight bound for Orlando, Florida with their wheelchair-bound daughter Lucy and their two other children. Mrs Forck took a six-minute video detailing their toddler's cries as she said through tears that she didn't want to go to Disney World anymore, and is claiming the TSA discriminates against people who use mobility devices.

TSA to remove controversial X-ray scanners. The Transportation Security Administration says the scanners that used a low-dose X-ray will be gone by June because the company that makes them can't fix the privacy issues.

Cowards!
Homeland Security training TSA workers to save themselves in shooting. Transportation Security Administration (TSA) checkpoint screeners are receiving training to prepare them for the possibility of a mass shooting at one of the agency's airport checkpoints, and those TSA personnel are being instructed to "save themselves" should a shooting occur. It is unclear whether the TSA is conducting the reported mass shooting scenario training at airports around the nation or only at the airport where our source, a veteran of the TSA, is assigned. The TSA source claims with obvious concern that his own life, along with the lives of other unarmed TSA personnel, would be in grave danger were an airport checkpoint shooting to unfold.

The TSA: On the road to the American police state. The TSA was born in the panicked backwash of 9/11, which is understandable given the events of that day, when Muslim maniacs screaming allahu akbar murdered 3,000 Americans and others in the name of Islamic global jihad. But a decade after 9/11, due entirely to political correctness, it's completely out of the question to profile Mohammed at the airport yet absolutely necessary for that bloated agency to "randomly" select your pre-teen or teenage daughter for a body search performed by a government matron in a TSA uniform. This frequently under-the-clothes and against-the-skin complete body search may done in full public view, or in a hidden back room, solely at the discretion of the TSA agents involved. Meanwhile, Mom and Dad stand off to the side where they have been directed to wait, saying nothing, scarcely moving, avoiding random eye contact lest a TSA security agent catch a wayward smirk or utterance of protest.

Enforcing the TSA's Monopoly on Airport Molestation. Until recently, Carol Price was an employee of the Transportation Security Administration. As a member of the TSA's blue-shirted legion of gropers, Price enjoyed plenary immunity to touch air travelers in any way she chose. When passing through airport security at Southwest Florida International Airport on April 20, Price was on the receiving end of the treatment her agency routinely inflicts on the public, and she didn't like it at all.

Coffee, Tea, or Should We ... I'd originally thought that I'd simply been randomly selected for the more excessive than normal search. You know, Number 50 or whatever. Apparently not though — it was both of us. These are your new threats, America: pregnant accountants and their sleepy husbands flying to weddings. [...] It's seemingly becoming the norm in America — lies and deliberate distortions on the part of those in power, no matter how much or how little power they actually wield.

TSA detains 12-year-old girl for an hour 'after detecting explosives on her hands'. Shelbi Walser was travelling to Florida with her mother, Tammy Daniels, for treatment for her brittle bone disorder when she was stopped at Dallas-Fort Worth International Airport in Texas. A TSA agent swabbed Shelbi's hands and she tested positive for explosives. But the wheelchair, which is likely to have transferred any substance to her hands as she pushed it, was never tested, her mother said.

Media Progressives, State Power, and the TSA. [Scroll down] No, the "experts" can tell you that the so-called Underwear Bomber's apparatus would not have been detected by the porn scanners. Furthermore, the idea that travelers have to be humiliated by TSA goons because someone unsuccessfully tried to sneak a bomb in his underwear is becoming a tiresome mantra, but when a newspaper is promoting State Power, any mantra will do, I guess.

Maker of Airport Body Scanners Suspected of Falsifying Software Tests. A company that supplies controversial passenger-screening machines for U.S. airports is under suspicion for possibly manipulating tests on privacy software designed to prevent the machines from producing graphic body images. The Transportation Security Administration sent a letter Nov. 9 to the parent company of Rapiscan, the maker of backscatter machines, requesting information about the testing of the software to determine if there was malfeasance.

This probably doesn't help your airport experience:
U.S. government jobs report finds almost half of Homeland Security workers hate their job. Those are the findings of a recent survey to measure the job satisfaction of millions of American government staff. And it was the Department of Homeland Security (DHS) — set up in the wake of the 9/11 terrorist attacks — which comes out worst with only 52.9 percent happy with their job.

Special Alert to All Federal Security Screeners Employed by TSA. The media is reporting that the Transportation Security Administration (TSA) has agreed to a contract with American Federation of Government Employees (AFGE) union bosses that governs some of your terms and conditions of employment with TSA. Even though all security screeners will be covered by that contract, there is NO requirement that any security screener join the AFGE union or pay a cent of dues to that union.

TSA issues holiday warning to 'Opt Out and Film' privacy rights activists. The Transportation Security Agency sent out a message to privacy activists planning to opt out of TSA's "nudie scanner" screenings and film the TSA's optional patdown process. "We will no longer allow the TSA to stick their hands down our pants and touch our private parts!" reads a note on a related Facebook page.

TSA Ordering Travelers To Go Through Body Scanners? People traveling through the United States have a right to opt out of the dangerous body scanners. However, we have encountered numerous instances of TSA workers implying or outright lying in telling people they have to go through the scanner even if they try to opt out.

Texas Bill Would Ban Invasive TSA Pat Downs. A new bill introduced today by Rep. David Simpson (R-Longview) would criminalize invasive TSA pat downs in Texas and put the Lone Star State on course for another collision with the feds who last year torpedoed similar legislation after threatening to impose a federal air blockade. The Texas Travel Freedom Act, House Bill 80, would ban the very procedure that has caused rancor across the country, namely any pat down that, "touches the anus, breast, buttocks, or sexual organ of the other person, including touching through clothing."

Naked Scanner Maker Accused Of Manipulating Tests To Make Scans Look Less Invasive. First, apparently there is some concern that the makers of the Rapiscan machine (and, yes, it still amazes me that anyone thought that was a good name), OSI Systems, may have "manipulated" tests in order to claim that the machines did not invade travelers' privacy.

TSA grabs union contract. When Congress decided to take over airport security, it was never about safety. [...] Over the past decade, the public has been forced to shell out $57 billion for an agency that has made flying an ordeal. All of the groping and indignities passengers have been subjected to has been for naught. TSA has never caught a single terrorist, yet it continues to insist on spending billions on pornographic scanning machines. The European Union, by contrast, refuses to adopt the technology.

TSA Retracts "Approval" to Film at Security Checkpoints. In response to an "Opt Out and Film" national campaign that encourages airline passengers to opt out of the naked-body scanners and film TSA screeners, the Transportation Security Administration has retracted its approval of filming its procedures at security checkpoints. [...] Critics contend that the TSA has deleted its "approval" from the website in response to the Opt Out and Film Campaign, led by InfoWars.com and Alex Jones, which is set to launch during Thanksgiving week in November. It encourages people to opt out of the naked-body scanners because the machines increase the risk of cancer, the scanners' photographs are an invasion of privacy, and because the TSA's invasive procedures are intended to force compliance rather than promote security.

New National Anti-TSA Campaign: Opt Out And Film Week. This Thanksgiving, Infowars.com is giving thanks for the First Amendment, by getting back in the faces of those who are attempting to abuse their authority to silence free speech and in turn conceal flagrant abuses of our rights and our basic dignity — with the launch of the national Opt Out and Film campaign. Of course, every week should be First Amendment week, but we're picking one week in particular as part of a grass roots outreach that we hope will contribute towards putting the final nail in the coffin of what has come to represent the face of big government tyranny — the Transportation Security Administration.

The TSA is flexing its muscles, just to see how much the public will tolerate.
TSA Lies About Bizarre "Freeze" Drill. The footage shows travelers at Phoenix Sky Harbor International Airport in Arizona being caught up in what the TSA calls "Code Bravo," a suddenly announced drill whereby passengers who have already passed through security are required to "freeze" on command. The You Tube user who uploaded the video commented, "I suddenly found myself in a bunch of travelers who were being sharply told to "STAY RIGHT WHERE YOU ARE! DON'T MOVE!". A TSA employee was pointing his blue-gloved hand at anyone who moved a muscle (including airport workers) and barking these orders. [...] TSA spokeswoman Kristin Lee admitted to the New York Times that travelers are not mandated to obey the order to "freeze".

TSA Worker Steals $500 From Traveler As Punishment For Complaining. A former TSA worker has pleaded guilty to stealing over $500 in cash from a man who complained about the TSA's invasive pat down procedure, with the TSA agent admitting the theft was a punishment for the man's lack of obedience. 60-year-old John W. Irwin pleaded guilty to one count of grand larceny following an incident in November 2011, during which a man asked that he be given a pat down rather than face a body scanner due to a medical condition.

FBI Employee Claims Molestation By TSA Workers. An FBI employee has exclusively revealed to Infowars how he was "molested" by TSA agents despite having a Top Secret security clearance, while TSA workers also allowed his partner through security with an unmarked bag of white powder. Chad Robinson writes of how he was traveling through Phoenix Sky Harbor International Airport, the same location of the recent "all stop" drill where TSA agents ordered all passengers to freeze for no discernable [sic] reason other than obedience training.

More extensive TSA searches in Sea-Tac Airport rattle some travelers. Is the TSA testing a more aggressive screening procedure in Seattle? I asked the agency. "TSA officers at airports nationwide routinely screen passengers at the gate area using a variety of methods, including physically searching bags and using explosives detection technology," said agency spokesman Greg Soule. "This additional layer of security is part of our unpredictable approach to keep passengers safe and reduce the risk of dangerous items being carried on planes." As is often the case with TSA's answers, I can't tell whether that's a yes or a no.

Ron Paul Family Detained by TSA Again. For the second time this year, the Paul family has been harassed by the Transportation Security Administration. Rep. Ron Paul, his wife, and granddaughter were stopped by eight TSA workers at a small airport in Clearwater, Florida, and told they must be screened. According to the agents, the screening was necessary because Mitt Romney "might be nearby." Observers say the implication was that the Paul family poses a threat to the Republican presidential nominee, Mitt Romney.

Ego-Death on Concourse C. [Scroll down] Our government repeatedly inflicted on Theresa the worst psychological symptoms of her syndrome when she was trying to get help for her illness, all while using methods that couldn't protect anybody from actual enemies. Theresa experienced having the private parts of her body invaded. She was threatened with imprisonment. She was singled out and separated from other travelers with no hope of being able to protect herself from future terrorizing because she was given no explanation of why she was repeatedly culled from the herd. Theresa was humiliated and experienced what psychologists call ego-death: the negation of dignity and integrity of Self.

Brief of Amici Curiae Supporting EPIC's Petition for Writ of Mandamus (EPIC v. DHS). The Transportation Security Administration's (TSA) use of body-scanners has affected millions of Americans, yet passengers still have had no opportunity to formally voice their concerns. Every day, 1.8 million Americans board a commercial flight in a U.S. airport, and each passenger is screened by the TSA. A substantial portion of these passengers are screened by the TSA's Advanced Imaging Technology (AIT) scanners, of which 700 are currently operating at nearly 190 U.S. airports. In the last half decade, as millions of Americans have undergone AIT screening, none have been afforded an opportunity to comment on or participate in the TSA's decision-making regarding AIT scanners.

Naked truth about TSA. These days it seems as though just about everyone has been a victim of overzealous airport security, or they know someone who has.

TSA 'chat-downs' investigated at Boston's Logan airport. The Department of Homeland Security is investigating complaints from airport security officers that the "chat-down" program at Boston's Logan airport has become a magnet for racial profiling. The Transportation Security Administration said Monday [8/13/2012] that the department's inspector general will examine the complaints that Middle Easterners, Hispanics and blacks have been targeted in the program.

TSA: Carcinogenic Petting Zoo. The TSA is effectively an unconstitutional, carcinogenic petting zoo. Deep down, we all feel that the airport security system is an FDA-approved rubdown and radiation parlor. But we are busy, rushing to catch flights, and we tell ourselves it is for our "safety." So, like sheep, we comply. The TSA security process is in violation of the law of the land, specifically the Fourth Amendment.

South West Airlines pilot gets into fight with 'condescending' TSA agent. Southwest Airlines pilot John Mcghie was going through checks at Manchester-Boston Regional Airport when the row broke out with a Transportation Safety Administration (TSA) worker Bob Harbaugh. Mr Mcghie complained that he had difficulty in the past getting through the checkpoints, according to police investigating the incident. He then demanded the name of the TSA official, who infuriated the pilot more by refusing to give him his details, it is claimed.

Are all pockets empty? Most Americans now approve of TSA airport searches. Despite some travelers' horror stories about "gate rape," most Americans seem to be OK with TSA security procedures in domestic airports. There was a time in the memory of many adults when travelers (and family bidding farewell) could walk together to the gate. There, passengers would board an airplane without having to prove their innocence as possible terrorists by emptying pockets, removing clothing, experiencing vigorous body frisks and undergoing scans that electronically undress them for unseen voyeurs in nearby rooms.

TSA Chief says Americans should expect some airport screeners to be criminals. From sleeping on the job to running prostitution rings off the clock, agents in the Transportation Security Administration have been making headlines for all the wrong reasons. But TSA Deputy Administrator John Halinski shrugged off critiques of his employees at a hearing this week, saying Americans shouldn't expect more from their airport screeners than they would from the average guy on the street. "If you have an organization of 60,000 people, that's like a city," Halinski protested, when asked if Americans were right to be unhappy with the TSA. "You're always going to have crime in a city. ..."

The Editor says...
That is only true if TSA goons are selected at random from the general population and not subjected to any kind of testing or screening.

Court to TSA: Hey, what about your nude scanners? I've been flying a lot lately and it's become harder to find security lines that don't have nude body scanners. They seem to be proliferating [...] Worse, they become ever more spectacularly demeaning, as people take up a submissive pose — like bending over at the proctologist's — and hope it will be over quickly. One assumes that all the powers that were, be, and are were happy with these things. It appears not. For the U.S. Circuit Court of Appeals for the District of Columbia Circuit is grousing that the TSA hasn't stood with its arms up in front of the public and explained itself on the subject of these machines.

Federal court demands TSA explain why it's defying court order. Earlier this month, we checked in on the TSA scanner issue and found out the federal agency has been ignoring a year-old federal court order to hold public hearings and comment on the controversial back-scatter machines used in screenings. Wednesday [8/1/2012], the same federal court demanded the TSA explain itself, as reported by the good folks at Wired.

Judge OKs Nudity at TSA Checkpoint. An Oregon man was cleared of indecent exposure charges Wednesday [7/18/2012] when a local judge said his protest of Transportation Security Administration screening procedures was constitutionally protected speech under state law. John Brennan, a 50-year-old technology consultant, was charged with the infraction after taking his clothes off at Portland International Airport in April, on a way to a business trip to San Jose. "I was mostly motivated by the absurdity of it all. The irony that they wanna see me naked. But I don't get to take my clothes off?" he said after being cleared.

Choose your Poison, Communism or Other Dictatorship? We no longer live in a free country; we just have an illusion of freedom. When I first came to the United States, I recoiled in fear every time I saw a cop. [...] It took me a good three years to get over the fear of police, the sheriff, and the highway patrol. [...] I see America moving in that direction. The emergence of TSA with their intrusive pat-downs and molestations at airports, random checks at metros, at train and bus stations, did not see many citizens protesting, they are being submissive, and they are giving up their rights, their freedom of speech, of being free Americans. We are transforming into a police state.

The government takes property from airline passengers and then sells it.
Shopping for a Rolling Pin, Scissors or a Bat? This Auction Is for You. Every day an astonishing number of travelers forget the gun or knife in their pocket or carry-on bag. Many others fail to know that the child's souvenir from Walt Disney World is regulated as a potential airplane threat. These confiscated souvenirs, along with truckloads of pocket knives, tools, cake knives and workout weights — added to items like jewelry and belts left behind by rushing travelers — end up in online auctions or in stores selling the bounty of Transportation Security Administration checkpoint searches.

New Homeland Security Laser Scanner Reads People At Molecular Level. This laser-based scanner — which can be used 164 feet away — could read everything from a person's adrenaline levels, to traces of gun powder on a person's clothes, to illegal substances — and it can all be done without a physical search. It also could be used on multiple people at a time, eliminating random searches at airports. The laser-based scanner is expected to be used in airports as soon as 2013, Gizmodo reports.

Homeland Security buys 'big brother' laser scanner. The latest scanners acquired by the U.S. government will be able detect the most minute traces of molecular discrepancies in both individuals' bloodstream and carry on luggage from 50 meters away. Using advanced laser technology, Picosecond Programmable Laser scanners will show traces of drugs, chemicals, weapons, and even food you recently digested at the push of a button. A non-governmental company originally developed the technology but has since partnered with the Department of Homeland Security, implying that the scanners will likely be deployed throughout airports and other high-risk areas.

TSA goons make Barney Fife look like Joe Friday.
TSA Agents at Louisville Airport Steal Deaf Man's Candy, Call Him "F---ing Deafie". A group of students leaving the annual conference of the National Association of the Deaf in Louisville had a rather awful experience courtesy of the Transportation Security Administration in that city's airport. One of the travelers wrote about it on his blog.

TSA to Exempt Muslim Women from TSA PatDowns? The Council on American Islamic Relations is calling on Homeland Security Secretary Janet Napolitano to come to heel and stop the humiliating, invasive, intrusive pat-downs of Muslim women. Napolitano said "adjustments will be made where they need to be made," and particularly for Muslims, "there will be more to come," whatever that means.

The Editor says...
Allow me to state the obvious: Instead of exempting the Muslims and searching Henry Kissinger, it would make far more sense to search only the Muslims, since all the hijackers, shoe bombers, and underwear bombers in the last eleven years have been Muslims. But that would make too much sense, and the government would never stand for it.

Confrontation With TSA Agent Leaves Grandpa's Ashes On Floor. A man's attempt to bring the ashes of his grandfather home to Indianapolis ended with an angry scene in a Florida airport, with the ashes spilled on the terminal floor. [...] "I want an apology," said [John] Gross. "I want an apology from TSA. I want an apology from the lady who opened the jar and laughed at me."

Plain incompetence? Law authorities and major media, including Fox News, are apparently shocked at TSA agent Alija Abdul Majed's "stunning error" committed while manning his metal detector in lane 1 of JFK Airport's terminal 7 Saturday morning [6/23/2012]. Alija Abdul Majed allegedly did not realize his metal detector was unplugged while screening passengers.

The Editor says...
Why is a guy with a Muslim name doing passenger screening in the first place? Maybe he didn't want to find anything suspicious. How many other airports have mice inspecting the cheese?

JFK Airport terminal evacuated after Muslim TSA employee leaves metal detector unplugged. This happened a couple of weeks ago and no flights went down, but it could have been a test of how to get people through security with material that would otherwise be detected, which they could then stash somewhere and retrieve later if they had to be re-screened. Or it could just be an incompetent TSA employee (there are certainly more than enough of those to go around) who just happened to be a Muslim. There is no way to be sure at this point, although it would be refreshing, albeit unlikely, if law enforcement did a bit of digging into the activities of Alija Abdul Majed. In any case, this incident underscores how useless the TSA really is.

Close Down the TSA! A Muslim TSA screener, Alija Abdul Majed, left his screener unplugged for hours. This was no accident. This was a dry run. Majed, said the [New York] Post, failed "to realize that alert lights never flashed once as streams of passengers filed through the dead detector." Yeah, right. We have devout Muslim screeners screening for devout Muslims? This defines insanity. Nor is it the first such incident. The Post reported in June 2011 that "chilling Islamic graffiti found in the bathroom of a jet due to take off from Newark Airport was inexplicably erased by a cleaner after the Transportation Safety Administration waited 47 critical minutes to contact cops."

'Dear TSA: I am not your customer'. The Transportation Security Administration has taken quite a beating in the news cycle so far this year. In late April, screeners were caught taking bribes to allow drugs to pass through Los Angeles International Airport. Recently, a 4-year-old was detained, yelled at, patted down and otherwise terrorized for hugging her grandmother, who hadn't completed screening yet. In April, the TSA made us safer by terrorizing a 7-year-old with cerebral palsy. CBS DC reported that Dina Frank cannot use metal detectors because she walks with crutches and leg braces. The thorough pat-down of the 7-year-old caused the family to miss their flight.

She says she was just demonstrating the treatment she received.
Florida woman accused of groping TSA agent. A video of the incident shows passenger Carol Jean Price putting down her bags dramatically and grabbing a TSA supervisor in what appears to be the crotch area. Price claims an agent grabbed her breasts and crotch during a screening at Southwest Florida International Airport, and that she was just demonstrating the aggressive treatment, when she was caught on camera.

TSA tentatively okays private screeners in Orlando. The Transportation Security Administration has given preliminary approval to a plan that would allow Orlando Sanford International Airport to use private security screeners.

A Date With The TSA. While leaving the Providence, Rhode Island gathering for the Franklin Center where the first annual Breitbart Awards were held, we were detained by the TSA and my husband was subjected to intrusive screenings based on the claim that he was covered in "nitrates."

House panel gives TSA advice on improving its image. If the Transportation Security Administration wants to fix its poor public image, it might want to stop patting down recognizable passengers such as former Defense Secretary Donald Rumsfeld and former Secretary of State Henry Kissinger.

Diabetic teen upset with TSA screeners at Salt Lake City Airport. A Colorado teen is upset with screeners at Salt Lake City International Airport. The type one diabetic says TSA agents were abrupt, rude and were responsible for breaking her $10,000 insulin pump. A pump she has to have to survive.

Officials Confiscate Cash and Property — for No Reason. [Scroll down] In another equally outrageous example of cash confiscation, which took place at the Houston airport, a family flying to Ethiopia to celebrate their daughter's birthday disclosed that they had more than $10,000 in cash with them. Their final destination was Addis Ababa, a city that runs mostly on cash. When it was discovered that they had more than $31,000 in cash and travelers checks with them, TSA agents confiscated it all.

This Memorial Day, Freedom Is Dying Before Our Very Eyes. What if the government could hire thugs to keep you safe? What if it gave the thugs uniforms and badges and sent them to airports? What if it gave them rubber gloves to wear and told them they could touch you and your children and your parents however and wherever they wished? What if these thugs touched the private parts of little babies and old ladies and intentionally restrained those who have criticized them while the rest of us just watched and let this happen?

I didn't see this anywhere in the American press.
US eases airport screening for elderly. The US Government is easing the airport screening process for travelers 75 and older, beginning to roll out new rules just in time for the long Memorial Day holiday weekend, an official said yesterday [5/25/2012]. From this weekend the elderly will no longer have to doff shoes, belts and jackets as they pass through security checkpoints at New York's three major airports: John F. Kennedy International, La Guardia, and Newark Liberty.

Laura Ingraham: 'Heartbreaking' Watching Disabled Vet Get Intrusive TSA Pat-Down. Conservative radio host Laura Ingraham appeared on Fox & Friends on Tuesday [5/15/2012] to relate a disturbing scene she witnessed over the weekend. While preparing to travel in an airport, she witnessed a disabled veteran receiving an intrusive pat-down from Transportation Safety Administration agents. "I think we need to treat these men and women differently at TSA," said Ingraham. "We need to give them a fast pass through the system and not as the Homeland Security Department said a few years ago, brand them as potential threats to the United States."

Feinstein: Get Ready for More Aggressive Molestation at the Airport. An influential Democrat senator from California, who chairs the Senate Select Committee on Intelligence, Diane Feinstein, wants more sexual molestation at America's airports. Appearing on Fox News over the weekend, Feinstein criticized Americans for complaining about hands down the pants groping by the government. She said "it's very important that TSA keeps up its efforts" despite the fact the "public has not been terribly sympathetic" to an endless parade of fake terror threats — the most recent admittedly perpetuated by the CIA — that are used to violate their privacy in the most intimate way.

TSA Agents Conduct 'Full Monty' Pat-Down On Henry Kissinger. Former Secretary of State Henry Kissinger got searched by a Transportation Security Administration employee while going through a security checkpoint at LaGuardia Airport in New York Friday [5/11/2012], The Washington Post reports. Kissinger, who was in a wheelchair, was told by a TSA agent that he needed to be searched. "He stood with his suit jacket off, and he was wearing suspenders," freelance reporter Matthew Cole told the Post. "They gave him the full pat-down. None of the agents seemed to know who he was." Cole added that Kissinger was given "the full Monty" search.

Henry Kissinger subjected to TSA pat-down at New York airport. The man who once advised U.S. presidents on foreign affairs — Henry Kissinger — became the latest passenger to trip the Transportation Security Administration's radar, when he was subjected to a pat-down at New York City's LaGuardia airport.

Geraldo Rivera: I was 'manually raped' by TSA agent at airport. Don't touch Geraldo's junk — or else he'll tell Fox all about it.

21 Unanswered Questions That They Don't Want You To Look Into. [#1] Why is the TSA being allowed to conduct warrantless searches at bus stations and train stations all over America? According to an article in the Guardian, the following motto is displayed at the TSA's air marshal training center: "Dominate. Intimidate. Control." Why is there no outrage over this? [#2] Why does the TSA believe that it is necessary to pat-down a 7-year-old girl with cerebral palsy? Does touching the private areas of disabled little girls really improve our national security?

Airport Insecurity. [Scroll down] Hardly a week goes by without another outrage foisted upon Americans by an over-bearing TSA. Fort Lauderdale, Florida was the location of the latest TSA absurdity. On Tuesday an 18-month old child was ordered off a Jet Blue flight because she was tagged as a "no fly" passenger. Such over-bearing nonsense is amplified by the revelation that the latest version of an underwear bomb confiscated by a CIA double-agent in Yemen "would not have been caught by the TSA's most conscientious human screeners or its highest-tech fullbody scanners," according to experts who relayed that information to the NY Post. "They would not have gotten him," added a top law-enforcement official. Another official was equally blunt. "Frankly, the caliber of the screeners is not that good. It's kind of hit or miss," the source said. "The equipment is wonderful — but it isn't bulletproof."

Here is the House oversight report. [PDF]

Diabetic teen upset with TSA screeners at Salt Lake City Airport. A Colorado teen is upset with screeners at Salt Lake City International Airport. The type one diabetic says TSA agents were abrupt, rude and were responsible for breaking her $10,000 insulin pump. A pump she has to have to survive.

Congressman demands TSA administrator's immediate resignation. Georgia Republican Rep. Paul Broun, M.D. demanded the resignation of Transportation Security Administration (TSA) Administrator John Pistole Wednesday [5/9/2012] for "flagrant violations of [Americans'] civil rights occurring at airports nationwide." In a letter to Pistole, Broun, a member of the House Committee on Homeland Security, highlighted incidents in which passengers have been harassed and humiliated by over-exuberant TSA agents — including thievery among agents, the recent indictment of two current and former TSA agents for bribery, and incidents such as forcing a woman to openly demonstrate her breast milk pump, a woman made to go through the body scanner 3 times due to her "cute figure," and a child forced to undergo a pat down after hugging her grandmother at a checkpoint.

TSA Found 'Anomaly' in Jeffrey Goldberg's Mother-in-Law's Crotch Area. The TSA picked the wrong mother-in-law. Goldberg is a longtime critic of airport screening procedures.

The TSA harasses senselessly. DINA Frank of Long Island experienced a medical miracle when for the first time in her seven years, she was able, thanks to Botox, to take a few steps unaided. She has cerebral palsy and is developmentally disabled. A few days later, her federal government rewarded her by having one of its agents conduct a pat-down roughly in the name of airport security. She's 7. She's physically and developmentally disabled. And our government treated her as if she were a terrorist of some kind.

Does This Girl Look Like a Terrorist? Four months after the Transportation Security Administration launched a program to help airline passengers with disabilities, a New York family found out just how little "TSA Cares." Traveling from New York's John F. Kennedy International Airport to Florida, the Frank family was yanked out of line as it boarded the plane in a dispute over how 7-year-old Dina had been screened. The little girl, who has cerebral palsy, walks with crutches and leg braces. "They make our lives completely difficult," said her father, Dr. Joshua Frank, a Long Island pediatrician. "She's not a threat to national security."

Grandma: TSA agents forced crying 4-year-old to undergo TSA pat-down at Kan. airport after hug. The grandmother of a 4-year-old girl who became hysterical during a security screening at a Kansas airport said Wednesday [4/25/2012] that the child was forced to undergo a pat-down after hugging her, with security agents yelling and calling the crying girl an unco-operative suspect.

TSA defends pat-down of 4-year-old at Kan. airport. The grandmother of a 4-year-old girl who became hysterical during a security screening at a Kansas airport said Wednesday [4/25/2012] that the child was forced to undergo a pat-down after hugging her, with security agents yelling and calling the crying girl an uncooperative suspect.

Seniors get the TSA runaround, lose $300. Omer Petti and Madge Woodward expected the alarms to go off at the airport security's metal detector when they were flying home to Detroit after visiting family recently near San Diego. After all, Petti, who is 95 years old, has two artificial knees and Woodward, at 85, has had her hip replaced. But they sure didn't expect to be subjected to accusations, extreme pat-downs, and most importantly, to be missing $300 in cash.

Obama to restrict travel. For some time I have maintained that the purpose of the TSA is to discourage airline travel for the middle class. Security has nothing to do with humiliating women, grannies and children before they board the airplane. The multiple checkpoints that people must pass have drastically changed the airport experience into something Stalinistic.

Security theater at the airport. What [annoyed me] most was not the invasion of privacy or the inhuman way in which they deal with you — the TSA lady didn't say a word, she just held her hands over head, and I was supposed to imitate her, posing like a criminal the cops are afraid might be armed. (Another agent ordered me to stand on a mat, not telling me why or for how long. When I asked why, he was surprised, and answered that someone sitting in a room needed to review this picture — essentially a nude picture of me — presumably to ensure I wasn't carrying any explosives.) What [annoyed me] the most was knowing that his whole dog-and-naked-pony show wasn't doing anything to make us safer.

TSA subjects wheelchair-bound three-year-old to humiliating search. A vacation in the Magic Kingdom should be enough to make a child giddy with excitement, but one young boy was left trembling with fear after he was subjected to an invasive TSA pat-down. The three-year-old, confined to a wheelchair due to a recently broken leg, was with his family at O'Hare Airport in Chicago, on their way to board a flight to Disney World in Orlando, Florida.

We're supposed to be grateful for the limited adoption of common sense.
Some air travelers over 75 will get break at checkpoints. Some air travelers over the age of 75 will soon get a break at airport security checkpoints under a test program announced Wednesday [3/14/2012] that could allow them to keep their shoes and light jackets on and skip pat-downs.

TSA to drug dealers: Don't bring ecstasy on plane. Transportation Security Administration (TSA) officials discovered thousands of Ecstasy pills on a passenger in Los Angeles last week, but their summary of the event was so understated as to border on the apologetic. The TSA had discovered "1000-2000 hits of ecstasy in [a passenger's] undergarments" during a pat-down.

$100 to Fly Through the Airport. Hate the full-body scans, pat-downs and slow going at TSA airport security screening checkpoints? For $100, you can now bypass the hassle. The Transportation Security Administration is rolling out expedited screening at big airports called "Precheck." It has special lanes for background-checked travelers, who can keep their shoes, belt and jacket on, leave laptops and liquids in carry-on bags and walk through a metal detector rather than a full-body scan. The process, now at two airlines and nine airports, is much like how screenings worked before the Sept. 11 attacks.

TSA to expedite airport security screening for $100 fee. Those who wish to avoid body scanners and pat-downs at airports can pay $100 to opt into a Transportation Security Administration expedited security screening program. "It's pay to play," aviation analyst Michael Boyd said on MSNBC. "I don't know how much it is going to do for security, but is a one time fee as far as I know."

The TSA Is Coming To a Highway Near You. While TSOs [Transportation Security Officers] may have the appearance of a federal law enforcement officer they have neither the authority nor the power. If a passenger brings a loaded gun or an explosive device into an airport screening area there is nothing a TSO can do until the local police step in to save the day. If TSOs are truly our nation's last line of defense in stopping an act of terrorism, then the TSA should immediately end the practice of placing hiring notices for available TSO positions on pizza boxes and at discount gas stations as they have done in our nation's capital. Surely, this is not where our federal government is going to find our brightest and sharpest Americans committed to keeping our traveling public safe.

We can't be too careful, after all, because sometimes Al Qaeda tries to blow up airplanes using breast milk.
TSA forces nursing mother to show freshly pumped milk in order to take breast pump on plane. A nursing mother was forced to show security her freshly pumped breast milk before she was allowed to board a plane with her breast pump. Amy Strand, was traveling with her nine-month-old daughter Eva, on Wednesday [2/29/2012] when a TSA agent at Hawaii airport insisted she show him the full bottles of milk before she could board her plane home to Maui.

Texan TSA crew accused of nude scanner ogling scheme. An investigation into the actions of TSA staff has uncovered a series of complaints from self-described "semi-attractive" female travelers who claim they were targeted for scanning based on their figures, and not on the likelihood of them being terrorists.

TSA Dallas: Woman Sent Through Scanner Three Times for the "Guys". Who would have guessed that men would abuse the ability to see women naked. Yeah, that was a tough one to predict.

No female TSA agents means no flight for Denver woman. A Denver woman claims she couldn't board a flight from Wyoming to Denver because of her gender. Jennifer Winning makes the flight from the small airport of Rock Springs, WY to Denver often, but on January 29th it was different. "They wouldn't let me get on the plane because I'm female," Winning said. She said she checked in and arrived at security about 35 minutes before the scheduled departure of her United flight.

Harassing Air Travelers OK — But Not Illegal Aliens. When Senator Rand Paul was detained by Transportation Security Agency (TSA) airport security agents on his way to Washington D.C. to address the Right to Life March, the Obama Administration stood behind the agency's actions. It always does. Last year, it defended an intense public pat-down of a 6 year old girl as "following proper screening procedures". In 2009, the TSA forced a 4 year old severely disabled child to remove his leg braces and walk through a scanner without assistance. Numerous other similar examples can be found.

Rand Paul's airport run-in raises alarm over scanner accuracy. A growing number of high-profile cases — two in Nashville — are calling into question both the accuracy of the millimeter wave scanning machines and the appropriateness of the pat-downs used when the machines go off or when travelers refuse the body scans. Most recently, Paul was stopped here when the machines apparently detected something on his knee — something he said should have been dismissed once he pulled up his pant leg.

10 of the Most Outrageous TSA Horror Stories: The people employed by the Transportation Security Administration, commonly referred to as "agents," as though they were educated professionals such as the men and women deployed by the FBI, are all-too-often little more than minimum-wage thugs. They frequently harass innocent travelers, leaving them feeling insulted, molested, humiliated and degraded past the point that any law-abiding citizen should have to endure.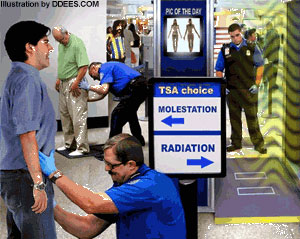 Illustration by David Dees, used with permission.



Neither liberty nor safety. Consider the list of Obama's assaults on liberty. Any one of these done by a Republican President would bring down the wrath of the Left. Done by Obama, the action is noted in the Obama reelect media for a single news cycle and then dropped. Obama's Transportation Security Administration (TSA) is more arrogantly intrusive than ever. The Fourth Amendment protection against "unreasonable" searches and seizures has been repealed at your local airport. Rep. John Mica, who authored the TSA legislation, observes that the unionized TSA now strip-searching grannies and detaining Senators bears little resemblance to his original idea.

The TSA: Ruining Lives Over Forgetfulness. You probably don't consider these folks terrorists or anything close. No rational person would. For that we need the TSA. ... Our Rulers incarcerate the innocent solely because they can.

A Grope A Day Keeps Osama Away. Compare this with a traffic stop. A motorist has the name and badge number of the officer and local number to call if there's a complaint. If worse comes to worst, often you have the video from the dashboard camera to review. TSA has none of this. TSA employees have assumed the trappings of law enforcement without any of the training or responsibility. Consider the evolution of TSA uniforms. From the original white shirt with no badge we now have a blue uniform with a shiny gold badge, indistinguishable from that of a real police officer. Yet TSA guards lack the training of even a rural policeman.

TSA wastes $1.2 billion a year and causes 1,200 unnecessary deaths annually. The TSA is rapidly becoming the #2 most hated government agency in the world, behind the IRS. ... They randomly call travelers out of line and insist they go through the full-body scanners. It is clear that TSA is pushing the X-ray machines to test the American willingness to comply. The TSA is gradually shifting to the full-body scanners (X-ray machines), where travelers symbolically raise his hands in compliance, as if they are saying, "I surrender to the TSA." I'm always amazed how the vast majority of Americans simply comply.

Rand Paul stopped by TSA after body scan anomaly. Kentucky Sen. Rand Paul was blocked from boarding a flight Monday by the Transportation Security Administration in Nashville, Tenn., after refusing a full body pat-down, POLITICO has confirmed. "I spoke with him five minutes ago and he was being detained indefinitely," Paul spokesperson Moira Bagley said. "The image scan went off; he refused patdown."

TSA agents put bull's-eye on U.S. senator. The controversy over the Transportation Security Administration's invasive scanned images and pat-downs of travelers was reignited today when screeners in Nashville detained Sen. Rand Paul, R-Ky., while he was en route to Washington. Local television stations reported that Nashville International Airport authorities detained the U.S. senator when he refused to submit to a pat-down.

TSA's intrusions undermine security. Today [1/23/2012], while en route to Washington to speak to hundreds of thousands of people at the March for Life, I was detained by the Transportation Security Administration (TSA) for not agreeing to a patdown after an irregularity was found in my full body scan. Despite removing my belt, glasses, wallet and shoes, the scanner and TSA also wanted my dignity. I refused. ... Let me be clear: I neither asked for nor expect any special treatment for being a U.S. senator. In fact, this case is not about me at all. This is about every single one of us and how we are sick of the intrusive nature of our government. While sitting in the cubicle, I thought to myself, have the terrorists won? Have we sacrificed our liberty and our dignity for security?

They knew who Rand Paul was.
Rand Paul's Stand Against the TSA. The TSA didn't just "detain" Sen. Rand Paul (R-Ky.) Monday: it showed us another of the agency's many uses to Our Rulers. Not only does it teach the serfs their place in the police-state — utter submission, even to sexual assault and irradiation — it's also a ready weapon against political enemies.

Sorry about that: TSA apologises for strip-searching TWO grandmothers at JFK. The TSA has finally apologised to two grandmothers who were strip-searched at JFK airport. Wheelchair-bound Ruth Sherman, 89, was asked to pull down her trousers to show her colostomy bag as she prepared to fly out of the New York airport over the Thanksgiving holidays. This incident came a week after Lenore Zimmerman, 85, says she was strip-searched after telling agents she didn't want to go through a metal detector because she has a defibrillator.

It's bully government, not nanny. President Obama may be the Nanny King, but he took the crown from the Man Who Gave Us TSA. George Walker Bush was the president who green-lighted making people walk through those body scanners — or else! TSA is not about protecting us. If it were, TSA would be stealth about it. TSA would target terrorist suspects, follow them and nail them to the wall when the terrorist acted. That is good police work. But the purpose of TSA is to dissuade the middle class from flying. The TSA exists now to limit freedom of movement. The price of an airline ticket now includes standing in line for an hour to be humiliated. Everything is now for security reasons.

For 2012, TSA expands to train stations, ferry docks, subways. The Transportation Security Administration had quite a year of free publicity in 2011, including headline-grabbing news of agents groping grandmas, fondling supermodels, joking about passengers' "junk" while virtually disrobing them and pilfering possessions from luggage. In 2012, the agency is planning to expand its operations at train stations, subway stations, ferry docks and other transportation hubs.

Smacking down TSA. Frequent travelers know better than anyone that the Transportation Security Administration (TSA) needs serious reform. The agency spends $7.7 billion in taxpayer money every year, and it hasn't nabbed a single terrorist. With no track record of success, TSA Administrator John S. Pistole and Homeland Security Secretary Janet Napolitano assure us that groping grandma and photographing young children in the nude is somehow going to discourage terrorism. Many experts have raised concerns regarding the wisdom of funneling millions of innocent passengers through unregulated and untested X-ray devices, but no TSA technology can be questioned without Mr. Pistole and Big Sis falling back on the "it's classified" dodge. Their message is, "Trust us, we know what we're doing."

Obama vs. The Constitution: [Scroll down] Of course, anyone flying on a commercial airline knows what has happened to the Fourth Amendment. For months, Americans have been groped, prodded, harassed and photographed through their clothing by agents of the TSA. Despite protests by average Americans, the intrusive searches continue. To be fair, this practice did not start under Obama, but they are continuing, and are only getting worse. Now, the TSA is considering the same practices for boats, trains, and other forms of public transportation.

New FBI Rape Definition Could Aid in Fight Against TSA Groping. Opponents of the Transportation Security Administration's invasive pat-downs of airline passengers may be on the verge of obtaining a new weapon for their fight. The Federal Bureau of Investigation is considering changing its definition of rape in a way that could criminalize TSA agents' groping of passengers' private parts.

Ending the TSA Tyranny. Every other day, it seems, there's a new story about some fresh outrage perpetrated by the TSA, the "Transportation Security Administration," i.e., the government busybodies who get their kicks patting down grandma while pretending to keep the skies safe from terrorists. Just today, Instapundit reports that a teenager was stopped at the security gate in Norfolk because her purse sported the design of a gun on its side. "By the time security wrapped up the inspection," we read, "the pregnant teen missed her flight, and Southwest Airlines sent her to Orlando instead, worrying her mother, who was already waiting for her to arrive at JIA."

85-year-old woman may sue TSA after being strip searched at JFK Airport. An 85-year-old Long Island grandmother says she plans to sue the TSA after a humiliating strip search on Tuesday [11/29/2011] by agents at JFK Airport. Lenore Zimmerman, who lives in Long Beach, says she was on her way to a 1 p.m. flight to Fort Lauderdale when security whisked her to a private room and took off her clothes. "I walk with a walker — I really look like a terrorist," she said sarcastically.

Ruth Sherman, 88, says she was strip-searched at JFK Airport just like Lenore Zimmerman, 85. A second elderly woman claims she was humiliated in a strip-search by Transportation Security Administration agents at Kennedy Airport. Ruth Sherman, 88, told the Daily News on Monday that she felt "degraded" after screeners at the JetBlue terminal took her to a private area to check the bulge from her colostomy bag. "They made me pulled [sic] down my sweatpants and my underwear," the Sunrise, Fla., widow said.

2nd elderly woman objects to TSA search at JFK. Two women in their 80s put the Transportation Security Administration on the defensive this week by going public about their embarrassment during screenings in a private room at Kennedy Airport.

3rd woman claims TSA strip search. A third woman has complained that she faced an intrusive security search at New York's John F. Kennedy Airport. Linda Kallish, of Boynton Beach, Fla., has diabetes and had her glucose monitor and insulin pump attached when she went through a Transportation Security Administration checkpoint at New York's JFK Airport over Thanksgiving. She told WSVN-TV, Miami, she was strip searched in a manner similar to what allegedly occurred to 85-year-old Lenore Zimmerman and 88-year-old Ruth Sherman.

Now Three Grandmas Say They Were Strip-Searched at JFK. Two more elderly women with medical conditions have come forward claiming they were strip-searched by Transportation Security Administration [TSA] agents at JFK Airport on Nov. 29, bringing to three the number of senior passengers who allege they were forced to remove their clothes at the New York airport last Tuesday [11/29/2011].

Nobody will be fired, of course, but the TSA is terribly sorry.
TSA admits wrongdoing in JFK granny searches. In an about-face, the feds have admitted wrongdoing in the cases of two elderly women who say they were strip-searched at Kennedy Airport by overzealous screeners. Federal officials had initially insisted that all "screening procedures were followed" after Ruth Sherman, 89, and Lenore Zimmerman, 85, went public with separate accounts of humiliating strip searches.

Autumn Adventures through Airport Security. With Thanksgiving and other holiday travel on the horizon, get ready once again for a groping good time going through airport security. Flying to New York City from Pittsburgh a couple of Mondays back, I was subjected to a truly hands-on experience from a TSA agent. Ahead of me in two separate lines — one for first-class passengers, the other for those of us in steerage — were two different screening devices. For first class, the passengers were directed through that metal detector cleverly disguised as a doorframe; for the rest of us, there was the dreaded full-body scanner.

Jesse Ventura's latest anti-TSA tirade not helpful. For more than a year now, the Transportation Security Administration (TSA) has been using invasive methods to search airline passengers as part of the so-called "war on terrorism." To many Americans, such tactics constitute a clear assault on our civil liberties, and some have decided not to sit by idly. Not surprisingly, former Minnesota Gov. Jesse Ventura is among this group.

Officials From Terror-Sponsoring State 'Exempted From Enhanced Screening' by TSA. While six-year-old girls and retired school teachers with bladder cancer were subjected to intrusive pat-downs by Transportation Security Administration officials at U.S. airports after Umar Farouk Abdulmutallab tried to detonate his underwear on a Northwest Airlines flight on Christmas 2009, officials from Sudan — one of just four countries the State Department lists as a state sponsor of terrorism — were "exempted from enhanced screening" at airports, according to a State Department cable obtained by CNSNews.com.

Final Implementation Phase of Obama Formal Dictatorship has Begun. After extensive testing to see how far employees of Obama's perverse TSA (Transportation Security Administration) would go with their sexual groping of even small children, Obama has now seen that they will do virtually anything they are tasked to do and "The One" has judged them worthy of the questionable honor of checking for US citizens' papers on US highways, buses, trains and wherever else the now official dictator-in-chief decides he wants to exhibit his power and control over the American people.

You Can Leave Any Time You Want. [Scroll down] I speak of the decision by the Obama administration to purchase from former members of the Bush administration so-called back-scanner X-ray machines for use at airports. These devices, which cannot detect small amounts of plastic explosive on the skin or anything, plastic or metal, hidden in a body cavity, nevertheless give the false impression of enhancing the safety of the flying public because of the lurid, graphic, even pornographic nature of the digital images they produce. The government, in order to induce the public into a sheep-like, dazed-infused, knee-jerk acceptance of the porn scanners, offered an alternative even more invasive, unconstitutional, and odious: a public zipper-opening, blouse-removing, groping-your-private-parts alternative.

TSA employee charged with 'lewdness with a child'. A city officer arrested a Spring Creek man Wednesday morning at the Elko Area Regional Airport, where he works for the Transportation Security Administration, on a warrant charging six counts of lewdness with a child. The Elko County Sheriff's Office was notified in July of possible sexual contact between David Ralph Anderson, 61, and a girl younger than 14.

It's Time to Dismantle the TSA. On a recent flight from Aspen to Denver, a long-time local woman with a very obvious disability was greeted by a large number of people in the security line. She was so popular it turned out that one of the TSA employees recognized her as well. But that didn't stop them from putting her through the most horrific ordeal of a full-body search and pat-down. You couldn't help but feel both distress for this person and contempt for the whole airport security process.

Judge allows flier to sue two TSA screeners. A federal judge in Richmond ruled Tuesday that a lawsuit could move forward against two airport security screeners who had a college student arrested after he stripped to a pair of running shorts to protest what he felt were unconstitutionally intrusive search procedures. The student, Aaron Tobey, had used a black marker to display a portion of the Fourth Amendment on his bare chest.

Ten TSA Outrages. Since its creation in 2001, the Transport Security Administration has repeatedly walked a fine line between vital vigilance and gratuitous intrusion. Security expert Bruce Schneier famously referred to the current system as bordering on "security theater," in which the measures taken are more officious than efficient. This tendency toward such blunt theatrics has only been magnified by the "enhanced screening procedures" introduced in November 2010. Ron Paul, ever the champion of the individual, described the new system as "appalling" and "abusive." There is no doubt that many of those who have fallen afoul of its excesses would agree.

Assault by TSA. [Scroll down] A couple of burka-clad passengers were waved through from the line behind me; nobody touched them or x-rayed them. Here I was, waiting to be sexually touched and violated in front of dozens of people. I did not want to go to a private room, I was afraid for my safety. I did not wear loose clothing, just Capri pants and a fitted shirt. There was obviously nothing that I was hiding beneath my clothes. As I clearly recall, most of the recent terrorist acts and failed attempts involving aviation were committed by Muslims or converts to Islam, not middle-aged women in modern clothes.

TSA apologizes after screeners confiscate diabetic pregnant woman's insulin: report. The Transportation Security Administration apologized to a diabetic pregnant woman after she claimed she wasn't able to bring her insulin and ice packs through a security checkpoint at Denver International airport.

TSA to put Hub fliers on the spot. Boston's TSA screeners — part of a security force whose competency has come under fire nationwide — soon will be carrying out sophisticated behavioral inspections under a first-in-the-nation program that's already raising concerns of racial profiling, harassment of innocent travelers and longer lines.

TSA readying new behavior detection plan for airport checkpoints. The federal government is planning to introduce new behavior detection techniques at airport checkpoints as soon as next month, Transportation Security Administration chief John Pistole said Thursday [7/28/2011]. TSA already has "behavior detection officers" at 161 airports nationwide looking for travelers exhibiting physiological or psychological signs that a traveler might be a terrorist.

TSA agent 'squeezed' my urostomy bag, got urine all over me. A bladder cancer survivor says he was left drenched by his own urine after he was manhandled by an arrogant airport screener at the Detroit Metro Airport. Even more galling for 62-year-old Thomas Sawyer is that it's the second time in less than a year that this has happened to him — and he's not settling for another apology from the Transportation Security Administration.

Government pornography ring. Travelers across the country are being forced into contraptions that use a form of radiation to peer beneath the clothing of passengers. Currently, TSA agents ogle these snapshots from the privacy of a secluded location. Under the new scheme, the machine will still perform the electronic strip search, but only a computer algorithm will be allowed to enjoy the peep show. In theory, software will examine the pictures and flag areas of potential interest. It's up to the flying public to trust that the devices will not save the underlying pornographic images that will still be taken. Given the agency's history of deceiving the public, such trust would be misplaced.

The right to take pictures at security checkpoint is debated. Mind your camera when you're traveling this summer. Taking an innocent snapshot in a public area may get you in trouble, even if photography is allowed. It almost landed Ryan Miklus behind bars when he flew from Phoenix to Reno, Nev., with his parents recently. When Miklus tried to videotape an altercation between his mother and a TSA agent, another officer tried to stop him. "You are not allowed to film," the officer says on the video. "You need to go. You cannot film us."

More about videotaping the police.

Donald Rumsfeld gets a TSA pat down. They have subjected babies and the elderly to controversial full body searches at airport security. And now the TSA has shown that no one is immune to the probing hands of its agents including former Secretary of Defense Donald Rumsfeld.

TSA's Body Scanners Are Constitutional, Federal Appeals Court Rules. The public should have had the chance to raise concerns about full body scanners before the government put them in airports around the country, a federal appeals court said Friday [7/15/2011]. But now that the machines are there, the government doesn't have to stop using them.

Top 10 Most Egregious Government Regulations. [#4] TSA abuse: Whoever is writing the regulations for the Transportation Security Administration needs to lighten up. TSA officials think they are making the skies safe by patting down infants and grandmothers in wheelchairs, while giving travelers the option of being subjected to harmful radiation or on the receiving end of sexual abuse. There are plenty of other ways to ensure safety, like profiling young to middle-age male travelers from the Middle East.

Woman Gropes TSA Agent's Breast at Security Checkpoint. We hear a lot of complaints about security screeners groping airline passengers. But now, a Colorado woman is accused of putting her hands on a TSA agent at Sky Harbor International Airport in Phoenix.

Prosecutor says no charges filed in groping case. The Maricopa County Attorney's Office says that no charges have been filed against a Colorado woman arrested on suspicion of groping a female Transportation Security Administration agent in Phoenix.

94-year-old upset by TSA pat down. A 94-year-old wheelchair-bound Florida woman says a search she went through at Raleigh/Durham International Airport went too far. Marian Peterson said it happened July 6 as she went through a TSA security checkpoint before boarding a flight home.

Mom jailed for raging on TSA agents over daughter's pat down. An overprotective mom's trip from Nashville to Baltimore took a brief detour to the slammer. Andrea Fornella Abbott, 41, was arrested at Nashville airport after she went wild on Transportation Security Administration agents for trying to give her daughter a pat down search.

New Port Richey couple says TSA search went too far. "It was extremely thorough, almost a violation, "says Jason Steitler as he describes how a TSA official searched him at the Greater Rochester International Airport July 6th. Steitler's disability requires he uses a wheelchair.

Police charge mother in Nashville airport altercation. A 41-year-old Clarksville woman was arrested after Nashville airport authorities say she was belligerent and verbally abusive to security officers, refusing for her daughter to be patted down at a security checkpoint.

Surrendering our freedoms one grope at a time. Sadly, our government, which was founded on liberty and tasked with "providing for the common defense," is slowly being taken down by deluded notions of political correctness while it bestows equal rights on our enemies. Common sense — and our safety — are being sacrificed.

The TSA's tentacles spread. It's eight months now since the Transportation Security Administration (TSA) abandoned its last pretence of respect for America's constitutional principles, by mandating no traveller may fly in American airspace unless TSA agents first see and/or feel said traveller's genitalia. That's not hyperbole, just a straightforward description of American law playing out in airports every day. And given America's vast size, lack of mass transit and Americans' generally short vacations from work, flying is often the only feasible way US citizens can travel from points A to B. Yet our government has decreed every such flyer submit to search procedures previously associated with playground-haunting paedophiles and prison rapists.

TSA Continues To Harass Tots and Seniors. Clearly, President Obama is not inclined to step up and rein in the TSA or its parent agency, the Department of Homeland Security. And thus far, TSA has resisted efforts by the Congress — especially the House Oversight and Government Reform Committee, headed by California Republican Darrell Issa — to consider any reasonable limitations on the agency's vast power over law-abiding citizens. Whether citizens of this country will arise from their fear-based stupor to declare that "enough is enough," and demand they stop being treated like common criminals simply because they need to travel by air, remains to be seen. Thus far, despite occasional public revulsion at individual incidents, the fear mongerers are winning.

TSA still lacks common sense. Each time one of these embarrassing incidents happens, the TSA insists it was only following "rules and procedures." But since the TSA devises the rules and procedures, that's no explanation at all. The problem with this security overkill against passengers is that it brings the whole screening process into disrepute.

Does your laptop have rights? For many airline passengers, carrying a laptop or smartphone through security is as familiar a part of the travel ritual as removing their shoes. But for travelers arriving in the United States from other countries, the process is not always so simple; thousands have had their electronic devices not just screened but confiscated, and sometimes not returned for months.



Appeals Court Curbs Border Agents' Carte Blanche Power to Search Your Gadgets. A federal appeals court for the first time ruled Friday [3/8/2013] that U.S. border agents do not have carte blanche authority to search the cellphones, tablets and laptops of travelers entering the country — a "watershed" decision in the court's own terms and one at odds with the policies of the President Barack Obama administration.

9th Circuit Appeals Court: 4th Amendment Applies At The Border. For many years we've written about how troubling it is that Homeland Security agents are able to search the contents of electronic devices, such as computers and phones at the border, without any reason. The 4th Amendment only allows reasonable searches, usually with a warrant. But the general argument has long been that, when you're at the border, you're not in the country and the 4th Amendment doesn't apply.

Texas lawmakers pass airport groping bill. Texas lawmakers gave their initial backing Monday [6/27/2011] to legislation that would criminalize intentional, inappropriate touching during airport security pat-downs, but it was so watered down it provoked angry outbursts from conservative activists, who decried it as toothless.

Texas lawmakers let pat-down ban die. Texas lawmakers adjourned their special session Wednesday without passing a ban on Transportation Security Administration pat-downs, to the dismay of staunch conservative critics of the agency.

Bias alert:
"Staunch" is an adjective obviously chosen to imply extremism.

Rage against the TSA machine. [Scroll down] "TSA cannot exempt any group from screening because we know from intelligence that there are terrorists out there that would then exploit that vulnerability." That's apparently why Drew Mandy, a 29-year-old disabled man with the mental capacity of a 2-year-old, had his 6-inch plastic toy hammer yanked from him by TSA on his way to Disney World. Mandy used the hammer as a security blanket of sorts. But the TSA agents insisted it could be used as a weapon. "It just killed me to have to throw it away because he's been carrying this, like, for 20 years," Mandy's father told WJBK in Detroit. What his dad doesn't understand is that if Islamic terrorists can't have plastic toy hammers, no one can.

How many Muslims waltzed onto their planes while this was going on?
TSA Forces 95-year-old Woman to Remove Diaper. The Transportation Security Administration stood by its security officers Sunday [6/26/2011] after a Florida woman complained that her cancer-stricken, 95-year-old mother was patted down and forced to remove her adult diaper while going through security.

TSA defends decision to make 95-year-old cancer patient remove adult diaper. The Transportation Security Administration doesn't think its agents did anything wrong in asking an elderly woman with cancer to remove her adult diaper during an aiport security screening. The agency came under fire after Florida woman Jean Weber claimed her 95-year-old mother was forced to take off her diaper for a pat down at the Destin-Fort Walton Beach Airport last weekend.

TSA Obergropinfuhrer of the Day. There is a term for regimes that submit law-abiding wheelchair-bound dying nonagenarians to public humiliations without probable cause and it isn't "republic of limited government." Given everybody's touchiness over Kathryn's North Korean comparisons, I'll say only this: George III wouldn't have done this to you. Amy Alkon posts a response from a bureaucratic bozo to her own experience at the airport. Caution for sensitive types: The word "labia" is included. But that's because in 21st century America the anatomical feature "labia" are included in a trip to the airport and that's what should concern you.

Someone Should Be Pistole-Whipped. I always refuse to put my wallet through the x-ray machine. When they ask me to, I say no I won't, then whip out a news clipping of the latest arrest of TSA thieves, and tell them they can't be trusted. Then I let them do a manual inspection in front of me. Etc. A couple weeks ago the head of the TSA, John Pistole, told a congressional oversight hearing that the TSA sometimes goes "too far," and that they'd try to use a little more common sense. So is making a 95-year old, cancer-stricken woman remove her adult diaper using more "common sense"?

TSA policies need makeover. In the most stunning of the recent incidents, a sick 95-year-old woman in a wheelchair had to remove her adult diaper to get through airport screening. It is but the latest shameful example of the Transportation Security Administration's wrong-headed approach to safety. The TSA's lame response to the incident boiled down to an assessment that officials acted within protocol. ... And officials contend she didn't have to remove the undergarment, neglecting to add that if she hadn't she would not have gotten on the plane. That's some choice.

Sen. Rand Paul tells TSA to end random pat-downs. Kentucky Republican Senator Rand Paul told the Transportation Security Administration today [6/22/2011] that it should end what he called the "universality of insult" of random pat-downs of passengers. In a meeting of the Homeland Security and Governmental Affairs Committee, Paul grilled TSA Administrator John Pistole over the recent pat-down of a six-year-old Kentucky girl, a video of which went viral over the Internet.

Perry to TSA: Don't mess with Texas' junk. [Governor] Perry announced today [6/21/2011] that he will reintroduce a bill in the state legislature that would make TSA's "enhanced pat-downs" illegal in Texas.

TSA Now Storming Public Places 8,000 Times a Year. Americans must to decide if, in the name of homeland security, they are willing to allow TSA operatives to storm public places in their communities with no warning, pat them down, and search their bags. And they better decide quickly. Bus travelers were shocked when jackbooted TSA officers in black SWAT-style uniforms descended unannounced upon the Tampa Greyhound bus station in April with local, state and federal law enforcement agencies and federal bureaucrats in tow.

Dude, Where's My Freedom? The Transportation Security Agency (TSA) is already a national joke for groping grandmothers and babies. Yet when tested with fake bombs and real guns, they've failed miserably. Indeed, it was the passengers who stopped the would-be bomber in Detroit of Northwest Airlines flight 253, not the TSA — a classic example of what blogger Glenn Reynolds calls "An Army of Davids." Americans have surrendered their freedoms (and their dignity) to the TSA for a sham "security theater" rather than genuine security. Yet politicians like Senator Charles Schumer (D-NY) want to extend such controls from air travel to train travel.

Rick Perry vs. TSA. It's now up to Texas Gov. Rick Perry to rescue the nation's travelers from the indignity of x-rated airport screening at the hands of the Transportation Security Administration (TSA). On Tuesday [6/14/2011, a state House of Representatives committee is scheduled to consider revised legislation holding blue-gloved bureaucrats criminally liable for grabbing the private parts of passengers without probable cause or consent.

TSA Admits 'Bad Judgment' After Disabled Man Subjected to Airport Pat-Down. A Detroit father said agents with the Transportation Security Administration singled out his special-needs son for a pat-down while the family was headed to Disney World, MyFoxDetroit.com reported, an incident that the TSA admitted was a "case of bad judgment."

A Glimmer Of Hope For The Texas Anti-TSA-Groping Bill? It looked like Texas legislators' fight to ban "groping" by Transportation Security Administration personnel had been lost, but there's a glimmer of hope for the bill now. The Texas legislative term was supposed to end last month, killing the bill for the year, but budget fights in the Lone Star State led to a 30-day special session. And there's a big push to revisit the bill that would make intrusive TSA patdowns a misdemeanor resulting in a $4,000 fine and up to a year of jail time for "offenders," a.k.a. federal government employees doing their jobs.

Woman screams for help during airport security pat down. A woman screamed frantically for help in an airport terminal after claiming she was 'molested' by officials during a security pat down procedure. The unidentified passenger yells hysterically that she has been molested after a female security staff member touched her breast during the screening process at Sky Harbor International Airport in Phoenix, Arizona.

TSA says it is 'trying to strike a balance' for amputees. Because of his prosthetic leg, Bill Brannan is used to getting scrutiny at airport checkpoints. But on his trip from St. Louis to Kansas City this week, that scrutiny — including a patdown by a security officer — got too intense for comfort. "I was felt on both sides of my crotch," the 77-year-old St. Charles resident said. "It felt like he was touching everything."

Texas TSA pat down ban may be back. Texas lawmakers may reconsider a bill to outlaw controversial airport pat-downs, the sponsor of legislation that was shelved recently said this week. Texas state Rep. David Simpson (R) said that Texas Lt. Gov. David Dewhurst reportedly asked Gov. Rick Perry to include the measure in a special session of the Texas legislature. Dewhurst reported asked lawmakers to withdraw the bill when federal officials threatened to cancel flights to Texas if it passed. But he has since had a change of heart, Simpson told fans on his Facebook page.

GOP lawmaker: I saw TSA pat down 'little old lady,' child, but not Arab man. The Transportation Security Administration is too worried about "political correctness," according to a Republican lawmaker. Rep. Paul Broun (R-Ga.), a member of the House Homeland Security Committee, said TSA is too politically correct when it chooses which passengers to search at airport security checkpoints.

TSA Threatens To Cancel All Flights Out Of Texas If 'Groping Bill' Passed. Upset about invasive screening techniques at the airport, the Lone Star State was considering a bill that would make a TSA patdown that involves touching "the anus, sexual organ, buttocks, or breast of another person including through the clothing" a misdemeanor, allowing Texas law enforcement to arrest TSA officials and charge them with sexual harassment. It would have meant that TSA officials could be fined $4,000 and spend up to a year in jail for doing their jobs of feeling up prospective fliers.

Touching Texas' Junk. Once leaders such as Patrick Henry proudly proclaimed, "Give me liberty or give me death!" Now our government offers us the choice of scanning our bodies in an arguably unsafe manner or submitting to an enhanced "pat down" usually reserved for law enforcement officers apprehending criminals.

A People's Approach to National Security. Two recent incidents, a tweeted photo of TSA agents examining a baby and a man shouting pounding on a cockpit door while shouting "Allah Akbar" being subdued by passengers, remind us of the absurd fictions of airline security. The biggest fiction of airline security is that it is secure. The second biggest fiction is that it is even meant to be secure. The TSA and its naked scanners don't exist to provide security, but to provide plausible deniability when an attack does happen.

GOP denies TSA money to buy more body scanners. The Transportation Security Administration's request to expand its controversial body scanner program was rebuffed this week by a Republican-led House committee. The $40.6 billion Department of Homeland Security 2012 budget released this week by the Republican-led House Appropriations Committee denies the request from President Obama to provide TSA with $76 million to buy 275 more scanners.

TSA Tot-Screening is a Bad Civics Lesson. Anonymous once said, "If you can't explain it to a child, you really don't understand it." I don't envy parents who have to explain TSA's airport screening policy to their children. "Less than 3%" of travelers are selected for pat-downs, and images of children being counted among them continue to jump from social networking sites to the news. Last month it was a six-year-old girl and an eight-year-old boy. This week, TSA agents in Kansas City stooped so low as to search an infant's diaper. They are far from the first kids to be frisked on the way to Disneyland or grandma's, and they will be far from the last to receive an early lesson in not only airline safety but also American civics.

Texas House Bans Offensive Security Pat-Downs. The Texas House passed a bill that would make it a criminal offense for public servants to inappropriately touch travelers during airport security pat-downs.

Sex, Lies & the TSA. [Scroll down] We need to look no further than the TSA for illustrations of just how out of control the abuse of power is today. Unsurprisingly, the liberal watchdogs that have historically fought against such abuses are silent, while the conservative right permits the advances of such powers without objection as well. It is this unification and continuity of agenda that should be ringing alarm bells across the nation.

Texas bill would make invasive pat-downs a felony. A former Miss USA's tearful claim that she was groped during a pat-down at Dallas-Fort Worth International Airport could be a criminal matter under a bill gaining momentum in the Texas Legislature.

Baby receives pat-down at Kansas City airport. A photo posted on Twitter of a baby receiving a pat-down at Kansas City International Airport is the latest in a number of recent highly publicized incidents of airport security screenings involving young children.

Backscatter X-ray vs. Groping: one woman's perspective on the new TSA procedures. I've been thinking a lot about the new backscatter x-rays that the TSA has implemented at many airports across the nation. For those who haven't heard of these, they're full-body x-rays that allow a TSA agent to basically see you naked. They can see your breasts, your genitalia, etc. All passengers have to go through it. They have the option to opt-out, but if you do that, the TSA gives you a thorough pat-down. I'm talking groping: groping your breasts, your testicles, etc. The idea is that the majority of passengers are not going to opt for this extensive pat-down and will go through the x-ray. Neither option is good, frankly, and both are horribly invasive of a person's privacy.

Doctors sound TSA germ alert. Syphilis, lice, gonorrhea, ringworm, chlamydia, staph, strep, noro and papilloma viruses all are part of the possible fringe benefits when airline passengers next go through a full hands-on pat-down by agents of the federal government's Transportation Security Administration, according to doctors.

Spreadin' the glove: TSA infecting U.S.? Those latex gloves Transportation Security Administration agents wear while giving airline passengers those infamous full-body pat-downs apparently aren't there for the safety and security of passengers -- only the TSA agents. That's the word being discussed on dozens of online forums and postings after it was noted that the agents wear the same gloves to pat down dozens, perhaps hundreds, of passengers, not changing them even though the Centers for Disease Control in its online writings has emphasized the important of clean hands to prevent the exchange of loathsome afflictions.

TSA's Blue Meanies Strike Again. The suspected terrorist who was the object of their pat down? A six-year-old little girl who cried after her humiliating and frightening ordeal.

Parents of 6-Year-Old Girl Pat Down at Airport Want Procedures Changed. The family of the 6-year-old girl who received a pat down at airport security in New Orleans said today [4/13/2011] there needs to be a different screening process for children.

Molesting kids won't win war on terror. Our government has become a serial groper. There's no part of our lives it won't touch. It insists on putting its insatiable hands on everything from our health care to the gas in our cars, from our light bulbs to our mortgages. Recently it has developed an alarming appetite for our children's affairs, fondling everything from elementary school bake sales to Happy Meal toys. And now it has declared that the only thing standing between you and a fiery death is its hands all over your kids.

Napolitano backs 6-year old's pat-down. The shock of a video of a Transportation Security Administration screener patting down a 6-year-old child has drawn anger and even a subsequent potential legislative response. But the TSA's actions were not improper, says Department of Homeland Security Secretary Janet Napolitano.

Oversight rep. demands answers on TSA pat-down of 6-year old. A leading Republican on the House oversight committee is demanding answers from Department of Homeland Security Secretary Janet Napolitano on why a 6-year-old girl was given an "enhanced" pat-down at an airport by TSA agents, an incident Napolitano defended as conducted "professionally and according to the protocols."

Hawaii, Other States, Form Caucus to Oppose TSA Intrusions. Believing that the federal Transportation Security Administration (TSA) has gone too far in an assault on individual and states rights, a new, national, bipartisan legislative caucus is emerging to take action.

Just what this country needs: More thought crimes.
TSA security looks at people who complain about ... TSA security. Don't like the way airport screeners are doing their job? You might not want to complain too much while standing in line. Arrogant complaining about airport security is one indicator Transportation Security Administration officers consider when looking for possible criminals and terrorists, CNN has learned exclusively. And, when combined with other behavioral indicators, it could result in a traveler facing additional scrutiny.

Groping for a TSA solution. The Transportation Security Administration (TSA) hoped it could avoid a public revolt over its intrusive airport security measures by dialing back operations while scrutiny was at its peak over the Thanksgiving and Christmas holidays. That didn't stop more than a dozen federal lawsuits that have since been filed against the agency by airline pilots and a former governor, among others. State lawmakers also are looking for change.

Another win for suffocating stupidity. At Thanksgiving, I thought millions of people getting scoped or groped at our nations' airports in order to prevent rational profiling akin to what the Israelis do, was the proverbial camel's back-breaker. But sad to say, the typical trifecta of Constitutionally-dubious, but intransigent government officials, a thoroughly compromised, see-no-progressive-evil media, and just enough clueless "it's for our own good" Americans — that the media could parade before the cameras — notched another win for suffocating stupidity.

Senate Votes to Make Misuse of TSA Scanner Images a Felony. When you walk through one of those new hi-tech full body scanners at TSA checkpoints at the airport, screeners can still see your private parts, but the Senate wants to make sure no one else does.

The Editor says...
At first, the TSA said there was no way the images could leave the scanning machine and be used for any unofficial purpose. The Senate obviously does not believe that, since they are making provisions for felony charges when — not if — that happens.

Ventura Sues DHS, TSA Over Body Scans, Pat-Downs. Former Minnesota Gov. Jesse Ventura is suing the Department of Homeland Security and the Transportation Security Administration, saying full-body scans and pat-downs at airport checkpoints are violating his rights.

GOP joins campaign against TSA scanners. Members of the Travis, Texas, County Republican Party have joined a campaign against the federal Transportation Security Administration's new invasive airport pat-down procedures and nude-imaging scanners at airports. "These scanners are a very personal invasion of privacy, exposing anatomically detailed images of airline passengers to strangers," said chairman Rosemary Edwards. "These graphic scans and the intimate physical searches which are offered as the only alternative, are completely inappropriate and a violation of our Constitutionally protected right to privacy."

The Perils of a Siege Mentality. What bothers me endlessly about the Transportation Security Administration (TSA) and the Department of Homeland Security (DHS) is that they operate on the policy that defeat by our enemies is implicitly conceded. ... What bothers me just as much is also the willingness of Americans to tolerate and endure the airport terminal as a police state. ... Obey, or suffer the consequences. So, let us suggest here that, for example, the omnipotent IRS, as one controlling agency, has conditioned Americans to that kind of treatment, to sanction the hostage-taking of their values and to concede that they are but the wards of a guardian government.

TSA Pays Off In Breast Exposure Suit. The woman who sued the Transportation Security Administration after her breasts were exposed during a frisking at a Texas airport will receive a "nominal" payment from the government as part of a legal settlement, The Smoking Gun has learned.

Woman, 82, endures nightmare search at Calgary airport. The Calgary Airport Authority wants answers after an 82-year-old woman complained of a nightmarish security check at the Calgary International Airport. Elizabeth Strecker, who lost a breast to cancer, said she was asked by security last week if she was carrying any banned liquids, but didn't think she had to reveal she'd had a mastectomy.

Rutherford Institute Sues DHS and TSA over Scanners, Virtual Strip Searches. Insisting that Americans do not shed their privacy rights when entering an airport or boarding a plane, The Rutherford Institute has filed a Fourth Amendment lawsuit in federal court against Janet Napolitano, secretary of the U.S. Department of Homeland Security (DHS), and John Pistole, administrator of the Transportation Security Agency (TSA), on behalf of three airline passengers who were subjected to invasive body searches by TSA agents under the agency's enhanced screening and pat-down procedures.

Charge against Virginia Airport Protester Dropped. A man who stripped to his underwear at a Richmond International Airport checkpoint to protest security procedures won't face a criminal charge.

PC Airport Safety is an Oxymoron. Freedom doesn't die all at once. It gets chipped away, piece by piece, until what we once had becomes unrecognizable. On December 22nd in Austin, Texas, 56-year-old Claire Hirschkind suffered the kind of indignity that is only possible in a society that is morally confused and, as a result, Constitutionally uninformed. When she refused to have her breasts groped by a TSA agent at Austin-Bergstrom International Airport, she was arrested.

TSA, Youth Corps Now Officially part of Obama Gestapo. Claire Hirschfield was planning to fly out of Austin, TX airport to visit family at Christmas. Hirschfield has a pacemaker device in her chest for epileptic seizures and had asked for a pat-down rather than going through the X-ray scanner. ... A rape survivor, Hirschfield asked not to have her breasts squeezed and told the female agent "I'm not going to have my breasts felt" to which the agent replied "Yes you are!" Hirschfield asked to speak with Security Director Scott and was denied.

Napolitano: Invasive scans, pat-downs unlikely to change. Homeland Security Secretary Janet Napolitano said Sunday [11/26/2010] that controversial new airport security procedures are likely to remain in place since they have been effective. Some airline passengers and lawmakers have objected to the new Transportation Security Administration (TSA) policy, which includes full-body scans and pat-downs.

TSA Whole Body Scanners. In a case involving the continuing encroachment of modern technology upon personal privacy, The Rutherford Institute has come to the defense of an airline pilot who refused to submit to airport security screening that exposes intimate details of a person's body to government agents. Despite passing through a metal detector without triggering an alert, pilot Michael Roberts was required by Transportation Security Agency personnel at Memphis International Airport to submit to Whole Body Imaging scanning or be subjected to a full pat-down frisk of his person. Upon his refusal, Roberts was prevented from passing through a security checkpoint and unable to report to work.

Terrorizing Our Own. Airline travelers flying the unfriendly skies are presented with two options, that are actually only a single option, to have themselves and their children degraded in public in order to spare Muslim feelings. That we have a ban on profiling travelers, but no ban on molesting or humiliating them, tells us everything we need to know about why we have the current system that we do.

Another Victory for Islamic Jihad Courtesy of the TSA. As far as the TSA and its meat-inspectors are concerned, you the traveler are nothing but a bundle of junk to fondle, probe, grope, examine, and scan at their leisure. Yet, you must respect TSA's empowered fondlers and be kind to them. They are only doing their job, and do not establish policies. This, however, was a plea heard often during the Nuremberg trials.

The TSA's "Protection" Racket. There is a scene in Schindler's List in which all the inmates of the concentration camp are forced to strip naked en masse and run through a gauntlet of outdoor medical checks. ... Too eerily a parallel with the Transportation Security Administration's (TSA's) new "enhanced" security policies at American airports, which include full-body scans that show every detail of one's person beneath clothing and/or intimate "pat-downs" by manqués wearing blue surgeon's gloves, who are authorized to probe and grope infants, school children, adults, nuns, businessmen, well, everyone for combustibles or explosive materials. Passengers are allowed to "opt out" for the pat-down, should they object to being seen naked, or if they're susceptible to involuntary radiation treatments. Some choice. No pressure at all, your choice — unless you choose to stop flying the unfriendly skies.

TSA: a profile in cowardice. I'm sure this has already been pointed out by wiser pundits than yours truly, but wouldn't it make sense to look for terrorists, rather than contraband? While it does to most sentient human beings, the bureaubots at the TSA disagree. That's why we get stories about terrified, screaming three year-olds being groped by TSA goons or veterans well into their dotage being detained for a secondary search because an artificial joint caused the scanner to beep. Here's some advice for the TSA: if you really want to nab terrorists, look for them, don't look for their potential weapons.

It's 'Unclear' If Airport Body Scanners Will Detect Underwear Bombs. Even though TSA has put these so-called Advanced Imaging Technology (AIT) scanners through both laboratory and operational testing, Congress's own auditing agency says it "remains unclear" that they can actually do the primary job they are intended to do.

Leading Scientists Say Airport Full Body Scanners Easily Duped. Two respected scientists say they have discovered a flaw in airport full body scanners that could potentially allow terrorists to outsmart the machines. In research published in the Journal of Transportation Security, physicists Leon Kaufman and Joseph W. Carlson of the University of California San Francisco say body scanner machines can easily be duped.

Beyond the Nanny State. If there is any good that might come from the Transportation Safety Administration's heavy-handed move to full-body scanners, complete with refusers being forced to endure aggressive pat-downs that all too often fit the dictionary definition of sexual assault, it's that it may shake enough Americans out of their presumptive, too-comfortable complacency about our government's benign intentions. The TSA mostly had my backing until several weeks ago.

Show Me Your Papers!! With the introduction of the new body scanners that show what is essentially a nude image of the person being scanned, the American public is getting a taste of what it is like to live in a police state.

Chuck Schumer pushes TSA scanner bill. Sen. Chuck Schumer (D-N.Y.) wants to make it illegal to distribute or record images produced by the Transportation Security Administration's full-body airport scanners. There's no penalty now for misuse of TSA images, but Schumer would like to change that.

Power Corrupts. From the passage of ObamaCare to the offensive TSA screenings, this country's citizens have seen the Constitution trampled upon with little to no acknowledgment that such actions would have caused our forefathers to board a ship to a far-off land in search of liberty and freedom.

TSA Collateral Damage. You've read a hundred stories about the horrors at airports these days, but reading can't hold a candle to an actual flight. In early November, I was invited to a friend's farm in California for the annual olive harvest. The harvest went well enough; the horror was traveling to the West Coast and back.

This is all pointless anyway because...
TSA's nude scans would miss taped-on bombs. A new peer-reviewed scientific study says the backscatter full-body imaging X-ray machines being used by the federal Transportation Security Administration could be fooled by terrorists who simply would mold explosives to conform to their bodies. WND obtained an advance copy of the report, titled "An evaluation of airport X-ray backscatter units based on image characteristics," in which University of California scientists Leon Kaufman and Joseph Carlson demonstrated that packages of explosives contoured to the body or worn along the sides likely would not be detected by TSA X-ray units built to "see" hard edges and anatomical features, and used primarily to image the front and back of the body.

The Illusion of Safety and the Illustration of Political Correctness. The implementation of the new TSA passenger screening policy is indicative of just how politically correct and moronic our society is becoming. When Americans fly, we can now choose between being photographed in the nude and being fondled. Yet since 9/11, America has been attacked in the air only by radical Muslim males. Therefore, Homeland Security has concluded that we should search 80-year-old grandma's bra lines. What kind of country are we becoming when our citizens are forced to endure such invasive searches without due process in an effort to appease the very group of people who are seeking to destroy our country?

DHS & TSA: Making a list, checking it twice. Following the publication of my article titled "Gate Rape of America," I was contacted by a source within the DHS who is troubled by the terminology and content of an internal memo reportedly issued yesterday [11/22/2010] at the hand of DHS Secretary Janet Napolitano. Indeed, both the terminology and content contained in the document are troubling. The dissemination of the document itself is restricted by virtue of its classification, which prohibits any manner of public release.

Bombs Don't Kill People; Terrorists Do. [Scroll down] The only way remove enough of the "things" which threaten air travel would be to strip-search every passenger, issue official garb (like inmates in prison or in a mental institution), and haul these passengers in an environment as sterile and as stark as the suicide watch cell of a county jail. We know, of course, the sane, humane, and easy way to make us safe: profile and research passengers.

Why the TSA pat-downs and body scans are unconstitutional. In a recent Washington Post-ABC News poll, only 32 percent of respondents said they objected to the full-body scans, although 50 percent were opposed to the pat-downs offered as an alternative. That means opponents of the new measures will have to shift their efforts from the airports to the courts. One advocacy group, the Electronic Privacy Information Center, has already filed a lawsuit, calling the body scanners unconstitutional. Could this challenge succeed?

TSA Circus Reveals Dangers of Marxist PC Security Rules. Enormous problems exist in TSA airline screening resulting from the nonsensical mixing of Political Correctness into safety procedures. Specifically, the problem is doctrines of progressive social engineering have become so powerful a centerpiece in minds of the elites that our very safety is threatened by this misbegotten ideology. Unsurprisingly, Political Correctness (PC) is not a randomly occurring phenomenon. Yet many will be shocked to discover PC is a product of social Marxism directed by expatriate German intellectuals in America after WWI.

Americans Learning to Submit. In the George Orwell classic Animal Farm, there lived a horse named Boxer. ... On Animal Farm, appeals to necessity, subtle changes to established rules, and revisionist history were the tools used to control Boxer and his comrades. Boxer willingly accepted his marching orders until his fate was sealed. The tactics that led to his demise and the enslavement of his friends are now deployed at airport security checkpoints across America. I can't help but wonder if we've become a nation of "Boxers."

Opt Out of a Body Scan? Then Brace Yourself. Having been taught by nuns in grade school and later going through military boot camp, I have always disliked uniformed authorities shouting at me. So I was unhappy last week when some security screeners at O'Hare International Airport in Chicago started yelling. "Opt out! We got an opt out!" one bellowed about me in a tone that people in my desert neighborhood in Tucson usually reserve for declaring, "Rattlesnake!"

Eight Air-Security Myths. [Myth #3] Each method terrorists use requires a targeted response. Because terrorists have hidden stuff in their underwear, we must pat them down. So when terrorists use body cavities to conceal things, as surely they will, will TSA attempt to search everyone's orifices? Not a chance: Americans will not stand for anything like this. Which is why the excuses for today's patdown molestations are so infuriating and phony. We need to catch people before they bring down planes. But we do not do this by making flying, already a grim business since 9/11, a humiliating ordeal. Making travelers cringe gives terrorists a victory even without bringing a plane down.


---

This issue is spreading beyond the airport.

America: Closed Due to Terrorism. [Scroll down] I asked a friendly Capitol Police officer where I was allowed to go and if I could take pictures. The fact that I felt it necessary to ask speaks volumes to the extent that the Muslim terrorists have driven America into adopting extreme security measures to combat fear. I was told I could take pictures, but could only enter the Capitol through an underground visitor's center after being subjected to security measures similar to an airport. America's government buildings are closed off from the populace in an effort to combat terrorism, resulting in America's government officials being increasingly closed off from ordinary Americans.

Next step for tight security could be trains, boats, metro. The next step in tightened security could be on U.S. public transportation, trains and boats. Homeland Security Secretary Janet Napolitano says terrorists will continue to look for U.S. vulnerabilities, making tighter security standards necessary. "[Terrorists] are going to continue to probe the system and try to find a way through," Napolitano said in an interview that aired Monday night [11/22/2010] on "Charlie Rose."

Routine items not allowed at Cowboys Stadium on Sunday. As part of the increased security surrounding the Super Bowl, NFL and federal authorities are limiting what fans can bring to Cowboys Stadium. Everyone entering the stadium must pass through a magnatometer [sic], such as those used at airports, and get a patdown as part of the screening process.

NFL wants pat-downs from ankles up at all stadiums. The NFL wants all fans patted down from the ankles up this season to improve fan safety. Under the new "enhanced" pat-down procedures, the NFL wants all 32 clubs to search fans from the ankles to the knees as well as the waist up.


---

God and Those Intrusive TSA Screenings. How Christians should think about the increasing invasiveness of TSA screenings is a very good question. ... Privacy and dignity are unquestionably of concern, as are the issues of profiling and the extent to which our government can order us to submit to procedures that affect us so deeply. Very little discussed, however, has been the philosophical question of whether we are fighting terrorism on offense or defense, and how that affects our quality of life.

TSA Groping and Obama's Black Revenge Narrative. The growing TSA groping scandal is another Obama political fiasco, almost a comical way for an American president to commit political suicide. TSA's groping of little kids and their moms instead of going for the bad guys who blew up the Twin Towers fits the narrative of radical black revenge. Now all the rich white folks are treated as police suspects. Let's see how they like it!

Obama's police state. President Obama is engaging in a relentless assault on our freedoms and constitutional government. ... If anyone else did what TSA agents do regularly, they rightly would be charged with sexual assault. Mr. Obama has done the unthinkable: He has extended the federal government's reach into our most private, intimate body parts. Big Brother not only watches us in the nude, he can routinely molest us at will. The administration is not restricting its unprecedented power grab to airports. Homeland Security Secretary Janet Napolitano recently said that trains, boats and subways also may implement the same screening procedures. If the White House has its way, Americans will be getting felt up on the Metro and Amtrak every day — morning, afternoon and night.

Pat-Down Dispute Shows Mistrust of Government. The latest controversy to envelop the Obama administration is only partly about the specific rules governing body scanners and pat-downs. It has to do, too, with the federal agency Congress created to deal with airline security and the tension that has been building for years between its latex-gloved employees and the traveling public.

Santorum: Government is giving into terrorists with TSA screenings. Former Pennsylvania Sen. Rick Santorum says the government is giving terrorists just what they want by implementing the new — and revealing — Transportation Security Administration enhanced screenings on airline passengers. "In many respects, I've seen some of the headlines, 'terrorists win,'" Santorum said to a group of college Republicans at American University Thursday night. "I think it's a pretty good subtitle to what we're seeing. I think TSA has gone overboard."

Just Don't Fly: Where Might the TSA Take Us Next? "Don't fly." That's Janet Napolitano's answer to those who oppose the regime of poke and grope that is today's Transportation Safety Agency. America is, after all, a land of choices. When you arrive at the airport, you can allow some complete stranger to irradiate you with a device that allows the operator to see you naked. Or you can allow some friendly security agent to put hands in places where they have no business. Or you can drive. Before you jump out of line and into your car, however, be warned that you can be fined up to $11,000 for changing your mind at the airport.

Analyst: TSA methods 'will kill more Americans on highway'. The recent public ire toward the TSA's new pat-down and body imaging screening methods is likely to cause more people to drive automobiles and forego airline travel, say two transportation economists who have studied the issue. As the nation readies for one of the busiest traveling holidays, Steven Horwitz, a professor of economics at St. Lawrence University, told The Hill that the probable spike in road travel, caused by adverse feelings towards the Transportation Security Administration's (TSA) new screening procedures, could also lead to more car-related deaths.

Fliers Claim TSA Have Deactivated Body Scanners. According to tweeting travelers, many backscatter and millimeter-wave AIT scanning machines at airports are not in use at all, making opting out impossible.

Schneier: TSA Scans "Won't Catch Anybody". Since 9/11, cryptology expert and security consultant Bruce Schneier has been one of the most pointed critics of the government's anti-terrorism security programs. In his 2003 book "Beyond Fear," he coined the phrase "security theater" to refer to measures which are undertaken not because they will be effective at thwarting attacks, but because the agencies carrying them out need to appear to be doing something useful.

Woman: TSA Agents Singled Me Out For My Breasts. The head of the Transportation Security Administration said the agency will look further into allegations that two male TSA workers picked a woman for additional screening because of her breasts. Eliana Sutherland recently flew from Orlando International Airport and told Local 6 she felt the two male TSA workers were staring at her breasts and chose her for additional screening because of their size.

Who's exempt from airport searches, who's not. Exempt: Cabinet secretaries, top congressional leaders and an exclusive group of senior U.S. officials when they fly commercially with government-approved federal security details.

TSA Is Terrible. People in prison are subject to highly intrusive searches; they have no expectation of privacy. To be sure, the government is given more latitude — relieved of the need to show probable cause for the search — because it is promoting safety, not trying to develop a prosecutable case. But what makes the search appropriate is the record of the people involved, not the abstract possibility of violence. A savage act is always possible. If that is all it took to justify gross infringements of liberty, such infringements would always and everywhere be justified. An intrusive search is reasonable, or not, based on what the people involved have done to prompt it, not simply because life is fraught with peril.

TSA, 2 ; America, 0. The article referenced the "enhanced pat-down by TSA officers." This was a frisk the way a loan shark's beating is a "tune-up." Come off the euphemistic palliatives, Ms. Baskas. Or at least make sure you use "so-called" to characterize the "pat-down." Pat-downs are quick external sweeps that look for things like ankle-holstered guns, shivs, and knucks. And box-cutters and nail files. Making a non-threatening, middle-aged, non-suspect, post-op, disfigured cancer survivor take off his clothes and then roughing him up and rupturing his medical device is kidnapping, assault, and battery.

Airport Scanners and Marxist Criminology. The new TSA airport scanners have justifiably garnered a lot of attention and criticism. Frankly, the entire scheme is nothing more than a cheap contrivance to give the impression that Democrats care deeply about national security. Insofar as Democrats actually care about national security, it could not be more obvious that it is a mere afterthought to their main agenda of turning America into a tawdry imitation of socialist Europe. It is only an uninterested administration that views national security as a perfunctory and unserious task that, as a response to radical Islamic plane hijackers, would conceive of fondling every flyer — including little Caucasian toddlers — to look for bombs.

TSA Scans — All Part of Obama's Plan. The aggressive airport searches and scans conducted by an out-of-control TSA do not occur in a psychological vacuum and directly reflect the Obama Administration's contempt for individual autonomy and callousness when it comes to balancing liberty and government authority to maintain public safety. Before the public outcry, TSA had grown to tens of thousands of government "security" personnel who were empowered by rules and regulations to touch travelers' genitals, confiscate their belongings (on slim evidence that they posed any real danger) and demand that they assume the posture of criminals to be scanned head to foot. If that sounds like a dry run for totalitarianism, it is, at least psychologically.

Grope and Change. Perhaps I am overly prudish, but the thought of a complete stranger groping my genitalia as a prerequisite for boarding an airplane is a bridge too far. Of course one can opt for a full body scan instead, which is essentially a digitized version of a strip search accompanied by a healthy enough dose of radiation that pilots and flight attendants are refusing to submit to it. Just before the busiest travel season of the year, these are the two, and only two options our government offers us if we intend to use air travel as our transportation choice.

My TSA Encounter. As I got off my flight, I did all of the things that are normally requested from U.S. citizens returning from abroad. ... My passport was stamped, and I moved through customs a happy citizen returning home. But wait — here was a second line to wait in. This new line led to a TSA security checkpoint. You see, it is official TSA policy that people (both citizens and non-citizens alike) from international flights are screened as they enter the airport, despite the fact that they have already flown.
[Emphasis added.]

TSA: Some gov't officials to skip airport security. Cabinet secretaries, top congressional leaders and an exclusive group of senior U.S. officials are exempt from toughened new airport screening procedures when they fly commercially with government-approved federal security details.

U.S. Airports a "Constitutional Twilight Zone". Much of the opposition to airport body scanners invokes the Constitution; one company is even selling pasties emblazoned with the Fourth Amendment to protect passengers' dignity while passing through scanners. But the Fourth Amendment, along with most of the Constitution, does not apply in the airport the same way it does in most public spaces. U.S. airports are a Constitutional "twilight zone" — the rights you have in the outside morph once you step inside the terminal, and it has been this way long before September 11.

Obama and Holder and Their Massive Failure to Think. [Scroll down] The latest shot at the bubble of Obama supremacy — the failed civilian trial of Ahmed Ghailani — comes at a time when real American citizens are voluntarily giving up their own right to fly upon their own airplanes due to overzealous, most likely unconstitutional searches. Tempers are flaring daily at security checkpoints. Lawsuits are being filed. Petitions are being mounted. The citizenry is quite nearly so distraught over this disgusting double standard that it'll be a wonder if the airline industry can survive this latest Obama failure to think.

TSA Hit With Lawsuits As Revolt Explodes. The TSA has been hit with a number of lawsuits as the revolt against Big Sis, naked body scanners, and invasive groping measures explodes, with one case involving a woman who had her blouse pulled down in full public view by TSA goons who then proceeded to laugh and joke about her exposed breasts.

DA Now Sending Deputies to SF Airport to Investigate Felony Groping. Appearing on the Alex Jones Show today [11/18/2010], current chief deputy DA and incoming DA of San Mateo County Steve Wagstaffe said his office will prosecute TSA employees who engage in lewd and lascivious behavior while conducting Homeland Security mandated patdowns at the San Francisco International Airport in San Mateo County.

TSA Searches: Are Trains and Subways Next? "I understand people's frustrations," said president Obama from Lisbon over the weekend. Obama said at present naked body scanners and pat down searches bordering on sexual molestation are the best way to prevent Muslims in caves from attacking the American people. Secretary of State Clinton told Meet the Press on Sunday [11/21/2010] that "everyone, including our security experts, are looking for ways to diminish the impact on the traveling public" and that "striking the right balance is what this is about." For now, that "balance" means a near minimum wage TSA worker will fondle your testicles and there is nothing you can do about it. Protesting will only slow down traffic and prevent people from visiting their family and friends.

Passenger Chooses Strip-Down Over Pat-Down. When a San Diego man opted out of security screening using the Advanced Imaging Technology (AIT) at Lindbergh Field Friday [11/19/2010], he stripped down to his underwear in an attempt to avoid the pat-down procedures. ... Wolanyk's attorney said that TSA requested his client put his clothes on so he could be patted down properly but his client refused to put his clothes back on. He never refused a pat down, according to his attorney.

"Gate Rape" of America. [Scroll down] The current TSA measures have very little to do with security. It is becoming much more apparent that the Department of Homeland Security itself, at its uppermost levels, has little to do with actual security. ... The American people are being carefully and deliberately conditioned to accept the stripping away of our Constitutional rights, a process in the making for nearly a century. To see how far this conditioning has progressed, just look at how many people are willing to be groped, fondled, nuked, and subjected to other forms of degrading tactics by agents of the federal government for the mere illusion of security.

Keep Your Hands Off My Constitution. For the past two years, Americans have been subjected to outright thuggery masquerading as representative government, as progressives have rammed their agenda through a Congress whose contempt for the wishes of a majority of Americans has been undeniable. A lot of Americans thought the 2010 election was a watershed moment in this country's fight against those who would rule us with impunity. It was not. My fellow Americans, this airport insanity and the government's steadfast refusal to back down is the one fight we must not lose, for the simplest of reasons: if bureaucrats can grope us against our will, government of, by and for the people is over.

Big Sister's police state. The Transportation Security Administration (TSA) has crossed the line. As if subjecting millions of Americans to X-rated x-ray scans and public groping sessions weren't bad enough, the agency now threatens $11,000 in fines against anyone refusing to submit to humiliation at the airport.

Don't touch my junk. Don't touch my junk is the anthem of the modern man, the Tea Party patriot, the late-life libertarian, the midterm election voter. Don't touch my junk, Obamacare — get out of my doctor's examining room, I'm wearing a paper-thin gown slit down the back. Don't touch my junk, Google — Street View is cool, but get off my street. Don't touch my junk, you airport security goon...

Opposing viewpoint:
Don't Shoot the Groper. Krauthammer's "Don't Touch My Junk" column is outstanding and I think he's right that Americans' tolerance for indignity to avoid the unthinkable prospect of profiling is exhausted. But I'm afraid some people are directing their anger at the wrong target. Ron Paul, for instance, has introduced legislation to remove TSA employees' immunity from prosecution and arrest them for assault. Kick the Bureaucrat is a game conservatives love to play, and sometimes it's justified, but this time it isn't. The problem is the policy that the White House and its minions have instructed their subordinates in the civil service to carry out.

$11,000 fine, arrest possible for some who refuse airport scans and pat downs. If you don't want to pass through an airport scanner that allows security agents to see an image of your naked body or to undergo the alternative, a thorough manual search, you may have to find another way to travel this holiday season.

President Obama: TSA Pat-Downs "An Inconvenience For All Of Us," Except Me. With all the "junk-touching" and pat-downs required by new TSA rules that arrived just in time for the holidays, it was inevitable that at the first possible opportunity some intrepid reporter would bring the subject up to President Obama. Taking questions at a NATO summit in Lisbon, Portugal, the President attempted to explain the logic behind the pat-downs, but prefaced his reasoning with a disclaimer that he has never and will likely never experience such a thing.

The degradation must stop. The TSA literally put their blue-gloved hands down my pants Sunday. I was patted, pawed and squeezed as if I were a high school homecoming queen on her third date with the star quarterback. It was a humiliating, degrading and an unacceptable invasion by this government into my private affairs. This was after government x-ray machines poured unwanted x-rays though my body. No warning, no explanation, no alternatives offered. All just to board a plane to come home. ... The American government is no longer acting as guardian of our freedoms; rather they have become our jailers. This Administration's perverted behavior toward its own citizens has been purposely allowed to flourish, all in the name of preserving political correctness in enemy identification.

TSA pat-down leaves traveler covered in urine. A retired special education teacher on his way to a wedding in Orlando, Fla., said he was left humiliated, crying and covered with his own urine after an enhanced pat-down by TSA officers recently at Detroit Metropolitan Airport. "I was absolutely humiliated, I couldn't even speak," said Thomas D. "Tom" Sawyer, 61, of Lansing, Mich. Sawyer is a bladder cancer survivor who now wears a urostomy bag, which collects his urine from a stoma, or opening in his stomach.

GOP lawmaker: Full body scanners violate fourth amendment. A GOP lawmaker said Tuesday [11/16/2010] the full-body scanners now employed by the Transportation Security Administration (TSA) violate the Fourth Amendment to the Constitution, which protects against "unreasonable searches and seizures." During a one-minute speech on the House floor, Rep. Ted Poe (Texas) also blasted former Homeland Security Secretary Michael Chertoff as a "political hack" and accused him of profiting from the proliferation of the devices.

Airport security firestorm ignored by President, cabinet. Secretary of Homeland Security Janet Napolitano and the rest of President Barack Obama's cabinet are either evasive or silent about their latest public relations fiasco: invasive security measures at U.S. airports. It appears that in an effort to protect traveling Americans, while at the same time adhering to the liberal-left orthodoxy, on domestic and international commercial airline flights, new state-of-the-art body-scanners are now in use at airports throughout the nation.

Two pilots sue to block body scanning at airport. Two commercial airline pilots filed suit against the federal government Tuesday [11/16/2010] claiming new airport screening procedures violate their constitutional rights. Michael S. Roberts of Memphis, a pilot with ExpressJet, and Ann Poe of Fort Lauderdale, Fla., a Continental pilot, sued the Department of Homeland Security and Transportation Security Administration in federal court in Washington. Roberts and Poe have been grounded since separate incidents in which they refused to submit to full body scans or the alternative, enhanced pat-downs by TSA officers.

The path to safer air travel. The national "opt out" day next Wednesday [11/24/2010] was created to protest body scanners and enhanced TSA pat downs at airports. While it illustrates passenger dissatisfaction about the intrusive and humiliating security procedures and constitutional issues, it does nothing to fix the gaping security holes we have at our airports. Amid the outcries and protests, it is rarely pointed out that there has never been a instance where the Transportation Security Administration has ever stopped or thwarted a potential terror attack against our airlines. Not one.

The Frogs Finally Notice the Water is Boiling. Maybe it really did need to come to this. Maybe Americans had to literally have their privates groped by a government bureaucrat to finally realize that they have been the proverbial frogs sitting in a pot of water, unaware that they are being incrementally boiled to death. For those of you who still don't get it, let me make it clear: The ultimate destination of Political Correctness is totalitarianism.

To Let the Government Touch, or Not to Let the Government Touch. It's not quite the Gadsden Flag, but this image is fast becoming the symbol of the new "Don't touch my junk" movement. Whether to let government agents touch us where the sun don't shine or not is no longer an academic question. It's happening to more and more fliers every day, among other things altering the meaning of "frequent flier" in some unpleasant ways.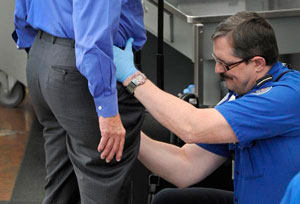 In 1949, this definition of "terrorism" could be found on page 1346 of
Funk & Wagnall's Standard Dictionary of the English Language.




"If someone had done that to me at a nightclub I'd call the cops."
What Happens if You Decline a Full Body Scan? When you ask a friend to join you for a nice weekend cruise from Miami, you don't expect the friend to be hauled away by Transportation Security Administration (TSA) agents into a private room where she says she was practically strip-searched. But that's what happened at Logan International Airport in Boston.

TSA 'Strip and Grope': Meet the Fourth Amendment. [Scroll down] Do these sorts of things violate our rights to be secure in our persons against unreasonable searches? No act of Congress gave TSA agents the power to do these things; the Congress delegated various powers to the TSA and the TSA developed the procedures, evidently with no little or no adult supervision and even less consideration given to the Fourth Amendment. It appears that substantial discretion is left to low-level TSA employees in deciding what is "reasonable" — substantially more than is left to more "ordinary" and often better-trained law enforcement officers in deciding whether there is reasonable cause to think that a crime has been or is being committed.

Why Air Security is the Issue. I submit that if we don't beat back the TSA's assault on innocent travelers, we might lose our nation for good. Or perhaps it would mean we have already lost it. The reality is that the TSA is no more about airline security than ObamaCare was about affordable health care. Both the organization and the bill are about the dehumanization — and control — of theoretically free Americans. Thus, it is critical that Americans win push back efforts against both, because if we lose on these two fronts, we have effectively lost most of our freedom.

Cancer surviving flight attendant asked to remove prosthetic breast during pat-down. A Charlotte-area flight attendant and cancer survivor contacted WBTV after she says she was forced to show her prosthetic breast during a pat-down. Cathy Bossi lives in south Charlotte and has been a flight attendant for the past 32 years, working the past 28 for U.S. Airways.

Pilots to be exempt from airport scanners, intrusive pat-downs. Faced with widespread resistance to what some passengers see as personally intrusive air travel security measures, US officials are looking for ways to ease the demands on those who fly on commercial airliners. That starts with those flying the aircraft. Beginning in 2011, airline pilots will no longer have to go through scanners or be subject to full-body pat-downs, just as ticketed passengers now do.

Woman says her Lambert security screening was sexual assault. More Americans are growing angrier, over what the Transportation Security Administration, admits are more intrusive security put downs at airports. One woman is comparing her experience at Lambert Airport to a sexual assault.

My Very Own TSA Nightmare. I went through the process on Monday and got both the scan and the pat-down — and more. I was traveling from D.C. to Maine via the Baltimore airport. The line was moving very slowly thanks to a woman who refused to be scanned or groped. This confused the TSA officers to the point that they began chatting about what to do with her.

What's Wrong With The TSA? The Transportation Safety Administration has three main areas of failure, of which employees fondling women and children is just the most obvious sign. The worst part, or at least equally as bad as violating the personal privacy of innocent, law-abiding travelers, is that what they're doing has no effect on the actual security of the airways, let alone the country. They're tormenting us just for show — and to soak up tax dollars.

Napolitano's Police State: TSA Retaliates Against Tyner for Asserting His Rights. So, let's get this straight: It's okay for the TSA to grope nuns, but Muslim women are exempt (nothing beyond the head and neck). We cannot profile potential terrorists, but it's okay to molest three-year olds (except we won't call it molest because it's the government doing it). Muslim men won't go through body imaging machines, but it's okay to grope non-Muslims' genitals.

No union for Transportation Security workers. If you've flown lately, the odds are good that you had a rubber-gloved Transportation Security Administration agent touch you in places that would otherwise result in the issuance of an arrest warrant for unwanted groping. Even so, despite years of imposing increasingly invasive new security procedures, the TSA has yet to catch one terrorist. By contrast, the Washington Post reported in May that "at least 23" TSA agents have been fired since 2007 for stealing from passengers. There were also "at least eight unrelated incidents involving practical jokes played on air passengers, drug use, leaving a security post and falling asleep on the job."

Ron Paul: 'We have been too submissive'. In case you missed it, here is Rep. Ron Paul, R-Tex., speaking on his airport security bill.

Big Brother Is Scanning You. There seems to be a growing revolt among the traveling populace against the new TSA full-body scanners -- which examine the naked figure for contraband -- and the invasive "pat-downs" administered to those bold, or foolhardy, enough to decline the scanner. I am in full sympathy with people who are horrified by either prospect, and am intrigued by the extent to which discontent and civil disobedience is spreading across the landscape.

Government At Work: Groping Children Is Preferable to Perceived Profiling. The Transportation Security Administration (TSA) recently implemented new supposed security measures, which include a mandated trip through a full body scanner that shows you in all your naked glory, or lack thereof. It's all cool, though, because if you don't wish to have your naked body ogled, you can always get felt up instead via the new "enhanced pat-down" option. It's all about choice, baby! Whichever you prefer: leering or groping.

Did You Know Your Airport Can Opt Out of TSA Molestations? Your local airport can opt out of having the Transportation Safety Administration handle security at your local airport. Instead, you can contract out to the private sector. It was one of the ingenious and little noticed provisions the Republicans dropped in the post-9/11 legislation creating the TSA. With a move to unionize the TSA and the TSA groping 3 year olds and nuns in nutty security theater, opt-ing out in favor of free market competence sounds like a great idea. Oh, and Congress will cover the payments to the TSA replacement.

Airport Security Screening Protests Mount. With the start of the busiest air travel season just a little more than a week away, the Transportation Security Administration (TSA) has been under scrutiny following complaints that the federal government has taken airport security too far, from new intrusive body scans to intensified pat-downs. Even pilot unions have protested against airport security body-scanner technology — said to be intrusive with radiation-based health concerns — and called the alternative pat-down method too invasive.

DA promises to prosecute overly touchy pat downs. The San Mateo district attorney's office has a warning for all TSA personnel at SFO — anyone inappropriately touching a passenger during a security pat down will be prosecuted.

Are TSA pat-downs and full-body scans unconstitutional? As the debate about the Transportation Security Administration's screening procedures pings across the Internet, a growing chorus of critics is asserting that electronic imaging scans and "enhanced pat-downs" both represent an unconstitutional violation of the Fourth Amendment, which protects against unreasonable searches.

Man Arrested After Punching TSA Screener In Indy. A Connecticut man has been arrested after exchanging words and punching a TSA screener at a security checkpoint at Indianapolis International Airport. According to a report from airport police, John A. Christina, 51, Simsbury, Conn., was charged with battery as a misdemeanor in connection with the incident about 2:50 p.m. Tuesday [11/16/2010] at the Concourse B checkpoint.

Don't Touch My Junk" Flier Unlikely to Face Fine. Transportation Security Administrator John Pistole doubts the "don't touch my junk" traveler, John Tyner, will face the $10,000 fine allowed by law. "I don't anticipate anything coming from that," Pistole said.

Senators and TSA Defend "Love Pats" at Airports. Transportation Safety Administration chief John Pistole and several senators from both parties defended the new, enhanced airport security screening procedures as necessary in the face of a persistent and evolving terrorist threat in a hearing Wednesday on Capitol Hill.

Duncan Blasts TSA Pat-Downs, Body Scanners. Congressman John J. Duncan, Jr. (R-Tenn.) blasted the Transportation Security Administration Wednesday [11/17/2010] during a speech on the floor of the House of Representatives for invasive "pat-downs" of U.S. citizens and the role lucrative government contracts played in the use of body scanning machines at airport checkpoints.

Forget Body Scans and Pat Downs — Let's Get Busy Profiling. Why don't we start profiling for terrorists and stop trying to put everyone from toddlers to granny through the same security procedures at airports? We're wasting money, time and the people's patience in an effort to be politically correct. In the end, it's not keeping us any safer; if anything it's making us less safe since it's diverting resources that could otherwise be used on better intelligence gathering, or developing screening devices for cargo on commercial and civilian aircraft, or checking containers before they enter U.S. ports.

The TSA Debacle. Anyone with doubts concerning the Transportation Security Authority's ability to handle airport security needs to take a look at the way they're dealing with the public-relations debacle surrounding the launch of their new "security procedures". The nature of these "procedures" — an intrusive passenger scanner system along with gang-rape style pat-down searches — required at the very least a delicate touch during their introduction. The TSA's touch has been as delicate as Godzilla crushing a police car.

Obama's hand in your crotch. The Transportation Security Administration's demeaning new "enhanced pat-down" procedures are a direct result of the Obama administration's willful blindness to the threat from Islamic radicals. While better tools are available to keep air travelers safe, they would involve recognizing the threat for what it is, which is something the White House will never do. El Al, Israel's national airline, employs a smarter approach.

Pilots Dismayed at Airport Scanners, Pat-Downs. Annoyance at U.S. security hassles has been on the rise among airline crews and passengers for years, but the widespread use of full-body image detectors this year and the simultaneous introduction of more intrusive pat-downs seems to have ramped up the frustration. As passengers have simmered over being forced to choose scans by full-body image detectors or rigorous pat-downs inspections, some airline pilots are pushing back. Much of the criticism is directed at the Transportation Security Administration.

TSA to investigate body scan resister. The Transportation Security Administration has opened an investigation targeting John Tyner, the Oceanside man who left Lindbergh Field under duress on Saturday morning [11/13/2010] after refusing to undertake a full body scan. Tyner recorded the half-hour long encounter on his cell phone and later posted it to his personal blog, along with an extensive account of the incident. The blog went viral, attracting hundreds of thousands of readers and thousands of comments.

TSA head in for grilling on security measures. Lawmakers are expected to grill the head of TSA on Tuesday [11/16/2010] over increased security measures at U.S. airports that have sparked public fury. John Pistole, the head of the Transportation Security Administration, is expected to be hit with questions about new pat-down techniques that air passengers have complained are invasive.

Is TSA Security Patdown Sexual Molestation? From pilots' unions to viral online protests, Americans are telling the Transportation Security Administration (TSA) that the government has gone too far in the name of security, equating the new searches to "sexual molestation" or "sexual assault."

Anderson Cooper Describes 'Rigorous' TSA Pat Down. Junk-touching TSA gropers have claimed their first celebrity news victim. In an airport security debate at the top of his 360 show on CNN Monday night [11/15/2010], Anderson Cooper revealed his own experience with glove-wearing TSA agents.

Amid airport anger, GOP takes aim at screening. Did you know that the nation's airports are not required to have Transportation Security Administration screeners checking passengers at security checkpoints? The 2001 law creating the TSA gave airports the right to opt out of the TSA program in favor of private screeners after a two-year period. Now, with the TSA engulfed in controversy and hated by millions of weary and sometimes humiliated travelers, Rep. John Mica, the Republican who will soon be chairman of the House Committee on Transportation and Infrastructure, is reminding airports that they have a choice.

Why is scanner picking up people in line? Fortunately, this was the lesser intrusive scanner, being used at a courthouse, that jumbles up the photo so as to hide your genitals, etc. But I did notice something weird. Why does the scanner seem to be scanning people who aren't even in it? Note how the device is recording the image of people standing in line to get into the scanner in the photos below. They're not in the scanner, but it's picking them up. It even picked up the security guy with his wand.

Opt Out Day: Wednesday, November 24, 2010 is National Opt-Out Day!

We Won't Fly. If you absolutely, positively must fly, opt out of the scanners. Do it to protect your health and privacy. If you can avoid flying, don't fly. Hit the airlines in the pocketbook until the scanners and gropers are gone. Make the airlines work for us.

TSA Investigating 'Don't Touch My Junk' Passenger. The TSA has launched an investigation of a passenger in San Diego who left the airport after opting out of an invasive body scan and criticizing the proposed alternative pat-down. John Tyner, a 31-year-old software programmer, recorded the encounter on his mobile phone and posted it to his blog. From there, it quickly went viral, tapping a groundswell of frustration over TSA's procedures.

TSA Backlash Grows Over Leaked Body Scans, Many Other Scandals. It's difficult to catalog all of the myriad controversies besieging the Transportation Security Administration this week, but the biggest seems to be the new policy forcing select passengers to choose between an open-palm, very invasive pat-down or a full-body scan that produces a very detailed image of your most private regions. There's also the 35,000 full-body-scan images that some officials in Florida kept despite rules requiring the images be immediately deleted, the threatened $11,000 lawsuit against a man who refused to have his groin patted down, the insistence on applying both the basically-nude scans and the invasive pat-downs to children, and the call for boycotting TSA body-scans by the 11,000-strong pilots union. In other words, it's bad.

TSA pats down a screaming toddler. You might think a 3-year-old would whiz through security. A child is non-threatening, wears slip-on shoes, and carries little luggage. Not the case for Mandy Simon who was passing through security with her dad at the airport in Chattanooga, Tenn.

Why doesn't Obama subject his family to airport security procedures? Two weeks ago, my wife flew alone out to Colorado with our two young children. Unaware that the TSA had instituted new and incredibly invasive new security procedures, my wife called me distressed after getting frisked by the TSA. Or as my wife put it, "in some cultures I would be married to my screener by now." She was joking, but make no mistake — my wife was incredibly disturbed by how intimate a security pat down she received.

One Hundred Naked Citizens: One Hundred Leaked Body Scans. At the heart of the controversy over "body scanners" is a promise: The images of our naked bodies will never be public. U.S. Marshals in a Florida Federal courthouse saved 35,000 images on their scanner. ... That we can see these images today almost guarantees that others will be seeing similar images in the future. If you're lucky, it might even be a picture of you or your family.

Full Frontal Nudity Doesn't Make Us Safer: Abolish the TSA. In the spirit of bipartisanship and sanity, I propose that the first thing on the chopping block should be an ineffective organization that wastes money, violates our rights, and encourages us to make decisions that imperil our safety. I'm talking about the Transportation Security Administration. Bipartisan support should be immediate. For fiscal conservatives, it's hard to come up with a more wasteful agency than the TSA. For privacy advocates, eliminating an organization that requires you to choose between a nude body scan or genital groping in order to board a plane should be a no-brainer.

Get the Government Out of Our Pants. The war on terrorism is going to get personal. Very personal. Americans have long resented the hassles that go with air travel ever since 9/11 -- long security lines, limits on liquids, forced removal of footwear, and so on. But if the Transportation Security Administration has its way, we will look back to 2009 as the good old days. The agency is rolling out new full-body scanners, which eventually will replace metal detectors at all checkpoints. These machines replicate the experience of taking off your clothes, but without the fun. They enable agents to get a view of your body that leaves nothing to the imagination. A lot of people, of course, couldn't care less if a stranger wants to gaze upon everything God gave them. But some retain a modesty that makes them reluctant to parade naked in front of people they don't know, even virtually.

Government gropers at airports a ruse for body scanners coming to schools and malls. [Scroll down] First, there has been heightened awareness of the possible radiological dangers posed to the TSA agents operating the scanners as well as to the passengers being screened. Although there have been numerous official assurances to the public that the scanners pose no health risks, several scientists and radiologists have concluded otherwise. Secondly, there are the images themselves. It is important for the public to understand that the images of scanned passengers shown to the public have passed through filters to "tone down" their graphic nature. In reality, the images that are visible to TSA officials are much more revealing. Having seen actual images of a full body scan on a TSA computer for the purpose of completing my investigation, I can tell you that the images are extremely graphic and leave very little to the imagination. To be sure, they do not resemble the images that are being shown to the public.

California Man Tells TSA, Don't 'Touch My Junk'. A California man got thrown out of San Diego's airport when he refused a revealing full-body scan and then an alternative pat-down, telling a Transportation Security Agent, "If you touch my junk, I'll have you arrested." John Tyner, 31, said he was told he could face a civil lawsuit and a $10,000 fine for leaving the screening area before the security check was complete, according to news reports and his blog.

Man Films Airport TSA Encounter, Says It Borders on Sexual Assault. In one of the more unusual cases of airport security gone overboard, a man trying to board a flight at San Diego International Airport refused a patdown when he felt it was bordering on sexual assault. From there, he was told he could not board his flight, was interrogated by several different TSA agents, escorted out of the airport, and then in a turn of events, told that if he left the airport without completing the security screening he could face a civil suit and find of up to $10,000. But because this is 2010, he filmed the entire encounter using his mobile phone, posted the videos to YouTube, and blogged about the entire ordeal.

Flight attendants union upset over new pat-down procedures. A Washington, D.C. resident has formed a website critical of TSA pat-down procedures, calling on people to "opt out" on one of the busiest travel days of the nation. Brian Sodergren designed optoutday.com in an effort to get people to experience the new TSA pat-down procedures.

TSA To Passengers: Here's Looking At You, Kid. If you have taken a commercial flight lately, you've probably noticed security has been tightened yet again. The latest instrument to be installed in the security checkpoint dungeons is the full body scanner, which Fox News says was funded by $73 million in stimulus money. (More jobs saved or created!) These devices are similar to the X-ray wall that Arnold Schwarzenegger walked behind in Total Recall, but much less awesome. Unfortunately, they also bathe travelers in low doses of radiation, and make their naked bodies visible to Transportation Security Administration employees who are not always paragons of virtue.

T&A at the TSA. There is no bigger threat to America's aviation industry than the Transportation Security Administration (TSA). In less than a decade, the bureaucratic agency has heightened the hassle involved in taking to the skies. One can only imagine how much longer it will be before the majority of Americans decide they'd be better off hitting the highways.

TSA is hijacking our freedom. The scanner booths, which bear a resemblance to that mythical "transporter" in the TV series, weren't in use that day. But when I called Transportation Security Administration spokesperson Ann Davis on Friday [11/12/2010], she informed me that the plan is for all passengers to be required to go through what amounts to a nude photo shoot before boarding an airplane. That's unless, of course, that passenger wants to have his or her genitals groped by an angry federal employee. Davis didn't say that. But a lot of the TSA's critics are.

Growing backlash against TSA body scanners, pat-downs. A growing pilot and passenger revolt over full-body scans and what many consider intrusive pat-downs couldn't have come at a worse time for the nation's air travel system. Thanksgiving, the busiest travel time of the year, is less than two weeks away. Grassroots groups are urging travelers to either not fly or to protest by opting out of the full-body scanners and undergo time-consuming pat-downs instead.

Whole-body scans begin at Philadelphia airport. The full-body scanner has arrived at Philadelphia International Airport. Passengers going through the Terminal F security checkpoint now have an option of using the new technology, or sticking with a walk-through metal detector — followed by a pat-down. Travelers' reaction, as they lined up to go through security Thursday [10/28/2010]: It's no big deal.

For the First Time, the TSA Meets Resistance. The pat-down at BWI was fairly vigorous, by the usual tame standards of the TSA, but it was nothing like the one I received the next day at T.F. Green in Providence. Apparently, I was the very first passenger to ask to opt-out of back-scatter imaging. Several TSA officers heard me choose the pat-down, and they reacted in a way meant to make the ordinary passenger feel very badly about his decision. One officer said to a colleague who was obviously going to be assigned to me, "Get new gloves, man, you're going to need them where you're going."

Body Scanners: Irradiating JFK. In its zeal to peel every last shred of dignity from passengers, the Transportation Security Administration (TSA) foisted its strip-search scanners on New York City's John F. Kennedy International Airport this weekend. ... These are the carcinogenic contraptions the TSA insists are perfectly safe as they X-ray us through our clothing. We appear naked on monitors the TSA claims show only a "chalk etching" or a "fuzzy photo negative," and we do so in such detail that British airports won't scan children lest they violate their government's anti-smut laws. These gizmos also notoriously store and transmit their naughty negatives despite the agency's vehement denials. And yet, after all its lies, the TSA expects us to believe its Orwellian promise to "protect passenger [sic] privacy" as it strips us naked.

I'm fed up with the TSA. [Scroll down] When I finally reached the security station, I discovered the source of the delay. In addition to TSA incompetence, the lines were backed up going through a new security machine ironically called a "Rapid Scan." The "Rapid Scan" is one of the new x-ray machines recently employed by the TSA to perform full-body scans on airline passengers. It is truly a testament to the adaptability of the American spirit that not only does an hour-long wait at security barely raise eye-brows, but passengers are willing to submit to a virtual strip-search with nary a whimper as well. Perhaps it is ambivalence. I suspect, however, that after the abuse of waiting in lines for everything from parking to security, stripping down to one's BVDs is a small price to pay to be allowed to sit down.

Full-body scanners to debut at Lindbergh Field. Just in time for the Labor Day rush, the Transportation Security Agency Tuesday at Lindbergh Field plans to debuts its controversial full-body scanner, which generates a primitive image of an air traveler's body on a computer screen.

You didn't complain when they did this at the airport, and now they're taking it on the road.
Scanner Vans Allow Drive-By Snooping. Privacy-conscious travelers may cringe to think of the full-body scanners finding their way into dozens of airport checkpoints around the country. Most likely aren't aware that the same technology, capable of seeing through walls and clothes, has also been rolling out on U.S. streets. American Science & Engineering, a company based in Billerica, Mass., has sold U.S. and foreign government agencies more than 500 backscatter X-ray scanners mounted in vans that can be driven past neighboring vehicles or cargo containers to snoop into their contents.

Full-Body Scan Technology Deployed In Street-Roving Vans. As the privacy controversy around full-body security scans begins to simmer, it's worth noting that courthouses and airport security checkpoints aren't the only places where backscatter x-ray vision is being deployed. The same technology, capable of seeing through clothes and walls, has also been rolling out on U.S. streets.

The Editor says...
I hope you can see where this is headed: If you put up with invasive searches at the airport, before long you will have to endure the same invasion at the post office, or when you serve on a jury, or when you enter any federal building.

TSA tests frisky frisking policy. Logan airport security just got more up close and personal as federal screeners launched a more aggressive palms-first, slide-down body search technique that has renewed the debate over privacy vs. safety. The new procedure — already being questioned by the ACLU — replaces the Transportation Security Administration's former back-of-the-hand patdown. Boston is one of only two cities in which the new touchy-feely frisking is being implemented as a test before a planned national rollout. The other is Las Vegas.

Misperceptions and Media Bungles. Few want to face the truth — most Americans resent that they have to undergo the third degree when boarding airplanes, even though they don't remotely resemble the profile of successful modern-day terrorists. That, while those who do fit the profile seem to get waived past security. This is not my opinion, but a well-researched fact that also is underreported.

TSA to download your iTunes? Federal security workers are now free to snoop through more than just your undergarments and luggage at the airport. Thanks to a recent series of federal court decisions, the digital belongings of international fliers are now open for inspection. This includes reading the saved e-mails on your laptop, scanning the address book on your iPhone or BlackBerry and closely scrutinizing your digital vacation snapshots.

TSA to swab airline passengers' hands in search for explosives. To the list of instructions you hear at airport checkpoints, add this: "Put your palms forward, please." The Transportation Security Administration soon will begin randomly swabbing passengers' hands at checkpoints and airport gates to test them for traces of explosives.

What Can Israel Teach the U.S. About Airport Security? Airport security in Israel is not about what's on your feet, or in your pockets, or — god forbid — in your underwear. It's about what's in your head. While the Israeli security system is certainly not perfect, it is unlikely that Umar Farouk Abdulmutallab could have successfully boarded a plane without being detained, questioned in-depth, and hopefully caught — even if his risk level hadn't been so clearly documented. The secret of Israeli airport security doesn't just lie in super-sophisticated technology. Simply put, in Israel's airport, there are simply far more opportunities to get caught.

Are planned airport scanners just a scam? [Scroll down] The Government is looking at millimetre-wave scanners for widespread use in British airports as part of Mr Brown's review. They are safer to use than X-ray scanners because they do not emit radiation and do not require passengers' consent. Pregnant women cannot go through X-ray scanners but there are no such health risks with millimetre-wave technology.

The Editor says...
No known health risks, that is. How many years were xrays and fluoroscopes in use before the long-term health risks were discovered?

TSA Worker Jailed for Aggravated Battery. Perhaps the new airport body scanners are a bit too revealing. A TSA worker in Miami was arrested for aggravated battery after police say he attacked a colleague who'd made fun of his small genitalia after he walked through one of the new high-tech security scanners during a recent training session.

Muslim woman refuses body scan at airport. A Muslim woman was barred from boarding a flight after she refused to undergo a full body scan for religious reasons. The passenger was passing through security at Manchester Airport when she was selected at random for a full-body scanner.

The Editor says...
The most unfortunate part of this story is that the Muslim was selected at random for closer scrutiny.

TSA Fatwa Watch: Saying that body scanners violate Islamic law, Muslim-American groups are supporting a "fatwa" — a religious ruling — that forbids Muslims from going through the scanners at airports. The Fiqh Council of North America — a body of Islamic scholars that includes some from Michigan — issued a fatwa this week that says going through the airport scanners would violate Islamic rules on modesty.

Islamic scholars issue fatwa forbidding Muslim-Americans from using full-body airport scanners. Add Muslim-American groups to the chorus of voices slamming full-body airport scanners. A body of North American Islamic scholars has issued a fatwa, or religious decree, forbidding Muslims from passing through the devices, the Detroit Free Press reports, saying they violate the faith's teachings on modesty.

US 'stopped Dutch installation of full body scanners'. The United States prevented Dutch authorities from installing full body scanners before the suspected Christmas Day bomb plotter passed through security at Amsterdam's airport, the Dutch government claimed today [12/30/2009]. The Dutch claimed that they had been trying to install the machines for flights to the US since 2008 but had been blocked by US officials who wanted passengers to all destinations screened.

The Editor, quoting "Devvy", asks...
"How is it that the U.S. government can dictate to another foreign government what they can and cannot install at their own airports?"*

Full-Body Scanners to Fry Travelers With Radiation. TSA Security Laboratory Director Susan Hallowell recently announced the agency's intent to use back-scatter X-ray machines for passenger surveillance. These hugely expensive, closet-sized zappers can find the plastic bombs hidden in grandma's underpants, while delivering a smacking dose of ionizing radiation to her breasts and thyroid gland. Snooper X-rays penetrate a few centimeters into the flesh and reflect off the skin to form a naked body image for TSA security personnel to inspect. These machines are already being field tested at several U.S. airports, including JFK, LAX and Orlando.

The Body Scanner Scam. All males have a body cavity. Females have two body cavities. In prisons, these body cavities are habitually used to smuggle drugs and improvised weapons past body searches, including complete nudity strip searches. Given the power of widely available explosives, the amount that can be carried inside a body cavity — let alone two — is sufficient to destroy ordinary pressurized airliners at normal flight altitudes.

TSA lies exposed: Full-body scanner machines do save and transmit images. The TSA has been lying to the American people about full-body scanners. The agency has insisted that these "digital strip search" machines are incapable of saving, storing or transmitting the images they take. This, we are told, makes it okay for people to be digitally strip-searched.

The Editor says...
Obviously the machine has to be capable of storing images in order to preserve evidence against someone who is caught, for example, with a bomb in his pants. This would be the evidence of probable cause for further searches of such an individual, without which evidence the suspect would probably not be convicted.

Senators demand answers on saved body scans and privacy protections. Senators said they were "disturbed" by reports U.S. Marshals have saved more than 35,000 body scan images from a Florida courthouse, according to a letter sent Friday [8/20/2010].

Airport Body Scanners Violate the Teachings of Islam, Says Muslim Group. A group of Muslim scholars says it supports airline safety, but it is "deeply concerned" about the use of airport scanners that show nude images of the human body.

The Editor says...
I have a question for the so-called scholars: Who do you suppose is ultimately to blame for invasive searches at airports? If you Muslims object to scanners, take the bus!

Blaming the Messenger for Watchlist Problems. [Scroll down] Our security policymaking tends to lurch around, often with little regard for what is effective — or constitutional — and driven by the particular circumstances of the latest plot. This happened with the so-called Christmas Day bomber, when the government rushed to deploy full-body scanners, without much deliberation as to how effective they might be.

Another case of TSA overkill. Did you hear about the Camden cop whose disabled son wasn't allowed to pass through airport security unless he took off his leg braces? Unfortunately, it's no joke.

Target the terrorists, not the public. There comes a moment in life, private and public, when what is grudgingly tolerated becomes intolerable. When life has reached such a tipping point, then, at any instance, the most insignificant annoyance or the least provocation can undo the carefully arranged order of living and uncork a cascade of fury in those indignant of being abused for no fault of their own.

TSA worker plants white powder baggie on traveller as a joke. These days, joking about anything illegal while in an airport security line will likely land you in a holding cell, and might even result in criminal charges. But this column from the Philadelphia Inquirer has some wondering whether that rule applies to TSA employees themselves.

It was no joke at security gate. In the tense new world of air travel, we're stripped of shoes, told not to take too much shampoo on board, frowned on if we crack a smile. The last thing we expect is a joke from a Transportation Security Administration screener — particularly one this stupid.

Stupid TSA prank should remind everyone: good thing they're not unionized. You may have read about the Philadelphia TSA worker who scared ... an unsuspecting 22-year-old passenger by planting a bag of white powder in her carry-on bag. Luckily, he's already been fired. But if TSA was unionized...

TSA Security a Mixture of the Serious and the Silly. On one side they have the nation as a whole, demanding 100% efficacy in stopping violent attacks on civilian flights. On the other side we find all of the individuals who make up that nation who wish to be inconvenienced as little as possible while flying grandma's annual fruitcake to her during the holidays. If they are too trusting and complacent you wind up with some maniac getting on board with explosives tucked into his shoes, underpants, or fringed bonnet. Err in the other direction and you get an overzealous agent slapping handcuffs on journalist Michael Yon for failing to provide his W-2s for the last ten years during screening.

Satire: Anti-Terrorism Honor System. (Video)

Bombs Don't Take Down Airliners — People Take Down Airliners. Anyone who has flown since 9/11 knows the effects of airline terrorism on airport security — remove the shoes and belt, laptops in the bin, no liquids, and on and on. Everyone is subjected to these protocols. Businessmen, mothers of toddlers, toddlers themselves, grandmothers, foreigners, citizens — we all endure the same drill. Most amusing are the "reaction checks." After 9/11, sharp blades were the rage (the rage of airport screeners' scrutiny, that is). After the shoe bomber it was shoes, then it was the 3 oz. limit on liquids — as if 2.5 oz. of liquid is safe, but 3.5 oz. is a threat.

Calls for Full-Body Scanners Re-Ignite Privacy Concerns. The calls for airports to expand the use of full-body scanners in the wake of the attempted bombing of a Northwest Airlines flight have re-ignited privacy concerns from groups and lawmakers who have long said the scanners produce graphic images that could make their way onto the Internet.

'Fleshmob' strips off to protest body scans. German protesters have demonstrated against the planned introduction of body scanners at airports by stripping down to their underwear and, in some cases, beyond.

What Has Happened to the Billions of Dollars Spent on Aviation Security? Nearly 10 years after the attacks on Sept. 11, 2001, questions continue to be raised on security: How should Americans feel about the tens of billions of taxpayer dollars spent to beef up aviation security? And what about all those hours we've spent waiting on lines, taking off our shoes and surrendering our liquids and gels — have they been worth it?

Ivana Trump Escorted Off Plane: Napolitano Declares 'The System Worked'. For the past eight years, approximately 2 million Americans a day have been subjected to humiliating searches at airport security checkpoints, forced to remove their shoes and jackets, to open their computers, and to remove all liquids from their carry-on bags, except minuscule amounts in marked 3-ounce containers placed in Ziploc plastic bags — folding sandwich bags are verboten — among other indignities. This, allegedly, was the price we had to pay for safe airplanes. The one security precaution the government refused to consider was to require extra screening for passengers who looked like the last three-dozen terrorists to attack airplanes.

TSA to expand use of body scanners. The Transportation Security Administration plans to install 150 security machines at airport checkpoints that enable screeners to see under passengers' clothes. The installation will vastly expand the use of the controversial body scanners, which can reveal hidden bombs and knives. But the devices have been labeled as intrusive by some lawmakers.

Is Tougher Airport Screening Going Too Far? The Transportation Security Administration has moved beyond just checking for weapons and explosives. It's now training airport screeners to spot anything suspicious, and then honoring them when searches lead to arrests for crimes like drug possession and credit-card fraud. But two court cases in the past month question whether TSA searches — which the agency says have broadened to allow screeners to use more judgment — have been going too far.

Airport Tyranny: [Scroll down slowly] The bulk of the people hassled by these and other TSA procedures are law-abiding Americans who have no malicious intentions, along with a few people traveling with drugs and other contraband. The TSA routinely confiscates about 15,000 items a day from passengers, in addition to the hassle, rudeness and arrogance. With these kind of costs imposed on the traveling public, I'd like TSA to give an account of themselves, namely just how many hijackings or bombings they have prevented, along with the evidence. Americans have been far too compliant and that has given the TSA carte blanche to treat travelers any way they wish.

TSA Tells Airport Screeners to Stick to Weapons and Explosives. The American Civil Liberties Union has dropped its lawsuit against the Transportation Security Administration after the TSA revised its policy on searching travelers, telling screeners they can only investigate transportation-related issues, barring them from seeking evidence of crimes unrelated to air safety.

Airport tests scanners detecting more than threats. As [Bruce] Brenneman stood with his arms over his head with his fingers laced, then straight out and shoulder high, he could see the two machines that could rescue him from such searches in the future — at the immodest price of a virtual look under his clothes.

Computers, Customs, and You. Without a warrant, probable cause or even the faintest suspicion, US Customs and Border Patrol (CBP) may decide to search your computer and all its files, your cell phone, and iPod when you return home from abroad. It offers the usual excuse for eviscerating the Fourth Amendment: "Our ability to inspect what is coming into the United States is central to keeping dangerous people and things from entering the country and harming the American people." Actually, its ability to inspect is harming the American people since Customs' warrantless rummaging sends some victims to prison.

Fast-lane airport security service halted abruptly. Customers of Verified Identity Pass are seeking refunds and protection of their personal information after the company abruptly closed down the service that sped passengers through airport security for an annual fee. VIP said it wasn't able to negotiate a deal with its creditors, and its Clear fast-lane security check service stopped operations late Monday.

Airport security bares all, or does it? Privacy advocates plan to call on the U.S. Department of Homeland Security to suspend use of "whole-body imaging," the airport security technology that critics say performs "a virtual strip search" and produces "naked" pictures of passengers, CNN has learned.

Security my butt. If the airline security crackdown on shampoo bottles and toothpaste makes you feel safer about flying, a new airport scanner that will drop your drawers for Big Brother ought to bring bliss in the friendly skies. The federal agency responsible for airline security in this country wants to equip Canadian airports with so-called whole-body scanners that see through clothing, exposing travellers in the buff to screening officers. Forget about emptying your pockets of change and other metal objects. Airport security is about to provide the naked truth.

Homeland Security to scan fingerprints of travellers exiting the US. The US Department of Homeland Security is set to kickstart a controversial new pilot to scan the fingerprints of travellers departing the United States. From June, US Customs and Border Patrol w ill take a fingerprint scan of international travellers exiting the United States from Detroit, while the US Transport Security Administration will take fingerprint scans of international travellers exiting the United States from Atlanta.

The View From Gate 14: America is in line at the airport. America has its shoes off, is carrying a rubberized bin, is going through a magnetometer. America is worried there is fungus on the floor after a million stockinged feet have walked on it. But America knows not to ask. America is guilty until proved innocent, and no one wants to draw undue attention. … All the frisking, beeping and patting down is demoralizing to our society. It breeds resentment, encourages a sense that the normal are not in control, that common sense is yesterday.

Abuse of Government Power. I never believed that American women, and the men who purport to protect them from abuse and humiliation, would passively accept the physical pawing and groping that is taking place in America's airports under the watchful eye of the United States Government. Before you start to tell me that it is better to be safe than sorry, let me say this: We can be a lot safer than we are right now without exposing women in this country to meaningless groping under the guise of security — conducted by a workforce that has already adequately demonstrated that it can't be trusted to put its hands inside your luggage, much less your grandmother's underwear.
Why do people put up with this treatment just to board an airplane?
Michael Yon on Misguided Airport Security. Michael Yon has an excellent piece called Border Bullies about a female friend of his, a Thai woman, who was excessively bullied — and then some — by Homeland Security officials at the airport in Minneapolis. Yon, who just returned "from Afghanistan and Iraq on a trip with U.S. Secretary of Defense Robert Gates," writes of that his friend's experience illustrates how misguided DHS is at airports.

Border Bullies: Knowing that Homeland Security officers are creating animosity and anxiety at our borders does not make me feel safer. How many truly bad guys slip by while U.S. officers stand in small rooms and pick on little women?

The Airport Security Follies: In the end, I'm not sure which is more troubling, the inanity of the existing regulations, or the average American's acceptance of them and willingness to be humiliated. These wasteful and tedious protocols have solidified into what appears to be indefinite policy, with little or no opposition. There ought to be a tide of protest rising up against this mania. Where is it? At its loudest, the voice of the traveling public is one of grumbled resignation. The op-ed pages are silent, the pundits have nothing meaningful to say.

Flying Without ID? Know What's in Your Files. Fliers who find themselves attempting to fly without identification should prep themselves on what their old addresses were, when their wedding anniversary is and and their children's addresses. Knowing those and other bits of personal information in public records will be key to convincing federal employees to let you past the x-ray machines onto your plane. That's because under new rules from the Transportation Security Administration, travelers who try to fly without identification now have to do more than just let screeners paw through their bags and wand them up and down.

Excellent If Cattle Flew: This week I flew to Florida and back to give a speech and got another up-close look at how well the Transportation Security Administration is running the show. And it's clear that no one jokes about TSA screeners frisking grandma anymore, not because it isn't still happening, but rather because it's not even darkly funny anymore. … [It was like] East Germany in 1960.

She follows up with this:
That's no way to treat a lady. I experienced the search not only as an invasion of privacy, which it was, but as a denial or lowering of that delicate thing, dignity. The dignity of a woman, of a lady, of a person with a right not to be manhandled or to be, or to feel, molested. Is this quaint, this claiming of such a right? Is it impossibly old-fashioned? I think it's just basic. There aren't many middle-aged women who fly who haven't experienced something very much like what I've described.

Stewardess' Grope Gripe vs. Newark Feds. A veteran flight attendant claims she was groped and poked by a female Transportation Security Administration security officer at a Newark Airport gate — and now she wants the feds to pay. Victoria Coulter, a 30-year vet at American Airlines, said the inspection by Patricia Lamb was "physically invasive, abusive and harassing," according to court papers.

Tulsa passengers try out TSA's full-body scanners. The 35-year reign of airport metal detectors began its slow descent this week in Tulsa, where for the first time some passengers are skipping metal detectors. People are instead being screened in a 9-foot-high portal with glass shields that rotate to produce vivid pictures of what is underneath passengers' clothing.

Melbourne Airport scanners 'will show private parts'. Domestic travellers leaving Melbourne Airport over the next six weeks will be asked to test new security scanners that can see through clothing. Transport security authorities are trialling the new "X-ray backscatter" body scanner, which has been described by critics as a "virtual strip search".

Nothing sexy about nude scans. Airline passengers barely blinked at using a new security scanning system this week that essentially lets guards peer beneath their clothes, a spokeswoman for Amsterdam's airport said Wednesday. "People figure, if this is going to let me get through the lines quicker, then I'll do it," spokeswoman Miriam Snoerwang said.

You will submit, or you won't fly.
Airport Scanners Now Peer Beneath Clothing. Airports in New York and Los Angeles have become the latest equipped with body scanners that allow security screeners to peer beneath a passenger's clothing to detect concealed weapons. The machines, which are about the size of a revolving door, use low-energy electromagnetic waves to produce a computerized image of a traveler's entire body. Passengers step in and lift their arms. The scans only take a minute, and Transportation Security Administration officials say the procedure is less invasive than a physical frisk for knives, bombs, or guns.

Bullies at the Airport. If you traveled by air … for the Thanksgiving holiday, you undoubtedly witnessed Transportation Security Administration agents conducting aggressive searches of some passengers. A new TSA policy begun in September calls for invasive and humiliating searches of random passengers; in some instances crude pat-downs have taken place in full public view. Some female travelers quite understandably have burst into tears upon being groped, and one can only imagine the lawsuits if TSA were a private company. But TSA is not private, TSA is a federal agency — and therefore totally unaccountable to the American people.

[After reading the article above, take a moment to read the dictionary definition of "terrorism" at the top of this page.]

A New Form of Homegrown Terrorism: The plan to subject air travelers to the indignity of having their uncovered bodies peered at by airport screeners in the quest to find explosives hidden away under clothing is nothing short of insanity.

Smile, you're on millimeter wave camera. The Transportation Security Administration has purchased a dozen cameras that use millimeter wave technology and sophisticated algorithms to screen crowds of rapidly moving travelers for weapons from up to 20 meters away. The SPO threat detection system made by QinetiQ measures waves "naturally emitted by the human body," exposing "cold" objects such as metal, plastic, or ceramics concealed under clothing. A red light on the system's display alerts the operator if you're packing, so there's no need to rely on interpreting images on a screen. It also means no one is ogling your naked body, which was one of the objections when similar technology was deployed at Phoenix Sky Harbor Airport last October.

Jihad undoes gel-filled bras. Millions of people will now be inconvenienced and discomforted at airports and on flights around the world, in perpetuity. … Birmingham Airport in England has banned passengers from boarding with gel-filled bras. … I feel safer knowing that unusually curvaceous women are being subject to extra security screening. So gel-filled bras are out, and presumably in another year or two we'll be preventing gel-filled breasts from boarding. This is where we came in five years ago.

Why I Avoid Airports: One of the consequences of 9/11 has been the across-the-board federalization of airport security. Security checkpoints have practically become owned subsidiaries of the federal government. The people working in them have a lot of leeway to do as they please. Vastly more than they should have, under any circumstances.

Airport security plans called 'disgusting'. Norway's Data Inspectorate, charged with protecting Norwegians' right to privacy, has branded plans to use revealing new airport security scans as "disgusting." Georg Apenes, director of the inspectorate known as Datatilsynet, told newspaper Aftenposten on Monday [11/12/2007] that the revealing scans are "an affront to one's decency."

TSA: Turbans don't have to be removed. Air passengers will no longer have to remove bulky headwear such as turbans at screening checkpoints if doing so makes them uncomfortable. A revised federal guideline, effective Oct. 27, gives airport screeners the option to pat down headwear at the metal detector if a passenger does not want to remove it for personal reasons.

The Editor says...
What if it makes me "uncomfortable" to take off my shoes?

New full-body scan at airports could replace walk-through metal detectors. The federal government will begin testing a body-scanning machine that could eventually be used instead of the metal detectors passengers walk through at airports. Tests were scheduled to begin Thursday [10/11/2007] at Phoenix Sky Harbor International Airport with passengers pulled out of the security line for secondary screening.

If New Scanner Gets TSA's Blessing, Travelers Can Keep Their Shoes On. A government lab is testing a "very promising" new machine that would allow airline passengers to keep their shoes on while going through security checkpoints, the nation's aviation security chief said Thursday [5/18/2006].

"This Is Not Right". Cecilia Beaman is a 57-year-old grandmother, a principal at Pacific Middle School in Des Moines, and as of Sunday is also a suspected terrorist. … She says screeners refused to give her paperwork or documentation of her violation, documentation of the pending fine, or a copy of the photograph of the knife. "They said 'no' and they said it's a national security issue. And I said what about my constitutional rights? And they said 'not at this point ... you don't have any'."

Same story:
TSA to 57-year-old grandma: "At this point you don't have any [constitutional rights]". Cecilia Beaman is a 57-year-old grandmother, a principal at Pacific Middle School in Des Moines, and as of Sunday [5/29/2005] is also a suspected terrorist.

I No Longer Understand My Country. Where are the men in this country who perceive that the elaborate security measures at the nation's airports cannot accomplish more than to shift the burden of death to some other Americans at some other time and place, and who understand that this lifeboat philosophy — don't take me, take some other American — is both unchristian and conduct unbecoming a man?

A nation of sheeple. The anti-smoking movement might be the beginning of the softening up process. They started out calling for reasonable actions like no-smoking sections on airplanes. Then it progressed to no smoking on airplanes altogether, then private establishments such as restaurants and businesses. … Americans sheepishly accepted all sorts of Transportation Security Administration nonsense. In the name of security, we've allowed fingernail clippers, eyeglass screwdrivers and toy soldiers to be taken from us prior to boarding a plane.

SFPD Officer Accused of Using Airport Cameras to Ogle Women. A police officer is facing possible disciplinary action for allegedly using surveillance cameras at San Francisco International Airport to ogle women as they walked through the terminal, according to San Francisco Police Commission documents.

Some Women Objecting to Airport Searches. Women across the nation say the patdowns go too far. Some are so angry that they have stopped flying altogether. Sommer Gentry, a Massachusetts Institute of Technology graduate student who commutes twice a month from her home in Baltimore, said she now takes Amtrak, rather than submit herself to the intrusive airport search. Gentry said she has had several upsetting encounters with the screeners, and calls the way she was touched "humiliating and deeply offensive." "I will go to great lengths to avoid flying now, because patdowns make me feel dirty and ashamed," she said. "It just gets worse every time. Now I'm afraid."

Editor's Note: If the general public puts up with this treatment at the airport, it won't be long before we're all throroughly searched and xrayed when we show up for jury duty, or when we enter any federal building.

Update: Amtrak is not a refuge from warrantless searches.
Amtrak conducts major East Coast security search. Amtrak, with other transit agencies and dozens of law enforcement groups, conducted a broad security crackdown Wednesday [9/9/2009] that included random bag searches at train stations along the East Coast including Union Station. Amtrak conducted the major show of force at train stations in Virginia, Maryland and as far as Vermont just two days before the anniversary of the Sept. 11 terrorist attacks.

Losing the War for Civil Liberties: It used to be that Americans packed for air travel with a mental checklist of personal items needed for their holiday or business engagement: which clothes to bring, shoes, cameras, etc. Today, however, in the backwash of the Sept. 11 attacks on the U.S. mainland, a new and more detailed (often ridiculous) list of concerns must be considered.

Do You Fear the Terminal More Than the Flight? So all in all, it was a good day for me at the airport — I wasn't required to stand in line for very long, I didn't set off the magnetometer, my carry-on bag wasn't hand-searched, I wasn't required to remove my shoes and or flip over my belt buckle, and I wasn't patted down. But best of all, I wasn't selected for the "random" search at the gate where a search team dumps the contents of your carry-on bags on a table, requires you to assume the same position that police officers require of suspected felons after an arrest, and be "wanded" and or patted down by the "random selection security police." Having been excused from the potential security frustrations that plagued other passengers in the terminal, I was better able to withstand the food deprivation on my transcontinental flight.

Due Process Vanishes in Thin Air. Asif Iqbal, a Rochester, New York, management consultant, must get FBI clearance every Monday and Thursday when he flies to and from Syracuse for business. Iqbal can't get off a government watch list because he shares the same name as a suspected terrorist. But Asif Iqbal, the suspected terrorist, is eight years younger than his Rochester namesake. What's more, the suspected terrorist Iqbal has been in U.S. custody at the U.S. naval base in Guantanamo Bay, Cuba, since January 2002 when he was captured in Afghanistan.

Walter Williams leads the rebellion against Airport safety regulations: Secretary of Transportation Norman Y. Mineta — Czar Norman — has ordered new, ill-thought-out, oppressive airline regulations in the wake of recent terrorist attacks. Among them: a ban on knives — plastic or steel — anywhere in the airport and on airplanes, even in kitchens, no curbside check-in, restricted carry-on luggage, no visitors beyond security checkpoints and who knows what else.

Airport forces girl to remove fake limb. Australia's tallest female basketball player says she was humiliated when forced to prove her right leg was a prosthesis in front of dozens of other horrified airline passengers.

Plan to snoop on fliers takes intrusion to new heights: The government now is proposing to take screening to an unprecedented level of intrusiveness: rifling through extensive commercial and government data on all air travelers without their knowledge or permission and using the information to assign each flier a security-risk ranking.

Rebellion at the Airport: I led a revolt against airport security yesterday. They've had it coming. I'll wait longer in line in order to keep the airplane safe. I'll submit to having my less than fresh boxer briefs fluffed on the return trip by someone named Delbert who couldn't spot a shank if it was stuck in his porkchop gut. I'll have my luggage x-rayed, my belt buckle checked and re-checked by unusually interested minimum-wage rent-a-cops, my children patted down while swarthy young men named Mohammed board unmolested.

Great-Grandmother Strip-Searched at Airport: The daughters of an 80-year-old great-grandmother said Tuesday [7/2/2002] that their mother was strip-searched at Gerald R. Ford International Airport after her knee replacement set off metal detectors.

Something in the air at Bush? With several puffs, a new device at the airport screens travelers for explosives.

Making Citizens the Enemy: Seasoned travelers have concluded that the real purpose of U.S. airport "security" is to establish a precedent for unreasonable and warrantless searches. By making citizens the enemy, the suspension of civil liberties that is imposed on air travelers can be extended to pedestrians, motorists, and people in their homes and hotel rooms. Terrorists can endanger some of us, but the war on terror endangers us all. How much more can the Constitution be diminished before it is completely replaced by arbitrary government power?

A U.S. Police State? I've experienced my share of hassles with incompetent, power-intoxicated airline screeners. But this experience really frightened me. It heralded the very real specter of a police state in America, something I would have thought impossible less than a year ago.



---
Airport Security: Groping for Guidelines

(CNSNews.com) - At the airport, when does a "screening" become a grope? A growing number of women say they know a grope when they get one, and they're taking their complaints to the Federal Aviation Administration. According to press reports, dozens of women accuse male security screeners of improperly touching them in the course of random body searches, or "pat downs." Under current policy, female travelers may ask for a female screener to perform the pat-down, but federal law does not require airlines to provide a same-sex screener for that purpose. After the recent flurry of complaints, that may change, however. Right now, the FAA is sending the complaints to the individual airlines, which are responsible for disciplinary measures involving screeners.
---

National Guardsman orders reporter to destroy photos at L.A. airport: R.V. Scheide, a long-time free-lancer for the Sacramento News & Review, was questioned by the California National Guard, FBI and Los Angeles Police Department, and held for three hours at Los Angeles International Airport (LAX) on October 12.

Back to the Airline Insanity Page.
Back to the Home page