Introduction:
Two bombs were detonated at the finish line of the Boston Marathon on April 15, 2013. Of the two prime suspects, one was killed in a shootout and the other was captured after an intensive manhunt. This, in my opinion, is just another in a long series of Islamic terrorist attacks which have been reported as "isolated incidents" by the mainstream media.
One peculiar aspect of this story was the confusion and conflicting information dispensed by the national news media. Much of it comes from the news media's natural tendency to blame everyone but the Muslims for a roadside bomb. I have no doubt that if airliners fly into New York office buildings again next week, the news "reporters" will be stupefied about "who could do something like this?" and so on. Please note that these articles are presented in roughly chronological order, so the newest material is at the bottom of this page.
---
Boston Police uniforms stolen ahead of marathon; FBI, Massachusetts cops offering $5K reward for suspects. The FBI has joined Massachusetts law enforcement agencies in investigating the theft of Boston Police Department uniforms, which were stolen from a Weymouth business, just weeks before the city's annual marathon is set to kick off. Friday [4/15/2022] marked nine years since the Boston Marathon Bombing of 2013, when three people were killed and more than 260 were hurt. Ahead of Monday's 126th Boston Marathon, Boston Police Superintendent-In-Chief Greg Long is urging attendees not to hesitate to report someone acting suspicious, even if they are dressed in a uniform. The Weymouth Police Department announced earlier this week that it was working with the FBI in investigating the theft of several Boston Police Department uniforms that were stolen from a local uniform supply store.
Liberalism's Impact on Abhorrent Behavior. Even in instances of terror like the Boston bombing, Fort Hood shooting, Pulse nightclub shooting, and the Charleston church shooting can one find liberalism's politically correct philosophy. If people want to know why "See Something, Say Something" hasn't been successful, they should analyze the impact of political correctness on our justice and education systems. Even when people's gut tells them that something isn't right, liberalism's shadow lurks overhead — ready to call them out as a bigot simply for reporting suspicious behavior. The FBI under Obama's liberal bent was ordered to look the other way when the system was blinking red on Army Lieutenant Nidal Hasan, Omar Mateen, the Tsarnaev brothers, Syed Rizwan Farook and Tashfeen Malik.
The FBI Record on Fighting Terrorism.. [Scroll down] Many Americans assume, however, that at least in the area of Islamic terrorism, the FBI has kept Americans largely safe. Not so fast. The record doesn't quite show that. In fact, the agency has blundered many terrorism investigations and thus jeopardized the security of Americans. [... For example,] In 2013, the Tsarnaev brothers bombed the Boston Marathon, killing three people and injuring hundreds more. Russian intelligence warned the FBI about Tamerlan Tsarnaev and the agency even interviewed him, but it appears the FBI determined that Russia's intelligence was not accurate. Until the bombs went off.
The IRS, the NSA, and Obama's Dirty Tricks. [Scroll down] The NSA collection of data also has a political motivation. Since the NSA is clearly violating the Fourth Amendment and the Patriot Act, the information they are gathering cannot be used in court. It would be very difficult for the government to prosecute a terrorist — and Obama wants terrorists prosecuted in criminal court — if the information they obtained violated their rights. Proof of this is the fact that Obama wanted the Boston bomber to be given a lawyer and Miranda rights. So the investigation of the Boston bombing case — an investigation likely to yield important information about the terrorist network in the U.S. — was stopped by none other than the president, who claimed the NSA wiretapping is necessary only for national security.
CNN National Security Analyst Warns Of 'Right-Wing Extremists' Behind Boston Bombings. CNN national security analyst Peter Bergen told host Jake Tapper on Monday [4/15/2013] that the explosions in Boston could be the work of Al Qaeda terrorists as much as they could be part of a planned assault by "right-wing extremists." Bergen said he was reminded of the Oklahoma City bombing, and that terrorism on the right could not be ruled out.
NBC Reporter Luke Russert Speculates On Boston Explosions' Link To 1993 Waco Siege. In light of the explosions that have rocked Boston on Patriots' Day, during the city's annual marathon, NBC reporter Luke Russert took to Twitter to speculate that today's horrific events could possibly be related to the 1993 government siege on the Branch Davidian compound in Waco, Texas — an incident often attached to conversations about "right-wing terrorism" and anti-government violence.
Chris Matthews, Democratic congressman suggest Tax Day tie to Boston attacks. During MSNBC's coverage of the Boston Marathon explosion, "Hardall" [sic] host Chris Matthews and Democratic Massachusetts Rep. William Keating speculated on what may have motivated the bombing. Keating pointed out that it could be related to Tax Day. "Now, we have an international event, the marathon, the oldest marathon," Keating said. "And we also have Tax Day, April 15, so we don't know if that's the kind of symbol a domestic terrorist might use as well. [...]"
A week later, there were only three known devices.
Boston Marathon bomber planted seven devices but only two went off. Police confirmed that at least three people lost their lives in today's deadly Boston Marathon terror attack as counter-terrorism sources in the city revealed that seven devices were planted across the city — but only two detonated.
The Embarrassment That Is CNN Situation Room's Coverage Of Boston. Wolf Blitzer took to the airwaves at 5pm Eastern time, about two hours after the twin bombings near the finish line of the Boston Marathon. Wolf brought on CNN contributor Tom Fuentes, who didn't want to 'speculate' as to whether this was terrorism, but that if it was, certainly there are a lot of domestic terrorist groups like white supremacists and/or the Aryan Brotherhood.
Obama: 'People shouldn't jump to conclusions' about Boston Marathon bombing. "We still do not know who did this or why and people shouldn't jump to conclusions before they have all the facts," Obama told reporters during a statement from the White House. "Any responsible individuals, any responsible groups, will feel the full weight of justice," he added.
The Editor says...
Really? The way the Fort Hood bomber is feeling "the full weight of justice," after you downgraded his crime to "workplace violence," Mr. Obama? How many years will it take to apply all that weight to the suspect in the Boston bombing, or in the case of Fort Hood? Will each of the suspects spend 30 years on death row at our expense?
Authorities ID suspect as Saudi national in marathon bombings, under guard at Boston hospital. Investigators have a suspect — a Saudi Arabian national — in the horrific Boston Marathon bombings, The Post has learned. Law enforcement sources said the 20-year-old suspect was under guard at an undisclosed Boston hospital. Fox News reported that the suspect suffered severe burns.
FBI grills Saudi man in Boston bombings. Police took a 20-year-old Saudi national into custody near the scene of yesterday's horrific Boston Marathon bomb attack, law-enforcement sources told The [New York] Post.
Boston Marathon Bombing Called 'a Madrid-Style Event'. Watching the images of Monday's Boston Marathon bombing on CNN International and the BBC, former FBI counterterrorism investigator Mark Rossini thought he noticed a disquieting connection. "This has the hallmarks of a Madrid-style event in many respects," Rossini told The Daily Beast from Paris, where he was visiting on business for his private security consulting firm. "We don't know who the bombers are, but I assume it was more than one. It's just my gut that there might have been two people involved. And allegedly, a third device has been found."
CBS: Saudi Man In Custody Was Tackled By Bystanders At Boston Marathon. The Saudi Arabian man who is reportedly in police custody following the Boston Marathon bombing was chased and tackled by bystanders shortly after the blast, according to CBS.
CBS: Saudi man in custody was tackled by bystanders. "A civilian who thought he was acting suspiciously chased him down and tackled him and then turned him over to Boston police, saying, I saw this guy hanging around over there acting suspiciously. And then he ran. That may mean a lot, it may mean nothing at all."
FBI Refuses To Call Boston Marathon Bombing A Terror Attack. But it has the "potential" to be a terror investigation. [Video clip]
'Suspicious driver' leads police, FBI to home in Revere, Mass.. An apartment in Revere, Mass. is currently swarming with police. An unnamed law enforcement source told WFXT-TV that the heavy police presence is related Monday's Boston Marathon bombings. The source said police pulled over a suspicious driver who drove past the State Police barracks a number of times after the bombings. The driver reportedly was displaying a "nervous demeanor."
Boston marathon bombs were pressure cooker IEDs packed with ball-bearings. The two bombs that killed three people and injured at least 176 at the Boston Marathon on Monday were made from six-liter pressure cookers crammed with shards of metal, nails and ball bearings and stashed in black backpacks, police sources revealed today. The cruelly-designed bombs have 'frequently' been used in Afghanistan, India, Nepal and Pakistan, according to a 2010 Homeland Security Department pamphlet — hinting at the origins of the bombers behind the worst terrorist atrocity in the U.S. since 9/11.
The Editor says...
The worst attack since 9/11/2011? Really? There were 13 people killed and 28 were wounded at Fort Hood.
Flashback: Obama Declares "War On Terror" Is Over. Ft. Hood and now Boston, two terror attacks on U.S. soil under Obama's watch.
The Editor says...
The writer of the article immediately above seems to have forgotten about
American Airlines Flight 1561 5/8/2011
Times Square 5/1/2010
Northwest Flight 253 12/25/2009
Little Rock military recruiting center 6/1/2009
Salt Lake City shopping mall 2/12/2007
Chapel Hill, North Carolina 3/3/2006
as well as several other attempted acts of terrorism, most of which were set up as government sting operations.
The FBI knows the motive as well as you and I do. The motive is world domination by Islam.
FBI, Boston police say range of suspects, motives remains 'wide open'. "At this time there are no claims of responsibility," FBI officials said in a press conference Tuesday [4/16/2013]. "The range of suspects and motives remains wide open." New details are slowly emerging in the attack, which killed three and injured at least 176.
Saudi King to Obama: Boston Bombers Belonged to 'No Religion at All'. Saudi King Abdullah reached out to President Obama to express condolences for the Boston Marathon bombings and say that the attackers had "no religion," according to the Saudi Press Agency.
The Editor says...
This means that either the Saudi King knows the bombers and their religious preferences, or the king is trying to quickly and preemptively isolate Islam from the incident. EIther way, it stinks.
Benghazi, Boston, Bill Ayers all terrorism. President Obama's consistent reluctance to call violent acts of terrorism "terrorism" is becoming increasingly more disturbing, with him taking a full day to refer to the Boston bombing as an "act of terror." Yet the consistency of his blatant denial of the truth is becoming less perplexing, as repetition tends to reveal the strategy. His Homeland Security Department has yet to issue any sort of security alert, despite the obvious activity by security personnel in Washington, D.C., New York and elsewhere that may be considered a potential or likely target after yesterday's attack in Boston.
GOP Rep. Peter King On Boston Bombing: "We Need More Cameras". ["]So yes, I do favor more cameras. They're a great law enforcement method and device. And again, it keeps us ahead of the terrorists, who are constantly trying to kill us.["]
Boston Bombing: The 'Who,' Not the 'Why'. Make no mistake about it, yesterday's bombing in Boston was a cowardly terrorist act. We don't know yet who is responsible; all we know is that someone, or some group, targeted innocent civilians at an iconic American sporting event. Without getting into complex discussions about definitions, this is terrorism, plain and simple.
Injured Saudi is a witness, not a suspect, in Boston bombing. U.S. law enforcement officials said Tuesday [4/16/2013] that a Saudi national injured in the Boston Marathon bombing is regarded as a witness, not a suspect. The Saudi, who is recuperating at a Boston hospital, is in his 20s and is in the United States on a Saudi scholarship to study at a university in the Boston area.
Peter Bergen: Who's a 'Terrorism Expert'? In the aftermath of Monday's horrific events at the Boston Marathon, only one thing is certain — for the next week or so, our television screens will be filled with a creature known as the "terrorism expert." But what exactly is a "terrorism expert" and what qualifies one to be one?
Axelrod: Obama Thinks Boston Bombings Could Be Related to 'Tax Day'. In explaining why President Obama didn't call the Boston bombings a "terrorist attack," former adviser David Axelrod said, "I'm sure what was going through the president's mind is — we really don't know who did this — it was tax day": [Video clip]
Al-Qaeda Propagandist Called for Attacks on Sports Events. Although no group has claimed responsibility for Monday's deadly bomb blasts at the Boston Marathon, a leading al-Qaeda ideologue last year recommended that jihadists in America include sporting events in their list of prospective terror targets. Writing in the online magazine of Al-Qaeda in the Arabian Peninsula (AQAP), Inspire, the terrorist known as Abu Musab al-Suri listed what he called "the most important enemy targets."
NY Times Columnist Nicholas Kristof Points Finger At Senate GOP In Wake Of Boston Explosions, Takes It Back. In the immediate aftermath of the multiple explosions that rocked the Copley Square area of Boston during this afternoon's marathon, New York Times columnist Nicholas Kristof took to Twitter to say that the tragic events are a "reminder" of how Senate Republicans blocked the appointment of a new director for the Bureau of Alcohol, Tobacco, Firearms and Explosives (ATF).
Why [the] Boston Bombings Might Be Scarier Than 9/11. You might say it's unfair to compare Boston's relatively low death toll to 9/11 and Oklahoma City, much less to the thousands of casualties in Iraq and Afghanistan, as well as the daily total of gun deaths on U.S. streets. But the Boston attack is notable not for the number of deaths, but for its social significance. It's one thing — a dastardly, evil thing — to strike symbols of economic and military power. It's another to hit the heart of America.
Media: 'This is no time to speculate' — so, of course, they do. How many times did we hear reporters on the cable nets caution everyone about speculating regarding the perpetrators of the deadly attacks yesterday at the Boston Marathon? About as often as they proceeded to give their listeners the idea that it was "right wing extremists" who were behind the bombing.
A growing sense that we're not getting the truth about Boston bombing. Andrew McCarthy of PJM notes that "Misinformation rather than enlightenment has been the order of the day in the investigation of Monday's terrorist bombing of the Boston Marathon," and that part of it is the natural outgrowth of the desire of investigators to keep the details of their investigations secret, so as not to alert suspects. In these circumstances, the media, hungry for something to say in their wall-to-wall coverage, press law enforcement sources, to whom they offer anonymity, for information. In the circumstances, misinformation is almost certain to get reported. But there is something else at work: a taboo, widespread in the MSM and government, on suspecting jihadists.
The Editor says...
As I understand it, the Saudi national is being deported, but has not yet been deported. This case is starting to sound like the Benghazi scandal.
Report: Benghazi Whistleblowers Set to Talk. For months, Republican members of Congress have complained about lack of access to the survivors of the Benghazi attacks, and the Obama administration has been anything but forthcoming on their location and when Republicans will have the opportunity to question those witnesses.
Calling a Spade a Spade in Boston. One of the curious, but also most predictable, responses to the Boston Marathon bombings from the Left has been the fervent expression — amounting nearly to a prayer — that the perpetrator or perpetrators of this act of mass murder be "homegrown," preferably white, male, Christian, and conservative.
Saudi National Deportation: American People Must Demand the Full Story. On "Hannity" Wednesday night [4/17/2013], Steve Emerson broke the shocking news that a Saudi national, Abdul al-Harbi, who was first questioned in the Boston bombing, is going to be deported on "national security grounds." A devout Muslim from Medina, anti-Jihad activist and blogger Walid Shoebat reports that he is a scion of a very powerful Saudi family with terrorist ties. When al-Harbi was first questioned over his possible involvement in the Boston Marathon bombings, it raised the possibility of jihad in Boston. But then, law enforcement started a succession of extraordinary and inexplicable actions.
Saudi Shenanigans in Boston and D.C. Abdulrahman Ali Alharbi, a Saudi student who was behaving suspiciously near the bombing site, was briefly treated as a suspect and then as a person of interest. His apartment was searched and law enforcement officers carried out large bags from it. Now there are reports that he is being deported on national security grounds. During this period, Secretary of State Kerry's meeting with the Saudi Foreign Minister suddenly went from being open to the press to closed to the press.
Napolitano: Deportation of Saudi national is a 'rumor'. Homeland Security Secretary Janet Napolitano reacted with incredulous frustration at questions presuming the Saudi national who was detained following the Boston Marathon bombing is set to be deported. "I am unaware of anyone who is being deported for national security concerns at all related to Boston. I don't know where that rumor came from," Napolitano said, when questioned by South Carolina Republican Rep. Jeff Duncan about reports of the Saudi national's deportation during a House hearing Thursday [4/18/2013].
Napolitano: The Drudge Report is not credible. During a House hearing this morning [4/18/2013], Homeland Security Secretary Janet Napolitano criticized the Drudge Report for highlighting stories about the department's purchases of ammunition and MRAP (mine-resistant, ambush protected) vehicles. Rep. Jeff Duncan, R-S.C., questioned Napolitano about the reports from Forbes magazine and other stories linked on the Drudge Report.
Surprise, surprise — Muslim terrorists, again. Despite the collective hopes of the Big Media and government at all levels, the perps in the Boston Marathon bombings turned out to be ... Muslims. It's almost impossible to list all those who speculated and conjectured that this was the work of "right-wing extremists." It would even be more difficult to chronicle all the wishful-thinkers who hoped and wished out loud that the terrorists would be "white guys." What is the psychology that drives people to think in these terms?
Open immigration invites terrorism, again. Sen. Chuck Schumer of New York and other guardians of political correctness have declared a taboo against linking the two jihadist Muslim terrorists in Boston to our failed immigration policies. Two young Muslim immigrants have been identified as the culprits behind the Boston Marathon slaughter. Using homemade "backpack" bombs constructed on the models in al-Qaida training manuals, they killed three people, maimed a dozen others and injured over 170.
Exploiting the Boston massacre. One prominent Democrat suggested the bombers could have been evil Republicans frustrated by high taxes and their inability to persuade President Obama to live up to his promises to cut spending. David Axelrod, the top adviser to the Obama campaign last year, tried to explain why the president insisted on extending his civility campaign to terrorists, and was so reluctant on the first day to call the massacre the work of terrorists. "I'm sure what was going through the president's mind," Mr. Axelrod said, "is we really don't know who did this [but] it was Tax Day."
Media outlets can't get their stories straight. Here is what we know thus far: The cops have photos of one of the suspects, or two. The suspect(s) may be either "dark-skinned" (CNN) or "white" (CBS). They were carrying backpacks, or maybe bags. The backpacks, or bags, were black, unless they were blue. The bombs were detonated by control boards, unless it was cellphones, unless it was egg timers. Yesterday's [4/17/2013] press conference was supposed to take place at 5, until it was supposed to take place at 8, until it was canceled.
"Innocent" Saudi has ties to several Al-Qaeda Terrorists. After the bombings, a Saudi by the name of Abdul Rahman Ali Al-Harbi was hospitalized and became a 'suspect', then a 'person of interest'. His apartment was searched by federal and local authorities. No confirmation has been given so far to his involvement. The Media were quick to claim his innocence, of course. This brings us to the Boston marathon bombings. Foreign Policy is reporting that he's 'no longer a person of interest', which means he's "innocent", right?
Saudi national no longer 'person of interest' in Boston bombings, no other suspects. The Saudi national injured during the bomb attacks at the Boston Marathon Monday has been cleared and is no longer even a person of interest, intelligence officials told lawmakers Tuesday [4/16/2013].
Saudi National & Exchange Student Ali Alharbi Is Being Deported Back to Kingdom. On Tuesday [4/16/2013], the day following the Boston Marathon bombing, Boston officials detained Saudi national Abdulrahman Ali Alharbi a 20 year-old exchange student. He is believed to have entered the country on a student visa. Late yesterday Abdulrahman was cleared by federal officials in the Boston bombing.
Obama has an unscheduled meeting with Syria's foreign minister, and immediately thereafter a "person of interest" is scheduled to be deported.
Obama meets with Saudi foreign minister, discusses Syria. U.S. President Barack Obama met with Saudi Foreign Minister Prince Saud al-Faisal at the White House on Wednesday [4/17/2013] and discussed the conflict in Syria, a spokeswoman said. The meeting was not on Obama's public schedule.
Saudi Bombing Suspect: "If Today Really Was the Last Day, How Would You Spend It?". Unnamed law enforcement officials are saying that the Saudi they have in custody is a witness, not a suspect, but reports are that he was stopped at the scene while acting suspiciously and the same source that calls him a witness, also says that a search was conducted of his apartment. If you're searching an apartment, then the man in question is or was a suspect.
NPR: Hitler's Birthday Might Have Motivated Right to Bomb Boston Marathon. What a beautiful racket the left has going. Those of us who dare not be liberal are literally paying, through our tax dollars, for NPR to smear us like this.
"Innocent" Saudi spotted with two other Saudis at Marathon? A Saudi national named Abdul Rahman Ali Alharbi — who has six relatives belonging to Al Qaeda and five that were detained at Gitmo — was injured at the scene of terrorist bombings at the Boston marathon. The bombings had certain characteristics that indicate they were the work of Al Qaeda. Now we have a photo(s) of what very well could be three Saudis, to include at least one who resembles Alharbi at the scene of the bombings. And Alharbi went from 'person of interest' to completely innocent in less than 24 hours? Smell coverup yet?
What Does It Smell Like to You? If the conduct of our executive branch wasn't treasonous before, during, and after Benghazi, maybe this will qualify: errorism expert Steven Emerson just dropped the bombshell on Hannity that Abdul Rahman Ali Alharbi has been deported to Saudi Arabia for reasons of "national security."
Steve Emerson: Saudi national questioned in Boston Marathon bombings to be deported on national security grounds next week. Steve Emerson just said on Hannity that a senior official in the agency that is conducting the deportation that Abdul Rahman Ali Al-Harbi, the Saudi national who was detained in the wake of the Boston Marathon bombings and then was declared a "witness, not a suspect" after his home was searched, is going to be deported next Tuesday [4/23/2013] on national security grounds. Why deported and not prosecuted? To keep our "allies" the Saudis happy.
Janet Napolitano responds to report of deportation for former 'person of interest': 'Not worthy of an answer'. She did not actually say he was not being deported. She didn't answer the question at all.
Saudi "person of interest" to be deported on national security grounds — more evidence of coverup. The plot thickens.
Terrorism Expert: Saudi National Questioned over Boston Bombs to Be Deported. Steven Emerson of the Investigative Project revealed on Hannity's Wednesday evening cable show that an official at ICE told him the Saudi national first questioned by authorities about the deadly bombings at the Boston Marathon on Monday is set to be deported.
CNN's Amanpour Hoped 'Beyond Hope' the Boston Bombing Suspects Weren't Mideast Muslims. Dave Weigel at Slate reported from an awards dinner Tuesday night [4/16/2013] for the leftish Arab American Instiute about the crowd's discomfort with the notion that the Boston assailants would turn out to "look like them." (That, I think, would mean Middle Eastern and Muslim, although AAI president James Zogby describes himself as a Maronite Catholic.) They tried not to say it out loud, he said, but then CNN's Christiane Amanpour, there to receive an award, said it for them.
Report: 'Boston bomber could have been deported'. One of the brothers suspected of carrying out the terrorist attack on the Boston Marathon faced deportation in 2009 after being convicted of a domestic violence charge but was allowed to stay, according to a government watchdog.
Saudi student hurt in Boston bombing not a suspect, not being deported. A Saudi student questioned in connection to the bombing of the Boston Marathon is not being deported, Homeland Security Secretary Janet Napolitano told a House panel Thursday. "I am unaware of anyone who is being deported for national security concerns at all related to Boston. I don't know where that rumor came from," Napolitano said.
Next for Boston suspect: 5 legal questions. With Dzhokhar Tsarnaev taken alive, the focus now turns to how the Obama administration is going to seek to bring the Boston Marathon bombing suspect to justice. Lawyers have already made one potentially critical decision: he hasn't been read his Miranda rights, at least for now. This means that FBI investigators may have a shot at trying to question him about other potential plots he may be aware of and whether anyone other than his deceased brother was involved in Monday's bombing or Thursday night's [4/18/2013] crime spree.
Is Obama Covering Up Saudi Role In Boston Bombings? Could a Saudi terror cell be behind another major U.S. attack? And could the Saudi government be trying to sink the investigation? After 9/11, the Saudi ambassador demanded the evacuation of dozens of Saudi nationals, including bin Laden kin, before the FBI could properly question them. He got his wish, even though 15 of the 19 hijackers were Saudis and others had ties to the plot. Eerily similar high-level intervention is taking place in the Boston bombings case.
Sorry, Media, No White Tea Partiers Were Involved. There's palpable dismay at outlets such as MSNBC and Salon that the Boston Marathon bombers were radicalized young men from Chechnya and not angry white males from the vast right-wing conspiracy.
Obama Cut Domestic Bomb Prevention Funding By 45%. Yes, it's too early to know if the bombing of the Boston Marathon was an act of foreign or domestic terrorism. But it's worth noting that one of the three devices in the May 2010 Times Square attempted bombing, for which the Pakistani Taliban took credit, was a pressure cooker bomb similar to those used to kill three and injure and maim some 173 others in Boston.
Newspaper caught photoshopping injuries out of Boston Marathon photograph. A US newspaper has admitted that it digitally altered a front-page photograph of a Boston Marathon bombing victim so that the woman's pants covered her horrific leg wounds. The woman's gory wounds had vanished on the large image that wrapped around the New York Daily News on Tuesday [4/16/2013], despite the photograph appearing unedited online and in other publications in the US.
Gun laws do not stop criminals from obtaining guns.
Report: Boston Marathon Bombers Broke Gun Laws to Acquire Weapons. Less than a week after the push by Democrats push for more gun control went down in flames in the Senate, Reuters is reporting the suspected Boston Marathon bombers ignored gun laws that are already on the books in possessing the firearms they used in shootouts with the police.
FBI 'use phone records to identify suspect'. A suspect in the Boston bombings has been caught on CCTV apparently planting the second of the two explosives in what investigators have hailed as a major breakthrough in the case. Video obtained by the FBI shows the suspect placing a bag near the Lord and Taylor department store while talking on a cellphone moments before the twin blasts ripped though the city centre, killing three and injuring more than 180.
Salon: 'Let's hope Boston Marathon bomber is a white American'. The liberal online magazine Salon published an opinion piece Tuesday evening by columnist David Sirota entitled, "Let's hope the Boston Marathon bomber is a white American." Sirota argued that if the perpetrator of Monday's bombing attack, which left at least three people dead, is identified as a Muslim, then conservative Republicans will use the tragedy to block Obama administration policy goals like immigration reform.
The Epic Failure of the Intel Agencies on the Boston Bombing. I find it very disconcerting that thirty-six hours (as of this writing) after the Boston terrorist bombing, law enforcement and counterterrorism officials are running hotlines and calls for "anyone seen with an unusually heavy, dark bag" in the Boston area. A $50,000 reward has been offered for clues leading to the arrest and conviction of the perpetrator. Officials are saying that this case is "wide open." Wide open? Really?
Reminder: Odds are Boston Bomber Is Either Islamic Extremist or Left-Wing Terrorist. Since 9-11 committed Islamists have carried out more than 20,712 successful deadly terror attacks.
Suspected Boston Bomber Dzhokhar Tsarnaev Appears to Be Obama Fan. Several posts on what several news organizations have confirmed as the Twitter profile of accused Boston Marathon bomber Dzhokhar Tsarnaev indicate that that the 19-year-old Chechnyan immigrant was a supporter of Barack Obama in the 2012 presidential election.
Mark Steyn: Media will downplay Boston bomber-Muslim link, same as Ft. Hood, underwear bomber. As it turned out, the suspects Tamerlan Tsarnaev and Dzhokhar Tsarnaev were indeed Muslims, and Steyn, author of "After America: Get Ready for Armageddon," said the media wagon-circling would begin "any moment now."
Allen West: Can we investigate radical Islamic terror now? Former Florida Rep. Allen West issued a scathing statement on his Facebook page Friday [4/19/2013], in response to the ongoing manhunt for one of the suspects in the Boston Marathon bombings. "Let me be very clear. The terrorist attack in Boston and evolving events indicate we have a domestic radical Islamic terror problem in America," he wrote. "No more excuses. No more apologies. We are in a war of ideological wills and we shall prevail."
Tsarnaev the Fraud. Dzhokhar Tsarnaev should be tried by a military commission at Guantanamo Bay rather than in U.S. federal court on charges related to the Boston Marathon bombing. Naturalized American citizenship obtained by fraud is revocable. There is Supreme Court precedent for revoking naturalized citizenship based on swearing a false oath of allegiance.
Is Obama Covering Up Saudi Role In Boston Bombings? Could it be happening again? Could a Saudi terror cell be behind another major U.S. attack? And could the Saudi government be trying to sink the investigation? After 9/11, the Saudi ambassador demanded the evacuation of dozens of Saudi nationals, including bin Laden kin, before the FBI could properly question them. He got his wish, even though 15 of the 19 hijackers were Saudis and others had ties to the plot. Eerily similar high-level intervention is taking place in the Boston bombings case.
The Saudi Saga. A congressional source is now contradicting ICE's official claim that an earlier report from TheBlaze includes "categorically false" information. Documents have been presented to Congress confirming that plans were made to revoke the visa of Abdul Rahman Ali Alharbi, a Saudi national once considered a "person of interest" in the Boston bombings, that source told TheBlaze on Thursday [4/18/2013].
Exclusive: Congressional Source Contradicts ICE Account. Documents have been presented to Congress confirming that plans were made to revoke the visa of Abdul Rahman Ali Alharbi, a Saudi national once considered a "person of interest" in the Boston bombings, a congressional source told TheBlaze on Thursday [4/18/2013]. Other sources, including one at the FBI, previously informed TheBlaze that there have been discussions about deporting Alharbi on "security and related grounds." He has been living in the Boston area and in the U.S. on a student visa. An FBI source said the agency is against deporting Alharbi because of his status as a material witness.
DHS File: Saudi National "Linked to the Boston Bombing". Thursday night Jason Howerton reported at The Blaze that according to his congressional source, documents have indeed been presented to members of Congress confirming that plans were made to revoke the visa of Abdul Rahman Ali Alharbi, a Saudi national once considered a "person of interest" in the Boston bombings.
NBC Nightly News Ignores Boston Bombers Ties To Islam. After the media spent the week praying the Boston Marathon bombers wouldn't have ties to radical Islam, it's now going to be interesting to see how they report the religious beliefs of the Tsarnaev brothers. Failing miserably Friday [4/19/2013] was NBC's Nightly News which despite airing a 90 minute special broadcast on the ensuing manhunt in Watertown, Massachusetts, according to an examination of the closed-caption transcript didn't once mention the Tsarnaev's Muslim connection.
CAIR Lectures US: Boston Jihadis Weren't Influenced By Islam! In the wake of revelations that the Boston Marathon Bombers were engaged in Jihad, or holy war, CAIR held a press conference in Chicago today [4/19/2013] to remind Americans that this has nothing to do with Islam.
Boston suspect will not be read Miranda Rights. A Justice Department official says the Boston Marathon bombing suspect will not be read his Miranda rights because the government is invoking a public safety exception.
Axelrod goes silent after Boston Marathon suspects ID'd as Muslim. Former senior Obama administration advisor David Axelrod has been silent since the Boston Marathon Bombing suspects were positively identified Friday as Muslim immigrants from Chechnya. This reticence is a stark contrast to Axelrod's speculation earlier this week that President Obama has avoided saying the Boston Marathon bombing might be related to "Tax Day."
Yes, Mr. Sirota, There Are White, Muslim Terrorists. When David Sirota hoped the person or people responsible for bombing the Boston Marathon would be a "white American", I asked, "Can't a terrorist be both white and Muslim?" Yes, Mr. Sirota, there are white, Muslim terrorists. Granted, I was thinking more along the lines of a convert to Islam like John Walker Lindh. Nevertheless, Chechens are both Caucasian and Muslim.
Fascism by the Numbers.
• NPR's "All Things Considered" aired a segment in which the tax-subsidized network's counterterrorism reporter, Dina Temple-Ralston, declared: "April is a big month for anti-government, and right wing, individuals. [...]
• National Journal's James Kitfield wrote: "The timing of the attack on 'Patriot's Day,' which coincides with the April 15 deadline for filing federal taxes, suggests a possible link with right-wing, antigovernment extremist groups." [...]
• MSNBC aired an interview with Harvard's Jessica Stern, who observed that a recipe for a similar bomb was published in an al Qaeda magazine — and on that basis speculated of a fringe-right connection!
The Irresponsible Search for Bomb Scapegoats. [Scroll down] An example of that came in an article published last night [4/16/2013] in Salon by David Sirota, in which he expresses the hope that "the Boston Marathon bomber is a white American." The conceit of this inflammatory piece is that a white American terrorist would be treated as a "lone wolf" whose actions would have no implications on policy or society while a Muslim bomber would be thought of as an existential threat to the country.
Obama: Let's Not Rush to Judgment on Islamists' Motives. Watch as Obama tries to argue away the roots and connection to radicalism of the terrorist brothers. They aren't the white patriot terrorists the left would like, but he tries his best to make them domestic.
Flashback to 2/17/2011:
Obama Administration Opened up Muslim Immigration Floodgates. President Barack Hussein Obama, in a determination letter to Congress, has announced that he will allow an additional 80,000 immigrants — mostly from Islamic countries — to resettle in the United States during fiscal year 2011. Mr. Obama says that the increase in Muslim immigrants "is justified by humanitarian concerns or is otherwise in the national interest."
Violent criminals don't care about permits.
Mass. police: Bomb suspects didn't have gun permit. A Massachusetts police official say the brothers suspected of bombing the Boston Marathon before having shootouts with authorities didn't have gun permits.
Boston attacks may finally reveal global nature of radical Islam. [Scroll down] There may be darker days ahead for Washington. Russia's Vladimir Putin has been scorned for years for having demanded that the White House take the Chechen terrorist threat seriously. Kremlin warnings that Tamerlan Tsarnaev was a terrorist, or at least a terrorist in the making, were seemingly not taken seriously enough.
Why did it take the FBI four days to find the Boston bombers? Lots of "tough questions" are being asked about why the FBI — having interviewed the older Boston bomber, Tamerlan Tsarnaev, in 2011 — failed to continue to keep tabs on him. But that is the wrong question to be asking. The much more pressing question is: why the FBI didn't nab the bombers on Monday night? After all, they hadn't skipped town, and one of them — Tamerlan — was sitting "on file" as someone whom the Russian government said they suspected was an Islamist terrorist. A man they repeatedly interviewed just two years ago.
How does he know?
Boston Mayor: Bombing Suspects Acted Alone. He [the mayor of Boston] tells ABC's "This Week" that a pipe bomb was found at another location and that another person was taken into custody.
Boston mayor says authorities may never question bomb suspect. Boston Mayor Tom Menino said on Sunday [4/21/2013] authorities may never be able to question the Boston Marathon bombing suspect, who lies seriously injured and unable to speak after eluding police for 24 hours.
They're Not Named Smith Either! Shortly after the 2009 Fort Hood terror attack was carried out by Nidal Hasan, Martha Raddatz and Diane Sawyer of ABC News openly lamented that the killer's name was not something like Smith. They pretended to overhear this sentiment from some military wife at the fort, but I suspect otherwise — that they were pulling the liberal trifecta of lying, projecting, and conflating victims with experts — all simultaneously.
Progressives' Ultimate Fetish. In the hours after the Boston Marathon bombing, the usual suspects of progressive grave-dancers succumbed to the music of suffering and started to dance their agenda jig. Michael Moore put down his bacon-wrapped bacon and tweeted, "Tax Day. Patriots Day." The implication being it had to be a conservative because we oppose high taxes and call ourselves patriots. Once it became clear the terrorists were not rednecks named Billy Bob, the effects of Moore's psychological Viagra wore off and he tweeted, "Younger brother Jahar was captain of the wrestling team and a volunteer with "Best Buddies," helping kids with Downs Syndrome." Not even a beat missed in the shift from accusing his fellow Americans to sympathizing with a terrorist.
Don't Rule Out Anything. This is not, of course, the first time we've seen an apparent eagerness from the Obama administration to minimize or dismiss the possibility of broader ties to international terrorism after attacks or attempted attacks on U.S. interests. Three days after the attempted bombing of an airplane on Christmas Day 2009, President Obama suggested that the attempted attack was the work of "an isolated extremist."
FBI Looking for 12 Islamic Sleeper Cells Linked to Boston Bombers. Someone gave the brothers the skills to manufacture highly sophisticated bombs.
Boston Bomber's Mosque Linked to Muslim Brotherhood. Boston Marathon Bomber Dzhokar Tsarnaev attended The Islamic Society of Boston which has links to the Muslim Brotherhood.
Why isn't Benghazi given the same treatment as Boston? The authorities involved in bringing such a speedy end to the Boston Marathon bombings are to be commended. They reviewed the video surveillance tapes and quickly identified the suspects. [...] It makes one wonder why we haven't seen the same level of scrutiny applied to the Benghazi attacks that killed four Americans. It certainly isn't due to a lack of video evidence to help identify the suspects.
The Muslim terror attack in Boston gives me Islamonausea. Muslims regularly accuse the West of Islamophobia. The constant violence and terror attacks by Muslims, as seen recently in Boston, show that many Muslims actually want us to fear Islam. But we are not afraid. We have islamonausea. We feel disgusted by their unconstitutional religion whose holy book literally orders its followers to harm and kill non-Muslims. It is shocking to see how media and politicians, first of all Barack Hussein Obama, avoid mentioning the terrorists' religion and thereby keep the population ignorant concerning unconfortable truths about the world's fastest growing religion.
Boston jihadi had direct contact with Chechen jihad terrorists. "But scholars cautioned Friday against concluding that the Tsarnaevs' motives were purely religious." — Lisa Wangsness in the Boston Globe, April 20, running interference for Islamic supremacists yet again.
There is no puzzle about what drove Boston bombers. The Tsarnaev brothers were Islamic jihadists and their actions were all too predictable. They were behaving as jihadists usually do, striking terror into the hearts of the infidels and blowing people up. Intolerance, butchery, assassination and intimidation are at the very core of Islamist ideology. Since 9/11 in New York there have been 20,000 terrorist incidents perpetrated across the globe in the name of militant Islam.
We Are Not Serious About Stopping Islamic Terror. Our President praises the public for not being terrorized, then lectures us not to "rush to judgment" about the bombers' motivations and "certainly not about entire groups of people." Translation: we're not going to talk about the jihadi war on us. Hope for the best. Do not pay attention to the problem of Islamic imperialism.
I Saw Something, So I'm Saying Something. Are you fed up with the antiseptic slogan, "If you see something, say something?" The authorities expect us to report suspicious backpacks, but stay silent as the tomb about the nature of the men who put them there. We're instructed to speak up about a bloodied man's movement under a boat tarp, but to shut up about the ideological movement that drove him to commit his carnage.
Boston Bomber Dzhokhar Tsarnaev Supported Obama. Earlier this week we predicted the terrorist was either a jihadist or a leftist. Now we know he was both.
Former FBI agent predicts more attacks in Muslim jihad. John Guandolo, a former counterterrorism agent, posted a Web report over the weekend pointing out that the Boston Marathon attack is not an aberration but one in a string of foiled and executed assaults on American soil by self-described jihadists. "It is truly astounding to watch newscasters continue to ask the question 'WHY?'" wrote Mr. Guandolo, who runs the website Understanding the Threat to America. "Why did they do this? What will it take for the U.S. media and American leadership to face the reality of the imposing danger breathing down our necks the global Islamic Movement," Mr. Guandolo wrote. "These men did this because they are commanded to. The global jihad is on."
Source: Saudi National's Deportation Record Altered. Breitbart News has learned that the Saudi National questioned after the Boston Marathon Bombing had his deportation order records altered, rescinding his deportation order. The alteration occurred the night before Secretary Napolitano vehemently denied the existence of any deportation order in testimony before the House of Representatives.
Make No Mistake, It Was Jihad. If your concern about the threat posed by the Tsarnaev brothers is limited to assuring that they will never be in a position to repeat their grisly acts, rest easy. The elder, Tamerlan — apparently named for the 14th-century Muslim conqueror famous for building pyramids of his victims' skulls to commemorate his triumphs over infidels — is dead. The younger, Dzhokhar, will stand trial when his wounds heal, in a proceeding where the most likely uncertainty will be the penalty.
Enemy Combatants in Boston. With Dzhokhar wounded and in custody and his brother Tamerlan dead, the focus is shifting to how the brothers became radicalized and whether they had links to foreign or domestic terror networks. It's becoming clearer by the day that elder brother Tamerlan had become increasingly religious and that his motive last week was Islamic jihad against America.
Saudi Traveling Salesman Receives Beneficial Deportation. Commissars at the White Fortress have announced that a Saudi Arabian traveling pressure-cooker salesman, who happened to be watching the Boston Marathon and coincidentally was hospitalized because of unexplained chemical burns, is being quickly deported in the interests of world harmony and international friendship.
The radicalization of Tamerlan Tsarnaev. In Dagestan, the volatile southern Russian region where he lived for a time as a teen and returned to spend the first half of 2012, he became a quiet young man who spent his days online studying Islam, nursing a growing anger against heretics. Exactly what turned Tamerlan Tsarnaev into the suspect accused of three murders and mass wounding in the Boston Marathon bombings may never be known.
Why the FBI Didn't Make Much of Russia's Request to Probe Boston Bomber. Russia's intelligence service, the FSB, warned the FBI in 2011 about a young Chechen named Tamerlan Tsarnaev, who they believed had become radicalized and was prepared to join an underground organization in Russia. The FBI interviewed the man, searched its databases and found nothing, and closed the case the same year. Two years later, Tamerlan and his younger brother, Dzhokhar, bombed the Boston Marathon.
Don Imus on CNN: 'It's over for them'. Fox Business Network's Don Imus on Tuesday tore into CNN's handling of the Boston Marathon bombings, calling the network's coverage "absurd and frustrating." "Remember, there was a time whenever something would happen, we would all turn to CNN," the "Imus in the Morning" host said. "But that was a long time ago. That was a long time ago." "It's over for them," Imus said of CNN.
Slain bombing suspect bought "lock and load" fireworks in February. William Weimer, vice president of Phantom Fireworks, confirmed that the now-deceased bombing suspect purchased the fireworks on Feb. 6 at the company's Seabrook, N.H., location. He said that each firework has 24 shells containing 60 grams of composition of powder, half of which is black powder. Weimer said that he does not believe what was purchased was enough to be used in bombs.
The death penalty does not serve as a deterrent if it's not on the books.
After bombings, a push to restore the death penalty. Democratic leaders today put a quick stop to a move to reinstate the death penalty in Massachusetts, rejecting a House budget amendment containing a death penalty measure first proposed by former Gov. Mitt Romney in 2005. The House voted 119-38 to send the amendment to further study in a committee, a move that eliminated the amendment from immediate consideration as part of the budget bill under debate in the House this week. Massachusetts abolished the death penalty in 1984.
Was Boston Marathon bombing a US 'intelligence failure'? That's the question members of the House and Senate intelligence committees will be asking senior FBI officials at closed hearings on Tuesday. In particular they and other lawmakers want to know how Tamerlan Tsarnaev's six-month trip to Russia in 2011 and 2012 could have escaped the FBI's attention, despite the fact that he had already been investigated for possible extremist ties.
Fox News Tops All Of Cable Last Week, First Time Since 2005 Hurricane Katrina. In what can be considered a very rare ratings victory for a news network, Fox News beat out all other cable programming in total viewership last week during its coverage of the Boston Marathon bombings.
Homeland Security knew of older bomb suspect's Russia trip. Homeland Security Secretary Janet Napolitano told a U.S. Senate panel Tuesday [4/23/2013] her department knew of one Boston bombing suspect's trip to Russia. However, the FBI did not know of Tamerlan Tsarnaev's trip to a region of Russia dominated by Islamist violence, The Hill reported, because an airline misspelled his name on a flight manifesto given to the U.S. government.
The Editor says...
In other words, the airlines are doing the work, not the government.
Marathon bomber Tamerlan Tsarnaev's mother: I want to bury him in Boston. The mother of the marathon bomber Tamerlan Tsarnaev said she was determined to bury him in Boston as she revealed that her elder son was questioned at least five times by FBI agents who saw him as a potential terrorist leader.
CNN's King says mistakes last week were 'embarrassing'. CNN's John King says he is embarrassed after wrongly reporting last week that a suspect in the Boston Marathon bombings was arrested, calling the mistake a "double kick in the head" because he's a Boston native. "When you do something like this, it's embarrassing," King, the network's chief national correspondent, told WTOP on Tuesday.
Napolitano says system 'pinged' when Tsarnaev traveled to Russia. Government response to the Boston Marathon bombings, from local police efforts to the Obama administration's role, has won high marks in the aftermath of last week's intense manhunt that ended in one suspect dead and another in custody, but lawmakers are raising concerns that warning signs were missed and that authorities could have coordinated their efforts better. Homeland Security Secretary Janet Napolitano said Tuesday [4/23/2013] that the government's internal system "pinged" when Tamerlan Tsarnaev left the U.S. for Russia last year, in a statement that appeared to conflict with earlier suggestions that the trip went unnoticed.
We can't ignore foreign roots of the massacre. We can only speculate now as to whether the Tsarnaev brothers were radicalized in the United States because they disdained our free society, or whether they came here as child soldiers already in the terrorist war. However, the key question for protecting America against future acts of terrorism is whether the brothers were controlled and directed by foreign operatives, and whether they received training in bomb-making, terrorist tactics, weapons-handling and the like.
Lessons from Boston and Chechnya. [Scroll down] Any religion or ideology that is above good and evil produces enormous evil. For tens of millions of Muslims today, Islam is beyond good and evil: The infidel may be decent, but that is of no importance to the radical Islamist. For example, to become a "more religious" Muslim, Tamerlan Tsarnaev gave up boxing, marijuana, tobacco and even not wearing a shirt in the presence of females. Tsarnaev believed Islam forbade those things — none of which is an evil. But when it came to the greatest evil — murder (of non-Muslims) — his religion was not only silent, it was enthusiastically supportive.
Carjacker: 'Did you hear about the Boston explosions? I did that'. Dzhokhar Tsarnaev looked calmly on as the first bomb exploded on Boylston Street during the Boston Marathon April 15. Days later, the suspect boasted about the bombings, according to new details from a criminal complaint issued Monday, April 22.
Chris Matthews On Bombers: "What Difference Does It Make Why They Did It? MSNBC's Chris Matthews is not that interested in finding out a motive for last week's bombing of the Boston Marathon, but instead focused on prosecuting Dzhokhar Tsarnaev, a 19-year-old ethnic Chechen who was apprehended by authorities on Saturday.
Glenn Beck: Was Saudi National Detained By Boston Police Involved In Boston Bombing? Conservative radio host Glenn Beck told his audience with certainty on Monday [4/22/2013] that the Saudi national who was detained in the immediate wake of the Boston bombings last week, Abdul Rahman Ali Alharbi, was involved in the attack on the Boston Marathon. Beck said that sources tell him that the Saudi was marked by U.S. officials as a likely violent extremist. He added that this event, in combination with meetings between ranking officials American federal government and Saudi authorities, raise troubling concerns.
Blind Eye. The Federal Bureau of Investigation's failure to recognize political Islam as a driver of jihadist terrorism is partly to blame for the FBI not identifying one of the Boston Marathon bombers in 2011 as a security risk, according to U.S. officials and private counterterrorism analysts. The FBI revealed last week that it was warned by a foreign government in 2011 that Tamerlan Tsarnaev, who was killed Friday, was tied to "radical Islam" but the FBI was unable to confirm the links.
Saudi Connection to Boston Bombing? Questions remain about whether there is a Saudi connection to the Boston Marathon bombing last week and if the Obama administration has been interfering in the investigation of the Islamic terrorist attack. These questions take on greater urgency as Islamic terrorist organizations continue preparing attacks.
Obama's Psychodramas. The checkered immigrant family of the two Boston bombers is a tragic advertisement of almost everything wrong with our current immigration policy. The idea of life-saving asylum doesn't make any sense when supposed refugees, like both of the Tsarnaev parents, can return to live safely in Russia. The elder of the suspected bombers, Tamerlan, himself had likewise just spent six months in a supposedly deadly homeland — for what exact reasons we can only speculate.
Lessons of Boston. The superb work of our law-enforcement officials in the wake of the Boston Marathon bombing ignited a blaze of self-congratulation that obscured the event's implications. Yeah, we killed one fanatic and nabbed the other. But our dysfunctional system couldn't prevent this latest Boston Massacre.
Reddit owns up to missteps in Boston Marathon fiasco. After a shameful witch hunt that mindlessly smeared the reputations of people guilty of nothing more than attending the Boston Marathon, Reddit has done the right thing. On Monday, Erik Martin, general manager of the social media website, apologized fully for the debacle in which Reddit's amateur sleuths set out to determine, in full view of the world, who was responsible for the marathon bombing.
Obama's 'war'. Is Dzhokhar Tsarnaev an "enemy combatant"? The Obama administration says "No." Then again, it almost had to. From the day he ran for president, Barack Obama has advanced two certainties: that military commissions are bad, and that the way his predecessor prosecuted the War on Terror was not just wrong but immoral, unconstitutional and perhaps criminal. He staffed his White House with people who thought the same.
Tamerlan Tsarnaev's Best Friend, Brendan Mess, an Unsolved Killing. Brendan Mess, best friend of 'Tam' Tsarnaev, was found with his throat slit alongside two other men on the 10th anniversary of 9/11. His killer was never found. Michael Daly on new suspicions about the alleged Boston bomber.
The Paradoxes of the Boston Bombings. A certain American (or for that matter Westernized) resident or citizen — usually male, almost always young, born a Muslim, prone to guilt over temporary secularization or Westernization, as often (or more so) from Pakistan, a Russian Islamic province, the Balkans, Iran, the Philippines, or Africa as from the Arab Middle East, usually failing in American society, always absorbed within American popular culture and guilty over such absorption — at some moment channels his own sense of failure into radical Islam. He seeks some sort of cosmic resonance and redemption for his own personal inadequacies. Presto, a pathetic loser becomes a wannabe bin Laden jihadist, as murder becomes cause for publicity.
The feds and the media just can't imagine what the jihadi's motivation could have been.
Feds Look Into Accused Bomber's Dark Side. Authorities are working to uncover the details of [Tamerlan] Tsarnaev's life in the hope their search will help provide a motive for the deadly bombing.
U.S. Is Probing Suspect's Alleged Links to Militants. U.S. investigators are looking into a Russian intelligence report that alleged Boston bomber Tamerlan Tsarnaev met with a suspected militant during his six-month visit to Russia in 2012, according to American law-enforcement officials. In the aftermath of the bombings, some American counterterrorism officials received information from law-enforcement officials in Makhachkala, Dagestan, detailing alleged contacts between Mr. Tsarnaev and a suspected militant being tracked by Russian officials, according to a law-enforcement official briefed on the Boston Marathon investigation.
Officials: Boston Suspects Motivated by Religion. Two U.S. officials say preliminary evidence from an interrogation suggests the suspects in the Boston Marathon attack were motivated by their religious views but were apparently not tied to any Islamic terrorist groups.
FBI Dropped Boston Terror Ball Thanks To PC. The Boston terrorists operated in plain sight and federal agents let them slip through their fingers, though they knew as early as 2011 they were pro-al-Qaida.
FBI: Bombing suspect used cellphone before blast. The FBI says in an affidavit that the Boston Marathon bombing suspect was seen using a cellphone after placing a knapsack on the ground at an explosion site.
Dershowitz: Authorities Will "Regret" Not Reading Boston Bomber Miranda Rights. Alan Dershowitz, Civil Liberties and Criminal Attorney, talks about the legal road ahead for the Boston bombing suspect. Dershowitz says authorities will "regret" not reading Dzhokhar Tsarnaev, 19, his Miranda rights and "may have blown the death penalty" also.
The Lazy, Intellectually Bankrupt Racial Prism Through Which Media And Academia View Terrorism. Chris Matthews, whose analysis is often a leading indicator of the impulse on the left to ascribe racial and political motives to the violent compulsions of sociopaths, took the opportunity of an erroneous report about an attack on the JFK presidential library on the day of the bombings to speculate about the conservative political beliefs of the yet-unidentified perpetrators. Matthews' speculation proved to be prescient — his reaction foreshadowed a shameful spree of baseless conjecture by other journalists, commentators, and professors.
There Ain't Nobody Here But Us Chechens. As is now traditional in these stories, we're now being told that the Brothers Tsarnaev are merely the latest card-carrying members of Local 473 of the Amalgamated Union of Lone Wolves. No broader pattern can be discerned, or should be discerned. All jihad is local. Nobody could have seen this coming.
Boston attacks reignite debate on Islam and terror. President Obama's opponents portray him as reluctant to use the word terrorism, overly sympathetic towards Islam, and insufficiently focused on the dangers of violent expressions of militant Islam. On the fringes, some accuse him of being a willing sympathiser. But, more generally, there is a feeling on the right that liberals are too willing to bend over backwards to disconnect the religion from the violence.
Saudi National Questioned in Boston Bombings Was Allegedly Flagged on Terror Watch List. The Saudi national once considered a "person of interest" in the Boston Bombings and who Blaze sources say was being considered for deportation as early as Tuesday was apparently flagged on a terror watch list, according to Fox News reporter Todd Starnes. Blaze sources say Abdul Rahman Ali Alharbi was linked in some way to the Boston Bombings in a deportation document.
The Bombs Didn't Have Permits Either. The latest tidbit from the investigation of the Boston Marathon bombing should interest those Americans who have been pondering whether proposed gun control laws would actually deter or stop criminals from obtaining weapons. The Associated Press informs us that the Tsarnaev brothers did not have legal permits for the guns they used in their shootouts with police, when they killed one and wounded another officer.
Report: Suspects not licensed to own guns. The two suspects in the Boston Marathon bombings were not licensed to have the firearms they used in several shootouts with police on Friday, Reuters reported Sunday night [4/21/2013]. The news that the suspects were not authorized to own firearms will likely add fuel to calls for tougher gun laws [...]
The Editor says...
That makes sense only if you believe that the Boston terrorists disregarded the current gun laws but would have obeyed "tougher" gun laws. If that's the way you think, you might be a big-government liberal.
Dzhokhar Tsarnaev as enemy combatant: Hating the Constitution. What do John McCain, Lindsey Graham, President Obama, and the reflexive apologists for expanding Administration police power at MSNBC have in common? A dislike for the Constitution.
Did Boston bomber murder his 'only American friend' in horrific triple killing in 2011? Boston bombing suspect Tamerlan Tsarnaev may have murdered his 'only American friend' in an unsolved triple killing two years ago, it emerged today. Brendan Mess had his 'throat slit' alongside two other men in a Massachusetts apartment in 2011 in what police described as a 'very graphic crime scene'. Former associates of the Chechan immigrant didn't initially suspect him of carrying out the gruesome attack, but thought it was strange he didn't attend his friend's funeral.
Key Congressmen Request Classified Briefing on Saudi 'Person of Interest' in Boston Bombing. The Saudi national — originally identified as Abdul Rahman Ali Alharbi — has been the topic of fierce debate in recent days, after he was reportedly set to be deported under section 212 3B of the Immigration and Nationality Act (INA) — "Security and related grounds" — "Terrorist activities," after the bombing. The story gained a curious twist when, after it gained more traction, President and Chief Content Officer for TheBlaze Joel Cheatwood received word from one of his investigative reporters that "there is now discussion that they may not allow this man to be deported."
A trail of blood from Benghazi to Boston. [Scroll down] In the event you don't recognize that name associated with the Boston bombing, the media initially reported that a Saudi national, later determined to be al Harbi, was under guard at a Boston hospital after being injured in the attack. He was seen running from the explosions and tackled by police a short distance from the bombing site. During the normal investigative process of al Harbi, investigators learned that he was reportedly the subject of an alleged deportation order under Section 212 3B Immigration & Nationality Act regarding "Security an", but completely unrelated to Boston. To get on this list requires some pretty substantial evidence. To be removed from this list is practically impossible, short of detention or death.
Geraldo Rivera Apologizes To Muslims For The Boston Marathon Bombings. Your first thought after reading that title is probably something like, "Wait, what?" Then, you realized it was Geraldo Rivera and it started to make more sense.
A Sleeper Cell in America? Capping off a week of misinformation, confusion, contradiction, and error from the media and law enforcement, Boston Mayor Thomas Menino insisted Sunday [4/21/2013] that the Boston Marathon jihad bombers acted alone, even as it was becoming increasingly obvious that they did not. The UK's Mirror reported on the same day that "the FBI was last night hunting a 12-strong terrorist 'sleeper cell' linked to the Boston marathon bomb brothers." And so the jihad in Boston widens to proportions that are as yet impossible to calculate — as are the potential casualty rates.
The Editor says...
I suspect the "sleeper cell" is much larger. Perhaps as big as the population of Dearborn, Michigan.
Boston Jihad Bomber Eyed in Jewish Triple Murder. Earlier I posted that the Boston Jihad Bomber's "only American friend" had his throat slit. I said, "I think this case should be reopened in light of the Boston jihad. Throat slitting is a jihad speciality". What I didn't know was that all three vicitms were Jewish. We know that under Islam, slaughtering Jews is the most desired of all kufar murder.
Boston bombing suspect put on terrorist watch list at CIA request. The CIA pushed to have one of the suspected Boston Marathon bombers placed on a U.S. counterterrorism watch list more than a year before the attacks, U.S. officials said Wednesday [4/24/2013]. Russian authorities contacted the CIA in the fall of 2011 and raised concerns that Tamerlan Tsarnaev, who was killed last week in a confrontation with police, was seen as an increasingly radical Islamist who could be planning to travel overseas.
Anger Management. Former brother-in-law Elmirza Khozhugov explains Tamerlan Tsarnaev's grievances to the New York Times: He was angry that the world pictures Islam as a violent religion. So he blew up an eight-year old boy and a couple of hundred other Americans.
Boston bomber Tamerlan sat home collecting welfare benefits while plotting to bomb America. Alleged terrorist mastermind Tamerlan Tsarnaev was receiving welfare benefits in the lead up to the deadly attacks at the Boston Marathon. The Chechen immigrant lived off state aid while his wife, Katherine Russell Tsarnaev, worked as a home healthcare worker, sometimes clocking as many as 80 hours a week while her unemployed husband stayed at home, Massachusetts welfare officials revealed on Wednesday [4/24/2013].
Congressman: 'Five Jihadists Have Reached Their Targets in the United States Under Barack Obama'. Congressman Tom Cotton took to the House floor "to express grave doubts about the Obama Administration's counterterrorism policies and programs". [Video clip]
Glenn Beck Reveals Details Of Saudi Detained After Boston Bombing. The Blaze radio host Glenn Beck revealed more details of the alleged security threat posed by a Saudi Arabian national detained by authorities in the immediate wake of the attack on the Boston Marathon last week. Beck revealed that the Saudi had an event file, was deemed by authorities to be "armed and dangerous," and may have been flagged on the "no fly" list.
When Pundits Grieve. The day after the Boston Marathon bombing, most well-adjusted Americans were feeling a cocktail of emotions: anger at the perpetrators of such a grisly act, sorrow for the dead and their families, hope for the 264 who were injured. Over at Salon.com, the now-infamous David Sirota was wishing that the bombers were white males.
Globe: Russia warned FBI "repeatedly" about Tsarnaev before bombing. The FBI briefed the Senate yesterday [4/23/2013] and today on the progress in the Boston Marathon bombing case, but more questions than answers may have arisen from it. The Boston Globe quotes multiple sources from within the briefing that the FBI didn't just get one warning from Russia about Tamerlan Tsarnaev, they got warned repeatedly — including after the FBI's initial investigation of the now-deceased bomber.
Boston bombing investigation hunts for mysterious 'bald, red-bearded Armenian man'. As the investigation into why and how the Boston bombers unleashed their deadly attacks continues, the focus has centered to an elusive and mysterious Muslim convert known only as Misha. Family members of Tamerlan Tsarnaev describe Misha as the guiding influence in the elder bomber developing radicalized views — but to date it is believed that law enforcement and the media have failed to find him.
Insane 'Asylum'. In the aftermath of the Boston Marathon killing spree by foreign-born jihadists, see-no-evil bureaucrats in Washington are stubbornly defending America's lax asylum policies. DHS Secretary Janet Napolitano told the Senate Tuesday [4/23/2013] that the screening process is rigorous, effective, and extensive. These people can't handle the truth. Or tell it.
Suspected Boston Bomber's Mosque Founded by Convicted Terrorist. The Islamic Society of Boston (ISB) has become the center of attention since it was discovered that now deceased suspected marathon bomber Tamerlan Tsarnaev was a member of the mosque. ISB is a 501(c)(3) tax exempt organization.
Bombing the Hand That Fed Them: Tamerlan Tsarnaev and Family Received Mass. Welfare Benefits. The Boston Herald has broken the story — a scoop even the Boston Globe has acknowledged — that "Tamerlan Tsarnaev was living on taxpayer-funded state welfare benefits even as he was delving deep into the world of radical anti-American Islamism." A responsible national establishment press would treat this as an important story, because, as the Herald's Chris Cassidy noted in the understatement of the day, it "raises questions over whether Tsarnaev financed his radicalization on taxpayer money."
Tamerlan Tsarnaev and Family Received Welfare. Tamerlan Tsarnaev was on welfare, sponsored by tax payers. [...] "In addition, both of Tsarnaev's parents received benefits, and accused brother bombers Dzhokhar and Tamerlan were recipients through their parents when they were younger, according to the state."
Did the FBI miss clues about Boston Marathon bomber Tamerlan Tsarnaev? Self-evidently true, the basics bear repeating because there are serious questions as to how national security authorities failed to recognize that Boston Marathon bomber Tamerlan Tsarnaev was a brewing jihadist threat. The Senate Intelligence Committee on Tuesday [4/23/2013] began an inquiry that must deliver a full accounting of who knew what when. The panel must also determine why agents failed to learn more, as well as how they let Tsarnaev slip from view as he became radicalized.
Tamerlan Tsarnaev got Mass. welfare benefits. Marathon bombings mastermind Tamerlan Tsarnaev was living on taxpayer-funded state welfare benefits even as he was delving deep into the world of radical anti-American Islamism, the Herald has learned. State officials confirmed last night that Tsarnaev, slain in a raging gun battle with police last Friday, was receiving benefits along with his wife, Katherine Russell Tsarnaev, and their 3-year-old daughter.
Boston Marathon bombing lesson — political correctness kills. America is facing a jihadist enemy. It is an enemy that has proven it can inflict more civilian casualties on the United States than any other foreign enemy in almost 200 years. Just last week this enemy killed 3 innocent people, wounded more than 100 and paralyzed a major American city. Yet, our obsession with political correctness, with a strong desire not to offend our enemies makes our self-defense immeasurably more difficult.
O'Reilly And Krauthammer Blast Obama For Not Denouncing Radical Islam In Wake Of Boston Bombings. Bill O'Reilly opened his show tonight with a big question: why does President Obama refuse to call out radical Islam for being a major threat to the United States. He highlighted Obama asking people not to draw conclusions based on the motivations of the Boston bombing suspects, and, along with Charles Krauthammer, slammed the president for actively avoiding any mention of radical Islam in public. Krauthammer remarked that Obama's language avoidance is "weird" and even "embarrassing."
Uncle: Seeds of Boston Bombers' Radicalization 'Planted Right There in Cambridge'. On Tuesday [4/23/2013], the Associated Press reported that in the years leading up to the devastating bombing attack on the Boston Marathon, Tamerlan Tsarnaev, the older of the two bombing suspects, "fell under the influence of a new friend, a Muslim convert." The mentor was known to Tamerlan's family as "Misha," and pushed Tamerlan to embrace the most extreme version of Islam.
Boston Terrorism Casts Shadow Over Obama's Bills. The existing immigration system let two young Muslim brothers into the U.S. from the Chechen region of Russia, a known hotbed of al-Qaida terrorism. Then it let the older one recently re-enter the U.S. after reportedly training with terrorist groups overseas, and even after the FBI opened a file on him. And just six months ago, the Department of Homeland Security rewarded the younger terrorist citizenship while reviewing a request from the other.
The 'Public Safety' Follies. It has now been reported by Fox's Megyn Kelly that the FBI's interrogation of accused Boston Marathon bomber Dzhokhar Tsarnaev was short-circuited when the Justice Department arranged for him to be given a presentment hearing in the hospital. In point of fact, it was not the hearing that caused the suspension of vital intelligence-gathering. It was the Obama Justice Department's decision over the weekend immediately to file a criminal charge against Tsarnaev.
Civil society, not Big Brother, is the American way. As with every terrorist attack and high-profile killing, the Boston bombing has prompted calls for Americans to give up civil liberties for the sake of security. Rather than gun control or airport pat-downs, this time the call is for a Big Brother-like network of police cameras allowing authorities to more closely monitor people who move about the streets. But the story of the Boston bombers — the details of their crime and their capture — makes the opposite argument. We don't need more government surveillance. We need to maintain robust civil society and public spiritedness.
Morning Joe Goes After The Media:
We Can't 'Demonize The Entire Religion Of Islam' Due To Radicals. Since the Boston bombing, much of cable news quite naturally has taken to discussing various issues surrounding terrorism and radicalization. Morning Joe on Wednesday [4/24/2013] was no exception. Joined by The Daily Beast's Tina Brown, the panel also took a look at media portrayal — stressing that we can't "demonize" all of Islam when we talk about radicals.
The Russian riff-raff are much too warmly welcomed in this country.
Mother of Accused Bombers Faces Her Own Legal Woes. The mother of accused Boston Marathon bombers has continued to defend her two sons from her home in Dagestan, Russia, but if she attempts to return to the United States to bury her older son, or care for the boy that remains hospitalized, she could face arrest on an outstanding warrant for shoplifting. The clerk of the Natick District Court confirmed to ABC News that Zubeidat Tsarnaev, failed to appear at a court hearing on October 25, 2012 to resolve charges that she stole $1,600 worth of garments from a nearby Lord & Taylor department store.
The Editor says...
Those people sure do travel a lot between here and Russia. If you like Russia so much, stay there.
PC pols can't state the obvious. Who's going to break the news to Gov. Deval Patrick? Patrick, who once famously (infamously?) called the 9/11 terror attacks "a failure of human understanding," must now face what most of us had figured out last Friday — that Boston has joined New York, Washington, London, Madrid, Mumbai, etc. on the list of cities hit by Islamist-inspired violence.
Right wing' doesn't equal 'terrorist'. The late Daniel Schorr, then of CBS News, reported that Goldwater's planned European vacation was really a rendezvous with the German right in "Hitler's onetime stomping ground." Schorr spent his golden years at National Public Radio. No doubt he would have been pleased with the "reporting" of its national security correspondent, Dina Temple-Raston. Before the identities of the Boston bombers were confirmed, she said her sources were "leaning" toward believing that it was a homegrown "right-wing" attack, and cited that "April is a big month for antigovernment and right-wing individuals."
Oh-oh! The Tsarnaev narrative looks worse and worse for Obama. The Obama administration and liberal policies look awfully bad in the face of the facts emerging about the Tsarnaev family's insertion into the United States. The Boston Herald yesterday broke the story of the family having received welfare, after inquiries with the state government. [...] This is mighty inconvenient for the Food Stamp President who has overseen a vast increase in the number of people receiving government aid while subtracting millions from the workforce.
Plot Thickens in Saudi National Case. Radio talk show host Glenn Beck is continuing to investigate Abdul Rahman Alharbi, the Saudi national initially identified as a "person of interest" in the Boston Marathon bombing atrocity. And while many on the left are ridiculing Beck's efforts, it is difficult to dismiss the possibility that some kind of deception is being perpetrated by the Obama administration. As the rest of the media remain silent, Beck continues to release almost daily a slew of troubling revelations backed by solid evidence.
No Politics Doesn't Mean Avoiding Accountability for Obama Administration in Boston Bombings. "Who's playing politics with the Boston bombing?" That question was posed by many journalists, including me, almost immediately after the marathon attack, when a few Washington politicians tried to exploit the tragedy. Some Republicans said the terrorist strike should raise questions about immigration reform. Certain Democrats said "sequestration" spending cuts (and by inference, the GOP) would hurt Boston's recovery. It was shameful. But let's be clear: "No politics" does not mean "no accountability."
Bombing Suspects' Mom: Blood was 'Paint'. The mother of the two suspects in the Boston Marathon bombing says she believes the tragedy that killed three people and injured dozens more was staged, that the bombing was fake.
Now officials claim Boston bombing suspect was NOT armed in boat showdown. Two unnamed U.S. officials have told the Associated Press that the surviving suspect in the Boston bombings was unarmed when police captured him hiding inside a boat in a neighborhood back yard. The report contradicts the Boston police department's own account of Dzhokar Tsarnaev's capture on Friday [4/19/2013] — after commissioner Ed Davies described a firefight between him and officers before the terror suspect was captured. The New York Times also said an M4 rifle had been found on the boat — another claim contradicted by the latest revelations.
Tamerlan Tsarnaev vowed to die for Islam. The mother of Boston Marathon bomber Tamerlan Tsarnaev knew as early as 2011 that her son had been radicalized and sent text messages to family in Russia suggesting he was willing to die for Islam, the FBI told lawmakers this week according to two officials with knowledge of the Capitol Hill briefing.
Bombing Suspect Immediately Stopped Talking After Being Read His Miranda Rights. Since the Boston bombing suspect, Dzhokhar Tsarnaev, was captured, there's been quite a debate over his Miranda rights and how to treat him — given that he's a United States citizen. An Associated Press report out this morning is sure to add fuel to the fire. As soon as he was read his Miranda rights, it says, Tsarnaev stopped talking. The report notes that Tsarnaev was read his rights 16 hours after his interrogation had began [sic]. Then, he fell silent.
Sins Of The Fourth Estate (Part I). The one clear thing that came out of last week's chaotic activity in Boston, Massachusetts is that real reporters were missing. [...] The media was in such competition to be the first with the news that misinformation reigned. The New York Post outrageously published a huge front page photo of two Middle Eastern men who turned out to be an innocent teen and his coach and excused this disgraceful example of yellow journalism by saying they only claimed that the FBI was looking for these men. What we received were snippets of information that begged for further questions about the suspected bombers.
When Terrorists "Act Alone". Law enforcement officials are touting news that the Boston Marathon bombers acted alone. The source for their conclusion? Dzhokhar Tsarnaev, who has averred from his hospital bed that he and his brother had no links to any terrorist organization. This may or may not be true; it's possible that even if Dzhokhar is sincere he may not have known about links cultivated by his brother during Tamerlan's sojourn to Dagestan last year. But even if it's true that their bombing was not directed by foreign terrorist organizations, it was certainly inspired by them.
The Real Threat to America. Of the many uncomfortable truths emerging from last week's bombing and subsequent manhunt — including the fact that American cities are still vulnerable to Islamic terrorism — one of the most troubling but least talked-about is the fact that martial law may now become part of the municipal playbook. It was not two immigrant brothers — "losers," their uncle called them — who closed down Boston, at a cost of hundreds of millions of dollars, put military vehicles in its streets, and sent men in helmets and flak jackets into peoples' homes. It was our elected leaders: our local, state, and federal political officials and law-enforcement authorities. If any Bostonians objected to having their civil liberties trampled on, they were drowned out by their cheering neighbors who massed in the streets to celebrate the authorities who had turned their city into something resembling Fallujah under American military occupation.
Welcome Tamerlan Tsarnaev — But You're Outta Here Elian Gonzalez. Thirteen years ago, a Stalinist regime that our State Department condemns as an official "state-sponsor of terrorism" (Fidel Castro's) asked the U.S. government to deport a 7-year-old immigrant named Elian Gonzalez. The U.S. Justice department snapped to attention and acted upon Fidel Castro's request. Elian Gonzalez's family — as demonstrated for over a decade — is completely law-abiding. The Tsarnaev brothers, on the other hand, pulled off what's being billed as "the most successful terrorist attack since 9/11," killing three Americans, wounding 178 more and temporarily "shutting down" one of the richest, most dynamic, most sophisticated and financially-vital cities in the Western hemisphere.
Boston bombs detonated with toy car remote. The two bombs that went off at the Boston Marathon, killing three people and wounding 264, were detonated with the kind of remote device used to control a toy car, US officials say. "It was a remote control for toy cars," US Representative Dutch Ruppersberger, the top Democrat on the House Intelligence Committee, told reporters after officials from the Department of Homeland Security, FBI and National Center for Counterterrorism briefed the committee.
Education by murder in Boston. What will be the long-term impact of the Boston Marathon attack that left four dead and injured 260, followed by an action movie-style chase? Let's start with what its impact will not be. It will not bring American opinion together. If the "United We Stand" slogan lasted only months after the attacks of Sept. 11, 2001, consensus after Boston will be even more elusive. The violence will not lead to Israeli-like security measures in the United States. Nor will it lead to a greater preparedness to handle deadly sudden jihad syndrome violence.
Officials: Boston suspect had no firearm when barrage of bullets hit hiding place. Although police feared he was heavily armed, the suspect in the Boston Marathon bombing had no firearms when he came under a barrage of police gunfire that struck the boat where he was hiding, according to multiple federal law enforcement officials. Authorities said they were desperate to capture Dzhokhar Tsarnaev so he could be questioned. The FBI, however, declined to discuss what prompted the gunfire.
Bureaucratic Mismanagement May Have Allowed Bombings. The buck should stop on the Oval Office desk for allowing someone like Tamerlan Tsarnaev to live in America underscrutinized. Welcome back to pre-9/11 bureaucratic communication failures.
The Tale of the Tsarnaev Brothers' Carjacking Victim. In an interview published in The Boston Globe, a 26-year-old Chinese man describes his harrowing 90 minutes with the Tsarnaev brothers after they commandeered his car on the night they were trying to flee the police.
Lawmakers to eye welfare records. The Patrick administration is still keeping the welfare records of the slain marathon bombing mastermind under wraps — after agreeing, under political and public pressure, to release the information only to a House oversight committee where it will remain a secret. Gov. Deval Patrick's top spokesperson said last night there is an "exception in the law" that allows the welfare records to be shown to state legislators, but that's where the transparency ends. "The Legislature is not allowed to share it," said Jesse Mermell, the governor's director of communications.
Another day in alien nation. Suppose the marathon bombings had been committed by born-again Christian Tea Party members on the dole. Do you really think that Gov. Deval Patrick would be hanging on to those terrorists' welfare files even tighter than he clutches Lt. Gov. Tim Murray's state cellphone logs from the morning of Nov. 3, 2011? If these were "domestic" terrorists, I guarantee you Deval would have coughed up everything by now, up to and including whether they were getting on-the-arm brand-name or generic prescription drugs.
Feds Won't Say if Tsarnaevs Had Gov't-Funded Phones. On Thursday, the Boston Herald reported that the Federal Communications Commission (FCC) refused to answer questions about whether Boston terror suspects Tamerlan and Dzhokhar Tsarnaev had a government-paid cellphone because of privacy laws.
MA Governor shuts down welfare probe citing terrorists' right to privacy. The public has a right to know how far and wide they financed these terrorists.
A pact with the devil in Boston. Regrettably, with each passing violent crisis — Waco, Oklahoma City, Columbine, Sept. 11, Newtown and now the Boston Marathon — our personal freedoms continue to slip away, and the government itself remains the chief engine of that slippage. The American people made a pact with the devil in the weeks and months following Sept. 11, 2001, when they bought the Bush-era argument that by surrendering liberty they could buy safety. But that type of pact has never enhanced either liberty or safety, and its fruits are always bitter.
Is an Obama Cover-Up In Progress on the Marathon Bombing? Many commentators have criticized the Obama administration for prosecuting Dzhokhar Tsarnaev criminally, which entailed giving him Miranda rights and providing him with a lawyer. But apart from the wisdom, in principle, of promptly commencing a criminal prosecution in this case, the sequence of events raises obvious questions about what the administration is up to.
Mugged by Reality. You have heard the words. You know the narrative. Let's not rush to judgment. These were lone wolves. They were self-radicalized. The system worked. The dots were connected. Osama Bin Laden is dead; GM is alive. Al Qaeda is a shadow of its former self. It is time for nation building at home. Add up all of those lone wolves, however, and pretty soon you have a pack.
Bombers' Mosque In Boston A Factory For Terrorists. The New York Times thinks the Boston bombers "self-radicalized" on the Web. But it didn't look at their mosque, which has churned out other terrorists, too. USA Today, on the other hand, did look at their mosque — the Islamic Society of Boston — and found "a curriculum that radicalizes people," according to a local source quoted in the paper's investigation. "Other people have been radicalized there."
Who [...] is the Saudi student at the Boston Marathon bombings? As with much of Obama's presidency, something doesn't smell right about the Saudi student who was whisked rapidly out of the country immediately after the Boston Marathon bombings. Now that America cannot rely on journalists in the press (we now have propagandists), we must rely on Congress to demand to know the identity of the young Saudi who just happened to be at the scene of the crime. If you remember, he was tackled by an American who said the Saudi had been acting strange. Outside of being a Saudi.
Secretary Napolitano Caught in Lie, Media Absent. Homeland Security Secretary Janet Napolitano testified before the Senate Judiciary Committee to discuss immigration policy and was quickly questioned about a Saudi national who was reported early in the investigation of the Boston Marathon bombings as a "person of interest." Senator Chuck Grassley (R-IA) inquired about Abdul Rahman Ali al Harbi, about whom Napolitano refused to answer questions at a previous hearing. "Before the [Tsarnaev] brothers became the focus of the investigation, authorities questioned a Saudi student who reportedly was on a terror watchlist," said Grassley, "...if so, how did he obtain a student visa?"
Tsarnaevs were on welfare until 2012. [Scroll down] Note the timeline in this Boston Herald article. Some benefits no longer paid, some ceased for other reasons. The $64,000 question remains. Where'd they get the money to finance their lives, travel, live in one of the most expensive places in America and get themselves weaponized.
Rep: More arrests expected. "I hear a lot of definitive statements out there that it was just these two men and it's over, but I will tell you I hear these briefings every day, and I don't think this is over," said U.S. Rep. Mike Rogers, a Michigan Republican who chairs the House Committee on Intelligence. "There are clearly more persons of interest, and they're not 100 percent sure if there aren't other explosives."
Exclusive: Government doc shows how closely Boston Marathon bombers followed al Qaeda plans. A detailed analysis of the bombs used at the Boston Marathon and during a firefight between the suspects and law enforcement shows how closely the bombmakers followed instructions from the digital al Qaeda magazine "Inspire," according to a government document obtained by NBC News.
Boston jihad bomber was "angry that the world pictures Islam as a violent religion". Murdering innocent people at the Boston Marathon might seem a strange way to persuade the world that Islam is not violent, but since it has led to an avalanche of mainstream media assurances that Islam is a Religion of Peace, it seems to have worked [...]
The Editor says...
No, I can assure you that Islam is NOT a "Religion of Peace".
Wiretaps of Tamerlan Tsarnaev and his Mother Reveal Interest in 'Jihad'. Thank you Vladmir Putin for telling us about these wiretaps — after the bombing.
Obama's National-Security Fraud. The Times Square non-attack is quite interesting. The specter of it, projected in the immediate wake of the Marathon murders and maimings, is horrific ... so horrific that the government, in leaking this tidbit from its botched interrogation of Dzhokhar Tsarnaev, knew that news media were certain to lead their broadcasts with it. The press would never wonder why they, and thus we, were being told about it. But why were they told? Remember, the Times Square bombing not only never happened, it never came close to happening.
FBI reveal that they've identified Misha. The FBI has revealed that they now know the identity of the American known as Misha who helped radicalize the Boston bombing suspects. Family members of dead bomber Tamerlan Tsarnaev have described Misha as the guiding influence in the elder bomber developing radicalized views.
Mayor Bloomberg's Personal Reading Of Constitution. New York Mayor Michael Bloomberg says that in light of the Boston Marathon bombing, our interpretation of the Constitution will "have to change." Americans should be appalled at such a statement.
Ideology, Politics Trump Protecting U.S. Homeland. Two concerns dominate the White House's handling of Dzhokhar Tsarnaev: leftist legal ideology and political damage control. But there should be only one concern: keeping Americans safe.
Boston bombing suspects' mom in terror database. Zubeidat Tsarnaeva, a naturalized U.S. citizen, was added to the the U.S. National Counterterrorism Center's TIDE watch list in fall 2011 at the same time as her son Tamerlan Tsarnaev, who died April 19 in a shootout with police outside Boston, two anonymous government officials told AP. He subsequently traveled to Russia in January 2012 and returned in July.
Report: Federal Judge Overruled Investigators to Mirandize Boston Bomber. Reports indicate Dzhokhar Tsarnaev was mirandized by Federal Judge Marianne Bowler against the wishes of investigators who wanted to continue questioning the suspect. As news has come out of Bowler's actions on April 22, Republican lawmakers have pressed the DOJ to explain "why it didn't make a stronger bid to resist the judge's plans."
Tsarnaev Warning Came as Brennan Purged Material 'Offensive' to Muslims. Although law enforcement was lauded for quickly identifying and neutralizing both suspects in the Boston Marathon bombing last weekend, the FBI has much explaining to do over why now-deceased Tamerlan Tsarnaev, one of the suspects, managed to slip through the FBI's fingers after two warnings from Russian intelligence two years ago that Tsarnaev was tied to "radical Islam."
Missing the Ping. As the country awoke to the news of a massive manhunt for the Boston Marathon bombers in the early morning hours of Friday, April 19, reporters began pressing sources at the FBI and the Justice Department for information on the two attackers, Tamerlan and Dzhokhar Tsarnaev. The response, at least to some reporters: We don't know anything about them. That claim, like so many that followed, wouldn't hold up.
Gutsy Call on That Miranda Warning: Evidence of 3rd Bomber. They seem to believe that the bombs were detonated line of site, by radio remote control. I'm not sure why they conclude this next part: Ergo, the Tsarnaev's themselves could not have detonated them, and so there is a third party who manned the RCs. I do not get that last leap, though, as I thought that last picture of the murderous brothers leaving the bomb site had them pretty close to the bombs. Not so close to be hit, but close enough to be moving with the fleeing crowd (and not even out in front of the fleeing crowd).
Fumbling Bureaucratic Incompetence. In the wake of the Boston bombing, it's time to recognize an awkward fact: the Federal Bureau of Investigation, the national crime investigation force which doubles as an internal intelligence agency, is utterly incompetent. The FBI is a joke and it has been for a long time. Of course, this flies in the face of 75 years of propaganda telling us they're the best crime fighters on the planet. In movies and television shows, the FBI image is sterling.
Jihad On Our Tax Dollars? Since the Boston terrorist attack on 4/15/13 we've been learning a whole lot about the two Muslim morons who blew up little children and severely injured hundreds of innocent onlookers and merry marathon runners. Speaking of the Boston terrorist attack, how long do you think it'll be before the Leftists and their co-belligerent compadres, the Muslims, start whining about building a mosque close to the finish line of the Boston Marathon?
Homeland Security Committee Chairman: Boston Suspects Were Trained. The chairman of the House Homeland Security Committee says he believes the Boston Marathon bombing suspects had some training in carrying out their attack.
Why Muslims Kill: The murderer is the new celebrity. He emerges out of nowhere with a rags to mass murder story, and is swiftly accorded all the trappings of fame. Reporters track down anyone who knew him to learn about his childhood and his main influences. Relatives and friends both contribute fuzzy anecdotes, mostly indistinguishable from the ones they would present if he were competing on American Idol or running for president.
The Brothers Tsarnaev and the Danger Whose Name we Dare not Speak. The media stumbles over itself trying not to see why we were attacked while glorifying terrorists, showing them in the most innocent-looking youthful pictures they can find, interviewing irrelevant credulous neighbors and school chums and blaming innocents (us) for the acts of terror. The federal government in large part, starting with the White House, is no better. HSA Secretary Napolitano urges us, "see something, say something" but the major media and all the president's men (and women) seem to operate under a different order, "See, hear, and speak nothing of the Islamist evil that threatens us."
Gohmert: Muslim Brotherhood Is Guiding Obama In Boston Bombings Investigation. Appearing on World Net Daily's radio show, Gohmert speculated that Attorney General Eric Holder read bomber Dzhokhar Tsarnaev his Miranda rights to "shut him up" and undermine the investigation into the brothers' possible ties to radical Islam. "It's very clear to everybody but this administration that radical Islam is at war against us," he said, before noting that Obama has displayed a "real pattern" of "incompetence" in responding to the threat from extremists during his tenure.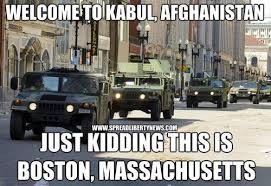 An Unbearable Aroma of Self-Righteousness in SWAT Nation. [Scroll down] The so-called "voluntary lock-down" in Watertown — a more appropriate phrase might be "martial law" — offered a chilling spectacle for anyone who cherishes his personal freedom. Remember the Fourth Amendment? That guaranteed that "The right of the people to be secure in their persons, houses, papers, and effects, against unreasonable searches and seizures, shall not be violated." Yet in Watertown, platoons of heavily armed police in combat gear went from house to house, guns drawn, banging down doors, screaming at people to come out of their own houses with their hands on their head. There were "a lot of big guns pointed at us," said one Watertown resident. Several news outlets used the word "surreal" to describe this concentrated display of the coercive power of the state. What worries me is not that it is "surreal" but that it is, increasingly, all too real.


Holder Warns: Don't Discrimminate [sic] Against Muslims After Boston. Investigators at the Department of Justice may not be willing to name radical Islam as a motive, but bombing suspect number 2, Dzhokhar Tsarnaev, admitted his older brother wanted to carry out the attacks in defense of Islam and was willing to die in the process. Not to mention their mother told CNN she didn't care that he oldest son was killed but instead wants the world to hear her say, "Allahu akbar."

Four Enduring Mysteries About the Boston Bombings. [#3] Did U.S. Intelligence Officials Fail to 'Connect the Dots' Again? A more dogged pursuit of leads and better intelligence sharing could have prevented the September 11 attacks, and some lawmakers now wonder if the same goes for Boston. The FBI investigated Tamerlan in 2011 after Russia's initial warning that he'd grown enchanted by Islamic radicalism, but the bureau closed its file on him after finding no "derogatory" information.

'Misha' Speaks: An Interview with the Alleged Boston Bomber's 'Svengali'. "It started in 2009. And it started right there, in Cambridge," Tamerlan's uncle, Ruslan Tsarni, told CNN after the attacks. "This person just took his brain. He just brainwashed him completely." These accusations set off a frenzied search for what some reports have called an Islamic Svengali, and over the past few days, the FBI has said it has located and has been talking to "Misha," though his identity has remained unknown.

Maloney: Background Check Would Have Stopped Boston Bombing Suspect. Law enforcement recovered one 9mm Ruger semi-automatic with an obliterated serial number from the scene of the shootout with the brothers, while younger suspect Dzhokhar Tsarnaev had no guns when taken into custody. The fact that the serial number was defaced is strong evidence the gun was purchased illegally, where background checks would clearly not apply.

The Premature Mirandizing of a Terrorist. There was no urgent need for a US attorney and a federal judge to rouse a terrorist listed in severe condition and read him rights. Judge Marianne Bowler's appearance in the hospital was a calculated attempt at aborting the investigation. The only reason she gave for her actions was the intense television coverage of the capture. Bowler, a Clinton appointee, had some experience in the Muslim world and no explanation except that the case needed to move forward because it was on television. The premature Mirandizing of terrorists had become a routine practice under Attorney General Eric Holder.

http://frontpagemag.com/2013/dgreenfield/the-premature-mirandizing-of-a-terrorist/

Congress members demand investigation into Tamerlan Tsarnaev's trip to Russia and his mother. Lawmakers yesterday [4/28/2013] demanded to know whether slain Boston Marathon terrorist Tamerlan Tsarnaev got overseas training and what role his jihad-loving mom played in developing his murderous beliefs. Focus on Tsarnaev's mother, Zubeidat Tsarnaeva, has intensified since Saturday [4/27/2013], when it was revealed that Russian security forces had wiretapped recordings of her speaking to Tamerlan about jihadist activities.

Terrorist welfare. The Boston Marathon bombers hated America, but they loved the American dole. The suspects in the scheme to murder and maim innocent men, women and children were living off the generosity of the American taxpayers they hated. The Boston Herald reports that the "brains" of the operation, Tamerlan Tsarnaev, was on the Massachusetts dole with his wife, Katherine, and their 3-year-old daughter, Zahara. The parents of the Tsarnaev brothers received welfare and the accused brother, Dzhokhar, received benefits when he was a child. Taxpayer generosity to the Tsarnaev family did not end there.

Muslim Mommy Dearest. You have probably already had the privilege of watching the heart-warming video clip of Zubeidat Tsarnaeva, the mother of the Boston jihadi bombers, in which she is screaming hysterically at a CNN reporter about her indifference to her sons' fates. She ends her tirade with a well-know jihadist expression — that informs its non-Muslim victims why they must die.

Boxing Extremists. The media has found the real cause of the Boston Marathon Bombing. It was not radical Islam. Oh no. That's silly and, if we're being honest with each other, a little offensive. I'm disappointed in you for even thinking such a thing. How dare you jump to conclusions like that? No no, the real spark? The real evil that sent Tamerlan Tsarnaev down his deadly path? The New York Times has found the real killer. It was boxing.

The Wrong Standards for Tsarnaev. [Scroll down] Now the news comes that the person who actually read the Miranda warning to Tsarnaev wasn't even an FBI agent, but a U.S. magistrate judge. [...] This is an outright violation of the separation of powers. It is not for federal judges, or worse yet their assistants, to rove around looking for criminal cases in which to act as law enforcement agents. [...] But the Obama Administration apparently did not protest very hard against this violation of the separation of powers. And we can see why. When the war on terror began, the Left's immediate reaction was to domesticate it by subjecting it to the same rules that apply to domestic crime.

Mother of bomb suspects insists sons are innocent. The angry and grieving mother of the Boston Marathon bombing suspects insists that her sons are innocent and that she's no terrorist.

Skepticism rises about bombing suspects acting alone. Two weeks after the Boston Marathon bombings, the debate still rages as to whether the two men accused of orchestrating the attack acted alone, particularly among members of Congress who say they see too much evidence of planning for an isolated operation. Authorities have said they believe only two men — Tamerlan Tsarnaev and his younger brother Dzhokhar — were involved in the attack. The younger brother has told authorities that they acted alone.

The Editor says...
Of course the younger brother claims the two of them acted on their own. Whether that's true or not, what else could he possibly say?

House Homeland chairman: Boston suspects had training. House Homeland Security Chairman Michael McCaul (R-Texas) said on Sunday that he believes the Boston bombers had sophisticated training. "And the question is where is that trainer or trainers?" McCaul said on Fox News Sunday. "Are they overseas in the Chechen region or are they in the United States?" McCaul cited the sophistication of the pressure cooker bombs and the fact that similar devices have been used in Pakistan and Afghanistan.

Ron Paul: Police manhunt for Boston Marathon bombing suspect scarier than attack. Former Rep. Ron Paul said the law enforcement that swarmed around Boston in the days following the marathon bombings was scarier than the actual terrorist attack. [...] Mr. Paul, a former libertarian political candidate who served in Congress as a member of the Republican Party, said the door-to-door searches police conducted in Watertown for the bombing suspects were particularly alarming. They reminded [him] of a "military coup in a far off banana republic," he said, Politico reported. "Force lockdown of a city. Militarized police riding tanks in the streets. Door-to-door armed searches without warrant. Families thrown out of their homes at gunpoint to be searched without probable cause. Businesses forced to close. Transport shut down."

Rep. Michael McCaul: Boston bombing suspects had help. The chairman of the House Homeland Security Committee says evidence suggests the two brothers accused of the Boston bombings had help planning the attack — and he says he has concerns about a possible "wider conspiracy" stretching overseas. U.S. officials investigating the bombings have told The Associated Press that so far there is no evidence of a wider plot.

Judge Jeanine to 'Mother of Jihadis': We Don't Want You Here. Judge Jeanine Pirro is taking a stand against injustice! She has a strong message for the Boston bombing suspects' mother and for the Obama administration.

Cabby Had Tsarnaevs in Cab With Backpack Weighing 20 Pounds. Massachusetts Cabby Jim Duggan says he "nearly drove off" with the Tsarnaev's "bombs in his trunk" on the night before the attack. Duggan said the brothers flagged him down April 14 outside a rapid transit station in the Boston suburb of Malden.

Boston Jihadis on Welfare: Who Paid for His Trip to Russia? This is more indication that the Tsarnaev jihad brothers did not act alone. Who paid for the six-month trip to Russia? And why did Massachusetts authorities not consider it odd that the wife had to be on welfare while husband had the money for six months in Russia? As for the welfare itself, as believers in the Qur'an, it is likely that they thought this money was their due. The Infidels should pay the Muslims, as per this verse: [...] Qur'an 9:29.

Bombers' Mosque In Boston A Factory For Terrorists. The New York Times thinks the Boston bombers "self-radicalized" on the Web. But it didn't look at their mosque, which has churned out other terrorists, too.

Recurring tragedy from a broken immigration system. After Sept. 11, there was comprehensive reform of our intelligence-gathering system, but our current system still did not adequately detect these latest extremists. We know they immigrated to the United States as children, but their background, combined with suspicious activities, did catch the attention of a foreign government two years ago. According to media reports, the FBI had interviewed the deceased Boston attack suspect at the request of that foreign government. As far as we know, there was no follow-up to the interview.

Dodging drones. The mayhem following Boston's Marathon massacre left four dead and 260 injured, prompting Police Commissioner Edward Davis last week to endorse the use of unmanned spy aircraft above next year's marathon. "Drones are a great idea," he told the Boston Herald. Actually, they're not. [...] Surveillance cameras don't prevent crime. There was no lack of video footage of the marathon, and the images were useful in quickly identifying the suspects after the fact. Much of the useful footage came from men and women filming the finish line or from cameras installed to watch over nearby shops and stores. Government drones would not have thwarted the attack.

It's Colonel Mustard, in the Study, with ... the Trajectory. Big news!! The super sleuths at The New York Times have cracked the Boston bombing case wide open this morning. Conducting "dozens of interviews with friends, acquaintances and relatives" in Cambridge and Dagestan, the team of team of three reporters examining the life of Tamerlan Tsarnaev concluded that a "trajectory" was responsible for the murder.

Mom, Apple Pie, Allahu Akbar. "Allahu Akbar," in case you were wondering, is the Official Greeting of fanatics and savages everywhere who take it upon themselves to evangelize on behalf of the Religion of Peace. It's sort of a middle-eastern "How-d'ya-do!" that you might hear just before, say, an Islamist Army major evangelizes by shooting and killing 13 people, or right before another aficionado spreads the good news by sawing a person's head off, or yet another disciple flies a civilian airplane into a building. And to think we used to worry about guys on bicycles handing out leaflets.

'Uncle Sam' [is] Picking Up [the] Bill for Boston Bomber's 'Prominent Death Penalty Lawyer'. Judy Clarke, a "prominent death penalty lawyer," in the words of the Associated Press, will represent the alleged Boston bomber, Dzhokhar Tsarnaev.

The 10 stupidest Islamic terrorists. [#10] The Tsarnaev brothers: It is small consolation to their victims, but the Boston bombers are really thick. They boasted about their attack to strangers. One brother ran over the other during their botched getaway. And they failed to throw away the cellphone of the man whose car they hijacked, meaning the police could track their every move.

Cleaning Islam of its Murderers. The time is now for all Muslim clerics of good will, especially within the United States, to band together for a massive public campaign aimed not at convincing non-Muslims of the clerics' own good intentions, but at telling all their fellow Muslims that violent jihad, terrorism, and forced "conversion" (or punishment) of non-Muslims is always and everywhere unacceptable and evil. If they will not do this, then they are morally complicit in the continuing crimes against humanity represented by the Boston bombing, by 9/11, and by so many other acts of cowardly, sub-human viciousness done in recent years supposedly in the name of Allah.

Ex: Boston bomber tried to 'brainwash' me to hate America. "He wanted me to hate America like he did." An ex-girlfriend of Boston Marathon bomber Tamerlan Tsarnaev said the man she started dating in 2006 transformed from a pot-smoking party boy into a jihad-spouting Islamic terrorist during their three-year relationship.

Female DNA Found on Boston Bomb. Maybe a sales clerk who sold the pressure cooker left female DNA on what would become a Boston bomb. Or could Tamerlan Tsarnaev's wife have been involved?

Could Boston bombing suspect avoid death penalty? Talks have started. Prosecutors and lawyers for surviving Boston Marathon bombing suspect Dzhokhar Tsarnaev have begun very early discussions about a possible deal, in which he would cooperate in exchange for avoiding the death penalty, legal sources said Monday [4/29/2013]. As details of the nascent negotiations emerged, a lawyer who has helped other high-profile suspects cut deals that kept them out of the execution chamber got permission to join Tsarnaev's defense team.

Tsarnaev family received $100G in benefits. The Tsarnaev family, including the suspected terrorists and their parents, benefited from more than $100,000 in taxpayer-funded assistance — a bonanza ranging from cash and food stamps to Section 8 housing from 2002 to 2012, the [Boston] Herald has learned. "The breadth of the benefits the family was receiving was stunning," said a person with knowledge of documents handed over to a legislative committee today [4/29/2013].

Female DNA found on bomb components in Boston Marathon probe, source says. Female DNA was found on bomb components used in the attack this month on the Boston Marathon, a source familiar with the investigation confirmed to Fox News, though the source cautioned that it is too early to draw hard conclusions from that evidence.

Three suspects charged with helping marathon bomber hide tracks. Three new suspects have been charged in connection with the Boston Marathon bombing, two for conspiring to get rid of their friend's incriminating backpack filled with gutted fireworks after learning he was a suspect in the April 15 terror attack, and another for lying to investigators, according to an FBI affidavit released Wednesday [5/1/2013].

CNN's Candy Crowley: System 'Worked' In Boston. The Free Beacon catches this jaw-dropper from CNN's Candy Crowley on her Sunday show, "State of the Union": ["]Here's what I'm gathering from the show today talking to folks in office and out of office observing from an expert point of view, it doesn't look as though there were really dots that were not connected. It looks as though it worked even though it ended up horribly. [... "]

WSJ: Female DNA found on Boston Marathon bomb. Female DNA was found on at least one of the bombs that exploded at the Boston Marathon but it was unclear what that means, The Wall Street Journal reported. Earlier, CNN reported the FBI has interviewed "Misha," a man who allegedly had a radicalizing influence on suspected Boston Marathon bomber Tamerlan Tsarnaev.

The Boston Marathon Bombing's Many Unanswered Questions. The Boston Marathon bombing, where three people were killed and 264 wounded, many with legs or feet blown off, continues to be a big media story, but we are still waiting for answers to many questions. How did our government miss so many clues that the Tsarnaev brothers were a deadly danger to Americans? They came into the United States as visitors from Kazakhstan, where many ethnic Chechens live without persecution and then cooked up a claim to be refugees, which was a fraud. After a few years, the father returned to Dagestan, Russia, where he now lives safely.

U.S. Charges Three More in Boston Marathon Case. U.S. prosecutors on Wednesday [5/1/2013] charged two men with destroying evidence after the Boston Marathon attacks and a third man with lying to investigators about his involvement in the matter.

Female DNA Found on Bomb in Boston Attack. Investigators have found female DNA on at least one of the bombs used in the Boston Marathon attacks, though they haven't determined whose DNA it is or whether its presence means a woman helped the two brothers suspected in the bombings, according to U.S. officials briefed on the probe.

Three more arrested in connection to Boston Marathon bombings. CBS News reports, "The Boston police department says three additional suspects have been taken into custody in connection with last month's marathon bombings."

FBI: 3 Men Removed Backpack From Boston Bombing Suspect's Room. Three men who went to school with one of the Boston Marathon bombing suspects have been charged in connection with the case, authorities announced Wednesday [5/1/2013].

FBI: 3 removed backpack from Boston suspect's room. Three college friends of Boston Marathon bombing suspect Dzhokhar Tsarnaev were arrested and accused Wednesday [5/1/2013] of removing a backpack containing fireworks emptied of gunpowder from Tsarnaev's dorm room three days after the attack to try to keep him from getting into trouble.

Top Intel Official: U.S. 'Took All Appropriate Steps' Before Boston Bombing. Director of National Intelligence James Clapper already believes there was no intelligence failure in the lead-up to the Boston Marathon bombings, despite an inquiry into the matter only just beginning.

Yet another communication that never arrived. We'll never know for sure whether Saudi Arabia really did warn the USA in writing about the terrorist attack intentions of one Tamerlan Tsarnaev, but we do know that President Barack Obama slept through the slaughter in Benghazi.

New Boston suspects drove car with 'Terrorista #1' license plate. Two suspects who have been taken into custody in connection with the Boston Marathon bombings drove a car with "Terrorista #1" printed on the front plate. Azamat Tazhayakov and Dias Kadyrbayev were reportedly arrested, along with one other person, for allegedly making false statements and conspiring to obstruct justice during the federal investigation into Boston Marathon bombing suspects Tamerlan and Dzhokhar Tsarnaev, officials said Wednesday [5/1/2013].

Krauthammer: Obama Claiming Ignorance About Benghazi Survivors Is "Stunning". [Scroll down] ["]The second thing that surprised me was that no one in the press corps asked about the Mirandizing of the terrorist who was in the hospital. That is a scandal of the first order. Here we are scurrying around the world trying to speak to people who might have known about the plot — looking at the wife, looking at others — and here in the hospital, is the one guy on planet earth who knows more about the plot, other explosives, other accomplices, other plans, other plots, anything out there, he would know more than anybody living. And this administration allows him to be Mirandized and shut up part way through the interrogation. That is a scandal of the first order.["]

Tsarnaev case exposes faults in state welfare. The shocking news that the suspected marathon bombers were on the Bay State dole — even as the late Tamerlan Tsarnaev took a six-month jaunt to hang out with jihadis in Dagestan — has thrown a glaring national spotlight on the troubled Massachusetts welfare system. "The proper question is: How can somebody afford an expensive, international flight when they're on public assistance?" said U.S. Rep. Jason Chaffetz (R-Utah), a member of the House Committee on Homeland Security.

Who We Must Blame For Boston. Barack Obama promised Tuesday [4/30/2013] that he would be taking lessons from the Boston Marathon jihad bombing: "When an event like this happens, we want to review every step that was taken, we want to leave no stone unturned, we want to see if there is in fact additional protocols and procedures that could be put in place that would further improve and enhance our ability to detect a potential attack." Sounds great — but ultimately all Obama offered were words. Words that are unlikely to be backed up by real action.

The Boston Bomber Should Face The Possibility Of The Death Penalty. Dzhokhar Tsarnaev and his brother murdered three people at the Boston Marathon, and grossly mutilated dozens more. The brother was killed in a shootout with police. The question is what justice Dzhokhar should face. The answer, as the Justice Department apparently understands, is a jury empowered to consider the death penalty.

Graham calls for joint select committee to investigate Boston bombing. Sen. Lindsey Graham (R-S.C.) said Tuesday [4/30/2013] that Congress should appoint a joint select committee to investigate the government's handling of intelligence regarding the Boston Marathon bombing suspects.

Saudis Warned U.S. in Writing of Boston Bomber's Danger. For what it's worth, the Department of Homeland Security and the White House are denying this report. Regardless, this is now out there. One wonders, what exactly, it would take at this point for our media to actually fall back in love with the once celebrated exercise of truth-gathering and shoe leather reporting. Yet again, this comes from the foreign press.

Laptop could contain important bombing clues. "Let's face it, there is everything in the universe potentially on that drive," [Jared] Stern told WTOP on Thursday [5/2/2013]. "For over 99 percent of the population, it is nearly impossible to cloak your historic activities on your computer completely. You can do things and probably make a dent in it. But the forensic tools available to investigators these days are so powerful, you would have to engage in full-volume encryption all day every day — you almost couldn't have a job."

Inconvenient Truths of the Boston Bombings. It is understandable that a lot of people were relieved when the government was quickly able to identify and locate the perpetrators of the Boston Marathon bombings. And it is also understandable why some people might want to treat the surviving attacker as an "enemy combatant," given his ostensible beliefs in — and potential ties to — militant Islam. But that doesn't make any of it right or just — or permissible under our Constitution.

Vladimir Putin and the Boston Bombings. The Russian dictator Vladimir Putin is singing you a siren song, Mr. and Mrs. America, about how you and he are struggling together against global terrorism. Don't you believe it, though — not for one neo-Soviet second. Russia stands with the terrorists, not against them. Russia stands against America, and all she represents.

One for the Citizens. This marks something of a royal flush or bases-loaded home run in incompetent intelligence, something that required actual skill and will be difficult to surpass. We can top this off with the sudden Mirandizing of Dzhokhar just as FBI questioning was starting to get answers. Reports suggest that an FBI agent raced out to get a sympathetic judge to handle it. Anybody want to bet that the agent in question had "Mohammed" in his name? One thing for sure: there will be no worthwhile investigation or punishment involving any of this.

Good for the Boston Imams. Imams are saying they will refuse to give "last rites" to the body of Tamarlan Tsarnaev.

UMass locks up students' records. As UMass Dartmouth finds itself at the center of a terrorism investigation with four students jailed, school officials are refusing to release even basic information about the marathon-bombing-linked suspects — saying their privacy rights outweigh the public's right to know.

A simple text message, an ominous meaning. A message on a college student's cellphone was one of the first indications of the identity of one of the Boston Marathon bombers.

Woulda. coulda. shoulda. Starting with 9/11, Washington has been quick to holler "no one's connecting the dots!" whenever there's been an attack. But when it comes to ensuring those dots are collected, it's another story. Now we have the bombings in Boston, and we are seeing the same dynamic. Of all the questions, surely the most salient are these: What could the FBI have learned, when could it have learned it — and would it have made a difference?

Boston Suspect Month Before Attack: I Know How to Build a Bomb. Just a month before three people were killed and more than 260 others injured when a pair of bombs ripped through the crowd near the finish line at the Boston Marathon, bombing suspect Dzhokhar Tsarnaev bragged to his friends that he knew how to build explosives, criminal complaints against three new suspects revealed today [5/1/2013].

Texts, TV, then trouble for bombing suspect's pals. Dias Kadyrbayev was driving back to his apartment when he got a call from a college buddy. A clearly anxious Robel Phillipos told him authorities had released photos of the alleged Boston Marathon bombers — and one of them looked very familiar. When he got home, Kadrybayev turned on the television to see a shaggy-haired Dzhokhar Tsarnaev, his friend, classmate and, by then, one of the most wanted men in the world.

Tsarnaev Was Too Dangerous For Mecca, But Not Boston. Tamerlan Tsarnaev was apparently too dangerous to be allowed to go to Mecca, but not Boston. Saudi Arabia unofficially says that if Janet Napolitano read her mail, the Boston bombing might have been prevented.

Lessons from Fort Hood haunt Boston case. [Former Connecticut senator Joe] Lieberman's report on Fort Hood and the lessons learned was released in February 2011, and states: "The FBI's transformation to become an efficient and effective intelligence-driven organization focusing on preventing domestic terrorist attacks is unfinished." That was two years ago. After the events in Boston, it would seem the FBI's work is still unfinished.

Three Suspects Arrested in Connection with Boston Bombing. Azamat Tazhayakov and Dias Kadyrbayev appear in [a photo] with Dzhorkhar Tsarnaev. They have been under detention and will continue under voluntary detention until a hearing on May 15th. The third suspect is Robel Phillipos of Cambridge, Mass. All three are 19-years old. Fox News owns this story because of the outstanding investigation by Catherine Herridege and because they are willing to report it factually. The men discarded Dzhorkhar's backpack with fireworks and computer after the bombing.

Media downplay Tsarnaev connection to Muslim student group. Coverage of the Boston Marathon bombing has ignored admitted bomber Dzhokhar Tsarnaev's connection to his college's Muslim Student Association, a group that has close relations with both the Muslim Brotherhood and a local imam friendly with an al-Qaida operative. Although a student leader and the mainstream media have downplayed Tsarnaev's ties to the the group, Tsarnaev associated frequently with the Muslim Student Association (MSA) at University of Massachusetts-Dartmouth.

How many lone wolves make a pack? Throw the book at them! Please, no more talk about how they're "only" 19 years old and they don't understand the customs of the Western world. Deportation is way too easy.

Giuliani: Charge Tsarnaev accomplices in MIT officer's death, too. Before Rudy Giuliani became "America's Mayor" in the aftermath of the 9/11 attacks, he spent years as a federal prosecutor. Today [5/2/2013] on CNN, Giuliani brought that perspective to bear on the case of the three after-the-fact accomplices of Dzhokhar Tsarnaev, expressing considerable skepticism about their motives in this case.

Boston Bombings May Doom Immigration Deal. A Quinnipiac University poll taken this week said in the wake of the Boston Marathon bombings 23 percent of voters changed their opinion on whether to allow a pathway to citizenship for illegal immigrants. And that was before two Kazakh nationals, both in the country illegally, were arrested Wednesday for trying to destroy evidence at the behest of the surviving bombing suspect.

The deadly sound silence can make. We already know that Dias Kadyrbayev was either too stupid or too lazy to continue as an engineering major at UMass Dartmouth. His New York lawyer will soon try to convince a federal judge that this 19-year-old kid from Kazakhstan wasn't even bright enough to put two and two together.

Terror database too vague to flag Boston suspect. The Terrorist Identities Datamart Environment list, known as TIDE, was the government's attempt after the Sept. 11 attacks to consolidate a hodgepodge of watch lists, and ensure that every law enforcement agency would be alerted when it came into contact with a possible terrorist. But TIDE has ballooned to 875,000 records, and critics say it is so all-encompassing that its value has been diminished. The database includes the names of young children of suspected terrorists and of people who have been cleared of suspected links to terrorism, officials say. A single credible tip raising "reasonable suspicion" is enough to add someone to the list.

Boston suspect says bombings were initially planned for 4th of July. The surviving suspect in the Boston Marathon bombing told the FBI he and his brother initially considered committing suicide bombings and planned attacking on the Fourth of July at Boston's large celebration along the Charles River, according to two law enforcement officials.

Higher Education's Role in the Boston Marathon Attack. So, UMass-Dartmouth, you have a campus where one student decided to place a bomb next to a child and blow up marathoners, and several of his friends, also students, learned of his actions, and then turned around and tried to help him by destroying evidence. This is on a college campus, a place where "tolerance" is considered the supreme value. Yet somehow, Dzhokhar Tsarnaev never learned to tolerate the existence of American children watching a marathon.

Boston Marathon was 'target of opportunity,' bombs built in attacker's home, sources say. Authorities suspect the Tsarnaev brothers built the explosives used to attack the Boston Marathon in the older brother's home and chose the prestigious race as a "target of opportunity," sources tell Fox News. The older brother, Tamerlan Tsarnaev, 26, and 19-year-old Dzhokhar Tsarnaev allegedly assembled at least four types of improvised explosive devices in the home Tamerlan shared with wife Katherine Russell, sources tell Fox News. Typically, in cases of homegrown terror, only one type of explosive is constructed.

Busted Rhetoric "Explains" the Brothers Tsarnaev. As more information about the brothers — and their parents — has emerged, various pundits continue trying to explain away anti-Western, militant Islam's role in forming the Brothers Tsarnaev's murderous mindset. That piece of the puzzle doesn't suit their purpose when they play the Blame Game. They have a need for something else, something deeper, in their never-ending attempt to tell us rubes "what it all means." In the case of Tamerlan Tsarnaev, one theory getting attention was his stymied dreams of a boxing career.

Whose side is Obama on? Team Obama decided precipitously to charge the surviving alleged bomber, Dzhokhar Tsarnaev, in civilian court. This action resulted in his being read Miranda rights and obtaining a lawyer, prompting him to refuse to answer more questions from investigators. Former federal prosecutor Andrew C. McCarthy observed, "Obama was determined to end the public debate over whether the jihadist is a wartime enemy combatant or a mere criminal defendant."

Source: Focus tightens on widow of dead Boston bombing suspect. Investigators have stepped up their interest in the widow of one of the suspects in the Boston Marathon bombings after finding radical Islamist material on her computer, according to a federal law enforcement source. The material included Inspire, al-Qaida's online magazine, the source said. The new focus on Katherine Russell, 24, the widow of Tamerlan Tsarnaev, came as forensic tests detected residue from explosives in the bathtub and kitchen sink in the couple's Cambridge apartment.

Enemies Foreign and Domestic. I don't know very much about the ins and outs of visa vigilance as they pertain to one Tamerlan Tsarnaev (the dead Boston bomber). That's not much of a problem. What is a problem is when the FBI, DHS, NSA, NSC, CIA, and, for all I know, MIB don't seem to be able to track a guy about whom they have been warned. And some or all of those agencies were warned by our loyal allies in the security area, the Russians.

Investigators sharpen focus on Boston bombing suspect's widow. Federal law enforcement officials are sharpening their focus on the widow of the dead suspect in the Boston Marathon bombing after finding al-Qaeda's Inspire magazine and other radical Islamist material on her computer, according to law enforcement officials.

Al Qaeda magazine found on laptop of bomber's widow. Katherine Russell, 24, has repeatedly claimed through her attorney that she knew nothing about the deadly April 15 bombings allegedly set off by her late husband, Tamerlan Tsarnaev, and his younger brother, Dzhokhar. However, the discovery of al Qaeda's Inspire magazine on Russell's computer, along with the presence of explosive residue throughout their home, have raised new questions about Russell's possible involvement in the act of terror.

Cohen: UMass flunking Marathon test. UMass/Dartmouth officials continue to stonewall on the issue of releasing information on the records of four students now in custody in connection with the Boston Marathon bombing. The taxpayers, whose hard-earned dollars keep the place in business, should be outraged.

The 5 major developments in the Boston Marathon case over the weekend. As one bombing suspect recovers in a prison hospital and cemeteries reject the body of the other, a whirlwind of new developments are swirling around the investigation into the Boston Marathon bombings.

Drama of race captured on lost video. I thought that camera was gone, lost in the confusion. But just a few days ago, it arrived in the mail — sent by the California couple who picked it up off the street — along with its images and more pain than I expected. It all came rushing back when I watched the lost footage.

Feds agree to spring bomb suspect's pal on house arrest. Robel Phillipos, a college pal of accused Boston Marathon bomber Dzhokhar Tsarnaev, has been set free from jail and put on house arrest. The 19-year-old Cambridge man appeared in federal court today [5/6/2013] for a hearing on whether the feds had probable cause to arrest him, and whether he should be allowed to post bail.

The New York Times Erases Islam from Existence. While the New York Times dispatched its best and brightest lackeys to Boston to write sensitive pieces on how hard it was for the two Tsarnaevs to fit in, it fell to a UK tabloids like The Sun to conduct an interview with the ex-girlfriend of the lead terrorist and learn that he wanted her to hate America and beat her because she wouldn't wear a Hijab.

Obama officials to decide release of UMass data. The Obama administration will decide "in the coming days" whether taxpayers have a right to know if they helped fund the UMass education of four suspects linked to the Boston Marathon bombing investigation, the Herald has learned. The University of Massachusetts Dartmouth — which has stonewalled requests for the financial aid records of terror suspect Dzhokhar Tsarnaev and three students accused of covering up for him — requested an "exception" to federal law from the U.S. Department of Education on Friday.

LA Times: Boston Bomber's Faith was 'Conservative Islam'. Exactly what is "conservative Islam"? Was Tamerlan self-radicalized into "conservative Islam," LA Times? How about Hasan at Ft. Hood? Was he another "conservative Islamist" who committed "workplace violence?" Matt Pearce is the reporter responsible for coining this new phrase.

Boston Suspects' Parents on the Run. First reporters hounded them for interviews. Now the mother and father of the Tsarnaev brothers have been kicked out of Chechnya by its president.

How Did America Become A Paper Tiger? One of our ambassadors and three others State employees are brutally murdered and the White House stonewalls all inquiries and calls reasonable questions about the incident political posturing by Republicans. We suffer a devastating homeland attack in Boston, the first since 9/11/2001 and later learn how preventable it was if we had a Homeland Security Agency and an FBI that actually did their jobs. How did this great nation get to such a level of governmental incompetence and spinelessness?

Report warned Boston Marathon was vulnerable to terrorism. A regional intelligence agency told police days before the attack that extremists could potentially target the event. Police complain at a congressional hearing that federal officials didn't tell them more about the suspects.

From Benghazi to Boston. The two seemingly disparate events, separated by time and distance and sophistication, share much in common. By the close of each sorry episode, four people had died. The villains in each case considered themselves soldiers of Allah fighting a holy war against America. In both instances the political correctness of government officials prevented discovery of the truth. Benghazi and Boston are symptoms of the same disorder. They are twin studies in evasion.

Obamites Must Stop Mollycoddling Islamists. Was the FBI's failure to track Tamarlan Tsarnaev a matter not just of bad luck or incompetence, but actually the result of outlandish policy choices by the Obama administration? [...] That's the only explanation I can imagine for not continuing surveillance of somebody who had been reported by a foreign government to have extremist ties, whose public electronic communications were full of Islamic rage and jihadist sympathies, who attended an Islamic religious center with extremist ties, who had been detained for anger issues (abusing his girlfriend) — and who, quite strangely, showed no visible distress about the murder of a good friend.

'Mounting Evidence' Boston Bombers Involved in 2011 Triple Murder. Massachusetts investigators have developed what they call "mounting evidence," bolstered by "forensic hits," that point to the possible involvement of both Tamerlan Tsarnaev and his younger brother Dzhokhar in a gruesome, unsolved triple homicide in 2011, law enforcement officials told ABC News.

White House Handling of Boston Bombing Draws Suspicion. It is odd that the Obama administration knew in advance about the brothers who bombed the Boston Marathon, yet took no preventative action. It is even odder how a Saudi national identified at the scene went from being a "person of interest" to no one.

Mom's texts raised flags. Russian agents intercepted text messages showing Tamerlan Tsarnaev wanted to join up with militant jihadists, according to a new report — a revelation that could have put the Boston bomber under closer federal watch, experts say, if it was shared with U.S. officials. "That could have been the trigger that put him under surveillance," said Cedric Leighton, former deputy director of training at the National Security Agency.

The FBI Did Not Need a Miranda Exception to Question Tsarnaev About Ticking Bombs. [Scroll down] By contrast, in New York v. Quarles, the 1984 Supreme Court case that gave rise to the public-safety exception, the Miranda rule initially led to the dismissal of a weapons charge because police found the suspect's gun after he indicated where he had hidden it in response to a question asked before he was read his rights. As Justice Sandra Day O'Connor pointed out in a concurring opinion, it is not clear that the gun actually had to be excluded based on the Miranda rule as it stood before the Court invented the public-safety exception.

Civil Libertarians and Excessive Post-Boston Angst. In explaining its refusal to treat the [Boston] bomber as an enemy combatant, the Obama White House mixed apples and oranges by saying, "We will prosecute this terrorist through our civilian system of justice. Under U.S. law, United States citizens cannot be tried in military commissions." But trial before a military tribunal and interrogation of an enemy combatant are two separate things. By conflating the two, and by falsely suggesting deprivation of the bomber's legal rights, we jeopardize our need to untangle the current attack and prevent future harm.

Note praising Allah didn't float PC boat. Finally, we get the note in the boat — a month late. Do you how much media effort has been devoted to unearthing what Dzhokhar Tsarnaev apparently thought was his last will and testament? But somehow, the cops held it tight until yesterday [5/16/2013]. Unconfirmed stories have circulated that in Dave Henneberry's backyard in Watertown that Friday evening, the feds went so far as to check out the cellphones of the local cops, to make sure no one had snapped a photo of the note in the boat.

How Mothers from Hell Raise Their Boys to Do Evil. Ayman al-Zawahiri's wife advised Muslim women: "I advise you to raise your children in the cult of jihad and martyrdom and to instil in them a love for religion and death." And as one jihadist put it, "We love death. You love your life!" And another: "The Americans love Pepsi-Cola, we love death." That was from Afghan jihadist Maulana Inyadullah. Ultimately, this idea comes from the Qur'an itself.

FBI: Kissimmee man shot after attacking agent during questioning in Boston Marathon bombings. It wasn't until 27-year-old Ibragim Todashev was shot to death while being questioned — after lunging at an FBI agent with a knife in an Orlando condo early Wednesday — that it became clear the federal government's probe had extended to Central Florida. Federal law enforcement sources said the FBI agent, two Massachusetts State Police troopers and other law enforcement officials were "primarily" questioning Todashev about a Sept. 11, 2011, triple slaying in Waltham, Mass.

Florida Man Shot by FBI Was About to Sign Boston Murder Confession: Officials. The man shot dead by an FBI agent in Orlando, Florida early today was "about to sign a statement" admitting to a role, along with Boston Marathon bombing suspect Tamerlan Tsarnaev, in an unsolved triple murder in Massachusetts in 2011, two people with direct knowledge of the case told ABC News.

Man questioned in Boston Marathon bombing shot, killed by FBI. A friend of Ibragim Todashev said he and Todashev were being investigated as part of the Boston bombings. He said Todashev, 27, knew bombing suspect Tamerlan Tsarnaev because both were MMA fighters.

Big Government's Abuses of Power. In the case of Boston terrorist bomber Tamerlan Tsarnaev, his loud jihadist activity had earned him a visit from the FBI and the attention of both the CIA and the Department of Homeland Security. But all that government monitoring was for naught. Tsarnaev was not detained, but allowed to visit Dagestan and Chechnya — both located in the supposedly dangerous region that prompted his family's flight to the U.S. in the first place.

Stop Importing Terrorists To The United States. A number of recent terrorist cases call into question Washington's push to give amnesty to all illegal immigrants, including those from hostile Muslim countries. The latest case involves a possibly illegal Chechen immigrant who reportedly stabbed an FBI agent in Orlando. Ibragim Todashev was close to confessing to a triple homicide in Boston when he suddenly lunged at the agent during an interview. The Muslim man was then shot dead. Todashev, who'd traveled recently to the al-Qaida hotspot of Chechnya, was pals with Boston Marathon bomber Tamerlan Tsarnaev.

Did Boston bombing suspect Tamerlan Tsarnaev steal the gun used to kill police officer Sean Collier? The girlfriend of one of the three men brutally killed in a Waltham, Massachusetts apartment in 2011 has revealed that she told police soon after the murders that Boston Marathon bombing suspect Tamerlan Tsarnaev had been a frequent visitor to the apartment.

Officials: Man who knew Boston bombing suspect was unarmed when shot. A Chechen man who was fatally shot by an FBI agent last week during an interview about one of the Boston bombing suspects was unarmed, law enforcement officials said Wednesday [5/29/2013]. An air of mystery has surrounded the FBI shooting of Ibragim Todashev, 27, since it occurred in Todashev's apartment early on the morning of May 22. The FBI said in a news release that day that Todashev, a former Boston resident who knew bombing suspect Tamerlan Tsarnaev, was killed during an interview with several law enforcement officers.

Send Us Your Violent Bigots, Yearning to Butcher Our Children. It's been a bad few weeks for cultural assimilation. Last month, two welfare-receiving immigrants in the United States, Dzhokhar and Tamerlan Tsarnaev, set off bombs at the Boston Marathon, killing three people and injuring hundreds. By the end of the week, they had murdered a cop and engaged in a wild shoot-out and bomb-throwing melee with the police. Last week, a couple of ethnic Nigerians butchered a British soldier with meat cleavers in broad daylight on a bustling street in a London suburb, then boasted about the murder in video interviews with bystanders.

Why Did the FBI Kill an Unarmed Man and Clam Up? What led an FBI agent, or some other law enforcement official, to shoot and kill an unarmed man in Orlando, Florida? The man, Ibragim Todashev, was being questioned about the Boston bombing, as well as an unsolved 2011 triple murder that he may or may not have confessed to committing. Does that sound sketchy? Don't blame me. Once he died, law enforcement started releasing anonymous, conflicting explanations so dubious that they warrant an inquiry all by themselves. Did the dead man have a knife? A gun? A sword? None of those?

Answers needed in death of Tamerlan Tsarnaev acquaintance. Last week, a team of FBI agents and Massachusetts police officers questioned Ibragim Todashev, an associate of Tamerlan Tsarnaev, a suspect in the Boston Marathon bombings who was killed days after that calamity. One of the agents left the interview with minor injuries. Mr. Todashev was carted out with, apparently, several bullet holes in his body. We say "apparently" because journalists have gotten a tangle of conflicting reports from law enforcement sources about what happened, many of which look bad for the FBI.

Latest issue of al Qaeda magazine Inspire celebrates Boston bombings. Excerpts of the 11th issue of Inspire magazine, al Qaeda in the Arabian Peninsula's propaganda rag, has leaked to the web, and focus extensively on the April 15 bombing of the Boston Marathon. According to the Middle East Media Research Institute, which monitors jihadi web forums, the latest issue leaked when Yemeni journalist Abd al-Razzaq Al-Jamal posted excerpts of the issue to his Facebook page.

Execution, says father of man FBI shot; govt says he attacked. The father of a Florida man with ties to Boston bombing suspect Tamerlan Tsarnaev said Thursday [5/30/2013] that his son was slain "execution-style" by FBI agents last week in Orlando. Ibragim Todashev, a 27-year-old mixed martial arts fighter, was shot in his Florida home on May 22 while an FBI agent and two Massachusetts state troopers questioned him about the Boston Marathon bombing suspect, as well as a triple slaying in Massachusetts two years ago.

Must the U.S. learn truth of Islam's cruelty the hard way? Western nations can either learn this the easy way, or they can learn it the hard way. Here in the United States, it appears we've chosen the hard way. Our fearless legislators in Congress, in their zeal for "immigration reform," have proposed every reform but the one that will keep America safest. Close the door. No more immigration. That will stop the flow of people coming to America, who, deep in their hearts, detest America. Had Tamerlan and Dzhokhar Tsarnaev been anywhere but America on April 15, the Boston Marathon bombings never would have happened. Two more Western countries that seem determined to learn the hard way are the United Kingdom and Sweden.

Boston's fire chief resigns amid criticism over handling of bombing. In a letter dated Monday, Chief Steve Abraira says his resignation is effective Friday [6/7/2013].

Obama FBI leaking information to terror-linked CAIR? This is what happens when the FBI refuses to present a coherent story on how an interviewee is shot dead and when agents leak to terror-linked Muslim groups.

Mass. pair sues New York Post over Marathon bombing portrayal. A Massachusetts teenager and his 24-year-old friend filed a defamation lawsuit against the New York Post Wednesday in Boston, accusing the tabloid of falsely portraying them as suspects in the deadly Marathon bombings by plastering their photograph on the front page under the headline, "Bag Men."

On Not Knowing What to Look For. The Congressional delegation investigating Russian intelligence alerts about Tamerlan Tsarnaev in 2011 returned from Moscow this week with a message that completely misses the point. If we had had the kind of U.S./Russian cooperation a year ago that we have now, the delegation postulate, the Boston Marathon bombings might have been prevented. [...] This conclusion, however, is wrong. The Russians did warn the FBI about Tamerlan Tsarnaev, and their warnings were quite specific.

US snooping is slippery slope to abuse of civil liberties. [T]he FBI had been warned about the jihadist turn by one of the brothers who bombed the Boston Marathon, but took its eye off him, perhaps out of an excessive concern for his rights.

Obama's Snooping Excludes Mosques, Missed Boston Bombers. The White House assures that tracking our every phone call and keystroke is to stop terrorists, and yet it won't snoop in mosques, where the terrorists are. That's right, the government's sweeping surveillance of our most private communications excludes the jihad factories where homegrown terrorists are radicalized. Since October 2011, mosques have been off-limits to FBI agents. No more surveillance or undercover string operations without high-level approval from a special oversight body at the Justice Department dubbed the Sensitive Operations Review Committee. Who makes up this body, and how do they decide requests? Nobody knows; the names of the chairman, members and staff are kept secret.

Louie Gohmert And Robert Mueller Explode Over Investigation Into Boston Bombers. A tense exchange erupted on Thursday [6/13/2013] between Rep. Louie Gohmert (R-TX) and FBI Director Robert Mueller on Thursday [6/13/2013] during a House Judiciary Committee hearing. Gohmert suggested that the FBI was negligent in its responsibilities prior to the April attack on the Boston Marathon because they neglected to investigate local Muslim institutions and leaders. Mueller and Gohmert traded barbs after the FBI director insisted that the GOP representative had his facts wrong.

So Why Didn't NSA Catch The Tsarnaev Brothers? It boggles the mind that we didn't listen to the Russians when they warned about the Tsarnaev brothers in part because, well, they're the Russians. But we want to preserve the records of every housewife in Des Moines because data mining that arguably invades the privacy rights of innocent Americans might reveal something. One person whose privacy was not invaded by U.S. intelligence was Tamerlan Tsarnaev, as he repeatedly visited the al-Qaida online magazine Inspire for its recipe "Build a Bomb in the Kitchen of Your Mom."

FBI knew earlier of Boston bombing suspect. Deceased Boston Marathon bombing suspect Tamerlan Tsarnaev came to the attention of the FBI on at least two occasions prior to a Russian government warning in March 2011 that said he appeared to be radicalizing, FBI Director Robert Mueller said in Congressional testimony this week. The earlier references have led some lawmakers to question whether the FBI acted too quickly in closing an assessment of Tsarnaev's potential ties to terrorism done in response to the Russian request.

Grand jury returns 30-count indictment against Dzhokhar Tsarnaev in Boston Marathon bombings. Boston Marathon suspect Dzhokhar Tsarnaev downloaded bomb-making instructions from an al-Qaida magazine, gathered online material on Islamic jihad and martyrdom, and later scrawled anti-American messages inside the boat where he lay wounded, a federal indictment charged Thursday [6/27/2013].

Boston Marathon bombing victims will split $60.9 million. The charity fund established after the Boston Marathon bombings awarded $60.9 million Friday [6/28/2013] to victims of the attacks, including maximum payments of nearly $2.2 million each to two double amputees and the families of the four people slain. Fourteen other people who lost single limbs will receive nearly $1.2 million each. In all, 232 victims will receive payments, said Camille Biros, deputy administrator of the One Fund Boston, which has been collecting public donations for the victims.

Anti-terror campaigner: 'Boston was a reality check for this administration who sold us a lie'. "We have a problem in our country when a faith-based group that accounts for less than two percent of the American population is responsible for almost 85 percent of terrorist attacks and plots against the United States," [Brigitte] Gabriel said. "That's a problem that our nation has to address. Our government was selling the lie that there is nothing to worry about, everything is fine." "The brothers in Boston — we did not foil their attack because of great intelligence on the part of our Homeland Security with all the eavesdropping that they are doing," Gabriel continued. "The FBI was taking their pictures and showing it to everybody: 'Hey, have you seen these guys before?'... You interviewed these guys. You got intelligence from the Russians."

Outraged mother of Boston Marathon bombing victims: 'It's been a nightmare'. Her heart has been broken "in a million ways," but Liz Norden has vowed to look evil in the eye tomorrow in a search for answers as accused Boston Marathon bomber Dzhokhar Tsarnaev makes his first appearance in federal court. "I'm angry now," the 50-year-old Wakefield mom, whose two sons were maimed in the attacks, said yesterday [7/8/2013]. "It's been a nightmare. We're living it. I'm trying to make sense of this and I will be there every step of the way."

Tsarnaev, Hasan and Deadly Political Correctness. On Wednesday [7/10/2013] Dzhohkar Tsarnaev pleaded not guilty to 30 counts in the Boston Marathon bombings and jury selection began in the case of U.S. Army Major Nidal Hasan, accused of murdering 13 at Fort Hood, Texas, in 2009. The Hasan and Tsarnaev cases emerged the same day in testimony before the House Homeland Security Committee, where the first witness, Rudy Giuliani, said that political correctness hinders efforts to stop terrorists before they strike.

Police probe possible links between terrorism suspect and Boston bombing. A Boston-area man accused of threatening to blow up an airplane allegedly had all the materials needed to build a pressure-cooker bomb before this kind of weapon was used in the Boston Marathon attack in April, according to comments made by the man's mother in a recently unsealed police affidavit.

BBC claims Tamerlan Tsarnaev motivated by "right-wing" literature, not radical Islam. With all the efforts to tie the Tea Party and "right wing" to violence committed by others, it wouldn't be long before the Islamic radical Boston bomber Tamerlan Tsarnaev was tied to "right-wing" causes. With the slenderest of proof, The BBC goes there.

Dzhokhar Tsarnaev's college friends indicted for allegedly impeding Boston Marathon bombing investigation. Two former UMass-Dartmouth students with ties to Boston Marathon terror bombing suspect Dzhokhar Tsarnaev were indicted today [8/8/2013] on obstruction of justice charges for allegedly trying to impede the Boston Marathon terror bombing investigation. Kazakhstan nationals Dias Kadyrbayev, 19, and Azamat Tazhayakov, 19, are accused of helping to get rid of incriminating evidence that Tsarnaev left behind in his college dorm room on April 18, three days after the terror bombing killed three and wounded 260 in Boston.

Lawyers debate death penalty for Dzhokhar Tsarnaev. With the death penalty in the marathon bombing case due to be discussed today, federal prosecutors will push Oct. 31 as their deadline to recommend to the U.S. Department of Justice whether terror suspect Dzhokhar "Jahar" Tsarnaev should be put to death if convicted of the April 15 Boston Marathon bombing.

Dzhokhar Tsarnaev disposed of Boston bombing evidence, memo says. Dzhokhar Tsarnaev, charged with carrying out the April bombings at the Boston Marathon, disposed of key evidence after the attack by "discarding a remaining bomb detonator and smashing his cellphones," according to an internal memo approved by Atty. Gen. Eric H. Holder Jr. and made public Wednesday [10/2/2013]. The memo, written to the director of the U.S. Bureau of Prisons to justify the imposition of harsh detention restrictions on Tsarnaev, also said he and his brother, Tamerlan Tsarnaev, "made additional bombs" after the lethal blasts and convinced others to "attempt to destroy evidence related to the attack."

No tally on our tab for the Tsarnaevs. Six months later, the state still doesn't have a clue how much was paid out in welfare benefits to the bloodthirsty, leeching Tsarnaev family. I'll bet it was closer to a million than $500,000. "The state contribution" — that would be $100,000 — "paled in comparison to the federal benefits they got," state Rep. David Linsky (D-Natick), the chairman of the House Post Audit and Oversight Committee, was saying yesterday [10/17/2013].

Dead Boston marathon bombing suspect linked to 2011 triple slaying: court papers. Tamerlan Tsarnaev, the Boston marathon bombing suspect who was shot dead by cops, allegedly took part in a triple homicide in Waltham, Mass. in Sept. 2011. The victims were reportedly found with their necks slit and covered in marijuana.

ACLU booted from Dzhokhar Tsarnaev hearing. The American Civil Liberties Union has been shut out of weighing in on accused Boston Marathon bombing suspect Dzhokhar Tsarnaev's claims of hardship behind bars at a hearing tomorrow to address whether the alleged terrorist deserves to be cut some slack while he awaits trial.

The man charged with terror bombing gets catered Islamic meals.
Boston Bomber 'Tortured" With Catered Islamic Meals. Just when we think we've reached the limits of tolerance for Muslim terrorists, we learn that one of the jihadist punks who confessed to killing and maiming hundreds of marathoners, then terrorizing and shutting down an entire major U.S. city, all in the name of Allah, has been getting meals prepared for him in accordance with Islamic dietary requirements. His special halal menu includes such dishes as baked lasagna, salad and garlic bread. Tsarnaev also gets copies of the Quran and other Islamic texts to brush up on his hatred for infidels, fellow Americans most especially included.

A Family Terror: The Tsarnaevs and the Boston Bombing. A decade ago, a Wall Street Journal reporter happened to befriend the Tsarnaevs. The story of his surprise — and the family's — when the sons emerged as suspects in the attack.

Oh, brother! what a doozy. The Boston Globe is going for a Pulitzer Prize — in Political Correctness. And if some other money-hemorrhaging broadsheet does manage to out-moonbat the Globe, well, there's always the consolation prize — the Profiles in Courage award, for being courageous enough to take the wrong, but fashionable, position. The Globe's take: the Tsarnaevs are "homegrown" terrorists. Yes, they were. Their home was a Third World backwater overrun with savages like themselves — Muslim terrorists.

AG to seek death penalty against Dzhokhar Tsarnaev. Even though he voted against the death penalty as a legislator, Boston Mayor Martin J. Walsh today [1/30/2014] said he backs the Attorney General's decision to put capital punishment on the table for accused marathon bomber Dzhokhar Tsarnaev.

Boston bomber suspect, Dzhokhar Tsarnaev, makes detrimental statement: FBI. Federal prosecutors say an FBI agent overheard Boston Marathon bombing suspect, Dzhokhar Tsarnaev, make a 'statement to his detriment' when his sister visited him in prison.

Feds Searching for Friend of Boston Marathon Suspect, 'Concern' Over Chechnya Trip. U.S. counter-terrorism officials are attempting to track down a female friend of the accused Boston Marathon bomber after she traveled to Chechnya last year and is believed to have since posted "alarming" jihadi imagery online, officials told ABC News. Officials are concerned that Heda Umarova, 23, may have been radicalized to Islamist violence — allegedly just like her friend Dzhokhar Tsarnaev, charged in the April 15 bombings, and his brother Tamerlan, who was killed in a police shootout — and could pose a threat to Americans overseas because her U.S. passport allows easy foreign travel.

Trooper warned investigators before friend of Boston bombing suspect attacked, was killed. The report released Tuesday says 27-year-old Ibragim Todashev flipped a coffee table at an FBI agent and charged a Massachusetts State Police trooper with a pole before the agent shot him dead.

The Unknown in the Boston Bombings. On Wednesday, the House Homeland Security Committee released a report summarizing its investigation into the April 15, 2013, terrorist attack at the Boston Marathon. Among the report's key findings: Nearly one year after twin backpack bombs killed three people and wounded more than 260 others, U.S. officials are still unsure about the extent of the terrorists' foreign ties. Two Chechen brothers, Tamerlan and Dzhokhar Tsarnaev, planted the bombs. There are clear indications that they were inspired by jihadism. But questions have surrounded Tamerlan's associates since shortly after the attack and those questions have not been fully resolved.

Defense seeks feds' links to Tsarnaevs. A heavy-hitting death penalty expert recently assigned to accused Boston Marathon bomber Dzhokhar Tsarnaev's all-star defense team threw an uppercut at prosecutors yesterday, requesting any evidence that may save his client's life — including information to support their claim the FBI asked older brother Tamerlan Tsarnaev to be an informant.

Harvard issues report on marathon bombing response. The manhunt for the Boston Marathon bombing suspects culminated in a chaotic gunfight that placed police and the public in danger because it lacked coordination and restraint, according to an otherwise largely positive report released Thursday by Harvard University on the emergency response to the explosions.

Questions remain over widow of Boston Marathon bomber. Today, at 25, Katie Russell is best known as the widow of the Boston bomber. As the first anniversary of the attack nears, she remains one of its biggest mysteries — how she was drawn into her husband's world, and what she knew about his plans.

Tamerlan Tsarnaev sought to rename himself after militant. Months before the Boston Marathon bombings, the older Tsarnaev brother signed forms to legally change his first name in tribute to a slain rebel from Russia's Dagestan republic.

Russia hid information from FBI on Boston Marathon bomber: report. Two years before the Boston Marathon bombing, the Russian government concealed key information on one of the killers that might have thwarted the attack, a new report charges. Kremlin officials intercepted a phone conversation in which Tamerlan Tsarnaev discussed Islamic jihad with his mother, but they withheld the information from the FBI, according to the U.S. inspector general report that comes as the one-year anniversary of the bombing approaches. Had the FBI been privy to the red-flag phone call, it would have prompted the bureau to take an extensive look at Tsarnaev, according to The New York Times.

Boston Marathon bombing survivor rips 'Meet the Press'. A Boston Marathon bombing survivor says in a tweet that she left a Boston television studio in tears before a taping of NBC's "Meet the Press." Dancer Adrianne Haslet-Davis lost her left foot in the bombing and said Friday she asked the national news program not to mention the suspect's name but the show used it.

Obama statement recognizes 'tragedy' in Boston; no mention of terrorism. Here are a few things missing from President Obama's statement Tuesday marking the anniversary of the 2013 terrorist bombing of the Boston Marathon:
• The word "terrorism."
• The word "bombing."
• The fact that the bombers were motivated by Islamist extremist beliefs.

Joker sob story is just sickening. Another sob story in the left-wing media about Dzhokhar Tsarnaev? Yesterday it was the turn of The New York Times, under the headline, "Marathon Bombing Suspect Waits in Isolation." Needless to say, the ACLU is up in arms. [...] This one was perfectly timed — on the first anniversary of the Joker placing one of his kettle bombs in front of little Martin Richard, who had moments to live after the Times' victim du jour decided he wanted to murder an 8-year-old infidel.

Biden Tells Boston Bombing Survivors, 'It Was Worth It'. Less than a minute into his speech at the Boston marathon bombing memorial on Tuesday, Vice President Joe Biden went tragically off script and told the crowd of Boston bombing survivors that "it was worth it."

Person in custody after suspicious bags found at marathon finish line. A suspect is in custody tonight after police report suspicious bags were found at the finish line of the Boston Marathon on Boylston Street. Those bags, police report, were destroyed in controlled blasts by the BPD Bomb Squad. A law enforcement official said the suspect, Kevin Edson, will be arraigned tomorrow morning [4/16/2014] in Boston Municipal Court.

MSNBC's Ronan Farrow Lamely Tries to Tie MMA to Boston Terrorist Brothers. MSNBC's Ronan Farrow Daily wasn't exactly in Reverence Mode for the Boston Marathon bombing victims. About 40 minutes before the memorial ceremony on Tuesday afternoon [4/15/2014], Farrow aired a segment about Tamerlan Tsarnaev's love for Mixed Martial Arts (MMA) and how it somehow may have led to his radicalism.

A triumph for the Boston Bombers. The two bombers who killed and maimed innocent people at the Boston marathon a year ago had come as refugees to America, from conflicts that America and her people did nothing to cause. They had been granted the privileges of a law-abiding democracy, including education, health care and the precious freedoms for which Americans have fought in two world wars. [...] Something happened, however, to turn these two brothers against the gentle society that surrounded them. We don't know what it was; but we have a very good suspicion. And the object of that suspicion is Islam.

Boston stung by 'beekeeper' with crush on Dzhokhar Tsarnaev. Nothing to see here folks, move along. That was the verdict of Mayor Marty Walsh and Police Commissioner William Evans on the latest "performance artist" to plunge the city in turmoil. So what if they had to shut down the Green Line and "detonate" said artiste's attack backpack Tuesday night on Boylston Street? "There was no breach of security," said the mayor yesterday. Of course not. A guy dressed all in black with a veil that made him look like the Beekeeper of Death runs barefoot down Boylston Street chanting "Boston Strong!" and then abandons his backpack in the middle of the street where the vice president had been babbling incoherently a few hours earlier. Oh sure, happens every day. Especially on the first anniversary of the marathon bombings. Especially when the backpack contains a pressure cooker like the Muslim welfare terrorists used last year to murder three infidels in the same location.

Gun used by suspected Boston Marathon bomber traced to Maine gang. When police confronted Tamerlan Tsarnaev four nights after the Boston Marathon bombing last year, he leaped from his car with a 9-millimeter semiautomatic pistol and opened fire. He critically wounded one officer and, despite being shot himself, kept firing until the gun emptied or jammed. In a final act of defiance, he threw the pistol at police before he was killed. The tale of that handgun, a black Ruger P95, Serial Number 317-87693, offers new insights into the Boston tragedy and holds warnings of other potential dangers. Its journey from a street gang that peddled crack cocaine in Portland, Maine, to the grisly shootout in a Boston suburb tells much about illicit drug and gun trafficking in New England, and perhaps more about Tsarnaev.

PC backstory on Tsarnaev falling apart. The Politically Correct narrative of the Boston Marathon bombing is sinking faster than Barack Obama's poll numbers. Remember Tamerlan Tsarnaev, aka Speedbump. The Boston Globe tearfully informed its moonbat readers that Speedbump was "a stay-at-home dad." When he died at the age of 25, Speedbump was a "person of interest" in seven murders in Massachusetts, so apparently the stay-at-home dad got out of his (Section 8) house every once in a while. Now we find out that his 9 mm came from a "Maine gang," two words I never thought I'd type in the same sentence.

Boston bombers used Christmas lights, toys to build their weapons. The Boston Marathon bombing suspects used "relatively sophisticated" bombs with fuses made from Christmas lights and remote-control detonators made from model car parts, federal prosecutors said Wednesday [5/21/2014] in a court filing. The filing argued against a defense motion to throw out suspect Dzhokhar Tsarnaev's statements to FBI agents because he was questioned without a lawyer.

Joker's due his death wish. You can take the Muslim terrorist welfare-collecting punk out of Cambridge, but you can't take the Cambridge out of the Muslim terrorist welfare-collecting punk. That thought occurred to me this week when I read that as soon as accused terrorist Dzhokhar "the Joker" Tsarnaev regained consciousness, he made "repeated requests" for a "human-rights lawyer." A human-rights lawyer. Spare no expense — charge it to the estates of the people I murdered!

Marathon bombing suspect denied more time to request to move trial outside Boston. A judge has denied a request from Boston Marathon bombing suspect Dzhokhar Tsarnaev for more time to request that his trial be moved.

Change of venue for Tsarnaev? Good luck with that. I guess Tsarnaev's lawyers are hoping a carload of potential jurors waving "Indict Dick Cheney" banners will drive down I-91 from Northampton to save their client from the death penalty. But I've been to the Big E, not to mention the Kielbasa Festival in Chicopee, and I'd say more people in Western Massachusetts would be in favor of Mr. Tsarnaev meeting the sharp end of a needle.

Feds: Don't move Boston Marathon bombing trial. Federal prosecutors fighting the effort by alleged Boston Marathon bomber Dzhokhar Tsarnaev's defense team to move his trial out of Boston made an interesting argument in a new court filing Tuesday [7/1/2014]: The media's coverage of Tsarnaev has served to improve his reputation. "Far from 'demonizing' Tsarnaev, the local press has largely humanized him, portraying him not as a member of a violent or terrorist group but as a popular and successful student and the beloved captain of his high school wrestling team," prosecutors wrote in the new filing.

Boston Marathon suspect's friend guilty of conspiracy. A federal jury found Azamat Tazhayakov, 20, guilty of obstruction of justice and conspiracy by hindering the investigation into bombing suspect Dzhokhar Tsarnaev, a friend and fellow student at the University of Massachusetts-Dartmouth. Prosecutors said that after Tazhayakov and another friend, Dias Kadyrbayev, determined that Tsarnaev was a suspect in the bombings, they threw out a backpack and removed a laptop from Tsarnaev's dorm room.

Count on Tsarnaevs' EBT card collection. What's the over-under on how many EBT cards the Tsarnaev gang had in their heyday? Very conservatively, I'm going to say 15. It's difficult to nail down exact numbers, because these are, after all, undocumented Democrats, and God forbid that their privacy rights should ever be violated.

Deport the Tsarnaev Sisters. The Sisters Tsarnaev have been nothing but trouble. Double, bubbling trouble. While their Boston Marathon bomber brother Dzhokhar awaits trial this month for the bloody 2012 attacks that killed three and injured hundreds, his elder Chechen immigrant siblings Ailina and Bella remain on the loose in the U.S. after their own frequent run-ins with the law.

Boston bombers' mosque tied to ISIS. When it was revealed that the Boston Marathon bombers attended a Cambridge, Mass., mosque, its leaders were quick to disavow their actions. Elder brother Tamerlan Tsarnaev's ideology was not their own, the leaders of the Islamic Society mosque claimed. In fact, he was admonished for an extremist outburst he made during one sermon. So, one crackpot in a congregation. Who can blame the mosque? But what about eight — including a prominent member of ISIS?

Obama Agency Won't Certify Boston Marathon Bombing a Terror Attack. Despite its seeming incompetence, the Obama Regime has settled on an ingenious strategy for protecting the American homeland from terror attacks. It simply refuses to acknowledge that terror attacks are terror attacks. ISIS wannabe Nidal Hasan's shooting spree at Fort Hood was workplace violence, not Islamic terror. Now it appears that the Boston Marathon bombing wasn't terror either.

Judge Delays Marathon Bombing Trial, Won't Move It. A judge granted a two-month trial delay on Wednesday [9/24/2014] for Boston Marathon bombing suspect Dzhokhar Tsarnaev, but denied a defense request to move his trial from Boston.

Judge Denies Dzhokhar Tsarnaev's Final Appeal To Delay Boston Marathon Bombing Trial. In an order submitted Friday [1/2/2015], Judge George O'Toole writes, "Because of the nature and subject matter of this trial, logistical preparations have been considerable. More than 1,200 citizens are scheduled to begin appearing for the commencement of jury selection procedures on Monday, Tuesday, and Wednesday of next week. Those persons have likely arranged their affairs in reliance on the dates given them in their summonses, and any change in reporting dates would cause some unknown degree of disruption to those people."

Making Case for Execution, Prosecutor Calls Boston Bomber 'Unrepentant'. The government opened the sentencing phase of the Boston Marathon bombing trial on Tuesday [4/21/2015] by revealing a picture of Dzhokhar Tsarnaev in his holding cell three months after the bombing, in which he is seen showing his middle finger to a surveillance camera. Gasps went up in the courtroom and in the media overflow rooms as Nadine Pellegrini, a government prosecutor, showed the image to the jury that will decide whether Mr. Tsarnaev is sentenced to death or to life in prison without parole.

Rhymes with tote-a-shiv.
Chechen lunged at agent with metal stick before being shot, officials say. Ibragim Todashev, the Chechen acquaintance of one of the accused Boston bombers, was shot roughly a half-dozen times in several seconds by an FBI agent after he twice lunged at the officer with a metal stick, according to senior federal law enforcement officials. The description of events follows a series of unofficial and contradictory accounts that surfaced after the shooting in Todashev's Orlando apartment May 22, including early reports — later said to be inaccurate — that he attacked the agent with a knife.

Government compromises our trust. It looked bad last week, but it looks much, much worse now. The federal government has been spying and lying. The only comfort is that, apparently, it's been largely incompetent at both: Nobody believes the lies, and the spying wasn't even able to catch the Tsarnaev brothers.

Boston Bomber Tsarnaev's Boat Note: 'We Muslims Are One Body'. Accused Boston Marathon bomber Dzhokhar Tsarnaev wrote a note declaring "we Muslims are one body" as he emerged from the boat where he had hidden from investigators, according to a report based on court documents. The accused bomber wrote about his dead brother, Tamerlan, NBC News affiliate in Boston WHDH reported. "I do not mourn because his soul is very much alive. God has a plan for each person. Mine was to hide in this boat and shed some light on our actions," Tsarnaev wrote in the note, according to WHDH.

Judge denies motion to suspend Tsarnaev trial over Charlie Hebdo comparisons. A motion to suspend the trial of accused Boston Marathon bomber Dzhokhar Tsarnaev for one month was quickly denied by the trial judge Wednesday morning [1/14/2015]. The defense team for Mr. Tsarnaev filed a motion Tuesday night [1/13/2015] asking the court for a suspension in jury selection in light of the comparisons being drawn between the marathon bombing and the recent terrorist attack on the satirical French weekly Charlie Hebdo.

Dzhokhar Tsarnaev an enigma as testimony begins. On Wednesday [3/4/2015], even during the most anguishing accounts from survivors of the bombing he initiated, the lanky defendant sat impassively, showing no outward emotion. He fiddled with his beard and occasionally massaged his hands. Each day spent in Courtroom 9 in US District Court on Boston Harbor is far more activity than Tsarnaev gets while at the Federal Medical Center Devens in Ayer, where he is Inmate 95079-038. There, he is in solitary confinement under special administrative measures.

Tsarnaev's Lawyers Will Paint Him as Victim. Nearly two years after three people were murdered and over 260 injured by a pair of pressure-cooker bombs at the Boston Marathon finish line, the accused Dzhokhar Tsarnaev will go on trial for his life. His guilt is not in question but his attorneys will try to depict the (then) 19-year-old as the victim of his older brother Tamerlan's influence. Tsarnaev faces 30 charges in the bombings and the assassination days later of a police officer at the Massachusetts Institute of Technology. Seventeen of the charges carry the possibility of the death penalty. His older brother Tamerlan died in a shootout with the police.

Carjack victim describes harrowing ride with Boston bombers. A carjacking victim on Thursday [3/12/2015] described his harrowing ride at gunpoint with the Boston Marathon bombers three days after the attack and the moment he made the terrifying decision to bolt from the car.

Dzhokhar Tsarnaev convicted in Boston Marathon bombing trial. Confessed murderer Dzhokhar Tsarnaev will now be the one pleading for his life after a federal jury took just 11 hours to find him guilty of the 2013 Boston Marathon bombings and aftermath that left four dead and 260 maimed and injured. A clerk ordered "complete silence" in the courtroom before the verdict was read finding Tsarnaev, 21, guilty of all 30 counts including conspiracy, use of a weapon of mass destruction and the murders of restaurant manager Krystle Marie Campbell, 29, Boston University graduate student Lingzi Lu, 23, and Martin Richard, 8 at the marathon finish line, as well as MIT Police Officer Sean Collier three days later.

Yes, let's reserve the death penalty for somebody who has done something really bad.
Senator Elizabeth Warren speaks out against the death penalty for convicted Boston bomber Dzhokhar Tsarnaev. Massachusetts Senator Elizabeth Warren says she's relieved Dzhokhar Tsarnaev has been found guilty of carrying out the Boston bombing — the greatest tragedy in her state's recent history — but doesn't believe he should be executed.

Elizabeth Warren is Pro-Life! Yesterday Boston Marathon bomber Dzhokhar Tsarnaev was convicted on all counts for his murderous act of terrorism. He could get the death penalty... but not if Mass. Senator and left-wing hero Elizabeth Warren has her way. She wants the terrorist's life spared.

Fool of the Week: Boston bombers' mom. The Boston Marathon bomber Dzhokhar Tsarnaev was convicted this week on all 30 counts levied against him. He will begin the sentencing phase of his trial very soon. Should he be put to death? Well if being convicted on 17 counts that carry a possible penalty of death is a qualification, I would say so. — After all, if you have the death penalty law there's not a more appropriate case to apply it to. However, Tsarnaev's mother blames the United States for the troubles her terrorist son is in.

Why Boston Marathon bomber jury may not agree to death penalty verdict. Now that a Boston jury has found Dzhokhar Tsarnaev guilty of all 30 charges against him in the Boston Marathon bombing, these same jurors must render another determination — life or death. This one is much harder. This is a decision that can haunt jurors for the remainder of their lives.

Tsarnaev Family Flown to U.S., Housed in Boston at Taxpayer Expense. The family of convicted Boston Marathon bomber Dzhokhar Tsarnaev have been flown to the U.S. from their home in Chechnya, are being housed at a Hampton Inn outside of Boston, and are being guarded 24 hours a day by at least three federal agencies. The taxpayer-funded junket to the U.S. for the family of a Muslim terrorist is costing well over $100,000, according to a former U.S. attorney.

Dzhokar Tsarnaev: No Better Argument for Capital Punishment. On the one side are those who believe that just because someone brutally rapes and murders an innocent woman or murders and maims more than 260 people does not mean we in turn should respond as if we are ourselves equally uncivilized. [...] On the other side are those whose logic compels them to believe that only a hopelessly naïve or frighteningly misguided society would want to see such vicious killers free to live, to study, and to be provided food, shelter and health care at taxpayer expense for the rest of their lives. Even the staunchest opponent of capital punishment, once victimized or having lost a loved one at the hands of truly evil miscreants, typically fall into this group.

U.S. attorney's bizarre statement on Tsarnaev death sentence. There is something very suspicious in the statement made by U.S. Attorney Carmen Ortiz, following the death sentence handed out by the jury that convicted Dzhokhar Tsarnaev. [...] The statement by the political appointee [U.S. Attorney Carmen] Ortiz, "this was not a religious crime," flies in the face of the opening statement of her prosecutor.

Boston Marathon bomber sentenced to death. U.S. Attorney Carmen Ortiz said the death sentence for Dzhokhar Tsarnaev was the result of a fair and impartial trial. "Even in the wake of horror or tragedy we are not intimidated by acts of terror or radical ideas," she said. The Boston Marathon bombings were not a religious crime, she said, even though the bombers claimed to represent Islam. It was a political crime committed by a pair of adults who adopted an ideology of hate, Ortiz said.

Boston Marathon bomber Dzhokhar Tsarnaev sentenced to death. A federal jury here decided Friday [5/15/2015] that convicted Boston Marathon bomber Dzhokhar Tsarnaev must pay with his life for the suffering he unleashed on the race finish line two years ago, closing the biggest U.S. terrorism prosecution of the post-Sept. 11 era. After three days of deliberations, the seven-woman, five-man jury accepted government calls to impose the death penalty rather than life in prison without the possibility of parole.

Tsarnaev jury served up justice. The Joker gives the courthouse camera the finger, and now the jury gives him the needle.

After Death Sentence, What's Next for Boston Marathon bomber Dzhokhar Tsarnaev. Boston Marathon bomber Dzhokhar Tsarnaev was sentenced to death by lethal injection, but he won't be executed for years — maybe decades — as the appeals process runs its course.

The Canonization of Dzhokhar Tsarnaev. Justice Massachusetts style coughed up another hairball on 15 May; Dzhokhar Tsarnaev, the Muslim Chechen terrorist who, along with his brother, detonated two bombs at the finish line of the Boston Marathon in 2013. The older brother was killed by police, the younger Tsaranev is now a convict consigned to death row. Dzhokhar's trial was speedy. His death may come from old age.

Boston Marathon bomber's college friend gets 6 years in prison. A college friend of Boston Marathon bomber Dzhokhar Tsarnaev was sentenced Tuesday [6/2/2015] to six years in prison after he apologized to the victims and their families for not calling police when he recognized photos of Tsarnaev as a suspect.

Boston Marathon bomber apologizes, formally sentenced to death. The outcome of Wednesday morning's [6/24/2015] federal sentencing hearing was a foregone conclusion after the jury decided to impose the death penalty last month. The 21-year-old former college student is the first person to be handed a death sentence in a federal terrorism case since the attacks of Sept. 11, 2001.

The Editor says...
It may be the first federal terrorism prosecution since 9/11/2001, but there have been numerous cases of Islamic terrorism since then.

Boston Marathon bomber files motion seeking new trial. Boston Marathon bomber Dzhokhar Tsarnaev, who has been sentenced to death, filed a motion in federal court on Monday [7/6/2015] seeking a new trial, according to court records. The preliminary motion for a new trial cited a lack of evidence in his trial this spring, according to documents filed in federal court in Massachusetts.

Tsarnaev Lawyers: Boston Marathon Bombing Wasn't 'Crime of Violence'. Federal public defender Miriam Conrad the other attorneys on his defense team argue the attack wasn't a "crime of violence" within the meaning of the law. As a result, they say, the court should redo the trial's penalty phase. Here, they're not challenging his conviction of using a weapon of mass destruction, the most serious offense. But they say the more than dozen counts dealing with "possession and use of a firearm ... in relation to a crime of violence" should be tossed.

U.S. Refugee Chief Didn't Know Boston Bombers Were Refugees. At a Thursday [10/1/2015] Congressional hearing regarding the Obama administration's plan to welcome tens of thousands of additional refugees into the United States, the administration's top refugees official revealed that she had no idea whether the Tsarnaev brothers who carried out the Boston bombing arrived in the U.S. as refugees.

Boston Marathon bomb 'victim' admits to scam. A woman who falsely claimed she was injured in the 2013 Boston Marathon bombing pleaded guilty to all charges on Friday [11/13/2015], admitting that she purposely lied to receive nearly $40,000 in cash from public agencies and private donors. Joanna Leigh, 41, of the Boston neighborhood of Jamaica Plain, admitted to five counts of larceny over $250 by false pretenses and one count of making a false claim to a government agency, according to a statement from the office of Suffolk County District Attorney Dan Conley.

Islamic Terror Bombings at the Boston Marathon. Initially, a Saudi national was taken into custody who was injured at the scene. This man was on the terror watch list and it was announced that he was being detained as a "suspect" in the bombings. Later it was revealed that he was related to Royalty in Saudi Arabia, and within 24 hours his status was changed to a "person of interest." A few hours after this he was released, transported to an airport, and deported back to Saudi Arabia under a terrorsim provision, although it was indicated that he was no longer a person of interest in the bombing. The day after this disposition of the Saudi was announced, on Thursday, April 18, the FBI and local authorities released pictures and videos of two men who were seen carrying back packs during the event, and leaving them at the places where the bombs exploded. These two men were identified as Tamerlan Tsarnaev, 26 years old, and his younger brother, Dzhokhar Tsarnaev, 19 years old. Both were originally from Chechnya in Russia. Both had been living in the United States for some years and were attending college in the Boston area.

Our Nation is at War. ["]Likewise, with the Boston bombing and the Tsarnaev brothers, Russia had informed the Obama administration they were connected with radical Islamic terrorism. We knew that. The FBI had gone and interviewed them. Yet, once again, they dropped the ball. They stopped monitoring them. They didn't even note when the elder Tsarnaev brother posted on YouTube a public call to jihad. Mind you, this did not require complicated surveillance. This was YouTube. Anyone with a computer who could type in 'Google' could see this. Yet, because the administration will not acknowledge that we are fighting radical Islamic terrorism, they were not watching and monitoring the Tsarnaev brothers. So they called for public jihad and then carried out that public jihad with pressure cookers at the Boston Marathon — yet another example where we knew about the individual beforehand, and if we had focused prevention on the problem, we could have stopped it.["]

Why Do We Let These Vipers Into America? In a hate-filled rant against the country that offered her the privileges of refugee status, food stamps, welfare and a free education for her children, Zubeidat Tsarnaeva, the mother of the radical Muslim Boston Bombers, said through a Russian social media network, "The terrorists are the Americans and everyone knows it. My son is the best of the best." The son she described as "the best of the best" was of course Dzhokhar Tsarnaev who had just been found guilty of killing three people in the Islamist bomb attack on the 2013 Boston Marathon. Mrs. Tsarnaeva, a Russian native who left the US for Dagestan in 2012 after being charged with shoplifting, brought her sons Dzhokhar and Tamerlan to the United States legally as "refugees."

Boston Marathon bomber offered to help prosecutors for his life: report. Boston Marathon bomber Dzhokhar Tsarnaev wanted to plead guilty and cooperate with prosecutors in exchange for life in prison but prosecutors turned down the idea, court documents unsealed Wednesday reportedly said. The government "consistently rejected Tsarnaev's conditional offers" and a deal never materialized, according to the court documents obtained by NBC News. Tsarnaev had "offered to provide certain kinds of cooperation and assistance, in the course of plea negotiations," according to the documents.

Boston Marathon Bomber's Lawyers Ask Court To Overturn Death Sentence. The Boston Marathon bomber's lawyers are asking the court to overturn their client's conviction and death penalty, arguing the case was tainted ever since a lower court judge refused to move the case to another city that wasn't as closely affected by the 2013 bombing. The case surrounds Dzhokhar Tsarnaev, 25, who is, along with his deceased brother, responsible for carrying out an attack on April 15, 2013, in which two homemade pressure cooker bombs were placed near the finish line of the Boston Marathon.

Boston Marathon bomber wants his death sentence overturned, claiming it was 'unfair'. Should the Boston Marathon bomber's trial have taken place in Boston as the city was still reeling from the traumatic 2013 attack? That's the crux of what's being argued Thursday before the 1st U.S. Circuit Court of Appeals in Boston. Lawyers for Dzhokhar Tsarnaev are seeking to have their client's death sentenced overturned, arguing that he was subjected to a 'fundamentally unfair proceeding'.

Court overturns death sentence on Marathon bomber Dzhokhar Tsarnaev. An appellate court has tossed the death sentence and overturned three of the convictions of 2013 Boston Marathon bomber Dzhokhar Tsarnaev. The ruling will not result in Tsarnaev, 27, being freed, and the death penalty can now be revisited in a penalty-phase trial do-over. If federal prosecutors do not pursue a second death penalty trial, Tsarnaev will remain imprisoned on multiple life sentences that are not affected by Friday's ruling. The death penalty was invalidated because the trial judge did not adequately screen jurors for pre-trial bias, the ruling read.

Appeals court vacates Boston Marathon bomber's death sentence, orders new penalty trial. A federal appeals court ruled on Friday to vacate the death sentence of Dzhokhar Tsarnaev, who along with his brother planted homemade bombs near the finish of the 2013 Boston Marathon, killing three spectators. The court also ruled to set aside three of his 30 convictions but said he will remain in federal prison for the rest of his life. The appeals judges ruled US District Court Judge George O'Toole, who oversaw Tsarnaev's trial, "fell short" of his promise to question jurors thoroughly enough to identify prejudice, "providing sufficient ground to vacate his death sentences."

Federal Court Overturns Death Sentence For Boston Marathon Bomber Dzhokhar Tsarnaev. A U.S. Court of Appeals overturned the death sentence of Boston Marathon bomber Dzhokhar Tsarnaev on Friday [7/31/2020]. Tsarnaev petitioned the First U.S. Court of Appeals in December 2019 to overturn his death sentence, arguing that his trial never should have taken place in Boston. Tsarnaev pleaded guilty to setting a bomb that killed three and injured hundreds of others at the Boston Marathon on April 15, 2013.

Trump demands death penalty for Boston Marathon bomber Dzhokhar Tsarnaev. President Donald Trump on Sunday demanded the death penalty for Boston Marathon bomber Dzhokhar Tsarnaev — whose execution was taken off the table by an appellate court last week. "Rarely has anybody deserved the death penalty more than the Boston Bomber, Dzhokhar Tsarnaev," Trump tweeted Sunday afternoon. "The court agreed that this 'was one of the worst domestic terrorist attacks since the 9/11 atrocities.' Yet the appellate court tossed out the death sentence. So many lives lost..." "and ruined. The Federal Government must again seek the Death Penalty in a do-over of that chapter of the original trial," he added. "Our Country cannot let the appellate decision stand. Also, it is ridiculous that this process is taking so long!"

Boston Bombing Scripted Actor turns out to be CNN's favorite so-called Covid "expert" Dr. Leana Wen (opinion). Acting involves the ability to enter into another character, memorize lines, show confidence while the camera is rolling, and use dramatic "techniques" to engage with an audience. Recall back in April of 2013, when the Boston Marathon bombing occurred, crisis actor videos went viral, and the acting of many players was so bad that many Americans began questioning if the news media were lying, just as a government-run litmus test for martial law in the suburbs of Boston was being rolled out. Guess who was there, lying through her teeth, in her debut acting performance? None other than CNN's favorite actress, talking head and scamdemic promoter, Dr. Leana Wen. After the Boston Bombing, television news went to town, pushing fear of a domestic terrorist attack that would require military brigades to roll through Boston suburbs, enter people's homes without warrants, and search for two dudes who supposedly made a pressure cooker bomb and set it off near the marathon's finish line. America's FBI were all over it. Emotions ran high as fake newscasters hyped up what really happened in order to broadcast mass hysteria. Watch one of the worst crisis actors ever get her first "15 seconds" in the limelight, preparing her for eight years later when she would push the covid plandemic on the Counterfeit News Network. Here's the crisis actor on the scene just after the infamous Boston Marathon Bombing: [Video clip]

Supreme Court reimposes death penalty for Boston Marathon bomber. The Supreme Court on Friday [3/4/2022] reimposed the death penalty for Boston Marathon bomber Dzhokhar Tsarnaev, undoing a federal appeals court ruling that had dropped the sentence. In a 6-3 decision authored by Justice Clarence Thomas, the majority of justices rejected the defense's claims that a judge presiding over Tsarnaev's 2015 trial improperly barred the questioning of prospective jurors and was wrong to exclude evidence of a different crime two years prior to the bombing. "Dzohkhar Tsarnaev committed heinous crimes," Thomas wrote for the majority. "The Sixth Amendment nonetheless guaranteed him a fair trial before an impartial jury. He received one."

Supreme Court reimposes death sentence for Boston Marathon bomber. The Supreme Court on Friday reimposed the death sentence for Boston Marathon bomber Dzhokhar Tsarnaev, reversing a federal appeals court ruling that had voided it. By a vote of 6-3, the court rejected defense claims that the judge at Tsarnaev's 2015 trial improperly restricted the questioning of prospective jurors and was wrong to exclude evidence of a separate crime two years before the bombing.

Ten Years After the Boston Marathon Bombing, No One Dares Discuss Why It Happened. Ten years ago, on April 15, 2013, a brilliantly sunny Monday afternoon, the Boston Marathon was drawing to a close when two nail bombs exploded in quick succession. They killed two people and wounded well over two hundred, maiming some for life. Before the identity of the bombers became known, the establishment media was full of joyful hope that the killers would turn out to be the Bible-quoting Christian terrorists of media myth. Instead, they were Islamic jihadis. As the tenth anniversary of their attack approaches, the same denial still prevails: no one in America wants to discuss why they did it. Various media retrospectives don't even attempt to discuss the bombers' motive.



---
Side effect: Pressure cookers now have a bad reputation
Suspicious items cause concern in Miami. A pressure cooker left out for trash in a South Florida neighborhood was just one of several incidents that caused concern for officials, Thursday [4/18/2013].
Pressure cooker in bathroom causes Dearborn hotel evacuation. A Dearborn hotel was evacuated for a few hours Sunday night after a woman found a pressure cooker in a bathroom during a Muslim conference on faith. The cooker was discovered on the second floor of the Adoba Hotel about 9:45 p.m., prompting Dearborn police to detonate it as a precaution. It did not contain explosives, Dearborn police said.
Pressure cooker scare in Mountain View. The area around the San Antonio Shopping Center in Mountain View was shut down this evening and buildings evacuated after a resident spotted a pressure cooker near a building, according to police. The resident at 545 San Antonio Road called police around 6:10 p.m. Sunday [5/26/2013] to report seeing a pressure cooker in the bushes near the building's lobby doors, police said.
Saudi man jailed after pressure cooker found in bags at Detroit Metro Airport. A Saudi man arrested at Detroit Metropolitan Airport after federal agents accused him of lying about why he was traveling with a pressure cooker wants to be released on bond.
Man with altered Saudi passport arrested with pressure cooker at Detroit airport. A man traveling with an altered Saudi Arabian passport was in federal court Monday [5/13/2013] after a pressure cooker was discovered in his luggage at the Detroit airport over the weekend. The man, identified in a criminal complaint filed in U.S. District Court as Hussain Al Kwawahir, made his initial court appearance Monday on charges of altering a passport and lying to customs officials.
Under Obama: 8 Islamic Terror Attacks That Could Have Been Prevented. The Russian government had warned U.S. authorities that one of the Boston Marathon bombers, Tamerlan Tsarnaev, was a violent radical Islamist almost two years before the attack. The CIA reportedly cleared him of ties to violent extremism.
Notice that he didn't say "every person over 18," or "every U.S. citizen."
Sen. Bernie Sanders: 'Every Person Has a Right to Vote,' Including Convicted Terrorist. Sen. Bernie Sanders of Vermont, who is seeking the Democratic presidential nomination, told a CNN town hall on Monday night [4/22/2019] that "every person has a right to vote," even people who have been convicted and imprisoned for committing acts of murder and terrorism, even the Boston Marathon bomber. On April 15, 2013, two pressure cooker bombs exploded near the finish line of the Boston Marathon, killing three people, maiming 16, and leaving many more injured. The surviving suspect, Dzhokhar Tsarnaev, was sentenced to death. Sanders laid out his position on this in response to a pointed question posed to him by a Harvard student, who specifically asked if he would permit the imprisoned Boston Marathon bomber to vote. When moderator Chris Cuomo followed up to make certain Sanders really was saying "the Boston Marathon bomber should vote, not after he pays his debt to society, but while he's in jail," Sanders would not back down.
FBI bureaucratic failures and willful blindness rack up a horrifying body count. The Tsarnaev brothers, Termalan and Dzokhar, Muslims from the Caucuses region, entered the United States on tourist visas then claimed asylum. Russian intelligence warned the FBI the Tsarnaev brothers were dangerous but the FBI's investigation found no links to terrorism. On April 15, 2013, the brothers planted bombs at the Boston Marathon that killed three people and wounded at least 264. [...] Who are the FBI agents, and their bosses, who looked the other way in the Fort Hood, Boston Marathon and Orlando terrorist attacks? What, exactly, are they doing now? As in the Florida high-school shooting, the victims and their loved ones deserve some answers.
---
More about terrorist attacks reported as isolated incidents
More specific examples of media bias
More about media bias in general
Jump to Islam is NOT a "Religion of Peace".
Back to the Home page