If you want to learn how to govern a state, look no further than California. Then do everything they don't.
They say California is really a beautiful place. I wouldn't know. I've never been there and have no desire to visit. But apparently the state richly deserves the derisive nickname of "the land of fruits and nuts." So many terrible ideas have had their origins in California, and these ill-advised anti-capitalist ideas have a tendency to spread to the other 49 states.
If you're going to successfully manage a state, you'd be better off using Texas as an example. The state of Texas must be doing something right, because that's where people are going as they leave California.
Years ago, I started a page about The California Energy Crunch of 2000, which was an energy crisis resulting entirely from rabid environmentalism, poor planning, price controls, and various other effects of leftist politics. Californians oppose the development of every practical source of energy, but then, when there's not enough electricity to go around, they whimper when the lights go out.
The subsection about "Sanctuary Cities" has moved to a page of its own, located here.
Subtopics on this page:
Decades of leftist politics, resulting in a steady stream of bad ideas
Homeless people supported by California taxpayers
Mass exodus: Individuals and companies are leaving California
Radical environmentalism and restrictive environmental laws
---
Decades of leftist politics
.... resulting in a steady stream of bad ideas.
With new climate legislation, Gov. Brown gets even with the oil industry. Dominant Democrats in Sacramento hang together more often than not, and that produces victories when only a simple majority vote is required. And that's usually. Republicans these days are mostly irrelevant in California's Capitol.
California Drug Legalization Leads to Political Corruption. California is going full narcosocialist and there's a price to pay for that. The price is deeper corruption and criminality. [...] While part of the LA Times story tilt claims that this is about "black market" drug dealers, most of these examples appear to involve those that were legal or trying to go legal. But that takes us to the baffling difference between a black market drug dealer and a legal drug dealer is that the latter is paying off the government. Now we have drug businesses getting in trouble for paying off government officials in the wrong sort of way. We want drug dealers to legalize by legally paying off the government.
Gov. Newsom to order halt to California's death penalty. Gov. Gavin Newsom is suspending the death penalty in California, calling it discriminatory and immoral, and is granting reprieves to the 737 condemned inmates on the nation's largest Death Row. "I do not believe that a civilized society can claim to be a leader in the world as long as its government continues to sanction the premeditated and discriminatory execution of its people," Newsom said in a statement accompanying an executive order, to be issued Wednesday [3/13/2019], declaring a moratorium on capital punishment in the state. "The death penalty is inconsistent with our bedrock values and strikes at the very heart of what it means to be a Californian."
California's Rendezvous With Reality. Californians brag that their state is the world's fifth-largest economy. They talk as reverentially of Silicon Valley companies Apple, Facebook and Google as the ancient Greeks did of their Olympian gods. Hollywood and universities such as Caltech, Stanford and Berkeley are cited as permanent proof of the intellectual, aesthetic and technological dominance of West Coast culture. Californians also see their progressive, one-party state as a neo-socialist model for a nation moving hard to the left.
California's Gov. Newsom inherits a steaming load of scandal from Jerry Brown. California's Gov. Gavin Newsom has inherited a steaming load of financial scandals from Jerry Brown regarding high-speed rail and the Oroville Dam. Gavin Newsom is the first Democrat California governor to follow a sitting Democrat governor in over a century. Newsom campaigned as an ally of Gov. Jerry Brown by trumpeting how Brown eight years earlier had overcome a crisis projected by the non-partisan Legislative Analyst's Office to included a $6.4-billion current budget deficit, a $19-billion deficit for the following year, and another five years of $20-billion-plus deficits.
North Carolina vote fraud case shows just why Congress should ban ballot-harvesting nationwide. [Scroll down] Sure enough, in California, this same ballot-harvesting that was illegally practiced in North Carolina is completely legal and completely responsible for deep-red Orange County suddenly going blue in the last congressional election. Candidate after candidate who had been leading in the 2018 midterm count all of a sudden saw those large leads reversed, with all of them shifting to the Democratic side, with leftists taking all the congressional slots.
Gov. Gavin Newsom touts proposed $25 million in California aid to asylum seekers. Gov. Gavin Newsom and local officials in San Diego on Thursday [1/31/2019] touted a proposed $25 million in state funding to address a growing humanitarian crisis involving migrant families seeking asylum in the U.S. and blamed the Trump administration for manufacturing a problem at the border. With prodding from San Diego lawmakers, Newsom has called for spending $20 million over three years to aid local nonprofits and community organizations that provide services to asylum-seeking migrant families.
The Editor says...
President Trump did not "manufacture" the problem of uncontrolled illegal immigration across the Mexican border. That problem has existed for decades, but in recent years has been exacerbated by the Democrats, who offer numerous incentives for immigrants.
See more under Welfare programs attract illegal aliens and other immigrants.
California's Gavin Newsom Proposes Tax on Drinking Water in First Budget. California Governor Gavin Newsom proposed his first budget for the state on Friday [1/11/2019], and it includes a tax on drinking water. The budget, titled "California for All," declares drinking water a "fundamental right," and adds: "The Budget includes short-term measures to bring immediate relief to communities without safe drinking water and also proposes an ongoing sustainable funding source to address this problem into the future."
The Editor says...
Wait a minute. If drinking water is a "fundamental right," why should it be taxed? Indeed, why does your city government send you a utility bill and charge you for water, if it's a right? No, in reality, food and water and housing and medicine are not "fundamental rights," regardless of the number of politicians who say they are.
California Gov. Gavin Newsom seeks to add more illegal immigrants to state health care plan. Newly sworn-in California Gov. Gavin Newsom, vowing to provide "sanctuary to all who seek it," has proposed extending state health care coverage to more illegal immigrants living within the Golden State's borders. Hours after assuming office, Mr. Newsom released sweeping health care proposals to raise the age limit for illegal aliens covered by Medi-Cal from 19 to 26, which would make California "the first state in the nation to cover young undocumented adults through a state Medicaid program," according to a Monday [1/7/2019] release from the governor's office.
Cpl. Singh Was Laid to Rest. Guess Which Politicians Were Conveniently Absent. Just when we thought politicians in California couldn't get any more horrible, Gov.-elect Gavin Newsom proved us wrong. Apparently the reason he was absent from Cpl. Singh's funeral yesterday was because he was too busy watching the Sacramento Kings play basketball.
Jerry Brown "Legacy": Highest Poverty in Nation, Highest Homelessness/Worst Affordable Housing. We are a few days away from the end of the Brown Administration. His legacy is clear, if you listen to the Democrats. They claim California has the most poverty in the nation — true. We have a shortage of homes — true. We have a massive homelessness problem — true. All of this has become his legacy. Add to this the $200 billion train boondoggle, his cutting off water for farmers and the worst roads and freeways in the nation — California is a Third world State.
Fighting Trump and Freedom, California Creates 1,000 New 2018 Laws. That the Land of Fruits and Nuts is legislating from soup to nuts is significant because, while often forgotten, a law generally is a removal of a freedom. After all, laws virtually always state that there's something we must or mustn't do. Thus, the more laws we have, the less free we are from governmental control. And given that governments continually enact more laws but hardly ever rescind any, this means that every year we're progressively less free. So what liberties were robbed in California this time around?
The Grapes of Wrath — in Reverse. [I]n the last decade and a half, about 6 million Californians over the age of 25 left the state; in the last 30 years, perhaps 10 million fled. There are no accurate statistics on the political ideologies of the departed or even their actual numbers. But most studies suggest that the reasons for radical outmigration were quality-of-life complaints, soaring home prices and taxes, poor state services, failing infrastructure and schools, and rising crime. [...] According to one study, at least 13,000 companies fled the state over the last decade.
Democrats: A plague on the nation. Governor Brown has effectively destroyed California, now benighted by rampant homelessness and the crime that accompanies a population of illiterate, drug-addicted, gang-affiliated, criminally inclined persons adrift on our streets. And now another young officer has been killed by an illegal alien thanks to the left's obsession with protecting the throngs of migrants crossing the border into the U.S. It should be obvious to every American by now that our progressive left does not have the best interest of Americans at heart.
California Spends $100 Million to Maximize Census Cash Jackpot. California is spending over $100 million preparing for the 2020 Census to maintain its top spot to maximize the federal population spending jackpot. The key for California to keep growing its top spot in state and local government spending that hit $587.9 billion this year is maximizing its number of legal and illegal residents who currently justify $107.5 billion in direct federal transfers and about $376 billion of indirect transfers to pay for federal salaries, income support, student financial aid, U.C. grants, corporate subsidies, and a slew of other items. California has allocated $100.3 million for "outreach" this year to maximize the number of state residents to be counted in the 2020 U.S. Census. Only 10 other states have allocated any cash for "outreach." California's funding is over 27 times the $2.3 million by number-two Georgia and 66 times the $1.5 million funded by number-three Illinois.
San Francisco mayor trying to get brother, a convicted killer, out of lockup 20 years early. San Francisco Mayor London Breed sent a letter to departing Gov. Jerry Brown in late October asking him to "consider leniency" and commute the sentence of her older brother, who has served nearly two decades of a 44-year sentence on a manslaughter conviction, according to reports. The San Francisco Chronicle reported Wednesday that the mayor has joined other members of her family in requesting an early release from prison for Napoleon Brown, who struggled with drugs from a young age.
Jerry Brown's 'Twin Tunnels' Project on Hold. The project, officially called the California Waterfix, aims to divert water from the Sacramento River underneath the California Delta to storage facilities further south, from which water can be pumped to southern California. The "twin tunnels" were to be Brown's major infrastructure legacy, in addition to the California High-Speed Rail system, which faces significant financial and engineering hurdles. But it faced intense local opposition from the communities in the Delta, who faced considerable disruption to their lives. The project was also opposed by many environmental groups, and farming groups that were meant to benefit — at a price — showed lukewarm support.
DA Gascón carried guns on planes, then whistle-blower was fired, suit says. A former senior investigator says he was fired for blowing the whistle on his boss, San Francisco District Attorney George Gascón, who he alleged carried a gun while flying — in violation of federal law. Gascón reacted with a "pattern of retaliation and harassment" that culminated in the termination of senior investigator Henry G. McKenzie on Oct. 30, 2017, according to the suit filed in U.S. District Court in San Francisco.
Study: More than 7-in-10 California Immigrant Households Are on Welfare. More than 7-in-10 households headed by immigrants in the state of California are on taxpayer-funded welfare, a new study reveals. The latest Census Bureau data analyzed by the Center for Immigration Studies (CIS) finds that about 72 percent of households headed by noncitizens and immigrants use one or more forms of taxpayer-funded welfare programs in California — the number one immigrant-receiving state in the U.S. Meanwhile, only about 35 percent of households headed by native-born Americans use welfare in California.
After California's ballot harvest: What is to be done? The ballot-harvesting issue, which gave Democrats an absolute monopoly of power in even Orange County, signals a sort of the bottom dropping out in California. Now that Democrats have discovered they can flip any race based on selective collections of mail-in ballots by Democratic door-knockers from voters who didn't ask for them, their one-party state of the past 20 years in California has gotten even more entrenched in power. One gets the sense that the landscape has changed and what the voters want no longer matters. Voting is no longer about you, or what you think or the decisions you make, it's now all about that unasked-for piece of paper on the kitchen table known as a ballot and how Democrats can get their hands on it. You are incidental. The creepy Democratic machine, with its 1980s PRI-style politics, rigged this state this way, and in so doing would make Hugo Chávez or Daniel Ortega envious. PRI Mexico was, after all, once called "the perfect dictatorship." Now the title has moved on to California. It amounts to stolen democracy, which ultimately cries out for revolution.
The Cloward-Piven strategy: Overload the system to intentionally break it.
California Democrats plan to extend Medicaid to illegal immigrants. State Assembly member Joaquin Arambula, a Democrat and a doctor, announced the plans Monday [12/3/2018] as the legislature convened at the state capitol, according to the Los Angeles Times. Should the bill advance, California would become the first state to extend Medicaid coverage regardless of immigration status. State projections for last year's bill found that 1.8 million people in California are uninsured and reside there illegally; roughly 1.2 million would qualify for Medi-Cal, the name of the state's Medicaid program.
Trump: The Last President? The Governor isn't the Governor of California, especially when he won in a 57% to 43% victory. The Governor is the Governor of the Left, and will represent the Left, not the electorate in general. The swing vote, which has moderated elections nationally is absent in California. The swing vote means that the most uninterested people have the levers of power. That category of people simply does not exist in California. Party leader? Sure. Governor? Well, in name only. In reality, the recently elected Governor is the Democratic Party leader.
Pelosi tells audience, 'San Francisco values, that's what we're about'. Has Nancy Pelosi joined the GOP team anxious to scare voters away from voting for the donkey party? The pejorative use of the expression "San Francisco values," to indicate a loss of decency, tradition, and sanity, has at least two decades of history, and arguably almost three and a half, since Jeanne Kirkpatrick denounced "San Francisco Democrats" at the 1984 Republican Convention. Today, San Francisco is the exemplar of a city that has driven out the middle class and features the worst-looking income gap between rich and poor. San Francisco's poor languish in its streets in the worst display of the degradation of poverty this side of Calcutta. San Francisco's homelessness, its open drug use, and the spread of human feces on the sidewalks there have made being a pedestrian there a health risk.
Gavin Newsom Helped Mother's Assisted Suicide. A recent article in the New Yorker extolling the (probable) next Governor of California reveals that Gavin Newsom helped his mother commit assisted suicide. [...] When I first read the piece, I assumed she didn't die in California because assisted suicide was a felony there in 2002, and Newsom was a member of the San Francisco Board of Supervisors sworn to uphold the law. Wrong. She died in San Francisco.
California city council candidate is caught dropping off his wheelchair-bound mom, 86, so she can panhandle. A nonpartisan candidate for city council in Southern California has been accused of dropping off his elderly, wheelchair-bound mother to panhandle for the last decade, even though they're not homeless. David Chey has been caught on camera leaving Soon Chey, 86, in her wheelchair in the downtown district of Laguna Beach with a sign that reads, 'please, help me.' 'They have a brand new car, live in a condo in Irvine, yet beg for our help,' local business owner Heidi Miller told DailyMail.com.
California Ranks as Poorest State, One of the Worst for Income Inequality. Despite all the wealth in the state and the Democrat control of state government, California actually ranks as the poorest state in the country after costs of living are factored in. A whopping 19 percent of Californians live below the poverty line. While California represents just 12 percent of the nation's population, Californians represent a third of all Americans on welfare. The average monthly cost of rent in the state is 43 percent higher than the national average. Nearly a third of Californians spend more than half of their earnings on housing. The situation is made worse by skyrocketing energy costs. "Residents who can afford rent or a mortgage are on the hook for electricity rates burdened by green initiatives and regulation that grew 500 percent faster than the national average from 2011 to 2017."
San Francisco to Allow Illegal Aliens to Vote. In July, the Department of Elections issued voter registration forms to illegal aliens to vote for members of the San Francisco Board of Education in the 2018 election, reported ABC7 News. Now that the illegals are registered and ready, they will be voting in November.
The piously politically correct blue state that bankrolls Putin. CalPERS, the $326-billion California state pension fund for some two million state cops, firefighters, and bureaucrats, has never been shy about its trumpeting its political correctness. It's positively famous for its pullouts of tobacco investments, Turkey investments, apartheid South Africa investments, and coal investments, and so famous that you probably would never have heard of the fund were it not for its pullouts. It's not that they are that awful in themselves — they often try to push back on calls to divest. But they've always been seen by leftists as a tool to oppose President Trump. So in general, name the lefty cause, and out they pull. Well, with one little exception: Putin's Russia. On that one, they've shelled out nearly half a billion dollars to the Russian government (not companies, but the government) through its bond buys. And hey, they're one of Russia's top foreign investors, top ten among foreigners.
Rich San Francisco businesses could face homelessness tax. San Francisco has come to be known around the world as a place for aggressive panhandling, open-air drug use and sprawling tent camps, the dirt and despair all the more remarkable for the city's immense wealth.
Jerry Brown's get-out-of-jail-free card in California. Here's a story that's making the news in San Diego as a local district attorney protests, but it's actually a state problem that goes back to the usual lefty suspects, starting with Gov. Jerry Brown. Thousands of murder convictions are likely to be vacated due to a change in state law that effectively says that if you were the guy sitting in the shotgun seat of the car as the other guy pulled the trigger, you get off scot-free — you're no longer convicted of murder, too. The County of San Diego alone is set to release about 150 such charmers onto the streets, and the other 57 counties are going to have to do similar. All told, about 800 of them are reportedly going to get let out.
San Francisco: Land of the Living Dead. Effectively, there's nothing in this news story that you don't know already. Anyone who has followed the news and who reads this blog knows full well that downtown San Francisco has been given over to drug addicts and the homeless. In the most liberal blue city in America, Nancy Pelosi's home town, you cannot walk the streets in many neighborhoods. What's news is the place it appeared: The New York Times. The paper of record sent a reporter and a photographer out to document the nightmare that is the streets of San Francisco. They did not pull any punches. They told it like it is.
The One-Party State. [Scroll down] Dan Walters, a longtime political journalist in Sacramento, will tell you it was the end of the Cold War that really brought about Democratic dominance. He points to the decline of the defense and aerospace industries, major employers in Southern California, which prompted an exodus of Republican voters — middle-class, white, and suburban — to cheaper states. Los Angeles County regularly went for the GOP in elections. It's simple arithmetic, says Walters. When the GOP lost Los Angeles, it turned California over completely to the Democrats. Today, the state is a liberal's dream. It's multicultural. It's largely urbanized. It is socially and environmentally progressive. People here frequently boast, without a trace of smugness, that if you want to see America in 10 years, look at California.
Weak passwords banned in California from 2020. Default passwords such as "admin" and "password" will be illegal for electronics firms to use in California from 2020. The state has passed a law that sets higher security standards for net-connected devices made or sold in the region. It demands that each gadget be given a unique password when it is made.
California's Socialist Oligarchy: Making the State Unaffordable. Nowhere are the consequences of California's oligarchical socialism more evident than in the cost of housing. State legislation has made it nearly impossible for developers to construct new housing outside the so-called "urban growth boundary." Instead, development is redirected into the footprint of existing urban areas. While there is a natural tendency as population increases to see higher density redevelopment in urban cores, by restricting outward expansion of urban areas, the value of the limited remaining eligible land becomes artificially inflated. But established landowners and large development firms benefit from these restrictions. They are able to withstand years, if not decades, of expensive permitting delays and endless litigation. They are able to afford millions in permit fees because these costs are offset by their ability to sell residence units — from high-rise condos to detached single family dwellings — at prices far beyond what they would cost in a normal market. These billionaire business interests get richer, while ordinary Californians who want to own or develop land cannot afford to go through the permit process.
The One-Party State. The state [of California] has the most liberal environmental laws and regulations in the country, which hamper the development of affordable housing. A San Francisco Chronicle investigation in 2017 showed rising housing costs driving lower-income Californians out of their homes and into the streets. Homelessness has skyrocketed in both the cities and the rural areas of the state. While 12 percent of the U.S. population is in California, 25 percent of the country's homeless live there. From Sacramento to San Diego, you can't help but notice the multitudes of people living on the street. Look at the housing shortage and homelessness, the decline of manufacturing and other blue-collar jobs, and the growth of a tech economy that rewards disruption over predictability, and you see why some are suspicious of the California way.
California will require women on corporate boards under bill signed by Brown. California became the first state in the country to require that women be included on companies' boards of directors, as Gov. Jerry Brown literally sent a message to Washington on Sunday [9/30/2018] in signing legislation that corporate associations opposed as unconstitutional. Brown signed SB826 into law after it passed the Assembly and the Senate last month. The bill mandates that all publicly traded California companies have at least one woman on their boards by the end of 2019.
The Editor says...
Notice how much of California's official business is transacted on Sundays.
California Passes Law Allowing 12-Year-Olds To Get Tax-Paid Transgender Treatments. You have to be 16 obtain a driver's license in California, 18 to buy a rifle, engage in consensual sex, or get married without parental consent, and 21 to buy a handgun, alcohol, or marijuana. But in the nation's most progressive state, you only need to be 12 years old to privately seek and consent to treatment for gender transitioning.
America, don't be like California. Once again, California has the highest poverty rate in America. According to the U.S. Census Bureau's most recent report, the Golden State's Supplemental Poverty Measure averaged 19 percent between 2015 and 2017. Nationwide, poverty dropped in 2017 from 14.7 percent to 14.1 percent, but California's rate was proportionately 35 percent higher than the national average. In spite of (or perhaps to divert attention from) its high poverty rate, California's left-wing political class continues its unrelenting sermonizing to the rest of us.
California DMV Gives Illegal Voters a Surge. Last week California's Department of Motor Vehicles sent 23,000 "erroneous" voter registrations to the office of Secretary of State Alex Padilla, who maintains the list of registered voters. The DMV blamed it technical errors and said none of the erroneous registrations involved undocumented immigrants. Padilla was "extremely disappointed and deeply frustrated" and the DMV assured him it wouldn't happen again. Legitimate voters have good reason to believe Padilla was not disappointed but delighted. The odds are strong that illegals make up most if not all of the newly registered voters. The registrations of illegals will be happening again, in greater numbers, as the November election approaches. The day after the 23,000 registrations made news, it emerged that from late April to early August, the DMV registered 182,000 "new voters," with the largest number, 112,000, choosing "no party." Neither the DMV nor Padilla would explain the numbers but the trend is evident and all by design.
San Fran Green Lights Illegals To Vote. Our country has twisted itself in knots over the possibility of foreigners (ie: Russia) having unduly influenced our elections (even though recounts and investigations have confirmed that the outcome was NOT changed by foreign interference). You'd think that would be reminder enough as to just how precious the individual value of a lawful voter is, and how it must be safeguarded against anything that would erode the value of that one vote.
California moves toward corporate gender quotas, ignoring Norway's failure. Supporters of California's move toward the nation's first-ever corporate gender quotas have insisted the bill will be good for business, but that's not what happened in Norway. After the Norwegian Parliament required that women make up 40 percent of publicly traded corporate boards in 2006, stock prices plunged and firm values dropped as boards added less experienced female directors, while the numbers of public firms decreased and private companies increased. "The quota led to younger and less experienced boards, increases in leverage and acquisitions, and deterioration in operating performance, consistent with less capable boards," said the 2012 paper by USC professor Kenneth R. Ahern and University of Michigan professor Amy K. Dittmar.
Trump on the Ground. For months, I've been driving on different routes through the vast San Joaquin Valley back and forth from the California coast — and through the usually economically depressed small towns on and near the Highway 99 corridor through the Central Valley. The poverty rate in many valley counties is higher than in West Virginia. It is a world away from Hollywood, Silicon Valley, the Stanford or Caltech campus, Malibu, and Pacific Heights. In an overregulated, overtaxed state of open borders and sanctuary cities, with the nation's near highest electricity and gasoline prices, and facing a looming state and local pension unfunded liability of well over $300 billion, one might not expect much of an uptick from the supposed Trump economic revival. California's calcified strategy, after all, is that global lucre pouring into coastal high-tech and finance will more than balance out the economic damage wrought by state government. Sacramento is a sort of court jester to Menlo Park.
A last-ditch effort to pull California back from the brink. I fully understand the hatred and contempt many, if not most, conservatives feel toward California. A state blessed with so many advantages has surrendered to left-wing madness and, worst of all, pretends it has something to teach the rest of America. In the thirty-some years I have lived here, California has gone from Reagan Country to thrusting people on the order of Kamala Harris and Gavin Newsom onto the national stage. Of the two, Gavin Newsom, the former mayor of San Francisco (and former husband of Kimberly Guilfoyle, late of Fox News and currently rumored to be an intimate friend of Donald Trump, Jr.), is in a position to do more harm in the immediate future, as he is running for governor of California on a platform of state-paid universal health care, including for illegal aliens who manage to cross the state border, from Mexico or Nevada or Oregon.
California, Poverty Capital. According to the Census Bureau's Supplemental Poverty Measure — which accounts for the cost of housing, food, utilities, and clothing, and which includes noncash government assistance as a form of income — nearly one out of four Californians is poor. Given robust job growth in the state and the prosperity generated by several industries, especially the supercharged tech sector, the question arises as to why California has so many poor people, especially when the state's per-capita GDP increased roughly twice as much as the U.S. average over the five years ending in 2016 (12.5 percent, compared with 6.27 percent). It's not as if California policymakers have neglected to wage war on poverty. Sacramento and local governments have spent massive amounts in the cause, for decades now.
Why California's Gavin Newsom campaigns for free health care for illegals. Gavin Newsom, leading candidate for governor of California, and a Democrat, has a new goodie on offer: free health care for the state's three million illegals. The former mayor of San Francisco said so in this podcast, explaining that there is no reason not to "wait around" to extend Medi-Cal coverage to anyone who asks, regardless of immigration status.
California craziness: Congress may have to stop state from giving 'free' health care to illegal immigrants. California has escalating crime, cities teaming with homeless people, clogged and crumbling roads, massive unpaid bills, some of America's highest taxes, and some of its worst public school systems. So what's the plan by Gavin Newsom, the Democratic Party's candidate for governor, to improve the situation? On Tuesday he suggested giving free health care to illegal immigrants. Speaking on a left-wing podcast, the former mayor of San Francisco said: "I did universal health care when I was mayor, fully implemented, regardless of pre-existing condition, ability to pay, and regardless of your immigration status. I'd like to see that extended to the rest of the state. San Francisco is the only universal health-care plan for all undocumented residents in America."
Gavin Newsom: I'm Bringing Single Payer To Everyone In California, Regardless Of Immigration Status. Gavin Newsom is currently running for Governor in California and, barring something dramatic, he is going to win. So when he says he plans to bring single payer to California as Governor, there's a very good chance he'll get his shot. Today, Newsom appeared on the Pod Save America podcast where he was asked about his health care plans. Newsom made clear he wants a single paper system that is for everyone in the state regardless of immigration status. "I'd like to see if we can control our own destiny," Newsom said. He continued, "I'm not naive about it. I did universal health care when I was Mayor [of San Francisco], fully implemented regardless of pre-existing conditions, ability to pay, and regardless of your immigration status.
Dem Gubernatorial Candidate: Gov't Should Pay for Universal Health Care for Illegal Immigrants. Gavin Newsom, Democratic candidate for governor of California, said on liberal podcast "Pod Save America" that the state government should pay for universal health care for illegal immigrants. In the episode, released Tuesday, the candidate and current lieutenant governor of California touted his involvement in San Francisco having "the only universal health care plan for all undocumented residents in America." "I did universal health care when I was mayor — fully implemented, regardless of pre-existing condition, ability to pay, and regardless of your immigration status. San Francisco is the only universal health care plan for all undocumented residents in America. Very proud of that," Newsom said. "I'd like to see that extended to the rest of the state."
Just Another Word for Nothing Left to Lose. [Scroll down] And, of course, there's virtually no area of our lives — outside our sexual behavior and reproductive "choices" — that should be free from state interference. It should be no surprise, then, that the libertarian Cato Institute's latest "Freedom in the 50 States" report finds California nearly at the bottom, in 48th place. New York and Hawaii were worse, but California has been remarkably consistent in its ranking over the past 16 years. Whenever there's some think tank report comparing the states for some bad thing, I always start at the bottom to find my home state. Not surprisingly, we have the highest taxes in the country, even with 1978's Proposition 13 putting the kibosh on uncontrolled property-tax hikes. We have a high level of public debt, [of] course. As Cato points out, the state actually has one of the lowest percentages of government employees (11.2 percent of private employment). But the reason is simple: California pays its employees such astoundingly high pay and benefit packages that it simply can't afford to hire any more of them.
California Gov. Jerry Brown Sets Record of 1,018 Pardons in 8 Years. California Gov. Jerry Brown used his executive powers to issue 36 gubernatorial pardons on Friday, to hit a record of 1,018 pardons in eight years in office. Although 22 of those were for murder and 13 for attempted murder or manslaughter, Brown said each of the pardons he provided went to individuals that had had "demonstrated exemplary behavior" and lived "productive and law-abiding lives" following their convictions and time served in prison, according to the Fresno Bee.
California Initiative Filed to End Proposition 13 Protections for Commercial Properties. Funded by Silicon Valley deep pockets — including the Chan-Zuckerberg Initiative, the personal charity of Facebook CEO Mark Zuckerberg and his wife Priscilla Chan; a coalition of teachers unions; the League of Women Voters; affordable housing advocates; and other "social justice warriors" organized as "Schools and Communities First," — the activists submitted the signatures to the Secretary of State on August 14 to place an initiative on the 2020 ballot to increase California commercial property tax revenue by $11 billion.
Milk Or Water: California Bill Aims To Curb Kids' Soda Drinking At Restaurants. A new state bill would give kids two options with their meals at restaurants — water or milk. Senate Bill 1192 would make water or milk the default drink for kids meals in a push to reduce obesity and access to sugary drinks for children. The bill passed the Assembly and is on its way to Gov. Jerry Brown's desk. If he signs it, California would be the first state in the nation to have such a law.
A Tale of Three Cities. San Francisco is being overrun with the homeless and illegal aliens due to its sanctuary city status and virtue-signaling leadership. The streets are littered with human feces, hypodermic needles, and syringes, turning the once beautiful "City by the Bay" into a cesspool. What's the response of San Francisco leaders? Banning plastic straws.
California lawmakers grill DMV official over ballooning wait times. The leader of the state Department of Motor Vehicles apologized on Tuesday for a recent steep increase in hours-long wait times at the agency's locations across California, as complaints over excessive delays sparked new scrutiny from legislators. "The wait times you are experiencing are not what we ever want our customers to go through," said DMV Director Jean Shiomoto, who testified at an Assembly hearing convened to address the issue following months of public frustration.
Secret DMV office serves lawmakers, Capitol staffers. In California, long lines are a fact of life at Department of Motor Vehicles offices across the state, but for California lawmakers and their legislative staffers, there's an alternative. KCRA has learned of a DMV office that is not open to the public. It's located inside the Legislative Office Building on N Street, adjacent to the state Capitol.
The Mask Slips In Santa Barbara. A little noticed detail in Santa Barbara's recent drive to criminalize plastic straws, which culminated in the Santa Barbara city council taking testimony from a nine-year-old about the planetary menace, has come to light in recent days. During that council session, councilman Jesse Dominguez said the following in response to citizens who asked "what's next?": "Unfortunately, common sense is just not common. We have to regulate every aspect of people's lives." Take that one in for a moment, for it expresses the core impulse of liberalism today.
'We Have to Regulate Every Aspect of People's Lives'. A Santa Barbara city councilman inadvertently let slip the primary purpose of progressivism in 21st century America. The city recently criminalized the use of plastic straws. Speaking to that issue, Councilman Jesse Dominguez said, "Unfortunately, common sense is just not common. We have to regulate every aspect of people's lives." Got that? "We" are smarter than you and know what's best for you better than you do. Perhaps realizing that his comment revealed a fundamental truth of progressive thought, Dominguez tried to walk back his gaffe: [...]
California Wants to Reinvent the Power Grid. So What Could Go Wrong? Two decades ago, when California deregulated the delivery of electric power, lawmakers, regulators and even some environmentalists hailed the decision as a way to lower consumers' bills. The strategy proved disastrous. The plan resulted in an energy crisis that sent power bills soaring, prompted billions in penalties against utilities and banks for manipulating the new electricity market, and led Congress to enact laws to help prevent it all from happening again. Now the state's leaders have a new proposal for an energy makeover, this time to create a single authority to manage the electric grid for most or all of the West. This plan, too, promises to cut costs for consumers — by as much as $1.5 billion a year — while helping to bolster use of carbon-free power sources.
California's Tax War On Business Owners — Part 1. In the early 1990s, the U.S. economy was hit by a triple whammy: 1) the Savings & Loan Crisis, 2) high oil prices as the result of the first Gulf War, and 3) a good-sized recession. Following that recession, the U.S. economy experienced slow growth. So, recognizing that middle market companies are the primary source of economic growth, Congress amended the Internal Revenue Code to incentivize the creation of new companies — "mainstreet" companies and lower middle market companies. Subject to certain restrictions, upon sale of the company, founding owners would be able to exclude up to a certain amount of gain. With California's tax code "conforming" to the Internal Revenue Code, the same pro-growth incentive would have been available on a business owner's California income tax return. But, given the title of this article, it couldn't be that simple — and it's not.
California burns: The "new normal" thanks to Obama Era Environmental Regulations. This past week, the New York Times reported on California's wildfires stating that "Since 2012, according to state emergency management officials, there has not been a month without a wildfire burning — a stark contrast to previous decades, when fire officials saw the fall and winter as a time to plan and regroup." What's the significance of 2012? It is interesting that the New York Times mentioned the 2012 date, but only attributed the wildfire increases to "the recent historic drought," and "rising temperatures," caused by climate change. Nothing could be further from the truth. As California burns, many Californians have been asking why the dramatic increase in wildfires in the last five years? Except for Governor Jerry Brown. Governor Brown claims that devastating fires are the "new normal." Supporting Obama-era regulations have resulted in the new normal: an endless and devastating fire season.
San Francisco: The City of Bans. Who would have guessed that cafeterias would even be a public-policy issue? I've worked at companies with them and without them. But I would have found it more likely for lefties to require such things rather than prohibit them. Many workers, even in well-paid industries where such cafeterias are common, struggle financially given the high cost of living in the Bay Area. Here's a chance for the city to help assure that they get a healthy meal while they work those long hours doing whatever IT people do. What did I miss? "The supervisors introduced the legislation because they say tech companies' employees are hurting local restaurants by taking advantage of the perk and eating in-house, rather than patronizing neighborhood eating establishments," reported Smart Cities Dive.
'Calexit' supporters revamp campaign with plan to convert half of California into 'autonomous Native American nation'. Organizers of a long-running initiative to secure California's secession from the United States now say they want to give away nearly half of the state, including all of its federal land, to form an "autonomous Native American nation." "Calexit," as the proposal for California's secession is known, was given the green light by the state government earlier this year to begin collecting signatures to place the measure on the November ballot. Advocates had until mid-October to gather 365,880 signatures of registered voters to put it up for a statewide vote.
California Is Not as Big or Blue As You Think. The National Popular Vote plan is an interstate compact in which the compacting states agree to award their electoral votes to the person who gets the most votes in all 50 states. It is based on Art. I, Sec. 2 of the Constitution which grants state legislatures the plenary (and exclusive) power to award electors, and the founders' expectation that states would use that power to maximize their influence in the selection of the president. The first thing I hear, when the proposal is presented, is that "California is so big, it will run the country" (mainly because I am from California) if the National Popular Vote Interstate Compact takes effect. My conservative friends use California as an example of "what not to do" when it comes to public policy, and so, if California is going to run the country under the state statutes implementing the National Popular Vote Interstate Compact, then, they say, the National Popular Vote Interstate Compact is dangerous.
California's 'foreclosure capital' to give away $500 a month to residents in experimental welfare program. A California city is set to become the first in the nation to embark on an experiment of Universal Basic Income, paying 100 residents $500 a month without any conditions. The program's purpose is to eventually ensure that no one in Stockton, with a population of 300,000, lives in poverty. The receivers of the cash will be able to spend the money on anything they want without any strings attached. It will launch by 2019 and the 100 fortunate residents will receive the cash for a full 18 months as part of its testing phase before deciding whether to roll it out across Stockton.
Cost of anti-ICE protests prompts California county to forgo $3M federal contract. Citing the cost of managing anti-ICE protests outside one of its facilities, authorities in a Northern California county this week severed a $3 million contract with U.S. Immigration and Customs Enforcement that allowed the federal agency to detain illegal immigrants in one of its cities. Contra Costa County, across the bay from San Francisco, thus became the second county in the region this month to cut ties with ICE, the San Francisco Chronicle reported. The county's West County Detention Facility, in Richmond, which averaged 200 immigrant detainees a day, had drawn protesters for months. At a news conference, Sheriff David Livingston suggested the demonstrations played a large role in the contract's termination.
Is California's Democratic Party swinging too far left? By Nov. 7, Democrats will learn if their left turn steered them to victory or took them off a cliff. The state party's endorsement of Kevin de León, a self-proclaimed socialist's upset of an establishment Democrat in a New York City congressional primary and talk of abolishing Immigration and Customs Enforcement and enacting single-payer health care show an embrace of progressive politics that heartens liberal activists enraged by conservative policies pursued by President Donald Trump and congressional Republicans.
California's Pointless Net Neutrality Efforts. California is moving ahead with some of the most ambitious — and pointless — net neutrality laws in the country that will only make the patchwork laws springing up around the U.S even murkier. California's bill offers stronger language than the Federal Communication Commission's (FCC) rules established under the Obama administration and repealed this spring. The state legislation not only prevents internet service providers from throttling speeds or blocking websites, but it also bans excessive zero-rating practices of ISPs exempting its own services from data caps while counting the usage of third-party apps against the limits.
California governor signs soda tax ban into law. California cities and counties are banned from taxing sodas and other sugary drinks for the next 12 years under a bill signed into law by Democratic Gov. Jerry Brown. The deal was rushed through the legislature and to the governor's desk on Thursday. In exchange for the law, the nonalcoholic beverage industry is withdrawing a ballot measure that had been slated for November. It would have raised the voter threshold to approve local sales tax increases on any item, not just soda taxes, from a majority vote to a supermajority vote. Signatures were gathered for the ballot through a campaign funded by the beverage industry.
San Francisco: Poster-Child For The Failure Of U.S. Cities' Blue Model. By any standard, San Francisco is one of the most beautiful cities in the world. So why has it suddenly become an unappealing place to visit and to live? [...] San Francisco proudly calls itself a "progressive" city. It follows what writer and scholar Walter Russell Mead calls the progressive "Blue Model" of governance. Yet, the policies it follows — high taxes, inane regulations, petty nanny-state authoritarianism, tolerance for rising lawlessness and disorder on its streets in the name of "compassion" — are the very ones that have driven middle-class and working-class citizens out. Only the rich and the so-called homeless, who have been welcomed into the city and are a growing issue, can afford to live in the city.
California's Oligarchs and Agitators. If one were to distill the essence of California's Democratic party into a one-page document, it would be hard to beat a recent mail piece showing the SEIU's candidate endorsements for California's top jobs. According to its website, the Service Employees International Union Local 1000 (SEIU) "is a united front of 96,000 working people employed by the State of California, making Local 1000 the largest public sector union in California and one of the largest in the country."
Look What California Thinks is an Emergency Bill. California is a Socialist nightmare with oppressive government regulations and high taxes killing the middle class. Housing is so costly that it's greatly adding to the number of homeless. The open borders and sanctuary cities policies have allowed killers, perverts, and drug dealers to get protection everywhere in the state. With all the problems they have, they rushed through a bill that could make you laugh. According to the Washington Examiner, the oh-so-urgent bill that had to be rushed through bans California cities and counties from taxing sodas and other sugary drinks for 12 years. Are you surprised that a nanny state banned taxes? Don't be. The reason they did it was to keep high taxes on everything else!
Court reinstates California law allowing terminally ill people to end their lives. The law allows adults to obtain a prescription for life-ending drugs if a doctor has determined that they have six months or less to live.
The Editor says...
The writers of this law apparently assume that doctors know everything, which they don't, and that doctors' diagnoses are always right, which they aren't.
California school board votes to name elementary school after illegal immigrant activist/journalist. At a divisive time for U.S. immigration policies, a California school board has decided to name a new elementary school after an award-winning journalist who disclosed in 2011 that he had been living in the U.S. illegally.
Thefts rise after California reduces criminal penalties. California voters' decision to reduce penalties for drug and property crimes in 2014 contributed to a jump in car burglaries, shoplifting and other theft, researchers reported.
Ridiculous Bay Area housing costs may be reflected in a large drop in births. A harbinger of the absurdly high cost of housing in the San Francisco Bay Area may be visible in the region's maternity wings. San Francisco is a city of few children. You're more likely to see a French bulldog roaming Alamo Square Park than packs of kids frolicking among the Victorians. The lack of youngsters is indicative of a larger issue in the city: the absurdly high cost of housing. According to a new study, when housing prices go up, the birth rate goes down.
Soros push to elect progressive DAs in California fails to attract voters. New York billionaire George Soros' multimillion-dollar effort to reshape California's criminal justice system by propping up progressive district attorney candidates backfired Tuesday [6/5/2018], with most of his candidates suffering major defeats. Soros, together with other wealthy liberal donors and groups, spent millions on would-be prosecutors who favor lower incarceration rates, crackdowns on police misconduct and changes in a bail system that they argue discriminates against the poor. But most of the money went to waste as their candidates lost to more traditional law-and-order prosecutors who didn't share progressive views or have hostile attitudes toward police.
America's King of Poverty. I know it is not a pleasant topic but let's take just a moment and think about poverty in this country. Which state do you think has the highest poverty rate? Must be Mississippi or Alabama or one of those Southern states. No it ain't. The state with the highest poverty rate is... wait for it, CALIFORNIA!!! Yep, our progressive, income redistributing state which accounts for 12% of the country's population is home to about 1 in 3 of all U.S. welfare recipients. Our poverty rate exceeds 20% when the national average is around 15%. It is not as though California policy makers have neglected to wage their assault on poverty. Since 1992 California has spent nearly $1 trillion on benefit programs. Clearly it hasn't worked. Then again paying poor people to be poor never does.
The lawless, porn-respecting, MS-13-loving, humorless American left. [Nancy] Pelosi says the low unemployment is meaningless, the tax cuts are "crumbs," and that consumer confidence is low despite it being at an 18-year high. They see, hear, think, and propagate what they want to be true, not what is true. Even California voters made a tiny dent in the left's socialist grasp on the state. No one expected Republican John Cox to come in second. All Californians should be horrified by what has become of their once golden state. Thanks to the polices of Gov. Brown, ex-senator Boxer, Feinstein, Kamala Harris, A.G. Becerra, etc. (it is a one-party Marxist state), California is a disaster of incalculable proportions, drowning in the homeless, the illegal migrants, traffic, and the highest gas prices in the country.
California Desperately Needs A State Electoral College. This November a Republican — businessman John Cox — will be one of two gubernatorial candidates in the state of California. This is significant because of the Golden State's unique "jungle primary" system in which the top-two vote-getters proceed to a run-off election regardless of party. The "jungle primary" was championed by former California governor Arnold Schwarzenegger. His reasoning was that eliminating party-identification in a race would give Republican candidates a better chance in a deeply blue state. Of course, the effect was just the opposite. With so many blue voters, the controversial system virtually guarantees that the top two candidates are Democrats. The result has been that many voters not aligned with the Democrat platform have been repeatedly forced to choose between candidates that don't in any way represent them.
California Attorney General adds Oklahoma to growing travel ban list. I am so old that I remember when California Attorney General Xavier Becerra was fighting against travel bans. Let's get in the Wayback Machine and turn the dial to March, 2017: ["]California Atty. Gen. Xavier Becerra issued a statement Monday [6/4/2018] saying President Trump's decision to rescind a travel ban bogged down in court challenges 'confirms what we all knew: the travel ban was unconstitutional and un-American.'["] Becerra, a social justice warrior and leading general in the War on Trump, relies on one of the tried-and-tested tools of progressive activism: The Double Standard. This week, he issued his own travel ban on that red bastion of traditional values and implemented a travel ban on Oklahoma.
Oklahoma officials unfazed after landing on California's state-travel blacklist. Oklahomans weren't exactly crying in their sweet tea after learning that their state has been added to California's blacklist on state-sponsored travel. "There appears to be more and more Californians sharing our values as we are seeing more Californians move to Oklahoma," said Michael McNutt, spokesman for Oklahoma Gov. Mary Fallin, in a statement. "With our state's economy being as strong as it is, we won't miss a few Californians traveling on state business showing up in our state."
Prop 68: A Yes Vote is a Reward for Bad Behavior. This adds about $400 of new debt onto your family's tab, that you'll repay in future taxes plus interest. It promises to be used to prepare for droughts. Remember the $5 billion that was supposed to be used on new reservoirs a few years ago? It wasn't. The best way to prepare for droughts is to store water from wet years so that we have it in dry ones.
With free health care for illegals, California Democrats hand a big campaign contribution to the GOP's Cox. For Democrats, succoring illegals and doling out nationalized "free" health care are signature issues. What better way to enact that agenda than to offer California's abundant illegal aliens free state health care? That's the scheme they've cooked up, in their relentless push to make California a West Coast imitation of socialist Venezuela. It's so bad that it's likely to draw California voters toward Republicans.
California rebukes Trump with health care push for immigrants. California is poised to become the first state in the nation to offer full health coverage to undocumented adults even as the Trump administration intensifies its crackdown by separating families at the border. The proposal — which would build on Gov. Jerry Brown's 2015 decision to extend health coverage to all children, regardless of immigration status — is one of the most daring examples yet of blue-state Democrats thumbing their nose at President Donald Trump as they pursue diametrically opposed policies, whether on immigration, climate change, legalized marijuana or health care.
California assisted death law overturned in court. A judge in Riverside County on Tuesday overturned California's controversial assisted death law nearly two years after it took effect, ruling that the Legislature improperly passed the measure during a special session on health care funding.
Report finds cases of STDs reach all-time high in California. The number of cases of sexually transmitted diseases in California reached a record high last year and officials are particularly concerned by a spike in stillbirths due to congenital syphilis, state health authorities said Monday [5/14/2018].
California Bill Seeks to Replace Washington or Lincoln's Birthday Holidays with 'May Day'. A Democrat California assemblyman introduced a bill seeking to make "May Day," or International Workers Day, a state holiday that would replace President George Washington's or President Abraham Lincoln's birthday. Assemblyman Miguel Santiago's (D-Los Angeles) legislation calls for consolidating the two presidents' birthdays to be observed on the third Monday in February as a single "President's Day" holiday, but it also calls for the state to observe May 1 as "International Workers Day."
Leftist pol in California proposes scrapping Washington's Birthday in favor of Marxist May Day. Leftists are notoriously touchy whenever anyone questions their patriotism, and the mask seems to be off with a California assemblyman's proposal to scrap Lincoln's or Washington's birthdays as holidays and replace them with the communist May Day. Surreal as this sounds, it's true.
California Bill Wants To Drop Washington/Lincoln's Birthday And Replace It With Communist Holiday. The California Assembly discussed Thursday [5/10/2018] a bill that would replace Abraham Lincoln or George Washington's birthday with International Socialist Workers' Day as a paid holiday. California Democrat Assemblyman Miguel Santiago introduced Bill AB-3042, which would allow schools to replace Washington Day and Lincoln Day with Presidents' Day and install an "International Workers' Day" — conventionally known as "May Day" — as a second holiday. "I'm aghast that a bill like this would be able to get through committee," California Republican Assemblyman Matthew Harper said to the Assembly. "Are we in competition to be the laughing stock of the United States?"
The Editor says...
Yes, such a competition is apparently underway, and California is far ahead, although New York is catching up.
California Demands That Christians 'Evolve'. There's a new legislative proposal banning all conversion therapy as a fraudulent business practice — by not just mental health providers but anyone. Since the "independent fact-checkers" are quick to swarm around conservative "misinformation," FactCheck.org, PolitiFact and Snopes have all cried "False" at the idea that this bill is a threat to the sale of the Bible. They declared that a threat against Bible sales is nowhere in the text of California Assembly Bill 2943, offered by gay assembly member Evan Low. That is correct ... on its face. It doesn't mention the Bible. However, the bill would amend the state Consumer Legal Remedies Act, adding the ability to sue for damages for "advertising, offering to engage in, or engaging in sexual orientation change efforts with an individual." Any efforts to change someone's sexual orientation "in a transaction intended to result or that results in the sale or lease of goods or services to any consumer are unlawful." That's more than therapy. It's any kind of an argument.
California Voters Oppose Arming Teachers to Shoot Back if Under Attack. By a wide margin California voters support more gun control and oppose arming teachers to shoot back if under attack. The opposition to armed teachers was uncovered via a Berkeley-IGS Poll and reported by the Sacramento Bee. The poll found 61 percent of voters opposed arming teachers while only 37 percent supported it. When viewed by political affiliation, 83 percent of Democrats opposed allowing teachers to be armed to protect themselves and their students, while 75 percent of Republicans supported the idea.
Christians' Munich Moment in California. Scarcely any moment in American history is as important for America's Christians as the developing crises over religious freedom now happening in California. The legislature of Sacramento not only is underhandedly banning books opposed to the doctrines of the transgender religion (including the Bible), but also has threatened Christians' rights to free assembly and freedom of speech. According to its website, Summit Ministries, an organization devoted to advising Christian youths on how to live out a Christian worldview, has canceled its scheduled appearances at Biola University in Los Angeles "due to concerns that California will forbid some of what it teaches." Summit's concern is real.
How Homeschoolers Defeated California's Push to Take Power From Parents. They came by the hundreds, one newspaper said — "perhaps thousands." Some traveled hours, others waited hours, all for the opportunity to protest one of the most outrageous homeschooling bills ever introduced: California's AB 2756. Spilling out into crammed hallways and overflow rooms, families poured into the Statehouse just for the opportunity to spend a few minutes speaking out on a measure that would give the government more power over parents who educate at home. Initially, the bill tried to mandate fire inspections of all homeschooling families (which, not surprisingly, firefighters rejected). Then the proposal was amended — this time to force homeschooling families to give out private information about the names and address of homeschooling families.
They Keep Telling Us Who They Are. The California legislature is processing a bill to ban and criminalize all speech, all writing, that goes against "LGBTQ priorities". Assembly Bill 2943, which has already sailed through two committees, would criminalize "efforts to change behaviors or gender expressions." It seems to be aimed at practicing psychologists, psychiatrists, or counselors whose clients ask them to help them get rid of unwanted sexual attractions; but the bill is so vaguely written that it could be used against virtually anybody — commentators who dissent from the agenda of Organized Sodomy, parents who teach their children that there are only two "genders," and Biblically orthodox churches where homosexual acting-out is presented as a sin.
Yes, California Is on the Verge of Banning Some Christian Books, Here's How. Late last week, I wrote an article that caused a bit of a furious reaction in social-justice Twitter. Activists claimed I was lying, arguing in bad faith, and/or exaggerating the effect of California's AB 2943, a bill that purports to declare "sexual orientation change efforts" to be an "unlawful business practice." I claimed the bill was so broad that it could even ban books. And I'm right. It can and would.
California Bill Would Criminalize Speech, Books Opposing LGBT Agenda. In a direct assault on the freedoms of speech and religion, the California Assembly on Thursday [4/19/2018] overwhelmingly approved a bill that would, in effect, prohibit the dissemination of traditional Christian teaching on homosexuality and transgenderism. The Assembly voted 50-14 to criminalize "a transaction intended to result or that results in the sale or lease of goods or services to any consumer" that consists of "advertising, offering to engage in, or engaging in sexual orientation change efforts with an individual." The bill defines "sexual orientation change efforts" as "any practices that seek to change an individual's sexual orientation. This includes efforts to change behaviors or gender expressions, or to eliminate or reduce sexual or romantic attractions or feelings toward individuals of the same sex."
New California Bill Would Mean Banning the Bible. The bill in question is California Assembly Bill 2943. It would treat as a criminal violation of the state's consumer fraud act "the sale or lease of goods or services to any consumer" that consists of "advertising, offering to engage in, or engaging in sexual orientation change efforts with an individual." Don't be misled into thinking that this bill bans only professional counselors from trying to alter same-sex attractions. It goes well beyond that.
California launches an attack against churches!? A California State Assembly is gearing up to vote on new bill that could ban the sale of books and punish churches that encourage children to stick to traditional gender norms. Yes, you read that right — they want to ban books that say things like, "Girls wear dresses" and shutter churches that encourage boys to wear slacks. Assembly Bill 2943 would make it "unlawful business practice" to engage in "a transaction intended to result or that results in the sale or lease of good of services to any consumer" that engages in "sexual orientation change efforts with an individual."
California's crazy-intrusive politicians can't keep their hands off anything — Next up? Homeschoolers! [Scroll down] The recently introduced Assembly Bills 2756 and 2926 are cases in point. This first, AB 2756, requires fire marshals to perform in-home inspections of home-schoolers every year, implying that somehow home-educators are less fire-safe than other individuals. This is, of course, egregiously discriminatory on its face. But wait. The second one is even worse! With AB 2926, Assembly Member Susan Eggman proposes forming an appointed committee to "investigate" homeschooling. The "instruction" committee would subsequently share its findings so that the California legislature might consider how best to regulate those families. Because there isn't anything a bureaucrat loves more than a new regulation! And these particular bureaucrats are already doing such a fine job of regulating our public schools that roughly half of California public school students surveyed reported experiencing bullying.
California Has Highest Poverty Rate In America. Democrats in California have consistently rejected forcing work requirements on the able-bodied individuals who receive welfare. Forcing those who can work to look for a job and/or maintain employment before receiving benefits is a policy unpalatable for the democrats who control the state. Americans in California are mostly jobless and the ones who can find work are actually having their money taken through the highest state income tax in the union to support immigrants, the majority of which are on welfare.
Why do Democrats love tax hikes so much? California is already seeing residents and businesses flee the state because of its sky-high taxes. Yet unbelievably, two Democratic state assemblymen have proposed to more than double the state business tax — hiking it from 8.84 percent to 18.84 percent on businesses with annual net incomes of more than $1 million. This would be the highest state corporate tax rate in America. The rationale for the giant tax hike? Denying the companies tax savings from the federal income tax cuts recently signed into law by President Trump. Soak the rich! Billions in new tax revenue for the state! What could possibly be wrong with that?
California's latest contradictions — Welcoming criminals but warning about 'dangerous' coffee. Imagine a state that passes a law welcoming, embracing and protecting criminals, directly endangering citizens. Then imagine that same state passing laws, and judges issuing orders that make no sense except to micromanage people's lives in the name of keeping them safe. A contradiction indeed, and especially ripe in California. The same week that a number of cities and counties in California sued their own state over the dangerous law making the state a "sanctuary" for illegal alien criminals, a judge issued a ruling to save Californians from themselves and their coffee-drinking habit.
Can America Survive the Latest Plague? The left survives within a self-made mirage that uses well written speeches containing caring and poetic language and emotional appeals that appear to be on the side of good, protecting the weak and needy in society. But in fact, the left exploits and manipulates both weak and poor to continue to remain in power. Consider the infected American cities of Detroit, Baltimore, and Chicago, where the left has total control and can implement whatever programs it wants, and look at the result: perpetual devastation, crime, and misery. California, a once wealthy and successful state, is now an insolvent laughingstock of the world.
California Democrat Introduces Bill to Force Websites to Use 'Fact-Checkers'. California State Senator Dr. Richard Pan (D-Sacramento) has proposed a bill, the "Online False Information Act," that would require anyone who posts news on the Internet to verify their information through "fact-checkers." The bill, filed quietly in late February as SB 1424, requires all California-based websites to develop a plan to fight "fake news," to use "fact-checkers," and to warn readers — including via social media — of "false information."
The Editor says...
Why stop at social media? Why not require the same of broadcasters and newspapers? Is CNN always 100% accurate? Is MSNBC never misleading? Is The New York Times not biased?
The Justice Department Sues California. On Monday [4/2/2018], the Department of Justice filed suit against the state of California, challenging a state law that purports to prevent the federal government from selling federal lands without the permission of a state agency. Passed by the California legislature in October 2017, Senate Bill 50 declares that, with limited exceptions, "conveyances of federal public lands in California are void" unless the State Lands Commission is provided a "right of first refusal" or "the right to arrange for the transfer of the federal public land to another entity." The statute also prohibits purchasers of federal land from recording the deed to the newly acquired property without an accompanying "certificate of compliance" from the state commission and provides for a $5,000 civil penalty for buyers who violate this provision.
'Remarkably stupid': Calif Dems push 'first of its kind' legislation restricting when a cop can use his gun. Talk about handcuffing police, California Democrats are pushing an unprecedented law to limit when a cop can use his/her weapon. Following the shooting death of an unarmed black man in Sacramento last month by police, state lawmakers have proposed legislation that raises the threshold for when an officer may open fire, Huffington Post reported.
Trump is right — California is out of control. When President Trump recently visited California, he came away with the sense that it "is totally out of control." If he arrived at that conclusion from just a single visit, imagine how many who live in the state feel. To be fair, California itself isn't out of control. There are many among the 40 million who honorably and honestly go about their daily business. Outside of Antifa riots and some infantile behavior on college campuses, there are no mobs in the streets; crime is up but not unrestrained; there are multiple efforts brewing to break up the state, but none are threatening violent insurgencies (though there is a Calexit movement that calls for the state to leave the union). What is out of control is California's ruling class. Much of its political agenda is hostile to basic human liberty and mocks the limits on what government should be allowed to do in an ostensibly free society.
Is The Golden State Trying To Secede? There may be hope in California yet. Despite the state's political descent into madness by illegally declaring itself a "sanctuary state," the resistance it growing. California has a political and legal fight on its hands, one it can't win.
Is California Governor Jerry Brown Mentally Ill? The entire country is talking about the collapse of California due to decades of insane liberal policies. And what is Governor Brown's response? He implemented hundreds more destructive liberal rules, regulations, and giveaways to illegals. An article listing the top ten stupidest new California laws includes "Single-User Restrooms," "Controlling Cow Flatulence," "Legalizing Child Prostitution," and "Felons Voting." Governor Brown signed a new law making California a sanctuary state, doubling down on his bizarre quest to undermine American citizens. [...] Numerous California families have suffered devastating losses of family members killed by illegals with long felony records who have been deported several times and welcomed back with open arms by Brown. One mom whose son was killed by an illegal with two DUIs and two felonies said Brown should be arrested for treason.
California Appoints Illegal Alien to State Office. California has its first illegal alien in state office, after Senate President pro Tem Kevin de León (D-Los Angeles) appointed Lizbeth Mateo to the California Student Opportunity and Access Program Project Grant Advisory Committee. Mateo, an attorney, was born in Mexico and came to the U.S. illegally at the age of 14 with her parents, who are also illegal aliens, according to the Sacramento Bee.
San Francisco Is Suffering From The Excesses Of Its Own Liberalism. I live in a reasonably decent section of San Francisco, and from what I gathered in speaking to many others, everyone has had his or her version of San Franciscan traumas. San Francisco, one of the richest cities in the country and home to a booming center of intellectual capital, has suffered from the excesses of its own liberalism. Bloated and inefficient spending, combined with a gross shortage of housing only worsened by rent-control antics and a fat city bureaucracy, has left a city in utter disrepair. [...] The relative "coronation" of Democrats each election on the local and state level has led to a general erosion of performance from the reigning party, which rarely feels the pressure to perform, given the absence of a legitimately competitive rival party.
Is California becoming America's Taiwan? Taiwan is an independent nation — in its ambitions, its economy, its democracy. But many countries refuse to recognize it as a separate country, deferring to mainland China, which claims Taiwan as a possession and responds with threats when Taiwan goes its own way. California shares aspects of this conundrum. Our state has the ambitions, economy, and democracy of a leading nation. But it remains very much a part of the United States, which responds with threats when California goes its own way.
California Has Become a Disgraceful State. At one time, California was the envy of America, attracting people from around the nation to move to a state offering opportunity and the chance to pursue ambitious dreams. With scenic beauty, the Pacific Ocean coastline, the major cities of San Diego, Los Angeles and San Francisco, California recruited entrepreneurs looking for economic growth. As the home of Hollywood and multitudes of celebrities, California presented an enticing potential to enjoy "lifestyles of the rich and famous." Today, California has become an economic and cultural disaster. The state is home to over 114,000 homeless people, one quarter of the total in the nation. In San Francisco, a health crisis has developed as the homeless have created a mess in the downtown area, littering it with fecal matter, spent needles and piles of trash.
I hope Democrats defend sanctuary cities. It's bad policy, and it'll cost them. The Justice Department is now challenging several laws in California that not only interfere with the nation's immigration policies but also place American citizens and law enforcement personnel at risk. The idea that laws can be ignored and that state and local politicians can affirmatively warn lawbreakers of how to escape apprehension is incredible. It is indefensible. We either have laws, or we don't. And if our elected leaders don't want to uphold the law, they can either change them or resign. The law is not optional once you have made a pledge to uphold the duties of your office. Open-border radicals in California and other liberal strongholds must be held accountable. Of course, liberals would have you believe that they are only interested in protecting the poor, the oppressed and the hardworking who have nowhere else to go. But in many cases, their actions allow dangerous and sometimes repeat criminals to be shielded from deportation or prison.
Dear California: Call Me When the Commies Leave. I don't care what the libs do to the likes of New York, Chicago, or the Pacific Northwest. Let the progressive loons have cities and states that are already cold, wet and miserable. But, as I often asked audiences, why should we let them have a place as glorious as California? Apparently, no one was listening. When the Democrats gained a super-majority stranglehold on the California legislature, they didn't waste any time letting their far-left freak flag fly. As soon as some bills were floated, then passed, people began asking me in private and in public interviews about the legislative madness issuing forth from Sacramento. I thought most of it was boilerplate liberal lunacy that wouldn't stand up to any strict legal scrutiny, which made me shrug it off.
How a list of 23 crimes now dominates California's debate over prison punishment. California has a long history of mixing crime and punishment with raw politics. But outrage doesn't always translate into coherent policy, and unintended consequences can spark even more public anger. With that in mind, consider the last two years of debate over what should, and should not, be a "violent" crime. That debate begins with the index of crimes in section 667.5 of the California Penal Code. The list was first enacted in 1976, and has been tinkered with so many times it's hard to say whether it's a fair representation of the most heinous crimes.
California has worst 'quality of life' in US, study says. Awards season is in full swing in California, and the Golden State just took home a booby prize of its own. California ranks dead last among U.S. states in quality of life, according to a study by U.S. News, ranking behind New Jersey (49th) and Indiana (48th). The ignominious honor reflects California's low marks in the sub-categories of environmental quality and social engagement. The latter category measures voting participation and community bonds. Californians scored poorly in part because they're simply insufferable, U.S. News suggested.
U.S. News Crowns California Worst State for 'Quality of Life'. The U.S. News & World Report has named California the worst state for "quality of life," largely due to the high cost of living. U.S. News ranks the 50 U.S. states each year on eight major social and economic categories to determine an overall competitive ranking. California received an overall score of 32 in 2018, based on sub-category rankings for a Health Care (11); Education (26); Economy (4); Opportunity (46); Infrastructure (38); Crime and Corrections (28); Fiscal Stability (43); and Quality of Life (50). U.S. News found California's high cost of living to be its biggest detriment, despite its having the largest economy in the nation. San Jose and San Francisco both ranked in the 20 top places to live in U.S., but two communities were also in the most expensive for housing.
Pelosi the 'most right-wing'? Only in San Francisco. House Minority Leader Nancy Pelosi is regarded by most Republicans as a far-left liberal. But a recent column identifies the San Francisco Democrat as the "most right-wing" candidate running in her district this year. Emily Cadei, a correspondent for the Sacramento Bee, wrote Monday [2/26/2018] that Pelosi — who'll turn 78 on March 26 — will be forced to fight off three opponents, all coming at her from the left, when she seeks re-election later this year.
Dianne Feinstein No Longer Left-Wing Enough for California. This is a woman who was once mayor of San Francisco, who has argued for the confiscation of guns from law-abiding gun owners, and whose lifetime ACU rating is under 10%. (Meaning she has voted conservatively less than 10% of the time.) But Kevin de Leon is an even bigger anti-gun zealot, a man so far left he introduced environmental regulation so radical (banning all fossil fuels in California) not even the hard-left Democrat legislature would go for it. (Probably because existing renewable energy bills have already made California's electric bills look like Michigan's car insurance premiums. Worse, actually.
Democratic Lunacy on Full Display in California. House Minority Leader Nancy Pelosi has promised everything she can for the young illegal aliens and her increasingly restive left-leaning caucus. The House members are grousing privately about how their leader is ruining their brand across the country. As for the illegal aliens and their activist enablers, they overwhelmed one of her press conferences in San Francisco. They badgered her US Senate colleagues, including Chuck Schumer by protesting outside of his home in New York State. Two weeks ago, Pelosi stood for 8 hours to demand that a clean DREAM Act be attached to the latest budget-spending bill. Nothing happened. Meanwhile, since 2016 the Democratic Party has moved further left than anyone would have anticipated since 2016. They will embrace every letter in the LGBTQAI etc. list, they want to repeal the Second Amendment, abolish the First, get rid of the United States Constitution.
San Francisco Prisons Implement Reforms Giving Transgenders Special Treatments. San Francisco prisons formally announced they are implementing a policy for transgenders that will respect their gender preferences, house them in the cells of their chosen identity, and offer other gender identity services. The San Francisco Sheriff's Department announced Wednesday [2/21/2018] that inmates who identify as transgender, gender variant or non-binary will be able to choose a name and gender identity upon entering the prison. They will also get to determine if a man or woman will search them before they're admitted into the prison, according to CBS San Fransisco.
Diseased Streets. How dirty is San Francisco? An NBC Bay Area Investigation reveals a dangerous mix of drug needles, garbage, and feces throughout downtown San Francisco.
California's Paradox: More Immigration, More Poverty. California is a land of untold opulence. Hollywood's glitter dazzles the gawking masses, while the world's most profitable companies, Google, Apple, and Facebook, funnel cash into the Golden State from every corner of the earth. And yet California is also desperately poor. One-in-five Californians live in poverty, the state's income inequality is worse than Mexico's, and untold thousands live on the streets. California is a dystopia. How can so much wealth and poverty coexist? This is the California paradox. It was not always this way. California used to be home to America's largest and most affluent middle class. Now it is a playground for the rich and a prison for the poor. How did the Golden State become America's poverty capital?
Tucker: Violent Criminal Illegals Now a 'Protected Class' in California. Illegal aliens — including violent criminals — have become a protected class in California, Fox News host Tucker Carlson declared Tuesday [2/13/2018], reacting to the state's new sanctuary policy: "It doesn't matter even if they have a history of crime, even violent crime. In California, illegal aliens are now a protected class. And even more significant, the state itself is now in direct opposition to this country's most basic laws." Carlson listed several ways California's laws give special treatment to illegal aliens: [...]
California Will Block Oil And Coal Shipments, Risks Constitutional Battle. California officials plan on preventing the federal government from transporting oil and gas using existing pipelines in the state, according to a report Wednesday [2/7/2018] from The San Francisco Chronicle. Officials on the California Coastal Commission are urging the federal Bureau of Ocean Energy Management (BOEM) to rescind plans allowing companies to drill for oil off the coast. They are still hoping for an exemption from the oil drilling plan, that Florida has received.
Starting Today, San Francisco Is Erasing Everybody's Misdemeanor Pot Convictions. San Francisco District Attorney George Gascón announced today [1/31/2018] that his office will proactively expunge and seal the records of misdemeanor marijuana offenders, the San Francisco Chronicle reports. The office will also resentence offenders who received a felony pot conviction. Proposition 64, the 2016 referendum item that legalized recreational marijuana in California, allows pot offenders to petition for resentencing if their crime would have received a different penalty, or no penalty at all, under the new law.
California's Soft Secession Accelerates. California's progressive government is one part healthy federalism and one part unhealthy separatism. If (and this is a big if) the state can temper its soft secession, California's progressives may actually — in all their radicalism — show us a path out of our dangerous national polarization. But first, let's chronicle what California is doing. Its resistance to the White House is well known. The state government has filed 26 separate lawsuits against the Trump administration. That's roughly one new complaint every two weeks, with challenges touching at least 17 different subject areas. Moreover, California is now a "sanctuary state" and therefore sharply limits the extent to which its citizens or public entities can voluntarily cooperate with federal immigration authorities. It's even considered imposing penalties on companies that worked to build a Trump border wall.
Eek! A man! In the case of San Francisco city policy, it isn't so much how many heroin needles should be distributed outside the quinoa cafes, or what punishment to exact upon sippers of straws. It isn't about what to do with car break-ins, which have spiked to fever proportions and are growing at 26% annually. Nor is the debate about housing, where vibrantly successful Democrat policy has caused "inflation adjusted construction costs [to] increase in San Francisco over the last 16 years by 60% not including changes in land values." All of these policies are right on the mark. The trouble is the skin color and sex of the people in city hall.
New California law will automatically register illegal immigrants to vote... and it all begins on April Fool's Day! A new law in California that goes into effect this spring will automatically register people to vote — including immigrants who are in the country illegally. In 2015, the state passed a law called the California New Motor Voter Act to increase voter rolls by simplifying the process to register to vote. The legislation, which goes into effect April 1, will automatically register people who apply for a new driver's license or new state ID at the Department of Motor Vehicles.
Why are so many people poor in the Golden State? It's not as if California policymakers have neglected to wage war on poverty. Sacramento and local governments have spent massive amounts in the cause, for decades now. Myriad state and municipal benefit programs overlap with one another; in some cases, individuals with incomes 200 percent above the poverty line receive benefits, according to the California Policy Center. California state and local governments spent nearly $958 billion from 1992 through 2015 on public welfare programs, including cash-assistance payments, vendor payments, and "other public welfare," according to the U.S. Census Bureau. Unfortunately, California, with 12 percent of the American population, is home today to roughly one in three of the nation's welfare recipients. The generous spending, then, has not only failed to decrease poverty; it actually seems to have made it worse.
California AG: 'We will prosecute' employers who violate sanctuary laws. California Attorney General Xavier Becerra warned employers Thursday of legal repercussions if they assist federal immigration officials in an impending crackdown in the sanctuary state, The Sacramento Bee reported. Under a new state law — the Immigration Worker Protection Act — employers and businesses could face fines of up to $10,000 if they provide employee information to U.S. Immigration Customs, Becerra said. If employers "start giving up information about their employees or access to their employees in ways that contradict our new California laws, they subject themselves to actions by my office. We will prosecute those who violate the law," he said at a news conference.
California Democrats want businesses to give half their tax-cut savings to state. California lawmakers are targeting the expected windfall that companies in the state would see under the federal tax overhaul with a bill that would require businesses to turn over half to the state. A proposed Assembly Constitutional Amendment by Assemblymen Kevin McCarty, D-Sacramento, and Phil Ting, D-San Francisco, would create a tax surcharge on California companies making more than $1 million so that half of their federal tax cut would instead go to programs that benefit low-income and middle-class families.
Crazed California AG Threatens Charges Against Employers Aiding ICE Raids On Illegal Aliens. In a shocking admission Thursday, California Attorney General Xavier Becerra (D-CA) threatened his office will charge employees cooperating with ICE raids on illegal aliens. [...] The news comes amid Homeland Security head Kirstjen Nielsen telling the Senate Judiciary Committee Tuesday [1/16/2018] that her Department is preparing to arrest leaders of sanctuary cities.
'We will prosecute' employers who help immigration sweeps, California AG says. The state's top cop issued a warning to California employers Thursday [1/18/2018] that businesses face legal repercussions, including fines up to $10,000, if they assist federal immigration authorities with a potential widespread immigration crackdown. "It's important, given these rumors that are out there, to let people know — more specifically today, employers — that if they voluntarily start giving up information about their employees or access to their employees in ways that contradict our new California laws, they subject themselves to actions by my office," state Attorney General Xavier Becerra said at a news conference. "We will prosecute those who violate the law."
The Editor says...
The AG is very selective about the laws he will defend. "We will prosecute those who violate the law," he says. But that doesn't mean he will prosecute those who are not supposed to be in this country.
Does the California Model Really Work? The alleged success of the California model is one of the more intense controversies in the nerdier corners of public-policy debate. For many progressives, California's metastasizing liberalism proves you can have Scandinavian-style social policies and tax rates and still have robust economic growth. For conservatives, California is like a bumblebee. On paper, [it] shouldn't be able to fly — and yet it does. Thus the cottage industry on the right of prophesizing California's inevitable demise.
Making California Mexico Again. After the November 2016 election, California governor Jerry Brown, a three-time presidential loser, denounced the victorious Donald Trump and pledged that the Golden State would go its own way, perhaps even launching its own satellites. Brown's attorney general Xavier Becerra, once on Hillary Clinton's short list as a running mate, also defies the federal government. Senate boss Kevin de León, which is not the name on his birth certificate and voter rolls, authored the state's sanctuary legislation that has made false-documented illegals, even criminals, a privileged, protected class. In early January, after the legislation kicked in, California's Assembly speaker Anthony Rendon took things to a new level. "There is no sensible place for barriers between California and Mexico," said Rendon, heading south with fellow Democrats on a four-day mission to Mexico.
San Francisco Requires Poop Maps To Help Pedestrians Avoid Human Waste. For those who have maintained that San Francisco is full of ... whatever, there is now living proof. How much poop is there on the streets of the City by the Bay? Would you believe there is an online map to track human feces on the city's streets? There is. According to Fox News, one area of the city reported a 140% rise in feces. As Jay Caruso of RedState noted, "Public urination is so widespread it has damaged subway elevators and escalators, building walls and power poles." When did the gleaming jewel that was San Francisco become a repository for poop? Mayor Willie Brown terminated ordinances; city district Attorney Terence Hallinan would not prosecute "victimless" crimes involving drugs and prostitution.
What's the Matter with California? The progressives who control every aspect of the state's government are not necessarily stupid people, but they are malign. They understand that increasing welfare spending only encourages the arrival of more recipients on whom to spend it, and the high likelihood that those new constituents will vote Democrat as soon as they are able, legally or otherwise. Already, some 55 percent of "immigrants" receive means-tested benefits, while only 30 percent of native Californians do so. California's army of bureaucrats contributes as well, as does the state's highly restrictive land-use ordinances and environmental restrictions, which drive up the cost of housing in what is already the nation's most expensive real-estate market.
Why California is the 'poverty capital of the America'. An excellent op-ed in the L.A. Times today by Kerry Jackson is on why California — with its liberal politics and generous welfare system — is the "poverty capital of America." According to the Census Bureau, one out of five California residents is poor. This despite the state's per capita GDP rising twice as fast in the last five years as the national average. From 1992 to 2015, state and local governments spent nearly $1 trillion to help the poor. The state, with 12% of the American population, is home today to about one in three of the nation's welfare recipients. Jackson then reaches the not so astonishing conclusion: "The generous spending, then, has not only failed to decrease poverty; it actually seems to have made it worse."
Why is liberal California the poverty capital of America? Guess which state has the highest poverty rate in the country? Not Mississippi, New Mexico, or West Virginia, but California, where nearly one out of five residents is poor. That's according to the Census Bureau's Supplemental Poverty Measure, which factors in the cost of housing, food, utilities and clothing, and which includes noncash government assistance as a form of income. Given robust job growth and the prosperity generated by several industries, it's worth asking why California has fallen behind, especially when the state's per-capita GDP increased approximately twice as much as the U.S. average over the five years ending in 2016 (12.5%, compared with 6.27%).
Hate-speech Laws USA? California Prosecutes Man for Anti-Muslim Posts. California is already flouting federal immigration law with its "sanctuary" status. Now it's also ignoring the most American of laws — the First Amendment — prosecuting a man simply for posting five anti-Muslim messages to Facebook. The hapless defendant is 41-year-old Mark Feigin, who expressed his opinions at the Islamic Center of Southern California's (ICSC) Facebook page in 2016. Feigin is certainly an acerbic, acid-tongued, foul-mouthed fellow, and he admits to sending the messages. But while many may not like their substance and/or style, they're clearly an example of constitutionally protected speech.
Rainbow Textbooks Adopted in California. Late last year, the California board of education brought to an end a decades-long campaign to emphasize lesbian, gay, bisexual, and transgender historical figures in state social-studies/history textbooks, approving K-8 volumes that make identity politics of all kinds the core of the subject. California has had enormous influence on the nation's history textbooks in the past, and single-interest groups have long flocked to Sacramento to try to gain expanded, favorable inclusion. The LGBT lobby has been notably assertive. [...] In 2006, Sen. Sheila Kuehl of Santa Monica — the state's first openly gay legislator — introduced a bill that would require textbooks to include LGBT contributions to state and national history.
California federal court rules high school football player can't be ordered to stand for national anthem. A California federal court has ruled that a high school football player cannot be ordered to stand for the national anthem before games. The decision, made by the U.S. District Court for the Southern District of California on Dec. 21, struck down statutes enforced by the San Pasqual Valley Unified School District, the Los Angeles Times reported Saturday [12/30/2017]. The district prohibited students from "kneeling, sitting or similar forms of political protest" at sporting events and "required students and coaches to "stand and remove hats/helmets during the playing or singing of the national anthem," according to court documents.
California Prosecuting Man For Anti-Muslim Insults. Here in the United States of America, the California Attorney General is actually prosecuting a man for Internet insults.
Six Insane California Laws That Will Be Implemented On Monday. [#3] Employers can't ask applicants abouttheir salary history: Private employers — yes, private employers — can't ask people who want money from them silly questions like how much money they've made in the past or are making at their current job. It will be interesting to see the inevitable unintended consequences of AB 168. It will be at least a little more difficult for a company to gauge what a reasonable offer looks like without knowing what an applicant is currently making or recently made. Sure, employers will ask questions like, "What would you like to make?" and smart applicants will clarify their expectations at some point in the interview process. But, really, it's not the government's business how an employer and an applicant work out any mutually benecial agreement.
Gov. Jerry Brown Pardons Immigrant Felons Facing Deportation. In California governor Jerry Brown's endless attempts to drag California to third world nation status, he is now pardoning immigrants convicted of felonies in order to save them from being deported.
California becomes 'sanctuary state' as Gov. Brown defies Trump administration. California became a "sanctuary state" on Thursday [12/21/2017] as Democratic Gov. Jerry Brown signed legislation protecting illegal immigrants in defiance of the Trump administration. The bill, approved by the state's legislature last month, bars police from asking people about their immigration status or participating in federal immigration enforcement activities in most cases starting Jan. 1.
Mileage Tax Could Drive More Middle-class Residents From California. A proposal to charge California drivers for every mile they drive threatens to bring an end to a way of life in the Golden State. For decades, the California lifestyle was almost synonymous with Californians' love affair with the automobile. The Golden State's freeways were legendary, and Californians' fascination with cars was celebrated in a number of car-themed songs during the 1960s (e.g., "The Little Old Lady From Pasadena," "Little Deuce Coupe"). The scenes of teenagers cruising in their cars in American Graffiti were based on the memories of the film's director, George Lucas, during his own teenage years in early 1960s Modesto. But the combination of impossibly heavy traffic on those beloved freeways, the state's imposition of ultra-strict automobile emissions requirements, and increasingly higher gasoline taxes have diminished considerably the joy that Californians experienced driving their cars.
Report: California's $15 Minimum Wage Will Destroy 400,000 Jobs. California's massive state-wide jump to a $15 minimum wage could conservatively cost around 400,000 potential jobs, according to a new Employment Policy Institute study. "California Dreamin' of Higher Wages," strives to evaluate what the state's jump to a $15 minimum wage will mean when it fully kicks in in 2022 by attempting to contextualize it with the empirical effects of previous minimum wage increases in the state going back to 1990. The results are pretty dire. They believe that by the time the minimum wage fully kicks in the state will have lost 400,000 jobs as a consequence. These job losses will not be evenly distributed throughout the state's workforce. They will hit food service, retail, and agriculture jobs the hardest. Overall, this a four percent loss of jobs out of workforce estimated at around 10 million.
Some Real Talk For Conservatives About 2018. We conservatives need to get our heads right about the mid-terms or liberals will end up guzzling patriot tears and their gloating will be flat-out intolerable. We're not doomed in 2018 — I mean, it's not like tax reform or pulling out of the Paris Climate Scam, which have already killed millions of people, including me and you. But, if we fail to get on course for victory then we're going to see Nancy Pelosi and the Gropeocrats back in charge and trying to make America into California. Trust me. You do not want to live in the United States of California.
California still hasn't paid a dime of the $1.2 billion in claims from people whose homes and businesses were destroyed by Oroville Dam crisis. California has not paid any of the $1.2 billion claims stemming from the Oroville Dam crisis, it has emerged. The main spillway of the nation's tallest dam was heavily damaged in February, after heavy rains forced the dam operators to continue using it[.] The flows exacerbated damage to the structure, eventually carving a massive gash through the concrete spillway.
Jerry Brown blames everyone but himself for California wildfires. Jerry Brown is at it again. Blaming Californians for the devastating series of California wildfires month, he went Full Moonbeam and declared the problem a function of global warming, calling it a new normal about which nothing is to be done. As if wildfires that sweep away homes in California's unique Mediteranean microclimates have never happened before this past week.
California Sued by Students & Parents for Failing to Teach Literacy. A group of parents and students has filed what it hopes will be a landmark lawsuit against the State of California for its public schools failing to teach literacy. Public Counsel and the prestigious Law Firm of Morrison & Foerster sued the State of California, the State Board of Education, the State Department of Education, and State Superintendent of Public Instruction Tom Torlakson for their collective failure to provide every child in the state access to literacy as required under the California Constitution.
Poll: CA Dems in Trouble Over High Costs, Jobs, Taxes & Illegal Aliens. California Democrats could be in trouble in 2018, with the latest USC Dornsife/Los Angeles Times Poll finding registered voters' top concerns are the traditionally Republican issues of high cost of living, jobs, taxes, and illegal immigrants. The USC poll found that the most important concerns for voters are the high cost of living, at 21.8 percent; followed by jobs, at 9.9 percent; taxes and fees, at 8.9 percent; and illegal immigration, at 6.9 percent.
Politico: Jerry Brown, President of the Independent Republic of California. David Siders writes in Politico that California Governor Jerry Brown, as he visits Europe en route to the United Nations climate talks, is functioning rather more like the leader of a country distinct from the United States than merely the governor of one of fifty states within that powerful union.
Average price per gallon up 17 cents in Los Angeles since gas tax took effect. The average price for a gallon of gas in Los Angeles County is up 17 cents compared to last week after a new 12-cent gas tax was tacked on at the pump. In Orange County, the average price-per-gallon is 18 cents more than it was one week ago.
California: Proof That Everything The Liberals Run Turns [Bad]. [Scroll down] It seems to be a habit of government leadership on the far Left to make everything they govern worse than they found it. It's not only a habit, it seems to be a requirement. If you challenge them they double down! Again, why? California Democrats want a free college education for all, including illegals. Free healthcare for all, including illegals. They want more taxes and, according to Governor Brown, Californians that don't want to pay more taxes are selfish. Democrats who run this state don't want to explain what they did with the tens of millions of dollars they took from Californians in the guise of taxes then redirected away from the projects they collected it for. And now, not only do they want Californian's to pay again, but they also want the Federal government to bail them out. Yup, it's everyone's fault but theirs! And we all get to pay for it.
California, the sanctuary state, will reap the whirlwind. Earlier this month, California Gov. Jerry Brown signed SB 54, a historic state law that thumbs his state's nose at federal authority. Beginning in January, the law states, California officially becomes a so-called sanctuary state. The term "sanctuary" is, of course, not univocal. It was once used to describe a sensible law enforcement strategy, by which otherwise law-abiding illegal immigrants who report crimes or cooperate with the police are not asked about their immigration status, lest they hesitate to help authorities in the future. Unfortunately, that is not what "sanctuary" means in this case.
California first state to legally recognize third gender option. California Gov. Jerry Brown (D) on Sunday [10/15/2017] signed new legislation that will allow state residents to choose a gender option other than male or female on official documents. The legislation, a top priority of civil rights groups, also makes it easier for transgender people to change their gender identification on birth certificates or driver's licenses.
New California law allows jail time for using wrong gender pronoun, sponsor denies that would happen. California health care workers who "willfully and repeatedly" decline to use a senior transgender patient's "preferred name or pronouns" could face punishments ranging from a fine to jail time under a newly signed law. [...] The bill itself is aimed at protecting transgender and other LGBT individuals in hospitals, retirement homes and assisted living facilities. The bill would ensure those facilities accommodate transgender people and their needs, including letting them decide which gender-specific bathroom they prefer to use. "It shall be unlawful for a long-term care facility or facility staff to take any of the following actions wholly or partially on the basis of a person's actual or perceived sexual orientation, gender identity, gender expression, or human immunodeficiency virus (HIV) status," the bill reads.
California Sues Trump For Granting Employer 'Choice' on Obama Birth Control Mandate. California wasted no time filing a lawsuit against the Trump Administration, claiming it discriminated against women when it rescinded the Obama-era mandate that requires employers to pay for birth control in their healthcare plans.
Knowingly exposing others to HIV will no longer be a felony in California. Gov. Jerry Brown signed a bill Friday that lowers from a felony to a misdemeanor the crime of knowingly exposing a sexual partner to HIV without disclosing the infection. The measure also applies to those who give blood without telling the blood bank that they are HIV-positive. Modern medicine allows those with HIV to live longer lives and nearly eliminates the possibility of transmission, according to state Sen. Scott Wiener (D-San Francisco) and Assemblyman Todd Gloria (D-San Diego), authors of the bill.
California to become a 'sanctuary state' in 2018. Gov. Jerry Brown placed new limitations on state and local law enforcement's ability to help the federal government enforce immigration violations by signing California's controversial "sanctuary state" bill into law on Thursday [10/5/2017]. Senate President Pro Tem Kevin de León introduced Senate Bill 54 weeks after the 2016 election to stifle President Donald Trump's campaign pledge to ramp up deportations and prevent the federal government from using California police officers to accomplish his goal.
Leftists Never Fight. [Scroll down] California passed Prop 8, with Blacks supporting it at the 70%+ level, which defined marriage as between a man and a woman. Prop 8 passed with 52% of the voters supporting it. Yet the Democrat governor and the Democrat attorney general refused to defend the law as they were required by their oath of office. That alone shows that Democrats are fascists; it's not up to the governor to decide which laws are constitutional or not; that's the job of the courts. However, the state courts supported the legality of Prop 8. Not to be deterred, Democrats took it to a federal court where a closeted gay judge who stood to benefit from ruling against Prop 8 suppressed the will of the people of California.
Bill advancing universal free school meals for California's hungriest kids heads to Assembly. A bill approved in Assembly Appropriations this past week would expand free and reduced breakfast and lunch for hundreds of thousands of students on Medi-Cal. SB 138 — the "Feed the Kids Act" will address childhood hunger by removing a massive layer of bureaucratic red tape from the State school meal program enrollment process and by serving all students in very high poverty schools for free. The legislation would develop a universal enrollment process by ensuring that all school districts utilize Medi-Cal data to seamlessly enroll income-eligible students in free and reduced-price school meals.
With 220 languages spoken in California, courts face an interpreter shortage. Federal law enforcement began investigating California's courts seven years ago after receiving complaints that two Korean-speaking women in Los Angeles had been denied court interpreters. Courts in other states also were examined and faulted. Along with California, they began working to comply with U.S civil rights law, which bars discrimination based on national origin. Failure to act meant the possible loss of federal money. But nowhere has the task been so challenging as in California, the most linguistically diverse state in the nation.
California Tries to Leverage Hurricane Harvey to Fund $20 Billion Flood Control. California hopes to leverage the attention on Hurricane Harvey flooding to convince the federal government to fund some of the $20 billion needed to repair the dilapidated Central Valley flood control infrastructure. Harvey has killed at least 34 and caused over $190 billion in damage thus far. The 1,000-year flood is expected to cost the U.S. economy about 1 percent of GDP, or $190 billion, according AccuWeather.
California Crime Wave Follows Criminal Justice Reform. In November 2014, California voters approved Proposition 47, which downgraded drug possession and many property crimes from a felony to a misdemeanor. As Debra Saunders reminds us, proponents argued that lesser punishment for low-level offenders would enhance public safety. Unfortunately, this utterly counterintuitive notion has not panned out. In San Francisco, according to a police spokesman, theft from cars is up 47 percent this year over the same period in 2014. Auto theft is up by 17 percent. Robberies are up 23 percent. And aggravated assaults are up 2 percent. (To be fair, burglaries are down 5 percent). How about Los Angeles? It has seen a 12.7 percent increase in the overall crime this year, according to the Los Angeles Times. Violent offenses are up 20.6 percent; property crimes by 11 percent.
California initiative would legalize psychedelic mushrooms. California would become the first state in the nation to legalize psychedelic mushrooms if a long-shot ballot initiative passes muster with voters next year. The measure is backed by a legalization activist who says he kicked his heroin habit with the help of a mushroom trip in Death Valley. It would exempt Californians over the age of 21 from a state law that criminalizes mushrooms containing psilocybin, the compound that gives some mushrooms psychedelic properties. "There is a cultural fascination with mushrooms that goes really deep," said Kevin Saunders, the activist behind the initiative. "The soccer moms are all pretty much, for lack of a better term, high now, and some of them are taking mushrooms."
California Set To Be First State To Add "Gender X" Designation To Licenses. Up until now, state issued identification cards around the country have limited gender designations to 'male' and 'female' because, well, biological science has historically taught us that those were the only two options. But that hateful and narrowed-minded micro-aggression perpetrated by our genetic code will no longer be tolerated in the state of California, whether it's a scientifically proven fact or not. As the San Francisco Chronicle points out today [8/29/2017], California's legislature is currently considering SB 179 that will add a new "nonbinary" gender designation to the state's identification cards.
ACORN Sues California to Allow More Illegals to Vote. An ACORN offshoot and other left-wing pressure groups are suing California in federal court because the state hasn't made it easy enough for Democrats to flood voter rolls with illegal aliens and foreign nationals who aren't legally eligible to vote. Throughout the years Mickey Mouse, Mary Poppins, and celebrities living and dead were registered to vote because now-defunct ACORN and its allied groups were allowed to pollute the voter rolls.
California Could Start Jailing People Who Don't Use Transgender Pronouns. A bill that passed the California state senate and is now moving through the Assembly could threaten jail time for anyone who refuses to use a transgender person's preferred pronoun. The law is currently limited in its effects to nursing homes and intermediate-care facilities, but if passed, those who "willfully and repeatedly" refuse "to use a transgender resident's preferred name or pronouns" could be slapped with a $1,000 fine and up to one year in prison, according to the California Heath and Safety code. The state senate passed the bill 26-12 at the end of May. Since then, the Assembly Judiciary committee recommended the bill unanimously and the General Assembly held its first hearing on the legislation Wednesday [8/23/2017].
Calexit III? New ballot measure plots route to California independence. On Thursday, people unhappy with California's place in the United States filed yet another proposed ballot measure that could lead to the Golden State striking out on its own. This time, the goal is convening a U.S. constitutional convention to overhaul what proponents call a moldy national blueprint out of step with life in California. The measure says a reworked Constitution should include a provision creating a "clear and reasonable path for states to achieve complete independence from the United States should any state so choose." No state has become independent under the existing U.S. Constitution.
On Illegal Immigration, California Decides They Really Like The 10th Amendment. If you remember back to the debate over Arizona's SB1070, a law that allowed law enforcement to enforce federal law as written, California, California law makers, and California papers took the stance that immigration was the purview of the federal government, and that states couldn't change that in the least. Today, though, as we discuss illegal aliens, California wants to do its own thing[.]
California Can't Fix Its Housing Problems. Even California's liberal Democrats are starting to understand that the state's housing crisis is fundamentally a supply-and-demand problem. Home prices have soared to astronomical levels, with a median price above $750,000 in the nine-county Bay Area and nearly $700,000 in Orange County. Years of growth controls and local regulations have restricted housing supply and added as much as 40 percent to the price of every new home that's built. Housing is the key reason California has a 24 percent poverty rate (using the U.S. Census Bureau's new cost-of-living-adjusted index), the highest in the nation.
Socialists create youth shortages in California. Socialism has long been associated with shortages, and nowhere is that more evident than in California, land of surf, sun, skiing, skateboarding, and other youth-oriented pursuits. The socialists have managed to chase out the youth.
A Guide to How Bad the Democratic Party Is Right Now. In the Golden State, the progressive wing of the party is irate that California Democrats shelved a $400 billion state-based single-payer initiative. Death threats were hurled at state lawmakers for tabling the measure, which met a legislative death because it had no funding mechanisms within the bill. Also, the leadership election to lead the state's Democratic Party has led to a contested election, where the establishment figure won, but the Bernie Sanders supporting insurgent has failed to concede.
Democrats Rigging Election in Broad Daylight. Here in California, the Democratic leadership is busy rigging rules in an election. The issue is covered on the front pages. But Democrats control every lever of power, so nothing can derail their efforts to save a vulnerable Democratic senator from a recall. Now the state's ethics watchdog, the California Fair Political Practices Commission, is in on the action.
Judicial Watch threatens to sue California - after finding 11 counties with more registered voters than eligible citizens. Dems will often argue that such fraud is "not widespread," but they're loathe to define what, exactly, 'widespread' means. How many bogus votes need to be cast before blue states care? Enter Judicial Watch. They're threatening to sue the state of California because Governor Moonbeam's voter rolls have gone completely off the rails. In 11 counties, Judicial Watch found that there were more registered voters than citizens of legal age. Sometimes by as much as 144%[.]
Still Think Our Elections Are Fair?: 11 California Counties Have More Registered Voters Than Voting Age Adults. Right now there are plenty of Democrats who think Russia hacked our elections, but they'll laugh at Trump's accusation that illegal immigrants stole the popular vote from him (which is very likely). The truth is that our elections are seriously compromised, and not by the Russians. The latest example of this fact comes from California, where it was recently discovered that there are 11 counties that have more registered voters than eligible voters.
L.A. County hands $1.3 billion to illegals for welfare. Los Angeles County is a massive draw for illegals, with more than a million flocking there and setting up home — and now we know why. Not only is it hallowed sanctuary ground; it's also, apparently, taxpayer-dole-out central. Look at this, from Robert Rector with the Heritage Foundation: "They get $3 in benefits for every $1 they spend," he said, speaking of the costs of education, police, fire, medical and housing that illegals get, compared to what they pay back by way of taxes. This isn't conjecture. It's based on analysis of the Los Angeles County Department of Public Social Services database. Among the findings: In 2015, more than 58,000 families received $602 million in benefits. In 2016, more than 64,000 families received $675 million.
California Risks Billions in Sanctuary City Suit Against Trump Administration. California Attorney General Xavier Becerra is launching a preemptive legal assault against the Trump Administration's promise to pull tens of billions of dollars of federal funding from "sanctuary cities" that do not cooperate in enforcement against illegal aliens. Attorney General Becerra is leading a coalition of 300 cities, 18 counties, and the State of California that intend to sue the Trump Administration over U.S. Attorney General Jeff Sessions' plan to begin cutting off funding to jurisdictions tagged by the U.S. Justice Department as "sanctuary cities" that harbor illegal aliens from Immigration and Customs Enforcement (ICE) agents, according to the Sacramento Bee.
Judicial Watch Warns California: 11 Counties Have More Voters than Voting-Age Citizens. Judicial Watch, a conservative watchdog organization, has sent a letter to California Secretary of State Alex Padilla on behalf of the Election Integrity Project, noting that there are 11 counties in the state with more registered voters, and alleging that the state may be out of compliance with Section 8 of the National Voter Registration Act (NVRA).
Feinstein Says We Can't Increase Immigration Enforcement Because No One Will Pick Our Fruit. California Sen. Dianne Feinstein warned that President Donald Trump's immigration plan would severely cripple the agriculture industry in a Wednesday evening [8/2/2017] interview. "We're the largest agricultural producer in America[.] It's a $50 billion industry. We employ tens of thousands of agricultural workers," The Democratic senator said on CNN. "They are among a class that this would be prohibited. It would cripple agriculture if they didn't have the people coming in to do this work[.]"
Boss tells state workers: Kick ICE out of California labor offices. California's top labor law enforcer wants federal immigration agents to stay away from offices where state investigators weigh claims about underpaid employees and workplace retaliation. Labor Commissioner Julie Su last month directed her staff to turn away Immigration and Customs Enforcement agents unless the federal officers have warrants. Her directive followed three instances over the past 10 months in which immigration agents sought information about California workers who had filed claims against employers. In two cases, immigration agents attempted to attend hearings where investigators discuss claims with workers and their employers, Su said. In all three cases, the agents left when they were asked, she said.
L.A. County Paid Out $1.3 Billion In Welfare To Illegal Aliens. On the bright side, it's expected that the Los Angeles County will spend $200 million less in 2017, as fewer illegal aliens arrive and more have left, mostly due to allowing Immigration and Customs Enforcement (ICE) to do their job, to enforce the laws that are on the books, unfettered by politicians and political appointees. We keep being told that illegal aliens are a boon for our economy. Well, the illegals are getting $3 in benefits for every $1 they spend. It sure seems that they are more of a drain on taxpayer money that giving more back.
Tucker Debates 'Calexit' Supporter Who Calls CA 'Not the US'. Tucker Carlson reported that the United States may lose a star on its flag for the first time ever, if "Calexit" becomes reality. Carlson said the Calexit movement wants California to become an independent country through a ballot initiative in 2018 that would require 585,000 signatures to get started. Shankar Singam, a supporter of Calexit and vice president of the California Freedom Coalition, told Carlson such a split does not have to be "hostile."
California is working to avoid a shortage of legalized marijuana, state pot czar says. With Nevada suffering a shortage of legalized marijuana, California's state pot czar said Wednesday [7/19/2017] that efforts are being made in her state to make sure sufficient licenses go to farmers, testers and distributors to supply retailers. Providing temporary, four-month licenses to support some businesses including growers is planned "so we don't have a break in the supply chain," Lori Ajax, chief of the Bureau of Medical Cannabis Regulation, said in testimony at a legislative hearing. Legal sales began July 1 in Nevada, but it immediately became clear there was not enough supply to meet demand, in part because unique rules provide alcohol wholesalers exclusive distributor rights. California does not have the same limits on who can distribute cannabis.
California's Judicial Council racial sensitivity bureaucrats dress up as black convicts for office party. If anyone needed proof that California is over-larded with do-nothing, malevolent bureaucrats, maybe the Judicial Council's Halloween party, which featured racial sensitivity bosses dressed in blackface and turning their cubicles into jail cells, is just that example. Sure enough, it's an agency that oversees racial sensitivity programs for California's court system.
33 Percent of American Welfare Recipients Live in California. The liberal state of California is a prime example of why liberal policies must not be adopted anywhere around the country as one-third of America's welfare recipients reside in the state.
California Democrats Target Conservative College Students. California state senator Josh Newman, Fullerton Democrat, was the key vote to approve Jerry Brown's recent $5.2 billion tax hike that jacks up what Californians will pay for gasoline, diesel fuel, and vehicle fees. At the California State University in Fullerton, College Republicans Amanda McGuire, Ryan Hoskins and Brooke Paz led efforts to recall Newman. The state Democratic Party responded by changing the rules on recall elections and targeting the three students with a lawsuit. "This lawsuit intends to stop the petition from circulating and halt the recall process, falsely citing deceptive messaging as grounds for suing," explains a press release from the College Republicans. According to the Republicans' secretary Ryan Hoskins. "This lawsuit is the definition of frivolous and more than an obstruction of the very processes that every Californian should hold dear."
Will California Ever Thrive Again? The basket of California state taxes — sales, income and gasoline — rates among the highest in the U.S. Yet California roads and K-12 education rank near the bottom. After years of drought, California has not built a single new reservoir. Instead, scarce fresh aqueduct water is still being diverted to sea. Thousands of rural central California homes, in Dust Bowl fashion, have been abandoned due to a sinking aquifer and dry wells. One in three American welfare recipients resides in California. Almost a quarter of the state population lives below or near the poverty line. Yet the state's gas and electricity prices are among the nation's highest. One in four state residents was not born in the U.S.
California Democratic Party Sues Conservative College Students In Unprecedented Move. Three members of the Cal State Fullerton College Republicans have been named in a lawsuit backed by the California Democratic Party in retaliation for their work to recall State Senator Josh Newman, who was the pivotal vote in support of April's $52 billion gas tax increase.
California Dems panic over their tax hike. Democrats control both houses of the California State Legislature with 2/3 majorities, allowing them to pass any bills they wish, with no possibility of obstruction from the powerless GOP. As Democrats will when they feel empowered, they recently passed a major hike in gasoline taxes that will take over $5 billion a year more from the pockets of motorists.
Tucker on SF's $190K Payout to Illegal Immigrant: 'You Shouldn't Pay a Criminal for Breaking the Law'. An illegal immigrant is set to be awarded $190,000 from San Francisco after police turned him over to immigration authorities, which is a violation of the city's sanctuary policy. Pedro Figueroa-Zarceno, who is from El Salvador and was living in the U.S. illegally, walked into a police station on December 2, 2015, to recover his stolen car. When he left the station, U.S. Immigration and Customs Enforcement (ICE) immediately took him into custody. Figueroa-Zarceno recently reached the massive settlement agreement with the city attorney's office. The agreement must be approved by the city's Board of Supervisors.
111 terminally ill end lives under new California law. California health officials reported Tuesday that 111 terminally ill people took drugs to end their lives in the first six months after a 2016 law made the option legal in the nation's most populous state. The data was part of the California Department of Public Health's first report on the law since it went into effect June 9, 2016. According to the data generated from forms doctors were required to submit between June 9 and Dec. 31, 2016, a total of 191 people received life-ending drugs after being diagnosed with having less than six months to live and 111 people took them and died.
Texas, three more states on California's banned travel list. California is restricting publicly funded travel to four more states because of recent laws that leaders here view as discriminatory against gay and transgender people. All totaled, California now bans most state-funded travel to eight states. The new additions to California's restricted travel list are Texas, Alabama, Kentucky and South Dakota. They join Kansas, Mississippi, North Carolina and Tennessee as states already subjected to the ban. California Attorney Xavier Becerra announced the new states at a Thursday press conference, where he was joined by representatives from ACLU Northern California and Equality California. "We will not spend taxpayer dollars in states that discriminate," Becerra said.
Minimum Wage Madness Begins to Kill Off California's Restaurant Industry. The restaurant industry is a canary in California's coalmine of moonbattery. Minimum wage insanity is killing it: [...] It's bad enough in big cities on the coast. Wages, like prices, are lower inland and in smaller towns. That means that one-size-fits-all central planning is even more unsupportable regarding the minimum wage. Unemployment is already significantly higher away from the coast in California.
California's descent to socialism. California is widely celebrated as the fount of technical, cultural and political innovation. Now we seem primed to outdo even ourselves, creating a new kind of socialism that, in the end, more resembles feudalism than social democracy. [...] This new progressive synthesis promises not upward mobility and independence, but rather the prospect of turning most Californians into either tax slaves or dependent serfs.
Half-baked single-payer health plan amounts to political stunt. On Thursday [6/1/2017], the California state Senate made the bold move of voting to create a single-payer health system without having any idea of how to pay for it. Ostensibly spurred by concerns over the future of the Affordable Care Act at the federal level, Senate Bill 562 by Sens. Ricardo Lara, D-Bell Gardens, and Toni Atkins, D-San Diego, would create a single-payer system which would cover health expenses for every resident in California. Considering the magnitude of such a proposal, the very least that is owed is a thorough accounting of how exactly such a program would be paid for. After all, according to estimates from a legislative analysis provided to the Senate Appropriations Committee on May 22, the proposal is anticipated to cost $400 billion per year, more than double the state budget.
Hey, California, Ready To Spend $400 Billion For Your Single-Payer Disaster? California's so-called progressive Democrats, fresh off their classy "flipping off" of Donald Trump at their state convention, now want to flip off the entire state by imposing a reckless, economy-destroying single-payer health care system on the state's citizens. If voters don't stop this madness they'll get what they deserve.
Report: California Single Payer Healthcare Will Double State Expenditures. The state of California seems determined to go broke. They want to institute a single payer healthcare system but the cost would be astronomic. In fact, it would be more than the state's budget.
California Considers Sanctuary State Legislation to Protect Pot Industry. California lawmakers are talking about doing for their state's new marijuana industry what they are also trying to do for illegal immigrants: create a sanctuary state where local police are ordered not to cooperate with federal authorities. Attorney General Jeff Sessions is the man who has the power to unleash enforcement of the federal anti-marijuana law that could shut down the multibillion marijuana industry in California and every other state where smoking weed for the fun of it is legal.
Democrats Love Affair With Communism. A bill narrowly passed the house in California, repealing part of the law enacted during the Cold War era in our country's history when communists were really active and infiltrating our government, attempting to overthrow it. The bill proposed to eliminate the section which allowed the firing of public employees if they were members of the Communist Party. The bill now goes to the Senate and its author, Democrat Assemblyman Rob Bonta, hopes that it will pass. "Assemblyman Randy Voepel, a Southern California Republican who fought in the Vietnam War, said communists in North Korea and China are still a threat." Assemblyman Travis Allen, also a Republican, said that "this bill is blatantly offensive to all Californians. Communism stands for everything that the United States stands against."
California moves to let Communists work in government. The California government may soon employ openly Communist people in its ranks. The state assembly passed a bill Monday that would repeal a policy that had made being a member of the Communist Party a fireable offense. The legislation was supported along party lines with most Republicans opposing it while Democrats mainly favored the policy. It would overturn a bill was signed into law during the Red Scare of the 1940s and 1950s when Americans worried Russian spies were trying to take over the country.
California State Assembly Votes to Make Communism Great Again. Being a communist would no longer be a fireable offense for California government employees under a bill passed by the state Assembly. Lawmakers narrowly approved the bill Monday [5/8/2017].
California Democrats Make Armenian Genocide Remembrance Day Disappear. Monday April 24 was Armenian Genocide Remembrance Day and in Los Angeles thousands marched in the street outside the Turkish consulate. Up in Sacramento, ruling Democrats ignored the Armenians and instead held "Muslim Day at the Capitol," hosted by the Council on American-Islamic Relations.
California's Road To Single-Payer Ruin. Never let it be said that California doesn't march to the beat of a different drummer. While the rest of the country has had second, third and even fourth thoughts about having a single-payer health care system, the Golden State boldly marches forward into fiscal oblivion.
California Is Seceding from the Constitution. The entire nation has of course watched as the city of Berkeley and the University of California, Berkeley ceded control over free speech to violent left-wing mobs. Both the city and the campus have placed the safety of rioters over the liberty of their conservative citizens, refusing to protect that liberty on the dubious grounds that someone might get hurt. Thus, city and school leaders have knowingly and intentionally granted a heckler's veto to the far-left, in effect making the First Amendment a dead letter at one of the nation's (and the world's) most prominent universities. The rot extends far beyond Berkeley. Just this week, the California assembly's judiciary committee voted overwhelmingly in favor of AB 569, a bill that would prohibit religious employers from enforcing entirely normal rules of Christian conduct on their employees. Thus, it would be illegal for Catholic schools to require that their employees choose life rather than get an abortion.
California's latest move to "fight the wall" is truly something out of La La Land. There are still budget battles and (probably) blockades from the 9th Circuit to come, but sooner or later the President is going to get some work started on the border wall. But if and when he does, California is laying some landmines in advance for any private contractors who dare to bid on the job and pour a single yard of concrete. In a move being dubbed, "Build it and be banned," California legislators are proposing to impose a permanent ban for government contracts on any company who takes part in the project.
California gas tax hike prompts fierce backlash from the right. A 12-cent gas tax hike recently approved by California's Democratic leaders has prompted a huge backlash on the right, with a grassroots coalition vowing to ensure it never takes effect. A combination of AM-radio talk show hosts, a consumer advocacy group and a GOP assemblywoman have joined forces to battle the measure — set to kick in this November — that would give California the dubious honor of the second-highest gas tax in the nation at 73.2 cents per gallon. Only Pennsylvania residents will pay more, with a 77.7-cent tax.
Berkeley Mayor Is Member of Militant Leftist Organization's Facebook Group. The mayor of Berkeley, California, is a Facebook member of a leftist militant organization that has been linked to violent incidents in the city. Mayor Jesse Arreguin's personal page shows he's a Facebook member of Defend Affirmative Action and Integration and Fight for Equality By Any Means Necessary (BAMN). According to a 2001 article in the East Bay Express, BAMN, founded in 1995, is "allegedly a front group for an obscure Detroit-based Trotskyist political party called the Revolutionary Workers League." Even by UC Berkeley standards, students considered the group extreme.
Single Payer Is Fool's Gold For California. While the latest Republican attempt to repeal and replace ObamaCare may have failed, Democrats in California and in D.C. are just getting started in their effort to eliminate the health law. Unfortunately, they're angling to replace ObamaCare with something even worse.
Police arrests are plummeting across California, fueling alarm and questions. In 2013, something changed on the streets of Los Angeles. Police officers began making fewer arrests. The following year, the Los Angeles Police Department's arrest numbers dipped even lower and continued to fall, dropping by 25% from 2013 to 2015. The Los Angeles County Sheriff's Department and the San Diego Police Department also saw significant drops in arrests during that period.
California has fewer arrests, but not necessarily less crime. The number of arrests by police in California has plunged in recent years, but that doesn't necessarily represent good news on crime, according to an analysis published Saturday [4/1/2017].
Los Angeles Middle School Faces Budget Cut For Having Too Many White People. Los Angeles parents are outraged after their middle school announced budget cuts because there are too many white students, according to Sunday [3/26/2017] reports. Walter Reed Middle School announced there would be layoffs and larger classes because the school's white student body is too big, reports ABC 7. The Los Angeles Unified School District gives schools money only if white students make up no more than thirty percent of the student population.
California's Chief Justice: Enforcing Immigration Laws Goes Against The Rule Of Law. Since when is moving to another country against the law? And since when do we enforce the laws we have on the books?
Nigel Farage and the 'Bad Boys of Brexit' set their sights on splitting California in two. The 'Bad Boys of Brexit' who led the campaign to break Britain away from the European Union have taken on a new exit challenge: splitting California into two states. Former UKip leader Nigel Farage and Leave backer Arron Banks have just returned from the United States, where they helped raise $1million (£800,000) for a 'Calexit' campaign, which would split California into two eastern and western regions. There are several 'Calexit' campaigns competing for a referendum in the United States, with one aiming to remove the state from America entirely as a response to President Donald Trump being elected last year.
CA Bill Would Make Not Disclosing HIV+ Status to Partner Just a Misdemeanor. People who are HIV positive have long been required to disclose this status before engaging in unprotected sexual intercourse. Considering the life-threatening condition caused by HIV, it stands to reason that potential partners have a right to know, since the disease is easily passed through sexual contact. However, in what is being described as a test of just how much feelings have changed on the disease, a group of lawmakers in California have presented a bill that will make it no longer a felony to engage in unprotected sex without disclosing the condition to their partner, instead making it a misdemeanor. Because of "the stigma."
What does it take to be a librarian in San Francisco? 1) You have to know how to shelve books. 2) You have to know how to check out books. and 3) You have to know how to inject heroin addicts with anti-narcotics drugs.
San Francisco's withdrawal from national terror intelligence network hikes risks, officials say. San Francisco has taken its defiance of the feds to a new level, ending its cooperation with the FBI in an anti-terror initiative begun after 9/11 — a move crtitics say could get innocent people killed. Critics say the sanctuary city by the bay's latest decision to forego cooperation with Washington, by dropping out of the FBI's Joint Terrorism Task Force, could put lives at risk. The JTTF has been credited with foiling 93 Islamist terrorist attacks and plots against the U.S. since 2001, including 12 this year, according to the Washington, D.C.-based Heritage Foundation. There are another 1,000 investigations into suspected terror activity nationwide.
Five festering problems the Democrats cynically ignore. [#5] The connection between illegal immigration and California's electoral power: California declared itself a sanctuary state and now houses a quarter of the nation's illegal immigrants. The elected officials at all levels of that state government will openly defy any attempts to enforce existing federal law that could reduce the number of illegal immigrants. The massive presence of illegals distorts our representative system. There are at least 4 million illegals in California. It requires a special liberal variety of naïvité to believe that none of them votes. Even if none does, they are all counted in the census, which determines congressional representation and some federal funding allocations. If only citizens were counted, California would have five fewer congressional seats and electoral votes. Those seats would go to, for example, Ohio (2), Michigan, and Pennsylvania. The Democrats who've declared California a sanctuary state know exactly what they are doing.
California's 12,209,605 Medicaid/CHIP Enrollees Outnumber Populations of 44 States. In the fall of 2013, the Obamacare exchanges opened to enroll people in health insurance plans for 2014. The average number of Medicaid/CHIP enrollees in California in July-September 2013 — the last quarter before the Obamacare exchanges opened — was 7,755,381, according to CMS. By November 2016, the latest month for which CMS numbers are available, the number of Medicaid/CHIP enrollees in California was 12,209,605. That is a three-year increase of 4,454,224 — or 57.43 percent.
California Goes One Step Beyond ObamaCare, Proposes Single-Payer Healthcare System to Include Illegal Aliens. California Democrats made a surprise move late Friday to foil President Trump's promise to repeal ObamaCare — by introducing a stand-alone, single-payer healthcare system in California. The Mercury News reported that two California lawmakers Friday introduced legislation to replace private insurance with a government-run health care system covering all 38 million Californians — including its undocumented residents.
The Oroville Dam disaster is yet another example of California's decline. A year ago, politicians and experts were predicting a near-permanent statewide drought, a "new normal" desert climate. The most vivid example of how wrong they were is that California's majestic Oroville Dam is currently in danger of spillway failure in a season of record snow and rainfall. That could spell catastrophe for thousands who live below it and for the state of California at large that depends on its stored water. The poor condition of the dam is almost too good a metaphor for the condition of the state as a whole; its possible failure is a reflection of California's civic decline.
California spent on high-speed rail and illegal immigrants, but ignored Oroville Dam. The flood danger from the Oroville Dam receded Monday, but California was hit by a wave of criticism for failing to heed warnings about risks to the spillway at a time when the state spent generously on illegal immigrants and high-speed rail. California Gov. Jerry Brown, a Democrat, came under fire amid reports that federal and state officials for years rebuffed or ignored calls to fortify the massive 50-year-old dam, which provides water to more than 20 million farmers and residential consumers. "What's Governor Brown doing?" former state Assemblyman Tim Donnelly, a Republican, asked in a Monday [2/13/2017] post on Facebook. "The same thing he's been doing for decades — obstructing progress."
California Goes Confederate. "Calexit" supporters brag that they will have enough signatures to qualify for a ballot measure calling for California's secession from the United States. [...] [California] hosts the largest numbers of impoverished and the greatest number of rich people of any state in the country. Eager for cheap service labor, California has welcomed in nearly a quarter of the nation's undocumented immigrants. California has more residents living in poverty than any other state. It is home to one third of all the nation's welfare recipients. The income of California's wealthy seems to make them immune from the effects of the highest basket of sales, income, and gas taxes in the nation. The poor look to subsidies and social services to get by. Over the last 30 years, California's middle classes have increasingly fled the state.
California Lawmakers Want 'Third Gender Option' for Drivers' Licenses. Legislation introduced in California would create a third gender option on drivers' licenses and expedite the process for individuals to change their sex on their birth certificate without undergoing a sex change. The "Gender Recognition Act," sponsored by state senators Toni Atkins of San Diego and Scott Weiner of San Francisco, would add "nonbinary" to the list of male and female genders on state identification documents.
California Democrats propose adding third, nonbinary gender option for driver's licenses and other official documents. California driver's licenses and birth certificates could have a third option for gender in addition to male or female under legislation unveiled Thursday [1/26/2017] by Democratic lawmakers. The bill by state Sens. Toni Atkins (D-San Diego) and Scott Wiener (D-San Francisco) would establish a new nonbinary gender marker for official state documents. Lawmakers framed the measure as an expansion of rights for transgender, intersex and other people who do not identify as male or female.
California's Recipe for Voter Fraud on a Massive Scale. The media have exhibited a pathological determination to ignore any possibility of voter fraud, in spite of mountains of evidence to the contrary.
California Lt. Gov: We'll Stop Trump's Wall with Environmental Suits. President-Elect Donald Trump's plan to build a border wall along with U.S.-Mexico Border will be challenged through environmental lawsuits, according to California's second-highest official. California Lt. Gov. Gavin Newsom said in an interview with 'The Golden State Podcast' that he would use specific environmental laws in the state to stop the border wall from being built, at least in southern California.
The Editor says...
In this case, environmental laws are being used as weapons. The matter at hand has nothing to do with the protection of the environment. One thing politicians and environmentalists do well: they obstruct and impede their enemies' progress.
California's Picky-Choosey Attitude to Complying with Federal Immigration Laws. California, the would-be renegade state that has declared itself a statewide sanctuary for illegal aliens, has hired former Attorney General Eric Holder to "defend" it against expected actions from the incoming Trump administration (such as, presumably, withholding federal funds for its sanctuary status); and has a referendum petition circulating that would direct it to secede from the Union. Yet the state finally has found an immigration-related law that it can love.
Janet Napolitano Triples, Quadruples Down On Supporting Illegal Aliens. University of California President Janet Napolitano has tripled down on her support for illegal aliens in the United States. She has also openly challenged the incoming Trump Administration on the policy of deporting illegal aliens. In a recent speech Napolitano stated that the University of California system supports illegal alien students and will provide them with millions of dollars in financial aid.
The Great California Earthquake of 2018: First State To Default. I would like to direct your attention to something boring but infinitely informative regarding the nature of this mismanaged state. Employers who utilize labor pay into the FUTA, or the federal unemployment tax, at a rate of 6% and are credited back an offset of 5.4% that they previously paid the state, leaving a small federal liability of only 0.6%. However, if the state-run U.I. trust gets overdrawn, as it did in California for going on its third year now, it automatically pulls an emergency loan out from the federal government to service the underfunded account. And if that is not repaid by November 10, and it defaults, then the government forces employers to pay it. They just defaulted. Our company received a mystery bill in the mail two weeks ago, explaining our new $15,000 owed. We got a shock, as it was not expected. I presume that many employers won't be able to pay it.
It's Still a Mad, Mad California. Abstract idealism on behalf of the distant is a powerful psychological narcotic that allows caring progressives to dull the guilt they feel about their own privilege and riches. Nowhere is this paradox truer than in California, a dysfunctional natural paradise in which a group of coastal and governing magnificoes virtue-signal from the world's most exclusive and beautiful enclaves. The state is currently experiencing another perfect storm of increased crime, decreased incarceration, still ongoing illegal immigration, and record poverty. All that is energized by a strapped middle class that is still fleeing the overregulated and overtaxed state, while the arriving poor take their places in hopes of generous entitlements, jobs servicing the elite, and government employment.
CalExit! Now that America is on the road to free government, the Progressives are talking about secession again. The big one is CalExit, a movement to have California break off from the rest of the country. This has been spurred by the election, where normal Americans broke mostly for Trump, but Californians voted in heavy numbers for the anti-American candidate. If you look at the bill of particulars on the CalExit site, the inability to dictate election results to the rest of the country is one reason they want to leave. [...] The major benefit of losing California is we would lose their trillion in bad debt that threatens to destroy the bond market. California has been able to kick its problems down the road because of its statehood. It is the stinky pile of sub-prime mortgages in the AAA rated MBS. Independence would force some responsibility on California. It could also force reform on the Cult of Modern Liberalism, which has thrived by shifting the costs of its polices onto others. If not, the rest of us would be free of them anyway, which is what matters.
L.A. city and county creating $10-million legal defense fund for immigrants facing deportation under Trump. Los Angeles city and county leaders on Monday [12/19/2016] unveiled a $10-million fund to provide legal assistance for residents facing deportation, the region's boldest move yet as it prepares for an expected crackdown on illegal immigration by Donald Trump. If approved by lawmakers, Los Angeles' two top government agencies could find themselves in the position of using public funds to challenge policies sought by the White House and Republican Congress.
California's Gift to Its Neighbors: Expanded Cigarette Smuggling Opportunities. For too many years, Arizona has led the pack — or at least taxed the hell out of it — with among the higher cigarette taxes in the West. "A cigarette tax higher than in neighboring states and cheaper prices on American Indian reservations have helped fuel a growing black market for cigarettes in Arizona," the Cronkite News Service reported in 2014. It's true that few of us actually paid that $2.00 per pack tariff for a pack of smokes; with every single state bordering us stealing less from smokers and a long, handy border with Mexico, half of all of the cigarettes sold in the state are smuggled from elsewhere, according to research by the Mackinac Center for Public Policy and the Tax Foundation. Many Arizonans avoid getting mugged by enjoying life on the receiving end of smuggling routes. But we could be benefiting by running goods in the other direction.
CA's Senator Boxer Attempts To Block Her Own Bill. California Tea Party activists have long battled the bureaucrats and politicians over policies related to water. One of the most well-known of the myriad of issues is the diversion of water from farms in the Central Valley (a major source of this nation's fruits and nuts... outside of San Francisco, that is). One goal of this reallocation of a prime agricultural resource is the protection of a bait fish known as the Delta Smelt. Last week, the House of Representatives easily passed a major water bill that includes emergency aid for Flint, Mich., and boosts U.S. ports, dams and waterways. This bill, known as the Water Resources Development Act (WRDA), was initially co-authored by the notorious Senator Barbara Boxer, who infamously derided a Brigadier General for referring to her as "ma'am".
California to release "non-violent" rapists, shooters, hostage takers. Whenever a proposition comes on the ballot in California to release criminals from jail, it always passes, since the criminals already outside of jail outnumber the law abiding citizens. That's why it will come as no surprise when California voters vote for Proposition 57 which will release "non-violent" criminals. The only problem is that California has a very expansive definition of "non-violent" in its legal code: [...]
Ditching Electoral College would allow California to impose imperial rule on a colonial America. California has been called the Left Coast for quite a while. Just about everyone in Silicon Valley except Peter Thiel and in Hollywood except Pat Sajak supported Clinton. White middle class families have been pretty well priced out of the state by high taxes and housing costs, and the Hispanic and Asian immigrants who have replaced them vote far more Democratic. Those developments have put California increasingly out of line with the national average. In 2012, six states and D.C. were more Democratic. In 2008 it was eight states and D.C.; in 2004 it was seven. Now it is only one, and not by much.
The Anti-Trump Riots Are a Smoke Screen. Many seem bewildered by the anti-Trump riots and demonstrations. [...] They know full well that they aren't going to overturn the election. These privately funded forces are being used to create pressure to destroy the Electoral College so they won't have to deal with it next election. This is how the Left operates. Make a big deal over here to force the hidden agenda over there. The plan is to make enough trouble that Congress will move to abolish the EC to get some peace. For clues as to who is behind this effort, one only has to watch to see which member of Congress proposes such action. The answer of course is California Senator Barbara Boxer.
California jumps the shark. This election confirmed, if it was needed, the death spiral of the state's Republican Party. Thanks, in part, to Donald Trump — and his magnetic anti-appeal among Latinos, women and the educated — the GOP did even worse here in the presidential race than in 2012, when it couldn't muster 40 percent support, and has lost several legislative seats, allowing the Democrats to re-establish their coveted two-thirds supermajority in the Assembly — and possibly in the Senate as well. The progressives also won most of the major propositions — most critically, the extension of a high income tax rate on the state's affluent population through 2030. We may have more freedom to smoke pot, but it won't be so easy to start a business, buy a house or build a personal nest egg, if you are anything other than a trustifarian or a Silicon Valley mogul, or are related to one.
California Voters to Decide Whether Schools May Teach Students in Spanish. Voters in California will weigh in Tuesday on a decades-old debate about bilingual education in the state's public school system. The outcome ultimately could determine whether California schools will continue to be required to teach in English, or may use Spanish or another language. Although largely overlooked in a crowded election season, the issue has split Californians into two camps, those who believe the country benefits from a multilingual society and those who believe such policies hurt students and serve only to further ethnic and racial divides.
CA Attorney General: Use Of Term 'Illegal Alien' Is Offensive, Must Stop Treating 'Undocumented' As Criminals. This is the chief law enforcement officer in California.
Food Stamp Craze: U.S. Spends $3.6 Billion to Give $70 Billion in Benefits. Not only does the government spend a breathtaking $70 billion a year to give a record number of people food stamps, it wastes billions more to administer the bloated welfare program. Some states spend a lot more than others to distribute the free food vouchers and the discrepancies are downright outrageous. The government dedicates $3.6 billion annually just to administer food stamps (renamed Supplemental Nutrition Assistance Program (SNAP) to eliminate stigma), according to a federal audit that includes mind-boggling figures. For instance, California, the state with by far the largest food-stamp roll, spends a lot more than the national average to execute the federal nutrition program. The Golden State doles out an average of $34.06 a month for each of its 2 million food stamp cases while other states, like Ohio, spend only $9.55. Some California counties are off the charts with administration costs.
The 7 Ugliest Propositions on the California Ballot. [For example,] Prop. 57 — Jerry Brown's "Let's Put Violent Criminals Back On The Street" Act is a terrible measure. Don't be fooled by the false and misleading ballot title and summary that leftist Attorney General Kamala Harris put on this one — it will reduce prison sentences for many, many violent criminals and put them back on the streets. Worst of all — the sentencing "reforms" in it are retroactive — so victims of violent crimes trying to recapture some dignity and meaning in their lives will be re-victimized because of this cruel and dangerous ballot measure.
LAPD Officers Ordered To Shoot Only After Non Lethal Options Exhausted. Los Angeles Police officers must now exhaust all forms of non-lethal means before shooting a suspect. The L.A. Police Commission approved a wide array of law enforcement reforms Tuesday including training for officers to help in de-escalation and verbal skills when faced with a violent perpetrator. According to Police One, the academy already teaches recruits to use all non-lethal means prior to shooting their service weapon, but establishing a policy at the department level means LEO's may be punished for not using another means instead of their firearm.
Ethnic cleansing? California town now less than 10 percent white. Ethnic cleansing used to be a bad thing. But in America, when it happens to white people, it's called progress and the "new face of California." The town of Santa Ana has been almost 100% purged of white people. They were pushed out not by tanks and machine guns, but by a massive influx of people speaking a different language and bearing a different culture who expected everyone to adapt to their norms. Today Santa Ana is nearly 80% Hispanic and less than 10% white. We have a city in America that now demographically perfectly mirrors many cities in Mexico.
If Proposition 55 passes, the state budget will rely even more on California's highest earners. If voters approve Proposition 55, the state will continue depending on [Paul] Taybi and other wealthy Californians to fund a significant portion of schools, parks, road repairs, police, prisons and many other government services. Those paying the higher rates, which kick in for single and joint filers making more than $263,000 and $526,000 a year respectively, contributed almost $34 billion in income taxes in 2014, roughly a third of all state general fund revenue. California's reliance on the wealthiest taxpayers means the state is especially vulnerable to their bottom lines.
California petitions to become first state to offer ObamaCare to illegal immigrants. California's health care exchange is requesting that it be allowed a waiver from ObamaCare regulations in order to allow illegal immigrants to buy insurance on the exchange — which would make California the first state to extend ObamaCare to illegal immigrants. In a Sept. 30 letter to Health and Human Services Secretary Sylvia Burwell, Covered California's Executive Director Peter Lee said that the Affordable Care Act has been "tremendously successful" in the state and has cut the rate of uninsured in half.
What Could Go Wrong: California Lets Felons In Jail Vote. Forget about the fact that the great majority of felons vote Democrat; California Governor Jerry Brown had no political motivations at all when he signed AB 2466 on Wednesday [9/28/2016] allowing thousands of felons in California to vote. Starting January 2017, convicted felons still in jail will be able to cast their vote.
Liberals rejoice over legalization of child prostitution in California. Social justice warriors everywhere rejoiced at the news that California has decriminalized, or effectively legalized, child prostitution. After all, prostitution is basically a victimless crime, right? And progressives have spoken loudly about emptying jails of "non-violent" offenders.
California governor signs bill allowing felons to vote from their jail cells. Convicted felons serving jail sentences in California county jails will now get to participate in an activity besides three meals a day and recreation time: voting in elections. Governor Jerry Brown signed new legislation into effect as part of a reform backers say will help prisoners transition back into society while still serving time for their crimes. The bill he signed would let thousands of felons doing time in county jails to vote in California elections, the LA Times reported.
BART tax could quadruple original claim. It turns out that the average property tax bill required to support BART's proposed $3.5 billion bond measure on the November ballot could be as much as four times what the transit agency claimed. Two months ago, I reported that the taxes needed to pay off that bond borrowing would be about double BART's public estimate. Well, it could be even twice that. That's because legal language in Measure RR allows BART to issue bonds at up to the state limit of 12 percent interest, far higher than assumed for the previous estimates.
California Could Let Felons Behind Bars Vote, Despite What the State Constitution Says. California Gov. Jerry Brown is considering whether to sign a bill that would allow tens of thousands of incarcerated felons to vote, while continuing to deny the vote to others. The Legislature sent a bill to Brown's desk that would restore voting rights to an estimated 50,000 convicted felons who are behind bars in county jails, but not to felons who are serving their sentence in prisons.
SF official suggests taking slaveholders' names off schools. George Washington, the guy on the quarter, could soon be facing the ax in San Francisco as surely as his fabled cherry tree. The president of the San Francisco school board thinks it's time to consider renaming schools that bear the names of slave owners — including Washington and his friends and fellow presidents Thomas Jefferson and James Monroe. Board President Matt Haney said Tuesday [9/6/2016] he will introduce a resolution before the board this month to clarify the rules for renaming San Francisco schools with an eye to encouraging the communities at Washington High School, along with Jefferson and Monroe elementary schools, to consider whether they want to make a change.
Left's California Dream Built on Ignorance. The Democrat-owned legislature — the ones that are not in jail or under indictment — passed a bill that would gradually raise the minimum wage from $10 to $15 in 2022. The poll says 64 percent of Californians support that. That is while 66% of them believe that people will be laid off and 65 percent say that businesses will leave the state. What would have been interesting is if the people who took the poll would have asked poll participants: Would you support the increase if your son or daughter were laid off? Would you support it if your spouse's business relocated to Utah, North Carolina or Texas? It is always easy to say that policies are good when they are affecting the other person or their family.
One California city is paying people not to commit crimes. A San Francisco suburb is testing a controversial strategy to combat the gun violence that's plagued the community — paying people not to commit crimes. The experiment known as "Advance Peace" is being conducted in Richmond, Calif., and works like this: The 18-month fellowship hires convicted felons to "court" troubled youth — who so far have avoided arrest due to lack of evidence — with offers of cash and out-of-town vacations if they mend their ways. If, after six months, a "fellow" in the voluntary program begins to achieve specific goals, they can earn up to $1,000 a month.
A Victory for Religious Freedom at Christian Universities in California. A California lawmaker who is sponsoring a bill that would have allowed the use of taxpayer dollars to punish and publicly shame Christian universities for operating according to their beliefs has removed an offending provision from the legislation. In announcing his legislation in April, state Sen. Ricardo Lara (D), sponsor of SB 1146, had referred to his action of denying First Amendment rights to religious schools as closing a "loophole that allows private universities to discriminate against students and staff based on their gender identity, gender expression, or sexual orientation."
California bill SB 1146 threatens minorities and the poor. Current California law exempts religious schools from nondiscrimination laws in cases where applying these laws "would not be consistent with the religious tenets of that organization." This is sensible and reflects our nation's founding principles of religious freedom. For years now, this policy has worked well, enabling church-run colleges and universities to hire personnel and establish policies and expectations regarding religious practice and personal conduct that reflect their beliefs and values. SB 1146 proposes to drastically narrow that historic exemption so that it would only protect seminaries or other schools that train clergy and ministers.
Muslim Appreciation Month. The State of California is planning to proclaim August Muslim Appreciation and Awareness Month. Why? Because CAIR wants them to! Turns out, California isn't Mexifornia after all. It's Caliph-ornia.
Muslim Appreciation and Awareness Month. Remember the false report that Obama was going to name November to be National Muslim Appreciation Month? The terrorist facilitators at CAIR apparently do — except for them, the fake story isn't satire; it's an excellent suggestion. California is run by the sort of people who might agree. [...] Readers may recall that just last year 14 people were killed and 22 seriously injured in a Muslim terror attack right there in California. But no month will be set aside to honor victims of Islam, because that would be Islamophobic.
Here's the US city with the highest pot use. San Francisco has a new claim to fame: The city has the highest rate of marijuana use in the country, according to a new survey. In the survey, which was conducted from 2012 to 2014 nationwide, 15.5 percent of people in San Francisco said they had used marijuana in the past month. That's much higher than the national average of 7.7 percent. Perhaps not surprisingly, parts of Colorado (where recreational marijuana use is legal) also had high rates of marijuana use. About 14.8 percent of people in the northeastern part of the state, the Denver area, and the northwestern and southwestern parts of the state reported using marijuana in the past month.
Will California Ever Thrive Again? There was more of the same-old, same-old California news recently. Some 62 percent of state roads have been rated poor or mediocre. There were more predications of huge cost overruns and yearly losses on high-speed rail — before the first mile of track has been laid. One-third of Bay Area residents were polled as hoping to leave the area soon. Such pessimism is daily fare, and for good reason. The basket of California state taxes — sales, income, and gasoline — rates among the highest in the U.S. Yet California roads and K-12 education rank near the bottom. After years of drought, California has not built a single new reservoir. Instead, scarce fresh aqueduct water is still being diverted to sea. Thousands of rural central-California homes, in Dust Bowl fashion, have been abandoned because of a sinking aquifer and dry wells. One in three American welfare recipients resides in California. Almost a quarter of the state population lives below or near the poverty line. Yet the state's gas and electricity prices are among the nation's highest.
California Reps Urge Obama To Stop California From Giving Illegals Obamacare. House Republicans representing California pressured the Obama administration to stop its plan to expand Obamacare to illegal immigrants in the state Wednesday [6/30/2016]. Rep. Darrell Issa spearheaded the effort in a letter to the Department of Health and Human Services signed by a number of California representatives slamming the plan's potential to further stagnate the economy and increase the burden on taxpayers in the state. The California legislation would allow for a waiver permitting illegal immigrants in the state to buy private health insurance through the Obamacare exchange — allowing an estimated 390,000 more people the option to purchase plans.
Californians Will Decide Whether to Legalize Cannabis This Fall. Yesterday [6/28/2016] the Control, Regulate, and Tax Adult Use of Marijuana Act (AUMA) officially qualified for this November's ballot in California. [...] Like the legalization measures approved by voters in Colorado, Washington, Oregon, and Alaska, the AUMA would let adults 21 or older possess up to an ounce of marijuana at a time. Like all of those states except Washington, it also allows sharing (up to an ounce) and home cultivation (up to six plants per household). Unlike the four states that have legalized marijuana so far, the AUMA explicitly allows deliveries to consumers and on-site consumption at businesses licensed for that purpose. Both of those options would be subject to approval by local governments, which also could ban marijuana businesses entirely and regulate (but not ban) home cultivation.
PG&E to close Diablo Canyon, California's last nuclear power plant. California's last nuclear power plant will be phased out by 2025, under a joint proposal announced Tuesday morning by Pacific Gas & Electric Co. and labor and environmental groups. Under the proposal, the Diablo Canyon Power Plant in San Luis Obispo County would be retired by PG&E after its current Nuclear Regulatory Commission operating licenses expire in November 2024 and August 2025. The power produced by Diablo Canyon's two nuclear reactors would be replaced with investment in a greenhouse-gas-free portfolio of energy efficiency, renewables and energy storage, PG&E said in a statement.
Blackout: California In Power Grid Emergency: "All Customers Should Expect 14 Days Without Power". The power grid is under direct threat as a result of the unprecedented, but little reported, massive natural gas leaks at Alisco Canyon that was ongoing for four months as an intense summer heat wave sets in. California will have its first test of plans to keep the lights on this summer. With record-setting heat and air conditioning demand expected in Southern California, the state's power grid operator issued a so-called "flex alert," urging consumers to conserve energy to help prevent rotating power outages — which could occur regardless.
Blackout California. The shutdown of the leaking Aliso Canyon underground gas storage facility has caused a loss of about 70bcf of stored gas that Southern California utilities have historically counted on to see them through the hot, high-demand summer months. The California Independent Service Operator (CAISO), which manages the California grid, estimates that as a result all customers should expect to be without power for a total of 14 days this summer. Some 21 million Southern Californians stand to be directly affected. Are blackouts on such a scale likely? It seems they are.
The Editor says...
Yep, the lights and the air conditioning won't work for a few days — in the hottest part of the year — but they sure got rid of all those nuclear power plants, didn't they? Yessir, they sure managed to outlaw coal in their state. I'll bet they wish they could wash their dishes, but they sure saved Mother Earth from certain destruction.
San Francisco Charter Amendment Would Grant Illegal Immigrants a Vote in Local Schools. A potential San Francisco ballot proposal could give illegal immigrants a voice in Bay Area schools. A charter amendment by San Francisco Supervisor Eric Mar is intended to grant illegal immigrants with children in school the right to vote in San Francisco Unified School District school board elections. Two similar measures were presented in the past, but they were rejected by voters. "The time is right for San Francisco to make history, to pave the way for immigrant parents to have a say in the policy decisions that impact their child's education and who gets to sit on the Board of Education," Mar said in a statement.
California to ask feds to allow undocumented immigrants to use Obamacare. California could become the first state to ask the federal government to let undocumented immigrants buy insurance under the Affordable Care Act, known as Obamacare. Gov. Jerry Brown, a Democrat, signed legislation Friday that attempts to allow people in the country illegally to purchase the insurance through Covered California without costing the state or federal government anything.
Federal judge rules California transgender inmates must get some female items. A federal judge ruled Thursday [6/9/2016] that California prison officials must let transgender inmates have more female-oriented commissary items including nightgowns, robes, sandals, scarves and necklaces as part of a settlement that will make the stat the first to pay for an inmate's sex reassignment surgery. California agreed in August to provide some items to transgender inmates who are housed in male prisons, aside from providing surgery to 56-year-old Shiloh Quine. U.S. Magistrate Judge Nandor Vadas decided that the policy didn't go far enough. He said transgender inmates housed in men's prisons should have many of the same items provided to female inmates. Shiloh's attorneys argued that the state was keeping some items from transgender prisoners "based solely upon gender norms" rather than security concerns.
The End of the Free-Speech Consensus. What happens when the consensus for free speech evaporates and those with political power become willing to use any means necessary to silence people who hold unpopular views? We'll probably soon receive the answer in California, as the state's dominant Democrats set the stage for prosecutors to take action against climate-change "deniers." "A landmark California bill... would make it illegal to engage in climate-change dissent clearing the way for lawsuits against fossil-fuel companies, think tanks and others that have 'deceived or misled the public on the risks of climate change,'" explains a Washington Times report. The bill, S.B. 1161, passed through two committees but ultimately was shelved. But like most "landmark" bills, this one will keep coming back until it passes. The bill even comes with an Orwellian name, "The California Climate Science Truth and Accountability Act."
San Francisco Moves to Open Voting to Illegals. San Francisco Board of Supervisors member Eric Mar says the political climate is right to grant illegal immigrants the right to vote. While even notoriously liberal San Francisco voters have rejected past efforts to grant voting privileges to illegals, Fox News reports that Mar thinks the backlash against Donald Trump will yield a strong turn-out of Latino and anti-Trump voters to the polls to pass his proposed charter amendment.
LGBT Bill Threatens California's Religious Schools. A California state bill its sponsors say will prevent discrimination based on sexual orientation and gender identity at private universities is threatening to expose faith-based schools to enormous legal threats, school officials warn. SB 1146, introduced in February by state Sen. Ricardo Lara, D-Bell Gardens, which passed the state Senate May 26, is designed to close "a little-known loophole" in California law under which private colleges can make admission, housing, and faculty decisions based on gender identity, gender expression, and sexual orientation, according to a press release from Lara's office. Lara is part of the state Legislature's seven-member California Legislative Lesbian, Gay, Bisexual, and Transgender Caucus, which advocates for LGBT rights.
One law for us, another for you. The California state Senate voted 28-8 Wednesday [6/8/2016] to exempt itself from the pointless gun-control laws that apply to the rest of the populace. Legislators apparently think they alone are worthy to pack heat on the streets for personal protection, and the masses ought to wait until the police arrive. This is just one of many bills Golden State politicians used this legislative session to set themselves apart from the little people, the ones who pay their inflated salaries. Annual compensation for legislators averages about $140,000, not counting luxurious perks such as taxpayer-funded cars and free gasoline. By comparison, the average Californian earns $50,000 a year, and the unemployment rate is 11.9 percent — far above the national average. Exact salaries for state assemblymen and senators are obscured by the use of a "per diem" payment scheme that shelters a significant chunk of income from taxation.
San Francisco to try yet again to give illegal immigrants voting rights. After two failed bids to grant voting rights to illegal immigrants, some San Francisco officials believe they have found the man who can make it happen: Donald Trump. A proposed charter amendment drafted by Board of Supervisors member Eric Mar would give illegal immigrants with kids in the public school system the right to vote in school elections. Voters have rejected two previous ballot proposals, but Mar is betting on anti-Trump sentiment to carry the pro-illegal immigrant proposal if he can get it on the November ballot.
If You Share Undercover Exposés of Planned Parenthood, You Could End Up in a California Jail. The California legislature is considering a bill that would make it impossible to expose Planned Parenthood with recordings unless they give their permission, but it is even worse than that. Anyone who publishes, shares, emails the recordings would also be held liable for criminal prosecution. The bill moved to the State Senate last week. This is a serious effort. Abortion mills are the latest protected class.
California's Crazy Election Quirks Limit Voter Choices and Create Chaos. New polls show that the Democratic primary in California is neck and neck between Hillary Clinton and Bernie Sanders. If the election is close, and Hillary narrowly wins, it could be because arcane and suspect rules gave her an artificial advantage. A Hillary win would rob Sanders of the ability to claim momentum and would blunt his efforts to fight for the nomination up until the Democratic convention. California has made such a royal mess of its entire primary system that it needs to do a complete overhaul to restore the credibility of the system.
Trump is Correct about the California Drought. On Friday, May 27, the prospective Republican candidate for president Donald Trump went to the city of Fresno, the capital of California's farming community, and declared: "there is no drought!" This seemingly brash statement was met with ridicule and scorn across the blogosphere — how could anyone make such a so-called "stupid" statement when everyone knows that California has experienced a historically high dry spell since 2013? But was Trump right? Arguably yes. Here's why.
Three Excellent Examples of Investigative Journalism on Migration Topics. There has been all too little investigative reporting regarding immigration matters, but there were two remarkable exceptions to that last month, and a third late last year. These three long, well researched articles dealt with scandals in a huge California visa mill, multiple problems in the EB-5 program, and in the H-2B program for temporary alien non-agricultural workers, perhaps the most ignored of the migration trouble spots.
California Senate sidelines bill to prosecute climate change skeptics. A landmark bill allowing for the prosecution of climate change dissent effectively died Thursday [6/2/2016] after the California Senate failed to take it up before the deadline. Senate Bill 1161, or the California Climate Science Truth and Accountability Act of 2016, would have authorized prosecutors to sue fossil fuel companies, think tanks and others that have "deceived or misled the public on the risks of climate change." The measure, which cleared two Senate committees, provided a four-year window in the statute of limitations on violations of the state's Unfair Competition Law, allowing legal action to be brought until Jan. 1 on charges of climate change "fraud" extending back indefinitely.
California moves to criminalize undercover filming at Planned Parenthood. In the wake of an undercover investigation into Planned Parenthood's alleged fetal trafficking operation, the California state legislature is considering a bill that would criminalize publishing secretly recorded video footage of "health care providers." AB 1671, which has been backed by Planned Parenthood, would criminalize the publication of confidential interactions with state-licensed medical personnel, including abortionists and clinician staff, punishable by up to one year in prison and a $10,000 fine per violation.
The Dead are Alive and Voting in California. The only question is how many Undead-Americans will vote for Bernie Sanders over Hillary Clinton. Because the dead are voting. And we must not deny the franchise to undead Democrats. That would be wrong and un-American. It would put us on the wrong side of history. California can lead the way to the restoration of voting rights for the dead, right after voting rights for felons.
Feds to Pay California to Finance FREE MediCaid Health Care for Illegal Aliens. The responsibility of the Fed is to keep illegal aliens out of this country — instead Obama is importing them and giving them "free" health care — while cause honest citizens to pay higher taxes, receive lower quality health care and to crowd the system so honest Americans must wait while the Obama imports get their care.
California's Political Water Wars Heat Up. Water wars are historic undertakings in California. Countless other publications have written recently about the proposed ballot measure that would redirect High Speed Rail bond money for water-related projects and prioritize the use of water, But what makes this story interesting is the coalition of opponents, their motivations and techniques being employed. The Committee to Stop the Special Interest Water Grab, led by David Guy, president of the Northern California Water Association, Tim Johnson, president of the California Rice Commission and a "contract administrator" at California Rice Industry Association, and political operative Steve Maviglio of Forza Communications and big supporter of High Speed Rail, have launched an all-out assault campaign against the California Water Priorities Initiative.
Lawmakers reject John Wayne Day over racism concerns. What a California lawmaker intended as a benign resolution honoring a late, world-renowned movie icon exploded into an emotional debate over decades-old racist comments.
California Looks to Cover Illegal Immigrants Under Obamacare. In an unprecedented move, California legislators look to extend Obamacare health coverage to the state's estimated 2.6 million illegal immigrant population. If passed and signed into law, California would be the first state in the nation to request illegal immigrants be covered through a state exchange, the Los Angeles Times reported. It is against the law for California to allow illegal immigrants to enroll in Covered California, the state's Obamacare health insurance exchange, Sally C. Pipes, president and CEO of the pro-free-market Pacific Research Institute, told The Daily Signal in an emailed response. "The law does not allow illegals to enroll in the state exchanges or the federal exchange Healthcare.gov," Pipes said.
CalPERS Could Get Hands on Billions in Private-Sector Retirement Funds. Instead of addressing the estimated $600 billion in unfunded liabilities in California's beleaguered public-employee pension system, Democrats in Sacramento have instead decided to "solve" a growing pension crisis in the private sector. In 2012, Governor Jerry Brown signed a measure that created an investment board and authorized a "feasibility study" of various options for a state-backed private-pension system. That study came out last month, and the legislature is now vetting bills that would put its recommendations into action. The plans under consideration would mandate participation in the new state-run retirement system for firms with five or more workers, though the workers themselves could opt out. Employers that don't comply would face fines and other penalties.
21st Century California Reverts Back to the Wild West. [Scroll down] Today I generalize that about every old rural farmhouse in these environs can be characterized by three traits: a) the house is a rental and not connected with the corporate fields around it; b) there are two to three families, in illegal fashion, living in ramshackle trailers and sheds on the property; c) the authorities don't dare enforce zoning or health laws, on the grounds that enforcement is a bad investment of their limited time and budget. If I find a dead dog dumped on the alleyway (as I have three or four times over the last 12 months), with a rope around his neck and his insides exposed from dog fighting, I bury him and pass on calling the animal-control people. In fairness to them, what would they do, run an investigation into rural dog fighting — in a state in which felons are routinely released from prisons and jails, and sanctuary cities offer amnesties? I suppose a Queensland with his face ripped off is small potatoes. (Does multiculturalism trump the ASPCA or PETA?) Nor do I ever contact the state EPA or the county when monthly I collect baby carriages, car seats, tires, used paint cans, old Christmas trees, mattresses, and dirty diapers dumped on the side of the road — despite occasional junk mail signifying the address of the polluter.
San Francisco Torn as Some See 'Street Behavior' Worsen. From her apartment at the foot of the celebrated zigzags of Lombard Street, Judith Calson has twice peered out her window as thieves smashed their way into cars and snatched whatever they could. She has seen foreign tourists cry after cash and passports were stolen. She shudders when she recounts the story of the Thai tourist who was shot because he resisted thieves taking his camera. And that is her tally from the last year alone. [...] Recent data from the F.B.I. show that San Francisco has the highest per-capita property crime rate of the nation's top 50 cities.
Love Finds a Way in Oakland. This month, Oakland's City Council voted 5-3 to adopt "Love Life" as the city's motto. [...] "Love Life" is the brainchild of Donald Lacy, whose daughter LoEshe — the name means "Love Life" in Nigerian — was killed near McClymonds High School in 1997. The 16-year-old died in the sort of senseless random gang-turf shooting that has taken too many young black lives in Oakland. [...] Enter racial politics. Because Schaaf and some motto foes are white, while McElhaney and some other supporters are black, "Love Life" fans suggested that opponents lacked empathy for victims of street violence.
Religious group sues San Francisco over open-air urinal. A religious organization has filed a lawsuit against the city of San Francisco to remove an open-air urinal it calls unsanitary and indecent from a popular park. The Chinese Christian Union of San Francisco filed a civil complaint last week demanding the city remove the concrete circular urinal from the iconic Dolores Park. The group says the urinal, which is out in the open and screened only with plants for privacy, "emanates offensive odors," "has no hand-washing facilities" and "it's offensive to manners and morals."
Should California AG Harris Be Investigated for Tax Code Violations? California attorney general Kamala Harris is the state's top charity regulator, overseeing California's Registry of Charitable Trusts. Ms. Harris has decided to bypass federal law expressly requiring her to obtain Schedule B information directly from the IRS on a case-by-case basis if she has a legitimate need for donor information to enforce her state's charitable solicitation laws. Instead of abiding by federal law, she's employing a dragnet method, demanding that all charities registering with her office submit their Schedule B donor lists to the Registry in order to solicit contributions from Californians.
San Francisco Passes Fully Paid Parental Leave Bill. San Francisco could soon become the first city in the nation to provide both parents with six weeks of fully-paid parental leave after a birth or adoption. The measure, which was unanimously passed by the San Francisco Board of Supervisors on Tuesday [4/5/2016], will now require the signatures of Gov. Jerry Brown and San Francisco Mayor Ed Lee. Both have indicated they will sign.
Casualties of a Living Wage: A California Bookstore Owner's Minimum Wage Story. After more than a decade at the helm of her bookstore, Ann Kinner faces an uncertain future because of new measures at the city and state level to raise the minimum wage. On June 7, San Diego residents will vote on a ballot measure to raise the city's minimum wage to $11.50 an hour in 2017. This proposal, coupled with a bill signed by Gov. Jerry Brown on Monday raising the state minimum wage to $15 an hour by 2022, has left Kinner in knots.
California Department Of Justice Raids David Daleiden's Home. The California Department of Justice raided the home of David Daleiden, the pro-life journalist behind the undercover videos exposing Planned Parenthood's harvesting and sale of human organs from aborted children. Daleiden explained in a Facebook post that authorities with the California Department of Justice raided his home Tuesday afternoon and seized all video footage of Planned Parenthood employees' involvement in selling organs from aborted babies — including damning footage which has yet to be released. Daleiden noted that the California Department of Justice serves under the authority of California Attorney General Kamala Harris, who has benefited politically from Planned Parenthood: [...]
Planned Parenthood: David Daleiden Speaks out on Home Raid. Undercover investigator David Daleiden's home in California was raided Tuesday [4/5/2016] by officials under the office of California Attorney General Kamala Harris. Harris has been investigating Daleiden for months, after his video exposé of Planned Parenthood's alleged baby-parts scheme. His videos allegedly showed Planned Parenthood personnel actively negotiating the sale of the livers, lungs, hearts and other organs of aborted unborn children.
Abortion Activist Claims Planned Parenthood Videos Caused Raid At His Home. An anti-abortion activist who made undercover videos at Planned Parenthood clinics said in a social media posting that California Department of Justice agents raided his home Tuesday [4/5/2016].
California to Pay $5400 to Make Poor Sick People Dead. California Medical — its version of Medicaid — will pay $5400 for the drugs to make the suicidal terminally ill poor, dead. Worse, Medical recipients don't have access to good cancer treatment and doesn't pay well for palliative care.
California is first state to approve $15 minimum wage. California has become the first state in the nation to approve a statewide $15 minimum wage. Both the State Assembly and State Senate passed the measure on Thursday afternoon [3/31/2016]. Governor Jerry Brown said he would sign it on Monday. "No one who is working full time in California should live in poverty due to a low wage," said Democratic State Senator Mark Leno, who cosponsored the bill.
Heaven Help California's Non-Urban Cities Under a $15 Minimum Wage. If anybody is wondering why so many California residents outside of the big cities want to break away and make their own states, just take note of the news today that California legislators have made a deal with the all-powerful unions to jack up the minimum wage for all industries and all employers across the state to $15 by 2022 and then tie future increases to inflation. Small business in California will have until 2023 to comply. There are 13 counties in California that still have double-digit unemployment figures, according to the state's own data. The data isn't seasonally adjusted, so keep in mind that unemployment naturally rises at the start of a new year. But even taking into account an adjustment there are significant populations in the state struggling to find work. None of these high unemployment counties are connected to the big cities.
San Francisco mayor bans city workers from traveling to North Carolina. San Francisco Mayor Ed Lee said in a statement Friday [3/25/2016] he doesn't want any city workers to travel to North Carolina unless necessary in wake of its legislation which blocks anti-discrimination for gay, lesbian and transgender people. "We are standing united as San Franciscans to condemn North Carolina's new discriminatory law that turns back the clock on protecting the rights of all Americans including lesbian, gay, bisexual and transgender individuals," Lee said in the statement.
Palo Alto residents who earn up to $250,000 a year to qualify for subsized housing. The well-heeled California neighborhood, where a plot of land recently sold for $2.7 million, is home to some of America's richest entrepreneurs who work a few miles away in Silicon Valley. With house price averages an eye-watering $3 million, even those earning $250,000-a-year are spending two-thirds of their monthly salary (around $14,000) paying off their mortgage. It means workers such as teachers, janitors, firefighters, social workers, police officers and more are not paid enough to afford the local rent, driving up congestion as they commute in.
California AG Kamala Harris wants your private information from the IRS. Charity donor information on Schedule B is protected under federal law as confidential. Charities and their donors worry that imperious, uber-liberal Ms. Harris will leak this confidential information to their ideological opponents and her allies. Among its various acts of lawlessness and lawbreaking, Lois Lerner's IRS was caught leaking this type of confidential donor information of the National Organization for Marriage to its opponents.
The Weirdness of Illegal Immigration. When someone ignores a federal statute, then it is naturally easy to flout more. In Los Angeles, half the traffic accidents are hit-and-run collisions. I can attest first-hand that running from an accident or abandoning a wrecked vehicle is certainly a common occurrence in rural California. Last night on a rural road, a driver behind me (intoxicated? Malicious? Crazy?) apparently tried to rear-end me, then turned off his lights, sped up, and at the next stop sign pulled over swearing out the window in Spanish. In this age and in these environs, why would one call a sheriff for a minor everyday occurrence like that? The point is simply that when there is no federal law, no one has any idea how several million arrive in the U.S., much less what exactly they were doing before their illegal arrival. [...] To read the local Fresno Bee is to collate a daily tally of stabbings, shootings, gang violence, carjackings, thefts, and chop shops — without any exegesis why this is so. Cuts in law enforcement? Therapeutic approach to the law? A complete failure to integrate and assimilate the second generation of illegal immigrants? The inability to offer jobs in a command state economy?
CA's Knee-Jerk Bill Forbids Travel to Un-PC States. Hopefully, this Californian lawmaker puts more thought into the other bills he introduces. This week, Evan Low, a Democrat, introduced a bill that would ban California state employees from traveling to states that passed a version of the Religious Freedom Restoration Act. "No one wants to send employees into an environment where they would be uncomfortable," Low reportedly said, as if hurt feelings are enough to hamper the state's ability to cooperate with other members of the union. But here's the kicker: the lawmaker doesn't know how many states his little bill would affect. Furthermore, the bill would only apply to government employees. [...] This isn't the first time Low introduced a bill for the gay-rights community. Last May, Low co-authored a resolution with two other California lawmakers responding to the FDA's blood donor guidelines that forbid sexually active homosexuals from donating blood.
California's violation of federal civil rights laws. In August 2014, the California Department of Managed Health Care, suddenly and without prior notice, issued a mandate to private market healthcare plans in California requiring them to cover all abortions as a "basic health care service" — including late-term and gender selective abortions. (Prior to this mandate, California limited coverage to medically necessary abortions.) The new mandate violates a longstanding federal civil rights law — the Weldon Amendment. Congress first enacted Weldon in 2002 to protect healthcare providers and insurers from governmental discrimination on the basis that they choose not to provide, pay for, provide coverage of, or refer for abortions. The victims of this type of governmental discrimination have only one recourse: file a complaint with the Department of Health and Human Services' Office for Civil Rights (OCR). This has proven entirely futile.
California is considering a travel ban on states with anti-gay laws. Like always, lawmakers jammed a mountain of bills into the legislative queue just ahead of the Feb. 19 deadline to introduce them. Many of them affect state employees. Some would install new laws and regulations that pile on workload (it happens every year to DMV staff) or by altering some aspect of how state government itself conducts business. Now, with the 30-day waiting period to start hearing those measures just ahead, here's one to watch: Assembly Bill 1887 by Assemblyman Evan Low, a Democrat from Campbell. Low wants to prohibit state employees from government-funded travel to states that have "a law in effect that sanctions or requires discrimination on the basis of sexual orientation, gender identity, or gender expression," according to his bill's language.
The Editor says...
Is homosexuality really that important to California politicians? No, but control certainly is. The government wants unlimited power to control the way we act and think, and the ability to make us associate with those whom we would prefer to avoid.
The New California Crime Wave. Something amazing has happened in California. First, a brief background: Crime rates across the state, after a long period of steady decline, had reached fifty-year lows in 2014. Then, that November, a 60 percent majority of California voters — presumably incapable of accepting such good news without a measure of collective guilt — decided that it would be a really enlightened idea to pass Proposition 47, a ballot initiative bearing the cheery name "The Safe Neighborhoods and Schools Act." The purpose of this measure was to downgrade many types of drug possession and property crimes from felonies (punishable by more than a year in prison) to misdemeanors (which often entail no prison time at all). For the benefit of squeamish skeptics, the self-assured proponents of Prop 47 condescended to explain that these reduced penalties would not only alleviate prison overcrowding, but would also make California's streets safer by placing drug offenders into warm-and-fuzzy treatment and counseling programs, rather than into disagreeable prison cells. If you think this sounds like a familiar old tune, you're quite correct. It was #1 on the left-wing hit parade throughout the 1960s, when it became the theme song of skyrocketing crime rates across the United States. And now the Golden Oldie is back, in the Golden State. The tangible results of Prop 47 were both immediate and breathtaking. Within a year, there were some 14,000 fewer inmates in California's state prisons and local jails, just as the Proposition's backers had promised. But the other half of their promise — improved public safety — somehow failed to materialize.
San Francisco Public Library hosts drag queen story hour for children. What do drag queens and children have in common? They both find joy in wrapping themselves in feather boas and all things shiny and glittery. A San Francisco nonprofit recognizes this shared interest in dressing up and is joining forces with the San Francisco Public Library to bring drag queens and children together. Radar Productions, a group giving voice to queer writers and artists, will be hosting Honey Mahogany at the Eureka Valley Harvey Milk Memorial Library, March 12, noon to 2 p.m, in the heart of the Castro District. Dressed in fabulous drag-queen garb and full makeup, Honey will be reading stories, painting children's faces and passing out cookies.
New California Law Forces Pro-Life Pregnancy Centers to Advertise Abortions. Did you hear about the new bill that California Gov. Jerry Brown has signed into law? [...] The bill he signed (AB775), named the Reproductive Fact Act, aims to punish pro-life pregnancy centers, which offer women and girls compassionate alternatives to abortion. Under penalty of ruinous fines for every "violation," the law orders the pro-life centers to post notices and tell mothers that they can abort their babies and have California taxpayers foot the bill via the state's expansive Medi-Cal program.
City workers in San Diego barred from uttering 'biased' term 'Founding Fathers'. The traditional reference to America's patriotic patriarchs is considered gender biased, and a city manual banning the term was reinforced this week with verbal orders, according to legal watchdog group, Pacific Justice Institute. "At a time set aside to honor American icons to whom we owe our constitutional freedoms, it is offensive and indefensible that the City of San Diego is directing employees not to even mention the Founding Fathers," Brad Dacus, president of the Pacific Justice Institute, said in a statement provided to FoxNews.com. The warning against referring to Washington, Jefferson, Adams and company as "Founding Fathers" first appeared in a section of a city-issued manual titled, "Bias-Free Language."
After Hiring 1,000 New DMV Bureaucrats, California Issues 605,000 Licenses To Illegals. After spending $141 million to hire nearly 1,000 new Department of Motor Vehicle employees to process driver's license applications in the wake of AB60 — the California law to issue driver's licenses to 1.5 million illegal immigrants — the results are in, and it's clear the bureaucrats have kept busy. Tuesday [2/9/2016], the DMV said it had issued 605,000 shiny new driver's licenses to illegal immigrants, with the full 1.5 million expected to be in place in the next two years. The total accounted for more than half of the licenses issued in 2015. But that's not searchable in a database, accounting to True The Vote.
California's "unprecedented mass forgiveness" of convicts raises more than a few questions. In case you hadn't heard, California's governor has been on something of a binge in terms of releasing convicts from prison and reforming the system to be more fair to everyone. Prison reform and rehabilitation vs isolation is all the rage these days it seems. The Washington Post ran a feature this week on how wonderfully this has been going and it certainly makes a grade A effort to paint a happy face on these proposals.
You Can Now Urinate in Public in San Francisco. San Francisco has installed an outdoor urinal in Dolores Park near the Mission District as part of the more than $20 million renovation of the recreation area in an attempt to combat a "rampant" public urination issue. "The more options we can give them to relieve themselves, the better for the parkgoers," San Francisco Supervisor Scott Wiener told the Associated Press.
San Francisco park debuts open-air urinal. San Francisco's iconic Dolores Park is now home to the city's first open-air urinal, the latest move to combat the destructive scourge of public urination in the City by the Bay.
Kamala Harris crosses lines of both privacy and the law. California Attorney General Kamala Harris must be so ambitious that she is willing to tempt fate of multiple civil lawsuits and even criminal charges so she can intimidate her ideological opponents — and even her supporters. Ms. Harris oversees licensing of charities across the country that ask Californians for contributions. She's also a candidate for the United States Senate. In disregard of the 1958 landmark civil rights decision NAACP v. Alabama and post-Watergate reforms to the Internal Revenue Code to protect tax information privacy, Ms. Harris is now telling charities and other nonprofit organizations that in order to get from her a charitable solicitation license they must first provide her office a confidential federal tax schedule listing their most valuable donors.
Under Obamacare, Medi-Cal ballooned to cover 1 in 3 Californians. California officials never anticipated how many people would sign up for state-run health insurance under Obamacare. The state's health plan for the poor, known as Medi-Cal, now covers 12.7 million people, 1 of every 3 Californians.
Never Enough Abortions in California. California is such a pro-abortion state that: 1. It allows non-doctor nurse practitioners to terminate fetal life. 2. Its voters have twice refused to vote in a "parent notification" law, requiring that parents of underage girls be told — not approve, just notified — that their daughter had an abortion. And now: 3. Crisis pregnancy centers — that help women choose to give birth by providing counseling and material support — will be required to post notices of where abortions can be obtained with phone numbers, as well as that they might be obtained for free.
America's Can't-Do State: California's Man-Made Drought Continues. The first desalination plant in a state dragging itself through a drought has finally opened — a welcome event but also instructive in how nearly impossible it is to build anything useful in California. [...] The Carlsbad desalination plant was proposed in 1998 and took almost 18 years to build. But only three of those years were actually spent building. The rest were wasted on politics and the usual Golden State regulatory and bureaucratic tangle. One of the plant's investors told a California writer that the duplicative state approval process alone delayed the project by at least a decade and added about 10% to total costs.
San Francisco Is Needle City. In 1997, I went to a "needle exchange" in San Francisco to see firsthand how the "harm reduction program" prevented the spread of HIV among addicts. [...] Under the new order, San Francisco Department of Public Health spokeswoman Rachael Kagan explained, "you don't need a needle to get a needle." Users who show up at a "syringe access" center can get a "starter kit" of 20 needles. If they want more than 20 needles, they have to present used needles. I walked into a nearby facility and walked away with my own starter kit in a discreet plain brown bag. San Francisco now asks users to leave their discarded syringes in drop boxes at public toilets, pharmacies and clinics. I got a "sharps" disposal box with my 20-needle kit. Alas, there's another oft-used disposal venue — city streets and sidewalks. If you walk around the city, then you've seen the used needles.
Half of immigrants in state illegally could be eligible for Medi-Cal expansion, study finds. Half of Californians in the country illegally would be eligible for the state's healthcare program for the poor if it were expanded under a proposal by legislators, a new report finds. Some California politicians are pushing to open up the $91-billion Medi-Cal program to people here illegally, since such immigrants are not allowed to sign up for insurance under Obamacare.
All 20 'Worst Small Cities in America' in California. The annual WalletHub's 2015 "Best & Worst Small Cities in America" found that all 20 of the worst small cities in America to live in are in California.
California: A state of death. Shortly after signing a bill allowing assisted suicide in California, Democratic Governor Jerry Brown signed another measure that forces pregnancy crisis centers to "offer information about affordable contraception, abortion and prenatal care." The information is to be displayed in the form of a sign tacked to the crisis center's door and must include a phone number to the nearest county services office where family free or low-cost family planning services can be obtained. Deceptively labeled the Reproductive FACT Act, the measure requires women seeking help with an unplanned pregnancy to be informed of alternatives, including abortions, which the pregnancy crisis centers do not perform.
Does the government want you to die? Gov. Brown and his Democratic Party majority in the California state Legislature have benevolently given people the "right to die." Assisted suicide is now legal in California, but we have to ask ourselves: What is the government's incentive to help people die?[...] The government does not need give anyone permission to commit suicide. And that leads to the question: What motivates a government to give you permission to end your life and assist you in the process?
Jerry Brown Cooks Up A Recipe For California Voter Fraud. Just months after handing out California driver's licenses to illegals, Gov. Jerry Brown has signed a law to automatically register every driver to vote. Supposedly, it's to raise turnout. More likely, it's inviting fraud. So how does opening up U.S. presidential elections to the votes of any of the citizens of El Salvador, Armenia, Mexico or China sound? Foreigners have complained for years about wanting to vote in U.S. elections and in California. And now they may get their wish — unless California's Gov. Jerry Brown is somehow kept from enacting AB 1461, a bill to automatically register every recipient of a California driver's license to vote.
Non-Citizens Will Now Vote in At Least One State. Governor Jerry Brown just sold out the American vote in California. He signed a new version of the Motor Voter Act that will register every eligible California citizen who acquires a driver's license or renews a license at the Department of Motor Vehicles to vote. This is after he made all illegal aliens eligible for diver's licenses. Eleven states allow illegal aliens to get driver's licenses.
Gov. Brown Approves Automatic Voter Registration at DMV for Californians. Targeting California's recent record-low voter turnout, Gov. Jerry Brown on Saturday signed a measure that would eventually allow Californians to be automatically registered to vote when they go to the DMV to obtain or renew a driver's license. The measure, which would also allow Californians to opt out of registering, was introduced in response to the dismal 42% turnout in the November 2014 statewide election.
California opens the door to more voter fraud with new motor voter law. California's Governor had a busy weekend, breaking out his pen and signing nearly two dozen bills into law. Most of them centered on the voting process in the Golden State, but while liberals are taking a victory lap there are hints that these maneuvers are going to signal trouble down the line. The big ticket item in the legislative package was the "New Motor Voter Law." This brainstorm will make voter registration automatic for any person receiving a new driver's license or renewing an existing one.
Cutting ozone will require radical transformation of California's trucking industry. At a laboratory in downtown Los Angeles, a big rig spins its wheels on massive rollers as a metal tube funnels its exhaust into an array of air quality sensors. Engineers track the roaring truck's emissions from a bank of computer screens. The brand-new diesel truck is among the cleanest on the road, the engineers at the California Air Resources Board testing lab say. Even so, its 550-horsepower engine spews out more than 20 times the smog-forming nitrogen oxides of a typical gasoline-powered car — and that won't be good enough for the state to meet stricter federal smog limits adopted this month.
California to become the fifth state to allow terminally ill patients to legally end their lives. California will become the fifth state to allow terminally ill patients to legally end their lives using doctor-prescribed drugs after Gov. Jerry Brown announced Monday [10/5/2015] he had signed one of the most emotionally charged bills of the year.
California mom claims retailer booted her for complaining about man in girls' restroom. A California mom who says she was recently kicked out of a sporting goods store after alerting a manager that man had frightened her young daughter in the women's restroom is demanding answers — and a policy change — from the Washington-based chain. The woman, who spoke to FoxNews.com but asked not to be identified, said she was shopping with her 12-year-old daughter and the girl's younger friend when her daughter told her what had happened moments earlier at an REI sporting goods store during a shopping trip in late August.
The 'Affordable Housing' Fraud. Nowhere has there been so much hand-wringing over a lack of "affordable housing," as among politicians and others in coastal California. And nobody has done more to make housing unaffordable than those same politicians and their supporters. A recent survey showed that the average monthly rent for a one-bedroom apartment in San Francisco was just over $3,500. Some people are paying $1,800 a month just to rent a bunk bed in a San Francisco apartment. It is not just in San Francisco that putting a roof over your head can take a big chunk out of your pay check. The whole Bay Area is like that.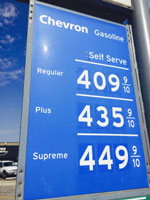 Everything Wrong with California in One Photo. Nationwide gasoline prices are below $3 a gallon. But here in California it is not unusual to see prices still over $4 a gallon. So what do liberals here want to do? Pass a law that mandates reducing gasoline consumption by 50 percent by the year 2030 — just 15 years from now. This proved too much even for some Democrats — the ones who represent actual poor and (previously) working people in the Central Valley, unlike the West LA and Silicon Valley and San Francisco Democrats who represent smug rich people who drive Teslas. These old-style Democrats said they would not vote for the bill.




California issuing free diplomas to high school students who flunked out. Plenty of state school systems are struggling with ways to not only keep up with national mandates and restrictions, but to boost their graduation rates so they can maintain their funding and reduce criticism from the public. California seems to have come up a rather unique, back door approach to the problem. You could always take tens of thousands of former high school students who flunked out and simply give them a diploma anyway.

California Will Give Free High School Diplomas To Kids Who Flunked Out. The California High School Exit Exam (CASHEE) was created in 2004, and is intended to make sure that students have a rudimentary grasp of English and mathematics before being awarded a high school diploma, and to counter the phenomenon of students receiving passing grades while learning almost nothing. The test is hardly complex. The math test, for instance, only covers 8th grade-level material and can be passed if students answer 55 percent of questions correctly.

University of California considering recognizing a "right" to be "free from ... expressions of intolerance". The policy specifically condemns the expression of particular viewpoints as "intolerant," as having "no place at the University of California," and a violation of others' rights to be "free from ... expressions of intolerance." For instance, articulating a view that people with various intellectual disabilities are incapable of various intellectual tasks, or people with various physical disabilities are incapable of various physical tasks, would be condemned by the authority of the University. Articulating a view that there are cultural (or even biological) differences between ethnic and racial groups in various fields — condemned by the authority of the University, without regard to the arguments for or against the particular assertion. It's just an up-front categorical rule; whatever you want to say along these lines, we don't want to hear it, we don't care what your arguments are, we'll condemn it, and faculty and students have a right not to hear it.

California Assembly Approves Assisted Suicide Bill. The ghost of Brittany Maynard came back for yet another haunting Wednesday [9/9/2015] when the California Assembly voted to allow physician-assisted suicide by a vote of 43-34. After having lost in the California Senate back in June due to efforts largely from the Roman Catholic Church, the merchants of death simply regrouped and returned to the lower house of the legislature to approve the End of Life Option Act.

Median total compensation for Redwood City firefighters — at least $226,365. Back in February 2014 the California Policy Center publicly announced the Transparent California website, developed in partnership with the Nevada Policy Research Institute. An article covering this announcement was posted on the Forbes Magazine website, entitled "Hundreds Of California Government Employees Are Paid Over $400,000 A Year," which a review of 2013 Transparent California data (2014 data is still being assembled) easily confirms. As a matter of fact, in 2013, total compensation in excess of $400,000 was paid to 1,292 public servants in California. A staggering 2,818 of California's public employees collected total compensation in excess of $300,000 in 2013.

Bums Bury San Francisco in Feces. San Francisco is also a center of leftism. The liberals running the city have laid out a red carpet for dysfunctional street people, who come from all over the country to collect their freebies and crap on the sidewalk. Combined with the policy of no longer incarcerating any but the most obviously violent lunatics, this has reduced the city to a cross between a mental institution and a sewer.

Sen. Dianne Feinstein Wants Obama to Wall-off 1 million Acres in Desert. U.S. Senator Sen. Dianne Feinstein (D-CA) asked President Barack Obama on Friday [8/21/2015] to bypass Congress and use the Antiquities Act of 1906 to create three new national monuments in the California desert. The move would extend federal protection over more than 1 million acres of mountain ranges, sandy expanses and forests running roughly between Palm Springs and the Nevada border.

No one showed up for California's green jobs rush. In 2012, California voters were peppered with grandiose promises, such that they could not resist approving Proposition 39. [...] Naturally, it did not work at all. On Monday, the Associated Press reported that the program has "created" just 1,700 jobs in three years — just under 600 jobs per year or roughly five percent of what was promised, at the cost of $175,000 per job. Even that paltry figure fails to account for opportunity costs — i.e. jobs lost statewide because of the forced diversion of economic resources away from productive industries and toward green energy. The number of net jobs created is likely zero or less than zero, which is to say that probably a few hundred or a few thousand jobs have been destroyed so far at a cost of $300 million.

California moves to provide interpreters in all court cases. Legal advocates say throughout the state, litigants in divorce, child custody, eviction and other civil cases who have difficulty with English are going into court without qualified interpreters.

California's SB3, the Minimum Wage Hike. California has embarked upon a dangerous experiment. The Democrats who secured total control of the statehouse have been the most productive group of legislators at passing bills in the last 50 years. Most of these bills were passed stealthily to avoid media scrutiny. The last minimum wage hike was rammed through without much media attention. The same with the Sick Leave Law that went into effect in July of 2015. These two new costs, when combined with the federal ACA have increased the cost of labor roughly 35% overnight. None of these assaults on California businesses were sensibly staggered, nor was the business community even consulted. It's as if the feeling that exists under the Capital building is a childlike free-for-all to greedily get as much vote-buying, pro-labor legislation in before the window closes. And now comes SB3, which is to amend the last minimum wage and take it higher, much much higher, for the entire state.

The Collapse of California. The place they once called the Golden State is providing a sobering look at America's possible Third World future. [...] California now has the highest rate of poverty in the country. The drought, which is also not being helped by the rapid increase in population, is now drying up entire rivers. Not surprisingly, the "watchdog press" is chiefly concerned with making sure people don't connect the dots between an overcrowded, Third World demographic profile and a Third World way of life.

Without immigration reform, California citizenship will have to do. It started with in-state tuition. Then came driver's licenses, new rules designed to limit deportations and state-funded healthcare for children. And on Monday [8/10/2015], in a gesture heavy with symbolism, came a new law to erase the word "alien" from California's labor code. Together, these piecemeal measures have taken on a significance greater than their individual parts — a fundamental shift in the relationship between California and its residents who live in the country illegally. The various benefits, rights and protections add up to something experts liken to a kind of California citizenship.

Gov. Brown doesn't want California to use this word for immigrants. Gov. Jerry Brown signed a trio of immigration-related measures Monday [8/10/2015], including one removing the word "alien" from California's labor code because it is seen as a disparaging term for those not born in the United States. Brown also signed into law legislation allowing noncitizens in high school to serve as election poll workers and protecting the rights of immigrant minors in civil lawsuits.

Red Flags Of Corruption Over Huntington Park. In a page-one headline, the Los Angeles Times hailed the appointment of illegal immigrants to two Huntington Park, Calif., civic commissions as a milestone that "charts a bold path for immigrants." It was booster journalism at its worst, gushing about illegals gaining participatory "rights" in U.S. public life that had supposedly been unjustly denied them. It also stood in stark contrast with the multiple local press reports — KPCC, KTLA, CBS-LA and more — which reported the event as primarily cause for angry protests.

Thousands of California convicts to regain voting rights. California restored voting rights Tuesday [8/4/2015] to tens of thousands of criminals serving sentences under community supervision, reversing a decision by a state official that they could not participate in elections. Secretary of State Alex Padilla announced the settlement between the state and the American Civil Liberties Union of California, which sued on behalf of nearly 60,000 convicts who became ineligible to vote when then Secretary of State Debra Bowen determined in 2014 that community supervision was equivalent to parole.

California's Medi-Cal explosion. California is coming face to face with the reality of one of its biggest Obamacare successes: the explosion in Medi-Cal enrollment. The numbers — 2.2 million enrollees since January — surprised healthcare experts and created unforeseen challenges for state officials. Altogether, there are now about 11 million Medi-Cal beneficiaries, constituting nearly 30% of the state's population.

Audit Finds Massive Financial Mismanagement In West Covina. It was a bumbling city that didn't know how much it was collecting or spending. It signed large contracts without proper bidding and hired administrators without vetting their qualifications. Its city manager spent lavishly on meals and arrangements for council members with the city credit card. And it lost $1 million by selling a developer land it wasn't legally allowed to sell. Those were the findings of a state audit released Thursday [7/9/2015] that blistered the management of West Covina, whose roiling politics usually make few ripples outside its east San Gabriel Valley boundaries.

California Is A Microcosm Of American Mediocrity. California keeps reminding us what has gone astray with America in recent years. The state is in the midst of a crippling four-year-old drought. Yet it has built almost no major northern or central mountain reservoirs since the New Melones Dam of 1979. That added nearly 3 million acre-feet to the state's storage reserves — a critical project that was almost canceled by endless environmental lawsuits and protests. Although California has almost doubled in population since the dam's construction, its politicians apparently decided that completing more northern and Sierra Nevada water projects was passe. So the parched state now prays for rain and snow rather than building reservoirs to ensure that the next drought won't shut down the state.

California regulators approve higher electricity rates for most residents. Electric bills are set to rise over the next few years for most household customers served by California's major investor-owned utilities, including Southern California Edison. The increases are a result of sweeping changes approved Friday [7/2/2015] by the California Public Utilities Commission — the first statewide rate overhaul since the 2000-01 energy crisis. Modest and moderate consumers of electricity will bear a greater share of costs, while many larger users of electricity will see their bills shrink or increase less rapidly.

CA Water Board Prioritizes Fish Over People. As severe drought conditions in California continue to worsen, state officials have started to roll out with new regulations to prioritize various water interests. On Wednesday [6/24/2015], the State Water Resources Control Board adopted new emergency regulations to protect endangered and threatened fish. Low flows in four tributaries of the Russian River cause "high temperatures, low oxygen levels and isolated pools of water that can kill fish," such as the coho salmon and steelhead trout.

California budget deal to make state first in nation to offer health care to undocumented kids. The $115.4 billion agreement announced Tuesday [6/16/2015] is expected to win easy approval from the [California] Senate and Assembly before the fiscal year begins July 1, and its immigrant health care provisions were touted by its backers as a necessity in the face of federal inaction.

The Editor says...
Sometimes there's a reason for "federal inaction." In fact, "federal inaction" is often the best we can hope for.

Goodnight, California. 8:00 PM[:] I'm on the upstairs balcony looking out over miles of lush countryside. It's quite scenic, something in between verdant Tuscany and the aridness of Sicily. I can hear the ag pumps of the surrounding farms everywhere churning 24/7. In a normal year they would never be turned on, as river water irrigated the fields and recharged the water table. Then come two sirens. Will the power go off? Quite often, someone after too much to drink goes airborne and hits a power pole on these rural roads. I got back inside in case things go dark to review the mail. The local irrigation district has not delivered water in four years (what do ditch tenders do when canals and ditches are empty?) and now wants a tax hike to keep up with increased expenses. In fact, half the mail seems to be drought information from various agencies.

Has the federal government ever had sex? Law professors Stephen J. Schulhofer and Erin Murphy are trying to update the criminal code when it comes to sex offenses, believing current definitions of rape and sexual assault are antiquated. The focus of their draft is on what constitutes consent. It adopts the "yes means yes," or "affirmative consent" model that was passed in California last year. The California law applies only to college campuses, however.

The Editor says...
Really, I try to keep this web site "family friendly," but when you keep track of all the things liberals do, in places like California, and then put it on a web page, it's not easy to avoid topics like promiscuity.

California's Unsustainable Comeback. Sometime this year, the Federal Reserve is expected to increase interest rates. When that happens, many experts believe the market will correct as investors exit equities. Any setback in the stock market will eviscerate California's income taxes.

California's sexual re-education camps are coming soon. Not content to redefine consent to mean asking permission before every step of the sexual process, California is now on the path to teaching high school students the proper way to have sex — because human nature is now wrong. [...] This means that every time two college students have sex they have to act like they've never met before and ask for approval for everything from the first kiss and touch through intercourse. I tried multiple times to ask the sponsor of the California bill, State Sen. Kevin de Leon, how someone could prove they obtained consent under his law, but only received press releases and quoted paragraphs from the bill.

California Senate OKs health coverage for many immigrants here illegally. The state Senate on Tuesday [6/2/2015] approved a hotly debated measure that would allow many immigrants in the state illegally to sign up for special healthcare programs that would offer the same benefits as Medi-Cal. The action comes just days after lawmakers significantly scaled back the plan, which originally would have offered state-subsidized Medi-Cal to people in the country without authorization.

Water crisis puts California Democrats on defense. Wherever he goes, Tom Del Beccaro asks California voters which they would prefer: high-speed rail or more water. Invariably, the answer is the same. "Everybody says water," said Mr. Del Beccaro, a Republican who's running for the Senate seat being vacated by Sen. Barbara Boxer in 2016. "I think every dime that exists should be allocated there. [But] we are spending more than 15 times the amount on a train than we are on new water. "In my speeches, I also ask people to raise their hand if they think we have a train crisis," he adds.

Audit finds millions in overtime pay at L.A. transportation department. Last year, the average employee who paints stripes on roads and installs street signs for the Los Angeles Department of Transportation made $48,100 in overtime, almost six times what most other city workers received. Four supervisors claimed $70,000 in OT, and one manager drew $155,319, effectively tripling his salary. Those and other findings were in a transportation department audit issued Tuesday by City Controller Ron Galperin. It revealed in particular that workers in the paint and sign division collected what Galperin characterized as "staggering" amounts of overtime, costing the city $3.3 million in a single year and raising concerns that some of the extra pay might have been claimed improperly.

In Los Angeles, unions make an offer companies can't refuse. From the truth is stranger than fiction except if you're in Los Angeles and/or dealing with union personnel file we learn what happens when reality slaps high-sounding abstract liberal theory in the face. In this instance, reality wins. Sort of.

Los Angeles becomes the biggest city yet to approve a $15 minimum wage. The Los Angeles City Council voted overwhelmingly Tuesday [5/19/2015] to raise the city's minimum wage to $15 an hour by 2020, up from the current $9 an hour, making the city the largest in the country to set a target that has gone from almost absurdly ambitious to mainstream in the span of a few years. The bill, which will need to clear a final vote, passed by a margin of 14-1.

Blue state infrastructure. A month ago, we spent a spring break week in southern California. The weather was glorious, and we had a wonderful time. But we were appalled by the third-world condition of California's roads and highways. California's highways are not just decrepit and pocked with potholes, they are downright dangerous. Billions of dollars would be required to bring California's roads, bridges, cloverleafs and related infrastructure up to the level that is taken for granted in, say, South Dakota. But California's Democrats have higher priorities, whether it is doling out dollars to the party's supporters, funding environmental projects that will never see the light of day, or finding new ways to attract illegal immigrants.

California Rings The Mission Bell For Voter Fraud. A bill to automatically register all drivers is speeding through the California legislature. In a state that already offers driver's licenses to millions of illegals, this is an invitation to massive fraud. Advanced by Democrats, Secretary of State Alex Padilla and Assemblywoman Lorena Gonzalez, AB 1461 automatically registers anyone applying for a California driver's license as a voter in local, state and federal elections. It's all in the interest of supposedly increasing voter participation. This has the hideous look of a back-door bill to encourage illegal immigrants to vote in elections they have no right to vote in, in a country they have no loyalty to.

Starbucks' Ethos water comes from drought-stricken California. Starbucks' Ethos bottled water, while promising to help children around the world "get clean water," is quietly helping to drain drought-ravaged California of its precious H2O, according to a report. The $1.95-a-bottle water is sourced, in part, from a bottling plant in Merced, Calif., which is ranked in the "exceptional drought" category by the US Drought Monitor, according to the report.

Port of Los Angeles police chief indicted for corruption. The police chief for the Port of Los Angeles has been charged with corruption in an alleged kickback and bribery scheme.

An ironic drought in California. The present four-year California drought is not novel — even if President Barack Obama and California Gov. Jerry Brown have blamed it on man-made climate change. According to the National Oceanic and Atmospheric Administration, California droughts are both age-old and common. Predictable California dry spells — like those of 1929-34, 1976-77 and 1987-92 — more likely result from poorly understood but temporary changes in atmospheric pressures and ocean temperatures. What is new is that the state has never had 40 million residents during a drought — well over 10 million more than during the last dry spell in the early 1990s. Much of the growth is due to massive and recent immigration.

California's class-based water woes.. If you can put aside for the moment the New York Times' stubborn use of the "farmers use 80% of the water in California" canard, this article isn't too bad. It certainly notes the deep class divisions that are taking place in the state. To put it simply: the rich buy their way out of the restrictions and everybody else can't.

No, Farmers Don't Use 80 Percent of California's Water. This is a textbook example of how the media perpetuates a false narrative based on a phony statistic. Farmers do not use 80 percent of California's water. In reality, 50 percent of the water that is captured by the state's dams, reservoirs, aqueducts, and other infrastructure is diverted for environmental causes. Farmers, in fact, use 40 percent of the water supply. Environmentalists have manufactured the 80 percent statistic by deliberately excluding environmental diversions from their calculations. Furthermore, in many years there are additional millions of acre-feet of water that are simply flushed into the ocean due to a lack of storage capacity — a situation partly explained by environmental groups' opposition to new water-storage projects.

Global-Warming Guacamole. That California's catastrophic drought is a result of global warming has become a commonplace of contemporary political rhetoric. That truism isn't true: Most scientific accounts of California's current dry spell link recent low precipitation to naturally occurring atmospheric cycles, not to global warming. Indeed, most of the global-warming models relied upon by those advocating more-invasive environmental policies predict that warming would leave California with wetter winters — winter precipitation being critical to the snowpack-dependent state — rather than the drier winters at the root of the state's current water crisis.

Red ink could kill Covered California. Indeed, there's no more money coming from Washington after the state exhausts the $1.1 billion it received from the federal government to get the Obamacare exchange up and running. And state law prohibits Sacramento from spending any money to keep the exchange afloat. That presents an existential crisis for Covered California, which is facing a nearly $80 [sic] budget deficit for its 2015-16 fiscal year.

Insiders Detail Culture of Secrecy at California's Obamacare Exchange. Aiden Hill's introduction to the secretive culture at Covered California came in his first days on the job. He had just been hired to head up the agency's $120 million call center effort when he emailed a superior April 18, 2013, and got a text message in reply: ["]Please refrain from writing a lot of draft contract language in government email ... And don't clarify via email ... No email.["]

Big Idea: California Is So Over. California has met the future, and it really doesn't work. As the mounting panic surrounding the drought suggests, the Golden State, once renowned for meeting human and geographic challenges, is losing its ability to cope with crises. As a result, the great American land of opportunity is devolving into something that resembles feudalism, a society dominated by rich and poor, with little opportunity for upward mobility for the state's middle- and working classes.

Critics say California drought caused by misguided environment policies. In an average year, California gets enough snow and rain to put 200 million acres under a foot of water, but environmental opposition to dams over the last several decades has allowed the majority of the freshwater to flow into the ocean, even as the state's population exploded to nearly 40 million people. The current drought has left farms parched and residents under strict water consumption orders, but some say it didn't have to be that way.

Californians can now be fined for long showers! I reported that California Governor Jerry Brown unveiled the state's first water restrictions in response to the "mega-drought". As I foresaw, the rules have turned out to be more about revenue generation than resource protection. What I did not predict is that my teen son and his lengthy showers would make him the latest environmental villain.

Liberals blamed for California drought. For California Gov. Jerry Brown to crack down on shower-taking and toilet-flushing to save precious quarts of water as millions of gallons flow into the Pacific Ocean doesn't make a lot of sense to Travis Allen. [...] With everyday Californians now on the hook for drastic conservation measures, Republicans say the time has come to focus on the real culprit: a state and federal regulatory framework, fueled by environmental litigation, that requires a certain aquatic environment for at-risk fish while making it nearly impossible to build dams and other water-storage projects.

How the Environmentalists are Destroying California. In 2007, they mobilized around saving the Delta Smelt, a three-inch baitfish, as an outgrowth of a policy that for decades put animal life and vegetation ahead of drinking water and food. The Delta Smelt requires a rare and somewhat precise mixture of fresh and salt water. It is by any measure a fragile species. In August 2007, Federal Judge Oliver Wanger ruled that the fresh water pumped into the Central Valley, the lifeblood of its economic base, threatened the survival of the Delta Smelt. He ordered a severe reduction in the water directed to Central Valley agriculture. The ruling (subsequently reversed for sloppy science and then upheld) resulted in a loss of thousands of jobs and acres of farmland. [...] The fight over the Delta Smelt [...] is a fight between people who value a baitfish over productive farmland and America's food resources.

A hot water issue in the California drought discussion. The California governor's recent proclamation that Californians must cut water usage by 25% certainly caught the attention of Californians and pundits nationwide. Featuring threats of fines of up to $500 per day, and even restrictions on personal shower habits, Governor Brown wasted little time getting right to class warfare over our green lawns. Unfortunately, he and the ruling Democratic Party once again resorted to draconian rationing measures and heavy-handed fees, while offering no leadership and no real solutions to California's current water crisis.

The browning of California's green movement. Indeed, an adequate water supply isn't a luxury issue for Californians, and no serious attempt has been made by liberals viewing the environment with alarm to deal with it. In part, this is due to the fact that lack of moisture can't be immediately linked to climate change. And unlike California's initiatives to reduce so-called environmental threats through various governmental actions, the options for dealing with droughts are few. The only real alternative is drastic conservation that would impact significantly on the lives of citizens. An alternative such as desalination of ocean waters isn't feasible because it's a long-term project, and the residue supposedly left in the Pacific from implementation would adversely affect marine life.

More on the California Water Waster Fink Squads. Remember that thing I wrote yesterday about how Long Beach, California was going Full Metal Snitching on 'water wasters?' Guess what! Yup, it's going statewide.

California Water Authorities To Use New Tool In Fight Against Water Wasters. Water authorities are using a new tool in a major effort to crack down on people and businesses wasting water in light of new water restrictions issued by Gov. Jerry Brown to fight the drought. The Long Beach Water Department says sprinklers at a McDonald's restaurant on Bellflower Boulevard went on for 45 minutes at a time, twice a night, for an undefined number of nights. Complaints continued to mount as water pooled and wasted. The department, however, could do little about the wasting. That was before the smart meter.

The Editor says...
It's easy enough to wield this weapon against McDonald's without much public outcry, but when it is used against residential water customers, watch out!

Governor Moonbeam Regulates Bathroom Activities. Changing behavior is what liberal fascists are all about. For them change — specifically, coerced change — is an end in itself. Stalin figured it out long ago: control food, control people. But Democrats are doing him one better. Control water, control food production and people. How will the authorities know if you took too long in the shower? One way is if your neighbors rat you out, just as in any other police state. Another is the smart meter: [...]

Should California Spend 4 Billion Gallons to Save a Few Fish? In the the [sic] heart of California's drought-parched Central Valley, fruit and vegetable supplier to the nation, a water district is defying a federal order to give some endangered trout a 3.9 billion gallon water ride out to sea. And it could be the first skirmish in a much wider conflict. The Endangered Species Act protects steelhead trout, a small population of which are attempting a recovery in the Stanislaus River, which flows out of the Sierra Nevada Mountains into Modesto, in the San Joaquin Valley. So earlier this week a federal fisheries agency — it's unclear which one, and there are several — told the California branch of the Bureau of Reclamation (another water agency) that the fish needed more water to get out to the Pacific. The bureau in turn passed the order to the South San Joaquin Irrigation District, telling them to let a pulse of water through the dam on the Stanislaus.

Feds order parched California farm district to use 9 billion gallons of water to save 29 fish. These eco-Marxists are completely insane. Off their rockers.

Marijuana Plants Soak Up Billions of Gallons of Water in California. California's terrible drought has become — like just about everything else in the United States — a political issue. Many liberals have taken to blaming anthropogenic climate change for the drought, while some conservatives have placed the blame at the feet of "liberal environmentalists." The political point-scoring is tiring and just plain silly, given that the drought is almost certainly a result of natural processes — processes that we humans, conservatives and liberals alike, have precious little to do with. Another problem is that our partisan pugilists are conflating two separate issues: the drought, which is the lack of rainfall that California has suffered over the past four years, and the water shortages, which may indeed have some man-made causes.

California Lawmakers Present Bills to Protect Undocumented Immigrants. A group of California lawmakers on Tuesday [4/7/2015] presented a package of measures to strengthen protection of undocumented immigrants and thus alleviate the "political paralysis" in Congress over approving immigration reform. "In California, there are about 40 million residents... of Mexican, Central American and Asian origin. So, today we're presenting a package of 10 measures to protect undocumented immigrants," Kevin de Leon, the Democratic president pro tempore of the California Senate, told Efe.

Torrance Police Settle for Illegally Destroyed Guns. California, especially California cities, have had a bad reputation for decades, of legally stealing firearms. This was primarily done with police officers confiscating firearms that they came across, without any crime being committed. Department policy was then to refuse to return the firearm unless a court ordered them to do so. As the process of obtaining a court order would ordinarily be much more costly than the price of a firearm, most people who had their firearms stolen by police simply did not bother in attempting to obtain a court order.

Carly Fiorina blames liberal environmentalists for Calif. water crisis. Former Hewlett-Packard CEO and potential Republican presidential candidate Carly Fiorina is blaming California's water crisis on "liberal environmentalists" who are "willing to sacrifice other people's lives and livelihoods at the altar of their ideology." "With different policies over the last 20 years, all of this could be avoided," Ms. Fiorina said in an interview Monday [4/6/2015] on Glenn Beck's radio show, The Blaze reported. "Despite the fact that California has suffered from droughts for millennia, liberal environmentalists have prevented the building of a single new reservoir or a single new water conveyance system over decades during a period in which California's population has doubled."

The Drought: California Apocalypto. I think that we've come full circle in California: from the premodern Wild West of the 19th century to a decadent postmodernism that is every bit as feral, though the roughness of ascension is always preferable to its counterpart in decline. The day before Easter, Sacramento tried to stage the world's largest public Easter egg hunt. From news reports it seems quickly to have devolved into a Darwinian free-for-all, where the ochlos swarmed the few who played by the rules.

An Engineered Drought. We're suffering the ramifications of the "small is beautiful," "spaceship earth" ideology of our cocooned elites. Californians have adopted the ancient peasant mentality of a limited good, in which various interests must fight it out for the always scarce scraps. Long ago we jettisoned the can-do visions of our agrarian forebears, who knew California far better than we do and trusted nature far less. Now, like good peasants, we are at one another's throats for the last drops of a finite supply.

California is in one of its worst-ever droughts because people are growing too much weed. The current drought in California, one of the most severe on record, could have been exacerbated by marijuana cultivation, scientists say. Some marijuana farms are sucking more water from the ground than can be replaced, threatening the state's water entire supply, according to a study published in the Public Library of Science journal. The amount of water being used to cultivate marijuana was said to be "unsustainable" in the report.

Rain Dances in California. On February 14, 2014, President Barack Obama arrived on Air Force One in Fresno, California, with Senators Barbara Boxer and Dianne Feinstein aboard. [...] The Democratic entourage, ringed by Secret Service, posed in the fallow field for Associated Press and the television cameras. It had no clue how to solve California's water problems. It could have been doing rain dances, for all the good it was doing. The fact is, the four were doing rain dances for MSM — all of them — Obama, Boxer, Feinstein, and Brown. [...] A White House that has hijacked drought to serve its ideological ends makes sound water allocation more difficult to achieve.

California Accredits Nation's First Muslim College ... Founded By Jihadists. The same California college board that accredited Stanford and Berkeley has certified the nation's first Muslim college in what the left is cheering as a breakthrough for diversity. In fact, it's a breakthrough for jihadism. The Western Association of Schools and Colleges last week officially — and naively — recognized Zaytuna College, making the Islamist school eligible to receive federal grants and accept foreign Muslim students on visas. But before liberals celebrate too loudly, they should know that Zaytuna was founded by pro-jihadists who hate America and Jews and want to turn America into an Islamic state.

The Scorching of California by the Green Radical Left. In the 1970s, coastal elites squelched California's near-century-long commitment to building dams, reservoirs, and canals, even as the Golden State's population ballooned. Court-ordered drainage of man-made lakes, meant to restore fish to the 1,100-square-mile Sacramento-San Joaquin River Delta, partly caused central California's reservoir water to dry up. Not content with preventing construction of new water infrastructure, environmentalists reverse-engineered existing projects to divert precious water away from agriculture, privileging the needs of fish over the needs of people. Then they alleged that global warming, not their own foolish policies, had caused the current crisis.

Two Planned Parenthood workers who taught high school sex-ed, revealed to be sex-toy instructor and 'pleasure activist'. Parents with students at one California high school recently learned that two Planned Parenthood employees who taught their impressionable children sex education also held down some controversial side jobs. One of the sex-ed instructors at Acalanes Union High School in Lafayette also taught a class on sex toys at a nearby shop while the other identified herself as a 'pleasure activist' on her now-deleted Twitter profile. The job history of the two teachers was revealed after parents learned about the school's partnership with Planned Parenthood and demanded the curriculum be changed.

Common Core Follies: California report cards to include grades for 'grit', 'gratitude', 'sensitivity to others'. The entire state of California pubic education system is to begin grading students on matters a teacher cannot possibly know or evaluate objectively. In a sign of descent into full indoctrination camp mode, the Common Cores standards adopted by the state are calling on teachers to grade students on their "grit, gratitude, and sensitivity to others."

Rapper Tiny Doo facing long prison sentence over lyrics. Song lyrics that glorify violence are hardly uncommon. But a prosecutor in California says one rapper's violent lyrics go beyond creative license to conspiracy. San Diego-based rapper Tiny Doo has already spent eight months in prison, and faces 25 years to life in prison if convicted under a little-known California statute that makes it illegal to benefit from gang activities.

The Editor says...
Is it not true that every television news show in Los Angeles and Oakland and San Diego features occasional stories about gang activity? Do those TV stations therefore benefit from gang activities?

California bars judges from belonging to Boy Scouts. California's Supreme Court voted Friday to prohibit state judges from belonging to the Boy Scouts on grounds that the group discriminates against gays. The court said its seven justices unanimously voted to heed a recommendation by its ethics advisory committee barring judges' affiliation with the organization. In 1996 the state Supreme Court banned judges from belonging to groups that discriminate on the basis of sexual orientation, but made an exception for nonprofit youth organizations.

California health care on suicide watch. California, thanks to Obamacare and its exchange, Covered California, has no one to blame but itself. The state is imposing costly rules and regulations on the health care system, causing a death spiral in health care delivery.

Gender-neutral single-stall restrooms now required in West Hollywood. West Hollywood law requiring all single-stall restrooms in businesses and public places to be gender-neutral will go into effect this week. The law, which will have no impact on multiple-stall restrooms, mandates that any facility designed for use by no more than one person not be restricted to a specific sex or gender identity by signage, design or installation of fixtures.

Police stop pursuing nearly 79,000 fugitives. Nationwide, police and prosecutors quietly told the FBI they had abandoned their pursuit of nearly 79,000 accused felons during the past year and a half, a USA TODAY investigation found. They have given up chasing people charged with armed robbery and raping children, usually without informing their victims. Police in one county in California reported they would no longer pursue three of their most-wanted fugitives and a man charged with a murder for which prosecutors have sought the death penalty.

California pushes to expand immigrant health care. President Barack Obama's executive order to spare some immigrants from deportation has galvanized Democrats, immigration groups and health care advocates in California to push for expanding health coverage to a segment of the population that remains uninsured.

California bill would require retailers, restaurants to pay their employees double on holidays. A California lawmaker said she will introduce a bill that would double the pay of employees who work over Thanksgiving and Christmas. "I've watched how the retailers and restaurateurs continue to expand their hours and open up on these holidays that are traditionally family holidays," Assemblywoman Lorena Gonzalez told the Sacramento Bee. "What people are being called in to do now is a real slap in the face of family values, frankly."

Opposing viewpoint:
Why I Don't Mind Working Retail Thanksgiving Day. For the last two or three years, people have been complaining about Black Friday starting earlier and earlier and claim to feel badly for poor oppressed retail workers who have to work on Thanksgiving Day rather than spend it with their families. So here's my take, as an actual retail employee who does work on Thanksgiving.

Obama is not doing enough to wreck the country. I believe that the economy can potentially absorb five million additional gardeners and nannies. The challenge will be to create a corresponding number of rich young liberals to hire them. I was relieved to hear that California Governor Edmund Gerald "Jerry" "Moonbeam" Brown, Jr., who has welcomed all five million amnesty recipients to his state, has proposed a new Middle Class tax that will subsidize wealthy left-wing yuppies to bridge the gap between a livable wage for illegal immigrants and that which liberals are willing to pay them. Brown sees this as a first step in his campaign to become the Democratic Party's candidate for President of Mexico in 2016.

California Orders Churches To Fund Abortions — Or Else. For the past four years, the Obama administration and its friends on the Left were careful to claim that they still strongly support religious liberty while arguing that Hobby Lobby's Green family, Conestoga Wood Specialties' Hahn family, and others like them must lose. Principally, they contended, religious liberty protections could not be applied to Hobby Lobby because (1) It is a for-profit corporation, (2) It isn't a church (and thus not a true "religious employer," and (3) It is wrong on the science — Plan B, a copper intrauterine device, et cetera, they claimed, do not cause abortions. They implied, if not claimed outright, that they would surely support religious freedom in another case, but Hobby Lobby was unworthy to claim its protections. The State of California is now calling their bluff.

One more reason to flee California:
San Diego agrees to turn recycled wastewater into drinking water. Acknowledging California's parched new reality, the city of San Diego has embraced a once-toxic idea: turning sewer water into drinking water.

California's next big political fight: Plastic grocery bags. Go to a grocery store in California and buy all the milk, eggs and vegetables you want. But there's one thing you won't find at the checkout line, beginning July 1, 2015: Plastic bags to carry your stuff home. Gov. Jerry Brown (D) on Tuesday signed into law a ban on single-use plastic bags, making California the first state to prohibit stores from using the ubiquitous carry-alls. Shoppers will be charged 10 cents for every paper bag and heavy-duty plastic bag they use.

California's Plastic Bag Ban And A State's Death Wish. California, as is its wont, enacted another bunch of silly laws this week, topped by a ban on the plastic bags that we all find so handy. [...] Nobody likes a "torrent of plastic polluting our beaches, parks and even the vast ocean itself," as Brown says. Yet plastic bags still end up where they shouldn't be. The answer, however, isn't to ban the bags, which people use not only for groceries but for everything from toting lunches to picking up pet droppings. The solution is to penalize those who foul the commons, not just with plastic bags but with all kinds of other litter. Californians actually may be worse off with the ban. It could, for example, actually make people sick, since the reusable bags that shoppers are being urged to switch to can harbor food-borne illnesses.

California Voters to Decide on Sending Fewer Criminals to Prison. California voters appear poised to scale back the heavy reliance on incarceration they once embraced, with a measure that would transform several lower-level, nonviolent felonies into misdemeanors punishable by brief jail stays, if that, rather than time in a state penitentiary. The referendum on Nov. 4 is part of a national reappraisal of mass incarceration.

California becomes first state to ban plastic bags. Gov. Jerry Brown on Tuesday signed legislation imposing the nation's first statewide ban on single-use plastic bags, driven to action by a buildup of litter and damage to aquatic ecosystems.

California Gives $3 Million to Groups Providing Free Legal Aid to Illegal Aliens. California Gov. Jerry Brown is channeling the "progressive spirit" of California in his latest act as governor. Turns out he just signed a bill that would give $3 million in grants to non-profits that would offer unaccompanied alien minors legal counsel- which is $1 million more than what the federal government planned to give in grants nationwide.

California School Purging Library of ANY Book with a Christian Author or Theme. Ask me again why my children are homeschooled.

Why not $20 an hour? Or $50?
Los Angeles approves $15.37 minimum wage for hotel workers. The Los Angeles City Council voted Wednesday [9/24/2014] to raise the minimum wage for hotel workers to $15.37, one of the highest wage requirements in the country. Hotel workers in yellow shirts packed City Hall as the council voted 12 to 3 to approve the measure, which will go into effect for hotels with at least 300 rooms beginning in July. Hotels with 150 rooms or more will have to meet the wage requirement a year later.

Brown signs package of bills to encourage voting. Months after statewide voter turnout hit a historic low of 25% in this year's primary election, Gov. Jerry Brown on Friday [9/26/2014] signed eight bills aimed at getting more Californians to participate in the political process. He also signed dozens of other bills Friday — a hodgepodge that included new rights for gay and transgender Californians, a requirement that state prisons expand the availability of condoms to inmates and measures that promote the "farm to fork" movement to increase consumer access to fresh food.

Jerry Brown at UN Climate Change Summit: 'Carbon Pollution Kills!' Arriving in NYC aboard the People's Climate Train, which travelled across the country from Emeryville California, Sister Ayya Santussika, a Buddhist nun, said that climate change is a "moral issue" and affects everyone of us. [...] Gov. Brown signed some bills on Sunday [9/21/2014] that mandates an increase in the amount of electric cars for California, reduces the time it takes to get rooftop solar panel permits, and establishes new regulations to restrict atmospheric pollutants.

The Editor says...
Carbon dioxide is not carbon, for the same reason that water is not hydrogen. Carbon dioxide in the atmosphere supports life. It is not a threat. It is not pollution.

"What do you call a man who claims voters' choices have no place in government?"
Brown's Final Nail In Prop. 187 Is Really A Blow To California's Voters. [I]n 1994, millions of California's voters, by a margin of 59% to 41%, voted in favor of denying "free" welfare, education and other benefits to illegal immigrants on the clear logic that a burglar who breaks into someone else's home doesn't have the right to eat the owner's food. It was a legitimate decision for a people to make, given that in any democratic system, the participants have the right to control the purse. But [Governor] Brown's statements and those of his political allies, including those in the press, suggest an imperial contempt for the will of California's voters.

Pension 'spiking' to cost CalPERS nearly $800 million, controller says. Taxpayers and local governments are on the hook to pay nearly $800 million stemming from "legal" pension spiking over the next two decades, the state controller said Tuesday [9/9/2014]. The price tag came as Controller John Chiang issued a new audit of the California Public Employees' Retirement System. The audit of 11 state and local government agencies found no illegal pension spiking but concluded that the country's largest public retirement fund makes itself vulnerable to the practice by not aggressively reviewing its 3,100 member agencies' payroll records.

Nearly 1 in 10 California workers are here illegally, study finds. A report released Wednesday [9/3/2014] by researchers at USC found that immigrants who are in California illegally make up nearly 10% of the state's workforce and contribute $130 billion annually to its gross domestic product. The study, which was conducted in conjunction with the California Immigrant Policy Center, was based on census data and other statistics, including data from the Department of Labor and the Department of Homeland Security. It looked at a variety of ways the estimated 2.6 million immigrants living in California without permission participate in state life.

California Rep. On Drought: Democrats Believe 'Fish Are More Important Than People'. Rep. David Valadao (R-Bakersfield) lashed out at Democrats, including congressional opponent Amanda Renteria, on California's urgent drought problem, saying Democrat policies will fail to provide relief for millions of Central Valley residents living with severe water shortages. [...] Valadao is not the only one in the district blasting the allocation of water resources. Area farmers are angry after the U.S. Bureau of Reclamation began releasing 25,000 acre-feet of water from Northern California's Trinity Lake to help protect the native salmon population on Saturday [8/30/2014], even as farmers have repeatedly asked for more water to help grow food.

CA Lawmakers Aim To Ban English Only Instruction in Public Schools. On Tuesday [8/26/2014], a few hours after Mexican president Enrique Pena Nieto said that Illegal Aliens deserve justice in the USA and Gov. Jerry Brown welcomed all illegal immigrants to California, lawmakers in Sacramento passed a proposed ballot measure seeking to dismantle the English-only mandate for public schools and increase multilingual education programs.

Gov. Jerry Brown Reveals That California Has Just Seceded From the Union and is Now Part of Mexico. This Democrat Party is completely out of control. It has succeeded in its century-long quest to fundamentally transform destroy our form of government.

Liberals love freedom of expression — until they disagree with it.
CA Looks To Ban Confederate Flag. A bill sits on Gov. Jerry Brown's desk to ban California from displaying or selling the Confederate flag or objects with images of it. The state's Legislature passed the bill nearly unanimously last week. Assemblyman Isadore Hall III, D-Compton, introduced the legislation after his mother discovered the Capitol gift shop sold a replica of Confederate money that contained a picture of the flag, according to the L.A. Times. The lone dissenting vote among the 67 cast was from former California GOP gubernatorial candidate Tim Donnelly of Twin Peaks. He argued the bill would infringe on free speech.

Gov. Jerry Brown To Mexican Illegals: 'You're All Welcome In California. On Monday evening [8/25/2014], California Governor Jerry Brown said all Mexicans, including illegal immigrants, are welcome in California. According to the Los Angeles Times, while introducing Mexican President Enrique Peña Nieto, who said America is "the other Mexico," Brown "spoke about the interwoven histories of Mexico and California." He "nodded to the immigrants in the room, saying it didn't matter if they had permission to be in the United States." "You're all welcome in California," Brown reportedly said.

Another Dumb Idea From Los Angeles. The city of Los Angeles is considering paying voters to encourage turnout. Needless to say, it's a ridiculous idea that will reward low-information voting, foster political demagogues and breed corruption.

California AG Kamala Harris to appeal ruling against death penalty. A federal judge's "flawed" decision declaring California's enforcement of the death penalty unconstitutional will be appealed, state Atty. Gen. Kamala D. Harris announced Thursday [8/21/2014]. Harris will ask the U.S. 9th Circuit Court of Appeals to overturn last month's ruling by U.S. District Judge Cormac J. Carney, who said decades-long delays and uncertainty about whether inmates will be executed violated the Constitution's ban on cruel or unusual punishment. Harris personally opposes the death penalty but promised voters she would enforce it.

CA Supreme Court Rejects Dems' Anti-'Citizens United' Ballot Measure. On Monday [8/11/2014], the California Supreme Court blocked an "advisory" ballot measure that Democrats had hoped to include on the November ballot, with a view to increasing turnout among apathetic voters. The non-binding measure, Proposition 49, asked voters if they felt the Supreme Court's 2010 Citizens United ruling should be reversed.

Jerry Brown: Affluent Families Not Producing' Children. Giving what was dubbed the "California Welcome," Gov. Jerry Brown told attendees at the 31st Annual National Association of Latino Elected and Appointed Officials Conference in June that affluent families seemed to not be "producing" children in the state. "I don't know what the affluent families are doing," Brown said. "They're not producing or something, because half the kids in schools are from low-income families."

The Editor says...
Get a clue, Governor. ALL of the kids in public schools are from low-income families. Anybody with any money sends their kids to private schools. Like Mr. and Mrs. Obama, for example.

California Releases Thousands of 'Lifers' from Prison. California continues to stretch the imaginations of non-liberals. One unthinkable policy is Governor Brown's policy by which thousands of presumably dangerous prisoners originally sentenced by juries to life sentences in the slammer are being set free. A Friday [8/8/2014] radio segment on the California Report was downright cheery about cons being released into local communities. [...] In other words, don't be scared, little citizens — the murderers and rapists have been taught techniques in anger management.

Is Big Labor Keeping The L.A. Water Dept. From Replacing Old Pipes? Not an outlandish question. The water main that broke near UCLA last week was ninety years old, which isn't unusual here in the City of Angels. The only things more common than fault lines running under this city are ancient water pipes. It's a situation that even the mayor admits isn't going to get better soon. As is typical with bureaucracies, the problem is blamed on a lack of money. As is also typical with bureaucracies, it is really more a problem of prioritization and budgeting than available funds.

Diaper duty for Calif. taxpayers? Bill would create new welfare program. California is weighing a first-of-its-kind welfare program that would subsidize diapers for needy families, though some lawmakers say the plan's a stinker. Assembly Bill 1516, written by Assemblywoman Lorena Gonzalez, a Democrat from San Diego, would create the taxpayer-backed program within the state's existing welfare network, called CalWORKs (California Work Opportunity and Responsibility to Kids). Families that qualify for CalWORKS could be eligible for $80 a month to buy diapers for children under the age of 2.

One of Obama's big ideas for reforming health care failed a test in California. "We need to bundle payments so you aren't paid for every single treatment you offer a patient with a chronic condition like diabetes, but instead paid well for how you treat the overall disease," Obama told the crowd of physicians. Obama was articulating what would become one of the key payment reforms in his health care law — a proposal aimed at giving incentives to providers to control costs by rewarding them for providing less expensive care. But a study published in the journal Health Affairs looked at an ambitious three-year pilot program of bundled payments in California that was funded by a $2.9 million grant from Obama's 2009 economic stimulus package — and found that the program was such a massive failure, it could hardly get off the ground.

Health premiums soared, Insurance Commissioner Dave Jones says. The cost of health insurance for individuals skyrocketed this year in California, with some paying almost twice what they did last year, the state's insurance commissioner said. But Insurance Commissioner Dave Jones predicted that insurers will ease up in the coming year to prevent California voters from approving tough new rate controls on the November statewide ballot as Proposition 45. Insurers and opponents of Proposition 45 dismissed Jones' comments as misleading and politically motivated.

The Editor resorts to mocking derision:
That's brilliant! As long as they're at it, why not limit the price of gasoline to a dollar per gallon?

Divided they stand? Billionaire in push to carve up California into six states. A billionaire tech investor says he has enough backing to put on the ballot a plan to split California into six states. Timothy Draper, a venture capitalist founder of a Silicon Valley-based venture capital firm that has invested in such tech companies as Twitter, HotMail, Skype and Tesla, told Reuters he has the 808,000 signatures needed on a petition to force the measure onto a public referendum in November 2016.

Almonds Are Sucking the Life Out of California. The new California gold rush is a bit, well, nutty: According to USDA predictions reported Monday [7/14/2014], farmers will harvest a record 2.1 billion pounds of almonds this year. That's great news for almond-lovers, but not-so-great news for California, which produces 80 percent of the world's almonds. A single almond requires 1.1 gallons of water to produce, and seeing as the state is currently in the middle of a devastating drought, that's water farmers have to drill deep for — 2,500 feet deep, in fact.

California Removes 'Husband' and 'Wife' from California Marriage Law. One word can make all the difference when it comes to definitions. Exhibit A: exchange the words "husband and wife" for a more inclusive term, and you have the phrase "I now pronounce you spouses." In the state of California, they are paying special attention to keep their vernacular as progressive as possible. Governor Jerry Brown (D) signed a bill Monday [7/7/2014] to formally make marriage gender-neutral to reflect the state's allowance of same-sex unions.

California's Hydromania. We had a wonderful water storage system for 23 million people in 1980. But it proved completely inadequate for the 40 million plus of 2014, who assumed household and drinking water, irrigation supplies, and clean hydroelectric power came out of thin air.

Well drilling boom in the West. Erected on the edge of hundreds of acres of crops in Kern County, Calif., crews are currently working around the clock on a massive well. At first glance, you may think they're drilling for oil. But this project is digging for something of a different value. Third generation farmer Devon Yurosek and his family have invested heavily in the two thousand foot water well on their farmland. In the midst of the worst drought in California's history, the Yuroseks need water to help grow pistachios, pomegranates and cherries. Their well is just one of a number popping up throughout the area.

Californians Keep Up With Joneses' Water Use. In five months since the drought emergency was declared, Californians have cut their water consumption only 5 percent compared with recent years, according to state officials — a far cry from the 20 percent that Gov. Jerry Brown called for in January. So, faced with apparent indifference to stern warnings from state leaders and media alarms, cities across California have encouraged residents to tattle on their neighbors for wasting water — and the residents have responded in droves. Sacramento, for instance, has received more than 6,000 reports of water waste this year, up twentyfold from last year.

Advocates of splitting California into six states gathering signatures. Advocates for Six Californias, a plan to split the Golden State into a half dozen separate states, are holding a petition drive this weekend to get their plan on the ballot in 2016. The idea is the brainchild of Timothy Draper, a venture capitalist from Menlo Park — or as he hopes to some day call it, the state of Silicon Valley. Draper has sunk $2 million into signature gathering for the proposal.

Vergara Case Is California's Education Earthquake. [Scroll down] Teachers gain lifetime tenure after just 18 months, before their training is even done. It's almost impossible to dismiss them, no matter what their transgressions — perversion, drug dealing, child pornography, sexual assault, you name it. The regulations are so cumbersome, it's impossible to fire anyone. There's also a layoff system that ensures that seniority trumps performance, resulting in top-performing teachers being laid off over under-performing deadwood who've just been on the job longer. It's a Mafia-like protection racket for the worst of the worst.

California Tops List of 10 States With Highest Taxes. The Tax Foundation has ranked the states by their state income tax rates and among the highest are California, Hawaii, and Oregon.

CA Legislators Are Highest Paid in USA. Stateline's data, which indicated California legislators are averaging a base salary of $90,526 per year, is a few months old, and that base salary will be raised to $95,291 in December as a result of a decision last year by the California Citizens Compensation Commission. The Commission is also considering a further raise. In addition, the legislators receive an additional tax-free "per diem" of $141.86 per day every day the Legislature is in session. The closest average salary to the California legislators is in Pennsylvania, where the average salary is $84,012.

Environmentalists Cheer California's Latest Plan to Sink Its Economy. Environmentalists are gleeful at the news reported last week by the U.S. Energy Information Administration that the amount of recoverable oil from California's Monterey Shale formation — predicted to be the nation's largest reserve of oil — is a whopping 96-percent below original production estimates. In response, more than 100 environmental groups signed a letter to the California Legislature calling for a moratorium on hydraulic fracturing and other "stimulation" techniques that ultimately would be needed to develop this oil field. They say the new estimates are "undercutting the misguided rationale" for allowing fracking before more studies are done.

Vergara v. California: The Most Important Court Case You've Never Heard Of. This school year, parents learned a tough lesson: The only force on behalf of the public interest is an interested public. And sometimes the students show us the way. Nine public school children have been courageously taking on the government in California, where their right to a sound education is rooted in the Constitution. A judge's decision is expected soon, and their lawsuit is being watched closely in education circles.

California takes first step toward curtailing water rights. Some farmers and community water districts in drought-hit California could soon face limits on their ability to use water from strained streams that flow into the Sacramento River. The California Water Resources Control Board adopted regulations on Wednesday to limit water use during summer months, the driest season and the time of year when farmers are most likely to need water to irrigate their crops.

Southern California City May Drop Lawsuit Against Sriracha Sauce Maker. The mayor of Irwindale said he will ask the City Council to drop the public-nuisance order and lawsuit against the maker of Sriracha hot sauce, possibly bringing the months-long conflict to an end. The move comes after members of Gov. Jerry Brown's office visited the sauce factory.

The Editor says...
The factory had been recently visited by elected officials from Texas who were actively trying to lure the factory away from California. That would be a really good reason to drop the lawsuit.

Sriracha CEO Compares California to Communist Vietnam. David Tran is the founder and CEO of Huy Fong Foods, the maker of the famously tasty Sriracha hot sauce. Grappling for months with regulators and politicians in southern California about the spicy scents that his factory emits, Tran recently compared meddlesome government to that of a communist country. It might sound hyperbolic, but he does know a thing or two about living under the nightmarish bureaucracy of a red utopia. NPR explains that Tran "escaped" Socialist Republic of Vietnam and "its many intrusions" three decades ago to start a new life in The Land of the Free.

Sriracha battle over: Victory for chili as council throws out 'public nuisance' declaration and lawsuit against hugely popular hot sauce factory. In a victory for chilli fans around the world, a town that is home to the fiercely popular Sriracha hot sauce company has removed its status as a "public nuisance" and thrown out a lawsuit that threatened to halt its production. The simple piquant condiment that inspired a global community of foodies — and whole books of dedicated recipes — had been in undeniably hot water following complaints from local residents.

In California we don't trust. It may come as little surprise that Californians are not very trusting of their state government. After all, Californians have had to deal with more than our fair share of budget crises, tax increases, corruption, mismanaged agencies and boondoggle projects. Given that California residents have been conditioned for many years to accept this as the normal state of affairs, it may astound some of us to learn that most other state governments have earned far greater levels of trust from their citizens.

Atheists win prayer battle against California city council. Atheists who complained about pre-meeting prayers conducted by members of the Pismo Beach City Council in California can now claim a win. Council members say they're going to stop saying prayers at public meetings and that the volunteer chaplain will no longer be invited to give the opening invocations, The Blaze reported. They've also agreed to pay a symbolic settlement of $1 to each of the the two plaintiffs — and another $47,500 to cover the two plaintiffs' legal fees.

Bill Encourages Schools To Teach About Racial Significance Of Obama's Presidency. A bill that passed the Assembly with unanimous bipartisan support Thursday encourages California schools to teach students about the racial significance of Barack Obama's presidency.

Calif. moves to ban judges affiliated with Boy Scouts. California is proposing to ban members of the Boy Scouts of America (BSA) from serving as judges because the Boy Scouts do not allow gay troop leaders, The Daily Caller has learned. In a move with major legal implications, The California Supreme Court Advisory Committee on The Code of Judicial Ethics has proposed to classify the Boy Scouts as practicing "invidious discrimination" against gays, which would end the group's exemption to anti-discriminatory ethics rules and would prohibit judges from being affiliated with the group.

Two Dems Accuse Party Leaders in CA-33 of Changing Rules to Favor Wealthy Insiders. Two Democratic Party candidates in the primary race for California's 33rd congressional district in West Los Angeles have accused local party officials of using an arbitrary fundraising minimum to favor established insiders — then raising that minimum at the last moment to exclude them from a recent candidates' forum.

California Unemployment Holds Steady at Dismal 8.1%. In March, according to the Los Angeles Times, the rate was 8.1%. In February, it was exactly the same. The Bureau of Labor Statistics reported that the state only added 11,800 net new jobs in March, many of them in construction, government, education, and health services. [...] While California remained miserable, unemployment rates in 17 other states rose.

Drought-stricken Calif. farmers to get more water. Drought-stricken California farmers and cities are set to get more water as state and federal officials ease water cutbacks due to recent rain and snow, officials announced on Friday [4/18/2014].

Asians Derail Affirmative Action In California. The express train hurtling to return racial preference admissions to California — in the form of State Constitutional Amendment 5, which if placed on the ballot and approved by voters would have overturned Prop. 209 — has just been derailed by an outburst of opposition from Asian Americans. The eruption of opposition caught SCA 5's Democratic sponsors by surprise and caused a crucial three Asian American senators to withdraw their support, depriving the measure of the two thirds senate majority required to place an initiative on the ballot.

Racial spoils system starting to fall apart in California. California's ruling Democrats are in danger of splintering their coalition over an attempt to re-introduce affirmative action, which has been banned ever since the passage of Proposition 209 in 1996, which banned the use of racial preferences by the state, including in higher education.

California Democrats Await Fallout After 3 Are Caught Up in Scandals. One state senator was charged with conspiring to traffic in arms from the Philippines, and taking bribes from undercover F.B.I. agents including one who posed as a marijuana dealer. Another was accused of taking bribes from federal agents impersonating Hollywood film executives. And a third was convicted of perjury and voter fraud after lying about where he lived when he ran for office. All three are Democratic state senators from California, and their recent legal problems have brought rare bad news to a party that has come to thoroughly dominate politics in this state but now looks besieged by high-profile corruption cases.

Why did 287,000-plus Californians vote for Leland Yee? One of the odder stats of Election Night: As of Wednesday morning, 287,590 Californians had cast ballots for indicted state Sen. Leland Yee for secretary of state. That's good for nearly 10 percent of the vote. That's also more votes than five other secretary of state candidates who haven't been indicted received.

The poster boy for liberal hypocrisy ignored by national media, but outrages San Francisco. The liberal media are trying to ignore his arrest, but California State Senator Leland Yee is such an amusing piñata of liberal hypocrisy that even his home town liberal newspaper is joining in the mockery fun. [...] Outlets like CNN which ignore this embarrassment to liberals do so at their peril.

Corruption Costs Dems Their Supermajority in California. Two years ago, California Democrats celebrated victory in a decades-long struggle to win a supermajority in the Legislature, where a two-thirds majority is required for any tax increase. It was the latest chapter in a long descent into inconsequence by California Republicans, who hold no statewide offices and party registration of only 29.3 percent of the voters. But corruption has achieved what the Republicans could not. The supermajority is now down the drain as three of the Golden State's 27 Democratic state senators have within the past two months been convicted or indicted on charges ranging from bribery to gun-running.

Gov. Jerry Brown calls for Democratic senators to resign. Gov. Jerry Brown called on three scandal-plagued state senators to resign on Friday, speaking out for the first time on a series of criminal cases that have sapped Democrats' power in the Capitol and tarnished the Legislature's image.

California Dems Worried Their Corruption Scandals Will Benefit GOP. The unethical and illegal behavior of Democratic state senators in California, where Democrats have total control of the state legislature, is giving the state's Democratic Party concerns that the GOP may use the misbehavior to regain power. Since the beginning of 2014, every month has featured a Democratic state senator either being arrested or convicted. The latest arrest came Wednesday, as Sen. Leland Yee of San Francisco was arrested on federal corruption charges.

California state senator arrested in FBI raids along with Asian gang leader known as 'Shrimp Boy'. State Sen. Leland Yee and Raymond Chow, were taken into custody after a series of raids by federal and gang task force officials, but the charges against them remained undisclosed.

California state senator Leland Yee arrested in FBI sweep. A longtime California politician who was praised for his efforts to make government more transparent and authored gun control legislation was arrested Wednesday, accused of conspiracy to deal firearms and wire fraud. The allegations against State Sen. Leland Yee were outlined in an FBI affidavit in support of a criminal complaint against him and 25 other people. The affidavit was unsealed on Wednesday, as Yee was scheduled to appear in court.

California state senator arrested in FBI sweep. A prominent California lawmaker was arrested on Wednesday in an FBI sweep that netted 26 people, a high-profile case that could affect statewide elections and brings to three the number of Democratic state senators who face criminal charges this year.

California city approves highest-in-state $12.30 minimum wage. The Richmond City Council voted 6-1 on Tuesday [3/18/2014] in favor of an ordinance that would raise minimum hourly pay in the city to $12.30 an hour by 2017.

California Seeks to Redefine Consensual Campus Sex as Rape. In endorsing a bill in the California legislature that would require "affirmative consent" before sex can occur on campus, the editorial boards of the Sacramento and Fresno Bee and the Daily Californian advocated that sex be treated as "sexual assault" unless the participants discuss it "out loud" before sex, and "demonstrate they obtained verbal 'affirmative consent' before engaging in sexual activity." [...] Defining sex as rape merely because there was no verbal discussion in advance trivializes rape and brands innocent people as rapists (including some people who themselves have been sexually victimized in the past). Disturbingly, it's not just sex they want to regulate, but also "sexual activity" in general.

A law so stupid California legislature seeks to repeal it two months after it took effect. California's state legislature is seeking to repeal an idiotic law that took effect January 1st. It turns out that some feel-good regulatory efforts generate enough blowback that they can actually be reversed.

Gas Prices May Jump From California Emissions Law. California's greenhouse gas reduction law already has shaken up the state's industrial sector, costing it more than $1.5 billion in pollution permit fees.

Grieving California mom takes down cross on road after group's protest, more appear. A grieving California mom who, under pressure from an atheist group, went to the site where her son was killed to remove a memorial cross was met at the scene by a throng of supporters who planted crosses of their own. "They said they have to take that one down," Doug Johnson, a Riverside resident who traveled to the site with his daughter and six home-made crosses, told The Riverside Press-Enterprise. "But they didn't say anything about putting another one up."

California's Drought Isn't Due To Global Warming, But Politics. President Obama visited California's drought-hit Central Valley Friday, offering handouts and blaming global warming. But the state's water shortage is due to the left's refusal to deal with the state's water needs.

California auto buyers favor Toyota Prius; rest of U.S. prefers trucks. Toyota's Prius was the best-selling vehicle in the state for the second consecutive year in 2013, highlighting California's radically different taste in automobiles. Nationally, Ford's F-Series truck has been the bestselling vehicle for more than three decades. The Prius ranked 16th in sales nationally.

Court overturns restrictions on concealed guns in much of California. In a significant victory for gun owners, a divided federal appeals court Thursday [2/13/2014] struck down California rules that permit counties to restrict as they see fit the right to carry a concealed weapon in public. The 2-1 ruling by a U.S. 9th Circuit Court of Appeals panel would overturn restrictions on carrying concealed handguns, primarily affecting California's most populated regions, including Los Angeles, Orange County, San Diego and San Francisco.

Parched California's Worst Water Enemy: Its Governor. California Gov. Jerry Brown has blasted as "unwelcome and divisive" a desperately needed drought-relief bill in Congress that will likely win in the House soon. That's rich coming from a man who's done nothing.

Kiddie Porn Does Not Count as "Moral Turpitude" to S.F. Govt.. A former high-ranking San Francisco government employee convicted of felony possession of child pornography will continue to receive his government pension because, according to city regulations, evidence of "moral turpitude" is required to revoke a pension yet viewing violent kiddie porn does not qualify as moral turpitude.

Caltrans accused of trying to hide Bay Bridge problems. A Caltrans engineer and an outside expert working on the Bay Bridge eastern span accused agency officials of discounting warnings about cracked welds on the bridge, and telling them not to put their concerns in writing to keep them from becoming public, according to a report commissioned for a state Senate committee.

California Agency Plans 'Green' Car Vouchers for the Poor. One longtime critic of federal transportation spending once concluded that it would be less expensive for the government to buy every new transit rider a Jaguar XJ8 than it would be to build certain new rail systems. Unfortunately, California officials may not have realized that the idea of buying people new cars wasn't a serious proposal as much as a way to illustrate a point about excessive spending.

California Adopts Failed Venezuelan Model Of Energy Management. In California, energy officials warn that the state and others like it face a catastrophic collapse of its power grid due to the many green energy schemes that have made managing energy flow difficult. "Energy officials worry a lot these days about the stability of the massive patchwork of wires, substations and algorithms that keep electricity flowing," reported Evan Halpert in Tuesday's [12/03/2013] Los Angeles Times, citing wind, solar and geothermal energy coming online. At a minimum, higher costs would be a certainty as officials attempt to mitigate the effects of their own green energy policies, if not a total grid collapse.

Slow Motion Gun Confiscation in California. California has established gun confiscation squads that move through California confiscating guns that were registered. As predicted in the essay "Gun Registration is Gun Confiscation" written in 2000, gun confiscation is not being implemented in massive door to door searches, though such confiscations have happened in recent history, such as in the Philippines in 1972, and even during a flood in Canada this year (2013).

Do single-family homes threaten the planet? A plan to squeeze most residents of the San Francisco Bay Area into multifamily housing offers a test case of whether land-use bureaucracies nationwide, encouraged by the Obama administration, should be allowed to transform American lifestyles under the pretext of combating climate change. Currently, 56 percent of households in the nine-county Bay Area live in single-family homes. That number would drop to 48 percent by 2030, under a high-density development blueprint called Plan Bay Area, recently enacted by the Association of Bay Area Governments and the region's Metropolitan Transportation Commission.

California's alternative-energy program under scrutiny. California is spending nearly $15 million to build 10 hydrogen fueling stations, even though just 227 hydrogen-powered vehicles exist in the state today. It's a hefty bet on the future, given that government officials have been trying for nine years, with little success, to get automakers to build more hydrogen cars. The project is part of a sprawling but little-known state program that packs a powerful financial punch: It spent $1.6 billion last year on a myriad of energy-efficiency and alternative-energy projects.

California's Brown Signs Bill Permitting Non-Physician Abortions. The legislation, which had been pushed vigorously by Planned Parenthood, had been strongly opposed by pro-life groups and some physicians, arguing that it amounted to legalizing back-alley abortions for profit.

Brown signs bill to allow children more than two legal parents. Gov. Jerry Brown signed legislation Friday that will allow children in California to have more than two legal parents, a measure opposed by some conservative groups as an attack on the traditional family. Sen. Mark Leno (D-San Francisco) said he authored the measure to address the changes in family structure in California, including situations in which same-sex couples have a child with an opposite-sex biological parent.

Showing Contempt For Its Citizens, California Issues Driver's Licenses To Illegals. California's new law letting illegal aliens have driver's licenses represents a shift in ruling-class priorities from the interests of citizens to those of politically well-organized pressure groups.

Brown vetoes bill to allow non-citizens on juries. Gov. Jerry Brown has vetoed a bill that would have made California the first state in the nation to allow non-citizens who are in the country legally to serve on jury duty.

Jerry Brown: Illegal Immigrant Driver's Licenses [are] 'Only the First Step'. It's been a whirlwind month for Gov. Jerry Brown -- four weeks in which the California chief executive's desk saw an anti-paparazzi bill and a bill to allow non-physicians to perform abortions, and he himself lofty praise in Rolling Stone. The latest bill to pass his desk, granting illegal immigrants the ability to apply for driver's licenses in the state, is "only the first step" of a national movement, the governor told a crowd yesterday [10/2/2013].

Gov. Brown signs another bill easing conditions for immigrants. Law enforcement officials in California who arrest immigrants in the country illegally will be prohibited from detaining them for transfer to federal authorities unless they committed a serious crime under one of several bills signed Saturday by Gov. Jerry Brown to ease conditions for immigrants.

California grants driver's licenses to illegal immigrants. California's governor signed a bill Thursday [10/3/2013] granting illegal immigrants driver's licenses, in a decision immigrant rights groups hailed as a major step forward for their movement. The country's largest state becomes the latest to reverse course and grant legal driving privileges to illegal immigrants.

For California's Illegal Immigrants, a Great Week. On September 4, in a shocking vote to undermine safety and to erode federal immigration law enforcement, the California Assembly passed AB 4, the so-called TRUST Act. AB 4 would prohibit state and local police from honoring U.S. Immigration and Customs Enforcement detainers in all but the most extreme cases. An ICE detainer advises a state or local law enforcement agency that it seeks custody of a criminal alien for arrest and removal. However, when ordered by the state to ignore ICE detainers, local jails must release criminals back onto the street where they can continue their lives of crime.

Don't tell mom the babysitter's unionized. If Assemblyman Tom Ammiano has his way, your babysitter soon could join a union and cost you a lot more. The San Francisco Democrat has authored several domestic-worker unionization bills that have been vetoed by California governors. Now he's back with Assembly Bill 241, which just passed both houses of the Legislature and is awaiting a signature or veto from Gov. Jerry Brown.

California becomes first state in nation to regulate ride-sharing. California regulators have approved the nation's and state's first rules for fast-growing ride-sharing companies that connect passengers to drivers via smartphones.

California passes 'job killer' increase in minimum wage to $10. While the Economic Policy Institute estimates that the wage increase will affect more than 2.3 million California workers, groups like the California Chamber of Commerce opposed the bill, calling it a "job killer" that will drive up business costs "worse than any predicted rate of inflation increase."

California governor to sign driver's license bill for illegal immigrants. California Governor Jerry Brown said on Friday he would sign a bill authorizing the state to provide driver's licenses to illegal immigrants, a last-minute reversal of his position.

Ice cream parlor permit hassles chilling. Tuesday is inspection day for building owner John Vicars. He's got a commercial property on College Avenue, right in the heart of Oakland's busiest shopping district. His quest is simple: to see an ice cream parlor opened on the ground floor of the building. But his journey has been a regulatory nightmare. It's taken him nine months to prepare 1,700 square feet of retail space to the city's satisfaction — at least to where they were satisfied enough to actually come out to inspect it.

California Raises Minimum Wage to $10 an Hour. The California legislature has passed a bill that will raise the state's minimum wage to $10 an hour within three years, giving California one of the highest state minimum wage rates in America.

California Legislature OKs minimum wage boost. A bill that would boost California's minimum wage to $10 an hour by 2016 won approval by the state Legislature on Thursday [9/12/2013] and was sent to Gov. Jerry Brown, who said he would sign it. The measure would raise the current $8 minimum wage to $9 an hour next July 1 and to $10 on Jan. 1, 2016.

CA Mulls Allowing Non-Citizens to Work Polling Stations as Translators. The State of California is seriously considering allowing non-citizens work at polls throughout the state during elections. The Sacramento Bee reported weeks ago that the California Legislature has passed a bill that would let non-citizens who are "lawful permanent residents who meet all the other requirements for being eligible to vote except for citizenship" work at the polls.

California poised to implement first electronic license plates. The idea is that rather than have a static piece of printed metal adorned with stickers to display proper registration, the plate would be a screen that could wirelessly (likely over a mobile data network) receive updates from a central server to display that same information. In an example shown by a South Carolina vendor, messages such as "STOLEN," "EXPIRED," or something similar could also be displayed on a license plate.

The Editor says...
It sure is comforting to know that such a system could never be hacked by some guy with a laptop and a transmitter to make the plates display offensive words, or somebody else's license plate number. Why would somebody do that? Because license plate readers are the only means of toll collection on many highways. Bank robbers would love to be able to change the plate number every half mile. Once again, the California legislature has come up with a brilliant idea that has been carefully thought out.

America the Trivial. At the end of two years of near-record drought in California, the fate of hundreds of thousands of acres of irrigated farmlands, which feed millions of Americans and earn billions of dollars in critical foreign exchange, hinges on a snow-filled winter in the Sierra Nevada. You might never know of that razor's edge from the state legislature. Rather than discussing new dams and canals, it debated whether transgendered youth in public schools could use the bathrooms of their choice and whether residents should need a permit to buy ammunition.

California insurance commissioner: We could "have a real disaster on our hands" with identify theft, fraud, and abuse. California rushed headlong into the implementation of ObamaCare, eager to be the first model state to show off the many wonderful ways in which the law was ostensibly meant to work. [...] Besides the very glaring problems of sharply higher insurance premiums and major insurers fleeing the individual insurance market for via-employer insurance only, their "Covered California" exchange's administrators are realizing that there's another predicament in the works.

Fraud fear raised in California's health exchange. As California prepares to launch its health care exchange, consumer groups are worried the uninsured could fall victim to fraud, identity theft or other crimes at the hands of some of the very people who are supposed to help them enroll.

Delta Project: California's Latest Environmental Boondoggle. Judges have routinely stopped the water flows out of the Delta toward the dry but agriculturally rich San Joaquin Valley and toward Southern California's massive metropolises, to help a tiny endangered baitfish known as the Delta Smelt. The smelt is viewed as the canary in a coal mine, a bellwether for the ecological health of the waterways. Millions of smelt are killed each year as they get caught in the giant pumps near Tracy, near the south end of the Delta. Environmentalists also express concerns about the level of saltwater that moves inland from the Pacific Ocean.

California Board Seeks to Ban Iconic Beach Firepits. California's South Coast Air Quality Management District is proposing to give cities the authority to outlaw fire pits within their jurisdictions if they find the fires are nuisances. The proposal jeopardizes one of the iconic images of California's surfer culture, where surfers often end the day around a fire pit on the beach. The government proposal reflects American Lung Association opposition to beach fires, claiming they release too much air pollution.

Fracturing in California. Few issues divide Democrats more than energy policy, as we've learned as unions and environmentalists fight over the Keystone XL pipeline. More evidence now comes from California, where greens have lost an attempt to ban oil and gas hydraulic fracturing. Democratic leaders brought their fracking moratorium bill to the Assembly floor last week, and their rank and file revolted. The bill lost 37-24, with 12 Democrats joining 25 Republicans to defeat it.

California bill would fine big firms whose workers get Medi-Cal. For years, politicians and labor unions have pilloried Wal-Mart and other large employers for paying workers so little that many qualify for government health insurance at taxpayers' expense. Now critics fear the public will get stuck with an even bigger tab as California and other states expand Medicaid as part of the federal healthcare law.

Irvine, Calif., City Workers Average $143,691 in Total Compensation. Employees of the City of Irvine, Calif., received total compensation averaging $143,691 in 2012, according to a study published by the California Public Policy Center. Median total compensation, which means half of the Irvine city employees received less than this amount, and half received more, was $133,782 during 2012.

Calif. bill would let non-citizens serve on juries. The California Assembly passed a bill on Thursday [4/25/2013] that would make the state the first in the nation to allow non-citizens who are in the country legally to serve on jury duty.

"Three-strike" lifers get a second chance in Calif. prisons. California prisons are so overcrowded that the U.S. Supreme Court ruled that the conditions amount to cruel and unusual punishment. The state is caught between a tight budget and its "three strikes" law, which imposes a life sentence after convictions. Last Fall, voters approved a plan to release some of those lifers. Proposition 36 allows three-strikers to ask judges to let them out early.

California Group Mails Condoms to 12-Year-Olds. The CFHC [California Family Health Council], a non-profit organization, has set up a website advertising its "Condom Access Project," where teens as young as 12 years old can receive free condoms in the mail.

To cut STD rate, California considers condoms in prison. California prisoners have unprotected sexual contact, forced or consensual, even if both are illegal, and this reality often leads to the spread of HIV and other diseases in prisons and in communities where felons are paroled.

The Editor says...
Apparently the State of California is saying that prison rape is inevitable, so you'd better have a condom on hand.

America's most dishonest neighborhoods revealed. America's top tax dodging hotspots have been revealed with about a third of fraudsters in California. Neighborhoods including Beverly Hills and Newport Beach in California, New Carrollton, Maryland and College Park, Georgia, were among the potential tax evasion clusters targeted for auditing, according to confidential IRS data. They were identified by the National Taxpayer Advocate using the IRS's confidential tax return data. In all, researchers identified areas of possible tax cheats in more than 350 communities in 24 states.

CA Crime Skyrockets in Wake of Brown's Prison Release Plan. In 2011, Governor Jerry Brown signed into law California Assembly Bill 109, a piece of legislation designed to relieve overcrowded prisons in accordance with a Supreme Court decision. AB 109 enshrined "realignment" into law — a plan to place supposedly "non-violent, non-serious, and non-sex offenders" in county jails rather than state prisons. In other words, local governments were handed the problem of prisoners the state didn't want to hold.

California 'Lumber Products Assessment' a tax by any other name. The clowns who frequent Sacramento's seedy bars and whorehouses, otherwise known as the members of the California State Legislature, have pulled off another midnight raid deep into the pocketbooks of all Californians. At least street thugs and bank robbers are a one-time occurrence; [...]

To the left, California is now the model for America. California's dominant Democrats can now raise taxes, float debt and expand government at will. Republican "obstructionism" forced the state's liberal leaders to control themselves, but that control is over. Every hare-brained idea will have at a high likelihood of passing. Democrats already are pushing a host of new taxes and proposals that will make it easier for local officials to raise taxes, also. So the taxing and spending has just begun.

State auditor: California's net worth at negative $127.2 billion. Were California's state government a business, it would be a candidate for insolvency with a negative net worth of $127.2 billion, according to an annual financial report issued by State Auditor Elaine Howle and the Bureau of State Audits. The report, which covers the fiscal year ending June 30, 2012, says that the state's negative status — all of its assets minus all of its liabilities — increased that year, largely because it spent more than it received in revenue.

California tied with Rhode Island for highest jobless rate. California's jobless rate was unchanged at 9.8% in January, and that lack of improvement put the Golden State in a tie with Rhode Island for the worst unemployment in the land.

Golden State's green jobs bust. President Obama, of course, has completely failed to deliver on this promise of 5 million new green-collar jobs. The entire U.S. economy has created only 1.2 million jobs since Obama was sworn into office, many of them in the fossil fuel extraction, production and distribution sector. But in Obama's defense, most of his green jobs agenda was killed. Cap-and-trade and renewable electricity mandates never made it through Congress. High-speed rail was killed off by governors in Ohio, Florida and Wisconsin. But where the rest of the nation has rejected all or most of these proposals, California has embraced them all.

Green state chokes off its middle class. Los Angeles' water-fueled growth permanently altered entire habitats, including, most famously, the Owens Valley, which once supported a lake and farming community. It is now a desert. Unfortunately, California environmentalists are trying to turn much of the Central Valley's farmland back into desert too. Thanks to the Endangered Species Act, federal courts have ordered farmers to divert hundreds of billions of gallons of water away from crops and into the Sacramento River, where it is supposed to help revive the delta smelt.

California's expensive education failure. According to RAND Corp., as late as the 1970s California's public schools still had an "excellent" reputation. Then, in 1975, Brown (in his first stint as California's governor) signed the Rodda Act, giving government unions the power to take money directly out of government employees' paychecks. The California Teachers Association quickly poured this new revenue stream into an organizing drive, more than doubling the union's ranks. The Golden State's politics have never been the same since — nor has the quality of its public schools.

California at Twilight. We keep trying to understand the enigma of California, mostly why it still breathes for a while longer, given the efforts to destroy the sources of its success. Let's try to navigate through its sociology and politics to grasp why something that should not survive is surviving quite well — at least in some places.

California Dept. of Transportation: 'Be Sure to Black Out the 'United States' and [the] Motto'. For three years, a private citizen named Steve LeBard has led the effort to build a privately funded memorial in Orcutt, California — a tranquil small town located on the Golden State's gorgeous Central Coast — to honor military veterans. And for the better part of those three years, he has run into a toxic blend of political correctness, anti-Americanism, and bureaucratic senselessness. Today, the memorial, which was to be built with private funds on a small piece of public land, remains unbuilt.

California testing limits of gun-control rules in wake of Newtown shooting. California already has the most restrictive gun laws in the nation. Buying a handgun requires registration, a safety certificate, a 10-day waiting period and a rigorous background check. All direct person-to-person sales are banned and concealed-carry permits are rare. But now, in the wake of the Newtown tragedy, lawmakers in the Golden State have launched into a new legislative frenzy to restrict firearms further.

California parks officials deliberately hid money, report says. Fear of embarrassment and budget cuts led California parks officials to intentionally conceal millions of dollars in a department account, according to an investigation conducted by the state attorney general's office. The report, released Friday [1/4/2013], is the most detailed official narrative yet regarding the root of the accounting scandal at the parks department.

For his next crisis. Saving the planet isn't easy — or cheap — especially in California. The state's anti-global-warming cap-and-trade program is the latest gimmick to leave it with yet another big hole to fill in its budget. The Golden State's new carbon-trading program is the world's second largest, after the European Union's. The stated goal is to cut greenhouse-gas emissions to 1990 levels by 2020 and another 80 percent by 2050. But California held its very first "carbon credit" auction last month — and it was a big disappointment.

Study: CA Worst-Governed State in America. According to a new study from 24/7 Wall Street, California is the worst run state in the nation ... for the second year in a row. The best run state is North Dakota.

The 11 Death Spiral States. Eleven states made Forbes' list of danger spots for investors including California, New York, Illinois, and Ohio. They warned (and with the cliff it is even more critical), if you have muni bonds in these states — clean up your portfolio; if your career takes you there — rent, don't buy!

Pulling billions out of thin air. As home to the entertainment industry and the land of make-believe, California is known for embracing fads. The latest rage among the Democrats who just won a supermajority sway in the Sacramento Statehouse may prove to be the most costly. California is starting its own cap-and-trade program, which taxes carbon-dioxide emissions and other "greenhouse" gases through a convoluted permit system. The Golden State could end up suffocating its golden goose with this scheme.

California's Road to Perdition. California was once the envy of everyone. But this promised land is now being controlled by a super-majority of leftists, and the liberal, pro-union Democrats have only one answer to California's woes: to raise taxes.

No Meat on Mondays in Los Angeles. The Los Angeles City Council is urging all residents to observe "meatless Mondays" from now on. A resolution adopted on Oct. 24 reads: "Be it resolved, that the Council of the City of Los Angeles hereby declares all Mondays as 'Meatless Mondays' in support of comprehensive sustainability efforts as well as to further encourage residents to eat a more varied plant-based diet to protect their health and protect animals."

California Grants Tesla $10 Million To Build The Model X Electric SUV. California regulators on Wednesday [10/10/2012] approved a $10 million grant to Tesla Motors to help manufacture its next electric car, the Model X sport utility vehicle. Tesla will pony up $50 million to match the California Energy Commission grant, which will be used to expand manufacturing capacity at its factory in Fremont, Calif., and to purchase equipment to make components for the Model X.

A Modest Proposal. California was once the land of opportunity, but it is going down the tubes. Several of California's prominent cities have declared bankruptcy, such as Vallejo, Stockton, Mammoth Lakes and San Bernardino. Others are on the precipice, and that includes Los Angeles, California's largest city. California's 2012 budget deficit is expected to top $28 billion, and its state debt is $618 billion. That's more than twice the size of New York's state debt, which itself is the second-highest in the nation.

The Obama Paradox. The bluest state is polling at a 20 to 24 point lead for Barack Obama. Who cares that it is struggling with nearly 11% unemployment and facing a $16 billion budget shortfall? What does it matter that its public schools rated variously from 45th to 49th in the nation and that it is home to one-third of the nation's welfare recipients, forty percent of the nation's illegal aliens, and the largest prison population in the country? If Ohio supposedly has a million Obama-phones, I shudder to wonder how many are in California.



And Will a Jesse James or Billy the Kid Elementary School Follow? California public schools for some time in many surveys of national testing have ranked 48th or 49th in the nation in math and science, and, inter alia, are part of the various impediments to robust economic growth in California. No matter — California school boards have better things to worry about.

California's chickens have come home to roost. [Governor] Schwarzenegger's proposals would have increased eligibility for teacher tenure from two years to five years in the classroom, made the use of union dues for political campaign contributions voluntary, imposed state budgetary spending limits and redrawn the state's school district funding formula, and reformed the states' redistricting system. The establishment couldn't have that, and so, in short order, the referenda were soundly defeated at the ballot box. [...] Fast forward to 2012, when California's debt has swollen to more than $117 billion according to data assembled by State Budget Solutions. Its unfunded union pension liabilities total more than $500 billion.

LAPD Chief Tells Officers to Ignore Federal Illegal Immigrant Law. In Los Angeles, where the distinctions between the citizen and the non-citizen are often little more than abstractions, they are one step closer to vanishing altogether. That such a thing should occur in Los Angeles comes as no surprise to anyone paying even the slightest attention to recent trends in the city's governance. Mayor Antonio Villaraigosa is famously sympathetic to the cause of illegal immigrants, and most members of the city council hold similar views.

California Governor Brown vetoes bill that allowed towns to release undocumented immigrants. California's governor has vetoed a bill that would have allowed police and sheriffs to free undocumented immigrants from custody once they became eligible for release even if federal immigration authorities had asked to hold them for possible deportation proceedings.

Millions in SF health fees don't go to workers. Restaurants and other businesses in this food-loving tourist mecca collected almost $14 million dollars in extra fees last year from their patrons, as they sought to comply with the progressive city's landmark universal health-care ordinance.

The not-so Golden State of America. In the 1850s droves of gold-hunters hoping to make it rich rushed into what would later be established as the Golden State. The pristine beaches, vast mountains and plenty of opportunity persuaded some to stay in the state. But now, California is facing a different kind of rush — one that is causing people to pick up and leave. The state boasts a population of more than 37 million. However, the Orange County Register reports that 870,550 people left the state between 2005 and 2009. "That's like the whole city of San Francisco just up and left," the article states. What is chasing people away?

California law barring parents from 'curing' gay children moves through legislature. A first-of-its-kind state law that would restrict parents from trying to "cure" their minor children's same-sex attractions seems headed to the governor's desk. If both state houses can agree on the final language, the legislation, which would ban all sexual orientation change effort (SOCE) treatment for minors, will be sent to Democratic Gov. Jerry Brown for his signature sometime in September. But, so far, there has been no indication from his office on whether he will sign the bill into law.

California to Issue Driver's Licenses to Illegal Immigrants. The California state Assembly on Thursday [8/30/2012] voted in favor of a bill that would permit the Department of Motor Vehicles to issue driver's licenses to illegal immigrants who are eligible for work permits under a new policy handed down from the Obama administration. The bill is on its way to Governor Jerry Brown's desk to be signed into law. Fox News reports, "Democratic Assemblyman Gil Cedillo of Los Angeles said he wrote AB 2189 to make roads safer, and allow young immigrants to drive to school and work." The bill passed in California's Assembly by a vote of 55-15 after it passed in California's Senate on Wednesday by a vote of 25-7. The only other states to issue driver's licenses to undocumented immigrants are New Mexico, Utah, and Washington.

California poised to grant driver's licenses to young illegal immigrants. California is on the verge of allowing hundreds of thousands of undocumented immigrants to receive driver's licenses for the first time in nearly two decades. The key question is how to do it. The issue of granting driver's licenses to undocumented immigrants has raged in the Legislature for much of the past decade, without resolution, but fighting is largely moot now due to a new federal policy.

Bias alert!
The "new federal policy" is the policy of only one man: Barack H. Obama.

There is no California. There is no such state. Instead there are two radically different cultures and landscapes with little in common, each equally dysfunctional in quite different ways. Apart they are unworldly, together a disaster.

California: First in Liberalism, Last in Everything Else. With decades of success earned with seemingly little effort, California seems to have decided that it can rest on its laurels. But the days when the state could live off of its looks are quickly drawing to a close, as a bevy of recent statistics show.

Justice Department opposes illegal immigrant's bid to practice law. An illegal Mexican immigrant who wants to be licensed to practice law in California has received support from the state's top law enforcement officer, the State Bar of California, civil rights groups, county bar associations and law professors — but not from the Obama administration. In a brief to the California Supreme Court, the U.S. Department of Justice said federal law prohibits giving a public benefit, such as a bar license, to an "unlawfully present alien."

California: Blue Twilight on the Pacific. California is in a hole but can't seem to stop its compulsive digging. Schools, universities, prisons, pensions, cities and towns: the state has lost the ability to manage even the most basic elements of communal living. But foie gras is now illegal there, grandiose plans for white elephant fast trains built with borrowed money waft through the air, and the state continues to boost the self esteem of affluent and cause-oriented gentry liberals by scattering scarce resources to the four winds, hunting unicorns when the cupboard is bare.

A Golden State train wreck. State Sen. Joe Simitian's district office near Stanford's campus is nestled among shops sporting excruciatingly cute names (A Street Bike Named Desire, Mom's the Word maternity wear) intended to make the progressive gentry comfortable with upscale consumption by presenting it as whimsical. This community surely has its share of advanced thinkers who think trains are wonderful because they are not cars (rampant individualism; people going wherever and whenever they want, unsupervised).

San Bernardino Files Emergency Bankruptcy Petition. San Bernardino on Wednesday became the third California city to declare insolvency, joining Stockton and Mammoth Lakes after officials say they filed an emergency petition for Chapter 9 bankruptcy.

Gastronomical Prohibitionists. In the Sermon on the Mount, Jesus tells his listeners that a man with a beam in his eye ought not to criticize another with a mere speck in his. The message: sort out your own crippling shortcomings before presuming to meddle in someone else's. It's good advice for an individual; it would be even better advice for the state of California. Good counsel, however, has a way of falling on deaf ears in the Golden State.

Bottled Water Going the Way of the 20-ounce Soda. The latest law to encourage use of refillable containers comes out of San Francisco. Their ultimate goal is to ban bottled water. San Francisco is a hardcore environmentalist city and they do not like plastic water bottles. The first step they are taking is to require new buildings with water fountains to install special bottle-filling taps. That would be the same water that comes out of your kitchen sink which is what bottled water drinkers don't want to drink. They also don't want anything to do with public fountains where so many have been before.

San Fran Area Drivers Could be Forced to Install GPS Devices That Tax Their Travel. On Thursday evening [7/19/2012], a controversial study in the San Francisco Bay Area will be voted upon that could require drivers to allow GPS devices to be installed inside their car. The ultimate goal? Not to see where they're going, but to evaluate how much they're driving — and consider taxing them for it. [...] The proposed Vehicle Miles Traveled (VMT) tax could cost as much as a dime per mile.

Penniless in Paradise. On the front door of the San Bernardino city hall is a sign that reads: "Out of Order." Broke city, broken door: There's a certain pleasing symmetry in the fact that the San Bernardino city council meets behind a door that, like the city government itself, does not work and is in need of replacement. On this particular evening in late July, the council has met to make public what everybody already knows: Intellectually bankrupt, morally bankrupt — the city is under criminal investigation for sundry financial shenanigans — San Bernardino is above all old-fashioned bankrupt bankrupt, a pitiful penniless pauper that cannot even afford a cup of coffee: Seriously — the coffee guy wants cash up front now and has stopped serving the municipal office building until the city makes good on its latte liabilities.

Welcome to California: America without Republicans. [Scroll down] What would America look like if the Republican "fever" did break? We already know. It would look a lot like the state of California, where no non-cyborg Republican has been governor since 1996. Democrats have also enjoyed complete control of the state legislature since 1997. And they have governed exactly the way you'd expect Democrats to govern. Spending has more than doubled, from $45.4 billion in 1996 to more than $92.5 billion today. Income, sales and car taxes have all been hiked. As a result, California has the most progressive income tax system in the nation, with seven income tax brackets, and the second-highest top marginal rate.

City of San Francisco Bans Apple Computers. San Francisco has earned a reputation for being, in certain regards, the nation's most permissive city, but even the City by the Bay has certain limits. Take, for instance, one's choice of computers: If you work for the city, you will not be allowed to procure an Apple using city funds. Why? Because the computer industry giant with its headquarters less than an hour away from San Francisco is not "green" enough.

California Eyes Multiple Parenting Law. California, the battleground state for the arguments for and against same-sex marriage, is now considering an unconventional law that would allow children to be legally granted more than two parents.

Hey California: Meet Wisconsin. In November of 2010 Californians rejected a candidate for Governor who pledged to do much of what Scott Walker has done, and instead elected a Governor who is bought and paid for by labor unions.

Labor Unions Suffer Defeat on Taxpayer Revolt. Californians, struggling with an $18 billion budget deficit, stuck with a Sacramento political class owned by Democrats who in turn are owned by labor unions, are facing a massive tax increase in November that will give California the unenviable distinction of having the highest per capita tax burden in the Country. Even modest efforts to reign in spending or do serious pension reform are easily thwarted by big labor lobbyists.

California's Proposition 32: Ending Union Dominance Of California Politics. Is union money distorting California electoral politics? Many think so. After all, public sector and trade unions are among the biggest donors in California elections. In the years 2000-2010 the California Teachers Association (CTA) was the single largest contributor to California politics, giving twice as much as the second-largest contributor, the California State Council of Service Employees.

California is about to hit the wall. The demography of California today is the demography of America tomorrow, just as the social and fiscal policies of California in the last decade mirror those of the U.S. government today. One-third of all U.S. wage-earners today have been amnestied from paying U.S. income taxes, as the top 1 percent haul fully 40 percent of that huge load. So, too, in California, the well-to-do and the wealthy are hammered, which is why many have quietly closed their businesses, packed and gone back over the mountains whence their fathers came.

California Still Dead. [Scroll down] That "new state law intended to reduce bankruptcy filings" was a transparent ploy by government employee unions to prevent cities from using insolvency protection to get out of crushing pension contracts. And it may not even have been necessary. As Steven Greenhut wrote after the city of Vallejo went belly up in 2010, even municipal bankruptcy doesn't seem to get taxpayers out of their solemn obligation to pay former government employees not to work.

California Digging. Ignoring the first rule of holes, a bankrupt state passing out IOUs welcomes an EPA waiver allowing it to further kill its economy. Too bad the state can't stop the air pollution imported from a growing China.

Coffers Empty, California Pays With I.O.U.'s. An ever-widening budget gap joined with intractable political paralysis to deliver California its biggest fiscal blow in decades on Thursday [7/2/2009], when the state's controller began printing i.o.u.'s in lieu of cash to pay taxpayers, vendors and local governments. It was only the second time the state had adopted the emergency payment method since the Great Depression. The National Conference of State Legislatures had no record of any other state's ever using them.

School system lays off "Teacher of the Year". A California woman who was named her school district's "Teacher of the Year" has a new title — "job seeker." The district laid off Michelle Apperson along with thousands of other educators across the state. California has a budget crisis and this is how officials are dealing with it.

The Editor says...
You might be saying to yourself, "That doesn't make any sense. Why would they do that? And the answer is ... the teachers' union!

'Teacher of the Year' Fired for Lack of Union Seniority. It doesn't matter anymore how good you are at your job if you live in the failing state of California; if you're on a lower rung of the ladder in terms of seniority, you're toast. Michelle Apperson, a teacher at the Sutterville Elementary School in Sacramento who was named "teacher of the year" by the school district, was fired because she was outranked in seniority.

Another Outrage in California. As of today [6/1/2012], it is legal in California to give hormone blockers to an 11 year-old boy in order to delay the onset of puberty, but it could soon be illegal for a 17 year-old with unwanted same-sex attractions to receive professional counseling, even with parental consent.

California budget proposal would end a science requirement. A little-noticed proposal by Gov. Jerry Brown to eliminate the second year of science as a high school graduation requirement is sparking concern among educators who fear it could deepen the academic divide among students and further erode the state's scientific and technological leadership. The recommendation in Brown's revised May budget is aimed at freeing the state from reimbursing local school districts for the $250-million annual cost of the second-year science course. The state has not made any payouts to school districts since the requirement was ruled a mandate in 2005, so California owes public school systems $2.5 billion in unpaid claims.

California's Train to Nowhere. Some politicians can't resist throwing good money after bad on these money-losing schemes. The latest example is from the People's Republic of California, where Governor Jerry Brown is acting as if he wants the state to become a basket case.

Can California Be Fixed? Recently, I was driving down pot-holed, two-lane, non-freeway 101 near Monterey (unchanged since the 1960s) when the radio blared that on a recent science test administered to public schools, California scored 47th in the nation. As I looked at the congested traffic on the decrepit highway and digested the idea that our public schools are competitive only with Mississippi and Alabama, I wondered — is that what we get for a more than 10 percent income tax, 10 percent state and local sales taxes, and the highest gas taxes in the nation?

California's Budget Woes: No One Ever Mentions Work Disincentives, Welfare Fraud, or Taxpayer Flight. Governor Jerry Brown is browbeating residents to pass tax initiatives in November which include "a quarter-cent increase in the state sales tax for four years and a seven-year hike on incomes of $250,000 or more that will range from 1 to 3 percentage points." The totally predictable problem (and, from all appearances, a bit contrived; the state's controller saw this coming several months ago, and was largely ignored) is that tax revenues aren't coming in as expected. Media treatment of the problem acts as if this all some kind of uncontrollable act of God which is a by-product of the recession and weak recovery.

California: America's Welfare Queen. California is the nation's welfare queen: The state accounts for one-third of America's welfare recipients, though it only contains one-eighth of the population, and there's no good reason for it. [...] The main reason that California is so dependent on welfare is its uniquely lax enforcement of the provisions of the 1996 welfare reforms. As part of the creation of the Temporary Assistance for Needy Families (TANF) program, the federal government put in place a set of regulations on welfare payments to help or encourage recipients to return to work, such as the five-year lifetime limit on benefits. California, however, is one of nine states that don't unconditionally enforce this supposedly nationwide provision.



Golden State turns to lead, now leads poverty rankings. The Golden State has reached a poverty rate that is now twice as bad as West Virginia's and substantially worse than the rates of poverty in Mississippi, Alabama, Arkansas and Texas, according to a new measure of poverty developed by the federal Census Bureau. Democrat-run California earned its last-place rank under the federal government's new measure of poverty, which incorporates more detailed analyses of welfare payments and the local costs of food, gasoline and housing.

It Looks Like Tax Revenue In California Is Coming Up WILDLY Short Of Expectations. A tipster just sent us this, and it does indeed look like April tax revenue in California is way below expectations.

Los Angeles insolvency predictable and preventable. When the nation's second largest city teeters on the verge of bankruptcy, local elected officials — and especially taxpayers elsewhere — ought to take it as a wake-up call and ponder the evident public policy blunders that laid the groundwork for such an unnecessary scenario. Los Angeles' potential bankruptcy and $238 million budget shortfall were predictable and preventable.

Socialism Won't Fix California's Struggling Public Utilities. We know of the poor quality of products and services provided by government monopolies. Yet officials in Stanton and Claremont think otherwise. They have discussed spending tens of millions of tax dollars to "buy" their water systems from a private water company that doesn't want to sell them. To make matters worse, their efforts would require the use — some would say the abuse — of the power of eminent domain to acquire the properties by force. Taxpayers will be on the hook for all of this.

Beware The Predatory State Of California — Even If You Don't Live There. [Apparently] the state of California, desperate for revenue, is churning out dubious income tax claims stretching back years and collecting the money without due process. This is theft, pure and simple, and charging the account owner $100 for transacting the theft is also theft.

Harris distorts democracy to aid unions. We expect judges, no matter their political stripes, to apply the law as written. We expect election officials to battle election fraud no matter their personal preference for the outcome. Likewise, we expect state attorney generals, who are the head of California's "Justice" Department, after all, to provide fair title and summaries of all initiatives submitted to that office — even ones the AG personally doesn't like. Without any civic spiritedness, people eventually will lose faith that they can make change by following the rules. [California Attorney General Kamala] Harris, however, is a close ally of the public sector unions.

Trying to 'Stop the Bleeding' from Environmental Overreach. Central California Republicans — and farmers across the state — won a small victory last night in a House committee in a battle that has seen scores of communities devastated by environmental regulatory overreach. The Delta smelt is a tiny fish that lives is the Sacramento-San Joaquin Valley River Delta. In response to the fish's threatened status, influenced by its sensitivity to environmental conditions and the large-scale pumping operations necessary to send water south, a 2007 court order citing the Endangered Species Act severely cut back water deliveries through the agricultural Central Valley.

Mortgage Deal Props Up California House of Cards. Why should a taxpayer in Houston or Wichita bail out irresponsible California homeowners, banks and the state's public employees' retirement fund? Yet that's exactly what the Obama administration is looking to do in its latest effort to shore up a housing market that continues to sag as large percentages of Americans remain underwater in their mortgages.

California counties get mail-order condom program. Teenagers in several counties can get condoms in the mail for free under a program launched this week and supported by state public health officials.

An example of how government can become an obstacle to economic recovery: It's hard to get a handle on how many businesses have been discouraged by such a permitting and regulation regime, but you have to assume they are plenty. It should not take two years for a government to say "okay" to a business. Nor should there be exorbitant fees associated with it.

San Francisco Red Tape Nearly Strangles Small Businesses. The leftists in charge of the City by the Bay have made it next to impossible for anyone to start a small business in that town. Just ask Juliet Pries. In January Pries opened the Ice Cream Bar, an old-fashioned ice cream parlor, in the Cole Valley neighborhood of San Francisco. But before she could start serving up hot fudge sundaes and banana splits, she was forced to spend two years and hundreds of thousands of dollars — supplied by family and friends — navigating the city's labyrinthine planning codes and otherwise satisfying the bureaucrats' whims.

We're in the red ... so let's borrow. A conservative activist says California intends to continue the borrow-spend-borrow cincreased spending more money inflationycle despite an announcement that the state is officially out of cash. In a letter to legislative budget leaders, State Controller John Chiang said California will run out of cash on March 1 unless something is done quickly. Chiang suggested that the state should delay payments and borrow around $3.3 billion because tax revenues are $2.6 billion lower than lawmakers assumed.

Electric Cars: Doubling Down On Dumb. Once again, the regulators in California have decided to lead the nation in terms of vehicle emission standards, proposing to require that 15.4 percent of all vehicles sold by 2025 must be electric cars, plug-in hybrid cars, or (currently non-existent) fuel cell cars. In case you're wondering why this all sounds familiar, it's because California is re-running the same delusional program that it ran in 1990...

California Issues Clown Car Mandate. Golden State regulators have passed sweeping emission standards requiring one in seven new cars sold in the state in 2025 be an electric or other zero-emission vehicle. ... [I]f we've learned anything in recent years, it's that industrial policy and telling consumers what they need and must have vs. what they want and find useful doesn't work. Only the marketplace can accurately pick winners and losers. The government, having no competition, usually picks losers. We have also learned that climate change is an overhyped fantasy based on ideology rather than science.

America's worst regulatory agency outdoes itself. California continues its leading role as the national laughingstock of regulatory absurdity. This week, the California Air Resources Board (CARB), forged another link in its unbroken chain of disastrous environmental policies.

Every Year Boondoggles Pile Up in California. The left-wing idea that it's good for government to always wildly increase spending is dying a quick death these days. But this good sense has not made it to every state in the union yet — two disastrous states in particular; California and Illinois. These two states have not learned the lesson about the ruinous government spending that is causing the country to teeter on the brink of bankruptcy. Apparently, Illinois and California are vying for worst-state status. Moody's Investment service, for instance, has rated Illinois the worst, but Standard & Poor's says it's California.

What Conservatives and the GOP Dare Not Say about Immigration. The fact is that upon being naturalized, our modern-day immigrants generally vote Democrat by wide margins — irrespective of whether upon arrival they were labeled legal or illegal. Massive legal and illegal immigration has already so changed the California electorate that no Republican can be elected statewide anymore.

Nation's largest welfare state makes deep cuts. Advocates of welfare reform in California often cite one, eye-popping statistic as they have pressed for cuts and changes to the program in recent years: The state has one-eighth of the nation's population but one-third of all welfare recipients.

Workers give up in Los Angeles. In Los Angeles, the falling unemployment rate is slightly misleading, just as it has been for the country overall. When surveyed by the government, fewer L.A. residents say they're unemployed compared to a year ago. But it's not because they're finding jobs. It's because they're dropping out of the labor force altogether.

It's California business as usual as debt, taxes grow. [Scroll down] This sorry state of affairs is indicative of business as usual in California and provides a basis from which to examine the state's irresponsible budget practices as a whole. California's current budget process relies heavily on the use of budget gimmicks, especially number shifting and projection altering that can create the illusion of a balanced budget.

This Is the Nightmare of an Obama Second Term. If you were wondering what living in Obama's second term would be like, wonder no longer. We in California are living there now. California is a one-party state dominated by a virulent Democratic Left enabled by a complicit media where every agency of local, county, and state government is run by and for the public employee unions. The unemployment rate is 12%. California has more folks on food stamps than any other state, has added so many benefits and higher rates to Medicaid that we call it "Medi-Cal." Our K-12 schools have more administrators than teachers, and smaller classes but lower test scores and higher dropout rates with twice the per-student budget of 15 years ago.

Govt. Funds Campaign To Reduce Food Stamp Stigma. The effort to boost the food stamp rolls was announced this month [October, 2010] in California, where more than 3 million residents benefit from the federal program each month. Evidently, state and federal officials believe the number is way too low for the virtually bankrupt state with a population of about 37 million.

SF Becomes First US City to Top $10 Minimum Wage. The city's hourly wage for its lowest-paid workers will hit $10.24 [on 1/1/2012], more than $2 above the California minimum wage and nearly $3 more than the working wage set by the federal government.

Choking on Obamacare. Time was, American businesses could surmount such regulatory officiousness. But government's metabolic urge to boss people around has grown exponentially and today CKE's California restaurants are governed by 57 categories of regulations. One compels employees and even managers to take breaks during the busiest hours, lest one of California's 200,000 lawyers comes trolling for business at the expense of business.

California Student Sues Teacher, District Over C+ Grade. Bowen Bethards, 17, was a sophomore in Peggy Carlock's chemistry class at Albany High School in Albany, Calif., outside of San Francisco, in the 2010-11 school year when she gave him the C+ grade at the center of the suit, according to court records first reported by the Albany Patch. Bethards, in a lawsuit filed with his mother, Laureen, in Contra Costa County Superior Court last month, claims that he has suffered severe physical and emotional suffering, damage to his academic reputation, and diminished chances of getting into his college of choice because of the grade.

California — toxic for business. Last year, the medical technology firm Numira Biosciences packed its bags and left Irvine for Salt Lake City. When asked about the firm's departure, its chief executive praised Utah's quality of life but also blamed California's business environment for the move. "The tipping point was when someone from the Orange County tax [assessor] wanted to see our facility to tax every piece of equipment I had," Michael Beeuwsaert told the Orange County Register.

California's jobs engine broke down well before the financial crisis. Everybody knows that California's economy has struggled mightily since the 2008 financial crisis and subsequent recession. The state's current unemployment rate, 12.1 percent, is a full 3 percentage points above the national rate. ... But a study commissioned by City Journal using the National Establishment Time Series database, which has tracked job creation and migration from 1992 through 2008 (so far) in a way that government statistics can't, reveals the disturbing truth.

California's Economic Suicide. The 262 pages of regulations implementing California's 2006 global warming legislation, Assembly Bill 32, approved by CARB last Thursday [10/20/2011], will probably reduce employment more than it reduces emissions. The only thing it will cap is economic growth by bleeding a patient that is already hemorrhaging red ink.

California Employment at Record Low 55.4 Percent. The percentage of working-age Californians with jobs has fallen to a record low, and employment may not return to pre-recession levels until the second half of the decade, according to a research group. Just 55.4 percent of working-age Californians, defined as those 16 or older, had a job in July...

California unemployment rises in July to 12%. California's unemployment rate climbs two-tenths of a percentage point in July, the U.S. Department of Labor says, to 12%. The state has the second-highest jobless rate in the nation, exceeded only by Nevada at 12.9%.

San Francisco goldfish ban exposes America's liberal nutjobs. [Scroll down] The proposal will probably be kicked into the long-grass, as was the commission's proposed ban on the sale of kittens and puppies last year. Other things the city has considered outlawing are MacDonald's Happy Meals, supersizing in fast food chains and circumcision. Obviously, smoking in public places was stopped years ago. The goldfish ban might seem like a silly story, but it does expose several liberal pathologies.

California's Book Ban. The California state legislature has passed a book-banning law. Nobody is calling the book ban a book ban because the books the book ban bans offend homosexuals. If the legislature had extended legislative protection to the hurt feelings of, say, Mormons or evangelical Christians, then everyone would have agreed that it's a book ban. But it doesn't, so don't call the book ban a book ban. You just might get banned, too.

California becomes first state in nation to ban 'gay cure' therapy for children. California has become the first state in the nation to ban therapy that tries to turn gay teens straight. Gov. Jerry Brown announced Sunday [9/30/2012] that he has signed Senate Bill 1172, which prohibits children under age 18 from undergoing "sexual orientation change efforts." The law, which goes into effect Jan. 1, prohibits state-licensed therapists from engaging in these practices with minors.

The Editor says...
If there is such a therapy, and it works, that proves that homosexuality is a choice, not a genetic condition, as so many homosexuals claim. If this therapy doesn't work, why is it so vigorously opposed?

One law for us, another for you. The California state Senate voted 28-8 Wednesday [6/1/2011] to exempt itself from the pointless gun-control laws that apply to the rest of the populace. Legislators apparently think they alone are worthy to pack heat on the streets for personal protection, and the masses ought to wait until the police arrive.

Chief executives say California worst place in the nation to do business. For the seventh year in a row, a survey of chief executives has ranked California as the nation's worst state in which to do business. More than 500 U.S. CEOs polled by Greenwich, Conn.-based Chief Executive magazine based their opinions on numerous factors, including regulations, tax policies, work force quality, education resources, quality of living and infrastructure.

California Balks at Public Display of American Flag. In the small town of Orcutt, California, a private association has raised donations to erect a flagpole and monument between a highway exit and a park-and-ride lot, at the entrance to the community's Old Town section. The pole would hang the American flag, encircled by five pillars, one each for the U.S. Army, Navy, Air Force, Marines, and Coast Guard. The California Department of Transportation (CalTrans), however, has stymied the effort, calling it an impermissible act of "public expression."

California Democrats rally around unions. Framing the union battles taking place across the nation as a fundamental attack on working Americans, Democratic leaders on Saturday accused Republicans of scapegoating public employees for political gain. "They are intent on dismantling the very economic ladder that lifted our middle class and made California the richest and greatest state in the greatest nation in the world," Atty. Gen. Kamala Harris told thousands of delegates and supporters gathered at the Democrats' annual convention in Sacramento.

The Editor says...
When you look at the state's net worth, California is not the richest state in the country, by any means. California is broke, and nearly all the blame should be assigned to left-wing tax-and-spend Democrats.

Second Amendment Takes Double Shot in California. A double-whammy came down today against gun rights advocates in California. First, the California Assembly voted to prohibit the open carry of unloaded handguns. Current law had allowed unloaded weapons to be carried openly in public. "You are disarming our citizens" while doing little to disarm criminals, said Assemblyman Jim Nielsen, R-Gerber. "It is not just the right to keep, it is the right to bear arms," said Assemblyman Tim Donnelly, R-Twin Peaks.

Guns for us, not for you. Some of the most far-out anti-gun laws are found on the left coast, but that could change — for privileged politicians. A California state Senate committee will consider a bill next week that grants legislators permission to carry concealed firearms. The measure highlights the growing rift between the bureaucratic class and taxpayers who don't have the luxury of exempting themselves from bad laws.

America's Most Miserable Cities. California's troubles helped it land eight of the 20 spots on [Forbes Magazine's] annual list of America's Most Miserable Cities, with Stockton ranking first for the second time in three years.

California's Problem Is In Its Head. California Gov. Jerry Brown must rapidly close a $25 billion budgetary shortfall. But right now it seems almost a hopeless task since the state's disastrous budget is a symptom, not the cause, of California's much larger nightmare. Take unemployment. It currently runs 12.6% in California, the nation's second-highest rate. Take livability. A recent Forbes magazine survey listing the most miserable 20 cities in the nation ranked four California municipalities among the index's five worst places to live.

Go Bankrupt, California, Please. We're now 25 billion dollars in the red in California. The governor along with his Democrat controlled legislature will never do the right thing. They're the same folks who brought you this mess. When Governor Brown was previously the governor he signed the Dills Act in 1978 that gave civil servants the right to collective bargaining. He did this on his very first day in office as governor. This revolutionary enactment was the beginning of the end or our state.

Bootleg Lightbulbs Coming to California. Old reliable, the 100-watt light bulb — safe, cheap, and bright enough to read, write, cook, shave, and put on your makeup by, will be gone January 1. The California Energy Commission in September 2010 published its 226-page Appliance Efficiency Regulations, whereby the 100-watt incandescent light bulb will be outlawed at midnight on December 31, 2010. Californians with self-imposed rationing, running out of both energy and common sense, have declared that consuming electrical power is a social vice. Electric power must be curbed, along with banning Dr. Pepper and Happy Meals. And it's not just light bulbs. These appliance standards will regulate and ban hundreds of products including...

CARB's Carbon Capers. In a nearly unanimous vote, the California Air Resources Board (CARB) just approved a statewide cap-and-trade scheme to limit emissions of CO2 from six hundred major industrial plants, starting in 2012. Proposition 23 on the California ballot, defeated in November, was an attempt to at least delay the state's Cap-and-Trade law, AB-32, until California's record unemployment eased. However, the slanted description appearing on both the official Voter Guide and the ballot, written by then-State Attorney General Jerry Brown and his office, the well-funded "No-on-23" campaign, and some very heavy media bias, had Californians believing that Prop. 23 would thwart efforts to curb air pollution — i.e., smog. So Prop 23 went down in flames, threatening hundreds of thousands of jobs, and perhaps a million.

Off-the-Books America. Last week, Victor Davis Hanson wrote about the hollowed-out society in the Central Valley around his native Fresno, California. ... The elementary school that he attended as a child is now 94 percent Hispanic and well below standards in English and math. The rural roads are "fast turning into rubble." The irrigation cutoffs have idled tens of thousands of acres, and unemployment is 15 to 20 percent. There are many rural "trailer-house compounds" filled with junked cars, lean-tos, and trash, but for some reason, the regulatory state does not reach out and regulate them.

Missing the California of My Youth. In what seems like a lifetime ago, Barack Obama promised to fundamentally transform the nation. California is what a truly progressive government transformation looks like. Thus, in a sensible America, the decline of California would be the canary call in a coal mine for the nation.

Mascot Politics. Dr. Victor Davis Hanson's quietly chilling article, "Two Californias," in National Review Online, ought to be read by every American who is concerned about where this country is headed. California is leading the way, but what is happening in California is happening elsewhere — and is a slow poison that is being largely ignored.

California sings the Blue State Blues. Over 20 years have passed since a Republican presidential candidate carried California. Democrats have essentially run the state since the early 1990s. How has that worked out for Californians? By virtually any measure, not very well. First, though, let's get one thing straight. Much the way frozen food manufacturers call their processed sludge nuggets "chicken," Schwarzenegger calls himself a "Republican." His election was an aberration, more, without question, thanks to his fame than his party affiliation.

Time to allow states to go bankrupt. The idea that taxpayers in more sensible states like Indiana and Texas should have to bail out wealthy Democratic strongholds unable to operate responsibly is explosive. Mark Steyn has even warned that secession talk could get serious in the face of such looting of the prudent.

California, the neocolonial state. California imports more cheap labor from a third world country than any other state. California exports her prisoners. The state of California essentially outsources a substantial amount of its energy production, importing more of its electricity than any other state. If California were a country, the liberals in academia would be outraged at this neocolonial behavior. Ironically it has been liberal policies that have lead to California becoming a neocolonial state.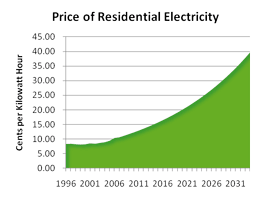 More climate idiocy from California. If the looming spectre of rising electricity prices due to CARB's upcoming "cap and trade" isn't enough, now the Department of Water resources has opted to be less efficient by giving low cost electricity the boot.

Could California Sink The Obama Presidency? California — the most populous state in our nation — is bankrupt. Just as is the case in Washington, D.C., nobody in The Golden State dares to say the word "bankrupt" to describe the state government right now, but it is still nonetheless true. However, since Californians collectively defied the national trend of abandoning the bankrupting Obama-styled economic policies in the recent election, and instead voted for more of the same, the 31st state in our union is now on the fast-track for economic collapse.

California's Assorted Rocks and Hard Places. News came out on Thursday [11/11/2010] that the California budget deficit is actually closer to $25 billion, twice what we are told. This follows from last year's $42 billion shortfall, which was closed by all sorts of one-time tax increases and gimmicks. Here is our general dilemma in a nutshell.

How Do California and the Titanic Differ? OK, riddle fans, here's a toughie: What's the difference between California voters and the passengers on the Titanic? The passengers on the Titanic didn't vote to hit the iceberg. Most Americans understand that California is sinking. What is almost incredible is that it has voted to sink.

California Wins Dumbest State Award in Landslide. In the coming years, the unions, who have been bilking Californians in a protection-racket type scheme, will be taking to the streets in massive, destructive temper tantrums just like those out-in-the-cold workers in other failed socialist states across the big pond. It won't be pretty. All the while Californians have been lining the greedy pockets of union masters, they've also saddled their economy with the greenest of the green anti-pollution laws, which they've just voted overwhelmingly to keep in place.

San Francisco Defends Helpless Citizens From The Scourge of Happy Meals. CNN is reporting the San Francisco board of supervisors will formally approve a ban on most McDonald's Happy Meals today, thus addressing the most serious issue facing the otherwise untroubled city. The board isn't just tepidly endorsing this measure — they're expected to produce enough votes to over-ride a promised veto from Mayor Gavin Newsom. The ordinance is intended to control the distribution of toys with unhealthy food, which has become known as the "food justice movement."

California: The Lindsay Lohan of States. Listen up, California. The other 48 states — your cousin New York excluded — are sick of your bratty arrogance. ... You've racked up nearly $70 billion in general obligation debt, and that doesn't include your $500 billion unfunded pension liability. Your own analysts predict you'll face a hole of at least $80 billion over the next four years. Your government's run by a brothel of environmentalists, lawyers, public-sector unions and legislative bums. When they're not taxing or spending, they're creating regulations and commissions like the Board of Barbering and Cosmetology and the California Blueberry Commission. Many businesses would leave if it weren't for your sunny climate.

Coasting to the Left. If this week's election returns demonstrate that the vast majority of the country is moving to the right, why do the West Coast and the Northeast continue to embrace liberalism, especially when it has led to economic disaster? Both California and New York are on the verge of bankruptcy and, according to Forbes magazine, are hostile to business by way of high taxation and strict regulation of commerce. California currently owes $158 billion, and New York is holding $60 billion in debt.

California Dreamin'. In a blast from the past, California voters bucked the national voting trend and returned Democrat Jerry Brown to the Governor's office he occupied in the 1970s. While the Attorney General votes are still being counted, all other statewide offices went to Democrats. Voters also removed the two-thirds vote requirement to pass the state budget, handing the heavily Democrat state legislature a blank check. California is now a one-party state. The voters want it that way.

California Dreamin'. I would like to feel elated about the elections last Tuesday, but alas, I live in California. As the rest of the nation lurches back toward common sense, California defiantly stands as a testament to the power of delusion. ... The fact that voters keep returning to failed policies and politicians speaks to the power of propaganda, disseminated through the schools and the media. However, it is also a dismal lesson in human nature, epitomized by Jesus' observation about a dog returning to its own vomit.

The 'Golden State' Still Doesn't Get It. The midterm elections turned into a sweeping repudiation of the Democrats' failed status quo — except, that is, in California. There, not only did the Democrats not lose, they gained clout.

The Brown Wall. [Scroll down] But the accomplishments stopped in the 1970s with the election of Governor Jerry Brown. Mr. Brown expropriated the budget money that had been allocated for infrastructure — much of it raised by motor fuel taxes — and diverted it to his own leftist causes. Aqueducts and freeways were canceled, including some that already were under construction. Brown also blocked private construction of power plants. His anti-American Dream was this: If you don't build it; they won't come. But they came anyway, and now Californians waste millions of gallons of fuel in traffic jams.

The Inexplicables. California may still have 1 billion recoverable, but untapped, barrels of oil, over a half-million acres of productive farmland taken out of production to help the three-inch delta smelt, and a great deal of natural mineral wealth and timber, but we deem ourselves wealthy enough not to need any of that, so smart are our professors, politicians, journalists, and community organizers in figuring out ways to redistribute the ill-gotten gains of agriculture, Silicon Valley, the Napa wine industry, and what manufacturing is left in California.

California Circles the Drain. The government of the once Golden State is a lead-pipe cinch to lurch into insolvency any month now. The California State government is an estimated $19 billion in the hole. No exact figure is possible since no budget (constitutionally required on July 1) has yet been adopted by the state legislature. Revenues are down and spending is up. The state continues to hire during a "hiring freeze." To solve the crisis, the Democratic majority in the legislature demands higher taxes on top of already high taxes which are driving jobs and businesses out of the state.

California's Green Nightmare. California is the nation's laboratory in green job initiatives of the type that so many politicians in Washington, D.C., and the states see as America's economic passport to the future. The Golden State was first in the nation in renewable energy standards, it is the home of the most stringent cap and trade legislation (called AB 32) to reduce carbon emissions, and it has poured hundreds of millions of state tax dollars into renewable energy research. So where are all the green jobs? A new 2010 study by the University of California-Berkeley comes to the sobering conclusion that "the green economy accounts for just 1 percent of California's jobs."

Wanted: Grown-up governance. At some point, the grown-ups are going to have to take over. We're being governed by a gang of perpetual adolescents from the most liberal enclaves in America. ... The city [of San Francisco], which has thrown the Boy Scouts out of public facilities, has issued tips on how to bake "safe" marijuana-laced goodies. It's not clear how this will contribute to the general welfare, except to create more voters with the functioning brains of 11-year-olds who keep getting hungry. This should make it easier to recruit for one of the political parties.

Full speed ahead on health care for all. I thought maybe this was a joke, but I researched it and found it to be utterly, jaw-droppingly, stupefyingly true: The California Senate voted 22-14 on Jan. 28 to create what one group is calling a "Medicare for all" health-care system that would cost "about" $200 billion a year. ... Isn't this the same California that has close to a $20 billion budget deficit and is currently asking for a handout of $6.9 billion from the federal government to tide them over?

Imagine No God in Our Nation's Classrooms. All high school math teacher Bradley Johnson wanted to do was honor our nation's history and religious heritage the same way he always had. For twenty five years, a red, white and blue-striped banner adorned his classroom walls with national maxims such as "In God We Trust," "One Nation Under God," "God Bless America," and "God Shed his Grace On Thee." A second banner accompanied it, containing an excerpt from the Declaration of Independence, "All Men are Created Equal and They Are Endowed by Their Creator." But displaying a portion of the Declaration of Independence and other national mottos was just too offensive to the Poway Unified School District in San Diego.

De Facto Shariah Law in America. In the State of California, 7th-grade students at Excelsior Middle School in Discovery Bay, California adopted Muslim names, prayed on prayer rugs, and celebrated Ramadan under a state-mandated curriculum that requires instruction about various religions. In 2006, the U.S. Supreme Court again declined to hear legal challenges by concerned Excelsior parents, who complained that the instruction was actually religious indoctrination and that Christianity and Judaism were not given equal time and exposure.

Not one nickel for California. There isn't a single compelling reason to provide the girly-man of American gubernatorial fiscal responsibility, Arnold Schwarzenegger, with a nickel from our federal coffers. His failing California remains the poster-child for liberal fiscal insanity and it's time for the free-range chickens to come home to roost.

Let California drown, voters say. Most Americans oppose a bailout for California, according to a Rasmussen survey. Just 27 percent of voters believe the state should receive federal bailout money while 55 percent think the state should go bankrupt. (For the record, states cannot declare bankruptcy.)

The Editor says...
Okay, so states can't declare bankruptcy. So what? You don't have to declare bankruptcy to be bankrupt.

The Long March From California to Copenhagen. On the one, are those who believe personal freedom and liberty trump egalitarianism and fraternity. ... On the other side are those who wish a large government to ensure an equality of result. Their notion is that personal responsibility, talent, behavior, luck, fate, etc. do not so much determine why one is well off and another not so.

California: Running a failed state can sure be expensive. Among the many problems California faces now: The near-junk rating on its bonds means the state pays more in interest. In 2020, Reuters reports, the state will pay more than $10 billion on interest alone.

California is Liberalism's "Canary in the Coal Mine". If residents of the other 49 states haven't focused on California's plight yet, they should. In a real sense, California has become liberalism's "canary in the coal mine." It is an instructive — and frightening — warning of the toll exacted by the kind of leftism now in vogue in Washington, D.C.. Put simply, California is in desperate fiscal straits because it has become a place where government works for only two constituencies: Those who need public assistance, and unions. Sacramento is so busy responding to the needs of the one and the demands of the other that the legitimate expectations of regular, taxpaying citizens have been completely ignored.

Public Sector Unions Tarnish the Golden State. It's an ugly fact of life in California. Public sector unions are slowly, painfully and inexorably choking the life out of the (once) Golden State. Fully 54% of state government workers — that's almost 1.8 million people — are unionized. And the unions' primary reason for existence is maintaining the privileges that state employees enjoy, at any cost to the rest of the state.

The sad story of how public employee unions have all but ruined California. City Journal's Steve Malanga offers the most detailed and succinct history yet on how public sector unions grew from being toothless employee associations to having a virtually lock on all of the key power levers in California and how they've used that power to enrich themselves while all but ruining a once-goldern state. As Malanga explains, what has already happened in California is well underway across the rest of the nation and in Washington, D.C.

The Beholden State: How public-sector unions broke California. The unions' political triumphs have molded a California in which government workers thrive at the expense of a struggling private sector. The state's public school teachers are the highest-paid in the nation. Its prison guards can easily earn six-figure salaries. State workers routinely retire at 55 with pensions higher than their base pay for most of their working life. Meanwhile, what was once the most prosperous state now suffers from an unemployment rate far steeper than the nation's and a flood of firms and jobs escaping high taxes and stifling regulations. This toxic combination — high public-sector employee costs and sagging economic fortunes — has produced recurring budget crises in Sacramento and in virtually every municipality in the state.

Accounting for California's Suicide. [Scroll down] Californians count on the wealth of farming but would prefer their rivers to remain wild rather than tapped. They like tasteful redwood decks but demand someone else fell their trees for the wood. Californians drive imported SUVs but would rather that you drill for oil off your shores rather than they off theirs. They pride themselves on their liberal welfare programs, but drive out with confiscatory taxes the few left to pay for them. Californians expect cheap imported labor to tend their lawns and clean their houses, but are incensed at sky-high welfare and entitlement costs that accompany illegal immigration. Lock 'em up, they say — but the state is bankrupted by new prisons, constant inmate lawsuits, and unionized employees. In short, after Californians sue, restrict, mandate, obstruct, and lecture, they also get angry that there is suddenly not enough food, fuel, water, and money to act like the gods that they think they have become.

Drill, Arnold, Drill! California Gov. Arnold Schwarzenegger is begging for a bailout to close an $11 billion budget gap. He should be pressing for an oil revenue-sharing deal instead.

Controlling Pests or Controlling Competition? The Pacific Legal Foundation challenges a California licensing law that would require a 30-year business veteran to become an apprentice.

California Makes Cars Less Affordable: California today became the first state in the nation to restrict automobile emissions of carbon dioxide, the same gas humans exhale. The auto industry pointed out, to no avail, that the measure would make cars even more expensive and pressure people to buy death traps they don't feel safe driving.

California: An Obituary. Only raw and unrestrained liberalism could have destroyed the world's 8th-largest economy. Boasting unparalleled assets in agriculture, high technology, entertainment, and tourism, and blessed with ample energy resources, deep-water ports and ideal weather, California has nonetheless managed to turn itself into a perfect dystopia.

California Democrat proposes mandatory gun registration. A California Democrat is proposing a new law requiring residents to register their shotguns and rifles or go to jail, CBSNews.com has learned.

California Teacher Union Rallies Around Bad Ideas. The California Teachers Association (CTA), the state's largest teachers union and National Education Association affiliate, organized a statewide rally of teachers and students on March 4 to protest education spending cuts. The CTA's "solution" indicates it is out of touch with economic and educational reality.

California Dems Won't Honor Boy Scouts? Thousands of Boy Scouts across California will be gathering this weekend to celebrate the 100th anniversary of scouting in the Golden State — but they won't have the blessing of Democrats in the California Legislature.

Oakland allows industrial-scale marijuana farms. Oakland's City Council late Tuesday adopted regulations permitting industrial-scale marijuana farms, a plan that some small farmers argued would squeeze them out of the industry they helped to build. To address concerns from smaller farmers, the council pledged to create regulations on regulating small- and medium-size marijuana farms this year.

Cracking California's Egg Rules. About 150,000 hens at egg producer J.S. West Inc. appear to have scored an upgrade. They cluck and cackle in an air-conditioned henhouse that got a $3.2 million renovation this year. ... California's egg farmers are struggling to comply with Proposition 2, the state's new guidelines on how egg-laying chickens can be kept.

California: New Is Not Necessarily Improved. Meg Whitman would like to build a new California. Not me. If I had to choose, I'd opt not to build a new California, but rather to restore the "old California." That is, I'd revive the California Republic of Old, when men married women, when murderous thugs were given the noose rather than probation, and when babies in utero were kept safe from abortion practitioners. The regenerate California I have in mind is a place where a man's handshake is as binding as a written contract, where chastity is given a place of honor, and where citizens look to God and to their neighbors in times of trouble rather than to the Welfare State.

There's No Budget, but California Is All Over the Foreign-Cow Issue. On the brink of insolvency, California may have to pay its bills with IOUs soon. A budget was due three months ago, and the legislature hasn't passed one. The lawmakers can, however, point to a list of other achievements this year. Awaiting Gov. Arnold Schwarzenegger's signature, for example, is a bill that would bar the state from filming cows in New Zealand. It's the fruit of five committee votes and eight legislative analyses. California lawmakers also voted to form a lobster commission. They created "Motorcycle Awareness Month," not to mention a "Cuss Free Week."

Red Herring Politics. [Scroll down] One appointment by Governor Jerry Brown ought to tell us a lot about his ideology. His most famous — or infamous — appointment was making Rose Bird chief justice of the California supreme court. She over-ruled 64 consecutive death penalty verdicts and upheld none. Apparently no judge or jury could ever give a murderer a trial perfect enough to suit Rose Bird. To hear Rose Bird and her supporters tell it, she was just "upholding the law." But, fortunately, the California voters saw right through that pretense, and realized that she was doing just the opposite — imposing her own personal opposition to the death penalty in the guise of interpreting the law.

Sherman's March. A California congressman wants to eliminate right-to-work laws in 22 states where workers don't have to join unions. If even-higher unemployment is his goal, he has the right idea.

You can put a tuxedo on a pig, but it's still a pig.
Food stamp program gets a new name: CalFresh. California's food stamp program has a new name, which officials hope will encourage more people to apply for the nutrition benefit: CalFresh. The new name and logo — an abstract representation of the diverse produce available in California — was launched Saturday [10/23/2010] at an event in Long Beach sponsored by first lady Maria Shriver to provide free medical, financial and educational services to low-income women.

California judge: handgun ammo laws unconstitutional. A judge has ruled that key sections of a California law restricting the sale of handgun ammunition cannot be enforced because they are unconstitutional.

OC Couple Threatened With $500-Per-Meeting Fines For Home Bible Study. An Orange County couple has been ordered to stop holding a Bible study in their home on the grounds that the meeting violates a city ordinance as a "church" and not as a private gathering. Homeowners Chuck and Stephanie Fromm, of San Juan Capistrano, were fined $300 earlier this month for holding what city officials called "a regular gathering of more than three people". That type of meeting would require a conditional use permit as defined by the city, according to Pacific Justice Institute (PJI), the couple's legal representation.

California bans use of tanning beds by minors. Minors in the state of California will no longer be allowed to use tanning beds after Governor Jerry Brown signed a bill on Sunday prohibiting anyone under the age of 18 from using ultraviolet tanning devices.

California Bans Tanning Bed Use By Minors... But Abortions Are OK. California Governor Jerry Brown signed a bill today [10/9/2011] that bans tanning bed use by minors. ... In 1997 a California court overturned a state law that required girls get the approval of a parent or judge before having an abortion.

California Law Would Permit Midwives, Other Non-Physicians to Perform Abortions. The California Senate passed a bill September 6 that would make it legal for non-physician medical professionals such as midwives to perform abortions under a statewide training program. The measure now awaits Democratic Governor Jerry Brown's signature.

Abortionists don't need a doctor's license: bill rammed through California Senate. Senate Bill 623, introduced by Christine Kehoe, D-San Diego, extends a program run by the University of California at San Francisco, in which nurse practitioners, midwives, and doctors' assistants are trained to perform abortions without any further training in medicine. Kehoe argues the bill is necessary because there aren't enough doctors performing abortions in California.

Criminalizing business: part II. A recent column in the San Francisco Chronicle vividly illustrates the anti-business mindset of many Californians. It dealt with the fact that Wal-Mart lost a referendum to allow the retailer to put a store in Inglewood, California. According to the Chronicle columnist, Wal-Mart was "trying to bully its way into another targeted community." Putting an issue to a vote is called "bullying" when business does it, and the community where it wants to locate is called a "target."

California's New Frisbee Law Just Latest Attempt to Raise Cash. This week, Los Angeles County okayed a new regulation banning the throwing of Frisbees or footballs on the beaches — which, of course, destroys the purpose of living in Southern California in the first place. The first offense will earn you a hefty $100 fine; the second, $200; the third and beyond, $500. You can, of course, apply for a permit. For parents with industrious children, holes deeper than 18 inches are also banned — so get your kids the cheap plastic shovels or pay a fine.

LA County OKs $1,000 Fine For Throwing Football, Frisbee On Beaches. When you head down to the beach for a little fun this summer, county officials want you to know about some updated rules. The Board of Supervisors this week agreed to lift an all-out ban on playing with footballs, other balls and Frisbees on the beach, according to a media statement released by the L.A. County Department of Beaches and Harbors.

Los Angeles County Bans Frisbees on Beaches. The moonbat micromanagers ruling La-La Land must finally be running out of things to ban. Now they're suppressing fun on the beach.

Hermosa Beach meter maids making nearly $100K? When contemplating the many reasons cities in California and elsewhere are venturing closer to bankruptcy, look no further than the relatively lucrative and often-unjustifiable salaries bestowed on municipal employees — and the lofty pension benefits attached to the high pay. One of the latest examples comes from the California coastal city of Hermosa Beach, where some community service staffers who collect money from parking meters and manage their operations — positions once widely known as "meter maids" — are making nearly $100,000 a year in total compensation, according to city documents.



SF to cover uninsured's gender reassignment. In 2001, San Francisco became the first city in the country to cover the cost of sex change surgeries for transgender city employees. In 2007, it became the first city in the country to provide health care for all uninsured residents through its Healthy San Francisco program. Now, San Francisco is combining those firsts into yet another pioneering move by becoming the first city in the country to cover the cost of gender reassignment surgeries for its uninsured residents.

$822,000 Worker Shows California Leads U.S. Pay Giveaway. Nine years ago, California Democrat Gray Davis became the first U.S. governor in 82 years to be recalled by voters. The state's 20 million taxpayers still bear the cost of his four years and 10 months on the job. Davis escalated salaries and benefits for 164,000 state workers, including a 34 percent raise for prison guards, the first of a series of steps in which he and successors saddled California with a legacy of dysfunction.

Highest-Paid California Trooper Is Chief Banking $484,000. California Highway Patrol division chief Jeff Talbott retired last year as the best-paid officer in the 12 most-populous U.S. states, collecting $483,581 in salary, pension and other compensation. Talbott, 53, received $280,259 for accrued leave and vacation time and took a new job running the public-safety department at a private university in Southern California. He also began collecting an annual pension of $174,888 from the state.

California, where a cop can make $483,581 in one year. Thanks again to massive pension liabilities, the state has been unable to keep up with the growth of its prison population, resulting in overcrowding, which in turn resulted in the court-ordered early release of thousands of inmates, many of whom are already on crime sprees.

California in Chaos. California actually has fewer state government employees per capita than the national average, but its employees are the best-paid in America. This often has a negative effect on government services. It is hard, for example, to hire enough cops to keep violent crime down in Oakland if the city can't afford the six-figure compensation packages of the existing officers.

With billions in the bank, Blue Shield of California loses its state tax-exempt status. Authorities have revoked the tax-exempt status of nonprofit Blue Shield of California, potentially putting it on the hook for tens of millions of dollars in state taxes each year. The move by the California Franchise Tax Board comes as the state's third-largest health insurer faces fresh criticism over its rate hikes, executive pay and $4.2 billion in financial reserves. The state quietly stripped the San Francisco insurer of its exemption from California income taxes in August. The company held that since its founding in 1939.

Israel Invests in Desalinization; California Builds High-Speed Rail. California is reeling from a drought, rather like the one suffered by Israel in 1998-2002. California, with an 840-mile coastline on the world's largest ocean, has a water shortage; Israel, with a mere 170-mile coast line, does not. Israel invests in desalinization; California is building a high-speed train at a cost of somewhere between $68 billion and $90 billion, the most expensive public works project in the nation's history with no completion date in sight, but finds the $1 billion price tag on its first desalinization plant too high to bear, even though its 50 million gallon per day output would meet the daily requirements of something like 280,000 of the modest-income consumers now the hardest hit by the rationing system in place.



---



Homeless people supported by California taxpayers

L.A. settles homeless rights case, likely limiting ability to clear skid row streets. The Los Angeles City Council on Wednesday [3/6/2019] agreed to settle a pivotal and contentious case on the property rights of homeless people — a decision that is likely to limit the seizure and destruction of encampments on skid row. The 10-2 vote authorizes City Attorney Mike Feuer to settle a 2016 lawsuit, Carl Mitchell v. Los Angeles, brought by civil rights lawyers on behalf of homeless people and two skid row anti-poverty groups. Downtown business groups had opposed such a deal, arguing that settling the case would deter redevelopment, and leave skid row and the people who live on its sidewalks mired in squalor.

Rats, Fleas, And Garbage Caused A Typhus Outbreak In Los Angeles. Typhus is a bacterial infection which is spread by lice, chiggers, and fleas. Usually, those pests find a home on rats. The rats in most cases have a population boom because of excessive garbage. And the disease infects people who come in contact with the rats. That's what is driving the disease in Los Angeles where an outbreak has been traced to homeless encampments.

Slum by the Bay. [Scroll down] San Francisco authorities mostly leave the mentally ill to fend for themselves on the street. Other vagrants complain about them. "They make it bad for people like us that hang out with a sign," one beggar told us. San Francisco is a pretty good place to "hang out with a sign." People are rarely arrested for vagrancy, aggressive panhandling or going to the bathroom in front of people's homes. In 2015, there were 60,491 complaints to police, but only 125 people were arrested. Public drug use is generally ignored. One woman told us, "It's nasty seeing people shoot up — right in front of you. Police don't do anything about it! They'll get somebody for drinking a beer but walk right past people using needles."

Typhus Epidemic Spreads Across Liberal Utopia of Los Angeles Due to Mountains of Trash, Growing Homeless Population. A typhus epidemic is worsening in the liberal utopia of Los Angeles, California due to a growing homeless population and mountains of rat-infested trash. Nothing says "progressive" more than a medieval infectious disease like typhus fever spreading through a city in the year 2019.

Typhus Is Spreading in Liberal, Rat-Infested LA County. There are a lot of rats in LA, and, NO, for once we don't mean the politicians although many qualify. We mean the little furry creatures who live in squalor and spread diseases. Last September, a documentary called 'Rats' was screened as a Landmark Theatres Exclusive Midnight Event. It was frightening because it's real. Infestations of rats are seen in major cities and elsewhere, and when garbage is left to rot in homeless areas, they become a more serious threat to life.

The Destruction of Venice Beach Epitomizes California's Idiocracy. Venice Beach, California, used to be one of California's great places. [...] Today, Venice Beach is off limits to families who used to spend their Saturdays on the sand. It's too dangerous. On the sand, beached seaweed now mingles with syringes, feces, broken glass, and other trash, and the ocean has become the biggest outdoor toilet in the city. More than 1,000 vagrants now consider Venice Beach their permanent home. At the same time as real estate values exploded all along the California coast, the homeless population soared. In Venice, where the median price of a home is $2.1 million, makeshift shelters line the streets and alleys, as the affluent and the indigent fitfully coexist.

The high price of refusing to face facts about the homeless. Along with homeless encampments come deadly outbreaks of hepatitis A, typhus and other communicable diseases, driven by attending drug addiction. Some parts of the city [of San Diego] are littered with syringes. A desperate San Diego now steam cleans its streets and sidewalks. Even in expensive neighborhoods, unguarded greenery is often strewn with trash and toilet paper, revealing where homeless people have spent the night. The city tries to keep the squalor at bay with improved shelter programs. It even plans to provide 500 bins where the homeless can stash their belongings, but that effort alone will cost the city about $2 million a year in overtime for the cops who guard the lockers.

Homeless Surge Puts Hollywood's Progressive Ideals to the Test. With swelling transient encampments abutting seven-figure homes, the beachside enclave has emerged as a flashpoint for the inequality shaping Los Angeles — and a real-world test case for the liberal ideology of the area's showbiz residents.

Los Angeles Vice Office Protected By Fence to Keep Out Homeless. A new report detailing the growing scourge of homelessness in Los Angeles indicates that while many in the media and coastal liberals mock the idea of a border wall for America, they are fine with using fences to maintain their bubbles and keep homeless people out. According to The Hollywood Reporter, the Los Angeles office of Vice News is protected by a fence to keep out the homeless from building tent cities.

Wealth, Poverty, and Flight: The Same Old State of California. [B]oth legal and illegal immigration have also radically changed the demography of the state. It is not just that about 40 percent of the nation's 11 [to] 20 million immigrants live in California, a state in which now one in four residents was not born in the United States. Rather, it is the result of two or three generations of mass influxes of impoverished residents who on average arrive without a high-school diploma, English proficiency, capital, or often legality. California now hosts one of three Americans who are on some sort of federal, state, or local welfare supplement. About a fifth of the state lives below the poverty level. Half of all births in California were paid for by the state-run Medi-Cal program, and 30 percent of Medi-Cal births were to mothers of undocumented immigration status. The San Ysidro border crossing between Tijuana and San Diego is the world's busiest, where some 70 million people cross on foot and in cars into and out of California each year.

Residents of San Francisco are now documenting squalor of city's homelessness epidemic. San Francisco has been battling an ongoing homelessness epidemic for years, but mounting piles of human feces in its streets have become intolerable for many residents — causing citizens to launch their own campaigns exposing the stinky (and dangerous) troubles of the Golden City. Disgusted business owners and residents are using social media to show the magnitude of the tech-town's indigent encampments in hopes that officials will do more to end rampant public drug use and defecation on the sidewalks.

San Francisco resident says it's a war zone, others post poop and drug pics! In another postcard from one of America's most liberal cities, San Francisco, residents are now posting poop pics from the homeless in order to protest the [dystopia] that city has become.

The impact homelessness and the opioid crisis are having on San Francisco streets. Outside the Ninth Circuit Court of Appeals in downtown San Francisco, a woman urinates on the sidewalk and smokes a crack pipe. Inside her purse are about a dozen used heroin needles. She shoots heroin up to 10 times per day, she says.

Including police OT, storage for homeless people's belongings costs more than an SRO hotel room. San Diego police expect to pay $2 million in overtime to officers patrolling the neighborhood around the storage center for homeless people that opened in Sherman Heights earlier this year. The budget projection, which was included in a quarterly monitoring report released last month, pushes the total program expense past $3.7 million this year. Including the patrols, it means costs associated with the 500 storage bins amount to $600 per bin per month — more than a studio apartment in many single-room occupancy hotels.

One percent of the population commits one eighth of the aggravated assaults in a city of four million.
Los Angeles Doubled its Homeless Budget, Doubled Homeless Crime. It wasn't all that long ago that the nation watched transfixed in horror as fires tore apart California, destroying homes and claiming lives. In all the debates about global warming and forestry management, one singular cause of the fire was left unaddressed. Global warming wasn't starting the fires. People were. [...] This November, the Los Angeles Zoo had to evacuate its animals over a fire in yet another homeless encampment. That fire not only endangered lives, but diverted resources from fighting the much more serious fires in Ventura County. But instead of shutting down the encampments, Mayor Garcetti, who has done more to legalize and subsidize homelessness in Los Angeles than any of his predecessors, sent "outreach workers" from the expanding behemoth of the LA Homeless Services Agency to ask them to please move. That worked about as well as expected.

Homeless Crime in LA is Up 50%. You get more of what you subsidize. When you subsidize homelessness as Los Angeles, New York and a number of other cities driving a boom in homelessness have been doing, you get more of it. And you also get more of the crime that comes with it.

Homeless Crime Jumps Nearly 50 Percent in Los Angeles, LAPD Says. The number of crimes in which homeless individuals were listed as suspects increased by nearly 50 percent in the city of Los Angeles in 2018. Crime data provided by the Los Angeles Police Department showed there were 8,906 crime reports between Jan. 1 and Dec. 1 this year in which a homeless person was listed as the suspect, compared with 5,976 for the same time period in 2017. LAPD officials said most concerning were the disproportionate number of homeless individuals listed as suspects in physical attacks that cause serious injuries, described as, "aggravated assaults," in police records.

Los Angeles Mayor Shouted Down by Protesters During Speech. Los Angeles mayor Eric Garcetti was forced to end a speech at the University of Southern California on Monday prematurely after protesters began shouting over him about his administration's treatment of the city's homeless population. The speech, which was intended to be a celebration of the 70th anniversary of the Declaration of Human Rights, was interrupted after just a few minutes by a man who accused Garcetti of preventing the homeless population from organizing a local government.

Why won't liberals admit their homeless policies don't work? It's appropriate that the UN special rapporteur devoted to adequate housing has visited encampments in Mexico City, Buenos Aires, Mumbai — and San Francisco, Oakland and Berkeley. The homeless situation in those cities and others around the country is positively Third World, a blight that shows the persistence of human folly, and misery, despite what we take to be our steady progress to greater enlightenment and prosperity. San Francisco is a crown jewel of the new economy, and a sink of vagrancy.

Typhus cases hit 100 in Los Angeles as feral cats and rats spread disease among the homeless. The number of flea-born Typhus cases in Los Angeles has hit 107. So far this year 72 patients have been recorded by Los Angeles County Department of Public Health with a further 15 in Long Beach and 20 in Pasadena. In the 2000s there were around 20 cases recorded per year and analysts are putting the dramatic rise down to a 47 percent increase in homelessness since 2012. One official in Long Beach told NBC News that almost half a million potential cases are 'under investigation.'

San Jose to pay homeless $15 an hour to pick up trash. San Jose, Calif., is combating its litter problem by paying 25 homeless residents to pick up trash around the city's "hotspots." Downtown Streets Team and Goodwill, which initiated the program, said the idea was to ultimately help participants get back on their feet, the Mercury News reported.

San Francisco: Now so bad, it'll make you cry. Twentieth-century San Francisco, Herb Caen's beloved Baghdad by the Bay, has ceased to exist. It has been replaced by a city where the sidewalks around Market Street are, in places, caked in feces, urine, and vomit. The stink as you emerge from the BART batters you like frozen sleet, shocking and overwhelming. The hordes of homeless, sprawled in doorways and sleeping on the sidewalks, are a bitterly eclectic mixture of the mentally deranged; burnt out druggies; dead-eyed hippies; con artists; pickpockets; and hundreds of simply lost, forgotten souls. [...] As I walked the three blocks back to the BART, I was panhandled four times, plus two clumsy pickpocket attempts. I didn't see a single cop in a car or on foot. What could they do? What finally broke my heart were the kids and women, also lying in the streets, drugged, shell-shocked, begging for food.

SF judge throws out charges against homeless people camping on sidewalk. A San Francisco judge dismissed criminal charges Thursday against three homeless people who were arrested for camping or sleeping on the streets, a decision that follows a federal appeals court ruling barring cities from prosecuting such cases when no shelters are available. District Attorney George Gascón, who has announced a new policy of charging people with illegal camping only when they reject an offer of an available shelter, did not challenge the dismissals. But Gascón and Public Defender Jeff Adachi's office appear to be at odds on what a city has to do to make shelters "available."

SF police impound homeless man's car for unpaid parking tickets. Judge says give it back. A federal judge has ordered San Francisco police to return a homeless man's car that they towed and impounded because of thousands of dollars in unpaid parking tickets that the owner couldn't afford to pay. Police cited a state law that allows them to tow vehicles with more than five overdue parking tickets. But U.S. District Judge Jeffrey White of Oakland said Wednesday that, unless officers have a judicial warrant, no known legal precedent "can justify the seizure and retention of a vehicle if its owner cannot afford to pay the parking tickets." The ruling has prompted homeless advocates to call on police to change their towing practices.

True Blue Liberal California Now Leads The Nation In Poverty. It was recently revealed that the home of Jerry Brown, Hollywood, Nancy Pelosi and Kamala Harris is now the most poverty stricken state in the country. Anyone who has seen the sprawling homeless encampments of greater Los Angeles and San Francisco probably knew this would be the outcome.

I Left My Shoes In San Francisco. Enter the search term "San Francisco feces map" into Google and it comes back with 1,040,000 results. Yeah, it's a thing. San Francisco was always grungy — back in the 1980s, I believe it was comic Bobby Slayton who called it "the city that makes its own gravy" — but it has gone from merely unwashed to actively unflushed. Sure, it's funny to the rest of us, in a horrifying and disgusting kind of way, just like the fact that the socialist geniuses in Venezuela are forcing the famished locals to gnaw on its zoo's zebras and gnus for sustenance. You look at these examples of leftism in action and you have to laugh, but what's not funny is that this is not some sort of aberration. This is the future our liberal elite wants for us, and it's doing everything it can to make it a reeking reality.

Just Another Word for Nothing Left to Lose. [Scroll down] At a time when San Franciscans are dealing with mounds of human feces that foul that once-lovely city, lawmakers spent their summer stopping restaurants and convenience stores from giving out or selling plastic straws. They also limited the use of packaged condiments. Not long ago, officials banned the sale of flavored tobacco products, which means that smokers who are trying to quit the habit are out of luck. The city's decision to hand out needles to addicts actually is a decent idea, but it's bizarre to simultaneously subsidize heroin needles and ban far-more mundane products such as ketchup packages. It's easy to roll one's eyes at San Francisco, but a bill that would forbid restaurants from handing out plastic straws unless requested by the customer has just landed on the governor's desk. Furthermore, a second bill that just landed on his desk requires fast-food restaurants to offer water or milk as the default option on any children's meals. Advocates for the latter see it as a strike against childhood obesity, but it's really just a means to meddle in parents' minor life decisions. Parents can still order soda for their kids, but restaurants could face $500 fines for providing a soda with the meal. This is an almost literal example of the "nanny state."

A Perfect Storm Threatens America's Survival. Except for the rich, American cities are becoming increasingly unlivable as illegal and homeless populations threaten to overwhelm city budgets. It's so bad in San Francisco that the city has funded poop patrols as that once lovely City by the Bay has become a nightmare to citizens and visitors alike. Large groups are canceling conventions. Los Angeles has doubled its homeless budget to $450 million. Los Angeles County plans to spend $374 million. That's 1 percent of a budget meant to service a population of over 10 million going to just 53,193 people.

San Francisco creates 'Poop Patrol' to clean up city's feces-ridden sidewalks. San Francisco's decrepit, feces-ridden sidewalks are the residents' No. 1 complaint — so the city's newly elected mayor is creating a new clean up patrol to deal with "No. 2." The California city, which has been battling increasing homelessness over the last couple of years, launched a new pilot program called the "Poop Patrol," which is set to scour targeted neighborhoods looking for human waste. The city's 311 service has received nearly 14,600 calls about piles of poop, other human waste and dog feces since the beginning of the year.

San Fran Averages 78 Poop in the Street Calls a Day, Others in the Transit System. San Francisco has been working on their homeless problem and have succeeded in cutting the tent encampments in half by offering shelter to the drug addicts, mentally ill, and others lining the streets. The behavior of the homeless hasn't improved, however. The San Francisco Chronicle reports that they are averaging about 78 poop in the street calls a day. There are about 45 syringes in the street calls a day. There are more on the trains. The transit system is littered with syringes, poop, blood, urine, and so on. Since April janitors have cleaned up more than 13,000 dirty needles left behind at the Civic Center and Powell Street stations.

If You're Going To San Francisco... Think Again. San Francisco has about 7,500 homeless individuals and is spending $280 million on homeless services for them. Some simple math reveals that the city could give each homeless resident just over $37,000 per year, a figure well above the minimum wage in most other places, and call it a day. If you take out the salaries of all the bureaucrats administering these "homeless services," there would likely be more than $100,000 available for each homeless person. But you know that won't happen in a Democrat-run city, an administrative state, like San Francisco. How can the city discourage the homeless from using the sidewalks as their toilets? In their minds, spend more money.

Video appears to show homeless man using drugs on BART train in San Francisco. A video of a homeless man apparently using drugs on a BART train in San Francisco last month has become another footnote in the city's struggles with quality-of-life issues. Local news anchor Reggie Aqui posted footage of the man smoking an illegal substance on the BART train right before Powell Street station. [...] The video underscores a dangerous trend occurring in the city. In April, commuter Shannon Gafford filmed dozens of drug users slumped over and others shooting up at the Civic Center BART and Muni stations.

San Francisco continues to spend big in fight against homelessness — but is it working? It's a problem that's costing the city of San Francisco hundreds of millions of dollars annually to try to solve — and for its new mayor, something that's starting to become increasingly smelly too. London Breed says the amount of feces scattered on the streets of the wealthy city in recent months is among the worst she has ever seen, and San Francisco reportedly is set to spend nearly $280 million in its next budget fighting homelessness — an average of $37,300 for each of the city's estimated 7,499 homeless residents.

New SF mayor will try asking homeless to be nice, instead of penalizing them for pooping on the streets. San Francisco has a brand new mayor, Ms. London Breed, the result of the untimely death of Mayor Ed Lee, and it does not look good for the city coming to grips with a crisis on its streets. The accumulation of human waste and contaminated drug needles posing a severe threat to the health of its residents and visitors is also a challenge to the survival if the city's biggest industry in terms of employment: tourism. A huge medical convention has announced that it will no longer visit San Francisco owing to the health and safety hazards the streets now pose.

The Left-wing Paradise of San Francisco. Represented in Congress by Rep. Nancy Pelosi (D-Calif.) and run for years by almost all Democrats, San Francisco should be a mecca for the left. But the city is fast becoming one of the worst places in the U.S. to live. The homeless problem is out of control. Experts say it "could exceed some of the dirtiest slums in the world." There are around 7,500 homeless people in the city. Human feces is strewn across public areas. The NBC Bay Area Investigative Unit examined over 150 blocks of downtown San Francisco and found 96 blocks littered with feces. San Francisco's new mayor, London Breed, observed, "there are more feces on the sidewalks than I've ever seen growing up here." She says that a cleaning crew will clean up an area, but "right after they leave, maybe an hour or two later, the place is filled with trash again."

SF Mayor Says Her City is Drowning in Poop: 'There's More Feces - Than I've Ever Seen'. San Francisco Mayor London Breed said the streets of her city are flooded with the excrement of the homeless in an interview Friday [7/13/2018]. Breed, a Democrat who was inaugurated as San Francisco's mayor Wednesday [7/11/2018], urged homeless advocacy groups that receive money from the city to teach homeless people to "clean up after themselves." "There is more feces on the sidewalks than I've ever seen growing up here," Breed told KNTV. "That is a huge problem and we are not just talking about from dogs — we're talking about from humans."

San Francisco Is Absolutely Covered in Fecal Matter. Recently elected San Francisco Mayor London Breed says that the city she loves is absolutely covered in fecal matter and "we are not just talking about from dogs — we're talking about from humans." Talking about human feces, folks! Particularly, feces from humans experiencing homelessness right now. Apparently, the city is so overrun by poverty that people are using virtually all public spaces as their toilet because they cannot afford proper lavatories. To this extent, Mayor Breed is asking that homelessness advocacy groups and non-profit encourage those they are helping to clean up after themselves.

San Francisco's crisis looks like New York's future. What happened in San Francisco is obvious. It stopped prosecuting quality-of-life offenses and, unsurprisingly, the quality of life for the city's residents and visitors decreased sharply. In 2015, San Francisco courts stopped enforcing bench warrants for such offenses. Police continued writing up tickets for public drunkenness or sleeping in parks, but when the accused failed to show up to their court appearance a judge simply dismissed the outstanding warrant. New York started following San Francisco's lead in 2016 when Manhattan DA Cyrus Vance Jr. announced his office would no longer be prosecuting offenses such as public urination. Both cities have accepted that they'll continue to have a large number of people living on their streets and inevitably using their sidewalks as a toilet.

Increasingly Putrid City by the Bay. [Scroll down] I love the city [of San Francisco] and find its decrepit situation depressing. At least everyone is noticing its tawdriness. "Trash bags full of approximately 20 pounds of human poop were left on the sidewalk over the weekend in downtown San Francisco," the Fresno Bee reported on Wednesday [7/4/2018]. "It's the latest — and perhaps most alarming — sign of the increased filthiness of one of the most popular cities in the United States." Those smelly, possibly leaking bags were left in the downscale Tenderloin, but large swaths of upscale areas now resemble an outdoor sewer with human feces, open-air drug use, and other signs of the breakdown of civic order. The problem of homelessness and drug abuse isn't confined to San Francisco, of course. [...] In fairness, I've seen similar situations throughout the country. But in San Francisco the disorder isn't confined to alleys and bushes. The encampments are in plain view and spreading. The panhandlers can be frighteningly aggressive.

20 Pounds Of Human Feces Left On San Francisco Sidewalk. According to the Fresno Bee, a trash bag filled with roughly 20 pounds of human feces was left sitting on the sidewalk over the weekend in downtown San Francisco. "It's the latest — and perhaps most alarming — sign of the increased filthiness of one of the most popular cities in the United States," reports FB. "The bags of human poop were said to be left in San Francisco's Tenderloin district."

San Francisco Logs Over 16,000 Feces Complaints in One Week. A website and related app that allows local residents to request maintenance or non-emergency services from the city has received 16,015 complaints with the keyword 'feces' in the last week at the time of this writing, and many pertain to human waste in public places. Additionally, words and phrases synonymous with 'feces' are found in thousands more grievances. Many of the complaints also connect the fecal matter to vagrants and homeless encampments — a sight all too common now across California.

SF's appalling street life repels residents — now it's driven away a convention. In a move that is alarming San Francisco's biggest industry, a major medical association is pulling its annual convention out of the city — saying its members no longer feel safe. "It's the first time that we have had an out-and-out cancellation over the issue, and this is a group that has been coming here every three or four years since the 1980s," said Joe D'Alessandro, president and CEO of S.F. Travel, the city's convention bureau. D'Alessandro declined to name the medical association, saying the bureau still hopes to bring the group back in the future.

The Editor says...
The Editor and Mrs. Editor went to San Antonio in mid-June for the Republican state convention, and it was surprisingly enjoyable. It was rather hot outside, and there were some Austin-style eccentrics on the streets, but the area around the convention center is constantly patrolled by the police as well as a bunch of street-cleaning custodians like you'd see in an amusement park. Forget California, people. Bring your convention to Texas.

Left Coast Lawlessness. Seattle's predicament is emblematic of the broader crises faced by many progressive West Coast cities, where local leaders have forced law enforcement to take a hands-off approach to policing unsanctioned tent cities and vagrancy at the expense of public safety and health. San Francisco, long considered a model of progressive urban policy, is plagued by filth, chaos, and public-safety hazards. Local leaders plan to spend an incredible $305 million on combatting homelessness for the current fiscal year alone, but disorder spreads as the city fails to enforce the rule of law and basic sanitary measures. Block-by-block surveillance reveals the deterioration of downtown San Francisco. Of 153 city blocks surveyed, 41 contained used drug needles and 96 had human feces present. Tourists are dismayed to leave their downtown hotels, to be confronted by mentally ill and aggressive homeless people who are taking control of the streets. University of California Berkeley professor Lee Riley, an expert on infectious disease, observes that some of San Francisco's streets are dirtier than Third World slums.

San Francisco Is, Quite Literally, a Toilet. [Scroll down] The "breaking point" for the main source for the story, a 46-year-old computer programmer named Ernst Schoen-Rene, was the discovery in April of "a black suitcase with wheels on the corner that had clearly been used as a toilet by homeless people." "I actually started crying, I got so frustrated," Schoen-Rene tells the Chronicle reporter. "I flipped out. I started writing to everybody." The trouble for these good San Francisco progressives is reconciling their ideology with reality.

Poop. Needles. Rats. Homeless camp pushes SF neighborhood to the edge. "I don't mind a reasonable amount of urban grit," explained [Ernst] Schoen-Rene, a native of Chico who's lived in San Francisco since 1994, always opting for edgy neighborhoods. He and his wife bought their Isis Street condo in 2010 for $748,000, and by the time he sent the email, he had come to regret it. He felt stuck, unable to afford anything else in today's nutty housing market or the far higher property taxes that would come with a new purchase.

If You're Going to San Francisco. You'll find lots of aggressive vagrants, discarded needles, and a few dead bodies there.

San Francisco Tourists Shocked By Aggressive Vagrants, Discarded Needles, Dead Bodies. San Francisco[,] a Democratic stronghold known for cable cars, quaint architecture and its diverse culture, has become a bastion of squalor and crime as city dwellers and visitors alike dodge aggressive, drug-addled vagrants.

Tourists visiting San Francisco question if they're in 'bad side of town'. Recent social media posts by tourists visiting San Francisco casts a troubling light on the City by the Bay over its homeless issue, open drug use and filthy streets. Since the beginning of the year, reports have surfaced of hypodermic needles dotting the streets, piles of human feces and expanding shanty towns for the increasing homeless population — and now tourists are noticing, SFGate reported. "Is this normal or am I in a 'bad part of town?'" an Australian Reddit user asked the San Francisco Reddit community Wednesday. "Why is this city so terrifying?" a Canadian visitor asked on Reddit Sunday [6/10/2018].

Used Needles Littering San Francisco Streets As Heroin Crisis Grips NorCal. San Francisco residents are complaining about a record number of used and discarded syringes littering the streets, as a growing heroin epidemic grips Northern California. The city distributes nearly 5 million needles each year through various programs aimed at reducing HIV and other health risks for drug users who might otherwise share needles.

San Francisco's many free syringes are littering its streets. San Francisco hands out millions of syringes a year to drug users but has little control over how they are discarded and that's contributing to thousands of complaints.

About those needles littering the streets of San Francisco... The city gave them out. For all of City Hall's tough talk of late about getting needles off the streets, the city itself is responsible for helping fuel the problem — handing out millions of syringes a year with little or no controls over their return. And while the easy access to clean syringes is intended to protect public health, the city's residents are not happy with the situation.

Asian immigrants put their foot down at liberals dumping homeless at their door in the O.C.. Liberals were in for a surprise when legal Asian immigrant families fought back at their efforts to dump the homeless of Orange County into their ICity of Irvine community, thinking that since they were Asians, they wouldn't complain. [...] The people they didn't want dumped into their community to mix it up with their school children and tiger moms were these: [Photo at left] According to MyNewsLA.com, the cleanup of this Santa Ana River camp has left 404 tons of garbage, 13,950 needles, and 5,279 pounds of human waste. You kind of wonder who had to count those needles and weigh all the vomit and excrement. Sound like great neighbors for property values and schoolchildren safety. Which of course is why they protested.

Homeless 'mansion' pops up near Space Needle. A group of homeless people built a tent "mansion" in a small patch of grass between Third Avenue and Broad Street. It's a half a block from Seattle's most famous tourist attraction and surrounded by multi-million dollar high-rise condos.

Calif. Big Cities Face Public Health Issues Caused by Rise in Homelessness. Two of California's biggest and richest cities are facing a public health issue, which centers around the growing homeless problem.

San Francisco Is Suffering From The Excesses Of Its Own Liberalism. In November of 2017 alone, 6,211 needles were collected while via the 311 App, 1,498 requests were made to clean up human feces. The public defecation problem has become so intolerable in San Francisco that private citizens have built an online map to track the concentrations of poop in the city, so that pedestrians may know to avoid certain areas. And it's not just poop. The overwhelming smell of urine on parts of Mission Street and Market Street would make your nose bleed. I recall the first time I rode BART (Bay Area Rapid Transit, San Francisco's subway system) and was nearly knocked over by the sheer stench of the station. I was surprised to learn that exiting the station supplied little to no relief — the urine smell hangs heavy in the more populated areas of the city and is nearly inescapable. In a dark twist of humor, the city has had to replace numerous different street poles due to urine eroding the foundation. What drives a large part of the human waste issue is San Francisco's homeless population. The homeless epidemic in San Francisco is tragic and frightening — in a 47-square mile city, we have around 7,500 homeless people, meaning there are approximately 160 homeless people per square mile.

Homeless encampment relocation plan has California residents outraged. A plan to house hundreds of homeless people in a tent city near a popular Southern California park was met with fierce public resistance, forcing an upcoming vote to rescind the scheme. The Orange County Board of Supervisors is set to meet Tuesday to figure out where to relocate people, after a federal judge forced the county to come up with a plan to house the homeless population located along the Santa Ana River. One proposal would place about 400 people near the county-owned Orange County Great Park in Irvine, located 40 miles southeast of Los Angeles. The park, which is home to a farmers market and a hot air balloon ride, is popular with families on weekends.

California Has Become a Disgraceful State. At one time, California was the envy of America, attracting people from around the nation to move to a state offering opportunity and the chance to pursue ambitious dreams. With scenic beauty, the Pacific Ocean coastline, the major cities of San Diego, Los Angeles and San Francisco, California recruited entrepreneurs looking for economic growth. As the home of Hollywood and multitudes of celebrities, California presented an enticing potential to enjoy "lifestyles of the rich and famous." Today, California has become an economic and cultural disaster. The state is home to over 114,000 homeless people, one quarter of the total in the nation. In San Francisco, a health crisis has developed as the homeless have created a mess in the downtown area, littering it with fecal matter, spent needles and piles of trash.

How can a place with 58,000 homeless people continue to function? Homelessness affects the lives of all Angelenos, not just those forced to live on the streets. And it does so almost daily, in ways large and small. Consider the pairs of thick gloves that George Abou-Daoud has stashed inside the nine restaurants he owns on the east side of Hollywood. When a homeless person accosts his customers, Abou-Daoud says, he can no longer count on the police for help; unless there's an imminent threat to safety, he contends, they don't respond quickly and can't just haul the person away. So he's had to take matters into his own hands, literally, by physically ejecting problematic homeless people himself. That's why he has the gloves — to keep his hands clean.

The Politics of San Francisco's Homelessness Problem. About a year ago, in January 2017, Leilani Farha visited the city of San Francisco and was appalled at the extent of the substandard housing conditions suffered by San Francisco's homeless population. [...] This is particularly disturbing when one considers that California is the most populous and the wealthiest state in the wealthiest country in the world. San Francisco has made some effort to deal with homelessness. The city spent $275 million on homelessness in the fiscal year that ended in June 2017 and is expanding that to $305 million for the year that ends in June 2018. But that is not enough, since there is a long waiting list for nighttime shelters. Visitors to San Francisco are appalled to see persons on sidewalks committing drug crimes such as injecting themselves with needles. And the city has areas now fouled by the smell of human waste.

Orange County's Largest Homeless Camp Cleared Out. Last September I wrote about a homeless camp which had grown up along the bike path which stretches along the Santa Ana River in Orange County, California. Residents in the area complained about trash, human waste, and crime. People living in the camps were constantly in fear of violence from those nearby, many of whom have substance abuse or mental health problems. Last week, after a lengthy legal battle involving the ACLU, a judge ruled that Orange County could begin to clear out the camps so long as people were given a place to go.

'National disgrace': Community fights back as California overrun by homelessness, human waste, needles. The specter of homeless encampments steadily expanding across the downtown streets of San Diego, Los Angeles and San Francisco — bringing with them a public health crisis — has one southern California community taking tough action to dismantle a two-mile-long camp just a short drive from Disneyland. In a departure from the approach taken by other local governments in the state, officials in Orange County, Calif., have started to clear out the camp — by moving occupants and hauling away literally tons of trash and hazardous waste.

6 Points to Consider in the Debate About Homelessness. Homelessness isn't just an Orange County problem, of course. It's a growing mess throughout California and the nation. I've seen communities of all sizes and political dispositions wrestle unsuccessfully with it for decades. Cities such as San Francisco that throw money at the problem become magnets for homelessness, with sections of the city resembling an outdoor sewer. Other communities, including Los Angeles, have tried to more aggressively roust the people sleeping under freeways, along riverbeds and in public parks.

L.A. County's homeless problem is worsening despite billions from tax measures. Los Angeles County's homeless population is increasing faster than the supply of new housing, even with the addition of thousands of beds in the last two years and millions of dollars beginning to flow in from two ballot measures targeting the crisis, according to a long-awaited report by the region's homelessness agency. [...] As a result, a $73-million annual shortfall in funding for the county's comprehensive homelessness program could more than triple, a [Los Angeles] Times analysis of the report found.

Los Angeles votes to tax itself to raise billions to support the homeless. Homelessness advocates in America's second largest city were savoring a seeming double victory after Los Angeles voters appeared to choose to tax themselves to raise more than $3.5 [billion] for homeless services over the next decade, and comprehensively knocked down a second measure that would have slammed the brakes on many housing developments. Tuesday's [3/7/2017] election was the second in a row in which voters aligned with LA's political leadership in calling for a massive funding effort to move tens of thousands of homeless people into permanent housing and provide the "wraparound" services they need to overcome addiction, mental health and other challenges.

Seattle Underbelly Exposed as Homeless Camp Violence Flares. So dangerous is this city's biggest homeless camp, called the Jungle — three ragged miles stitched along the underbelly of Interstate 5 — that if a fire broke out there today, firefighters would not be allowed in without an armed police escort. State lawmakers are considering a razor-wire fence around the camp, separating it from the city at a cost of $1 million.

San Francisco homeless remain in 'unhealthy' tent city despite order to vacate. About 30 tents remained in place Friday [2/26/2016] as the deadline for homeless people to vacate a San Francisco tent city came and went without any action. The homeless living in the encampment had until 5 p.m. Friday to clear out, Sam Dodge, the mayor's point person on homelessness, said. City officials and the San Francisco Police have not said what they intend to do with the tent residents.

San Francisco homeless crisis sparks bitter debate over the tents lining its streets. "A city of tents" — that is how a local government official chose to describe San Francisco, fuelling a bitter divide in a city that is dealing with a mounting number of homeless people. Scott Wiener, who is on the San Francisco Board of Supervisors, is determined to close down the tents for homeless people on the city pavements. Homeless charities, however, say these inhabitants have nowhere else to go. In a Medium blog, Mr Wiener said: "Permitting these encampments is neither humane nor progressive."

L.A. lawmakers to declare 'state of emergency,' commit more than $100 million to fight homelessness. Los Angeles elected leaders announced Tuesday [9/22/2015] that they will declare a "state of emergency" on the growing homelessness problem in the city and commit $100 million toward housing and other services for homeless people. The proposal, which was presented at a City Hall press conference attended by City Council members and Mayor Eric Garcetti, coincides with a Garcetti administration proposal, issued late Monday, that aims to free up nearly $13 million in newly anticipated excess tax revenue for short-term housing initiatives.

The Editor says...
Homeless people in the streets is a chronic problem, but it's not an emergency. It is a condition that has developed over several decades, as a result of left-wing nanny-state policy, driven by emotion rather than reason.

Big Apple Versus Big Toilet. Not long ago, I asked [San Francisco] Mayor Ed Lee what he sees as contributing factors to San Francisco's high P.U. quotient. His answer: The drought means less rain to wash away human waste. Other cities have winters that prompt street people to move to better climates. Development has claimed space that used to house homeless encampments. He also credited "historic levels of drug use" from "people who don't get held responsible for their behavior." Lee has a solid point on each of those factors. I would add another: pride. San Franciscans are proud of the city's vaunted tolerance. Lest they seem intolerant, many locals have been reluctant to complain about the pervasive smell of urine and occasional glimpses of public defecation until conditions become impossible to ignore.

San Francisco uses paint to fight public urination. Public urination has gotten so bad in San Francisco that the city has painted nine walls with a repellant paint that makes pee spray back on the offender.

L.A. councilman takes aim at tiny homes on wheels. Tiny wooden homes on wheels, roughly the size of garden sheds, have popped up on San Pedro streets as a temporary way to house the homeless. [...] But after a handful of similar structures appeared in San Pedro, Los Angeles City Councilman Joe Buscaino said he wants them removed immediately, calling them "a threat in many ways to our public safety."

Avert Your Eyes and Hold Your Nose. Downtown San Francisco feels like a large public toilet without enough janitors. More than once this year, I've seen men drop their pants in public places — including at Fifth and Market — to leave a smelly mess on the sidewalk. You can walk for blocks and never escape the stench of stale urine. At lunchtime, I see street people passed out on high-traffic sidewalks, and I am afraid to walk around them. The homeless have been a problem in San Francisco for as far back as anyone remembers, but to me it seems this year is the worst.

$213 million earmarked to track L.A. homeless by computer, house 1,400. A coalition of public and private agencies announced Tuesday that it is funneling $213 million to house 1,400 homeless people and to expand a tracking and placement system it hopes will end chronic and veteran homelessness in Los Angeles County over the next two years. The placement tool, called the coordinated entry system, is designed to replace a confusing patchwork of entry points to homeless housing and services with a single computerized portal that reaches every corner of the county.

The Editor says...
That's $152,000 per homeless person — enough to buy a house for each of them.

Rise in gay homeless people threatens San Francisco's name as gay-friendly mecca. Thanks to the equality rights work of pioneers such as the politician and activist Harvey Milk, San Francisco has a reputation as the gay capital of the world. But as the city recovers from its 43rd gay Pride festival at the weekend, attended by more than 1.5 million people, it must confront an uncomfortable issue.

Paradise Lost: CA to Provide Free Cell Phones for Homeless. In California, the unemployment rate may be above 10.2%, and the state debt may be above $16 billion, the state's GDP may be in serious trouble and businesses may be leaving in droves due to ever-increasing tax rates, but that isn't going to stop the gravy train for the state's poor and dispossessed. The California Public Utilities Commission is all set to greenlight a new program that would give homeless and low-income people free cell phones — call them Obamaphones — with free service.

Homeless People Shower on New Bus in San Francisco. In May, San Francisco introduced the "Hook-up Truck," providing intimate space for couples on the go. Now, the city is welcoming the "Lava Mae," a public shower on a bus, aimed at the city's large homeless population. San Francisco has been fighting a losing battle with homelessness for decades. City officials concede that they have made little progress over the years despite massive spending, amounting to $34 per homeless person per day.

Oh, good! Now they have the right to urinate in the street.
California lawmaker proposes 'homeless bill of rights'. California law protects its residents from discrimination based on sex, race, religion and sexual orientation. Now a state lawmaker is pushing to add another category to the list: homelessness. New legislation titled the "Homeless Bill of Rights" by Democratic Assemblyman Tom Ammiano of San Francisco is meant to keep communities from rousting people who have nowhere to turn.

The Editor says...
Somehow the writer failed to include words like vagrant and vagabond, and only the commenters used words like drifter and bum and panhandling. Homeless people generally are homeless for a reason — usually a lifetime of bad decisions. This makes them poor candidates for long-term employment, which is apparently the motivation for the proposed legislation discussed in the article above. Please keep in mind that many of the chronically homeless who need protection are really in need of incarceration for their own good. Street-corner beggars pay no taxes, so if they bring in $20 an hour, they're probably better off than you. Even the ones who claim to be hungry will throw away food if someone gives it to them. Give a couple of bananas to a "hungry" roadside beggar and see what he or she does with them.

The Road to Hell. [The San Francisco Chronicle] was practically drooling over a bizarre, new program being launched in San Francisco. The city will be giving a homeless person a four-legged friend to foster: a homeless pup from the pound. But the transient won't get the pick of the litter, but a "problematic" dog. And since California is overflowing with money (LOL), the city will generously throw in a stipend to care for the pet. What could possibly go wrong here? First off, raise your hands if you think that many of these street people will actually use the added income for the benefit of their new best friends? When the call of booze and cocaine beckons, what will happen to Rover's Purina?

California Deficit Soars to $16 Billion — Governor Wants Tax Hikes. Democrat Governor Jerry Brown announced the devastating news today [5/12/2012] on a web video. Brown says there will be even deeper cuts, mostly to education, if voters do not approve tax hikes in November.

Your Money or Your Schools. As a child, I was fond of adventure stories about the exploits of pirates, highwaymen, and miscreants of all sorts. In every such tale there was the moment when the dashing if disreputable protagonist confronts a gaggle of respectable folk and proclaims, "Stand and deliver. Your money or your life!" At the age of eight, armed with capguns and sporting a red bandana, I thought those were words to live by. Today, they are just words for politicians to live by. [...] That seems to be what Gov. Jerry Brown is up to in the Golden State. On May 12, Brown posted his own "money or your life" extortion video online.

The Editor says...
Oh dear. If only California's politicians could think of something to cut from the budget. Like this:


High speed rail:



Canceled! California's billion-dollar boondoggle train. The train never made practical sense in a state where automobiles, though vilified, are by far the principal mode of transportation. After purchasing an expensive (though subsidized) train ticket, what were the few who chose to ride the train to do once they reached their destination — rent a car? California already spent over $5 billion on the train, but estimates to finish the project have now exploded to a staggering $77 billion! The completion date has been pushed back all the way to 2033.

US DOT cancels $929 million in grants for California's aborted high-speed rail project. California's top officials spear-headed a lawsuit to end the implementation of President Donald Trump's national emergency declaration. Now, the US Department of Transportation (DOT) has cancelled millions in grants for the high speed rail project that has been substantially scaled back by California Governor Gavin Newsom.

Trump's plan to take back $2.5 billion in California's high-speed rail funding 'unprecedented'. The Trump administration's decision to cancel a $929-million grant to California's troubled high-speed rail project and claw back $2.5 billion in funds already spent has thrust the federal government into uncharted legal territory and poses an existential threat to the state's largest investment ever. Never before, experts say, has the federal government attempted to take back such a large sum of money from California, particularly after it was spent under federal supervision.

Trump Takes Back $1 Billion from California; Gavin Newsom Complains: 'Political Retribution'. The Trump administration announced Tuesday [2/19/2019] that it was canceling a federal grant to California worth nearly $1 billion after Gov. Gavin Newsom announced the cancelation of the state's high-speed rail project last week. Newsom used his "State of the State" address Feb. 12 to cancel the San Francisco-to-Los Angeles project, saying it "would cost too much and, respectfully, would take too long" to complete. However, he told legislators he wanted to complete the portion of the bullet train under construction in the rural Central Valley, lest the state lose federal dollars granted to California by President Barack Obama as part of the 2009 stimulus: "I am not interested in sending $3.5 billion in federal funding that was allocated to this project back to Donald Trump," Newsom said.

Trump administration to cancel $929 million in California high-speed rail funding. The fate of California's high-speed rail project was cast into further doubt Tuesday when the federal government announced plans to cancel $929 million in grant funds, a move U.S. officials linked to violations of the grant agreement but some view as political payback. The action marks an escalation in the battle between President Trump and the state of California since Gov. Gavin Newsom said last week that the project lacked a path to complete a statewide system and vowed to scale back the $77-billion mega-project. The Transportation Department also said it was "actively exploring every legal option" to get back an additional $2.5-billion grant that is being used to finance the construction of 119 miles of rail line in the Central Valley.

Trump Admin To Newsom: We're Coming For The High-Speed Rail Money, Pal. Gavin Newsom may want to keep the federal subsidies for California's stunted high-speed rail project, but the Trump administration wants the cash back. After Newsom reset the project from a connection between the state's two largest metropolises to a ten-figure project to connect two cities with a combined population of under 600,000, the new governor also declared that he'd hang onto $3.5 billion from Washington. It didn't take long for collectors to come knocking.

CA Gov. Newsom Just Delivered a Huge Blow to AOC's 'Green New Deal'. During his State of the State address, California Gov. Gavin Newsom (D) on Tuesday said his administration is putting a halt to the highly anticipated high-speed rail that would travel between San Francisco and Los Angeles. "Let's be real. The current project, as planned, would cost too much and respectfully take too long. There's been too little oversight and not enough transparency," Newsom said during his first address. The cost of building the train, at last estimate, was put at $77 billion and wouldn't be completed until 2033, the Associated Press reported.

Gavin Newsom calls SF-to-LA high-speed rail unrealistic, pushes for route from Bakersfield to Merced. During Gov. Gavin Newsom's first State of the State speech Tuesday, he surprised listeners by announcing he would put the quest for high-speed rail connecting San Francisco and Los Angeles championed by his predecessor far on the back burner. Instead, Newsom offered a consolation prize: high-speed rail between Bakersfield and Merced.

California's High Speed Rail Finally Stops Pining for the Fjords. By the time [Governor] Newsom pulled the plug on the boondoggle, it had already swelled to $77 to $98 billion in projected costs for the unlikely goal of reducing automotive travel between Los Angeles and San Francisco. The original cost was estimated to be $25 billion. The good news is that the most incredibly expensive part of this colossal waste of taxpayer money is now cancelled. No more worrying about paying for extremely expensive land or 13.5 mile tunnels or how to span active earthquake faults. This is progress!

Could California's Doomed Bullet Train Fund Trump's Border Wall? California Gov. Gavin Newsom just pulled the plug on the state's bullet train boondoggle. President Trump should demand the $3.5 billion the federal government dumped into this black hole back, so he can put it to better use building the border wall.

Trump Demands Gavin Newsom Return $3.5 Billion for Canceled Bullet Train; Newsom: It's 'California's Money' Now. President Donald Trump demanded Wednesday evening that the State of California return $3.5 billion in federal funds after Gov. Gavin Newsom canceled most of the state's high-speed rail project, saying it was too expensive. "California has been forced to cancel the massive bullet train project after having spent and wasted many billions of dollars," the president tweeted. "They owe the Federal Government three and a half billion dollars. We want that money back now. Whole project is a 'green' disaster!"

California Further Proves that Public High-Speed Rail Projects Are Stupid. California governor Gavin Newsom has now abandoned the high-speed railway that would have linked Los Angeles and San Francisco. The ballot measure was proposed in 2008, then estimated to cost $33 billion, with an expected completion date of 2020. Before being scrapped, the expected cost to complete the railway was $77 billion, and the timeline for completion stretched to 2033. [...] This particular project involved one high-speed railway connecting two cities less than 400 miles apart. Construction of this railway began in 2013, and we have to imagine that, given what we've seen, a completion date of 2033 and a price tag of $77 billion is a wildly generous expectation.

Colorless Green Ideas Sleep Furiously. The bullet train is dead. Mostly. California's new governor, the prim and grim Gavin Newsom, announced that the project would be taken off its $650-million-a-month life-support apparatus and euthanized. The end of the project leaves Californians with no way to travel between Los Angeles and San Francisco except a 90-minute, $149 flight. (Or driving.) [...] This is the "problem" that California has tried to solve with a $77 billion boondoggle. At the time of its demise, the bullet train was years behind schedule, had spent more than seven times its originally allocated budget, and, of course, carried no passengers.

California scrapping plan for $77B high-speed rail from LA to San Francisco. California is scrapping current plans to build a $77 billion high-speed rail line from Los Angeles to California due to high costs. The state's governor, Gavin Newsom, said during his State of the State address on Tuesday that the proposal would "cost too much" and "take too long."

By Law, California High Speed Rail May Be Doomed To Fail. For $100 billion Jerry Brown, Arnold and Gavin in are going to give you a train from Bakersfield to Madera!! Of course they do not have the $100 billion and no idea where they money to build or operate the system — so very few riders will come from Bakersfield to go to Madera (a great community). The 99 freeway will continue to have lots of cars using it — the train to nowhere will not operate due to lack of operating cash.

The Boondoggle Continues. Well, a few remaining Republicans in Sacramento managed to get an audit done. The price tag is up to 77 billion dollars.

Rushed construction cost high-speed rail $600 million and delays mount. California's High Speed Rail Authority is still paying for a costly decision five years ago to begin construction in the Central Valley without securing land and before it had completed key plans, according to a report published on Thursday [11/15/2018] by State Auditor Elaine Howle. Howle's office estimated that the rushed construction contributed to $600 million in cost overruns just for segments in the Central Valley. They may require as much as $1.6 billion more.

California's $77 billion bullet train will be one of the state's great embarrassments: Larry Ellison. Oracle co-founder Larry Ellison and Tesla CEO Elon Musk are on the same page when it comes to California's $77 billion high-speed rail project. "Trains leave when you don't want to leave, from a place you don't want to leave from, and take you to a place you don't want to go to, at a time you don't want to get there, and then you have to get into a car and go wherever you're going. It is a crazy system," said Ellison during an exclusive interview with Maria Bartiromo on "Mornings with Maria" on Thursday [10/25/2018]. Ellison, who said he hasn't spoken to Musk about the train, noted that their views are in-line.

Gavin Newsom's Bullet Train To Nowhere. Gavin Newsom is the Democratic candidate for Governor of California who is widely expected to win next month thanks to the state's overwhelming blue tilt. This week Newsom was asked about his plans for California's bullet train project and he said he would settle for building half of it as a way to rescue the project that is already way over budget.

Californians To Try To Kill High-Speed Rail Project By Referendum. Remember that high-speed rail project that was going to bring California's infrastructure into the 21st century? The last we really heard about it was back in April when an audit was scheduled to take stock of just how far in the hole they were and if it could ever be finished. Of course, that's been the story of this project from the beginning. One delay after another compounded by flawed budget estimates and construction schedules. Mix in a bit of political incompetence and malfeasance and you've got a recipe for disaster. This running boondoggle has been dragging on for ages, creating a black pit of despair where Californians' tax dollars go to die. But now that may be about to change. Fresh off their advances in attempting to recall the recent gas tax package, one group is now working on a referendum plan to stop the entire mess and redirect the money to fixing their roads.

Inflation and delays could add billions more to bullet train project costs. The California bullet train project has cost state taxpayers an average $3.1 million a day over the last year — a construction spending rate higher than that for the Bay Bridge, Boston's Big Dig or any U.S. transportation project in recent history. But still it's not enough, planners say. In order to hit its 2033 deadline and $77-billion budget, the California High Speed Rail Authority will have to increase daily spending by up to nine times over the next four years or risk putting the already-delayed system further behind.

The Bullet Train No California Candidate Wants To Talk About. The open primary for the California governor's race is coming up in a couple of weeks and there's a packed field of no less than 27 candidates on the ballot. [...] These folks are all out on the campaign trail and the Democrats are all competing to demonstrate which one of them hates President Trump the most and will be the best leader of the #RESIST movement. On top of that, they all have to figure out how to deal with a housing crisis, disastrous roads in need of repair, an ongoing drought, wildfires, mudslides and a state economy which is somehow still in the black for the moment but is predicted to hit a wall by 2020. But there's one thing you aren't hearing about from any of them. Nobody is talking about the long-delayed and massively over budget bullet train. Why do you suppose that is?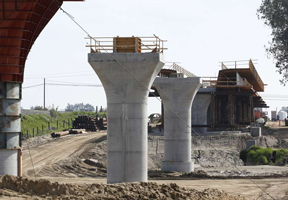 The Fatally Flawed Centerpiece of California's Transportation Future. California's transportation future is bright. In every area of transportation innovation, California-based companies are leading the way. Consortiums of major global companies have offices throughout the San Francisco Bay area, pioneering self-driving cars that consolidate technologies from not just automakers, but cell phone manufacturers, chip designers, PC makers, telecoms, and software companies. In Southern California from the aerospace hub surrounding LAX to the Mojave desert, heavily funded consortiums experiment with everything from passenger drones to hyperloop technologies to hypersonic transports. It's all happening here. It's wondrous. Meanwhile, instead of preparing the roads for smart cars, or designing hubs that integrate buses and cars-on-demand with aerial drones and hyperloop systems, the centerpiece of California's transportation future is a train that isn't very fast, being built at what is probably the highest cost-per-mile in the history of transportation, which hardly anyone will ever ride.
Hyperloop Is Running Circles Around California's 'High Speed' Rail. Just five years ago, Elon Musk proposed his breakthrough "hyperloop" transportation idea, and there is already talk of building it in major urban areas. Over those same five years, California's government-funded high-speed rail project has seen nothing but cost overruns and delays.
Feds To Audit CA High-Speed Rail Project As Funding Flounders. With a new study out showing that California doesn't have the funding to complete even the first phase of their high-speed rail project, the Inspector General for the Department of Transportation will open the books to see how federal monies have been spent: [...] That's bad news for a project that has already had plenty of bad news over the last several years. The IG will apparently focus mainly on how the FRA has performed in reporting on California's progress rather than the performance of the California High-Speed Rail Authority.
The great California train wreck. Let me just say from the outset that I still miss California. [...] Somehow, we got along fine without a bullet train from Los Angeles to San Francisco. A maniacal pipe dream of Gov. Jerry Brown, its price tag was increased last week to $77.3 billion. The train's projected opening date has been pushed back another four years, to 2033. When this thing is done, they claim, you will be able to zip between Southern California and Baghdad by the Bay in only three hours. Minus any time spent restoring track after a particularly bad earthquake.
Jerry Brown's half-fast 'bullet train' front man admits Californians deserve another vote on the project. In 2008, California voters were duped into narrowly approving (with 52.6% of the vote) a $9.95 billion bond issue for construction of a purported "bullet train" linking San Francisco and Los Angeles, based in specious cost estimates and promises that could not be (and have not been) fulfilled.
California's Bullet Train To Fiscal Oblivion. California's bullet train project, also known as Jerry Brown's Folly, has turned into a fiscal nightmare for the Golden State. Not only are the cost estimates soaring, but the time table has once more been shifted back. Based on current estimates, it may turn out to be the biggest fraud in the history of public works.
Cost for California bullet train system rises to $77.3 billion. The price of the California bullet train project jumped sharply Friday when the state rail authority announced that the cost of connecting Los Angeles to San Francisco would be $77.3 billion and could rise as high as $98.1 billion — an uptick of at least $13 billion from estimates two years ago. The rail authority also said the earliest trains could operate on a partial system between San Francisco and Bakersfield would be 2029 — four years later than the previous projection. The full system would not begin operating until 2033. The disclosures are contained in a 114-page business plan that was issued in draft form Friday [3/9/2018] by the rail authority before public hearings and formal submission to the Legislature in about 60 days.
California bullet train costs soar to $77B; opening delayed. The projected cost of California's bullet train between San Francisco and Los Angeles has jumped to $77 billion and the completion date has been pushed back four years to 2033, according to a business plan released Friday [3/9/2018]. The plan by the California High-Speed Rail Authority presents the latest setbacks for a project that's been beleaguered by delays and cost overruns since voters first gave it the green[ ]light in 2008.
Vacant lots, empty homes and dying orchards on bullet train route attract squatters, vandals and thieves. Charlene Hook cherished her home of 30 years north of Corcoran, where pomegranate and pistachio orchards stretched for miles. So choosing to burn it down last year was a difficult decision. She and her husband had no plans to leave their 2½ acres until the day the state bullet train authority said its rails would go through their bedroom. Not long after the couple moved out, thieves broke into the house and stripped almost everything of value — even taking the doors off her husband's shop where he restored classic cars. Soon her former longtime neighbor's homes were being burglarized and vandalized.
Electricity Cost: CA vs U.S. — and TX. California has high income taxes. Texas has none. The workers in Texas do not have to pay bribes to work — in many places in California they have to pay extortion. California is building a high speed rail from L.A. to San Fran, for $200 billion of taxpayers money. Texas is building a high speed rail from Houston to Dallas, approximately 300 miles for NO tax dollars — all private funds. Local cities will build the stations in exchange for development around the stations.
Will Unfinished Train Overpasses Become California's Stonehenge? Californians thought high-speed rail was a great idea when they voted for it in 2008. The state is overwhelmingly progressive. Silicon Valley reflects California's confidence in new-age technology. Californians are among the highest-taxed citizens in the nation. They apparently are not opposed to borrowing and spending for ambitious government projects — especially to alleviate crowded freeways. Planners assured voters that the cost for the first 520 miles was going to be an "affordable" $33 billion. [...] But projected costs have soared even before one foot of track has been laid. The entire project's estimated costs, according to various projections, may have nearly doubled.
California's bullet train (and biggest boondoggle) is over budget by billions. It's billions of dollars over budget and seven years behind schedule, and appears to have no plausible way of living up to its goal of getting riders across the state in three hours or less. Welcome to what's arguably the nation's largest infrastructure project and California's biggest boondoggle. The highly hyped bullet train has been a challenge from the start. No one thought it would be technically, financially and politically easy, but the way the project has been mishandled has some Californians fed up and demanding answers.
CA High-Speed Rail Contractor Gets 18% Raise After Missing Completion Date. California High-Speed Rail agreed to increase payments to its construction manager by 18 percent after failing to complete its first 32-mile section within the seven-year deadline. President Obama and his Democrat congressional majority voted in 2010 to fund the California High Speed Rail (Cal HSR) with $2.5 billion under the American Recovery and Reinvestment Act as the centerpiece of a national network of 10 intercity corridors in California, the Pacific Northwest, the Midwest, the Southeast, The Gulf Coast, Pennsylvania, Florida, New York, and New England. Cal HSR contractually agreed to provide bullet train service with top speeds of 150 miles-per-hour over the 118-mile section between Madera and Bakersfield by September 30, 2017, or give the money back to the U.S. Treasury.
McCarthy: Time to Send California's Sputtering High-Speed Rail Project to the Scrap Yard. After billions of dollars in cost overruns and missed deadlines, California's top Republican in Congress is again training his fire on his state's high-speed rail project, arguing that the mammoth $2.5 billion Obama-era stimulus boondoggle is still struggling to get off the ground and should be scrapped altogether. House Majority Leader Kevin McCarthy (R., Calif.) has long opposed the state's plans for a bullet train linking San Francisco and Los Angeles even though the backbone of the rail system was supposed to run through his hometown of Bakersfield. With construction of the main line of the project, straight through the state's Central Valley, set to miss a Sept. 30 deadline, McCarthy says it's past time to end the "colossal waste of precious taxpayer dollars."
How the Trump administration can stop the bullet train. The only kind of news the troubled $64 billion California bullet train project seems to generate is bad news. In January, a Federal Railroad Administration analysis was leaked that projected the initial 118-mile, $6.4 billion segment of the project would run 50 percent over budget. Then last week, a Los Angeles Times report revealed that the project's price tag may continue to be pushed higher and higher by "the complex engineering needed for passenger safety."

Why High-Speed Rail Should Be Audited Before Caltrain Receives Federal Funds. The California HSR project started in November 2008, when voters approved Proposition 1A establishing a $9 billion bond measure which included rigid restrictions on project administration and protections for taxpayers funding it. Today, nine years later, not one inch of track has been laid. Initially, the voters were told that the project would cost $33 billion; it was anticipated that about 1/3 would come from the bond; $10 billion from the feds; and the remaining money from enthusiastic private investors eager to invest in a winner.




The price of safety on California's bullet train is only now becoming apparent. Engineers on California's high-speed rail project have worried for nine years about the sort of train wreck that occurred in New York last October. Six hundred rail passengers were rolling across Long Island at 50 mph on a Saturday night when a maintenance train on a parallel track derailed and sideswiped their commuter train, injuring 33 and leaving others wandering in the dark through twisted wreckage. Although construction on California's high-speed rail is already underway, designers are still sorting out safety's place in a delicate balance that also requires staying on budget and getting passengers from Los Angeles to San Francisco on time. One safety concern playing out at the moment stems from the fact that the bullet trains will run in some places at 220 mph, alongside lines carrying everything from toxic chemicals to military tanks.

California's Boondoggle Bullet Train Goes Off The (Fiscal) Rails. The Golden State's vaunted bullet train project, planned to connect San Francisco to Los Angeles, may be in its financial death throes. If so, it's probably the best fiscal news for the Golden State in years.

Two construction firms seek an extra $300 million for bullet train work. Two huge construction firms that are helping to build about 54 miles of bullet train structures in the Central Valley are seeking an additional $300 million on their fixed-price contracts, the Los Angeles Times has learned. The increases, if the state ultimately agrees to cover them, would further bloat the bill for what has been touted as the easiest and most predictable section of the Los Angeles-to-San Francisco system. The potential increases lend credence to the findings of a December risk assessment by the Federal Railroad Administration that costs for building the full 118 miles of work in the Central Valley could jump by 50%, or $3.6 billion, above current estimates.

High-Speed Train Going Nowhere Fast. Six years have chugged by since the federal government awarded billions of dollars for California's high-speed passenger train but not a single track has been laid. The "bullet train" promised to make the 520 mile trip from San Francisco to the Los Angeles area in less than three hours by traveling over 200 miles per hour. [...] With a price tag of nearly $100 billion, this rail system is the single largest public works project currently underway in the U.S. Already billions of dollars over budget and years behind schedule, the only ones being taken for a ride by the train are taxpayers.

Obama Has Little To Show For His Lavish Spending On Roads, Green Energy And E-Cars. Early in his administration, Obama fantasized about creating a network of high-speed rail lines across the country. He poured $8 billion worth of stimulus money into the project, hoping to get rail lines started in 10 regions. Only one has seriously pursued Obama's dream — California — which got $3.5 billion in federal grants. But its effort is foundering amid skyrocketing costs and endless construction delays.

California's bullet train is hurtling toward a multibillion-dollar overrun, a confidential federal report warns. California's bullet train could cost taxpayers 50% more than estimated — as much as $3.6 billion more. And that's just for the first 118 miles through the Central Valley, which was supposed to be the easiest part of the route between Los Angeles and San Francisco. A confidential Federal Railroad Administration risk analysis, obtained by The [Los Angeles] Times, projects that building bridges, viaducts, trenches and track from Merced to Shafter, just north of Bakersfield, could cost $9.5 billion to $10 billion, compared with the original budget of $6.4 billion.

Jerry Brown's bullet train fiasco and Trump. California governor Jerry Brown has staked out the turf as President-Elect Trump's opponent, hiring Eric Holder to gin up a legal strategy and appointing Congressman Xavier Bacera as his A.G. to oppose anticipated Trump policies in sanctuary cities, the environment, and what some call California's "values." But I have to wonder if Brown doesn't have a vulnerable flank in this battle: the looming financial collapse of his most cherished project, the so-called "bullet train" between the Bay Area and Los Angeles. Yesterday [1/13/2017], the Los Angeles Times published information from a "confidential" Federal Railroad Administration report that was leaked to it revealing absolute incompetence and out-of-control overspending on the first segment under construction. The report by Ralph Vartabedian should be read in its entirety to grasp the level of chaos in the project.

California's bullet train on the track to extinction. The windswept deserts east of California's Sierra Nevada are crisscrossed with thousands of miles of abandoned railroad beds, a legacy of the region's gold and silver boom town days. Hundreds of now defunct railroad companies, with picturesque names like Tonopah and Tidewater, Va., and Truckee and Carson, Colo., operated until the gold played out or truck transport grew more common and less expensive. Over the jagged spine of California's granite backbone, 100 miles to the west, a new railroad track is being laid. But, unlike its narrow gauge cousins that sprang up 150 years ago, this railroad relies entirely on government funding and will likely never be completed.

California's $64 Billion Bullet Train To Nowhere Gets Delayed — Again. In the late 1800s, it took railroad companies six years to lay 1,907 miles of track for what was to become the Transcontinental Railroad (or as Barack Obama calls it, the Intercontinental Railroad). Building that railroad line required tunneling through mountains — at one foot a day — building bridges — including one that spanned 700 feet — and doing all the work almost entirely by hand. As best, it will now take seven years for California to lay 119 miles of track — on relatively flat ground in the middle of nowhere. That news came from a contract revision that the Obama administration approved late last week.

California's Ongoing Suicide Watch. [Scroll down] Such geniuses we have running California. Thank goodness we're building high-speed rail. It'll only take three times as long at twice the price of Southwest Air Lines to get up and down the state.

California Voters Want More Water and Less Bullet Train. Less than a year ago, climate scientists were heralding the "Godzilla El Niño," which would generate historic rainfalls that could help alleviate California's mega-drought. Climate reality has failed to confirm climate theory, as the term "dud" is now being used to describe the weather pattern.[...] At this point, it looks as if California is going to have to continue implementing a wide array of water-saving measures, which include "cash-for-grass" and drought-shaming neighbors. However, courtesy of our proposition system, Californians may get a chance to divert funds from a loser project into sensible infrastructure construction that may actually alleviate some our state's water crisis.

Plagued by delays, California high-speed rail heads back to court. Eight years after they approved funding for it, construction is years behind schedule and legal, financial and logistical delays plague the $68 billion project.

California's Bullet Train Will Take Even Longer To Go Nowhere. California's high-speed rail project will never make its current 2022 arrival time, according to the Los Angeles Times. Doesn't this strike anyone in charge of this costly boondoggle as ironic? The Los Angeles Times does a commendable job of providing a reality check to the increasingly out-of-touch project. After reviewing project documents and talking to various experts, the paper concluded, "The deadline and budget targets will almost certainly be missed," and state officials have "underestimated the challenges ahead."

Funding and subsidies worry potential partners in California's bullet train project. Major construction, equipment and engineering firms around the world, responding to a solicitation to form a partnership with the California high-speed rail project, have raised serious concerns about the state's shortage of funding, the potential need for long-term operating subsidies and whether the project can meet the current construction schedule. The comments were included in 36 responses sent by the international firms to the California High-Speed Rail Authority after it requested suggestions on how to complete the $68-billion project.

Chinese firms want to build, finance California high-speed train. A team of Chinese firms, along with the Export-Import Bank of China, wants to build and finance a large part of California's proposed 800-mile high-speed rail project.

$68-billion California bullet train project likely to overshoot budget and deadline targets. The monumental task of building California's bullet train will require punching 36 miles of tunnels through the geologically complex mountains north of Los Angeles. Crews will have to cross the tectonic boundary that separates the North American and Pacific plates, boring through a jumble of fractured rock formations and a maze of earthquake faults, some of which are not mapped. It will be the most ambitious tunneling project in the nation's history.

Dianne Feinstein's Husband Awarded Massive Fortune in Rail Boondoggle. What a remarkable coincidence. A guy who was just handed $1 billion of other people's money in the latest rail boondoggle happens to be married to someone we know: [...] The purpose of government spending in a socialistic corruptocracy like ours is to "spread the wealth around" — i.e., confiscate it from those who create it for redistribution to our rulers and those in their favor. For this reason, it is totally unnecessary for rail and green energy projects to make any economic sense whatsoever. All by itself this explains why capitalism works and socialism does not work.

Dianne Feinstein's husband wins near-billion dollar California 'high speed rail' contract. To the surprise of absolutely no one familiar with the ways of Corruptifornia, the one-party state completely in the hands of the Democrats, a consortium whose lead firm is controlled by Richard Blum, husband of Sen. Dianne Feinstein, was awarded a nearly billion-dollar contract for the construction of the first phase of the so-called high-speed rail line to link San Francisco and Los Angeles. Those paying attention to the project call it the "half-fast" rail line because it will share trackage with conventional commuter rail trains in the sprawling Los Angeles and San Francisco areas, lowering its average speed to levels achieved by American railways a century ago.

The closest high-speed rail will come to Sacramento? The contractor for California's high-speed rail system is having an event on the Capitol grounds, featuring a model car that is "Connectin Cities at 220 miles per hour." For $68 billion, they ought to be able to afford a "g" (in connecting). Furthermore, this train will never go 220 mph — not with a blended route that goes slowly through populated areas on Caltrain lines.

California's High-Speed Rail Kicks Off Without Money To Finish It. It finally happened last week: California officially broke ground on its "high-speed" rail line, the wasteful $68 billion (and counting) project that promises to become the biggest public works boondoggle in the history of the U.S. And that's saying a lot.

Construction Begins On California's $68 Billion High-Speed Rail Line. One of the biggest transportation projects the country has ever seen broke ground Monday in Fresno, Calif. In theory, building the much-delayed high speed rail line would allow a trip from Los Angeles to San Francisco in less than three hours, with speeds of over 200 miles an hour. The milestone comes six years after voters first approved an almost $10 billion bond act to fund the project. But that bond, plus about $3 billion in federal funds, still leaves the project about $55 billion short of the cost to get the line up and running by 2030.

California leaders set for high-speed rail groundbreaking Tuesday. California on Tuesday [1/6/2015] will break ground in Fresno on its ambitious but controversial high-speed rail project, marking another milestone for Governor Jerry Brown and for foreign manufacturers waiting to bid on lucrative train contracts.

Washington Governor Imposes Cap-and-Trade Through Executive Order. Washington Democratic Gov. Jay Inslee is not waiting for the state legislature to regulate carbon dioxide emissions, but instead has issued an executive order to implement a cap-and-trade program, eliminate coal power and fund green energy projects. [...] Inlsee argues that more action is needed if the state is to meet climate goals passed by the legislature in 2008. Those goals call for the state to lower its carbon dioxide emissions by certain amounts by 2020.

California eyes plan to speed bullet train using cap-and-trade program proceeds. As envisioned, California's $68 billion bullet-train system, the nation's first, would take passengers from Los Angeles to San Francisco at speeds of more than 200 miles an hour. The project, though, has been beset by planning delays, fluctuating cost estimates and court challenges that have threatened to kill or delay it indefinitely. Gov. Jerry Brown has proposed using one-third of funds raised annually through cap-and-trade auctions to help pay for high-speed rail.

High-Speed Rail Decision Is [a] Victory for [the] Rule of Law. California Judge Michael Kenny has barred state bond funding for the California high-speed rail system, finding "the state's High-Speed Rail Authority failed to follow voter-approved requirements designed to prevent reckless spending." These protections had been important in securing voter approval of a $10 billion bond issue in 2008. Judge Kenny's decision means California government officials cannot ignore the state's laws, even when its leadership finds them politically inexpedient. The ruling forbids the state from arbitrarily casting aside legally binding promises.

52% want bullet train stopped, poll finds. A majority of voters want the California bullet train project stopped and consider it a waste of money, even as state political leaders have struggled to bolster public support and make key compromises to satisfy critics, a USC Dornsife/Los Angeles Times poll found. Statewide, 52% of the respondents said the $68-billion project to link Los Angeles and San Francisco by trains traveling up to 220 mph should be halted. Just 43% said it should go forward.

U.S. Taxpayers to Bailout Rail Project with $42 Billion. After getting slammed with higher taxes, Americans throughout the U.S. will be on the hook for the multi-billion-dollar infusion necessary to complete a grossly mismanaged high-speed rail system in California. Even those who have never been to the state and have no association with it will contribute because federal lawmakers have essentially agreed to fund the project, which will end up costing a monstrous $68.4 billion to finish and hundreds of millions of dollars annually to operate and maintain. The high-speed rail system will run 520 miles from San Francisco to Los Angeles and is scheduled to be completed by 2028.

Why fast trains are a waste of money. California wants about $19 billion for an 800-mile track from Anaheim to San Francisco. Constructing all 13 corridors could easily approach $200 billion. Most (or all) of that would have to come from government. What would we get for this huge investment? Not much. Here's what we wouldn't get: any meaningful reduction in traffic congestion, greenhouse-gas emissions, air travel, or oil consumption and imports. Nada, zip. If you can do fourth-grade math, you can understand why.

A Golden State train wreck. At one point, an estimate of 44 million riders a year — subsequently revised downward, substantially — assumed gasoline costing $40 a gallon. [...] In 2008, Californians passed an initiative authorizing $9.95 billion in bonds to build what they were told would be a $33 billion high-speed rail system. California, constantly lurching from one budget crisis to a worse one, could not nearly afford even that, and soon the price was re-estimated at around $100 billion.

California Goes Off the Rails with High Speed Train. The State of California was already facing a $19 billion budget deficit, shorted public schools $8 billion, and was set to release imprisoned rapists into "community probation" when the Legislature approved selling $4.6 billion in new state bonds to build 130 miles of railroad track through some of the most uninhabited farm country in Central California.

How Insider Politics Saved California's Train to Nowhere. The rail authority promised voters that the train wouldn't require a subsidy and that the feds and private sector would pick up most of the $33 billion tab. Expecting a free ride, voters leapt on board and approved the initiative in November 2008. Not long afterward, the authority raised the price to $43 billion. Investors refused to plunk down money without a revenue guarantee — that is, a subsidy — from the state, which wasn't forthcoming. California's attorney general, whom we now call Gov. Jerry Brown, declined to investigate the bait-and-switch.

Getting Nowhere, Very Fast. California has a huge state debt and Washington has a huge national debt. But that does not discourage either Governor Jerry Brown or President Barack Obama from wanting to launch a very costly high-speed rail system. Most of us might be a little skittish about spending money if we were teetering on the brink of bankruptcy. But the beauty of politics is that it is all other people's money, including among those other people generations yet unborn.

The governor can strong-arm companies with the state's new Thermageddon Law.
California To Pay For High Speed Rail With Extortion. The governor told ABC 7's "Eyewitness Newsmakers" program that environmental impact fees paid by industries that emit large amounts of greenhouse gas will help fund the big train project.

California Struggling to Find High-Speed Rail Funds. California's plans for high-speed rail, which envision tracks connecting Southern California to the Bay Area with riders traveling at speeds of 220 miles per hour, suffered a setback in mid-September as Congress cut billions of dollars from the Federal Railroad Administration's budget. President Barack Obama, who is pushing high-speed rail projects in select states, sought $8 billion in funding for fiscal 2012. House Appropriations subcommittee members, however, cut nearly $7 billion from that request. The bulk of the remaining $1 billion is already allocated for Amtrak operations.

Dubious Claims for High-Speed Rail: No high-speed rail line has been built from scratch in the United States. But historically, urban passenger rail projects have, on average, gone 40 percent over their projected costs. At the same time, U.S. passenger rail planners typically overestimate ridership by an average of about 100 percent. California's high-speed rail authority is projecting that the San Francisco to Los Angeles line will be carrying two to three times more passengers by 2020 than Amtrak's entire Boston to Washington corridor currently carries. A Reason Foundation review of the state rail authority's plan called the ridership projections "the most unrealistic projections produced for a major transport project anywhere in the world."

Congressional panel launches probe of California's high-speed rail project. A congressional committee has launched a wide-ranging examination of the California high-speed rail project, including possible conflicts of interest and how the agency overseeing it plans to spend billions of dollars in federal assistance.

It's 'Next Stop 1970' For California High-Speed Rail. Gov. Jerry Brown is doing all he can to save his state's ill-conceived high-speed rail project, but he's no magician. He's finding that there's no way to cut the project's cost other than to make it smaller and less speedy — in short, even less like the scheme that voters approved in 2008. He has just endorsed a new business plan that lowers the system's projected price tag from $98 billion to $68 billion. This is still well above the $40 billion estimate of 2008, and the project is scaled back.

California high-speed rail takes a new hit. The latest blow to California's plan to connect north and south with an ambitious network of high-speed rail lines came Monday [4/9/2012] in Washington. Rep. Darrell Issa (R) of California announced that the oversight committee he chairs will investigate crucial federal funding of the project. That followed two studies — one by and independent panel, one by the state auditor — that called the plan risky. Polls show faltering support among California voters because of rising costs.

High-speed spending: Bullet train may need $3.5 million a day. If California starts building a 130-mile segment of high-speed rail late this year as planned, it will enter into a risky race against a deadline set up under federal law. The bullet train track through the Central Valley would cost $6 billion and have to be completed by September 2017, or else potentially lose some of its federal funding. It would mean spending as much as $3.5 million every calendar day, holidays and weekends included — the fastest rate of transportation construction known in U.S. history, according to industry and academic experts.

Jerry Brown vs. Chris Christie. In his January 2011 inaugural address, California Gov. Jerry Brown declared it a "time to honestly assess our financial condition and make the tough choices." Plainly the choices weren't tough enough: Mr. Brown has just announced that he faces a state budget deficit of $16 billion — nearly twice the $9.2 billion he predicted in January.

California high speed rail project going pretty much as expected. The proposed service hopes to whisk commuters from San Francisco to Los Angeles in a matter of hours without all that bother of using the existing regional air service to do the same thing faster. Earlier this year, Ed noted that some observers felt that the financing for this effort was looking "increasingly risky." This weekend the Wall Street Journal reports that our earlier estimation was in error. The financing isn't "risky" at all... it's an unmitigated disaster.

Poll: Voters turn against California bullet train. A new poll finds California voters are experiencing buyers' remorse over a proposed $68 billion bullet train project, as the number of lawsuits against the rail system grows.

Environmental objections in path of bullet train. The California bullet train is promoted as an important environmental investment for the future, but over the next decade the heavy construction project would potentially harm air quality, aquatic life and endangered species across the Central Valley. Eleven endangered species, including the San Joaquin kit fox, would be affected, according to federal biologists. Massive emissions from diesel-powered heavy equipment could foul the already filthy air. Dozens of rivers, canals and wetlands fed from the rugged peaks of the Sierra Nevada would be crossed, creating other knotty issues.

Assembly approves high-speed rail funding. The [California] Assembly passed $8 billion in funding for high-speed rail and other projects on Thursday [7/5/2012], sending the bill back to the state Senate for final approval.

Cash-Strapped California OKs Funding for High-Speed Rail. California lawmakers approved billions of dollars Friday in construction financing for the initial segment of the nation's first dedicated high-speed rail line connecting Los Angeles and San Francisco.

Environmental objections in path of bullet train. The California bullet train is promoted as an important environmental investment for the future, but over the next decade the heavy construction project would potentially harm air quality, aquatic life and endangered species across the Central Valley. Eleven endangered species, including the San Joaquin kit fox, would be affected, according to federal biologists. Massive emissions from diesel-powered heavy equipment could foul the already filthy air.

Bias alert!
Alarmists always paint the worst possible picture to describe events that haven't happened yet: The project would potentially pollute the air. It could foul the already filthy air. Really? The air in California is filthy, after years and years of the strictest air pollution laws in the world? And if already filthy air is "fouled", who would notice? The primary obstacle to the bullet train is economics, not air quality. Bullet trains are luxury items for the benefit of the upper class, paid for by everyone.

California High-Speed Rail: Unsafe at Any Speed. Democratic California state Sen. Joe Simitian probably is best-known as the author of California's bill to ban the use of hand-held cellphones while driving. After Friday's vote, Simitian may be best-known as the Democrat who warned his colleagues not to issue $4.6 billion in bonds for big-ticket high-speed rail. "Any of us who talk to our folks know that they're asking the same questions," Simitian reasoned. "They're saying, 'Really? You made these cuts. We're threatened with more. And you want to build a high-speed train?'" The state Senate, nonetheless, passed the bill with 21 votes. Gov. Jerry Brown praised lawmakers for their "bold action." Bold or foolhardy?

California's Railroad Job. California's state legislature on Friday green-lighted funding for its $68 billion (or more) bullet train, which in 30 years may connect San Francisco and Anaheim. Since the state has only enough cash in hand to build about 100 miles of track, the train will more likely dead end in Bakersfield, about 130 miles south of Fresno, where the first segment is supposed to begin. Coincidence?

How Insider Politics Saved California's Train to Nowhere. Environmentalism may be religion to some on the left, but its high priests aren't all pure and righteous. Consider the not-so-immaculate conception of California's bullet train. Last week, the state's legislature authorized $4.7 billion in bonds to start construction on high-speed rail, which had been stalled in Sacramento for more than a decade due to logistical and political malfunctions. This train is now out of the station — though it's almost certain to break down soon.

Bay Area faces new high-speed rail costs. Now that Gov. Jerry Brown has signed legislation to allow the state to spend billions on high-speed rail, Bay Area residents had better brace for the real ride — a push for $650 million in toll hikes and new San Francisco taxes.

Obama's $107 billion transportation plan: Trains and roads to nowhere. [Scroll down] Then there is the $47 billion that Obama wants to spend on brand new high-speed rail projects across the country. One need only look at how his signature rail project in California is progressing to get a sense of how well this money will be spent. More than three years after Obama's stimulus funded California's high-speed rail dream, the project's first phase hasn't even broken ground. Even if the first section of track is ever completed, all it would do is it would connect the Central Valley town of Madera (population 60,000) with Charles Manson's prison home in Corcoran (population 24,000).



All Aboard California's high-speed train to nowhere. [Scroll down] Legally, California's high-speed rail project should be dead in its tracks, because it's en route to operating subsidies, too — another no-no. "California's Democrat supermajority are pulling all the levers and changing the rules, as a payoff to the public unions that elected them," Katy Grimes, investigator at the free-market Pacific Research Institute, tells The Daily Caller. The GAO report doubts private investment will come without such "revenue guarantees." There's no model for public-private partnerships in the U.S. They've failed before in Texas and Florida.

Diane Feinstein's husband's company lands big high-speed rail contract. The group lead by Tutor Perini bid $985,000,000 to build the initial 29-mile stretch, roughly from Fresno to Madera, which doesn't include the costs for electrification and land purchase. And, as Laer points out at Crazifornia, they started with this section because it's the cheapest. (I can't wait to see what the bids are to lay track through the mountain passes...)

Dianne Feinstein's Husband Bags High-Speed Rail Construction Contract. Sen. Diane Feinstein's husband Richard Blum won a construction contract for California's high-speed rail project, reports the California Political Review. Author Laer Pearce says Perini-Zachary-Parsons, a construction group partially owned by Blum's investment firm, Blum Capital, and their investors, bagged the nearly billion dollar contract.

California High Speed Rail Falls Short of Expectations. Various proposals have envisioned a high speed rail system that spans the United States. In California, the California High-Speed Rail Authority has already begun implementing its decades-old plan to connect Northern California with Southern California. However, the rail system would lose more than $100 million per year, say Joseph Vranich, Wendell Cox and Adrian Moore in a new study for the Reason Foundation.

California High-Speed Rail: An Updated Due Diligence Report. Reason Foundation's 2008 report, The California High Speed Rail Proposal: A Due Diligence Report, warned that plans by the California High Speed Rail Authority (CHSRA or Authority) issued prior to and during 2008 were inaccurate, misleading and not in compliance with California statutes. As well, it found that the Authority's financing plan overstated projected revenues and private financing, and understated capital requirements and operating subsidies needed from taxpayers.

The California High-Speed Rail Proposal: A Due Diligence Report. With the high costs of building in California and the history of cost overruns on rail projects, the final price tag for the complete high-speed rail system will actually be $65 to $81 billion, according to the Reason Foundation report. And while the Rail Authority forecasts between 65 and 96 million intercity riders by 2030, the due diligence report finds these projections are dramatically inflated.

High-Speed Train in California Is Caught in a Political Storm. Gov. Jerry Brown of California is riding into an election year on a wave of popularity and an upturn in the state's fortunes. But a project that has become a personal crusade for him over the past two years — a 520-mile high-speed train line from Los Angeles to San Francisco — is in trouble, reeling from a court ruling that undermined its financing, and from slipping public support and opponents' rising calls to shut it down.

CA High-Speed Rail Lowers Revenue Projections. In a new business plan submitted to state legislators last week, the California High-Speed Rail Authority offered lower revenue projections than it had two years before, predicting that revenue will be "5 percent lower than originally projected by 2025 and 10 percent lower by 2040," according to a report by Sacramento's KCRA.com.


Gun control:



NRA seeks to topple 2 strict California gun laws. More than two years after California voters made it illegal to possess high-capacity gun magazines commonly used in mass shootings, the National Rifle Association has tied the measure up in court. Now the gun lobby has set its sights on a nearly 2-decade-old law that banned the sale of those devices in the state. That law, which took effect in 2000, has made it illegal to buy or sell magazines that can hold more than 10 cartridges. Proposition 63, sponsored by then-Lt. Gov. Gavin Newsom and approved by the voters in 2016, would require anyone who owns the magazines to turn them in, send them out of state or remake them to comply with the law.

Gun Control Fail: California Firearm Homicides Up 18 Percent. California, a state with every gun control imaginable, witnessed an 18 percent rise in firearm homicides from 2014 to 2016. This rise in firearm homicides comes despite the fact that Democrats, gun control groups, and the establishment media constantly claim that states with the strictest gun controls see lower rates of violence and death. California has universal background checks, gun registration requirements, red flag laws (i.e., Gun Violence Restraining Orders), a ten-day waiting period for gun purchases, an "assault weapons" ban, a one-gun-per-month limit on handgun purchases, a minimum firearm purchase age of 21, a ban on campus carry, a "good cause" restriction for concealed carry permit issuance, and controls on the purchase of ammunition.

Los Angeles Considers Ordinance That Will Force City Contractors To Disclose Any NRA Ties. It's California. It's a garbage deep-blue state, but it's alarming nonetheless. Los Angeles city hall is moving forward with an ordinance that would force contractors to disclose any ties to the National Rifle Association. They also have a similar regulation concerning contractors that are involved in the construction of President Trump's much-anticipated border wall. It doesn't bar these contractors from working within the city limits.

California law prompts spike in assault weapon registrations: report. A recently-enacted California gun law that broadened what firearms must be registered with the state prompted a 43 percent spike in assault weapons registration and a lawsuit by gun rights advocates, The Los Angeles Times reported Wednesday [7/18/2018]. The 2016 law banned the sale of semi-automatic assault rifles with so-called "bullet buttons" — a feature on some rifles that enables faster replacement of ammunition. "Bullet button" rifles purchased before the law were required to be registered with the state by June 2018.

CA Lawmakers Seek to Expand Gun Confiscation, Limit Number of Firearms Residents Can Buy. California lawmakers are pushing numerous gun control measures including an expansion of confiscatory orders and limits on the number of firearms residents can buy each month. Many of the lawmakers are claiming school shootings in Florida and Texas as the impetus for more gun control on law-abiding Californians. The Mercury News reports that Assemblyman Rob Bonita (D-18) is pushing controls to bar 18-20-year olds from buying firearms.

2 New Court Decisions are Quietly Eliminating Californians' Second Amendment Rights. Two new federal court decisions highlight a harsh new reality: California has effectively repealed the Second Amendment inside its borders. In the first case, decided yesterday [5/9/23018], a district judge ruled against the National Rifle Association's state affiliate in a challenge to onerous new California rules targeting popular semi-automatic rifles. That 2016 law, signed by Gov. Jerry Brown (D), is called the Assault Weapons Control Act. "Even an outright ban on certain types of semiautomatic weapons does not substantially burden the Second Amendment right," wrote Judge Josephine Staton, a Barack Obama appointee in Santa Ana, California.

Dem Rep. Swalwell: We Need To Ban & Buy Back Assault Weapons. A California Democrat writes in USA Today — it's not enough to ban so-called assault weapons. He says the U.S. must reinstate the assault weapons ban of 1994 and institute a forced buyback. One America's Jonathan Blaisdell has the latest liberal agenda to take America's fire arms.

2nd Amendment Foundation Issues Travel Advisory: Your Gun Rights Are No Good in California. On August 7, the Second Amendment Foundation (SAF) issued its first ever travel advisory warning American gun owners not to go to California unless they are willing to enter the state disarmed or risk going to jail. The gun rights group is "warning law-abiding armed citizens that their civil rights could be in jeopardy due to that state's restrictive gun control laws."

Losing Their Gun Rights With Barely a Whimper. Gun-rights activists often express the view that Americans will not easily give up their rights to gun ownership even if the laws eventually outlaw — or at least greatly restrict — the freedom of individuals to own firearms. The scenario they depict is bleak but simple: When armed agents come to their doors to confiscate people's arsenals, some of those people can be expected to fight back. [...] The experience in California, in particular, suggests an entirely different scenario. From what I've seen, the public often will support aggressive new restrictions. Gun owners will meekly hand over their weapons to agents. Gun-rights groups will quietly protest, but have little sway. Republican legislators will make things worse as they try to prove their commitment to taking guns out of the hands of "criminals." The erosion of our fundamental gun rights will take place so slowly that few will protest too much.

Federal Judge Blocks California Gun Magazine Confiscation Scheme. A federal judge granted a preliminary injunction on Thursday that blocks California from enforcing their gun magazine confiscation law. U.S. District Judge Roger T. Benitez said in his ruling that the law, which would make it illegal to possess any gun magazine capable of holding more than 10 rounds of ammunition, likely violates the Second Amendment rights of the plaintiffs in the case. He ordered that California immediately stop enforcing the law pending further legal action.

Federal judge blocks California ban on high-capacity magazines. A federal judge has temporarily blocked a voter-approved California law that would have forced gun owners to get rid of high-capacity ammunition magazines by this Saturday [7/1/2017]. U.S. District Judge Roger Benitez, who is based in San Diego, issued a preliminary injunction Thursday that found the law was likely unconstitutional because it prevented people from using firearms that employed "whatever common magazine size he or she judges best suits the situation." The law would have barred people from possessing magazines containing more than 10 bullets.

Clovis Family Wins Lawsuit, Forcing California DOJ to Return 500 Guns. A Clovis family won a court case against the California Department of Justice that forces the state agency to return 500 guns it had confiscated from Albert Sheakalee. The CA DOJ raided Sheakalee's house in 2015, alleging he was listed in the state's Armed Prohibited Persons (APPS) database. Sheakalee's attorney won the case by arguing that the CA DOJ had not notified Sheakalee that he was on the APPS. Moreover, his attorney, Mark Coleman, stated that "the justice department broke a promise to Sheakalee to keep the raid confidential until a court hearing determined whether he was mentally fit to own guns." According to the Fresno Bee, Sheakalee was arrested, but he "had no prior criminal history." [...] No charges were ever brought against Sheakelee; nonetheless, the CA DOJ held onto the guns.

DOJ Seized 541 Guns From This Man With No Charges Filed, but He Fought and Got Them All Back!. A California Federal Firearms License holder who had his entire firearms collection of 541 guns seized with no charges filed against him, has had his guns returned. Albert Sheakalee, who lives in the Clovis area, went through mental health treatment in 2014. He has had a clean criminal record all of his life and owns a retirement home. He is a retired budget director of Fresno Community Hospital, and has held a FFL for more than two decades. However, under the Obama administration, the Justice Department went after his guns without any charges or guilt of any crime being obtained, a clear violation of the Fifth Amendments protections that he not be deprived of his rights (specifically the right to keep and bear arms). A press release at the time by then-state Attorney General, now Senator Kamala Harris barred him from owning guns and brought about a 12-hour raid on his home by the Bureau of Firearms Special Agents on November 12, 2015. He was subsequently arrested for allegedly possessing illegal firearms.

California's 'Assault Rifle' Law Goes Into Effect Jan. 1. California Governor Jerry Brown signed a bill into law last July that will redefine what is and isn't an assault rifle. It goes into effect Jan. 1 and will affect many thousands of California gun owners. The most common example of what California defines as an assault rifle is the standard AR15. Starting in 2017, no one will be able to legally buy or sell one in that state. "People have been kind of holding off," Terry Fong, of Rocklin Armory, told FOX40. "The last 30 days have been absolutely crazy. Phone calls, probably 50-60 phone calls a day, just looking for specific brands of AR's. Now, they're looking for any AR's."

Calif. Proposition Requires Permit to Buy Bullets. California residents will be voting tomorrow on a measure that would require individuals to purchase a permit to but bullets and for the Department of Justice (DOJ) to regulate the purchases. The measure, Proposition 63, would require individuals to pay up to $50 for an ammunition purchase authorization permit in order to buy ammunition.

CA Lawmakers Quietly Exempt Themselves From Gun Laws. Even by California standards this is stunning. The lawmakers of the state love to write gun control laws. They love to give speeches about the need for strict gun laws. They love to enforce gun laws that restrict the average Californian from enjoying the Second Amendment rights they deserve.

Gun rights activists say they won't comply with California's new laws. Fifty or so gun activists gathered Saturday morning at Sacramento's Cesar Chavez Plaza to protest Gov. Jerry Brown's signing of six gun control measures they said would turn "law-abiding citizens into criminals." One bill Brown signed will expand the state's assault weapons ban to include "bullet-button" rifles, which allow users to quickly dislodge a magazine of ammunition by pressing a button. Others prohibit citizens from possessing magazines that hold more than 10 rounds and require background checks on people purchasing ammunition.

California governor signs stringent gun bills, vetoes others. Gov. Jerry Brown signed six stringent gun-control measures Friday [7/1/2016] that will require people to turn in high-capacity magazines and mandate background checks for ammunition sales, as California Democrats seek to strengthen gun laws that are already among the strictest in the nation.

Gov. Jerry Brown signs six gun-control bills, vetoes five. Californians wishing to buy ammunition will have to undergo a background check beginning in 2019 similar to those already required for gun purchases, under one of six gun-control bills signed by Gov. Jerry Brown on Friday [7/1/2016]. The governor vetoed five gun bills, including the only bill Republicans supported, AB 1176, which would have made it a felony to steal a gun or buy a stolen gun, regardless of its value.

California Targets Second Amendment-protected Rights. California leglslators are hearing extremist bills to severely restrict gun rights, some so radical that even liberal Governor Jerry Brown has vetoed them in the past. For example, Senate Bill 880 would outright ban millions of constitutionally protected firearms that have no connection to crime. Brown vetoed a similar measure in 2013. The bill would turn all "semiautomatic centerfire rifles that do not have a fixed magazine with the capacity to accept no more than 10 rounds" into "assault weapons." The anti-gun rights fanatics love the designation "assault weapon," because it is such an inflammatory term. By applying the description to semiautomatic rifles, they can attempt to ban perfectly legal weapons.

Police May Confiscate Guns without Notice to Owner Starting January 1. Beginning January 1, police in California may confiscate firearms from gun owners thought to be a danger to themselves or others without giving the owner any notice. This is the result of the implementation of "gun violence restraining orders" (GVROs), which go into effect New Year's Day. According to KPCC, GVROs "could be issued without prior knowledge of the person. In other words, a judge could issue the order without ever hearing from the person in question, if there are reasonable grounds to believe the person is a threat based on accounts from the family and police." And since the order can be issued without the gun owner even being present to defend him or herself, confiscation can commence without any notice to the gun owner once the order is issued.

Here Are All The Gun Laws That Didn't Stop The San Bernardino Shooters. As the left continues to move in lockstep in their calls for more gun control in the wake of the San Bernardino attack, it's important to note that there were already multiple gun laws in place in the state that failed to stop the shooters. Here's the list. [...]

California's strict gun laws failed to stop mass shooting. The deadly shooting in San Bernardino happened in a state with some of the nation's toughest gun laws: California bars assault weapons, blocks the sale of large-capacity magazines and requires universal background checks for all gun purchases.

California Already Has Obama's Fantasy Gun Control Utopia. For months and repeatedly after national atrocities involving the use of a firearm to kill innocent people, President Obama has called for "common-sense" gun control measures. His White House has repeatedly put out the talking point that universal background checks are necessary to prevent future violence. The terror attack in San Bernardino is no different. Hours before we even knew who the suspects were, President Obama called for new gun control measures.

CA Lt. Governor Will Introduce Ballot Initiative for Background Checks to Purchase Ammunition. The lieutenant governor of California, Gavin Newsom, is proposing a ballot initiative that would create some sensible gun laws. Just kidding, they're not sensible. Newsom's initiative will ask voters to "strengthen the state's gun laws by restricting ammunition sales, requiring owners to turn in assault-style magazines that have a large capacity and requiring gun owners to report lost or stolen guns to law enforcement." If the initiative is passed, California will be the first state to require background checks to purchase ammunition. The proposal is sponsored by the anti-gun crew at the Law Center to Prevent Gun Violence.

Gov. Brown Signs Bill Allowing 'Temporary' Firearm Confiscation. California Governor Jerry Brown has signed 'AB 1014, the legislation allowing "temporary" confiscation of firearms via "Gun Violence Restraining Orders" from persons "determined by the courts to be a threat to themselves or others." [...] The new law allows families to petition a court for the seizure of guns from a family member, and then empowers police to confiscate firearms from that family member.

Report: California Lead Ban to Triple Ammo Prices. California's upcoming ban on the use of traditional lead ammunition could triple the price of all ammunition in the state, forcing many gun owners to give up shooting, according to a report by a firearm trade association.

Calif. state senator arrested for alleged gun-running was gun-control advocate. California state Sen. Leland Yee (D) was arrested Wednesday at his home in San Francisco and accused of — among many, many other things — offering to procure some seriously illegal weapons. The irony: Yee was one of the driving forces behind some of the toughest gun-control legislation in the country during his tenure in the state Senate.

Dem gun control advocate charged with gun-running. The irony police are going to need reinforcements to handle the tsunami being generated in San Francisco. State Senator Leland Yee appeared in federal court yesterday in shackles, and faced a lengthy indictment for a series of corruption charges, including shocking allegations of gun-running — including shoulder-fired rocket launchers. An undercover FBI agent met repeatedly with Lee, a prominent gun control advocate who had authored legislation to expand the definition of "assault weapons."

Gun Control Groups Fear Sen. Yee's Indictment Will Make Gun Control More Difficult to Pass. Gun control groups working to push further gun control in California worry that state senator Leland Yee's indictment on arms trafficking "may slow the legislature's consideration of gun restrictions this year." According to AP California News, on March 27 organizers of more legislation said "the charges filed against... Yee, a Democrat from San Francisco, could cloud the future of two of his gun control bills."

Gun Rights Advocates Pretty Impressed with the Mindblowing Scale of Leland Yee's Hypocrisy. By day, California Democrat Leland Yee was an outspoken gun control advocate. But by night, he is alleged to have been a broker for Russian arms dealers to arm Islamic militants, for piles of cold, hard cash. That dual life hasn't been lost on Yee's enemies on gun control. [...] Isn't Leland Yee an excellent argument for keeping and strengthening the Second Amendment? The Second Amendment is not and never was about hunting. It's about an armed populace being a check on out-of-control, tyrannical government and also about national defense. This is a man who used his political power to disarm Americans, while he was allegedly arming America's enemies. It's treasonous.

AB 1014: California Democrats Wage War on the Constitution. Two California Democrats in the State Assembly, Nancy Skinner and Das Williams, have authored what may well be the most draconian and flagrantly unconstitutional bill in the state's, and maybe even the nation's, history. AB 1014 provides for the addition to the California Penal Code of provisions involving "gun violence restraining orders" and associated "firearm seizure warrants."

Stop SB53, the Ammo Registration and Eventual Gun Confiscation Bill. The war over SB 53 is heating up in Sacramento and now anti-gun advocates are attempting to split gun owners by trying to buy the support of hunters. The newest amended version of SB 53 will continue to BAN the mail and internet sales of ammunition to firearms owners in California, unless you have a hunting license. Supporters of SB 53 think that they can pretend to be "pro-hunting" while they are still violating the rights of firearms owners statewide.

Gun flight: Smith & Wesson quits California over stamping requirement. A new gun law proponents say helps law enforcement has driven Smith & Wesson and Sturm Ruger out of California, and affirmed the suspicions of firearms rights advocates that the measure is really about making handguns obsolete. The two companies have announced they will stop selling their wares in the nation's most populous state rather than try to comply with a law that requires some handguns to have technology that imprints a tiny stamp on the bullet so it can be traced back to the gun.

Smith & Wesson to stop selling guns in California due to microstamping law. Smith & Wesson announced it will stop selling its handguns in California rather than manufacture them to comply with the new microstamping law. The other publicly traded firearms manufacturer in the U.S., Sturm, Ruger, also said this month that it will stop new sales to California. The announcement late Wednesday [1/22/2014] came a week after the National Shooting Sports Foundation (NSSF), the trade association for firearms manufacturers, filed suit against California for requiring that all new semi-automatic pistols that are not already on the state's approved gun roster have the microstamping technology.

California — Living Proof of the Slippery Slope of Rational Apathy. The California slippery slope of anti-freedom legislation — whatever the political agenda — has been a model for the rest of the nation. This is the ceaseless, incremental strategy of the California gun control movement that continues to this day. On gun control, thankfully, the rest of the nation has mostly failed to follow. But here in the Golden State, the Golden Rule of gun control has always been to swipe freedoms one small step at a time. Over, and over, and over again.

Jerry Brown signs lead ammo ban, vetoes bill to ban semi-automatic rifles. Gov. Jerry Brown signed legislation Friday banning the use of lead ammunition in hunting, but he vetoed the most controversial gun control bill the Legislature sent to him this year, a proposal to ban the sale of certain semi-automatic rifles. The bills were among the highest profile in a package of gun control bills Brown acted on Friday. He signed legislation requiring long gun purchasers to take a firearm safety class and adding criminal liability for firearm storage that endangers a child, but he vetoed bills that would have limited the transfer of unsafe handguns and let Oakland enact its own, stricter gun control laws.

California's great gun grab: State's sweeping gun control bills target firearms, ammo — and hunting. Breaking new ground in the state-level battle over firearms, the Democratic-dominated California state legislature has taken gun control into uncharted territory with a flurry of new bills that target not just firearms and ammunition, but also recreational hunting. Among the dozen gun-control bills sitting on California Gov. Jerry Brown's desk are measures that would outlaw lead ammunition for hunting as well as common types of hunting rifles under the umbrella of an assault-weapons ban.

What politicians can't take from you — your right to carry a gun. Homicides in Oakland are up 27 percent so far this year. In preparation for a mayoral run, a state senator and FBI suspect is resurrecting his worn arguments favoring gun control. California and the Bay Area have tinkered with gun control for decades, and yet Oakland falls further into chaos. Despite politicians' efforts to eliminate private firearm ownership, homicide is nearly a daily event in Oaktown.



Are California Democrats creating ground zero for the next revolutionary war? In effect, California Democrats are looking to ban every common semi-automatic rifle, outlaw the ownership of standard magazines entirely, ban the popular Taurus Judge revolver, prevent individuals from allowing friends and relatives to fire legal guns, force handgun owners through bureaucratic hoops every year to merely maintain legal possession of their guns (the obvious intent is to make handgun ownership prohibitive), would eliminate the Second Amendment rights of anyone living with someone who is a banned person, and hire more CA DOJ employees to confiscate an ever-growing list of prohibited persons.

CA Dems Show They Just Want To Grab Guns. Along with making sure that it is really, really difficult for law abiding citizens to have the means to protect themselves and their families with any sort of gun.

California Seizes Guns as Owners Lose Right to Keep Arms. Wearing bulletproof vests and carrying 40-caliber Glock pistols, nine California Justice Department agents assembled outside a ranch-style house in a suburb east of Los Angeles. They were looking for a gun owner who'd recently spent two days in a mental hospital.

California governor signs bill to speed up gun seizures. Gov. Jerry Brown announced Wednesday that he has signed legislation expanding the ability of state agents to seize firearms from nearly 20,000 Californians who are not allowed to have them.


Individuals and companies are leaving California.



Three Cheers for the Labor Market. If your prospects are tapped out in the place you are, then move. Go where the action is. That isn't always easy. Neither is being disabled or a convicted felon trying to make a new life for himself. Nobody's asking you to take a Conestoga wagon through Indian country to homestead a farm in the western territories. Just get on with it.

Texas business leaders travel to West Coast to poach more California companies. A group of Texas business leaders is traveling this week to the state's favorite place to lure away companies: California. The three-day trip to San Francisco is the latest effort by Texas to snag corporate offices, company headquarters and jobs from its West Coast rival. For years, California has been a favorite punching bag of Texas politicians who describe the Lone Star State as a refuge from California's burdensome regulations, hefty taxes and higher cost of living.

The Editor says...
To poach is to illegally hunt or catch (game or fish) on land that is not one's own, or in contravention of official protection. What the Texas business leaders are doing in California is presumably legal.

Majority of California Residents Want to Leave: Poll. A new poll reveals that 53% of California residents are considering leaving the Golden State because of the high cost of living. The "Trust Barometer" poll, by Edelman Intelligence, was conducted January 4-20 among 1,500 California residents, with a margin of error of 2.5%. A special oversample of 400 tech workers in the San Francisco Bay Area was also conducted, with a margin of error of 4.8%. The results are sobering. Nearly two-thirds, 62%, of respondents said they believed the best days of California were in the past.

California Companies Flee Business-Hostile State In Droves. California's business environment has gone from bad to worse, with thousands of businesses pulling up stakes and moving elsewhere. But don't take our word for it. Just ask the 1,800 companies that either relocated or "disinvested" in the formerly Golden State in 2016.

1,800 companies left California in a year — with most bound for Texas. A record number of companies are leaving California for states with a better business climate, and a new report shows that Texas remains their No. 1 destination. See why they are being urged to leave the state (it's not just because of taxes).

More People Are Leaving California. But Still Not Enough. Despite their best efforts, California's governing Democrats have been unable to spur a sufficient exodus of its over-populated areas. Last year, new figures show, only 130,000 more people fled the state than entered it. And 142,000 the year before that. This has been going on for more than 15 years now. But it still hasn't made a dent in the over-crowded conditions of the most populous state's metropolitan areas or in its population of 39.6 million people.

The Great Migration. [The writer] Was reading some data from the Cato Institute. It has to do with Tax Reform and Interstate Migration. The problem is the data is a little too fresh. Tax reform was only passed in 2017, so 2018 is really the first year that people are feeling the effects of it. One of the major effects is SALT. That's the ability of citizens to deduct state and local taxes from their federal taxes. In the past, it's always been allowable. Now, it is not and high tax states are trying to find an end run around it. They have even resorted to the courts, trying to characterize taxes we pay for public schools as charities. Of course, the other tact might be to act responsibly and reduce the tax burden on citizens but who knows a politician that would want to do that? There is no clear relationship between the level of taxation and the quality of government services or the quality of public schools.

A generation plans an exodus from California. California is the great role model for America, particularly if you read the Eastern press. Yet few boosters have yet to confront the fact that the state is continuing to hemorrhage people at a higher rate, with particular losses among the family-formation age demographic critical to California's future. Since the recovery began in 2010, California's net domestic out-migration, according to the American community survey, has almost tripled to 140,000 annually. Over that time, the state has lost half a million net migrants with the bulk of that coming from the Los Angeles-Orange County area.

Millionaires Flee California After Tax Hike. According to new research released by Charles Varner, associate director of the Stanford Center on Poverty and Inequality, California lost an estimated 138 high-income individuals following passage of the Proposition 30 income tax increase championed by Gov. Jerry Brown (D) and approved by Golden State voters in 2012. This new research by Varner updates a previous paper released six years ago that looked at domestic migration to and from California following a 2004 income tax hike. "One reason we wanted to update our previous paper is that this tax change in 2012 is the largest state tax change that we have seen in the U.S. for the last three decades," Varner said.

See how many Californians moved to Dallas in just 3 months last year. Dallas-Fort Worth was one of the top destinations for domestic migrants from California in 2017, according to a recent study. There were 1,051 moves from coastal California, the home of some of the country's toughest housing markets, to Dallas in the first quarter of 2017, according to Alexandra Lee, a housing analyst with the real estate listing and research site Trulia, which did the study. Out of 19,132 moves out of the region during that time period, 5.5 percent went to D-FW. The largest destination was the similarly affordable — in relative terms — Las Vegas, which took on 8.1 percent of those interstate migrants during the first three months of last year.

Why nearly half of San Francisco Bay Area residents plan to leave. Nearly half of San Francisco Bay Area voters plan to leave the region in the next few years, fed up with exorbitant housing costs and the long commutes caused by the lack of available homes near their workplaces. Less than 48 hours before polls open for the California election, the business-sponsored Bay Area Council advocacy group released its annual survey of registered voters in the nine-county Bay Area showing that 46 percent are likely to move away, the highest percentage in three years.

New Yorkers and Californians can't stop moving to Texas. According to a new U.S. Census Bureau report, of the 15 fastest-growing cities larger than 50,000 people, seven are in Texas including the top three: Frisco, New Braunfels, and Pflugerville. Frisco's growth rate was 8.2 percent, some 11 times faster than the national rate of 0.7 percent. Of the cities with the greatest population gain from July 1, 2016 to July 1, 2017, San Antonio, Texas, took the prize, adding some 66 people every day. Texas had the most cities in the top 15 of this category as well with five making the list and three of the top five overall in addition to San Antonio: Dallas, Fort Worth, Frisco, and Austin.

California: Who's Leaving? Who's Coming? A new report on migration from a left-of-center outfit, Next 10, is very revealing: middle class and low income people are moving out of California in droves, while upper income people and fancy professionals are moving in.

California [is] not the model for America it thinks it is. Today, domestic net out-migration, even after declining in the early years of the recession, has more than doubled between 2013 and 2016. Even worse, according to a recent UC Berkeley study, over a quarter of Californians are considering a move, half of them out of the state, with the strongest proclivity found among people under the age of 50. And contrary to some progressive commentary, those leaving are not necessarily old or losers; according to IRS data, out-migrant households had a higher average income than those households that stayed, or of households that moved in to the state.

GOP's SALT cap may speed exodus from high-tax states, report says. Over the past decade, about 3.5 million Americans have relocated from high-tax blue states like California and those in the Northeast, to low-tax red states like Texas and Arizona — and the change is likely to accelerate. So say Arthur Laffer and Stephen Moore, co-authors of a report from the American Legislative Exchange Council, in a Wall Street Journal essay. They say that the Republican Party tax bill's cap on the deduction for state and local taxes (SALT) could ramp up the pace by which Americans relocate in their own economic interest. Laffer and Moore estimate that both California and New York will lose on net about 800,000 over the next three years, roughly double from the previous three years, while Connecticut, New Jersey and Minnesota combined with lose around 500,000 people in the same period.

'Not Being Viewed as an Enemy' Propels California Company's Move to Texas, says CEO. The top executive of a Southern California private charter airline says the Golden State's hostile business environment propelled his company's decision to relocate to Texas. "Not being viewed as an enemy, but being viewed as an asset is so refreshing," said Alex Wilcox, Chief Executive Officer of JetSuite Inc., who, on Thursday, spoke to the Dallas Business Journal. He described the air carrier's decision to move to North Texas this summer as a "welcome change."

Californication blues. [Scroll down] Although 80,000 people were added to the population, more people moved out of California, particularly to Texas and Florida, than moved in from other states, particularly the cold-weather Northeast. Worse, those leaving further drained the state's middle class, taking with them the long-admired entrepreneurial pulse of the state.

Californians Leaving For Greener Pastures In Droves. Based on the latest U.S. Census Bureau statistics from July 2016 to July 2017, Californians are leaving the state in droves. As Jed Kolko, chief economist with employment website Indeed.com, pointed out regarding the data, "The rate at which California has been losing people to other states has accelerated in the past couple of years, in part because of rising housing costs ... more people moved out of California to other states than moved in from other states. In other words, California lost people due to domestic migration." There are apparently three prime destinations for the migrating Californians: Texas, Arizona, and Nevada. The census showed that during the period it covered, 79,000 people moved to Texas, 63,000 moved to Arizona, and 38,000 migrated to Nevada. Interestingly, as Christopher Thornberg, founding partner of research and consulting firm Beacon Economics in Los Angeles, noted when looking at the data, "lower income Californians are the ones who are leaving, not higher income."

WSJ: Tech Workers Plan On Leaving Silicon Valley In Droves. A number of workers in Silicon Valley are planning to leave the tech hub due to a discomfort stemming from a uniform way of thinking in the industry and region, according to The Wall Street Journal. The workers already are or plan on indirectly following the lead of Peter Thiel, a President Donald Trump-supporting venture capitalist. The billionaire entrepreneur recently announced he is leaving Silicon Valley for the slightly less liberal Los Angeles area to escape an allegedly pervasive discrimination against conservatives and some libertarians. Citing a number of influential investors, and a couple of tech workers and startup entrepreneurs, the WSJ reports Thiel's geographic "defection" is emblematic of an apparently larger trend.

Wondering Which States Americans Hate to Live In? Ask U-Haul. Renting a truck from San Francisco to Dallas costs $3,206 and back $1,128 (the difference is $2,078, a 184% surcharge.) For comparison, renting the same truck from New York to San Francisco costs $3,409, and back $3,058 (the difference is $351, a surcharge of 11%).

Wealthy exodus to escape new tax rules worries California Democrats. The Republican-backed federal tax bill flipped the tables on a never-ending question for California politicians: Will high taxes lead the state's wealthiest residents to flee the Golden State for the comparable tax havens of Florida, Nevada and Texas? Republicans reliably raise that alarm when Democrats advocate for tax increases, like the 2012 and 2016 ballot initiatives that levied a new income tax on very high-earning residents. But now, with the federal tax bill cutting off deductions that benefited well-off Californians, the state's Democrats suddenly are singing the GOP song about a potential millionaire exodus.

New Company Helps Americans Flee Blue States to Largest Red State. Former Congressional candidate and Iraq veteran Paul Chabot can help you move from a blue state to the biggest red one. On May 23, Chabot announced on Twitter that he had started a company called Conservative Move to help those looking to leave liberal land for conservative country. According to Chabot, the new company's website received over 3,700 visitors within four hours of launching, and 500 families have signed up so far. [...] So far, Texas and Arizona have been the most popular locations that conservatives have wanted to move to, he said.

Twitter employee making $160,000 in San Francisco says he's scraping by. It's expensive to live in San Francisco — even if you make six figures. In an article published earlier this year, The Guardian reported on an anonymous Twitter employee in his 40s who says that, even on a $160,000 annual salary, he's barely scraping by in Silicon Valley.

California exports its poor to Texas, other states, while wealthier people move in. California exports more than commodities such as movies, new technologies and produce. It also exports truck drivers, cooks and cashiers. Every year from 2000 through 2015, more people left California than moved in from other states. This migration was not spread evenly across all income groups, a Sacramento Bee review of U.S. Census Bureau data found. The people leaving tend to be relatively poor, and many lack college degrees. Move higher up the income spectrum, and slightly more people are coming than going.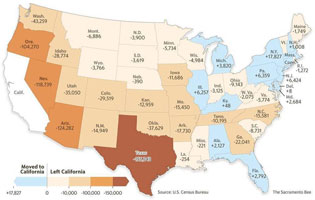 California Is Exporting Its Poor To Texas. California exports more than commodities such as movies, new technologies and produce. As The Sacramento Bee reports, it also exports truck drivers, cooks and cashiers.




Nestle Leaves California Over Liberal Policies. California is known as a haven for liberal policies, being a very anti-business, anti-capitalist place. This week, conglomerate Nestle, will be moving its headquarters from Glendale, California to Rosslyn, Virginia. As the company moved thousands of jobs away from Californians, this will no doubt affect their local economy. While Nestle cites other reasons on their website, it is no secret that California over-taxes and over-regulates, making it difficult for many businesses to stay there.

Leaving for Las Vegas: California's minimum wage law leaves businesses no choice. Los Angeles County used to have more than 5,000 apparel factories; today, my company is one of roughly 2,000 — and many (e.g. American Apparel) are looking for a way out. One Los Angeles Times headline, quoting a California State University economist, warned that "the exodus has begun."

Why a lot of people are moving out of California. A lot of people are moving out of California because they can't afford to live there anymore. For every home buyer coming into the state, there are three Californians selling and moving elsewhere, according to data analysis firm CoreLogic. "There is clearly a relationship between the migration patterns and home prices," said Sam Khater, deputy chief economist at CoreLogic. "The middle and lower middle can no longer afford to live in California." California's housing market is one of the most expensive in the nation, wigth a median home price of $428,000 across the state. Prices have shot up 71% since 2011. And a number of its local markets are prohibitively expensive. Of the five priciest housing markets in the country, four are in California, according to the latest data from the National Association of Realtors. San Jose tops the list with a median home price of $1 million.

When You Come Here, Please Don't Vote for the Same [Things] That Ruined the Place You Are Leaving. I can't tell you now many people I know here in Arizona that tell horror stories about California and how they had to get out, and then, almost in the same breath, complain that the only problem with Arizona is that it does not have all the laws in place that made California unlivable in the first place. The will say, for example, they left California for Arizona because homes here are so much more affordable, and then complain that Phoenix doesn't have tight enough zoning, or has no open space requirements, or has no affordability set-asides, or whatever.

Ashley Furniture slashes production in Inland Empire, lays off 840 workers. The company says the majority of production at the site east of Los Angeles is going to other U.S. plants to create more efficiency.

American Apparel said to be considering moving manufacturing out of California. The Los Angeles clothing maker, which emerged from bankruptcy in February, is contemplating a move to a state such as Tennessee, North Carolina or South Carolina, where the minimum wage is $7.25, said one source, who requested anonymity due to pending litigation. That would be a significant savings once California's minimum wage climbs to $15 an hour in 2020.

Cisco Systems will lay off 5,500 workers. Cisco Systems Inc. said Wednesday [7/17/2016] that it would cut about 5,500 jobs as part of a restructuring plan that the networking company said was necessary to help it focus more on high-growth areas such at security and cloud technologies. Cisco said the cuts, which will begin in the company's current, fiscal first quarter, would amount to about 7% of its total workforce. Reports earlier in the day said Cisco was likely to cut as many as 14,000 jobs. No details were immediately given as to how many jobs the San Jose-based company plans on shedding in the Bay Area.

American Apparel struggles to afford to keep calling LA home. American Apparel's days as a Los Angeles-based manufacturer are numbered, sources close to the company told The [New York] Post on Monday [8/15/2016]. The 27-year-old teen retailer, which boasts on its Web site that its togs are "Designed, Cut and Sewn in Los Angeles," is making plans to pull up stakes and move east — possibly to North Carolina or Tennessee, where the minimum wage is $7.25. In California, the minimum wage is set to rise to $15 by 2020.

Astronomical Housing Market, High Taxes Prompt Exodus of California Residents. It's not like this is new or anything, although this time they're reporting from the heart of the progressive Silicon Valley la la land.

As More High-Paying Jobs Leave California, State's Press Is Unconcerned. Another major employer has decided to join the long list of companies moving jobs from California to more business-friendly states. This time, it's $12 billion titan Jacobs Engineering, which is moving its "corporate operations," almost definitely meaning its headquarters, from Pasadena to Dallas, Texas. Press reaction, especially outside of business-oriented outlets, has ranged from nonexistent to muted to, in the case of the Los Angeles Times, a bit snarky. One key point here is that the move appears to have taken California's governments completely by surprise, given that a number of corporate administrative employees are already working in Dallas.

Jamba Juice will move headquarters from Bay Area to Texas. More than 25 years after the first Jamba Juice shop opened in San Luis Obispo, the owner of the smoothie company announced plans to move its headquarters from California to Texas within eight months. Jamba Inc. will close its Emeryville, Calif., office and establish a new corporate home in Frisco, Texas, about 30 miles north of Dallas. In a statement, Chief Executive David Pace said Jamba was looking for places that had "competitive operating costs," access to "skilled restaurant talent" and an "attractive cost of living," along with a central location for further expansion.

Number of Californians Moving to Texas Hits Highest Level in Nearly a Decade. The number of Californians leaving the state and moving to Texas is at its highest level in nearly a decade, according to data from the Internal Revenue Service. According to IRS migration data, which uses individual income tax returns to record year-to-year address changes, over 250,000 California residents moved out of the state between 2013 and 2014, the latest period for which data was available. The tax returns reported more than $21 billion in adjusted gross income to the IRS. Of the returns, 33,626 reported address changes from California to Texas, which has been the top destination for individuals leaving California since 2007. Californians who moved to Texas between 2013 and 2014 reported $2.19 billion in adjusted gross income.

The California Exodus Accelerates. There's lots of data, especially the comparison of rental rates for moving trucks into and out of California, to show the steady exodus of prosperous Californians and their businesses. The truck rental companies will almost give you a one-way truck to move from Texas to California, but charge a lot for a one-way truck from California elsewhere, which tells a lot.

A New Year's Present for California Trial Lawyers. As businesses and people flee from California to escape the notoriously inhospitable business environment and the high costs of living, the state's government is moving, based on dubious statistics, to enact another impossibly broad, costly regulation: a "Fair Pay Act" requiring businesses to prove that "they pay both genders equally for 'substantially similar' work."

Texas Top Destination for Migrating Taxpayers in 2013, New York Biggest Loser. Texas was the top destination for American taxpayers on the move between 2012 and 2013, with 152,477 people moving to the Lone Star State from other parts of the country. Texas' in-country migrants accounted for "more than half of the net migration into the South," according to a report released last week by the Internal Revenue Service (IRS). In contrast, New York lost the largest number of taxpayers during that same time period, with 113,861 taxpaying residents leaving the Empire State.

Nancy Pelosi Just Might be Insane. Dollars go farther in Texas than they do in California, in part because Texas doesn't tax its citizens violently and with prejudice. That's why so many of Pelosi's fellow Californians and their companies are fleeing her state for Texas. It happens every day.

The politicized IRS is keeping this trend quiet:
IRS Delaying Release of Data on People Leaving High-Tax States. IRS data on internal migration showing how many people have moved to and from which states generally shows people leaving high-taxed states and states with high unemployment to states doing better in those categories. Now Obama's IRS is seeking to delay release of these statistics for another 12 months. For decades economists and lawmakers both have used this IRS data as a marker for which states are succeeding in America, but the Obama administration has show its disdain for this important metric.

Nestle to close Valley food plant. Nestle USA will close a San Fernando Valley production plant that makes Hot Pockets by early October, shifting operations to an existing plant in rural Kentucky where costs are cheaper. The move will eliminate 360 jobs at the Chatsworth plant, which has been making the frozen sandwiches since 1988. A spokeswoman for Nestle USA, based in Glendale, said Wednesday [8/6/2014] that the consolidation at the Kentucky plant gives the company more room to expand and a more centrally located distribution point.

Elon Musk Plays California for Tax Breaks, Then Moves SpaceX Operations to Texas. A smiling Governor Rick Perry of Texas announced that Space Exploration and Technologies Corporation (SpaceX) will build the world's first private commercial rocket launch facility on an isolated beach near Brownsville, Texas. Texas appear to have "bought the deal" by offering an $100 million economic incentive package. [...] The move will initially add 300 high-paying jobs to the community that was rated the poorest city in America.

California Wages Economic War With Sriracha Hot Sauce Factory. Los Angeles is buzzing over the possible exit of Sriracha sauce maker Huy Fong to friendlier territory in Texas. But why shouldn't it go? L.A. is so unfriendly it makes Detroit look good, according to two studies.

Defense Company, 530 Jobs To Leave California. Pratt & Whitney AeroPower, a subdivision of the defense contractor that makes auxiliary power units and expendable turbojet engines for military aircraft, announced on Thursday that it would be moving its San Diego facility to Florida, Georgia or Texas, according to a report from the San Diego Union-Tribune. The facility employs 530 people, although it was not immediately clear whether the company would send some or all of the employees east.

Toyota to California: 'Don't Mess with Texas'. Toyota has had its U.S. headquarters and marketing operations based in Torrance, California (a suburb of LA) for almost 60 years — time enough to witness California's descent into a neo-socialist hell of high income taxes, high property taxes, high sales taxes, high regulations, and high home prices, all combined with breathtakingly bad government services. Toyota will be moving its division to a location in Plano, a northern suburb of Dallas.

Wretched Refuse. It's no surprise that more of the people who move to Texas come from California than from any other state; more of the people who move to California come from Texas than from any other state. California, Texas, Florida, and New York exchange a great many people among themselves, because they have a great many people to exchange. What is interesting in the IRS data is this: The people moving from California to Texas have significantly higher incomes than those making the opposite trek: about $56,000 per tax return for the Texas-bound vs. about $50,000 per tax return for the California-bound.

It's not just people...
Thousands of California Cattle Heading for Texas. The severe drought in California has created a problem for cattle ranchers, many of whom are selling their herds across state lines. Reuters reports that as many as 100,000 cattle have left the state in the past four months alone. Nearly half of those, about 47,000, have headed to Texas. The rest will primarily go to Nebraska and Nevada.

Toyota move gives Perry win for possible '16 run. With eight months left in office, Gov. Rick Perry is away from Texas almost as much as he's home — hitting the road hard to tout his state as America's best place to do business.

Toyota's Plano move to bring 4,000 jobs from California, New York and Kentucky. Toyota plans to start moving people to its new U.S. headquarters in Plano starting this summer. The headquarters relocation — confirmed Monday afternoon [4/28/2014] — will bring about 4,000 jobs from California, Kentucky and New York. The worldwide automaker said it will consolidate its three separate North American headquarters for manufacturing, sales and marketing, and corporate operations to a state-of-the-art campus to be built in Plano.

Texas 'Poaches Toyota HQ from California. That report is from the L.A. Times, which must have had to choke back tears while writing up Toyotas big move. Texas Gov. Rick Perry has been making a show of traveling to New York and California to convince businesses in those blue states to move to business-friendly Texas. Its working.

Toyota withdrawal a bombshell, economic blow to California city. Toyota Motor Corp's decision to move its North American sales headquarters from California to Texas was met by disbelief in Torrance, this Los Angeles exurb where the Japanese car manufacturer has run its U.S. operations since 1982.

Rick Perry Has Last Laugh as Toyota Moves to Texas. My question is not why Toyota is leaving, but why it took them so long to make the move. The economic advantages to both the company and its employees are quite compelling.

Illinois Job Creators Head for the Exits. The Wall Street Journal recently looked at data from Allied Van Lines concerning where wealthy households were moving to and from. The report found that Illinois and Pennsylvania have more wealthy households leaving than arriving, and California leads the nation for the net number of wealthy households migrating away. The states gaining the most? Florida and Texas. So what do East Coast, Midwest and West Coast states like Pennsylvania, Illinois and California have in common? All three are high-tax states, said Joseph Henchman, a vice president at the Tax Foundation. On the other hand, Florida and Texas are much lower tax states.

California positively gets a negative from Tesla on battery factory. California pollution-control policies enable Tesla to rake in tens of millions of dollars each year from selling environmental credits to other automakers — a key source of Tesla's revenue. But is this a case of unrequited love? When it comes to building a $4-billion to $5-billion battery factory that will employ 6,500 workers, Tesla is shunning the Golden State. The automaker is looking at 500- to 1,000-acre sites in Arizona, Nevada, New Mexico and Texas.

Texas was a big winner in interstate migration from 2000 to 2010, gaining $17.6 billion in new personal income. Texas was one of the big winners in the interstate movement of people and their related income in the last decade, according to new data from the Tax Foundation.

California, net exporter — of residents. A net 3.4 million people have fled California over the past two decades, largely including the young and the restless because of the lack of jobs and affordable living situations — which could quickly be trending towards an accelerated demographic crisis for the heavy welfare state [...]

California becoming a feudal society. [Scroll down] On one side is an older, educated, landed, wealthy elite that lives on California's beautiful coasts. Then there is a much larger, younger, less-educated, indebted mass living inland, many of them working farm jobs at subsistence wages. The good news is that both of these groups seem content supporting a Democratic Party whose policies reinforce these trends. And if any of the current Californians don't like what the new California has become, they are free to leave. The bad news is that millions of middle-class families already have, and the trend is likely to continue.

California Moves To Texas (And Arizona And Nevada). The Census Bureau says that California had a net loss of 100,000 people last year. Many headed for Texas (58,992), while Arizona (49,635), Nevada (40,114), Washington (38,421) and Oregon (34,214) all took in fleeing Californians.

An Embarrassing Metric Disappears. Blue states with high state and local tax burdens have come out looking bad in recent years. California and New York have been embarrassed publicly, as a steady exodus is underway from both. Regarding California, the free-market Manhattan Institute for Policy Research concluded in September that "this exodus represents a huge reversal to established patterns of domestic migration, and suggests that the Golden State is no longer perceived by most Americans as the land where dreams come true."

Taxing "The Rich" Working Out Swimmingly In California. California ... state revenue for the month of November 2012 fell $806.8 million, or 10.8%, below budget. Democrats thought they could hammer "the rich" by convincing voters to pass Proposition 30 to create the highest state income tax in the nation. But it now appears that high income earners have already "voted with their feet" by moving themselves and their businesses out of state, resulting in over $1 billion shortfall in corporate and income taxes last month and the beginning of a new financial crisis.

Obama Policies Copy Moribund California, Not Texas. Anyone who thinks that President Obama's economic policies will spur strong growth should consider U-Haul rates between California and Texas. Renting a 20-foot truck one-way from San Francisco to San Antonio, for example, will cost $1,693. But the U-Haul tab to go in the opposite direction is just $983.

Prepare for Demise of California. California's Liberal Supermajority is about to run the state into the ground and taxpayers are going to get all the government they ever wanted. [...] Big government and absurdly strong unions destroyed Greece and Spain. Expect no less for California. Many large California corporations that can flee, will flee.

Bankrupt California. California may face the nation's largest budget deficit at $16 billion. It may struggle with the nation's second-highest unemployment rate at 10.6 percent. It will soon vote whether to levy the nation's highest income and sales taxes, as if to encourage others to join the 2,000-plus high earners who are leaving the state each week. The new taxes will be our way of saying, "Good riddance." And if California is home to one-third of the nation's welfare recipients and the largest number of illegal aliens, it is nonetheless apparently happy and thus solidly for Obama, by a +24 percent margin in the latest Field poll.

Why are people fleeing California? The most troubling thing I've seen is the delusion embraced by the state's dominant Democrats, who really believe that California is only one massive tax increase away from being fixed. [...] The state's problems don't bother me nearly as much as knowing that voters and officials here are in denial about the problem and have no clue how to fix it. It's getting harder to blame Republicans for this any more, especially in California where they are an endangered species.

Hundreds of Thousands Flee Democrat-Run California. The report found that between 1960 and 1990, 4.2 million Americans moved to California and helped accelerate California's booming economy. Since 1990, though, California has lost nearly all of that gain, with net domestic out-migration averaging 225,00 residents a year. Between 2000 and 2010, out-migration has resulted in lost income of 5.67 billion to Nevada, $4.96 billion to Arizona, $4.07 [sic] to Texas, and $3.85 billion to Oregon.

The Great Golden State Business Exodus. One would think that given the serious nature of [California's] problems, the legislature would focus on solutions at the exclusion of all else. Instead, lawmakers — what would we ever do without them? — found the time in 2011 to trespass even deeper into Californians' personal lives. Topping off Sacramento's monument to foolishness is a law requiring children younger than 8, except for those taller than 4 feet 9 inches, to sit in booster seats in cars. Previous law let kids leave their boosters at 6. Now children who had moved out of cars seats are being forced back into them. Actually, the law is more authoritarian — and offensive and infuriating — than it is silly.

The Editor says...
This is another example of incremental changes in restictive laws, and once again, the changes only move in one direction.

Business Exodus from California Accelerates. California's infrastructure is crowded and crumbling. The school system is in a death spiral. The universities are overpriced and bloated with unions and bureaucrats. The tax base is narrow and focused on the rich, many of whom are leaving. The state's environmental laws have crippled a can-do culture with can-never-do paralysis. An estimated 5 million residents are illegally in the state. The official unemployment rate is 12.5%. Counting those who have given up searching for a job and those who are working reduced hours or part time, the rate is closer to 20%. In parts of Los Angeles, and in the water-starved Central Valley, unemployment ranges from 20% to 40%. More than 3 million California residents receive food stamps, up 47% since 2007.

Crashing and Burning, California Style . Part of what is slowly destroying California is its move from a land of plenty to a land of locusts. The state taxes and regulates resident companies to such an extreme extent it has driven many of them, and many tax-paying citizens, to other states. For decades California was a place to migrate to. Now it's suffering an exodus. The fault lies in a political shift from being a conservative, low-tax state to a statist, high-tax nanny state.

Progressive Paradise. Under [Mayor Gavin] Newsom's reign, noted for imposing costly health care and "green" mandates, the city has experienced a serious business exodus that commenced long before the onset of the recession. City nannies hadn't done much since banning plastic shopping bags a few years ago. But nannyism gets pent-up too, so last month it released a gusher. First target: cell phones, whose sellers were required to calibrate the amount of radiation emitted and post it at the point of sale.

Exodus: California Tax Revenue Plunges by 22%. California politicians seem delusional in their continued delusion that high taxes have not savaged the State's economy. Each month's disappointment is written off as due to some one-time event. [...] The more likely reason tax collections continue falling is that businesses and successful people are leaving California for the better tax rates available in more pro-business states.

Will the Last Job Creator to Leave California Please Turn Off the Lights? I've written before about whether California is the Greece of America, in part because of crazy policies such as overpaid bureaucrats and expensive forms of political correctness, And we all know that California has one of the nation's greediest governments, imposing confiscatory tax rates on a shrinking pool of productive citizens. So it is hardly surprising that the Golden State is falling behind, losing jobs and investment to more sensible states such as Texas.

Businesses Exit California and Illinois. Businesses have tad it with poor business conditions in two of the most dysfunctional states in the union, California and Illinois. ... California and Illinois have many things in common:
• Harsh business environments
• High tax rates
• Both states are among the most pro-union states
• Both states lack right-to-work laws
That California and Illinois suffer from business flight and high unemployment should not be surprising.

Voting with Their Feet. The latest published data from the 2010 census show how people are moving from place to place within the United States. In general, people are voting with their feet against places where the liberal, welfare-state policies favored by the intelligentsia are most deeply entrenched. When you break it down by race and ethnicity, it is all too painfully clear what is happening. Both whites and blacks are leaving California, the poster state for the liberal, welfare-state and nanny-state philosophy.

California Blazes Wrong Trail On Tax Hikes For Rich. According to a new report from the Golden State's Franchise Tax Board, the top 1% of earners paid $25.7 billion in state income taxes in 2007. Two years later, the most recent for which data are available, that figure dropped by half — to $12.3 billion. Researchers note that the economic downturn contributed to this drop. But that's not the only cause. A huge number of high-income taxpayers have simply left the state. Between 1992 and 2008, California suffered a net loss of 869,000 tax filers. About 3.5 million moved into California, while 4.4 million left.

More college-bound Californians are heading out of state. Fed up with tuition increases and frustrated by rejection at packed California universities, more high school graduates than ever are ditching the state to attend college. Boise State saw its freshmen enrollment from California rise tenfold during the last decade. Arizona State doubled its enrollment of freshmen from California. The University of Oregon has quadrupled it, with freshman enrollment from California growing from 280 in 2000 to 1,100 in 2010.

Californians flee for better-run states, study finds. Californians are fleeing in droves to live in better-managed states, according to a conservative research group. The long-running exodus from the cash-strapped Golden State is an old story, but a new study by The Manhattan Institute finds that the biggest beneficiaries of the population drain are Texas, Nevada, Arizona, Oregon, Washington, Colorado, Idaho, Utah, Georgia and South Carolina. Lower cost of living, less government debt and a more business-friendly culture are the main drivers, according to the study.

84 companies added to 'leaving California' list. A list of companies moving out of or expanding outside California has grown by 84 since the start of the year, says Joe Vranich, Irvine consultant who specializes in relocating companies.

Campbell Soup Leaving California. California's state song will soon be changed from "California, Here I Come!" to "California, There It Goes!" An American icon, the Campbell Soup Company, is closing its plant in Sacramento, leaving 700 people without jobs. The plant was built in 1947, and some of its workers have worked there for forty years or more.



They're leaving other Democrat-ruled states as well — for the same reasons.
Van Lines Data Show People Fleeing States With Big Fiscal Problems. Citizens and businesses are fleeing states with fiscal problems — that is one apparent message from the latest annual report from United Van Lines. The company's study of 2012 interstate shipments, released in December, showed significant continuing flight from states with high state government debt loads as measured by the Institute for Truth in Accounting (IFTA). For example, the top five states for the share of outbound interstate shipments in the latest UVL survey were, in order from one to five — New Jersey, Illinois, West Virginia, New York, and New Mexico.


California compared to Texas:

The Editor is somewhat biased, having living in Texas all his life, and never having been to California. Even so, it isn't necessary to make the trip to California to make this comparison.



The Great White Culture War. [Scroll down] To understand different outcomes of the white culture war, consider California and Texas. Both states are firmly majority-minority. Yet the leaders of both states are still disproportionately white and male; they're just culturally very different kinds of white males. Conservative white Americans eagerly move to majority-minority Texas. Those same people would be far more reluctant to live in majority-minority California, because of its profoundly different treatment of religious freedoms, gun rights, and of course tax rates.

Here's How Much You Need To Earn To Live In Alameda County 2018. San Francisco ranked first in the nation as the most expensive metro area with a basic budget of $148,439 a year for a two-parent, two-child household. On the flipside, that same household would only need to earn $58,906 to live comfortably in Brownsville, Texas, the least expensive metro area in the country.

California government mandates send electricity prices skyrocketing, but Texas free market policies keep prices low. California's rush to impose harsh government mandates cutting carbon dioxide emissions in the generation of electricity is raising the electricity bills of families and businesses across the state. Poor families are suffering the most. In sharp contrast, Texas is successfully taking a free-market approach that is increasing the use of clean renewable energy and lowering electricity bills in the state. The tale of two states offers a lesson for the nation.

Liberal California fails at fighting poverty, conservative Texas succeeds. Liberal California and conservative Texas are different in many ways — including their poverty rates. California's poverty rate is 20.4 percent and the Texas rate is only 14.7 percent, based on the Supplemental Poverty Measure, which accounts for the regional cost of living, out-of-pocket medical expenses and other items. Why the dramatic difference in poverty between California and Texas — proportionately 38.8 percent higher in the Golden State, and affecting the lives of millions of people? And what can we as a nation learn from the success of Texas and the failure of California to hold down their poverty rates?

Houston Is The Best Of America. Berkeley Is The Worst. Here's Why. Over the weekend, we saw the best of America: Americans helping Americans in Houston. Race, creed, color — none of it mattered. Americans were in need, and other Americans moved to help them. Meanwhile, in Berkeley, we saw the worst of America: Americans, garbed in black, helmeted, wearing bandannas over their faces, assaulting peaceful protesters merely there to exercise their free speech rights. We saw the police stand down. We saw assaults in the streets. So, what's the difference between Americans in Houston and Americans in Berkeley? The existential threat.

California conservatives, tired of state's liberal politics, find friendlier abodes in Texas. [Paul] Chabot, a 43-year-old Republican and native of Southern California, in recent years had become increasingly frustrated with what he saw as a liberal shift in his home state and the effects it was having on his family's life. After two failed congressional runs, Chabot decided it was time to bail on the Golden State and move to the Lone Star State — specifically, Collin County in north Texas — in January. "When I was growing up in a Republican state, we had safe towns and great schools," Chabot told Fox News. "But California has done a 180. It's not a family-friendly state anymore so we decided to move to Texas.

Texas Booms (+3.9%) as California Flatlines (0.1%); Mining, Manufacturing Drive Growth. Texas, the nation's second most populous state, had the fastest growing economy in the nation in the first quarter of this year with its state GDP growing at a real annual rate of 3.9 percent, according to data released today by the Bureau of Economic Analysis. By contrast, California, the nation's most populous state, ranked 42nd out of 50 states for first quarter economic growth, with its GDP growing at a real annual rate of just 0.1 percent.

America's Future Is Texas. Texas has been growing at a stupefying rate for decades. The only state with more residents is California, and the number of Texans is projected to double by 2050, to 54.4 million, almost as many people as in California and New York combined. Three Texas cities — Houston, Dallas, and San Antonio — are already among the top ten most populous in the country. The eleventh largest is Austin, the capital, where I live. For the past five years, it has been one of the fastest-growing large cities in America; it now has nearly a million people, dwarfing the college town I fell in love with almost forty years ago. Because Texas represents so much of modern America — the South, the West, the plains, the border, the Latino community, the divide between rural areas and cities — what happens here tends to disproportionately affect the rest of the nation.

Texas vs. California Update for May 22, 2017. Stop me if you've heard this before: Texas is once again ranked the best state for business, while California is ranked the worst.

Texas vs. California Update for February 15, 2017: Why California can't repair its infrastructure: "California's government, like the federal government and most other state and local governments, spends its money on salaries, benefits, pensions, and other forms of employee compensation. The numbers are contentious — for obvious political reasons — but it is estimated that something between half and 80 percent of California's state and local spending ultimately goes to employee compensation." Put another way: "Governor Moonbeam and the other leftist kooks in charge are flushing a staggering $10 billion down an unneeded high-speed rail project, on top of the still more staggering $25.3 billion per year they spend on the illegal aliens they have gone out of their way to welcome."

Texas Bests California In Economic Opportunity. PolitiFact released an article in the Statesman that rated this claim as "true." However, as in sports, one or two years of winning seasons by California doesn't come close to the extraordinary success in Texas during the last decade of what could be considered an economic opportunity dynasty. One of every five people live in these two states. One of every four dollars of production nationwide are produced there. Ranking each state against countries, California would rank sixth and Texas would rank 10th. The list could go on. Given their size and importance, Americans really need both states to prosper. After descending into a deep valley during the recession, California's economy has recently grown at a faster rate than in Texas, where the drop in oil prices and higher value of the dollar have negatively affected the mining and manufacturing sectors. However, during the last decade, the productive, real private sector growth has increased by 13.6 percent in California compared with a robust 29.1 percent in Texas.

The States Gaining and Losing the Most Migrants — and Money. When comparing the health of state economies, we usually look at employment and incomes. Another critical indicator worth closer attention is where Americans choose to move, and the places they are leaving. [...] To measure the states that are most attractive to Americans on the move, we developed an "attraction" ratio that measures the number of domestic in-migrants per 100 out-migrants. A state that has a rating of 100 would be perfectly balanced between those leaving and coming. Overall, the biggest winner — both in absolute numbers and in our ranking — is Texas.

Texas vs. California Update for September 14, 2016. "The biggest problem faced by the State of California is not 'climate change' or 'poverty it is the overreaching power of California government itself, namely the California Legislature and Administration, and the threats that this Democrat establishment poses to California's future, particularly with regard to the economy and individual liberty. California Democrats are celebrating the passage of new climate change legislation that provides California government with broad, sweeping new powers to drastically curb greenhouse gas reductions without regard to economic impact or the basic rights of businesses and individuals."

Texas vs. California Update for July 25, 2016. [#1] June marked the 114th month that Texas was at or below the national unemployment average. Texas also created 246,600 jobs in the service sector. [#2] Once again Texas ranks as the best state for business, and California ranks worst.

20.1%: Calif. Metro Area Has Nation's Highest Unemployment Rate. El Centro, California bills itself as one of Southern California's "most promising new commercial and industrial regions." But it had a 20.1 percent unemployment rate in April, by far the highest of the 387 U.S. metropolitan areas surveyed by the Labor Department's Bureau of Labor Statistics. That 20.1 percent unemployment rate is more than four times the national unemployment rate of 5.0 percent (seasonally adjusted). The only other metropolitan area to come close to El Centro's jobless rate was Yuma, Arizona, where the unemployment rate was 18.7 in April. El Centro and Yuma, both near the Mexican border, are located in contiguous counties.

Texas vs. California Update. Overall, Texas had four of the five fastest growing large counties, and seven of the top twenty. California had none. [...] It's like a whole bunch of Texas vs. California roundup statistics all in one big green ball of fail. Read the whole thing.

Nearly 500,000 People 'Gone to Texas,' Says U.S. Census Bureau. On March 24, the U.S. Census Bureau released statistics that tracked the state's explosive population growth. Four Texas metro areas added more people in the one year period from July 1, 2014 to July 1, 2015 than in any other state in the nation except for Texas as a whole, which gained approximately 490,000 new residents. Topping the list, the Houston-The Woodlands-Sugarland metropolitan area experienced the greatest population increase during this period, adding about 159,000 residents. Following closely was the Dallas-Fort Worth-Arlington metroplex, with 145,000 new people.

America's city rankings set for Texas-sized shake up; Houston to edge past Chicago. Hidden in the haze of the petrochemical plants and beyond the seemingly endless traffic jams, a Texas city has grown so large that it is poised to pass Chicago as the third biggest in the United States in the next decade. Houston has been one of the fastest-growing U.S. cities for years, fueled by an energy industry that provided the backbone of the economy, low taxes and prospects of employment that have attracted job seekers.

You're Killing Me: Regulations, Government Unions, And Taxes Quash Small Business. Thumbtack.com published their latest annual survey of 17,633 small business owners to determine the states that are the most — and least — welcoming to small business. This year, and the previous three years the survey was completed, Texas and Utah were rated by small business owners as the best states for small business. New Hampshire also received an A+ grade this year. At the bottom, with an F rating for the past four years, were California and Rhode Island. They were joined this year by Connecticut and Illinois.

Texas emerges as top destination for Californians fleeing state. Californians fled the state in unprecedented numbers over the last decade, and their primary destination was Texas, according to an analysis issued Monday [8/31/2015]. About 5 million Californians departed the Golden State between 2004 and 2013, while 3.9 million arrived from other states for a net population loss of roughly 1.1 million, the Sacramento Bee reported Monday [8/31/2015] using tax-return data from the Internal Revenue Service.

Of The Four Majority-Minority States in America, Minorities Do Best In Texas. There are four "majority-minority" states in the U.S.: California, Hawaii, New Mexico and Texas. The well-being of minorities in these states, as well as of the soon-to-be plurality of white, non-Hispanics, is instructive for policy makers. Of these four demographic versions of America's future, it's only in Texas where all four of the largest racial or ethnic groups have below average Supplemental Poverty rates.

Texas Is Booming, but CNN Doesn't Want You to Know Why. Much of my writing is focused on the real-world impact of government policy, and this is why I repeatedly look at the relative economic performance of big government jurisdictions and small government jurisdictions. But I don't just highlight differences between nations. Yes, it's educational to look at North Korea vs. South Korea or Chile vs. Venezuela vs. Argentina, but I also think you can learn a lot by looking at what's happening with different states in America. So we've looked at high-tax states that are languishing, such as California and Illinois, and compared them to zero-income-tax states such as Texas.

Texas has added one million jobs since 2007 vs. only 24,900 jobs in California. By May of 2011, Texas had regained all of the jobs lost during the Great Recession. In contrast, it took California three years longer, until April of this year, to regain the state jobs lost due to the effects of the recession. Since the Lone Star State regained all of the lost recession-related payroll jobs by May 2011, the state has since then added more than one million new jobs, bringing the state's employment level to a new record high in May 2014 of 11.53 million jobs.

Report on how each state treats its small businesses turns out exactly as expected. Mike Shedlock at Global Economic Analysis points us to an extensive study comparing each state on how well it treats its small businesses. The results are only surprising if you're Paul Krugman, Thomas Piketty or that homeless guy sleeping behind the dumpster at 7/11.

Houston's jobless rate dips to 4.6 percent. The Houston area unemployment rate dipped to 4.6 percent in April, down from 5.2 percent in March, the Texas Workforce Commission reported Friday [5/16/2014]. The rate is not adjusted for seasonal factors such as holidays and school schedules. The statewide rate, however, is adjusted for the typical hiring and firing patterns that occur each year and in Texas, the unemployment rate fell to 5.2 percent in April. The statewide unemployment rate was 5.5 percent in March.

California vs. Texas in one chart. The chart [in this article] displays 1-unit housing starts for the entire state of California and the Houston metro area annually from 2011-2013 and year-to-date through March for 2014. During the period from January 2011 to March 2014, there have been slightly more single-family housing starts in Houston (95,037) than in California for the entire state (94,993). In this single chart, we can understand the dynamism of the booming, expanding Texas economy and housing market compared to the stagnation of the California economy and the housing market there for new construction.

Debunking The 'Texas Miracle' Debunkers. When not making excuses for President Obama's dismal economic record, liberals try to explain away Texas' stellar growth. But what choice do they have? The Lone Star State proves limited government works.

Texas leads nation in job growth, adding 322,400 workers in last year. Texas once again is leading the nation in job growth — at least through January — and economists say trends for the rest of the year look promising. The state added 33,900 jobs in January and 322,400 for the 12 months ending in January, ranking No. 1 for both periods, according to information released Monday by the U.S. Bureau of Labor Statistics.

California energy companies are moving to Texas. And what, do we suppose, might be one of the hugely driving factors behind this robuster-than-everyone-else level of equitable job creation? It couldn't possibly be that Texas has been conscientiously developing their energy reserves — like, for example, the Eagle Ford Shale, could it? While other states — like, say, California — have been quixotically ignoring their own resources in favor of their politically preferred pet projects?

Don't 'Turn Texas into a Liberal Swamp'. Over the past decade, Texas has been an economic powerhouse. The state has created 3 out of every 10 American jobs over the last decade and recently surpassed California in tech export sales. [...] Today, political operatives are swarming the Lone Star State to turn Texas into a liberal swamp. At the same time, the Obama Administration is trying to make Texas buckle under a torrent of federal rules and regulations.

Texas surpasses California as top tech exporter. Texas is tops for tech exports, a new report says. Companies in Texas making semiconductors, telecommunications devices, computers, and other items shipped more than $45 billion in products to other countries in 2012, according to a report by the TechAmerica Foundation, a lobbying and advocacy firm representing the technology industries. That's a $3 billion rise from 2011.

Americans Keep Moving to States With Low Taxes and Housing Costs. Between 1970 and 2010, the population of New York state increased from 18 million to 19 million. In that same period, the population of Texas increased from 11 million to 25 million.

Texas vs. California: 6-0, 6-0, 6-0. What should be the Federer vs. Nadal of state-level competition has become a lopsided trouncing: Texas has humiliated its opponent in straight sets. The federal Bureau of Economic Analysis is out with its state-by-state economic growth numbers for 2012, and Texas is dancing the two-step all over California's "recovery."

Americans Are Migrating To More Free Republican States. The "Freedom in the 50 States" study measured economic and personal freedom using a wide range of criteria, including tax rates, government spending and debt, regulatory burdens, and state laws covering land use, union organizing, gun control, education choice and more. It found that the freest states tended to be conservative "red" states, while the least free were liberal "blue" states. The freest state overall, the researchers concluded, was North Dakota, followed by South Dakota, Tennessee, New Hampshire and Oklahoma. The least free state by far was New York, followed by California, New Jersey, Hawaii and Rhode Island.

The Red-State Path to Prosperity. You can tell a lot about prosperity in America by observing the places people are moving to and where they are packing up and moving from. [...] Among the 10 fastest-growing metro areas last year were Raleigh, Austin, Las Vegas, Orlando, Charlotte, Phoenix, Houston, San Antonio and Dallas. All of these are in low-tax, business-friendly red states. Blue-state areas such as Cleveland, Detroit, Buffalo, Providence and Rochester were among the biggest population losers.

The Perpetual Campaign: How Obama's Left-Wing Partisans Plan to Invade and Destroy Texas. If either California or Texas were their own country, they would rank in the global top 20 and outmuscle most other countries on earth. But California, a Democrat stronghold, suffers from unemployment about two points above the national average. [...] Texas, a Republican stronghold and right-to-work state, has unemployment well below the national average, its books are balanced, and it's always at or near the top in population growth over the past decade.

California vs. Texas. In recent years, much has been made about the economic success of Texas and the decline of California. Many have pointed to California's tax and regulatory burdens and the more business friendly policies of Texas as a primary reason. These certainly are a fundamental reason, and one statistic captures the essence of the difference between the nation's two most populous states.

Texas Ranked Top Exporting State for 11th Consecutive Year. Texas is ranked as the number one exporting state for the 11th year in a row, according to 2012 annual trade data released today by the U.S. Department of Commerce. "The fact that Texas is ranked the nation's top exporter for the 11th year in a row further demonstrates that our strong economic climate provides a broad range of opportunities for businesses to succeed," Gov. Perry said.

Texas Is America's Top State for Business 2012. Texas has done it again. The Lone Star State makes a triumphant return as America's Top State for Business — its third time at the top of our rankings.

America looks like Texas, not like California. If you draw a triangle whose points are Houston, Dallas and San Antonio, enclosing Austin, you've just drawn a map of the economic and jobs engine of North America. Texas prospers not just because of oil and gas, but thanks to a diversified and sophisticated economy. It has attracted large numbers of both immigrants and domestic migrants for a quarter-century. One in 12 Americans lives there. America is getting to look a lot more like Texas, and that's one trend that I hope continues.

Texas vs. California, Revisited. California is often a trendsetter in the realm of left-wing policymaking, while Texas legislators keep their government small. The results speak for themselves.

Texas vs. California. One in five Americans calls California or Texas home. The two most populous states have a lot in common: a long coast, a sunny climate, a diverse population, plenty of oil in the ground, and Mexico to the south. Where they diverge is in their governance. ... I moved to Texas late last year, joining the 2 million Californians who have packed up for greener pastures in the past ten years, with Texas the most common destination.

Texas Employment Update. The Texas economy continues to expand. Texas added 7,100 jobs overall in October. Private job growth in October was robust with 15,900 new jobs added, offset by a loss of 8,900 government jobs. Year-to-date, the state has gained 186,000 total jobs and 241,700 private jobs.

California taxes away jobs while Texas adds them. In 2008, 70 percent of all the jobs in the country were created in Texas. In 2009, all of America's top five job-creating cities were in Texas. More recently, "Texas created 129,000 new jobs in the last year — over one-half of all the new jobs in the U.S. In contrast, California lost 112,000 jobs during the same period," according to ... a new report by the Texas Public Policy Foundation released in October.

Houston, We Have a Solution. The policies that Houston and Texas have followed are proof of concept for the conservative vision of government, which is, essentially, to keep the government off the people's backs and let a free society find its own way to prosperity.

California vs. Texas: The Verdict Is In. Texas, increasingly, is the economic and intellectual leader of the U.S. During the last 18 months before the current recession took hold, while the country as a whole was still creating jobs, more than half of those jobs were created in a single state: Texas. Texas has usurped the leadership position that, decades ago, belonged to California. Today California is in decline, likely irreversibly so.

The Big-Spending, High-Taxing, Lousy-Services Paradigm. One out of every five Americans is either a Californian or a Texan. California became the nation's most populous state in 1962; Texas climbed into second place in 1994. ... According to the most recent data available from the Census Bureau, for the fiscal year ending in 2006, Americans paid an average of $4,001 per person in state and local taxes. But Californians paid $4,517 per person, well above that national average, while Texans paid $3,235.

A Governor Who Prays or Preys? Conservative commentator Bill Bennett says that anyone looking for democracy, good government, business and job growth, the best medical care, a lower cost of living and taxes should look to Texas as the model and to Rick Perry as the model governor. Then there's California, left with a $26 billion budget deficit courtesy of its disgraced former Governor Arnold Schwarzenegger who fathered a "love child" with the family maid.

What Texas can teach us: If you want to see a place where the private sector in America has been booming and generating jobs, you should look at Texas. That's my take from these absolutely fascinating numbers compiled from Bureau of Labor Statistics figures by The Business Journals, tracking the increase or decrease in private sector jobs in the ten years between April 2001 and April 2011.

Texas economy called better than most states'. Standard & Poor's gave Texas government bonds an AA+ rating on Thursday [5/5/2011] and said the state's economy will likely recover quicker than most other states.

California Dreamin' — of Jobs in Texas. It wasn't your usual legislative hearing. A group of largely Republican California lawmakers and Democratic Lt. Gov. Gavin Newsom traveled here last week to hear from businesses that have left their state to set up shop in Texas. "We came to learn why they would pick up their roots and move in order to grow their businesses," says GOP Assemblyman Dan Logue, who organized the trip. "Why does Chief Executive magazine rate California the worst state for job and business growth and Texas the best state?" The contrast is undeniable.

If you move to Texas, leave your Democrat politics behind.
Importing Disaster: Demographic Changes Mean Democrat Future. At a gathering some years ago, I had a political conversation with a man who had recently arrived here from Denmark. He was advocating his home country's socialist system, which, of course, led to profound disagreement. ... When asked if he wanted to return home, his answer was no. This is a common phenomenon. We see it, for instance, in liberal northerners who move to the South for the lower taxes and cost of living and greater freedom, but then continue to vote for the kind of politicians who made the Northeast a nice place to leave.

Texas Has Had The Best Idea, New Census Data Make Clear. The Census Bureau released county and city populations for the last of the 50 states from the 2010 census last week, ahead of schedule. Behind the columns of numbers are many vivid stories of how our nation has been changing — and some lessons for public policy as well.

California unions stand in the way of a Texas-sized success. In the first half of 2010, Texas saw more small business growth than any other state in the country. During that period, it also added 178,000 jobs — twice as many as any other state. Texas was also one of only five states to add manufacturing jobs. California, on the other hand, lost more than 113,000 jobs from August 2009 to August 2010. And while Texas has seen steady job growth in recent years, California was losing jobs well before the economic downturn began in 2008. Since 2005, California has lost just under 1.3 million jobs.

Texas booms while California busts. Among the states, it has become clear there are two competing visions of political economy in America, embodied by California and Texas. One vision involves the economic devastation that comes of an overregulated economy. The other reveals the prosperity unleashed by smaller government.

Census: Fast Growth in States With No Income Tax. The great engine of growth in America is not the Northeast Megalopolis, which was growing faster than average in the mid-20th century, or California, which grew lustily in the succeeding half-century. It is Texas. Its population grew 21 percent in the last decade, from nearly 21 million to more than 25 million. That was more rapid growth than in any states except for four much smaller ones (Nevada, Arizona, Utah and Idaho). Texas' diversified economy, business-friendly regulations and low taxes have attracted not only immigrants but substantial inflow from the other 49 states.

Texans Won't Be Driven to California's CO2 Craziness: SUV-driving California legislators passed a bill on July 1 [2002] to reduce carbon dioxide (CO2) emissions from new vehicles. How is California going to meet these requirements? Well, the politicians there don't really care; the automobile industry will have to figure it out and consumers will have to pay for it.

California Should Copy Texas. Last Wednesday [12/2/2009], Gov. Schwarzenegger released a new report based on research compiled by the California Energy Commission claiming that by 2100 San Francisco Bay would be more bay than San Francisco, with Fisherman's Wharf and Treasure Island under the rising waters of climate change. His show-and-tell, which included a new Google Earth application the commission spent $150,000 to help develop, goes a long way toward explaining the once-Golden State's slide into an economic and budgetary abyss.

America as Texas vs. California. Texans on average believe in laissez-faire markets with an emphasis on individual responsibility. Since the '80s, California's policy-makers have favored central planning solutions and a reliance on a government social safety net. This unrelenting commitment to big government has led to a huge tax burden and triggered a mass exodus of jobs. ... Second, Californians have largely treated environmentalism as a "religious sacrament" rather than as one component among many in maximizing people's quality of life.

Texas population booms amid lean times. While bubbles burst around the nation, Texas booms. U.S. Census estimates released Wednesday [12/23/2009] show that Texas added more residents than any other state in the year ending July 1. The Lone Star State has 478,000 more people than it did a year ago — roughly the equivalent of packing up all of Fresno, Calif., and moving it here. Why the growth? Try looking for work in Fresno, where the unemployment rate is nearly 16 percent.

California is overregulated, overtaxed, and just plain over. Unemployment is higher than 12.2 percent as of September. Business costs are almost 23 percent higher than other states on average. Migration out of the state is at an all time high. A map by United Van Lines shows a strong demand for moving trucks as residents leave California for other destinations, particularly Texas. More Californians would leave if they could sell their houses, but the Golden State's real estate market has tanked as well. It has the fourth-highest foreclosure rate of any state.

Texas Shows Its Swagger in New Population Estimates. [Scroll down] Texas over the decades has had low taxes (and no state income tax), low public spending and regulations that encourage job growth. It didn't have much of a housing bubble or a housing price bust. Under Govs. George W. Bush and Rick Perry, it has placed tight limits on tort lawsuits, and has seen an influx of both corporate headquarters and medical doctors.

Low-tax Texas beats big-government California. [Over the last ten years,] Texas has been teaching some lessons to which the rest of the nation should pay heed. They are lessons that are particularly vivid when you contrast Texas, the nation's second most populous state, with the most populous, California. Both were once Mexican territory, secured for the United States in the 1840s. Both have grown prodigiously over the past half-century. Both have populations that today are about one-third Hispanic. But they differ vividly in public policy and in their economic progress — or lack of it — over the last decade.

Global Warming on Trial. In the past few years, there have been many court cases concerning the actions of governments to the alleged threat of global warming. The latest has been filed by Texas against the Environmental Protection Agency (EPA) with respect to the Endangerment Finding of Carbon Dioxide (CO2). Texas has filed two petitions in federal court. The first is a request for review of the endangerment finding, which is intended to examine the science behind global warming.

How Texas Escaped the Housing Crisis. It's one of the great mysteries of the mortgage crisis: Why did Texas — Texas, of all places! — escape the real estate bust? Only a dozen states have lower mortgage foreclosure and default rates, and all of them are rural places like Montana and South Dakota, where they couldn't have a real estate boom if they tried.

Obama's Quiet War on Red States. President Obama is quietly but gleefully sticking it to red states, which by virtue of less government, lower taxes, fewer regulations, and open shops are typically better off than blue states of the Northeastern, Midwestern, and Californian phyla. ... For years, states like New York, New Jersey, Michigan, and California have all marched lockstep in accord with liberal orthodoxies — with similar disastrous results.

Dallas: Fastest growing U.S. city. The booming Dallas-Fort Worth metropolitan area added more residents during the past decade than any other city in the United States. ... Dallas's attractions include a very favorable business climate, according to Mayor Tom Leppert. There's no corporate income tax, building costs are relatively reasonable and regulations are minimal. "It's a great place to do business," he said, "especially attractive for companies from high-tax states."

The EPA's Anti-Prosperity Agenda. On Labor Day, President Obama pledged to "keep fighting every single day, every single hour, every single minute to turn this economy around and put people back to work." If job creation is such an overarching priority, the president might take a closer look at the recent barrage of job-suffocating actions from his Environmental Protection Agency (EPA). The president might also look at Texas, where job creation and environmental improvement have occurred simultaneously and at a pace far above the national average.

California sings the Blue State Blues. Indeed, by virtually every business measure conceivable Texas is better than California. Texas has a lower unemployment rate (8.1 to California's 12.4), it exports more than any other state in the union (a record previously held by California), and it has a lower home foreclosure rate (California is fourth highest in the nation compared to Texas's ranking of 29th). Texas also imposes fewer regulations on its businesses than does California. Apparently, being friendly to business rather than hostile to it has its advantages.

California Fleeing. Just when you thought things couldn't get worse on the left coast, along comes more bad news for the Golden State. Across the country, Republican state legislatures and governors are adopting a new economic development strategy: Raid California for its jobs and businesses. At least three Republican governors have said as much in interviews. The idea is to offer lower taxes, a more business-friendly atmosphere and the right to be left alone from overzealous regulators.

The Texas Jobs Panic. The Federal Reserve Bank of Dallas reported this summer that Texas created 37% of all net new American jobs since the recovery began in June 2009. Texas by far outpaced every other state, including those with large populations like New York and California and those with faster-growing economies, like North Dakota. Other states have lower unemployment rates than Texas's 8.2%, though that is below the national average and the state is also adding jobs faster than any other.

Americans love to hate California: poll. California, home of Hollywood, the Golden Gate Bridge and more people than any other state in the union, is also the most disliked of the 50 states, a new poll shows. ... Republicans said Texas and Alaska were their favorite states, while Democrats liked Hawaii, Massachusetts, Oregon, and Washington.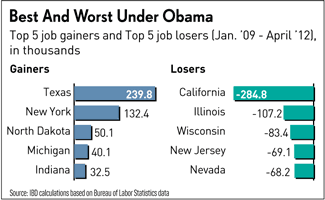 Recovery? Just 16 States Have Gained Jobs Under Obama. Just 16 states have seen job growth since President Obama took office, according to state employment data released Friday by the Bureau of Labor Statistics. The remaining states have lost a combined 1.4 million jobs since January 2009. Even 34 months after the recession officially ended in June 2009, there are still 11 states that have fewer people working now than at the start of the recovery. Meanwhile, 20 states have unemployment rates at or above 8%, including nine with unemployment at 9% or higher, according to the BLS.



Texas Leads Best States For Future Job Growth. Rick Perry ascended from Lieutenant Governor to Governor of Texas in December 2000 when then-governor George Bush resigned after being elected the 43rd President of the United States. Perry will retire in January with the tenth longest gubernatorial tenure in U.S. history. Perry made job creation one of his principle mantras, and he has overseen remarkable employment gains under his watch with 2.1 million jobs added during his tenure. The total represents 30% of the jobs added in the U.S. since 2000 and more than twice as many as any other state.

Texas job growth outpaces rest of U.S. combined. Since the recession began in December 2007, 1.2 million net jobs have been created in Texas. Only 700,000 net jobs have been created in the other 49 states combined. The remarkable employment growth in Texas looks even bigger considering its size relative to the rest of the U.S. Total non-farm employment has grown by 11.5 percent in Texas since December 2007. Employment in the rest of the United States has grown only 0.6 percent. Until September 2014, total employment growth in the rest of the United States since December 2007 was still negative.

Fluctuating Oil Prices Won't Slow The Texas Economy Down. Texas has been a bright spot in an otherwise dim U.S. economy for years. Consider that Texas employs 1,444,290 more people than when the recession started in 2007, according to the latest state-level employment report; excluding Texas from the nation's job creation equation, there are 276,290 fewer people employed in the same period. Rapid job growth helped lower the unemployment rate to 4.6%, which has now been at or below the national average and California's rate for at least eight years.

This is an original compilation, Copyright © 2019 by Andrew K. Dart


The nanny state knows best:



Upscale gated Calif. community threatens fines for brown lawns despite drought. A homeowners association for an upscale, gated community in the San Francisco Bay Area has threatened to fine homeowners for brown lawns and landscaping despite California's continuing drought emergency.

CA says mobile food vending trucks a 'threat' to kids. The California legislature continues to act as the hard left's petri dish for testing totalitarian policies. AB 1678, introduced last Tuesday [2/14/2012], would ban mobile food and beverage trucks within 1,500 feet of elementary and secondary schools.

New 2010 laws: Cooking to texting. From same-sex marriage in New Hampshire to payday loans in Kentucky, new state laws taking effect on New Year's Day will change the way people live. California becomes the first state to bar restaurants from cooking with trans fat — partially hydrogenated oils that have been linked to strokes and heart disease.

The tyranny of visions: part II. California has long had more than its fair share of busybodies with a vision of the world in which it is necessary for them to force other people to do Good Things. One of the latest examples is a recent ruling by one of the many busybody commissions in California that people who build houses, or just remodel their homes, will in the future have to have more fluorescent lights and even install motion sensors to control lights – all in the name of saving energy.

Totally Committed: What would we do without the California Legislature? How could we survive without the guidance of environmentalists? Oh how our lives would be meaningless without the Legislature taking care of our every need. Who else can protect us from ourselves?

It's Official — Belmont Bans Smoking In Some Homes. Thought to be the first of its kind in California, the ordinance declares secondhand smoke a public nuisance and extends the city's current smoking ban to include multi-unit, multi-story residences. Though Belmont and some other California cities already restrict smoking in multi-unit common areas, Belmont is the first city to extend secondhand smoke regulation to the inside of individual apartment units.

Anti-smoking Efforts Go Too Far. How far has the anti-smoking movement come in just the past four years? Much further than many of its most ardent activists would have dreamed of in the 1970s, when the notion of smoking bans first surfaced and was met largely with derision. … Of course, as with most limitations on personal freedom, California leads the way.

California City Says Secondhand Smoke is a Nuisance. Smokers, beware: This bedroom community near San Francisco may soon put you in the same category as rodents, junk cars and weeds.

Officials in California Town Say Smoking Ban Is Working. Ten weeks after they enacted the most draconian smoking ban in the nation, city officials in Calabasas, Calif., say the rules are having the desired impact — reducing exposure to the secondhand smoke that can accumulate when smokers congregate outdoors and near building entrances.


Private property issues:

The left's vision: Santa Monica, California, has decreed a fine of $2,500 a day for not cutting your hedges! Has someone discovered some terrible health hazard or other danger from hedges that are too high? Not at all. The politicians who run Santa Monica have simply decided that people should not be able to build a high wall of hedges around themselves.

Barbara Boxer's World of Development Restriction and "Affordable Housing": "Liberal" Senators — and many others — have repeatedly wrung their hands over a lack of "affordable housing" in California. Meanwhile, they are doing all they can to prevent any housing from being built on ever more vast areas of land.

How Californians are being escheated. Escheat is a feudal concept that arose from the despotism of the Dark Ages. It stemmed from the principle that property rights depend upon the sufferance of the sovereign, and when a person dies or disappears without heirs, his property reverts to the feudal lord. California revived this medieval doctrine in 1959 and began seizing personal assets on the smarmy pretext that after a few years of account or safe-deposit box inactivity, property is obviously "lost," and the state needs to "protect" it by selling it off and depositing the proceeds into the general fund. Today in California, no one's property is safe.


Tyranny lite:

Public service or self-service? In a free market, as Forbes magazine says, your reward is a function of how much you contribute to the economy, but in a regulated market it's how much you contribute to politicians. Sound familiar? It should, especially to Californians. In New York, it is the reason a taxi cab license is worth $600,000 (because of fares rigged by paid-off politicians). In California, the cost of a vast range of services gets skewed by high pay and benefits for public employees.

Speeding, Parking Tickets on Rise as Government Revenue Source. Drivers across the country, beware — a heftier fine could be coming to a dashboard near you. Faced with rising deficits and dwindling revenues, many states and local municipalities are turning to increased traffic and parking fines to fill their coffers. In California, the cost of a "fix-it ticket" nearly tripled on Jan. 1, meaning that drivers in the Golden State can pay up to $100 for having a broken headlight — an infraction that didn't even garner a citation years ago.

California: No Gun Photos Allowed. A nine-year-old is almost suspended from a Los Angeles Unified School District school because a substitute teacher discovered photographs of him and his brother shooting firearms. The photos were taken when their aunt, a police firearms instructor, took them for some safety training.

California city shuts down girl's lemonade stand. Eight-year-old Daniela Earnest has made lemonade out of lemons in more ways than one this week. Hoping to raise money for a family trip to Disneyland, the Tulare girl opened a lemonade stand Monday [8/3/2009]. But because Daniela didn't have a business license, the city of Tulare shut it down the same day.

What ever happened to respecting our elders? An 82-year-old California woman says an officer cited her for taking too long to cross an intersection. Mayvis Coyle insists when she entered the crosswalk the signal was green, but it turned red before she reached the other side where an officer was waiting with a $114 ticket. "He treated me like a six year old, like I don't know what I'm doing," Coyle said.

California police state: The totalitarians are fully in control of America's largest state. The California Supreme Court ruled 4-3 last Thursday [1/24/2002] that police in the state may search cars if a driver fails to produce a license or registration, regardless of whether the officer has a warrant.

California Assembly Expunges Santa Barbara Drilling Vote. The California State Assembly is refusing to provide the names of assemblymen who voted to ban oil recovery off the coast of Santa Barbara. Twenty-eight members supported the ban, but their votes cannot be found in the official state database. Assembly leaders expunged the votes in order to spare lawmakers running for re-election an official record of their controversial decision.

The Editor says...
How can we have a representative government if the legislators conduct secret ballots?

Brown calls 1996 anti-affirmative action law unconstitutional. Atty. Gen. Jerry Brown has told the California Supreme Court that Proposition 209, the anti-affirmative action measure passed by voters in 1996, violates the U.S. Constitution. The state attorney general's stance marks the second time in six months that he has determined that ballot measures approved by California voters were unconstitutional.

Tyranny In the Name of Progress:
California court bans religious objections to same-sex pregnancies. Once again, judges in California have taken sides in the culture wars. On Monday [8/18/2008], in North Coast Women's Care v. Benitez, the Golden State's highest court ruled that doctors may not rely on their religious principles to refuse in-vitro fertilization for same-sex couples. The decision runs roughshod over the First Amendment's free-exercise clause, seeking to supplant Judeo-Christian principles with the state-imposed religion of secularism. This is a false choice under the federal Constitution, which makes room for both.

California's bumbler in a black robe. After reading Walker's decision, Ed Whelan, a constitutional law authority and president of the Ethics and Public Policy Center, concluded that Walker was "intoxicated by his own bias." Yet, this latest decision marks the third time Walker has been rebuked by appellate courts since he was appointed to the federal bench by President Reagan.

California golden for legal shakedowns. California has earned another dubious distinction, this one laid at the doorstep of a "predatory" legal community. The state, particularly Los Angeles and Humboldt counties, was declared the nation's second-worst "judicial hellhole" by the American Tort Reform Association.


Wasted money:

South San Francisco ferry loaded with subsidies. That new ferry line to South San Francisco opened to a lot of fanfare, offering rides to and from Oakland and Alameda in less than 55 minutes. What's not being talked about is that for every $14 round-trip ticket sold, the public will be kicking in a subsidy of nearly $100. People who pay taxes and tolls will be picking up the bill for an armada of costs for the new ferry over the next 20 years.

Half-Billion in Hollywood Corporate Welfare Passes In Sacramento. You and I are not only helping to pay the salaries of the top one-percent, we're paying for product that attacks our country, our values, our faith, and who we are. We're paying for propaganda. And this is how the entire system of our government is corrupted. Tax loopholes and these kinds of carve-outs only encourage Big Business to spend money on lobbyists instead of putting it towards improving the product so they don't need government handouts.

Yet Another State Computer Fiasco. The Sacramento Bee reported this week that the California Public Employees' Retirement System was having so many problems with its new $514 million computer system that some retirees are getting notices that their health insurance policies are being canceled because of CalPERS' nonpayment of premiums. That's only the start. Thousands of retirees or survivors of retirees are struggling to get correct payments or any payments at all.

Why Your Highway Has Potholes. The Senate has passed a two-year $109 billion bill sponsored by Barbara Boxer of California that bails out the highway trust fund with general revenues, including some $12 billion for such nonessentials as the National Endowment for the Oceans and the Land and Water Conservation Fund. The bill requires little or no reform. The prevailing Senate view is the more concrete that gets poured, the more jobs back home. So more "shovel-ready" nonstimulus.

L.A. can't explain $7 million in fuel bills. Controller's audit finds that millions of gallons of taxpayer-funded city fuel was pumped in recent years with no record of where it went.

Another California City may be Going Under. In December of last year, RecordNet asked whether union pensions would ultimately drive the city of Stockton, California, into bankruptcy. ... This week CBS Sacramento reported that Stockton was considering precisely that: ["]The possibility of filing for Chapter 9 bankruptcy protection. If it happens, Stockton would be the largest California city to go bankrupt.["] It would follow in the footsteps of Vallejo, California, which was itself "the largest city to declare bankruptcy when it did so in 2008."

The California wind boondoggle. The "renewable credit" scam described by [Larry] Bell is a more advanced example of Obamanomics: nothing is being produced at all. Better still, the California taxpayers getting fleeced to subsidize this scam won't even know what hit them. An increasing portion of our economy-crushing tax burden is hidden this way, behind a complex screen of mandates and regulations that make it very difficult for the taxpayer to know precisely whose hand is shoved into his pocket.

Bullet train's $98-billion cost could be its biggest obstacle. The ambitious plan to connect Anaheim and San Francisco with high-speed trains has encountered plenty of obstacles, including intensifying resistance from wealthy and poor communities lying in the track's path.

Bullet train cost estimates rise to $98.5 billion. California's bullet train will cost an estimated $98.5 billion to build over the next 22 years, a price nearly double any previous projection and one likely to trigger political sticker shock, according to a business plan scheduled to be unveiled Tuesday [11/1/2011]. In a key change, the state has decided to stretch out the construction schedule by 13 years, completing the Southern California-to-Bay Area high speed rail in 2033 rather than 2020.

Buyers' remorse for California's 'bullet train to nowhere'. Ambitious plans for a fast track linking Los Angeles and San Francisco at speeds of up to 220 mph in just over two-and-a-half hours were slimly approved by 53 percent in a statewide ballot in 2008. That allowed the state to raise $10 billion from bonds and secured an injection of $3.5 billion in stimulus money from the Obama administration. There is currently no direct train route between the two. Construction is expected to begin later this year in the middle of California's Central Valley near Merced, a town of 80,000 people known for having one of the highest home foreclosure rates in America.

A State of Total Insanity. It turns out that the chief psychologist for the state's prison system earned $838,706 — last year alone! To be precise, the shrink earned somewhere between $261,408 and $308,640 in salary, with the remainder coming from bonuses or cashing in unused sick leave. This is not an anomalous case. Of the ten highest-paid California state employees (all earning more than a half-million bucks a year), seven worked for California's grotesquely dysfunctional prison system. Of those, four were prison doctors or dentists.

California pays prisons guards for attending Las Vegas convention. The California Department of Corrections and Rehabilitation has set aside about $350,000 to pay several hundred corrections officers while they attend their union's annual convention later this month in Las Vegas. The arrangement with the California Correctional Peace Officers Association is unique among the state's collective bargaining agreements.

The Boondoggle Express. The largest construction boondoggle in recorded human history continues to unfold in the Central Valley of California. The initial segment of Obama's pet project, a high-speed rail line from Merced to Bakersfield, just had its first announced cost overrun. With costs jumping from $7.1 billion to a staggering $13.9 billion, the project now has doubled in price even before a single shovelful of earth is turned. Now that is the seat-of-the-pants, lets just make up a number, government contracting that the Democrats and the unions so dearly love.

Hi-speed train to financial ruin in California. Federal spending for high-speed rail is coming under close Congressional scrutiny. Both political parties have begun to recognize the enormous capital costs required for another Solyndra style payoff; in this case the billions of Federal dollars needed to fund a lucrative union-only jobs program.

California, The "Failed State". Do a web search with the words "failed state" and names like Somalia, Haiti, and Sudan will appear on your computer screen. Unfortunately, the 31st state in our union — California — is looking more and more like a "failed state" as well.

California makes huge payouts for some workers' unused time off. Contracts cap unused vacation balances at 80 days but allow exemptions for those who are needed in emergencies or who perform 'critical' work. Some have retired with six-figure compensation checks.

California High-Speed Rail Still on Track to Nowhere. The nonpartisan Legislative Analyst's Office (LAO) in California has released a devastating report on the California High-Speed Rail project. The report highlights the follies of the project managers and the crippling fiscal impact the project will continue to have on state and federal-level coffers. The California High-Speed Rail Act, which is now in its 15th year since being passed in 1996, established the California High-Speed Rail Authority (HSRA) and detailed a plan to establish high-speed rail in California by 2020. The project has been bogged down by numerous delays and constant calls for additional funding.

More about high-speed rail boondoggles.

California's triple whammy. California triple whammy required spendaholics at government's helm running up perpetual double-digit, billion-dollar annual budget deficits papered over in the current year, to be fretted over in the next. Following close behind was an addictive need to issue billions in government bonds, which are nothing more than drawing cash on a promise to pay it back.

"Hi, I'm California, And I'm Addicted to Spending. With less than 2 months in office, Governor Brown has already hinted that California's famous "Proposition 13" might need to be undone. In case you've forgotten, this was a landmark ballot proposition that drew a record number of voters to the precincts in 1978. It passed in a landslide, and imposed a statewide limit on the rate at which local counties and cities could levy property taxes.

California Declares Fiscal Emergency. Jerry Brown, California's governor, declared a state of fiscal emergency on Thursday [1/20/2011] for the government of the most populous US state to press lawmakers to tackle its $25.4 billion budget gap. Democrat Brown's declaration follows a similar one made last month by his predecessor Arnold Schwarzenegger, the former Republican governor.

$69 million in California welfare money drawn out of state. More than $69 million in California welfare money, meant to help the needy pay their rent and clothe their children, has been spent or withdrawn outside the state in recent years, including millions in Las Vegas, hundreds of thousands in Hawaii and thousands on cruise ships sailing from Miami.

Creating Poverty Through 'Social Justice'. In the story about social justice not working in San Francisco, we witness the creation of special interest groups, via legislation and regulation, which are literally inserted into the free market process to create wealth for entities that would otherwise not be needed in the free market Capitalist economic system. By virtue of San Francisco's social justice legislation and regulation, wealth has been extracted from the taxpayers, unnecessarily, via the process of government procurement, to reward the unproductive. That, ladies and gentlemen, is Progressive, Socialist, Marxist, wealth redistribution fashioned for the Capitalist economic system. It's here and it is happening... right now.

Why California Is Bankrupt. By now, the entire world has heard that California can no longer pay its bills. The amount of money going out exceeds the amount coming in. ... To the outsider, California's dilemma is paradoxical. After all, this is home to Silicon Valley and high technology. Geniuses are everywhere, and the state is renowned for being on the cutting edge on all issues from sex to science. Brilliance abounds, EXCEPT in state government because California is cursed with a gaggle of extreme tax and spend liberals in the State Assembly.

California School Spending Soared ... On Administrators. California schools, like the rest of state and local government, have pleaded poverty as the recession and housing bust abruptly ended the tax-revenue boom. But a study of 52 California school districts by Pepperdine University showed that K-12 spending rose 21.9% from fiscal 2003-2004 to 2008-2009, outpacing state income growth and inflation. On a per-student basis, spending jumped 25.8%, because attendance declined 3.1%.

Giving Failure a Pass. The Los Angeles Unified School District, the largest in California, spends $10 million a year to "house," with full pay and benefits, about 160 teachers deemed unsuitable for the classroom, according to "Failure Gets a Pass," a recent series in the Los Angeles Times. "If I had my way, I would fire [all of them], and they would not get another d----- penny," LAUSD superintendent Ramon C. Cortines told the Times. "They're milking the system."

California School Spends $10G a Year to Teach AP Spanish to Kids Who Speak Spanish. A middle school in Southern California is spending $10,000 a year to teach Advanced Placement Spanish to 35 of its 650 students — and all but one of them are already fluent in Spanish. Thirty-four of the kids in the AP class are from Mexico or are the children of Mexican immigrants. They all grew up speaking Spanish at home.

California Supreme Court OKs In-State Tuition for Illegal Immigrants. Illegal immigrants can get in-state tuition at California colleges if they graduated from a high school in the state, the California Supreme Court ruled. "The ruling is the first of its kind in the nation," the Los Angeles Times' Maura Dolan and Larry Gordon report, and though just ten other states offer such benefits, this ruling makes challenges to those laws less likely.

Financial Aid for Illegal Students OK'd. The Assembly Higher Education Committee approved two bills on Tuesday [3/15/2011] allowing college students who are in the state illegally to receive financial aid. Dubbed the California Dream Act, AB130 allows illegal immigrants to receive privately funded college scholarships, and AB131 allows them to receive taxpayer-funded financial aid such as Cal Grants. Currently, illegal students who spend at least three years in California high schools pay only the in-state tuition rate — a significant cost savings over legal citizens from other states who are attending California colleges. That benefit was provided by AB540, which passed in 2001.

Taxpayers Oppose the "Billion-Dollar Fish Fry" Project. Special interests are pushing S. 27 as a way to "settle" their two-decade-old lawsuit against the federal government (specifically, the U.S. Bureau of Reclamation) to restore the salmon population to the historical outlines of San Joaquin River. Even though the targeted segment of riverbed has been dry for 75 years (thanks in part to a dam California voters approved in 1933), these same activists are prepared to spend considerable taxpayer resources in an attempt to bring back a minimum of 500 salmon to the area.

California bill would give newborns $500. Happy birthday, baby, here's $500, courtesy of California taxpayers. The state's Legislature is considering a plan for taxpayers to provide a tax-free, long-term investment account to every baby born in California, regardless of his or her parents' financial or immigration status.

$1-Billion Affordable Housing Bond Measure May Go to Voters in L.A.. A $1-billion bond measure that would help provide housing for thousands of low-income residents and enable others to become first-time homeowners is likely to appear on the Los Angeles ballot in November.

Why Buying Government Bonds is a Bad Investment for Yourself, and Our Future: The U.S. Department of Health and Human Services (HHS) spends 80% of its budget on administrative overhead, while private charities are prosecuted for fraud if more than 20-30% of donations goes for staff. In California, there are an average of 132 administrators for every 100 teachers in the public schools, while there are only 18 per 100 teachers in the parochial schools. Average cost per high-school student: $5200 public vs. $2200 private.

What Should We Expect from Smaller Classes? In a thoughtful review of studies of class size and academic performance in last November's Scientific American, Ronald G. Ehrenberg and colleagues point out class-size reduction has one obvious drawback: "It costs plenty." They note the state of California alone has spent more than $1.5 billion annually over the past several years to reduce class sizes to 20 or fewer in kindergarten through third grade …with only a "tiny effect."

California At The Breaking Point. A new Stanford study says California's public-employee retirement funds are $500 billion in the hole. It's news that unions and their candidate, Jerry Brown, don't want to hear.

Public-sector employees are the new fat cats. In California, 9,111 retired government workers have pensions of more than $100,000. One retiree draws an annual pension of $509,664. Among retired teachers, 3,065 receive more than $100,000. One gets $285,460. Pensions for retired state workers and teachers will rise 2 percent this year, though Social Security recipients aren't getting any cost-of-living increase. The increase in California isn't tied to inflation.

Pension Tsunami: That approaching wave of pension debt is a lot bigger than it looks. The purpose of this site is to provide an overview of the multiple pension crises that are about to drown America's taxpayers. Our primary focus is on California, but we also track other states, corporate pensions, social security and international trends.

In a Welfare State, How Much Is 'Enough'? California is imploding. Public-sector unions there, and across the country, are swallowing budgets. In California alone, pension costs have gone up 2,000 percent in a decade. At the national level, Obamacare has done little to fix — and much to hurt — America's long-term entitlement mess. Already, America's structural deficit has tripled since 2007. Economist Price Fishback has just published a paper finding that America spends more on social welfare than socialist Sweden (though we spend it differently).

Trickle-Down Misery in L.A.. The city is chin-deep in California's trickle-down misery, and last week Richard Riordan, who was L.A. mayor from 1993 to 2001, coauthored with Alexander Rubalcava — an investment adviser — a Wall Street Journal column declaring the city's fiscal crisis "terminal."

Schwarzenegger budget would eliminate welfare. Gov. Arnold Schwarzenegger asked lawmakers Friday to eliminate the state's welfare program starting in October and dramatically scale back in-home care for the elderly and disabled as part of his May budget revision to close a $19.1 billion deficit.

Bye Bye, CalWORKs. In the early 1990s, Bill Clinton campaigned on a promise to "end welfare as we know it." Republicans in Congress called his bluff, and the result — the landmark 1996 welfare-reform bill — ushered in a decade of plummeting welfare rolls and declining poverty. Now California governor Arnold Schwarzenegger, no one's idea of a staunch conservative, has done Clinton one better: He has called for the end of cash welfare in California, period.

Credit card caper is L.A. County's next bombshell. Some Probation Department employees apparently have been ripping off taxpayers, buying personal items such as TVs, video games and barbecue grills on county-issued credit cards.

Derelict Legislature. As states start to rein in pension costs, California's legislature remains lost in space, nixing even a modest reform to save itself $110 billion over 30 years. Are there any signs of intelligent life out there?

The Next Big Crisis: State Bankruptcies. Many say that the situation in Greece is a harbinger of what is coming to the United States. They are right. But first it will come to states like New York, California and Michigan, which are stretched way beyond their means and deeply in debt.

The Editor says...
Please note that New York, California and Michigan are three of the so-called "blue states". Wherever Democrats predominate, prosperity cannot endure, because liberals abhor capitalism.

California judge denies Schwarzenegger's minimum wage order. Sacramento County Superior Court Judge Patrick Marlette today [7/16/2010] denied Gov. Arnold Schwarzenegger's request to immediately compel State Controller John Chiang to pay state employees minimum wage.

800k Salary For California City Manager; 100k For Part Time Employees. Bell is one of the poorest cities in Los Angeles County, and it pays its city manager about $800,000. ... His salary is double what city managers make in surrounding areas, as is the $457,000 salary that Bell city pays it chief of police.

For Whom Bell, California Tolls. It tolls, of course, for public employees and for Democrats, the party almost exclusively linked to big labor, big government, and big labor in big government. Bell, California, a small municipality in Los Angeles County with a population of 40,000, has come to symbolize public employee rot. Bell's average resident earns under $30,000 per year, and its unemployment rate hovers around 16%, even higher than the high statewide rate for California (over 12%). Yet we learned from the Los Angeles Times that Bell was run by Chief Administration Officer Robert Rizzo (D), bringing down a salary of $800,000, and by Police Chief Randy Adams, earning $457,000. There must certainly be a lot of streets being swept and drunk drivers being ticketed in this clean and orderly piece of America.

Prosecutors detail steps Bell leaders allegedly took to hide high salaries. Court documents accuse former City Administrator Robert Rizzo of ordering an employee to draft false contracts and other records to conceal how much he and council members made.

This Bell Is the Chime of Freedom. The saying goes, you get what you pay for. To the working class citizens of Bell city, California, their hard-earned cash got them a sleazy, overpaid and corrupt government run by Democrats. The government officials got rich. Today [9/21/2010], thankfully, eight of them — every single one a Democrat — also got arrested.

Media white-washes Bell, California jail-birds' party status. They're gone, wearing jumpsuits, all eight former officials of Bell, the modest California city whose citizens, for 25 years, were plundered by shamelessly corrupt Democrats.

Corruption As Usual. In addition to Bell and Irwindale, two other Los Angeles suburbs have recently been disgraced by public corruption. The former mayor of Temple City recently pleaded no contest to bribery and other charges and will do 16 months. In Vernon, a tiny town of 100 residents, city managers were making salaries of $1.6 million and enjoying perks like first-class air travel and $800-per-night hotel rooms.

Californina town that fired all employees and outsourced all services is thriving. It's not exactly a mystery why California is in such trouble. From the local governments to the statehouse, it's one of the worst governed states in America.

Change Club Med Environment at Club Fed. Unleashing criminals from American jails onto American streets is determinately criminal. But still, the debate on American incarceration continues to flare up due to tough economic times and because our country spends roughly $50 billion annually to incarcerate public nuisances and dangerous thugs. Shockingly, the annual cost per prisoner in California is $50,000. No wonder there has been a violent push for the privatization of prisons and the revamping of the American legal system.

New K-12 school in Los Angeles costs taxpayers $578 million. There's been an ongoing budget crisis in Los Angeles this year. Mayor Antonio Villaraigosa was at one point threatening to shut city services down two days a week to make ends meet. Despite this, it does not appear that the city has been cutting back.

L.A.'s 'Taj Mahal' School's Real Cost. For anyone who ever doubted bureaucrats' ability to spend, one need look only at Los Angeles' newest public school, the most expensive ever built. If only the education inside was as rich. With a price tag of $578 million, the new Robert F. Kennedy Community Schools is an impressive building — perhaps indicative of what some call the Los Angeles Unified School District's edifice complex.

How does a $578 million school get built amid cuts, layoffs in L.A.? A football-field-sized lawn — lined with walks and trees — stretches from the street to a five-story, glass-front building in this otherwise scruffy neighborhood just west of downtown skyscrapers.

Let states go bankrupt. After two years of bailouts, "stimulus" spending, TARP and earmarks, the country took a deep breath and is now beginning a discussion about the unsustainable trajectory of federal expenditures and the reforms necessary to right the country's fiscal ship. This is all good and healthy. However, Washington is not the only place with an overspending problem.

Shovel Ready in San Fran: $205,075 to 'Translocate' One Shrub from Path of Stimulus Project. The government spent at least $205,075 in 2010 to "translocate" a single bush in San Francisco that stood in the path of a $1.045-billion highway-renovation project that was partially funded by the economic stimulus legislation President Barack Obama signed in 2009.

Government Work: $205,000 to Move a Shrub. In 2010 $205,075 was spent to "translocate (that's govspeak for "move") a single bush that was apparently in the way a highway renovation project that was partially funded by stimulus money. No, I'm not kidding. $205,075 to move a bush. [...] The plant in question is called a Franciscan manzanita and is extinct. Except where it is found growing in people's yards in California. And nurseries where they retail for about 16 bucks.

Nothing Left to Cut! California Spends $205,000 to Move $15 Shrub. Reeling from devastating budget cuts driven by austerity extremists, California in 2010 still managed to spend $205,075 to move a plant.


Taxes:



San Francisco Voters Back 'Robin Hood' Tax On Business. San Francisco voters passed Proposition C yesterday [11/7/2018] with a 60% majority, Recode reports. The proposition establishes a tax between 0.175% and 0.69% on the gross income of businesses reporting over $50 million in annual turnover, along with a 1.5% payroll tax for certain companies with $1 billion in turnover to fund housing and homeless services. The city predicts it will generate between $250 million and $300 million to help needy causes.

Enraged Californians rebel against Gov. Brown's massive tax hike on cars and gas. In California, a state known for its love of driving, high-priced gasoline and history of tax revolts, a rebellion is brewing against Gov. Jerry Brown's massive gas-and-car tax increase. In the two weeks since the Democrat signed Senate Bill 1, opponents have launched an initiative drive to repeal the $52.4 billion transportation package as well as a recall campaign to eject a vulnerable Democratic state senator who is seen as the deciding vote for the law.

Taxifornia Does It Again. California's far-left government has done it again. Not realizing its real problems are excessive spending on misplaced priorities, excessive taxes, too much debt and a far-too generous welfare state, its legislature working in cahoots with Gov. Jerry "tax-and-spend" Brown has pushed through the largest tax hike in state history.

California Prepares to Enact the Highest Gas Tax in the Country. The California Senate Democrats has approved a multi-billion-dollar increase in the state's gas tax to pay for road and infrastructure projects. The so-called Road Repair and Accountability Act would ratchet up the state's gas tax by 12 cents a gallon, and raise the tax on diesel fuel by 20 cents a gallon. It also etches out an additional charge to annual vehicle license fees ranging from $25 to $175 depending on the car's value. The Senate passed the bill, 27-11 on Thursday [4/6/2017]. Republicans did not support the measure.

Pasadena Planning to Introduce 9.4% 'Netflix Tax'. The city council of Pasadena, California has come under fire recently after announcing a plan to implement 9.4% tax on video streaming services — a Netflix tax. CBS reports that the tax, which was designed to generate revenue that had been lost due to the recent trend of people "cutting the cord" and cancelling cable TV services, was met with widespread disapproval from Pasadena residents. The new law is based around a 2008 ruling that allowed the city council to tax cell phones as they taxed home landlines, this however set an unforeseen precedent that allows the city to apply a similar tax to digital streaming services. As many as forty other California cities have a similar law.

Proposition 55 would extend "temporary" tax for 12 years. When Gov. Jerry Brown and his allies urged voters to adopt a temporary income tax on the wealthiest Californians and a statewide sales tax on everyone four years ago, the deal was billed as a short-term salve for a state mired in debt and on the verge of insolvency.

The Editor says...
Remember this when the next "temporary" tax is proposed.

Unaffordable California — It Doesn't Have To Be This Way. Here's a documented comparison of California taxes and economic climate with the rest of the states. The news is bad, and getting worse. [...] CA has the highest state sales tax rate in the nation. 7.5% (does not include local sales taxes). [...] CA has the nation's 5th highest "gas pump" tax at 59.0 cents/gallon (January, 2016). But add in the unique 10-12 cent CA "cap and trade" cost per gallon, and CA is #1 (about the same as Pennsylvania). [...] Average 2012 CA impact fee for single-family residence was $31,100, 90% higher than next worst state. [...] CA has now instituted the highest "cap and trade" tax in the nation — indeed, the ONLY such U.S. tax.

California governor's highway plan includes $65 driver fee. More than two months after calling a special session to address California's transportation funding backlog, Gov. Jerry Brown has begun circulating a list of administration proposals on how to pay for it, including a $65 annual fee for drivers and increases in the diesel and gas taxes tied to inflation.

More Californians Will Flee State After Recent Tax Increases. California Gov. Jerry Brown on Sunday said California would start a tax-increase wave across the nation, but recent history suggests California's tax increases will only accelerate the number of people who will leave California to other states with better tax climates. When asked whether California was going to start a "tax-increase sweep" across the nation on CNN's "State of the Union," Brown agreed.

A Nightmare of Collapse. My home county has been clobbered by the recession. Taking the unemployment numbers at face value, the March 2012 rate was 11.1%. Next month the county will vote on a measure that promises to keep our libraries open. The implied threat is if voters don't extend the 1/8% sales tax they approved in 1998, libraries will close. Since the measure extends an existing tax, its prime selling point is that it doesn't raise taxes.

A "Third Income Tax" To Fund Public Education? California, with an average statewide unemployment rate of over 12% (in some regions the rate is over 20%) and a budget deficit of somewhere between $10 and $15 billion, is considering the imposition of a third income tax. The additional income tax rate would vary, according to which region of the state one lives in, and would be imposed directly by school districts and county governments. Many of California's public school districts (there are over 1000 of them) are themselves broke, just like the state government.

Texas Shines Big in the 2010 Census. The Census Bureau last week released county and city populations for the last of the 50 states from the 2010 Census last week, ahead of schedule. Behind the columns of numbers are many vivid stories of how our nation has been changing — and some lessons for public policy, as well. ... The lesson is that high taxes and strong public employee unions tend to stifle growth and produce a two-tier society like coastal California's. The eight states with no state income tax grew 18 percent in the last decade. The other states (including the District of Columbia) grew just 8 percent.

Will California Tax Itself to Prosperity? [Scroll down] Ideology still trumps reality in California, even in this new, "post Arnold" era. And so it was that, less than twenty-four hours after his inauguration, Governor Jerry Brown began laying the groundwork for raising taxes in California, rather than cutting government spending. The problem with the state budget, so the Governor reasoned, was not that politicians had spent too much or that government agencies are wasteful. No, no, Californians aren't taxed enough — they've been given an "unfair" break on their property taxes via the state's famous, 32-year-old "Proposition 13," and if that could be undone, then the state budget would be fixed.

California Stealin'. Desperation grabs for revenue are nothing new in politics, but California is once again leading the way in creative financing. To help close yet another gaping budget deficit, now estimated to be $7 billion this year and reach as high as $20 billion next, Sacramento lawmakers have authorized a 10% increase in the amount of taxes withheld from worker paychecks starting November 1 and through 2010.

Tax Increases, Coming To A Theater Near You. In only 100 days and change, President Barack Obama has committed $6.5 trillion to waste, fraud and abuse. That's $6,500,000,000,000.00, which is more than all the costs of World War I and World War II combined. And you think it can't get worse? Believe me, IT CAN. Things have gotten so bad that, even in my home state of California, a Republican governor, Arnold Schwarzenegger, is urging support for a massive $16 billion tax hike which is deceptively masquerading as a measure to put a lid on out-of-control government spending. You read that right: A massive tax-hike — Proposition 1A — is being peddled to the people as a measure to control spending.

RINO alert!
California governor wants to tax golf, auto repairs. In California, Schwarzenegger wants to help close a nearly $42 billion budget deficit by taxing rounds of golf, auto repairs, veterinary care, amusement park and sporting event admissions and appliance and furniture repairs. Democratic Gov. David Paterson in New York has proposed levies on MP3 downloads, taxi rides, movies, concerts, sporting events, and personal services such as haircuts, manicures and massages. Schwarzenegger's fellow Republican in Utah, Gov. Jon Huntsman, has shelved a proposal to tax attorney and accounting services but promises to bring it back next year.

The Editor says...
Why not tax illegitimate children, illegal immigrants, and those hubcaps that rotate backwards?

Sides square off in fight to hike tax on tobacco. Come November, Californians will be asked to impose the biggest tax increase ever on tobacco products, a change that healthcare advocates believe will reduce cigarette consumption, but some officials think will increase cigarette smuggling.

Benedict Arnold. Just over five years ago, Arnold Schwarzenegger swept into power in California, vowing to crush the "spending addicts" responsible for the state's crushing budget deficit and to thwart Sacramento Democrats who saw taxpayers as ATMs. "The people of California have been punished enough. From the time they get up in the morning and flush the toilet, they are taxed. Then they go and get a coffee, they are taxed. They get into their car, they are taxed. They go to the gas station, they are taxed. ..."

Lawmakers consider $1.50-per-pack cigarette tax hike. For years tobacco companies have successfully fought off attempts by California lawmakers and health groups to increase the cigarette tax. But next month, as the state grapples with the worst financial crisis in recent history, that may change. Lawmakers will consider a proposal to hike cigarette taxes by $1.50 per pack and raise $1.2 billion annually. During the last decade, cigarette makers have spent tens of millions of dollars to kill 14 straight attempts to make smokers pay more.

Smokers face a hit as tobacco taxes spike. However they satisfy their nicotine cravings, tobacco users are facing a big hit as the single largest federal tobacco tax increase ever takes effect Wednesday [4/1/2009]. Tobacco companies and public health advocates, longtime foes in the nicotine battles, are trying to turn the situation to their advantage. The major cigarette makers raised prices a couple of weeks ago, partly to offset any drop in profits once the per-pack tax climbs from 39 cents to $1.01.


Lawyers:

Target sued: website not accessible to the blind. The National Federation of the Blind (NFB), represented by Berkeley's Disability Rights Advocates as well as two law firms, has sued discounter Target, alleging that it violates California disabled-rights law because its website is not operable by blind computer users.

ADA Lawsuit Abuse: Businesses of all sizes and types … have been targeted by what they call "ADA frequent filers" who file look-alike lawsuits where a single plaintiff and his/her lawyers file lawsuits alleging the same violation against numerous small businesses in a particular area. … For example, one plaintiff specializes in alleging toilet paper dispenser heights don't meet the ADA-required 40 inches, causing him emotional pain, humiliation and physical injuries. He has filed more than 700 ADA lawsuits in California and collected millions from California small businesses in settlements. Another plaintiff has filed more than 1,300 ADA access lawsuits since 1998; many against small, family-owned Northern California wineries. Another plaintiff targeted more than 300 businesses in San Diego, using the same attorney to file all the cases.

Why Lawsuit Abuse Continues in California: California's business climate suffered another blow [in May 2005] when the Senate judiciary committee killed SB 855, a measure that would have closed another loophole for unscrupulous attorneys who shake down California's small businesses.

Frivolous Lawsuits in California: A rapidly emerging source of frivolous, shakedown lawsuits is the Americans with Disabilities Act, more specifically the California version of that federal law. Restaurants, hotels, and businesses of all types have become targets of lawsuits for ADA violations. The major problems include an inability of businesses to get certification that their business complies with the law, a lack of protection from future lawsuits when the violation is settled, and no time to fix a violation before a plaintiff sues. These problems discourage compliance with ADA because a plaintiff can sue anyway.


Radical environmentalism and restrictive environmental laws:



Despite California's long drought, trillions of gallons of rainwater [are] wastefully flowing into sea. California's rainy season could be the wettest in 40 years, but experts say the state is missing a major opportunity by failing to collect the trillions of gallons of storm runoff that currently flows wastefully into the ocean. "We will never capture it all, but we need to do a better job of capturing what we can," said Peter Gleick of the Pacific Institute. In February alone, an estimated 18 trillion gallons of water fell on the state. In urban areas and coastal cities, 80 percent ends up diverted into the ocean, as Los Angeles and other cities built long concrete channels for flood control. The Los Angeles River, for example, is a 51-mile-long canal as wide as a football field. Almost none of the water seeps into the underground aquifer.

The Green New Deal Versus Rural America. California has mandated that utilities must get at least 60 percent of their electricity from renewables by 2030. Last year Mark Nelson and Michael Shellenberger, of the Berkeley-based think tank Environmental Progress, released a report that showed that between 2011 and 2017, electricity prices in California rose at more than five times the rate in the rest of the U.S.

Berkeley Restaurants To Charge Fee For Disposable Cups. One California city is pushing residents to switch to reusable cups by imposing a new tax. On Wednesday, the Berkeley City Council voted unanimously to force restaurants and coffee shops to charge a 25-cent fee for their disposable cups. The Democrat controlled city council is hopeful the tax will reduce the city's paper and plastic waste, and encourage people to bring their own reusable cups while dining out. Restaurants will reportedly be allowed to keep the funds raised from the fees to be used however they want.

California set to seize 1,100 miles of coastline. The California Coastal Commission is set to empower local government to take thousands of properties through eminent domain along 1,100 miles of coastline to prepare for sea level rise. Despite California being battered by 4-8 inches of torrential rain and flooding from an El Niño weather cycle, E&E News reported that the State of California in late January will authorize eminent domain authority for local jurisdictions to implement a "managed retreat" policy that will allow taking and demolishing coastal homes and businesses. The California Coastal Commission circulated an 87-page "Draft Residential Adaptation Guidance" in March regarding how communities could proactively address sea level rise impacts through Local Coastal Programs (LCPs). Although the CCC draft did not adopt specific retreat guidance, the California Special Districts magazine expects that the CCC will predict a sea level rise of 2.5-5.5 feet and the elimination of 31-67 percent of Southern California beaches by the year 2100.

The Editor says...
Do the California politicians really think there's an impending disaster resulting from rising sea levels? (There isn't.) Or do they just want to own all the beaches?

The Biggest Junk Science of 2018. [#5] In California, Coffee Is a Carcinogen. Coffee contains a tiny amount of the chemical acrylamide (on average, a half a millionth of a gram in a cup of roasted coffee). Based mostly on animal and in vitro studies, acrylamide has been found to be a potential risk factor for cancer in very high doses. Therefore coffee causes cancer and requires a warning label. Such was the apparent logic of California Superior Court Judge Elihu Berle in a ruling this past spring. Scientists and experts almost universally decried the move as a gross overextension of the precautionary principle, but to no avail. Coffee is immensely unlikely to cause cancer, but in California, the popular drink now comes accompanied by a scary and misleading warning label.

Carbon prices — Set to KILL California economy, families and businesses. If you are staying in California be prepared for a government policy to skyrocket the cost of doing business in this Third World State. The current price is $14.65. "As required by legislation signed by Gov. Jerry Brown in 2017 extending the state's cap-and-trade program through 2030, the state Air Resources Board has proposed a new ceiling on the price of carbon credits, per ton, at auction. Until now, California has not set a price at the high end. Regulators have proposed a ceiling of $61.25, which, if approved, would take effect in 2021. [...] That is right — they want to increase the price by four times. But, they say it will never happen. Social Security started at 1%. They wanted a maximum of 2%, but told it could never get that high — today it is closer to 15%.

California mandates solar panels for homes built in 2020 and later. California lawmakers on Wednesday officially approved a measure that mandates all homes built in the Golden State in 2020 and beyond be solar-powered. The new standards were approved earlier this year and voted on unanimously by the California Building Standards Commission, the Orange County Register reported. Officials heralded the move as a "historical undertaking" that "will be a beacon of light for the rest of the country."

California Gov. Jerry Brown Issues Another Bogus Global Warming Prediction. Mark your calendars. In five years, everyone will believe the global warming doomsday scenarios repeated ad nauseam by environmentalists. That's according to California Gov. Jerry Brown. More likely, it be another in a long line of climate change "tipping points" that never arrive.

LA's Measure W would charge property owners to help recycle rainwater. Proponents say it's all about rainwater. "Traditionally every drop that drops here we've engineered to wash out to the ocean so we need to capture and clean the water that falls here and put it to good use," says Los Angeles Mayor Eric Garcetti. To pay for all this Measure W would place a new tax on property. The tax would be on what is called "impermeable area" such as your house your driveway, concrete patios. Anything that stops rainwater from going into the ground.

California Imposes Tough New Rules For Efficient Toilets, Faucets. State officials took emergency action on the drought Wednesday [4/8/2015], imposing tough new standards for toilets, urinals and faucets sold in California starting January 1st. In an unprecedented move by the California Energy Commission, made possible by the Gov. Jerry Brown's executive action last week, retailers won't be allowed to sell any of their remaining less efficient models after that date.

Declare San Francisco Critical Habitat for Grizzly Bears? Drive through San Francisco on any given day and you are likely to see more than a few grizzly bears. No, they will not be soiling sidewalks in the Tenderloin or chasing high-tech billionaires down Market Street. But they will be flapping in the wind above City Hall and other public buildings. The grizzly, you see, is California's state animal and adorns its state flag. Yet not a single wild grizzly has been seen in the state in nearly a hundred years.

We Must All Sacrifice for the Environment (But I meant you — not me!) The city [of San Francisco] has banned plastic straws, grocery bags, and Styrofoam, and even required solar panels on private buildings. If it is on the environmental industry wish list, San Francisco is leading the way. Even so, when activists there insist on leaving more water in the rivers, to protect salmon, they mean water from Central Valley farmers — not their own water. State regulators have obliged, and water restrictions have been imposed on farms to the south for 25 years. Hundreds of billions of gallons of water previously used for irrigation have been flushed to the ocean every year, rather than sent through the California Aqueduct to the Central Valley. Nevertheless, salmon remain endangered. So now, the California Water Resources Control Board proposes further restrictions, this time including water that is part of the municipal supply of San Francisco. Public hearings are generating lots of angry responses.

Since there's plenty of money available...
Gov. 'Moonbeam' says California to launch climate satellite. California Gov. Jerry Brown said Friday [9/14/2018] that [...] state officials will work with the San Francisco-based company Planet Labs to develop a satellite to track climate-change causing pollutants.

The Deep State, Obama, and Destroying America. Vitriolic hatred of President Trump has sprung America into an Afghanistan-like "state of collapse, civil conflict, ethnic and disintegration locked in a self-perpetuating cycle that may be simply beyond outside resolution." An example is California versus America over energy. California has chosen 100% renewable energy by 2045 when it's proven that renewable energy doesn't work on a scalable, affordable basis now or in the coming decades without immense fossil fuel backup and billions in taxpayer subsidies. Thankfully, the United States embraced fracking, allowing the U.S. to overtake Russia and Saudi Arabia as the world's number-one oil producer.

In California, Human Breath Is [seen as] a Cancer Risk. Last Wednesday, the FDA threw its hat into California's eternal does-or-doesn't-coffee-cause-cancer fight. "Requiring a cancer warning on coffee, based on the presence of acrylamide, would be more likely to mislead consumers than to inform," the federal agency's statement read. That's because scientists are in near uniform agreement that coffee doesn't cause cancer — its safety is reinforced by some of the most comprehensive data available. But since coffee contains a chemical called acrylamide, California's Proposition 65 law requires the beverages to bear a warning. The law is broken, and its inconsistency is just part of the reason why Californians pay these warnings little mind. So in August's waning days, the rules governing Proposition 65 warnings changed to make them more informative. Now, rather than vague notices about cancer and reproductive harm, California law requires manufacturers to identify which specific chemical on the state's list of roughly 900 carcinogens and reproductive toxins an item might expose consumers to.

California's Devastating Fires Are Man-Caused — But Not In The Way They Tell Us. In 2005 while a freshman California Assemblyman, I had the chance to visit Northern California and meet with the forest product industry professionals who grew, managed, and harvested trees on private and public lands. They told me of a worrisome trend started years earlier where both federal and state regulators were making it more and more difficult for them to do their jobs. As a result, timber industry employment gradually collapsed, falling in 2017 to half of what it was 20 years earlier, with imports from Canada, China, and other nations filling domestic need. As timber harvesting permit fees went up and environmental challenges multiplied, the people who earned a living felling and planting trees looked for other lines of work. The combustible fuel load in the forest predictably soared. No longer were forest management professionals clearing brush and thinning trees. But, fire suppression efforts continued. The result was accurately forecast by my forest management industry hosts in Siskiyou County in 2005: larger, more devastating fires — fires so hot that they sterilized the soil, making regrowth difficult and altering the landscape. More importantly, fires that increasingly threatened lives and homes as they became hotter and more difficult to bring under control.

Catering to [a] Single Wolf Puts California in [Superior] Courtroom. [Scroll down] The California version of the federal [ESA] law isn't much different, but it now is being challenged in court over bureaucrats' decision to launch all their protections on behalf of a single gray wolf, which lives in neighboring Oregon. The CESA designated the gray wolf as endangered last year, but the California Cattlemen's Association and the California Farm Bureau, pointing out that the rules forbid them from even "chasing [a] wolf to the border of his or her property," sued the California Fish and Game Commission, the Center for Biological Diversity, Environmental Protection Information Center, Klamath-Siskiyou Wildlands Center and Cascadia Wildlands.

The Editor says...
The Pacific Legal Foundation asserts that "The Gray Wolf's listing is illegal because it is based on the presence of a non-native subspecies of wolf."

Tom McClintock: Trump 'Is Absolutely Right' About CA's Environmental Laws. Rep. Tom McClintock (R-CA) said President Donald Trump "is absolutely right" to link California's wildfires to the Golden State's poor management of water and forest resources. [...] "Our water policy is ludicrous," said McClintock. "We have not built a major reservoir over a million-acre feed of storage since the New Melones was opened in 1979. Meanwhile, the state's population has nearly doubled."

California Fires: Government Policies, Not Global Warming. As large swaths of California are yet again on fire, environmentalist groups, the leftist media, and Democratic California Governor Jerry Brown are quick to blame climate change. But the burning in California has more to do with misguided and short-sighted environmental regulations than with weather or climate. [...] The Endangered Species Act has made it nearly impossible for private-property owners to clear dead brush from their own land because it may destroy habitats of protected species. From 1993 until 2003, residents of Riverside County were prohibited from removing brush from their properties because such brush had become a habitat for the endangered kangaroo rat. When a wildfire broke out there in 2003, the dry, dead brush served as kindling as the blaze destroyed 2,700 homes and killed 27 people. The rat's habitat was also destroyed. So, in what can charitably be described as a misguided attempt to save the environment from the ravages of human activities, government regulations have made the fires worse.

Fire and Water in California. Liberals exploit natural disasters — drought, hurricane, blizzard, you name it — to promote their anti-fossil fuels agenda. Yet now they're outraged that President Trump is daring to fight fire with fire by making a connection between California's wildfires and destructive green policies. [...] Governor Jerry Brown keeps lecturing Californians that they need to adapt to a new "climate normal," yet the state government has done little to prepare for warmer and drier times if that is the future. Lawmakers instead have subordinated fire prevention to pleasing the green lobby.

San Francisco: The City of Bans. On July 19, the San Francisco Board of Supervisors voted unanimously to forbid restaurants, bars, and convenience stores from handing out or selling straws. The city joins a growing list of progressive enclaves to do so, including Seattle, Malibu, Santa Cruz, and Santa Barbara. Most cities impose a fine for such verboten behavior. But Santa Barbara's ordinance, which goes into effect next year, imposes a fine of up to $1,000 and imprisonment of up to six months. [...] What's the official point of it? It's designed to cut down on the plastic waste that ends up in the ocean. But as Reason's Christian Britschgi recently reported, plastic straws "account for about 2,000 tons of the 9 million tons of plastic that are entering the ocean each year." That's a tiny amount. And he noted that Starbucks, which recently announced that it will stop using straws, is introducing new lids that actually use more plastic than the old ones. There's no gain and activists are complaining about the elimination of a product that helps many disabled people drink from cups.

Fire and fury: How government failures make wildfires even worse. While East Coasters are heading off for their August vacations, many families out West are worried that if they leave their home, it may not be standing when they return. That's the reality when there have been 4,500 wildfires this year so far. [...] Everyone is quick to blame global warming for this and all other natural disasters. But changes to local weather in this or that part of the country are by no means part of the same scientific consensus that climate change is real and caused in large part by human activity. Western droughts and forest fires have been around a long time, and so has climate change, but the fires have gotten much worse very recently, and government mismanagement of forests is part of the reason.

Wise Giants and Arrogant Dwarves. [S]ince 2008, during the peak of drought, 1.4 trillion gallons of water have been dumped into the Pacific. And why? Affluent progressive environmentalists, who don't have to provide their own food, and who fancy themselves the possessors of ecological and global warming "science," are harming an essential industry and driving up food and energy costs in order to protect the Delta Smelt, a two-inch bait-fish. There is no scientific demonstration of how the extinction of the Delta Smelt would harm humans or threaten their existence, any more than the extinction of 99% of all the species that ever existed has held back the human race. Instead, bad environmental "science," old nature-love clichés, and a Disneyfied understanding of humanity's relationship to nature are driving the smartest people in history into doing things an illiterate farmer in 1850 had too much common sense to do.

Activists push for statewide plastic straw and styrofoam food container ban. Activists from Environment California and the Surfrider Foundation gathered at Goleta Beach Park Friday morning to push legislators to pass statewide measures to protect California's coastline. The laws would address plastic straws and food packaging in the state of California. Julia McLaughlin works with environment California's Isla Vista office and helped organize the event. She says the organization has been working all summer to advocate for a state-wide ban on polystyrene, more commonly known as styrofoam, as well as limiting single-use plastic straw consumption.

California — so advanced they can keep the lights on quite a lot of the time. In LA temperatures are forecast to reach as high as 32C (90F) on Monday [7/23/2018] and 36C (97F) on Wednesday. (They call this a heatwave?) But gas is running so short that Californians are being asked to turn off non-essential lights and not use their biggest appliances from 5pm to 9pm. Welcome to the future, where you need to plan ahead to run your washing machine or oven.

California's Climate Extremism. Environmental extremism increasingly dominates California. The state is making a concerted attack on energy companies in the courts; a bill is pending in the legislature to fine waiters $1,000 — or jail them — if they offer people plastic straws; and UCLA issued a report describing pets as a climate threat. The state has taken upon itself the mission of limiting the flatulence of cows and other farm animals. As the self-described capital of the anti-Trump resistance, California presents itself as the herald of a green, more socially and racially just society. That view has been utterly devastated by a new report from Chapman University, in which coauthors David Friedman and Jennifer Hernandez demonstrate that California's draconian anti-climate-change regime has exacerbated economic, geographic, and racial inequality. And to make things worse, California's efforts to save the planet have actually done little more than divert greenhouse-gas emissions (GHG) to other states and countries.

California's Costly Global Warming Campaign Turns Out To Be Worse Than Useless. For more than a decade, California has won high praise from environmentalists for its stringent greenhouse gas restrictions. But a new report shows that despite the enormous costs of this effort, the state is doing a worse job at cutting CO2 emissions than the rest of the country, while badly hurting its working families.

Judge throws out SF and Oakland climate suits against big oil. A federal judge Monday [6/25/2018] tossed out two groundbreaking lawsuits by San Francisco and Oakland that sought to hold some of the world's largest oil companies liable for climate change. In an exhaustive, 16-page ruling that touched on such scientific matters as the ice age and early observations of carbon dioxide, U.S. District Judge William Alsup acknowledged the problem of a warming planet but said it is just too big for the courts to solve. The cities are trying to get five oil and gas giants, including Bay Area-based Chevron, to help cover the costs of dealing with sea-level rise, like picking up the tab for seawalls.

The Editor says...
If the sea level is rising a few millimeters per year, how big should the wall be?

California's Delta Tunnels: An Unnecessary $15 billion, 15-Year Jobs Program. When Jerry Brown was elected for his third term, he ran with it in 2011 now claiming the tunnels were needed to protect the Delta Smelt, a non-indigenous fish. "To protect smelt from water pumps, government regulators have flushed 1.4 trillion gallons of water into the San Francisco Bay since 2008," Wall Street Journal columnist Allysia Finley wrote in 2015. "That would have been enough to sustain 6.4 million Californians for six years." During his 2016 Presidential campaign, Donald Trump vowed to "open up the water" in drought-stricken California, acknowledging that the "drought" was political.

California's new water restrictions send residents fleeing to saner states. "Please sir, I want some more," is no longer a sentiment just for Oliver Twist in the orphanage. A new law in California limits how much water can be used by each household. Now their showers, how many flushes, and how often they can do their laundry will be under the watchful eye of the state government. This from politicians who have pushed policies creating homeless and drug abuse crises throughout the state. They have now decided to clamp down on the use of the most basic needs of civilized living. As the blog Zero Hedge put it, "it's now against the law to do laundry and shower on the same day in the Sunshine State," and they're not exaggerating. Under the guise of addressing "climate change," the new bill rations water to a degree that makes it impossible to maintain a healthy home environment.

Hypocrisy: Oakland, Suing Oil Companies Over Climate Change, Fined By EPA For Polluting San Francisco Bay. Talk about being caught with your pants down: the city of Oakland, which is suing oil companies over "climate change," has been fined by the U.S. Environmental Protection Agency for polluting San Francisco Bay. As Heartland.org reports, in late April, the EPA fined Oakland and the East Bay Municipal Utility District (EBMUD) $360,000 for permitting untreated sewage to flow into the San Francisco Bay. Oakland has been hit with fines before for sewage discharges; in 2014, EBMUD and the seven communities it serves, including Oakland and Berkeley, paid $1.5 million in civil penalties and were required to repair 1,500 miles of pipes over a 21-year period.

California's Self-Inflicted Housing Disaster Couldn't Get Worse — Or Could It? California is a virtual one-party state, and suffers for it. A case in point: At the final forum for gubernatorial candidates before the June 5 state primary, lavish promises were made by Democratic candidates to build "millions" of new homes to end the state's housing crisis. But the fact is, California's far-left politicians created the problem, and don't have a clue about how to solve it. As the headlines above show, the same politicians that vow to build "millions" of new homes to keep state citizens from leaving will now require solar panels on new houses. They claim that'll add just $9,500 per house, but of course that's way low. Making homes less affordable is no way to end a housing shortage.

California Bureaucrats Will Soon Require Solar Panels on New Homes: But Is It Safe? The California Energy Commission, a group of unelected bureaucrats, is poised to approve new changes to the state building code. Among these changes is a requirement that all new housing be equipped with rooftop solar panels in an attempt to cut down on fossil-fuel usage and greenhouse gases, which many scientists believe contribute to climate change. Expected to be approved today [5/10/2018], the change to the building code would take effect in 2020. Current estimates are that the required solar panels will add an additional cost of $8,000-$12,000 per house. California would be the first state to make such a requirement, although it is also being discussed in New Jersey, Massachusetts, and Washington, D.C.

California becomes first state to mandate solar panels on new homes. California has become the first state in the nation to mandate solar panels for all new homes, in a move to cut greenhouse gas emissions that critics say will end up raising home prices in the already expensive market. In a unanimous 5-0 vote Wednesday [5/9/2018], the California Energy Commission approved the policy. The regulation will require all homes and apartments built after 2020 to have solar panels, adding an average of roughly $10,000 to construction costs for a single-family home.

California, Land Of The Mandatory Solar Panels. Thinking of building or purchasing a newly constructed home in California? Even assuming you can somehow afford to own one in one of the most brutal real estate markets in the country, get ready for the cost to go up further. The state government is preparing to pass a new law which will mandate that every new house, condo or other building up to three stories high must have solar panels installed and comply with a "net-zero energy" profile. (This means that they have to produce enough of their own solar power to offset all electricity off the grid and natural gas consumed over the course of a year.) Even more remarkably, they want everyone to be in compliance in under two years. What this will do to the California real estate market, particularly for aspiring, low-income homeowners remains a mystery.

California to require solar panels on most new homes. There's no question that solar power is entering the mainstream, but California is about to give it a giant boost. The state's Energy Commission is expected to approve new energy standards that would require solar panels on the roofs of nearly all new homes, condos and apartment buildings from 2020 onward. There will be exemptions for homes that either can't fit solar panels or would be blocked by taller buildings or trees, but you'll otherwise have to go green if your property is brand new.

California city wants to charge for every disposable takeout container. While many cities across the world are banning plastic grocery bags in an effort to cut back on waste, one city in California is taking it one step further by targeting disposable containers and cups. Berkeley Mayor Jesse Arregu'n held an event Tuesday [4/24/2018] at the local recycling yard to introduce the legislation, which would encourage people to bring their own reusable containers and cups to restaurants and coffee shops or be charged an extra 25 cents. The Disposable-Free Dining plan would also require to-go containers to be 100 percent compostable or recyclable, chosen from a pre-approved list.

Lefty mayors' frivolous climate change lawsuits need to stop. Who or what is actually responsible for "global warming" and how should the individuals, businesses or industry sectors be held accountable? If you listen to New York City Mayor Bill de Blasio and the California mayors of San Francisco, Oakland, Richmond and others, the entire blame rests exclusively with our oil and natural gas industry. Conveniently, these money-hungry mayors and their equally greedy trial lawyers accuse only the largest, most profitable oil and natural gas companies of wrongdoing. Their municipal lawsuits allege that global warming is a local, "public nuisance" issue and the sole perpetrators of our planet's "warming" are no farther away than the local refinery or natural gas plant. Sound unfair? Add this insane reasoning to the fact that dozens of other industrialized nations are apparently blameless for any of the planet's climate-related woes. Operators of airlines, asphalt factories, cement plants, auto dealerships and heavy machinery in New York or California are likewise off the hook for any climate change-related issues.

Coffee must carry cancer warning, California judge rules. Bad news, coffee drinkers: A California judge has ruled that coffee companies across the state will have to carry a cancer warning label because of a carcinogen that is present in the brewed beverage. Superior Court Judge Elihu Berle sided with a nonprofit's case against dozens of coffee companies, including Starbucks, Peets and other chains, saying that businesses that sold coffee were in violation of a state regulation requiring businesses with at least 10 employees to disclose the prevalence of carcinogens and toxic chemicals. "While plaintiff offered evidence that consumption of coffee increases the risk of harm to the fetus, to infants, to children and to adults, defendants' medical and epidemiology experts testified that they had no opinion on causation," Berle wrote. "Defendants failed to satisfy their burden of proving by a preponderance of evidence that consumption of coffee confers a benefit to human health."

The Courts against Proposition 65. Around 1.8 million tons of glyphosate has been used across the U.S. since 1974. Such a commonly used chemical has obviously demanded a rigorous health and safety assessment. It has repeatedly been certified as non-threatening to humans from regulatory bodies all over the world, including in the U.S., Europe, Canada, Australia, New Zealand, and Japan. The controversy over the substance arose when IARC — a semi-autonomous branch of the World Health Organization (WHO) based in Lyon, France, which was recently slammed by House Science Committee members for its "manipulation of scientific data" and "shoddy work" — found it "probably carcinogenic" to humans. Despite the fact that this remains the only major study to reach such a conclusion, IARC's ruling meant that glyphosate was automatically added to California's Proposition 65 list, a lengthy catalogue of supposed carcinogens.

California to add recycled sewer water to the state reservoirs. California's water regulation agency approved new measures Tuesday that will allow recycled water — water that once ran through the sewers — to be added to the state's reservoirs, The San Francisco Chronicle reported. The new rules are expected to be implemented by 2023. "This is a type of indirect potable use — it's not treated recycle water that goes directly to someone's house," said Miryam Barajas at the Water Board. "It's highly treated." She says the new regulations could potentially affect all 36 of California's reservoirs that serve as the main source of the state's municipal drinking water.

Busybodies battle outbreaks of freedom. The majority leader of California's state Assembly has introduced legislation that would impose a fine of up to $1,000 on any waiter or waitress who offers a plastic drinking straw to a customer without being asked. The Washington Post notes that this is part of a growing anti-straw movement, which is driven by alarm over the 500 million straws that are used every single day — which is almost certainly a fake number, seeing as how it is based on an unconfirmed phone survey by a 9-year-old boy. (Yes, really.)

Is Trump's EPA chief bluffing? Or will he gut California's tough emissions standards? California officials and clean air advocates are increasingly concerned the Trump administration may attempt to unravel a key program to drive down greenhouse gas emissions from automobile fleets while also jeopardizing the ability of California and other states to set pollution standards stronger than federal rules. Backed by automakers, Trump officials are in talks with their California counterparts to weaken tough vehicle tailpipe standards approved by the Obama administration. The standards are aimed at reducing greenhouse gases, but could also help reduce emissions that cause smog and particulate pollution, and 13 other states have adopted them, including Washington, Pennsylvania and New York.

San Francisco Politician Wants to Outlaw Gas-Powered Cars. Sacramento is threatening to outlaw a freedom Californians have enjoyed for more than a century through a bill introduced by Democratic Assemblyman Phil Ting, of San Francisco. If it's passed and signed, new gasoline-powered cars will become the state's new undocumented immigrants. Government will refuse to register them. Should it become law, Assembly Bill 1745 would, beginning Jan. 1, 2040, "prohibit the department from accepting an application for original registration of a motor vehicle unless the vehicle is a zero-emissions vehicle." Commercial vehicles weighing 10,001 pounds or more when fully loaded are exempt as are vehicles brought in from other states. While the San Francisco Democrat insists a transition to electric vehicles is necessary to sharply cut greenhouse gas emissions, the argument has more smoke than fire. Speculation that man is overheating his planet due to Industrial Age atmospheric carbon dioxide concentrations is far from settled science.

Having solved all other problems...
California Considers $1,000 Fine for Waiters Offering Unsolicited Plastic Straws. Ian Calderon wants restaurateurs to think long and hard before giving you a straw. Calderon, the Democratic majority leader in California's lower house, has introduced a bill to stop sit-down restaurants from offering customers straws with their beverages unless they specifically request one. Under Calderon's law, a waiter who serves a drink with an unrequested straw in it would face up to 6 months in jail and a fine of up to $1,000.

California's Soft Secession Accelerates. Earlier this week Twitter briefly lit up with news of yet another California progressive excess. The state's Democratic house majority leader has submitted a bill that imposes criminal penalties on waiters who offer their customers plastic straws. [...] It's not worth spending too much time on this absurd bill (and I do mean absurd — Reason investigated and found that the justification for it rests on research conducted by a nine-year old), but it's a useful segue to a far more significant point. California is in the midst of an experiment in progressive governance and active resistance that is combining to create a simultaneously dangerous and tantalizing experiment in state autonomy.

California Bill Seeks Ban on Fossil-Fueled Vehicles by 2040. California would ban the sale of new cars and trucks powered by fossil fuels in 2040 under legislation introduced Wednesday in the state legislature. "We're at an inflection point: we've got to address the harmful emissions that cause climate change," Democratic Assemblymember Phil Ting, the bill's author, said in a statement. If the measure becomes law, by January 1, 2040, all new passenger vehicles sold in California would have to be so-called zero emission vehicles such as battery-electric or hydrogen fuel cell cars. More cars are sold each year in California than in any other state — and more than in some countries.

To Save Us From An Over-heated Planet, California Mostly Bans Incandescent Light Bulbs. It's the same argument as when the federal law was passed in 2007: it's not an actual ban, but, by putting in place such strong requirements, the law effectively banned incandescent light bulbs. California is two years ahead of the federal law[.]

Why the California Wildfires Are Not Due to So-called Climate Change. Climate alarmists such as California Governor Jerry Brown would like us to believe that global warming is causing (and worsening) the recent spate of wildfires in the Golden State. Unfortunately for Governor Brown, the facts and the science simply don't line up with his opinion. Wildfires are natural occurrences that have been happening since flora first appeared on the Earth. Scientists and others involved in land and forest management not only accept that such fires will happen as part of the natural ecosystem, they also see them as beneficial in certain ways. Wildfires occurring naturally reduce fuel loads such as downed trees, fallen limbs, brush, leaves and other combustible material. When fires burn naturally, they release nutrients into the soil which would otherwise be wasted in leaves and undergrowth. Some habitats — such as the California Chaparral — actually depend on fire to a certain extent. Periodic fires burn off species of plants that are not native and less fire resistant, which gives the native species a leg up in the competition for space.

Governor Moonbeam Takes Long Fossil Fueled Flight To Say The Earth Is "On The Road To Hell". If we are, isn't his giant carbon footprint to blame?

Environmentalist Policies Are Exacerbating Wildfires. It's Time to Rethink Forest Management. [Scroll down] As a Reason Foundation study noted, the U.S. Forest Service, which is tasked with managing public wildland, once had success in minimizing widespread fires in the early 20th century. But many of these successful methods were abandoned in large part because of efforts by environmental activists. The Forest Service became more costly and less effective as it increasingly "rewarded forest managers for losing money on environmentally questionable practices," wrote Randal O'Toole, a policy analyst at the Cato Institute. Spending on the Forest Service has risen drastically, but these additional resources have been misused and haven't solved the underlying issues.

Ban Gas-Powered Cars? California Is Thinking About It. It isn't enough for California to contemplate its own state-run single payer health care system that would require, at a minimum, tripling the state budget. Now a lawmaker wants to have the state ban gasoline-powered cars by the year 2040. I certainly hope California follows through and tries this. If nothing else, it will provide wonderful black market opportunities. Think of all the meth labs that will convert to mini-refineries, not to mention the smuggling. It is doubtful we can legally confiscate existing cars, so look for California's rolling stock to become the equivalent of all those 57 Chevys and Buicks we see on the streets of Havana.

California's enacted and potential bans: From internal combustion engines to plastic bags. California became the first state in the U.S. to ban single-use plastic bags in 2015, according to the San Diego Union-Tribune. Businesses that continue to offer the bags have to charge customers a fee.

California's enacted and potential bans: From internal combustion engines to plastic bags. Cars with internal combustion engines could soon be banned in California. Mary Nichols, the California Air Resources Board chair, told Bloomberg that Gov. Jerry Brown is interested in a potential ban. However, she said banning cars with internal combustion engines wouldn't happen in the next 10 years.

Car Ban: Yet Another Gaseous Proposal. California Assemblyman Phil Ting managed to get some positive coverage in newspapers across the state and in major news publications across the country last week. That was quite a feat for the little-known San Francisco Democrat[. ...] Ting announced plans to next year introduce a bill that would outlaw the sale of cars powered by internal-combustion engines after 2040. It doesn't appear to be his idea, actually. He was following the lead of Mary Nichols, head of the ham-fisted California Air Resources Board.

California's Latest Bad Idea — Outlaw Gas-Powered Cars. California is considering a ban on the sale of gasoline-powered cars. If state officials go this route, it will have little effect on CO2 emissions, but will harm consumers and kill California's economy.

California lawmaker wants to ban gas car sales after 2040. France and the United Kingdom are doing it. So is India. And now one lawmaker would like California to follow their lead in phasing out gasoline- and diesel-fueled vehicles. When the Legislature returns in January, Assemblyman Phil Ting plans to introduce a bill that would ban the sale of new cars powered by internal-combustion engines after 2040. The San Francisco Democrat said it's essential to get California drivers into an electric fleet if the state is going to meet its greenhouse gas reduction targets, since the transportation sector accounts for more than a third of all emissions.

Experts Mock California Enviro Push To Ban Fossil Fuel Vehicles In The State. Analysts and conservatives believe a Democrat-led plan to propose a ban on gas-powered cars in California later this year is a pie-in-the-sky scheme that ignores important factors about the state's auto industry. Assemblyman Phil Ting plans to introduce a bill in January that would ban the sale of gas-powered cars produced after 2040. The Democratic lawmaker said California drivers must adopt electric vehicles if the state is going to reduce greenhouse gas emissions — but some are scoffing at the push. "The market is moving this way. The entire world is moving this way. At some point you need to set a goal and put a line in the sand," Ting told reporters Friday. Environmental groups such as the Sierra Club have joined his push to wipe out the state's fossil fuel industry.

California Senate Scraps $3 Billion Electric-Vehicle Subsidy Bill. The California legislature scrapped a $3 billion spending bill aimed at boosting tax subsidies for electric vehicles that could have been a boon to Tesla. The late Friday [9/1/2017] move came after criticism that the bill was short on details and failed to demonstrate exactly where the money would come from to pay for it. The state Finance Department had opposed a previous version of the bill because it appropriated billions of dollars "without identifying a funding source." The bill's original language called for funds to come from additional taxes on utilities, but that language was stripped out earlier in the legislative process.

Green Delusions and the Wind Bully. California has passed a law that 50% of its electricity is to be renewable by 2030. Taken seriously, that would be technically impossible. But California has a method of turning non-renewable electricity into renewable electricity by legal fiat. Instead of importing electricity, "Renewable Energy Certificates" can be imported from someone generating and selling renewable electricity outside California. The abstract "renewable attribute" comes with the certificate and can be used to legally turn non-renewable electricity into renewable electricity. It's modern alchemy.

California Counties Sue Oil Companies Over "Rising Seas" From Hotcoldwetdry. San Francisco is [experiencing] a mere 1.94 mm per year in [sea level] rise, equating to .64 feet of rise over 100 years. This pretty much covers for both the Marin and San Mateo areas.

California Sues Oil Companies For Rising Sea Levels. Three California counties sued 37 of the world's largest oil and coal companies Monday for damages related to global warming-induced sea level rise. Marin County, San Mateo County and Imperial Beach filed separate, but virtually identical, lawsuits claiming that oil companies bear responsibility for the sea level rise harming in coastal counties. County lawyers claim flooding is more frequent and beaches are eroding more rapidly. The counties want reimbursement for current and future financial losses from sea level rise, in addition to punitive damages. The plaintiffs don't set a specific number for damages, but estimate they'll need at least $54 billion dollars over the coming decades.

Had Hillary Clinton Won the Election.... Had HRC won, she would be implementing thousands of new regulations on businesses to further hamstring the economy. She would let the fascist freaks at the Environmental Protection Agency have their way with every aspect of our daily lives: Our cars, our showerheads, our toilets, our rainwater in our yards, etc. She would, like the EPA under Obama, privilege any species, no matter how insignificant, over humans. Central California has been devastated by the environmentalists' reverence for the delta smelt! Thousands of farm workers lost their jobs thanks to this lefty decision, turning a lush agricultural valley into a brown wasteland in the name of "going green." This is the American left today.

'People Will Die... Seas Will Rise': CA's Brown Signs Energy Deal with China. Tucker Carlson debated a Bay Area radio host over his support for Gov. Jerry Brown's (D-Calif.) clean energy accord with China. Brown previously slammed President Trump's decision to pull out of the Paris accord, warning that "people will die, habitats will be destroyed and the seas will rise." Carlson pointed out that it is unconstitutional for a state to usurp federal powers and act on its own when dealing with other nations. KGO's Ethan Bearman said the agreement signed with President Xi Jinping is nonbinding and therefore still legal.

Jerry Brown Plays President; Signs Climate Deal with China. California Governor Jerry Brown signed a new climate change agreement between the State of California and the People's Republic of China on Tuesday [6/6/2017]. The gesture continued Brown's efforts to expand ties with China, as well as his diplomatic campaign to push for more action on climate change. It came in the immediate aftermath of President Donald Trump's decision to withdraw from the Paris Climate Accords.

The Green Guillotine. If you've ever wondered what happens when Berkeley-grade environmentalists finally seize control of all the levers of government power, let me introduce you to my town of Hermosa Beach, California. [...] Environmental purists believe that burning carbon in any of its various forms ultimately causes the seas to rise and the polar caps to melt. They believe carbon emissions cause the rainlessness that is turning central California into fallow hardscape. [...] Predictably, the first step towards "carbon neutrality" calls for getting rid of the city's cars. According to PLAN Hermosa, transportation accounts for 54 percent of all greenhouse gas emissions in the city, so it is important to "disincentivize conventionally fueled automobile use."

The Best and Worst Places for Breathable Air in the U.S.. Los Angeles maintains its rank as the city with the worst ozone pollution. The City of Angels has remained at the top of the worst pollution list for 17 out of the 18-year history of the report. Bakersfield is holding steady as the city with the worst short-term particle pollution and Visalia-Porterfield-Hanford rounds out a California trifecta in the pollution rankings by becoming the most-polluted city for year-round particle pollution for the first time this year. California also retains its ranking with seven of the 10 most-polluted metropolitan areas and 11 of the worst 25 cities.

Lawsuit Seeks to Remove Gray Wolf from CA Endangered Species List. A lawsuit filed by the Pacific Legal Foundation (PLF) on behalf of California farmers and ranchers alleges a state commission's 2014 decision to list gray wolves as an endangered species is illegal. The suit, filed in San Diego County Superior Court on January 31, says the listing was illegal because, among other things, the gray wolves at issue are a non-native species originally from Canada, not a subspecies originally native to California. Accordingly, the wolves that entered California are not protected under the 1970 California Endangered Species Act.

California Passes a New Climate Law to Regulate Cow Methane. Governor Jerry "Moonbeam" Brown has just signed a law to require dairy farmers to reduce bovine methane emissions. [...] The number of Californian people and businesses fleeing overregulation and high costs reached a record high last year. I doubt the new cow [emissions] law will do anything to reassure people who haven't yet joined the great Californian exodus.

California sets its sights on cows in effort to combat climate change. The nation's leading agricultural state is now targeting greenhouse gases produced by dairy cows and other livestock.

Cow emissions can now be regulated in California. California Gov. Jerry Brown kept up his assault on climate change Monday [9/19/2016], pushing through a law meant to reduce greenhouse-gas emissions from dairy farms and landfills. [...] Brown's approval of Senate Bill 1383 goes after short-lived climate pollutants, which include methane, black carbon, and HFC gases, per the AP.

Crazy California Legislators Approve Cow [Emission] Legislation to Curb Gas Emissions. Cows could literally be exploding thanks to new legislation. If this wasn't California you would know it was a spoof. However, nothing is too strange for California. [...] Costs will be passed on to consumers of course. No one mentions what the price of a gallon of milk will rise to after this goes into full effect, but you can bet it won't be cheaper.

Nestle Pays Only $524 to Extract 27,000,000 Gallons of California Drinking Water. Nestle has found itself more and more frequently in the glare of the California drought-shame spotlight than it would arguably care to be — though not frequently enough, apparently, for the megacorporation to have spontaneously sprouted a conscience. Drought-shaming worked sufficiently enough for Starbucks to stop bottling water in the now-arid state entirely, uprooting its operations all the way to Pennsylvania. But Nestle simply shrugged off public outrage and then upped the ante by increasing its draw from natural springs — most notoriously in the San Bernardino National Forest — with an absurdly expired permit. Because profit, of course.

Now California's Climate Cops are Going After the Cows. California is sliding slowly into the abyss. It's not enough that 9,000 companies have packed up and moved to more tax-friendly states. The Bay Area is so expensive that few can afford to live there. Progressives run the place like their own personal slot machine. The California Air Resources Board has issued regulations to cut the state's greenhouse emissions to 1990 levels by 2020, but the board is getting worried about their climate agenda. It could all be ruined by natural phenomena. They've gone after the oil producers, the manufacturers and now they are going after the cows. It's methane, which "according to the board is a 'short-lived climate pollutant with an outsized impact on climate change in the near term.'" "Cow manure and 'enteric fermentation' (flatulence) account for half of the state's methane emissions."

The Editor says...
Methane from cows is not a pollutant. It is part of a natural cycle that has been going on for as long as cows, termites and volcanoes have been around. And if cows are responsible for half of the methane emissions in the state, then the state doesn't have a serious problem. There will always be cows, and the cows will do what cows do. In any case, if California reduces its methane emissions to zero, but Mexico and Nevada do not, then what has been gained?

More about cows and methane.

Thorny issues challenge California's commitment to renewable energy goals. As California pushes forward on its ambitious goal to produce 50% of its electricity from renewable sources by 2030, it will confront a wide range of potentially troubling economic, technical and political questions — though there remains strong support among public officials for the state's climate program. The state is demonstrating to the rest of the nation and the world that it has the deep political willpower to address climate change, but it has yet to fully understand the impacts of the program on low-income residents, economic growth and electrical grid reliability.

California land officials sign off on closing nuclear plant. California land officials dropped their longstanding environmental objections to the state's last nuclear power plant and signed off Tuesday [6/28/2016] on a deal to close the Central Coast facility nearly 20 years ahead of its previously planned termination.

The Editor says...
That makes perfect sense, because the population of California isn't increasing, and the summer isn't hot there, and the new bullet train runs on pixie dust.

Officials Vote for Mandatory Solar Panels on New Buildings in San Francisco. This week, a new law mandating the installation of solar panels on new buildings was passed with a unanimous vote by the San Francisco Board of Supervisors. The new bill, which goes into effect in January 2017, requires that all new buildings — commercial or residential — be fixed with solar panels if the building stands at 10 stories or less. Builders are required to ensure that at least 15% of the roof on new structures be "solar ready," meaning they cannot be shaded or obstructed from sunlight.

California Regulations Force Taxpayers to Support Ineffective Solar Plant. Research claims that renewable energy is more cost effective than fossil fuels at producing electricity. But at the Ivanpah Solar Power Facility in California, taxpayers are actually losing out on their money. Ivanpah, the 377-megawatt, world's largest solar thermal plant located in the Mojave Desert, fell short of production in 2014 and 2015. Managers attributed the shortfall to less sunny weather than expected, but the plant's problems extend far past weather forecasts. Despite being owned by three private companies — Google, BrightSource Energy Inc. and NRG Energy — the plant received $1.6 billion in loan guarantees from the U.S. Department of Energy. It is paid four to five times more per-megawatt hour than natural gas plants.

Critics of California water-tunnel project claim it's gov't waste to save tiny smelt. Even as it squeezes taxpayers to repair bridges and roads, cash-strapped California is planning a $15 billion water tunnel designed, at least in part, to save a tiny fish that may already be extinct. The "WaterFix" Twin Tunnels project, championed by Gov. Jerry Brown but opposed by environmental groups and taxpayers alike, would bore 150 feet underground to the side of the Sacramento-San Joaquin Delta. The plan is to divert fresh water for thirsty farms and communities throughout the state without disturbing the habitat of protected species that live in the delta, including the finger-long delta smelt. "To a large extent, this seemingly innocuous little fish controls much of what we can or cannot do in the delta," said Robert Shibatani, managing partner and principal hydrologist at the California-based Shibatani Group International.

California's drive to save water is killing trees, hurting utilities and raising taxes. Eight months after California's governor ordered cities to cut water consumption by a quarter, residents and businesses have exceeded expectations. But no good deed goes unpunished. Now, the state's furious conservation drive is not only threatening trees but also resulting in sluggish sewer lines and possible increases in water and tax bills. In declaring a drought emergency in April, Gov. Jerry Brown (D) said watering emerald-green grass every day "is a thing of the past." He neglected to say trees were exempt, so residents, businesses and local governments stopped watering them, too. Now the state is losing millions of trees that beautify their cities, improve air quality, offer shade in areas where temperatures can reach 100 degrees and provide habitat for untold numbers of squirrels, birds and other animals.

Obama admin allocates water for endangered fish, leaves California farmers high and dry. Despite wetter-than-average weather in California, some farmers are looking at another year of a zero federal water allocation even as the billions of gallons of water continue to be dumped into the ocean in order to save a three-inch fish. The worst part for many lawmakers at Wednesday's [2/24/2016] House subcommittee hearing is that the Delta smelt remains as vulnerable as ever after the loss of 1.4 trillion gallons of water since 2008 under the federal Endangered Species Act.

Critics of California water-tunnel project claim it's gov't waste to save tiny smelt. Even as it squeezes taxpayers to repair bridges and roads, cash-strapped California is planning a $15 billion water tunnel designed, at least in part, to save a tiny fish that may already be extinct. The "WaterFix" Twin Tunnels project, championed by Gov. Jerry Brown but opposed by environmental groups and taxpayers alike, would bore 150 feet underground to the side of the Sacramento-San Joaquin Delta. The plan is to divert fresh water for thirsty farms and communities throughout the state without disturbing the habitat of protected species that live in the delta, including the finger-long delta smelt. "To a large extent, this seemingly innocuous little fish controls much of what we can or cannot do in the delta," said Robert Shibatani, managing partner and principal hydrologist at the California-based Shibatani Group International.

The Editor asks...
What is so important about that fish? If the Delta Smelt is already near extinction, what other animal is starving as a result? Why aren't the left-wing environmentalists happy to see survival of the fittest in action?

California district reported incorrect numbers while 'shaming' water wasters. East Bay Municipal Utility District, which serves counties in the San Francisco Bay Area, recently released lists of more than 4,200 customers accused of violating the water usage limit imposed to combat the lingering drought. That limit is roughly 1,000 gallons per household each day. However, an investigation from the Contra Costa Times revealed that some figures were off by 1,000 or more. One retired woman was listed as using more than 5,000 gallons per day when the real number was just over 1,000, the newspaper reports.

California pushes for warning labels at the pump: Drivers, you're hurting the planet!. Can you guess where such an idea sprouted from? Because I can. The city of Berkeley, with San Francisco possibly soon to follow, has voted to push forward with a plan to affix warning labels to gas pumps. Their purpose? To subtly shame drivers for contributing to climate change.

Solar is in, biomass energy is out — and farmers are struggling to dispose of woody waste. It should have been a good year for turning wood and waste into electrons. A record-setting drought forced growers to bulldoze thousands of acres of trees, and hardly anyone in the Central Valley has permission to light bonfires anymore. But more than trees have withered in California's sun. The state's biomass energy plants are folding in rapid succession, unable to compete with heavily subsidized solar farms, many of which have sprouted up amid the fields and orchards of the San Joaquin Valley. Paul Parreira is painfully aware of the irony. The third-generation grower and almond processor is running out of dirt roads where he can spread ground-up almond shells, even as he expands a one-megawatt solar array on six acres of his family's property in Los Banos.

Are Dead Fish Worth More Than Struggling Farmers? The hellish drought in California has casualties. It tried to destroy farmers, and has in some cases, but guess what it really destroyed? The Delta Smelt. The much admired, or reviled, species depending on your perspective has declined beyond the point of organic regeneration. This would hardly be newsworthy, were it not for the fact that environmentalists and their supporters in government have redistributed the dwindling baitfish's suffering to human beings within and beyond the borders of California.

Even the LA Times thinks California Governor Brown's latest Climate Claim is Nonsense. I personally think it is disgusting that the Governor appears to be using local tragedies to promote his political agenda. A better use of the Governors time might be listening to and acting on the advice of fire experts, rather than seizing on photogenic disasters as a PR opportunity to promote his scientifically unsupported political agenda.

Californians upset that they can't sell their green energy homes. Trouble has reared its head for Californians who enrolled in a special government program designed to allow them to use taxpayer funds to upgrade their homes with solar panels, wind turbines, unicorn flatulence converters and any number of other green energy improvements. Tens of thousands of Californians signed up for the Property Assessed Clean Energy (PACE) financing program which provided them with funding for installing such energy efficient goodies over the past several years, but now they're finding their homes stalled on the market when they want to sell them.

A Liberal's Ten Commandments. West Coast liberals should do something to alleviate the effect of the drought, given that they have cancelled most of the secondary phases of the California Water Project and released several million acre-feet of stored reservoir water into the ocean: "I pledge that I will not use any water that is stored in, and transferred at great costs from, a man-made, artificial reservoir, especially those at great distances built in sensitive areas such as Yosemite National Park." There could even be an additional corollary: "I pledge that I will not waste precious water on my lawn or ornamental plants."

California's Drought: A Democrat-Made Crisis. [Scroll down] It is caused by a series of policies — some from the past, many that are ongoing — which has prioritized environmental demands above the basic provision of water resources to the public. More than half of the state's water resources simply flow out the San Francisco Bay to the Pacific Ocean. Even now, in the Sierra foothills state officials empty reservoirs to protect "unimpeded" river flows to benefit small numbers of non-endangered hatchery fish. The California Coastal Commission, the powerful agency with control of development along the shoreline, is holding up a privately planned desalination plant over concerns about its impact on plankton. The environmental-friendly commission want to force the developers to build a pumping system that destroys the economics of the plant.

California's climate fight comes down to late negotiations. Gov. Jerry Brown has made climate change the centerpiece of his final tenure by laying out the most aggressive benchmark in North America, which would reduce California's carbon footprint and boost the state's renewable energy use to 50 percent in 15 years.

CA Gov Jerry Brown's war on cars and suburbs. Not only Moonbeam, mind you, but most of the socialist Democrats in the California state legislature who use the fanatical Green religion as an excuse to strip people of their means of independent transportation and single family homes.

Gov. Jerry Brown takes aim at oil companies over 'highly destructive' product. Gov. Jerry Brown, who is in the middle of a political battle over climate-change legislation, took aim at oil companies Monday, saying they sell a "highly destructive" product. "The oil industry is in deep trouble," the governor told reporters Monday at a news conference on the shores of Lake Tahoe, where he was attending an annual meeting about the area's environment. Oil companies "have a product that is highly destructive, while highly valuable at the same time. And we're trying to work out the right policies," he said.

The Editor says...
How do you suppose the governor got to Lake Tahoe? Not by bicycle, one can surmise. More likely by way of gas-guzzling limo or gas-guzzling jet. Maybe both.

Obama Hatches A Vast, Left-Wing, Green Conspiracy. California Gov. Jerry Brown rips oil companies for their "highly destructive product," while President Obama calls the Koch brothers un-American. [...] Obama apparently sees nothing wrong with burning 25,000 gallons of fuel jetting to Las Vegas to attend Sen. Harry Reid's conference to push uneconomical "green" alternatives to fossil fuels while demonizing those who disagree with him. Par for the course. Obama has set a goal of slashing CO2 emissions 26% by 2025, proposing that alternative energy sources such as solar and wind will serve as replacements — a key part of his much broader plan to "fundamentally transform" America. The problem, contrary to Brown's foolish remarks, is that fossil fuels are anything but "destructive." They are in fact the very source of our industrial economy — and our high standard of living.

L.A. Mayor: Thirsty California Needs Cool Black Balls. Los Angeles Mayor Eric Garcetti's plan to slow California's drought by covering a reservoir with 96 million "shade balls" is sparking debate among experts, who say that the black balls could lead to disaster. According to Fox News, Garcetti said that the balls, which cost $34.5 million, would block the evaporation of 300 million gallons of reservoir water. The plan is projected to save taxpayers $250 million. Despite the projected savings, experts have dubbed the balls a "disaster." Matt MacLeod, founder of the California biotech firm Modern Moon Farms, said that the black color of the balls would create a "bacterial nightmare." "Black spheres resting in the hot sun will form a thermal blanket speeding evaporation as well as providing a huge amount of new surface area for the hot water to breed bacteria," said MacLeod.

LA 'black ball' reservoir rollout potential 'disaster' in the making, say experts. LA's scheme to cover a reservoir under 96 million "shade balls" may not be all it is touted to be, experts told FoxNews.com, with some critics going so far as to refer to the plan as a "potential disaster." The city made national headlines last week when Mayor Eric Garcetti and Department of Water officials dumped $34.5 million worth of the tiny, black plastic balls into the city's 175-acre Van Norman Complex reservoir in the Sylmar section. Garcetti said the balls would create a surface layer that would block 300 million gallons from evaporating amid the state's crippling drought and save taxpayers $250 million. Experts differed over the best color for the tiny plastic balls, with one telling FoxNews.com they should have been white and another saying a chrome color would be optimal. But all agreed that the worst color for the job is the one LA chose.

State Still Releasing Water to Save a Few Fish. Gov. Jerry Brown met with San Diego civic leaders last Tuesday [8/11/2015 (?)], where they discussed the state's water-conservation standards as the drought grinds on. The governor "hinted" at giving the region's water users "some flexibility in complying with California's rigorous ... mandates," according to a Union-Tribune report. We'll likely see flexibility for urban water districts that are trying to conserve scarce resources — and come up with new sources. But 450 miles north of San Diego, local officials are accusing the Brown administration of being inflexible in a bitter spat between farmers and the environmental-oriented State Water Resources Control Board.

L.A. will add bike and bus lanes, cut car lanes in sweeping policy shift. Over the decades, Los Angeles has bulldozed homes, paved through tranquil canyons, toppled countless trees and even flattened some hillsides, all in the name of keeping automobile traffic flowing as fast as possible. On Tuesday [8/11/2015], city leaders decided to slow things down. They endorsed a sweeping policy that would rework some of the city's mightiest boulevards, adding more lanes for buses and bikes and, in some places, leaving fewer for cars. The goal is to improve safety for cyclists and pedestrians while also luring more people out of their cars.

California will soon have toughest shower head requirements in nation. The flow of water from shower heads and bathroom faucets in California will be sharply reduced under strict new limits approved Wednesday [8/12/2015] by the state Energy Commission. Current rules, established in 1994 at the federal level, allow a maximum flow of 2.5 gallons per minute from a shower head. Effective next July, the limit will fall to 2.0 gallons per minute and will be reduced again in July 2018, to 1.8 gallons, giving California the toughest standard of any U.S. state.

Let's Worry about a Real Threat. These days, there is a lot of tampering with the electric grid. People who wouldn't know a generator from a turbine are suddenly making no small plans to reform it. We now have good electricity and bad electricity. Good electricity is generated without emitting carbon dioxide (CO2). But that rule is not rigid, because nuclear electricity, and hydro electricity, if it involves a dam, are both bad electricity, even though they don't emit CO2. I'm not making this up. I'm repeating the California legal definition of renewable electricity.

Law Would Mandate Solar Panels on All S.F. Building Rooftops. A new resolution to be introduced next week in San Francisco would require the owners of most new apartment buildings in the city to install solar panels or gardens on the buildings' rooftops. According to the San Francisco Chronicle, city Board of Supervisors President David Chiu will introduce the Solar Vision 2020 resolution next week, a resolution that would apply to both commercial and residential buildings.

Brown signs bill to urge more drivers into eco-friendly vehicles. Seeking to put more California drivers in electric cars, Gov. Jerry Brown signed legislation Sunday [9/21/2014] providing financial incentives and other perks to entice consumers to buy the environmentally friendly vehicles. The push for low-emission cars, combined with the governor's approval of climate-conscious measures such as one to encourage residential solar energy use, comes days before he is set to appear at the United Nations Climate Summit in New York City, where he is expected to tout the state's efforts to combat climate change.

California passes plastic bag ban, would be first such law in U.S. The California state legislature enacted a ban on plastic grocery bags on Friday [8/29/2014] near the end of its two-year session, a measure that if signed into law would become the first of its kind in America. A number of cities and counties in California and other U.S. states, including Hawaii's Maui County, have made it illegal for grocery stores to pack purchases in plastic.

Renewable Electricity: a Technological Rip-Off, and an Environmental Loser. In California, electricity sales were $35 billion in 2012. The average retail price of electricity in California is around 14 cents per kilowatt-hour. This compares to about 8 cents in states that have not found the renewable energy religion. The differential gives the California renewable energy mafia about $15 billion a year with which to reward its friends and supporters. That's just for the electricity sector.

The Costs of the Environmentalism Cult. California is in the third year of a drought, but the problem isn't a lack of water. The snowfall in the Sierra provides enough to help us ride out the years of drought. All we need to do is store it. But California hasn't built a new dam in 35 years. Worse than that, every year we dump 1.6 million acre-feet of water — about enough to serve 3.2 million families for a year — into the Pacific Ocean in order to protect an allegedly "endangered" 3-inch bait-fish called the Delta smelt.

Caution: This Warning May Be Useless. For more than 25 years Californians haven't been able to pump gas, go to the grocery store or even buy coffee at Starbucks without seeing a sign with wording such as: "WARNING: This Area Contains A Chemical Known To The State of California To Cause Cancer." [...] However, I recently examined cancer rates and discovered no evidence that Proposition 65 has lowered cancer incidence among Californians. There isn't a single empirical study that demonstrates any public-health benefits.

California poised to become first state to impose full ban on lead bullets. California is on the verge of becoming the first state to impose a full ban on hunting with lead bullets — with environmentalists and gun-rights advocates squaring off as Gov. Jerry Brown decides whether to sign the legislation. The state already has a ban on lead-bullet hunting in eight counties with an endangered condor population. But the new proposal, overwhelmingly approved this month [September 2013] by the Democrat-controlled General Assembly, would impose a statewide ban on all hunting.

California's Middle Class Faces Slow Death by Green Laws. An environmental law in California, designed with the best of intentions of course, has helped wreck middle class prospects — and state lawmakers are finally taking note. The California Environmental Quality Act, signed into law by Ronald Reagan in 1970 and beloved by environmental groups, mandates strenuous reviews of the environmental effects of all proposed construction projects. While greens have claimed that the law has protected California's natural beauty from rapacious developers, lawmakers are coming around to the viewpoint that it has been abused to the detriment of citizens, as the New York Times reports: [...]

California's Smoke Signals. Like so many other emergencies in California, this one is government-made and a warning about its green political obsessions. [...] To hit the renewable mandate, utilities are building long transmission lines to deliver power from distant solar and wind projects to population centers. Most large-scale solar plants in California are being built in dry, sunny desert and valley regions. Wind farms are concentrated in the mountains. Both are fire-prone.

Global Warming Programs Force Hike in California Power Bills. The California Public Utilities Commission approved large rate hikes in electricity prices due in part to high costs associated with the state's global warming restrictions. The California Public Utilities Commission (CPUC) approved a 12 percent hike in San Diego Gas & Electric Co. rates and a 10 percent hike in Southern California Gas Co. rates. CPUC and power company officials said the rate hikes were necessary to install smart grid technologies, comply with federal and state environmental restrictions, maintain infrastructure, and comply with global warming restrictions.

California's anti-coal agenda is adverse to human health and welfare. Coal based energy is a key factor in global socio-economic development, transforming agrarian societies to modern industrial ones. This societal transformation, driven by the accumulation of income and wealth, eliminates many contagious diseases, reduces child mortality, and lengthens adult life expectancy. Throughout the world, rapid emergence from poverty has proceeded as countries develop electricity networks based on coal.

Idiot Dems in California trying to kill fracking despite massive potential for jobs and energy. Estimates are that there's billions of barrels of oil in the Monterey Shale formation and accessing that could provide millions of jobs. But Democrats are proposing everything from banning fracking to burdening it with heavy regulations.

Chevron Defies California On Carbon Emissions. Chevron is leading a lobbying and public relations campaign to undercut the California mandate aimed at curbing global warming, two years after the state started phasing it in. Research on commercially viable climate-friendly products has come to naught, stymied by the poor economics of coaxing hydrocarbons from plants' stubborn cell walls, according to Chevron officials.

California Environmental Law Needs Reform, Not Excuses. Ask business owners what they hate most about the Golden State, and you're likely to get an earful about regulation. Taxes, rents, utilities and housing are all costly, but they are at least predictable. What hurts most is the threat of the unknown — being blindsided by lawsuits or watching projects get mired in unforeseen delays. California is hassle central, and everyone pays the cost. One law in particular, the California Environmental Quality Act (CEQA), exemplifies what's wrong with the state's regulatory regime.

Renewable Energy: Bringing Blackouts Back to California? The epidemic of power outages and "rolling blackouts" which nearly shut down California in the early 2000s may be returning. Back then, the culprits were unscrupulous energy providers like Enron and a poorly-thought out process of deregulation. This time, renewable energy would be to blame, as the state has pushed to increase the use of solar and wind energy without ensuring that there is enough traditional power generation to keep the grid stable on cloudy, windless days.

A Good Day for Academic Freedom. Within the past 24 hours, courts from both coasts handed down important rulings in two academic-freedom cases, both times rejecting university efforts to dismiss cases brought by conservative academic critics. The first decision denied the core of the defendants' motion to dismiss a case brought by Professor James Enstrom [...]. Enstrom not only blew the whistle on junk science behind recent proposed California diesel emissions restrictions, he discovered the state's lead "scientist" had purchased his degree from a fictitious "Thornhill University" and that many members of the state's Scientific Review Panel had overstayed term limits by decades.

California is "greening" itself toward a third world electrical grid. Alas, California's ecotwits have forced most of the state's fossil fueled power plants into mothballs. The ones that are still limping along will likely be shuttered by 2020 thanks to onerous and prohibitively expensive upgrades required under the Clean Air Act. So what will happen on cloudy, windless days?

Big banks weigh risks, rewards of California's new CO2 market. Major banks are weighing whether to wade into the California carbon market, which experts believe could grow into a $40 billion a year market by 2020, but one that is also loaded with risk and uncertainty.

Why Geothermal Energy Is Stalled in California. The Geothermal Energy Association is working with California energy authorities to help restart the flow of state utility power purchase agreements made with geothermal electricity generators, after close to a year's doldrums. Karl Gawell, executive director of the Washington-based GEA, said, "There is no question that geothermal is stalled in California. [...]"

Throwing cold water on the cherished tradition of beach bonfires. Every weekend, hundreds of people stream down Imperial Highway as early as 6 a.m. to grab one of Dockweiler's 60 fire rings, roast marshmallows and listen to the surf as the light fades away. Bureaucrats and homeowners, however, are robbing us of this romantic legacy. Of the 108 state parks and beaches in California, only 24 allow fires, and some have early curfews.

Proposed ban would snuff beach bonfires in San Francisco. For as long as anyone can remember, building a fire on the beach has been one of the simple pleasures of life by the sea. But if the Park Service has its way, the tradition will soon be extinguished at Ocean Beach, the last stretch in San Francisco and one of the few beaches statewide where bonfires still burn legally.



San Francisco bans wood burning on Christmas Eve. No chestnuts on an open fire this Christmas Eve. Bay Area officials have banned residents from burning wood, indoors and outdoors, on Tuesday — and might extend the ban into Christmas Day — as part of an air quality initiative. The order came from a governmental body called the Bay Area Air Quality Management District.

California Prepares to Auction Carbon Credits. The central component of California's Global Warming Solutions Act (AB 32) is taking effect this year, and with the state facing a $15.7 billion deficit, political leaders have ended a long debate over how to spend revenue the act is expected to generate. The central component of the measure is "cap and trade," a complex system that aims to reduce greenhouse gas emissions generated in the state by capping the amount of the emissions businesses may produce.

State agency confiscates stuffed wolverine, red-tailed hawk at California bar. A stuffed wolverine and red-tailed hawk have been removed from a bar in California's El Dorado County, some 50 years after the animals were first put on display, an employee told FoxNews.com. An official from the California Department of Fish and Game, after receiving a tip, removed the animals on Tuesday [5/8/2012] from the Georgetown Hotel and Saloon in Georgetown, bartender Anthony Fox said.

The government can't make its projects work if it must conform to its own environmental red tape.
California bullet train chief seeks environmental exemptions. The chief of the state bullet train authority said Tuesday that he hopes to obtain some type of relief from environmental laws that would eliminate a risk that the 130-mile initial construction project could be stopped by an injunction, a potentially growing prospect as agriculture interests in the Central Valley gear up for a legal fight.

California's Green Mirage. On April 19, Next 10, a California-based cheerleader for all things green, issued a press release announcing the publication of the 2012 California Green Innovation Index, their fourth in a series of annual reports. [...] A brief review of Next 10's press release and attendant report, which resulted in a glowing story in at least one major California paper, the San Francisco Chronicle, shows some embarrassing holes — if only people would look beyond the hype.

CA Congressional Office: "The environment is much more important than jobs". I wanted to take the time to introduce Californians to Karen Bass. Her biography should raise red flags to Californians who expect their representatives to focus on job creation — especially as Gallup reports that the real unemployment rate is over 9% and the "underemployment" rate is close to 20%.

Democrats In California Declare War On Farmers. To leftist food scolds, eating more vegetables is important. So why are California's two Democratic senators having a cow about a water bill that would let their Central Valley's farmers grow more veggies?

California imposes energy standards on chargers for mobile devices. California's cellphones, tablet computers, power tools and hundreds of other portable electronic devices will be required to have energy-stingy battery chargers beginning next year. The California Energy Commission, by a 3-0 vote Thursday [1/12/2012], approved first-in-the-nation efficiency standards designed to drive stakes through the hearts of about 170 million so-called vampire charging systems that waste as much as 60% of the electricity they suck from outlets.

The Editor says...
How can anyone say with any certainty that any power has been "wasted"? The "wasted" power resulting from less than 100% efficiency is dissipated as heat. That is only "wasted" energy in places where air conditioning is in use. In all other cases, that heat contributes to the warmth of the house (or other building), supplementing the heating system. In any event, the power "wasted" amounts to only a few watts. The transformer outside your house "wastes" more power than that, even if you turn off all your lights and appliances. It is an undeniable and unavoidable fact that all electric appliances and all power-generating systems are less than 100% efficient. Conservation is not an energy source. If California is desperate enough for electric power to go to this extreme, the solution is increased energy production.

California Global Warming Law Choking Food Processors. As California's unemployment rate hovers above 12 percent, even the state's Democratic leaders — notorious for regulating, taxing and complaining about California's business community — are talking about jobs. They are championing the occasional job expansion in Silicon Valley (i.e., a new Dell research and development center) and proposing their jobs plans, even if such plans ignore the reasons businesses aren't growing here.

California's Green Power Crisis. Among the many difficulties that the state of California has been facing, one in particular is looming larger and larger: the power problem. The state is slowly coming to grips with the fact that its preferred sources of electric power — wind and solar — are neither cheap nor reliable. Yet, California is committed by law to increasing the use of wind, solar and other forms of renewable energy. The economics don't come close to supporting this model.

California Adopts 'Cap-and-Trade' Plan. California formally adopted the nation's most comprehensive so-called "cap-and-trade" system Thursday [11/20/2011], an experiment by the world's eighth-largest economy that is designed to provide financial incentives for polluters to reduce greenhouse gas emissions.

Delta Water Rules Smelt of Extremism. If you want to understand the fundamental things wrong with our nation and California, in particular, you ought to peruse the 140-page opinion recently issued by Judge Oliver Wanger in the "Consolidated Delta Smelt Cases." It describes many of the most frustrating elements in our society — abuses of federal authority, bureaucratic micromanagement of our lives and political zealotry masquerading as science. The case also shows the indifference to the insanity by most Americans, who wouldn't know a Delta smelt from a cod fillet.

California's Green Jihad. Ideas matter, particularly when colored by religious fanaticism, wreaking havoc even in the most favored of places. Take, for instance, Iran, a country blessed with a rich heritage and enormous physical and human resources, but which, thanks to its theocratic regime, is largely an economic basket case and rogue state. Then there's California, rich in everything from oil and food to international trade and technology, but still skimming along the bottom of the national economy.

California may ban takeout food in foam containers. Getting takeout food in foam containers would be a thing of the past under a bill approved by the state Senate.

Crazifornia: Delta smelt refuse to die in pumps. In Tracy, California, where the massive California Water Project pumps stand ready to move up to 15,450 cubic feet of Sacramento-San Joaquin Delta water southward every single second, it's been a busy spring. The pumps have been a mere shadow of their old selves ever since U.S. District Court Judge Oliver Wanger began ratcheting them down in 2007 in response to environmentalist lawsuits brought under the auspices of the Delta smelt.

The California Greenout: Creating artificial demand for the politically connected. Impatient with the lagging pace of California's economic collapse, Governor Jerry Brown decided to speed things up today [4/12/2011]. The Associated Press reports Brown "signed legislation requiring California utilities to get one-third of their power from renewable sources, giving the state the most aggressive alternative energy mandate in the U.S." This is an increase from current laws that require California utilities to get 20 percent of their power from renewable sources.

Light-bulb banning begins. The cost of illuminating your home is about to go up significantly. Most Americans take for granted that when they flip a switch, darkness immediately gives way to a warm, natural light. That's no longer possible in California, where a regulation that took effect Jan. 1 only allows the sale of harsh, cold compact fluorescents above a certain wattage.

California's environmental regulations cause economic blackout. The origin of the modern environmental movement and the creation of Earth Day are often said to have their origins in the 1969 Santa Barbara oil spill. "Californians have largely treated environmentalism as a 'religious sacrament' rather than as one component among many in maximizing people's quality of life," note the editors of Trends magazine, commenting on California's decline. Nowhere is this more evident than the state's hostility to energy production.

Saving California Almost Half a Billion a Year — Easy. [The California Energy Commission issues] regulations — lots and lots of regulations. They tell you what to use to light your home, how thick your insulation must be, what type of washer/dryer you can buy, how big your pool pump can be, how big your windows can be, whether you can leave your porch lights on at night — 176 pages for buildings alone. While a few could be justified for safety reasons or for hidden features for subsequent occupants/owners, most are intrusive and no business of government. The underlying premise is that the collective interests, as determined by the people at the CEC, overrule any rational consideration of cost and benefit by a free citizen or inhabitant of the state of California. Or maybe it is just because they think we're stupid?

CALGreen: Regulatory Nirvana. Average Californians want a thriving economy, accountable schools, reliable police and fire services, a functioning penal system, and fiscal responsibility from the state. Sacramento is giving them instead a new set of regulations — for a dormant industry — which will employ hundreds of public servants to keep the CALGreen promise of reducing global GHG emissions .0096 percent by 2020. Meanwhile, the public is invited to rejoice that more of the cost of green regulation will be borne by the taxpayer. I'm not sure the art of regulation for regulation's sake can be perfected much more than this.

California banning 100-watt incandescent light bulbs. The state of liberal bastion, California, will start phasing out the 100-watt incandescent light bulb on Jan. 1, 2011. By the beginning of the year 2012, it will be gone from sale in stores. Specialty lights that use less than 40 watts and more than 150 watts, and three-way bulbs are exempt, but will later be required to use less energy.

Orange officials sue couple who removed their lawn. Some Southern California cities fine residents for watering their lawns too much during droughts. But in Orange, officials are locked in a legal battle with a couple accused of violating city ordinances for removing their lawn in an attempt to save water.

Environmental red tape hurts families in California
Fish Don't Vote. The Republican Party has long been fishing for an issue that will reach out to Hispanic and other minority voters. Now, a three-inch fish may be the key to establishing common ground between that voting bloc and the GOP.

California adopts first regulation to limit greenhouse gas emissions from fuel. California took aim today at the oil industry and its effect on global warming, adopting the world's first regulation to limit greenhouse gas emissions from the fuel that runs cars and trucks. The state Air Resources Board voted 9-1 in favor of the complex new rule, which is expected to slash the state's gasoline consumption by a quarter in the next decade.

California May Ban Black Cars. The California legislature is considering regulating the color of cars and reflectivity of paint to reduce the energy requirements to cool them. ... The problem isn't the color per se, but the reflectivity of the paint overall. And dark colors just don't reflect well, so they are likely out. "Jet black remains an issue," says the report.

Update:
California Car Paint Proposal Parked For Now. California has backed down from a proposal on new cars' paint coatings. The state said it's looking for ways to cut down on greenhouse gas emissions by improving cars' efficiency. One way to do that is by making cars more reflective so that their air-condition systems don't have to work as hard.

California appears poised to be first to ban power-guzzling big-screen TVs. The influential lobby group Consumer Electronics Assn. is fighting what appears to be a losing battle to dissuade California regulators from passing the nation's first ban on energy-hungry big-screen televisions.

California considering banning giant TVs. Arnold Schwarzenegger, the state's governor, has supported controversial proposals by the California's energy commission to impose strict energy consumption limits on TVs with screens that are more than 40 inches wide. The commission claims that California's estimated 35 million televisions and related gadgets account for about 10 percent of household energy consumption in the state.

California To Ban TV: But Not For a Good Reason. Why is the California Energy Commission (CEC), a Gov. Jerry Brown creation, wanting to ban television sets? Well, it seems that a honking 48-inch plasma screen, that bright symbol of the bygone days of conspicuous consumption and purveyor of drooling vacuity, uses too much electricity, and electricity production makes too much greenhouse gas emissions (at least in America, where half of our electricity comes from coal — in France, a plasma screen would emit nary a CO2 molecule as the TVs there are nuclear powered).

California Gas Stations Shut Under Expensive Mandate. Nearly 100 California gas stations are being forced out of business by a statewide mandate requiring them to implement expensive new equipment to reduce vapor emissions at the pump. The mandate, issued by the California Air Resources Board (CARB), is known as Phase II of the state's Enhanced Vapor Recovery program. It requires gas station owners to purchase and install devices to prevent vapors from escaping when customers fill their cars.

California's 'Green Jobs' Experiment Isn't Going Well. Gov. Arnold Schwarzenegger was all smiles in 2006 when he signed into law the toughest anti-global-warming regulations of any state. Mr. Schwarzenegger and his green supporters boasted that the regulations would steer California into a prosperous era of green jobs, renewable energy, and technological leadership. Instead, since 2007 — in anticipation of the new mandates — California has led the nation in job losses.

California threat to sue US govt over ship, aircraft emissions. California said Thursday [8/31/2008] it planned to sue the US government for failing to regulate greenhouse gas emissions from ships, aircraft, construction and agricultural equipment. In the latest legal threat from the state against the Environmental Protection Agency, California's Attorney General Jerry Brown said the body was "wantonly ignoring" its duty to set pollution standards.

California's Potemkin Environmentalism: [Governor] Schwarzenegger's reputation as an environmental trailblazer is in keeping with California's recent history and self-perception. … In truth, however, the Golden State's energy leadership is a mirage. California's environmental policies have made it heavily dependent on other states for power; generated some of the highest, business-crippling energy costs in the country; and left it vulnerable to periodic electricity shortages. Its economic growth has occurred not because of, but despite, those policies, which would be disastrous if extended to the rest of the country.

Who Will Control Your Thermostat? In California, we have 236 pages of state-mandated standards for building energy efficiency, known as Title 24. … What should be controversial in the proposed revisions to Title 24 is the requirement for what is called a "programmable communicating thermostat" or PCT. Every new home and every change to existing homes' central heating and air conditioning systems will required to be fitted with a PCT beginning next year following the issuance of the revision. Each PCT will be fitted with a "non-removable " FM receiver that will allow the power authorities to increase your air conditioning temperature setpoint or decrease your heater temperature setpoint to any value they chose. During "price events" those changes are limited to ±4°F. and you would be able to manually override the changes. During "emergency events" the new setpoints can be whatever the power authority desires and you would not be able to alter them. In other words, the temperature of your home will no longer be yours to control.

The Editor says...
I can think of a couple of ways to defeat that FM receiver without touching it. And I'm sure it will only be a matter of time before some hacker figures out how to shut off (or turn on) every air conditioner in town.

California Seeks Thermostat Control. Next year in California, state regulators are likely to have the emergency power to control individual thermostats, sending temperatures up or down through a radio-controlled device that will be required in new or substantially modified houses and buildings to manage electricity shortages.

The Editor continues...
Scroll down to the end of the article to see a quote from Nicole Tam, a spokeswoman for PG&E, who claims that the thermostat control signals are hacker-proof because they "are encrypted and encoded". What a relief! We all know that no encryption scheme has ever been cracked by hackers.

California Proposes Taking Control of Thermostats. The California Energy Commission has proposed requiring thermostats that allow the government to control the temperature of homes and businesses in case of high energy prices or shortages, a measure that some critics are calling "draconian."

California Hotels Go Green With Low-Flow Toilets, Solar Lights. Visitors to the Gaia Napa Valley Hotel and Spa won't find the Gideon Bible in the nightstand drawer. Instead, on the bureau will be a copy of "An Inconvenient Truth," former Vice President Al Gore's book about global warming.

How Elite Environmentalists Impoverish Blue-Collar Americans: The great Central Valley of California has never been an easy place. Dry and almost uninhabitable by nature, the state's engineering marvels brought water down from the north and the high Sierra, turning semi-desert into some of the richest farmland in the world. ... The depression conditions in the great valley reflect more than a mere water shortage. They are the direct result of conscious actions by environmental activists to usher in a new era of scarcity.

Al Gore visits Berkeley, charges up Prop. 87 rally. Former Vice President Al Gore appeared in Berkeley on Monday [10/23/2006] to lend his celebrity and reputation as a crusader against global warming to a measure on California's Nov. 7 ballot that would tax oil companies to raise $4 billion for green energy projects.

Kit Bond goes into battle on a lawn mower. Environmental groups heralded California's move three years ago to adopt new pollution standards for small engines. The standards could require use of catalytic converters, which have cleaned up cars and trucks, to be added to lawn mowers as well.

California's Man-Made Drought. California has a new endangered species on its hands in the San Joaquin Valley — farmers. Thanks to environmental regulations designed to protect the likes of the three-inch long delta smelt, one of America's premier agricultural regions is suffering in a drought made worse by federal regulations.

Obama's Failure to Help May Spring from Racism. Why are the communities of Fresno County suffering so deeply? Because in December 2008, the federal government decided that Fresno County, a farming-rich area which provides half of America's vegetables, no longer needed water. The farmers whose ancestors built the canals to irrigate the Central Valley have been totally cut off from their water supply, even though they're still paying bills for it. Hundreds of acres of prime farming land lie fallow, crops withered and dead. All because the federal government thinks that smelt — tiny 5- to 7-centimeter fish — are more important than human beings.

It's farmers vs. fish for California water. Supporters of California agriculture called on the Obama administration and California Gov. Arnold Schwarzenegger on Wednesday to lift water restrictions that were imposed to protect the endangered delta smelt, saying the fish is putting farmers out of business.

Editor's note:
Many more examples of ridiculous environmental laws can be found here.

Top Ten Green Auto Headlines of 2009. California proposed a "Cool Cars Standard" that effectively banned black cars so that they would reflect 20 percent of "impinging solar energy" and reduce emissions via less AC use. Public outrage led to the rule's withdrawal.

On the other hand...
Will Californians Repeal Cap-And-Trade? A California legislator pushes a November ballot initiative to free the state from the job-killing shackles of a 2006 law designed to fight climate change. The other choice is freezing in the unemployment line. At last report, California's unemployment rate was 12.3%, with 2.25 million residents looking for work.

Effort underway to suspend California's global-warming law. Republican politicians and conservative activists are launching a ballot campaign to suspend California's landmark global-warming law, in what they hope will serve as a showcase for a national backlash against climate regulations. Supporters say they have "solid commitments" of nearly $600,000 to pay signature gatherers for a November initiative aimed at delaying curbs on the greenhouse gas emissions of power plants and factories until the state's unemployment rate drops.

California's Toxic Air Scare Machine: James Enstrom, southern California native, earned a Ph.D. in elementary particle nuclear physics at Stanford, then received postdoctoral training in epidemiology and a Masters in Public Health from UCLA. ... In 2005, Enstrom published his results of a robust and current (50,000 people, 1973-2002) study on the effects of small particle air pollution in California. He found no premature death effect in California from small particle air pollution. California's air pollution of the '50s and '60s has declined for thirty years, and Enstrom was also familiar with the improvement in air quality and the conundrum of increasing rates of asthma that was being misrepresented by CARB.

Grape Growing Collides With Fish Protection in California. Grape growers in Northern California's cool, fertile Sonoma County wine region are stomping mad at a new plan to limit the amount of water vineyards can pump from local rivers and streams to protect crops from frost — a proposed regulation meant to safeguard coho salmon, a species on the brink of local extinction.

Backing off on environmental perfection. It will go down as a landmark decision. U.S. District Judge Oliver W. Wagner ruled this week that people have rights. That may sound a bit daffy but in the wacky world of California water politics people take second class citizen status behind fish and even vegetation.

Water Sanity For Central California. A federal judge has struck a blow for California's water-deprived Central Valley, ruling that draconian federal water cutbacks violate human rights because — surprise! — people also belong in the ecosystem.

A Not-So-Golden State. As California's pumped-up governator prepares to push a costly cap-and-trade law on the state's manufacturers, CEOs are sending a not-so-subtle message to him: Your state stinks.

California approves extensive carbon-trading scheme. California has approved an extensive carbon-trading plan aimed at cutting greenhouse emissions. State regulators passed a "cap-and-trade" framework to let companies buy and sell permits, giving them an incentive to emit fewer gases. The aim is to create the second-largest market in the field, after Europe's.

California government hits rock bottom - keeps digging. California's Air Resources Board passed a cap and trade regulation for the state's top 600 industrial facilities that will almost certainly bring economic activity in the state to a near standstill.

Cap-And-Trade Tosses An Anchor To Drowning California Economy. On Friday [12/17/2010], the California Air Resources Board (CARB), the bureaucracy charged with implementing AB 32, the California Global Warming Solutions Act of 2006, adopted a cap-and-trade scheme to reduce California's greenhouse gas emissions by about 15% by 2020. CARB's regulations go into effect in 2012. The unelected officials at CARB intend to reorder California's use of energy. In so doing they blandly declaim that their rules will create jobs while admitting to higher energy costs and a slowing economy. Somehow, this formula is transmogrified by CARB analysts into net job creation. Given the immutable laws of math, one is forced to calculate that CARB's actions will "create" low-paying jobs at the expense of good jobs.

Manmade famine in America. It seems inconceivable, but people in America are going hungry en masse due to a famine caused by political authorities. Fresno, California is not yet a sister city of Kiev, Ukraine, but the two cities, capitals of rich agricultural regions, share a history of mass hunger caused by central governments indifferent to the suffering of their people, in the pursuit of ideological goals.

Fresno, Zimbabwe. Fresno, California, stands as the de facto capital of California's mighty Central Valley, the breadbasket of America. ... Yet far from being a paradise, Fresno is starting to resemble Zimbabwe or 1930s Ukraine, a victim of a famine machine that is entirely man-made, not by red communists this time, but by greens. State and federal officials, driven by the agenda of environmental extremists, have made it extremely difficult for the valley's farms, introducing costly environmental regulations and cutting off critical water supplies to save the Delta smelt, a bait fish. It's all driving the economy to collapse.

Did someone mention Zimbabwe?


Dumbed-down schools:

California Dumbs Down Tests. When it comes to education trends, as California goes, so goes the nation. Which is all the more reason to be concerned about the latest effort in California to dumb down standards. The University of California's Board of Admissions and Relations with Schools (BOARS) has launched another salvo in its long-running war against the SAT, the test used by many colleges and universities to assess academic achievement among high school seniors. This is only the latest in a series of moves by BOARS against the SAT, but this one may be a stalking horse to eliminate standardized tests in general, especially if they conflict with the goal of promoting racial and ethnic diversity.

The Return of the Fuzzies? In the 1990s, the Math Wars pitted two philosophies against each other. One side argued for content-based standards — that elementary school students must memorize multiplication tables by third grade. The other side argued for students to discover math, unfettered by "drill and kill" exercises. When the new 1994 California Learning Assessment Test trained test graders to award a higher score to a child with a wrong answer (but good essay) than to a student who successfully solved a math problem, but without a cute explanation, the battle was on.

Dumbed Down and Out in High School: Some San Jose area teachers are dumping the D as a passing grade. They say students who are doing the minimum to get by will just have to work a little harder. California's public universities won't accept anything below C- on an academic transcript.

Math Instruction Doesn't Add Up. California's standards call for students to learn algebra in eighth grade. Yet the graduation exam was postponed because so many students were flunking the math portion of the test, which required only a 55 percent [score]. Only the hardest questions required high school math skills.

Book review: The Language Police — How Pressure Groups Restrict What Students Learn. Before Anton Chekhov and Mark Twain can be used in school readers and exams, they must be vetted by a bias and sensitivity committee. The New York State Education Department omitted mentioning Jews in an Isaac Bashevis Singer story about prewar Poland, or blacks in Annie Dillard's memoir of growing up in a racially mixed town. California rejected a reading book because The Little Engine That Could was male. Diane Ravitch maintains that America's students are compelled to read insipid texts that have been censored and bowdlerized, issued by publishers who willingly cut controversial material from their books — a case of the bland leading the bland.

California math scores among nation's worst. About 30 percent of fourth-graders and 23 percent of eight-graders in California tested proficient math tests from the National Assessment of Education Progress, ranking the state near the bottom nationally. ... Nationwide, 38 percent of fourth-graders and 33 percent of eighth-graders performed at proficient levels.

School grant program wastes billions. Just how much improvement of low-accomplishing public schools have Californians purchased with the $1.25 billion in their taxes spent on No Child Left Behind special programs? The disturbing answer, apparently: "little if any academic improvement."


Schools used as leftist indoctrination centers:

Get Global Warming Out of Our Schools. Because of the recent revelations of "Climategate" (see source materials below) and my experience raising two children in private and public schools in California, I believe we need to start a nationwide campaign to get "global warming" immediately removed from the curriculum of our schools. We cannot wait for politicians or activists to do any more damage to our future generation. "Global warming" is not just an objectionable and discredited scientific theory. Teachers are grafting the loony climate-change premise onto lifestyle, religion, and politics in "science" classrooms. It cannot stand.

California Offers Textbook Case of Political Correctness: A textbook review process in California has changed or eliminated references to everything from the Founding Fathers to hot dogs, leaving many to charge the state with distorting history in the name of political correctness.

Save The Children (From Global Warming Propaganda). Green schooling was surreptitiously introduced years ago when teachers began espousing benign environmental distractions like "Earth Day." But trendy nontoxic slogans like "reduce, reuse, recycle" eventually opened the door to the destructive propaganda of teaching Al Gore's scientifically-challenged movie in science classes. Which soon facilitated a California Law mandating unbalanced Anthropogenic Global Warming (AGW) theories be included in public school curricula. And that paved the way for today's second installment of a malignant little program cleverly crafted to indoctrinate our impressionable youth on a chillingly massive scale.

California State Senate Approves New Global Warming Curriculum. The bill was controversial in the Senate because it simply requires "climate change" to be taught, without requiring balance between the positions of alarmists and skeptics. "I find it disturbing that this mandate to teach this theory is not accompanied by a requirement that the discussion be science-based and include a critical analysis of all sides of the subject," state Sen. Tom McClintock (R-Thousand Oaks), said during the Senate debate, according to the San Jose Mercury News.

Letters from Sixth Grade Students Reveal Global Warming Indoctrination. If you doubt some teachers are trying to brainwash schoolchildren with global warming alarmism, take a look inside the sixth grade classroom of teacher Michael Steria at David A. Brown Middle School in Wildomar, California. Twenty-five sixth graders teamed up to write eight letters to The Heartland Institute describing what they had been taught about global warming. Steria sent the letters to the institute in March.

Bill would require California's science curriculum to cover climate change. Reading, writing and … global warming? A Silicon Valley lawmaker is gaining momentum with a bill that would require "climate change" to be among the science topics that all California public school students are taught. The measure, by state Sen. Joe Simitian, D-Palo Alto, also would mandate that future science textbooks approved for California public schools include climate change.

Fairy Tales Don't Come True. The Ninth Circuit Court of Appeals in San Francisco ruled recently that parents had no right to know about a very graphic sex survey given out to elementary school students in California. In fact, the court said that parents have no right to claim sole responsibility for their children's sex education. ... Schools often give information without parental notice about multiple access points to enter such behavior through "gay" community groups, homosexual school clubs, local health clinics, Internet chat rooms, and politically correct youth organizations and clubs.

Gay Curriculum Proposal Riles Elementary School Parents. A group of parents in a California school district say they are being bullied by school administrators into accepting a new curriculum that addresses bullying, respect and acceptance — and that includes compulsory lessons about the lesbian, gay, bisexual and transgender community that will be taught to children as young as 5 years old.

California Elementary School Parents Blindsided by Homosexual "Coming Out Day". Parents of students attending an elementary school in Hayward, California, are in a frenzy after learning the school allegedly made no effort to inform them their children were to participate in today's homosexual "Coming Out Day" school event, reports the Pacific Justice Institute ... .

The California homosexual activists' assault on schoolchildren: On May 11, the California State Senate passed Senate Bill 1437. The bill demands "no teacher shall give instruction nor shall a school district sponsor any activity that reflects adversely upon persons because of their … gender … [or] sexual orientation." ... If a boy decides to come to school in a dress, teachers may not even request that he change clothes.

Pinch Me If I Am Paranoid. A bill is close to passing in California that would make all government (public) schools mandate a "positive" portrayal of homosexuality in their textbooks and literature. However, many of these same schools will not allow the mention of the word Christmas or Easter for fear that it will in some way "indoctrinate" the kids into Christianity.



25 Reasons To Dislike Liberals. [#2] Because the closest thing to Sodom and Gomorrah in the modern world is San Francisco and Berkeley.

Under the radar: Gay-rights groups are quietly but aggressively advancing their agenda. While the news media focused on immigration last week, California Democrats focused on completing the transmutation of public-school social science curricula into a punctuated series of pro-homosexuality tracts.

Bill Would Force Schools to Support Homosexuality. Gender-neutral bathrooms in public schools? Girls running for prom king? Those are just a few of the possibilities which could result if the California Legislature passes SB 1437 which would force schools to adopt an exclusively pro-homosexual message.

"There Will Be No Apology". Those are the words of the mother of Matt Dariano, one of the five kids at Live Oak High School in the San Francisco Bay Area who were sent home for having the temerity to wear American flag tee shirts on the "Mexican heritage day" of Cinco de Mayo. "There will not be an apology," Mrs. Dariano told the camera crew outside the school.

California Students Sent Home for Wearing U.S. Flags on Cinco de Mayo. Administrators at a California high school sent five students home on Wednesday [5/5/2010] after they refused to remove their American flag T-shirts and bandannas — garments the school officials deemed "incendiary" on Cinco de Mayo.

Calif. School Bans American Flag Clothing For Non-Existent Mexican Holiday? For the Gilroy Dispatch Lindsay Bryant reports that five young students of Live Oak High School in Gillroy, California were kicked out of school on Cinco de Mayo because they dared to wear the venerable American colors while all the Mexican students were wearing the Green, White and Red colors of the Mexican flag. According to Assistant Principal Miguel Rodriguez these evil American children were "starting a fight."


Other bad ideas:

Gov. Brown gives green light to driverless cars in California. California took the fast lane to the future on Tuesday [9/25/2012] when Gov. Jerry Brown signed a law that lets self-driving cars onto public roads. Brown rode to the signing ceremony at Google Inc headquarters in the passenger seat of a vehicle that steered itself, a Prius modified by Google.

Genetically modified foods: Why does California insist on finding a problem where nobody else does? On the state's ballot in November, Californians will be voting on Proposition 37 — an initiative that would require all foods produced with or from genetically modified organisms (GMOs) to carry mandatory warning labels. Oh, sure, it all sounds well and good and simple enough, except that such a measure would impose significant expenses on (often small) businesses; would cost the way-past-completely-broke Californian government up to over a million dollars to regulate the practice; and, oh yeah — is completely pointless because there is not a single documented case of "adverse health consequences" due to genetically engineered foods.

California Caves to Illegals. It appears that in California, those who are here illegally get the privileges. Rules and laws that legal residents had to abide by have been changed to accommodate those here illegally. What was once fair and equitable for legal California residents is now not acceptable for illegal immigrants.

Popular California Flag Mural Deemed Graffiti, Painted Over. California residents are up in arms that a flag mural — paying homage to victims of the 9/11 terrorist attacks — was painted over after the state ruled it was graffiti.

Organic Failure. Henry Waxman is at it again. The Waxman-Markey cap-and-trade-climate change bill, which has been called the largest tax bill in history because it would levy a national tax on energy use, narrowly passed the House in late June and is still pending in the Senate, but the California Democrat has already moved on to his next bad idea: trying to save the nation's populace by making farmlands sterile, so that only organic foods can be grown.

Obama has little to show for '09. California, as every Californian will tell you, is the origin of the fads and fancies that inevitably spread across the continent; San Francisco is where the Pied Piper of Southside Chicago might have led the cult to a suitable jumping-off place. This is where the true believers of the left exude the most noxious fumes.

California prison case goes to Supreme Court. Agreeing to hear an appeal from Gov. Arnold Schwarzenegger, the U.S. Supreme Court said Monday [6/14/2010] it will decide whether the state can be forced to release 46,000 inmates — more than one-fourth of its prison population — to relieve overcrowding. The justices said they would hear the case in the fall and rule early next year.

Where does California put 33,000 released inmates? Hasn't California suffered enough? Apparently not, according to the U.S. Supreme Court. In the name of reducing prison overcrowding and preserving a "standard of decency," the high court this week handed down a decision that could set the stage for something indecent: the release of tens of thousands of prisoners back into society.

The Factory of Selective Moral Outrage. Democrats in Congress recently went all-out to try to pass the Dream Act, an amnesty for illegal-alien students willing to enroll — and stay — in college. Most of those who opposed it were derided as heartless at best, racist at worse. An insolvent California — still struggling with its $15 billion budget shortfall — is trying to advance its own version of the bill that would contravene federal immigration law and cost millions of dollars. At around the same time, the state has announced plans to release about 40,000 prison inmates due to a shortage of funds needed to address overcrowding. Highly taxed Californians can borrow money to send illegal aliens to school, but not to keep felons in prison.

California License Plates May Go Digital. California drivers may soon come bumper to bumper with the latest product of the digital age: ad-blaring license plates. State lawmakers are considering a bill allowing the state to begin researching the use of electronic license plates for vehicles. The device would mimic a standard license plate when the vehicle is moving but would switch to digital messages when it is stopped for more than four seconds in traffic or at a red light.

The Editor says...
Isn't California where all those "urban blight" activists live, who hate to see advertising all over the landscape? The people who hate to see others stoop to the level of "anything for a buck"? Apparently it's okay for big government to be so mercenary. It sounds as if the advertising is going to be on every license plate, and the products or services thus promoted will be chosen by the state. What if the state decides to advertise something the driver finds repugnant? How will the driver know?

Suffer These Crimes in Oakland? Don't Call the Cops Oakland's police chief is making some dire claims about what his force will and will not respond to if layoffs go as planned. Chief Anthony Batts listed exactly 44 situations that his officers will no longer respond to and they include grand theft, burglary, car wrecks, identity theft and vandalism. He says if you live and Oakland and one of the above happens to you, you need to let police know on-line.

But What If They Take My Computer? Facing a budget shortfall, the city of Oakland is about to lay off 80 police officers. This is hardly a wallop they can shrug off in a city where the murder rate is more than three times the national average. So, in the event that last-minute negotiations fail to avert these layoffs, citizens in Oakland are being informed that if they should suffer any of the misfortunes on a list of 44 situations that once brought a police response, no officer will come to their door to take a report, much less try to do something about it. Reports about incidents on the list will have to be made online, police say. Given that burglary and theft are on the list, one must wonder what options will be available to a man whose computer is stolen.


Other commentary on California's decline:

California, There It Went. Flying over Los Angeles on an annual summer visit, I peer through smog so thick that the coastline is hard to see. It is only three in the afternoon, but the cars are backed up for miles on the freeways, which remain largely in the same state of disrepair that greeted me last year. The state is literally deteriorating before my eyes.

Waving California goodbye. More people are moving out of the state than are moving in. It's the economy, of course, especially housing costs.

Back to the Home page