—
Arkansas Supreme Court, 1878
---
This is an original compilation, Copyright © 2018 by Andrew K. Dart
The case of Mumia Abu-Jamal:
Abu-Jamal's conviction upheld, death sentence questioned
. College kids march with his face on placards, chanting a mantra that has been oft-repeated throughout the world: "Free Mumia!" … But others insist that Mumia Abu-Jamal is not the martyr supporters have tried to make him. Instead, they say, he's a manipulative, cold-blooded cop-killer who used his talents as a radio reporter and his resume as a black activist to hoodwink his ill-informed backers into proclaiming his innocence.
Mumia Abu-Jamal Loses Bid For New Trial
. Mumia Abu-Jamal has lost his bid for a new trial in the killing of a Philadelphia police officer in 1981. The Supreme Court says in an order Monday it will not take up Abu-Jamal's claims that prosecutors improperly excluded blacks from the jury that convicted him of murdering Philadelphia police officer Daniel Faulkner.
Who Wants To Free Mumia Now?
Last week, the U.S. Supreme Court rejected an appeal seeking a new trial for death-row inmate and former Black Panther Mumia Abu-Jamal, who was convicted in the 1981 shooting of Philadelphia police officer Daniel Faulkner. Earlier, a lower court rescinded Abu-Jamal's death penalty, which prosecutors have asked to be reinstated. Meanwhile, as the Philadelphia Inquirer reported, last week's ruling "virtually guarantees that the internationally known death-row inmate will never be freed."
The Editor says...
I think I see what's going to happen next — a presidential pardon.
Abu-Jamal supporters meet, to seek White House help
. Stung by the U.S. Supreme Court ruling last week denying a new trial for Mumia Abu-Jamal, supporters of the internationally known death-row inmate met yesterday at a church in West Philadelphia and said they planned to seek some type of presidential intervention on his behalf.
---
The Stanley Williams subsection:
Credibility, executed
. Death penalty opponents — with the help of a sympathetic media — hone their statistical legerdemain, suggesting that everyone who's gotten off death row in recent years was innocent, when in fact many just had flawed trials. And, of course, there's all the America bashing from a crowd that can cheer Yasser Arafat's Peace Prize but also can call Schwarzenegger a murderer with a straight face.
He went to the penitentiary but showed no penitence.
The "Redemption" of Stanley 'Tookie' Williams
. Williams claims redemption, but refuses to accept responsibility for murdering four innocent people. Williams shot one victim, Albert Owens, who worked at a 7-Eleven, twice in the back, after Owens pleaded for his life. Williams, 11 days later, gunned down the owners of a small motel, a family of three.
Toot, toot, tookie, goodbye
. Although, intellectually, I can grasp the point of view of those morally opposed to capital punishment, emotionally I am unable to fathom how they can congregate outside prisons and hold candlelight vigils for mass murderers. Wouldn't their time be better spent visiting the burial sites of the victims, and leaving flowers instead of candle wax behind?
The legacy of Tookie Williams
. Convicted murderer of four and founder of the notorious Crips gang, Tookie Williams, is gone, executed under the death penalty of the state of California. Now those who protested his conviction, and worked for his clemency, want him to be remembered as a hero.
Martyrdom?
Martyrs die for a cause. Williams died for executing four unarmed people during two 1979 robberies, shooting a woman in the face, and laughing uncontrollably at the gurgling sounds a male victim made as he died in agony.
Death Penalty Double Standard: Tookie vs. Allen
. Countless articles were written bemoaning Tookie's loss and news anchors spoke glowingly of his supposed contributions to ending gang violence. That Tookie himself was the founder of the notorious "Crips" gang, responsible for so much murder and mayhem over the years, didn't seem to enter into the equation. Neither did the four people he murdered in cold blood.
---
This is what "swift and sure" means...
Prosecutor says Guilty Saddam would hang quickly
. The Iraqi High Tribunal's chief prosecutor says Saddam Hussein will hang immediately if he is found guilty on charges relating to deaths of 148 Shiites. … "If the court passes a death sentence on any of the defendants in the Dujail case, the law is clear, the sentence must be carried out within 30 days following the appeal," Mr Mussawi said.
Execution uncertain in grenade murders
. Relatives of the two servicemen killed in Sergeant Hasan Akbar's grenade and rifle attack said yesterday [4/29/1005] that he deserved the death sentence given to him by a military jury. But specialists in military law say it is hardly a certainty the execution will ever happen. The military has not executed one of its own since 1961, while states have put scores of civilian killers to their deaths.
Iraq hangs 27 on terrorism charges
. Iraqi authorities hanged 27 convicted "terrorists" today, an interior ministry spokesman announced. "Twenty-seven terrorists were hanged today in Baghdad. Most of them were Iraqis," said interior ministry spokesman Abdul Karim Khalaf. He said they were convicted for attacks on Iraqi civilians and sentenced to death, in an execution order signed by an Iraqi vice president.
The crime, not his race, put Baker on death row
. Another Maryland death row inmate is scheduled to take the lethal injection needle. And, again, anti-death penalty activists have yanked out their ever-handy race card.
The "Let Scott Peterson Live" Campaign at CBS
. As if we needed any more evidence of liberal media bias on the part of CBS, the senior political editor for CBS News, Dotty Lynch, has written a column arguing that convicted killer Scott Peterson should be allowed to live the rest of his life at taxpayer expense in a California prison because he may not really be guilty of murdering his wife and unborn son.
Judge not
. Here they go again. On March 1, the Supreme Court — by its now familiar 5–4 margin — issued a ruling that bans states from executing anyone who was younger than 18 at the time of his crime. You may believe that this ruling gives teens a license to kill, or you may consider it to be a sensible protection for our innocent children. Either opinion is defendable, and immaterial. The important thing — and the frightening thing — about the ruling is that it continues the court's march toward a "living Constitution" and away from original intent.
Those poor, poor perverts
. I can nearly, but not quite, understand why some people object to capital punishment. … What I can't begin to fathom are the people who seem to have the same tender feelings for sexual predators that the rest of us have for our pets. Unfortunately, these aren't the same mushy-headed simpletons holding candlelight vigils outside San Quentin. Instead, they're judges and legislators.
Evolving Standards of Decency
. William Kristol sarcastically thanks the US Supreme Court for its recent decision saving the life of Christopher Simmons, the youthful sadist who murdered Shirley Crook for the fun of it in 1993. In seven paragraphs of well-tempered fury, Kristol contrasts the judicial sensitivity to "evolving standards of decency" that spared Simmons from the death penalty because of his age with the absence of any such sensitivity when it came to Terri Schiavo.
Scalia Slams Juvenile Death Penalty Ruling
. Justice Antonin Scalia criticized the Supreme Court's recent decision to strike down the juvenile death penalty, calling it the latest example of politics on the court that has made judicial nominations an increasingly bitter process.
Judicial supremacists and the despotic branch
. Justice Antonin Scalia, a dependable constitutional constructionist, protested on behalf of the dissenters that capital punishment should, rightly in accordance with constitutional federalism, be determined by individual states. … "To invoke alien law when it agrees with one's own thinking, and ignore it otherwise, is not reasoned decision-making, but sophistry."
Forgetting Facts While Making Law
. In our system of limited government, with its separation of powers, we depend upon our unelected lifetime-tenured judges to restrain themselves from implementing their own moral, social and political values when they are unsupported by a plain understanding of the Constitution and at odds with the choices we make through the democratic process.
On the Supreme Court's definition of cruelty
: In this case, a majority of the court ruled that the execution of someone who was 17 at the time of the crime violates the 8th Amendment, which prohibits "cruel and unusual punishments." It reached this conclusion just 16 years after deciding that the execution of a 17-year-old did not violate the 8th Amendment. What changed was not the 8th Amendment, which reads exactly as it did then. What changed, in the court's opinion, were the "evolving standards of decency that mark the progress of a maturing society."
U.S. Constitution: Made in Jamaica?
In
Roper v. Simmons
, the Supreme Court reached out and gave America a good old-fashioned smack-upside-the-head when it abolished capital punishment for juvenile offenders. … The Court declared that the death penalty was now unconstitutional for minors due to a supposed "emerging national consensus" that the death penalty was wrong. The last time we checked, the Supreme Court was supposed to use the Constitution as its guide. If anyone's to take notice of an "emerging national consensus," it's the legislature.
The new age Supreme Court
. In its 5-4 decision on March 1, the Court decreed that "Juveniles are less mature than adults and, no matter how heinous their crimes, they are not among 'the worst offenders' who deserve to die." While I certainly respect that opinion, I strongly object to the United States Supreme Court presuming to impose it on our entire society as if it is the final arbiter not just of the law, but our moral standards.
The Supreme Court's vexing elitism
. In my last column, I discussed the Supreme Court's abominable decision outlawing the death penalty for murderers under the age of 18. I have a few more complaints. First, much of the Court's analytical emphasis considers the plight of the offenders. Conspicuously lost in the equation are concerns for the victims and society at large, for whom the Court demonstrates a stunning disregard.
The Editor's Opinion:
(1) I've never even seen the inside of a law school, but even I can tell you that the Tenth Amendment says this is an issue which should be decided by each of the 50 states for themselves, not by the Supreme Court. (2) In the Jewish culture, a 13-year-old boy has a
bar mitzvah
ceremony, in which he declares, "Today, I am a Man," and is then considered an adult. (3) If you are a drug dealer and a murderer and a recalcitrant felon, you should get the electric chair if you are at least 13 years of age.
Debating the death penalty
: With conservative ideas sinking new roots across American culture, conservatives have new reason to test their own thinking.
California to Execute Inmate in 1981 Slayings
. It would be the first execution in California since January 2002 and only the 11th since the state reinstated the death penalty in 1977. More than 600 men are on the state's death row. … The last execution in California came on Jan. 29, 2002, when Stephen Wayne Anderson was put to death for shooting an 81-year-old woman in 1980.
More innocents die when we don't have capital punishment
: Murderers who are not executed have murdered innocent people — usually fellow prisoners. And the very real possibility of escape from prison means that murderers threaten far more innocent lives than capital punishment does.
Vermont Has its First Capital Trial in 50 Years
. A man convicted of helping to fatally beat a grandmother as she prayed for her life was formally sentenced to death Friday [6/16/2006], Vermont's first death sentence in almost half a century.
Executing "children," and other death-penalty myths
: The age issue is a red herring. No state allows the death sentence for anyone younger than 16, and no one younger than 23 has been executed in modern times. The truth is that capital punishment in America is the most accurate and carefully administered criminal sanction in the world, and the public has good reason to support it.
Controversial Study Says Executions Save Lives:
Three economists at Emory University are stirring the pot with a new study that concludes an average of 18 lives are saved each time a criminal is executed.
Murdering the bell curve
: After hearing the (overwhelming) evidence against him, a jury sentenced Atkins to death. Last week, the Supreme Court overturned that sentence. The court ruled that the Constitution makes Atkins ineligible for the death penalty if he can prove he is "retarded." In other words, Atkins avoids his capital sentence if he is at least smart enough to know how to fail an IQ test.
Accountable, Yet Not Accountable: A "Retarded" Supreme Court Decision
: The Supreme court recently released its decision in Atkins v. Virginia, regarding the propriety of executing the mentally retarded.
Retardation and capital punishment
: The Supreme Court, in its decision, said that persons deemed retarded -- with an IQ of 70 or less (why not 71?)-- and judged guilty of a capital crime, cannot be executed. In so ruling, the court majority moved from the intention of the Founders, which was to make execution more humane, to focusing on the status of the guilty, which appears not to have entered the Founders' minds while crafting the Eighth Amendment.
Execution of the mentally retarded
: What next for HB 236 opponents after Supreme Court's ruling?
Deal keeps Penry imprisoned for life
. The long saga of convicted murderer Johnny Paul Penry, whose case helped push mental retardation into the national debate over capital punishment, ended Friday [2/15/2008] with a plea agreement to a life sentence. Penry, one of Texas' best-known death row inmates, agreed to three life sentences and to a stipulation that he was not mentally retarded, in spite of what his lawyers have asserted for almost three decades.
How would the court fare on an IQ test?
In Atkins vs. Virginia, handed down last week, the Unites States Supreme Court substituted the judgment of six justices for that of 20 state legislatures.
Texas jurors send killer to his death 'because the Bible told them to'
. A Texas man is due to be executed next month despite admissions by jurors that they consulted biblical passages advocating death as a punishment to help to decide his fate. ... During the trial, the jurors were instructed by the judge not to refer to anything that was not presented as evidence in the courtroom.
The Editor says...
When the judge demands that they not "refer to anything", does that include the jurors' common sense, morality and individual experiences? If the judge instructed the jurors to find the defendant not guilty, would they be so obligated? I don't know about you, but I don't think I'd pay much attention to orders of that sort.
Will the death penalty meet its maker?
(Numerous links to death penalty articles.)
---
News and timely commentary about crime and punishment in general:
Man gets life term for beating 2 children to death, torturing a third. A California man who was convicted of murdering two young children and torturing another with his lover in 2015, has been sentenced to life in prison without the possibility of parole.
The Gangster State. Consider what we are watching with our government. News brings word that the US Attorney is dropping charges against the terrorists, who went on a rampage during the inauguration last year. They announced this in a holiday week, so it would get the least amount of news coverage. Now, they certainly could have looked into who financed the riot, who helped organize it and then went after the shot callers, but they never bothered to do that. Instead, they sat on it until people forgot about it and then dropped the case. Now, we have mountains of laws for dealing with self-defined criminal groups. The Feds could go after a Lacy MacAuley, who details her activities on-line, in order to figure out who pays her rent. Then they could go after that person or group. This is basic police work. At the very minimum, the people financing these terrorists would know they have some exposure, but that never happens. You see, everyone knows who finances Antifa and other terrorists operations and they have friends in high places.
Ex-New York Chief Judge: It's time to end cash bail. As the former chief judge of New York, I have seen that money bail doesn't work. In New York, like most states, a person who is charged with a crime can be required to put down money as bail, serving as collateral to ensure he or she returns to court. If you can pay, you go home. If you can't, you go to jail. In other words, if you are wealthy, you can fight your charges from home with the help of high-end lawyers. If you aren't, you may have to defend yourself from behind bars, represented by a public defender who is hard-pressed and more than likely overloaded with other cases. In New York City, only 12 percent of the people who have bail set can pay immediately. The other 88 percent are transported to the infamous jail complex on Rikers Island.
Gangbangers arrested for killing teen getting protection in jail. The eight gangbangers accused of butchering innocent teen Lesandro "Junior" Guzman-Feliz are getting special treatment in jail, according to law enforcement sources. The men — all variously charged with murder in the 15-year-old's grisly mistaken-identity slaying — have been moved out of the general population because they are getting threats, sources said. Some are being held at Rikers Island and the rest at other jails. Each time one of them is moved, all other inmate transfers are put on hold — and the suspects are accompanied by several correction officers and a captain who film the transfer, the source said.
Florida man sent back to jail after not paying for taxi ride home from jail. Authorities say a Florida man was returned to jail shortly after his release because he couldn't pay the taxi driver that took him home from the jail. Florida Today reports that 40-year-old Charles Folk was arrested Thursday morning [6/28/2018] and charged with petty theft. Melbourne police say Folk hailed a taxi outside the Brevard County Jail Complex in Cocoa shortly after midnight. After traveling 30 miles to his Melbourne home, Folk told the driver that neither his sister nor his roommate could help him pay the $70 fare. The driver called the police.
Senator wants to know how police can locate any phone in seconds without a warrant. A senator is demanding that the FCC investigate why a company, contracted to monitor calls of prison inmates, also allows police to track phones of anyone in the US without a warrant. The bombshell story in The New York Times revealed Securus, a Texas-based prison technology company, could track any phone "within seconds" by obtaining data from cellular giants — including AT&T, Sprint, T-Mobile, and Verizon — typically reserved for marketers. The report said former Mississippi County sheriff Cory Hutcheson used the service nearly a dozen times to track the phones of other offices, and even targeted a judge.
Service Meant to Monitor Inmates' Calls Could Track You, Too. Thousands of jails and prisons across the United States use a company called Securus Technologies to provide and monitor calls to inmates. But the former sheriff of Mississippi County, Mo., used a lesser-known Securus service to track people's cellphones, including those of other officers, without court orders, according to charges filed against him in state and federal court. The service can find the whereabouts of almost any cellphone in the country within seconds. It does this by going through a system typically used by marketers and other companies to get location data from major cellphone carriers, including AT&T, Sprint, T-Mobile and Verizon, documents show.
Study: No Racial Difference in Police Shootings Compared to Crime Rates. Black Americans are not more likely to be shot by the police than White Americans in proportion to each group's rate of interaction with the police, as measured by crime rate, a new study argues. The report, by psychologists Joseph Cesario and David Johnson and criminologist William Terrill, analyzes trends in fatal shootings by police in 2015 and 2016 using a variety of data sources. Measuring racial disparities in police use of force is a touchy subject. High-profile shootings of black men by police have been a focal point for Blacks Lives Matter and similar groups, which see such shootings as both endemic of larger police abuses and an epidemic in their own right.
Chief: NYPD's Gang Database is 99% Minorities. The 17,000 individuals named in the NYPD's gang registry are 99 percent black or Latino, Chief of Detectives Dermot F. Shea revealed this week, according to the Juvenile Justice Information Exchange. Shea, testifying Wednesday before the City Council's Committee on Public Safety, was talking publicly for the first time about one of the department's most popular crime-fighting tools. He said the database is 65 percent African Americans, 24 percent non-white Hispanics, and 10 percent black Hispanics. He said the average age of those included is 27 and that 1,460 of those listed are younger than 18.
Thefts rise after California reduces criminal penalties. California voters' decision to reduce penalties for drug and property crimes in 2014 contributed to a jump in car burglaries, shoplifting and other theft, researchers reported.
Another Terrorist Sues the Bureau of Prisons. Add convicted terrorist Rafiq Sabir to the growing list of incarcerated radical Islamic terrorists who are suing the Department of Justice and the Federal Bureau of Prisons (BOP) for allegedly violating their rights. Sabir is serving a 25 year sentence after a 2007 conviction for conspiring to provide material support to al-Qaida. Sabir's attorneys argued "that he was a gullible man" and only pretended to pledge bayat to al-Qaida to impress someone. U.S. District Judge Loretta A. Preska saw it differently. She felt that Sabir lacked remorse and imposed the stricter sentence to deter others who would seek to join a terrorist organization.
Dozens of pencils, 7 tweezers found inside inmate's 'birth canal': Georgia sheriff's office. Pencils, tweezers and hair pins were discovered inside a female inmate this week, according to a Georgia sheriff's office. The writing utensils were captured in a snap the Oconee County Sheriff's Office put on Facebook Thursday [6/7/2018].
The Editor says...
I suspect it was the misuse of her "birth canal" that landed her in jail initially.
30 percent of federal prisoners are immigrants, DOJ/DHS reports. Immigrants accounted for more than 30 percent of the federal prison population and nearly all of them are confirmed or suspected illegal immigrants, the government said in a new report Tuesday [6/5/2018]. The government said it had 57,820 migrants in its prisons as of Dec. 31, Homeland Security and the Justice Department said in the joint report. Nearly 20,000 other immigrants were held in pretrial detention by the U.S. Marshals Service, most of them in contracted facilities, costing the government $134 million for just three months. That works out to nearly $90 a day for each person in those contract facilities. Attorney General Jeff Sessions said there shouldn't be any illegal immigrants in prisons, because they shouldn't have been in the country in the first place.
Soros becomes the kiss of death for his own handpicked DA candidates. Is Soros money becoming the kiss of death for candidates who take it? Sure looks like it, based on the miserable poll performance of Soros's little pawn in the San Diego district attorney's race. [...] Soros, remember, had this master plan to take over district attorney offices in key cities across America and seed them with his hand-picked anti-law enforcement candidates. The plan was to get people in office who would let crooks out of jail to effectively reduce the quality of life for the middle-class law-abiding people he has such a problem with.
Facebook Cofounder's Wife Bankrolls BLM Activist Shaun King's PAC. The wife of a Facebook cofounder has provided a bulk of the funding to a political action committee that was co-founded by Black Lives Matter (BLM) activist Shaun King to target district attorney races across the country in an attempt to "fight structural racism." Liberal activists and entities, such as billionaire George Soros and the Color of Change PAC, have quietly flooded local district attorney races across the country with cash and organizational support in an attempt to overhaul the criminal justice system by electing far-left DAs. King, who first spoke to media on the formation of the Real Justice PAC in February, told the Huffington Post at the time that "No position in America, no single individual has a bigger impact on the criminal justice system — including police brutality, but the whole crisis of mass incarceration in general — than your local district attorney."
Staggering DOJ study: 83 percent of prisoners re-arrested within 9 years of release. Last Wednesday, the DOJ released an updated study from the Bureau of Justice Statistics showing that 83 percent of prisoners released by states under jailbreak programs similar to what the bipartisan cabal is promoting in Washington were re-arrested within nine years of their release. So much for the recidivism argument for early release programs. Unfortunately, the House was in such a rush to pass this bill even without a CBO score that the DOJ report didn't come out until a day later.
New York cop killer released from prison given right to vote under new Cuomo policy. A cop killer recently released from prison will get another added benefit of freedom: the right to vote. Herman Bell, 70, who served 44 years in prison for the murder of two New York police officers in the 1970s, was granted parole last month by the state parole board. But a fresh decision by New York Democratic Gov. Andrew Cuomo to issue conditional pardons to more than 24,000 parolees means Bell can vote in the upcoming election.
A First Step for Prison Reform. The First Step Act establishes new tools for prison management to conduct ongoing risk assessments of each prisoner, evaluating the likelihood of the prisoner recommitting a crime. The profiling also establishes a basis for programs and job training to assist in rehabilitation of these individuals. Prisoners productively participating in these programs, and showing progress in behavior and attitudes, are rewarded with increased phone time, visits, and transfers to facilities closer to their homes and families. Those achieving a low-risk profile of recidivism may be eligible for at-home confinement or for being transferred to halfway houses for the final period of their sentences.
Cuomo issues pardons officially giving parolees voting rights. Gov. Andrew Cuomo has issued conditional pardons restoring voting rights to more than 24,000 parolees — including cop killer Herman Bell, who was released from prison last month. The pardons cover 24,086 ex-cons who are currently under parole supervision, the governor's office said Tuesday [5/22/2018]. Cuomo issued an executive order last month which gave him the authority to issue pardons so ex-cons could vote while on parole. Bell is among the among the felons whose voting rights were reinstated, records show.
Liberalism's Impact on Abhorrent Behavior. Instead of strongly enforcing the rule of law, liberals purport that people shouldn't be held responsible for their behavior via formal punishment. This has strangled the justice system for over two decades. It manifests in failed social engineering experiments like community corrections that allow a violent repeat offender to walk among the law-abiding public. That does not teach such an offender that their behavior won't be tolerated. Consequently, such criminals do not learn about their wrongdoings, continue to engage in antisocial behavior, and reoffend.
Transgender: AG Sessions Ends Obama's Mixed-Sex Prison Policy. Attorney General Jeff Sessions' deputies are ending President Barack Obama's last-minute decision to impose the transgender ideology in federal prisons. Obama's January 2017 transgender policy directed prison officials to allow men to move into women's prisons if the men claim a female "gender identity." Sessions' revised policy says officials "will use biological sex as the initial determination" when assigning people to either male or female prisons, according to the policy document published May 11 by Buzzfeed.
500 Driving Mile Rule and Restoring Congressional Intent to Truth in Sentencing Law. The crux of the bill is that it would require the implementation of evidence-based recidivism reduction programming in federal prisons and allow eligible offenders to earn time credits to serve part of their sentence in home confinement, halfway houses, or community supervision. It also has other long overdue provisions, mostly related to prisoner re-entry into society. The bill is modeled after the reforms in more than 30 states, including Georgia and Texas, to reduce recidivism and enhance public safety.
Justices: No Life-Without-Parole Presumption for Juveniles. North Carolina's highest court says there's no legal presumption young people convicted of first-degree murder should receive life in prison without parole.
$46,654: Annual Cost of Detaining Illegal Alien Exceeds Average American Income. The federal government paid a "bed rate" of $127.82 per day to house each illegal alien detained by Immigration and Customs Enforcement in fiscal 2016, according to ICE data published in a new report by the Government Accountability Office. Even if you do not count the extra day in that leap year, that works out to $46,654.30 for each detention bed occupied by an illegal alien for 365 days. The approximately $46,654 it cost to house a detained illegal alien for 365 days in fiscal 2016 was approximately $104 more than the average income for Americans 15 and older that year — which, according to Census Bureau Table PINC-01, was $46,550.
Transgender inmate sues prison over witchcraft rights. A transgender inmate is suing a North Carolina prison, saying it's blocking her from practicing witchcraft.
Violent crime by juveniles up sharply since Broward County adopted PROMISE program. Broward County's PROMISE program (which stands for Preventing Recidivism through Opportunities, Mentoring, Interventions, Supports & Education) coincides with higher levels of violent crime among juveniles, even as levels of such crime have been falling statewide. Broward County adopted the PROMISE program in 2013 at the urging of the Obama Education Department. As Ed pointed out last month, based on a story by Paul Sperry of RealClearInvestigations, the move away from arrests even for repeat offenders appears to help explain why school shooter Nikolas Cruz was able to engage in violence and even bring bullets to school without any arrests or legal consequences. Sunday, Sperry published a follow up looking more broadly at the results of the PROMISE program. He found those results don't match up with the claims of its supporters.
Texas inmates go on hunger strike after feces-throwing sparks lockdown. Several inmates at a Texas prison north of Houston are on a hunger strike after their unit was locked down because they were berating guards and throwing feces, the Houston Chronicle has reported. The hunger strike began Friday [4/13/2018] after inmates at the Wynne Unit in Hunstville [sic] were put on lockdown for "an uptick in infractions, including verbal abusiveness toward officers and 'chunking,' or throwing bodily fluids," according to the Chronicle. Officials said the 17 inmates participating in the strike are being monitored by medical staff; 156 total are on lockdown.
Prosecutors in D.C. Focus on 'Restorative Justice' for Juvenile Offenders. D.C. Chief Deputy Attorney General Natalie Ludaway said all of the District of Columbia's prosecutors consider themselves "progressive prosecutors." [...] Using the example of a young person stealing someone's smartphone, Ludaway touted the benefits of the district's Alternatives to the Court Experience (ACE) Diversion Program. Ludaway said the young person might be arrested for the crime and "generally held in lock-up, and then that morning our prosecutor goes through the list and really making very quick decisions of how that youth should be treated." "If the youth receives diversion, we work with a program called ACE diversion and ACE diversion, for $4,000, for that youth, $4,000 over a 6-month period, that youth, instead of entering the criminal justice system, will be given mentorships, mental health, monitoring in school; sometimes it means being able to go to activities, to museums," she said. According to Ludaway, the $4,000 diversion estimate compares to probation at $40,000 and confinement at $70,000.
The Editor says...
I'd rather see the government spend $40,000 and keep the thief out of circulation for a while. He wasn't going to the museum anyway. Moreover, there is no such thing as "mass incarceration." There's never a trial at the county courthouse at which 500 juvenile defendants are convicted at once. Large prison populations exist because this country has so many godless, fatherless, poorly educated and amoral young men who act like baboons.
Seven inmates killed at South Carolina maximum-security prison after hours of fighting. Gang-related fights over territory and over cellphones and other contraband provoked nearly eight hours of rioting at a maximum-security prison in South Carolina, where seven prisoners were killed amid the chaos, state corrections officials said Monday [4/16/2018]. All the dead at the Lee Correctional Institution in Bishopville were killed by their fellow prisoners, and were mostly stabbed or slashed with homemade knives, authorities said. An additional 17 inmates were injured and treated at hospitals.
South Carolina prison riot leaves seven inmates dead. Seven prisoners have been killed and at least 17 others injured in a riot at a maximum security prison in the US state of South Carolina, officials say. Violence erupted at the prison facility on Sunday evening [4/15/2018] and was brought under control in the early hours of Monday. "This was all about territory, this was about contraband," the South Carolina Department of Corrections said.
Judge says torching victim can testify from beyond the grave at boyfriend's trial for her murder. A woman who died after being set on fire by her boyfriend will testify at his murder trial from beyond the grave. Judy Malinowski, 33, died in August 2017, two years after being torched by her boyfriend Michael Slager outside a gas station near Columbus, Ohio, in June 2015 but recorded a video in hospital before she lost her fight for life. Slager goes on trial for her murder in July, and in a rare move, a judge has allowed the interview Malinowski gave from her hospital bed to be heard by the jury. The judge ruled Friday [4/13/2018].
Alabama teen turns down 25-year plea deal, gets sentenced to 65 years instead, and laughs. An Alabama teen laughed Thursday as a judge sentenced him to 65 years in prison for murder and theft after he rejected a plea deal that would have given him 25 years behind bars. Lakeith Smith, 18, of Montgomery, Ala., was sentenced to 65 years by Judge Sibley Reynolds for "felony murder, armed burglary, second-degree theft and third-degree theft," FOX8 LIVE reported. Smith smiled and laughed while being sentenced at the Elmore County courthouse. He had turned down a plea deal that would have recommended he spend 25 years in prison on the charges.
'Palm Sunday Massacre' killer freed from prison and believed to be living in New York. The killer who took the lives of eight children and two young mothers in 1984 in Brooklyn in what has been called the 'Palm Sunday Massacre' has been released from prison, despite multiple denials of parole. Christopher Thomas, now 68, was convicted of the mass shooting and sentenced in 1985 to 25-50 years, but was released on January 5 and is now believed to be living in Queens, New York.
Drones delivering contraband to prisons [is] a budding problem. A package of contraband covered in grass clippings that was dropped by a drone at a Panhandle prison is one of the most recent examples of inmates using advanced technology to smuggle illegal items behind prison walls.
Why is the death penalty for drug-traffickers controversial? President Trump is proposing that the death penalty be used for drug-traffickers. Most of the reporting I have seen presents that as a controversial, radical, dictatorial proposal. [...] I would think CNN and other supposed journalists point out that the death penalty for drug-traffickers has been on the books since 1988 and was greatly expanded in 1994, when Democrats controlled the government, but they seem to either forget or intentionally ignore the actual laws.
NY Lawmaker Blasts State Board for Paroling Double Cop Killer. A New York City lawmaker ripped the New York State Parole Board for agreeing to release a former Black Liberation Army member convicted of murdering two NYPD officers. State Sen. Marty Golden (R-Bay Ridge) said the board's membership was recently shuffled and that the members were nominated by Gov. Andrew M. Cuomo (D).
Obama DOJ Forced FBI To Delete 500,000 Fugitives From Background Check Database. The Justice Department under Barack Obama directed the FBI to drop more than 500,000 names of fugitives with outstanding arrest warrants from the National Instant Criminal Background Check System, acting FBI deputy director David Bowdich testified Wednesday [3/14/2018]. Fugitives from justice are barred from buying a firearm under federal law. But what is a fugitive from justice? That definition has been under debate by the FBI and the ATF. According to The Washington Post, the FBI considered any person with an outstanding arrest warrant to be a fugitive. On the other hand, the Bureau of Alcohol Tobacco, Firearms and Explosives defined a fugitive as someone who has an outstanding arrest warrant and has crossed state lines.
Steyer Works to End Bail Payments for Criminal Defendants in California. Liberal billionaire Tom Steyer, who has been pushing for President Donald Trump's impeachment and recently spent $3 million to register Latino voters, also is working hard this week to resuscitate a California state bill that would end the process of demanding thousands of dollars in cash bail from suspected criminals.
25 cities where crime is soaring. Violent crime is a broad designation consisting of the most egregious infractions — aggravated assault, robbery, rape, and murder. According to the FBI, there were 386 violent crimes for every 100,000 people in the United States in 2016. While the crime rate has fluctuated slightly in recent years, the incidence of violent crime in the United States remains effectively unchanged from half a decade ago. The national violent crime rate does not tell the whole story, however. Crime is a local issue, and in some parts of the country, violence is surging.
CNN Admits: U.S. Town Where Guns Are Required Has Had Only 1 Murder in 6 Years. CNN admitted in a report on March 6, 2018, that a Georgia town requiring gun ownership has only seen one murder in six years and maintains a violent crime rate of less than two percent. CNN reports that Kennesaw, Georgia, adopted an ordinance in 1982 requiring the head of every household to "maintain a firearm." CNN suggested the law requiring gun ownership is not actually enforced, but it simultaneously reported that the town of Kennesaw has only witnessed one murder in the past six years. In other words, just the common knowledge that guns are in the hands of law-abiding citizens appears to restrain the actions of criminals.
Suspect in Chicago cop's death got off easy for major parole violations, records suggest. The suspect who allegedly gunned down Chicago police Commander Paul Bauer near City Hall earlier this month received an unusually light sentence for major parole violations in 2007, court records show. The documents, reviewed by the Chicago Sun-Times, reveal that Bauer's accused killer, Shomari Legghette, dodged up to 30 years in prison when he was booked for the violations that year. At the time of his 2007 sentencing, Legghette was on parole following an armed robbery conviction that landed him a 16-year sentence, and prison time from 1998 to 2005.
How a list of 23 crimes now dominates California's debate over prison punishment. California has a long history of mixing crime and punishment with raw politics. But outrage doesn't always translate into coherent policy, and unintended consequences can spark even more public anger. With that in mind, consider the last two years of debate over what should, and should not, be a "violent" crime. That debate begins with the index of crimes in section 667.5 of the California Penal Code. The list was first enacted in 1976, and has been tinkered with so many times it's hard to say whether it's a fair representation of the most heinous crimes.
Court ends bail for illegal aliens. The headline in the Washington Times was close but no cigar: "Illegal immigrants have no automatic right to freedom, Supreme Court rules." Oh they have a right to freedom. Just not here. They are free to go home in the paradises they left behind. President Trump is helping them get home. "Immigrants being held for deportation don't have an automatic right under the law to post bond and be set free, the U.S. Supreme Court ruled Tuesday in a decision that could give the Trump administration more freedom to pursue stiff detention policies for illegal immigrants who show up at the border claiming asylum," Stephen Dinan of the Times wrote.
Rates of unsolved murder by state. News reports based on FBI statistics show that somewhere between 35%-40% of homicides in the US go unsolved in the US today. Uniform Crime Reporting data, available at the state level (excluding Florida), show that right at one-third of homicide offenders remain racially unidentifiable.
Top ten rates of unsolved murder by state

   District of Columbia   56.1%
   Illinois               55.4%
   Maryland               46.1%
   New York               44.0%
   California             43.9%
   Massachusetts          43.8%
   Rhode Island           42.0%
   New Jersey             41.8%
   Michigan               38.8%
   Connecticut            37.1%

Stepping Up initiative seeks to keep mentally ill out of jail. So the Lorain County Board of Mental Health and the Lorain County Sheriff's Office along with several community partners ranging from local police departments and the court system are participating in an innovative program aimed at intervention and redirection. According to the national Stepping Up initiative, each year more than two million people suffering from severe mental illnesses find themselves incarcerated turning county jails into makeshift psychiatric facilities and making it more difficult for those in need to receive the care they need.
New York City prison guard seriously injured in attack by 6 inmates, authorities say. In what authorities said was a premeditated beatdown, a gang of six Rikers Island prison inmates attacked a New York City correction officer Saturday [2/10/2018]. The unidentified 39-year-old officer was hospitalized in serious condition, Michael Skelly, a spokesman for the Correction Officers Benevolent Association, told the New York Post. Media reports said the officer had suffered a broken neck or "fractured spine."
Worst Responders. Latent within the idea of gun control is the notion that guns increase aggregate danger, and if prohibited, police and other professionals might easily protect the disarmed populace from any remaining guns, as well as other risks. This is a dubious hope. We have relatively few police in this country, and they are spread very thin, particularly in rural areas. As the saying goes, "when seconds count, the police are minutes away." As a general matter, police investigate crimes after they are completed. Their deterrent effect consists primarily in the general threat of detection and incarceration.
San Francisco Prisons Implement Reforms Giving Transgenders Special Treatments. San Francisco prisons formally announced they are implementing a policy for transgenders that will respect their gender preferences, house them in the cells of their chosen identity, and offer other gender identity services. The San Francisco Sheriff's Department announced Wednesday [2/21/2018] that inmates who identify as transgender, gender variant or non-binary will be able to choose a name and gender identity upon entering the prison. They will also get to determine if a man or woman will search them before they're admitted into the prison, according to CBS San Fransisco.
Second, Third, and Fourth Chances — at What Price? The deincarceration movement, which would return thousands of convicts to American streets, presents a threat to public safety. Repeat offenders already commit a substantial portion of the nation's violent crime — according to one study, 53 percent of killers have at least one prior felony conviction. They will be walking the streets in greater numbers if deincarceration advocates have their way. Consider a few examples. In October 2017, Radee Prince shot and killed three people in Maryland. Prince, it turns out, had 42 prior arrests and 15 prior felony convictions. [...]
New York City prison guard seriously injured in attack by 6 inmates, authorities say. In what authorities said was a premeditated beatdown, a gang of six Rikers Island prison inmates attacked a New York City correction officer Saturday [2/10/2018]. The unidentified 39-year-old officer was hospitalized in serious condition, Michael Skelly, a spokesman for the Correction Officers Benevolent Association, told the New York Post. Media reports said the officer had suffered a broken neck or "fractured spine."
Is California Starting to Circle the Drain? I recently became a crime victim for one of the few times in my life. My car was burgled while I was up in the Bay Area on my weekly sojourn to the Peoples Republic of Berkeley. I say "burgled" rather than "broken into," because there was no smashed window, or picked lock, nor did I leave the car unlocked. Rather, I was the victim of a clever gang of organized car burglars in the Bay Area who are using sophisticated scanners to copy and boost the key-fob signal for recent model keyless entry and ignition cars. Once you latch on to the signal, the car door unlocks at the touch of your hand, as people with such models know. [...] This kind of activity is epidemic in the Bay Area right now. There were 30,000 car thefts reported in San Francisco last year (much higher in the Bay Area as a whole). The police are doing very little about it.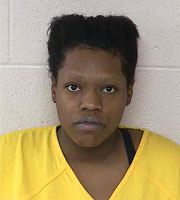 Inmate's Weave Hid Coke, Meth, 78 Doses Of LSD. A Pennsylvania inmate had 78 doses of LSD, cocaine, methamphetamine, and a glass pipe stashed under her hair weave, contraband the woman apparently smuggled into the lockup following a prior arrest, according to court records. Carema Lashandra Brown, 29, was booked into the Jefferson County jail on January 5 after she was charged with two felony theft counts. Unable to post $60,000 bail, Brown was detained at the jail in Brookville, a borough about 80 miles northeast of Pittsburgh. Within a week of Brown's arrival, jail personnel began investigating the distribution of narcotics inside the facility. During questioning, two female inmates — whose recorded phone calls indicated they had been using LSD — confessed that they obtained the acid from Brown.
Parents of slain Pizza Hut robber angry that victim used a gun against him. Self-defense is regarded as a right deriving from natural law. But that offers no justification to the parents of Michael Grace, Jr. of Charlotte, NC, who was shot to death while attempting to rob a Pizza Hut. [...] I may be an extremist, but it seems to me that if one decides to commit a crime, the victims should have more rights than the perpetrator, especially the right to defend themselves from the presumption of violence that accompanies a robbery, home invasion, or other property crime.
The 'War on Crime' has failed. Here's a better battle plan. Since President Lyndon Johnson declared a "War on Crime" in 1965, politicians have been embracing tough-on-crime policies every election cycle. Unfortunately, this has exacted a horrific toll. The U.S. crime rate has never fallen below 1965 levels, and the incarceration rate now approaches that of North Korea. What 50 years of uninterrupted bipartisan tough-on-crime policies have produced is a 16 percent higher crime rate, a near doubling of violent crime, and thousands of murders. The population equivalent of Houston is behind bars, while the public is less safe than a half-century ago. Lady Justice has cast her scales aside in disgust and fallen on her sword.
The Editor says...
"The public is less safe that a half-century ago" because there are not enough people behind bars, and more violent criminals enter this country every day. Other factors include poor education, the Ferguson Effect, violent movies and video games, and fatherlessness.
Democracy's Highest Crime and Misdemeanor. Is there sufficient decency and courage in the midst of Washington's swamp to compel the pursuit of justice wherever in the Ruling Class it leads and then to prosecute the lawbreakers — whomever they are? First, it's vital to understand that when you give a pass — or worse you give multiple successive passes — to lawbreakers, you not only protect those who violated the law, but you empower and encourage would-be lawbreakers to do the same or worse. Second, when laws are not enforced they cease to have meaning.
Convicted Muslim rapist sues state over failure to provide sharia meals. An inmate has sued Oregon Department of Corrections staff for failing to serve meals that observe his Muslim faith. Rashid Kambarov, 29, who is serving a sentence for rape, filed a complaint this week in U.S. District Court in Pendleton. He is a legal permanent resident from Turkey and is incarcerated at Two Rivers Correctional Institution in Umatilla. He is suing the superintendent of Two Rivers, Troy Bowser, and other administrators at the prison.
The Real Gender Gap: Family Breakdown and Black Males. Data from the state of Virginia shows a strong association between single parent households and violent crime. [...] According to the Heritage Foundation, black illegitimacy rose exponentially halfway through the 1960s. This is precisely when the perverse incentives of Johnson's "War on Poverty" were being implemented.
What could go wrong? NY to give tablet computers to 51,000 prison inmates. Good news for every inmate in New York State prisons: Each of you will soon be receiving your own tablet computer. The free tablets for all 51,000 state prisoners are being sold to the public as an opportunity to educate prisoners for a law-abiding life when their sentence is completed. Although inmates will not have uncontrolled Internet access, prison system officials say the individual devices will help prisoners keep in touch with their families and become better prepared to reenter lawful society.
The Editor says...
I thought that was what the weight room was for.
Coast Guard rape conviction overturned after court's scathing attack on women-packed jury. The nation's highest military court has thrown out the 2012 rape conviction of a Coast Guard enlisted man because admirals and prosecutors packed the seven-member jury with five women, four of whom held jobs as advocates for victims of sexual assault. In a 5-0 ruling that could change how the military conducts sex abuse trials, the U.S. Court of Appeals for the Armed Forces unleashed caustic criticism of all involved. [...] Ten jurors were selected, and seven of them were women. Of those jurors, five women and two men heard evidence, deliberated and rendered a verdict. Of those five women, four were assigned as advocates for victims of sexual misconduct.
Inmates destroy an Ohio prison with broken metal furniture in violent riots. Teenage inmates at a Ohio juvenile prison have been caught on camera destroying the facility during a violent riot. Six inmates have since been charged over the January 8 incident at the Cuyahoga County Juvenile Detention Center in Cleveland. The sheriff's department SWAT team was called in after the teens — aged 14 and 15 — used broken metal furniture to smash security glass and barricade themselves into cell blocks.
The Editor says...
VGhlIHZpZGVvIHNob3dzIGV4YWN0bHkgdGhlIGJlaGF2aW9yIG9uZSB3b3VsZCBleHBlY3QgLS0gaW4gdGhlIGJhYm9vbiBjYWdlIGF0IHRoZSB6b28h
Man who fled country after fatal Tampa DUI crash gets 15 years in prison. Many of William Angel's family and friends were willing to forgive Christopher Ponce for taking his life in a wrong-way drunken driving crash. But in 2013, Ponce cut off a court-ordered electronic monitor and fled. For the victims, that made a difference.
Inmates in California prison hospital riot after crackdown on child porn. In the case of Coalinga State Hospital, located halfway between San Francisco and Los Angeles around 57 miles southwest of Fresno, it was opened in 2005 as a self-contained, 1,286 beds, psychiatric hospital with a security perimeter. Most of the hospital's forensically committed patients are sexually violent predators. Red Pill reports for The Goldwater that on January 14, 2018, patients at Coalinga State Hospital overtook the facility in a major riot after hospital staff removed all electronics equipment from the patients due to the widespread sharing and distribution of child pornography. The staff deprived the patients of access to the Internet — and to child porn — as a result of a Department of State Hospitals emergency regulation that blocks the patients' "possession, viewing, and distribution of illicit materials" by barring them from possessing digital memory storage devices such as flash drives or thumb drives, hard drives such as those in computers, memory cards, digital media players, and digital media burners. Prior to the crackdown, "patients," including convicted violent sex predators, were allowed compact disc and digital video disc players, as well as Internet access — in a prison hospital!
Activists make the case for 'a world without prisons' in new Black Lives Matter memoir. Patrisse Khan-Cullors and Asha Bandele, authors of the new book When They Call You a Terrorist: A Black Lives Matter Memoir, are self-described "prison abolitionists." [...] Khan-Cullors, a cofounder of the Black Lives Matter hashtag and subsequent movement, called upon acclaimed journalist and author Bandele to compose the memoir. The pages reveal the racial profiling and police brutality that Khan-Cullors and her family have experienced, the circumstances that led to the formation of one of the most controversial civil rights movements, and the way in which her narrative of black liberation has been branded as "terrorism."
75 women have been strangled or smothered in Chicago since 2001. Most of their killers got away. Over the last 17 years, at least 75 women have been strangled or smothered in Chicago and their bodies dumped in vacant buildings, alleys, garbage cans, snow banks. Arrests have been made in only a third of the cases, according to a first-ever analysis by the Tribune. While there are clusters of unsolved strangulations on the South and West sides, police say they've uncovered no evidence of a serial killer at work. If they are right, 51 murderers have gotten away with their crime.
Rate of Imprisonment for Black Adults Falls 29% Over Decade. The rate of imprisonment for black adults fell almost 30 percent over a decade, according to a Wednesday [1/10/2018] report from the Department of Justice. The Bureau of Justice Statistics released its statistics on the United States prison population and the rate of imprisonment among different groups, according to a release from the bureau. Among its findings was that black Americans' rate of imprisonment declined by 29 percent between 2006 and 2016.
One in Fifteen Oregon Prisoners Is a Criminal Alien; Nearly Half Convicted of Sex Crimes. The murder of Kate Steinle in California highlighted the fact that we have a serious criminal illegal alien problem in this country. Many of these individuals, after breaking the law to enter the country, go on to commit other crimes — theft, rape, and even murder. David Olen Cross released a December 2017 report based on Oregon Department of Corrections (DOC) data, announcing that there are "973 foreign nationals (criminal aliens) incarcerated in the state's prison system." Oregon has 14,739 inmates incarcerated in its 14 prisons scattered across the state. "Approximately one in every fifteen prisoners incarcerated by the state was a criminal alien, 6.60 percent of the total prison population," the report said. According to Cross, all of the 973 criminal aliens currently in the state's prisons were identified by U.S. Immigration and Customs Enforcement (ICE). Anytime that happens, DOC officials will place an "ICE detainer" on the inmate. "After the inmate completes his/her state sanction, prison officials will transfer custody of the inmate to ICE," he said.
President Trump's Murder Report Card. One reason Donald Trump is president is because of the Obama administration's own goal in setting off a major murder wave in Ferguson in 2014, in an era when both technology and prosperity should have been lowering the death toll from crime. [...] The FBI won't release its 2017 murder statistics for many months. But to shed light on the important question of how the Trump administration is doing, I've sifted through year-end local newspaper reports and police department databases from the 51 biggest municipalities in America. The impact of the Ferguson Effect is statistically vivid in Ferguson's neighbor St. Louis, where the number of homicides ranged from 113 to 120 from 2011 to 2013. Then in 2014, when the Obama administration and the prestige press took the side of anti-police rioters in promoting the Michael Brown fake news, homicides jumped to 159. Killings numbered 188 the next two years, and in 2017 had reached 205 by Dec. 29. While St. Louis used to be the fourth-biggest city in America back when it hosted the 1904 Olympics, it is now merely the 61st-largest city, with only 311,000 people. So St. Louis' murder rate (65.8 per 100,000 in 2017) is now 27 times that of increasingly utopian San Diego (2.4), the least murderous of the country's fifty biggest cities.
Two Thieving Thugs Attempt Burglary At Detroit Power Station, Get "Shocking" Surprise. I'm sure it won't be long before the families of these two clowns are suing the city to try to turn this incident into a payday. These guys were trying to steal instead of working for a living. In my opinion, they got what they deserved for being criminals and for being stupid. I am curious about whether either of them could read the "DANGER HIGH VOLTAGE" signs posted all around that building.
More whites, less crime.
Don't Take the Wrong Lessons from NYC's Murder Drop. New York City's formerly high-crime neighborhoods have experienced a stunning degree of gentrification over the last 15 years, thanks to the proactive-policing-induced conquest of crime. It is that gentrification which is now helping fuel the ongoing crime drop. Urban hipsters are flocking to areas that once were the purview of drug dealers and pimps, trailing in their wake legitimate commerce and street life, which further attracts law-abiding activity and residents in a virtuous cycle of increasing public safety. The degree of demographic change is startling. In Brooklyn's Bedford-Stuyvesant neighborhood, for example, the number of white residents rose 1,235 percent from 2000 to 2015, while the black population decreased by 17 percent, reports City Lab. In Bushwick, Brooklyn, the number of whites rose 610 percent over that same decade and a half; the black population was down 22 percent. Central Harlem's white population rose 846 percent; the black share dropped 10 percent. In 2000, whites were about three-quarters of the black population in Brownsville-Ocean Hill; by 2015, there were twice as many whites as blacks. In 2000, whites were one-third of the black population in Crown Heights North and Prospect Heights; now they exceed the black population by 20,000.
Wrong-footing the NYPD. New York's city council passed a controversial package of bills this week collectively called the Right to Know Act. The laws require police to provide business cards to almost everyone they encounter and also mandate that they inform people of their legal right to refuse being searched. Both policies will raise the transaction costs of policing and undermine the proven — and legal — tactics that have contributed to the city's sharp decline in violent crime over the last 25 years. The provision that will require officers to inform investigatory targets of their right to withhold consent to searches is based on the city council's finding that "many New Yorkers are unaware of their constitutional rights when interacting with law enforcement officers." The law is thus meant to minimize the consequences of constitutional ignorance for New York's criminal class, with whom the NYPD often interacts.
Once US murder capital, NYC close to record low in homicides. Through Dec. 17, the city of 8.5 million people, once America's murder capital, had recorded 278 killings. That puts it on pace to end this year with killings down 14 percent from last year, and well below the 333 in 2014, which was the year with the fewest homicides since the city began keeping accurate crime statistics in 1963.
Chicago court: 'Making a Murderer' defendant's confession stands. A federal appeals court in Chicago narrowly overturned a ruling Friday that could have freed a Wisconsin inmate featured in the "Making a Murderer" series from prison, though one dissenting judge called the case "a profound miscarriage of justice." The full 7th U.S. Circuit Court of Appeals reviewed Brendan Dassey's claims that investigators tricked him into confessing that he took part in raping and killing photographer Teresa Halbach in 2005. Dassey was sentenced to life in prison in 2007 after telling detectives he helped his uncle, Steven Avery, rape and kill Halbach.
Philadelphia Committee Passes Bill Forcing Store Owners to Remove Bullet-Proof Glass Because it's Offensive. What's more important, protecting the dignity of customers who shop in local liquor stores, or the innocent employees and store owners who come in every day, knowing that the only thing that ensures they will go home alive, is the bullet-proof glass between them and the criminal element who enters their store? Well, according to one Philadelphia councilwoman, it's the dignity of the customers. Philadelphia's Public Health and Human Services Committee passed a bill Monday [12/4/2017] to ban shop owners from protecting themselves with bulletproof plexiglass.
Portland police reportedly scrap gang database over fear of labels. Authorities in Portland, Ore., are reportedly scrapping their database of suspected gang members out of fear that these labels will most negatively affect minorities. Portland police, next month, will end its two-decade-old practice of designating people as gang members or associates following the pressure from the community, The Oregonian reported. Activists have been trying to abolish the database and gang designations for years, claiming they disproportionately affect minority communities.
If there was ever a candidate for capital punishment, it was this guy:
Charles Manson Dies At 83. Manson was born into and raised in true dysfunction. A reason for his depravity but never an excuse. Good people have come out of far worse. I can't help but realize Charles Manson was older than my living grandmother. He also lived to be older than my maternal grandfather and paternal grandmother. This is a travesty and a shame. Better people deserved Manson's longevity.
Charles Manson dead at 83. Manson incurred more than 100 rules violations since 1971, when he and other members of his so-called family were convicted of killing pregnant actress Sharon Tate and six other people during a bloody rampage in the Los Angeles area during two August nights in 1969. Over the years, he was cited for assault, repeated possession of a weapon, threatening staff, and possessing a cellphone. Officials have said over the years that he spat in guards' faces, threw hot coffee at a prison staffer, started fights, tried to cause a flood and set his mattress ablaze.
Confused NYPD cops afraid of 'stopping anyone' under new stop-and-frisk policies. NYPD cops are terrified of "stopping anyone" under new stop-and-frisk policies, fearing that the brass "won't have our backs," a court-appointed monitor reported. Attorney Peter Zimroth, who is tasked with implementing court-ordered reforms to the NYPD's controversial stop-and-frisk program, said officers have been telling trainers that they are unsure "what's expected" of them. "Officers have said, 'The law is confusing. I don't know what's expected of me anymore,'" Zimroth wrote in a memo to Manhattan federal Judge Analisa Torres, outlining focus-group feedback ahead of new training procedures.
Good News: Many Liberal Cities Are Providing Free Legal Help To Illegal Aliens. So, they're getting some sweet, sweet taxpayer cash to protect people who shouldn't be in the country to start with, which means less cash to deal with things like cleaning streets. Or dealing with all the violence, especially in places like Atlanta, Baltimore, and Chicago. According to Neigborhood Scout, Baltimore ranks a 2, with 100 being the safest. Surprisingly, Chicago is an 11 (it's very big, and the reported crime is confined within small areas). Atlanta is a 2. The other cities aren't exactly great, either, excepting Santa Ana, which is a 24. That means that 76% of cities are safer. Some are more about property crime, some are more about violent crime, some are both. Anyhow, this adds to the money already being appropriated by many cities to provide legal council to illegal aliens, meaning less money for law abiding/legal citizens.
Cook County Jail in Chicago is out of control. The forces of law and order no longer control the streets of Chicago. [Indeed], they can't even control inmates in the jail. Civil order is collapsing in Chicago. We learn that once incarcerated, the inmates are controlling the Cook County Jail, and engaging mass behavior so vile that public defenders are refusing to enter and meet their clients. What follows is so disgusting that readers are cautioned to proceed only if psychologically able to face repulsive information. [...] But this is a problem that money can't solve. Inmates have lost all respect for civil society and all fear of punishment, and that is part of the larger problem of the breakdown in civil order in Chicago, on its way to becoming America's first Third World City.
Paroled killer goes back to prison after fourth murder. A Missouri man who served time for a triple homicide nearly 50 years ago before being paroled was sent back to prison after pleading guilty to his fourth murder. Torrance Epps, 79, pleaded guilty Monday to a reduced charge of second-degree murder for fatally shooting Tiandra Johnson, 32, while he rolled his wheelchair through a senior housing complex where he lived on Jan. 19, the St. Louis Post-Dispatch reported. Epps told St. Louis Circuit Judge Dennis Schaumann that he shot Johnson because he thought she entered his apartment with a backup key from the complex's office to steal from him. Johnson was later found dead in a hallway at the Lafayette Towne senior housing complex.
79-year-old man going back to prison for another homicide. A 79-year-old St. Louis man who spent several years in prison for killing three people is going back to prison after pleading guilty in another killing.
Mark Zuckerberg and liberals seek to weaken bail system that keeps us safe. For any liberal to entertain winning the Democratic nomination for president these days, there are some important boxes to be checked, including taking on America's system of law and order. Now Facebook CEO Mark Zuckerberg has begun checking the boxes. Zuckerberg has hired Hillary Clinton's pollster. He's hired Barack Obama's campaign manager. He's even visited the first presidential caucus state of Iowa. And he's pandering to the left's machine by funding a campaign that aims to get rid of our nation's bail system.
Judge won't cut prison term of man who pleads obesity. A claim of obesity won't shave time off a Tampa man's prison sentence. U.S. District Judge Steven D. Merryday on Friday [12/20/2017] declined to reduce the 76-month term he imposed Oct. 12 on Stephen Donaldson Sr., 72, for peddling an illegal offshore tax shelter. On Monday, Donaldson's attorney suggested his client, at 5-foot-9 and 273 pounds, was too fat for his prison sentence, given the likely effect of weight on his health and longevity.
Police-focused NFL protests overlook rising, disproportionate black homicide rate. Lost in the uproar over the NFL sideline protests against police brutality are newly released statistics showing that the threat to black men is skyrocketing — not from trigger-happy or racist cops, but from crime. More than any other demographic group, black men are paying the price with their lives with a surging violent crime rate over the past two years, including a 20 percent jump in the overall homicide rate, even as the number of blacks killed by police declines. Using homicide figures from the 2016 FBI Uniform Crime Report released Sept. 25, Manhattan Institute fellow Heather Mac Donald found that the number of black homicide victims has jumped by nearly 900 per year since the Black Lives Matter movement took root in 2014. "The majority of victims of that homicide surge have been black," Ms. Mac Donald said in an email. "They were killed overwhelmingly by black criminals, not by the police and not by whites."
How the private prison industry came to California, Part 1. On March 5, 2012, Tom Weil, City Manager of California City, California, signed a letter to a lawyer from Fort Lauderdale. "Speaking from over 12 years of experience," he wrote, "you will not find a better partner in the business world." The partner was Corrections Corporation of America (CCA), the most successful for-profit prison company in the United States. Well-established in dozens of jurisdictions but perpetually battling public distaste, CCA, like any dynamic business, is ever-exploring new opportunities, and there seemed one to be had in rural Southwest Ranches, Florida. The letter was among a collection of documents recently released by the City of California City.
The Big Myth About Dirty Jobs, Minimum Wage, and Illegal Immigration. I have a friend who's a United States marshal, and one of his duties is to work with people in the federal Witness Protection Program. Over and over again, the protected witness gets a new location, a new house, a new identity, and then spends the first couple of years going to a community college or some other training program to develop a skill — since their prior skills might have been either bank robbery or serving as a punching bag for a Mafia husband — and then when it's time for the final step, nobody will hire them. The marshal is required by law to tell the potential employer that the new hire is a protected witness with a fake identity — and most bosses say, "No, thanks." But believe it or not, those are easier placements than the typical ex-convict recently out of state prison on, say, an aggravated assault charge. One of the cruelest things we do to prisoners is pump them up with the idea that, if they educate themselves in prison and learn a trade, they will be able to work when they get out. This is a lie. They probably won't be able to work, because, aside from typical job-interview demerits like too many nasty facial tattoos, that felony conviction automatically eliminates them on most application forms.
Vicious Street Thug Cries Like a Baby When Sentenced. The man being sentenced murdered somebody. During his trial, the perpetrator smiled, gestured and cursed at the family. during the trial. These are behaviors that might do well on the street; however the judge showed complete disdain for his theatrics. The man's behavior impacted the judge's view, and thus her decision. This criminal showed no remorse for murdering somebody. Regardless of the circumstances of the murder, the man should at least find some humanity for those who were impacted.
FBI releases shocking new data on murder rates hidden by Obama administration. The FBI report adjusts and corrects numbers released for 2015 during the Obama administration. [...] The FBI report showed that black Americans are more frequently the victims of murder than whites or Hispanics. Of the 16,964 murder victims registered, 6576 victims were white, 7881 were black, and 2367 were identified as Hispanic in ethnicity. As for offenders, there were a total 16,914. Of these offenders, 5004 were indentified as white, 6095 were black; of unknown race there were 5574, other races were 291, while those of Hispanic ethnicity totaled 1553.
Detroit police chief: FBI is wrong. Detroit is not most violent city in U.S.. Newly released FBI statistics paint Detroit as the most dangerous big city in America. One former FBI chief suspects other cities cooked their numbers to rank better. Police Chief James Craig says the FBI data is flat wrong. "I reject it," Craig said of the FBI report on Monday [9/25/2017], saying his own data using a new software system shows violent crime in Detroit went down 5% in 2016, and has been trending downward since 2013.
Detroit is again the most violent city in the USA. Detroit regained the title as the most violent big city in America in 2016, witnessing more murders last year than Los Angeles, which has four times as many people, according to new FBI crime figures released Monday [9/25/2017]. But Detroit Police Chief James Craig disputed the FBI's numbers, stating: "Just because it's coming out of the FBI" doesn't mean it's accurate. "I reject it," Craig said of the FBI report, saying his own data using a new software system shows violent crime went down 5% in 2016, and, has been trending downward since 2013.
Teen accused of shooting Yonkers officer got probation last week on gun charge. While Yonkers Police Officer Kayla Maher recovered from a bullet to the face, PIX11 News learned on Tuesday that one of the teenagers charged in the shooting, and who was shot himself in the exchange, had been released by a Bronx judge last week in another weapons case that involved a semi-automatic gun, hundreds of rounds of ammunition and a machete. Frank Valencia, 18, of New Rochelle, received probation and youthful offender status when he was sentenced by Judge George Villegas of Bronx Supreme Court on Sept. 20. The light sentence was meted out over the objections of prosecutors representing the Bronx District Attorney Darcel Clark.
Violent crime rising throughout US, FBI says. The report says increases in violent crime were happening in suburban areas and cities of all sizes, ranging from those with populations below 10,000 to those with populations of more than 250,000. It added that rapes, robberies and aggravated assaults all showed an uptick in 2016.
Teen who shot cop was loose thanks to judge's slap on the wrist. The Yonkers cop who was shot in the face during an ambush Monday [9/25/2017] left the hospital to the cheers of fellow officers — as it emerged Tuesday that the teen who allegedly blasted her was free thanks to a Bronx judge's leniency.
Teen who punched principal in face gets sweet deal from judge. A hot-headed teen got a slap on the wrist Friday for slugging a Manhattan principal who told him to turn down his music. Judge Edwina Richardson-Mendelson granted Luis Penzo, 19, youthful offender status and sentenced him to a conditional discharge — as long as he stays out of trouble for three years he'll dodge prison and a criminal record. "You made us very proud," the judge said of the surly teen's compliance with a family therapy program. Penzo, who sauntered into Manhattan Supreme Court Friday [9/22/2017] wearing a white T-shirt and red gym shorts, offered no apology for the October 2016 beatdown of Principal Matthew Tossman.
Sub-Chicago and America's Real Crime Rate. The NYU School of Law's Brennan Center for Justice, in its annual report on crime, finds that the murder rate in America's 30 largest cities rose 13.1 percent in 2016 — an alarming figure, especially considering last year's identical increase. Striking a calming note, the Brennan Center's press release accompanying the report begins by reminding us that "Americans are safer today than they have been at almost any time in the past 25 years." But downplaying the recent uptick in the homicide rate distracts from the fact that there is more than one America when it comes to violent crime: indeed, 51 percent of all U.S. murders are committed in just 2 percent of the nation's counties, according to the Crime Prevention Research Center. No city more starkly illustrates this disparity than Chicago.
Are Sex Offender Registries Unconstitutional? A ruling coming out of a federal court in Denver this week could lead to a significant change in how the country deals with convicted sex offenders. Judge Richard Matsch heard a case involving three convicted sex offenders who were protesting having all of their personal information published on a public sex offender registry. Rather than ruling on whether or not the three could have their details removed (which was all that was requested), Matsch ruled that the entire registry was unconstitutional. This one is going to be appealed and if it makes it to the Supreme Court it could impact the laws in pretty much every state in the union.
Houston police catch 14 armed robbers and looters amid flood emergency. Houston Police Chief Art Acevedo said he is not going to tolerate criminals taking advantage of people in the community during such a devastating time. He said his officers arrested 14 alleged looters since Sunday [8/27/2017]. Those arrested will face stiffer punishments under a Texas law providing heftier penalties during a crisis, prosecutors announced Tuesday [8/29/2017].
In Chicago, people get away with murder. In some years in the 1960s, the police solved murder cases at a rate of higher than 90 percent. But high murder clearance rates are just a memory. Since Jan. 1 of this year, more than four out of every five murders in Chicago have gone unsolved. That's a shockingly low number, perhaps even a historic low. On what grading curve is 20 percent anything but utter failure? Since 2006, the city's murder clearance rate has dropped steadily, with just a couple of notable bumps up. Fewer arrests mean more killers on the streets. More killers on the streets mean nobody is quite as safe. And when killers are not caught, others are less afraid to kill.
Women Push Back Against Crossdressing Men in Female Prisons. Surprise, surprise. Women, whose interests liberals loudly claim to represent, don't like it that perverted men who dress in women's clothes have been forced upon them in prisons in order to advance the liberal agenda.
Hospitals Grapple With $6B Issue: Inmates Ingesting Foreign Objects. American medical professionals are weighing an issue that costs taxpayers about $6 billion a year: prison inmates intentionally swallowing foreign objects like forks, steak knives, razor blades, paperclips and pens. Medical ethicist Brendan Parent came across the problem in early 2016 while making rounds at NYU Langone Medical Center facilities. He found that certain inmates from Rikers Island had been admitted to NYU facilities five, six or seven times after voluntarily ingesting foreign objects on separate occasions. Though swallowing objects is a common form of smuggling contraband into prisons, Parent said that was not an issue with the cases he came across. He instead questioned the conditions at Rikers, a New York City facility with a history of inhumane treatment and living conditions. He suggested in a recent interview that inmates are ingesting objects to momentarily escape, even if the hospital visit is only a two- to four-day stay.
Google Women. Why aren't there more women criminals?! Men in jail outnumber women by a ratio of 14-to-1. We male stutterers outnumber women, too. This isn't fair! We need more affirmative action! These disparities must be caused by sex discrimination because everyone knows there are no real differences between genders.
Immigrants are 22 percent of federal prison population. A stunning 22 percent of the federal prison population is immigrants who have either already been deemed to be in the country illegally or who the government is looking to put in deportation proceedings, the administration said Tuesday [8/1/2017]. [...] The 22 percent is much higher than the population of foreign-born in the U.S. as a whole, which is about 13.5 percent. All told, the government counted more than 42,000 aliens in federal prisons as of June 24. About 47 percent already face final deportation orders, making them illegal immigrants, and 3 percent are currently in immigration courts facing deportation proceedings.
FOIA still doesn't apply to private prisons. What right to privacy do for-profit prisons have? Should it be closer to those of a company like Hilton Hotels or Lockheed Martin, or closer to that of the governments alongside which they provide their incarceration services? Through the Freedom of Information Act and equivalent state laws, the operations and artifacts of the government's activities are made available to citizens and businesses. This level of openness, though, severely flawed as it is in practice, often doesn't extend to the private businesses, contractors, non-profits, and other entities with whom government agents share their work. Among these are major prison companies, like GEO Group and CoreCivic, and a slowly-shrinking group of lesser known businesses focused on managing lock-ups at a cost they claim is less than that these agencies would otherwise be paying. Since their inception, this built-in barrier to accountability has bothered opponents of prison privatizations.
Five heartbreaking examples of why the bail bonds industry is badly in need of reform. One man put down his car as collateral for a $1,420 bond to get his brother out of jail. Shortly after, he then learned that ICE had put a detainer on his brother, and he would be deported, rendering the need for bail moot, since bail doesn't apply in those cases. Did the bail bond company promptly release his car?
Mississippi man freed after 11 years in jail without a trial. A Mississippi man who has been in jail for 11 years without a trial for the alleged murder of his father soon will be released. Police say Steven Jessie Harris was arrested in October 2005 for the murder of his father, Malichi Randle. He was indicted with 11 different counts including murder in 2006, but a later ruling declared him incompetent to stand trial after he was diagnosed with schizophrenia. Clay County Sheriff Eddie Scott says Harris at the time went on a crime spree shooting his father and cars. He also allegedly carjacked and stabbed a driver. Deputies pursued Harris and the spree ended in a shootout with police injuring three deputies, according to police.
The Editor says...
Obviously the man needs to be locked up, but not without due process.
Car thief found dead in O.C. jail cell he shared with suspected double-murderer. A car thief killed earlier this month at Orange County Jail shared a cell with a suspected psychotic double-murderer, leading the victim's attorney to question why two men with such different criminal histories were housed together.
Drug dealer arrested after calling police to report stolen cocaine. David Blackmon probably won't go down in history as a criminal mastermind, at least judging by the ridiculous reason for his arrest. The 32-year-old "self-proclaimed drug dealer" stunned police in Florida when he called 911 to report his cocaine had been stolen, along with some cash.
Chicago To Make Bail More Affordable. On Monday [7/17/2017], the Circuit Court of Cook County, Ill. issued an order stating that judges are prohibited from setting bails higher than a defendant can afford. For felony defendants, this will begin Sept. 18, but those facing misdemeanor cases will have to wait until January. "I think people who are arrested will be given the full recognition that they are presumed innocent," Cook County Chief Judge Timothy Evans, who signed the order for the new policy, told the Chicago Tribune.
The Editor says...
If they are presumed innocent, why were they arrested? If you commit a crime, you are guilty.
Illegal Immigrants Face Criminal Charges for First Offenses. Migrants who are caught crossing the border illegally for the first time are now facing criminal charges in federal court in Arizona as the Trump administration steps up efforts to deter illegal immigration.
For Many of Us, the War on Drugs Is Not Real. For instance, did you know that America spends over $51 billion per year on this war against drugs? Did you know that about 1.25 million Americans are arrested annually for drug possession? That 643,000 of them were only in possession of marijuana? That since 2006, over 100,000 people have been killed in Mexico's drug war? You probably did know that, more or less. These are facts — we know about "mass incarceration," for instance — and I do not dispute them. But there are different ways to know something, distinctions that make all the difference.
Police officer deaths on duty have jumped nearly 20 percent in 2017. The ambush shooting that killed a New York City police officer in the Bronx marked the latest in a growing number of officer deaths in 2017, up 18 percent from this time last year. A total of 67 officers have died so far this year, according to the National Law Enforcement Officers Memorial Fund. It found there were 57 officer deaths between January 1 and July 5, 2016. In addition, gun-related deaths have risen by 9 percent, from 22 to 24 for 2017, the researchers say. The figures suggest a grim trend; 2016 was the deadliest year for police in 5 years. A total of 135 officers died last year.
Who Is Keeping Score On Obama's Failed Pardons? As expected, the black beneficiaries of Obama's mass pardon/commutations are already returning to whence they came. As reported by myself and others over the last few years [...], Obama commuted the sentences of a whopping 1715 federal inmates and outright pardoned another 212. These pardons were heavily weighted to black drug offenders. The reason he gave was a belief that the justice system was rigged against his fellow African-Americans. It seems that Carole Denise Richardson[,] one of his fellows who needed a second chance, is back in custody for theft and according to authorities, "Richardson violated five separate terms of her release including failing to report that she was arrested, that she'd been terminated from a job for failing to show up and that she had changed her address."
Arkansas inmate recaptured 32 years after escape. Arkansas authorites said Sunday [6/25/2017] that they had apprehended an inmate who had been on the run for more than three decades. [...] Dishman escaped from the Cummins unit in rural Lincoln County on May 28, 1985 while serving a 7-year sentence for theft of property and burglary convictions in Washington County.
Texas woman freed from life sentence by President Obama is back in prison. A Texas woman who was freed from a life sentence last year after President Obama granted her clemency is behind bars again. According to the Houston Chronicle, Carol Denise Richardson, 49, was arrested for theft in Pasadena, a Houston suburb, and violated other conditions imposed when she was released from prison. "This defendant was literally given a second chance to become a productive member of society and has wasted it," Assistant U.S. Attorney Ted Imperato said in a statement released by his office.
The Editor says...
Like it or not, there are people who should stay in prison forever because they think like criminals, act like criminals, and will always be criminals.
Alabama man jailed for a decade without trial awaits decision from judge. An Alabama man who has been jailed on a murder charge for the last 10 years without a trial could soon learn his fate. Houston County Circuit Judge Kevin Moulton heard arguments in a case involving Kharon Davis on Tuesday [6/6/2017] in Dothan. Davis was arrested and charged for the murder of Pete Reaves in June 2007 at an apartment in Dothan, the Dothan Eagle reported. Davis' attorney Thomas Goggans argued his case should be dismissed because he was previously represented by a lawyer with a possible conflict of interest in the case. His previous attorney, Ben Meredith, had a son who was going to testify as a witness for the prosecution.
Immigrant Deaths in Private Prisons Explode Under Trump. Men and women held by Immigrations and Customs Enforcement are on pace to die at double the rate of those who died in ICE custody last year, a Daily Beast review of ICE records found. And most will die in privately run facilities. Eight people have died in ICE custody in the 2017 fiscal year, which began on Oct. 1, 2016. That's almost as many as the 10 who died in the entire 2016 fiscal year. All but one of the deaths this year, and all but two last year, occurred in privately run prisons. Nine of the 18 deaths occurred at facilities run by GEO Group, the nation's second-largest private prison company.
Heroin dealers deserve prison, not sympathy. The deadly poison that is heroin made its way to your small town from Mexico, where it was grown and processed, later to be trafficked to your neighborhood where its target customers were someone's children, parents, brothers and sisters. But right now, when you open the newspaper or turn on the television, you learn that the person that brought the drugs into your neighborhood, which ultimately made their way to your child, is considered by many in both the media and the public to be a "non-violent, low-level drug offender."
DC sniper Lee Boyd Malvo's life sentence thrown out. A federal district court judge has overturned the sentence of Lee Boyd Malvo, one of the two people convicted in D.C.-area Beltway sniper attacks nearly 15 years ago, according to a ruling released Friday [5/26/2017]. Malvo was sentenced to life in prison without parole for the sniper-style attacks committed around the region in October 2002 along with John Allen Muhammad. Ten people were killed and three others were shot during a three-week period.
The Democrats' Second Secession & America's New Civil War. [Scroll down] Similarly, the animus behind Democratic assaults on Republicans and their support for law and order as "racist" is the direct consequence of viewing all social disparities through the distorted lens of oppression politics. Thus, the "over-representation" of African-Americans in the prison system is not because of systemic racism. Police forces have been integrated for decades, along with the entire criminal justice system. African-Americans are "overrepresented" in the prison population because they are "over-represented" in the commission of actual crimes. Democrats' embrace of the Black Lives Matter movement and its efforts to cast career criminals as civil rights victims and law enforcement officials as villains is an inevitable consequence of ignoring the specific circumstances of the incidents under review, and forcing them into the melodramatic framework of "racism" and "oppression."
Longer prison sentences: Good for the crime rate, bad for the criminal. Getting tough on serious crime was a central focus of the Trump campaign, and so far Jeff Sessions, the new Attorney General, has not disappointed. His latest action, a memorandum to all federal prosecutors amending the Obama policy of going easy on serious offenders, orders federal prosecutors to charge criminals with the most serious offense that is readily provable — that is, charge with the crime that carries the most severe sentence — including a mandatory minimum sentence. [...] By directing federal prosecutors to "charge and pursue the most serious, readily provable offense" in felony cases, as Attorney General Jeff Sessions did last week, he is fulfilling the government's primary responsibility: protect American citizens from harm, and provide them with a safe environment.
Murder Isn't a Nationwide Problem. The vast majority of murders in the United States occur in just a tiny percentage of counties. In fact, the country can be divided up into three types of places: those where there are no murders; those where there are a few murders; and those where murders are very common. In 2014, the most recent year that a county level breakdown is available, 54 percent of counties (with 11 percent of the population) had no murders. 69 percent of counties had no more than one murder, and about 20 percent of the population and only 4 percent of all murders in the country. The worst 1 percent of counties have 19 percent of the population and 37 percent of the murders in 2014. The worst 2 percent of counties contain 47 percent of the population and accounted for 51 percent of the murders. 68 percent of the murders occurred in only 5 percent of counties.
Police arrests are plummeting across California, fueling alarm and questions. In 2013, something changed on the streets of Los Angeles. Police officers began making fewer arrests. The following year, the Los Angeles Police Department's arrest numbers dipped even lower and continued to fall, dropping by 25% from 2013 to 2015. The Los Angeles County Sheriff's Department and the San Diego Police Department also saw significant drops in arrests during that period.
California has fewer arrests, but not necessarily less crime. The number of arrests by police in California has plunged in recent years, but that doesn't necessarily represent good news on crime, according to an analysis published Saturday [4/1/2017].
They're Not Federal Prisons, They're Factories With Fences. It is immoral, not to mention economically self-defeating, to permit into U.S. markets goods made by prison labor overseas. So why isn't it just as immoral and just as self-defeating to flood the marketplace with products made by prison labor here in America?
1st sex reassignment inmate says women's prison is 'torture'. The first U.S. inmate to have taxpayer-funded sex reassignment surgery says she's been mistreated since being transferred to a California women's prison, where she now has a beard and mustache because officials have denied her a razor.
The judges & others who left alleged EMT killer walking free. Just what does it take to get a ticking-time-bomb thug off the streets? That searing question is prompted by news that the man charged with the murder of an EMT last week had no business walking free — yet officials failed to rein him in. At just 25, José Gonzalez already had 31 arrests, including violent incidents, before his fatal run-in with EMT Yadira Arroyo. Reports also say he was a Bloods gang member. Yet a Mayor de Blasio-tapped rookie judge, David Kirschner, still gave him a free pass — just three weeks before the fatal encounter.
Why wasn't this man permanently locked up?
Bronx EMT Yadira Arroyo's killer is a Bloods gang member with 31 prior arrests. The man arrested for running over FDNY emergency medical technician Yadira Arroyo and killing her after stealing her ambulance in the Bronx has a long arrest record and a history of mental illness, sources said. Jose Gonzalez, 25, who goes by the nickname "Breezy Blood" and is a Bloods gang member, has 31 past arrests — plus six other contacts with cops related to mental illness or injury, according to police sources. He lives in Fordham Heights in the Bronx.
Beloved mother-of-three beaten to death with a wine bottle by a parolee robber at the liquor store she owned. A mother-of-three liquor store owner was bludgeoned to death with a wine bottle at her store on Thursday [3/2/2017], during a robbery carried out by a parolee. Police were called to Char's South Ave Wine and Liquor around 5pm and found owner Charlotte Lahr suffering from severe trauma to the upper body. Police and firefighters tried to revive the mother-of-three at the scene but she died. Parolee Kevin Quander, 59, was arrested the next day for her murder and for robbing the store.
The Illusion of Freedom: The Police State Is Alive and Well. [Scroll down] In fact, the American police state has continued to advance at the same costly, intrusive, privacy-sapping, Constitution-defying, relentless pace under President Trump as it did under President Obama. [...] For-profit private prisons haven't stopped locking up Americans and immigrants alike at taxpayer expense. States continue to outsource prison management to private corporations out to make a profit at taxpayer expense. And how do you make a profit in the prison industry? Have the legislatures pass laws that impose harsh penalties for the slightest noncompliance in order keep the prison cells full and corporate investors happy.
The revolving door at the prison is a problem for all of us.
Gang member accused of killing Whittier cop had cycled in and out of jail, records show. The gang member accused of killing a Whittier police officer Monday [2/20/2017] has cycled in and out of jail for repeatedly violating the terms of his release, records show. L.A. County sheriff's homicide Capt. Steve Katz on Tuesday identified the suspect as Michael C. Mejia, 26, a career criminal with a history of drugs and violence. Mejia has a "history of control problems," Katz said. Mejia is suspected of killing Whittier Police Officer Keith Boyer and wounding another officer in a shootout following a crash involving a stolen vehicle.
Face-tattooed gangster shot LA cop dead in murderous rampage after he was released from prison early. The first picture has emerged of the face tattooed gangster who killed a Los Angeles cop and wounded his colleague when they found him in a crashed, stolen car after allegedly murdering his cousin. Michael Mejia, 26, shot dead veteran police officer Keith Boyer, 54, on Monday morning when he approached him at the scene of a crash in Whittier, around 23 miles south east of central Los Angeles.
Here's A Rundown of All the Looting and Robbery Incidents That Occurred During the Oroville Evacuation. There's a lot to worry about when a disaster strikes your community. You have to make sure that your friends and neighbors are going to be okay. You have to make sure that you have plenty of food, water, and medical supplies. You may even have to prepare to evacuate your home and leave most of your valuables behind. And while you're focused on making sure that you and your loved ones are prepared to ride out that disaster, you can rest assured that there will always be some predatory person in your community who is preparing to take advantage of your situation. That's the ugly truth about disasters, natural and man-made, that everyone needs to understand. When everyone else is panicking or gathering supplies or hunkering down or running away, there's always someone watching the chaos and thinking "there's an opportunity for me here."
Michigan prisoners face harsh penalties for throwing bodily fluids at guards. Inmates at Michigan jails will soon be seeing a new sign around their facilities warning them that throwing bodily fluids at working guards is a felony punishable by an additional five years behind bars. The Officer Dignity Initiative will take effect this month and will add five years to the sentence of any inmate that throws food, urine, blood, feces, spit or other bodily fluids at a guard.
Just like Stalag 13:
Inmates have been sneaking in and out of Atlanta prison for years. Inmates trying to break out of prison is nothing new. But inmates breaking out, then breaking right back in? It's apparently been happening for years at a federal facility in Atlanta. Back in January 2013, the Atlanta Police Department started investigating inmates "temporarily escaping" from the medium-security US Penitentiary in the city, according to court documents filed in what appears to be the latest unapproved furlough. Cops believe the inmates escaped through holes cut in the prison fence. Officers first noticed a car parked near the prison fence line. The people inside wore ski masks and jumpsuits. When cops approached, the suspects climbed the fence and ran back onto prison grounds, court records show.
Muggers share their secrets on who they target and why. Muggers often don't care how old their victims are or if they're robbing a man or a woman. They're also not concerned about being seen on surveillance cameras. Those revelations are some of the results of a survey of convicted robbers conducted by NBCNewYork.com.
Man freed early from life sentence by Obama back in jail. A San Antonio man who was freed from life in prison by President Barack Obama is back behind bars after allegedly crashing his vehicle into another motorist and undercover police cars while fleeing from a drug deal Thursday [2/2/2017].
Man freed early from life sentence by Obama back in jail. A San Antonio man who was freed from life in prison by President Barack Obama is back behind bars after allegedly crashing his vehicle into another motorist and undercover police cars while fleeing from a drug deal Thursday [2/2/2017]. Robert M. Gill, 68, whose life sentence for cocaine and heroin distribution conspiracy was commuted by Obama and expired in 2015, was profiled last year in the Express-News about his readjustment to life on the outside.
How Donald Trump and Friends Can Crush the Great Crime Wave. [Scroll down] Under Chief Justice Earl Warren, the magnification of technicalities went into overdrive. With Mapp v. Ohio (1961), the Warren Court extended the exclusionary rule to state prosecutions, and with Miranda v. Arizona (1966), it added to the right of a suspect to remain silent a right not to be questioned and a right to receive helpful legal advice from detectives whose true job is to solve crimes. Decided on a 5-4 vote and perhaps the most controversial ruling of Warren's tenure, Miranda provoked three bitter dissents, which make interesting reading for anyone of Roosevelt's or Cardozo's bent of mind. And then there is the interdiction of the death penalty, a series of rulings starting with Trop v. Dulles (1954) that traduced the original meaning of the Eighth Amendment and, through its multifarious restrictions and requirements, has made the condign punishment of capital crimes virtually impossible.
Convicted killer first U.S. inmate to get state-funded sex-reassignment surgery. A 57-year-old convicted killer serving a life sentence in California became the first U.S. inmate to receive state-funded sex-reassignment surgery, the prisoner's attorneys confirmed Friday [1/6/2017].
Willie Horton: A Fake News Story That Refuses to Die. To merit his life in prison, Horton robbed a 17-year-old gas station attendant, fatally stabbed him 19 times, and dumped him in a trash can to die. Twelve years later, despite a life term without parole, Horton received a weekend furlough, during which he knifed, blinded, and gagged a man in Maryland, raped his fiancée, and stole their car. Dukakis supported the furlough program even after this incident. So perversely liberal was the idea that Al Gore cited the Horton incident in his primary campaign against Dukakis. The Bush campaign did not show or name Willie Horton in the ad it produced on this subject. The ad showed prisoners passing through a revolving door while telling how liberal Massachusetts governor Michael Dukakis had supported this program.
Land of the Free, Home of the 33,000 Violent Street Gangs. The FBI says that altogether, the United States is now home to about 33,000 violent street gangs, with a presence in all 50 states. There are an estimated 1,350 gangs in Los Angeles alone. [...] There are a total of 1.4 million criminally active gang members across the country. That means for every two sworn law enforcement officers in America, there are three gang members. The number of violent gang members today is 40 percent higher than in 2009, and 25 times higher than in 1975. And the figure keeps growing each year.
1 in 5 D.C. Killers Were Set Free by "Sentencing Reform". Sentencing reform, a euphemism that the pro-crime lobby uses to mean going soft on criminals, is championed by the left and by some elements on the right. [A recent] Washington Post story shows the terrible effects of sentencing reform on the victims of criminals freed to rape and kill. [...] The mythical "kid just locked up for smoking pot once" touted by sentencing reform advocates is just that. A myth. The system is full of repeat offenders who take advantage of every loophole thanks to their lawyers and then continue committing more crimes, going in and out of the system.
Five terrifying truths about our criminal justice system. [#1] The Constitution may not apply: Ironically, once a person has been taken into the custody of the state, a whole swath of that Supreme Law of the Land may not apply. There's no definite verdict yet on how much an inmate is allowed to express under the First Amendment, though it's pretty clear that censorship is permitted of both the materials he or she receives and reads and is allowed to send. Fourth Amendment protections against search and seizure don't apply in your cell or even in your home when on probation, where a search can be conducted by a probation officer without a warrant. And multiple state prison systems themselves have been deemed in violation of Eighth Amendment guarantees against cruel and unusual punishment by virtue of their terrible medical offerings. Package that up with explicit prisoner carve-outs in the Thirteenth Amendment for slavery and in the Fourteenth Amendment permitting their denial of the vote, and you've got a situation in a majority of the country where to be in prison is to effectively be in political exile.
The 7 Ugliest Propositions on the California Ballot. [For example,] Prop. 57 — Jerry Brown's "Let's Put Violent Criminals Back On The Street" Act is a terrible measure. Don't be fooled by the false and misleading ballot title and summary that leftist Attorney General Kamala Harris put on this one — it will reduce prison sentences for many, many violent criminals and put them back on the streets. Worst of all — the sentencing "reforms" in it are retroactive — so victims of violent crimes trying to recapture some dignity and meaning in their lives will be re-victimized because of this cruel and dangerous ballot measure.
The Clinton Record. [Scroll down] Consider some highly noteworthy facts: In 1990, when there were about 1,149,000 prisoners in penitentiaries nationwide, there were 1,820,130 violent crimes committed that year, including 23,440 murders. In 2014, when there were 2,208,000 inmates in penitentiaries nationwide, a total of 1,197,987 violent crimes were committed that year, including 14,249 murders. So, even as the population of the United States grew by 28% between 1990 and 2014, the incidence of violent crimes declined by 46%, and the incidence of murders fell by 39%. These numbers suggest that putting more criminals in prison has helped to spare at least a million people per year from being victimized by violent crimes, and to save at least 9,000 people per year from being murdered. If we look at the numbers from this perspective, incarceration suddenly doesn't look like such a bad thing, does it?
Arrest Numbers Reflect Growing Pot Tolerance. FBI statistics released last week show that the number of marijuana arrests in the United States, after rising slightly in 2014, fell by 8 percent last year, reaching the lowest level in two decades. The total was nevertheless more than twice the number in 1991, before a nationwide cannabis crackdown that peaked in 2007. The number of marijuana arrests has fallen more or less steadily since then, reflecting a growing consensus that cannabis consumers should not be treated as criminals.
The Editor says...
The article immediately above is slightly misleading, in my opinion. The number of arrests is down, but that's because in Texas, possession of small amounts of marijuana is a misdemeanor that is handled like jaywalking: A citation is issued and eventually the defendant pays a fine. And in other states, like Alaska, Oregon and Washington (for example), mere possession is no longer illegal. The statistics have nothing to do with tolerance.
Heather Mac Donald Fact-Checks Hillary Clinton on Systemic Bias and Stop-and-Frisk. Outside of academia, the legal profession is second to none in its leftward bent and racialist worldview; and its conservative members believe in equal protection under the law. Participants in the system, particularly the judiciary, would not tolerate a situation in which black defendants were, as Clinton alleges, being given more severe sentences than white defendants for the same criminal conduct. Federal sentences (and sentences in most states) are computed under race-neutral guidelines that factor in both offense conduct and criminal history. The more crimes one commits, the heavier the sentence for any one crime. This is a recidivism thing, not a race thing.
Obama Admin Slows Immigration Prosecutions, Increases Weapons Charges. The number of new federal criminal prosecutions have hit their lowest level in nearly a decade, helped by declines in white collar and immigration prosecutions. That's according to Justice Department data recently analyzed by the Transactional Records Access Clearinghouse at Syracuse University. As TRAC details, the 9,118 federal criminal prosecutions the government undertook in July are the fewest since July 2007. The July 2016 tally represented a 15.5 percent decline from June and continued this fiscal year's ongoing downward trend.
Presidential Pardons, Not Just for Low-Level Offenders Anymore. On Tuesday [8/30/2016], the Obama administration granted presidential commutations to 111 federal inmates — including Oakland's Darryl Lamar Reed, a.k.a. "Lil D." So Reed stands out as the rare Californian to win a commutation, as well as an exception to the criteria for Obama's 2014 Clemency Initiative. Then-Deputy U.S. Attorney General James M. Cole explained that inmates applying for a sentence reduction should be "nonviolent, low-level offenders without significant ties to large-scale criminal organizations, gangs or cartels." Former Alameda County prosecutor Russ Giuntini was appalled to see Reed's name on a commutation list. "This is not a guy that got caught up in the draconian federal sentencing guidelines," Giuntini wrote in an email. Lil D is the kind of guy "the guidelines were made for. He headed the largest dope organization in Oakland," which was responsible for a lot of carnage, was caught "red handed" processing some 20 kilograms of cocaine into crack — and thus landed in the federal pen.
One California city is paying people not to commit crimes. A San Francisco suburb is testing a controversial strategy to combat the gun violence that's plagued the community — paying people not to commit crimes. The experiment known as "Advance Peace" is being conducted in Richmond, Calif., and works like this: The 18-month fellowship hires convicted felons to "court" troubled youth — who so far have avoided arrest due to lack of evidence — with offers of cash and out-of-town vacations if they mend their ways. If, after six months, a "fellow" in the voluntary program begins to achieve specific goals, they can earn up to $1,000 a month.
Ramen noodles replacing cigarettes as US prison currency, study finds. The level of care inside America's prisons, and particularly the quality of the food, has fallen so far prisoners are using ramen noodles as their preferred form of money for buying and selling goods and other favours, a new study has found. The emergence of ramen noodles as a sort of cell-block currency in place of cigarettes is evidence of what Michael Gibson-Light, a doctoral candidate at the University of Arizona, calls the new "punitive frugality" that has taken hold in a prison system that is intent on cutting costs.
The Editor says...
Here is some free advice: Prison is bad. Perhaps you should do whatever is necessary to avoid incarceration.
Justice Department Says Poor Can't Be Held When They Can't Afford Bail. Holding defendants in jail because they can't afford to make bail is unconstitutional, the Justice Department said in a court filing late Thursday — the first time the government has taken such a position before a federal appeals court. It's the latest step by the Obama administration in encouraging state courts to move away from imposing fixed cash bail amounts and jailing those who can't pay.
US announces end of private prison use. The US Justice Department has announced its intention to stop using private prisons, after a recent audit concluded that private facilities are both less safe and less effective than government ones. US Deputy Attorney General Sally Yates circulated a memo instructing officials to either stop renewing contracts for private prison operators, or to "substantially reduce" the contracts' scope. The goal, Yates wrote, is "reducing — and ultimately ending — our use of privately operated prisons." "They simply do not provide the same level of correctional services, programs, and resources; they do not save substantially on costs; and as noted in a recent report by the Department's Office of Inspector General, they do not maintain the same level of safety and security," Yates added.
Obama administration to end use of private prisons. The Justice Department says it's phasing out its relationships with private prisons after a recent audit found the private facilities have more safety and security problems than ones run by the government.
More than 100,000 defective combat helmets made by federal inmates put soldiers' lives at risk — and cost the government $19 Million. Defective combat helmets made by federal inmates in Texas put soldiers' lives at risk. The poorly-manufactured helmets were produced for the US military using prison labor and later failed ballistics tests, the Justice Department's Inspector General said Wednesday [8/17/2016] in a report. Nearly 150,000 of the helmets were manufactured between 2006 and 2009, when the White House ordered 'surges' in combat troop levels in Iraq and Afghanistan. Poorly supervised inmates also used dangerous, improvised tools such as makeshift hatchets, which could easily have become weapons.
Women in jails are the fastest growing incarcerated population, study says. The majority of those women entering jail are black and Hispanic, mirroring demographic trends that cross gender lines. Women, however, tend to enter jails in more vulnerable situations than men, as a higher percentage of women in jail were using drugs, unemployed or receiving public assistance at the time they were arrested.
The Editor says...
If the intent of this article was to make me feel sorry for the women in prison, it didn't work.
'Irish travelers' federally indicted in sweeping fraud probe. Twenty-two Augusta area residents, many known as "Irish travelers," were named Tuesday in a 45-count federal indictment on charges of racketeering and other criminal activity related to the group's alleged scams. According to allegations in the indictment, the defendants operated out of Murphy Village, near North Augusta in Aiken County, and committed a number of fraudulent schemes to obtain life insurance benefits, food stamps, Medicaid funds and fraud involving vehicle financing. The travelers, which founded Murphy Village, self-identify as roving laborers and salesmen who offer an array of door-to-door services, according to the indictment.
These Gun Owners Are Least Likely Criminals, Report Finds. Concealed-carry permit holders are nearly the most law-abiding demographic of Americans, a new report by the Crime Prevention Research Center says — comparing the permit holders foremost with police. "Indeed, it is impossible to think of any other group in the U.S. that is anywhere near as law-abiding," says the report, titled "Concealed Carry Permit Holders Across the United States 2016." From 2007 through 2015, permits issued by state and local governments increased by 215 percent, to more than 14 million Americans, according to the data.
Crack Dealer Freed Early Under Obama Plan Murders Woman, 2 Kids. This week a grand jury in Franklin County returned a 10-count, death-penalty indictment against the ex-con, 35-year-old Wendell Callahan, for the triple murders. Callahan broke into his ex-girlfriend's apartment and stabbed the three victims, according to a statement issued by Franklin County Prosecutor Ron O'Brien announcing the indictment. The bloody crime scene was discovered by the woman's current boyfriend, who subsequently engaged in a fight with Callahan before he fled. [...] Callahan should have been in jail when the crimes occurred, but he was released four years early because federal sentencing guidelines for crack dealers got reduced. The change is part of President Obama's effort to reform the nation's justice system as a way of ending racial discrimination.
For some people, being in prison isn't that bad.
FBI: Woman robbed Wyoming bank to return to prison. A woman who was recently released from prison in Oregon robbed a bank in Wyoming only to throw the cash up in the air outside the building and sit down to wait for police, authorities said Friday [7/29/2016].
Unfair to the jury:
Judge rules Neo Nazi can cover up his white supremacist face tattoos to hide them from the jury in his armed robbery trial. A white supremacist is being allowed to cover up his Neo Nazi face tattoos as he goes on trial for armed robbery. Bayzle Morgan is accused of stealing a man's motorcycle at gunpoint in Las Vegas, Nevada, in May 2013. But prosecutors are concerned that jurors will not give the 24-year-old a fair hearing when they see his numerous Nazi-themed face tattoos, Review Journal reports.
The Editor says...
Apparently the definition of "a fair hearing" is a hearing most likely to result in a positive outcome for the defendant.
Inside the Deadly World of Private Prisoner Transport. Every year, tens of thousands of fugitives and suspects — many of whom have not been convicted of a crime — are entrusted to a handful of small private companies that specialize in state and local extraditions. A Marshall Project review of thousands of court documents, federal records and local news articles and interviews with more than 50 current or former guards and executives reveals a pattern of prisoner abuse and neglect in an industry that operates with almost no oversight. Since 2012, at least four people, including [Steven] Galack, have died on private extradition vans, all of them run by the Tennessee-based Prisoner Transportation Services. In one case, a Mississippi man complained of pain for a day and a half before dying from an ulcer. In another, a Kentucky woman suffered a fatal withdrawal from anti-anxiety medication. And in another, guards mocked a prisoner's pain before he, too, died from a perforated ulcer.
Violent Felons Are Trying to Get Their Gun Rights Back in Virginia. As congressional Democrats spent the week pressing for the passage of new gun control legislation, violent felons in Virginia were able to take steps towards having their right to own a firearm restored thanks to action taken by the state's Democratic Gov. Terry McAuliffe. When McAuliffe restored the voting rights for 206,000 felons in a move critics say was politically motivated, he also opened the door for those felons to have their right to own a firearm restored. Previously, felons would individually have to petition the executive branch to have their civil rights restored. Petitioners would have to fill out an application to the secretary of the commonwealth and submit a letter to the governor explaining why they deserve to have their rights restored.
The Editor says...
I can see where a state might restore a convicted felon's rights after a period of 15 or 20 years of good behavior, post-incarceration, but to forgive and forget as soon as his prison sentence is completed is reckless and highly premature. The lasting stigma of a felony conviction is supposed to be part of its value as a deterrent.
U.S. Spends More on Medical Care for Inmates than Seniors, Veterans, Military Personnel. President Obama has repeatedly demonstrated that there's an extra special place in his heart for incarcerated criminals, but this is a bit much. The administration spends a lot more money on the medical care of jailed convicts than retired seniors on Medicare, active U.S. military personnel or veterans, including an extra $100 million in one year alone, according to a federal audit released this month. The Federal Bureau of Prisons (BOP) consistently pays outside doctors and hospitals more to treat inmates than Medicare or other federal agencies would pay for the same services, according to the report which is the result of a Department of Justice (DOJ) Inspector General investigation.
'Ferguson Effect' is a plausible reason for spike in violent US crime, study says. A new justice department-funded study concludes that a version of the so-called "Ferguson Effect" is a "plausible" explanation for the spike in violent crime seen in most of the country's largest cities in 2015, but cautions that more research is still needed. The study, released by the National Institute of Justice on Wednesday, suggests three possible drivers for the more than 16% spike in homicide from 2014 to 2015 in 56 of the nation's largest cities. But based on the timing of the increase, University of Missouri St Louis criminologist Richard Rosenfeld concluded, there is "stronger support" for some version of the Ferguson Effect hypothesis than its alternatives.
Man vows to continue to stalk TV reporter when sentence expires. A man who was being sentenced for stalking a Philadelphia news reporter vowed Wednesday [5/25/2016] to continue to stalk the woman once his 15-year term ends. Christopher Nilan, 32, made the promise after he received his sentence for stalking a female KYW-TV reporter, The Delaware County Daily Times reported.
The Editor says...
This is the sort of person who should be locked up indefinitely. He has made his criminal intents known, and the state can either keep him in custody or try to follow him around wherever he goes.
Gunman Who Killed Auburn Officer Had Attacked Police Before. State officials said 35-year-old Jorge Zambrano had been released from the Souza-Baranowski Correctional Center in Shirley, a maximum-security prison, on Nov. 1, 2013, after serving time on a list of charges, including cocaine trafficking, two counts of assault and battery on a police officer, two counts of resisting arrest, and selling, using or possessing a firearm silencer. [...] "When you have an Incorrigible criminal, someone who just doesn't cooperate whether they're in jail or out of jail, the criminal justice system doesn't know what to do with them to be honest with you," [Former Boston Police Commissioner Ed] Davis said.
Fundamentally Transformed: City after City Seeing Rising Crime Rates. [T]his phenomenon is simply the most important development in police work since the advent of data-driven police work some 25 years ago. In 1990 there were 2,245 murders in New York City; in 2014 there were 328. In Los Angeles, there were 1,092 murders in 1992; in 2014 there were 260. More than any other factor, it was data-driven police work, carried out by well-trained, well-informed, and well-motivated cops that brought these grim numbers to their currently more tolerable levels. But now it's all being undone, and in city after city the trend is once again pointing toward higher crime. America's police officers are today just as well trained and informed, but they are less motivated to do the proactive police work that keeps criminals in check.
Obama To Decriminalize Criminals. [Scroll down] Rather than blame the system they set up or the criminals themselves, Obama blames the criminal justice system. In a speech last July at the NAACP convention our president, the "social justice warrior," said that our criminal justice system was neither smart enough nor fair enough. "It's not keeping us as safe as it should be. It is not as fair as it should be. Mass incarceration makes our country worse off, and we need to do something about it," Obama declared. Really? How "smart" does it need to be. The legislature passes laws, the president signs them at the justice system does what it is told to do — dispense justice. It's neither fair nor unfair. It's impartial, or supposed to be. You break the law — you go to jail.
The 10 Most Dangerous Lies About Criminal Justice "Reform". Myth #5: We have a big government culture of over-criminalization that threatens liberty. Fact: Absolutely. There are plenty of frivolous regulatory crimes on the books. And none of that is addressed in this legislation or in any of the ongoing "bipartisan" negotiations. This is all about promoting the ACLU's agenda for hardened criminals. As it relates to our culture of violent crime, witnessed by the recent spike in crime across the nation, we do not do enough to combat it. Ordered liberty is built upon government doing a few things well, one of which is law enforcement. Returning to pre-Reagan crime levels where people are restricted in their movements and activities due to the paralysis we are now seeing in places like Baltimore, represents the highest level of tyranny. Crime, lawlessness, and fiscal dependency policies undermine liberty in the inner cities, not sentencing and incarceration.
Obama doesn't think rapists, armed robbers, drug dealers are 'criminals'. It's only May, but I think I've found the euphemism of the year: According to Team Obama, criminals should now be declared "justice-involved individuals." The neo-Orwellianism comes to us from the bizarre flurry of last-minute diktats, regulations and bone-chilling threats collectively known to fanboys as Obama's Gorgeous Goodbye. In another of those smiley-faced, but deeply sinister, "Dear Colleague" letters sent to universities and college this week, Obama's Education Secretary John King discouraged colleges from asking applicants whether they were convicted criminals.
Obama: Our criminal justice system imprisons too many criminals. [President Obama's weekly remarks] Today, there are some 2.2 million people behind bars in America. Millions more are on parole or probation. All told, we spend $80 billion taxpayer dollars each year to keep people locked up. Many are serving unnecessarily long sentences for non-violent crimes. Almost 60 percent have mental health problems. Almost 70 percent were regular drug users. And as a whole, our prison population is disproportionately black and Latino.
The Editor says...
By and large, the people in prison are there for good reasons. It may be true that a wholesale marijuana distributor or a serial burglar may be "non-violent" criminals, but there are minimum-security facilities and halfway houses for people like that. Talk to someone who works as a prison guard, and you will quickly learn that there are thousands of people in this country who are behind bars because they need to be.
What's Next? Voting Absentee from Prison? [Scroll down] Supporters of the plan like to talk about how these individuals have "paid their debt to society," only in this instance these 44,000 are still making payments in the form of probation or parole. This is like allowing a layaway customer to take possession of the Xbox before he's made the last payment. Come to think of it, some of these future Democrat votes may be on probation or parole because they took the Xbox without making any payments. [Governor Larry] Hogan originally vetoed the bill because he harbors quaint notions about the need for consequences to follow when someone breaks the law. He felt that no one put a gun to the criminal's head and made them take up a life of crime. On the contrary the people with the guns to their heads were the law-abiding. Forfeiting the right to vote until they paid their entire debt to society was only right and proper.
Prosecutors have too much power. Juries should rein them in.. If there's strong evidence that you've committed a crime, there's still hope. Despite the evidence, those responsible for convicting you may choose to let you go, if they think that sending you to jail would result in an injustice. That can happen through what's called "prosecutorial discretion," where a prosecutor decides not to bring or pursue charges against you because doing so would be unfair, even though the evidence is strong. Or it can happen through "jury nullification," where a jury thinks that the evidence supports conviction but then decides to issue a "not guilty" verdict because it feels that a conviction would be unjust. Strangely, the former is much less controversial than the latter.
Jurors need to take the law into their own hands. Nationally, most of the people locked up for drug crimes are African American, in spite of studies that demonstrate blacks don't use or sell drugs more than any other group. We make up 13 percent of the country's population but nearly 60 percent of the people doing time for drug offenses. And an endless series of videos have shown how black people get policed: the mailman arrested in Brooklyn for yelling at the cops who almost ran him down; the teenage girl tackled by the cop at a pool party in McKinney, Tex.; Eric Garner, arrested for selling a cigarette in Staten Island and then put in a chokehold that killed him. Like a lot of African Americans, I am sick and tired of being sick and tired. I encourage any juror who thinks the police or prosecutors have crossed the line in a particular case to refuse to convict.
The Editor says...
The Editor does not necessarily agree with all of the opinions expressed in the article immediately above. Some of them, perhaps, but not all of them.
Potential Supreme Court Candidate Defended Pipe Bomber, Child Murderer. Judge Jane Kelly, who was appointed to the 8th Circuit Court of Appeals in 2013, is reportedly on President Obama's short list for the Supreme Court vacancy left by Justice Antonin Scalia. Before becoming a judge, Kelly worked for years as a public defender in Iowa. In 2005, Kelly was the appointed attorney for a 26-year-old man named Casey Frederiksen, who was charged with possession of child pornography. Although Frederiksen had previously been convicted of sexual assault involving a minor, Kelly urged the judge to grant him leniency, arguing that he was not a danger to others and should be released and allowed to live with his father. Frederiksen was sentenced to 14 years in prison in the case. A decade later, Frederiksen was convicted of murder and sexual assault in the 2005 cold case killing of 5-year-old Evelyn Celeste Miller.
Obama's prisoner clemency plan faltering as cases pile up. In April 2014, the administration of President Barack Obama announced the most ambitious clemency program in 40 years, inviting thousands of jailed drug offenders and other convicts to seek early release and urging lawyers across the country to take on their cases. Nearly two years later the program is struggling under a deluge of unprocessed cases, sparking concern within the administration and among justice reform advocates over the fate of what was meant to be legacy-defining achievement for Obama.
Police: Man charged in North Bergen crash that killed 2 teens driving at 'outrageous' speed. Shock and sorrow overflowed among relatives and friends who gathered in mourning on Monday [3/7/2016] at the site where two teenagers were killed by a speeding car in North Bergen over the weekend, as more details emerged about the motorist who is charged in their deaths. Eric Patterson, 23, of Jersey City had tallied a long list of motor vehicle violations and had racked up 23 license suspensions. He had last driven legally in September 2014. Law enforcement officials on Monday [3/7/2016] said he may have been traveling at 74 mph on the 25-mph roadway just before the deadly crash occurred.
The Editor says...
This young man is 23 years old, and has had his license suspended 23 times, prior to September 2014, which was 18 months ago. If he started driving when he was 16, that means he got his license suspended 23 times in 5½ to 6 years, or about every 90 days. It would be interesting to read the court transcript from the day his license was suspended for the 21st time. Surely something was said along the lines of, "We'll give you just one more chance, and then you're really in trouble!" But no, for whatever reason, the State of New Jersey is determined to keep a license in this guy's pocket — even though he would probably drive around without one. To me it appears that the judges in New Jersey don't care what you do, or how many times you fail to learn your lesson, as long as you hire a lawyer and pay the fine promptly. Even for the 22nd time. It's no wonder there's so much crime in this country. Punishment is hit-and-miss, at best.
A Million People Were In Prison Before We Called It Mass Incarceration. October's cover of The Atlantic carries a headline that, even a decade ago, you probably never would've seen: "The Black Family in the Age of Mass Incarceration." The 20,000-word article attached to it, by Ta-Nehisi Coates, covers the remarkable growth in the United States' prison population and its outsize impact on black individuals, families and communities. That Coates's piece employs the phrase "mass incarceration" 17 times is telling. The term has become ubiquitous in conversations about prison in the United States. But 10 years ago, barely anybody put the two words next to each other to talk about what the phrase has come to represent for many: everything that's wrong with the American justice system.
Crack Dealer Freed Early Under Obama Plan Murders Woman, 2 Kids. A convicted crack dealer who left prison early as part of the Obama administration's mass release of federal inmates has been indicted by a grand jury for fatally stabbing his ex-girlfriend and her two kids in Columbus, Ohio. The gory crime drew national attention because the children, ages 7 and 10, were murdered to eliminate them as witnesses in the brutal massacre of their 32-year-old mother. This week a grand jury in Franklin County returned a 10-count, death-penalty indictment against the ex-con, 35-year-old Wendell Callahan, for the triple murders.
Minor offenses in Manhattan will no longer result in arrests. Under the terms of a new initiative that takes effect March 7, low-level criminal offenses such as public consumption of alcohol and taking up two seats on the subway for offenders won't result in arrests or prosecutions — just summonses. "The Manhattan District Attorney's Office will no longer prosecute most violations or infractions, and the NYPD will no longer arrest individuals who commit these offenses — such as littering, public consumption of alcohol, or taking up two seats on the subway — unless there is a demonstrated public safety reason to do so," the agencies said in a joint release with City Hall.
The New California Crime Wave. Something amazing has happened in California. First, a brief background: Crime rates across the state, after a long period of steady decline, had reached fifty-year lows in 2014. Then, that November, a 60 percent majority of California voters — presumably incapable of accepting such good news without a measure of collective guilt — decided that it would be a really enlightened idea to pass Proposition 47, a ballot initiative bearing the cheery name "The Safe Neighborhoods and Schools Act." The purpose of this measure was to downgrade many types of drug possession and property crimes from felonies (punishable by more than a year in prison) to misdemeanors (which often entail no prison time at all). For the benefit of squeamish skeptics, the self-assured proponents of Prop 47 condescended to explain that these reduced penalties would not only alleviate prison overcrowding, but would also make California's streets safer by placing drug offenders into warm-and-fuzzy treatment and counseling programs, rather than into disagreeable prison cells. If you think this sounds like a familiar old tune, you're quite correct. It was #1 on the left-wing hit parade throughout the 1960s, when it became the theme song of skyrocketing crime rates across the United States. And now the Golden Oldie is back, in the Golden State. The tangible results of Prop 47 were both immediate and breathtaking. Within a year, there were some 14,000 fewer inmates in California's state prisons and local jails, just as the Proposition's backers had promised. But the other half of their promise — improved public safety — somehow failed to materialize.
California's "unprecedented mass forgiveness" of convicts raises more than a few questions. In case you hadn't heard, California's governor has been on something of a binge in terms of releasing convicts from prison and reforming the system to be more fair to everyone. Prison reform and rehabilitation vs isolation is all the rage these days it seems. The Washington Post ran a feature this week on how wonderfully this has been going and it certainly makes a grade A effort to paint a happy face on these proposals.
Reverse shakedown:
Washington D.C. council passes proposal to give residents up to $9,000 in cash not to commit crime. They say crime doesn't pay, but that might not be entirely true in the U.S. capital as lawmakers look for ways to discourage people from becoming repeat offenders. The D.C. Council voted unanimously Tuesday [2/2/2016] to approve a bill that includes a proposal to pay residents a stipend if they don't commit any crimes. It's based on a program in Richmond, California, that advocates say has contributed to reductions in crime there.
Lunch Money Surrendered. The Council of the District of Columbia approved legislation Tuesday [2/2/2016] that would pay residents in the nation's capital for not committing crimes. [...] The experiment in Richmond, on which the above is based, involved "sifting through police records to determine the 50 [or so] residents most likely to shoot someone." And then "approaching them and [offering] a stipend [of up to $1000 a month] to turn their lives around, and a mentor to help." After four years of being subsidised for not being caught committing any further violent crimes, 65 of the 68 "fellows" enrolled in the programme were "still alive," although "one had survived a shooting and three had died." This was deemed "promising."
Escaped California inmate was ordered deported in 1998, but never left. One of the three violent convicts who escaped from a Southern California jail Friday [1/22/2016] had been ordered deported to his native Vietnam in 1998, but was able to remain in the U.S. and rack up more criminal convictions. Immigration and Customs Enforcement said Tuesday [1/26/2016] that Bac Duong, 43, came to the United States legally in 1991 but was ordered removed seven years later after he served time in state prison for a 1997 burglary conviction. However, the Orange County Register reported that Vietnam routinely refused requests from the U.S. to accept Duong and other deportees.
Supreme Court justices extend bar on automatic life terms for teenagers. The Supreme Court ruled Monday [1/25/2016] that people serving life terms for murders they committed as teenagers must have a chance to seek their freedom, a decision that could affect more than 1,000 inmates.
Judge ignored warnings, freed 'slasher'. The career criminal charged with slashing a woman on her way to work in Chelsea was on the streets because a judge ignored warnings that he's a "high risk" defendant and sprung him without bail on an earlier assault, The [New York] Post has learned. Kari Bazemore is also suspected in yet another attack on a Bronx woman after Manhattan Judge Laurie Peterson set him free on Dec. 31.
Murder suspect in Washington had been released from prison early, officials say. Officials announced last week that as many as 3,200 prisoners had been mistakenly released since 2002 because of problems calculating sentences. So far, more than two dozen offenders who need to serve additional time are back in custody, and the Department of Corrections is reviewing additional releases.
Study: Smaller Counties Driving US Jail Population Growth. While big-city jails get most of the attention, lockups in small and medium-sized counties have actually driven the overall explosion in the U.S. inmate population, according to a new analysis of 45 years of jail statistics.
Burglary suspect hides in Florida lake, where gator eats him. A suspected burglar jumped in a Florida lake apparently hiding from law enforcement before an 11-foot alligator killed him, investigators said Monday [12/7/2015]. His hand and foot reportedly turned up inside the animal's stomach. Brevard County Sheriff's Maj. Tod Goodyear says 22-year-old Matthew Riggins told his girlfriend he would be in Barefoot Bay to commit burglaries with another suspect.
Cruz: Most violent criminals are Democrats. Sen. Ted Cruz (R-Texas) said late Monday that most violent criminals also identify as Democrats. "Here is the simple and undeniable fact — the overwhelming majority of violent criminals are Democrats," he said on "The Hugh Hewitt Show" that evening. "There is a reason why for years the Democrats have been viewed as soft on crime," Cruz continued. "They go in and appoint to the bench judges who release violent criminals.
Agency to Remove Art by Native American Activist Prisoner. The paintings were done in prison by Leonard Peltier, 71, a Native American activist who is serving two consecutive life sentences in the deaths of two FBI agents during a 1975 standoff on the Pine Ridge Indian Reservation in South Dakota.
In some countries, the justice system moves with lightning speed:
Kill on the spot': Poll shows most Israelis support immediate execution for Palestinian attackers. Over 50 percent of Israelis think that Palestinians suspected of carrying out terror activities "should be killed on the spot," says a new think-tank poll. The hardening stance comes as 6 more Israelis were injured and 2 attackers killed over the weekend.
Obama Wants You To Refer To Juvenile Delinquents As 'Justice-Involved Youth' Now. It's time to update your politically-correct jargon, America, because the Obama administration is no longer referring to juvenile delinquents as "juvenile delinquents." Instead, the new, preferred and totally different term for kids who commit crimes is "justice-involved youth." Attorney General Loretta Lynch rolled out the term earlier this week in a press release obtained by the Media Research Center. "The Department of Justice is committed to giving justice-involved youth the tools they need to become productive members of society," Lynch explained.
Juvenile Delinquents Are Now 'Justice-Involved Youth'. They used to be called juvenile delinquents. But not any more. The new term is "justice-involved youth," a non-disparaging, government-speak phrase that fits with the Obama administration's recent push to give people with criminal convictions a second chance to become productive citizens. "The Department of Justice is committed to giving justice-involved youth the tools they need to become productive members of society," Attorney General Loretta Lynch said in a news release on Monday [11/2/2015]. Lynch said the Justice Department and the Department of Housing and Urban Development are launching a $1.7-million initiative to help Public Housing Authorities and legal assistance groups "reduce barriers for justice-involved youth."
Obama: Too many folks in our prisons. [Quoting Barack H. Obama:] ["]Today, there are 2.2 million people behind bars in America and millions more on parole or probation. Every year, we spend $80 billion in taxpayer dollars to keep people incarcerated. Many are non-violent offenders serving unnecessarily long sentences.["]
The Editor says...
Really, Mr. President? Name one "non-violent offender" currently living in a state penitentiary.
Judge orders risk review of sex offenders in civil program. Judge Donovan Frank laid out what he says must be done to fix problems with indefinite detentions that he ruled unconstitutional earlier this year.
States Struggle With What to Do With Sex Offenders After Prison. Behind razor wire and locked metal doors, hundreds of men waited on a recent morning to be counted, part of the daily routine inside a remote facility here that was built based on a design for a prison. But this is not a prison, and most of these men — rapists, child abusers and other sex offenders — have completed their sentences. They are being held here indefinitely under a policy known as civil commitment, having been deemed "sexually dangerous" or "sexual psychopathic personalities" by courts. The intent, the authorities say, is to provide treatment to the most dangerous sex offenders until it is safe for the public for them to go home.
Drone carrying drugs, hacksaw blades crashes at Oklahoma prison. A drone carrying mobile phones, drugs, hacksaw blades and other material dangling in a bundle from a fishing line crashed at the Oklahoma State Penitentiary in McAlester before inmates could grab the contraband, prison officials said on Tuesday [10/27/2015].
The Banana Republic of America. The American justice system is not without its flaws as we've seen all too many times. A grievous crime is committed and the perpetrator is never discovered. Sometimes there is a suspect who seems to be the perfect candidate but a grand jury doesn't find sufficient evidence for the prosecutors to move forward. And in other cases, even if you get them to trial a jury doesn't see things the same way as the public. (O.J anyone?) In very rare cases a pardon can be issued and the system seems to have been short sheeted. (Democrats will always cite Nixon for that one.) But all of these scenarios have one thing in common: the rule of law was followed, the accused were given their fair shot at defending themselves and the republic managed to stumble along on its way.
The Myth of Criminal-Justice Racism. As President Barack Obama said in July in Philadelphia: "The real reason our prison population is so high" is that we have "locked up more and more nonviolent drug offenders than ever before, for longer than ever before." In popular understanding, prisons and jails are filled with harmless pot smokers. The most poisonous claim in the dominant narrative is that our criminal justice system is a product and a source of racial inequity. The drug war in particular is said to be infected by racial bias. "Mass incarceration" is allegedly destroying black communities by taking fathers away from their families and imposing crippling criminal records on released convicts. Finally, prison is condemned as a huge waste of resources. Nothing in this dominant narrative is true. Prison remains a lifetime achievement award for persistence in criminal offending. Drug enforcement is not the driving factor in the prison system, violent crime is.
Obama's Tragic Let 'em Out Fantasy. It takes a lot more than marijuana or cocaine use to end up in federal prison. But the truth didn't matter. Mr. Obama's prison tour came amid the biggest delegitimation of law enforcement in recent memory. Activists, politicians and the media have spent the past year broadcasting a daily message that the criminal-justice system is biased against blacks and insanely draconian. The immediate trigger for this movement, known as Black Lives Matter, was a series of highly publicized deaths of black males at the hands of the police. But the movement also builds on a long-standing discourse from the academic left about "mass incarceration," policing and race.
A Life Sentence for James Holmes, Aurora Theater Gunman Who Killed 12. In a decision that surprised many in this community, a jury sentenced James E. Holmes on Friday [8/7/2015] to life in prison with no chance of parole, rejecting the death penalty for the man who carried out a 2012 shooting rampage that killed 12 people in a Colorado movie theater.
California man who held 26 kids, bus driver captive in underground trailer gets parole. The governor of California on Thursday [7/30/2015] allowed parole for one of three men convicted in the 1976 kidnapping of 26 children and their school bus driver who were held captive in a buried trailer.
Youngest children ever tried for first-degree murder set to be released from prison. Curtis Jones was 12 and Catherine Jones was 13 when the siblings killed their father's girlfriend, Nicole Speights, 16 years ago. They eventually pleaded to second-degree murder and were given 18-year sentences. Curtis and Catherine will be on probation for the rest of their lives.
The Editor says...
Unless the penitentiary system works a lot better than I believe it does, I predict they'll both be back in prison within a year.
Obama and Over-Criminalization. Obama recently told Americans that we are locking up too many people. He meant, by that, that Americans are sending to prison people who are guilty only of drug offenses and pose no threat to public safety. There is a kernel of truth in what he says. People who use drugs, like people who drink too much, are not a threat to us unless they are on the highway or are committing other crimes while under the influence. There is a predictable flaw in this leftist logic. Look closer at the criminal records of these "non-violent" offenders and, almost always, if they are in prison, they have a history of violent offenses, or there is a lesser included violent crime in the underlying sentence, or the offense has been plea-bargained so that the violent nature of the underlying criminal act is watered down.
Inmate was nearly cut in two, missing organs after California prison riot. Homicides are distressingly common in California prisons. More than 160 inmates have been killed in the last 15 years, and the state has one of the nation's highest inmate homicide rates.
12 prison staffers suspended after convicted killers escape. State prison officials announced a major shake-up Tuesday [6/30/2015] at the maximum-security slammer where two convicted killers broke out and led authorities on a 23-day manhunt. A "new leadership team" is being installed at the Clinton Correctional Facility in Dannemora, with three top-ranking officials and nine security staffers suspended, according to a statement from the Department of Corrections and Community Service.
FBI investigating possible corruption at New York prison. What started as an investigation into how two convicted murderers managed to break out of a maximum-security prison in upstate New York has now sparked an FBI investigation into possible broader corruption and drug trafficking at the facility. Prison employees have told investigators about heroin use among inmates at the Clinton Correctional Facility, and the role of employees in the drug trade, law enforcement officials briefed on the probe told CNN on Monday [6/29/2015].
Cops livid over proposed 'police reform' measures. Rank-and-file cops are fuming over several "police reform" measures [New York] City Council members plan to review this week, including bills that would force cops to get suspects' consent for searches, imprison police for using chokeholds, and require cops to give out the Civilian Complaint Review Board's phone number. "These pieces of legislation have been proposed by individuals who have neither the expertise nor the experience to establish policy in the dangerous business of fighting crime," PBA President Patrick Lynch said in a statement Sunday [6/28/2015].
Across US, over 130 prison escapees on the loose. Somewhere out there are an admitted killer who crawled through a Texas prison's ventilation ducts, a murderer who apparently escaped from an Indiana institution in a garbage truck, and a Florida convict who got other inmates to put him in a crate at the prison furniture shop and had himself delivered to freedom by truck.
Murder map shows where in the world you are most likely to be a victim of homicide. A Brazilian think tank has released a macabre interactive map, which exposes the nations where people are most likely to be murdered — with Latin American nations coming top. The Homicide Map, compiled using the most recently available date from 2012, lays bare how a third of the world's 450,000 murders were against victims in Central America, South America and the Caribbean, despite the fact that less than a tenth of the world's population lives in this region.
Free the Baltimore Six. [Scroll down] From the days of Sacco and Vanzetti on, leftists had invested a great deal of emotional capital in claiming the guilty innocent. They particularly liked to declare groups of guilty people innocent — the "Jena Six," the "Chicago Seven (or Eight)," the "Catonsville Nine." Beginning with the Zimmerman case, they switched tactics and began to insist the innocent were guilty, a darker turn altogether. Now America has a genuine collective of the unjustly accused, the six officers that the New York Daily News casually describes as the "suspected killers" of Freddie Gray, the Baltimore Six. But now leftists are the ones doing the accusing.
Three Observations About Hillary's Speech on Criminal Justice Reform. I have read Hillary Clinton's speech on criminal justice reform and have three observations I would like to make. First, Hillary gave the speech at Columbia University under the auspices of the David Dinkins Leadership and Policy Forum. Hillary said that Dinkins "leadership helped lay the foundation for the dramatic drop in crime in the years that followed." Those would be the years that Rudy Giuliani was mayor. Let me put this way. Would Hillary have walked through Times Square while Dinkins was mayor?
Citing Baltimore unrest, Hillary Clinton calls for police body cameras and an end to mass incarceration. Amid continuing unrest in Baltimore over the death of a young black man in police custody, Hillary Clinton on Wednesday [4/29/2015] called for widespread use of police body cameras and an end to mass incarceration during her first major policy speech since launching her presidential campaign.
The Editor says...
There is no mass incarceration. Every defendant gets his own trial. Incarceration will stop when crime stops, unless there is some monetary incentive to keep the prisons full. The judges and court reporters can find jobs elsewhere.
More Prisoners, Less Crime. For many reasons, including better policing and more incarceration, Americans feel, and are, safer. The New York Times has not recently repeated such amusing headlines as "Crime Keeps on Falling, But Prisons Keep on Filling" (1997), "Prison Population Growing Although Crime Rate Drops" (1998), "Number in Prison Grows Despite Crime Reduction" (2000) and "More Inmates, Despite Slight Drop in Crime" (2003). [...] Last July [2007], Obama said that "more young black men languish in prison than attend colleges and universities." Actually, there are more than twice as many black men ages 18 to 24 in college as there are in jail.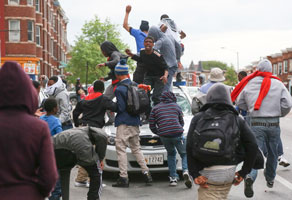 Baltimore proves the need for 'Broken Windows' policing. Here's hoping Mayor Bill de Blasio isn't too busy playing political games and barnstorming the country to absorb the right lessons from the Baltimore riots. If he's paying attention, he'll learn a thing or two about policing and that the bloody price of failed leadership is paid by innocent families and businesses. The disgraceful orders for cops to disappear or stand by and watch as rioters, looters and arsonists had their way should never be repeated anywhere again. Nor should any mayor talk, as Baltimore's foolishly did, about giving "those who wished to destroy space to do that."
The perilous new push to excuse lawlessness. Announcing his presidential bid this month, Sen. Rand Paul said he wants to repeal "any law that disproportionately incarcerates people of color." Fulfilling this promise would require gutting murder statutes, and most other criminal laws, given the disproportionate black crime rate. But whether or not Paul reaches the White House, a wide-ranging movement is already under way to transform the criminal justice system in order to avoid a disparate impact on blacks. This push will jeopardize the country's two-decade-long crime drop.
Unexpectedly: Crime Rates Begin to Rise in Los Angeles. I bring you shocking news, gentle readers. If you take thousands of incarcerated felons and turn them loose on society, and you then allow the federal government and cultural elites to demoralize the police officers charged with keeping these liberated hoodlums in line, you end up with higher crime. Who would have dared imagine it? This is the state of affairs in California, where a succession of imprudent decisions by judges, lawmakers, and the electorate have combined to throw open the prison gates to swarms of men who in a sane world would have remained locked away at a safe remove from the law-abiding public.
Ankle monitors are no substitute for the incarceration of violent criminals.
D.A. says teen in alleged assault of pizza deliverer wore monitor. A 17-year-old boy charged as an adult in connection with the alleged kidnapping, sexual assault and robbery of a woman delivering Domino's Pizza in Antioch was wearing a GPS ankle monitor, prosecutors said Wednesday [2/11/2015]. Darrion Miles Jr., 17, appeared in Contra Costa County Superior Court in Martinez on Wednesday on felony charges of forcible rape, sodomy, oral copulation, digital penetration, kidnapping, robbery and making criminal threats. He did not enter a plea and was held at juvenile hall in lieu of the $6.4 million bail. Authorities would not say why Miles had been outfitted with an ankle monitor, but Miles referred to his "po," or probation officer, on his Facebook page, which is peppered with derogatory references to women.
How to Make Sense of an Incoherent America. [Scroll down] Lots of college campuses are in so-called dangerous neighborhoods. East Palo Alto is not far from the Stanford campus. New Haven can still be a perilous place for Yale students. Many of the Cal State campuses are in iffy neighborhoods. Women alone walking to cars or apartments in these environs can often be targeted by criminals. Why, then, is there not a greater campus awareness campaign about the dangers of the street, or at least more attention to insist that felons and convicted rapists are not released early in college neighborhoods? Instead, more emphases recently have been focused on date rape and other college students.
Senator Leahy on Justice Dep't.: Incarcerating Criminals Doesn't Make Us Safer. During a hearing on the nomination of Loretta Lynch to serve as Attorney General to the United States, Senator Patrick Leahy (D-Vt.), ranking member, Senate Judiciary Committee seemed to suggest that the Justice Department spends too much money on incarcerating criminals and that such incarcerations don't keep Americans safer. "Nearly one-third of its budget goes to the Bureau of Prisons, draining vital resources from nearly all other public safety priorities," said Senator Leahy. "A significant factor leading to this budget imbalance is the unnecessary creation of more and more mandatory minimum sentences."
Which Criminals Can Be Rehabilitated? Imprisoning convicted criminals serves two primary purposes: (1) to increase the safety of the public by quarantining unlawful offenders, and (2) to rehabilitate those who are incarcerated through punishment. Point 1 is fairly straightforward, but point 2 may be food for thought. Recidivism rates in America have been trending upward, from around 63% in 1983 to around 77% now. This presents a peculiar contrast to the 40% decrease since 1983 in overall crime.
California Voters to Decide on Sending Fewer Criminals to Prison. California voters appear poised to scale back the heavy reliance on incarceration they once embraced, with a measure that would transform several lower-level, nonviolent felonies into misdemeanors punishable by brief jail stays, if that, rather than time in a state penitentiary. The referendum on Nov. 4 is part of a national reappraisal of mass incarceration.
Federal inmate dies after attack at prison. A federal inmate serving a 40-year sentence for child-related sex offenses has died after being attacked at a southern Kentucky prison.
California Releases Thousands of 'Lifers' from Prison. California continues to stretch the imaginations of non-liberals. One unthinkable policy is Governor Brown's policy by which thousands of presumably dangerous prisoners originally sentenced by juries to life sentences in the slammer are being set free. A Friday [8/8/2014] radio segment on the California Report was downright cheery about cons being released into local communities. [...] In other words, don't be scared, little citizens — the murderers and rapists have been taught techniques in anger management.
13 Ways The American Police State Squanders Your Tax Dollars. [#8] $6.4 billion a year for the Bureau of Prisons and $30,000 a year to house an inmate. There are over 3,000 people in America serving life sentences for non-violent crimes. These include theft of a jacket, siphoning gasoline from a truck, stealing tools, and attempting to cash a stolen check. Most of the non-violent offenses that triggered life sentences were drug crimes involving trace amounts of heroin and cocaine. One person imprisoned for life was merely a go-between for an undercover officer buying ten dollars' worth of marijuana. California has more money devoted to its prison system than its system of education. State spending on incarceration is the fastest growing budget item besides Medicaid.
Our Unwillingness to Defend Ourselves. The U.S. Justice Department's Bureau of Justice Statistics reports that 2012 losses because of personal identity theft totaled $24.7 billion. The money losses from identity theft pale in comparison with the costs of paperwork, time and inconvenience imposed on the larger society in an effort to protect ourselves. According to LifeLock, while the laws against identity theft have gotten tougher, identity theft criminal prosecution is relatively rare. Unless we develop a low tolerance and a willingness to impose harsh sentences, identity thieves will continue to impose billions of dollars of costs on society.
Facing legal heat, Texas prison system tries new cooling devices to ease oppressive temps. The nation's most populous prison system, facing legal actions and criticism about inmates having to endure oppressive Texas summer heat, is looking to make conditions a bit more bearable at seven state lockups by installing cooling systems similar to those seen on the sidelines of early-season football games.
Prison: The Benefits are Great!. Some of you may recall that back in 2002 there was a fair amount of controversy surrounding the California Department of Corrections' (DoC) decision to allow a life-saving, million dollar heart transplant for an inmate serving 14 years for armed robbery. The DoC reasoned that not doing so would violate the 1976 Supreme Court ruling that states it's "'cruel and unusual punishment' to withhold necessary medical care from inmates." The decision by the DoC raised an important question: Should prisoners get transplants ahead of law-abiding citizens?
Court affirms Mass. murderer's right to get sex change in prison. A federal appeals court on Friday [1/17/2014] upheld a judge's ruling granting a taxpayer-funded sex change operation for a transgender inmate serving a life sentence for a murder conviction, saying receiving medically necessary treatment is a constitutional right that must be protected "even if that treatment strikes some as odd or unorthodox."
Alabama Lawmaker Re-Introduces Castration Bill For Sex Offenders. An Alabama legislator has re-introduced a bill to legalize castration of convicted child molesters if their victims were under the age of 12 — and make them pay for the procedure. The Florence Times Daily reports that Rep. Steve Hurst (R-Munford) is proposing the bill for the 2014 legislative session, which begins in January. Hurst attempted to push this bill during the 2013 session, but it did not make it out of committee.
Same Lies, Different Day. By focusing on the gun, and not the user, the left does not have to address the failure of the criminal justice system to consistently punish illegal gun use. They can ignore, for example, that prior gun charges against the Navy Yard shooter were not pursued in a liberal criminal justice system that coddles criminals and ignores gun crimes. Prosecutors in liberal jurisdictions, and perhaps in many jurisdictions, are much more interested in obtaining convictions than actually punishing gun crimes. For the sake of their stats, they will accept guilty pleas to one of many lesser included charges, perhaps a second degree assault or a disorderly conduct, and dismiss the gun charges.
Aaron Alexis and The War On Standards. We often hear from the left that our criminal justice system is broken. Part of what the left, including our Attorney General, means by this is that too many people are in jail, especially too many Blacks. I take no position in this post about that claim. But in the case of Aaron Alexis — the Navy Yard mass murderer — it looks like the criminal justice system's breakdown consists of its failure to incarcerate.
Leftists Just Can't Help But Ruin the World. From the 1960s well into the 1980s, laws regarding criminal justice and self-defense were stacked heavily against law-abiding Americans. Liberal judges routinely handed down minimal sentences after criminals had been convicted of heinous crimes. Americans who had defended themselves against criminals using force, often in their own homes, faced severe prosecution for exercising their natural right to defend their loved ones, their homes and their property. Crime rates soared and outrage built up as the legal system allowed criminal after criminal to walk free while acting in self-defense could ruin a law-abiding American's life. Liberals did all of this in the name of "social justice," on a theory that the system is inherently racist, poverty causes crime, and society is ultimately to blame for criminals.
Confession deal backfires and serial killer goes free
. Nolan Ray George, then in his mid-20s and working for the City of Pontiac, eventually confessed to three strangulations, two of them fatal, and went to prison for one. Through plea deals with police and prosecutors, and fortuitous appellate court decisions, he served only 12 years in a Michigan prison. Once released, he fatally strangled another woman in Ohio and was the prime suspect in a second strangulation. He served only 10 years there.
Revisiting Crime and Punishment
. [Scroll down slowly] That our prison population has quadrupled over the last few decades is proof that
some
measure of the sanity on the issue of crime and punishment that had been lost during the heady days of the 1960's has been restored. But the paradigm of "rehabilitation" that rose to dominance during that time has not lost its hegemony, for our prisoners are supplied access to a variety of goods that well exceed the necessaries of life and that have nothing at all to do with punishment.
Sometimes Life in Prison Really Means Life
. The United States is now housing a large and permanent population of prisoners who will die of old age behind bars.
RFID Compliance Monitoring as a Condition of Federal Supervised Release
. Some states have moved to chemically castrating certain types of sex offenders, while others have considered implementing lifetime GPS monitoring. And, for the better part of two years, the chipping of convicted sex offenders has lingered in the minds of concerned citizens and government officials alike, mutually frustrated with the serious inadequacies of existing sex offender punishment and registration regimes.
A Legal System Only a Mother Could Love
. Why ... do we go so far out of our way to protect criminals? It's as if we're playing a game and all the rules are in their favor. For instance, why should a cop making an arrest have to pause to read the perp his rights? Why shouldn't jurors be made aware of the defendant's criminal history? Why should a cop's honest mistake work to the felon's advantage? One final question: When is a bloody axe not a murder weapon? Easy answer: When it's spotted in the back seat of a car that's been stopped because of a malfunctioning brake light, and not because the driver was suspected of whacking off his wife's head.
Obama: Tilting at Racial Windmills
. Simply put, black offenders do not receive stiffer penalties than white offenders for equivalent crimes — not today, and not at any time in recent decades. The most exhaustive, best designed study of this matter — a three-year analysis of more than 11,000 convicted criminals in California — found that the severity of offenders' sentences depended heavily on such factors as prior criminal records, the seriousness of the crimes, and whether guns were used in the commission of those crimes. Race was found to have no effect whatsoever.
The Costs of Crime
: For more than two centuries, the political left has been preoccupied with the fate of criminals, often while ignoring or downplaying the fate of the victims of those criminals. … Britain has gone much further down the road that the New York Times is urging us to follow. In the process, Britain has gone from being one of the most law-abiding nations on earth to overtaking the United States in most categories of crime.
1 in every 136 U.S. residents is behind bars
. Prisons and jails added more than 1,000 inmates each week for a year, putting almost 2.2 million people, or one in every 136 U.S. residents, behind bars by last summer.
The Editor says...
The article above, since it was written by an Associated Press writer, is apparently based on the liberal perspective that too many people are incarcerated in the U.S., and most of them don't deserve to be there, and they're only in jail because they're not white, etc. Of course this is nonsense. So many people are in jail because this country is full of criminals! Many more have been or
should be
in prison.
Releasing Inmates Early Has a Costly Human Toll
. A shortage of jail beds puts career criminals back on the streets, where they often commit new offenses.
Skewed views of crime
: It does no good to point out that soaring crime rates in the United States began to turn down only after the declining rate of imprisonment was halted and reversed, leading to a rising prison population much deplored by liberals. It does no good to point out Singapore's imprisonment rate is more than double that of Canada — and its crime rate less than one-tenth the Canadian crime rate.
Crime and Rhetoric
: Having declined for decades on end, the murder rate suddenly doubled between 1961 and 1974. The rate at which citizens became victims of violent crimes in general tripled. Such trends began at different times in different countries but the patterns remained very similar. As the rates of imprisonment declined, crime rates soared — whether in England, Australia, New Zealand, or the United States.
New High In U.S. Prison Numbers
. More than one in 100 adults in the United States is in jail or prison, an all-time high that is costing state governments nearly $50 billion a year and the federal government $5 billion more, according to a report released yesterday [2/28/2008].
The Editor says...
That's money well spent. As long as there is plenty of extra prison space, criminals will think twice about the consequences of their actions.
'Laxachusetts': Where criminals get coddled
. Does it come as a surprise to anyone that Leeland Eisenberg — the disturbed man who allegedly strapped road flares to his chest and took five people hostage at Hillary Clinton's campaign headquarters Friday [11/30/2007] in New Hampshire — is a convicted rapist released from a Massachusetts prison?
Headbutting Police Dogs – A 'PC' Step Too Far
. You really couldn't make it up... a Welsh police force is training its dogs to headbutt criminals rather than bite them, because politically correct – 'PC' – bosses are afraid that allowing the dogs to bite criminals will infringe their human rights!
When good people fight back
: A guy came in with a knife, a threat and a demand for money. … But this time someone fought back. Someone who didn't get the memo or pay attention in the training class. Someone up on the mezzanine saw the guy and the knife — and saw a chair, up on the mezzanine. A big chair. And this somebody picked up the chair and heaved it down. It clocked the wannabe robber and knocked him down. He stood up, demonstrated that he knew several ways to use the f-word, and ran out the door with his tail between his legs.
A Land Fit for Criminals, Part I
. The general mindset of the political left is similar from country to country and even from century to century. The softness toward dangerous criminals found in such 18th century writers as William Godwin and Condorcet has its echo today among those who hold protest vigils at the executions of murderers and who complain that we are not being nice enough to the cutthroats imprisoned at Guantanamo.
A Land Fit for Criminals, Part II
. Where the dominance of the left is greatest — in the media and in academia, for example — facts to the contrary are seldom heard. The futility of imprisonment, for example, is a dogma on the left. … It does no good to point out that Singapore's imprisonment rate is more than double that of Canada — and its crime rate less than one-tenth the Canadian crime rate.
In Canada...
Criminals have all the rights
. Researching a column last week … I came across a revealing government document. … You only have to read a few pages to realize how, over the decades, our ruling class' obsession with the "rights" of criminals has reduced their victims to afterthoughts. Not only have we scrapped capital punishment, gutted the meaning of "life" imprisonment and allowed violent criminals to apply for unescorted day passes from prison after serving one-sixth of their sentence and full parole after one-third. Today, the very language of government when it speaks of prisoners' rights is reverential.
Inmates asking court to decide if nutraloaf is meal or punishment
. When shooting suspect Christopher Williams acted up in prison, he was given nutraloaf — a mixture of cubed whole wheat bread, nondairy cheese, raw carrots, spinach, seedless raisins, beans, vegetable oil, tomato paste, powdered milk and dehydrated potato flakes. Prison officials call it a complete meal. Inmates say it's so awful they'd rather go hungry.
Prison blues: States slimming down inmate meals
. The recession is hitting home for inmates, too: Some cash-strapped states are taking aim at prison menus. Georgia prisoners already didn't get lunch on the weekends, and the Department of Corrections recently eliminated the midday meal on Fridays, too. Ohio may drop weekend breakfasts and offer brunch instead. Other states are cutting back on milk and fresh fruit.
Alabama sheriffs feed inmates on $1.75 a day
. Back in the day of chain gangs, Alabama passed a law that gave sheriffs $1.75 a day to feed each prisoner in their jails, and the sheriffs got to pocket anything that was left over. More than 80 years later, most Alabama counties still operate under this system, with the same $1.75-a-day allowance, and some sheriffs are actually making money on top of their salaries.
Prison Staff Forced to Address Every Inmate as 'Mister'
. A British prison is forcing its staff to prove they treat inmates decently as part of the Prison Service's national "decency agenda," which includes addressing all inmates, including sex offenders and violent criminals, as "Mr.," the Telegraph reported Wednesday [10/1/2008].
Notes on Michigan criminal procedure
: Michigan sentences may not exceed two-thirds of the maximum. A crime that is on the books as 12 years, for example, means a maximum sentence of 8-12 years with eight years being the effective maximum. How much of that will be served? The judges say that defendants usually get out after serving about 80 percent of the minimum. In this case, that would be a little less than six and a half years. Much of that time would not be served in prison, but in halfway houses.
Do the time, lower the crime
. In the last 10 years, the effect of prison on crime rates has been studied by many scholars. The Pew report doesn't mention any of them. … A high risk of punishment reduces crime. Deterrence works. But so does putting people in prison. The typical criminal commits from 12 to 16 crimes a year (not counting drug offenses). Locking him up spares society those crimes. Several scholars have separately estimated that the increase in the size of our prison population has driven down crime rates by 25%.
Who freed the cop-killers?
The only thing that would've prevented this homicide was the one thing politicians, judges, prison officials in Philadelphia don't want to address. Warner, Cain and Floyd should have been behind bars at the time they were committing the robbery.
He's been held in 44 offenses — and he's 17
. Since age 10, Travis Hylton has been in and out of the Pima County juvenile court system, having been arrested on 44 criminal offenses in seven years. All but six of those charges have been dismissed based on the fact that doctors deemed Hylton — now 17 — incompetent to stand trial and unable to assist in his defense. Now Hylton sits in jail on three counts of attempted murder.
States May Free Inmates to Save Millions
. Lawmakers from California to Kentucky are trying to save money with a drastic and potentially dangerous budget-cutting proposal: releasing tens of thousands of convicts from prison, including drug addicts, thieves and even violent criminals.
More Prisoners, Less Crime
. Last July, Obama said that "more young black men languish in prison than attend colleges and universities." Actually, there are more than twice as many black men ages 18 to 24 in college as there are in jail. Last September he said, "We have a system that locks away too many young, first-time, nonviolent offenders for the better part of their lives." But Heather Mac Donald of the Manhattan Institute, writing in the institute's City Journal, notes that from 1999 to 2004, violent offenders accounted for all of the increase in the prison population.
When dealing with punks, there's no time to be a liberal
. In my humble opinion — shared with all those with some elementary understanding of the art of policing — the leading cause of anti-social behaviour is permission. People, and young punks especially, will do things that even they know are malicious because no one will stop them. The worst possible conditions exist, as today, when the surrounding society is befogged with idiotic, decadent notions, such as the idea that the punks are themselves "victims" of some material deprivation, when what they have in fact been deprived of is the iron fist of the law.
Idiot Compassion
: Idiot compassion invents Miranda rights to protect criminals from prosecution rather than allowing police powers to protect innocent citizens. ... Idiot compassion is so fearful that one innocent man might be imprisoned that it helps enact laws that insure freedom to thousands of certainly guilty ones, by disallowing evidence obtained against them.
Shocking crimes of the 65 killers released under Labour to strike again
. Murderers freed from life sentences under Labour have committed a string of rapes and killings. Ministers last night admitted the full scale of reoffending by so-called lifers. After their release, the 65 killers committed at least three further murders, one attempted murder and three rapes. They were also responsible for crimes such as a paedophile attack, two woundings causing grievous bodily harm and three offences of kidnapping, false imprisonment or abduction.
Judges tentatively order California inmates released
. A special panel of federal judges tentatively ruled Monday that California must release tens of thousands of inmates to relieve overcrowding. The judges said no other solution will improve conditions so poor that inmates die regularly of suicides or lack of proper care. The panel said it wanted the state to present a plan to trim the population in two to three years.
The Editor says...
Yes, prisons are unpleasant. That's why the threat of imprisonment is a
deterrent
. Here's a sure way to relieve overcrowding: Build more prisons.
Bailiff's mistake leads to mistrial in Harris murder
. The Harris County jury returned a guilty verdict after deliberating 45 minutes in a murder case, but the judge realized he had a real problem. Sitting in the jury box were 13 citizens. Instead of sentencing Charles Mapps to prison in the shooting death of his girlfriend, state District Judge Mark Kent Ellis on Tuesday declared a mistrial.
D.C.'s money-saving plan: Free inmates
. Mayor Adrian M. Fenty wants to help balance the District's recession-squeezed budget by allowing as many as 80 percent of the city's inmates to qualify for early release, borrowing a tactic that has stirred controversy elsewhere in the nation. The city hopes to save $4.4 million in fiscal 2010 under the plan, which would reduce the prison population by 2 percent from its current daily average of 3,000 inmates.
The Editor says...
Hmmm... two percent of 3,000 inmates. That's only 60 inmates set free, and yet it will save $4.4 million, which means that it costs over $73,000 per year to keep each inmate locked up.
One in 25 adult Ohioans is in prison, in jail, on parole or on probation, study finds
. One in every 25 adult Ohioans is in prison, jail or on parole or probation, a study by the Pew Center on the States shows. While the national average is one in 31 U.S. adults, the numbers are more dramatic for Hispanics (one in 27), men (one in 18), and blacks (one in 11), according to One in 31: The Long Reach of American Corrections, released today. Ohio's one-in-25 rate was sixth among the states. Georgia had the highest at one in 13, and New Hampshire the lowest at one in 88.
The Editor says...
If the people in prison are genuinely guilty of violent crimes, and they've all had fair trials and adequate legal representation, then statistics like those above are not alarming at all. On the contrary, it should be very reassuring to know that dangerous criminals are
locked up!
Remember the Golden Oldies, Dr. Emanuel
. How humane, how civilized, liberal values have made America. We've gotten rid of the death penalty, and all other cruel and unusual punishments. So Charles Manson — murderer of nine people — and hundreds of other murderers can live out their lives in relative comfort, not having to worry about where their next meal is coming from, or freezing in the winter, or having to do hard labor, or miss their weight-lifting routines or basketball games.
Getting away with murder is the norm in Detroit
. At least 7 in 10 people who committed murder in this city last year have gotten away with it. The most generous interpretation of 2008 homicide warrants and convictions supplied by local law enforcement officials shows that in more than 70 percent of homicide cases no suspect has been identified, arrested, charged or convicted of a killing.
APF and Hardin Constitution Violations
. A Livingston state representative is questioning whether Hardin officials and American Police Force have violated the Montana constitution. Representative Robert Ebinger says he became aware of the situation after Cascade and Park County law enforcement officials came to him asking questions about APF. ... "No armed person or persons or body of men shall be brought into the state for the presentation of the peace or the suppression of domestic violence unless the application of the legislature or of the governor when the legislature cannot be convened," said Ebinger while reading the constitution word for word.
California jail entrepreneur has checkered past
. Michael Hilton showed up in Hardin, Mont., last week, presenting himself as an economic savior, the man who would take over the town's $27 million jail — empty since it was built as a development project in 2007 — and provide 200 new jobs in the process. He wore a military style uniform, and as a gesture to local law enforcement offered up the use of three Mercedes SUVs.
Leftwing Pseudo-science Threatens Freedom
. America's Constitution is based on the Enlightenment view that Man has volition and Reason. Because of this, he is perfectible and can determine how to live his own life. He therefore has no need of a government's telling him what to do. Because we choose our own actions, we are responsible for them. In being responsible for them, we necessarily become deserving of rewards or punishments according to whether our actions victimize others.
At least someone in prison can't rob you
. Yesterday [10/6/2009], the Prison Governors' Association voted to abolish all prison sentences of under 12 months. Short sentences, they believe, don't work and cost too much. ... [But] when criminals are in jail, they can't break into your house or attack people in the street.
Seattle's teenage Jesse James
. Victims call him a one-man crime wave who ought to be in prison. Fans say he's a misunderstood folk hero in the grand tradition of Robin Hood, Huckleberry Finn, and Jesse James. To police near Seattle, who are once more on his elusive tail, Colton Harris-Moore can be summed up in two words: most wanted.
Leftwing Pseudo-science Threatens Freedom
. If the reader is ever accepted for jury duty, do not believe doctors' "genetic" or "mental illness" excuses. Those are designed to make you disregard the defendant's responsibleness. Those charlatans will hide behind the prestige of science. Human conduct is not their legitimate field, for that is the field of volition, Reason and ethics.
Inmate released early is arrested in rape attempt
. One of the inmates the Sacramento County Sheriff's Department released early as part of an effort to reduce the state's prison population was arrested Tuesday [2/2/2010] on suspicion of attempted rape, less than 24 hours after getting out of jail, The Bee has learned.
Confessed child murderer spends days in downtown Lauderdale park
. Gary Kerpan confessed years ago to snatching a 12-year-old girl, raping her, stabbing her and killing her. Now that he's out of prison, he hangs out in Fort Lauderdale's Stranahan Park. He is one of Fort Lauderdale's homeless.
Muslims Exempt from Death Penalty in U.S.?
Last October there was another in the growing number of Islamic honor killings in the United States when a Muslim in Peoria, Arizona, Faleh Almaleki, got into his Jeep Cherokee and ran down his twenty-year-old daughter Noor, as well as her boyfriend's mother, Amal Khalaf. Noor died not long thereafter, and Faleh Almaleki was charged with first-degree murder, aggravated assault and two counts of leaving the scene of a serious accident. But prosecutors announced this week that he will not face the death penalty — it wouldn't be multicultural.
California prison case goes to Supreme Court
. Agreeing to hear an appeal from Gov. Arnold Schwarzenegger, the U.S. Supreme Court said Monday [6/14/2010] it will decide whether the state can be forced to release 46,000 inmates — more than one-fourth of its prison population — to relieve overcrowding. The justices said they would hear the case in the fall and rule early next year.
Change Club Med Environment at Club Fed
. Unleashing criminals from American jails onto American streets is determinately criminal. But still, the debate on American incarceration continues to flare up due to tough economic times and because our country spends roughly $50 billion annually to incarcerate public nuisances and dangerous thugs. Shockingly, the annual cost per prisoner in California is $50,000. No wonder there has been a violent push for the privatization of prisons and the revamping of the American legal system.
Penny-Wise on Crime
. For more than 200 years, the political left has been coming up with reasons why criminals should not be punished as much, or at all. The latest gambit in Missouri is providing judges with the costs of incarcerating the criminals they sentence.
The Myth that High Unemployment Means a High Crime Rate
. Crime and unemployment: everyone knows that they go together. Right? Unemployed people, desperate for enough money to pay their bills, buy groceries, and get medical care (since those heartless Republicans think "don't get sick" is a health care plan), must turn to crime. At the very least, disheartened men sitting at home are going to lose their tempers, get into fights, and shoot their spouses. Like most conventional wisdom among the elites, it turns out not to be true.
Anger at flat-screen TV prison order
. The Scottish Prison Service is ordering hundreds of flat-screen televisions for inmates in order to meet energy efficiency targets, it has emerged.
East End store owners fighting back
. On Saturday morning [12/18/2010], police said, a man identified by police as the owner of Shew Food Market, in the 7500 block of Canal, shot a robber who was fleeing, along with an accomplice, after taking a bag containing a substantial sum of money.
A Predictable Tragedy in Arizona
. A 2007 study by the U.S. Justice Department found that 56% of state prisoners, 45% of federal prisoners, and 64% of local jail inmates suffer from mental illnesses. A 2008 study out of the University of Pennsylvania that examined murders committed in Indiana between 1990 and 2002 found that approximately 10% of the murders were committed by individuals with serious mental illnesses. There are about 16,000 homicides a year in this country. Using the Indiana study as a guide, roughly 1,600 of them are likely committed by people with serious mental illnesses. ... State governments have been very effective in emptying the hospitals in an effort to save money but remarkably ineffective in providing treatment for seriously mentally ill individuals living in the community.
Keen Graphs of the Obvious
. Not to put too fine a point on it: liberals have been wrong about almost everything, and conservatives have been right about almost everything, at least in my lifetime (half a century). That goes not only for the economy, the role of government, and climate change, but also for many "social issues" as well.
· The death penalty seems to actually deter murder.
· Higher rates of handgun ownership do not appear to cause more crime.
· Putting more people in prison seems to reduce crime.
· Increased concealed carry of handguns by law-abiding citizens coincides with
reduced
homicide rates.
Urgent new protection for felons' feelings
. Imagine, if you can, the shock and pain that denizens of the nation's capital feel as they return from prison only to discover that the office tasked with helping them is called the "Office on Ex-Offender Affairs." Such a pejorative welcome must surely harm the tender psyches of those perps. And, frankly, to discover that society attaches a stigma to felons must be quite the shock. Worry not, because the stalwart D.C. government has a plan to stanch the suffering.
Inmates reap rewards of $35M settlement
. [New York City] has started doling out $1,000 checks to 26,131 former jailbirds who won a $35.7 million class-action settlement for illegal strip searches — and recipients who are back in jail are throwing their newfound weight and windfall around. "I own you!" inmates are bragging to jailers on Rikers Island, according to Correction insiders.
No More Smoking For Florida Prisoners
. In an effort to reduce healthcare costs at state prisons the Florida Department of Corrections is moving to make sure their facilities are smoke-free by September. ... "Inmate smoking and second-hand smoking is costing millions in healthcare costs each year," said Florida Department of Corrections Secretary Edwin Buss.
The Editor says...
It's only a matter of time before this smoking ban faces a court challenge based on the Eighth Amendment. But in the meantime, it's a step in the right direction, as far as I'm concerned — not because I'm opposed to other people smoking, but because prisons should be made as uncomfortable as legally possible, so the threat of prison time will act as a deterrent to crime.
Where does California put 33,000 released inmates?
Hasn't California suffered enough? Apparently not, according to the U.S. Supreme Court. In the name of reducing prison overcrowding and preserving a "standard of decency," the high court this week handed down a decision that could set the stage for something indecent: the release of tens of thousands of prisoners back into society.
In lieu of prison, bring back the lash
. Suggest adding the whipping post to America's system of criminal justice and most people recoil in horror. But offer a choice between five years in prison or 10 lashes and almost everybody picks the lash. What does that say about prison?
The Right TV: 12 most conservative TV shows ever
. [#5] Dragnet (1951-59, 1967-70): Dragnet was based on a simple, conservative premise: Cops are good, criminals are bad, and crime must be punished. Los Angeles detective Sgt. Joe Friday (Jack Webb) was the hard-nosed and efficient policeman tracking down the bad guys. The show never got its due for its realistic portrayals of crime and detective work. Every show ended with the perpetrator caught and sentenced. The remake of the show from 1967 to 1970 was decidedly conservative as well, standing up against the hippie idiocy of the period.
Throw away the key!
Paroled lifers pose high risk of new crimes
. More than a third of the most serious criminal offenders paroled in Massachusetts over the past five years were returned to prison for committing new crimes or violating the conditions of their release, a Globe review has found, raising questions about the public risk posed by granting early release to scores of convicted murderers, as well as the state's ability to supervise violent criminals on parole.
More than 150 rapists freed early from prison went on to rape again
. More than 150 convicted rapists have gone on to attack again in the last five years. Ministry of Justice statistics revealed last night the shocking extent to which sexual predators are re-offending, many after being freed from prison early.
Inmate sues state over lack of porn in jail
. A Macomb County inmate is suing Gov. Rick Snyder and the state, claiming he is being subjected to cruel and unusual punishment because jail rules ban pornographic materials. Kyle Richards, 21, of Fraser filed the five-page handwritten lawsuit June 10 in U.S. District Court in Detroit. He wants a judge to let inmates possess erotic/pornographic materials along with personal televisions, video game consoles and radios.
The Editor says...
I'm sure he would also like to have a leather recliner, a keg of beer, and a home theater system. That's the whole idea about jail time: It's not supposed to be fun.
Black men survive longer in prison than out: study
. Black men are half as likely to die at any given time if they're in prison than if they aren't, suggests a new study of North Carolina inmates.
Crime Is Easy
. Maybe there is a simple explanation for the riots. In Great-Britain crime is easy and almost risk-free.
Convicted hammer killer carried out 11 armed raids while on day release
. A convicted hammer killer carried out 11 armed raids on bookmakers while he was on day release from prison. Joseph Williams was allowed temporary leave from his 'open' prison in preparation for permanent release from his life sentence for murder. But the 52-year-old gambling addict took advantage of lax supervision to go on a robbery spree to pay for his habit.
California's Prison Release Program
. Yes, it's expensive to keep people in prison, but Californians may one day rediscover that it's even more expensive to let them out.
Prisoners watch pay-TV movies in Victoria's jails
. Prisoners are watching pay-TV movies in their cells, at a cost to taxpayers of tens of thousands of dollars. Pay-TV packages for Victoria's jails cost thousands of dollars a month, data obtained under Freedom of Information reveals.
The Editor says...
Personally, I don't have a problem with prisoners wasting their lives away, as well as their minds, by watching television. That's better than having them riot and kill each other, or trying to escape, or working out in the weight room. Television is a cheap tranquilizer. Even so, the prisons would be more of a deterrent if they were more miserable places to live.
The scandalous state of our prison system
. The state of our prisons has become something of a scandal. We have more prisoners today than we have soldiers, and more prison guards than Marines. Our prisons have become boot camps for criminals. That's one reason why I'm sympathetic to Peter Moskos' idea to bring back flogging.
Poverty Doesn't Make Thieves — Liberalism Does
. During the Great Depression, levels of crime actually dropped. During the 1920s, when life was free and easy, so was crime. During the 1930s, when the entire American economy fell into a government-owned alligator moat, crime was nearly non-existent. During the 1950s and 1960s, when the economy was excellent, crime rose again. In Britain, where the social safety net is more like a social swaddling cloth, crime rates other than murder are significantly higher than in the United States.
In England:
Thousands serving community sentences commit violent and sexual crimes
. Fifty people a day suffer a violent or sexual attack by a convict spared jail in the 'soft' justice system. Victims include young children assaulted by paedophiles, figures released by the Government show. They reveal that every year more than 18,000 convicts given a community punishment commit a sexual or violent crime within 12 months of being sentenced.
Top Fresno auto thief Robert Wollert released
. Robert Frederick Wollert, dubbed Fresno's top auto thief last year by police, won't serve a day in prison for his crime spree — thanks to a new state policy that sends non-violent convicts to local jails instead of state prisons.
NY inmate guilty of seeking $890M in tax refunds
. Prosecutors say the man filed the bogus returns from 2006 to 2010 while at various state prisons.
Soy diet prompts prisoners' lawsuit
. Prison grub never had a high culinary reputation, but now some inmates say it's not just the taste they don't like. Illinois convicts have gone to court, claiming that too much soy in their diets has left them with severe health problems, including heart issues and thyroid damage, along with allergic reactions and gastrointestinal distress.
How State Budget Battles Could Mean More Criminals Back on the Streets
. In an article, "What's Behind America's Falling Crime Rate?," Time magazine reported, "In his book
Why Crime Rates Fell
, Tufts University sociologist John Conklin concluded that up to half of the improvement was due to a single factor: more people in prison. The U.S. prison population grew by more than half a million during the 1990s and continued to grow, although more slowly, in the next decade. Go back half a century: as sentencing became more lenient in the 1960s and '70s, the crime rate started to rise. When lawmakers responded to the crime wave by building prisons and mandating tough sentences, the number of prisoners increased and the number of crimes fell." But the budget battles in the states could change all of this, putting crime reduction in jeopardy.
Hundreds Kept Imprisoned in Georgia Despite Serving Their Sentences
. Georgia penitentiaries continue to feed, clothe, and pay medical expenses for hundreds of inmates who were approved for parole but cannot be released because they have nowhere to live. About two-thirds are convicted sex offenders. About one-third require mental illness treatment but are otherwise not considered a threat to public safety. [...] Having nowhere to go means inmates approved for parole have no family able or willing to take them and no publicly supported housing facility willing to accept them. One of the challenges of Georgia corrections reform is where released inmates are to go when they leave prisons.
Top five cliches that liberals use to avoid real arguments
. [#5] 'Better 10 guilty men go free...' As a truism, it's a laudable and correct sentiment that no reasonable person can find fault with. But that's the problem: No reasonable person disagrees with it. There's nothing wrong with saying it, but it's not an argument — it's an uncontroversial declarative statement. And yet people say it as if it settles arguments. It doesn't do anything of the sort. The hard thinking comes when you have to deal with the "and therefore what?" part. Where do we draw the lines? If it were an absolute principle, we wouldn't put anyone in prison, lest we punish an innocent in the process.
Crime and Punishment in a Free Society. In England, the early kings recognized that the administration of justice could be a cash cow. So they grabbed on and never let go. As a result, the emphasis shifted to punishment (fines and imprisonment) and away from restitution (making victims or their heirs as whole as possible). Liberty-minded people should regret this change.
Back to the
Home page