—
Arkansas Supreme Court, 1878
---
This is an original compilation, Copyright © 2021 by Andrew K. Dart
This is what "swift and sure" means...
Prosecutor says Guilty Saddam would hang quickly
. The Iraqi High Tribunal's chief prosecutor says Saddam Hussein will hang immediately if he is found guilty on charges relating to deaths of 148 Shiites. … "If the court passes a death sentence on any of the defendants in the Dujail case, the law is clear, the sentence must be carried out within 30 days following the appeal," Mr Mussawi said.
Execution uncertain in grenade murders
. Relatives of the two servicemen killed in Sergeant Hasan Akbar's grenade and rifle attack said yesterday [4/29/1005] that he deserved the death sentence given to him by a military jury. But specialists in military law say it is hardly a certainty the execution will ever happen. The military has not executed one of its own since 1961, while states have put scores of civilian killers to their deaths.
Iraq hangs 27 on terrorism charges
. Iraqi authorities hanged 27 convicted "terrorists" today, an interior ministry spokesman announced. "Twenty-seven terrorists were hanged today in Baghdad. Most of them were Iraqis," said interior ministry spokesman Abdul Karim Khalaf. He said they were convicted for attacks on Iraqi civilians and sentenced to death, in an execution order signed by an Iraqi vice president.
The crime, not his race, put Baker on death row
. Another Maryland death row inmate is scheduled to take the lethal injection needle. And, again, anti-death penalty activists have yanked out their ever-handy race card.
The "Let Scott Peterson Live" Campaign at CBS
. As if we needed any more evidence of liberal media bias on the part of CBS, the senior political editor for CBS News, Dotty Lynch, has written a column arguing that convicted killer Scott Peterson should be allowed to live the rest of his life at taxpayer expense in a California prison because he may not really be guilty of murdering his wife and unborn son.
Judge not
. Here they go again. On March 1, the Supreme Court — by its now familiar 5–4 margin — issued a ruling that bans states from executing anyone who was younger than 18 at the time of his crime. You may believe that this ruling gives teens a license to kill, or you may consider it to be a sensible protection for our innocent children. Either opinion is defendable, and immaterial. The important thing — and the frightening thing — about the ruling is that it continues the court's march toward a "living Constitution" and away from original intent.
Those poor, poor perverts
. I can nearly, but not quite, understand why some people object to capital punishment. … What I can't begin to fathom are the people who seem to have the same tender feelings for sexual predators that the rest of us have for our pets. Unfortunately, these aren't the same mushy-headed simpletons holding candlelight vigils outside San Quentin. Instead, they're judges and legislators.
Evolving Standards of Decency
. William Kristol sarcastically thanks the US Supreme Court for its recent decision saving the life of Christopher Simmons, the youthful sadist who murdered Shirley Crook for the fun of it in 1993. In seven paragraphs of well-tempered fury, Kristol contrasts the judicial sensitivity to "evolving standards of decency" that spared Simmons from the death penalty because of his age with the absence of any such sensitivity when it came to Terri Schiavo.
Scalia Slams Juvenile Death Penalty Ruling
. Justice Antonin Scalia criticized the Supreme Court's recent decision to strike down the juvenile death penalty, calling it the latest example of politics on the court that has made judicial nominations an increasingly bitter process.
Judicial supremacists and the despotic branch
. Justice Antonin Scalia, a dependable constitutional constructionist, protested on behalf of the dissenters that capital punishment should, rightly in accordance with constitutional federalism, be determined by individual states. … "To invoke alien law when it agrees with one's own thinking, and ignore it otherwise, is not reasoned decision-making, but sophistry."
Forgetting Facts While Making Law
. In our system of limited government, with its separation of powers, we depend upon our unelected lifetime-tenured judges to restrain themselves from implementing their own moral, social and political values when they are unsupported by a plain understanding of the Constitution and at odds with the choices we make through the democratic process.
On the Supreme Court's definition of cruelty
: In this case, a majority of the court ruled that the execution of someone who was 17 at the time of the crime violates the 8th Amendment, which prohibits "cruel and unusual punishments." It reached this conclusion just 16 years after deciding that the execution of a 17-year-old did not violate the 8th Amendment. What changed was not the 8th Amendment, which reads exactly as it did then. What changed, in the court's opinion, were the "evolving standards of decency that mark the progress of a maturing society."
U.S. Constitution: Made in Jamaica?
In
Roper v. Simmons
, the Supreme Court reached out and gave America a good old-fashioned smack-upside-the-head when it abolished capital punishment for juvenile offenders. … The Court declared that the death penalty was now unconstitutional for minors due to a supposed "emerging national consensus" that the death penalty was wrong. The last time we checked, the Supreme Court was supposed to use the Constitution as its guide. If anyone's to take notice of an "emerging national consensus," it's the legislature.
The new age Supreme Court
. In its 5-4 decision on March 1, the Court decreed that "Juveniles are less mature than adults and, no matter how heinous their crimes, they are not among 'the worst offenders' who deserve to die." While I certainly respect that opinion, I strongly object to the United States Supreme Court presuming to impose it on our entire society as if it is the final arbiter not just of the law, but our moral standards.
The Supreme Court's vexing elitism
. In my last column, I discussed the Supreme Court's abominable decision outlawing the death penalty for murderers under the age of 18. I have a few more complaints. First, much of the Court's analytical emphasis considers the plight of the offenders. Conspicuously lost in the equation are concerns for the victims and society at large, for whom the Court demonstrates a stunning disregard.
The Editor says...
(1) I've never even seen the inside of a law school, but even I can tell you that the Tenth Amendment says this is an issue which should be decided by each of the 50 states for themselves, not by the Supreme Court. (2) In the Jewish culture, a 13-year-old boy has a bar mitzvah ceremony, in which he declares, "Today, I am a Man," and is then considered an adult. (3) If you are a drug dealer and a murderer and a recalcitrant felon, you should get the electric chair if you are at least 13 years of age.

Debating the death penalty: With conservative ideas sinking new roots across American culture, conservatives have new reason to test their own thinking.

California to Execute Inmate in 1981 Slayings. It would be the first execution in California since January 2002 and only the 11th since the state reinstated the death penalty in 1977. More than 600 men are on the state's death row. … The last execution in California came on Jan. 29, 2002, when Stephen Wayne Anderson was put to death for shooting an 81-year-old woman in 1980.

More innocents die when we don't have capital punishment: Murderers who are not executed have murdered innocent people — usually fellow prisoners. And the very real possibility of escape from prison means that murderers threaten far more innocent lives than capital punishment does.

Vermont Has its First Capital Trial in 50 Years. A man convicted of helping to fatally beat a grandmother as she prayed for her life was formally sentenced to death Friday [6/16/2006], Vermont's first death sentence in almost half a century.

Executing "children," and other death-penalty myths: The age issue is a red herring. No state allows the death sentence for anyone younger than 16, and no one younger than 23 has been executed in modern times. The truth is that capital punishment in America is the most accurate and carefully administered criminal sanction in the world, and the public has good reason to support it.

Controversial Study Says Executions Save Lives: Three economists at Emory University are stirring the pot with a new study that concludes an average of 18 lives are saved each time a criminal is executed.

Murdering the bell curve: After hearing the (overwhelming) evidence against him, a jury sentenced Atkins to death. Last week, the Supreme Court overturned that sentence. The court ruled that the Constitution makes Atkins ineligible for the death penalty if he can prove he is "retarded." In other words, Atkins avoids his capital sentence if he is at least smart enough to know how to fail an IQ test.

Accountable, Yet Not Accountable: A "Retarded" Supreme Court Decision: The Supreme court recently released its decision in Atkins v. Virginia, regarding the propriety of executing the mentally retarded.

Retardation and capital punishment: The Supreme Court, in its decision, said that persons deemed retarded -- with an IQ of 70 or less (why not 71?)-- and judged guilty of a capital crime, cannot be executed. In so ruling, the court majority moved from the intention of the Founders, which was to make execution more humane, to focusing on the status of the guilty, which appears not to have entered the Founders' minds while crafting the Eighth Amendment.

Execution of the mentally retarded: What next for HB 236 opponents after Supreme Court's ruling?

Deal keeps Penry imprisoned for life. The long saga of convicted murderer Johnny Paul Penry, whose case helped push mental retardation into the national debate over capital punishment, ended Friday [2/15/2008] with a plea agreement to a life sentence. Penry, one of Texas' best-known death row inmates, agreed to three life sentences and to a stipulation that he was not mentally retarded, in spite of what his lawyers have asserted for almost three decades.

How would the court fare on an IQ test? In Atkins vs. Virginia, handed down last week, the Unites States Supreme Court substituted the judgment of six justices for that of 20 state legislatures.

Texas jurors send killer to his death 'because the Bible told them to'. A Texas man is due to be executed next month despite admissions by jurors that they consulted biblical passages advocating death as a punishment to help to decide his fate. ... During the trial, the jurors were instructed by the judge not to refer to anything that was not presented as evidence in the courtroom.

The Editor says...
When the judge demands that they not "refer to anything", does that include the jurors' common sense, morality and individual experiences? If the judge instructed the jurors to find the defendant not guilty, would they be so obligated? I don't know about you, but I don't think I'd pay much attention to orders of that sort.

Will the death penalty meet its maker? (Numerous links to death penalty articles.)


---
News and timely commentary about crime and punishment in general:

Related topic: Cell phones in jails and prisons
Biden Touts Police Reform While Mobs Run Wild in Portland. Joe Biden commemorated police officers who had lost their lives in the line of duty in 2019 and 2020 in a speech at the Capitol building on Saturday. "There's too much pain. There's too much loss. There's too much at stake for your safety and the safety of those you serve," Biden said at the National Peace Officers' annual memorial service. There's also too much interference by politicians for the police to do an effective job. And there's too little support by Democratic politicians of the police forces that keep their cities from blowing up. There's a clear disconnect between what Biden was saying about the heroism of police and the fact that he and other politicians have abandoned them.
Portland police don't stop chaos. A crowd of 100 people wreaked havoc in downtown Portland, Oregon, this week — smashing storefront windows, lighting dumpsters on fire and causing at least $500,000 in damage — but police officers didn't stop them. Portland Police Bureau officials say that's because of legislation passed by Oregon lawmakers this year, which restricts the tools they can use to confront people vandalizing buildings and causing mayhem. "The reason that we did not intervene goes back to what we talked about last month with House Bill 2928 and the restrictions placed on us in a crowd control environment," KOIN reports that Portland Police Lt. Jake Jensen said in a neighborhood meeting Thursday. Residents frustrated by the latest round of destructive demonstrations Tuesday questioned whether that meant anything goes now in Portland.
George Soros Drops $1M To Stop City of Austin Hiring Police to Combat Rising Crime. America-hating billionaire George Soros is stepping up his efforts to personally increase the violent crime rate in America's cities. Not content to just sponsor pro-crime DA's who release and/or fail to prosecute criminals, Soros is now pouring money into defund the police efforts. As cities, some of them on the down low, have been refunding police they previously defunded or are increasing hiring due to police forces being decimated by low morale fueled by lack of local support, ridiculous pro-crime policies, and various WuFlu-related mandates, Soros is busily shelling out money to keep crime up, criminals on the streets, and fewer police to keep communities safe.
Philly becomes first major US city to end pulling drivers over for minor traffic offenses — a tactic which opponents say disproportionately affects black people. Philadelphia became the first major city to ban police traffic stops of low-level motor vehicle offenses, a tactic which critics claim disproportionately affects black people. The Philadelphia City Council passed two Driving Equity bills on Thursday that Mayor James Kenney is is expected to sign into law this week. The law creates an open searchable database recording traffic stops and prohibits police officers from stopping drivers for minor offenses by reclassifying several offenses as secondary violations.
NYPD orders cops to stand down, allow junkies to shoot up in streets after decriminalization measure passes. NYPD officials have ordered patrol and beat officers to stop rolling up suspects who are seen shooting drugs on the streets after legislation in the state legislature passed decriminalizing the purchase and sale of hypodermic needles commonly used to inject heroin and other hard drugs. "Effective immediately, members of the service should not take any enforcement action against any individual who possesses a hypodermic needle, even when it contains residue of a controlled substance," says a directive to New York Police Department commanders issued last Friday and obtained by the New York Post. The order to NYPD officers referenced Senate Bill 2523 which outlines the decriminalization.
Gov. Hochul's drug-war surrender will be the death of NY neighborhoods. Oct. 7, 2021, will go down in history as the day that New York surrendered in the war on drugs. Not a shot was fired, except for the heroin or meth shot into the vein of a drug addict on the streets of Midtown, the South Bronx or Harlem. Gov. Hochul last week signed into law a bill pushed by state Sen. Gustavo Rivera (D-Bronx) and backed overwhelmingly by the city's Democratic delegation to the Legislature. It decriminalizes the possession or sale of hypodermic needles and syringes by addicts to inject drugs. Touted as a move to reduce overdose deaths, it will instead be the death of downtowns and residential neighborhoods across the Empire State.
Chicago cops' union resisting vax mandate in a city on the brink of domination by armed criminals. Civil order already is crumbling in Chicago, with its horrendous toll of murders, carjackings, and looting of stores spreading into downtown and affluent neighborhoods from, the ghetto strongholds where lawlessness has been rampant for years. The one thing Chicago cannot afford to do is lose a substantial number of cops, yet the actions of Mayor Lori Lightfoot threaten to do that, pushing ahead with a vaccine mandate, whose deadline for reporting vax status has just expired at midnight Friday night [10/15/2021].
Theft-plagued Walgreens shuts down five more stores in San Francisco: At least 17 have already closed due to 'legalized shoplifting'. Walgreens is shuttering another five of its stores in crime-ridden San Francisco because of rampant shoplifting by thieves who waltz past security guards and sell the items outside the drugstore chain's doors. The national chain has closed 17 of its 70 San Francisco locations in the past two years because of the shelf raiders, who have swiped everything not behind lock and key. Thefts in the chain's 53 remaining stores are five times the average for their stores elsewhere in the country, according to company officials.
Walgreens closing 5 more San Francisco stores due to theft. Walgreens said Tuesday that it will be closing another five San Francisco locations, citing the ongoing rampant theft plaguing the city. "Due to ongoing organized retail crime, we have made the difficult decision to close five stores across San Francisco," a Walgreens spokesperson told FOX Business in a statement. "Each store will transfer prescriptions to a nearby Walgreens location within a mile radius and we expect to place the stores' team members in other nearby locations."
Outrage after [black] man who stabbed [a white] high school sophomore to death, watched him die then hid murder weapon gets acquitted. In what can only be described as a shocking conclusion, a Hartford (CT) Superior Court jury on Friday found Shyhiem "Trey" Adams not guilty on both counts in connection with the 2018 murder of a 16-year-old Enfield High School sophomore, Justin Brady. Adams had been charged with first-degree manslaughter and evidence tampering in connection with Brady's death, according to the Manchester Journal Inquirer. The verdict left Brady's father, Thomas shocked.
'It Looks Like The Third World': New York City Drug Stores Ravaged By Shop Lifters. An unprecedented spike in shoplifting has emptied out the shelves of drug stores across New York City, the New York Post reported Saturday [10/9/2021]. "It looks like the Third World," a Manhattan resident complained after inspecting the ravaged aisles of a local CVS, according to the New York Post. "They've all been stolen," an employee of the CVS said of missing toothpaste, hand sanitizer and face wash, The Post reported. As of early September, 26,385 complaints of retail theft were filed, which is the highest number ever recorded. Compared to last year, 2021 witnessed a 32% surge in the number of complaints, according to The Post.
At least 9 Rikers inmates recently freed by Gov. Hochul have been rearrested. At least nine Rikers Island inmates recently given a Get Out of Jail Free card by Gov. Hochul have been arrested again, The [New York] Post has learned. Among those who fumbled the Sept. 17 free pass is a reputed gangbanger from Queens who not only was charged with possessing a loaded gun, but trying to bribe his way out of a return trip to the infamous jail, NYPD and law enforcement sources said. Stepfane "Stephon" Gilliam, 26, is a member of the Queensbridge Houses crew called Team No Lackin', and has multiple aliases and 43 prior arrests, including 23 felonies, sources said. After just two weeks of freedom, Gilliam was pulled over by cops Sept. 29 at 9:45 p.m. at the corner of 31st Avenue and 21st Street in Queens, for alleged speeding and having too much tint on his 2004 BMW's windows, authorities said. Responding cops found a warrant out for his arrest on a traffic violation, sources said. Cops then searched the BMW and recovered a .32 Colt revolver from the back seat.
Life in Seattle is about to get very interesting (and that's not good). Seattle, more than many American cities, vigorously embraced the "Defund the Police" movement. Last year, the Seattle City Council began the process of defunding the police and it's been continuing ever since, relentlessly slicing away at the city's police budget. Crime has risen accordingly and people are making noises about getting the police back. However, the radicals have a new arrow in their quiver to reduce the number of police in their city. An October 18 deadline is looming to fire those police who have refused the vaccination and, with only a week to go, roughly 40% of the police force is still unvaccinated. Since George Floyd's diseased heart gave out thanks to overdosing on meds and fighting the police, Seattle has been one of those cities that has most enthusiastically sought to rid itself of its police force. Even the fact that the little autonomous zone known as CHAZ instantly turned into warlord hell didn't deter the council from its mission.
'Third World' NYC drug store shelves empty amid shoplifting surge. Thanks to a citywide shoplifting tsunami, bare necessities are now rare luxuries on drug-store shelves across New York City. "It looks like the Third World," bemoaned one Manhattan resident, after eyeing the aisles of a CVS on Sixth Avenue in Soho desperately low of toothpaste, face wash and hand sanitizer, among a long list of other items. "They've all been stolen," a CVS employee told The [New York] Post. State bail reform laws make shoplifting a promising career option for some New York City crooks. One man, Isaac Rodriguez, 22, of Queens, was arrested for shoplifting 46 times this year alone, The Post exclusively reported last week. The blame goes straight to the halls of power in Albany, said New York City top cop Dermot Shea.
Seattle police department prepares to fire up to 40% of its cops if they fail to get vaccinated. Seattle's police department is preparing to fire up to 400 officers who have not yet had their Covid shot in line with the city's strict vaccine mandate — despite already suffering staff shortages, rising crime rates and high 911 response times. The Seattle Police Department has an October 18 deadline for all sworn personnel to turn in proof of COVID-19 vaccinations or risk losing their jobs. As of Friday, 292 officers have yet to turn in proof of vaccination — or 27 percent of the department's 1,080 deployable police officers.
Bail for a school shooter? While Jan. 6 defendants languish in prison as danger to the republic? Times have changed. A school shooter with a raging grudge is now bailable. It's likely part of the Sorosian criminal justice trend of letting absolutely everybody out. Sure, it starts with pot smokers and shoplifters. But it doesn't take long for it to include child molestors and school shooters. This one got bail. Meanwhile, little old ladies, assorted members of the public, and a goofus in a shaman suit complete with a horned hat remain imprisoned, some in solitary, eight months after the Jan. 6 Capitol riot, as a mortal danger to the republic. Yes, some should be punished, but this is disproportionate and the time for that has come and gone. A school shooter gets let out on bail, while the Capitol rioters, charged with "parading" continue to languish in prison? What's wrong with this picture?
US records highest increase in nation's homicide rate in modern history, CDC says. The United States has just recorded its highest increase in rates of homicide in modern history, according to the US Centers for Disease Control and Prevention. Provisional data from the CDC's National Center for Health Statistics, released early Wednesday, suggest the homicide rate for the United States rose 30% between 2019 and 2020. It is the highest increase recorded in modern history — and confirms through public health data a rise in homicides that so far had been identified only through crime statistics.
The Editor says...
Homicide is not a disease. Why is the CDC involved in this?
George Soros contributes $500,000 to defeat police funding initiative in Austin. For the second time in recent months, billionaire socialist George Soros contributed money to influence Austin politics. He is contributing big bucks to defeat Proposition A which, among other things, will fund the hiring of more police officers in the city. Proposition A would establish a minimum staffing level for the Austin Police Department of 2 officers per 1,000. Austin is experiencing an increase in attrition in police ranks which is now 15 to 20 departures per month this year. Austin is the state capitol and a university town, too, so a fully staffed police department is a necessity for the safety and protection of those living and visiting the city.
Man Facing 45 Charges of Child Sex Crimes Beaten by Fellow Inmates. A Texas man on trial for alleged sex crimes against three children was reportedly assaulted upon his return to jail after the trial's recess last week, according to KFDX. "Michael Corey is on trial by jury for 45 charges, including sexual assault, continuous sex abuse and inducing sexual performance by a child," the outlet said Friday [10/1/2021].
Blue cities forge ahead with their own police reforms. As police reform stalls at the federal level, some blue states are forging ahead with their own law enforcement overhauls. State-level police reforms went into effect on Friday in Maryland. One day earlier, California Gov. Gavin Newsom signed into law a raft of reforms that will change the rules for police conduct across the state. Both sets of reforms were aimed primarily at increasing scrutiny of incidents involving officers in the field, adding layers of bureaucracy to misconduct allegations.
Democrats see political peril in replacing Minneapolis PD. As activists mobilized this summer to ask Minneapolis voters to replace their police department, one of the first prominent Democrats to slam the plan was a moderate congresswoman who doesn't even live in the city. Angie Craig declared it "shortsighted, misguided and likely to harm the very communities that it seeks to protect." She warned that it could push out the city's popular Black police chief.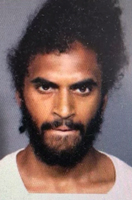 This 'Man of Steal' leads NYC's record-shattering shoplifting surge with 46 arrests. During just one illicit shopping spree, on July 7 at the Jackson Heights Walgreens, Rodriguez took "10 units of Ensure, 12 Walgreens wipes, 15 units of Sensodyne toothpaste and 8 units of Cetaphil lotion," court papers state. "This guy comes here every day stealing, every single day. He comes and he steals," fumed the store manager. "We call 911 and make a report, and that's it. Our company policy is if anyone comes, because of a safety issue, we cannot stop him. We cannot do anything." "They steal and they sell," the manager groused. The manager said the Queens Klepto has been targeting his Jackson Heights store for "at least a year, at least every single day. ... Whenever he goes to jail he stops. Sometimes he comes three, four times [a day] to get all of a [certain] merchandise."
Defunding Disaster: Austin Police no longer to responding to 'non-life threatening' 911 calls. Starting Friday [10/1/2021], Austin's sworn police officers will no longer be responding in person to non-emergency calls because of severe staffing shortages, APD announced. The announcement comes after the Harris County Sheriff's Deputies Organization in Houston warned residents that if they were "robbed, raped or shot" to "hold their breath and pray" because they might not have the personnel to respond. The Austin no-response announcement includes vehicle collisions with no injuries and burglaries no longer in progress or where the suspect has fled the scene. Instead of calling 911, residents are being told to call 311 to file a non-emergency police report.
Man Films A Vanload Of People Looting Thousands Of Dollars Worth Of Items From A Target In Portland. This was the moment a concerned citizen filmed a group of shoplifters, giving zero F's while they unloaded shopping cart after shopping cart of stolen items from a Target in Jantzen Beach on Hayden Island in Portland. The man actually talks his way through while he films several people load racks of clothing into a van while they seem to pay him no mind at all. The man even films their license plate just before they drove off. Portland law basically lets people off scot-free if they steal under 500 dollars worth of items so technically, this group can claim under 500 dollars each and get away with a tiny slap on the wrist at best. [Video clip]
Austin City Council member sounds alarm on 'disastrous consequences' of defunding police. The Austin Police Department announced it will no longer respond to calls for "non-emergencies" after a cut to the police budget in 2020 led to staffing shortages. Mackenzie Kelly, an Austin City Council member, said the decision to defund the police has led to "disastrous consequences" in the city. The Austin City Council voted in August 2020 to cut up to $150 million — roughly 34% — from the police budget. By the end of July, Austin reported that the number of homicides in 2021 had already matched the total homicides in all of 2020. "A lot of what we're seeing happening starting today is coming home to roost from that decision," Kelly said. "And it's disastrous."
More Evidence That Defunding Police Wasn't a Good Idea. The surge in violent crime over the past year — murders in particular — has been astounding and historic. The numbers back this up and paint a grim picture. Property crime is generally down, but violent crime is way, way up. The murder rate rose by nearly 30% in 2020, more than any other time in the last half-century. This is according to recently released statistics compiled by the Federal Bureau of Investigation in its annual report on crime. The report shows that there were 4,901 more murders committed in 2020 than in 2019. It's the largest single-year increase — by a wide margin — in murder rate since the FBI began compiling these statistics in 1960.
Shoplifters casually rob California Marshalls as people watch, employees do not report crime. Multiple shoplifters in California were seen brazenly stealing from a Marshalls location as the crime continues in the state. "People shopping there were just kind of standing there watching. The only thing I figured I could do was get their identities and their license plates and give them to somebody who will do something with them," witness Lindsey Rodriguez, a resident of Hemet who recorded the suspects, told NBC4. Rodriguez said she saw one man stroll out of the store with his arms full of clothing on Saturday evening [9/25/2021] in Hemet, and said one woman used wire cutters to sever security tags on expensive purses.
Brazen Shoplifters Rob Chicago Department Store In Broad Daylight. This is the new trend in all progressive cities now. Cities that have decriminalized most 'soft' crimes such as shoplifting. Watch as these two shoplifters fill bags with expensive perfumes in broad daylight and leave while people film. This was at the Ulta in Norridge at 4115 N Harlem near the 16th district in Chicago. [Video clip]
Muslim inmate challenges strip-search by transgender guard. A Muslim inmate who was strip-searched by a transgender guard at a Wisconsin men's prison has filed a federal lawsuit saying the search violated his faith and freedom of religion. The case was heard Sept. 22 by a three-judge panel of the U.S. Court of Appeals for the 7th Circuit based in Chicago. A ruling is pending. Several experts on prisoners' rights and LGBTQ rights told The Washington Times the case could be influential in constitutional and prison law.
Report: California Put Coronavirus-Infected Inmates, Including Illegal Aliens, into Communities. A San Francisco newspaper published a sympathetic feature about an illegal alien from Cambodia who had coronavirus when he was released from California's San Quentin State Prison last July. [...] San Quentin had 2,258 cases during the pandemic, and 43 of those people were released after testing positive, according to the [San Francisco] Chronicle.
Civilization requires deterrence. The current crime wave of murder and violent assault in our major cities is the wage of loud efforts to defund the police and contextualize crimes as somehow society's rather than the criminal's fault. As a result, lawbreakers now believe there is a good chance that robbing people or hurting or killing them might result in monetary gain or at least bloody satisfaction. They no longer fear a likely sentence of 30 years in prison. So, they see little risk in hurting people. And innocents suffer.
Police [are] fighting back as Chicago crime spills into Indiana. Chicago criminals are targeting Indiana and police there say they are fighting back. "We've seen a lot of vehicles being stolen in Illinois or Chicago, crossing into the Indiana state line, committing other crimes, drive-by shootings, homicides, burglaries," said Lake County Indiana Sheriff Oscar Martinez, Jr. From fast cars to new technology, his department is using every means possible to catch up to criminals. "They think if they get to the Illinois state line or Chicago that the Lake County Sheriff's Department will not chase them. Well, that's incorrect," Sheriff Martinez said. To keep up with criminals, the department purchased nine high-performance vehicles.
Jump in U.S. murder rate [is the] biggest in 60 years. FBI data is expected to show murders in the U.S. increased by nearly 30% in 2020 — the highest annual spike in at least 60 years, according to news reports. The agency's Uniform Crime Report is set to be released Monday, but preliminary data temporarily uploaded to the FBI website showed murders last year went up nearly 29% compared to 2019, The New York Times reported on Wednesday [9/22/2021]. If the data remains unchanged, it will reportedly be the largest single-year increase since the 12.7% change in 1968.
I Fear Leftist Solutions Much More Than Actual Problems. America's founding fathers named three essential rights to which all men were entitled: Life, liberty, and the pursuit of happiness. It's as profound as it is simple. At this very moment, though, all three of these fundamental, God-given rights are under a full assault by the left. [...] Another obvious example came out of the Black Lives Matter movement as they called to defund the police. Despite an overwhelming majority of black residents — in some of the hardest-hit urban communities, no less — demanding a strong police presence, the cure for a few rogue officers was to eliminate them all. How is this working out? Crime rates in these locations, especially murder rates, have returned to all-time highs. A few bad cops might have killed one or two thugs by accident, but the alternative is now scores of bullet-ridden black bodies. The cure (less police) is far worse and deadlier than the disease (moral decay in urban communities).
The Left's Attempt to Hide Its Part in the 2020 Violent Crime Surge Collapses With One Study. Earlier this month, NBC News pushed the idea that crime had fallen overall last year, citing a "center-left" group called "Third Way" for their info. It was supposed to be a study meant to disprove Republicans who were pointing out that the crime waves hitting blue states was thanks to various Democrat Party-backed causes. [...] According to Fox News, crime statistic experts pointed out that Third Way's statistic tracking was "misleading at best" since their report combined seven types of violent crime and merged them together, then applied this to 22 states. NBC News took this info and reported this statistic. [...] The truth is that murders and assaults spiked after the media got ahold of the death of George Floyd and began pushing it on America relentlessly during the 2020 elections.
AOC calls for release of all Rikers inmates amid 'inhumane' jail conditions. Rep. Alexandria Ocasio-Cortez and three other House Democrats from New York called on Mayor de Blasio and Gov. Hochul Tuesday to release all inmates held on Rikers Island, citing a long-running pattern of "human right violations" at the jail. Ocasio-Cortez made the extraordinary demand in a letter to de Blasio and Hochul issued jointly with Reps. Jamaal Bowman, Nydia Velazquez and Jerrold Nadler, who chairs the powerful House Judiciary Committee. In addition to freeing the roughly 6,000 inmates on the island, the four lawmakers wrote that the jail itself should be "immediately" shuttered and federal funding for its operations seized.
Nearly 200 People To Be Released From Rikers Friday After Gov. Hochul Signs 'Less Is More Act,' Calls. Gov. Kathy Hochul acted to immediately free several hundred parolees from Rikers Island and made arrangements to move several hundred more from the notorious jail complex to state lockups to ease the unsafe conditions at the troubled facility. But the correction officers union is questioning the effectiveness of the actions in ending the crisis.
After battle over the ballot, early voting begins in Minneapolis. After a battle over the ballot, early voting begins Friday in Minneapolis. Residents will get to vote on the ballot question on whether to replace the Minneapolis Police Department with a new department of public safety. The Minnesota Supreme Court reversed a decision blocking the city from counting votes on the question. The question on the ballot, to which voters respond "yes" or "no," is as follows: ["]Shall the Minneapolis City Charter be amended to remove the Police Department and replace it with a Department of Public Safety that employs a comprehensive public health approach [...] ["]
Crime soars in Minneapolis as cops fear being unfairly targeted in woke viral videos. Proactive policing in Minneapolis plunged dramatically following the murder of George Floyd last year, even as violent crime soared, a new analysis reveals as the city prepares to vote on a ballot initiative to abolish the police department. In the year following Floyd's death, traffic stops in Minneapolis plunged 74 percent, patrols of known problem areas were down 76 percent, and stops of suspicious people plunged 75 percent, according to a Reuters investigation. Confidential police sources said that part of the slowdown was due to a staffing shortage amid an exodus from the department, but that much of the reduction in policing was due to a fear of being caught up in an incident that could go viral in a climate of anti-cop sentiment.
New Texas Law Requires Cash Bail for Suspects Accused of Violent Crimes. Texas Gov. Greg Abbott signed a bill into law on Sept. 13 that requires cash bail for suspects who have allegedly committed violent crimes. The measure, Senate Bill 6, was approved in the Texas House and Senate in August, following a delay that was triggered by dozens of House Democrats fleeing the state to deny Republicans a quorum over a Republican-backed election overhaul bill. Known as the Damon Allen Act, the legislation was named after a Texas state trooper who was killed in 2017 during a traffic stop by a suspect who was free on $15,500 bond. The law now mandates that people accused of committing violent offenses can't be released on personal bonds, which don't require a defendant to pay money, but require other measures such as monitoring. Suspects believed to be involved in violent crimes will now have to post cash bail set by a court, the text of the legislation reads. They can also pay a percentage to a bail bonds company to be released.
No kidding.
Violent Criminals With Harsher Sentences Less Likely to Be Rearrested, Study Shows. Violent criminals in the United States were less likely to be rearrested if they spent more time in prison before release, a large, long-term study has shown. Nearly 77 percent of people imprisoned for a violent crime were arrested again within 10 years of release. The rate was lower, though, for those who served harsher sentences than for those who served lighter ones, according to the study conducted by the Bureau of Justice Statistics (BLS [sic]). Of those who spent less than the median time in prison prior to release, 78.3 percent got rearrested. For those who served more than the median time, 66.4 percent were rearrested. Among those with the harshest sentences of more than 80 months, 57.5 percent were rearrested, according to the recently released report on the study. The study followed a sample of 76,000 state prisoners selected from more than 400,000 released in 24 states in 2008.
Crime Data Feared Lost From Dallas Police Computer Network. A massive amount of information on criminal cases dating to July 2020 has been lost from the Dallas Police Department computer database, authorities revealed on Wednesday [9/8/2021]. In a statement, the Dallas County District Attorney's Office said the loss occurred in early April as the Dallas Police Department performed a data migration from a computer network drive. About 14 terabytes of the 22 terabytes lost were recovered, but the remaining eight terabytes are believed lost forever, according to the statement, and would have to be restored by new investigative work. Most up-to-date personal computers have hard-drive memory capacities ranging from a half-terabyte to two terabytes.
An ENTIRE police department in Missouri just resigned. The Hill reports the entire police department of Kimberling, Missouri, has resigned "without immediate authority" to replace them. Police Chief Craig Alexander resigned on Aug. 23. After that, the floodgates opened. The rest of the officers started resigning until there were none left.
Shoplifters Walk Out Of Lowe's With 2k Dollars Of Merchandise In Broad Daylight. Video of shoplifters stealing thousands of dollars worth of electrical wires from a Lowe's store in Oregon has angered local residents. "It was so blatant, that's what riled me up," Keizer, Ore., resident Andrew Sullivan, who filmed the incident, told the Keizer Times. "They were just strolling through the parking lot, just riding the carts. [Video clip]
Joe Biden Is a Total Failure. Biden's answer to the surge in violent crime rates across urban America is pious lectures about guns, which incites both the anti-gun Left and the huge number of Americans (who consider their guns security against what otherwise would be a riptide of crime) to believe that guns are about to be confiscated unconstitutionally. The answer to crime rates is not in the suppression of access to guns for responsible citizens, as criminals always have guns; the answer is in greater numbers of better-trained police personnel and longer sentences for violent criminals.
3 Chicago 'Anti-Violence Activists' Facing Felony Gun Charges While Out On Bail for Other Felony Gun Charges. The criminal justice system in the city of Chicago might as well be called the "criminal's" justice system. With prosecutors who don't prosecute and judges who don't hold violent criminal predators accountable, it's no wonder the city's moniker is Murder City, USA. How bad is it in the Windy City? It's bad. It's so bad that three of Mayor Lori Lightfoot's "anti-violence workers" were arrested in a single week on fresh felony gun charges, while out on bail for other felony gun arrests. Including one so-called anti-violence worker who allegedly shot at two people and then recently, allegedly on video, threatened to shoot another.
Minneapolis man, 29, who opened fire on cops after they shot him with a rubber bullet is acquitted of attempted murder. A Minneapolis man charged with attempted murder after firing at police officers during the George Floyd protest was acquitted of all charges after claiming he shot back in self defense. Jaleel Stallings, 29, was acquitted on Wednesday of multiple charges stemming from a shooting last summer where he shot at the Minneapolis Police Department after they opened fire on him with rubber bullets. The US Army veteran argued the shooting was in self-defense. He testified that he fired three shots at an unmarked white van after he was struck in the chest with what turned out to be a nonlethal rubber bullet fired by the MPD, the Associated Press reported.
Minnesota Man Who Shot At Cops During George Floyd Protests 'Acquitted' After Claiming It Was 'Self Defense'. There is no justice system in the United States and certainly not in Minneapolis. A Minnesota man who shot at police is acquitted because it was self-defense. [...] When I was young, we were taught to respect police. In the mad world Obama/Biden built, you can shoot at police and get off claiming self-defense. Police in Minnesota will soon be a thing of the past. No one will want to be one.
Kamala Harris has blood on her hands. Not in connection with Afghanistan — I doubt that she has had any influence on events there — but as a result of her support for violent crime in Minnesota. In the wake of the George Floyd riots, Harris contributed to the Minnesota Freedom Fund and encouraged others to do so as well. She did so on the pretext that the Freedom Fund was bailing out "demonstrators" arrested in Minnesota, but of course no one was arrested for demonstrating. Those bailed out were arsonists, aggravated assaulters and other serious criminals. Moreover, the Minnesota Freedom Fund didn't restrict itself to bailing out those arrested in the summer of 2020. Rather, its efforts to inflict violent crime on Minnesotans have continued to the present day. Last Sunday, an innocent man was murdered by a criminal who had been charged with domestic assault but was sprung by Kamala Harris's Minnesota Freedom Fund just days earlier.
It's a reverse shakedown. It's also unsustainable.
San Fran to start paying known criminals monthly stipend to stop killing, eligible for bonuses. One of America's "wokest" cities, San Francisco, intends to start paying high-risk criminals to not shoot each other. Starting in October, 10 known criminals will receive a $300 stipend every month that they abstain from busting some caps. The chosen criminals will also be eligible for a $200/month bonus if they meet certain milestones like obtaining a job. "The idea is to provide the small number of San Franciscans who authorities believe are most at risk of shooting someone — or being shot — with an incentive to get help and stay out of trouble," according to the San Francisco Examiner. "The initiative will pair participants with newly hired life coaches from the Street Violence Intervention Program, known as SVIP, who will help them make the right choices and access services. The theory is that the up to $500 stipend will serve as an incentive to participate — and stay engaged," the paper notes.
Woke NYC Democrat wants to make crime victims help their attackers. Amid an increase in violent crimes and shootings in New York City, a candidate for public office wants victimized New Yorkers to bear the burden of the crimes against them. The radical "public safety" plan put forward by socialist candidate Tiffany Cabán — a shoo-in to earn a spot on the City Council representing western Queens after November's election — would allow for victims of violent crimes to help their attackers in the name of "restorative justice." The Democrat's woke, 48-page manifesto would strip cops and courts of some of their most basic law enforcement roles — like sending violent perps to prison. "Communities will be empowered to develop individualized strategies to help heal wounds of violence rather than being forced to rely on policing and prisons as the only recourse," reads the policy from the Democratic Socialists of America-backed candidate in the non-competitive race.
Panicked Democrats switch from 'defund' to 'refund' the police. The Democratic Party's quest to defund police forces, an act in which it kowtowed to its hard-left-wing base, has come to a very bitter end. The resulting surge in violent crime has produced a massive public backlash that threatens the careers of elected Democrats throughout the nation. Naturally, the endangered species is trying to distance itself swiftly from the wreckage that "defund the police" has left behind. The mayors of Portland and Seattle, who respectively slashed police funding by $15 million and $7.5 million last year, are now moving to restore those budgets amid spikes in violent crime made worse because police officers are choosing to retire rather than stay where their work is scorned by their employers. Something similar is happening in Chicago, where last year, Mayor Lori Lightfoot demanded that the police force leave vacant positions unfilled as part of a broader drive to cut police budgets. Lightfoot now faces a 60% increase in murders since 2019, and suddenly, she sees the light — the police are not expendable, and the thin blue line between chaos and order cannot be allowed to get any thinner.
Wisconsin Sheriff Will No Longer Call Prisoners Inmates But Rather 'Residents' To Humanize Rapists And Murderers. The Dane County Sheriff's Office is eliminating the term "inmate" from its official vocabulary. Sheriff Kalvin Barrett announced the move Monday [8/16/2021], explaining the change is designed to "maintain the dignity and respect for all who are involved in our criminal justice system," WMTV-TV reported. [Video clip]
Homicides outpace COVID-19 deaths in Washington, other major cities. Homicides are outpacing COVID deaths in the District and in other major cities, prompting former law enforcement officials to sound the alarm on the nationwide effort on the part of some activists and politicians to defund police departments. In the nation's capital, there were eight deaths from COVID-19 in July. But the District recorded 20 homicides last month, bringing the year's total to 114, already surpassing last year's homicides total of 109 with five more months to go. "We are all concerned about the pandemic. We have a pandemic of violence that is sweeping this nation and we have an opportunity to stop it but it is going to take leadership not just from law enforcement but from all levels," said Sgt. Betsy Brantner Smith, a spokesperson for the National Police Association.
The Drossy Touch of Joe Biden. Almost everything Joe Biden has touched since entering office has turned to dross. [...] After Biden entered office, violent crimes ignited from the embers of the 120 days of mostly unpunished looting, arson, and organized violence in the streets of America's major cities during summer 2020. Under Biden, jails were emptied. Federal attorneys and emulative local DAs exempted offenders. Police were defamed and defunded. Punishing crime was considered a racist construct. The result is that Americans now avoid the Dodge City downtowns of most of America's crime-ridden blue cities. They accept that any urban pedestrian, any driver after hours, any commuter on a bus or subway can be assaulted, robbed, beaten, raped, or shot — without any assurance that the media will fairly report the crime, or that the criminal justice system will punish the perpetrators. In Biden's America looters prance into drug stores and walk out with shopping bags of stuff, under the terrified gaze of security guards who guesstimate at least they did not steal more than $950 of loot.
Over a dozen New York gang members arrested after allegedly plotting crimes on social media. Over a dozen members of the East Harlem, New York, "Chico Gang" were indicted in a joint investigation between police and prosecutors Wednesday, according to a press release from the Manhattan District Attorney's office. Officials indicted 13 members of the gang on charges of conspiracy, attempted murder, including 21 alleged shootings that resulted in 12 victims, attempted assault and weapons possession, according to the press release. The street gang has been present among two public housing projects since 2018.
Are We in a Revolution and Don't Even Know It? Two years ago, it would have been considered absurd that youth would ride bikes into drug stores and steal with impunity as security guards watched, or thieves could enter into Neiman-Marcus department stores and skip out with thousands of dollars of rich people's favorites. Over $2 billion in "stuff" was destroyed in 2020. And almost none of the violence was ever properly investigated, the perpetrators arrested, charged, tried, convicted, sentenced, or incarcerated. In such revolutionary times, no one knows any more what is and is not a crime. Illegally storming the border when positive for COVID-19? Destroying a public statue of George Washington or Thomas Jefferson? Looting a corporate chain store? Knocking out an Asian-American septuagenarian? Or turning over the tables of Jewish-Americans as they eat? Taking over municipal blocks and declaring the confiscation an autonomous zone? Not crimes. "Illegal parading" inside the U.S. Capitol building? Crime.
Cuomo uses final days as gov to commute [or] pardon 10 felons, including 3 tied to killings. Days after giving two weeks' notice that he would resign his office amid a serial sexual harassment scandal, Gov. Andrew Cuomo is using the unprecedented lame-duck period to grant clemency and pardons to 10 felons — including three convicts tied to killings. [...] Cuomo commuted the sentence of Nehru Gumbs, 36, who was convicted of first-degree manslaughter and criminal possession of a weapon and assault in 2005 — crimes committed when he was 18. Gumbs was fingered for the brutal shooting death of an innocent bystander heading to his Canarsie home from a midnight church service on New Year's Eve 2004. Gumbs has served 17½ years of a 25-year sentence. He has served as the youth counselor at Sing Sing prison and earned an associate's degree from Mercy College and is pursuing a job as a plumber.
Hayden Island residents frustrated over increasing crime. People who live on Hayden Island say the homeless crisis and crime seem to be getting out of hand. They feel crime is rampant and, according to statistics, they're right. Portland Police Bureau data show crime on Hayden Island is the worst it's been in the last five years. Property crimes like theft, burglary and larceny make up the vast majority. [...] Interstate 5 running through the island makes it a prime target; people coming from the south in Oregon or the north in Washington are able to quickly hop on and off the island to commit crimes there or escape being caught. Residents see cars without license plates all over the neighborhood and believe they're stolen and brought to the area to be stripped.
The Editor says...
Interstate 5 is not the culprit. Private automobiles are not the issue. Soft-on-crime Democrat politicians and activist judges are the problem. The solution is to build more prisons and eliminate early releases of violent criminals. The word will get around, and crime will drop quickly.
My scooter was stolen last week. Unknown to the thief, I hid two Airtags inside it. [Thread reader] I was able to use the Apple Find My network and UWB direction finding to recover the scooter today. [...] Here are a few lessons learned if you're using Airtags for theft recovery:
[#1] Use an Airtag adhesive that blends in and muffles noise. It's clear my thief was looking for them.
[#2] Do not turn on Lost Mode. It immediately alerts the thief they're being tracked.
[#3] Act quickly, before the anti-stalking feature kicks in. Damage done to my handlebars was likely in response to the regular noises from the Airtag.
[#4] Limit your in-person interactions and always involve the police. Don't try to retrieve your stolen goods until you have backup.
The Bad Path of Relativizing the Rule of Law. Progressive leaders have tacitly permitted criminals to run life off the tracks and ruin it by relativizing the rule of law and behaving as if it applies to everyone else but them. Conceptually, enforcing the law is the solution, but progressives don't see it that way. America's cities are testaments to the abject failures of these policies because violent crime has escalated, especially murder. Yet progressive district attorneys adamantly refuse to prosecute them. Moreover, the movement to eliminate cash bail steadily gained traction as it has in New York, which attenuates accountability. It is incumbent upon district attorneys to prosecute all those who commit violent crimes. But district attorneys Larry Krasner in Philadelphia and Cyrus Vance, Jr. in New York don't see it that way. According to Niall McCarthy, a data journalist for Statista, the world's leading statistical database, murder rates have risen 52% and 32%, respectively, in those jurisdictions during the first half of 2020 when compared to the same period in 2019.
When Confidence in Our Institutions Collapses. Sometimes, stories that appear unrelated share common foundations and have cumulative effects, far more serious than any one does individually. Highlighting these common features tells us something profound about our society and its troubles. That's the case with four stories over the past few days. The first two involve police. One concerns a New York City gang member who attacked multiple officers and shot one of them. The suspect had more than 25 prior arrests for guns, drug offenses, and other crimes. He was known to be part of a gang affiliated with the "Bloods." Yet Jerome Roman was roaming the streets, gun in hand, out on bail. It is a story repeated dozens of times each week across the country. The second story involves the inability of Portland, Ore., to recruit police to fight the city's stunning murder epidemic. For some reason, Portland just can't find people willing to join the special unit designed to stop the killings.
New reforms cause 'confusion and uncertainty,' WA police say. Several new police reform laws took effect in Washington last week, requiring de-escalation by police and restricting their use of force. The new laws are proving to be controversial among law enforcement agencies, with police chiefs pointing to confusion over how they should be implemented. But supporters say the new laws reflect the public will, and should be given time to work. The state's new "use of force" law raises the bar for when police can detain someone who is running away. Within days of the law taking effect, the Pierce County Sheriff's office said those new restrictions prevented deputies from pursuing a murder suspect in Puyallup.
Electronic monitoring for violent criminals in Chicago and Cook County is a failure. The far-left has taken over many elected prosecutor's offices, including Chesa Boudin in San Francisco, George Gascon in Los Angeles County, Marilyn Mosby in Baltimore, and Kim Foxx in Cook County, where Chicago is the county seat. As I sadly live in Crook County I'm going focus on Foxx, Cook County's state's attorney and Jussie Smollett's protector, who among other things, refuses to prosecute shoplifters with a felony unless they are accused of stealing merchandise worth more than $1,000. Foxx is also a huge supporter of electronic monitoring of criminal suspects. Small-time crooks often move on to bigger crimes. The "broken-windows" practice of policing that Rudy Giuliani put into place during his eight years as mayor of New York — his cops aggressively cracked down on petty criminals — led to a major decrease in violent crime. [...] The soft-on-crime approach of Foxx has been a disaster for Cook County residents, particular minorities who Foxx claims to champion.
You've made your bed, now lie in it.
Portland wants to walk back defunding the police but officers don't want the jobs. Last June Portland's Mayor Ted Wheeler, who is also the police commissioner, decided to put an end to the Gun Violence Reduction Team (GVRT) as part of an effort to reimagine policing. The $6 million that would have gone to the team was redirected " toward communities of color." Even at the time the assistant chief of police warned their could be serious consequences. [...][ Daryl Turner, the head of Portland's Police Union issued a similar warning. "That is going to cripple us in our ability to be able to stop violence in the streets of the city of Portland," he said. After the GVRT was cut, the number of shootings and murders in Portland skyrocketed. Last September there were 110 shootings in Portland, a 243% jump compared to a year earlier. At the end of the year, Portland had more than 900 shootings, double the previous year. The spike in violence continued into 2021.
Chesa Boudin stands up for shoplifters and drug dealers. San Francisco's broad-daylight retail heists have shocked the nation in their brazenness. They've triggered the closings of stores, such as Walgreens, and the shortening of hours from retail giants such as Target. Forty-four percent of city is planning to move out, with 80% citing out-of-control crime. But the shoplifters have got a defender, too — in San Francisco District Attorney Chesa Boudin. So do the drug dealers. The only problems out that Chesa sees are the victims. Which tells us a lot about the state of moral bankruptcy of the wokester movement, and what the New Yorker dismisses as the "backlash."
Do We Have to Watch Their Wretched Movie All Over Again? Calendar year 2020 saw a 25% increase in homicides, the highest since 1960 and higher than in any single year in the 1965-75 decade when the number of violent crimes almost tripled. They seem to be rising by similar rates this year. Many people don't like to admit it, but this is obviously a result of the de-policing movement urged by Black Lives Matter and cheered on by liberal editorial writers, corporate moguls and Silicon Valley monopolists. They applauded and declared exempt from COVID-19 restrictions the "mostly peaceful" demonstrations against supposed systemic police misconduct. Few, if any, deplored the nearly 600 violent riots that caused some $2 billion in damage. If the experience of the 1960s is a guide, this will severely damage modest-income neighborhoods for decades after.
Denver Police Chief Attributes Rise In Violent Crime To Felons Released On Low Or No Bonds. Denver Police Chief Paul Pazen has had it. He says his officers are arresting a record number of armed felons, but the Denver County Court and Denver District Attorney's Office are releasing them with low or no bonds. In a desperate attempt to address the issue, he's forming a partnership with federal agents so the cases will be heard in federal court instead, where prosecutors and judges show less leniency toward violent offenders. Pazen says a DPD officer and federal agent will respond together to active shooting scenes and review cases involving felons who are accused of illegally having a weapon.
Irony, Absurdity, and Dishonesty — The Democrat Party's Playbook. Amid the turmoil and trauma in the aftermath of George Floyd dying in police custody (for which Officer Derrick Chauvin was convicted and sentenced for murder), the outpouring of emotion and outrage became a call to "Defund the Police." [...] Nature abhors a vacuum, and human nature is just the same. It is a sad fact that we live in a fallen world and when lawful authority exits or is diminished, criminals will enter and increase. It was entirely predictable and has happened as predicted. There is a crime wave sweeping the nation in those cities and municipalities run by liberal, "woke" Democrat politicians. Minorities and the poor have suffered the most. This has not helped but has added immeasurable suffering, misery, and devastation. Do these elected Democrats display any sense of accountability or responsibility for such a poorly conceived policy? NO! They trot out talking points and try to blame Republicans for the mess they made.
Chicago's top cop blames current wave of deadly gun violence on courts letting out violent offenders from jail too quickly. Chicago's top officer once again took aim at the city's court system by saying judges released violent offenders into the street amid a wave of gun violence in the city during a press conference on Monday [7/26/2021]. Police Superintendent David Brown said the city could not risk having violent criminals in the streets after last week's mayhem, which left at least 12 people dead and 70 injured across the Windy City. 'What we can do different is challenge the courts to render Chicago safe,' Brown said in the televised conference. 'Holding offenders in jail longer, not releasing murderers back into our community. That's what we can do different.'
Birth control for California female prisons as 'trans women' move in. A reader emails: Wow. CA is just packed with genius. Here's another brilliant idea. Let male prisoners who "identify as female" to be housed with women in prison. [...] Thomas Lifson adds: How many rapes will there be? Given the level of violence in men's prisons, which these biological males understandably want to escape, my guess is that there will be a lot. Crickets from NOW and the media feminists.
Democratic mayors in 20 cities that have slashed police budgets also use millions of taxpayers' dollars to fund their own personal security. At least 20 mayors from cities that have called to defund the police enjoy the perks of private security at a cost to taxpayers of millions of dollars a year. In February, San Francisco Mayor London Breed announced plans to redirect $120 million from the police department to a combination of new and existing programs. Meanwhile, the city spent $2.6 million to protect her in 2020, a number that will likely increase this year.
Why Democrats Don't Care About Crime. American cities are reeling from increased crime ranging from burglary and arson to murder. Americans, rightly, are concerned — except for Democrat officials. San Francisco, a bastion of progressive stupidity, is among the hardest hit cities — yet the San Francisco lunatics who run the city claim anyone concerned with rising crime is a white supremacist. This is common from among the Democrat intelligentsia and leadership. To understand why Democrats don't care about crime, we must turn to two prophets of the new anti-American ideology. Antonio Gramsci and Michel Foucault are essential to understand to enter the deluded mind of the modern progressive and why they are happy to let American cities burn rather than confront crime and stop the desecration of America's once iconic cities.
Keywords: Flip-flop, lesson learned the hard way, oops, about face.
After deadly weekend, Seattle's mayor says it's time to rebuild police force that has lost 250 officers. There were four people killed in Seattle early Sunday, plus at least six more injured in unconnected shootings. That was in addition to another deadly shooting that happened Friday night bringing the weekend total to five deaths. [...] Today Mayor Jenny Durkan gave a press conference about the weekend violence in which she pointed out that lack of police staffing was part of the problem. "Over the past 17 months the Seattle Police Department has lost 250 police officers," Durkan said. She continued, "We're on path to losing 300 officers. We are creating meaningful alternatives but as I said last year the city has an obligation to still continue constitutional policing and respond to 911 calls.
Breaking the Crime Wave. A contagion of crime and a growing epidemic of drug abuse afflicted the nation as well and infected almost every community and neighborhood in America. The Big Apple has gone from one of the safest metropolitan areas in America to a city terrorized by a nearly 100 percent increase in shootings and a stunning 44 percent rise in murder last year. In April, police in Brooklyn stopped a man named Takim Newson for suspicion of driving under the influence. When Newson admitted that he was high, the officer asked him to step out of the car. Instead, Newson sped away, dragging the officer several yards. Newson then tried to rob a 66-year-old woman in her home and stole a car. After a manhunt, he was apprehended and put in jail. But what's remarkable is that he should have been behind bars to begin with: he had been charged with attempted murder two months before but had been released without bail, against the advice of even his own defense attorney. This story of weak-on-crime policies resulting in pain and suffering for innocent Americans and selfless police is not unique. It has played out in countless communities across the country.
California Is Experiencing a Crime 'Tsunami': Sacramento DA. According to a Public Policy Institute of California (PPIC) released in 2021, four major cities in the state have encountered an increase in homicide and car thefts. Los Angeles, Oakland, San Diego, and San Francisco are experiencing such heightened crime, following a drop in violent crime in March 2020 when the COVID-19 pandemic began. Data provided by PPIC shows that in 2020, Los Angeles reported a 40 percent homicide increase from 2019; Oakland reported a 36 percent increase. San Francisco and San Diego both reported increases from 41 to 48 percent and 50 percent to 55 percent, respectively. In January and February 2021, violent crime fell 12 percent compared to the first few months of 2020. PPIC attributed the decrease to fewer robberies and aggravated assaults. Out of the four cities, Oakland was the only one that recorded an increase in aggravated assaults, of about 10 percent.
The Editor says...
Crime statistics are meaningless if whole categories of crime are ignored; for example, thefts under $950. Ignoring felonies doesn't reduce crime, it only reduces crime statistics.
D.C. Police Chief Unloads on Lax Court System after Shooting: 'You Cannot Coddle Violent Criminals'. Washington, D.C., police chief Robert J. Contee III slammed what he described as a malfunctioning justice system on Friday morning following a shooting in the crowded 14th street commercial district Thursday night. [Tweet] Gunmen shot two people on the city's upscale 14th Street, in an incident captured on video. Police have recorded 105 homicides in the city so far this year, while 2020 saw a 16-year high of 198 homicides.
'Their Hands Are Tied': San Francisco Locals Demand Change To Stop Brazen Crime. San Francisco local businesses and employees are calling for change as they describe increasingly brazen shoplifting and car break-ins. Many residents told Fox News they believe changing California law Proposition 47 is the solution. "The police are actually wonderful, their hands are tied, that's what's going on out here." Gianni, a local who works in Fisherman's Wharf, told Fox News. San Francisco Police Department's Public Information Officer, Robert Rueca explained "There's a threshold of 950 dollars that needs to be met in order for a misdemeanor to turn into a felony when it comes to theft."
DC leaders struggle with rising crime after cutting police. Crime in Washington, D.C., is on the rise as city leaders grapple with fixes to public safety problems that are, in part, of their own creation. A pair of headline-grabbing shootings dragged the district into the spotlight over the weekend, renewing focus over the city's decision to cut millions of dollars from its police budget in response to pressure from activists. On Friday [7/16/2021], 6-year-old Nyiah Courtney was killed while riding her scooter during a drive-by shooting that left five adults injured. A day later, gunfire outside Nationals Park stadium sent baseball fans scrambling for cover in the ensuing chaos that led league officials to postpone the game.
License to shoplift: Two thieves brazenly stroll out of TJ Maxx with armfuls of clothes. Two men casually walked out of a Los Angeles area TJ Maxx with their arms full of what appears to be stolen goods as brazen shoplifters continue to rampage through California retail stores. Viral video posted earlier this week shows two men carrying armfuls of jeans, jackets and other apparel as they casually saunter out of a TJ Maxx in the Granada Hills section of the San Fernando Valley north of Los Angeles. 'That looks great,' one man is heard saying in the video as the two men head toward the door with the stolen loot, making no haste as they leave.
George Soros Funnels $1M To Defund the Police as Violent Crime Surges. George Soros is funneling money to support defunding the police, a cause that cost Democrats politically in the 2020 election as violent crime spiked across the country. Soros gave $1 million to Color Of Change PAC on May 14, according to records filed with the Federal Election Commission. It is the progressive billionaire's largest political contribution of the 2021 election cycle and his first to the political action committee since 2016. The contribution from one of the Democratic establishment's biggest donors could further undercut the party's efforts to downplay allegations that it backs defunding police departments. Republicans have hammered Democrats over their position on policing as violent crime has skyrocketed nationwide. As part of the effort to beat back the allegations, the White House has accused Republicans of supporting the defund movement — a claim the liberal Washington Post gave "three Pinocchios" earlier this month.
This Is What's Become Of California Since They Decriminalized Shoplifting. This is what is happening daily in California these days now that legislators voted in Prop 47, where thefts under $950 will not be prosecuted, so cops will not bother showing up. The account shared a shocking video Tuesday of what they call an "organized shoplifting crew" hitting a TJ Maxx store in La Canada Flintridge, an L.A. environ. The video shows two black men casually strolling out of the store with their arms full of merchandise still on their hangers. One of the men carries a large, oversized duffle bag on his back, clearly filled with more items.
Pausing a minute to consider the damage leftism does to America. In California, robberies of items worth less than $950 are misdemeanors, not felonies. Moreover, in both San Francisco and Los Angeles, the prosecutors whom George Soros placed in office will not prosecute crimes. They exist to protect criminals, not law-abiding citizens. And that is how you end up with this video: [Video clip]
This Shocking Video Shows Just How Brazen Crime In California Has Become. California's slide into chaos has not been an accident. A huge reason for the striking rise in homelessness and both petty and violent crime is Prop 47, a bill deceptively titled the Safe Neighborhoods and Schools Act. The actual bill couldn't be further from the title. It reduces the penalties for felony crimes, allows for early release of violent criminals, changes some violent felonies to misdemeanors, and allows criminals to steal up to $950 dollars per day in property without prosecution. As a result, police officers are less and less likely to respond to calls reporting petty theft, as there isn't much they can do with a suspect.
Illegal vendors overrun the Bronx after police responsibilities canceled. New York City put a new law into effect this year that "relieved" the police of the responsibility of managing illegal street vending operations and sidewalk gambling activities. This was part of the movement to defund or abolish the police. Instead of having cops maintain the situation, that responsibility was handed over to a group of civilian "intervention" specialists. The theory behind this law was that confrontations with the police over so-called "quality of life" crimes could lead to more instances where the police would need to use force to clear the streets and gain compliance. The problem is that the new agency tasked with these responsibilities was given no authority to confiscate goods or take anyone into custody. They aren't even allowed to demand to see the identification of the people they "intervene" with. Would anyone care to take a guess as to what happened next?
The American Descent into Madness. [Scroll down] Crime is another current absurdity. There exists a mini-industry of internet videos depicting young people, disproportionately African American males, stealing luxury goods from Nieman-Marcus in San Francisco, clearing a shelf from a Walgreens with impunity, or assaulting Asian Americans. These iconic moments may be unrepresentative of reality, but given the mass transfers and retirements of police, and the frightening statistics of large increases in violent crime in certain cities, the popular conception is now entrenched that it is dangerous to walk in our major metropolises, either by day or at night. Chicago has turned into Tombstone or Dodge City in the popular imagination. Scarier still is the realization that if one is robbed, assaulted, or finds one's car vandalized, it is near certain the miscreant will never be held to account. Either the police have pulled back and find arrests of criminals a lose-lose situation, or radical big-city district attorneys see the law as a critical legal theory construct, and thus will not enforce it. Or the criminal will be arrested and released within hours. So a subculture has developed among Americans, of passing information about where in the country it is safe, where it is not, and where one can go, where one cannot. This is clearly not America, but something bizarre out of Sao Paulo, Durban, or Caracas.
California is releasing 76K inmates early, including violent felons. With little notice, California on Saturday is increasing early release credits for 76,000 inmates, including violent and repeat felons, as it further trims the population of what once was the nation's largest state correctional system. More than 63,000 inmates convicted of violent crimes will be eligible for good behavior credits that shorten their sentences by one-third instead of the one-fifth that had been in place since 2017. That includes nearly 20,000 inmates who are serving life sentences with the possibility of parole.
Kimberly Gardner's St Louis Prosecutors Don't Show Up To Court, Known Felon Accused of First Degree Murder Released. This is just incredible. Jaw dropping. Circuit Attorney Kimberly M Gardner is the same prosecutor filing charges against the McCloskeys for defending their home in Saint Louis. Incredibly her office was charging a previously convicted felon with first-degree murder, and the prosecutor assigned to the case took maternity leave leaving no one to show up in court. After three missed court hearings by prosecutors, the judge was forced to drop a murder case because no one other than the defense, a public defender, was showing up in court. This is a jaw-dropping example of a prosecutors office is a state of horrible mismanagement. Compounding the issue Ms. Gardner doesn't even attempt to justify the collapse of the justice system; she just says whoopsie.
Radical Travis County DA Garza Drops Indictment Against Cop, Claims 'New Evidence'. There may be a movie's worth of drama going on inside the Travis County (Texas) District Attorney's Office. Jose Garza won that office on a platform of, basically, letting criminals go free and indicting cops. Voters should pay more attention to what local office-seekers are saying. Sometimes they actually mean it, and Garza did. If Austin had a dashboard, all the lights would be blinking red. Austin, the capital of Texas and the heart and seat of Travis County, has suffered at least 47 homicides in 2021. Violent crime is spiking. Police officers are leaving in droves, leaving the streets much less defended from crime than before. That wasn't Garza's doing, Austin Mayor Steve Adler led the defunding of APD in August 2020 (and has proceeded to gaslight the city that he didn't), but that together with Garza's pro-release priorities are putting convicted felons back on the streets, where they are emboldened, while police officers face hostility from the Austin government, forced critical race theory indoctrination (more on that in due time), and the demoralizing prospect of facing an indictment from Garza, even if their cases have already been adjudicated.
Chesa Boudin's free pass for shoplifters drives San Francisco store owners to lock all goods behind glass cases. San Francisco is famous for its tech trend-setting, but here's a different kind of trend-setting now that it's got a leftist prosecutor who won't do his job: Shopping from behind locked glass-case barriers. Not just some goods, but now, all the goods. Here's what appears to be a citizen video, from someone trying to get the attention of the local press, of the Safeway supermarket at Church and Market in an area between the Mission district and the Castro district. [Tweet] Obviously, this is an attempt to thwart shoplifters, given the retail theft free-for-all going on in that city. The problem didn't just crop up out of nowhere, it's the result of city policy. Radical left-wing District Attorney Chesa Boudin, raised by Bill Ayers, and formerly Hugo Chavez's advisor, has declared shoplifting effectively legal if the value of the stolen goods is under $950.
Progressive Policies Won't Stop the Crime Wave. With last year's devastating homicide spike continuing, some proponents of "progressive" criminal-justice reforms are more convinced than ever that they have the right approach. Eric Levitz, writing at New York's Intelligencer blog, views 2020's 30 percent year-over-year increase in murder not as a political liability but as yet another reason to support a progressive reform agenda — one that reduces the footprints of incarceration and policing. [...] Levitz offers the usual battery of non-policing approaches: investing in preschool, summer jobs, and violence-interruption programs; increasing the minimum wage; expanding health insurance; and erecting barriers to firearm acquisition. The available evidence lends some support to the idea that these tactics can reduce crime. But they don't — on their own or together — offer the same reliability and extensibility that the traditional methods of policing and incarceration do.
Leftists can't connect the dots. It is understandable that some people believe that Democrat mayors, like Bill de Blasio of N.Y. and Lori Lightfoot of Chicago, are bringing their cities down on purpose. How else can one explain such cluelessness and inability to envision the dreadful outcomes of their reckless policies? Blue cities release criminals from jail, refuse to prosecute serious crimes, and cut police budgets. Much of the population, including the most vulnerable, are able to make a connection to soaring crime, but they are made to survive the consequences of corruption, lack of vision, and failed leadership. The left cannot or will not connect the dots because leftists play by their own rules and don't seem to care about the results.
NYC sex workers rampant in open-air prostitution market amid lax enforcement. [Scroll down] When the police ride through — in both marked and unmarked cars — business mostly carries on without interruption. While cruising down the block one night, a cop flashed the lights of their unmarked car in an apparent attempt at deterrence but took no other action. Current and former vice cops told The [New York] Post that there's little incentive to make arrests, with the office of Brooklyn District Attorney Eric Gonzalez moving away from prosecuting prostitution cases, a shift that began in mid-2019. In January, Gonzalez's office moved to vacate some 262 warrants stemming from prostitution cases dating back to 2012.
LAPD to stop charging criminals for many offenses. Law enforcement and the incarceration of known criminals is such a 20th-century concept, right? That seems to be the message once again coming out of Los Angeles now that ultra-liberal George Gascon is in charge of the county District Attorney's office. The latest announcement coming from the LAPD is that more suspects who are arrested for a variety of non-violent crimes, including some felonies, will not be taken to court, prosecuted, or put in jail. Instead, they will be "diverted" to community support programs and social services. Rather than incarceration, the suspects will be provided with "care and treatment" without facing the stigma of being treated like a criminal. And just as a reminder, this new policy is being put in place at the same time that the city is facing a historic surge in crimes of all types.
After San Francisco shoplifting video goes viral, officials argue thefts aren't rampant. A flurry of shoplifters in masks and hooded jackets sprinted from a downtown Neiman Marcus last week and into getaway cars with armfuls of designer handbags — a scene captured on video and raising fears that rings of thieves were hitting retail businesses. The incident, which remains under investigation, was only the latest to give an impression of lawlessness running rampant in San Francisco's stores, where people have been caught on recordings openly swiping products seemingly without repercussion. But city leaders are pushing back at that image after the release Monday [7/12/2021] of a midyear public safety report. Police data shows overall thefts are down 9 percent in the first six months of the year compared to the same period in 2020, when the city was on lockdown and many businesses closed during the onset of the pandemic.
Mental health clinicians will start answering some 911 calls in Chicago — instead of cops. For the first time in Chicago, some 911 calls for mental health emergencies won't be answered by police officers but by mental health professionals paired with paramedics. In one pilot program starting this fall, a paramedic will be dispatched with a mental health clinician for "behavioral health calls." In another, a paramedic will work with a "recovery specialist" on calls involving substance abuse. Mental health clinicians will be on hand at the 911 center to monitor situations, but questions remain how well these new responders will be able to de-escalate violence that can erupt during such calls. The "alternative response" programs are being launched amid continuing debate over the role of police after the killing of George Floyd by a Minneapolis police officer last spring.
New York inmates offered food, conjugal visits, more to get COVID vaccine. State prison officials are so desperate to get inmates vaccinated against COVID-19 that they're dangling care packages, barbecue parties and even conjugal visits, according to a memo issued this week to the nearly 34,000 jailbirds. A mere 45 percent of New York's incarcerated felons have been inoculated, compared to more than 70 percent of the law-abiding population, Acting Corrections and Community Supervision Commissioner Anthony Annucci wrote. Meanwhile, "many other state prison populations have much higher vaccination rates," Annucci lamented. "To encourage you to do your part in this fight, the Department will implement an incentive program," he wrote Wednesday.
Sharp increase in police resignations after Black Lives Matter protests in 2020: study. A new study by several academic researchers indicates a rising trend in U.S. police resignations over the past year, one that appears to have been exacerbated by the Black Lives Matter-led riots and protests that swept the country last year and generated a massive wave of anti-police criticism. The study, written by University of Nebraska Distinguished Associate Professor of Criminology Justin Nix and University of Utah PhD candidates Scott Mourtgos and Ian Adams, found that within "a large police department in the western US" voluntary police resignations "increased by 279%" following last year's protests against the killing of Minneapolis resident George Floyd[.] Noting their model "predicts that resignations will continue at an elevated level," the researchers urge officials to "be prepared to confront workforce decline and increased voluntary turnover." The team undertook the study "because we'd seen all the headlines about cops quitting at higher rates, but hadn't seen any rigorous analyses," Nix told Just the News via email.
The Editor says...
It is not necessary to conduct a study to verify the obvious. Anyone with the ability to make a logical deduction and a reasonable inference can see that the 2020 race riots were more than most cops bargained for when they signed up for their law enforcement jobs — especially since the rioters almost completely escaped punishment. A rigorous analysis of the problem isn't necessary. Solutions are more valuable.
'Career criminal' who shot random couple at Houston aquarium before killing himself was released from jail on bond in April. The gunman in a murder-suicide at the Houston aquarium was a career criminal who suffered from mental illness and was out on bond at the time of the shooting. Danny Cazares, 39, fatally shot Gabriel Moriones Vargas, 28, and injured his wife before tuning the gun on himself in a seemingly random act of violence on Thursday night. Houston police said in a statement that Cazares had a history of mental illness and was arrested three times in the last year. All three times, he was released from jail on bond.
In Many Cities In America, The Criminals Are Starting To Gain Firm Control Of The Streets. Every week the horrendous crime wave that is sweeping across America seems to get even worse. In some of our largest cities, looting, murder and violence are becoming a way of life, and authorities seem powerless to do anything about it. Is this what we can expect life in the United States to look like moving forward? All over the globe, people are watching us, and they are stunned by what they have been witnessing. Criminals are wildly out of control, and many of our largest cities are being transformed into extremely violent war zones.
Murderer released on $15,000 bond as Jan. 6 protesters held indefinitely without bail. Behold the breadth of brazenness in our two-tiered justice system. In one America, we have career violent criminals released on low bail after murder and attempted murder, when the victim is terrified the criminal will attack again if not jailed. In the other America, we have Trump supporters arrested for nonviolent acts of "trespassing" upon public property when Capitol Police held the doors to the building open — yet they are kept in jail for months without bail, despite no criminal record. [...] Earlier this week, WMC-TV news in Memphis reported on Lachrisa Oliver, a Memphis woman who survived a shooting in March who must now deal with the release of the alleged perpetrators into her neighborhood headed into the trial. Tajuana and Teuana Ayers, along with an unnamed juvenile suspect, were arrested for a March 3 shooting that left Lachrisa in critical condition and her nephew dead on her doorstep. Shockingly, Tajuana and Teuana, despite the murder and attempted murder charges, were released on just $15,000 and $25,000 bonds respectively.
🎶 You seize 16 tons, and what do you get? 🎶
$1.19 billion worth of marijuana seized in massive drug bust in California. Authorities in Southern California have seized more than 16 tons of marijuana worth an estimated $1.19 billion, Los Angeles County Sheriff's Department officials said Wednesday. The 10-day sting is the largest eradication of illegal marijuana cultivations in the history of the department. The operation, which began on June 8, resulted in 22 felony arrests, 109 misdemeanor arrests, and 19 arrests from water theft enforcement teams, officials said. More than 200 locations were served with search warrants. Nearly 375,000 marijuana plants and 33,480 pounds of harvested marijuana were seized, along with 65 vehicles, 180 animals and $28,000.
The 'Minneapolis Effect' Caused Last Year's Spike in Violent Crime. The spike in violent crime last year was a serious departure from recent crime patterns over the last several decades. In fact, 2020 was likely the deadliest year for gun-related homicides since 1999. According to the Gun Violence Archive, more than 19,000 people died of gun violence in 2020. This spike was particularly acute in major cities across the country. For example, Minneapolis saw a 95% year-over-year increase in homicides between May and Aug. 1. In Chicago, homicides more than doubled in July 2020, compared to 2019. And New York experienced a 50% increase in homicides and a 112% increase in shootings. Sadly, that is only the tip of the iceberg of cities that experienced this surge. What caused that sudden spike? Paul Cassell, a law professor at the University of Utah and a former federal judge, persuasively answers that question in a recent law review article.
The Unlivable City. People are fleeing California in general, and San Francisco in particular, in droves. As to San Francisco, the fundamental problem is lawlessness. Which means not just violent crime, which the city has in abundance, but a breakdown in the fundamental norms of civilization that make urban living possible. The main problem is that San Francisco's far-left city administration has decided not to prosecute theft. The result, naturally, is an epidemic of theft. Thus Target, for example, is now closing its San Francisco stores at 6 p.m. [...] How low has San Francisco sunk? Check out this video of thieves openly stealing handbags and similar products from a Neiman Marcus store: [Video clip]
What's happening in San Francisco goes far beyond 'shoplifting'. We're hearing a lot about the overwhelming number of murders and attempted murders in Chicago and New York. San Francisco, however, has gone in a different direction. It seems to have become the "shoplifting" capital of America. This honor goes along with its long having been the capital of America for car break-ins. It's so bad that I know suburbanites who refuse to drive in the City. The latest "shoplifting" video is an impressive one, showing a whole gang of thieves racing out of San Francisco's Neiman Marcus store on Union Square, clutching what appears to be thousands of dollars in handbags.
Furious shopper posts video of horde of shoplifters fleeing Neiman Marcus. A video posted to Instagram captures yet another brazen act of shoplifting in San Francisco, this time at the luxury department store Neiman Marcus where at least ten people stole armfuls of designer goods and then fled without anyone trying to stop them. The footage reveals the shoplifters leaving the Union Square store, each carrying bags of stolen items with the security tags still dangling off of them. The perpetrators then ran in different directions, with a few speeding away from the scene in a white sedan. One person watching says, 'They can't do anything,' perhaps referring to security at Neiman Marcus.
The Genesis of Our American Collective Meltdown. [Scroll down] The Left says it has not defunded the police because there are still police to be seen. But progressives have done something far more insidious: America has destroyed police deterrence by a year of anti-police venom, by prosecutors selectively and asymmetrically exempting the arrested, and by prompting police retirements, resignations or simple slowdowns. There is now in the minds of all big-city cops a constant cost-to-benefit calculation: going into the inner city has become a lose/lose/lose/lose/lose proposition in which a 911 call from the danger zone can get an officer killed, injured, fired, suspended, imprisoned, or rendered a fool, as the successfully arrested are summarily let go.
Target, Walgreens make drastic changes due to increase in San Francisco thefts. According to the California Retailer's Association three cities in our state are among the top 10 in the country when it comes to organized retail crime -- Los Angeles, San Francisco and Sacramento. Already we are seeing the negative impact it is having in San Francisco with stores permanently shutting down or closing early. It has become one of the most pressing issues in our city today. Target has now acknowledged that San Francisco is the only city in America where they have decided to close some stores early because of the escalating retail crime.
Biden polls horribly on his handling of rising crime. Americans are giving President Biden dismal ratings on his handling of rising crime, a new poll found. The ABC News/Washington Post poll released Friday morning revealed that just 38 percent of Americans approve of the 46th commander-in-chief's response to recent crime spikes nationwide. On the other side, 48 percent said they disapproved. As crime rates have continued to surge, lawmakers have been quick to point fingers to avoid their party taking blame. Republicans have largely argued that Democrats' efforts to defund the police, remove qualified immunity for police officers and introduce cashless bail have all contributed to the budding crisis.
Judge Orders Minneapolis to Hire More Police Officers Amid Crime Surge. A judge on July 1 ruled in favor of a group that filed a lawsuit demanding more police officers be brought into the city, after city council members and activist groups advocated to replace the police department following the death of George Floyd. Hennepin County District Judge Jamie Anderson issued a writ of mandamus ordering the city to hire more police officers, specifically that Minneapolis should have at least 730 officers or .0017 of the 2020 census population, whichever is higher, by the end of June 2022. An unprecedented number of officers quit or went on extended medical leave after Floyd's death and the unrest that followed, which included the burning of a police precinct. With new recruit classes, the city anticipates it will have 674 officers available at the end of the year, with another 28 in the hiring process, the Star Tribune reported.
What Was California Thinking? Back in 2014, the political leadership of California became alarmed at the rapidly rising prison population in the state. The state was also under court order to reduce the overcrowding in state prisons. [...] The first thing they did was pass Proposition 47 — the Safe Neighborhoods and Schools Act. That sounds like something everyone would want. 58% of Californians voted in favor of the measure. [...] Nothing in Prop 47 was designed to actually reduce crime. It redefined drug use and theft of property valued at under $950 as misdemeanors rather than felonies. Punishment would no longer be imprisonment, but a fine of $1,000. The objective of prison population reduction was achieved by not incarcerating criminals, rather than by eliminating criminal behavior. [...] Prop 47 also allows those imprisoned under previous guidelines to petition for early release. If a convict is in prison for stealing less than $950, he is now eligible for early release. As many as 10,000 state prisoners have been released.
Amid Surging Crime Rates And Murders, Oakland City Council Votes To Defund Police. Despite recently receiving $190 million from the Biden Administration, the City Council of Oakland, California voted Thursday to defund their police department by almost $18 million. The city's crime rates have skyrocketed, seeing a 90 percent increase in murders, 88 percent increase in carjackings, and 70 percent increase in shootings all in the last year. Sixty-five lives have been lost, and 1,300 robberies have been recorded, yet, the city redirected police funds toward the Department of Violence Prevention, "with the intention of improving public safety" via alternate means. On Monday [6/28/2021], the Department of Violence Prevention's chief was interrupted during an on-camera interview by an attempted armed robbery. The department's chief was being interviewed on the steps of Oakland City Hall, when they were attacked. The suspects remain outstanding.
Cotton: Biden's Crime Policy Is 'I Hope You Don't Get Shot'. Sen. Tom Cotton (R-AK) slammed President Joe Biden's recent remarks on rising violent crime, claiming that the president's crime policy could be summed up as "I hope you don't get shot" on "Life, Liberty, and Levin" Sunday evening. "He said that crime goes up in the summertime, so we should expect crime to continue to rise over the next three months, as if he's trying to apologize in advance for what he knows is going to be a dangerous summer," Cotton told host Mark Levin. "I guess Joe Biden's crime policy is 'well, I hope you don't get shot when you go out to a restaurant with your husband or wife this summer.'"
Homicides Have Skyrocketed in These 6 Democratic Cities. Black People Are Disproportionately the Victims, Data Shows. The Daily Caller News Foundation collected homicide data from Chicago, Baltimore, Milwaukee, Pittsburgh, Los Angeles, and Indianapolis, some of the only cities in which such data is readily available. Most major cities have limited statistics tracking 2021 murders and homicide victims. The percentage of murder victims in Chicago that were black increased from 70% in 2020 to 81% in 2021 while that figure increased from 60% to 90% year-over-year in Milwaukee, the data showed. In one of the cities analyzed, the percentage of black victims decreased, but the raw number of black victims still increased. Democratic leaders of most of the cities examined voted to greatly reduce police funding amid widespread Black Lives Matter protests last year. In the wake of the death of George Floyd, who died after former Minneapolis police officer Derek Chauvin kneeled on his neck in May 2020, thousands of protests and riots took place across the country.
Critics demand answers as to why accused Bronx gang shooter was on the streets. The gangbanger accused of opening fire on a Bronx street inches away from two terrified children was inexplicably set free after a knifepoint robbery — and critics on Saturday demanded answers about why he was sprung in the first place. Michael Lopez was charged in the Manhattan robbery in January 2020, a crime he allegedly committed while on parole for other offenses. "Somebody has to answer for this guy," said Joseph Giacalone, an adjunct professor at John Jay College of Criminal Justice and a former NYPD sergeant. Lopez, 27, was arrested Friday on attempted murder and other charges in the shocking June 17 sidewalk shooting, which was captured on video seen around the world.
Cops Quit in Droves as Crime Skyrockets and 'Defund' Movement Grows. Police retirements and resignations rose significantly over the course of the last year amid widespread riots and coinciding calls to defund the police, according to a survey of about 200 police departments nationwide. The survey of roughly 200 police departments revealed that retirements were "up 45 percent and resignations rose by 18 percent in the year from April 2020 to April 2021 when compared with the previous 12 months, according to the Police Executive Research Forum, a Washington policy institute," as reported by the New York Times.
Democrats Trying to Rewrite History on 'Defund the Police'. The Democrats must have internal polling on 'defund the police' that's truly awful, because some of them are already trying to rewrite the history of the issue. With violent crime on the rise in many American cities and a midterm election around the corner, Democrats suddenly don't want to be associated with this at all. They also think you're dumb enough to believe they never advocated this position.
Oklahoma Drug Dealer Accidentally Released From Prison, Turns Himself Back In. A man convicted of several charges was released from the Oklahoma County jail in April instead of being transferred to a state prison. A jail spokesperson said the inmate was accidentally released two months ago after pleading guilty to several charges including drug trafficking. [Video clip]
Convicted Drug Dealer Accidentally Released From Oklahoma County Jail. Officials at the Oklahoma County jail are trying to figure out why a convicted drug dealer was accidentally freed in April. On April 12, Reimundo Cuevas was sentenced to 25 years in prison after pleading guilty to six counts of trafficking meth and other charges. Days later, Cuevas was allowed to walk freely out of the Oklahoma County jail, where he was waiting to be transported to prison.
Portland Police Limit Traffic Stops, Searches in [Pursuit] of "Racial Equity". Police in Portland, Oregon's largest city, are being advised to no longer pursue low-level traffic infractions — including expired plates and broken headlights — unless related to an immediate safety threat, Portland Mayor Ted Wheeler and Police Chief Chuck Lovell announced Tuesday [6/22/2021]. According to the changes to the Portland Police Bureau (PPB) protocols, officers will no longer prioritize making traffic stops for the enforcement of low-level traffic infractions, such as expired tags or minor equipment issues, that aren't immediate public safety threats. Also, officers will follow new consent search protocols that will "help ensure residents are aware of their Fourth Amendment rights." If police do stop a driver, they must receive recorded consent before searching the vehicle and clearly inform the person they have the right to refuse. Police Chief Lovell has instructed his officers to not pull citizens over for "less serious, non-moving violations" and instead focus on those who are making the road unsafe for others, including anyone driving under the influence and reckless drivers.
Austin's Homicide Number Passes 40 As Defunding the Police Takes Its Toll. Austin Mayor Steve Adler and Council Member Greg Casar defunded the city's police in the name of racial justice and equity. Did they anticipate that their decision would result in a skyrocketing murder rate that disproportionately impacts the city's minorities? That's what's happening. Austin suffered 47 homicides in all of 2020, which was the worst year for homicides in a decade. 2021, the year in which defunding the police kicked in, will surely surpass 2020's total. Two fatal shootings in Givens Park on the city's east side this week push the 2021 homicide total to 41 so far.
Texas forced to empty out prison to accommodate illegal immigrants they're being forced to arrest. As the Biden administration continues to abdicate its obligation to defend the southern border, states such as Texas have decided to take matters into their own hands. Unfortunately, the law of unintended consequences will force the Lonestar State to empty out a prison located in south Texas in order to make room for an expected influx of inmates arrested for illegally crossing the border, the Epoch Times reports. A spokesman for the Texas Department of Criminal Justice (TDCJ), Jeremy Desel said that officials will be transferring inmates from the Dolph Briscoe Unit prison in Dilley, Texas, to other prisons in order to accommodate the expected surge.
Why won't the national media cover the story Americans care about most? It's a very basic concept of journalism: Cover the stories that impact your viewers and readers most, the stories they most care about. But for one very big story, there's been relative silence from our national media, just passing mentions. It is the skyrocketing violent crime that is paralyzing many major American cities while prompting record numbers of police officers either resigning or retiring. Here's a look around the country at what many cities are dealing with: [...]
San Francisco Walgreens shoplifter seen filling bag with stolen goods arrested while 'clearing shelves': cops. The man allegedly seen in viral video stealing a garbage bag full of items as he rode a bike through a San Francisco Walgreens location was nabbed over the weekend — while he was "clearing shelves" at a different drug store, officials have announced. Jean Lugo-Romero was arrested around 8:30 a.m. Saturday after officers spotted him entering a store on Haight Street, San Francisco Police Department said in a recent press release. At the time, police officers who recognized him followed Lugo-Romero, 40, into the drug store "to find him clearing shelves of cosmetics and placing the merchandise into a duffel bag," SFPD said. After arresting him, officers determined the stolen goods were collectively worth approximately $978, police said.
The Degeneration of Public Administration. In 1829, Sir Robert Peel, then home secretary (and later to be prime minister), established the Metropolitan Police Force in London, often considered the world's first modern police department. He did so according to nine famous principles, then without precedent and thought to have been written by the two joint commissioners of the force being established. [...] The more ineffectual the police become, it seems, the more menacing the manner they adopt toward the public and the more militarized they look. They are no longer the bobbies of old but more and more like the security detail of some vile authoritarian movement. They frighten everyone except the criminals, and the description of them by the journalist Peter Hitchens (brother of the late Christopher) seems ever more apposite: "paramilitary social workers, jingling with clubs, Tasers, pepper sprays and often guns, schooled in political dogmas and vigilant for political correctness."
Fury as New York prosecutors DROP looting charges against hundreds arrested during riots last summer, with Manhattan DA 'too busy building his case against Trump'. Business owners and residents in New York City are expressing fury at the revelation that prosecutors have dropped looing and rioting charges against hundreds arrested during chaos that swept the city last summer. After 603 were arrested in Manhattan and the Bronx during the most intense days of looting last June, 295 of the cases have been dropped completely, according to NYPD data reported by WNBC-TV on Friday [6/18/2021]. Now Manhattan District Attorney Cyrus Vance Jr and Bronx DA Darcel D. Clark are facing tough questions about why hundreds walked free after the looting rampage caused an estimated tens of millions in damages.
Charges [have been] dropped for hundreds of alleged looters in New York City. In late May and early June 2020, looters smashed storefronts in the Bronx and Manhattan boroughs of New York City. Many were caught on tape, some with their faces visible. Others even posted their own videos of their actions those nights on social media. Hundreds were arrested. But a review of NYPD data by the investigative team at WNBC, the NBC owned station in New York, shows that a large percentage of the cases — particularly in the Bronx — were dismissed, and that many convictions were for counts like trespassing that carry no jail time.
DC Elects Incarcerated Murderer To Office In Nation's Capital. An inmate at the DC Jail on Tuesday [6/15/2021] became the first incarcerated person ever elected to office in the nation's capital. Joel Caston was elected on Jun 15 to be the advisory neighborhood commissioner for District 7F07, which includes the correctional facility, a women's shelter, and a recently-opened luxury apartment building, NBC News reported. Caston, 44, has been incarcerated for 26 years.
The Editor says...
It has been shown in the last 12 months that a lot of people can work from home. Give him a chance!
Portland's police riot team resigns after officer indicted over alleged assault on photographer. All 50 of Portland police's highly trained rapid response unit voted unanimously to resign on Wednesday [6/16/2021] during a union meeting in response to the recent indictment of Officer Corey Budworth for allegedly assaulting a photographer with his baton during as an overnight riot broke out last August. "Unfortunately, this decorated public servant has been caught in the crossfire of agenda-driven city leaders and a politicized criminal justice system," the Portland Police Association said in an initial statement Tuesday after a Multnomah County grand jury indicted Budworth on one count of fourth-degree assault related to an incident that occurred on Aug. 18, 2020. That night, according to the police union, a group of about 200 demonstrators — many equipped with tactical helmets, faces covered, and armed with a variety of weapons — descended on the Multnomah Building in southeast Portland. Multiple dumpsters were set on fire, buildings were defaced, and windows were broken. A riot soon was declared at the planned event after someone from the crowd launched a Molotov cocktail into the Multnomah Building, setting it ablaze.
San Francisco cops say viral Walgreens shoplifting incident is par for the course. San Francisco has become a shoplifter's paradise — with thieves like the one caught on video looting a Walgreens emboldened by relaxed punishment for the crime as businesses shutter, cops say. The Walgreens heist, which happened right in front of a security guard, renewed the debate over a controversial city law called Proposition 47. "What happened in that Walgreens has been going on in that city for quite a while," San Francisco police Lt. Tracy McCray said on Fox News' "America's Newsroom" Wednesday. "I'm used to it," McCray continued. "I mean, we can have a greatest hits compilation of people just walking in and cleaning out the store shelves and security guards, the people who work there, just standing by helplessly because they can't do anything."
Some people are okay with shoplifters looting convenience stores in San Francisco. Granted, it's not like progressive sympathy for looting is a new thing. Still, I thought the video from that San Fran Walgreens that I posted this morning would draw more uniform condemnation on social media. Normally when liberals defend theft it's in the context of a riot following an incident of alleged police brutality, when America's racist history can be cited as provocation. There's no provocation in the Walgreens video. Either it's a junkie looking for something he can sell to get a fix or someone who's part of an organized shoplifting ring looking to fence the goods or maybe just someone who, somewhat understandably, has concluded that if goods in San Francisco are now effectively free then he might as well help himself.
The Grim Trade-Off Of BLM? Why have murder rates spiked so badly over the last 12 months? [...] Well, surely the timing of the surge in murders counts. And it can be timed quite precisely, in fact: to the very end of May, before which there was little change and even some decline. The National Commission on Covid19 and Criminal Justice report shows what University of Utah researcher Paul Cassell calls a "structural break" in the data timed exactly to the murder of George Floyd and the subsequent wave of mostly peaceful protests and subsequent looting, rioting and violence that raged across many cities. Before Floyd, no big increase in homicides, aggravated assaults, and shootings. After, a huge spike. Of course, that is not causation. But it's [quite] a correlation — and no other event seems relevant. It's as if the Floyd murder, and the subsequent urban chaos, sent a signal: the cops are on the defensive. Which means murderers can go on the offensive. And once lawlessness establishes itself, it tends to compound. A few gang murders can soon morph into tit-for-tat urban warfare.
How a lenient NYC judge left a reputed gangbanger free to allegedly kill an innocent dad. A reputed teenage gang member with three gun busts in four months had his bail reduced by a Bronx judge — allowing him to get out of jail and allegedly fire a random shot that killed an innocent father of two, The [New York] Post has learned. Alberto Ramirez, 16, was arrested Monday in the slaying of Eric Velasquez, 34, who was struck by a stray bullet that the teen allegedly shot blindly into a crowd while on a rival gang's turf, law enforcement sources said. He has pleaded not guilty. Ramirez was locked up on $75,000 bail when acting Supreme Court Justice Denis Boyle lowered the amount to $10,000 cash or $25,000 bond over prosecution objections on March 2, the Bronx District Attorney's Office said Wednesday [6/9/2021]. His family bailed him out a few weeks later, a spokeswoman for DA Darcel Clark said — putting him back on the streets.
North Carolina police force says it WON'T respond in-person to 911 calls about theft, fraud, or trespassing after 84 cops left the force since January 2020. The police department in one of America's fastest-growing cities is facing staff shortages so severe that it will not respond to certain 911 calls, including complaints of burglaries, theft, property damage, identity theft, or trespassing. The Asheville, North Carolina Police Department said that it has lost 84 officers since January 1, 2020. APD Police Chief David Zack says the attrition rate, which has accelerated since protests against law enforcement became widespread in the wake of George Floyd's death in May of last year, has reached crisis proportions.
L.A. County Sheriff: Homicides Up 95% over 2020; Will Issue More Conceal Carry Permits. Los Angeles County Sheriff Alex Villanueva revealed Wednesday that homicides were up 95% this year over the same period in 2020, and said his department would issue more concealed carry permits to let citizens to defend themselves. In an Instagram Live post, Villanueva revealed the grim numbers, as the region joined America's ongoing crime wave: [Video clip]
As predicted, so-called 'transgender women' prisoners endanger women. In 2021, if you are a pessimist and a cynic, you will invariably be proven right. I mention this because in April I wrote that California's new law placing so-called "transgender women" in women's prisons put women at risk. Abigail Shrier, who has written about transgender pressure on girls, reports that women in California's prisons who have had to share space with so-called "transgender" women have indeed felt at risk. This matters to everyone because, if the Democrats do away with the filibuster, they will pass the Equality Act which, in turn, will place all women in America at risk, whether in prisons, in locker rooms, and in restrooms. Preliminarily, something needs to be done about those men whose gender dysphoria genuinely seems them believing they are women. Placing these men in a men's prison is so cruel it violates the Eighth Amendment's prohibition against "cruel and unusual punishment," for these men's fellow inmates subject them to horrific sexual assaults. However, placing men who claim to be "transgender" in the women's prison population is not a solution.
Shoplifting Skyrockets In San Francisco, Forcing Retailers To Close Stores. Shoplifting has become so rampant in San Francisco that retailers are closing stores. The San Francisco Chronicle reported earlier this month that stores like Walgreens and CVS are closing locations in the city due to "out of control" shoplifting. [...] The increase in shoplifting has caused Walgreens to close 17 locations in San Francisco over the past five years. It still has 53 locations. [...] CVS has faced a similar problem in the Bay Area, with 42% of its losses in the area coming from 12 stores, which accounted for just 8% of the market share. Brendan Dugan, director of organized retail crime and corporate investigations, said security guards hired by CVS and Walgreens have been assaulted. He added that the majority of shoplifting incidents at CVS came from opportunists but that professional crime accounted for 85% of dollar losses.
The Editor says...
Fake News Alert: The article above includes an illustration (from Getty Images, which is why it's not shown here) depicting a white woman in the act of shoplifting. The reality of this story is that approximately 100 percent of the shoplifting in San Francisco is perpetrated by blacks, often in uncontrollable mobs.
Woke in the City that Never Sleeps. The Big Bagel is getting so bad, even the baddies are demanding the fuzz do something. As the body count rises, it is obvious that the victims of violence are predominantly poor and minority. [...] One hears and reads about the daily gunplay, and compares the statistics to those of forty years ago. Robbery is up close to 30%, grand larceny 66%, and shootings 166.1%. Murder is up 32% from 2019. One wonders when the useless mayor will declare an emergency as the place is starting to resemble a war zone, and after the Covid crisis more and more New Yorkers believe the city is ungovernable and unlivable. Still, two of the numerous candidates running for mayor rant in their speeches about defunding the police. Violent criminals no longer have any fears, according to Pat Lynch, president of the Police Benevolent Association, and having done away with bail laws, criminals get booked and walk, free to continue shooting and robbing people. Cuomo and de Blasio, architects of these new laws, shamelessly go about their business, which is appearing on television and patting themselves on the back.
The Rise of 'Blow Off Steam' Policing. Authorities frequently met last summer's riots with a diffident response. National Guard troops remained in their barracks, and police often stood by as looting, arson, and property destruction took place in cities ranging from New York and Chicago to Seattle and Minneapolis. [...] Such responses by police and authorities are rooted in the fear that a heavy-handed response will cause more violence. This might be called the "blow off steam" approach to controlling civil disturbances. Under this theory, a heavy-handed police response to community violence — with armored vehicles, riot shields, tear gas, and the like — makes matters worse, playing into the larger narrative of police brutality. This approach is also rooted in the idea that the rioters have legitimate grievances, that ordinary free speech is inadequate for their concerns, and that riots are an expression of understandable anger and emotion. In other words, if you let protesters cathartically break a few things and burn down a few stores, their passions will burn out and things will return to normal.
Sen. Tim Scott Rips Defund Police Movement. Sen. Tim Scott, R-S.C., told "The Faulkner Focus" on Thursday [5/27/2021] that the surge in violent crime is "devastating" and that it's "expected" when there are growing calls to defund the police. "You cannot make police officers the antagonist in the story. No one wants that," Scott told Fox News host Harris Faulkner. Scott made the comments after Attorney General Merrick Garland unveiled a plan to give federal help to cities around the nation in an effort to reduce violent crime. The announcement comes one year after the murder of George Floyd, which sparked new riots and violent protests. "I think the Democrats, literally led by the liberal elite, have made a bad calculation and it's costing lives," Scott said. "We're seeing that in Los Angeles. We're seeing in Minneapolis, we're seeing that in Detroit. We're seeing in the D.C. Baltimore, violent crime is significantly higher and murders, Harris, murders are through the roof."
Cynthia Nixon is slammed for suggesting CVS should let people steal from store shelves rather than locking up goods. Cynthia Nixon has been slammed for suggesting CVS should let people steal from stores rather than locking up goods like laundry detergent, claiming 'desperate people shouldn't be prosecuted'. The former actress and failed New York gubernatorial candidate tweeted on Thursday that she had noticed her local CVS in SoHo had 'started' locking up 'basic items like clothing detergent.' 'As so many families can't make ends meet right now, I can't imagine thinking that the way to solve the problem of people stealing basic necessities out of desperation is to prosecute them,' Nixon tweeted.
California prison guards doing rounds 'didn't realize prisoner had decapitated and dissected his cellmate' in grisly March 2019 torture death. New reports are raising questions about how prison guards missed the hours-long sadistic torture and beheading of a convicted killer allegedly at the hands of his cellmate. State Inspector General's Office reports on California lockups raised new questions about the heinous attack at Corcoran State Prison in March 2019. The murder of Luis Romero, 44, has prompted separate investigations and a lawsuit by the family of the victim, the Los Angeles Times reported Wednesday [5/26/2021]. Sometime in the early hours of March 9, 2019, Jaime Osuna methodically tortured and killed Romero, authorities said.
CNN panelist likens defunding police to uprooting weeds from a yard. A CNN panelist compared policing in the United States to "weeds" in a yard that must be uprooted in order to change the "most violent country in the world." "What we're seeing now is we're continuously — every two days, there's another video that comes out where there's an abuse of power with state-sanctioned violence," Black Votes Matter co-founder LaTosha Brown told host John King on Tuesday night [5/25/2021]. "And so I think if we want to take this opportunity — yes, there are small steps that have been made, but we are not uprooting," she said. "It's kind of like having weeds in the yard. You can cut the weeds down, you know, when you're mowing the grass, but until you uproot or kill the weeds, it will still take over your yard."
Chesa Boudin blames lazy, racist cops for San Francisco's crime surge and his own unpopularity. Apparently, all would be paradise in crime-pit San Francisco if it weren't for all those lazy, racist cops who are persecuting poor, heroic Chesa Boudin, the city's leftist do-nothing district attorney. That's the word from young Chesa, stepson of Bill Ayers, son of a terrorist convicted of killing a black cop, and former Hugo Chávez adviser, who's suddenly found himself unpopular in the city and facing a voter recall.
Post-pandemic New York City is laid bare as homelessness, mental illness and crime escalate. 'New Yorkers don't feel safe and they don't feel safe because the crime rate is up. It's not that they are being neurotic or overly sensitive — they are right,' Governor Andrew Cuomo declared on Wednesday [5/26/2021]. 'We have a major crime problem in New York City. Everything we just talked about, with the economy coming back, you know what the first step is? People have to feel safe.'
Poll: 73 Percent of Americans Believe Crime Is Higher Under Joe Biden than Donald Trump. Seventy-three percent of Americans believe crime is higher now under President Joe Biden than under former President Trump in 2020. "Majorities think crime is increasing both nationally (73 percent say there is "more" crime), as well as in their local communities (54 percent)," according to a Fox News poll released Wednesday [5/26/2021]. Fifty-four percent of polled respondents also said their local area has more crime now than it did this time last year. Only 28 percent said their local area had less crime.
The Editor says...
[#1] Crime statistics are not based on polls or public perceptions. [#2] Violent crime has very little to do with the President. Violent crime is plentiful in areas where swift enforcement and jail time is unlikely. Riots don't materialize in places where rubber bullets and tear gas and big dogs are ready (and allowed) to go. The 2020 riots were instigated by leftists, as are the 2021 riots. The rioters don't care who is the president. Similarly, black-on-black gang wars are not affected by national politics.
Democrat Mayor Dooms St. Louis with Pledge to Defund Police as Murders Soar. I feel zero sympathy for the people of St. Louis. None. Just last month, amid a soaring murder rate, the highest murder rate in 50 years, as well as the highest in the country, the idiots of St. Louis still voted to elect a Democrat as mayor, a lunatic named Tishaura Jones who made no secret of her desire to make things worse, much worse.
Why 260 Cops Have Fled Seattle. There hasn't been a police department more brutalized in recent memory. In Seattle, cops have been pummeled by a psycho city council. It's not shocking. Seattle is left-wing. The residents are left-wing. They're all nuts. The mayor allowed armed leftists to seize portions of the city. The 'summer of love' came crashing down when — shocker — people started to get shot and killed inside the autonomous zone. They have hamstrung the police and spit in their faces. After a summer of riots and not being allowed to restore order, along with an overall anti-police atmosphere, are we shocked that scores of cops have fled Seattle? Around 20 percent of the police force has left.
Refund The Police? Major Cities Are Backtracking On Police Cuts After Explosion Of Violent Crime. A year after the death of George Floyd, elected officials of major cities are walking back commitments to cut police funding amid spiking crime rates. Elected leaders in places such a Minneapolis, New York City, and Los Angeles are now pushing to increase funding to police departments after months of budget cuts and low morale have gutted law enforcement ranks. At the same time, major cities across the U.S. are suffering spikes in violent crime. "The violence needs to stop, it[']s unacceptable. People deserve to feel safe in their neighborhood, they deserve to be able to send their kids out to the sidewalk to play and to recreate without bullets flying by. That's unacceptable. We should be holding these perpetrators accountable," Minneapolis Mayor Jacob Frey, a Democrat, said at a May 7 news conference addressing a spate of violence that ripped through the city.
Feet-of-Clay Icons. Finally, in 2021 it was not so much that Americans lost respect for the law as they were bewildered by it. Or rather they wondered whether it still even existed. Is it illegal to enter the United States without permission? Or does unlawful entry warrant instant state subsidy and federal legal help to further violate the law? Is everyone or just a few anointed allowed to carve out an entire urban no-go zone that even the police dare not enter? Is there a crime such as arson or looting? Are there even criminals such as arsonists and looters anymore — or just those naïve enough to try torching buildings or stealing from pharmacies in small numbers and without ideological pretenses? Does attacking Jews and Asian Americans constitute "hate crimes" — or does it depend on the race, ideology, or ethnicity of the attacker? Is defacing a monument or tearing down a public statue a crime or just woke exuberance? Are there good riots and good looting and good arson that are not indictable, and then again bad riots and bad looting and bad arson that are?
'The Wheels Are Coming Off.' Deeper Cuts to Austin Police Are on the Way in Mayor Adler's 'Reimagining'. The Austin Police Department is in a state of crisis. More cuts to specialized APD units are coming this year, thanks to the "reimagining" of police led by Mayor Steve Adler and Councilmember Greg Casar. Travis County, meanwhile, steps up targeting police officers for prosecution. According to an internal document provided to PJ Media, several units face deep cuts or outright elimination by summer's end. The Sex Offender Apprehension and Registration (SOAR) unit is losing its officer positions, according to the APD document. Local Fox 7 TV has previously reported some of the cuts. PJ Media's source, who wishes to remain off the record, said: "As more units are cut, work conditions for those who stay will continue to deteriorate, causing more folks to leave, causing more units to be cut, and so on. It is basically a death spiral."
Convicted Chicago child killer paroled: Ray Larsen among rising number of aged convicts to be released. A 76-year-old man convicted of killing a teenager in a Northwest Side forest preserve in 1972 has been paroled. Ray Larsen is the latest inmate serving an indefinite prison term — a so-called "C-number" inmate — the Illinois Prisoner Review Board has ordered released, a list that also includes a double ax-murderer. Larsen had been serving a sentence of 100 to 300 years in prison after confessing he killed 16-year-old Frank Casolari in the Schiller Woods Forest Preserve near O'Hare Airport on May 17, 1972.
An aspiring congressional candidate unveils novel campaign slogan: 'Make crime illegal again'. Washington state congressional candidate Matt Larkin is running on a tough-on-crime platform based on supporting law enforcement in an effort to "make crime illegal again" amid skyrocketing crime and failed liberal leadership in Seattle. Larkin, a Republican who lost his bid for Washington state attorney general to the incumbent Democrat in 2020, plans to challenge sitting Democratic Rep. Kim Schrier for the seat representing the 8th District of Washington. In an exclusive interview with Fox News, Larkin said that skyrocketing violent crime, rising homelessness and the growing number of assaults on police officers motivated him to jump into the race.
New York Attorney General James unveils bill to limit cops' use of force to standard of 'absolute last resort'. New York Attorney General Letitia James introduced a measure Friday [5/21/2021] that would tighten the rules governing the use of force by law enforcement. It would lower what her office calls the "exceedingly high standard for prosecuting police officers" who wrongly take excessive or lethal actions. The centerpiece of the legislation would change the use-of-force law "from one of simple necessity to one of absolute last resort, mandating that police officers only use force after all other alternatives have been exhausted," James' office said in a press release. James at a press conference Friday afternoon invoked the memories of George Floyd and other unarmed men and women of color who have died in altercations with police, directly tying those high-profile deaths to her push for police reform.
California Democratic lawmakers look to remove penalty for possessing firearm during crime. Reform-minded activists in California vow to move forward after a bill that would have dramatically reduced, and in some cases eliminated, enhanced sentences for crimes committed while using a gun failed to advance through the legislature Thursday [5/20/2021]. "AB 1509 was held in the Appropriations committee and will not move forward this year," Greg Fidell, policy manager of Initiate Justice, wrote on Twitter. "This is very painful — but we will be back stronger next year." The state lawmakers who backed the Anti-Racism Sentencing Reform Act claim the existing law, which allows prosecutors to seek additional time behind bars, is racist — 89% of the roughly 40,000 inmates serving gun enhancement sentences in California are people of color, according to figures from Restore Justice.
Walgreens Closes 17 San Francisco Stores Due To "Out Of Control" Shoplifting. The effects of allowing chaos to prevail in Democrat-controlled cities across America might not be evident to liberals and social justice warriors now, but when businesses close up, it's going to be very transparent then. According to the San Francisco Chronicle, 17 Walgreens Pharmacy locations have shuttered their doors in San Francisco during the past five years. At least ten of the stores in the city have closed since 2019. [...] [Video clip] The cost of business and shoplifting is staggering for Walgreens. Despite closing 17 stores, the company still has 53 open in the metro area but could close more by the end of the year. Thefts at Walgreens' in the city are four times the average for other stores across the country. The pharmacy chain spends 35 times more on security guards in the city than elsewhere, said Jason Cunningham, regional vice president for pharmacy and retail operations in California and Hawaii.
Biden Unwisely Rescinds One of Trump's Criminal Justice Reforms. President Joe Biden has been moving at breakneck speed to undo every policy of his predecessor that he can, but he seems not to be giving any thought to whether the underlying policy is good. If former President Donald Trump made it, Biden will unmake it — even if he later has to remake it, as in the case of recently resumed border wall construction. Among the orders worth retaining that Biden nonetheless axed is Executive Order 13980. That order required agencies that issue regulations with criminal penalties to "be explicit about what conduct is subject to criminal penalties and the 'mens rea' standard applicable to those offenses."
Andrew Brown Jr. was charged with 100 crimes over three decades, did EIGHT stints in jail, and had a history of violent confrontations with police. Andrew Brown Jr. had a decades-long history of violent confrontations with police, including a 2016 incident during which he fought officers and was tasered, DailyMail.com can exclusively reveal. The black dad-of-seven — who was shot dead last month when sheriff's deputies surrounded his car in Elizabeth City, North Carolina — had a rap sheet dating back to his teens and spent at least eight stints behind bars. Court documents seen by DailyMail.com reveal he faced more than 100 charges over three decades, ranging from misdemeanors for breaking and entering, making threats and assault with a deadly weapon, to six felony drug convictions.
The Left's Long Love Affair with Criminals. Before the left came to power, criminals were helpful to the Bolsheviks in creating chaos (read: "prerequisites for revolution"). After the left came to power, it became clear that criminals, as a rule, never intended to overthrow the existing government. As a result of this cooperation, in Russia in the 20th century, the leftists created political banditry — i.e., using criminals against "class enemies" and "politically unreliable" ones — and the American left successfully adopted the idea of using malefactors. In addition, the prevailing theory of "social Darwinism" among the left provided a simple answer to the question of where, in fact, criminals come from. It turns out that criminals arise from "unfavorable conditions." It's known that few of the Antifa and BLM mayhem participants were imprisoned — and those who were, for the most part, were released. The fact is that, according to social Darwinism, one should not punish the criminal, not put him in prison, but simply place him in other, more favorable conditions. And then — lo and behold! — the criminal will be corrected, "re-educated."
Baltimore's experiment with de-policing has been disastrous — and deadly. A decade ago, Baltimoreans became lab rats in a fateful experiment: their elected officials decided to treat the city's long-running crime problem with many fewer cops. In effect, Baltimore began to defund its police and engage in de-policing long before those terms gained popular currency. This experiment has been an abject failure. Since 2011, nearly 3,000 Baltimoreans have been murdered — one of every 200 city residents over that period. The annual homicide rate has climbed from 31 per 100,000 residents to 56 — ten times the national rate. And 93 percent of the homicide victims of known race over this period were black. Remarkably, Baltimore is reinforcing its de-policing strategy. State's Attorney for Baltimore Marilyn Mosby no longer intends to prosecute various "low-level" crimes. Newly elected mayor Brandon Scott promises a five-year plan to cut the police budget. Both justify their policies by asserting that the bloodbath on city streets proves that policing itself "hasn't worked"; they sell their acceleration of de-policing as a "fresh approach" and "re-imagining" of law enforcement.
Andrew Yang Lays Into 'Defund The Police' After Times Square Shooting. Saturday's [5/8/2021] Times Square shooting shows that the city can't afford to "defund the police," mayoral hopeful Andrew Yang said during a Sunday morning appearance at the Crossroads of the World. "The truth is that New York City cannot afford to defund the police," Yang said near the site of Saturday's wild shooting, which injured three innocent bystanders including a 4-year-old girl in the hot spot to shop for toys. "When I talk to New Yorkers I get a very different message every single day," he said. "New Yorkers are concerned about rising rates of violent crime, petty crime, street homelessness. This is what we are seeing, and we need our city's leaders to step up right now."
Philadelphia's Fall: A Microcosm of Democrat Devastation. [Scroll down] In addition to the degrading of police and the withdrawal of funding, Philadelphia also has one of the most leftwing District Attorneys in the country, Larry Krasner. In Philly, the D.A. is an elected position, and Philadelphians got what they voted for. Krasner is a regular Santa Claus when it comes to dealing with criminals, and those policies have no doubt played a large role in the crime spike. Krasner is up for reelection this year and is being challenged by fellow Democrat Carlos Vega who in any other year would be considered a leftist; but not when running against Krasner. The police union local FOP has endorsed Vega and conducted a publicity stunt handing out free "Mr. Softee" ice cream cones to kick off their endorsement and apply the label of "soft" on Krasner.
Philadelphia's George Soros-backed DA, to face voters fed up with crime, homicides. Heading into the May 18 primary that will likely decide Philadelphia's municipal elections, George Soros-backed District Attorney Larry Krasner is facing voters who are deeply concerned about soaring crime and homicide rates, a new poll finds. The poll of likely Democratic voters in the overwhelmingly Democratic city found nearly half — 48% — named public safety and the homicide rate as an unprompted answer to Philadelphia's most pressing concern. "That's a really big deal," said Jim Lee of Susquehanna Polling and Research, which conducted the survey. "We're talking about a race for DA, and one-in-two voters say crime is the biggest problem in an unprompted answer? Obviously, they're not happy with the incumbent."
'Alarming rate': Demoralized cops flee police departments in record numbers. Police officers nationwide are turning in their badges at record rates amid budget cuts, policy changes and anti-brutality protests. An estimated 5,300 officers quit or retired from the New York Police Department last year, 200 or more cops have left the Seattle force, and in the nation's capital, the union reports that the 3,700-strong Metropolitan Police Department is down 300 badges since the D.C. Council enacted sweeping police reforms last summer. "Officers are leaving at an alarming rate, and crime is spiking in a lot of different areas," police union chairman Gregg Pemberton told The Washington Times on Tuesday [5/4/2021].
Minneapolis cops blocked from entering 'George Floyd' 'autonomous zone', have to make battered woman come to them. A recently revealed radio transmission between a Minneapolis Police officer and dispatch betrayed an unsettling matter that might be ongoing with MPD officers: officers apparently do not want to enter the "George Floyd zone" within the city. The uncovered radio transmission audio is reportedly related to an April 29th domestic incident in Minneapolis that occurs at approximately 2:00 a.m. at a residence located at the corner of 38th and Elliot. According to a report from CrimeWatch Minneapolis, a woman was reportedly shoved out of a window and suffered numerous lacerations all over her body.
Keeping the dangerous criminals out of prison isn't a winning plan. All decent people want our prisons to be safe places. One could, potentially, make prisons safer by removing the dangerous criminals from the prisons and releasing them onto the streets. Yes, the logic is there. The sense, the morality, and the justice, on the other hand, are totally absent. Sadly, California is part of a growing trend of states that believe they are choosing freedom over punishment. Instead, they are diminishing society's freedom by abandoning justice and safety. Of course, offering second chances to those who earn them is a good thing. Failing to penalize offenders adequately or deter them in the first place, though, is an invitation to cultural rot and mayhem.
Prolific mail thief in West Seattle arrested seven times, released from jail each time. There's a suspected mail thief operating in West Seattle. The victims know his name. So do the police, the post office and prosecutors. He's been arrested seven times since Jan. 7 and each time, he was released from jail, sometimes within 48 hours after his arrest. His name is Jason Turner and his case is another example of a suspected repeat offender falling through the cracks of the criminal justice system, leaving everyone who touches his case frustrated.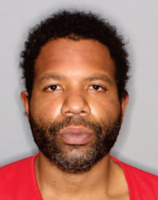 West Seattle Crime Watch: Police alert about mail-theft suspect. Southwest Precinct police have sent an alert about a mail-theft suspect who they say is active in North Delridge, 37-year-old Jason A. Turner: [...] ["]Turner has 3 arrests for mail theft since 2020. Turner's most-recent arrest was Feb. 3. He was released the following day and returned to the area, where additional mail was stolen. Residents are fed up with his actions. Turner has been witnessed following USPS and UPS drivers and stealing mail and packages that were just delivered. He does this in broad daylight, often in the morning hours before noon, showing no concern for being witnessed.["]
Our Quasi-Soviet States of America. The federal Department of Justice and state-level law enforcement in jurisdictions taken over by the left are lenient with common criminals but savagely oppressive against political protesters when an excuse can be found, or manufactured, to charge them with a crime. That fate fell on many allies of Trump. Rudy Giuliani was visited by a gang of FBI agents at 6 A.M. equipped with dubious search warrants. Vote-stealing activities during the last election were ignored and not even investigated because they helped the left. In San Francisco, thefts of less than $950 are not prosecuted, giving criminals a free pass to terrorize small businesses and respectable people. [...] Abolishing or neutering the police allows the dregs of society to form political enforcement gangs to terrorize individuals considered political enemies. These gangs are instruments of the regime but officially are low-level criminals not under the control of the regime.
Most Portland rioters have charges dismissed by US Attorney: 58 suspects of the 97 arrested have cases scrapped, while 32 more are left pending. The majority of the people facing federal charges over last summer's protests in Portland, Oregon will not be prosecuted or spend any time at all behind bars, it haas been revealed. Although 97 people were arrested and had charges filed against them in connection to protests that took place between May and October of last year, 58 cases have either been dismissed completely or will be scrapped under deferred resolution agreements. A further 32 cases are also pending with many also likely to be dismissed, Fox News reports.
Dem Cori Bush praises 'historic' vote to defund St. Louis police as the city is named 7th most violent in the entire world. The city of St. Louis is moving toward axing nearly 100 police officer positions and cutting millions from the police department's budget. The movement to defund the St. Louis Metropolitan Police Department was lauded by Rep. Cori Bush (D-Mo.), who called the decision "historic," despite the city being one of the most violent per capita in the world. A proposal to eliminate 98 vacant officer positions and reallocate $4 million of the St. Louis Metropolitan Police Department's $171 million budget passed a vote last week. The proposition was passed by the Board of Estimate and Apportionment by a 2-1 vote, with St. Louis Mayor Tishaura Jones (D) and Comptroller Darlene Green supporting the plan and Board of Aldermen President Lewis Reed opposing the proposal. Fox News reported that the plan "now goes to the Board of Alderman, the legislative body of the city, for hearings and possible amendments, before it's set to take effect July 1."
Bronx judge releases man, 29, who 'smashed windows of four synagogues' hours after another judge defied NYC's bail reform laws to keep him behind bars. A New York judge has released a man suspected of vandalizing synagogues across the Bronx, just hours after another judge defied the state's bail reform laws and ordered him locked up. Jordan Burnette, 29, faces 42 charges over a string of attacks on Jewish places of worship. He appeared in court Sunday [5/2/2021], and was expected to be freed because New York State's bail reform laws say a suspect with his charges cannot be held on bail.
Portland Fights 1000% Increase in Murders With Unarmed Park Rangers. Shootings have more than doubled in Portland from 111 last year to 275 so far this year. Murders are also up from 2 to 25. That's an increase of over 1000% for the prog utopia. Portland hit a quarter-century high last year with 55 murders. It's on track for 100 in 2021. Things are so bad that Mayor Wheeler, who narrowly won reelection over the Antifa candidate after having his apartment building firebombed, pleaded with the City Council to pay for more cops. But the City Council had a better idea: unarmed park rangers with pepper spray.
Activists deliver 30 boxes of signatures for petition to replace Minneapolis Police Department. Community activists delivered stacks of boxes Friday [4/30/2021] to the Minneapolis city clerk's office to file a petition to amend the city charter in order to replace the Minneapolis Police Department with a public safety department. Following the death of George Floyd, there's been a community push to defund or disband the Minneapolis Police Department. Activists say the petition is a step toward changing public safety and policing in the city. The 30 boxes now standing in the city clerk's office mark the first step of the process for a petition to amend the city charter. According to the clerk, Yes 4 Minneapolis wants to put the amendment on the ballot at the general election on Nov. 2.
California Granting Early Release to 76K Inmates — Including Some Pretty Nasty Dudes. This just in from the no-longer-Golden State: California is giving 76,000 inmates, including violent and repeat felons, the opportunity to leave prison earlier as the state aims to further trim the population of what once was the nation's largest state correctional system. Shocked? Me neither. As reported by AP, more than 63,000 of the 76,000 inmates, who were convicted of violent crimes, will be eligible for "good behavior credits" that shorten their sentences by one-third instead of the one-fifth that had been in place since 2017. That includes nearly 20,000 inmates who are serving life sentences with the possibility of parole.
76,000 California Violent, Repeat Felons Get Earlier Releases. California is giving 76,000 inmates, including violent and repeat felons, the opportunity to leave prison earlier as the state aims to further trim the population of what once was the nation's largest state correctional system. More than 63,000 inmates convicted of violent crimes will be eligible for good behavior credits that shorten their sentences by one-third instead of the one-fifth that had been in place since 2017. That includes nearly 20,000 inmates who are serving life sentences with the possibility of parole. The new rules take effect Saturday but it will be months or years before any inmates go free earlier. Corrections officials say the goal is to reward inmates who better themselves while critics said the move will endanger the public.
76,000 California Inmates [are] Now Eligible for Earlier Releases. California is giving 76,000 inmates, including violent and repeat felons, the opportunity to leave prison earlier as the state aims to further trim the population of what once was the nation's largest state correctional system. More than 63,000 inmates convicted of violent crimes will be eligible for good behavior credits that shorten their sentences by one-third instead of the one-fifth that had been in place since 2017.
Violent crime has surged in Minneapolis in the year since George Floyd's death, with the second highest number of homicides EVER. Violent crime is surging in Minneapolis with homicides last year spiking to the second highest levels ever as the COVID-19 pandemic and protests in the wake of George Floyd's death devastated the city. Of the 5,426 violent crimes recorded in Minneapolis last year, 83 of them were homicides, according to the city's police crime statistic data. It is only the second highest number of homicides since 1995 when a record 97 homicides were recorded.
Don't Confuse an Accident with a Crime. For those who think now-former Brooklyn Center police officer Kim Potter should be charged with a crime — let alone murder — I have a simple question: if a surgeon accidentally nicks an artery and kills a patient when she mistakes the scalpel in her hand for a prober, should she be charged with murder, or even manslaughter? Answer: no. After all, the surgeon did this thing we all do: she made a mistake. She had no ill intent, let alone malice. Despite the best intentions and protocols, it sadly happens on occasion, and especially in the heat of the moment during a pressure filled situation like surgery. The question is, what should happen when it does?
More than 200 Seattle police officers quit over the last year, many citing anti-police climate. More than 200 Seattle police officers quit their jobs in the last year amid months of frequent anti-law enforcement, racial injustice protests and riots in the city. Many of the officers cited an anti-police climate in the city — including in the City Council — and disagreements with police management in their reasons for moving on, leaving the department with what Police Chief Adrian Diaz called a "staffing crisis" on Tuesday [4/27/2021]. He said 180 police officers quit last year and another 66 officers so far this year.
Louisville Police Department struggles to recruit as murders rise by 75 percent and shootings rocket 84 percent. More than 230 cops have either retired or resigned from the Louisville Metro Police Department in the last 16 months as a spokesperson for its union says that staffing shortages have left the agency in 'dire straits' while violent crime rises. The Kentucky city's police department has been in turmoil since the March 2020 police-involved shooting of Breonna Taylor, the 26-year-old black EMT who was fatally shot in her home by officers executing a no-knock search warrant. According to statistics provided by the LMPD on Tuesday, the department has seen about 190 officers leave last year and 43 depart so far this year.
Believe It or Not, a New Level of Corruption and Depravity for New York City. The district attorney of Manhattan in NYC has announced that his office will no longer prosecute any unlicensed "massage" parlor workers (about 900 cases), nor loitering for the purposes of prostitution (about 5,000 cases). Abigail Swenstein, a staff attorney with the Legal Aid Society's Exploitation Intervention Project, which works with sex workers, said that while the policy doesn't preclude the New York Police Department making arrests, she hopes officers will choose not to, knowing that prosecutors would not bring charges. Laws against these behaviors are still on the books but will not be prosecuted. The citizenry has not repealed these laws, but the ever wise and dictatorial district attorney will spit in the face of the citizenry (and God) by deeming these activities unworthy of punishment. This writer could find reference to only one person, New York Assemblyman Mike Reilly, a Republican, who said Manhattan's new prostitution policy sets a dangerous precedent. "It flies in the face of law and order," he timidly said. To me, the fact that there is not an outcry of opposition is as grievous as the decision itself.
Where's the Accountability For California's $31 Billion Unemployment Scandal? It may be the largest fraud case in U.S. history — perhaps world history as well, although the oil-for-food scandal engineered by Saddam Hussein in the 1990s would give the Golden State fleecing of the unemployment system a run for its money. The stupendous size of the unemployment claims scandal in California is purely the result of incompetence. Individuals, criminal gangs, hackers, and state actors siphoned as much as $31 billion away from the California government. It was a free-for-all that even had criminals locked away in California prisons stealing billions of dollars right under the noses of the guards.
Chesa Boudin and now the dead baby. It's getting harder and harder to justify San Francisco District Attorney Chesa Boudin's let-'em-all-out prosecutorial policies. He calls it 'restorative justice.' In reality, it's bad guys go free. Last December, the radical leftwing D.A. tried to extricate himself from the deaths of two innocent women hit by a drunken thug in a stolen car who mowed them down in a hit-and-run following a burglary. The thug was a parolee who was only out on the streets because Chesa let him out of jail. After that travesty, Chesa said that other people did it, claiming "systemic failure." That excuse didn't work, and shortly afterward, triggered a public effort to recall him.
Manhattan DA's Office will no longer prosecute prostitution cases. The Manhattan district attorney will stop prosecuting prostitution and unlicensed massage cases — and is tossing thousands of warrants dating as far back as 1975. DA Cyrus Vance Jr. appeared virtually Wednesday in Manhattan Criminal Court to ask Judge Charlotte Davidson to vacate 5,994 bench warrants and dismiss the underlying charges of prostitution, unlicensed massage and loitering for the purpose of prostitution. The motion was granted and the cases dating back to 1975 were dropped. For years, the Manhattan DA has offered people facing these charges services and programs.
Minnesota Gats. [Scroll down] The blacker you are, in appearance and behavior, the more valuable you are as a victim in the racial politics being waged on white America by the ruling class. This is the reality of Jim Snow America. Whites, especially white males, will get the harshest treatment from the law. The usual suspects flood the zone with phony studies on racial differences in sentencing, but they never hold up under scrutiny. When adjusted for criminal history, whites get longer sentences than other races. Males, of course, will always get harsher sentences than females for the same crimes. Of course, the Jim Snow rules apply to victims as well. Ashli Babbitt was a right-wing white woman murdered by a black cop inside the Capitol, but he is black, and she is a bad white, so it is okay. Cannon Hinnant was a 5-year-old white boy executed by a black man, but the media could not be bothered to notice. On the other hand, Adam Toledo, a 13-year-old gangbanger shot by cops, is national news. This will only get worse.
You Will Not Believe the INSANE Proposals This City Is Considering for 'Reimagining' Public Safety. Austin Mayor Steve Adler announced that he wanted to "reimagine" public safety in the city. If the use of the word "reimagine" pinged your "I've got a bad feeling about this" radar, you will soon know how right you are. Thus far, "reimagining" public safety has gravely damaged it in Austin. It has amounted to cutting about $150 million from the Austin Police Department's budget and standing idly by while violent crime rates have soared in the once peaceful and slightly weird city. Two APD cadet classes were also canceled. Breaking Bad has come to Austin. By my last count, Austin police officers have been shot on duty four times already in 2021, and there have been 22 homicides, all while officers cannot leave the force fast enough.
Cover-up? ACLU sues to block release of data on number of male-to-female transgender prisoners. After the ACLU of Washington convinced a federal judge to halt the release of data on the number of transgender inmates in the state's prisons, a feminist activist group is lashing out, accusing the venerable civil liberties group of covering up the danger to female inmates posed by housing violent male-to-female transgender prisoners in women's facilities. The ACLU suit is an attempt to "prevent the public from knowing this data, so that the harm posed to women by forcing them to be housed with violent male prisoners will continue to go under the public's radar," said Lauren Adams, legal director of the Women's Liberation Front (WoLF), in an interview. Last week, the ACLU of Washington notified a woman who had filed a public records request for the transgender data that it was seeking an emergency temporary restraining order and injunction to stop the request from being fulfilled, claiming transgender prisoners would face harm if the numbers were released.
Andy Ngo: U.S. Unsafe Due To Far-Left Terror, Erosion Of Police. A prominent Asian-American reporter commented on his decision to flee the U.S. due to threats by Antifa. Journalist and author Andy Ngo said he fled the U.S. due to an escalation of safety concerns. In an interview Monday [4/5/2021], Ngo of Portland, Oregon said it's not safe for him to remain in the U.S. due to his past reporting on Antifa. Ngo stressed he left the U.S. due to the weakening of law enforcement and a rise in popularity of far-left violence.
Over 250 Male California Prison Inmates Request Transfer to Women's Facilities. Since January, 261 California prison inmates have requested transfers to prisons aligning with their gender identity, 255 of them biological males who say they identify as women, the California Department of Corrections and Rehabilitation told the Daily Caller News Foundation. In January, California Gov. Gavin Newsom, a Democrat, signed into law a bill requiring the California Department of Corrections and Rehabilitation to ask every individual entering its custody to specify personal pronouns and gender identity, including transgender, nonbinary, or intersex. The California law, known as SB 132, prevents Corrections and Rehabilitation from disciplining the individual for refusing to give this information, allows for the information to be updated later, and requires staff to use the gender pronouns that the individual requested.
Two teen girls accused of car-jacking and killing an Uber Eats driver in D.C. 'reach plea deal with prosecutor'. Two girls, ages 13 and 15, who were charged with the murder and carjacking of a Pakistani immigrant killed last month while working at his job delivering food in Washington, DC, have reportedly reached a plea deal with prosecutors. Mohammad Anwar, 66, died when police said the girls, armed with a taser, sped off in his car as he clung to the driver's side with the door open and crashed seconds later just outside the ballpark of the Washington Nationals. On Monday [4/5/2021], the teens reportedly reached the plea deal with prosecutors that would ensure they will not be held past the age of 21 nor be placed in a prison facility.
Society Pays When Prosecutors Fail to Punish Crime. Imagine a society where prostitutes could solicit johns for sex just yards from police officers who did little more than wave them on their way. Picture yourself walking through a park with your children as a homeless person is free to urinate and defecate beside the park bench where he is stashing the illegal drugs he bought from a dope dealer operating openly without fear of the police. Does that make you feel safe? Welcome to the new Baltimore, where law enforcement will no longer be prosecuting what it calls "low-level offenses." These include possessing drugs or drug paraphernalia, trespassing, minor traffic offenses, prostitution, open container violations, and defecating or urinating in public. The city announced the initiative last week after a year-long experiment to slow the spread of COVID-19 in the jails and prisons.
Teenage Girls Who Murdered Pakistani Immigrant/Uber Eats Driver Almost Certainly Won't See Jail Time. A graphic video showing the carjacking and death of Pakistani immigrant Mohammad Anwar, a 66-year-old grandfather working as an Uber Eats delivery driver, was heartbreaking and disturbing to normal people who viewed it. What was even more disturbing was the reaction and utter lack of humanity shown by one of the teenage girls who carried out the crime. As the 13-year-old crawled out of the passenger side of the car, which was partially overturned, she was frantically yelling that she needed to get her phone out of the car before making a run for it. Seeing Anwar's lifeless body on the sidewalk didn't seem to impact her emotionally at all. At the time, there were reports that one of the girls had been involved in a prior carjacking, and according to D.C.'s FOX 5, that carjacking "involved the younger suspect, who may have been involved in more than one previous crime."
The 10 Radical New Rules That Are Changing America. [#2] Laws are not necessarily binding anymore. Joe Biden took an oath to "take care that the laws be faithfully executed." But he has willfully rendered federal immigration laws null and void. Some rioters are prosecuted for violating federal laws, others not so much. Arrests, prosecutions, and trials are all fluid. Ideology governs when a law is still considered a law. Crime rates do not necessarily matter. If someone is carjacked, assaulted or shot, it can be understood to be as much the victim's fault as the perpetrator's. Either the victim was too lax, uncaring and insensitive, or he provoked his attacker. How useful the crime is to the larger agendas of the Left determines whether a victim is really a victim, and the victimizer really a victimizer.
Two teens will not receive jail sentences after attack kills 13 year old boy. The two boys behind a deadly school campus attack that killed a 13-year-old California boy will not receive jail sentences, a judge ruled on Friday according to KTTV-TV. In 2019, 13-year-old Moreno Valley, California, student Diego Stolz died after two of his teenage classmates assaulted him on school property. The attack took place at Landmark Middle School. According to video footage of the incident, "one boy [is] standing in Diego's face, while the victim stood with his hands at his side." "The boy then backed up before punching Diego in the mouth," the station added. "The second assailant then blindsided Diego with another punch, causing him to fall and strike his head on a concrete pillar."
Baltimore permanently abandons prosecuting many types of crime. Back in March of last year, Baltimore State's Attorney Marilyn Mosby quietly began the process of "decriminalizing" a number of low-level crimes such as drug possession and prostitution. The move was ostensibly made to reduce jail populations during the pandemic to prevent the spread of COVID behind bars. Now, after a year of refusing to prosecute people for breaking laws that are still on the books, Mosby has declared the project to be such a resounding success that she's going to make those changes permanent, even if we get the pandemic under control. What could possibly go wrong?
California judge sentences two killers of a 13-year-old to ... anger management therapy. In a case that's drawing a lot of attention based on the insane level of leniency shown, two 14-year-olds who bullied, murdered, danced on the body of, and filmed a helpless 13-year-old, have been let off with the mother-of-all-slaps-on-the-wrist by a Riverside County Superior Court Justice. [...] The helpless 13-year-old orphan had been bullied, brutalized, begged for help from the teachers' unionized school officials whose fat-salaried job was to protect him, and got nothing. They let him get murdered. And early on, they callously blamed the kid's family for his killing, instead of themselves. The case makes one's blood boil. How can a 13-year-old's life be worth absolutely nothing? The kid was an orphan, living with his aunt and uncle, who are now suing the school district for its lazy indifference.
Boys Who Fatally Beat MoVal Schoolmate Avoid Juvenile Detention. Two boys who fatally beat a Moreno Valley youth during a schoolyard bullying episode were on probation Friday, following a judge's decision not to sentence either offender to juvenile detention. The defendants, whose names have not been disclosed, each admitted an involuntary manslaughter charge in November for the 2019 killing of 13-year-old Diego Stolz. Riverside County Superior Court Judge Roger Luebs on Thursday [3/25/2021] imposed probation terms of unspecified duration.
Mayor Muriel Bowser Delivers a Disgustingly Tone-Deaf Message After Carjacking Murder Video Goes Viral. Over the weekend, an extremely disturbing video of a carjacking in Washington D.C. went viral. Two teenage girls, 13 and 15, stole a car from an Uber Eats driver. When the Pakistani immigrant refused to relinquish his property, they took off, flipping the car on its side and killing the man. Murder charges have now been filed. Because the two girls who murdered this man are black, the case has taken on all the partisan connotations you'd expect, including CNN referring to the death of the man as him being "fatally injured" in an "accident." [...] As someone who lived in D.C. and had their car stolen, I can tell you that the police will take your statement and that'll be the end of it. They don't actually investigate. They don't take fingerprints once the car is recovered (mine was found totaled the next day after some vagrants took it for a joyride). When I asked why nothing more was being done, they told me they don't have the resources to bother with auto-theft.
Los Angeles agency votes for $36M police funding boost as crime surges. Officials in Los Angeles voted this week to re-fund their police amid an upswing in crime. Less than a year after "defund the police" fervor swept across major cities from coast to coast, Los Angeles County Metro, the region's public transportation agency, voted Thursday [3/25/2021] to boost police funding by $36 million. The vote passed 12-0, including a "yea" from Los Angeles Mayor Eric Garcetti, a major advocate of defund the police measures, who chairs the board. The money will go toward the agency's law-enforcement contracts with the Los Angeles Police Department, Long Beach Police Department and Los Angeles Sherriff's Department. Los Angeles has been among the nation's leading communities in efforts to defund the police.
The Editor says...
The inevitable "upswing in crime" could have been avoided if the county leadership had any amount of foresight, along with the backbone necessary to resist the mobs.
10 Months After George Floyd's Death, Minneapolis Residents at War Over Policing. The sacred intersection where George Floyd died beneath the knee of a Minneapolis police officer has seen such a spike in violence that food delivery drivers are afraid to venture there. There have been gun battles, with bloodied shooting victims dragged to ambulances because of barricades keeping the police and emergency vehicles away. "Having no police: This is the experiment right here," said P.J. Hill, a leader of Worldwide Outreach For Christ, a church that's been on the corner for almost 40 years. "This is their one-block experiment."
Minnesota Supreme Court Overturns Rape Conviction Because the Woman Willingly Drank Alcohol. The Minnesota Supreme Court overturned the conviction of a man who picked up a woman outside a bar, took her home, and had sex with her. Under state law, since the woman drank the alcohol willingly, the man could not be charged with 3rd-degree criminal sexual misconduct. The judges said the man could be charged with a gross misdemeanor — 5th-degree sexual conduct. The difference is that the 3rd-degree assault charge carries a sentence of 15 years in prison while the misdemeanor would put the man in jail for 1 year. Naturally, many women are outraged at the Minnesota Supreme Court.
Soros-funded radical DAs 'are killing our cities'. While establishment media fixated on alleged Russian interference in U.S. elections, billionaire activist George Soros was quietly wielding more influence than the Kremlin could ever hope for, according to an investigation. Dale Wilcox, executive director and general counsel at the Immigration Reform Law Institute, said in a column for Breitbart News his organization found Soros is funding hand-picked candidates who are shielding illegal aliens charged with violent crimes from deportation. In Philadelphia, Larry Krasner was elected district attorney in 2017 after receiving nearly $1.7 million from Soros through an independent political action committee, Philadelphia Justice & Public Safety. Krasner immediately created the new position of immigration counsel with the goal of achieving "immigration neutral" outcomes in the prosection of non-citizens. Of approximately 300 cases, 120 were recommended to be changed to plea agreements.
How [the] 'Minneapolis Effect' Explains [the] Surge of Violent Crime in American Cities. This past year, "defund the police" has been a frequent call from activists seeking systemic reform of the American criminal justice system. It became a popular rallying cry after the May 25 death of George Floyd in police custody in Minneapolis. And Minneapolis is among cities that partially defunded police departments and proactive crime prevention programs in response to the incident. However, the months since brought a massive surge in violent crime, a phenomenon called the "Minneapolis Effect" by two legal experts who spoke at a virtual event held March 16 by The Heritage Foundation. Paul Cassell, a law professor at the University of Utah, and Lawrence Rosenthal, a law professor at Chapman University in Orange, California, laid out the case that the serious, protracted rise in crime is tied to rhetoric and actions after Floyd's death and the ensuing protests.
Asian-Americans Worry About Democrat Bill 'Legalizing' Mugging. Here's a snapshot of why these violent assaults keep happening. And why they're happening so often in California and New York, in areas where crime has essentially been legalized. The upsurge in store robberies in California was driven by pro-crime measures that essentially legalized shoplifting. Now the Democrats want to all but legalize robbery. [...] SB82 specifically states that, "This bill would define the crime of petty theft in the first degree as taking the property from the person of another or from a commercial establishment by means of force or fear without the use of a deadly weapon or great bodily injury." That means a mugging is now petty theft as long as the thugs don't use a gun or cause 'great bodily injury[.]'
Bill would require Wisconsin inmates' stimulus money to go toward restitution. Republican lawmakers have introduced a bill that would require prisoners to spend their COVID-19 stimulus money on restitution. Democrats rejected a Republican amendment to the $1.9 trillion stimulus package President Joe Biden signed last week that would have prevented prisoners from receiving stimulus checks.
Anti-Asian violence can't be blamed on Trump supporters. That the Left seems to need to blame every ailment of society at the feet of white people, conservatives, and Trump himself lacks any form of seriousness. While there are some violent perpetrators who are white, conservative, or Trump supporters, FBI statistics suggest that most anti-Asian violence has come from black perpetrators. Refusing to look at these statistics represents a refusal to take seriously the lives and security of Asian Americans. According to the Justice Department, 27.5% of all violent crimes against Asian Americans in 2018 were committed by black people. That's over 50,000 incidents in a single year. White criminals and Asian criminals each accounted for 24.1% of all attacks on Asians. Asian people, similar to their white counterparts, are underrepresented in violent crimes committed to the proportion of the population they make up. In 2019, Asians made up 6.2% of the population but just 1% of the perpetrators of violent crime. White people are 62% of the population but commit 50% of violent crimes.
Jalihouse Call May Reveal Why Soros DA Dropped Charges Against BLM Train Derailers. The Soros DA in question is LA's George Gascon in close competition with SF's Chesa Boudin for the title of the worst pro-crime DA. While Gascon was backed by Soros, he was also funded by a variety of entertainment industry figures, including the wife of the Netflix CEO and Steven Spielberg, and his time in office has been characterized by a thuggery nearly as ruthless as the criminals he was selected to protect. The targets of Gascon's thuggery were the prosecutors trying to do their job. There have been some horrifying things that happened on Gascon's watch, but this might be yet another low.
Portland cut police funding and got a 2,000% surge in murders. Last June, the city of Portland, Oregon, hopped on the "defund the police" bandwagon. Now, it is flooded with gun violence, and the mayor is already backtracking from his support for the cuts. Mayor Ted Wheeler has requested $2 million in emergency funding for the police department, pointing directly to the surge in gun violence. At this point last year, Portland had seen just one homicide. This year, that number is 20, with 208 shootings in the city so far. Wheeler backed the Portland City Council's decision to cut $15 million from the police budget last June, which included disbanding police units that investigate gun violence. Predictably, that move backfired in a city that saw 100 consecutive days of violent rioting last year. Riots are back once again in the city, thanks to Wheeler's spinelessness. Rioters have once again targeted a federal courthouse in the city, a reprise of the violent storming of the courthouse last July. In June, it was reported that the city lost around $24 million due to the riots. Damage to federal buildings totals roughly $2.3 million.
New NJ law says cops can't notify parents when minor is caught with marijuana or alcohol in first offense. Democrats are unyielding in their quest for a permissive society where there is little if any personal responsibility. Nowhere is this more apparent than their preferred policies on the killing of unborn babies, and amid the current marijuana craze liberal politicians are borrowing from that campaign to mainstream weed. Just as Democrats pursued laws allowing minors to have an abortion without telling their parents, New Jersey has legalized the consumption of marijuana, in all its forms, on private property and enacted a law restricting law enforcement from notifying the parents of minors who are caught with possession of weed or alcohol. The most remarkable thing here being, perhaps, that tens of millions of Americans continue to support the party that pushes these destructive law
It's time for Red States to start nullifying federal law. Here are some of the issues that could be affected by the concept of nullification: [...] [#4] Nullify the anti-police agenda. During the Obama regime, his DoJ hamstrung city police departments all over the country with phony "civil rights" investigations, resulting in cities hesitant to arrest or prosecute violent thugs. With anti-police activists surrounding Biden, his administration will do the same, thereby empowering leftist rioters in our cities. The founders never gave the federal government a law enforcement role as they thought this responsibility best be carried out by local police and sheriff departments. States should resist and ignore all federal anti-police regulations and DoJ harassment of local police departments.
Soros' SF DA Chesa Boudin Tried Zero Murders and Only 2 Sex Assaults. There's a pro-crimes arms race among Soros DAs bent on freeing the most criminals and convicting the fewest. But even within that fishbowl, Chesa Boudin, Weatherman royalty backed by Soros, is something special. The Marina Times, which California Democrats have been trying to stamp out, has the numbers and they're something special. [...] Just keep in mind, Chesa Boudin is the DA of San Francisco, not a small town in Iowa. These are staggeringly insane numbers that paint a picture of a justice system that has essentially shut down.
Convicts Will Get COVID Bucks. On March 6, the Senate voted on the amendment and every Democrat voted to send checks to prisoners while Republicans remained united to add the amendment and exclude prisoners from the $1,400 stimulus payments. It is important to note that prisoners did receive stimulus payments from the CARES Act as well as the coronavirus relief package passed in the omnibus in late December. [...] The first attempt at rectifying the issue occurred with Sen. Bill Cassidy's (R-LA) amendment, which would prevent prisoners serving life sentences from receiving checks. After all, the coronavirus pandemic did not bar them from gainful employment, their heinous and unlawful actions did. Furthermore, prisoners do not pay taxes. They do the exact opposite. The damage they have caused to society extends beyond their crimes and their victims. They become burdens of law-abiding and tax-paying Americans. Now they will have $1,400 more than before while 60 percent of U.S. small businesses have closed permanently due to the pandemic.
Louisville prosecutors will permanently DROP charges against Breonna Taylor's boyfriend who shot at police. Prosecutors in Kentucky have moved to permanently drop charges against Breonna Taylor's boyfriend in connection with the bungled police raid that killed her. The Commonwealth's Attorney for Jefferson County filed a motion this week seeking to dismiss with prejudice the criminal charges against Kenneth Walker. A case dismissed with prejudice cannot be brought back before a court.
Feds quietly dismiss dozens of Portland protest cases. Federal prosecutors have dismissed more than one-third of cases stemming from last summer's violent protests in downtown Portland, when protesters clashed with federal agents. KGW reviewed federal court records and found 31 of the 90 protest cases have been dismissed by the U.S. Department of Justice, including a mix of misdemeanor and felony charges. Some of the most serious charges dropped include four defendants charged with assaulting a federal officer, which is a felony. More than half of the dropped charges were "dismissed with prejudice," which several former federal prosecutors described as extremely rare. "Dismissed with prejudice" means the case can't be brought back to court.
The Left's Campaign Against Self-Defense. Last week, federal prosecutors offered an undisclosed plea deal to two lawyers who firebombed an NYPD van and drove around passing out Molotov cocktails to protesters at a violent May 2020 Black Lives Matter (BLM) protest in Brooklyn. [...] In the name of "social justice," politicians and the judiciary in many cities and states are bestowing moral rights on violent left-wing and anarchist groups. District attorney Mike Schmidt, for instance, announced in August that he won't prosecute most of the 550 people arrested during the 75 days of mayhem in Portland last spring. He said the leniency was an attempt to "create a forum" to express "collective grief, anger, and frustration" at the death of George Floyd and the history of abuses endured by people of color. Worse, he said using the criminal justice system against them would "undermine public safety" for those "demanding to be heard." Schmidt, his Democrat cohort, and leftist sympathizers in journalism, law, and academia willfully ignore the fact that such misplaced clemency condones and encourages militant groups' violence, their disrespect for the law, and their anti-American agenda.
2 who killed Chicago cops paroled after decades in prison. Two men convicted of killing Chicago police officers in separate incidents decades ago were paroled Thursday [2/25/2021], drawing the ire of officials who opposed the move and believe it "sends a troubling message[.]" Johnny Veal was 17 when he and another man killed Sgt. James Severin and Officer Anthony Rizzato in 1970 as they walked across a field in the Cabrini-Green public housing complex. Veal, 68, and the now 74-year-old George Knights were convicted of the murders and sentenced to 100 to 199 years. Knights remains in prison. Also paroled by the Illinois Prisoner Review Board was Joseph Hurst, 77, who was convicted of killing Officer Herman Stallworth and wounding his partner after being pulled over for speeding in 1967.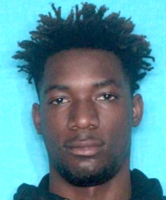 Why Wasn't He Already in Jail? [H]e was out on bond for an attempted first-degree murder in 2019, now he's charged with attempted second-degree murder — and it's on video this time, so perhaps they'll keep him in jail more than overnight, eh? We keep finding cases like this, where people get shot by someone who arguably should never have been out on the streets, and it's hard to reconcile this reality with liberal rhetoric about "mass incarceration." The "catch-and-release" approach to law enforcement is, of course, more common in liberal states like California, but the crusade to empty the prisons in the name of "social justice" has recently spread across the country.
We Are Living in the Ruins of Our Civilization. Another down staircase brings me to the subway platform. Naturally, the seats in the waiting area are occupied by more bums, one with a shopping cart full of bags and rags. Toward the far end of the platform I see the same young thug who'd jumped the turnstile now urinating against a supporting column. He is helping me illustrate the appeal of broken windows policing: the same people who are willing to break the law to sneak into the system without paying are likely to wreak havoc once they are inside. This is not anything a good, hard Singapore-style caning wouldn't fix, but we in our first-world society are apparently too evolved and high-minded for that; we are, in fact, apparently too evolved and high-minded to do anything at all to fix the problem. So the citizens of Singapore get to enjoy near-perfect, First World public order while the citizens of our cities have to endure Third World turmoil and disorder. We have to suffer the stench of urine on our subway platforms, shameless litterers leaving accumulations of trash in our public spaces and the ever-present threat of crime, both petty and violent, in our streets and our public transit.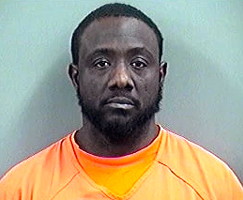 Oklahoma man accused of cutting neighbor's heart out, feeding it to his family. An Oklahoma man suspected of murdering three people has confessed to killing his neighbor, cutting her heart out and then cooking it to feed his family, authorities said. Lawrence Anderson allegedly stabbed Andrea Lynn Blankenship, 41, to death in her Chickasha home on Feb. 9, The Oklahoman reported. "He took the heart back to 214 West Minnesota, Chickasha," an agent with the Oklahoma State Bureau of Investigation wrote in a search warrant obtained by the outlet. "He cooked the heart with potatoes to feed to his family to release the demons."
Mark Zuckerberg Worked to Free Criminals in Oklahoma. A Monster Freed Early Ate a Woman's Heart and Killed a 4-Year-Old Girl. Criminal justice reform is a euphemism for a horrifying nightmare in which criminals were set loose under pressure from billionaire activist donors to commit horrifying crimes, terrorizing cities, destroying communities, and taking lives. [...] Anderson's sentence was apparently commuted in June. Oklahoma was a major target of an alliance between lefties and "conservatives" on criminal justice reform that predated the coronavirus mass jailbreak. [...] Anderson should have been kept locked up. He was yet another obvious example of a monster who should never have been loose. But he was. And now a girl lies dead, stabbed in the eye, and a woman lies dead, her heart torn out. The only question is how soon Anderson will be released this time.
If you're worried about ending cash bail, you're fearmongering, Pritzker says. Gov. J.B. Pritzker signed into law Monday [2/22/2021] a bill that will eliminate cash bail in Illinois, allow for anonymous complaints against police officers in disciplinary hearings and overhaul law enforcement protocols to be more hands off when apprehending suspects. Some of the material in the 700-page bill passed last month is laudable and worth exploring, as we've said previously. But it's undeniable that nearly every law enforcement agency and prosecutorial association in the state is ringing alarm bells about the changes, which were shoved through the legislature with little debate in the middle of the night — by design.
City in New York "abolishes" police by renaming them. The entire "abolish the police" movement has pretty much failed in spectacular fashion in terms of actually attracting any high-profile support around the nation. Even President Biden reiterated that he doesn't support the idea during his recent town hall on CNN. There has been plenty of defunding going on, frequently with very bad results, but the idea of completely reimaging an America without cops has been a political loser. But that's not entirely true everywhere. The folks at GQ Magazine this week were pretty excited to break the news about one city in New York State that's going whole hog for the idea. The Mayor of Ithaca, New York is preparing to remove and replace his entire police department, installing something called a "Department of Community Solutions and Public Safety" in its place.
NYC to test no-police mental crisis response in Harlem. NYPD officers will stay out of many mental health crisis calls and social workers will respond instead in parts of northern Manhattan starting this spring. The head of the city's wide-ranging mental health initiative gave some details of the test program to lawmakers Monday, fleshing out a plan the city outlined broadly in November.
Illinois bans cash bail. One of the constants in Chicago is the escalating crime rate over the past year, with many of the crimes committed by people who are out on bail, including "affordable" bail. This concept is meant to give poor people the same ability as rich people to be free while awaiting trial. Illinois is now set to follow suit: Starting in 2023, there won't be any bail in Illinois at all thanks to a new crime bill that will, among other things, end cash bail. Since affordable bail has already given carte blanche to Chicago's criminals, we can pretty much guess how this will end.
'Evil' Florida man burglarized homes during funerals: sheriff. An "evil" Florida man burglarized 10 homes — purposely targeting his grieving victims and striking when he knew they were attending funerals, authorities said. Ronald Lee Rose, 42, of Lake Wales, is facing multiple counts of armed burglary and grand theft in a series of home heists between October and Feb. 8 in Auburndale, Mulberry, Lakeland and Haines City, Polk County Sheriff Grady Judd said Wednesday [2/17/2021]. Rose allegedly researched his targets, hitting up homes either owned by a recently deceased person or one of their relatives, Judd said.
Carjackings Are Skyrocketing in U.S. Cities. Carjacking was long thought to be a crime more associated with the past than the present. But the last several months have seen a surge in that particular crime. National statistics are not available for carjackings, but there have been numerous media reports of big spikes in carjackings taking place ever since last summer, especially in Chicago and other big cities. And many media reports have indicated that those responsible are often young teenagers, many of them too young to legally drive. According to an NPR report, there were 405 carjackers in Minneapolis in 2020, a number that more than tripled over 2019. Chicago reported 1,400 carjackings last year, and other cities have also seen increases, such as New Orleans, Kansas City, and Washington, D.C.
Dumb Criminal Caught in Trap by Owner. Owner gets tired of dealing with Burglars breaking into his store so sets a trap and the perp falls right into it and is arrested. [Video clip]
Are you feeling safer yet? A New York Post editorial quotes New York City police commissioner Dermot Shea: "We have made staggering numbers of gun arrests, taking guns off the streets from felons, but when you look, three days later, four days later, those individuals are back on the street committing more gun violence." The editorial continues by saying that years of often ill conceived criminal justice reform has set up a revolving door that frees even repeat offenders almost instantly. And "[w]orse, because everyone knows the perp will be back in the neighborhood again — and the no-bail law lets the defense know right away who has talked — witnesses are ever-harder to come by." Well, that's in one Democrat-run state. What about California? According to Hotair.com: "Through a series of measures starting back in 2014, the state of California has made it increasingly easy for people to commit property theft and get away with it[.] ... Even in cases where they do manage to catch somebody stealing, it's too often not worth the trouble of taking them down to the station because they'll just be released immediately without bail anyway." One result of this is that California businesses are shutting down for good.
America's Political Prisoners First. In September 2019, Couy Griffin, founder of Cowboys for Trump, met with President Trump in the Oval Office. His group, according to its website, believes "securing our border, protecting our Second Amendment, and protecting the lives of the unborn are the most vital and key aspects in America's Greatness." Trump supporters riding on horseback — often carrying American flags and Trump banners — participated in rallies across the country to show support for the president. Today, Griffin sits in a jail cell denied bail. Prosecutors charged Griffin with one minor count of trespassing as part of the Justice Department's sweeping investigation into the events of January 6. Griffin, who is a county commissioner in New Mexico, never entered the Capitol but investigators scoured his social media account to find evidence that he was "well within the restricted area" of the building. Griffin did not assault a police officer or break any windows or even steal an important leader's laptop. His real crime, of course, is that he's a supporter of Donald Trump — and his real threat to society, according to U.S. prosecutors and a federal judge, is that Griffin dares to doubt the outcome of the 2020 presidential election.
These black lives didn't seem to matter in 2020. Last year saw the largest year-to-year increase in homicides ever recorded in US history. The homicide rate in 34 cities was 30 percent higher in 2020 compared to the previous year, according to a Jan. 31 report by the National Commission on COVID-19 and Criminal Justice. Victims of these homicides are disproportionately African American. At least 8,600 black lives were lost to homicide in 2020, an increase of more than 1,000 compared to 2019 (7,484). Violent crime is concentrated in primarily low-income, marginalized black communities where the police are underresourced and Democratic leadership has abysmally failed. In Chicago, 80 percent of gun-violence victims in 2020 were black. According to the latest data in New York City, 71 percent of shooting victims are black — even though black people constitute just 26 percent of the city's population. [...] Since more than 90 percent of black homicide victims are killed by black offenders, the ghost of endemic white supremacy cannot be invoked to push racial grievance narratives. As a result, the media turns a blind eye. Black lives only seem to matter when racism is involved.
California's latest move to thwart its own law enforcement efforts. The day may yet come when the California legislature proposes a new bill that will actually improve the lives of its citizens, my friends, but today is not that day. The latest bit of madness to come out of the Golden State is known as Senate Bill 271, and it's clearly designed to make people less safe rather than safer. Currently, anyone wishing to run for Sheriff in any of California's counties must have either a certification of competence from the Commission on Peace Officer Standards and Training or recent, equivalent salaried law enforcement experience. Makes sense, right? If you're going to put someone in charge of a major law enforcement agency, it might be nice if they actually knew something about law enforcement and the challenges that officers face out on the streets. But SB-271 would eliminate that requirement entirely. The stated reason is clear. They want people who are interested in reforming, defunding or abolishing the police to be able to run for the position.
'QAnon Shaman' demands organic food in jail; judge says he must get it. A federal judge on Wednesday [2/3/2021] ordered jail officials to provide organic food for the "QAnon Shaman," one of the people charged with participating in the Jan. 6 riot at the U.S. Capitol. The ruling was in response to a motion by Clayton lawyer Albert Watkins, who said Jacob Chansley had not eaten since Jan. 25 and had lost more than 20 pounds. Chansley has followed an organic diet for eight years, the motion says. Watkins' motion says that in Chansley's belief system, "non-organic food, which contains unnatural chemicals, would act as an 'object intrusion' onto his body and cause serious illness if he were to eat it." In a court hearing held by Zoom, lawyers for the District of Columbia jail where Chansley is being held said they could find no requirement for organic food in shamanism.
A San Francisco Murder Sets Leftists and Social Interest Groups at Odds. On January 28, while attempting to take a photo of a suspicious vehicle cruising in front of his San Francisco home, 76-year-old private investigator Jack Palladino was grabbed by one of the two men in the car and dragged forty feet before falling over backward and lethally striking his head. Not since the Zebra killings of the 1970s has one murder caused San Francisco's leftist worthies so much consternation. If you do not know of the Zebra killers, there is a reason why. The killers were black. All 21 of their victims, 14 fatal, were white or Asian. The Zodiac killer worked the same area at roughly the same time, killed far fewer people, and got ten times the attention. Palladino's killing made the news in spite of the fact that he was white and the two accused killers are black. What made Palladino newsworthy is that he has friends in high Democratic places.
Man twice bailed out by Kamala Harris-backed fund — gets arrested again. A Minnesota man twice bailed out by a Vice President Kamala Harris-backed nonprofit group has been busted a third time on felony drug charges, authorities said. Thomas Moseley's latest collar stems from his arrest on Oct. 15, 2020, when he was picked up at a George Floyd-related protest and charged with damaging the Minneapolis Police Department's Fifth Precinct months earlier, WCCO-TV reported. Police found a handgun in his waistband and charged him with possession of a dangerous weapon. Moseley, 29, of Minneapolis, was also busted on rioting charges from a Dec. 31, 2020, demonstration.
Elgin man who sexually assaulted, killed toddler to be freed from prison after serving half of 48-year term. An Elgin man convicted of sexually assaulting and murdering a 20-month-old girl in 1997 is being released from prison later this month after serving half of his 48-year sentence. Cayce Williams, 47, pleaded guilty in 2006 to the first-degree murder and criminal sexual assault of Quortney Kley, the daughter of his former girlfriend, in exchange for the prison term. [...] Williams faced the death penalty but reached a plea agreement with the Kane County State's Attorney's office.
Police, allies fight back as Soros-funded liberal DAs oversee big-city bloodshed. District attorneys implementing liberal agendas in some of America's biggest cities oversaw soaring homicide counts last year and are now being hit with lawsuits and recriminations from police agencies. Angry police officers and their backers are doing all they can to boost a May primary challenge to Philadelphia District Attorney Larry Krasner, who refuses to prosecute some gun possession and drug crimes. A California court is scheduled to hear a lawsuit Tuesday [2/2/2021] filed by the Association of Deputy District Attorneys in Los Angeles against District Attorney George Gascon. The suit accuses Mr. Gascon of illegally blocking prosecutors from pursuing enhanced sentencing in violent crimes and other major criminal cases.
Biden Orders DOJ Not To Renew Contracts With Private Prisons As Part Of Racial Equity Agenda. As part of his promise to advance racial equity, President Joe Biden has instructed the Department of Justice not to renew private prison contracts. The policy change was part of a fresh set of four additional executive orders the president signed on Tuesday [1/26/2021] to eliminate alleged institutional discrimination within federal agencies. "No one should be profiteering off of our criminal justice system," President Biden tweeted on Tuesday evening. "That's why today, I ordered the Department of Justice to end the use of private prisons by the federal government."
What's in crime bill? No more cash bonds. One of the hottest topics in Illinois government in the aftermath of the recent lame-duck legislative session is the massive criminal-justice package that's thrilled some and outraged others. The rhetoric has been dominated by either generic comments of support or disdain. Although sincere, they do not go to the heart of the issue — what's in the 700-page-plus bill that has generated such feverish feedback. The most substantive change, one that will not be implemented for two years, is the repeal of cash bonds. Henceforth, the legislation states, all persons charged with a crime will be presumed eligible for release following their arraignment on the charges against them.
2020 saw the largest percentage increase in murders in America's history. Heather Mac Donald has the grim details at the Wall Street Journal this week. While anecdotal evidence we've been covering here for the past ten months certainly suggested it, the final numbers are in. 2020 saw the largest percentage increase in homicides since accurate records have been kept on these statistics. And the lion's share of the killings took the form of drive-by shootings. Also of note is the fact that the large majority of the victims were Black. If you ask most of the largely Democratic mayors of the large or medium-size cities where the killings were most prevalent (or most of the mainstream media), they'll tell you that this surge was driven by the pandemic. But as Mac Donald notes, the data doesn't back that up.
The push to decriminalize 'streetwalking' follows a deadly run of NYC 'reforms'. Think Bill de Blasio's dumpster fire of a mayoralty can't get worse? Think again: Albany is planning to send him more street hookers. Whoopee. State Sen. Brad Hoylman, a Manhattan Democrat now running for borough president, considers the notice police pay to transsexual streetwalkers to be a pressing civil-rights issue — and so he's pushing legislation that effectively would make street-walking of all sorts legal. The bill appears fated to pass — and what could go wrong with that? Plenty. Blame for much of what makes New York City so difficult to navigate these days rests squarely with the normalization — and outright legalization — of anti-social, often dangerously aberrant, public personal behavior.
Our entire system has become a form of cruel and unusual punishment. The term "cruel and unusual punishment" is usually applied to the death penalty and solitary confinement. Both are widely condemned by the left, as is incarceration for non-violent crimes. But the political left treats the sufferings of victims of crime as collateral damage, something that should have nothing whatsoever to do with justice. Likewise, the left turns a blind eye to those whom the government itself destroys. The cavalier attitude towards victims of crimes is a quintessentially leftist position. It's also partially the consequence of substituting the government as the aggrieved party in criminal cases, leaving the actual victim on the sidelines. Unfortunately, this system makes it the government's job to decide whether to prosecute a case. Often, the Department of Justice and attorneys-general across the country behave as though the law is irrelevant when deciding whether to pursue a case — to the point of being opaque, quixotic, and under the worst but common circumstance, political.
Cook County Plans To Resume Jury Trials In February, But Will Jurors Show Up? The leaders of Cook County's criminal justice system are planning on resuming jury trials in February, after months of courts being in a near-total shutdown because of the COVID-19 pandemic. The shutdown has deprived accused offenders of their right to a speedy trial and left victims waiting for justice. But the proposed reopening worries court employees who believe leaders are rushing the process and jeopardizing their health. "People have been locked up, their liberation has been at stake since the coronavirus hit early last year," said Cook County Chief Judge Timothy Evans. "We'd like to be able to resume jury trials and bench trials where we can institute social distancing, where we can provide adequate [personal protective equipment], where we can show the potential jurors how safe they would be." Sources say leaders are aiming to have the first jury selection happen on Feb. 16. And they say questionnaires were being sent out Friday to potential jurors asking about underlying health issues and other COVID-19 related concerns.
An L.A. councilman lied to the FBI. Probation officials say he deserves no jail time. It was the first blockbuster case to surface in the federal corruption probe of Los Angeles City Hall — a multi-count indictment accusing former Councilman Mitchell Englander of taking envelopes of cash, lying to the FBI about that money and obstructing its investigation. Englander, while serving in office, made false statements to FBI agents during three separate interviews, prosecutors said, providing untrue information about his dealings with a businessman who gave him $15,000 in two casino bathrooms. The case was resolved quickly, with Englander pleading guilty to a single count of scheming to falsify material facts. But now, prosecutors are voicing objections to the sentence recommended by federal probation officials: three years' probation, a $9,500 fine and no jail time or community service.
Illinois Lawmakers Pass 'Transformational' Criminal Justice Legislation In 11th Hour Of Lame Duck Session. Illinois lawmakers on Wednesday [1/13/2021] used the final hours of the general assembly's lame duck session to pass a sweeping and controversial criminal justice reform bill that would eliminate cash bail, make it easier to ban officers from working at police departments across the state and allow for anonymous complaints against cops. The legislation, passed Wednesday morning after hours of late night bargaining, was a legislative priority of the Black legislative caucus. It was drafted as the legislature's answer to the months of policing-related protests this summer.
The worst run cities in America. The state of cities around the country is rapidly declining, leading to the greatest rates of emigration since the days of disorder and distress in the 1970s. Eight cities stand out as the worst run in the country, when ranked with markers like costs of living, education, poverty, and crime. These are New York, Los Angeles, San Francisco, Philadelphia, Washington, Portland, Oakland and Chicago. [...] Several of the worst run cities had surging crime before 2020. But such curbing of police has resulted in violent crime spikes that have become out of control. Shootings in New York nearly doubled, murder spiked by 20 percent, and burglary rose by over 40 percent last year. Los Angeles enacted a $150 million cut to its police, as the murder rate increased by 20 percent. The murder rate in Washington rose by almost the same, as Philadelphia boasts the second highest murder rate in the country, and Portland has had the most homicides in three decades.
The Left Finds Time for One More Big Lie Against Trump. As a preface, let there be no doubt that those who violated the law, acted violently, trespassed federal grounds on Wednesday, January 6, should be prosecuted and punished as prescribed by law for their crimes just as Antifa, Black Lives Matter, and other criminals who brought violence, destruction, bloodshed, and mayhem to Portland, Seattle, and so many other American cities during the months leading up to the presidential election should be arrested, prosecuted, and punished as the law demands for their crimes.
Soros Soars, GOP Cowards Cower. I devoted my Dec. 15 column to newly elected Los Angeles County District Attorney George Gascón and his benefactor George Soros. Gascón has one goal: to put the people of L.A. at the mercy of criminals. He's the face of anarcho-tyranny, and George Soros is the wallet. [...] As I wrote in my Dec. 15 column, a key element in Gascón's victory was the fact that the local GOP didn't lift a finger to oppose him.
Defenders of Civilization? Is there really a legal system any more, at least as we once knew it, in our major cities — New York, Portland, Seattle, and Los Angeles? Violent crime has soared. Murders are up 30-50 percent in many of those places. In 2020, whether an arsonist, looter, or rioter was arrested, indicted, and jailed depended on the ideology of the perpetrator and the political context of the crime. Old ideas like "broken windows" preventative enforcement went down the memory hole. Did Rudolph Giuliani's crime-reduction miracle in New York City ever really exist? Is it legal for a district attorney simply to announce that he will no longer enforce the legal code? Can victims of ensuing crimes sue such somnolent prosecutors? [...] Either police can make an in-vain arrest in their no-bail, Soros-funded prosecuting attorney jurisdictions and see the arrested subject released, angry or defiant or both. Or they can risk being attacked or shot by emboldened criminals, given police deterrence has vanished. Or, in extremis, they can use force and find themselves charged with a felony and likely to have their careers ruined.
S.F. parolee accused of killing 2 pedestrians was free despite several recent arrests. A driver accused by police of killing two pedestrians in downtown San Francisco on New Year's Eve while intoxicated and in a stolen car is a parolee who remained free despite being arrested several times in the city in recent months, according to city officials and public records. Troy Ramon McAlister, a 45-year-old city resident who was released on April 10 from a state prison sentence for robbery, was not charged with new crimes by the District Attorney's Office after any of last year's arrests, the most recent of which occurred on Dec. 20.
Early vaccination in prisons, a public health priority, proves politically charged. First came the outcry in a Denver newspaper op-ed, arguing that Colorado's coronavirus vaccination plan would bring relief to a man who fatally shot four people before it protected the author's law-abiding, 78-year-old father. [...] The plan, which put incarcerated people in line for coronavirus immunization ahead of the elderly and those with chronic conditions, had been released by the state health department. It was the product of months of deliberation by members of the state's medical advisory group — physicians, public health officials and experts in bioethics. But their framework, when subject to the machinery of online outrage, quickly unraveled. Asked by a Fox reporter about the prioritization, and the criticism touched off by the op-ed, Colorado Gov. Jared Polis (D) said at a December news briefing there was "no way" the limited supply of shots would "go to prisoners before it goes to people who haven't committed any crime." He let out a short laugh as he pronounced the word "prisoners."
2 siblings killed by suspect driving wrong way in Florida chase. A carjacking suspect driving against traffic on a Florida freeway during a high-speed chase on Tuesday night [1/1/2021] crashed head-on into an SUV, killing two Wisconsin siblings, officials said. [...] The suspect, who led law enforcement on a chase at speeds above 110 mph, also died in the crash, according to the sheriff's office. His name wasn't immediately released. Chitwood said the suspect had 50 prior arrests.
Omro Siblings Killed In Florida Wrong Way Crash. This was intentional," said Volusia County Sheriff Mike Chitwood. "Everything that he did was about destroying somebody's life." [...] The suspect also died in the crash near Daytona Beach. Authorities say the vehicle was stolen at gunpoint from an Orlando area pizza delivery driver. "He's got 50 prior arrests, he has no driver's license, he's been incarcerated eight times in state prison, he's got crimes in here — here's his criminal history and he's out walking amongst us. 200 pages... Carjacking, home invasion, robbery. He got out of prison last year for grand theft and he's out and about," Chitwood said.
Los Angeles County Prosecutors Sue Gascon For Not Enforcing The Law. Los Angeles County District Attorney George Gascon hasn't even been in office for a month yet but he's been making more headlines than the pandemic. Unfortunately for Gascon (and the citizens of his county), few of those breaking news items have been of the good variety. The wildly liberal, anti-cop DA has been working overtime to empty the jails and prevent the prosecution of criminals, even as crime rates have been surging in the City of Angels. The latest news out of his office won't be changing that pattern at all. His own prosecutors are going to court to ask a judge to block their new boss's orders and prevent them from having to break the law themselves by carrying out his directives. And it looks like they have a pretty solid case.
California Supreme Court Rules Thousands Of Sex Offenders Are Eligible For Early Release. On Monday [12/28/2020], the California Supreme Court ruled that thousands of inmates convicted of non-forcible sex crimes may be eligible for early release under a ballot measure that was overwhelmingly approved by voters four years ago. The initiative, called Proposition 57, was written by then-Governor Jerry Brown (D) and passed by nearly two-thirds of the electorate. It was crafted to reduce the state's prison population, saying any person found guilty of a "nonviolent felony offense" would be eligible for early parole. Brown said it was never intended to cover sex offenders. However, the original language did not exempt them from consideration. Lower appeals courts had ruled that nonviolent sex offenders could not be excluded, and the high court affirmed those rulings.
What the Media Didn't Want To Report About These Capital Punishment Cases. This summer, the federal government began putting people to death for the first time in 17 years. "Trump administration executes Brandon Bernard, plans four more executions before Biden takes office," said a Washington Post headline last week. While that is technically true, it wasn't Trump who convicted these men of murder; it was a jury of their peers. It wasn't Trump who upheld their convictions after numerous appeals; it was the judicial system. It wasn't Trump who found the death penalty constitutional; here, it was the Supreme Court that reaffirmed the Federal Death Penalty Act of 1994 requires executions to be carried out "in the manner prescribed by the law of the state in which the sentence is imposed." It wasn't Trump who sponsored that law in 1994; it was Joe Biden. Reporters nearly always glide past the horrifying specifics, spending inordinate amounts of space presenting the case of anti-death penalty advocates, who often dishonestly paint these men as victims.
Operation Legend Leads to Over 6,000 Arrests, Including 467 for Murder: DOJ. Outgoing Attorney General William Barr on Wednesday gave his last update on Operation Legend, a Trump administration initiative to drive down violent crime in major inner cities, saying that the program had led to over 6,000 arrests since its launch earlier this year. The operation was launched in Kansas City, Missouri, in July and has since been expanded to eight cities that saw rising crime rates this past year. It involves surging federal agents and resources to inner cities to assist local and state law enforcement officials tackle violent crime and restore public safety. Of those who were arrested, about 1,500 were charged with federal offenses, and 467 were suspected of homicide. The program also resulted in the seizure of 2,600 firearms, more than 32 kilos of heroin, more than 17 kilos of fentanyl, more than 300 kilos of methamphetamine, more than 135 kilos of cocaine, and more than $11 million in drug and other illicit proceeds.
Democrats ditch 'defund the police' slogan, but not necessarily policy principles. With the 2020 campaign season over, the message is clear from the upper echelons of the Democratic Party: "Defund the police" is not the message that they want to communicate to voters. Former President Barack Obama warned in an interview earlier this month that "you lost a big audience the minute you say it." President-elect Joe Biden in a private meeting last week, according to audio obtained by the Intercept, said, "That's how they beat the living hell out of us across the country, saying that we're talking about defunding the police." But behind the debate on semantics and public-facing messaging, Democrats are not necessarily abandoning the stated principles behind the slogan: Using mental health workers to respond to police calls or funding social services rather than military-grade police equipment, for instance.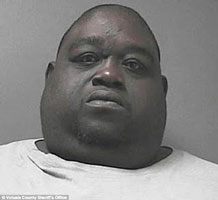 AOC, Omar, and Squad Want to Free 500,000 Fat Criminals. Obese rapists, insane serial killers, and child molesters over 55 years old could be on the loose in your neighbrohood if the Squad's latest social justice bill becomes law. The bill to free all the fat criminals, sponsored by Rep. Tlaib, Rep. Lee, and Rep. Pressley, and co-sponsored by Rep. Ocasio-Cortez, Rep. Omar, and eight other Democrats, and endorsed by Black Lives Matter, calls for a mass jailbreak to protect criminals from the coronavirus. The existing wave of coronavirus criminal releases already helped boost crime rates in major cities with double digit increases in homicides. Robberies have shot up like a rocket with criminals stealing cars and looting businesses while knowing they won't be jailed. But that's not enough for the Squad. They want to free all the criminals. Especially the fat ones.
Seattle politician who defunded the police called 911 to protect her from a crime she wants to legalize. A Seattle City Councilwoman called the police to her home Friday [12/17/2020] to report a crime she is effectively trying to legalize, according to media reports. Lisa Herbold phoned authorities on Friday after a man reportedly threw a rock through her living room window, My Northwest reported. The councilwoman said "she was on the west side of the living room near the kitchen when she heard a loud noise that sounded like a gunshot and dove into the kitchen for cover," according to a redacted police report obtained by the publication.
U.S. City May Pass "Duress Legislation" to Give Criminals "Poverty Defense". Elected officials in a major U.S. city plan to pass a law that will allow thieves to sell items they steal if they do it to earn money for basic needs and trespassers to set up camp on private property when it is to obtain adequate shelter. Dozens of other crimes — including assault and harassment — will be excused under the preposterous measure if suspects are poor, mentally ill or addicted to drugs. It is being crafted as a poverty defense and will allow municipal court judges to dismiss a multitude of crimes if poverty, mental illness or a substance-abuse disorder drove the perpetrator to commit them. Even for a famously liberal left coast city like Seattle it seems like a bit much. The proposal was first introduced during the Seattle City Council's budget deliberations weeks ago, according to a local news report. It was put on hold over a budget process bureaucracy but has gained incredible steam and appears to have enough support to alter the city code early next year. "The idea could enormously impact the city — and set Seattle apart from the rest of the country in its approach to misdemeanor crimes," according to the news story, which includes the concerns of frustrated public safety advocates who say the law will essentially legalize most crimes in Seattle.
8,000+ Nursing Home Residents and 49 Criminals Died in Pennsylvania. Guess Which Group Democrats Care About. One of the most important and least discussed coronavirus subjects in this election was the decision by Democrat governors to infect huge numbers of nursing home residents by forcing nursing homes to accept coronavirus patients. Governor Wolf in Pennsylvania and his health expert, Richard 'Rachel' Levine, were one of the worst offenders. [...] Let's compare and contrast. 8,047 nursing home residents dead isn't a crisis. But 49 criminals dead is a death sentence. These are Democrat priorities. Free the criminals and kill the elderly.
If the Media Doesn't Report on Crime, It Won't Exist. The Nieman Foundation for Journalism was set up at Harvard. Like everything touching old foundations and journalism, it's a toxic disaster. And this one is right up there with In Defense of Looting. [...] No this stuff isn't marginal. Nieman is influential and it's part of the larger pro-crime push. And the reshaping of the legacy media. Even at this late date, one of the few things the local news does anymore is sports, weather, and crime. Lefty virtue signaling destroyed sports. The push to make every weather report about global warmunism while firing any weatherman who doesn't go along has been underway for years.
California Sheriff Rejects Court Order To Reduce Inmate Population, Blasts The ACLU. The sheriff of Orange County, California, said on Wednesday that he would fight a recent order issued by a local superior court judge to significantly reduce the number of inmates housed in the county's jail system due to COVID-19 concerns. According to FOX 11 News, Sheriff Don Barnes "is refusing to release any more" incarcerated people despite the mandate. "These people who remain in the jail, they may have diabetes, but they're also charged with murder," Barnes told the outlet during an online interview. "Or they may be over 65, but may be a child molester." Sheriff Barnes posted an open letter to social media on Wednesday afternoon announcing his intention to appeal last Friday's directive by Judge Peter Wilson to cut the detainee population in all congregate living areas by 50%. The ruling came in response to a lawsuit filed in April by the America Civil Liberties Union seeking to protect medically vulnerable people from coronavirus infection.
California Sheriff Refuses To Release 1,800 Inmates After Judge's Order. A California sheriff is refusing to comply with a judge's order to release 1,800 inmates from Orange County jails, including individuals who have been imprisoned for murder, due to the CCP (Chinese Communist Party) virus pandemic. County Superior Court Judge Peter Wilson on Friday ordered the release of 50 percent — or 1,858 inmates out of 3,716 — to curb the transmission of COVID-19, the disease caused by the CCP virus. "I have no intention of releasing any of these individuals from my custody," said Sheriff Don Barnes, pushing back against the order. "We are going to file an appeal and we're going to fight it and if the judge has any intent of releasing any one of these individuals, he will have to go through line by line, name by name, and tell me which ones he is ordering released."
DA Who Prosecuted 8-Year-Old Gabriel Fernandez's Killers Tearfully Refuses to Comply With Gascon's Directives. As one of three members assigned to the LA County District Attorney's complex child abuse unit Deputy District Attorney Jon Hatami prosecutes the most heinous and heartbreaking cases that come into the office. Between 2013 and 2018 Hatami was the lead prosecutor for one of the most infamous child abuse cases in Los Angeles history, the torture and murder of Gabriel Fernandez. After winning a conviction against Fernandez's mother's boyfriend, Isauro Aguirre, Hatami revealed to reporters that one reason the case was so personal to him was because he had also been abused as a child. [...] Now Hatami is working to obtain justice for another child's killer, but his hands are tied because of his new boss's Special Directives.
Seattle weighs 'poverty defense' for most misdemeanor crimes. Seattle lawmakers are considering a law that would excuse suspects from most misdemeanor crimes if they can be linked to poverty or mental illness. If approved, it would make the Emerald City the nation's first to have such a measure on the books. The Seattle City Council said the proposal, crafted with input from local public defenders, would excuse suspects from minor crimes like theft, trespassing, or assault — but not in cases of domestic violence or driving while impaired, KUOW-TV reported. "In a situation where you took that sandwich because you were hungry and you were trying to meet your basic need of satisfying your hunger, we as a community will know that we should not punish that," Anita Khandelwal, King County director of public defense, told the station. "That conduct is excused."
Inside Soros DA George Gascon's Office: Deputy DA's Threatened, Intimidated to Uphold New Policies. Soros-funded Los Angeles District Attorney George Gascon, as we've reported, made major waves during his first week in office. On day one, he issued nine Special Directives instituting "criminals first" policies like failing to prosecute many misdemeanors, a blanket prohibition on seeking the death penalty or life without parole, and a ban on charging juveniles as adults. Throughout the week, victims, law enforcement officers, and court personnel were shocked to see the results of those policies in action in the courtroom (including a failure to charge enhancements or "strikes" against a man accused of decapitating two of his children).
NYC has freed thousands of gun suspects this year as shootings soar: NYPD. Nearly 90 percent of suspects arrested on gun charges this year are back on the streets, which the NYPD says has fueled a historic spike in shootings that have left more than 1,756 dead or wounded. About 3,345 of the 3,793 perps arrested between Jan. 1 and Nov. 30 for firearms crimes — 88 percent — were let go, according to department data. Just 450 remain in jail, the NYPD told The [New York] Post. Some of the suspects posted bail, but judges were required to release others under new reform laws that prohibit them from setting monetary bail on some gun-possession cases. The crime became ineligible for bail in most circumstances under the Jan. 1 law changes, which mandate judges to release collared suspects, with no money down, on hundreds of charges considered "non-violent." The NYPD has repeatedly blamed this year's stunning 96-percent surge in shootings on the loosened bail laws and early release of prisoners due to COVID concerns.
Seattle is considering making it legal to steal, as long as you're poor and plan on selling the items. Remember over the summer when AOC blamed the spike in crime in New York City on parents stealing food to feed their families? [Tweet] She was roundly ridiculed for that, of course, but now Seattle hopes to make AOC's fantasy a reality by creating an affirmative defense for theft if you intended to sell the stolen items for "basic needs" like food or rent. It's called "the poverty defense," and would not only make stealing legal, but apparently fencing items as well, and would cover over 100 misdemeanor crimes.
Judge to California's 3rd Largest County: On Account of COVID, Release Half Your Convicts. How do you empty a large county's jail system by half? That's a question currently demanding an answer, as a West Coast judge has ordered that very thing. As reported by The Daily Wire, on Friday, Superior Court Judge Peter Wilson dictated Sheriff Don Barnes must liquidate Orange County's jail system by 50%. The decision comes following the American Civil Liberties Union's April lawsuit demanding the release of disabled and vulnerable inmates in light of the pandemic.
New DA Gascon to decline prosecution on range of low-level crimes. The Los Angeles County District Attorney's Office will no longer prosecute a range of misdemeanor crimes, from resisting arrest to drug possession to making criminal threats, according to a memo issued this week by new DA George Gascon. [...] The memo spells out misdemeanors which should be declined or dismissed before arraignment, with a number of exceptions at the discretion of the prosecutor. Among them: Trespassing, disturbing the peace, driving with no license or a suspended license, making criminal threats, drug possession, drinking in public, loitering to commit prostitution and resisting arrest, among others.
Minneapolis delivers on its George Floyd promise to defund police and wipes $8m from force's budget. Minneapolis City Council on Thursday [12/10/2020] approved a controversial budget which is set to move $8 million of funding from the police — despite record crime rates since the May death of George Floyd. Mayor Jacob Frey, who had threatened to veto the entire budget if the council went ahead with a plan to cap police staffing, said the vote was a defining moment for the city which was the first to be hit by anti-police protests following the death of Floyd. The city has been plagued by soaring violent crime since then — with homicide, robbery, aggravated assault, burglary, theft and arson all up on last year's figures.
LA District Attorney Whistleblower: Gascon's Sentencing Special Directive Is Illegal. New Los Angeles District Attorney George Gascon has had the most active first week on the job of probably any officeholder ever, anywhere. On Day One he issued nine Special Directives to his staff, instituting a wet dream of Black Lives Matter and Antifa justice policies — and decreed that those policies should be implemented in all pending cases and even up to 20,000 cases in which the criminals were already sentenced. On Day Two he dropped charges against a "protester" accused of trying to wreck a train (you read that right) during a protest against the LA Sheriff's Department after deputies shot and killed a known gang member and drug dealer, Dijon Kizzee, who'd pulled a gun on them. We can't wait to see what the rest of the week will bring.
New Los Angeles DA Snubs Staff, Meets With BLM, Will Implement Radical Progressive Agenda. The worst fears about the new district attorney in Los Angeles County, George Gascón, are already materializing. After defeating the incumbent DA on November 3, Gascón was sworn in on Monday [12/7/2020]. Gascón announced that his office would immediately end cash bail for many offenses, refuse to pursue the death penalty, and cease trying juveniles as adults for violent offenses.
California Court Order Frees 250 Criminal Illegal Aliens into U.S.. Criminal illegal aliens who were released from Immigration and Customs Enforcement (ICE) custody due to a court order in Adelanto, California, have been re-arrested for child sex crimes, burglary, drug possession, and drunk driving. By October, ICE released more than 250 illegal aliens from their Adelanto detention facility after a court order mandated that they free up space. Those released were put in the Alternatives to Detention (ATD) program that places GPS ankle bracelets on each illegal alien as they are freed into the interior of the United States.
70th Harris County Resident Murdered by Suspect Out on Bond, Says Victim's Advocate. According to a victim's advocate, Derrick Mike has become the 70th person in Harris County to be murdered by a suspect out on felony bond. The suspect, 23-year-old Edward O'Neal IV, had been charged in the 2016 slaying of his friend Ryan Roberts in a case that drew international attention since O'Neal claimed to be a worshipper of Satan. Records indicate O'Neal had confessed to several people including his mother that he had stabbed Roberts to death. Family members told police and media that they knew O'Neal worshipped the devil, and his mother stated that he had killed two family pets.
New Los Angeles DA Gascon Sworn In, Will "End Bail Completely Jan 1," Resentence Up To 20,000 Convicted Criminals. As RedState and countless other publications warned, if Los Angeles elected socialist and Soros-funded candidate George Gascon as its District Attorney, he would institute radical changes in the criminal justice system. He essentially partnered with Black Lives Matter during the election, and pledged his allegiance to them after Election Day. Gascon was sworn in Monday [12/7/2020], and immediately implemented sweeping changes that go far beyond what even jaded political observers expected.
Seattle City Council Poised for a Breakthrough in Eliminating Most Property Crime — Make It Legal. Two months ago Seattle City Councilwoman Lisa Herbold proposed legislation under the guise of a budget bill that would, for all practical purposes, eliminate the prosecution of approximately 90% of all misdemeanor crimes in Seattle through the creation of an affirmative defense to conviction of "duress" stemming from poverty, homelessness, substance addiction, or mental illness. [...] But the proposal from Herbold would create a complete defense of "duress" to misdemeanor criminal charges for any criminal defendant who can show they fit into one of the "exempt" classifications. By one estimate it is likely that that 9 out of 10 criminal misdemeanor cases filed by the City Attorney's Office would be subject to such a defense, and as a practical matter, charges would never get filed in the first instance.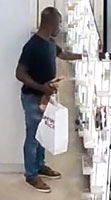 Have the police just given up on crime? This prolific shoplifter was caught red-handed by security guard. Nicholas Richards is a familiar face in the stores of London's West End. He's a serial shoplifter. One of the establishments he has been banned from because of his persistent offending is the flagship branch of Boots in Piccadilly. But here he is, captured on CCTV of that very store before the latest lockdown, brazenly helping himself to £170 worth of Gucci products from the fragrance counter. Richards, in a fashionable black T-shirt and jeans, was caught red-handed by security officers from private police force My Local Bobby (MLB). They handcuffed him and waited for the real police to arrive, but they needn't have bothered.
Black Virginia police chief fired for charging prominent BLM vandals and public officials. Back on June 10th in Portsmouth, Virginia, a large group of protesters decided to tear down and destroy a Confederate monument located in that city. An investigation was launched, led by Portsmouth Police Chief Angela Greene. After collecting video from the event and conducting interviews for two months, Greene announced in August that charges were being filed against 19 people who had been involved in the destruction. [...] You might think that would be pretty much the end of the story, but it wasn't. Among those arrested was State Sen. Louise Lucas, several leaders of the local Black Lives Matter movement, officials from the NAACP, and a member of the local school board. Since several crimes had obviously been committed, you might think that Chief Greene (who is Black, by the way) would be lauded for holding all citizens, regardless of their status accountable. You would be wrong, however. Howls of protest emerged not only from the community but from elected officials. Yesterday the situation came to a head and Chief Greene was unceremoniously fired.
Virginia Police Chief Fired After Charging Democrat Leaders with Felonies!. Portsmouth Police Chief Angela Greene was fired Monday morning after being suspended from her position as Police Chief two months ago. Chief Green was suspended on September 4th by the former city manager just weeks after she brought felony charges against Democrat State Senator Louise Lucas and others in relation to protests and monument destruction that occurred June 8th. Senator Lucas was caught on video instructing Portsmouth Police officers to stand down during the protests.
Minneapolis Police Chief Pleads For Outside Help Amid Hemorrhaging Police Force. The Minneapolis chief of police implored the city council to bring in help from the outside after a hemorrhaging police force has left the city reeling amid rising crime. Minneapolis Police Chief Medaria Arradondo asked city authorities to reinforce their dwindling numbers as violent crime escalates in the city, according to the Minneapolis Star Tribune. "Resources are hemorrhaging," Arradondo said at a Tuesday meeting. "Our city is bleeding at this moment. I'm trying to do all I can to stop that bleeding."
Los Angeles cops will no longer be answering certain calls. [Scroll down] Another 350 positions for uniformed officers will be eliminated by April according to the latest announcement. The LAPD will be reducing the number of cops on a variety of task forces, including (but not limited to) robbery, homicide, and gang and narcotics units. Boy... things must be really going well in Lalaland these days if they don't need to keep the police working as diligently in those areas. Oh, wait. That's not actually the case at all. In fact, murders in the City of Angels are up by 20% compared to the same time last year. And the number of arrests being made is down. Some of you may hear about the proposal to not respond to minor accidents anymore and see it as no big deal. But it is. It goes back to the basic premise of the theory of broken windows policing.
One-Party Democrat Rule Is Killing California, And It's Coming For The Country. The twin problem of drug addiction is rampant criminality. Drug addiction causes criminality as junkies are looking to feed their habits. Both are traceable to Proposition 47, passed by voters in 2014. The law steeply reduced penalties for law breaking, including drug offenses, most of which are now misdemeanors, punishable by tickets addicts ignore. Since theft worth less than $900 has also been reclassified as misdemeanor, in the post-47 environment criminals walk into stores and nonchalantly sweep merchandise into large garbage bags. Unable to cover the losses, retailers close, turning formerly lively urban enclaves into blight.
Austin sees spikes in violent crime, officer retirements after defund police vote. Austin has seen a spike in violent crime and officer retirements after the city council voted over the summer to immediately slash $20 million from the police department budget, becoming the first major Texas city to do so. In August, Austin City Council members voted unanimously to cut about $150 million, or roughly one-third, from its police department and allocate those funds to areas like violence prevention, housing and mental health services. Only about $21.5 million was immediately removed from the department's funding in part by canceling three upcoming cadet classes and slashing overtime expenses. "It is demoralizing for the officers. It is angering for the citizens because they're having to wait longer for officers to get the calls. And it's unsafe for citizens and officers," Austin Police Association President Bill Cassidy told Fox News.
Logically indisputable reasons why President Trump should be reelected. [Scroll down] President Trump is the only candidate in this race who has any real interest in penal and prosecutorial reform. Both former vice president Biden and his running mate, Senator Kamala Harris, have spent most of their careers increasing the sentences of all categories of convicted people and have some direct responsibility for the fact that the United States has 5 percent of the world's population and 25 percent of its incarcerated people, and that an utterly scandalous 99 percent of criminal prosecutions are at least partially successful, 97 percent of those without a trial. The U.S. has six to twelve times as many incarcerated people per capita as Australia, Canada, France, Germany, Japan, and the United Kingdom, the most comparable large, prosperous democracies. The American criminal-justice system is a disgrace, and both of the Democratic candidates for national office are complicit in that disgrace.
Anarchy in New York? One late summer Sunday morning, Demetrius Harvard, a 30-year old Bronx man, stood on a subway platform in Greenwich Village and methodically threw construction material onto the tracks. Bystanders tried to stop him, and someone even went into the train well to remove the debris, but Harvard persisted in his sabotage. Eventually, he succeeded in derailing an uptown A train, injuring several passengers. You had to read to the end of tabloid news reports to get the real story. Two weeks earlier, in the same neighborhood, Harvard had tossed a steel bench through a bus window. He was arrested, charged with criminal mischief, and immediately "ROR'd" — released on his recognizance — with no bail. This cycle is now all too common in New York, where public order and safety have been buffeted by chaotic forces. Criminal-justice reform at the state level removed bail as an option for all but the most heinous charges.
Under Trump, black prison rate lowest in 31 years, Hispanics down 24%. America's imprisonment rate has dropped to its lowest level since 1995, led by a dive in the percentage of blacks and Hispanics sent to jail during the Trump administration, according to a new Justice Department tally. For minorities, the focus of President Trump's First Step Act prison and criminal reform plan, the rate is the lowest in years. For blacks, the imprisonment rate in state and federal prisons is the lowest in 31 years, and for Hispanics, it is down 24%.
San Francisco: A string of drug stores close after shoplifters strip the shelves bare. You'll be shocked to learn there are some serious problems in San Francisco with petty crime. This week the San Francisco Chronicle reported on the seventh Walgreens drug store to announce it is closing in the city since last year. The problem is a wave of shoplifting from retail locations that can add up to millions of dollars in lost merchandise. [...] The Walgreens clerks can't do anything about the theft because the company has a policy preventing them from interfering in shoplifting. Allegedly this is for their safety but I suspect it's really because if they didn't have this policy and anyone got hurt, they would be sued.
Court: San Quentin must release prisoners due to lack of COVID care. Finding that state officials have acted with "deliberate indifference" to the health of prisoners at San Quentin — where 75% of them have tested positive for the coronavirus and 28 have died — a state appeals court took the unprecedented step Tuesday of ordering at least half of the prison's 2,900 inmates transferred or released.
Houston Police Sgt. Killed By Repeat Offender After Soros-Funded D.A. Refused to Press Charges. A police sergeant in Houston, Texas was shot dead Tuesday morning [10/20/2020] by a suspect who was in police custody just two days earlier, but was allowed to go free when the Democrat district attorney refused to press charges. HPD Sergeant Harold Preston had been with the Houston Police Department for 41-years and was due to retire at the end of the year, according to the Montgomery County Police Reporter. The local pro-police paper is urging voters to oust the D.A., whose campaign for office was bankrolled by left-wing billionaire George Soros.
Soros-Funded Prosecutors Put 'Social Justice' Above Law and Order, Analysts Say. Self-styled progressive political activists who win election as district attorneys with financial support from wealthy donors have made "social justice" initiatives more important than public safety, legal analysts say. George Soros, the Hungarian American billionaire investor, stands out as the big donor behind a super PAC that helped elect district attorneys who have overseen a dramatic increase in crime. The Justice and Public Safety super PAC feeds into a larger network of local political action committees. Some of the district attorneys elected with its support have attracted media attention for their antipathy toward law enforcement. "I refuse to call them progressives," Charles "Cully" Stimson, a senior legal fellow at The Heritage Foundation, said in an interview with The Daily Signal, adding: "There's nothing progressive about what they're doing."
The literally deadly results of "bail reform". Last week, a 43-year-old Long Island man named William Farnum was being pursued in his vehicle by the NYPD. The suspect eventually crashed into a utility pole. When the police arrived on the scene and approached to investigate they discovered that Farnum had slit his own throat in the driver's seat of his car and was dead. The bad news didn't end there, however. When officers attempted to notify his next of kin they discovered two dead bodies in his home. They are believed to be the remains of Farnum's father and sister, reportedly killed by Farnum. What's really got the local police and Republican lawmakers up in arms about this situation is the fact that Farnum never should have been out on the streets when all of this was taking place. Scrolling through the man's recent history of engagements with law enforcement and the totality of his criminal record, he should have been behind bars. But new bail reform laws in New York have tied the hands of judges and it was virtually impossible to keep Farnum locked up for more than a few hours at a time.
California will begin housing male inmates in women's prisons to 'respect' gender identities. Biological males who find themselves on the wrong side of the California justice system will now be given the choice to serve their sentence in either a men's or a women's prison. Under a new law, a prisoner's claimed gender identity will determine what type of facility they end up at. Prison officials will be forced to address inmates by their chosen pronoun and "honorific" title. Worse yet, authorities will seemingly be stripped of any real power to stop these transfers.
Slaughter in the Cities. Establishment voices are finally, grudgingly admitting that murders and shootings are up spectacularly in 2020. But the reasons, they all agree, are immensely complicated and rather boring. Perhaps, they muse, it has something to do with lockdowns? Or there could be any number of other subtly interacting factors. Who can tell? In any case, this mysterious rise in violence is beyond the comprehension, much less the control, of politicians. [...] Did anything happen in late May that encouraged criminals and discouraged cops? The data journalists appear stumped when they try to think back that far. But, as you may recall (it was in the news at the time), George Floyd died in police custody on May 25, and three days later the Democratic mayor of Minneapolis let rioters burn down a police station. From there, looting and rioting spread nationwide as the press and universities extolled the Mostly Peaceful Protesters.
Pay Attention To Local Elections, Because Whoever Wins Can Make Your Life Miserable. This year, more than any other in recent memory, we got a bitter taste of the power of local officials to enable, and even promote, rioting and mayhem in America. Many of us have watched aghast as mayors of blue cities like Portland, Seattle, Chicago, and New York turned a blind eye or even encouraged mob rule that resulted in wide-scale violence, vandalism, looting, injury, and, yes, murder. They have flatly rejected all offers by President Trump to bring it under control by calling in the National Guard. Let's not forget that these mayors — along with the many other officials close to them — were elected locally. Recall, it's local elected prosecutors, district attorneys, state's attorneys, and attorneys general that have the power to allow violent criminals to roam free after an arrest. We see this happening repeatedly in Democratic Party-run cities like Seattle and Portland where Antifa thugs caught on camera assaulting officers and citizens are immediately set free without bail.
Stealing Soho: Luxury retailers terrorized by shoplifting mobs. Bands of shoplifters are terrorizing Soho's high-end boutiques, lifting hundreds of thousands of dollars worth of designer merchandise, and in some cases, threatening security guards to keep quiet — or be labeled racist, The [New York] Post has learned. The disturbing pattern began in late May during the riots that rocked the city in the wake of the George Floyd police custody death. High-end Celine was looted of $1.5 million in merchandise then, and the blatant thievery continues "every week" in ritzy stores such as Prada, Moncler, Dior and Balenciaga, one plugged-in local said. "This is happening every week. Walk around Soho on Wooster Street and Greene Street, Mercer Street. ... You have huge bouncers out there trying to deter hit-and-run activity," the source, a restaurateur, said. But in some cases, the thieves are given carte blanche to steal.
Cop-assaulting NYC teen back on streets after latest arrest. A Manhattan man who head-butted an NYPD cop amid a string of recent arrests, including three for assaulting officers, was back on the streets Saturday [10/10/2020], just days after landing behind bars for another brazen attack on law enforcement, The [New York] Post has learned. Angel Rivera, 18, may be the latest poster child for junk justice in the Big Apple. On Wednesday, Rivera was arrested for assaulting two cops during a late night melee outside the 79th Precinct in Brooklyn, police sources said. Rivera allegedly hit several officers with a metal barrier and then punched the arresting officer in the face, causing one to be brought to Bellevue Hospital, police sources said. Charges ranged from criminal possession of a weapon, assault and resisting arrest. Rivera posted bail Saturday in that case, police sources said.
Tom Gores resigns from LACMA board over prison phones investment. NBA team owner Tom Gores stepped down from the board of the Los Angeles County Museum of Art on Thursday night [10/8/2020] after calls for the billionaire's ouster over his investment firm's ownership of a prison telephone company. Criminal justice activists have been hounding the 56-year-old private equity titan since his Beverly Hills firm acquired Securus Technologies in 2017. Last month, two groups sent a letter to the museum's leadership accusing Gores of the "deliberate exploitation of Black, Brown, and economically distressed communities."
FBI: Over 4 Times More Killed with Knives than Rifles. The FBI's Uniform Crime Report (UCR) for 2019 shows more than four times as many people were stabbed to death than were killed with rifles of any kind. The UCR shows 364 were killed with rifles in 2019, while 1,476 were stabbed to death with "knives or cutting instruments."
REPORT: Nearly 70% Of Portland Rioters Had Charges Dropped By Progressive DA. Nearly 70% of the individuals arrested during the riots and unrest in Portland, which stretched from the end of May through early October, had their charges dismissed by the Multnomah County District Attorney's office, according to data released Thursday [10/8/2020]. The Portland DA "released a new statistical dashboard that analyzes protest-related cases referred to his office by law enforcement for prosecutorial review and potential issuing," the office announced on in a statement on Thursday, laying bare Multnomah County's strategy in handling cases of individuals arrested during protests, demonstrations, riots, and unrest, referred to them by Portland's Police Department.
Protesters want to defund police. Homicides and violence are spiking. The homicide rate is spiking, a troubled police department is reeling from street demonstrations seeking racial justice and accountability, and the city budget is ravaged by the coronavirus economy. The push to reshape police departments is occurring in cities across the country, but it is perhaps nowhere more evident than here in Oakland, where veteran activists want to sharply reduce the police budget but much of the broader community is struggling with what that could mean.
Former Jail Workers Accused of Cruelty for Forcing Inmates to Listen to 'Baby Shark' on Repeat. Two former Oklahoma jail workers and their supervisor are accused of cruelty for forcing inmates to listen to "Baby Shark" on repeat. Five inmates were handcuffed to a wall and forced to listen to the children's song on repeat at a loud volume for hours, the Oklahoman reported. Court records obtained by the New York Times show that the alleged incidents occurred on at least five occasions in November and December, where each inmate would be placed into an empty attorney visitation room while handcuffed to the wall and forced to stand for as long as two hours. "Baby Shark" was then played through a computer on an endless loop, and inmates were forced to listen to the song.
Newt Gingrich predicted some disturbing events if Biden wins. [Scroll down] During the debate, Kamala spoke openly about her plans to impose on the United States the criminal justice system in California: [...] The language highlighted in that wall of words is the crucial language. Doing away with cash bail is why people arrested in blue states are immediately out on the street to kill again. The claim about implicit bias is a lie intended to hamstring police. The studies about so-called "implicit bias" have been debunked. Moreover, there is no connection between a police officer's race and the likelihood that he will shoot a black person. We've also seen what happens in Democrat-run cities that impose Harris's plans for criminal justice reform. In Los Angeles, Sacramento, and the San Francisco Bay Area, crime is skyrocketing, with the streets now given over to homeless, often crazy, people, and stores and homes subject to endless break-ins. Democrats have also made clear that they see California leading the way on labor laws (especially for illegal aliens), on climate change laws, and on gun control. Kamala, the hardest left senator, is the harbinger of California's hard-left policies being instituted in Congress.
BLM: A Righteous Cause or Communism in Blackface? According to the Gallup Center on Black Voices, 81% of black Americans either want to retain police presence, or want more. [...] [I]n many cities, including my hometown of Stockton, California, one of our biggest complaints about the police is that they don't come fast enough when called; that sometimes, police don't show up for up to two hours, if they show up at all. In my city, that has a lot to do with the fact that our police officers were reduced by a third in 2010, after a former mayor cut $14 million from the department. The reduction was felt across the city as crime drastically increased in the subsequent years and Stockton set new records for most homicides in 2011 and 2012. When the cuts were made, it was so dire that Stockton PD officers had to reluctantly let the city know that they could no longer guarantee our safety.
NYC's crime wave reaches new height as this year's murder tally surpasses all of 2019. New York City surpassed another grim crime milestone last month, as the number of murders blew past all of 2019's tally — and there are still three months remaining in 2020, according to new data. The NYPD recorded 51 murders last month, or nearly double the 2019 figure for September — pushing the total number of homicides this year to 344. That is already the highest overall annual figure the city has seen since 2013, when 335 slayings were logged for that year, NYPD data shows. If the current pace holds, murders could surpass 400 for the year. The last time homicides ticked up above 400 was in 2012, when 419 were recorded, according to NYPD data.
Who wants to guess what level NYC's murder rate just hit? While many media analysts are focusing on the COVID death toll, now over 200,000, the remaining residents of the Big Apple have a different figure to worry about. The city has finished compiling the official law enforcement numbers for the month of September and New York City has hit a different sort of milestone. The number of murders in Gotham has now eclipsed the number that was seen for all of 2019 and there are still a full three months to go. As of Thursday, the city had recorded 344 killings, a figure that's already higher than any full year since 2013, and that record is already in danger as well.
Formerly known as the Ferguson Effect:
US sees 710 additional homicides and 2,800 more shootings, attributed to 'Minneapolis effect'. With police departments across America under siege, pushed back on their heels by the oft-violent Black Lives Matter movement, the Democratic Party and their media allies, violent crime is "skyrocketing." That's the assessment of Paul Cassell, a professor at S.J. Quinney College of Law at the University of Utah, who has dubbed the explosion of violence the "Minneapolis effect." The professor is the author of a recent research paper titled, "Explaining the Recent Homicide Spikes in U.S. Cities: The 'Minneapolis Effect' and the Decline in Proactive Policing." "I think what Minneapolis is seeing is the same thing we're seeing all over the country," Cassell told Fox 9. "We're seeing a reduction in proactive policing, and as a result of that homicide and shootings are skyrocketing all over the country."
Operation Legend Results In 500+ Arrests, Including 37 Murder Suspects. U.S. Attorney Tim Garrison, at a joint press conference with Kansas City Mayor Quinton Lucas and Kansas City Police Chief Rick Smith, announced today [9/29/2020] that 518 arrests have been made by local and federal law enforcement officers in Operation LeGend. "On behalf of the team of federal law enforcement agencies involved in this groundbreaking initiative, I made certain promises when Operation LeGend was launched," Garrison said. "Those promises have been kept. The FBI, the ATF, the DEA, and the U.S. Marshals Service worked collaboratively and effectively with the Kansas City Police Department and other local law enforcement agencies to accomplish the objectives of Operation LeGend. We created a model for others to follow. Our success in Kansas City is now being duplicated in eight more cities across the nation."
NY Attorney General: We Should Just Ignore Some Arrest Warrants. NY Attorney General Letitia James had decided to make an example of the police-shooting death of Allan Feliz in 2019 and use that as an excuse to push for a rather radical change in NYPD policy. Feliz was pulled over by an NYPD sergeant named Jonathan Rivera last October and provided someone else's ID (his brother's) when asked for his driver's license. The brother had some outstanding warrants for minor infractions. An altercation ensued, leading to Feliz being shot and killed by the officer. Using that incident as an example, the AG is now recommending that officers no longer conduct arrests of individuals during traffic stops if they have outstanding warrants for a variety of classes of minor offenses. These would include bench warrants for failing to appear in court or more minor, public nuisance offenses.
NYPD Should Stop Making Traffic Stops, Attorney General Says. New York's attorney general on Friday recommended the New York Police Department get out of the business of routine traffic enforcement, a radical change she said would prevent encounters like one last year in the Bronx that escalated quickly and ended with an officer fatally shooting a motorist. Attorney General Letitia James, who acts as a special prosecutor appointed to investigate certain police killings, argued that traffic stops for minor infractions often end in violence and that Allan Feliz's death last October after he was pulled over for a seat belt violation "further underscores the need for this change."
A "Culture of Lawlessness" in D.A. Offices. U.S. Attorney William McSwain of the Eastern District of Pennsylvania blames Philadelphia District Attorney Larry Krasner for the rise in violence in the City of Brotherly Love. Krasner's policies, McSwain announced, "create a culture of lawlessness; they leave criminals emboldened; and they have inevitable consequences." Indeed, since Krasner took office in 2018, homicides are up 49 percent and shootings have climbed by 59 percent. If the trend holds, Philadelphia will tally more than 450 homicides in 2020 — the highest count in nearly 30 years. Crime is spiking precisely because Krasner isn't holding serious offenders accountable.
Convicted NYPD cop killer Anthony Bottom scheduled to be released on parole. The last of three convicted Black Revolutionary Army members behind bars for murdering two NYPD cops nearly 50 years ago is set to be freed on parole in October, police union officials said Tuesday [9/22/2020]. Anthony Bottom, who has spent more than 43 years in prison for his role in the assassinations of Officers Joseph Piagentini and Waverly Jones in 1971, will be sprung by Oct. 20, a source told Pix 11 News. The board's decision infuriated Piagentini's widow, Diane Piagentini.
Group Robs A CVS In Broad Daylight As Employees And Manager Just Watch. Ever since California decriminalized what the state considers 'petty crime', this sort of brazen robberies of stores has become more and more common. Add mask laws to the mix, which conceals criminals' identities, you can bet on a lot more of these broad daylight heists. [Video clip]
Shootings soar in Portland after mayor disbands police gun unit. Shootings in Portland, Oregon, nearly tripled over the summer after Mayor Ted Wheeler disbanded the city's police gun crimes unit, according to new police data. The city recorded 223 shootings in July and August, up from 77 over the same period in 2019. And a little more than halfway through September the city already had 64 shootings, or double the shootings from the same month last year. The numbers were released last week.
Man Suspected in Seattle Homicide Had Been Turned Free by Leftist Prosecutors 34 Times. Seattle Police think that well-known homeless man Travis Berge killed a 30-year-old woman on Thursday morning [9/17/2020]. Police were called about a body in the city's Cal Anderson Park, and officials then went on the hunt for Berge, the Post Millennial reported. Officials soon found Berge in a nearby building. At first, they thought he was barricaded in the building, but after a SWAT team entered, they found the suspect at the bottom of a tank that contained 50 gallons of water and bleach. A HAZMAT crew was then called in to try and make sense of the situation.
Aurora, Colorado police stand down twice to avoid arresting violent felon. Guess why. A couple of weeks ago, some problems arose at an apartment complex in Aurora, Colorado. One of the residents had unwisely invited Robert Thompson, 47, to stay at the apartment he shared with his girlfriend. He did this despite Thompson having a lengthy rap sheet and a history of criminal behavior. [...] The following day, Thompson's behavior flew further out of control and he wound up trapping McCoy's girlfriend in their bedroom along with a friend. He then took a golf club and began smashing everything in the apartment, moving on to vandalize cars in the parking lot. [...] The situation was so far out of control that the police believe it might result in someone winding up dead, but they were told to "stand down" and walk away. Twice. So what led to that decision? The Deputy Chief admitted that the choice made by the police was influenced by the death of Elijah McClain in police custody last month.
Minneapolis City Council Panics Over Surge In Violence After Demonizing Police: 'Where Are The Police?' The Democrat-controlled Minneapolis City Council is reportedly panicking as violent crime is surging throughout the city after they called for defunding the police department following the death of George Floyd in late May. During a two-hour Minneapolis City Council meeting on police reform, "council members told police Chief Medaria Arradondo that their constituents are seeing and hearing street racing which sometimes results in crashes, brazen daylight carjackings, robberies, assaults and shootings," MPR News reported. "The number of reported violent crimes, like assaults, robberies and homicides are up compared to 2019, according to MPD crime data. More people have been killed in the city in the first nine months of 2020 than were slain in all of last year. Property crimes, like burglaries and auto thefts, are also up. Incidents of arson have increased 55 percent over the total at this point in 2019."
Oregon catches arsonist in the act, lets him out, surprised to find he sets new fires. There's stupid, there's pig-stupid, and there's Oregon. That's the astonishing picture we have here where a suspect, Domingo Lopez, Jr., 45, who had been arrested just 12 hours earlier for setting fires, got somehow let out and proceeded to commit to more arson, with the Antifa weapon of choice, the Molotov cocktail, as if that couldn't be foreseen. The second time around, he set six fires. Who needs global warming with guys like this? The big fail here was from the justice system, which let the known firebug, freshly caught in the act, out and about. Obviously, there's something going on with this. How could anyone in authority be this stupid? It's sheer lunacy to let a caught-in-the-act arsonist out at a time of high fires and not guess he'll go back to the same thing he was caught doing earlier. But that's exactly what happened.
Random Thoughts On The Floyd Case. Is it possible for any of the four former Minneapolis police officers charged in the death of George Floyd to receive a fair trial? In Minneapolis? If not in Minneapolis, anywhere else in Minnesota? Is it possible that a Hennepin County jury won't have the external effects of not guilty verdicts in mind when they retire to deliberate? I've had those questions in mind since expedited criminal charges were filed following the rioting that convulsed the Twin Cities. Public officials including Governor Walz have repeatedly declared the officers guilty of murder. We are deep into a verdict first, trial later mode.
Jail Releases Portland Man Who Set Fire With Molotov Cocktail, Then He Sets Six More. On Sunday, police arrested a man who confessed to starting a brush fire with a Molotov cocktail in Portland. They booked him in Multnomah County Jail. Portland being Portland, the authorities released the suspect that evening. The man then went on to start six more fires before the police arrested him yet again. The cops took him to a hospital for a mental evaluation. [...] The story did not end there, however. Multnomah County District Attorney Mike Schmidt has notoriously taken the side of violent antifa rioters against the police they attack, and he announced that his office would not prosecute many riot-related crimes, even when some of those crimes endanger the lives of police officers. Perhaps that attitude helps explain why Domingo Lopez Jr. left jail on Sunday evening [9/13/2020]. Apparently, the suspect had enough time on his hands to set a whopping six more fires before the police again detained him.
'Enter At Your Own Risk!': Texas Police Group Puts Up Billboards Warning Those Entering Austin That City Defunded Police. People entering Austin, Texas, from Interstate 35 will see two billboards warning them that the city defunded police. One billboard says, "Warning! Austin defunded police. Enter at your own risk!" CBS News reported. The board is referring to the Austin city council's vote last month to cut the police budget. The second billboard reads, "Limited support next 20 miles," the outlet reported. The billboards were put up by the Texas Municipal Police Association, which announced its campaign Wednesday [9/9/2020] on Facebook.
Just 1 in 5 shootings in NYC resulted in an arrest this year. We recently discussed the sickening news that New York City had already passed 1,000 shootings in 2020, a number that's in excess of the total number of shootings for all of 2019 and there are still four months to go. But as with any municipal government and law enforcement agency, the raw number of incidents doesn't tell the whole story. How effective are officials being in solving these cases and putting the guilty behind bars? According to a new report from the New York Post, things aren't looking all that hot on the enforcement front, either. The NYPD's clearance rate for shootings is hovering below 20% on the year, meaning that more than four out of five shooters are still on the streets, and this has many of the locals feeling nervous.
Growing numbers of district attorneys are out to undermine the law. One reason for the surging, often protracted violence in US cities is the rise of a host of progressive prosecutors who actually tilt against law and order. The trend is most glaring in places known for their kooky left-wing politics, like Portland and San Francisco, but extreme leftists have also taken over as district attorneys in cities like Chicago and Boston. Many owe big thanks for their elections to funding from far-left fatcat George Soros. In Portland, violent "protests" have dragged on for months, thanks to the idiocy of Mayor Ted Wheeler, who let hoodlums drive him out of his own condo — but also to Multnomah County DA Mike Schmidt, who dropped charges against hundreds of people arrested for offenses like interfering with cops, disorderly conduct, criminal trespass and rioting. Schmidt also made it harder to prosecute assaults on cops.
California DA's new policy to consider looters' 'needs' before charging them. A California district attorney is requiring her prosecutors to consider looters' "needs" when weighing criminal charges against them. The new mandate, set forth by Contra Costa County District Attorney Diane Becton, makes it tougher to prosecute looting cases in the county, which sits just outside San Francisco. Investigators must now consider "was this theft offense substantially motivated by the state of emergency, or simply a theft offense which occurred contemporaneously to the declared state of emergency?," according to the policy reported by local outlet East County Today.
Portland Police, FBI and U.S. DOJ Refuse to Arrest Antifa Murder Suspect Because He Supports Joe Biden and Black Lives Matter. It's time to be brutally honest and face the enemy as a united nation. Trump supporter Aaron "Jay" Danielson was murdered on the streets of Portland Oregon. Danielson's murder was caught on camera, and everyone, including thousands of people who watch social media, know exactly who killed him, [...]. However, despite everyone knowing exactly who carried out a politically motivated assassination, [the suspect] has not been arrested. The Portland police, the FBI and the United States Department of Justice have not arrested him; and the only logical conclusion to be gained from that reluctance is that [the] Antifa supporter [...] is also a supporter of Black Lives Matter and Joe Biden. Therefore no-one does anything. When you accept this reality, it is only then that we can start to fathom just how seriously screwed up the U.S. system of justice has become. If you support Trump you are a disposable statistic; however, if you support the mob all efforts will be undertaken to protect you from the consequences of your own violent action.
Meet The Rioting Criminals Kamala Harris Helped Bail Out Of Jail. Joe Biden and Kamala Harris have a problem. They know it, the media knows it, everyone knows it. For three months they have ignored the deadly rioting that spread across the nation's cities on both coasts and in between. They insisted that what we were seeing was "mostly peaceful" protests and that Donald Trump and his evil allies were defaming decent Americans who just want social justice. Now they want to denounce these riots, but there is a problem: Harris is a financial supporter of the rioters she now claims to denounce.
A Tyranny Perpetual and Universal? [Scroll down] Need evidence that going soft on crime is high on the agenda? Consider how, early in the COVID-19 panic, leftist pols prioritized letting criminals out of jail, ostensibly because they were at risk of infection. The real reason, though, is explained by Rahm Emanuel's famous exhortation to his comrades to "never let a serious crisis go to waste." Governors, mayors, district attorneys, police chiefs, and sheriffs in blue zones across the country simply followed hizzoner's advice and did what they always wanted to do anyway but hitherto could, or dared, not. Emboldened by the crisis, drunk with power, and half-convinced that a scared population wasn't paying attention, they let the bad guys go. They got away with it, and they'll make the policy permanent once they have lasting power.
The Chaos in Urban America Is Bad Now — But Can Only Get Worse With Biden. People used to accuse Democrats of being "soft on crime." Now, Democrat-run cities can't even properly identify crime, let alone punish it. (Except, perhaps, the ultimate sin of defending your life and home from the mob). The eccentric, oddball, strange and perverse crew of mayors that run these urban cesspools are intransigent in their refusal to fight crime. President Donald Trump is increasingly at war with America's Democrat-run cities — but only because their mayors refuse to fight the war with the crime on their streets. This week, the President announced that he was sending 200 federal agents to Chicago and Kansas City. He has already sent U.S. Customs Border Security guards to Portland in an attempt to alleviate the lawlessness and chaos in that city. At least he can still distinguish between legitimate protest and rioting. Presumptive Democratic presidential nominee Joe Biden, apparently, cannot.
John Lennon's murderer denied parole for 11th time. The man who killed John Lennon in 1980 has been denied parole for the 11th time. Mark David Chapman, 65, is serving a 20-years-to-life sentence at Wende Correctional Facility outside of Buffalo, New York. He was denied parole after being interviewed by a parole board earlier in August, the Associated Press reported. Chapman shot the former Beatle and famed musician outside of his Manhattan apartment just hours after Lennon had autographed an album for him.
Soros DA Diana Becton Requires Officers Consider Whether a Looter "Needed" Stolen Goods Before Charging. Last week we brought you the story of Nichelle Holmes, a Deputy District Attorney in California who made social media posts proclaiming "We want more than a citation for vandalism" for the couple who painted over a Black Lives Matter mural in her jurisdiction. The office has now charged the couple with a "hate crime." Holmes' boss, Diana Becton, is in her first term as elected District Attorney, one of a number of district attorneys heavily supported by lefty billionaire George Soros. Sources tell RedState that as soon as Becton took over she implemented major changes in the way the office was run and in the way crimes were charged and how aggressively cases were prosecuted. One recent change, which I'll address further in a moment, has to do with charging people for "looting," which is basically stealing during a state of emergency (i.e., protests or riots). Becton is BFF's with St. Louis' Kim Gardner and Chicago's Kim Foxx, who've been in the news for their terrible policies.
Oregon governor considers releasing 400 prisoners as coronavirus precaution: report. Oregon Gov. Kate Brown is considering commuting the sentences of as many as 400 prisoners in the state's detention centers as a coronavirus precaution, according to reports. The move would come as police in the state's largest city, Portland, have their hands full with nightly riots and destruction for three straight months — with protests in other cities as well. The prisoners eyed for early release would include those who are within two months of the end of their sentences — as well as about a dozen inmates deemed "medically vulnerable" to the virus, OregonLive.com reported.
California Apocalypto. It is now August in California. So we can expect the following from our postmodern state government. [...] We can expect lots of crime, because in fear of COVID-19 and in line with no-to-little bail policies, lots of criminals roam our streets. The state was once far safer after the adoption of the three-strikes law, but as crime radically declined, the imprisoned criminal, not his prey, was recalibrated as a victim. Gun sales are soaring, in the bluest of states, as if carjackers and home invaders just might not extend exemption to the woke. California, as some of the Democratic primary candidates bragged last year, is the progressive model of the future: a once-innovative rich state that is now a civilization in near ruins.
NYC grocers alarmed by uptick in theft, quality of life crimes. Grocery store owners are convinced: the five-finger discount is back in a big way. An uptick in shoplifting and other violations during the coronavirus lockdown has hundreds of independent supermarket owners around the city complaining the NYPD hasn't been responsive enough when they call — whether it's about thieves, maskless shoppers or neighborhood drug peddlers. "We're pretty much on our own," said Pedro Goico, who owns six grocery stores in the Bronx and Brooklyn. "Right now, it's very tough to be in the grocery store business. We're getting no help from the city." Goico said his stores have been plagued with shoplifters and estimates that 6% to 7% of his bottom line has disappeared because of it since March. Before COVID-19, he said he'd typically lose about 1% to shoplifters.
Despite Constant Libel of Trump, I Trust the People. Ms. Harris has many critics among the 98% of Democrats who did not support her candidacy for president. The Left is displeased with her performance as San Francisco's district attorney and as attorney general of California: she always called for maximum sentences and condoned the widespread American practice of prosecutors extorting or suborning inculpatory false evidence by threats of indictment if that evidence is not forthcoming, and promises of immunity from prosecution for perjury if it is. Loyola law professor Lara Bazelon recently accused Ms. Harris in the New York Times of having "fought tooth and nail to uphold wrongful convictions that had been secured through official misconduct that included evidence tampering, false testimony, and the suppression of crucial information." President Trump has made serious efforts at penal reform and sentence reduction for nonviolent offenders. By contrast, Ms. Harris sent over 1,000 marijuana users to prison but acknowledged having tried it herself. Ms. Harris's performance as a prosecutor clashes with the general current Democratic enthusiasm for defunding and discouraging the police and turning a blind eye to urban vandalism, arson, and looting.
The State of Our Cities That Our Media Is Hiding From You. [Quoting Mike Doran:] I've been exchanging messages with friends about what what's happening in our cities: NY, Philadelphia and LA especially. A lot of disturbing things are not making the news. Even Republicans aren't drawing attention to it. Here's a message from a friend about life in NY today: "Here's my neighborhood, Mike: An elderly man, enjoying dinner w/his wife at an outdoor restaurant, punched in the face. A woman waiting for the subway to come stabbed in the back. An older neighbor pausing to catch his breath told to pay two dollars in protection money or get [...] off that particular street corner. This is just the ten block radius from where I live in the last six days." Other friends from NY talk about shattered business districts, drugstores with locked shelves, and hundreds of homeless people and parolees, including sex offenders, being moved into hotels on the Upper West Side adjacent to schools and playgrounds, which are filled with needles again like in the 1970s. Friends in Philadelphia report large homeless encampments in the city center and being robbed at gunpoint. Friends in LA talk about squatters taking over empty homes in professional class neighborhoods whose residents fantasize about emigrating to Canada.
One story from the night of looting in Chicago that doesn't fit the approved narrative. [Scroll down] [Demisck] Lomax, 25, was charged with aggravated battery of a police officer. Prosecutors say he has previous narcotics convictions. You might expect him to sit in jail until trial. And you'd be right, in that Chicago of old. [...] Cook County Judge Mary Marubio set his bail at $5,000. Lomax only had to come up with $500. I first read about this fascinating story on the Twitter feed of CWB Chicago, which covers a lot of crime news. Chicago Ald. Brendan Reilly, who represents much of the looted area, was furious with the bond for Lomax. So I confirmed the CWB account with law enforcement, then called Reilly. "It has to change and change fast," said Reilly. "What we're seeing here with all the violence in Chicago is the result of a series of bad policy decisions, including the push for low bond and the criminal justice revolving door.["] "I don't want people in jail for nonviolent crimes, but now, there aren't any consequences for committing any crime. Police catch a lot of the bad guys, but bond court is a joke, with prosecutors and judges releasing violent offenders.["]
Montgomery County Gave ICE A 28-Minute Warning Before Releasing Illegal Immigrant Charged With Second Degree Rape. Officials in Montgomery County, Maryland, gave Immigrations and Customs Enforcement (ICE) a 28-minute notice before releasing an illegal immigrant charged with second-degree rape and sexual abuse back into the public, according to county data obtained by the Immigration Reform Law Institute. Montgomery County Executive Marc Elrich had pledged to allow more cooperation with ICE on Nov. 4 when he rolled back a sanctuary policy he signed into law three months prior that prohibited county officials from working with ICE. But the data obtained by IRLI shows that ICE was given less than four-hours notification to pick up eight illegal immigrants from Montgomery County jails after Elrich's policy was rescinded. "Montgomery County claims to be cooperating with ICE, but the implementation of this policy is a joke," IRLI Executive Director of General Counsel Dale Wilcox said in a statement Wednesday [8/12/2020].
Joe Biden's response to rising crime: Pander to anti-police radicals. The most serious issue in policing today is a skyrocketing homicide rate — not "systemic racism," the issue that animates those "mostly peaceful protestors" who are looting businesses and destroying public property across the land. Joe Biden should show leadership on the slay spree. Instead, he panders to the anti-police left. The recent uptick in violence is no mere blip. Homicides in Minneapolis have nearly doubled compared to this point in 2019. Chicago just saw its deadliest month in 28 years, part of a nearly 50 percent spike in homicides over the past year. In Gotham, the first six months of 2020 saw a 21 percent increase in murders over the same period last year, only to be followed by a 50 percent increase for July. It's a pattern extending nationwide — 36 of the country's 50 largest cities have experienced double-digit homicide increases in 2020, and the trend is getting worse, not better.
In Colorado, the police are canceling themselves. The state of Colorado has been experiencing the same twin dilemmas that have been plaguing much of the country for the past several months and this has had a rather drastic impact on police forces across the board. They're dealing with the pandemic like everyone else, and police officers have jobs that put them in constant contact with the public. At the same time, protests and demonstrations blaming the police for many of society's ills have led the state to eliminate qualified immunity for law enforcement officers. This puts them a greater personal risk of civil suits or criminal charges if an arrest of an uncooperative suspect goes awry. What's the upshot of all of this been? Far fewer interactions with the public and a significant increase in police officers retiring early or simply quitting and seeking new types of employment.
Paper: Chicago Prosecutor Kim Foxx Has Dropped 25,183 Felony Cases. Cook County State's Attorney Kim Foxx has dropped over 25,000 felony cases, including charges of murder and the alleged hate crime hoax from former Empire star Jussie Smollett, according to an analysis released by the Chicago Tribune on Monday [8/10/2020].
Revealed: Top Chicago prosecutor Kim Foxx's office has dismissed more than 25,000 felony cases including murders, shootings, sexual assaults. Cook County State's Attorney Kim Foxx has dismissed more than 25,000 felony cases — including many involving charges of murder and other serious crimes — in her first three years on the job, a new report shows. Foxx gained notoriety last year when she dropped felony charges against Jussie Smollett, the Empire actor accused of staging a racist, homophobic attack on himself in January 2019. The Chicago Tribune on Monday published an analysis of Foxx's overall record on dropping charges, revealing that she has done so at a rate that's 35 percent higher than her predecessor.
Left-Wing Prosecutors, Many Backed By Soros Cash, Implement Soft-On-Crime Policies Across America. Left-wing prosecutors have implemented soft-on-crime approaches to criminal justice across America, in some instances making it a matter of policy in major cities not to prosecute specific crimes, a Daily Caller News Foundation review found. A common, though not universal, feature of prominent left-wing district attorneys is the backing of political organizations funded by left-wing billionaire George Soros. The New York Times has credited Soros with pioneering the "push to overhaul prosecutors' offices" across the country. Cook County, Illinois, State's Attorney Kimberly Foxx, whose jurisdiction includes Chicago, took office in 2017 after winning her election with the help of a Soros-funded super PAC. Soros poured more than $400,000 into Illinois Justice & Public Safety PAC in 2016, Illinois State Board of Elections records show. Foxx was the only candidate that the PAC supported in 2016, those records show.
Our under-incarceration problem, violence against women edition. Last October, Ibrahim Bouaichi sexually assaulted Karla Dominguez with whom he reportedly had been in a relationship. He was charged with six felony counts and held without bond in an Alexandria, Virginia jail. In April, a judge, Nolan Dawkins, ordered the release of Bouaichi due to the Wuhan coronavirus pandemic. Bouaichi was 33 years old. The virus probably posed about the same threat to his health as the flu. Moreover, there had been no cases of the virus at the Alexandria jail. Bouaichi's lawyers argued that visits to the jail had been curtailed and that they needed to meet with their client. But all trials had been postponed. The lawyers apparently did not seek relief from the curb on their ability to visit Bouaichi. Instead, they insisted on his release. [...] You can probably guess the rest of the story. In late July, Dominguez was shot to death in Alexandria. The police issued a warrant for the arrest of Bouaichi on the charge of murder. He fled. When the police finally spotted him and moved in for the arrest, he killed himself. Our criminal justice failed Karla Dominguez, just as it consistently fails the victims of thugs and predators like Ibrahim Bouaichi.
COVID-19 Is No Reason to Empty Prisons. Under the guise of protecting prisoners from the spread of Covid-19, large numbers of dangerous criminals are being freed from custody. This is creating a horrific situation that is endangering the public and has now led to the death of a witness in a rape case. In Alexandria, Virginia, rape suspect Ibrahim E. Bouaichi was released from prison in April because of concerns that he would contract Covid-19. Even though Bouaichi was indicted on serious charges such as rape, sodomy, abduction, strangulation and burglary, former presiding Circuit Court Judge Nolan Dawkins ordered his release on a $25,000 bond. Despite the warnings from prosecutors that Bouaichi was a danger to the community, Dawkins released him to home confinement. This was an incredibly unwise decision because he was a danger to not only the community at large, but also to an especially vulnerable individual, Karla Elizabeth Dominguez Gonzalez, who accused him of rape last December and testified against him. Sadly, on July 29, Ms. Dominguez was found shot to death. Local law enforcement authorities identified Bouaichi as her murderer.
Rape suspect freed from jail amid COVID-19 allegedly kills accuser. A Virginia rape suspect was released from jail over coronavirus concerns — and then shot dead his accuser, authorities say. Ibrahim E. Bouaichi, 33, of Greenbelt, Md., had been indicted on charges of rape, strangulation and abduction after Karla Dominguez, a native of Venezuela, told cops in Alexandria, Va., that he sexually assaulted her in October, the Washington Post said. Bouaichi turned himself in 11 days later, and a judge ordered him held without bond. Then, despite objections by an Alexandria prosecutor, lawyers for the man, who was charged with six felonies, successfully argued on April 9 that he be released on $25,000 bond — with a condition that he only leave his Maryland residence to meet with lawyers or pretrial services officials, the newspaper said.
As always, fear of the virus does far more damage than the virus itself.
Girl Slaughtered After Her Alleged Rapist Was Released From Jail Over COVID Concerns. An alleged rapist killed his accuser after being released from jail over concerns he and his lawyers would contract coronavirus. According to the Washington Post, Ibrahim Bouaichi hunted and killed his accuser, Karla Dominguez, after being released from jail because of concerns the Wuhan coronavirus would put Bouaichi and his lawyers at risk of falling ill. Bouaichi was indicted on charges of rape, strangulation, and abduction after Dominguez, a native of Venezuela, told law enforcement in Alexandria, Va., that he sexually assaulted her in October. Eleven days after his indictment, Bouaichi turned himself into authorities, and a judge ordered him to be held without bond. Bouaichi's lawyers requested bond, arguing their client could not be safe from the Wuhan virus because it was "impossible" to provide adequate social distancing and other safety measures behind bars. The men added that the arrangement also put them at risk, explaining that lawyers seeking a contact visit would "also expose themselves to contaminated air and surfaces." Jail spokeswoman Amy Bertsch pointed out that the jail implemented increased cleaning and health screening in early March "and there were no cases of covid-19 at the jail during their client's incarceration."
ACLU launches push to free 50,000 inmates from US prisons in response to 'systemic injustice'. The American Civil Liberties Union (ACLU) is launching a multi-year effort to win the release of tens of thousands of prisoners by lobbying governors to grant mass clemency as a remedy to "systemic injustice." The effort, called, "The Redemption Campaign," aims to "liberate" 50,000 prisoners with the vision of "transform[ing] the concept of clemency from a case-by-case extension of individual mercy into an essential systemic response to decades of racist, punitive, and degrading incarceration," a report from the group says. The organization will be attempting to sway constituents and affect gubernatorial campaigns amid widespread calls for change to the criminal justice system.
Democrat Domestic Terrorism Can No Longer Be Ignored. Section 802 of the USA PATRIOT Act defines "domestic terrorism" as activities involving acts in violation of state or federal criminal laws that are "dangerous to human life" and "appear to be intended" either to (i) "intimidate or coerce a civilian population," (ii) "influence the policy of a government by intimidation or coercion," or (iii) "affect the conduct of a government by mass destruction, assassination, or kidnapping." Intimidating a civilian population? Coercing government officials? Engaging in mass destruction and assassination of police? Ding-ding-ding! [...] Democrat domestic terrorists light fires everywhere they go, egg on violence against police and civilians, and threaten businesses who refuse to pay into their protection rackets by "donating" to their favorite money-laundering 501(c)(3)s; and our criminal justice system looks the other way or even actively abets the terrorists by releasing them from jail cells just as soon as they arrive, while leaving Americans to fend for themselves.
About 20% of N.J. Prisoners Could Be Freed to Avoid Virus. New Jersey lawmakers seemed close to supporting legislation on Thursday that could free more than 3,000 prisoners — about 20 percent of the state's prison population — months before their release dates in response to the extraordinary threat posed by the coronavirus in tightly packed correctional facilities. Inmates who are within a year of completing their state prison sentences would be eligible to be released up to eight months early based on credits awarded for time served during the pandemic.
Minneapolis Police Advise: Give Up Your Property To Criminals And Obey Them. Minneapolis City Government's 'robbery prevention tips' include giving up your wallet and obeying criminals. Police are encouraging residents to surrender to criminals as part of their "robbery prevention tips" willingly turn over your valuables, and no matter what, don't resist.
The Editor says...
How is that a robbery prevention tip?
Minneapolis police tell residents to obey criminals and 'be prepared' to be robbed. Officials are now telling residents to be ready and willing to comply with the demands of criminals in an email sent to Third Precinct residents. "Be prepared to give up your cell phone and purse/wallet," the police said in their email, a copy of which was obtained by Alpha News. The email said citizens should listen to criminals and "do as they say." The message warned that "some victims have been maced, dragged, assaulted, and some threatened with a gun."
The Editor says...
Minneapolis will probably end up under the control of Sharia police, who will be immune to criticism.
California Releases Convicted Murderer Serving 84-Year Sentence Due To Covid. The family of a murder victim in California was outraged to learn that the state has released the person responsible for killing their loved one as part of an effort to reduce the risk of COVID-19 outbreaks inside prisons. Terebea Williams, 44, was sentenced to 84 years-to-life in prison on charges including first-degree murder, using a firearm, carjacking, and kidnapping of 23-year-old Kevin "John" Ruska Jr. in 1998.
Convicted child molester gets taxpayer-funded sex-change surgery while in prison. An Idaho inmate currently incarcerated for sexually assaulting a child has received taxpayer-funded "sex-reassignment" surgery after suing the state for it. Yep, really. Adree Edmo, a 32-year-old man who identifies as a woman, has been imprisoned since 2012 for "sexually assaulting a sleeping 15-year-old boy." He filed suit against the state of Idaho in 2017, claiming that the state was violating his Eighth Amendment right against cruel and unusual punishment by denying him free (taxpayer-funded) transgender surgery. Really. It went all the way to the Supreme Court.
The real world consequences of releasing felons early. Houston's first Sikh police officer, Deputy Sandeep Dhaliwal, was gunned down by Robert Solis when he pulled Solis over for a routine traffic stop. Solis had a 30-year career criminal history that includes burglary, theft, multiple arrests for aggravated assault with a deadly weapon, robbery with a deadly weapon, drunk driving, and multiple kidnapping charges. In 2002, Solis was convicted for shooting a man in the leg and then holding his own toddler son hostage with a gun during a standoff with police. He was sentenced to 20 years, but thanks to Texas' jailbreak policies, was let out in 2014 after serving just 12. As difficult as it may be to believe, Texas' "evidence-based" rehabilitation programs didn't reform Solis. Deputy Dhaliwal paid the price. These are the real world consequences of jailbreak policies in Texas and elsewhere. The U.S. has a serious under-incarceration problem and, with the complicity of some conservatives, the problem is getting worse.
Great news: Minneapolis city council decides not to pay armed vigilantes to replace police. Give credit where due for thinking outside of the box, I guess, although this idea belongs in a box ... buried under the St. Anthony Falls. In the Minneapolis city council's haste to prove it doesn't need a professional and trained police force to keep the peace, they nearly decided to pay ad hoc bands of armed citizens to patrol the streets. Only late inquiries about this proposal from city residents and local media managed to change their minds: [...] Ahem. I myself am a lawful owner of firearms, properly authorized to carry in public. However, that does not make me a Junior G-Man, nor does it make thousands of other lawful gun owners in the state qualified to keep the peace. We have the necessary training to use our firearms wisely and to understand the legalities of lawful self-defense, but that's it.
Illinois has paroled double-ax murderer, other heinous killers, offering Gangster Disciples boss hope. Wielding a hatchet, Otis Williams slaughtered a man and woman in Kankakee County in 1974 to keep them from talking to the police about meat, candy, cigarettes, vegetables and fruit he'd stolen from a market. Convicted in their deaths, Williams and an accomplice got prison terms of 800 to 2,400 years. In 2013, making his 30th appearance before the Illinois Prisoner Review Board, Williams finally succeeded in winning his freedom. The board said he was remorseful, a model inmate and no risk to the public. He was paroled by a vote of 11-4. Two years later, his accomplice A.D. Clark also was paroled. Williams, Clark and a man who massacred five people in a shooting spree at a restaurant are among dozens of elderly Illinois murder convicts who have won parole over the past decade, a Chicago Sun-Times examination of state records found.
Freedom to Deface. Mayor Bill de Blasio has cancelled a graffiti-eradication program targeted at cleaning private buildings. He is thus deliberately sending New York City back to its worst days of crime and squalor. The symbolic significance of this cancellation is as large as its practical effect. Nothing sent a stronger signal in the late 1980s that New York was determined to fight back from anarchy than the transit system's campaign against subway graffiti. That campaign was based on Broken Windows theory, the most transformative idea in urban policy over the last 40 years. Broken Windows recognizes that physical disorder and low-level lawlessness — graffiti, turnstile-jumping, and litter — telegraph that social control in a disordered environment has broken down. That low-level lawlessness invites more contempt for public norms of behavior, including felony crime.
King County executive plans to depopulate youth jail by 2025. King County Executive Dow Constantine announced Tuesday afternoon [7/21/2020] he plans to convert the remaining detention units at the county's juvenile jail to "other uses" by 2025. He made the announcement on Twitter, citing a desire to move public funding away from "systems that are rooted in oppression," The Seattle Times reported.
Mayor de Blasio: NYC Is Safer With Fewer People in Jail. New York City mayor Bill de Blasio (D.) said Thursday [7/16/2020] that his city is safer and better with fewer people in jail, even as shootings and violence have spiked in the city this summer. "We now have fewer people in our jails than any time since WWII and we are safer for it and better for it," de Blasio said. But the city has experienced a dramatic uptick in crime this year. According to the most recent NYPD crime statistics, violent crimes — including shootings, murders, and burglaries — have all skyrocketed. Year-to-date shooting incidents in the city have increased by 61 percent, and the number of shooting victims has increased by 70 percent.
Suspect Who Allegedly Attacked 3 NYPD Officials Is Released From Jail Without Bail. The man who allegedly beat a top official in the New York City Police Department and two other police officers this week was released from jail without bail. "Quran Campbell, 25, is accused of socking the highest-ranking uniformed cop [NYPD Chief Terence Monahan] several times in the face as Monahan tried to arrest him after Campbell had allegedly punched another NYPD officer and lieutenant" near the Manhattan approach to the Brooklyn Bridge, The New York Post reported.
Man accused of punching NYPD chief, cops on Brooklyn Bridge released without bail. The Bronx man who allegedly punched NYPD Chief Terence Monahan and two other officers during protests on the Brooklyn Bridge Wednesday has been released without bail. Quran Campbell, 25, is accused of socking the highest-ranking uniformed cop several times in the face as Monahan tried to arrest him after Campbell had allegedly punched another NYPD officer and lieutenant near the Manhattan approach to the bridge. Campbell was arraigned on assault charges in Manhattan criminal court and was granted supervised release.
11th San Quentin inmate's death tied to COVID-19. San Quentin inmate Jeffrey Hawkins, who was sentenced to death in two Sacramento County murders in 1987, died Wednesday at an outside hospital of complications from COVID-19, according to the California Department of Corrections and Rehabilitation. Hawkins, 64, is the 11th inmate at San Quentin whose death has been linked to COVID-19. Across California, 37 state prison inmates with confirmed cases of COVID-19 have died, according to the CDCR website tracking illnesses and deaths related to the pandemic.
California to Release 18,000 Prisoners by End of August to 'Slow the Spread of COVID-19'. According to the California Department of Corrections, the state is set to release up to 18,000 prisoners by the end of August to 'slow the spread of COVID-19.' Officials in California say releasing prisoners will help protect the "health and safety of the incarcerated population." "These actions are taken to provide for the health and safety of the incarcerated population and staff," Department of Corrections and Rehabilitation Secretary Ralph Diaz said in a news release. "We aim to implement these decompression measures in a way that aligns both public health and public safety."
Supreme Court declines to reinstate vote of nearly 1 million Florida felons. The Supreme Court on Thursday [7/16/2020] let stand a lower court ruling that could strip voting eligibility from up to 1 million Florida felons who have completed their sentences but have yet to pay outstanding fines, restitution and other fees.
Man accused of murdering 11-year-old at July 4 BBQ in DC was released under coronavirus jailbreak. The same flat-earth "science" being used as a pretext to criminalize Americans for not wearing masks has been used to release violent criminals. Now, another one of those released from jail under coronavirus jailbreak policies has been charged with murder in the nation's capital. July 4 weekend was a horrible bloodbath for black children across many of our nation's prominent cities. As I chronicled each of the cases last week, I predicted that most of the suspects would be repeat violent offenders, gun felons, parole violators, or all of the above. Well, that appears to be the case in the horrific D.C. shooting on Independence Day that left 11-year-old Davon McNeal dead. McNeal was helping his mother at a neighborhood barbecue when a group of drive-by shooters fatally shot him. D.C. police have now arrested two suspects, have issued warrants for two more, and are waiting on a fifth.
Why Do We Have Police, Anyway? [Scroll down] Huizinga and Spierenburg write about the "pacification" and "privatization" of European society in the last 500 years. What they mean is the gradual replacement of clan and gang feuds and public executions with police and courts and prisons. Here's the prison story. First they imprisoned madmen; then they imprisoned the poor in workhouses (see peasants, above); then they imprisoned the criminals. Way to go, guys. Why do we have our modern pacified middle-class cities? Nobody knows, least of all lefties, but I have an idea. It is because violence and blood feuds and gangs do not pay. Hello Minneapolis? Anyone there? Notice that in the USA every immigrant wave involves a surge in gangs. The Irish had their gangs in the 19th century; the Jews had their gangs at the turn of the 20th century; the Italians had their gangs till the day before yesterday. But as each immigrant wave climbed into the middle class, their gangs disappeared. Today we have Black gangs and Hispanic gangs, because those are the ethnic groups that have not yet climbed into the middle class.
Are We In The First Days Of A Lawless Era? A nation founded on the rule of law appears to be yielding to the rule of the mob. Not everyone has surrendered. The trend, though, is worrisome. Too many of our "leaders" and institutions are failing us. In 2020, law enforcement officers in this country are being treated not just with disrespect but in many instances are being abused verbally and physically. Rioters and looters are going unpunished, not because they can't be identified or the cases against them are weak but because prosecutors (several of them backed by George Soros) refuse to uphold the law and charge the offenders. Violent gangs have been allowed, almost encouraged, to take over city streets, sidewalks, and private property; shut down the free movement of others; and topple public monuments.
Up to 8,000 California inmates could be released early to stop crowding at prisons during COVID-19. Gov. Gavin Newsom and the California Department of Corrections and Rehabilitation announced (CDCR) announced new programs that will allow for the early release of up to 8,000 inmates by the end of August to mitigate the spread of COVID-19 as outbreaks continue to flare up across the state prison system. "These actions are taken to provide for the health and safety of the incarcerated population and staff," Ralph Diaz, Secretary for the CDCR, said in a press release on Friday. "We aim to implement these decompression measures in a way that aligns both public health and public safety."
California may release 10% of inmates in pandemic response. California officials will soon release another 2,100 inmates from state prisons in response to the coronavirus pandemic and in all now plans to release a total of more than 10,000 inmates, or nearly 10 percent of prisoners, as Gov. Gavin Newsom responds to intensifying pressure from advocates, lawmakers and federal judges.
Left-wing 'Breathe Act' Would Close All Federal Prisons, Immigration Detention Centers. The left-wing political group Black Lives Matter is seeking support in Congress for radical legislation that would, among other things, close all federal prisons and immigration detention centers. The bill "would eliminate federal programs and agencies used to finance and expand the U.S. criminal-legal system, such as the Department of Defense 1033 program, the Edward Byrne-Justice Assistance Grant Program, Community Oriented Policing Services, the Drug Enforcement Administration, and Immigration and Customs Enforcement," the bill states.
The joker is wild. Today, the Supreme Court navigated its way through disputes about the disclosure of President Trump's financial records without doing much harm (in my view, at least). However, the Court issued a real stinker in a case that was under my radar — McGirt v. Oklahoma. By a 5-4 vote, the Court decided that much of Oklahoma is "Indian country" for the purpose of prosecuting crimes committed by Indians. Justice Gorsuch joined the four left-liberals and wrote the opinion. Gorsuch's idiosyncratic "textualism" has become the joker in Supreme Court litigation (Justice Scalia's sound textualism wasn't). Today, the joker was wild. The case involved Jimcy McGirt.
Supreme Court: Eastern Oklahoma is American Indian territory. The Supreme Court ruled Thursday [7/9/2020] that a large swath of eastern Oklahoma is actually an Indian reservation belonging to the Muscogee (Creek) Nation, meaning that hundreds of prosecutions could be tossed because the state does not have jurisdiction there, including in part of Tulsa. The 5-4 decision notes that only federal prosecutors have jurisdiction over American Indians on the reservation, which includes most of Tulsa, the state's second-largest city. Justice Neil M. Gorsuch joined the court's four liberal justices in the majority decision in McGirt v. Oklahoma.
9 Radical Ideas in the Biden-Sanders 'Unity' Platform. Former Vice President Joe Biden and Sen. Bernie Sanders (I-VT) released the policy recommendations of their "unity task force" on Wednesday [7/8/2020]. [...] Here are nine of the most radical proposals in the "unity" document: [...] [#3] "End cash bail." The platform calls for eliminating cash bail across the country — a radical experiment in criminal justice reform that has only just begun in California and New York, with results that are deeply concerning. The idea is to reduce inequities, but in practice the end of cash bail means releasing violent criminals to commit more crimes. One suspect in antisemitic attacks in New York City late last year, for example, was repeatedly re-arrested after her releases.
Let's Talk about Black Privilege. During the recent George Floyd — related terrorist looting and riots, retired St. Louis, Mo. police captain David Dorn was shot and killed; he was 77. His death was recorded on a phone for the world to see, in a grotesquely grim The Truman Show moment for the nation. Dorn's alleged murderer, a 24-year-old ex-felon named Stephan Cannon, was convicted at 18 for violent felony robbery and was supposed to serve a seven-year sentence. But he never served a day thanks to leniency from the presiding judge. The violent ex-felon subsequently twice violated his probation but, alas, never went to prison. Cannon is black; his two accomplices were also black. [...] As a free black ex-felon after committing a violent crime and then violating his probation: black privilege — yes or no?
Philly has waived all citations against protesters after they said arrests violated their rights. During the month of protests against police brutality in Philadelphia, more than 750 people were arrested for curfew violations, failure to disperse, and disorderly conduct. Many were handcuffed, taken to remote police districts, and kept in hot cars or buses for hours — some so long they urinated on themselves or began pleading for water. Then, they were released not with criminal charges but civil citations, the type of ticket given for high weeds or litter. Less than a week after an Inquirer report on allegations the practice was a violation of free speech, Mayor Jim Kenney on Wednesday [7/8/2020] announced that all of the code-violation notices issued to protesters from May 30 to June 30 would be waived. (The decision has no bearing on cases involving criminal charges.)
Six Weeks, Six Cities, 600 Murders. The single most important issue, affecting some of the largest swaths of populations in America, is the scandal the media ignores even as it explodes in our faces. In only six weeks, city after city operated by entrenched Democrats have seen a massive expansion in lawlessness, violence, and murder. Stunningly, many news outlets seem gobsmacked and mystified at how or why such an explosion of lawlessness has occurred. For the sake of brevity, let's sample six of the nation's largest cities, including all of the top three. [#1] New York: The Democratic mayor has long been understood as anti-police. His wife recently imagined the city as "Nirvana" if the NYPD were eliminated altogether. Thus far in 2020, homicides are up 21 percent. Shootings are up by 46 percent. The Democratic mayor's agenda included emptying the prison known as Rikers Island, bail reform letting perps walk before the paperwork is completed, and the effort to #DefundPolice that took 600 anti-crime units out of commission.
How did a child pornographer get paroled from a 1,000-year sentence? The judge who originally sentenced Peter Mallory in 2012 called him "probably the most prolific collector of child pornography in the entire world," and applied consecutive sentences to keep him in prison for 1,000 years. Mallory's collection was not just vast but particularly cruel, with images of child rape and torture among them. He should have been in prison for the rest of his life. Today, however, the former county commissioner walks free on parole after serving 0.8% of his sentence.
Seattle police's CHOP sweep brought arrests but quick release from jail as well. After spending several hours behind bars Wednesday [7/1/2020], Rashyla Levitt returned Thursday to the streets, protesting and confronting authorities just a day after Seattle Police Department officers swept through the area that had been known as the Capitol Hill Occupied Protest. "We are back with the fire and we are ready to go," she said. Levitt was one 44 people arrested early Wednesday morning in Capitol Hill as police moved in during a predawn operation that pushed a handful of demonstrators from the area. Police charged Levitt with failure to disperse, but since it was only a misdemeanor, the judge released her.
San Francisco will end mug shots release, citing racial bias. San Francisco police will stop making public the mug shots of people who have been arrested unless they pose a threat to the public, as part of an effort to stop perpetuating racial stereotypes, the city's police chief announced Wednesday [7/1/2020]. San Francisco Police Chief Bill Scott said the department will no longer release booking photos of suspects to the media or allow officers to post them online. The policy takes effect Wednesday.
The Huge Law Enforcement Scandal that Cries Out for Justice. In the American Thinker (June 30), Jack Cashill offers an eloquent plea for an Atticus Finch to take up the cause of George Zimmerman in suing those responsible for perpetrating the Trayvon Hoax. There is another case, also in Florida, awaiting its Atticus Finch, the product of an earlier moral panic, the now largely forgotten "mass sex abuse in daycare" hysteria. These cases, replete with lurid charges the media mindlessly and breathlessly disseminated in the 1980s and '90s, are today widely recognized as a modern version of the Salem witch trials of the 1690s, down to allegations of Satanic rituals by caregivers. Despite this, one victim remains incarcerated. Frank Fuster has now served thirty-five years in prison for a crime not only that he did not commit, but that never happened. His first parole hearing is scheduled an unbelievable 114 years from now — in March 2134.
LAPD Morale Collapses to 'Record Low': 'It's Simply Not Worth It Any Longer'. Morale within the Los Angeles Police Department (LAPD) is currently at a "record low," thanks to the ongoing Black Lives Matter protests and the vilification of police by local politicians. Robert Harris, the director of the Los Angeles Police Protective League, told CBS Los Angeles that officers feel "beaten" and "bruised" by the ongoing protests. That was corroborated by a Breitbart News source within the LAPD, who said: "Morale across the rank-and-file is at a record low. Especially out on the street in patrol. We have been vilified and abandoned by the mayor, all but three of the city council members, as well as many business owners and residents of the city of Los Angeles."
Nearly 300 NYPD Officers File for Retirement as Violent Crime Surges. Close to 300 New York City Police Department (NYPD) officers have filed for retirement over the last month amid riots against the police and as violent crime keeps surging. According to figures released to the New York Post, about 272 NYPD uniformed officers have filed for retirement since riots over the death of Minneapolis resident George Floyd began in late May. At the same time last year, about 183 officers had filed for retirement, indicating a nearly 50 percent spike in retirements this year.
Abolish the police? Prisons? More? — Here's where this radical experiment is headed. Radicalism in America's largest cities seems impervious to reason. Consider this headline in the Minneapolis Star Tribune: "Despite a wave of violence, Minneapolis 'defund police' effort continues: An influential bloc of City Council members is pressing ahead with plans to dismantle the department as a monthlong eruption of gunfire sent tremors through neighborhoods." Reporter Liz Navratil explained that a majority of the Minneapolis City Council and like-minded community activists have used terms such as "defund," "dismantle" and "abolish" in different ways. There's some semantic tap-dancing. But they're serious. They're working to rewrite the city charter and dismantle a "minimum size requirement" for the police department. They talk about a police-free future.
BLM proves the Broken Windows Theory. Taking over a crime-ridden New York City in 1993, Mayor Rudy Giuliani applied the Broken Windows Theory approach to crime in which small crimes are enforced as a means to create an atmosphere of law and order. Liberals have for 20 years denied his success reducing crime as mayor had anything to do with him, much less this theory. But under Obama, liberals began proving Giuliani was most correct. Today, as the Black Liberation Movement (aka Black Lives Matter) takes over cities, Democrat-run cities are turning into shooting galleries. [...] This is not an overnight nightmare. Democrats have planned this BLM rioting for a long time, and have actually held test runs in Ferguson, Missouri, and Baltimore. Apparently, they are satisfied with their finished product.
Council advances plan to dismantle Minneapolis Police Dept. The Minneapolis City Council on Friday [6/26/2020] unanimously approved a proposal to change the city charter to allow the police department to be dismantled, following widespread criticism of law enforcement over the killing of George Floyd.
Police Commissioner Dermot Shea: Our criminal justice system is 'imploding'. The city's top cop said the criminal justice system is "imploding" as he highlighted a rise in shootings and killings on the city's streets and slammed pols for refusing to support the Finest at an invite-only press conference at NYPD headquarters this week. "You have to step back and look at this. You have a criminal justice system that is imploding," Police Commissioner Dermot Shea lamented during a small meeting with reporters Wednesday at One Police Plaza in Manhattan. "Imploding. That's the kindest way to put it." Shea went on to point out that many criminal cases were "ongoing," "stagnant" or "deferred." "Each one of those represents somebody not being held accountable and no consequences," Shea said.
Obeying The Law Is For Suckers. If you watch the news, national or local, there is a disturbing percentage of our fellow Americans doing whatever [...] they want to do with little or no concern for the law. And the law has little or no concern for itself, at least when it comes to those charged with enforcing it. Across the country, charges are being dropped against rioters and looters. Why? Many of those people in position to prosecute the guilty have no interest in doing so. [Indeed], many of them ran on the idea of not prosecuting people. What kind of idiot would vote for a district attorney who promised to let people get away with more? Well, from San Francisco to St. Louis, they did just that.
Nonwhite Minnesota corrections officers blocked from guarding Derek Chauvin: complaint. Eight minority corrections officers in Minnesota say they were sent to a separate floor of a county jail and barred from guarding fired Minneapolis police Officer Derek Chauvin after his arrest in the death of George Floyd, according to a report. The minority officers working in Ramsey County, who have filed a discrimination complaint, also say a supervisor told them they were viewed as a potential "liability" regarding Chauvin's stay in the jail because of their race, the Star Tribune of Minneapolis reported.
Former officer warns about civil war when thin blue line breaks: 'America is tearing itself apart because of the radical left'. Former Republican candidate for U.S. Senate Peggy Hubbard warned that America is about to step over the "thin blue line between chaos and order. The Navy veteran and former police officer came to the defense of law enforcement in an emotional Facebook Live video shared this week, warning that the nation stands at the edge of coming chaos as officers who have been disrespected continue to abandon their posts.
14-year-old guilty of robbery in Tessa Majors case sentenced to 18 months in prison. A 14-year-old who admitted taking part in a robbery that led to the brutal stabbing death of Barnard College student Tessa Majors was hit with the maximum sentence of 18 months in custody Monday [6/15/2020]. The 5-foot-5 defendant — nabbed a day after Majors' murder — admitted participating in the robbery and picking up the murder weapon off the ground shortly before it was used in the horrifying murder. The sentence handed down by Manhattan Family Court Judge Carol Goldstein was the maximum possible time the teen could have gotten, according to the city Law Department.
Gov. Cuomo's New York: 250 Inmates Freed from Prison Rearrested 450 Times. At least 250 convicted and accused criminals freed from New York's Rikers Island prison have been rearrested 450 times thanks to Gov. Andrew Cuomo's (D) jailbreak directive. New York Police Department (NYPD) data reported by NBC New York's Melissa Russo reveals that since Cuomo issued a statewide order demanding jails and prisons release inmates to abide by social distancing measures in late March, at least 250 inmates from Rikers Island have been re-arrested.
Rikers Island Inmates Released Because of COVID Rearrested Hundreds of Times. Hundreds of inmates were released from Riker's Island in New York City to prevent the spread of the coronavirus in the prison. Officials knew the risks. And those fears have been realized, hundreds of times. New reporting from Melissa Russo reveals that at least 250 prisoners out of the 2,500 who were released early have gone on to commit at least 450 more crimes. "The NYPD is not happy," Russo said, somewhat understatedly.
Manhattan judge frees alleged looter busted in bloody attack on NYPD cop. A Manhattan judge set free an alleged looter charged with bashing a cop's head open with a glass bong swiped amid violent protests sparked by the police killing of George Floyd, The [New York] Post has learned. The move marked at least the second time that Judge Laurie Peterson has overruled prosecutors and released a defendant without bail — which in the earlier case allegedly led to a pair of unprovoked slashings by the psycho who got sprung. "What could she possibly be thinking? Is she living under a rock? Did she see the looting going on in the city?" said a cop who worked in Manhattan every night of the recent riots. "I guess they really want to do away with cops and let the criminals run wild."
New York and California Freed Thousands of Criminals and the Riots Began. New York City released over 2,650 criminals from prison to protect them from the pandemic. But they didn't stay home or wash their hands. They went back to their old jobs and 100 of them accounted for 190 arrests for crimes like burglary and robbery. A rapist was released and he went back to raping. One of the freed criminals was responsible for 18 burglaries at closed eateries. And when he was arrested, the end of bail meant that he was set loose. This looting was going on long before the riots. Now as the rioters and looters rule the streets of Manhattan, when the police manage to arrest them, they have to quickly let them go. "When it comes to a burglary, a commercial store, which is looting, they're back out," Chief Terrence Monahan said. "Because of bail reform, you're back out on the street the next day. You cannot be held on any sort of bail." Of the 650 thugs arrested, almost all will be released back on the street to riot and loot again.
Our under-incarceraton problem, looting edition. During last week's rioting, Chicago police arrested Antonio Harris for looting. He was stealing shoes from a New Balance store. Who is Antonio Harris? According to Daniel Horowitz, Harris was convicted of first-degree murder in 1999. Instead of life imprisonment, the sentence he would get in a well-functioning criminal justice system, he received a 25-year sentence. Instead of serving that sentence, as he would in a well-functioning criminal justice system, Harris was let out after serving only half of it. Since that release less than ten years ago, Harris has been sent back to prison for three felony drug convictions, according to Horowitz. Harris also has a pending felony case of criminal damage to government property. Let that sink in. Harris, with a 1999 first degree murder conviction and three subsequent felony drug convictions, was on the street last week.
What Do They Really Want? [Scroll down] The main job of the police officer, after all, is not to stop crimes in progress (since there are too few of them to see everything), but to show up after the fact and then sniff out a suspect. This means everyone who fits a criminal's description in the area will be tracked down, picked up, tied up, and locked up — and if he refuses, probably beaten up. If he refuses too manfully, possibly killed. In a country of 330 million people, there are going to be a few dozen murders by cop. But you get rid of this right to track, and you've gotten rid of the police. You get rid of profiling, and you get rid of the concept of policing. You get rid of the police, and you get rid of society. And Minneapolis, where the violent crime rate was already horrible — this year, before the riots, twice the national average, and last year three — is already too dangerous. Thanks to Black Lives Matter blowing up the police stations, it is about to get worse.
Minnesota AG Keith Ellison May Have Just Screwed Up Case Against George Floyd Cops. I'm no legal expert, but I wondered to myself if Keith Ellison hadn't overcharged the cop who killed George Floyd. Now there's someone much smarter than I who agrees. Andy McCarthy, who writes for National Review, is a former federal prosecutor and has been a trusted guest on my radio show for the better part of 20 years. He believes Ellison might have just colossally screwed up his case against the cops. My words, not his. McCarthy called Ellison's amended charges "dangerously flawed." Overcharging is tantamount to over-promising. It's perceived as overly punitive and less thoughtful in some cases. Sure, everyone's angry. Sure, Floyd's death appears to be criminal. But you've got to be able to prove what you charge.
Are States Going To Prosecute Their Rioters? It Depends. Footage of violent riots and rampant looting is coming out of nearly every major city in the U.S., but states vary wildly in their efforts to prosecute those responsible for the unrest. While local police have had no issues arresting those engaging in violence, some jurisdictions have declined to prosecute them. Others, however, such as Texas and Missouri, are taking a far more strict approach and partnering with the federal government to press charges. Arguably the most relaxed reaction to rioters came out of St. Louis, Missouri, where local prosecutor Kim Gardner refused to charge nearly 40 people arrested for rioting.
DA declines to prosecute man arrested in St. Patrick's Cathedral vandalism. Turns out desecration is no crime in New York City. The Queens man arrested for scarring the landmarked façade of St. Patrick's Cathedral during a George Floyd protest is now free — because the Manhattan District Attorney's office declined to prosecute him. Yadir Avila Rosas, 26, was taken into custody at 5:30 a.m. Saturday, an NYPD spokeswoman told The [New York] Post. Police charged Rosas with criminal mischief in the third degree and making graffiti, alleging that he was the "getaway driver" for two women who tagged the famous house of worship with spray-painted slogans on May 30. But an expected Saturday afternoon [6/6/2020] arraignment never happened, at the DA office's discretion.
Famous bail opponent suddenly wants cash bail back. We've covered any number of stories about New York's disastrous "bail reform" law and the chain of resulting arrests that would be almost comical were it not for the number of people victimized through recidivism. [...] As you've no doubt heard, there have been quite a few arrests being made in New York City over the past week or so, mostly at night as a result of the "unrest" sweeping the city these days. Because of these laws, nearly all of the people found to have been looting, smashing windows and setting police vehicles ablaze have been immediately released. As you might imagine, that doesn't provide much of a disincentive for them to go out the following night and do it all over again, as many have gone on to do. This seems to have finally come to the attention of the Governor, who now wants judges to start bringing the hammer down and keeping them behind bars while the police struggle to restore order.
George-Soros-Backed Leftwing Radical Attorney General Kim Gardner Has Released Every Single Rioter and Looter Arrested in St. Louis. George Soros realized that it was very expensive and very hard to attempt to support so many leftwing legislators that they could change the law to make crime, well, not a crime. So he settled on a new strategy. One that worked. He put a huge amount of money into the campaigns of leftwing, pro-crime prosecutors and attorney generals. He wouldn't bother to get laws changed — too difficult! No legislator wants to face a campaign ad against him pointing out, accurately, that he voted to decriminalize crime. No, he'd just bankroll dozens (hundreds?) of leftwing DAs and AGs to ignore the laws entirely, claiming that prosecutorial discretion gives the absolute power to simply declare that The Law Is No Longer The Law.
Riots, Brought To You By District Attorneys Who Won't Prosecute. adicalized district attorneys in cities across America are putting violent rioters and looters back on the streets, and letting other hardened criminals walk. More than anyone, one man is responsible for this outrage: Billionaire socialist George Soros. St. Louis is a case in point. There, prosecutor Kim Gardner let 36 people arrested for looting and rioting go scot-free, according to the St. Louis Post-Dispatch. Gardner's office used the pathetic excuse that it needed "essential evidence" from the police, implying it had none. One wonders how people caught in flagrante delicto could simply be released. The answer is, Gardner is a far-left acolyte of Soros, having been the recipient during her 2016 election of no fewer than three separate donations from a Soros-backed political-action committee.
NYC Arsonists to Be Instantly Freed from Jail Thanks to 'Bail Reform' Law. Arsonists who set fires in New York City, New York, during multiple nights of riots will be instantly freed from jail if ever arrested thanks to Gov. Andrew Cuomo's (D-NY) bail reform law. For many nights now, arsonists have set ablaze New York City Police Department (NYPD) vehicles, city dumpsters, and rubble on the streets of New York City. Those arrested for arson, if arrests are made, will spend less than 24 hours in jail.
Nearly All Rioters Freed from Jail in D.C., Most Avoid Felony Riot Charges. Nearly all rioters have been freed from jail in Washington, D.C. and most have had felony riot charges dropped against them, and now they are only facing burglary, destruction of property, and curfew violation charges. Arrest records obtained by WUSA 9 reveal that hundreds of rioters have been arrested over the last week in riots and looting sprees across the nation's capital.
Over 400 NYC Looters to Be Freed from Jail Thanks to 'Bail Reform' Policy. More than 400 looters arrested in New York City, New York, riots this week will be immediately freed from jail thanks to Gov. Andrew Cuomo's (D-NY) "bail reform" policy that eliminated bail for many nonviolent and violent crimes. As riots rage on in New York City — and Mayor Bill de Blasio has refused to deploy the U.S. National Guard — hundreds of looters arrested for burglarizing shops and stores are set to be immediately freed back onto the streets. The New York Times noted that more than 400 people in New York City have been arrested for looting commercial businesses. Almost all of them will likely be released from jail immediately after their arraignments in court.
Houston sees 'unprecedented violence' after bail reform amid pandemic, says police chief. Texas bail reform measures being implemented in the wake of the coronavirus crisis have led to a spike in crime and some police officials are warning of the consequences. The police chief of Houston decried the "unprecedented violence" assaulting the city and blamed the pandemic for new orders that have effectively made it easier for criminals to go free.
The Continued Attacks On The American People As Convicted Criminals Released Onto The Streets. Whether it is business owners or those who work, since this entire coronavirus hoax began, it has been the people who have been under attack. Government remains "essential" while hair salons and general merchandise stores are deemed "non-essential," unless you're a national brand. States are releasing convicted criminals others are being pardoned, but in the end, it's always the people under attack. [Video clip]
Why is THEIR health so important?
One Third Of Jail Inmates Nationwide Set Free in Unprecedented Coronavirus Jailbreak. A new study reveals that almost a third of county jail inmates have been set free from the facilities during the coronavirus pandemic. The Prison Policy Initiative study has determined that 32% of inmates at county jails have been set free. [...] Many jails have released up to half of their inmates, with facilities in Oregon, Arkansas and New Jersey releasing between 57% and 63% of their jail inmates.
California governor: Shrink prisons to help cut budget. Gov. Gavin Newsom is proposing to significantly shrink the footprint of California's prison system, partly because of massive budget cuts prompted by the pandemic but also because of philosophy. The revised budget he sent to state lawmakers this week envisions closing two state prisons in the coming years; cutting nearly one in five of the 43 inmate firefighter camps; and eventually closing all three state-run juvenile prisons.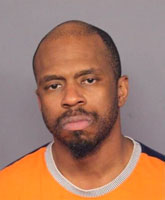 Felon Freed from Jail Over Coronavirus Accused of Murdering Young Woman. A convicted felon who was freed from a Colorado prison over concerns of the Chinese coronavirus spreading has been arrested less than a month later for allegedly murdering a 21-year-old woman. Cornelius Haney has been charged for the first-degree murder of Heather Perry, whose body was found in a Denver, Colorado alleyway, according to CBS Denver.
Pelosi Coronavirus Plan Orders Felons, Illegal Aliens to Be Freed from Prison. House Speaker Nancy Pelosi's (D-CA) latest Chinese coronavirus relief package includes a mandate that federal inmates, as well as local convicts and illegal aliens, be released from jail so long as a court considers them "non-violent" offenders. Pelosi's plan would order the release of federal prisoners, illegal aliens in federal immigration detention facilities, and local convicts if they are considered by the courts and judicial officers to not be a threat to the community.
The Editor says...
They have all been proven to be "a threat to the community." That's why they're in prison.
More evidence that the virus is perceived as no big deal:
California inmates tried to infect themselves with coronavirus for freedom. A group of California inmates are accused of trying to intentionally infect themselves with the coronavirus — thinking they would be set free if they contracted the contagion, authorities said Monday [5/11/2020]. Prisoners at the North County Correctional Facility in Castaic were filmed sharing a disposable cup and sniffing a used face mask in order to accomplish their alleged plot, according to Los Angeles County Sheriff Alex Villanueva. "Somehow, there was some mistaken belief among the inmate population that if they tested positive, that there was a way to force our hand and somehow release more inmates out of our jail environment — and that's not going to happen," Villanueva said at a press briefing.
San Francisco DA Says His Father, Convicted Murderer And Former Member Of Terrorist Group, Should Get Out Of Prison. San Francisco District Attorney Chesa Boudin believes his father, convicted murderer and former Weather Underground member David Gilbert, should be released from prison due to the coronavirus pandemic. Gilbert and Boudin's mother, Kathy Boudin, were convicted of murder in 1983 for serving as getaway drivers during a bank robbery that left three people dead at the hands of their co-conspirators.
Liberal District Attorney Boasts 'I'm Keeping San Francisco Safer by Emptying the Jail'. San Francisco District Attorney Chesa Boudin is bragging about his city's jailbreak policies that have been implemented throughout the coronavirus pandemic, claiming in a Los Angeles Times op/ed that he is "keeping San Francisco safer by emptying the jail."
Authorities: Cook County Jail Inmate Switched Identities With Another Inmate, Was Released From Jail While Wearing Mask. A Cook County Jail inmate switched identities with another inmate and was wrongfully released while wearing a face mask this past weekend, the Sheriff's office said. On Saturday [5/2/2020], Quintin Henderson, 28, was scheduled to be released from custody on an I-bond for a drug charge, when he gave his identity to another inmate, Jahquez Scott, for a promise of $1,000, the Sheriff's office said.
Men Accused of Raping Children Among 830 Inmates Freed in Massachusetts. Two men accused of raping children are among the nearly 830 Massachusetts inmates that have been freed in the last month over concerns of the Chinese coronavirus crisis spreading in prison facilities. Convicted child rapist Glenn Christie, 54-years-old, and 29-year-old Matthew Parris, accused of raping two teenage girls this year, have both been released from Massachusetts prisons after the state's supreme court has ordered the routine release of hundreds of accused and convicted criminals.
Orange County DA 'outraged' after commissioner releases 7 dangerous sex offenders due to COVID-19 restrictions. Orange County, Calif. District Attorney Todd Spitzer stated Saturday [5/2/2020] that he is "outraged" after the state ordered the release of seven high-risk sex offenders from the county's jails over concerns they could contract coronavirus. Appearing on "Fox & Friends Weekend" with host Jason Chaffetz, Spitzer said that the issue at hand is not just in Orange County or California, but "is a ruse that has been pulled on the American public, on jails and custodial facilities all over the nation."
Why is the Trump admin allowing judges to illegally release criminal aliens? Attorney General Barr threatened to file lawsuits against governors overstepping their power to infringe upon civil liberties, yet the only lawsuits that are succeeding are the ones from illegal aliens. Suddenly, when it comes to those with no right to be in our communities, the courts are all-powerful and the executives are weak. In fact, the president really has the power to deport illegal aliens and prevent them from being released into our communities. Late on Thursday [4/30/2020], U.S. District Judge Marcia G. Cooke in Miami became the latest federal judge to illegally mandate that ICE release "vulnerable" populations in detention facilities. She charged that ICE acted with "deliberate indifference" and engaged in what amounts to "cruel and unusual punishment" against illegal aliens by not releasing them during the coronavirus epidemic. Therefore, Cooke ordered ICE to submit twice-weekly reports on the status of the detainees and who is being released.
Second sex offender put up for early release, Spokane list includes gang members, others connected to homicides. A KHQ investigation has identified another convicted sex offender on the list of prisoners up for early release, as the state seeks to stop the spread of COVID-19 behind bars. The Department of Corrections website indicates that Milo M. McCune was scheduled to be released yesterday to the community under the commutation program. He qualified for this special, safety-first leniency because the state considered his last crime to be violent.
Murders in NYC surge for second week in a row as coronavirus lockdown continues. Despite coronavirus lockdown measures, murders in New York City have doubled over last years's numbers for the second consecutive week. This week last year, the city saw five murders to this year's 10 murders, the New York City Police Department (NYPD) reported. The NYPD regularly publishes statistics through its CompStat portal, comparing current stats with the equivalent period in the previous year. While some crimes — including felony assault and rape — have declined, murder has increased, as did burglary and grand larceny auto, according to the department.
Washington Supreme Court rejects lawsuit seeking additional release of prisoners due to coronavirus threat. The Washington Supreme Court on Thursday swiftly rejected a lawsuit seeking to force Gov. Jay Inslee to order the release of thousands of people from Washington prisons to protect them from potential exposure to the coronavirus. In a 5-4 decision, a court majority found the emergency petition by Columbia Legal Services had not proved the state is failing in its duties to incarcerated people. The court's order, signed by Chief Justice Debra Stephens, said, "on the record presented, the Petitioners have not shown the Respondents' actions constitute deliberate indifference to the COVID-19 risk at the Department of Corrections facilities..."
Serial Burglary Suspect Free Without Bail Despite Alleged Crime Sprees. A serial burglary suspect with a long criminal history is free without bail despite allegedly being involved in a recent string of burglaries in Fremont, Milpitas, San Jose, Santa Clara and Palo Alto, Fremont police said. Kristopher Sylvester, 34, of Fremont, was arrested by Fremont detectives on April 2 for allegedly committing multiple commercial burglaries, possessing a loaded firearm, evading police and violating his probation, according to police.
Early inmate release a 'kick in the gut' for Chehalis burglary victim. The burglary was more than two years ago, but it still hurts Keith Heldreth. [...] Heldreth's trailer was stolen out of the front yard of his Chehalis home in December 2017. He said there were more than $100,000 worth of collectibles, tools and memorabilia stored in the trailer. One of the men convicted of the burglary, Shane Poeschl, is on the state's list of inmates who will likely be released early to create more room in prisons because of the coronavirus pandemic.
Why is coronavirus being used as excuse to release illegal aliens instead of send them back? Federal judges and liberal governors had a brilliant idea the minute the coronavirus outbreak became apparent: In addition to releasing our own criminals, why not release other countries' criminals? Thanks to the ruling of a federal judge who is not even in New Jersey, ICE released 700 criminal aliens from New Jersey. This is happening throughout the country. As citizen rights are being infringed upon without due process, it seems like illegal aliens are the only ones with access to the courts. Now, a single California judge, Jesus Bernal, is ordering ICE to release all illegal aliens at high risk and all those over 55. [...] Let's not forget that most aliens can voluntarily depart without proceedings under INA §240B. We are not trying to hold them. They are the ones demanding to stay.
50 Freed Coronavirus Inmates Carried Out Crime Spree. Pro-crime policies work. Enact them and you get more crime. As I discuss in today's article, thugs killed more people in Chicago than the coronavirus. Freeing thugs as a response to the coronavirus makes as much sense as setting your house on fire to stop flooding in your kitchen. [...] The coronavirus jailbreak that freed criminals under the guise of protecting them from the pandemic has endangered everyone's lives. [...] Mayor Bill de Blasio's priority is putting as many criminals back on the street as he can.
California sheriff outraged that child abuse suspect could be freed due to coronavirus. San Bernadino County Sheriff John McMahon said California's decision to free inmates in the name of the novel coronavirus (COVID-19) will endanger the public by recycling felons back into society. In a Tuesday [4/21/2020] interview with Fox 11, McMahon claimed repeat child abusers are able to benefit from the state's new $0 cash bail emergency mandate and will be released back into circulation. There are 13 exceptions for serious offenses, but child abuse is not one of them. "Felony child abuse does not fit into that list of 13, so even though this guy had a prior for domestic violence conviction for child abuse, he gets arrested for child abuse again, and then he gets released on zero bail with a court date in July," he said.
Some inmates receiving coronavirus stimulus payments, watchdog warns. Some inmates are receiving the $1,200 coronavirus economic stimulus payments that are part of the $2.2 trillion CARES Act, according to a government watchdog. "We have no doubt that inmates are receiving checks for the same reason dead people are receiving checks," Tom Schatz, president of Citizens Against Government Waste, told Just the News. "The IRS is relying on 2018 or 2019 tax returns, and does not know whether the taxpayer is deceased, incarcerated, or divorced, all of which, among other factors, would impact their eligibility to receive stimulus checks today," he also said.
De Blasio Learns Released Inmates Committed New Crimes. Somehow He Is Surprised By This. After learning that inmates released from Rikers Island because of the coronavirus were committing new crimes, groundhog murderer Bill de Blasio lamented dolefully that the criminals' actions were "unconscionable." De Blasio mourned during his morning briefing, "I think it's unconscionable just on a human level that folks were shown mercy and this is what some of them have done." De Blasio protested that few released criminals had committed new crimes, saying, "We do see some recidivism. I have not seen a huge amount, but any amount is obviously troubling. We're going to just keep buckling down on it, making sure there's close monitoring and supervision to the maximum step possible. And the NYPD is going to keep doing what they're doing."
Cops enforcing Florida beach restrictions nab Pennsylvania murder suspect violating lounging rule. Florida police patrolling beaches just days after they partially reopened nabbed more than a violator of coronavirus restrictions. Jacksonville police came across a man suspected of homicide hundreds of miles away and ended up arresting him on Sunday [4/19/2020], as hundreds of people had flooded beaches again after the closures were partially lifted.
Dallas Starts Emptying Jails Because Wuhan Virus. As people are imprisoned with excessive bail for throwing a party or dragged off in handcuffs for exercising constitutional rights, authorities continue to let real criminals run loose.
Spitting criminals are NYPD's new scourge amid coronavirus pandemic. The coronavirus has given criminals a new deadly weapon: saliva. Spit-slinging sickos are declaring they are infected with COVID-19 and spraying their targets with sneezes, coughs or sputum. "[...], now you have coronavirus," Jason Mason, 28, told four NYPD officers last Wednesday [4/15/2020] as he spit on them from inside a holding cell, police said. Cops said he was collared after being caught with a knife in a suspected drug deal.
Over 16K US inmates have been released as coronavirus crisis has progressed. As of Thursday [4/17/2020], there have been more than 16,000 inmates released from prisons all over the United States due to the novel coronavirus. A total of approximately 16,622 inmates have been released — or are scheduled to be released shortly — due to the COVID-19 outbreak. The majority were being held on non-violent charges or were deemed to pose no immediate threat to society if released. With very few exceptions, jail inmates have yet to be convicted. They are usually awaiting trial. Prison inmates, on the other hand, have already been convicted and sentenced.
Inslee plan to release hundreds of prison inmates leaves questions, draws criticisms from all sides. Gov. Jay Inslee's announcement of a plan to release hundreds of inmates from Washington prisons has left unanswered questions, with officials unable to share a detailed plan on Tuesday for who will be freed and exactly how the changes will protect inmates left in state lockups. Inslee and state Department of Corrections (DOC) Secretary Steven Sinclair on Monday announced they would release as many as 950 inmates to free up room in Washington's 12 correctional facilities as a way to help protect vulnerable inmates from contracting the coronavirus.
Florida inmate freed because of coronavirus outbreak, accused of murdering someone the next day. An inmate freed from the Hillsborough County Jail in Tampa to prevent the spread of the coronavirus is back behind bars after allegedly murdering a man the day after his release, the Hillsborough County Sheriff's Office said late Tuesday [4/14/2020]. Joseph Edwards Williams, 26, was sprung from jail along with 163 detainees said to be low-level offenders on March 19, according to records from the Sheriff's Office. Mr. Williams had been arrested on March 13 for possession of heroin and possession of drug paraphernalia.
LA County Sheriff Frees Thousands More Prisoners. Law enforcement leaders across the U.S. have used the COVID-19 crisis to free prisoners that they ardently wanted to free anyway. Even as the worst of the plague has passed over the land, elected leaders are still freeing crooks from the jails. This isn't as a favor to the rest of us, it's in service to the elected leaders' social justice friends and personal (or George Soros's) political agendas. This brings us to hapless LA Sheriff, Alex Villanueva, who announced on Monday [4/13/2020] that LA County's jail population is lighter by 25% thanks to him!
Inmate Released Over COVID-19 Fears Arrested For Murder Hours After He Got Out of Jail. An inmate who was released from jail due to fears of coeronavirus spread has been re-arrested on a murder charge. Deputies say 26-year-old Joseph Edwards Williams commited second-degree murder the day after he was released.
The LA Sheriff Who Released 4,276 Inmates Now Fears a Crime Wave. The LA Sheriff released the inmates fearing the Wuhan virus, now he worries he may have put the public at risk. You just can't make this up. Save the criminals, destroy the community.
Some Violent Crime Is On The Rise As Coronavirus Engulfs America. As most of the U.S. is shut down over the coronavirus pandemic, some violent crime rates continue to rise. While the virus has slowed overall crime in some major cities, certain types of violence has increased. Just days after the White House released its strict coronavirus guidelines, domestic violence rates surged across the country. The Seattle Police Department reported a 23% increase, while a domestic violence hotline in Nashville reported a 55% increase in calls over the first few weeks of March. Those numbers have only continued to surge as the U.S. and other parts of the world have been put under a quasi-form of indefinite house arrest.
Convict let out on coronavirus concerns arrested for assault and robbery. The nation's thugs rejoiced when the coronavirus plague hit the U.S., giving anti-incarceration social justice warriors just the push they needed to find a reason to let them out of their prisons. Lefty city and state leaders ensured it happened, and predictable as sunrise, the released thugs went back to doing what got them incarcerated in the first place. [...] Only to a leftist would any of this make sense. [...] It's a textbook example of social justice warrior leftists taking the coronavirus crisis and using it to advance their long-held agendas.
George Soros-Funded Group to Governors: Release as Many Prisoners as Possible Due to Coronavirus. The Brennan Center for Justice, which is heavily financed by George Soros, has submitted a letter to the governors of all fifty states urging them to use executive action to "release as many people as possible from incarceration" due to coronavirus fears "provided they do not pose serious public safety threats." The letter cited concern that the U.S. prison population could face greater risk of illness and death than the general public due to the Chinese coronavirus pandemic.
Closing Churches, Opening Jails. Thousands of prisoners have been released from jails since the coronavirus crisis hit. "In Los Angeles County, Sheriff Alex Villanueva has embarked on what appears to be the largest U.S. effort to release inmates, freeing 1,700 people this month, or about 10 percent of the population of one of the nation's largest jail systems," reports the New York Times. The New York Post has reported on the case of a child rapist who was released to protect him from the coronavirus: [...] This appears to be happening throughout the world, with countries such as Great Britain announcing large releases of prisoners. One would have thought the safety of the community trumps a prisoner's right to be free of exposure to sickness in jail. But, no, we're told that opening up prisons is sound public policy. Meanwhile, in keeping with our pagan times, as prisoners leave jail, some pastors enter it. In Tampa, pastor Rodney Howard-Browne was arrested for violating public health orders after holding Sunday services. In Baton Rouge, pastor Tony Spell was arrested for not observing a ban against large gatherings.
Federal judges reject California mass prisoner release. Federal judges on Saturday refused on procedural grounds to order California to free thousands of prisoners to ease crowded conditions that attorneys representing inmates likened to a "tinderbox" ready to ignite with the rapid spread of the coronavirus. But the three judges invited inmates' attorneys to file a new motion with either or both of two individual judges who oversee major class action lawsuits over inmate medical and mental health care.
In What Sense Do You Think We Are Free? [Scroll down] Ostensibly to "socially distance" inmates from infected jail cells, Los Angeles' Sheriff Alex Villanueva "is freeing prisoners from Los Angeles County jails and curbing arrests for more law-breakers." Apparently, Villanueva and Co. have "cut their arrests by 80 percent." Four-in-five potential not criminals going to jails in Los Angeles is a real problem, because that unquestionably means more criminals on the streets free to commit crimes. And police around the country seem to have their hands full enforcing "social distancing" guidelines, arresting pastors and whatnot. But Americans have Second Amendment rights, and can protect themselves, right? Well, in Los Angeles, gun shops were, just days ago, being forced to close their doors, clearly infringing upon the rights of law-abiding Americans who would "keep and bear arms" in order to protect themselves from the criminals their government has been releasing into the public.
Child rapist ordered released to keep him safe from coronavirus. A Massachusetts man convicted of repeatedly raping a 12-year-old boy was ordered released from jail Friday — because he suffers from health conditions that can make him vulnerable to coronavirus, according to new reports. Glenn Christie, 54, who uses a wheelchair, was ordered released from the Massachusetts Treatment Center by Superior Court Judge Heidi Brieger, WBUR reported. One of the conditions is that Christie tests negative for COVID-19, the station reported. Christie was convicted of child rape and indecent assault on a child under 14 and was being held for violating his probation conditions, according to the report.
Philadelphia's Only Surging Industry. Last week, Philadelphia's police department reported that criminal activity in the first three months of this year increased by double-digit percentages when compared with the same period in 2019 — the most violent year since 2007. So far in 2020, property and violent crimes have spiked by 16 percent and 11 percent, respectively, with the largest increases in retail theft — which skyrocketed 59 percent, after district attorney Larry Krasner announced that his office wouldn't prosecute that crime — and other serious violent offenses, such as aggravated assault, up by 20 percent. Though the Philadelphia Inquirer has tried to downplay the spike in crime, statistics show that, even as the Covid-19 pandemic unfolds, crime has increased overall, despite a slight dip during the city's first full week of shutdowns.
Mayor deBlasio Releases 900 Inmates To Reduce Coronavirus Risk — Makes Room To Arrest Priests, Ministers, Pastors. New York City Mayor Bill deBlasio has released 900 inmates from city jails in an effort to reduce the risk of coronavirus. Days earlier he announced the intent to permanently close houses of worship that defy the 'stay-at-home' dictates.
California to release 3,500 inmates early as coronavirus spreads inside prisons. California is granting early release to 3,500 inmates in an effort to reduce crowding as coronavirus infections begin spreading through the state prison system. Lawyers for Gov. Gavin Newsom on Tuesday told a panel of federal judges the state is taking "extraordinary and unprecedented protective measures" to slow the spread of the virus and protect those who live and work within California's 35 prisons. The accelerated parole policy — affecting inmates due to be released over the next 60 days — comes in the face of pressure to do much more.
NYC judge frees alleged murderer out of concern he'll catch coronavirus. A Manhattan judge on Thursday [3/26/2020] ordered the release of a career criminal charged with stabbing his girlfriend to death out of concern he could contract coronavirus at Rikers, the [New York] Post has learned. State Supreme Court Justice Mark Dwyer freed Pedro Vinent-Barcia, 63, and 15 other inmates after the Legal Aid Society filed a petition arguing that their detention exposed them to serious medical harm in the midst of a pandemic sweeping through city jails. Prosecutors objected, citing the brutality of the crime and the defendant's criminal record.
NYC to release more than 1,000 prison inmates due to coronavirus concerns. New York City will release more than 1,000 prison inmates due to coronavirus concerns, Mayor Bill de Blasio said Tuesday [3/24/2020]. According to the New York Post, approximately 300 prisoners in the Rikers Island prison complex and other city facilities will be released this week to limit the spread of COVID-19 through NYC's jail system. De Blasio said inmates chosen are serving less than a year in prison for misdemeanors or non-violent felonies.
And how is that idea working out?
Anarchy mixed with tyranny: Jailbreaker criminal terrorizes woman in her home. Utah, like nearly every state with Democrat or liberal Republican leadership, has released some criminals from prison, supposedly under the guise of avoiding spread of the virus in prison. What they are really doing is spreading the disease of crime into our communities. Joshua Haskell, 42, of American Fork, Utah is someone deemed by the liberal politicians as a "nonviolent, low-level" offender. He was released on March 17 from a halfway house, pursuant to an incomprehensible order to release low-level offenders into the community during the coronavirus epidemic. Just two days later, he was arrested in the home of a woman after he allegedly attacked the homeowner with a knife in her bed. According to the charging documents, as reported by the Deseret News, the woman awoke to find Haskell standing over her bed.
Pedophile Who Sexually Abused 9 Boys Murdered in Georgia Prison. A child molester who was serving a life sentence after he had sexually abused nine boys was brutally murdered during a fight. Last Friday [3/20/2020], Cesar Pastrana, 33, had served eight years out of his life sentence before he was killed during a fight at Hancock County Jail, Georgia. Georgia Department of Corrections have signaled that they are treating the death as a homicide, but have not released how the inmate was killed, the name of his suspected killer, or whether it was in connection with his crime.
NJ Releases up to 1,000 Prisoners From Jail, Threatens Residents For Disobeying Lockdown Orders. Democrats hate ordinary citizens, and it is during times like now, where it becomes really apparent. In New Jersey the state's Chief Justice, Stuart Rabner, has ordered up to 1,000 prisoners in the state be released due to the threat posed by the coronavirus. The Chief Justice released two classes of prisoners, those imprisoned for low level crimes and those in prison for probation violations.
Philadelphia goes lawless. Officially, this time. Restaurants are closing. Toilet paper is flying off the shelves. Arrests are being put on hold. Is there an end to the madness the coronavirus has inflicted on our nation? In Philadelphia, crimes are no longer being treated as crimes as law enforcement has been instructed to stop making arrests. No, seriously. A decree has been sent down from ironically named Police Commissioner Danielle Outlaw for police to stop arresting people who commit "non-violent" crimes. They are instead to hold suspects in their cars and issue warrants for future arrest, assuming law enforcement can find them later. Drug dealers, car thieves, and prostitutes will now be essentially ticketed with an order to appear in court for arrest at a later date, though that is not necessarily described in the warrant they receive. Instead, they will be found when the Commissioner decrees it is okay to book people at the police station again.
'A Storm Is Coming': Fears of an Inmate Epidemic as the Virus Spreads in the Jails. It started with a jails investigator in an office three miles from Rikers Island. Then, a correction officer at a security checkpoint near the entrance to the jail complex got it. Hours later, it was an inmate in a crowded housing unit. Within days, the investigator had died and three more correction officers and two other staff members had tested positive for the coronavirus, confirming fears that the highly contagious disease had arrived in the nation's second-largest jail system, endangering 5,300 inmates and twice as many guards.On Thursday, the jail system's chief physician, Ross MacDonald, took to Twitter with a warning: "A storm is coming."
Philadelphia Braces for Looting as Police Suspend Arrests for Non-Violent Crimes. A controversial suspension of non-violent arrests has Philadelphia businesses on edge and fortifying against potential looters. Philadelphia Police Commissioner Danielle Outlaw announced the suspension of all arrests for certain non-violent crimes Wednesday, according to WTXF-TV. According to documents acquired by law enforcement journalist Rob O'Donnell, the move suspends arrests for narcotics offenses, theft, burglary, stolen vehicles, fraud and prostitution.
Philadelphia's progressive DA has declared war — on cops, law and order. Philadelphia District Attorney Larry Krasner is a direct threat to the public safety of the City of Brotherly Love. Philly PD Cpl. James O'Connor, shot and killed in the line of duty Friday, didn't have to die. If not for Krasner treating violent and dangerous criminals with kid gloves, O'Connor would be alive today. O'Connor's alleged killer, Hassan Elliot, should never have been on the streets. He was cut loose and slapped on the wrist by Krasner's office time and again. Every time Elliot was arrested for serious felonies, Krasner's indifference and ideology prevented the government from doing its duty to protect the public. Elliot's 2017 illegal firearms possession case was settled almost immediately for time served when Krasner took office in 2018. Krasner's predecessor detained Elliot, but Krasner released him the next day. A year later, he was caught with large amounts of cocaine packaged for distribution. That was a violation of his supervision requirements. Krasner released Elliot, scheduling his trial. That same day (March 1, 2019) Elliot killed someone.
Ohio Jail Releases Hundreds To Protect Them from Coronavirus Despite No Known Cases. Do you know what we need during a national emergency? More alleged criminals out on the streets. This is apparently the lesson we're supposed to take away from officials in Cuyahoga County, Ohio, the jurisdiction in which the city of Cleveland is located. Ohio's second-most populous county has decided to release hundreds of inmates from the Cuyahoga County jail over COVID-19 fears. Here's the thing — not a single person in the jail was known to be infected.
You Can't Get Hand Sanitizer Because Of Government Regulations. After the Wuhan Flu hit America, the Democrats decided that America should be more like China. New York's Governor Andrew Cuomo, who got his job the same way as many totalitarian leaders, by being the son of the guy who used to have the job, led the way to the People's Republic of America. [...] "We are introducing New York State Clean hand sanitizer, made conveniently by the state of New York. This is a superior product to products now on the market," Governor Cuomo declared. [...] The specific part of the state making NYS Clean is the Great Meadow Correctional Facility: a maximum-security prison which Cuomo had visited two years ago to address the constant violence in the prison. [...] Corcraft, also known as the Bureau of Corrections, was already making hand sanitizer at $68 bucks for a five-gallon pail. There's a nice profit margin there considering that prison workers are being paid between 16 cents to $1.30 an hour.
Update:
Cuomo's New York branded hand-sanitizer isn't being made by inmates after all. Earlier this month, Governor Andrew Cuomo announced that New York would be producing its own hand-sanitizer called "NYS Clean." He explained that the new hand-sanitizer would be "made" by Corcraft which is the name for New York's prison industries. But according to a report published today by Vice, prison inmates aren't "making" the sanitizer so much as putting the stuff, which is made elsewhere, into jugs and bottles.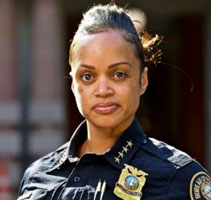 Philadelphia Police Will Not Arrest for Burglary or Theft Due to Coronavirus. As an outcome of short-sighted coronavirus issues, the Philadelphia police department has announced they will no longer be arresting suspects for retail theft, auto theft, burglary, narcotics or other "non violent" offenses. Instead they will write tickets, release the suspects and address the criminality later on. Now watch what happens. CTH saw the instructions earlier today [3/17/2020] but we did not want to immediately distribute the information. It should be remembered the current Philadelphia police commissioner, Danielle Outlaw (pictured left), is a social justice activist from Portland, Oregon. Unfortunately, there is a predictive element to this. Perhaps some are familiar with the post Hurricane Andrew experience in Homestead and Miami-Dade. The only thing standing between law-abiding citizens and those who would take their possessions is an ability to defend your own property. This is now the Philadelphia reality.
5 Big Government, America-Destroying Schemes Democrats are Proposing During COVID-19 Crisis. Here are just five, America-destroying proposals that we would never seriously consider but are now floated as serious policy proposals during this crisis. [...] [#4] Empty Prisons: Democratic Rep. Ayanna Pressley told MSNBC's Al Sharpton that she was advocating for a blanket commutation of sentences to release prisoners from incarceration in light of the COVID-19 dilemma. "This pandemic, COVID-19, has certainly highlighted and exasperated every socio, ratio, and political fault line in our country. And I'm just advocating to make sure that when we are talking about those that are most vulnerable, our low-income residents and citizens, those experiencing homelessness, our seniors, that we are also including the incarcerated men and women, who are certainly amongst one of the most vulnerable populations.
Major crimes in NYC unexpectedly surge after bail reform law. We recently looked at some new proposals for fixing New York's disastrous new "bail reform" law or at least mitigating some of the damage it's causing. They may want to get off the stick and start looking at those suggestions in a hurry because a newly released report shows that major crimes in New York City took a very sharp turn upward in February as compared to the same period of time last year. And the police have the data to show that the bail reform policies are playing a significant role in this very bad development.
Here's What's Happened in NYC Since the State Ended Cash Bail on January 1. During a press conference on Thursday, the New York Police Department reported that "major crime is up 22.5% this February over a year ago." And they "attribute the spike to the bail reform pushed through the state Legislature in Albany last year, which is releasing people who have been arrested for one crime to go out and commit another." [...] Even de Blasio admits it. He said, "There's a direct correlation to a change in the law, and we need to address it, and we will address it." He added that he was "absolutely confident it would be addressed in Albany in the budget due April 1."
NY Major Crime Soars. Police Blame Bail Reform. Major crimes soared in February in New York City, and New York Police Department (NYPD) officials blame one change that was implemented for the uptick: bail reform. The NYPD stated in a press release, "Criminal justice reforms serve as a significant reason New York City has seen this uptick in crime." According to the NYPD, compared to February 2019, major crimes grew 22.5%; in addition, the city suffered a 7.1% increase in shootings. The city also saw a rise in robbery, assault, burglary, grand larceny, and grand larceny, according to Fox News. The only piece of good news was that murder plunged 20%.
MPD whistleblower details alleged crime underreporting in the first interview. A whistleblower from the D.C. Police Department is talking openly about the crime underreporting she says she's witnessed inside the Metropolitan Police Department. "I was surprised," said MPD Sergeant Charlotte Djossou. "I didn't want to believe it." Djossou, a 15-year MPD veteran previously honored for her service by Police Chief Peter Newsham, is going public with stunning allegations about what she says is going on in her own department. [...] She claims D.C. police supervisors are ordering investigators to downgrade crime classifications form more serious crimes to less serious ones to make the city's crime stats look better.
The Editor says...
In other words, the streets are even more dangerous than you think they are.
Legalizing Ecoterrorism on the Left Coast. Law & order break down where liberals rule. San Francisco is an obvious example. Portland is another: ["]Five climate radicals arrested for sabotaging train tracks used by Zenith Energy to transport crude oil are free today because Portland, Ore., jurors just couldn't bring themselves to convict the earth's saviors. The five jurors believed the defendants' 'climate necessity defense,' which argues you can break the law if you're saving the planet.["]
Black-on-Jewish attacks in NY, black-on-Asian attacks in SF: Same progressive rule. [Scroll down] The second thing we see is that this person has no fear of the police, no fear of the feds, and no fear of punishment, no matter what he does. That's the work of leftist politics that in San Francisco now requires a dollar value of $951 in thievery before any police action can take place. Thieves know they get the first $950 free in that city. Cash bail has been eliminated, and San Francisco's district attorney has a pinned tweet praising Bernie Sanders for praising that. That crazed leftist "serving" as district attorney, one Chesa Boudin, is the son of a terrorist killer, raised by Bill Ayers, last seen "serving" as Hugo Chávez's translator, whose big selling point is "decarceration," and ending "mass incarceration," and who refuses to prosecute quality-of-life crimes such as public urination. The cops in that city are throwing up their hands at having this creep at the prosecutorial helm, effectively making all street crimes get-out-of-jail-free cards.
Is It Illegal To Encourage Unlawful Behavior? If you tell someone to violate the law, is that a punishable crime? Simply put, that case comes before the Supreme Court on Feb. 25. Justices will consider whether to uphold the conviction of a woman whose crime was advising immigrants to break the law. Will the justices rule that the First Amendment forbids making this a crime, or try to avoid that question altogether?
Jamming in Jail. Illegal cell phones are smuggled into America's prisons by the thousands each year through a variety of means including drones, incoming vehicles, and facility staff. Due to the growing illegal market for the phones, individuals are paid an average of $50 to $1,000 to smuggle the contraband into state facilities. Phones go for even higher rates if the risks and security protocols at the facility are higher. Oklahoma has experienced numerous challenges and risks that contraband has inflicted on its prison system. According to the Oklahoma Department of Corrections, 52,039 contraband cell phones have been confiscated in the state's correctional facilities since 2011. Once inside prison walls, the phones are used to conduct criminal activities ranging from cash transfers for drugs and extortion, to ordering violence against individuals outside of prison. Prison staff are even subject to threats or violence outside of prisons by disgruntled inmates. Most recently Oklahoma experienced a statewide correctional facility lockdown from gangs ordering coordinated riots using contraband cell phones across the prison system.
Family of Spring Valley library stabbing victim demands answers. The family of a security guard who was fatally stabbed on the job at a Spring Valley library is demanding answers. Just months before Blanchard Glaudin, 25, was charged with stabbing Sandra Wilson at the Finklestein Library, a judge had allowed his release without bail after an alleged attempted rape in November. Wilson's brother, Marvin Hayward, believes his sister would still be alive had it not been for Glaudin's release.
Convict Who Thanked New York Democrats for Abolishing Bail Arrested for 140th Time. A convicted felon who thanked New York Democrats this week for eliminating bail for a series of crimes deemed "non-violent" was arrested for the 140th time, just days after he was released from New York City Police Department (NYPD) custody. Career criminal Charles Barry, 56-years-old, was arrested Tuesday evening by NYPD for allegedly scamming a Belgian tourist on the New York City subway, provoking his 140th arrest, as the New York Daily News noted.
San Francisco car break-ins are so common that the city's district attorney is proposing reimbursing residents whose windows are smashed. San Francisco's district attorney is proposing creating an auto-burglary-assistance fund that would reimburse residents for the cost required to repair shattered windows from break-ins. The DA, Chesa Boudin, is proposing using $1.5 million from the mayor's office to fill the fund. If it passes, it could be the country's first fund of this kind.
Witness Murdered After NY Governor Andrew Cuomo's Jailbreak Law Revealed His Identity in MS-13 Trial. New York Governor Andrew Cuomo has pilfered the people of New York of their hard earned money, attacked their freedoms and now, due to his flagrant disregard for human life, a man has been murdered due laws that forced his identity to be revealed in a criminal case involving MS-13 gang members. Wilmer Maldonado Rodriguez, 36, was to testify against members of the MS-13 gang who were alleged to have beaten and stabbed him in October 2018.
Top NYPD cop warns officers not to wear their uniforms in public and to hide department logos for their own safety. A top NYPD official has warned officers not to wear their police uniforms or department logos in public following back-to-back assassination attempts on cops in the Bronx. Hazel Jennings, chief of the Department of Corrections, issued a memo on Sunday night essentially urging officers to hide their police affiliation to avoid being targeted. The memo came after a career criminal carried out two separate attacks on officers in the Bronx in the span of just 12 hours, leaving two officers injured.
De Blasio admits NYC crime jump is linked to bail reform. Mayor Bill de Blasio linked a recent crime surge in the Big Apple to the state's controversial overhaul of bail laws Friday, after spending a week dancing around the matter. "We had, for six years, steady decreases in crime across the board. There's not a whole lot of other environmental things that have changed recently," Hizzoner told WNYC's Brian Lehrer on new CompStat data that shows crime has soared since the new laws took effect at the start of 2020. "It sort of stands out like a sore thumb that this is the single biggest new thing in the equation and we saw an extraordinary jump." "Of course there's always a possibility this is plain statistical variation, that happens sometimes," he added. "But I think it's pretty clear that there's only one new major piece in the equation."
Shoplifter hijacks Uber for wild getaway while also wearing ankle bracelet. A Long Island man hijacked an Uber to use as his getaway car — apparently forgetting that he was still wearing an electronic monitoring bracelet from his last bust, leading cops straight to him, police said Friday [2/7/2020].
Crime Is on the Rise in New York City. Major crimes jumped in New York City in January, new data from the NYPD show, bucking the trend of decades of declining crime. Compared with January 2019, the Big Apple saw increases in robbery, assault, burglary, and larceny in the first month of 2020. The new statistics also confirm an increase in crime on the city's subways, a longtime hot spot for violence that was thought to have cooled in the past two decades. The new figures come as the city and state struggle with a controversial new bail reform law, which mandates the release of most nonviolent offenders before trial. The uptick in crime will likely add fuel to the fire for opponents eager to see Albany modify the law or scrap it altogether.
Grocery Chain Begs Forgiveness for Not Liking Shoplifting. Once, rights were meaningful. People insisted on fundamental rights such as free speech and self-defense. But then liberals perverted the word "right," just as they perverted the word "liberal." Now we are told that we have a "right" for other people to be forced to provide us with what we want for free. For example, thanks to the predominance of feminism, someone else being made to pay for a woman's tampons is becoming a right. The right to free tampons has not yet been implemented by Big Government. No matter; for now, people can just help themselves in stores. Stores that object are bullied into backing down.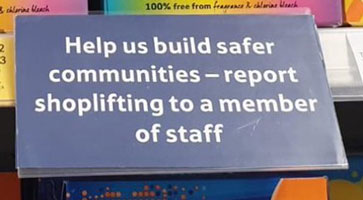 UK Supermarket Forced to Apologize For Asking People Not to Steal Female Menstrual Products. A UK supermarket was forced to apologize for asking people not to steal female menstrual products, because shoplifting is apparently 'woke' now. Yes, really. It all started with a tweet which received nearly 15,000 likes. "We really need a genuine conversation as a society about what 'safety' means," commented Oonagh Ryder alongside an image of sanitary products on a shelf behind a sign which read "Help us build safer communities — report shoplifting to a member of staff." [Photo] Respondents to the tweet asserted their human right to steal tampons and sanitary towels.
High-Ranking Judge Says New Bail Rules a 'Significant Threat to Public Safety' in NYC. A high-ranking judge in New York City said the state's recent guidelines regarding bail represents a "significant threat to public safety" in the five boroughs and beyond. "It is my opinion that without significant changes, the current legislation will not only be a missed opportunity for long-overdue criminal justice reform, but also a significant threat to public safety," Bronx Criminal Court Supervising Judge George Grasso said. "We already are seeing serious spikes in violent crime throughout New York City in 2020." "I am now in the criminal justice system for over 40 years — 30-plus NYPD and 30-plus judge — and I am very concerned," he said during a speech in Queens, NY.
America's Quiet Policing Crisis. Across the United States, from cities to rural counties, police departments are confronting a recruitment crisis. "Going back to 2010, we had about 4,700 online applications. That dropped down to about 1,900 last year," said Steve Anderson, chief of the Metropolitan Nashville Police Department, in a Police Executive Research Forum (PERF) report last year. Seattle's police department reported a 40 percent to 50 percent drop in applications, while Jefferson County, Colorado's applications plummeted 70 percent. In total, 86 percent of police chiefs nationwide reported a shortage of sworn officers, with nearly half stating that the shortage had worsened over the past five years. Currently, about 18,000 police departments in the U.S. are responsible for protecting over 300 million Americans. But there just aren't enough cops to go around. This little-noticed staffing crisis could intensify over the next decade, especially as a glut of cops hired in the 1990s ages into retirement.
FBI: Violent crime is up and arrests are down. Here's your criminal justice "reform". Across the country, we're seeing an increase in the amount of crimes being committed, but are seeing fewer arrests. Some say it's a push for criminal justice reform. Others say it's because of the growing divide between police officers and the public. Whatever the case, here are the facts. Per new FBI data, the vast majority of reported crimes do not end in arrest (chart below). Less than two out of five reported crimes end in an arrest. Arrests are declining. Falling arrests have real implications for citizen satisfaction, fear of crime and a sense of justice. Concurrently, there are those who believe that fewer arrests are in society's best interest.
Sanctuary recidivism rate at 25% in California's Orange County. Orange County in California is seeing a recidivism rate of more than 25% for illegal immigrants it has released under the state's sanctuary law, according to new data the sheriff's department released and ICE highlighted this week. Migrants who were released then rearrested for new crimes had charges of rape, domestic violence, DUI and child sex offenses. In 2019, Orange County said it got requests from U.S. Immigration and Customs Enforcement to turn over 1,507 inmates. It did release 492 of them to ICE after they'd completed their sentences, but 1,105 were put back on the streets under the terms of the state's sanctuary law, known as SB54.
Convicted Killer Was Given Supervised Time To 'Satisfy Sexual Needs' Then Murders A 22-Year-Old Woman. I have a hunch that maybe letting a guy have more relations with women after being known for killing his partners probably wasn't the best idea they've had.
'McMillions': How ex-cop orchestrated $24 million McDonald's Monopoly scam. In 1987, McDonald's launched an ingenious sweepstakes based on the game of Monopoly. Customers would purchase sandwiches, fries, drinks, etc., that included peel-off game pieces on the packaging — potentially rewarding them with anything from a Filet-O-Fish to a new car to $1 million. People went wild for it and business spiked by 40 percent for the fast-food giant, who kept it up for years. But it wasn't all happy meals. "It seemed like an opportunity for ordinary people to get ahead, but there were consequences," said Brian Lazarte, co-director of the HBO docu-series "McMillion$," premiering Monday, about the contest. In fact, some 50 people would be convicted for cheating.
Antifa plans massive anti-cop action in NY subways, push for free transit, ending police presence. Police in New York are increasing their presence in subways Friday after members of the far-left Antifa movement called for a mass protest against law enforcement and transit fares. The Police Benevolent Association of New York City issued a strong warning ahead of Friday's Antifa demonstration, urging New Yorkers to "pay close attention." "This is [the] true endgame of the anti-police movement, an end of all policing & destruction of public order," the group said in a tweet. "Our members have spent their careers — and in some cases given their lives — to bring public safety back to NYC. We can't go backwards."
Report indicates child sex offender does not meet criteria for a predator after transitioning to woman. Iowa officials will release a biological man who molested up to 15 children and obtained a sex change after a preliminary report indicated the sex offender is not a threat. The Iowa attorney general's office filed a Jan. 9 motion announcing that it will no longer recommend that 23-year-old Joseph Matthew Smith, who now identifies as a woman, be institutionalized in the Cherokee Civil Commitment Unit for Sex Offenders (CCUSO), the Storm Lake Times reported in January.
Transgender woman arrested for aggravated assault against public official is jailed — with male inmates. A biological male who identifies as a woman was arrested on a first-degree felony charge of aggravated assault against a public servant after 12-hour standoff with police in Harker Heights, Texas, and was booked Monday into the Bell County Jail — with male inmates, despite the suspect's transgender status, the Killeen Daily Journal reported. "Inmates are processed based on their actual sex at the time they arrive here and not what they say they want to be," Chuck Cox, chief deputy of the Bell County Sheriff's Office, told the paper. "It is our policy to keep all inmates safe regardless of who they are."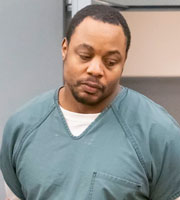 Fatal DWI suspect bragged about bail reform: 'I'll be out tomorrow'. A Long Island man arrested after a fatal drunken wreck Jan. 12 bragged to cops, "The laws changed, I'll be out tomorrow," thanks to new bail reform measures, prosecutors said Thursday [1/30/2020]. Jordan Randolph, 40, who did walk free the next day, also told cops the deadly crash was "just a DWI." Details of the boozy bust were revealed Thursday as Randolph was hit with a 24-count indictment for vehicular manslaughter, aggravated vehicular homicide and a slew of other charges in the crash that killed 27-year-old Jonathan Flores-Maldonado.
New York City Politicians: Fixing What Isn't Broken. [Scroll down] The War on Police and the soft on crime, hug a thug mentality, has returned and destroyed the safety and order of the city. Criminals have morphed into victims, where Mets Baseball tickets are given out for promises to appear in court. Meanwhile, Mayor de Blasio and his band of cowards offer hugs and kisses for criminal conduct. Who comes up with this idiocy except liberals? Mayhem has returned. Murders, and robberies are increasing, and the message is clear to crime victims: you don't matter. Politics does. The current climate in New York City is dire. Yet rather than protect the law-abiding citizens, the misguided liberal politicians doubled down with another pro-criminal policy that no longer requires bail for people arrested. This will fully unleash the criminal element on law-abiding New Yorkers. It won't be long before it begins to have an impact on Manhattan tourism. The results in the first month of this insane policy are apparent. A sharp rise in crime so far in 2020 has predictably occurred.
About 90 percent of all jaywalking tickets issued to black and Latino pedestrians in NYC. New Yorkers are known for darting into traffic without heeding crosswalks and traffic lights. It's a habit that's largely ignored by law enforcement, but the NYPD can and does hand out hundreds of summonses for jaywalking each year. Last year, about 90 percent of all tickets were issued to black and Latino pedestrians, according to city data first reported by Streetsblog.
The Editor says...
Is it not possible that lily-white New York pedestrians obey the law? Maybe that's why they don't get ticketed.
Long Island judge ignores bail law, refuses release of 'menace to society'. A Long Island judge intentionally ignored the state's controversial bail-reform law and refused to release a defendant he deemed a "menace to society," The [New York] Post has learned. Nassau County District Judge David McAndrews admitted in court that accused two-time bank robber Romell Nellis wasn't charged with a "bondable or bail offense" — but still ordered him held on $10,000 cash or $20,000 bond. "I don't want you walking around my neighborhood," McAndrews told Nellis, according to a transcript of the Jan. 9 hearing in Hempstead.
It looks like New York's getting the crime uptick politicians have been asking for. Robbery is up almost 30% in New York City since the first of the year. Is this a statistical blip, a trend — or a New Year's bail-reform gift from Albany, robbery now largely being a revolving-door offense in the Empire State? Time will tell, but consider this as well: According to the latest NYPD stats, the number of shooting victims in the city is up 31% since New Year's Day — so at the very least Gotham appears to be off to a rocky 2020 compared to last year. Which should not surprise: Not only does government usually get more of what it encourages, when it comes to crime, it also gets more of what it fails to discourage. Sad to say, New York falls down on both counts.
Two Convicted Pedophiles Beaten to Death by Inmate with Cane. An inmate at a California prison murdered two convicted child molesters by beating them to death with a walking cane, according to authorities. Jonathan Watson, 41, allegedly beat David Bobb, 48, and Graham De Luis-Conti, 62, to death last Thursday at around 2:30 p.m. at the California Substance Abuse Treatment Facility (SATF) and State Prison in Corcoran, according to the New York Post.
Latest Liberal "Solution." Start Slashing Police Budgets. Philip V. McHarris is a PhD candidate in Sociology and African American Studies at Yale University. In his WaPo op-ed, McHarriss explains how the real problem with law enforcement is that there are just too many [...] police in this country. And if the Democrats really want to get serious about criminal justice reform, they need to be pushing to cut police budgets all across the nation, particularly in our larger cities, so there won't be so many cops out there arresting people. The funds should instead be channeled toward social assistance programs designed to lift people out of poverty.
Suspected robber who 'targeted four banks and was released under New York's no-bail law strikes A FIFTH time. A serial bank robber targeted four New York banks, was released under the city's new law which requires no bail for holding suspects, only to strike a fifth financial institution, police claim. The suspect, Gerold Woodberry, 42, is alleged to have robbed banks in New York's Midtown Manhattan, Harlem, West Village and the Upper West Side, since December 30, sources said. However, under the new 'no bail' law, he was released on Thursday [1/9/2020].
Criminals are going from Rikers Island straight to the subways.
De Blasio giving freed NYC inmates MetroCards and gift cards. So sorry we had to lock you up — please accept these parting gifts as an expression of our hope, it won't happen again! Mayor Bill de Blasio's latest soft-on-crime initiative has workers stationed on Rikers Island presenting newly released jailbirds with free transit passes and two $25 debit cards each, The [New York] Post has learned. Plans even call for the addition of prepaid, "burner"-style cellphones and drawstring bags for the ex-inmates to carry their swag, a source familiar with the program said. The "crime pays" giveaways build on another de Blasio policy — revealed by The Post last month — that showers freebies including Mets tickets on prisoners being released under the state's new bail-reform law.
Atlanta PD Will No Longer Chase Criminals if They Flee From Cops. Last Friday [1/3/2020], Atlanta police chief Erika Shields announced that her officers would not engage in vehicle pursuits while the department evaluates its policies. "Please know that I realize this will not be a popular decision," she said, understating the case considerably. "And more disconcerting to me personally, is that this decision may drive crime up." I suggest "may" is not the proper auxiliary verb here. The decision will drive crime up. How could it not? When it becomes known among Atlanta's criminal classes that all one need do to escape punishment for his misdeeds is to use a stolen car, or perhaps alter or remove the license plates on one's own, and you'll have a crime wave in no time.
Confirmed: New Jersey gave Texas church gunman plea deal wiping out gun felony. Last month's shooting at West Freeway Church of Christ in White Settlement, Texas, has sparked much conversation on the state's gun laws, as well as proposed gun-related legislation in states like Virginia. Another thing that has come to light from this tragedy relates to bail reform taking place in several states, most notably New York. Since the shooting, it's been discovered that the gunman, 43-year-old Keith Thomas Kinnunen, now deceased after being shot by the church's head of their volunteer security group, Jack Wilson, had previous run-ins with law enforcement in Texas, as well as other states.
Trump Hater Starts Fires in Jewish Girls' Dorm, Released the Next Day. Early Friday morning [1/3/2020], Peter Weyand broke into the all-female dormitory of Yeshiva University's Stern College. He kicked through the glass door of the Manhattan Jewish dorm and began starting fires. FDNY firefighters arrived, put out the fires, and fire marshals arrested the arsonist. "Thanks to the thorough investigative work of our Fire Marshals, a dangerous individual has been quickly apprehended," Commissioner Nigro announced. Not so fast. On Saturday, Weyand had his hearing and was out. Prosecutors hadn't asked for bail because pro-crime "bail reform" meant that arson was not longer a qualifying crime requiring bail. A day after this "dangerous individual" had been caught, he was out again on supervised release. By that evening, he had been arrested for yet another break-in. This time targeting a private home in Staten Island.
Under-incarceration allowing scary frequently arrested predator to roam the streets of Chicago looking for more victims. Scary people are roaming the streets of many big cities, thanks to Democrats, who believe that innocent black people are arrested convicted by our purportedly racist justice system. Under the rubric of "bail reform," even chronic offenders can be back on the streets the same day they are arrested. New York Mayor Bill de Blasio was recently so embarrassed by the catch and release of Tiffany Harris after back-to-back arrests for violent attacks on orthodox Jews accompanied by hateful rhetoric that he personally intervened with the court to get her locked up on psychiatric grounds. But the policies that led to her release remain in place in New York. Equally problematic is Chicago, where "bail reform" has been in place since 2017. In addition, probation is liberally granted, leading to this scary fellow now walking the streets after four recent arrests, and one conviction (so far) in just a few months.
New York's Jewish Elite Bails Out. Attacks on New York Jews continue unabated in the New Year. A Jewish teen was threatened with a knife by a mob on New Year's Eve, and a Jewish man was attacked by two women on the street on New Year's Day. Many of the attacks are simply not reported out of fear. No wonder — unless the attack causes serious injuries, most of the suspects have been released without bail and are walking the same neighborhoods as their victims, unlikely to serve any time or even make their court appearances. [...] Thanks to the new bail law, Jews are now being beaten in the streets with impunity. The law eliminates bail and requires pre-trial release for those charged with many violent and heinous crimes, such as second-degree manslaughter, aggravated vehicular homicide, criminal possession of a gun, and dozens of other serious charges.
Democrats call for and act on abolishment of cash bail. If your sole source of news is leftist media such as Slate, you'll believe that there are "people who are in jail solely because they can't afford to pay their way out." Nope. There are people in jail awaiting trial because they are accused of serious crimes and they are deemed by a judge to be a threat to society. Someone like Tiffany Harris of Brooklyn seemingly fits that bill. Late last month Harris allegedly slapped three Orthodox Jewish women as she said "F-U Jews" and was promptly arrested. Courtesy of New York State's new laws that eliminate most cash bails, Harris was back on the street a few days later. The next day Harris allegedly punched a woman and was arrested again — and was released. A few days later, during a court-mandated meeting with a social worker, Harris was arrested again after allegedly pinching that worker.
Mayhem on the Streets of NY. Beginning on the first of this year, New York's "no bail no jail" law, enacted by the Democratic legislature and put into law by Governor Andrew Cuomo went into effect. [...] It may be true that some low-level crimes for which poorer arrestees cannot afford bail, means they languish in jail until trial, but this law is so poorly crafted that it includes crimes for which bail is warranted no matter what the economic condition of the person arrested, for otherwise there is no penalty for immediately repeating the criminal acts. Criminals learn there are no consequences for their actions. Of course, it won't much affect the rich, who glide about in chauffeured cars and live in gated communities or buildings guarded by doormen, but the middle class surely are impacted. Once, again these misguided efforts to coddle the underclass have the effect of remaking our cities and states on a feudal model where the rich are protected and serfs who work and pay taxes are in constant danger from brigands and murderers.
Texas church shooter had massive rap sheet — with almost no prison time. [T]he shooter who killed two people at the West Freeway Church of Christ in Texas on Sunday [12/29/2019], was not allowed to own a gun. Under current law, it was 100 percent illegal for him to own or carry any firearm. He had a massive rap sheet dating back to 1998, including gun felonies. Yet he wasn't locked up. That is why he was able to kill two people in the church. [...] Texas allows citizens to carry concealed weapons, so he was stopped before he could shoot and kill more. But the ugly fact is that most mass shooters are repeat offenders and known to law enforcement. If we actually had criminal control, almost all of these attacks would be prevented. If the Left really wants to prevent most mass shootings, how about we bring back and reinforce mandatory minimum sentencing on gun felons? Throughout Americans cities, so many violent offenders have rap sheets full of gun violations, yet they are not seriously punished.
Illinois governor pardons more than 11,000 marijuana convictions to ring in 2020. Illinois Gov. J.B. Pritzker granted tens of thousands of pardons for people convicted of low-level marijuana-related offenses on Tuesday. The Land of Lincoln is set to welcome a new marijuana legalization law on January 1, becoming the 11th state to legalize pot for those 21 years of age and older. Pritzker, a Democrat whose family owns the Hyatt hotel chain, described the more than 11,000 expungements as the first step in anticipation of the new law taking effect on Wednesday [1/1/2020].
Back to the pre-Giuliani era: Serious crime up 31% in NYC's Central Park this year. NYPD crime stats recently reported by the New York Post show that violent crime incidents in Central Park, Manhattan, have spiked 31 percent in 2018. [...] The cleanup of Central Park was one of the milestones of the era of former Mayor Rudy Giuliani in New York that jump-started a two-decade decline in crime throughout the city. Those gains are now being reduced due to the abolishing of pretrial bail, reduced sentencing, early release, and almost no deterrent against juvenile criminals. The subways have already returned to pre-Giuliani-era crime levels. According to NYPD data, there were 1,185 transit misdemeanor assaults citywide from Jan. 1 to Nov. 17, which reflects a 10.9 percent increase from the same time last year.
Organized Retail Theft On The Rise; Cops Blame Prop 47, Safe Neighborhoods Law. You've likely seen the videos on social media or the local news: groups of people rushing into a store, grabbing armfuls of merchandise. The brazen crimes are on the rise and CBS13 has learned, in most cases, the crooks get away from authorities. After searching police reports and arrest records, CBS13 found that while the rate of these grab and dash crimes is on the rise, the rate of arrest is down. We turned to law enforcement and the retail industry for answers. Both blame a California law intended to make "neighborhoods safe."
Suspects released without bail after shocking attacks on Jews. Suspects arrested in last week's spree of eight anti-Semitic attacks are being quickly released right back into the neighborhoods they terrorized thanks to "bail reform" legislation — which doesn't even take effect until Jan. 1. The most recent case of revolving-door justice came Saturday morning, with the release, with no bail, of a woman charged with punching and cursing at three Orthodox women, ages 22, 26 and 31, in Crown Heights, Brooklyn at dawn the day before. The accused assailant, Tiffany Harris, was hauled in handcuffs before a Brooklyn judge on 21 menacing, harassment and attempted assault charges.
Nashville man wanted in connection with murder of brother of 49ers QB had just been released from jail. Tennessee's allegedly Republican governor, Bill Lee, has promised to "empty our jails." He claimed, "We have to be creative and innovative and disruptive and challenge the way we've been doing things forever." Well, if the man Nashville police are seeking in connection to the murders of Clayton Beathard, 22, and Paul Trapeni III, 21, indeed committed those murders, it will be precisely because he was let out of jail so "innovatively."
Mayor Pete Wants to Decriminalize 'Meth, Coke, Ecstasy,' Not Just Pot. In an interview on Friday [12/27/2019], Mayor Pete Buttigieg (D-Church of Social Justice) clarified his drug policy, calling for decriminalization of all drugs including methamphetamine, cocaine, and ecstasy. "Incarceration should not even be a response to drug possession," Buttigieg told editors at the Des Moines Register.
Abolish the Police? The latest call to action from some criminal-justice activists: "Abolish the police." [...] When I first heard this slogan, I assumed that it was a figure of speech, used to legitimize more expansive criminal-justice reform. But after reading the academic and activist literature, I realized that "abolish the police" is a concrete policy goal. The abolitionists want to dismantle municipal police departments and see "police officers disappearing from the streets." One might dismiss such proclamations as part of a fringe movement, but advocates of these radical views are gaining political momentum in numerous cities. In Seattle, socialist city council candidate Shaun Scott, who ran on a "police abolition" platform, came within 1,386 votes of winning elected office. During his campaign, he argued that the city must "[disinvest] from the police state" and "build towards a world where nobody is criminalized for being poor."
FBI is investigating former Kentucky Governor Matt Bevin who issued more than 400 pardons in the weeks after he lost his reelection bid. The FBI is investigating former Kentucky Governor Matt Bevin who controversially issued more than 400 pardons in the weeks after he lost his reelection bid. Among those who were granted clemency after Bevin lost his seat on November 5 was murderer Patrick Baker, who had served two years of a 19-year sentence for killing a man during a home invasion. Bevin also pardoned Micah Schoettle who was sentenced in 2018 to 23 years in prison for multiple sexual offences involving children.
Liberal Virginia Prosecutors Spread Soros Project to DC Suburbs. Parisa Dehghani-Tafti placed her left hand on her old law school textbook, "A Theory of Justice," from New York University as she was sworn in Monday evening as commonwealth's attorney for Arlington County, Virginia, and the neighboring city of Falls Church. Dehghani-Tafti is one of three new progressive prosecutors seeking to "reimagine" law enforcement in the Washington suburbs of Northern Virginia. The others are in nearby Fairfax and Loudoun counties.
Cook County Christmas shopping, Kim Foxx style. When state's attorney Kim Foxx announced no prosecution for shoplifting under a thousand dollars, the results were fully predictable. Chicago and Cook County, Illinois are leading the headlong American rush toward lawlessness and the loss of civil order. The election of Kim Foxx as Cook County state's attorney, with hundreds of thousands of dollars in backing by George Soros, has been a further disaster — with not just the scandalously lenient treatment of Jussie Smollett after convulsing Chicago and the entire country with a fake hate crime caper, but the virtual abolition of laws against felony shoplifting under one thousand dollars.
Rising disrespect for cops not only wrong, it puts us in danger. Police officers are now required to handle the fallout from a vast range of social pathologies that were once the domain of social workers, psychologists and family members, such as mental illness, widespread homelessness and drug abuse. Even more demoralizing, police officers must look on as the criminals that they have risked their lives to apprehend get turned loose by "social-justice" DAs and "progressive" judges who no longer see their role as protecting the community from predators. Some DAs have even exposed police officers to greater danger by announcing that they will not prosecute those who resist police.
My husband was shot dead in a gun-free zone — Now his imprisoned killer sends me love letters. My stalker just won't go away. Ten years ago, he murdered my husband, Ben, right in front of me in the middle of a busy restaurant. But my nightmare didn't end with my stalker's incarceration, as I recently found out that he is writing me letters from prison. The letters show absolutely no remorse and profess his twisted love for me. This man already terrified me, and what he has written has made me even more fearful. I have nightmares about the threat that he poses to me and my loved ones after his release from prison.
Cop Killer brags on video about his life of crime & getting out of prison easily. Tavores Dewayne Henderson was wanted for the murder of Nassau Bay Police Sergeant Kaila Sullivan. He has been captured, but there is more to that awful story. Henderson murdered Nassau Bay Police Sergeant Kaila Sullivan during a traffic stop on Tuesday [12/10/2019]. He is a career criminal who has bragged about his extensive criminal history on social media.
Car burglaries in some California cities are at crisis levels. Prosecutors say their hands are tied. An epidemic of car burglaries in San Francisco over the last few years has led one Democratic lawmaker to propose plugging a loophole in state law that allows some break-ins to go unpunished, but the Legislature has balked at prosecutors' requests to make obtaining convictions easier. The proposal, which would eliminate a requirement that prosecutors prove a car's doors were locked at the time of a break-in, has been shelved two years in a row in legislative committees. Lawmakers struggling with prison crowding and public pressure to enact criminal justice reform have been reluctant to do anything to put more people behind bars.
Why Is Our Society Degrading So Badly, So Fast? On a local level in many cities and communities, Democrats in power are by their actions undermining the rule of law. For example, expected compliance with the law in several of our leading cities run by Democratic Party leaders, including most notably New York, San Francisco, Los Angeles, and Seattle, is now often based on a person's economic and immigration status, race, sex, sexual orientation, and increasingly an indication of a person's political and religious affiliations. The reason for these exemptions being granted is based on the dual ideologies of identity politics and social justice. The creation of an implied multi-tier justice system expressly violates our fundamental value of the law applying equally to citizens from all walks of life and most importantly results in the increasingly intolerable and dangerous conditions existing on the streets of these cities and an overall perception of communities in decline.
Thought San Francisco's Quality Of Life Couldn't Get Worse? Think Again. San Francisco garnered national headlines with the election of its new district attorney, a progressive, which means there will be zero progress made in the homelessness crisis, and little if any made toward reducing crime in the city and county. Chesa Boudin, a one-time deputy public defender who has never tried a case, was elected in a close race, and will assume office in January. Before he had a chance to decide if the new drapes in his office were going to be socialist red or blue state blue, Boudin announced that he would not prosecute quality-of-life crimes such as "public camping, offering or soliciting sex, public urination, blocking a sidewalk, etc." We assume public defecating on streets and sidewalks, today's San Francisco "treat," will also go unprosecuted.
Michael Bloomberg Vows to Free 316K Accused 'Non-Violent' Criminals from Jail. Billionaire and 2020 Democrat presidential primary candidate Michael Bloomberg is vowing to free hundreds of thousands of accused criminals who are deemed "non-violent" by eliminating bail nationwide. During a speech in Jackson, Mississippi, Bloomberg laid out his plan to "reduce or eliminate the use of cash bail for non-violent offenders" who are awaiting trial. Such a policy would mean that of the roughly 462,000 accused criminals held in local jails, about 316,000 would be released without ever having to post bail.
Man drove stolen SUV to bail out brother — who was busted for stealing an SUV: cops. A Kansas man was busted for driving a stolen Chevy SUV to a local jail to bail out his brother — who was being held for driving a stolen Chevy SUV, according to authorities. The sibling already in the pokey, Eric Dean McCracken, 36, had been arrested in Topeka early Friday for allegedly driving a stolen 2007 Trailblazer with a suspended license, the Jackson County Sheriff's Office said in a release. A few hours later, his younger brother, Keith Ray McCracken, 32, was also arrested after a short chase with cops tracking the GPS of a stolen 2015 Silverado, the department said.
New York City to Free 125K Accused Criminals, Give Taxpayer-Funded Housing, Job Training. The state of New York is likely to free at least 125,000 accused criminals from prison next year and provide many with taxpayer-funded housing and job training services thanks to criminal justice reform laws. As Breitbart News has reported, the state's series of bail reforms will ensure that suspects accused of crimes deemed "non-violent" are not jailed before their trial dates and do not have to post bail. [...] Across the county, jailbreak legislation is helping to free thousands of accused and convicted criminals from prison. Federally, the First Step Act that was signed into law by President Trump has thus far freed about 240 sex offenders, nearly 60 convicted murderers and assailants, as well as almost 1,000 inmates convicted of drug crimes. Also freed by the First Step Act is Joel Francisco, a notorious former leader of the "Latin Kings" gang who immediately returned to a life of drugs after his release and is now accused of murder.
'I've been dying for 25 years': How a cop has stalled his child sex abuse trial for decades. In 1995, Leonard Forte was due in a Vermont courtroom to face charges that he'd repeatedly raped and molested his daughter's 12-year-old friend. Instead, he started dying. Forte, then a 54-year-old former detective with the Suffolk County District Attorney's Office in New York, told the Vermont court his heart had failed and that he was on a transplant list. He said his doctors had given him a grim diagnosis: Without a new heart, he'd be dead within a year. A Vermont prosecutor agreed to delay the case until Forte was healthy enough to stand trial — unless his terminal condition made prosecuting him a moot point. Forte never received a heart transplant. But he also didn't die.
Anti-prison anarchy is spreading: It's way beyond 'soft on crime'. Stathos Hugunnie was wanted in connection with two stabbings in a housing project in Long Island City one day in April 1997. When police showed up, Hugunnie fired eight shots, striking NYPD officer Peter Bueti three times in the chest, which would have killed him if not for his protective vest. After being released from prison two years ago, he was picked up again on drugs and firearms charges. Yet he was released on just $5,000 bond. This, folks, is the real criminal justice dysfunction that needs "reform," but victims and law enforcement don't have the same lobbying power criminals do. Although New York's new law abolishing cash bail won't be enacted until January 1, judges are already getting a head start by either applying it now or setting bail at a very low rate, even for repeat violent felons. Hugunnie was charged with attempted murder, assault, criminal weapons possession, and criminal use of a firearm for the 1997 incident. Back then, criminals were actually locked up, so he served 20 years in prison.
Taking off the woke glasses. Now, we are living in a time in which those committing crimes will not likely face up to consequences befitting their transgressions. In California, it appears that homelessness and petty crime go together. All kinds of offenses are occurring with little or no accountability for those involved. New York is suspending bond and bail for criminality, including assault, arson, bribery, resisting arrest and so much more. Radical mobs are outright intimidating and assaulting those who don't agree with their philosophy and are mostly getting away with their heinous behavior and actions. The tiniest bit of common sense would indicate that bad behavior and disregard for law cannot be corrected with inaction. In other words, bad behavior without consequences begets more bad behavior. This is elementary stuff, right?
Dem prosecutors fear for suburbs' safety; radical district attorneys, fueled by Soros cash, take control. Radical social justice activists will serve as the top prosecutors for three major Washington, D.C., suburbs — including the two wealthiest counties in the U.S. — after George Soros's political action committee poured $2.1 million into ordinarily sleepy local races. In Virginia's Fairfax and Arlington counties, the "reformer" attorneys ran on platforms far to the left of the Democratic incumbents, beating them in primary races before ultimately winning the general elections. In both cases, the incumbents expressed concern for public safety if the Soros-backed candidates took control. They also said that the activists were pushing a national platform about racism and over-incarceration that had no basis in reality in the affluent, liberal jurisdictions.
Kamala Harris Campaign Collapses Under Perception of Law and Order. The Black Lives Matter movement that burst on to the scene in 2013 and 2014 poisoned the Democratic Party. Harris is a delayed casualty. Any hint of belief in law and order is now the kiss of death in the party. The Left relentlessly attacks all law enforcers, from policemen to Immigration and Customs Enforcement agents. These brave guardians are viewed with suspicion at best and hatred and revulsion at worst. In a party where up is down, the criminals are celebrated as heroes while courageous defenders are cast as villains. It is the same trend that has led Democrats to decriminalize many drug and theft crimes in their jurisdictions down to misdemeanors. The result, to no surprise, is that these types of acts are becoming as common as jaywalking. Lawlessness is now viewed as a civic virtue. In some areas of California, you can walk into a Target and help yourself to your favorite DVD or a pair of designer jeans with no threat of being apprehended.
Lucky San Francisco: With Chesa Boudin as DA, good luck getting a cop when you want one. Well, Chesa Boudin has finally done it: he's gotten himself into the San Francisco D.A.'s seat, after a lifetime of standing up for crooks and mastering criminal "justice" from Bill Ayers's stepdad berth and Hugo Chávez's knee. Like the way criminal justice works in Caracas? In San Francisco, Hugo Chávez's trusted adviser is now there to help. He's there to "transform," as he says. That's his brand, as the Bay Area tech marketing hipsters say. This won't work out too well if you've got bums vomiting at your doorstep, gang members shooting with muzzle flashes 'round corners, and junkies setting up camp on your sidewalk. We've already seen the boulder-warfare some of the homeowners are putting up in a desperate bid to stop it. Such people can probably now look forward to getting arrested.
Conservatives aim to convert convicts at 'Prison CPAC'. The Conservative Political Action Conference went to prison — and found a receptive audience among the locked-up murderers, robbers and drug dealers there. The American Conservative Union hosted its first-ever "Prison CPAC" this week to coach about 250 inmates on the life lessons and conservative values they need to reenter society. Libertarian activist Maj Toure, founder of Black Guns Matter, told the prisoners gun control was a racist tool of the political left rooted in the bigotry of the Civil War era. Mr. Toure implored the prisoners to "organize, organize, organize" to become a powerful political bloc to fight the radical left and to earn back the right to vote. "Overwhelmingly, Democratic policies put black and brown people in jail," Mr. Toure said, prompting the inmates at State Correctional Institution at Chester to leap to their feet and applaud.
Trump Hasn't Yet Fulfilled His "Law and Order" Vow. Let's look at one point where the party has fallen far short of its promises. Among the vows we haven't kept is this one: "I have a message for all of you: The crime and violence that today afflicts our nation will soon — and I mean very soon — come to an end." [...] But is there any demographic in this country where people don't want to see crime and violence come to a sudden end? Only on the extreme Left — a sinister region to which Democratic activists and politicians increasingly are drawn — do criminals have prestige and cops get treated as enemies. That is not where suburbia lives. No swing voter sees law and order in that way, and an enormous number of the very folks for whom the Left presumes to speak don't see it that way either.
More than 450 Oklahoma inmates [are] walking out of prison doors. More than 450 inmates walked out the doors of prisons across Oklahoma on Monday [11/4/2019] as part of what state officials say is the largest single-day mass commutation in U.S. history.
Nearly 900 city inmates may be freed even before bail-reform law takes effect. Nearly 900 city jailbirds could be celebrating Christmas early courtesy of Gov. Andrew Cuomo and a plan to quietly free them before the state's bail-reform law goes into effect next year, The [New York] Post has learned. And if that weren't enough of a gift, Mayor Bill de Blasio is promising to follow up with even more presents for the lucky accused criminals — by giving them free baseball tickets, movie passes and gift cards to encourage them to return to court, sources familiar with the program said. "You're literally rewarding them for committing a crime," said a disgusted senior staffer in Manhattan Criminal Court.
Female Offenders: Perpetrators, Predators, and Pedophiles. A survey done by California Coalition against Sexual Assault revealed that one in three lesbians admitted to being sexually assaulted by another female. The U.S. Centers for Disease Control then completed its own national survey, and the results were surprising. Men were just as likely to be victims of sexual assault over the course of one year and, in 79% of cases, reported a woman as the perpetrator. The Bureau of Justice Statistics (BJS) showed that in 58% of cases, when a woman sexually assaulted a man, she used violence (and 41% of the time when it's a female-on-female sexual assault). The BJS also looked at rape in U.S. prisons, and its findings were even more startling. According to BJS data, a woman is much more likely to be sexually assaulted by another female inmate than by male staff and also more likely than men are in male prisons, shattering the stereotype of prison rape being a male-on-male scenario. Even more disturbing is that in nearly every case of a minor (regardless of sex) being sexually assaulted in a juvenile detention facility, the perpetrator was female.
Crime and no punishment:
Maryland driver gets probation for Delaware crash that killed 5 NJ family members. A horrific crash in Delaware last year left a New Jersey man and his four daughters dead — but the Maryland driver whose pickup truck crossed a highway median, according to authorities, won't be going to prison. Instead, defendant Alvin Hubbard III, 46, of Cambridge received one year of probation from Judge Calvin L. Scott Jr. The sentence came Friday [11/1/2019] in a Delaware courtroom.
Oklahoma parole board approves largest inmate commutation in US history. Oklahoma officials voted Friday [11/1/2019] to release more than 400 prison inmates in what would be the largest one-day commutation in U.S. history. The vote by the Oklahoma Pardon and Parole Board granted commutation to 527 inmates, 400 of whom are scheduled to be released Monday [11/4/2019] once their commutations are processed over the weekend. Oklahoma's Republican Gov. Kevin Stitt, who has made reducing the state's prison population a priority, backed the panel's decision.
California's Prop 47 leads to [a] rise in shoplifting, thefts, [and] criminal activity across [the] state. These brazen acts of petty theft and shoplifting are a dangerous and all-too-common consequence of Proposition 47, a referendum passed five years ago that critics say effectively gives shoplifters and addicts the green light to commit crimes as long as the merchandise they steal or the drugs they take are less than $950 in value. The decision to downgrade theft of property valued below the arbitrary figure from felony to misdemeanor, together with selective enforcement that focuses on more "serious" crimes, has resulted in thieves knowing they can brazenly shoplift and merchants knowing the police will not respond to their complaints, say critics.
New York Lawmaker Proposes Bill Allowing Prisoners to Vote. A New York state lawmaker is proposing legislation to make prison inmates eligible to vote in elections while incarcerated. State Sen. Kevin Parker (D-Brooklyn) introduced a bill before Election Day on Tuesday, November 5, that would allow prisoners to register and vote while incarcerated, the New York Post reported. The state and county boards of elections would keep tabs on the program, and convicted felons would also be allowed to take part.
Heroin addict allegedly drags NYPD cop with his car — and wins $11 million in court. A heroin addict with nearly 20 arrests to his name allegedly dragged a cop along a busy Bronx street while fleeing a traffic stop, forcing another lawman to shoot him — and a jury just handed him an $11 million payday, The [New York] Post has learned. Raoul Lopez took the city to court over the harrowing 2006 run-in that left him partially paralyzed on his right side, and was awarded the eight-figure sum by a Bronx jury on Tuesday [10/29/2019]. Lopez, 27 when the encounter happened, was in the midst of "a two-week long bender" and had just scored his latest fix on February 1, 2006, when he rolled through a stop sign at East 169th Street and Grand Concourse, a city lawyer wrote in papers filed in the Bronx Supreme Court case.
Is California Becoming Premodern? Stores are occasionally hit by swarming looters. Such Wild West criminals know how to keep their thefts under $950, ensuring that such "misdemeanors" do not warrant police attention. California's permissive laws have decriminalized thefts and break-ins. The result is that San Francisco now has the highest property crime rate per capita in the nation.
How America's justice system is beginning to crumble. We Americans have long prided ourselves on the fairness of our system of justice. It remains the best in the world. But, just like a strong and magnificent bridge across a wide river, corrosion can set in. If not monitored and repaired, the bridge can suddenly collapse. Likewise, if we ignore the warning signs, if we do not address the inequities in our justice system, the public will reach a point when there is so little respect for the law that its enforcement will cease to be effective. The danger is that we might become a lawless society, and that will lead to becoming a failed state. Chaos and disintegration could follow. Hyperbole? Here are seven warning signs, present today, that we ignore at great peril. [...]
Federal judge rules Florida can't stop ex-felons from voting because of money owed to state for restitution. A federal judge has ruled against a Florida law saying ex-felons can only vote if they are up to date on money owed to the state. U.S. District Judge Robert Hinkle declared the rule as unconstitutional in his 55-page opinion. Hinkle acknowledged in his Friday ruling that the law will still likely go through the Florida Supreme Court or a federal trial.
Fewer Jails Won't Make Fewer Criminals. New York City has approved a plan to close the incarceration facilities on Rikers Island and replace them with four new borough-based jails. When first put forth in 2017, the plan was conditioned on a reduction of the city's total jail population over the next ten years to about 5,000 inmates by 2026. Unlike Rikers Island — which, at half the size of Central Park, is large enough to hold ten separate low-rise jail facilities, along with parking lots, maintenance areas, and space for outdoor basketball courts and running tracks — the new jails will be high-rise buildings in already-dense urban areas.
Portland homeless man who menaced a woman and child gets probation despite 220 previous arrests. A homeless man named Brian Ray Lankford who threatened a woman and her son with a large tree branch in 2017 was given a break this week. Instead of putting Lankford in jail, the prosecutors cut a deal which gave him probation and mandatory drug treatment. That might not seem so bad until you learn how many laps Lankford has already made around this particular block.
Ocasio-Cortez Calls For Abolishing Prisons In The United States. Socialist Rep. Alexandria Ocasio-Cortez (D-NY) said this week that it was time for the United States to have a serious conversation about "decarceration" and "prison abolition in this country." "Mass incarceration is our American reality," the former bartender tweeted. "It is a system whose logic evolved from the same lineage as Jim Crow, American apartheid, & slavery. To end it, we have to change. That means we need to have a real conversation about decarceration & prison abolition in this country."
The Editor says...
First of all, Jim Crow, apartheid, and slavery have nothing to do with the overwhelming majority of the people in state and federal prisons today, because they were born after 1965 or because they are not black. If Ms. Ocasio-Cortez were to visit a few state prisons, she would quickly see there are people in those prisons who need to be locked up permanently. Secondly, there are no "mass incarcerations." Everybody in prison was tried individually and found guilty, one at a time.
The O.J. verdict introduced the world to social justice. Justice — the real, blind kind that is dependent on due process, the presumption of innocence, and evidentiary standards — takes each case in a vacuum. The individual is judged for his individual crimes or lack thereof, and guilty or innocence is not transferred by association. Social justice, in contrast, judges based on collective responsibility. Rather than evaluate O.J., a black man with all of the privilege and wealth of a beloved celebrity in white America, for his individual crime, social justice averaged out all of the historical and not-so-historical atrocities against black Americans and gave him a get-out-of-jail free card as a result.
Report: Violent Crime Rate in 2018 Lowest Since 1971. FBI crime stats show the "estimated rate of violent crime was 368.9 offenses per 100,000 inhabitants." That is a 3.9 percent reduction in the rate when compared with 2017 stats, but the real lesson emerges when we look long term. For example, Bearing Arms reports that the 2018 rate of violent crime was barely above the 1971 rate of 396 offenses per 100,000 inhabitants.
California Shocked To Find Bill Decriminalizing Retail Theft Resulted In... More Retail Theft. A few years ago, California passed one in a series of bills aimed at emptying the jails and prisons. Proposition 47 carried the disingenuous name of "the Safe Neighborhoods and Schools Act and its stated purpose was to keep non-violent offenders out of jail. To achieve this goal, the state decriminalized a number of lesser offenses, including retail theft. The law raised the value of the amount of merchandise someone could steal while still only being charged with a misdemeanor to nearly one thousand dollars. To the great surprise of the government, people noticed this change and began taking advantage of it. They have now recorded multiple years of steadily increasing, organized robbery. These plots are known as "mass grab and dash" thefts and they generally involve large numbers of young people all entering a store at the same time, grabbing armfuls of merchandise and dashing back out to their vehicles and hitting the highway. Not only are robberies on the rise, but arrests and prosecutions are down. Who could possibly have predicted this?
Warren Financially Benefited from Private Prisons Despite Claiming They Are 'Profiteering off Cruelty'. Sen. Elizabeth Warren (D-MA) benefited financially from the existence of private prisons despite vowing to ban them on the grounds that they are "profiteering off cruelty," a report from the Washington Free Beacon revealed. Warren pledged in June to ban private immigration centers and private prisons, detailing the vow in a Medium post.
1 in 7 New Orleans Adults is the Target of an Arrest Warrant. So how do they intend to fix this situation? Some simply want to act like those warrants were never issued and wipe them from the books.
There is 1 arrest warrant for every 7 residents in city of New Orleans. According to city data — there are more than 55,000 outstanding warrants in Municipal and Traffic Court in New Orleans. If you do the math, that means there is 1 outstanding warrant for every 7 people in the city of New Orleans. "The main reason so many people are in this cycle is because they are poor and they could not get off work and did not have child care, they couldn't afford that fine on the front end," City Councilman Jason Williams said.
Biden Says If Male Identifies As Woman He Should Be Housed With Female Inmates In Prison. What could possibly go wrong? [Video clip]
Gov. Newsom Commutes Sentences of 21 Violent Criminals Incarcerated in CA Prisons, Including 4 Murderers with Life Sentences. Far-left California Governor Gavin Newsom commuted sentences of 21 violent criminals including 4 murderers with life sentences without possibility of parole. One of the murderers was arrested in 1993 for fatally shooting a man during a carjacking and another was incarcerated in 1991 for killing an armed guard during a robbery. A man who served 31 years of 2 life sentences for a double murder in 1988 was also given clemency by Newsom.
No Justice But What We Make. After a drawn-out legal battle, [Jose Inez] Garcia-Zarate was acquitted on charges of first-degree murder, second-degree murder, involuntary manslaughter, and assault with a firearm. The only thing Steinle's vindicators managed to stick to this slimy foreigner was a felony conviction for unlawful possession of a gun. That conviction, however, was recently overturned by a California state appeals court. According to NPR, the 1st District Court of Appeals ruled in late August that the conviction should be overturned because the judge did not give the jury proper instructions on the possession charge. The judge made a "prejudicial" error when he failed to provide the jury with "the momentary possession instruction." If this makes no sense to you, then rejoice, for you are among the sane.
California Introduces Bill to Ban ICE Detention Centers, Private Prisons. The state of California is cracking down on "private for-profit prisons" after introducing a bill to ban the facilities. Moreover, it means shutting down U.S. Immigration and Customs Enforcement's privately run detention centers. The bill AB-42 passed the state assembly Wednesday [9/11/2019] with 65 votes in favorable votes. According to Newsweek, it would mean shutting down four detention centers holding "up to 4,500 inmates."
Convicted rapist killer strikes again in NYC after getting out of jail. A convicted rapist-killer who strangled a teen in 1981 and was suspected of cutting out the eyes of an earlier victim has been arrested on a new rape charge, six years after he got out of jail. Christopher "Crazy Chris" Aniades, 62, is being held on a charge of attempted forcible rape after the alleged attack, according to the city Department of Correction.
The Case for High-Speed Police Car Chases. Gentle readers, in our previous visit we discussed a police chase in Baltimore, one that was, in my view, imprudently and prematurely called off by a police commander who was worried about the potential for a traffic collision. The suspect being pursued had committed two acts of attempted murder on police officers, the first by trying to run an officer over with a car, the second by shooting at another officer, yet this supervisor chose to allow the suspect to escape. Two days later, police shot and killed the suspect after, yes, another car chase. A police officer and a civilian were wounded during the second chase, injuries that would not have occurred had the suspect been captured in the first one.
Four years after allowing universal 'concealed carry' law, Maine rated the safest state in the nation for crime. Since 2015, residents of the state of Maine have been allowed to carry a concealed firearm without any special permit, and now the results are in: crime has fallen to the point where the state is now rated the safest in the nation from the threat of crime. [...] As the Maine Examiner noted, second-ranking Vermont also has a constitutional carry law. Guns in the hands of honest citizens decrease crime.
Criminologists Mislead Us. There is significant bias among criminologists. The reason for that bias is that political leanings of academic criminologists are liberal. Liberal criminologists outnumber their conservative counterparts by a ratio of 30-to-1. Ideology almost perfectly predicts the position of criminologists on issues from gun control to capital punishment to harsh sentencing. Liberal criminologists march in step for gun control, oppose punitive prison sentences, and are vehemently against the death penalty. In 2012, the National Academy of Sciences commissioned a study on the growth of incarceration. It showed that from 1928 until 1960, crime rates rose slowly each year. After the 1960s, crime rates exploded to unprecedented levels of violence until the 1990s.
7 ways for conservatives to counter gun control with criminal control. As the Democrats seek a relentless war on guns by focusing on the relatively small number of people killed in mass shootings, Republicans should have a bold counter-agenda to deal with the vast majority of other homicides in this country — committed with handguns or other objects — who are almost always known career criminals. Senate Republicans should counter the coming gun control agenda with a criminal control agenda. [...] Also, how about dealing with the ultimate avoidable deaths caused by criminal aliens who would never have been in the country if we actually enforced our immigration laws?
They've Lost Their Minds in San Francisco. San Francisco, a city described in song for its natural beauty, is descending into an abyss of homelessness, the use of sidewalks as toilets and a place you might not want to visit, much less live. The latest, but surely not the last demonstration of insanity, is San Francisco's Board of Supervisors' adoption of new "person first" language guidelines meant to "change the public's perception of criminals." The words "convicted felon," "offender," "convict," "addict" and "juvenile delinquent" are now out. These individuals will henceforth be referred to as a "justice-involved person." Someone previously called a "criminal" will now be referred to as "a returning resident," or "a formerly incarcerated person." [...] The English language once conveyed meaning. Properly written and spoken, it suggested one was educated and capable of conversing in polite company. Today, it is often used to cover up true intentions.
San Francisco's New PC Terms For Criminals Met With Mockery. Amid the city's interconnected and rapidlly escalating crime and homelessness crises, the San Francisco Board of Supervisors has determined that one of the ways it can help inspire the city's expanding criminal population to good behavior is to simply play some games with language. In a non-binding resolution passed last month and which has gained the support of the district attorney, the city presents the grim statistic that now one-fifth, one out of every five, residents of the city has a criminal record. In response to this alarming criminal reality, the board has introduced its new "person first" terminology, in which old terms the city fears might encourage "negative predispositions" and "unfounded assumptions" have been swapped out for more positive and "stigma"-free language.
San Francisco, where felons are 'justice-involved' and there's no shame in crime. San Francisco's Board of Supervisors just adopted a resolution recommending that felons not be called felons but rather "formerly incarcerated person" or former "justice-involved" person or "returning resident" — or any other number of soft and fuzzy names that won't hurt the feelings of the, umm, felons. File this under Ridiculous. "We don't want people to be forever labeled for the worst things that they have done," Supervisor Matt Haney said to the San Francisco Chronicle.
Why you'll no longer find 'convicted felons' in San Francisco. "Convicted felons" may be getting a makeover in San Francisco. Under a new resolution by the city's Board of Supervisors — which voted to use "person-first" language in the criminal justice system — they'll be referred to as "justice-involved persons," the San Francisco Chronicle reported. The guidelines nix other terms too, such as "prisoner," "convict" and "inmate," along with any words that "obstruct and separate people from society and make the institutionalization of racism and supremacy appear normal." As part of the guidelines, a drug addict or substance abuser will become a "person with a history of substance abuse." And a "juvenile delinquent" will instead be referred to as a "young person with justice system involvement."
The Editor says...
One of the traditional deterrents to crime is the lifetime stigma attached to convicted felons. An increase in criminal activity will naturally accompany the erosion of that disgrace. The politicians in California are going out of their way to make criminals feel better about themselves. They don't need encouragement!
Republican Sen. Martha McSally wants to make domestic terrorism a federal crime. Sen. Martha McSally wants to make domestic terrorism a punishable crime in the wake of two mass shootings potentially tied to ideologically motivated violence in California and Texas. McSally, R-Ariz., intends to introduce legislation when the Senate returns from the summer recess to create a law in the federal criminal code to address domestic terrorism. Federal authorities use other laws, such as weapons offenses and hate crimes, to charge such acts.
The Editor says...
How is domestic terrorism worse than foreign terrorism?
To stop more shootings, stop erasing criminal records of juveniles prone to violence. The mass shooter in Dayton, Ohio who was killed by police early Sunday after he shot nine people to death and wounded more than a dozen fit the now-familiar profile of the troubled youth with a well-documented history of threats dating back to high school. The Dayton gunman had a "kill list" and had interacted with law enforcement as a minor, authorities said. Similarly, the man charged with killing 17 people and wounding 17 others at Marjory Stoneman Douglas High School in Parkland, Fla., last year was also well known to high school counselors and local police before he turned 18, police said.
Venezuela's death squad regime warns Venezuelans to stay out of... Dayton, Cleveland, El Paso, Detroit. Venezuela, that land of free health care, free education, subsidized food, subsidized gas, and five million nationals fleeing for their lives, is warning its nationals, many of whom are waiting to be let in at the U.S. border for asylum, to stay out of the very, very, very dangerous U.S.
Fellow prisoner drowns a pedophile, 56, who abused an 11-year-old girl, in a jail toilet in a 'revenge killing'. A convicted child sex abuser was drowned in the toilet by a fellow prisoner as the result of a 'revenge killing', said police. David Oseas Ramirez, 56, who had been serving a life sentence for molesting an 11-year-old girl in 2013, was found dead in his prison cell at Duval County Jail in Jacksonville, Florida, on Tuesday morning [7/30/2019]. Jacksonville Sheriff's Office announced in a statement on social media that a fight broke out between Ramirez and convicted murderer Paul Dixon, 43, who was later arrested over the incident.
Ex-cop cellmate claims to have saved Jeffrey Epstein from hanging, source says. A law enforcement source confirmed that the cellmate, Nicholas Tartaglione, claimed to have helped Epstein after finding him unconscious. Investigators were still trying to determine if an assault had occurred or if the sex offender facing up to 45 years in prison had in fact tried to take his own life, the law enforcement source said. "You've got a guy who is a millionaire who is now living among rats and mold and wants to go home," the source said. "This is a disgusting place and the people there, they treat you disgusting. Who wouldn't be suicidal in that kind of place? You have a silver spoon in your mouth and then you're put in a cesspool." Bruce Barket, a lawyer for Tartaglione, refused to go into detail about the incident but did not dispute the account.
Commentary about Baltimore and Chicago. [Chicago is] a town that has a homicide clearance rate (that is, percentage of fatal shootings for which someone got caught) this year of nine percent. You literally have a 90% chance of getting away with shooting someone in Chicago. In addition among those shootings where we know the race of the assailant just 5% — a literal one — was white. 15 were black and 4 Hispanic. Yet the city has an approximate 32% white population with the same, roughly, being black and about 28% Hispanic. In other words both black and Hispanic people are ridiculously over-represented when it comes to both shooting victims and perpetrators. That's not racist, it's factual.
Everything You Don't Know About Mass Incarceration. The FBI tracks and reports on eight "index crimes" committed in the United States. Half of those offenses are violent, and half concern property: murder and nonnegligent manslaughter, rape, robbery, aggravated assault, burglary, larceny theft, motor-vehicle theft, and arson. Since 2010, the U.S. has averaged about 1.2 million violent index crimes and 8.5 million property index crimes yearly. Keeping in mind that many similar crimes never get reported to the FBI, note that police clear just 46.8 percent and 18.9 percent of violent and property index offenses, respectively. Put differently, since 2010, about 5.1 million violent index crimes and 54.9 million property index crimes have gone unpunished — which works out to more than 7.5 million of these offenses yearly. Even assuming that certain criminals commit a disproportionate number of the crimes, one can say with confidence that, in any given year, a large number of people who should be in prison are not.
Killer released from prison, dubbed too old to be dangerous, kills again. A man who spent decades in prison for fatally stabbing his wife was released after being deemed too old to pose a threat — only to be convicted this week of a nearly identical crime. It took jurors in Maine less than an hour to find Albert Flick, 77, guilty in the 2018 murder of a homeless mother, Kimberly Dobbie, who was stabbed at least 11 times while her twin sons watched. [...] Flick was freed in 2004 — only to be sent back to jail in 2010 for assaulting another woman. The judge at the time ignored the recommendation for a longer sentence, saying Flick wouldn't be a threat because of his age and it didn't make sense to keep him locked up.
This Man Did Nothing Wrong, But He Faces 49 Years In Prison. The weaklings and fools in the California state legislature decided that guns are bad, bad, bad, so they passed some stupid 'gun control' laws to fight crime. But Mr [Girard Damian] Saenz was never charged with any crime other than having weapons the state didn't think he should have. He didn't rob anyone, he committed no crimes using the firearms in his possession. This is the natural result of the left's insanity when it comes to our Second Amendment rights: the state legislature made simple possession of firearms it didn't like a crime in itself, but the crime they said that they were preventing never occurred; Mr Saenz was not even suspected of using the firearms illegally. The Pyrite State created a crime where no crime existed, infringed a man's rights when he had infringed on no one else's.
When the MSM Say Someone Is in Prison for a Minor Drug Crime, They're Always Lying. If the left has its way in the next few years, there won't be anyone left in prison because, you see, they're overflowing with innocent black men locked up for "nonviolent drug crimes." All of them! Over the weekend, NBC News investigative reporter Leigh Ann Caldwell appeared on MSNBC's "Kasie DC" to tell the story of Bill Underwood, loving parent and prison mentor, who has already spent nearly 30 years in prison for a nonviolent drug crime. [...] Despite what I'm sure was an exhaustive investigation, I was suspicious of Caldwell's characterization of Underwood's crime. My rule is: If you're not telling me why someone was sentenced to life in prison, there's probably a reason you're not telling me.
20% federal inmates are immigrants, mostly Mexican. One-fifth of all federal prison inmates are not U.S citizens, many facing illegal immigration charges, according to new data from the Federal Bureau of Prisons. There are a total of 35,009 "criminal aliens" of 180,344 in prison, and 60% are Mexican, according to an analysis provided to Secrets by David Olen Cross of Salem, Ore., a crime researcher who writes on immigration issues and foreign national crime.
Decriminalizing Crime; Criminalizing Speech. By a strange and perfectly logical logic many people believe that, for example, if there were no guns there would be no gun violence. Ergo, eliminating all guns will eliminate all gun violence. It will do nothing about knife violence, but you can't have everything. And the logic does not explain how we are to take way over 300 million guns. But, to the zealot, ideology trumps reality. Similarly, if we want to reduce crime, or, at least crime statistics, the best way is to decriminalize crime. The more we legalize otherwise criminal activities, the fewer crimes there will be. By the logic of political correctness and certain idealist thinkers, what means that what makes a crime a crime is saying that it's a crime.
Criminal Justice Reform Comes Home to Roost. The same public officials who used to brag about how many criminals they arrested are now proud of how many they let go. In Chicago, the local papers run banner headlines touting the success of this new social-justice strategy — as measured by the record low number of people in Chicago jails. The thinking is that we have to rethink how we treat black criminals. The talking heads and politicos agree that black people are victims of relentless white racism, all the time, everywhere, and that explains everything — especially why so many black people are stopped, arrested, charged, convicted, sent to prison, released, then returned to prison in numbers that are so wildly out of proportion.
Teenager Accused of Rape Deserves Leniency Because He's From a 'Good Family,' Judge Says. The 16-year-old girl was visibly intoxicated, her speech slurred, when a drunk 16-year-old boy sexually assaulted her in a dark basement during an alcohol-fueled pajama party in New Jersey, prosecutors said. [...] But a family court judge said it wasn't rape. Instead, he wondered aloud if it was sexual assault, defining rape as something reserved for an attack at gunpoint by strangers. He also said the young man came from a good family, attended an excellent school, had terrific grades and was an Eagle scout. Prosecutors, the judge said, should have explained to the girl and her family that pressing charges would destroy the boy's life.
Radical Democrats seem to think it's shameful to put bad guys in jail. A perfect symbol to show how far-left and crazy the Democratic Party has become is that it was an attack line in Thursday night's debate to say someone was a prosecutor. [...] The assumption was that being a prosecutor is a bad thing. Apparently, for this primary electorate, that assumption may be correct. And the lack of media surprise at this as a counterpunch also indicates that a prosecutorial background is a liability in today's Democratic Party. This is nuts. In general, prosecutors are the "good guys." They make sure bad guys, indeed sometimes truly awful people, go to prison.
Supreme Court rules 'crime of violence' law is unconstitutionally vague. A divided Supreme Court ruled Monday [6/24/2019] that a federal law requiring longer prison sentences for using a gun during a "crime of violence" is unconstitutionally vague. The court voted 5-4 stating the law "provides no reliable way" to determine which offenses qualify as crimes of violence.
SCOTUS decision might lead to release of thousands of violent felons. Justice Neil Gorsuch seems really determined to give violent gun felons a degree of due process our founders never envisioned. In yet another opinion, expanding upon previous decisions declaring the "crime of violence" statute unconstitutional, Gorsuch joined with the four liberal justices to vacate the criminal conviction of two violent robbers while declaring the statute upon which the conviction rested as unconstitutional. Meanwhile, there is no urgency from Congress to promote "criminal justice reform" that would actually stem the tide of judicially-mandated jailbreak of violent criminals.
Crime Without Consequences. National Public Radio (NPR) reported, "the majority of these violations are for 'minor infractions, such as failing a drug test or missing a curfew. Those so-called technical violations cost states $2.8 billion every year, the report says." But the underlying data and the footnotes to CSG's own report belie those bold, topline claims. A few necessary corrections and clarifications are in order.
• "State prison" includes county jails (which aren't state prisons, at all) and most sentences are short stays.
• Parole and probation are distinct, but all terms are mutually agreed upon conditions to maintain the offender's liberty and are often tailored to their risk and history.
• Prior to being re-incarcerated, both parolees and probationers receive revocation hearings, administered by a neutral third-party.
• Technical violations are not necessarily minor and often include a re-offense or serious abrogation of their release terms that threatens the public safety.
So little of what CSG says is true it almost would be laughable — if not for the tragedy that some state lawmakers may use the report to alter public safety laws to favor criminals.
Supreme Court offers gun-possession loophole for illegal immigrants. The Supreme Court ruled Friday [6/21/2019] that an illegal immigrant who had a gun — a crime — can't be prosecuted if he didn't know he was in the country illegally. In a 7-2 decision the justices said in a crime where the status of a person is the "crucial element" to the offense, the government must prove the person was aware of that. Otherwise, it might just be an innocent mistake. That could affect "thousands" of previous convictions.
The Editor says...
Anyone who crawled over (or under) a wall or a fence in the middle of the night, and then began a "life in the shadows," should be well aware that he or she is living here illegally.
A self-imposed protection racket:
Fresno Plan to Stop Crime: Pay Criminals Not to be Violent. The San Joaquin Valley Sun reported that the Fresno plan to stop gun violence by paying criminals not to be violent is in the budget process. Richmond, Stockton and Sacramento have funded stipends for 'high risk' individuals such as gang members in a program called "Advance Peace."
Alaska Supreme Court rules state sex offender registry law unconstitutional. The Alaska Supreme Court ruled that a state law requiring the registry of all sex offenders is unconstitutional because it violates offenders' rights to due process. The ruling was issued Friday [6/14/2019]. In a 3-2 decision, the court said an offender must be given the chance to prove he or she is rehabilitated and no longer remains a threat to the public.
California court says convicts must pay restitution, even if crime is minor. Convicted criminals in California must repay their victims for financial losses even for the minor crimes classified as infractions, like a mauling that killed a disabled person's service dog, an appellate court has ruled. The state Constitution, under a provision added by a 2008 ballot initiative, specifies that "restitution shall be ordered from the convicted wrongdoer in every case ... in which a crime victim suffers a loss," said the Los Angeles County Superior Court's Appellate Division. The ruling was issued a week ago and was published Friday [6/7/2019] as a precedent for future cases.
DC Considering Voting Rights for Prisoners. Washington, DC, could become the first jurisdiction to restore voting rights for prisoners after a majority of its council-members on Tuesday backed bills to give incarcerated individuals voting rights and the ability to vote via absentee ballots. Council-member Robert White (D) introduced legislation that would give voting rights to "residents convicted and imprisoned for committing felonies." Another bill would allow D.C. residents in federal prisons to vote with absentee ballots.
Reflections on the Torture of Paul Manafort. The sadistic treatment of Paul Manafort illustrates something I have believed since I attended graduate school in the 1970s and saw the behavior of left-wing students: Leftism makes people meaner. There are kind and mean conservatives and kind and mean liberals. Neither liberalism nor conservatism makes people kinder or meaner. But this is not the case with leftism. With the handful of exceptions that accompany every generalization, leftism makes people meaner, even crueler. Take the transfer of Manafort, the one-time Trump campaign manager, from a federal prison to New York's Rikers Island prison.
An obvious violation of the Eighth Amendment:
Why is Paul Manafort off to Rikers? The decision to move Paul Manafort, the former Trump campaign chairman who was sentenced earlier this year to nearly seven years in prison in connection with two federal cases, from the decent federal prison to which he was sentenced to solitary confinement to the dangerous hell hole that is New York City's Rikers Island seems abusive and possibly illegal. I know Rikers well having spent time there visiting numerous defendants accused of murder and other violent crimes. It is a terrible place that no one should ever be sent to. It should be shut down. It is so bad that defendants often plead guilty, even if they have defensible cases, simply to move to a safer and better prison.
Alexandria Ocasio-Cortez: Paul Manafort "should be released" from "torture" of solitary confinement. Rep. Alexandria Ocasio-Cortez on Wednesday knocked reports that President Trump's former campaign chairman Paul Manafort was going to be moved into solitary confinement in her district, calling the punishment "torture." "Paul Manafort is being sent to solitary confinement in my district -- Rikers Island. A prison sentence is not a license for gov torture and human rights violations. That's what solitary confinement is. Manafort should be released, along with all people being held in solitary," the New York Democrat tweeted. Ms. Ocasio-Cortez has been a vocal critic of prisons' use of solitary confinement.
Deep State: First, the attempted coup. Now, the political prisoner. What we are all looking at is how criminal Deep State is, demonstrating how it can use the levers of power to turn a first-world country into a banana republic. We aren't seeing normal things from these people, we are seeing some incredible abuses of power. Manafort was convicted earlier and is doing time in Pennsylvania for white collar crimes around taxable income and foreign agent registration. These are crimes few are ever prosecuted for, but they were real enough. Now he's a wedge player in a new and very dirty deep-state political game.
Update:
Paul Manafort [is] not going to Rikers Island, will remain in federal custody after DOJ rejects move, source says. The Justice Department has rejected New York County District Attorney Cy Vance Jr.'s attempt to have former Trump campaign chairman Paul Manafort transferred to the notorious Rikers Island prison complex ahead of his pending state court trial, amid questions as to why the move was even contemplated in the first place, Fox News is told. Fox News first reported earlier this month that a New York State judge ordered the transfer at Vance's request. However, because Manafort has been convicted on federal charges, any attempt to move him out of federal custody must be approved by Deputy Attorney General Jeffrey Rosen. On Monday [6/17/2019], Rosen denied the attempt, effectively keeping Manafort in federal custody.
The Editor says...
Earlier coverage of this story indicated that Mr. Manafort had already been moved [1] [2] or "will be sent" there [3] or "could happen as early as Thursday [6/6/2019]." [4]
Manhattan prosecutors cave in on Manafort Rikers scheme after DoJ note. Maybe we really do have a Department of Justice that's serious about reforming itself. Attorney General William Barr deserves applause for this one. [...] Now, Manafort is not a guy anyone needs to feel much sympathy for for being in a federal prison, given that he committed crimes on his tax reportage that most of us would never think of doing. But the Deep State has shown itself to be far, far more vile than Manafort ever was.
California Is The Future The Liberal Elite Wants For You. [Scroll down] Already, petty crime has been effectively legalized. Crooks get a free pass on the first $950 a day they steal. The casual larceny and other offenses that make life unbearable are becoming more and more common as liberal laws release criminals to victimize regular citizens. This is known as "justice," as if someone who steals from a hardworking businessman is being cruelly put out by being arrested for it. And now pot's effectively legal here, which is spectacular. Just what Cali needed — more people on a drug that makes them dumber and lazier.
Alabama lawmakers back chemical castration for child predators. Alabama state lawmakers passed a bill that would require child predators to be "chemically castrated" before they leave prison, a report said Tuesday [6/4/2019]. The bill, which was submitted to Gov. Kay Ivey over the weekend, will require sex offenders convicted of abusing a child under the age of 13 to take drugs that block the production of testosterone and hormones as a condition of parole. If a convict refuses to take the medication, they'll be considered in violation of parole and immediately taken back into custody, the bill states. They'll also be required to pay for the medication.
De Blasio wants teens charged with robbery, assault freed without bail. Mayor Bill de Blasio hopes to "more than triple" the number of teens who are released from city jails with no bail on charges as serious as armed robbery, assault and burglary, The [New York] Post has learned. New guidelines from the Mayor's Office of Criminal Justice will also "significantly" expand the number of adults eligible for de Blasio's no-bail Supervised Release Program, according to a memo sent to top city judges this month and obtained by The Post. The policy changes — which take effect on Saturday — will let defendants between ages 16 and 19 qualify for the program's Youth Engagement Track, which is now capped at age 17, except in Brooklyn.
Why Plea Deals Are a Gross Miscarriage of Justice. [Robert P. Murphy] goes solo to explain why the common practice of "offering a plea deal" is a horrible practice, which gives us little reason to trust that those convicted are actually guilty of the crimes to which they confess. [Video clip]
A Full Presidential Pardon. [Scroll down] The American criminal justice system is frequently and largely evil; I was convicted for attempted obstruction of injustice. It was never anything but a smear job. For my friends, no explanation was ever necessary; for my enemies, none would ever have sufficed. As I told the trial judge at resentencing: I always try to take success like a gentleman and reversals like a man.
Dallas prosecutor encourages shoplifting. The liberal district attorney in Dallas, John Creuzot, is refusing to prosecute shoplifters who steal less than $750, if what they stole was "necessities" like food or diapers, and they haven't tried to resell what they stole. This refusal to prosecute will spawn an increase in shoplifting. That will drive up prices for necessities like food, at the expense of law-abiding people. Criminal penalties deter crime, as studies have found, and serious penalties deter better than trivial ones. So the Dallas DA's refusal to prosecute shoplifters will embolden more people to steal.
Testimony from legally blind eyewitness results in murder conviction; case now under review. The murder conviction of a Chicago man is under review in Illinois, after it was revealed following trial that the key witness — who purportedly saw the crime and identified the perpetrator — is legally blind. Dexter Saffold swore under oath five years ago that he saw Darien Harris kill a man at a South Side gas station in 2011. While there was no physical evidence linking Harris to the crime, and surveillance footage did not show the shooting or the suspect's face, Cook County Circuit Judge Nicholas Ford found Saffold to be an "honest witness" who gave an "unblemished" testimony, according to a report in the Chicago Sun-Times.
Could A $15 Minimum Wage Make Neighborhoods Less Safe? The minimum wage debate has reignited in recent months as Congress considers the Raise the Wage Act of 2019, a bill that would more than double the federal minimum wage to $15 per hour. Skeptics worry that a 107% increase in the minimum wage will substantially reduce low-skilled employment, hurting many of the vulnerable workers it was designed to help. But a $15 minimum wage could mean more than lost jobs. My new research, co-authored with Zachary Fone of the University of New Hampshire and Resul Cesur of the University of Connecticut, finds evidence that some affected younger workers turn to property crime as a consequence of a higher minimum wage.
Unlocked and Unsafe: Leaked videos expose Arizona prison's broken cell doors. The video reveals a disturbing, everyday truth about multiple units inside Lewis: Cell doors don't lock. And the doors haven't locked for years. "It's Jurassic Park," said Carlos Garcia, a retired 20-year employee of the Arizona Department of Corrections. "These are top-of-the-line offenders, and they're running rampant with open doors. How do you like that? They don't even need a key," he said. "They just open their own door."
A Seattle Judge Sent A Homeless Man With 72 Convictions To Jail, The City Attorney Was Furious. A 55-year-old homeless man named Francisco Calderon punched a complete stranger in the mouth one day in November, giving him a bloody lip. The victim called 911 and Calderon was arrested and charged with assault. He pleaded guilty to the crime. That turned out to be his 72nd time being convicted of a crime, fourteen of those convictions were felonies. And yet, City Attorney Pete Holmes worked out a plea deal with Calderon's public defender which would keep him out of jail. Instead, he would get probation and drug treatment. Enter Municipal Court Judge Ed McKenna whose job it was to sentence Calderon. McKenna wasn't convinced no jail time was appropriate in the case and questioned the plea deal.
Rapists and murderers could be set free after age 55 if 'crazy' bill proposed by NYC Dems passes. New York City Republicans and law enforcement officials are incensed over a proposal seeking to grant parole eligibility to older inmates who have served some prison time. Currently imprisoned felons, including murderers and rapists, could be out on the street again if the controversial state bill passes, allowing inmates aged 55 and older who have been in prison at least 15 years to be eligible for parole.
Report: U.S. Incarceration Falls to 20-Year Low. The share of the adult population in prison has fallen to its lowest point since 1997, a new report released Thursday by the Bureau of Justice Statistics shows. The report is the latest instance of the BJS's ongoing Prisoners series, which has provided the public with detailed statistics on state and federal offenders for decades. Thursday's [4/25/2019] report provides information on the state of the nation's prison system in 2017, with data on both the federal system (which accounted in that year for about 12 percent of all incarcerated) and the prisons of the 50 states.
Saudi Arabia beheading so many prisoners it needs more executioners as Kingdom is tipped to set new slaughter record. The ruthless Saudi government is beheading so many people it needs to recruit a deadly new squad of sword-wielding executioners. The news comes after it slaughtered 37 people in one bloody day last week meaning it is now tipped to kill a record number of its citizens in 2019.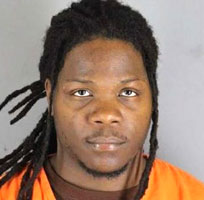 Long before latest arrest, serial rape suspect had lengthy criminal history. Julie Lensing saw the story, "Serial rapist targets escorts, assaults them at knife-point" and felt sick to her stomach. She recognized the suspect, Kenyatta Buckles, because she had been a juror when he was on trial in an earlier rape. Lensing was convinced he was guilty. Other jurors disagreed and eventually acquitted him. "I wish we could have found him guilty," she said. It wasn't the first time Buckles, 24, had avoided prison. During the past five years, Buckles has been convicted of two felonies and charged with several others. He admitted to violating his probation three times, and warrants had been issued for his arrest at least 10 times.
Jail survey: 7 in 10 felons register as Democrats. A new study of how criminals vote found that most convicts register Democratic, a key reason in why liberal lawmakers and governors are eager for them to get back into the voting booth after their release. "Democrats would benefit from additional ex-felon participation," said the authoritative study in The Annals of the American Academy of Political and Social Science. The authors, professors from the University of Pennsylvania and Stanford University, found that in some states, felons register Democratic by more than six-to-one. In New York, for example, 61.5 percent of convicts are Democrats, just 9 percent Republican. They also cited a study that found 73 percent of convicts who turn out for presidential elections would vote Democrat.
15 Serial Killers, Rapists, Kidnappers, Child Molesters [who are] Eligible to Vote Under Bernie Sanders' Plan. This week, socialist Sen. Bernie Sanders (I-VT) endorsed a plan that would allow felons serving time behind bars the right to vote from their prison cells. "So, I believe people who commit crimes, they pay the price and they get out of jail, they certainly should have the right to vote," Sanders said during a town hall. "But, I believe even if they are in jail, they're paying the price to society, but that should not take away their inherent American right to participate in our democracy." Initially, Sen. Kamala Harris said, "I think we should have that conversation" when asked about allowing convicted criminals to vote from their cells, but she has since backtracked on that statement, declaring that she actually opposes giving felons in prison the right to vote. "Do I think that people who commit murder and people who are terrorists should be deprived of their rights, yes I do," Harris said.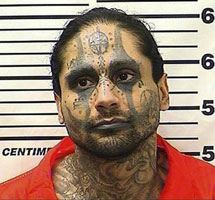 California Inmate Accused of Torturing, Beheading Cellmate. A California inmate now stands accused of torturing and beheading his cellmate, according to reports. Convicted murderer Jaime Osuna has been accused of the brutal torture and death of his cellmate at Corcoran State Prison in the Fresno suburb of Corcoran, California. The man was killed in the early morning of March 9 and died of blood loss from "multiple sharp force trauma injuries," charging documents state.
County judge unleashes on prosecutor as more and more people aren't getting the "Smollett Deal". One of the many topics that Cook County State's Attorney Kim Foxx's office has regularly avoided since abruptly dropping charges against Jussie Smollett on March 26th is this: Could they point to any other occasions when they flat-out dropped felony false police report charges without requiring the accused to at least plead guilty? It's an essential question because Joe Magats, the top aide who took over the Smollet case when Foxx "recused" herself insisted that the resolution Smollett enjoyed "is available to all defendants; it's not something out of privilege; it's not something out of clout."
Soros-Funded Groups Work to Register 1.4 Million Ex-Felons Ahead of 2020. The current battle revolves around a Florida state amendment that was passed last year restoring voting rights for felons, with progressive groups opposing a local bill that would require the state's ex-felons to first pay civil fines and court fees before registering to vote. Florida's Amendment Four was approved by voters during last year's Midterm election. The heavily Soros-funded American Civil Liberties Union and Brennan Center for Justice based in New York both served as consultants in drafting Amendment Four.
The Editor says...
The loss of voting privileges is part of the punishment for felonies. One can pay his or her "debt to society" in the penitentiary, but one of the traditional deterrents to felonious behavior is to be permanently banned from voting, jury duty, and with various types of licensing, among other things. Crime and punishment, minus punishment, leaves only crime.
Killer of LA Police Officer Dies at San Quentin. The killer of a California police officer has died [4/20/2019] after being found unresponsive in his cell at San Quentin State Prison.
Dallas will no longer prosecute 'petty crimes'. Is this the face of criminal justice "reform"? Dallas County district attorney John Creuzot is enacting sweeping changes to the way his office deals with crime. It appears that Creuzot will be giving petty criminals a pass. Creuzot will "decriminalize" most petty crimes against property, reform the bail system, and refuse to prosecute first-time drug offenders.
Social Justice Prosecutors. [Scroll down] Individuals from this new class of legal eagles have advanced in all branches of government and at all levels — local, state, and federal. They have attended notable law schools, they are African-American, and they are hellbent on ushering in an era of seeking what today's liberal law schools are pouring into their students by the bucket full — not "justice" but "social justice." Now finding themselves in positions of power, these social justice warriors have a deep-rooted belief in the fundamental unfairness of America in general, and our judicial system in particular. They believe that crimes for which underprivileged groups, namely blacks and Latinos, have higher rates of sentencing and incarceration, are the product of an at best a biased, and at worst a racist system; a system which they are a part of and can find ways to affect. One example is when the Obama/Holder DOJ released 6,000 people from federal prisons and reduced the sentences of as many as 46,000 others as a part of their sentencing-reform efforts in 2015.
Florida man gets out of jail, immediately steals from car in prison parking lot: cops. A man leaving jail in Florida this week was arrested minutes later — accused of stealing from a car in the prison parking lot, police records show. Michael Casey Lewis, 34, had just been bonded out of St. Lucie County Jail in Fort Pierce, Fla., when officers spotted him "acting suspicious" in the parking lot, according to his arrest affidavit. He claimed to be waiting for his girlfriend — but security footage allegedly showed him checking for unlocked cars and finally getting into one.
China Using AI Surveillance In VIP Jail To 'Make Prison Breaks Impossible'. A high-security VIP prison in China is deploying an AI monitoring system to surveil convicts — tracking their every move to 'learn' their behavioral patterns and flag abnormal activity, according to SCMP. State-run Yancheng prison has installed a network of cameras in every cell and every corner of the building, which some experts believe will make escape impossible even if inmates are able to bribe the guards (who we expect the system to be used to monitor as well).
Inmates at UK's largest prison [are] allowed to lock and unlock their own cells. Inmates at the largest UK prison have been given the ability to lock and unlock their cells, along with requesting privacy. The all-male prison, HMP Berwyn, located in Wales, is the largest prison controlled under the Ministry of Justice. The inmates are majority C-class offenders, meaning they cannot be trusted in open conditions yet they are unlikely to try and escape.
Are 18-year-olds minors? Pennsylvania judges urge review of case that could affect hundreds of young lifers. It was standing room only last fall when Superior Court heard arguments about whether Avis Lee, who was 18 when she served as lookout in a 1981 robbery, was really just a kid at the time, and therefore constitutionally protected from automatic life without parole. The case, attendees hoped, could clear the way for as many as a thousand Pennsylvania lifers who were just a couple years into adulthood to be resentenced under the same U.S. Supreme Court decision that relied in part on evolving neuroscience to determine that juveniles are less culpable than adults, and so cannot be sentenced to life in prison without individualized hearings.
The Editor says...
The line has to be drawn somewhere. Right now, the line is at age 18. If you can't do the time, don't do the crime.
Roberts Keeps Joining High Court Liberals. Chief Justice John Roberts is showing a new willingness to side with the U.S. Supreme Court's liberal wing after the divisive confirmation fight over Justice Brett Kavanaugh. Roberts joined the liberals Wednesday [2/27/2019] in two rulings that left the conservatives in dissent. Most notably, he cast the deciding vote to order a new look at the mental competence of a death row inmate who says he can't remember the crimes he committed.
G-Men Out of Control. The broadening revelations of the lawless, almost putschist excesses of the Comey-McCabe FBI and elements of the Justice Department and the Brennan-Clapper intelligence services invite serious contemplation of how close the United States came to being a country where regime change might be plausibly and self-righteously attempted by what in undemocratic countries is generally known as the secret police. [...] For at least 60 years I have heard high American officials announce that the United States is not a "banana republic." Of course it is not, and never was. But there is a complacency about America's status as a society of laws that is both unbecoming and unjustified. As many judges, lawyers, and commentators have noted, the level of prosecution success in criminal cases is over 95 percent, 97 percent of those without a trial; these, and the proportion of the population that is incarcerated, are totalitarian numbers.
Shooting Death of a Teenager in Brooklyn Comes Amid Rise in Murders. A 15-year-old boy from Haiti was shot and killed in front of his sister by a hooded gunman on Friday night in a horrific scene that rocked his Brooklyn neighborhood and served as a grim reminder of a growing number of murders in New York. [...] His murder was the latest in an increasingly violent year in New York City, and Brooklyn in particular. As of Feb. 17, there had been 48 murders in the city this year, up from 31 during the same period in 2018. That increase has been driven mostly by killings in Brooklyn, where there have been at least 15 more murders compared with this point last year.
Based On 'Discrimination' Law, Iowa Jury Awards Trans Woman $120,000, Access To Male Prison Facilities. A jury in Iowa has concluded that the state discriminated against a former Iowa Department of Corrections nurse because the employer wouldn't let her use the bathrooms with male employees. The jury also said the Iowa Department of Corrections denied Jesse Vreogh health care coverage for "medically necessary surgery" — i.e. a double mastectomy to look more like a man. The jury awarded Vreogh $120,000 for the "emotional distress" of both instances based on Iowa's sexual orientation and gender identity law, which was introduced in 2007 and signed by Democrat Gov. Chet Culver.
Alabama man serving life sentence for sex trafficking escapes maximum-security prison. A man serving life in prison on human-trafficking charges escaped from a maximum-security prison in north Alabama Wednesday, officials said. Corey Aris Davis, 30, was not in his cell at St. Clair Correctional Facility in Springville during a security check at 8 p.m. CST, the Department of Corrections said in a statement.
America's incarceration rate is at a two-decade low. The U.S. incarceration rate fell in 2016 to its lowest level in 20 years, according to new data from the Bureau of Justice Statistics (BJS), the statistical arm of the Department of Justice. Despite the decline, the United States incarcerates a larger share of its population than any other country. At the end of 2016, there were about 2.2 million people behind bars in the U.S., including 1.5 million under the jurisdiction of federal and state prisons and roughly 741,000 in the custody of locally run jails. That amounts to a nationwide incarceration rate of 860 prison or jail inmates for every 100,000 adults ages 18 and older.
Convicted child killer found dead in Oklahoma prison cell; victim's body never found. A man convicted in the cold case murder of an 8-year-old girl whose body has never been found was discovered dead in his Oklahoma prison cell Friday night [1/11/2019], according to reports. The body of Anthony Joseph Palma, 59, was found around 7:30 p.m. by a correctional officer doing a routine security check, a report said. Medical staff could not revive him and he was pronounced dead around 8:55 p.m.
Maryland man who attacked police station in 2016 gets 195 years. A Maryland man who opened fire on a police station in 2016, leading to the friendly-fire death of a narcotics detective, was sentenced Thursday to 195 years in prison. Michael Ford, 25, was convicted in November of second-degree murder, first-degree assault and weapons charges in the killing of Prince George's County Police Detective Jacai Colson. [...] Ford's brothers, Malik and Elijah, recorded cellphone videos of the ambush after dropping him off at the station in Landover, a suburb of Washington, D.C. They agreed to film the shooting so the video could be sent to [...] a website known for posting users' violent videos, a police detective testified in 2016.
Inmate convicted in child porn case dies of injuries suffered in prison fight, authorities say. A man serving a 40-year sentence for his role in an international child pornography ring has died following a fight at a federal detention center in Michigan, authorities said Friday [1/4/2019]. Christian Maire, 40, of New York, was pronounced dead following an altercation involving seven inmates Tuesday at the Milan detention center about 50 miles southwest of Detroit, a statement from the Federal Bureau of Prisons said.
San Quentin inmate who escaped prison captured at Taco Bell. A 21-year-old prisoner who escaped from the high-security San Quentin State Prison in California was captured by police Saturday afternoon [12/29/2018]. Shalom Mendoza, who was serving five years for using a deadly weapon during a carjacking attempt, walked away from a prison work crew Wednesday [12/26/2018], according to police, and was discovered missing that night during an official head count.
Department Of Justice Continues To Run Interference For The Obama Administration. [Scroll down] There are lots of "cooperating witnesses" an boodles of physical evidence but the fly in the ointment is that El Chapo has a history of being a customer of Eric Holder's Justice Department. Under Holder, the only Attorney General to ever be cited for criminal contempt by the Houses of Representatives, El Chapo was allowed to buy a massive amount of firepower from gun stores in the United States using straw-buyers and using gun stores who were cooperating with the federal government under what was known as Operation Fast and Furious. Several of those weapons were recovered from El Chapo's headquarters when he was arrested. Federal prosecutors don't want the jury of rubes to hear about it. I say rubes because that is plainly how the federal prosecutors see the jury.
More Post- Freddy Gray Bad News From Baltimore. This Washington Post article about homicide rates in Baltimore is important for two reasons. First, it confirms with updated statistics the killing spree that followed attacks on policing in Baltimore after Freddy Gray's accidental death. Second, it demonstrates why recidivism rates based on arrest statistics vastly understate the amount of crime committed by those released for prison. [...] A depleted, demoralized police force is going to struggle to solve crimes, especially when crime is increasing. And a police force that's demonized by politicians and the federal government is probably going to receive less help from residents in solving crimes than a force that's not under concerted assault. But here's the point that's relevant to legislation, like the recent jailbreak bill, that results in less jail time for criminals, especially felons. The inability of the police to solve crimes means that the recidivism statistics based on arrest rates vastly understate the amount of crime released prisoners actually commit.
More about Baltimore.
Biologically Male Transgender Inmate Moved To Women's Facility After Yearlong Legal Battle. On Thursday, attorneys for 27-year-old Deon "Strawberry" Hampton announced that their client, a biological male who identifies as a female and is serving a ten-year prison sentence for residential burglary, would be transferred from a men's correctional facility to a women's correctional facility. Hampton filed a lawsuit against the Illinois Department of Corrections (IDOC) in late-November 2017, demanding to be moved to a women's prison following 16 months of hormone therapy. The lawsuit alleged that Hampton was the target of physical and sexual abuse at the hands of correctional officers at multiple facilities — first at Pinckneyville Correctional Center, then at Menard Correctional Center.
Federal Judge Orders Male Inmate Transferred To Women's Prison Because He Identifies As Female. A man presenting as a woman is being sent to a previously all-female prison. Deon Strawberry Hampton is serving a 10-year-sentence for burglary. A federal judge has approved the Illinois inmate's transfer to a women's penitentiary. 27-year-old Strawberry claims he's endured years of sexual assault, taunting, and beatings at the male Big House. He was moved this past week from his old prison bars in Dixon to all-new prison bars at the women's Logan Correctional Center.
Stand by for a wave of male prison inmates claiming to be transgender females. Two federal judges now have ruled, setting the precedent of transferring a male prison inmate to a female prison because he claims to feel that he is a woman and poses as one, and, in the current instance, has undergone surgical mutilation of his reproductive organs. The "transgender female" is referred to as a "woman" and "she" in the following report from the Associated Press: ["]A transgender woman serving a 10-year sentence in Illinois for burglary has been moved from a men's to a women's prison in what could be a first for the state, her lawyers announced today.["] The transfer was forced by a federal judge whom the AP does not wish to identify. (Why?) That judge evidently accepts the politically correct line that, contrary to settled science, sex is not determined by chromosomes.
Five homeless vagrants face no charges in attack on cop seen in viral video, says Manhattan DA. Attacking a cop has joined fare beating and public urination on the list of subway misbehavior Manhattan DA Cyrus Vance won't bother prosecuting. Officer Syed Ali — an Army combat vet who served in Iraq and Afghanistan — had no trouble fending off five homeless vagrants with his baton and his feet as they came at him one by one on Sunday night. The attack, captured on video, was viewed 4 million times on Twitter.
NYPD officer fights off aggressive drunks in the subway but none of the attackers are charged. While most of us were getting ready for Christmas, NYPD officer Syed Ali was working a transit beat in the NY subways Sunday night [12/23/2018]. This particular night, five intoxicated men were harassing a woman on the platform of the East Broadway station. [...] Officer Ali, who is a combat veteran, was praised by the Mayor and various NY authorities for dealing with the drunks without escalating the situation. [...] But some were upset that the men who harassed the subway rider and tried to fight a police officer were released and won't be charged with anything.
5 California deputies attacked, injured by jail inmates: sheriff's office. Five deputies at a California correctional facility were hospitalized after they were attacked by inmates on Thursday morning. The attacks happened around 7:30 a.m. as inmates were exchanging items in a hallway at the Central Men's Jail in Santa Ana, the Orange County Sheriff's Office said in a news release. The jail was placed on a temporary lockdown following the incident, which officials said was "quickly controlled."
Missouri man sentenced to watching 'Bambi' once a month as part of punishment. A Missouri man charged with taking part in the illegal killing of "several hundred deer" was ordered to undergo an unusual punishment as part of his sentence. David Berry Jr., part of a southwest Missouri family arrested for killing and leaving deer to rot after removing their heads, has been ordered to watch the animated Disney classic "Bambi" once a month while he is in prison, Fox News reported.
One percent of the population commits one eighth of the aggravated assaults in a city of four million.
Los Angeles Doubled its Homeless Budget, Doubled Homeless Crime. It wasn't all that long ago that the nation watched transfixed in horror as fires tore apart California, destroying homes and claiming lives. In all the debates about global warming and forestry management, one singular cause of the fire was left unaddressed. Global warming wasn't starting the fires. People were. [...] This November, the Los Angeles Zoo had to evacuate its animals over a fire in yet another homeless encampment. That fire not only endangered lives, but diverted resources from fighting the much more serious fires in Ventura County. But instead of shutting down the encampments, Mayor Garcetti, who has done more to legalize and subsidize homelessness in Los Angeles than any of his predecessors, sent "outreach workers" from the expanding behemoth of the LA Homeless Services Agency to ask them to please move. That worked about as well as expected.
Escaped child killer missing for more than 40 years may be 'hiding in plain sight,' feds say. A convicted child murderer who has eluded authorities for more than four decades may be living under an alias in one of two states and "hiding in plain sight," according to federal officials. The U.S. Marshals Service added Lester Eubanks to its "15 Most Wanted List" on Dec. 7 in hopes of ending his 45-year stint on the lam.
Homeless Crime in LA is Up 50%. You get more of what you subsidize. When you subsidize homelessness as Los Angeles, New York and a number of other cities driving a boom in homelessness have been doing, you get more of it. And you also get more of the crime that comes with it.
Homeless Crime Jumps Nearly 50 Percent in Los Angeles, LAPD Says. The number of crimes in which homeless individuals were listed as suspects increased by nearly 50 percent in the city of Los Angeles in 2018. Crime data provided by the Los Angeles Police Department showed there were 8,906 crime reports between Jan. 1 and Dec. 1 this year in which a homeless person was listed as the suspect, compared with 5,976 for the same time period in 2017. LAPD officials said most concerning were the disproportionate number of homeless individuals listed as suspects in physical attacks that cause serious injuries, described as, "aggravated assaults," in police records.
Jared: The Birdbrain of Alcatraz. As anyone with an amoeba's understanding of recent history knows, beginning in the early '60s, assorted [...] liberals jettisoned logic, common sense and a basic understanding of human nature by releasing criminals from the prisons where they belonged. Instead of punishing criminals, we would give them social services, education and job training — with the implied understanding that they wouldn't move next door to any of the reformers. The experts assured a disbelieving public that these policies would reduce crime. As Thomas Sowell writes in The Vision of the Anointed: Self-Congratulation as a Basis for Social Policy, the stage was set. Liberal criminologists' soft-on-crime policies were in place. We only needed empirical evidence. "THE RESULTS: Crime rates skyrocketed. Murder rates suddenly shot up until the murder rate in 1974 was more than twice as high as in 1961. Between 1960 and 1976, a citizen's chances of becoming a victim of a major violent crime tripled." Prior to this period, crime had been declining for three decades.
The Anti-Trump Hysterics Roll On. The rotten criminal justice system of the United States itself (99 percent conviction rate, 97 percent without trial) does not meet standards distinctly higher than some despotisms.
The Nixon 'Road Map' Won't Save Mueller's Futile Prosecution. [Scroll down] At least there was a crime at the Watergate and a few other places. But both attempts at pseudo-legal putsches are and have been disgusting and profoundly illegal corruptions of the system, and contribute to an understanding of why the American prosecutors win a North Korean level 99 percent of their indictments, 97 percent without a trial, and the sweet land of liberty has six to 12 times as many incarcerated people per capita as comparable large and prosperous democracies: Australia, Canada, France, Germany, Japan, and the United Kingdom.
Man killed woman hours after his release from prison, authorities say. A man who police suspect of killing a woman hours after he was released from an Arizona prison was arrested Friday [11/23/2018] at a hotel, authorities said Saturday. The suspect, identified as David Bohart, 34, had been released the Tucson state prison complex Monday after serving a three-year stint for possession or use of dangerous drugs, according to the Arizona Department of Corrections website.
Crime Plummets After QuikTrip Stores Add Good Guys with Guns. QuikTrip convenience stores added good guys with guns in Wichita, Kansas, and the results were so good that they are expanding the program to stores in other areas. The NRA noted, "After implementing the new strategy at its Wichita, Kansas locations and seeing success, QuikTrip, the massive gas station and convenience store chain said it would expand the policy to other stores." KWCH reports that the good guys with guns will be armed security, but QuikTrip also left the door open to armed clerks in situations where the clerks "have previous experience and necessary licenses."
Whose fault is this?
Dallas jailers ordered transgender woman to show her genitals, lawsuit says. A transgender woman has filed a federal lawsuit against Dallas County alleging jailers ordered her to show her genitalia to them so they could determine her sex. Valerie Jackson, 32, had been arrested in November 2016 after she left a gun in her purse when she went through security at Dallas Love Field, but a grand jury declined to indict her on the weapons charge. Her lawsuit, filed Friday [11/2/2018], alleges that she was harassed and humiliated at the jail and that her constitutional rights were violated.
When Laws Are Not Enforced, Anarchy Follows. What makes citizens obey the law is not always their sterling character. Instead, fear of punishment — the shame of arrest, fines or imprisonment — more often makes us comply with laws. Law enforcement is not just a way to deal with individual violators but also a way to remind society at large that there can be no civilization without legality. Or, as 17th-century British statesman George Savile famously put it: "Men are not hanged for stealing horses, but that horses may not be stolen."
Our Under-Incarceration Problem, Explosive Packages Edition. This is a recurring but almost always ignored phenomenon. In one high-profile case after another, we learn that the criminal is a chronic offender with a rap sheet that, in a properly functioning society, would have mandated his incarceration at the time of his latest offense. Yet, Democrats and too many Republicans, including some in the White House, are dead set on increasing the number of convicted felons, including dealers of drugs like fentanyl, on the streets. They want shorter sentences for such offenders and they want them released from jail early — an obvious recipe for more crime faster. In short, the bipartisan leniency-for-felons crowd seeks to make our under-incarceration problem worse, even though doing so can only increase the occurrence of crime, including violent crime.
Inmates charged in 2 Ohio prison knife attacks. Two Ohio inmates have been charged in separate knife attacks at a prison in assaults that severely wounded a guard and injured four prisoners who were unable to defend themselves because they were handcuffed to a table.
Jerry Brown's get-out-of-jail-free card in California. Here's a story that's making the news in San Diego as a local district attorney protests, but it's actually a state problem that goes back to the usual lefty suspects, starting with Gov. Jerry Brown. Thousands of murder convictions are likely to be vacated due to a change in state law that effectively says that if you were the guy sitting in the shotgun seat of the car as the other guy pulled the trigger, you get off scot-free — you're no longer convicted of murder, too. The County of San Diego alone is set to release about 150 such charmers onto the streets, and the other 57 counties are going to have to do similar. All told, about 800 of them are reportedly going to get let out.
Juvenile center brawl gets out of hand. New video obtained by the [New York] Post shows the wild gang melee at the city's new juvenile center Wednesday [10/3/2018] that left 20 officers injured. The footage, which begins mid-brawl, shows correction officers at the Horizon Juvenile Center in the Bronx frantically scrambling to get the teenage inmates under control. [Video clip]
The new Mafia is wising up and keeping quiet. Meet the new mob — same as the old mob. Thirty-three years after John Gotti carried out his audacious hit on crime boss Paul Castellano, which flouted Mafia rules and brought a wave of devastating prosecutions under the Dapper Don's brash reign, New York's five crime families have reverted to their old-guard ways. They're keeping quiet. No more press conferences or TV appearances. No more weekly meetings with capos at favorite restaurants or social clubs. No more shootouts between warring factions. No more wire rooms for taking wagers.
Nation's Largest Jail System To Host Voter Registration Event For 'Justice-Involved' Inmates. Los Angeles County officials have organized a special event on Tuesday, National Voter Registration Day, targeting eligible inmates inside a downtown jail. It's part of a government-ordered effort "to register as many justice-involved County residents as possible in advance of the November 2018 election." County agencies leading a "voter engagement task force" have been working with the ACLU, anti-incarceration groups, and the L.A. County Sheriff's Department, which operates seven custody centers that make up the nation's largest jail system. The campaign, called "L.A. Free the Vote," was created "to strategize and guide voter registration efforts for justice-involved residents."
Florida man sentenced to 20 years in prison for stealing $600 worth of cigarettes. A Florida man who stole 10 cartons of cigarettes from a Circle K was sentenced to 20 years in state prison. Robert Spellman, 48, was convicted of burglary and grand theft in August, according to the Pensacola News Journal, after he stole the cigarettes from a stock room in the store manager's office at the convenience store. [...] Spellman has 14 felony and 31 misdemeanor convictions on his résumé, making him a habitual felony offender.
The Editor says...
No, Mr. Spellman did not get 20 years for stealing ten cartons of cigarettes, as the headline above falsely asserts. He got 20 years in the slammer because he is unwilling to obey the law and stay out of trouble. Our society is a safer place because recalcitrant felons like Mr. Spellman are locked up.
Woman stole ambulance, led cops on chase, for 39th arrest since 2013: reports. An Oregon woman charged with stealing an ambulance last Sunday while paramedics performed CPR on an unconscious woman had one question after her arrest, according to a report. "Why did they leave it unlocked?," suspect Christy Lynn Woods, 37, of Roseburg, asked, according to an affidavit reviewed by the Oregonian. [...] It was Woods' eighth arrest this year, the report said.
Transgender woman accused of sexually assaulting inmates. A transgender woman serving time at an all-female UK prison sexually assaulted four inmates at the facility, according to new reports. Convicted sex offender Karen White, 52, who was born a man and identifies as a woman, confessed this week to two counts of sexual touching at New Hall Prison, in Wakefield, The Sun reported. She denied the two other counts, according to the report.
Notorious baby-killer released after 30 years behind bars. A New York woman convicted of killing her infant daughter in the 1980s and suspected of killing seven of her eight other children has been released from prison. R29vZCBsdWNrIHdpdGggeW91ciBjYXJlZXIgYXQgUGxhbm5lZCBQYXJlbnRob29kLg==
California Gov. Jerry Brown Sets Record of 1,018 Pardons in 8 Years. California Gov. Jerry Brown used his executive powers to issue 36 gubernatorial pardons on Friday, to hit a record of 1,018 pardons in eight years in office. Although 22 of those were for murder and 13 for attempted murder or manslaughter, Brown said each of the pardons he provided went to individuals that had had "demonstrated exemplary behavior" and lived "productive and law-abiding lives" following their convictions and time served in prison, according to the Fresno Bee.
Lawmaker Proposes Implanting Microchips in People to Track Non-Violent Offenders Like "Pets". This Tuesday [8/7/2018], Toledo City Councilman Rob Ludeman suggested that criminals be implanted with microchips so they can be tracked by police and the courts. Ludeman also made comments essentially describing people charged with crimes as animals. The councilman said, "this can't be inhumane because we do it to our pets." Ludeman suggested that implantable microchips should be used instead of ankle bracelets for people doing time on house arrest because ankle bracelets don't work on the cop shows that he watches.
More about RFID.
Convicted child rapist escapes from Kansas prison three days after arrival. A man convicted of raping a child escaped from a Kansas prison Saturday [8/4/2018] — just three days after his arrival, authorities said. The inmate, identified as Robert Terrell, 36, jumped a fence on the west side of the Winfield Correctional Facility around 8:50 p.m., according to a Facebook post by the Cowley County Emergency Communications department.
'How could he be found competent after what he did?'. The mental health therapist, one of a parade over the years, recommended Christian Gomez might try socializing a little more. As if some coffee shop rendezvous would be therapeutic for an increasingly withdrawn schizophrenic who skinned and buried the family cat. [...] On the afternoon of Dec. 30, 2014, Christian's grandparents took him for a regularly scheduled visit with a therapist where it was decided the then-23-year-old needed to find a new psychiatrist. The next day Christian cut off his mother's head. He is crazy no more. At least not according to the state of Florida. After roughly three years in a state mental hospital, Christian Gomez, now 27, was declared competent to stand trial on July 9. Facing a life sentence, he accepted a plea deal that effectively works out to a 25-year sentence followed by 10 years of probation and treatment. Factor in time already served and the possibility of an early release, and he could potentially be free in another 20 years or so.
Dozens of locked up sex offenders among those granted conditional pardons by Gov. Cuomo so they can vote. Dozens of convicted sexual predators deemed too dangerous to be returned to the community after their release from prison are among the thousands who received conditional pardons from Gov. Cuomo, giving them the right to vote, the Daily News has learned. At least 77 sexual predators sent to civil confinement in state psychiatric hospitals after their prison time was up are affected by the widespread pardons, various records show.
Inmate chokes fellow prisoner to death on Rikers Island. An inmate was killed when another prisoner blindsided him and choked him inside a facility on Rikers Island Monday [7/16/2018], sources said. Artemio Rosa, 27, came up from behind the victim while he was sitting down in the Anna M. Kross Center and began to choke him, according to sources. Corrections officers pried Rosa from the 35-year-old victim and called 911 — but the man collapsed and died before EMTs could revive him.
Alleged Cop Killer Should Have Been in Jail Due to Drug Charges. Last week, Townhall reported the senseless killing of Weymouth, MA police officer Sgt. Michael Chesna on July 15th. More than 3,000 people attended a vigil held in Chesna's honor this past week, but it turns out his alleged killer, Emanuel Lopes, should have been in jail due to violating the conditions of his bail on a drug-dealing charge from October 2017. The Boston Herald reports that Emanuel Lopes was arrested in October 2017 for dealing cocaine to minors.
Minnesota inmate's bloody past comes to light after allegedly killing corrections officer. A one-eyed inmate accused of killing a Minnesota corrections officer on this week has a history of violence — though his recent "good behavior" allowed him access to tools and an industrial building where the officer was killed, authorities said Thursday. Edward Muhammad Johnson, 42, attacked and fatally injured Officer Joseph Gomm with a weapon, authorities said. While authorities didn't name the type of weapon, reports say it was a hammer. A preliminary autopsy showed Gomm died of blunt force trauma.
The Editor says...
In a more sensible world, killing a prison guard would result in an immediate transfer to death row. Or straight to execution.
The Police State Abolishes the Trial. Several years ago, the police entered the office of a young professor at a reputable university and arrested him for an online crime. They took the professor away, booked him, and then offered him a deal: admit guilt and get off easy. The professor said to the few people to whom he was permitted to speak that this was crazy because he was innocent. His lawyer warned him: fight this and you could get life; admit guilt and you will get a suspended sentence. He took the deal. It was a trick. Now he languishes in jail, his life wrecked as far into the future as he can see. This doesn't happen in America, does it? Yes, it does. Not only that, it is increasingly the norm.
Man gets life term for beating 2 children to death, torturing a third. A California man who was convicted of murdering two young children and torturing another with his lover in 2015, has been sentenced to life in prison without the possibility of parole.
The Gangster State. Consider what we are watching with our government. News brings word that the US Attorney is dropping charges against the terrorists, who went on a rampage during the inauguration last year. They announced this in a holiday week, so it would get the least amount of news coverage. Now, they certainly could have looked into who financed the riot, who helped organize it and then went after the shot callers, but they never bothered to do that. Instead, they sat on it until people forgot about it and then dropped the case. Now, we have mountains of laws for dealing with self-defined criminal groups. The Feds could go after a Lacy MacAuley, who details her activities on-line, in order to figure out who pays her rent. Then they could go after that person or group. This is basic police work. At the very minimum, the people financing these terrorists would know they have some exposure, but that never happens. You see, everyone knows who finances Antifa and other terrorists operations and they have friends in high places.
Ex-New York Chief Judge: It's time to end cash bail. As the former chief judge of New York, I have seen that money bail doesn't work. In New York, like most states, a person who is charged with a crime can be required to put down money as bail, serving as collateral to ensure he or she returns to court. If you can pay, you go home. If you can't, you go to jail. In other words, if you are wealthy, you can fight your charges from home with the help of high-end lawyers. If you aren't, you may have to defend yourself from behind bars, represented by a public defender who is hard-pressed and more than likely overloaded with other cases. In New York City, only 12 percent of the people who have bail set can pay immediately. The other 88 percent are transported to the infamous jail complex on Rikers Island.
Gangbangers arrested for killing teen getting protection in jail. The eight gangbangers accused of butchering innocent teen Lesandro "Junior" Guzman-Feliz are getting special treatment in jail, according to law enforcement sources. The men — all variously charged with murder in the 15-year-old's grisly mistaken-identity slaying — have been moved out of the general population because they are getting threats, sources said. Some are being held at Rikers Island and the rest at other jails. Each time one of them is moved, all other inmate transfers are put on hold — and the suspects are accompanied by several correction officers and a captain who film the transfer, the source said.
Florida man sent back to jail after not paying for taxi ride home from jail. Authorities say a Florida man was returned to jail shortly after his release because he couldn't pay the taxi driver that took him home from the jail. Florida Today reports that 40-year-old Charles Folk was arrested Thursday morning [6/28/2018] and charged with petty theft. Melbourne police say Folk hailed a taxi outside the Brevard County Jail Complex in Cocoa shortly after midnight. After traveling 30 miles to his Melbourne home, Folk told the driver that neither his sister nor his roommate could help him pay the $70 fare. The driver called the police.
Senator wants to know how police can locate any phone in seconds without a warrant. A senator is demanding that the FCC investigate why a company, contracted to monitor calls of prison inmates, also allows police to track phones of anyone in the US without a warrant. The bombshell story in The New York Times revealed Securus, a Texas-based prison technology company, could track any phone "within seconds" by obtaining data from cellular giants — including AT&T, Sprint, T-Mobile, and Verizon — typically reserved for marketers. The report said former Mississippi County sheriff Cory Hutcheson used the service nearly a dozen times to track the phones of other offices, and even targeted a judge.
Service Meant to Monitor Inmates' Calls Could Track You, Too. Thousands of jails and prisons across the United States use a company called Securus Technologies to provide and monitor calls to inmates. But the former sheriff of Mississippi County, Mo., used a lesser-known Securus service to track people's cellphones, including those of other officers, without court orders, according to charges filed against him in state and federal court. The service can find the whereabouts of almost any cellphone in the country within seconds. It does this by going through a system typically used by marketers and other companies to get location data from major cellphone carriers, including AT&T, Sprint, T-Mobile and Verizon, documents show.
Study: No Racial Difference in Police Shootings Compared to Crime Rates. Black Americans are not more likely to be shot by the police than White Americans in proportion to each group's rate of interaction with the police, as measured by crime rate, a new study argues. The report, by psychologists Joseph Cesario and David Johnson and criminologist William Terrill, analyzes trends in fatal shootings by police in 2015 and 2016 using a variety of data sources. Measuring racial disparities in police use of force is a touchy subject. High-profile shootings of black men by police have been a focal point for Blacks Lives Matter and similar groups, which see such shootings as both endemic of larger police abuses and an epidemic in their own right.
Chief: NYPD's Gang Database is 99% Minorities. The 17,000 individuals named in the NYPD's gang registry are 99 percent black or Latino, Chief of Detectives Dermot F. Shea revealed this week, according to the Juvenile Justice Information Exchange. Shea, testifying Wednesday before the City Council's Committee on Public Safety, was talking publicly for the first time about one of the department's most popular crime-fighting tools. He said the database is 65 percent African Americans, 24 percent non-white Hispanics, and 10 percent black Hispanics. He said the average age of those included is 27 and that 1,460 of those listed are younger than 18.
Thefts rise after California reduces criminal penalties. California voters' decision to reduce penalties for drug and property crimes in 2014 contributed to a jump in car burglaries, shoplifting and other theft, researchers reported.
Another Terrorist Sues the Bureau of Prisons. Add convicted terrorist Rafiq Sabir to the growing list of incarcerated radical Islamic terrorists who are suing the Department of Justice and the Federal Bureau of Prisons (BOP) for allegedly violating their rights. Sabir is serving a 25 year sentence after a 2007 conviction for conspiring to provide material support to al-Qaida. Sabir's attorneys argued "that he was a gullible man" and only pretended to pledge bayat to al-Qaida to impress someone. U.S. District Judge Loretta A. Preska saw it differently. She felt that Sabir lacked remorse and imposed the stricter sentence to deter others who would seek to join a terrorist organization.
Dozens of pencils, 7 tweezers found inside inmate's 'birth canal': Georgia sheriff's office. Pencils, tweezers and hair pins were discovered inside a female inmate this week, according to a Georgia sheriff's office. The writing utensils were captured in a snap the Oconee County Sheriff's Office put on Facebook Thursday [6/7/2018].
The Editor says...
I suspect it was the misuse of her "birth canal" that landed her in jail initially.
30 percent of federal prisoners are immigrants, DOJ/DHS reports. Immigrants accounted for more than 30 percent of the federal prison population and nearly all of them are confirmed or suspected illegal immigrants, the government said in a new report Tuesday [6/5/2018]. The government said it had 57,820 migrants in its prisons as of Dec. 31, Homeland Security and the Justice Department said in the joint report. Nearly 20,000 other immigrants were held in pretrial detention by the U.S. Marshals Service, most of them in contracted facilities, costing the government $134 million for just three months. That works out to nearly $90 a day for each person in those contract facilities. Attorney General Jeff Sessions said there shouldn't be any illegal immigrants in prisons, because they shouldn't have been in the country in the first place.
Soros becomes the kiss of death for his own handpicked DA candidates. Is Soros money becoming the kiss of death for candidates who take it? Sure looks like it, based on the miserable poll performance of Soros's little pawn in the San Diego district attorney's race. [...] Soros, remember, had this master plan to take over district attorney offices in key cities across America and seed them with his hand-picked anti-law enforcement candidates. The plan was to get people in office who would let crooks out of jail to effectively reduce the quality of life for the middle-class law-abiding people he has such a problem with.
Facebook Cofounder's Wife Bankrolls BLM Activist Shaun King's PAC. The wife of a Facebook cofounder has provided a bulk of the funding to a political action committee that was co-founded by Black Lives Matter (BLM) activist Shaun King to target district attorney races across the country in an attempt to "fight structural racism." Liberal activists and entities, such as billionaire George Soros and the Color of Change PAC, have quietly flooded local district attorney races across the country with cash and organizational support in an attempt to overhaul the criminal justice system by electing far-left DAs. King, who first spoke to media on the formation of the Real Justice PAC in February, told the Huffington Post at the time that "No position in America, no single individual has a bigger impact on the criminal justice system — including police brutality, but the whole crisis of mass incarceration in general — than your local district attorney."
Staggering DOJ study: 83 percent of prisoners re-arrested within 9 years of release. Last Wednesday, the DOJ released an updated study from the Bureau of Justice Statistics showing that 83 percent of prisoners released by states under jailbreak programs similar to what the bipartisan cabal is promoting in Washington were re-arrested within nine years of their release. So much for the recidivism argument for early release programs. Unfortunately, the House was in such a rush to pass this bill even without a CBO score that the DOJ report didn't come out until a day later.
New York cop killer released from prison given right to vote under new Cuomo policy. A cop killer recently released from prison will get another added benefit of freedom: the right to vote. Herman Bell, 70, who served 44 years in prison for the murder of two New York police officers in the 1970s, was granted parole last month by the state parole board. But a fresh decision by New York Democratic Gov. Andrew Cuomo to issue conditional pardons to more than 24,000 parolees means Bell can vote in the upcoming election.
A First Step for Prison Reform. The First Step Act establishes new tools for prison management to conduct ongoing risk assessments of each prisoner, evaluating the likelihood of the prisoner recommitting a crime. The profiling also establishes a basis for programs and job training to assist in rehabilitation of these individuals. Prisoners productively participating in these programs, and showing progress in behavior and attitudes, are rewarded with increased phone time, visits, and transfers to facilities closer to their homes and families. Those achieving a low-risk profile of recidivism may be eligible for at-home confinement or for being transferred to halfway houses for the final period of their sentences.
Cuomo issues pardons officially giving parolees voting rights. Gov. Andrew Cuomo has issued conditional pardons restoring voting rights to more than 24,000 parolees — including cop killer Herman Bell, who was released from prison last month. The pardons cover 24,086 ex-cons who are currently under parole supervision, the governor's office said Tuesday [5/22/2018]. Cuomo issued an executive order last month which gave him the authority to issue pardons so ex-cons could vote while on parole. Bell is among the among the felons whose voting rights were reinstated, records show.
Liberalism's Impact on Abhorrent Behavior. Instead of strongly enforcing the rule of law, liberals purport that people shouldn't be held responsible for their behavior via formal punishment. This has strangled the justice system for over two decades. It manifests in failed social engineering experiments like community corrections that allow a violent repeat offender to walk among the law-abiding public. That does not teach such an offender that their behavior won't be tolerated. Consequently, such criminals do not learn about their wrongdoings, continue to engage in antisocial behavior, and reoffend.
Transgender: AG Sessions Ends Obama's Mixed-Sex Prison Policy. Attorney General Jeff Sessions' deputies are ending President Barack Obama's last-minute decision to impose the transgender ideology in federal prisons. Obama's January 2017 transgender policy directed prison officials to allow men to move into women's prisons if the men claim a female "gender identity." Sessions' revised policy says officials "will use biological sex as the initial determination" when assigning people to either male or female prisons, according to the policy document published May 11 by Buzzfeed.
500 Driving Mile Rule and Restoring Congressional Intent to Truth in Sentencing Law. The crux of the bill is that it would require the implementation of evidence-based recidivism reduction programming in federal prisons and allow eligible offenders to earn time credits to serve part of their sentence in home confinement, halfway houses, or community supervision. It also has other long overdue provisions, mostly related to prisoner re-entry into society. The bill is modeled after the reforms in more than 30 states, including Georgia and Texas, to reduce recidivism and enhance public safety.
Justices: No Life-Without-Parole Presumption for Juveniles. North Carolina's highest court says there's no legal presumption young people convicted of first-degree murder should receive life in prison without parole.
$46,654: Annual Cost of Detaining Illegal Alien Exceeds Average American Income. The federal government paid a "bed rate" of $127.82 per day to house each illegal alien detained by Immigration and Customs Enforcement in fiscal 2016, according to ICE data published in a new report by the Government Accountability Office. Even if you do not count the extra day in that leap year, that works out to $46,654.30 for each detention bed occupied by an illegal alien for 365 days. The approximately $46,654 it cost to house a detained illegal alien for 365 days in fiscal 2016 was approximately $104 more than the average income for Americans 15 and older that year — which, according to Census Bureau Table PINC-01, was $46,550.
Transgender inmate sues prison over witchcraft rights. A transgender inmate is suing a North Carolina prison, saying it's blocking her from practicing witchcraft.
Violent crime by juveniles up sharply since Broward County adopted PROMISE program. Broward County's PROMISE program (which stands for Preventing Recidivism through Opportunities, Mentoring, Interventions, Supports & Education) coincides with higher levels of violent crime among juveniles, even as levels of such crime have been falling statewide. Broward County adopted the PROMISE program in 2013 at the urging of the Obama Education Department. As Ed pointed out last month, based on a story by Paul Sperry of RealClearInvestigations, the move away from arrests even for repeat offenders appears to help explain why school shooter Nikolas Cruz was able to engage in violence and even bring bullets to school without any arrests or legal consequences. Sunday, Sperry published a follow up looking more broadly at the results of the PROMISE program. He found those results don't match up with the claims of its supporters.
Texas inmates go on hunger strike after feces-throwing sparks lockdown. Several inmates at a Texas prison north of Houston are on a hunger strike after their unit was locked down because they were berating guards and throwing feces, the Houston Chronicle has reported. The hunger strike began Friday [4/13/2018] after inmates at the Wynne Unit in Hunstville [sic] were put on lockdown for "an uptick in infractions, including verbal abusiveness toward officers and 'chunking,' or throwing bodily fluids," according to the Chronicle. Officials said the 17 inmates participating in the strike are being monitored by medical staff; 156 total are on lockdown.
Prosecutors in D.C. Focus on 'Restorative Justice' for Juvenile Offenders. D.C. Chief Deputy Attorney General Natalie Ludaway said all of the District of Columbia's prosecutors consider themselves "progressive prosecutors." [...] Using the example of a young person stealing someone's smartphone, Ludaway touted the benefits of the district's Alternatives to the Court Experience (ACE) Diversion Program. Ludaway said the young person might be arrested for the crime and "generally held in lock-up, and then that morning our prosecutor goes through the list and really making very quick decisions of how that youth should be treated." "If the youth receives diversion, we work with a program called ACE diversion and ACE diversion, for $4,000, for that youth, $4,000 over a 6-month period, that youth, instead of entering the criminal justice system, will be given mentorships, mental health, monitoring in school; sometimes it means being able to go to activities, to museums," she said. According to Ludaway, the $4,000 diversion estimate compares to probation at $40,000 and confinement at $70,000.
The Editor says...
I'd rather see the government spend $40,000 and keep the thief out of circulation for a while. He wasn't going to the museum anyway. Moreover, there is no such thing as "mass incarceration." There's never a trial at the county courthouse at which 500 juvenile defendants are convicted at once. Large prison populations exist because this country has so many godless, fatherless, poorly educated and amoral young men who act like baboons.
Seven inmates killed at South Carolina maximum-security prison after hours of fighting. Gang-related fights over territory and over cellphones and other contraband provoked nearly eight hours of rioting at a maximum-security prison in South Carolina, where seven prisoners were killed amid the chaos, state corrections officials said Monday [4/16/2018]. All the dead at the Lee Correctional Institution in Bishopville were killed by their fellow prisoners, and were mostly stabbed or slashed with homemade knives, authorities said. An additional 17 inmates were injured and treated at hospitals.
South Carolina prison riot leaves seven inmates dead. Seven prisoners have been killed and at least 17 others injured in a riot at a maximum security prison in the US state of South Carolina, officials say. Violence erupted at the prison facility on Sunday evening [4/15/2018] and was brought under control in the early hours of Monday. "This was all about territory, this was about contraband," the South Carolina Department of Corrections said.
Judge says torching victim can testify from beyond the grave at boyfriend's trial for her murder. A woman who died after being set on fire by her boyfriend will testify at his murder trial from beyond the grave. Judy Malinowski, 33, died in August 2017, two years after being torched by her boyfriend Michael Slager outside a gas station near Columbus, Ohio, in June 2015 but recorded a video in hospital before she lost her fight for life. Slager goes on trial for her murder in July, and in a rare move, a judge has allowed the interview Malinowski gave from her hospital bed to be heard by the jury. The judge ruled Friday [4/13/2018].
Alabama teen turns down 25-year plea deal, gets sentenced to 65 years instead, and laughs. An Alabama teen laughed Thursday as a judge sentenced him to 65 years in prison for murder and theft after he rejected a plea deal that would have given him 25 years behind bars. Lakeith Smith, 18, of Montgomery, Ala., was sentenced to 65 years by Judge Sibley Reynolds for "felony murder, armed burglary, second-degree theft and third-degree theft," FOX8 LIVE reported. Smith smiled and laughed while being sentenced at the Elmore County courthouse. He had turned down a plea deal that would have recommended he spend 25 years in prison on the charges.
'Palm Sunday Massacre' killer freed from prison and believed to be living in New York. The killer who took the lives of eight children and two young mothers in 1984 in Brooklyn in what has been called the 'Palm Sunday Massacre' has been released from prison, despite multiple denials of parole. Christopher Thomas, now 68, was convicted of the mass shooting and sentenced in 1985 to 25-50 years, but was released on January 5 and is now believed to be living in Queens, New York.
Drones delivering contraband to prisons [is] a budding problem. A package of contraband covered in grass clippings that was dropped by a drone at a Panhandle prison is one of the most recent examples of inmates using advanced technology to smuggle illegal items behind prison walls.
Why is the death penalty for drug-traffickers controversial? President Trump is proposing that the death penalty be used for drug-traffickers. Most of the reporting I have seen presents that as a controversial, radical, dictatorial proposal. [...] I would think CNN and other supposed journalists point out that the death penalty for drug-traffickers has been on the books since 1988 and was greatly expanded in 1994, when Democrats controlled the government, but they seem to either forget or intentionally ignore the actual laws.
NY Lawmaker Blasts State Board for Paroling Double Cop Killer. A New York City lawmaker ripped the New York State Parole Board for agreeing to release a former Black Liberation Army member convicted of murdering two NYPD officers. State Sen. Marty Golden (R-Bay Ridge) said the board's membership was recently shuffled and that the members were nominated by Gov. Andrew M. Cuomo (D).
Obama DOJ Forced FBI To Delete 500,000 Fugitives From Background Check Database. The Justice Department under Barack Obama directed the FBI to drop more than 500,000 names of fugitives with outstanding arrest warrants from the National Instant Criminal Background Check System, acting FBI deputy director David Bowdich testified Wednesday [3/14/2018]. Fugitives from justice are barred from buying a firearm under federal law. But what is a fugitive from justice? That definition has been under debate by the FBI and the ATF. According to The Washington Post, the FBI considered any person with an outstanding arrest warrant to be a fugitive. On the other hand, the Bureau of Alcohol Tobacco, Firearms and Explosives defined a fugitive as someone who has an outstanding arrest warrant and has crossed state lines.
Steyer Works to End Bail Payments for Criminal Defendants in California. Liberal billionaire Tom Steyer, who has been pushing for President Donald Trump's impeachment and recently spent $3 million to register Latino voters, also is working hard this week to resuscitate a California state bill that would end the process of demanding thousands of dollars in cash bail from suspected criminals.
25 cities where crime is soaring. Violent crime is a broad designation consisting of the most egregious infractions — aggravated assault, robbery, rape, and murder. According to the FBI, there were 386 violent crimes for every 100,000 people in the United States in 2016. While the crime rate has fluctuated slightly in recent years, the incidence of violent crime in the United States remains effectively unchanged from half a decade ago. The national violent crime rate does not tell the whole story, however. Crime is a local issue, and in some parts of the country, violence is surging.
CNN Admits: U.S. Town Where Guns Are Required Has Had Only 1 Murder in 6 Years. CNN admitted in a report on March 6, 2018, that a Georgia town requiring gun ownership has only seen one murder in six years and maintains a violent crime rate of less than two percent. CNN reports that Kennesaw, Georgia, adopted an ordinance in 1982 requiring the head of every household to "maintain a firearm." CNN suggested the law requiring gun ownership is not actually enforced, but it simultaneously reported that the town of Kennesaw has only witnessed one murder in the past six years. In other words, just the common knowledge that guns are in the hands of law-abiding citizens appears to restrain the actions of criminals.
Suspect in Chicago cop's death got off easy for major parole violations, records suggest. The suspect who allegedly gunned down Chicago police Commander Paul Bauer near City Hall earlier this month received an unusually light sentence for major parole violations in 2007, court records show. The documents, reviewed by the Chicago Sun-Times, reveal that Bauer's accused killer, Shomari Legghette, dodged up to 30 years in prison when he was booked for the violations that year. At the time of his 2007 sentencing, Legghette was on parole following an armed robbery conviction that landed him a 16-year sentence, and prison time from 1998 to 2005.
How a list of 23 crimes now dominates California's debate over prison punishment. California has a long history of mixing crime and punishment with raw politics. But outrage doesn't always translate into coherent policy, and unintended consequences can spark even more public anger. With that in mind, consider the last two years of debate over what should, and should not, be a "violent" crime. That debate begins with the index of crimes in section 667.5 of the California Penal Code. The list was first enacted in 1976, and has been tinkered with so many times it's hard to say whether it's a fair representation of the most heinous crimes.
Court ends bail for illegal aliens. The headline in the Washington Times was close but no cigar: "Illegal immigrants have no automatic right to freedom, Supreme Court rules." Oh they have a right to freedom. Just not here. They are free to go home in the paradises they left behind. President Trump is helping them get home. "Immigrants being held for deportation don't have an automatic right under the law to post bond and be set free, the U.S. Supreme Court ruled Tuesday in a decision that could give the Trump administration more freedom to pursue stiff detention policies for illegal immigrants who show up at the border claiming asylum," Stephen Dinan of the Times wrote.
Rates of unsolved murder by state. News reports based on FBI statistics show that somewhere between 35%-40% of homicides in the US go unsolved in the US today. Uniform Crime Reporting data, available at the state level (excluding Florida), show that right at one-third of homicide offenders remain racially unidentifiable.
Top ten rates of unsolved murder by state

   District of Columbia   56.1%
   Illinois               55.4%
   Maryland               46.1%
   New York               44.0%
   California             43.9%
   Massachusetts          43.8%
   Rhode Island           42.0%
   New Jersey             41.8%
   Michigan               38.8%
   Connecticut            37.1%

Stepping Up initiative seeks to keep mentally ill out of jail. So the Lorain County Board of Mental Health and the Lorain County Sheriff's Office along with several community partners ranging from local police departments and the court system are participating in an innovative program aimed at intervention and redirection. According to the national Stepping Up initiative, each year more than two million people suffering from severe mental illnesses find themselves incarcerated turning county jails into makeshift psychiatric facilities and making it more difficult for those in need to receive the care they need.
New York City prison guard seriously injured in attack by 6 inmates, authorities say. In what authorities said was a premeditated beatdown, a gang of six Rikers Island prison inmates attacked a New York City correction officer Saturday [2/10/2018]. The unidentified 39-year-old officer was hospitalized in serious condition, Michael Skelly, a spokesman for the Correction Officers Benevolent Association, told the New York Post. Media reports said the officer had suffered a broken neck or "fractured spine."
Worst Responders. Latent within the idea of gun control is the notion that guns increase aggregate danger, and if prohibited, police and other professionals might easily protect the disarmed populace from any remaining guns, as well as other risks. This is a dubious hope. We have relatively few police in this country, and they are spread very thin, particularly in rural areas. As the saying goes, "when seconds count, the police are minutes away." As a general matter, police investigate crimes after they are completed. Their deterrent effect consists primarily in the general threat of detection and incarceration.
San Francisco Prisons Implement Reforms Giving Transgenders Special Treatments. San Francisco prisons formally announced they are implementing a policy for transgenders that will respect their gender preferences, house them in the cells of their chosen identity, and offer other gender identity services. The San Francisco Sheriff's Department announced Wednesday [2/21/2018] that inmates who identify as transgender, gender variant or non-binary will be able to choose a name and gender identity upon entering the prison. They will also get to determine if a man or woman will search them before they're admitted into the prison, according to CBS San Fransisco.
Second, Third, and Fourth Chances — at What Price? The deincarceration movement, which would return thousands of convicts to American streets, presents a threat to public safety. Repeat offenders already commit a substantial portion of the nation's violent crime — according to one study, 53 percent of killers have at least one prior felony conviction. They will be walking the streets in greater numbers if deincarceration advocates have their way. Consider a few examples. In October 2017, Radee Prince shot and killed three people in Maryland. Prince, it turns out, had 42 prior arrests and 15 prior felony convictions. [...]
New York City prison guard seriously injured in attack by 6 inmates, authorities say. In what authorities said was a premeditated beatdown, a gang of six Rikers Island prison inmates attacked a New York City correction officer Saturday [2/10/2018]. The unidentified 39-year-old officer was hospitalized in serious condition, Michael Skelly, a spokesman for the Correction Officers Benevolent Association, told the New York Post. Media reports said the officer had suffered a broken neck or "fractured spine."
Is California Starting to Circle the Drain? I recently became a crime victim for one of the few times in my life. My car was burgled while I was up in the Bay Area on my weekly sojourn to the Peoples Republic of Berkeley. I say "burgled" rather than "broken into," because there was no smashed window, or picked lock, nor did I leave the car unlocked. Rather, I was the victim of a clever gang of organized car burglars in the Bay Area who are using sophisticated scanners to copy and boost the key-fob signal for recent model keyless entry and ignition cars. Once you latch on to the signal, the car door unlocks at the touch of your hand, as people with such models know. [...] This kind of activity is epidemic in the Bay Area right now. There were 30,000 car thefts reported in San Francisco last year (much higher in the Bay Area as a whole). The police are doing very little about it.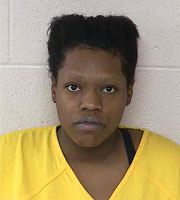 Inmate's Weave Hid Coke, Meth, 78 Doses Of LSD. A Pennsylvania inmate had 78 doses of LSD, cocaine, methamphetamine, and a glass pipe stashed under her hair weave, contraband the woman apparently smuggled into the lockup following a prior arrest, according to court records. Carema Lashandra Brown, 29, was booked into the Jefferson County jail on January 5 after she was charged with two felony theft counts. Unable to post $60,000 bail, Brown was detained at the jail in Brookville, a borough about 80 miles northeast of Pittsburgh. Within a week of Brown's arrival, jail personnel began investigating the distribution of narcotics inside the facility. During questioning, two female inmates — whose recorded phone calls indicated they had been using LSD — confessed that they obtained the acid from Brown.
Parents of slain Pizza Hut robber angry that victim used a gun against him. Self-defense is regarded as a right deriving from natural law. But that offers no justification to the parents of Michael Grace, Jr. of Charlotte, NC, who was shot to death while attempting to rob a Pizza Hut. [...] I may be an extremist, but it seems to me that if one decides to commit a crime, the victims should have more rights than the perpetrator, especially the right to defend themselves from the presumption of violence that accompanies a robbery, home invasion, or other property crime.
The 'War on Crime' has failed. Here's a better battle plan. Since President Lyndon Johnson declared a "War on Crime" in 1965, politicians have been embracing tough-on-crime policies every election cycle. Unfortunately, this has exacted a horrific toll. The U.S. crime rate has never fallen below 1965 levels, and the incarceration rate now approaches that of North Korea. What 50 years of uninterrupted bipartisan tough-on-crime policies have produced is a 16 percent higher crime rate, a near doubling of violent crime, and thousands of murders. The population equivalent of Houston is behind bars, while the public is less safe than a half-century ago. Lady Justice has cast her scales aside in disgust and fallen on her sword.
The Editor says...
"The public is less safe that a half-century ago" because there are not enough people behind bars, and more violent criminals enter this country every day. Other factors include poor education, the Ferguson Effect, violent movies and video games, and fatherlessness.
Democracy's Highest Crime and Misdemeanor. Is there sufficient decency and courage in the midst of Washington's swamp to compel the pursuit of justice wherever in the Ruling Class it leads and then to prosecute the lawbreakers — whomever they are? First, it's vital to understand that when you give a pass — or worse you give multiple successive passes — to lawbreakers, you not only protect those who violated the law, but you empower and encourage would-be lawbreakers to do the same or worse. Second, when laws are not enforced they cease to have meaning.
Convicted Muslim rapist sues state over failure to provide sharia meals. An inmate has sued Oregon Department of Corrections staff for failing to serve meals that observe his Muslim faith. Rashid Kambarov, 29, who is serving a sentence for rape, filed a complaint this week in U.S. District Court in Pendleton. He is a legal permanent resident from Turkey and is incarcerated at Two Rivers Correctional Institution in Umatilla. He is suing the superintendent of Two Rivers, Troy Bowser, and other administrators at the prison.
The Real Gender Gap: Family Breakdown and Black Males. Data from the state of Virginia shows a strong association between single parent households and violent crime. [...] According to the Heritage Foundation, black illegitimacy rose exponentially halfway through the 1960s. This is precisely when the perverse incentives of Johnson's "War on Poverty" were being implemented.
What could go wrong? NY to give tablet computers to 51,000 prison inmates. Good news for every inmate in New York State prisons: Each of you will soon be receiving your own tablet computer. The free tablets for all 51,000 state prisoners are being sold to the public as an opportunity to educate prisoners for a law-abiding life when their sentence is completed. Although inmates will not have uncontrolled Internet access, prison system officials say the individual devices will help prisoners keep in touch with their families and become better prepared to reenter lawful society.
The Editor says...
I thought that was what the weight room was for.
Coast Guard rape conviction overturned after court's scathing attack on women-packed jury. The nation's highest military court has thrown out the 2012 rape conviction of a Coast Guard enlisted man because admirals and prosecutors packed the seven-member jury with five women, four of whom held jobs as advocates for victims of sexual assault. In a 5-0 ruling that could change how the military conducts sex abuse trials, the U.S. Court of Appeals for the Armed Forces unleashed caustic criticism of all involved. [...] Ten jurors were selected, and seven of them were women. Of those jurors, five women and two men heard evidence, deliberated and rendered a verdict. Of