Why do America's left-wing politicians have such affinity for Fidel Castro? Is he really such a great role model? Is Cuba the great socialist utopia that liberal Democrats want the U.S. to be?
No, Cuba is just one of many dictatorships with which Barack H. Obama is too friendly.
Subtopic: Elian Gonzalez
Related topic: The Guantanamo Bay Prison
---
Overview:
Obama Is About to Visit Cuba. He Should Know It Hasn't Changed. There are only 90 miles of ocean between the longest dictatorship in the Americas and the longest uninterrupted democracy. These waters are filled with tears for the disappearance of thousands of Cuban rafters who fled the Castro government and its miseries; this is a narrow sea that divided for many years families, friends and lovers. Cuba has not changed. Fidel Castro ousted a dictatorship only to establish his own. He seized power violently: robbing, expropriating and executing Cubans. The world must not forget it. Not once did he call for open elections. He took over the media, transforming it into a big public relations machine for the state, and he expropriated all forms of private property during the '60s.
Interior Secretary & Daughter Have Ties to Marxist Environmental Alliance in Cuba. An environmental coalition that has worked with Interior Secretary Deb Haaland's daughter and successfully petitioned her mother's agency to implement a New Mexico oil and gas drilling ban, openly associates with the Venceremos Brigade (VB), a U.S.-based organization that facilitates trips for young Americans to visit Cuba, where they are reportedly greeted and groomed by Cuban intelligence agents, ADN has learned based on a collection of information published online, social media accounts, news stories and official reports. Somah Haaland began working with the Pueblo Action Alliance (PAA) in 2020, a New Mexico indigenous rights group that openly associates with the VB, whose executive director, travels with groups PAA groups to Cuba where they are hosted by the Institute of Friendship Along with the Peoples (ICAP), a regime sponsored organization led by one of Cuba's most notorious spy, Fernando González Llort, who was sentenced to prison in the U.S. for espionage.
Cuba uncovers human trafficking of Cubans to fight for Russia in Ukraine. Cuba has uncovered a human trafficking ring that has coerced its citizens to fight for Russia in the war in Ukraine, its foreign ministry said on Monday, adding that Cuban authorities were working to "neutralize and dismantle" the network. The statement from Cuba's foreign ministry gave few details, but noted the trafficking ring was operating both within the Caribbean island nation, thousands of miles from Moscow, and in Russia. "The Ministry of the Interior...is working on the neutralization and dismantling of a human trafficking network that operates from Russia to incorporate Cuban citizens living there, and even some from Cuba, into the military forces participating in war operations in Ukraine," the Cuban government statement said.
Report: China Has Had an Intelligence Base in Cuba for at Least 30 Years. A retired American intelligence official told the Miami Herald in a report published Wednesday that China has been conducting espionage activities in Cuba since at least 1992, taking advantage of the fall of the Soviet Union to forge a closer relationship with the fellow communist nation. The report follows growing concern within the United States regarding China and Cuba's publicly blossoming relationship, triggered by a report in the Wall Street Journal last month claiming that Beijing and Havana were discussing plans to build a spy base on the island. Cuba is about 90 miles away from America and hosts a pivotal American military base, the Guantánamo Bay facility, making it an enticing target for such activities by U.S. rivals.
China using secret base in Cuba to spy on U.S., Biden admin official confirms. China has been spying on the United States from a base in Cuba, a Biden administration official said on Saturday, claiming that "this is an issue that this administration inherited." The Wall Street Journal, followed by POLITICO and other outlets, reported on Thursday that China had been in conversations with Havana to establish a new spy base in the island nation. That same day, the White House and the Pentagon said the reporting was "inaccurate," without going into details.
China has a secret spy base in Cuba from which they've been gathering intel on the US since at least 2019, White House says. News just broke moments ago from the Wall Street Journal that the White House has divulged that China has had a spy base in Cuba since at least 2019 from which they gather intel on the United States. Cuba is just 100 miles off the Florida coast. Washington also said that China's attempts to gather intel via espionage are expanding rapidly. "Officials familiar with the matter" said that China is paying Cuba "billions of dollars" for the privilege.
China To Build Spy Base In Cuba Focused On Intercepting Communications Within U.S.: Report. Communist China has reached a deal with Cuba to build an electronic eavesdropping base in the island country — around 100 miles off the American coast, U.S. officials told The Wall Street Journal. The deal, which is reportedly worth billions and has been agreed upon in principle, will allow China to construct a facility that can intercept communications in the southeastern U.S., home to dozens of military bases. The Chinese spy base could also monitor U.S. ship traffic, WSJ reported. National Security Council spokesman John Kirby said he could not speak specifically to the alarming report, but the planned spy base in Cuba has caused alarm within the Biden administration, according to the outlet. Officials said that the Chinese facility would allow Beijing to monitor emails, phone calls, and satellite transmissions through espionage monitoring known as SIGINT.
Base Cuba: An 'unprecedented new threat' from China. With weak, doddering, and likely compromised Joe Biden at the helm of the U.S., the Chinese are moving fast now, taking their cold war with the U.S. deep into our hemisphere. It's not just illegal police stations, extensive spying on Congress members, and brazen balloon surveillance. Now this shocking news came out yesterday about China's reach into the U.S.-dominated Caribbean. [...] It probably shouldn't come as a surprise that they're doing this. Their aim is to take Taiwan. They know the critical importance of sea lanes and sea lines of communication for the projection of power. The U.S. fought Spain over this very issue in the Caribbean in 1898.
This means it must be true.
Pentagon and White House deny reports that China plans to build spy station in Cuba. The Pentagon and the White House on Thursday denied reports that China is planning to build a listening post in Cuba that would allow the communist power to eavesdrop on electronic communications across the southeastern US. Department of Defense spokesman Brig. Gen. Pat Ryder called reports of an agreement between China and Cuba to build the secret base "inaccurate." "I can tell you based on the information that we have that that is not accurate, that we are not aware of China and Cuba developing any type of spy station," Ryder said during a Thursday press briefing at the Pentagon.
It was 121 years ago today. On this day in 1902, Cuba became an independent country. If you grew up in a Cuban home, or had Cuban friends in high school, or lived in Miami, then you may recall celebrations and good food this day. To make a long history short, Cubans fought for much of the 19th century but just couldn't push Spain from running the island. Then the USS Maine made a stop in Havana, blew up or got blown up, and President William McKinley decided to declare war on Spain. It was not a long war and Spain was finally was out and the U.S. ran things for a few years. On May 20, 1902, Cuba, the last of the major Spanish colonies in the new world, got its independence. Most of the rest of Latin America won its independence in the first 30 years of the 19th century.
150 young American leftists to visit Cuba, receive intensive training on how to turn U.S. into a communist utopia. It's not as if the U.S. has a shortage of leftists hell-bent on destroying the country. By the end of April it will have 150 more who will be fired up with extraordinarily intense revolutionary zeal.
Cuba: Sham 'Elections' Make 91-Year-Old Raúl Castro, Elián González Lawmakers. The Cuban Communist Party held "elections" on Sunday in which 470 hand-picked candidates vied for 470 seats in the National People's Power Assembly, the national lawmaking body — meaning every candidate was guaranteed a seat. No opposition candidates appeared on the ballot and several regional "elections" boasted some of the country's most well-known and powerful political figures. Among those gifted lawmaking seats on Sunday were former dictator Raúl Castro, 91, and Elián González, a communist celebrity best known in the United States as a child refugee deported at gunpoint by leftist President Bill Clinton in 2000.
Cuba's Deprived, Depressed Citizens [are] Wary of [their] Country's Farcical 'Elections'. In a push to get Cuba's increasingly apathetic populace to vote in Sunday's legislative elections, the government here is turning to the one place it knows it can reach potential voters — the bakeries where they must stand in line every morning to collect their daily ration of bread rolls. In the window of practically every panadería in central Havana are leaflets touting the candidates who will be elected regardless of how many votes are cast or for whom. There are 470 candidates in total for 470 seats in the National Assembly. There are no candidates opposing those in the Communist Party, and campaigning is illegal, which might explain why, when a visitor asks the average Cuban on the street about the elections, the most common response is a dismissive huff and a flip of the wrist. "No one cares anymore," a woman who works in the service industry in the provincial city of Trinidad said. "Things have changed," she added, using her thumb and index finger to pry open her eyelids. "We know more about the world now because of the internet."
Cuba, the 'Country of Sugar', Has No Sugar. The USSR went from having the breadbasket of the world to going into debt to buy wheat from America. Venezuela used to export gasoline, now it's having to pay others to refine its crude. Cuba used to be the hub for sugar, now it's rationing it. Socialism works. Sometimes it works so well there's nothing left.
The Cuban doctors in Mexico. Maybe you've heard that Mexico is importing Cuban doctors to fill some local needs. But why is Mexico doing this? The real reason is money or hard currency desperately needed by the Castro regime. In the last month, we have seen critical reports like this in the Mexican media: ["]According to journalist Pablo Hiriart, the underlying issue in this state visit is the negotiation of cash resources for the Cuban regime, recalling that Mexico has imported medical services from that country and that this agreement will be maintained in the future. through the IMSS.["] President Andres Lopez-Obrador's political opposition in Mexico is angry. They agree that it's about providing foreign currency to cash-strapped Cuba rather than addressing any needs in Mexico. Another story in the media questions whether these doctors are even qualified.
Report: Cubans Held Nearly 4,000 Anti-Communist Protests in 2022. Cuban citizens held 692 recorded protests against the communist Castro regime during December 2022[,] bringing the total for the year to 3,923 protests, according to the latest report published by the Cuban Observatory of Conflict civil society organization on Monday. The number of protests in December was higher than the 584 that the Observatory registered during the historic July 2021 wave of protests against the Castro regime and its puppet-president Miguel Díaz-Canel, making December 2022 the month with the highest number of anti-communist protests in Cuba in recent years.
Democrat Sen. Ron Wyden Spends Winter Break with Communist Leaders in Cuba. The Castro regime's puppet president Miguel Díaz-Canel announced on Wednesday evening that he received a visit from Sen. Ron Wyden (D-OR). The announcement of Wyden's visit to Cuba occurred less than three weeks after a delegation of three Democrat congressmen traveled to Havana to meet with members of Cuba's communist regime between December 9 [and] 11.
MSC Cruises under investigation for using Cuban slave labor on its ships. A complaint filed with the International Criminal Court has apparently led to an investigation MSC Cruises, an Italian cruise line. Cubans who worked on MSC cruise ships say the cruise line was complicit with the communist Castro dictatorship, effectively buying them as slave labor from the Cuban regime.
No sugar in Cuba? Once upon a time, Cuba had no problems growing sugarcane, turning it into sugar for domestic consumption or exports. It was a foregone conclusion that every Cuban would sweeten his strong coffee and light up a cigar, something I saw my father do often. I can still smell my mother's Cuban coffee and my father's cigar! That was then, and this is now, according to Reuters: ["]Cuba's emblematic sugar harvest topped out at just over half of the communist-run government's target this year, according state-run newspaper Granma, representing another major blow to the country's already crisis-racked economy.["]
Unrest Builds In Leftist Paradise Of Cuba As Crumbling Economy Yields Severe Shortages. The decay of Cuba's energy and transportation infrastructure, and subsequently its economy, may have been accelerated by sanctions and COVID, but the deterioration has been progressing for decades. And Cuba's communist rot will continue its progression until either reality-denying western leftists or other communist-leaning allies step into help, or to the point where the Cuban people themselves have had enough and revolt. Regardless of which path the Cubans follow, Americans must watch as events unfold.
Havana announces blackouts, cancels carnival as crisis deepens. The Cuban capital of Havana will begin electricity blackouts in August, has canceled carnival and is taking other measures as the country's energy crisis worsens, state media reported on Saturday [7/30/2022]. The capital, home to a fifth of the population of 11.2 million and center of economic activity in Cuba, had been spared the daily power outages of four or more hours that the rest of the island has endured for months.
Report: Putin Sends Cuba 700,000 Barrels of Fuel Oil. A Liberia-flagged tanker carrying about 700,000 barrels of Russian fuel oil arrived in Cuba last week, the Latin American news website Infobae reported on Sunday, noting that the shipment demonstrated that Moscow was not only supporting Cuba's communist regime but also finding outlets for oil stock shunned by the West in response to Russia's latest war with Ukraine.
Over 800 U.S.-Bound Haitians Accidentally Land in Cuba. A marine vessel carrying 842 Haitian migrants en route to the United States accidentally landed in Villa Clara, Cuba, on Tuesday, baffling locals in a country enduring its own mass exodus, the independent outlet Cubanet reported Wednesday. Cubanet noted that Castro regime-controlled media outlets confirmed the news and that reports indicated many of the hundreds of people on board were children, "including newborns." The Communist Party is expected to deport the Haitian nationals back to their country, where they may be free to attempt to escape again.
Slavery still exists today.
Injunction filed in Mexican court to stop AMLO's purchase of enslaved Cuban doctors. [Scroll down] The qualifications of many of these doctors have been called into question many times in the past and investigations have revealed many of them are not qualified to practice medicine. Furthermore, the doctors and nurses sent on these "foreign missions" are victims of modern-day slavery with their passports confiscated and are only paid a miniscule fraction of what the Cuban dictatorship collects from their sponsors. On top of that, the Castro dictatorship uses these missions as an opportunity to send intelligence assets posing as medical professionals into those countries. The entire operation reeks of human trafficking and corruption, yet has been able to continue functioning and earning billions of dollars for the Castro family dictatorship because almost the entire world has decided to look the other way.
Mexican court injunction against plan to employ Cuban doctors. A judge in Mexico agreed Thursday to consider a preliminary injunction against plans by President Andrés Manuel López Obrador to hire about 500 specialized doctors from Cuba. According to a copy of the injunction, the government has not proved the doctors have the ability or training needed to practice in Mexico. The plaintiffs in the case also argued that most of the doctors' pay might go to the Cuban government, not the medical professionals themselves. The identity of those who filed for the injunction was not released. But several professional and medical groups have criticized the plan, which was announced by the president May 9. [...] "The hiring is illegal, because it favors conditions of modern slavery and even human trafficking," it continued.
Top 10 misleading and outrageous statements from NYT's Nikole Hannah-Jones. [#1] Cuba is the "most equal multiracial county" due to socialism. Appearing on a podcast with Ezra Klein in 2019, Hannah-Jones promoted Cuba as a country with a "viable and sufficiently ambitious integration agenda" due primarily to socialism. "But in places that are truly at least biracial countries, Cuba actually has the least inequality. And that's largely due to socialism — which I'm sure no one wants to hear," Hannah-Jones argued. She previously wrote an article on The Oregonian in 2008 where she boasted that Cuba had a very high literacy rate, a low HIV-infection rate, universal education, and a "model" universal health care system that assisted Black Cubans.
Why [are] so many Cubans at the border? As you may know, I came to the U.S. with my parents from Cuba in 1964. In other words, I sympathize with Cubans who want to leave the failed communist state but it should be done in an orderly fashion. What we are seeing today is not orderly. In fact, it's reminiscent of the Mariel episode 42 years ago when Fidel Castro openly encouraged 100,000 to leave. Cuba is an economic mess today. So the government is once again sending people north, but using the Mexico corridor to do so.
Justin Trudeau Eulogized Fidel Castro. Fidel Castro jailed and tortured political prisoners at a higher rate than Stalin during the Great Terror. He murdered more Cubans in his first three years in power than Hitler murdered Germans during his first six. Fidel Castro shattered — through mass-executions, mass-jailings, mass larceny and exile — virtually every family on the island of Cuba. Many opponents of the Castro regime qualify as the longest-suffering political prisoners in modern history, having suffered prison camps, forced labor and torture chambers for a period three times as long in Fidel Castro's Gulag as Alexander Solzhenitsyn suffered in Stalin's Gulag. Fidel Castro also came closest of anyone in history to (wantonly) starting a worldwide nuclear war. In the above process, Fidel Castro converted a highly-civilized nation with a higher standard of living than much of Europe and swamped with immigrants into a slum/sewer ravaged by tropical diseases and with the highest suicide rate in the Western hemisphere.
CIA Says Most 'Havana Syndrome' Cases Not Caused by a Hostile Foreign Power. The CIA has found that most of the 1,000 cases of "Havana Syndrome'" were not caused by actions taken by a hostile foreign power. The agency said that about two dozen cases remain unexplained and they will continue to investigate what caused them. But the upshot is that no physical evidence has yet been found to validate the theory of a directed energy weapon being used on American diplomats. And other evidence points in an entirely different direction, one involving the mysteries of the brain.
The Editor says...
And you believe the CIA, right? Sure you do.
The #1 reason the UN has no credibility whatsoever. What do China, Cuba, and Russia have in common? They sit on the U.N. Human Rights Council and violate human rights. It is a travesty, as Virginia Kruta counts the Top 10:
[#10] Pakistan
[#9] Mauritania
[#8] Qatar
[#7] Somalia
[#6] Russia
[#5] Libya
[#4] Cuba
[#3] Eritrea
[#2] Venezuela
[#1] China
As Hillel Neuer points out, Cuba's credentials are just what you are looking for for a seat in a human rights group: ["]a 60-year totalitarian regime; bans free speech, association; blocks vital food & medical aid; infiltrates & subverts entire hemisphere; drug trafficking; sends doctors abroad as slave labor.["] And then there is China, that beacon of democracy and human rights. And Venezuela, another charmer when it comes to respecting its citizens.
Joe Biden's Top 25 Worst Moments of 2021. [#10] Joe Biden's Tepid Response to Cuba Freedom Protests: As Cubans were protesting for their freedom, President Joe Biden's response was weak, despite widespread support for the protests from Cuban-Americans. The Castro regime responded to the protests with overwhelming violence, opening fire on unarmed protesters, publicly beating individuals believed to be participating in protests, and allegedly torturing and sexually assaulting those imprisoned. In a tepid statement, Biden failed to condemn the Cuban regime as "communist" and "socialist," choosing instead to frame the protests for freedom as a reaction to "economic suffering." As the White House scrambled to appear more sympathetic with the freedom protesters, Biden met with a Cuban rapper, a former food blogger, and a former staffer for President Barack Obama.
Cuba Signs 'Belt and Road' Agreement With China. Cuba and China have signed a cooperation plan to push forward construction projects under Beijing's controversial overseas infrastructure program, the Belt and Road Initiative (BRI), which has saddled many participating countries with heavy debt loads. The Chinese Embassy in Cuba announced the agreement on its website on Dec. 26, saying that the deal was inked two days earlier by He Lifeng, head of China's top economic planning agency, the National Development and Reform Commission, and Cuban Vice Prime Minister Ricardo Cabrisas. The agreement implemented a memorandum of understanding the two nations signed in 2018, when Cuba agreed to become a BRI participating nation. Under the agreement, the two nations aimed to work together on projects in several key sectors, including communications, education, health and biotechnology, science and technology, and tourism, according to the Agencia Cubana de Noticias news agency. The Chinese Embassy also stated that a timetable and a roadmap had been proposed to implement the projects, without giving details.
Cubans Face Brutal Repression This Christmas Following July Protests. Christians in Cuba are facing extreme repression and even more severe human rights violations than usual this year as the regime condemns those accused of marching in the July 11 protests to outrageous prison sentences and Christians become an increasingly visible part of the anti-communist movement. Cuba experienced some of the largest protests in its history this summer. An estimated 187,000 people in almost every municipality on the island marched peacefully on that day demanding an end to the communist regime. Massive protests again rocked Cuba on November 15, this time led in many cities by priests and nuns, who have increasingly taken on a leadership role in the anti-communist movement.
Communist Elitism. In reality, the "vanguard of the proletariat," as Marx called them, live like members of a royal court headed by a monarch. [...] A nearby example is communist Cuba, where Fidel Castro amassed a fortune estimated at between $500 million and $900 million while his brother Raul possessed $100 million. Fidel's son Antonio was photographed vacationing on his yacht in the Aegean in 2015, where he lived in luxury while his countrymen lived on $20 a month. There is speculation as to the net worth of Cuba's current president, Miguel Díaz-Canel and as to how much he may amass in the future. Marxist disdain for one's people is not the exception — it's the rule for all communist leaders and their families.
Hispanic Americans Choose Freedom, Not Socialism. I am a Hispanic woman whose family fled Communist Cuba in order to give their children a better future. Like so many others, my family fled brutal repression in favor of America's freedom and prosperity. Conservative Republican policies are by far best-suited to protect that American freedom for generations to come — our values of faith, freedom, and family connect with the broader Hispanic community. Unfortunately, Democrats cannot say the same. [...] In merely 8 months, Biden has stifled the economic recovery he inherited and reversed policies that were helping Hispanic Americans. His failed leadership is evident to all. He has enabled policies that have sent our cost-of-living skyrocketing. He has failed to shut down COVID. And he has failed to secure our borders. Abroad, Biden's total lack of leadership also undermines the cause of freedom around the world — look no further than 90 miles off our coast. While the Cuban people risked their lives by fighting to liberate themselves from the communist Castro regime, Biden's Cuban-born Homeland Security Secretary Alejandro Mayorkas told Cubans they will "not be permitted to enter the United States."
Cuba Makes It Illegal to Criticize Government on Social Media. The Cuban government on Tuesday [8/17/2021] made it illegal to criticize the regime on social media, giving the government more tools to punish pro-democracy protesters. A decree from Communications Minister Mayra Arevich bans criticism of "the constitutional, social and economic" rules of the state and acts that "alter public order." The decree also creates a form that Cubans can use to report each other for "cybersecurity incidents." The decree comes a month after the regime restricted internet access for citizens in an attempt to stifle criticism. Penalties for violating the decree will be set in legislation later. Internet access in Cuba has been inconsistent since the protests started on July 11. After viral social media photos and videos showed protests across the island, the Cuban government curtailed access to social media sites through the state-owned internet service, ETECSA. Cuba already has multiple laws criminalizing opposition to the regime.
Silenced! What's Happening Now in Cuba? Are they still protesting in Cuba? I don't know. The Cuban government has shut off the Cuban people's internet. The big demonstrations began four weeks ago, sparked, curiously, by a rap song. The key lyric is: "Freedom! No more Doctrine!" "Doctrine" refers to the "constant cycle of propaganda" from the government, explains Cuban emigre Alian Collazo in my newest video. Sadly, silly TV reporters in America claimed the protests were about "hunger, pandemic restrictions and the lack of COVID vaccinations," or, according to ABC's George Stephanopoulos, "food and fuel shortages." "Nonsense!" says Collazo. The cause is clear. "The protesters were yelling, 'Down with communism!' and 'Libertad! Liberty!'"
11 Notable Topics in Senate Vote-a-Rama on Spending $3.5 Trillion. [#8] In another bipartisan measure, Sen. Marco Rubio, R-Fla., spoke in favor of an amendment he co-sponsored with fellow Florida Republican Rick Scott to require the Biden administration to facilitate uncensored access to the internet for the people of Cuba in the wake of pro-freedom protests. Specifically, the Rubio-Scott amendment would create a deficit-neutral reserve fund in the National Telecommunications and Information Administration to build up and deploy existing technology on the island. Rubio said the internet access needs to be "unfettered, uncontrolled by the regime in Cuba, which actually cuts off that access as it did in the middle of these protests — by the way, using Chinese technology." Sen. Robert Menendez, D-N.J., chairman of the Foreign Relations Committee, backed up Rubio. "The Biden administration is in the midst of trying to figure out what is the greatest technological ability to create internet access for the people of Cuba and limiting the ability of the regime to jam that internet access," Menendez said. The Rubio-Scott amendment was passed by a unanimous voice vote.
Biden Must Not Squander the Cuban Moment. The demonstrations that shook Cuba on July 11 will soon be a month old. Since then, a Carthaginian peace has descended on the unhappy island, with mass arrests, show trials, and disappearances having the desired effect of suppressing further demonstrations. The Biden administration meanwhile remains paralyzed, with self-doubt appearing to sap its confidence. Which means that, hard as it may be to accept, the opportunity for real change is being squandered. This is a harsh assessment, given the degree of hope the July 11 events unleashed throughout the world that Cubans might get their freedom back. But it is an assessment one must make before time completely runs out. No, Cuba will not return to the status quo ante. Something real changed on July 11, when thousands saw each other in the streets in some 40 cities from one end of the island to another. Once a population has an experience of collective fear and loss, terror can be used only sporadically, tactically, as in the present cat-and-mouse game.
Where is Raul, and what happened to the Cuban generals? Over just nine days this month, Cuban state media announced the deaths of five generals, sparking a wave of discussion and rampant speculation among analysts and exiles. The senior military leaders all appear to have died between July 17 and 26. Some were serving and others retired, but all had lauded military careers. The youngest was 58. Most were in their 70s or 80s. It is not clear what caused the deaths, and there is no indication they were related. The deaths of several generals in a short space of time come as the revolutionary vanguard that has led the communist country for six decades hands over power to a new generation. Maybe they all moved to the other side of the grass in the same time frame or maybe they were pushed? Honestly, nobody knows for sure but it's a bit strange.
Cuban Govt. Blocks Internet and Ham Radio Signals. Could It Happen Here? On July 11, Cuban citizens rallied in the streets to protest food and medicine shortages and electricity outages. The demonstration was one of the biggest since the days of Castro. Cuba is going through its worst economic crisis in decades, along with a resurgence of coronavirus cases. Cuban officials blame the decades-long embargo with the United States for the collapsing economy. The internet, basically unavailable until 2008, has only been widely available in Cuba Since July 2019, when the Cuban government began lifting restrictions on internet access. Since that time, Cuba has slowly entered the digital world, with mobile access to the internet becoming available in December 2018. As Cuba's citizens protested, many of them pulled out their cellphones to post videos and images across social media platforms. The Cuban government began immediately blocking access to those platforms. This is reminiscent of Arab Spring, when the governments of Egypt, Libya, and Syria completely shut down the internet to quell the protests. Other governments in the Arab world were rumored to have arrested and even executed people for things they posted on the internet.
Cuba: Minor Arrested for Witnessing Protests Says Police Threatened to Rape Her. A 17-year-old girl sentenced to eight months of house arrest for having witnessed protests in Cuba on July 11 told the independent outlet Cubanet in an interview this week that police forced her to strip naked and threatened to subject her to rape by two large men. Gabriela Zequeira Hernández was on her way back home from the hairdresser in her native Havana when she noticed what she described as the largest crowd of people she had ever seen in her life. On July 11, Cubans nationwide took to the streets of nearly every major city in the country demanding an end to the communist regime. The protests reportedly attracted thousands of people, the vast majority marching peacefully through main streets and into central plazas calling for the communist regime to step down, and represented the largest nationwide simultaneous protest in recent memory.
Why Would Any Cuban-American Ever Vote for a Democrat Again? [Joe Biden] doesn't listen to average people. He and his ilk are much more heavily influenced by well-known celebrities and others who have spent their lives supporting the Castros. A group of them crowd-sourced by a leftwing organization called "The People's Forum" placed a full-page advertisement in The New York Times on 22 July demanding that The Hologram end the Cuba embargo (while remaining completely silent on the government crackdown on the Cuban protestors): [Tweet] Check out some of the signatories: Jane Fonda, Susan Sarandon, Daniel Ellsberg, Cornel West, Noam Chomsky, Oliver Stone, etc. Socialists, Communists, radicals, fellow-travelers, reprobates, fools. But then these are the people with and to whom Democrats socialize and listen, not regular people. I would wager that the vast majority of them voted for The Hologram and The Cackler, too.
This is the Elian Gonzalez scandal × 27, except these people won't be treated like heros when they get back.
Biden Sends Back 27 Cuban Rafters amid Deadly Communist Oppression. The U.S. Coast Guard announced the return of 27 Cuban refugees to the communist country on Tuesday [7/27/2021], caught attempting to navigate to Florida on two separate vessels. The slightly over two dozen people are believed to be the first large group of balseros, or rafters, caught attempting to enter the United States in this manner since the July 11 protests. On that day, thousands of Cubans marched in the streets of dozens of municipalities nationwide and every major city on the island, demanding an end to 62 years of communist rule. The protests triggered a wave of state-sponsored violence including public beatings, police opening fire on unarmed civilians, and the imprisonment and threatening of minors.
Cruz: DHS blocking Cuban refugees from entering U.S. because they 'tend to vote Republican'. Texas Republican Sen. Ted Cruz blasted Homeland Security Secretary Alejandro Mayorkas for saying that Cubans who come to the U.S. by sea will be turned away as his department releases thousands of illegal migrants, stopped at the southern border, into U.S. communities. According to a report on Tuesday, border patrol has released about 50,000 illegal immigrants without a date to appear in court, and only 13% of them have reported to an ICE office. In the past, migrants eligible for release into the U.S. after being caught at the border were assigned court dates. Former President Donald Trump reached an agreement with Mexico that required migrants awaiting their court hearings to remain in Mexico instead of the U.S. The Biden administration terminated that agreement.
Five Cuban Generals Mysteriously Died Over The Past Ten Days. Five high-ranking Cuban generals have passed away under mysterious circumstances over the past ten days. According to Periódico Cubano — a Florida-based news outlet that seeks to establish "a communication bridge between Miami and Havana" — reported on Tuesday that Brigadier General Armando Choy Rodríguez passed away. A Cuban university — which first shared the news with the public — offered no details on the cause of his death.
Five high-ranking Cuban military leaders die in a 10-day span. ive high-ranking Cuban generals have died in a 10-day span, according to the Cuban government, which has yet to provide causes of death. Marta Abreu Central University announced Monday that Brigadier General Armando Choy Rodriguez, 87, a former revolutionary and founder of the "July 26 Movement," died, according to The New York Post. Cuban television also confirmed Monday that Manuel Eduardo Lastres Pacheco, a former general who had served under Ernesto "Che" Guevara during the revolution in the 1950s, had died. Pacheco had also served as the commander of Cuba's Eastern Army. The day before, on Saturday, Gen. Ruben Martinez Puente, 79, had died. He was a controversial figure in the military who gave the order in 1996 to shoot down a civilian plane from the Cuban exile group "Brothers to the Rescue," exacerbating tensions between Cuba and the United States
Cuban Americans Turn on Biden. Tensions rose in front of the White House Sunday [7/25/2021] as a small group of socialists in defense of the Cuban communist regime attempted to confront a peaceful assembly in support of the rights of Cuban people. Lilia Gort, who was participating in the much larger assembly against communism, came from Tampa, Florida, because, as she told Breitbart News, "We want freedom for our people in Cuba. The Cuban people don't have any rights. We don't have freedom of speech. It's been like this for 61 years or more. The children don't have any food. They don't have medicine." "The people are being pulled out of their houses right now and they are being killed because on July 11, they went out on the streets to protest because they are tired of living in misery," Gort continued, appearing to reference video footage smuggled out of Cuba of state security conducting door-to-door raids and shooting unarmed civilians in their homes, sometimes in front of their children.
AOC Tries To Explain Why She Only Blames The US Embargo For What's Happening In Cuba. New York Rep. Alexandria Ocasio-Cortez and three other House Democrats affiliated with the far-left Democratic Socialists of America (DSA) have so far remained silent while the DSA appears to back Cuba's communist regime against protesters demanding freedom. Ocasio-Cortez, Michigan Rep. Rashida Tlaib, New York Rep. Jamaal Bowman, and Missouri Rep. Cori Bush make up the four DSA members in Congress. All four members have yet to speak out about the ongoing protests in Cuba. AOC tried to explain why she only blames the US embargo for what's happening in Cuba[.] The result was catastrophic!
AOC Discovers That Republicans Want Cuba's Communist Dictatorship to Fall. The precocious tween who occupies a congressional seat from New York has suddenly discovered that Republicans aren't fans of the brutal communist regime in Cuba and want that government to be changed. What a revelation! [...] Regime change in Cuba has enjoyed bipartisan support until the radicalization of the Democrats in recent years. Presidents of both parties wanted the murderous, long-winded, weird-bearded communist thug Fidel Castro gone. President John F. Kennedy, a Democrat, even launched an invasion led by Cuban exiles to topple Castro, in April 1961. The Bay of Pigs invasion failed and Castro remained in power until he couldn't hold on anymore, at which point he passed power sideways to his brother, Raul. Castro died a near-billionaire, which was quite a feat for a communist who was supposed to share wealth with the people. It never ever works out that way. [...] But AOC blames America first because that's so on-brand for her. It's her go-to move.
The Perverse Agenda of Black Lives Matter. If there remain citizens in America who, because of race or any other reason, are deprived of the benefits and protections of a free society, we should work to bring those benefits of freedom to them. The answer is not to abandon the principles that make us a free country. But this is what is happening. Those who are the loudest and most aggressive about what is supposedly wrong don't want a free country. Their complaint is not about absence of freedom, but who has power and who will be in charge and running the show. Nothing could make this clearer than the recent bizarre statement of Black Lives Matter about the current civil unrest in Cuba. Cuba is an unfree country. It has been run by communists for years. And, like all countries that are run by communists, the people there live deprived and oppressed. This is not rhetoric. This is fact.
The Cuban Dismissal Crisis. Democrats, completely undeterred by the election lessons of 2020, cozied right up to BLM's messaging. It took five days, but the White House has apparently had enough time to consider the question and agrees that yes, communism is a failed system. Even that admission was like pulling teeth from this president, who's been surprisingly muted in his response to the Cuban protests. But even his slow reaction was better than the outrageous responses from others on America's Left, who've decided the real villain in this crisis isn't the brutal regime — but America! Black Lives Matter, which is finally ending this ruse that they're anything but Marxist radicals, released a blistering statement blaming the United States for every cruel and inhumane thing that's happened to the Cubans over the last 62 years of oppressive rule. "Since 1962," the group claims, "the United States has forced pain and suffering on the people of Cuba by cutting off food, medicine, and supplies costing the tiny island nation an estimated $130 billion." In their long missive, they accused America of causing instability, called the embargo "absurdly cruel" and said that our foreign policy in the region is essentially "worse than embarrassing." Naturally, they never thought to point the finger at the real culprit of Cuba's misery: communism.
What the Protests in Cuba Tell Us About the Left's Agenda for America. As the American left argues openly for socialism, it's helpful to keep in mind just how dreadfully those policies have failed — and just how viciously socialists have responded to those who got in the way — in countries throughout the world. Watch the recent protests in Cuba and you will see how regular people feel about the direction the American left wants to take. They aren't happy. Since the communist revolution in 1959, leftists in America have celebrated purported Cuban progress in areas such as health care and education. Little mention was made in those quarters about the Cuban government's human rights abuses, which include political executions, arbitrary imprisonments, an unfair legal system, and severe limits on freedom of expression, free association, free assembly, free movement, and, of course, a free press. The problem with the left's embrace of Cuba's communism is it belies its ultimate lack of regard for those freedoms we, as Americans, hold most dear. The Cuban state is truly repressive. Those standing in the way of the revolution are not tolerated.
'Stand Firm Against That Regime,' Florida Lawmaker Says of Cuba Amid Revolt There. Rep. Byron Donalds has signed onto a resolution from a fellow Florida Republican, Rep. Mario Diaz-Balart, condemning the current situation in Cuba. Donalds says it's critical that the United States stand in strong opposition to the violent suppression of mass public protests there. "They said to me, 'Man, it's so bad.' Not only did they shut down the internet, but they were like, 'There was a 12-year-old kid who was in the crowd at the protests. The police, the military police threw him on the ground, hit him with the butt of their gun in the back of his neck, broke his neck. He's now paralyzed from the neck down,'" Donalds says. "They talked about how people are being told, when the [Cuban] military comes to their door, 'You either come with us, or we'll kill you right now.' These are the things that are occurring in Cuba right now, today," the freshman Florida lawmaker says. "And so, we as a country, as being the beacon for liberty and freedom on the globe, we have, in my view, a moral obligation to stand firm against that regime."
1619 Project Creator Professed Her Love For Free & 'Equal' Communist Cuba. The creator of the "1619 Project," that infernal New York Times piece that reframes America's founding as being all about promoting slavery, is a fan of Communism and what Castro did to Cuba. Are we surprised? Well no, not really. In a recently resurfaced podcast interview from two years ago, 1619 Project creator Nikole Hannah-Jones sang the praises of Cuba as the "most equal" country in the Western Hemisphere, and that was all thanks to "socialism." Now in 2021, as we see Cubans crying out in the streets against the tyranny of the island nation's regime, it's quite clear that people like Hannah-Jones are dangerous ideologues who have no problem implementing that same kind of socialism here. During a 2019 interview with Vox's Ezra Klein, Hannah-Jones talked about the nations she thought had made the greatest strides in terms of fairness and diversity. No doubt the lady whose crowning achievement is propaganda on how evil our country is, wouldn't recognize America as a place of notable equality and diversity. She actually claimed that communist Cuba is the most "equal" place in the west.
The American Descent into Madness. What was so hard about understanding that Cuba since 1959 has been a Communist gulag, antithetical to human freedom and consensual government? What was so difficult about conceding that Cuba had been an ally of the nuclear Soviet Union, always egging it on to war against the United States? Yet here we are with protestors against a failed, evil state in the streets of Havana, and our own government, media, and professional classes are worried that ossified Communism in Cuba may fall. After opening the U.S. southern border to pseudo-political refugees, the Biden Administration is terrified that thousands of real ones might come to Miami in the fashion it invited millions to storm into Texas. The Biden Administration, and the Left in general, finally revealed what many of us have known: it had no real ideological view on illegal immigration. Its immigration policy was entirely utilitarian and hinged only on whether illegal immigration altered the demography of the electorate in the correct way.
Uprising in Cuba: War cries and rebel yells in communist Cuba. This sudden eruption of dissent was caused by a perfect storm of calamities, all of which have revealed the Big Lie of the revolution. Lately, life in Cuba has become more unbearable than ever for just about every Cuban. The crisis is due to a long string of blunders and catastrophes, linked like beads on a rosary from hell: The loss of revenue from Venezuela, a collapsed economy, gargantuan foreign debt, a disastrous sugar harvest, uncontrolled inflation, a plague that is intensifying in Cuba rather than abating, a crumbling health care system, medication shortages, food shortages, water shortages, electricity blackouts, and increased repression, to name but a few. Never mind the sanctions by the United States or the so-called embargo that Cuba's military junta and many of the world's news outlets are blaming for the current crisis. These are inconsequential factors, a decoy skillfully manipulated by the oligarchs in order to distract from their own ineptitude and the congenital defects of the communism they embraced. These protesters know the ultimate cause of their distress is their lack of freedom in all spheres of life, which is nothing new.
He Doesn't Seem to Know It, But Joe Biden's Problems Are Mounting Fast. Joe Biden reaches the six-month mark of his presidency in a few days. It just seems much longer. [...] Take the Southern border. Please. In the last fiscal year under Donald Trump's "Stay in Mexico, Amigos" enforcement policies, border agents arrested 458,000 illegals, a 53 percent drop from the previous year. So far this fiscal year under Biden's Bienvenidos policy, agents have arrested more than one million illegals with still three more months to go. That's already the most since 2005. But you don't hear much about this border chaos, because Kamala Harris has already been there to straighten things out. Large demonstrations for "Libertad" broke out in Cuba this month. Once they're breathing freedom, emigres from there tend to vote Republican. So, the Biden administration told them not to come.
Sen. Ted Cruz: I Want to See Sanders, Warren, AOC Get on a Raft and Sail to 'Socialist Paradise' Cuba. Sen. Ted Cruz (R-TX) railed against communists during a speech at Turning Point USA's Student Action Summit on Sunday, noting that people only seem to flee communist-run countries for America, not the other way around.
Cuba Protesters at White House: Joe Biden 'Has The Power To Stop This in One Day'. A group of protesters urging American action to protect the lives of thousands of Cubans who began protesting peacefully against the regime this week across the island told Breitbart News on Thursday [7/15/2021] that the communist regime has launched a "civil war" and "genocide" against those seeking freedom. While Cuba has seen a growing number of peaceful assemblies against the ruling Castro regime in the past decade, the scale of the protests that began on Sunday — spanning over 60 municipalities from one tip of the island to the other — is a dramatic escalation from what the country has experienced in recent memory. The scale of the repression on the part of the regime has also grown. President Miguel Díaz-Canel, the figurehead of the ruling Castro dynasty, issued an "order of combat" on Sunday demanding that civilian "revolutionaries" take the streets and violently assault anyone suspected of protesting against the regime.
FCC Commissioner: US Government Can Use High-Altitude Balloons to Provide Internet to Cubans. The U.S. government can utilize high-altitude balloons to provide internet access to Cubans, a Federal Communications Commission (FCC) commissioner says. "The advantage of a high-altitude balloon: a proven tech that would not require new infrastructure in Cuba," Brendan Carr wrote on Twitter on July 17. Florida Gov. Ron DeSantis, a Republican, called on President Joe Biden to restore an internet connection to the island after the ruling regime moved to shut it off. "I write to urge you to assist in providing Internet access to the people of Cuba standing up against communist oppression and demanding a voice after decades of suffering under the yoke of a cruel dictatorship," DeSantis said in a letter this week to Biden, a Democrat.
6 Things to Watch During Cuba Protests. The pro-freedom protests in Cuba are fluid, but the communist dictatorship there seems willing to soften its tone and allow travelers to bring in food and medicines amid the unrest. Still, mass arrests and detention of peaceful protesters continued. In the United States, Republicans called for the Biden administration to be more active in supporting protesters. However, the U.S. and other free nations mostly seem to be condemning the Cuban government's actions while waiting to see what happens next.
Cuban Special Forces Thugs Raid The Home Of Protester, Kill Him In Front Of Wife And Children. Ramos Herrería said members of a special forces unit known as the Black Wasps invaded the home of her daughter's longtime friend in Cárdenas. She said the armed black-clad men hunted the young woman's husband who had been involved in the protests. "The husband was beaten to the ground ... There is a huge pool of blood in the room," Ramos Herrería said adding the victim's relatives believe he is dead and the couple has children ages 2 and 12. She said "murderers" are attacking unarmed Cubans. The violence comes amid shortages of food and medicine and a lack of access to healthcare for COVID patients who are dying at home. She said they are out of fuel, gas, and now electricity. The crackdown also included disrupting internet connectivity. [Video clip]
Oh look: BLM lavishly praised genocidal commie Fidel Castro in resurfaced tweet and blog post. As we established yesterday, BLM's response to the protests against the communist regime in Cuba prove that the organization is a bunch of commie neckbeards that care little about equality or racial healing: [Tweet] Today, more of BLM's past praise for mass-murdering Marxists has come to light in the form of a tweet and blog post that praised Cuban dictator and genocidal communist Fidel Castro: [Video clip]
Former Florida Dem Congresswoman Scolds AOC for Blaming Cuba Crisis on U.S.. Representative Alexandria Ocasio-Cortez (D., N.Y.) drew the ire of a former Florida Democratic congresswoman after she suggested that the U.S. is partially responsible for the the deprivation that has led to civil unrest in Cuba in recent days. "We also must name the U.S contribution to Cuban suffering: our sixty-year-old embargo," Ocasio-Cortez tweeted. "I outright reject the Biden administration's defense of the embargo. It is never acceptable for us to use cruelty as a point of leverage against every day people."
BLM Praises Cuban Government. Black Lives Matter posted a statement Wednesday praising the Cuban government amidst mass anti-communist protests. The statement, posted to their Instagram and Twitter accounts — blamed the U.S. for the country's instability and credited the Cuban regime for granting "black revolutionaries" asylum, as reported by Fox News. "Black Lives Matter condemns the U.S. federal government's inhumane treatment of Cubans, and urges it to immediately lift the economic embargo," the statement reads. "This cruel and inhumane policy, instituted with the explicit intention of destabilizing the country and undermining Cubans' right to choose their own government, is at the heart of Cuba's current crisis."
Black Lives Matter blames US, praises Cuban regime, social media erupts. Black Lives Matter faced fierce criticism late Wednesday after posting a statement that blasted the U.S. and praised Cuba's government while the island was destabilized by historic protests and violent crackdowns. The statement — originally posted on Instagram and later tweeted and retweeted — blamed the U.S. embargo for the country's instability and credited the Cuban government for historically granting "Black revolutionaries" asylum. Sen. Marco Rubio, R-Florida, was quick to rebuke an initial tweet that linked to the statement. "The extortionist ring known as the Black Lives Matter organization took a break today from shaking down corporations for millions & buying themselves mansions to share their support for the Communist regime in #Cuba," Rubio tweeted.
BLM blames 'cruel and inhumane' US embargoes for Cuba unrest. Black Lives Matter has blamed the 'cruel and inhumane' US for the current unrest in Cuba, as the activists praised the Communist regime for harboring a convicted US cop killer and for its 'solidarity' with oppressed people. The group sparked a furious backlash with the statement shared online following a week of violence on the island and furious protests over food shortages and rising prices. BLM accused the US of causing the instability with its embargoes which have caused 'pain and suffering' for Cubans for 60 years in the message which was branded 'worse than embarrassing'.
BLM shills Cuba's lily-white dictatorship, [discounting] all the black people protesting across Cuba. Black Lives Matter, an organization founded and led by "trained Marxists," has released a statement on this week's slave uprising in Cuba, brimming with sycophancy for the brutal Cuban dictatorship: [Tweet] The statement came out with some funny timing, too, according to Fox News: ["]The BLM tweet was sent out at about the time Cuban President Miguel Díaz-Canel admitted in a televised address that his government's failures played a role in the protests over food shortages and other issues. He had earlier called on "revolutionaries" to counter the anti-government protesters. Black Lives Matter Global Network Foundation, Inc.'s tweet echoed Díaz-Canel's early statements that blamed the U.S. embargo for the country's economic devastation. Cuba is going through its worst economic crisis in decades and is also facing a resurgence of coronavirus cases.["]
Rats fleeing Cuba's sinking ship? Resignations and calls for ending communist dictatorship are coming fast. So are the rats fleeing the ship in Cuba? It's always a bad sign when the elites start resigning during times of crisis, as if to get out early to save their skins. There's more than one now as Cuba erupts into protests and calls to end the communist dictatorship, so it's getting to be a pattern. So here we got one report of a resignation of one of the regime's thuggier members, Cuba's Deputy Minister of the Interior, Brigadier General Jesús Manuel Burón Tabit, according to top Cuba expert Carlos Eire, writing at the indispensible Babalu blog.
Live From Havana. The Obama cat has the Biden administration's tongue as the Communist thugs carry on in Havana, imprisoning anyone who can get the word out on the open air prison they maintain to support the regime. The continued tyranny and immiseration appear to be reaching a breaking point with the protests that have brought the regime back into the news. It's time for it to go. Yesterday [7/13/2021] Cuban police arrested the popular YouTube/Instagram personality Dina Stars at her home while she was interviewed on the Spanish Cuatro channel's television program Todo Es Mentira (I believe that is translated "Everything Is a Lie").
Beijing Vows to Aid Cuban Efforts to Suppress Protesters. In a statement on Tuesday [7/13/2021], the Chinese government reaffirmed its support for its fellow Communist regime in Cuba, and that it would "stand ready to work with Cuba" in suppressing the new wave of anti-government protests across the country, as reported by Breitbart. The statement was issued by Chinese Foreign Ministry spokesman Zhao Lijian, who recently gained notoriety for falsely claiming that the United States was responsible for creating the coronavirus, which actually came from China and has since spread throughout the world. Zhao described the protests as "foreign interference in Cuba's internal affairs," and declared that China "firmly supports what Cuba has done in fighting COVID-19, improving people's livelihood, and upholding social stability." "I'd like to stress that China stands ready to work with Cuba to implement the important consensus of the two heads of state," Zhao continued, "and is firmly committed to deepening friendly relations between the two countries."
Ron DeSantis Providing Leadership on Cuba While Joe Biden Is Missing in Action. Cuban-Americans in Florida have been out in the streets, rallying on behalf of their brethren in Cuba. They've been calling on Florida and the United States to help the Cuban people. [Tweet] While Joe Biden has said that he would "stand with the Cuban people," it's not clear that he's actually doing anything at all to back up those words. Some folks in Florida tried to organize boats to go to Cuba and provide help but the U.S. government was discouraging that. Meanwhile, Florida Governor Ron DeSantis was striking all the right notes, meeting with Cuban-American leaders in a round-table discussion to discuss the deteriorating situation in Cuba. DeSantis also corrected the Biden team for falsely painting the protests in Cuba as a reaction to the pandemic. [Tweet]
Ted Cruz Sends Inspiring Message to the People of Cuba. Joe Biden has seemed absent in dealing with the protests of the people of Cuba calling for their freedom. As we reported, Cuban-Americans marched across South Florida chanting "Where is Biden?" because a real response seemed lacking. While Biden said he supported the Cuban people after a delayed response, even then the criticism seemed muted because he seemed unwilling to even use the term "communism" to describe the regime. Instead, his team seemed to blame the pandemic and "mismanagement" for the problem. Biden finally got around to it today, calling communism "a failed system," after being dragged into saying something more. "
Miami mayor urges Biden to consider airstrikes against Cuba's Communist regime. The mayor of Miami, Florida, has called on the US to consider military action to overthrow the Communist regime in Cuba — even if that means launching airstrikes. Francis Suarez — whose father was Miami's first Cuban-born mayor — told Fox News on Tuesday [7/13/2021] that "what should be being contemplated right now is a coalition of potential military action in Cuba." He highlighted previous US military action in Panama, Kosovo and Pakistan, the latter of which "probably saved thousands" of lives by killing Osama bin Laden when President Biden was vice president. "Are you suggesting airstrikes in Cuba?" Fox News host Martha MacCallum asked. "What I'm suggesting is that that option is one that has to be explored and cannot be just simply discarded as an option that is not on the table," Suarez insisted.
1 Dead, 140 Detained, Reporter Arrested on Live TV as Cuban Government Cracks Down on Freedom Protests. The heavy arm of the Cuban government has been falling on the people protesting the government, but it's also falling on those who have been trying to cover what's going on in the media. There are now reports of at least 140 people having been "detained" by the government or have been "disappeared."
Cuba protests: one man killed and more than 100 missing in historic unrest. One person has died during demonstrations in Cuba over food shortages, high prices and other grievances against the government. The interior ministry said on Tuesday [7/13/2021] that Diubis Laurencio Tejeda, 36, died during a clash on Monday between protesters and police in the Arroyo Naranjo municipality on the outskirts of Havana. It said an unspecified number of people were arrested and there were some people injured, including some officers. The statement accused demonstrators of vandalising houses, setting fires and damaging power lines. It also alleged they attacked police and civilians with knives, stones and other objects. The confirmation follows reports that scores of activists, protesters and journalists, including a reporter for one of Spain's leading newspapers, have been detained as Communist party security forces seek to smother Sunday's historic flare-up of dissent.
Cuba: Protesters Arrested, Missing After Sunday's Protest Against Communism. I'm seeing reports of 57 to hundreds of missing or arrested Cubans after Sunday's protest, which spanned across the island. People flooded the street, demanding an end to the Communist regime. Frances Martel at Breitbart, who, I cannot stress enough, is a must-follow on everything Cuba, reported 57 missing or imprisoned Cubans include priests: ["]Cuban civilians documented multiple instances throughout the country of state security agents firing live rounds into crowds and beating protesters with baseball bats and other weapons. Witnesses also documented the use of tear gas and other repressive anti-riot gear.["]
Media and Democrats Remain Silent as Biden Administration Turns Away Asylum Seekers from Cuba. There is a crisis at the border. There is a crisis in Cuba. The Democrats and their allies in the media would very much like for you to ignore both. You may not like or agree with Donald Trump's plans for the border when he was President, but he had one. His administration was trying to do something. We know this, because the media would not stop reporting on it. Over and over, we got nothing but stories about how awful it was that the Trump administration was stopping asylum seekers from coming to the United States. The southern border is in shambles right now as immigrants flood the border, making it difficult to tell the honest asylum seekers and true immigrants from those with nefarious intent. Eliminating that was the Trump administration's goal, and they were attacked for it. The Biden administration, meanwhile, wants you to know that the Trump days are long gone, and it's a new era.
She Was Imprisoned in Her Native Cuba. Here's How She Describes Life Under Communism. Lala Mooney, born in communist Cuba, was imprisoned there at age 19. As protests erupt in the Caribbean nation, Mooney, mother of Rep. Alex Mooney, R-W.Va., joins "The Daily Signal Podcast" to talk about what life there is like. "At the economic level, we lost everything," Mooney says. "My mother's family owned a sugar mill and they put a gun on my uncle's desk and say, 'Sign it over.' We lost everything." Mooney says her father was dean of engineering at St. Thomas of Villanova Catholic University in Havana, which the communist regime of Fidel Castro confiscated in 1961, expelling American and European Anglicans who administered it. "Once we were in prison, my father said, 'There's no sense for me to stay here if they put me in prison.'"
Remember the victims of July 1994. Another year and another anniversary. We can add this one to the shooting of 1996 when a civilian plane was shot down by the regime. As people march in Cuba, we remember the ones who were killed this week in 1994. This is one of the most outrageous crimes of this inhumane regime. [...] Over at PanAm Post, John Suarez related the events of that terrible day: ["]In the early morning hours of July 13, 1994, 37 men, women, and children were killed by government agents seven miles off the Cuban coast, as they sought to travel to freedom on board the "13 de Marzo" tugboat. Eleven of these Cubans were children, ranging in age from Helen Martínez Enríquez — just five months old — to Mayulis Méndez Tacaronte, aged 17.["] It was not an accident, as Cuban official media said. It was a premeditated attack on Cubans trying to leave the island.
Have the Cuba protests already been quashed? Yesterday [7/12/2021], one of the biggest news stories making the rounds involved the sudden emergence of widespread protests in Cuba. They were being described as pro-democracy demonstrations calling for the end of the dictatorship that currently controls the country under President Miguel Díaz-Canel. People were taking to the streets in more than two dozen cities and numerous smaller towns. But as of this morning, things suddenly appear a lot more subdued in Cuba. There are still some sporadic reports of protesters showing up, but the activity appears to be significantly muted compared to Sunday and Monday. So is the "uprising" really over that quickly? It might be, or at least close to it because the Díaz-Canel regime has already begun cracking down on the protesters, while still attempting to blame the unrest on the United States.
Biden's reaction to Cuban protests has been a disgrace. The initial Biden administration response to the mass rallies for freedom that took place across Cuba on Sunday was a disgrace. As Cubans took to the streets defying the Communist regime's totalitarian police, a senior State Department official tweeted that the administration viewed the protests as merely a result of unhappiness "about rising COVID cases/deaths" in the island country. That's pure bunk. The slogans shouted by thousands who risked imprisonment or worse were about an end to the Communist dictatorship installed in the 1950s. "Freedom!" "Enough!" they cried. The starvation and shortages that have outraged demonstrators are a direct result of the regime's policies and repression. Some blame the lack of tourism because of the pandemic. But that money was largely funneled to an unaccountable and brutal government, not its long-suffering citizens.
Democrats Start to Panic After They Realize They've Screwed up in Florida. Protests in Cuba against the communist regime and the decades of oppression it has produced have provided a test of will in Florida. While Republicans, both in the state and nationally, are always outspoken against the Cuban government and understand the reasons the people there are fed up, Democrats have attempted to straddle a line that can't be straddled. Tepid denouncements that refuse to name communism as the problem and distract to other issues do not play well in a state like Florida. We saw the White House try to make the unrest about COVID vaccines, which is not only ludicrous but an obvious attempt to bolster their own flailing messaging on the pandemic. Meanwhile, local other Democrats appropriated the justified protests against a dictatorship in Cuba in order to whine about anti-rioting laws in Florida.
Trump Blasts Cuba's Communist Government: I Back the People 100 Percent in Their Fight for Freedom. Former President Donald Trump is standing behind Cuban protestors in their quest for freedom from Castro's communist regime. "Big demonstrations are breaking out in Cuba and Miami in protest of the Communist Cuban Government (although, today there are zero protesters in Cuba — you know what that means!). Don't forget that Biden and the Democrats campaigned on reversing my very tough stance on Cuba. Remember when Obama attended baseball games with Castros while they imprisoned, beat, and killed the Cuban people," Trump released in a statement Monday afternoon. "I stand with the Cuban people 100% in their fight for freedom. The Government must let them speak and be free! Joe Biden MUST stand up to the Communist regime or — history will remember. The Cuban people deserve freedom and human rights! THEY ARE NOT AFRAID!"
Never forget the US left's disgusting love affair with the Castro regime. It's not easy to run a hideous dictatorship and still have fans and defenders in fashionable quarters, but the Castro dictatorship has managed it all of these decades. The mass, spontaneous protests that broke out all over the country last weekend are yet another sign that the Cuban government lacks all legitimacy. In Cuba, it is the government versus the people, and lo, all these years, Castro's apologists have been with the government. They have romanticized Fidel Castro, the founder father of Cuba's junta. They have swallowed its propaganda. They have made excuses for it. They have looked away from its crimes. And they have blamed America for its manifest failures.
Really? CBS Tries to Blame Trump for Cuba's Crumbling Economy. On Monday [7/12/2021], CBS This Morning unbelievably attempted to blame the Trump administration for Cuba's economy crumbing after decades of the island nation's brutal, corrupt communist regime oppressing its people. The broadcast then urged the Biden administration to appease the authoritarian government by removing sanctions on the dictatorship. "Cuba is rocked by its biggest public protests in decades," fill-in co-host Adriana Diaz warned at the top of the show. After noting that "Thousands of people are angry over food shortages and the government's response to the pandemic," the anchor fretted over the fate of the regime: "What authorities are doing to keep control."
CBS Flips Blame: 60 Years of 'Communist Rule' Caused Cuba's Problems. On Monday [7/12/2021], CBS This Morning drew criticism from the reasonable when they blamed former President Trump for the plight of the protesting Cuban people. But later that night, the CBS Evening News made a blatant reversal of messaging as they became the only broadcast network that evening to not only say the word "communism" but also blamed the "six decades of communist rule" for their lack of food and other "basic necessities." [...] The change in finger-pointing was almost immediately noticeable at the top of the evening newscast when anchor Norah O'Donnell teased: "In the streets, Cubans fed up with the communist government stage nationwide protests." And when she got around to the segment, she again noted that the uprising was against "that country's communist regime."
Keep a Close Eye on Cuba. John noted last night the large anti-regime protests in Cuba, and one hopes that this is the beginning of the end for the Castro tyranny, in just the way that mass protests in Eastern Europe in 1989 presaged the fall of the Berlin Wall in November of that year, and the collapse of Communist rule shortly thereafter. There are reasons to worry about this scene, however. Protestors took to the streets "in cities all around the country" according to media reports. Did these protests happen spontaneously? There are credible reports of building unrest among Cubans for several months now, but protests usually require some planning, coordination, and communication. Cuba keeps a tight lid on communications (and especially the internet). It is reported today that Cuba has shut down the internet to hinder further protest planning. Cuban intelligence is really good: can it be they had no inkling that a protest might be reaching critical mass?
Is Biden Ready To Enforce America's Libertad Law To Open Up Cuba? Cubans know the island's top source of hard currency is the exploitative export of Cuban experts in exchange for euros and dollars. They're also aware that that hard cash enriches the rulers and bigwigs in the army, which controls up to 80% of the Cuban economy. And that at the same time the Cuban people lack the most basic necessities. Castro's heirs have clumsily attempted to replicate China's Communist model, which allows some free enterprise while maintaining tight controls over macro economics. And no political dissent. Havana has touted its biochemical industry and sent physicians and nurses across the world in exchange for hard cash, but while Cuba displays 14 "medical tourism" facilities on the island, health care for the locals is among of the world's worst.
Cuba: The Collapse Of Another Socialist Utopia? Let's Hope So. Like an unwatched pot suddenly violently boiling over, Havana and other cities have erupted in defiant protests by Cubans fed up with living in their perpetually depressed tropical police state. True to form, the Castroite regime has already reflexively cracked down on the protests with brutality. Cubans weary of being treated like animals without rights took to the streets, shouting "Freedom!" "Down with the dictatorship," and, most pointedly, "Down with communism!" In some cases, protesters carried American flags. This was not an isolated demonstration: According to the Spanish-language data site Inventario, some 63 cities and towns were roiled by demonstrations on Sunday through early Monday [7/12/2021]. Here in the U.S., some on the left initially tried to portray this as Cubans being upset over COVID-19 infections and a lack of vaccines.
Republicans spotlight Cuba as socialism failure as protests erupt amid historic economic crisis. Republicans are pointing to unrest in Cuba as evidence that socialist policies ultimately fail, despite a trend among far-left Democrats to embrace them. Thousands of Cubans took to the streets in Havana over the weekend to lash out at the worsening conditions in the country under the communist regime, as Cuba faces its worst economic crisis in decades. "Socialism leads to pain and suffering and Cuba is the perfect example," Sen. Marsha Blackburn, R-Tenn., said in a statement. "Biden must pressure Cuba to provide assurances that they will not fire on their own people. This is a major test for Biden. He must exert leadership and American influence." Cuban-American Sens. Marco Rubio, R-Fla., and Ted Cruz, R-Texas, had particularly strong words against Cuba's system of government.
Crenshaw Levels Biden State Dept. For False Cuba Narrative. On Sunday after a State Department official described the heroic Cuban protests against the tyrannical communist government as the people "expressing their right to peaceful assembly" to "express concern about rising COVID cases/deaths & medicine shortages," Rep. Dan Crenshaw (R-TX) blasted her, firing, "Stop playing cover for communists and support the Cuban people. [...] Why is that so hard for you." Julie Chung, Acting Assistant Secretary for U.S. Department of State's Bureau of Western Hemisphere Affairs, tweeted, "Peaceful protests are growing in #Cuba as the Cuban people exercise their right to peaceful assembly to express concern about rising COVID cases/deaths & medicine shortages. We commend the numerous efforts of the Cuban people mobilizing donations to help neighbors in need."
Sanders loves trashing Republicans but won't condemn truly oppressive Cuban Communists. Sen. Bernie Sanders, I-Vt., often uses his Twitter account to disparage policies in the United States and Republican politicians he doesn't like, but he has been silent about thousands of protesters gathering in the streets Sunday calling for the end of the communist regime in Cuba. Sanders, who previously defended some of the policies of Cuba's previous communist dictator Fidel Castro, including his literacy program, was silent until Tuesday afternoon on whether he supports Cubans speaking out against the communist regime. He finally spoke, but only when prompted with a question, and he did not limit his comment to Cuba.
'Down With Dictatorship': Thousands of Cubans Demonstrate Against Communist Regime. Thousands of Cubans took to the streets on Sunday [7/11/2021] in a number of cities to protest against human rights abuses, a lack of freedom, and a worsening economic situation in the communist-ruled country. Videos uploaded to social media appear to show demonstrations in a number of towns and cities, including the capital, Havana, on Sunday. Protesters, chanting in Spanish, said they "weren't afraid" of the regime led by Miguel Diaz Canel, and said they wanted access to COVID-19 vaccines and an end to the regime. It comes amid reports of gas, electricity, and vaccine shortages across the Caribbean island nation. Some analysts noted online that Sunday's demonstrations are the first time that so many had protested the government since the Maleconazo uprising in 1994, which prompted a number of Cubans to leave the country by boat to the U.S.
Socialists in Congress Silent as Cubans Rise Up Against Communist Dictatorship. Protests erupted yesterday [7/11/2021] in all of Cuba's major cities against the nation's ruling Communist dictatorship following over six decades of oppression. Protesters chanted "freedom," "enough" and "unite," and demanded the dissolution of their nation's communist dictatorship. Protesters had specific complaints about the nation's food shortages, high prices, and handling of the coronavirus outbreak, which were correctly attributed to their government. The Biden administration was initially silent on the protests, and only commented that they'd vow to condemn any violence in Cuba. Biden himself waited until this morning [7/12/2021] to say that the U.S. stands with the Cuban people.
Cuban President Blames U.S. for 'Social Unrest' after Massive Anti-Communist Protest. Cuban President Miguel Diaz-Canel on Monday accused the U.S. of provoking social unrest in his country, one day after thousands of Cubans took to the streets to demand an end to the Communist dictatorship that has oppressed and anchored citizens in poverty for decades. During a live television broadcast, Diaz-Canel said the U.S. has pursued a "policy of economic suffocation to provoke social unrest in the country." He suggested that the United States is responsible for inflicting economic misery in Cuba by imposing trade sanctions. The Cuban president also alleged that mercenaries hired by the US intentionally manufactured the anti-government protests to destabilize Cuba, the BBC reported.
The Biden Administration's Silence on Cuba Is a Problem. On Sunday [7/11/2021], protests in Cuba erupted as citizens took to the streets over a lack of food, medicine, and other necessities under the brutal regime of the Cuban government. In response, social media was flooded with calls for support (many under the hashtag #SOSCuba) and several major media outlets took notice of what was happening. The problem is that this is a moment when the American government should take notice, and it largely seems to have ignored it. You had politicians like Marco Rubio and Ron DeSantis release statements, as well as other Republicans, but the party in power was all but silent.
Psaki Refuses to Acknowledge the Cuban People's Call for Freedom. There's something pretty amazing going on in Cuba today, as we reported here and here. It's pretty fair to call it an uprising in Cuba, at this point, against the Communist government, with thousands in the street upending police cars — and police joining the protesters. It's something that may not have been seen since 1959, with the massive numbers of people. What the Cuban people need now is support in their quest for freedom and the world standing together saying: we wouldn't stand for the government firing on or being violent with the people. Republicans have come out in support of the Cuban people. [Tweet]
Massive Demonstrations in Cuba Demanding Freedom, Waving American Flag, Taking on Police. As we previously reported there are thousands out in the streets across Cuba, from small towns to big cities, calling for freedom from the Communist government and chanting "we are not afraid!" People are saying it's the largest mass protest since 1959. If you know your Cuban history, that's the last time the government changed hands — when Fidel Castro took power. So, that's an incredibly significant thing to say. [Tweets] There's also another powerful symbol that some are waving — the American flag — to them, a symbol of freedom. Imagine if the folks on our left in this country understood that meaning as well these Cubans do. [Tweets]
Biden Administration Claims Cuban Anti-Communist Protests Are About 'Rising COVID Cases/Deaths'. President Joe Biden's administration responded to protests in Cuba against the Communist regime on Sunday by issuing a statement through a minor official commending protests "about rising COVID cases/deaths & medicine shortages." On Sunday [7/11/2021], protests broke out in Havana and several other Cuban cities, during which people chanted "Freedom!" and "Down with the dictatorship!" while marching against Communist Party institutions. The New York Times noted that while the demonstrations were triggered by "food and medicine shortages," they also "openly protested against the Communist government" for the first time in nearly 30 years. Some activists called it the largest spontaneous popular protest since Fidel Castro took power in 1959, with protesters openly denouncing the regime of Miguel Diaz-Canel.
Miami mayor leads calls for US intervention in Cuba as thousands take to the streets of Communist-run nation. Thousands of Cubans took to the streets from Havana to Santiago on Sunday chanting 'down with the dictatorship' in the biggest anti-government demonstrations on the Communist-run island in decades. The images of protests in Cuba that have gone viral on social media prompted officials in the United States to call for an American-led intervention to topple the ruling government in Havana. Thousands of Cubans marched on Havana's Malecon promenade and elsewhere on the island to protest food shortages and high prices amid the coronavirus crisis.
NY Times ripped for equating 'freedom' as 'anti-government slogan'. The New York Times faced backlash on Sunday for its framing of recent spontaneous protests occurring in Cuba against the communist government. "Shouting 'Freedom' and other anti-government slogans, hundreds of Cubans took to the streets in cities around the country on Sunday to protest food and medicine shortages, in a remarkable eruption of discontent not seen in nearly 30 years," the New York Times tweeted. Thousands of protestors gathered in Havana and towns across the country to protest various government shortcomings including food shortages, medicine shortages, rising prices, and pandemic restrictions. Although many protestors attempted to film the march, Cuban authorities eventually shut down internet service within the area.
As millions march against communism across Cuba, Biden administration makes an outrageous response. Defying death, terror and beatings, millions of Cubans took to the streets across Cuba shouting "Freedom" and "We are not afraid" in a collective call to end to the 62-year communist dictatorship. It was breathtaking, a thing of beauty, comparable only to Tiananmen or the fall of the Berlin wall. It took unprecedented courage, too — against state goons, secret police, government death squads, and paid thugs — who are responding now like cornered rats, knowing very well their survival is at stake. It's too soon to tell if the Cubans have won, a big general strike has been called today. But even if they didn't, this was a vast people's repudiation of communism, that brutal system so praised by the U.S. left.
Will Cuba Finally Be Free? Earlier today [7/11/2021], demonstrations against Cuba's Communist dictatorship broke out across the island. The New York Times, long an apologist for Castro's tyranny, acknowledges the current reality: ["]Shouting "Freedom" and other anti-government slogans, hundreds of Cubans took to the streets in cities around the country on Sunday to protest food and medicine shortages, in a remarkable eruption of discontent not seen in nearly 30 years.["] Heh. Yes, "Freedom" is an anti-government slogan. The Times, though, is pretty much always on the side of government, especially when the government is socialist.
Cuban Refugee Warns America Is Swallowing The 'Poison Pill' Of Communism. Do you remember Maximo Alvarez? He is the Cuban-American immigrant who spoke at the last Republican convention and warned America not to trust the Democrats. He talked about his family escaping communism and praised America for being the land of the free. This week, he was interviewed by Lisa Boothe and once again, he sounded the alarm.
Ted Cruz jabs CNN, suggests Cuban leader Raul Castro should join liberal network. Saturday [4/17/2021] marked the end of an era in Cuba when 89-year-old Raul Castro announced he'd be resigning as the leader of the country's Communist Party. He and his late brother Fidel Castro reigned for six decades, the latter taking power in 1959 following the Cuban Revolution against then-leader Fulgencio Batista. Without a beat, Sen. Ted Cruz, R-Texas, suggested Castro's next gig. [Tweet] Some social media users nodded along with Cruz's suggestion, noting that the move would make sense because CNN is the "Communist News Network." Others gave Castro a network promotion. Cruz, who is the son of a Cuban immigrant, has often spoken out about the dangers of the communist regime in Cuba and their history of human rights abuses. Castro's exit comes as Cuba is experiencing food shortages and financial instability as the COVID-19 pandemic shuttered its tourism industry.
Can you blame Raúl for leaving? Some in the media are treating this as some "Washington moment," or when President Washington decided not to seek a third term in 1796. Well, not really. President Washington retired after being elected for two terms. Raúl Castro was never elected to anything, unless you think running unopposed for head of the Communist Party is some kind of model election. So what's going on? Let's cut him a little slack and say he is old. Yes, he will be 90 in a few months. Let's accept that the absence of a Castro is historic. My guess is that Raúl Castro knows that this is a good time to get out because the island is facing some difficult times. COVID has hit Cuba hard and cut into tourism, the only thing the island has to bring in dollars. Once upon a time, Cuba had a private economy. It doesn't anymore, so tourism is about all they have. COVID stopped those flights full of tourists, and the economy shrank 11% last year. Thanks to President Trump, U.S. sanctions have made it more difficult for Cuba's regime.
Raul Castro resigns, ending era of family communist rule in Cuba. Raul Castro said Friday [4/16/2021] he is resigning as head of Cuba's Communist Party, ending an era of formal leadership by he and his brother Fidel Castro that began with the 1959 revolution. The 89-year-old Castro made the announcement Friday in a speech at the opening of the Eighth congress of the ruling party, the only one allowed on the island. He said he was retiring with the sense of having "fulfilled his mission and confident in the future of the fatherland." Castro didn't say who he would endorse as his successor as first secretary of the Communist Party. But he previously indicated that he favors yielding control to 60-year-old Miguel Diaz-Canel, who succeeded him as president in 2018 and is the standard bearer of a younger generation of loyalists who have been pushing an economic opening without touching Cuba's one-party system.
Prelude to a Kiss? State Dept. to 'intensify' inquiry into Cuban sonic attacks. Anyone with half a brain — maybe even much less than that — can easily discern the handiwork of Castro, Inc. in the neurological injuries sustained by American and Canadian diplomats in Castrogonia. Yet, most media outlets keep treating this news story as some kind of impenetrable mystery. Here is the latest installment from the Castro News Network (CNN), which prefers to refer to the injuries as "Havana Syndrome", a term invented by Canadians in order to absolve Castro, Inc. of all responsibility by implying that mass hysteria of some sort is involved. The article predictably quotes Bernie Sanders' senatorial colleague and fellow Castrophilliac Jeanne Shaheen, who blames Trump for botching the investigation and silently implies that he did so on purpose so he could punish Castro, Inc. unfairly. Anyway, it looks as if Jar-Jar Biden has now greased the skids for a quick and easy absolution of Castro, Inc. Naturally, this move is being disguised as an honest "inquiry."
Biden's Cuba Conundrum. In addition to their miserable record on human rights, with thousands of political dissidents held in warrantless detention and imprisonment in 2020 alone, the Cuban regime has offered safe haven to America's most notorious domestic terrorists. Four among them are William Guillermo Morales, Victor Manuel Gerena, Charles Lee Hill, and Joanne Deborah Chesimard. In the 1970s, Morales was a bombmaker for the FALN, a Puerto Rican terrorist groups with a string of attacks that included the bombing of New York City's historic Fraunces Tavern in 1975 that killed five lunchgoers. Hill, along with two members of the Republic of New Afrika (RNA), shot to death a New Mexico state trooper in 1971 on a motor vehicle stop and later hijacked an airliner to Cuba. Gerena is a fugitive from the 1983 Wells Fargo heist of seven million dollars in Connecticut and a member of Los Macheteros, a group that fired a surface-to-air missile at the FBI office in Puerto Rico and engaged in shootouts with agents.
State Department Designates Cuba a State Sponsor of Terrorism. Secretary of State Mike Pompeo announced Monday that the U.S. is re-designating Cuba as a state sponsor of terrorism, citing its harboring of terrorists. "The Trump Administration has been focused from the start on denying the Castro regime the resources it uses to oppress its people at home, and countering its malign interference in Venezuela and the rest of the Western Hemisphere," Secertary of State Michael Pompeo said in a statement. "With this action, we will once again hold Cuba's government accountable and send a clear message: the Castro regime must end its support for international terrorism and subversion of U.S."
Cuban Communists: Add Rodent Meat 'to the Family Dinner Table'. A government television broadcast in Cuba this week urged citizens to eat guinea pig and other rodents, suggesting rodent meat is more nutritious and "sustainable" than pork or beef, Cuban outlets reported on Wednesday. The Communist Party has presided over major food shortages in Cuba for decades, beginning almost immediately following the Cuban Revolution in 1959. In recent years, the Castro regime has blamed President Donald Trump for extensive food shortages and failed distribution of government-mandated rations. While the Trump administration has imposed significant sanctions on the regime in response to the increased frequency of human rights violations against pro-democracy dissidents in the Obama era, these sanctions have targeted elite individuals and military-linked corporations, not sources of food for the general population.
'Dr. Jill Biden' Sure Flies with the U.S.-Hating, Stalinist Castro Regime. "'Dr. Jill Biden' sounds and feels fraudulent, not to say a touch comic. [...] When she honored this Stalinist, terror-sponsoring [Castro] regime with a promotional visit as second lady, the KGB-trained Russia-colluders all gleefully referred to her as "Dr." And why not? She gleefully starred in and helped produce a tourism commercial to boost the America-hating, terror-sponsoring regime's income. To wit: "Dr. Jill Biden in Cuba to study Cuba's achievements in health and education," read a headline in Stalinist Cuba's media, Oct. 6, 2016. More interestingly, during Jill Biden's co-production with communist apparatchiks of her Potemkin tourism commercial to boost the income of Castro's military and secret police who majority own Cuba's tourism industry — her frequent escort was a Cuban lady named Josefina Vidal. The KGB-trained Vidal was expelled from the U.S. in Oct. 2003 for her suspected operational links to Cuban spy Ana Belen Montes, responsible for the deepest and most damaging penetration of the U.S. Department of Defense in recent history.
A Cautionary Tale: Trump and Biden, What's to Choose. [Scroll down] Mr. Biden says he will reinstitute Mr. Obama's Cuba policy. Presumably that will include the dismantling of the 50-plus governments' coalition that has withdrawn diplomatic recognition from Nicolás Maduro's regime, which is supported by a large Cuban military deployment. A return to Obama's policy means an influx of millions of tourist dollars to the coffers of the repressive communist regime in Havana, at a time of growing popular unrest and confrontations with the police throughout the island. The Obama administration acquiesced to Raúl Castro's demands: it ended the wet feet/dry feet immigration policy, returned to Cuba a spy serving a life sentence for his role in murdering Americans, and removed Cuba from the list of countries that were supporters of terrorism while FBI-wanted terrorists lived there.
Hidden history of Cuba will make Democrats squirm. Of course, Democrats like to make fun of anti-communists and pretend their political enemies are right-wing extremists. However, as Landau's narrative shows, the devices of Cuban communism and the program of the Democrats are virtually the same. Communists are dead set against individual self-expression, but our individualism, as Emi Rivero proved with his own life, is consistent with nature. We were created to be free. We are simultaneously possessive, selfish, charitable, and capable of sacrifice for a greater good. Anti-capitalists protest our nature and believe the government can change it. Cuba proves otherwise.
An Unperfect Society: Socialist Cuba. El Regimen (the Cuban regime) since its inception has been composed of more than those whose last name is Castro. The process began with the immediate post-revolutionary corporate merger between Fidel's militants and the PSP or Partido Socialista Popular (an already pre-existing communist party). This clique gradually expanded its membership and consolidated its strength over the next decade or so under the tutelage and patronage of Fidel Castro, carving out their own private fiefdoms within El Sistema (the Politico-Economic System In Cuba) as they did so. This "new class" came to occupy all of the commanding heights of Cuban society vacated by the bourgeoisie and to enjoy its attendant privileges (power, money, status, prestige, et cetera). Fidel Castro for the longest time sat alone at the apex of this system as Cuba's "Big Brother" until illness forced him to hand power to his younger brother, Raúl Castro, who (due to his complete inability to fill this historic role) assumed a "first among equals" position among the Party elite.
Lefties Finally Figure Out Michael Moore Is Unreliable and Not Very Honest. [Scroll down] Moore has always been unreliable. He is the person who touted Cuba's health care system as superior to ours, despite the fact that you have never heard a single person say, ever, "Well, the doctor told me I have cancer. Guess I'm heading to Cuba to get surgery." Have you ever heard anyone say that? Of course not. But Michael Moore tried to sell a whopper of a lie that Cuba — communist, backwater, island prison Cuba — has a better health care system than the United States in his 2007 mockumentary, Sicko. People risk their lives on rickety little homemade rafts to cross shark-infested waters to escape that place, not to go there to get back surgery. Cuba doesn't even make the best cigars anymore. The island is stuck in the 1950s thanks to the Castros. Its health care system is not and never was better than ours. Unless you listen to Michael Moore.
Bernie Sanders, all washed up. Have the Miami Cubans saved America from socialism? Sure looks like it. Sanders was on the top of the heap in the Democratic presidential race ... right until he made remarks praising Fidel Castro on 60 Minutes.
Bernie's Solution to Full Employment. The case for socialism is bleaker now than it was even back in Wayland's day or in Owen's day. The reason is that by now it has been tried all over the world, and it is a bust. A humanitarian bust, and an economic bust — in every respect it is the God that failed. Before the Soviet Union fell, the Soviets had turned every country that they controlled into a prison and every economy that they controlled into a poverty zone. Africa and South America were only marginally better off. Where today is the economic model for viable socialism? Is Bernie summoning up Venezuela? How about Cuba? Actually he is pointing to Cuba. The young people of Cuba have shiny white teeth and they can read, he claims. Well, let them read Armando Valladares' Against All Hope, a book about the author's existence for decades in a Castro prison for having done nothing wrong. There are dozens of books like this written by brave Cuban freedom fighters. Many are still wasting away in Cuban dungeons. When I turn to thinking about life in a Cuban hellhole today, I am reminded that Bernie Sanders' socialism is no joke.
Bernie Defended Fidel's Cuba — To American Hostage In Havana. Imagine being held as a political prisoner in Fidel Castro's workers' paradise for a few years, a Yanquí accused of espionage for bringing wider Internet access to a small enclave of Jews in Cuba. Your guards allow you to dress in normal clothes to greet a congressional delegation of three senators from your home country. The first two bring you sympathy, conversation, pledges of assistance, and candy. The third sits quietly throughout most of the meeting, and then at the end wonders why everyone talks badly of your jailers. You can afford to imagine it. Alan Gross had to live it with Bernie Sanders, and he's through being quiet about it:
How Bernie blew it. [Scroll down] I hope this is obvious by now but there is zero conceivable political benefit to soft-pedaling your criticism of Fidel. Pro-Castro voters in America are like less than 1 percent of the electorate. As Andrew Yang might say: MATH. Someone in a position of authority in the campaign needs to pull Sanders aside and just give him a script about the 1970s and 1980s and tell him never to deviate from it.
Progressive Big Lies. On Sixty Minutes, for example Sanders defended his affection for Fidel Castro by saying, "But, you know, it's unfair to simply say everything is bad. When Fidel Castro came to office, you know what he did? He had a massive literacy program. Is that a bad thing? Even though Fidel Castro did it?" Of course, the real question is what are you teaching them to read — regime propaganda or facts? Moreover, apart from the moral idiocy of suggesting that improving literacy is worth imprisoning and torturing political enemies, and murdering up to 140,000 people, saying that Castro substantially raised Cuban literacy rates is a big lie. So too are other excuses for Castro's tyranny, such as improving health care, infant survival in childbirth, access to food and consumer goods, and per capita GDP.
Bernie Sanders's Shameful Lies About Cuba. My family and I escaped from Communist Cuba. Contrary to what Communists in America years ago have accused people like my family of being, we were neither wealthy nor followers of Batista (who was universally detested). Instead, we left because of the dictatorship, the sudden semi-starvation, the constant propaganda, the indoctrination at schools, the militarization of society, the paranoia, the constant surveillance, the secret police, the arbitrary arrests and disappearances for having said something wrong, the closure of newspapers, the lack of the most basic necessities for life, and because Cuba was becoming a Soviet colony.
My family was forced into exile from Cuba. Here's the truth for Sanders, Castro apologists. Following praise of Castro's Cuba by Democratic presidential candidate for president Sen. Bernie Sanders, I-Vt., I must take the opportunity to correct the misinformation and false claims so frequently touted by Castro's apologists. First of all, it is appalling to those personally affected by the Castro regime legacy of firing squads, torture, imprisonment, brutal oppression and terrorism to witness a U.S. presidential candidate seek to decipher some nominal good from the abject and all-pervasive evil of totalitarianism. Many of those who support Sanders today may not have been around to witness the evils of communism over the past few decades. Sanders has no such excuse.
Everything You Think You Know About Cuba Is A Lie. Do a quick social media search for "Cuba." You will see some beautiful images, of men in suits smoking cigars and driving vintage cars, turn-of-the-century brightly colored Spanish architecture buildings, paparazzi snaps of Jay-Z and Beyonce walking the streets of Havana, and pictures of President Obama inexplicably and peacefully enjoying a baseball game with communist dictator Raúl Castro. We found these images spin a carefully crafted narrative. They are intended to deceive us and hide the real Cuba. Here is the side of Cuba we saw that the American media refuses to show you: Bread lines, gas lines, food shortages, crumbling infrastructure, crippling poverty, and an oppressed people suffering under the jackboot of socialism. See for yourself: [Video clip]
Caravans of Cuban-Americans Protest Bernie Sanders and Rally for Donald Trump. Caravans of Cuban-Americans rallied in support of President Donald Trump on Saturday after Sen. Bernie Sanders defended Cuban dictator Fidel Castro's policies. Photos and videos emerged on social media in Miami featuring long lines of cars and trucks flying Cuban and American flags and honking their horns. Others wore MAGA hats and waved Trump 2020 flags to show their support of the president.
One more thing for Bernie on Cuba's glorious free health care: It killed Hugo Chavez. [Scroll down] The Cubans, it turned out, gave Chávez the wrong cancer treatment — probably radiation or chemotherapy, which has limits on uses — and, as a result, were unable to correct it after they discovered the error. That doomed Chávez, a victim of the very Castrocare he touted, as Bernie Sanders does now, as the solution to all of Venezuela's ills. Venezuela's hospitals now look like Cuba's or, given the lack of water, electricity, and money, probably worse. But it was Castrocare itself, the elites-tier version, that did Chávez in. Would Bernie Sanders consent to Cuban-style health care for his own heart condition? Not if he wanted to live. The examples of Castro, treated with Western medicine, and Chávez, going down with a treatable illness made untreatable by Castrocare, tell the whole story about the worth of such a system. Someone should ask him.
Miami's Cuban population has an impromptu pro-Trump rally. When it comes to Fidel Castro, Bernie just can't quit him. The problem for Bernie is that Florida, with its 248 delegates for the Democrat primary and its 29 Electoral College votes, may be finding it increasingly easy to quit Bernie. Bernie has a man-crush on Fidel Castro. Given the opportunity, he keeps lavishing love on a dictator who drove thousands of his country people to exile, slaughtered thousands more, imprisoned tens of thousands of his people, and drove his country into decades of poverty. [...] Bernie's stubbornness on this issue has cost him. While he once had a lead in Florida, home to the majority of refugees from Cuba, as well as their descendants, now Biden is in the lead. And here's something that may be related: Cubans are coming out strongly in support of Trump, a man who not only does not praise Castro but who reinstated the embargo that Obama, the last Democrat president, revoked.
Cuban Ex-Political Prisoners to DNC: Bernie Sanders Should Apologize for Praising Castro. Four former Cuban political prisoners, who spent a combined 81 years in prison for their opposition to communism, have sent a letter to Democratic National Committee Chairman Tom Perez condemning presidential candidate Bernie Sanders (I-VT) for praising the late dictator Fidel Castro. In remarks to 60 Minutes Sunday [2/23/2020] and in subsequent remarks on Monday, Sanders insisted that it was "unfair" to categorically condemn the Castro family's over half-century-long stranglehold over Cuba, claiming that Fidel Castro imposed a successful "literacy program" on the country.
Bernie Sanders Receives Glowing Praise From Cuban Communist Government — Florida Poll Shows Immediate Collapse. Well, it might not exactly be the best endorsement for the American political aspirations of Bernie Sanders but the official communist propaganda outlet in Cuba, Granma, is heaping high praise upon Bernie "Fidel" Sanders for his support for the communist regime.
Inside the Cuban Hospitals That Castro (and Bernie) Doesn't Want Tourists to See. By the time I climbed the steps of the emergency room entrance in San Miguel, Havana, I could already tell that the supposed first-class health care provided in Cuba was a myth. Hospitals in the island's capital are literally falling apart. Friends told me to dress "like a Cuban" and not to speak while inside, since my Argentinean accent would give me away the moment I said hello. A member of the opposition Cuban Patriotic Union (UNPACU) party came along to guide me in my journey to the core of communist-style medicine. We entered the hospital at 10 p.m. on an ordinary Saturday night in September. Three out of the hospital's four stories were closed. Only the ER was operational. [...] The scarce equipment available gave the building the appearance of a makeshift medical camp, rather than a hospital in the nation's capital.
Breadline Bernie Makes It Harder for the Left to Hide Its Love Affair with Communism. On a recent episode of 60 Minutes, as Anderson Cooper narrates, a video is shown of Bernie Sanders suggesting, in the 1980s, that the Cuban people didn't help to overthrow Fidel Castro because the Castro regime had "educated their kids, gave them health care, totally transformed the society." While it might have been politically prudent to walk that contention back, Bernie doubled down. "We're very opposed to the authoritarian nature of Cuba," Sanders said, "but you know, it's unfair to simply say that everything is bad. When Fidel Castro came into office, you know what he did? He had a massive literacy program. Is that a bad thing?" That's not a bad thing in Bernie Sanders's estimation. He thinks of "massive literacy programs" much the same as he once described government breadlines: "that's a good thing." In Tuesday night's [2/25/2020] debate in South Carolina, he tripled down, telling the audience that, like Barack Obama, he thinks "Cuba made progress on education." This statement was met with loud boos. "Really? Literacy programs are bad?" Sanders asked.
Communist Cuba Praises Bernie Sanders On Front Page Of State-Run Newspaper. Communist Cuba praised socialist Bernie Sanders, the front-runner in the race for the Democratic nomination for president, for his recent praise of the communist nation. "Granma, the Communist Party newspaper, prominently displayed a report about Sanders and his praise of 'some of the social programs implemented by the historic leader of the Cuban Revolution Fidel Castro,'" The Miami Herald reported. "Adding its own analysis of the Democratic race, the newspaper said Sanders seemed 'unstoppable' in his move towards the nomination."
Bernard Sanders: Consistently Communist. Senator Bernard Sanders (I-VT) is the first socialist since Henry Wallace (FDR's second vice-president) to have a realistic, if long shot, chance of becoming President of the United States. With his status as frontrunner for the Democratic Presidential nomination secured, following his victory in the Nevada caucus, had come increased scrutiny. In an interview with 60 minutes, which aired on CBS, last Sunday evening, Sen. Sanders was asked about some comments he had made in the 1980s about Fidel Castro and his regime. The comments were laudatory. Instead of trying to walk the comments back, the self-professed Democratic Socialist, doubled-down saying: "We're very opposed to the authoritarian nature of Cuba but, you know, it's unfair to simply say everything is bad. You know, when Fidel Castro came into office; you know what he did? He had a massive literacy program. Is that a bad thing?"
It's idiotic to believe Castro was good for the Cuban people or that socialism would be good for the U.S. We're supposed to believe that it is a wonderful thing in Communist countries where the leaders care so much for their people. They teach them to read. They have free education and health care. Cubans have very strict gun control. Abortion is available on demand in Cuba, and in 2019 they raised the mandatory minimum wage. All things the Democrats running for President support. It looks like an ideal Democrat platform[.] After 60 years of Castro Brothers control, they have raised the minimum wage to $16 (per month, not per hour). The average wage will shoot up from $24 to $42 per month. Thank goodness Cuba doesn't have the problem with wealth and income inequality that the United States does because that would cause division and strife. Higher education professors will now receive $56 to $68 per month, very similar to the fake Indian running for President, who wants to move towards socialism, who is worth millions and got paid $400,000 for the tough task of teaching one course.
Fidel Castro's Net Worth. [Scroll down] One estimate suggests he had an annual income of $150 million, allowing Fidel Castro's net worth to grow over the course of his adult life. Plus, he likely had a range of other assets, like vehicles, boats, and valuables, which are part of the total. Before his death in November 2016, Fidel Castro's net worth was estimated at $900 million. However, as certain information about the infamous Cuban leader is hard to come by, it could have been higher.
Fidel Castro Did Not Give Cuba Literacy or Better Healthcare. On CBS' 60 Minutes, Senator Bernie Sanders recently praised the achievements of communist Cuba. An interviewer asked him about his 1985 comments that Cubans supported communist dictator Fidel Castro because he "educated their kids, gave their kids health care, totally transformed society." In response, Sanders defended those comments, by stating that when "Fidel Castro came into office, you know what he did? He had a massive literacy program." But Castro did not give Cubans literacy. Cuba already had one of the highest highest literacy rates in Latin America by 1950, nearly a decade before Castro took power, according to United Nations data (statistics from UNESCO). In 2016, The Washington Post fact-checker Glenn Kessler debunked a politician's claim that Castro's rule significantly improved Cuban healthcare and education. In today's Cuba, children are taught by poorly paid teachers in dilapidated schools. Cuba has made less educational progress than most Latin American countries over the last 60 years.
The Worship of Dictators. This week, Sen. Bernie Sanders, I-Vt., the socialist Democratic presidential front-runner, made waves when he merely reiterated his lifelong warmth toward the viciously evil Cuban communist regime. Brushing off the human rights violations of Fidel Castro — a man whose revolution ended with the murder or imprisonment of tens of thousands of his countrymen, and decades of impoverishment and repression for millions — Sanders explained: "We're very opposed to the authoritarian nature of Cuba, but you know, it's unfair to simply say everything is bad. ... When Fidel Castro came into office, you know what he did? He had a massive literacy program. Is that a bad thing, even though Fidel Castro did it?" But, of course, Sanders hasn't merely praised Castro's literacy programs (which, by the way, were propagandistic exploits. Cuba had an 80% literacy rate before Castro's coup). Back in the 1980s, Sanders explained that he was "physically nauseated" by former President John F. Kennedy's "hatred for the Cuban revolution." In 1989, Sanders stated after visiting Cuba: "I did not see a hungry child. I did not see any homeless people." He said that the Cuban people "had an almost religious affection" for Castro. As it turns out, there is hardly a single communist regime of the past half-century for which Sanders has not expressed some level of moral support.
Cuban Americans share some personal knowledge of Castro's Cuba with Bernie Sanders. Since Bernie Sanders decided to look at the bright side of the Cuban revolution a few Cuban Americans have come forward to offer their personal perspectives as people who actually lived under Castro's regime. Shockingly, their memories of Cuban communism are not, primarily, positive tales of expanded literacy. Miami Herald columnist Fabiola Santiago described her family's experience after Castro took over: [...]
Cuban Americans Tell What Life Under Castro Was Really Like. When Sebastian Arcos and family members tried to travel from Cuba to the United States, authorities stopped them in what turned out to be a sting operation to arrest one of his uncles, who had advocated and fought for Fidel Castro's revolution more than 20 years earlier. That was Dec. 31, 1981, and for trying to leave the island nation, Arcos was jailed for a year. His uncle spent seven years in jail. His father, also a political supporter of the communist revolution and like many other citizens soured on the broken promises of democracy, was imprisoned for six years. "For the sake of argument, let's say both the [Cuban] health care system and education system are perfect, which they are not. There have been thousands of political executions, tens of thousands of political prisoners, and 3 million Cuban exiles," said Arcos, 58, today associate director of the Cuban Research Institute at Florida International University. "So, the question to ask when we are told to consider the good things is: What is the price for the good?" Arcos told The Daily Signal. Arcos said that he is "surprised when talking heads in the United States will give Fidel Castro the benefit of the doubt."
Bernie Sanders: Fidel Castro Wasn't So Bad. The Latino, Cuba, Argentina and Venezuelan community in/around Miami-Dade is the central voting block for democrats; proud and loud. However, there is one issue, one central issue so encompassing they will walk away. The murderous bloodthirsty Cuban dictator Fidel Castro is hated with the blazing sun of a thousand supernovas. This is a non-optional outlook. Get on the wrong side of that position and there is NO recovery.
Voto Latino CEO: Dems Can 'Kiss Florida Goodbye' if Sanders Is Nominee. Appearing Sunday on MSNBC's "AM Joy," Voto Latino CEO Mar'a Teresa Kumar said Democrats could "kiss Florida goodbye" if Sen. Bernie Sanders (I-VT) was the Democrats nominee in the 2020 presidential election. Kumar said, "We can all agree is you can kiss Florida goodbye. I say that Floridians — Latinos that have fled socialism, they have fled and they are in Florida, and they have sensibilities that are different from the rest of the Latino community."
Florida's Democrats in panic after Bernie Sanders blows a kiss to Castro. Bernie Sanders has always had a soft spot for Fidel Castro and the communist dictatorship the latter created. But instead of keeping it to himself and off the air, he went all out to praise Cuba's brutal regime for its phony "literacy" and "free" health care on 60 Minutes. Now Florida's Democrats are panicking. [...] That's a big — real big — exploding cigar. The only reason people didn't overthrow Castro was their great love of all his "free" health care? No, he tortured, killed and imprisoned them first. [Stuff] like that is likely to cost the Democrats Florida.
Bernie Sanders Praises Fidel Castro's 'Massive Literacy Program' In '60 Minutes' Interview. Democratic presidential candidate Bernie Sanders praised former Cuban dictator Fidel Castro's "massive literacy program" during a CBS "60 Minutes" clip that aired on Sunday. CNN anchor Anderson Cooper introduced the topic by playing a clip of an 1985 interview with government-access Vermont TV in which Sanders said the Castro regime "educated their kids, gave them healthcare" and "totally transformed the society."
Bernie Sanders defends Fidel Castro's socialist Cuba: 'Unfair to simply say everything is bad'. Sen. Bernie Sanders, the frontrunner for the Democrats' presidential nomination, doubled down on his support for some of Cuban dictator Fidel Castro's policies, saying in an interview that aired Sunday, "it's unfair to simply say everything is bad." Speaking to CBS News' "60 Minutes," Sanders, a self-proclaimed democratic socialist, pointed to social welfare programs introduced under Castro's regime that he described as redeeming, despite the communist dictator's often repressive human-rights violations against Cubans. "We're very opposed to the authoritarian nature of Cuba but you know, it's unfair to simply say everything is bad. You know? When Fidel Castro came into office, you know what he did? He had a massive literacy program. Is that a bad thing? Even though Fidel Castro did it?" Sanders told Anderson Cooper.
Bernie Sanders may have just lost Florida to President Trump. Sen. Bernie Sanders, who has cemented his position as the 2020 Democratic primary front-runner, is still defending Fidel Castro, claiming as recently as this weekend that the late communist tyrant was not all that bad. After all, the Vermont senator explained during a Sunday appearance on CBS's 60 Minutes, the murderous Castro regime had literacy programs. And just like that, Sanders has made winning Florida and its 29 electoral votes a whole lot more difficult for the Democratic Party. Anyone who knows anything about Florida politics knows you never, ever defend the regime responsible for why there are so many Cubans in the Sunshine State in the first place. Yet, here is Bernie Sanders, the man with the clearest path to the Democratic nomination, doing exactly that.
The Crumbling of Cuba's Grand Socialist Experiment. John Alpert is an American photojournalist whose work is featured in the Netflix documentary Cuba and the Cameraman. He first went to the island nation in 1972, a little more than a decade after the Cuban Revolution. Over the next 45 years, Alpert returned to Cuba, each time taking pictures of its towns and cities and people. The images he took are a timeline that chronicle how Castro's socialist revolution played out for the Cuban people in the years that lay ahead. A disarmingly polite young photojournalist at the time, Alpert was one of the few Americans granted face-to-face meetings with Castro.
The Democrats Want to Turn the US into Cuba; They Should Just Move There. Having recently returned from several days in Cuba, I watched the Democrats debate last week and wondered why they don't just hop on a plane and move to Havana, the Cuban capital that has been languishing in the 1950's thanks to Fidel Castro's revolution. Sure, the old cars are pretty cool to drive around in but most of them are dirty, loud, and don't come close to meeting Obama's emissions standards. The reason why they remain on the roads is not so much because of the U.S. embargo (the newer automobiles are Russian for the most part) but because the people working under the Communist regime can't make enough money to pay for a new car. In fact, the government owns many of the cars, including those used as taxis and for tours.
Maduro sent $900 million in oil to Cuba, U.S. official said. Embattled leader Nicolás Maduro sent about $900 million in oil to Cuba this year despite the humanitarian crisis in Venezuela, a U.S. top diplomat told reporters on Wednesday [11/27/2019]. The U.S. special envoy for Venezuela, Elliott Abrams, said that Maduro has the money to alleviate the shortages of food and medicine in that country but has preferred to pay debts to Russia and China and continues sending oil to the Cuban government, his main ally in the region.
UN Votes Overwhelmingly to Condemn US Embargo on Cuba. The U.N. General Assembly voted overwhelmingly Thursday [11/7/2019] to condemn the American economic embargo of Cuba for the 28th year, rejecting U.S. criticism of human rights violations there and criticizing the Trump administration's increasingly tough enforcement measures.
Trump administration bans US flights to ALL Cuban cities except Havana in fresh crackdown against regime. The Trump administration is banning U.S. flights to all Cuban cities except Havana in the latest move to roll back the Obama-era easing of relations, officials said Friday [10/25/2019]. Supporters of the ban said it would starve the Havana government of cash and limit its ability to repress Cubans and support Venezuelan President Nicolas Maduro, whom the U.S. wants to overthrow. Opponents said prohibiting flights would simply make it harder for Cuban-Americans to visit their families outside the capital, without making a significant impact on the Cuban government.
Cuba is slowly losing a lifeline as Venezuela collapses. In Cuba after the collapse of the Soviet Union — and the end of its generous subsidies — fuel was so scarce that many people stopped driving and the government imported thousands of Chinese bicycles. The crisis trickled down to nearly every aspect of life, bringing blackouts, food shortages, even a vitamin deficiency thought to be the cause of a mysterious neurological condition that struck more than 50,000 people. Known as the Special Period, that era of hardship and severe rationing began in 1991. It finally came to a close at the end of the decade, in large part because oil-rich Venezuela and its leftist leadership came to the rescue.
Trump meltdowns hide Obama's poisoned chalice. [Scroll down] Then there is Cuba, with which the restoration of relations was an ideological fixation for Obama, as it has been for many American leftists for half a century. Irrespective of what one thinks of the American embargo, it was at the very least a point of leverage which Washington held over Havana, and a president genuinely interested in human rights and democratic reform on the island would only have lifted it in exchange for at least some concessions from the communist regime. [...] Obama's opening to Cuba was a windfall for the communists. It drastically revised the list of "prohibited Cuban regime officials" able to use American financial institutions, permitted Americans to do business with Cuban state monopolies, and lifted a variety of other trade sanctions on the regime. American tourists and dollars poured into Cuba. Other than the release of a captured intelligence asset and an imprisoned American citizen, however, the Obama administration received nothing substantive in return.
The Seven Dumbest Things Democrats Demand You Believe. [Scroll down] Another trope that ought to have been put to bed by now is the idea that socialism is a workable plan that simply has not been implemented properly. How many times must we hear this amid the horrors of the USSR, China, Cambodia, Ethiopia, Cuba, and Venezuela, among others? Every time it's the same story: communist dictators are the good guys seeking to liberate the people from the oppression of the exploitative capitalist system, and when the people being liberated scramble for the border at their first opportunity, their plight is minimized or ignored.
Can someone tell Michael Moore that Cuba is out of medicine? Cuba is going through hard times again and medicine is in very low supply, according to news reports: [...] They blame it on providers and banking problems. In other words, foreign providers demand cash for their orders. I guess that they are not selling to Cuba on credit anymore. Can you blame them? How many times has Cuba restructured its debts?
Trump admin imposes new travel restrictions on Cuba, banning cruise ships. The US announced major new restrictions on US citizens traveling to Cuba on Tuesday [6/4/2019], blocking the most common way Americans are able to visit the island — through organized tour groups that license US citizens to travel automatically — and banning US cruise ships from stopping in the country. American tourism is not explicitly permitted in Cuba. However, Americans can travel to Cuba if it is covered under specific categories, which included organized group travel, known as group people-to-people travel, until Tuesday.
How to know if you're really a socialist. No looking it up in Merriam-Webster. No phoning a friend. Socialism and you: yay or nay? Ever since I visited Cuba last November, I've realized this is a question I am ill-equipped to answer at gunpoint. I'm speaking metaphorically of course. The country has a notoriously low crime rate. Prior to my trip, socialism had evoked pleasant associations. Health care for all. Paid parental leave. A fair rental market. The kinds of things you'd have to be a bit weird to dislike. Now I also see an old woman queueing up in a supermarket with a ration book. Five men painting a public bench. A mother overwhelmed with gratitude because I gave her a packet of wet wipes for her baby.
With open borders, Cuba goes back into the drug-dealing business. In a disturbing report out of Panama, Panamanian authorities have made a new bust linked to Cuba, intercepting a huge shipment of cocaine worth $90 million at the canal, bound for Turkey.
Cuba [is] Rationing Eggs, Rice and Soap. Socialism works. If you doubt that, stop by North Korea, Venezuela or Cuba. After helping reduce Venezuela to the brink of famine, Cuba is rationing basic foodstuffs.
Cuba to widen food rationing as supply crisis bites. The Cuban government will widen the wholesale rationing of staple food items and other basic products in the face of a grave supply crisis, Commerce Minister Betsy Diaz Velazquez said Friday [5/10/2019]. She said some items, such as chicken, would be limited to a fixed amount per purchase or per customer. Other items, including eggs, rice, beans and sausages, would only be available to buy with a ration card, and would be limited to a maximum monthly amount.
Cuba cancels annual 'Conga Against Homophobia' parade. Cuban gay rights activists denounced the government's decision to cancel this year's parade against homophobia, accusing it of snatching away their main platform at a key moment as the Caribbean nation is set to debate legalizing same-sex marriage. The state-run National Center for Sex Education (CENESEX), which has spearheaded advances in lesbian, gay, bisexual and transgender (LGBT) rights in recent years, announced on Monday it would not hold its 12th annual conga.
Venezuela's Maduro was preparing to flee to Cuba but was stopped by Russia, Pompeo says. Venezuelan leader Nicolás Maduro was prepared to leave the country Tuesday [4/30/2019] and seek asylum in Cuba but was stopped by Russia, U.S. officials said. "We've watched throughout the day, it's been a long time since anyone's seen Maduro," Pompeo told CNN. "He had an airplane on the tarmac, he was ready to leave this morning as we understand it and the Russians indicated he should stay." Pompeo said Maduro had been planning to travel to Havana.
Trump goes for a twofer: Knocking Cuba's socialist dictatorship out along with Venezuela's. Cuba, the socialist police state so adored by Obama administration twerps like Ben Rhodes, is finding itself in the line of fire for its brutal grip on Venezuela. President Trump has vowed to make the socialist dictatorship pay by threatening Cuba with 'full and complete' sanctions, which is exactly what it deserves.
Trump threatens Cuba with 'full and complete' embargo, 'highest-level sanctions,' citing Venezuela role. As Venezuela plunged into a dramatic televised scene of chaos and violence on Tuesday, President Trump warned he would impose a "full and complete embargo" and sanctions on Cuba if its troops do not cease operations in the ravaged South American nation. National Security Adviser John Bolton alleged earlier Tuesday that Cuban troops were keeping Maduro in power in Caracas. "It's a very delicate moment," Bolton said, adding that "all options" remained on the table — including, potentially, a U.S. military intervention. "The president wants to see a peaceful transfer of power."
Cuba Arrests Pastor, Wife During Holy Week for Promoting Homeschooling. The communist government of Cuba once again arrested Pastor Ramón Rigal and wife Ayda Expósito on Wednesday [4/17/2019] shortly before they had planned to leave the country. Rigal and his wife are at the forefront of an Evangelical movement against allowing the regime to educate their children. The organization Christian Solidarity Worldwide (CSW) confirmed the arrests Thursday but did not provide details on what prompted them, according to the Spain-based Diario de Cuba.
John Bolton Honors the Bay of Pigs Freedom-Fighters, Who Obama Apologized For. "It is an honor to address you all (The Bay of Pigs Veterans Association) today. I am delighted to be here in Miami among such brave and distinguished company. Our nation and this region are forever in debt to you." (John Bolton, April 17, 2019, the 58th Anniversary Of the Bay of Pigs freedom-fight.) "I'm grateful that President Ortega did not blame me for things (the Bay of Pigs freedom-fight) that happened when I was three months old... We are not dug into policies that were formulated before I was born." (An abject President Obama groveling to Communist/drug-trafficking/ terror-sponsors Daniel Ortega, Hugo Chavez and Raul Castro at the Summit of the Americas in 2009 during his famous "apology tour.") But one craven, sniveling apology to the terror-sponsoring mass-murderers whose lifelong craving was to nuke his country wasn't enough for President Obama.
Dem Visits Cuba to Learn about "Economic Development" and "Quality of Life". The Democrat mayor and a retinue of associated New Orleans city officials spent all of last week in Havana, Cuba [...] In a way, however, the visit seems appropriate. After all, the rulers of one place drove out practically all productive residents with punitive socialist policies that converted a once charming and prosperous place into a huge slum except for a few tourism enclaves. The other place is named Cuba. From Stalinist Cuba Democrat Cantrell dutifully performed all the traditional Democrat rituals mandatory for such visits, primarily hailing Cuba's glorious "healthcare and education!"
Algeria ousts its dictator, Cuba experiences a sugar-daddy shortage. Algeria's longtime socialist strongman, Abdelaziz Bouteflika, got thrown out of power this week, following 20 years of what even he admits was failed rule. He got thrown out the way they all pretty much do, given the predictable-as-sunrise failure of socialism. He was hardly the worst of them; he just seems to have gotten too old to stay a strongman. Fine and dandy. What's cool, though, is that Bouteflika's exit creates some problems — big problems — for the Castro dictatorship over in Cuba. Bouteflika was one of their longtime candymen, sending funds to prop up the otherwise unsustainable regime through his employment of the Castroite Cuban doctors program, which brought the regime big cash.
Cuba would need to spend $2 billion a year for oil if Venezuela stops deliveries. Cuba would have to spend nearly $2 billion a year to meet its domestic oil needs if Venezuela's National Assembly and interim president Juan Guaidó manage to stop deliveries to the Caribbean island. "Cuba's demand for oil is about 130,000 barrels per day, and Cuba produces about 50,000 barrels per day, which means a deficit of about 80,000 barrels per day," said Jorge Piñón, director of the Latin American Energy Program at the University of Texas at Austin.
Trump administration allows first lawsuits against Cuba for US property seized during Castro's revolution. The Trump administration is taking a historic step against the Cuban military and intelligence services controlling that country and propping up Venezuelan strongman Nicolas Maduro, the State Department announced Monday. For the first time, U.S. citizens will be able to sue some entities whose businesses are built on property seized from them in the aftermath of Fidel Castro's 1959 Communist revolution. Title III of the Libertad Act, also known as the Helms-Burton Act, authorized such lawsuits but has been suspended by successive presidents every six months since it passed in 1996.
Sounds like a cover story:
'Sonic attacks' at US embassy in Cuba may have just been crickets. The sonic attacks that afflicted diplomats at the US Embassy in Cuba could have just been the work of crickets, according to a report Sunday [1/6/2019]. The embassy in Havana cut its staff in half in 2017 after dozens of people complained of headaches, nausea and other ailments from hearing mysterious, penetrating high-pitched noises — believed to be an acoustic weapon — possibly from the Russians. But a fresh analysis of an audio recording made by US personnel in Cuba revealed that the source of the piercing din is the song of the Indies short-tailed cricket, known as Anurogryllus celerinictus, a study says.
The Editor says...
If this explanation had any merit, the deafening effects of these crickets would have been discovered long ago.
Cuba health mystery: Diplomats had inner-ear damage early on. American diplomats affected by mysterious health incidents in Cuba showed damage in the inner ear shortly after they complained of weird noises and sensations, according to their earliest medical exams, publicized Wednesday [12/12/2018].
Survivors: Cuba Has Detained Half a Million Dissidents, Still Starving Prisoners to Death. Cuba continues to employ starvation and dehydration as a mechanism to break political prisoners physically and mentally, Breitbart News learned from a former political prisoner on Friday [12/7/2018]. The practice of starving detainees and limiting their access to water remains "a systematic and official practice," Luis Zúñiga, a former political prisoner, declared during an event on human rights in Cuba hosted by the Organization of American States (OAS).
Rubio: U.S. Should Do More to Hold Cuba Accountable for Sonic 'Attacks'. Sen. Marco Rubio (R., Fla.) said the United States should find additional ways to punish Cuba after the Canadian government confirmed that one of their diplomats assigned to Havana developed the same mysterious health problems that nearly two dozen U.S. personnel and other Canadian diplomats experienced. Canada's government on Thursday [11/29/2018] announced it is reviewing its diplomatic presence in Cuba after confirming that the staff member was affected. Medical tests showed that the person suffered from the same health issues that had affected a dozen other Canadian personnel, spouses, and their children, officials said.
Canadian diplomats allowed to leave Cuba after another employee falls ill. Canadian diplomats stationed in Cuba are being allowed to return home after another employee mysteriously fell ill. Eight employees and five children have reported unexplained symptoms including headaches, dizziness and trouble concentrating. American diplomats in Havana have also fallen ill with the ailments.
Ben Rhodes now looking like Castro's biggest dupe. The New Yorker this week has an amazingly good investigative piece by Adam Entous and Jon Lee Anderson titled 'The Havana Syndrome,' exploring every aspect and angle of the sonic or electromagnetic attacks on U.S. diplomats and CIA officers last year in Cuba. I read the 10,000-word piece, and was struck by all of its amazingly well-reported angles and insights, as well as its superb sourcing, which included interviews with the diplomats who were actually targeted, and accounts from Obama administration officials, such as Ben Rhodes, who led the Cuba normalization efforts. What really happened. Was it real? How did it come to be? Who did it? And how did it connect to the Obama administration's ill-considered opening with Cuba?
Cuba First: Barack Obama Says Florida Democrats Will Help Make Cuba Great Again. Former President Barack Obama urged Florida voters on Friday to support Democrats to improve the lives of Cuban citizens. "We need to get back to politics that's for the Cuban people, make their lives better," Obama said during a rally in Miami, Florida. "That's change." The former president criticized President Trump for rolling back his efforts to open up communist Cuba during his 2016 visit with Raul Castro.
Putin's meeting with Cuba's appointed president comes with a $50 million loan for weapons. The Russian government has granted Cuba a $50 million loan to buy Russian military equipment, just days before Cuba's handpicked President Miguel Díaz-Canel is scheduled to meet with Vladimir Putin in Moscow. The arms deal is to be signed during a series of meetings of the Cuba-Russia Intergovernmental Commission that started Monday, according to the Russian newspaper Kommersant. The newspaper quoted sources as saying that the talks would focus on the sale of armored vehicles, helicopters and small arms as well as replacement parts for battle tanks.
Mysterious attacks on US embassy staffers in Cuba, China came from microwave weapon. It appears that researchers have finally solved the mystery of how embassy staffers in Cuba and China became suddenly ill with symptoms of brain injury. What was thought to be some kind of "sonic" weapon turns out to have been weaponized microwave radiation.
Probe Clears State Dept of Wrongdoing in Cuba Sonic Attacks. The State Department on Thursday [8/30/2018] formally cleared Obama and Trump administration officials from any wrongdoing in the lead-up and response to the still-unexplained sonic attacks in Cuba that harmed the health of at least 25 U.S. personnel, although it cited some problems with security staffing vacancies and communications "challenges." After delivering the official report to Congress, the agency released a "fact sheet" to the press on the Accountability Review Board's (ARB) findings and recommendations. The ARB process, which Congress established, investigates what happened and issues recommendations aimed at preventing future incidents.
When Cuban-Americans Visit the Mother Country. Most Cuban-Americans from the Historic Exile (those who left between 1959 and 1979) traveling to communist Cuba do so for one primary reason. Out of nostalgic feelings, they go back to search for the way things were — which, of course, is delusional, because the Castro Brothers turned one the most successful and advanced countries in Latin America into a totalitarian hellhole with a failed socialist economic model after gaining power in 1959. The house where their parents once lived is most likely occupied by strangers who may not want to let them inside. After Cuban-Americans emigrated to the United States or elsewhere, Cuban authorities confiscated their homes without providing them any compensation and, in the majority of cases, turned them over at greatly subsidized prices to Cubans who stayed behind. So there is a great fear shared by these Cubans that the Cuban-American visitors are there to reclaim their former homes. Even if they let them in, they do so with great reservations and never let their guard down.
Alexandria Ocasio-Cortez's Mentor Bernie Sanders: Castro Educated Cuban Kids, Gave Them Healthcare. In 1958 (the year prior to the "glorious" revolution), Cuba ranked 13th from the top, worldwide with the lowest infant-mortality rate. This meant that robustly capitalist and immigrant-swamped pre-Castro Cuba had the 13th lowest infant-mortality rate in the world. This put her not only at the top in Latin America but atop most of Western Europe, ahead of France, Belgium, West Germany, Israel, Japan, Austria, Italy, Spain, and Portugal. Today all of these countries leave Communist Cuba in the dust, with much lower infant mortality rates. Today Cuba is ravaged by diseases that had been long-eradicated in pre-Castro Cuba (Dengue, Cholera, for a few examples.) And of Cuba's "doctors" fortunate enough to escape their indentured servitude to the Castro-Family-Plantation, the overwhelmingly majority flunk the exam given in the U.S. for licensing as doctor's assistants. And even plummeting from 13th (Capitalist) to 49th (Communist), Cuba's "impressive" infant mortality rate is kept artificially low by Communist chicanery with statistics and by an appalling abortion rate of 0.71 abortions per live birth. This is the hemisphere's highest, by far. Any Cuban pregnancy that even hints at trouble gets "terminated."
Cuban scientist sentenced to one year in prison for 'disrespecting' government authority. Cuban biologist Ariel Ruiz Urquiola wanted to start an eco-friendly project on his farm in Viñales, a mountainous region west of Havana. But now those plans are on hold because he was sentenced to one year in prison for "disrespecting" officials. The alleged crime? He called a Forest Ranger a "rural guard." "We will appeal, but it's already clear they want to take away our farm. We will fight tooth and nail," said Ruiz Urquiola's sister, Omara Ruiz Urquiola.
Don't Trust Cuban Health Care Statistics. We've long been told that Cuba's health care system is one of the greatest in the world. In spite of the fact that health usually correlates with wealth in national statistics, we're assured that Cuba's obvious poverty is offset, at least in part, by amazingly low infant mortality rates and life expectancy. But in a new short article for the journal Health Policy and Planning, Gilbert Berdine, Vincent Geloso, and Benjamin Powell examine some of the ways that the data is being manipulated in Cuba to ensure better-looking health statistics. For example, on the matter of infant mortality, doctors have been known to redefine dead infants as dead fetuses.
US pulls 2 more from Cuba amid new potential health cases. The United States has pulled two more of its workers out of Cuba and are testing them for possible brain injury, three U.S. officials told The Associated Press on Friday [6/8/2018], amid concerns they may have been affected by the mysterious health incidents harming U.S. diplomats in Cuba and China.
Another blow to Cuban tourism. A few years ago, I was in Mexico for Christmas and met a man who flew commercial flights. He told me that many Mexicans refuse to work for "Cubana," the once private airline and now another state company. He said Cuba is not up to date on maintenance. Just yesterday, a Canadian friend, who is familiar with Cuba, told me it's the end of tourism. "What foreigner is going to fly on a Cuban domestic flight?" he said. We don't want to politicize a terrible tragedy, and we pray for the families. Nevertheless, there is a legitimate question: can Cuba maintain commercial flights? The answer is, not well enough to get on a plane.
In Cuba, the great American tourism boom goes bust. As U.S.-Cuba relations warmed in recent years, Matilde Portela, an Airbnb host, reveled in the flood of American tourists. An aspiring business executive at age 73, she quickly learned the art of niche marketing — adorning her home with two American flags and laying out back copies of the New Yorker magazine. "We had so many Americans coming that we didn't know where to put them," Portela said. But Cuba's Great American Tourism Boom has turned to bust.
Cuban-American Lawmakers: State Dept Facilitating 'Propaganda' Show. Several Cuban-American lawmakers are decrying a State Department decision to grant visas to a troupe of Castro-backed Cuban artists who are scheduled to appear at the Kennedy Center. They are also asking Secretary of State Mike Pompeo to consider denying the visas before the two-week festival begins on May 8. It runs through June 3. Many of the artists who are scheduled to appear at the festival, "Artes de Cuba: From the Island to the World," are apologists for the Castro regime, making the show an extension of the Cuban government's propaganda machine, the lawmakers argue.
Cuba's 'Transition': Fake news with bells on. In fact, what's happening as Cuban "President" (dictator) Raul Castro "steps down" in favor of Cuban "President" (eunuch and puppet) Miguel Diaz-Canel is about what happened when Korean "President" Kim Jong-il stepped down in favor of his son Kim Jong-un — except that Korea's Kim Jong-il actually kicked the bucket before his son fully took over the reins of the mass-murdering, terror-sponsoring, nuke-rattling regime. In fact, much of the vital day-to-day functions of the Stalinist regime will remain in the hands of Raul Castro's son Alejandro Castro-Espin, a KGB-trained colonel in Cuba's secret police and a fanatical Stalinist.
Don't Be Misled by the Media, Cuba Isn't Changing. After the nominal change in Cuba's leadership, the New York Times managed to come out with the most New York Times headline ever: "More Black Officials in Power in Cuba as Leadership Changes." The Los Angeles Times demanded that as Castro era "ends" in Cuba, so should the U.S. embargo. NPR followed hopefully, and Buzzfeed provided a romanticized photo spread. Reading such affectionate and hopeful portrayals might make one want to believe that Cuba really is currently undergoing a transformation that will define its future. I hate to shatter that optimism, but Cuba isn't changing, and American policymakers and media really shouldn't be so naïve and optimistic about it.
Don't Recognize Cuba's Next Leader as Legitimate, Florida GOPs Urge Trump. Florida Republicans are urging President Trump to not recognize the next strongman in Cuba as legitimate after Raul Castro steps down on April 19. Castro, 86, announced in December that he would resign due to health issues. He first became acting president in 2006 when his brother Fidel was ailing. National Assembly of People's Power elections will be held this Sunday, and those lawmakers will pick the next president of Cuba.
Study Offers Simple Explanation For 'Sonic Attacks' That Injured 24 American Diplomats In Cuba. A new report offers a simple and compelling explanation for what may have caused the "sonic attacks" in Havana, Cuba, that left 24 U.S. embassy workers and their families with neurological damage. American diplomats reported in September 2017 that they and their spouses were subjected to agonizing sounds while staying in a Havana hotel. The victims were left with "brain abnormalities," including "hearing, vision balance and memory damage," according to The Associated Press. The initial reaction was that Cuba was responsible for the mysterious sounds. U.S. officials believed Cuba utilized a "covert sonic weapon" against the American diplomats, The Washington Post reported.
Fresh row over mysterious sickness affecting US diplomats in Cuba. When a mystery illness rippled through the US embassy in Cuba in late 2016, the diplomatic fallout was rapid. The US slashed the number of people at its Havana mission and expelled 15 Cuban diplomats after at least 24 American staff and family reported a mix of headaches, dizziness, eyesight, hearing, sleep and concentration problems. Many of the affected diplomats said their illness came on after they heard strange noises in their homes or hotel rooms. Some reported that the sounds — which ranged from grinding to cicada-like to the buffeting caused by an open car window — appeared to be directed at them, and that their symptoms abated when they moved to another room.
Preliminary findings on U.S. diplomats' health problems in Cuba: real but still a mystery. Two University of Pennsylvania researchers who examined diplomatic personnel from the U.S. Embassy in Havana confirm they suffered brain injuries, but said the cases weren't accompanied by head trauma as would have been expected. There are still no indications of what may have caused the diplomats' mysterious symptoms. The report, published Wednesday [2/14/2018] in The Journal of American Medical Association, said the unique circumstances of the patients "raise concern about a new mechanism for possible acquired brain injury from an exposure of unknown origin."
Healthcare in communist Cuba: The bold lie sold by Fidel Castro that everyone believes. Since 2010[,] 64 hospitals have been closed, the country has lost a third of its hospitalization capacity, patients give gifts to doctors and dentists to receive treatment, many surgeries are not performed due to a lack of surgeons, or that necessary to operate; doctors are abandoning their profession to sell crafts, or become drivers; epidemics of all kinds are on the rise, and the lack of medication aggravates or leads to the death of patients. This is not the start of a story about a country in sub-Saharan Africa, but rather a "medical powerhouse," as Castroism portrayed Cuba to the world, an achievement purportedly resulting from its Marxist-Leninist revolution.
Black Democrats Boycott Trump's SOTU Over His 'Racism, Sexism and Bigotry,' But Swoon Over Racist/Mass-murdering Stalinists! Lest we forget: these black U.S. lawmakers are raving about a regime that jailed political prisoners at a higher rate than Stalin, and executed more people (out of a population of 6.4 million) in its first three years in power than Hitler executed (out of a population of 70 million) in the Reich's first six. [...] Barely four years ago the Castroites murdered black human rights activist Orlando Zapata-Tamayo. This black Cuban had endured an 83-day hunger strike seeking (vainly, as usual) to alert the world to the Castro regime's cowardly Stalinism and racism. Finally a series of savage beatings by his Communist jailers finished him off. Naturally, the U.S. media was no more revelatory of his death than they'd been of his jailing or hunger strike.
19 American travelers to Cuba report symptoms similar to those suffered by diplomats. Nineteen American citizens have reported symptoms similar to those suffered by U.S. diplomats who had been identified as victims of alleged attacks in Cuba. "Since September 29, the Department of State has been contacted by 19 U.S. citizens who reported experiencing symptoms similar to those listed in the Travel Warning after visiting Cuba," a spokesperson for the State Department's Bureau of Western Hemisphere Affairs told the Miami Herald in an email.
The reality of public health in Cuba. First of all, to be properly treated in any hospital, you have to have a friend who is a doctor or a friend who is very close to the doctor you are going to see, in addition to bringing a gift — something already established — to be able to enter the office at all, without asking where the end of the line is and to "set a good precedent." The journey to be seen in the normal way is long and tedious: first you must go to the family doctor, where you are probably seen by a student, or a recent graduate without experience. They will ask you questions and fill out paperwork, without listening or paying attention, and will give you a referral to go to the polyclinic you are assigned to, where there are always long waiting lines and you will almost never find a specialist, so you will need to return constantly until there is one, as they work in hospitals and from time to time come to the polyclinics to practice.
U.S. Should Return Cuba to Terror List, Experts Say. President Trump should further unwind President Obama's directives on Cuba and once again designate the communist nation as a state sponsor of terrorism, a panel of Cuban and diplomatic experts told Congress last week. The panel included Cuban-born U.S. Ambassador to Venezuela under George H.W. Bush Otto Reich, Heritage Foundation analyst Ana Quintana and the Cuban Studies Institute's Jaime Suchlicki. Quintana argued that Cuba never met the standard to be removed from the State Department list in the first place.
Cuba Knows Truth About Sonic Attacks, Rubio Says After Flake Dismissal. There is no doubt that the Cuban government conducted or was aware of the 2017 sonic attacks on U.S. diplomats in Havana, Sen. Marco Rubio (R-Fla.) said today [1/9/2018], a few days after Sen. Jeff Flake (R-Ariz.) defended the regime against blame. At least 24 American diplomats or their family members were injured in separate incidents [last] year, and investigators have pointed to the use of sophisticated acoustic-attack gear. Injuries and symptoms included concussions, hearing loss and dizziness. Officials testified before Congress that some Americans were treated for traumatic brain injuries and concussions.
Obama White House's lavish gifts from foreign friends revealed. Federal documents released on Wednesday [1/10/2018] revealed the gifts during Obama's final two years in office included more than $2,000 worth of cigars, rum and other famous consumer products from the Cuban government. Cuba gave the gifts after Obama attempted to ease tensions with the communist regime, a measure that included the easing of the U.S. ban on imported Cuban liquor and tobacco. The documents released by the State Department's Protocol Office revealed that Castro gave Obama 205 cigars of an unnamed brand, a humidor and cigar cutter along with the bottle of rum in 2015. The tobacco and liquor were accompanied by a carved wooden bust of Abraham Lincoln.
Documents reveal Canada called U.S. diplomats in Havana targets of "acoustic attacks" months before U.S. acknowledged them. Newly disclosed declassified documents from Global Affairs Canada obtained by CBS News reveal Canadian officials were calling incidents affecting American diplomats in Havana, Cuba, "attacks" as far back as April 26 — months before the U.S. State Department first publicly acknowledged them as such. In a May 26 internal email update on the situation — that also affected Canadian personnel — a Canadian foreign service officer wrote: "Starting in late November and lasting until April 21, U.S. diplomats posted to Havana have been a target of acoustic attacks." Canadian victims reported symptoms including "headaches, dizziness, nausea, hearing loss, nosebleeds, cognitive functions including loss of short term memory," similar to those of at least 24 Americans in Havana suffered.
In a show of extreme force, Cuba's Castro dictatorship beats and arrests dissident artists. At least six Cuban dissident artists were violently arrested yesterday as they tried to attend an event at an independent art gallery. Witnesses say Cuban State Security used extreme force during the arrests, sending a large amount of agents and vehicles to detain the artists. Most of them were later released. Among the artists arrested and later released were Tania Bruguera, Iris Ruiz, Adonis Milan, Amaury Pacheco, and Yanelis Nuñez. Dissident artists Lia Villares and Luis Manuel Otero, however, remain imprisoned. Both are part of the CubaDecide organization calling for free and fair elections in Cuba. The artists were attending a presentation of British playwright Sarah Kane's Psychosis. The venue, however, was surrounded by Cuban State Security agents.
Why jerks like to visit places like apartheid Cuba. We have all seen them on Instagram, from the Kardashians to just regular foks: Americans enjoying a lasciviously lavish vacation in apartheid Cuba. The island slave plantation where 11-million Cubans have been held captive by the same totalitarian dictatorship for nearly 60 years is an irresistible allure to them. They love to see how people struggling to survive in a closed society will so eagerly and happily dance and sing for them for just a couple of bucks. They adore how the Castro dictatorship has trapped Cuba in a 1950s time capsule. They are thrilled to watch old American cars rumble past dilapidated buildings down potholed streets, none of which have been maintained or repaired since 1958. Of course, none of them actually stay in these parts of Cuba. They come for the day to take pictures of the human animals in their natural surroundings like they were visiting a zoo and thank God they are so much more superior to these quaint yet wild natives. When they are done, they board their air-conditioned tour buses and head back to their all-inclusive resorts and five-star hotels to enjoy meals and drinks that will cost more than what an average Cuban makes in an entire year.
The human rights that are missing in Cuba. Until a few years ago the concept "human rights" was frowned upon by Cuba's ruling party. The mere mention of these two words together automatically labeled a citizen as on the opposing side and there was no lack of acts of repudiation against dissidents in which slogans were shouted in the style of "Down with human rights!" Over time, the island's government understood that it was better — and less scandalous — to adopt not only the language alluding to this concept but also the commemorations around December 10, the day that celebrates the United Nation's adoption of the Universal Declaration of Human Rights. In the last decade, the authorities have filled the official media and the squares of the country with slogans alluding to all the rights allegedly enjoyed by Cubans. In those avalanches of benefits the collective rights are always mentioned, while the individual ones are ignored.
The more things 'change' in Cuba, the more they remain the same. When Cuban dictator Raul Castro was handed the reins of power in 2006 by his brother Fidel, we were told by the "Cuba Experts" that Raul would lead the communist nation into an era of substantial economic and political reforms. More than a decade later and a year after the death of Fidel, all we have seen are a few "reforms" that are nothing more than cosmetic. Essentially, Cuba remains a totalitarian hellhole with no civil liberties, no respect for the rule of law, no real free enterprise, and a state-run economy under the complete control of the military. Those same "Cuba Experts" are now telling us that when Raul "resigns" from his post early next year, we will begin to see major economic and political reforms on the island. For the Cuban people, however, these "Cuba Expert" predictions have about as much chance of becoming reality as their prior predictions.
What's Going on in Cuba? US Embassy Workers Found to Have Brain Abnormalities. Brain abnormalities have been found in the U.S. diplomats who were victims of suspected attacks at the U.S. Embassy in Cuba, according to a new report. Doctors discovered that white matter in the brains of Embassy workers had "developed changes," The Associated Press reported. White matter allows different areas of the brain to communicate. At least 24 U.S. Embassy officials in Cuba had reported hearing loud, grating noises before experiencing ear issues, hearing loss, dizziness, headache, fatigue, cognitive issues and difficulty sleeping. Some victims knew immediately that the attack was affecting their bodies, while some developed physical symptoms within 24 hours.
For those of you who had any doubt...
There is frightening new evidence to suggest the Cuban sonic attacks are real. Mysterious "sonic" attacks targeting American diplomats in Cuba are so unlike anything State Department and FBI officials have ever seen that the Cuban government's claim that the high-pitched whirring sounds reported by U.S. Embassy staff are just cicadas seems almost plausible. Doctors treating victims of the attacks, though, have now found visible, perceptible damage to patients' brains, marking the first solid evidence that the sophisticated weapon described by embassy staff is entirely real, The Associated Press reports. The futuristic attacks began last fall when U.S. diplomats abruptly started to lose their hearing. Eventually, at least 24 people reported symptoms including "mild traumatic brain injury, permanent hearing loss, loss of balance, severe headaches, and brain swelling," The New York Times reports, adding that "the FBI has been unable to duplicate the effects the diplomats have experienced in a lab." The United States pulled approximately 60 percent of its staff off the island as a safety precaution.
A year in Cuba after the death of dictator Fidel Castro. Raúl is president because that's what Fidel decided. He may have seemed a mediocre person to Fidel, without savvy and without charisma, but he was absolutely loyal, a virtue that paranoid people value far above all the others, so Fidel fabricated a biography for him to turn him into his shield bearer. He dragged him into the revolution. Made him commander. Made him defense minister. Made him vice president, and finally bequeathed to him the power, initiating the Castro dynasty.
Cuban Exiles Recount 'Sonic' Torture by Castro Regime. A group of Cuban exiles and former political prisoners gathered on Capitol Hill to recount human rights abuses that they and their relatives suffered at the hands of the Fidel Castro regime. In a hearing Wednesday [11/15/2017] organized by Freedom House and the Justice Cuba International Commission, survivors told gripping stories about friends and family who were imprisoned, tortured, and killed for resisting communist rule in Havana.
How Communism arrived in Cuba. Communist activity began in Cuba in 1923 and the first communist party was established in 1925 by Moscow trained members of the Third International (Comintern). This Cuban communist party underwent a rapid Stalinization and assumed the policy advanced by the Soviet Union between 1928 and 1934 following the "Communist International's Third Period line, an ultra-left policy imposed by Moscow that required Communists to direct their main attacks at social democrats, who were denounced as 'social -fascists.'" Cuba did not have an organized social democratic party but did have populists students and nationalist groups that were resisting the Machado dictatorship. Gerardo Machado, a brigadier general in the war of independence and later a businessman was elected president of Cuba in 1924 but seized power over all political parties in 1927 and became Cuba's first dictator. At a critical moment in the struggle against Machado when populists and students called for a general strike, it was the communists who broke the strike and sought an accommodation with the Cuban tyrant. It made the communist party extremely unpopular in Cuba.
Cleaning up the asylum mess left by Obama. Days before President Obama left office, he removed asylum protections from Cubans who reach US soil in a desperate attempt to flee their oppressive country. This was a strange contrast from the rest of the administration's efforts, which seemed to support granting asylum to any individual who enters the US by illegal means. Now, the Trump Administration is left with the job of cleaning up the confusion and fraud the Obama Administration propelled. Attorney General Jeff Sessions is taking a leading role in combatting asylum fraud, alongside Trump's efforts to limit the number of asylum seekers entering the country. This is not because these men do not want these people in our country, but because the system was expanded so significantly under the Obama Administration, agencies can no longer handle the load and maintain security.
Cuba's travel ban: Castro dictatorship bans dissidents and independent journalists from international travel. The regime in Cuba prevented independent journalist and writer Víctor Manuel Domínguez from leaving the country for the second time this year. The journalist was planning to travel to Brussels for an event on foreign investment in Cuba, when he was told he could not leave the country due to a "State Security order." "They say that in Cuba you can travel freely if you aren't under investigation for any crime. I've committed no crime, but am being kept here because they say that I'm a counterrevolutionary," Domínguez, who had previously been denied from leaving the country on July 15, said.
Barack Obama should apologize for Cuba. So far, 22 American diplomats and their family members have been harmed in unexplained attacks in Cuba — the country Barack Obama assured was our new bestie, maybe even more so than Iran. Obama needs to apologize. His personal crusade to restore relations with the communist country was misplaced at best, a national security threat at worst. Americans are suffering for his progressive hogwash. A new recording has surfaced that seems to link high-pitched, cricket-like sounds from Havana to the sickening of U.S. Embassy workers. Not all of these workers actually reported hearing the sound. But investigators are following a trail of possible sonic weaponry.
The Cuban Affair: Nelson DeMille Exposes the Communist Paradise. The Cuban Affair by bestselling author Nelson DeMille is a realistic portrayal within an action-packed story. DeMille participated in a Yale University-affiliated educational tour that provided him with an insider look at Cuba, including the culture and history. Drawing from this experience, he has created a novel surrounding accurately portrayed facts. Newt Gingrich's 1984 description of the Democrats can apply today: "Every time a communist movement takes power, Democratic congressmen say it will be fair, progressive, enlightened ... and give the benefit of doubt to Marxist regimes." This became evident when President Obama visited Cuba and did the wave during a baseball game, making it appear that this is a fun-loving Caribbean island. Yet DeMille shows the direct opposite: overwhelming poverty, a police state, and a violator of human rights.
First recording emerges of high-pitched 'sonic weapon' linked to attacks on US Embassy workers in Cuba. The first public recording of high-pitched, cricket-like sounds out of Havana could be linked to the attacks on U.S. Embassy workers, according to a new report. The recording, first released by the Associated Press on Thursday [10/12/2017], is reportedly one of several from Havana that first led investigators to believe a sonic weapon was involved. Of Americans affected in Cuba, not all of them reportedly heard the sounds. But some who did said, while not identical, that the recording was relatively consistent with what they heard.
Cuban Doctors Revolt: 'You Get Tired of Being a Slave'. In a rare act of collective defiance, scores of Cuban doctors working overseas to make money for their families and their country are suing to break ranks with the Cuban government, demanding to be released from what one judge called a "form of slave labor." Thousands of Cuban doctors work abroad under contracts with the Cuban authorities. Countries like Brazil pay the island's Communist government millions of dollars every month to provide the medical services, effectively making the doctors Cuba's most valuable export. But the doctors get a small cut of that money, and a growing number of them in Brazil have begun to rebel. In the last year, at least 150 Cuban doctors have filed lawsuits in Brazilian courts to challenge the arrangement, demanding to be treated as independent contractors who earn full salaries, not agents of the Cuban state.
Trump to kick out two-thirds of Cuba's diplomatic corps from the US after attacks on Americans: Report. The Trump administration will expel almost two-thirds of Cuba's diplomatic corps in the U.S. after a series of mysterious "sonic" attacks that have affected at least 25 American personnel in Havana, according to a report. "Cuba is not upholding its commitments of the Vienna convention, of protecting diplomats," a U.S. official told McClatchy. The State Department has not censured Cuba over the acoustic attacks by the still unknown device or weapon, per the news organization. But it has withdrawn many of its own staff from the country and issued a travel warning after receiving several complaints of hearing loss and "cognitive issues" from diplomats and their families.
US 'doesn't believe Cuba is responsible' for mysterious sonic attacks on American diplomats in Havana. The Trump administration does not believe Cuba is responsible for a series of mysterious 'sonic' attacks against US embassy staff and their relatives in Havana, it was learned on Tuesday [9/26/2017]. 'No one believes that the Cubans are responsible,' a source familiar with the investigation told McClatchy on Tuesday. 'All of the evidence points that they're not.' There is no word yet as to who the Americans believe is responsible for the attacks.
The Editor says...
If the government doesn't think Cuba was responsible for the sonic attacks, why was most of Cuba's diplomatic corps expelled?
Zimbabwe plans to rent 102 Cuban slave doctors from Castro, Inc.. Robert Mugabe, Zimbabwe's 93-year-old dictator, has been a chief client of Castro, Inc. ever since he assumed power in 1980. And Castro, Inc. cranks out "doctors" from its lousy medical schools faster than bullets from a machine gun. In fact, it seems that its supply of slave doctors is nearly infinite, given how many of them are constantly being shipped abroad. Could it be that the production rate of slave doctors is higher than that of any other commodity manufactured or grown in Cuba?
In Cuba, many Hurricane Irma victims are asking themselves, where is the government? [Scroll down] More than 100 families have lost their homes — poorly constructed houses, many of little more than zinc and wood. But the television report from this town has offered no information about future plans for storm victims, where they will sleep, what they will eat, how they will rebuild their homes. There also was no footage of cleaning or food distribution efforts. And potable water remains in short supply.
Will Hurricane Irma be the death of the Castroite regime? The angry protests are starting. Cuba was slammed by Hurricane Irma and Cubans have been protesting the failure of the government to give them any assistance after tens of thousands of them lost their shambling homes and all their meager possessions and threw them out on the streets of the already decayed, crumbling capital city. It didn't take much to blow that shambling rattrap of a city over -- and Irma was a monster.
Sonic Attacks in Havana: An Act of War? These are the established facts: since late 2016 and continuing into 2017 some 19 U.S. embassy personnel while in the U.S. embassy in Havana (the capital of Cuba) have reported serious medical injuries due to (sonic or electromagnetic?) attacks. These injuries range from some permanent loss of hearing to brain trauma rising to the level of concussion. These attacks have also caused similar injuries to Canadian embassy employees (it is unreported as to both when these attacks occurred and whether the Canadians were in the U.S. Embassy when they were subject to these attacks). These attacks have occurred since President Obama's decision to both lift sanctions against and normalize relations with Communist Cuba.
State Dept.: 16 U.S. Embassy Personnel in Cuba Injured by Sonic Device Attack. The State Department confirmed today that at least 16 U.S. Embassy employees in Cuba suffered symptoms from an attack with a sonic device. Press secretary Heather Nauert told reporters that all of the U.S. government employees "have been provided medical treatment in the United States as well as in Cuba." "We take this situation extremely seriously," she said. "We are trying to provide them the help, the medical care, the treatment, and the support that they need and the support that they deserve." Nauert said "the incidents are no longer occurring."
At least 16 Americans affected by 'incidents' in Cuba. Mysterious "incidents" caused physical symptoms in at least 16 Americans linked to the US embassy in Cuba, the State Department said on Thursday, in what media reports have described as an "acoustic attack." The State Department earlier this month said Americans serving at the US embassy in Havana had experienced physical symptoms caused by unspecified "incidents" starting as far back as late 2016. A US government official said in August that several colleagues at the US embassy in Havana were evacuated back to the United States for hearing problems and other symptoms. Some subsequently got hearing aids, said the official, who spoke on condition of anonymity.
Some U.S. diplomats in Cuba diagnosed with serious health conditions, medical records show. According to medical records reviewed exclusively by CBS News, a U.S. doctor who evaluated American and Canadian diplomats working in Havana diagnosed them with conditions as serious as mild traumatic brain injury, and with likely damage to the central nervous system. The diplomats complained about symptoms ranging from hearing loss and nausea to headaches and balance disorders after the State Department said "incidents" began affecting them beginning in late 2016. A source familiar with these incidents says officials are investigating whether the diplomats were targets of a type of sonic attack directed at their homes, which were provided by the Cuban government. The source says reports of more attacks affecting U.S. embassy workers on the island continue.
U.S. Hiding Key Details of Mystery Attacks on American Diplomats in Cuba. The number of U.S. government personnel targeted by a mysterious illness in Cuba last year is greater than the Trump administration has publicly acknowledged, according to multiple U.S. officials who told the Washington Free Beacon the Obama administration may have misled Congress about the full scope and nature of the attack. U.S. officials disclosed earlier this month that six Americans were struck by a mystery illness believed to be caused by a covert sonic device in what many think was a clandestine operation targeting U.S. personnel stationed in the communist country. The number of Americans impacted is greater than previously disclosed, according to multiple U.S. officials who told the Free Beacon that those suffering from symptoms of sonic damage appears to be more than 10.
Cuba's assault on US diplomats proves the foolishness of Obama's outreach. 'Sometimes we allow ourselves to be trapped by a certain way of doing things," President Barack Obama said back on July 1, 2015. But re-opening the US Embassy in Cuba would show "we don't have to be imprisoned by the past." Well, it's now obvious that Cuba's government has no desire to break with the past: Several American diplomats (and at least one Canadian) have come home from Havana after losing their hearing — victims of a sonic device placed in or near their Cuban residences.
Congress Wants Answers About Diplomats' Illnesses in Cuba Last Year. Key House and Senate Committees, as well as individual lawmakers, want to know why they were caught flat-footed by media reports of incidents in Cuba late last year that left a group of U.S. diplomats ill and reportedly suffering from hearing loss attributed to covert sonic devices. The members have requested a classified State Department briefing, and one is scheduled for Monday for committee staffers only because members of Congress are on their August recess, according to a Congressional aide. The lawmakers want to know why the Trump administration has waited so long to publicly say anything about the incidents in Cuba, which the State Department has acknowledged first began at the end of last year, and why the Obama administration also remained silent about it. Trump in late May expelled two Cuban diplomats from the Cuban embassy in Washington in response to the incidents against the U.S. diplomats in Havana.
Severe hearing loss of US diplomats in Cuba blamed on 'covert sonic device' planted in earshot of their homes. The two-year-old restored US diplomatic relationship with Cuba was roiled Wednesday by what US officials say was a string of bizarre incidents that left a group of American diplomats in Havana with severe hearing loss attributed to a covert sonic device. In retaliation for the hearing loss incidents the US State Department has expelled two Cuban diplomats from the US over safety concerns of American officials and launched an investigation. Officials familiar with the probe said investigators were looking into the possibilities that the incidents were carried out by a third country such as Russia, possibly operating without the knowledge of Cuba's formal chain of command.
Nearly 600 political arrests in Cuba during July, more than 3,000 for the year. American tourists have joined the millions of other foreign tourists flooding apartheid Cuba this year with their cash and their radical notions of freedom and liberty. According to President Obama and proponents of lifting sanctions against the corrupt and brutally repressive Castro regime, this was supposed to make the Cuban dictatorship a kinder and gentler dictatorship. Well, I think we have all seen how well that plan has worked out.
In wake of Venezuela horror, it's time to stick it to Cuba. Like the totalitarian pros they are, it didn't take long for Venezuela's socialist Chavista dictatorship to start rounding up opponents. The Chavista goon squads swooped down on two leading opposition figures, Leopoldo Lopez and Antonio Ledezma, with a knock on the door and spirited the men off to parts unknown in a SEBIN (Venezuelan secret police) van. It was a familiar tactic for an experienced totalitarian state, not amateur hour for a newly minted dictatorship armed with a sham referendum to justify itself and just getting its feet wet. This points to what is really going on in that socialist hellhole, now that Sunday's [7/30/2017] referendum, which would have you believe that Venezuelans voted themselves willingly into Cuba-style slavery, is over.
Another horror story about Canadian tourists trapped in Castro, Inc.'s medical system. They went there to have fun, but their 7-year-old son got sick and ended up in one of Castro, Inc.'s "wonderful" and "free" hospitals. Most Canadians probably find it heartbreaking to think of what this family is going through — and it IS heartbreaking — but, normally, they don't stop to think that every Cuban lives in this kind of hell, day in, day out, with no options of any kind.
Fifty Ladies in White arrested in Cuba in another Sunday of violent repression by Castro regime. Yesterday [7/9/2017] was the 107th Sunday of the #TodosMarchamos (we all march) campaign where the opposition group the Ladies in White and other human rights activists come together in a peaceful protest march calling for the release of political prisoners. Unfortunately, like the 106 previous Sundays, the peaceful dissidents were met with violent repression. By the end of the day, around 50 Ladies in White had been violently arrested by State Security thugs of the apartheid Castro dictatorship.
Castro regime's crimes against humanity: Food scarcity. There is a long list of crimes against humanity committed on the Cuban people by the vicious and murderous Castro dictatorship. Not only do they murder, imprison, torture, and enslave, they starve the people as well.
Trump's Reimposition Of Sanctions Will Hurt Cuba's Communists. President Trump is putting the pressure back on Cuba's odious communist regime, and they don't like it a bit, with Cuba complaining once again about U.S. intervention. But Trump really isn't meddling; he's merely undoing President Obama's awful mistake of giving Cuba's Castro regime everything it wanted, while getting nothing in return.
Trump's Cuba speech resonates with history. President Trump on Friday reset American and global expectations for communist Cuba. He boldly promised that communist Cuba, like East Germany, would one day be free. He envisioned the 60-year yoke of communist oppression, murder and unrepentant violation of all moral norms, ending. In Miami's "Little Havana," the president reframed American foreign policy in terms that Ronald Reagan, Helmut Kohl and Margaret Thatcher would appreciate. He was clear, convincing and eloquent. He defended individual liberty, human rights and the sensibilities of all the long-suffering Cubans and Cuban Americans. He spoke not of things political, but of things timeless and universal. He spoke to all Americans, and to those well beyond America.
Trump Cuba. President Trump is set to travel today to Miami to begin reversing President Obama's moves toward normal relations with Cuba. This is already being denounced by the liberal press. The Boston Globe reckons there will be "no winners, only losers, if Trump moves away from engagement with Cuba" and suggests that the "only constituency that wants to reverse course is the very small group of diehard, older Cuban-Americans, the Miami anti-Castristas, whom Trump credits for his victory in Florida last November." Then again, too, there's also Congress.
Trump rolls back Obama admin's Cuba policy: 'Will not be silent in the face of communist oppression'. President Trump announced a dramatic reversal Friday [6/16/2017] of the Obama administration's Cuba policy, restoring restrictions on U.S. travel to the island and new prohibitions on financial transactions that benefit the communist regime's military. "We will not be silent in the face of communist oppression any longer," Mr. Trump said in Miami. "I am moving immediately to cancel the completely one-sided deal with Cuba." He declared that the new policy will continue to promote prosperity for the Cuban people while cracking down on human-rights abuses by the government in Havana.
Cuba deal rollback: Trump says he's nixing Obama's 'one-sided' pact. President Trump, speaking at a Miami theater associated with Cuban exiles, announced Friday he is nixing his predecessor's "one-sided deal" with the Communist nation — moving to restrict individual travel to the island, crack down on the flow of U.S. cash to the Cuban military and demand key reforms in Havana. While stopping short of a full reversal, Trump said he would challenge Cuba to come back to the table with a new agreement. "Effective immediately, I am canceling the last administration's completely one-sided deal with Cuba," Trump told a cheering crowd.
Tourists shun Castro's Cuba like a bad smell. To hear Ben Rhodes, the mastermind of President Obama's opening to the Cuban regime, tell it, Americans are just pining to go to Cuba. [...] The facts on the ground tell a different story. As Rhodes touts trips to Cuba's communist military dictatorship as somehow something in the line of 'freedom' in his new 'narrative, airline carriers are fleeing the island hellhole, for one and tourists are bailing out.
Ben Rhodes shills up a glowing 'narrative' for Castrocare. Having slid into irrelevance, President Obama's "Mind Meld" Ben Rhodes has gotten busy touting the virtues of President Obama's one-way U.S. rapprochement with communist Cuba, which he was largely behind. On Twitter, Rhodes has started a series of tweets endorsing Castroite propaganda about the wonders of Cuba's medical care system, and how amazingly advanced it supposedly is, citing a new Miami Herald piece that repeats hoary propaganda claims about an overtouted lung cancer vaccine called CIMAvax which had been praised as a panacea previously in 2015 and 2016 during Rhodes' narrative blitz at the time, and still hasn't gotten much traction.
Report: Trump Poised to Reverse Obama's Cuba Policies. President Trump is set to roll back a series of policies former President Obama put in place toward Cuba, according to a report from the Daily Caller. The changes regarding the policies will be announced in a June speech in Miami, the U.S.-Cuba Trade and Economic Council said in the report.
Trump Set To Roll Back Obama's Cuba Policies Photo of Alex Pfeiffer. President Donald Trump is set to announce a rollback of former President Barack Obama's policies toward Cuba, The Daily Caller has learned. Two sources told TheDC that the development is due to the behind-the-scenes efforts of Republican Florida Sen. Marco Rubio, Democratic New Jersey Sen. Bob Menendez and Republican Florida Rep. Mario Diaz-Balart. This information coming from an anti-embargo group, which spoke on the condition of anonymity, was confirmed Sunday by John Kavulich of the nonpartisan U.S. — Cuba Trade and Economic Council.
Dad sent to prison for homeschooling his kids. A homeschooling father who sought to give his children the best education available, by pulling them out of the politicized state schools in Cuba and teaching them at home, has been ordered to spend a year under house arrest. The sentence was announced by a Cuban court for pastor Ramón Rigal and his wife, Adya, according to the Home School Legal Defense Association. In a report by HSLDA Director of Global Outreach Mike Donnelly, Rigas said authorities used his three-hour trial this week as a platform for denouncing alternatives to government-controlled education.
Thirty Ladies in White and a foreign journalist arrested in Cuba during another Sunday of violent repression. Reports from Cuba indicate that 30 Ladies in White were violently arrested yesterday [4/9/2017] by Cuban State Security forces as they attempted to attend church services and carry out their weekly peaceful protest march. It is also being reported that a foreign journalist who was attempting to record the Castro regime's weekly violence was also arrested and taken away by State Security.
At Miami college founded by Cubans exiled under communism, officials shut down pro-capitalism club. After granting the pro-capitalism club Turning Point USA tabling rights on campus last fall, administrators at St. Thomas University — founded in 1961 by Augustinians expelled from Cuba by the communist Castro dictatorship — have revoked that permission. In an email obtained by The College Fix, Carmen Brown, an administrator at the Miami-based Catholic university, recently wrote to the club's field director Driena Sixto that the organization's "foul language" does not align with the school's Catholic principles, thus they are prohibited from promoting their cause on campus.
Cuba, not Muslim nations, has the highest rate of U.S. visa refusals. Notwithstanding the unhinged hysterics of the American left over President Trump's so-called "Muslim ban," the facts show that Cubans fare worse than Muslims when it comes to being awarded visas to enter the U.S. By an almost 10-point margin over the second spot, Cuba sits atop the list of countries with the highest refusal rate for U.S. visas. Of course, the left will not utter a word of protest over this because only an insane person would want to leave the Castro-communist paradise of Cuba.
U.S. Airlines Flee Castro's Island Hellhole. Today [3/16/2017], JetBlue has cut back its flights "to better match demand." And in the last few days, it has been joined by two other airliners, Silver and Frontier, fleeing for their lives like Marielitos. They all said demand isn't what they expected. This is a fancy way of saying what's really going on: Cuba is a tourist hellhole. The service stinks, the amenities are gross, the place is thick with thieves and woman-gropers, the cost is high, and the alternatives are out there. In fact, the Caribbean is loaded with pleasant, accommodating destinations well worth a tourist's dollar for a vacation. Taking a vacation at a communist military-run resort really falls more into the Gulag category.
The Brit condemned to Castro's dungeon. When I first came to Cuba in 1997, the country was bankrupt. There was no food. The whole country felt and smelt like a pair of tramp's trousers. To save his wonky world, President Fidel Castro (who handed power to his brother Raul in 2008) gambled by opening his country to the Pandora's box of tourism and allowing direct foreign investment. Which is where I came in with two left feet and our life savings to invest. My wife Sarah and I, with our four children, went to Cuba because we saw an opportunity to escape our conventional, suburban middle-class lives to have the kind of family experience you cannot buy. It was work that first took us there. I had been introduced to a client who needed an architect — and decided to stay. For years, while I helped build multi-million- pound projects like the golf and real estate development Bellomonte in Playas del Este Havana, we lived the dream. But then the rules changed. Foreigners could no longer rent private houses so we had to move to a posh suburb with diplomats and other big cheese foreigners. Castro's regime began a purge on the same people who had been invited in to help build the economy. The company I worked for and my boss were caught up in something far bigger than me.
Two airlines already calling it quits in Cuba. Two U.S. airlines are pulling out of Cuba, ending service to the nation only about six months after regular passenger flights resumed for the first time in nearly 50 years. Silver Airways is dropping all nine of its planned routes to the nation by April 22. And low-cost carrier Frontier will do the same, dropping its Miami-Havana route on June 4. In doing so, both Frontier and Silver — a small regional carrier — blamed overcapacity on the recently allowed service between the nations.
Under the Castro dictatorship, the death tally in Cuba continues to rise. No amount of "normalization" or willful blindness will bring back those who have been murdered by Cuba's apartheid dictatorship or heal the wounds and scars of its victims. For two years U.S. policy has coddled and supported the brutally repressive Castro regime and all the Cuban people have gotten out of it is more misery, more pain, and more death.
The Forgotten Treachery of Obama's State Department. Twenty times as many people (men, women, children) have died trying to escape Castro's Cuba as died trying to escape East Germany.
"Kill Christians": The Real Refugee Protest Agenda. The President of the United States announced that refugees fleeing persecution by a totalitarian regime would be deported. It did not matter that they had risked their lives to come here. They would be sent back. No leftist lawyers crammed airports. No protesters chanted at terminals. No celebrities offered sanctimonious lectures about "who we are". No one dared to call the lying thug behind it un-American. Because his last name was Obama and the refugees were Cubans fleeing socialism.
Mexico Returns 91 Cubans Who Had Hoped to Reach US. Mexico has returned to Cuba the first contingent of Cuban migrants since former U.S. president Barack Obama decided Thursday to end a U.S. policy of granting residency to Cubans who arrive on U.S. soil.
Obama Expects Trump to Respect New Migration Pact with Cuba. Part of President Barack Obama's motivation in ending a practice that gave undocumented Cuban migrants who reached US soil the right to remain appears to have been a desire to discourage Donald Trump from reversing the process of normalization with Cuba.
Obama making changes to Cuban immigration policy. President Barack Obama announced Thursday he is ending a longstanding immigration policy that allows any Cuban who makes it to U.S. soil to stay and become a legal resident.
Havana Hails End to Special US Immigration Policy for Cubans. Ordinary Cubans worried Friday [1/13/2017] about the economic problems that could be caused for some people by the sudden end to a once-easy pathway to life in the United States, saying many people who already left the island to take advantage of the earlier American immigration policy could wind up back home with nothing. President Barack Obama on Thursday ended the possibility of automatic legal residency for any Cuban who touches U.S. soil. Those people who were in the middle of trips to get to the United States could be the biggest losers, some Cubans said. "There are people who have sold houses, renounced everything, and today they are in limbo," said Leonardo Serrano, a 47-year-old who works for a firm that operates with private and government investment. "They won't be able to get there, and when they return they won't have anything."
Barack Obama to scrap 'wet foot, dry foot' immigration policy. One of Barack Obama's final acts as president will be to end the 'wet foot, dry foot' policy that granted residency to Cubans who arrived in the US without visas. The Obama administration announced it is doing away with the immigration policy effective immediately in a statement on Thursday night [1/12/2017]. 'Today, the United States is taking important steps forward to normalize relations with Cuba and to bring greater consistency to our immigration policy,' Obama said in the statement.
Welcoming Castro's Spies: How Obama is exposing U.S. defense information to the world's worst intelligence traffickers. The deepest and most damaging penetration of the U.S. Defense Department by an enemy agent in modern history was pulled off by a spy working for the Castro regime. Problem is, the mainstream media treasures their Havana bureaus. So they always strive to avoid any stories that might unduly upset the Stalinist apparatchiks who make these "news" (i.e. propaganda) bureaus possible. "Cuba as tourist hot-spot!" "The magnanimity of the Castroites as health-care providers!" "The wickedness of the (so-called) U.S. embargo!" "Obama's wisdom and courage in (unconstitutionally) loopholing the embargo half to death!" These themes pretty much sum up the MSM's "reporting" on Cuba. But in a rare hiccup of honesty (or an oversight) CNN itself admits to some very important Cuba-sponsored unpleasantness, about which most Americans remain ignorant.
Donald Trump crackdown looms for Cuba as repression continues after Obama outreach. President Obama's historic move to normalize relations with Cuba hasn't slowed repression by the Castro regime, and the incoming Trump administration is likely to take a tougher stand on restricting tourism, recovering stolen U.S. assets and demanding human rights reforms by Havana, analysts say. In the two years since Mr. Obama announced a thaw in the United States' half-century policy of isolating the island nation, the administration has paved the way for increased engagement, approving such measures as daily commercial flights, direct mail service, cruise ship ports of call and the reopenings of long-shuttered embassies in Washington and Havana.
Flow of Cuban migrants surges after Fidel's death: 136 intercepted in 4 days. In the last four days, 136 Cubans trying to reach the country illegally were intercepted in the Strait of Florida, the Coast Guard said in a statement. The migrants received food, water and medical care before being repatriated to Cabañas Bay. They were intercepted in 8 different operations, the agency said. The Coast Guard indicated that so far in December 541 Cubans have attempted to enter the United States by sea. Under the so-called federal "wet foot, dry foot policy," Cubans who reach U.S. soil are generally allowed to stay, while those intercepted at sea are usually repatriated to Cuba.
Google's new tech partner in Cuba blocks email accounts of the Ladies in White. Google is very proud of its new partnership with Cuba's ETECSA, the apartheid Castro dictatorship's telecom monopoly that has complete control over the internet on the island. They must therefore be very proud that their new tech partners are using all this new technology to continue censorship and the blocking of the free flow of information to and from the island.
Why the Left Cried When Fidel Died. To understand why leftists, especially of the Western variety, are weeping upon Castro's death, it is first crucial to grasp the underlying foundation of the progressives' belief system. The leftist is a believer in a political faith, a faith that envisions a classless utopia of perfect equality and "social justice." This faith is interlinked with the leftist's revulsion of his own democratic-capitalist host society, which he sees as oppressive and unjust — and which he seeks to destroy. And it is upon the ashes of this intended destruction that the leftist hopes to build, with his other self-appointed social redeemers, the secular socialist paradise.
Cuba's Surge in Tourism Keeps Food Off Residents' Plates. The changes in Cuba in recent years have often hinted at a new era of possibilities: a slowly opening economy, warming relations with the United States after decades of isolation, a flood of tourists meant to lift the fortunes of Cubans long marooned on the outskirts of modern prosperity. But the record arrival of nearly 3.5 million visitors to Cuba last year has caused a surging demand for food, causing ripple effects that are upsetting the very promise of Fidel Castro's Cuba.
For Once, The Laugh Was On Fidel Castro. There was plenty of reason to laugh at the breakdown of Fidel Castro's funeral car as it made its way from Havana to Santiago. It's always funny when someone known as "el maximo lider" gets cut down a peg — with a mundane car breakdown at his supposedly exalting memorial moment. What's more, Castro had left his country in shambles, creating a metaphor of sorts with the broken-down — or out of gas — Cuban economy matching the state of his funeral car.
Cubans 'fear reprisals' if they don't show grief over Castro's death, dissidents say. The official picture is one of collective mourning by masses of people over the loss of the founder of modern Cuba. Immediately after President Raúl Castro announced the death of his older brother, Fidel, last Friday evening, the music in Havana stopped playing. Discos and movie theaters emptied out and closed temporarily. Bars and restaurants were told to severely restrict the sale of alcohol. Hundreds of thousands of Fidelistas braved the Caribbean sun to pay homage in Revolution Square. On Sunday, stone-faced students stood on the steps leading to the University of Havana, acting as a silent honor guard for the former dictator, carrying banners with slogans and guarding a temporary monument at his alma mater.
Jeep Carrying Fidel Castro Ashes Breaks Down Mid-Funeral. The Russian-made jeep carrying the ashes of the late Cuban dictator Fidel Castro broke down in the middle of his funeral procession on Saturday [12/3/2016], forcing soldiers to push the vehicle until it could be repaired. Nearly every major news website buried the news, though it was perfectly symbolic of the Cuban regime's economic failures, and those of socialism in general.
Liberals get hysterical over the 'alt-right' but we are living in their 'alt-left' world. There is no alt-left. They are not alternative. Their mainstream is radical and out of the American mainstream on almost everything. This was quite obvious as liberals bemoaned the death of Fidel Castro, a man his own daughter called "a tyrant." The Rev. Jesse Jackson, Sr. summed up years of devotion, recalling how, "the oppressed the world over joined Castro's cause of fighting for freedom & liberation." Some liberals distanced themselves from that love affair, though many have embraced left-wing dictators from Stalin to Chavez.
The liberal romance with Fidel Castro. The death of Fidel Castro, a mass murderer masquerading as a "president," exposed the bizarre romance liberals have with tyrants. Many world leaders expressed condolences to the Cuban people upon the death of their so-called leader, a man who oversaw the murder of tens of thousands, imprisoned political opponents, gays, anyone who challenged Castro's status quo. There is no religious freedom in Cuba — there was room for only one god and that was Fidel. There was no free press, of course, no personal freedom, only fear. The actual number of those killed by the Castro brothers and their murderous associate Che Guevara can never be known only because of the number of disappeared opponents, gays, academics and the educated.
Fidel Castro's Mass Murder by the Numbers. Fidel Castro shed blood on a scale unimaginable in American terms. His butchers executed perhaps 15,000 prisoners, according to academic estimates cited by Wikipedia: [...] That was in a country of 7 million. In per capita terms, that's the equivalent of about 680,000 executions in the United States of America with our population of 318 million. What's 680,000? The entire population of Denver or Seattle. Imagine taking every man, woman, and child of a major American city and murdering them. That's the scale of Fidel Castro's crimes.
U.S. sends nondelegation delegation to Castro services. President Obama is sending two senior officials to represent the United States at a service on Tuesday for the late Cuban leader Fidel Castro. But don't call it an official delegation, the White House insisted.
Castro Defender: He Was 'A Symbol For People Seeking Freedom, Opportunity'. A history professor from a western New York college clashed with Tucker Carlson over the merits of late dictator Fidel Castro's decades-long rule in Cuba. Rene de la Pedraja told Carlson that much of the anger professed by Cuba toward the United States stems from assassination attempts on Castro stretching back to 1959. De la Pedraja, a professor at Canisius College in Buffalo, said Castro was often a "symbol throughout the world for people who are seeking freedom or seeking opportunity."
Worshiping At Castro's Shrine. Cuban dictator Fidel Castro was always a figure who embodied the political ideology of uber-liberals. For the American left — whether young or old — it was always supremely cool and non-conformist to espouse solidarity with Castro's revolution. He was a hero to the counter-culture enthusiasts of the 1960s and a best-selling lefty author like Norman Mailer much as he is to the counter-reality Millennials who now populate our colleges and universities — perhaps only Chinese butcher Mao Zedong attracted more visceral adoration from American leftists — but of course he killed more people. As his weekend death so well illustrated, Castro continues to cast a long political shadow over the ideological landscape.
White House sending two officials to Castro funeral. The White House is sending two representatives to the funeral of Cuban dictator Fidel Castro, the White House said on Tuesday [11/29/2016]. "There's a formal process" involved in naming a higher-level presidential delegation, spokesman Josh Earnest told reporters. "That will not be taking place this time, but the United States will be represented at the event."
Credulous Western Dupes and Castro. Fidel Castro was a remarkably lucky dictator. Unlike many — Romania's Ceausescu and Libya's Qaddafi come to mind — he wasn't executed by his own people and instead died in bed at age 90. During the Cuban missile crisis, he wrung a secret promise from the U.S. that it would never invade Cuba. He then survived dozens of assassination attempts by the Kennedy administration until a Castro sympathizer named Lee Harvey Oswald put a stop to them and to the life of President Kennedy in 1963. Castro ruled for another 45 years after that, until his retirement in 2008, persecuting dissidents, jailing gays, and murdering opponents. Even after he turned power over to his brother Raul, Fidel continued to be feted and admired by world leaders. Few dictators could have collected the kind of respectful foreign tributes that poured in from Western countries after his death last Friday.
Justin Trudeau A Baby-Faced Commie Apologist Unmasked. Mourning the death of repressive dictator Fidel Castro, Trudeau hailed his longtime family friend as a "larger than life leader" who "served his people for almost half a century." Actually, El Comandante ruled with an iron fist and firing squads — serving himself to all of the island's land, private businesses and media, along with his own private yacht, private island, 20 homes, fleet of Mercedes limos and bevy of mistresses. Trudeau's ridiculous mash note to the "legendary revolutionary and orator" caused the social media backlash of the year.
Keith Ellison Reflects on Castro's Legacy as 'Mixed Bag'. Congressman Keith Ellison, a Democrat running for DNC chair, weighed in on the legacy of Fidel Castro in an interview today, referring to it as a "mixed bag." On SiriusXM's The Karen Hunter Show today, Ellison said that while Castro engaged in "harsh dictatorial tactics," he also stood up "for peace and freedom in Africa." He talked about what Castro did to battle apartheid and pointed to a few different things that showed, as Ellison argued, "If you look at his legacy you have to say that he confronted people with a lot of power on behalf of people that didn't have any."
Obama's Latest Shrug of the Shoulders. We finally have an Obama doctrine. It is the 223 words of the White House statement on the death of Fidel Castro. It is blank of moral judgment, empty of indignation, blind to injustice, dismissive of history and indifferent to injury. A dictator has died and Barack Obama sent him off with lazy weasel words: "History will record and judge the enormous impact of this singular figure on the people and world around him." History will also record Obama's failure to condemn. Fidel Castro was a killer. He came to power in a revolution and so violence was probably inescapable. But he followed it with mass executions — the guilty, the innocent, it hardly mattered. He imposed a totalitarian system on Cuba even harsher and more homicidal than the one that preceded it. He persecuted homosexuals, dissidents, critical writers and journalists. He would not tolerate a free press and his own political party was the only one permitted. In the end, he ruined his country's economy while at the same time exporting terrorism. Venezuela today is a quasi-police state run with the invaluable assistance of Cubans.
Brutal Dictator Castro Finally Dies at 90. According to the journalist and filmmaker Saul Landau, Castro was "a man who has been steeped in democracy ... a humble man." Other commentators fell over themselves to reaffirm this message. [...] The truth is rather more grisly and requires a stomach strong in a different sense: not to withstand the hypocritical sentimentalities of intellectual fellow-travelers but to witness the murderous and soul-blighting frenzy of totalitarian tyranny: the wholesale torture, imprisonment, forced labor, and murder of countless thousands whose only crime was expressing a desire for freedom. A partial but fully documented listing of the Castros' crimes against humanity is collected at a web site appropriately called "Castro's Greatest Atrocities and Crimes." Be sitting down when you inspect its report.
Castro's Socialism And Death. In the fall of 1962, Fidel Castro urged his Soviet allies to wipe out the United States. The Butcher of Havana told Khrushchev to "to eliminate this danger forever". By that he meant destroying the United States of America in a nuclear assault. "However harsh and terrible the solution, there would be no other," he reasoned. The Soviet leader replied warning of a "war of extermination" with "millions of deaths". He called Castro's proposal, the "start of a thermonuclear world war". Khrushchev flinched from an orgy of death that would have wiped out most of the US, the USSR and Cuba. Castro did not. He was willing to see the world die rather than yield power. Now the dictator who liked to shout, "Socialism or Death" is dead and out of power.
Donald Trump threatens to undo Obama's deal as Castro's death resets U.S.-Cuba relations. Donald Trump will undo the Obama administration's historic diplomatic reset with Havana unless the Cuban government moves swiftly to address human rights abuses and loosen restrictions on freedom of speech and religion on the communist island, the incoming president's chief of staff says. With Fidel Castro's death fresh in the headlines, Reince Priebus, former chairman of the Republican National Committee, said Sunday that Mr. Trump will keep an open mind about future relations with Cuba but demand major changes before embracing the detente set in motion by the outgoing White House.
Castro Wanted Nuclear War. In my post about Fidel Castro's death I wrote: "It has never been clear to me whether Castro asked the Soviets for missiles or whether the Soviets initiated the idea and Castro agreed (as the New York Times says)." But wherever that idea originated, the evidence is that Castro advocated striking the U.S. with Soviet nukes. In other words, he called for thermonuclear war.
Obama Mourns Castro Who Wanted to Murder 100 Million Americans. [#1] Obama, as usual, manages to turn Castro's death into a tribute to himself. [#2] He offers prayers for a Communist butcher notorious for targeting the clergy[.] [#3] He evasively praises the crimes of a Communist monster while couching it in vague terminology such as History will record and judge the enormous impact of this singular figure on the people and world around him."
See College Students' Responses When Asked to Compare Castro to Trump. College students in the nation's capital thought it was a "tough question" whether former Cuban President Fidel Castro or American President-elect Donald Trump is more favorable. [Video clip] Many students could not give a clear answer whether they thought Castro, the Cuban dictator who died last week, or Trump was a better leader.
Why The Left Loves Totalitarians Like Fidel Castro. Progressives' and leftists' outpouring of praise for Fidel Castro at his death was to be expected, although it has been more fulsome, tone-deaf, and cloying than I expected. For just a few examples see President Obama, Canadian Prime Minister Justin Trudeau, and United Nations Secretary General Ban Ki Moon. Rational and moral people, however, will rightly ask, "How would anyone aware of Castro's more than 50 years of human rights abuses mourn the death of a tyrant who was both an intellectual and moral idiot, much less praise his legacy?"
Florida GOP lawmakers blast Obama's Castro statement. Republican members of Congress from Florida panned President Barack Obama's response to the death of Cuban President Fidel Castro, attacking it as an inadequate response to the demise of a dictator who victimized so many of their constituents. Castro's death was met with celebrations in the streets of Miami, where Cuban refugees and their families make up a large percentage of the population. The jubilation felt by many Cuban-Americans was a sharp contrast to the statement issues by the president, which offered condolences to Castro's family and did not directly mention his human rights abuses or the victims of his Communist regime.
Castro's Utopian Hellhole. Born to wealth and privilege and educated in exclusive private schools — which seems to be the case with all communist fanatics I've ever heard of or have had the supreme displeasure to know in my personal life — the bearded revolutionary finally gave up the ghost on Friday at age 90. Despite the fact that he was a murderous, dissent-squashing, and presumably very smelly tyrant who turned his nation into the sort of drab, flea-bitten torture chamber that all socialist republics eventually become, he was eulogized up the yin-yang by liberal Western politicians and the establishment leftist press, because they really are all that stupid.
More Truths Await Telling Of Castro's Crimes Ere Cuba Is Finally Free. How I dread the mental image of sharks eating people escaping the island in flimsy rafts and of so many drowning or dying of dehydration in awful ordeals or of the hundreds of brave young men who faced the firing squad, many crying "Long live a free Cuba" or "Long live Christ the King." I thought of the political prisoners who spent decades in Castro's dungeons and of dozens still there for any ridiculous variation of "economic crime," such as having a bag of cement to fix their home or simply not having a job ("pre-criminal dangerousness"). Also I reflected on the Baptist minister who just chose a sorrowful exile to protect his family and of the Catholic priest who might soon have to flee to save his own life, of the Ladies in White beaten each Sunday simply for marching peacefully to advocate for political prisoners, and of the blind lawyer struggling to document atrocities despite so many obstacles. And I thought of Cubans today, standing in lines to eat whatever is dispensed from an insufficient ration book, of making a salary of less than $25 a month and unable to find aspirin at a clinic, and of so many young people trapped in a life of hopelessness.
Nine Liberal Hollywood Elites Who Normalized Communist Dictator Fidel Castro. Cuban dictator Fidel Castro has died at the age of 90. Through the years, a long list of Hollywood elites have been bewitched by Castro, despite his Communist regime's imprisonment of political opponents, homosexuals, and journalists. Actors like Jack Nicholson and Danny Glover, and Hollywood directors from Steven Spielberg to Oliver Stone, have accepted invitations to the tiny Caribbean island and have showered Castro with praise.
The Truth about Fidel and Raul. Two decades of "Castro-is-dead" rumors are finally at an end. And the race is on to see which world leader can most fulsomely praise Fidel Castro's legacy, while delicately averting their eyes from his less savory characteristics. Two duly elected leaders of democracies who should know better, Canadian prime minister Justin Trudeau and American president Barack Obama, are leading the way. Mr. Trudeau praised Castro as a "legendary revolutionary and orator" who "made significant improvements to the education and health care of his island nation." Mr. Obama offered his "condolences" to the Cuban people, and blandly suggested that "history will record and judge the enormous impact of this singular figure." Now, he added, we can "look to the future."
Inside Fidel Castro's life of luxury and ladies while country starved. With his shaggy beard and rumpled, olive-drab fatigues, Fidel Castro presented himself to the world as a modest man of the people. At times, he claimed he made just 900 pesos ($43) a month and lived in a "fisherman's hut" somewhere on the beach. But Castro's public image was a carefully crafted myth, more fiction than fact. "While his people suffered, Fidel Castro lived in comfort — keeping everything, including his eight children, his many mistresses, even his wife, a secret," wrote Juan Reinaldo Sanchez, Castro's longtime bodyguard.
The U.S. Media's Decades of Cheering Castro's Communism. While every other country in the Western Hemisphere moved towards democracy, Cuba remained a one-party state under dictator Fidel Castro, who held power without free elections from 1959 until health problems forced him to step aside in 2006. Castro's communist regime executed hundreds of political opponents and drove tens of thousands more into exile; hundreds of dissidents today languish in Cuban prisons. The U.S. State Department, Amnesty International and Human Rights Watch all listed Castro's Cuba as among the worst violators of human rights on the planet, while the Committee to Protect Journalists condemned the harassment and imprisonment of journalists.
Jimmy Carter remembers Fidel Castro 'fondly'. Former President Jimmy Carter had kind words for Cuban dictator Fidel Castro, who died Friday, saying in a statement he and his wife "remember fondly our visits with him in Cuba and his love of his country." Castro, who was 90, was long a scourge of the U.S. who brought the Cold War to America's doorstep. But he and Carter, a Georgia native, had warmer relations. Carter took a step to normalize relations between the two nations during his presidency, and the two shared several visits, including a 2011 journey where Castro called Carter a "friend."
Fidel Castro May Be Dead, But Tyranny Remains In Cuba. Late Friday evening, Cuban state media reported the death of their former leader, Fidel Castro, at age 90. Some will mourn his passing or even glorify his life. But for many others, not even his death will fill the void caused by his life. For over five decades, Cubans suffered under the tyranny of Fidel and then his brother Raul, now 85. They watched the regime destroy a country and export the same perverted model of social justice throughout the developing world. My grandfather would often tell us of how he would hide indoors while Fidel's firing squads would slaughter innocent people nearby.
A very hot place awaits Fidel. He promised elections but kept delaying them. They never happened. He denied that he was communist and locked up people like my dad's cousin for publicly saying so. A bit later, he declared himself a communist but did not release those who called him one. In the end, he leaves a poor island with very little hope. He leaves political prisons, families crushed, and empty store shelves.
Journalists Hail Castro's Achievements, 'George Washington,' 'Folk Hero to Most of Us'. Fidel Castro, who died late Friday night, was a tyrant who oppressed Cubans and brought misery to many for several decades and while much of the breaking news coverage emphasized that reality, journalists on ABC, CNN and MSNBC — matching how too much of the media approached Castro for decades — couldn't resist crediting him for supposed great advancements in education, literacy and health care. On MSNBC, Andrea Mitchell insisted in a stock bio that Castro "gave his people better health care and education." Appearing live by phone, she soon trumpted how Castro "will be revered" for "education and social services and medical care to all of his people."
President Obama's and Trump's Statements on the Death of Castro Couldn't Be Any More Different. As is so often the case with the left-wing press and President Obama, it's often what is not said that is the most revealing.
Farewell to Cuba's brutal Big Brother. One of the most brutal dictators in modern history has just died. Oddly enough, some will mourn his passing, and many an obituary will praise him. Millions of Cubans who have been waiting impatiently for this moment for more than half a century will simply ponder his crimes and recall the pain and suffering he caused.
Fidel cruelly imposed an emotional trauma on generations of Cubans. The emotional trauma that Fidel and Raul Castro have cruelly imposed on generations of Cubans and their children cannot be easily explained. Families have been torn apart. Dreams have been quashed. Thousands of friends and family members have been killed in prison, shot in front of a firing squad, or drowned at sea seeking freedom. Several hundred patriotic young Cubans, seeking to depose Fidel, were instead killed or wounded at the Bay of Pigs; 1200 more were imprisoned before being freed for ransom. Fidel Castro's messianic dreams of being the world's revolutionary leader didn't stop at Cuba's shores. He trained hundreds of PLO and PFLP terrorists and other assassins to wreak havoc in the Middle East and against Western democracies. He tried to bring his communist revolution to Latin American and other Caribbean countries. He sent Cuban troops to intervene in Angola and propped up a failing Soviet-led regime.
Pig Latin Perishes At Last. The apologists might have consulted the various Amnesty International reports, which hardly capture the full picture. With no apology to Francois Hollande, Fidel Castro allowed the Soviet Union to impose complete domination of Cuba. That helped Fidel Castro drive a prosperous nation to sub-Haiti levels of poverty. His repression was such that Cubans flee at the first opportunity, leaving everything behind, at great risk to their own lives. That is why the Straits of Florida have become a graveyard without crosses. The social justice crowd might have a look at Orlando Jimenez-Leal's documentary 8A, which captures Castro's show-trial of General Arnaldo Ochoa and other officers. Their government lawyers pleaded with the court that their clients must receive the death penalty, duly carried out with no appeal.
Castro's death spurs drink specials galore as Cuban-American restaurants celebrate occasion. With Fidel Castro's passing Friday evening [11/25/2016] prompting impromptu parties on the streets of Miami, area establishments have announced plans to continue commemorating the dictator's death with a slew of drink specials being offered in celebration. Bars and restaurants throughout Miami, the city with the largest Cuban population in all of the United States, offered discounted cocktails and other deals on Saturday as news of Castro's passing continued to garner enthusiastic responses among area expats.
Former Cuban Castaway Elian Gonzalez Remembers Fidel Castro as a Father Figure-Turned-Friend. Elian Gonzalez, the Cuban castaway boy rescued off the coast of Florida in 1999 by a pair of sport fishermen, spoke fondly of Fidel Castro on Saturday, describing the late former Cuban leader as a father figure who became a friend. Gonzalez, then five-years-old, was found floating on an inner tube after his mother and other Cubans died while trying to escape communist Cuba for the U.S., where he had relatives. Interestingly, he was found on November 25, 1999 — exactly 16 years prior to the day of Castro's death.
Former Cuban leader Fidel Castro dies at age 90. Longtime Cuban leader Fidel Castro, the bearded, cigar-smoking Communist revolutionary who infuriated the United States, inspired both loyalty and loathing from his countrymen and maintained an iron grip on Cuban politics for almost 50 years, died Friday [11/25/2016]. He was 90.
Obama Whitewashes Castro's Tyranny in "Carefully-Worded" Statement. President Obama and the Mainstream Media are mourning the death of Cuban dictator Fidel Castro — whitewashing his crimes against the Cuban people while comparing him to George Washington. "We know that this moment fills Cubans — in Cuba and in the United States — with powerful emotions, recalling the countless ways in which Fidel Castro altered the course of individual lives, families, and of the Cuban nation. History will record and judge the enormous impact of this singular figure on the people and world around him," the president said in a statement. [...] It is absolutely sickening to watch the White House and the Mainstream Media mourn the loss of their beloved Castro — a ruthless dictator who was the personification of evil. Sen. Marco Rubio was enraged by President Obama's half-hearted attempt to whitewash Castro's atrocities.
Obama's 'legacy' drive lost Florida for Clinton. The evidence is mounting that President Obama's overzealous defense of his "opening Cuba" gambit cost Hillary Clinton the state of Florida. That misstep could end up wiping out most of the president's carefully curated "legacy" achievements. For the president and his young Deputy National Security Adviser Ben Rhodes, the establishment of diplomatic relations with one of the world's last communist dictatorships became something they weirdly defended from any criticism. Even the smallest amendment that watered down coddling the Castros drew fulminating threats of vetoes from the White House. Then in late October, President Obama went for broke and decided to stick a bigger needle in his opponents' eye. He lifted limits on the import of cigars and rum, and then ordered our ambassador to the United Nations to abstain from a vote condemning the US economic embargo on Cuba.
Remember the one about all the business opportunities in Cuba? There is a Cuban expression that sort goes like this: "No puedes tapar el sol con un dedo". It literally means that you can't cover the sun with your thumb. In other words, you can't avoid reality in the long run. Well, reality is all over the new Obama plan to open up Cuba. The original plan was that U.S. companies would rush in, exploit markets, freedom would explode and that every Cuban would add Obama's birthday to the calendar of Catholic saints, i,e Santo BO! Like ObamaCare, the Iran nuclear deal, or ending Mideast wars, the plan is not working out as promised.
Congress: Cuba to Share Critical U.S. Intel With Iranian Spies. A little noticed Obama administration directive on Cuba, released Oct. 14, instructed the U.S. director of national intelligence to assist and cooperate with Cuba's intelligence services. The directive has raised red flags on Capitol Hill, where some lawmakers are concerned that Cuba will pass along critical U.S. intelligence to the Iranians, who have made moves in recent years to extend their influence in the communist country and other Latin American countries hostile to the United States.
Cuban officials and Communist Party members can now get U.S. remittances and more. With little fanfare, the U.S. government recently amended regulations to allow Cuban government officials and members of the Communist Party to benefit from the softening of sanctions, including receiving cash remittances and other perks. The new beneficiaries include members of the Cuban Ministry of the Interior (MININT), the Central Committee of the Communist Party (PCC) and other branches of the Cuban government. The change is part of the new round of regulations announced last week by the Obama administration.
Rubio: Obama secretly sharing intel with Castros. President Obama quietly changed American policy to allow intelligence sharing with the Castro regime last week, a Senate Republican has learned. The change was made under the auspices of the Treasury Department, which announced that it would loosen rules pertaining to how much merchandise American travelers could bring back from Cuba. But the new regulation has much broader applications, according to Florida Sen. Marco Rubio, because they change the rules that define which Cuban officials face travel restrictions and other bans on entering into contracts with Americans.
Despite Obama's 'Normalization,' The Castros' Cuba Is As Repressive As Ever. It's now been almost two years since President Obama began easing relations with Cuba to make "the lives of ordinary Cubans a little bit easier, more free, more prosperous." How's that working out? No so well, it seems.
Private restaurants prove successful, so Cuban government cracks down on them. Cuba's private restaurants, better known as "paladares" (palates), are being watched closely these days by the Castro government, which has temporarily suspended the concession of licenses because of alleged rule violations in a booming sector that perfectly represents the island's new economy. "There has been powerful growth in a very short time and for the government, it's gotten out of hand," the owner of a famous Havana restaurant told EFE, adding that like other eatery owners he awaits a feared inspection by the authorities sometime during the coming weeks.
Obama Just Opened the Door for Castro's Spies. By the time he leaves office in three months, Obama will have substantially re-normalized relations with the Castro regime. Obama has pressed forward over the opposition of many Cuban-Americans and human rights groups, who note that Washington's gifts to Havana have not been reciprocated with greater respect for democracy and the rule of law in Cuba, as many had anticipated. In the words of Amnesty International, "Despite increasingly open diplomatic relations, severe restrictions on freedoms of expression, association and movement continued. Thousands of cases of harassment of government critics and arbitrary arrests and detentions were reported."
Obama lifts all restrictions on Cuban rum, cigars. The Obama administration announced Friday [10/14/2016] a new round of executive actions designed to increase trade and travel with the communist island. And this is the one many Americans have been waiting for — no more restrictions on the island's famed rum and cigars. Under the new rules, travelers can purchase unlimited quantities of Cuban rum and cigars in any country where they are sold so long as they are for personal consumption. Sorry American couch potatoes: You can't order Cuban rum and cigars online and have them shipped to your home.
Trump threatens to undo Obama's diplomacy with Cuba unless Castro grants 'religious and political freedom' and releases 'political prisoners'. Donald Trump played to Cuban-American sentiments Friday night [9/16/2016] in Miami, saying he would reverse all of President Barack Obama's executive actions normalizing relations with the Castro regime — unless the oppressive government in Havana dramatically changes its approach to human rights and political freedom. Trump, the Republican nominee for president, pledged that if he wins the White House he is 'going to stand with the Cuban people in their fight against communist oppression.'
Cuban invasion: Immigration highest ever, deportations lowest. Illegal border crossings by Cubans has surpassed last year's record at the same time deportations are at an all-time low, a poisonous formula that is making the United States a huge "magnet" for even higher levels of immigration from the communist island, according to a new report. Cuban immigration has hit 46,635, breaching last year's ceiling of 43,154, according to the authoritative Center for Immigration Studies.
TSA Official Admits No Federal Air Marshals Are Allowed on Non-Chartered US-Cuba Commercial Flights. At a House Homeland Security Committee hearing Wednesday [9/14/2016], a top Transportation Security Administration official admitted that federal air marshals are not currently allowed on non-chartered commercial flights between the U.S. and Cuba, despite reports to the contrary. Rep. John Katko (R-N.Y.) questioned Dr. Huban Gowardia, deputy administrator for the Transportation Security Administration, about a draft agreement between the TSA and the Cuban government which would allow federal air marshals on commercial flights.
The Ugly Truth Of Leftist "Heroes". [Scroll down to Ernesto "Che" Guevara] Although his iconic picture is widespread, especially on college campuses, most people have no idea what he did. He helped Castro take over Cuba, and fought for Communism in the Congo and Bolivia. While in Cuba, he lived in a palatial house and gleefully executed hundreds or perhaps thousands of political prisoners.
Author James Patterson: In Cuba 'Everybody Gets Fed, Everybody Gets Health Care, Everybody Gets Educated'. Best-selling author James Patterson thinks that, unlike Cuba, America is unable to "take care of the basics" — education, health care, and food. Patterson wrote and hosts a new documentary, "Murder of a Small Town," that looks at two rural communities in Florida, Pahokee and Belle Glade. The towns have been abandoned by industry, are violent, poverty-stricken and offer a contrast to Palm Beach and other affluent coastal communities to the east.
AT&T to provide cellphone roaming, other services for tourists in Cuba. The Dallas-based telecommunications giant on Monday [8/29/2016] announced the agreement with the state telecommunications company, Etecsa.
The Dark Reality of Cuba. Behind the tourist facade, the real hell of Castro's Cuba that Cuban's live in.
Cuban Exodus. Earlier this year President Barack Obama became the first sitting president to visit Cuba since Calvin Coolidge in 1928. The trip came one year after the two nations moved to re-establish diplomatic relations. Congress is considering steps that would ease restrictions on Americans traveling to the island nation. However, what you might not know is an astonishing number of Cubans have been surging into the U.S. They're taking advantage of a law that allows them to stay in the country if they get one foot on American soil. That law is a relic from the Cold War and one that some want to change.
Growing Numbers of Cuban Migrants in the United States. Over the last couple of months, thousands of Cuban migrants were transferred from Central America to Mexico. And once at the U.S.-Mexico border, under the current interpretation of the Cuban Adjustment Act (CAA) and the "wet foot, dry foot" policy that grows out of it, Cubans without visas are waved into the United States and are given legal status and full access to welfare programs. During a recent trip to Laredo, Texas, my colleague Jessica Vaughan and I learned that this new wave of Cubans has been building for several years. The number of new annual arrivals nearly doubled from 2014 to 2015, and is roughly six times higher now than it was in 2009, which marked the most recent low point.
U.S. approves flights to Havana from 10 American cities, via 8 airlines. The U.S. Department of Transportation on Thursday approved commercial flights to Havana from 10 American cities. Transportation Secretary Anthony Foxx outlined the department's awarding of tentative approval for eight U.S. airlines to begin the flights from 10 U.S. cities this fall.
Islam thrives in communist Cuba. As Cuban salsa beats pulsate along Obispo Street in the oldest section of this Caribbean capital, bearded men raise their hands to their ears and face east toward Mecca. They whisper in union "Allahu akbar" ("God is great" in Arabic). They recite verses of the Koran. They bend down and place their head, knees and hands on Oriental rugs. Together, they represent a thriving group of Islamic followers in the most unlikely of places: communist Cuba.
Lighthouse Cuban migrants climbed isn't 'dry land,' judge rules. The lighthouse that a group of Cuban migrants scaled in an attempt to reach the United States isn't "dry land," a federal judge ruled Tuesday [6/28/2016]. The decision means 24 migrants who've been detained for more than a month on a U.S. Coast Guard cutter will be processed for repatriation back to Cuba, the agency said in a statement.
As Cubans rush through Texas, immigration policy questioned. As the morning light seeps into the chapel of an immigrant shelter here just blocks north of the U.S.-Mexico border, a man sleeps undisturbed on a cot, wrapped in a comforter. The chapel doesn't normally serve as a bedroom, but for months the rest of the rooms at the Annunciation House shelter have been full. From February to May, about 4,000 Cubans crossed over the Rio Grande River into Texas' westernmost city. After making their way to shelters and churches, many have been sleeping in crowded, makeshift quarters on bunk beds, cots, couches and pews.
Reportedly armed Cuban migrants tasered on Florida beach. [Scroll down] Authorities said that five of them were transported to the hospital. The others were taken later to be checked out before being turned over to U.S. Border Patrol. It's unclear if the migrants will be able to stay in the U.S. under the "Wet Foot, Dry Foot" policy, or if they will be returned to Cuba.
Cuban migrants detained after landing on packed Florida beach. Nearly a dozen Cuban migrants landed ashore with a rickety raft in broad daylight Saturday as beachgoers near Fort Lauderdale, Fla., watched and cheered on the weathered travelers. The migrants — nine men and one woman — landed on the sandy shore at Dania Beach, where local and federal authorities were waiting for them after the 200 mile journey from the communist country.
Cuba denies visas for House lawmakers. Cuba is refusing to approve visa applications for members of the U.S. House Homeland Security Committee, according to the committee's chairman. Members were hoping to leave on Friday afternoon [6/24/2016] to examine lagging security in the country's airports, which are set to begin making flights to the U.S. this year. The lawmakers were forced to cancel when their applications were denied that morning. "We wanted to look at their airport security ... because TSA has been backchanneling to us that it's not adequate," said Chairman Rep. Michael McCaul, R-Texas. "So I attempted to go down there to just look at them, there were five of us, and they denied our visas."
Cubans in Ecuador turn to Mexican Embassy for help in reaching United States. Scores of Cubans are camped out in front of Mexico's embassy in Ecuador, appealing for help in reaching the United States.
Obama's HHS Signs Cooperation Deal with Castro Regime Because "Cuba Has Made Significant Contributions to Health and Science". In 1958 Cuba had the 13th lowest infant-mortality on earth — ahead of France, Belgium, West Germany, Israel, Japan, Austria, Italy, Spain, and Portugal. Castro's Cuba, on the other hand, is ravaged by diseases long-eradicated in Cuba (Dengue, Cholera) and of her "doctors" fortunate enough to escape, the overwhelmingly majority flunk the exam given in the U.S. for licensing as doctor's assistants."
Obama Touts Cuba Relations While It Still Appears on U.S Terrorist List Alongside Al Qaeda, Hamas. Before Obama "normalized" relations and lifted economic sanctions, Cuba for decades appeared on the State Department's list of nation's that sponsor terrorism. Its longtime communist regime is renowned for committing atrocious human rights violations and openly offering refuge to criminals on the run from U.S. justice. Among them is a Black Liberation Army leader on the FBI's most wanted list after a prison escape following a conviction for murdering a New Jersey State Trooper. More recently, Medicare fraud ringleaders have escaped to Cuba after fleecing the U.S. government out of tens of millions of dollars. Nevertheless, in 2014 Obama announced he was charting a new course in Cuba by "normalizing relations with a country just 90 miles off our coast."
Growing Numbers of Cuban Migrants in the United States. It has not always been standard policy to admit Cubans via parole. Officials we spoke to explained that prior to the 1996 Illegal Immigration Reform and Immigrant Responsibility Act (IIRIRA), Cubans who presented themselves at the land port of entry were not allowed to enter immediately, but were sent to the U.S. Embassy in Mexico City to make their asylum claim. Following the implementation of the 1996 act, which established Expedited Removal as a form of deportation processing, they were processed as Expedited Removal/Credible Fear (ER/CF) cases, meaning that they would be taken into custody and detained until their asylum claim/fear claim could be reviewed. In those days, the government did not operate under the assumption that all Cubans have a credible fear of return or persecution, as is the case today. Cubans were questioned closely about their personal history, and often were determined to be economic migrants and thus unqualified to receive asylum or parole. Those who failed to establish a credible fear of return were not permitted to enter the United States.
Obama Gives Kitchen Sink Away to Vietnam. [Scroll down] I don't think we should be giving away the kitchen sink without ensuring the dishes are clean. Why not demand these communist countries, with whom we are "normalizing" relations, improve their human rights record. Unless, we are, as Raul Castro dictated to Obama, guilty of worse violations — after all Obama just stood there and allowed Castro to rant about the United States. Hmm, perhaps Obama could have brought attention to the fact that Cubans are showing up on our shores, not the reverse.
Feds open border to 4,000 Cubans, interviewed just 1 hour before release. U.S. Border Patrol officials are opening up the Texas border to let 4,000 Cubans in, taking about an hour to interview them and check their criminal background, before letting them enter the United States on their own where most will stay for life. Aware that Panama had airlifted nearly 250 of 4,000 Cubans to the Mexican border near El Paso, the U.S. Customs and Border Protection agency said it stands ready to process the new immigrants with speed, in fact faster it takes many Americans to get a drivers license or buy a gun.
Panama to close Colombia border to halt Cuba migrants. President Juan Carlos Varela said the decision was necessary as Costa Rica and Nicaragua had recently closed their borders to Cubans heading north. Panama has also agreed to transfer more than 3,500 Cubans hoping to reach the US to a town in northern Mexico. President Varela said the flights to Mexico could last two to three weeks.
Historic Cuba cruise returns to the United States with suspected norovirus outbreak on board after 14 passengers fall ill. Carnival Corporation's Fathom Line ship Adonia left Miami for Havana with just over 700 passengers on board on May 1. The ship returned to Miami a week later — around 6.30am on Sunday — but during the cruise's journey, there were reports that several passengers had fallen ill.
Cuban man arrested for waving American flag as first US cruise ship arrives. Before we get too excited about the tide of change in Cuba we should probably consider the case of Daniel Llorente. When the first U.S. cruise ship in the living memory of most of us arrived in Castroland, Daniel was pretty enthusiastic. In fact, he was down on the docks waving an American flag. Some of his fellow observers expressed concern over this overt display of pro-American unity sentiments, but Mr. Llorente was not dismayed. He said, "I'm not scared of talking. I'm not scared of the government." As it turns out, that really didn't work out very well.
1st cruise from a US port in decades leaves Miami for Cuba. Passengers have set sail from Miami on a historic cruise to Cuba, the first in decades to depart from a U.S. seaport for the communist island nation.
Popping the Cuban balloon. There's an old Russian proverb that if you spit in the face of a weakling he will give thanks for the rain. This should be a Cuban proverb, to describe Barack Obama's not such an excellent adventure to Havana. Raul Castro, the Cuban president, did everything short of expectoration to make the American president grovel for the regime's affections. The irony, obvious to everyone, is that the Castro brothers and their regime are on the ropes. Bankruptcy is too kind a word for the Cuban economy. The iconic sugar industry is all but destroyed, with abandoned cropland, rusting refineries and clumsy marketing.
So are the Iranians, but that's another story.
The Castros Are Getting Everything They Want From Obama. The White House decision to disinvite a Grammy-award winning jazz legend who is a strong defender of democracy in Cuba was nothing short of contemptible. The fact that it has now embarrassingly backtracked and re-invited him proves it had acted like corporations that are only too happy to ignore human rights violations in exchange for future profits with Cuba until public pressure gets too intense. In other words, engagement with the Castros is not changing them, as promised, it's changing us — as many of us predicted. It bears repeating it: The Castros, like all dictators, are bacterial. You touch them and you become contaminated. We are diminishing ourselves, and for what? The Castros have rendered Cuba a pauperized state, with no money.
Carnival's 'Hate Boat' to Havana Heralds the Shape of Things to Come. On Monday [4/18/2016], Carnival finally appeared to have noticed that it was in the middle of a PR fiasco with its "Hate Boat" to Havana cruises that did not permit Cuban-born Americans aboard. After a weekend of withering criticism, the company announced that it will "delay" the trips if the Castro regime refuses to change its policies banning such people from arriving by sea. Carnival's position until today has been that it was merely following a Castro rule that bars people born in Cuba from arriving on the island of their birth by sea (dictatorships have such whimsical rules). Even Secretary of State John Kerry, a champion of President Obama's engagement of the communist dictatorship, thought Carnival was on shaky ground.
Thanks, Obama! Cuban Activist Living in USA for Nearly Half a Century Ordered Deported. Odd how after slavishly licking the boots of the Cuban dictator that Obama finally gets around to actually deporting someone. [...] We have millions of people here illegally, many of them criminals, yet now it's a priority to deport this man?
'Castro Caught Red-Handed' as Cuban Ship Busted Transporting Massive Cocaine Shipment. Nearly 900 pounds of cocaine was found Thursday on a Cuban ship in Panama that was headed for Belgium. A U.S. Representative from Florida says the Castro regime has been caught drug trafficking red-handed.
401 kilos of cocaine found on Cuban ship; Diaz-Balart: Castro regime 'caught red-handed'. Panamanian authorities seized 401 kilos, about 882 pounds, of cocaine on a ship headed to Belgium from Cuba on Thursday [4/14/2016]. The cocaine was found camouflaged among tanks of cane-sugar syrup, according to the country's National Police (PN), part of operation Caña Brava. The PN did not elaborate further on the raid. Despite the lack of details available, U.S. Rep. Mario Diaz-Balart (R-Florida) fired off a press release blaming the Cuban government and the Castro regime for trafficking cocaine.
Panama Intercepts Major Drug Shipment From Cuba. The Panamanian authorities have intercepted over 401 kilos of cocaine in a shipment from Cuba en route to Belgium. The cocaine was found in a container camouflaged by molasses tanks. Details are forthcoming of this interdiction at the Colon Free Trade Zone, which has been dubbed by intelligence officials as "Operation Fiery Cane" ("Caña Brava"). It's important to note that the interception — also by the Panamanian authorities — of 240 tons of illegal weapons from Cuba to North Korea in 2013 was originally under suspicion of a drug shipment.
The secret symbols politicians use. Though every world leader is doubtless conscious of the signals that visual props around them subconsciously convey, the handlers responsible for shaping the image of the US president have taken things to another level. Take President Obama's recent trip to Cuba — the first such visit by a US president in 88 years. Obama's short trek 90 miles from the US to its Caribbean neighbour in March 2016 was his boldest step yet in advancing his controversial agenda to reset diplomatic relations between the two nations. But it was a painting by a Cuban artist that stole the show. Among the more awkward events on Obama's Cuban itinerary was a meeting with a group of political dissidents, many of whom fear the thawing of relations between Washington and Havana will only embolden the repressive tendencies of Cuban president Raúl Castro by legitimising his regime. Enter Michel Mirabal, a contemporary Cuban artist whose sprawling painting My New Friend provided the striking backdrop to the meeting.
The Editor says...
While Cuba is about 90 miles from the Florida Keys, Mr. Obama flew at least 1,135 miles in each direction to get from Washington DC to Havana.
Cuba Jailed 498 Dissidents During Obama's Visit. Obama's so-called historic visit led to almost 500 dissidents being jailed during his Cuba trip.
Cuban state media goes after our first black president. President Teddy Roosevelt once told a campaign audience that weakness invites contempt. Let's just say that those words apply to our new friend Raúl Castro, who keeps going out of his way to show the world that it was President Obama, not he, who really wanted to do the wave at the baseball game. First, Raúl Castro skipped President Obama's arrival. [...] Second, Raúl Castro watched the president of the U.S. praise his education and health care system. Incredibly, President Obama read the regime's talking points from A to Z. What was the point of President Obama doing this? Third, Fidel Castro jumped into the act and wrote an op-ed in the state media blasting President Obama.
Cuban State Media: 'Negro' Obama 'Incited Rebellion and Disorder'. The Havana Tribune, a state-controlled Cuban newspaper, has added insult to injury following Fidel Castro's scathing criticism of President Barack Obama upon his departure from the island. In an editorial, the title of which refers to President Obama as "negro," an opinion columnist has accused him of "inciting rebellion." The article is titled "Negro, ¿Tu Eres Sueco?" which roughly translates to "Black Man, Are You Dumb?"
Alan Gross upset by Bernie Sanders' praise of Cuban government. Alan Gross is not feeling the Bern. The former aid worker who spent who spent over four years behind bars in Cuba said he can't tolerate Democratic president candidate and Vermont Sen. Bernie Sanders' praise for some of the Cuban government's accomplishments. Sanders was one of three senators who visited Gross while he was in a Cuban prison after being accused of being a spy and also helped to secure the aid worker's eventual release. Gross, who was jailed in 2009, was eventually released in December 2014.
John Kerry's New Terror Treason. Stop by your local post office and you might just see a poster of Rodrigo "Timochenko" Londono hanging next to the Most Wanted posters of bank robbers and fugitives. The State Department is offering a $5 million reward for information about the Communist terrorist leader. But all the State Department had to do was ask Secretary of State Kerry. Obama did the wave with the Cuban dictator and Kerry met with Timochenko, the leader of FARC, a Marxist terrorist organization that appears on his own department's list of foreign terrorist organizations a little above Al Qaeda. Timochenko is a Communist who was trained at the USSR's infamous Patrice Lumumba University. The State Department accuses him of ordering the kidnapping of Americans and responsibility for much of the cocaine that is smuggled into the United States. But none of that bothered Kerry who accepted a signed copy of a memoir by the terror group's former leader which was addressed to "Senor" Kerry.
After Obama's Visit, Castro Regime Steps Up Repression in Cuba. The week after after US President Barack Obama's visit, things in Cuba have returned to normal. More than 150 activists were arrested on Saturday [3/26/2016] in demonstrations demanding the release of political prisoners. José Daniel Ferrer, who leads Cuba's Unión Patriótica, an NGO, said most of the 138 protesters arrested belong to his organization, which is based in Santiago de Cuba. It is in this particular city and the eastern part of the island where most protesters have been detained.
After Kissing The Cuban Snake, Much To His Surprise, Obama Gets Bit. It was all so choreographed. President Obama's "historic" trip to Cuba was prepped and re-prepped so that nothing would go off with a glitch. Deputy National Security Advisor Ben Rhodes jetted into Havana for the preparations; and, depending on the news report, Secretary of State John Kerry might have made an appearance there, too. President Obama spouted his treacly niceties, drew his moral equivalences and blended it all out with a sea of banalities about "the future" in a not-so-disguised effort to create his own Nixon In China legacy thing. Never mind that dissidents were being beaten by Cuban security organs and that "President" Raul Castro offered no concessions toward human rights. Obama's was laser-focused on sending the message of "fun" for the trip. As a major terror attack engulfed Brussels, Obama did the "wave" with the Cuban dictator.
Obama's Unacceptable Love Affair With Communism. Many of us warned about Obama's Marxist sympathies before he was first elected president, and we've repeatedly pointed it out during his presidency. Obama was raised and mentored by communists and spent many years engaged in community organizing (radical leftist activism). He established himself as the most liberal member of the Senate. Yet our warnings were met with cries of extremism, irrationality and, of course, racism. I wonder what these scolds would say now. After playing his fiddle in Cuba and paying homage to the romanticized Marxist Castro regime while Belgium was burning, Obama spoke to a group of young people in Argentina. He told them, essentially, that there isn't much difference between capitalism and socialism and that they "should be practical." He said: "You don't have to worry about whether it neatly fits into socialist theory or capitalist theory. You should just decide what works." He praised President Raul Castro in Cuba for his country's universal health care and quality education. Please don't tell me you find that hard to believe, either.
Fidel Castro says Obama's 'syrupy words' were enough to cause a heart attack. President Obama's "syrupy" words about brotherhood and shared history, and his call to leave behind the enmity of the past, were enough to give Cubans "a heart attack," former president Fidel Castro said Monday in his first public response to Obama's visit to Cuba last week. "We don't need any gifts from the empire," Castro wrote in a scathing article, addressed to "Brother Obama" and published in Granma, the Cuban Communist Party newspaper.
The Apology Tour of Our Next President. In Havana recently, President Obama talked of the similarities between Cuba and the United States, as if a constitutional republic of some 240 years and a thuggish and murderous communist dictatorship were kindred souls. [...] Obama also missed the irony that, while he had just warmed up to a present-day Cuban dictatorship with blood on its hands, he then blamed his distant predecessors for warming up to a long-gone Argentine dictatorship with blood on its hands. Argentine General Galtieri and his predecessors, who may have overseen the killing of some 20,000, are long dead; Raul Castro, who may have the blood of about the same number on his hands, is very much alive — and in the back-slapping company of President Obama.
Here's What Fidel Castro Had to Say About Obama's Historic Cuba Visit. Retired leader Fidel Castro accused U.S. President Barack Obama of sweet-talking the Cuban people during his visit to the island last week and ignoring the accomplishments of Communist rule, in an opinion piece carried by all state-run media on Monday [3/28/2016]. Obama's visit was aimed at consolidating a detente between the once intractable Cold War enemies and the U.S. president said in a speech to the Cuban people that it was time for both nations to put the past behind them and face the future "as friends and as neighbors and as family, together."
Fidel Castro to Obama: We Don't Need Your 'Presents'. Fidel Castro responded Monday [3/28/2016] to President Barack Obama's historic trip to Cuba with a long, bristling letter recounting the history of U.S. aggression against Cuba, writing that "we don't need the empire to give us any presents."
Obama Surrenders to Colombia's FARC Terrorists in Cuba. Secretary of State John Kerry met last week in Havana, Cuba with the Revolutionary Armed Forces of Colombia (FARC), which is listed by the State Department as a terror organization and widely recognized as the deadliest and largest Marxist terror group in the world. The Obama administration is encouraging the Colombian government to negotiate with FARC. Thus far, the Cuban-sponsored talks have yielded little but one-way concessions to terror.
The "Apology Tour" Comes Full Circle. At the beginning of his presidency, Barack Obama traveled to Cairo, Europe and the United Nations to "apologize" for past American actions and attitudes, which he claimed helped create divisions between countries. [...] Mitt Romney and other critics quickly dubbed these and similar remarks his "apology tour." With the president's visit to Havana, Cuba, that tour has come full circle. In response to a question about Cuba's human rights policies during a joint news conference, Cuban President Raul Castro criticized the United States for what he asserted was America's violation of human rights.
Obama's Inglorious Speech. President Obama's so-called "remarks to the Cuban people" — delivered in Havana and broadcast throughout Cuba on Tuesday the 22nd of March 2016 — were not in the least surprising or remarkable. It was a classic example of Obamaspeak: a complex, interwoven tapestry of vague platitudes, potentially inspiring anecdotes, artificial myths, and outright lies, laced with several references to himself and a few strands of actual truth. Nonetheless, the speech was somewhat memorable, for two reasons, both of which relate to context.
No, Mr. President, 1776 Wasn't Anything Like Castro's 1959 Putsch. In his Tuesday [3/22/2016] address to the Cuban people, Obama declared that the communist takeover that led to the Castros' 57-year dictatorship was a "liberation movement," same as America's 1776 revolution. Obama's well-known for his false equivalencies, but this one stands out for its idiocy. "Here's my message to the Cuban government and the Cuban people," Obama said. "The ideals that are the starting point for every revolution, America's revolution, Cuba's revolution, the liberation movements around the world, these ideals find their truest expression, I believe, in democracy." It must have drawn a stifled horse-laugh from Cuban military dictator Raul Castro.
Obama's Legacy Will Be Marked by His Silence on Human Rights in Cuba. The president's decision to visit Cuba was a great mistake from the start. Back in 2015, long before his trip was announced, President Barack Obama stated that he would only travel to Cuba if he saw "some progress in the liberty and freedom". But like his red-line of the use of chemical weapons in Syria, such assurance was clearly just another one of the president's "red-lines", and Gen. Raul Castro knew it. Since the thaw began, the Cuban government has doubled down on its repressive tactics, with political and religious persecution levels increasing drastically.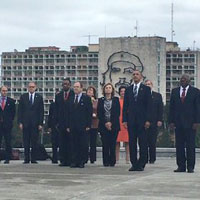 Why the Obama-Che Photo Was Even Worse Than It Looked. One of the first places I visited on a government-sanctioned "educational" tour to Cuba several years back was the Plaza de la Revolucion, a hideous expanse of concrete at the center of Havana that makes, say, Tiananmen Square look positively charming. It was there that President Obama was featured in that now-infamous photo in front of a giant mural of Che Guevara. It was unfortunate that the president lent his imprimatur to Guevara, a totalitarian who was responsible for the death of thousands. But, in some ways, the photo-op was even worse than it looked. Because as we learned on our tour, the building that Guevara's face adorns is home to the Cuban Ministry of the Interior. Unlike our own Ministry of the Interior, Cuba's is not charged with innocuous tasks like protecting endangered waterfowl. Rather, it operates the National Revolutionary Police, which, in addition to keeping law and order on the streets, harasses and arrests dissidents, and suppresses "counter-revolutionary" activities. In other words, it's Cuba's version of the Stasi.
US tourists seek preserved Cuba — and Cubans seek change. American Sue Pemberton rushed to Havana to experience authentic Cuba before the communist island gets swamped by capitalism. The only problem: millions of other foreigners had exactly the same idea. Already booming tourism is set to explode in the wake of President Barack Obama's visit to Havana on Sunday, when he'll bury an almost six decades-long conflict that left Cuba the last major undeveloped market in the Caribbean. So Pemberton, 63, joined a tour to "see it before it changes."
Nutter family vacations in Cuba at same time as Obamas. Even on vacation, Michael Nutter can't escape the political circus. The former Philadelphia mayor and his wife, Lisa, were in Cuba visiting their daughter this week at the same time that President Barack Obama and his family visited the island nation on a historic diplomatic, and apparently recreational, mission. The timing was mere coincidence, Nutter said in an interview Wednesday evening as he waited on a layover at Miami International Airport. The Nutters, he added, planned their vacation first.
The Day Freedom Died in Cuba. In 1959, Fidel Castro and his communist henchmen put a bullet through the head of freedom. Proclaiming the era of equality, they threw dissidents in jail or shot them, cracked down on free speech, closed their markets and seized private property. Thousands of Cubans fled to the liberty of the United States. Over the decades, hundreds of thousands of Cubans left the island any way they could. Learned men floated battered cars 90 miles toward Florida in the hope that they would reach land; young women smuggled their babies into rickety old boats in the desperate desire to escape perennial servitude.
Giving the dismissive 'wave' to the Obamas. The president of the world's most powerful country, who refuses to identify ISIS by their own name, and who did 'the wave' with Cuba's communist president, is the one and the same who made no mention at all about the nine Cubans who drowned in waves trying to make it to Florida while he was on the way to the country they gave their very lives to escape. That the Obama family get away with masquerading as defenders of the world poor is an insult to human intelligence. The self-styled Obama blue-bloods actually flaunt their riches — paid for from the public purse — as touring royalty.
'Just words': Cubans applaud Obama visit, but see little change. After the heady excitement of seeing President Barack Obama shatter decades of US-Cuba hostility, Cubans woke up on Wednesday wondering how much will really change on the communist island.
Obama: Cuba's Revolution, Like America's, Was a 'Liberation Movement'. President Obama told the Cuban people this morning [3/22/2016] the Communist revolution that brought the Castros to power was a "liberation movement," just like America's own revolution. [...] "There's still enormous problems in our society," Obama said of America. "But democracy is the way that we solve them. That's how we got health care for more of our people. That's how we made enormous gains in women's rights and gay rights."
Krauthammer: Obama Currently on 'Ideological Holiday Trip in Cuba While the World Burns'. Fox News contributor, frequent Special Report panelist, and syndicated columnist Charles Krauthammer was given his own segment on Tuesday night's [3/22/2016] Fox News Channel (FNC) show in light of the Islamic terror attacks in Brussels and he used his airtime to berate President Obama for his "ideological holiday trip" to communist Cuba "while the world burns." Further, he chalked the President's Cuba trip in light of the Brussels attacks to the latest illustration of the disconnect between "the real world" and Obama's "fantasy world he inhabits where Cuba is of some geopolitical significance."
Obama in Cuba: "I have come to bury the last remnant of the Cold War". President Obama spoke directly to the Cuban people in a Tuesday morning [3/22/2016] address in Havana, saying he was there to "extend the hand of friendship to the Cuban people." "I have come here to bury the last remnant of the Cold War in the Americas," Obama said, to applause.
Obama: US, Cuba 'Are Like Two Brothers Who've Been Estranged for Many Years'. President Barack Obama compared the relationship between the United States and Cuba to that of estranged brothers in a speech in Havana, Cuba, on Tuesday [3/22/2016]. "In many ways, the United States and Cuba are like two brothers who've been estranged for many years even as we share the same blood," Obama said, adding that he made it clear to Cuban dictator Raul Castro "that the United States has neither the capacity nor the intention to impose change on Cuba."
An open hand, the clenched fist. President Obama's open hand to the Castro brothers in Havana has been met with a clenched fist. Only the naifs at the White House could have been surprised. Cubans protesting the most repressive regime in the history of the Western Hemisphere have been beaten and abused in answer to the visit of the president, and on camera. Several thousand Cubans were thrown in jail on the eve of Mr. Obama's arrival, and Raul Castro added a pointed snub of protocol when he would not meet Mr. Obama at the airport.
Obama's false promise of a new day in Cuba. President Obama spoke of a "new day" in Cuba Monday, but he chose to ignore the tragic and oppressive past decades of the old Castro regime. A "new day" in Cuba cannot be achieved when the old tyrannical guard still maintains absolute power over its subjugated people. On his historic trip to the island Obama talked about engagement with the Cuban people, but the Cuban government only allows for strict engagement on their terms and with those who strictly follow and support their communist ideology and its repressive military. The president's utopian mentality fails to align itself with the realities of a system and government that has suffocated the freedoms of the Cuban people for decades.
Judicial Watch Sues Department of Defense for Records on American POWs Held Captive in Cuba. Judicial Watch announced today [3/22/2016] that it filed a Freedom of Information Act (FOIA) lawsuit against the U.S. Department of Defense to obtain records about American prisoners of war (POWs) who may have been held captive by Cuban government or military forces on the island of Cuba.
Castro flaps Obama's limp wrist. The arrest of more than 50 anti-regime protestors just before President Obama landed in Cuba underscores the fact that the Castro regime is a tyranny. It does not tolerate dissent. This reality was also written all over the face of dictator Raul Castro in his press conference with Obama on Monday [3/21/2016], when he scolded reporters for asking unscripted questions in public. He's clearly not accustomed to such things — why should be he be, he and his brother Fidel got rid of them more than half a century ago — and will probably not become so any time soon.
Obama under fire for 'going to baseball games with the Castros' while Brussels burns. Republicans are already criticizing President Obama for staying put in Cuba instead of coming home or flying to Belgium in the wake of the terrorist attacks this morning in Brussels. All three GOP presidential candidates condemned the president's moves this morning [3/22/2016]. 'President Obama is spending his time going to baseball games with the Castros,' said Sen. Ted Cruz, who is running for the Republican nomination for president, according to reporting from ABC News' Rick Klein.
Also posted in the long list of Obama's bad decisions.
Obama's Worship of Communist Cuba comes during Holy Week 2016. President Barack Hussein Obama hit his lifetime apex yesterday by publicly groveling to the communist leader of Cuba. Openly swearing allegiance to Cuba's 57-year-long communist manifesto, he publicly agreed with Raúl Castro that America is the most hateful member in what they both hope is a dying capitalist world; the nation most responsible for the grinding poverty in Communism's only North American outpost.
Cuban dissidents arrested before Obama meeting. President Obama on Tuesday [3/22/2016] met with more than a dozen political dissidents in Cuba, including some who were arrested just before their historic meeting. Some dissidents who were able to attend the meeting reported being harassed by Cuban secret police on Monday as they traveled to a silent protest. That happened just hours after President Raul Castro denied that the communist nation holds any political prisoners.
Smiling Obama ignores calls to cut short Cuban trip and attends baseball game. President Obama was all smiles this afternoon as he watched an exhibition baseball game between the Tampa Bay Rays and the Cuban national baseball team — just hours after ISIS terrorists killed at least 34 people in Brussels. Settling down with wife Michelle, daughters Sasha and Malia and Cuban dictator Raul Castro, Obama appeared carefree as he enjoyed the game — ignoring calls to cut short his historic trip to return to Washington and lead the response. Indeed, despite criticism that he only devoted one minute of his speech earlier in the day to the Belgian atrocities, Obama took the time to give a somewhat surreal 15-minute interview to ESPN about the threat posed by ISIS — keeping his $500 shades on throughout the spot.
Obama's Chicken Little fascism. For 55 years, since stridently anti-communist Democrat JFK and the 1960s Cuban Missile Crisis, when the Soviets tried to place nuclear missiles on the island (removed after a successful U.S. naval blockade), America's relations with Cuba have been in a Cold War deep-freeze. This week as another part of his paper tiger legacy (like his failed Hillary Clinton Russian "reset" or his Middle East-destabilizing ISIS-flourishing U.S. troop withdraw[al] from Iraq), Mr. Obama is the first U.S. president to visit this present-day slave state since Calvin Coolidge in 1928. [...] As usual, the oft-vacationing Mr. Obama will enjoy himself with his extended Cuban-background "selfie" celebration, but the human rights abuses continue unchanged. (This reality is further echoed by presidential candidate Ted Cruz, who detailed that nine refugees drowned over the weekend in a futile attempt to escape the same hellhole the obliviously smug Mr. Obama so blithely tours.)
Are We Ready for Reality after the Brussels Terror Attacks? [Scroll down] Meanwhile, the current president is in Havana, posing in front of a mural of Che Guevara (a man who put his own friends in front of firing squads. Doesn't Obama know? I'm afraid he does) and agreeing with Raul Castro that America has an income inequality problem. Doesn't Obama know that the great "revolutionary" Fidel is a billionaire? How's that for income inequality in a horribly impoverished country? I have been to Cuba, and except for the elites, every single citizen is in misery and being watched by the secret police.
Rep. Diaz-Balart: Obama's Cuba Trip a 'Quasi-Religious Pilgrimage' to a 'Totalitarian Dictatorship'. Cuban-American Rep. Mario Diaz-Balart (R-Fla.) criticized President Barack Obama's ongoing trip to Cuba, saying it "looks less of a foreign policy trip and more of a quasi-religious pilgrimage to the only totalitarian dictatorship, anti-American dictatorship in this hemisphere." Speaking on Fox News on Sunday [3/20/2016], Diaz-Balart also said, "it is, frankly, a tragic and a disgusting, and a horrific day for the United States, and frankly for the entire world."
Grinning Imbecile Meets His Communist Heroes. This revolting spectacle in Cuba is yet another reminder we've got an enemy in the White House.
Obama becomes the first President to set foot in Cuba for Nine Decades. The Obamas' tour of Old Havana was nearly a washout on Sunday evening as a deluge of rain came down minutes after they landed in Cuba for an historic three-day visit to the communist country. The first family pressed on, despite the stormy skies, strolling through the Plaza des Armas as they huddled under umbrellas and made their way to the Museo de la Ciudad, the museum of Cuba's capital city, and on to Havana Cathedral. President Obama's family — particularly his daughter Sasha — looked less than pleased as they perched underneath their blue and black umbrellas.
Cuban Refugees Flocking to Texas Border. The same week President Obama makes the first trip to Cuba by an American president in almost 90 years, The Rolling Stones will play a free concert in Havana — the first open-air show there by a British rock band. But changing times in the Communist country haven't stopped tens of thousands from fleeing the island and saying gimme shelter to American immigration officials at Texas land ports.
Raul to BO: I've got a few minutes Monday morning for you! Raul Castro did not greet President Obama and his family at the Havana airport on Sunday afternoon [3/20/2016]. [...] Castro made a couple of points about President Obama and the U.S.-Cuba relationship by staying home on Sunday afternoon: [#1] He does not respect Obama; and, [#2] It was Obama, not Castro, who was desperate to make this trip happen.
No American President Should [Care] What Raul Castro Thinks About Us. Scarcely hours before President Obama landed in Havana, Cuban authorities arrested members of The Ladies in White, a prominent dissident group whose husbands are in jail for speaking out against the Communist regime. At the very same press conference where Obama welcomed the Cuban dictator's commentary on our shortcomings, Castro denied the very existence of political prisoners in Cuba: ["]What political prisoners? Give me a name, or names, or after this meeting is over you can give me a list of political prisoners and if we have those political prisoners they will be released before tonight ends.["]
A Pretty Humiliating Day to Be an American. [Scroll down] But to watch him stand there today in Cuba, next to a doddering, pompous communist dictator going out of his way repeatedly to insult Obama and the United States, and in response mustering little more than a weak, "You know, I actually welcome President Castro commenting on some of the areas where he feels we're falling short," it is painfully clear that our president is a man long past caring about public humiliation. Before a televised press conference in Havana, Raul Castro harangued Obama about the continuing American "blockade" of Cuba, its "illegal" occupation of Guantanamo Bay, seemed to accuse the president of being friendly to "destabilization" in Venezuela, and implied that his own family's corrupt ownership of an entire country was justified because, unlike in America, "We find it inconceivable that a government does not defend and ensure the right to health care, any patient, social security, food provision and development, equal pay, and the rights of children." Welcome to Cuba, Mr. President!
Obama Atones for America's Sins in Cuba. [Scroll down] It is an island once rich in the faith, only to be annihilated by Fidel and Raul Castro and their war on religion. "Heaven... right here in front of me," was how Thomas Merton, the atheist-communist who became a devout Catholic monk, once described pre-Castro's Cuba. [...] That was the wondrous, pious Cuba the Castro brothers destroyed. And it is the Castro boys that Barack Obama, product of a pro-communist/pro-Castro mother and father and a literal Communist Party USA mentor, Frank Marshall Davis, is eager to embrace — and to forgive. Really, I'm sure that in his heart of hearts, Barack agrees with the Castros that America is the side that needs to be forgiven. America is the aggressor, the sinner that stands in need of reparation.
Also posted under Obama hates America.
Dozens of protesters arrested as Obama lands in Cuba for 'historic visit'. Cuban authorities have arrested more than 50 anti-government protesters just hours before Barack Obama's plane touched down in Cuba, marring the beginning of a rare three-day visit to the island nation — the first for a US president in almost 90 years. Joined by his wife Michelle Obama and daughters Malia and Sasha on board Air Force One, US President Barack Obama arrived at Havana's airport late Sunday afternoon. He was greeted by some of the Cuban top officials, including Cuba's foreign minister and US ambassador, while an official meeting with President Raul Castro is set to take place later during the extraordinary three-day visit.
No political prisoners in Cuba? 8,000 in last year. On Sunday, Obama touched down in Havana, becoming the first sitting U.S. president to visit Cuba since 1928. On Monday [3/21/2016], Obama drew controversy by standing at attention in Revolution Square in front of a giant mural of murderous Cuban revolutionary Che Guevara. He later held a joint press conference with Cuban dictator Raul Castro, who blasted the U.S. for its record on race and poverty, demanded the return of the Guantanamo Bay naval base and insisted Cuba held no political prisoners. Obama has asserted for months that normalizing relations with Cuba is a better way to effect human rights changes, rather than continuing a policy of isolation. But one of the leading voices against communism says Obama is simply giving cover to the Castros.
Fidel Castro Is Out of Sight as Obama Visits Cuba. For years, Cuban exiles in the United States dreamed that the island's longtime dictator would drop dead one day, ushering a transformational era of greater freedoms on the island and reconciliation among its citizens on both sides of the Florida straits. Fidel Castro remains alive. Yet, as President Obama visits the island, transfixing Cubans and resetting their expectations about the future, Mr. Castro is tucked away, out of sight and largely out of mind. A once towering figure in hemispheric politics is gradually fading into irrelevance.
Obama Poses in Front of Che Guevara Image in Cuba's Revolution Square. During his presidential visit to Cuba, President Obama posed for photographers in front of an image of notorious Cuban revolutionary Che Guevara. Obama stood with members of the American delegation to Cuba after laying a wreath at the Jose Marti monument in Revolution Square. The square also features an image Camilo Cienfuegos, another revolutionary who fought with Fidel Castro.
As Obama Bows, Castro Shows Nothing But Contempt. Amid fanfare and Spring Break-style selfies, President Obama's "history-making" visit to communist Cuba is no proud moment for America. If anything, it's the opposite, with Cuba's dictatorship showing open contempt for the U.S.
Cuban police break up protest ahead of Obama's visit. Cuban police forcibly broke up a pro-democracy demonstration and arrested several dozen activists on Sunday [3/20/2016], just hours before Barack Obama was to arrive in Havana as the first US president to visit Cuba in almost 90 years. The protesters, from the Damas de Blanco (Ladies in White) and other opposition groups, were bundled into buses and police vans after a shouting match with pro-Castro supporters during their usual weekly demonstration near the Santa Rita church. "My son and his wife are in jail now. They all are. The police were very violent," Glavys Fernández, the mother of leading opposition figure Antonio Rodiles, told the Guardian. "It's the same every week. The oppression is very high."
In Cuba, Obama Will Legitimize the Corrupt and Ignore the Oppressed. Communist Havana has always been a magnet for the radical chic of the left, drawn like moths to the flame of this western outpost of totalitarian Communism. Back in the 1960s, the visitors included Angela Davis and Stokely Carmichael, while Che Guevara himself received Jean-Paul Sartre. Now this scene will include a president of the United States. On Sunday, President Barack Obama, a retinue of celebrities in tow, is expected to arrive in the Cuban capital to hang out with Raul Castro and his henchmen, all of which will be breathlessly documented by the media mavens along for the ride.
Obama Derelict In Failing To Call For Regime Change In Cuba. Ahead of his "historic" trip to communist Cuba, President Obama has made it clear he won't be calling for regime change in the 57-year totalitarian dictatorship. So the trip will be little more than a U.S. endorsement of a detested military police state.
Obama attacked for failing to reveal if he will publicly criticize Cuba and the Castros for harboring American criminals. His historic trip to Cuba might be underway but President Obama has been slammed for refusing to say whether he would talking to Cuban officials over the harboring of American fugitives. Several US criminal have fled the US and headed for Cuba to find refuge where they are allowed to live free lives. Among them are convicted killer Joanne Chesimard, who broke out of jail in New Jersey and fled to Cuba after she was found guilty of shooting dead state trooper Werner Foerster in 1973.
State Dept. Reports Major Human Rights Abuses by Cuba's Communist Regime. President Obama's visit to Cuba includes a meeting with Communist dictator Raul Castro as well as a meeting with Cuban dissidents, and administration officials have said human rights will be on the table during Obama's time on the island. But according to the State Department's Country Reports on Human Rights Practices for 2014, Cuba is an "authoritarian state" responsible for ongoing human rights abuses.
Obama Welcomes Castro's Criticism of America: 'I Personally Would Not Disagree'. "President Castro, I think, has pointed out that in his view making sure that everybody is getting a decent education or health care, has basic security and old age, that those things are human rights as well. I personally would not disagree with him," Obama said. [Video clip]
Obama Says He Welcomes Castro's Criticism of the United States. In a joint press conference with Cuban dictator Raul Castro in Havana, Cuba, on Monday [3/21/2016], President Barack Obama said he welcomes Castro's criticism of the U.S. "I actually welcome President Castro commenting on some of the areas where he feels that we're falling short, because I think we should not be immune or afraid of criticism or discussion as well," Obama said.
Castro demands U.S. give back Guantanamo, lift embargo. Cuban President Raul Castro told President Obama Monday [3/21/2016] that the U.S. must return the Guantanamo Bay naval base and lift the embargo against Havana for the countries to fully normalize relations. "The blockade stands as the most important obstacle to our economic development," Mr. Castro said as the two leaders emerged from a meeting on Mr. Obama's historic trip to the island. He also said in order for the countries to move forward, "it will also be necessary" for the U.S. to return Guantanamo, which is based on the eastern end of Cuba.
White House mum on Obama dissidents meeting in Cuba. The White House won't yet say which political dissidents President Obama plans to meet with during his upcoming historic visit to Cuba, or whether any of those dissidents include prisoners the Castro regime is holding. Obama will arrive in Cuba on Sunday [3/20/2016], and with less than 48 hours before he leaves, the White House is putting off providing a list of dissidents it invited for a meeting with Obama. Instead, White House press secretary Josh Earnest told reporters Friday [3/18/2016] he hasn't seen the list, which the administration plans to release at an unspecified time over the next few days.
If Cuba is so wonderful, why do people risk their lives trying to escape?
9 Cuban migrants die trying to reach US, 18 others rescued. Nine Cuban migrants died at sea and 18 others were rescued by a cruise ship after their 30-foot boat was found about 130 miles from the Florida coast, the U.S. Coast Guard said.
Cuban Rights Groups to Obama: We Never Imagined Democratic World Would Legitimize the Castros. President Obama's outreach to communist-ruled Cuba risks "legitimizing the deeply entrenched Cuban regime," Cuban human rights and opposition groups warned Wednesday, days before Obama is scheduled to become the first sitting president to visit the island nation in almost 90 years. "We would never imagine that the democratic world would legitimize the Castros," the Forum for Rights and Freedoms and the Resistance Assembly wrote in a letter to Obama. "These individuals have destroyed the well-being of our nation. From firing squads and political assassinations to political imprisonment, thousands of Cubans inside and outside the island have had their lives taken by the regime because of their advocacy of a Free Cuba."
Obama Derelict In Failing To Call For Regime Change In Cuba. Sixteen months after President Obama's "historic" rapprochement with the brutal communist military regime that took power even before Obama was born, the aim of a thaw has gone badly awry. Obama stated he was normalizing relations to improve conditions for Cubans. He's instead achieved the exact opposite, with dissident arrests up dramatically to 8,616 in the year following normalization. Mob beatings and harassment are back with a vengeance. Business licenses fell by 10,000 in 2015, too, Mauricio Claver-Carone of Cuba Democracy Advocates told Congress this week.
Border Dem: 93,000 Cubans cross border, 'get to stay, quite honestly'. Some 93,000 Cubans have flooded across the border in the last two years, 26,000 in the past six months, and are mostly given a pass to stay in the United States, according to a border Democratic House member. Rep. Henry Cuellar, discussing immigration challenges at a House Appropriations subcommittee hearing Thursday [3/17/2016], urged the director of Immigration and Customs Enforcement to try to stop the flood before the Cubans reach the border.
Cuba ordering its dissidents to skip meeting with Obama. On the eve of President Obama's historic visit to Cuba, authorities there are ordering dissidents invited to meet with the American leader to stay home instead, a leading human rights activist said Saturday [3/19/2016]. Elizardo Sanchez, a Cuban anti-government activist who chronicles political detentions month-to-month, said he and most of those invited planned to defy the government order. Sanchez, speaking by phone from Havana, said U.S. officials were offering to help the activists get to the meeting with Obama, scheduled for Tuesday.
'Inexplicable'. When President Obama flies to Havana Sunday to cozy up to the Castros, he'll take off from a runway other than the Constitution. He'll be violating the letter and the spirit of congressional statute, too. This is one of the underappreciated features of Mr. Obama's effort to make Communist Cuba a central part of his legacy. Even against his record on Iran, it's hard to think of a foreign policy adventure quite like it. On the one hand, the President is taking along corporate executives in an effort to "kick start," as USA today puts it, a business relationship. On the other hand, trading with Cuba is embargoed by Congress. It's not legal.
Cuba issues bristling editorial ahead of Obama visit. Cuba said it would welcome President Barack Obama to Havana later this month, but the Communist government had no intention of changing its policies in exchange for normal relations with the United States.
Obama's Cuba Trip Showing Signs Of Imploding. President Obama's "historic" trip to communist Cuba is showing signs of falling apart. Far from the beisbol and mojitos junket that the president's PR team is selling, disputes are all over, starting with which dissidents the regime will let the president see. It goes to show what a bad idea this was.
Obama's unrequited Cuban romance. Nothing is more embarrassing to watch than a suitor pursuing unrequited love. There's no thrill in such romance. Every bouquet of long-stemmed roses and every box of candy Barack Obama sends to Havana is returned with a demand for roses with longer stems and a bigger box of candy. Over the past year, President Obama has removed Cuba from the list of state sponsors of terrorism, re-established diplomatic relations and opened an embassy in Havana, and now Mr. Obama announces that he will be the first American president to visit Cuba in nearly 90 years.
Kerry cancels trip to Cuba amid haggling on human rights. The back and forth over human rights is another sign of how prickly U.S.-Cuba relations remain despite the restoration of diplomatic ties, and the easing of many travel and trade restrictions, over the last year. It also highlights a potential problem for Obama's planned overnight visit on March 21, the first by a sitting president in nearly 90 years, to the former Cold War adversary.
U.S. Pays to Feed and Shelter Cuban Migrants Stranded in Costa Rica. The United States government has been paying to feed and shelter thousands of Cubans trying to migrate to the United States, in what critics consider another sign of the lopsided treatment provided to Cubans under American law. The Obama administration has tried hard to deter the crush of migrants arriving from Central America in recent years. It has pressed Mexico to crack down on migrants passing through its territory, while women and children who managed to cross the American border have been held in detention facilities.
End special immigration status for Cubans. Honduran, Salvadoran and Guatemalan refugees are arrested, detained and deported if they fail to make the case — often without legal help in difficult-to-navigate proceedings — that they have a "credible fear" of persecution if returned home. Some can, ensuring temporary permission to stay as their cases are sorted out. Many cannot. But every fleeing Cuban who gets to this country is put on a fast-track to legal residency, thanks to the decades-old Cuban Adjustment Act, last amended in 1996.
Havana Is Latin America's Detroit, but Poorer. Before taking my trip to Havana, one thing that I was curious about was how a half-century of Communism had affected the built fabric. While there are obvious disadvantages to economic stagnation, I figured that it would have at least created a charming-looking city. There are, after all, a handful of US cities, and numerous European ones, that have resisted growth, modernization, and the automobile, only to remain quaint and historic. But it didn't take even a 10-minute cab ride from the airport to realize that my assumption about Havana had been naïve — even if it is still held by many of the city's blissfully incurious tourists. In fact, very little about Havana has been "preserved." Instead, everything in the city is merely old, and because little gets produced, nothing is replaced.
Havana, the City of Scarcity. While exploring Havana's neighborhoods, the thing that jumped out was not the city's poverty (although there was plenty of that), but its scarcity. Because Cuba's government does not value or comprehend mass production — namely not for agriculture — there are shortages of everything. In the United States, we take for granted that any basic convenience is but a short drive away. But in Havana, running errands isn't that simple. City residents have limited mobility: the bus system is cheap but unreliable, the newly-private taxi system is efficient but costly, and for most Cubans, owning a bicycle — much less an automobile — requires years of savings. So they must stick to neighborhood stores with minimal inventory, and even if they did all have cars, there would still be few outside options.
Engagement With Cuba Has Failed — Time For Something New. I trust that anyone that even glances at the fruits of Obama's 16-month engagement with the Castro-Family-Crime-Syndicate (euphemized as "Cuba" by the media and the Obama administration) marvels. Because never in the course of U.S. diplomacy has so much been surrendered by so many to so few for so little. Not a penny of the $7 billion Castro stole at gunpoint from Americans (while torturing and murdering a few Americans who resisted) has been compensated — or even acknowledged. Some of the FBI's most wanted terrorists still live like celebrities in Cuba. All this after Castro promptly got his murdering (of Americans) terrorists back as a bonus to an economic lifeline from Obama — in the nick of time and much of it at the expense of the U.S. taxpayer.
D.C. looks to communist Cuba for lessons to improve literacy. The D.C. Public Schools System is looking to Cuba for lessons to improve literacy in the nation's capital. D.C. Mayor Muriel Bowser and Schools Chancellor Kaya Henderson have toured several schools in Havana during a five-day visit to the communist-run island nation, which boasts a 99.8 percent literacy rate. "Given Cuba's emphasis on a strong education, I know there's a lot we can learn from each other," Ms. Bowser said Tuesday [2/23/2016] from Havana in a conference call with reporters. "There's a focus on teaching here and making sure all citizens have access to high-quality teaching."
The Editor says...
Instead of concentrating on literacy per se, they should find out what happens to Cuban school kids who don't do their school work, sleep in class, attack the teachers, cheat on tests with their cell phones, sell drugs on campus, and let their pants droop down to their knees. When order and discipline is restored to American classrooms, literacy will approach 100 percent here, too.
President Obama Will Not Visit Guantánamo Bay Troops on Cuba Trip. President Obama will not visit the troops stationed at Guantánamo Bay Naval Base as part of his coming trip to Cuba. Mr. Obama has not once visited the base, which staffs thousands of U.S. service members, during his tenure as President. He will, however, personally meet with Raul Castro and "various Cuban people," doing so from March 21-22. Ben Rhodes, the President's Deputy National Security Advisor, discussed the President's coming trip, in which he will forgo American troops for the dictatorship in Havana.
Obama times Cuba visit to avoid Netanyahu? The White House announced on Thursday [2/18/2016] that U.S. President Barack Obama will make history as he will be the first U.S. President to visit Cuba in over 80 years. The state visit is a direct continuation of the Obama's historic achievement from last year when he initiated diplomatic relations between the two countries. Diplomatic relations between the countries was severed 6 decades ago. The President announced the news via his Twitter account on the same day. "14 months ago, I announced that we would begin normalizing relations with Cuba — and we've already made significant progress," he tweeted. "Our flag flies over our Embassy in Havana once again. More Americans are traveling to Cuba than at any time in the last 50 years." It is expected that Obama will meet with Cuban President Raul Castro, as well as various entrepreneurs and VIPs of Cuban society.
Castro Brothers The Only Beneficiaries In Obama Trip To Cuba. Announcing another historic "first," President Obama said he and the first lady would visit communist Cuba to help improve the lot of the Cuban people. Last time he said that, when he normalized ties, the whip came down. No regime has been showered with goodies the way the White House has heaped them onto the Castro brothers' 57-year military dictatorship. From cash and trade, to the prestige of a costly U.S. presidential visit, the Castros have made out like bandits. The U.S. gets nothing in return.
President Obama Planning Trip to Cuba Within Next Month, Sources Say. President Obama is planning a trip to Cuba some time next month, marking the first time in more than 80 years a sitting U.S. president will visit the country, according to sources with knowledge of the plan. A National Security Council official plans to make the announcement tomorrow at the White House briefing. The move comes roughly 15 months following the president's pledge with Raul Castro to reopen diplomatic channels following a prisoner exchange and the humanitarian release of U.S. contractor Alan Gross in December 2014.
Nets Thrilled by Obama's 'Historic Trip' to Cuba. The network morning shows on Thursday [2/18/2016] were beside themselves with glee over the White House announcing President Obama would travel to Cuba in March. While all three broadcasts hailed the upcoming "historic trip," it was ABC's Good Morning America that went the extra mile by proclaiming the President was more popular than singer Beyonce on the island nation. At the top of GMA, fill-in co-host Amy Robach announced: "Breaking overnight, President Obama will travel to Cuba, the first president to visit in more than 80 years. And the huge events in the works in Havana, from Major League Baseball to Beyonce."
U.S. Removed Cuba from Terrorist List After Hezbollah Opened Base on Island. A few years before the Obama administration removed Cuba from the U.S. list of nations that sponsor terrorism Hezbollah established an operational base on the communist island, according to intelligence received by Hillary Clinton when she was Secretary of State. The information comes straight from electronic mail released by the State Department over the weekend as part of ongoing litigation from several groups, including Judicial Watch, and media outlets surrounding Clinton's use of a private server to send and receive classified information as Secretary of State. This alarming information has been ignored by the mainstream media, which served as the president's most vocal cheerleader when he established diplomatic ties with Cuba last summer. After appearing for decades on the U.S. government's list of nations that sponsor terrorism, the Obama administration officially removed it to lay the groundwork for a full renewal of diplomatic ties.
Tension Simmers as Cubans Breeze Across U.S. Border. They are crossing the border here by the hundreds each day, approved to enter the United States in a matter of hours. Part of a fast-rising influx of Cubans, they walk out to a Laredo street and are greeted by volunteers from Cubanos en Libertad, or Cubans in Freedom, who help them arrange travel to their American destination — often Miami — and start applying for work permits and federal benefits like food stamps and Medicaid, available by law to Cubans immediately after their arrival. The friendly reception given the Cubans, an artifact of hostile relations with the Castro government, is a stark contrast with the treatment of Central American families fleeing violence in their countries.
Two Flights with 236 Cubans Depart from Costa Rica for Mexico. Costa Rican authorities reported that two flights, each carrying 118 Cuban migrants, departed Wednesday [2/10/2016] for Nuevo Laredo, Mexico, as part of an operation to let them resume their trek to the United States.
It's very hard to believe this was all just an accident.
U.S. missile inadvertently shipped to Cuba has been returned. The Cuban government has returned a missing U.S. missile sent to Europe for training but inadvertently shipped to Cuba, a State Department official said. "We can say, without speaking to specifics, that the inert training missile has been returned with the cooperation of the Cuban government," Mark Toner, the State Department's deputy spokesperson, told CNN on Saturday [2/13/2016]. "The department is restricted under federal law and regulations from commenting on specific defense trade licensing cases and compliance matters, so we cannot provide further details." "The reestablishment of diplomatic relations and the re-opening of our embassy in Havana allow us to engage with the Cuban government on issues of mutual interest," he added.
Obama Made a Terrible Deal With Cuba, Too. The Washington Post editorial board documents the pathetic failure of the Obama administration's Cuba policy under the bleak headline: "Failure In Cuba." Whether it is a failure, of course, depends on what you think Obama was trying to achieve.
Thousands of Cuban Refugees Crossing the Border. At least 7,000 Cuban refugees are expected to come to the border in the next coming days. The activity at the Hidalgo International Bridge continues. For 40 years, Jose Angel Rodriguez has made his living driving a cab. He said he's seeing more Cubans crossing the port of entry. "They get here every night, in the morning, and at night they get here. They go to Laredo, too," Rodriguez said.
Obama administration loosens Cuba embargo with new measures. The Obama administration is loosening the U.S. trade embargo on Cuba with a new round of regulations allowing American companies to sell to Cuba on credit and export a potentially wide range of products to the Cuban government for the first time, officials said Tuesday [1/26/2016].
8,000 Cubans headed to U.S.. More than 8,000 Cubans who had been stranded in Central America for months have begun arriving in the U.S., according to a statement from the Costa Rican government. The number of Cubans fleeing the country increased 78 percent from 24,278 in 2014 to 43,159 in FY 2015, according to U.S. Customs and Border Protection. The jump was the result of Cubans who fear the Obama administration might end its current "wet-foot, dry-foot" immigration policy, which allows any Cuban who reaches the U.S. the right to stay and receive welfare benefits, after Obama "normalized" diplomatic relations between the two nations after a 50-year hiatus.
The 'New Cuban Missile Crisis' Mystery Deepens. A U.S. Hellfire anti-tank missile — a weapon launched from Predator drones in anti-terrorism operations, among other uses — found its way into the hands of Cuba's government in 2014. But the route it took, twice crossing the Atlantic, was less mysterious than the U.S. government's public response to the discovery that front-line American military equipment made it to Havana — or beyond.
Transfer out of Costa Rica of Cuban migrants headed to U.S. begins. The first flight of Cuban migrants who were stranded in Costa Rica since November took off from the country's Daniel Oduber airport in the northern city of Liberia late Tuesday night [1/12/2016] as part of a regional agreement to overcome Nicaragua's refusal to let them through by land. As many as 8,000 Cubans trying to get to the U.S. have been in makeshift refugee camps for two months in Costa Rica after a decision by Nicaragua to close its border to them.
Top 10 Lies in Obama's State of the Union. [#10] "Fifty years of isolating Cuba had failed to promote democracy, setting us back in Latin America." And a year of appeasement has not promoted democracy, either. The Castros remain firmly in power, and we are not helping the opposition. Worse, the Cuban regime continues to arrest thousands of political dissidents, to cozy up to enemies like Iran and North Korea, and to carry out provocative acts — such as stealing a U.S. Hellfire missile.
Hellfire missile accidentally sent to Cuba on Air France. The Wall Street Journal broke the news that a US Hellfire missile sent to Europe for training purposes was accidentally shipped to Cuba in 2014, "a loss of sensitive military technology that ranks among the worst-known incidents of its kind." This is the missile we use every day to take out terrorist targets. The journal reports that "US officials worry that Cuba could share the sensors and targeting technology inside it with nations like China, North Korea or Russia." Add to that list Iran, Hezbollah and a long litany of other US enemies.
The Editor asks...
Was this really an accident, or an act of treason?
Thousands of Cubans flee Castro over fears US open-door policy will end but are now stuck in Central America. Thousands of Cubans are caught in a new refugee crisis triggered by President Obama's moves towards ending the embargo on the country, Daily Mail Online can reveal. As many as 8,000 are living in squalor in Costa Rica where their attempts to reach the United States have stalled, with the central American country facing a growing humanitarian crisis over their presence. The Cubans are trying to get to the US land border with Mexico, where they will be able to claim refugee status in America, and a rapid path to citizenship. Thousands have fled the Communist country since Obama and Raul Castro last year ended more than 60 years of frozen relations.
A Presidential Trip, Or An Ego Trip, To Cuba? In search of a legacy and Latino votes for Democrats, the White House says President Obama will likely visit Cuba this year. So far from this being about U.S. interests or even Cuban liberty, it's just another ego trip.
Rahm Emanuel's Cuban Vacation. Leave aside the obvious question, which is how on Earth could Emanuel have thought that the location of his family vacation would remain private in the middle of controversy. Consider a second question, which is what did Emanuel fear in having the information disclosed? Is he ashamed of traveling to Cuba? And did it ever occur to Emanuel, Emanuel's wife, the group of families the Emanuels regularly vacation with, or any member of Emanuel's political and communications retinue that traveling to a Communist dictatorship while being accused of insufficient attention to civil rights was, you know, maybe a bad idea?
Raúl Castro urges U.S. to end broadcasts aimed at Cuba amid diplomatic thaw. Cuban President Raúl Castro urged the U.S. government Friday to halt radio and television broadcasts aimed at the island and other programs that Cuba considers harmful while reiterating that he is interested in deepening the thaw in relations with the United States.
Obama Asks Congress to Lift Embargo on Cuba. President Barack Obama said on Thursday that the economic embargo imposed by the United States on Cuba in 1962 is "the legacy of a failed policy," once again urging Congress to lift it on the first anniversary of the launching of a process of rapprochement and bilateral normalization of relations. In a statement issued on the anniversary of the policy shift, Obama also reiterated that "change" in Cuba will not occur "overnight" and that full normalization of relations "will be a long journey."
US, Cuba Reach Understanding on Restoring Commercial Flights. The United States and Cuba are close to a deal on restoring regularly scheduled commercial flights, Cuban and American officials said Wednesday on the eve of the anniversary of detente between the Cold War foes. The diplomatic advance would help open the way for U.S. airlines to begin flying to Cuba within months in what would likely be the biggest step toward tighter economic ties since the two countries began normalizing relations last year. Officials on both sides said they had reached an understanding on key points and hoped to reach a formal deal within hours or days.
Cuba Begins to Re-Imprison Political Dissidents 'Freed' Under Obama Deal. Cuba announced the release of this prisoners of conscience on January 12, though the government did not give out a list of names. The prisoners were allegedly released gradually in the month before, following President Obama's announcement that he would seek to warm relations between the United States and the rogue regime. Shortly after the announcement, Fox News reported that two of the 53 dissidents had been arrested once again.
More than 100 arrests in Cuba on U.N. Human Rights Day. The dissident group Ladies in White on Thursday [12/10/2015] called for different opposition groups to join together in the "We're All Marching" initiative to stage a demonstration in downtown Havana, but only four women and one man from that group were able to get there, EFE learned. Upon their arrival at the planned site of the protest, the several dissidents shouted "Long live human rights" and "Freedom for the Cuban people," and they were immediately arrested by police as well as having insults such as "worms" and "mercenaries" hurled at them by government supports on the scene.
Tiny Nicaragua Is All That Stands Between The U.S., Cuba And A Terrorist Mariel Rush. Most Americans don't know it, but Cuba and its Latin American enablers are conspiring to create a ratline for unchecked immigration into the U.S. Only Nicaragua is throwing a monkey wrench into the scheme. That would be wretched, far-left Nicaragua. In any normal nation, leaders would be ashamed if large numbers of their nationals found the country they live in so unbearable, their only wish is to leave. Not so Cuba. It lies about its colossal socialist failures and blames it all on Uncle Sam. Now there are signs the communist country is encouraging great waves of Cubans to illegally migrate to America.
New wave of Cuban immigrants reaches U.S., but through Texas, not Florida. The number of Cubans arriving at the southern border increased this year after President Obama and Cuban President Raul Castro announced plans last December to normalize relations between the longtime adversaries — a move many Cubans fear could mean the end of the special status that allows them to stay and work here legally if they reach U.S. soil.
Has Cuba Manufactured a Refugee Crisis? Evidence of Havana's manipulation can clearly be seen in the magnitude of refugee flows. Cuba is a totalitarian police state, where people are not even allowed to move from house to another without the government's approval. So is it reasonable to believe that 2,000 Cubans got to Costa Rica without Castro's approval?
Exiles Si, Migrants No: Scrap The Cuban Adjustment Act. Cuban migration has skyrocketed on fears that the wet-foot, dry-foot policy will end soon. Given that most Cubans these days are ferried migrants rather than actual exiles, it's time to end it now or face another Mariel.
U.S. and Cuba in Trade Talks, for Ballplayers to Be Named Later. Getting from Cuba to the big leagues has never just been about 450-foot home runs and 100-mile-an-hour fastballs. When the Mets' slugging outfielder Yoenis Cespedes decided in 2011 that he wanted to leave his country to play baseball in the United States, he did what dozens of Cuban baseball players have done since the Castro government came to power more than 50 years ago. Risking arrest as well as their lives, Mr. Cespedes and 10 members of his family fled the island in the middle of the night on a small boat.
In Cuba, an Abundance of Love but a Lack of Babies. By almost any metric, Cuba's demographics are in dire straits. Since the 1970s, the birthrate has been in free fall, tilting population figures into decline, a problem much more common in rich, industrialized nations, not poor ones.
Christie says no flights to Cuba from N.J. until cop killer is extradited to U.S.. New Jersey Gov. Chris Christie wants the bistate agency that controls the state's airports to reject any efforts to launch flight service between Newark and Cuba until a woman convicted of killing a state trooper is returned to the United States.
Cuba releases street artist jailed for painting pigs with names 'Fidel' and 'Raúl'. The Cuban street artist known as El Sexto ("The Sixth") was freed Tuesday [10/20/2015] after spending 10 months behind bars for attempting to set free in a public park two pigs painted with the names of the country's highest leaders.
Sanders in 1985: Castro 'Educated Their Kids, Gave Their Kids Health Care, Totally Transformed Society'. A video from 1985 shows Sen. Bernie Sanders (I-Vt.) making favorable statements regarding Cuban dictator Fidel Castro when Sanders was mayor of Burlington, Vermont. The statements took place during an Aug. 8, 1985 interview on the CCTV Center for Media & Democracy's Channel 17/ Town Meeting Television, Chittenden County's local government access station. [Video clip]
Go Figure: Cuban Freedom And Trade Decline Since Obama's Opening To Cuba. In his Dec. 17 speech to the nation, the president said: "We are taking steps to increase travel, commerce and the flow of information to and from Cuba. This is fundamentally about freedom and openness and also expresses my belief in the power of people-to-people engagement. ... I believe this contact will ultimately do more to empower the Cuban people." The result has been the opposite, with more repression of dissidents, and the Castro regime cranking up the goon squads overtime to beat and jail dissidents. Some 6,000 arrests have been announced since the opening, hardly a sign of a more open Cuba leading to a freer Cuba.
Castro's Marielitos For Medicaid. After years of touting the putting-people-first humanity of Cuba's communism, the Castro regime has decided it's easier to outsource costs for its retirees to the U.S. When did the U.S. become Cuba's 401(k)?
Cubans retire to Florida — with help from U.S. taxpayers. More Cubans are coming to Florida in their golden years to retire, able to tap U.S. government assistance even though they never lived or worked here. The number of Cubans arriving over the age of 60 grew fivefold since 2010, according to state refugee data. At least 185 made the crossing in their 80s or 90s. Unlike most other immigrants, Cubans qualify immediately for food stamps and Medicaid. If they are over 65 with little or no income, they also can collect a monthly check of up to $733 in Supplemental Security Income (SSI).
Inside the Cuban Hospitals that Castro Doesn't Want Tourists to See. By the time I climbed the steps of the emergency room entrance in San Miguel, Havana, I could already tell that the supposed first-class health care provided in Cuba was a myth. Hospitals in the island's capital are literally falling apart. Friends told me to dress "like a Cuban" and not to speak while inside, since my Argentinean accent would give me away the moment I said hello. A member of the opposition Cuban Patriotic Union (UNPACU) party came along to guide me in my journey to the core of communist-style medicine.
Cuban Dictator Castro Thanks U.S. With Insults And Grievances. After Obama showered Cuba with goodies, Raul Castro has repaid him with insults, demands and grievances broadcast through the UN. Seems the Castro brothers know a fool when they see one.
Cuban Arrivals In U.S. Up 60%. More than 36,000 Cubans have arrived in the United States across the Mexican border and at Miami International Airport during the 2015 fiscal year, which means a hike of 60 percent over the previous 12 months, Customs and Border Protection told EFE on Tuesday [9/29/2015]. From Oct. 1, 2014, to Aug. 31, 2015, a total of 36,497 Cubans arrived, while during the 2014 fiscal year there were 22,162.
'Missing' Homeless Return to Cuba's Streets Following Pope Francis' Departure. Following the departure of Pope Francis, the streets of eastern Holgu'n, Cuba, have been flooded with dozens of homeless people that residents say had "disappeared as if by magic" in the week before the Pope's arrival. Independent journalist Yusnaby Pérez has published a report from Holgu'n, where residents notes the city, typically home to a significant number of homeless beggars, was cleaned up for the Pope's visit. Most of these homeless were taken away by state police, though there is no evidence of where they were hidden until the Pope left the country.
Μωλων Λαβε
Cuba's Castro Says U.S. Must Give Back Guantanamo. The "long process of normalization of relations" between Havana and Washington will culminate when the U.S. gives back Guantanamo and pays compensation for the effect of the 53-year-old economic embargo, Cuban President Raul Castro said on Monday [9/28/2015]. "After 56 years of the Cuban people's heroic and selfless struggle, diplomatic relations and the embassies in the respective capitals are re-established," he said in his first address to the UN General Assembly.
Pope Francis appeases the Castros in repressive Cuba. The pope is spending four days in a country whose Communist dictatorship has remained unrelenting in its repression of free speech, political dissent and other human rights despite a warming of relations with the Vatican and the United States. Yet by the end of his third day, the pope had said or done absolutely nothing that might discomfit his official hosts. Pope Francis met with 89-year-old Fidel Castro, who holds no office in Cuba, but not with any members of the dissident community — in or outside of prison.
Pope Francis' Subversive Visit To Cuba. The Castro regime showed its worst face on the arrival of Pope Francis in Cuba, hauling out its goons and showing how risky this papal visit is to the Marxist dictatorship. Some 60 dissidents were arrested and beaten across Cuba by security agents. Their crime? Wanting to attend Mass with the visiting pontiff, who had reached out to them with formal invitations.
US mulls abstention on Cuba embargo vote at UN. The Obama administration may allow the U.N. to condemn America's economic embargo against Cuba without a fight, The Associated Press has learned, an unprecedented step that could increase pressure on Congress to end the 54-year-old restrictions.
White House preparing new rules to weaken Cuba embargo: sources. The White House is drafting sweeping regulations to further weaken the U.S. trade embargo on Cuba that would ease restrictions on U.S. companies and make it safer for Americans to travel there, U.S. government sources said on Thursday [9/17/2015]. The regulations could be announced as soon as Friday [9/18/2015].
U.S. announces sweeping changes easing restrictions on business, travel to Cuba. The United States Departments Treasury and Commerce on Friday [9/18/2015] issued new regulations further easing restrictions on Americans travelling to and doing business in Cuba. U.S. companies will be able to open offices on the island and engage in joint business ventures there, while individuals with relatives in Cuba will have more travel opportunities for people and the limit to the amount of money that can be sent people on the island are being eliminated. The new rules, which go into effect on Monday, September 21st, are the latest steps taken by the White House and President Barack Obama to weaken the U.S. trade embargo and normalize relations with the communist island.
Obama phones Cuban President Castro. President Obama spoke by phone Friday with President Raul Castro of Cuba to discuss the "normalization" of relations between the two countries ahead of Pope Francis's visits to Cuba and the U.S. Mr. Obama, who eased some trade and travel restrictions with Cuba Friday, "underscored the importance of the United States and Cuba re-establishing diplomatic ties and the reopening of embassies in our respective countries," the White House said.
Dissidents Denounce "Social Cleansing" in Cuba Ahead of Papal Visit. The opposition Human Rights and National Reconciliation Commission said Friday [9/18/2015] that the Cuban government has rounded up thousands of beggars and indigents as part of a "social cleansing" operation ahead of Pope Francis's visit to the island. The government, according to the commission, wants such people "out of sight of pilgrims, foreign journalists and others visitors who will be in Cuba" during the papal visit that begins Saturday.
Barack Obama speaks with Raul Castro as US eases travel restrictions with Cuba. The United States further eased restrictions on business and travel with Cuba on Friday [9/18/2015], as it presses forward in rebuilding long-frozen relations with its former Cold War foe. Two months after formally restoring diplomatic relations with Havana, the US made it easier for Americans to establish and operate businesses in Cuba, removed remittance limits and widened travel opportunities to the Caribbean island nation.
Obama Urges U.S. Businessmen to Exert Pressure for Lifting Cuba Embargo. U.S. President Barack Obama on Wednesday [9/16/2015] urged businessmen to pressure Congress to lift the Cuban embargo, emphasizing the "significant economic opportunities" created by the process of normalizing bilateral relations. After delivering a speech at the Business Roundtable Headquarters in Washington at which he responded to several questions from the audience, Obama also said that the imminent visit of Pope Francis to Cuba will be "an opportunity" to broaden the "conversations" that are already occurring on the communist island.
Castro's Empty Barabbas Politics For The Pope. The communist regime's "pardon" of 3,522 inmates in its jails as a "humanitarian" gesture ahead of Pope Francis' Sept. 19-22 visit to Cuba is getting to be a regular feature of such visits. When Pope Benedict XVI visited in 2012, nearly 3,100 were let go from Castro's dungeons. When Pope John Paul II visited in 1998, nearly 300 were released. Like a Roman prefect, Cuban generalissimo Raul Castro decides who stays jailed and who goes free — at the flick of a hand. It's not about justice. It's about power.
Coddling Castros Has Made Cuban Regime More Vicious Than Ever. Hard to think of any time when it's ever been rosier for the Castro brothers in their 56 years as absolute overlords of Cuba. In the rubble of their failed communist system, President Obama has extended normal relations — and asked nothing in return. Pope Francis is paying a visit to Cuba this month, complete with a mass to be held under the godlike image of bloodstained revolutionary Che Guevara. U.S. congressional delegations — at least 20, notes the Capitol Hill Cubans blog — have been paying tribute to the "achievements" of Castro's revolution and hobnobbing with Cuban officials, mojitos in hand. Tourists from the U.S. are rolling in, too, legal or not, fattening the coffers of the Cuban military that runs the hotels.
Chilean congressman reports being beaten, arrested during 'Ladies in White' protest in Cuba. A right-wing Chilean congressman just back from a private visit to Cuba complained Monday [9/7/2015] that he was beaten, handcuffed and held for nearly three hours by Cuban authorities for participating in a peaceful demonstration by the Ladies in White dissident organization in Havana. "Without any dialogue, a shock group of the Castro regime arrived; they proceeded to beat those of us who were marching, without asking us for any identification and they arrested us," Felipe Kast told reporters at Santiago's international airport.
Cuba's atheist Castro brothers open doors to Church and popes. Baptized as Roman Catholics and educated by Jesuits, Fidel and Raul Castro turned against the Church by declaring Cuba an atheist state, chasing out priests and shutting down religious schools after seizing power in a 1959 revolution.
Cuba faces bumpy road before opening for U.S. tourists. After the American flag was raised over the reopened embassy in Havana last month and the Obama administration's plans to significantly ease travel restrictions by the end of 2015, more Americans are looking to see what they've been missing for more than half a century. "It's close, and you have obviously the gorgeous beaches, but you also have history, you know, forts dating back to the 1600s but then all the recent history that's so interesting as well," Arizona Republican Sen. Jeff Flake said.
My father's killer roams free in Cuba, harbored by Mr. Obama's new friends. With much fanfare, the U.S. embassy in Havana opened for the first time in 54 years. Instead of Kerry demanding Cuba returns fugitives from American justice, the Obama administration unilaterally handed legitimacy and the hard currency of international acceptance to a regime that has sponsored terrorists for half a century and even today harbors convicted terrorist fugitives including BLA cop killer Joanne Chesimard and William Morales. Morales' Armed Forces for National Liberation (FALN) murdered my father Frank Connor.
Obama Administration Plans to Sidestep Congress on Cuba Travel. Travel to Cuba could soon be nearly as easy as travel to any other part of the world. The Obama administration plans to unilaterally ease the travel restrictions to Cuba, sources told ABC News. The new measures would bypass limits on travel imposed by Congress by changing regulations at the executive level.
Julian Bond Dead at 75; Radical Background Ignored by Media. While ignoring deep and decades-long communist sympathies, the mainstream media used the death of Julian Bond (shown) to glorify a radical revolutionary, calling him a "hero," "gifted," "smart," a "friend" of President Obama, "passionate," "eloquent," and a civil rights "champion." [...] If all those future generations have to rely on for a complete and accurate picture of the life of Julian Bond are the musings and disinformation transmitted by the national media, they will be ill-informed indeed. Missing from eulogies following his death was any mention of Bond's trips to Cuba to celebrate the communist takeover in 1959, and then again in 2006, to confirm his initial suspicions.
Why Obama will open a US embassy in Iran. On Aug. 14, in a ceremony replete with pomp and circumstance, Secretary of State John Kerry presided over the formal re-opening of the US Embassy in Havana, Cuba. The occasion marked the culmination of nearly two years of quiet diplomacy between the White House and the Castro regime. The initiative had been launched following Kerry's fall 2013 address before the Organization of the American States, in which he had announced with great fanfare that the "era of the Monroe Doctrine is over." [...] But, in the eyes of the White House, it's an unreserved success.
Kerry in Cuba: More Interested in Cigars Than Dissidents. Secretary of State Kerry traveled to Havana to raise the flag at the U.S. Embassy there last week. As has been noted here in this blog and in many news articles and columns, no dissidents or human rights activists were invited to the ceremony. It's fair to ask if that sends any kind of signal to the regime. The fear would be that it expresses a lack of interest in, or at least a refusal to give much priority to, how the Castro regime treats those struggling peacefully for democracy and human rights in Cuba.
The Castro dynasty's favorite American. [Scroll down] So this is why I say that Obama is the Castros' favorite American. He has made it possible for the family, and Castro Inc., to stay in power. Not bad for Ra਀l Castro, a man drowning last fall but now firmly in control after the Obama lifeline.
Kerry In Cuba: 'I Feel Very Much At Home Here'. Friday [8/14/2015], at the U.S. embassy in Cuba flag-raising ceremony celebrating the re-establishment of diplomatic relations, Secretary of State John Kerry said he felt "very much at home" in the country ruled by the authoritarian Castro regime.
Raising The U.S. Flag To Shut Out Cuba's Democrats. With the raising of the Stars and Stripes over a new embassy in Havana — a regime second only to North Korea in totalitarian oppressiveness — the U.S. becomes merely one of the herd, its leaders talking only to each other in the crony-like coziness of the world's ruling classes, with only lip service paid to their purported values and the people they represent. [...] Kerry and his media toadies might have touted Friday's [8/14/2015] embassy opening as a new era. But the flag raised was not Old Glory but the white flag of surrender.
Cuba's Repression Pushed 24,000 to Risk Trip to U.S. in Eight Months. U.S. Customs and Border Patrol is reporting that 23,978 Cuban refugees arrived in the United States between October 2014 and May 2015, with another 3,564 Cubans attempting and failing to reach U.S. shores. Most of those arriving successfully crossed the southern border with Mexico or crossed the straits of the Caribbean separating Florida from Cuba. The number of Cubans arriving in the past eight months is significantly larger than the number that reached the United States throughout all of the 2014 fiscal year: 22,162.
On Cuba, this is not your father's Democratic Party. The U.S. is back, or at least the U.S. flag is up at the new embassy in Havana. By the way, I still have memories of the old U.S. Embassy. It was a very nice building on Malecón Drive, the avenue around Havana Bay. As a naturalized U.S. citizen born in Cuba, and uniquely aware of the tragedy in the island, I was open to negotiations with the Castro regime. In other words, I was open to a conversation — not the monologue that has taken us to this post.
Fidel Castro to US: You owe us millions. Fidel Castro marked his 89th birthday Thursday [8/13/2015] by insisting the United States owes Cuba "many millions of dollars" because of the half-century-old American trade embargo.
Fidel Castro Wants Your Money. Fidel Castro kicked off his long-sought U.S. embassy opening by announcing that we owe Cuba millions in reparations. He's not interested in new relations; he's interested in our money.
Those who fled Cuba want back what was left behind. Lois and Roy Schechter's life in Cuba ended at gunpoint when Fidel Castro's soldiers barred them from their 13,000-acre farm. That was the end of the farm. "They had taken it over, they had nationalized it," said Lois. The communist government seized property from the wealthy including hundreds of Americans. The Schechter's had been on the island for 60 years and lived in a 17 room home. It is now in a guarded diplomatic enclave, and occupied by Chinese officials.
Cuban dissidents not invited to U.S. embassy flag ceremony in Havana. Cuban dissidents will not be invited to the U.S. embassy flag-raising ceremony in Havana, which will be attended by representatives from both governments including Secretary of State John Kerry.
John Kerry's Cuba capitulation complete. So Secretary of State John Forbes Kerry will be in Havana this morning for the raising of the Stars and Stripes over the newly reopened American embassy. The only way it could possibly be sweeter for America's Gigolo would be if he were lowering the flag, followed by a hasty flight off the embassy roof with the U.S. ambassador in a military helicopter. It's always been Liveshot's fondest dream to some day unconditionally surrender to a Third-World Communist dictator — and now it's finally reality.
Cuba arrests 90 dissidents at protest march. Cuban security forces rounded up marchers — about 50 with the Ladies in White dissident group and around 40 other activists, some wearing masks with the image of US President Barack Obama, according to an AFP reporter.
Cuban City Suspends Carnival amid Concerns about Dengue, Cholera. The eastern Cuban city of Holguin has suspended its annual Carnival, scheduled for Aug. 20-23, in an effort to stop the spread of cholera and dengue fever, official media said Thursday [8/6/2015]. The decision to suspend the celebration comes from "the need to increase the hygiene and sanitary campaign to palliate the complex epidemiological situation in the municipality," Ahora newspaper said, citing a source in the Holguin provincial parliament.
Obama officials overruled experts to remove Cuba, others from human trafficking list. The 2015 U.S. report on human trafficking has come under fire amid allegations that senior State Department officials ignored experts' recommendations and took Cuba and Malaysia off its blacklist of countries failing to combat modern-day slavery. According to an investigation by the news agency Reuters, U.S. government analysts that independently grade global efforts to fight human trafficking were repeatedly overruled by senior State Department officials and also forced into inflating assessments of 14 strategically important countries in this year's Trafficking in Persons report.
Mr. Obama's Cuban legacy. It's not enough that Washington has made a deal with a bankrupt Cuban regime, throwing them a life line of support just when their last sugar daddy, Hugo Chavez of Venezuela has gone to his just reward and his heirs can no longer afford to give the Cubans oil. At the very moment he was concluding a deal with President Obama, Raul Castro, the aging dictator-in-chief once removed, was throwing new political prisoners in jail. We're not supposed to notice.
Cuba Emerges as Paradise for Gay Tourism. As tourism flourishes in Cuba the island is emerging as a destination for the LGBT community and a travel agency specializing in packages for those customers is already in operation. Pioneering the business are the owners of Mi Cayito Cuba, a Web-based intermediary between "gay-friendly Cuban private initiative and clients around the world," company director Alain Castillo, a Cuban who lives in Madrid, told EFE. "The island has great potential as a space for coexistence," said the 35-year-old entrepreneur who wants to contribute to "the visibility and improvement of the LGBT collective" in the country.
Hillary Clinton to Ask for Lifting of Embargo on Cuba. Democratic presidential hopeful Hillary Clinton this week will ask Congress to lift the embargo on Cuba during a scheduled visit to South Florida, where she will participate in two public events, her campaign office announced Wednesday [7/29/2015] in a communique. The former secretary of state on Friday will urge the Republicans to abandon the "failed policies of the past" during a speech at Florida International University in Miami, where the country's largest Cuban community lives.
In Cuba, Neither Bread Nor Freedom. Dissidents are still sent to jail, but they don't spend as much time there. Instead they are released earlier and sent home to live under total surveillance. It's an improvement, I guess, but the nature of the regime hasn't changed an iota. It's not going to change as part of American-Cuban normalization, either. The US normalized relations with Vietnam despite the lack of political freedom there, and it normalized relations with China back when Mao was still in charge. Nothing bad happened to the United States because of it, and nothing bad will happen to the United States as a result of normalizing relations with Cuba.
The Editor says...
Normalizing relations with Cuba isn't being done for the benefit of the United States, it is being done for Cuba's benefit, by an America-hating socialist president. Even if it is true that "nothing bad will happen" to us after lifting trade and travel restrictions — a dubious claim at best — it isn't about us. It is about applying pressure to a ruthless dictator. Why is Barack H. Obama so friendly with (other) dictators?
Police in New Mexico hope diplomatic thaw ends cop killer's Cuban exile. Charlie Hill, now 65, is one of an estimated 70 U.S. fugitives who escaped American justice by fleeing to Cuba, and Pete Kassetas, commander of the New Mexico State Police, says he is more than willing to fly him back to face the music. Hill was one of three black militants who killed a state trooper in 1971, in a case similar to that of the better-known Joanne Chesimard.
Secretive White House meeting reveals Obama's plan to visit Cuba in 2016. A secretive White House meeting on Cuba last week revealed that President Obama plans to visit the island nation early next year, and also discussed the controversial idea of the Cuban government opening consular offices in Miami. After hailing embassy openings in Washington and Havana last week, the White House held an off-schedule, private meeting on Thursday with U.S. officials involved in the administration's Cuba policy. Nearly 80 activist members of the Cuban-American community from Florida and across the United States — mostly Democrats — were also there.
Cuba tones down anti-U.S. rhetoric on revolution's main holiday. Cuban leaders pledged to keep socialism alive but toned down the anti-U.S. rhetoric at Cuba's first national holiday since re-establishing diplomatic relations with the United States on July 20.
GOP-controlled Senate panel votes to lift Cuba travel ban. A GOP-controlled Senate panel has voted to lift a decades-long ban on travel to Cuba, giving a boost to President Barack Obama's moves to ease travel restrictions and open up relations with the Castro-governed nation.
Evidence Mounts That Oswaldo Payá Was Assassinated by the Castros. The deaths of Cuban dissidents Oswaldo Payá and Harold Cepero were no accident, according to an independent report from the Human Rights Foundation (HRF). The political activists, both members of the Christian Liberation Movement, died in a car crash in Cuba's eastern Granma province on July 22, 2012, under controversial circumstances. HRF presented their report on Wednesday morning [7/22/2015] at Georgetown University in Washington, DC, highlighting what they consider to be inaccuracies and inconsistencies in the official government investigation.
Still Fronting for Fidel at the New York Times. The left's longtime moral-political blindness to communist dictatorships never ceases to amaze, and few cases have been as consistently and wondrously spectacular as the New York Times, from the likes of Walter Duranty apologizing for Stalin in the 1930s to Herbert Matthews resurrecting Fidel Castro in the 1950s. As to the latter, the Times has fronted for the Castro regime for a half-century and counting.
NGO reports on Paya's death, suggests Cuban gov't murdered him. A report prepared by the Human Rights Foundation and published Wednesday [7/22/2015] says that evidence gathered to date in the case of Cuban dissident leader Oswaldo Paya "suggests" the "direct responsibility" of the Cuban government for his death. The report, compiled by lawyers for the non-governmental human rights defense organization, comes on the third anniversary of Paya's death in a car crash, an accident in which fellow dissident Harold Cepero also died.
Lawmakers slam Castro's son for living it up on the Mediterranean while Cubans face 'extreme poverty'. Cuban-American lawmakers this week criticized the Cuban government for subjecting many of its people to starvation conditions on the island, while Fidel Castro's son Antonio gets to live the life of a playboy during a vacation on the Mediterranean Sea. The lawmakers were reacting to recent reports that show Antonio Castro hanging out with his friends on a yacht and in a posh hotel in Turkey.
John Kerry to travel to Cuba on Aug. 14. Secretary of State John Kerry will visit Havana on August 14 to inaugurate the first United States embassy in Cuba in 54 years. "On August 14, it will be my honor to raise the American flag at our Embassy in Havana, Cuba for 1st time in 56 years [...]," Kerry tweeted Monday afternoon, shortly after the Cuban government raised its flag in front of the old Cuban Interests Section in Washington, D.C.
What Does The U.S. Get Out Of Obama's Restored Ties To Cuba? Nothing Good. At the open of the Cuban embassy in Washington, Castroites crowed about their "victory" over the U.S. That's some relationship President Obama has begun with the brutal regime. And guess what? It'll get worse.
'A Victory for Our People': Communist Icons Take over D.C. for Cuban Flag Raising. Former ambassadors, murderous guerrilla icons, and even folk singers have descended upon Washington, D.C. today [7/20/2015] to celebrate the raising of the Cuban flag over the newly-minted embassy of the communist dictatorship in America. Cuban state media is treating the event, which has no analog at the American embassy in Havana, as a victory over the American people.
U.S., Cuba restore full diplomatic relations. More than a half century of Cold War and lingering enmity came to an abrupt but quiet end on Monday [7/20/2015] as the United States and Cuba restored full diplomatic relations. The new era began with little fanfare when an agreement between the two nations to resume normal ties on July 20 came into force just after midnight Sunday, and the diplomatic missions of each country were upgraded from interests sections to embassies.
Kerry to raise flag at US embassy in Cuba. Secretary of State John Kerry will travel to Cuba on Aug. 14 to raise the flag over the newly opened U.S. Embassy, according to CNN. The U.S. and Cuba restored full diplomatic relations on Monday [7/20/2015], opening embassies that have been shuttered since 1961. Kerry's trip to Havana will be the first for a U.S. secretary of State since 1945, CNN reported.
Cuban Flag Goes Up at State Department on Monday. The State Department will hang the Cuban flag in the lobby of the State Department building on Monday in recognition of the imminent reopening of the communist nation's embassy in Washington. [...] President Eisenhower had the Cuban embassy closed in January 1961 and severed diplomatic relations with the communist government of Fidel Castro. President Obama announced in December 2014 that he is setting a "new course" with Cuba.
Hundreds Arrested on Eve of Embassy Opening in Cuba. Just days away from the historic reopening of the US embassy in Havana, the Cuban regime shows no sign of slowing down on the number of human-rights activists they arrest. On Sunday, July 12, Cuban police detained at least 120 dissidents, including 40 members of the Ladies in White, while a protest in solidarity took place in Miami. For 13 consecutive Sundays, Cuban authorities have arrested members of the Ladies in White dissident group either before or after traditional mass at the Santa Rita church in Havana.
Willful Patsy. Joanne Chesimard killed a New Jersey state trooper named Werner Foerster during a traffic stop. Though she received a life sentence, Chesimard fled to Cuba where she has been taking refuge from the American legal system ever since. She joined Charlie Hill who, in 1971, killed a state trooper in New Mexico then hijacked a plane to Cuba. These two cop killers join almost seventy other American murderers, bank robbers, and others sought by the FBI who have taken up residence in Cuba to avoid the American legal system. When Barack Obama struck a deal with Cuba, Cuba got everything it wanted, but the United States did not get back a single felon.
Former IMF chief Dominique Strauss-Kahn to advise Cuba on U.S. business relations. The job search probably hasn't been easy for the former head of the International Monetary Fund, Dominique Strauss-Kahn, who resigned as managing director of the global financial organization in the wake of a sexual assault scandal involving a New York City hotel maid. Despite having criminal charges dropped against him and settling a civil suit out of court, and, in a separate incident, being acquitted in France of "aggravated pimping" charges last month, Strauss-Kahn's name and reputation aren't exactly spotless. And being the butt of lewd jokes never looks good on one's resumé.
Raúl Castro says he hopes Obama uses executive authority to ease embargo. Cuba's Raúl Castro insisted Wednesday that "it's not possible to conceive of" normal relations with the United States as long as the "blockade" of the island remains in place and said he hopes that President Barack Obama uses "his executive authority" to dismantle aspects of the 53-year-old economic embargo. "We hope that (Obama) continues using his executive authority to dismantle aspects of this policy, which causes harm and privation to our people," said Castro at the close on Wednesday [7/16/2015] of the ordinary plenary session of the National Assembly, local media reported.
Hope and Change in Obama's Cuba: 563 violent political arrests in June. From January of this year (less than two weeks after Obama's announcement in December the U.S. would unilaterally surrender to the Castro regime's demands) to June, Cuba's totalitarian dictatorship has amassed nearly 3,000 violent arrests of dissidents. And this past month — the same month Obama announced he would restore diplomatic relations with the Castro dictatorship — Cuban State Security tallied 563 brutal arrests of peaceful dissidents.
Cuba Is Now An American Tragedy. Time Magazine is celebrating the Obama deal with Cuba on this month's cover and with an article inside titled, "Welcome to Paradise." They call Cuba the New Cuba. They want us to rediscover the "charm". This is the Cuba the propagandists want you to believe exists but it doesn't. We aren't going to bat for them and now we are being sold a lie. It's one of the biggest lies they've ever told. American people aren't getting the truth on this or much else.
Twice as Many Cuban Rafters Flee While They Can. This month the US Coast Guard deported 38 Cuban rafters, after they attempted to reach the Florida coast. But these unlucky ones pale in comparison to the 9,371 Cubans who made it to US shores in the first quarter of 2015, as reported by US Customs and Border Protection. This wave of new arrivals represents a 118 percent increase over the same period in 2014 — and that does not include the many who made their way to Mexico, the Bahamas, the Cayman Islands, or Honduras, among other destinations. A shaky US policy regarding deportation may well be driving the surge.
Obama likes Castro because they both hate capitalism.
Castro's Silky Forked Tongue Of Praise For Greece. The Cuban tyrant's greeting ought to terrify the Greeks, given his game for the past 50 years — a long record of default, deadbeatery and corruption unmatched in the hemisphere on a per capita basis. Castro, remember, is a totalitarian communist committed as "a revolutionary" to destroying the capitalist system. For all the attention there has been on his long record of human rights violations, his efforts to make economic warfare on the West and destroy the capitalist system is equally notable. What could be the basis for Castro's gushing letter to the Greeks? His own record of attempting to create a "debtor's cartel" to rise up against the Western powers, particularly the United States, and collectively default on all the billions owed to its banks.
More about Cuba.
NY Times Loves How Communism Is Good For Cuba's Environment. Well, yeah, when people have no money, live in 3rd world conditions, sure, that's great! [...] I have to wonder how many who work at the NY Times will forgo their own trips to the beach, either down at the Jersey Shore or along the Long Island coastline. Oh, and they forget about the deplorable environmental conditions in other Communist countries, such as the Soviet Union and China. They also do not seem too concerned over the environmental degradation caused by "green" companies like Solyndra.
New Yorkers board first flight to Cuba in over 50 years. JetBlue started round-trip service from JFK Airport to Cuba on Friday [7/3/2015] — the first major airline to offer a weekly connection from the city since JFK, the president, restricted travel to the Caribbean island more than 50 years ago. Ground staff celebrated the inaugural trip by flying a massive Cuban flag at JetBlue's terminal Gate No. 21.
Despite Mr. Obama's 'engagement,' Cuba continues its repression. In announcing the reopening of the U.S. embassy in Havana, President Obama said "nobody expects Cuba to be transformed overnight" by his policy of "engagement." That's just as well because in the first six months of Mr. Obama's normalization of relations with the Communist regime, most indicators of human rights on the island have moved in the wrong direction. Since December, there have been more than 3,000 political detentions in Cuba, including 641 in May and 220 on Sunday [6/28/2015] alone, according to dissident sources.
No, Mr. President, Castroite Cuba Is Not What Change Looks Like. President Obama's much hailed "normalization" of ties with Cuba is anything but normal. Cuba is a top violator of human rights and the rule of law. Normal relations will just entrench the regime, not change it. With a flurry of the usual cliches about going forward and not being "imprisoned by the past," President Obama hailed his own decision to normalize relations with Castroite Cuba with his trademark "This is what change looks like!" in a speech at the White House Wednesday [7/1/2015]. Problem is, it's one of the most inaccurate statements he's ever made.
Why are we rewarding murderous dictators? For decades the American left has done its best to convince us that Cuba is a benign, progressive paradise that just needs to be unshackled from our tyranny. But the record is clear: The Castros are running a murderous dictatorship 90 miles south of Key West that has exported violence around the world. Enter Barack Obama. Yesterday [7/1/2015] he took to the White House Rose Garden to celebrate normalized relations with the most despotic regime in the Western Hemisphere. It is meant to be his crowning foreign policy accomplishment, which is appropriate, because it's every bit as ill-conceived as everything else Obama has done overseas.
Obama announces opening of US Embassy in Cuba. President Obama formally announced on Wednesday that the United States and Cuba have both agreed to open embassies in each other's capitals following more than a half-century of hostilities between the two nations. "This is a historic step forward in our efforts to normalize relations with the Cuban government and people and begin a new chapter with our neighbors in the Americas," Obama said. The U.S. Embassy in Havana is scheduled to open on July 20, the Cuban Foreign Ministry said.
U.S., Cuba restoring diplomatic ties after 54 years. The United States and Cuba formally agreed on Wednesday [7/1/2015] to restore diplomatic relations on July 20, setting up a trip to Havana by John Kerry, who would become the first U.S. secretary of state to visit the country in 70 years.
The Editor says...
It wouldn't surprise me to learn someday that Mr. Kerry has already been there this year, working out the details of this deal.
Rick Perry blasts Obama for reopening U.S., Cuba embassies. "The truth is that since the Castro brothers assumed power in 1959, their policies have changed very little," Mr. Perry said. "The Cuban people today are not any freer politically or economically, and President Obama has failed to account for what the Castro regime has done in the last several years that warrants such an enormous shift in a longstanding U.S. policy of economic embargo and diplomatic isolation. "There is no indication that further normalization will do anything to actually liberate the Cuban people or advance American interests," Perry said.
Cuba Demands Return Of Guantanamo, End Of US TV Broadcasts In Return For Diplomacy. While President Obama described the embassy as "not merely symbolic" and a move representing the liberation of the American people from "the past" in a speech this morning [7/1/2015], the Cuban government issued a statement refusing to reestablish full diplomatic relations with the United States until America gifted the territory of Guantánamo Bay to Cuba and ceased broadcasting radio and television news reports into the island, which constitute the only way many Cubans have of receiving trustworthy international news.
Republicans Blast Obama Restoring Relations With Castro's Cuba. Some Republican leaders are sharply criticizing the Obama administration for establishing official diplomatic ties with Cuba, the Caribbean island nation that has been under the control of Communist dictator Fidel Castro and his brother Raul since 1959. A number of GOP presidential candidates and the speaker of the House of Representatives have noted the continued oppression of the Cuban people under the Castros.
Obama on his historic Cuba decision: 'This is what change looks like'. President Obama on Wednesday [7/1/2015] announced a major step toward "diplomatic relations with the Republic of Cuba" by saying the U.S. and Cuba would reopen embassies in each other's countries. "This is a historic step forward in our efforts to normalize relations with the Cuban government and people and begin a new chapter with our neighbors in the Americas," Obama said in a statement in the Rose Garden with Vice President Joe Biden at his side.
U.S., Cuba to Announce Embassy Openings in Washington and Havana. United States and Cuban government officials will announce on Wednesday [7/1/2015] that the two countries have reached an agreement to re-establish formal diplomatic relations and open embassies in Washington and Havana, a senior administration official told ABC News. President Obama and Secretary of State John Kerry are expected to make the news public tomorrow [7/1/2015].
Cuba has failed to expand freedom. It is unfortunate that the discussion about U.S.-Cuba relations remains so focused on the embargo. It obscures developments within Cuba and excludes considerations on what should be done to free Cubans to choose their own destiny. Cubans aspire to live in a democracy and with a free-enterprise economy that allows them to improve their lives. So far, the beneficiaries of economic reforms beyond filling cigarette lighters, making paper flowers or working as a barber and such, have been the military and their relatives.
An appalling indictment of Fidel. For seventeen years, as Castro's chief bodyguard and trusted factotum, [Juan Reinaldo Sÿnchez Crespo] was close to the Cuban throne. He witnessed and recorded sensitive conversations, was ordered to compile obsessively detailed records of Fidel's activities, coordinated his security and travel, vacationed with him, and accumulated a remarkably textured understanding of the commander in chief. Sÿnchez worshipped Fidel, even after being demoralized by the trial and execution of general Arnaldo Ochoa and three others in 1989. Yet in 1994 the faithful bodyguard was imprisoned. He says it was only because Castro no longer trusted him after a brother fled Cuba on a raft to Miami. After two years in prison and ten unsuccessful attempts to do the same, Sÿnchez boarded a smugglers' boat and fled.
U.S. frees hundreds of Cuban criminals because Havana won't take them back. Hundreds of Cuban criminals are released onto the streets of the U.S. every year because that nation won't take them back — even though the Obama administration is trying to broker a more open relationship with the communist island nation. It's a quirk of immigration law known as "Zadvydas cases," after a 2001 Supreme Court ruling that said the government cannot detain immigrants indefinitely if their home countries won't take them back.
Cubans take U.S. journalism classes, risking harassment and even arrest. About 30 Cubans sit in a conference room for several hours each week and learn the ABCs of journalism: how to craft a news story, write a headline and check sources. To their government, however, they are taking part in criminal activity.
Obama's Cuba thaw: a foreign policy or a smokescreen? President Obama's efforts to normalize relations with the Castro dictatorship in Cuba — most recently seen in his administration's decision to remove Cuba from its list of state sponsors of terrorism — have obscured questions over what should be done to help Cubans be free to choose their own destiny. Cubans aspire to live in a democracy and within an economic system that would permit them — and not just those associated with the military or the Castro family — to improve their lives by engaging in economic activities independent from the government.
Cuba removed from state sponsors of terrorism list, State Department says. The U.S. State Department announced Friday [5/29/2015] that it has officially removed Cuba from the list of state sponsors of terror, a designation the country has had since 1982, as part of the continuing thaw in relations between the two Cold War foes.
Median Wage in Cuba Rises 24% to $24 a Month. The median wage for employees of state-run enterprises in Cuba increased 24 percent in 2014 to 584 pesos ($24) a month, the steepest hike in years, according to figures released Thursday [5/28/2015] by the National Bureau of Statistics and Information, or ONEI. Last year's increase compares with rises of 1 percent and 2.4 percent, respectively, in the two preceding years.
Cuba's Twisted Definition Of Terrorism. The communists celebrated after President Obama announced his decision to remove Cuba from the list of countries that support terrorism. Josefina Vidal, head of the North American section of the Cuban Foreign Ministry and Havana's leader of the current negotiations with the United States, praised the "just decision" and stated that "Cuba condemns, rather than supports, terrorism."
Castro's Long Record On Terror, Lawlessness And Killing. The lifting of Cuba from the list of nations that support terrorism was a farce that may well come back to the haunt the United States. After all, the ruling Castro regime that benefits from it in the name of normal relations with the U.S. and new access to World Bank loans is the same regime that once tried the first 9/11, aligning itself with a terrorist group in 1962 to bomb New York subways under department stores on the day after Thanksgiving to ensure maximum casualties. J. Edgar Hoover's FBI foiled it.
See No Terror, Hear No Terror, Speak No Terror (Obama on Cuba). Today President Obama further opened the financial floodgates from the U.S. to the world's most notorious deadbeat nation — who is also a "State Sponsor of Terrorism." Quotation marks are now required around the term "State-Sponsor of Terrorism" when referring to Cuba because just this morning, as the 45 day notification period to Congress expired, President Obama officially removed Cuba from the State Department's list of State Sponsors of Terrorism, where President Reagan had placed it in 1982. "Laughing all the way to the bank," hardly does justice to what the multi-billionaire Castro family must be doing this week.
U.S. travel to Cuba booming after Obama switch. U.S. travel to Cuba is booming, despite an official ban on tourist travel. The number of Americans visiting Cuba has risen dramatically — 36 percent — in the first few months of 2015, including a big jump among those flying into the communist nation from third countries like Mexico, The Associated Press reported Tuesday [5/26/2015].
"Obama would relish the opportunity to visit Cuba and Havana in particular". President Obama is looking to travel to Cuba's capitol city of Havana before his tenure ends, White Press Secretary Josh Earnest told reporters Thursday [5/21/2015], the same day a Florida bank announced that the State Department has given them permission to make diplomatic transactions between the two nations.
Why is Castro's Cuba Suddenly Pro-Gay? "More than 1,000 gay, lesbian and transgender Cubans marched through Havana on Saturday," reports Reuters, "proudly displaying their truest selves." This once-unthinkable display in Cuba was no less than its eighth annual "March Against Homophobia and Transphobia." This one took on extra special meaning for 20 couples who "symbolically exchanged" wedding vows, even as same-sex marriage remains illegal in Cuba, but obviously not for long. If this can happen under the dictatorial nose of despots Fidel and Raul Castro, then it's already permissible.
White House: Obama visit to Cuba 'not ruled out'. US President Barack Obama has no immediate plans to visit Cuba but has not ruled out making such a trip "in the year to come," the White House said Monday [5/11/2015].
You Will Not Like Cuba. The truth is that Cuba today is the poorest country in the Americas, poorer than Haiti. Its per-capita income is less than that of Honduras, the small Central American country that has the world's highest murder rate. Cubans today would be suffering from mass starvation if the country were not receiving upwards of $7 billion per year from their allies in the Venezuelan government. Cuba manufactures nothing and produces nothing, except cigars and small quantities of rum. Its once vaunted sugar industry, the world's largest before the communist takeover, has been completely destroyed, to the extent that Cuba has become a net importer of sugar. There is not even enough sugar produced in Cuba for its own meager, and rationed, domestic consumption.
At least four Florida companies approved for ferry service to Cuba. For the first time in five decades, the U.S. is allowing ferry service between Florida and Cuba. At least four companies said they were notified Tuesday of approvals by the U.S. Treasury and Commerce departments, the first since Washington imposed a trade embargo on Cuba. Licensed were Havana Ferry Partners of Fort Lauderdale, Baja Ferries of Miami, United Caribbean Lines Florida of Greater Orlando and Airline Brokers Co. of Miami and Fort Lauderdale.
Another Sunday, Another 89 Political Arrests in Cuba. The Cuban Commission of Human Rights and National Reconciliation reported on Monday [5/4/2015] that Cuban security forces made 338 politically motivated arrests during April alone. While the figure is lower than that registered in March, April saw other forms of political repression increase, especially against dissident group Ladies in White.
Inside Fidel Castro's double life as a drug kingpin. [Scroll down] It was as if the sky had fallen in on me. I realized that the man for whom I had long sacrificed my life, the Líder whom I worshipped like a god and who counted more in my eyes than my own family, was caught up in cocaine trafficking to such an extent that he was directing illegal operations like a real godfather. The Comandante, with his talent for dissimulation, went back to work as if nothing was amiss. One has to understand his logic. For him, drug trafficking was, above all, a weapon of revolutionary struggle more than a means of making money.
Florida's Ros-Lehtinen says Republicans won't challenge removing Cuba from terror sponsors list. Republican congressional leaders have admitted defeat in their effort to thwart President Barack Obama's plan to remove Cuba from the list of state sponsors of terrorism. Florida Republican Rep. Ileana Ros-Lehtinen met with a number of her fellow lawmakers last week to strategize way to prevent the de-listing of Cuba in a bill she planned to introduce this week, but the lawmaker was told that Congress legally can't prevent the White House from removing Cuba from the list.
Big U.S. Firms to Visit Cuba with New York Governor. Top executives from big U.S. firms such as MasterCard, pharmaceutical manufacturer Pfizer and JetBlue airline will travel to Cuba on a trade mission headed by New York Gov. Andrew Cuomo. The Monday visit, which had been announced in January, will be the first of its kind since U.S. and Cuban authorities last December made public their intention to normalize diplomatic relations between the two nations. The list of participants, announced Sunday [4/19/2015] by Cuomo, also includes top officials from educational and research institutions and several politicians.


Hillary's Campaign Logo And The Left's Love Affair With Communist Cuba. Hillary Clinton's logo has been taking its share of lumps since she unveiled it Sunday [4/11/2015]. Some say it looks like a hospital sign. Or the Twin Towers. Or just plain ugly. We can see that. But we'd agree with those who say it looks as though it was inspired by the Cuban flag. Not just because of the visual similarities — the blue stripes and red arrows pointing right — but because it doesn't take a big or surprising leap to make a connection between the two.




Obama Says Cuba Doesn't Sponsor Terrorism. So What Are All These Hijackers and Bomb-Makers Doing There? The White House says that Cuba has nothing to do with terrorism. But Havana is like a Star Wars cantina of Cold War radicals — including some of the FBI's Most Wanted Terrorists.

Day After Obama Removes Cuba from Terror Sponsor List, Terror Group Sponsored by Cuba Kills 10. Yesterday [4/14/2015], President Barack Obama announced that the United States would be removing Cuba from the U.S. State Sponsors of Terror list as part of his push to normalize relations with the communist dictatorship. But just hours later, a terror group long fostered by Cuba — even today, the Castro brothers are harboring several wanted members of the group — murdered 10 Colombian soldiers and wounded 17 others in a terror attack on a military base.

Helping Barack Remember History. Does anyone remember what it was that turned America hostile toward the tropical paradise of Cuba? Our President tells us that "we're caught in a time warp, going back to the 1950s and gunboat diplomacy, and 'Yanquis' and the Cold War." Yes, really, "gunboat diplomacy." That is how University of Chicago adjunct law professors talk about American foreign policy. And he adds, "Sometimes those controversies date back to before I was born." So, what got America so riled up over the Castro brothers and Cuban communists even before Barack Obama was born? As I recall, it was a bipartisan hostility.

President Obama Recommends Removing Cuba From Terrorism List. President Obama recommended today [4/14/2015] that the United States government reverse its long-standing policy designating Cuba a state sponsor of international terrorism. The White House issued a statement declaring the administration's "intention to rescind Cuba's State Sponsor of Terrorism designation" several days after the president returned from the Summit of the Americas in Panama where he met with heads of state from across the region, including for the first time with Cuban President Raul Castro.

Obama removes Cuba from state sponsor of terror list. President Barack Obama will remove Cuba from the list of state sponsors of terrorism, the White House announced Tuesday [4/14/2015], a key step in his bid to normalize relations between the two countries.

Report: Raúl Castro says he'd like to visit Miami, then laughs. Cuban leader Raúl Castro has no interest in visiting the White House but would like to come to Miami, according to a report in a television station in Panama. Castro spoke to reporter Glenda Umaña, formerly of CNN en Español, in a hallway at the Summit of the Americas over the weekend.

What the US Got From Cuba Deal: Zilch. The issue with President Obama's glad-handing of Raul Castro isn't the obvious trollishness of it, particularly toward older Cuban Americans, or his gauche attitude toward making light of the crimes of the Cuban regime, or the fact that the president has embarked on this normalization without the approval of Congress (Constitutions are so passé these days). Still, there's no reason for President Obama to do buddy-buddy sitdowns with Raul Castro (we can trade with them, as we do with other nations, without becoming BFFs) except to rub it in the face of his critics.

Fidel Castro tortured Americans. Cuban imprisonment and torture of American servicemen was confirmed by surviving airmen who were repatriated in 1973. Even more disturbing and perhaps more important was the transport of 17 of these men to Cuba for medical experiments in torture techniques. Some were held in Havana's Los Maristas — a secret Cuban prison run by Castro's intelligence service — while other Americans were sent to the Mazorra [psychiatric] Hospital, where they functioned as human guinea pigs to develop improved methods of inducing prisoners to cooperate and extract information through torture and drugs.

One Dictator Meets Another: Obama Shares A Dinner Table With Castro. Turning the page on a half-century of hostility, President Barack Obama signaled Thursday [4/9/2015] he will soon remove Cuba from the U.S. list of state sponsors of terrorism, boosting hopes for improved ties as he prepared for a historic encounter with Cuban President Raul Castro.

Thanks for the helpful tip, commie!
Cuban Foreign Minister Says Obama Should Bypass Congress on Embargo. Cuban Foreign Minister Bruno Rodriguez told ABC news in an exclusive interview hours after the famous handshake between Raul Castro and Barack Obama that the U.S. president should use executive action to remove parts of the embargo immediately.

Obama Puts an End to the Monroe Doctrine. President Obama officially closed a chapter in U.S. history that has guided presidents since nearly beginning, indicating the United States will no longer act to resist overseas influence in the Hemisphere. Obama, who spoke Friday [4/10/2015] during a "civil society" forum in Panama City, Panama, disparaged past efforts by the United States to forestall the spread of Communism in Latin America and suggested similar missions would no longer be undertaken. "The days in which our agenda in this hemisphere so often presumed that the United States could meddle with impunity, those days are past," Obama said.

Cuba's free pass on terrorism. Sometime during this weekend's Summit of the Americas in Panama, President Obama is expected to grant one of Cuban President Raul Castro's top demands and remove his country from the Unites States' list of governments that sponsor terrorism. That, as Sen. Robert Menendez warns, not only flies in the face of all evidence, but removes critical leverage in Washington's efforts to bring scores of fugitive American terrorists to justice.

Obama, Castro shake hands as U.S., Cuba seek better ties. U.S. President Barack Obama met Cuban President Raul Castro on Saturday in the highest-level talks between the two countries in nearly 60 years, and the two men agreed to push ahead on improving relations after decades of hostility.

Obama: 'Not interested' in fighting battles from 'before I was born'. President Obama on Saturday told leaders of Latin American that he's "not interested in having battles that, frankly, started before I was born." The remark came at a summit in Panama where leaders from countries in North, Central and South America are meeting discuss a range of issues and where Obama is expected to meet with Cuban President Raul Castro. Prior to comments from Obama, Ecuadorian President Rafael Correa directed some criticism at the U.S. He said the embargo against Cuba, which was recently loosened up to a large extent, is "illegal" and that Guantanamo Bay should be given back to the island country.

Obama holds historic meeting with Cuba's Castro, pledges to 'turn the page'. President Obama held a historic formal meeting with Cuban President Raul Castro Saturday [4/11/2015], the first between US and Cuban leaders in over half a century, pledging to 'turn the page' and develop a new relationship between the two countries. The two leaders shook hands Friday at the start of the summit and met Saturday [4/11/2015] on the sidelines of the a Panama City convention center.

The Summit of Lies. As heads of state gather this week in Panama for the Summit of the Americas, expect a celebration, a confrontation, and lots of lies. The gathering will be celebrating the restoration of relations between the United States and Cuba. Barack Obama and Raul Castro will shake hands, signaling the start of a new era for the two countries.

Castro's Trunk Monkeys. The dawn of U.S.-Cuba rapprochement has come with a dreary reminder of what we're dealing with — as Cuban agents beat up dissidents at a hemispheric summit in Panama, just as they do back home in Havana.

US State Dept 'advises lifting Cuba from terror list'. US Secretary of State John Kerry and Cuban Foreign Minister Bruno Rodriguez have held talks, in the highest level meeting between the two countries in more than half a century. The two held closed-door discussions after arriving in Panama for a summit. Meanwhile, the US state department has reportedly recommended that Cuba be removed from its list of states said to sponsor terrorism. Such a move could pave the way for the two countries re-opening embassies.

Raul Castro's tough demands raise doubts, but Obama remains optimistic for U.S.-Cuba relations. Twenty-four hours before coming face to face with Cuban President Raul Castro, President Obama on Thursday [4/9/2015] continued to extend an olive branch from Washington to Havana — but analysts say there are real questions about whether Mr. Castro truly is interested in friendly relations with the U.S. At a town hall in Kingston, Jamaica — the president's last stop before heading to the Summit of the Americas in Panama — Mr. Obama praised the "extraordinary" Cuban people and said it's time for the two nations to put the Cold War behind them.

State Dept. recommends removing Cuba from terrorism list. The State Department has sent a recommendation to the White House that Cuba be removed from the State Sponsors of Terrorism List, paving the way for the White House to announce its intent to de-list Cuba as early as Thursday [4/9/2015], two administration officials tell CNN. In making the recommendation, the State Department has certified Cuba has not provided support to terrorist groups within the last 6 months.

Poll Finds Informed US Voters Dead Against Cuba Normalization. A survey by InterAmerican Security Watch (ISW) challenges the notion that normalization with Cuba will enjoy popular support. ISW acknowledges that right now a slim majority of US citizens agree with President Barack Obama's move to restore diplomatic ties. Their findings, however, suggest that support evaporates as the same individuals learn of the Castro regime's foreign-policy record and human-rights violations.

Obama to focus on security in Jamaica. President Barack Obama arrived in Kingston, Jamaica, Wednesday night [4/8/2015] on the first leg of a journey that will take him from an historic meeting with 48 leaders of Caribbean nations in this teeming capital city to the Summit of the Americas in Panama and a likely encounter with Cuba's Raul Castro.

U.S. Lawmaker Glad That Cuba Will Attend Americas Summit. The presence of Cuba at the 7th Summit of the Americas will allow progress to be made on other key matters for the hemisphere, Sen. Tim Kaine (D-Va.), one of the U.S. legislators most involved in Latin America, told Efe in an interview. Cuba has never attended the hemispheric gathering, which has been held since 1994, but that is a situation that will change this weekend at the summit hosted by Panama.

Cuba's Presence at Summit Violates Democratic Charter. Cuban President Raul Castro's expected appearance this week at a regional summit for the Organization of American States (OAS) has alarmed critics of his regime who say the autocratic leader's presence will undermine the group's professed support for democratic values. Castro is slated to make his first appearance at the OAS' Summit of the Americas on Friday [4/10/2015] and Saturday in Panama. The group's Inter-American Democratic Charter, adopted in September 2001, states that members can be suspended if they take actions that undermine democracy. Member states are also expected to conduct "free and fair electoral processes."

Obama Says He Would Act Fast To Take Cuba Off Terrorism List. President Barack Obama said Tuesday he would act fast to take Cuba off the list of terrorism-sponsoring countries once he gets a State Department recommendation. "As soon as I get a recommendation, I'll be in a position to act on it," Obama said in an interview with National Public Radio. In a March interview with Reuters Obama had said he hoped to have an embassy open in Cuba by the time of the April 10-11 Summit of the Americas later this week. There Obama will meet with Cuban president Raul Castro. Cuba has made it clear that it will not move on certain negotiations until it is removed from the list.

Poll finds rising exile support for Obama's Cuba policy. A poll of Cuban-Americans shows support for the White House's new Cuba policy has risen in the three months since it was announced, with 51 percent now [4/1/2015] in favor of closer engagement with Cuba, up from 44 percent in December.

Stage Set for Historic Meeting Between Obama and Castro. The United States and Cuba are set to mark an historic milestone next week with President Obama and Cuban President Raul Castro poised to share the stage at the upcoming Summit of the Americas in Panama. It will be the first scheduled meeting between leaders of the two countries in nearly 60 years.

Obama Sanctions Venezuelan Officials, Moves Closer to Ally Cuba. President Barack Obama imposed sanctions Monday on Venezuelan officials accused of violating the human rights of political opponents, even as his administration seeks closer ties with Cuba, Venezuela's staunchest ally. Obama's executive order places sanctions on seven Venezuelan government and military officials who the administration says have undermined democracy in the country, overseen the abuse of anti-government protesters, curtailed freedom of expression, or engaged in corrupt activities. The sanctioned individuals include the head of Venezuela's intelligence service and former leaders of the country's National Guard, or GNB.

For Obama, Castro Has A Ship Of Fools. Castro is playing us for fools. Even though tourism remains illegal for Americans in Cuba, it doesn't stop B-List celebrities from going to Havana, partying hearty, snapping and posting selfies, popping flashbulbs, swigging mojitos and buying cigars by the cartload, as Hilton's Instagram pictures showed. Communism-ravaged Cuba is about as poor as Ethiopia or Zimbabwe. So it wasn't the locals partying down, but the communist elites — such as Fidel's son, Fidel Castro Diaz-Balart, with whom Hilton and model Naomi Campbell posed for selfies.

Cuban Cigar Makers Anticipate Big Bucks From US Travelers. Over six decades rolling premium cigars with his small, wrinkled hands, Arnaldo Alfonso has taken pride in seeing his "habanos" sampled by visiting heads of state and other dignitaries.

Dissidents Say as Many as 200 Arrested in Cuba. Cuban dissidents say that more than 100 anti-government activists have been arrested and they are awaiting word Monday [2/23/2014] on how many have been released.

Pelosi and other Democrats meet with Cuban officials in Havana. U.S. Democratic leader Nancy Pelosi, who is heading an official delegation of Democratic representatives visiting Havana, met with Cuba's National Assembly vice president Ana María Mari Machado and other Cuban deputies, in the first dialogue between members of congress and parliament, since diplomatic relations were restored on Dec. 17. "During the meeting, we exchanged views about the actions taken by President Obama and President Raúl Castro," Pelosi said in a statement issued Thursday [2/19/2015]. "We agreed to continue our interparliamentary dialogue on areas of agreement and disagreement."

Che Guevara's Daughter Delighted with Obama's Cuba Policy. Che Guevara's daughter Aleida is in Canada this week whooping up president Obama's opening to the Stalinist regime her father co-founded, and saying he'd certainly approve. She's absolutely correct. Aside from her father, few people knew from first-hand experience how easily U.S. officials can be snookered.

Pelosi leads House delegation to Cuba. House Minority Leader Nancy Pelosi (D-Calif.) is leading a delegation to Cuba on Tuesday [2/17/2015] while Congress is out on recess. It is the first official House delegation trip to Cuba since President Obama announced lifting certain restrictions on Cuba in December.

U.S., Cuba to meet February 27; senators see path for end to embargo. The United States and Cuba will hold a second round of talks in Washington nest week aimed at restoring diplomatic relations, the State Department said on Tuesday [2/17/2015], as U.S. Democratic senators visiting Havana said there may be enough support among Republicans to lift a trade embargo on Cuba.

HIV strain that becomes AIDS in 3 years identified in Cuba. A strain of HIV that could develop into AIDS before patients realize they are infected has been identified in Cuba. The aggressive variant was seen in patients who developed AIDS within three years of contacting the virus, according to a new study. It usually takes five to 10 years.

Aggressive new HIV strain detected in Cuba. A new HIV strain in some patients in Cuba appears to be much more aggressive and can develop into AIDS within three years of infection. Researchers said the progression happens so fast that treatment with antiretroviral drugs may come too late.

Castro Is Now Issuing Demands On U.S. — Well Done, Mr. Obama. Soon after President Obama announced plans to normalize relations with Cuba, Sen. Marco Rubio called him the worst negotiator since Jimmy Carter. Cuban officials are now proving Rubio right. As soon as Obama made his announcement, it became clear he'd pretty much given up the store and gotten nothing in return. Cuba didn't have to make any concessions on freedom of speech, democratic elections, a market economy. It didn't have to turn over U.S. fugitives, including a convicted cop killer, whom it's been protecting for years.

Castro's new Gitmo demands stir fierce debate. Republicans and Democrats on Capitol Hill declared Cuban President Raul Castro's latest demands to return the U.S. base at Guantanamo Bay back to Cuba dead on arrival, but the move sparked a heated debate over the motivation behind Obama's new Cuban détente. Sen. Ted Cruz, a Texas Republican and outspoken Cuban-American opponent of normalizing relations with Cuba, said Castro's new insistence that America hand over Gitmo and lift the trade embargo entirely come as no surprise.

If You Give a Dictator a Cookie... In a perfect exhibition of the chasm between the power the Obama administration actually wields in foreign relations and the power the administration thinks it wields: the current White House offered, virtually without condition, the restoration of full diplomatic relations with Cuba (a one-party dictatorship with a gulag, which has been forced for decades to rely for survival on the largesse of America's enemies, from the Soviet Union to Chavez's Venezuela) — and it is Raul Castro who is putting conditions on the deal.

GOP Senators to Obama: We're Totally with You on Cuba Policy. While senators such as Marco Rubio (R-Fla.) and Robert Menendez (D-N.J.) have vehemently opposed the Obama administration's rapprochement and concessions toward Cuba, some Republicans have banded together to let President Obama know that they have an eye on lifting the decades-old embargo.

Cuban president wants Guantanamo Bay back. Cuban President Raul Castro demanded on Wednesday [1/28/2015] that the United States return the U.S. base at Guantanamo Bay, lift the half-century trade embargo on Cuba and compensate his country for damages before the two nations re-establish normal relations. Castro told a summit of the Community of Latin American and Caribbean States that Cuba and the U.S. are working toward full diplomatic relations but "if these problems aren't resolved, this diplomatic rapprochement wouldn't make any sense."

Fidel Castro breaks his silence to say 'I don't trust the US nor have I exchanged a word with them'. Retired Cuban leader Fidel Castro on Monday appeared to lend his support to talks with the U.S. in his first comments about his longtime adversary since both countries agreed last month to restore diplomatic ties. But Castro, 88, stopped short of an enthusiastic endorsement of the rapprochement, announced on December 17 by his younger brother and Cuba's current president, Raul Castro, and President Obama. 'I don't trust the policy of the United States nor have I had an exchange with them, but this does not mean ... a rejection of a peaceful solution to conflicts or the dangers of war,' Fidel Castro said in a statement published on the website of Cuba's Communist Party newspaper, Granma.

Lawsuits block Cuba's path to normalization. In the view of the United States, Cuba forfeited the sovereign immunity that protects it from civil suits in U.S. courts when it embraced terrorist groups in Latin America three decades ago. Since then, the Cuban government has racked up a bill of more than $4 billion plus interest, accruing primarily to Floridians whose families — according to court rulings in this state and New York — have suffered from Cuba's actions.

Holder on the hot seat: Senators demand answers on U.S. fugitives in Cuba. A group of Senate Republicans pressed Attorney General Eric H. Holder on Friday [1/23/2015] to explain the administration's policy for U.S. fugitives in Cuba, including a convicted cop killer, following President Obama's announced normalization of relations with the communist island nation. "As the nation's chief law enforcement officer, do you support the normalization of relations with Cuba without the return of fugitives from justice for prosecution who have the blood of Americans, including law enforcement officers on their hands?" said the three senators in a letter to Mr. Holder.

How Pope Francis allows politics to distort the Christian faith. After the United States agreed to restore relations with Cuba, a deal that included the involvement of the pontiff himself, the Vatican's secretary of state emphasized Francis' ambitions for making the Holy See a bigger player in international diplomacy. But it goes deeper than that. Politics and political metaphors shape his view of the world.

Obama official 'regrets' lawmakers weren't consulted on Cuba. Former deputy national security adviser Tony Blinken told a congressional panel Wednesday [1/21/2015] that he "regrets" not consulting lawmakers more during the White House negotiations last year to normalize relations with Cuba. Sen. Marco Rubio (R-Fla.) pressed Blinken, who is now the deputy secretary of State, on comments he made in November asserting that White House would consult Congress when changing its Cuba policy.

Obama's executive action spurs stampede of panicked freedom-seekers. Cuban refugees have been surging toward Florida since President Obama's mid-December executive action on relations with Havana, but neither the United States nor Cuba has made significant changes to policies governing immigrants fleeing the communist dictatorship. U.S. Assistant Secretary of State for Western Hemisphere Affairs Roberta Jacobson will travel to Cuba Wednesday [1/22/2015] to open discussions between the two countries.

New York Gov. Cuomo to travel to Cuba. New York Governor Andrew Cuomo is reportedly planning to head to Cuba for a trade mission in the coming months. The trip would likely be the first by a major U.S. public official to the communist nation, after the Obama administration began to relax embargo restrictions around the country.

Two of the 53 dissidents released by Cuba rearrested. In a move that has angered lawmakers and activists in the United States, the Cuban government has rearrested two political prisoners from the list of 53 whose release had been negotiated by the U.S. According to independent media sources in Cuba, Ronaldo Reyes Rabanal and Luís Enrique Labrador — along with other activists — were arrested while attending a meeting of the opposition group, Movement for a New Republic. Lazara María Borrego Guzmán, a member of the Ladies in White opposition movement, was also allegedly arrested during the meeting and Cuban officials allegedly broke her arm.

Despite deal with Obama, Cuba still cracking down on dissidents. Nineteen-year-old twin brothers Bianco and Diango Vargas Martin were turned out of a Cuban prison last week. They are two of 53 dissidents released by the government of Raul Castro as part of an agreement with the Obama administration for "normalized" relations between Washington and Havana.

Obama Brings Knife to Gunfight with Castro. [Scroll down] In brief, the Alan Gross hostage-ploy worked like a charm. Best of all, just as sugar-daddy Venezuela struggles to keep the sugar flowing (oil, actually, 100,000 essentially free barrels daily to Cuba) Obama comes to the rescue. At least he's consistent. Obama never claimed attraction to the bumpkin notion of American "exceptionalism."

Obama set to ease Cuba sanctions Friday. The Obama administration announced sweeping measures Thursday [1/15/2015] that will ease sanctions against Cuba, opening up the Communist-ruled country to expanded travel and trade by Americans. The 54-year-old U.S. embargo on Cuba will remain in place, but the rules from the Commerce and Treasury departments that go into effect Friday will allow more trade in the areas of agriculture and telecommunications. Although tourism by Americans still is officially prohibited, the new regulations also will enable more U.S. residents to travel to the island without first obtaining a license.

Cuban prisoner release overshadowed by a rumour of Fidel Castro's death. Human rights activists welcomed an announcement on Friday that 38 political dissidents had been released. Any euphoria was tempered, however, by concerns that they could be rounded up again at any moment, especially if they resumed anti-government protests. It also appeared that most had been incarcerated for minor offences while higher-profile detainees remained behind bars.

Marco Rubio Schools CBS's Charlie Rose on Cuba. On Monday's [1/12/2015] CBS This Morning, as Florida Senator Marco Rubio denounced President Obama's decision to reopen diplomatic relations with Cuba, co-host Charlie Rose attempted to push liberal spin on the topic: "But what about the argument that in fact — if in fact Cuba is opened up, it will change? Vietnam changed." Rubio quickly shot him down: "It did not change politically. Nor has China, for that matter."

Dissidents Free, But Questions Hang Over Cuba Deal. Cuban dissidents, their relatives and supporters said Friday [1/9/2015] that the island's government this week has freed at least 38 people on a U.S. list of imprisoned opposition members.

U.S. denies Cuba resisting release of several prisoners on list. A White House official on Wednesday [1/7/2015] denied that the Cuban government was resisting freeing some of the 53 people listed for release as part of a thaw in U.S.-Cuba relations on the grounds they had been linked to violence.

Surprise: White House Unsure If Cuba Has Released 53 Political Prisoners as Promised. When President Obama announced his plans to "normalize" relations between the United States and Cuba just before Christmas, he did so with few pre-conditions. However, one the conditions of normalizing relations with the communist country was for the Castro regime to release 53 political prisoners. When asked about their release yesterday [1/5/2015], White House Press Secretary Josh Earnest could not say for certain if that release had occurred and said the Cuban government would be working on their own timeline. State Department Spokeswoman Jen Psaki gave a similar answer during her daily briefing yesterday.

Obama Cuba Initiative Prompts New Fears of Gitmo Naval Base Giveaway. President Obama's drive to normalize ties with communist Cuba is raising new concerns among security officials and experts that the administration will give up the strategic naval base at Guantanamo Bay in deal with Havana. White House, Pentagon, and State Department officials offered assurances that the Obama administration currently does not plan to negotiate the return of the base, leased by the United States since 1903.

Hey, Barry! Where are the 53 dissidents Cuba promised to release? Some low comedy yesterday [1/5/2015] at the State Department press gaggle, as spokesperson Jen Psaki couldn't say whether Cuba has released the 53 political prisoners it promised when it struck a deal to normalize relations.

State Dept. Can't Explain Why Cuba Isn't Fulfilling Promises Made in Obama Deal. The Cuban government hasn't exactly been a model for transparency the last half century. Included in his deal with Cuba, Obama announced two weeks ago that the U.S. government had released three Cuban spies. The lack of progress in freeing the Cuban political prisoners increases the scrutiny on that White House decision.

RFK, Jr: 'We have so much to learn from Cuba'. The scion of the man who was responsible for the Cuban blockade is full of awe for the Cuban dictatorship. Sure, it's a dictatorship, but other than that, it's just ducky, apparently.

Castro regime, not Cubans, the big winners in U.S.-Havana deal. Any deal between the United States and Cuba ought to aim at maximizing economic freedom, handing the communist regime only the political benefits that are inevitable, and facilitating the growth of the still embryonic civil society on the island. Unfortunately, President Barack Obama's "normalization" of relations with Cuba will have only a tiny economic impact on the people and bring the Castro dictatorship political and financial benefits.

Republicans Must Investigate Where the Media Fear to Tread. [Scroll down] These "solidarity movements and committees" have been active on American soil for many years. I covered one of their conferences last year at a Baptist church just a few blocks from the White House. It was orchestrated by the Cuban Interests Section in Washington, D.C. and the Workers World Party, a Marxist-Leninist group. It is time for hearings into these activities and their role in the change in Obama's Cuba policy. If Cuba is given a full-fledged embassy in Washington, D.C., we can anticipate more spying and subversion on American soil. Is that in America's national interest?

Obama's Latest Welfare Queens — the Castro Brothers. Most of you quickly figured out how Obama's new amnesty plan creates more Democratic voters. Did you know his new Cuba policy does too? To wit: First off, Obama did not "lift the Cuba embargo." Instead he further loop holed it with executive orders, a process that started when he first took office. The Helms-Burton Act of 1996, you see, codified some of the vital economic sanctions against Cuba into U.S. law so a full and genuine "lifting of the embargo" requires a Congressional vote. But the required votes to lift them are not there.

Castro foes not ready to quit. Day after day for four months, Roberto Pizano was marched from inside a prison to a pond holding human waste from a tuberculosis hospital nearby. As punishment for his crimes against the revolution of Fidel Castro, Pizano was held face down until he nearly drowned. Many died from this torture, Pizano said. For him, it was an introduction to the 18 years he would spend in Cuban prisons. "I thought those who were executed were lucky," Pizano, 76, said through an interpreter. "Nobody can conceive the evils we endured in those prisons."

Nylons for nothing in Cuba. Except for the United States, Cuba has had normal relations with the rest of the world for decades. Tourists, trade, investment from Canada, France, Britain, Spain, everywhere. An avalanche of nylons — and not an inch of movement in Cuba toward freedom. In fact, one could argue that this influx of Western money has helped preserve the dictatorship, as just about all the financial transactions go through the government, which takes for itself before any trickle-down crumbs are allowed to reach the regime-indentured masses.

Despite Thaw, American Base at Guantánamo Still Stings for Cubans. Despite the sudden thaw in relations between the United States and Cuba, the base here remains a sore point for Cubans, a deeply felt grievance that the Castros, first Fidel and now his brother Raúl, have long pointed to as a stinging symbol of American imperialism. A senior State Department official in Washington said that Cuban negotiators had raised their government's oft-repeated demand for the return of the base during the secret talks that culminated in last month's surprise announcement that the two countries would re-establish full diplomatic relations.

Whereabouts of U.S. Spy Released in Cuba Deal Are Unknown. Two weeks after the release of an imprisoned spy whom President Obama called "one of the most important intelligence agents the United States has ever had in Cuba," the man's family is still asking: Where is he?

Green madness, &c. [Scroll down] Cellphones and laptops were illegal [in Cuba] until 2008. And even today, two years later, very few people have them: The cost of those items is out of reach. An American tried to alleviate this situation. He is Alan P. Gross, and he is now in a Cuban prison. Gross works for a subcontractor of the U.S. Agency for International Development. He went to Cuba to distribute cellphones and laptops to civil-society groups and to individuals. On December 4, he was at the airport, about to leave the country. And the regime arrested him as a spy.

Obama eases travel, money transfers for Cuban-Americans. Obama's wide-ranging order wipes out the restriction that limited Cuban Americans to one trip every three years to the island. They can fly down as often as they want. Also under the new policy, Cuban Americans can send unlimited amounts of money to relatives in Cuba. The Bush policy limited these remittances to $1,200 a year.

Going to Cuba is okay but...
Obama Calls for Limits on Tourism to Antarctica. The Obama administration is pushing to protect Antarctica's fragile environment by imposing mandatory limits on the size of cruise ships sailing there and the number of passengers they bring ashore.

Obama administration stung by Cuban crackdown on dissidents, complicating detente. The Obama administration has responded harshly to the Cuban government's arrest this week of political dissidents planning a protest in downtown Havana, casting an uncomfortable shadow over the historic detente announced just weeks before between the U.S. and the Castro regime. The State Department late Tuesday night [12/30/2014] "strongly condemn[ed] the Cuban government's continued harassment and repeated use of arbitrary detention, at times with violence, to silence critics, disrupt peaceful assembly and freedom of expression, and intimidate citizens."

For World's Democracy Campaigners, Obama's Cuba Move Means Crackdowns. President Obama claimed his move to normalize relations with Cuba was a means of nudging the military dictatorship toward democracy. He was wrong. The regime is cracking down on dissent harder than ever.

U.S. condemns Cuba's reported arrest of 6 dissidents. Two weeks after the United States and Cuba agreed to thaw decades of icy relations, the U.S. State Department blasted the Cuban government for reportedly arresting at least six dissidents. There was no comment from Cuban authorities on the arrests that were reported by other dissidents and the U.S. State Department.

Ah, So: Normalize Relations With Cuba, Import A Few Legions Of Doctors. If only there were some handy location which happened to be chock-a-block with docs that would jump, say, a 90 mile stretch of water just to see some patients. Such a place would have to be crankin' out the Marcus Welbys to compensate for the U.S. physician shortfall, though: you'd need at least as many as can be found in Cuba.

Cuba Derangement Syndrome. Barack Obama has made a geopolitical irrelevancy suddenly relevant to American presidential politics. For decades, Cuba has been instructive as a museum of two stark failures: socialism and the U.S. embargo. [...] Some conservative criticisms of Obama's new Cuba policy — which includes normalizing diplomatic and commercial relations, to the extent that presidential action can — seem reflexive. They look symptomatic of Cold War nostalgia and 1930s envy — yearnings for the moral clarity of the struggle with the totalitarians. Cuba's regime, although totalitarian, no longer matters in international politics. As bankrupt morally as it is economically, the regime is intellectually preposterous and an enticing model only for people who want to live where there are lots of 1950s Chevrolets.

U.S. pays Alan Gross $3.2 million. A U.S. official told CBS News that the U.S. Agency for International Development (USAID) has made a $3.2 million payment to Alan Gross. Gross has a separate arrangement to work out payment with his former employer Development Alternatives Inc. (DAI) to settle legal costs related to his imprisonment. He was working as a USAID subcontractor hired by DAI when he was arrested and imprisoned by the Cuban government.

Cuba Signals That Extradition of US Fugitives May Be Off the Table. [Josefina] Vidal's comments in a Monday [12/22/2014] interview were the clearest sign yet that Cuba has no intention of extraditing America's most-wanted woman, Joanne Chesimard, following a historic detente announced by last week by President Barack Obama and Raul Castro of Cuba.

U.S. Senate Republican leader McConnell opposes Obama on Cuba. Senate Republican leader Mitch McConnell said on Monday [12/22/2014] he opposed President Barack Obama's move to normalize relations with Cuba, and spoke of steps lawmakers could take to try to rein in the new policy.

Hurry to Cuba While It's Still 'Unspoiled', Eleanor Clift Exclaims. Paleo-lib columnist Eleanor Clift was in fine fiddle on The McLaughlin Group yesterday [12/21/2014] and did not disappoint when the conversation turned to Cuba. Clift served up what is arguably her most asinine observation since she claimed that Ambassador Chris Stevens wasn't murdered in the September 2012 attack on the US consulate in Benghazi because he died of smoke inhalation from fire set ablaze during the siege.

Reading the Small Print. Mark Lander of the New York Times describes how president Obama has 'mastered the art of secret negotiations'. "What the Cuba, Iran and China talks have in common — aside from their cloak-and-dagger allure — are a small team of negotiators, strict discipline and tight control by the White House." A less charitable description might use the words "deceit", "amateurism" and "bad faith" to characterize the White House's efforts.

Hillary Loves Castro. Hillary Clinton was the main architect of the deal reached with Cuba and her advocacy toward opening a new relationship with the Castro regime began almost immediately when she became secretary of state, according to a report from Bloomberg's Josh Rogin. [...] Clinton immediately got behind the deal when it was announced.

In Cuba deal, why did Obama back down on political prisoners? Barack Obama has long believed United States Cuba policy should change; he so when he first ran for president in 2008. Back then, though, Sen. Obama stressed that the U.S. should hold Cuba to a number of stringent conditions before even beginning to normalize relations. The first of those conditions was freedom for Cuba's political prisoners.

White House Allowed Cuban Spy Convicted of Murder Conspiracy to Artificially Inseminate Wife. President Obama announced last week that the White House would reestablish diplomatic relations with Cuba, while demanding of the communist nation no concessions. Opponents have objected that this negotiation would benefit the Castro regime at the expense of the Cuban people, and that, in freeing the three remaining members of the murderous 'Cuban Five' spy ring, President Obama was dishonoring the lives of U.S. citizens.

Koch brothers bad, Castro brothers Boy Scouts. Liberals were in a near euphoric state on Wednesday after President Obama announced that the United States and Cuba are on a path to normalizing relations between the two nations, a move that will pave the way for a U.S. Embassy in Havana, and may eventually lead to lifting a 50-year-old American trade embargo.

Experts expect surge in Cuba tourism under Obama opening. As the U.S. and Cuba begin to normalize relations for the first time in half a century, some Americans are already roaming the streets of Old Havana, attending dance exhibitions and talks on architecture as they take part in scripted cultural tours that can cost more than a decent used car back home.

Christie tells Obama to demand return of cop killer Chesimard to start Cuba talks. New Jersey Gov. Chris Christie is urging President Obama to demand that Cuba return convicted police-killer Joanne Chesimard before he proceeds with efforts to improve diplomatic relations with that country. Chesimard was found guilty of killing New Jersey State Trooper Werner Foerster in 1973 before escaping from prison and fleeing to Cuba. The 67-year-old Chesimard has since been provided safe haven by the Cuban government.

Cuban migrant missing after Cuban coast guard sinks boat. Cuba's Coast Guard sank a boat carrying 32 Cubans who were trying to reach the Florida coast, according to a woman who survived and whose husband is missing. Masiel González Castellano told reporters in a telephone conversation from Matanzas, Cuba, that her husband, Leosbel Díaz Beoto, is missing after falling from the boat that was repeatedly charged and hit by a boat manned by the Cuban Coast Guard.

Cuba's Coast Guard sinks boat carrying 32 refugees who were trying to reach Florida. Survivor says her husband went missing. The other occupants were shipped back to the island. Women and children freed, men still in custody.

On Cuba, Obama Had An Ace, And Played A Deuce. As the Castros rejoice at President Obama's move to normalize ties, extend trade credits, take their country off the terror list and free its deadly spies, the queasy question remains: What did the U.S. get in return?

Obama to Castro: "Here I Come to Save the Day!" [E]very atom of evidence shows that the actual people of Cuba actually want U.S. sanctions against the Stalinist regime that tortures them tightened. So perhaps President Obama should stop insulting the intelligence of Cuba-watchers by claiming to speak and act on their behalf.

Giving away the store to the Castros. After fifty-some years, and eight presidents later, U.S. policy of relative isolationism towards Cuba all came to an end when President Barack Obama declared a "new day" in U.S.-Cuba relations. The President's core message is that after fifty years, our policies towards Cuba have not worked. The fundamental question is: worked to do what? How about this: after fifty years of communism, Cuba is about to crumble, not because of anyone else's policies; it has failed for the same reason most oppressive, freedom-depriving Communist regimes fail: Communism does not work.

Obama's New Cuba Policy: Eating With Raul. The White House says Cuba's Raul Castro may soon visit. If he does, it'll be an ugly blot on President Obama's record. Since when does the U.S. welcome brutal military dictators into the people's house?

Cubans celebrate President Obama, Raul Castro's decision to normalize relations. Throughout Havana, Cubans sang the praises Friday of President Obama and Raul Castro's decision to reestablish diplomatic ties, saying it would lead to a better life for all.

Human rights in spotlight after US-Cuba deal. To many exiles and their allies, President Raul Castro is a brutal dictator who locks up dissenters in gulag-like jails, snuffs out political discourse and condemns his people to socialist poverty.

The bigger picture on Cuba. Some say the definition of insanity is continuing to do the same thing and expect different results. So with that being said, some are applauding President Obama's unilateral change in policy towards Cuba — by way of opening up diplomatic relations. Now, we can debate the pros and cons, but the underlying problem I have with all of this is why was this not discussed openly? Why was it that once again we surrendered three Cuban spies with blood on their hands?

Rangel: Extradition of Cop Killer from Cuba May Not Be in 'Best Interest' of Americans. Joanne Chesimard was serving a life sentence for the execution-style murder of New Jersey State Trooper Werner Foerster in 1973. She escaped from prison in 1979 and sufficed in Cuba in 1984, where she is believed to still be living. Chesimard was put on the FBI's Most Wanted Terrorists list last year. A reward of up to $1 million is offered for information leading to her capture. The state is offering additional money. Colonel Rick Fuentes, superintendent of the New Jersey State Police, said in a statement that they "continue to work closely with the FBI towards the capture" of Chesimard.

Top 10 Lies in Obama's Cuba Speech. President Barack Obama unveiled a new U.S. policy toward Cuba on Wednesday as part of a deal that brought American Alan Gross home in exchange for three convicted Cuban spies. As he has done so often in the past, Obama tried to channel the perspective of America's enemies and critics, as if his job were to act as a neutral mediator instead of defending U.S. interests and values.

Pope Francis' Disturbing Cuban Manipulation. On Wednesday, President Barack Obama announced that the United States would be changing its policy toward Cuba, opening a Havana embassy and expanding travel. "Through these changes, we intend to create more opportunities for the American and Cuban people and begin a new chapter among the nations of the Americas," President Obama explained. The president negotiated the deal between the United States and Cuba over the course of 18 months. Pope Francis apparently initiated the negotiations himself.

US-Cuba ties thaw, White House open to Castro visit. A US visit by Cuban President Raul Castro is a possibility, the White House said, a day after he and US President Barack Obama announced a historic bilateral rapprochement. With developments proceeding apace, a high-level US diplomat, Assistant Secretary of State Roberta Jacobson, revealed she will travel to Havana in late January for the first direct talks to "begin the process of restoration of diplomatic relations."

Communists' Best Week Ever. [Scroll down] Wednesday also saw the Obama administration move to normalize relations with the abnormal regime 90 miles south of the Florida Keys. The president traded three Cubans jailed in America for one jailed American in Cuba. Unfortunately, 11 million remain imprisoned on the island penitentiary.

What Part of Keeping Cuba Isolated Has Not 'Worked'? The Obama talking point being repeated by the administration's note-takers in the media is that it makes sense for the president to try a different approach on Cuba because the policy of isolating the dictatorship has not "worked." Naturally, what is meant by "worked" is not stated. I'm trying to figure out what exactly the supposed flaw has been in the policy of isolating a brutal regime diplomatically and imposing a trade embargo on it — one that is a lot more like a screen than a wall — in order to pressure it to reform.

Obama takes a whiff of a Cuban cigar at White House party. President Obama got a whiff of Havana when a guest at a White House Hanukkah reception handed him a Cuban cigar. Obama — who only hours earlier paved the way for normalizing relations with Cuba — seemed amused by the still-embargoed tobacco, which was given to him by a Colorado man at the Wednesday [12/17/2014] party.

A Dictator's Best Friend. "It's a sad day for freedom," Marco Rubio told Bret Baier after President Obama announced he would normalize relations with Cuba. Not a sad day, senator: a sad year. If there was a theme to 2014, it was Obama's persistence in bailing out dictators and theocrats from political scrapes and economic hardships, his tenacity in pursuit of engagement with America's adversaries no matter the cost to our strength, principles, credibility, or alliances. In this president the thugs in Havana and Caracas, Damascus and Tehran, Moscow and Naypyidaw and Beijing have no better friend. For these bullies, these evildoers, these millenarians and sectarians, Barack Obama is more than a dupe. He is an insurance policy.

Obama Throws Fidel a Rope. In JFK's metaphor, Obama traded a horse for a rabbit. We got back Alan Gross before his Communist jailers killed him, along with an American spy, in exchange for three members of a Cuban espionage ring. Had we left it at that, the deal would have been fine. But Obama threw in an admission that all nine presidents before him pursued a "failed policy." Calling for recognition of the Castro regime as the legitimate government of Cuba, Obama said, "Isolation has not worked." "Not worked"? What is he talking about? Isolating Cuba during the last 30 years of the Cold War helped bankrupt and bring down the Soviet Empire, which had to carry Cuba on its back.

Obama throws in the towel on Cuba. President Obama's announcement that he is reestablishing diplomatic relations with Cuba is not a cause for celebration, and it is not a success for the president. It is a gift for an enemy of the United States and American ideals. The United States can do a lot more for Cuba than Cuba can do for the United States. And what has Cuba done to deserve our recognition? The Castro brothers' control of the country has ensured that Cuba has been a malignant actor in the region and elsewhere for decades, and that is not changing.

Republicans threaten to stop US embassy opening in Cuba. The backlash against a deal for the United States to reopen its embassy in Havana and thaw its relations with Cuba is underway in Florida, where Republicans are threatening to use their control of the Senate to sabotage the plans. President Barack Obama announced on Wednesday that he was ending America's five-decade policy of isolating Cuba and that he hoped to reinstate full diplomatic relations with the communist island "in the coming months". While the President's political opponents are unable to stop him from formally restoring US ties with its communist neighbour, they can throw up practical hurdles to slow down or even derail the détente.

Obama Provides Economic Lifeline to Cuba. The Obama administration's normalization of relations with Cuba has handed the Communist government an economic lifeline, critics say, just when its traditional foreign patrons are suffering from their own domestic troubles. President Obama announced on Wednesday that the United States would loosen travel and commercial restrictions on Cuba as part of its efforts to reestablish diplomatic relations. The measures could provide some initial relief to the country's largely state-controlled economy, which is afflicted by massive debts and unemployment thought to be twice as high as the official rate of 4.3 percent in 2013. Obama said in remarks that "50 years have shown that isolation has not worked" in displacing the regime of Fidel Castro and his brother and current president, Raul.

Obama becomes first President since JFK to (officially) savor a Cuban cigar after historic deal. Barack Obama's historic peace-deal with Cuba after 50 years of cold war hostility was a breakthrough not to be sniffed at. But that didn't stop the US president having a try, when he got close and personal to a Cuban on Wednesday ... not a citizen, but a cigar. Significantly, it was the first time in 52 years that a US president has officially savoured the Cuban delicacy since John F. Kennedy stockpiled a secret stash of his favourite Havanas in the hours before he imposed a trade embargo on the Communist state in 1962.

Gutfeld: If Obama Goes to Cuba For Golf, He Should Bring Back Cop Killer Joanne Chesimard. It is rumored President Obama could be taking a trip to Cuba next year to golf. If the president ends up going, Fox News' host, comedian and author Greg Gutfeld wants Obama to bring back cop killer Joanne Chesimard, also known as Assata Shakur, upon his return to the United States. "Unlike North Korea, Cuba is a jewel of the left because both adore marxist thugs. Those who failed at life but excel at taking it. Do you think that occurred to our President?" Gutfeld said.

Castro to Pocket 92% of Worker Salaries from Foreign Companies. Just one day before President Obama announced sweeping changes that would allow potential American investment in Cuba, the Cuban government apparently had begun preparing itself by announcing new measures that would allow Cubans who work for foreign companies to keep only 8% of their salaries.

Let's Talk About Obama's Imaginary 'Winning Streak'. [A]s you've no doubt have heard, Obama has been on a roll since the midterms. After the president announced that he would restore a full diplomatic relationship between Cuba and United States, Al Hunt claimed that no president in history had ever "experienced as severe an election drubbing as Barack Obama did in November and followed it with such a politically triumphant six weeks." (Gloria Borger just goes ahead and compares him to Superman.) To be fair, there is a rather narrow sample size for that kind of declaration. But what exactly does triumph looked like? The Cuba issue, while a good talker, probably isn't the kind issue that most Americans are exceedingly concerned about. As we see how that shakes out, there are other wins that exist only in the imagination.

Obama adds Cuba to his list of sellouts. President Obama continues to embrace low-tier, go-it-alone executive actions to pad the last two years of his mistake-filled, empty-agenda presidency in a hopeless hunt for a legacy. His arrogant decision this week to re-establish diplomatic relations with communist Cuba is the latest example of a president desperately searching for something do without having to deal with Congress.

Miami reacts to Obama's Cuba move: Tears of joy, cries of 'traitor'. A tale of two restaurants unfolded in South Florida on Wednesday [12/17/2014]. In Miami's Little Havana, Versailles Restaurant hosted hard-line Cuban exiles railing against President Obama's decision to establish full diplomatic ties with the Cuban government. They waved placards and hurled insults bilingually, putting on the show they've been rehearsing and staging for half a century.

Pope Francis Is Credited With a crucial Role in U.S.-Cuba Agreement. Pope Francis had quite a 78th birthday. The pontiff began Wednesday [12/17/2014] with prayers and a birthday celebration with tango dancers near St. Peter's Square. His day ended with a historic diplomatic breakthrough between Cuba and the United States — and the disclosure that the Argentine pope played a key role as broker.

Obama Apologizes to Castro. Barack Obama apologized to Cuban president Raul Castro during their phone conversation after the American commander in chief's opening remarks. Speaking to reporters at his final White House press briefing of 2014 Friday afternoon, Obama gave more details about his phone call with the communist leader of Cuba earlier this week before the announcement of a change in U.S. policy on the Caribbean island nation.

Rubio warns Obama on Cuba: Good luck getting an ambassador confirmed or an embassy funded. Watch the clip [in this article], in which Rubio holds nothing back. This issue is in his wheelhouse, not only as a conservative Cuban-American pol from Florida but as a guy who's looking to distinguish himself as the cream of the hawkish crop in 2016 if he runs for president. Just one question: Er, is the GOP caucus prepared to go along with him? Superhawks like McCain, Graham, Tom Cotton, and Kelly Ayotte will. Ted Cruz might feel obliged, just to make sure there's no one in the field next year that's to his right on any issue that the base is paying attention to.

Castro, 1; Obama, big zero! My cell phone has been going off for hours with messages and angry conversations with fellow Cuban-Americans and conservatives in the U.S. I hear this question over and over: what did the U.S. get out of this deal? The answer is nothing, unless you are one of those who believes that the Castro regime is about to reform the economy, allow an independent media, and hold multi-party elections.

For Jose Marti. Let us take the moment of President Obama's betrayal of Free Cuba to step back a bit — back to say, May 19, 1895. That's when the tribune of Cuba Libre, Jose Marti, was killed in combat against the Spanish Royalists at the Battle of Dos Rios. His body was barely in the ground when he was mocked by the New York Times as the "so-called President of the Cuban Republic."

Castro Brothers Join Line of Anti-American Tyrants to Receive Obama's Largess. You knew this was coming, right? You knew that, with all of the national elections that will take place during his presidency behind him, Barack Obama would do everything in his power — broadly defined — to assist the Castro regime. President Obama was a good friend to Mohammad Morsi, the Muslim Brotherhood's man in Egypt. He has made nice with the mullahs in Iran, bailing their country out of serious economic woes under the pretense of slowing Iran's nuclear weapons program. He "reset" relations with Russia on terms highly favorable to Putin and would have done more to help the autocrat, as he promised to do after he gained "flexibility" following the 2012 election, had Putin not set out to dismember Ukraine.

Communism chic: Obama, with nothing to lose, embraces Cuba. It's been two years since the sultry and suave music power couple of Beyonce and Jay-Z were publicly humiliated across the globe after they realized it's not "cool" to visit countries like Cuba run by totalitarian regimes that sponsor terrorism, steal private property, jail people for no reason and freely make critics disappear without a trace. No, it's not "cool" to travel to places like Cuba, financially support the regime's tourism industry and pose in a massive ad campaign broadcast to the ends of the earth showing the world's most beautiful couple enjoying all the tiny streets and bright colors and spicy foods of Cuba, as presented to you by one of the world's nastiest and most brutal totalitarian governments.

Obama stresses freedom of Gross from Cuba at Hanukka candlelighting ceremony. Presiding over the White House Hanukka ceremony on Wednesday US President Barack Obama wasted no time connecting the 8-day Jewish holiday to the historic Cuba policy changes he announced earlier in the day, which led to the release of jailed Jewish-American Alan Gross. "I'm told that in the Jewish tradition one of the great mitzvah's [sic] is 'pinion sabihin'," said Obama, "It describes the redemption, the freeing of captives. And that's what were celebrating today because after being unjustly held for more than five years, Alan Gross is free."

Intel concerns about Russia-Cuba ties preceded Obama's deal to dismantle sanctions. Months before President Obama announced on Wednesday [12/17/2014] that he is seeking to do away with decades of U.S. economic sanctions against the communist regime in Cuba, Russia concluded a security deal with Havana aimed at bolstering intelligence and military ties to the island dictatorship. The Russia-Cuba agreement was announced May 16 when a memorandum was signed in Moscow establishing a joint working group between Russia's Security Council and the Cuban Commission for National Security and Defense.

Can We Send Alan Gross Back to Cuba? Why did President Obama engineer a prisoner swap with Communist Cuba involving Alan Gross, an American citizen who badmouthed his own country mere hours after he arrived back on U.S. soil? It turns out that a cabal of left-wing extremists helped to make Gross's release happen.

President Obama Didn't Tell The Whole Story About Cuba. Why did President Obama go for broke on Cuba, announcing the United States would normalize relations with that repressive regime? The answer appears in his statement to the nation. There, the president not only made clear that this change has been on his bucket list for some time, but also that his knowledge of Cuba comes straight out of the international Left's playbook. "When I came into office, I promised to re-examine our Cuba policy," Obama said, proving once again that last month's midterm shellacking seems to have had an odd effect on our president. Rather than make him humble, rejection at the polls has liberated him to do all the things he wants in his "legacy."

The Castros Finally Hit the Jackpot. Candidate Barack Obama said that, as president, he would talk to anti-American dictators without precondition. He didn't mention that he would also give them historic policy concessions without precondition. His surprise unilateral change in the U.S. posture toward the Castro dictatorship came without even the pretense of serious promises by the Cubans to reform their kleptocratic, totalitarian rule.

How Republicans could stop Obama's Cuba play. President Barack Obama's plan to normalize relations with Cuba has hit a familiar roadblock: Republicans on Capitol Hill. Just hours after Obama announced that a prisoner swap with the Cuban government for two Americans was the start of a new relationship with the communist country, Republicans began informally kicking around ideas to stop any changes to the U.S.-Cuba relationship. On the list: deny Obama funds to reopen an embassy in Havana, stall the nomination of a potential ambassador, vote down a bill to open up travel more widely and ignore requests from the White House to lift a decades-old embargo.

Hillary Clinton Secretly Pushed Cuba Deal for Years. From 2009 until her departure in early 2013, Clinton and her top aides took the lead on the sometimes public, often private interactions with the Cuban government. According to current and former White House and State Department officials and several Cuba policy experts who were involved in the discussions, Clinton was also the top advocate inside the government for ending travel and trade restrictions on Cuba and reversing 50 years of U.S. policy to isolate the Communist island nation. Repeatedly, she pressed the White House to move faster and faced opposition from cautious high-ranking White House officials.

Hillary Loves Castro. Hillary Clinton was the main architect of the deal reached with Cuba and her advocacy toward opening a new relationship with the Castro regime began almost immediately when she became secretary of state, according to a report from Bloomberg's Josh Rogin.

America's Cuban-American senators threaten to block Obama's Cuba shift. Barack Obama's move to open relations with Cuba brought an official weather forecast from Havana's state news agency that it would rain flower petals, but Cuban-Americans serving in the U.S. Senate unleashed a stormy tempest on the White House Wednesday. The president made his shocking and historic announcement armed with a new budget that seems to cement the State Department's ability to fund an embassy and pay salaries in Havana. But while two Republicans threatened action when the new GOP-led Congress convenes, they were led by a Democrat who has backed the White House on nearly everything for the last six years.

Josh Earnest: 'I Wouldn't Rule Out a Visit From President Castro'. White House Press Secretary Josh Earnest won't rule out a Washington visit by Cuban President Raul Castro, although he did dismiss the idea as a "hypothetical." During the press briefing [12/18/2014], Earnest pointed out that President Obama had welcomed leaders from countries with questionable human rights records such as China and Burma. "For that reason I would not rule out a visit from President Castro," he concluded.

Marco Rubio: Alan Gross Release Put 'A Price on the Head of Every American Abroad'. The release of Alan Gross, the American contractor imprisoned in Cuba for more than five years, "set a price on the head of every American abroad," Sen. Marco Rubio, R-Florida, said in an interview today [12/17/2014]. "I would love for there to be normal relations with Cuba, but for that to happen, Cuba has to be normal, and it's not. It is a brutal dictatorship," Rubio, who is a Cuban-American, told ABC News' Jeff Zeleny. "Now dictatorships know that if they take an American, they may be able to get unilateral policy concessions."

Jimmy Carter: 'Proud' of Obama on Cuba. Former President Jimmy Carter on Thursday praised President Barack Obama's "political courage" in reestablishing relations with Cuba. "This is the kind of thing that has been long overdue, and I'm very proud and grateful that President Obama has shown such wisdom and also, I think, political courage in taking these long overdue steps," Carter told MSNBC's "Morning Joe."

Charlie Rangel On Cuba Deal: 'I've Never Been More Proud Of Being An American'. Democratic New York Rep. Charlie Rangel said on MSNBC's "Ronan Farrow Daily" that in the aftermath of the normalization of relations with Cuba, he has "never been more proud of being an American." Rangel, who was in Havana for some reason, said the Cuban people were ecstatic. "This is a tremendous, historic event, the people in Havana are dancing in the street with glee, there's always been a love between the Cuban people and the American people, notwithstanding the problems our governments have had."

Cuban cigars among goods travelers get OK to import. Cigar-loving travelers won't have to hide their Cubans in their luggage anymore. Tobacco products from Cuba are among the goods allowed under new trade normalization rules that President Obama announced Wednesday. The eased restrictions mean that approved travelers will be able to bring home $100 of cigars. (Not a cigar smoker? You can bring back Cuban rum instead.)

From the Bay of Pigs to the Baltimore Orioles, 50 years of U.S.-Cuba relations. Three months after taking office in 2009, President Obama brought up Cuba at the Summit of the Americas. "I know there is a longer journey that must be traveled to overcome decades of mistrust," he told the crowd, which did not include any representatives from Cuba, "but there are critical steps we can take toward a new day." In the five years since, long-standing restrictions on travel and trade have been loosened and rhetoric has continued to focus on improving relations. This week, an American held by Cuba for five years was brought home, and the White House announced plans to open an embassy in Havana.

Obama's Cuba decision hailed by Charlie Rangel in Havana. Rep. Charlie Rangel, New York Democrat, hailed President Obama's announced plans Wednesday to resume diplomatic relations with Cuba while the congressman was on the ground in Havana. Mr. Rangel said he was in the country with a medical association "to exchange advancements that have been made" on treatment for diabetes.

The Jarrett-Obama Administration Submits to Yet Another Slave State. The spin from Valerie Jarrett's White House is that the pope supposedly had something to do with what progressives have wanted to do for decades[.]

Raul Castro Urges Obama To Use 'Executive Action' To Overrule Congress. In a speech held at the same time as President Barack Obama's televised speech announcing a normalization of relations with Cuba, Cuban dictator Raul Castro urged Obama to use "executive action" to bypass Congressional policy on Cuba.

With Cuba-U.S. thaw, will New Jersey get convicted cop killer back? News that the U.S. and Cuba want to normalize diplomatic relations could also open the door for federal officials to finally capture the first woman ever to be included on the FBI's list of most wanted terrorists, law enforcement officials said Wednesday [12/17/2014]. Joanne Chesimard was convicted in the shooting death of a New Jersey state trooper in 1973 but later escaped from prison and fled to Cuba. In a statement released Wednesday morning, the superintendent of the New Jersey State Police said any improvement in relations between the two countries should improve the chance of her being returned to prison in the U.S.

Obama would visit Cuba. The White House on Wednesday said President Obama would have no reservations about visiting Cuba following the resumption of diplomatic talks between his administration and the Castro regime. "It is not unprecedented for us to go places and interact with countries with whom we have a very fundamental difference of opinion about that country's treatment of their citizens," White House press secretary Josh Earnest said, highlighting Obama's recent trip to the communist nation of China. "We engage those countries and we engage the leadership of those countries and we do so for a variety of reasons, and often it serves our national security interests to do so," he insisted.

Krauthammer's Cuba Take: 'Is There No Tyrant in the World Obama Will Not Appease For Nothing? Conservative columnist Charles Krauthammer lamented the Obama administration's decision to open formal relations with Cuba on Wednesday, pegging it as part of a broader trend and wondering whether there's any tyrannical or anti-American regime to whom he won't grant one-sided concessions. On Fox News's Special Report, Krauthammer explained how even President Obama himself once understood that the embargo against Cuba was designed as leverage to push Cuban democratization. "There was not an ounce, there was not an inch, there was not a suggestion of an opening here," he said.

Rubio Lays into Obama's Cuba Moves: 'Worst Negotiator in Modern U.S. History'. Senator Marco Rubio (R-FL) laid into President Barack Obama's impending normalization of relations between the U.S. and Cuba on Fox News Wednesday morning [12/17/2014], saying Obama had traded away concessions for "symbolic gestures," and that Obama was "the worst negotiator that we've had as president...maybe in the modern history of the country." "My interest in Cuba has been the furthering of democracy and freedom," Rubio said. "Nothing the president will announce today will further that goal...It's part of long record of coddling dictators and tyrants this administration has."

Obama gives the Castro regime in Cuba an undeserved bailout. On Wednesday, the Castros suddenly obtained a comprehensive bailout — from the Obama administration. President Obama granted the regime everything on its wish list that was within his power to grant; a full lifting of the trade embargo requires congressional action. Full diplomatic relations will be established, Cuba's place on the list of terrorism sponsors reviewed and restrictions lifted on U.S. investment and most travel to Cuba. That liberalization will provide Havana with a fresh source of desperately needed hard currency and eliminate U.S. leverage for political reforms.

Obama's historic opening to Cuba: A hint of things to come with Iran? President Obama's decision to reestablish full diplomatic relations between Cuba and the United States for the first time since 1961 reflects the president's conviction — laid out in his first inaugural address — that engagement with foreign adversaries is better than isolation. Mr. Obama's historic decision means that two longtime antagonists — who have what the president himself described Wednesday as a "unique history" — will establish embassies in each other's capital and exchange ambassadors. While lifting the half-century-old US embargo on the Communist island would take an act of Congress, Mr. Obama will go as far as legally permissible to ease travel and trade restrictions between the two countries and get relations to "normal." "It's time for a new approach" with Cuba, Obama said in an Oval Office televised statement. "These 50 years have shown that isolation does not work."

Rubio Responds: This is just another concession to a tyranny by Obama. Marco Rubio responded to Obama's announcement on Cuba today calling it 'just another concession to a tyranny' and saying it will do nothing but tighten the Cuban regime's grip on power for decades to come and significantly set back the hopes and dreams of the Cuban people that they may live in freedom and democracy.

Shepard Smith reacts to Obama's Cuba decision, asks if U.S. will 'ruin' Havana. Fox News anchor Shepard Smith reacted to news that the U.S. was restoring diplomatic relations with Cuba by asking if American capitalism would "ruin" the nation with fast-food restaurants and home improvement businesses. "You know, the fear that among anybody who's ever been there or cares at all about the Cuban people as so many of us do — the last thing they need is a Taco Bell and a Lowe's. You know, it's one big idea, and it all comes together and you wonder: Are we about to get up in there and ruin that place?" the Fox personality said Wednesday [12/17/2014].

NBC Hails 'Momentous Day' of Obama Opening U.S. Relations With Cuba. During an NBC News Special Report on Wednesday, Nightly News anchor Brian Williams could barely contain his excitement over President Obama announcing the reopening of diplomatic relations with Cuba: "A momentous day, especially for those Americans old enough to remember the Cold War.

Rubio: Obama Is Worst Negotiator Since Carter, Maybe in Modern US History. Senator Marco Rubio (R., Fla.) slammed President Obama's decision to normalize U.S. relations with Cuba on Wednesday, calling him "the worst negotiator" since Jimmy Carter. Rubio said Obama's notion that opening trade relations with Cuba would lead to democratic reform was "absurd." "They're creating no economic openings; there's no concessions on freedom of speech, no concessions on elections, no concessions on the freedom to have alternative political parties, no concessions on ever having elections or anything of that matter. What democratic concessions?" Rubio said.

Networks Barely Mention Brutality of Castro Regime or Cuba Being Communist. Following the trend set when news broke early Wednesday [12/17/2014], the major broadcast networks continued their praising of the move by President Obama to seek normalized relations with Cuba on their Wednesday night newscasts. Between the "big three" of ABC, CBS, and NBC, they made only a few, brief mentions over the course of their 30-minute programs that Cuba was both a communist country and brutal in the treatment of its own people (especially dissenters).

ABC Offers Little Criticism for Obama's Cuba Move: It 'Helped Thaw a Cold War'. The journalists of Good Morning America on Thursday [12/18/2014] cheered Barack Obama's efforts to "help thaw a Cold War" and offered little in the way of criticism for the President's actions to normalize relations with Cuba. Reporter Jim Avila hyped, "Well soon many more Americans will be able to hop a plane to Havana, take a tour, even legally buy one of those famous cigars." The words "human rights" were not uttered until the 8am hour.

Mark Levin Brilliantly Exposes Obama's Blatant Undeniable Indisputable Hypocrisy On Cuba. Mark Levin gave a brilliant monologue today on Obama seeking to normalize relations with Cuba, exposing the blatant hypocrisy in how Obama deals with evil dictatorships versus how he deals with America.

Obama Exchanges Castro's Killer For American Hostage. Communists are ecstatic. "The Cuban Five Are Free" is a statement from the U.S. support network for the Cuban spies imprisoned in the U.S. for various crimes, including participating in a murder conspiracy. Obama essentially released the three remaining Cuban spies in exchange for American Alan Gross, who had been held hostage by the Cuban regime for over five years. Gross was a foreign aid worker imprisoned by the Castro regime for trying to help ordinary Cubans communicate with the outside world. President Obama confirmed the role of Pope Francis, a vocal critic of Western-style capitalism, in the deal. Once again, we are treated to a display of secret and deceptive government by the Obama administration, in this case designed to bolster an anti-American regime. The announcement was made after Congress adjourned for the legislative session.

Cuba frees American Alan Gross in three-for-one prisoner swap. President Barack Obama announced Wednesday at the White House that the United States will move swiftly toward normalizing diplomatic relations with the isolated communist country of Cuba, following more than a half-century of icy stares. 'We will begin to normalize relations' between the U.S. and Cuba, he said. 'We will end an outdated approach that, for decades, has failed to advance our interests.' Cuba released American aid worker Alan Gross in the morning after five years in captivity, in a prisoner exchange with Havana that started a day of unprecedented United States action that will include, eventually, a lifting of America's cold-war trade embargo.

Communists Win the Day. Frank Marshall Davis Would Be Proud Of Obama. Few could have predicted that communist regimes would win the day on December 17, 2014. Communism was so twentieth century. But Barack Obama, promising to fundamentally transform America, has done so. His mentor, communist activist Frank Marshall Davis, would be proud of him. To reiterate my conclusion on Barack Obama's world view and policy objectives: to make the world safer, the United States must be less safe. To make the world more stable, the United States must be less stable. To make the world more prosperous, the United States must be less prosperous. Assisting Barack Obama in this are the Washington technocrats, bureaucrats, and numerous party apparatchiks of both parties who have decided America is in decline and the decline should be managed instead of overcome.

Republicans livid over Cuba talks, call it appeasement. Republicans lawmakers reacted with outrage Wednesday over the Obama administration's move to normalize relations with Cuba, with some casting it as appeasement and the product of extortion by the communist Castro government. Sen. Marco Rubio, the son of Cuban immigrants and a likely 2016 presidential contender, was perhaps the most ardent voice to denounce the administration. He and other Republicans promised to try to derail the White House's efforts through their leverage in Congress, even as at least one GOP-leaning group, the U.S. Chamber of Commerce, welcomed the news of improved ties with Cuba.

White House: Pope Francis Played Key Role In Cuba Negotiations. Pope Francis and the Vatican were involved in the negotiations with Cuba, according to a senior administration official who briefed reporters on background. "Pope Francis personally issued an appeal thorough a letter that he sent to President Obama and to President Raul Castro, calling on them to resolve the case of Alan Gross and the cases of the three Cubans who have been imprisoned here in the United States and also encouraging the United States and Cuba to pursue a closer relationship," the official noted.

Obama: More Money Should Be Sent To Cuba. As President Obama announced his dramatic changes to US relations with Cuba, he explained to Americans that they'll be able to send more money to the country in the future. "I also believe that more resources should be able to reach the Cuban people," he said. "So we're significantly increasing the amount of money that can be sent to Cuba and removing limits on remittences that support humanitarian projects, the Cuban people and the emerging Cuban private sector," he said.

Marco Rubio: Cuba Deal Part Of Obama's 'Long Record Of Coddling Dictators And Tyrants'. Sen. Marco Rubio (R-Florida) fiercely criticized President Barack Obama on Wednesday [12/17/2014] for moving to ease US-Cuba relations. "It's absurd and it's part of a long record of coddling dictators and tyrants that this administration has established," Rubio said in a Fox News interview. Rubio, a potential presidential candidate in 2016, was reacting to the White House's decision to beginning normalizing relations with the Cuban government following a prisoner swap between the two countries.

Kerry Excited to Be 'First Sec. of State in 60 Years to Visit Cuba'. The Secretary of State praised President Barack Obama's announcement of the normalization of relations with Cuba, the neighboring country under an embargo for over fifty years, in a statement Wednesday [12/17/2014]. [...] Kerry also noted that at Obama's request the State Department will review its designation of Cuba as a terror state.

Castro, Cuba, Obama — and Iran. And now, you turn on the TV and see the announcement about the change in American policy in Cuba. Re-establishment of diplomatic relations. Lots of changes in the embargo that will mean plenty more cash for the Castros. A change in the whole American official position vis-à-vis Cuba. In exchange, the Castro brothers have pledged to let 53 political prisoners out, free one American spy, and free the American hostage Alan Gross. As to real changes in the regime — changes in its foreign or domestic policies — none. Zero. Zip. So, you conclude that in the long struggle between the United States and the Castro regime since 1959, the Americans have finally blinked.

First Bergdahl, now Gross — Obama [is the] 'worst negotiator' since Jimmy Carter. First President Obama traded five Guantanamo terror detainees for Sgt. Bowe Bergdahl, now he swapped three Cuban spies for Alan Gross — moves that drew criticism slamming him as the 'worst negotiator' as president since Jimmy Carter. Sen. Marco Rubio, Florida Republican, made the declaration Wednesday in the wake of an announced deal that will free Mr. Gross, an American, from imprisonment in Cuba in exchange for three Cubans convicted of espionage.

Little Havana Cubans Happy For Gross, Angry At Administration. News of Gross's release and the administration's change to U.S. policy toward Cuba has swept through the streets of Little Havana. Cuban-Americans have flocked Cafe Versailles, a political hotspot to trade opinions on the news.

US, Cuba seek to normalize relations after Alan Gross released. The Obama administration is moving to normalize diplomatic relations with Cuba, after American Alan Gross was released from the communist country Wednesday [12/17/2014] following five years in prison. Sources say President Obama plans to announce the opening of a U.S. embassy in Havana and call on Congress to lift the long-standing embargo. Senior administration officials said Obama spoke with Cuban leader Raul Castro for more than 45 minutes on Tuesday, the first substantive presidential-level discussion between the U.S. and Cuba since 1961.

The Editor says...
Obama is building his legacy as a communist sympathizer and an enabler of petty tyrants and dictators.

Barack Obama to announce major US-Cuba deal. US President Barack Obama does not have concrete plans to visit Cuba after restoring diplomatic relations with Havana, but a White House spokesman said on Wednesday he would not rule out a presidential visit. "If there is an opportunity for the president to visit, I'm sure he wouldn't turn it down," White House spokesman Josh Earnest told reporters.

The Editor says...
If Cuba has a golf course, Obama will be there.

Obama's Handshake With Castro A Deal With The Devil. President Obama extended a hearty handshake to Cuba's iron-fisted dictator Raul Castro just as the latter was beating up dissidents back home on the eve of Human Rights Day. No good will come of this.

Welcome to "Fantasy Island" — ACLU Style. Cuba remains the ACLU's "Fantasy Island," where — to hear them tell it — happy Marxist children play together in perfect harmony, and the state makes sure its citizens are cared for from cradle to grave. At least that's the glorious depiction in a book titled Vamos a Cuba ("Let's Visit Cuba") that the ACLU wanted to keep on the bookshelves of a Florida school. The book makes the communist state sound like a trip to DisneyWorld. But as it did on the TV show Fantasy Island, illusion in Cuba quickly gives way to harsh reality.

Bill would drop travel restrictions to Cuba. While most of the nation focused on the stimulus bill winding through Congress, nine representatives introduced a bill calling for an end to the 46-year-old ban on travel to Cuba. The Freedom to Travel to Cuba Act introduced in the U.S. House of Representatives on Feb. 4 would allow American citizens unrestricted travel to Cuba for the first time since 1963.

Obama will use spring summit to bring Cuba in from the cold. President Barack Obama is poised to offer an olive branch to Cuba in an effort to repair the US's tattered reputation in Latin America. The White House has moved to ease some travel and trade restrictions as a cautious first step towards better ties with Havana, raising hopes of an eventual lifting of the four-decade-old economic embargo.

Heads Roll in Havana, Baffling 'Cuba Experts'. The very week Obama proposed cozying up to Castro by dropping some economic and travel sanctions, the biggest political shake-up in twenty years rattled Cuba's regime. Last week Raul Castro purged almost twenty regime officials. The most prominent among the purged were the youngest and most reform-minded (as these things are measured within a Stalinist regime), and they've all been replaced by diehard Stalinist septuagenarians with military and secret police backgrounds.

Congressional Black Caucus Smitten With Castro. Not since Ann Margaret's reaction to Conrad Birdie's kiss has anything been recorded to match these U.S. legislators' reaction to these meetings. "He looked directly into my eyes!" gasped Rep. Laura Richardson (D-Ca.) "and then he asked: how can we help President Obama? Fidel Castro really wants President Obama to succeed." (no doubt!) "It was quite a moment to behold!" hyperventilated Rep. Barbara Lee. (D-CA) "Fidel Castro was very engaging and very energetic." "He's one of the most amazing human beings I've ever met!" gushed Emanuel Cleaver(D-Mo)

Urge the White House To Not Lift the Travel Ban to Cuba. The Castro regime is one of the most brutal, ruthless and amoral regimes of our time. While little mention of it is offered by the world media, due to their soft spot for murderers and thugs everywhere, the cruelty it embodies is no less true. After all, the only time the media sees fit to heap scorn on anyone is when conservatives enact policies that defend innocents against terror or brutality.

Castro happy with US lawmakers. Former Cuban leader Fidel Castro described a meeting with US lawmakers in an opinion article on Wednesday as "magnificent", and urged Washington to take the initiative to improve ties with Havana. The communist island's long-time leader said the ball was now in President Barack Obama's court after a meeting with three US lawmakers with the Congressional Black Caucus late on Tuesday [4/7/2009].

Useful Idiots Caucus. "This is the dawning of a new day," exclaimed Rep. Bobby Rush, D-Ill. "In my household I told Castro he is known as the ultimate survivor." Funny how easy it is to survive when you don't hold elections. And when all of your opponents wind up in prison or dead. And when even those who dare to whisper a word of dissent to your absolute rule find themselves harassed, beaten, humiliated, and imprisoned. According to the Black Book of Communism, more than 100,000 Cubans have served time for political offenses in Cuba's equivalent of the Gulag Archipelago since Castro came to power in 1959.

Lee's Cuban dream. Fresh from a secretive trip to Havana to meet Raul and Fidel Castro, Rep. Barbara Lee, California Democrat, has criticized U.S. Cuba policy as "based on antiquated Cold War-era thinking." If anyone's thinking toward the communist state is stuck in the Cold War past, it is Ms. Lee's — and she is still on the wrong side.

Truth About Castro: The Lost City not only is a loving tribute to Havana and Cuban art and music, it is also a loving tribute to liberty, democracy and capitalism. Castro's regime is clearly portrayed as an evil dictatorship.

Fidel Castro's Dupes: In Castro's Cuba, it is a crime to meet to discuss the economy, to write letters to the government, to report on political developments, to speak to international reporters, to advocate human rights, to visit friends or relatives outside your local area of residence without government permission.

Carter Silent On Castro's Crackdown: Jimmy Carter is the self-appointed globetrotter on behalf of human rights. But when Carter friend Fidel Castro unleashed a brutal wave of repression recently, that included extradjudicial executions, Carter's reaction was silence, followed by muted criticism, and finalized with a stinging criticism of — the United States!

Veneration of evil. [Che Guevara] continues to be a symbol of freedom and revolutionary fervour and purity for people who can't read or think. Che was Fidel Castro's right-hand man. Despite the fact leftie morons from Pierre Trudeau to Michael Moore venerate the Cuban totalitarian state, it is just a prison masquerading as a nation. … Che was put in charge of turning Cuba into a modern industrial nation. He failed miserably, thus consigning Cuba to a future as a colony of the Soviet Union, exchanging sugar for fighter planes.

The Fantasies of Castro/Che Groupies vs. the Facts. Facts matters little to diehard, teen-beat type Castro/Che fans. Many "document" their rebuttals to my blasphemies with scenes from Godfather II, that famous documentary on pre-Castro Cuba. ... To depict Havana streets on New Year's Eve 1958, Coppola cast more people than stampeded through a battle scene in Braveheart. For what it's worth, Havana streets were deathly quiet that night.

Communist Cuba: 50 Years Of Failure. New Year's Day marks 50 years of communist rule in Cuba. The Castro oligarchy will trumpet its survival and celebrate. But the reality, up close, is that it's the longest-running failure in the New World.

Filmmaker Brings Back Shocking Tale of Cuban Prisons. Some are held captive in tiny, windowless cells; others are confined in over-crowded and squalid dormitories. Most go without basic health care and food staples; a few undergo regular beatings. All are denied basic religious freedoms, and none has been visited by members of the International Red Cross. Such is life for "enemies of the state" imprisoned in Cuba.

Fidel Castro's Cuba: celebrating 50 years of progress, equality, poverty and murder. Fidel Castro likes to boast of his country's 70,000 doctors, but admits "tens of thousands" of them have been sent abroad. The last pre-Castro census (1953) recorded one doctor for every 1,000 Cubans; today, outside the regime's showcase clinics for the nomenklatura and foreigners, patients have to bring their own bedding, thread for sutures and even light-bulbs into the country's vermin-infested hospitals.

Time for Congressional Black Caucus to Disband?. Last week, seven members of the Congressional Black Caucus ... returned from a visit to Cuba where they met with the dictators of Cuba, Fidel and Raul Castro. They were quite impressed with Fidel Castro, the longest reigning dictator in the world, the man who deprived an entire generation of Cubans of the most fundamental human rights.

Now Open Cuba's Prisons. President Obama's decision this week to ease some parts of the embargo against Cuba is being hailed as a first step toward altering a U.S. policy that has prevailed for a half-century without unseating Fidel Castro. We don't object, though it'd be nice if Mr. Obama also began speaking up against the Castro dictatorship.

Obama and Cuba: President Barack Obama wants Havana to make the next move to improve U.S.-Cuba relations, saying Thursday that he needs to see signs of changes on the island before he makes any more overtures. President Raul Castro responded hours later that his government is willing to discuss any issue with Washington, as along as it's a conversation between equals and Washington respects "the Cuban people's right to self-determination."

A question for Democrats. [Scroll down] At a press conference on April 7, Illinois Representative Bobby Rush extolled Raul Castro —a man with the blood of hundreds on his hands —for his "sense of humor" and the way he "laughed at himself" and how "down-to-earth" and "kind" he was. Why, said Rush, being with Castro "was almost like visiting an old friend." When a reporter asked about Cuba's human rights record, Rush snapped that he was engaging in a "double standard" and called it "good business sense" not to let human rights get in the way of increased trade.

Comrade Barbara. The Congressional Black Caucus's recent trip to Cuba was utterly expected. That didn't make it any easier to stomach, especially when Rep. Barbara Lee (D., People's Republic of Berkeley) described her meeting with mass-murderer Fidel Castro as "quite a moment to behold." What exactly is wrong with her?

Will someone save the Congressional Black Caucus? Now there's nothing wrong with visiting Cuba and nothing sacrosanct about America's economic embargo. But you can rationally question U.S. Cuba policy without cozying up to Castro. The CBC did the latter — failing to meet with a single dissident on an island with a record of making dissidents disappear and handing El Jefe his best press in years.

Arlen Specter, Castro's Dupe. Sen. Arlen Specter has visited Cuba and met with Fidel Castro three times in the past 9 years, and seems quite proud of the record. His second visit was shortly after the 9/11 terrorist attack, where Specter made a big show of presenting Fidel Castro with a FDNY cap. The Stalinist dictator and pioneering terrorist responsible for the Hemisphere's first plane hijackings in 1958, who two months later kidnapped 40 U.S. citizens from Guantanamo to use as human shields, and who twice came a hair from incinerating New York City itself, smilingly donned the New York Fire Dept. cap.

Castro's Cult of Sycophants: Celebrities, journalists, and other illuminati have long gushed with admiration for Cuba's communist despot.



New Dem. Finance Chief Dined With Fidel Castro. Politico reported this morning that "Henry R. Muñoz III of San Antonio — an Obama bundler and a national chairman of the Futuro Fund, a group of Latino leaders who raised money for the president's reelection — is expected to be named DNC Finance Chair, the first Latino to hold the title." What's also interesting about Muñoz, though Politico omitted this fact, is that he at least once dined with Cuban dictator Fidel Castro.

Jimmy 'n' Fidel, &c. I have written a fair amount about Fidel Castro, over the years, and a fair amount about Jimmy Carter, too. Perhaps readers are sick of hearing about those men. Sometimes I get sick of writing about them. But let me do so here, briefly: for the two men have come together, again.

Obama's charm offensive and the global jihad. In a commencement address at Notre Dame, he declared that Americans had shed their "inordinate fear of communism." In the months that followed, Carter slashed the defense budget, scrapped the B-1 bomber, welcomed the Sandinista coup in Nicaragua, and launched diplomatic relations with Cuba's dictator, Fidel Castro. It wasn't until the Soviets invaded Afghanistan in 1979 that Carter finally woke up to his naiveté.

Castro's friend. We've discussed Jimmy Carter's legacy of friendship and warm support for the world's dictators many times already, notably on Venezuela, but a return to Carter's Cuba legacy may be an even worse experience, because of an unmistakable whiff of treason.

Castro's true legacy is a trail of blood. For decades, journalists and celebrities have showered Cuba's despot with praise, extolling his virtues so extravagantly at times that if sycophancy were an Olympic sport, they would have walked off with the gold. Norman Mailer, for example, proclaimed him "the first and greatest hero to appear in the world since the Second World War."

Congressional Black Caucus Smitten With Castro. Not since Ann Margaret's reaction to Conrad Birdie's kiss has anything been recorded to match these U.S. legislators' reaction to these meetings. "He looked directly into my eyes!" gasped Rep. Laura Richardson (D-Ca.) "and then he asked: how can we help President Obama? Fidel Castro really wants President Obama to succeed." (no doubt!)

Fidel Castro praises Obama on climate change. Barack Obama's call for action on climate change and his admission that rich nations have a particular responsibility to lead has received strong praise from an unusual source — U.S. nemesis Fidel Castro.

Dictators: In Love with Obama. Does anyone find it odd that so many evil dictators are head-over-heels in love with President Obama? Take Cuba's Fidel Castro, for instance.

ObamaCare a Huge Hit — With Fidel Castro!. Those who doubt that ObamaCare is an evil Communist scheme that will destroy our way of life: Listen up to the words of the second most dedicated Marxist in our Hemisphere. That would be Fidel Castro, the dried-up old Commie prune from Cuba, the only man outside of Moscow more smitten with Marxism than our very own Barack Obama.

"I would vote for Obama!", Squeals Castro's daughter. "If I were a U.S. citizen I'd vote for Obama for president," boasted Mariela Castro during her San Francisco conference this week. "I think he is sincere, I think he speaks from the heart." To cheers and applause from the San Franciscan crowd Raul Castro's daughter also proclaimed that, "what we want is the power of emancipation through socialism."

Obama wins coveted Castro endorsement. Everyone else seems to be bailing on Barack Obama these days, but not the Castro regime. In a move that enraged Florida's Cuban expatriate community, the Administration granted Raul Castro's daughter, Mariela Castro, a visa to spread Cuban Communist propaganda in the United States... because she's supposedly an expert in gay, lesbian, bisexual, and transgender rights.

Where Else are the Castro Spies? Last week, the FBI arrested a well-born State Department intelligence analyst and his wife for conspiracy to commit espionage for the Castro regime. ... "Tip of the iceberg" is an oft-used phrase by Cuba-watchers whenever a Castro spy gets nabbed. In light of the motivations uncovered in Myers diary and the rampant Castrophilia among Beltway academic, media and Democratic circles, who can doubt it?


Liberals in the news media love Fidel Castro

...and by "the news media" I mean the Cuban News Network, primarily.



CNN: 'Be nice to Fidel'. So how does an American news giant tell its on air talent to handle Fidel Castro's resignation? By glossing over the truth of the tyrant's reign and pimping "social progress" under his brutal regime: In a memo to CNN anchors, CNN brass laid down the line that should be taken when talking about the resignation.

The U.S. Media's Decades of Cheering Castro's Communism: Castro's communist regime has executed hundreds of political opponents and driven tens of thousands more into exile; hundreds of dissidents today languish in Cuban prisons. ... Yet liberals in the U.S. media — who have rightly condemned such abuses when perpetrated by dictators such as Chile's Augusto Pinochet — inexplicably remain enchanted with Castro and his socialist revolution. For more than half a century, positive profiles of Castro have appeared in U.S. papers.

CBS Comes to Castro's Aid. CBS's 60 Minutes has run a segment on Elian Gonzalez, five years after the Clinton administration sent him back to the communist prison island. He had come to America as a refugee, without his father, who was back in Cuba and under pressure from the communist regime to demand him back. The Clinton administration complied, seizing the little boy at the point of a gun. It made a mockery of America's reputation as a free society open to refugees fleeing persecution.

The Castro News Network: To many Cuban Americans, CNN is the "Castro News Network" - an organization that lends legitimacy to a corrupt regime and sneers at the exile community in Miami.

Fidel, The Dictator-Celebrity: Journalism is never more amoral than when dictators are the mandatory "get" for a news puff piece. For the 40th anniversary of the Cuban Missile Crisis, the network anchors were all scrambling to get an interview with Fidel Castro, the dictator-celebrity. Which network superstar would get the first opportunity to reward the communists for their exclusive by lauding the achievements of the glorious revolution?

CNN Runs "Propaganda" for Castro: Cable News Network, the only American television news organization with a full-time bureau in Cuba, has "allowed itself to become just another component of Fidel Castro's propaganda machine," instead of "exposing the totalitarian regime that runs Cuba," Media Research Center charged in a report released Thursday [5/9/2002].

Journalism's Worst Enemy in the World. Castro's fiefdom wins the price "for most journalists jailed (by far!) per-capita on earth. In fact, in total numbers jailed, Cuba (a nation of 11 million subjects) is only slightly behind China (a nation of 1.4 BILLION!) According to the Paris-based (not Miami — please note!) Reporters Without Borders, Cuba today holds 20 percent of the world's jailed journalists. Imagine Castroite repression with China's population! Cuban "Law 88," passed in February 1999, cranked up the repression several notches, mandating up to 20 years in prison for "providing information that could be useful to U.S. policy."
---
---

A few words about Elian Gonzalez

April 22, 2000, is a date that has been flushed down the news media memory hole. Imagine the surprise on Elian Gonzalez's face someday when he gets access to an internet browser, looks up his own name, and finds out that it wasn't just a dream after all!



Cuban boy castaway Elián González becomes a lawmaker. Elián González has the same big, expressive eyes he did 23 years ago when an international custody battle transformed him into the face of the long-strained relations between Cuba and the United States. Now 29, González is stepping into Cuban politics. He recently entered his country's congress with hopes of helping his people at a time of record emigration and heightened tension between the two seaside neighbors. "From Cuba, we can do a lot so that we have a more solid country, and I owe it to Cubans," he said during an exclusive interview with The Associated Press.

A Maniac Is Running Our Foreign Policy! (It's Not Trump). Judge Robart's veto of Trump's travel ban notwithstanding, there is not the slightest question but that the president, in his sole discretion, can choose to admit or exclude any foreigners he likes, based on "the interests of the United States." The Clinton administration used the executive branch's broad power over immigration to send a 6-year-old boy back to a communist dictatorship. The courts were completely powerless to stop him. As explained by the federal appellate court that ruled on Elian Gonzalez's asylum application: "It is the duty of the Congress and of the executive branch to exercise political will," and "in no context is the executive branch entitled to more deference than in the context of foreign affairs," which includes immigration.

Former Cuban Castaway Elian Gonzalez Remembers Fidel Castro as a Father Figure-Turned-Friend. Elian Gonzalez, the Cuban castaway boy rescued off the coast of Florida in 1999 by a pair of sport fishermen, spoke fondly of Fidel Castro on Saturday, describing the late former Cuban leader as a father figure who became a friend. Gonzalez, then five-years-old, was found floating on an inner tube after his mother and other Cubans died while trying to escape communist Cuba for the U.S., where he had relatives. Interestingly, he was found on November 25, 1999 — exactly 16 years prior to the day of Castro's death.

How the Clintons Fooled America with Elian Gonzalez. Let the record show that most Americans approved of the Clinton-Castro shanghaiing of Elian Gonzalez. A 60 Minutes "interview" of Elian's father Juan Miguel by Dan Rather played a key role in this expert snookering of America. To wit: On the April 6th 2000 edition of 60 Minutes, America saw a bewildered and heartsick father pleading to be allowed to have his motherless son accompany him back to Cuba, his cherished homeland. Dan Rather (who hailed Fidel Castro as "Cuba's Elvis!") was interviewing Elian's "bereaved" father. How could anyone possibly oppose his heartfelt plea? How could simple decency and common sense possibly allow for anything else?

The Elian Gonzalez Travesty: Where Was Hillary? In November 1999, Elian's group pushed off in a shaky aluminum craft. It was the best thing they could find in this surreal island without boats. Boats are banned by the communist regime. Like a scene right out of Hollywood, a storm hit, waves began crashing, the motor failed, the escapees profusely bailed water, and Elian's mom clutched her son as the boat sank. Elian was placed in some sort of inner tube before passing out from exhaustion. Elian awoke to be spotted by two fishermen. He was brought safely to American shores, vindicating the sacrifice his mother made. She literally gave her life for him. He was free at last. Or so he hoped.

Elian Gonzalez: It's America's fault that my mother died. Elian Gonzalez, who made headlines 14 years ago when his mother died while journeying from Cuba to the United States — sparking an international custody battle — said America was to blame for his loss. "Just like her, many others have died attempting to go to the United States," he said, CNN reported. "But it's the U.S. government's fault. Their unjust embargo provokes an internal and critical economic situation in Cuba."

Elian Gonzalez Wants to Come to the US. Elian Gonzalez would like to return to the United States, he tells ABC News in an exclusive interview. "To the American people, first I say thank you for the love they give me," Gonzalez said. "I want the time to give my love to American people." Gonzalez was found floating off of Florida's coast in 1999, after the boat he was in with his mother capsized. Gonzalez stayed with his uncle in Miami, but the 6-year-old boy soon found himself at the center of a tug of war between Cuba and the United States over whether he should remain in this country or be returned to his father in Cuba.

After 10 Years, Revisiting the Elián González Fiasco. Given all the genuinely weighty events of the intervening years, from 9/11 to the Iraq War and the election of our first black President, it's hard to imagine that a decade ago I and so many other journalists, as well as millions of rapt readers and viewers around the world, spent five months outside a modest house in Miami's Little Havana watching a six-year-old Cuban boy named Elián González. His media code name, we can reveal now, was The Rabbit — as in, "The Rabbit's out!" — which jaded television cameramen shouted whenever Elian stepped into the yard.

When you think of Eric Holder, please remember Elian Gonzalez. As we count down Eric Holder's greatest hits, the first image that comes to the mind of many Americans isn't that of Brian Terry, or of Black Panthers outside polling places, but of a screaming child staring down the barrel of a rifle. On April 22, 2000, just before dawn, U.S federal agents executed a full-blown raid on the home of five year old Elian Gonzalez, seizing the child and setting in motion procedures to send Elian and his father back to Cuba.

Goodbye Eric Holder. In a nation where there is a scarcity of good news, hearing Eric Holder give a farewell speech upon his announcement that he will be leaving as the Attorney General was surely welcome in some circles. I was never a fan of his because he was in my opinion always more of a politician than someone with the responsibility to enforce the laws of the nation. I first took notice of Holder when, in the pre-dawn hours of April 22, 2000, as the deputy attorney general serving under Janet Reno, he oversaw the seizure of Elian Gonzalez, a seven-year-old whose mother had died in an effort to escape Cuba and find sanctuary in the United States. Holder was doing what he had to do after a court ruled that Gonzalez be returned to his father in Cuba, but I thought then and still do that Gonzalez should have been allowed to remain with his U.S. relatives.

We Sent Back Elian. The US government, which has refused to act decisively to control the horde of children entering the US via Mexico from Central America (estimated to be nearly 60,000 from October 2013 to June 2014) certainly had no compunctions about expelling a helpless child back to terrible conditions in the case of Elian Gonzalez back in 1999 during the Clinton regime. In that case, the Feds were wrong to send a child back to a communist dictatorship, where he lives today, a member of the Union of Young Communists, propagandist for the regime, and personal "friend" of Fidel Castro. But at least the government acted decisively, to put it mildly.

Welcome Tamerlan Tsarnaev — But You're Outta Here Elian Gonzalez. Thirteen years ago, a Stalinist regime that our State Department condemns as an official "state-sponsor of terrorism" (Fidel Castro's) asked the U.S. government to deport a 7-year-old immigrant named Elian Gonzalez. The U.S. Justice department snapped to attention and acted upon Fidel Castro's request. Elian Gonzalez's family — as demonstrated for over a decade — is completely law-abiding. The Tsarnaev brothers, on the other hand, pulled off what's being billed as "the most successful terrorist attack since 9/11," killing three Americans, wounding 178 more and temporarily "shutting down" one of the richest, most dynamic, most sophisticated and financially-vital cities in the Western hemisphere.

The Rise of the American Police State. The increasingly antiterrorism-oriented police units have begun to regard dissenting citizens, or even innocent and unsuspecting citizens, as the "enemy" in domestic "war zones." ... The militarization of the police does not occur instantaneously, but is the cumulative result of each military tool amassed, each protester silenced based on his political views, or each wrongful search that goes unchallenged.

A young boy serves a life sentence. He's just a normal, average, typical 12-year-old boy. If the normal, average, typical 12-year-old boy has the world's longest-reigning dictator drop by every year for his birthday, that is. Elian Gonzalez was shipped into the waiting arms of Fidel Castro in 2000. The delivery man was Bill Clinton, who used a SWAT team armed with submachine guns to assure everyone's compliance.

Elian Gonzalez joins Cuba's youth Communists. The Cuban boy at the center of an international custody battle eight years ago has joined Cuba's Young Communist Union. Elian Gonzalez said he will never let down ex-President Fidel Castro and his brother Raul Castro, according to the Communist youth newspaper Juventud Rebelde.

Elian Gonzalez back in news again. Here's a name I didn't think I'd hear again, but remember Elian Gonzalez, whose story transfixed our nation eight years ago in an international custody fight between the U.S. and Cuba? Now comes the news that the 14-year-old has joined Cuba's Young Communist Union, according to the Associated Press.

Janet Reno's Show of Force. How would you respond to a 30 second warning at 5:00 AM? This is barely enough time to wake up and gather your wits in order to deal with a threatening, armed contingent wearing body armor and banging at the door. Was this just another way for the INS to paint the family as non-cooperative, giving them the excuse to use a battering ram to break their way in?

Anita Dunn — Pots and Kettles. On April 16, 2000, viewers of CBS' 60 Minutes saw Dan Rather interviewing Elian Gonzalez' father, Juan Miguel Gonzalez. ... Here's what America didn't see: "Most of the questions Dan Rather was asking Elian's father during that 60 Minutes interview were being handed to him by Gregory Craig," recalls Pedro Porro, who served as Rather's in-studio translator during the taping of the famous interview.

A Decade of Defiance. Let us give the last word about the gloriously diverse past decade of American law to an unlikely mouthpiece: Lazaro Gonzales, Elian's effervescent uncle, who came into our lives nearly 10 years ago, at the start of the 21st Century. Told that Janet Reno's federal agents were on their way to his town outside Miami to seize young Elian, Lazaro famously said he wouldn't hand over the kid. "Not in Opa Locka, not in any locka," Lazaro declared, in Spanish no less, in an epic comment that was as funny as it was serious.

Update:
Now 16, Elian Gonzalez shown at Cuba youth meeting. Cuba has released photos of one-time exile cause celebre Elian Gonzalez wearing an olive-green military school uniform and attending a Young Communist Union congress.

Anniversary of an Outrage. Castro's Stalinist regime just released pictures of 16-year-old Elian Gonzalez, resplendent in the uniform of a Communist Party youth. The timing of the photo-release may coincide with the 11th anniversary of Elian's shanghaiing from the U.S., which hits on the 22nd of this month.

Bill Clinton in Miami compares Elian case to kidnapping. Former President Bill Clinton said Saturday [4/17/2010] he had no regrets over sending Elian Gonzalez back to live with his father in Cuba, and would order a federal raid on Little Havana all over again.

When Eric Holder Earned his Spurs. [Scroll down] Then on Dec 5th, 1999, Castro clapped his hands and his MSM minions snapped to attention. Within weeks Clinton's INS had turned its initial decision on its head. Within months this same INS was kicking down Lazaro's door, pummeling camera men and elderly ladies to the ground with jackboots and wrenching a screaming Elian from his legal custodians in a blaze of pepper gas and machine guns. When asked for the legal authority for this, they brandished either a search warrant to seize evidence that didn't exist (and would not have been hidden anyway) or an arrest warrant to seize someone who no one claimed was a criminal or even a lawbreaker!

Another update:
Elian Gonzalez turns 18 in Cuba at a quiet celebration. Nearly twelve years have passed since he was pulled from a closet by a masked machine gun wielding US agent. Now Elian Gonzalez, the Cuban boy who survived a perilous raft journey that killed his mother and became a symbol of troubled relations between the United States and Cuba, is an adult.

Here's why you don't remember Elian Gonzalez. It was horrifying. I looked down at a little Easter basket the inn hostess had made and I was reminded this was Easter day. The sky was dark where they were broadcasting because in a shrewd move on the part of the U.S. military, the extraction of this child by brute force happened at an hour when most Americans were asleep. You did not see this live. The news coverage you saw of Elian Gonzalez being taken from his home were snippets narrated by calm news personnel in clean suits who were not choking on tear gas.

Taking Down the Second Amendment: The Connection between Fast and Furious and the Trayvon Martin Case. [Scroll down] Before Fast and Furious, the AG was notorious for engineering last-minute pardons for Marc Rich, on the FBI's Ten Most Wanted List for the largest tax fraud in history, and for sixteen members of FALN, the Puerto Rican terrorist group that killed several people in bombings in Chicago and New York. But a more revealing accomplishment was his role as point man in the kidnapping of Elian Gonzalez. After applying for a court order to seize the boy from his legal guardian, Holder went ahead with the operation without one, then baldly denied that Elian was seized at gunpoint. Holder was not fazed by the fact that millions of people throughout the world had seen Alan Diaz's disturbing photo.

Elian II: The Sequel "Elian II," the sequel we hoped never to see, is what fathers' groups are calling a Miami case that once again highlights our confusion about paternal rights in child custody battles. This time, the dispute revolves around a 5-year-old Cuban girl, her biological father in Cuba, her mentally unstable mother in the U.S., a passel of relatives, therapists, guardians ad litem, activist attorneys and, finally, a wealthy, influential Cuban-American foster family.



---
Related topic: Obama fraternizes with dictators in other countries
Back to the Home page