Abortion-related deaths and post-abortion effects



An abortion leaves at least one person dead and one other person wounded, but the proponents of abortion characterize it as risk-free.

Nevada Woman Died of Sepsis After Planned Parenthood Abortion. SBA Pro-Life America today demanded answers after it was revealed that, in September 2022, a Nevada woman died of sepsis less than a week after a mifepristone-and-misoprostol-induced abortion at Planned Parenthood. [...] In-depth polling conducted by CRC Research for SBA Pro-Life America shows 62% Americans are not confident abortion pills are safe when they know that the FDA tracks no side effects other than death.

Study: Many Men Experience Worsened Mental Health, Regret After Partner's Abortion. Many men whose partners have an abortion often experience worsened mental health and express intense feelings of regret, a new study found. The study, which was commissioned by Support After Abortion and conducted by ShapardResearch of Oklahoma City, found that 71 percent of all men whose partner had an abortion suffered adverse mental health impacts afterward, including men who identify as pro-life and pro-choice. Overall, 83 percent of those men say they either sought help or could have benefited from talking to someone about their emotions following the abortion.

Progressive Women are Not Only Dumb, They're Downright Evil. After the SCOTUS declared Roe v Wade unconstitutional, pro-choice advocates went bonkers and protesters wore dolls on their chest, stabbing them shouting, "I'm killing the babies." Hollywood starlets issued statements professing how abortion saved their careers. Other 'woke' women wore t-shirts proudly proclaiming the number of abortions they had. Crisis pregnancy clinics and pro-life organizations were attacked and vandalized by militant abortion advocates. Woke companies offered to pay travel expenses for women to travel to blue states for their abortions. Let's get real about one thing. The word abortion is a euphemism. It means killing a human being in utero. [...] There are many women in the pro-life movement who have had abortions that are still grieving over the loss of their babies and feel guilt for their actions. They are not proud but ashamed and try to save as many lives as they can by offering support of women in crisis pregnancies. What the abortion industry does not promote is the negative impact, both physical and mental on women who are persuaded to kill their babies in utero.

Florida Officials Issue [an] Emergency Order to Temporarily Close [an] Abortion Clinic after Three Women [were] Hospitalized. The state of Florida recently issued an emergency order to suspend operations at a Pensacola abortion clinic after a pro-life watchdog group uncovered three incidents in the last nine months in which patients had to be hospitalized with serious injuries. Florida's Agency for Health Care Administration (AHCA) issued an order on Friday closing American Family Planning until an administrative hearing can be held. The order came after Reprotection, a nonprofit dedicated to catching abortion providers breaking laws and using local authorities to bring them to justice, began investigating the clinic.

5 Supreme Court Cases to Watch in the 2021-22 Term. [#1] Dobbs v. Jackson Women's Health Organization: This is the most important abortion case in the last 30 years. Essentially, the Supreme Court will have an opportunity to reconsider — and potentially overrule — its wayward decisions in Roe v. Wade and Planned Parenthood v. Casey. In 2018, Mississippi enacted the Gestational Age Act, which prohibits abortions after 15 weeks of gestation except in cases of medical emergency or severe fetal abnormality. The state legislature set forth two findings in the law: 1) 75% of all nations do not permit abortions past 12 weeks' gestation, and 2) an unborn human's heart starts beating after five to six weeks' gestation and by nine weeks all "basic physiological functions are present." The legislature also identified several state interests concerning this law. It identified a desire to protect the life of the unborn, the medical profession, and the health of the mother. Most abortions are performed after 15 weeks using the dilation-and-evacuation procedure where the unborn child is crushed and torn apart before pieces of the dead child are removed from the womb. Not only did Mississippi's legislature deem that practice "barbaric" and "demeaning to the medical profession," but they also highlighted the serious medical risks associated with it, such as pelvic infection, blood clots, heavy bleeding, and depression.

Joe Biden Cannot Claim To Fight For Our Nation's Soul While Supporting Unborn Genocide. I have had an abortion — a horrific saline abortion in which I gave birth to a dead baby boy after hours of labor. It was over 45 years ago, yet it's an image that will stay with me forever. Believe it or not, I am grateful I saw that stark truth, exposing abortion for what it really is, instead of living in the darkness and lies. Like those of countless other women, my abortion was coerced, another truth so often denied or ignored by those claiming abortion is a good. The fallacy of "free choice" is easier to sell than the reality of the betrayal of boyfriends, parents, spouses, or other outside pressures. As I listened to Sen. Dianne Feinstein during Amy Coney Barrett's Supreme Court confirmation hearings speak of women she knew in the 1950s who suffered and even died from illegal abortion, I could not help but wonder whether Feinstein has ever spoken to the countless women who suffer now, or the families of those who have died from the "safe, legal abortion" she has worked so hard to ensure. Probably not. She can speak about how "distressing" it was for her not to get a straight answer from Barrett regarding whether the judge would vote to overturn Roe v. Wade, but it appears Feinstein has no idea of the real distress millions of women experience every day due to a past abortion.

23-Year-Old Woman Dies After Botched Abortion of Her 7-Month-Old Unborn Baby. Authorities in Indonesia are investigating a young woman's death from a botched late-term abortion this week. Police said the 23-year-old college student's body was found inside her room Tuesday in Palembang, South Sumatra, Indonesia, according to a local news report. Her body reportedly was found after people in neighboring rooms began to smell a bad odor. An autopsy revealed that the young woman died from blood loss after an attempted abortion, the report states. Investigators said they also found her aborted baby's body after removing a diaper that she was wearing. They estimated the baby was about seven-months gestation, which is post-viability.

New Netflix Show Shines a Light on the Harmful Effects of Abortion on Women. In a hypersexualized world, where reality dating shows revolve around sex appeal and dating drama, Netflix's new show, Love is Blind, has refreshingly changed the focus of relationships to the importance of emotional connection before physical. In doing so, an uncomfortable truth was shown: men are using abortion as a means to escape responsibility, and abortion is hurting women in the process.

These Health Violations At Illinois Abortion Facilities Will Make You Sick. When legislation is brought up to limit abortion to certain gestational periods (such as before 20 weeks) or to limit abortions to only ambulatory surgical centers, abortion advocates oppose these measures, claiming it places undue burdens on women, seeks to control them, and will force them into underground, unsafe facilities. What if the reality is that abortion facilities operating right now, in full legality, are being consistently cited for health code violations for things that can endanger the lives of women? What if the current system of legalized abortion isn't actually keeping women safe? It's not idle conjecture to wonder this. Some recently published research suggests that post-abortive women are seeking emergency room care at high rates: "The incidence of abortion-related emergency department visits within six weeks of initial abortion procedure is about 40%."

Planned Parenthood Abortion Clinic Calls 3rd Ambulance in 22 Days After Hurting Woman in Botched Abortion. It's called the most dangerous abortion clinic in America — with good reason — and once again, the Reproductive Health Services Planned Parenthood abortion clinic in St. Louis, Missouri, has lived up to that name. For the third time in three weeks (22 days) an ambulance has responded to a medical emergency at that Planned Parenthood facility, which is the only abortion clinic in the state.

One Man Copes with the Wrenching Impact of a Girlfriend's Abortion 20 Years Ago. Helping to pay for my girlfriend's abortion 20 years ago at the age of 14 seemed like the right thing to do at the time. It would get rid of a bad situation in our lives; we wouldn't have to deal with the "problem" anymore. After all, we were told — and we believed at the time — that having a baby at our age would "ruin your lives." But the opposite was true. The abortion sent each of us into a downward spiral that was fueled by drugs, depression and denial.

This Is Who the Satanic Abortion Doctor Is. Robert Santella admitted unprofessional conduct after his Satanic confrontation with an anti-abortion protester and surrendered his license. The longtime San Diego physician closed his medical practice in 2017 and did not challenge accusations of gross negligence in patient care, and unprofessional conduct, during an altercation outside a local abortion clinic. There is a 25-page accusation filed July 17 against Dr. Robert Santella. The Medical Board claimed Santella over-prescribed narcotics to six patients and botched an abortion on another patient.

Study: One Abortion Increases a Woman's Death Risk 45%. A single induced abortion increases the risk of maternal death by 45 percent compared to women with no history of abortion, according to a new study of all women of reproductive age in Denmark over a 25 year period. In addition, each additional abortion is associated with an even higher death rate. Women who had two abortions were 114 percent more likely to die during the period examined, and women had three or more abortions had a 192 percent increased risk of death. Elevated rates of death were also observed among women who experienced miscarriages, ectopic pregnancies or other natural losses.

Mother of 1-Year-Old Boy Dies Six Days After Having Legal Abortion, Had "Severe" Stomach Pain. Operation Rescue has released the name of the woman who was found dead just days after an abortion on July 4, 2016. The woman's identity was discovered by long-time Michigan pro-life activist Lynn Mills. Cree Erwin, 24, was the mother of a one-year old boy. Sadly, Ms. Erwin passed away in the early morning hours of her son's first birthday. She was found dead in her mother's bed in Battle Creek, Michigan, where she grew up.

STUDY: More than 5,500 women land in ER annually after abortion. A new study reveals that 27,941 women visited the ER for abortion-related complications between 2009 and 2013, but the researchers nonetheless concluded that the evidence does not suggest abortion is "unsafe." The study only used data from about 1/5 of all registered hospitals in the U.S., so the true number of abortion-related emergency room visits could be much higher than 5,550 per year.

Bollywood Star Commits Suicide After Massive Guilt Following Abortion. Jiah Khan is a British Indian actress who appeared in Bollywood films and received numerous awards for some of the top-grossing films of the genre. None of the success, however, could overcome her guilt after her abortion and, on June 2, she was found dead in her apartment in her residence in the Sagar Sangeet building in Juhu, Mumbai after hanging herself.

Teenager With Down Syndrome Died After Botched Third-Trimester Abortion. Operation Rescue has released a video today featuring a 911 audio recording placed January 13, 2005, on the day Christin Gilbert, 19, died from a botched third-trimester abortion at a now-shuttered late-term abortion facility in Wichita, Kansas. "Even though this 911 recording is over 13 years old, it is significant today because the abortionist responsible for Christin Gilbert's fatal abortion was LeRoy Carhart," said Operation Rescue President Troy Newman. "Given his most recent botched abortion, in which an abortion patient hemorrhaged so severely that she lost half her blood supply and could have easily died, it is important to revisit the Gilbert case and realize just how little consideration this abortionist has for the lives of his patients."

Doctor in badly botched abortion is tried for manslaughter. A doctor who performed a badly botched abortion that caused a patient to bleed to death was characterized by prosecutors on Tuesday [5/1/2018] as careless, greedy and someone who operated far outside the medical norm.

Woman Died in the Back of a Taxi After "Extensive Internal Bleeding" From Botched Legal Abortion. A woman who died following a late-stage abortion procedure was discharged from the clinic despite vomiting and swaying so much she looked "drunk", an inquest has heard. Aisha Chithira, who had travelled from Ireland at 22 weeks pregnant for an abortion at the Marie Stopes Clinic in Ealing, died after "extensive internal bleeding" and cardiac arrest in a taxi on 21 January 2012. Dr Adedayo Adedeji, who carried out the abortion, and two nurses, were acquitted of manslaughter in May 2016, after the prosecution refused to offer evidence in court. Now, only a week after Ealing Council imposed a Public Space Protection Order banning pro-lifers from holding vigils and offering help outside the clinic, the inquest into Mrs Chithira's death at that same clinic is being held.

Autopsy Proves Planned Parenthood Killed Young Woman in Botched Abortion. The death of a young mother, Cree Erwin-Sheppard, just three days after receiving a surgical abortion at a Planned Parenthood facility in Kalamazoo, Michigan, has turned into a mystery worthy of the fictional Sherlock Holmes. Questions of why she died and who was responsible remain covered up under heavy redactions in her recently released autopsy report. After a delay of over eight months, the Calhoun County Medical Examiner's autopsy report is filled with strategic redactions that obscure the most pertinent parts of the report, including most of the cause of death determination.

Abortion Clinic Staffer Experiences Nightmares of Aborted Babies Asking "Why Did You Do This to Me? Over at "Loving Them Both," pro-life blogger Sarah Terzo quotes from what is one of the most illuminating and thoughtful stories ever written about people who work in the abortion industry. It is from a woman who worked at a Dallas abortion clinic years and years ago, explaining how she coped with the demands of doing her job.

"Abortion Was Supposed to Kill You Mom:" Why We Should Help Kids Understand Abortion. Although I am grateful to be raising Olivia with the fullness of truth about the sanctity of life and the culture of death, these are the moments that shatter my heart. I have never spoken to her about just how abortion has affected us personally, but I didn't need to. She has come to that conclusion on her own, after years of traveling with me and being actively involved in pro-life events. I've been thinking a lot lately about how not a day goes by that I don't reflect upon my biological mother's abortion and its' effects on my family and the world. Olivia's statement, and the ones like it that she makes on a near-daily basis, drive home the point to me that I'm not the only one in my house that is affected by the reality of abortion daily. I know that our life circumstances as a "survivor family" are unique, but I know that we are not alone in our reflections. All of us are affected by abortion. As pro-life individuals and families, we all reflect upon the reality of abortion daily.

Regretting My Abortion: "I Went to Sleep With a Baby and Woke Up Without One". No two pro-lifers will read personal accounts written by women who've had abortions and come away with exactly the same conclusions. Of course, we would all lament the loss of these children and fervently wish the moms had chosen life over death. A terrible — and irrevocable — decision has been made with ramifications most women (and the men who were involved) could never have anticipated. Beyond that, however, we will evaluate what the writer is "telling" us and often come away with reading the "signals" in vastly different ways.

Clinic That Killed Woman in Botched Abortion Left Her on the Table With Her Legs in the Stirrups. Operation Rescue has received credible new evidence, apparently leaked from an inside source, that criminal conduct may have been involved in the abortion-related death of Lakisha Wilson at Preterm, a Cleveland, Ohio, abortion facility last year. Operation Rescue has joined once again with other state and national pro-life leaders in calling for a criminal investigation and closure of the abortion facility. "The credibility of the evidence is beyond reproach," said Cheryl Sullenger, Senior Policy Advisor for Operation Rescue. "It was unsolicited evidence provided to me by an unknown source who obviously wants the truth to come out. Once this information came to our attention, it was our duty to report it to the County Prosecutor."

That Teenage Illegal Immigrant That Got An Abortion? Now She's Seeking Mental Health Treatment. Remember in late October when a teenage illegal immigrant girl in Texas who was pregnant with a 16-week-old baby decided she wanted an abortion, and the D.C. Circuit Court of Appeals ruled against the Trump Administration, which was trying to save the baby? The girl said through the ACLU, "People I don't even know are trying to make me change my mind. I made my decision and that is between me and God." Guess what? According to the government, after killing her baby, the girl is seeking mental health treatment.

Abortionist Busted for Illegal Abortions Commits Suicide in His Jail Cell. A man accused of committing illegal underground abortions without a license was found dead at the Clark County Detention Center where he was being held without bond pending trial. Rick Van Thiel, 54, was found hanged in an apparent suicide on July 21, 2017. Van Thiel was arrested and jailed in September, 2015, for conducting abortions and other quack medical treatments out of a grimy trailer in his junk-cluttered back yard. A local news reporter dubbed it the "Trailer of Terror."

Woman Dies After Receiving Late Term Abortion In New Mexico. A 23 year-old woman has died from a late term abortion in the nation's largest abortion facility named Southwestern Women's Options in New Mexico. There are always risks with an abortion, whether it is late term or not. But the further along you are, the higher the odds that something catastrophic will happen and they won't be able to stop the bleeding. This facility promotes abortions through all nine months of pregnancy.

Woman Aborts Her Baby at Planned Parenthood Then Commits Suicide Later That Day. In a story that emphasizes the human tragedy of abortion, Mark Gietzen of the Kansas Coalition for Life, has shared a tragic report of a young woman who received an abortion at the Planned Parenthood abortion facility in Overland Park, Kansas, then committed suicide later that day. When Planned Parenthood or any other abortionist attempts to say they "save" lives, this is one instance that proves they are dead wrong. We hope it serves as an exhortation to those who offer help to abortion-bound and abortion vulnerable pregnant women to remain steadfast. When a pro-lifer persuades a mother not to abort her baby, it may be that there is more than one life being saved.

Planned Parenthood Killed His Sister in a Botched Abortion, Now He's Demanding Justice. The grieving brother of a young woman who died last year after a botched abortion at Planned Parenthood is fighting to protect other moms and unborn babies. The Church Militant reports Tyler Sheppard, who now is pro-life, stood with other pro-lifers in Michigan earlier this month to demand justice for his sister, Cree Erwin, and her unborn child. Erwin was found dead in her mother's home on July 4, 2016, three days after having an abortion at a Kalamazoo Planned Parenthood.

New pro-abortion study completely lies to women about the mental health costs of their 'choice'. Liberals are reveling over a recently published study that declares women who undergo abortions do not experience negative mental health effects. Despite the fact that the findings are dubious, defying decades of arguments presented by pro-life advocates who have argued the exact opposite, the implications for public policy that institutionalizes evil are too grave to be ignored. As the pro-abortion voice grows louder in this country, the pro-life movement must be prepared to pivot and adapt to combat progressive lies with irrefutable truth. The research and its bold conclusions from the JAMA Network study have been presented by progressive media outlets as a victory for "science-denying" abortion advocacy groups.

France Bans Ad Featuring Kids with Down Syndrome Because it Might Make Women Who Aborted Their Disabled Kids Uncomfortable. March 21 is World Down Syndrome Day. According to the official WDSD website, the annual event "is a global awareness day which has been officially observed by the United Nations since 2012." The stated goal of the day is to "help raise awareness of what Down syndrome is, what it means to have Down syndrome, and how people with Down syndrome play a vital role in our lives and communities." To commemorate World Down Syndrome Day, the organization made a two-minute commercial titled: "Dear Future Mom." The commercial features a letter from a scared mother, whose child has been prenatally diagnosed with Down syndrome. "I'm scared: what kind of life will my child have?" the mother asks. Then, young people with Down syndrome from all over the world answer her.

Woman Dies After Botched Legal Abortion, Frantic 911 Call: She's "Not Breathing At All". Operation Rescue has obtained a 911 recording and Computer Aided Dispatch transcript that indicates a patient of Preterm, a Cleveland, Ohio, abortion clinic, has died. Records, which were obtained through a public records request, show that at 10:59 a.m. on Friday, March 21, 2014, an employee of Preterm dialed 911 and reported to a dispatcher there was a 22-year-old female patient at the clinic who was not breathing at all.

Teen Rushed to Hospital After Late-Term Abortion Clinic Loses Power, Has No Backup Generator. As smoke billowed from an accidental gas explosion a few blocks away, an ambulance arrived at a late-term abortion facility in Portland, Oregon, to transport a patient to a hospital emergency room. The incident took place on October 19, 2016. The misnamed Lovejoy Surgicenter conducts abortions "through 23 weeks or occasionally longer on a case-by-case basis," according to its website. This makes the Lovejoy Surgicenter one of 40 abortion facilities in America that openly do abortions at 24 weeks or later. Late-term abortions pose significantly higher risks to women than the first trimester variety. The gas explosion took out power to the Lovejoy Surgicenter abortion facility and surrounding area. During the outage, pro-life activists snapped photos as emergency responders loaded a young patient, who appeared to be 15 or 16 years old, into the ambulance. Whether or not she was a late-term abortion patient is unknown at this time.

Abortion Regrets. Looking back with regret, the women in the video talk about their abortions. [Video clip]

Congressional Panel To Investigate Late-Term Abortionist Who Sent A Dozen Women To The ER. A U.S. House panel will investigate late-term abortionist LeRoy Carhart, who has sent at least a dozen women to the hospital after botching abortion procedures. Carhart's clinic in Germantown, Maryland, is one of a few clinics in the nation that perform late-term abortions. Since December, at least five women have suffered a medical emergency at Carhart's hands. "Reports regarding the Germantown clinic are deeply troubling, both for the sake of babies whose lives are ended so close to — and possibly even after — birth and for the sake of the women who have been rushed from that clinic to the hospital with increasing frequency," Committee Chairwoman Marsha Blackburn, R-Tenn., said in a statement Wednesday [5/11/2016], the Washington Examiner reported.

House panel issues subpoenas in probe of late-term abortionist. The House Committee on Energy and Commerce will use its Select Investigative Panel to investigate late-term abortionist LeRoy Carhart. Public reports show at least almost half-a-dozen women have been hospitalized since December while seeking an abortion at his Germantown, Md., abortion clinic. The clinic is one of the few in the country that performs abortions during the third trimester.

Her Mom Was Killed During A Botched Abortion. Now She's Scored A Big Win Over The People Responsible. Less than one week before filming begins for a much-anticipated expose on convicted murderer and abortionist Kermit Gosnell, a Philadelphia judge has awarded $4 million to the daughter of a woman who died at Gosnell's clinic due to a botched abortion. The funds include $550,000 under the Wrongful Death Act, $100,000 under the Survival Act and $3.25 million in punitive damages.

The Abortion Industry: Corrupt to the Core. [Scroll down] To understand the real world impact of all this, all one has to do is watch the heartbreaking interview with Deborah Cardamone on the Life Dynamics website, SafeAndLegal.com. Ms. Cardamone describes what happened when her beautiful 18-year-old daughter, Marla, was deceived into having an abortion she didn't want. In the end, not only was Deborah's grandchild dead, so was Marla.

Fetal Pain is Grounded in Science. On Thursday [1/22/2015], hundreds of thousands of people will march peacefully up Constitution Avenue to remind their fellow citizens of a silent tragedy that pierces the heart of a nation. From all over the country, they will gather because in the 42 years since the Supreme Court's ruling in Roe v. Wade, we have lost 57 million unborn babies. Countless mothers, fathers, siblings, grandparents, friends and abortion workers have been wounded by the shockwaves of abortion. This is the terrible legacy of legalized abortion in the United States.

Suspended N.J. abortion doctor asks judge to consider 'good faith' behind his actions. The board in 2010 found [Steven] Brigham's "continued practice presents a clear and imminent danger" to the public after an 18-year-old woman who was 21½ weeks pregnant suffered a lacerated uterus and bowel and needed emergency surgery. She had been injected with an abortion-triggering medication, digoxin, in his Voorhees office, and drove to his clinic in Elkton, Md., about an hour away, where she was injured while the fetus was being removed.

New Study Confirms Evidence of Abortion/Breast Cancer Link. Growing evidence confirms that abortions take more than an emotional toll on those who obtain them. A new study, completed in January and released at the end of April, finds that women who have had abortions are 180 percent more likely to develop breast cancer, confirming evidence found in a number of similar studies around the world. The study, led by Dr. Unmesh Takalkar, a consultant surgeon and chief medical director at United CIIGMA Hospital in India and an endoscopic surgeon and fellow at Johns Hopkins, focused on 220 women in Aurangabad, India, and found that the odds of developing breast cancer increased with the number of abortions a woman had had.

Australian TV Star Commits Suicide After Depression Triggered by Her Abortion; U.S. Media Accounts Omit Abortion. Abortion proponents push for easy access to abortion, deemphasizing its after-affects to the point they absolutely refuse to acknowledge post-abortion depression, which further incapacitates those actually living through it.

"Pro-Choice" Woman Angry about not being sufficiently warned About Chemical Abortion Dangers and Side Effects. They say that chemical abortions are safe, rather simple, sort of like a "heavy period," that women get all the medical attention they need, that they are glad to be able to abort in the privacy of their own homes. Try telling that to "Kay," a married, "pro-choice" doctoral student in her late twenties who went through a horrific chemical abortion earlier this year courtesy of her area Planned Parenthood.

Fox News Exposes Abortion Clinic Injuring Woman in Botched Abortion. As LifeNews reported, an ambulance arrived at Germantown Reproductive Health Services, a late-term abortion clinic in Germantown, Maryland, to transport yet another woman victimized by a botched abortion to a local hospital.

Sins Of The Fourth Estate (Part II). Besides the death of a baby, nearly 67% of all abortions result in some type of physical complication; many have resulted in total hysterectomies; women have suffered cervical incompetence or had post-operative hemorrhage.

Baby's Head Found Inside Patient of Michigan Abortionist. A Michigan abortionist whose clinic was shut down in 2012 faces allegations from a doctor who found a severed infant's head inside the body of one of his patients. In an email read by Michigan state Sen. Tonya Schuitmaker (R-Lawton), a Muskegon OB/GYN has urged the state to revoke the medical license of abortionist Dr. Robert Alexander.

Late-term abortion nightmare in Germantown, Maryland. Attention must be paid to this terrible story out of Maryland, where Leroy Carhart, notorious late-term abortionist and hero of the Left, continues to provide "healthcare" to women by ending the lives of their fully-formed, third-trimester babies. In this case, the young mother was also killed.

A New Understanding of the Trauma of Abortion. The pro-life movement has long endeavored to understand the complex emotional struggle behind a woman's decision to continue or abort an unplanned pregnancy. To explore the dynamics of this dilemma and to aid pro-life groups in assisting women in crisis, the Vitae Foundation in Jefferson City, Missouri pioneered a series of landmark studies on women and abortion.

Woman Dies in Partial-Birth Abortion Performed by Doctor Linked to Sebelius. According to reports, on Feb. 7th, 29-year old Jennifer Morbelli died due to complications from a late-term abortion performed by Dr. LeRoy Carhart, an abortion doctor celebrated by the left and embraced by Secretary Kathleen Sebelius.

Major News Media Ignore Woman's Reported Botched Abortion Death. A 29-year-old woman died Thursday [2/7/2013] after undergoing a late-term abortion at the Maryland clinic operated by the notorious Dr. LeRoy Carhart. However, despite Carhart's international reputation, no major news organization is covering the reported death. The victim, who was eight months pregnant, traveled from out of state to the Germantown Reproductive Health Center that Carhart operates in suburban Montgomery County, about 20 miles from Washington, D.C.

Yet Another Ambulance at Yet Another Abortion Clinic. Sadly, we bring you another in the long string of ambulances at abortion clinics this year. This incident took place at Planned Parenthood in Aurora, Illinois.

Women's Tragic Deaths Refute Planned Parenthood's Claims of Consistent, Quality Patient Care. Substandard patient care is a long-standing and all-too-common problem in the abortion industry. Planned Parenthood, the nation's largest abortion provider, likes to pretend that it is "above the fray," repeatedly assuring Americans that it provides consistent, quality patient care. As with many of the abortion giant's public assurances, this promise has proven empty for Tonya Reaves, Diana Lopez, Holly Patterson, and an unknown number of other American women.

Abortionists ordered to warn of serious suicide risk. A federal appeals court affirmed the last provision of a long-disputed informed consent law today, ruling that the state of South Dakota can require abortionists to inform women seeking to terminate the lives of their unborn baby that they face an increased risk of suicide. Attorney Harold J. Cassidy called the decision of the full 8th Circuit Court of Appeals "a fabulous victory for the women of the state of South Dakota."

A Pro-life Victory in South Dakota. Pro-lifers received good news this Tuesday [7/24/2012] when the Eighth Circuit Court of Appeals upheld a provision of South Dakota's informed-consent law requiring that women be told that there is an increased risk of suicide following abortion. Many mainstream-media outlets are criticizing this decision arguing that there is little evidence linking abortion to a higher risk of suicide. However, an amicus brief submitted by Americans United for Life cited five peer-reviewed studies which show that abortion leads to an increased risk of suicide. In fact, the case might be stronger than the court realized. A 2012 study in the journal Economic Inquiry showed statistically significant declines in female teen suicide rates after pro-life parental involvement laws took effect.

Woman dies after abortion at Planned Parenthood clinic. A woman died of injuries she received during an abortion at a [Chicago] Planned Parenthood clinic Friday [7/20/2012]. [...] An autopsy done Saturday listed the woman's cause of death to be hemorrhage, with a cervical dilation and evacuation, as well as an intrauterine pregnancy as contributing causes, according to the medical examiner's office. Her death was ruled an accident.

Chicago Woman's Family Lawyers Up After Abortion-Related Death. Tonya Reaves, 24, died after hemorrhaging during cervical dilation and evacuation — a kind of second-trimester abortion -- and an intrauterine pregnancy late Friday night, Cook County medical examiners said. Reaves was transported via ambulance from a Chicago Planned Parenthood clinic to Northwestern Memorial Hospital at about 11:00 a.m. Friday, medical examiners said. She was pronounced dead about 12 hours later, at 11:20 p.m.

Another Senseless, Preventable Death Lies At The Door of Planned Parenthood. President Obama obviously supports a pro-abortion position, which most of us who have been paying attention were well of prior to this time. The abortion industry is a very lucrative business. [...] States that have attempted to implement legislation either defunding Planned Parenthood or requiring the organization to adhere to standard practices within the health care industry have been met with retaliation from the Obama administration via threats of having all access to Medicaid funding denied to the state.

Woman Dies After Second-Trimester Abortion at Planned Parenthood. A young woman has died after having a second-trimester abortion at a Chicago-area Planned Parenthood clinic. Tonya Reaves, 24, died late Friday night [7/20/2012], according to a local CBS television station, of hemorrhage, with a cervical dilation and evacuation, according to the medical examiner's office following an autopsy after the abortion that claimed her life.

Autopsy Proves Woman was Killed in Botched Abortion. A leading pro-life group has obtained a copy of Tonya Reaves' autopsy report that it says shows beyond a doubt that the 24-year old woman died from three major complications during a botched second-trimester abortion suffered at a Chicago area Planned Parenthood abortion clinic on July 20, 2012. Operation Rescue, which obtained the full autopsy results late yesterday [9/10/2012], says it indicates that Reaves' injuries were survivable if she had received proper emergency care in a timely manner.

'The single biggest mistake of my entire life': a letter from a post-abortive woman. Her message is a powerful one that deserves to be heard by and shared with all young women and parents in a similar situation.

Major Study Links Suicide and Other Mental Health Problems to Abortion. An important meta-analysis published today in the prestigious British Journal of Psychiatry demonstrates that nearly 10% of mental health problems in women are directly attributable to abortion. "Abortion and mental health: quantitative synthesis and analysis of research published 1995-2009," by Priscilla Coleman of Bowling Green University, shows that women with an abortion history have an 81% increased risk of mental health problems and 155% increased risk of suicide. This meta-analysis combines 22 studies of 877,181 women, 163,831 of whom have had abortions.

Not Only Do the Babies Die. The truth is that no one really knows how many people die each year through abortions. We have no real statistics. Death certificates are being forged to indicate other reasons for the deaths. Some certificates say, "pregnancy complications" rather than "abortion complications."

Abortion Leads to Not-So-Sweet Emotions. Abortion doesn't quite work like a delete button. Sex involves consequences, even when you're a rock star on the rise.

The Philadelphia Horror: How Mass Murder Gets a Pass. In the City of Brotherly Love, hundreds of babies were murdered by a scissors-wielding monster over four decades. Whistleblowers informed public officials at all levels of the wanton killings of innocent life. But a parade of government health bureaucrats and advocates protecting the abortion racket looked the other way — until, that is, a Philadelphia grand jury finally exposed the infanticide factory run by abortionist Kermit B. Gosnell, M.D., and a crew of unlicensed, untrained butchers masquerading as noble providers of women's "choice." Prosecutors charged Gosnell and his death squad with multiple counts of murder, infanticide, conspiracy, abuse of corpse, theft and other offenses.

Post-Abortion Trauma: Anger, especially in men, is often an undiagnosed sign of depression and repressed grief that needs a healthy expression and healing. Many post-abortive fathers tell us that anger management was a major problem for them after their abortions.

Decades of horror. The sickening grand-jury report charging a West Philadelphia doctor who performed abortions with murder is also an indictment of state and city health regulators. Despite repeated warnings about dangerous practices at the Women's Medical Society, the state and city did nothing to stop Dr. Kermit Gosnell. They allowed him to endanger the public for 30 years.

Philadelphia abortion doctor charged with murder in 8 deaths. An abortion doctor has been arrested and charged with the murders of a patient and seven live infants whose spines were severed with scissors at a Philadelphia clinic that has been described as a house of horrors, officials said Wednesday [1/19/2011].

The fetal solution. America has death camps. This is the heinous reality liberal elites have been trying to conceal. A Philadelphia abortion doctor, Kermit Gosnell, was arrested Wednesday [1/19/2011] along with his wife and eight other suspects. The 69-year-old abortionist is charged with causing the death of a woman during a botched abortion and also killing seven babies. Prosecutors say the infants were born alive following illegal late-term abortions and then were murdered by having their spinal cords ripped apart with scissors. Dr. Gosnell's abortion clinic is a house of horrors — akin to those in Nazi Germany or Soviet Russia.

DA: West Philadelphia abortion doc killed woman, 7 infants. An abortion doctor has been arrested and charged with the murder of a patient and seven live infants whose spines were severed with scissors at a West Philadelphia clinic that has been described as a house of horrors, officials said today [1/19/2011]. District Attorney Seth Williams said the doctor, Kermit P. Gosnell, was charged following a grand jury investigation.

NJ abortion doctor's license is suspended. A doctor who ferried patients to Maryland for late-term abortions that he wasn't authorized to perform in New Jersey had his license suspended Wednesday [10/13/2010] by regulators who called his actions manipulative and deceptive.

Abortionist Pleads Guilty, Heads to Jail. On the third anniversary of their daughter's death, Tom and Eileen Smith were prepared for the trial of the abortionist who took her life. Instead of a lengthy trial, the Smith family was blessed with the guilty plea of Dr. Rapin Osathanondh.

Abortion doctor ordered to stop practicing after patient is critically injured. Maryland health officials have ordered two doctors, one of whom is licensed and has several offices in New Jersey, to stop performing abortions after a woman was critically injured during a procedure last month.

Massachusetts Doctor to be Sentenced in Botched Abortion. A Massachusetts doctor faces sentencing after pleading guilty to manslaughter in the case of a woman who died after he performed an abortion on her.

Abortionist Gets 6 Months in Patient Death. A Massachusetts doctor was sentenced Tuesday to six months in jail after pleading guilty to involuntary manslaughter in the case of a woman who died after he performed an abortion on her.

Legal, Yes. But Safe and Rare? Abortion lobbyists in Virginia are throwing a fit over Attorney General Ken Cuccinelli's legal opinion that abortion facilities can legally be held to the same health and safety standards as other outpatient facilities. Tarina Keene, executive director of NARAL Pro-Choice Virginia, issued a statement saying, "Abortion providers in Virginia are currently regulated in the same way as other medical facilities that provide outpatient services." This is misleading.

Suspended Pa. abortion doctor had 2 patients die. State authorities cited a recent patient death in suspending the license of a doctor who performed abortions, but one of dozens of civil lawsuits filed against him said a woman died from a botched abortion in 2000.

Do Liberal Editors Read Their Papers? [Scroll down] In [a] recent Philadelphia Inquirer comes a horrific story of a dirty, dangerous, and deadly abortion center. The abortionist Kermit Baron Gosnell has been killing unborn children for almost forty years. The long trail of women killed and disastrous abortion practices he approved makes for depressing — but necessary — reading. ... Why was this foul Philadelphia facility allowed to operate at all for so many years with an abortionist in charge whose record was so horrible? Before his abortion center was shut down, Gosnell had been pushing devices and practices for years that led to "punctured uterus, hemorrhage, infections, and retained fetal remains."

Doctor from Hell ... or Godsend? On Feb. 22, state authorities temporarily suspended [Kermit B.] Gosnell's medical license, labeling his clinic "deplorable" and a danger to the public. Investigators said that unlicensed employees were medicating and examining patients. Horror stories emerged, in the form of state documents and old lawsuits. The clinic was linked to the death of one patient, then another.

Sarasota doctor loses medical license for aborting wrong fetus. After an exceedingly rare and shocking medical error, state officials have taken away the medical license of a Sarasota ob-gyn who aborted the wrong fetus in a woman carrying twins, mistaking a seemingly healthy girl for a boy with congenital defects.

Abortion Practitioner Loses Medical License for Killing Wrong Twin in Failed Abortion. A Florida-based abortion practitioner lost his medical license this weekend after the state medical board evaluated his license. Matthew Kachinas was supposed to do an abortion on one of the twin babies who had Down syndrome but wound up killing the other baby in the failed abortion. Kachinas injected a chemical to kill the baby in the abortion, but the injection ultimately killed the healthy unborn child.

Non-doctor accused of providing abortions in California. The owner of a clinic has been charged with posing as a doctor to perform abortions, some of them unsuccessful or resulting in severe complications and hospitalization, prosecutors said Friday [6/20/2008]. Bertha Pinedo Bugarin, 48, was arrested Thursday [6/21/2008] after a yearlong investigation, San Diego County district attorney spokesman Paul Levikow said.

Abortion-Related Deaths: In 1977 an Ohio doctor noted that while the official statistics showed no abortion-related deaths in Ohio that year, he personally knew of two. If one doctor knew of two cases, how many were there really? Abortion was legalized in California in 1967. According to an article in the Los Angeles Times in 1972, official records showed just four abortion-related deaths from 1967 to 1972. Yet a reporter for that paper uncovered three deaths in Los Angeles in just one month in 1972.

Safe and Legal? Holly Patterson died from safe and legal abortion. Susanne Logan was paralyzed by safe and legal abortion. Sandra M. died from safe and legal abortion. Carolina G. died from safe and legal abortion.

Christian teenager died after aborting Muslim boyfriend's child. A teenage Christian died a fortnight after having an abortion to avoid conflict with her Muslim boyfriend's family, an inquest has heard. Manon Jones, 18, suffered bleeding and went into shock after part of the embryo remained inside her.

More information about Islam vs women.

Botched abortion kills both mother and baby. I have written only a handful of columns that required fighting back the tears. This is one of them. I got a call last Thursday from a colleague-in-arms asking me for help. He wanted me to write the story I am about to tell because it has been buried by a conspiratorial level of silence rooted in political and media bias.

The Health Risks of Abortion: It is unconscionable for any of us to remain silent in the face of scientific evidence that undeniably points to the health risks of this procedure for women.

The mourning after: Instead of focusing on a baby's right to life, supporters of South Dakota's ban zeroed in on the negative impact of abortion on women, on the consequences of a woman's natural aversion to killing her own child. Leslie Unruh, who directed the Vote Yes for Life campaign, crisscrossed the state with a group of post-abortive women who shared their experiences of grief, depression, and substance abuse.

Royal college warns abortions can lead to mental illness. Women may be at risk of mental health breakdowns if they have abortions, a medical royal college has warned. The Royal College of Psychiatrists says women should not be allowed to have an abortion until they are counselled on the possible risk to their mental health. This overturns the consensus that has stood for decades that the risk to mental health of continuing with an unwanted pregnancy outweighs the risks of living with the possible regrets of having an abortion.

March of Dimes ignores data on abortion. At one time, the March of Dimes web site included a statement that women with a history of three or more miscarriages or abortion may be at higher risk of premature delivery. According to the Elliot Institute, the risk of premature birth increases after only one induced abortion. The March of Dimes has removed this information, yet claims that the 27 percent rise in premature births over the last few decades "is a mystery."

Abortion and mental health. A new study from New Zealand, published in the Journal of Child Psychology and Psychiatry, raises important questions about the effect of abortion on women's mental health. Researchers found those reporting an abortion prior to age 21 had rates of mental disorders from age 21 to 25 more than 1½ times higher than the rates for women who did not become pregnant and those who became pregnant but did not abort.

Congress Must Act on Post-Abortion Depression. In a brand new longitudinal study of New Zealand youth appearing in this month's "Journal of Child Psychiatry and Psychology," researchers found that having an abortion as a young woman increased the risk of a variety of mental health problems, including depression and suicidal tendencies, by 35 percent compared to those young women who continued with their pregnancies.

Post-Abortion Syndrome Manifestations: In a study of post-abortion patients only 8 weeks after their abortion, researchers found that 44% complained of nervous disorders, 36% had experienced sleep disturbances, 31% had regrets about their decision, and 11% had been prescribed psychotropic medicine by their family doctor.

What pro-abortion activists won't say at their Washington DC rally: There will be no mention of the women who are currently being killed in their "safe and legal" abortion clinics. [And among other things,] there will be no mention of the suspected link between abortion and breast cancer.

Study Reveals Abortion Harms Women's Mental Health … Media Yawn. Unless you subscribe to the American Journal of Orthopsychiatry, which published the report last month, or are a fervent researcher of the Internet, you probably haven't heard of this important study. That's because our mainstream news media recurrently decline to broadcast studies that cast a skeptical shadow on abortion.

A Woman's "Choice" That Affects Men: Post-Abortion Trauma. This Father's Day will be a celebration for dads all over the country, an opportunity for children to thank and honor their fathers. Yet for many men, the memory of involvement in a past abortion, of "cards they will not receive," will be painful and palpable. In a debate where the primary focus is a woman's body and a woman's right to choose whether or not to carry a child to his or her delivery, the "other partner," the father of the baby, is rarely given consideration, and is often completely disregarded altogether. The question of abortion is myopically women-centric.

It's called the ABC Link.
Abortion-Rights Activists Ignore Its Consequences. The Executive Director of the Association of Physicians and Surgeons, Jane Orient, released this statement in 2003: "The Association of American Physicians and Surgeons believes that patients have the right to give or withhold fully informed consent before undergoing medical treatment. This includes notification of potential adverse effects. While there is a difference of medical opinion concerning the abortion breast cancer link, there is a considerable volume of evidence supporting this link, which is, moreover, highly plausible. We believe that a reasonable person would want to be informed of the existence of this evidence before making her decision."



Twelve Out of Twelve Recent Studies Show Abortion Linked to Breast Cancer. My Canadian friend could not contain himself. [...] He had found twelve recent studies in the medical literature, all carried out on the Indian subcontinent, that looked into whether there was a link between prior abortions and breast cancer. And all twelve found that women who had had prior abortions were at an increased risk of developing breast cancer. Let me repeat that: each and every one of these studies done on the Indian subcontinent suggested a link between abortion and breast cancer.

IUD may carry higher risk for breast cancer in certain women. Modern contraceptives have radically changed women's lives, but they are not risk free. A new study out of the journal of Obstetrics and Gynecology finds the levonorgestrel-releasing intrauterine system (LNG-IUS) or progesterone-releasing IUD, may be associated with a higher than expected incidence of breast cancer.


The gruesome details are rarely made public



Most people don't want to hear about abortion. They don't want to debate the subject or even think about it as anything more than an abstraction. Many people are all for it, until they find out about the ugly details and see what it really means.

Related topic: Anti-abortion movie reviews




Chip Roy Confronts Abortion Activist with Graphic Recording of Her Casually Discussing Late-Term Abortion. Representative Chip Roy (R., Texas) confronted an abortion activist during a Tuesday hearing with a graphic, undercover recording that purportedly shows her discussing late-term abortions in a cavalier manner. Addressing pro-abortion activist Talcott Camp during a House Appropriations Committee hearing on the FACE Act, Roy read back a transcript of a conversation Camp allegedly had while working as a deputy director of the ACLU's Reproductive Health Freedom Project in 2015. In the recording, captured by the Center for Medical Progress, Camp can allegedly be heard casually discussing the gruesome details of a late-term abortion procedure in which an unborn child's skull is crushed and removed from its mother's womb.

Aborted human remains discovered in DC prove that "doctors" are murdering live babies after failed procedures. The remains of five aborted children were recovered from the Washington Surgi-Clinic in Washington, D.C., where baby butcher Dr. Cesare Santangelo appears to be murdering children after they leave the womb following failed abortion attempts. Dr. Robin Pierucci, a neonatal specialist, told Live Action News that after inspecting the remains, he is confident that at least four of the babies "died at an age when they were viable, premature people." Dr. Pierucci's work, in fact, involves caring for babies of "this size and age" at neonatal intensive care units (NICUs), which is how she was able to make that determination upon investigation. Santangelo, just as a little background, is a late-term abortionist who runs a baby murdering mill in the heart of America's capital. He has admitted in the past that he does not, under any circumstances, provide lifesaving care to the babies of women who enter his clinic. Upon discovery of the babies, a pro-life activist immediately informed the D.C. homicide unit and surrendered the remains.

New Records Show Obama Admin Purchased Aborted Babies' Heads for $515 Each. Judicial Watch announced today that it received 198 pages of records and communications from the U.S. Food and Drug Administration (FDA) involving "humanized mice" research with human fetal heads, organs and tissue, including communications and contracts with human fetal tissue provider Advanced Bioscience Resources (ABR). Most of the records are communications and related attachments between Perrin Larton, a procurement manager for ABR, and research veterinary medical officer Dr. Kristina Howard of the FDA. Judicial Watch received the records through a March 2019 Freedom of Information Act (FOIA) lawsuit against the U.S. Department of Health and Human Services, of which the FDA is a part (Judicial Watch v. U.S. Department Health and Human Services (No. 1:19-cv-00876)). The lawsuit asks for all contracts and related documentation on disbursement of funds, procedural documents and communications between FDA and ABR for the provision of human fetal tissue to be used in humanized mice research. After successfully opposing the FDA's redaction of certain information from its records, a federal court ordered HHS to release additional information about its purchases of organs harvested from aborted human fetuses — including "line item prices," or the price per organ the government paid to ABR. The court also found "there is reason to question" whether the transactions violate federal law barring the sale of fetal organs. Documents previously uncovered in this lawsuit show that the federal government demanded the purchased fetal organs be "fresh and never frozen.")

Uncovered HHS Docs Reveal Federal Funding To Harvest Human Fetal Organs. Judicial Watch has just revealed that the US Department of Health and Human Services (HHS), specifically the National Institutes of Health (NIH), spent almost $3 million in federal funds on a University of Pittsburgh project to harvest human fetal organs and tissue, particularly from minority fetuses, and even from full-term babies. Judicial Watch is representing The Center for Medical Progress (CMP) in a Freedom of Information Act (FOIA) lawsuit, suing HHS following its failure to respond to a FOIA request on April 28, 2020, which sought information including University of Pittsburgh grant applications for a "tissue hub and collection site." CMP and Judicial Watch have now obtained 252 pages of new documentation from HHS as part of the lawsuit. The documents uncover the university's project to "become a 'Tissue Hub' for human fetal tissue ranging from 6 to 42 weeks gestation."

Race-based aborted baby-parts operations reminiscent of Kermit Gosnell scandal. Various abortion programs at the University of Pittsburgh have been getting the school slammed in recent days, with accusations it assembled a tissue bank holding hearts, legs and brains from unborn babies who were cut up and stored. But one of the more horrific accusations has now come from the Centers for Medical Progress, which charged that the organs are removed from the unborn babies' bodies before they are dead. The CMP explained that the school has admitted that "ischemia time" that it cited in an application for federal tax money for its abortion program "refers to the time after the tissue collection procedure." The CMP explained, "Ischemia starts when the organ (the kidneys primarily in Pitt's GUDMAP project) is cut off from blood circulation. The NIH defines ischemia as 'lack of blood supply to a part of the body.' The university states the fetal organs do not undergo ischemia — lose their blood supply — until 'after the tissue collection procedure.'

'American Horror Story': Feds Pay for Full-Term Aborted Baby Parts. The National Institutes of Health (NIH) granted $3.2 million in federal funds to the University of Pittsburgh (Pitt) to achieve its goal of becoming a fetal tissue collection site that could quickly harvest the organs of full-term aborted babies, according to documents obtained as part of a Freedom of Information Act (FOIA) lawsuit. Judicial Watch and the Center for Medical Progress (CMP) announced Tuesday [8/3/2021] the receipt of 252 pages of documents from the U.S. Department of Health and Human Services (HHS), which oversees NIH, the nation's medical research agency.

Restore ye to its owners: On the immorality of receiving vaccines derived from abortion. It is best to set aside sterilizing semantics to look at the plain truth. A child is torn from its mother's womb, and then immediately dissected, if possible alive with beating heart so that the sample is fresh. A piece of the child's organ is then taken to a laboratory, immersed in an enzyme to break the tissue down into individual cells, and when a continually reproducing "immortal" cell line has been obtained after many such abortions, it is patented and the cells industrially multiplied in vats to become viral factories. When a sufficient amount of the infectious virus is grown in the cells, the brew is processed in a way which destroys the whole cells but leaves behind the virus along with significant amounts of the child's DNA and cellular protein. In the various states and territories, parents are required to administer this into the bodies of their children for the sake of the public good even though the vaccine could be produced in an alternative and ethical manner. Those who refuse it are banned from the public square. Any healthy conscience has a natural revulsion to this ghoulish process and closer moral analysis certainly justifies that reaction.

Here's What 'Partial-Birth Abortion' Means. [Secretary Xavier] Becerra has taken a position on partial-birth abortion in the past: he voted against Congress' partial-birth abortion ban signed into law by President George W. Bush. Four years later, in 2007, the Supreme Court upheld the Partial-Birth Abortion Ban Act of 2003 in Gonzales v. Carhart. The text notes of the act and the law itself (18 U.S.C. 1531) take great pains to describe partial-birth abortion. Partial-birth abortion is an abortion "in which a physician deliberately and intentionally vaginally delivers a living, unborn child's body until either the entire baby's head is outside the body of the mother, or any part of the baby's trunk past the navel is outside the body of the mother and only the head remains inside the womb, for the purpose of performing an overt act (usually the puncturing of the back of the child's skull and removing the baby's brains) that the person knows will kill the partially delivered infant, performs this act, and then completes delivery of the dead infant." "A moral, medical, and ethical consensus exists that the practice of performing a partial-birth abortion," the text read, "is a gruesome and inhumane procedure that is never medically necessary and should be prohibited."

A conversation about abortion with my Uber driver. [Scroll down] Courtesy of Democrats, Planned Parenthood receives a half-billion dollars a year of public funding. Last year, the organization performed some 330,000 abortions. To get a visual of the magnitude of that number of killings, click here to see a picture of a jam-packed Michigan Stadium, capacity 110,000. The number of people in the stands represents the equivalent number of unborn babies Planned Parenthood kills in just four months. In the interest of full disclosure to one of their most important identity politics voting blocs — women who dread an unwanted pregnancy — Democrats should demand that Planned Parenthood abortion facilities show every troubled young woman who comes through the door the video of board-certified OB/GYN Dr. Anthony Levatino describing precisely how unborn babies are killed. What you'll learn is disturbing, but it accurately describes procedures that are carried out each year on hundreds of thousands of unlucky babies. [Video clip]

A Desensitized America Ignoring Ulrich Klopfer. It is a human tendency not to value something until it is under assault or lost, but in the case of abortion, there is little evidence to suggest that the American public, or mainstream media, is concerned with a blatant assault on the right to life of 2,246 children. When reports surfaced that the remains of 2,246 aborted children were found in the garage and later the vehicle of former abortionist Ulrich Klopfer, Americans were horrified. But not for the reason one might think. As the news cycle passed by it was seen that Americans were not horrified by the fact that innocent children had been killed, but by the fact that the remains had been unknowingly kept by an abortionist.

165 aborted fetuses found in trunk of late Indiana abortion doctor's car. Remains from 165 additional aborted fetuses were found in the trunk of a car belonging to an abortion doctor who died back in September. The remains were found in Illinois while members of the Will County, Illinois Sheriff's Office were searching property and vehicles owned by Ulrich Klopfer. The 79-year-old died on September 3 and the first thousands of remains were located shortly after his death by family members who were sorting his belongings.

More fetal remains found in Illinois car owned by Dr. Ulrich Klopfer. More fetal remains have been found in Illinois in a vehicle formerly owned by late Dr. Ulrich Klopfer, the physician who performed abortions at clinics in Fort Wayne, Gary and South Bend, according to a release from Indiana Attorney General Curtis Hill. Hill released a statement Wednesday saying the latest remains were found as family members continued to sort through the late doctor's belongings in Will County, Ill. In a revised statement released later Wednesday afternoon [10/9/2019], members of the Will County Sheriff's Office reportedly found the remains while searching several vehicles owned by Klopfer that were parked at a business property in Dolton.

Abortion Supporters Wish Rape On Pro-Lifers, Cut Out Beating Hearts, Practice On Papayas. There are the revelations in recent California court hearings, of sworn testimony from abortion industry employees that they deliver babies live in order to cut out their beating hearts for "scientific research." And then a dramatic article appeared recently at Vice.com with this actual title: "I Learned How to Do an Abortion on a Papaya." It poses as a serious essay. Zoey Thill, a New York City abortionist, holds regular classes for anyone who wants to play at sucking a growing child, limb from limb, out of a warm, safe, nurturing womb. She does so with a papaya. It's presented as a super casual, fun way to spend an evening with like-minded friends. The author of the story learned about it on Facebook.

Abortionist Testifies: 'No Question' Babies Being Born Alive To Harvest Their Organs. LifeSiteNews reports that, in a surprising move, Dr. Forrest Smith, an abortionist for 50 years, took the stand to support pro-life undercover Center for Medical Progress investigators David Daleiden and Sandra Merritt during their criminal preliminary hearing. Under oath during the hearing, Smith testified that babies are "no question" being born alive in order for their organs to be harvested.

Ulrich Klopfer, another Dr. Frankenstein of abortion meets a silent media. On the afternoon of Sept. 13, Will County, Illinois Sheriff's Detectives received a call from an attorney representing family members of the late Dr. Ulrich Klopfer. Klopfer died ten days prior to the call. The family made a gruesome discovery while taking inventory at Dr. Klopfer's home somewhere outside Chicago. You see, Dr. Klopfer was an abortion doctor. But he was just one of many Dr. Frankenstein's in the evil trade.

2,246 Fetal Remains Found At Abortionist's Home Should Be The Catalyst To End Abortion. My heart skipped a beat as I read the news. The fetal remains of 2,246 children had just been found at the home of Ulrich "George" Klopfer. These 2,246 medically preserved fetal remains found on Sept. 12 tell a story of a troubled man and shine a light on the need for effective abortion oversight laws. What kind of man ignores disposal requirements and pockets the babies he aborts as trophies? This kind of behavior reminds us of serial killers such as Ted Bundy and fellow abortionist Kermit Gosnell.

Fetal Remains Case Raises Lots of Questions, Few Answers. The discovery of more than 2,200 medically preserved fetal remains at the Illinois house of a late doctor who had performed abortions in Indiana has left authorities in the two states trying to figure out how and why he came to amass such a collection, when he started storing fetuses at his home, and what if any laws were broken.

Buttigieg Weighs In On Fetal Remains Found On Late Indiana Abortion Doctor's Property. South Bend, Indiana, Mayor Pete Buttigieg weighed in Wednesday on the fetal remains found on a former abortion doctor's property. The 2020 Democratic presidential candidate spoke to reporters about the 2,246 medically preserved fetal remains family members found on former Dr. Ulrich Klopfer's property in Illinois after he died on Sept. 3. "I find that news out of Illinois extremely disturbing and I think it's important that that be fully investigated," Buttigieg said, according to a video from WSBT reporter Max Lewis.

Abortionist Ulrich Klopfer kept thousands of dead babies but inspires little curiosity. There's something sick in America's abortion industry. What else would account for a doctor who collected thousands of dead babies in some kind of twisted hobby that he hid from his allegedly unsuspecting wife? Two thousand two hundred and forty-six fetuses were found "medically preserved" in Ulrich Klopfer's garage last week after he died on Sept. 3. And now the attorneys general of Illinois and Indiana are investigating how the human remains got from Klopfer's network of Indiana abortion clinics to his rural Illinois home and what laws might have been violated.

These Are Human Beings. Abortion intentionally ends the lives of human beings. We were reminded of this in a particularly grisly way over the weekend, when the remains of 2,246 aborted fetuses were discovered inside the home of former abortionist Ulrich George Klopfer. His family discovered the medically preserved remains on Klopfer's property in Illinois after he passed away earlier this month. He performed abortions for nearly four decades in northern Indiana — primarily in South Bend but also in Fort Wayne and Gary — and had his medical license indefinitely suspended in 2016 after having violated laws governing abortion reporting, proper record-keeping, and safety standards during abortion procedures. When the Women's Pavilion abortion clinic where Klopfer worked in South Bend shut down in the spring of 2016, he was scheduled to appear before the Indiana Medical Licensing Board as part of the state attorney general's investigation of more than 2,000 complaints about his practices.

Doctor Who Had Fetal Remains in Home Performed Abortions on 10-Year-Old, 13-Year-Old. The doctor who had thousands of fetal remains at his house performed abortions on girls as young as 10 years old. Dr. Ulrich Klopfer died on Sept. 3. An attorney representing his family told authorities they found the fetal remains while looking through his house in Illinois after the death. Approximately 2,246 medically preserved remains were found.

Family of late abortion doctor make a gruesome discovery at his home — police are investigating. Police are investigating a gruesome discovery among the personal items of a controversial abortion doctor that passed away on September 3. A lawyer for his family contacted the authorities after they discovered fetal remains on the property of Ulrich George Klopfer. They found 2,246 medically preserved fetal remains.

2,246 Unborn Children Found In Abortionist's Home. Thousands of unborn children were found in the home of Dr. Ulrich Klopfer, an abortionist who passed away earlier this month. In 2015, the abortionist's medical license was suspended after he allegedly failed to report an abortion performed on a 13-year-old girl.

The duo who exposed Planned Parenthood are in court and the testimony is horrifying. You, of course, remember the undercover videos showing Planned Parenthood executives haggling over the price of baby parts, taken by David Daleiden and Sandra Merritt of the Center for Medical Progress. [...] In March 2017, the State of California brought 15 felony charges against Daleiden and Merritt for "the criminal recording of conversations": that was one felony count for each person filmed without his or her consent, and a 15th count for criminal conspiracy to invade privacy. In June 2017, the San Francisco Superior Court dismissed 14 of the 15 felony charges. However, the judge gave the state attorney general's office until mid-July to file a revised complaint. And sure enough, a week later, Becerra could refile the charges later — and that's what he did. OK. Now we missed this last week, but the trial has begun at last, and according to Life Site (the MSM isn't covering this, of course), some horrifying testimony is coming to light: [...]

StemExpress CEO admits selling beating baby hearts, intact baby heads in Daleiden hearing. The CEO of StemExpress essentially admitted in court Thursday that her biotech company supplies beating fetal hearts and intact fetal heads to medical researchers. She also admitted at the preliminary hearing of David Daleiden and Sandra Merritt of the Center for Medical Progress that the baby's head could be procured attached to the baby's body or "could be torn away."

Former Planned Parenthood Manager Describes Horrific Abortion Procedure. On Saturday [8/31/2019], anti-abortion organization Live Action released a video in which Founder Lila Rose interviews Sue Thayer, a former Planned Parenthood manager. Thayer describes in graphic detail the process by which abortion clinic workers would attempt to put together all the pieces of the terminated fetus in order to make sure everything had been removed from the post-abortive woman's uterus.

Pathologist Traumatized After Seeing 3-Pound Aborted Baby With Expression of 'Horror' On His Face. [Scroll down] The sight of the murdered baby was so horrific that two hardened medical professionals, people accustomed to working with human remains, were badly shaken. One had terrible dreams; another fled work, never to return. The P.A. was so traumatized that he suffered mental problems — most likely post-traumatic stress disorder — and actually had to collect disability because he became unable to function. Abortions happen behind closed doors. Only very rarely is the carnage of abortion witnessed by anyone outside the medical profession.

Women's March is a march against women, science, and life itself. Masked by the false narrative that women ought to be able to do what they wish with their own bodies, the pro-aborts are blind to the fact that the body growing within a woman's womb is a completely different body, given life from God above at the moment of conception. The child has a different circulatory system, different blood, and different DNA, making arguments in favor of "women's reproductive rights" anti-science, not to mention profoundly brutal. Saline abortions — in which the child can be viewed on an ultrasound thrashing in immense pain as her skin burns — causes no sympathy from the pro-aborts. Nor do suction aspiration abortions induce a heartfelt tear, where the baby can be viewed (again, via ultrasound) trying to move away from the powerful vacuum that rips off her legs and arms before her body and head is crushed. A D&E abortion is one in which the doctor uses instruments to break bones and tear off the arms and legs of a baby who no doubt is screaming at the obvious pain that would induce at 20 to 32 weeks of age.

Changing minds about murder in the womb. Young pro-life activists are addressing the topic of abortion, and changing minds, on campuses across the Unites States. Created Equal was founded in 2011 by Mark Harrington and Seth Drayer with the idea of providing young people with the skills to answer questions about abortion and defend principles of the pro-life movement one-on-one on campuses. Harrington says their latest project, Road Trip for Life, visited about 30 college campuses and 20 high schools in 40 days. "And in 40 days," he tells OneNewsNow, "we had 717 students change their minds on the spot after viewing abortion victim photography video."

Can it get worse than mass graves and landfills? A pro-life group was alarmed to discover how one U.S. company is using the remains of aborted children, and it is calling on people to take action. Mark Harrington of Created Equal tells OneNewsNow people in Third World countries throw unwanted babies in mass graves and landfills, this discovery is worse than that. "In America ... we're much more sophisticated, but we're equally or more barbaric," he laments. "We kill babies by doctors in so-called surgical centers; we call them medical waste, and then we dispose of them by burning them for electricity."

Dozens more infant corpses found as Detroit police widen investigation of funeral homes. Detroit Police Chief James Craig announced a "wide probe" into Michigan funeral homes Friday [10/19/2018], after hidden caches of baby corpses were allegedly discovered at two unrelated businesses inside a week. "This is deeply disturbing," Craig said at a news conference, hours after police raided Perry Funeral Home and allegedly seized 63 fetus or infant bodies, more than half of which were packed together in unrefrigerated boxes. "We want to understand the reasons: Is it financial gain? If so, how? Who knew or who else is involved in this?" The raid came a week after an anonymous letter led investigators to an abandoned funeral home on the other side of central Detroit, where they allegedly found nearly a dozen infant corpses hidden in a ceiling.

Lawsuit may help explain remains of 63 fetuses found in Detroit funeral home. When their daughter died 27 minutes after her birth in December 2014, a Detroit couple donated the infant's remains for medical research. Four years later, Rachel Brown and Larry Davis don't know what happened to Alayah's tiny body. They're plaintiffs in a lawsuit filed earlier this year that may help explain how the remains of 63 fetuses were discovered by police Friday [10/19/2018] in boxes and freezers at Perry Funeral Home at Warren and Trumbull on Detroit's west side.

The Editor says...
Please note that if a baby lived 27 minutes, he or she was no longer a fetus. Thus the media's description of "63 fetuses" is dishonest.

Baby parts driver 'just didn't want to do it anymore'. Stericycle had assured pro-life group Created Equal since 2016 that it is no longer picking up remains of terminated babies from abortion clinics, and in fact the firm cancelled hundreds of contracts. Created Equal director Mark Harrington, however, tells OneNewsNow it has been learned that Stericycle is still working with some clinics around the country. Created Equal, meanwhile, has produced a video testimony of a former Stericycle driver from South Carolina who described the gruesome job of visiting the abortion clinics.

Pro-Life Groups Slam FDA for Purchasing Aborted Baby Parts for Horrific Research. Leading pro-life organizations are very angry at yesterday's [8/7/2018] news that the FDA has signed a contract purchasing the body parts of aborted babies. They are calling for President Donald Trump and top Trump Administration officials to cancel the contract and prevent similar contracts from being entered into in the future. As LifeNews reported, the Food and Drug Administration has signed a new contract to acquire body parts from aborted babies to be transplanted into so-called humanized mice. The grisly experiments allow mice to have a functioning human immune system for research purposes.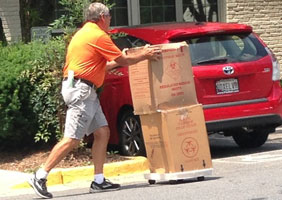 Company Caught Hauling Away Boxes of Babies Killed in Late-Term Abortions Up to Birth. A new medical waste company has been hired by AbortionClinics.org (ACO), a late-term abortion facility located in Bethesda, Maryland, after two other companies cancelled contracts to pick up aborted baby remains there last month. The new company, Bio-Haz Solutions, Inc., based in Nesquehoning, Pennsylvania, was first seen at ACO in early July making a pick-up of four large and apparently very heavy boxes. ACO, which is owned and operated by the notorious late-term abortionist LeRoy Carhart of Nebraska, is one of a handful of abortion facilities in the U.S. that openly abort babies through all nine months of pregnancy.




Biotech Firm Was Caught With the Remains of Unborn Babies in Its Warehouse. Arthur Rathburn, owner of International Biological Inc. in Detroit, Michigan, is serving nine years in prison. A jury recently convicted him of deceiving customers about infected human remains that he rented to medical training groups and illegally transporting hazardous materials, MLive reports. Among the most horrifying of the discoveries in Rathburn's warehouse were four second-trimester babies who may have been aborted. Their remains were publicized by Reuters after authorities raided Rathburn's facility; however, very little is known about these tiny infants' remains. The local news reports the babies never were mentioned in the trial. Now that the trial is over, authorities are deciding what to do with the human remains that they found at Rathburn's warehouse.

After Her Abortion at 5 Months, Woman Saw Her Baby in a Bucket on the Floor. A woman whose abortion at 23 weeks landed her in the hospital spoke out recently about her regret and the harm her decision has cost her. Jessica D. was interviewed by Al Kresta along with pro-life advocate Lynn Mills. Jessica met Mills after she saw a comment Mills posted on this blog. The hour-long interview was emotional and full of details which may disturb some readers, be warned.

Feds Investigating Abortion Doc Allegedly Snapping, Slashing Babies' Necks After Birth. Pro-life conservatives often point out there are societal consequences to treating human life as disposable. That seems to have been proven true, at least based on a disturbing case that is now under investigation in Texas. While many advocates of abortion have insisted that there's a major difference between ending an unborn child's life in the womb and doing so for a newborn, no such moral line apparently exists for abortion provider Douglas Karpen. According to Life News, Karpen is under investigation by the FBI after allegedly murdering viable babies that were born alive after previous abortion attempts failed.

There Is Nothing Funny About Abortion. There is nothing the least bit funny about abortion. Not for the baby's mother. Not for the baby's father. Not for the abortion workers. And, above all, not for the baby, who is brutally terminated in the womb. There is nothing funny about the remains of abortion (clinically called the "products of conception"). Nothing funny about the severed parts of tiny humans — little hands and little legs and little eyes. Nothing funny about Planned Parenthood making money off these dismembered babies. There is nothing funny about the after-effects of abortion. Nothing funny about the grief and guilt experienced by many a mother (and father). Nothing funny about the women who are unable to conceive after an abortion. Nothing to laugh about at all. Yet in the midst of a vulgar, over the top "comedy" routine at the annual White House correspondents' dinner, Michelle Wolf decided to joke about abortion. This was beyond tasteless. Beyond crass. It's almost beyond belief.

Former Abortionist: 'I Probably Murdered More People than Ted Bundy'. Dr. Kathi Aultman, who used to perform abortions early in her career but stopped after converting to Christianity and realizing the evil parallels between abortion and the Holocaust, said that she had "probably murdered more people than Ted Bundy or any other mass murderers." She added that she is thankful to God for using her to "save babies now when once I used to kill them." During a March 19 interview with CBN News' Charlene Aaron, the host said, "Part of that [Christian] transformation included no longer doing abortions. Still, Aultman held onto her belief that a woman had the right to terminate an unwanted pregnancy. Two years later, after reading an article comparing abortion with the Nazi Holocaust, she saw herself as a mass murderer."

Abortionist Who Said She Cuts Unborn Babies' Cords So They Can't Scream Deletes Her Post. Abortionist Leah Torres deleted her brutally honest tweet about killing unborn babies this week after it resulted in a lot of bad publicity for the abortion industry. Torres, a Utah abortionist who is active on Twitter, posted the original tweet Sunday in response to someone criticizing her work. [...] The sickening reality of abortion that Torres callously exposed garnered a lot of attention from LifeNews.com and other conservative media outlets and figures. On Thursday [3/15/2018], Torres deleted her original post as a result of the backlash.

"This Baby Won't Stop Breathing!" Abortionist Strangled Baby While Nurses Watched. In 1977, abortion was legal throughout the country during all nine months of pregnancy. When an obstetrician/gynecologist told teenager "Mary W" that she was 28 weeks pregnant, he suggested that she give the baby up for adoption, as few doctors in the area were willing to perform abortions that late. But Mary was determined, and she managed to find an abortionist [...]

Government Raid Revealed Baby Bodies Preserved in Warehouse. Government investigators found four bodies, appearing to be second-trimester infants, preserved in a Detroit cadaver warehouse owned by Arthur Rathburn. The raid was triggered by information showing that he had provided human organs with hepatitis and HIV instead of healthy tissue to paying clients in December 2013, according to Reuters. Rathburn has pled "not guilty" and is facing trial next month for defrauding both clients and donors. However, the indictment he is currently facing does not even mention the four prenatal bodies. Nor is it clear where they came from or who he was providing them to. The infants were lifted out of a brownish liquid, which documents indicated "included human brain tissue," according to Reuters, which included intentionally pixilated pictures because of their graphic nature in the report.

Judge Blocks Texas Ban on Dismemberment Abortions Tearing Babies Limb From Limb. In a disappointing but not wholly unexpected ruling, a liberal Texas judge blocked a law Thursday that would protect unborn babies from dismemberment abortions. U.S. District Judge Lee Yeakel blocked Texas Senate Bill 8 one day before it would have gone into effect, according to the Tribune News Service. Signed into law earlier this summer, Texas Senate Bill 8 prohibits dismemberment abortions, a method typically used in the second trimester to kill nearly fully-formed, living unborn babies. It is a barbaric and dangerous procedure in which the unborn baby is ripped apart in the womb and pulled out in pieces while his or her heart is still beating.

Genetic Research Scientist: Likely Some Aborted Babies Are 'Alive Until Their Hearts Are Cut Out'. The biomedical scientist — who assisted the Center for Medical Progress (CMP) in its preparation to infiltrate Planned Parenthood and expose its practice of harvesting aborted baby parts for sale to biomedical companies — says she suspects that the "babies in some of these cases were alive until their hearts were cut out" for harvesting. In an interview with Breitbart News, Dr. Theresa Deisher, a world-renowned scientist in the field of adult stem cell therapies and regenerative medicine, discussed what is involved in harvesting the organs of aborted babies.

The Gruesome Reality of How Babies Are Killed in Abortion. Most people who see nothing wrong with abortion have that belief because they don't think an unborn baby is a person. They don't even like the term "unborn baby" because it lends to the idea that what's in the womb is a person. They usually stick with the term "fetus" because the emotional response generated from discussion of killing a fetus is more palatable than that of killing a baby. But even if they were right about the absence of humanity in a fetus, it doesn't change the fact that aborting a fetus is a horrific, senseless tragedy.

Baby Skins for Sale: $325. Ilse Koch, also known as "The Bitch of Buchenwald," had a penchant for heavily tattooed human skin. [...] People with tender consciences find themselves revolted by the atrocities committed by Koch and others. The use of human skin for gloves and lampshades is so repulsive and grotesque that some even deny the possibility it actually happened. Today, such gruesome practices seem long ago and far away. There has even been a cottage growth industry dedicated to denying such atrocities; and indeed, the Holocaust itself. But Brandon Showalter, reporter for the Christian Post, has exposed another horror story in which babies' skin is being purchased and used by biotech companies for their purposes.

Fetal Pain Facts and Falsehoods. The states of Utah and South Carolina recently passed laws concerning abortions at 20 weeks after fertilization. This is the stage of development shown in the photograph [in this article]. Before performing abortions, the Utah law requires physicians to anesthetize or give a painkiller to the "unborn child" once he or she reaches 20 weeks. The South Carolina law bans abortions from this point forward. Both of the laws contain exceptions for the life of the mother or if she has a "serious risk" of "irreversible" harm to "a major bodily function." According to the text of both laws, "substantial medical evidence" indicates that developing humans can feel pain by 20 weeks.

While You Were Crying Over a Dead Ape, 125,000 Babies Were Just Murdered. [Scroll down] And now it is necessary to point out that today, while the media obsesses over an ape and thousands of people cry that they will "miss" a zoo animal they didn't even know existed on Friday, there will be another 125,000 abortions. On a daily basis, a group of people larger than the population of Provo, Utah are systematically exterminated. None of them are given a name, and there will be no candlelight vigils for any of these victims. While the ape was killed quickly and humanely, these children will not be given the same consideration. Depending on the trimester, the executions will be carried out in a variety of different ways. A common method, probably utilized hundreds of times each day, is called a Dilation and Evacuation (D&E). In this procedure, the abortionist pries open the mother's cervix with a metal instrument, inserts a suction tube to extract the amniotic fluid, and then uses a pair of sharpened forceps to methodically tear the baby apart limb by limb.

StemExpress CEO Laughs: 'I've Seen Really Rampant, Rampant Problems with Bacteria in Certain Clinics'. A transcript released by Center for Medical Progress founder David Daleiden features StemExpress CEO Cate Dyer — who purchased most of her company's aborted baby parts from Planned Parenthood clinics — laughing about the unsanitary conditions in some of those clinics.

The Little Hand. Out of the hours of video tapes have emerged portraits of human beings so morally degraded, so pitilessly brutal, so wiped clean of heart and soul that it causes a shudder down the spine to see and to hear them. They are like zombies who have the appearance of being human. But they are actually the living dead. Something else has emerged from those tapes — the unforgettable and soon to be iconic image of a tiny human hand. There it is, in all its created glory, each perfectly formed finger complete with a delicate fingernail. Held by antiseptic tweezers, the hand is slightly clenched, the way newborns' hands are. It looks as if it could grab a finger and hold on. It looks as if it is surrendering. But of course, it can't and isn't, as the arm to which it is attached has been ripped off by an abortionist.

The abortion was worse than the rape. There was no waiting and no questions. All they cared about was that I had the money to pay. They didn't even care that I was by myself. It was the absolute worst experience of my life — even worse than the rape. I kept telling myself that it was going to be okay, that I was raped, so this was justified, and I would get through this. I didn't believe any of it, so I just kept saying it to myself over and over again.

How the abortion tide turns. [Scroll down] The only reason the abortion movement was able to turn terminating pregnancies into a profitable business in the first place is because they made us callous to the human dimension of life in the womb. This task is far more difficult in the age of sonograms and ultrasound. Thanks to ultrasound, the humanity of babies in the womb, and the unspeakable pain they endure while they're being put to death, can no longer be denied. People have been confronted with how grotesque and horrible abortion really is, especially the late-term ones.

Exposed: America's Enemies Within. Despite Leftist merchants of evil using big words and arrogant condescension to convince us that morality is relative, we instinctively know some things are good and some things are bad. Equally annoying is Leftists' air of superiority — claiming to care more than us commoners about equality, saving the planet and all life; their evil intentions hidden beneath a shroud of faux compassion. Leftists have what I call their no-pictures-please policy. They get fuming mad whenever anyone accurately describes, visualizes, or shows pictures of procedures and behaviors the Left has demanded that Americans embrace. For example: Leftists want women to freely kill their babies all the way up to moments before birth. The last thing they want the public to see is video of the partial birth abortion procedure.

What abortion is: Getting past the spin. Despite repeated requests, U.S. Sen. Jeanne Shaheen's office refuses to comment on the video released last Tuesday showing Planned Parenthood's senior director of medical services describing how the organization's abortionists "crush" an infant so that its most valuable body parts can be saved and sold to buyers. Her silence says a lot about the abortion debate in this country. Why should Shaheen comment? Planned Parenthood is her 15th largest campaign contributor. She has been a strong and vocal advocate of public funding for the organization. [...] Shaheen's silence last week is important because it shows just how much the abortion industry depends on euphemisms and spin. It is one thing to shout support for a "woman's right to choose," it is another to defend the actual horrific practice of killing and dismembering human infants.

Planned Parenthood mum on whether docs skirting law by altering abortion methods. The video was secretly shot by the pro-life group Center for Medical Progress last year and released this week to the media. The video shows Planned Parenthood medical director Deborah Nucatola at a lunch with two people she believed were representatives of a biotech firm, but who were really with CMP. It shows her ostensibly talking about the best way fetal organs could be extracted from the mother. "We've been very good at getting heart, lung, liver, because we know that, so I'm not gonna crush that part, I'm gonna basically crush below, I'm gonna crush above, and I'm gonna see if I can get it all intact," Nucatola says.

The Anti-Woman Abortion Industry. A volunteer for 40 Days for Life, who had been praying outside of a Michigan abortion clinic, noticed that something was off about the clinic's daily habits disposing of "medical waste." After the clinic had closed, the volunteer went to look in the dumpster around back — a perfectly legal thing to do — only to discover the remains of 25 aborted babies casually discarded among what was left of the day's office lunch and a slew of patient records. Tiny remains, all in individual bags, all marked with the name of the mother and the date of the abortion. As their volunteer attorney, I spent the next several days walking the organizers through the process of reporting what we thought amounted to a "bio-hazardous waste" disposal violation, and poring over Michigan's HIPAA act, only for the clinic to receive nothing more than a slap on the wrist — and even then, for the medical records, not the remains. Days later, a similar discovery was made at another clinic. Years later, it happened again.

Liberal media struggles to find name for dismemberment abortions. Governor Sam Brownback of Kansas signed a law banning dismemberment abortions. The problem? The liberal media can't figure out a way to report it. The Associated Press writes: "Kansas governor signs nation's 1st ban on abortion procedure." Procedure? What kind of procedure? Why so vague? Meanwhile, the Huffington Post, always the master propagandists, wrote, "Kansas Becomes First State To Ban Common Form Of Abortion." Why is the only feature they were able to use to describe it "common"? Well, I think they want us to think "we don't know what kind of abortion it is, but if it's common, how bad can it be?" But still, they can't really talk about what it is, because it's so grisly, to break a baby up into pieces, that they know to describe it would be to lose readers' sympathy.

Kansas Becomes First to Ban Second-Trimester Abortion Procedure. Kansas became the first state to ban a common second trimester abortion procedure when Governor Sam Brownback, a Republican, on Tuesday signed into a law an act to halt what lawmakers said are "dismemberment abortions." The law that goes into effect on July 1 prohibits the use of dilation and evacuation. The bill says the procedure can result in the fetus being extracted in pieces.

Fetus 'dismemberment' ban legislation touted as abortion game changer. Legislation banning the "dismemberment" of a fetus is being pitched as a game changer because it could outlaw an entire type of abortion procedure, pro-life activists said. "Dismemberment" abortions refer to procedures in which doctors use surgical instruments, such as sharp-toothed forceps, to twist and tear away the limbs of a living fetus to cause its death.

I've Already Seen a Beheading Video. [Scroll down] The people who cry "War on Women" seem curiously missing in action when the victim is that most vulnerable and innocent among us — an unborn child, even when it's a female fetus. So, I share President Obama's outrage at the beheading of James Foley. And I would appeal to his conscience to reconsider his all-out support for Planned Parenthood, an outfit that beheads unborn children a thousand times a day.

What Happens to America's Aborted Babies? Most of us shared a collective gasp last week when news broke that aborted babies in the UK were incinerated and, in some cases, used to heat hospitals. [...] This, of course, has led many to wonder what happens to American babies after they're aborted. Is the way they are treated upon their demise in the United States any less gruesome than the way they are disposed of across the pond? Sadly, in our country, aborted babies are treated like trash — medical waste — and they are commonly incinerated. In some cases, the remains are dumped in landfills with other "solid waste" or ground up and dumped into sanitary sewers.

Gosnell Worker Who Said Baby Screamed During Live-Birth Abortion Jailed for 5-10 Years. Gosnell abortion clinic employee Sherry West, who described how she heard a baby scream during a live-birth abortion, has been sentenced to 5-10 years in prison for her role in the "House of Horrors" abortion clinic incidents. West described an incident which "really freaked (her) out" and related to the jury how she heard a child scream who was born alive following an abortion. West remembered how she referred to the dead children killed in these gruesome abortion procedures as "specimens" so she could avoid the mental trauma associated with knowing how they died.

Former Planned Parenthood worker: "Money-grubbing, evil, very sad, sad place to work". Marianne Anderson should know. She worked at the Indianapolis franchise of the nation's biggest provider in the abortion industry, until Abby Johnson helped her to leave her job and turn her life around. In an interview for The Criterion, the nurse describes some of the horrors she witnessed at the clinic.

For those of you who still support 'choice'. Abortion is brutal. Abortion is an act of violence. Yes, Abortion is actually murder. It is. That is fact too. Abortion is painful. Because you may not feel the pain that doesn't mean it isn't painful. That little baby that has been kicking the side of the mom's womb is certainly going to feel the pain when the abortionist kills her. All the blood and gore you see in [this] video is the product of that pain suffered by that innocent little baby that is killed during the abortion "procedure."

Live Action Undercover Video Exposes Celebrated Abortionist LeRoy Carhart. Live Action has released a fourth video exposing the late-term abortion industry, this time in Nebraska. In this video, renowned late-term abortionist LeRoy Carhart compares the child in the womb to "meat in a Crock-Pot," and then jokes about his abortion toolkit that includes a "pickaxe" and a "drill bit."

Florida Abortionists Leave Women Mangled, Aborted Babies in Biohazard Bags. In July of 2006, Florida homicide detectives found the corpse of a black female infant, the child of Sycloria Williams, hidden away in an abortion clinic in Hialeah. Tips to the police suggested the body had been hidden in a biohazard bag within a medical-waste box in the recovery room of the clinic. Though the baby's body was already badly decomposed, an expert physician suggested she had been born alive. Florida's Department of Health alleged that Williams' doctor had "falsified medical records in an apparent effort to conceal his errors and the true events of July 20, 2006."

The Gosnell Case Strikes a Nerve. [Kermit] Gosnell's crimes were uncovered quite by accident during a 2010 FBI-DEA raid related to drug violations at Gosnell's abortion clinic. What the federal agents found was shocking: a beautician assisting on late-term abortions, blood-covered floors, reused disposable medical supplies, body parts stuffed in plastic bags. Whatever you wish to call those to whom Gosnell's macabre collection once belonged — unviable tissue masses, fetuses, babies — their remains weren't even accorded the respect a highway-cleanup worker gives road-kill. A grand jury report aptly called Gosnell's abortion mill a "house of horrors."

Gosnell janitor: body parts flushed down the toilet. Even if one isn't inclined to consider these infants as "fully human" lives, we still have the issue of the disposal of biological waste via toilets and into the public sewage system, which in most cases tries to reclaim water for further human use. This raises another question about the lack of regulatory oversight of abortion clinics, which some states don't classify as medical providers in the oversight sense. Regular medical clinics, such as hospitals, procedure clinics (such as liposuction, etc), and doctors' offices presumably get significant scrutiny on how they deal with biological waste. Abortion clinics do nothing but produce this kind of material — so why aren't they getting at least as much scrutiny, if not more?

Prosecutor on Handling Abortionist's 'Stained' Files: 'You Might Want to Use Gloves'. Assistant District Attorney Edward Cameron presented dozens of files from patients at the clinic in the Philadelphia Court of Common Pleas on Wednesday [4/17/2013], all for women who underwent abortion procedures beyond 24 weeks, which is illegal in Pennsylvania. When presenting the files to Gosnell's attorney, Jack McMahon, Cameron cautioned, "You might want to use gloves." "The files smell," he said. "You might want to use gloves because there's a red dried substance."

Kermit Gosnell and the abortion movement's dark past. [Scroll down] Weitz went on to describe the standard 24-week abortion: "When inductions for delivery — that is, in the third trimester, when procedures are performed, when abortions are performed, they are usually done as inductions. That is, they look much more like a labor and delivery. And the fetus is traditionally euthanized before that procedure is initiated. Two drugs, either potassium chloride or digoxin, are used to make sure that the fetus is not living before the procedure is initiated."

Shocking Interview with Gosnell: 'I'm a Good Person'. In an interview Dr. Gosnell gave three years ago he claimed he would be vindicated and that the fact that he was a "good person" would prevail. When the DEA and FBI raided Dr. Gosnell's abortion clinic in early 2010, they discovered blood on the floors, unsterilized equipment and 47 babies stored in a freezer. Gosnell's medical license was immediately suspended and evidence was gathered which eventually led to the death penalty trial now taking place in Philadelphia.

It's Not About Abortion — Except It Is. Decapitating the head of a baby who is screaming upon exiting his mother's birth canal is, and always has been, the essence of abortion. It just doesn't usually occur at such a "late" stage in development.

Abortionist Slit Necks of Born Babies in Front of Teenager. According to a Pennsylvania grand jury, Dr. Kermit Gosnell, the wealthy Philadelphia abortionist now on trial for seven counts of murdering babies who had survived his late-term abortions, repeatedly sliced the necks of born babies in front of a teenage employee, and once told his long-time assistant (the teenager's mother) that a writhing born baby whose neck he had just severed was like a "chicken with its head cut off."

What I saw At The Gosnell Trial. It is hard to decide the most appalling images to emerge Thursday [4/11/2013] at the murder trial of Philadelphia abortion doctor Kermit Gosnell. What happened in his abortion clinic is beyond any morbid Hollywood horror. Tiny severed feet and hands stored in jars over a sink in the "procedure" room. Digitalis injected into the stomachs of pregnant women to stop the beating hearts of their unborn babies so that they would be born dead. Survivor babies whose spinal cords were severed, whose brains were removed with suction, whose tiny bodies were placed in a waste bin for disposal.

Teen intern at Gosnell clinic recalls hearing aborted fetus 'screeching'. At the time, it must have seemed like the ultimate work-study program. Ashley Baldwin, a 15-year-old sophomore at University City High School who was thinking of becoming a doctor, got a job at one of the busiest clinics in West Philadelphia. She was paid, and in no time went from answering phones to doing ultrasounds, administering intravenous medicine, and, ultimately, assisting in abortions performed by her mentor, Kermit Gosnell.

Abortion clinic staffer gives grisly account of 'fetal demise' at trial. A second Delaware woman who worked at Dr. Kermit Gosnell's Philadelphia abortion clinic testified Tuesday [4/9/2013] that it was "standard procedure" to snip the necks of any babies that were delivered after labor-inducing drugs were administered but before the abortion began. Lynda Williams, 44, of Wilmington, said Gosnell taught her how to flip a baby over and snip its neck with a pair of scissors to ensure "fetal demise."

Why Dr. Kermit Gosnell's Trial Should Be a Front-Page Story. Inducing live births and subsequently severing the heads of the babies is indeed a horrific story that merits significant attention. Strange as it seems to say it, however, that understates the case. For this isn't solely a story about babies having their heads severed, though it is that. It is also a story about a place where, according to the grand jury, women were sent to give birth into toilets; where a doctor casually spread gonorrhea and chlamydiae to unsuspecting women through the reuse of cheap, disposable instruments; an office where a 15-year-old administered anesthesia; an office where former workers admit to playing games when giving patients powerful narcotics; an office where white women were attended to by a doctor and black women were pawned off on clueless untrained staffers. Any single one of those things would itself make for a blockbuster news story.

The Editor says...
It could be that "Doctor" Gosnell's house of horrors is the rule, not an isolated exception. What percentage of abortion clinics nation-wide are routinely inspected? There could be dozens more like this. And even if the offices are cleaner, and the babies younger, the techniques are similar and the outcome is the same.

Former worker testifies that Dr. Kermit Gosnell snipped the spines of moving babies following abortions at Philadelphia clinic. Gosnell, who is charged with eight counts of murder, trained his employees to cut the necks of the aborted babies to sever their spinal cords, both [Ashley] Baldwin and Lynda Williams, another former employee, testified on Wednesday [4/10/2013]. Williams, who has already pleaded guilty to third-degree murder, testified that she saw her former boss snip the necks of more than 30 babies.

Media Ignore: 'About 100 Babies Born Alive' Had Neck Snipped 'To Ensure Demise'. The shameless media memory-hole legitimate stories inconvenient to the left-wing agenda.

Unsilent Scream; Update: Witness saw 100 "snippings," "Literally a beheading". Dr. Bernard Nathanson made history in 1984 when he narrated a film of an ultrasound which showed a child silently screaming as it was being aborted. The film was big news. It got the nation's attention and the issue of fetal pain was hotly debated. Some denied that the child was experiencing pain, but it was generally agreed upon that if that was the case, it was a terrible thing that shouldn't be allowed to happen. Fast forward almost thirty years to this blood-curdling testimony from Gosnell henchwoman Sherry West.

Gosnell Abortion Case: 'Baby Screamed During Live-Birth Abortion'. If you haven't heard about the Gosnell abortion case, it's probably due to the media blackout. In short, Kermit Gosnell was performing illegal abortions in Philadelphia. His practice was a house of horrors. Gosnell is charged with eight counts of murder, and allegedly kept the feet of fetuses preserved in jars.

Pro-lifers call abortion doctor a murderous racist. The rally in front of the city's criminal justice center came on the same day that one of Gosnell's former employees testified about "beheading" babies in the disgraced doctor's West Philadelphia abortion clinic. Steven Massof, 51, an unlicensed doctor who has pleaded guilty to killing two viable babies, testified for the prosecution that Gosnell taught him such techniques. "It's literally a beheading. It's separating the brain from the body," Massof, 51, told the jury.

Worker admits cutting 10 babies at abortion clinic. A medical assistant told a jury Tuesday [3/19/2013] that she snipped the spines of at least 10 babies during unorthodox abortions at a West Philadelphia clinic, at the direction of the clinic's owner.

Defense team in 'House of Horrors' abortion doctor trial charges racism. [Dr. Kermit] Gosnell is accused of killing babies after they were born alive, sometimes using scissors to cut the spinal cords of the viable infants. "I learned it from Dr. Gosnell," one medical assistant testified of the "snipping" technique. "I could remember a good ten times I did it."

In land of legal abortion, Gosnell case is no big deal. Turns out, at least outside of his home town, the capital murder trial of Kermit Gosnell, the Philadelphia abortionist who specialized in delivering late-term babies alive and then killing them by severing their spinal cords with scissors inserted into the backs of their necks, and collected their severed baby feet in jars, isn't much of a news story. As of Wednesday [3/20/2013], not one of the three major networks was covering it; it seems that America isn't terribly disturbed by the killings of one woman and a bunch of unwanted, unnamed babies who were already marked for destruction anyway.

The Book of Gosnell. A full day of testimony by anesthesiologist Andrew Herlich, an expert witness, revolved around [Karnamaya] Mongar, who was not present in court Thursday, the trial's fourth day. She was not present because she died in 2009 within 24 hours of an abortion in Gosnell's "house of horrors," a/k/a Women's Medical Center in West Philadelphia. That the woman, who was 41, is dead is indisputable, allegedly Gosnell's sole adult victim. Amid the stomach-turning accusations of snipping babies' necks and spines in and out of the womb, and collecting their feet like monarch butterflies, the death of the tiny immigrant from Bhutan is almost lost in the shuffle. But not quite.

Gosnell abortion-murder trial focuses on jars of preserved fetus feet. It's one of the macabre mysteries in the case of Kermit Gosnell: Why did the West Philadelphia abortion doctor keep the severed feet of fetuses preserved in specimen jars? In testimony Tuesday [3/19/2013], Adrienne Moton, a former worker at Gosnell's Women's Medical Society, told a Philadelphia jury that Gosnell once explained that he did so in case patients requested them for future identification or DNA samples.

Big Three Networks Ignore Abortion Doc Who Snipped Babies' Necks. ABC, CBS, and NBC's morning and evening newscasts have yet to cover the trial of Dr. Kermit Gosnell, which began on Monday [3/18/2013]. Gosnell is charged with murdering seven babies who were born after viability in his rundown abortion facility. The Big Three also gave the story minimal coverage back in January 2011, after the Philadelphia physician was arrested. ABC completely ignored it, CBS Evening News aired one full story, and NBC gave just 50 words on Today.

He kept severed feet in jars but escaped mainstream media coverage. Fox News senior political analyst Brit Hume yesterday [3/19/2013] drew attention to the (literally) gory details of the trial of Kermit Gosnell, who is charged with seven counts of first-degree murder after allegedly snipping the spines of newborns at his Philadelphia abortion clinic. Hume had tweeted a story posted on LifeNews.com, but others searching for updates on the continuing trial have their work cut out for them.

Abby Johnson: Counselor for My Abortion Had 9 Abortions. [Scroll down] The doctor never spoke to me. I don't know if I ever knew his name. It was quick, it was painful, and it was over. I woke up in a recovery room, slouched over in an uncomfortable chair that didn't recline. I was in a line of young women just like me. Many were still asleep and hunched over. Some were crying. Some were staring ahead with a blank look on their face.

Ho-Hum Horror. The case of Kermit Gosnell reached the newspapers just a few days before the 38th anniversary of Roe v. Wade. President Obama did not mention Gosnell in his official statement celebrating the anniversary. But the case sheds more light on Roe's import than the statement did. Obama did not refer to the word "abortion," preferring instead to discuss "reproductive freedom" and the "fundamental principle" that "government should not intrude on private family matters." The stories about Gosnell were a little less abstract. They told of a clinic where dirty instruments spread venereal disease, cats roamed and defecated freely, and some patients died. The state government conducted essentially no oversight; administrations of both parties wanted to keep abortion as free from governmental intrusion as possible.

Why the shock, Why the outrage, Why now? For over two decades Kermitt Gosnell illegally sold prescriptions by day, and on the side, induced early delivery in expectant, indigent, and immigrant mothers. When those induced deliveries did not kill the child off, Gosnell would then either snip the spinal cord with a pair of scissors, slit the throat of the child, or have an assistant (usually unlicensed) do the same. ... Scissors would be used to puncture the base of the skull and to snip the spinal cord. On some occasions then the brains would be crushed and suctioned. In other words, while Gosnell was collecting jars of tiny feet, severed from the babies he ended the lives of, abortion practitioners from coast to coast were performing the eerily similar procedures. And 100% of them done with the backing of the National Organization for Women, the National Abortion Rights Action League, and a long list of U.S. Senators, including then Senator Barack Obama.

Partial-Birth Abortion on Trial. The purpose of this pamphlet is to provide excerpts from the abortion doctors' trial testimony. Never in the years since Roe v. Wade has such extensive evidence about the practice of abortion been placed in the public record from the mouths of the very doctors who perform them. It is nothing less than a collection of admissions by the abortion industry, under oath, about the reality of abortion.

North Dakota Measure Seeks to Ban Decapitation, Skull Crushing during Abortions. A measure to prohibit physicians from decapitating and crushing the skulls of live unborn children during abortions is seeking clearance to begin gathering signatures for the November ballot, a North Dakota grassroots pro-life organization has announced. Daniel Woodard, head of North Dakota's Stop Decapitation Network, filed the paperwork to the North Dakota Secretary of State and Attorney General on Tuesday [4/13/2010]. The group aims to collect 12,844 signatures by August 4 in order to place the measure on the 2010 ballot.

Heads Liberals Win, Tails We Lose. [Scroll down] The same is true for graphic photos of abortions, decried as grotesque by the left. They're grotesque, all right, because what they depict is abominably grotesque. We have not only the right to force ourselves to face this grim, unconscionable reality by viewing grotesque pictures, if necessary, but also the duty. By shielding ourselves from these pictures showing what actually goes on in abortions, we make it easier on ourselves to do the wrong thing.

Grim Reaping: Do You Really Know Roe? It's not at all surprising that what public support there is for Roe v. Wade is typically rooted in a lack of knowledge. Ignorance is bliss, and blissful ignorance relative to Roe is by design. It's intentionally fueled through obfuscation and disinformation, fostered by pro-abortion activists and other like-minded leftists. Polls show conclusively that the more people learn about Roe v. Wade, the less likely they are to support it.

Obamacide: During a partial-birth abortion, the abortionist pulls a fully developed, fully "viable" child — often kicking and thrashing — feet first from her mother's womb, leaving only the top of her head in the birth canal. He then stabs her through the skull with scissors or some other sharp object, piercing her brain until her kicking and moving about suddenly and violently jerk to a halt. Her brains are then sucked out — collapsing her skull — and her now limp and lifeless body is tossed aside like so much garbage. Again, medical science has determined that this horrific practice, which is nothing short of infanticide, is never necessary.

This article goes into the gruesome details of infants born alive, the left to die...
"Live-Birth" Abortions. I appeared on Washington Journal this morning with blogger Jane Hamsher. When the subject of abortion arose I suggested that Barack Obama and not Sarah Palin was the extremist due to his opposition to the Born Alive Infants Protection Act (or its equivalent in Illinois). Hamsher denied that babies are ever born alive as a consequence of botched abortions. I invited viewers to write to me for evidence that it has happened.

Deniers for Obama. When Congress was considering the Born Alive Infants Protection Act (BAIPA), a subcommittee of the House Judiciary Committee heard testimony from Jill Stanek and Allison Baker, two nurses at Christ Hospital in Oak Lawn, Ill. They described several instances in which babies who were moving and breathing after induced abortions were left to die. The committee report quoted Jill Stanek: "Mrs. Stanek testified about another aborted baby who was thought to have had spina bifida, but was delivered with an intact spine. On another occasion, an aborted baby was left to die on the counter of the Utility Room wrapped in a disposable towel."

The Growing Aversion to Abortion: The news that the abortion rate has fallen to its lowest level in 30 years elicits various explanations, from increased use of contraceptives to lack of access to abortion clinics. But maybe the chief reason is that the great majority of Americans, even many who see themselves as pro-choice, are deeply uncomfortable with it.

Why Abortion Is Wrong: The moment Harriet Beecher Stowe picked up her pen, slavery in America was doomed. When it comes to abortion, however, the truth of what it actually involves is usually hidden from the masses. It's rarely depicted on the screens. Political commercials showing the procedure are censored so the public is shielded from the horrific carnage enacted on the human fetus.

A grisly account, but one that is worth reading...
Supreme Court Says No to 'Intact' Infanticide. In 1996, registered nurse Brenda Pratt Shafer told the House Subcommittee on the Constitution about a partial birth abortion she'd witnessed. A woman was six months pregnant with a baby diagnosed with Down Syndrome. She chose death for the child. Shafer testified that she saw the baby's beating heart on the ultrasound monitor.

Pro-Lifers, Gory Pictures and the First Amendment. Having been denied recourse to mere words and anything even coming close to fair-and-balanced media coverage on this most passionate political issue, some pro-life groups are ... causing quite a stir, pretty much from coast to coast. It seems that folks who aren't even a little hesitant to rally the crowds round the "choice" to kill a baby in the womb, get downright riled when the bloodstained pictures of the act itself make it into the public arena, especially around children.

Hospital admits to burning aborted babies in waste incinerator. One of [England]'s leading hospitals is throwing aborted babies into the same incinerator used for rubbish to save only £18.50 each time, it has emerged. Addenbrooke's Hospital, in Cambridge, said it was no longer able to afford the dignified disposal at a local crematorium of foetuses from unwanted pregnancies.

Fetal Funerals Sought: Mark and Tanya Cloer wanted to bury their stillborn babies, but hospitals refuse because the fetuses were considered "hazardous waste."

"It Was Horrible, Horrible!" A first-hand account of what goes on inside a Chula Vista abortion clinic. [Note: This article is quite graphic.]

Federal Judge Strikes Down Partial-Birth Abortion Ban Act. The Partial Birth Abortion Ban Act, which President Bush signed into law in 2003, prohibits the procedure referred to by abortion rights proponents as "intact dilation and evacuation." In this procedure, usually performed during the second trimester of pregnancy, the unborn child is removed intact from the uterus in the breech position. With one hand the doctor holds the child in place so that the child does not completely come out of the uterus while using the other hand to puncture the skull with scissors or crush the skull with forceps. The doctor then drains the skull and the unborn child dies when the brain is either drained or when sucked from the skull. The unborn child's body is then extracted from the uterus. Medical testimony reveals that the unborn child jerks and feels pain when the body is punctured and ripped apart. Futhermore, recent medical testimony also shows that the unborn child's pain sensitivity is heightened because the younger a person is, the lower their tolerance for pain.

Painfully unaware: Fetal-pain expert testifies on the "excruciating" partial-birth procedure as the government defends its ban against the industry's lawsuit. But as the trial produces sensational testimony, the courtroom remains virtually journalist-free.

Fetal Pain Information Page: A collection of key documents on the pain experienced by unborn children.

The Science of Fetal Pain. At 20-30 weeks, the human being has the highest number of pain receptors per square inch, more than any other time in development. Fibers which help to moderate pain do not begin to develop until 32-34 weeks, thus making the argument that babies feel pain more severely between 20-32 weeks.

Abortionists Admit Dismemberment Horror. "Another doctor a day earlier had testified that a fetus sometimes does not immediately die after limbs are pulled off."

Editor's Note: I assume that most of you reading this page would not tear the arms and legs off of a newborn baby, even one that was born prematurely. Murder is murder, whether it occurs inside or outside the womb.



This is an original compilation, Copyright © 2023 by Andrew K. Dart

Ultrasound makes better decisions possible

Recent advances in the science of ultrasound have made it easier to see that a baby is a living person long before it lives outside the womb.

How next-gen ultrasounds are changing the abortion debate. "The ultrasound just made it feel a lot more real," Sarah recalled. "When I first heard my son's heartbeat, there was an immediate attachment to the idea of him." Five years ago, when she was 27 years old, Sarah realized she was pregnant. Immediately, she knew she had a difficult choice before her. Her relationship with her boyfriend of five years was shaky at the time, and he was strongly in favor of her terminating the pregnancy. "We were kind of in an on-and-off situation at the time, which is why I was heavily considering abortion," she told the [New York] Post. "I wasn't confident enough in our relationship to have a child with him, so I was in a chapter of my life where abortion was just my go-to." But in her search for a medical professional who could confirm she was pregnant, Sarah — who lacked health insurance at the time — decided to schedule a free ultrasound while still in her first trimester. "It started with me just kind of googling free ultrasounds, and then it turned into a whole thing, with me making a decision to keep the pregnancy right there on the spot."

Appointment of Xavier Becerra Threatens Lifesaving Pregnancy Centers Nationwide. It hasn't taken President Joe Biden long to demonstrate that he is the most pro-abortion president in history. His appointment of California Attorney General Xavier Becerra to be secretary of the Department of Health and Human Services is proof. Becerra's track record as California's attorney general indicates his bias against the pro-life movement — particularly against the work of pro-life pregnancy centers. This nationwide, life-affirming network includes over 2,500 pro-life centers and medical clinics. Each agency provides hope, counsel, medical services, material resources, housing referrals, and much more to mothers considering abortion. Primary among these is the procedure of ultrasound, which is medically necessary to confirm an intrauterine pregnancy. Statistics show more than 80% of mothers considering abortion choose life after seeing an ultrasound image of their unborn child.

All Heartbeats Matter. This week my state senator Doug Mastriano introduced a new piece of legislation that will make it illegal to kill anyone with a heartbeat in the state of Pennsylvania. Mastriano explained that the Supreme Court made its infamous Roe v Wade decision to legalize abortions over 40 years ago based on outdated science. The court ruled that a baby inside a mother is only a collection of tissues, not a living person. Since 1973, when the court made that decision, science and the medical community have overwhelmingly demonstrated the exact opposite. A baby with a beating heart inside her mother is a human baby, and is alive, and the heart starts beating far sooner than previously known. He explained that the basis for his new bill is not a partisan effort to hurt women or women's rights, but simply a standard medical practice of recognizing a heartbeat as a sign of life.

Ultrasound van vandalized offering abortion alternatives outside Planned Parenthood. A Human Coalition mobile care clinic was vandalized last week after a pro-abortion webinar criticized the group. One of the Human Coalition vans was parked outside a new Planned Parenthood facility in Charlotte, North Carolina, offering free pregnancy tests and ultrasounds to women all week. Sometime between Thursday evening and Friday morning [7/19/2019], the van was vandalized.

Court Upholds Kentucky Law Requiring Abortionists to Perform Ultrasound Prior to Abortion. A federal appeals court has upheld a 2017 Kentucky law that requires abortionists to perform ultrasounds prior to abortions and offer mothers an opportunity to view those images and hear descriptions of them prior to a final decision for abortion. The law, known as the Ultrasound Informed Consent Act, also requires physicians to offer mothers an opportunity to hear their unborn babies' heartbeat prior to abortion.

Ultrasound's a game-changer. It's been a big year for the nation's largest provider of ultrasound sessions and ultrasound machines to pregnancy clinics. Pre-Born says more than 25,000 women chose life for their babies this year. That is 15,000 more than 2017 and 17,000 than 2016. "That is in direct result to some of the programs and ministry in a large part of American Family Radio and American Family Association, so our partnership is vital to saving the lives of children," says Dan Steiner, president and CEO of Pre-Born. "It provides us the revenue from programs like 'Financial Issues' and others to be able to expand our efforts."

Abortionist Hid Ultrasound From Patient, But Her Friend Saw It And Was Haunted Forever. Crisis pregnancy centers around the country have written about the difference that ultrasound makes. For example, the Washington Times published a survey done by pro-life crisis pregnancy centers that said that 20%-30% of the "abortion minded" women who came to them prior to their acquiring ultrasound machines chose to have their babies rather than have abortions. When the ultrasound machines were incorporated into the services the crisis pregnancy centers offered, that number skyrocketed to 80 [to] 90%.

Fetus, Embryo or Baby. No Matter What You Call an Unborn Child, Science Confirms She's a Human Being. Before we can know how to treat unborn children (an ethical question), we must know what they are biologically. This is a question of science. Here's what science tells us about the unborn. [...]

Mother Sees Her Unborn Baby Waving on the Ultrasound and Decides Not to Have Abortion. The Stork Bus was parked outside the clinic. It was staffed by pro-lifers hoping to save children whose mothers had scheduled them for abortion.

MRI Shows Detailed Images of 20-Week Unborn Babies. A newly developed MRI scan allows parents to see detailed images of the beating heart of even a 20-week unborn baby, as well as clear pictures of the baby stretching its legs and even swallowing in the womb. The new scan, developed by a London-based team of medical researchers, could replace the somewhat grainy ultrasound images parents are more accustomed to viewing during pregnancy.

Parents Reject Abortion After Ultrasound Shows Identical Twins Cuddling Each Other. Doctors suggested that Hayley Lampshire may have to abort one of her unborn sons after they discovered the twins shared an amniotic sac and placenta. The Daily Mail reports the twins' rare condition put their lives in jeopardy; the survival rate is only about 50 percent. But selectively aborting one of them would have 100-percent denied one child a chance at life. Lampshire and her husband said they were "heartbroken" when they heard the news, but their hopes were renewed when they saw an ultrasound image of their sons cuddling in the womb.

Abortion Science: Heartbeats Are Imaginary, Unborn Babies Aren't Alive, And Ultrasounds Are Just Tools Of The Patriarchy. The abortion industry has a new enemy: ultrasounds. In a bizarre and rambling 2,600-word feature piece published on Tuesday [1/24/2017], The Atlantic writer Moira Weigel took a sledgehammer to basic science and then did her best to vacuum its brains out before anyone could figure out what just happened. The article's headline is bad enough — "How the Ultrasound Pushed the Idea That a Fetus Is a Person" — but its subhed is the real work of art: "The technology has been used to create an 'imaginary' heartbeat and sped-up videos that falsely depict a response to stimulus." There are numerous other gems throughout the piece, such as her implication that only male doctors are allowed to use ultrasounds.

Magazine Retracts Claim That Fetal Heartbeats Are 'Imaginary'. One of Washington's most influential magazines published several updates to an error-filled article attacking ultrasound technology, without acknowledging the extent of those corrections. The Atlantic published "How the Ultrasound Pushed the Idea That a Fetus Is a Person" on Tuesday [1/24/2017]. The 2,500-word article argued that ultrasound technology "has been used to create an imaginary 'heartbeat' and sped-up videos that falsely depict a response to stimulus." The article by Moira Weigel, a Yale doctoral candidate in comparative literature, included at least three major errors that the publication corrected.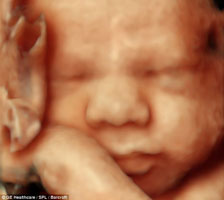 Incredible 3-D Ultrasound Pictures Show Baby's Face Before Birth. New software developed by a European doctor enhances the 3-D ultrasound images that parents can get of their unborn children before birth — allowing them to see the faces of their babies before birth. The new software adds extra detail to 3-D ultrasound scans and parents can see their baby smiling and kicking in the womb. The mapping software takes the 3_D ultrasound image and adds color, skin texture, lighting and shadows to make it even more realistic.




The Anti-Choice Left. [Scroll down] NARAL Pro-Choice America and other anti-choice groups and legislators actively fight in courts of law and do everything in their power to prevent mothers-to-be from seeing those ten tiny fingers and ten tiny toes, from hearing the heartbeat, from seeing the pee-pee or absence thereof. Why? Because they know that if a mom-in-waiting experiences seeing and hearing her baby she's more likely to decide to exercise the choice they despise. They don't want to see women choose birth, they want the other. America's anti-choice aren't satisfied seeing as many babies as possible are aborted within our borders, they also champion anti-choice laws and funding in other nations.

FDA warns against "keepsake" ultrasounds. There is no doubt that ultrasounds provide doctors with vital information about the condition of an unborn child. As the images get clearer — and three dimensional — more and more women are getting optional "keepsake" ultrasounds. But while those images may be precious mementos, the FDA is waving warning flags, reports CBS News medical contributor Dr. Tara Narula.

Court rejects North Carolina's abortion ultrasound rule. A federal appeals court has struck down a key component of a North Carolina abortion law that has been deemed one of the strictest in the country. Under the 2011 law, abortion providers were required to show the ultrasound and describe the fetus in detail even if the woman "actively averts her eyes and refuses to hear," which the judge ruled is against the First Amendment. "This compelled speech, even though it is a regulation of the medical profession, is ideological in intent and in kind," 4th Circuit Appeals Court Judge J. Harvie Wilkinson wrote in the decision.

Baby captured smiling in the womb by ultrasound. Little bundle of joy Leo David Hargreaves could just be the cheeriest baby in the country, according to his parents. Not only does the five month-old smile all the time, he's been smiling since before he was born. A 4D ultrasound scan, taken when Leo's mother, Amy Cregg, was 31 weeks' pregnant, clearly shows him grinning from ear-to-ear.

Remarkable 3D images of a foetus in a womb. Babies learn how to anticipate touch while in the womb and how they touch their face and head can be an indicator of how well they are developing physically and psychologically before they are born. For the first time, psychologists discovered that foetuses were able to predict, rather than react to, their own hand movements towards their mouths as they entered the later stages of gestation compared to earlier in a pregnancy.

Human Life Does Not "Begin" at 22 Weeks. Embryology text books tell us that a new human life begins at the completion of the process of fertilization. That is when a distinct human organism — a new human being — is formed.

'Evil' Is Not Too Strong a Word for the Wendy Davis Phenomenon. Wendy Davis would not be in the conversation at all if not for one action that she took. The Texas Senate was deliberating a modest bill that did two things. The first of those was that it restricted abortions after five months of pregnancy. At five months, this is what's happening. [...]

Abortion and Informed Consent. If a person is planning to undergo medical treatment, his or her doctor will go to great lengths to make sure the patient understands what is involved — whether for preventative care, elective procedures, or treatment for serious illness. There are often multiple discussions. Test results are reviewed. Printed materials may be provided. Doctors may sketch visual images. They may use computers to show medically relevant videos. [...] But in the case of abortion, these standards of care disintegrate.

President's speech to Planned Parenthood: a reminder of the Left's dishonest abortion views. I dreamed last night about the first ultrasound I had when I was pregnant with my daughter. I was sixteen weeks pregnant, and had been throwing up non-stop for 15½ of those sixteen weeks. I was not happy. I resented the parasite within me. And then I saw the sonogram image and discovered that the parasite had a little round head, two arms and two legs, and an incredible spinal cord that looked like the most exquisite string of pearls. That image did not instantly reconcile me to the next 26 weeks of non-stop vomiting, but it made me aware that "the fetus" is not simply an aggregation of cells, or a thing indistinguishable from a dog or a chicken fetus. It's a baby.

Waterleaf's First "Ultrasound Save" Born Safe and Healthy. I was thrilled to receive an e-mail from Waterleaf Women's Center with the story of the first baby saved from abortion after the mother saw her baby on Waterleaf's ultrasound machine!

Planned Parenthood's Ultrasound Schizophrenia. Planned Parenthood routinely attacks ultrasound legislation and its criticisms have taken many forms, including claims that ultrasound requirements are "medically unnecessary," focus on "limiting access to health care," and "intimidate women." Each of these claims is false. But Planned Parenthood's attempt to even argue them seems surreal and ridiculous considering that Planned Parenthood's own internal policies require ultrasounds before abortions.

Pa. House proposes preabortion ultrasound. Pennsylvania could be the next battleground in the fight over whether a woman seeking an abortion must have an ultrasound exam and, if so, whether it involves inserting a probe into her vagina. In Virginia last week, a preabortion ultrasound law derailed at the eleventh hour after opponents portrayed it as "state-sponsored rape" and late-night comedians piled on.

Ultrasounds drive people in Virginia crazy. Give a National Organization for Women representative five minutes of airtime on national television and she'll make up a brand new Constitutional right to abortion that no one in the legal field recognized existed prior to Tuesday [2/28/2012], and the cookie-cutter objection that women are being "raped" by an ultrasound technique that Planned Parenthood already utilizes at a majority of its clinics.

MSNBC's Luke Russert Asks: Are Mandated Abdominal Ultrasounds a Sort of 'Sex Crime'? Filling in on the 11 a.m. hour of MSNBC Live coverage this morning, Luke Russert talked to Washington Post reporter Anita Kumar and Virginia Del. Charniele Herring (D) about Gov. Bob McDonnell's "abrupt switch" to oppose requiring "invasive" transvaginal ultrasounds prior to an abortion. McDonnell is backing a bill that would make transvaginal ultrasounds optional but abdominal ultrasounds mandatory.

Barbara Walters Weeps for Aborting Mothers Subjected to Guilt. Even moonbat apparatchiks in the liberal media establishment can show compassion when it comes to abortion. However, it isn't the children dismembered in their mothers' wombs folks like Barbara Walters feel sorry for. This is what she has to say about a Texas law requiring mothers to look at ultrasounds of their inconvenient children before killing them...

Judge suggests sonogram law to be upheld. U.S. District Court Judge Sam Sparks did not make a final ruling in a controversial sonogram case Friday [1/20/2012], but suggested his hands are tied and he likely will allow the law to stay in effect. A three-judge appeals panel last week reversed Sparks' earlier decision to temporarily stop the law on grounds that it violated First Amendment rights and was unconstitutionally vague.

Court Upholds Texas Ultrasound Law. Earlier this week, pro-lifers received good news when the Fifth Circuit Court of Appeals upheld the Texas pro-life ultrasound law. The implementation of this law had been previously blocked due to an August ruling by a U.S. District Court. These ultrasound laws, which have become popular at the state level, require that abortion providers perform an ultrasound and give the woman an opportunity to view the image prior to an abortion. Arizona passed the first such law in 1999, and about 12 other states have followed suit.

Texas Gives Women a Choice, Planned Parenthood Goes Apoplectic. The basic components of a choice are easiest understood as a selection of one option out of the two or more options that are presented at any given time. Often choices are simple: vanilla or rocky road, for example. But sometimes they are difficult, especially if the choice in view carries life-altering — and perhaps even life-ending — consequences. One thing, however, is for sure — when only one avenue or one side is presented there is no real choice to be made.

Judge stays sonogram law. A federal judge in Austin today granted a temporary injunction against key parts of Texas' new abortion-sonogram law, ruling that it violates First Amendment protections against state-ordered speech.

The Editor says...
I don't see anything about "State-ordered speech" in the First Amendment. One of us needs to read it again.

Group sues to stop Texas' pre-abortion sonograms. A national abortion rights group has filed suit in federal court to stop implementation of a new Texas law that requires women seeking an abortion to undergo a sonogram and have details of the fetal image explained to them. Claiming the amendment to the state's Woman's Right To Know Act is unconstitutionally vague and violates physicians' freedom of speech, the New York-based Center for Reproductive Rights filed the motion for a preliminary injunction in Austin Thursday [6/30/2011].

Sonogram Bill Now Texas Law. Gov. Rick Perry ceremonially signed House Bill 15 on Tuesday [5/24/2011], which will require women to get a sonogram 24 hours before an abortion.

Personal Liberty 101. Ultrasound technology allows us a better view of the target of the procedure known as abortion. It takes little intelligence to understand that something that is moving (and growing) is indeed alive. Technology also shows us that a new heart is beating within a month of conception. Surgical abortions are not even performed until 6 to 7 weeks into the pregnancy.

What's Really Driving the "Pro-Choice" Movement? [Scroll down] Making a "choice" simply means deciding between two options, based on the information available. Women's rights advocates like [Amanda] Marcotte should be lobbying for doctors to arm female patients with as many facts as possible. Instead she seems to be arguing that this piece of information (ultrasounds) shouldn't be included because it's too persuasive.

Perry names another fast-track issue: pre-abortion sonograms. Receiving the day's loudest and longest applause from thousands rallying against abortion, Gov. Rick Perry announced Saturday [1/22/2011] that he will designate as emergency legislation a bill requiring women seeking an abortion to first receive a sonogram of the fetus.

Texas Senate passes bill to require sonogram before abortion. Women in Texas must be offered a fetal sonogram and hear a heartbeat before having an abortion under legislation approved by the Senate on Thursday [2/17/2011]. The legislation, hailed by abortion opponents as a way to entitle women to more information, would be in addition to a 24-hour waiting period and state-dictated medical information that already are required.

Telling the truth about abortion in Oklahoma. In an effort to provide the tools to make an informed decision before murdering an unborn child a new law in Oklahoma requires women undergo a sonogram. During the pre-abortion procedure the Oklahoma law also requires the attending physicians turn the screen toward the woman, and describe fetal size, weight and facts such as, "number of fingers and toes and heart activity."

Planned Parenthood Director Quits After Watching Abortion on Ultrasound. The former director of a Planned Parenthood clinic in southeast Texas says she had a "change of heart" after watching an abortion last month — and she quit her job and joined a pro-life group in praying outside the facility.

FNC Interviews Fmr Planned Parenthood Clinic Exec Director Who Turned Pro-Life. On Saturday's Huckabee show on FNC, host Mike Huckabee interviewed the former executive director of a Planned Parenthood clinic in Bryan Texas, Abby Johnson, who became a pro-life activist after witnessing an ultrasound of an abortion while she assisted in a procedure.

What Will It Take To Change Minds On Abortion? The harsh truth is that we'll never be able to change the status quo because abortion is riddled with lies and deceptions by the media and the power brokers of this billion-dollar industry. Until we abandon the euphemistic phrase of "a woman's right to choose" and replace it with the more accurate "a woman's right to kill her baby," Roe v. Wade will remain the law of the land.

Pro-choice legislators or thugs? A recent Pew Research Center poll and Gallup survey show support for abortion rights are shrinking. The May Gallup poll showed 51 percent of Americans are pro-life, while 42 percent are pro-choice. This is in no small part thanks to technology. Parents can now listen to their child's heartbeat and see a picture of him or her in the womb early on in a woman's pregnancy, making it more difficult to describe a baby as a "fetus" after that point.

The Supreme Court and fundamental freedoms. Although he is absorbed in extraordinarily extensive and imminent problems, President Obama, I hope, will find just an hour to look at, in a sonogram, developing human beings before they are born. Then he might revoke his promise to join many congressional Democrats in supporting the Freedom of Choice Act that annuls many states' restrictions on abortion, such as informed consent, parental involvement and state-funding laws. If this is his first experience with what a sonogram reveals, he may, as happened to a very pro-choice law professor I know, take a little more time to see more of those unmistakable lives.

Invention Lets Pregnant Women Hold Models of Their Unborn Babies. Pregnant women are being given the chance to hold life-sized models of their unborn babies, thanks to an invention that converts data from ultrasound and MRI scans. Jorge Lopes, a Brazilian designer, uses 3-D printing technology to create the plaster models, which went on display last month at an exhibition at the Royal College of Art in London.

Georgia's abortion debate: Senate Bill 429, the "Ultrasound Act," which so "horrifies" pro-abortion activists, provides the opportunity — no more and no less — to make a more informed decision.

More states consider mandating ultrasounds before abortions. Abortion foes have a new tactic: The hope that women can't look away. Lawmakers in 11 states are considering bills that would offer or require ultrasounds before a woman gets an abortion. The most stringent are proposed laws in Nebraska, Indiana and Texas, which would require a doctor show the ultrasound image of the fetus to the woman, despite legal challenges to a similar measure in Oklahoma.

Abortion and the politics of ultrasound. South Carolina appears close to becoming the first state in the country to require that women considering an abortion view an ultrasound image of their fetus before deciding to undergo the procedure. ... Opponents call it "intimidation" and "emotional blackmail" of women seeking to abort.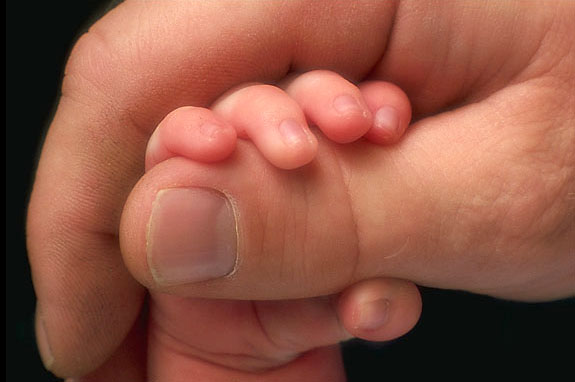 Unborn baby pictures fuel abortion debate. Prof Stuart Campbell, the ultrasound pioneer who captured the images, said … he was "truly staggered" by their impact. "I just wanted to educate couples about the development of a baby," he told The Daily Telegraph. The images were compiled for his book "Watch Me Grow!" for would-be parents. "It never entered my head that these pictures would have this effect, engendering a national debate on abortion, but seeing an 11-week-old foetus doing quite sophisticated things opened my own eyes to the fact that we did not know how rapidly the foetus developed," he said.

Women demand tougher laws to curb abortions. A majority of women in Britain want the abortion laws to be tightened to make it harder, or impossible, for them to terminate a pregnancy. ... Increased awareness of the realities of abortion, and the impact of ultrasound images of a 23-week-old foetus smiling and grimacing, have made people change their views, said [Dr Austen] Ivereigh. The latter 'very dramatically showed that what had been depersonalised in many people's minds as a foetus was clearly seen to be a baby, a human being in formation, and that has come as a shock to many people', he added.

A Window To The Womb: A few years ago a 7-8 week fetus resembled a "glob of tissue." Now, with state of the art technology of 3D and transvaginal sonography, we can observe fingers, toes and organs. We can watch the child kick, jump and wave his arms and legs!

Unborn babies "smile" for the camera. Astonishing images from inside the womb produced by new technology show babies apparently smiling and crying.

Read this article:
Obama Would Let Her Die. I can't help but ask the question: "Why does Obama pursue such outcomes?" Perhaps it's because neither of his children have had anything but a beautiful life, and a pleasurable home to experience. But do handicapped children deserve less from life because of some mental or physical limitation? … Last week, Barack Obama called those of us who have told the truth about his position on this issue "liars." He said that we were misrepresenting this issue and he attempted to claim confusion and "multiple bills" and "procedures" to cloud the issue of his voting record. All of which itself was a lie.

Guilty consciences. Why do social liberals say they want to make abortion "safe, legal and rare," but then spend all their time on the first two and none on the third? It is relatively simple to reduce the number of abortions, even while keeping them "safe" and "legal." Show the abortion-minded woman a sonogram of the fetus she is about to destroy. A 2005 survey by Care Net, a network of about 1,000 antiabortion pregnancy centers in the United States and Canada, based in Sterling, Va., found that "72 percent of women who were initially 'strong leaning' toward abortion decided to carry their pregnancies to term after seeing a sonogram." That isn't depriving a woman of her "choice." It is providing more information so that her choice will be fully informed.

Women Are Not Delicate Little Flowers Despite What NARAL and Planned Parenthood Think. What really seems to enrage NARAL and Planned Parenthood is when crisis pregnancy centers use ultra-sound devices, or other methods, to show women pictures of their fetuses. To say that this is a "scare tactic" would be like saying it is a "scare tactic" to show a man a picture of clogged arteries to try to get him to understand his health situation.

Crist Vetoes Bill Requiring Ultrasound Before Abortion. Gov. Charlie Crist vetoed a Republican-backed bill that would have required women seeking a first-trimester abortion to pay for an ultrasound exam and, with few exceptions, view the image or have it described to them by their doctor.


The extreme case of Toni Vernelli

Toni Vernelli is the ultimate environmentalist fruitcake: A misguided woman who brags that she aborted her child years ago in an effort to help "save the earth." This story is at the intersection of two topics: Abortion and Earth-worshipping environmentalism. This shows where rabid environmentalism is ultimately headed.

Meet the women who won't have babies — because they're not eco friendly. Had Toni Vernelli gone ahead with her pregnancy ten years ago, she would know at first hand what it is like to cradle her own baby, to have a pair of innocent eyes gazing up at her with unconditional love, to feel a little hand slipping into hers — and a voice calling her Mummy. But the very thought makes her shudder with horror. Because when Toni terminated her pregnancy, she did so in the firm belief she was helping to save the planet.

[Helping to save the planet from what, and for whom?]

Woman Aborts Child To Help 'Save' the Planet. A British woman who had an abortion 10 years ago and was later sterilized did so because she believes pregnancy is bad for the environment, the London Daily Mail reported Sunday. Toni Vernelli, 35, hopes her actions would ensure her carbon footprint would be kept to a minimum, the Mail reported. The environmental advocate also sees having children as an egotistical act.

[That sounds like a person with very low self-esteem.]

The pitter-patter of carbon footprints. I've heard a lot of excuses in support of killing an unborn child. Only one makes any real, believable sense; that it would save the mother's life. The rest are, to varying degrees, bad or worse "reasons" to deny a human being all that a lifetime can offer. But I think Toni Vernelli has quite possibly found not only the most loathsome excuse but also the most blatantly absurd: to be environmentally friendly.

Cool it! You can give birth. Good news! Kevin Rudd will next month stop global warming, so you won't have to cull your children, too. He'll sign that Kyoto Protocol, and pfft — problem gone. Such a relief, if a little late for Toni Vernelli, who works for PETA, the animal liberation group. Like all smart people, Vernelli believes in apocalyptic man-made global warming. But she's not an Al Gore hypocrite, flying around the world to tell mugs to cut the gases she's just blown out the back of her jet.

Children? Not if you love the planet. [Scroll down] "Every person who is born," says Toni Vernelli, "produces more rubbish, more pollution, more greenhouse gases and adds to the problem of overpopulation." We are the pollution, and sterilization is the solution. The best way to bequeath a more sustainable environment to our children is not to have any. What's the "pro-choice" line? "Every child should be wanted"? Not anymore. The progressive position has subtly evolved: Every child should be unwanted.


Stem Cell Research



Frankenstein: Scientists create embryo with brain and beating heart entirely from stem cells. Scientists at the University of Cambridge have created a series of "model embryos" that include a functioning brain, a beating heart, and the foundation for all of the other bodily organs you would expect. But unlike previous generations of these sorts of experiments, they did not use any eggs or sperm. The entire embryo was crafted from stem cells that were "trained" to begin forming the organs. The future potential of this sort of technology is clearly staggering, particularly in the field of transplant surgery, but there are ethical questions to be addressed as well. At least for now, however, we're not talking about human embryos. These were all the embryos of laboratory mice.

Yes, Johnson & Johnson used aborted fetal cells in its creation of the COVID-19 vaccine. Was the Johnson & Johnson vaccine developed from aborted fetal cell lines? It is a question many of you have asked the VERIFY team after the Catholic church issued a statement warning Catholics that the shot is "morally compromised". The U.S. Conference of Catholic Bishops and Committee on Pro-life Activities posted a statement online and social media. It said, in part, "The Johnson & Johnson vaccine ... was tested and is produced with abortion-derived cell lines raising ... moral concerns. Therefore, if one has the ability to choose a vaccine, Pfizer or Moderna's vaccines should be chosen over Johnson & Johnson."

Part gov't, part ghoul: Federal dollars shouldn't go for unethical embryo research. The federal government thinks it would be a really good idea to approve of and spend taxpayer money to create — wait for it — animal-human hybrids, commonly known as chimeras. The word "chimera" is from the Greek world of mythology introducing a monster that was part goat, snake and lion. For modern humans, our issue is not the creation of a monster by the gods, but the unethical and reckless manipulation of animals by people who think they're gods.

Human-embryo stem cell research fades into obsolescence. The Democrats' decade-long strategy of hyping embryo stem cell research crashed into a hard fact on Nov. 15. That's when Geron Corp., the world's leading embryo research company, announced it was closing down its much-touted stem cell program, despite the guarantee of more government aid from Democratic-affiliated sources. The political battle waged over embryonic stem cell research burst onto the front pages in 2001, when many reporters and scientists began touting stem cells as medical miracles that would offer cures for Alzheimer's, diabetes, Parkinson's and other diseases.

Stem Cell News: Hype Over Science. "First Patient Treated With Stem Cells," blares one headline. "First Patient Treated in Stem Cell Study," shouts another. They're bogus. It was actually the first human trial using embryonic stem cells, or ESCs. Their Cinderella stepsister, adult stem cells, or ASCs, have already seen thousands of human clinical trials and are treating scores of diseases. But it's the kind of hype you can expect in the wake of Geron Corp.'s ballyhooed experiment, which, while it's unlikely to do much to advance health, could do a lot for Geron's financial prospects.

Stem-Cell Fraud. Supporters of California's failed 2004 stem-cell law will ask strapped taxpayers to support another $3 billion bond initiative in 2014. Maybe it's time to restore fiscal sanity as well as science to its rightful place.

Stem cell debate trickles toward horror. Researchers announced Monday [10/11/2010] they had injected embryonic stem cells into a patient suffering from a spinal cord injury. It marked the world's first human clinical trial of a procedure developed from such a source. The procedure took place at Shepherd Center, a spinal cord injury facility in Atlanta. The use of embryonic stem cells for such purposes had been banned under the Bush administration, but allowed under the Obama administration. The question is why?

Inconvenient facts about stem cell research: When he announced his policy expanding federal funding of embryonic stem cell research, President Barack Obama was not timid about proclaiming its benefits. It would, he announced, hasten "a day when words like 'terminal' and 'incurable' are finally retired from our vocabulary." You thought Obama wanted to establish death panels? Actually, he seems to think he can confer immortality.

Subscription required to read the entire article. Highly recommended.
Stem cell freeze. [Scroll down] The lawsuit alleges that NIH violated administrative rules this year as it rushed to fulfill President Obama's executive order to write new guidelines for ESC funding. The agency allowed only 34 days for the public to offer input on its proposed guidelines, and it appears to have ignored comments (about 30,000 out of 49,000) that questioned the usefulness of the research on ethical or scientific grounds. "They had no interest in listening to the public," said Casey. Federal attorneys in their initial response to the plaintiffs' claims said that NIH didn't have to follow administrative law to the letter because it was acting on orders from the president. "That is a startling claim of executive power. Simply amazing," said Thomas Hungar, Casey's colleague at Gibson, Dunn & Crutcher.

The Editor says...
Read that again. It's okay to circumvent the law, because Obama gives his permission. That is a sure sign of dictatorship.

U.S. court rules against Obama's stem cell policy. A U.S. district court issued a preliminary injunction on Monday [8/23/2010] stopping federal funding of human embryonic stem cell research, in a slap to the Obama administration's new guidelines on the sensitive issue. The court ruled in favor of a suit filed in June by researchers who said human embryonic stem cell research involved the destruction of human embryos.

Science Over All? What you think of [Obama's] policy depends on what you think of the moral status of embryos. If (as modern biology informs us) conception initiates a human life, and if (as the Declaration of Independence asserts) every human life is equally deserving of some minimal protections, government support for the destruction of human embryos for research raises profound moral problems. But if you think an embryo is not quite a person, or that its immaturity or inability to suffer pain or its other qualities mean that destroying an embryo does not amount to taking a life, the promise of stem cell science might well outweigh any doubts.

Crucial Differences Between Non-Embryonic and Embryonic Stem Cells. We hear a lot about "stem cells," which are front-and-center as a major policy debate in America, one that involves science, medicine, ethics, politics, and much more. ... A stem cell is a type of cell that is nonspecific in its function; in contrast, for instance, to a heart or brain cell, which is functionally specific. There are two major sources of stem cells: embryonic stem cells and non-embryonic stem cells. Embryonic stem cells are obtained from 5- to 12-day old embryos. Although removal of a stem cell from an embryo kills the embryo, the stem cells are valued for their potential to produce any type of cell. That is, they have high plasticity.

Decades Away: The Dirty Secret of Embryonic Stem Cell Research. An age of medical miracles is dawning. Obama administration federal funding rules for embryonic stem cells, or ES cells, will open wide the money floodgates for "the most remarkable potential of any scientific discovery ever made with respect to human health." It has "the capacity to cure maladies of all sorts, including cancer, heart disease, Parkinson's, Alzheimer's," and spinal cord injuries. Or so says Sen. Arlen Specter (D-Pa.) among others. But paraplegics shouldn't post their wheelchairs on EBay just yet. If these cures are just around the corner, this corner is far, far away. And that's according to ES cell researchers and funding advocates themselves.

The Great Stem-Cell-Research Scam. Medical-research insiders know that embryonic-stem-cell technol ogy is proving a dead end — Dr. Bernadine Healy, a former director of the National Institutes of Health and once an ES-cell-research enthusiast, calls it "obsolete." But the Obama administration has opened wide the federal funding floodgates — the triumph of a big special-interest PR and lobbying campaign. In fact, the research will line the pockets of a relatively few individuals — at considerable cost for the rest of us, since the funding means billions that won't go to more promising areas.

The Dogma of Mad Science. Dr. Frankenstein would have felt "empowered" on Monday, March 9. That's the day the Obama Administration not only reversed the Bush Administration's restrictions on embryonic stem cell research, but announced that it was freeing science from outside interference, such as people's moral qualms.

Winning Smugly. On Monday [3/9/2009], President Obama lifted the ban on federal funding of stem-cell research using destroyed human embryos. If you support this research, congratulations: You won. Now for your next challenge: Don't lose your soul.

Obama 'guarantees' stem cell work. President Obama on Thursday gave lawmakers his "guarantee" he will sign an executive order overturning President Bush's embryonic stem cell research policy. Meeting with House Democrats holding a retreat here, Mr. Obama answered a question from Rep. James R. Langevin, a Rhode Island Democrat who is a paraplegic, by saying he will sign the order, according to three sources who were in the closed-door part of the meeting.

Stem cell research may not find wonder cures. Stem cell research, we have long been told, should pave the way for revolutionary new treatments to help millions of patients around the world. Yet despite the years of study and debate about the potential, therapies have been slow to materialise. Even the head of the UK National Stem Cell Network has now conceded that stem cell research may never deliver new treatments.

Abortion at heart of stem-cell debate. I wouldn't dare try to explain the science of the new discovery last week that promises to shift the agonizing debate about embryonic stem cells. But if the science is right, mature human skin cells can be manipulated in laboratories to act as embryonic stem cells and replace damaged or diseased cells in human beings.

Superior Stem Cells Shunned By Media. Each year there are stunning breakthroughs with adult stem cells, and 2007 has already brought its first. Adult stem cells cure and treat more than 70 diseases and are involved in almost 1,300 human clinical trials. Scientists also keep discovering that adult stem cells are capable of creating a wider variety of mature cells. ... This has caused great consternation on the part of those seeking increased taxpayer embryonic stem cell funds. The reason is that there are currently no practical applications for this type of cell.

Please Ignore the Man Behind the Fetal Stem Cell Initiative's Curtain. Proponents of Missouri's proposed fetal stem cell proposition are more concerned about receiving a blank check from the taxpayers than science.

Pro-Life Dems Face Tough Ride on Embryonic Research. With Congress set to vote Thursday on legislation to increase funding for embryonic stem cell research, many observers of the debate are wondering how newly elected pro-life Democrats will vote on the issue. The bill introduced Friday [1/10/2007] is identical to H.R. 810. That measure was passed last year but vetoed by President Bush who opposes stem cell research that requires human embryos which are killed in the process.

Democrats target stem cells. The new Democrat-led congress this week geared for battle against federal financing limits on embryonic stem cell research set by the White House and its conservative allies on moral grounds. Democrats, who took control of congress last Thursday for the first time in 12 years, plan to fire a legislative salvo exactly a week later which they expect will trigger a veto by President George W. Bush.

The Democrat's "Embryonic Stem Cell" Fraud Road Show. The problem with this scenario is that is it a colossal fraud. In fact, embryonic stem cell research has produced no usable cures for anything much less Parkinson's while adult stem cell research, which Missouri Senator Jim Talent and every other Republican candidate favor expanding, has produced results.

Stem Cells: Embryonic vs. Non-Embryonic. The vagueness of the term "stem cell research" is one of the biggest problems in the ongoing stem cell debate. Writers, debaters, scientists, public figures and politicians should differentiate between "embryonic stem cell research" and "non-embryonic stem cell research" in order to keep the meanings clear.

Democrats play politics with human life. The Senate on Tuesday [7/18/2006] debated three important bills: Castle-DeGette, which expands federal funding for stem-cell research that kills human embryos; Santorum-Specter, which funds new research that uses the latest techniques to obtain embryonic-like stem cells without actually destroying embryos; and Brownback-Santorum, which would ban "fetal farming" or the practice of growing human fetuses for the purpose of using their body parts. All three of these bills ask the fundamental question: What kind of people are we?

Science's Stem Cell Scam: Embryonic stem cells (ESCs) receive tremendous media attention, with oft-repeated claims that they have the potential to cure virtually every disease known. Yet there are spoilsports, self included, who point out that they have yet to even make it into a human clinical trial. This is even as alternatives — adult stem cells (ASCs) from numerous places in the body as well as umbilical cord blood and placenta — are curing diseases here and now and have been doing so for decades. And that makes ESC advocates very, very angry.

Bush Signs "Fetus Farming Prohibition Act". The bill President Bush signed today draws a clear line against one of the most egregious abuses in biomedical research and prohibits trafficking in human fetuses that are created with the sole intent of aborting them to harvest their parts.

President Bush's Stem Cell Research Policy

The veto: Yesterday [7/19/2006] President Bush vetoed a bill that, had it become law, would have deeply eroded respect for human life. It was a courageous act because there was enormous pressure on him to agree to fund more embryo-destructive research. After vetoing this bill, the president signed one for funding research into methods of creating pluripotent stem cells — the kind that can be turned into many types of body tissue without creating or killing human embryos.

Stem Cell Research: Destroying the Seeds of the Next Generation. President Bush quoted the ethicist who told him "that cluster of cells is the same way you and I, and all the rest of us, started our lives;" they are "the seeds of the next generation." That premise should affect all judgments about stem cell research because the embryo is in fact a human baby.

The doctor is out. Adult and cord-blood stem cells — which scientists can obtain without killing anything — have shown extraordinary healing capabilities. Researchers have used adult cells in ameliorating more than 70 diseases or conditions; cord-blood cells, more than 40. But embryonic stem cells have not produced a single therapeutic breakthrough. On the contrary, the cells have shown an unsettling tendency to grow wildly — creating cancers, instead of cures.

Latest Assault on the Preborn: Embryonic stem cell research is neither an acceptable nor an ethical means of scientific discovery but is instead the purely utilitarian, cold-blooded murder of preborn children.

Medical Cannibalism: The entire purpose of the embryonic stem cell controversy has been to advance a new collectivist medical ethic.

Embryos made to order: Jennalee Ryan of Texas advertises "The World's First Human Embryo Bank" online. There's no need for would-be parents to settle for already-born babies or leftover embryos from couples with fertility issues. … Her group, The Abraham Center of Life, uses sperm donors only with college degrees — although "most of them have doctorate degrees" — while most egg donors have some college.

"Personhood" wins Colorado court nod. The Colorado Supreme Court on Tuesday [11/14/2007] gave the go-ahead to proponents of a ballot initiative seeking to amend the state constitution in 2008 to define personhood as a fertilized egg. Opponents to the measure, which would lay the foundation to make abortion illegal in the state, challenged the ballot title as misleading to voters. The court ruled in a 7-0 decision that it is clear and meets the state requirement for a single-subject ballot question.

Fetuses harvested for cosmetic procedures: The repulsive new world of human sacrifice. Lawyers love to talk about the slippery slope, how you bend the rules a little or do something a little wrong and it leads inevitably to worse. But sometimes the slope turns into a precipice and you find yourself looking into the abyss. Use of fetal tissue for cosmetic purposes — especially fetal tissue conceived only for that purpose — is such precipitous plunge.

New Embryonic Stem Cell Study is Just Smoke and Mirrors. Bioethics professor C. Ben Mitchell says that a Massachusetts laboratory's claim to have developed a new way to derive embryonic stem cells without harming embryos is just "ethical smoke and mirrors."

Stem-cell prober sacked: Came too close to truth? In the midst of growing interest in reports of a gruesome stem-cell and human-organ black market that traffics in newborn babies taken from their mothers, an investigator looking into the matter has been sacked "for political reasons," she says, because she was getting too close to the truth.

Good News on Stem Cells: Scientists in Japan and the United States have now found a way to reprogram skin cells back to an embryonic state. ... If this new technique can be applied to humans — so far, it has been performed only on mice — the debate on stem cell research is over. If skin cells can be used to create stem cells, who will argue that it is necessary to destroy embryos for the same purpose?

Science trumps spin. The day Christopher Reeve died … at an event in Iowa, John Edwards, then the Democrats' nominee for vice president, said: "If we do the work that we can do in this country, the work that we will do when John Kerry is president, people like Christopher Reeve are going to walk, get up out of that wheelchair and walk again." The usual suspects were outraged. But he was not universally condemned as the shameless demagogue that he is….

Scientific Manipulation and the Dignity of Man. Popular culture is blindly embracing science and ignoring legitimate moral concerns. Human dignity is steadily being eroded in the pursuit of the "advancement of science" and the quest for "cures." Increasingly, we are losing our common understanding of what it means to be a human being, and the idea that human beings are something "special" is rapidly becoming an antiquated notion.

Too Many Eggs in Obama's Basket. Unfortunately, the stem cell debate has been characterized as a conflict between science (as though science is always right) and religious "kooks" (as though religious folk are never right). In choosing sides, it is, indeed, easier to imagine lunch with a researcher who wants to resurrect Christopher Reeve (whom Obama couldn't resist mentioning) and make him walk again, than with the corner protester holding a fetus in a jar.

Scientific horrors: President Barack Obama has now reversed President Bush's ban on U.S. taxpayer funding for stem cell research with human embryos. ... [The decision] was sold superficially by means of false hope to those who suffer from such diseases as Alzheimer's and Parkinson's. They were told that cures were being prevented by restrictions on research, when there can be no guarantees that such cures will emerge. But more deeply, a sick juxtaposition has been presented between "science" and "religion," in which the proponents of stem cell research with human embryos have demonized their opponents as something worse than "backward" and indifferent to human suffering.

Let's pass up the chance to buy some killer stem cell research. When the pro-life Bush was in office, medical practitioners possessed of a functioning conscience didn't need the protection. But now that they need it, they can't have it. On some matters, the new administration is in no mood to allow conscientious objectors. We're all in this together, even when "this" is what a lot of us consider murder.

Stem Cells and the Truth About Medical Innovation. Along with championing more funding for stem cells, [Obama has] issued a budget that advocates importation of drugs from countries with price controls (as a way to introduce those price restrictions into the U.S. market). He plans to give a Medicare agency that's short on clinical expertise the power to pay only for medical products that it "judges" to be the "least costly alternative" for treating a particular condition. He's also creating a new federal agency to make decisions about the comparative value of different medical products, with new biotech drugs at the top of the list.

Journey To Destruction. "A journey of a thousand miles begins with a single step," said Confucius. But a journey of whatever length presumes one has a destination in mind. With President Obama's executive order authorizing expanded federal funding for research using stem cells, produced from the destruction of human embryos, the destination will be left up to scientists, as will any "speed controls." The sky, or in this case the depths, will be the limit.

Stem cell payoff could take decades not days. For all the past week's headlines about embryonic stem cells' medical promise there is a sobering reality: The science to prove that promise will take years, probably too long for many of today's seriously ill.

Obama: destroying human life for the 'greater good'. On March 9th President Obama's executive order reversed the Bush administration's long-standing restrictions on using federal funds for embryonic stem cells research and authorized the destruction of live human embryos in medical experimentation. The administration ignored the promising results from adult stem cell therapies. It reopened a Pandora's Box of bioethical concerns and raised vocal opposition from many Christian leaders, including 191 Catholic bishops.

Kill One, Save None. Most pro-life conservatives believe that Congress should have banned federal involvement in human embryonic stem cell research based on the fact that it destroys a human being. We believe that the nation should never approve the destruction of living human beings to preserve or promote the health of other living human beings in the name of science.

Liberals, time to face the truth. The flourishing liberal dictum that the public should keep its paws off the funding and practice of science is a serious and dangerous fabrication. Among liberal rhetoricians, this erroneous diktat blossomed when then-President George W. Bush limited federal funding of embryonic stem-cell research. They said Bush and others with moral qualms about destroying human life to advance scientific knowledge were "anti-science." So, when the political left found they could advance their own scientific agenda by painting conservatives as anti-science, the slander became an embedded component of liberal group think.

Back to News from the Culture War
Back to Feminism and Abortion -- index page
Back to the Home page