Discarded and abandoned babies:

Incidents like these are the inevitable result of the persistent claim that a fetus is merely a lump of tissue that is just "part of a woman's body" and can be disposed of in any manner of her choosing.



Mother accused of disposing newborn at Amazon facility claims she didn't know she was pregnant. Samantha Vivier of Tonopah, Arizona, was arrested Tuesday [1/22/2019] on suspicion of unlawful disposal of human remains.

Man throws newborn twins into a litter bin before calmly walking away. A pair of newborn twins have been found in a dumpster after being abandoned by a man in central China. Chilling footage shows the man carrying the babies in two tied-up shopping bags and lingering near a litter bin in Xi'an, Shaanxi province on Friday afternoon. Several minutes later, he was seen throwing the bags into the bin before calmly walking away. The twins were immediately transported to hospital after a cleaner made the shocking discovery and alerted emergency services.

Neighbor Finds Newborn Baby Abandoned in the Trash: "Her Little Legs Were Dangling Out of the Bag". A baby girl is recovering in the hospital after a New York family found her abandoned in a trash bag near their home. Karen Seals, of Elmira, New York, said she and her sister discovered the baby Tuesday afternoon when they heard sounds and thought an animal was trapped in their neighbor's garbage. "My sister came out off the porch and went to the side to the back yard of my neighbor's house with a stick, thinking it was a dog," Seals told WENY News. "We thought it was a dog, honey, and it wasn't. It was a baby!"

South Carolina mother arrested, charged with homicide after leaving newborn in trash bag on car floor. A 21-year-old woman was arrested after police said she gave birth and put the baby in a trash bag in her car. Police said the baby was found dead hours later. Brennan Hailey Geller, of Lexington, South Carolina, was charged with homicide by child abuse, the Lexington County Sheriff's Office said in a news release. Geller allegedly gave birth sometime on Friday night and put the newborn in a garbage bag on the floor of the vehicle, police said.

Dead fetus found in airplane bathroom at LaGuardia Airport. A member of an American Airlines cleaning crew discovered a dead fetus in an airplane toilet at LaGuardia Airport early Tuesday morning [8/7/2018], CBS News' Kris Van Cleave reports. The fetus was found hours after Flight 1942 arrived Monday in New York City night from Charlotte, North Carolina. After the aircraft — an Airbus A321 — remained on the ground overnight, a cleaning crew came on board ahead of the plane's planned Tuesday departure. One of the attendants noticed a large amount of toilet paper in one of the plane's lavatory toilets.

Girl, 4, dies after presumed mom dumps her in Hillsborough River. A 4-year-old girl died Thursday [8/2/2018] after her mother threw her into the Hillsborough River, according to Tampa police. Multiple witnesses reported seeing the incident near 4 p.m. on the west bank north of the Columbus Drive Bridge. Shakayla Denson, 26, waded about half way across the river and tossed her daughter, Je'Hyrah Daniels, 4, in the water, they told police. Then she turned around and walked back to the riverbank. Rescue divers plunged in, looking for Je'Hyrah. About a half-hour later, rescuers could be heard over a police radio frequency en route to St. Joseph's Hospital with an unconscious child.

Newborn baby found dead in Queens hotel room. A newborn baby died on Wednesday night after being found unconscious in a Queens hotel room, sources said. The infant child was discovered by cops inside a Days Inn in Long Island City along with her 35-year-old mother at about 7:40 p.m., according to police sources. Medics performed CPR and rushed the baby to Elmhurst General Hospital, where she was pronounced dead.

Pro-Life Students Walking Out to Protest Abortion: 'Enough Is Enough'. Pro-life students are planning to walk out of their classrooms in over 140 high schools and colleges across the country Wednesday [4/11/2018]. Organized by Brandon Gillespie, a Rocklin High School junior from Sacramento, California, students participating in the event on April 11 will walk out of their schools at 10:00 a.m. in all time zones for 17 minutes — as did students who participated in the gun control walkout on March 14.

Woman charged after dead twins found in suitcase along roadside. A 24-year-old woman was arrested Thursday [3/22/2018] in connection with the deaths of stillborn twins whose bodies were found stuffed inside a suitcase in Arkansas last month. Authorities said Keysheonna Reed was charged with two felony counts of abuse of a corpse.

Family of Stillborn Baby Whose Body was Tossed Out in Laundry Sues Regions. The family of a baby stillborn at Regions Hospital in St. Paul in April 2013 have filed a medical malpractice lawsuit in Ramsey County alleging hospital personnel promised to cremate the baby but instead threw out the body with dirty laundry. Esmeralda Maria Hernandez, the child's mother, and seven other family members are plaintiffs in the suit filed last week. It also claims the hospital did not initially inform Hernandez or her family of what had happened. "We want to say again that we are truly sorry for our mistake," the hospital said in a statement.

Police: McDonald's employee tried to flush her newborn down a toilet. A 25-year-old California woman is accused of trying to flush her newborn baby down a toilet at a fast food restaurant where she was employed, KRON-TV reported. Sarah Lockner is held on an $11 million bail and faces charges of attempted murder and inflicting great bodily harm to a child.

Teen Illegal Ordered To Leave U.S. Gives Birth In Restaurant, Trashes Baby. The Greenville, South Carolina Police Department has two women in custody who are facing charges after putting a newborn in the trash to die. The Greenville Police Officers were called to La Parrilla restaurant for an emergency concerning a newborn in cardiac arrest. Police discovered that the mother, 18-year-old Estela Ruiz-Gomez, gave birth to the baby in the bathroom. The newborn was rushed to the hospital where he was pronounced dead.

Newborn Dies After Being Put in Trash. Estella Ruiz-Gomez gave birth during her break at a restaurant that she worked at. Her mother, Lorenza Gomez Rodriguez, also worked at the restaurant. These two women decided it would be a great idea to stick the newborn in the bin in order to get rid of it. After throwing her grandchild in the trash, Lorenza came out of the bathroom and said her daughter needed to go to the hospital. An employee emptied the bin in the ladies bathroom, not knowing there was a child inside there. While carrying the bag across the parking lot, the bag ripped and the newborn fell out onto the pavement. EMS was called to the scene, and the baby was rushed to the hospital but died shortly afterwards.

9 Year-Old Saves Abandoned Newborn Baby She Found Covered in Maggots. Nine-year-old Elysia Laub thought one of her baby pigs had escaped its pen when she saw a little pink creature in the bushes of her yard on Monday morning [7/10/2017]. But when she and her mother looked more closely, the Lowell, Indiana family found a newborn baby girl had been abandoned in their yard, the Daily Mail reports. Authorities said the 9-year-old girl's discovery and quick response saved the baby's life.

Woman Self-Aborted Her Unborn Baby in the Third Trimester and Buried the Body in the Backyard. A grand jury recently indicted a Virginia woman on a charge of self-aborting her late-term unborn baby after police discovered the baby's remains buried in her back yard, according to the Richmond Times-Dispatch. Michelle Frances Roberts, 43, of Chesterfield County, Virginia, faces a class 4 felony for a charge of producing an abortion/miscarriage with the "intent to destroy her unborn child," according to the report. Police did not give details about how Roberts allegedly destroyed her unborn child's life. Authorities said her baby was in the third trimester, which means the baby was viable outside the womb.

Coroner: Two fetuses found at wastewater treatment plant likely 'isolated situation'. Two fetuses were found last week at a wastewater treatment plant on James Island. Charleston police responded about 4 p.m. Aug. 8 to the Plum Island Wastewater Treatment Plant on Harbor View Circle for a report that an employee had found a deceased baby. When officers arrived, they were taken to a pump station and were shown what appeared to be two "preterm babies" that had been recovered from the wastewater.

Feminists Bite The Heads Off Baby Cookies To Show How Much They Love Abortion. On Tuesday [4/19/2016], the University of North Georgia Students For Life revealed photographs of decapitated baby cutout cookies taken at a pro-abortion rally held by the Skeptics Society at UNG. Adding to the barbarity, the abortion enthusiasts apparently found it comical to bite the heads off of the baby-shaped cookies.

Surrogate carrying triplets sues to stop forced abortion. A surrogate mom who refuses to abort one of the triplets she's carrying because the father only wants two of the kids filed a lawsuit Monday [1/4/2016] claiming that California's surrogacy law is unconstitutional. "I no longer view surrogacy arrangements in the same favorable light I once did. Children derive a special benefit from their relationship with their mother," the woman, Melissa Cook, said in a statement to The [New York] Post. "I now think that the basic concept of surrogacy arrangements must be re-examined, scrutinized and reconsidered."

Where Are the Sanctuaries for Newborns? The newborn boy abandoned in a nativity display at a New York City church last week lucked out. His mother bought towels at a 99 Cents Only Store to keep him warm, and then left him in the manger to be found. But many abandoned babies aren't so lucky. Every year, hundreds are dumped in the trash, left to die in the cold, or killed by panicked new mothers. All 50 states have safe-haven laws to prevent this, but too few women know about them. These laws allow mothers to surrender their newborns at a police station, firehouse or hospital — no questions asked — without risk of disclosure or prosecution.

Newborn Girl Buried Alive Rescued in Los Angeles. Authorities received a report Friday afternoon [11/27/2015] of a baby crying in a riverbed in Compton, a city in southern L.A. County, the Los Angeles Sheriff's Department said. Responding deputies heard a baby's muffled cry, said the sheriff's department, and as they searched inside a crevice along a bike path, they found the baby girl buried under pieces of asphalt and rubble.

'Manger mom' won't face charges for leaving baby in Nativity scene. The woman who abandoned her baby at a Queens church was caught on video moments before she left the child in the parish's nativity scene — but although she has now been identified, she won't face criminal charges, officials said Wednesday [11/25/2015]. Cradling the newborn in her arms, the young woman can be seen in surveillance footage from a nearby 99 Cent Store as she walks down Jamaica Avenue and enters the shop at around 12:55 p.m. Monday [11/23/2015]. She peruses the shelves and picks up what appears to be the purple towel she used to wrap up the baby boy before leaving him in the crèche that had been set up inside the Holy Child Jesus Church in Richmond Hills.

Chicago Muslim teen hid her pregnancy & killed newborn girl by dropping her from eighth-floor window. A 19 year-old Muslim girl in Chicago gave birth to a 7 pound, 11 ounces girl in her bedroom that she shares with her sister. The minute she heard her parents coming, she opened the window and threw the baby out. She lives on the eighth floor.

3rd baby in 3 months dies after being tossed from NYC window. A 6-month-old girl died Thursday [10/15/2015] after being tossed from a sixth-floor window of an apartment building, witnesses and police said, the third child killed that way in the city in three months.

Mom accused of throwing baby from window ran day-care center. The maniac mom who allegedly threw her 6-month-old baby girl out of a six-story Bronx window on Thursday [10/15/2015] was registered to run a child day-care for two years out of the same apartment, officials said. Tenisha Fearon, 27, who screamed "Praise God!" and "Hallelujah!" before tossing little Junilah Lawrence out of her window at 2200 Tiebout Ave. near East 182nd Street in Fordham Heights, got a license to run the child-care service on May 1, 2013, according to a spokesman for the state Office of Children and Family Services.

Conceived in Occupy Boston Tent and Disposed in Garbage Bag, Baby Doe Haunts City's Gimme Culture. Boston's Baby Doe discarded in a garbage bag found on Deer Island was conceived in an Occupy Boston tent on the Rose Kennedy Greenway. "That's the story behind how me and Rachelle made this beautiful child," Joseph Amoroso divulged to the Boston Herald about the conception of his daughter Bella Bond.

1-month-old found dead in NYC courtyard; infant may have fallen from window or been thrown. New York City police say a newborn baby boy was found dead with severe head trauma in an apartment building courtyard and may have fallen or been thrown out of a window.

Maryland mom charged with abandoning baby on road. A Maryland mother is being held on $500,000 bail after police say she left her 6-week-old daughter on the side of a road Saturday [7/4/2015]. Anne Arundel County police charged 26-year-old Sandra Clara McClary of Baltimore with child neglect and reckless endangerment on Sunday. Lt. T.J. Smith says that McClary left the baby on the roadside and that the incident might be related to a domestic dispute.

Baltimore man is arrested for murder after leaving 2 year-old in car for 16 hours. Thirty-one year-old Wilbert Carter has been charged with murder and child abuse after his two year-old daughter was found unresponsive in his car in Baltimore on Sunday [6/21/2015]. Sunday was Father's Day. Leasia Carter was found locked inside her father's car after he went on with a day of drinking, forgetting he was caring for his daughter. She was found with second-degree burns, as temperatures in Baltimore reached as high as 97 degrees.

Planned Parenthood Celebrates 50th Anniversary of Right to Birth Control. In June of 1965, the high court ruled in Griswold v. Connecticut that prohibiting contraceptives violated the right to marital privacy. Cecile Richards, president of Planned Parenthood Federation of America (PPFA), said the birth control pill is "one pill that literally changed the world and the way we live."

Indiana may be first state with 'baby boxes' for abandoned newborns. The box is actually a newborn incubator, or baby box, and it could be showing up soon at Indiana hospitals, fire stations, churches and selected nonprofits under legislation that would give mothers in crisis a way to surrender their children safely and anonymously.

Mom charged with trying to kill baby left in roadside drain. A 30-year-old Sydney mother has been charged with trying to kill her newborn son by abandoning him in a roadside drain for five days before passers-by heard his cries, police said Monday [11/24/2014]. The week-old baby was in serious but stable condition in Westmead Children's Hospital a day after cyclists found him in a 8-foot deep drain beside the M7 Motorway in the suburb of Quakers Hill, police said in a statement.

Newborn baby found alive inside Illinois trash bin. Police say a newborn baby found alive inside a trash bin in the central Illinois community of Jacksonville is in good condition. Lt. Chris Johnson of the Jacksonville Police Department says authorities are still searching for the mother of the infant.

Only slightly off-topic:
Kenner woman arrested after police find toddlers trying to cross highway. A Kenner woman was arrested on child desertion charges after an off-duty police officer found two toddlers attempting to cross a busy thoroughfare last week. Janice Barre, 32, left two 3-year-olds and a 4-year old at home — with their 10-year-old brother asleep on the couch and two large pots of boiling water on the stove — while she went to a store around noon last Wednesday (Sept. 24), authorities say.

DPD Searching For Mother After Fetus Found In H.S. Bathroom. An investigation continues at a Dallas high school where a fetus was found in the girls bathroom Friday afternoon [8/29/2014]. Detectives with the Dallas Police Department's Child Abuse Unit are investigating. Authorities are looking for the girl who they believe gave birth inside Woodrow Wilson High School.

Fetus found in bathroom of Texas high school. The Dallas Independent School District said a maintenance worker found the fetus after being alerted by students. The second floor of the school, where the bathroom is located, was closed down around 2:30 p.m., students say. Students were not notified during the school day and the district says it is now working to notify all students and their parents.

Human Fetus Found Inside Girls Restroom at Dallas High School. An investigation is underway after a staff member reportedly discovered a human fetus inside a girls restroom Friday at a Dallas high school. Police and medical officials responded to the scene and it was ultimately confirmed the remains were that of a human fetus. The Dallas Police Department said officers are reviewing surveillance video at Woodrow Wilson High School in an effort to gather more information.

NYPD arrests mother of baby left in subway station. [Frankea] Dabbs, 20, who has a record of petty crimes in North Carolina, was arrested near Central Park on abandonment charges Tuesday after someone recognized her from the video released by police.

China: 'Baby box' plan for unwanted newborns causes stir. A Chinese city's plan for a "baby box" where parents can anonymously leave their unwanted infants is proving controversial, it's reported. Shenzhen has apparently applied to the Guangdong provincial authorities to pilot such a facility next year. Some social media users have warned that the box will encourage "irresponsible parents" to give away their unwanted children, the People's Daily newspaper says.

Shock in France as baby found living in car boot. France was shocked Monday after the discovery of an underfed and dehydrated baby girl who had been forced to live hidden in a car boot, possibly since birth. The little girl, aged between 15 and 23 months, was found by mechanics on Friday [10/25/2013] when her mother brought the car to a garage in Terrasson, in central France.

Baby Found Dead On Conveyor Belt At Victorville Recycling Plant. Homicide detectives received a call at 11:29 a.m. [10/24/2013] after workers at the plant in the 17000 block of Abbey Lane reportedly found the baby, San Bernardino County Sheriff's Department Cpl. Randy Naquin said. CBS2's Tom Wait said the baby was a newborn female. The baby was found wrapped in a blanket.

Security guard discovers dead fetus in bag of apparent teenage shoplifter: police sources. A suspected teen shoplifter was busted Thursday after she was found to be carrying a dead fetus in a plastic bag while swiping lingerie at a midtown Victoria's Secret, cops said. The horrifying discovery at the Herald Square store occurred after a security guard spotted the 17-year-old girl and a pal snatching sexy undergarments off the rack and called police.

Update:
Police probe whether dead baby found in bag of Victoria's Secret 'shoplifter' was murdered. Tiona Rodriguez, 17, told police she suffered a miscarriage on Wednesday [10/16/2013], but an autopsy revealed that her baby boy was born alive, nearly full term at eight months — and now cops are trying to figure out if he was killed.

Newborn baby found in trash in New Jersey. Officials said a group of kids found the approximately 3 months premature boy in a trash pile behind a Jersey City building. He is breathing on his own now at Jersey City Medical Center, a spokesman said.

Mom charged with homicide after giving birth in sports bar bathroom, dumping baby in toilet. A heartless Pennsylvania woman gave birth in a bar bathroom, and then left the helpless infant to die in a toilet while she watched pro wrestling and smoked a cigarette, authorities said. Amanda Catherine Hein, 26, was held without bail yesterday after being charged with one count of criminal homicide stemming from the Aug. 18 tragedy.

Pennsylvania teen threw her dead baby in school trashcan: cops. A Pennsylvania teen tossed her dead infant in a trashcan shortly after giving birth in a school bathroom stall Tuesday [4/30/2013], authorities said. Cherlie LaFleur, 19, allegedly tried to flush the dead newborn down a toilet at first but resorted to the garbage bin instead, at McCaskey East High School in Lancaster. Police are still investigating whether the premature child, born 27 to 29 weeks after conception, was stillborn or intentionally killed.

Mom who left newborn to freeze gets 50-year sentence. A northern Illinois woman who admitted leaving a newborn daughter to freeze to death along a rural roadway in 2004 was sentenced Friday [4/5/2013] to 50 years in prison.

SEPTA: Mom, Grandmom Dodge Fare, Leave Baby Behind. SEPTA officials say a mother and grandmother left behind a baby girl while trying to avoid paying full subway fare. Authorities say the incident happened Monday on the Market-Frankford El at the 60th Street station. The baby's 15-year-old mother had a single one-day convenience pass that allows one person to take eight rides. [...] The two women didn't realize they had left the baby until they got to the 56th Street station around ten minutes later.

248 human fetuses found in Russian forest. Villagers in Russia's south Urals region have stumbled upon a gruesome discovery — four barrels left in a forest containing 248 human fetuses, prompting an official probe, officials said Tuesday [7/24/2012].

Europe's Growing Crisis of Abandoned Babies. There is no surveillance camera overlooking the cordoned-off "baby hatch" for abandoned infants attached to the Mangiagialli clinic in central Milan, so no one knows exactly who left a tiny four-pound baby boy named Mario there late last week. [...] Baby hatches like the one in Milan are springing up all over Europe. They are a modern take on the old-style foundling wheels used in medieval times, when Roman mothers placed their unwanted offspring in revolving cribs that spun them safely into the confines of convents. Many of the abandoned babies born back then were out of wedlock or through adulterous liaisons.

Answering Planned Parenthood's Grand Deception. Human life has been cheapened to such a degree that news stories about sex and death which our grandparents would have found heinous, don't even make us blink today. For example, in April 2005, a 19-year-old teenager in Canada became pregnant. She hid the pregnancy from her parents and secretly gave birth to a son in her parents' basement. Immediately thereafter, she strangled the child to death so he wouldn't make any noise. She then went outside and threw the body over the fence, where it was later discovered.

Police: Baby Survives Toss Down NYC Trash Chute. A teenage mother was charged Sunday for allegedly tossing her newborn baby into a garbage chute. ... The newborn baby was reportedly thrown down the trash chute in a plastic trash bag. It was believed to have fallen eight stories, straight into a compactor, in a high-rise building in Brooklyn's Walt Whitman Housing Project.

Cops: Man arrested after throwing baby at officers. A man was arrested this morning [7/25/2011] after he allegedly kidnapped a baby, then threw the child at officers when they approached him, police said.



Two year-old abandoned in favor of a widescreen TV. A two-year-old boy was rescued from a Kmart parking lot after he was abandoned by a shopper who left with a wide-screen TV — just one of the shocking incidents on a day of chaos on Black Friday yesterday.

NY Officials Want Schools to Teach About Unwanted Baby Laws. After two young moms recently abandoned their newborn babies — one of whom did not survive — New York officials are proposing that high school curriculum include lessons on what mothers can do if they give birth to a baby they don't want. Brooklyn District Attorney Charles Hynes, State Sen. Eric Adams and State Assemblyman Hakim Jeffries are proposing state legislation requiring the change to high school health curriculum.

Queens woman dumps her newborn baby in trash can. A Queens woman dumped her newborn baby in a hospital trash can after she gave birth Tuesday -- and was busted napping in her home just two hours later, sources said. Dawa Lama, 23, put the infant in a trash bin inside the emergency room bathroom of Elmhurst Hospital Center, where she gave birth to the child shortly before 2:30 p.m., the sources said.

Queens woman dumped baby because she was 'confused': authorities. Dawa Lama was arraigned on Saturday [5/14/2011] and held on $20,000 bail for allegedly throwing her newborn daughter into the trash, quickly rushed home in a cab to have lunch and take a nap, according to authorities. She is charged with assault, reckless endangerment, abandonment of a child and endangering the welfare of a child and faces 15 years in prison.

Newborn Abandoned In Sink At Catholic Church. Police in Denver are searching for a woman who just gave birth and abandoned her newborn. The infant was left in a bathroom sink at St. Dominic's Catholic Church Friday [3/18/2011] at about 8:10 p.m. during a Lent service.

Mom Charged With Throwing Baby Into Snow Bank. A mom is charged with throwing her 18-day-old baby into a snow bank in Minneapolis. Ashley Couch, 21, has been charged with child endangerment and child neglect after police said she threw her newborn in the snow over the weekend.

Newborn baby handed to L.A. firefighters on Christmas Eve. A six-hour-old baby girl was nicknamed "Noel" by Los Angeles firefighters after she was handed to them by her mother on Christmas Eve. The baby's mother brought the child to Los Angeles Fire Department Station 46 near the Coliseum about 3 p.m. Friday under a state law that allows new mothers to relinquish babies without facing abandonment charges, according to department spokesman Erik Scott.

Woman surrenders newborn at Industry fire station. A woman surrendered a 3-hour-old infant at a City of Industry fire station — the fifth such "safe surrender" in the county this year, a county supervisor said Tuesday [12/7/2010].

Cops: Grandma threw child to her death at Virginia mall. A Virginia toddler was walking out of a shopping mall with relatives when her grandmother suddenly flung her over a railing, sending the girl on a fatal plunge to the pavement several stories below, police said Tuesday [11/30/2010].

Police seek mother of abandoned infant. Fairfax County police are trying to find the mother of the newborn girl left in a Springfield church parking lot. ... Investigators believe she may have been born between midnight and 6 a.m. Doctors believe the baby may be of Hispanic descent.

Indian mum 'tries to flush newborn down plane toilet'. An Indian woman gave birth to a baby in the lavatory of an international passenger plane and tried to dispose of it down the toilet, media reports in New Delhi said on Thursday [7/8/2010].

Teen mom charged with dropping newborn out window. An East Boston teen was held on $1,500 cash bail today on charges she gave birth to a newborn baby boy last month and then tossed him out a window where he was left abandoned crying in a trash-strewn alley.

Woman who killed baby wants sanity restored. A 46-year-old woman who was found not guilty by reason of insanity more than 20 years ago for running over and killing her infant son with the family car will ask an Orange County jury next month for a verdict that her sanity has been restored.

Man throws baby into traffic. A 21-year-old man was arrested Saturday after he threw his daughter into oncoming traffic and then attacked witnesses and police who were trying to subdue him, authorities said. The 18-month-old girl was not badly injured.

Mom linked to babies' remains gets out of jail on bond. Rachel Lynnette New, the woman identified through DNA as the mother of three babies whose decomposed remains were found at her home near Rendon, was released from jail Friday [11/13/2009] on bonds totaling $70,000, a sheriff's office spokesman said.

Woman linked to infant remains bonds out of jail. There are new developments in the case of a woman jailed in connection with the remains of three infants whose remains were found hidden in rural North Texas. Investigators believe Rachel New hid the remains of her three infant children — or knows who did — and that she's now hiding the truth of how it happened and why.

N. Texas sheriff says DNA links woman to babies' remains. A 36-year-old woman identified through DNA as the mother of three babies whose decomposed remains were found in rural northern Texas under a mobile home porch and nearby has been arrested, Tarrant County Sheriff Dee Anderson said.

Baby dead after mom tosses infant into washing machine. An Oklahoma woman has been charged with felony child neglect after her 10-day-old baby was killed in a washing machine. Lyndsey Fiddler, 26, was high on drugs when she put her newborn daughter, Maggie May Trammel, in the washing machine along with the dirty laundry and started a washing cycle, local station NewsOn6 reported.

Newborn boy's body found amid tons of trash. Authorities combing through 60 tons of trash at a dump site Monday [1/5/2009] found the body of a baby boy who was allegedly killed and put in a garbage can in Port Angeles. A 16-year-old girl was arrested Friday for investigation of first-degree murder.

Fetus Found In Reading Sewage Plant. There was a disturbing discovery in a Berks County sewage processing plant — a fetus was founding a Reading [Pennsylvania] sewage pumping station.

Woman freezes baby after birth. A Bloomfield, Pa., woman has been charged with abuse of a corpse for stashing her newborn child in a beer box in her freezer. Police said the infant had been in the freezer for about a month when they got a call tipping them off about the location of the frozen child, the Pittsburgh Post-Gazette reported Friday [5/18/2007].

Newborn's remains found in pickle jar. A road construction crew found the remains of a newborn girl inside a two-gallon pickle jar, authorities said Friday [3/2/2007]. The jar was dug up along a state highway on Monday, according to a statement from the Palm Beach County Sheriff's Office.

Oakdale newborn's grisly death: Stabbed 135 times. A 17-year-old Oakdale girl told police she gave birth on the laundry room floor early Monday, then panicked and stabbed the baby girl after seeing her move a finger. The baby, found by investigators in a bloody garbage bag outside the teen's home, had 135 stab wounds, many in her tiny chest.

Body of infant found in Milford trash compactor. A neighborhood of well-kept homes was shocked yesterday after two trash collectors made a gruesome discovery as they were about to compact a load — the body of an infant that appeared to have tumbled out of a split bag.

Newborn girl's body found in concrete pile. The body of a newborn girl was spotted Tuesday [11/21/2006] in a pile of concrete and rocks headed to the shredder at a recycling center. Within hours of her birth, she was in a construction trash bin somewhere between Pompano Beach and southern Martin County.

Baby boy born, then abandoned as mother walks away. San Francisco police arrested a woman after she gave birth to a baby boy on a street corner Sunday night and then walked away, abandoning the baby. A security guard who saw the woman delivering the baby on Fifth and Stevenson Streets at 9:30 p.m. was calling 911 when he saw the mother get up and walk away, according to police Capt. Al Casciato. "The kid was lying on the street and she was walking away," Casciato said.

Mom abandoned three newborns in three years. The first newborn was discovered swaddled in a blanket on a park bench, an umbilical cord still hanging from his tiny body. Then, at neat 11-month intervals, two more abandoned babies were found in parked pickup trucks in the same neighborhood. ... The third baby was found dead of exposure on the cold night of Dec. 3.

Experts say murder of infants is not uncommon. The horrifying circumstances of Christy Freeman's alleged murder of an infant are more common than many people think, according to those who have studied the phenomenon known as neonaticide. In the United States, a baby is killed within 24 hours of birth ate last once every three days, experts say.

Japanese Hospital Gets Approval for 'Baby Drop-Off Hatch'. A Japanese hospital said Thursday [4/5/2007] it would push ahead with plans to set up a hatch where unwanted infants can be anonymously dropped off, following a series of cases of parents reportedly abandoning newborns in parks and shopping centers.

[Let's hope they make the hatch big enough for a two-year-old. After all, if it's okay to abandon a newborn with no questions asked, how old does the baby have to be before the mother is obligated to keep it?]

All charges against O.C. woman dropped. Charges have been dropped against an Ocean City woman accused of killing her newborn child several years ago, the Worcester County public defender's office said today [9/19/2007]. Christy Lynn Freeman, 37, ... was charged with first-degree murder after authorities found the remains of four fetuses in or near her home in July. Police said she told a detective during questioning that she had given birth to twins three or four years ago and had allowed one to drown in the toilet.

Charges filed against mother who flushed her newborn. A metro mother accused of trying to flush her newborn down a McDonald's toilet turned herself in to police Thursday night [10/4/2007] just before 10 p.m. The Jackson County prosecutor has charged Ashley Wood, 20, with first degree assault.

One dog night:
Abandoned Baby Kept Alive, Safe by Mother Dog and Her Brood. A newborn baby that was abandoned outdoors by her 14-year-old mother during the Argentina winter was found safe Thursday [8/21/2008] after being kept alive and warm by a mother dog and her brood of puppies, Reuters reported.

Austin police: Mom beat girl, 4, threw her in path of SUV. A woman has been charged with child endangerment, a state jail felony, for beating her 4-year-old daughter before throwing her into the path of an oncoming vehicle, police said. The driver of the brown Suburban braked and did not strike the child. Aurelia Gallardo, 24, could face up to 20 years if convicted. Bail was set at $25,000.

Fla. doctor investigated in badly botched abortion. Eighteen and pregnant, Sycloria Williams went to an abortion clinic outside Miami and paid $1,200 for Dr. Pierre Jean-Jacque Renelique to terminate her 23-week pregnancy. Three days later, she sat in a reclining chair, medicated to dilate her cervix and otherwise get her ready for the procedure. Only Renelique didn't arrive in time. According to Williams and the Florida Department of Health, she went into labor and delivered a live baby girl. What Williams and the Health Department say happened next has shocked people on both sides of the abortion debate: One of the clinic's owners, who has no medical license, cut the infant's umbilical cord. Williams says the woman placed the baby in a plastic biohazard bag and threw it out.

Florida doctor loses license after bothced abortion. The Board of Medicine revoked the license of a Florida doctor on Friday accused of medical malpractice in a botched abortion in which a live baby was delivered, but ended up dead in a cardboard box. The board found Dr. Pierre Jean-Jacque Renelique in violation of Florida statutes by committing medical malpractice, delegating responsibility to unlicensed personnel, and failing to keep an accurate medical record.

A follow-up on the same story...
The Imperfect Murder: [Scroll down] The state Board of Medicine decides to hear Renelique's case to determine whether to strip him of his medical license. Meanwhile, something more serious is happening: The Florida attorney's homicide division is investigating the possibility of bringing murder charges. According to Florida records, Dr. Renelique received his medical training in Haiti. He did his residency in New York and, according to the records of that state, has made five medical malpractice payments in the past decade.

When Is a Person Not a Person? Recently, a young mother in Virginia delivered her baby in her own home, and then smothered it with a pillow. ... The judge who refused to penalise the mother for murder, spoke of a loophole in the law. The 'loophole' is that a mother can do whatever she likes with her baby, so long as the umbilical cord is still attached. ... In 1978, this case led a judge to make an unjustified decision — that one cannot call a baby a 'person' unless it can live independently of its mother. ... What of a toddler? Can he live independently of his mother?

Baby boy survives for nearly two days after abortion. The 22-week infant died one day later in intensive care at a hospital in the mother's home town of Rossano in southern Italy. The mother, pregnant for the first time, had opted for an abortion after prenatal scans suggested that her baby was disabled. However, the infant survived the procedure, carried out on Saturday [4/24/2010] in the Rossano Calabro hospital, and was left by doctors to die.


---


Disposing of less-than-perfect children:



Alexandria Ocasio-Cortez's Mentor Bernie Sanders: Castro Educated Cuban Kids, Gave Them Healthcare. In 1958 (the year prior to the "glorious" revolution), Cuba ranked 13th from the top, worldwide with the lowest infant-mortality rate. This meant that robustly capitalist and immigrant-swamped pre-Castro Cuba had the 13th lowest infant-mortality rate in the world. This put her not only at the top in Latin America but atop most of Western Europe, ahead of France, Belgium, West Germany, Israel, Japan, Austria, Italy, Spain, and Portugal. Today all of these countries leave Communist Cuba in the dust, with much lower infant mortality rates. Today Cuba is ravaged by diseases that had been long-eradicated in pre-Castro Cuba (Dengue, Cholera, for a few examples.) And of Cuba's "doctors" fortunate enough to escape their indentured servitude to the Castro-Family-Plantation, the overwhelmingly majority flunk the exam given in the U.S. for licensing as doctor's assistants. And even plummeting from 13th (Capitalist) to 49th (Communist), Cuba's "impressive" infant mortality rate is kept artificially low by Communist chicanery with statistics and by an appalling abortion rate of 0.71 abortions per live birth. This is the hemisphere's highest, by far. Any Cuban pregnancy that even hints at trouble gets "terminated."

Selectively Aborting Down Syndrome Babies Is An Absolute Moral Depravity. Down Syndrome is disappearing in Europe. In Iceland, it is almost extinct. Very quietly, the most successful eugenics program in human history is advancing and making its way to the United Sates. How is this happening? It's very simple. Prenatal testing is identifying pregnancies that are likely to result in Down Syndrome kids, and those pregnancies are being aborted, with shocking frequency. On its own the abortion issue divides us. Whether a baby in the womb may be killed is a debate we struggle to have in constructive ways. But generally the pro-choice movement assures us that abortion is used in cases where any child is unwanted. In the case of selective abortion for sex or disability, a child is wanted, just not the messed-up child his parents weren't hoping for.

Doctors Advised Her Parents to Abort Their Severely Disabled Baby, She's Born Healthy. First, doctors said their unborn daughter would be born with her intestines outside of her body. Then, they said her legs and feet were deformed. A third time, they said the unborn baby girl had a genetic disorder and would die soon after birth. Little Olivia-Jax's parents said no three times when doctors encouraged them to abort her. And, as it turns out, the doctors were wrong. Today, Olivia-Jax is a healthy 7-month-old baby girl, and her amazing story has become famous on social media.

Planned Parenthood Opposes Bill to Ban Abortions on Babies With Down Syndrome. The Planned Parenthood abortion business has never met an abortion it opposed. And that is certainly the case in the state of Ohio. Abortion activists from Planned Parenthood joined with pro-abortion groups in the Buckeye State to oppose new legislation that would protect unborn babies with Down Syndrome from abortions. The bill would make Ohio the third state to offer legal protection for unborn children in a variety of circumstances and in which they may be discriminated against, such as having Down syndrome. But, as Ohio Right to Life tells LifeNews, Planned Parenthood is more concerned about its bottom line than protecting people with Down Syndrome. Lobbyists from the nation's biggest abortion company have told State lawmakers they want the bill defeated.

Court Allows Woman to Abort Her 31-Week-Old Unborn Baby Who Has Kidney Problems. The chance of a baby surviving outside the womb after 31 weeks of pregnancy is extremely good, thanks to modern medical technology. However, the Supreme Court of India allowed a woman to abort her unborn baby at that late stage of pregnancy this week after her baby was diagnosed with potentially fatal kidney problems, The Indian Express reports. Abortions are illegal after 20 weeks of pregnancy in India. However, women or their families increasingly have been petitioning the high court for permission to abort their unborn babies after the limit, especially in cases involving fetal abnormalities or sexual assault.

Babies With Club Feet, Cleft Palates are Aborted Up to the Day of Birth in Britain. Today, a baby with club foot or cleft palate can and is aborted up to the point of birth in England. The law permits an abortion to take place "up to birth" if tests indicate that the child may be disabled when born, while there is a legal limit of 24 weeks for abortions on other grounds. Why is that the case? Jane Ellison, the public health minister, says the British parliament has not adequately defined the term "serious handicap" in its abortion laws, which has led to a loophole by which babies with very minor disabilities can be aborted after the 24-week legal limit.

Wales Plans to "Eliminate" Down Syndrome by Aborting Babies Who Have It. The Welsh Government has confirmed that non-invasive prenatal testing (NIPT) will be introduced within the antenatal screening programme in Wales. The announcement by Public Health Minister, Rebecca Evans confirms that Wales will follow England in making the test available on the NHS from 2018. Throughout the press release, NIPT is referred to as a "safer" test for Down's syndrome, because the traditional invasive amniocentesis test has a small risk of causing miscarriage. However, the more accurate amniocentesis would still be carried out to confirm a diagnosis.

Eliminating Down Syndrome Children Is Not Something to Be Proud Of. This week, the CBS News program "On Assignment" included a long feature on what it described as the near eradication of Down syndrome in Iceland. As the story unfolded, viewers learned of the impact of genetic screening and abortion on a countrywide scale. On that tiny island, known to people mostly for its geothermal pools and Northern Lights, what one scientist called "heavy-handed genetic counseling" has led to the death in utero of nearly every boy and girl affected by Down syndrome. The CBS News report focused on a single nation, but the trend toward elimination of children with Down syndrome is tragically widespread.

CBS News Declares That Iceland Is A Great Nation Because It Murders Babies With 'Genetic Defects'. Iceland has barely 330,000 people in it, but has become world famous for murdering nearly 100% of babies diagnosed with 'genetic defects' such as Down's Syndrome. CBS news recently visited Iceland and wrote a story in which they lauded the nation for nearly 'eradicating genetic defects' by their policy of eugenics according to a recent report: [...]

Wendy Davis Hypes Abortion At Notre Dame. In a personal moment, Davis told students she aborted her more than 20-week-old daughter "out of love." "[I was] post-20 weeks of pregnancy of a much-wanted pregnancy that I had waited years to have, and ... our very much-wanted child was suffering from a fatal fetal brain abnormality," she said. "What we were told was that if our child survived delivery, which she would likely not, that she would live a life of tremendous suffering — if she lived long at all — and we made a decision out of love." [...] The Catholic Church teaches that all human life, including unborn children with disabilities, "must be respected and protected absolutely from the moment of conception," and that abortion is never permissible. The Catholic pro-life group Human Life International (HLI) describes the abortion of children specifically because of their disabilities as "nothing more than eugenics, discrimination of the basest kind."

Indiana Governor Signs Bill Banning Abortions of Down Syndrome Babies. Indiana's new law prevents a person from performing an abortion if he knows the pregnant woman wishes to abort the unborn baby because of a diagnosis of Down syndrome or any other disability. It also prevents abortions due to the race, color, national origin, ancestry, or sex of the child.

Report: Zika Causing Rise in Illegal Abortions in Brazil. Fear of microcephaly or other complications due to Zika have pushed women to illegal abortions, according to the Brazilian daily Folha de São Paulo. Doctors indicate women in all social classes are seeking out these abortions "in despair over the possibility of deformity." Some even go through with abortions without concrete proof of complications.

Virologist: Legalized Abortion May Have Hindered Zika Research. Virologist Gubio Soares, who first identified the presence of the pervasive Zika virus in Brazil, suggested that legalized abortion in French Polynesia may have prevented scientists from uncovering a link between Zika and severe infant deformities sooner. During a lecture, Soares claimed scientists do not know for sure if a link exists between Zika and microcephaly. This is mainly because women in places where Zika breeds often aborted children who showed signs of microcephaly, a disorder now linked to the virus.

Obamacare and Eugenics. The scariest words uttered during Jonathan Gruber's recent appearance before the House Oversight Committee were "positive selection." They were read aloud by Republican Rep. Thomas Massie, from a 1997 paper the professor co-authored concerning abortion. The opus in question made the Congressman uneasy because of the following passage: "By 1993 all cohorts under the age 19 were born under legalized abortion and we estimate steady state savings of $1.6 billion per year from positive selection." Rep. Massie asked the professor what was meant by "positive selection." This question was evidently not anticipated in Gruber's pre-testimony coaching, so he became evasive. Considering what it means, this is no surprise.

Oversold prenatal tests leading to abortions. Two recent industry-funded studies show that test results indicating a fetus is at high risk for a chromosomal condition can be a false alarm half of the time. And the rate of false alarms goes up the more rare the condition, such as Trisomy 13, which almost always causes death. Companies selling the most popular of these screens do not make it clear enough to patients and doctors that the results of their tests are not reliable enough to make a diagnosis.

Gruber Paper Found That Aborting Poor Children Saves Taxpayers Money. MIT professor Jonathan Gruber was in the hot seat at Tuesday's [12/9/2014] House Oversight Committee hearing, answering questions regarding his offensive comments about the stupidity of the American people and his assertions that the Affordable Care Act was passed based on a mischaracterization of the facts. At the hearing Gruber was asked by Rep. Thomas Massie (R-KY) about a paper he co-authored in 1998, "Abortion Legalization and Child Living Circumstances: Who is the 'Marginalized Child'," in which Gruber suggested that children who die as a result of abortion are better off because the majority of them would have ended up in single-parent households and living in poverty.

Obamacare Architect Jonathan Gruber: Abortion Of 'Marginal Children' A 'Social Good'. Embattled MIT professor Jonathan Gruber has not only gotten in trouble for bragging about helping President Obama put one over on the American people with Obamacare, he's also been uncovered as an abortion advocate — but not a run-of-the-mill advocate of "women's rights." No, Gruber's abortion advocacy is of a particularly pungent eugenics variety. He's on record repeatedly making the case from social science that abortion is a "social good" because it reduces the number of "marginal children," by which he means urban poor — those he says can be counted on to commit crimes if they were ever born.

Adolf Hitler — Progressive Pioneer. [Scroll down] The Nazis enthusiastically embraced eugenics and had no qualms about abortion and sterilization for those they considered unfit, weak minded, or inferior. In this, they agreed with progressive heroine Margaret Sanger, likewise a strong believer in eugenics who formed Planned Parenthood expressly with the idea of limiting non-white births and the reproduction of 'the unfit'.

Dignity & Suffering. I just got off the radio, talking about this British advice columnist who announced on a BBC television show that she would "suffocate a child to end its suffering." What struck me as the most outrageous aspect of it is that it is not so outrageous. It is, in a sense, what we do. Upwards of 90 percent of those diagnosed in the womb with Down Syndrome are eliminated here, for an example.

Obamacare, Genocide, and the War on the Unborn. What lies ahead, if Obamacare goes forward, can be seen in New Zealand. The new government policy in New Zealand was preceded by the completion of a report on the "cost effectiveness" of aborting Down syndrome babies. It was determined that it was just too expensive to allow these babies to live. One can easily envision such a policy developing under Obamacare, considering that we have a President and an administration that do not regard innocent unborn human beings as life worthy of life.

Abortion's dead poets society. In 2002, a baby was aborted at 28 weeks because of a cleft palate. Last year, a 6-month-old fetus was aborted when ultrasound revealed that part of a foot was missing, according to [Britain's Sunday] Times. One doesn't have to believe in the supernatural to wonder what might have been. Not only with the babies who were known to be slightly imperfect, but also with the millions of others worldwide who have been eliminated for reasons less vivid.

Disposing of the Disabled. Sadly, in today's post-Roe environment the news that a child is likely to be born with a significant handicap is often a death sentence. According to The New York Times, about ninety percent of unborn children who are diagnosed with Down syndrome are aborted. Moreover, when a prenatal cystic fibrosis test was developed, the number of children born with cystic fibrosis in Massachusetts dropped by fifty percent. No studies have been done to asses the cause of the drop, but the odds of this being simple coincidence are quite low.

Why Worry about Deaf Babies? England is currently deciding whether or not to legalize the use of embryo selection to produce deaf babies to accommodate deaf couples who want their children to share their soundless world. When Thomas Lifson reported this in AT, he expressed shock that such things could be permitted. I was shocked too — until I realized that this, and much worse, is the logical consequence of our legalization of abortion.

Eugenics by abortion: Is perfection an entitlement? In Britain, after the 24th week of pregnancy — "viability," when the child presumably can live outside the womb — an abortion is permitted only when "there is a substantial risk that if the child were born it would suffer from such physical or mental abnormalities as to be seriously handicapped." But in 2001 an unborn 28-week-old child was aborted because new techniques for detecting fetal abnormalities indicated that the child had a cleft lip and palate.

Why the Media Feminists Hate Palin: Columnist Marc H. Rudov calls them the "fascist feminists." These are the feminists in the media and elsewhere who detest Sarah Palin because of her role as a successful wife and mother and defender of the unborn. Palin's decision to have a Down syndrome child, when 90 percent of these children are being aborted in the womb, has proven in dramatic terms not only that there are articulate pro-life women in America but that there are women who will take a leadership role on "culture of life" issues of concern to millions.

When Is a Human a 'Human Being'? Ask the White House Science Adviser. [Scroll down slowly] "From this point of view, a fetus is only a potential human being," the authors continue. "Historically, the law has dated most rights and privileges from the moment of birth, and legal scholars generally agree that a fetus is not a 'person' within the meaning of the United States Constitution until it is born and living independent of its mother's body." The authors then make a case for aborting unwanted children.

ObamaCare's brave new world. Sarah Palin ignited a political firestorm when she worried that "death panels" would deny end-of-life treatment to her son with Down syndrome. In fact, ObamaCare would more likely see to it that people like Trig never even make it out of the womb. The outlook for children found to have disabilities in utero is bleak now — because the medical-ethics establishment has spent decades pushing for their abortion.

Premature baby 'left to die' by doctors. A young mother's premature baby died in her arms after doctors refused to help because it was born just before 22-week cut-off point for treatment. Sarah Capewell, 23, gave birth to her son Jayden when she was 21 weeks and five days into her pregnancy. Although doctors refused to place the baby in intensive care, Jayden lived for two hours before he passed away at James Paget Hospital in Gorleston, Norfolk, last October.

Two years worth every tear. [Scroll down slowly] Most children with trisomy 18 diagnosed in the womb are aborted. Most who survive birth are given hospice care until they die. In these cases, doctors advise parents that these disabled children will die young or be a burden to them and society. But couldn't the same be said of many healthy children? All children are a gift that comes with no guarantees. While Bella's life may not be long, and though she requires our constant care, she is worth every tear.


Disposing of unwanted female children:

Where are the great feminist leaders? Why aren't the feminists outraged by this? Why are they all totally silent about gender-selection abortion, and for that matter, about Muslim honor killings?



12 Million Girls Have Been Aborted in India Just Because They Were Not Boys. One woman was brutally beaten and mutilated by her estranged husband, and another was doused with gasoline and almost lit on fire simply because they were pregnant with girls. The abuses endured by women and girls in India are nothing short of horrifying. Researchers estimate that 12 million girls are missing in India just because of abortion. Many who make it outside of the womb are subjected to neglect, abuse and even infanticide and other forms of murder.

Asia Struggles for a Solution to Its 'Missing Women' Problem. A cultural preference for male children has cost Asia dearly. Count up all the girls who were never born because of selective abortion, victims of infanticide and females who died from neglect and there are upwards of 100 million women missing on the continent today by some estimates. Not just a human-rights catastrophe, it is also a looming demographic disaster. With Asian birthrates already plummeting, that is tens of millions of women who will never be mothers. The economic and social impact on some of the world's largest countries is incalculable.

China abandons one-child policy after 35 years. For months there has been speculation that Beijing was preparing to abandon the divisive family planning rule, which was introduced by Communist leaders in 1980 amid fears of a population boom. The government credits it with preventing 400 million births, but the human cost has been immense, with forced sterilisations and abortions, infanticide, and a dramatic gender imbalance that means millions of men will never find female partners. In 2012 — in one of the most shocking recent cases of human rights abuses related to the policy — a 23-year-old woman from Shaanxi province in the north-west was abducted by family planning officials and forced to have an abortion seven months into the pregnancy.

War on Women: Planned Parenthood Killed About 438 Unborn Baby Girls Per Day. In its latest annual report, Planned Parenthood revealed that it killed 327,653 unborn babies in its abortion clinics in fiscal 2013. It also stated that in the year that ended on June 30, 2014 it received $524.8 million — or 41 percent of its total funding — from the government. According to the Oversight Committee, the Congressional Budget Office has estimated Planned Parenthood gets about $450 million per year in federal funding. Nor does Planned Parenthood deny — as revealed in a series of recently released videos — that it harvests tissue from some of the unborn babies it kills. For Americans who respect innocent life, one obvious question is this: Why is Congress taking hard-earned money from American families struggling to raise their own children in a safe and decent environment and handing it over to a group that kills hundreds of thousands of babies per year and sometimes cuts out their organs?

China says its gender imbalance 'most serious' in the world. Chinese health authorities on Wednesday [1/21/2015] described the gender imbalance among newborns as "the most serious and prolonged" in the world, a direct ramification of the country's strict one-child policy. The statement will add to growing calls for the government to scrap all family planning restrictions in the world's most populous nation, which many scholars say faces a demographic crisis.

While India's girls are aborted, brides are wanted. Decades of sex-selective abortion have created an acute lack of women in certain parts of India. Traffickers capitalize on the shortage by recruiting or kidnapping women ensnared in poverty to sell as brides. It's a cycle influenced by poverty and medical technologies, but one that ultimately is perpetuated by India's attitude towards women.

Sex-Selective Abortion Now Illegal in UK. Following troubling reports about the effects of sex-selective abortion on gender ratios in certain communities in the United Kingdom, Secretary of State for Health Jeremy Hunt released new guidelines that aim to close the "loophole" that permitted these abortions to take place.

California Democrats Kill Bill to Outlaw Sex-Selection Abortions. On Tuesday [5/13/2014], thirteen Democrats on the California State Assembly Health Committee voted down a bill that would have outlawed the practice of sex selection through abortion. The Prenatal Nondiscrimination Act (AB 2336) ran into opposition by all of the Democrats on the committee, who saw the bill as a prelude to broader abortion restrictions, according to a report from LifeNews.com. Instead, Democrats introduced a resolution to condemn sex-selection abortion — but not to outlaw it.

The female holocaust. Preema, a young woman from a rural village in southern India, is the 12th daughter born to her parents. Yet, she has no older sisters. Each time Preema's mother became pregnant and gave birth to a girl, she and her husband killed the newborn — disappointed it hadn't been a boy. After 12 births, Preema (not her real name), was the only girl they allowed to live. [...] The gruesome practice of sex selection by abortion and infanticide is rampant in India, driven by a strong cultural preference for boys. The problem has only gotten worse in recent years.

I worked at an abortion clinic like Dr. Gosnell's 'house of horrors'. As happens with a lot of abortion clinic employees who are hired to do one thing but are recruited into another, my scheduling position evolved into doing work in the lab. "Lab" is where we sorted through the parts of the aborted child to make sure they were all accounted for and nothing was left inside the patient. I also did counseling and somehow stomached the excuses women had to abort — for many it was because the baby was a girl and they wanted a boy while others it was because of a fetal defect and others because they didn't want another child.

The abortion of unwanted girls taking place in the UK. Illegal abortion on the grounds of gender may be taking place in Britain within immigrant communities, ministers have admitted for the first time after an official analysis of birth statistics. [...] The practice of aborting unborn babies on the basis of sex has long been considered a problem in areas of India and China, where boys are sometimes considered favourable for cultural or economic reasons.

House plans vote on bill to ban sex-selective abortion. The GOP leadership will bring the bill to the floor under suspension of House rules, which means two-thirds of the chamber will have to express support for it to pass. This is unlikely, because it would require 50 Democrats to vote in favor. [...] The bill, known as the Prenatal Non-Discrimination Act (PRENDA), would impose criminal penalties on doctors who provide abortions known to be motivated by gender discrimination, as well as on people who coerce women into having abortions for that reason.

Planned Parenthood's Abortion-on-Demand Policies Include Tacit Support for Sex-Discrimination. Sex-selection abortion is a real war on women, literally ending the lives of millions of baby girls simply because they are female. Research documents that baby girls are the predominant targets of sex-selection abortions. Nicholas Eberstadt, of the American Enterprise Institute, notes that the numbers of these sex-selection abortions worldwide are staggering, "resulting in millions upon millions of new 'missing baby girls' each year."

It's a Girl — The Three Deadliest Words in the World. In India, China and many other parts of the world today, girls are killed, aborted and abandoned simply because they are girls. The United Nations estimates as many as 200 million girls are missing in the world today because of this so-called "gendercide." Girls who survive infancy are often subject to neglect, and many grow up to face extreme violence and even death at the hands of their own husbands or other family members.

China's One Child Policy: A Real War on Women. While the American feminist left devotes its time, money and energy to pushing for taxpayer-funded contraception, claiming the right to call each other "slut," and ranting about the right's fictional "War on Women," there is a real war being waged on one out of every five women and girls in the world — China's "One Child Policy." The soul-wrenching reality of this rather bureaucratic-sounding term is a cruelty that is unimaginable to most Americans: forced abortion and sterilization, female infanticide, and a concomitant rise in sexual slavery throughout Asia.

Liberals Are Waging the Real War on Women. We have known for some time that baby girls are either aborted or killed outright after birth in some Asian countries, most notably, China. There is now growing evidence that Asian immigrants in the United States may be practicing the same sort of "gendercide." Of course, the nation's leading provider of abortions, Planned Parenthood, which receives hundreds of millions of our federal tax dollars every year, is more than willing to abort normal, healthy fetuses — for sex selection or any other reason — no questions asked. This was dramatically demonstrated recently by the head of the pro-life group Live Action, Lila Rose, who, a few years ago, exposed Planned Parenthood's cover-up of abortions on underage girls who had been impregnated by older men.

Ariz. abortion clinics agreed to illegally provide sex-selective abortions. The third video in a pro-life group's series highlighting "Gendercide" in America shows two National Abortion Federation (NAF) clinics in Arizona agreeing to break state law and perform abortions because the mothers did not want to have female children.

Gender-based Abortions. What is the next step for Democrats after gender specific abortions? The Democrats have so little respect for life and their scientific ability to control it that I wouldn't be surprised if they started killing less than brilliant or sickly children. Then they could ration drugs for the elderly and kill those who are not useful to their grand design. They won't have to worry about feeding to many weak women because they will have already killed them through gender specific abortions.

America is Now a "Pro-Life" Nation. Last Thursday [5/31/2012], Republicans brought to a vote in the House a bill introduced by Arizona Republican Trent Franks that would have criminalized abortion based on sex. Although the bill received healthy support, 246 - 168, including 20 Democrats that voted for it, it was not enough to pass. The floor rule under which the bill was considered required a two thirds vote for passage and it fell short of that.

WH: Aborting a Baby Because It's a Girl Part of 'A Very Personal and Private Decision'. The White House is opposed to a bill that was proposed in the House that would ban sex-selection abortions. In defending President Obama's opposition to the bill, White House Press Secretary Jay Carney said it would force abortionists into the position of trying to determine the "motivations" behind a "very personal" decision.

Planned Parenthood Participates in Gendercide, Probe Shows. A nationwide undercover investigation of Planned Parenthood by the pro-life activist group Live Action revealed that the tax-subsidized abortion behemoth and lobbying group willingly participates in and facilitates what is known as "gendercide" -- the deliberate extermination of children due solely to their gender. And while the sex-discrimination problem in abortions is generally associated with countries such as China and India, evidence released by the activists on May 29 further exposed the fact that it has increasingly reared its head in America, all with the help of taxpayer subsidies.

Another Video Shows Gendercide at Planned Parenthood in New York City. Another new and chilling Live Action film shows gendercide being promoted in a New York City Planned Parenthood clinic. A woman undercover says if she is pregnant with a baby girl, she would want to abort and instead have a boy. The Planned Parenthood worker counsels her about how to terminate her pregnancy, late term, based on sex-selection.

Pro-life group's hidden camera footage shows complicity in 'sex-selective' abortions. Live Action says Planned Parenthood and other U.S. abortion providers are willing to assist in the termination of baby girls for pregnant women who choose abortion because they want to have baby boys. And the pro-life abortion watchdog says its video series and a new website will expose it all. "This was a multi-state, national investigation demonstrating that this is a widespread problem across our country," Live Action president Lila Rose told The Daily Caller in an interview Monday [5/28/2012].

House to vote on bill banning abortions based on sex of child. The House plans to begin debate Wednesday [5/30/2012] on a bill that would ban abortions based on the sex of a child — and the measure may fail because of the way Republicans plan to bring the measure for a vote. The Prenatal Nondiscrimination Act (PRENDA) would punish doctors with up to five years in prison for performing abortions because the parents are seeking a child of the other sex. Republican supporters cast the bill as a measure designed to protect the civil rights of unborn children — especially babies born to minority parents. As the bill was drafted, Democrats accused Republicans of disingenuously tying the issue to the legacy of civil rights leaders.

Six GTA hospitals won't reveal fetal sex during ultrasound. A Toronto Star survey has found that six major hospitals in the GTA do not allow their ultrasound staff to reveal a baby's gender to expectant mothers. And, whether by coincidence or by design, all six hospitals are located in or near areas with high concentrations of South Asian immigrants — one of the ethnic communities at the centre of a mounting concern over female feticide.

Mr. Obama's Own War on Women. Two days after assuming power, President Obama revoked the Reagan-era Mexico City Policy of the previous administration. He forces us to fund international Planned Barrenhood. That means that the worldwide war on baby girls will go forward, with U.S. taxpayers footing part of the bill. President Obama says that attempts to cut off taxpayer funding of Planned Parenthood are part of a campaign against women. Hundreds of millions of baby girls have been killed. Demographer Nick Eberstadt has carefully documented this "gendercide." This world-wide "war against baby girls" is a major result of Planned Parenthood's population control ideology and its aggressive marketing of abortion-on-demand.

Scotland Yard launches investigation into illegal abortions of baby girls. Officers from the Metropolitan Police have begun gathering material that shows three doctors agreeing to arrange terminations for women who wanted to end their pregnancies after discovering the sex of the child. Today [2/24/2012] we revealed how a second doctor agreed to arrange an abortion for a woman wanting to end her pregnancy because her baby was a girl.

Planned Parenthood Executive Supports Gender Based Abortions. Whenever Planned Parenthood is threatened with funding cuts from private organizations or Congress, the executives who work there are the liberals who defend the organization take to the streets and the media to proclaim, "They're putting women's health in jeopardy!" It's almost as if they don't realize abortion affects unborn females in the womb, as fifty percent of abortions are of female babies. They'll scream women's rights all day long, while they disregard the rights of an unborn child, male or female. These are also the same liberals who claim to fight against gender discrimination in the work place, but apparently it is perfectly fine to discriminate inside the womb.

Female Heads of State Discuss 'Climate Change' But Not Sex-Selective Abortions. At a gathering of female heads of states, including the president of Finland and the former president of Ireland, the discussion focused on women's rights, the importance of supporting "emerging" women leaders and how climate change hurts women, especially poor women. But they did not discuss the issue of sex-selective abortions that have killed millions of baby girls.

NAACP Opposes Congressional Bill to Ban Race-Based Abortions. [The] Prenatal Nondiscrimination Act of 2011 criminalizes abortion on the grounds of race or sex. Doctors could be imprisoned for not determining if the race or sex of the baby influenced the mother's decision to abort. The object of the bill is to protect the rights of the minority and females against this bias. The catch is, if abortionists are innocent of such bias the Act will not affect their "business"; but if they are guilty of deliberately performing abortions on the minority, it will stop them from abusing the rights of the abortion victims. This bill ensures that the rights of minority and female babies are the same as those of white male babies.

Al Gore's Reproductive Footprint. [Scroll down] In much of the world, baby girls suffer most when countries institute the type of "fertility management" [Al] Gore promotes. In many developing countries, boys are prized because they traditionally care for aging parents, and because girls must give expensive dowries to their husbands' families when they marry. With small families becoming the norm in the developing world, couples often go to extraordinary lengths to ensure that they birth only boys. It has been estimated that sex-selection abortion is responsible for the deaths of 163 million girls worldwide.

160 Million and Counting. In 1990, the economist Amartya Sen published an essay in The New York Review of Books with a bombshell title: "More Than 100 Million Women Are Missing." His subject was the wildly off-kilter sex ratios in India, China and elsewhere in the developing world. To explain the numbers, Sen invoked the "neglect" of third-world women, citing disparities in health care, nutrition and education. He also noted that under China's one-child policy, "some evidence exists of female infanticide." The essay did not mention abortion. Twenty years later, the number of "missing" women has risen to more than 160 million...

Climate Change Used as Excuse For Population Control. [Scroll down] The one-child policy [in China] is the ultimate in draconian government control. A fine of approximately $27,000 is levied if the second child is not aborted. A family can choose to pay the fine, but the child is not recognized by the State that withholds a permanent residency document which denies access to public services such as education and healthcare. The policy effects are devastating the population structure of China. Stories abound of infanticide or sex-selective ultrasound to abort females, as families want a male first born.

Fanning the Flames of Feminism. There are now roughly 120 boys born in China for every 100 girls — a "gendercide," as some call it. "In eight to 10 years, we will have something like 40 to 60 million missing women," U.N. resident coordinator Khalid Malik warned in 2004. "Missing" means gone forever — killed simply because of their gender. This fact alone ought to have feminists up in arms.

100 million 'missing' girls. In India each year, it is estimated that as many as a million baby girls are aborted by parents determined not to raise a daughter. Those unborn girls are the victims of a fierce cultural preference for boys — and of modern imaging technology that makes it easy to learn the sex of a baby in the womb.

Sweden rules 'gender-based' abortion legal. Swedish health authorities have ruled that gender-based abortion is not illegal according to current law and can not therefore be stopped, according to a report by Sveriges Television.

Norwegian women abort girls in Sweden. Pregnant Norwegian woman have been allowed to undergo abortions in Sweden after finding out the sex of their child, according to new revelations from a medical ethics consultant in Oslo. These trips are a fact, according to a Swedish professor colleague. "We know that it happens as people have told us," said director Sissel Rogne at the Biotechnology Advisory Board (Bioteknologinämnden) to Svenska Dagbladet (SvD).

British Asians aborting unwanted girls. Cultural pressure to give birth to sons is causing some pregnant Indian-born women living in Britain to return to India to abort their unwanted daughters, an investigation has found. It reveals how "selective sex abortion", a practice outlawed in India in the 1980s, is still widespread and being used by some women living in England and Wales.

Sex Selective Abortions: [In India] Because of frequent female infanticide and selective abortion of girls, the birth ratio was 927 girls born for every 1,000 boys in 2001, down from 962:1,000 in 1991. The severe shortage of brides in the Haryana region has resulted in a black market in women from other regions who are brought in and sold into marriage, according to a Meri News report. As many as 200 million girls may have been killed worldwide in this way, mostly in Muslim and Asian countries. The rate is increasing because of ultrasound technology that permits sex identification around 18 weeks.

The results of gender-selection abortion...
Beijing's bachelor bulge: the unprecedented surplus of boys. All across China, the dangerous combination of modern technology and traditional beliefs is creating a huge army of single men. By 2020, more than 30 million men of marriageable age will be unable to find wives. Ultrasound machines and selective abortions, combined with China's restrictive one-child policy, are helping parents to skew the gender ratio, with potentially disastrous consequences. In China, the trend has become so extreme that it is believed to be unprecedented in human history. A recent Chinese government report warned that 118 boys were born for every 100 girls in 2005.

10 million Indian girls killed in 20 years. The widespread use of illegal tests to determine the sex of an unborn child is fuelling a rise in female feticide cases in India, social activists and officials say. Sex determination tests through techniques such as ultrasonography and amniocentesis are banned in India, but female fetuses are still commonly killed in some regions where a preference for sons runs deep.

Killing of baby girls triggers social upheaval in India. Over 27 percent of India's 593 districts have an adult population ratio of under 900 females for every 1,000 males, indicating a long-standing practice of female infanticide and feticide. That means thousands of men can't find brides in their areas, a shortage that is felt particularly in states where the practice of female infanticide, and now feticide, is practised and accepted. The British medical journal The Lancet recently estimated that 500,000 female fetuses are aborted each year in India solely because of their gender.

India killing off girl babies. India's female population is in steady decline, with parents continuing to kill off their baby girls before or just after birth, a report has found. Described as "the shame of modern India" — particularly at a time of booming economic growth and increasing literacy — the decline is attributed to misuse of prenatal diagnostic techniques and a consequent increase in cases of female feticide.

U.N. Addresses Discrimination and Violence Against Girls. Abortion in the United States has become one of the most common surgical procedures for women. The pro-abortion Guttmacher Institute reports that more than one-third of American women will have an abortion by the time they are 45. While the statistics will vary from country to country, the U.S. data indicates the extent of the worldwide problem. Sadly, Guttmacher also reports that 3 out of 4 women seeking an abortion do so for financial reasons.

Feminist Eugenics: Joseph D'Agostino has dubbed the rise in sex-selective abortions as "Feminism's Triumph: Exterminating Girls." Experts disagree on the overall toll, but an article published in the medical journal Lancet pegs the number at 100 million aborted girls, mostly in China and India. In China alone, UNICEF estimates there are only 832 girls per 1,000 boys. Feminists have a compulsion to impose radical social change and when things go sour, blaming the subsequent fiasco on the patriarchy. The problem of sex-selective abortions is no exception to this rule.

Why Liberal Feminists Support School Shootings. This coming Tuesday, Ms. Magazine will release its new issue with the cover story, "We Had Abortions (and we're glad we did)." … The story is intended to gloss over the millions of women who have had negative reactions to the abortion experience in their own life and choose to instead highlight a petition in which 1000+ very misguided women signed a statement affirming their belief that their lives were infinitely improved because they snuffed the life out of the most vulnerable person they personally had ever known — their unborn daughter (or son, or both).

Liberal in Chief: Liberals always expect their principles to harmonize with each other, and then are surprised when it doesn't work out that way. In their zeal for sexual equality, they oppose sex discrimination and favor abortion on demand, only to find that some people abort babies upon discovering that they are female.

Mothers sue over gender test that promised 99.9% accuracy. In a class action lawsuit filed in the US district court in Boston on behalf of 16 women the makers of the Baby Gender Mentor are accused of breaking their promise. Barry Gainey, the women's lawyer, said he knew of about 100 women whom the kit had failed….

The Editor says...
These gender tests are not just to tell the mother what color of curtains to buy for the baby's room. Many people use these tests to facilitate gender-selection abortions. And naturally there are plenty of lawyers around so you can find somebody to sue in the event you accidentally have a girl when you wanted a boy.


Disposing of unwanted male children:

The two villages where mothers killed every baby born a boy for ten years. The Papua New Guinea jungle has given up one of its darkest secrets — the systematic slaughter of every male baby born in two villages to prevent future tribal clashes. By virtually wiping out the 'male stock', tribal women hope they can avoid deadly bow-and-arrow wars between the villages in the future. 'Babies grow into men and men turn into warriors,' said Rona Luke, a village wife who is attending a special 'peace and reconciliation' meeting in the mountain village of Goroka.

Papua New Guinea women kill males babies to end tribal war. Women in Papua New Guinea's Highland region are killing their male babies to end a tribal war that has gone on for more than 20 years. Two women from the Eastern Highlands spoke of the slaughter to PNG's National newspaper during a three-day peace and reconciliation course in the region's capital of Goroka.


Doctors have a financial incentive to perform abortions.

Doctor denies illegally billing state for abortions. A Lexington doctor accused of Medicaid fraud is denying the charges. Doctor Hamid Hussain Sheikh is charged with falsely billing the state for abortions. He was arrested this week. Authorities say he billed the abortions as fetal ultrasounds.

The pro-choice movement: Safe, legal and as often as possible. Dr. William F. Harrison of Arkansas calls himself an "abortionist." "I am destroying life," he proclaims. But Harrison, who estimates that he has aborted over 20,000 unborn children, also sees abortion as a life-giving procedure, describing his patients as "born again."

The Abortion Capital of America: In 1970, New York passed the most permissive abortion law in America, one that defined the state as the country's abortion refuge. Overnight, a new industry materialized in New York City, promoting itself to women across the country. The pitches were often blunt. A newspaper ad from the time inquired, "Want to be un-pregnant?"


Babies born alive during attempted abortions:



When Is a Baby Not a Baby? When is a baby not a baby? When a progressive wants it dead. Never mind whether the baby has been born. That arbitrary cutoff is meaningless. Even outside the womb, a baby is not a baby unless those with power over the baby decide it should live.

Bishops Condemn Massachusetts 'ROE' Abortion Bills: 'Egregious Attack on Human Life'. The Catholic bishops of Massachusetts have released a statement condemning proposed bills in the state legislature that would expand access to abortion and eliminate requiring medical care for an infant who survives abortion. Cardinal Sean O'Malley, Archbishop of Boston, joined with the bishops of Springfield, Worcester, and Fall River in denouncing the two bills as "an egregious attack on human life."

Texas Senate green lights 'born alive' abortion bill: report. The Texas Senate gave a green light on Monday [4/8/2019] to a bill promoting a "culture of life" in the state that mandates doctors performing abortions to treat babies who are born alive during the procedure. While it remains especially rare for infants to survive the abortion procedure, Republicans legislators say that in the event of such occasion, doctors must do everything to save the life of the infant.

Born Alive Bill Will Be Major 2020 Issue. House Republicans want to hold Democrats accountable for the party's near-unanimous opposition to caring for babies who survive abortion. The GOP is pushing a bill that would force doctors to provide life-saving care to babies who survive abortions. The Born-Alive Abortion Survivors Protection Act failed in the Senate after only three Democrats crossed the aisle to support it, falling short of the 60-vote threshold. The Democrat-controlled House has blocked a similar bill from even coming to a floor vote, leading congressional Republicans to launch a discharge petition to rescue it from dying in committee. GOP whip Rep. Steve Scalise (R., La.) is spearheading the petition drive. His outreach effort to Democrats, however, has only yielded three signatures — putting him 18 votes short of getting the bill out of the Judiciary Committee. Scalise said Democrats will not be able to dodge the issue.

Born-Alive Survivors Protection Act Fails In The Senate. The Born-Alive Survivors Protection Act, which would have ensured that babies who survive abortions are given medical attention, failed to pass the U.S. Senate Monday evening [2/25/2019]. The bill failed by a vote of 53 to 44. The Born-Alive Abortion Survivors Protection Act would have mandated that babies born alive after an abortion would receive the "same protection of law as any newborn." The bill required 60 votes to pass. Democratic presidential hopefuls Kamala Harris of California, Amy Klobuchar of Minnesota, Cory Booker of New Jersey, Sherrod Brown of Ohio, Kirsten Gillibrand of New York and Elizabeth Warren of Massachusetts voted against the bill.

Democrats block bill to ensure medical care for abortion survivors. Senate Democrats on Monday [2/25/2019] defeated a GOP attempt to advance legislation that would clarify that babies who survive attempted abortions must receive medical care. Republicans and anti-abortion advocates pushed for the bill, the Born-Alive Abortion Survivors Protection Act, to receive a vote so that they could put individual senators on the spot regarding the issue of third-trimester abortion. GOP senators have been aiming to pressure Democrats to state whether they believe any limits should be placed on abortion after controversial comments appearing to indicate otherwise from Democratic Virginia Gov. Ralph Northam.

How Dems feel about born-alive legislation to protect babies who survive abortion. Sen. Tim Kaine touts his Catholic pro-life beliefs but dodged a question about supporting legislation that would protect infants who survive abortion. The Virginia Democrat acknowledged that the proposed Born-Alive Abortion Survivors Protection Act applies to abortion survivors, but told a constituent that he would not support any efforts to weaken Roe v. Wade, according to The Washington Free Beacon.

44 Democrats Vote to Support Post Birth Abortion. Unfortunately a bill introduced in the Senate to protect babies who survive abortion has failed a cloture vote. The "Born-Alive Abortion Survivors Protection Act" was rejected by forty-four Senate Democrats earlier today [2/25/2019]. Three democrat Senators voted to support the bill [Casey (PA), Manchin (WVA), and Jones (AL)], all others voted against protecting the babies.

Why Democrats Can't Talk Honestly About Abortion. Democrats will protect American children from the evils of trans fats and gay conversion therapy, but not from doctors who will kill them through negligent homicide in the first few hours of their lives. This is the ugly reality of the contemporary abortion debate. It's why most advocates will do about anything to avoid describing the unpleasant realities and consequences of their increasingly radical position. On Tuesday [2/5/2019], Senate Democrats blocked Republican Ben Sasse's effort for unanimous consent on the Born-Alive Abortion Survivors Protection Act. It must be stressed that this bill wasn't technically about abortion, but about protecting babies who survived the procedure.

Nurse Let Baby Die Who Was Born Alive After an Abortion: "We Put It in a Basin and Wait". In a 2015 report a French midwife tells her story of encountering a baby born alive after an abortion attempt, Live Action News reported. The report was released by the European Centre for Law and Justice with the intent of educating the Parliamentary Assembly of the Council of Europe on what happens to babies who survive their abortions. It was the first day of her new internship in the maternity department. The midwife, identified only as M.J., was with a male nurse when they were given rolled up white sheets from a recent abortion. They were instructed to check for any instruments before putting the sheets in the laundry. M.J. and the male nurse were shocked to discover a living baby rapped in the sheet.

Report Shows 27 Babies Born Alive After Abortions and Left to Die. Western Australians' concerns about 27 babies who were born alive after botched abortions and left to die are being ignored by state leaders. The horrifying discovery surfaced in 2017 in a series of questions to parliament by MP Nick Goiran. The government admitted that 27 babies, who ranged from 20 weeks gestation to possibly as late as 34 weeks, did not receive any medical care but instead were left to die. Western Australia Today reports more than 7,000 people signed a petition calling on parliament to investigate their deaths, the largest petition ever submitted to the state government. However, nothing has been done.

Feds Investigating Abortion Doc Allegedly Snapping, Slashing Babies' Necks After Birth. Pro-life conservatives often point out there are societal consequences to treating human life as disposable. That seems to have been proven true, at least based on a disturbing case that is now under investigation in Texas. While many advocates of abortion have insisted that there's a major difference between ending an unborn child's life in the womb and doing so for a newborn, no such moral line apparently exists for abortion provider Douglas Karpen. According to Life News, Karpen is under investigation by the FBI after allegedly murdering viable babies that were born alive after previous abortion attempts failed.

Abortionist Strangles 28-Week Baby Born Alive After Abortion. When an obstetrician gynecologist told teenager "Mary W" that she was 28 weeks pregnant, he suggested that she give the baby up for adoption, as few doctors in the area were willing to perform abortions that late. But Mary was determined, and she managed to find an abortionist — Dr. William Baxter Waddill. On March 2, 1977, Mary arrived at Westminster Community Hospital for a saline abortion. [...] When the baby was autopsied later, an examination of the lungs indicated that the baby had been breathing for at least 30 min. There were bruises on her throat, consistent with strangulation. Dr. Waddill went to trial. However, despite the fact that the autopsy proved that the baby had been strangled and a number of witnesses watched the strangulation, charges against Waddill were dismissed after two mistrials. He was never punished for strangling the baby. He was not reprimanded in any way. He did not lose his medical license. In fact, he continued to perform abortions and as of the year 2000, he was working for the Family Planning Associates' chain of abortion clinics. He and the clinic he worked at were even endorsed by the National Abortion Federation, an organization that supposedly only gives endorsements to the best facilities and providers.

Abortion Doctor: I Would Leave Babies to Die Born Alive After Abortion. In a second undercover video Live Action has released in two days, another abortion clinic staffer acknowledges leaving babies to die following failed abortions. The videos show there are other abortion clinics, abortion practitioners and staff who, like Kermit Gosnell, would leave babies to die after failed abortions. First, the pro-life group released a video showing an abortion facility staff member saying an unborn child born alive after a botched abortion should just be flushed down the toilet. In this second video, leading D.C. late-term abortion doctor Cesare Santengelo admits he would leave a baby struggling for life after a failed abortion to die.

1,270 Babies Born Alive After Failed Abortions in the U.S.. A shocking figure from a hearing on a bill in Florida should capture the attention of people across the country: hundreds of babies are born alive following botched abortions every year. Most of the attention that has been focused on a controversial statement by a Planned Parenthood lobbyist has centered on the abortion business' opposition to a bill to require appropriate medical care for any baby who survive an abortion. But the state representative who sponsored the bill told members of the Florida committee that held a hearing on it a shocking number.

Anti-abortion group holds vigil for baby they say survived abortion in Arizona, but details unclear. An anti-abortion group held a prayer vigil Saturday night outside a Phoenix hospital where they believe staff members are caring for a baby who survived an abortion. More than 45 people crowded a candle-lined sidewalk across the street from Banner-University Medical Center Phoenix. Some held signs, others rosaries while they were led in group prayer. After the demonstration, a hospital spokeswoman denied there was a baby fitting that description under the hospital's care. Rumors began circulating Friday [2/26/2016] in the anti-abortion community that a 21-week-old fetus had been discovered breathing during an abortion procedure that afternoon at a private clinic near the hospital.

Mother calls for 911 after her 22-week baby is born alive after abortion. The U.S. House recently passed the Born-Alive Abortion Survivors Protection Act, a measure that would make it a crime to kill infants who survive abortion procedures. The bill faces an uphill battle in the Senate, and President Obama has promised to veto the measure, should it land on his desk. Mandating that living, breathing, born-alive infants be regarded as human beings would not seem like a very controversial claim, since children who survive abortions are often killed by abortionists, or left to die. Here is the heartbreaking story of one survivor, baby Rowan.

Rep. Blackburn Asks Planned Parenthood to 'Fully Repudiate' Killing Babies Who Survive Abortion. When does Planned Parenthood, the nation's largest abortion provider, believe a child's constitutional rights begin? That's what Rep. Marsha Blackburn (R- Tenn.), vice chair of the House Energy and Commerce Committee, wants to know after a Planned Parenthood representative told Florida lawmakers that it would be up to the mother and doctor whether to kill a baby born alive after a botched abortion.

Conservative Leaders Demand Media Stop Censoring Gosnell Trial. Today [4/4/2013] twenty prominent leaders of the conservative movement have joined NewsBusters publisher and Media Research Center founder Brent Bozell in demanding the broadcast networks stop censoring coverage of the trial of Philadelphia abortion doctor Kermit Gosnell and the testimony of the Florida Alliance of Planned Parenthood Affiliates in favor of murdering children who survive botched abortions.

More about "Doctor" Kermit Gosnell.

Woman sues Ohio clinic over failed abortion after delivering healthy 'miracle' baby. An Ohio woman is suing an abortion clinic after she says she made the painful decision to terminate her pregnancy because her life was in danger, only to discover she was still pregnant after the procedure. The northeast Ohio clinic in a court filing denied Ariel Knights' allegations that doctors were negligent and failed to successfully perform the abortion she sought, eventually leading to the birth of her healthy baby daughter.

Video Message From Abortion Survivor Goes Viral. A YouTube video (see bottom of article) featuring a young woman who survived a saline abortion and was born alive has gone viral, and it warns about Barack Obama's record of voting to allow similar abortion survivors to perish. On the video, produced by the pro-life Susan B. Anthony List, 35-year-old Melissa Ohden tells viewers that "many children — more than you might think — actually survive failed abortions and are born alive. I know, because I'm one of them. I was aborted and my body discarded like I didn't exist." Thankfully, Ohden continues, "a nurse heard me crying and cared enough to save my life."

Audio: Obama Says "That Fetus or Child" Was "Just Not Coming Out Limp and Dead". Obama's argument against the bill is that he trusted an abortion doctor, who had just failed to kill a child in utero, to provide medical care to that child if it survived the abortion attempt. "If these children are being born alive, I, at least, have confidence that a doctor who is in that room is going to make sure that they're looked after," Obama said.

Abortionist admits: babies sometimes born alive. In disturbing testimony during court proceedings against a well-known Florida abortionist, a fellow abortionist reportedly admitted that some aborted children are delivered alive and left "wiggling around in the toilet," where they are allowed to die.

Obama's Abortion Extremism: Obama's record on abortion is extreme. He opposed the ban on partial-birth abortion — a practice a fellow Democrat, the late Daniel Patrick Moynihan, once called "too close to infanticide." Obama strongly criticized the Supreme Court decision upholding the partial-birth ban. In the Illinois state Senate, he opposed a bill similar to the Born-Alive Infants Protection Act, which prevents the killing of infants mistakenly left alive by abortion.

Closer look at Obama reveals he's wrong choice. Obama can joke that when life begins is above his pay grade, but this is not rocket science. If you destroy the egg of a bald eagle, you can be fined. Why? Because everyone knows that egg is a potential bald eagle. There is something fundamentally wrong with a society that protects bald eagles and yet allows unborn babies to be burned and sucked from their mother's wombs. When Obama was an Illinois state legislator, he wouldn't even vote to protect a baby that lived after abortion. That's cold.

Obama's Abortion Positon: To the Left of NARAL. Frank Pastore from KKLA in Los Angeles interviews Jill Stanek, the former registered nurse who served at Christ Hospital in Oak Lawn, Illinois. She testified before Congress about the death of infants who survived the abortion procedure only to die without care, giving rise to the Born Alive Infant Protection Act.

"Freedom of Choice" vs. "Born Alive". In a presidential campaign issues arise and then fade from view. The emergence of new media preoccupations may make it seem as though yesterday's controversy has been resolved. This is rarely true. Such is the case with the issue of Barack Obama's position on legal protections for infants while an Illinois state senator.

Deniers for Obama. When Congress was considering the Born Alive Infants Protection Act (BAIPA), a subcommittee of the House Judiciary Committee heard testimony from Jill Stanek and Allison Baker, two nurses at Christ Hospital in Oak Lawn, Ill. They described several instances in which babies who were moving and breathing after induced abortions were left to die. The committee report quoted Jill Stanek: "Mrs. Stanek testified about another aborted baby who was thought to have had spina bifida, but was delivered with an intact spine. On another occasion, an aborted baby was left to die on the counter of the Utility Room wrapped in a disposable towel."

Video: Kill and Destroy. An interview with Jill Stanek.

Obama is no moderate: His radical position on 'abortion' after birth. [Scroll down] So, what are we to make of Obama's votes against protecting the right to life for living babies who have survived attempted abortions? Such babies are sometimes born alive as a result of late-term induced labor abortions, often sought when babies are believed (sometimes in error) to have genetic defects such as Down syndrome. Earlier this decade, such living, breathing, babies who survived labor were "shelved" — left to die and disposed of with other medical waste, or were "aborted" — killed outside the womb. The practice was ultimately banned by unanimous Congressional votes, as even the most pro-abortion Senate Democrats — including every defender of partial-birth abortion — recognized that killing these breathing babies is no longer abortion in any real sense. It crosses the line; it is infanticide. Yet, incredibly, Obama repeatedly worked to deny these living babies any right to life.

The Audacity of Death: According to Barack Obama, Gianna Jessen shouldn't exist. Miss Jessen is an exquisite example of what antiabortion advocates call a "survivor." Well into her third trimester of pregnancy, Gianna's biological mother was injected with a saline solution intended to induce a chemical abortion at a Los Angeles County abortion center. Eighteen hours later, and precious minutes before the abortionist's arrival, Gianna emerged. Premature and with severe injuries that resulted in cerebral palsy. But alive. Had the abortionist been present at her birth, Gianna would have been killed, perhaps by suffocation. … As an Illinois state senator, Barack Obama twice opposed legislation to define as "persons" babies who survive late-term abortions.

Obama's Stealth Pro-Abortion Stance: In response to a Pennsylvania voter's question about elementary school sex education, Obama said: "Look, I got two daughters — nine years old and six years old. I am going to teach them first about values and morals, but if they make a mistake, I don't want them punished with a baby." This makes two things clear. First, Senator Obama supports abortion on demand — even "convenience" abortions — for minors, including his own daughters; and second, Obama considers babies a "punishment" he'd rather spare his daughters, even if those daughters have to abort Obama's own unborn grandchildren to avoid that particular "punishment." That unguardedly candid public statement is political dynamite — or it would be, if the media had reported on it.

Obama is the Most Pro-Abortion Candidate Ever. He is so pro-abortion he refused as an Illinois state senator to support legislation to protect babies who survived late-term abortions because he did not want to concede — as he explained in a cold-blooded speech on the Illinois Senate floor — that these babies, fully outside their mothers' wombs, with their hearts beating and lungs heaving, were in fact "persons." "Persons," of course, are guaranteed equal protection of the law under the 14th Amendment.

More on Obama and Babies Born Alive: When Obama was in the Illinois Senate, the Born Alive Infants bill came up three successive years. In 2001, three bills were proposed to help babies who survived induced labor abortions. One, like the federal Born Alive Infants bill, simply said a living "homo sapiens" wholly emerged from his mother should be treated as a "'person,' 'human being,' 'child' and 'individual.'" On all three bills, Obama voted "present," effectively the same as a "no." Defining "a pre-viable fetus" that survived an abortion as a "person" or "child," he argued, "would essentially bar abortions, because the Equal Protection Clause does not allow somebody to kill a child, and if this is a child, then this would be an anti-abortion statute."

Scores of babies left to die after NHS abortions that go wrong. Botched abortions mean that scores of babies are being born alive and left to die, an official report has revealed. A total of 66 infants survived NHS termination attempts in one year alone, it emerged. Rather than dying at birth as was intended, they were able to breathe unaided. About half were alive for an hour, while one survived ten hours. The figures are the first to give a national picture of the number of babies who survive abortion but are left to die. Experts previously believed the phenomenon was limited to a handful of cases a year.

Baby Miraculously Survives Abortion, Expected to Live 'Normal' Life. A mother who decided to abort her son because he may have inherited a life-threatening kidney condition is overjoyed that he survived the procedure. Jodie Percival of Nottinghamshire, England, said she and her fiancee made the decision to abort baby Finley when she was eight weeks pregnant.

Dad returns baby's body to abortion clinic. Counselors question why police didn't investigate the death. ... Now, with the probable destruction of the body, an investigation never will reveal whether the abortion was a late-term procedure in violation of state law, or whether the infant was born alive and medical help was withheld, in violation of federal law.

Bush Signs "Born-Alive Infants Protection Act" Into Law: President Bush Monday signed legislation protecting infants "accidentally" born during abortion procedures from being killed or left to die. Bush signed the "Born-Alive Infants Protection Act" (H.R. 2175) during a trip to Pennsylvania, to mirror laws already on the books in more than 30 states.

The real scandal: Even for those of us who tilt toward the pro-choice side, there are worse things than the repeal of Roe, included among which would be a society that endorsed allowing newborn babies to die. For anyone with an even rudimentary moral conscience, this is only a short step or two from the brave new world of Auschwitz.

Baby boy survives for nearly two days after abortion. The 22-week infant died one day later in intensive care at a hospital in the mother's home town of Rossano in southern Italy. The mother, pregnant for the first time, had opted for an abortion after prenatal scans suggested that her baby was disabled. However, the infant survived the procedure, carried out on Saturday [4/24/2010] in the Rossano Calabro hospital, and was left by doctors to die.



This is an original compilation, Copyright © 2018 by Andrew K. Dart

Survivors of abortions:



Couple sues Planned Parenthood for child support after failed abortion. An Idaho couple claims Planned Parenthood "deceived" them after a failed abortion — and is asking the asking the agency to cough up the unforeseen cost of raising "an additional unplanned child." Biana Coons, who was six weeks pregnant with her son, traveled 700 miles with her partner, Cristobal Ruiz, to a Planned Parenthood in Albuquerque, New Mexico in February 2016 to avoid the mandatory waiting period in her home state.

Senate Dems block bill requiring medical care for abortion survivors. The Democratic Party seems to be willing to protect not just late-term abortions, but killing of babies who survive the attempt on their lives. Governor Ralph Northam's cold-blooded explanation of allowing parents and doctors to discuss whether or not to finish off the victim, as part of the bill sponsored by Democrat Kathy Tran, shocked most people who heard about it — those who don't rely on the mainstream media.

38 Senators File Bill to Protect Babies Born Alive After Botched Abortions. A Republican senator today introduced the Born Alive Abortion Survivors Protection Act — legislation protecting babies who survive abortions. The bill would amend existing U.S. law to "prohibit a health care practitioner from failing to exercise the proper degree of care in the case of a child who survives an abortion or attempted abortion." Senator Ben Sasse, a Nebraska Republican, is behind the legislation and told LifeNews why the bill is needed. he is joined by 37 of his colleagues. "Everybody loves babies and that love has nothing to do with politics and everything to do with just having a heart," said Sasse. "This legislation is an opportunity for Congress to find consensus built on common sense, compassion, science, and a simple fact: every baby deserves a fighting chance at life. Providing care for newborns is more important than partisan political divides. Every baby has dignity — every baby deserves protection and love."

House Passes Pro-Life Bill Protecting Babies Born Alive After Botched Abortions. As hundreds of thousands of pro-life people prepare to march in the March for Life, the House of Representatives voted to approve the Born Alive Abortion Survivors Protection Act — legislation protecting babies who survive abortions. The Born-Alive Abortion Survivors Protection Act (H.R. 4712) passed 241-183. All Republicans voted for final passage, but only six Democrats voted in favor of it. House Majority Leader Kevin McCarthy (R-CA) said the bill was necessary to protect babies who are born alive after botched abortions.

Nurse Says Baby Who Survived Abortion Cried While Left Alone in a Steel Pan to Die. On Friday [9/22/2017], abortion survivor Gianna Jessen told a U.S. Congressional panel how she was born alive after a botched abortion and survived because of a nurse who called an ambulance. Some babies have not been so fortunate. While some abortion activists claim that babies do not survive abortions, various accounts confirm that some do. The fortunate ones receive medical care in an attempt to save their lives, but the unfortunate are abandoned to die. Earlier this year, a baby was born alive after a botched abortion in Phoenix, Arizona, according to local news reports. The baby was transferred to a local hospital for care, but he or she did not survive. This week, Live Action News reported another tragic case involving a baby who was born alive after a botched abortion nearly 30 years ago. Pro-life blogger Sarah Terzo uncovered the baby's story as told by a nurse who witnessed his birth in 1987 in France.

Mother Tried to Abort Her Baby But the Abortion Failed, Now She Absolutely Loves Her Son. Kirsten Hay wants struggling young moms to know that there are people willing to help when they feel all alone. Hay, who became pregnant at age 19, knows from personal experience. She said she tried to abort her son and, when her son survived, struggled with severe postpartum depression, according to The Sun. But today, the Scottish mom said she loves her son, Oscar, so much and cannot imagine life without him. She said she and Oscar are doing well because they received good support from people around them.

Mother Racked by Guilt After Her Baby Survives Abortion. Shannon Skinner had an abortion when she was eight weeks pregnant, or so she thought. She already had a four-month-old baby and she and partner Anthony were "having problems" so they decided abortion was the best answer as opposed to a second baby. But after the abortion, Skinner continued to have morning sickness and to feel the unborn baby's movements. After consulting a physician, she received word that the movements were just an after-effect of the abortion. Eventually, a pregnancy test came back positive and she was told she was five months pregnant. Thankfully, the couple decided to keep the baby, who does not appear to have been harmed by the powerful abortion drugs Skinner took.

My mother tried to abort me. I survived. There was a great struggle within me as to whether I would ever share my story publicly or keep it private. Looking back on it all now, I realize that if I would have kept my story private, my biological parents likely never would have known that I survived. And keeping my story a secret would not have done anything to help save the millions of babies who are aborted every year and the women who make an abortion decision or are coerced or even forced into it, like my biological mother was.

Survivor puts a face on abortion debate. Melissa Ohden looks at herself as the face of abortion. The face that survived. Ohden, a Christian and pro-life speaker, presented her tale as an abortion-attempt survivor Thursday morning [10/21/2010] in front of a mainly student audience in Alumni Hall at the University of Dubuque. The Sioux City, Iowa, resident spoke as part of the Clarity Clinic luncheon.

Baby Miraculously Survives Abortion, Expected to Live 'Normal' Life. A mother who decided to abort her son because he may have inherited a life-threatening kidney condition is overjoyed that he survived the procedure. Jodie Percival of Nottinghamshire, England, said she and her fiancee made the decision to abort baby Finley when she was eight weeks pregnant.

Couple give birth to healthy quintuplets after being told to abort. A Russian woman has given birth to quintuplets in Britain after defying medical advice in her homeland. The 29-year-old music teacher, who has strong religious beliefs, travelled to England to give all five of her daughters a chance of life.

Aborted Fetus Sings. When her biological mother was 17 years old and 7½ months pregnant she went to a Planned Parenthood clinic to have an abortion. As God would have it, the abortion failed and a beautiful two-pound baby girl was brought into the world. Unfortunately, she was born with cerebral palsy and the doctors thought that she would never survive. The doctors were wrong.

Will the Miracle Baby Change the Abortion Debate? Is "Hurricane Amillia" about to blow the abortion village down? Not if the media can help it. ... ABC World News Tonight was the only broadcast news outlet to make the connection between Amillia's gestational age and laws governing abortion. The vast majority of the 21 broadcast stories that ran about Amillia last week merely dealt with the baby's homecoming.

The unborn need a Wilberforce. In Miami, Amillia Sonja Taylor captured the hearts of millions and the attention of doctors with her courage, strength and zest for life. Born at 21 weeks and six days, she weighed only 10 ounces and was 9.5 inches long — about the size of a ballpoint pen. Last week, she was brought home by her doting family weighing four and a half pounds. The world's youngest baby ever to survive, little Amillia has moved the threshold of viability in the ongoing fight to protect the unborn.

What PFAW means by "far right": The lawyers cited a New Jersey Supreme Court case involving babies who survive prenatal injuries that said "(m)edical authorities have long recognized that a child is in existence from the moment of conception, and not merely a part of the mother's body." In essence, they argued, all human beings are persons and entitled to the same rights under the 14th Amendment.

The Audacity of Death: According to Barack Obama, Gianna Jessen shouldn't exist. Miss Jessen is an exquisite example of what antiabortion advocates call a "survivor." Well into her third trimester of pregnancy, Gianna's biological mother was injected with a saline solution intended to induce a chemical abortion at a Los Angeles County abortion center. Eighteen hours later, and precious minutes before the abortionist's arrival, Gianna emerged. Premature and with severe injuries that resulted in cerebral palsy. But alive. Had the abortionist been present at her birth, Gianna would have been killed, perhaps by suffocation. … As an Illinois state senator, Barack Obama twice opposed legislation to define as "persons" babies who survive late-term abortions.

Some survivors aren't very grateful.
Disabled Children Want To Sue Doctors For Being Born: An Australian court is hearing a test case that seeks to establish whether children born disabled as a result of medical negligence can sue doctors for "wrongful life." A lawyer representing doctors in the case has warned that if the court rules in favor of the children's right to sue for damages, then children born with disabilities could eventually end up suing their mothers for not aborting them.


Serial abortions / Abortion as birth control / A matter of convenience:



Rose McGowan: I Had an Abortion So I'd Have More Time to 'Change the World'. Actress-turned-activist Rose McGowan claimed that she had an abortion when she was younger so she could "change the world" instead of raising a child. "I have had an abortion and I support this message," Rose McGowan said in a social media post about abortion.

Trump administration to ban abortion referrals by taxpayer-funded family planning clinics. The Trump administration announced Friday that it intends to bar taxpayer-funded family planning centers from promoting or perfoming abortions or referring women to other clinics for them — a move that is likely to yank money from groups like Planned Parenthood. The Department of Health and Human Services announced that the Title X program, a family-planning grant that helps approximately four million women a year, would be subject to a revision of regulations — including one that "prohibits the use of Title X funds to perform, promote, refer for, or support abortion as a method of family planning."

NHL player Evander Kane facing $6M lawsuit as ex-girlfriend claims he reneged on $3M abortion payment. An unidentified woman filed a $6 million lawsuit this week, claiming that NHL player Evander Kane of the San Jose Sharks failed to compensate her for abortion procedures undergone while they were a couple. The woman claims that Kane, 27, impregnated her three times after they began dating in 2015, and that Kane forced her to end the last two pregnancies after they mutually agreed to end the first, TMZ reported.

There Are No Conservative Judges. For example, abortion was viewed as a horrible crime right up to the time that artificial contraception was developed. Our knowledge of the humanity of the unborn had actually grown, and there had been no change in the moral issues surrounding abortion. Hence, it was absurd to claim, as the dishonest judges on the Supreme Court did, that the intent of the Constitution was that killing an unborn child was not only legal, but a constitutionally protected right. What had happened was that while the Pill led people to believe they could have sex without children, the reality is that mankind has yet to find a way to undo either God's plan for the purpose of sex or basic biology, which makes the most likely outcome of sex a new human life. For example, the typical woman on the Pill has about a 40% chance of an unexpected pregnancy during her lifetime. But once some people thought they could have sex without children, they encountered the harsh reality that man hasn't yet figured out a perfect way to have sex without the possibility of children. As a result, they looked to the killing of "unwanted" babies as a surefire way to have sex without the "burden" of children.

Women Who has Had Four Abortions: 'It Does Get Easier With The More You Have'. An article published by the BBC, a network that has been accused of being pro-abortion, gave a voice to one woman who has had four abortions and was interviewed by Marie Stopes UK, the Planned Parenthood of Great Britain. The woman said, "It does get easier with the more you have." The BBC article revolved around a survey taken by Marie Stopes UK which found that the percentage of women having a second abortion had jumped from 31% in 2002 to 37% in 2012. Of women who said they had already had an abortion, "74% admitted they had had one previous abortion, 25% said two, and 1% reported three previous abortions."

The Editor says...
Robbing a bank probably gets easier after you've done it a few times. That doesn't make it right.

Abortion Activist Admits Women Use Abortions for Birth Control: "Women Have Had 7 Abortions". Two abortion supporters wrangled about late-term abortions on British public radio Monday as the abortion industry puts pressure on the government to end late-term abortion limits. England allows abortions up to 24 weeks for any reason, and later in circumstances related to the health of the mother or her unborn child. The country is experiencing a political tug-of-war between those who think the abortion limit should be reduced to reflect new viability standards and those who believe abortion should be allowed for any reason up to birth — including for birth control reasons.

Jewish Actress Natasha Leggero: Great Thing About Judaism is "Abortions are Cool". Even jokes have their limits. During his show May 26, Conan O'Brien invited actress and recent Judiaism convert Natasha Leggero onto his show. Leggero praised her new religion for treating abortion as "cool" enough to have on "every Jewish holiday." After all, she reasoned, it's good to have a back-up to fall on, just like AAA for cars.

Norway to allow foreign women to abort healthy twin. Norway's health authorities have ruled that foreign women pregnant with twins should be allowed to abort one fetus in Norwegian hospitals, even if it is perfectly healthy. The ruling, made by Norway's Ministry of Health, is expected to open the way for women from neighbouring Sweden and Denmark, where the procedure of "selective reduction" is not permitted in the same way.

Feminists Fight for Abortion — Not for Women. There are millions of students who are either pregnant or are raising children, at a whopping 26% of all undergraduate students, yet they frequently are discriminated against, and the issues that they face are overlooked. Today's so-called feminists should be fighting for these women. Instead, they just encourage women to have abortions.

Gloria Steinem: Abortion allowed me 'to live my life'. Famed feminist Gloria Steinem said Tuesday that the abortion she underwent after college allowed her to live her life freely. "It gave me my life," she told PBS host Tavis Smiley. "I mean, I wouldn't have been able to live my life otherwise."

Mother-of-four who needed IVF to conceive three of her children reveals why she chose to abort a 'natural' pregnancy. One Minnesota woman who was forced to turn to IVF to expand her family never expected to get pregnant naturally — and when she surprisingly did, she chose to have an abortion. Hannah Stein was already a mother of four with her husband of 17 years, Patrick, when the unplanned pregnancy caught them off guard. The couple had undergone several rounds of IVF to conceive three of their children, and finally felt like their family was complete — so they terminated the pregnancy.

Choosing Life over Convenience. When did we become a country that celebrated abortion on demand and convenience over life? Conservatives have been fighting for life since Roe v. Wade was handed down, and although we have been able to chip away at that life destroying decision, the battle will continue until every unborn life is protected.

'Lifestyle' abortions warning as serial termination numbers surge. Abortion is increasingly being used simply as a form of "contraception", MPs claimed as official figures showed a surge in the number of women having nine or more terminations. Almost seven in 10 women who had a pregnancy terminated last year were married or in a stable long-term relationship, the new figures from the Department of Health show. Overall there were 190,800 abortions in England and Wales last year taking the total for the last decade to just under two million. Across mainland Britain as a whole there were 202,577 in 2013.

Killing Your Child for Volleyball. I came across a horrifying, sad article by blogger and career advice columnist Penelope Trunk. It chronicles her two abortions — her first when she was in the midst of a professional volleyball career (it was relatively late-term) and the second when her post-volleyball career was "soaring."

Are Partial Birth Abortions of Late Term Babies A Woman's Right? These women are adamant — they won't go back to a situation in which a woman does not have control over her own body. They are not talking about Roe vs. Wade or cases or rape or incest or a situation in which a mother's life is endangered, they are talking about abortion without limits. Roe vs. Wade is too limiting for them. They want to be able to end a baby's life in the womb or during the delivery process with no limitations. We are not talking pro-life and pro-abortion, we are talking about killing a viable baby simply because the mother wants to for whatever reason she may have.

More women choosing 'selective reduction' abortions when pregnant with twins and triplets. Growing numbers of women expecting twins, triplets, quads and quintuplets are aborting one or more of their unborn babies. Official figures show that 85 women had a 'selective reduction' — or chose to terminate the life of at least one child in the womb — while continuing with the pregnancy last year. This compares with 59 women in 2006.

Kansas 'Rodeo Exception' Claimed Unborn's Life. "Horses are my life and having kids would mess that up for barrel racing" — so said a 15-year-old who hoped to abort the healthy, viable baby that she had already carried for more than six months. The year was 2003. Our confused little cowgirl had come, alas, to the right place: Dr. George Tiller's clinic in Wichita, the world capital of late-term abortions. Tiller promptly invoked the Kansas "rodeo exception" to the state prohibition on late-term abortions. A second physician, Dr. Ann Kristin (Kris) Neuhaus, confirmed the rodeo exception, and the baby was executed with the utmost privacy, and all for only about $6,000.

Thoughts from an ex-fetus. We consider the ancient Spartan model barbaric, for instance, although in some ways it was much like ours. Spartans, too, regarded letting children live or die a private choice, although they did involve father in the decision, not only mother, and extended it to born children, not just fetuses. Another difference was that Spartans, instead of relying on vacuum suction, threw unwanted children off a mountain called Taigetos. For Spartans, "unwanted" meant "substandard." For us, it means "inconvenient." We don't want standard or even super-standard children if they cramp our style.

The Truth about Abortion: The fact is that the majority of abortions — far from all, but the majority — serve as nothing more than routine birth control: Most women who have abortions became pregnant by willingly engaging in high-risk sexual activity, and many resort to abortion more than once. For a solid pro-choicer, this presents no problem; if unborn children have no rights, there is no harm done. But pro-lifers and moderate pro-choicers like [Michael] Benjamin need to face the fact that while programs designed to talk women out of abortion are one useful tool in a pro-life strategy, they will not significantly lower the abortion rate by themselves. Those who are truly concerned about abortion should have two priorities: first, overturning Roe v. Wade so that states may ban abortion; and second, in the meantime, designing an anti-abortion program that will appeal to women who use the procedure as birth control.

Thousands of women have four abortions. Thousands of British women have had four or more abortions, including dozens who have undergone six by the age of 30. Figures uncovered by the Telegraph show that almost 4,000 women have had at least four abortions. In a "grotesquely bleak" picture of British society, scores of women have had at least eight terminations.

Campaign to end 'abortion capital' Britain. MPs will today [5/6/2008] launch a campaign to cut the number of abortions carried out and reduce the upper time limit for termination from 24 to 20 weeks. Campaigners warn a "less casual" approach to abortion is now needed and hope to reduce the number of terminations made for social reasons. By lowering the time limit for these abortions, they estimate 2,300 lives a year could be saved.

Abortion accuracy: While unmarried women are four times more likely to have an abortion than married women, both married and unmarried abortions declined by more than 25 percent during the 1990s. In fact, abortion increasingly is becoming a matter of birth control for women over age 25. They are the ones having the largest share of abortions. Also, the data indicates that the number of women having repeat abortions is increasing (some four or more) and more abortions are being performed on women who have previously had a live birth.

Life is on the march. Modern Americans seem absurdly determined to wipe away all evidence of what previous generations understood and accepted about life — its pains, challenges, surprises; its miraculous beginnings and eventual endings. The fear of hardship has created a cult of death. An obliging Supreme Court has crafted a jurisprudence to justify murders of convenience.

That very 'so-called' right to privacy. Whatever else modern America stands for has nothing like the centrality in our affairs of the right to abort a pregnancy. The Constitution, it almost seems, exists to make sure no woman has to have a baby she doesn't want. No sucker game of this magnitude was ever before played on the citizens of a great democracy. It all comes down to abortion.

The lamentable "bomb shelter": The gruesome procedure known as partial-birth abortion once again has been declared legal by the federal court system. A person must suspend all logic, as well as empathy, to accept the brutal killing of a child just seconds away from taking his or her first breath. Those who argue that all forms of abortion must be allowed in order to preserve the life of the mother ignore the facts. The overwhelming majority (90-plus percent) of abortions are performed for reasons related to economics or convenience.

The secular barbarians: If an unborn child is going to impede the mother in any way, it's cool to root that baby out because the little rascal could ruin her "life". Maybe its birth could interfere with Mom getting her BA degree, or expose the affair she's having with her college professor, or mess up her bikini body, or keep her from partying and sleeping with everything that moves.

Women say economy factors in abortions. Many women who got abortions last year say the worsening economy was one of the reasons for their decision. There were 13,843 abortions performed in Minnesota in 2007. Of the women who listed a reason for their abortions, 40 percent cited economic concerns — that's the largest share since the state started collecting detailed abortion information a decade ago, according to the state's annual abortion report.

Spitting in the face of pro-lifers: Forgive my ignorance, but I fail to see what contribution Dr. Henry Morgentaler has made to Canadian society that he deserves to be called an officer of the Order of Canada. I stand with the multitude of pro-life Canadians who believe legalized abortion has not made Canada a fundamentally more just or humane society, as abortion rights proponents said it would. Like every place where abortion is introduced, it has cheapened human life and transformed abortion into an acceptable form of birth control.

A society with no standards: Currently sitting at the top of the Billboard Hot 100 list is a rap rendition called "Confessions, Part II" by rap star Usher. Mixed into the recording are lyrics by another rapper, Joe Budden, in which he talks about his frustration with a woman's refusal to abort his baby.

Feminism and the Family: Since the central aspect of women's liberation is so-called "free love" — sexual activity that is unconstrained and without consequences — they declared that abortion on demand is a basic human right and they made abortion an essential and sacred element of their life's creed. The abortion activists became both effective street fighters and skillful backroom strategists; they defend the 45 million murders of unborn lives by abortionists — at every turn and in every arena.

Read this The Truth About Abortion: The most recent statistics document an average of 1.4 million legal abortions performed annually from 1973 to 1998. Two to five percent of these pregnancies are terminated due to incest, rape, fetal abnormalities, or the mother's health, while the other 95 to 98% are simply a means of birth control.


Making abortion less messy: RU-486 and other drugs.



"Staggering" Number of Women are Buying Dangerous Abortion Pills Online to Kill Their Babies. Women increasingly are turning to the internet to buy abortion drugs to kill their unborn babies, according to a new study. The study by the University of Edinburgh and the Netherlands reported on the trend among women in England, Scotland and Wales where abortions are legal, taxpayer-funded and widely available, The Daily Mail reports. Abortion activists are using the study to suggest that even the few abortion regulations in the UK should be overturned. For example, women are required to receive counseling about the abortion, its risks and alternatives several days before the abortion. And unlike in America, the UK requires that all abortion drugs be administered in a registered clinic, rather than taken at home.

College dispenses morning-after pill in vending machine. In a quiet study lounge at the University of California, Davis, back in the corner just past the coffee cups, you'll find contraception for sale in a vending machine. If you look closely, the machine isn't just stocked with condoms and pregnancy tests. It's selling the morning-after pill. It dispenses the Plan B pill for $30 a box. It's known as the Wellness-To-Go machine, and it's drawing more praise than criticism on campus, CBS Sacramento reports.

Cops say man forced woman to swallow abortion pill. Police say a Hudson Valley anesthesiologist choked a woman and forced her to swallow an abortion pill after she told him she was pregnant.

North Dakota court bans use of abortion drug. The North Dakota Supreme Court has upheld a state law that bans the use of one of two drugs used to perform abortions, effectively making the procedure illegal.

Court Rules for Pro-life Pharmacists in Washington State. As resistance intensifies to the Obama administration's mandate requiring employers to offer health insurance that includes free access to contraception, a federal judge has ruled that pharmacists in Washington State can be guided by their consciences rather than the state with regard to stocking and distributing abortifacients — the types of contraceptive drugs that can cause abortions.

Judge strikes down law mandating sale of contraception. A federal judge ruled on Wednesday [2/22/2012] that Washington state cannot require pharmacists to dispense emergency contraceptives if to do so violates their religious beliefs. U.S. District Judge Ronald B. Leighton declared the state regulation unconstitutional because it trampled on pharmacists' right to "conscientious objection."

Republicans propose cuts to schools that provide access to 'morning after' pill. Rep. Doug Lamborn (R-Colo.) and more than 20 other House Republicans have proposed legislation that would cut federal funding to elementary and secondary schools that provide students with access to emergency contraception, like the morning-after pill.

Planned Parenthood's big lie. Telemed abortion is the practice by which an abortion doctor from a remote location simply presses a button, which opens a drawer containing the dangerous abortion pill, after a brief teleconference call with the woman. Telemed abortion doesn't only result in the death of an unborn child; it strips women of their dignity by denying them the courtesy of an in-person visit from a doctor concerned for their health and well-being. It risks their lives by sending them away with no support and a drug that has led to massive bleeding and hemorrhaging, infection and even death.

You can't buy cigarettes out of a machine, but you can buy a baby-killing pill.
Pa. college machine dispenses 'morning-after' pill. Students at a Pennsylvania university can obtain the "morning-after" pill from an unusual source -- a vending machine at the campus health center.

Obama FDA Considers Putting Morning-After Pill on Supermarket Shelves. The Washington Post reports that, under President Obama and his Health and Human Services Secretary Kathleen Sebelius, the Food and Drug Administration is considering letting "anyone of any age buy the controversial morning-after pill Plan B directly off drugstore and supermarket shelves without a prescription."

HHS Says No to Over-the-Counter Morning-After Pill. In a surprise move with election-year implications, the Obama administration's top health official overruled her own drug regulators and stopped the Plan B morning-after pill from moving onto drugstore shelves next to the condoms.

Left 'speechless' as Sebelius overrules FDA on access to morning-after pill. In a decision steeped in 2012 politics, President Obama's top health official on Wednesday [12/7/2011] overruled government scientists to block wider access to the so-called "morning-after pill." The decision to leave in place a requirement that women younger than 17 get a prescription for the drug was a huge surprise to liberal groups and advocates for the Plan B contraceptive, some of whom said they were left "speechless" by Health and Human Services Secretary Kathleen Sebelius's involvement.

Obama's war on decency. [Scroll down] The third item is the Food and Drug Administration's evil idea to allow the Plan B "morning-after pill" to be sold over the counter to anyone — regardless of age. After the story hit the fan, Health and Human Services Secretary Kathleen Sebelius issued a directive on Wednesday [12/7/2011] to stop it. Plan B, which can act as an abortifacient, will continue to be sold over the counter without a prescription to anyone at least 17 years old. But 10-year-olds won't be able to slip it onto the counter next to their gummy bears. Is it really necessary to explain why children should not be allowed to buy a powerful drug?

RU-486: Ten Years After. Today, September 28, 2010, marks the ten-year anniversary of the U.S. Food and Drug Administration's (FDA) approval of Mifepristone (popularly known as RU-486). RU-486 is the only drug the FDA has approved for the sole intention of inducing abortions. While proponents often claim that abortion should be "safe, legal and rare," one could make a strong case that chemical abortions, while indeed legal, have over the last ten years posed major safety concerns including infection, life-threatening bleeding and even maternal death. Chemical abortions have become anything but rare. Despite this dubious safety record, it appears to be a major goal of the abortion industry to increase the number of chemically induced abortions.

Shots assist in aborting fetuses. In response to the Supreme Court decision upholding the Partial-Birth Abortion Ban Act, many abortion providers in Boston and around the country have adopted a defensive tactic. To avoid any chance of partially delivering a live fetus, they are injecting fetuses with lethal drugs before procedures.

RU-486: Human pesticide. The FDA's approval of RU-486 should help remind the pro-life community of the principles at stake in the dispute over abortion. For several years, the most intense public discussion of abortion has been the debate over late-term, or "partial-birth" abortion. But opposition to this physically most repugnant form of abortion has had the unfortunate side-effect of distracting some from the key issue of principle, which is equality for all.

Abortions down 25% from peak. The number of abortions has plunged to 1.2 million a year, down 25% since peaking in 1990, according to a report released today -- days before the 35th anniversary of Roe vs. Wade, the Supreme Court ruling that legalized abortion. ... [However] Women looking to end early pregnancies are gravitating to medication abortions, in which they take two pills under a doctor's supervision to induce miscarriage. This approach lets them avoid surgery -- and the protesters who often picket clinics -- and expel the embryo in the privacy of their homes.

The Editor says...
"Expel the embryo" is a euphemistic way of saying, "flush the baby". An intentionally induced miscarriage has the same result as an abortion, and the death of the baby is easily preventable; therefore it is the same thing as an abortion, and this new "down 25%" statistic is meaningless.

Pharmacists sue Walgreen over contraceptives. Four from Illinois were fired after refusing to dispense morning-after pill.

'Morning After' Ruling in Wash. State. A federal judge has suspended Washington state's requirement that pharmacists sell "morning-after" birth control pills, a victory for druggists who say their moral objections to the drug are being bulldozed by the government. In an injunction signed Thursday [11/8/2007], U.S. District Judge Ronald Leighton said pharmacists can refuse to sell the morning-after pill if they refer the customer to another nearby source.

Workers' Religious Freedom vs. Patients' Rights. The Department of Health and Human Services is reviewing a draft regulation that would deny federal funding to any hospital, clinic, health plan or other entity that does not accommodate employees who want to opt out of participating in care that runs counter to their personal convictions, including providing birth-control pills, IUDs and the Plan B emergency contraceptive.

Wal-Mart pharmacies to carry morning-after pill. Caving in to pressure from abortion activist groups, Wal-Mart will begin carrying the controversial morning after pill in all of its more than 3,700 U.S. pharmacies beginning March 20. … However, Wal-Mart will maintain its conscientious objection policy, which allows pharmacists who have moral qualms about dispensing the pill to refer customers to another pharmacy.

Unleashing the Killer Pill: RU-486, the abortion pill, is a dangerous drug that not only kills the unborn infant but endangers the mother's life and health as well.

Why Is It So Hard to Understand? The Abortion Pill Is Simply Wrong: Many years ago I sat at a table in the White House, looking at a dumbfounded President Ronald Reagan. I had just told him that under his administration, research was being funded in the United States on an abortion pill called RU-486. He took the documents from me, handed them to Ed Meese, and said, "This is wrong. Look into this."

Abortion Pill May Be Tied to Deaths. Abortion in a pill wasn't supposed to include body bags and caskets, but tell that to the two women whose recent deaths may be linked to their "right to choose" RU486.

Here is the Kafkaesque headline of the week:
Abortion pill, death not linked, FDA says. Health officials said yesterday that they have ruled out the abortion pill RU-486 in one of two deaths in women who took the drug. The second remains under investigation.

As Abortion Rate Drops, Use of RU-486 Is on Rise. Thirty-five years after the Supreme Court's landmark Roe v. Wade decision, a pill that has largely faded from the rancorous public debate over abortion has slowly and quietly begun to transform the experience of ending a pregnancy in the United States. The French abortion pill RU-486, on the market since 2000, has become an increasingly common alternative, making abortion less clinical and more private.

The Editor says...
Privacy doesn't change the fact that it's homicide. Most homicides are committed in places where the perpetrators believe nobody's watching.

Pro-Life Pharmacy Opens Doors, Faces Boycott from Abortion Group. A unique pro-life pharmacy opened its doors Monday [10/20/2008] in the Washington, D.C. suburb of Chantilly, Va. The owners say Divine Mercy Care Pharmacy will sell medications and products found in most other drug stores — but it will not fill prescriptions for contraceptives, or sell condoms.

Italy OKs pill for abortion. Italy has approved the use of the abortion drug RU-486, capping years of debate and defying opposition from the Vatican, which warned of immediate excommunication for doctors prescribing the pill and for women who use it. The pill is already available in a number of other European countries.

The Shameless Abortion Carnival. If anyone was looking for a self-righteous extreme feminist, they found one in Angie Jackson. This is a woman who was so proud she was aborting her baby that she announced she would "tweet" her chemical-cocktail abortion live, as it happened, on Twitter. The liberal media found this made-for-TV slaughter fascinating, and not at all a controversy worthy of discussing with two sides.


Other items yet to be categorized:



Why Is the Left So Anti-Baby? My own personal experience is that the closer an American identifies with academia the less likely he or she is to have children. The "educated" have been anti-baby and pushing population control for at least a century. What is going on here? In part, of course, the push is to discourage other people from having children: eugenics and the "unfit." In part, it is that upper-class women prefer to outsource child-minding. So Birth Control was invented. And the educated classes decided to make abortion respectable. But it looks like the only people interested in birth control are the We, the educated, the evolved. Ordinary people just go on having babies like they always did, only now a lot more of the babies are surviving. How unfit of them.

Pelosi Won't Say Aborting Baby With Beating Heart 'Dishonors God'. Three weeks ago, House Minority Leader Nancy Pelosi (D-Calif.) said it dishonors God to pull out of the Paris Accord on climate change, but today she did not say it dishonors God to abort a baby with a beating heart. At Pelosi's press briefing on Thursday [6/22/2017], CNSNews.com asked Pelosi if her understanding of what dishonors God extends to aborting a baby with a beating heart as well as pulling out of the Paris Accord.

Every female athlete I know has had an abortion: US gold-medalist runner breaks 'sport's last taboo'. A double-gold Olympic medalist claims every female track-and-field athlete she knows has had an abortion. Sanya Richards-Ross, 32, said pregnancy and abortions are issues 'that are not really talked about, especially in sports.' The Jamaican-American athlete revealed in her new book that she herself had an abortion — just one day before leaving for the Beijing Games in the summer of 2008.

My Son Was Conceived in Rape, But That Doesn't Define His Value or His Humanity. The first time my son, Adriel (AJ) entered the world, excitement and joy filled me! My parents were so proud and joyful to see him. They held him and shed tears. He was so precious to all of us. Little did we know, just how precious he'd be to so many people, even to strangers.

'I Might ... Pull Off a Leg or Two'. A shocking new vid eo has just been released by the Center for Medical Progress, the undercover investigative group that in 2015 released videos showing that Planned Parenthood affiliates have profited from selling the body parts of aborted babies.

Chelsea Handler: Had Abortion, "Teen Moms Make me Want to Kill Someone". Chelsea Handler, the host of the popular late-night television entertainment show Chelsea Lately, is making waves with recent comments about teen pregnancy, and she has admitted she had an abortion as a teen herself. In a new interview with the New York Times, the comedian said she is not a fan of television shows like MTV's Teen Mom that depict teenagers have children.

Former Abortion Clinic Owner: We Pushed Sex Ed on Kids to Create a Market for Abortion. For six years Carol Everett operated four abortion clinics in Texas. As reported by The Catholic Register, Everett earned a commission for every abortion in addition to a share of the fees charged by each clinic. She says she sold abortion and made big bucks off of the "cash cow" of abortion. A new abortion clinic, she said at the annual Rose Dinner for the National March for Life in Ottawa, would make enough money to pay for itself in a single month.

Gloria Steinem Backs Abortion Because: "Forced Childbirth is the Single Biggest Cause of Global Warming". According to radical feminist Gloria Steinem, women will never be "fully equal" to men unless they have abortion rights. Oh, and the patriarchy's to blame for climate change too. In an interview with Refinery29 writer Lindsey Stanberry, Steinem shared thoughts on feminism, and unsurprisingly, everything came back to female reproductive rights. When the writer commented that some considered climate change to be a feminist issue, Steinem avidly agreed, opining that forced childbirth was the cause of many of the earth's problems.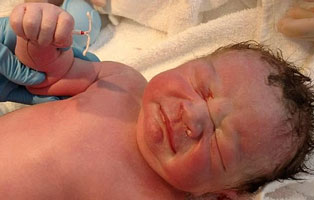 Newborn Clutches the Contraceptive Coil Meant to Prevent His Birth. Baby Dexter was not supposed to be. His mother, Lucy Hellein of Fort Mitchell, Alabama, was using a supposedly highly effective birth control device when doctors believe she conceived Dexter, according to the Daily Mail. And when Dexter was born on April 27, the IUD coil that was supposed to prevent his life from being conceived came out, too. A photo of the newborn grabbing the contraceptive device has been catching people's eyes on the internet. More than 70,000 people have shared it on Facebook, the report states. Mirena, the contraceptive coil, or IUD, that Hellein used, is advertised as 99-percent effective.




Video Catches Man Picking Up Biohazard Bag of Aborted Babies at Late-Term Abortion Clinic. Ashley Riddle, president of Metro Sidewalk Advocates, reported for her sidewalk shift as usual at LeRoy Carhart's abortion facility in Bellevue, Nebraska, but as she stood offering help to abortion-bound women, she found herself in a conversation with one man that proved to be anything but usual. Riddle's smart phone camera was running as a man emerged from Carhart's abortion facility with a blue cooler bag that sported a bright orange biohazard sticker. Realizing that the cooler's contents were very likely the remains of aborted babies, Riddle asked, "Sir, don't these babies deserve a proper funeral?"

Who needs a doctor? Have your abortion at home. The group Women Help Women announced recently the rollout of a website designed specifically to help women carry out their own abortions at home — without the supervision of a medical practitioner and without concern over whether the practice might be illegal in their home states — as one Pennsylvania woman found out a few years ago.

Children Don't Exist to Advance Your Politics. Polly Dunning has managed to compose perhaps the creepiest sentence ever written: "By having sons, we do feminism a great service." The line appears in Wednesday's Sydney Morning Herald, in a piece entitled "Having a Son Went from a Dilemma to Being the Most Valuable Lesson of My Life." "I've always been a feminist," Dunning writes. But after longing for a daughter, she discovered that she had become pregnant with (horror!) a son. She describes the anxiety that followed: [...]

Lena Dunham Wishes She'd Had an Abortion to Be More Authentically Pro-Choice. Dunham said there is a "cultural stigma" surrounding abortion, namely because it's just so "hard to put an abortion on network TV" these days.

Woman Films Her Own Abortion To Show World How 'Cool' It Is. Emily Letts, a counselor at a New Jersey abortion clinic, decided to film her own abortion and post it on YouTube as a form of positive inspiration to women who are contemplating having the procedure but worry that they might feel guilty afterward. Letts has no such guilt. She recalls the procedure with fondness. She even describes it as "birth-like," and said it made her feel good, just like giving birth would.

California Law Would Permit Midwives, Other Non-Physicians to Perform Abortions. The California Senate passed a bill September 6 that would make it legal for non-physician medical professionals such as midwives to perform abortions under a statewide training program. The measure now awaits Democratic Governor Jerry Brown's signature.

Abortionists don't need a doctor's license: bill rammed through California Senate. Senate Bill 623, introduced by Christine Kehoe, D-San Diego, extends a program run by the University of California at San Francisco, in which nurse practitioners, midwives, and doctors' assistants are trained to perform abortions without any further training in medicine. Kehoe argues the bill is necessary because there aren't enough doctors performing abortions in California.

Support for abortion slips again. According to a new Gallup poll, 41 percent of Americans identify themselves as "pro-choice" — down from 47 percent last July, and at nearly the lowest level since Gallup started tracking the term in 1995. Gallup finds that 50 percent of those polled call themselves "pro-life," also one point shy of the record high in 2009.

'Pro-choice' Americans found in record-low minority. A record low 41 percent of Americans identify themselves as "pro-choice" on abortion, according to a poll released Wednesday [5/23/2012], while the number of Americans who say they are "pro-life" bounced back into the majority. The results from the Gallup Poll survey confirm a sharp turnaround in personal attitudes about abortion in the 17 years since the polling firm first asked the question. In 1995, the first year of the poll, 56 percent of respondents described themselves as pro-choice on abortion, compared with 33 percent who were pro-life.

Gongs, Cymbals, and Pharisees. Much of what I know about love I learned in a ramshackle crisis pregnancy center on the wrong side of the tracks. For more than five years I volunteered every week at a little crisis pregnancy center. I helped in the clothing ministry, taught parenting classes, and performed pregnancy tests. I took my share of phone calls from frightened women — the ones that start, "I think I'm pregnant. I just can't have a baby right now. Please help me." And I knew that what I said in the next five minutes could literally mean life or death.

It Did Happen Here. Eugenics, like prohibition, was a paternalistic progressive-era reform in which post-progressive-era progressives deny their forbears' paternity. Eugenics pitted advanced science versus the reactionary church, interventionism versus laissez faire, and faith in the state versus skepticism of concentrated power. Where God had erred man would fix. Never do humans act so inhumanely as when they attempt to perfect humanity.

A Day to Weep For Joy. The Woman's Right to Know Act has become law in North Carolina. It requires clinics to inform women that there are more choices than just abortion. In states where this law has been passed, the abortion rate has dropped.

Is Late-Term Abortion Ever Necessary? Intentional abortion for maternal health, particularly after viability, is one of the great deceptions used to justify all abortion. The very fact that the baby of an ill mother is viable raises the question of why, indeed, it is necessary to perform an abortion to end the pregnancy. With any serious maternal health problem, termination of pregnancy can be accomplished by inducing labor or performing a cesarean section, saving both mother and baby. If a mother needs radiation or chemotherapy for cancer, the mother's treatment can be postponed until viability, or regimens can be selected that will be better tolerated by the unborn baby.

The Top Ten Myths About Abortion. In order to discuss abortion intelligently, it is a prerequisite that the facts about it be known. Yet, the one thing that can be said with certainty is this: the American people do not understand the facts surrounding abortion. Instead, their views are clouded by various "myths."

A Conservative Manifesto: [Scroll down] Science today has reached the point where any honest biologist would have to admit that an unborn child in the womb of a human mother is an identifiably separate human life. It may be entirely dependent upon the mother for continued existence and growth, but that in now way invalidates that growing life's individuality. This is simple proven science and yet it is another unbending hot button for the liberal.

Conventional wisdom strikes out: Last week's news contained a couple of nuggets that stand conventional wisdom on its head.

Abort this award. The Order of Canada was supposed to be a public recognition of service and devotion to Canada. In recent years it has become a way for the liberal elites to reward their friends and those activists whose politics they support. So in a grotesque paradox perhaps [Henry] Morgentaler really does deserve the thing. Future recipients are advised to wipe the blood off first.

Radical Feminist With a Track Record Takes YWCA Helm: The announcement that Patricia Ireland is the new president of the YWCA has been met with concern from some in the Christian community. [Additionally,] The YWCA receives over $272 million in tax dollars per year.

Conservatives Renew Fight to Stop US Financing of UN Population Fund. Conservatives say the U.N. Population Fund condones forced abortion and sterilization in China and elsewhere.

Web site: Life Dynamics: "'We're not here just to put up a good fight. We're here to win, because winning is how the killing stops.' This is the mindset that is behind everything that Life Dynamics does. We are fighting to return full legal protection for every unborn child, from the moment of conception. Because of this our motto is, 'Pro-Life: without compromise, without exception, without apology.'"

ACLU Marks Day of Appreciation for Abortionists: The American Civil Liberties Union is celebrating Sunday, March 10th, [2002] a "National Day of Appreciation for Abortion Providers."

Pro-Lifers, NOW President Clash Over Abortion Views: The new president of the National Organization for Women wasted little time in causing a stir with the pro-life community. Kim Gandy said her first priority would be to block efforts by President George W. Bush to nominate Supreme Court justices opposed to abortion.

Alan Keyes and the Abortion Issue. [Abortion] not only divides liberals and conservatives, parents and offspring, and men and women, but also divides those within each group. Even my wife and I have been known to argue about it; she feels that men shouldn't even have a say in the matter, while I contend that cutting us out of the discussion is like saying that people who aren't serving in the military shouldn't have an opinion about Iraq, or that honest, law-abiding citizens aren't entitled to comment on the legal system or voice an opinion about capital punishment.

Taking Away the Perceived Need for Abortion. Abortion providers are not in the business of providing abortions because they are magnanimous and want to help women. They charge high fees for their "services." This is why they desire taxpayer funds to perform abortions. With subsidies, more clients could afford abortions. Planned Parenthood is not interested in helping women with the life issues that bring them to the clinic. Pregnancy Resource Centers, in contrast, exist to help women with these life issues.



NC's 'Choose Life' license plate lawsuit kept alive by US Supreme Court. The question about whether North Carolina can issue "Choose Life" specialty license plates and not offer the other side of the political debate will be revived in the U.S. Fourth Circuit Court of Appeals. The U.S. Supreme Court on Monday [6/290/2015] sent the North Carolina case back to the federal appeals court with instructions to reconsider it in light of a ruling this month in a Texas case. In a 5-4 decision, the U.S. justices ruled that Texas did not violate the First Amendment when it refused to allow specialty plates bearing the Confederate battle flag.

Judge finds NC 'Choose Life' plates unconstitutional. A federal judge has ruled it is unconstitutional for North Carolina to issue pro-life license plates unless the state offers similar plates supporting abortion rights. U.S. District Court Judge James C. Fox ruled on Friday [12/7/2012] that North Carolina cannot produce or distribute the "Choose Life" plate. Judge Fox concluded, "The State's offering of a Choose Life license plate in the absence of a pro-choice plate constitutes viewpoint discrimination in violation of the First Amendment."

The Editor says...
I've got a copy of the Constitution, and it doesn't mention license plates or "viewpoint discrimination".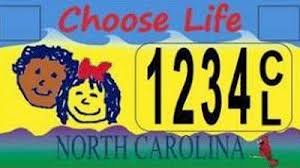 Judge: "Choose Life" Out in North Carolina. Providing another example of why judicial review needs to be reviewed is U.S. District Court Judge James C. Fox, who just ruled that North Carolina may not offer its "Choose Life" license plates. And wait till you hear his reasoning (if you can call it that).


'Choose Life' tags expected by fall after failed challenge. "Choose Life" license plates for Tennessee drivers could hit the road by autumn. … The nation's highest court said Monday [6/26/2006] that it would not consider appeals from abortion rights groups wanting to stop states from issuing car license plates bearing a "Choose Life" message. … "Were obviously disappointed with the decision," said Hedy Weinberg, executive director of the Tennessee ACLU.

Court orders approval of Arizona 'Choose Life' license plates. A federal court Wednesday [11/19/2008] ordered the Arizona License Plate Commission to approve a specialty license plate featuring the words "Choose Life." Attorneys with the Alliance Defense Fund and the Center for Arizona Policy represent the applicants for the plates, the Arizona Life Coalition. "Pro-life groups shouldn't be discriminated against for expressing their beliefs," said ADF Senior Counsel Gary McCaleb. "Many other groups have been allowed to participate in the Arizona specialty plate program. The commission had no legitimate reason to selectively exclude this group. We're pleased that the plates will soon be available to the public."

Judge to S.C.: Stop making religous car tags. A federal judge says South Carolina must stop marketing and making license plates that feature the image of a cross and the words "I Believe." The judge issued a temporary injunction during a court hearing Thursday [12/11/2008] after opponents said the specialty plates violate the separation of church and state.

Conscience, Cash and the Culture of Death. [Scroll down] It would be an unambiguous violation of longstanding law for a pro-life health-care organization that receives funding from HHS under the Public Health Service Act to refuse to hire an abortionist simply because he is an abortionist. Sounds crazy, right? It has been the law of the United States since 1973. The same law, in almost the same breath, also prohibits a pro-abortion health-care organization from refusing to hire a pro-life doctor because a pro-life doctor won't kill unborn babies.

Broader medical refusal rule may go far beyond abortion. The outgoing Bush administration is planning to announce a broad new "right of conscience" rule permitting medical facilities, doctors, nurses, pharmacists and other healthcare workers to refuse to participate in any procedure they find morally objectionable, including abortion and possibly even artificial insemination and birth control. For more than 30 years, federal law has dictated that doctors and nurses may refuse to perform abortions. The new rule would go further by making clear that healthcare workers also may refuse to provide information or advice to patients who might want an abortion.

Bias alert:
The article goes on to make it sound like the refusal rule is a bad thing.

Mother has healthy baby boy despite abortion warning by doctor. Gaynor Purdy was warned her first child could have a fatal chromosome defect and a life threatening heart condition. But she rejected two suggestions to terminate the pregnancy and she and her husband Lee are celebrating life with their "perfect" ten-month-old son.

Abortion Heresy. Let me set the scene: A husband and a wife have had 15 failed pregnancies and in vitro fertilization non-starters. Author Alex Kuczynski, a fine writer, comes perilously close to falling off the cliff when she describes a "fetus" that didn't make it past 10 weeks as "a small dead baby" and quotes a nurse as telling her, "In case you were interested, it was a girl." But she quickly regains her footing and writes, "I was not, in fact, interested in attaching a gender to the coagulation of cells, briefly and potentially human... ."

What Exactly is the Mexico City Policy? I'm amazed with the number of people, on both sides of the abortion issue, in the media and definitely in Congress who have no understanding of what the Mexico City Policy is and does.

The "Blessing" of Abortion. "Abortion is a blessing and our work is not done. Let me hear you say it: abortion is a blessing and our work is not done. Abortion is a blessing and our work is not done. Abortion is a blessing and our work is not done." That was the Rev. Katherine Hancock Ragsdale in 2007, repetitiously inciting her disciples to be not just pro-choice but fanatically pro-abortion. This is significant because, according to standard journalistic stylebooks, Ragsdale does not exist. We're told that pro-choice folks don't like abortion; they're just trying to help a woman facing tragedy.

The Upturned Moral Universe of Progressives. The topic of torture is in the headlines again, resuscitated by the Democrats [... because] the Obama experiment is desperately in need of a compelling distraction from the dreadful economic results it has thus far yielded. There are also the latent vestiges of unresolved animus toward the previous administration from a boisterous fringe that refuses to be pacified. But one reason for having a renewed interest in this issue which liberal democrats can never be accused of is that they suddenly find themselves aggrieved with the unbearable burden of a heavy conscience. In fact there is not one lone liberal Democrat in Congress who cares one iota that prisoners of war have been or are being tortured. This may sound like a rather bold statement, but it is firmly grounded on historical fact.

Supermodel Kathy Ireland Lashes Out Against Pro Choice. [Scroll down] "I called Planned Parenthood and begged them to give me their best argument and all they could come up with that it is really just a clump of cells and if you get it early enough it doesn't even look like a baby. Well, we're all clumps of cells and the unborn does not look like a baby the same way the baby does not look like a teenager, a teenager does not look like a senior citizen. That unborn baby looks exactly the way human beings are supposed to look at that stage of development. It doesn't suddenly become a human being at a certain point in time," Ireland argued.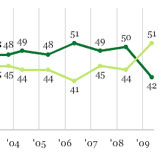 More Americans "Pro-Life" Than "Pro-Choice" for First Time. A new Gallup Poll, conducted May 7-10, finds 51% of Americans calling themselves "pro-life" on the issue of abortion and 42% "pro-choice." This is the first time a majority of U.S. adults have identified themselves as pro-life since Gallup began asking this question in 1995.

Pro-life shift not surprising. It's rather ironic that as the most pro-choice government in U.S. history settles into its seats, a national poll finds that most Americans are pro-life. Some observers have tried to pooh-pooh this result, but it doesn't surprise me for two reasons...

Notre Dame Holds First Alan Keyes Fundraiser. Liberals were awestruck by Obama's statesmanlike speech at Notre Dame, but whatever he says about abortion is frothy nonsense because we're not allowed to vote on abortion policy in America. If it's a "constitutional right," we can no more vote on abortion than we could vote on free speech. With Roe v. Wade, abortion supporters ripped the issue out of the democratic process — limb from limb, you might say — and declared their desired outcome a "constitutional right." They have hysterically defended that lawless decision for the last quarter-century.

Poll: Americans Don't Want Pro-Abortion Justices. As speculation builds around President Barack Obama's nomination to replace Supreme Court Justice David Souter, a new survey revealed Thursday a majority of Americans would oppose nominees who hold staunch pro-abortion viewpoints, including support for partial-birth abortions and taxpayer-funded abortions.

The Religious Right Didn't Kill George Tiller. The organized antiabortion movement has always opposed violence against abortion providers. That has never stopped opportunistic prochoice activists, however, from conflating their passionate rhetoric with the behavior of individual criminals. True to form, on Sunday [5/31/2009], Mike Hendricks of the Kansas City Star accused anyone who had criticized Tiller as a murderer (Tiller aborted healthy, nine-month old fetuses) of being an "accomplice" to his death.

Cuomo: Fetal Memory 'Shocking to So Many People'. A new study found that unborn babies may start to develop memories as early as thirty weeks into a pregnancy, but ABC's "Good Morning America" ignored the study's potential impact on the abortion debate, especially concerning late term abortion. Reporter Sharyn Alfonsi's July 15 segment covered the pivotal study without even mentioning abortion. ... The memory study, Alfonsi said, "... is proof that we need to be more careful about what experiences we expose babies to in the womb." Like the experience of, say, murder?

Fetuses found to have memories. They weigh less than 3 pounds, usually, and are perhaps 15 inches long. But they can remember. The unborn have memories, according to medical researchers who used sound and vibration stimulation, combined with sonography, to reveal that the human fetus displays short-term memory from at least 30 weeks gestation — or about two months before they are born. "In addition, results indicated that 34-week-old fetuses are able to store information and retrieve it four weeks later," said the research, which was released Wednesday [7/15/2009].

Hidden Within ObamaCare, an Abortion Mandate. Government-owned health care will place bureaucrats in Washington in charge of your health care options. This is wrong. Health care decisions must be made by you and your doctor. However, there is another very serious concern with health care reform plans in Congress, especially the plan being offered in the House. It will lead to mandated coverage of abortion, forcing employers and insurance providers to cover abortion as a health care procedure and subsidizing abortions with the tax dollars of pro-life Americans who have grave moral objections.

Don't Ask, Don't Tell. Have any doubt about where Barack Obama stands on abortion rights? You shouldn't. During last year's presidential campaign, Obama said he would make "preserving a woman's right to choose under Roe v. Wade a priority as president." Just three days after taking his oath of office, he lifted a ban on U.S. funding for international groups that promote or perform abortions. And this week, Obama named a surgeon general, Dr. Regina Benjamin, who, according to a White House spokesman, "supports the president's position on reproductive health issues."

Nurse 'Forced' to Help Abort. A Brooklyn nurse claims she was forced to choose between her religious convictions and her job when Mount Sinai Hospital ordered her to assist in a late-term abortion against her will.

"Freedom of Choice Act" Means Goodbye to Catholic Hospitals. If passed, FOCA would have pretty much invalidated every restriction on abortion nationwide, including parental-notification laws, informed-consent laws, and bans on the late-term procedure commonly known as partial-birth abortion. Republicans and sensible Democrats did not have any real interest in it, and, fortunately, that bill was sent back to Committee and was never voted on. That should have been the end of it. A new version of FOCA, however, is back. As reported by Fox News contributor Father Jonathan Morris, FOCA, like a mutating virus, has been newly re-packaged and is just as insidious.

The Facts About the Freedom of Choice Act (FOCA). The Orwellian-named Freedom of Choice Act (FOCA) was first introduced in the House of Representatives in 1989. The current far-left leadership in Congress backed by strong support from the White House for the first time makes passage of FOCA a real threat. FOCA would go well beyond any Supreme Court decision and legitimize abortion on demand at any time, for any reason. FOCA seeks to establish abortion permanently as a "fundamental right," elevating it to the same status as the right to free speech or the right to keep and bear arms.

Dirty Secret No. 2 in Obamacare: I find it striking that Obama's ethics similarly have allowed him already to pass more laws increasing the terminations of life in the womb than any administration since Roe v. Wade. To add insult to injury, Congress repeatedly has rejected amendments to this universal health care bill that would prevent federal funds from being used for abortions.

Media's Pro-Choice Darling Called Humans 'Ecotumors'. To liberal media outlets, Warren Hern, one of the few late-term abortion providers in the country, has been worthy of praise as a doctor who boldly stands up for his beliefs in the face of intimidation — a lonely humanitarian braving violent death for the sake of his patients. That's the picture painted by TV and other media. What's missing from the portrait is Hern's belief that humans are "malignant ecotumors," his refusal to be called an abortionist, and his strident denunciations of the pro-life movement.

Kennedy's Funeral Further Damages the Church's Credibility. On Wednesday [8/26/2009] the Church further diminished her credibility when it was announced that a Mass of Christian Burial would be celebrated for Senator Edward M. Kennedy at Our Lady of Perpetual Help Basilica. It was also announced that President Barack Obama would be the eulogist. Senator Kennedy, along with President Obama have been the most pro-abortion and pro-embryonic stem cell research politicians in the nation. As a matter of fact, Senator Kennedy refused to vote for Supreme Court nominees Robert Bork and Samuel Alito for fear their appointment might lead to overturning Roe v. Wade. These positions are inimical to Catholic Church teaching and throughout the years, the American hierarchy has railed against Catholic politicians such as Kennedy who hold such views.

Anti-abortion activist shot in front of Owosso High School. State police at the Corunna post have confirmed a well-known anti-abortion activist was shot multiple times and killed this morning in front of Owosso High School. The victim's identity has not yet been released but the shooting occurred around 7:30 a.m., after most students were off the buses and safely inside the building, said Owosso schools transportation supervisor Jayne Campbell.

Pro-Life Advocate Murdered Outside Michigan School While Protesting Abortion. Local officials and state police are confirming that a pro-life advocate was shot and killed outside a high school in this Michigan town. The person, who is described as well-known but whose identity has not been released, was shot multiple times while protesting abortion outside Owosso High School. LifeNews.com has learned that the pro-life advocate is James Pouillon and the local Argus Press newspaper in Owosso has confirmed that to be the case. He was reportedly shot multiple times.

Slain Pro-Life Advocate Jim Pouillon Known as the Peaceful Abortion Sign Guy. Jim Pouillon was known as the sign guy by resident of this otherwise sleepy local community 45 minutes northeast of Lansing, Michigan. But Pouillon was shot Friday morning as he did what he did best — hold his pro-life sign outside of a local high school letting students and teaching know some of their peers are missing.

Where Are the Condemnations of Abortion Protester James Pouillon's Murder? James Pouillon, aka "the sign guy," was the abortion rights opponent gunned down in suburban Owosso, Michigan, early Friday morning [9/11/2009]. Shortly after his murder, a Facebook Friend of mine with a conservative political outlook posted the question: "Where is the outrage?"

This is one unborn child whose life is really treasured.
Couple prepares to say goodbye to unborn son. For now, Jonathan Tomaschko is a tiny foot in his mom's ribs. A ricochet of mini hiccups jiggling her belly several times a day. Each time he moves, his mom stops and concentrates on what he is doing. She doesn't want to miss a minute of her son's too-short life. Jonathan is a baby who might live his entire life inside of his mom.

Life's Showing. Anytime a poll is released indicating greater support for the pro-life position the mainstream media, like clockwork, tries to either downplay or dismiss the results. The media's reaction to Thursday's [10/1/2009] release of a Pew Research Center poll showing a 14 percentage point gain in pro-life public support was certainly no exception.

Self-Described 'Abortion Addict' Has 15 Abortions in 17 Years. A 40-year-old woman who calls herself an "abortion addict," claims she terminated 15 pregnancies in 17 years, The Los Angeles Times reported. Irene Vilar, who is a series editor of the Americas at Texas Tech University Press, is now the happy mother of two young daughters — but that wasn't always the case.

Sanctity of Human Life and the Right to Life. We hope to promote the sanctity of human life and the right to life for a child in its mother's womb. This argument is steeped in Biblical scripture, given to us by God as a testament to His vision for our lives. Later, we will discuss the latest ethical issues in greater detail, providing definitions, examples, and facts about their methodologies. It is our hope that God might reveal His deep love and respect for all forms of human life.

Baby who may be world's smallest surviving newborn could go home soon. Cozy in her incubator, set to 81.5 degrees, heart going at 174 beats a minute as she snoozed in her red, footy pajamas, Oliviyanna Harbin-Page may be a global record-holder. Born Aug. 5 to 16-year-old Jamesha Harbin of Eight Mile after 21 to 24 weeks of gestation, Oliviyanna weighed only 259 grams, or 9.1 ounces — possibly making her, according to the University of South Alabama Children's & Women's Hospital, the world's smallest surviving baby.

The Editor says...
Hmmm... After 21 to 24 weeks of gestation, the baby is born, and she really is a person. What about that.

Witch-doctors reveal extent of child sacrifice in Uganda. A BBC investigation into human sacrifice in Uganda has heard first-hand accounts which suggest ritual killings of children may be more common than authorities have acknowledged.

Couple Kills Baby in Black Magic Ritual. Pakistani police have arrested a couple on charges of stabbing their 3-month-old baby to death in a black magic ritual they believed would get them rich.

How The Media Have Mangled The Pro-Life Story. This past year, I found myself chief chronicler of the two of the year's most important stories involving the pro-life movement. One was the inspiring saga of the 2009 March For Life, the largest in its 36-year history. The second was the dispiriting saga of the recently murdered late-term abortionist Dr. George Tiller. What the two stories have in common is that each was consciously and completely mistold by the major media.

Ruth P. Smith, Abortion-Rights Pioneer, Dies at 102. Ruth Proskauer Smith, a longtime reproductive rights advocate who helped found what is now Naral Pro-Choice America, died Friday at her home in Manhattan. She was 102.

What's Wrong with Celebrating Life? You've got to admit that these pro-abortion groups become more contemptible every year. Apparently, it's not enough for them to advocate the killing of fetuses in the womb, even by means of that most despicable of procedures, the late-term abortion. It's not enough that millions of unborn babies have ended up in waste disposal systems across the country since the Supreme Court in 1973 gave women the right to decide if a child should live or die. Now, in 2010, women who made the decision to give birth to their children are being criticized for celebrating their views regarding the sanctity of life.

Tebow Ad Outrage Exposes Some Feminists' Lunacy. Last week, viewers finally got to see the Heisman Trophy winner and his mother — Tim and Pam Tebow — in the Super Bowl ad that caused apoplexy to many abortion-rights advocates. They whined their opposition to what they claim was a pro-life ad and said that political statements have no place at an athletic event.

The Pill and Breast Cancer: Bad news for women who have been using birth control pills, although you won't learn about it from the mainstream media. An International Agency for Research on Cancer (IARC) Monographs Working Group has concluded that combined estrogen-progestogen oral contraceptives and combined estrogen-progestogen menopausal therapy are carcinogenic to humans, after a thorough review of the published scientific evidence.

Baby girl survives after being shot in the chest. A seven-month-old baby girl survived three days alone with a bullet in her chest beside the bodies of her parents and toddler brother. Argentines Francisco Lotero, 56, and Miriam Coletti, 23, shot their children before killing themselves after making an apparent suicide pact over fears about global warming.

Frenchwoman accused of killing 6 of her infants. A 38-year-old woman acknowledged Monday killing six of her newborns, whose corpses were found in plastic bags in her basement, at the opening of a chilling trial in northwest France.

Abortion isn't painless. The abortion lobby has spent nearly 40 years arguing that the radical surgery at issue is — for purposes of the courts — merely a medical question, not a moral one. On Tuesday [4/13/2010], Nebraska Gov. Dave Heineman signed a law that returns moral judgment to a spot front and center in the abortion debate. The new law does so by emphasizing the hideously painful nature of the abortion act itself. The new emphasis on an unborn baby's pain is right and necessary. Forty-four of 49 members of the Nebraska Legislature voted for the Pain-Capable Unborn Child Protection Act. The act makes it illegal for a doctor to perform an abortion beyond 20 weeks of a pregnancy. The basis for this legislation was substantial new research showing the strong likelihood that a child aborted after 20 weeks can feel and suffer intense pain from the procedure.

Governor vetoes bill on abortion diagnosis. A bill requiring doctors to give the specific diagnosis justifying a late-term abortion was vetoed by the governor [of Kansas] Thursday [4/15/2010].

Nebraska Abortion Law a Challenge to Roe v. Wade. Nebraska Gov. Dave Heineman last week signed into law two pieces of legislation that will ultimately test the constitutional validity of the infamous 1973 Roe v. Wade decision. The first and most controversial of the measures is LB 1103, called "The Abortion Pain Prevention Act." This legislation bans abortions after the 20th week of gestation based on the strong evidence that a pre-born baby's brain develops the sensory capacity for pain at around 21 weeks.

Oklahoma House overrides abortion vetoes. The Oklahoma House voted Monday to override vetoes of two restrictive abortion measures Gov. Brad Henry has called unconstitutional intrusions into citizens' private lives and decisions.

Rabid feminism is self-extingishing.
Roe, Roe, Roe Your Boat. If the next generation of abortion proponents is mysteriously missing, it may be because their mothers availed themselves of the right to have an abortion and thus did not become mothers.

NARAL's President Admits: Pro-Aborts Aging, Pro-Lifers Young and Zealous. The pro-life movement in America is growing in leaps and bounds, attracting young, zealous women to defend the unborn in droves — a fact that even the president of NARAL has now admitted.

Within an inch of their lives. [Scroll down] A fetus at 24 weeks is able to sleep, urinate, defecate, has the nervous development to feel pain, and will turn away at the presence of a bright light. And apparently, a fetus can withstand three attempts at abortion and survive for days on its own after being left for dead. Is there truly any question about whether or not it is a living thing, worthy of life? The rational answer is that nearly all scientific evidence indicates that the fetus is a living entity. But pro-choice advocates do not want to the public to focus on such facts.

Did DHS pressure teen to get abortion? A Department of Human Services caseworker pressured a pregnant Mayfair teenager to undergo a late-term abortion by threatening to take away either her toddler or her unborn baby if she had the child, according to the teen's foster mother. The alleged strong-arm tactic happened one day after DHS learned of the pregnancy, when the girl was about 22 weeks pregnant, according to her foster mother and the girl's social worker, Marisol Rivera.

Americans Under 30 Most Likely to Take Uncompromising Stand for Right to Life. The pro-abortion left appears to be losing the battle for the heart and soul of the rising generation of Americans, according to new data released by the Gallup poll. Americans in the 18 to 29 age bracket are now more likely than their elders to believe abortion should be illegal in all circumstances, according to the data released last week, and generally oppose abortion in greater numbers than Baby Boomers.

More abortion doctors have been murdered on 'Law & Order' than in real life. Law & Order promoted its storylines as "ripped from the headlines," but the show's hate-on towards social conservatives was actually sourced from liberal op-ed pages, where paranoid (and inaccurate) predictions about "Tea Party violence" and ever-looming "Christian theocracies" have enjoyed an equally long run.

Anti-abortion fetus dolls handed out to Norfolk students. Plastic human fetus dolls — soft, in pink and brown, and about 4 inches long — have been handed out at Oakwood Elementary School by an employee who was put on administrative leave Thursday over the situation. The dolls, which were distributed over weeks or months, are not authorized by the division as instructional materials, spokeswoman Elizabeth Thiel Mather said Thursday [5/20/2010].

Kagan helped defend late-term abortion ban veto. As a domestic policy adviser to former President Bill Clinton, Supreme Court nominee Elena Kagan helped defend the veto of a measure that would have banned late-term abortions with few exceptions.

Michigan Woman Sues, Claims Doctor Forced Abortion After She Said Stop. A young Michigan woman who changed her mind about having an abortion while on the doctor's table has accused her doctor of terminating her pregnancy even after she pleaded with him to stop. A lawsuit filed by 20-year-old Caitlin Bruce against Dr. Abraham Hodari is now winding its way through the Genesee County court system, but the case has raised questions about when an abortion can be stopped.

The Trouble with the Social Welfare Modifier to the Pro-life Position. I think we should do things to make abortion less attractive to women. But I do not think that we should propose to people that they may not legitimately oppose abortion until they are willing to enact a host of social welfare reforms.

Congress, Obama, and Taxpayer Funding of Abortion. For years, Washington has been thumbing its nose at the American people, arrogantly defying their will by spending taxpayers' hard-earned money in ways they oppose. Now, courtesy of a report by the independent Government Accountability Office (GAO) requested by Rep. Pete Olson (R., Texas), the American people have new information about the extent to which this Washington nose-thumbing has included hundreds of millions of dollars in taxpayer subsidies for the abortion industry.

Kagan on Life: As Radical as They Come. The discredited practice of partial-birth abortion has been rejected by the overwhelming majority of Americans, including a large percentage of people who consider themselves "pro-choice." A 2003 Gallup poll found that over 70 percent opposed the procedure where the life of a baby is ended by suctioning the child's brain matter while almost its whole body is delivered and only the head remains inside. But President Obama's Supreme Court candidate, Elena Kagan, does not reject this inhumane, gruesome procedure.

Save the Turtles; Kill the unborn. Human fetuses can be legally killed, turtles cannot. If you destroy a turtle you pay a hefty fine. If slaying an unborn baby, the government both funds and supports your right to do so.

The Radical Religion of Abortion. Radicalism diminishes everything to which it is applied, no matter how good its initial intentions, because it ignores the boundaries of reason and common humanity in its own conceit of self-regard. When it is mixed with religion, it is particularly toxic. I wonder at what point radical environmentalism and radical feminism will be identified as the narrow-minded, fundamentalist-activist-transcendentalism (let's call them religions, already) that they clearly are.

You're a Liberal/Progressive if You Believe... a fetus and a human being are two completely different things, and that anyone old enough to get pregnant is old enough to have an abortion without any parental involvement whatsoever. You also have no problem with millions of innocents being "terminated" even as you hold candle-light vigils for death-row inmates and convicted cop-killers.

Who's Watching Big Brother? [Scroll down] Substitute Chesterton's cat with the divisive topic of abortion, and it becomes evident how even a supposedly "Christian" society has resolved the dilemma by simply denying the sin. The act has been renamed over time, evolving from murder to abortion, then to pro-choice, and on to the more positive-sounding idea of women's reproductive rights. When a baby is wanted, available scientific technology helps ensure its survival; when not, it's merely seen as a clump of cells and the same technology is used to destroy it.

Buying Kenya's pro-abortion constitution. On August 27th, President Mwai Kibaki signed a new constitution for the Republic of Kenya that was approved in an August 4th national referendum. Mr. Kibaki and Prime Minister Raila Odinga said, "All Kenyans won on this matter." Unfortunately, there are compelling reasons to fear that may not be true.

Nebraska senator seeks talks in Congress on fetal pain. Bolstered by the passage of unique abortion restrictions in his home state of Nebraska, U.S. Sen. Mike Johanns is pushing for a new federal discussion of the notion of fetal pain.

The Most Anti-Catholic Political Ad You'll Ever See. A Democrat Party supporting independent non profit group has sent out perhaps THE most anti-Catholic political advertisement I've ever seen. ... What this is about is the fact that the Church stands strong against abortion and gay marriage. And that makes some very angry.

Christianity, Justice and the Culture of Life. We freely admit that some individual cases are very complicated, that the answers are not neat, easy, or obvious. Still, a few principles are clear. First, unborn children are in fact human. The fetus is genetically complete and distinct. Unless it perishes due to natural causes or violent outside intervention, it will become a child, not a giraffe. It is a human being at a very early stage of development, just as a 99-year-old is a human being at a very late and frail state of development. Second, eliminating a defenseless human being is a deeply problematic act. When it happens on a routine basis, it becomes a direct challenge to a society's commitment to justice.

WaPo Reporter Buys Liberal Line That Abortions Are 'Virtually Impossible' in Rural Iowa. Has The Washington Post ever traveled to Iowa? Obviously, yes for presidential caucuses. But on Friday [12/31/2010], Post reporter Sandhya Somashekhar accepted the bizarre premise of abortion advocates that abortions are "virtually impossible" in rural Iowa. No one owns a car? The story centered on a new pro-life cause, protesting the provision of RU-486 abortion cocktails over the Internet. Liberals can get upset about selling booze on the Internet, or the spreading of Obama slurs on the Internet, but the marketing of death pills online is a precious human right.

Abortion on Demand, Ranker Style. A bill just introduced in my own state's legislature shows just how maddening the debate about abortion in the U.S. has become. Legally, America is an abortion-on-demand country. It has been so since the Supreme Court decreed it in 1973. Many people do not like this and have worked to change the law, but the brute fact remains. Yet unfettered abortion is not enough for some advocates of "choice."

If babies had feathers, abortion would be illegal.
Unborn Baby Eagles. Since 1973 when two women, prompted (some might say, used) by their activist radical women's rights attorneys, challenged laws prohibiting abortions and won, nearly 50 million unborn and nearly born babies have been killed. That is nearly 16% of the current population of the United States. Fifty million babies who had no choice were sacrificed on the Altar of Choice — proving that when activist attorneys with no moral grounding argue cases before activist judges, bad things happen.

I Have a Dream that the Abortion Holocaust Will End. We live in an America today — in the present — where our own hands carry the blood of more than 52 million innocent human beings. Deprived of life by the same evil that took the lives of slaves and all the Anne Franks. Our doctors have become killers. Our women have become clients for paid murder. And people who actually think of themselves as good stand up in public to defend this Holocaust. This is not what any good soul could call progress. It's just the same old wickedness with different stripes and a bigger pile of human bodies.

Personhood Abortion Bans Sweep Iowa, North Dakota, Montana, Texas, and Oklahoma. Personhood measures have been introduced in three states, passed the House in North Dakota, and passed the Iowa House subcommittee. The subcommittee of the Iowa House approved the personhood bill at a 2:1 vote, sending it to the full committee for the next vote in the near future. The Iowa personhood bill, like all personhood efforts, will recognize the value and dignity of every single human being, protecting every child by law.

Powerful New York pro-choice activist investigated for financial misconduct. Kelli Conlin, the president of NARAL Pro Choice New York, resigned last month after an audit revealed "extensive alleged financial misconduct" during her tenure, reports YNN's Capitol Tonight. The audit, conducted by the accounting firm Marks Paneth & Shron, shows that over the last two years Conlin had been making numerous purchases on NARAL credit cards.

Blowing the Statistics. [Scroll down] The old Soviet Union, for instance, did not count as live births very premature babies who failed to survive for seven full days. France, the Netherlands, and other European countries don't count as live births babies who weigh less than 500 grams or had less than 22 weeks of gestation. They are, instead, counted as stillbirths. Japan and Hong Kong, it seems, count babies that are almost a year old when they die as having lived a year and, thus, not an infant mortality.

British Doctors Told to Advise Women Abortion Safer Than Giving Birth. Doctors and nurses in Britain are being advised to tell their patients that having an abortion is safer than having the baby, The Telegraph reports. The draft guidance from the Royal College of Obstetricians and Gynecologists is for all doctors, nurses and counselors advising women who are thinking about terminating their pregnancy.

The Generation That Will End Abortion. Events that have unfolded the last several months have convinced me that this will be the generation that brings an end to the practice of legalized abortion in the United States. Historically speaking, our escape from this draconian and barbaric ritual of child killing was inevitable. Ours is a country that has always been engaged in a perpetual struggle to live up to the eternal truths of our founding creed: that all men are endowed by God with inalienable rights.

Babies who are born at 23 weeks should be left to die, says NHS chief. Babies born after just 23 weeks of pregnancy or earlier should be left to die, a leading NHS official has said. Dr Daphne Austin said that despite millions being spent on specialised treatments, very few of these children survive as their tiny bodies are too underdeveloped.

America deserves George Soros. Because of the Supreme Court's Roe v Wade decision of 1973, its subsequently 37 years of legalized abortion, and America's resigned acceptance of what actually amounts to the cold-blooded murder of millions of human beings?

Life matters. After 38 years, the regime of Roe v. Wade is starting to lose its grip on public acceptance. As more and more people recognize the sanctity of human life, states are moving to enact legal protections for the unborn after 20 weeks of gestation. Recent scientific evidence suggests children at this stage of development are able to feel pain. That's why the Alabama House of Representatives is expected to consider the Pain-Capable Unborn Child Protection Act today [4/6/2011].

The Effectiveness of Pro-Life Laws: Last month, State Politics and Policy Quarterly published a study of mine that documents the effectiveness of state-level pro-life laws. This study analyzes state abortion data over a span of 21 years from two separate sources and holds constant a wide range of economic and demographic factors. A range of statistical tests provide robust evidence that public-funding restrictions and informed-consent laws reduce state abortion rates, and that parental-involvement laws reduce the incidence of abortion among minors.

The Coverup of Abortion's Real Risks. Abortionists in this country are actively burying risk research just as tobacco companies did many decades ago. There are now literally piles of genuine medical research which show what most would deem dire elevated risks from abortion — not just to the baby killed in the procedure — but to the woman and also to the future siblings of the aborted baby.

Site: No stigma in abortion. A state-funded sex education Web site that tells teens an abortion is "much easier than it sounds" has drawn fire from outraged pro-lifers who say [the web site] is glossing over ugly truths, steering teens toward the controversial procedure and counseling them how to keep mom and dad in the dark. "The commonwealth is using taxpayer money to tell kids how to get a secret abortion, and that's wrong," said Linda Thayer, a former Boston schoolteacher who is vice president for educational affairs of Massachusetts Citizens for Life, which this week took aim at the site.

Drive grows for states to recognize 'personhood'. Mississippi voters are likely to be the first in the nation to add to their state constitution "personhood" language that declares unborn children to be persons, effectively outlawing abortion and setting up a potential Supreme Court showdown — if they get a chance to vote on it in November. On June 6, the Mississippi Supreme Court is scheduled to hear oral arguments in a pre-emptive court challenge against Measure 26, a ballot question that would define a person as a "human being from the moment of fertilization."

Fetus found in bag near West Side abortion clinic. A dismembered fetus apparently found in a trash bag outside an El Paso abortion clinic Friday morning [4/22/2011] sparked a police inquiry, raised questions and created a growing controversy.

Personal Liberty 101. Support for a so-called constitutional right to abortion is completely at odds with conservatism. In fact, when you hear a "conservative" claiming to support abortion rights you can be certain that the individual simply does not understand basic conservative principles. In all likelihood the pro-abortion-choice "conservative" adopts the label because of self-interest.

The Nearly Aborted President. According to recently secured documents from the Immigration and Naturalization Services, evidence has emerged that President Obama's father, Barack Obama, Sr., apparently paid to send a young Kenyan girl he had impregnated in Massachusetts to London to have an abortion. Doing the work that investigative journalists of the mainstream media used to do, author Jack Cashill reveals that the foreign press, unlike their American counterparts, are all over the story.

The Susan B. Anthony List ... has created a pro-life pledge. Michele Bachmann, Newt Gingrich, Ron Paul, Tim Pawlenty, Rick Santorum have signed the pledge. Herman Cain and Mitt Romney have not signed it.

Judge tells Alamogordo man to remove abortion billboard . A state district judge Thursday [6/23/2011] ordered an Alamogordo man to immediately take down a billboard that implies his ex-girlfriend had an abortion.

U.N. Group Calls for Abortion as Human Right for 10-Year-Olds. Y-PEER, a youth initiative of the United Nations Population Fund (UNFPA), says "more needs to be done to ensure young people's sexual and reproductive rights" — especially "the right to choose," a reference to abortion. The statement also says all young people globally have the "right to confidentiality" and the right to "be free from judgment."

Denver Post: Aborting Our Children Will Save the Planet. For decades, the term "family planning" has been a euphemism for "abortion" to abortion proponents. Echoing Humpty-Dumpty, when the left "uses a word, it means just what [they] choose it to mean, neither more nor less." So, with twists in language, "homosexual behavior" is called "gay lifestyle," "sex outside marriage" is termed "freedom," and "killing babies" is called "family planning."

Majority of Americans Say Abortion Is Wrong. A new national survey has found that a majority of Americans think that abortion is wrong. While 48 percent of 1,000 likely U.S. voters queried in the late August Rasmussen Reports phone survey said they considered themselves pro-choice, with 43 percent identifying themselves as pro-life, 55 percent said they think abortion is morally wrong most of the time. Another 30 percent said they think abortion is morally acceptable in the majority of cases, with 15[%] remaining undecided on the issue.

This item is not off-topic. Keep reading.
California bans use of tanning beds by minors. Minors in the state of California will no longer be allowed to use tanning beds after Governor Jerry Brown signed a bill on Sunday prohibiting anyone under the age of 18 from using ultraviolet tanning devices.

You can get an abortion but not a tan, kid. California continues to be an embarrassment to the other 49 states. The state government now bans people from using tanning beds until they are 18. But minors will continue to be able to have abortions without the permission — or even knowledge — of their parents. So much for my body, my choice.

California Bans Tanning Bed Use By Minors... But Abortions Are OK. California Governor Jerry Brown signed a bill today [10/9/2011] that bans tanning bed use by minors. ... In 1997 a California court overturned a state law that required girls get the approval of a parent or judge before having an abortion.

Steve Jobs: Unwanted Child? It is one of the enduring misconceptions of modern life that birthparents who make adoption plans for their children "don't want them" and that this "rejection" scars the adoptee for life. Social science data refutes this. But even before considering the statistics about adoption, consider the absurdity of characterizing adoption this way in an age of widespread abortion. There are countless women who say, "I could never give up my baby for adoption" but who, strangely, see no impossibility in aborting their unborn babies.

Abortion to save the life of a mother? Mom says no. Brooklyn, Savannah and Dakota Smith have a very, very brave mother.

'You Need Someone Like Me in Washington,' Romney Tells Abortionists. Former Massachusetts Gov. Mitt Romney is utilizing a political strategy to feign conservative credentials to win the GOP nomination for the White House in 2012 and then flip-flop in favor of his liberal views if he's elected as the U.S. President.

Politics and the President's Pill: Are They Healthy for Women? Announcing that insurance companies would pay for contraceptives on Friday [2/10/2012], President Obama added that doctors "put women on contraceptives as a way to prevent and reduce the risk of ovarian and other cancers." Days earlier, Nancy Pelosi said that peoples' complaints about the contraceptive mandate and religious freedom were not the issue and emphasized that "this is about women's health." There is an issue, though, regarding the mandate that lies beyond the grave religious and constitutional issues therein: do contraceptives harm women's health?

NH House voting to ban abortions after 20 weeks. Abortions would be prohibited on fetuses after 20 weeks gestation in New Hampshire under a bill facing a House vote.

Remember: Always get a second opinion.
'Stillborn' Argentine baby found alive in morgue — 12 hours after being pronounced dead. A newborn in Argentina declared dead shortly after her birth was reportedly discovered 12 hours later alive and well in her coffin. When six-months pregnant Analia Bouter gave birth at a hospital in Resistencia, staff told her the baby was stillborn and showed no signs of life, the BBC reported, citing local media.

NOW President: Make Birth Control Universal. Terry O'Neill appeared on Thursday morning's edition of Washington Journal on CSPAN to discuss her organization's support for the 'Violence Against Women Act'. A caller to the program brought up the issue of abortion, saying there should be a 'Violence Against Babies' Act.

Just some medical school dropout with a coat hanger?
State bill would let non-doctors perform abortions. As states across the country are passing laws to restrict access to abortion, California lawmakers are considering a significant expansion of who would be able to perform the procedure in the state.

U.N. Chief Calls for Universal Access to Abortion and Contraception for Teen Girls. United Nations Secretary-General Ban Ki-moon said Monday [4/23/2012] that millions of girls — teenagers and younger — need access to abortion and contraceptives in order to "avoid unintended pregnancies, unsafe abortions and sexually transmitted infections."

The One Thing The Media Isn't Telling You About The Blind Chinese Activist. [I]n a nearly 1,900 word article about Guangcheng, the Washington Post reporters never tell readers exactly what Guangcheng protests about the Chinese state. In another enormous article from the New York Times, the crux of his opposition to the Chinese government isn't mentioned until paragraph 19. In the Washington Post's first major article about Guangcheng this year, he was described simply as a "blind activist lawyer." But what is his activism all about? These articles constantly use terms like "human rights dissident" or "advocate for the disabled" to describe him. But that doesn't really tell you anything. The truth is: Guangcheng is an anti-abortion activist. His main opposition to the Chinese government is its "one-child policy" and its forced sterilizations.
Emphasis in original.

Will unborn heartbeats save babies' lives? A key pro-life leader says that for the first time in many years he has hope he may see the end of abortion before he dies — and it's at least partly because of a bill in Ohio that would outlaw the procedure. However, he's calling on members of the pro-life community to rise up and demand action on the plan.

Bowl-a-Thon Group Touts Raising Funds for 14-Year-Old's Abortion. The National Network of Abortion Funds (NNAF), who last month raised over $400,000 for abortions through its Bowl-a-Thon, touted that it provided money for a 14-year-old's abortion as part of the group's "real stories of abortion access." On its website in a post entitled, "Getting an abortion means getting a second chance," NNAF highlights the story of Darcy, a 14-year-old who terminated her pregnancy with the help of the group's "George Tiller Memorial Fund."

No Birth Certificate Required. The White House Visitors Office requires that an unborn child — still residing in utero — must be counted as a full human being when its parents register for a White House tour, according to documents obtained by the Washington Free Beacon.

Numerous commentaries on abortion and bio-ethics.

Obama Gives Medal of Freedom to Justice Who Called Partial-Birth Abortion Exercise of 'Liberty'. President Barack Obama on Tuesday [5/29/2012] awarded the Presidential Medal of Freedom — which he described as "the highest civilian honor this country can bestow" — on retired Supreme Court Justice John Paul Stevens, who wrote a Supreme Court opinion arguing that a woman was exercising her right to "liberty" when she hired a doctor to kill her child through the procedure known as partial-birth abortion.

Is There a Woman's Right to Be Born? An abortion is a homicide. In order to camouflage this stark, staring reality from the view of civilized, sentient beings made in the image of God, advocates fudge abortion's homicidal nature by emphasizing instead that it's first and foremost a solution to a problem. Americans understand problem-solving. Paint a problem in appalling enough terms — a 10-year-old impregnated by her father! a woman who will die if forced to carry her baby to term! — and sympathy for the mother tends to squeeze out close consideration of the other, graver problem created by the favored solution — that is, the unborn child's problem of being marked out for death by its own mother.

Kansas revokes doctor's license in abortion case. The State Board of Healing Arts ratified an administrative judge's earlier decision to strip Dr. Ann Kristin Neuhaus of her license.

Arguments Do Not Have Testicles. The idea that men are ineligible to speak out on abortion has at least six flaws, each of which should be understood and articulated by men who desire to speak on the issue. [...] Liberals are constantly trying to reduce the marketplace of ideas by reducing the number of voices that are eligible to participate. They have already silenced 52 million voices with the blade of a sharp knife. We cannot let them do further damage with dull ideas.

Former Scientologists Accuse The Church Of Routinely Forcing Abortions. Yesterday [7/17/2012], we wrote about Laura Ann DeCrescenzo, who is suing the Church of Scientology for, among other things, allegedly pressuring her to have an abortion. The church doesn't want its members to have children because it "interferes with their productivity" according to The Tampa Bay Times. Tony Ortega, editor-in-chief at the Village Voice, writes about DeCrescenzo's three-year legal struggle against the church. She alleges that the organization is doing everything possible to keep the case from going to court — because what comes out could be devastating.

Our Culture of Death and the Batman Shooting. In our perverse society, a woman exercising her "right to choose" death for her innocent child represents "courage," while the Batman shooter's "choice" to kill innocent moviegoers represents cowardice. And it is. They are both acts of cowardice. The only relevant difference is the victims' age.

The 14th Victim at Fort Hood. I have written recently of President Obama's "covert zeal" for the spread of abortion. I took that phrase from Abraham Lincoln's description of how President Franklin Pierce and Sen. Stephen A. Douglas sought — covertly — to spread slavery in the 1850s. In that column, I noted specific actions of this president to advance abortion-on-demand and to force us all to pay for it. Now, I want to focus on something Mr. Obama is not doing. He is not charging Nidal Hasan, the accused Fort Hood killer, with violation of the Unborn Victims of Violence Act (UVVA). This law was passed and signed in 2004.

Virginia abortion opponents savoring a victory. The Virginia Board of Health's move to reverse a June decision and vote to adopt new regulations for abortion clinics in the state without exempting existing facilities delivered an immediate victory for pro-life groups, but long-term effects, both practical and political, are still far from clear.



Republican Party must remain for life, against abortion. Now, more than ever, our party needs to hold onto our pro-life, pro-human-rights values. In fact, the Republican Party should become more fiercely aligned to the pro-life position than ever. Despite what you may have heard from the Democratic National Convention, it's not an unpopular position.

The Editor says...
One thing this country does not need is two Democrat parties.

'Are You Going to Keep It?': Getting Abortion on the Table. "Are you planning on keeping it?" This question was posed recently to a married woman by her doctor. [...] The unwanted assumptions must be fully unpacked to appreciate how such language shapes our culture's attitudes. Why is it deemed acceptable to insinuate abortion into pregnancy? The offhand nature of this question — "Are you keeping it?" — turns abortion into a pregnancy option rather than an "emergency" practice.

Group plans Christmas party to promote abortion. As Christians around the world take time to remember the miraculous birth of Jesus, a Washington, D.C. group will be raising money at its Christmas party to help make any birth a miracle. [...] To be fair, this is certainly not the first time an abortion group has hijacked a holiday for its own gain. The D.C. Abortion Fund is obviously just following in the footsteps of Planned Parenthood — a heavyweight among the baby murder crowd.

Judge finds NC 'Choose Life' plates unconstitutional. A federal judge has ruled it is unconstitutional for North Carolina to issue pro-life license plates unless the state offers similar plates supporting abortion rights. U.S. District Court Judge James C. Fox ruled on Friday [12/7/2012] that North Carolina cannot produce or distribute the "Choose Life" plate. Judge Fox concluded, "The State's offering of a Choose Life license plate in the absence of a pro-choice plate constitutes viewpoint discrimination in violation of the First Amendment."

The Editor says...
I've got a copy of the Constitution, and it doesn't mention license plates or "viewpoint discrimination".

Abortion and Newtown: The Culture of Violence. Since the demands for a national discussion about what caused Newtown are already flowing from President Obama, the New York Times, Washington Post and every liberal with tweetability, they should be respectfully yet candidly obliged. And the very first issue to mention is what has become the great unmentionable in the world of liberalism, and alas too many other precincts as well — and to say it plainly and hopefully politely.

The Media's Gunsmoke. Eliminating guns is a separate goal from eliminating violence. The media supports the former but opposes the latter. It routinely props up the culture of death, guarding abortion with even more zeal than it condemns gun rights. "We need to have a conversation about the killing of unborn children," is a line you will never hear from CNN's Piers Morgan or Soledad O'Brien. The lamentations of posturing pro-abortion journalists over a coarsened culture don't count for much.

Have You Bought Your 'Abornament' Yet? Yes, abortion rights activists have reached a new level of depravity. Apparently, as everyone indulges in the holiday spirit, the pro-choice camp decided to create abortion ornaments — or 'abornaments' — to be part of the commemoration of the birth of Christ. The fact that pro-choice Americans threw this in the face of those who practice religion, or hold pro-life beliefs, is offensive in the extreme.

NBC Accused of Pushing Abortion Through 'Parenthood' Episode. NBC is being accused of engaging in some pro-abortion propaganda with its latest episode of Parenthood. The hourlong NBC drama that aired Tuesday night featured teenage girl Amy (Skyler Day) aborting her fetus at a pristine Planned Parenthood clinic while boyfriend Drew (Miles Heizer) sat nervously in a waiting room.

President Obama's Sandy Hook speech turned into a pro-life video. President Obama delivered an emotional speech about protecting America's children in December in response to the shooting at Sandy Hook Elementary school in Newtown, Connecticut. But the producers at Blackstone Films have turned that speech into a remarkable video to reflect on the duty of Americans to protect our nation's unborn children. It's a very powerful video that is sure to spark some controversy.

Guns, abortion, and tyrants. Guns and abortion. One is an enumerated, constitutional right, and the other is not. The Second Amendment guarantees the right of the people of the United States to keep and bear arms. It's not a government-given right; it's a natural right — the right to defend yourself, your family, and your freedom. In rare circumstances, abortion might be necessary to preserve the mother's life. But there is no right to kill unborn babies in the U.S. Constitution. But 40 years ago next week the U.S. Supreme Court contended that abortion is an implied "right of privacy," one that previously had lain hidden in our founding document.

Justin Bieber's mom producing pro-life film. Pattie Mallette's position on abortion is clear: Had she not converted to Christianity before getting pregnant as a teen, her pop star phenom son Justin Bieber would have never been born. But now, with a memoir under her belt and her son's next album dropping soon, the Stratford, Ont., born mother is carving out a niche as an anti-abortion crusader, amid reports Bieber may not be comfortable with it.

If They Were Baby Seals Instead of Just Babies... Perhaps our pro-abortion friends will better understand why we pro-lifers oppose any tax-funded support for Planned Parenthood if we explain our opposition in a way that engages their sympathy: Suppose there were a company called Planned Parkas that manufactures very warm winter coats for people who otherwise would have difficulty obtaining them.

The Teenage Horror of 'Parenthood'. The NBC series "Parenthood"' has drawn raves from TV critics this season for a storyline about a 40-something mother fighting cancer. Then on Jan. 1, NBC asked viewers to tune in the following Tuesday for an "unforgettable" new episode. A teenager would get an abortion at Planned Parenthood. Such is NBC's definition of "parenthood."

New Pope: No Communion For Pro-Abortion Politicians. New Pope Francis I is a conservative in the mold of his predecessor, Pope Benedict XVI and Pope John Paul II. That's especially true on the issue of abortion, which he called a "death sentence" for the unborn in 2007.

North Dakota passes most restrictive abortion bills in nation. One North Dakota measure would prevent women from having abortions based on a genetic defect, like Down syndrome. The other would ban doctors from performing an abortion if a fetal heartbeat is detected — as early as five or six weeks. Republican state Rep. Bette Grande of Fargo sponsored both bills. Grande, a ninth-term legislator, is one of the more conservative lawmakers in the state. She's pushed for controversial right-to-life issues and has been vocal about the issues.

Sharpton: I'd Urge My Daughters Not to 'Get Rid of a Child' Through Abortion. Rare is the "pro-choice" liberal who admits that abortion kills an unborn human being. The Rev. Al Sharpton made this seldom-witnessed acknowledgement — or as close as he's likely to get — on his radio show while drawing an analogy to his views on the Defense of Marriage Act.

Why the United States is a Dying Country. [Scroll down] [Over the past 40 years] the American people have sanctioned, through legal abortions, the death of over 54.5 million children. Once this disregard of human life took hold, the citizens of this nation were susceptible to wholesale changes within society. Far too many of the American people, flush with prosperity, willfully ignored the infiltration of the education, media and entertainment establishments by the 1960's radicals, the most narcissistic and radical legion of socialist true-believers on the face of the earth. Through the control of these media of indoctrination, an ever increasing percentage of the population has been conditioned to believe there are no moral absolutes and there is a limitless list of rights as granted by the government.

Receptionist: Unlicensed doc fled Pa. clinic raid. A medical receptionist says an unlicensed doctor fled out a back door the night of an FBI raid on a Philadelphia clinic.

Kermit Gosnell's Nightmare Abortion Clinic Was A Multimillion Dollar Business. Gosnell is also accused of running an absolutely filthy clinic — known as the Women's Medical Society — that had untrained staff give at least one patient a fatal dose of the painkiller Demerol. Catering to women who were so pregnant they couldn't get abortions anywhere else, Gosnell's clinic became a "huge moneymaker" by charging $3,000 for a late-term abortions, according to a scathing, 281-page grand jury report that lays out the allegations against him.

How to Murder the Innocent, Defenseless, and Undefended and Make Big Bucks Doing It! If you are unaware of the trial taking place in Philadelphia, Pennsylvania, of the abortion doctor (I use the term "doctor" loosely) Kermit Gosnell, I am not surprised. Our feckless, spineless, corrupt and statist-driven media have done their best to sweep it all under the rug. [...] The police originally raided Dr. Gosnell's "House of Horrors" because he was overprescribing oxycontin — not because he was murdering infants.

PA Official Closed Gosnell Negligence Case. Pennsylvania prosecuting attorney for the Department of State Juan Ruiz decided to close a civil malpractice lawsuit against Kermit Gosnall despite evidence of neglect, including leaving fetal parts in the woman. [...] Ruiz closed the case on April 20, 2009 after only reviewing the complaint, and said a pattern of conduct did not exist in this case.

Gosnell is not an exception. This, of course, is the horror story of a cesspool in Philadelphia posturing as an abortion clinic, operating without inspection for 17 years. Gosnell, the doctor who ran the place, is formally charged with the murder of one woman and seven infants. However, the grand jury report and testimony of family and staff at the trial indicate that if there were records in this dump, where life and death were meted out daily, Gosnell would be indicted for hundreds of murders of live children.

The Perverse Logic of the Left. It wants to protect children from infanticide by exposing them to more abortions.

Grand Jury: Under Pro-Abort GOP Governor, Pennsylvania Stopped Annual Inspections of Abortion Clinics. The administration (1995-2001) of Pennsylvania's Republican Gov. Tom Ridge stopped annual inspections of abortion clinics, according to the grand jury report on Dr. Kermit Gosnell, who is currently on trial in Philadelphia charged with the first-degree murder of seven born babies. Under Democratic Gov. Bob Casey Sr., who preceded Ridge, the state had conducted annual inspections of abortion clinics, the report said.

What may be the most sensational mass murder trial in American history went unreported.
President's speech to Planned Parenthood: a reminder of the Left's dishonest abortion views. Lately, abortion has been in the news. It never gets far out of the news, but it intruded with extra force these past two weeks for two reasons. The first was the story about the media's decision to ignore the Kermit Gosnell trial because it didn't fit into the abortion narrative. The narrative is that abortion should be "safe, rare, and legal." The Gosnell reality was that women died in his filthy clinic, that living babies got murdered (with the psychopathic Gosnell collecting hands and feet as trophies), and that the abortions were illegal under any standards, since they were so late term as to constitute murder under Pennsylvania law.

Inside Abortion-Clinic Walls. A former Planned Parenthood clinic director named Abby Johnson, since she left, has been inviting those who work in the abortion industry to join her.

The Kermit Gosnell Trial Reignited The Culture Wars, And Now The Anti-Abortion Activists Are Winning. Over seven weeks of stomach-turning testimony, witnesses for the prosecution detailed Gosnell's "house of horrors," a clinic in which venereal diseases were spread through dirty instruments, feral cats roamed around operating rooms, and fetuses were stashed in empty juice cartons and shoeboxes. According to the prosecution, these atrocities went undetected by state health inspectors, who visited the clinic just three times, and unreported by other abortion providers, who knew of Gosnell's reputation and even visited the clinic.

Abortion Rights Community Has Become the NRA of the Left. Abortion rights advocates have argued that there is nothing to see here. Move along. This is what illegal abortion looks like, they say. But Gosnell's clinic was not illegal. It was a licensed medical facility. The state of his clinic was well known: there were repeated complaints to government officials and even the local Planned Parenthood. He wasn't operating under the radar but in plain sight, and he received referrals from abortion clinics up and down the East Coast.

Against Infanticide. The massacre of 20 children in Newtown, Connecticut, last December rightly sparked a national conversation about policies that might be enacted to prevent such atrocities in the future. But where is the national conversation in response to the massacre of innocents carried out in Philadelphia by Kermit Gosnell?

25 Reasons To Dislike Liberals. [#13] The same liberal who pretends to be angry about Susan Smith or Casey Anthony will then turn around and give the thumbs up to women who do the same thing to their children via abortion.

Big Government's Abuses of Power. Philadelphia abortionist Dr. Kermit Gosnell may well turn out to be the most lethal serial killer in U.S. history. His recent murder conviction gave only a glimpse of his carnage at the end of a career that spanned more than three decades. Yet Gosnell operated with impunity right under the noses of Pennsylvania health and legal authorities for years, without routine government health-code and licensing oversight.

Four Maryland abortion clinics shut down and three doctors suspended. Four Maryland abortion clinics have been shut down and three doctors have had their licenses suspended after a patient died at one clinic and regulators say they found lax procedures at all four. The clinics, run by Associates in OB/GYN Care, were shuttered last month after state regulators received a complaint about a patient receiving an abortion-inducing drug with no doctor present.

Late-Term Madness in New York. Ed Mechmann points out that Andrew Cuomo's Women's Equality Act would open the doors for non-doctors performing abortions, including late-term abortions. (Kermit Gosnell was a doctor, and we saw how well that went.)

State restores license of abortion doctor; 2 others' still suspended. A state panel restored the license of the doctor who is medical director of a group of abortion clinics accused by state regulators of putting women's health at risk, while the licenses of two other physicians who worked at the clinics remain suspended.

Immigration reform? Or a comprehensive transformation of America? [O]ur Congress doesn't seem to [care] about our national sovereignty, our national future or our national character. All that matters is embracing and welcoming foreign workers into our country because we are about 50 million short of the number of citizens needed to maintain our economy thanks to legalized abortion. Talk about the mother of all unintended consequences!

The Grey Lady's Grudging Abortion Admission. In a piece in its upcoming Sunday [6/16/2013] magazine, the New York Times allows in an absurdly roundabout way that a recent study has found that the vast majority of women denied abortions end up glad that they gave birth. If you blink, you might miss the decisive quote from the researcher, Diana Greene Foster. It comes very late in the piece: "About 5 percent of the women, after they have had the baby, still wish they hadn't. And the rest of them adjust."

Chelsea Clinton: My great-grandparents didn't have access to Planned Parenthood's crucial services. Which "services" does she wish her unwed teenaged great-grandparents were able to avail themselves of? Let's give her the benefit of the doubt and assume that she means contraception, not you know what. America's abortion warriors can't be so far gone that they're now lamenting their ancestors' inability to terminate them out of existence. Can they?

Death Wish! I don't wish my political opponents were dead or had never been born. I simply wish they would either 1) come to their senses or 2) lose elections so we don't 3) end up with crappy, corrupt, America-destroying administrations like the current one. No, it's Chelsea here who, following thoughtlessly in the footsteps of her parents, is wishing herself right smack dab off the face of the earth!

Calling Evil, Good, And Good, Evil. In the respective Biblical Books of Isaiah (Isaiah 5:20) and Jude (Jude 1:10), the Lord warned us that in the last days that we were going to call evil, good, and good, evil. Nowhere was this oxymoronic perversion more evident than to hear and witness the reportage of the successful Filibuster, executed by Wendy Davis, a Texan politician, whose efforts prevented a law that would have banned late-term Abortion to pass — you know late-term Abortion... that evil procedure where doctors are given an exception to breach the Hippocratic Oath of first doing no harm to kill viable children in the wombs of women. This Texan politician, Wendy Davis, who pulled off the Filibuster, was lauded from coast to coast and there was even talk to use those wicked coattails — of keeping in place a law that has murdered countless of viable babies in the womb — to run for higher office.

The Editor says...
The Bible does not say that we will (all) call evil good, and call good things evil. It says "Woe unto them that call evil good, and good evil;" which means don't do that. Any time someone quotes from the Bible, read it for yourself.

The New 'Pro-Choice' Mantra: 'Hail Satan!' Not surprisingly, as the pro-abortion side loses legislative battle after legislative battle, its "true colors" are coming into focus. Those colors are darker than many might have imagined. [...] Understandably, many leftists now complain that this frank display of "pro-choice" allegiance to the prince of darkness has hurt the multi-billion dollar baby-killing biz. They're right. It has. It's blown away the smokescreen of euphemistic "pro-choice" rhetoric and propaganda to expose, naked beneath, that which lies at abortion's inglorious core: Death, death and more death.

When Is a Ban on Abortions 'Extreme'? The American left loves Western European democracies for their cultural sensibilities and for their policies on everything from crime to health care. One policy area where you won't hear American liberals cite the European example, though, is abortion. The reason is simple: Abortion law is far more restrictive in Europe than in the United States. [...] The banning of late-term abortions now being considered in the House of Representatives and some American states would seem only civilized to most Europeans.

Illinois Supreme Court backs parental notification for abortions. The Illinois Supreme Court today upheld the constitutionality of a 1995 law that requires doctors to notify parents of girls younger than 17 who seek an abortion. The decision clears the way for the state to enforce the state parent notification law following a lengthy legal battle.

Bias alert! The Washington Post makes a great effort, in the article below, to portray the abortion clinic operators as victims.
Fairfax City abortion clinic, busiest in Virginia, closes. A women's health care clinic in Fairfax City that performed more abortions than any other location in Virginia has closed, and it's unclear whether it will reopen elsewhere. The closure, and the clinic's difficulty finding new space, highlight a growing issue in the abortion debate: changes in local and state regulations and standards for abortion clinics.

A Battle For The Inalienable Right To Life In Texas. Before the firestorm surrounding George Zimmerman's exercising his right to self-defense, there was Kermit Gosnell, the late-term abortion doctor who was convicted of murdering African-American babies who somehow survived his procedure only to be slain outside the womb. Unlike Zimmerman, Gosnell received little media concern, though the children he killed would never grow up to wear a hoodie, and abortion, including the late-term variety, poses a greater threat to the viability of the black community than gang bangers and neighborhood watchmen combined.

Perry Signs Abortion Restriction Bill. Perry signed the legislation at a ceremony Thursday morning [7/18/2013]. The bill will require abortion clinic doctors to have hospital admitting privileges, restrict abortions to surgical centers, dictate when abortion-inducing drugs can be taken and ban abortions after the 20th week of pregnancy.

Chile Cathedral Attacked in Abortion Rights Rally. Abortion-rights demonstrators vandalized Chile's main cathedral during a Mass and used pews as barricades during clashes with police.

Abortion-rights activists borrow technique from opponents in Wichita protest. It was not your typical Kansas abortion protest. But it was indicative of a national trend of abortion-rights activists adopting some of the harsher methods that have been used against them in the past. Assailing anti-abortion counselors as liars, about 15 activists from around the country — and a couple of Wichitans who joined in — gathered for a rhetorically sharp protest Friday outside A Better Choice, an anti-abortion pregnancy crisis center near Central and Hillside. The center shares a parking lot with the anti-abortion activist group Operation Rescue, known for its protests targeting clinics that provide abortions and the homes of people who work at them.

Who Wants to be Pro-Choice? The pro-abortion crowd is dwindling. The movement is in shambles. Sure, there is still a lot of money involved in exploiting women in desperate situations in this way, so the industry remains, but its support among the people is slowly dying. It is really being sustained by government. [...] The pro-aborts have been exposed. They said the child was "a blob of tissue," and ultrasound technology has shown beyond any reasonable doubt that it isn't. They said this was an easy way out for women, and it isn't.

New video: Abortion doctor compares death injection to 'flu shot'. The latest investigative video from the anti-abortion group Live Action unveiled Thursday [6/13/2013] shows an Albuquerque, New Mexico abortion doctor comparing the injection used to kill a fetus to a flu shot. The shocking video provided to Secrets features recordings from Dr. Carmen Landau, of Southwest Women's Options in Albuquerque, New Mexico, and a counselor employed at the same facility.

Carhart: Aborting Late-Term Baby 'Like Putting Meat in a Crock-Pot'. In a covertly made tape-recording at a Nebraska abortion clinic, Dr. Leroy Carhart told a pregnant woman that aborting her late-term baby by subjecting the child to a lethal injection inside the womb was "like putting meat in a Crock-Pot." "It's like putting meat in a Crock-Pot. Okay? It doesn't get broke — it gets softer. It doesn't get infected," Carhart said in response to a question from a Live Action investigator who posed as a potential patient.

Orange Shirt 'Pro-Choice' Fascists Antagonize Austin's Summermoon Coffee Shop for Making a Choice. NARAL, the big abortion lobbying and pestering propaganda group, wanted a donation for a silent auction. Austin, TX, coffee shop Summermoon declined to donate. Note: They declined to donate to an allegedly pro-choice group. Which, last time I checked, is their choice to make. Since the donation would come from their property, and all. [...] For making a choice that the pro-abortionists disagree with, they're "anti-choice."
[Italics in original.]

This is reason enough to leave Facebook, if you didn't have plenty of reasons already:
Facebook Group Says 'Virgin Mary Should've Aborted'. Bible-believing Facebook users who are members of the group, "Catholics & Protestants Against FB Religious Discrimination" led the online fight to have the page taken down — and succeeded. But, they didn't have long to celebrate. As the religious group reports, Facebook just reversed its decision. Now, the newly republished "Virgin Mary Should've Aborted" page has over 8,000 likes.

Abortion consensus. Former Hewlett-Packard CEO Carly Fiorina recently appeared on ABC's "This Week" and made an observation that may come as a surprise to many abortion-rights advocates. "There are only four countries in the world that have, that legalize abortion after five months," she noted. She identified those countries as being China, North Korea, Canada and the United States. Consider that reality in light of the furor surrounding the Texas abortion law that outlawed most abortions after 20 weeks. Opponents insisted that the Lonestar State was heading back to the Stone Age by preventing late-term abortions. Yet in France, a nation seldom regarded as a bastion of social conservatism, abortion in most circumstances is illegal after only 12 weeks. The same is true in both Germany and Greece.

Raising money to ensure women have access to abortions. Sarah Tuttle led her bowling team to a fourth-place finish in a nationwide tournament this April that raised $553,133 to help low-income women seeking abortions. "Some people fundraise to fight breast cancer; I fundraise for abortion access," said Tuttle, a hot line operator and board member for the Lilith Fund, a Texas nonprofit that helps women pay for abortions. "It's about having access to abortion and that not being about economics."

Study reveals newborns recall words heard in utero. The little human being living inside a pregnant mother turns out to be a lot more capable than previously known. Kathy Drummond describes the research that led to the startling finding that newborns can recall words they heard in the womb [...]

Nurses could perform abortions in the first 12-weeks of pregnancy under new Californian bill. Nurses in California could soon be allowed to perform abortions within the first 12 weeks of pregnancy. Nurse practitioners and certified nurse-midwives would be allowed to perform abortions instead of doctors. Supporters of the bill — which has passed the Californian legislature — say increasing access to abortions in the early stages of pregnancy would be safer for women.

California legislature approves non-physician abortions. Remember, of course, that this is all about women's health. [...] While the legislature is at it, why not allow midwives to do liposuction, too? After all, a liposuction only removes fat, not a "clump of cells," as some would have it, and that fat doesn't get removed from an internal organ susceptible to perforation. Liposuction gets pricy for the working class, so it's not really fair that only a doctor can suction fat out of a body.

Albuquerque Becomes Latest Focal Point in Abortion Wars. At the New Mexico Holocaust and Intolerance Museum, three dozen people, many of them teenagers, arrived last month without warning. Wearing T-shirts that said "Survivors of the Abortion Holocaust," they demanded that the museum include an exhibit on what they called the "American genocide" of legal abortion, and fanned out to scatter cards with pictures of bloody "late-term abortion victims." They then moved outside to picket with a banner calling Albuquerque "America's Auschwitz."

Bias alert:
It's the New York Times, after all, and they couldn't avoid including a few liberal talking points, like calling Operation Rescue a "militant group," pointing out that abortion is "legal," and making an unattributed statement that "Some Jewish leaders here are still angry about the Holocaust comparisons..." when in reality the Holocaust wasn't as bad as the on-going slaughter in America's abortion clinics, simply because the number of people killed is far greater, and abortion is entirely preventable and has taken place over a period of several decades with the approval of the courts and the Democratic Party.

Scrutinize W.Va. Abortion Clinics. Dr. Byron Calhoun, vice chairman of the Obstetrics and Gynecology Department at West Virginia University Physicians of Charleston, wrote to Morrisey about the abortion clinics, both located in Charleston. "We commonly (I personally probably at least weekly) see patients ... with complications from abortions at these centers," Calhoun wrote. Care provided at the clinics is substandard, he added.

Man pleads guilty to tricking pregnant girlfriend into taking abortion pill. [John Andrew] Welden was indicted under the rarely used federal Unborn Victims of Violence Act, a murder charge that carries a life sentence. Todd Foster, Welden's defense attorney, told reporters that the stakes of going to trial were too high. "The possibility of a mandatory life sentence, no discretion to the judge, obviously is a big factor," Foster said.

CA Gov. Brown to Sign Bill Legalizing Non-Physician Abortions. The bill, AB 154, passed both houses of the state legislature with strong support from Planned Parenthood and pro-choice groups. Planned Parenthood stands to benefit most directly from the bill, as non-physician staff at its clinics would be able to obtain abortion licenses. One doctor — who identified himself as pro-choice — told Breitbart News that "the bill is a disaster since it sends us back 100 years to the problems of the complications from back-steet abortions.

Albuquerque to put first-ever municipal abortion ban on ballot. A bill banning abortions in Albuquerque after 20 weeks of pregnancy will be put to voters in New Mexico's most populous city in November and could become the first municipal abortion ban in the nation.

Abortion Clinics Closing at a Record Rate. For Abby Johnson, the closing of a single Planned Parenthood center demonstrated her dramatic reversal from abortion clinic director to leading pro-life advocate. But for pro-lifers throughout the United States, it marked another exhibit in a hopeful trend — abortion centers are shutting down at an unprecedented rate. The total so far this year is 44, according to a pro-life organization that tracks clinic operations.

What Men Choose with Choice. Forty years of unlimited abortion has given us a broad social acceptance of "choice" within the ranks of the elites. Nowhere is this more evident than in Washington, D.C., where NARAL is sponsoring a gala event called "Men for Choice."

California's Brown Signs Bill Permitting Non-Physician Abortions. The legislation, which had been pushed vigorously by Planned Parenthood, had been strongly opposed by pro-life groups and some physicians, arguing that it amounted to legalizing back-alley abortions for profit.

100 Pro-Abortion Storytelling Events Organized Across Country. On Monday [10/28/2013], pro-abortion groups across the country launched an organized effort to feature women telling uplifting stories of their abortions. [...] MTV star Katie Stack of 16 and Pregnant will be joining the campaign. [...] "It's very hard to talk about abortion without the negativity, without calling people murderers, without the judgment," Stack explained. "The speak-out event is almost an experiment to see if it's possible. [...]"

The Editor says...
Abortion and capital punishment have this in common: Liberals find ways to defend abortion without mentioning the death of a baby, just as they want to fight capital punishment without mentioning the gruesome details of capital crimes. Liberals specialize in half-truths and one-sided stories.

Colombian baby alive 10 hours after being declared dead. A premature Colombian baby was found alive by a morgue attendant 10 hours after doctors had declared her dead, officials said.

Pro-abortion protest against Catholics in Argentina as classy as you'd expect. After watching the video, one might guess that the police were intimidated by the sheer size of the protest. Clearly, they didn't want to intervene on behalf of some people who were turning themselves into passive human shields to protect their place of worship. It's not as if they had been taken by surprise, though, because this happens every year in Argentina for its National Meeting of Women, and a trek to defile the local cathedral is always on the agenda.

Abortion provider lied about insurance, N.J. prosecutors say. Three years ago, New Jersey regulators suspended abortion provider Steven Brigham's medical license for endangering and deceiving patients. During the suspension hearing, he testified that he was covered by medical malpractice insurance. Now, as Brigham, 57, tries to regain his license, New Jersey prosecutors have submitted evidence that his sworn statement was yet another lie. They allege that not only did he stop carrying required liability insurance around 2006, but last month produced a phony insurance policy when forced to back up the statement.

Louisiana Named Most Pro-Life State; Washington The Least. Americans United for Life released their annual "Life List" report on the most and least pro-life states in the US. This year, Louisiana came out on top for the fifth straight year, followed by Oklahoma, Arkansas, Arizona, and Pennsylvania. Nos. 46. Connecticut, 47. New York, 48. Vermont, 49. California, and 50. Washington state brought up the rear, with Washington placing last for the fifth straight year.

Inside the Beltway: The bipartisan side of the March for Life. Lawmakers are not ignoring the March for Life, scheduled at high noon Wednesday on the National Mall, and currently the largest pro-life demonstration on the planet, according to organizers. "In a rare feat for the nation's capital, representatives from both sides of the aisle will come together," the organizers say, pointing out that keynote speakers include House Majority Leader Eric Cantor of Virginia and Rep. Dan Lipinski, Illinois Democrat. Also speaking, though the House is in recess this week: Republican Reps. Christopher H. Smith of New Jersey and Vicky Hartzler of Missouri.

March for Life, and pro-life movement, now led by young adults. A 28-year-old dynamo working on college campuses across the nation, Students for Life President Kristan Hawkins, exemplifies why hers is the "pro-life generation." Ms. Hawkins feels deeply the loss of nearly one-third of her age group. "The undeniable fact is that nearly a third of my generation was killed by abortion. We are missing brothers, sisters, cousins, friends, husbands and wives. But [we're] determined to set it right. We've seen the ultrasounds of our siblings, Googled 'abortion' and seen the bloody images, and sat with a friend as she cried about her abortion," she says. "This youth generation is the most pro-life generation of young people since 1973.

Guttmacher Study Shows Pro-life Success in Swing States. Earlier this month, the Guttmacher Institute released their 2013 state-policy review. The report indicates that pro-lifers continue to make very good legislative progress at the state level. In 2013, 70 state-level pro-life measures were enacted — making 2013 the second most productive year on record. The report specifically cites Texas, North Dakota, North Carolina, and Arkansas as being especially active in passing pro-life laws.

To Mark Abortion Decision, Obama Touts 'Freedom and Opportunities to Fulfill Their Dreams'. In a statement marking the controversial Supreme Court ruling Roe v. Wade, President Obama says that "this is a country where everyone deserves the same freedom and opportunities to fulfill their dreams."

The Moral Case For Allowing Abortion Grows Ever Weaker. This is the 41st anniversary of the day the Supreme Court found that a generalized right to privacy it had basically invented, meant that a woman has a constitutional right to snuff out an unborn life, a human being with a beating heart. That's what a fetus as young as six weeks is. Small wonder these protesters still come every year to register their continuing objections. Some estimates are that as many as 55 million abortions — 55 million — have occurred since the Court acted.

Extreme Cuomo Governs Abortion Capital of America. New York and the abortion industry have a long and lucrative history up to and including the present day. [Governor] Cuomo has happily carried on the tradition of protecting a woman's "right" to end her baby's life, which makes his "astonishing" statement not so astonishing. Just in the past year, the Catholic governor and various women's groups have been promoting a bill to codify federal abortion rights into state law, leading to greater access. But exactly how much more access do women need in New York?

Victoria father welcomes healthy baby Iver, says goodbye to wife on life support. A healthy baby boy entered the world Saturday evening, as the heartbreaking human drama of one Victoria family came to a both an end and a beginning. On Monday evening [2/10/2014], Dylan Benson announced on Facebook the birth of his son Iver Cohen Benson, and said goodbye to his wife Robyn, a 32-year-old who was declared brain dead five months into her pregnancy.

Two weeks earlier, there was a similar case with the opposite outcome:
Brain-dead Texas woman taken off ventilator. A wrenching court fight — about who is alive, who is dead and how the presence of a fetus changes the equation — came to an end Sunday [1/26/2014] when a brain-dead, pregnant Texas woman was taken off a ventilator.

Judge orders JPS Hospital to withdraw life support for brain-dead pregnant woman. The judge has sided with the family of Marlise Muñoz and ordered JPS Hospital to declare the pregnant woman dead and withdraw life support by 5 p.m. Monday [1/27/2014]. Muñoz's husband, Erick Muñoz, declined to comment as he left the courtroom. His attorney Jessica Janicek said justice was done.

Assistant gets 6-12 years for Gosnell clinic role. Middle-aged, a graduate of a Caribbean medical school just starting to take his licensing exams, looking for work in the job market's offseason — it wasn't surprising that Steven Massof had trouble finding a residency program. So Massof leaped at the chance to work at Kermit Gosnell's Women's Medical Society in West Philadelphia. [...] What no one — least of all Massof — could explain to Philadelphia Common Pleas Court Judge Benjamin Lerner was why he stayed five years, working under the table for $300 a week, performing illegal late-term abortions and killing infants born alive.

State shuts down abortion clinic, suspends doctor's license. Texas officials have shut down a Houston abortion clinic and suspended the license of its doctor under a new state law requiring physicians who perform the procedure to hold admitting privileges at a nearby hospital. The Department of State Health Services has revoked the abortion license of A Affordable Women's Medical Center and the Texas Medical Board has temporarily suspended the medical license of Dr. Theodore M. Herring Jr., the facility's medical director and sole provider of abortions, the agencies announced Friday [2/14/2014]. Herring unlawfully performed 268 abortions between Nov. 6 and Feb. 7, according to the two agencies.

NARAL President: 'Anti-Abortion Is Anti-American'. Everybody says something stupid and offensive at one time or another. But it takes a special kind of ideologue to turn it into a speech repeated over and over. And that ideologue is NARAL Pro-Choice America President Ilyse Hogue. We missed it the first time she told a crowd that pro-lifers are "un-American." That was at a Feb. 4 event in Washington, D.C. marking the pro-abortion group's 45th anniversary. But Hogue liked it so much she said it again in San Francisco on March 4, at an event featuring Sandra Fluke, America's most famous birth control user.

Celebrating National Abortion Provider Appreciation Day. Planned Parenthood of New York City has some ideas about how best to observe National Abortion Provider Appreciation Day today. You can "help change the overall climate from one where abortion providers are vilified and attacked to one where they are honored and upheld as the heroes they are" in a number of ways. One suggestion is to send a thank-you note to your local abortionist; another is to "send flowers to reproductive health centers near you."

D.C. Abortion Fund Offers Coat-Hanger Pendant for Donors. The D.C. Abortion Fund (DCAF) is offering a coat hanger pendant to all who donate $10 or more a month to the non-profit organization that gives money to women of D.C., Maryland, and Virginia who cannot afford to pay for abortions on their own.

The Symbol of a Lie. When I read that the DC Abortion Fund was thanking its donors with the gift of a "lovely" wire-hanger pendant, I assumed that this was going to be one of those made-up stories that make the grandmotherly rounds on Facebook but is not true. It is true, and the DC Abortion Fund is proud of itself. We as a people should not be. But first a word of praise for the DC Abortion Fund: The group at least has the intellectual integrity to put the word "abortion" right there in the middle of its name — no NARAL-style "choice" euphemisms for this merry band of butchers.

Aborted babies incinerated to heat UK hospitals. The bodies of thousands of aborted and miscarried babies were incinerated as clinical waste, with some even used to heat hospitals, an investigation has found. Ten NHS trusts have admitted burning foetal remains alongside other rubbish while two others used the bodies in 'waste-to-energy' plants which generate power for heat. Last night the Department of Health issued an instant ban on the practice which health minister Dr Dan Poulter branded 'totally unacceptable.'

Soylent Green Really Is People. Imagine it's 2014. Nazi concentration camps whose smokestacks emitted the by-product of incinerated human remains were eradicated more than sixty years before. The only place one could see such horrors was in old newsreels or science fiction films. Not so fast. It turns out some smokestacks in the U.K. have been billowing out the burned remains of more than 15,000 fetuses over the last two years. This would have necessarily included not only aborted fetuses, but babies that were stillborn or the result of miscarriages as well.

The issue is life. Recent news out of Britain stated that in more than two dozen government-run hospitals, aborted babies and miscarried fetal remains were burned in furnaces as medical waste without the knowledge of parents. The Telegraph reports that mothers were instead told that the remains had been cremated. At least two of the hospitals use the furnaces as "waste to energy" generators to provide heat. [...] I would like to think there would be universal outrage at this news. But I suspect there won't be. If the unborn child is not a human life worthy of dignity and respect, what difference does it make how it is disposed of? But, of course, each pre-born baby is made in the image of the same God who hung the stars in the sky, so how they are treated makes a great deal of difference.

Aborted Babies Burned for Electric Power in USA. A shocking admission from authorities in Victoria, British Columbia reveals that the remains of aborted babies are disposed of in the US and sent to a facility that burns waste to provide electric power for Oregon residents. According to LifeSiteNews, The British Columbia Health Ministry confirmed that biomedical waste is shipped to the U.S. for destruction. Such waste includes "human tissue, such as surgically removed cancerous tissue, amputated limbs, and fetal tissue."

Aborted fetuses incinerated at Oregon waste facility for energy purposes. The British Columbia Health Ministry admits that it had shipped the remains of aborted fetuses to an Oregon waste-to-energy facility to produce electricity for residents of the Northwestern state. In an email to the B.C. Catholic, a local Catholic paper, a Health Ministry official stated that "biomedical waste" had been "transferred" to an Oregon waste-to-energy facility and this so-called waste included "human tissue, such as surgically removed cancerous tissue, amputated limbs, and fetal tissue."

Oregon County Orders Incinerator: Stop Using Aborted Babies to Generate Power. Marion County, Oregon commissioners approved an order Thursday [4/24/2014] to stop an incinerator from using aborted babies to generate power. The order states that the incinerator must stop accepting medical waste until procedures are in place to ensure aborted babies are not among the substances burned to produce electricity. As Breitbart News' Warner Todd Huston reported earlier on Thursday, authorities in Victoria, British Columbia revealed that the remains of aborted babies are disposed of in the United States and sent to a facility that burns waste to provide electric power for Oregon residents.

'Abortion is a gift from God'. So blares a poster on exhibit at the taxpayer-funded University of Michigan. So far, I have been able to find no protests from the ACLU or other groups that decry religious expression at venues that belong to governmental authorities. The poster is the work of Heather Ault, and is part of a campaign called "4000 years of choice."

NYC's tanning salons inspected more regularly than abortion clinics. The state Health Department is failing to inspect many of New York's abortion clinics — with some facilities escaping scrutiny for more than a decade, bombshell documents obtained by The [New York] Post reveal. Health inspectors regulate 25 diagnostic and treatment clinics and surgery centers that provide abortion services — though pro-choice advocates say there are 225 abortion service providers in New York state. Eight of the 25 clinics were never inspected over the 2000-12 span, five were inspected just once, and eight were inspected only twice or three times — meaning once every four or six years.

NY health boss resigning after agency failed to inspect abortion clinics. State Health Commissioner Dr. Nirav Shah is stepping down amid criticism over his agency's failure to conduct regular inspections of abortion clinics and for delays in releasing a long-awaited fracking study. Word of Shah's resignation late Wednesday came as the Health Department announced it was scrambling to inspect 25 abortion clinics "within the coming days" — after The [New York] Post reported that it hadn't visited many of them in more than a decade. The abortion clinic controversy also became a political hot potato for Gov. Cuomo when GOP gubernatorial candidate Rob Astorino Wednesday accused the Health Department of neglect and called on Shah to resign.

Mississippi Could Soon Shut Down Its Only Abortion Clinic. Mississippi could soon become the first state in the nation without a single abortion provider. The U.S. Court of Appeals for the 5th Circuit is set to hear oral arguments next week regarding a 2012 law that would force the only remaining clinic in the state to close immediately. The legislation is part of a recent wave of antiabortion regulations that have shuttered large numbers of providers in several states. However, the situation in Mississippi is arguably the most extreme, as the state has only one facility offering legal abortions. The Mississippi law would require all physicians in health centers that perform more than 10 abortions a year to be certified in obstetrics and gynecology and have admitting privileges at a nearby hospital.

National Journal laments what the rest of us cheer.
Texas Is Permanently Shutting Abortion Clinics and the Supreme Court Can't Do Anything About It. When Texas Gov. Rick Perry signed a sweeping anti-abortion law in 2013, he did so knowing the measure faced an uncertain future. Indeed, the law is already winding its way through the legal system, and if its opponents have their way, Texas's reproductive legal code will land in the hands of the Supreme Court. But such a decision is likely a year or years a way, and back in the Lone Star State, the final judicial score won't much matter. The law has already had tremendous success in closing abortion clinics and restricting abortion access in Texas.

UN Urged to Tell Catholic Church it Has No Right to Oppose Abortion. The Center for Reproductive Rights, a non-governmental organization that advocates for legalized abortion, is urging the United Nations Committee Against Torture to tell the Catholic Church that "the freedom of speech and of religion" do not give the church the right to advocate against abortion. When the committee met in Geneva on Monday for a hearing on the Vatican's compliance with the Convention Against Torture, Vice Chairperson Felice Gaer, an American, said in her opening statement that laws that ban all abortion — which is the position of the Catholic Church — may violate the convention.

New Poll: Americans Oppose Obamacare's HHS Mandate 53% to 43%. A new poll released Thursday [5/8/2014] shows that Americans oppose Obamacare's HHS mandate — the rule requiring "free" coverage of contraception, sterilizations, and the "week-after" pill that may kill human embryos — by a 10-point margin. Polling on this issue has varied widely, depending on how pollsters frame the question.

Warren Buffett has given $1.2 billion to abortion groups. May 13, 2014, marks one year since Philadelphia abortion Dr. Kermit Gosnell was convicted of first-degree murder "in the deaths of three babies who were delivered alive and then killed with scissors at his grimy, 'house of horrors' clinic," according to the Associated Press. Gosnell instantly became the face of abortion in the prolife community. But there's another, more recognizable face pushing abortion in the U.S. — liberal billionaire Warren Buffett. The so-called "Oracle of Omaha" has donated more than $1.2 billion to abortion organizations from 2001 to 2012.

Former McCain Adviser: Amnesty Needed Because Americans Not Making Enough Babies. On Thursday [5/22/2014], a former adviser to Sen. John McCain (R-AZ) and the president of a think tank that supports the Senate's amnesty bill said America needed sweeping amnesty legislation and more immigrants because native-born Americans are not making enough babies. "Like all important policy issues, it comes down to sex," Douglas Holtz-Eakin, who advised McCain during the 2008 campaign, said Thursday at a National Journal event on immigration. "The blunt fact is the native-born population does not have a fertility rate high enough to keep the population growing."

The Editor says...
There have been 50 million abortions since Roe v. Wade. That's one reason for the alleged shortage of native-born American babies.

Abortion Polls and Hidden Conservativism. How much should abortion matter in counting up conservatives and liberals in America? The left has made abortion its litmus test. Supreme Court nominees, presidential nominees — anyone, really, who wants the left's support for office — must slavishly adopt the party line on abortion. By the left's own rhetoric, these abortion polls must matter a great deal.

On the science of abortion, liberals are in serious denial. Is the beginning of a human life something we can know? Sen. Marco Rubio (R-Fla.) claimed recently that human life begins at conception, and that this is a scientific fact. There are two stock responses to such a statement, both obscurantist. The first is the tack Philip Bump took in trying to create a gotcha blog post about Rubio's statement. Bump promised to boldly look into the science of human life's origins, and boldly came back saying that there isn't any. After querying a medical definition of pregnancy and sending it to Rubio's office for comment, Bump threw up his hands and retreated from the science altogether: [...]

Abortion Advocates 'Honor' the 'Bravery and Life's Work' of George Tiller. NARAL Pro-Choice America, a pro-abortion advocacy group, marked the 5th anniversary of George Tiller's murder on Friday. The late-term abortionist was shot at his church in Wichita, Kansas, by a man — later convicted — who said he did it "to protect children." "Today, we honor his bravery and life's work along with eight other doctors and clinic workers who have died in the line of duty since 1993," NARAL President Ilyse Hogue said in a news release. "Their legacies inspire and guide in our work to protect and expand the freedom of women and families to make personal decisions about their health care. According to the Abortion Federation of America, there have been eight murders of abortionists and abortion clinic staff between 1993 and 2009.

Mother Courage. Valerie Gatto does not want to talk about abortion. That's probably prudent, inasmuch as she very much desires to be the next Miss USA, and contestants in that pageant are expected to have ruthlessly anodyne interests along the lines of reading children's literature to blind dolphins. But she is admirably direct, even bracing, about the aspect of her life that intersects that troublesome issue: She was conceived when her mother, a teenager at the time, was attacked on the streets of Pittsburgh and raped at knifepoint.

Bill and Melinda Gates Foundation Says It Will No Longer Fund Abortion. Melinda Gates, of the Bill and Melinda Gates Foundation, has announced that her international family planning foundation will no longer fund abortion because she believes abortion and family planning have become "conflated."

America is Importing the Problems Abortion Was Supposed to Eliminate. [S]uddenly, despite the intrusion taking place on our border, those who normally justify abortion on demand seem overly concerned about the well-being of the destitute youngsters imposing themselves on not just one woman's life, but all our lives — itinerant youngsters who, if they were traveling in the womb, rather than on foot, the left would enthusiastically abort. Even Barack Obama, the most pro-abortion president in the history of America, justifies accepting the tsunami of children streaming in from south of the border by calling it a "humanitarian crisis," which naturally necessitates the "saving of human lives or ... the alleviation of suffering."

Pregnant woman punched in Brooklyn knockout game: 'I was worried about the baby'. It may be the most cold-hearted case of the knockout game yet. A 33-year-old punk punched a pregnant woman in the face so hard that she lost consciousness. But the creep was quickly arrested, just blocks away, cops said Friday [8/15/2014]. Jannatul Ferdous — two months from her due date — told the Daily News she was horrified for her unborn child. "I was scared and worried about the baby," the 34-year-old victim said at her home in Brooklyn.

The Editor says...
Please note: She wasn't worried about a fetus, or a clump of cells, or any part of her own body, she was worried about a her baby.

Poet: I 'would've died' for my aborted daughter's 'right to choose,' just 'like she died for mine'. What kind of mother asks her baby to die for her? And what kind of media outlet celebrates that? To take the second question first, The Huffington Post is promoting a video featuring Scottish "poet" Leyla Josephine, celebrating her decision to abort her daughter. [Video clip]

A Kafkaesque standard of morality:
Poet: I would have died for my aborted daughter's right to choose, just like she died for mine. She starts by imagining the moments she would have shared with her daughter had she been born, then takes to repeating "I am not ashamed," as if trying to convince herself by incantation that she really isn't.

A Moral Universe Torn Apart. "I am not ashamed," a young woman says into a camera. "I am not ashamed." The woman is Leyla Josephine of Glasgow, and she is a self-described feminist performance artist. She is reading a poem titled "I Think She Was a She" — a poem lauded by The Huffington Post as "unapologetic. ... She ardently declares her power over her body as she reminds us that a woman exercising her right to choose is not uncommon — and should never be shamefully brushed under the rug." What, exactly, is this poem? It's Josephine recounting her abortion of her unborn daughter. She notes, "I know she was a she and I think she would've looked exactly like me. I would've told her stories about her grandfather, we could've fed the swans at Victoria Park." Then, however, she reveals just what she's done: "I would've supported her right to choose. To choose a life for herself, a path for herself. I would've died for that right like she died for mine. I'm sorry, but you came at the wrong time." You came at the wrong time. Therefore, murder is justified.

The Editor says...
If a baby arrives "at the wrong time," that is entirely the mother's fault, not the baby's.

Group touts 4,000 abortions in 1 year with Clinton's support. Bill, Hillary and Chelsea Clinton's international foundation, in the spotlight this month for hosting the annual Clinton Global Initiative in New York, back two groups that operate a massive international abortion business, including one that heralded its 4,000 abortions in a 2013 annual report. Clinton Foundation documents show that it supports two groups that provide abortion services and supplies in Africa, India and Asia — Pathfinder International and Population Services International.

Eyewtiness to abortion. Seven years ago, I took the heartbreaking decision to accompany my teenage daughter to a private abortion clinic where — at 24 weeks and just inside the legal limit — the life of her unborn baby was terminated. Despite my efforts, I couldn't talk my child out of her decision, and faced with the agonising choice of going with my daughter or leaving her to go through the ordeal alone, I went with her.

New NARAL Ad Compares Pro-life Group to a Molester. We've seen some shameful and misleading ads this election cycle, but has the pro-abortion organization NARAL crossed the line?

John C. Willke, Doctor Who Led Fight Against Abortion, Dies at 89. Dr. John C. Willke, an obstetrician who helped establish the modern anti-abortion movement — and whose idea that rape victims could resist conception was widely challenged — died on Friday [2/20/2015] at his home in Cincinnati. He was 89.

Matthew Yglesias: Watching My Wife Give Birth Made Me More Pro-Abortion. I'm not sure what's more egregious. 1. Stuffing your newborn child into a Vox onesie shortly after he takes his first breath. Or, 2. Admitting that watching your wife go through the pregnancy of your first child has solidified your belief that abortion is OK and should be hassle- and judgment-free. Apparently Vox executive editor Matthew Yglesias is unaware that his newborn son will one day read.

New spa-like abortion clinic is part of a trend to 'destigmatize' the procedure. With its natural wood floors and plush upholstery, Carafem aims to feel more like a spa than a medical clinic. But the slick ads set to go up in Metro stations across the Washington region leave nothing to doubt: "Abortion. Yeah, we do that." The clinic, opening this week in tony Friendship Heights, specializes in the abortion pill and will be unique for its advertising. Its unabashed approach also reflects a new push to destigmatize the nation's most controversial medical procedure by talking about it openly and unapologetically.

Hidden Conservatism and Abortion. [Scroll down] How would Americans feel about Roe v. Wade if, instead of asking the bland question of supporting or not supporting that decision, they were asked if they support what this decision really meant? It did not, of course, legalize abortion. Three states at the time of that decision broadly legalized abortion, but most other states did provide an exemption for abortion in the case of rape, incest, and the life of the mother. Indeed, in Texas, the state from which Roe v. Wade came, the mother could have had an abortion if she had been raped. The problem was that the mother stated that she had been raped when, in fact, she had not.

Brain-dead woman kept alive 54 days delivers baby boy. Doctors in Nebraska prolonged the life of a brain dead woman for 54 days so she could deliver a baby boy named Angel. Karla Perez, 22, died two days after the delivery, the Washington Post reported late Friday [5/1/2015]. Angel weighed just 2 pounds, 12.6 ounces at birth. The last time a brain-dead woman in the U.S. delivered a baby was 1999, the paper said.

Premature babies can survive at 22 weeks, study finds. A new study finds that babies are sometimes able to survive when born at just 22 weeks, raising questions for the abortion debate. The study released Thursday in the New England Journal of Medicine finds that 5.1 percent of babies born at 22 weeks were able to survive, and 3.4 percent were able to survive without severe impairments. Most of the variation between hospitals in survival rates is due to how heavily they decide to treat these premature babies.

The Editor says...
That doesn't mean they aren't human at 21 (or 20 or 19...) weeks, they're just more fragile.

Late Term Abortion Defenders Are the Real Science Deniers. For contemporary liberals there is no worse offense that to be "against science," a term that is loosely thrown about to silence skepticism about environmental extremism. But a new study published in the New England Journal of Medicine illustrates that those decrying the effort to oppose late term abortions as a right-wing "war on women" are not only on questionable moral ground but also disregarding scientific facts about premature babies. According to the Journal, it is now clear that babies born at 22 or 23 weeks into pregnancy have a decent chance to survive if given treatment. Those born at 23 weeks are even more likely to live with half doing so without significant problems. This is good news for families but as even the New York Times tacitly admitted in its story about the report, it is bad news for those on the left who have been fighting efforts in state legislatures to ban late term abortions.

For the first time in seven years, Americans are 'pro-choice'. Half of Americans (50 percent) consider themselves "pro-choice" on abortion compared to 44 percent who identify as "pro-life" — the first time since 2008 that the pro-choice position has a significant lead in Americans' views on abortion. A majority of women (54 percent) are now pro-choice, compared to 46 percent of men, according to a new Gallup poll.

Two Decades of Gallup Polls Show Majority of Americans Want Abortion To Be Illegal in Most Cases. In 37 consecutive polls performed throughout the past 21 years on the issue of abortion, Gallup has found that a majority of Americans surveyed say abortion should be illegal in all or most cases. "In the past 20 years, the percentage who say abortion should be illegal in all circumstances or all but a few circumstances has never dropped below 54 percent," writes Terence P. Jeffrey at CNS News.com.

Appeals court upholds strict Texas abortion law closing all but seven clinics. A federal appeals court on Tuesday [6/9/2015] upheld a strict anti-abortion law in Texas that will close all but seven abortion providers in the state.

Court upholds key parts of Texas' strict anti-abortion law. A federal appeals court on Tuesday [6/9/2015] upheld Texas' strict abortion restrictions that could soon leave only seven abortion clinics open in a state of 27 million people.

The United States is a Dying Country. I could only watch over the past 42 years as the American people have sanctioned, through legal abortions, the death of over 54.5 million children. Once this disregard of human life took hold, the citizens of this nation were susceptible to wholesale changes within society. Far too many of the American people, flush with prosperity, willfully ignored the infiltration of the education, media and entertainment establishments by the 1960's radicals, the most narcissistic and radical legion of socialist true-believers on the face of the earth. Through the control of these mediums of indoctrination, an ever increasing percentage of the population has been conditioned to believe there are no moral absolutes and there is a limitless list of rights as granted by the government. Since 1973 there has been the open promotion of euthanasia, the abandonment of traditional behavioral guidelines and the active denigration of organized religion, together with the successful inculcation of the entitlement mentality.

CDC: The Centers For Baby Control And Prevention. Imagine how the media would react if the vast majority of experts advising the Department of Energy on policy were oil industry lackeys. Or visualize the coverage if only hedge-fund managers had the government's ear on Wall-Street rulemaking? Badly, I suspect. Yet this is not always the case. The Centers for Disease Control and Prevention (CDC) releases a document called "Providing Quality Family Planning Services Recommendations" — which is compiled in conjunction with a distastefully Malthusian sounding "U.S. Office of Population Affairs" — that sets policy recommendations on planning your family. Spacing. Numbers. Disposal. That sort of thing.

When Is A Baby A Baby? Half Of Americans Say Roe v. Wade Gets It Wrong. Over the last decade, Gallup data show the number of people who don't have an opinion on the topic has risen by more than 10%. But when people hear doctors assuring buyers they will take care to use their forceps to "crunch" only above and below the torso to preserve marketable organs, indifference turns to concern. People start thinking maybe these fetuses aren't the "blobs of tissue" abortion advocates tell us they are, but rather viable human beings with organs so well-formed and functioning that an industry exists to harvest them for medical experiments.

A would-be father's perspective on Planned Parenthood and loss. This summer my son or daughter would be about twenty-one. Who knows maybe she'd have a child, too, by now. But I will never know what could have been, because I didn't have the courage when it mattered.

Baby born 4 months premature on cruise ship wins race against time to survive. A Utah woman who gave birth to a one-and-a-half pound baby boy four months premature during a Caribbean cruise has revealed how she kept him alive with the help of the ship's medical staff and a makeshift incubator.

Police Raid on Abortionist's Car Reveals 14 Containers of Human Tissue, Possibly Fetuses. A police raid on the car of an abortionist with a history of violations has revealed containers of human tissue — possibly aborted babies — and medical equipment, leading investigators to hypothesize that Michael Arthur Roth may have been performing illegal abortions out of the trunk of his car. Police in West Bloomfield, Michigan found "14 containers of human tissue, possibly fetuses, medical equipment and large amounts of Fentanyl, a drug used for pain and sedation," reports ABC affiliate 7 Action News.

Murdered Babies Found in Abortionist's Car But Why Regulate the Abortion Industry? It's shocking, but only for someone who hasn't been immersed in the diabolical decadence of the Culture of Death. Police just discovered an unbelievably gruesome assortment of human remains in 14 containers in a raid of an abortionist's car.

Kermit Gosnell on wheels:
Networks Ignore 14 Containers of 'Human Tissue' Found in Abortionist's Car. The media tend to eat up horror stories — except when abortion is involved. Local stations first broke the news Oct. 13 that police discovered 14 containers of "human tissue" in a Michigan abortionist's car. The horror story eerily echoed reports from the case of Philadelphia abortionist Kermit Gosnell — and, like Gosnell, it didn't tempt coverage from the broadcast networks. All three, ABC, NBC and CBS, turned a blind eye to the news. This is the story ABC, NBC and CBS censored from their news shows[.]

Chinese Human Rights Activist on Two-Child Policy: 'Now They Will Kill Any Baby After Two'. Chinese human rights activist Chen Guangcheng is not impressed with China's new two-child policy that was announced last week, predicting that its "evil" practice of forcing women to have sterilizations and abortions will continue. [...] "This is nothing to be happy about," he tweeted. "First the CCP [Chinese Communist Party] would kill any baby after one. Now they will kill any baby after two."

Whoopi Goldberg to Carly Fiorina on 'The View' — 'No One's Harvesting Baby Parts! Come On Girl'. Republican presidential candidate Carly Fiorina appeared on the show "The View" on Friday [11/6/2015]. She talked issues, and things got contentious when the subject of abortion came up.

'Scandal' Plays 'Silent Night' as Main Character Has Abortion. How vile is the television industry? They won't just promote toleration of abortion. They won't just promote abortion itself. They will sanctify abortion, turn it into a sacred rite of passage.

Woman charged with attempted murder in failed coat hanger abortion. A Tennessee woman who cops say tried to abort her 24-week-old baby with a coat hanger in a bathtub was charged with attempted first-degree murder Wednesday [12/9/2015]. 31-year-old Anna Yocco, of Murfreesboro, remains jailed on a $200,000 bond, according to the Daily News Journal. Yocca filled a bathtub with water and attempted to self-abort with a hanger in September, according to a Murfreesboro Police Department report. When she began bleeding, however, she became worried for her safety.

The Editor says...
One wonders how she thought such an operation could be conducted without bloodshed.

New California Law Forces Pro-Life Pregnancy Centers to Advertise Abortions. Did you hear about the new bill that California Gov. Jerry Brown has signed into law? [...] The bill he signed (AB775), named the Reproductive Fact Act, aims to punish pro-life pregnancy centers, which offer women and girls compassionate alternatives to abortion. Under penalty of ruinous fines for every "violation," the law orders the pro-life centers to post notices and tell mothers that they can abort their babies and have California taxpayers foot the bill via the state's expansive Medi-Cal program.

Jury convicts woman who cut baby from womb. Jurors convicted a Colorado woman of cutting a stranger's baby from her womb in a gruesome case that reignited the debate over the legal rights of fetuses. The jury found Dynel Lane guilty of attempted first-degree murder, assault and unlawful termination of a pregnancy in last year's attack. Prosecutors said Lane went to great lengths to convince others she was expecting a baby before luring Michelle Wilkins to her home with a Craigslist ad for maternity clothes. Lane then hit and choked Wilkins before using two kitchen knives to cut out the unborn girl.

The Editor says...
Craigslist would function as intended only among moral and religious people. It is wholly inadequate to the transactions of any other.

Trump the intolerable. [T]he fundamental purpose of government is to protect the vulnerable from violence. There is nobody more vulnerable than a baby. Every year, with our government's approval, the courts' protection, and our own tax dollars, abortionists kill 1 million babies in this country. They kill tens of thousands of babies who have reached the age of viability. Donald Trump finds that slaughter acceptable. That makes Donald Trump unacceptable. Trump stands with President Obama and Hillary Clinton in insisting that taxpayers share complicity in this slaughter by continuing to fund Planned Parenthood. His recent claims to a pro-life conversion could not be less convincing.

Abortion Clinics Are Closing at a Record Pace. Abortion access in the U.S. has been vanishing at the fastest annual pace on record, propelled by Republican state lawmakers' push to legislate the industry out of existence. Since 2011, at least 162 abortion providers have shut or stopped offering the procedure, while just 21 opened. At no time since before 1973, when the U.S. Supreme Court legalized abortion, has a woman's ability to terminate a pregnancy been more dependent on her zip code or financial resources to travel. The drop-off in providers — more than one every two weeks — occurred in 35 states, in both small towns and big cities that are home to more than 30 million women of reproductive age.

The Editor says...
Good point. The Supreme Court legalized abortion. Not the voters, not their elected officials in Congress.

Trapped In a Pro-Abortion Bubble. On the libertine Left, one of the most revered "social justice warriors" is the abortionist. "Abortion providers" are revered as living statues of liberty, granting the freedom from being "punished with a baby," to quote our current president. Entire documentaries celebrate them. The latest is Trapped, named after the pro-abortion lingo for any law that regulates the abortion industry, or as they spin it, "targeted regulation of abortion providers." In the Los Angeles Times, Katie Walsh provided the propagandistic ooze: "These providers embody a remarkable mix of tenacity and tenderness as they comfort patients and attempt to discern and comply with labyrinthine regulations." Tenderness. This film followed the usual route of an abortion propaganda film. [...] In Trapped, the abortionists show they have no conscience. They are not only capable of doing anything, but of saying anything that advances their daily horrors.

Woman accuses Florida hospital of flushing her miscarried baby down the toilet. Linda Gomez filed suit last week in Palm Beach County court against Wellington Regional Medical Center, seeking unspecified damages for emotional trauma.

Pro-Abortion Group's Display Features Baby-Shaped Cookies With Their Heads Broken Off. The pro-abortion students' table had cookies shaped like babies, many with their heads broken off. Around the baby cookies were papers that said, "Abortion should remain legal because ..." and included a space for students to write a reason. The College Fix reported the photos of the display received wide-spread attention on social media after conservative blogger Matt Walsh posted them on Facebook. Walsh said someone on campus told him about the display and sent the photos.

Bright flash of light marks incredible moment life begins when sperm meets egg. Human life begins in bright flash of light as a sperm meets an egg, scientists have shown for the first time, after capturing the astonishing 'fireworks' on film. An explosion of tiny sparks erupts from the egg at the exact moment of conception. Scientists had seen the phenomenon occur in other animals but it is the first time is has been also shown to happen in humans.

The ACLU's deadly anti-Catholic vendetta. The ACLU is angry that Catholic hospitals won't perform abortions. The so-called "civil liberties" organization (if only!) appears to again be revving up to sue Americans who dedicated their lives to saving others while serving their faith. And the ACLU wants the public to be incensed, too. But its latest ploy will almost certainly backfire by unintentionally demonstrating how important Catholic hospitals are to American health care. For example, in trying to raise public hackles over the fact that Catholic institutions don't perform abortions, the ACLU reminded everyone, in a report issued late last week, of something truly impressive: One out of every six patients in the United States is cared for in a Catholic hospital.

Utah Law Requires Abortionists To Give Anesthesia Before Abortion Because Babies Feel Pain. A baby at 20 weeks gestation is "fully capable of experiencing pain." Pro-choicers like to ignore that fact, because it humanizes what they've convinced themselves to be a blob of lifeless cells. It's sad that this law is even necessary, and even worse that people actually have a problem with it.

Doctors save baby after pregnant Mom's tragic death. Missouri doctors have managed to deliver a baby whose mother was killed in a crash on her way to a hospital to give birth. The Southeast Missourian reports that 26-year-old Sarah Iler and the baby's father were driving Wednesday [5/11/2016] from Cape Girardeau to Poplar Bluff when a tanker truck collided with their SUV. Cape Girardeau police Sgt. Adam Glueck says officers administered CPR in the hopes of saving Iler and the baby. Iler was declared dead on arrival at a hospital, but doctors performed an emergency cesarean section and delivered her daughter, Maddyson.

While People Complain About Harambe the Gorilla's Death, Thousands of Babies are Aborted. [Scroll down] This incongruent concern for animals but not unborn children was recently seen in New Zealand. A 24 year old Danish student tourist, Rasmus Zetner, was fined $10,000 by Judge Brian Callaghan in the Christchurch Court for killing a Whio duck, an endangered specis [sic] in South Westland.Under the Wildlife Act 1953, the whio duck is an absolutely protected species. Its killing is a serious crime, on conviction the offender may be fined up to $100,000, or imprisoned for up to two years. This crime was considered important news and was given extensive coverage by all the media in New Zealand. Yet New Zeland allows the killing of an unborn baby.

Embryonic Stem Cell Fail as Firm Goes Defunct. In 2004, Vice-Presidential candidate John Edwards promised that if John Kerry won, people would rise out of their wheelchairs and walk. In the 2006 election, actor Michael J. Fox, who suffers from Parkinson's, made a commercial for Democratic Senate candidates in which he urged voters to support those candidates who opposed restrictions on federal funding for embryonic stem cell research and stood in the way of imminent miracles. Private funding, it should be noted, was never restricted. The only thing that stood in the way of miracle cures from embryonic stem cell research miracle cures, we were told, was the pro-life movement and those wascally Republicans who were putting embryos ahead of the sick and paralyzed. [...] Some 12 years after Edwards made his messianic claim, ESCR has proven quite literally to be a bankrupt line of research.

Hospital boots abortionist in 'demonic' baby-killing rant. A California hospital has reportedly severed ties with an abortionist involved in a "demonic" confrontation with a pro-life activist, in which the doctor charged through the front doors of a medical facility while wielding a pair of scissors and proclaimed his "love" of tearing unborn babies apart in the womb. The bizarre exchange with Dr. Robert Santella outside his Family Planning Associates abortion facility in San Diego was captured on video and uploaded to YouTube, reported WND.

'Daily Show' tweet encouraging abortions pulled after backlash. Comedian Trevor Noah's "The Daily Show" faced fierce backlash on Monday [6/27/2016] for tweeting "Celebrate the #SCOTUS ruling! Go knock someone up in Texas!" after the U.S. Supreme Court's Whole Woman's Health v. Hellerstedt ruling. Professional pundits and everyday Twitter users responded with a flurry of condemnation after Comedy Central's official "The Daily Show" account implied the supreme court's 5-3 ruling was a cause for celebratory sex — and abortions.

Texas to require burial or cremation of aborted fetuses. Texas intends to require that aborted fetuses be buried or cremated under new rules following the US Supreme Court's decision to strike down two of the state's most restrictive abortion laws.

House panel seeks criminal charges for University of New Mexico in abortion research. A prominent southwest university's medical school could face a criminal probe after it was revealed that students dissected aborted fetal brains and other body parts at a summer camp. The University of New Mexico was accused of illegally transferring fetal tissue by the House Select Panel of Infant Lives in a recent letter to New Mexico Attorney General Hector Balderas.

Ohio abortion facility torn down to make way for pro-life memorial. An Ohio abortion facility shuttered by state health inspectors has been demolished to make way for a memorial for the unborn. The Center for Choice clinic in Toledo, Ohio, was shut down in 2013 after inspectors found moldy and rusted equipment, reported the Christian Times.

Cardinal Dolan Rebukes "Catholics" for Choice: This Pro-Abortion Group is Not Catholic. An abortion advocacy organization called "Catholics for Choice" (CFC) placed deceptive full-page newspaper ads in multiple cities on September 12 calling for taxpayer funding of abortion in the name of the Catholic faith. As the U.S. Catholic bishops have stated for many years, the use of the name 'Catholic' as a platform to promote the taking of innocent human life is offensive not only to Catholics, but to all who expect honesty and forthrightness in public discourse. CFC is not affiliated with the Catholic Church in any way. It has no membership, and clearly does not speak for the faithful. It is funded by powerful private foundations to promote abortion as a method of population control.

Pro-life pregnancy centers must make abortion referrals, 9th Circuit rules. The 9th Circuit Court of Appeals ruled against a coalition of pro-life pregnancy centers on Friday, upholding a California law that requires them to refer patients to publicly funded contraception and abortion services, even if doing so violates their moral and religious beliefs. The decision upheld a lower court ruling saying California law AB 775, or the FACT Act, does not violate the First Amendment rights of the National Institute of Family and Life Advocates and two other faith-based nonprofits. Matt Bowman, senior counsel at the Alliance Defending Freedom, which represents the appellants, called the decision a "clear violation" of constitutionally protected rights to freedom of speech and religious expression.

Texas to Require Burials After Many Abortions. Texas health officials have adopted a new rule that would require burials after many abortions conducted in the state — a decision that could have a profound effect on providers there. The rule, which was submitted to the Texas secretary of state by the Texas Department of Health Services last Monday, changes the manner in which fetal tissue can be disposed of following an abortion at a clinic, hospital or other medical setting. While previously the tissue was to be disposed of in the same matter as most other medical waste in a sanitary landfill, state health officials are now requiring fetal tissue to be interred, regardless of the gestational duration, if a woman has an abortion in those settings.

Lawsuit challenges new Texas rules over fetal remains. Advocacy groups filed a lawsuit Monday [12/12/2016] seeking to prevent Texas from requiring hospitals and abortion clinics to bury or cremate fetal remains rather than disposing of them in a sanitary landfill, as they most often currently do with such remains and other biological medical waste.

Mrs. Stephanopoulos Brags Daughter Threw Pro-Abortion Hissy Fit After Trump Won. Nothing could make a liberal power couple's hearts swell up with pride more than the sweet sounds of their young daughter throwing a pro-abortion hissy fit. That's exactly what happened Tuesday on The View, when actress/comedian Ali Wentworth, married to ABC anchor George Stephanopoulos, boasted about how "upset" her young daughter was with Trump's win. Wentworth bragged that the 14-year-old ranted and raved around their home afterwards, sulking about abortion and "women's rights."

Stephanopoulos' Wife: Our 14-Year-Old Daughter Screamed 'NO ABORTION!' After Horrifying Trump Win. If you're wondering why the left has gone insane, perhaps it's because they were raised to be insane, and they're raising their children the same way. Why in the world does a 14-year-old girl think that her world is ending because Donald Trump has been elected president? More importantly, why would she think her world is ending because of possible restrictions on abortion? Are leftist parents truly raising their daughters to believe that their rights to freedom are dependent on their ability to kill their own offspring in the womb?

Christian fired for employer's refusal to accommodate. Alexia Palma, who immigrated from Guatemala as a child, worked for Legacy Community Health in Houston as a health educator in its clinic for low income patients from the inner city area. Because her Catholic beliefs prohibit her from practicing contraception, the management at her company allowed her to show a video on the subject, rather than teach it herself — a class that comprised only 2 percent of her job. Palma said that this arrangement was working fine ... while it lasted. "This was working perfectly clear for a year-and-a-half — until new management came in [and] found out about my accommodation," she explained.

Chili's Is Throwing in a Side Order of Abortion Funding with Every Slab of Mediocre Ribs in KY and IN. Back in 2011, a California Chili's restaurant teamed with the local Planned Parenthood to raise funds for the abortion giant. The Mar Monte Chili's location passed out flyers to diners, promising that if they just showed the paper when they came to eat, Chili's would donate 15% of their total bill to Planned Parenthood. But once the flyers went public, the restaurant received so much backlash that the fundraiser was canceled. Instead, the Mar Monte Chili's donated $200 to Planned Parenthood.

Gosnell, Game Changer. You can't unlearn," Ann McElhinney insists, referring to what she and her husband, Phelim McAleer, refer to in the subtitle of their new book, Gosnell: The Untold Story of America's Most Prolific Serial Killer. In April 2013, the Irish-born investigative journalists focused their attention on the Kermit Gosnell trial going on in Philadelphia, about the abortions performed at the clinic now known by those who didn't look away as a "house of horrors." The evidence prosecutors showed in court was grisly. As McElhinney has put it: "The humanity in all the pictures is unmistakable, the pictures of the babies that were shown as evidence in the Gosnell trial were first-, second-, and third-trimester babies, in all their innocence and perfection." Coinciding with the 44th anniversary in January of the Supreme Court's Roe v. Wade decision, Gosnell, their book, is a precursor to a movie they've completed production work on. Starring Dean Cain (formerly Superman on the primetime Lois & Clark), the movie is still in need of a distributor. You can imagine how popular such a sell would be in Hollywood — whose stars most recently took the stage in the so-called women's marches to protest Donald Trump as president and to insist on continued taxpayer funding of Planned Parenthood.

MI will let felon abortionist get back to work. Thomas Gordon has terminated preborn babies in his Grand Rapids abortion clinic but won't be doing so for a while after running afoul of state laws. Chris Gast of Right to Life of Michigan says Gordon never informed health regulators of his criminal record that includes criminal convictions for domestic assault.

Babies can recognise faces while still in the womb, scientists find. Incredible moving images of unborn infants before their birth, shows that they turn their heads towards shapes which resemble faces — with the position of eyes and nose picked out. But when they see a random shape, they ignore it, scientists at Lancaster University have found. The finding suggests that the instinct to recognise facial features develops before a baby has even see its first face. It also shows that an unborn baby's senses are already well developed and parents should begin interacting with their child while it is still in the womb.

Jane Fonda's Mother Had Nine Abortions Before Fonda Was Born, She Then Committed Suicide. A new report reveals some of the intense family drama behind pro-abortion activist Jane Fonda's parents. The report describes how Fonda's father was cold and a bully, as well as a shameless womaniser and Jane always blamed her manic depressive mother Frances for their break-up. [...] Obviously Frances had quite a bit on her plate emotionally — including all of the relationship issues — that ultimately caused her a mental breakdown and led to her taking her own life, but the multiple abortion undoubtedly played a role. There have been numerous studies that found an association between abortion and suicide. Other studies have found a link between abortion and depression (which is a major risk factor for suicide).

New Abortion Doula Class Teaches How to Hold a Woman's Hand While She Kills Her Baby. Abortion activists held a class last week in Denver, Colorado to teach doulas how to support women's decisions to abort their unborn babies. Traditionally, doulas are people who provide emotional support and education to women through their pregnancies, labor and sometimes into the first few months of parenting. But abortion activists now are training doulas to encourage and support aborting unborn babies. Vice reports the Colorado Doula Project organized the first formal abortion doula training in the state last week, and 50 people attended. The pro-abortion group said there already is a waiting list for the next training.

Actress Jokes with Abortionist: My First Abortion Was 'My Best One'. What do you get when you put an actress who jokes about abortion in the same room as an abortionist who says he's never killed a baby? Cheers, laughter and attacks on pro-life Christians. Or that's what happened in Seattle. In June, two media-beloved figures spoke at a #ShoutYourAbortion event in Seattle — but surprisingly the event went unnoticed by the media.

Perez Hilton Says Kylie Jenner Should Kill Her Baby in an Abortion. What Perez Hilton did to Kylie Jenner and her unborn baby over the weekend serves as a strong example of just how often women are pressured to abort their unborn babies. Hilton, a celebrity blogger, said he would have urged the 20-year-old reality show star to abort her unborn baby if she was his daughter, the International Business Times reports. And he openly admitted that he would do the same if his own young daughter came to him pregnant in a similar situation. [...] The truth is that many women and girls face heavy pressure to abort their unborn babies, often from their parents or a partner. All too often an abortion is not the "choice" that the abortion industry sells it as. A study published in the Medical Science Monitor found that as many as 64 percent of post-abortive women say they felt pressured to have an abortion.

Is Roe v. Wade and a lack of respect for life responsible for Las Vegas? The media hunt is on. It's the guns. Always the guns. But sacred cows being what they are... what about abortion? [...] Now we have another massacre on our hands. And guess what is NOT being discussed? That's right — abortion and respect for human life or the lack thereof.

President Donald Trump Overturns Obamacare Abortion Mandate in Huge Pro-Life Victory. The Trump administration announced today that employers will now be exempt from the federal requirement to provide insurance coverage for abortion-causing drugs in their health insurance plans if it conflicts with their sincerely held religious or moral beliefs. This now limits a rule created under the Obama administration's Affordable Care Act that required that employers, including non-church religious organizations, must cover all forms of contraception, from birth control pills to abortion drugs and devices at no cost to the employees. The Trump administration stated legal reasons for issuing two rules: one for religious and the other for moral objections. The administration acknowledges that the Affordable Care Act law did not provide protection for nonreligious, moral conscientious objections as required by the Religious Freedom Restoration Act. Both rules would take effect as soon as they are on display at the office of the Federal Register. Leading pro-life groups were delighted by the news.

Abortion Doctors: Not Really Any Reason for an Abortion to Save a Mother's Life. Pro-choice activists sometimes claim that late-term abortions need to be legal in order to protect women's lives. These abortion activists know that many people shudder at the thought of killing a fully formed baby who could survive outside of his or her mother's womb. They know that the simple "woman's body, woman's choice" slogan is not enough to convince the public that aborting full-term babies should be legal. In order to justify these abortions, pro-choicers sometimes say that if late-term abortions were banned, women's lives would be at risk; in other words, women have late-term abortions in order to save their own lives. Is this true? Common sense seems to indicate that it isn't. A third trimester abortion is performed by injecting poison (usually dioxin) into the baby, then inducing labor. A woman essentially "gives birth" to a dead baby. In both a third trimester abortion and a traditional live birth, the woman has to go through labor. The only difference is that in an abortion, the baby is injected with poison, killing him or her. This is done for no other reason than to prevent a live birth. It seems to be common sense that injecting deadly poison into a woman's body would carry some risk. It is hard to believe that it is safer to inject poison and induce labor rather than to simply induce labor without the injection.

Two Abortion Clinic Staffers Have a Change of Heart and Quit Their Jobs. More good news today ... we've learned that two more abortion business workers have had a change of heart and quit the industry! In all such cases, we keep the specifics confidential. Former workers often face criticism, rejection from friends ... and sometimes even the threat of lawsuits from their former employer. Please keep these workers in your prayers as they continue the path to healing. This now makes 156 abortion employees who've experienced conversions and left their jobs during 40 Days for Life campaigns!

Late-Term Abortion Clinic Kills Baby in Abortion Then Harvests Baby's Body Parts for Research. A late-term abortion clinic in New Mexico faces a lawsuit after it killed a baby in an abortion and then harvested the baby's body parts for research — without the mother's consent. As LifeNews previously reported, a woman who aborted her baby in 2012 says the abortion facility donated her aborted daughter's body to researchers at the University of New Mexico without her full knowledge or consent. Jessica Duran filed a lawsuit against the Southwestern Women's Options alleging that the abortion facility did not tell her that donating her aborted baby's body was voluntary. Duran also said the abortion facility did not give her details about how her baby's remains would be used in the research. Duran's lawsuit accuses SWO of deceptive trade practices and violation of state law, which requires informed consent before providing an abortion.

Left Celebrates 'Justice' After 17-Year-Old Illegal Immigrant Has Abortion. After much persistence from the American Civil Liberties Union and the #JusticeforJane social media campaign, news broke Wednesday morning that the 17-year-old illegal immigrant "Jane Doe," who was being held in a Texas detention center, was able to obtain her "constitutionally-protected right" to have an abortion.

Abortion Clinic Paid Staff Less if Women Didn't Have Abortions. The British newspaper, the Sun, called it an "Abortion Bombshell." And so it clearly was — the news that one of Britain's largest abortion providers paid staff bonuses to encourage women to have abortions!

Here's Why An Unborn Baby Was Counted As A Person In The Texas Massacre. The sheriff deputies who assessed the fatalities at the bloody crime scene at the First Baptist Church in Sutherland Springs, Texas, counted the death toll as 26, because one of the victims was a mother carrying an unborn child inside of her. The federal Unborn Victims of Violence Act of 2004 recognizes unborn children as separate victims for federal and military crimes. Texas law also defines a human being to include "an unborn child at every stage of gestation from fertilization until birth," and recognizes an unborn baby as a potential crime victim. "This has been a longstanding priority for us, and something we were instrumental in pushing," said National Right to Life director Jennifer Popik according to The New York Times. "The principle here is that there's two victims. For a family already invested in the child, for the grandparents, this is a loss."

New York Nurse Gives Emotional Speech About Being Forced To Participate In An Abortion Against Her Will. On Wednesday [11/8/2017], several nurses spoke publicly in favor of the Conscience Protection Act of 2017, legislation sponsored by Rep. Diane Black (R-TN), which "would allow health-care providers like nurses and doctors to sue if they're coerced into participating in abortions or if they face discrimination at work for refusing to do so," reports The Hill.

The Media Doesn't Want to Talk about the 26th Victim of the Texas Church Massacre. Media outlets across the country are apparently having difficulty counting. They can't seem to get the number of victims right in last week's horrific Texas church massacre. While many correctly reported that 26 people were killed during Devin Patrick Kelley's maniacal rampage, many others went to great pains to avoid reporting that an unborn child died at First Baptist Church in Sutherland Springs, Texas, last Sunday. Or, if they did report the baby's death, they reported it as a footnote, careful to separate the unborn child from other victims.

10 Amazing Things That Happen to Babies Before Birth. With today's modern technology and medical information, we have a real-time window into the womb. What happens to babies before birth — all the ways they move, grow, and change — is nothing short of amazing. Here are just 10 things that happen to babies before birth. These 10 things demonstrate their uniqueness, value, and of course, their humanity. What's more, each of these 10 things happen in the first trimester — when approximately 90% of abortions in the U.S. occur.

More proof that a mother and her unborn baby are two separate people:
Pregnant Arizona woman, 19, shot dead while sleeping, baby survives. The Tucson Police Department said in a news release several people in the home were awoken at 4:30 a.m. to the sounds of 19-year-old Jasmine Vega screaming before becoming "unresponsive." Arriving officers found Vega unconscious and transported her to a local hospital, where she was pronounced dead. Vega was six months pregnant at the time, according to police. "Hospital staff were able to successfully deliver her unborn child, who is currently being treated at the hospital," Tucson police said.

Pregnant 14-Year-Old Rejects Abortion, Now Faces Intense Bullying From Her Classmates. Kaiya Acton knew that people would look down on her when they found out that she was pregnant at just 14 years old. But the Liverpool, England teen refused to even consider sacrificing her unborn baby's life to save face. The Liverpool Echo reports Acton chose life for her son, Dean, and now is working hard to give them both a better future. "I do think the stereotype of young mums is very unfair, people don't know the struggles and strains all mums go through," the now 16-year-old said. "...we are capable of just as much love towards a child and the right care depending on your situation."

Pastor and Priest Advise Two Rape Victims to Kill Their Babies in Abortions. Clergy need to get this one right! Save The 1 has published two recent stories in which the pregnant rape victims' clergy not only advised them that's it's acceptable to abort, but actually encouraged them to do so. One rape victim went through with the abortion, and the other did not. In other words, a pastor was responsible for the death of an innocent unborn child.

Mom Slams Doctors Who Told Her to Abort Her Severely Disabled Baby Girl, She Was Born Healthy. A British mother criticized her doctors for encouraging her to abort her unborn daughter after tests indicated that the baby girl could have a disability. Baby Kyla-Shae Anderson was born healthy 18 months ago, and her mother, Kamelia Walters, 25, of South London, is grateful that she is alive, The Sun reports. Walters said she also feels angry because her daughter would not be alive today if she had taken her doctors' advice.

How A Baby Is Not A Parasite: A Guide For Idiots. Every time pro-life chat surfaces in the news, I see stupid people try to justify abortions by any means possible. With the March for Life in full swing, you can bet the pro-abortion crowd has surged forth on social media and put their dumbest foot forward in order to combat the growing menace of people who don't want babies to be killed. One of my favorite excuses the pro-abortion crowd uses is the reasoning that a baby is essentially a parasite, and if a woman wants to rid herself of a parasite, who am I to tell her she can't?

The original feminism is pro-life. Jan. 22 is the 45th anniversary of the Roe v. Wade Supreme Court decision that legalized abortion in the United States. That's 45 years and more than 60 million yet-to-be born children being legally terminated by their parents. Looking at modern feminism, we see that instead of its early emphasis on the rights of women to equal pay and equal votes, it has been narrowed to a defense of abortion rights. Feminists who oppose abortion are often drowned out of conversation with their pro-abortion rights sisters. The result is that few people are aware that the founders of the women's movement were, without known exception, opposed to abortion. These activists saw it as a symptom of women's oppression, not a solution to it. Today's pro-life feminists agree.

Satanic Temple Challenges Abortion Law on Religious Grounds. Earlier in the week, the Satanic Temple argued a case before the Missouri Supreme Court on behalf of "Mary Doe," a woman who says the state violated her right to religious freedom when she went to get an abortion back in 2015. Specifically, Mary, who did ultimately get the abortion, says the state's informed consent law — which requires women seeking abortions to wait 72 hours, have an ultrasound, and sign a form that states they' read a booklet promoting the idea that life begins at conception — violates the Establishment Clause of the First Amendment.

Congressman Joe Kennedy + Baby Carriage + Pro-Abortion Rally = One Really Weird Photo Op. These Kennedys are an odd bunch. Congressman Joe Kennedy III (a devout Catholic?) is seen here with his wife and their baby attending a pro-abortion rally. Wife: "Hey, want to go to the abortion rally?" Kennedy: "Yeah! Grab the baby and let's go!" Weird. Sad.

Disgraced FBI Agent Lisa Page Also Trashed Pro-Lifers: 'I Truly Hate These People'. Disgraced former FBI lawyer Lisa Page not only has a strong distaste for President Trump, but also pro-lifers. According to LifeNews, on page 13 of the Interim Report by Sen. Ron Johnson titled "The Clinton Email Scandal And The FBI'S Investigation Of It," released yesterday [2/7/2018], there is an "exchange between FBI senior lawyer Peter Strzok, Page's co-adulterer, and her about pro-life Americans." Simply put, Page not only dislikes the pro-life movement but "truly hate[s] these people," making it personal.

UN is Pushing Abortion on Africa, But This Pro-Life Scientist is Trying to Stop Them. What do you call it when Western elites attempt to foist abortion on native African cultures? At the United Nations, two women were squaring off: one, a Danish abortion advocate, the other, African scientist Uju Ekeocha. Their opinions expose the deep clash of civilizations across the globe: the culture of life versus the culture of death.

America's Problem is a Contempt for Life, Not a Love of Guns. In a society that reveres human life, gun ownership isn't a chronic problem. People who genuinely believe in the sanctity of human life won't take another life — by gun or any other means — unless it is absolutely necessary. Not so in a society that views human life as subjective and revocable. In a society that condones, funds, and promotes abortion and excuses euthanasia, human life is cheap. When a woman has a right to kill an unwanted child growing inside her simply because it suits her to do so, life is robbed of its value. In a society that believes that a woman has the power to change the child growing inside her into an inanimate blob of tissue simply by decreeing that it is so, human life is something that can be dismissed by mere whim.

300 Doctors and Nurses Say Their Employer Discriminated Because They Refused to Do Abortions. When President Donald Trump announced the creation of a new office to protect the conscience rights of pro-life medical workers, abortion advocates scoffed at the need for it. However a new report indicates that more than 300 health workers have filed complaints with the Department of Health and Human Services at its new office saying that their religious or conscience rights have been violated by their employer. The pro-life doctors and nurses are being forced to perform or promote abortions or to refer women for abortions that violate their religious views or conscience. That hundreds of healthcare workers have been pressured to be involved in abortion is no surprise as LifeNews has chronicled over the years many cases of pro-life doctors and nurses who have faced employment discrimination simply because they refuse to be involved in performing or referring for abortions. The same is true for pro-life pharmacists who don't want to be involved and dispensing abortion drugs or referring women to pharmacies that dispense them.

Catholic Bishop Says Sen. Durbin Will Not Be Given Communion Until He Repents. Because Sen. Dick Durbin (D-Ill.) supports abortion on demand and recently voted against a bill to ban abortions after 5 months, the Catholic bishop of his diocese in Springfield, Ill., has declared that Durbin is objectively "cooperating in evil," persisting in "manifest grave sin," and he must therefore "not be admitted to Holy Communion until he repents of his sin." In a statement on the Diocese of Springfield website, Bishop Thomas J. Paprocki said, "Fourteen Catholic senators voted against the bill that would have prohibited abortions starting at 20 weeks after fertilization, including Sen. Richard Durbin, whose residence is in the Diocese of Springfield in Illinois."

An Abortion Supporter Raped Me Because I Said I Oppose Abortion in Cases of Rape. At age 15, I met at school a girl who hated me because I was completely against abortion. She would always say me: "That's because they never raped you." And I replied that even if someone did, I would never kill my son because he would not be to blame for that violent aggression. One day, while waiting for the bus, she and her brother got me in a car and raped me.

68 Iowa Faith Leaders Sign Letter in Support of Abortion. In reaction to legislation advancing in the Iowa legislature that would ban abortions once a fetal heartbeat is detected, usually around six weeks into pregnancy, 68 faith leaders in Iowa issued a letter stating their support for abortion and their support for women "to make their own healthcare decisions." In a letter published in the Des Moines Register, March 15, the religious figures said, "As faith leaders, we want to use our collective voices to stand with Iowa women in support of their constitutional right to make independent healthcare decisions, including the right to an abortion."

The Editor says...
Yes, you should be free to make your own health care decisions. But killing your children has nothing to do with maintaining your health, especially if you are aborting your child merely because you have enough kids already, or you wanted a boy but the fetal offspring is a girl, or because you think the kid will be imperfect upon arrival.

Political Party Suspends Pro-Life Member of Ireland Parliament Because She Opposes Legalizing Abortion. Irish member of parliament Carol Nolan was punished by her own political party in March for voting to protect unborn babies' rights. Despite continuous criticism and a three-month suspension, the Sinn Féin TD continues to be a passionate advocate for the unborn in Ireland. On Monday, she wrote a column for the Irish Examiner to explain why she opposes her political party's pro-abortion stance and why voters should, too.

Seven Doctors Tell Mom on Chemo to Have Abortion, She Gives Birth to a Healthy Baby. A California mom recently shared how seven different doctors urged her to abort her unborn baby after she was diagnosed with stage-three breast cancer. Though devastated by their warnings, Tifanie Morataya still clung to hope that both she and her unborn baby would make it through chemotherapy. They did. The Daily Mail reports the California family is thriving almost two years after Morataya was diagnosed with breast cancer. Baby Zoe now is a healthy 14-month-old whose life proves that "miracles can happen," her mother said. If Morataya had listened to all those doctors, her daughter would not be alive today.

Premature Twins Die After Hospital Withholds Treatment, Despite Mom's Desperate Pleas. A tragedy is being reported by the pro-life group Created Equal involving a Columbus, Ohio, hospital staff that stood by and refused to even evaluate twin boys born at 22 weeks 5 days gestation despite their mother's desperate pleas for help. Both boys were born alive, moving, and breathing. Neither of them survived. Created Equal released a shocking video taken at the mother's hospital bedside and documentation of the incident, which occurred at Riverside Methodist Hospital in Columbus, Ohio, in June of 2017. "It is outrageous that Riverside Methodist Hospital turned callously away while these babies slowly lost their struggle for life. The anguish this caused the mother and the family is obvious from viewing the video," said Operation Rescue President Troy Newman. "This hospital cannot be allowed to withhold life-saving medical intervention from premature babies that have a good chance of survival if treated, as these babies did. We simply cannot stand idly by and watch this happen to others. This hospital must be held accountable."

Shocking 911 Call: Baby Born Alive After Abortion, "The Fetus is Breathing, We Can't Provide Care". A news station has uncovered shocking new audio evidence about a baby who was born alive at a late-term abortion facility in Phoenix, Arizona. In February, Pro-life Arizona reported learning that a city fire department transported a baby from the Family Planning Associates abortion clinic on North 7th Street to the Banner University Medical Center. "The baby was reported to be 21 weeks along (gestation) to the termination clinic, but when they removed the baby from the mother's womb, the 'fetus' was breathing. A 9-1-1 call was made from clinic staff, firefighters responded and worked ... to save the babies life," according to the group's Facebook page. The baby later died at the hospital.

Texas Gov. Greg Abbott Promises Dying Teen To Outlaw Abortion. Texas Governor Greg Abbott has promised a teen he will grant his dying wish: "Outlaw abortion altogether in the state of Texas." Teen cancer patient Jeremiah Thomas had one wish before he died and thanks to the "Make a Wish" foundation, he offered that wish to the pro-life governor of Texas. His request: treat abortion "like an act of murder." "For my wish, I wanted to talk to you and discuss a bill of abolition [to end abortion]," said Jeremiah as he cited a poll showing 68% of Texans want the barbaric practice abolished.

School Nurse Took Teen for Abortion, Lied to Her Parents About Why She Came Home Late. A story out of New Zealand recently told of a school nurse booking a student for an abortion, driving her there during school hours, bringing her home late, and lying about why they were late. Weeks later, as the girl deteriorated emotionally and physically, it came out that she had received an abortion that day. The surgery damaged her uterus and she will now never be able to have a baby. Any parent reading this story can relate to the outrage of a mother having a school employee go behind her back to encourage her 15-year-old daughter to get life-changing surgery in secret. As it turns out, the school did not have to notify the parents because New Zealand has no requirement of parental consent for a minor to have an abortion. The school nurse could legally leave a mother wondering where on earth her teenage daughter was when she didn't come off the school bus in the afternoon.

The Other David Hogg makes an argument quite unlike any other against abortion. With the national debate set to go into overtime on abortion with the upcoming Supreme Court nomination, an eloquent argument for choosing life comes from an unexpected source — young David Hogg of North Carolina, who has often been confused with high school gun control activist David Hogg of Parkland, Florida, due to similar age, appearance, and name — but absolutely opposite points of view. As I wrote here a few months ago, the North Carolina kid was pretty impressive, and I hoped we'd hear more of him. Now we have, and he's got an amazing argument for choosing life over choosing abortion.

Netflix Airs 'Salute to Abortion;' Host Declares: 'God Bless Abortions!". On Sunday [7/8/2018], Netflix aired a "Salute to Abortion," hosted by "comedian" Michelle Wolf, who closed the segment with a star-spangled, flag-waving, drum corps declaration: "God bless abortion!" On her weekly Netflix program, "The Break with Michelle Wolf," Wolf used Supreme Court Justice Anthony Kennedy's announced retirement to tout abortion rights and demean pro-life Americans, [...]

The Rise of the Abortion Cheerleaders. The Shout Your Abortion website broadcasts this trendy creed, loud and strident and clear: "Abortion is normal. Our stories are ours to tell. This is not a debate." The group's website also provides the option to buy a T-shirt telling the world that you're proud of your abortion, or even purchase an "Abortion Is Freedom" button that might make Orwell cringe.

Catholic Priest Punished After He Told Pro-Abortion Catholics to Go to Confession. The shockwaves after Ireland voted to repeal their pro life legal protections for unborn children are still being felt. A new report indicates a pro-life Catholic priest is being disciplined for telling his congregation that if they voted to repeal the pro-life law they should go to confession. The vote in Ireland to repeal the 8th Amendment left pro-life people, and specifically members of the Catholic Church around the world, stunned. Ireland had long been a pro-life nation that valued its women and unborn children but it paved the way for legislation to legalize abortion when it removed its Eighth Amendment protections for babies before birth.

Florida police officer kicks pregnant woman in the stomach, forcing her to give birth, authorities say. An off-duty North Miami Beach police officer is facing a felony charge after allegedly kicking a woman who was eight months' pregnant, in the stomach, officials said. Miami Beach Police were called to Espanola Way around 8:30 p.m. Wednesday [7/25/2018] over reports that a woman was having severe abdominal pain and contractions after being attacked by another woman, Miami New Times reported. Ambar Pacheco, 26, admitted to attacking the woman, claiming the victim's boyfriend kicked her sister in the face, prompting her to "beat [...] her," WPLG reported. The woman was taken to an area hospital, where she ultimately gave birth, The Miami Herald reported.

Abortion Activist Quits Catholic Church, Walks Out of Mass Because New Priest is Pro-Life. [Mary Elizabeth] William's parish got assigned a new priest who is outspokenly pro-life and for traditional marriage, she wrote in a July 29 piece. That's not a surprise, as these beliefs are in the Catechism of the Catholic Church. But apparently this newfound information caused her to walk out of Mass. She agrees with a Catholicism that is "spirituality rooted in real world action, one that speaks out from the pulpit against greed and violence" and praised her parish for collecting food for the poor. But a priest teaching doctrine is "the other kind of Catholicism," the bad kind.

Abortion Clinic in Nashville, Tennessee Closes Down Permanently. The Women's Center, an unlicensed abortion facility in Nashville, Tennessee, has closed its doors for good as of Saturday, August 11, 2018. Over the years, the State of Tennessee attempted to shutter the Women's Center because it had failed to obtain a facility license, but a 2002 court ruling allowed the abortion facility to remain open.

NARAL partners with ice cream shop to sell 'Rocky Roe v Wade' flavor. There is no more wrenching personal decision a woman can make than the decision to abort her baby. Even most pro-choice advocates recognize this. That so many women come to regret that decision speaks to why so many Americans believe that abortion should be illegal in almost all cases. But to NARAL, abortion is an ice cream flavor. [...] The cavalier attitude toward aborting a child by NARAL is not surprising. These people see killing a fetus as a "medical procedure" and not the life-altering, searing decision real women in real America sometimes make. How anyone can eat "Rocky Roe v. Wade" without vomiting is beyond me.

Ice Cream Shop Creates Abortion Flavor. What could be better than a nice ice cream cone on a hot day in August? If you mean an ice cream cone from What's the Scoop? in Portland, probably a lot of things. That's because they've created an abortion-themed flavor (Rocky Roe V. Wade, natch) to raise money for National Abortion and Reproductive Rights Action League (NARAL) Pro-Choice Oregon. Each pint costs $9.50, and half of the proceeds will be donated to NARAL. If you come by at certain times, you can even have the ice cream scooped personally by NARAL activists.

Mother With Ovarian Cancer Who Refused Abortion Gives Birth to Healthy Baby. Aleks Patete simply could not abort her unborn son, despite her troubling cancer diagnosis. The 28-year-old Ohio mom said her unborn baby boy saved her life, and there was no way she was going to destroy his. "I think about the things that could have happened and what could have gone wrong and there's no other reason than the grace of God that everything worked out and we are both alive," she told People. "I truly think God was watching over us."

Study misleads on detrimental effects of abortion. The University of California-San Francisco research arm is rabidly pro-abortion and has issued study results heavily favoring abortion for a number of years. Its latest analysis of results contends that almost all of the women surveyed who had had abortions were okay with the decision and did not suffer psychological harm — but this is not consistent with what professionals not partial to the abortion industry have observed. Dr. David Reardon — founder of the Elliot Institute — reviewed the data and contends that the university's conclusions are unbelievable.

Leaked NPR Emails: Don't Call Kermit Gosnell an 'Abortion Doctor'. Early last month, John Sullivan, executive producer of the new film Gosnell: The Trial of America's Biggest Serial Killer (in theaters Oct. 12), reached out to National Public Radio to purchase a sponsorship for the Peabody Award-winning interview show, Fresh Air. Sullivan, who was prepared to spend as much as six figures, crafted his ad copy to answer the question you're probably asking: Who is Gosnell? The proposed ad was as follows, "Support for this NPR program comes from the film Gosnell: The Trial of America's Biggest Serial Killer. The film is the true story of abortionist Kermit Gosnell. A story the mainstream media tried to cover up because it reveals the truth about abortion." No dice. According to e-mails provided to The Daily Beast, NPR's representative ran it up the legal flagpole and came back with a disappointing answer. In addition to other minor tweaks to the wording, their response stated, "The word 'abortionist' will also need to be changed to the neutral word 'doctor.'"

HHS terminates fetal tissue research contract after outcry from anti-abortion groups. Health and Human Services has terminated an agreement with a fetal tissue research facility that was providing fetal tissue to the Food and Drug Administration. HHS said late Monday [9/24/2018] that it canceled the contract with the company, Advanced Bioscience Resources, because it didn't include "appropriate protections" for fetal tissue procurement. The agency's statement did not go into specifics. The agency said in a statement that it has "initiated a comprehensive review of all research involving fetal tissue to ensure consistency with statutes and regulations governing such research."

Judge Strikes Down Abortion 'Sanctuary City' Ordinance. St. Louis violated the First Amendment rights of its residents when it tried to become America's first "sanctuary city" for abortion, according to a federal court. Judge Audrey Fleissig ruled that the city could not compel religious organizations, pro-life nonprofits, and employers to hire abortion proponents, rent property to abortion clinics, or cover abortions in health plans — a requirement brought about when Democratic mayor Lyda Krewson attempted to add "reproductive health decisions" to the city's nondiscrimination policy in 2017. Fleissig, who was appointed by President Obama at Democratic senator Claire McCaskill's recommendation, said that ordinance violated Missouri's Religious Freedom Restoration Act and federal law. The decision stopped short of calling the rule unconstitutional but renders enforcement nearly impossible.

Antifa Website Promotes Home Abortion Classes to 'Dismantle White Supremacist Bio-Medical Patriarchy' In Response to Kavanaugh. A popular Antifa website is promoting home abortion classes in order to "dismantle the white supremacist bio-medical patriarchy" in response to the swearing in of Justice Brett Kavanaugh. The website Its Going Down claims that "autonomous pelvic care" is a "radical alternative to state sanctioned reproductive health." [...] "Supreme Court Justice Brett Kavanaugh's confirmation has led to a great gnashing of teeth and cries of concern that Roe v. Wade, the 1973 Supreme Court ruling that guaranteed the right to pregnancy termination under the 14th amendment, will be overturned," the website asserts.

Christian News Site 'LifeSite' Blacklisted by Web Host. LifeSite, a Christian pro-life news outlet, was allegedly blacklisted by its web host and given just 12 hours to find another host the website, or risk being offline. "LifeSite just received an email at 8:30 p.m. EST from our web-hosting company alerting us that they will be taking our website down within 12 hours, if not sooner," claimed LifeSite in a statement, Saturday. "We received absolutely no forewarning whatsoever about this decision."

More than 5,500 women came to Illinois to have an abortion last year amid growing restrictions in the Midwest. One woman came to Chicago by bus from Indianapolis in mid-2017, pregnant but with medical complications that would have made labor and delivery potentially dangerous. Another woman traveled here from Wisconsin in March because she didn't have the financial means or will to have a baby. Although they were strangers, 28-year-old Timna Axel hosted them in her Uptown neighborhood apartment for a few nights before and after their abortions at local clinics. Axel is a volunteer with Midwest Access Coalition, a Chicago nonprofit that helps defray the costs associated with traveling to terminate a pregnancy, including lodging, food and transportation.

Escorts of Death: Roe v. Wade's Handmaidens. I saw them again a few weeks ago, the first time in a while. My wife and I were driving by. They stood outside the Planned Parenthood clinic in Pittsburgh. "Look," I said to my wife, "those are the so-called 'escorts.' They lead young women into the abortion clinic. Look at their smiles as they do their job." The "escorts" work outside abortion clinics. Their duty is to ensure that every pregnant mom who approaches the door doesn't get deterred or change her mind, especially by pro-life sidewalk counselors banished to the perimeters of the clinic. They strive to guarantee that every potential customer with cash or credit leaves with an abortion under her belt. The end-result is, obviously, the death of the unborn child. All in the name of a woman's "right to choose," of course.

Terrific News About America's Abortion Clinics! Operation Rescue conducted a survey of all abortion facilities in the U.S. from Nov. 26 through Dec. 14, 2018, and concluded: In the U.S., there are "467 facilities that conduct surgical abortions — down dramatically from the high-water mark of 2,176 surgical facilities documented in 1991. This represents a massive 79 percent decrease in the number of surgical abortion facilities over the past 27 years." (Unfortunately, medical abortion clinics, those that terminate babies in the womb through drugs and chemicals, are slowly increasing. However, in 2018, eight medical abortion facilities closed permanently.)

Poll Shows Most Americans Favor Limits on Abortion. For more than a decade, the annual Marist poll on abortion has found that the overwhelming majority of Americans — usually three-quarters or more — want abortion restricted to, at most, the first three months of pregnancy. Sponsored by the Knights of Columbus, this annual survey has also highlighted the following fact: Using polling questions that measure the labels Americans choose for themselves — such as pro-choice — will not actually reveal what they want in terms of abortion policy. While the majority of those who identify as pro-life can reliably be expected to support restrictions on abortion, so can most of those who identify as pro-choice. In some years, including this one, more Americans may identify as pro-choice than pro-life, but more than six in 10 of those who say they are pro-choice (61 percent) join the three-quarters of all Americans in wanting abortion restricted to — again, at most — the first trimester. So do about six in 10 Democrats (59 percent), eight in 10 independents (78 percent) and nine in 10 Republicans (92 percent).

Unborn Baby Eagles. The bald eagle and the golden eagle have now been removed from the endangered or threatened species list by the federal government. This is, of course, wonderful news. I am all in favor of saving the eagles and all other species (including our own) from extinction. In fact, our laws are so intent on protecting the eagle that simply injuring, molesting or destroying an eagle egg could cost you a serious criminal penalty, civil fines, and a year in the slammer. All for disturbing an egg. The law takes this seriously. Whatever else you do, don't disturb an eagle egg. We go to great lengths to protect unborn baby eagles while they are vulnerable and in the first few weeks of their embryonic life. In fact, the laws do more than that — they protect unborn eagles from conception to the end of life. That is how much we value eagle life.

In the Market for Fetal Body Parts, a Baby's Brain Sells for $3,340. Republicans on the special House panel investigating the transfer of fetal tissue from aborted babies will present evidence in a hearing today that breaks down the price per body part. With release of this evidence, Republicans say, they have enough documentation to show that several abortion clinics and middleman procurement businesses may have violated federal law. "It is just horrifying," Rep. Marsha Blackburn, R-Tenn., who leads the House's investigation of the fetal tissue industry, told The Daily Signal. "They are putting a dollar value on these organs from these children — unborn children that have been aborted. It is just beyond belief."

Abortion and the Catholic Surrender to Politics. [Scroll down] The Church's gradual withdrawal from public engagement over the abortion issue was widespread. Since the mid-'80s, Catholics rarely hear the word "abortion" in a Sunday homily. Clerics at the parish level appear to have been silenced on the subject. With the removal of the Church's "braking influence," politicians of every faith were encouraged to aggressively propose and pass pro-abortion legislation, including legislation to remove interferences that might discourage pregnant women from choosing an abortion, such as parental consent, restrictions on how pro-life advocates may demonstrate at abortion facilities, reduced medical safety standards at clinics, and reduced training standards for those assisting with abortion procedures.

Poll: Dramatic Shift to Pro-Life Side Among Democrats and Young People. A new, national survey on the heels of legislation in New York and Virginia to allow abortion up to the moment of birth shows a major shift to the pro-life side among Democrats and young people, according to the Marist College for Public Opinion and the Knights of Columbus. The Feb. 12-17 survey revealed that in just one month, the number of Democrats who identified as pro-life shifted from 20% to 34%. Also, the number of Democrats identifying as "pro-choice" fell from 75% to 61%. That's a 14-percentage point swing in only four weeks.

HHS Extends Contract to Make 'Humanized Mice' With Aborted Baby Parts for Another 90 Days. The Department of Health and Human Services says it has granted a second 90-day extension to a contract it has with the University of California at San Francisco that requires UCSF to make "humanized mice." These creatures are made by implanting mice with human tissues taken from late-term aborted babies. The HHS's multi-million-dollar contract with UCSF that requires the construction of these "humanized mice" creates a demand — driven by federal tax dollars — for tissue taken from late-term aborted babies. According to an estimate it has published on its website, the National Institutes of Health (which is a division of HHS) will spend $95 million this fiscal year alone on research that — like UCSF's "humanized mouse" contract — uses human fetal tissue.

Finally! Pro-Abortion Actress Confronted While Protesting Fetal Heartbeat Bill. Have you ever watched as our moral betters in the entertainment business droned on and on about one social issue or the other and wondered why a normal person nearby didn't just tell them to zip it already? I sure have. After all, the First Amendment goes both ways.

New billboard welcomes drivers to Illinois 'where you can get a safe, legal abortion'. A billboard promoting abortion greets travelers as they drive into the state of Illinois from Missouri. [...] The Hope Clinic for Women said the message is an effort to fight back against Missouri's recent proposal to tighten its already strict abortion laws, Yahoo Lifestyle reported. "There will be an avenue for access to abortion no matter what happens legislatively, and we just need to be more creative of getting our message out there to let our most vulnerable communities know that they still have choices," Alison Dreith, the clinic's communication manager, told Yahoo.


Note: If you are looking for commentary about President Obama's opposition to the Catholic church and his push for government-mandated contraception and sterilization, see this page.


Back to News from the Culture War
Back to Feminism and Abortion -- index page
Back to the Home page