Unplanned
Pro-Life Movie 'Unplanned' Hits No. 1 Among DVDs on Amazon. "Unplanned," a movie about an abortion clinic director who left her job at Planned Parenthood, is the No. 1 DVD in Amazon sales after surpassing expectations in movie theaters. "You know, without being trite, I think the people have spoken," Cary Solomon, who directed the movie with Chuck Konzelman, told The Daily Signal in a phone interview Tuesday [8/13/2019]. "Unplanned" tells the true story of Abby Johnson, a Planned Parenthood clinic director who quit her job with the nation's largest abortion provider in 2009 after having a conversion experience regarding the procedure.
Related topic:
'Unplanned' Screening Cancelled After Manager Threatened. A screening of the pro-life film Unplanned has been cancelled after the manager was threatened. Police are also investigating reported death threats received by multiple theater owners. Unplanned tells the story of former abortion facility manager at Planned Parenthood Abby Johnson as she converts to a pro-life advocate. [...] According to LifeSiteNews, B.J. McKelvie, the president of Cinedicon, the Canadian distributor for Unplanned, reported that two Canadian independent theater owners received death threats they perceived as credible. He noted they are "fearful for their families."
Theater Cancels Screening of Pro-Life Movie 'Unplanned' after Threats of Violence from Pro-Abortion Activists. Producers of the anti-abortion movie Unplanned won a hard-fought battle to get their movie screened in Canada. Now, though, pro-abortion activists are beginning to resort to threats of violence to stop the film. Shamefully, the threats of violence appear to be working. A theater in Salmon Arm, British Columbia, has canceled a planned five-day run of the movie after receiving violent threats against theater staff.
'Unplanned' Movie Banned In Canada. The pro-life movie "Unplanned" has been effectively banned from screening in Canadian cinemas, reports LifeSiteNews. Speaking with Chuck Konzelman — writer, director, and producer of the Abby Johnson biopic — LifeSiteNews learned that the largest distribution companies in Canada — Landmark, Cineplex, and Mongrel Media — have refused to let "Unplanned" play in theaters.
Hotel Mumbai and Unplanned: Movies They Don't Want You to See. [Scroll down] Of the two, Unplanned has been the most stridently assaulted. TV networks refused to run ads for the film. Rotten Tomatoes, the review aggregate site, bestows a 50% or Certified Rotten score on the film. The L.A. Times reviewer has the decency to acknowledge that "with its solid production values, Unplanned has all the appearances of being a real film." In the end, though, it's "pure propaganda." Jordan Hoffman at The Guardian calls the film "dim-witted" and "a gory mess" that includes "disgusting," "grisly abortion complications" that include "bloody fetal tissue." Evidently Hoffman imagines that abortion is neat and tidy. Hoffman is upset because a "risible" — that means funny — ultrasound shows "A fetus presenting what could be misinterpreted as fear or pain" during an abortion.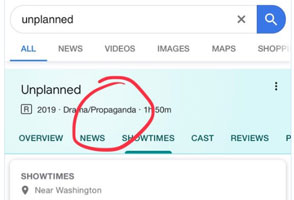 Google Marks Pro-Life Film 'Propaganda,' But Labels Literal Nazi Propaganda Film 'History'. A Google search for the new movie, "Unplanned" returned results labeling the film "Drama/Propaganda," while other films that are actual propaganda material do not receive the same designation. "Unplanned" is the story of a Planned Parenthood director who became pro-life after witnessing an abortion. Kelsey Bolar, a Daily Signal writer and Federalist contributor, captured a screenshot of the search result below on Thursday [4/11/2019]. By Friday, the label had been removed.




Abortion clinic workers respond to 'Unplanned' movie — and they want out of the industry. Chuck Konzelman, writer and director of "Unplanned," a film about Planned Parenthood clinic director-turned pro-life advocate Abby Johnson, revealed Wednesday during a congressional testimony that 94 clinic workers have come forward after watching the movie to seek help leaving their jobs. Konzelman, who spoke before the Senate Subcommittee on the Constitution, revealed that, since the film's release on March 29, these workers approached Johnson's nonprofit, And Then There Were None, and have indicated an intent to change their lives.

Pro-Life Propaganda, or Just the Truth? Before I actually went to see the film Unplanned, I read the review in Variety by Owen Gleiberman, who called it effective propaganda (if you're part of the choir). [...] Abby Johnson had been awarded PP's employee of the year award in 2008, and had also presided over thousands of abortions. But she had never actually seen the procedure. Once she witnessed the complete destruction of the fetus, she was consumed with guilt over what she called her naïvité and gullibility — and her own two abortions. She regretted the lies that she had been forced to tell PP's clients because she had really believed that she was doing good for women's reproductive rights.

"Unplanned" Causes the Death Lobby to Show Its Fangs. Unplanned, the true-life story of Abby Johnson, a former Planned Parenthood "rock star" who is now a staunch pro-life advocate, is doing the unthinkable: It's rocking PP's multi-billion-dollar baby-disposal applecart. For the Death Lobby, this is not only unthinkable; it's unforgivable. The abortion behemoth has rallied its formidable forces in the media, academia, Hollywood, and the Democratic Party. They have tried to crush the movie with the same cold-blooded malevolence and audacity with which they crush the skulls of unborn babies who stubbornly resist their suction machines.

US anti-abortion film a surprise box office success. A movie produced by a Christian studio about a former employee of an organization that provides abortions who became a "pro-life" activist is proving to be a surprising box office hit.

Unplanned Still In Fourth Place At The Box Office. The Hollywood establishment might not have been ready to take on Planned Parenthood, but moviegoers apparently are. Despite limited distribution and a curtailed advertising environment, the film Unplanned keeps sustaining itself at the box office. On Sunday, The Hollywood Reporter noticed its surprising weekend finish, especially given its curious MPAA rating.

'Unplanned': What Would Susan B. Anthony Say? The abortion industry has had a rough couple of weeks. In addition to the commercial success of the pro-life film, Unplanned, the Georgia legislature just joined the growing number of states to pass bills prohibiting abortions after a fetal heartbeat can be detected. Predictably, the film and the legislation have been denounced by baby part purveyor Planned Parenthood, its bought-and-paid-for stooges in Washington, and the legacy media as another offensive in the "war on women." The irony of that charge is that legendary feminists like Susan B. Anthony and other genuine fighters for women's rights were ardent opponents of abortion.

'Unplanned' movie is having a shocking impact. Abby Johnson's story of transforming from a Planned Parenthood clinic director to one of the most well-known pro-life advocates in America is a captivating journey of faith, hope and redemption — one that is taking the box office by storm. Audiences have flocked to see Johnson's story as told in the new feature film "Unplanned." Johnson told "The Pure Flix Podcast" this week that she's been blown away by the response to the film, which was the fourth most popular movie in America last weekend.

Abortion supporters don't want to you to see 'Unplanned' — See it anyway. They gave the movie an "R" rating — which meant the trailer could only run before "R"-rated movies and no one younger than 17 under could see it without a parent's permission. A half-dozen major music labels refused producers' requests to license music for the film. Many major television networks except Fox News and the Christian Broadcasting Network refused to run ads promoting it. Then, curiously, the movie's Twitter account was suspended through no fault of its own during opening weekend. (Twitter restored the account after outraged filmgoers flooded them with complaints). Tens of thousands of users (myself included) mysteriously found themselves involuntarily removed from the account's followers and/or unable to follow it in the first place. Get the feeling someone doesn't want you to see "Unplanned"?

The Power of "Unplanned" Love Can Help Change People. I participated in early screenings of Unplanned. It's certainly has what is an undeniably pro-life message. But it's nobody's talking points. It's the real story of that young woman, Abby Johnson. She's a real wife and mother who had two abortions herself. She never closed herself off to learning, to befriending people she disagreed with, including the pro-life activists to whom she was able to turn when she realized she needed to leave her job as an award-winning Planned Parenthood clinic director. Her message is one of mercy and of not being afraid to change your mind, even if it implicates your livelihood, even if it means a mea culpa of what might seem existential proportions.

'Unplanned' now has more Twitter followers than Planned Parenthood. The movie "Unplanned" now has more Twitter followers than Planned Parenthood, Abby Johnson, whose story is told in the movie, announced Monday afternoon [4/1/2019]. As of just before 3 p.m. on Monday, the "Unplanned" Twitter account had 266.8K followers while the Planned Parenthood Twitter account had just 255.5K followers. The Twitter account for "Uplanned" was started in August of 2018, while Planned Parenthood's Twitter account has been in existence since November of 2011, almost seven years earlier.

Pro-Life Film 'Unplanned' Edges Out 'Captain Marvel' In Key Screening Stat. Despite intense media opposition, an "R" rating from the MPAA, and big tech censorship, pro-life film "Unplanned" is wildly outperforming expectations at the box office. The biopic — which details Planned Parenthood defector Abby Johnson's dramatic journey from abortion mouthpiece to pro-life crusader — has taken in an estimated $6,110,000 this weekend, expected to become the #5 movie at the box office. The film was projected to bring in less than half of what it's generated thus far.

Dare to see 'Unplanned' — it could change your life. Planned Parenthood has long proclaimed itself to be a pro-woman medical provider of comprehensive health care services to women. It claims that it merely helps women and couples plan their families by educating them about their "reproductive choices." Such self-righteous congratulatory proclamations have been partially unmasked. In recent years, Planned Parenthood has been exposed for what it truly is — the world's largest provider and promoter of abortion, for which it receives millions of tax-payer dollars. The shocking revelation of its sale of aborted fetal parts for use in medical research has opened the eyes of many.

Unplanned: "The Uncle Tom's Cabin" of the Abortion Issue. When Harriet Beecher Stowe wrote the novel Uncle Tom's Cabin, could she have guessed its impact? That slavery would die less than fifteen years later? When I watched a screening of the new film Unplanned, due for release March 29, I was filled with hope and conviction. I thought: "This film might turn the tide on abortion." Unplanned is the true story of Abby Johnson. She was an ambitious Planned Parenthood employee, who later went on to become a heroic defender of women and preborn children. The film tells the truth about abortion so movingly and truthfully that it earned an R rating. So a 15 year-old-girl can get an abortion without even her parents' knowledge, but can't walk in alone to see Unplanned. Unplanned can be the Uncle Tom's Cabin of the abortion issue. And today's pro-life movement can be the movement that drives its success.

Twitter suspends account of pro-life movie on the weekend of [its] release. The account was re-opened after people started tweeting about it.

TV channels reject ads for R-rated anti-abortion movie. Media companies are refusing to air advertisements for an anti-abortion movie that criticizes the practices of Planned Parenthood. The Hallmark Channel, Lifetime, and media properties owned by the Discovery conglomerate are among the organizations that rejected the movie's advertisements. The movie's producers says that Fox News Channel is the only mainstream media outlet to have accepted its advertisements.

Censorship:
Pro-life film 'Unplanned' assigned surprise R-rating by MPAA. "Unplanned" — a pro-life film partially financed by My Pillow founder Mike Lindell — has been given a surprise R-rating by the Motion Picture Association of America, the trade association which determines the suitability of film content for viewers. The MPAA cited "some disturbing/bloody images" in its rationale for the judgment call, according to The Hollywood Reporter. The film's production team has pushed back in a letter to the MPAA. "We consider the MPAA's current standards to be deeply flawed, insofar as they allow scenes of remarkably graphic sex, violence, degradation, murder and mayhem to have a PG-13 rating, whereas our film, highlighting the grave dangers of abortion in a straightforward manner, is considered dangerous for the American people to view," said Cary Solomon and Chuck Konzelman, co-writers and co-directors of the film.

'Unplanned' Filmmakers Explain Surprise R-Rating: 'We Made a Pro-Life Movie in a Pro-Choice Town'. The Motion Picture Association of America (MPAA) gave the upcoming abortion movie Unplanned an R-rating Friday [2/22/2019], citing "some disturbing, bloody images." But the movie's filmmakers fear the rating is motivated by politics. "We made a pro-life movie in a pro-choice town" said Chuck Konzelman, who along with Cary Solomon wrote and directed Unplanned. For Solomon, the R-rating smacks of hypocrisy. "The standard used to rate our movie is being applied inconsistently as it relates to bloody images on-screen," he told me in a phone interview. "In fact, Happy Death Day 2U (a "slasher" film with several violent murder scenes) has far more blood and gore than our film and it received a PG-13 rating."




Gosnell

Details about the trial of Kermit Gosnell can be found here.




Gosnell: A Courtroom Drama That Reflects the Current Abortion Debate. The story follows the real-life trial of Kermit Gosnell, a Philadelphia back-alley abortion doctor who performed late-term abortions in unsanitary conditions with untrained staff. Several people died due to his improper and grotesque procedures. He was sentenced to life in prison in 2013 after being charged with first-degree murder for the death of three infants and involuntary manslaughter for the death of a patient. The film's contentious topic resulted in the actual release of the film being delayed by two years despite being finished in 2016. Independent filmmaking is always difficult but the fatwah against this movie made getting distribution nearly impossible.

Imprisoned Abortionist Gosnell Has Doubts About Spread Of Democrats' Third-Trimester Abortion Laws. Convicted abortion doctor Kermit Gosnell appears worried that more states are not considering late-term abortion laws like those passed in New York and introduced in Virginia, in an email obtained by The Daily Caller. Gosnell expresses his "doubts" in the email sent from prison that "rural conservative" Pennsylvania would consider laws legalizing abortion up until birth. The piece of communication was part of correspondence between Gosnell and film producers of the movie "Gosnell," and its veracity was verified by the Caller.

Gosnell: When Art Collides with Reality and Exposes the Truth. Rarely has a new movie become available at a time when the news made its subject matter timelier and more appropriate. Gosnell: The Trial of America's Biggest Serial Killer is the true story of a doctor who went to prison for life in 2013 for stabbing several infants he had delivered alive inside his hellhole of an abortion clinic in Philadelphia. After being almost completely ignored by critics during its release last year, last week the movie went on sale in Walmart and on Amazon, where it is the No. 1 best-selling dramatic DVD. At the same time, infanticide became a key issue in major stories in Virginia and New York.

The Media Censorship of Our Gosnell Movie. There is a widespread belief that Hollywood is only interested in making money, and it is far too simplistic a view. There is something they value much more than money — and that is ideology. [...] The Gosnell film surpassed box office expectations by entering the Top 10 grossing films — with a revenue of $1,235,000 on just 668 screens — on the opening weekend. Further, the film is growing in buzz in the media rather than declining. Yet despite the solid performance for an independent film of this sort, nearly 200 theaters have inexplicably dropped the film — including those in major cities where it was performing the strongest. Coming into its second week, Gosnell has dropped from 668 theaters to 480 theaters — a full 188-theater drop, 15 of which were top-performing multiplexes.

253 Theaters Drop 'Gosnell' Amid Media Blackout to Defend 'Sacrament' of Abortion. After less than two weeks at the box office, "Gosnell: The Trial of America's Biggest Serial Killer" has racked up around $2.5 million, an impressive haul considering that more than 200 theaters have dropped the movie since its release on October 12. The mainstream media has largely ignored the film, Facebook has refused to run its ads, and it seems a large group of people want to pretend the movie does not even exist. "This movie really exposes something that the Left does not want to report about," Nick Searcy, the film's director, told PJ Media in an interview Tuesday [10/23/2018]. "They're basically trying to ignore this movie. They're trying to say that it doesn't exist because they don't want to have a discussion about abortion."

Gosnell the murderer revisited. When Philadelphia police obtained a search warrant and raided Dr. Kermit Gosnell's clinic eight years ago, they were seeking evidence of illegal prescriptions for opioids and other addictive drugs. Gosnell would later be sentenced to 30 years in prison for running an illegal prescription mill, but they found much more. Gosnell's Women's Medical Society was no ordinary provider of abortion services. His clinic was filthy and later described by those who were there that night as "a house of horrors." The place stank of cat urine and death. Police found infant body parts in the garbage disposal and in frozen in milk cartons in the freezer. A cabinet contained dozens of jars of baby feet the police later came to believe were souvenirs, but although the police knew something was terribly wrong, they weren't sure just what they had stumbled on.

Why The Left Is Terrified Of Gosnell. The movie about abortionist Kermit Gosnell cracked the box office top ten in its first weekend. Despite showing on only 668 screens, the near-total lack of media attention, the shoestring budget and the minimal marketing, "Gosnell: The Trial Of America's Biggest Serial Killer" managed to pull in over a million dollars in three days. That's not much compared to blockbusters showing on 4,000 screens with hundreds of millions in marketing behind them, but it's very good compared to other small films with barely existent advertising budgets. Yet, mysteriously, the movie was dropped from 200 theaters heading into its second week. It was dropped from theaters with 15 or 30 screens, even though it was a top ten earner in those specific multiplexes. The film's producer says he's never heard of a movie getting the boot in its second week after such a strong showing in its first. On top of that, moviegoers across the country have reported that even some of the theaters still showing the film are preventing people from actually seeing it. Showings have been canceled with no explanation. Other showings have been called "sold out" despite open seats. There would appear to be an active effort to blackball "Gosnell."

28% of theaters axe 'Gosnell' movie even though it's a hit. Even though it was a smash hit and one of America's top 10 grossing films last weekend — making more than $1.2 million on just 668 screens — the pro-life movie about a notorious abortionist, Gosnell: The Trial of America's Biggest Serial Killer, was dropped by nearly a third if its theaters nationwide this weekend. [...] Since the film exposing the reality about what really goes on behind closed doors in abortion facilities did better than most of the other movies it competed against in hundreds of theaters, many pro-lifers suspect that the movie houses cut the cinematic success because it might offend moviegoers who advocate abortion.

The Editor says...
The theater operators don't want to offend customers on the political left, which is probably their customer base. When have theater owners ever had any concern about whether their movies were offensive to those on the political right?

Kermit Gosnell was just the beginning — gruesome abortion doctors operate with impunity around the country. One of the top 10 movie openings last weekend has been met with a media blackout. The film is a gripping courtroom drama reminiscent of "Law and Order: Special Victims Unit" — only this is a true story, and the special victims are the hundreds, if not thousands, of late-term babies that real life Dr. Kermit Gosnell delivered alive and killed in his filthy abortion clinic in Philadelphia. The movie, "Gosnell: The Trial of America's Biggest Serial Killer," is meticulously documented and based on actual court transcripts and the grand jury's report. Mercifully, the screenwriters masterfully convey this grisly tale without actually showing any graphic or gory visuals. The movie closes with dialogue between the detective, played by Dean Cain, and a young reporter that seems to be a sharp challenge from the filmmakers to the media: Don't ignore this story (and others like it) due to bias on abortion politics.

Media Ignores Big Opening and Critical Acclaim for 'Gosnell' Movie. The new movie about Kermit Gosnell, the notorious Philadelphia late-term abortionist eventually convicted in the deaths of three infants, made it into the Top 10 films at the box office this past weekend — an impressive feat for a crowd-funded film. But you won't hear the mainstream media talking about it. "We were [No. 10] on Friday and Saturday, but slipped back to 12 on Sunday," Phelim McAleer, who co-produced the film with his wife, Ann McElhinney, told The Daily Signal. "We are the No. 1 independent movie of the weekend and [No. 5] per screen average across the U.S." "This has been achieved despite the mainstream media virtually refusing to review the film, despite it opening nationally," McAleer added.

'Gosnell,' Like Its Namesake, Faces a Media Blackout. Kermit Gosnell, who was convicted of murder following a two-month trial in 2013, is currently serving a life sentence in prison with no possibility of parole. He was an abortion doctor based in Philadelphia, where state law prohibits the procedure beginning at 24 weeks gestational age. By his own admission, Dr. Gosnell regularly performed illegal late-term abortions, mostly on low-income minority women. In some cases he would induce labor, deliver live babies, and then kill them by snipping the backs of their necks with scissors. Nick Searcy directed the film, based on a book of the same title by a married couple of investigative journalists from Ireland, Ann McElhinney and Phelim McAleer. In an essay last month, Mr. Searcy explained why he was drawn to the subject. "It is nearly impossible to find an adult person who does not have an opinion on the issue of abortion," he wrote in National Review, "and yet how little we all know about it — how it is done, what the laws are surrounding it, how it is regulated, legislated, and practiced. I wanted to share that knowledge."

The Most Important Movie You've Never Heard Of. It's here. Gosnell: The Trial of America's Biggest Serial Killer debuts in theaters nationwide on October 12. I do believe this groundbreaking film by indie producers Phelim McAleer and Ann McElhinney is the most important movie in America right now — a true-life saga of good vs. evil, deadly medical malpractice, systemic government malfeasance, and cultural apathy toward the most vulnerable members of our society.

How America's Most Prolific Serial Killer Almost Got Away With Murder. It is a riveting story on several levels. Perhaps uppermost is the question: how was he able to perform so many murders without getting caught? He had numerous witnesses, with evidence literally piled up in the hallways, stored in freezers and refrigerators. How could all of this go unnoticed for decades? Answer: he was hiding his murders in plain sight. This was possible because they took place in an abortion facility, giving him an almost impenetrable layer of protection. Nobody wants to scrutinize abortion facilities or think too carefully about them. They have become sacrosanct, so that their very mention freezes us in place.

The Press Ignored the Gosnell Story, Now Hollywood is Ignoring the Movie. The Hollywood Reporter got an exclusive glimpse of a film mainstream Hollywood wouldn't touch this week. So why would the site all but hide it from readers? In a way, it's the latest chapter of media negligence tied to the subject at hand. Gosnell tells the harrowing story of "America's Biggest Serial Killer," Dr. Kermit Gosnell. The Philadelphia abortion doctor is currently in jail after being convicted five years ago on three counts of first-degree murder and involuntary manslaughter. The full story is even grimmer.

Ignored no more: 'Gosnell' movie targets women, looks to change minds about abortion. Filmmaker John Sullivan has faced his share of obstacles in executive-producing his latest movie, "Gosnell: The Trial of America's Biggest Serial Killer." First came financing for the feature film, which recalls the barbaric practices of Philadelphia abortionist Kermit Gosnell. The issue was resolved by a record-breaking crowdfunding campaign in 2014 that netted north of $2.1 million via Indiegogo. Then a lawsuit filed by a judge depicted in the movie delayed its release, as did securing a distributor. The pro-life film is set for an Oct. 12 release on about 600 screens.

Gosnell Filmmakers Quit Kickstarter, Claiming Censorship. Makers of a film on abortionist and convicted murderer Kermit Gosnell say the crowdfunding platform Kickstarter singled out their project for special objections. They have ankled the massively popular platform in favor of another crowdfunding site. [...] The filmmakers were going to use Kickstarter until they received an e-mail saying their project might upset "community guidelines."

Film will tell the abortion doctor murder story that media didn't. He has been called the most successful serial killer in U.S. history. But few people recognize the name Kermit Gosnell — not the way they know Jeffrey Dahmer, John Wayne Gacy and Ted Bundy. That's because Gosnell's crimes involved killing babies as an abortion doctor and he was convicted only of the first-degree murders of three children and involuntary manslaughter of one mother. But two filmmakers hope to change the lack of notoriety for Gosnell, who is serving a life sentence in Pennsylvania for his crimes.

Hercules Actor Kevin Sorbo: Hollywood, Media Ignoring 'The Crime of the Century'. Although the news media and Hollywood relish telling stories about horrific crimes and serial killers, they are strangely silent about Dr. Kermit Gosnell, an abortionist who killed living, viable babies by snipping their spinal cords with scissors, and who is "America's most prolific serial killer," said actor Kevin Sorbo and his wife Sam Jenkins in a video to promote funding for a movie about Gosnell.




Roe v. Wade

Jon Voight Fiercely Defends His Film 'Roe V. Wade'. In an exclusive interview with The Daily Mail, Oscar winner Jon Voight fiercely defended his new film, "Roe v. Wade," which has triggered ferocious backlash from pro-abortion advocates. Although the move is not due to be released until March, criticism has abounded from pro-abortion advocates, prompting Voight to passionately defend the film, which was shot privately because the flimmakers sensed there would be huge outrage from pro-abortion advocates.

Anti-abortion film Roe v Wade releases first footage online. The first footage has emerged of Roe v Wade, a controversial anti-abortion film, which is part of conservative efforts to overturn the landmark 1973 US supreme court ruling that deemed abortion a fundamental right under the US constitution. Co-written and co-directed by entrepreneur Nick Loeb, who sued his former partner Sof'a Vergara in an attempt to gain control over their frozen embryos, Roe v Wade is an explicitly pro-life statement that its makers claimed was shot in secret fearing harassment from pro-choice activists. This is an entirely separate project from one recently announced by UK producers Alison Owen and Debra Hayward, which will focus on lawyer Sarah Weddington, who represented "Roe" AKA Norma McCorvey, the Texan woman who challenged state law denying her an abortion.

ROE v. WADE the Movie. A true story of the most corrupt court case in history that led to the murder of 60 Million Babies. [Trailer]

Jon Voight Defends 'Roe V. Wade' Film. Jon Voight, the 80-year-old Academy award winning actor, is committedly defending the movie 'Roe V. Wade', in which he stars. The legal drama film, which will be released this year, was produced, written and directed by Nick Loeb and Cathy Allyn. The movie, which has a budget of roughly $6.5 to 6.8 million, is a controversial anti-abortion film, which is said to be part of conservative efforts to overturn the landmark 1973 US Supreme Court ruling, [...]




Silent Scream

The Silent Scream and the Lies of Roe v Wade. On my first bus trip to the Right to Life March in DC, the driver put in the tape of the infamous film, The Silent Scream, narrated by Dr. Bernard Nathanson. Nathanson was one of the original co-founders of NARAL, (the first abortion advocate group), whose mind was changed about the issue after watching an ultrasound showing the struggle of a fetus fighting for its life. What I found incredible about the film was a display of the many deadly instruments depicted that would be inserted into the woman's body. Ironically, laws here in New York forbade parents from having their children's ears pierced without parental permission, but Planned Parenthood needed no such admonition about allowing those metal instruments to be inserted into minors requesting termination of inconvenient pregnancies.




The Magical Birth Canal

This New, Must-See Pro-Life Video Brilliantly Mocks The "Magic Of The Birth Canal". A few days ago, Choice42 released this deliciously sardonic video entitled "The Magical Birth Canal." It is a searing take on the pro-abort narrative that says life begins at birth. Quite simply, it is brilliant. [Video clip] The pro-abort community is rabid in their insistence that life within the womb has no value at all. They believe the unborn should be denied personhood until that magical moment of birth. Something within that canal confers humanity on a life that has been human from the moment of conception. But pro-aborts prefer to think of the unborn as a mass of tissue not worthy of protection.

Back to News from the Culture War
Back to Feminism and Abortion -- index page
Back to the Home page