Many of our society's problems result from the disappearance of the stigma associated with being on welfare, committing crimes, going to prison, or going back to prison. Lots of people these days have no qualms about watching disgusting filth on television; no misgivings about filing a lawsuit; no aversion to describing someone as a "whore"; no hesitation to vote for a socialist; no problem with immodesty, promiscuity, abortion, dropping a newborn baby in a dumpster, having illegitimate offspring in the house, or any of several other things which were once taboo. (How often have you heard, "It's no big deal; everybody does it.")

According to The World Almanac 2005 — which now lists illegitimate birth rates under the politically correct heading "Nonmarital Childbearing" — nearly 70 percent of black children are born outside of wedlock. With Latinos, the rate is almost 45 percent, whites nearly 30 percent, and Asians 15 percent. Overall, almost 40 percent of America's children today are born outside of wedlock.*

Hopeless drunks and people with sexually transmitted diseases are now considered "victims" instead of being ostracized as people whose situations are the result of phenomenally poor judgement.

Also you may have noticed that food stamps have been changed into what appears to be a credit card so that there is nothing embarrassing about buying groceries with someone else's money. (It's called Electronic Benefits Transfer or EBT.) And apparently there's nothing embarrassing about living in government subsidized housing. To quote a familiar phrase, "The safety net has become a hammock."

Roger Scruton has expressed some of the same kind of opinion in his editorial, Bring Back Stigma. In it he says, "Inner sanctions more dependably maintain society than such external ones as policemen and courts. … The dwindling of stigma inevitably means that the task of social control is bequeathed to the state."


---
In the Mouth of Marxist Madness. [Scroll down] Recent figures show that nearly a quarter of Scotland's adult population is being prescribed anti-depressants, while fifteen percent of Americans are being similarly prescribed some form of powerful selective serotonin reuptake inhibitors known to cause dangerous side-effects — including loss of sexual function, insomnia, brain fog, suicidal ideation, and self-harm. In the U.S., fifty percent of the population over twelve has used illegal drugs. Overdose deaths have tripled since 2000. And fifty-five million American adults currently use marijuana. Whether through alcohol, opioids, marijuana, or hallucinogens, Americans are walking around in a Soma-like haze.
The Stifling Effect Of Living In A Surveillance State Like The USA. Years ago, my girlfriend and I went to see a movie. What we saw, I've no idea, but I do know we had a terrible time, and it had nothing to do with what was on the screen and everything to do with what was going on in the theater. People were yelling at the screen, talking to each other, and smoking. My girlfriend mentioned the smoking, and I said that if that was the only problem we encountered, we'd be lucky, as I'd recently witnessed a bloody knife fight between two girls over a baby-daddy in a nearby theater. I mention this because when you think your life may be in jeopardy, it's hard to enjoy entertainment, and enjoyment is the whole point of movies. Movies require your buy-in for success, you must turn off reality and connect with the characters. If you can't do that, you can't enjoy the movie. If you're worried that someone's going to pull a gun or set the place on fire, you're going to be too busy scanning for danger to become engaged with what's on the screen. You'd end up doing little more than wasting your time and money.
Woman Claims She Suffers From 'Time Blindness' That Keeps Her From Getting To Work On Time. Tiktoker claims to suffer from "time blindness"(which isn't a real thing) and blasts employers who make employees come on time. She wants to dismantle the system which says people should be on time. [Video clip]
Virginity is a social construct says Planned Parenthood. I shouldn't be surprised, since Planned Parenthood would be the last organization in the world to know anything about virginity. But as a middle-aged guy my imagination isn't what it used to be, so I was a bit taken aback by this hot take from the organization: [Tweet] Having once been a teenager I can assure you that virginity is much more than a social construct, although admittedly different societies have different takes on what import it has in social life.
We Must Defend Self-Defense. Their wicked plan is perfectly obvious — to criminalize normal people and normalize criminals. Thieves, bums, losers, junkies, whores, and other trash — they are the heroes in this morally bankrupt morality play, and we normals are the villains. The first step to fighting back is to see the truth, and the truth is right there. You just have to be hard enough to accept it and to not allow them to leverage your empathy or compassion into tolerating having to be afraid as some sort of price you owe for the crime of not being a lowlife. They want us, quiet, complacent, and obedient. They want a society where we live in fear.
New UN-backed legal recommendations normalize sex with minors, outraged critics say. A shocking report issued by international legal experts with the backing of the United Nations appears to open the floodgates to normalize sex with minors. "Sexual conduct involving persons below the domestically prescribed minimum age of consent to sex may be consensual in fact, if not in law," the Geneva-based International Commission of Jurists wrote in March with an assist from UNAIDS and the Office of the United Nations High Commissioner for Human Rights. The report is titled "The 8 March Principles for a Human Rights-Based Approach to Criminal Law Proscribing Conduct Associated with Sex, Reproduction, Drug Use, HIV, Homelessness and Poverty."
Put Some Clothes On Your Daughter! As the seasons change and the weather warms, American adults are yet again being subjected to the uncomfortable spectacle of teenage girls wearing outfits more befitting a runway show than a school, a store, or any other public setting. Every winter I hope the trend loses steam or reverses, but every spring it returns worse than the previous year. [...] I make my arguments not as a male to a female, but as an adult to a child. My gender is incidental to my arguments, and I would have no qualms with a female adult objecting to a male teenager dressing inappropriately. I'm specifically targeting the current trend among teenage females not from any leftist chimera of implicit misogyny or ingrained patriarchy, but because the consequences of said behaviors are far more serious for the teenage female than for the teenage male.
America's Broken Windows. Today, good manners and respect for others are out of fashion, if not obsolete. Forget any "sirs," "madams," or "beg your pardons" from ever being uttered, but do expect to hear lurid vulgarity where you might once have least expected it. Profanity and salty stories are nothing new, but their public proliferation is. Just as with respectful fashions, courteous language is a sign of a sober mind possessing enough empathy to consider others within earshot. Crass language and animalistic behavior are the hallmarks of unremitting egocentrism and perpetual adolescence. In an era so drowning in debauchery that political leaders and schoolteachers believe it appropriate to introduce the youngest students to pornography and drag shows, though, it is easy to see how probity has been replaced with anything goes. The obvious consequence is that self-reliant American adults have been replaced with a nation of children whom Daddy Government can choose to punish when bad and reward when well behaved. That's how Marxists make slaves.
The Chair of the January 6 Select Committee Just Made [an Embarrassing] Admission. Tucker Carlson is locked in shredding the nonsense surrounding the January 6 riot, which has been sold to the public as a violent insurrection. The hyperbole knows no bounds as others have said that day was worse than Pearl Harbor or the 9/11 attacks, once again showing that liberals have no sense of history. Trump supporters killed Capitol Police officers; people took that seriously. And it's all a lie. It's also a lie that those arrested, indicted, and convicted are domestic terrorists. I'm not referring to the ones who attacked police officers; they deserve whatever comes to them. But folks like Jacob Chansley, the 'QAnon Shaman,' are decidedly not domestic threats. Chansley was given a four-year jail sentence for walking around the Capitol Building escorted by Capitol Police officers. Most rapists and other violent criminals don't get nearly as much jail time nowadays as liberals have embraced a soft-on-crime attitude, unless it's January 6, which the political class has used to declare all-out legal war on these political prisoners.
The Price of Eliminating Consequences. Recently there were some remarkable online videos of a Portland, Oregon good Samaritan confronting shoplifters and forcing them to dump loads of their pilfered goods. More stunning, however, was the sheer outrage — of the thieves! They pouted. They screamed. They resisted. How dare anyone stop them from stealing anything they wished. The criminals entertained no fear of any consequences for walking out with bags of things that were not theirs. They had no care that mainstreaming their habits would undermine the entire fabric of society. What is common to the pandemic of smash-and-grab, carjacking, fighting on airliners while in flight, and deadly Saturday night shoot-outs is this same apparent assurance there will be no consequences. That expectation of exemption is why the Antifa thugs in Atlanta were so bold in their latest violent attacks on the police.
What's Next for Wokeism? Twenty-five years ago, I told a friend that we would likely bear witness to the acceptance and even protection of several abhorrent social or political practices. That came true, but it didn't stop there. [...] During the 1980s and 1990s, the social norms listed below were largely unacceptable; eventually the practices became mainstream through the strident promotion by activists and ineffective pushback by traditional institutions:
• Open homosexuality, coupled with the very public promotion of the lifestyle
• Gay Marriage
• Transgenderism
• Sex by consenting children with young adults
• Open Borders
• Anti-Capitalism
• The acceptance of recreational drug use as acceptable behavior
• Rampant crime and reduced punishment
• Society no longer requires work to live
• Single-parent constructs as equal to two-parent families
Take a moment to reread this list. Nothing surprises us anymore. History teaches us that radical social change usually ends badly, even for progressives. All of the above continues to have a significant stigma for many Americans. There is general agreement that promoting negative moral or societal values can and usually will have a deleterious effect on society. With no national debate, the redefinition of our country has almost been achieved. Today, our ability to be shocked must surpass a very high threshold.
Cookie Thief Makes Off With $420 Worth of Thin Mints From Chicago Girl Scout Troop. A Chicago Girl Scout Troop on the northwest side of Chicago was the victim of a cookie theft over the weekend, after dozens of boxes of Thin Mints were reported stolen in broad daylight while the troop was working to sort through orders. According to officials, on Saturday afternoon, scouts aged 5 to 11 and parents from Troop 25778 were unloading and sorting cookies on pallets near 6160 W. Higgins Road. As the troop began to organize orders, an individual approached and grabbed boxes without paying, reports say. "We put the cookies on the sidewalk out in front, and then we started sorting," said Troop Leader Cyndee Timmerman. "I saw a guy with four cases in his hand and I asked him who he was with? He couldn't tell me who he was with." According to officials, 84 boxes of Thin Mints were stolen off a pallet along the sidewalk where the sorting was taking place.
Global Health and the Art of Really Big Lies. In a former role I had a boss who lied a lot. The lies were pure fantasy, but massive in scope and delivered with sincerity. They were very successful. This success was based on the reluctance of most people to consider that someone in a position of authority in a humanitarian organization would completely ignore any semblance of reality. People assumed the claims must be true, as fabricating information to that extent in those circumstances seemed to defy logic. The principle of Really Big Lies is based on their being so divorced from reality that the listener will assume their own perception must be flawed, rather than the claims of the person speaking to them. Only an insane or ridiculous person would make such outlandish claims, and a credible institution would not employ such a person. Therefore, given that the institution was apparently credible, the statements must also be credible, and the listener's prior perception of reality therefore flawed. Lesser lies, by contrast, are likely to be perceived as sufficiently close to known reality to be provably wrong. Inventing truth can be more effective than bending it.
Laziness is fashionable now.
Lazy Voters Enable Democratic Fraud. There is a new category of voters these days that is proving to be the deciding factor for the Democrats. This group is the lazy voter group, the ones who are predisposed to using those new at home food prep services. That describes all the thousands of people who are suddenly either too busy or too unskilled to actually grocery shop and cook for themselves and thus have "ready-to-assemble" meals shipped to them. [...] No doubt the food is excellent and it represents a good value, but the entire concept of "just assemble and heat" food services taps into the unmotivated, self-entitled mentality of a disturbingly sizable chunk of voters. A current TV ad for one of them shows a man putting his food into his snazzy countertop oven and hitting a few preprogrammed buttons, excitedly saying, "And this is the really fun part: I'm not doing anything." Another ad shows the wife of a couple exclaiming, "We don't have to cook anymore!" after tasting the food.
NYC bill preventing landlords from performing criminal background checks gains traction. A new law being seriously considered by lawmakers in New York City could strip landlords of the ability to perform criminal background checks on prospective tenants. The legislation, known as the "Fair Chance for Housing Act", is set to go before the New York City Council's Committee on Civil Rights on December 8th and is being backed by at least 30 of the council's 51 members, New York Post reported. In addition to being supported by a significant number of lawmakers, New York City Mayor Eric Adams has suggested he is open to working with lawmakers on the proposal. "No one should be denied housing because they were once engaged with the criminal justice system, plain and simple," a spokesperson for the mayor's office told Fox Business in a statement.
The Editor says...
Common sense would tell you that prior criminal activity is a likely indicator of future criminal activity. Naturally, a landlord is entitled to know about a prospective tenant's criminal background. Unfortunately, the world of common sense is long gone, and the world of constant victimhood has taken its place.
Washington D.C. to Legalize Public Urination. When your whole city's a toilet, why not embrace it? ["]The D.C. Council is expected to take the first of two votes Tuesday on a massive rewrite of its criminal code. If passed, the bill would eliminate most mandatory minimum sentences, allow for jury trials in almost all misdemeanor cases and reduce the maximum penalties for offenses such as burglaries, carjackings and robberies.["] Assume that there'll be a lot more burglaries, carjackings and robberies. Not to mention public urination.
NYC thief pick-pocketed dead victim who was pinned under truck. A soulless thief pick-pocketed a dead man crushed by a truck in Manhattan — as ghoulish onlookers cheered her on, video obtained by The [New York] Post shows. The woman was recorded apparently pick-pocketing the body of a pedestrian who had been crushed under a tractor-trailer in Midtown — and the sickening crime has left police unable to identify him or notify his family of his death, sources said. The gruesome crash occurred as the victim, who police said was believed to be in his 50s, was crossing Eighth Avenue at West 44th Street around 11:30 a.m. Thursday. Video shows the thief, wearing white pants and a black jacket, shimmying under the truck toward the dead man and smoothly reaching for his wallet. Giddy onlookers — seemingly unbothered by the sight of the dead man — egged her on.
Human Composting Is Now Legal in California, Leading the Way to 'Soylent Green'. It comes to mind, because this 1973 futuristic movie was set in 2022. Let that sink in. It also comes to mind because thanks to Biden's economic agenda (or lack thereof), much of the dystopian ethos of that world is being baked into our everyday lives. The World Economic Forum keeps pushing new forms of insect protein on us, and it was only a matter of time before cannibalism was happily presented as an idea whose time had come. For the sake of the environment, even our death traditions are being restructured to fit the paradigm of you will own nothing and you will be happy with it. It's wasteful to plant a headstone to memorialize your loved one, not to mention selfish.
A Leaking Ship of Fools. A spinoff of the sex confusion is our failure to differentiate between childhood and adulthood. It's not just that we're forcing sexual behavior onto increasingly younger children, but we are tolerating more and more childish behavior from adults. Not long ago I was in my bank, and standing several customers in front of me was a woman wearing fuzzy-bear slippers, all wrapped up in a blanket. When did slovenliness become socially acceptable? Rudeness in traffic, fit-throwing in fast food restaurants, a Senate candidate dressed always in sweats — has no one ever told such people to grow up?
And Now, the Left Moves to Normalize Pedophilia. Many people have observed for years now that the total exclusion of morality from the public square, and the refusal to declare that any behavior was wrong in itself, would lead to the normalization of all manner of abhorrent behavior. Such warnings seem almost quaint now, with drag queens in primary schools and toddlers being encouraged to undergo radical body mutilation. In this insane environment, it is no surprise whatsoever that the Left is now pushing to make pedophilia as normal as a walk in the park. The assault on traditional values is total and unyielding. No quarter will be given. The Post Millennial reported recently that "a professional counselor who works with incarcerated sex offenders defended pedophiles as a 'marginalized' minority in a recent YouTube upload, sparking criticism as clips from the video went viral on social media." Miranda Galbreath, who is a licensed sex therapist, posted a video which is, at least for now, unavailable. It was entitled "Let's talk about minor-attracted persons." In it, Galbreath advocates for the use of the term "minor attracted people" and claims that the term "pedophile" is a "judgmental, hurtful insult." She says that pedophiles are "the most vilified population of folks."
Sex offender arrested after allegedly offering parents $100k to 'buy' their daughter, and he's done it before. A registered sex offender in Florida was apparently looking to pick up his next victim like he would a loaf of bread by offering a parent $100,000 to purchase their young daughter while strolling through a Winn Dixie grocery store last week. The same man reportedly offered to plunk down double the money in 2018 in exchange for another woman's 8-year-old child, according to a Fox 35 report at the time. Police reported that they began the thorough investigation into the alleged actions of Austrian native Hellmuth Kolb after "the parent's clear concern that someone was insistent on attempting to purchase their daughter in a grocery store."
New York scrubs the word 'inmate' from state laws. New York has amended several state laws to remove the word "inmate" and replace it with "incarcerated person" to refer to people serving prison time. The changes, signed into law Monday by Gov. Kathy Hochul, are intended to reduce the stigma of being in jail. Prison reform advocates have said the term "inmate" has a dehumanizing effect. Prisoners say it can feel degrading when jail guards refer to them as inmates, especially in front of their families during in-person visits.
Shooting Up on the Subway. The brave new world of New York has consigned the dreaded stigma — singular cause of all of man's torments — to the judgemental ash tip of history. Curiously, some stigmas are good stigmas. Smoking a cigarette within four blocks of a warm-blooded being is tantamount to chewing a glass vial labelled, 'Wuhan Institute of Virology.' So too is suggesting masks discourage a virus as barbed wire discourages a mosquito. Breaking either taboo conjures the phosphoric ire of green-haired Millennials with steel dangling from their nostrils.
LGBT activists demand resources for monkeypox, don't want officials to stigmatize gay communities. The Biden administration and local leaders are walking a fine line as they play catchup with the surging monkeypox, scrambling to get vaccines and tests to an LBGTQ community that is losing patience while combatting the idea this is a sexually transmitted disease for gay men. Mounting cases and difficulty in accessing vaccines have led to frustration among advocates who fear the government isn't doing enough to stem monkeypox, which has little history in countries outside of Africa and features a painful rash. Comparisons to the early response to HIV/AIDS, which was marked by stigma and early failures, are hard to ignore.
Obesity Should Be Cured, Not Celebrated. Cameron English, Director of Bio-Sciences of the American Council on Science and Health (ACSH), wrote in the ACSH daily e-newsletter that "as 'fat acceptance' gains cultural traction, a growing coalition of health care providers and advice websites downplays the dangers of obesity to appease social justice activists." America's public health establishment has made a lot of critical mistakes in recent years, English tells us. One of its worst is its willingness to appease social justice activists who are committed to denying the dangers of obesity. [...] The fat acceptance gurus are rapidly deconstructing the evidence-based conclusion that obesity is an unhealthy and largely preventable condition.
Woke researchers call for term 'morbidly' obese to be banned because it's offensive. Calling the fattest category of people 'morbidly' obese is offensive, woke researchers said today [6/8/2022]. And they urged doctors and scientists to stop referring to unsuccessful attempts to lose weight as 'failures'. Terms used moving forward should include 'ineffective' or 'insufficient' weight loss, or even 'secondary weight regain'. No specific suggestions were given to replace the phrase 'morbid', however severe is often used instead. Critics today slammed the recommendation, published in a leading obesity journal, saying it was 'odd' given morbid obesity is a clinical term. But industry experts agreed that 'less stigmatising' language was crucial in the battle against the bulge, saying 'words truly do matter'.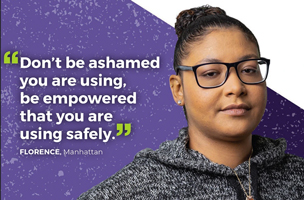 City to junkies: Don't be ashamed to get high. The city Health Department is urging junkies not to feel embarrassed that they get high off fentanyl, and even offering a step-by-step tutorial on how to use one of the deadliest and most addictive drugs on the planet. In its "Let's Talk Fentanyl" ad campaign the agency tells users they should feel empowered when they safely consume the drug — which became the leading cause of death among Americans ages 18 to 45 in 2020, according to one analysis. "Don't be ashamed you are using, be empowered that you are using safely," a woman identified as Florence from Manhattan says in one of the ads that has appeared citywide on trains and buses.
What the pro-life movement gets wrong — and the truth about Roe v Wade. There are many things that the pro-life movement does exceptional[ly] well in providing resources that are alternatives to abortion but what I have learned these past 26 years that I've been an op-ed columnist is that the movement does not recognize that its opposition has changed. Those posters of dismantled baby parts and lurid stories of born alive babies being murdered affects only voters who still have hearts. Now more women are wearing their "I'm proud of my abortion" t-shirts. Since the SCOTUS leak forecasting the end of Roe V. Wade, the true radical pro-abortion advocates have emerged and they are frightening. I'm not sure if calling some of them insane is accurate but I'm leaning at dubbing them just plain 'evil'.
Former Stripper Running For Congress Says She Aborted Her Baby To Give It A Better Life. Alexandra Hunt, 29, is running for the Democratic nomination for the Philadelphia-area congressional district and has been attempting to leverage her sordid past in order to gain an edge over her competition in the race. As a young adult, Hunt chose to become a sex worker while she studied at the University of Richmond where she earned a degree in psychology and now has her eyes set on Congress. She also wants everyone to know that she never regretted her abortion.
Six Outrageous Videos Posted By The "Libs Of TikTok". [#6] This is the most disturbing video on our list, by far, and I am leading with it to make sure everyone reading the article has the exposure to the utter wretchedness of feminism, leftism, and postmodernism. To summarize, a deranged lunatic is planning on murdering her unborn baby and feels great enough about it to both dance AND brag about it on social media. [Video clip]
Pennsylvania Bill Would Restrict Employers' Examination of Applicants' Criminal Records. Pennsylvania State Representative Darisha Parker (D-Philadelphia) this week introduced a measure to restrict employers' consideration of job applicants' criminal records. In a statement on her bill, Parker cited data from the U.S. Department of Justice indicating that nearly a third of Americans have a criminal record, almost as many as having earned college degrees. She said incurring such a record has proved a major burden for many Pennsylvanians seeking jobs as well as housing and public benefits. Her legislation would bar employers from asking job seekers about or weighing those applicants' juvenile or summary offenses as well as any cases that resulted in no convictions. Expunged and pardoned cases would also be off-limits for consideration.
'Professional' thief with 96 prior arrests busted again at NYC Target. A self-described "professional booster" with 96 arrests on her record was nabbed again this week for allegedly stealing from an Upper East Side Target — and then released at her arraignment on Thursday, The [New York] Post has learned. Michelle Mckelley, 42, allegedly boasted about her "hustle" at the store on Third Avenue near East 70th Street, telling cops, "I haven't got caught in a long time," after her latest bust Wednesday, prosecutors said in Manhattan Criminal Court. "I'm a professional booster. Y'all are stopping my hustle," the serial shoplifter allegedly told officers.
In the 21st century, we've entered a brave new era of child sacrifice. In ancient times, pagans sacrificed children to propitiate angry, erratic, and inscrutable gods, hoping that giving up their most precious possessions would save the entire community. Leftists are still doing that, not just with abortion, but with their COVID policies and the madness of their decriminalizing crime. [...] I suspect most American Thinker readers recognize that abortion is a death cult. After all, Americans have killed some 61,000,000 babies since 1973, when the Supreme Court first found that imaginary right to abortion hidden deep within the Constitution. In the beginning, though, women were embarrassed about what they were doing. It was shameful. Now, though, things are different. Women shout their abortion. They've made goddesses of themselves and willingly sacrifice babies to satisfy their own emotional needs. In addition, the cult of climate change says that humans are killing Mother Gaia, another goddess who must be propitiated.
Fit to Be Fat. A curious example of the power of social trends on thought is that two years into the Covid pandemic, nobody of any influence has yet bothered to launch a campaign to persuade Americans to do the one obvious non-pharmaceutical intervention that would make Americans healthier whether the virus stays or goes: lose some weight. Instead, 2022 has seen new gains in the long, grinding campaign to make the fat another of those privileged classes whose self-image cannot be affronted. For example, Nike, with its $3.6 billion ad budget, tweeted out under the title "Styles for Self Love" a picture of a 250-pound black woman dressed head to toe in Nike garb and looking mighty pleased with herself. Similarly, Self magazine devoted its "Future of Fitness" issue to Maoist-style self-criticism, with articles like "The Relentless Reality of Anti-Fatness in Fitness." (Well, yeah, that's kind of the point of all that exercising: to not be fat.) Not surprisingly, that article was also illustrated with a photo of another smug 250-pound black woman. Yet, it's not a secret that heaviness is a major risk factor for both Covid and a host of other ailments.
NFL threatens clubs with penalties if they ask recruits about drugs, mothers' prostitution. A new NFL rule threatens teams with financial penalties and the loss of a draft pick if they ask prospective recruits about personal issues such as their marijuana habits, sexual orientation and whether their mothers have ever been prostitutes. In a Wednesday [1/5/2022] letter to the league's 32 teams that ESPN obtained, the NFL said clubs will forfeit a draft pick between the first and fourth rounds and receive a minimum $150,000 fine if coaches ask "disrespectful, inappropriate or unprofessional" questions during an interview. Team representatives also will face individual fines and suspensions over their conduct with draft prospects. "All clubs should ensure that prospective draft picks are afforded a respectful and professional NFL environment — one that is consistent with state and federal law and our shared commitment to respect, diversity and inclusion," the memo states.
US body positivity campaign group creates cards for patients asking doctors NOT to weigh them. An online body positivity group have created cards for patients who do not want to be weighed by their doctors unless absolutely necessary. The 'Don't Weigh Me Cards', created by More-Love.org, ask doctors not to weigh patients every time they come in for an appointment because it 'stresses them out' and it 'perpetuates weight stigma'. The group was founded in 2016 by Ginny Jones, a US-based life coach who specialises in eating disorder recovery and provides free online resources for parents about weight, food, and mental health.
Colorado Is Changing The Term 'Sex Offender' Because It Offends Sex Offenders. The way sex offenders are labeled is changing in Colorado. The board that sets state standards voted today to change the term "sex offenders" to reflect so-called "person-first" language. The Sex Offender Management Board, which is made up of everyone from public defenders to prosecutors, sets standards and guidelines for treatment providers so the new terminology will only be used in that context. It doesn't change the term sex offender in law or the criminal justice system but some worry it's a step in that direction. [Video clip]
NYPD orders cops to stand down, allow junkies to shoot up in streets after decriminalization measure passes. NYPD officials have ordered patrol and beat officers to stop rolling up suspects who are seen shooting drugs on the streets after legislation in the state legislature passed decriminalizing the purchase and sale of hypodermic needles commonly used to inject heroin and other hard drugs. "Effective immediately, members of the service should not take any enforcement action against any individual who possesses a hypodermic needle, even when it contains residue of a controlled substance," says a directive to New York Police Department commanders issued last Friday and obtained by the New York Post. The order to NYPD officers referenced Senate Bill 2523 which outlines the decriminalization.
States Where A Third Of People Are Obese Rise To 16, Nearly Doubling In Two Years. America's underlying pandemic is getting worse. New data from the Centers for Disease Control and Prevention (CDC) out Wednesday shows the number of states with high obesity rates nearly doubled in the course of two years, with at least 35 percent of residents in 16 states consisting of adults with obesity in 2020. The number of states is up from a dozen in 2019, and nine in 2018. States added last year include Delaware, Iowa, Ohio, and Texas, each now home to a population where more than a third of people are obese. States that had already reached that benchmark by 2019 include Alabama, Arkansas, Indiana, Kansas, Kentucky, Louisiana, Michigan, Mississippi, Oklahoma, South Carolina, Tennessee, and West Virginia.
The curious case of the missing resignations. One of the strangest things about the Afghanistan debacle is that in spite of extraordinarily harsh criticism worldwide, nobody has resigned, and nobody has been fired. Many assume that this is so because the failure is President Biden's, but in thinking this, they are simply wrong. Consciousness of failure is only one of many reasons for resignations from high government positions.
Wisconsin Sheriff Will No Longer Call Prisoners Inmates But Rather 'Residents' To Humanize Rapists And Murderers. The Dane County Sheriff's Office is eliminating the term "inmate" from its official vocabulary. Sheriff Kalvin Barrett announced the move Monday [8/16/2021], explaining the change is designed to "maintain the dignity and respect for all who are involved in our criminal justice system," WMTV-TV reported. [Video clip]
Texas Teenagers Charged After Discovering Suicide Victim, Stealing Jewelry, and Then Posting Images on Social Media. We often discuss novel criminal charges or cases. The latest such case involves the arrest of two teenage girls in Texas after they removed a gold necklace off the chest of a dead man found in a drainage ditch. The charge is "theft from a human corpse." The unidentified man is believed to have hung himself in the ditch near a local gas station. KSAT-TV reported that the girls spotted the body and removed the chain. They then posted images on social media. Those images of the scene before the arrival of the police proved key to the charges. One, according to FOX San Antonio, showed the 17-year-old taking a gold necklace off the dead man's chest.
Family has baby shower for pregnant 12-year-old, her accused rapist, Oklahoma cops say. The family of a 12-year-old girl impregnated by a man twice her age "permitted" the relationship and even celebrated her pregnancy with a baby shower, according to Oklahoma police. Police arrested 24-year-old Juan Miranda-Jara on a charge of first degree rape of a minor earlier this month, according to the Tulsa Police Department[.] Shortly after the young girl showed up to an area hospital pregnant, police said they were told she had possibly been raped. Investigators took Miranda-Jara into questioning and, as the girl was in labor, he admitted that the child was his, police say, and that he had been "in a relationship" with the girl since October 2020. But a question lingered, police said: "Where were the parents?" Apparently, they were present and well-aware of what was happening, according to police.
'What not to say to a cop' video goes viral. One hopes the cops keep posting these videos, given that society has lost its sense of shame and activists and their lies frequently gain the upper hand in the press. Once a sense of shame is restored, these videos won't be necessary.
Fat Acceptance Is a Dangerous Idea. COVID-19 has put renewed focus on obesity. As the New York Post recently reported, countries with high obesity rates such as the UK have nearly 90 percent of COVID-19 deaths, compared with countries that have less obesity such as Vietnam. Medically, obese people are more likely to contract COVID-19, suffer greater morbidity, and are more likely to transmit the virus than non-obese people. But that's only part of the story. COVID-19 has also increased national obesity thanks to lockdowns and forced disruptions of normal life. Pre-COVID in 2019, more than 40 percent of adults were obese in the United States according to data from the Centers for Disease Control and Prevention's (CDC) Behavioral Risk Factors Surveillance System. A 2018 National Center for Health Statistics report found the average weight of American men in 2015-2016 was 197.9 pounds and women 170.6, up from 172.2 pounds and 144.2, respectively, in the years 1976-1980. Some joke it's the United States' gross national product. And COVID-19 has made things worse.
Southern Baptist Seminary President Lambastes United Methodist Church Over Drag Queen Leader. On Wednesday [4/28/2021], a Baptist preacher condemned a Methodist church. Amid an episode of his The Briefing podcast, Al Mohler — a pastor and president of Louisville, Kentucky's Southern Baptist Theological Seminary — had strong words for Hope United Methodist Church. At issue: the Illinois congregation's support of Isaac Simmons. As noted by The Daily Wire, Hope United has placed Isaac in a position of church leadership. They've also promoted him as a candidate for ordination. A couple of notables: Isaac is openly gay. Isaac is a drag queen.
Believe It or Not, a New Level of Corruption and Depravity for New York City. The district attorney of Manhattan in NYC has announced that his office will no longer prosecute any unlicensed "massage" parlor workers (about 900 cases), nor loitering for the purposes of prostitution (about 5,000 cases). Abigail Swenstein, a staff attorney with the Legal Aid Society's Exploitation Intervention Project, which works with sex workers, said that while the policy doesn't preclude the New York Police Department making arrests, she hopes officers will choose not to, knowing that prosecutors would not bring charges. Laws against these behaviors are still on the books but will not be prosecuted. The citizenry has not repealed these laws, but the ever wise and dictatorial district attorney will spit in the face of the citizenry (and God) by deeming these activities unworthy of punishment. This writer could find reference to only one person, New York Assemblyman Mike Reilly, a Republican, who said Manhattan's new prostitution policy sets a dangerous precedent. "It flies in the face of law and order," he timidly said. To me, the fact that there is not an outcry of opposition is as grievous as the decision itself.
So Long First Amendment: Man Who Mocked Food Bank Participants Arrested. Back on February 18th, a Maricopa County Church was holding a food drive/bank for families in need of food during the ongoing COVID pandemic. During that event, a man now identified as 46 year old Ryan Bryson drove by in a white work truck, allegedly shouting obscenities and telling the participants to "get a job." Later, AZFamily.com contacted Bryson to get a statement to which he stated that he stands by what he said. "Those people need to go to work. They should be ashamed of themselves." [Video clip] [...] Now comes news that Bryson has been arrested on charges of disorderly conduct following his run-in at the food bank. According to AZFamily.com, Deputies "received numerous complaints about Bryson's behavior, describing it as disruptive to the establishment and food distribution process." Again, what Bryson did was extraordinarily inappropriate and makes him a giant jerk, however, I don't believe I have seen nor heard of any accusation that rises to the level of deserving of arrest.
L.A. restaurant closes after high-tech "dine and dash" scheme. Though many restaurants remain closed during the pandemic, for those that remain open, dining and dashing remains a problem — and even forced one Los Angeles restaurant owner to close up shop, CBS Los Angeles reports. According to the Los Angeles Times, a growing number of the city's restaurants have struggled as scammers take advantage of internet ordering to use fraudulent credit cards or request refunds, claiming they never received part or all of an order.
Columbia professor: I do heroin regularly for 'work-life balance'. Carl Hart is a Columbia University professor of psychology and neuroscience. He chairs the psych department and has a fondness for heroin — not only as a subject of scholarly pursuit but also as a substance for personal use. At 54, the married father of three has snorted small amounts of heroin for as many as 10 days in a row and enjoyed it mightily — even if, as he recalls in his new book "Drug Use for Grown-ups: Chasing Liberty in the Land of Fear" (Penguin Press), he's experienced mild withdrawal symptoms "12 to 16 hours after the last dose." But, as Hart sees it, the discomfort is a worthwhile trade-off.
Pair charged with shooting woman who shushed them in movie theater. Two suspects sought in the shooting of a movie-goer who shushed them in an Atlanta theater have been arrested, police said. Camyrn King, 20, and Yvonne Crawford, 22, were arrested in Indiana by the US Marshals Service for allegedly shooting a woman in the shoulder after she asked them to quiet down inside an AMC theater in Atlanta in January, police said Wednesday [2/17/2021]. The two women, who were charged with aggravated assault and possession of a firearm during the commission of a crime, will be extradited back to Atlanta, department officials said.
Dozens Of Kids On Bikes Take Over I-91 In Connecticut. On Saturday, July, 18th, this video was captured by a passer-by on Interstate 91 in New Haven, near Exit 9. Nearly 100 kids took up two lanes of the highway as cars swerved to not strike any of the riders, many of which were pulling wheelies. [Video clip]
De Blasio 'proud' of daughter Chiara's arrest during George Floyd protests. Mayor Bill de Blasio on Monday [6/1/2020] commented on his daughter's arrest during a Manhattan protest over the police-involved killing of George Floyd, saying that it was a "surprise" to him, but that he's "proud" of her. De Blasio, speaking during his daily City Hall press briefing, said his 25-year-old daughter, Chiara, did not inform him or first lady Chirlane McCray "of her intention to get arrested" — and he first found out through a press inquiry to his office.
St. Patrick's Cathedral desecrated with protest graffiti. Protesters desecrated St. Patrick's Cathedral with graffiti Saturday [5/30/2020], staining stairs and spewing hatred on two walls.
'Inordinate amount' of urine, feces left behind at NJ parks: officials. As New Jersey state parks reopened during the COVID-19 pandemic, parks police have reported an unsettling "inordinate amount of urine and feces being left behind" State Police Superintendent Pat Callahan announced the "disheartening" information during Gov. Phil Murphy's coronavirus briefing Monday [5/11/2020]. There is a "zero tolerance" policy for anyone who is caught in such a situation, Callahan said. "The whole idea behind parks is to give citizens time to enjoy fresh air and have time outside," he added. "We understand restrooms are closed, but people should be planning accordingly and should not be urinating in bottles and leaving them behind," Callahan said.
The Editor says...
Why are the restrooms closed?
Viral Video of Girl Cheerfully Getting Abortion at Planned Parenthood Draws Horror. A widely viewed TikTok video that has drawn horrified responses shows a girl laughing and apparently having fun as she reveals her pregnancy and heads to Planned Parenthood for what appears to be her second abortion attempt. The video shows the girl exposing her somewhat swollen abdomen and laughing in the car, apparently on her way to Planned Parenthood to have an abortion. It continues with footage of her smiling as she actually undergoes the abortion, and a close-up of the ultrasound image as her baby is aborted.
Think Before You Ink. A 30 or 40 year tattoo on a 50 or 60 year old man lounging around the pool was enough for me to decide that tattoos were not for me. However, I have found it very interesting to see tattoos became more popular and accepted over the last 20 years or so. Tattoos went from the subculture in my youth to popular culture today where it is now estimated that among those age 26-40, 40% have at least one tattoo and 36% of those 18-25 also have inked at least once.
They've Lost Their Minds in San Francisco. San Francisco, a city described in song for its natural beauty, is descending into an abyss of homelessness, the use of sidewalks as toilets and a place you might not want to visit, much less live. The latest, but surely not the last demonstration of insanity, is San Francisco's Board of Supervisors' adoption of new "person first" language guidelines meant to "change the public's perception of criminals." The words "convicted felon," "offender," "convict," "addict" and "juvenile delinquent" are now out. These individuals will henceforth be referred to as a "justice-involved person." Someone previously called a "criminal" will now be referred to as "a returning resident," or "a formerly incarcerated person." [...] The English language once conveyed meaning. Properly written and spoken, it suggested one was educated and capable of conversing in polite company. Today, it is often used to cover up true intentions.
San Francisco's New PC Terms For Criminals Met With Mockery. Amid the city's interconnected and rapidlly escalating crime and homelessness crises, the San Francisco Board of Supervisors has determined that one of the ways it can help inspire the city's expanding criminal population to good behavior is to simply play some games with language. In a non-binding resolution passed last month and which has gained the support of the district attorney, the city presents the grim statistic that now one-fifth, one out of every five, residents of the city has a criminal record. In response to this alarming criminal reality, the board has introduced its new "person first" terminology, in which old terms the city fears might encourage "negative predispositions" and "unfounded assumptions" have been swapped out for more positive and "stigma"-free language.
San Francisco, where felons are 'justice-involved' and there's no shame in crime. San Francisco's Board of Supervisors just adopted a resolution recommending that felons not be called felons but rather "formerly incarcerated person" or former "justice-involved" person or "returning resident" — or any other number of soft and fuzzy names that won't hurt the feelings of the, umm, felons. File this under Ridiculous. "We don't want people to be forever labeled for the worst things that they have done," Supervisor Matt Haney said to the San Francisco Chronicle.
The Editor says...
One of the traditional deterrents to crime is the lifetime stigma attached to convicted felons. An increase in criminal activity will naturally accompany the erosion of that disgrace. The politicians in California are going out of their way to make criminals feel better about themselves. They don't need encouragement!
Why you'll no longer find 'convicted felons' in San Francisco. "Convicted felons" may be getting a makeover in San Francisco. Under a new resolution by the city's Board of Supervisors — which voted to use "person-first" language in the criminal justice system — they'll be referred to as "justice-involved persons," the San Francisco Chronicle reported. The guidelines nix other terms too, such as "prisoner," "convict" and "inmate," along with any words that "obstruct and separate people from society and make the institutionalization of racism and supremacy appear normal." As part of the guidelines, a drug addict or substance abuser will become a "person with a history of substance abuse." And a "juvenile delinquent" will instead be referred to as a "young person with justice system involvement."
Immorality Embraced by So-Called Christian Love. Situation ethics — introduced in 1966 by Joseph F. Fletcher — came into vogue as a way to excuse pre-marital fornication by Christians, and anything that could be considered Christian judgmentalism was muted by the liberal churches. In the name of love, increasing numbers of churches became tolerant of sin. In the contemporary church world, tolerance of sin is no longer considered kind enough or loving enough. Now, as seen by Joel Osteen's recent appearance at an LGBTQ event, celebration of sin is the step beyond tolerance. A "woman's right to choose" is openly embraced by many members of the National Council of Churches. Likewise, homosexuality among the clergy is acceptable.
New York state lawmakers introduce bill to decriminalize sex work. A group of Democratic lawmakers in New York state introduced a bill Monday [6/10/2019] that seeks to decriminalize sex work and make it legal to engage in the consensual sale of sex. The bill, which follows similar legislative efforts in other states, including Massachusetts and Maine, would go further by vacating prior convictions of people engaged in activity that would no longer be considered criminal. Supporters stressed that the legislation would not alter current laws on sex trafficking or the exploitation of minors. At a news conference in New York, legislators and advocates with Decrim NY, the coalition pushing for the bill, said that legal attempts to crack down on sex work have historically failed and that an overburdened criminal justice system shouldn't be used to prosecute consenting adults.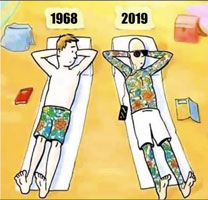 We All Need To Admit That America Has A Tattoo Problem. If America can be divided into those who don't have tattoos and those who do, the two groups seem to be rapidly approaching equilibrium. About one in five Americans have tattoos, and among 18-29 year-olds the latest figures peg those with ink at 40 percent. Speaking of percentages, the Air Force is so hard up for recruits that it recently eliminated its "25 percent rule." Like all military regulations, the 25 percent rule is painfully exact, but loosely stated, it meant that you weren't eligible to serve, much less join a bomber crew ferrying around nuclear weapons, unless you were capable of exercising good enough judgment not to cover more than a quarter of your body in tattoos.
Dallas prosecutor encourages shoplifting. The liberal district attorney in Dallas, John Creuzot, is refusing to prosecute shoplifters who steal less than $750, if what they stole was "necessities" like food or diapers, and they haven't tried to resell what they stole. This refusal to prosecute will spawn an increase in shoplifting. That will drive up prices for necessities like food, at the expense of law-abiding people. Criminal penalties deter crime, as studies have found, and serious penalties deter better than trivial ones. So the Dallas DA's refusal to prosecute shoplifters will embolden more people to steal.
Dressing Down Parents at Houston's Madison High School. Earlier this month, the principal of James Madison High School, in Houston, Carlotta Outley Brown, sent out a directive to parents. Any parent wearing revealing and/or slovenly attire would be banned from entering the school, and in some cases, prohibited from so much as setting foot on school premises. Items banned from the building include shower caps, hair rollers, bonnets, satin caps (a.k.a. "Do-rags," or "durags," in the parlance of Solange and the New York Times), house shoes, undershirts (for men), and pajamas, or anything that could be construed as such, a topic on which the directive casts a wide net: "[A]ttire that could possibly be pajamas, underwear, or home setting wear, such as flannel pajamas," it reads.
New billboard welcomes drivers to Illinois 'where you can get a safe, legal abortion'. A billboard promoting abortion greets travelers as they drive into the state of Illinois from Missouri. [...] The Hope Clinic for Women said the message is an effort to fight back against Missouri's recent proposal to tighten its already strict abortion laws, Yahoo Lifestyle reported. "There will be an avenue for access to abortion no matter what happens legislatively, and we just need to be more creative of getting our message out there to let our most vulnerable communities know that they still have choices," Alison Dreith, the clinic's communication manager, told Yahoo.
Dear Gillette: Morbid Obesity Is Not Beautiful And Only 0.6% Of American Adults Identify As Transgender. As if Gillette's "Toxic Masculinity" ad campaign wasn't ridiculous enough, the company has managed to do it again. Their new ad for Venus razors features a morbidly obese model at the beach, wearing a bikini. This massive young woman's arms are raised as if to show us how proud of her body she is and how empowered she feels.
Teachers Unions Want Legal Teacher-Student Sex. No one expects teachers unions to advance the best interests of kids. Albert Shanker was president of the United Federation of Teachers and the American Federation of Teachers. As Shanker put it, "When school children start paying union dues, that's when I'll start representing the interests of school children." Even so, it is appalling to learn that two major teachers unions want to keep it legal for teachers to have sex with their students in Rhode Island.
7 Reasons Conservatives Are Losing the Culture Wars. [#3] Deemphasizing character: A society that consumes "Game of Thrones," "Breaking Bad," and Eminem is going to be more degenerate than one consuming "The Lone Ranger," "Happy Days," and Bing Crosby. Of course, we don't really call anyone "degenerate" these days, do we? Ok, maybe child molesters and people who torture animals, but nearly everything else is live and let live. We can see the negatives of the world as it used to be — where divorce or having a child out of wedlock was scandalous. Even married couples weren't seen in the same bed on TV and even something that seems as innocuous as Elvis twisting his hips was outrageous. But what about the positives? Is the average person's behavior better or worse than it was then? Are people more or less honest?
There is no shame left in America anymore. [Scroll down] Michael Cohen sitting before Congress and testifying, minus any real emotion, that he is a liar, a fraud and a craven opportunist. The Jackson estate suing HBO rather than offering recompense, let alone apologies. The president cursing during a speech at CPAC. "The Bachelor"'s entire season hanging on whether a 27-year-old virgin will actually have sex with at least one of his finalists! As a culture, we seem to have divested ourselves of shame — real shame, not the cheap and easy kind so easily doled out online, where anyone accused of "age-shaming" or "body-shaming" is expected to express, well, shame. Otherwise, there is never any reason to apologize, to admit full-on wrongdoing, let alone express deep, palpable shame over one's behavior. We've seen it in the stance of so many #MeToo monsters, who appear not just defiant but confused as to why they are castoffs, pariahs, or facing criminal court.
Bring Back Shame. James B. Twitchell in his 1997 book For Shame: The Loss of Common Decency in American Culture asserts that "we are living in shameless times," as compared to when he was growing up in the 1950s, when "public drunkenness, filing for bankruptcy ... drug addiction, hitting a woman, looting stores, using vulgar language in public, being on the public dole [and] getting a divorce" were considered shameful, and "most of these reflected concerns about limiting individual behavior within a group." What once was considered a private matter now results in haphazard public defecations. San Francisco currently boasts a "poop map" as the city reports a 140% rise in feces. Taboos that used to entail modesty have disappeared.
At a funeral, please leave politics at the door. There is a lack of courtesy and self-awareness on the parts of too many of the privileged who think that their politics are worthy of the time of the rest of us, no matter the setting. [...] Too many people who are privileged to make their livings on some kind of stage, political or otherwise, feel that their views, their words, their politics or their pique should be center stage, in every event, whether about them or not. Too many think that every time is a time to speak for them. But it's not.
A Perfect Storm Threatens America's Survival. More than 72,000 Americans died from drug overdoses in 2017. That's almost 200 a day. Nearly half of all federal prisoners were involved in drug-related crime. Meanwhile, Hollywood and the music industry make drug use look like good old-fashioned fun. The media pretty much ignore the issue.
Lowered standards:
Army using drug waivers, bonuses to fill ranks. Under the gun to increase the size of the force, the Army is issuing more waivers for past drug use or bad conduct by recruits, and pouring an extra $200 million into bonuses this year to attract and retain soldiers.
The Rise of the Abortion Cheerleaders. The Shout Your Abortion website broadcasts this trendy creed, loud and strident and clear: "Abortion is normal. Our stories are ours to tell. This is not a debate." The group's website also provides the option to buy a T-shirt telling the world that you're proud of your abortion, or even purchase an "Abortion Is Freedom" button that might make Orwell cringe.
Black America Walking Off the Cliff. The pre-welfare black society understood the necessity for respect and responsibility. From slavery until LBJ's War on Poverty programs, intact black American families were the norm. The church was the glue that sealed biblical bindings in the hearts and minds of the family. Fathers governed their households, and young men were less likely to become criminals. Fornicators and adulterers were unwelcomed parasites. Premarital pregnancies were a rarity, as they were a cause for shame and reproach. In 1950, eighty-five years after slavery, the two-parent black household was 78%. By the mid-sixties, black lives started to matter much less under LBJ's Great Society. Now, just fifty-three years after the War on Poverty began, the once stable two-parent black household has disintegrated to an abysmal 27%, and the black church is all but silent! The roots of this catastrophe were sown the minute the black church started trusting in government instead of God.
Parents, to Avoid a 30-Year-Old Basement Squatter, Teach Your Kids the Value of Work! Tragically, the Rotondos aren't alone, not by a long shot. According to Psychology Today, "45 percent of young adults in New Jersey between the ages 18 and 34 now live with their parents." They call it the "failure to launch epidemic," and if it's hitting almost half of families, even in a lefty state like New Jersey, "epidemic" is the perfect descriptive term. [...] Somehow, we've gone from kids sneaking off to join the Army at age 10 to 34-year-olds sneaking back into their parents' basement to play Call of Duty and binge-watch The Walking Dead.
Demanding hypocrisy from others is logically and morally twisted. [Scroll down] And yes, it's all true. It happened last month at a Catholic school in Dearborn, Michigan. The event was the school prom. The dress code prohibited plunging necklines and cut-outs below the bustline. The alternative offered was a "modesty poncho," to be handed out [by] teachers who noticed girls suggestively underclad. And the protesters accused the school of "body shaming."
Project Freedom. The vagaries of human nature guarantee that we'll always have ne'er-do-wells. But in the 1960s, American elite culture multiplied them, by stripping the stigma from a wide swath of misbehavior, partly because elites hankered for their own fling with sex, drugs, and dropping out, and partly because they came to think that centuries of racial victimization made society, not the individual, responsible for dysfunctional black behavior. Society, the new orthodoxy claimed, was to blame for the supposed lack of opportunity that discouraged black Americans from working and learning, for the rage and resentment that fueled disproportionate black criminality, and for the despair that heroin and crack served to dull. Moreover, once out-of-wedlock sex lost its shame in the elite worldview, so did out-of-wedlock childbearing, widespread enough among black Americans a century ago to trouble W. E. B. Du Bois deeply, but astronomically higher after the cultural changes of the 1960s. As public opinion normalized single-parent families, the elites' belief that America owed some cash reparation for 300 years of slavery and Jim Crow found an outlet in the hefty enrichment of a Depression-era program meant to aid widows and orphans, for which unwed mothers were also eligible. No longer stigmatized, and financially enabled by fattened welfare benefits, illegitimate births in inner-city neighborhoods soon soared above 80 percent.
Has Giving Leftists What They Want Made America Better? To a large degree, we have allowed leftists to remove "healthy shame" from our culture. Leftists say the only thing anyone should be ashamed of is being conservative, Republican, Christian, or white. Remember when it was shameful not to know the father of your baby? Today, pregnant women boldly appear on national trashy TV shows, DNA-testing 27 guys to determine the father. Leftists deem female promiscuity feminism at its best, women freely exploring their sexuality. Leftists are angry at God for unfairly sticking women with the annoying possibility of getting pregnant. Promiscuity carries health risks and emotional consequences. Has the normalization of baby mommies and baby daddies strengthened our society?
Arrested spring breakers flash big smiles on bus headed to jail. A group of underage partiers were arrested in Florida on Saturday afternoon for partaking in the spring break debauchery. The Okaloosa County Sheriff's Office posted a picture on Twitter of the 14 spring breakers that were arrested for underage drinking — all before 2:40 pm on St. Patrick's Day.
Transgenderism Is an Intellectual Disease. Like sex itself, having children out of wedlock used to be a matter of shame. It is no longer so. Marriage used to be understood as a partnership that people undertook for fundamentally practical reasons centered around survival. Now it embodies a strange expectation: "emotional fulfillment." Like a bottomless soft drink, one's spouse is to keep one perpetually satisfied and refreshed.
San Francisco Requires Poop Maps To Help Pedestrians Avoid Human Waste. For those who have maintained that San Francisco is full of ... whatever, there is now living proof. How much poop is there on the streets of the City by the Bay? Would you believe there is an online map to track human feces on the city's streets? There is. According to Fox News, one area of the city reported a 140% rise in feces. As Jay Caruso of RedState noted, "Public urination is so widespread it has damaged subway elevators and escalators, building walls and power poles." When did the gleaming jewel that was San Francisco become a repository for poop? Mayor Willie Brown terminated ordinances; city district Attorney Terence Hallinan would not prosecute "victimless" crimes involving drugs and prostitution.
Salvation Army Bell Ringer Attacked for Saying Merry Christmas. Liberal progressive Democrats in Northern California really hate it when you say Merry Christmas. So much so that an atheist liberal thug attacked a Salvation Army bell ring. His reason? Because the bell ringer said Merry Christmas. This is Northern California in a nutshell. As bad as Southern California is with Los Angeles, we aren't nearly as bad, or as violent as the extremist leftists in Northern California cities like San Francisco, San Jose or Sacramento. That's Pelosiville.
Moral Values and Customs vs. Laws. Yesteryear even the lowest of lowdown men would not curse or use foul language to or in the presence of women. To see a man sitting on a crowded bus or trolley car while a woman is standing used to be unthinkable. It was deemed common decency for a man to give up his seat for a woman or elderly person. Today young people use foul language in front of — and often to — adults and teachers. It's not just foul language. Many youngsters feel that it's acceptable to assault teachers. Just recently, 45 Pennsylvania teachers resigned because of student violence. Back in what my daughter calls prehistoric times, the use of foul language to an adult or teacher would have meant a smack across the face. Of course, today a parent taking such corrective action risks being reported to a local child protective service and even being arrested.
Army lifts ban on cutters, mentally ill and drug abusers to meet recruiting goals. Facing low recruitment levels, the U.S. Army quietly lifted its ban on allowing people with a history of mental illness, self-mutilation and drug abuse to serve in the military — despite warnings from the industry about the risks involved. The new rules green-light recruits who have bipolar disorder, depression and issues with cutting — a process in which a person takes a knife or razor to his or her own skin — along with those who bite, hit or bruise themselves intentionally. "I am shocked," Craig Bryan, executive director of the National Center for Veterans Studies at The University of Utah, told Fox News. "This contradicts everything we have been working toward for the past 10-to-15 years."
Filling military quotas with the mentally ill. The Army very quietly announced in August that it will lift a ban on waivers allowing people with a history of mental health issues, as well as alcohol and drug abuse, to join their ranks. Even in normal times this should concern you greatly, let alone when the world appears to be preparing for war.
This idea has now failed. But don't forget — they tried!
Army drops plans to give waivers to recruits with history of mental illness. The Army's top officer said Wednesday that the service had "rescinded" a controversial memo permitting people with a history of severe mental illness to seek waivers allowing them to join up. Army Chief of Staff Gen. Mark Milley told reporters the memo was "unauthorized" and its author did not have the authority to change the Army's recruitment policy. "It was rescinded last night," Milley said of the memo, which was dated Sept. 7 of this year and initially reported by USA Today on Sunday [11/12/2017]. "There wasn't a change in policy," Milley added. "There cannot be a change in policy by someone who doesn't have the authority to change policy. I know it sounds circular."
Coming Soon: Incest, State-Sponsored and Court-Approved. Feeling ashamed is the great sin of today. Guilt used to be a guiding thing — if you felt less esteemed in the eyes of your neighbors, you'd correct your depraved behavior. But in an individualized world where institutional trust is at an all-time low, church attendance is falling, and technology constantly feeds you opinions that reinforce your own beliefs, there's no reason to heed those pesky warnings from your conscience.
The 6 Big Ways Liberals Are Destroying America's Culture. [#6] "Non-Judgmentalism": We've heard so many liberals talk about how important it is to be non-judgmental that it has seeped into the culture at large. When there's a choice between what's best for society and best for a particular individual who has done something wrong, we always default to protecting that individual. How's that working out for us? Since the stigma around getting a divorce, having a child out of wedlock or having an abortion has faded, are we better or worse off? Are the kids who are aborted or who get raised by a single parent instead of a family better off? Are the guys who are extremely hesitant to get married because they fear divorce better off? Are we better off because people no longer wonder whether doing something horrible in public will hurt their good name or ruin their family's reputation? The very fact that we are so unwilling to draw a line in the sand and say "That's right" or "That's wrong" has mired our culture in degeneracy. Maybe if there were more people who feel bad when they do things that "wouldn't make their mothers proud," there would be a lot more decent human beings.
Character Assassins. If you haven't paid attention to K-12 for a few decades, the first thing you notice is that education officials relentlessly and openly undermine academics. No direct instruction. No memorization of facts. No systematic mastery of any subject. No concern for grammar[,] spelling, etc. It's surprising if students know where Alaska is on a map or who won the Civil War. [...] If they are slouches — shallow, ignorant, and narcissistic — that seems to be what our social engineers want. These days, our schools are engaged in an anti-gentleman crusade. Don't try too hard. Don't worry if the dog ate your homework. It's normal to cut corners and leave work unfinished. Lateness is okay. Incomplete is as good as complete. Wrong answers are acceptable if you explain your tactics. Cheating is okay because everyone does it.
Life in the Time of Thoughtcrime. The slow decay of a society's informal code is no small matter. Incremental annoyances add up to a larger disturbance. The leaving of a grocery cart in the middle of a parking lot, the deliberate dumping of refuse in the street, not holding doors open for others, not silencing or removing loud, crying children in indoor areas, talking loudly on the phone in public — each new offense chips away at the comity felt between citizens.
We All Need to Admit that America Has a Tattoo Problem. If America can be divided into those who don't have tattoos and those who do, the two groups seem to be rapidly approaching equilibrium. About one in five Americans have tattoos, and among 18-29 year-olds the latest figures peg those with ink at 40 percent. Speaking of percentages, the Air Force is so hard up for recruits that it recently eliminated its "25 percent rule." Like all military regulations, the 25 percent rule is painfully exact, but loosely stated, it meant that you weren't eligible to serve, much less join a bomber crew ferrying around nuclear weapons, unless you were capable of exercising good enough judgment not to cover more than a quarter of your body in tattoos. Back in the good old days, the problem was getting tattoos after you joined the military.
Revolt of the California 'Freeloaders'. When normal people talk about "freeloaders," they usually are referring to the assorted welfare dependents, scammers and, yes, public employees who game the system to do as little productive work as possible and receive as many taxpayer-supplied benefits as they can muster. In California, freeloading is an art form, but the term is largely verboten. We don't want to be accused of insensitivity or other retrograde attitudes, after all.
CA Bill Would Make Not Disclosing HIV+ Status to Partner Just a Misdemeanor. People who are HIV positive have long been required to disclose this status before engaging in unprotected sexual intercourse. Considering the life-threatening condition caused by HIV, it stands to reason that potential partners have a right to know, since the disease is easily passed through sexual contact. However, in what is being described as a test of just how much feelings have changed on the disease, a group of lawmakers in California have presented a bill that will make it no longer a felony to engage in unprotected sex without disclosing the condition to their partner, instead making it a misdemeanor. Because of "the stigma."
Hawaii lawmaker says homeless using war memorial as open latrine. A Hawaii state lawmaker is looking to add more protection to a Korean and Vietnam War Memorial that had been desecrated by some of the homeless population. State Rep. Bob McDermott, R-Ewa Beach, said Friday the memorial, which stretches 100 feet in its Honolulu location, that some homeless residents were using it as an open latrine, according to Hawaii News Now. "The homeless are nesting there and defecating there because it provides a degree of concealment. It's human waste — several piles along with clothing and needles and other trash. It's just terrible," he said.
Former Cuomo lobbyist claims he doesn't have to repay $85G to company suing him because it was bribe, not loan. Cor Development is suing its former lobbyist Todd Howe for the money. But in legal papers filed Monday [10/17/2016], Howe's lawyers argued that the "purported loan was illegal, as it was part of an illegal conspiracy to deprive the public of its intangible right to honest services of an employee of the state of New York by soliciting and giving bribes and gratuities." Cor officials told Syracuse newspapers, which first reported the legal maneuver, that Howe is lying and the debt is real.
100 Jersey City Drivers Blow Through Stop Sign in 90 Minutes, Video Shows. When a stop sign wasn't enough to get drivers to slow down on a Jersey City street, one resident set up a camera and used a bit of online shaming to get officials to take notice. Sean Popke, a former news photographer, decided to start recording the drivers blowing past the stop sign at the corner of Jersey Avenue and York Street in the family-filled neighborhood. [Video clip]
Is Personal Responsibility Obsolete?: Part II. Too many social problems are conceived of in terms of what "we" can do for "them." After decades of massive expansions of the welfare state, the answer seems to range from "not very much" to "making matters worse." Undaunted, people in a number of countries are coming up with new proposals that are variations on the theme of government-provided income — which amounts to relieving people from personal responsibility. Yet even some conservatives and libertarians are coming up with proposals for more "efficient" versions of the welfare state — namely direct cash grants for life to virtually all adults, instead of the current hodgepodge of overlapping bureaucratic programs. Charles Murray recognizes that "some people will idle away their lives" under his proposal. "But that is already a problem," he says, and therefore is no valid objection to replacing the current welfare state with a less costly alternative.
Gallup: Millennials 'checked out' at work, 16% 'out to do damage to employer'. The millennial generation has become a deadbeat at work, with a majority "checked out" and 16 percent are so disengaged that they are actually doing damage to their employer, according to a comprehensive Gallup survey of those born between 1980 and 1996. "The millennial workforce is predominantly 'checked out,' not putting energy or passion into their jobs. They are indifferent about work and show up just to put in their hours," said the survey of the 73-million strong group.
WH Drug Czar: 'Abuser and Addict' Terms Stigmatize Drug Users. White House drug czar Michael Botticelli said Thursday [5/19/2016] that using "terms like abuser and addict" to describe people with drug addictions makes it less likely that they will get treatment. "Funding isn't our only barrier to expanding treatment. We also have an enormous hurdle to overcome, and that's shame and stigma," Botticelli said.
Obama To Decriminalize Criminals. [Scroll down] The president is also getting assistance in his quest to decriminalize criminals from the South Dakota Peace and Justice Center and their "Ban The Box" campaign. They write that, "Most applications for public employment require the applicant to check a 'yes' or 'no' box indicating if they have ever been convicted of a crime. Many people with former convictions are discouraged from applying when they come to this question on the application." I don't know why. There are already more criminals per capita working in the public sector already. What's a few more.
Canadians are upset with Dwyane Wade for taking shots during Canadian national anthem. Miami Heat star Dwyane Wade is feeling the heat after being seen shooting pregame baskets Saturday night [5/7/2016] as Canada's national anthem was being sung.
DOJ Decides It Won't Call People 'Felons' Or 'Convicts' Because Hurts Their Feelings. An official with the Department of Justice said the agency will no longer call people "felons" or "convicts" after they are released from prison because it is too hard on them emotionally. Assistant Attorney General Karol Mason wrote a piece in The Washington Post Wednesday saying "many of the formerly incarcerated men, women, and young people I talk with say that no punishment is harsher than being permanently branded a 'felon' or 'offender.'"
Why the Left Loathes Western Civilization. The left hates standards — moral standards, artistic standards, cultural standards. The West is built on all three, and it has excelled in all three. Why does the left hate standards? It hates standards because when there are standards, there is judgment. And leftists don't want to be judged.
Arizona woman allegedly faked cancer diagnosis to have state pay for abortion. An Arizona woman accused of faking a cancer diagnosis in order to get state Medicaid funding to cover a late-term abortion genuinely believed she was sick, her defense attorney said Thursday [4/7/2016].
Colorado Comes Down on Fake Service Dogs. Service animal fraud is a growing problem in dog-friendly Colorado, says [Angela] Eaton, who has been training service dogs for 35 years. State legislators agree; the Colorado House unanimously passed a bill on Monday that would make it a crime to misrepresent a pet as a service animal in the state. But vague service dog guidelines and a growing acceptance of "emotional support dogs" have blurred the line between pet and working animal.
Donald Trump's foul mouth is just a cover for his ignorance. We are a culture conditioned by cable television, which has made the language of sailors, mobsters and New York real estate developers available to any digitally literate 11-year-old. Even the cable channels you don't pay for have taken to constant, blindingly obvious bleeping, in a wink and nod to their perception of modern usage. This, after all, is the way "real life" sounds. Let us hope not. In real life, expletives are often used as a form of aggression or cruelty. A co-worker who tells you to Trump yourself is usually being unpleasant. A co-worker who does this every day is often creating a hostile or demeaning work environment. Language suitable for decent company is a form of politeness, which is a species of respect, which is an expression of morality.
Robbing the dead:
Chase Bank Employees Accused of Stealing $400,000 From Elderly, Dead Customers. The defendants used their position in banking to steal Social Security funds, according to Social Security Administration Special Agent in Charge Edward J. Ryan. "[It's] an offense against all taxpayers who contribute to Social Security and spend a lifetime working to earn those benefits," he said. Jonathan Francis, 27, and Dion Allison, 30, both worked as personal bankers at Chase's Restoration Plaza branch at 1380 Fulton Street in Bed-Stuy. They are accused of using their authority to electronically access dormant accounts with high balances, according to Brooklyn District Attorney Ken Thompson's office.
Two JP Morgan Chase bankers in Brooklyn indicted for stealing 400K from accounts of elderly or deceased. Dion Allison, 31, and Jonathan Francis, 27, were personal bankers at the JPMorgan Chase branch at Restoration Plaza in Bedford-Stuyvesant and systematically searched the bank's database for accounts with high balances that weren't used except for direct deposits from Social Security, said Brooklyn Assistant District Attorney Adam Zion. From August 2012 until October 2013, Allison and Francis allegedly found 15 accounts and issued ATM cards to co-conspirators Kery Phillips and Gregory Desrameaux, authorities said. Eight of the accounts belonged to dead people — one of whom died in 1982.
The Editor says...
Yep, there's a bunch of classy fellows. But the government was sending checks to dead people — for 33 years in one case — and that's just one bank in New York!
N.J. man allegedly steals from police Toys for Tots bin. An Irvington man charged with shoplifting Friday [12/11/2015] stole items out of a Toys for Tots bin as he left Wayne Police Headquarters, Capt. Laurence W. Martin said. Staroben Louis, 22, and Jaleel W. Bobbitt, 21, left Lord & Taylor in Willowbrook Mall without paying for several men's clothing items, Martin said. Louis took merchandise valued at $430, while Bobbitt's haul was worth $198, Martin said.
Pastafarian woman gets to wear strainer on head in license photo. A Massachusetts agency is letting a woman who belongs to the Church of the Flying Spaghetti Monster wear a colander on her head in her driver's license photo after she cited her religious beliefs.
Mass. woman wins fight to wear colander in driver's license by citing 'pastafarian' religion. Some states ban smiling in driver's license photos, but wearing a colander on one's head is apparently allowed. A Massachusetts woman this week won the right to wear a colander on her head in her driver's license photo after citing religious reasons. Lindsay Miller identifies as a "Pastafarian" and member of the Church of the Flying Spaghetti Monster, which some critics call a parody religion.
The Editor says...
Evidently this woman really hates organized religion, because she certainly went to a lot of trouble and expense to engage in this mockery. But in the process of achieving this great victory, she may have unwittingly opened the door to thousands of women who insist on wearing burkas and niqabs, which would render their driver's licenses useless as photo identification.
Obama Wants You To Refer To Juvenile Delinquents As 'Justice-Involved Youth' Now. It's time to update your politically-correct jargon, America, because the Obama administration is no longer referring to juvenile delinquents as "juvenile delinquents." Instead, the new, preferred and totally different term for kids who commit crimes is "justice-involved youth." Attorney General Loretta Lynch rolled out the term earlier this week in a press release obtained by the Media Research Center. "The Department of Justice is committed to giving justice-involved youth the tools they need to become productive members of society," Lynch explained.
Juvenile Delinquents Are Now 'Justice-Involved Youth'. They used to be called juvenile delinquents. But not any more. The new term is "justice-involved youth," a non-disparaging, government-speak phrase that fits with the Obama administration's recent push to give people with criminal convictions a second chance to become productive citizens. "The Department of Justice is committed to giving justice-involved youth the tools they need to become productive members of society," Attorney General Loretta Lynch said in a news release on Monday [11/2/2015]. Lynch said the Justice Department and the Department of Housing and Urban Development are launching a $1.7-million initiative to help Public Housing Authorities and legal assistance groups "reduce barriers for justice-involved youth."
Obama Unleashes His Pro-Criminal Agenda. The most radical left-wing American president in history is defining deviancy down by attempting to de-stigmatize criminality. The Left views criminals — especially minorities — as victims of society, oppressed for mere nonconformism. Because it needs their votes, the Left is pressing for the restoration of felons' voting rights. Of course, a criminal record carries with it a degree of social stigma, as it should. Removing or watering down that socially beneficial stigma reduces disincentives to commit crimes and hinders the marginalization of the antisocial. Without stigma and social ostracism, society would eventually collapse. This is fine by our malignantly narcissistic Marxist president who, seeing the law in capitalist America largely as an instrument of oppression, seeks to blunt and retrofit it.
Noe neighbor says don't call thieves 'criminals'. In a recent thread on NextDoor, a group of neighbors living in the Noe Valley-Glen Park area debated whether labeling a person who commits petty theft as a "criminal" is offensive. In the site's Crime and Safety area, where residents share strategies for fighting crime, Malkia Cyril asked her Noe Valley neighbors to stop using the label because it shows lack of empathy and understanding. Cyril suggested that instead of calling the thief who took the bicycle from your garage a criminal, you should be more respectful and call him or her "the person who stole my bicycle."
Could America Elect a Mentally Ill President? Political taboos, campaign dealbreakers and electoral glass ceilings are crumbling. Members of Congress are openly gay and bisexual, there's a black man in the White House, and a woman may be next. Voters have accepted all sorts of behavioral warts and missteps in their political candidates, too. DUIs? A mistake of their youth. Draft dodgers? There's a long list. Womanizers? A much longer list. Illegal drugs? In just a few short elections, we've gone from a president who "didn't inhale" to one who openly admits using cocaine in his youth.
#Lame. The Twittericans who transformed the pound sign into the hashtag seek to transform people into sheep. Interweb culture's obsession with "trending" topics, symbolized by the hashtag, indicates a moral compass set to the crowd's movements rather than a fixed notion of right and wrong. If only enough women brag about their late-term "medical miscarriages" or publicize their preferred customer status at Planned Parenthood clinics, the thinking about non-thinking goes, infanticide morphs from a badge of horror into a badge of honor. One almost longs for the days of a "right to privacy" in the wake of this gauche display of hubris.
New spa-like abortion clinic is part of a trend to 'destigmatize' the procedure. With its natural wood floors and plush upholstery, Carafem aims to feel more like a spa than a medical clinic. But the slick ads set to go up in Metro stations across the Washington region leave nothing to doubt: "Abortion. Yeah, we do that." The clinic, opening this week in tony Friendship Heights, specializes in the abortion pill and will be unique for its advertising. Its unabashed approach also reflects a new push to destigmatize the nation's most controversial medical procedure by talking about it openly and unapologetically.
New Honey Maid Commercial Celebrates Divorce as 'Wholesome'. According to a Honey Maid commercial, divorce is now "wholesome." "You know, I never thought I'd get divorced," says a dad, as pictures of a smiling, blended family flit across the screen. "But the way I look at it, there are just more of us to love the kids now," he says.
Monica Lewinsky says she'll never change last name: 'I'm not ashamed'. Monica Lewinsky of White House intern fame — and presidential mistress infamy — told a reporter that she would never change her last name, no matter how tarnished her reputation.
Eminem provokes outrage after dropping more than a dozen f-bombs at Veteran's Day concert. Eminem bombarded an audience filled with veterans with the f-bomb on Tuesday night as he performed on the National Mall at The Concert for Valor. The 42-year-old rapper, dressed in cap and hoodie, yelled into a microphone: 'Happy motherf****** Veterans Day' before launching into the show's closing set which ended with the anthemic Lose Yourself. Responses to his tirade during the gig, which was streamed live on HBO, were mixed.
£100,000 Statue Celebrates Single Parent Families. A £100,000 bronze statue representing in monumental form the modern British family was unveiled outside Birmingham's new central library this week and has been enthusiastically welcomed by some for featuring two single mothers, one heavily pregnant, and no father at all.
Pedophilia Deserves Civil Rights, Says New York Times' Op-Ed. The nation's tough anti-pedophilia laws are unfair to pedophiles, according to an op-ed published by The New York Times' editors. "One can live with pedophilia and not act on it," says Margo Kaplan, an entrepreneurial assistant law professor at Rutgers University, and a former lawyer for the American Civil Liberties Union.
A Moral Universe Torn Apart. "I am not ashamed," a young woman says into a camera. "I am not ashamed." The woman is Leyla Josephine of Glasgow, and she is a self-described feminist performance artist. She is reading a poem titled "I Think She Was a She" — a poem lauded by The Huffington Post as "unapologetic. ... She ardently declares her power over her body as she reminds us that a woman exercising her right to choose is not uncommon — and should never be shamefully brushed under the rug." What, exactly, is this poem? It's Josephine recounting her abortion of her unborn daughter. She notes, "I know she was a she and I think she would've looked exactly like me. I would've told her stories about her grandfather, we could've fed the swans at Victoria Park." Then, however, she reveals just what she's done: "I would've supported her right to choose. To choose a life for herself, a path for herself. I would've died for that right like she died for mine. I'm sorry, but you came at the wrong time." You came at the wrong time. Therefore, murder is justified.
The Editor says...
If a baby arrives "at the wrong time," that is entirely the mother's fault, not the baby's.
The Breakdown of Family and the Degradation of Society. Carmen Solomon-Fears, Specialist in Social Policy, reported that the percentage of non-marital births has remained steady at 41 percent for the past six years, a dramatic increase from 1940 when such births were a low 3.8 percent. What changed? Societal attitudes about fertility, contraception, abortion, and marriage driven by the "sexual revolution" made it acceptable and legal to use abortion as a contraceptive, while men evaded the responsibility of marrying the women they've impregnated. More than half of non-marital births are of couples who live in a cohabiting relationship. The shame of producing offspring out of wedlock disappeared when churches started celebrating pregnant teens on Mother's Day and the federal government became the Daddy and gave generous welfare and medical care to single mothers.
Family Of Cop-Killer: If Officer Had Stayed In His Car, He Wouldn't Have Been Shot. The family of a man who used a semi-automatic rifle to kill an Indianapolis police officer Saturday night says it isn't fair that the alleged shooter — Major Davis, Jr. — should "keep being dragged through the mud." They also blamed the officer for not staying in his police car.
A Heartbreaking Unspoken Consequence of Obama. [The Democrats'] dispiriting goal is to have as many Americans as possible controlled by and dependent on government, even for life itself, which is at the root of ObamaCare. I mourn the loss of the independent, self-reliant mindset that made our parents great, and of the pride and dignity it generated within them. Welfare (government assistance) was a last resort and for the truly needy. Today, far too many Americans see no shame in living on government assistance or scamming the system. The left's campaign, led by the Obama administration, to instill an entitlement mindset in many has proven successful.
Gallup Reveals the Obvious: Our Moral Collapse Continues. [Scroll down] The morally bankrupt media assists greatly in helping to paint the immoral as moral, often portraying good as evil and evil as good. Thus, whatever stigma was attached to immoral activity wanes from year to year. For example, out-of-wedlock births has been steadily increasing from a rate of about 5% of all births in the U.S. in 1960 to over 40% of all births today. Likewise, U.S. marriage rates are at an all-time low. Porn performers and prostitutes seek legal legitimacy and "moral" acceptance, while transvestites grace the cover of our "distinguished" news magazines.
---
"Woe unto them that call evil good, and good evil; that put darkness for light, and light for darkness; that put bitter for sweet, and sweet for bitter!"


— Isaiah 5:20.

---

Woman Films Her Own Abortion To Show World How 'Cool' It Is. Emily Letts, a counselor at a New Jersey abortion clinic, decided to film her own abortion and post it on YouTube as a form of positive inspiration to women who are contemplating having the procedure but worry that they might feel guilty afterward. Letts has no such guilt. She recalls the procedure with fondness. She even describes it as "birth-like," and said it made her feel good, just like giving birth would.

Probe finds 104 school staff-student flings since 2009. More than 100 city teachers, administrators and other school staffers have been caught in the last five years engaging in sexual or "inappropriate" relationships with students, The [New York] Post has learned. The special commissioner of investigation for city schools, Richard Condon, has fielded 593 complaints about such illicit relationships since April 2009. His office substantiated 104 cases, it revealed Friday [4/11/2014]. "I'm absolutely stunned at that number," said Laura Timoney, a Community Education Council member whose 15-year-old daughter attends a city high school on Staten Island. "It's shocking, but what do you do to stop this?"

Book thieves stole 70,144 books from the Brooklyn Public Library in 2012. GED prep guides, nursing and other professional exam cliff notes were high on the list of frequently filched books — but so too were graphic novels, library officials said.

Custom Writing Service Says Students 'No Longer Have to Face the Burden of Academic Coursework'. A Dallas-based company that writes research papers, essays and other classroom assignments — so students don't have to — says it is doing so well that it has expanded its staff from just a few writers to more than 100 in the past year. The company bills itself as the one "students trust to write professional, in-depth and plagiarism-free essays that receive the highest grades for all levels of coursework... so they no longer have to face the burden of academic coursework." It says the writing is done for an "affordable" fee; and it has foreign writers on staff for non-American students.

The Editor says...
This used to be called cheating, except in college, where it was called plagiarism.

Triumph of the Vulgarians. [A]s Lee Siegel wrote recently in the Wall Street Journal, vulgarity has become so common in the culture that there's nothing rebellious about it anymore. Elvis's below-the-belt gyrations were taboo-breaking and suggestive. Today, there's nothing suggestive about Miley Cyrus. Nobody watching her twerk thinks, "I wonder what she's getting at?" Indeed, if there's any larger message to her routine, it is simply to announce that the exception has now become the rule: Vulgarity is expected, decency a surprise.

Having STDs Is Feminist Badge of Honor! Well, no thanks.

Staffers with company tattoo get pay raise. How far would you go to express your company pride and make some extra bucks while you're at it? What about a tattoo? Forty of Rapid Realty's employees in New York are wearing a tattoo of the company's logo in exchange for a 15 percent pay hike, according to published reports. Company owner Anthony Lolli is making the offer to any employee, and there are no restrictions on where the logo is tattooed or its size.

The Editor says...
Is this a means of discouraging an employee from leaving a company and going to work for the competition? How much would the company pay to have their logo branded on an employee's forehead? How about if I get a cattle tag attached to my ear?

Many think "welfare" no longer belongs in Pa. agency's name. The name Department of Public Welfare was no doubt seen as an improvement when the state came up with it nearly a century ago, merging two older offices — the Board of Charities and the Committee on Lunacy. But now, 90 years later, Pennsylvania is one of just two states in the nation that still use the word welfare in the name of the massive agency that serves mainly the elderly, disabled, and children.

Suffering from 'tattoo regret'. Plastic surgeons and dermatologists are seeing more and more people who want their tattoos removed, often because they worry that the tattoos could cause problems with employment. According to the American Society for Aesthetic Plastic Surgery (ASAPS), the number of people undergoing laser tattoo removal increased 43% from 2011 to 2012.

Labor Dep't. Spending $26M to Help Juvenile Delinquents Get Jobs, Pass Background Checks. The U.S. Labor Department on Monday [4/1/2013] announced the availability of $26 million in grants to improve the job prospects — and expunge the court records — of young people who have spent time in juvenile detention centers. The "Face Forward" grants will support job-training and skills-development to help people ages 16-24 overcome the stigma of a juvenile arrest record, which can be a lifelong barrier to advancement in the workforce.

Man owes $80K in back child support; has 15 paternity cases

. Eric Holder changed his name in 2002 to Shekem Amsu Khnemu. [...] In Lancaster County, Khnemu owes nearly $80,000 in back child support in cases dating back to November 1984, according to county records.

Too Many Fish And Not Enough Fishers

. Giving 15-year-old girls a check every month for having a baby and a bigger ones for having another one may sound compassionate, but in reality, those policies have created three ever-growing generations of government dependents who are now convinced that it is society's obligation to send them a check every month for as long as they live.

The Revenge of Murphy Brown

. The pathologies that we used to believe were centered only in low-income, minority communities are now rampant in the new lower class, and these challenges could potentially overwhelm the fundamental values of our entire society. [...] This has manifested itself in many ways. First and foremost is the exploding number of children born out of wedlock (along with the societal challenge of children having children). While this rarely occurs in the new upper class, it is now grudgingly considered acceptable and not to be looked down upon. That outlook changed, however, with the explosion of out-of-wedlock births. The result of the dubious trend is that fathers have become mere accessories.

Alabama nightclub raises eyebrows with 'Food Stamp Friday' party

. A nightclub in Montgomery, Ala. is raising eyebrows by hosting a "Food Stamp Friday" party on April 6 that seems to glamorize life on the federal government's food assistance program. An invitation for the April 6 party obtained by The Daily Caller tells patrons of the Rose Supper Club in North Montgomery that the Friday night cover charge will be just $5 if a "food stamp card" is shown upon arrival.

The Entitled States of America: We Want More!

Around the country, there is a lot of "taking" going on. There was some mild bureaucratic embarrassment in Michigan recently when a 24-year-old woman who won $1 million in the state lottery was found to be collecting food assistance. "I feel it's okay because, I mean, I have no income and I have bills to pay," explained the woman, Amanda Clayton. "I have two houses." She was utterly without embarrassment of any kind.

Update:

Michigan lottery winner kept cashing welfare checks

. Amanda Clayton, 25, of Lincoln Park in suburban Detroit, received public assistance through March of this year despite winning $1 million from the Michigan lottery in September, the state attorney general's office said. [...] Clayton was charged on Monday [4/16/2012] with two counts of welfare fraud.

Govt. Funds Campaign To Reduce Food Stamp Stigma

. The effort to boost the food stamp rolls was announced this month [October, 2010] in California, where more than 3 million residents benefit from the federal program each month. Evidently, state and federal officials believe the number is way too low for the virtually bankrupt state with a population of about 37 million.

Sex-Crazed Co-Eds Going Broke Buying Birth Control, Student Tells Pelosi Hearing

. A Georgetown co-ed told Rep. Nancy Pelosi's hearing that the women in her law school program are having so much sex that they're going broke, so you and I should pay for their birth control. ... Apparently, four out of every ten co-eds are having so much sex that it's hard to make ends meet if they have to pay for their own contraception, Fluke's research shows.

The Editor says...

It's one thing to be promiscuous, but it's quite another to testify about it before Congress.

I did not have this much sex in law school

. That said, the idea that they are paying $1000 per year for birth control is a little crazy. Condoms at CVS cost $1, so that means, if you take this cheaper option, you are actually having sex three times a day, which is kind of insane and you're going to have a lot more medical expenses than just birth control.

Wag the Coed

. Sandra Fluke, a third-year law student at Georgetown law school, in testimony before a congressional committee argued that she and forty percent of her fellow students are "struggling financially" because they have to pay for their own contraceptives. The Democrat-media complex, rather than laughing in her face, is making Ms. Fluke a hero. She even got a phone call from President Obama urging her on. How did we get to this point? Birth control is not a significant budget item. Recreational sex is not a necessity.

The Editor says...

It turns out the woman who appeared before Congress is a 30-year-old Democrat activist,

not just a Fluke

.

In Defense of Slut-Shaming: One in five women have herpes

. Sandra Fluke, an abortion activist masquerading as a law student, spoke before the House Democratic Steering and Policy Committee on a very important issue: the right for college students to have endless amounts of sex while someone else pays for their birth control. According to Fluke, female students shell out $3,000 for three years of contraceptives. Of course, do the math and find that this means Fluke and her fellow law students have sex two or three times daily (since condoms only cost about a dollar). Rush Limbaugh noticed this, and made the apparently grave error of pointing out the obvious, calling Sandra Fluke a slut and a prostitute on air.

Seattle libraries: No sleeping or eating allowed, but porn-watching OK

. The Seattle Public Library has a long list of rules of things you can't do in the library, to ensure "comfort and safety" of staff and patrons. You can't eat, sleep, look like you're sleeping, be barefoot, be too stinky or talk too loudly. But you can watch graphic porn on a public computer in front of kids. Despite repeated complaints from female patrons about men watching porn in full view of their children, the library has held fast to its policy of unfettered online access for grown-ups. The reason: It's not in the business of censorship.

Occupiers Dump Condoms on Catholic School Girls

. A group of Occupy Wall Street protesters disrupted a Right to Life rally and threw condoms on Catholic school girls inside the Rhode Island state capitol building. Barth Bracy, executive director of Rhode Island Right to Life, said their rally had to be cut short after the Occupiers began screaming and refused to allow a Catholic priest to deliver a prayer.

Study: Nearly 1 in 3 will be arrested by age 23

. Nearly one in three people will be arrested by the time they are 23, a study to be published today in

Pediatrics

found. "Arrest is a pretty common experience," says Robert Brame, a criminologist at the University of North Carolina-Charlotte and principal author of the study.

State Gets $5 Mil Bonus For Food Stamp Sign Up

. In its quest to promote taxpayer-funded entitlement programs, the Obama Administration has actually rewarded one state with a $5 million bonus for its efficiency in adding food-stamp recipients to already bulging rolls. It's part of the administration's campaign to eradicate "food insecure households" by improving access and increasing participation in the government's Supplemental Nutrition Assistance Program (SNAP). Incidentally, the program was recently changed to SNAP to eliminate the stigma that comes with a name like food stamps.

Obama Baits the Dependency Trap

. The Obama administration is busy expanding the exact type of vicious, ungrateful underclass which recently exploded in London. An administration program will expand free school meal coverage to millions of young people who are not even supposed to be eligible. A stated goal of the program is to eliminate the stigma of getting a free lunch. But that stigma is one of the only things separating dignified free people from wretched government dependants.

Nothing Is Anyone's Fault Anymore

. In modern-day America, Anthony Weiner is not some out-of-control horndog with an over-size ego. He is a "sexual addict," exhibiting "narcissistic tendencies," all of which can be "addressed" by some sort of therapy.

New London's whale fountain shut off for sanitary reasons

. The city turned off the water at the new whale tail fountain over the weekend after someone reportedly defecated in the water. "People are using the tail as a latrine," Evelyn Louziotis said. "It's an $11 million bathroom." ... Buscetto said since water started flowing in the whale fountain last month, police and fire officials have been called for people urinating, defecating and washing themselves off in the fountain water.

Food Stamp Millionaire

. If you have any uncertainty regarding the responsibility for the nearly bankrupt status of the state of Michigan and its cultural and philosophical epicenter, Detroit, take a gander at the state's food stamp program.

Michigan man still on food stamps despite winning $2M

. A man who won $2 million on a Michigan lottery show has told a TV station that he still uses food stamps. Leroy Fick of Bay County admitted he still swipes the electronic card at stores, nearly a year after winning a jackpot on "Make Me Rich!" He told WNEM-TV in Saginaw that more than half the prize went to taxes.

Update: Lottery winner's luck running out

. The luck of Leroy Fick, Michigan's 59-year-old "Food Stamp Millionaire" — a lottery winner on government food assistance — appeared to be running out Wednesday [5/25/2011] as state officials worked to get him off the dole.

Grown-up babies

. Not from nowhere has this stubborn, self-destructive sense of entitlement sprung. As I reported last month, a record-breaking 12 million Americans have been added to the federal food stamp rolls over the past two years, and the bloated $6 billion AmeriCorps social justice army has been converted into a publicist corps for the welfare machine. Just this week, a Michigan man boasted that he's still collecting food stamps after winning a $2 million government-sponsored lottery prize. "If you're going to ... try to make me feel bad, you aren't going to do it," he told a local TV reporter. Embedded in his rebuke is the eternal refrain of the self-esteem-puffed teenager: "You can't judge me!"

USDA Spends $5 Mil To Recruit Food-Stamp Recipients

. The number of food-stamp recipients has skyrocketed in the last few years yet the Obama Administration keeps wasting millions of taxpayer dollars to recruit more participants in the name of eradicating "food insecure households." ... Last fall the government financed a separate campaign to reduce the "stigma" associated with food stamps by "rebranding" the name of the decades-old welfare benefit to encourage more people to apply. Colorful brochures sporting a new logo (Better Food For Better Living) were printed and distributed amid government figures that the number of food-stamp recipients had increased by 50% in three years.

A Fitting Prophet for our Age?

We happen to live in an era of moral relativism whose foundational claim is that there is really no transcendent right and wrong. Public schools teach children today that pretty much everything goes, because there is no objective standard by which to judge the moral content of human actions. The societal transformation that this worldview has engendered is striking: sexual looseness, lying, vulgarity, various forms of substance abuse and such are not considered nearly as abject as they were only a generation or two ago. Instead of being subject of shame, excesses of these kinds are seen in many circles as something to be proud of.

Obama's Brand of 'Greatness' for America

. In the old days, people hid the fact that they needed government assistance, and they worked hard to get off the system. Not anymore... To remove the stigma of being a freeloader, the government has gone to the welfare credit card. And in California you can now buy liquor and cigarettes on your welfare credit card, not to mention the gambling and Hawaiian vacations people were taking with them last year.

Vegan activist pleads guilty to Sheepskin Factory arson

. Vegan activist Walter Edmund Bond, of Utah, today pleaded guilty to felony counts related to an April fire that burned down the Sheepskin Factory in Glendale. Bond, 34, was arrested on July 22, accused of using fire or explosives to damage property involved in interstate commerce and of using force, violence or threats involving animal enterprises.

Eco-terrorists: Ready to Kill for Their Cause?

So far, law enforcement has not focused heavily on organizations like the ALF or the ELF for a couple of reasons. First, because they're hard to catch. They use an operational model called "leaderless resistance" in which small cells or individual operatives function underground without a command structure. They are in turn given some cover guidance by above-ground political organizations which are very careful not to do anything illegal. They also tend to get cover from a sympathetic media which, when they do report on it, will tend to decry the action and then proceed to talk about the horrors of animal testing. The other reason these cases don't get a lot of attention is that to date the terrorists have been very careful not to target people deliberately. There are some indications this may be changing.

Shame is a virtue

— one of which we see entirely too little these days. It's an unpleasant emotion, yes, but it can yield great things. It can be what makes us take responsibility for wrongdoing, change old, bad habits and avoid falling into new ones. It can be what makes us see a mistake for what it is and never make it again. It used to be that if you couldn't muster your own healthy sense of shame that society would make up for it in most cases by telling you when you should hang your head a bit.

The Age of Irresponsibility

. [Scroll down] The celebrity of the age was Paris Hilton, an exemplar of the inequality and promiscuity that characterize the present moment. Hilton was born into extraordinary wealth but did not achieve true fame until 2003, when her homemade porno movie made it to the Internet. Twenty or even fifteen years ago, Paris Hilton's behavior would have been a scandal. Not today. Why? Because the wealthy, famous, and well-connected can do as they please and suffer no consequences — as long as they possess no shame.

The Wrong Things are Stigmatized

. Historically, stigmas surrounded things like philandering and divorce, unethical business dealings, illegitimate children, abortion, homosexuality and crime. The general thinking was that behavior should be shaped around those things that best contribute to the common bond of a people into stable communities and societies that adhered to American founding principles. Thus stigmas (and their accompanying shame and guilt ) served as sanctions far superior to mere statutes, whose only shaping force was risk of punishment.

Law vs. Moral Values

. Behavior accepted as the norm today would have been seen as despicable yesteryear. There are television debt relief advertisements that promise to help debtors to pay back only half of what they owe. Foul language is spoken by children in front of and sometimes to teachers and other adults. ... Baby showers are held for unwed mothers. Yesteryear, such an acceptance of illegitimacy would have been unthinkable. ... Years ago, a young lady who allowed a guy to have his hand in her rear pocket as they strolled down the street would have been seen as a slut. Children addressing adults by first names was unacceptable.

Where Have All the Ladies Gone?

As our society abandons the conservative values that make women into ladies, women with grace and dignity have become an endangered species — especially on today's college campuses. The kind of woman who inspired Tom Jones' song "She's a Lady" has become an antiquated figure from America's past. Most popular songs about women today are more like "Youse a Ho" by Ludacris.

Out-of-Wedlock Birthrates Are Soaring, U.S. Reports

. Unmarried mothers gave birth to 4 out of every 10 babies born in the United States in 2007, a share that is increasing rapidly both here and abroad, according to government figures released Wednesday [5/13/2009]. Much of the increase in unmarried births has occurred among parents who are living together but are not married, cohabitation arrangements that tend to be less stable than marriages, studies show.

Food Stamp Use Soars, and Stigma Fades

. With food stamp use at record highs and climbing every month, a program once scorned as a failed welfare scheme now helps feed one in eight Americans and one in four children. It has grown so rapidly in places so diverse that it is becoming nearly as ordinary as the groceries it buys.

Roman Polanski, Child Rape, and the Shifting Sands of Cultural Morality

. The Founders of this nation understood full-well that a nation of liberty could not long survive without a strong moral foundation. If government exists to control people, then limited government naturally would control them very little. The potential upside was tremendous. If allowed to live free, a human being might pursue their own interests to the betterment of all of society. ... But it came with great risk.

Food stamp fraud may steal $400M from stimulus funds

. Fraud has declined to between one-third and one-quarter of what it was in the early 1990s, according to the Government Accountability Office. That's largely a result of the USDA's phasing out stamps and replacing them with ATM-like cards. Rather than handing over pieces of paper, recipients swipe the card at the grocery checkout and the amount is automatically deducted from their monthly allotments.

Socialism is no longer an insult, but it is a bit of a joke

. Even before a poll last week revealed that almost a third of young Americans now prefer it to capitalism, socialism has been enjoying something of a renaissance recently in the United States. For decades, calling another American a socialist was about the nastiest thing you could say. Franklin Roosevelt got it all the time. But it declined in the post-Cold War era: without the commies, it just didn't sound so menacing.

Attention Wal-Mart Shoppers

. If actions speak louder than words, what do recent events at a New York state Walmart say about the state of American culture? On "Black Friday," two thousand people burst through the doors of a Walmart store in Long Island at five a.m., trampling an employee to death in a mad dash to get to sale items before the person next to them. Signs of America's rampant consumerism have existed for decades, but this tragedy takes the cake.

Colorado Governor Signs She-Male Restroom Bill

. This bill makes all public accommodations — including public restrooms and locker rooms in the state — "gender free." This law now means that anyone who identifies as the opposite sex, can freely access public facilities formerly reserved for a single sex. Sexual predators can now enter women's restrooms and claim they have a sexual identity different from their birth sex. It makes it legal for drag queens, cross-dressers and anyone else with a serious Gender Identity Disorder to use opposite sex restrooms and locker rooms. But it goes further. It defines "public accommodations" as including malls, restaurants, schools, and small businesses.

Students lie, cheat, steal, but say they're good

. In the past year, 30 percent of U.S. high school students have stolen from a store and 64 percent have cheated on a test, according to a new, large-scale survey suggesting that Americans are too apathetic about ethical standards.

You call it copying; today's college students call it collaborating

. Duke University's business school recently announced that 34 of its first-year M.B.A. students will be expelled, suspended or awarded failing grades for cheating on a take-home examination in a required class.

Pimps, Pedophiles: Welcome to San Francisco

. A quick reading of the measure that will go before San Francisco voters in November to decriminalize prostitution easily could leave you with the misimpression that the measure is an exercise in fairness that demands that prosecutors go after men who abuse prostitutes and implement policies "to reduce institutional violence and discrimination against prostitutes." A careful reading of the initiative, "Enforcement of Laws Related to Prostitution and Sex Workers," however, shows a measure that shields child prostitution and traffickers of human beings.

San Francisco Measure Seeks to Decriminalize Prostitution

. Voters in this west coast city that celebrates sadomasochism, homosexuality and pornography are being asked to decide whether they would like to become the first major U.S. city to decriminalize prostitution. Approval of ballot measure Proposition K would effectively decriminalize prostitution in the city by preventing the Police Department from arresting and prosecuting prostitutes; the measure, however, does not go so far as to actually legalize the sex trade because state law still prohibits it.

San Francisco weighs decriminalizing prostitution

. In this live-and-let-live town, where medical marijuana clubs do business next to grocery stores and an annual fair celebrates sadomasochism, prostitutes could soon walk the streets without fear of arrest. San Francisco would become the first major U.S. city to decriminalize prostitution if voters next month approve Proposition K — a measure that forbids local authorities from investigating, arresting or prosecuting anyone for selling sex.

The Proliferation of Public Profanity is a Cultural and Spiritual Problem

. Raw profanity has become an acceptable part of popular culture today. Rap music — the most popular music among young people today — is filled with gutter language. They play it loudly in their cars. Movies and television programs use hard profanity on a regular basis. In a way, we have become desensitized to it. This has been the goal of Hollywood for many years. There was a time before the mid-60s when foul language was not used on television, in movies or popular music.

Does Pro-life Now Mean Pro-libertinism?

At NationalPost.com, journalist David Frum has a piece in which he discusses what he perceives to be the transformation of the pro-life movement. His thesis is that the widespread acceptance of unwed motherhood — including by pro-lifers — has eliminated the stigma attached to that state, thereby causing a quarter-century decrease in the abortion rate. [... But] I don't like the implication that the degrading of sexual mores is an acceptable — or even effective over the long term — remedy to the abortion problem.

California Rep. Linda Sanchez's baby announcement

. When was the last time you read a baby announcement on the Op-Ed pages? Exactly. So this is obviously more than baby news. It's about how far we've come, and where we may still fall short. California Congresswoman Linda Sanchez is pregnant. ... What makes Sanchez's pregnancy news is that she is not married to the baby's father — not yet, anyway.

Congress's First 'Unwed Mother'

. Over at National Review's "The Corner," K-Lo calls it a "cultural indicator:" Congresswoman Linda Sanchez, D-Calif., will likely become Congress's first unwed mother, or single mom, if you prefer. As reported by the Washington Post's Reliable Source, Sanchez — with help from her "unofficial fiancé" Jim Sullivan — is "poised to become only the eighth congresswoman in history to have a baby while in office — and the first to do so while single. ... The two are 'unofficially engaged,' she says, and looking to buy a house. They will plan a wedding later — but at her age, she says, planning a baby couldn't wait."

Welfare's Devastating Effects

. To most people, I imagine, welfare seems an obviously good thing. But in fact the corrosive and iniquitous side of welfare has been evident for many decades. It's only now that people are poking their heads out of the trench and daring to say so. You can see the devastating effects of welfare in Britain, for example, in the exponential rise in single motherhood. The figures are astonishing. In the 1950s almost all children in Britain were brought up by their natural parents. Today, only around half the children in Britain are brought up by their natural parents. Half!

Washington voters approve assisted suicide initiative

. Voters approved Initiative 1000 on Tuesday [11/4/2008], making Washington the second state to give terminally ill people the option of medically assisted suicide. The ballot measure, patterned after Oregon's "Death with Dignity" law, allows a terminally ill person to be prescribed lethal medication, which would be self-administered.

It's about time to clean up our act

. There is virtually no aspect of our culture which is not tainted with selfishness and coarseness, yet as a society we simply don't care. The reasons range from laziness and foolishness to formalistic belief in the First Amendment as a guarantor of the right to be naughty, sophomoric and offensive.

Stop Dressing Your Daughter Like a ...

. My baby was growing up. And apparently into a prostitute. "Where are the sevens?" I asked the sixty-something clerk who wore her glasses on a chain just like me. "You're standing in 'em," she said. … "But these look like things a hooker would wear!"

Speaking of hookers...

Prostitution measure makes in onto S.F. ballot

. A measure that would make it more difficult to investigate and punish prostitution crimes in San Francisco qualified for the November ballot on Friday [7/18/2008], opening another passage in the city's long fight over decriminalizing the sex-trade industry.

The Editor says...

The goal, of course, is legalization of prostitution. But the public might not vote for that all at once. That is why liberals use these smaller incremental changes, scattered over several years, to accomplish their goals.

Have We Raised A Generation Of Narcissists?

. Growing older has many drawbacks and one unalloyed pleasure: passing judgment on the younger generation. Lately, people have been scrutinizing the members of Generation Y and finding them deficient. What's wrong with the kids? A recent article in

The Wall Street Journal

reported that because they have been told since infancy that they were special, they believe it and expect to keep hearing it.

The Editor says...

Kids are also told there is no absolute truth, and they can make up their own standards of right and wrong, which is why some of them decide that Columbine-style shooting sprees are justifiable. They are also told in kindergarten that they can grow up to be anything they want to be. That's true as long as they aim low, but we can't all be brain surgeons, rocket scientists, or 8-VSB specialists.

The rebirth of shame

. ABC News has the story of parents who are actually — gasp — acting like parents and refusing to let their children get away with rotten behavior. They spotlight some creative methods of discipline. Naturally, the self-esteem uber alles crowd is horrified.

Stop 'medicalizing' bad behavior

. It may be hard to recall, but once there was a time when people took responsibility for their behavior, without recourse to the psychiatric and psychological communities. It wasn't even all that long ago. There was a day when drug addiction, alcoholism and other pathologies were seen for what they were: human failures by individuals who had lost control of their lives.

Chase mortgage memo pushes 'Cheats & Tricks'

. A newly surfaced memo from banking giant JPMorgan Chase provides a rare glimpse into the mentality that fueled the mortgage crisis. The memo's title says it all: "Zippy Cheats & Tricks." It is a primer on how to get risky mortgage loans approved by Zippy, Chase's in-house automated loan underwriting system. The secret to approval? Inflate the borrowers' income or otherwise falsify their loan application.

Nursing home employee mixed drug cocktails to quiet residents, report says

. An employee of a McHenry County nursing home at the center of an investigation into suspicious deaths mixed drug cocktails to make sure that troublesome residents "would not be bothering her during her shift," according to a state report. The 130-page report of an investigation by the Illinois Department of Public Health says that improper use of drugs such as morphine sulfate contributed to five suspicious deaths in 2006 at the facility in Woodstock, then called the Woodstock Residence.

Flying Foul: Passengers Behaving Badly

. You'll never look at, or reach into, an airline seat-back pocket the same after reading this. Besides being a repository for magazines, newspapers, books, iPods and air-sickness bags, seatback pockets get stuffed with all kinds of disgusting trash, from toenail clippings to mushy meals. People do things on airplanes that they would never do in other public settings. They pluck eyebrows, polish nails and pick noses. They stick chewed gum in places only other passengers will discover. They blow noses into blankets that get folded up for the next weary traveler. They prop bare feet up on bulkheads and seats. Sometimes they even engage in sex acts.

Transgender man elected mayor of Silverton

. This election marked the first African-American President. The first time in 40 years an Oregon Senate candidate beat an incumbent Senator. And in tiny Silverton, Oregon, residents have elected the man who's believed to be the first ever openly transgender mayor in the United States.

Memphis High School: Reading, Writing and Bumping & Grinding

. The purveyors of porn have got to be chuffed after watching Memphis school kids hump (en masse) both the floor and each other during Mitchell High School's "talent show" this month. Yep, it doesn't look as if sellers of smut are going to be taking an additional night job to pay bills anytime soon because they have formally tapped the teenage market. At least in Memphis they have. Good job, Memphis.

This is an original compilation, Copyright © 2013 by Andrew K. Dart

Iowa Mom Gets Probation for Attempting to Sell 4-Year-Old Son to Pay for Wedding Dress

. A Davenport woman received five years of probation Thursday [12/6/2007] for attempting to sell her 4-year-old son to help pay for a wedding dress. Marcy Gant, 32, was convicted in October of purchase or sale of an individual and could have been sentenced up to 10 years in prison.

Bunks for drunks

. An experimental social-service project rewards chronic alcoholics with room and board, no strings — or help — attached.

Thoroughly modern mutilation

: Have you noticed how many young people are wearing jewelry these days? I don't mean wristwatches, bracelets, and finger rings. I'm talking about nose rings, lip rings, tongue studs, bellybutton rings, and even baubles dangling from pierced eyebrows. I've heard of several other places that have been pierced and "adorned" with trinkets, but propriety prevents me from mentioning them in a public forum.

Art and Degeneration

: Several months ago I had the pleasure of viewing an exhibition of three-dimensional photo collages by Renee Kahn, who has an unerring eye for the artistic aspects of reality. … One of the presenters, photos of whose work were warmly received by the audience, has made his career by illegally plastering graffiti "art" on public buildings and private property in New York City. One has to wonder what such artists' conception of a good society is.

Not so 'hilarious': Dumping ice water on a 90-year-old

. A Cloquet, Minn., teenager told police that he found it so funny when he dumped a pitcher of ice water on a 90-year-old nursing home resident in June that he returned and did it twice more, in December and again last month.

Mom Taught Children to Fake Retardation

. A woman admitted Monday [2/26/2007] that she coached her two children to fake retardation starting when they were 4 and 8 years old so she could collect Social Security benefits on their behalf. Rosie Costello, 46, admitted in U.S. District Court that she collected more than $280,000 in benefits, beginning in the mid-1980s. Most was from Social Security, but the state social services agency paid $53,000.

Almost 40% of Children Born in the U.S. in 2005 Were Out of Wedlock, an All-Time High

. While out-of-wedlock births have long been associated with teen mothers, the teen birth rate actually dropped last year to the lowest level on record. Instead, births among unwed mothers rose most dramatically among women in their 20s. The overall rise reflects the burgeoning number of people who are putting off marriage or living together without getting married.

US births break record; 40 percent are out-of-wedlock

. More babies were born in the United States in 2007 than any year in the nation's history, topping the peak during the baby boom 50 years earlier, federal researchers reported Wednesday. There is both good and bad news from the more than 4.3 million births: The U.S. population is more than replacing itself, a healthy trend. However, the teen birth rate was up for the second year in a row.

Stigma Of Teen Pregnancy Fading

. Too scared to tell her mom she was pregnant, Courtney Walker, 16, reluctantly handed her the positive pregnancy test. Her mother burst into tears. Walker's friends, excited for her, threw her a baby shower. "I think it's more accepted now," Walker said. "All of my friends have kids."

Let's Get Journalists To Report The Truth About The 'Pregnant Man'

. Thomas Beatie has gained worldwide attention for allegedly being the first "pregnant man." Mainstream media outlets are reporting Beatie's story as if were fact and referring to her as "he" instead of accurately reporting that Beatie is really a woman. Thomas Beatie is actually Tracy Lagondino who lived in Hawaii with her lesbian girlfriend Nancy. Lagondino and her girlfriend were lesbian activists who lobbied for "gay marriage" in that state. They are now transgender activists working to redefine what it means to be married, to be male or female and to be parents.

Moral turpitude ain't what it used to be

. What a funny world. Where once it was scandalous to be unmarried and pregnant, now it is scandalous to disapprove of another's being unmarried and pregnant.

The case of Michelle McCusker

: The case of Michelle McCusker, the unmarried and pregnant teacher fired by a Catholic school, may turn out to be an important one, with heavy impact on our understanding of religious liberty.

Teen Pregnancy is Not An Accident

. Seventeen magazine is a great gift to the youth of our nation. Before the magazine's February issue, our nation's adolescent girls were in danger of "accidentally" falling into pregnancy, or so their cover implies: "Shocking Ways You Could Get PREGNANT By Accident." Last time I checked, pregnancy results from an activity that requires some effort, some decision-making. Seventeen's editors, however, don't seem to live in my reality. Instead, it buys into the same dangerous and conventional wisdom that kids will have sex — end of conversation. So all adults can do is help them prevent disease and pregnancy.

Birth leave sought for girls

. Kayla Lewis, a senior at East High School, asked school-board members last month to establish maternity leave for students who are new mothers. Pregnant students in a Denver high school are asking for at least four weeks of maternity leave so they can heal, bond with their newborns and not be penalized with unexcused absences.

The Editor says...

These ignorant girls are determined to give birth to illegitimate bastard offspring so they can get on the welfare state gravy train and blame society for their poverty. Fifteen years later (maybe sooner) the cycle repeats. The school is merely accomodating and enabling these girls, rewarding their negligence, ignorance and poor judgement. Instead, the school officials should be ostracizing, humiliating and shaming them all for the betterment of society.

Warning: The following commentary contains information not suitable for children.

Hugh Hefner's legacy

: According to a Wall Street Journal article by Matthew Scully, [Hugh] Hefner wants to be remembered as a philanthropist, social philosopher, cultural revolutionary. In fact, Hefner wants to be remembered as anything but what he was: a smut peddler, and the exploiter of women. … The fact is Hugh Hefner did more than anyone else to turn America into a great pornographic wasteland.

Evolving Standards of Decency

. William Kristol sarcastically thanks the US Supreme Court for its recent decision saving the life of Christopher Simmons, the youthful sadist who murdered Shirley Crook for the fun of it in 1993. In seven paragraphs of well-tempered fury, Kristol contrasts the judicial sensitivity to "evolving standards of decency" that spared Simmons from the death penalty because of his age with the absence of any such sensitivity when it came to Terri Schiavo.

Accepting sinful behavior as the norm hurts society

. My answers may not be what you want to hear, but I think we are reaping what we have sown! We have allowed everybody and everything to come out of the closet and now we are facing the consequences of our actions.

Hit-and-run deaths at 10-year high

. Data from the National Highway Traffic Safety Administration in Washington show that hit-and-run pedestrian deaths have risen 20 percent since 2000. A total of 974 pedestrians were killed in hit-and-run cases in 2005, marking the highest level since 1996, when 982 people were killed, USA Today reported Tuesday [10/17/2006]. Overall pedestrian deaths totaled 4,881 in 2005, a 2-percent increase from 2000 but less than the more than 5,400 deaths in 1996.

Motorized Scooters and Laziness

: Over the last few years I've noticed an increasing number of these scooters meandering along the sidewalks ... Are more disabled people buying them, or are there more disabled people? Or could it be that an electric scooter is the perfect answer for lazy people everywhere? ... Could the proliferation of these devices actually be

impairing

mobility?

Manners and virtue in a modern world

: Many people have no notion of propriety when in the presence of other people, because they are not actually in the presence of other people, even when they are in public. With everyone chatting on cell phones when not floating in iPod-land, "this is an age of social autism, in which people just can't see the value of imagining their impact on others." We are entertaining ourselves into inanition.

Survey: 24 percent between 18-50 are tattooed

. The telephone survey on tattoos included 253 women and 247 men and was conducted in 2004. It has a margin of error of 4.5 percentage points.

Ink-Stained Wretchedness

. The tattoo is the battle flag of today in its war with tomorrow. It is carried by sure losers. About 40 percent of younger Americans (26 to 40) have tattoos. About 100 percent of these have clothes they once loved but now hate. How can anyone who knows how fickle fashion is, how times change, how their own tastes have "improved," decorate their body in a way that's nearly permanent? I don't get it.

Body art and deviant behavior:

Study finds link between multiple tattoos, piercings and trouble

. Here's a new aphorism: "The more body art you have, the more likely you are to be involved in deviance." So says Jerome Koch, a sociologist with Texas Tech University's "Body Art Team" — true moniker — which surveyed 1,753 students at four colleges and found a correlation between multiple tattoos or piercings and "deviant behavior."

The Editor says...

First of all, the term "body art" is a euphemism for multiple tattoos. Tattoos are nasty and permanent displays of poor judgment. When I was young, I was taught that the very act of getting a tattoo was deviant behavior; thus, to me, this new study reveals nothing beyond the obvious.

One Third of Adults in the UK use Overdrafts "to Stay Solvent"

. The United States isn't the only country with a negative savings rate and high level of credit card debt. In Great Britain, the Daily Telegraph reports this weekend that "over a third of adults with bank accounts are relying on their overdrafts to keep them afloat."

Bad credit is a way of life — It shouldn't be!

The billions or maybe trillions of dollars being spent in advertising to show you how easy it is to live today and worry about it tomorrow trumps a lot of people's resistance. The credit card companies didn't get as big as they are by accident. They know how to push your buttons and they do!

The Moral Economy

: In this heated campaign season, housing prices are plummeting. Banks write off billions of dollars in unrecoverable debt. The stock market wildly fluctuates almost hourly. Candidates promise painless and near instant relief. But despite the politicians' rhetoric, it is not hard to understand why America is in trouble.

Self-harmers to be given clean blades

. Nurses want patients who are intent on harming themselves to be provided with clean blades so that they can cut themselves more safely. They say people determined to harm themselves should be helped to minimize the risk of infection from dirty blades, in the same way as drug addicts are issued with clean needles.

[What a completely inappropriate response! Individuals bent on self-destruction are mentally and spiritually ill and need therapy and wise counsel, not enablers. Abnormal and perverse behavior should be corrected and eliminated, not normalized. We should all recognize that there are some people who should be incarcerated for their own good.]

Study Shows Seven Percent of Workers Drink on the Job

. Just over seven percent of American workers drink during with workday — mostly at lunch — and even more, nine percent, have nursed a hangover in the workplace, according to a study.

Students get message: Leave phones at home

. Schools across the USA are cracking down on students whose cellphones disrupt classes and make it easier to cheat. Starting Monday [1/29/2007], the 222 public schools here will enforce a ban prompted by fights that escalated into brawls when students used cellphones to summon family members and outsiders.

Welcome to the culture of rudeness

. Not for a long, long time have parents enforced the notion that children should be seen and not heard. All us fogies, even young ones, flinch when the kids talk at loud length on their cell phones at school, at play and in their living rooms. They turn the music up as high as it can go no matter where they are.

For whom the phone rings

: There are those who use [cell phones] and, then, there are those of us who think that there is something awfully silly about people who can't go five minutes without having one glued to their ear. Knowing people as I do, I know that 999 out of a thousand cell phone conversations are totally unnecessary.

Miami tops auto club list for rude drivers

. Stressed Miami drivers speed, tailgate and cut off other drivers so frequently that the city earned the title of worst road rage in a survey released Tuesday [5/16/2006]. AutoVantage, an automobile membership club offering travel services and roadside assistance, also listed Phoenix, New York, Los Angeles and Boston among the top five cities for rude driving.

Poll: Americans See, Hear More Profanity

. Nearly three-quarters of Americans questioned last week — 74 percent — said they encounter profanity in public frequently or occasionally, according to an Associated Press-Ipsos poll. Two-thirds said they think people swear more than they did 20 years ago.

Arrested for asking for quiet in cinema

. An Australian tourist has been charged with assault after telling a Texas woman to stop talking on her mobile phone at the movies. Pauline Clayton was enjoying a matinee screening of Brokeback Mountain in a Texas cinema when her day suddenly turned ugly. The former Sunshine Coast councillor said about halfway through the movie, a mobile phone started ringing nearby, a woman answered it and started talking.

Theater owners want cell phones blocked

. The National Association of Theater Owners wants the Federal Communications Commission to allow the blocking of cell phone signals in theaters. John Fithian, the president of the trade organization, told the Los Angeles Times theater owners 'have to block rude behavior' as the industry tries to come up with ways to bring people back to the cinemas.

A month later, the same story showed up on Reuters:

Movie theaters may ask to jam cell phones

. Movie theater owners faced with falling attendance are considering asking federal authorities for permission to jam cell phone reception in an attempt to stop annoying conversations during films, the head of the industry's trade group said on Tuesday [3/14/2006].

Mental illness is the new normal

. According to a new government-sponsored survey, most Americans qualify for a psychiatric diagnosis at some point in their lives.

Goth who walks fiancee on a leash is banned by bus driver

. A goth, who likes to take his fiancee out for a stroll on a leash, claims that a bus driver told them "no dogs allowed" and banned them from boarding. Dani Graves, 25, and his girlfriend dress all in black and like to take unusual walks, but the pair have been branded "freaks" and pushed off buses.

Homeless Alcoholics Receive a Permanent Place to Live, and Drink

. Rodney Littlebear was a homeless drunk who for 15 years ran up the public tab with trips to jail, homeless shelters and emergency rooms. He now has a brand-new, government-financed apartment where he can drink as much as he wants. It is part of a first-in-the-nation experiment to ease the torment of drug and alcohol addiction while saving taxpayers' money.

Divorce: The Cause of the Shrinking Middle Class

. The average middle class family cannot support two households (and two divorce attorneys) without falling out of the middle class.

Unwed Motherhood Has Lost Its Stigma

. Births to unmarried women in the United States hit a record 1.4 million in 2003 … Births to unmarried women increased to 34.6 percent of all U.S. births — also a new record, said researchers with the National Center for Health Statistics (NCHS), which released its final report on 2003 birth data yesterday [9/8/2005]. The rise in out-of-wedlock births worries social conservatives, who say the problem is linked to poverty, juvenile delinquency and poor social and educational outcomes.

Victims

. The government is still subtly, slowly and surely destroying the human spirit, creating a dependency that Katrina has so clearly and powerfully revealed.

This Tolerance Industry is Killing Us

. The authors of

One Nation Under Therapy

say what the older moralists spoke of as irresponsible behavior due to bad character, the new champions of therapism – an array of helping professionals, journalists and educators – speak of as an ailment, dysfunction and brain disease.

Thank You for Not Sharing

. Our nation is under the thrall of a movement that exerts its loathsome and self-righteous influence upon us whenever we tug at a dog's leash or tell somebody that they should "toughen up." The name of this movement and belief system is therapism and its takeover of America has displaced traditional values like resilience, drive, pride, and honor.

When society is the asylum

: A survey for the National Institute of Mental Health (NIMH) says that more than half of all Americans will develop mental illness in their lifetimes, and that a quarter of us are already suffering from a mental disorder. These extremely high numbers suggest inflation of rhetoric if not reason, or at least an appetite for a larger budget appropriation.

NYC to change ID rules for transgendered

. The city wants to make it easier for transgender New Yorkers to switch the sex listed on their birth certificate (sic) even without undergoing sex-change surgery, putting the city at the forefront of efforts to redefine gender. Under present city rules, only people who can show proof of surgery qualify for getting a revised birth certificate. Even then, the only change made is the elimination of any reference to gender on the document.

The Editor says...

All this "stuck in the wrong body" stuff is nonsense. It is a sure sign of mental illness and should be treated as such. God does not make mistakes in the assignment of gender to individuals.

Ladies Restrooms: Who is That Male-Bodied Woman In the Next Stall?

The New York Association of Gender Rights Advocacy has won a victory over restroom use by individuals who

believe

they are a member of the opposite sex.

Candidate worked as prostitute

. A Dallas Democrat who is seeking election to the Texas House … acknowledged Thursday [2/16/2006] that he once worked as a prostitute.

The word 'prostitute' is banned in favour of 'person'

. In a dramatic softening of the law on prostitution, only 'persistent' street offenders will face any police action. The term 'common prostitute' will be banished from English law. Instead, sex workers must be referred to as 'persons'.

More women have abortions as it loses stigma

. Women are finding it more acceptable to have an abortion than to drift into an unplanned pregnancy, the head of Britain's leading abortion agency said yesterday. Ann Furedi, the chief executive of the British Pregnancy Advisory Service (BPAS), said one women in five was now childless at the age of 45 and an increasing number were making the choice not to have children at all. Ms. Furedi said there had been a shift in public opinion about parenthood. The stigma of abortion had diminished but there was now concern about being a poor parent.

Attack on decency

. Years ago, the lowest of lowdown men wouldn't use the kind of language that's routinely used today not only in the presence of women but often to women. To see men sitting while a woman was standing on a public conveyance used to be unthinkable. Children addressing adults by their first name was also unthinkable, not to mention the use of foul language in the presence of or to adults.

Take care of yourself

. A major reason why government has grown to the point where President Bush has submitted a record $2.57 trillion budget to Congress is that too many Americans have ceded personal responsibility to the state.

Leaning hard on government

: Is America, the country that produced the Declaration of Independence, becoming a nation of dependents? Specifically, are we now a nation of people tethered to government, a society that has abandoned a proud and grand tradition of self-reliance and rugged individualism?

A Call to Let Felons Start Fresh

. San Francisco supervisors urge deletion of the question about prior felonies from public job applications.

The 2005 Index of Dependency

. A citizenry that reaches a certain tipping point in dependency on government runs the risk of evolving into a society that demands an ever-expanding government that caters to group self-interests rather than pursuing the public good. Today, are we more or less dependent on the government's income and social support programs — especially federal programs — than we were 40 years ago? Are we close to a tipping point that endangers the working of our democracy? Or have we passed that point already?

Residents think "Whorehouse Days" festival has a bad ring to it

. A group of angry citizens showed up at a [Gilbert, MN] City Council meeting Tuesday [1/25/2005] to protest the event. The festival's name refers to a time when Gilbert was known for its bars, gambling and "working girls" during Prohibition.

Staged alienation

: Apologists for the grotesque, vulgar noise called "hip-hop" music like to point to those songs that contain positive or "constructive" messages, when defending against the critics of this genre. The defenders would have you believe that the more benign lyrics found in occasional songs are as representative of this music style as the songs containing blatantly coarse lyrics.

Vulgarity as an art form

: Some truths about the gross noise called "hip-hop."

Grand Theft Auto and us

: Game play in the San Andreas and earlier versions of Grand Theft Auto also features buying and selling drugs, stealing cars, foul language, racial slurs, running down pedestrians, attacking people with chainsaws, sexual jokes, evading and killing police officers, and feeding people into a wood chipper.

New Jersey's "Sex, Etc."— Your tax dollars at work

. "Sex, Etc." gives us Jerseyans something to be ashamed of besides the governor. The cyber-version is available to anyone with a computer, while the monthly print version is found in many local schools and libraries. It's hard to write about this X-rated publication, whose purpose seems to be to persuade "teens" — or anyone else who reads it, regardless of age — to practice sex unrestrained by morality.

The Anti-Self-Responsibility Movement

: Enforcing a curfew, particularly in a town where rampant crime, riots and war are far from the rule or are nonexistent, is just another way of taking away more responsibilities from parents. Just as parents must decide whether their teens can drive the family car, date and smoke cigarettes, they must determine when their kids should come home at night.

Prisoner abuse and the rot of American culture

: Should we be shocked that some Americans are capable of such barbaric behavior as depicted in the infamous photos?

Top 10 Best and Worst Network TV Shows for Family Viewing

. Each year, the Parents Television Council rates the best and the worst shows on primetime television on the seven major broadcast networks. The PTC Best and Worst list does not examine artistic quality. But it measures series' appropriateness for family audiences from a content perspective.

Attitudes Toward Crime, Police, and the Law: Individual and Neighborhood Differences

. Fifty years ago, criminologists argued that traditions of delinquency and crime were powerful forces in some communities but were only a part of the community's system of largely conventional values. Recently, ethnographic studies of urban neighborhoods in New York and Philadelphia suggest that in certain disadvantaged communities, conventional values clash with a "street culture" in which crime, disorder, and drug use are accepted.

How an older citizen might view illegals

: Harold is a white retiree who … hates illegal immigration with a bitter passion. … "Already we have these Mexican gangs, we have people working illegally, we have people buying fake documents, stealing people's identities. We have signs in Spanish, stores where they only speak Spanish. It's got to stop or our country will end up as lawless and corrupt as their country. Old guys like me who played by the rules are going to die off. The young people will have learned all their lives that illegal isn't bad, it's OK. If you decide something is unfair, or you want a better life, just break the law, that's the way to get ahead."

Ex-welfare queen exposes "Uncle Sam's Plantation"

: "America has two economic systems," says Star Parker, "capitalism for the rich, and socialism for the poor."

How are little kids and immigrants supposed to learn to read English when people put their illiteracy on display like this? I can remember when it was rather shocking to see a misspelled word on a professionally painted sign. In this case, even the name of the business is intentionally misspelled, in order to attract a very narrow range of customers.

Is This The America We Want?

The anti-obesity campaign might seem preposterous and amusing were it not for the successes of the anti-tobacco campaign premised on the idea that individuals are not responsible for their choices. It's a logical follow-up: Food producers, not people themselves, are responsible for overindulgence.

Bring back human kindness — please!

Recently I was taking a van loaded with kids, ages 11 to 16, home from a night at the movies. When I dropped them off at their respective homes, something was obviously missing as nearly every child jumped out and slammed the van door.

Real Reality

: "Reality" TV is out of control. Cameras have faithfully recorded everything from contestants eating rats to foolish women marrying for money, and soon French TV will show live action in — you guessed it — a brothel. I have an idea to put all those cameras to good use, in a way that will benefit the citizenry.

Here's a pony!

A parent cannot possibly raise children in this country today and protect them from this growing, stinky, mound of garbage. We used to protect our kids, and at one time we actually tried to be a better people, but apparently no more.

Complaints to FCC Over Use of "F-Word" Top 150,000

: The American Family Association has announced that, to date, more than 150 thousand of its supporters have sent letters to the Federal Communications Commission, criticizing the agency's recent ruling that the use of the

"f-word"

on radio and TV was allowable in certain contexts.

Slouching Towards Gomorrah: Modern Liberalism and American Decline

. America as a nation is rapidly deteriorating from within. In Slouching Towards Gomorrah: Modern Liberalism and American Decline

*

, Robert H. Bork analyzes the likely cause for this decay: the modern liberal philosophies of radical egalitarianism (belief in equality of outcomes rather than in equality of opportunity) and radical individualism (belief in removing all limits to the individual pursuit of pleasure).

Virtue is freedom's handmaiden

: Freedom without virtue is a logical impossibility. Self-government, and the governing of one's own passions necessarily precedes free government. "Only a virtuous people are capable of freedom," said Ben Franklin.

McFollishness

[sic] In pursuit of corporate deep pockets, a substantial number of Americans seem willing to portray themselves as complete idiots. Yes, we are talking about the lawsuit filed against McDonald's on behalf of eight teen-agers who have become obese and have other health problems after years of gobbling Big Macs and fries on a daily basis.

Sanity has left the building

: In 1962, a young truck driver named Elvis Presley had become a rock superstar singing about hound dogs, tender love and his mama, whom he apparently loved. In 2002, Marshall Mathers II, aka Eminem, has become the country's hottest recording star rapping about rape, drugs and his mother, whom he apparently hates. In both cases, polite society cringed.

The Prison Revolving Door

: Recidivism is the rate at which ex-convicts become convicts all over again. You thought that all those in-prison rehabilitation programs were working, right? You figured that if you ever had to spend time in prison, you would learn your lesson and make sure you never went back, didn't you? Well, that's not the way it happens. U.S. recidivism is estimated to be as high as 76%. The lowest estimates place it at more than 50%.

Family Law and the Collapse of Culture

: Creeping statism is destroying family law and the protections granted families to raise their children. In their stead, the state is seen increasingly as the primary care giver. Welfare agencies thus gain the upper hand to take children from families and profit from adoption and foster home systems.

Knowledge can be Lost in Just a few Generations

: It seems we have lost our knowledge of what it means to be moral. This loss of moral knowledge was abundantly apparent during the eight years of the Clinton presidency. After years of lying to the American public, when Bill Clinton finally admitted that he had a relationship with a girl almost half his age and, more importantly, with someone other than his wife, it didn't matter to the majority of Americans. And after it was so abundantly clear that he had committed perjury, it still didn't matter.

Grandma Gets Stuck Raising the Children

: The high rates of teen pregnancy and cohabitation among young couples are the main reasons why nearly 2.5 million Americans are raising their grandchildren, according to conservative pro-family groups. The cohabitation rate has increased by 73 percent in the past decade.

If A Tree Fell on Dad, Who Would You Sue?

Within days after The Day Everything Changed we heard whisperings of a government compensation fund for the victims who survived the attacks on the World Trade Center and the families of those who died. There was no such fund for the victims and families of the Oklahoma City bombing tragedy, the USS Cole, or the Embassy bombings. No one gave millions of dollars to the families of those who died in Vietnam, Korea, World War II, or the Spanish-American War. What makes these people so special?

Illegitimacy is the Major Cause of Child Poverty

.

Cronyism 101: The Perks of Being "Disadvantaged"

. The "Disadvantaged Business Enterprise" program, run by the U.S. Department of Transportation and adopted by states and cities across the country, is one of the most atrociously corrupt government endeavors in existence. Opportunists of all colors have used the racial set-aside law to win billions of dollars worth of federal contracts for themselves and their friends under the guise of being "victims."

Legal jam over prisons' supply of peanut butter and jelly

: Inmates are "heavily invested emotionally" in certain foods and could riot if the prison cut off their daily two-ounce ration of creamy peanut butter and strawberry or grape jelly, the state declared.

Statism: The Opiate of the Elites

: One of America's leading investors and philanthropists argues eloquently that we have forgotten about the Golden Rule as it applies to business and politics. Worse yet, we have traded our biblical principles and individual responsibilities for the empty promises of secularism and statism.

Back to

News from the Culture War

Back to the

Home page