Introduction by The Editor:
I'm still waiting for President Trump to build a wall along the Mexican border, put Hillary Clinton in prison, and eliminate several cabinet-level departments, but what he has done so far is a good start.
Related pages:

The Democratic Party Platform
Liberals are out of step with America


---
President Trump marks Religious Freedom Day by empowering prayer in school. The Trump administration is moving to strengthen constitutional prayer by extending protections for students who want to pray in public schools. On Thursday, President Trump said the government must never stand between the people and God. He added students are frequently stopped from praying in schools. The new protections will require schools to certify they have no rules conflicting with a student's right to pray and notify the Education Department of complaints against the right to pray.
US Senate Passes Trump's USMCA Trade Agreement with Canada and Mexico. The US Senate is voting this morning on the USMCA trade agreement between the United States, Canada and Mexico. President Trump signed the deal back in 2018 but Speaker Pelosi sat on it for over a year because she did not want to giver President Trump and the country a win. President Trump signed the agreement on November 28, 2018! In December Nancy Pelosi and the House finally approved the deal and Pelosi then tried to take credit for it.
Trump Will Transfer $7.2 Billion for Border Wall. The move, if not blocked by Congress or the courts, would bring the total amount of federal funds allocated to border fencing to $18.4 billion under Trump. So far, a little over 100 miles of an upgraded "wall system" has been built. Trump deputies are in the process of planning and building another 350 miles.
Why Trump's Dishwasher Diatribe Matters. he left had another apoplectic fit when President Donald Trump started talking about dishwashers at his Milwaukee rally this week. How dare he focus on something so trivial when House Democrats are busy trying to remove him from office. But Trump is on to something, and the fact that the liberal elites can't understand what it is says more about them than it does about Trump. [...] This isn't the first time Trump has brought up the impact government energy efficiency mandates have had on dishwashers. But this time, the pundit class responded as if he'd just committed another impeachable offense. "Donald Trump zeroed in on one of the great issues of our times: dry dishwashers," says one. "Trump was impeached, but dishwashers that go 'boom' are on his mind," says another.
Trump administration starts returning migrants deep into Mexico to combat border crisis. The Trump administration has started returning Mexican migrants deep into the country's interior as part of an expanding effort to deter illegal immigration and combat the ongoing crisis at the border. The Department of Homeland Security started running flights from Tucson, Ariz., to Guadalajara in December. Officials say the migrants being returned are all Mexican nationals from non-border Mexican states who typically have either recently illegally entered the U.S., or who had gone through the court system but were ruled to be deportable by an immigration judge.
Trump Tweets Support as Protesting Iranians Liken Ayatollah to Dead General. Iranian students and others angered by the shooting down of a passenger plane demonstrated against the regime for a second day Sunday, with chants equating supreme leader Ayatollah Ali Khamenei to the IRGC Qods Force's dead commander Qassem Soleimani. President Trump in a series of weekend tweets expressed support for the Iranian people, warned the country's leaders against a violent clampdown, and also said he "couldn't care less" about negotiating with the regime. The regime's admission, after initial denials, that an Iranian missile had downed a Ukrainian passenger plane prompted new protests in several cities, many at university campuses. In Tehran, riot police used teargas to disperse demonstrators.
Trump Touts New Rule as Way to Improve Roads, Bridges Faster. President Donald Trump announced a new administration policy Thursday to boost the nation's infrastructure without spending more tax dollars. The administration proposed a new rule under existing law to expedite environmental reviews, cutting the length of review by more than half of the average of five-to-seven years per project. The law, called the National Environmental Policy Act, has long stalled major construction for highways and bridges. "From Day One, my administration has made fixing this regulatory nightmare a top priority, and we want to build new roads, bridges, tunnels, [and] highways bigger, better, faster, and we want to build them at less cost," Trump said at the White House.
Claim That Trump Lacks a Strategy Rings False. The Democratic charge that the Trump administration has no strategy for the Middle East is obviously false. It has elaborated a strategy that includes Russia and Turkey. The problem the administration has faced is that Russia as an issue has been so aggravated by Democratic myth-makers, with the (presumably) inadvertent cooperation of some congressional Republicans, that it has been difficult for Mr. Trump to deal with Russia sensibly without exciting partisan hysteria and crowding the Democratic television news networks with the tiresome faces and voices of President Obama's now-discredited intelligence chiefs (James Clapper and John Brennan), beating the old tambourines about Russia determining U.S. elections. The basic American conceptual problem with this whole complex of issues is that the United States has legitimate interests in the Middle East and has reasonable ambitions for a civilized relationship with Russia and Turkey, but the President has also pledged to extract the country from, and stay out of, permanent wars in the region. These are valid objectives that can be reconciled, but not easily.
Killing terrorists is how you kill off terrorism. According to most journalists, Hollywood, and other Democrats, the only thing a terrorist-sponsoring country like Iran must do to keep terrorists from being targeted is to give them a big title and put them on their payroll. Somehow, that makes the world safer than killing them. Then these terrorists can roam the world working with other terrorist groups to plan and execute attacks. If a leader of any country decides that these terrorists should be killed, they will be said to have escalated tensions. If that sounds ignorant, it is. The world is clearly safer if known terrorist leaders are killed and funds are cut off. It is never safer to leave terrorists, killers, gang members, cartels and rapists roaming the streets over removing them from society.
Handicapping The Democrat Losers. Here are my thoughts on where the race is now. In the general, it's Trump's to lose. Between a sprinting economy and a staggering Democrat field, he's the odds-on favorite in the general. But the real election issue is not going to be his past achievements. Trump's achievements are now baked into the pie — those who dig him assume them and those who hate him don't care how good he's doing. They want him gone even if he takes the economy and America's newfound standing in the world as Earth's Rebel Badboy with him. The deciding factor is going to be personality, and Trump has the advantage because he has one. The question is going to be, "Who does America trust not to screw up all the repairs that Trump has made to America post-Barack Obama?" The answer is going to be, "Not one of those quasi-commie Democrat dorks."
Thanks to Trump, the Forty-Year Appeasement of Iran Is Over. The assassination of Iranian general Qassem Soleimani is an unusual, possibly aberrant, event. The killing of this individual leader of a sovereign state may lead to all-out war between Iran and the U.S. — or, on the other hand, the assassination may bring an end to the cycle of Iranian violence countered by U.S. and world diplomatic flatulence and appeasement. Assassinating the leaders of terrorist organizations — i.e., non-state actors, such as Osama bin Laden and Abu Bakr al-Baghdadi — did not lead to a greater war footing against the USA because, as terrorist organization leaders, not heads of state, they are automatically considered rogue, even by sovereign state leaders sympathetic to their goals. Al-Qaeda and ISIS, despite any claims to territorial governance, are non-state actors.
'You should ask Mr. Soleimani': Pompeo swats down impeachment weakening Trump on world stage. Secretary of State Mike Pompeo offered a curt response to a question about whether President Trump's impeachment makes him appear vulnerable on the world stage. "You should ask Mr. Soleimani," Pompeo answered Fox News Sunday host Chris Wallace this weekend. "I understand that," Wallace said before asking again if Trump could be seen as weak by foreign nations as a result of Democrats seeking to remove him from office. "I don't," Pompeo said. "Our adversaries understand that President Trump and our administration will do the right thing to protect the American people every place that we find risk."
The Editor says...
Mr. Pompeo and Mr. Wallace are always polite and professional with one another, but they apparently don't like each other at all.
A Crude Proposition That Should Be Music to Mr. Trump's Ears. Before he was president, Donald Trump liked to muse that if America must intervene in other countries, we ought to "take the oil" too. And right now there is a real chance that the country he presides over could walk away with a good chunk of Canada's bitumen supply without firing a shot. Here is how the American government might pull this off. Step 1: Formally notify the government of Alberta that if it would like to secede from Canada and join this federation of 50 states, its application would be fast tracked and special regulatory consideration would be given to the province's energy sector. Step 2: Make popcorn. [...] Under Trudeau, the national government passed a carbon tax that hits Alberta especially hard.
Maximum robocall fine is $10,000 under law signed by Trump. President Trump signed a law increasing fines of spam robocalls to $10,000 and requiring service providers to authenticate calls across networks. The landmark bill, known as the Telephone Robocall Abuse Criminal Enforcement and Deterrance Act (TRACED Act), was signed by Trump on Monday [12/30/2019]. In addition to upping the fines, the law requires carriers like AT&T, Verizon and T-Mobile to use a relatively new technology known as STIR/SHAKEN to help consumers know if they are being targeted by a robocaller with a fake number.
Trump signs the bill that ought to ensure his re-election. There is an excellent reason why the media largely are ignoring the bill that President Trump signed on Monday: when voters hear about it, they will want to vote for him out of sheer gratitude. Simply put, one of the most annoying aspects of life at home, robocalls, are now subject to federal legal sanction.
A leaderless party with no plan. In 2016, Donald John Trump offered the idea of defending our country and putting America First in trade and other dealings with foreigners. Hillary offered the status quo, this time with a woman as the figurehead instead of a black man. Historians will wonder why the race was even close. In 2020, President Trump has a solid record of peace and prosperity to run on, while Democrats struggle to offer an idea that connects with Americans.
President Trump Signs Defense Bill Creating Space Force — First New Military Branch Since 1947. Flanked by two F-35 fighter jets and in front of a giant American flag, President Trump on Friday signed the 2020 National Defense Authorization Act that officially created the Space Force, the sixth and first new military branch since 1947.
Trump gives us back our light bulbs. Score another million votes for President Trump in the coming 2020 election. The president has gotten rid of a despicable little micromanaging regulation left over from the Obama era, restoring the citizens' right to buy the light bulbs that fit their preferences and needs. [...] It was very much the right move, given that the supposedly energy efficient bulbs aren't significantly more energy efficient than others, and they give off ugly light to boot. What's more, the cost per unit is the same, so if people want to pay more for nicer light, they can do that, it could cost more, but that is a buyer's choice. The market has its ways of sorting these things out.
The Editor says...
Now how about putting the phosphates back into detergents so our clothes will get clean, and doing away with the mandate for 1.6-gallon toilets?
Impeachment Is About Blocking Trump From Getting Another Supreme Court Pick. Conservative talk radio host Mark Levin presented a fascinating theory on his show earlier this week about why Democrats pursued a bogus impeachment doomed to failure in the U.S. Senate, and when you hear the details, I'm sure you'll agree. "A neighbor of mine came up to me this evening about an hour before the show, and said something that was quite profound," Levin explained. "He said to me, 'I'm convinced one of the reasons they're impeaching the president is the Supreme Court.' I said, really? What do you mean by that? 'Well, the president has less than 11 months to go, Ruth Bader Ginsburg appears to be very ill.' He's not wishing anything terrible, he's just saying what he sees."
Public Lands Bureaucrats Are Quitting Because Trump Wants to Move the Agency from DC to Colorado. The Trump administration is preparing to move the public lands management bureau out of Washington, DC to Colorado. It makes perfect sense because the vast majority of public lands are out west. It's a great tactical move as well. One of the best ways to drain the swamp is to decentralize federal agencies by getting them out of the swamp. Some employees are not happy about this and are quitting rather than moving to Colorado. It's almost like what they really care about is living in DC, and not public lands management.
The Editor says...
Free advice for the President: Move a third of the bureaucrats to Guam, another third to Puerto Rico, and the rest to Alaska. Pencil pushers can push pencils anywhere in the world. In any event, the bureaucrats should be moved to Blue States (or territories), so the balance of power won't be affected.
People are full-on triggered by Trump's bathroom talk: 'People are flushing toilets 10 times, 15 times'. President Donald Trump triggered his most fervent detractors Friday by making somewhat outlandish statements about toilets, sinks and showers. During a business roundtable, he revealed that his administration is looking into maybe loosening toilet, sink and shower water-saving regulations because these regulations are making the normal drudgery of life particularly inconvenient for the American people. "We have a situation where we're looking very strongly at sinks and showers and other elements of bathrooms where you turn the faucet on — in areas where there's tremendous amounts of water, where the water rushes out to sea because you could never handle it — and you don't get any water," he said.
If you value human life, you must vote for Donald Trump. I was once much more "progressive" than I appear to be now. I was pro-choice, and I used to be a leading voice for the "you can't legislate morality" crowd. But I don't hold that position anymore, for several reasons. First and foremost, I have concluded that it doesn't make any sense. I mean this literally. There is no sense, no logic, no intellectual integrity, or moral consistency in this argument. Legislation, if it is nothing else, is always based on morality. Otherwise, there is nothing to legislate, and the entire process becomes meaningless.
Trump takes aim at trickle-down toilets, faucets. President Donald Trump said on Friday [12/6/2019] he has directed his environmental regulators to find answers to what he said is a big problem -- water-conserving showers, faucets and toilets. [...] EPA spokesman Michael Abboud said his agency is working with other departments so consumers have more choices in water products.
Trump's Deplorable Cult waits patiently. The Deplorable Cult has learned to expect truly deplorable behavior from the Democrats. The Mueller investigation should have never been allowed to take place. [...] We Deplorables are aware of the corruption and criminal and treasonous acts of the Deep State. In the past, these come to light, are acknowledged, something worse happens, and then nothing.
Disruptor-in-Chief Donald Trump Has Changed Washington for the Better. Disruption used to be a buzzword. It was the label applied to Uber, Airbnb, and other startup darlings. It was what every Stanford University graduate used in their Silicon Valley funding pitch. Back in May CNBC released a list of 50 "disruptors... whose innovations are changing the world." However, the day Donald Trump became president of the United States, disruption became a bad thing in our nation's capital. Washington, D.C., has long been in serious need of a shake-up. But real disruption is unsettling for the status quo.
What Would a War on the Drug Cartels Look Like? Donald Trump is talking about labeling the Mexican drug cartels that own our failed state neighbor as "terrorist groups," and this is yet another step toward what is increasingly looking to be an inevitable confrontation. They just butchered several American citizens, including kids, which cannot go unanswered. They murder thousands of Americans a year here with their poison, which cannot go unanswered. But are we Americans even able to answer a bunch of pipsqueak thugs anymore? Let's put aside the question of if we should use our military against Mexico (I discussed it here in 2018, to the consternation of liberals and Fredocon sissies) and look at what might happen if we did escalate. None of it is good. It's not a matter of the prowess of our warriors. Our warriors, unleashed, would lay waste to anything we point them at. But the question is, "Would we ever unleash them? Would we let them do what it takes to achieve the goal of eliminating the cartels?" Of course not.
Mexico bristles at U.S. cartel plan, insists it's doing its part. Mexican President Andres Manuel Lopez Obrador said on Friday that his government was committed to fighting organized crime, seeking to dispel fears that the United States could take matters in its own hands in the fight against drug cartels.
Trump says U.S. to designate Mexican drug cartels as terrorists. [Scroll down] Once a particular group is designated as a terrorist organization, under U.S. law it is illegal for people in the United States to knowingly offer support and its members cannot enter the country and may be deported.
Watch: Trump Issues Turkey Pardon, Compares Media To Vultures. The annual White House tradition of pardoning a turkey continued on Tuesday [11/26/2019] when President Trump spared two beautiful white poultry behemoths — Bread and Butter — from the fate of Thanksgiving dinner. As the traditionally light-hearted speech began, President Trump wished everyone in attendance and the country as a whole a "very happy Thanksgiving" while giving thanks to Almighty God.
Donald Trump Signs Bill Criminalizing Animal Torture. President Donald Trump signed H.R. 724 on Monday [11/25/2019], a bill criminalizing animal abuse and the creation and distribution of pictures and videos of animal torture.
The Inevitable Impeachment. [Scroll down] To the surprise of the politicians and bureaucrats resting in cushy positions for life, Donald Trump triumphed over a large number of other candidates to become the Republican candidate for President. What an unexpected turn of events! Then, the campaign began. He wanted to lower taxes. He wanted to increase the budget for the military. He wanted to control the border. He wanted to bring manufacturing from overseas back to America. He did not trust the media. He declared that he would drain the swamp in Washington. This man had to be stopped!
California to sue over federal rules governing water. California officials say they will sue the Trump administration over its rules governing water in the fragile San Joaquin Delta. The federal government released the new rules last month, which would govern the federal Central Valley Project and the State Water Project. The new rules committed to sending more water to farmers despite warnings from environmental groups that it would imperil endangered species in the state's rivers.
Trump administration plans rule to send illegal immigrants back to home country. The Trump administration is planning to publish a rule that would allow the government to send illegal immigrants who did not apply for asylum back to Central America. The rule, which will be published on the federal registry on Tuesday, stems from Asylum Cooperative Agreements with Guatemala, El Salvador, and Honduras that were made this summer. Former acting Department of Homeland Security Secretary Kevin McAleenan helped broker the deals. Under the agreements, these countries are required to stop any illegal immigrants attempting to come to the U.S. If one of the countries fails to stop an illegal immigrant coming through, the U.S. is allowed to send immigrants to the country through which they immigrated.
Donald Trump Announces Revolutionary Healthcare Transparency Rules. President Donald Trump announced a new rule requiring hospitals to publish their prices for services publicly, allowing customers to make more informed choices. "For decades, hospitals, insurance companies, lobbyists, and special interests have hidden prices from consumers so they could drive up costs for you," Trump said. "And you had no idea what was happening. You'd get bills that were unbelievable and you have no idea why." The finalized price transparency rule, implemented in January 2021, requires hospitals to disclose negotiated rates with insurance companies.
Trump Administration Vows To Fight EU Decision To Put Warning Labels On Jewish Products. As Israel faces repeated rocket fire from Islamic jihadists, the EU engages in its own battle to delegitimize the Jewish state in its latest ruling condoning discriminatory labeling practices for Jewish goods produced in contested areas of Israel. Yesterday [11/13/2019], the EU's Court of Justice (ECJ), the highest court in the EU, ruled that Jewish products made in contested areas of Israel must bear consumer warning labels. Prior to the ruling, U.S. lawmakers in Congress fired warning shots, cautioning the EU that such a move would prompt the enforcement of American anti-boycott laws, thus endangering the EU's trade with the United States.
The Great Gift of the Mueller Russian-Collusion Probe. [Scroll down] The president has the right to fire any ambassador who does not support his agenda, so who cares that he fired some anti-Trumper in the Ukraine embassy, Marie Yovanovitch or whatever her name is? Frankly, we elected him to fire her, whatever her name is. Was she so deeply embedded in the embassy that she did not catch the chants back in America to "Drain the Swamp"? That was the whole idea of 2016: we wanted people like her thrown out of the foreign service and sent off to host an MSNBC show. If anything, we eagerly await the firings of hundreds more Marie Yovanovitches, or whatever their names are, who comprise the vast unelected Deep State within the State Department, advancing agendas that we did not vote for.
Report: Trump's Interior Department Gives Workers A Month To Relocate Out West Or Risk Getting Fired. The Trump administration reportedly notified hundreds of Interior Department employees Tuesday [11/12/2019] that they will have 30 days to relocate to western states or face the potential of job terminations. The Bureau of Land Management (BLM) is relocating 27 employees from Washington, D.C., to the agency's new headquarters in Colorado and another 220 to field offices out West, Government Executive (GE) reported Tuesday. The relocated employees reportedly have until Dec. 12 to agree to the move; if they don't accept the terms, then they'll be fired.
Move Washington Out of Washington. Donald Trump came to office promising to "drain the swamp." He has made a little, mostly rhetorical, progress around the edges. But the swampiness of the swamp is deep and inveterate. He will never succeed in that stupendous sanitary engineering project until he removes the thing that attracts the swamp creatures to Washington just as a rotting carcass attracts flies and other necrophagites: centers of power and influence. How to do it? Several people, including the president himself, have tentatively suggested a promising mechanism. Disperse the government from Washington to the heartland and beyond.
I Am the Anonymous Whistleblower. [W]e Orthodox Jews, the fastest growing community of Jews in America, are deeply conservative. Pro-life. We oppose assisted suicide. We are people of deep faith. We live by the principle of personal responsibility. We recognize only two genders. We despise Communism and the socialist Left. We love President Trump. In the Democrat-predominant New York Tri-State area, more than 90 percent of Orthodox Jews are happy with Trump. Even in radical left Los Angeles — Home of the Homeless, Turf of the Typhus — more than 70 percent of Orthodox Jews vote Trump. We despise what the Democrats have done, particularly these past three decades, to destroy the social unity and moral fiber of our country.
Trump Hasn't Yet Fulfilled His "Law and Order" Vow. Let's look at one point where the party has fallen far short of its promises. Among the vows we haven't kept is this one: "I have a message for all of you: The crime and violence that today afflicts our nation will soon — and I mean very soon — come to an end." [...] But is there any demographic in this country where people don't want to see crime and violence come to a sudden end? Only on the extreme Left — a sinister region to which Democratic activists and politicians increasingly are drawn — do criminals have prestige and cops get treated as enemies. That is not where suburbia lives. No swing voter sees law and order in that way, and an enormous number of the very folks for whom the Left presumes to speak don't see it that way either.
US tells UN it is pulling out of Paris climate deal. Secretary of State Mike Pompeo said Monday [11/4/2019] that he submitted a formal notice to the United Nations. That starts a withdrawal process that does not become official for a year. His statement touted America's carbon pollution cuts and called the Paris deal an "unfair economic burden" to the U.S. economy.
The Editor says...
Bias alert: Carbon dioxide is not carbon. Releasing carbon dioxide into the air is not pollution. Therefore, the United States is not guilty of "carbon pollution."
Trump Administration Proposes Rule Protecting Faith-Based Adoption Agencies. The Trump administration has always been an advocate for religious liberty, and on Friday they reaffirmed that commitment by proposing rolling back an Obama-era rule that denied federal funding to foster care and adoption groups that exclude LGBT parents — which would be a huge win for faith-based organizations and the First Amendment.
U.S. Sues California For Entering Agreement With Quebec To Control Emissions. Last week, the U.S. sued the state of California along with other state entities for entering an agreement with Canadian province, Quebec, back in 2013. The agreement was to control emissions linked to climate change and the issue being that the state had no right to conduct foreign policy. According to the Justice Department, the state of California, state officials, the California Air Resources Board, and the Western Climate Initiative Inc. entered into the 2013 agreement without congressional approval. In the lawsuit, President Donald Trump's administration makes the argument that the constitution prohibits states from making treaties or pacts with foreign powers.
Trump Was Right To Keep The Baghdadi Raid Secret From Schiff. The latest media freakout over the death of Abu Bakr-al Baghdadi is because Trump failed to disclose information about the raid to the House Intelligence Committee beforehand. Trump alleges the reason he did not inform the committee about the raid is due to his mistrust of the committee's chairman, Rep. Adam Schiff, D-Calif. He called Washington a "leaking machine." President Trump is right to worry about leaks. Back in 2017, Gen. Tony Thomas made this very point at the Aspen Security Conference, where he discussed how a prior lead on Abu Bakr al Baghdadi "went dead" following a media leak.
Trump administration bans US flights to ALL Cuban cities except Havana in fresh crackdown against regime. The Trump administration is banning U.S. flights to all Cuban cities except Havana in the latest move to roll back the Obama-era easing of relations, officials said Friday [10/25/2019]. Supporters of the ban said it would starve the Havana government of cash and limit its ability to repress Cubans and support Venezuelan President Nicolas Maduro, whom the U.S. wants to overthrow. Opponents said prohibiting flights would simply make it harder for Cuban-Americans to visit their families outside the capital, without making a significant impact on the Cuban government.
Untenable Alliance Is No Turkish Delight. There are about 5,000 members of the U.S. military, mostly airmen, stationed at the huge, strategically located air base in Incirlik, Turkey, northwest of the Syrian border. The American forces at Incirlik are also the custodians of about 50 B61 nuclear bombs. Data on these weapons is classified, but at their maximum yield each is 10 times more powerful than the bomb dropped on Hiroshima, according to Stars and Stripes. It's a "Dr. Strangelove" scenario: No one quite knows how the American contingent could manage to secretly remove the deadly nukes from their concrete vaults, bring them out to the tarmac, load them on planes and fly them out safely over Turkish objections. Turkey in the past has threatened to go nuclear itself should the U.S. ever dare to transfer the lethal arsenal.
Thinking clearly about Trump and aid to Ukraine. Starting with his campaign and continuing from his first budget, Trump has proposed cutting U.S. foreign aid. Entirely apart from the Ukraine matter, Trump has on a number of occasions taken steps to block or slow the delivery of U.S. aid to a number of nations. For example, in August 2018, the Office of Management and Budget directed the State Department to make a list of roughly $3 billion in foreign aid that had not yet been spent. The White House's idea was to block the spending until the end of that fiscal year, Sept. 30, 2018, and then return it to the U.S. Treasury. But it took just a few weeks for the White House to back off its plan in the face of congressional opposition. This August, the OMB did the same thing, with the same result — except for Ukraine.
Frustrated users back agency move to allow dishwashers that clean and dry in an hour. Consumers outraged about slow dishwashers are staunchly backing an Energy Department move, over industry objections, to create a new category of products that feature a one-hour washing cycle. Individual consumers have flooded the public comment docket in support of the Energy Department proposal, which grants a petition made by the Competitive Enterprise Institute, a free-market think tank. The agency proposal would establish a separate product class for dishwashers that clean and dry dishes within one hour, an action that would exclude those appliances from current energy and water conservation standards until separate rules are crafted.
Trump didn't sell out the Kurds by pulling out of Syria. The national media blasted President Trump's withdrawal of 50 US military advisors from the Syrian border with Turkey as a "sellout," a "betrayal" and a "huge strategic blunder." Let's be clear: None of them truly care about the Kurds. Otherwise, they would have been sending correspondents and camera crews to Rojava, as the Kurds call northern Syria, on a regular basis. Let's also be clear about the goals of Turkish president Tayyip Recep Erdogan. While he attempted to stylize his military invasion of Rojava as a counterterrorism operation, few international observers bought into it. Why? Because there have been no terror attacks against Turkey from Syrian territory since the Syrian Kurds established their self-governing entity in 2012. None.
US takes step to require DNA samples from asylum-seekers. The Trump administration is planning to collect DNA samples from asylum-seekers and other migrants detained by immigration officials and will add the information to a massive FBI database used by law enforcement hunting for criminals, a Justice Department official said. The Justice Department on Monday [10/21/2019] issued amended regulations that would mandate DNA collection for almost all migrants who cross between official entry points and are held even temporarily.
Trump admin.: We can end birthright citizenship without Constitution fix. The government's citizenship chief said Wednesday that there's no need to amend the Constitution to stop automatic citizenship being granted to illegal immigrants, though he said he's not sure whether President Trump could act alone or whether it would take a law from Congress. Ken Cuccinelli, the acting director of U.S. Citizenship and Immigration Services, said that second issue still needs study, but he said he has a firm belief that the Constitution allows it. "I do not think you need an amendment to the Constitution. I think the question is do you need congressional action or can the executive act," said Mr. Cuccinelli, a former attorney general in Virginia who's seen as a front-runner to be named the next acting secretary at Homeland Security.
Time for an end to wars of sincerely good intentions. The Forever War must finally end. President Trump seems to understand that. He has long opposed the idea of entering into avoidable foreign wars. His Reaganesque policy of peace through strength is part of that. In addition, there was developed after the Vietnam War a policy for deciding when it is proper to go to war. It consisted of several acid tests. They included a clearly defined national interest and objective, reasonable prospects of victory, strong public support, a well thought out war-fighting plan, and a calculated exit strategy. Those tests were not passed during our entry into the recent wars in the Middle East. Those wars seem to have had strong public support after the atrocities of September 11, 2001, but after the initial successes in driving al-Qaeda from its hidden strongholds in Afghanistan, the effort suffered from several violations of the tests, including mission creep, the expansion of objectives to include nation-building.
Imagining Donald Trump's Future for America. Anyone who thinks President Trump's victory is inevitable in 2020 is not paying attention. The entire weight of America's profiteering elites is arrayed against him. But what if he wins anyway? What if enough voters realize they're being conned by the Democrats? What if enough voters decide they don't want to feel like unwanted usurpers in their own nation? What if men and women of all ethnicities realize that despite the unrelenting avalanche of lies coming from the Left, America is a welcoming and inclusive nation and that the only way a society can stay healthy is by rewarding personal initiative?
Trump Says He'd Rather Focus On The Southern Border Than Northern Syria Border. President Donald Trump said he would rather focus efforts on the U.S. southern border than the northern Syria border in a Monday tweet. The president announced Monday he plans to impose sanctions on Turkey in response to its "destabilizing actions in northern Syria" after the U.S. removed its remaining 50 soldiers from the region. "After defeating 100% of the [Islamic State] Caliphate, I largely moved our troops out of Syria. Let Syria and Assad protect the Kurds and fight Turkey for their own land," the president said.
Trump: Our Soldiers Should Not Be Guarding the Turkish-Syrian Border When We Can't Guard Our Own. President Trump sounded a somber note on Saturday as he defended a widely-criticized decision to pull U.S. troops away from a part of Syria where Turkish forces are now attacking Kurdish fighters allied to the U.S., saying it was time to bring American soldiers home. "The Kurds are tending to leave [the area] and that's good," Trump said. "Let them have their borders, but I don't think our soldiers should be there for the next 50 years, guarding a border between Turkey and Syria, when we can't guard our own borders at home. I don't think so."
The Elite Hates The Trump Doctrine Because It Puts America First. What our betters — those same smug geniuses who brought us Iraq, let NATO deadbeats string us along, and who let Mexico and China exploit us — truly hate is the fact that the American people stood up in 2016 and demanded that our foreign policy [improve]. Americans are sick of always getting handed the bill for some lame ruling caste priority, whether it's paying for the privilege of defending Europe on behalf of ungrateful continentals or funding the weird climate religion or letting China get rich off of gutting our industries. Mostly, we are sick of shipping our magnificent warriors off to die in ill-conceived, poorly-planned, ineptly-executed wars where we ended up shedding our boys' (and girls') blood refereeing fights that go back a dozen centuries. The coastal elite gets to bask in the radiance of its own moral superiority for deploying young people in camo from Nebraska farms and Texas towns, and we get to hold the funerals.
Trump, Ukraine, and Justice. Even if we assume the worst, Trump did nothing wrong in Ukraine, and nothing more than his duty. Applying pressure on Ukraine to investigate whether a past vice president of the United States engaged in a corrupt bargain that that would potentially have been an impeachable offense is the constitutional duty of anyone who has sworn to defend and protect the Constitution of the United States. The United States Constitution works on the energy of "ambition made to counter ambition" as James Madison succinctly put it in the Federalist Papers. This is how freedom works. [...] But beyond any charges of ambition, Trump has a solemn duty as articulated in the oath of office written into the Constitution to: "preserve, protect and defend the Constitution of the United States." Clearly, such duty not violated by actions that could potentially protect the people from choosing a corrupt future president. Indeed, one might argue that it requires such actions.
When putsch comes to shove:
Has the Time Come to Put Down Lawlessness, Insurrection and Rebellion? Any decent and impartial observer can see that leftist and corporate America has come to resemble a cloacal bog of lies, corruption, slander, censorship, entitlements and violence, a veritable "swamp" as it has been aptly called. What commentator Diana Sitek writing in American Thinker calls "the entitlement to depravity embedded in the Left's social justice dogma" is both massive and unrelenting. The media, the academy, the entertainment industry, Big Tech, the Democrat Party, and the "Deep State" are profoundly engaged in a networked alliance to overturn the results of a lawful election and subvert a legitimate and effective presidency. President Trump has vowed to "drain the swamp" but it is moot whether a single individual, regardless of the power of high office, with little in the way of institutional support — and despite his strength of character and resolve — can thwart what is nothing less than an ongoing political putsch.
Democrats urge Rick Perry not to roll back lightbulb efficiency rules. Senate Democrats are urging Energy Secretary Rick Perry not to follow through with a rule that eliminates efficiency standards for about half the lightbulbs on the market. The regulation, finalized by the Department of Energy in September, leaves in place rules for standard pear-shaped bulbs, while removing such requirements for recessed lighting, chandeliers and other shapes of bulbs. "These rollbacks are indefensible, both in terms of their costs to consumers and their contravention of Congressional intent," senators wrote in a letter spearheaded by Sens. Ed Markey (D-Mass.) and Jeanne Shaheen (D-N.H.). "These standards protect consumer budgets and the climate."
The Editor says...
I don't need the government to manage my budget, and there is nothing the government can do about the climate.
Trump Surges Deportations of Illegal Aliens by 453 Percent in Recent Months. President Trump's administration deported more than 2,500 illegal aliens in the last two months who had arrived at the United States-Mexico border and claimed to be part of a family unit. Federal data obtained by Breitbart News reveals that since August, the Immigration and Customs Enforcement (ICE) agency has deported more than 2,500 illegal aliens who arrived as a family unit at the southern border and have final orders for removal.
Feds open California land to oil, gas drilling, aiming to strengthen energy independence. The federal government has opened hundreds of thousands of acres of public lands in California for oil and gas drilling as part of a broader effort to strengthen energy independence. The Bureau of Land Management (BLM) issued its final decision Friday [10/4/2019], allowing oil and gas leases on plots mostly in the Central Valley and parts of the Central Coast. The 725,000 acres of public land in Central California had been off-limits to oil and gas drilling since 2013.
The Editor says...
Hmmm. Domestic energy resources that have been off-limits since 2013. Who was the president in 2013?
Is Trump At Last Ending Our 'Endless Wars'? The backstage struggle between the Bush interventionists and the America-firsters who first backed Donald Trump for president just exploded into open warfare, which could sunder the Republican Party. At issue is Trump's decision to let the Turkish army enter Northern Syria, to create a corridor between Syrian Kurds and the Turkish Kurds of the PKK, which the U.S. and Turkey regard as a terrorist organization. [...] We are told that the Kurds will be massacred by Turkey's President Recep Erdogan, who sees them as terrorist allies of the PKK. But the Turks occupied the Syrian border west of the Euphrates and the Kurds withdrew without massacres. And how long must we stay in Syria to defend the Kurds against the Turks? Forever?
Trump defends decision on Syria, says he was elected to get out of 'endless wars'. Mr. Trump was pushing back on critics from both parties, who said his move would be a recipe for disaster and put American-backed Kurdish-led fighters in danger. "I was elected on getting out of these ridiculous endless wars, where our great Military functions as a policing operation to the benefit of people who don't even like the USA," he said on Twitter [10/7/2019]. Mr. Trump's surprise announcement late Sunday evening came as a shock to the U.S.-backed Syrian Democratic Forces (SDF), which have partnered with Washington for years in the battle against the Islamic State. The U.S. withdrawal from the area clears the way for a military assault by Turkey, which views the Kurdish-led SDF as a threat to its own security.
Outrage over Trump's Syria decision shows Washington's perverse priorities. Finally, some good news from Washington. That doesn't happen very often. Over the weekend, the Trump administration announced plans to withdraw the remaining American troops that are still stationed in Northern Syria. [...] For once, Americans are coming home from a Middle Eastern tar pit, rather than staying forever, and we ought to be celebrating that. Across the country people are. But in Washington, people are apoplectic. They're telling us we're not allowed to leave Syria. It's immoral, they say. It's a betrayal.
Trump Signs Order To Prevent Taxpayers From Subsidizing Health Care For Immigrants. President Trump on Friday [10/4/2019] signed a presidential proclamation that will prevent U.S. taxpayers from being forced to subsidize health care costs of legal immigrants, who will need to have their own insurance. In the new rule, which goes into effect Nov. 3, most foreigners who apply for visas will have to have their own employer-based health insurance or a non-subsidized private health insurance plan before they arrive. The rule does not apply to refugees or those seeking political asylum or nonimmigrant visas.
Trump to Protect U.S. Taxpayers from Subsidizing Health Care. President Trump signed a presidential proclamation on Friday to protect American taxpayers from being forced to subsidize the healthcare costs of legal immigrants wanting to permanently resettle in the United States. In a new rule, beginning November 3, foreign nationals applying for visas — not including refugees, asylees, or those on nonimmigrant visas — will have to prove that they will have either employer-based health insurance before arriving in the U.S. or a non-subsidized private health insurance plan.
Sorry, Dems: It's OK to ask for foreign help in a criminal justice investigation. President Trump's critics are now complaining that he asked the Australian prime minister to cooperate with the Justice Department's investigation into the origins of the Mueller probe and that Attorney General William Barr has traveled overseas to ask foreign intelligence officials to cooperate with that investigation. The New York Times called it another example of "the president using high-level diplomacy to advance his personal political interests." No, it's not. The president's critics are conflating two different things: the investigation by Trump's private lawyer, Rudolph Giuliani, into Hunter Biden's business dealings, and the inquiry by US Attorney John Durham into the counterintelligence investigation directed at the Trump campaign during the 2016 election. The former is opposition research activity; the latter is a criminal justice matter.
Impeachment Isn't About Democrats Hating Trump; It's About Democrats Hating You. The American people are living through unprecedented times. We are witnessing, as if spectators, an attempted coup unfold in real time on the daily and nightly news. But make no mistake, the coup isn't actually about Democrats hating President Trump. Do they despise him, his demeanor, his success — of course; however, the coup that's unfolding around us is driven by Democrats' deep seeded hatred for you and me — the everyday, hardworking American. You see, to Democrats, President Trump is the embodiment of middle America. Despite his wealth, fame, and celebrity, he represents the Iowa farmer, the Pennsylvania steel worker, the West Virginia coal worker, the Wisconsin teacher, and the Arizona small business owner. He's the conservative dad who comes home after an exhausting day of work and puts on Fox News. Donald J. Trump is the man who refuses to cower to media and east coast elites; instead taking them head on, never backing down and relishing every second of the fight. Trump is you.
Trump taking campaign to Ilhan Omar's district with planned Minneapolis rally. President Trump's campaign announced it will hold a rally in Minneapolis next month in an attempt to flip the historically blue state in his favor ahead of the 2020 elections, a move that would take his "Keep America Great" message to the district of one of his most vocal critics in Congress, Rep. Ilhan Omar. The announcement of the rally, set for Oct. 10 at the Target Center in Minneapolis, signaled Trump's determination to flip the state's 10 electoral votes which no Republican has won since then-President Richard Nixon took the state in 1972.
Trump's Total Culture War. A new America supposedly is marching forward under the banner of ending fossil fuels, curbing the Second Amendment, redistributing income, promoting identity politics and open borders, and providing free college, free health care and abortion on demand. An insomniac Trump fights all of the above nonstop and everywhere. In the past, Republican presidents sought to slow the progressive transformation of America but despaired of ever stopping it. No slugfest is too off-topic or trivial for Trump. [...] Trump variously goes after antifa, political correctness on campus, the NATO hierarchy, the radical green movement, Planned Parenthood, American universities and, above all, the media — especially CNN, the Washington Post and the New York Times.
EPA to revoke California's power to limit vehicle emissions. The Trump administration on Wednesday will revoke California's power to enforce more stringent limits on vehicle carbon pollution than the federal government, sparking a battle with the state that has led a revolt against the EPA's rollbacks of dozens of environmental regulations. The long-expected move seeks to neuter California's resistance to President Donald Trump's proposed rewrite of the Obama-era rules that would have required automakers to accelerate the deployment of more fuel-efficient cars and light trucks, a high priority in the state that has led the nation in efforts to fight climate change.
The Editor says...
How are those "efforts to fight climate change" working out? Did the climate stop changing? SWRpb3RzIQ==
Donald Trump Authorizes Release of Strategic Oil Reserves After Attacks on Saudi Oil. President Donald Trump reassured Americans that there would be "plenty of oil" after the drone attacks on Saudi Arabia's oil production. "Based on the attack on Saudi Arabia, which may have an impact on oil prices, I have authorized the release of oil from the Strategic Petroleum Reserve, if needed, in a to-be-determined amount sufficient to keep the markets well-supplied," Trump wrote on Twitter.
Peter Navarro Outlines Changes in USPS Mail Subsidy for Chinese Shipments. During an interview with Fox Business Maria Bartiromo White House Trade and Manufacturing Advisor Peter Navarro outliness how the USPS, the postal system, has been heavily subsidizing "incoming mail of a number of countries to the tune of hundreds of million dollars a year." Navarro notes he is meeting with foreign ambassadors and representatives of the State Department at the Blair House in Washington, D.C., to work on changes to the current mail system.
Report: Trump Wants To Shut Down California Homeless Camps. President Donald Trump is reportedly fed up with the homeless camps that dot the California landscape and wants to move the residents into some form of transitional housing. The camps are not only an eyesore but contribute to lawlessness. The problem has intensified over the summer and Trump is apparently ready to move beyond criticizing the state's lack of response to proving solutions, sources told the Washington Post Tuesday [9/10/2019].
Donald Trump Defends Bringing Back 'Better' Incandescent Light Bulbs. Last week, the Trump administration rolled back Barack Obama-era requirements for energy-efficient bulbs which threatned to phase out incandescent and halogen bulbs by January 2020 in favor of fluorescent or LED bulbs. Even Bush-era Republicans voted for and supported phasing out the cheaper bulbs in favor of more modern expensive bulbs that use less energy. Trump commented that he looked better under incandescent lighting.
China is the new evil empire, and Trump is using Reagan's playbook to defeat it. China is clearly not the land of Gorbachev, and it is not a nation that, while large in size and military might, is economically weak and technologically backward. No, China is a much more cunning and sinister opponent. An oppressor at home and a bully abroad, Beijing, now at the height of its economic power with a GDP worth more than $12 trillion and a military budget as high as $250 billion, possesses a one-two punch that the old Soviet Union could only dream of possessing.
Making Dishwashers Great Again. Back in the 1970s and 80s dishwashers were an efficient product, cleaning the vestiges of last night's dinner party off dishes and silverware in under an hour. Then regulations began, demanding less water be used, then less and less. The regulation specifically included a clause saying no later administration could roll it back. As the water allowance shrinks, the dishes take longer and longer — two to three hours on average today. This great modern convenience has turned into a nuisance. The Trump people were committed to solve this problem, but how?
We Don't Trust You. [Scroll down] Since the 1980s, nearly every time Americans have been allowed to vote on illegal immigration, they've opposed it — denying government services to illegal aliens, denying bail to illegal aliens, imposing English language requirements, allowing police to request documentation from suspected illegal aliens and on and on and on. All of these democratically achieved results were met with rage, insults, prejudice — and often a court overturning the vote. This culminated in 2016, when Americans decided to make an utterly preposterous candidate not a mayor or congressman, not even a governor, but president of the United States based on his promise to deport illegal aliens and build a wall. We know how that turned out.
Trump administration rolls back Obama-era lightbulb rules. The Department of Energy (DOE) finalized a controversial rule Tuesday [9/3/2019] that would erase Obama-era efficiency standards for lightbulbs. The regulation eliminates efficiency standards for about half the bulbs on the market. It leaves in place rules for standard pear-shaped bulbs, while removing such requirements for recessed lighting, chandeliers and other shapes of bulbs. When first proposed, the rule was supported by lightbulb manufacturers, but consumer groups estimate continuing to use less-efficient bulbs will cost the average household more than $100 a year and create more pollution as utilities produce energy that otherwise would not be needed.
What happened to all of the secrets President Trump ordered to be declassified? Some of the material still being withheld, according to RealClearInvestigations, includes:
• Evidence that President Obama's CIA, FBI, and Justice Department illegally eavesdropped on the Trump campaign — cases separate from the FBI's disputed FISA court-approved surveillance of Trump campaign adviser Carter Page.
• An August 2016 briefing CIA Director John Brennan hand-delivered in a sealed envelope to Obama, containing information from what Brennan claimed was "a critical informant close to Putin." The informant is believed to have actually been a Russian source recycled from the largely debunked dossier compiled by ex-British agent Christopher Steele for the Hillary Clinton campaign.
• An email exchange from December 2016 between Brennan and FBI Director James Comey, in which Brennan is said to have argued for using the dossier in early drafts of the task force's much-hyped January 2017 intelligence assessment. That spread the narrative that Russian President Vladimir Putin ordered the alleged Clinton campaign hacking to steal the election for Trump.
Trump's ongoing fight against socialists foreign and domestic. [Scroll down] In other words, one-third of socialism's Chinese victims were murdered in cold blood — calculated down to the last shriek of terror. But twice as many died under Mao's fanciful socialist policies. Something ignorant millennials enamored of socialism should keep in mind while salivating like Pavlovian dogs over Alexandria Ocasio-Cortez's totalitarian Green New Deal or crazy Uncle Bernie's Medicare for all. Lucky for America, President Trump is as anxious to fight our goofy brand of domestic utopians as he is China's thieving socialist oligarchs.
Rejection of Moral Absolutes Plagues the Modern Left. Many have implied that if President Trump has the opportunity to name Ginsburg's replacement, the battle that will erupt will make the Kavanaugh confirmation look like the Mayberry City Council debate on whether to hold a Founder's Day parade. This shouldn't be the case — because, as long as Senate republicans have his back, there is simply nothing Democrats can do to stop President Trump from nominating and having confirmed any judge he wishes. However, today's Democratic Party is as far from rational as it is from moral.
Trump Is Completely Right To Try To Buy Greenland. At first blush, Greenland might not make a whole lot of sense as a potential acquisition object of the president's affection. The island's population is a whopping 56,000, and over three-quarters of the landmass of the largely politically autonomous island contains the world's only permanent ice sheet outside Antarctica. Overall, due to its harsh climate and sprawling terrain, Greenland is the least densely populated territory in the world. But from a geopolitical standpoint, Trump is completely correct to seriously look into acquiring Greenland. Doing so, as Sen. Tom Cotton (R-AR) persuasively argued in The New York Times earlier this week, would strongly redound to America's national security interests. There are at least four main reasons why: Russia, China, energy, and Space Force.
Trump establishes the US Space Command. President Trump will be hosting an event in the Rose Garden at 4 p.m. EST to officially establish the U.S. Space Command. Vice President Mike Pence will also be in attendance. The command will be operating under the Air Force, with plans expected for it to be its own branch in the future. Its mission, under the leadership of Gen. John Raymond, is mainly to focus on space defense to counter threats from China and Russia. An original U.S. Space Command was created in 1982 and then disbanded in 2002, when U.S. Northern Command was established.
Trump Admin to Create Special "Office of Transparency" to Expedite Release of DOJ Documents Stalled by Deep State. Investigate journalist John Solomon of The Hill released another breaking report in his appearance on Hannity on Wednesday night [8/28/2019]. According to Solomon the Trump Administration is creating an "Office of Transparency" to expedite the release of DOJ documents that have been stalled by Deep State operatives. This comes after months of waiting for subpoenaed documents from the FBI and Director Christopher Wray who has done all he can to stall and protect Hillary Clinton and the Deep State cabal. [Video clip]
Red Pills for the Outsider Class, Truth Serum for the Ruling Class. [Scroll down] Trump shows up and almost overnight, the red pill effect: China is no longer viewed as a frenemy to be tolerated at all cost. Now we see that China, in fact, is seeking to overtake and displace the United States on the world stage. Through terrible trade deals, forced technology transfers, intellectual theft and a variety of other bad behaviors, China is not interested in settling for being an innocuous trade partner with the United States. Trade is not separated from its geopolitical strategy in the world. The world's largest authoritarian police state essentially wants to turn the United States into a tributary state, using our greed against us.
Trump administration shifts millions earmarked for emergency relief to fund border projects: report. With the 2020 election only 15 months away, President Donald Trump is determined to keep reminding his base that he is tough on U.S./Mexico border security. And the Trump Administration, according to NBC News, is shifting $271 million in federal funds — including funding for the Federal Emergency Management Agency (FEMA) — in order to fund additional immigrant detention space and temporary hearing locations for those seeking asylum.
The Editor says...
Good. The Constitution makes no mention of "emergency relief" but it does mention providing for the common defense, which includes enforcing the international boundary.
The 1977 law signed by Jimmy Carter that gives Trump sweeping powers to prohibit companies from trading with China. Legal scholars and trade policy experts say that President Trump is right to claim broad powers to prohibit companies from trading with foreign countries thanks to a 1977 law that has previously not garnered much attention outside the context of national security. The law, the International Emergency Economic Powers Act signed by Democratic President Jimmy Carter, gives the president sweeping powers to restrict trade once a "national emergency" is declared. "The president can impose a virtual embargo on a nation under IEEPA," said John Yoo, director of the public law and policy program at the University of California at Berkeley and a former official in George W. Bush's Office of Legal Counsel.
Justice Department asks Supreme Court to allow border asylum ban. The Justice Department on Monday asked the Supreme Court to allow the Trump administration to implement its most sweeping effort yet to overhaul the asylum system along the border while a legal challenge plays out in court. U.S. Solicitor General Noel Francisco, who represents the federal government before the court, urged the justices to issue an administrative stay on a ruling by a judge in San Francisco, who earlier in the summer blocked a regulation that would make most migrants from Central America and other countries ineligible for asylum at the U.S.-Mexico border.
From Greenland to tariffs, Trump's candor delights supporters and worries critics. Out of the blue, an unpopular president talks about buying Greenland, the world's largest island, a semi-autonomous Danish territory larger than Alaska with but 56,000 residents that's 82% covered in ice. Is he nuts? As it happens, Trump was going to visit Denmark next month. So, reporters asked if the purchase was on the agenda. Maybe, the president said, but the topic was not the most important item. Naturally, Danish reporters then asked their prime minister, who said bluntly Greenland wasn't for sale. Trump took offense, canceling the visit.
Trump's Greenland New Deal. Greenland via Denmark is currently one of the eight members of the Arctic Council, an organization set up in 1996 to aid coordination with the countries that neighbor the Arctic Circle. The other countries are obviously Russia as well as Sweden, Norway, the U.S. (thanks to Alaska), Canada, Finland and Iceland. While for a few years the cooperation was relatively peaceful, relations started deteriorating in the early 2000's. Russia became focused on investing and expanding rapidly in the Arctic, even planting their own flag on the North Pole. Their military buildup has been quick and efficient and so far, greatly outpacing even the U.S. The Arctic's global value is increasing yearly.
Ending 'Catch and Release'. As Congress persists in serially ignoring anything having to do with the border crisis, the Trump Administration continues to release regulations aimed at fixing the problem of illegal immigration. The administration on Friday [8/23/2019] released its latest rule to address a longstanding "pull" factor: that illegal migrants who arrive with children immediately are released into the interior of the country.
Stephen Miller: Trump Exploring 'All Legal Options' to End 'Crazy' Anchor Baby Policy. White House senior adviser Stephen Miller says President Trump is currently reviewing "all legal options" to end the country's birthright citizenship policy which has allowed millions of illegal aliens to secure American citizenship for their U.S.-born children. Last week, Trump told the media is he "very seriously" looking at signing an executive order that will end birthright citizenship in the U.S., calling the policy "frankly ridiculous."
The Great Greenland Gambit. Recently, a small-minded tattletale revealed that President Trump has been exploring the possibility of the United States purchasing Denmark's overseas territory of Greenland. Greenland is a vast, icy wasteland lodged in the northern Atlantic and southern Arctic Oceans. It also happens to be the home of key U.S. military bases — controlling space assets and providing early warning of potential nuclear attacks. Moreover, Greenland contains a treasure trove of natural resources, including a variety of metals, gemstones, oil, fish, and hydroelectricity.
Get Greenland Before China Does. President Trump is a throwback to another time in American history. For most of his critics, that fact that makes him "problematic." He's "not normal." Yet, for many, this is but one of the attributes that has made him so appealing for our time. That's why when news broke last week about Trump's interest in having the United States purchase Greenland, I was ecstatic. After all, expansion of a super-state, like the United States, is inevitable and natural. This is also in keeping with the predilections of most of America's Founders and their belief that the country should expand its frontier as far away from the "core" of the United States (the original 13 states) as possible.
Trump plans to open US consulate in Greenland after row over offer to buy. The Trump administration is planning to open a US consulate in Greenland for the first time in decades, amid increased strategic and economic interest in the Danish territory. The state department said in a letter to Congress that re-establishing a consulate in Nuuk is part of a broader plan to increase the US presence in the arctic.
Trump's Greenland gambit finds allies inside government. Donald Trump's left-field idea to buy Greenland has been mocked by everyone from cable pundits to Danish pols — but it's also given an internal boost to a small network of advocates in and outside the administration who have struggled to get traction for their ideas for boosting America's ties to the frozen island territory.
Greenland: Trump's MAGA Idea! To those of us of who learned our U.S. history from texts in the 1940s and '50s, President Donald Trump's brainstorm of acquiring Greenland fits into a venerable tradition of American expansionism. [...] Harry Truman also wanted to acquire Greenland, and in 1946, he offered Denmark $100 million in gold. The Danes declined, though they had sold the Virgin Islands to Woodrow Wilson in 1917. How, then, did America acquire her vast territory? By revolution, purchase, invasions, annexations, war, theft and expulsions — of French, British, Mexicans, Spanish and Native Americans. Quite a record. While Trump's diplomacy in the Greenland matter was not as deft as Seward's in acquiring Alaska, the attitude exhibited would not be unfamiliar to many of the great men in our history. And the cancellation of Trump's state visit to Copenhagen aside, this issue of Greenland's future has been tabled. It is not going away.
Trump Challenges Birthright Citizenship. [Scroll down] The 14h Amendment was written in 1868 after a bitter Civil War ended slavery. It was written to ensure the civil rights of freed slaves and to correct the injustices spawned by the 1857 Dred Scott decision which denied that blacks were entitled to citizenship under the Constitution. Surely it cannot be seriously argued that the authors of the 14th Amendment had in mind babies born to residents of Mexico, Guatemala, Honduras, and El Salvador who managed to sneak their pregnant bodies past a U.S. Border Patrol that didn't exist yet in violation of immigration laws that hadn't been written yet? Like abortion rights, which were divined from the "penumbras" and "emanations" said to be lurking somewhere in that document, supporters of birthright citizenship say, well, the language is imprecise and the authors didn't really mean to exclude the offspring of Guatemalans born in states which didn't exist in 1868. This is a clear violation of the Scalia originalist doctrine. The Constitution is not a living document and should be read in the context of the events of 1868, not 2019.
Trump Is Right — Ending Birthright Citizenship Is Constitutional. President Trump's announcement Tuesday [8/20/2019] that he is preparing an executive order to end birthright citizenship has the left and even some conservatives in an uproar. But the president is correct when he says that the 14th Amendment to the Constitution does not require universal birthright citizenship. An executive order by President Trump ending birthright citizenship would face a certain court challenge that would wind up in the Supreme Court. But based on my research of this issue over several years, I believe the president's view is consistent with the view of the framers of the amendment.
Trump says ending birthright citizenship [is] back on [his] agenda. President Trump on Wednesday [8/21/2019] renewed his threat to cut off automatic birthright citizenship for babies born in the U.S. to illegal immigrant mothers. "We are looking at birthright citizenship very seriously," he told reporters at the White House.
Trump admin aims to finally END catch-and-release in game-changing regulation. The entire mass migration to our border and all its cascading ill effects can be traced to one thing: the Flores settlement's expansion from children to family units by a single district judge. Flores is not a constitutional provision, a statute, or even a court ruling. It is a court settlement, designed as a temporary arrangement, that actually runs contrary to statute and has been used as a catalyst to undermine every bedrock law of sovereignty. After a full year of dithering, the Trump administration is finally using its unquestionable power to modify the settlement to finally end catch-and-release.
Cotton backs buying Greenland. The U.S. should obviously buy Greenland, and anyone who doesn't see that is blinded by disdain for the president, U.S. Sen. Tom Cotton said Wednesday [8/21/2019]. Cotton, R-Arkansas, said he broached the topic with the Danish ambassador to the United States several months ago. He also recommended to President Donald Trump that he should try to buy the territory from Denmark. Those conversations came before Trump ignited an international social-media kerfuffle Tuesday night when he took to Twitter to cancel a planned visit to Denmark because the Danish prime minister rebuffed discussions about a potential Greenland sale.
Trump cancels student loan debt held by disabled veterans. President Trump is canceling federal student loan debt held by disabled U.S. veterans. Trump announced the new executive memorandum at a speech in front of the American Veterans organization in Louisville, Kentucky, on Wednesday [8/21/2019].
The Editor says...
Unless the disabled veterans borrowed the money from Donald Trump, he is in no position to interfere in those transactions. This is the kind of thing Barack H. Obama would do, if he thought it would buy votes.
Trump moves to cancel illegal immigrant family loophole. President Trump will move Wednesday to cancel the family "loophole" that's allowed illegal-immigrant parents and children to pour into the U.S., proposing new rules that would replace the 2015 Flores Settlement court order that created a de facto catch-and-release policy for the families. According to details provided by an administration official, migrant families could be held in detention together while their cases are heard by immigration judges. That would supersede the 20-day limit imposed by the federal judge in Flores.
President Trump decision to end DACA was lawful, Justice Department says. The Justice Department submitted a legal brief to the Supreme Court Monday that stated President Trump acted lawfully when he decided to end the Obama-era immigration program known as DACA in September of 2017, according to a new report. The Department of Homeland Security, "correctly, and at a minimum reasonably, concluded that DACA is unlawful," Justice Department lawyers wrote in a brief submitted to the Supreme Court late Monday [8/19/2019].
Report: WH Considered Blocking Migrant Children From Enrolling In Public Schools. The Trump administration reportedly considered implementing a new rule, that would have blocked illegal immigrant children from attending public schools in the U.S. Bloomberg reported Saturday [8/17/2019] that Trump Senior Adviser Stephen Miller spearheaded the idea, and pushed for it as a way to deter illegal migration to the U.S.
The Trump Administration Asked The Supreme Court To Legalize Firing Workers Just For Being Transgender. A brief filed by the Justice Department says federal law offers no protection to transgender workers who endure discrimination because of their gender identity.
The Editor says...
When the law provides special rights and privileges for transvestites, there will be no more friction on the slippery slope toward America's downfall. This country is only hanging on by a thread, and the threads are getting weaker.
Trump calls for more mental hospitals to keep 'crazy people' away from guns. President Trump said Thursday in response to mass shootings that the U.S. needs to build more mental institutions to keep sick, dangerous people off the streets and away from access to guns. "We have to start building institutions again," Mr. Trump told reporters. "So many of these institutions were closed [decades ago], and the people were just allowed to go onto the streets. And that was a terrible thing for our country. We have to open up institutions. We can't let these people be on the streets."
The Editor says...
Crazy people were locked up, until a court decision in 1972 (Lessard v. Schmidt), brought to you by liberal Democrats who were more concerned for the rights of the lunatic few rather than the rest of us.
Trump Administration Won't Force Religious Organizations To Choose Between Their Faith And Federal Contracts. This week, the American Civil Liberties Union raged against a civil rights policy that has already been law for decades. It would be funny, except it misleads people who trust organizations like the ACLU for accurate information. That is wrong. On Tuesday [8/13/2019] the Office of Federal Contract Compliance Programs (OFCCP) announced a straightforward proposed regulation that should be noncontroversial. This regulation simply clarifies that, when religious employers contract with the federal government, they retain the right to hire employees who support their religious missions — just as they do for all other hires under the federal Civil Rights Act of 1964.
Trump administration incurs LGBTQ wrath in bid to expand religious protections for contractors. The Trump administration moved Wednesday [8/14/2019] to expand faith protections for federal contractors, the latest front in the ongoing battle between LGBTQ groups fighting discrimination and employers seeking to operate in accordance with their religious principles. The proposed rule by the Labor Department Office of Federal Contract Compliance Programs would make clear that "religious organizations may make employment decisions consistent with their sincerely held religious tenets and beliefs without fear of sanction by the federal government."
The Left creates a hullabaloo over denying green cards to migrants who are public charges. Trump's plan is to encourage self-sufficiency among legal immigrants, and discourage the sponges, who have become rather large in number. There's nothing draconian about this; it's been the law of the U.S. since the 1880s. It's also important, given that a recent study from the Center for Immigration Studies shows that migrants are coming to the U.S. grayer and grayer, meaning that they are past their prime working years and far more likely to use welfare services, particularly health care.
Trump Administration Enforces Immigration "Public Charge" Laws — Green Cards Dependent on Self Sufficiency. The White House has announced the Trump administration will enforce long-standing immigration laws that require entrants to be economically self-sufficient and limits public welfare benefits. An entry alien who is, or becomes, dependent on public welfare assistance, is known as a "public charge". Aliens will be barred from entering the United States if they are deemed likely to become public charges, or welfare dependent. These immigration rules have been in place for over 100 years, and generally were strictly enforced until the last 25 years. The Trump administration is re-enforcing the rules.
Trump Ending Welfare-Dependent Immigration, Saving Taxpayers Billions. President Trump is set to save American taxpayers billions of dollars as his administration announces a new rule on Monday that will essentially ban welfare-dependent legal immigrants from permanently resettling in the United States. A new regulation set to be published by the Trump administration will ensure that legal immigrants would be less likely to secure a permanent residency in the U.S. if they have used any forms of welfare in the past, including using subsidized healthcare services, food stamps, and public housing.
Trump pushes capital punishment in wake of shootings. Buried in Paragraph 8 was the guts of his proposal. It said, "The president also called for cultural changes, citing violent video games. Further, Trump said he has directed the Justice Department to propose legislation ensuring that those commit hate crimes and mass murders 'face the death penalty and that this capital punishment be delivered quickly, decisively, and without years of needless delay.'" Now we get to the specifics. President Trump wants to empty death row the right way. Executions work as a deterrent to crime only if they are swift. 20-year delays make a joke of such sentences. He just made them an offer they cannot accept. Any deal Democrats and their RINO friends want to make will have to include hanging killers. The president tiptoed around Fake Conservatives who want him to cave on gun control.
Can Trump's New Asylum Rules Stem the Illegal Tide? Illegal immigration numbers remain at levels triple that of previous years, and Congress continues to bicker, foot stomp, other otherwise ignore the problem. In the face of this, the Trump Administration released its latest attempt to bring the border crisis under control. Under new rules issued last week, migrants will now be required to seek asylum in at least one country they pass through on their way north. In other words, to qualify for asylum in the United States, Hondurans and Salvadorans would first have to apply for — and be denied — asylum in Guatemala or Mexico. The response from critics was predictable. [...] None of them, however, acknowledged a key feature of the new rules: they put the United States in compliance with exactly the way the rest of the world handles the flow of refugees between borders.
Cruz: Build Kate's Wall with El Chapo's Money. It is an idea whose time has come. It would be poetic justice, fulfill a Trump campaign pledge, and wouldn't cost the taxpayers a dime. It doesn't make Mexico pay for the wall exactly, just one particular Mexican who has done great injury to the people of the United States and who is responsible for a major part of drugs flooding into the U.S. Upon news that Joaquín Archivaldo Guzmán Loera, more commonly known as El Chapo, was sentenced to life in prison on Wednesday [7/17/2019] and ordered to fork over billions, Texas Sen. Ted Cruz resurrected his idea of using any and all assets to be seized from El Chapo's massive stash be used to build Trump's border wall.
Defund Lutherans for Open Borders Now! One of the top promoters of the so-called Lights for Liberty nationwide protests by Trump-hating, ICE-bashing radicals was a nonprofit religious organization known as the Lutheran Immigration and Refugee Service. As a designated "host," LIRS played a key role in publicizing, organizing and participating in demonstrations against President Donald Trump's deportation enforcement actions targeting some 2,000 illegal immigrants and their families who have ignored removal orders or skipped out on court hearings. Brazen hatred of cops, Border Patrol and ICE agents were on full display at the open borders protests fronted by LIRS and other left-wing groups, including Code Pink, CASA and CAIR.
Lawmakers Demand Trump Admin Nix Loopholes Permitting Iranian Nuke Work. A delegation of 50 members of Congress petitioned the Trump administration on Wednesday to cancel a series of sanctions waivers that have permitted Iran to continue its most contested nuclear research, including at a military site known to have housed the Islamic Republic's bomb program, according to a copy of the letter exclusively obtained by the Washington Free Beacon. The letter, spearheaded by Rep. Liz Cheney (R., Wyo.), represents the strongest protest to date by lawmakers who view the waivers as an attempt by some deeply entrenched U.S. officials to keep the landmark nuclear deal on life support against the White House's wishes.
Trump administration announces major crackdown on asylum seekers. The Trump administration on Monday [7/15/2019] announced a sweeping new policy tightening restrictions for asylum seekers, in a move that could drastically reduce the number of Central American migrants eligible to enter the United States in this way. The new rule, published in the Federal Register, would require most migrants entering through America's southern border to first seek asylum in one of the countries they traversed — whether in Mexico, in Central America, or elsewhere on their journey. In most cases, only if that application is denied would they then be able to seek asylum in the United States.
Trump Admin Announces Major Crackdown On Asylum Abuse. The Trump administration announced a major change in asylum policy on Monday [7/15/2019] that could lead to a drastic reduction in the number of people that are eligible for asylum who are attempting to enter the United States through the southern border.
Turns out, Trump didn't give up on counting both legal and illegal US residents. You've probably heard a lot overnight about President Trump backing down on trying to get a citizenship question on the census questionnaire next year. Perhaps you too were surprised that this president who takes on even meaningless slights or disagreements on Twitter would give up so easily. He didn't.
The Republic Is Collapsing: The Time to Act Is Now. [Scroll down] The Democrats, for example, are no longer an established political party but a revolutionary organism bent on scrapping the Constitution. Antifa is a guerilla outfit reminiscent of Hitler's Brown Shirts, the Red Brigade and Baader-Meinhof. The media have become outright propaganda bullhorns for the left. None of these are trading partners. They are not economic rivals. They are not foreign nations that have to take American military power and punishing tariffs into account. They are fifth columns that are irremediably corrupt, extremist by nature, and absolutely relentless. Trump may be a hard-headed businessman and a successful entrepreneur, but he is also a sentimentalist who often seems to believe his assailants are still susceptible to reason. They are not.
Trump Adheres To The Law On Immigration, Shocking Lawless Democrats. The plan to deport about one million illegal aliens announced by Acting United States Citizenship and Immigration Services (USCIS) Director Ken Cuccinelli is not a matter of discretion. Cuccinelli is just following the law, and already issued court orders. Those subject to deportation under the plan have already had their cases adjudicated in the United States, with immigration judges ruling they have lost their cases, and ordering them deported. Cuccinelli is just the first federal official, besides President Trump, brave enough to follow and implement the law.
Why those ICE raids are being announced in advance. Starting Sunday [7/14/2019], Immigration and Customs Enforcement (ICE) is expected to resume its previously announced plan to apprehend thousands of illegal immigrants across the country. [...] So why are the raids being publicized days in advance? "It's unprecedented. But there is a political purpose behind it," Thomas Kilbride, a retired Department of Homeland Security (DHS) agent and ICE policy adviser, told Fox News. He said the president has tried to get Democrats to come to the table because asylum laws need to change, and this is a way to bargain.
Abandoning immigration enforcement is abandoning our system of government. Trying to actually deport illegal immigrants whom courts have ordered deported is now considered authoritarian. Ken Cuccinelli, a top official at the Department of Homeland Security, made clear that he intended to follow through on President Trump's plans to remove foreigners in the United States illegally for whom final removal orders have been issued. Cuccinelli said this on national TV on Sunday [7/7/2019], and told reporters Wednesday that these operations "absolutely" were going forward.
Why Trump Must Ask About Citizenship On The Census. In Department of Commerce [v. New York], Chief Justice John Roberts joined the Court's liberal bloc to temporarily enjoin the Trump administration from including the citizenship question on the census. But as [Josh] Hammer argued in his op-ed, there appears to be an obscure constitutional rationale, buried in the text of the little-used second section of the Fourteenth Amendment, that may actually require the president to include the citizenship question on the census.
Poll: Majority of Americans Want Mass Deportations of Illegal Aliens Following Congressional Inaction. A majority of Americans want mass deportations of illegal aliens if Congress fails to reach a deal this week that closes loopholes in the country's asylum system that allow mass flows of foreign nationals to pour through the U.S.-Mexico border. The latest Harvard/Harris poll finds that 51 percent of American voters say they support mass deportations of the 11 million to 22 million illegal aliens living in the U.S. should Congress fail to reach a deal that closes loopholes in the asylum system.
Pool for deportation is up to 1 million illegals who have already had due process. The number one million has tremendous resonance: it is what first comes to mind as a really big number. It signals "mass deportations" — a bugaboo for Democrats and advocates of illegal immigration. Having Cuccinelli lay out this number serves two functions. [#1] It is a signal to Trump's bae that he will deliver on their concerns about illegal immigration. Many are disappointed that the border wall has not been completed or even adequately funded. Trump needs them to turn out in 2020. He cannot afford to discourage them. [#2] It is also bait to lure the Democrats into hysteria over "dividing families" and all the other heartstring-tugging memes they can devise.
Clear 2020 theme emerges: Sharp partisan split over socialism vs capitalism. Now, we may know exactly why President Trump is vowing so often that the United States will never embrace socialism: That polls really well among Republicans, like more than eight-out-of-ten well, including nearly two-thirds of whom have a very negative view of that system. The president will need every single one of those GOP votes to go with him on Election Day in just 70 weeks to overcome his chronic deficit in job approval.
About That Fourth Of July Parade. Steve has heaped deserved ridicule on the left's hysterical reaction to President Trump's decision to roll out tanks and other weaponry for a Fourth of July parade in Washington, D.C. As Steve noted, Larry Tribe sees a "chilling resemblance to the days before the Tiananmen Square massacre. Joy Reed thinks Trump is threatening his critics with tanks. But the inspiration for Trump's parade isn't China or any other dictatorship. The inspiration is France's annual July 14 celebration (Bastille Day). On a visit to France, Trump saw the parade, which features the military along with some of its heavy weaponry marching down the Champs-Élysées. He thought it was impressive. And cool.
Brilliant Play — President Trump Invites U.S. Women's Soccer Team to White House "Win or Lose". Megan Rapinoe is the co-captain of the U.S. women's national soccer team and a rabid hater of President Trump. Ms. Rapinoe refuses to sing the U.S. national anthem; kneels during ceremonies to make her hatred for America visible; and grabs every microphone to tell the media about her politics in an effort to increase her resistance credentials. The age-old axiom is: 'be careful what you wish for, because you just might get it". Today [6/26/2019], President Trump brilliantly responded to Ms. Rapinoe. First, by calling out her arrogance in declaring victory before she even played the World Cup matches; and secondly, by inviting the entire team to the White House "win or lose".
Trump: You Bet I'd Fill Another SCOTUS Seat. Not that we have word of any openings coming up on the Supreme Court in the immediate future, but it always pays to be prepared, right? Particularly when you have several justices in their septuagenarian or even octagenarian years and one of them regularly talks about packing up his RV and touring the country. But given the politically poisonous mood currently gripping both Congress and the nation, would President Trump really want to open that can of worms and introduce a new nominee if someone suddenly retired?
Make America Even Greater. Now's the time for the Trump White House to release an updated list of potential Supreme Court nominees, to remind voters of the 2020 stakes. And speaking of the judiciary, it's overdue for an overhaul. The Judicial Conference for years has flagged the many districts overwhelmed by cases. And congressional commissions have long advocated restructuring the insanely large Ninth Circuit, which has a staggering backlog. It's time for new judgeships, and a split in that circuit.
Court Rules President Trump Can Defund Planned Parenthood, Will Cut Almost $60 Million in Taxpayer Funding. A federal appeals court today [6/20/2019] ruled President Donald Trump can partially defund planned Parenthood while the abortion business' lawsuit against his administration's new rules moves forward. As LifeNews reported in March, the Trump administration finalized an administrative rule that would partially defund the Planned Parenthood abortion business and deprive it of as much as $60 million in taxpayer dollars. This action adds to President Trump's record of defunding the Planned Parenthood abortion company.
Yes, illegal immigrants who break our laws twice deserve Trump's threatened deportation. President Trump's renewed pledge to deport huge numbers of illegal immigrants is inspiring anger, but it's hardly righteous. If, as a Homeland Security adviser has explained, the targets of Trump's deportation plans will be those illegal immigrants who have failed to show for their assigned court hearings, then Trump is morally, ethically, and legally justified in deporting them. The tut-tutting chorus might as well spare us their faux moral histrionics. The immigrants Trump is targeting are people who have broken American law not once but twice.
School Officials Complain as Trump's Migration Reforms Redirect Funds to American Children. President Donald Trump's migration reforms are cutting the flow of taxpayer funds to the American teachers and schools that welcome the children of illegal migrants, say education industry insiders. Federal funding for Baltimore's John Ruhrah Elementary/Middle School has declined because many adults migrants are refusing to enroll in federal anti-poverty welfare programs, the New York Times reported June 16. The migrants are avoiding the welfare programs because of fear they will get deportation notices instead of green cards.
Immigrants' sponsors to be on hook for 'every dollar' if new arrivals end up on dole, new Trump appointee warns. Sponsors of legal immigrants to the United States received word Friday [6/14/2019] that they'll be on the hook "for every dollar" if those immigrants end up receiving welfare funds or other public support instead of earning a living and paying taxes. The message came Ken Cuccinelli, a former Virginia state attorney general who last week became acting director of U.S. Citizenship and Immigration Services (USCIS) following his appointment by President Trump. "If the sponsored immigrant receives any federal means-tested public benefits, the sponsor will be expected to reimburse the benefits-granting agency for every dollar of benefits received by the immigrant," Cuccinelli wrote in a USCIS memo.
Trump Administration Begins to Demand Payback From Sponsors of Immigrants Who Use Welfare. The U.S. Citizenship and Immigration Service has begun to remind immigrants that if they receive any welfare benefits while waiting to become a citizen, their sponsors will be responsible for paying back the government. "If the sponsored immigrant receives any federal means-tested public benefits, the sponsor will be expected to reimburse the benefits-granting agency for every dollar of benefits received by the immigrant," the U.S. Citizenship and Immigration Service (USCIS) wrote on Twitter on June 14. Immigrants who apply for permanent residency and citizenship in the United States are required to find a sponsor who guarantees to support them financially while they await the resolution of their cases. The affidavit of support is a legally enforceable contract between the sponsor and the government. The financial obligation usually ends once the immigrant becomes naturalized or after the immigrant completes 10 years of full-time work.
Donald Trump Announces Tom Homan as 'Border Czar'. President Donald Trump announced Friday [6/14/2019] that former Acting Director of ICE Tom Homan would be the new immigration czar for his administration. Trump broke the news during a morning phone conversation with Fox and Friends. The president said that Homan would take a "border czar" position and would report directly to him. "He'll be a border czar, he'll be very much involved with the border, he'll be reporting directly to me, he'll be probably be working out of the White House but probably spending a lot of time at the border," Trump said.
Sen. Ron Johnson: GOP fully supports Trump's 'brilliant' tactics with Mexico. Sen. Ron Johnson of Wisconsin said members of his party are united in their support of President Trump's strategy of using tariffs to motivate Mexico to curb illegal immigration. "The caucus definitely supports the president's use of tariffs to give us leverage against our trading partners to treat us fairly," Johnson said on Fox News Sunday. "This is out of control. That's why the president had to act, because Mexico had not been acting."
Trump admin imposes new travel restrictions on Cuba, banning cruise ships. The US announced major new restrictions on US citizens traveling to Cuba on Tuesday [6/4/2019], blocking the most common way Americans are able to visit the island — through organized tour groups that license US citizens to travel automatically — and banning US cruise ships from stopping in the country. American tourism is not explicitly permitted in Cuba. However, Americans can travel to Cuba if it is covered under specific categories, which included organized group travel, known as group people-to-people travel, until Tuesday.
Trump Administration Puts The Brakes On The $100 Million Market In Baby Parts. Today [6/6/2019] the Department of Health and Human Services announced that it was terminating some grants and contracts that relied upon tissue from babies killed in utero via elective abortion and that other projects using fetal tissue would be reevaluated.
Trump's Tariff Gambit. President Trump's threat to impose tariffs on all Mexican imports until Mexico takes serious action to control its border with the U.S. shocked the Washington Beltway, Wall Street, and the Palacio Nacional in Mexico City. These centers of financial and political power, lulled by a U.S. Congress that has refused to act and activist federal judges who have stymied Trump's border control efforts at every step, were jolted awake by Trump's ultimatum. But they should not have been surprised. The president issued a similar threat back in April. And, Trump promised from day one of his presidential campaign that he would make stanching the flow of illegal immigration, crime, and drugs northward and of U.S. factories and jobs southward a focal point of his presidency[.]
Trump administration to end human fetal tissue research by government scientists, a victory for the pro-life lobby. The Trump administration is ending medical research by government scientists using human fetal tissue, a victory for abortion foes. At least one university's government funding will be terminated, effective immediately, although officials suggested that other research may allowed to continue under intense scrutiny. The policy change will not affect privately funded research that used human fetal tissue.
Donald Trump has Mexico over a barrel. Mexico is going to cave, and it's not just the tariffs. We've got the Mexicans over a barrel on energy, and if we want, we can wipe their economy out. Without American energy imports, the Mexican economy collapses. This actually doesn't make any sense. Mexico is awash in petroleum and natural gas. But the Mexicans just can't get it out of the ground. American petroleum engineers were critical to the early success of the Mexican oil industry. From 1918 to the late '20s, Mexico was second only to the United States in oil production, and it was number one in petroleum exports. But the bounty was not fairly shared, and an inflamed Mexican nationalism booted the American oil industry out of the country. The Mexican oil industry never recovered. Take a look at a map of the Permian basin, the source of millions upon millions barrels of daily oil production. You'll notice that the geological formation containing this plentitude of hydrocarbons extends well into Mexico. But there is no oil development on the Mexican side of the border. They can't get to the oil without our help.
Never Trumper shows his ignorance. Philip Klein of the Washington Examiner, a wannabe Bill Kristol, said President Donald John Trump's tariff warning to Mexico is "mindbogglingly stupid." [...] Wrong. A tariff is a voluntary tax. It is easily avoided by buying an American-made product. That is why every Republican president from Lincoln to Reagan supported protectionist tariffs. Klein wrote, "Secondly, this threat comes as the Trump administration was jump-starting the approval process for the United States-Mexico-Canada Agreement that Trump previously touted as a major trade victory, but that has yet to be officially ratified. This will surely disrupt that process." It is nice to see a Never Trumper side with him on NAFTA, which was a terrible deal that saw our manufacturing jobs cut.
Trump Just Found a Way to Make Mexico 'Pay for the Wall'. President Donald Trump may have found a way to fulfill one of the more ambitious — and controversial — pledges from his 2016 campaign: making Mexico pay for the wall. On Thursday [5/30/2019], hours after Trump tweeted that the U.S. Border Patrol had apprehended a record number of illegal migrants, the president announced that he would impose a 5% tariff on all imports from Mexico, increasing over time, until the Mexican government stopped the migrant flow from Central America.
State Department will now require all visa applicants to provide social media accounts as Trump's 'extreme vetting' process finally takes effect. The State Department is now requiring nearly all applicants for U.S. visas to submit their social media usernames, previous email addresses and phone numbers.
The Editor says...
As long as this only applies to non-citizens, I have no objections.
Trump cracks down on exploiting illegal aliens. In his appearance before the American Federation of Teachers, in which he fondled a 10-year-old girl, Joe Biden waxed poetically about how coyotes help immigrants make it to the United States like his great-great-great-grandfather did. The reality is coyotes rape women and children. Amnesty International said two-thirds of the women are raped along the way. Sasha G. Lewis wrote, "Slave Trade Today: American Exploitation of Illegal Aliens." In 1979. Let us not pretend that the exploitation of illegal aliens is anything less than a multi-billion-dollar industry that pays off rent-to-own politicians like Biden.
President Trump Announces Escalating Tariff Program for "All Mexican Goods" Until Illegal Central American Migration is Stopped. President Trump has just announced an emergency tariff program on all Mexican goods that begins on June 10th at 5% and continues to increase monthly until Mexico takes action to halt illegal Central American migration.
A tantrum over Tubman: Shaheen steamed over Jacksons. New Hampshire's Sen. Jeanne Shaheen is among those incensed that Donald Trump has spiked plans to put Harriet Tubman's likeness on the U.S. $20 bill. It would be in place of President Andrew Jackson who, like Shaheen, was a Democrat. Trump has said that the Tubman effort is just "pure political correctness." Sort of like the political correctness Shaheen's party has been engaged in recently to rename events (such as Jefferson-Jackson Day fundraisers) because those Democrats were slave owners.
Update:
Turns Out The Reported Racist Delay Of Harriet Tubman's $20 Note Was Fake News. A few weeks ago, it was announced that a new $20 bill graced by Harriet Tubman wouldn't be shown in 2020. This set off a wave of condemnation and claims of racism backed by absolutely no evidence. We are supposed to believe that Trump dislikes non-whites so much that he personally intervened in the situation and delayed the project. [...] Now, more details are coming out and as per usual, there's a lot more to the story and none of it involves Donald Trump at all.
Trump administration to reportedly allow federally funded adoption agencies to reject same-sex couples. President Trump's administration will reportedly reverse his predecessor's policy of blocking federal funding for religious adoption organizations that refuse to serve same-sex couples. Administration officials, according to Axios Friday, debated to decide between two different provisions — a religious-based exemption and striking down the previous administration's rule altogether — to accomplish their goal without facing defeat in the courts.
Donald Trump Orders Intelligence Community to Cooperate with Surveillance Investigation. President Donald Trump directed the intelligence community to cooperate with Attorney General Bill Barr's investigation into surveillance activities during the 2016 presidential election. In a memorandum to his seven cabinet directors and the Attorney General, Trump asked that officials cooperate with Barr's investigation and authorized Barr to declassify any information about the investigation into his campaign that he deemed necessary, provided that he consulted with the agency responsible.
Trump Signs Order Cracking Down on Welfare-Dependent Legal Immigration. The order signed by Trump will enforce existing 1996 laws known as the "Illegal Immigration Reform and Immigrant Responsibility Act" and "Personal Responsibility and Work Opportunity Reconciliation Act" which were signed by then-President Bill Clinton. The order ensures that federal agencies will enforce the existing 1996 laws which seek to save American taxpayers by having their public welfare funding benefits reimbursed when they are used by a legal immigrant.
'The Land of the Free' can still be a nation of stronger borders and immigration laws. Our broken immigration system is what got Donald Trump elected president. [...] Trump's proposal is moderate in that it aims to shift the composition of immigration without reducing the flow. Trump would scrap the diversity lottery and curtail chain migration. This is sensible. Chain migration is the undesired outcome of "family reunification" visas. If you think of family reunification, you may picture an immigrant who comes here, gains citizenship, and is then able to bring his wife and young children behind with him. Under Trump's proposal, that would remain unchanged. What would go would be the categories of "family reunification" visas that lead to the massive chain: parents of noncitizens, those parents' other adult children, those other adult children's spouses, and thus their parents, and so on. (Trump's proposal goes too far by ending reunification visas for the spouses and minor children of legal immigrants who are not yet citizens.) Trump would also scrap the diversity lottery and shift hundreds of thousands of visas over to a skill-based visa program.
Reigning In the Activist Federal Judiciary. Vice President Pence announced recently that the Trump administration is finally pushing back against activist judges in Federal District Courts who issue nationwide injunctions against lawful executive policies on issues like immigration. This blatant usurpation of the executive branch's powers has been another weapon in the progressives' attack on the Constitution and its divided powers, which was primarily designed to protect the freedom and rights of citizens and their elected representatives who must answer to the people. Reining in unelected, unaccountable district court judges is long overdue and necessary for restoring our right to hold accountable those who make decisions affecting our lives.
Former DHS officials ousted over push back on Trump administration's plan to arrest thousands of migrants. Former Homeland Security Secretary Kirstjen Nielsen and a top immigration official challenged a previously secret White House plan to arrest thousands of migrant parents and children in nearly a dozen U.S. cities, Fox News confirmed Monday [5/13/2019]. The Trump administration wanted to target migrant families that had crossed into the U.S. from Mexico in attempt to show that the U.S. wasn't going to back down on its border stance by detaining and deporting illegal immigrant families, The Washington Post first reported, citing several current and former Homeland Security officials.
HUD proposes rule to oust illegal immigrants from public housing. The Department of Housing and Urban Development proposed a new rule Friday to make people seeking housing assistance have to prove their legal status, in a move that could oust thousands of illegal immigrants. Secretary Ben Carson said the rule would bring policy into compliance with the law, which generally tries to restrict public benefits to citizens and legal residents. "There is an affordable housing crisis in this country, and we need to make certain our scarce public resources help those who are legally entitled to it," Mr. Carson said.
Trump says Obama let China get away with 'murder,' touts tariffs as trade standoff heats up. President Trump on Friday [5/10/2019] touted his administration's controversial move to increase tariffs on $200 billion in Chinese goods after trade talks between Washington and Beijing failed to come to an agreement, while saying the Obama administration let China "get away with 'murder.'"
Trump admin set to combat overreaching district courts: 'Era of judicial activism must come to an end'. President Trump is moving forward with a plan that would limit the power of judges to dictate national policy. The administration is looking for ways to challenge the judicial tyranny of lower level federal judges in deciding on national injunctions, with Vice President Pence addressing the issue on Wednesday.
Trump Shouldn't Worry About Wall Street on China Trade. Investors are certainly getting bounced around as financial markets obsess over trade negotiations with China — which have now culminated in tariff hikes on $200 billion of goods. But the real issue is how China has taken America for a ride for four decades. And — it's absolutely vital to recognize — on way more than just trade.
7 Reasons Why the Uranium One Scandal Won't Go Away. [#7] President Trump and Attorney General Barr appear to be ready to drop the hammer. Barr has found the Uranium One matter significant and worthy of a full investigation. In a 2017 interview with The New York Times, Barr said that the DOJ was "abdicating its responsibility" if it wasn't investigating the Clinton Foundation vis-à-vis the Uranium One deal. In Barr's confirmation hearing this year, Democrats grilled him on his support for the Uranium One "conspiracy theory." While Barr seemed to distance himself during the hearing, New York Times reporter Peter Baker subsequently leaked an email in which Barr said he "believed that the predicate for investigating the uranium deal, as well as the foundation, is far stronger than any basis for investigating so-called, 'collusion.'" It's clear that Barr doesn't believe that the Uranium One deal has been fully investigated.
Trump admin announces groundbreaking policy requiring drug companies to disclose prices in TV ads. President Trump is taking aim at drug companies in an effort to lower prices for Americans. The Trump administration announced a new policy Wednesday [5/8/2019] that will require that the cost of medications be disclosed in television advertising by drug manufacturers.
The Editor says...
It would be far better to ban the advertising of prescription drugs altogether; in other words, reinstating the ban that existed until the 1980s. The United States is one of only two countries in the world to allow these ads. In my opinion, advertising prescription drugs on television has led to a wave of low-level hypochondria. The ads are good for television stations but harmful to everyone else.
Trump Pulls Out Bar Graph On Disaster Relief During Rally. President Donald Trump pulled a bar graph out of his pocket that represents disaster relief spending, during his Wednesday night [5/8/2019] rally in Panama City Beach, Florida. Natural disaster relief appeared to be a hot topic, with Hurricane Michael hitting the panhandle six months ago. In that time, FEMA has directed more than $1.1 billion in federal funds toward response and recovery efforts, according to a FEMA press release from April.
Trump slams Democrats for wanting to give Puerto Rico "more and more". President Trump traveled to the Florida Panhandle to fire up his staunch supporters with fiery rebukes of congressional Democrats, whom he accused of blocking additional disaster aid for the storm-hit region and wanting to give Puerto Rico "more and more" federal aid. Holding up a paper chart which purportedly showed that the hurricane-battered island has received more federal assistance than states in the mainland, Mr. Trump told the boisterous crowd, "What the Democrats want to do, they want to give more and more."
NYT: Trump 'Siding with Autocrats' by Weighing Terror Label for Muslim Brotherhood. U.S. President Donald Trump's administration would be "siding with autocrats and roiling [the] Middle East" if it joins several Islamic countries in designating the Muslim Brotherhood (MB) a terrorist organization, the New York Times (NYT) argued this week. NYT has itself in the past sided with several leftist leaders including Russia's Joseph Stalin in lying about the Soviet genocide; with Cuba's Fidel Castro in inflating the size of his guerrilla prior to the Cuban Revolution; and taking money for ads from socialist Nicolás Maduro's regime.
Trump proposals may redefine poverty, cut Americans from social welfare programs: report. The Trump administration is weighing changes to the way poverty is measured in the United States, a move critics say would break with decades of precedent and threaten social welfare recipients, according to a Monday [5/6/2019] report. Under the new proposals outlined by the White House Office of Management and Budget on Monday, poverty would be measured using a "chained consumer price index." The new method, contrary to a formula that has been used since the 1960s, assumes that consumers will opt for less-expensive items as the cost of living rises. The office says that the chained CPI would reflect slower inflation growth.
Admin Halts Disability Dues Scheme. Labor organizations will no longer be allowed to skim dues money from the checks of Medicaid patients under new rules adopted by the Trump administration. The Department of Health and Human Services's Center for Medicare and Medicaid Services adopted a new regulation that will prohibit states from siphoning money from caregiver reimbursements to third parties. The rule takes direct aim at state policies enacted to enrich union coffers.
Trump Proposal Aims To Make It Easier To Deport Immigrants Using Public Benefits. The White House is considering a proposal to make it easier to deport low-income immigrants who are dependent on public benefits. The Department of Justice has written a draft regulation that, if implemented, would greatly expand the number of immigrants in the U.S. who could be subject to deportation for using public benefits, Reuters reported Friday. The new proposal is part of the Trump administration's larger effort to limit immigration from low-income foreign nationals.
Trump Administration to Review Fed's $1.45 Trillion Student Loan Portfolio. The Trump administration is addressing the U.S. government's $1.45 trillion student loan portfolio, including hiring consultants to advise on selling all or portions of the portfolio to private investors.
Trump goes for a twofer: Knocking Cuba's socialist dictatorship out along with Venezuela's. Cuba, the socialist police state so adored by Obama administration twerps like Ben Rhodes, is finding itself in the line of fire for its brutal grip on Venezuela. President Trump has vowed to make the socialist dictatorship pay by threatening Cuba with 'full and complete' sanctions, which is exactly what it deserves.
Trump orders asylum overhaul. President Trump called Monday night for a sweeping overhaul to an asylum system he has long said is rife with fraud — including a new fee to process asylum applicants, and the capacity to rapidly adjudicate applicants' claims while also barring them from working in the U.S. in the meantime. In a presidential memorandum, Trump specifically told Attorney General William Barr and acting Homeland Security Secretary Kevin McAleenan that the move was necessary to address a "crisis" at the border. In an article published earlier this month, The New York Times acknowledged that the humanitarian crisis of illegal immigration has hit a "breaking point."
Trump debates waiving Jones Act to ship natural gas to New England and Puerto Rico. President Trump is considering granting waivers to bypass the Jones Act, a century-old law law regulating domestic maritime commerce, to ease the transport of natural gas to the Northeast and Puerto Rico. Enacted in 1920, the Jones Act prohibits tankers from hauling goods and commodities, such as oil or natural gas, between U.S. ports unless the ships are American made, owned, and crewed. The Jones Act was designed to protect American maritime interests and shipbuilders, and the industry has repeatedly fended off attempts in Congress to repeal it, with coastal lawmakers stepping in to save it. Jones Act boosters warn waivers would harm American jobs.
We cannot quit because they won't quit. This is no time to be polite and pretend the other side has been civil. UnAmerican activities such as spying on political opponents cannot go unpunished because the penalty for crossing that line must be greater than the reward — or else people will continue to do that. Did Democrats shrug off Watergate? We are in win-or-die politics. This is no time to forgive and forget and move on. Clapper, Brennan, and Comey weaponized America's intelligence and law enforcement apparatus to create a KGB for Obama that they planned to hand over to Hillary. President Trump needs to keep this story in the American conscience. You don't just put a Band-Aid on it and kiss this boo-boo to make it better. Obama left us with cancer. It's chemo time.
Trump has the power to end judicial amnesty TODAY under CURRENT law. Last week, near Philadelphia, yet another alleged illegal alien child molester was arrested on charges of attempting to lure minors. Twenty-five-year-old Eudy Najera-Arita, an illegal alien from Honduras, was arrested in Delaware County, PA, in connection with two luring attempts of minors and exposing himself to one of the girls. As has been my practice in these cases, I reached out to Immigration and Customs Enforcement to get his immigration history. I asked if Najera-Arita was previously deported and reentered unknowingly or if he had been in this country undetected until local police picked him up on April 9. To my shock, it was neither. He was known to immigration officials, but was indeed never deported.
Trump administration set to end sanction exemptions for nations importing Iranian oil: report. The Trump administration is set to inform five nations that they will no longer be exempt from U.S. sanctions if they continue to import oil from Iran, reports said Sunday [4/21/2019]. Secretary of State Mike Pompeo plans to announce the policy move on Monday [4/22/2019], which would no longer renew sanctions waivers for allies Japan, South Korea, and Turkey. The other countries no longer exempt are China and India. The waivers for sanctions will expire on May 2.
Trump wants to evict illegals. The Housing and Urban Development told Congress it plans to scrap a Bill Clinton rule that allowed illegal aliens to get public housing assistance. This is part of President Donald John Trump's plan to remove bad policies from all prior presidents, not just Obama. The Washington Times reported we stopped asking more than 20 years ago people if they are citizens or if they are even here legally. Taxpayers just shelled housing subsidies out, no questions asked. The money goes to landlords, who had no incentive to check whether a renter is legal or not.
President Trump pulling up the drawbridge on goodies for illegals. With the wall still in the works, President Trump isn't sitting idle as 1.5 million illegal migrants prepare to storm the U.S. border this year. He's moving swiftly to get some kind of handle on the migrant surge by strengthening the U.S.'s loophole-filled system of laws that have made immigrating here illegally more attractive to would-be migrants than following U.S. law.
Trump Signs Executive Orders to Fast-Track Oil and Gas Pipelines. President Donald Trump signed a pair of executive orders aimed at speeding up oil and gas pipeline permitting, including limiting the ability of activists and states to block key energy projects. Trump signed the orders Wednesday [4/10/2019] at an International Union of Operating Engineers' training center near Houston. [...] Trump ordered federal agencies to speed up permitting for pipeline projects, including asking the Environmental Protection Agency to curtail state authority to block projects under the Clean Water Act.
White House to Target Illegal Alien Money Transfers Out of U.S.. The White House is planning on targeting the tens of billions of dollars in "remittance payments" sent by illegal immigrants back to their home countries, in the wake of an ongoing migrant flood at the U.S. Southern border, a senior administration official told reporters Tuesday [4/9/2019]. The plans to target remittance payments come amid a broader shakeup at the Department of Homeland Security (DHS) and future executive actions designed to curb illegal immigration. The situation at the southern border has escalated in recent weeks, with thousands of migrants arriving daily to claim asylum.
The Tea Party is back! President Trump has our economy booming. Unemployment claims are at an unprecedented 50-year-low. There are more jobs available than there are workers to fill them. Yet every Democrat presidential candidate is on a mad dash to socialism. If a Democrat is elected president in 2020, we will be thrust back to the depressing days of Obama's failed economy: record-high numbers of Americans on food stamps, unemployment, and disability. Democrats are like drug-dealers seeking to insidiously addict Americans to government dependency solely to control their lives, behavior, and voting loyalty.
President Trump Announces 750 Additional Agents Deployed to Ports of Entry. So, Democrats and The Big Club want to play Lawfare with the border crisis? Well, this is not an ordinary President. In a move that is straight out of the Alinsky 'make them play by their own rules' playbook, President Trump enforces the rules. Amid a crisis of growing consequence, President Trump announces deployment of additional 750 Border Agents to U.S-Mexico specific ports of entry.
Trump administration is expanding program that boots asylum seekers back to Mexico. The Trump administration will be increasing the number of Central American asylum seekers who are sent back to Mexico to await their court case. Homeland Security Secretary Kirstjen Nielsen announced Monday she will be expanding the "Migrant Protection Protocols" program, more popularly known as "Remain in Mexico." Nielsen, in a memo sent to the federal borer chief, ordered Customs and Border Protection agents deployed on the U.S.-Mexico border to begin reviewing hundreds of migrant cases a day to determine if they should be booted back to Mexico.
Brandon Judd: DHS Can End Catch and Release by Empowering Border Patrol to Judge Asylum Claims. National Border Patrol Council President Brandon Judd says the Department of Homeland Security (DHS) is considering a plan to allow U.S. Border Patrol agents to administer "credible fear" interviews to border crossers that would "exponentially" drive down soaring illegal immigration levels.
The real prime target of Trump's threat to close the border. Ever since NAFTA, huge investments have taken place predicted [sic] on the free movement of good across the border. Those investments are now held hostage by Trump's threat. The implicit deal: either loudly and emphatically lobby for a simple revision to immigration law to allow asylum claimants to wait on the southern side of the border while their claims are adjudicated or endure a semi-catastrophic disruption. Trump knows that he has an excellent public case to make for this simple reform. With illegals now well aware that bringing along minors and an asylum claim guarantee admission to the USA, a hundred thousand a month are flooding in. The claims of a "manufactured crisis" look silly. Even Jeh Johnson, Obama's DHS secretary admits it is real.
Trump Really Does Have a Plan That's Better Than Obamacare. A look at his fiscal year 2020 budget shows that the president has a plan to reduce costs and increase health care choices. His plan would achieve this by redirecting federal premium subsidies and Medicaid expansion money into grants to states. States would be required to use the money to establish consumer-centered programs that make health insurance affordable regardless of income or medical condition. The president's proposal is buttressed by a growing body of evidence that relaxing federal regulations and freeing the states to innovate makes health care more affordable for families and small businesses.
After proving his innocence, Trump shouldn't have to be humble. Soon after news broke that special counsel Robert Mueller found no Russia collusion, media types began offering their idea of an olive branch to President Trump. It generally came in the form of advice that he try to "heal" the nation. One writer encouraged the president to give an Oval Office address in which he is "contrite, humble and authentic in tone" and use it to ask the public "for a new opportunity to be president of all Americans." Allow me to go out on a limb with a prediction: Hell will freeze over first. There might be an Oval Office speech, but it won't be contrite and humble, nor should it be.
Trump cuts all direct assistance to Northern Triangle countries Honduras, El Salvador, Guatemala. In a stunning about-face, State Department officials said that President Donald Trump is cutting off all direct assistance to the so-called Northern Triangle countries of El Salvador, Honduras and Guatemala. "At the Secretary's instruction, we are carrying out the President's direction and ending FY [fiscal year] 2017 and FY 2018 foreign assistance programs for the Northern Triangle," a State Department spokesperson told ABC News, referring to U.S. Secretary of State Mike Pompeo.
International Trade Court Rejects Challenge to Trump's Steel and Aluminum Tariffs. The United States Court of International Trade has rebuked a global industry challenge to President Trump's Steel and Aluminum tariffs. The court told the multinational trade association they lacked any authority to override the sovereign authority of President Trump, and his absolute right to apply a national security (section 232) declaration to protect the U.S. Steel and Aluminum industry.
Not All Medicare Cuts Are Bad. Senate Democrats, including several of the party's presidential candidates, have savaged President Trump for proposing to reduce Medicare spending by several hundred billion dollars over the next decade. [...] But some cuts to Medicare make sense. Several sought by Mr. Trump closely resemble cuts that had been proposed by President Barack Obama. And the indiscriminate attacks by Senate Democrats are a reminder of how hard it has become for Congress to perform even the most basic kinds of prudent housekeeping in the public interest.
President Trump Recognizes the Importance of the Culture War. Turning Point USA founder and Executive Director Charlie Kirk told Breitbart News that President Donald Trump "recognizes the importance of the culture war" and that when the president sees his supporters — as well as constitutional liberties — under attack, he "has an obligation to have their backs."
The Supreme Court will likely approve Trump's wall. Trump's declaration of a national emergency to build the wall derives from that singular authority in the National Emergencies Act (NEA), passed by Congress in l976. Since then, presidents have resorted to the NEA 58 times. In each case, the president — Democrat and Republican — spent funds not appropriated by Congress and the Supreme Court did not overturn the action. Pildes notes, "Courts are uncomfortable when asked to second-guess presidential judgments in areas such as national security, foreign affairs and emergencies." The courts are not experts on these matters. Pildes cites the key Supreme Court decision, Immigration and Naturalization Service v. Chadha, which declared, he says, that "legislative vetoes are unconstitutional" — including vetoes of actions under the National Emergencies Act, the basis on which Trump acted.
Why aren't we deporting illegal aliens who already have deportation orders? We are told by the legal profession that nothing can be done to block bogus asylum-seekers from entering our country en masse, obtaining catch-and-release, and remaining here pending the outcome of a court decision that may be years in coming. But why is the DHS not at least deporting those who already went through this tedious process and have been ordered to be deported? Doing so would not only help eliminate public charge and potential gang members and drug runners for MS-13, it would deter the current and future wave waiting at the "conveyor belt" through Mexico from making the trip north.
Failure to prosecute Hillary Clinton will be 2020 election issue. The failure of former Attorney General Loretta Lynch and the Department of Justice to prosecute former Secretary of State Hillary Clinton for alleged breaches of 18 U.S. Code § 793. Gathering, transmitting or losing defense information (the Code) is an issue that will come to the fore in the 2020 elections. Clinton's escape from prosecution during the height of the 2016 election campaign has gained a new head of steam following release of the transcript of evidence given to the Committee on the Judiciary, US House of Representatives, in July 2018, by former senior FBI Lawyer Lisa Page.
Trump gets a U.S. Supreme Court victory on immigration detention. The Supreme Court on Tuesday [3/19/2019] endorsed the U.S. government's authority to detain immigrants awaiting deportation anytime — potentially even years — after they have completed prison terms for criminal convictions, handing President Donald Trump a victory as he pursues hardline immigration policies.
Bias alert:
Enforcing the law is not a hardline immigration policy.
Let's Get Serious About What Constitutes a National Emergency. If hundreds of thousands of unvetted illegal aliens storming our southern border is not a national emergency what is? Leftists don't consider open borders a national emergency because they welcome illegal hordes into America to overwhelm the welfare system, collapse the economy, and vote illegally to insure one-party Democrat dominance. It is their preferred road to destroying America from within and imposing socialism. Sharia compliant Muslims do not consider it a national emergency because hundreds of thousands of their sharia compliant Muslim Brotherhood brethren are pouring in determined to replace our Constitution with sharia law and establish an Islamic caliphate on United States soil. Drug dealers do not consider open borders a national emergency because their product can be brought into the country easily without fear of incarceration.
Build the Wall to Save Taxpayers Billions. President Trump launched another battle for border wall funding on Monday, calling for $8.6 billion in his proposed federal budget for next year. Top Democrats came out swinging, bashing a border wall as "expensive and ineffective." Truth is, Dems are not leveling with the public about the billions we're already forced to spend on shelters, food, diapers, medical care, and child care for migrants sneaking across the border and claiming asylum. Not to mention the costs of public schooling and healthcare provided free to migrants once they are released into communities. The wall will pay for itself in less than two years. It's a bargain.
Ban on Welfare-Dependent Immigration to U.S. Expected This Year. A federal regulation to ensure that legal immigrants who are a public burden on American taxpayers are not allowed to permanently resettle in the U.S. is expected sometime this year, United States Citizenship and Immigration Services (USCIS) officials tell Breitbart News. The Trump administration legal immigration reform, known as the "public charge rule," has been weighed by USCIS since the fall of last year and officials tell Breitbart News that the new regulation — which is expected to save American taxpayers billions while slowing the flow of mass unskilled legal immigration to the country — is likely to be enacted in full this year.
The Editor says...
Such a ban already exists. Immigrants are inadmissible if they are likely to be a public charge. If only the government would enforce this law, the immigration of unskilled freeloaders would stop overnight.
Trump endorses making Daylight Savings Time Permanent. Donald Trump has endorsed ending the twice a year clock-bending Daylight Savings Time ritual, echoing many Americans' frustrations with Saturday night's [3/10/2019] loss of an hour of sleep that they won't get back until November. 'Making Daylight Saving Time permanent is O.K. with me!' the president tweeted Monday morning. DST changes the clock-time of sunrise and sunset, an idea that dates back to ancient Rome but had its modern rebirth thanks to New Zealand entomologist George Vernon Hudson.
How Trump can use his 'pen and phone' to save billions and encourage immigrants to assimilate. President Trump has a gigantic opportunity to accomplish two goals via an executive order. [...] Democrats are on the record celebrating the power of presidents to issue executive orders and change federal policies. Barack Obama's boast that "I have a pen and I've got a phone" was immediately preceded by a promise: "We're not just going to be waiting for legislation in order to make sure that we're providing Americans the kind of help they need." And Bill Clinton, who issued the executive order requiring translations, was advised by Paul Begala, who celebrated that power with the immortal words, "Stroke of the pen. Law of the land. Kinda cool." I, for one, would greatly enjoy the spectacle of Progressives venting their outrage over such a move. They would hyperventilate over cruelty and being unwelcoming, but the fact is that by enabling people to avoid acquiring English proficiency, they condemn them to permanent second-class economic status.
'Press 2 for Spanish' costs billions; Trump can save money by pressing pen to paper. There's no telling how much money the government could save if it were to stop asking Americans to "Press 2 for Spanish." What is clear, according to those pushing the change, is that President Trump could do it with the stroke of a pen. Why he hasn't done so remains shrouded. Since the dawn of the 21st century, the U.S. government has operated under mandatory translation rules for its documents and services, a pricey option that President Bill Clinton imposed via executive order near the end of his tenure in August 2000. In essence, the order meant that if a person with limited or no English language skills had a problem with accessing federal services, then that was the government's problem.
Why Trump Must Veto the Federal Land Grab Bill. President Trump gave one of his most memorable and impactful speeches two weeks ago, when he systematically dismantled the case for socialism. In that speech, he recalled the economic harm and destruction in nations that have adopted socialism, communism or Stalinism. "America will never be a socialist country," Trump pledged in his speech in Florida. Well said. And the first big step that Trump could take in preventing any slippery slide in that direction would be to veto the Land and Water Conservation Fund bill, which enables the federal government to spend billions to purchase millions of acres of private lands for "conservation." What? Uncle Sam is going to take out of private hands millions more acres of America's valuable landmass? This is the reverse of privatization — it is the nationalization of our nation's farmland, forests, streams and pastures.
Catch and Release, Birthright Citizenship, Sanctuary Cities Continue Unaltered Despite Trump Opposition. During his speech at the Conservative Political Action Conference (CPAC), Trump denounced the Catch and Release program where illegal aliens and border crossers are routinely released into the interior of the U.S. after being apprehended by Border Patrol. "We want to end Catch and Release. We catch them, we realize they are a criminal, we have to release them," Trump said. "Think of this, they come onto our land ... we now have to take them through a massive court trial. Who does this? Other countries say 'Get [...] out of here.'" So we catch them, we talk to them, if they're criminals or if they're not we release them and say 'Come back for a hearing in front a judge' ... not my fault, I inherited this mess but we're fixing it," Trump continued.
Forgotten no longer. Donald John Trump became the first third-party candidate to be elected president. First, he destroyed the Republican Party, then took its nomination and won the White House by destroying Hillary by exposing her as a grifter (you'd be in jail) and a drunk (Sick Hillary). He kept the name Republican because changing all that stationery is expensive. At CPAC today [3/2/2019], President Trump explained who his new party stands for. The Forgotten Man. The veterans. The soldiers. The police. The firemen. The paramedics. The groundskeepers. The farmers. The truck drivers. The factory workers. The janitors. The maids. And above all, the coal miners, without whom we would all freeze to death in the dark.
Trump announces executive order to cut off federal research funds for campuses that don't protect free speech. Speaking to an enthusiastic crowd with many college-age conservatives in the audience at CPAC yesterday, President Trump announced that he will sign an executive order denying federal research funding to campuses that do not protect free speech. The promise came after he called to the stage Hayden Williams who was punched in the face on February 19 at the University of California, Berkeley, while manning a recruitment table for Turning Point USA.
Trump's executive order to bring back free speech on college campuses is bold and necessary move. Colleges and universities in America have long been little more than indoctrination centers for the hard left, but the pendulum has swung so far to the left that opposing views have been all but shut down at many of these institutions of higher learning. In fact, espousing alternative points of view has become a dangerous task on some campuses, as was seen last month at the University of California, Berkeley, where a conservative activist was punched in the face. And for the first time, someone is pushing back: President Donald Trump.
Trump administration to ban abortion referrals by taxpayer-funded family planning clinics. The Trump administration announced Friday that it intends to bar taxpayer-funded family planning centers from promoting or perfoming abortions or referring women to other clinics for them — a move that is likely to yank money from groups like Planned Parenthood. The Department of Health and Human Services announced that the Title X program, a family-planning grant that helps approximately four million women a year, would be subject to a revision of regulations — including one that "prohibits the use of Title X funds to perform, promote, refer for, or support abortion as a method of family planning."
Trump Will Officially End Negotiations With California On Fuel Economy Rollbacks. The Trump administration will soon announce the end of negotiations with California regarding a proposed rollback of Obama-era fuel economy regulations, The Daily Caller News Foundation has learned. White House officials met with Environmental Protection Agency (EPA) and Department of Transportation (DOT) officials Tuesday evening [2/19/2019] to discuss the announcement, which is expected to come Wednesday afternoon, according to a source familiar with the matter. The move comes as California leads a coalition of states suing to block President Donald Trump's national emergency declaration for the U.S.-Mexico border. Trump's declaration allows him to divert more funding for a border wall, which California opposes.
Sue the Pants Off Smollett, Mr President. We've all been happily munching our popcorn as we watch Jussie Smollett's racist assault story, (complete with its de rigeur noose) implode and then explode in a spectacular fashion. This won't last very long. Our ever mendacious press corps will want to get this evidence of their malfeasance off the front page and out of the public view, as soon as possible. Moreover, the way these things generally work, absent some other egregious circumstances that have yet to out, Smollett will likely do little or no time over his criminal conspiracy. Previously, here and here, I've advocated using the leftists' legal tactics against them. This is also might be a good way to get a pound of flesh out of Smollett, especially since it's unlikely that the criminal justice side of the house will. And the best part? Mr Smollett himself, has provided President Trump the tool to do so, by his decision to state in a police report that the two men who allegedly beat him, were wearing "MAGA" hats. As we all know, Donald Trump is all about "brand." Early on in his presidential campaign, he took steps to trademark, "MAGA." Not only did he trademark it, he actively and vigorously defended that trademark from infringement.
Trump as Hercules Cleaning Out the Augean Stables. [Scroll down] In 1976, Congress passed the National Emergencies Act. Since then, presidents have declared "at least 53 states of emergency." If Congress doesn't agree with the emergency power declaration, the 1976 Act provides a remedy — and I think it is the only remedy consistent with that act and the Constitution: passing a bill to rescind it, something Ocasio-Cortez has said she will try to do. (Speaker Pelosi talked earlier of seeking judicial relief, but it's my opinion that the act, consistent with the separation of powers, provides the only route to overturn it.) I do not see rescission passing muster in both houses of Congress, no matter how much the NYT and others wish that were so. But should it, the president can veto it, and I doubt that the left has sufficient votes to overturn that.
Illusion Or Invasion U.S.A.? [F]ormer President Obama himself declared 10 national emergencies while in office, including one on July 25, 2011 blocking property of transnational criminals from Los Zetas, one of Mexico's most dangerous drug cartels. Does blocking property from a drug cartel seem like grounds for a national emergency declaration? Yet, Congress didn't even flinch over its enactment. So, Obama can declare a national emergency against a single drug cartel, but President Trump can't declare a national emergency against all of the cartels, human traffickers, and all types of criminals and gangs infiltrating our country right now? I believe our current president has a far greater basis of national threats than Obama ever did to enact a national emergency.
More about Obama acting like a dictator.
Why Trump will win the wall fight. In the matter of the border wall, Congress could not have been more clear where it was heading. It put itself on the path to institutional irrelevancy, and it has finally arrived. I do not agree there is a national emergency on the southern border, but I do believe President Trump will prevail. This crisis is not the making of Donald Trump. This is the making of Congress. For decades, Congress frittered away control over its authority, including the power of the purse. I have testified before Congress, warning about the expansion of executive power and the failure of Congress to guard its own authority. The two primary objections have been Congress giving presidents largely unchecked authority and undedicated money. The wall funding controversy today is a grotesque result of both of these failures.
Trump's emergency declaration is legal and needed to protect America — Here's why. President Trump's national emergency declaration is well within his executive authority. Along with other executive action and a new spending bill passed by Congress, it will permit him to reallocate and aggregate $8.1 billion in funding for a barrier along our southern border [...] Any fair-minded legal scholar or commentator would agree that, "Yes, The President Can Declare A 'National Emergency' To Build A Wall," as a headline on a news story on the NPR website stated earlier this year. Citing Elizabeth Goitein, co-director of the Brennan Center for Justice's Liberty and National Security Program, the article notes: "Congress chose not to put any substantial — or really any — barriers on the president's ability to declare a national emergency."
Why is Trump, and not Obama, the so-called 'dictator'? President Trump has been turned down by Democrats for a sensible border barrier, so he will declare a national emergency in accordance with a law Congress passed in 1976. Somehow, following a law Congress passed gets Trump labeled as a dictator. Here is the case for declaring a national emergency: Tens of thousands of people die each year from drug overdoses, and a huge percentage of those drugs comes across the porous southern border illegally. [...] Hundreds of thousands of illegal aliens, including gang members and other criminals, descend on our long southern border each year.
Mark Levin eviscerates the argument against using the National Emergencies Act. Even some Republican senators are saying the president shouldn't declare a national emergency. In a Facebook note, LevinTV host Mark Levin tears that argument apart: ["]Leftwing media and RINOs don't represent the GOP. Nor are they defenders of the Constitution. The National Emergencies Act of 1976 was created by Congress. It has been used scores of times. The media never cared. The RINOs never said a word before. Nor did they act to repeal it. Now they object? Look at Rubio. He opposes the government shutdown, he opposes the bill the Congress passed and the president signed (he's right about that), and he opposes use of the National Emergencies Act. Effectively, then, he would leave the border wide open since he has no practical solution and objects the to the president using any of his powers to act. And the so-called comprehensive immigration reform he helped author several years ago demonstrated what a failure the Gang of Eight members were in tackling this problem. Many of the same Republicans whining to the leftwing media today have been in office for years and tolerated if not passively supported the current state of immigration chaos. [..."]
Trump Should Just Let the Democrats Self-Destruct. President Trump has demanded that Ilhan Omar voluntarily resign. The idea of impeachment of another Muslim Democratic congresswoman, Rashida Tlaib (Michigan) is also being actively promoted. The events surrounding Ilhan Omar, of course, are a shame for America. The anti-Semitic focus of her recent statements is obvious. However, this does not mean that President Trump has an urgent need to intervene in the process of natural political selection and demand the resignation of an anti-Semitic congresswoman. Trump's intervention in the natural self-destruction of the Democratic Party is a strategic mistake.
President Trump Must Ensure Spending Bill Does Not Cancel Emergency Powers. The White House should be extremely cautious in studying every single word in Congress's spending bill, because even a single phrase could negate every authority President Donald Trump currently has under federal law to build and fund the border wall, even canceling his authority to declare a national border emergency. Insiders around D.C. are talking about how the president can sign the spending bill that was unveiled this week, take the money that it authorizes for building a wall, then use executive authority to fund the rest of it. The president must proceed with extreme caution, because the opponents of the wall are the ones writing this 1,169-page monster legislation, and a single unnoticed sentence could lead to a court ruling that the president has signed away all of this legal authority to secure the border — including emergency authority.
What We Still Have to Lose. These are dangerous times. The Left has made them so and insists on increasing the danger. Leftists hold virtually every commanding height in our society — financial, intellectual, educational, cultural, administrative — and yet they affect the posture of an oppressed and besieged "resistance." Nonsense. The real resistance is led by President Trump. It is resistance to the Left's all-consuming drive for absolute power, its hostility to all American and Western norms — constitutional, moral, prudential — and its boundless destructive enmity. [...] The president stands clearly and firmly against these virulent attacks on America and firmly for the protection of life and liberty, and the promotion of the good life for the American people. Those are the core responsibilities of any American president.
National Prayer Breakfast Cheers Donald Trump's Pro-Life Message. President Donald Trump championed the pro-life message at the National Prayer Breakfast on Thursday, vowing to defend life. "We must build a culture that cherishes the dignity and sanctity of innocent human life. All children, born and unborn, are made in the holy image of God," he said. "Every life is sacred, and every soul is a precious gift from Heaven." Trump received a standing ovation from the audience and then quoted Jeremiah 1:5. "As the Lord says in Jeremiah, 'Before I formed you in the womb, I knew you. Before you were born, I set you apart,'" he said.
Hey, Commander! Start Commanding! The U.S. Navy Seabees and Army Corps of Engineers have built all kinds of non-military infrastructure in, among other places, Djibouti, Vietnam, Iraq, Afghanistan, the Philippines, Bangladesh, Somalia, the Congo, Cambodia and Grenada — even in little Micronesia (population: 100,000). [...] The U.S. military does these things in other countries but, we're told, can't build a wall in our own. At this point, our only hope may be for the border states to secede from the Union and form their own nation, so that we can send troops to build them a wall. They could call their new country "YouMustGoBackistan." Democrats and the media (and 90 percent of Republicans) believe the president has the authority to use the military to build walls, schools, hospitals and water purification systems — anywhere but here.
McCarthy: GOP won't block Trump if he declares an emergency to build the wall. House Majority Leader Kevin McCarthy told reporters Friday that GOP lawmakers would not vote to block President Trump from using a national emergency declaration to divert federal funds for the construction of a southern border wall. "I don't think anyone questions his legal authority to declare a national emergency," said McCarthy, R-Calif. Trump has threatened to issue an emergency declaration if Congress does not agree to provide billions of dollars for the wall.
Abortion: A Winning Issue for Trump. Could President Trump's State of the Union speech be an opportunity to seize the issue of late term abortion? Certainly the Democrats have set up quite a moment. First Governor Cuomo's party faithful cheered the passage of a bill making it easier to get late term abortions in the Empire State. Then in Virginia, Governor Ralph Northam horrified even some Democrats by seeming to support infanticide. This strikes us as a winning issue for the President. He ran as a pro-life candidate, and it's hard not to conclude that the issue helped him confound the pollsters and gain the presidency in 2016. There have to be millions in our country who are shaking their heads in wonder at the latest developments. And are eager for a national figure to confront this rush to codify a right to late term abortions.
Trump Delivers For Workers, After Years Of Empty Obama Promises. The latest expectation-shattering jobs report isn't a fluke. It's another sign that President Trump's economic policies are improving the lives of middle class families. [...] The jobs picture is so strong right now that it's pulling people in who've been sitting on the sidelines.
President Fires a Shot Over the Bow of Obstructionist, Pro-Crime Democrats. President Trump is growing impatient over the lack of progress bipartisan negotiators in Congress have been making in talks over funding a desperately needed wall on the nation's porous multi-state border with Mexico — and this continuing failure makes another government shutdown increasingly likely this Feb. 15. The GOP-controlled House of Representatives voted 217 to 185 on Dec. 20 for a spending bill with $5.7 billion for the wall. The measure floundered in the Senate and the partial shutdown got underway Dec. 22. The Senate remains in Republican hands but the House is now controlled by Democrats.
Much Has Changed for the Better Since 2016 — Not That Trump Will Get Credit. The idea that China systematically rigged trade laws and engaged in technological espionage to run up huge deficits is no longer a Trump, or even a partisan, issue. In the last two years, a mainstream consensus has grown that China poses a commercial and mercantile threat to world trade, to its neighbors and to the very security of the United States — and requires a strong response, including temporary tariffs. The world did not fall apart after the U.S. pulled out of the flawed Iran nuclear deal. Most yawned when the U.S. left the symbolic but empty Paris Climate Accord. Ditto when the U.S. moved its embassy in Israel from Tel Aviv to Jerusalem. In retrospect, most Americans accept that such once controversial decisions were not ever all that controversial.
Then what good are you?
William Barr: 'I Don't Subscribe To This Lock Her Up Stuff'. President Trump's attorney general nominee William Barr used the targeting of political enemies to say that he does not agree with the "Lock Her Up" chant directed at Hillary Clinton. This, after he said that he does not believe in selective prosecutions. Lindsey Graham has assured America that Barr is a good friend of Robert Mueller. Graham, focused on protecting Mueller with bills in Congress, is using the special counsel to try to keep Trump on a leash, even though everybody knows that the Russia case is a hoax.
The Editor says...
President Trump was elected by those who believed he would build the border wall, drain the swamp, and put Hillary in prison. If none of that is accomplished, it may not be entirely Mr. Trump's fault, but it won't get him elected to a second term.
Report: Trump can build wall without declaring emergency. Unable to nudge House Speaker Nancy Pelosi, D-Calif., any closer to approving funding for a border wall, President Trump can move on his own without declaring a national emergency, according to a nonpartisan congressional report. The Congressional Research Service, Capitol Hill's think tank, is highlighting laws for Trump to tap that would not be subject to Congress' "termination provison." The CRS "legal sidebar" outlines alternative paths for the president, who has been considering tapping the National Emergencies Act.
Poll: Trump Support Remained Unchanged During Government Shutdown. During the longest government shutdown in U.S. history, support for President Donald Trump remained consistent across the country, according to a newly released poll. The survey, from the Wall Street Journal and NBC News, showed approval for Trump, weeks into the shutdown of about a quarter of the federal government, was exactly the same as when it started.
The real evil of fake news. [President] Trump ought to be able to protect his communications with Putin or any other world leader for any purpose he pleases. That is his right as commander-in-chief. He was elected to conduct diplomacy as he sees fit. His policies should not be held hostage to a military-industrial complex and a pundit class that is happy to serve it. Trump is a nimble navigator, a master tactician who can do what was previously considered impossible — actually outmaneuver the Deep State.
Rand Paul Backs Trump on Syria Withdrawal: 'If We Wait for Perfect Time, We'll Be There Forever'. On Fox Nation's "Liberty File," Sen. Rand Paul defended President Trump's decision to withdraw U.S. troops from Syria. Numerous Republican lawmakers — including perhaps most forcefully Sen. Lindsey Graham — have criticized the removal of troops, particularly after four Americans were among several people killed by a suicide blast that struck near a U.S.-led coalition patrol in the city of Manbij on Wednesday. Paul (R-Ky.) said ISIS has largely been defeated, but the ideology of radical Islam will always persist, so there will never be a "perfect time" to withdraw from Syria.
After Trump Gets His Wall Funding, He Should Fire The TSA. In their constant search for shutdown-related disasters, the media are now fixated on airport screeners. The shutdown is wreaking havoc on airports, they say. Except that it isn't. The shutdown does, however, present an opportunity to re-privatize the troublesome TSA.
More about the TSA.
Supreme Court allows Trump's partial military ban on transgender people in military to take effect. The Supreme Court will allow President Donald Trump's partial ban on transgender people serving in the military to take effect while court challenges continue. Responding to Justice Department requests, the high court Tuesday cleared away lower court actions that blocked the controversial policy from being implemented for nearly a year. But the justices refused to hear the case before the Trump administration fights its way through federal appeals courts, which will leave the legal questions surrounding the action unresolved for now.
To Win in 2020 Trump Must Build the Wall. With the 2020 presidential campaign already in motion, President Trump recognizes the importance of this issue to his chances of winning another term. It has been his most significant campaign pledge since the very beginning.
Trump Puts Schumer and Pelosi in a Brilliant Vise Grip. The federal government shutdown has presented a unique opportunity for President Donald Trump to clear out the deadwood in the federal bureaucracy, saving U.S. taxpayers billions of dollars in salaries, perks, and rented office space for people who aren't doing anything productive. At the same time, Trump can get rid of dozens, possibly even hundreds of Deep State operatives in the government, handpicked by Barack Obama and Bill Clinton for their loyalty to the Democratic Party, not their country or the law. These people leak like a screen door in a submarine, mainly to CNN and MSNBC, the twin headquarters of Trump-hatred on cable TV. Peter Strzok and Lisa Page were choreographing their leaks to the media via text messages. Even though Strzok was fired and Page resigned, it's clear there are many others. They actively resist Trump and the Republicans at every opportunity. This is the core of the Resistance.
Rand Paul Has A Solution To State Of The Union Problem — Cuts Out Pelosi Entirely. Republican Kentucky Sen. Rand Paul offered a potential solution to the State of the Union problem that has been front and center for the past few days — President Donald Trump bypasses the House of Representatives entirely and delivers the speech from the Senate floor. "Senator McConnell is in charge of the Senate," Paul tweeted Thursday morning [1/17/2019]. "If Mrs. Pelosi refuses to allow the president to deliver the State of the Union in the House, I propose we move it to the Senate and make it happen!"
Take This SOTU and Shove It. [Scroll down] As Pelosi suggested, Trump can easily send a written report to the Congress. He should do just that. Even better, he can then take his disinvitation and move the venue elsewhere. He could then deliver his speech from the Oval Office — although he just gave a short talk from behind the Resolute Desk. Or, he could take it to Trump Country, and find a 50,000-seat stadium somewhere in Indiana or Texas and rock the house; if the SOTU is little more than a campaign speech in disguise, might as well go whole hog.
I'm A Senior Trump Official, And I Hope A Long Shutdown Smokes Out The Resistance. President Trump does not need Congress to address the border emergency, and yes, it is an emergency. Billions upon billions of hard-earned tax dollars are still being dumped into foreign aid programs every year that do nothing for America's interest or national security. The president does not need congressional funding to deconstruct abusive agencies who work against his agenda. This is a chance to effect real change, and his leverage grows stronger every day the shutdown lasts.
Polling Data Shows Nearly 80% Of Americans Consider Illegal Immigration A Serious Problem/Crisis. It's the data most responsible for the sudden shift in Democrats' tone this week as more and more in Congress give the media hints that they are willing to allocate funding for at least some of the border protection measures being pushed by President Trump. You see, it's not that these Democrats in Congress think it's the right thing to do but rather that the vast majority of Americans (nearly 80%) think it's the right thing to do and so the hands of Democrats are now being forced to do something or face a serious political backlash heading into 2020.
Support for Trump's wall reaches all-time high: Poll. Support for President Trump's wall along the U.S.-Mexico border is at an all-time high weeks into a partial government shutdown which began over a border security dispute for funding. According to the results of an ABC News and Washington Post poll released Sunday morning [1/13/2019], 42 percent of Americans support a wall. That is up from 34 percent one year ago and a previous high of 37 percent in 2017. With 54 percent, the majority of Americans polled still oppose building a border wall. However, that opposition is shrinking, as 63 percent opposed the wall a year ago and the previous low was 60 percent two years ago.
President Trump Will Win the Border Wall Security Argument. The president will win the political argument over the need for a border wall, and the reasons are simple: (1) most common-sense Americans agree with the need; and (2) democrats, only comfortable within their echo-chamber, always over-play their hand. It really is that simple. There is a genuine crisis at the border; and illegal entry into the United States is a national security issue.
Trump's Declaration Of National Emergency Would Not Be Unprecedented. President Donald Trump is considering declaring a national emergency at the U.S. southern border and it would not be unprecedented in general. Trump's predecessor, former President Barack Obama, himself declared 12 states of national emergency ranging from a "National Emergency with Respect to the 2009 H1N1 Influenza Pandemic" to blocking property from "certain persons" in connection with countries in conflict with the U.S.
FYI: POTUS Trump National Emergencies Declared = 0. Barack Obama National Emergencies Declared = 12. How odd to see the socialist media in such a tizzy over the idea of President Trump declaring a national emergency at the southern border that would require, at least in part, a border wall to solve. "He can't declare a national emergency!" they cry. "That would be an abuse of power!" they declare. "Unprecedented!" they wail. And yet, when Barack Obama did that very thing not once but 12 times, (most often of which allowed the U.S. government to seize property) there was nary a word of complaint from this same far left media. Quite the opposite. They defended it.
Appeals court sides with Trump on transgender military ban. A federal appeals court on Friday [1/4/2019] overturned a lower court's ruling blocking President Trump's ban on transgender people serving in the military from taking effect. The ruling hands Trump a win in a case that has seen several courts block the policy. But the policy still cannot take effect because of those other injunctions, which applied nationwide.
Good Riddance, Syrian Civil War! The media and the political establishment's excoriation of President Donald Trump for his decision to withdraw U.S. forces from the battlefield of eastern Syria has been blistering, as usual. Our exit from the Syrian Civil War is, in fact, well-timed and sensible. President Trump deserves praise for bucking the conventional Beltway wisdom to save the American people and, more importantly, American servicemen from this bloody quagmire.
Trump dumps Obamath. President Trump is ending Obamath at the EPA by challenging regulations that cost $7.4 billion to $9.6 billion annually, but provide only $4 million to $6 million annually in health benefits. Naturally, liberals are upset because they just use the environment as an excuse to kneecap American industry and our economy.
Trump Threatens to Close the Southern Border If Wall Isn't Built. President Trump threatened to close the southern border if Democrats continue obstructing border wall funding. In a series of tweets Friday morning, Trump argued that doing so would be a "profit making operation" given the vast amount of money the U.S. is losing on trade with Mexico. "We will be forced to close the Southern Border entirely if the Obstructionist Democrats do not give us the money to finish the Wall & also change the ridiculous immigration laws that our Country is saddled with. Hard to believe there was a Congress & President who would approve!" he said.
Could the President Mandate E-Verify? There are many changes that could be made to the immigration laws that would enable the United States to gain control over its illegal population. Of all of the proposals, however, E-Verify would be the most effective at curbing illegal entries and limiting nonimmigrant overstays. And the president could likely make it mandatory through executive action.
Five Dumb Arguments Against 'the Wall'. [E]ven using conservative estimates compiled five years ago, the funding Trump is asking for in the current budget is about 10 percent of the annual cost taxpayers incur to provide services to illegal immigrants. One hardly needs to consult a sophisticated financial analyst to see that the return on investment for the wall is huge even if the wall merely stops half of what the Democrats and the media refer to as undocumented citizens from crossing the border.
Donald Trump can fund the border wall without congressional approval. The federal government has shut down because Republicans can't agree on funding for President Donald Trump's main campaign promise to build a wall on the southern border with Mexico, and Democrats are insisting they will not vote for wall funding. This typical Washington gridlock is surmountable because Trump can build the wall on his own. A week ago, the White House put out a call to federal agencies to look for "pots of money" in their existing budgets that could be cobbled together to pay for border wall construction. Immediately, Sen. John Thune, the Republican whip in the upper chamber, shot down the idea of shifting funds from executive departments to the border, saying, "I'm not a big fan of moving money." Like it or not, there are sources of revenue in the executive branch that the president has authority to use without congressional approval.
Cutting welfare to illegal aliens would pay for Trump's wall. Mexico won't have to pay for the wall, after all. US taxpayers won't have to pick up the tab, either. The controversial barrier, rather, will cover its own cost just by closing the border to illegal immigrants who tend to go on the federal dole. That's the finding of recent immigration studies showing the $18 billion wall President Trump plans to build along the southern border will pay for itself by curbing the importation of not only crime and drugs, but poverty. "The wall could pay for itself even if it only modestly reduced illegal crossings and drug smuggling," Steven A. Camarota, director of research at the Center for Immigration Studies, told The [New York] Post.
Feds spend more in food stamps in ONE month than POTUS wants for entire YEAR of wall funding. Now that Democrats have allowed part of the government to be shut down because they refuse to protect our country and give POTUS Donald Trump his $5 billion border wall budget request, it's time to put some things in perspective. Like the amount of money at play here. And Democrats' true motivations. First the money. Democrats and Leftist talking heads have complained that the $5 billion POTUS Donald Trump wants in fiscal year 2019 funding for his promised border wall is excessively expensive, but a new analysis finds that this argument to be, well, asinine. The federal government spends more on the food stamp program in a single month than the president's entire FY '19 border wall budget request, CNS News' Craig Bannister noted on Friday [12/21/2018].
Trump Is Smarter Than the Generals. A bipartisan consensus among the foreign policy elite holds that America needs to maintain its de facto overseas empire. This includes both preserving stability, as well as fomenting deliberate instability, including regime change in places like Syria. This consensus among elected officials, defense contractors, general officers, talking heads, and various experts is not shared by the vast majority of Americans, who elected Barack Obama and Donald Trump on their promises to end "stupid wars" and put America first. The American people have good instincts on these matters.
Why Trump Is Right to Withdraw Troops. Donald Trump has announced that he is bringing home America's troops from Syria just two years after he was elected president. His plan to end one of America's many wars prompted a mob to gather outside the White House, pitchforks at the ready. The mob wasn't made up of angry farmers or workers. Instead, the feverish crowd constituted Washington's war party: ivory tower think-tankers, editorialists promoting perpetual war, wannabe commanders-in-chief eager to launch their next democracy crusade, and politicians who collected draft deferments when their lives were on the line — but who now see the need for the United States to "exercise leadership."
Trump Administration Plans To Make More People Work For Food Stamps. The Trump administration announced on Thursday that it would move to make sure able-bodied Americans work to receive food stamp benefits, which the U.S. Department of Agriculture (USDA) said could save billions of dollars in taxpayer money each year. The Agriculture Department unveiled expanded work requirements in the Supplemental Nutrition Assistance Program, known as SNAP. A move to expand such requirements was included in a $400 billion farm bill recently passed by Congress, but was stripped out at the last minute.
Trump Ends Food Stamps For Able Bodied Americans. What Congress didn't have the guts to do in law, Trump will be doing himself. While so many news people were fixated on whether the government would shut down or not, Congress passed a very sizable Farm Aid bill. One thing was NOT addressed in that bill, however. Food Stamps eligibility for the able-bodied. Since they weren't up for it, the President is addressing that issue another way.
Obstructionist Republicans vs. Trump. Washington is staring into the abyss of its third shutdown in two years. [...] Thanks to the ongoing shutdown theater, two things are now obvious. First, Republican leadership in Congress had no intention of even trying to fund Trump's wall, much less actually doing it, despite repeatedly promising to do so. And second, Trump is being exactly who he said he was, and doing exactly what he said he'd do, and all of greater Washington is still shocked — shocked! — by it.
Schumer's Shutdown Isn't About a Border Wall. Does anyone believe Chuck Schumer actually cares about anyone, much less foreigners, or criminal foreigners? Ask yourself if it's believable as you watch the authoritarian Chuck Schumer force his will on the people. Using old Soviet tactics, Schumer and his colleagues silence or destroy anyone who objects. Democrats have offered fantastical reasons for not approving the border wall, including costs and humanitarianism. But none of their reasons stand up to scrutiny when one considers that we have more than 50,000 anonymous foreigners pouring into the country each month. What Democrats want is power and control and they want it to be permanent. That's why they don't debate or compromise.
Mr. President, Veto McConnell's Sellout On The Wall. What Mitch McConnell meant by "the reality of our political moment" was not that the American people or the Republican base wouldn't support President Trump or Republican Senators if they fought for the much needed and long-promised border wall. It is that Sen. McConnell and his establishment Republican allies don't have the stomach for the necessary fight, now or ever. Does McConnell think that Republicans will be in a stronger position to fund the wall in February than they are right now?
The Swamp Is Growing Deeper. President Donald Trump won the presidency in 2016 with two simple promises: draining the swamp and building the wall. Last I looked, the wall isn't being built, based on Friday evening's Senate vote, and the swamp waters are rising. It seems that the D.C. swamp is growing deeper, and rapidly. How does this bode for the president's next two years and his potential re-election? If the swamp gets deeper between now and 2020, can he be re-elected? We are told to "trust the plan," but where is that getting us? Many of us still hang in there, because where else can we go? If not Trump, then who?
The Editor says...
As I recall, the Trump platform was [#1] Drain the swamp, [#2] Build the wall, and [#3] Send Hillary to prison. At least that's what I voted for.
Trump's push on prison reform called 'goodwill' to minorities. President Trump is on the verge of the biggest bipartisan victory of his presidency as Congress puts the finishing touches on a major overhaul of the criminal justice system, a political feat that also gives him a strong argument to take to minority communities in 2020. The changes, which include cutting prison sentences for thousands of federal inmates, are expected to win final approval in the House this week and go to Mr. Trump, who is eager to sign it into law.
Mark Meadows: President Trump, Veto this Spending Bill, Fight for the Wall. The House Freedom Caucus and Chairman Mark Meadows (R-NC) delivered a series of fiery speeches Wednesday night [12/19/2018], calling on President Donald Trump and Congress to fund his promised border wall; Meadows said they will back Trump if he vetoes the spending bill. The House Freedom Caucus led a special order on the House floor on Wednesday night, urging Congress and the president to continue fighting for the border wall. Meadows said, "I rise to encourage my colleagues to stay in the fight to have the president deliver on a promise."
Trump just declared "the United States Military will build the Wall! Trump is tweeting this morning [12/19/2018] about several things, including getting funding for the wall. This comes after Trump backed down on his threat to close the government over border wall funding.
President Trump Tells GOP Leaders He Will Not Sign Funding Bill Without Border Security. Sticking to his prior statements about omnibus spending, President Donald Trump called republican leaders to the White House and informed them he will NOT sign a short-term resolution that does not provide funding for border security.
Trump to arm more adults in schools, end Obama's light discipline of troubled students. The Trump administration issued proposals Tuesday to prevent school shootings, a plan that includes arming more school personnel, taking guns away from highly dangerous people and revoking Obama-administration rules that were criticized for easing discipline of minority students. The president's commission on school safety, which was formed after the mass shooting Feb. 14 at Marjory Stoneman Douglas High School in Parkland, Florida, that killed 17 people, also calls on the media to stop publicizing the names and photographs of shooters to discourage other potential killers from seeking notoriety.
This is "THE" Fight, There are Trillions at Stake. President Trump's MAGAnomic trade and foreign policy agenda is jaw-dropping in scale, scope and consequence. There are multiple simultaneous aspects to each policy objective; however, many have been visible for a long time — some even before the election victory in November '16. What is happening within the financial markets should not be a surprise. If we get too far in the weeds the larger picture is lost. Our CTH objective is to continue pointing focus toward the larger horizon, and then at specific inflection points to dive into the topic and explain how each moment is connected to the larger strategy. Today, as a specific result of a very predictable stock market reaction, we repost an earlier dive into how MAGAnomic policy interacts with multinational Wall Street, the stock market, the U.S. financial system and perhaps your personal financial value.
Stop Being a Jerk and Give Him His Wall. [A]s of right now it looks like we're going to have a government shutdown over the Democrats' refusal to fund Trump's border wall. And almost no Republicans in America will [care]. Trump surely won't. A Trump shutdown doesn't look like a Barack Obama shutdown, by the way. First of all, most of the government has actually already been funded via appropriations bills which have passed — so you're only looking at a partial shutdown. And Trump isn't likely to play up the negative effects of a shutdown the way Obama did — planting barricades around the World War II Memorial in DC, for example, or holding tourists hostage in Yosemite National Park. It's going to be very mild. So the only people who will really be bent out of shape about a shutdown will be some government workers and Democrats who need a government service here and there.
Media Blackout After Trump Launches Urban Council To Invest $100 Billion in Black Communities. It's been a busy few weeks in media land, what with Michael Cohen's sentencing and talk about whether Donald Trump will be impeached, or Michael Flynn's sentencing and talk about whether Donald Trump will be impeached, or Jamal Khashoggi's death and how that relates to whether Donald Trump will be impeached. [...] That being said, this doesn't give the media a pass on reporting other aspects of the Trump presidency — particularly those that might paint it in a favorable light. For instance, you basically had to actively search to find any mention of the Opportunity and Revitalization Council, a $100 billion initiative to deliver growth in urban communities.
Trump should shut down the southern border AND the government until we fix our immigration system. And while we're at it, perhaps a shutdown of government might actually lead to a meaningful conversation as to what we really want in regards to the size and scope of our government: do we really need two million federal government employees that cost us $136 billion a year? Do we really need over 430 departments, agencies and sub-agencies in our federal government? Why can't we permanently break up and shut down departments like the Department of Energy? Break it up into Interior, Department of Defense and Commerce and literally plow the building under and build a Liberty Park. [...] Some people are still mystified as to how or why Donald Trump won, but is it really that hard to understand?
Why Michael Cohen Is Particularly Detestable and Despicable. We may never know the full extent of Donald J. Trump's familiarity with the pole dancer who took $130,000 from him, via Michael Cohen, to shut up. [...] None of this has anything to do with campaigning for office. The 2016 voters who elected Trump knew of his 2005 Access Hollywood trailer conversation with NBC's Billy Bush about women. They knew of Trump's history of dalliances. They just decided that they cared more about border security, the festering Obama economy, repealing and replacing Obamacare, treating ISIS as more than a Junior Varsity team, China's abusive trade practices, other disastrous trade agreements that leave America on the short end, rescinding the disastrously myopic Iran Deal, standing up to the UN, making Europe pay its fair share of NATO — and, no matter whom the Republicans were proffering, not having any more Hillary anymore.
EPA seeks to fire up coal industry by rolling back Obama-era standards. The Environmental Protection Agency on Thursday proposed rolling back the Obama-era rules on coal-fired power plants, a key element of the previous administration's so-called "war on coal" that President Trump has vowed to end. The agency moved to scale back the Obama administration's 2015 Clean Air Act performance standards on greenhouse gases from new, modified and reconstructed coal-powered utility stations, regulations that have been denounced as all but impossible to meet.
Obama's FBI brass hollowed out, after latest resignation of key official. Another top FBI official who helped oversee the Trump-Russia and Clinton email investigations is retiring, as the last traces of the bureau's embattled leadership team that once stood under Barack Obama's presidency disappear. The official, Bill Priestap, will retire from his post as assistant director of the FBI's counterintelligence division by the end of the year. "Assistant Director Bill Priestap became eligible to retire and has chosen to do so after 20 years of service," an FBI spokesperson told Fox News on Wednesday [12/5/2018].
Trump Has Another Plan Up His Sleeve To Rescue Ailing Coal Plants. The Trump administration is reportedly preparing to give the coal industry a boost by rolling back another Obama-era environmental regulation. The Environmental Protection Agency (EPA) on Thursday is expected to rescind a rule that requires new coal plants to be fitted with carbon capture technology, according to several officials who spoke with The New York Times. Under the Obama-era mandate, new coal plants were not allowed to emit more than 1,400 pounds of carbon dioxide per megawatt-hour. The Trump administration is due to raise this limit to 1,900 pounds. "It's fantastic that the Trump EPA is repealing the Obama EPA's ban on new coal-fired power plants," Junkscience.com publisher Steve Milloy said in May when The Daily Caller News Foundation exclusively reported the administration's mumblings of the rule rescission.
Trump Is Right — Subsidies For Electric Cars, Renewable Energy Must End. President Trump's economic adviser Larry Kudlow says subsidies for electric cars and other renewable energy programs might soon be eliminated. That would be a major victory on the road to energy freedom.
President urged to defund Planned Parenthood. President Trump has been praised for the pro-life decisions he's made, and now one organization is asking him to take the next step. "It's a promise that the president made on the campaign trail, and he needs to fulfill it now before pro-abortion candidates head to Washington in January," says Alison Howard Centofante, director of strategic communication at Live Action. Centofante says there are better, safer, more holistic options than abortion and funding for abortion organizations like Planned Parenthood.
Go Big Mr. President: Close The Southern Border. The establishment media would like Americans to believe that thousands of Central Americans spontaneously got together, packed their lunches and set off for a 2,000-mile march to the United States, where they expect us to provide them with jobs, social services, education and more. We applaud President Trump's commitment to securing our southern border and urge the President to go big and close the entire border to assure that this well-planned invasion does not succeed. We urge all CHQ readers and friends to join us in demanding that the United States government use every humane means necessary to prevent this invasion from entering the territory of the United States and that it undertake an investigation of those encouraging this illegal behavior with an eye toward prosecuting the instigators.
Trump was right to send troops to our border — Presidents of both parties have done it. The U.S. military and the Border Patrol have a history of working closely together. In 1989, President George H.W. Bush deployed U.S. military forces to the border to work in concert with the Border Patrol to strengthen our defenses against increasingly problematic infiltrators. This organization was named Task Force 6, now Task Force North, and has continuously provided the U.S. Border Patrol with intelligence, support and necessary shows of force. Those who believe the president's deployment of troops to the border was a political stunt ignore this history — and ignore the fact that both Republican and Democratic presidents have presided over U.S. military operations along the border.
Trump administration asks Supreme Court to immediately take up transgender military ban. The Trump administration on Friday [11/23/2018] once again asked the Supreme Court to bypass the usual legal process to take on another controversial issue: President Trump's decision to ban transgender people from military service. Solicitor General Noel J. Francisco asked the justices to consolidate the challenges to the ban — which so far have been successful in lower courts — and rule on the issue in its current term. Civil rights groups and gay rights organizations are fighting the president's order that would prohibit transgender men and women from enlisting, possibly subjecting current service members to discharge and denying them certain medical care.
New attorney general: "I would indict Hillary Clinton". President Trump's new attorney general will enforce the law. Washington is shocked. In July 2016, he took Jimmy the Weasel to task in a column for USA Today, headlined, "I would indict Hillary Clinton." The new general, Matthew Whitaker, wrote, "According to FBI Director James Comey's statement on Tuesday, former secretary of State Hillary Clinton could have been charged with violating several different code sections, and he detailed the evidence that supports bringing criminal charges. "Yet, Director Comey's judgment was that 'no reasonable prosecutor' would bring the case. I disagree. I believe myself to have been a reasonable prosecutor, and when the facts and evidence show a criminal violation has been committed, the individuals involved should not dictate whether the case is prosecuted."
China Infiltrates American Campuses. The main points of contact for Chinese Students and Scholars Association (CSSA) chapters in the U.S. are often intelligence officers in the embassy and consulates. China's Ministry of State Security uses CSSA students to inform on other Chinese on campus. Let us get the FBI to round up Ministry of State Security agents who, up to now, have been given free rein to operate in America. Putting these agents behind bars or even just revoking their visas will end many of the activities that endanger American campuses.
Trump Administration Officially Rolls Back Obama Birth Control Rule. The Trump administration announced Wednesday [11/7/2018] that it has officially rolled back an Obama administration "birth control mandate" requiring, under penalty from the Health and Human Services Department, that all employers provide birth control free of charge to employees through their selected health plans. The new rule will take effect in 60 days and will exempt employers who object to birth control on religious grounds from being forced to pay for birth control for any employees who choose to purchase it, the Washington Examiner reports.
Officials Change Asylum Rules to Ensure Quick Deportation of Economic Migrants. President Donald Trump is using a fast-track regulation and a presidential announcement to modify the asylum rules which prevent the quick deportation of illegal border-crossers. "Consistent with our immigration laws, the President has the broad authority to suspend or restrict the entry of aliens into the United States if he determines it to be in the national interest to do so," said a Thursday [11/8/2018] statement by Secretary Kirstjen M. Nielsen, Acting Attorney General Matthew G. Whitaker.
Irreconcilable Differences. Jeff Sessions is out as Attorney General. His ouster was inevitable. He and President Trump have irreconcilable differences about the role of the AG. [...] Sessions was, however, an excellent Attorney General. At Breitbart, John Bender describes ways in which Sessions advanced the president's America First agenda:
[#1] Ending Obama's DACA Amnesty.
[#2] California over Sanctuary State Law.
[#3] American Asylum Reforms.
[#4] Cracking Down on Discrimination Against Americans.
[#5] Building a "Legal Wall" to Block Illegal Immigration.
[#6] Increasing Rejection Rate of False Asylum-Seekers.
The World Can Live Without Iranian Oil. When President Trump ended U.S. participation in the Iran nuclear deal, he promised tough sanctions on the Iranian regime. On Monday [11/5/2018] our administration will deliver exactly that, reimposing sanctions on more than 700 people and entities in Iran's energy, shipping and financial sectors. [...] The Obama administration's deal with Iran failed to curb Tehran's egregious misconduct and ensure the safety of the American people. As the Trump administration exerts maximum pressure on the regime to reach a new deal, Iran's energy sector is a natural target for sanctions. Iranian leaders use oil money to line their own pockets and fund destructive foreign adventurism rather than address their people's needs.
Stop the caravan and build the wall to keep deadly drugs out and save lives. A perfect storm is brewing in the Southern Hemisphere and making its way north to the United States. Heroin, fentanyl and other opioids already pour through America's southern border and this infiltration is one of three elements that will feed the perfect storm. Every day, 115 Americans die from opioid overdoses and from tainted drugs passing through our border with Mexico. The second element is MS-13, the brutal gang that is a drug courier of choice used by the Mexican drug cartels for distribution of these drugs within the United States. When these two elements are mixed with the third element — the caravan of several thousand people, mostly men, seeking to break through our southern border — you complete a toxic combination leading to a perfect storm.
Trump's reversal of failed Obama policies has created a booming economy. President Obama raised taxes on businesses and individuals. He expanded the federal government's size and power through dramatic increases in the number and scope of federal regulations. He discouraged domestic energy production — for example, refusing to authorize the Keystone XL pipeline and openly attempting to bankrupt the coal industry. The economy is now booming because President Trump took the opposite course. President Trump has dramatically cut both taxes and regulations — shrinking the government's size and power — while aggressively encouraging domestic energy production.
Donald Trump: Birthright Citizenship 'Will Be Ended One Way or the Other'. President Donald Trump vowed Wednesday [10/31/2018] to continue fighting to end "so-called birthright citizenship." "So-called Birthright Citizenship, which costs our Country billions of dollars and is very unfair to our citizens, will be ended one way or the other," he wrote on Twitter. The president's proposal to issue an executive order to end birthright citizenship was revealed by Axios reporter Jonathan Swan on Tuesday [10/30/2018] during an interview with Trump.
Report: Trump to Expand Military Border Deployment from 800 to 5,000. Reports on Monday [10/29/2018] indicate that President Donald Trump will order an expansion of the U.S. military deployment to the U.S. southwest border. The order is expected to increase the number of troops being deployed from 800 to 5,000. The Wall Street Journal reported on Monday morning that the U.S. military plans to deploy 5,000 troops to the southwest border region in response to the caravan of "would-be asylum seekers." The plans reportedly call for 1,800 troops to deploy to Texas, 1,700 to Arizona, and 1,500 to California.
Feds Draft Plan to Discard Obama's Transgender Ideology. President Donald Trump's Justice Department will soon decide if agencies must follow biology when they describe the legal sex of American women and girls, men and boys, according to a document leaked to the New York Times. The policy would protect Americans' civil rights from the transgender ideology which insists that everyone has an FBI-enforced federal right to switch their legal sex — regardless of their biology — when entering sports competitions, K-12 bathrooms, hospitals, gym showers, the military, or single-sex civic society groups. This transgender ideology was promoted in 2016 by former President Barack Obama and is being imposed by many federal and state judges, despite visceral public opposition and scientists' criticism.
The Trump Administration Is Right To Define Gender Biologically. The Trump administration is moving forward with efforts to define gender on the basis of biological sex, reversing decisions under the Obama administration that essentially allowed individuals to choose their own sex for federal government purposes. A new memo from the U.S. Department of Health and Human Services argues federal agencies need a definition of sex and gender that is defined "on a biological basis that is clear, grounded in science, objective and administrable." The changes are to take place under Title IX section of a 1972 law that bars sex-based discrimination in federally funded education institutions, but could have far broader implications, in areas such as single sex settings and set aside programs.
Left [worries about the] prospect of Bolsonaro yanking Brazil from Paris climate accord. [Scroll down] The reality is, the U.S. pullout of the Paris accord has been the best thing that has ever happened to the planet. U.S. greenhouse gases, if that's what these people care about, have gone down, not up, and not just down, but below the target levels, while sanctimonious Europe's greenhouse gas levels continue to go up. Anybody criticizing Germany for emitting more greenhouse gases because it got rid of its nuclear power plants? Not hearing anything. And anybody praising the U.S. for cutting its emissions? Nope, not a peep.
Trump Administration Eyes Defining Transgender Out of Existence. The Trump administration is considering narrowly defining gender as a biological, immutable condition determined by genitalia at birth, the most drastic move yet in a governmentwide effort to roll back recognition and protections of transgender people under federal civil rights law. A series of decisions by the Obama administration loosened the legal concept of gender in federal programs, including in education and health care, recognizing gender largely as an individual's choice and not determined by the sex assigned at birth. The policy prompted fights over bathrooms, dormitories, single-sex programs and other arenas where gender was once seen as a simple concept. Conservatives, especially evangelical Christians, were incensed. Now the Department of Health and Human Services is spearheading an effort to establish a legal definition of sex under Title IX, the federal civil rights law that bans gender discrimination in education programs that receive government financial assistance, according to a memo obtained by The New York Times.
Trump admin considering narrowing legal definition of 'gender,' and there are only two. Meltdown begins. In what some describe as a sensible return to common-sense policies, the Trump administration has reportedly proposed redefining gender/sex as an immutable condition that cannot be altered by whim. In a memo obtained by The New York Times, the Department of Health and Human Services argues that federal agencies should adopt a definition of gender that's based "on a biological basis that is clear, grounded in science, objective and administrable." Though biological science makes it clear that only two distinct genders exist, the administration of former President Barack Hussein Obama muddied the definition of gender for political purposes.
Trump could win big with executive order halting caravan. President Donald Trump is mulling an executive order that would stop the caravan in its tracks and send the thousands and thousands of people trying to cross America's borders back to their homes. That makes perfect sense. It's a viable solution that would lead to a redefining of asylum seekers — a honing, of sorts, of the criteria that determines who gets into the country versus who gets refused. The left will fight. But remember the travel ban? This is the same left that was just slapped by the Supreme Court when justices ruled Trump does indeed have the power to keep out those deemed "detrimental to the interests of the United States." With that court wind at his back, Trump stands a good chance of defeating any legal challenges to come over an executive order that has the practical effect of stopping this caravan in its tracks.
David Walker: There is no party of fiscal responsibility anymore. President Trump on Wednesday [10/17/2018] may have proposed a 5 percent budget cut across his Cabinet's departments, but according to former U.S. Comptroller General David Walker, it's not enough to curtail massive spending by the federal government. "There's no question that we need to cut spending," he said on Wednesday during an interview with FOX Business' Stuart Varney. "Spending is out of control. That's the major part of our problem. But let's look at the math: Cutting 5 percent of discretionary spending — excluding defense — is less than 1 percent of the federal budget." Part of Trump's "nickel plan" requires each Cabinet department to slash the "fat and waste" in the government by cutting 5 percent from the budget by fiscal-year 2020, but it won't apply to the military.
Bring on More Kavanaughs! No man or woman — let alone their children — should be forced to endure the slanders that Brett Kavanaugh and his family experienced in the past three weeks. If good and decent people of talent and brains now decide to run and hide in fear of a similar onslaught, it would be disastrous for the United States and for our future. Surrender to that onslaught, giving a victory to the bullies and McCarthyites of the Left who want to end all opposition and dissent, and have been working most intensely for the past decade to undo the Constitution and the Bill of Rights is unthinkable. They cannot be allowed to cement their hold on power. No, now is not the time to hide. Now is not the time for Americans who believe in the Constitution, in freedom, in the rule of law, in the presumption of innocence, of freedom of speech, of limited government, of due process, of the right to bear arms (rights all delineated clearly in the Bill of Rights) to shirk their responsibilities and hide from the assault of the smear machine of the Left.
Trump administration halts visas for unmarried same-sex partners of foreign diplomats. The Trump administration will no longer provide visas for same-sex domestic partners of foreign diplomats and U.N. officials serving in the U.S., a policy that went into effect Oct. 1. Only if a same-sex couple is married will the spouse be eligible for a visa, but that could prove problematic for some, as the majority of the world's countries do not recognize same-sex marriages. The decision is meant to "ensure and promote equal treatment," according to a State Department spokesperson, as heterosexual domestic partners of foreign diplomats are also not eligible for U.S. visas. That rule has been in effect since 2009, but the Trump administration is saying because same-sex marriage is now legal in the U.S., it's no longer necessary or fair.
Trump Rule Rejects Migrants Who Cannot Speak English. Federal officials will likely reject legal migrants' requests for visas or green cards if they cannot speak English, says a draft regulation from President Donald Trump's Department of Homeland Security. "English language proficiency is a skill that also is relevant in determining whether an alien is likely to become a public charge in the future," says the draft "public charge" regulation. The regulation is intended to help officials exclude migrants who will likely rely on American taxpayers for their health care, welfare, housing, and wages.
FBI Memos Raise Deep Questions About Russia/Trump Intel Assessment. The FBI had concerns with the intelligence community's (IC) January 2017 assessment that the Kremlin interfered in the presidential election with the specific intent of electing President Trump over Hillary Clinton. In newly obtained emails, bureau officials noted there was not enough intelligence to support the January 2017 findings by the CIA which concluded Vladimir Putin meddled in the 2016 election to help Trump, according to a numerous documents and text messages obtained by SaraACarter.com.
Far Left Democrat Who Dared Trump to Release FISA Docs — Now Says Trump Is "Absolutely Lawless" for Releasing FISA Docs. Back in April 2017 far left Rep. Eric Swalwell (D-CA) dared President Trump to declassify the Obama DOJ surveillance documents. [...] On Monday [9/17/2018] President Trump went scorched earth and ordered the DOJ to publicly release all text messages WITHOUT REDACTION relating to the Russia investigation from James Comey, Andrew McCabe, Bruce Ohr, Lisa Page and Peter Strzok. But now suddenly Democrats are suddenly upset with the transparency. Eric Swalwell called President Trump's move "absolutely lawless."
Democrats Scramble To Halt Trump Order To Declassify FISA docs. Seems the Democrats (and likely some Republicans) are wailing in fear over President Trump's recent order to declassify FISA docs related to the Trump/Russia collusion hoax. Consider this: If the president had a DOJ working for him instead of against him, those responsible for perpetrating that hoax and attempting to subvert democracy in America would likely already be in jail. As it is, Mr. Trump has had to largely go it alone in D.C. as he continues to work very hard to drain the swamp on behalf of the American people.
Conflicting Reports Over DOJ and FBI "Classification" and "Redaction Removal". There is nuance within the directive for declassification by President Trump. The sets of documents are not identical in the way they are classified within the intelligence apparatus. There are distinct differences and conflicting reports [Bloomberg Report and Washington Examiner] perhaps based on conflation and miss-identification of those differences.
Ex-CIA Chief John Brennan Encourages Deep State to Defy President Trump's Declassification Order. The Deep State is in an obvious panic mode since President Donald Trump ordered a number of documents relating to the Russia investigation be declassified. Joining the loud choir of those who are pushing for insubordination against the president is former CIA Director John Brennan.
Pelosi, Schumer, Schiff and Warner Demand DOJ-FBI Defy Trump Declassification Order. In a shocking letter intended to undermine the President, and his authority over the Executive Branch, multiple high ranking Democrats sent a letter ordering intelligence agencies to ignore Trump's order to declassify numerous documents involving the Russia investigation until consulting with Congress.
Democrats Make Last-Ditch Effort to Block Trump Declassification. Leading congressional Democrats are looking to stall the process to release documents related to the Russia investigation, which President Donald Trump ordered declassified on Monday [9/17/2018]. Reps. Nancy Pelosi and Adam Schiff and Sens. Chuck Schumer and Mark Warner, sent a letter Tuesday asking Deputy Attorney General Rod Rosenstein, FBI Director Christopher Wray and Director of National Intelligence Dan Coats to provide an "immediate briefing" to the Gang of Eight before declassifying and releasing the documents.
Report: FBI and DOJ Officials "Scrambling to Respond" To Declassification Directives. Beyond the narrative engineering, NBC's Ken Dilanian is reporting from his mutually aligned sources inside the DOJ and FBI. The basic outline is the embed officials within the DOJ, FBI and larger intelligence community, are not happy about the White House declassification directive. Why would they be? These are the same DOJ and FBI officials who, without justification, redacted the Lisa Page and Peter Strzok text messages.
Would declassifying Russia docs expose former CIA chief John Brennan's dirty underwear? House Rep. Trey Gowdy, who must be seeing some things on the House Intelligence Committee as a member, told Fox News about a little noted elephant in the room surrounding the outcry over President Trump declassifying documents: "I've read it. Some of it's embarrassing for the Department of Justice — some of it's embarrassing for the FBI. Embarrassment is not a reason to classify something," said Gowdy. "A lot of it should be embarrassing to John Brennan, and maybe therein lies why he is so adamant that this information not be released." The elephant in the room is embarrassment. The Fox News report noted that Brennan, a former CIA director under the Obama administration, who opposed the declassification, was also one of the loudest opponents of President Trump's original order (since backtracked, apparently to assuage allies) to declassify documents surrounding the origins of the investigation of Donald Trump.
US to slash refugee admissions to historic low of 30,000, Pompeo confirms. The US will allow no more than 30,000 refugees into the country in the coming year, down by a third from last year's cap, the secretary of state, Mike Pompeo, has announced. The latest cut reflects a victory by White House hardliners on immigration over both the state department and the Pentagon. When Donald Trump took office the ceiling on refugees the US was prepared to welcome each year was 110,000. Trump lowered that to 45,000, and significantly fewer were actually allowed in. The new ceiling marks a historic low since the US Refugee Act was introduced nearly 40 years ago.
U.N. Gets Ready To Rumble. President Trump's coming collision with the United Nations could be something to behold. Later this month he's due to chair the Security Council, where he may give the striped pants set a piece of his mind in respect of Iran. He's barreling toward a showdown with the International Criminal Court. He's cut off funding to the UN Relief and Works Agency. Watch out for the International Monetary Fund. We characterize the coming reckoning as being with the United Nations because all of these institutions are in one way another either parts of or spawn of the world body. So, for that matter, are the Paris Climate Accord and the Iran nuclear accord, from which America has either withdrawn or announced its intention to do so. The United Nations is the focus of vast disappointment.
Nikki Haley Fires Away: We Aren't Going To Give Money To Anyone Who's Anti-U.S.. Appearing with Bret Baier on Fox News' Special Report on Wednesday [9/12/2018], U.N. Ambassador Nikki Haley spoke of the Trump Administration's foreign policy perspective in characteristically blunt terms, asserting, "We are no longer going to give money to people who are against the U.S., or say, 'Death to America,' or do anything that would be anti-U.S." Haley began by speaking of the sea-change in the attitude around the world engendered by the foreign policy initiatives of the president: [...]
Trump signs executive order that would punish countries or people who try to interfere in U.S. elections. President Donald Trump has signed an executive order that would allow his administration to target individuals or nations who seek to interfere in U.S. elections, sending a signal to Russia and others following efforts to meddle in his own election. The order comes two months before Americans go to the polls in elections that will determine control of Congress, potentially dramatically reshaping the balance of power in Washington. The sanctions would target not just foreign meddling in physical election infrastructure, but propaganda and other tactics, following efforts by a Kremlin-backed outfit use Facebook and other social media to try to create divisions and affect public opinion.
The Circus of Resistance. Trump has mostly one principle: he was elected to pursue a conservative populist agenda without too much worry what the Washington establishment said or did, whose record on the economic front since 2008 and in foreign policy was not especially stellar. In that sense, he is far more principled in carrying out his promises than many past presidents whose stump speeches on taxes, illegal immigration, trade, educational reform and a host of other issues were either never reified or flat out broken. So far, for all the crudity and Twitter antics, we have not had a "read my lips" or "you can keep your doctor" moment in the sense of a deliberate effort to break a campaign promise.
Trump and His Enemies. The unusually eventful summer has reinforced the stark division between the supporters and enemies of the administration. And in this case, there is no point engaging in the traditional sportsmanlike nomenclature of describing the opposition as "adversaries." They are enemies and the president would not wish it any other way. He ran for office against both parties, the lobbyists, almost all the national political media, and the politically active elements of Wall Street, Hollywood, and Silicon Valley.
Here Are Details Of The Trump Administration's Plan To Reorganize One Of Its Biggest Agencies. The Department of the Interior released its long-awaited reorganization proposal on Wednesday [8/29/2018], a plan that calls on separating the agency into 12 "unified regions." In a memo sent to the Interior Department's 70,000 staffers, Secretary Ryan Zinke unveiled his plan to streamline the agency by shifting offices across the country into 12 unified regions. The proposal aims to manage the Interior Department via watershed and ecosystem boundaries instead of state lines.
End NAFTA, Starting with Mexican Trucks. President Trump's bold action in renegotiating NAFTA with Mexico caught his critics and hostile Canadian officials off guard. Short for the "North American Free Trade Agreement," NAFTA has been a mistake plaguing us ever since the Clinton Administration pushed it into law in 1993. [...] Trump is reportedly limiting a massive loophole which has cost us auto manufacturing jobs. He is requiring that 75% of a car's value be made in North America in order to qualify for the exemption from tariffs, up from the lax 62.5% threshold allowed by NAFTA.
Donald Trump says he'll campaign for Ted Cruz at "biggest stadium in Texas we can find". In a tweet Friday [8/31/2018], President Donald Trump announced that he'd be coming to Texas in October to participate in "a major rally" for U.S. Sen. Ted Cruz, a Republican incumbent facing a tougher-than-usual challenge this year against Democratic U.S. Rep. Beto O'Rourke of El Paso. "I will be doing a major rally for Senator Ted Cruz in October. I'm picking the biggest stadium in Texas we can find," Trump tweeted Friday afternoon. "As you know, Ted has my complete and total Endorsement. His opponent is a disaster for Texas — weak on Second Amendment, Crime, Borders, Military, and Vets!"
No U.S-Canada Trade Deal Likely — Canada Deploys Media To Frame Political Cover for Failed Negotiations. Continual emphasis on the severity of Canadian politics is needed to understand the latest developments in the U.S-Canada trade negotiations. The Trump administration set a deadline of today for Canada to join the U.S-Mexico trade agreement and make the NAFTA replacement agreement a three-way pact. The concessions needed by Justin Trudeau and Chrystia Freeland to join the agreement were politically devastating.
NAFTA No More: President Trump Announces United States-Mexico Trade Agreement. President Donald Trump announced a new bilateral trade deal with Mexico on Monday morning from the Oval Office alongside U.S. and Mexican officials. "It's a big day for trade, big day for our country, a lot of people though we'd never get here because we all negotiate tough. We do, so does Mexico," said Trump.
Trump makes trade agreement with Mexico to replace NAFTA, puts pressure on Canada to deal. President Trump heralded a tentative trade deal with Mexico on Monday as a big win for his get-tough trade policies, which he said put Canada on the spot to start its own negotiations with the U.S. or face higher tariffs on autos. Mr. Trump claimed to have delivered on his threat to scuttle the 24-year-old North American Free Trade Agreement and haggle a better deal for U.S. workers and businesses. "It's a big day for trade. It's a big day for our country," said Mr. Trump, speaking in the Oval Office. "A lot of people thought we would never get here because we all negotiate tough. We do. So does Mexico."
Mexico deal shows that Trump's trade strategy is succeeding brilliantly. It is becoming clear to me that President Trump is mobilizing the principal trade partners of the U.S. to unite to pressure China. That nation's gigantic ongoing theft of intellectual property, its currency manipulation, and its trade restrictions have led to chronic huge trade surpluses with the United States most notably, but every manufacturing country on Earth has felt the impact of Chinese manufacturing exports powered by those unfair practices. So, by using bilateral deals rather than the multilateral approach favored for the last three decades or so, President Trump is putting together a global alliance that will stand up to China and force it to stop its takeover of the world's manufacturing sector and compete like a normal country.
Scott Adams: If Donald Trump Goes Down, Hillary Clinton Goes to Prison. Scott Adams, the creator of Dilbert and popular political prognosticator, floated a theory of "mutually assured destruction" on Sunday morning [8/26/2018]: if prosecutors pursue President Donald Trump, he will make sure that Hillary Clinton and her allies go to jail. Adams said that his theory explained why Trump had retained Jeff Sessions as Attorney General, even while attacking him for failing to pursue charges against Hillary Clinton, as well as members of the "deep state" who had conspired to spy on the Trump campaign. The goal, he said, was to make sure prosecutors understood there was a "red line" they could not cross — because doing so would trigger Sessions's replacement with a prosecutor who would take down Trump's enemies.
Trump Has Already Won on Impeachment. Whatever the results on election night, the president should fire Attorney General Jeff Sessions, his deputy Rod Rosenstein, and Special Counsel Robert Mueller as soon as the polls have closed — there's nothing impeachable about firing incompetent people, some of whom are behaving unconstitutionally.
US cuts aid to Palestinians by more than $200 million. The Trump administration has decided to cut more than $200 million in bilateral aid to the Palestinians, following a review of the funding for projects in the West Bank and Gaza, the State Department said Friday [8/24/2018].
The Untouchables vs. The Deplorables. One reason Donald Trump won the presidency is that Americans are tired of being ignored by the ruling political class. A poll taken several months before the election revealed that neglected voters overwhelmingly favored Donald Trump above any other candidate: "Voters who agreed with the statement 'people like me don't have any say about what the government does' were 86.5 percent more likely to prefer Trump. This feeling of powerlessness and voicelessness was a much better predictor of Trump support than age, race, college attainment, [or] income," wrote Derek Thompson at The Atlantic.
Top 10 Reasons Why Today's Robust Economy Belongs to President Trump and Not to Obama. [#6] President Trump Eliminated Regulations — Obama Added Them: In addition to his tax cuts, President Trump started cutting regulations the first day he stepped into the White House. [...] The reduction in regulations will continue to allow companies to spend dollars on building their business rather than meeting unnecessary government mandates. It's difficult to measure the impact to the economy through the reductions in regulations but it's clearly in the billions for average American businesses and corporations.
Under Trump, the rare act of denaturalizing U.S. citizens on the rise. A United States Citizenship and Immigration Services team in Los Angeles has been reviewing more than 2,500 naturalization files for possible denaturalization, focusing on identity fraud and willful misrepresentation. More than 100 cases have been referred to the Department of Justice for possible action.
DC's culture of unaccountability. Look, either Pompeo carries out President Trump's policies or President Trump gets a new secretary of State. It is that simple. Any bureaucrats who resign in protest will be easily replaced. It is not as if the State Department has done that great a job over the last few presidencies.
Pence: Space Force Will Need $8 Billion Over Next Five Years. With a target date of 2020 to launch the new Space Force, Vice President Mike Pence encouraged Congress to allocate $8 billion over the next five years to the new Defense branch. Defense Secretary James Mattis said, as Pence appeared at the Pentagon today, that "space is one of our vital national interests in the sense of our use of space, our operations in space, and it is becoming a contested, war fighting domain and we have got to adapt to that reality."
New Report Suggest Trump Is Preparing To Nix Obama-Era Lightbulb Rules. The Trump administration is preparing to repeal an Obama-era rule effectively outlawing a wide swath of popular lightbulbs, The Washington Post reported Wednesday [8/8/2018]. The Department of Energy is ready to scrap a rule broadening the number of lightbulbs that must meet strict energy efficiency standards set to take effect in 2020, according to a document the agency published on its website.
Trump's new 'zero tolerance' rules cut welfare-dependent foreigners from taxpayer money spigot. Foreign nationals who need government welfare may find it harder to resettle in the U.S. as the Trump administration is set to roll out a new plan to save American taxpayers money. [...] New rules would be added and old laws would be enforced in the multi-pronged plan that would make it harder for legal immigrant residents who have used any forms of welfare in the past — including Obamacare, food stamps, and public housing — from becoming citizens.
Trump unravels more of Obama's legacy, with proposed freeze on mileage rules. The Trump administration on Thursday [8/2/2018] moved to freeze fuel economy standards in what officials described as an effort to give drivers access to "safer" and "more affordable" vehicles, in the latest swipe at former President Barack Obama's legacy. The proposal comes just one day after the Trump administration announced major changes to health plans, providing consumers with more options to buy cheaper, short-term health insurance.
Donald Trump Demands Funding to Keep Building the Wall Faster. President Donald Trump again signaled his support for the wall Monday [7/30/2018], after threatening to shut down the government if Congress failed to deliver construction funding. "We must have Border Security, get rid of Chain, Lottery, Catch & Release Sanctuary Cities — go to merit-based Immigration," he wrote on Twitter. "Protect ICE and Law Enforcement and, of course, keep building, but much faster, THE WALL!"
Grassley Calls on Trump to Honor Whistleblowers in Order to 'Drain the Swamp'. President Trump vowed to "drain the swamp" as part of his campaign promise to the American people. For too long, the swamp creatures in DC have gone against the American voters with the Deep State bureaucracy continuing to serve special interest groups and lobbyists rather than taxpayers.
China started the trade war, Trump is just trying to end it. President Trump didn't start a trade war with China — he's trying to end and win the trade war that China launched against the U.S. As the president has frequently pointed out, the Chinese have been undermining the world trade system for years, and no country has been hurt more by China's unfair actions than America. America's trade deficit with China is so large it almost defies comprehension. Since 2012, our yearly deficit in the trade of goods with China has consistently topped $300 billion. Last year, it was over $375.5 billion. In the first five months of this year it topped $150 billion. A primary reason for this imbalance is that the Chinese have been blocking American manufacturers and food producers for years through discriminatory trade rules and prohibitively expensive import tariffs designed to keep U.S. products out of its domestic markets.
ICE more than Tripled its U.S. work place investigations in 2018. The U.S. Immigration and Customs Enforcement agency more than tripled the number of work site investigations it conducted so far in 2018, according to new federal data. Since October 1, 2017 — the beginning of fiscal year 2018 — ICE has opened investigations into 6,093 workplaces, compared to 1,716 in all of fiscal year 2017. The agency also made 984 administrative arrests as of July 20 of this year, nearly six times the 172 officials made the year prior. Administrative arrests are when someone is accused of being in the country illegally, but they haven't been charged with any other crimes.
Trump orders Fox News to be the only network playing on Air Force One. President Trump castigated his staff during his recent trip overseas for playing CNN on the television on Air Force One, a Tuesday report reveals. According to a Thursday email exchange obtained by the New York Times, Trump told his staff that the White House entourage should begin each trip with Fox News on the television, instead of the "fake news" CNN.
Trump Weighs Revoking Security Clearances for Comey, Brennan. President Donald Trump is considering revoking the security clearances of former FBI Director James Comey, ex-CIA Director John Brennan and other Obama-era national security officials who have criticized him. Trump has been seething over criticism of his Helsinki summit last week with Russian leader Vladimir Putin and public doubts Trump expressed about U.S. intelligence findings that Russia interfered with the 2016 presidential election. Brennan called Trump's performance "treasonous."
CNN: Revoking Security Clearance of James Clapper Is 'National Security Threat!' How exactly is it a "national security threat" to revoke security clearance of someone who no longer works for the government, but now works as an analyst for CNN? Finally taking away security clearance from him, as well as from John Brennan, who now works for MSNBC, James Comey and others who worked for Obama makes perfect sense.
US proposes roll back of endangered species protections. The US administration of President Donald Trump on Thursday [7/19/2018] proposed sweeping changes to the 45-year-old Endangered Species Act which would roll back protections for threatened animals, sparking alarm by environmentalists. The 1973 federal law is considered the gold standard for global environmental protection, and is credited with saving dozens of key species from extinction, including bald eagles, manatees, humpback whales and American alligators. One proposed change, announced by the Interior and Commerce Departments, would remove a sentence that aims to separate economic impacts from decisions about animal protection. Other provisions would vary protections for animals on a case-by-case basis.
Just How Far Will the Left Go? [H]alf the country was tired of Republicans grimacing as they were portrayed as throwing grandmothers off cliffs. They were tired of seeing political commercials of bodies of the murdered dragged behind trucks, or charges that Republicans cruelly put their pets on their car roof. They were tired of the anti-Semitic and racist Rev. Jeremiah Wright, a presidential candidate's personal pastor, being off limits, but not the supposed senility of John McCain who in 2008 was pilloried as a doddering multi-millionaire who forgot how many houses he had owned. In 2012, it was Mitt Romney's wife whose sins were wearing equestrian clothes. Given the growing furor over half the country as demonized clingers, deplorables, and crazies, if Trump did not exist, a don't-tread-on-me street fighter would have had to be invented. Progressives have gone ballistic that any opponent would reply to them in kind.
Trump Was the Big Winner at Helsinki Summit. Trump met with Putin because as president, he is required to meet with the leader of Russia just as every U.S. president since Franklin Delano Roosevelt had to meet with his counterpart at the Kremlin. U.S. national security and indeed, international security are dependent on the leaders of the two powerful nations developing cooperative relations. The ability of U.S. and Russian leaders to work together plays a key role in preventing another world war. It would have been a dereliction of duty if Trump had not met with Putin.
Mr. President, Declassify Documents on Russia Collusion Now. At some point in the near future a reflective Congress might — in a bipartisan moment — investigate how the FBI became a tool of elitist interests in our nation's capital. Then too the Congress could offer suggestions as to what can be done to repair the damage. For federal law enforcement to become so flagrantly political is genuinely alarming. I think President Trump has subtly brought the left and the right in this country together, at least on one point. The time has come for the citizenry to see all the documents held by the government in the so-called Russian collusion scandal. Was there collusion? Who was involved? The President has it in his power to declassify the documents. Use your faithful weapon, Mr. President, your trusty black felt pen. Sign the declassifying order now.
President's SCOTUS Adviser: Find Nominees 'Who Believe in the Constitution As It's Written'. "Looking forward to announcing my final decision on the United States Supreme Court Justice at 9:00pmE tomorrow night at the @WhiteHouse,' President Donald Trump tweeted on Sunday [7/8/2018]. "An exceptional person will be chosen!" he promised. Leonard Leo, formerly of the Federalist Society, a group that helped draw up a list of conservative Supreme Court nominees, is among those advising the president on his next pick. Democrats already are campaigning on the issue, warning Americans that Republicans aim to stack the court to take away their rights.
The 'conservative' resistance continues against Trump, the man delivering all the conservative results. We didn't have a crystal ball, or any kind of political record to predict what President Trump would do. But we had his word and a list of potential Supreme Court nominees he said he would pick from. Many of us took a chance that Trump wasn't selling us down the river — and he didn't disappoint. As one of his first acts as president, he gave us Neil Gorsuch. Yet now there are still professed conservatives opposing a Trump presidency, even to the point where they're openly hoping for Democrats to win control of Congress in the November midterm elections. The irony is that these self-proclaimed "principled conservatives" can relate more to the far-left liberal crowd with their "resist movement" than to the conservative base they claim to want to protect.
Shipping industry blows off media's 'trade war' hysteria. The press has been having a field day with claims of a global "trade war" as a means of casting blame on President Trump on the economics front. [...] President Trump's position on trade is probably the only thing I disagree with him on. That said, I can buy into his argument that trade deals should be reciprocal. If a country taxes our cars or rice at 100%, well, we should do the same to that country's. I can even tolerate his tariffs, given that they add an expense to trade but do not forbid it altogether. Yes, it drives costs up, and businesses must then find a way to offset them. It's not great, but it's not impossible to deal with.
Nominating Amy Barrett Would Be Political Genius. I have no standing at all to intuit whom the president may nominate. But if, as I suspect, it is Judge Amy Barrett, it would be a tactical masterpiece on the level of Napoleon's conduct of the Battle of Austerlitz, or Hannibal at Cannae. The U.S. Senate confirmed Barrett to the Seventh U.S. Circuit Court of Appeals on October 31, by a 55-43 vote. Three Democrats voted for her and two did not vote. It would not be easy to justify changing their votes now, as she has served unexceptionably. At her confirmation hearings, Senator Dianne Feinstein, the Judiciary Committee's aged ranking Democrat, asked Barrett about her religious views, and the nominee responded that no judge should allow personal views, whether based on faith or anything else, to influence the imposition of the law. "The dogma lives loudly within you, and that is a concern," Feinstein said infamously. This was an outrageous comment; Feinstein doesn't know anything about the dogma of the Roman Catholic Church, and she has no idea what privately motivates Judge Barrett.
Trump in WV: We Won't Abandon ICE Like Democrats Want To. President Donald Trump lauded the work of ICE (U.S. Immigration and Customs Enforcement), pledging Tuesday evening in West Virginia that the U.S. will not abandon ICE as Democrats want to do.
Trump administration ditches Obama's guidelines which told colleges to consider applicants' race to increase diversity. The Trump administration plans to encourage colleges to ignore race in their admissions process, abandoning guidelines that called on universities to consider race as a way of promoting diversity, it was reported on Tuesday [7/3/2018]. The guidelines, put in place under President Barack Obama in 2011 and 2016, presented legal recommendations that Trump administration officials contend 'mislead schools to believe that legal forms of affirmative action are simpler to achieve than the law allows,' the Wall Street Journal reported, citing two people familiar with the plans.
On Immigration and the Supreme Court, Democrats Are Snookered. If the new Mexican president, López Obrador, adheres to his campaign proposal of not interfering with the drug cartels, he will not only be handing his northern provinces entirely over to the most vicious gangsters in the history of the Americas, he will oblige President Trump to take measures that will make the protracted debate about the wall, ICE, the immigration chain and lottery, and separation of children sublimely academic. He will force the United States to secure the border with an adequate deployment of the U.S. Army. [...] If the new Mexican government abandons the Drug War, it will be the equivalent, in ending debate and uniting opinion in the U.S., of Pearl Harbor. And if the Democrats take abolition of ICE and de facto open borders to the voters in November, Trump will mow them down like sitting ducks.
Trump's burden: Cleaning up Obama's mess. [President] Trump is now reversing the negative Obama tide by simply implementing basic common[ ]sense economic policies. The combination of this common[ ]sense approach with tax cuts and the reversal of countless Obama executive order EPA regulations has resulted in a booming economy. Do you really think Obama cared about the middle class economically, or did he just take all of us for fools with his love of job-killing EPA regulations? These regulations did nothing but destroy American jobs and add costs to American-made products and U.S. private businesses. They had absolutely no real effect on the environment.
Trump admin pushes colleges to drop Obama-era affirmative action policy. The Trump administration is urging colleges not to consider race in their admissions process, reversing an Obama-era guideline that encouraged affirmative action to boost diversity. The move, reported by multiple news outlets, restores the policy under then-President George W. Bush that encouraged "race-neutral methods" in college admissions. Plans to launch the new policy were first reported Tuesday [7/3/2018] by The Wall Street Journal.
Is Trump the Most Fun President Ever? [Scroll down] The President intends to name his choice — from a list he distributed before his election — on July 9, and despite the perfervid announcements on the left, he is likely to have his second Supreme Court judge seated by the new term. For a number of decades, the left has derided originalism — the notion that judges should follow the clear words of the Constitution and the intent of the drafters. Instead they argued that the judiciary — which they largely controlled — should treat the document as a "living instrument." In truth, that meant that the subjective feelings of the judges with their "penumbras" and "emanations" should prevail over the text.
Anthony Kennedy to retire: Here's what Trump should look for in a nominee. Supreme Court Justice Anthony Kennedy announced Wednesday that he will retire from the Supreme Court of the United States, NBC reported. Kennedy, appointed by President Ronald Reagan in 1987, has been a swing vote, leaning to the left in recent landmark cases, and wrote the court's opinion in Obergefell v. Hodges in 2015, striking down bans on same-sex marriage nationwide.
Poll: Majority With Trump: Want Wall Built, Migrant Families Deported or Detained. A poll released Sunday [6/24/2018] by CBS News shows a majority of Americans support a wall being built on the border with Mexico and for migrant families who illegally entered the U.S. to be deported or detained. The CBS News 2018 Battleground Tracker Poll conducted by YouGov June 21-22 during the midst of the controversy over migrant families and unaccompanied children flooding the southern border shows a shift toward President Trump's views since a March CBS poll by SSRS showed 60 percent opposed a wall.
POLL: Black Americans Prefer Deportation Of Illegal Immigrants. It turns out that illegal immigration is not exactly a winning issue for Democrats among black voters, who overwhelmingly favor deportation over the failed "Catch and Release" policy that lets illegal immigrants roam free after being detained at the border in hopes they show up to a future court date. According to a CBS News/YouGov poll, a full 40% of black Americans feel that illegal immigrant families should be deported back to their country of origin. Compare that to just 20% of black Americans who believe that detained illegal immigrant families should be released while they await an asylum hearing, for which many do not return. Only 20% of white Americans agree with "Catch and Release."
Supremes Deal Victory For Trump, Uphold Travel Ban. A five-justice majority of the U.S. Supreme Court upheld the latest iteration of President Donald Trump's travel sanctions Tuesday [6/26/2018]. Chief Justice John Roberts wrote the opinion, joined by Justices Anthony Kennedy, Clarence Thomas, Samuel Alito, and Neil Gorsuch. "The president has lawfully exercised the broad discretion granted to him under [federal law]," Roberts wrote.
Supreme Court rules for Trump in challenge to his administration's travel ban. The Supreme Court ruled Tuesday [6/26/2018] in favor of President Donald Trump's September order to restrict travel from several majority Muslim countries to the United States. In the 5-4 opinion written by Chief Justice John Roberts, the court found that Trump's travel restriction fell "squarely" within the president's authority. The court rejected claims that the ban was motivated by religious hostility. "The [order] is expressly premised on legitimate purposes: preventing entry of nationals who cannot be adequately vetted and inducing other nations to improve their practices," Roberts wrote. "The text says nothing about religion."
Mad Max and Nancy Pelosi: The twin faces of the Democratic Party. Trump won the election primarily on his immigration reform stance. Most Americans are profoundly cognizant of the irreparable damage done to their cities and small communities by the influx of illegal immigration over the last decades. We want it stopped. We love and respect our legal immigrants but are sinking under the weight of tens of thousands of illegal migrants.
Trump's Sweeping Reorg Makes Perfect Sense, Which Is Why It Will Never Get Done. While the mainstream media fixated on First Lady Melania Trump's fashion choice, the Trump administration unveiled the most sweeping government reorganization plan in history. It deserves far more attention than it will get. Among other things, the ambitious plan, put together by budget director Mick Mulvaney, would merge the departments of Education and Labor to one cabinet-level agency called the Department of Education and the Workforce. It would also consolidate multiple programs scattered across the government and put them where they make the most sense. In other words, it would do what private businesses do constantly. They rethink and reorganize operations to maximize efficiency, eliminate redundancies, improve decision making, and cut costs.
Trump tweets he wants to deport illegal immigrants 'with no Judges or Court Cases' — a move that would violate due process. President Donald Trump tweeted Sunday morning that the US should start deporting illegal immigrants with no legal process. He said those who "invade our Country" will be removed with "no Judges or Court Cases". Trump's proposed move would violate immigrants' rights to due process guaranteed by the US Constitution and clarified by the Supreme Court.
Forget the Human Rights Council, Why Not Leave the Entire UN? The Trump Administration recently announced that the US will withdraw from the United Nations Human Rights Council. Their justification is that the council consists of human rights violators, such as Cuba, China, and Venezuela, and has demonstrated a bias against Israel. [...] Of course the exact same logic could be used to advocate the United States from pulling out of the UN entirely.
The Ignorance of Trump's Moralizing Critics. Unlike the Obama administration, the Trump administration aims to prosecute all adults who have entered the country illegally. The reason, besides the need to uphold law and order, is that the Trump administration is committed to protecting the national economic good. Therefore, it is against admitting an excess of low-skill persons whose presence will mean both less jobs and lower wages for native workers. Not to mention, a strain on the health-care system and already unsustainable welfare state. Finally, President Trump has said that he doesn't want the U.S. to go the way of Europe, which, having acted on its blind pity, now faces surging crime rates in many areas and struggles to accommodate its new citizens. While adults are prosecuted and serve their time, their children stay in temporary shelters. Unless there is an aggravating circumstance — say, a prior attempt at illegal entry — the process takes only a few days.
White House proposes unprecedented reorganization of federal government. The White House on Thursday proposed the most comprehensive plan to reorganize the federal government in 100 years, including a merger of the departments of Education and Labor, and a proposal to add work requirements for welfare programs. "Businesses change all the time," said White House Office of Management and Budget Director Mick Mulvaney. "Government doesn't, and one of the things you get when you hire a businessman to become president is you bring this attitude from the private sector."
When PC Comes Back to Bite You. On any particular day, the president may question the "one China" policy, the Paris climate accord, American taxpayer support for the PLO, the Iranian nuclear deal, Chinese theft of our intellectual property, NATO's continued relevance, fair trade at the G7, Obama-era designations of national monuments, and countless other sacred cows. When he does, all hell breaks loose. The establishment (widely defined) is simply unable to reconcile itself to our president's regular habit of challenging assumptions and breaking glass.
White House will propose merging Education, Labor departments. President Donald Trump wants to merge the federal departments of Labor and Education in what would be the biggest bureaucratic shake-up in recent history, published reports said Wednesday [6/20/2018]. [...] This proposal would face an uphill political battle. Republicans have been seeking to eliminate the Department of Education for years without much success.
Trump administration proposes merger of Education, Labor Departments. The United States Postal Service has been bleeding red ink for years. During its most recent fiscal year, which ended in September, the USPS reported total annual revenue of $69.7 billion, which was less than the $71.4 billion recorded in fiscal year 2016. The last time USPS recorded a profit was more than a decade ago.
Over 95% of manufacturers bullish on future, 'record optimism'. In a stunning turnaround sparked by the improving economy and last December's tax cuts, over 95 percent of manufacturers have turned bullish about their future, an all-time record. A new survey from the National Association of Manufacturers found that 95.1 percent of manufacturers have a "positive outlook for their companies." That is the highest outlook number in the 20-year history of the group's Outlook Survey.
Hollywood "Celebrities", Deviants and Predators, Continue Showcasing Democrat Ideology. The insurgency, led by Donald Trump, is an existential threat to the professional political class and every entity who lives in/around the professional political class. The entire political industry is threatened by the insurgency. The entire political industry is threatened by Donald Trump.
Border Ranchers Shock MSNBC With Facts On Illegal Immigration. A husband and wife who ranch on the Rio Grande river told MSNBC on Tuesday [6/19/2018] that they believe President Trump is doing the right thing by enforcing border laws.
Trump says he won't allow US to become a 'migrant camp'. President Donald Trump defended his strict immigration policy that is resulting in the separation of children from their parents at the border, declaring that he won't allow the United States to become a "migrant camp." "The United States will not be a migrant camp, and it will not be a refugee holding facility," he said during a meeting of the National Space Council at the White House on Monday [6/18/2018]. "You look at what's happening in Europe and other places, we can't allow that to happen to the United States. Not on my watch."
POTUS Trump Just Promised An End To The New World Order. This bit of video is remarkable on so many levels. No U.S. president has so openly and boldly challenged the New World Order status-quo as is done here following Mr. Trump's short visit to the G7 Summit. He calls out the favorite news media tool of the globalists, CNN, and then proceeds to declare the old ways are done, that the United States will no longer allow the needs of its own people to be secondary to the manipulative demands of the globalists. This man puts himself at terrible risk for saying such things. It is why his supporters revere him and why his enemies despise and fear him so much.
McCain, Pelosi, Schumer Globalists vs Trump Nationalists. The clearest picture yet of what President Trump is fighting for came out of the G7. It was Nationalist Trump versus Globalists personified by the Canadian Prime Minister Justin Trudeau. The President is not battling for isolation as some say, he's setting our place in the world once again. It is America First instead of America Last. The events after the G7 triggered by Justin Trudeau provide a valuable lesson. Trudeau, for example, wants to keep charging 270 percent tariffs on dairy products while we place none on their goods. We have huge trade deficits everywhere you look, China being the worst, and the globalists expect us to keep doing it until we cease to exist as a power.
Here's why Donald Trump is taking aim at Canada's dairy industry. President Donald Trump arrived in Quebec for the G7 Summit on Friday morning, and before departing from Washington, D.C., took the time to fire fresh volleys at the Canadian system of supply management. The system manages the supply of dairy, egg and poultry products by imposing steep tariffs on imports of those goods in order to prop up domestic industries that could face foreign competition if the protections on them were to be dropped.
NFIB v. Sebelius Comes Back to Bite Obamacare. Unless you have been vacationing in a far away galaxy, you will have heard the ululations of Obamacare apologists enraged by the Trump administration's refusal to defend the health care law against a 20-state lawsuit challenging its constitutionality.Obamacare advocates claim that the failure to defend the ACA in Texas v. United States is an unprecedented dereliction of duty by the Department of Justice (DOJ). This is hysterical nonsense. It is indeed unusual, but the DOJ is by no means obligated to defend a law deemed unconstitutional by the President, as Attorney General Sessions explains in his notification letter to Congress: [...]
Trump: America Will No Longer Be the 'Piggy Bank that Everyone is Robbing'. Donald Trump concluded his trip to the Group of 7 (G7) economics conference in Canada with a combative, unscheduled statement in which he promised that the United States would no longer be the "piggy bank that everyone is robbing." Flanked by Economic Adviser Larry Kudlow and National Security Adviser John Bolton, Trump said the ultimate goal of U.S. trade policy was the elimination of tariffs and subsidies. But short of that, he also pledged the U.S. would raise its own trade barriers to combat unfair trade practices around the world.
Trump administration won't defend ACA in case brought by GOP states. The Trump administration said Thursday night that it will not defend the Affordable Care Act against the latest legal challenge to its constitutionality — a dramatic break from the executive branch's tradition of arguing to uphold existing statutes and a land mine for health insurance changes the ACA brought about. In a brief filed in a Texas federal court and an accompanying letter to the House and Senate leaders of both parties, the Justice Department agrees in large part with the 20 Republican-led states that brought the suit. They contend that the ACA provision requiring most Americans to carry health insurance soon will no longer be constitutional and that, as a result, consumer insurance protections under the law will not be valid, either.
DOJ says Obamacare unconstitutional, won't defend it in Texas lawsuit. As you know Texas is leading the way with 19 other states in a lawsuit against Obamacare after the individual mandate was repealed. Well the DOJ has decided it agrees with the 20 states and is now refusing to defend Obamacare in the lawsuit.
Left comes to grips with Obama's failure. Obama built his legacy on sand. Donald Trump's tsunami presidency wiped it out. The Iran deal is dead. Obama's end run around the Constitution allowed Trump to end it without a congressional vote. The Paris carbon dioxide deal is dead. Trump withdrew, and it looks like the deal collapsed because the goal was to restrict the United States by using a Fake Fear about the weather. Obamacare's mandate is dead. DACA may die as well.
Trump Administration May Support Coal and Nuclear Power. Renewable energy is "cheaper" only intermittently, and only because of massive federal subsidies and state renewable energy mandates. [...] I saw a news story today that described the Trump administration's possible intervention in energy markets as "unprecedented." That can only provoke hollow laughter.
James Comey Isn't Above the Law. There they go again. For the 1 millionth time, anti-Trumpers are horrified, aghast, stupefied. The president's latest offense against their sensibilities is a pointed use of his pardon power. So far, he has pardoned just five people, including Jack Johnson, the legendary black boxer whose conviction a century ago was an act of pure racism. But four others involve recent, politically tinged cases, including that of conservative provocateur Dinesh D'Souza. Most alarming for the usual critics, the president hints that he is just getting started and cites a possible pardon of Martha Stewart, whose conviction came under James Comey, the former FBI boss and Trump's archenemy.
Trump administration floats plan to save coal plants. The Trump administration may soon take action to try to save the nation's struggling coal and nuclear plants. The White House is considering a measure that would require electrical grid operators to purchase electricity from coal and nuclear plants that are at risk of going offline, according to a draft memo circulated before the Department of Energy, viewed by Bloomberg. Under the proposal, the president would exercise emergency authority to carry out the directive, which the memo reportedly says is necessary to preserve national security.
Gaslighting Themselves: Why Trump Critics Miss the Obvious. Some Americans have been so disaffected by economic changes of the last decade that they see Trump's enthusiastic embrace of American jobs for American workers as a breath of fresh air. Others find his staunch support of American security as reassuring. Trump's proposed Muslim ban enrages many of his opponents, but the polling data suggests that this more than any other proposal is what made him president. Others might be less enthusiastic about Trump but have good reason to think he's doing a good job. Religiously traditional people see themselves under siege from an elite culture that holds them in contempt and have chosen to embrace the devil that backs them over the devil who does not. Still others, many of whom are traditional business or free market conservatives, remain wary of him personally but increasingly like his policies.
DOT Repeals Enviro Rule Mandating States Comply With Greenhouse Gas Policy. President Donald Trump's administration repealed a rule forcing states to comply with a policy monitoring greenhouse gas levels from tailpipes of American automobiles. The Federal Highway Administration (FHWA) signed a final rule May 22 that eliminates a mandate requiring state agencies to establish emission targets, calculate their progress toward those targets, and determine a plan of action if they failed to make progress during a performance period. The rule repealed the performance management measure assessing the percent change in tailpipe carbon dioxide emissions on the Greenhouse Gas (GHG) measure.
Trump made the right call to cancel the North Korea summit. Looks like President Trump just called Kim Jong-un's bluff. Trump on Thursday abruptly called off next month's scheduled historic summit in Singapore, calling it "inappropriate" in the face of the North Korean leader's "tremendous anger and open hostility." Earlier in the week, North Korea, apparently convinced that Trump is preoccupied with winning a Nobel Peace Prize, goaded him by suggesting he would "be recorded as a more tragic and unsuccessful president than his predecessors, far from his initial ambition to make unprecedented success." But Trump's cancellation letter turned the tables by thanking Kim for his "time, patience and effort" and inviting him to "call me or write" if he changes his mind.
Trump to cut foreign aid for home countries of illegal immigrants. President Trump announced Wednesday [5/23/2018] that the U.S. will begin to deduct foreign aid from countries whose residents illegally enter the United States. "Many of these countries we give tremendous amounts of aid to. Tens of millions of dollars. And we're working on a plan to deduct a lot of the aid," Trump said at an event in New York denouncing the Salvadoran gang MS-13. "We're going to work out something where every time someone comes in from a certain country, we're going to deduct a rather large amount of money from what we give them in aid, if we give them aid at all," Trump said. "We may just not give them aid at all."
Trump: 'No approvals from me' on immigration bill unless it improves a 'real wall'. President Trump in an interview broadcast early Thursday dismissed the possibility of an immigration bill being signed into law that does not include improvements to a "real" border wall with Mexico. In an interview with "Fox & Friends," the president touted four immigration bills currently being discussed by lawmakers, before warning that none of them would obtain his signature without proper funding for border security.
Trump Iran Policy Ends Disastrous Obama Era Of Nuclear Appeasement — Finally. While all the hoopla over Deep-State spying on President Trump gets the media attention, something else important happened this week: Secretary of State Mike Pompeo, not even one month on the job, unveiled a new U.S. strategy to deal with Iran.
Pompeo promises strongest sanctions in history on Iran. The Trump administration will embark on an "unprecedented" pressure campaign against Iran meant to fundamentally change its foreign policy, US Secretary of State Mike Pompeo said on Monday [5/21/2018]. Delivering his first major foreign policy address as top diplomat at the Heritage Foundation, a Washington think tank, Pompeo listed 12 sweeping and uncompromising conditions for a new nuclear deal with Tehran after President Donald Trump withdrew from an existing one earlier this month.
Trump Admin Announces New Rule That May Defund Planned Parenthood. The Trump Administration filed a new regulation Friday that aims to create a "bright line" between abortion clinics and taxpayers' money. The new rule, if approved by the Office of Management and Budget, will regulate recipients of federal funds under Title X, requiring them to physically and financially separate themselves from any organization that provides or supports abortion. Title X is the federal statute that provides funding for family planning services throughout the nation. First established in 1970 to organize federal family planning grants, the Title X program has expanded continuously alongside American families. As of 2010, it accounted for about 10 percent of the $2.37 billion dollars spent on family planning services that year.
Trump should pardon Oregon ranchers — They aren't terrorists. In April, President Trump pardoned I. Lewis "Scooter" Libby Jr., top aide to former Vice President Dick Cheney, who was convicted in an abuse of prosecutorial discretion. Now the president should do the same thing for Dwight L. Hammond, Jr., 76, and his son Steven Dwight Hammond, 49, long-suffering ranchers in rural Oregon. The Hammonds were charged with terrorism and sentenced in 2015 to five years in prison, despite the outraged protests of ranchers and other citizens.
Trump Set To Slash Federal Funding To Planned Parenthood. It'll be another promise kept to his supporters as Donald Trump is set to drastically slash federal funding to Planned Parenthood despite the collective wails of discontent from the far left.
Trump expected to cut Planned Parenthood funding through regs. The Trump administration may take action to cut federal funding to Planned Parenthood as a result of pressure from congressional Republicans and anti-abortion lobbyists. Opponents of abortion have launched an all-out campaign urging the administration to bring back Reagan-era abortion restrictions on federal family planning dollars that would target Planned Parenthood.
The Obama Legacy Deserves to Be Destroyed. It's strange that a president who had such a transformative effect on our national discourse will leave such a negligible policy legacy. But Barack Obama, whose imperial term changed the way Americans interact and in some ways paved the way for the Trump presidency, is now watching his much-celebrated and mythologized two-term legacy be systematically demolished. This, in many ways, tells us that American governance still works. When President Trump announced that the United States would withdraw from the Iran nuclear deal, he was able to do so without much difficulty because the agreement hinged on presidential fiat rather than national consensus. Obama's appeasement of Iran was only one in a string of unilateral norm-busting projects that deserve to be dismantled.
A Courageous Trump Call on a Lousy Iran Deal. Of all the arguments for the Trump administration to honor the nuclear deal with Iran, none was more risible than the claim that we gave our word as a country to keep it. "Our"? The Obama administration refused to submit the deal to Congress as a treaty, knowing it would never get two-thirds of the Senate to go along. Just 21 percent of Americans approved of the deal at the time it went through, against 49 percent who did not, according to a Pew poll. The agreement "passed" on the strength of a 42-vote Democratic filibuster, against bipartisan, majority opposition. "The Joint Comprehensive Plan of Action (J.C.P.O.A.) is not a treaty or an executive agreement, and it is not a signed document," Julia Frifield, then the assistant secretary of state for legislative affairs, wrote then-Representative Mike Pompeo in November 2015, referring to the deal by its formal name. It's questionable whether the deal has any legal force at all.
Trump shredding Obama's failed deal is just the beginning of winning in Iran. The fate of Obama's JCPOA Iran deal was clear when Donald J. Trump became America's 45th president. The new commander-in-chief inherently knew that President Obama's so-called "legacy "deal actually facilitated our enemies in Tehran, as it released more than $140 billion to the mullahs, had no effect on Iranian ballistic missile capability, created a risible inspection regime, and included a sunset clause which meant that nuclear weapons acquisition by Iran was simply delayed, not in fact prevented.
Trump Withdraws U.S. From 'One-Sided' Iran Nuclear Deal. President Trump declared on Tuesday that he was withdrawing from the Iran nuclear deal, unraveling the signature foreign policy achievement of his predecessor Barack Obama, isolating the United States from its Western allies and sowing uncertainty before a risky nuclear negotiation with North Korea. The decision, while long anticipated and widely telegraphed, leaves the 2015 agreement reached by seven countries after more than two years of grueling negotiations in tatters. The United States will now reimpose the stringent sanctions it imposed on Iran before the deal and is considering new penalties.
Trump to send 57,000 Honduran TPS recipients back home. The Trump administration will require 57,000 Honduran people to return to their home country, after having lived in the U.S. with protected status since a 1999 hurricane, according to a report Friday morning. The administration will give Hondurans 12 to 18 months to return home, according to McClatchy. Hondurans are the second-largest national group of people who benefit from TPS. A DHS spokesperson told the Washington Examiner that Sec. Kirstjen Nielsen "has not yet made a decision." But a decision is due by July 6 and the government has yet to formally announce the reported policy change.
Carson: Left's 'Propaganda' on Housing Reforms Is 'Garbage,' People Won't Be 'Thrown Out'. Housing and Urban Development (HUD) Secretary Dr. Ben Carson responded to critics of his agency's new housing aid reform, calling out the left's failure to recognize the "perverse incentives" of welfare policies that "keep [people] in a very dependent situation," during an interview on Breitbart News Daily. "The way the program is set up now, it is unsustainable," Carson explained to Breitbart News Deputy Political Editor Amanda House. "Each year, we are contributing more and more money to supporting the same number of people. We have stagnation. People are not moving up the ladder and becoming self-sufficient."
Trump to pull feds out of K-12 education. President Trump signed an executive order Wednesday [4/25/2018] to start pulling the federal government out of K-12 education, following through on a campaign promise to return school control to state and local officials. The order, dubbed the "Education Federalism Executive Order," will launch a 300-day review of Obama-era regulations and guidance for school districts and directs Education Secretary Betsy DeVos to modify or repeal measures she deems an overreach by the federal government. "For too long the government has imposed its will on state and local governments. The result has been education that spends more and achieves far, far, far less," Mr. Trump said. "My administration has been working to reverse this federal power grab and give power back to families, cities [and] states — give power back to localities."
Trump administration rewrites Obama rule against transgender discrimination in health care. The Trump administration is coming under fire for rewriting a federal rule that bars discrimination in health care due to "gender identity."
Supreme Court and the Trump travel ban case: What's really at stake is our country's future. The threat began with the practice, begun over a year ago, of federal District Court judges announcing that Trump's travel bans were unconstitutional. It wasn't that presidents lack the authority to manage immigration policies. That wasn't in question. Rather, it was the authority of this president that was impugned. Trump was poison, and his directives were the fruit of a poisoned tree. He had shown himself to be biased against radical Islam, and as a consequence was deprived of any constitutional authority over immigration from Muslim countries. As the Fourth Circuit Court of Appeals put it, Trump's tweets showed that he was "tainted with animus toward Islam." There have been a series of such decisions, from District judges cherry-picked as Trump haters. And they did more than impugn Trump's authority in their judicial District. They went beyond this to issue a countrywide injunction, a single judge ruling over the United States as a whole.
Trump tells border officials to block migrant caravans from entering US. President Trump announced Monday he has directed the Department of Homeland Security to block large groups of migrants who have begun to arrive at the U.S.-Mexico border and apply for asylum as refugees from Central America.
Department Of Education To Dismiss Hundreds Of 'Onerous And Unnecessary' Civil Rights Complaints. The Department of Education's Office for Civil Rights is implementing a new protocol that will allow its investigators to dismiss cases they consider "onerous or unnecessary." According to Friday New York Times report, the changes are supposed to help the department manage its docket more efficiently by eliminating cases that show "a pattern of complaints previously filed with O.C.R. by an individual or a group against multiple recipients," or those that place "an unreasonable burden on O.C.R.'s resources." Although the Times reports that over 500 disability rights complaints have already been dismissed using the new protocols, it is believed that eliminating these "frequent flyers" will make the department better able to serve legitimate complaints.
Trump creates task force to fix US Postal Service amid war on Amazon. President Donald Trump late Thursday [4/12/2018] signed an executive order creating a task force to study the U.S. Postal Service business model, a move that came amid criticism of Amazon and its owner Jeff Bezos. Trump said in the order that the Postal Service was on "an unsustainable financial path," and "must be restructured to prevent a taxpayer-funded bailout." The task force, to be chaired by Treasury Secretary Steven Mnuchin, will examine USPS financial woes and come up with solutions to make it profitable. It will have 120 days to submit a report with recommendations.
Trump Action Will Reduce Immigrant Medicaid Enrollment. Many Americans are angry about the large percentage of their tax dollars being doled out to immigrants in the form of public assistance, particularly at a time when federal budget deficits are skyrocketing. [...] Medicaid, for example, costs the taxpayers $565 billion annually and, according to a widely cited 2017 report by the National Academies of Sciences, Engineering and Medicine, 46 percent of immigrant households receive Medicaid benefits. The Trump administration is therefore taking action to reduce the number of non-citizens who enroll in Medicaid.
Trump orders top-to-bottom review of welfare programs. President Trump signed an executive order Tuesday [4/10/2018] for a government-wide review of welfare programs, with a goal of putting more people back to work, White House officials said. The order directs all federal agencies involved in providing more than $700 billion in low-income assistance annually to study programs that are "failing Americans," and to report back in 90 days with recommendations, said White House domestic policy council director Andrew Bremberg. "Our country still struggles from nearly record-high welfare enrollments," Mr. Bremberg said in a conference call with reporters. "President Trump endorses reforms that ensure those in need receive assistance, while eliminating the economic stagnation that has resulted from long-term government dependence."
Syria and another call to save Islam from itself. The week before, President Trump was all set and ready to pull us out of Syria, but now he's been pulled back due to allegations that once again Assad used chemical weapons against his own people, mostly civilians. Trump was put on the spot... and so once again it falls upon the United States to come to the rescue. That's not at all what Trump had in mind from the day he ran for office. His plan was to divest from Islam's war with itself. Tribe against tribe, that's how it's been, that's how it is... and it's for us to sort it out for them from afar, and for Israel to solve it right there on the spot... at the moment against Hamas. Since 9/11, Islam has been aflame within itself and throughout the world and for Donald Trump, enough is enough.
GOP Voters: Reducing Immigration More Important than Paul Ryan's Tax Cuts, Repealing Obamacare. Republican voters say reducing overall immigration to the U.S. is more important than tax cuts or repealing and replacing Obamacare. It is considered the most important issue facing the country, along with terrorism and national security, making it vastly more important than taxes and the national debt.
Trump To Replace Liberal Lion Of The Ninth Circuit. Fearing a conservative jurist would replace Judge Stephen Reinhardt, the liberal lion of the Ninth U.S. Circuit Court of Appeals, a prominent progressive legal scholar quietly urged him to retire in the spring of 2014. U.C. Berkeley School of Law Dean Erwin Chemerinsky approached Reinhardt just months before the 2014 midterm elections and suggested he retire, The New York Times reported Saturday [4/7/2018]. Reinhardt refused the overtures. Months later, Republicans assumed control of the Senate, effectively ending former President Barack Obama's judicial confirmations. President Donald Trump's election forced the judge into an awkward actuarial battle, an increasingly common phenomenon as judicial appointments become highly politicized. He died on March 29 at 87.
The media don't really care about Scott Pruitt's ethics — just his reversal of Obama policies. The media are going after Environmental Protection Agency chief Scott Pruitt for traveling first class and only paying $1,500 per month for a condo, pretending it's all a matter of ethics. It's nonsense. They actually are going after him because he dares reverse some of the rules the Environmental Protection Agency implemented without going through Congress. Dissent is just not allowed from Democrat policies, and the media are the method of choice for Democrats, using it to go after any Trump administration person they don't like.
Zero tolerance at the border. Jeff Sessions may look like he makes Keebler cookies, but he is tougher than nails. He announced on Friday [4/6/2018] a zero tolerance policy for border-jumping illegal aliens. [Video clip] The president ordered up the National Guard. Sessions is doing his part. "The situation at our Southwest Border is unacceptable. Congress has failed to pass effective legislation that serves the national interest — that closes dangerous loopholes and fully funds a wall along our southern border," Sessions said. Prosecutors will work with Homeland Security on this.
President Trump has every right to defend our border and not give in to migrant group's demands. President Trump's announcement that he is prepared to use military resources to deal with a long-simmering border crisis is a welcome response to the vexing influx of illegal arrivals, including those hoping to take advantage of our broken system for handling asylum seekers. Some Democrats are already describing the president's announcement as an act of hate: "President Trump's statements about deploying our military to the U.S.-Mexico border and downplaying the strength of our laws do little more than stoke anti-immigrant hate," said Rep. Bennie Thompson, D-Miss., who is ranking member of the Homeland Security committee. On the contrary, this is a necessary move in the face of rising apprehension over illegal crossers, and the pending arrival of an unusually large, organized "caravan" of more than 1,000 Central American migrants working its way through Mexico, which has declared its intention to gain entry to the United State. The caravan leaders, who are with the U.S.-based migrant solidarity group Pueblo Sin Fronteras, say they are assisting the migrants in asserting their "right" to enter the United States to settle as asylum seekers.
Our border is a better place for our military than the Middle East. Yesterday [4/4/2018], the president took us one step closer to reorienting our national security priorities by announcing his intention both to withdraw our troops from Syria in the near future and send National Guard troops to our own border. Isn't it time to guard our sovereignty rather than the "sovereignty" of Islamic tribal factions in nation-states that no longer exist?
Make them build cars nobody wants. Apparently [Scott Pruitt] is the first EPA director to get death threats. That does not stop him from doing his job — or speaking out. "I think the focus in the past has been on making manufacturers in Detroit, making manufacturers in various parts of the country make cars that people aren't going to buy, and our focus should be on making cars that people actually purchase more efficient," Pruitt told CNS News and other news outlets. "To have arbitrary percentages of our fleet made up of vehicles that aren't going to be purchase, that defeats the very purpose of what the CAFE standards are supposed to address." And arbitrary the numbers are. Marxists pluck some number out of the air for fuel mileage requirements for no reason at all. To save oil? We're almost swimming in domestic oil — without touching offshore oil outside the Gulf of Mexico.
AG Jeff Sessions Returns Deportation Orders to Pre-Obama Levels. Attorney General Jeff Sessions' immigration courts have returned deportation orders back up to the rate that existed before former President Barack Obama's pro-migration policies. But the backlogs created by Obama's pro-migrant policies are still keeping hundreds of thousands of Central Americans in U.S. jobs, and are still inviting many additional poor Central American migrants to ask for asylum at border posts in Texas and California. The number of illegals beating deportation orders has fallen by half since Obama departed, according to data provided by Syracuse University. In numbers, only 75,556 migrants were ordered home in fiscal 2016, but the departure number under AG Sessions is on track to reach 120,000 in 2018, says the university's newest data at the Transactional Record Access Clearinghouse.
The Military Can Secure the Border and Build the Wall. El Salvadoran migration has inflicted 207 murderers on this country. The migrant caravan threatening to invade this country includes migrants from El Salvador. Some of them may be MS-13 members. The Pueblo Sin Fronteras caravan of 1,000 migrants is the product of an alliance between international leftists and migrant invaders. Their goal is the invasion, colonization and occupation of America. And the only ones defending us against them are the members of an outnumbered border patrol, threatened by both drug cartels on the other side of the border and sanctuary states in this country. That's why President Trump is mobilizing the troops to do the job that the Democrats won't do.
Trump Is 'Saving Us': Minnesota Mining Country Warms to Tariffs and G.O.P.. On northern Minnesota's Iron Range, where evergreen trees stretch on for miles and snowpack lingers into the spring, a political shift is underway. Generations of residents have gone to work in the mines, endured cycles of booms and layoffs, and mostly voted for Democrats. But President Trump's tariffs on imported steel are being celebrated as a boost to the local taconite mines, which supply American steel mills, and Republicans are hopeful that they can flip the area's congressional seat in November.
Trump Dismantles Another Obama 'Achievement' — Just One More To Go. EPA head Scott Pruitt said Tuesday that the administration would rewrite Obama's fuel economy standards starting with model year 2022. Obama's plan was to mandate that all cars sold average 54.5 miles per gallon by 2025, up from 38.3 mpg this year. As we have repeatedly explained in this space, Obama's fuel economy mandate was little more than a thinly disguised electric car mandate, since hitting that level would have required a substantial increase in plug-in sales. As it stands, there are only a handful of powered cars that can go more than 54 miles on a gallon of gas. Pruitt said that, instead of trying to force consumers into more expensive cars that environmentalists like, the focus at the EPA will be "on making cars that people actually buy and that are efficient."
Donald Trump: 'Our Country Is Being Stolen' by Illegals. President Donald Trump urged Congress to prevent large groups of illegal immigrants from entering the country. "Act now Congress, our country is being stolen!" Trump wrote on Twitter on Monday morning [4/1/2018]. Trump said that "weak" border laws passed by Democrats prevented border patrol and ICE agents from enforcing the border laws.
Ban on "secret science" in EPA regulation makes sense. The Environmental Protection Agency has announced it will now base new regulations only on the findings of scientific studies whose data and methodology are made public so they can be subjected to independent review. That's a sound move in line with basic scientific transparency and professionalism. Yet it's being treated as a sign of impending apocalypse by some on the left, which says much about the questionable validity of that group's policy prescriptions. In an interview with The Daily Caller News Foundation, Administrator Scott Pruitt said the EPA will end its use of studies that do not publish underlying data, only conclusions. "Otherwise, it's not transparent. It's not objectively measured, and that's important," Pruitt said.
Judge's death gives Trump the opportunity to overhaul the liberal 9th Circuit. The death this week of 9th Circuit Court of Appeals Judge Stephen Reinhardt gives President Trump the opportunity to boost the number of Republican-appointed judges on the famously liberal-leaning court, with seven seats now open. But legal experts say filling all of those vacancies could be a stretch because of partisan wrangling in the Senate. Of the 22 active judges on the bench — the court is authorized to have 29 judgeships — 16 were nominated by Democratic presidents, and six were nominated by Republicans.
Why is the Media Suddenly So Interested in the EPA? [Under Obama,] Time and again, sympathetic scribes in the mainstream media gave the EPA chiefs a pass. But that drastically changed on December 7, 2016, when Donald Trump nominated Scott Pruitt to be his EPA administrator. Pruitt, the former Oklahoma attorney general, was an outspoken critic of the agency and sued the EPA several times in his role as the Sooner State's top lawyer. His appointment was a Southern-styled boot-kick to the far-left scientific establishment and the environmental lobby, signaling an end to their unchecked power grip at the EPA. To his credit, Pruitt refused to try and win them over: He immediately scrubbed the EPA's website of climate change propaganda and encouraged the president to withdraw from the Paris Climate Accord.
Carson's HUD Spurns Obama-Era Radicalism. On Thursday, March 29, Ben Carson found himself in the news again. This time the problem wasn't his purchase of an expensive dining hutch (for which the housing secretary received condign criticism, including from this magazine) or his aim of shortening his agency's garbled mission statement (for which he deserved no criticism at all, in our view). This time, rather, Carson has committed a new offense — that of rejecting his predecessors' policies.
Sessions is moving shrewdly on the FISA abuse investigation. [Scroll down] What about the decision to use a U.S. attorney rather than appoint a special counsel? This decision also seems sound, and not just because I don't like special counsels. The combination of the IG and the USA should be able to accomplish as much as a special counsel would — and accomplish it faster and with less fanfare. The absence of fanfare is an advantage because it makes it more difficult for Democrats and their media partners to push the idea that anyone is being persecuted. A Justice Department investigation headed by two Obama appointees is harder to shoot at than a special counsel.
Trump Just Terminated $200 Million Syrian Aid Package. Recently-departed Secretary of State Rex Tillerson had allocated a whopping $200 million dollar humanitarian aid package to Syria that opponents feared would actually be used to bolster Islamic militants throughout the region and place U.S. soldiers there at even greater risk.
Extreme vetting: State Dept. to demand tourists' social media history. The State Department will publish new rules this week to require most visitors and immigrants to the U.S. to divulge their recent social media histories, carrying out one of the key security enhancements from President Trump's extreme vetting executive order. Travelers would also be asked to list phone numbers, email addresses and international travel during the previous five years, and to detail any immigration problems they have had, whether with the U.S. or elsewhere.
The Army may build the wall. Install is more accurate. These will be fabricated in a factory, and taken to the site. This haul and install operation seems like great training for the combat engineers. Plus you get a nice big wall.
Is Trump Using Omnibus Bill To Now Fully Fund The Border Wall? It Sure Looks That Way. Whispers are now rampant that President Trump is using the significant funds allocated to military spending in the most recent omnibus bill he signed last week to allocate full and immediate funding for the southern border wall project. If so it would be a brilliant side-step maneuver that would outflank the anti-secure border members of Congress — including many among the Republican leadership. An omnibus bill is not a budget and so allows a president considerable powers to spend those funds as they choose.
President Trump hints he may use Defense budget to build the border wall now. President Trump tweeted something very suggestive this morning, indicating that he may use the powers of the executive to work around the $1.3 trillion abomination's limitations on the border wall.
Trump scrapping Obama-era rule that turned schools into 'war zones'. The Trump administration plans this summer to scrap a controversial Obama-era discipline rule forced on schools to close racial gaps in suspensions and arrests but that critics say pressures educators to turn a blind eye to escalating bad behavior. The federal directive, issued jointly in 2014 by the US departments of Education and Justice, warned public school districts receiving federal funding — including New York City — that they could face investigation and funding cuts if they fail to reduce statistical "disparities" in discipline by race. On average, the administration noted, black students are suspended at three times the rate of their white peers. The directive also discourages student arrests and holds districts liable for the actions of "school resource officers ... or other law enforcement personnel."
John Bolton's First Order Of Business: Shred Disastrous Obama Iran Nuke Deal. In the short term, newly-appointed Trump National Security Advisor John Bolton's most important job is to navigate the dismantling of the disastrous Obama-era Iran nuke deal that was so strongly supported by Russia. (Isn't it interesting how Democrats claim to be anti-Russia but enacted policies time and time again that were favored Russia?) Bolton appears to be both up to that task and quite willing to carry it out — much to the dismay of the Establishment Media who are increasingly desperate to protect the Obama legacy.
Is California Governor Jerry Brown Mentally Ill? Unlike Obama's punish-evil-America-first presidency, Trump has America's best interest at heart. Unlike leftists seeking to dissolve our borders, Trump plans to build a wall to protect our people and our economy. Insanely, leftists cheered when Obama allowed Ebola into America, claiming it was racist and unfair for Americans not to be subjected to the disease. Unlike Obama, Hillary, Democrats, and fake news media's war on Christianity (forcing a 100-year-old order of Catholic nuns to fund contraception and forcing Christian businesses to service same-sex ceremonies), Trump vows to defend religious liberty.
Trump cutting Obama-era refugee admissions 77%. The Trump administration, which has proposed a massive 60 percent reduction in refugee admissions from the Obama-era high of 110,000, is expected to cut that number even deeper. [A]ccording to preliminary estimates. Experts evaluating the administration's latest refugee totals now predict a slash of over 77 percent, to 25,000 refugees a year.
AG Sessions Helping Immigration Courts End 'Catch-and-Release'. Attorney General Jeff Sessions is streamlining courtroom reviews of migrants' asylum pleas, so helping reduce the "catch-and-release" inflow of Central American migrants. The nation's immigration courts are run by the AG, so Sessions has the legal authority to set precedents, procedures and rules for judges and for the Board of Immigration Appeals.
Congress Should Ditch Obama's 'Clean Water Rule'. Congress last year utilized the Congressional Review Act to get rid of many federal agency rules, most of which were prime examples of agency overreach. Congress now needs to use the "power of the purse" in the upcoming omnibus appropriations bill to continue its efforts to rein in agencies and reassert its lawmaking power. One time-sensitive and critical issue that should be front and center: the so-called "WOTUS" rule. Even before the Obama administration's 2015 Clean Water Rule — better known as the "Waters of the United States," or WOTUS, rule — the Environmental Protection Agency and the U.S. Army Corps of Engineers had been trying to improperly expand their power under the Clean Water Act.
It's Up to Veterans to Reclaim Religious Liberty in Military Stolen by Obama. Despite the election of the very pro-religious liberty President Trump in 2016, there are still many anti-religious liberty policies in place for those who serve in the military. Many of those policies engineered by former President Obama and his civilian bureaucrats in the Pentagon erase freedom of expression of Christian faith and religious liberty from the U.S. Armed Forces. Some Obama-VIDOLera rules even criminalize the open expression of religious faith by men and women in uniform. With President Trump in the White House, we have a real opportunity to reverse one of the worst legacies of the Obama Administration — its aggressive attempt to erase Christianity, religious liberty and even Chaplains from the United States military. But it will be up to veterans to lead the charge to undo the damage Obama has done to our military.
Why Trump's 'trade war' makes strategic sense. A more productive American steel industry will come at the cost of weaker allies in East Asia. Does that make strategic sense? It very well might. Japan and other U.S. allies have flourished in the trade environment that Washington has upheld since the end of the Cold War. But China has flourished the more, to the point of overtaking the U.S. as the world's largest economy. If power differentials count — and they do — Washington's way if doing business has only fed a great power rival while slowly starving America herself of hard industry.
Trump kicked off video game meeting with 'horrendously violent' compilation, participant says. President Trump's closed-door meeting Thursday [3/8/2018] with members of the video game industry, lawmakers, and cultural critics began with the president playing a compilation of "horrendously violent" gaming content on a laptop, a meeting participant said. The 2 p.m. meeting lasted about an hour and was entirely closed to the press, despite originally being advertised as partially open to the White House press pool. [...] Although Trump has said he believes there's a link between violent video games and actual violence, a theory unsupported by mainstream scientific research, Grossman said Trump spent most of the meeting listening to others.
The Editor says...
Common sense doesn't need to be "supported by mainstream scientific research."
Trump pardons Kristian Saucier, former sailor jailed for submarine pictures. President Trump issued the second pardon of his presidency Friday to former Navy sailor Kristian Saucier, who learned the news while driving a garbage truck, the only job he could find with a felony conviction. Saucier was sentenced to a year in prison during the 2016 campaign for taking pictures inside a nuclear submarine. Trump invoked his case repeatedly on the campaign trail, saying he was "ruined" for doing "nothing" compared to Hillary Clinton. Still, Trump allowed Saucier to serve his full prison sentence. He was released in September and returned to the Vermont home he shares with his wife Sadie and their two-year-old daughter.
Promises Kept: Donald Trump Signs Steel and Aluminum Tariffs to Protect Workers. President Donald Trump signed his official establishment of tariffs on aluminum and steel on Thursday [3/8/2018] in a dramatic ceremony in the Oval Office. The tariffs were exactly as he proposed them last week — 25 percent on steel, ten percent on aluminum. Trump said that the tariffs were important to sign, citing the industry communities that were devastated by bad trade deals and failed promises from failed politicians. "Our factories were left to rot and to rust all over the place," Trump said. "Thriving communities were turned into ghost towns."
Trump and Jeff sessions together sued the government of California for its Sanctuary City policy. In 1994 California passed Proposition 187. It was a ballot initiative designed to prohibit illegal aliens from using non-emergency health care, public education, and other services. After voters passed the law by ballot referendum it was challenged in court. The proposition was approved by a margin of 59% to 41%. Three days after the bill's passage, Federal Judge W. Matthew Byrne issued a temporary restraining order against institution of the measure. Judge Mariana Pfaelzer issued a permanent injunction of Proposition 187 in December 1994. Pfaelzer found the law to be unconstitutional on the basis that it infringed on the federal government's exclusive jurisdiction over matters relating to immigration. [...] In 1994 California had approximately 1.3 million illegal immigrants of which approximately 300,000 were children. In 2014 that number is estimated at between 2.35 to 2.65 million. 6% of the state's population is estimated to be illegal immigrants. In comparison to the National number of approximately 11 million this is almost 1/4 of the national population.
A Trade War? No, a Coordinated Phase-Two Trade Policy Shift by the Trump Administration. Ya know, it's increasingly funny to watch the Wall Street crowd going bananas simply because POTUS Trump does exactly what POTUS Trump said he was going to do. I mean it's not like the administration has been hiding the trade policy plans and objectives for the past year; yet, the financial class acts shocked, SHOCKED, when it actually happens.
The media continues to ignore Trump's presidential leadership. [Scroll down] All things considered, then, here is my current guide to those who want to see Trump succeed but are perplexed by events: Keep your eye on the big picture and begin each day with optimism because betting against him has been a loser. While no president in modern history has faced such media assaults and entrenched opposition, including from some in the FBI, Trump has work horse stamina and warrior determination to succeed. His policies are mostly the right ones and his tax changes and regulatory reforms will spur growth and create opportunities for millions of Americans.
Trump's education budget puts students ahead of special interests. President Trump's proposed 2019 education budget, with its elimination of 29 ineffective or duplicative programs, drew howls from special-interest groups. Despite their hyperventilation, the president rightly focuses his spending priorities on the needs of students rather than on what the Washington spending lobby wants. Trump proposes a 5 percent reduction in discretionary federal education spending below the level enacted last year, going from $66.8 billion down to $63.2 billion. American Federation of Teachers chief Randi Weingarten called the cuts "cruel," and claimed that the administration "shows that they failed to learn anything." Yet it is Weingarten and the guardians of the education status quo who have ignored all the evidence.
The incredible Trump agenda. President Trump's style has dismayed many on the right as well as the left. But when it comes to actions, conservatives find much to delight them. While the 2016 presidential elections were underway, policy analysts at The Heritage Foundation (my employer and one of the nation's leading think tanks) compiled a six-volume series of conservative, research-based policy recommendations for the next president. The recommendations were calculated to help the incoming president and Congress jumpstart the economy, strengthen national security and halt the increasing centralization of power in the federal government.
Defiant Trump Battles Globalists Like No President Before Him. It was the tariff comment heard around the world. Global markets staged a predictable temper tantrum as the Establishment Media spun it all as an American president who continues to go "too far" in his America-first approach when Donald Trump dared to do what he said he will do (for the last three decades) and slap tariffs on those nations who have for too long been abusing the system and costing U.S. jobs.
On Tariffs, Hold the Hysteria. President Trump said last week that he intends to use powers granted him by Congress to impose import duties on steel and aluminum. That was all it took for the press to become free traders. Gloom and doom are everywhere, as reporters gleefully tell us how our trading partners are planning to retaliate and how Trump's tariffs will damage the economy. I don't recall a similar reaction when it was Democrats who were the leading protectionists. I am anti-protectionism, but I am also anti-hysteria. It's not as though tariffs are an unknown phenomenon. As many have pointed out, President George W. Bush imposed tariffs of up to 30% on steel in 2002. They remained in effect for more than a year. And Ronald Reagan restricted imports of steel in 1984, and later imposed a 100% tariff on some Japanese electronic products. Somehow the republic survived.
All Trump's Trade Wars. To ask coherence of President Trump is to ask too much of a man with the attention span of a tweet, and for whom cognitive dissonance is not something he spends nights losing sleep over. So we have had large tax cuts, putting money into the pockets of consumers, which will enable them to increase their spending (saving is not in fashion in America at the moment). Which means they will buy more stuff, much of it imported, widening our already record trade deficit. But the president doesn't like trade deficits — job killers as he sees it — and so he has put tariffs on washing machines and solar panels and now is deciding what costs and restrictions to place on imports of steel and aluminium. A 1962 statute permits him to use tariffs or quotas if imports lead to "a weakening of our national economy that may impair national security." Which he is assured by a report from Commerce Secretary Wilbur Ross that imports of steel and aluminium do.
Unhappy Canada Vows Retaliation For Steel Tariffs. I think we've figured out why President Trump is doing the Steel and Aluminum tariffs ahead of the NAFTA withdrawal. Perhaps, the wolverine administration is using Steel and Aluminum to draw attention to the NAFTA fatal flaw.
The problem with Trump's outdated aluminum, steel tariffs. Digesting the actions of Donald Trump — our volatile, reality-TV-star-turned-president — on a daily basis is often not an easy task, as Thursday's 420-point stock tumble revealed. The latest case of market indigestion was caused by Trump's drastic move of placing 25 percent tariffs on imported steel and 10 percent tariffs on aluminum — actions that sparked fears on Wall Street of a possible trade war. Trump, long a businessman and real estate entrepreneur before he got involved in NBC's "The Apprentice," claims to love the free markets, but he spent much of the 2016 campaign demanding "fair trade" and bashing free-trade agreements.
Sorry, Mr. President: Your Trade Protectionism Will Cost The U.S. Dearly. Protectionism is a political feel-good policy that does nothing for the economy. It's a big cost with very few tangible benefits. That's why President Trump has made a big mistake in imposing big tariffs on steel and aluminum.
Trump's new taxes — a big tariff step backward. Amid reports of chaos and indecision inside the White House, President Trump finally decided not to delay any longer and dropped a massive bomb on the economic recovery he had until this week been trying so hard and apparently successfully to build and promote. A president who has promised to bring back manufacturing jobs announced that he is imposing steep new tariffs on two of the key raw materials used intensively in manufacturing industries that account for more than 2 million jobs, and less heavily in industries that employ even more.
Is Trump Serious about Returning to a Gold Standard? While it was met with trepidation at the time, the end of the gold standard has actually paved the way for unbridled economic growth. It also led to gold as a secondary investment mechanism, which becomes especially popular during times of recession. But despite operating without the gold standard for nearly 50 years, there are always calls to return. And because of statements he's made in the past, many wonder if President 45 is the man to do it.
MAGAnomics Is The Battle — The Restoration of a Balanced Economy is The Goal. For those who follow closely the strongest argument against the U.S. trade and economic policies of the past 30 years has been the outcome. We don't need to guess what the pro's and con's of the U.S. Chamber of Commerce position is, we are living them. We don't need to guess what the Wall Street economy delivers, we are living through them. For the past 30 years the U.S. has lost jobs, wages have been depressed, and the middle-class has suffered through the implementation of economic trade policy that destroyed the U.S. manufacturing base. None of this is in question — the results stare us in the face — yet the Wall Street and multinational corporate club(s) [U.S. CoC chief among them] now demand a continuance of the same.
Liberal state attorneys general promise unrelenting fight against Trump for 'illegal' environmental moves. A coalition of liberal state attorneys general opposing the Trump administration's rollback of environmental regulations expressed confidence on Tuesday that they would emerge victorious in court. "We are resolute with our colleagues that we will fight tooth and nail to stop reckless activity by Secretaries Zinke and Pruitt, who not only fail to act as stewards, but joyride around the country on first class flights consulting with folks on the other sides of these issues and fail to stand up for the American people," said Maryland Attorney General Brian Frosh, referring to Interior Secretary Ryan Zinke's and EPA Administrator Scott Pruitt's frequent use of first class travel. Frosh, a Democrat, on Tuesday participated in a briefing for reporters with colleagues on the sidelines of the National Association of Attorneys General 2018 Winter Meeting in Washington. He was joined by fellow Democratic state attorneys general Xavier Becerra of California, Maura Healey of Massachusetts, and Karl Racine of Washington D.C.
Trump Administration Announces $260 Million in Family Planning Grants to Programs that Do Not Perform Abortions. The Trump administration announced a new grant program under the Title X family planning program that has $260 million available to grantees that do not perform abortions. The U.S. Department of Health and Human Services (HHS) says it has been working on ways to streamline the application process for interested organizations. Programs that wish to apply are now able to submit one application that covers multiple geographic service areas.
The Editor says...
What part of the Constitution authorizes expenditures for family planning?
Conservatives release blueprint for Trump to 'eliminate' Fannie Mae, Freddie Mac. Conservatives who are pushing for the elimination of Fannie Mae and Freddie Mac on Monday [2/26/2018] gave President Trump a blueprint for phasing out the government-sponsored enterprises by himself. Analysts with the American Enterprise Institute and other right-of-center think tanks began rolling out a guide for how the Trump administration could "eliminate" Fannie and Freddie over the course of several years without any action from Congress. AEI also plans a conference Tuesday morning to discuss the paper, which could influence GOP lawmakers. The plan is tailored for enactment by a Trump appointee to the Federal Housing Finance Agency, the government entity responsible for overseeing Fannie and Freddie.
Heritage Foundation: 64% of Trump's agenda already done, faster than Reagan. With unprecedented speed, the Trump administration has already implemented nearly two-thirds of the 334 agenda items called for by the Heritage Foundation, a pace faster than former President Reagan who embraced the conservative think tank's legendary "Mandate for Leadership" blueprint. Thomas Binion, director of congressional and executive branch relations at Heritage, said that Trump has implemented 64 percent of the "unique policy recommendations" from the group. At this stage of his presidency, Reagan had completed 49 percent of the Heritage policy recommendations.
Trump Delivered The First SOTU In 8 Years To Not Mention Global Warming. While President Donald Trump touted policies to make the U.S. into an energy superpower, his first State of the Union (SOTU) address to Congress left out a hallmark of Obama-era speeches. Trump's address is the first in eight years to not refer to manmade global warming — nine years if you include former President Barack Obama's 2009 address to Congress. Instead, Trump emphasized deregulation and boosting energy production — many of the regulations Trump rescinded were Obama-era global warming policies.
Trump Releases Obamacare Hostages. The Trump administration has issued a new regulation that will provide an escape route for health insurance consumers who have, since the imposition of Obamacare, been forced by their bureaucratic captors to choose between plans they can't afford and going without coverage. Once the proposed rule is implemented, in 60 days, Americans will be able to buy health plans that conform to their own needs rather than the whims of Washington politicians.
Trump Is, In Fact, Taking On High Drug Prices. Health reform advocates complain that President Trump's budget doesn't do enough to tackle high drug prices, which they say are rapidly driving up health costs. Neither claim, it turns out, is true.
Jeff Sessions: We Are Ending 'Executive Branch Legal Activism'. Attorney General Jeff Sessions told Breitbart News in an exclusive interview on Thursday [2/15/2018] that the Department of Justice was ending the "executive branch legal activism" of the previous administration, while also fighting the judicial activism of liberal judges. "I think the department did become too political" under President Barack Obama, Sessions said. "Essentially, it was executive branch legal activism. They would take cases or regulations or statutes and expand or redefine the meaning of words in them to advance the agenda that they thought ought to be advanced — an agenda that often had zero chance of passing Congress, where the elected representatives sit.
Trump smoked Democrats on DACA. President Trump gave Congress six months to change the law or he would enforce it. By the way, there is nothing wrong with the law. Presidents are just too chicken to enforce it.
Republican Senator Ron Johnson Tells President Trump "it makes no sense to try and bring back high labor manufacturing jobs". Yesterday [2/13/2018] President Trump invited the media to keep their cameras on during a round-table discussion on trade. He did this for a reason. President Trump wanted the American voters to watch Republican politicians demand that he stop trying to bring manufacturing jobs to the United States. In essence, Trump doing what Trump does best, played the role of Toto and pulled back the curtain on the Republican anti-American corporate business agenda. The republicans in attendance never paused to reflect upon the sunlight or the reason for their specific invitations. They are comfortable back-room deals and POTUS Toto relaxed them perfectly.
Trump Guts Obama-Era Methane Rules To 'Allow Job Growth In Rural America'. President Donald Trump's administration is revising a former President Barack Obama-era rule on methane emissions to help make the U.S. energy dependent while helping people in rural parts of the country retain jobs. "In order to achieve energy dominance through responsible energy production, we need smart regulations, not punitive regulations," Joe Balash, assistant secretary for land and minerals management, said in a statement following Trump's move to revise the controversial rule. "We believe this proposed rule strikes that balance and will allow job growth in rural America," said Balash, an official inside the Interior Department. The Interior Department believes the regulation was redundant and damaged industry inside rural parts of the country.
Report: Trump's Proposed Budget Nixes Federal Funding for NPR, PBS. President Donald Trump's 2019 budget includes a proposal that would eliminate federal funding for the Corporation for Public Broadcasting (CPB), according to a report. The Hill reported that Trump's budget would cut funding for CPB — which funds public television and radio stations such as PBS and NPR — over two years.
Why does replacing food stamps with food so anger liberals? President Trump has proposed replacing some food stamp grants with actual food. This has curiously enraged liberals, who you would think would be delighted to see "hungry" people getting food. [...] [P]articipating in SNAP is a character flaw. No one should be on SNAP for years. Get a job! As for removing choice discouraging personal responsibility, just the opposite. If you want a choice of what food to buy, get a job!
Trump Considering Privatizing International Space Station. In what might be a turning point for the International Space Station, the Trump administration is considering privatizing the orbiting satellite in the near future. According to The Washington Post, the Trump administration does not plan on allocating funds for the ISS after 2024, which will effectively end direct federal support for the station.
You're fired: Trump to rid 'worst' federal workers, automatic raises, fat bennies. President Trump plans to take the huge federal Civil Service off cruise control, ending automatic pay increases that go to 99.7 percent of the workforce, trimming fat benefit packages, and for the "worst," rolling out his trademark phrase from The Apprentice, "You're fired!" In his budget, set for release Monday, his administration is planning the biggest reform to the federal workforce in decades, using models from Amazon, Google, and a handful of well-operating agencies. Officials said the overall goal is to bring the 1950s-styled Civil Service into the digital age, introduce automation, reward "the best" with bonuses, make it easier to hire and fire, and provide "flexibility" by moving employees where they are needed and even rehiring skilled retirees.
A Year of Achievement. As unintended proof of his accomplishments, Trump's many liberal opponents have gone from initially declaring him an incompetent to warning that he has become effective — insanely so — in overturning the Obama progressive agenda. Never Trump Republicans acknowledge that Trump has realized much of what they once only dreamed of — from tax reform and deregulation to a government about-face on climate change, the ending of the Obamacare individual mandate, and expansion of energy production. Trump so far has not enacted the Never Trump nightmare agenda. The U.S. is not leaving NATO. It is not colluding with Vladimir Putin, but maintaining sanctions against Russia and arming Ukrainians. It is not starting a tariff war with China. The administration is not appointing either liberals or incompetents to the federal courts.
The Editor says...
For those of you who don't read National Review, the editors of NR were the biggest "Never Trump Republicans" around until Mr. Trump started to succeed.
Trump administration open to moving public land bosses west. From its headquarters in Washington, D.C., the U.S. Bureau of Land Management oversees some of the nation's most prized natural resources: vast expanses of public lands rich in oil, gas, coal, grazing for livestock, habitat for wildlife, hunting ranges, fishing streams and hiking trails. But more than 99 percent of that land is in 12 Western states, hundreds of miles from the nation's capital. Some Western politicians — both Republicans and Democrats — are asking why the bureau's headquarters isn't in the West as well.
Mattis Takes Global Warming Out Of The National Defense Strategy. The Pentagon released a National Defense Strategy that for the first time in more than a decade does not mention manmade global warming as a security threat. An 11-page summary of the new National Defense Strategy makes no mention of "global warming" or "climate change," according to a keyword search by the Huffington Post. The document reflects the Trump administration's focus on "energy dominance" over climate.
Shoving Alinsky's Rules for Radicals Right Back in the Left's Ugly Face. The Left hadn't taken a good, solid gut punch since Ronald Reagan turned the Oval Office keys over to the wimpcons who found fighting Democrats uncouth because conflict made for awkward luncheons down at the club. Bizarrely, the guy who picked up the standard and carried it forward when our beloved commander was felled by fate was a New York billionaire with no identifiable ideological foundation who instinctively understood the one thing that could make up for his other failings: He knows how to fight liberals and win.
Trump's plan to scuttle DACA. [President Trump plans] to rid the nation of two bills that were never introduced as legislation, but which the media treats as law. DACA and DREAMers would reward 1.8 million illegal aliens with citizenship — despite their being here illegally. Trump wants to end these Fake Laws, and gave Congress until March to enact legislation, or his administration would enforce the real law. He offered a compromise. He would allow citizenship if the DACA and DREAMers kept their noses clean for 12 years. In exchange, Democrats agree to funding the wall, ending diversity visas, and curtailing the friends-and-family chain migration that allows legals to bring in illegals.
Americans want massive cuts to legal immigration. A government shutdown is in the rearview mirror, but the outlines of a looming immigration deal remain murky with the sides still far apart — though the latest polling suggests President Trump's bargaining position may be strong. A Harvard-Harris poll taken in the run-up to the shutdown found Americans strongly support granting citizenship rights to illegal immigrant Dreamers. But they also back Mr. Trump's three demands for a border wall, limits to the chain of family migration and an end to the Diversity Visa Lottery.
Trump Moves to Defend Religious Rights of Doctors. President Trump's Health and Human Services Department (HHS) has taken new steps to restore religious protections for physicians and other health care providers long under attack by the bureaucratic bullies of the Obama administration. In addition to expanding its Office for Civil Rights by creating the Conscience and Religious Freedom Division, HHS has announced a new regulation that will protect care providers from being coerced into performing medical procedures, including abortions, that violate their consciences. The new OCR division and conscience regulation will enforce existing laws that were routinely violated or simply ignored by the bureaucrats of the Obama administration.
The NeverTrump Traitors. [Scroll down] You see, it isn't about Trump for those who support him; it's about America and the dire need to first preserve what liberties remain, then to fire back at the enemy until we have reversed the momentum; retaken lost territory; and restored the primacy of the people over their government — a primacy that is the hallmark of our nation, and our most valuable gift to posterity. Trump will do this, indeed has been doing it, chalking up momentous "wins" for the cause of constitutionally limited government against the lurching, intrusive leviathan government built by more than a century of corrupt and rent-seeking "representatives" of both parties.
Immigration and the Tragic Sense of Life. TPS [Temporary Protection Status] is for countries affected by armed conflict, natural disaster, or other strife. Since those conditions are not exceptions but, tragically, norms in human affairs, the status must be temporary. Otherwise the United States would not be a country so much as a depleted charity, with no end to the persons who seek to immigrate to its desirable shores. So the Trump administration announced on Monday [1/8/23018] that Salvadorans in the TPS program will have until September 2019 to make arrangements to leave the country or obtain other legal status in order to stay. Thereafter, they no longer will be allowed to remain in the U.S. under TPS. The news came just weeks after more than 45,000 Haitians, the second-largest group, lost protections granted after Haiti's 2010 earthquake. Other peoples in the program — Hondurans, for example — may soon lose them as well. Nicaraguans lost their protections last year. In March, protections for 800,000 young illegal immigrants — a.k.a. Dreamers — will end unless Congress grants them legal status before then. Although naturally unpopular on the left and among the immigrants themselves, getting immigration under control is one of the major reasons that Donald Trump was elected to the presidency. For most Americans want immigration to be determined by federal law, and they don't believe it is "racist" to deport people who are in violation of immigration law.
Mr. Trump, fund, start, and finish the wall before you tackle DACA, illegal immigration. The Deferred Action for Childhood Arrivals (DACA) program, which defers deportation for about 700,000 illegal immigrants brought to the U.S. as children, has been the topic of intense negotiations between President Trump and members of Congress this week. But this discussion is premature. Action to improve border security must come first. The president wants to begin phasing out the existing DACA program in March — though a federal judge this week temporarily blocked ending the program while a lawsuit is pending. The Trump administration is challenging that order. But the possible end to the program in coming weeks has driven Democrats to seek legislation to change the law to allow DACA recipients to stay in America.
Who Are You Going to Believe — Michael Wolff, or Your Own Eyes? I read as much of Michael Wolff's "Fire and Fury" as my stomach lining could stand, and then I watched Donald Trump's last rally of the 2016 presidential election. Groucho Marx's old line came to mind — "Who are you going to believe; me, or your own eyes?" He spoke in Michigan, a swing state where Hillary Clinton didn't bother to campaign, and he hammered on the issues that decided the vote: more jobs, no Obamacare, Washington corruption. Trump was focused, confident, and ruthless. "Hillary Clinton is the most corrupt person ever to seek the office of the Presidency of the United States.... We are finally going to close the history books on the Clintons, and their lies, schemes and corruption.... My contract with the American voter begins with a plan to end government corruption and to take our country back from the special interests.... We're going to win today and we're going to Washington D.C. to drain the swamp." The crowd of 18,000 chanted "Drain the swamp!" back at him.
Leaked Memo: DACA Recipients Are 'Critical' to Democrats' 'Future Electoral Success'. Not only do these illegal aliens cost the American taxpayers billions of dollars, they are incredibly dangerous as well. Just like the Syrian 'refugees', we don't know who they really are. The median age of a DACA recipient is 23 years old. They are not hopeless babies and toddlers like the media would like you to believe. Many DREAMers are of voting age and will vote Democrat. The ones who have yet to be of voting age will most certainly vote Democrat and permanently entrench the Democrat party. President Trump MUST keep his campaign promise and deport DACA recipients or we can say goodbye to our voices.
Leaked Memo: DACA Recipients Are 'Critical' to Democrats' 'Future Electoral Success'. Not only do these illegal aliens cost the American taxpayers billions of dollars, they are incredibly dangerous as well. Just like the Syrian 'refugees', we don't know who they really are. The median age of a DACA recipient is 23 years old. They are not hopeless babies and toddlers like the media would like you to believe. Many DREAMers are of voting age and will vote Democrat. The ones who have yet to be of voting age will most certainly vote Democrat and permanently entrench the Democrat party. President Trump MUST keep his campaign promise and deport DACA recipients or we can say goodbye to our voices.
Trump's DHS Says 700-Mile Border Wall To Cost Just $1.8 Billion Per year. President Donald Trump's 700-mile border wall would cost just $1.8 billion annually for ten years, according to the Wall Street Journal. The expected construction cost is only 1 cent for every $20 spent by the federal government.
The Editor says...
That amount of money is only one tenth of what it costs to have NASA fly around in circles and accomplish nothing. The border wall is a matter of national defense, which is authorized by the Constitution. (The exploration of other planets is not.) The benefits will far exceed the cost, even before the wall is completed.
Trump's Interior Secretary Proposes Selling Offshore Drilling Leases Starting in 2019. President Trump's Interior Secretary Ryan Zinke was very careful in announcing his agency's next step in expanding energy development to include the United States' offshore reserves. He knew that environmentalists and far-left politicians would attack his plan and did what he could to placate them in advance. [...] But anti-fossil fuel environmentalists and politicians on the Left weren't buying any of it. Most of the noise came from California, which hasn't allowed off-shore drilling on its coastline since 1969.
How we know Trump understands Iran. How do we know Trump is getting it right? Because the experts are saying he is getting it wrong. [...] Forty years ago, the experts said Khomeini was just some religious fruitcake in Paris who posed no threat to the Shah of Iran, who sat on the Peacock Throne that his family held for "2,500 years." There was even a party for the 2,500th anniversary of the Peacock throne. Actually, it was the 25th anniversary. The CIA installed him in 1953. More experts.
Trump pulls brakes on $13B Obama-backed rail-tunnel plan. An Obama-era plan to have the federal government finance half of a $13 billion rail tunnel project ran into a red light Friday [12/29/2017] from the Trump administration. The plan, proposed under President Barack Obama in 2015, includes revitalizing a deteriorating Amtrak tunnel connecting New Jersey to New York City, repairing damage to a dual-tunnel conduit, and reconstructing the New Jersey railroad network's aging Portal Bridge, Crain's New York Business reported.
Trump's Energy Success. In April, the president signed an executive order reversing Obama's ban on new offshore drilling in the Arctic and Atlantic. Current estimates show that almost 90 billion barrels of oil and 327 trillion cubic feet of natural gas lie under the U.S. Outer Continental Shelf. Those estimates have a way of being revised upward, especially for regions such as these that have not been explored with modern technology due to past restrictions. Offshore drilling has the potential to produce ten times the number of jobs and government revenue projected for ANWR. At the high end, that would be 1,300,000 high paying jobs and $4.4 trillion in state and federal revenue.
No More Free Money to Pakistan: President Trump Cuts Off $255 Million in Military Aid to Pakistan. The Trump administration announced on Friday [12/29/2017] it will not be sending military aid totaling $255 million to Pakistan. The monetary aid was denied to the Pakistan government in response to its ineffective action against terrorists and militants on its soil.
Trump's Momentous First Year. We've experienced a miracle in our day that a lot of us thought we might never see again. The conservative base wanted a consequential President; one who could overcome a combination of our country's decline, the neutering of conservative principle, the increasingly poor economy, the leftward lurch of our major institutions, the suicidal tendencies grafted into our country by the left, and the increasing mindlessness of our culture. Trump filled the ticket as a candidate.
How Trump is rolling back Obama's legacy. President Trump spent his first year in office moving swiftly to roll back what his Democratic predecessor did in eight. The result: the steady unraveling of a slew of regulations and laws put in place under then-President Barack Obama, covering everything from the Internet to the environment to health care.
As Good as it Gets. The tables are turned. As the Russiagate investigation fades, Trump is left with investigatory gold mines: Uranium One, Fusion GPS, FBI and Department of Justice political meddling and obstruction of justice, Hillary Clinton's emails, and the Clinton foundation. Trump could fire Robert Mueller with only a minor political uproar, but Mueller's making a fool of himself to Trump's political benefit. Why stop him? As for those gold mines, Trump will decide if the threat of an investigation or an actual investigation best satisfies his leverage and power calculations and proceed accordingly. There has been no general swamp draining, nor will there be. Trump uses investigatory threats as a Machiavellian tactic to extract what he wants from compromised political actors in useful positions. The Clintons and James Comey, no longer in power and thus, no longer useful, are the most likely to be investigated and prosecuted. In foreign policy, recognizing Jerusalem as the capital of Israel emphasizes Trump's pronounced tilt toward Israel.
With This Tax Cut, Trump and the GOP Are on the Side of the Growth Angels. With President Trump's signing of the big tax-cut bill, the GOP snatched victory from the jaws of defeat. Suddenly, the political and economic landscapes have changed. The Republican party has turned the tables on the Democrats. Trump and the GOP are on the side of the growth angels with the passage of powerful tax-cut legislation to boost business investment, wages, and take-home family pay. The Democrats, meanwhile, are left with stale class-warfare slogans about tax cuts for the rich. Ironically, government unions, with their pension plans heavily invested in equity shares, will benefit hugely from the tax-cut-led stock market boom. They boo the GOP bill while they should be cheering.
Dredging Turtle Bay, Another Swamp Just Begging to Be Drained. There is never enough time or space to mock the United Nations adequately. Almost since the moment it was created the UN's principal purpose has been to provide a forum for the dictators, despots, rogues, and terrorists to bash the United States, to vote to condemn America or Israel — or both — without fear of even the most modest reprisal. After last week, that may change because President Trump and Ambassador Nikki Haley have threatened to cut foreign aid to those nations that voted against us last week. They may also cut our annual funding of the UN. It's high time for us to do so.
Winning in the War on Christmas. The War on Christmas, the secular-progressives' assault on Christmas and yes, religion, is fading away. And Christmas is winning. In today's video message to our military, some of whom of course belong to faiths other than Christianity, President Trump beamed, "I just want to wish everybody a very, very Merry Christmas, we say Merry Christmas, again, very, very proudly. Very very Merry Christmas." Nearly two years ago then-candidate Donald Trump mused, "When was the last time you saw 'Merry Christmas?' You don't see it any more. They want to be politically correct. If I'm president, you're going to see 'Merry Christmas' in department stores, believe me, believe me. You're going to see it." And you know what, I've seen "Merry Christmas" in department stores this year. Yesterday at the end of the weekly meeting at my job my boss, who is Jewish, wished everyone "a very Merry Christmas."
The US Should Pull Out of the UN. President Trump and Ambassador Haley deserve lots of credit for fighting the good fight in the UN. But as this latest vote showed, it's a dead end. The UN is dominated by a corrupt, left-wing bureaucracy. And by bloc votes of Islamic countries and third world dictatorships whom Western countries strive to appease in a pointless bid for influence. Because we fund them. The UN was supposed to be a defense against totalitarian movements. Instead it quickly came to be dominated by them.
State Department tells refugee agencies to downsize U.S. operations. The U.S. State Department has told refugee agencies it will sharply pare back the number of offices across the country authorized to resettle people in 2018 as President Donald Trump cuts the number of refugees allowed into the United States.
Defending country, not climate. Some brainstorms are more persuasive in the brain than on the ground. The grand notion that masterminds should take control of civilization before the unwashed masses render pristine nature a scorched trash heap is one prominent example. The related scheme to muster the Army, Navy, Air Force and Marines to fight global warming, euphemistically called climate change, is coming to a necessary end. The U.S. military's mission is to fight the nation's enemies, not the weather. In a major national security strategy speech Monday at the Ronald Reagan Building in Washington, President Trump presented his "America first" agenda, founded on "principled realism." A 53-page accompanying blueprint includes protecting "America's way of life," the homeland, promoting American prosperity, championing "peace through strength," and advancing American influence. Climate change no longer makes the cut.
Trump's Interior Sec Is Breaking US Dependence On China For Rare Minerals. Interior Secretary Ryan Zinke signed a Secretarial Order Thursday aimed at cutting U.S. dependency on foreign countries for many "critical" minerals contained in batteries, computer chips and military equipment. The United States is wholly dependent on foreign countries, mainly China, for 20 minerals key to national defense and economic security, despite large pockets of some of the minerals existing on U.S. soil, according to a report released Monday. Other countries supplying the U.S. with critical minerals include Brazil, Russia and South Africa. "The findings are shocking," Zinke said in a statement. "The fact that previous administrations allowed the United States to become reliant on foreign nations, including our competitors and adversaries, for minerals that are so strategically important to our security and economy is deeply troubling."
Time for Trump Makeover of Lib NPR and PBS. This is a golden opportunity for President Donald Trump to drain the elitist media swamps and inject true intellectual diversity in the newsrooms of NPR and PBS. Liberal bias at these Beltway institutions is notorious — from NPR legal analyst Nina Totenberg wishing AIDS upon Sen. Jesse Helms and his grandchildren as "retributive justice," to "Sesame Street's" Oscar the Grouch mocking Fox News on PBS, to top NPR executives slamming the tea party movement as "scary" and "racist" to the undercover journalists of Project Veritas. If pushover Republicans can't bring themselves to fully defund NPR and PBS, can't they at least step up and advocate for hosts and editors who keep their hands to themselves and refrain from insulting the people in flyover country who keep their rackets afloat? What better time, in the wake of liberal hypocrisy and sexual harassment self-implosions, to bring real balance to government-sponsored programming?
Trump's national security plan: Iran threat is the sneaker issue for 2018. For years, Iran has been accurately labeled as the world's largest state sponsor of terrorism. Now, quietly with little notice beyond the region, the militant regime in Iran has established a major land force in Syria effectively threatening the existence of Israel. Using the cover of helping Syrian President Bashar al-Assad against domestic insurgents, Tehran now has stationed an estimated 125,000 troops in that country, outnumbering the Syrian army, and enhanced by Russian forces. This is in addition to thousands of Iranian militia allegedly "helping" Iraq forces extinguish ISIS threats there.
Trump National Security Strategy is Reagan's third term. On Monday afternoon [12/18/2017], President Trump will release his comprehensive National Security Strategy (NSS), delivering a speech on the document that will likely shape his foreign policy. Conservative Review received an advance draft of the strategy memo prior to the president's expected Monday afternoon speech. The NSS is very much Reaganesque in its policy prescriptions, but it's also formulated to adopt many of President Trump's proposals that he discussed on the campaign trail and during his first year in office.
Trump reverses Obama, eliminates climate from list of national security threats. President Trump will announce Monday [12/18/2017] his new National Security Strategy, putting his own stamp on a defense plan that reverses an Obama administration policy by eliminating climate change from a list of threats to national security. Senior administration officials said Sunday that Mr. Trump will release the plan Monday afternoon in a speech that outlines his emphasis on protecting American economic power as well as securing the homeland. Officials briefing reporters Sunday confirmed that Mr. Trump's national security playbook eliminates climate change as a priority in defense planning.
An important position the President needs to fill, free of any Obama holdovers. A quarter century ago the Voice of America was headed by Tucker Carlson's father, Richard Carlson. And Dick was more than a veteran newsman. He was a serious thinker who valued content. Dick saw VOA as fair and objective, above politics, but he had a strategic objective of telling America's story, in a positive way. All this was well before the Obama era, with President Obama's repudiation of American exceptionalism and his "apology tour" that seemed to define our international messaging.
Washington Bureaucrats Are Quietly Working to Undermine Trump's Agenda. In report after report following Donald Trump's election, career staffers at the National Oceanic and Atmospheric Administration kept saying the same thing: climate change is real, serious and man-made. That's surprising because Trump has called global warming a hoax. His political appointees at the Commerce Department, which oversees NOAA, have complained to its staff, but stopped short of demanding changes or altering the findings. So the reports, blog posts and public updates kept flowing. The bureaucrats won. "Everything coming out of NOAA does not reflect this administration," said David Schnare, a retired lawyer for an industry-backed think tank who served on Trump's transition team and is skeptical about climate change. "It reflects the last one." That's true across the government as some of the roughly two million career staff have found ways to obstruct, slow down or simply ignore their new leader, the president.
White House forbids CDC from using 7 words, including 'transgender' and 'diversity'. The Trump administration is striking seven words and phrases — including "science-based" and "diversity" — from official budget documents, according to a Friday [12/15/2017] report. Analysts at the Centers for Disease Control and Prevention say they were given a list of terms that are now banned from any budgetary requests sent to the Trump White House, according to The Washington Post. The forbidden language includes "entitlement," "transgender," "fetus," "vulnerable," and "evidence-based," the paper reported.
Wait a minute — here's an update:
No, the Trump Administration Didn't 'Ban' 7 Words at the CDC. Heads exploded over the weekend in response to a Washington Post article that claimed the Centers for Disease Control would "ban" seven words in all future budget documents submitted to Congress. The article's inflammatory headline, "CDC gets list of forbidden words: Fetus, transgender, diversity," set the tone for an egregiously poor example of journalism, even by Washington Post standards. Science reporter Lena Sun wrote, "the Trump administration is prohibiting officials at the nation's top public health agency from using a list of seven words or phrases — including 'fetus' and 'transgender' — in official documents being prepared for next year's budget." Support for that explosive charge came from precisely one anonymous source, a CDC analyst who attended an agency briefing on December 14 where the word-ban was allegedly discussed.
EPA Headquarters: Epicenter of the Draining Swamp. The EPA, like the FBI, was once a respected and trusted institution. The self-righteous, eco-activists that have infested the agency have hurt the nation by altering its primary mission of real pollution prevention (e.g., focusing on lead and not life-essential carbon dioxide). The government's climate change warriors were allowed to to so because no politician dared to pull the plug and be deemed a[n] "evil polluter" ...until President Trump.
On tax cuts, Trump is the modern day JFK. Some argue that the Trump tax cut will increase the deficit, but they should listen to the wisdom of JFK in 1962, when he, too, was battling a large deficit. President Kennedy declared at the New York Economic Club that "it is a paradoxical truth that tax rates are too high today and tax revenues are too low — and the soundest way to raise revenues in the long run is to cut rates now. JFK knew that America's biggest problem was not the budget deficit but a growth deficit. And based on Donald Trump's proposed tax cuts, he seems to share JFK's wisdom. Kennedy was, of course, proven exactly right.
Trump is the Most Conservative President Since Reagan. So much of what he's doing is conservative — trying to rein in regulations. I don't agree with this tax plan, but still, he's trying to cut taxes. He's trying to secure American sovereignty, which includes, like any country that seeks to survive, securing our borders for crying out loud. He's trying to deal with North Korea, which hasn't been dealt with in any significant and serious way by past presidents, all of whom have appeased the various family members running that country. He's trying to address Obama's complete historic sellout to the Iranian regime. He's trying to address that through the Obama deal by triggering the appropriate sections of that deal. And I could go on.
Officials Announce First DoD-Wide Audit. The Defense Department is starting the first agencywide financial audit in its history, Pentagon officials announced today [12/7/2017].
Here's why America must be great. What has become clear to me is that Make America Great Again is not a simple campaign slogan — it is an imperative. America must be great if it is going to break out of the chaotic state of future shock and lead the world through these massive transitions to adopt fundamental and lasting innovative change.
Trump Puts Fact Ahead of Fiction in Israel. The most exhausting thing about the Middle East — except for the bloodshed, poverty, tyranny, etc. — is that it refuses to conform to how it's described in the West. It's like journalists, diplomats, and politicians want to announce a football game, but the players keep insisting on playing rugby. The field looks similar. The scoring isn't all that different. It's just a different game. But don't tell the gang in the booth. They get furious when you point out that the facts don't line up with the commentary. Consider President Trump's momentous (though for now mostly symbolic) announcement that the United States will recognize Jerusalem as the capital of Israel. Before you can debate whether this was a good move, you must acknowledge one glaring fact that the chatterers want to ignore or downplay: It's true. Jerusalem is the capital of Israel. The Knesset, Israel's parliament, convenes there. Israelis call it their capital for the same reason they claim two plus two equals four. It's just true.
Promise Keeper. Not only is President Trump's decision to recognize Jerusalem as the capital of Israel and begin the process of moving the U.S. embassy there one of the boldest moves of his presidency. It is one of the boldest moves any U.S. president has made since the beginning of the Oslo "peace process" in 1993. That process collapsed at Camp David in 2000 when Yasir Arafat rejected President Clinton's offer of a Palestinian state. And the process has been moribund ever since, despite multiple attempts to restart it. That is why the warnings from Trump critics that his decision may wreck the peace process ring hollow. There is no peace process to wreck. The conflict is frozen. And the largest barriers to the resumption of negotiations are found not in U.S. or Israeli policy but in Palestinian autocracy, corruption, and incitement.
Trump: 'I Have Determined That It Is Time to Officially Recognize Jerusalem as the Capital of Israel'. President Donald Trump announced Wednesday in a televised address from the White House that the United States officially recognizes the city of Jerusalem as the capital of Israel, and will begin moving its embassy there. "I have determined that it is time to official recognize Jerusalem as the capital of Israel," President Trump said. "While previous presidents have made this a major campaign promise, they failed to deliver. Today, I am delivering."
The Impending Death of Multiculturalism. The election of Donald Trump was an unmistakable thundering proclamation that a growing majority of the people have had enough — that we do not need more social programs or more federally enforced diversity, and we certainly do not need more unskilled workers to serve an economy with an ever-shrinking number of unskilled jobs.
Trump's Monument Fight. On Monday [12/4/2017], President Donald Trump visited Utah to announce the largest reductions to national monuments in U.S. history. His order will shrink two national monuments, Bears Ears and Grand Staircase-Escalante, by roughly 2 million acres in total. The decision has drawn the ire of environmental groups and Democratic legislators but has been applauded by Republican lawmakers and locals who want the land to remain open to multiple uses. Legal challenges to the action have already been filed. But for every fit of rage over Trump's executive decision, there is an equal and opposite reaction against the creation of national monuments, in which presidents can restrict land use across vast swaths of the rural West — all without congressional approval. Whether you agree with Trump's monument reductions or not, it's time to put aside our selective outrage over executive authority and roll back the century-old law that got us into this situation in the first place.
Trump's Downsizing Utah's Bears Ears, Grand Staircase-Escalante National Monuments Taken To Court. Another decision made by President Donald Trump is being taken to court. The president issued two proclamations Monday to reduce the size of the Grand Staircase-Escalante National Monument, as well as the Bears Ears National Monument, and to allow mining in the newly public lands, and conservation groups filed a lawsuit against it a few hours later.
Trump pulls U.S. out of United Nations Global Compact on Migration. No longer will the UN be the agency which determines for the United States how many refugees and from where they will be granted asylum by the U.S., as was being done under previous administrations, including Clinton, Bush, and especially Obama.
US withdraws from UN commitment to protect refugees and migrants. The United States has withdrawn from a United Nations pact to commit to protect and preserve rights of migrants and refugees. Donald Trump's administration said the agreement, known as the New York Declaration for Refugees and Migrants, was "inconsistent" with its policies.
Report: Trump to Pull U.S. From U.N. Migration Compact. The Trump Administration announced plans to pull the U.S. out of a United Nations pact on the handling of migrant and refugee situations. The announcement came from the U.S. mission to the United Nations. U.S. officials said the program is "inconsistent" with American policies. "Today, the US Mission to the United Nations informed the UN Secretary-General that the United States is ending its participation in the Global Compact on Migration," U.S. officials said in a report from AFP.
Donald Trump Dumps Michelle O's Lunch Rule and Brings Chocolate Milk Back to Lunchrooms. The Trump administration is ending yet another of Michelle Obama's hated, overly strict school lunch rules by bringing chocolate milk back to school lunch menus. The U.S. Department of Agriculture on Thursday [11/30/2017] announced a new rule set to take effect on July 1 after the period of public comment. The new rule relaxes sodium limits and Obama's whole-grain requirements. The rule will also allow milk with one percent fat back on the menu, ABC News reported.
Mueller Investigation: Politics, Not Law Enforcement or Counterintelligence. Here's what I'd be tempted to do if I were President Trump: I'd direct the Justice Department to appoint a special counsel to investigate Iran's efforts to acquire nuclear weapons, including any Obama-administration collusion in that enterprise. I would make sure to call it a "counterintelligence investigation," putting no limitations on the special counsel — just as with the investigation that Special Counsel Robert Mueller has been unleashed to conduct into Trump "collusion" with Russia. That is, I would not restrict the prosecutor and investigators to digging for specified criminal violations. Or, indeed, any criminal violations. I'd just tell the special counsel, "Have at it" — with unbound authority to scrutinize the negotiations surrounding the eventual Iran nuclear deal (the Joint Comprehensive Plan of Action).
US doesn't need Qatar air base if Qatar won't support our fight against terrorism. As someone who helped establish U.S. air operations in Qatar in 2001, I can say two things with great confidence: the U.S. military can leave Qatar just as quickly and painlessly as it arrived; and Qatar needs America far more than America needs Qatar. Less than 48 hours after the planes hit the World Trade Center and the Pentagon on Sept. 11, 2001, I landed in Qatar to establish a new air operations hub at Al-Udeid Air Base, just outside Doha, to support the coming war in Afghanistan. The Qataris had built Al-Udeid in the 1990s as an immaculate, albeit terribly oversized, base for their own air force.
Trump Is Right. Chinese Car Makers Are Hosing America & It Must Stop Now. POTUS Trump speaks simple truths the Establishment Media chooses to ignore. These are truths that concern real jobs for real Americans that would help to lift up a struggling Middle Class. One of those truths is how China has economically raped the United States for decades costing millions of jobs, and likely trillions in economic growth. Mr. Trump is demanding this must end and he's 100% correct [...]
Trump Administration's 2 Priorities for Welfare Reform Executive Order. President Donald Trump is making welfare reform a major priority and will sign an executive order laying out the administration's goals while also urging action by Congress, a White House official said Thursday [11/16/2017]. Trump's executive order will be twofold, said Paul Winfree, director of budget policy at the White House. The order will state the Trump administration's principles for welfare reform of empowering individuals and learning from state and local initiatives, and then direct federal agencies to come back to the president with recommendations for implementing the principles.
Speeding deportations. Presidents Bush 41 and 43, Clinton, and Obama were clever. They created a backlog of immigration deportation cases by not appointing enough judges to hear the cases. More than 600,000 illegal aliens are enjoying a de facto two-year visa as it now takes 672 days on average to deport them. President Trump is ending the free ride.
How Eric Holder and Loretta Lynch handed Jeff Sessions a huge present. If the law were properly enforced, there would be fewer incidents of what the gun grabbers call "gun violence." Fewer incidents to use as propaganda for demanding even more draconian laws limiting the access of law-abiding citizens to firearms through new laws. Here is the opportunity this enforcement fiasco has created for Sessions, and his boss, President Trump. Start with a high-profile denunciation of the DOJ's failure over the last 8 years to protect the public. This could be done by either President Trump or his AG. There surely are instances of people who were not prosecuted and went on to commit crimes. The victims of those crimes can be highlighted and a finger of responsibility pointed at the DOJ. President Trump then directs, via an executive order, his DOJ to prioritize prosecution of violations of the background check documentation. A signing ceremony, accompanied by remarks criticizing the failures of AGs Holder and Lynch, and promising to reverse the harm they have caused by their negligence, would be good.
Who Are the Real Fascists in American Politics? [Scroll down] There is nothing in [President] Trump's immigration policies that project race as a basis for entrance to the USA, nor attacking the pluralism of communities in the USA. His emphasis has been in increasing protection for U.S. citizens from Islamic enemies that see non-Sharia societies as communities to be dominated. Also, he wants to attract people with more skills, including English skills, who will not be draining the budgets of all levels of government with welfare costs. The surge in immigration of the late 19th and early 20th centuries was not supported with vast welfare programs that came out of the pockets of citizens already enjoying the economic blessings of living in the USA. It is obvious that if immigrants can dwell in their enclaves and collect various benefits, there is less incentive to engage with the indigenous culture and integrate with existing mores of the workplace and neighborhood.
Foggy Bottom breakdown. Secretary of State Rex Tillerson's draining of the State Department — aka Foggy Bottom — just kicked into high gear. The government will offer 641 workers up to $25,000 each just to leave. Overall he wants to pare the payroll by 1,982 people, or 8% of the workforce, according to United Press International. All the right people are complaining: [...]
Trump Needs to Drain the Administration's Big Pharma Swamp. Those of us with insurance don't always think about the actual cost of prescriptions because we don't really "pay" for our medicine, but instead have a "reasonable" co-pay. Or maybe not so reasonable. Some people rely on government programs to obtain their needed medication — medication that they can't afford. Should the pharmaceutical industry gouge the hospitals and clinics that voluntarily participate in a program that provides low-income patients with medication?
Trump: 'I'm Very Frustrated' I Can't Order DOJ To Investigate Hillary. President Donald Trump said Thursday that he is "frustrated" he can't order around the Justice Department. "But you know the saddest thing, because I'm the President of the United States I am not supposed to be involved with the Justice Department. I am not supposed to be involved with the FBI," Trump told WMAL host Larry O'Connor. "I'm not supposed to be doing the kinds of things I would love to be doing and I'm very frustrated by it." "Why aren't they going after Hillary Clinton with her emails and with the dossier, and the kind of money?" Trump added. "Now, maybe they are, but as president, and I think you understand this, as a president you are not supposed to be involved in that process."
Get smart — Scrap the diversity lottery, be honest about terrorists. President Trump is right: We should end the diversity lottery for immigration. It is an absurd system for randomly selecting who should come to the United States. The lottery system should instead be replaced with a merit-based system that actively seeks people who will help grow the American economy. Instead of continuing liberal, politically correct immigration rules that emphasize what the left calls "diversity," we need a system that focuses on an individual's merit, work and achievement. What a person can contribute to America should be more important when making immigration decisions than whether he or she fits some political science mantra of diversity. However, in light of the terrorist attacks in New York, Orlando, San Bernardino, Boston and elsewhere, closing the lottery loophole isn't enough. We need to take far more decisive steps in improving and securing our immigration system.
Trump Calls For Immediate End to Diversity Visa Lottery Which Brought Terrorist Into America. President Trump said Wednesday [11/1/2017] he's starting the process immediately to terminate Senator Chuck Schumer's Diversity Visa Lottery program which brought the Manhattan terrorist into America. "I am today starting the process of terminating the diversity lottery program. I am going to ask Congress to immediately...get rid of this program," Trump said, calling the suspect an "animal." "Diversity lottery — sounds nice, it's not nice. It's not good. It hasn't been good," he said. "We want people that are going to help our country, we want people that are going to keep our country safe," Trump said. "We don't want lotteries where the wrong people are in the lotteries and guess what? Who are the suckers that get those people? We want a merit-based system."
Trump Likely to Block Release of Some JFK Files. Administration officials would not identify what specific information related to Kennedy's murder might be kept secret on Trump's orders, though they acknowledged concern over classified documents held at the Archives that were created decades after the assassination — specifically, in the 1990s. The officials held out a slim possibility that the always-unpredictable Trump could decide at the last minute to release all the remaining JFK files held at the Archives — tens, if not hundreds of thousands, of pages of long-secret documents — but said it was highly unlikely, especially because of concern that documents from the 1990s might expose relatively recent American intelligence and law-enforcement operations.
It's Time for the Whole Truth About the JFK Assassination. The question at the center of the debate is the role of Lee Harvey Oswald. Was he the diabolical perpetrator of the heinous crime or an unwitting patsy set up to take the blame for the murder of the century by powerful forces either within the U.S. government, the Mafia or foreign entities? Prior to the assassination, Oswald spent several months living, playing and working in New Orleans, LA. While some believe he was using that time to prepare for the Kennedy assassination, others are convinced that Oswald was working undercover for the U.S. government or as a foreign spy.
"The War On Coal Is Over," Declares EPA Administrator Pruitt. The Trump Environmental Protection Agency (EPA) will file a proposal later this week to repeal the Obama Administration's Clean Power Plan (CPP), EPA administrator Scott Pruitt declared in a speech in the coalfields of Kentucky today [10/9/2017]. The draft repeal proposal argues that the Obama administration exceeded its authority under the Clean Air Acts when it imposed rules on power generators that went beyond making improvements in their own plant operations. Specifically, the CPP would likely require power generators to create or subsidize significant amounts of generation from power sources — solar and wind — outside of their customarily regulated activites.
Trump and the dismantling of Obama's legacy. All new presidents, of course, break with their predecessor once in the Oval Office, especially if they come from a rival political party. But what is striking is how systematic the hammer blows to Obama's legacy have been. And rather than throw his weight behind new policies or projects, Trump has shown a willful desire to unpick, shred and erase everything his predecessor accomplished.
Trump and the dismantling of Obama's legacy. Brick by brick, the demolition job has begun: since taking office less than a year ago, Donald Trump has launched an all-out assault on the legacy of Barack Obama. Climate, free trade, health care, immigration, foreign policy — the 45th US president has set about undoing just about everything done by the 44th.
Trump dismantles Obama's 'imperial' presidency, rescinds dubious orders. Democrats are attacking President Trump for "dismantling" President Obama's legacy on everything from Obamacare subsidies to immigration amnesty, but nobody knew better than Mr. Obama how vulnerable his go-it-alone agenda would be if Mr. Trump won the election. Unable to work with a Republican-led Congress for most of his presidency, Mr. Obama did what he could with his presidential "pen and phone," issuing executive orders, rules and regulations that in many cases could be overturned by another stroke of the pen — this time by a Republican president. Long before Mr. Obama left office, Republicans were accusing him of overreaching presidential authority, and Mr. Trump was vowing to overturn his unilateral decisions.
Here's How Trump Has Silently Gutted Obama's Legacy. President Donald Trump has surgically dismantled Obamacare over the course of his first year in office, largely under the noses of the American public, Democrats and members of his party that have spent the last nine months trying to upend the American health care system. Over the course of his first nine months in office, he rolled back funding for a program intended to help individuals navigate the insurance marketplace, signed an executive order to allow for groups to purchase insurance across state lines and stopped federal funding for Obamacare subsidies. Taken in tandem, it appears the administration is working to overhaul the American health care system without the help of Congress, a body that has failed a handful of times to repeal and replace Obamacare during the first months of Trump's presidency.
Trump unveils new strict 70-point immigration enforcement plan. Determined to finally solve illegal immigration, the White House submitted a 70-point enforcement plan to Congress Sunday proposing the stiffest reforms ever offered by an administration — including a massive rewrite of the law in order to eliminate loopholes illegal immigrants have exploited to gain a foothold in the U.S. The plans, seen by The Washington Times, include President Trump's calls for a border wall, more deportation agents, a crackdown on sanctuary cities and stricter limits to chain migration — all issues the White House says need to be part of any bill Congress passes to legalize illegal immigrant "Dreamers" currently protected by the Obama-era deportation amnesty known as DACA.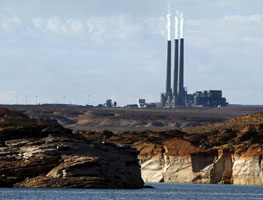 EPA Set To Repeal Obama's Clean Power Plan On Coal Regulations. The Trump administration continues to rollback failed Obama-era policies with a measure to remove coal regulations. On Monday [10/9/2017], EPA Chief Scott Pruitt announced the president will scrap the Clean Power Plan. The plan, which Pruitt called "unfair," would have imposed stringent emissions standards on coal-fired power plants. Critics claimed it would kill thousands of jobs, but it was put on hold by the Supreme Court over a year ago and has never taken effect.
The Editor says...
The Associated Press article above includes the photo (left) with the caption, "In this Sept. 4, 2011 file photo, smoke rises from the stacks of the main plant facility at the Navajo Generating Station, as seen from Lake Powell in Page, Ariz." But this is an obvious canard. Smoke does not emanate from a power plant and then disappear into the atmosphere in a few seconds. That is the behavior of water vapor, especially in the dry Arizona air.
Senator Tom Cotton Talks About Potential for De-Certifying Iran Deal. There is a myriad of complexity within the Iran issue that extends beyond the substantive issue of whether or not President Trump should again certify compliance with the Iran Nuclear Deal. For clarity, President Trump would not be ending the deal or ending the agreement. The President is required (every 90 days) to certify if Iran is upholding the terms of the nuclear agreement. The next certification is due on October 15th. If President Trump does not, because he cannot, certify compliance — he notifies congress. It's up to congress to decide what to do from there. Therefore President Trump would not be "tearing up" the agreement, nor would he be "ending the agreement", he would simply be notifying congress of the compliance of Iran, or lack thereof, according to the monitoring agencies that report to the President. That's it.
E.P.A. Announces Repeal of Major Obama-Era Carbon Emissions Rule. The Trump administration announced Monday [10/9/2017] that it would take formal steps to repeal President Barack Obama's signature policy to curb greenhouse gas emissions from power plants, setting up a bitter fight over the future of America's efforts to tackle global warming. At an event in eastern Kentucky, Scott Pruitt, the head of the Environmental Protection Agency, said that his predecessors had departed from regulatory norms in crafting the Clean Power Plan, which was finalized in 2015 and would have pushed states to move away from coal in favor of sources of electricity that produce fewer carbon emissions. "The war on coal is over," Mr. Pruitt said. "Tomorrow in Washington, D.C., I will be signing a proposed rule to roll back the Clean Power Plan. No better place to make that announcement than Hazard, Kentucky."
The Editor says...
Carbon dioxide is not carbon. Please don't write about "carbon emissions" when you mean "carbon dioxide emissions."
GOP lawmakers call on Trump to release remaining JFK assassination records. Two lawmakers and a former adviser to President Donald Trump are calling on the administration to release all remaining records related to the assassination of President John F. Kennedy.
Killing Obamacare by making states follow Obamacare. President Trump is moving to collapse Obamacare by — are you ready for this? — making states live by the rules of Obamacare. The Washington Post is angry. How dare he not grant waivers to states on Obamacare.
President Donald Trump Overturns Obamacare Abortion Mandate in Huge Pro-Life Victory. The Trump administration announced today that employers will now be exempt from the federal requirement to provide insurance coverage for abortion-causing drugs in their health insurance plans if it conflicts with their sincerely held religious or moral beliefs. This now limits a rule created under the Obama administration's Affordable Care Act that required that employers, including non-church religious organizations, must cover all forms of contraception, from birth control pills to abortion drugs and devices at no cost to the employees. The Trump administration stated legal reasons for issuing two rules: one for religious and the other for moral objections. The administration acknowledges that the Affordable Care Act law did not provide protection for nonreligious, moral conscientious objections as required by the Religious Freedom Restoration Act. Both rules would take effect as soon as they are on display at the office of the Federal Register. Leading pro-life groups were delighted by the news.
Planned Parenthood Blasts Trump for Rolling Back Obamacare Abortion Mandate: He Just Hates Women. The Planned Parenthood abortion business today [10/6/2017] is upset that President Donald Trump is rolling back the Obamacare abortion mandate. The Mandate was one of the biggest goodies the abortion company got from the Obama administration. In a scathing email sent to her pro-abortion group's supporters, Planned Parenthood president Cecile Richards claimed that the Trump Administration decision hurts women. Her conclusion? Trump just hates women. Naturally her email failed to discuss how Christian businesses and organizations were forced into the Obamacare abortion mandate to pay for abortion-causing drugs for their employees. Her email fails to indicate how those Christian businesses and organizations were perfectly willing to pay for non abortifacient birth control but simply did not want to be put in a position of funding abortions.
Trump administration deals major blow to Obamacare birth control mandate. In a blow to Obamacare's controversial contraceptive mandate, employers may now have more leeway to withhold birth control coverage on religious grounds, according to new rules issued by the US Department of Health and Human Services on Friday [10/6/2017]. The new rules continue the undermining of the Obamacare mandate that requires birth control be covered with no co-pay as a preventive service. This could impact many of the millions of women who now receive contraceptives at no cost under this provision.
Trump Fulfills Campaign Pledge on Contraception Mandate. [Scroll down] Today [10/6/2017], Trump made good on that pledge when his administration issued a new rule that will exempt organizations whose owners or shareholders harbor religious or moral objections to paying for certain types of birth control via health plans. It goes without saying, of course, that this new rule is being grotesquely misrepresented by Obamacare apologists in the legacy "news" media. The Washington Post, for example, reported the regulatory change under the following misleading headline: "Trump administration narrows Affordable Care Act's contraception mandate."
Time for Trump to Decertify the Iran Deal. In normal times, devoid of mass murderers and endless natural disasters, the looming October 15 certification decision on this deal would be front and center in the national consciousness. It still should be because, ultimately, it is even more important than hurricanes and psychopathic killers. It's about nuclear war. The biggest mistake of the Obama years was not the Affordable Care Act — that can be fixed eventually — but the Iran deal, which has already resulted in massive catastrophe, causing irreparable damage. Iran, financially enriched by the agreement, has been able to play a growing and truly evil role throughout the Middle East (and even South America), but especially in the unending Syrian civil war through its brutal own Revolutionary Guard and its bloodthirsty Hezbollah cutouts. This war has undoubtedly changed the character of Europe forever by creating millions of refugees. Every one of our lives has been or will be affected by it, directly or indirectly.
House committee approves $10 billion initial payment for U.S.-Mexico border wall. The House Homeland Security Committee gave first approval to the broad scope of President Trump's border wall Wednesday, clearing a bill that would authorize $10 billion in new infrastructure spending, new waivers to speed up construction, and 10,000 more border agents and officers to patrol the U.S.-Mexico line. Democrats vehemently opposed the bill, saying the wall was a boondoggle and the fact that U.S. taxpayers will fund it violates the president's campaign pledge to make Mexico foot the bill. But Republicans backed the bill in a 18-12 party-line vote, saying it was time to get a handle on the border.
White House Weighing EO On Welfare. The Trump administration is reviewing an executive order that would require federal agencies to reevaluate the country's welfare programs. On Monday [10/2/2017], administration officials said they sent out a draft of the order seeking comments about the proposed changes. The new order would implement stricter work requirements in an effort to pressure welfare recipients to rejoin the labor force. There would also be a system put in place to monitor the progress of the program in an effort to determine what works.
Trump Must Keep His Promise: Repeal DACA. Since 2012, nearly 800,000 illegal aliens have taken advantage of DACA — most of them adults. Essentially, DACA grants participants the rights and privileges normally associated with legal entry into America. It is renewable amnesty. There are three main problems with DACA. The first is that it undermines the rule of law in a fundamental way. In signing DACA, President Obama overstepped his authority and violated the division of powers as laid out in the Constitution. DACA was and is a usurpation of legislative power; it is a knife in Congress's back. This republic was constructed according to a number of axioms, one being that different arms of government have different parts to play and that each arm checks and balances the others. Congress is the seat of legislative authority.
President Trump Needs to Ditch the United Nations Now. Donald Trump campaigned and was elected as an agent of radical change. He promised to roll back the policies on big government at home and transnational cooperation abroad that both parties have endorsed for years. His campaign rhetoric about the "useless UN" and the "unfair" Paris Climate Accords suggested he understood that such organizations and treaties fleece Americans while handing over national sovereignty to other countries eager to gain leverage over us. But Trump's recent comments about renegotiating the Paris agreement and reforming the UN imply an acceptance of the assumptions on which both are built: that multilateral cooperation is better able to serve the interests and security of the United States. If this is so, then Trump is buying into the flaws of those assumptions that need to be utterly discredited in order to enact meaningful change.
Trump cuts Obama's refugee target in half, takes more Christians than Muslims. President Trump, in just eight months in office, has succeeded in upending U.S. refugee policy, cutting by more than half the 110,000-refugee target that the Obama administration had bequeathed him and dramatically shifting the demographics of who is accepted. Gone is President Obama's overwhelming focus on Muslims, and particularly on Syrians fleeing a civil war that his administration facilitated. Under Mr. Trump, the rate of Syrian refugees has been cut by more than 80 percent, and Christians have overtaken Muslims in total refugees resettled.
Trump preparing executive order to let Americans purchase health insurance across state lines. President Trump is preparing an executive order to allow people to purchase health insurance across state lines, a reform conservatives have long championed as a way to bring costs down and stir greater competition in the national marketplace. The executive action gives the White House a chance to follow through on at least one promise related to healthcare reform after Senate Republicans' second attempt to overhaul Obamacare failed this week. Kentucky Sen. Rand Paul first mentioned the action during a TV appearance Wednesday morning [9/27/2017], saying Trump was considering taking matters into his own hands.
Will Trump finally reveal 54-year-old secret FBI and CIA files on JFK assassination next month? Scholars are eagerly awaiting the anticipated release of thousands of never-before-seen government documents related to President John F. Kennedy's assassination. Now, they're waiting to see whether President Donald Trump will block the release of files that could shed light on a tragedy that has stirred conspiracy theories for decades. The National Archives has until October 26 to disclose the remaining files related to Kennedy's 1963 assassination, unless Trump intervenes.
Betsy DeVos: Obama-era Title IX sexual assault guidance is revoked. We previously reported on Education Secretary Betsy DeVos's major policy speech in which she promised a departure from the Obama-era guidance on how universities and colleges must handle sexual assault cases. That guidance has resulted in a substantial lack of basic due process for accused students in a process fairly described as "kangaroo courts." Another aspect of that lack of due process was equally explosive but only now is gaining recognition — the possibly discriminatory impact on black males.
Trump Didn't Get Rolled by Pelosi and Schumer. Trump has run into trouble, mostly as a result of the fact that he does not know what he is doing and is too lazy to learn how to do the job. He has made an ethic of willful ignorance, and as a result he failed to get some relatively easy things done: In spite of what you hear on talk radio and from the talking mouths on cable news, Republicans do want to repeal the Affordable Care Act. But that's a big piece of domestic policy that requires presidential leadership of the sort that Trump is simply unable to offer, having given no serious thought to the question other than to say that he'd prefer a "great" and "terrific" system to the current one, preferably at a lower price. How do get that done without raising taxes to fund new subsidies — while keeping the expensive and market-distorting but very popular preexisting-conditions rules — is non-obvious.
Levin on DACA: 'We Have a Little Problem'; We Don't Know Where Trump Stands. On his nationally syndicated radio talk show program Thursday [9/14/2017], host Mark Levin discussed Deferred Action for Childhood Arrivals (DACA), telling his audience "we have a little problem" because it's unclear where President Trump now stands on two key planks of his presidential primary campaign: DACA and 'The Wall.' "Well, the backbenchers, TV, the rest, they've kind of caught up where we are here, ladies and gentleman, that we have a little problem," stated Mark Levin. "We have a little problem. I'm going to pose a question to you: Where exactly does President Trump stand on DACA and 'The Wall' today?"
Right explodes in anger over Trump's immigration push. Only a week ago, Trump thrilled his base by rescinding an Obama-era order on the Deferred Action for Childhood Arrivals (DACA) program, which allows about 800,000 young people brought into the country illegally to live and work without fear of deportation. But the president quickly backtracked, reaching an agreement late Wednesday over dinner with Democratic leaders Sen. Charles Schumer (N.Y.)and Rep. Nancy Pelosi (Calif.) that would extend protection to the so-called Dreamers in exchange for promises to enhance border security.
Donald Trump: The Wall Is Actually Just Renovation of Old Fences. President Donald Trump admitted that he wasn't actually going to build a great new wall on the southern border but repair existing fences and build selective strategic border structures. "The WALL, which is already under construction in the form of new renovation of old and existing fences and walls, will continue to be built," Trump wrote on Twitter on Thursday morning [9/14/2017].
Trump administration works toward renewed drilling in Arctic National Wildlife Refuge. The Trump administration is quietly moving to allow energy exploration in the Arctic National Wildlife Refuge for the first time in more than 30 years, according to documents obtained by the Washington Post, with a draft rule that would lay the groundwork for drilling. Congress has the sole authority to determine whether oil and gas drilling can take place within the iconic refuge's 19.6 million acres. But seismic studies represent a necessary first step, and Interior Department officials are modifying a 1980s regulation to permit this initial activity.
Paul Ryan Buckles Under Trump Pressure — Announces Border Wall Funding Happening Now. The media hasn't mentioned it much because it proves that Donald Trump is decisively outmaneuvering the opposition Republicans. The tactic was simple. Mr. Trump reached out to Democrats with a basic "can we get something done for the American people?" request. This put enormous pressure on Paul Ryan and his cadre of obstructionist Republicans to start moving on at least some of the Trump agenda. This is Ryan buckling under that pressure. This is Ryan conceding the power of Trump and the millions of Trump supporters have forced his hand.
Trump Removes Offshore Drilling Restrictions. President Donald Trump issued an executive order reversing restrictions on offshore drilling in the Atlantic and Arctic Oceans imposed by former President Barack Obama shortly before he left office. Trump says the Obama restrictions unnecessarily closed access to important domestic energy resources. Trump's order also instructs federal officials to assess the potential for energy exploration in recently declared or expanded marine sanctuaries in the Atlantic and Pacific Oceans.
EPA Moves To Scrap WOTUS Rule. The Waters of the United States (WOTUS) rule is closer to being removed from the Federal Register after the U.S. Environmental Protection Agency (EPA), Department of the Army, and Army Corps of Engineers proposed a rule to rescind the 2015 regulation defining which waterways and wetlands fall under the 1972 Clean Water Act and thus under federal government control. In February, President Donald Trump signed the executive order "Restoring the Rule of Law, Federalism, and Economic Growth by Reviewing the 'Waters of the United States' Rule," directing the agencies to review and revise what Trump called one of the worst examples of federal regulatory overreach.
Trump's Next Pardons: A Short List of Convicts Deserving To Be Cleared. I'm glad that President Trump has familiarized himself with the pardon power that is enshrined in Article II of the Constitution. There's a long list of other pardon candidates at least as worthy as Sheriff Joe, and maybe even more worthy. Here's hoping the president turns his attention, and mercy, on some of the following candidates before year-end: [...]
Trump [is] expected to end DACA, and [he] should. DACA grants work permits to about 800,000 undocumented immigrants brought to the United States as children[.] [President] Trump reportedly will delay terminating the program for six months. This gives Congress time to pass legislation to replace it, if Congress chooses to do so. Trump has made the right decision. As Hans von Spakovsky argues, under our Constitution, Congress has plenary authority over immigration; the president only has authority that has been delegated to him by Congress. President Obama acted unlawfully when he tried, by the stroke of his pen, to transform the presence of "dreamers" from illegal, as Congress deems it, to legal. Obama tried to do the same thing for a broader class of illegal immigrants through the DAPA program. The Fifth Circuit Court of Appeals struck down this illegal amnesty. The DACA is just as illegal.
Trump rolls back racist Obama policy. For more than a half-century, federal law has banned racial and sexual discrimination. Employers are supposed to hire and promote based on ability, not skin tone or sex. President Obama, however, wanted employers to consider race and sex. President Trump just rolled that back. Guess which man the media treats as racist.
Trump admin. slashes funding for Obamacare promotion. The Trump administration announced Thursday [8/31/2017] it will dramatically slash taxpayer spending on Obamacare promotion next year, cutting its advertising budget by 90 percent and tying grants for "navigator" groups to how many people they signed up last year. President Obama set up the Navigator program to help people understand their options on web-based markets established by his signature overhaul, yet the Trump administration says the nearly 100 nonprofits, health centers and other in-person assistants are tapping federal coffers with little accountability.
Report: Trump Likely to End Obama's DACA Program for Children of Illegal Immigrants. Barack Obama's controversial Deferred Action for Childhood Arrivals (DACA) allowed children who came to the U.S. illegally to stay, but the program might come to an end as soon as the Trump administration considers its choices. President Donald Trump is likely to end the program or let it expire in over the course of two years, according to government officials who spoke to NBC News. They said it is unclear which option he will choose but that Attorney General Jeff Sessions has long opposed DACA, and Thursday [8/26/2017] he discussed the program with White House officials. DACA allows those who were brought to the U.S. at the age of 16 or younger by 2007, or overstayed their visas in the same timeframe, to have deferred status to live in the U.S. rather than return to their home country.
A White House petition to call Antifa terrorists has over 297K signatures. A recent Whitehouse.gov petition urging President Trump's administration to label the so-called "Antifa" a "terrorist organization" has gained nearly 300,000 signatures. The petition debuted on Aug. 17 and has since grabbed 297,424 signers, nearly three times the 100,000 people needed to receive an "official response" before a Sept. 16 deadline. "Terrorism is defined as 'the use of violence and intimidation in pursuit of political aims,'" the petition says.
Trump signs directive banning transgender military recruits. President Donald Trump on Friday [8/25/2017] directed the military not to move forward with an Obama-era plan that would have allowed transgender individuals to be recruited into the armed forces, following through on his intentions announced a month earlier to ban transgender people from serving. The presidential memorandum also bans the Department of Defense from using its resources to provide medical treatment regimens for transgender individuals currently serving in the military.
4 countries sanctioned because of refusal to accept deported immigrants. A Homeland Security spokesman said Wednesday that a "variety of factors" went into the decision to impose sanctions on four countries that refuse to cooperate with the U.S. government when it comes to taking back their illegal and criminal immigrants.
Heritage Budget Wants to Ax Federal Housing Administration, Consumer Financial Protection Bureau. The firing of a federal employee takes about 18 months on average, given the appeals process, which allows multiple avenues for an employee to register complaints. This was one of the central issues discussed Tuesday [8/22/2017] at the Heritage Foundation, where members of the conservative think tank outlined the organization's Blueprint for Reorganization. [...] Suggestions include the elimination of entire offices like the Federal Housing Administration and the Consumer Financial Protection Bureau. It also envisions consolidating Veterans Affairs, which has 42 offices specifically focused on health benefits, a setup that was described Tuesday [8/22/2017] as a "bureaucratic nightmare" for veterans.
Trump to Rescind Obama Rule Forcing Doctors, Hospitals to Perform Gender Transition Treatments. LGBT rights groups have raised alarm at the fact that the Trump administration is in the process of finalizing a policy that would rescind an Obama-era healthcare rule that opponents say requires hospitals, doctors and health insurers to cover or provide gender transition therapies and procedures. The Hill reports that the Department of Justice is reviewing a proposed rule that has already cleared the Department of Health and Human Services that would rescind an HHS mandate instituted in 2016 that bars healthcare providers and insurers who receive federal tax dollars from denying treatment or coverage to patients on the basis of gender identity.
Trump DOJ ends Holder-era 'Operation Choke Point'. The Trump Justice Department is ending an Obama-era program that had attempted to cut off credit to shady businesses but came under fire from Republicans for unfairly targeting gun dealers and other legitimate operations. Just days after top House Republicans had pressed Attorney General Jeff Sessions to shutter Operation Choke Point, the department confirmed in a response letter that the program is dead. "All of the Department's bank investigations conducted as part of Operation Chokepoint are now over, the initiative is no longer in effect, and it will not be undertaken again," Assistant Attorney General Stephen Boyd said in the Aug. 16-dated letter, calling it a "misguided initiative" from the prior administration.
Trump Officials Renew Effort to Expand Use of Prison at Guantánamo. The Trump administration is making a fresh attempt at drafting an executive order on handling terrorism detainees, reviving a struggle to navigate legal and geopolitical obstacles to expand use of the Guantánamo Bay wartime prison, according to officials familiar with internal deliberations. Administration officials said President Trump had been expected to sign a detention policy order three weeks ago. But that plan changed after he fired his first chief of staff, Reince Priebus, on July 28 and replaced him with John F. Kelly, a retired Marine Corps general who once oversaw the prison operation at the American naval base in Cuba.
Trump slashing Obama's regulation binge, saves businesses billions: Study. President Trump's assault on red tape has saved businesses nearly $4 billion per year compared with President Barack Obama's pace of imposing regulations, a new study found Tuesday [8/8/2017]. Final rule costs during Mr. Trump's first six months in office will cost U.S. businesses about $378 million per year, compared with $4.2 billion for the same period of Mr. Obama's presidency, according to the conservative American Action Forum. "The results are substantial," said Dan Goldbeck, an analyst at AAF who prepared the report. "New regulatory burdens are a fraction of those established under President Obama's first six months; overall regulatory volume has slowed to historically low levels; and a number of notable deregulatory measures have been initiated."
Korea and the Democrats' Deep Psychological Fear that Trump Is Right. Virtually all Democrats and their local media minions plus a good swatch of Republicans (including repellently vengeful John McCain) criticized the president for the same thing — using blunt language to counter the crazed dictator in Pyongyang when Trump should have been "diplomatic." This although almost any grown-up not comatose knows that "diplomatic" language has been employed by the U.S. ad nauseam for that purpose for the last twenty-five years through three administrations with no discernible impact whatsoever. Indeed, "abject failure" would be an accurate characterization of our diplomatic policy vis-a-vis the NORKS.
Reeling in the power of the EPA. The former Obama administration wanted to save the environment, but rather than asking American industries for help, the administration decided they knew best and instead imposed regulations on companies. One of the most damaging regulations, affecting nearly every American citizen, was Obama's expansion of the Corporate Average Fuel Economy (CAFE) standards, regulating auto makers on fuel efficiency but instead slowing their growth and stifling innovation. Luckily, the Trump administration is giving the voices oppressed under Obama's system a seat at the table once again.
Trump Should Drain the EPA Swamp. Today's EPA is an agency gone-wild, filled with environmental extremists and deep state holdovers who have little accountability for their actions. They arrogantly create rules like the "Clean Power Plan" which the Institute for Energy Research [IER] said was filled with about as much junk as the EPA and its contractors pumped into Colorado's Animas River in 2015. [...] We are expected to ignore that the Clean Power Plan will, at best, reduce global temperatures by a negligible one hundredth of a degree, Celsius, according to the Obama administration's former Assistant Secretary of Energy, Charles McConnell. The plan offers little mercy to millions of Americans burning wood to stay warm, imposing a ban on the sale and production of 80 percent of America's wood burning stoves.
Trump Vs. MS-13. President Trump's intensifying crackdown on transnational crime gang MS-13 is being met with fierce resistance by the Left. Understanding the leftist mind is an inexact science but the complaints seem to center around the idea that in the Trump era trying to eliminate an ethno-culturally non-diverse criminal organization is somehow racist, no matter how horrifying and brutal the group's crimes against innocent Americans may be. The Left habitually sides with antisocial causes, putting partisanship over the interests of the American people. Left-wingers promote so-called sanctuary cities which are magnets for illegal aliens and the crime that accompanies them. They don't care about the damage such policies do to American society.
Despite uproar, Trump's immigration proposal resembles 10 other merit-based policies. President Trump's call Wednesday [8/2/2017] for a merit-based immigration system sent critics and much of the media into a tizzy, but what he proposed is common in many parts of the world. The proposed system, contained in a Senate bill, would replace one largely based on extended family ties with one that prioritizes education, English language proficiency, age, vocational skills and high-paying job offers as well as considering any criminal record and possible national security risks. "The idea of using a point system to select immigrants is a completely conventional idea," Mark Krikorian, executive director of the Washington, D.C.-based Center for Immigration Studies, said.
Retired generals, admirals thank Trump for announcing ban on transgender troops. More than a dozen retired generals and admirals have signed a letter to President Trump thanking him for his announced policy to ban transgender people from the armed forces. "We write today to express our gratitude to you for making the extremely courageous decision to reverse President Obama's transgender social experiment," the conservative retired flag officers wrote. "There may be an enormous amount of vitriol directed at you for making this policy correction, but please know that overturning this policy may have done more in the long-term to save the culture and war-fighting capacity of the U.S. military than perhaps any other military policy you will adopt as president." The letter came as the Palm Center, a research nonprofit that promotes the LGBT agenda, released a competing statement from 56 retired admirals and generals who say reimposing the ban will hurt readiness, not help it.
Obama wasn't king, and his laws aren't set in stone. Obama's abuses of the Antiquities Act of 1906 are well known, including designation of an ocean monument off New England to kill fishing an unauthorized park parading as a monument in rural Maine to kill logging and milling and the 1.3 million acre Bear Ears in Utah to placate environmentalists. [...] Unencumbered by a hoped-for legal precedent, Obama abused the Antiquities Act as no president in history. Along with others, I condemned his actions as outrageously illegal and, on Fox News and in the Washington Examiner, called upon President Trump to vacate them. To his credit, Trump directed Secretary of the Interior Ryan Zinke to begin the process.
Donald Trump announces new immigration policy favouring financially stable English speakers. President Donald Trump is touting new legislation to overhaul the US immigration system, drastically cutting the number of legal immigrants allowed into the country and implementing a "merit-based" visa scheme. If passed, the RAISE Act would cut the number of immigrants allowed into the United States by 50 percent over the next 10 years. It would eliminate diversity lottery visas and crack down on so-called "chain immigration" — visas provided based on family connections, rather than jobs skills. Mr Trump promoted the act alongside Senators Tom Cotton and David Perdue on Wednesday [8/2/2017], claiming it would "reduce poverty, increase wages, and save taxpayers billions and billions of dollars".
Their "normal" is unconstitutional. Sally Yates — one of the hundreds of Marxists Democrats appointed to the Obama regime — wrote in the New York Times about President Trump not being normal. Good. That is why we elected him. Normal politics have created a Frankengovernment that feeds off our freedom and liberty.
What Would a Fair Transgender Policy in the Military Look Like? What can we say about the plan to revoke Obama-era transgender policy? For one thing, it violates no one's "rights." Transgender people continue to possess all of the rights of their fellow citizens, but there is no "right" to serve in the military. The military rejects many people based on physical and psychological conditions. Second, we are not talking about changing a longstanding policy. Opening service to transgenders was an executive decision made during the last year of the Obama administration; it was scheduled to go into effect in June. The Army, Air Force, and Marine Corps had originally requested a two-year delay to assess the costs and possible consequences of the new rules, but finally agreed to seek a six-month delay, a request approved by Secretary James Mattis. Meanwhile, Congress failed to hold hearings on the subject. A change in the policy would be nothing but a return to the status quo ante.
Seven Ways Trump Is Taking Back America's Culture. [#1] Trump's decision to ban transgender individuals from the military sends a clear message that the U.S. military should be focused on defending the nation and winning decisive battles, not participating in social justice engineering or experimentation. Accepting gender dysphoric individuals in the military — as former President Barack Obama did — and allowing them to undergo gender reassignment surgery and formally change their gender while serving in the military, weakens the ability of the military to focus on defense.
Obamacare: Time for Trump to Make Congress Share Our Pain. President Trump, having watched the Senate writhe in protracted labor for weeks without giving birth to even the ridiculous mouse dubbed "skinny repeal," has taken to Twitter and issued this ultimatum: "If a new HealthCare Bill is not approved quickly, BAILOUTS for Insurance Companies and BAILOUTS for Members of Congress will end very soon!" It would be unwise for Trump's enemies — on either side of the aisle — to disregard this as bluster. The President not only possesses the authority to follow through on both threats without consulting Congress, he can do so immediately with the overwhelming support of the voters.
The Executive Orders That End Obamacare - Once and For All. Republican Senator John McCain just singlehandedly killed the repeal of Obamacare. Now it's time for President Trump to act. It's time for President Trump to expose McCain and the rest of Congress for the frauds and hypocrites they are. It's time for two Executive Orders that have the power to change everything. This is how President Trump makes "The House of Cards" collapse. This is how President Trump ends Obamacare once and for all.
Mattis Orders Full Review Of Any Military Training That Has Nothing To Do With Warfighting. Secretary of Defense James Mattis has ordered a full review of any military training not directly relevant to warfighting. Mattis told the services to conduct a review of the "requirements for mandatory force training that does not directly support core tasks," according to a Friday [7/21/2017] memo obtained by Military Times. In other words, Mattis wants a full examination of all the hours of burdensome, irrelevant training service members have to undergo before deployment.
Trump right to reverse Obama's transgender experiment on the military. The military's sole purpose is to smash and destroy enemies. Even when it is merely used as a deterrent, the military's usefulness derives entirely from its ability to accomplish that goal in battle. This means all decisions about how the military is run should be subordinated to questions of military effectiveness, including morale, discipline, equipment, logistics, troop readiness and the like.
Restoring the Military's Moral Underpinnings. The Trump administration came to power with a clear mandate to restore U.S. military credibility, effectiveness, and capabilities. Such a mandate involves reversing not only the debilitating impact of sequestration on our declining military force structure, but also the Obama administration's social engineering mandates forced on our military. These mandates did nothing to improve readiness or capabilities. They destroyed unit integrity, cohesiveness and the "will to win." Clearly, under President Obama's plan to fundamentally change America, the degradation of our military forces was a key element. The capitulation of our military leadership to accept these mandates was more than shocking, as it was a manifestation of the corrupt "political correctness" mentality run amok.
Historical background:
ABC Confirms Father of Our Country Opposed Gays in the Military. As we have reported previously, David Barton of Wallbuilders has provided historical evidence that General George Washington himself authorized the court-martial and expulsion of the soldier. Writing about the incident, Peter Sprigg of the Family Research Council provided additional details, saying, "Like today, his army was at war. Like today, his army had serious problems of recruitment and retention. Perhaps, like today, there might have been some people who would have argued that his army could not afford to lose a soldier over something like his sexual conduct." Nevertheless, Lieutenant Frederick Gotthold Enslin was kicked out "for attempting to commit sodomy" and Washington himself referred to the conduct as abhorrent. Enslin was reportedly one of several such cases.
Homosexuals in the Military. General Washington held a clear understanding of the rules for order and discipline, and as the original Commander-in-Chief, he was the first not only to forbid, but even to punish, homosexuals in the military. [...] Because of the nature of the crime, the penalties for the act of sodomy were often severe. For example, Thomas Jefferson indicated that in his home state of Virginia, "dismemberment" of the offensive organ was the penalty for sodomy. In fact, Jefferson himself authored a bill penalizing sodomy by castration. The laws of the other states showed similar or even more severe penalties: [...]
Trump axes 860 Obama regulations, 179 from 'secret' list. White House Budget Director Mick Mulvaney accused the Obama administration Thursday of keeping a "secret list" of proposed regulations during Mr. Obama's eight-year regulatory onslaught against businesses, and touted President Trump's rollback of more than 800 Obama-era rules and proposals. Of the 860 rules or proposed rules that the Trump administration has killed, 179 came from what he called Mr. Obama's "secret" list. As Trump aides combed through the books, they found pending proposals that included rules on hardwood plywood research and new requirements for contamination control in cattle slaughter operations.
Obama's Iran Nuclear Deal Threatens The U.S. — Trump Should Pull Out. Barring a dramatic change in Iran's behavior, Trump should pull out of the six-powers nuclear agreement with Iran, a bad deal that will soon result in a workable nuclear weapon in the hands of Iran's murderous mullahs. Iran is already testing launched-delivery missiles for a nuclear weapon, contrary to the 2015 agreement, in part financing it with money freed up by President Obama's removal of financial sanctions.
Trump's war on the State Department. President Trump is seeking to radically remodel the State Department in an unprecedented way, according to former officials from administrations of both political parties. The administration's efforts, which include a proposed budget cut of nearly 30 percent, a hiring freeze and a potential reshuffling of offices within the State Department, have left scores of positions unfilled, demoralizing the staff that remain.
Bipartisan group of mayors denounce Trump's cuts to block grants to communities. A bipartisan group of more than 350 mayors is the latest to resist President Trump's elimination of the Community Development Block Grant Program, which administers $3 billion to states for infrastructure and development projects. Members of the U.S. Conference of Mayors called on Congress to reject Mr. Trump's plan to eradicate the block grants during a press conference call on Tuesday [7/11/2017] and urged that the budget increase to $3.3 billion.
House GOP allocates $1.6 billion for Trump border wall in 2018. House Republicans said Tuesday [7/11/2017] they've included $1.6 billion in funding for President Trump's border wall in their new homeland security spending bill, setting up [a] fight with Democrats who have vowed to block any wall funding — even if it means sending the government into a partial shutdown. GOP leaders said the $1.6 billion fully meets Mr. Trump's request to begin wall construction, which includes 32 miles of new border fencing in Texas, 28 miles of levee wall along the Rio Grande Valley, also in Texas, and 14 miles of replacement fence in San Diego.
Finally Accountability at the VA. The Department of Veterans Affairs has fired 526 employees, demoted another 27 employees and temporarily suspended an additional 194 for longer than two weeks, since President Donald J. Trump took office on January 20. That information is contained in the Adverse Actions accountability report posted on the agency's website. The report doesn't include the employees' names, but shows their positions. CBS reports that in an effort for more transparency and accountability within the VA, Secretary of Veterans Affairs David J. Shulkin announced that the list "accountability actions" will be posted and updated online weekly.
Had Hillary Clinton Won the Election.... Had Hillary won, she would, as promised, have increased the number of refugees from the Middle East, Mexico and Central America. There would be countless more potential terrorists in our midst, thousands more on public assistance on the taxpayer's dime. Under Trump, illegal immigration is down 67%. The DOJ, under Attorney General Jeff Sessions, is rounding up criminal illegals, most of them gang members, many of them released from prisons by Obama to roam our streets with impunity. Hopefully the citizens of sanctuary cities will realize how much safer they and their children will be once this pathetic policy comes to an end. Trump stands firmly behind our law enforcement officers; Hillary would be standing with Black Lives Matter and even more police would be sacrificing their lives to this domestic terrorist group and its anti-cop rhetoric.
Liberals Can't Deal With A President Who Takes America's Side. The West is superior to the rest of the world in every significant way, we should aggressively back our allies over our enemies, and the guiding principle of our foreign policy should always be America's interests. No apologies. No equivocation. No doubt. What are your questions? Well, if you're a normal American, you won't have any questions — these truths are self-evident. But if you're a progressive, you're gonna have a little sissy snit fit like so many libs did in the wake of the President's triumphant Warsaw speech. There's one thing that always sets them off — uttering the truth/heresy that not only is Western civilization the best and most advanced culture in the history of humanity, but the United States of America is its greatest manifestation. The immigrants and refugees get it. Which way are they always headed?
Trump White House Staff Filled With Washington Insiders Despite 'Drain the Swamp' Pledge. Approximately 70 percent of Trump's White House staff were working in D.C. before the start of the administration, according to a Newsweek analysis of White House employees and detailees, staff who are on loan from other federal agencies. Using LinkedIn, media reports, information released by the White House and other publicly available data, Newsweek was able to determine with near certainty the identities of 338 of the 377 employees listed in an annual report on White House personnel released last week to Congress.
The Editor says...
Keep a grain of salt on standby if you read the article excerpted above. First of all, it's Newsweek, which isn't exactly a right-wing magazine. The writers at Newsweek are some of the last people in America who would celebrate the draining of the Washington swamp. Second, it makes sense to hire people who live in the Washington DC area to work in Washington DC. After all, who else would want to live in Washington, other than lobbyists, bureaucrats, and reporters? When the swamp people change jobs, they merely relocate to another area of the swamp.
Trump cancels Obama's special immigration program for foreign entrepreneurs. The Trump administration put a hold Monday on an Obama-era policy that was designed to encourage foreign entrepreneurs to settle in the U.S. to build their companies, saying immigration officials are already overwhelmed with more important work. It's the latest of President Obama's executive actions on immigration to be unwound by President Trump, and it comes a week before the new policy was to take effect.
Trump is one step closer to refilling Guantanamo. Attorney General Jeff Sessions, who once called the Guantanamo Bay detention camp a 'very fine place', visited the prison on Friday as the Trump Administration signals a move to reverse former President Barack Obama's efforts to shut it down. Sessions traveled to the military detention facility in Cuba with his deputy, Rod Rosenstein, and National Intelligence Director Dan Coats, to gain 'an up-to-date understanding of current operations,' Justice Department spokesman Ian Prior said.
Trump officials signal intent to begin refilling Guantanamo. The Trump administration appears to be making its first moves toward fulfilling a campaign promise to fill the Guantanamo Bay prison camp with "bad dudes." Attorney General Jeff Sessions and Deputy Attorney General Rod Rosenstein visited the prison on Friday [7/7/2017] to get an update on current operations, the first concrete action the administration has taken on the facility since taking office.
Trump travel ban exceptions left in place by Hawaii judge. A federal judge in Hawaii on Thursday [7/6/2017] denied a motion to expand the exceptions to President Donald Trump's executive order banning travel to the United States for citizens from six majority-Muslim countries. U.S. District Court Judge Derrick Watson denied an emergency motion filed by Hawaii asking him to clarify what the U.S. Supreme Court meant by a "bona fide" relationship in its ruling last month. The Supreme Court ruled the administration could mostly enforce its travel ban, but said those "with a credible claim of a bona fide relationship with a person or entity in the United States" could enter.
Poll: Majority of voters back Trump travel ban. A clear majority of voters support President Donald Trump's travel ban on visitors from six predominantly Muslim countries, according to a new POLITICO/Morning Consult poll. Polling on the travel restrictions has varied wildly since the Trump administrationunveiled the first executive order on travel in late January. But after months of litigation and controversy, 6-in-10 voters back the ban — and the survey suggests the actual policy may be more popular when separated from the president.
Making no apologies, President Trump replaces Obama Doctrine with American Exceptionalism. Nearly a decade after Barack Obama snuffed out America's beacon of freedom to the world, President Trump has relighted the hopeful flame. At nearly this exact point in Mr. Obama's presidency, he launched his famous "apology tour," traveling the globe seeking forgiveness for all America's transgressions.
Pentagon Considers Canceling Program That Recruits Immigrant Soldiers. The Pentagon is considering pulling out of a deal it made with thousands of noncitizen recruits with specialized skills: Join the military and we'll put you on the fast track to citizenship. The proposal to dismantle the program would cancel enlistment contracts for many of the foreign-born recruits, leaving about 1,000 of them without legal protection from deportation.
The Most Abused President in History. The American media, including social media, is overwhelmingly anti-Trump. The heart of the matter is that the left does not wish to make America great again. Leftists wish to see America diminished. They do not favor "America First," "more and better jobs for American workers," "lower taxes for individuals and businesses," "repealing and replacing Obamacare," "greater national security," "immigration security," and other Trump initiatives. They favor fewer good jobs, higher taxes, less military spending, open borders, and bowing to the world outside the U.S. The media are guilt-ridden over our national history, as they see it, of racism and class oppression. They despise the middle class, and they live in a politically correct nightmare of benefiting from any sort of privilege or unfair advantage.
Pentagon Halts Obama's Transgender Endorsement Plan. The Secretary of Defense has frozen a decision by former President Barack Obama to recruit transgender soldiers this year, and a new poll shows the planned recruitment freeze is very popular. Two of every three swing voters say the Pentagon should postpone plans to accept "transgender" people who are trying to live as members of the opposite sex, according to the new poll by Rasmussen Reports. Defense Secretary James Mattis explained his July 30 decision to delay Obama's plan for six months, just before it was to begin operating.
Why our Supreme Court justices unanimously agreed about Trump's travel ban. I have argued for months that both the first travel ban executive order, signed Jan. 27, and the second one, signed March 6, were lawful and constitutional because the courts have ruled that the Constitution gives the president exclusively the final say on foreign policy and because they have ruled that immigration is one of the tools he can use to effectuate that policy. Moreover, Congress has expressly authorized the president to suspend immigration from stated countries for finite periods of time to enhance national security. In order to do this and pass judicial muster, the president's lawyers in the Department of Justice need only show that the president has a rational basis for his order.
Trump urges passage of House immigration bills that would impose strict prison sentences on deportees who re-enter the country and defund sanctuary cities. President Donald Trump is urging the House to stiffen the punishment for people who re-enter the U.S. illegally and for 'sanctuary' cities and states that refuse to cooperate with federal deportation forces. He met people the White House identifies as 'immigration crime victims' on Wednesday [6/28/2017] as part of a push for passage of two pieces of legislation he said would cut down on the number of gang members, drug dealers and terrorists in the US.
Dems begin to panic as Trump set to transform federal judiciary. The left adores judges who believe that their job is to make society better by interpreting laws in new and creative ways. Once leftists discovered they could make up stuff like the "penumbra" of the Constitution and that judges could pretend their policy choices were required by law, despite no direct wording to that effect, the door was open to impose the Progressive Agenda without all the messiness of approving legislation in Congress, where the people have a voice. That undemocratic — indeed, anti-democratic — approach to governing, wherein the elite discusses theories in academic journals, and then activist judges impose those theories as law, is popular among the cultural elite, because they believe themselves to be something like philosopher-kings, entitled to rule others by their superior wisdom. Their cultural preferences, such as same-sex marriage, gain the authority of law thereby. Restoring a judiciary that believes its job is to interpret, not make up, the law is a reform that cannot happen fast enough.
Trump wants to ban immigrants from accessing welfare within five years of entering the US. President Donald Trump has said he will pursue legislation that would bar immigrants from being eligible for welfare for at least five years. At a rally in Cedar Rapids, Iowa, last night he said 'the time has come' for 'new immigration rules' that would require those seeking admission to the country to be able to support themselves financially and would bar the use of welfare for a period of at least five years.
Trump in Iowa: President calls for barring immigrants from welfare for five years. President Trump announced Wednesday night that he will soon ask Congress to pass legislation banning immigrants from accessing public assistance within five years of entering the U.S. "The time has come for new immigration rules that say ... those seeking immigration into our country must be able to support themselves financially and should not use welfare for a period of at least five years," Trump told a campaign-style rally in Cedar Rapids, Iowa.
The Editor says...
First of all, why set the bar at five years, and not ten or fifteen? Second, there is already a legal requirement that immigrants should be able to support themselves. "An individual who is likely at any time to become a public charge is inadmissible to the United States and ineligible to become a legal permanent resident."
Meet the Face of President Trump's End to Obama's War on Coal: Third Generation Pennsylvania Miner. The sun finally came out after a drenching rain storm in Pennsylvania's Alleghany Mountain country on the first day of the work week. It marked a symbolic development for the coal miners whose future is brighter thanks to President Donald Trump's efforts to revive an industry that the Obama administration had promised to all but abolish. For Joey Kostya, that means he can continue a family tradition.
Mattis Told Generals To Abandon Obama Anti-ISIS Strategy, Start 'Annihilating The Enemy'. Secretary of Defense James Mattis instructed the U.S. military to abandon Obama administration procedures and start focusing on killing Islamic State fighters instead, Chairman of the Joint Chiefs of Staff Gen. Joseph Dunford told Breaking Defense. "When Secretary Mattis looked at our anti-ISIS campaign, he concluded that in some instances we were essentially just pushing the enemy from one location to another," Dunford explained. "He asked me and the military chain-of-command to make a conscious effort not to allow ISIS fighters to just flee from one location to another, but rather to deliberately seek to 'annihilate' the enemy," he continued. The Pentagon has yet to reveal a new strategy to defeat ISIS but Mattis has heavily emphasized his focus on "annihilation" in recent months.
Trump scraps Obama policy that protected immigrant parents from deportation. An Obama-era immigration program intended to protect parents of U.S. citizens and legal residents from deportation has been formally cancelled, fulfilling a key campaign promise from President Trump, the Homeland Security Department announced late Thursday [6/15/2017]. Homeland Security John Kelly formally revoked a policy memo that created the Deferred Action for Parents of Americans program. The revocation came on the fifth anniversary of another effort that has protected hundreds of thousands of young immigrants from deportation.
Trump Admin Rescinds DAPA Amnesty Program. The Trump administration has fulfilled another one of Donald Trump's campaign promises by rescinding the Deferred Action for Parents of Americans and Lawful Permanent Residents (DAPA) program implemented under Barack Obama that could have allowed as many as five million illegal aliens with children who are citizens or lawful permanent residents to remain in the country if they met certain criteria.
Trump Administration Plans Summer Announcement of Wall Prototypes. President Donald Trump's administration plans to announce design finalists for his "big beautiful wall" soon. The announcement will take place sometime in the summer of this year, according to a U.S. Customs and Border Protection spokesperson. It will include four to eight designs for wall "prototypes" to be constructed in San Diego. The exact date and details of the prototypes announcement have not been set, but is expected to be a major milestone for the president's promised project.
ICE chief: All illegals 'should be worried, no population off the table'. In a blunt warning to all 11 million undocumented immigrants, the acting chief of ICE said that anybody who cross the border illegally is subject to deportation. "If you are in this country illegally, and you committed a crime by entering this country, you should be uncomfortable, you should should look over your shoulder, and you need to be worried," said Thomas D. Homan, acting director of Immigration and Customs Enforcement.
Trump budget would undo Obama's massive student loan forgiveness program for the wealthy. The truth is that the so-called "public service loan forgiveness" (PSLF) program has been abused and mostly benefits the most successful Americans. The program was started in 2007, and by 2012, just 25,600 people qualified for the program. Then, the Obama administration exponentially expanded the program to benefit 553,000 people by 2016. Why the dramatic increase?
President Trump Should Bypass Courts On The Travel Ban. When President Trump tweeted that his measure to protect Americans from Islamic terror was a "travel ban" and that it should never have been watered down, he was right. Calling it a pause hasn't appeased a single of the radical judges abusing their authority. It doesn't matter what the lawyers call it, when courts insist on referencing President Trump's campaign rhetoric instead. Watering down the ban achieved nothing. The judicial coup can't be appeased with a "moderate" ban. Stripping Iraq from the list of countries undermined the effectiveness of the measure considering that the vast majority of refugees being investigated for terror links in this country are Iraqis. Most of the rest are from the other countries listed on the travel ban. And the failure to protect Middle Eastern Christians by prioritizing them as refugees is a left-wing war crime.
Bears Ears recommended for land cuts as Trump starts rollbacks of Obama's designated monuments. The Trump administration is poised to nip the Bears Ears National Monument, beginning a rollback of one of President Obama's most aggressive environmental moves. Interior Secretary Ryan Zinke issued an interim report Monday saying the 1.35-million-acre Utah monument that Mr. Obama established on his way out of office is far too big and needs to be carved up and cut down to size. It's the first in what is likely to be a series of moves to reverse Mr. Obama's aggressive use of presidential powers under the 1906 Antiquities Act to heighten federal control of public lands.
Trump Gave The FBI New Life After Removing Comey, Now It's Time To Do The Same At The IRS. Congressman Ron DeSantis from Florida says in an exclusive interview with The Daily Caller News Foundation that the FBI has a "fresh start" following James Comey's firing, and now it's time President Donald Trump clean out the IRS, starting with Commissioner John Koskinen.
Peter Schweizer: Jeff Sessions Ending DOJ Handouts to Activist Groups 'a Tremendous Victory'. [Scroll down] The idea got its start under Eric Holder as far back as the Clinton administration. "The problem is, it got distorted, as so many things do in Washington, DC," added Schweizer. "And so rather than going to the victims of what a company might have done, they ended up giving it to activist groups. And many of these activist groups, like La Raza, like others, not only didn't do things to alleviate the activity that had taken place, they actually used the money for things like voter registration."
Trump Is Right: Regulation Is Massively Slowing Down and Boosting the Costs of Modernizing Infrastructure. Environmental reviews have dramatically slowed the creation and modernization of roads, bridges, energy production, water supply, and airports. For example, the Obama administration used environmental reviews by the State Department as an excuse to prevent for six years the construction of the Keystone XL pipeline to transport oilsands crude to the U.S. Gulf Coast. (The Trump administration approved it in March.) Similarly, environmental reviews have delayed the building of the Cape Wind offshore wind energy project for 16 years and counting.
Senate OKs bill to make firing employees easier for VA. The Senate approved broad legislation Tuesday [6/6/2017] to make firing employees easier for the beleaguered Department of Veterans Affairs, part of an accountability effort urged by President Donald Trump following years of high-profile problems.
Trump Wants To Privatize Air Traffic Control; Canada And Europe Prove It Will Work. It's not often that we'd argue for the U.S. to follow in the footsteps of Canada or European governments. But when it comes to privatizing the nation's woefully antiquated and inefficient air traffic control system, that's precisely what we should do. On Monday [6/5/2017], President Trump officially announced his support for a plan that would hand the job of tracking and guiding airplanes to a private, nonprofit organization.
The Paris Agreement and the America First Energy Plan. President Donald Trump delivered one of his most important campaign speeches at the Williston Basin Petroleum Conference in Bismarck, North Dakota on May 26, 2016. During the headlines-making speech, Trump presented his "America First Energy Plan," a fundamentally different path for the U.S. fossil-fuel industry. Trump's plan called for a significant expansion of the oil, natural gas, and clean-coal industries. In the same speech, the future president pledged to withdraw from the Paris Climate Agreement, which had been signed by President Barack Obama in 2016. The Paris agreement calls for America to drastically reduce its carbon-dioxide emissions in the name of slowing or preventing human-caused climate change.
Ted Cruz: Trump should withdraw from Paris climate pact. The [Paris] agreement, signed by the Obama administration last year, would commit the United States to drastically reducing its carbon emissions while allowing some countries to increase theirs. This, all while doing nothing to meaningfully decrease global temperatures. According to a recent National Economic Research Associates Economic Consulting study, the Paris Agreement could obliterate $3 trillion of GDP, 6.5 million industrial sector jobs and $7,000 in per capita household income from the American economy by 2040. Meeting the 2025 emissions reduction target alone could subtract $250 billion from our GDP and eliminate 2.7 million jobs. The cement, iron and steel, and petroleum refining industries could see their production cut by 21% 19%, and 11% respectively.
Escaping the Paris Climate Agreement. It's time for this administration to keep its promise, by getting the U.S. out of this flawed, costly agreement. Some in Trump's team have reportedly said if the United States' commitments are restructured there might be a path to stay in the Paris climate agreement. While there may be a better deal to be had — after all, the Obama administration could hardly have negotiated a worse deal for Americans — there is no deal that would be good for the country. Even Trump can't put lipstick on this very ugly pig. While our economic competitors, such as China and India, do not have to limit their fossil-fuel use under the agreement, the U.S. is required to make steep cuts, which are estimated to cost our economy trillions of dollars over the life of the agreement without providing any appreciable environmental benefits. Additionally, a deal isn't possible without the U.S. paying into the political slush fund called the Green Climate Fund, which Trump promised to halt payments to. What is gained by staying in? Nothing.
Don't Stop With Paris. The Paris climate agreement is a treaty. We are not talking here about a bob-and-weave farce like the Iran nuclear deal. That arrangement, the "Joint Comprehensive Plan of Action," was shrewdly packaged as an "unsigned understanding" — concurrently spun, depending on its apologists' need of the moment, as a non-treaty (in order to evade the Constitution's requirements), or as a binding international commitment (in order to intimidate the new American administration into retaining it). The climate agreement, to the contrary, is a formal international agreement. Indeed, backers claim this "Convention" entered into force — i.e., became internationally binding — upon the adoption of "instruments of ratification, acceptance, approval or accession" by a mere 55 of the 197 parties. [...] Yes, President Obama gave his assent to the agreement in his characteristically cagey manner: He waited until late 2016 to "adopt" the convention — when there would be no practical opportunity to seek Senate approval before he left office. But Senate consent is still required, by a two-thirds' supermajority, before a treaty is binding on the United States.
Report: Trump Poised to Reverse Obama's Cuba Policies. President Trump is set to roll back a series of policies former President Obama put in place toward Cuba, according to a report from the Daily Caller. The changes regarding the policies will be announced in a June speech in Miami, the U.S.-Cuba Trade and Economic Council said in the report.
Trump Set To Roll Back Obama's Cuba Policies Photo of Alex Pfeiffer. President Donald Trump is set to announce a rollback of former President Barack Obama's policies toward Cuba, The Daily Caller has learned. Two sources told TheDC that the development is due to the behind-the-scenes efforts of Republican Florida Sen. Marco Rubio, Democratic New Jersey Sen. Bob Menendez and Republican Florida Rep. Mario Diaz-Balart. This information coming from an anti-embargo group, which spoke on the condition of anonymity, was confirmed Sunday by John Kavulich of the nonpartisan U.S. — Cuba Trade and Economic Council.
Dear Mr. President: Please Exit Paris. Exit Paris isn't about the environment. It's about letting us utilize our fossil fuel energy to create jobs, rebuild our economy, and Make America Great Again. It's about avoiding immense transfer payments from the USA to foreign governments, bureaucrats and parties unaccountable to Trump-voting taxpayers. Worse, even if the USA Remains, and the repulsive payments flow, Paris offers no help in removing real air pollutants. Carbon dioxide isn't one of them, by the way: it's plant food, not poison.
More about carbon dioxide.
Trump to Take Travel Ban to Supreme Court. The 4th U.S. Circuit Court of Appeals on Thursday [5/25/2017] ruled 10-3 against the travel ban. The decision bars the administration from suspending new visas for visitors from Iran, Libya, Somalia, Sudan, Syria and Yemen.
Longer prison sentences: Good for the crime rate, bad for the criminal. Getting tough on serious crime was a central focus of the Trump campaign, and so far Jeff Sessions, the new Attorney General, has not disappointed. His latest action, a memorandum to all federal prosecutors amending the Obama policy of going easy on serious offenders, orders federal prosecutors to charge criminals with the most serious offense that is readily provable — that is, charge with the crime that carries the most severe sentence — including a mandatory minimum sentence. [...] By directing federal prosecutors to "charge and pursue the most serious, readily provable offense" in felony cases, as Attorney General Jeff Sessions did last week, he is fulfilling the government's primary responsibility: protect American citizens from harm, and provide them with a safe environment.
Sessions to take travel ban fight to Supreme Court. Attorney General Jeff Sessions said Thursday [5/25/2017] he will petition the Supreme Court to review the legality of President Trump's travel ban. The 4th Circuit Court of Appeals ruled Thursday to keep the block of Trump's travel ban, enacted via a second executive order. Sessions said the second executive order is "well within [Trump's] lawful authority" to keep the country safe. "The Department of Justice strongly disagrees with the decision of the divided court, which blocks the president's efforts to strengthen this country's national security," Sessions said in a statement reacting to the appeals court's ruling.
Trump requests $24.5-million-per-mile border wall, U.S. choice of immigrants. The first leg of President Trump's planned border wall will cost an exorbitant $24.5 million per mile, according to the 2018 budget he submitted Tuesday [5/23/2017] that details a massive shake-up in immigration policy. Mr. Trump calls for a giant increase in detention beds to help end the catch-and-release policies of previous administrations, requests major infusions of cash for more border and interior agents to apprehend illegal immigrants, and proposes more prosecutors and judges to speed their cases along. Also on tap is a boost in funding for E-Verify, the government's voluntary system that allows businesses to check potential hires' legal status. Mr. Trump says he wants the system to be mandatory for all U.S. businesses in three years.
DOJ Budget Ramps Up Funding for Eminent Domain' Land Acquisition' in Potential Effort to Clear Way for Border Wall. Tuesday's Department of Justice budget proposal asks Congress for $1.8 million to "meet litigation, acquisition, and appraisal demands during the construction along the border between Mexico and the United States." The money will be used to devote 20 new staff members, including 12 attorneys, to the Environmental and Natural Resources Division's Land Acquisition Section (LAS). This small section of the DOJ handles litigation that arises when the federal government uses its "eminent domain" power to seize land for public projects.
Trump calls to cut off tax breaks for illegal immigrants. President Trump will seek to tighten restrictions on some tax credits to prevent them from being claimed by illegal immigrants, a measure that the administration says is necessary to respect taxpayers and balance the budget. Trump's fiscal 2018 budget, set to be released Tuesday, will set higher eligibility standards for the earned income tax credit and the child tax credit, Office of Management and Budget Director Mick Mulvaney said Monday [5/23/2017]. According to the administration, the measures will save $40 billion over 10 years.
Donald Trump Is So Right to Wage War on Wind Farms. Donald Trump is not a fan of wind turbines, as he has hinted occasionally on Twitter. [...] But there's a very powerful lobby which would like us to see wind turbines as being clean, eco-friendly and vital for the planet's future. So if President Trump is to crush this bloated, parasitical industry as it deserves he'll need some serious fire support.
Judicial Watch President: Hillary Clinton Still Faces Legal Jeopardy Over Gross Mishandling of Classified Information. Now that FBI Director James Comey has been fired, partially for his handling of the Clinton email scandal, many are wondering if a newly appointed director will take a second look at the case. Judicial Watch President Tom Fitton, whose attorneys have worked overtime to expose the extent to which Clinton and her aides went in mishandling classified information on an unsecured private server, says it's certainly a possibility.
Sessions starts applying the law. One of Donald Trump's chief campaign promises was to keep Americans safe by restoring "law and order" to their streets. His nomination of Jeff Sessions as attorney general signaled that he intended to follow through on that promise. This week Sessions issued a new directive for the country's 94 US attorneys to charge criminal suspects with the most serious offense provable against them, including those that would qualify under mandatory minimum sentencing laws.
Trump Aims to Eliminate Redundant Government Hiring. It's not hard to find federal programs that are duplicative, ineffective or even counterproductive. Most any federal employee will gladly point out examples of government policies that waste taxpayer dollars and make their jobs more difficult than needed.
Trump's Great Climate Purge. Finally the Trump administration is starting to get serious about taking on the Green Blob. EPA administrator Scott Pruitt — perhaps stung by criticisms that he was turning into a squish — today [5/8/2017] reaffirmed, in an interview with CNBC, that he is not a believer in catastrophic man-made global warming. [...] This new boldness coincides with a purge of warmist scientific advisers at both the EPA and the Interior Department.
Interior Dept names 26 monuments under review. The list includes sites dating all the way back to 1924's Craters of the Moon National Monument in Idaho up through the Bears Ears National Monument in Utah, established late in former President Obama's term. Other notable monuments under review include Utah's Grand Staircase-Escalante, Hanford Reach in Washington, Grand Canyon-Parashant in Arizona, the Papahanaumokuakea marine monument off the coast of Hawaii, and a host of others. The review does not necessarily mean that any of those monuments will be stripped of their designations, though it's clear the administration intends to shrink the amount of land and water designated as monuments and, in the process, open up that land to energy development and other activities.
Policy Experts Call On Trump To Abandon 'Unconstitutional' Paris Climate Treaty. The White House has said the "war on coal" is over, but policy experts argue President Donald Trump's legacy won't be preserved unless the U.S. withdraws from the Paris climate agreement. Competitive Enterprise Institute (CEI) senior fellows Chris Horner and Marlo Lewis published a paper Wednesday arguing President Barack Obama joined the Paris agreement in 2016 by ignoring the U.S. Constitution to make his climate policies immune to legal challenges. "President Obama didn't honor his constitutional responsibility to get advice and consent of the Senate," Lewis told The Daily Caller News Foundation.
Former FBI Official: With Comey Gone It's Game On. The battle between the Trump D.C. outsiders and the black pit that is the D.C. Establishment and its media operatives will be something both remarkable and stunning with an outcome as of yet unknown. The president may very well not survive this war, but if he does, it will likely significantly alter the trajectory of America's future and give power back for the first time in a very long time to the ones who deserve it most. The people.
With Comey out of the way, will Hillary now be prosecuted? James Comey now is fired. Loretta Lynch no longer is Attorney General. This seems to open up the possibility of a renewed investigation and potential prosecution.
The Editor says...
The Republican platform has dozens of planks, but the ones that were touted as the main reasons to vote for Trump were [#1] build the border wall, [#2] stop funding for Planned Parenthood, and [#3] put Hillary Clinton in prison at long last. None of that has happened, even with Republican majorities in the House and Senate and an alleged Republican in the White House.
Sessions' office releases memo to all 94 US attorneys calling for reversal of Holder-era policy. Attorney General Jeff Sessions' office sent out a letter late Thursday to the nation's federal prosecutors instructing them to pursue the most serious charges possible against most criminal suspects. The move will send more people to prison and for much longer terms by triggering mandatory minimum sentences. Officials at the Department of Justice said the new guidelines are a direct rebuttal of policies implemented under President Obama's attorney general, Eric Holder.
Senate Republicans introduce anti-net neutrality legislation. Sen. Mike Lee (R-Utah) introduced a bill Monday to nullify the Federal Communications Commission's (FCC) net neutrality rules. "Few areas of our economy have been as dynamic and innovative as the internet," Lee said in a statement. "But now this engine of growth is threatened by the Federal Communications Commission's 2015 Open Internet Order, which would put federal bureaucrats in charge of engineering the Internet's infrastructure."
Trump: 'I Will Never, Ever Infringe on the Right of the People to Keep and Bear Arms'. President Donald Trump pledged to never infringe on the 2nd Amendment during a speech at the National Rifle Association's meeting in Atlanta, Ga., on Friday [4/28/2017]. "We all took an oath to preserve and protect the Constitution of the United States, and that means defending the 2nd Amendment. So let me make a simple to every one of the freedom-loving Americans in the audience today: as your president, I will never, ever infringe on the right of the people to keep and bear arms — never, ever," Trump said.
Trump pushes to expand offshore drilling in the Arctic. Surrounded by members of Alaska's congressional delegation, President Donald Trump on Friday [4/28/2017] signed an executive order that directs the Interior Department to rethink some of President Barack Obama's regulations and decrees that put large swaths of the Arctic Ocean off limits to oil drilling. Interior Secretary Ryan Zinke said the order will require him to review previously issued five-year development plans for offshore oil and natural gas leases and regulations governing oil, gas and renewable energy leasing in waters of the Arctic and Atlantic.
How Team Trump plans to kill Obama's Paris climate deal by declaring it a treaty. As President Trump's top advisers prepare to hash out a final policy on the Paris climate agreement dumped onto their laps by President Obama, another option has hit the table: Declare the deal a treaty and send it to the Senate to be killed. The treaty option could emerge as the middle ground in the increasingly tense battle between "remainers" on the one hand, who say the president should abide by Mr. Obama's global warming deal, and the Paris agreement's detractors, who say Mr. Trump would be breaking a key campaign promise if he doesn't withdraw from the pact.
Net Neutrality's Days Are Numbered, And That's A Good Thing. One of the least appreciated decisions by President Trump has been his appointing Ajit Pai to run the Federal Communications Commission. Pai has long been a skeptic of the FCC's manhandling of industry, and is pushing to get the government out of the internet.
Trump asks Betsy DeVos to study federal overreach in education. President Trump signed an executive order on Wednesday [4/26/2017] calling on the Education Department to study whether the federal government has overstepped state and local control of education. "We know that local communities do it best and know it best," Trump said during a signing ceremony on Wednesday, according to the White House press pool. "Previous administrations have wrongly forced states and schools to comply with federal whims and dictates for what our kids are taught. The time has come to empower teachers and parents to make the decisions that help their students achieve success." Under the executive order, Secretary of Education Betsy DeVos will have 300 days to review any regulations or guidance that might be deemed as overstepping the federal department's bounds.
FCC head unveils plan to roll back net neutrality. Federal Communications Commission (FCC) Chairman Ajit Pai on Wednesday [4/26/2017] revealed his plans for rolling back net neutrality, one of the most controversial items up for consideration at the agency. During a speech at the Newseum in Washington, D.C., Pai said he plans to hand regulatory jurisdiction of broadband providers back to the Federal Trade Commission (FTC), an agency that critics argue is less prepared to handle them. Originally passed under Democrat Tom Wheeler's chairmanship, the net neutrality rules — more formally referred to as the Open Internet Order of 2015 — set restrictions on internet service providers (ISPs) prioritizing certain kinds of web traffic and throttling others. The rules were broadly aimed at establishing a level playing field for companies on the internet.
Trump Is Expected to Sign Orders That Could Expand Access to Fossil Fuels. After moving last month against Barack Obama's efforts to limit fossil fuel exploration and combat climate change, President Trump will complete his effort to overturn environmental policy this week, signing two executive orders to expand offshore drilling and roll back conservation on public lands.
Three Things President Trump Can Do to Reduce Dependency. First things first: The Trump administration should not allow states to continue waiving food-stamp work requirements. These requirements have been a part of the food-stamp program (for non-disabled childless adults) since the Clinton-era welfare reforms of the 1990s. However, federal regulations allow the Department of Agriculture to grant waivers if states request them. Although federal law authorizes waivers only when the state unemployment rate exceeds 10 percent or a state has insufficient employment opportunities, states with unemployment rates as low as 4.5 percent are currently waiving work requirements. With waivers in effect, food stamps quickly trap their recipients in dependency. What incentive do struggling Americans have to find employment and raise their standards of living when they face no time limits or requirement to work?
There Is No Scientific Basis for the Paris Climate Treaty. The Paris Climate Treaty is supposedly an attempt to keep global temperatures from increasing 2 degrees C, but this objective is based on political science, not climate science. The goal is an arbitrary political target based on climate activists' demands for a number, no matter how dubious or fake, to use in their fundraising letters and to appear on their signs at protests. There is no scientific evidence suggesting a warming of 1.9 degrees C is safe while 2.1 degrees C is not safe. Climate models that forecast temperature increases of more than 1 or 2 degrees during the next century are not scientific. They flunk the objective requirements of scientific forecasting. They are educated guesses by activists whose credibility and livelihood depend on showing ever-increasing certainty of impending doom, even as their data point in the opposite direction.
Repudiating the Obama Vision for Higher Education. We have a new administration. This leftist agenda for higher education was embraced by a leftist White House and a leftist U.S. Department of Education under Arne Duncan. Now we have some new, freedom-loving leaders in the Executive Branch, presumably people who believe that we are still the land of opportunity and wish to enlarge that opportunity. The vision in the report must be repudiated and replaced.
Sessions Announces Illegal Aliens Who Illegally Re-Enter The U.S. Will Be Charged With a Felony. Speaking from the U.S.-Mexico border in Nogales, Arizona Tuesday [4/11/2017], Attorney General Jeff Sessions announced major changes to Justice Department protocol when it comes to charging and prosecuting illegal aliens. "For those that continue to seek improper and illegal entry into this country, be forewarned: This is a new era. This is the Trump era. The lawlessness, the abdication of the duty to enforce our immigration laws and the catch and release practices of old are over," Sessions said.
Trump's Justice Department to end 'catch and release' immigration policy. Attorney General Jeff Sessions declared "a new era" in immigration enforcement on Tuesday, saying his prosecutors will try to bring stiffer criminal charges against repeat illegal immigrants and smugglers as part of President Trump's crackdown. Mr. Sessions said his enforcement priorities will end the "catch and release" practices of the Obama administration and give the Justice Department a more active role in stemming illegal immigration.
Trump White House Moves Forward With Plan Government Employee Union Dubs 'Dangerous'. In six months, the Trump administration plans to produce a plan to shrink the size of government, eliminate programs, and reduce the federal workforce — and is seeking public input on how to proceed.
Justice Department Quits Pro-Transgender Lawsuit. President Donald Trump's Department of Justice has dropped a 2016 pro-transgender lawsuit against the state of North Carolina, marking another success for mainstream advocates who wish to preserve normal single-sex facilities and institutions. The lawsuit was filed in May 2016 by deputies working for President Barack Obama, who was ideologically opposed to any civic or legal recognition that men and women are biologically different as well as legally equal.
Jeff Sessions Will Actually Enforce Immigration Law — And It's About Time. President Trump's newly installed U.S. attorney general, former Sen. Jeff Sessions, is doing something unique for a top U.S. law official: He's actually enforcing immigration law. What a concept. On Tuesday of this week, Sessions highlighted a "get tough" strategy to curb illegal immigration as he visited the U.S.-Mexico border at Nogales, Ariz. Essentially, his plan boils down to this: If you commit a crime, and entering the U.S. illegally is a crime, you might just end up in court. Yes, we've heard the promises before, so we shouldn't be too surprised. But now the promises are actually turning into policy.
Impeach Obama IRS Commissioner John Koskinen Now! Koskinen has aided and abetted the Obama administration in covering up a scandal of monstrous proportion and severity — the chilling Obama administration scheme that involved former IRS employee Lois Lerner to deploy the awesome power of the IRS in order to cripple conservative groups and target conservative individuals and help President Obama win re-election in 2012.
GOP calls for IRS Commissioner Koskinen to be fired. Congress's top tax expert led Republicans Wednesday [4/5/2017] in demanding President Trump fire IRS Commissioner John Koskinen, saying the tax agency cannot be repaired as long as he's at the helm. "Trust in the IRS is hitting rock-bottom," the Republicans, led by Rep. Kevin Brady, chairman of the House Ways and Means Committee, said in a letter calling on Mr. Trump to take action. The 15 committee Republicans said not only did the IRS destroy evidence from key figure Lois G. Lerner's computer in the tea party targeting probe, but the agency also "intentionally" made the tax experience painful for customers in order to make a political point to the GOP.
Reopen cases against corrupt leftists. The nadir of honesty in the federal government was reached in the hyper-politicized Obama presidency. The IRS was used shamelessly to punish conservative groups. The Department of Justice opened countless "cases" against utterly innocent groups whose offense was to challenge the orthodoxies of leftism. Indeed, it seemed at times as if the Obama administration viewed the whole federal government as little more than a scourge to be used against Americans who did not follow the party line. That is the one thing no free government can stand. When government is the enemy of much of the people, then government has no moral ground upon which to exercise its power.
Trump sets sights on net neutrality. At a White House press conference on Thursday [3/30/2017], presidential spokesman Sean Spicer went out of his way to highlight the controversial topic and characterized it using the Trump Administration's favorite insults: that it was a product of the Obama Administration and was developed by "bureaucrats in Washington." Spicer noted that the previous administration had reclassified cable companies as "common carriers" and by doing so was "picking winners and losers" by "treating ISPs as different to edge providers such as Google or Facebook." This was an "unfair regulatory framework" that he noted President Trump had "pledged to reverse."
Trump signs repeal of U.S. broadband privacy rules. U.S. President Donald Trump on Monday signed a repeal of Obama-era broadband privacy rules, the White House said, a victory for internet service providers and a blow to privacy advocates. Republicans in Congress last week narrowly passed the repeal of the privacy rules with no Democratic support and over the strong objections of privacy advocates.
Why Isn't Hillary Clinton in Jail? Hear me out: The most loving act President Trump can do for Clinton is give her the professional and institutional help that will uphold justice — and prevent her from further hurting herself or others. Nearly nine in 10 Americans did not find Hillary to be "honest and trustworthy" going into the 2016 presidential election. While we can't assess Clinton's mental state, we do know that uncontrollable lying (mythomania) is common among individuals suffering from borderline personality disorder (BPD). Individuals with BPD may also sustain romantic relationships solely for utility (think Hillary's choice to cling to an unloving and unfaithful man in order to climb the political ladder).
Trumping Climate Hysteria With Facts. With the new Trump administration poised potentially to reverse the Obama administration's global warming war on capitalism, energy production, states' rights, property rights, and human freedom, the ICCC-12 could not have come at a more critically-important time. Although, as a candidate, Donald Trump pledged to withdraw the United States from the UN's Paris Accord on Climate Change, some of his advisers and his Secretary of State Rex Tillerson have sent contrary signals.
Why We Must Abolish the U.S. Department of Education. In this video, The New American's correspondent Alex Newman, an educator and the co-author of a book on education, explains why it is essential that the unconstitutional and highly damaging U.S. Department of Education be shut down. [Video clip]
Conservatives Demand IRS Commissioner's Head In White House Meeting. An off-the-record White House meeting with roughly two dozen conservative leaders Wednesday [3/30/2017] included explicit calls for President Trump to fire IRS Commissioner John Koskinen, according to a source in the room. White House conservative liaison Paul Teller organized the meeting Wednesday between Trump staffers and leaders of conservative groups such as the Heritage Foundation and Judicial Watch. Talk of Koskinen's firing was part of a larger discussion on clearing out Obama-era personnel from the executive branch where possible, the source said.
The Fall of Donald Trump (and Why It Ain't Happening). The president has aggressively used his pen to deep-six many of Obama's most ruinous executive orders. Notably, in the areas of illegals, energy, and climate. Attorney General Jeff Sessions is putting sanctuary cities on notice: no federal funds if your city harbors illegals in defiance of the law. The Homeland Security Department has sought proposals for border wall construction. The president seeks to bulk up the U.S. Border Patrol and ICE. The liberal Ninth Circuit can't block Trump's travel ban indefinitely. Extreme vetting will happen. The Keystone Pipeline will be constructed. The coal industry's shackles are being smashed. The president has consistently stated his goal: U.S. energy independence. He's only begun to free up the nation's energy industries.
Trump's Sweeping Executive Order on Climate Policy Has Been Sorely Needed. As promised, President Donald Trump has issued an "energy independence" executive order to undo several of the Obama administration's climate change regulations. To the benefit of all Americans who desire affordable, dependable energy, the executive order will help energy companies establish some independence from overzealous regulators.
House Votes to Block Obama-Era Online Privacy Rule. The House voted Tuesday [3/28/2017] to block online privacy regulations issued during the final months of the Obama administration, a first step toward allowing internet providers such as Comcast, AT&T and Verizon to sell the browsing habits of their customers.
A Plan to Reform Our Failing Universities. America has reached a critical point where the contaminants will soon have sunk too deep to be flushed out. A healthy civic life, cultural and economic resilience, innovation and invention, and a sense of national purpose all begin and end with education. In the last analysis, nothing less than the 241-year republican experiment is at stake. It is not a question of party policy; the Democrats are not Republicans and neither, on the whole, are the Republicans. The responsibility for instituting real change in the vast education apparatus falls to those who still hold to Constitutional loyalties. It may take a two-term Trump presidency and Betsy DeVos at her most determined to accomplish the feat.
13 states join brief in support of Trump's temporary travel ban. Representatives from 13 states including 12 state attorneys general and one governor filed a motion in support of President Trump's temporary travel ban. [...] Those joining the brief included [Texas Attorney General Ken] Paxton plus AG's in the states of Alabama, Arizona, Arkansas, Florida, Kansas, Louisiana, Montana, Oklahoma, South Carolina, South Dakota, and West Virginia. Governor Phil Bryant of Mississippi also joined. The brief makes several arguments starting with President Trump's authority to make decisions about immigration, especially with regard to national security. The brief also argues previous courts have erred in suggesting that non-resident aliens have rights under the U.S. Constitution.
Federal judge sides with Trump administration in travel ban case. A federal judge in Virginia ruled in favor of the Trump administration Friday, declining to join other federal courts that halted the President's revised travel ban last week. Two federal judges — one in Maryland and one in Hawaii — have blocked implementation of the core provisions of the travel ban, and it remains on hold nationwide. Drawing on a litany of then-candidate Donald Trump's statements about Muslims during the presidential campaign, both of the judges concluded that the new executive order likely violates the establishment clause of the Constitution by disfavoring Muslims.
President Trump is right to propose slashing U.S. funding to the United Nations. Globalists and Democrats shrieked last week, when President Trump proposed cutting American funding for the United Nations by 50 perecent. The president dismisses the U.N. as a "waste of time and money." That's the least of it. U.S. taxpayers bankroll the U.N. with $10 billion a year. Our hard-earned money perpetuates an organization that validates the most savage human-rights abusers on the globe, regularly votes against the U.S., and targets America's ally Israel for extinction. Past American presidents have poured billions of our money into U.N. "peacekeeping" operations that prop up corrupt dictatorships and subject local populations to rape with stomach-turning frequency. Women and children often have more to fear from the U.N.'s blue-bereted soldiers than the ravages of war. President Obama fancied himself a citizen of the world. Putting his naïve globalism into practice, he elevated the U.N. above American institutions, sidestepping Congress to seek U.N. approval of the Iran nuclear deal and the Paris climate agreement.
The Travel Ban Is about Vetting — Which Means It's about Islam. When it comes to protecting the United States from the threats posed by radical Islam, it has never been about President Donald Trump's executive orders: the first one that was torpedoed by the radical judiciary in January, and the new and improved version that was suspended this week — the Lawyer Left having conveniently managed to shop its challenge to Barack Obama's fellow Hawaiian and Harvard Law School classmate Judge Derrick Watson. The issue is vetting. Each executive order was conceived as a temporary step, a "hold in place" measure while the permanent solution, vetting, was carefully crafted and ultimately implemented. Now, just as the Left hoped, the temporary step has not only overwhelmed the permanent solution. It has made the permanent solution much more difficult — perhaps impossible — to achieve.
The Reagan Approach to Crushing Radical Islam. David Satter, a former Moscow correspondent and a senior fellow at the Hudson Institute noted: "I think we must begin by recognizing that, although it pretends to be a religion, radical Islam is an ideology. In this respect, it is the blood brother of atheistic communism. Both systems treat artificial dogma as infallible truth and seek to impose it on all of humanity." Yes, attacking the ideology was important in defeating communism and it is relevant as a tactic in the war against radical Islam.
Trump's Budget Chief Says Climate Research 'A Waste Of Your Money'. President Donald Trump's budget director told reporters Thursday [3/16/2017] the White House was no longer spending money on climate change research because it's a "waste of your money." "We're not spending money on that anymore," Mick Mulvaney, the Office of Management and Budget director, said at a press briefing while discussing the president's decision to dial back climate science research. "We consider that to be a waste of your money," he added. Trump released his congressional budget request Thursday, which contained several contentious reductions, including dramatic cuts to the Environmental Protection Agency (EPA) and the Department of Energy.
Seniors Won't Starve if Meals on Wheels Loses Government Grants. There are hundreds of Meals on Wheels organizations around the country, so it's hard to generalize, but overwhelmingly, the groups get the majority of revenue from charitable giving, not government funds. In 2015, for instance, the national Meals on Wheels reported that government grants accounted for just 3 percent of its annual revenues of $7.5 million. Meals on Wheels for San Diego County in California says that government grants made up just 1.5 percent ($68,534) of its revenues of $4.4 million. [...] As Matt Welch writes, we have gotten so used to increased government spending on everything that any cut to any program is automatically cast in apocalyptic terms.
Drain The Swamp: ALEC Pushes For Civil Service Reform. When President Donald Trump promises to drain the swamp of Washington D.C., people cheer loudly at his rallies. But as we've seen for decades, firing government bureaucrats is easier said than done no matter how egregious or incompetent their behavior may be. Major reforms are needed to truly rid the system of corruption and to return power of government to the American people.
Goodbye, Appalachian Regional Commission. President Trump wants to end the Appalachian Regional Commission, a creation of Presidents Kennedy and Johnson that was meant to end the poverty and misery of a region that lagged behind the rest of the nation in income, education, health care, and transportation. After 50-plus years, the area still lags behind the rest of the nation in income, education, health care, and transportation. The area includes all of West Virginia and parts of twelve other states. Its budget was $120 million in 2017. County commissions appoint development offices, which grab federal grants from the Appalachian Regional Commission for projects that never seem to help the area, although well-connected politicos seem to do well.
Trump's Budget is an Attack On the Bureaucratic State. So according to journalists, Donald Trump's proposed budget cuts are "big," "deep," "dramatic," "massive," and so on. With each breathless adjective — often coupled with excellent verbs like "gut" and "slash" — they add to the apocalypticism that's engulfed the Left. "Reading through the Trump budget," tweeted The New York Times' Nicholas Kristof, "I feel as the Romans must have felt in 456 AD as the barbarians conquered and ushered in the dark ages." Vox claimed that the budget plan is a proposal to "dramatically remake the federal government." If only. In perspective, all of this melodrama is over probably less than 1 percent of the national budget.
Trump wants $1.5 Billion for the wall and cash for the military but will slash foreign aid and eliminate funding for PBS and NPR. President Donald Trump has released a budget plan that makes significant cuts to spending to fund his border wall and the military build-up he's been promising — and was called 'America First' by the official who wrote it. Cut the deepest is the State Department, which is being slapped with a 28 percent reduction to its foreign aid division. The Environmental Protection Agency and the Housing and Urban Development Department is also expected to suffer. The Corporation for Public Broadcasting, which provides support to NPR and PBS — the broadcaster of Sesame Street — will see its funding phased out if Trump's budget makes it past the House and Senate over the objection of both conservatives and liberals.
Jeff Sessions Needs To Do More Than Just Fire Obama-Era Government Attorneys. Part of Barack Obama's legacy is his ability to steamroll his opposition. To many that power seemed to be rooted in his appeal to the media, which fawned over him despite his mistakes. Instead of negotiating with Republicans, he was typically able to cut through their meek opposition. The unseating of former House Speaker John Boehner was due, at least in part, to his inability to resist the administration during the debt hike crises. Obama won those fights, and the media treated him like a sacred object of veneration. Yet it still does not explain why he prevailed against a caucus of congressmen who were not living within media markets or receptive to the kind of pressure the administration could exert. Indeed, if anything, the 2010 election results and anti-Obama sentiment should have made Republican resistance firmer, but instead it was shallow and weak.
GOP senators ask Tillerson to probe US funding of Soros groups abroad. Republican senators are asking Secretary of State Rex Tillerson to investigate claims that U.S. taxpayer money is being used to back left-wing billionaire George Soros' political meddling and similar efforts overseas. A letter sent Tuesday asked for a probe into how U.S. funds are being used by agencies such as the United States Agency for International Development (USAID) to back left-wing political groups in other countries. Sen. Mike Lee, R-Utah, one of the co-signers, even said foreign officials and political leaders have come to him with "reports of U.S. activity in their respective countries."
Trump to Drop Climate Change From Environmental Reviews, Source Says. President Donald Trump is set to sign a sweeping directive to dramatically shrink the role climate change plays in decisions across the government, ranging from appliance standards to pipeline approvals, according to a person familiar with the administration's plan. The order, which could be signed this week, goes far beyond a targeted assault on Obama-era measures blocking coal leasing and throttling greenhouse gas emissions from power plants that has been discussed for weeks. Some of the changes could happen immediately; others could take years to implement. It aims to reverse President Barack Obama's broad approach for addressing climate change.
Scott Pruitt Is Absolutely Right About Carbon Dioxide. For pro-free-marketers, the big bright spot of the Trump administration is the hatchet he's taking to the Environmental Protection Agency: doing things like packing the agency with global warming skeptics and rolling back absurd new automobile mileage mandates. The man in charge of this is new EPA Administrator Scott Pruitt, who up to now has been cautious about saying anything that would express his skepticism that human emissions of carbon dioxide are causing global warming. Except now he's done it.
Fire the IRS chief already, Mr. President. Why is IRS Commissioner John Koskinen still in office? A growing number of Capitol Hill Republicans want to know — and they have good reason to be troubled. When he took over in 2013, Koskinen was supposed to "fix" the IRS — and in particular get to the bottom of the scandal in which the agency deliberately held up approvals for 75 conservative and Tea Party groups that had applied for legitimate tax exemptions. Instead, what Congress and the public got from him was obstruction, open defiance and a refusal to discipline anyone at the agency. Indeed, he seemed most concerned with running interference to shield the Obama administration from any embarrassment.
Trump wants UN funds cut more than 50 percent: report. President Trump's administration has told the State Department to cut more than 50 percent of U.S. funding to United Nations programs, Foreign Policy reported. The push for the drastic reductions comes as the White House is scheduled to release its 2018 topline budget proposal Thursday [3/16/2017], which is expected to include a 37 percent cut to the State Department and U.S. Agency for International Development budgets. It's not clear if Trump's budget plan, from the Office of Management and Budget, would reflect the full extent of Trump's proposed cuts to the U.N.
Federal Judge Blasts Unprofessional Behavior of Justice Department Lawyers. Here we go again. Another federal judge has scalded the unprofessional conduct of Justice Department lawyers inside the Civil Rights Division. The first time it was perjury. After that, it was unethical conduct in a trial against New Orleans police officers. Now it's unprofessional behavior and bigotry toward the South in a federal court trial challenging Texas legislative districts. United States Fifth Circuit Court Judge Jerry Smith has scalded a DOJ lawyer for misbehavior in the courtroom. While it wasn't perjury this time, it was behavior Justice Department lawyers aren't supposed to do. It's behavior Attorney General Jeff Sessions will notice and should address.
Pruitt Takes Control of EPA, Kills Global Warming Hoax, Gets Rid of "Social Justice" Dept. New [EPA] director Scott Pruitt has come clean and admitted that he doesn't believe CO2 has anything to do with global warming, plans to dismantle the whole social justice department, and examine other money-wasting programs. Firstly, Pruitt has recently fessed up to his beliefs and admitted that global warming is a hoax. [...] He also plans to eliminate the entire social justice department, which has very vague views of what it does, and taxpayers have had to waste money on. The department deal with neighborhood complaints and ordinances, and looks into communities who may complain about "pollutants" in their air, food, or water, that may be coming from factories or businesses who are supporting the local economy.
Sessions asks 46 Obama-era US Attorneys to resign. Attorney General Jeff Sessions has asked dozens of U.S. attorneys appointed by former President Obama to submit their resignations, the Department of Justice announced Friday [3/10/2017]. U.S. attorneys are normally replaced at the beginning of new administrations. Of the 93 U.S. attorneys, 46 remain from the past administration, according to the Department of Justice.
Top Generals: U.S. Has 'Squeezed' the Life Out of Aging Nuclear Deterrence Systems. The U.S. military is relying on zero-hour modernization to maintain its aging nuclear arsenal as an effective deterrent against adversaries, according to two top U.S. generals. Gen. Paul Selva, vice chairman of the Joint Chiefs of Staff, testified before the House Armed Services Committee that the United States cannot defer nuclear modernization without "significant risk" to its deterrent capabilities, particularly as other countries like Russia and China are working to revolutionize their forces.
Republicans want to know why Trump hasn't fired the IRS head. Nearly two months into the Trump administration, the IRS commissioner House Republicans once threatened with impeachment remains on the job. John Koskinen's continued tenure may be surprising, considering how aggressively Republicans went after him under the Obama administration. But despite a sustained push by congressional Republicans to oust the IRS chief before his five-year term expires this November, President Trump so far has made no move to do so. Just last week, Koskinen was seen in the Capitol and told Fox News he was there to meet with "old friends." Asked if he intended to stay on as commissioner during the Trump administration, Koskinen simply said, "They haven't talked to me."
Stunning Win — Exxon Mobil Will Invest $20 Billion Building New Refineries. One of the missing elements in our quest for energy independence has always been the lack of oil refining capacity to produce gasoline and other fuel end-products. Years of choking fossil fuel regulation, partly funded and supported by an alignment of special interests including foreign governments, OPEC and eco lobbyists, has created a situation where over half of our oil refining capability was eliminated. With the election, and independence, of Donald Trump that course has changed dramatically. Trump is not beholden to the lobbyists and special interests who pay for the U.S. to remain dependent on foreign oil and off shore refinement.
America's Path to Greatness: Border Adjust Oil. I believe a proper approach aligned with America's self-interest would look something like this: [#1] Impose a border adjustment tax of 20% for imports of oil into the USA to level the playing field for the manipulated oil market. All that the Federal Government has to do is to implement the oil border adjustment and the promised tax and regulation reductions including enabling private shale oil production on government lands. Private industries will do the rest to make us energy independent by 2020. [#2] Next, exit our military involvements in the Middle East. If we are energy independent, we would have no rational strategic foreign policy interests in the Middle East. USA money would no longer purchase imported oil which is the main revenue source to fund terrorism and dictatorships. [#3] Phase out the government subsidies for solar power, wind power and electric vehicles. [#4] In 2020 eliminate the Department of Energy and Congratulate Rick Perry on achieving energy independence.
It's worth every nickel, and more importantly, it is fully authorized by the Constitution, inasmuch as we are being invaded.
White House: Border wall cost could run $25 million per mile. The estimates of President Trump's proposed border wall run anywhere from $8 million to $25 million a mile, White House budget director Mick Mulvaney said in a radio interview Monday — though he said no decisions have been made on exactly what the wall will look like. Mr. Mulvaney, speaking on the "Hugh Hewitt Show," said the White House will ask for some money in the next couple of weeks but won't know the details of the cost and construction until it prepares its 2019 budget, which won't be for another year.
No Wall, No Raids, Just Enforce the Employment Laws. I admire immigrants. They've traveled thousands of miles to build better lives in a strange land where many don't even speak the language. They send much of the money they earn here back to their families in their homelands. America could use more such courage, work ethic and selflessness. I like seeing such people come to America — legally. But the illegal kind is a different story. Though they may be admirable in many respects, illegal immigrants are still breaking the law. To say that they are merely "undocumented workers" is to say that an intruder in your house is merely an "undocumented visitor." It sacrifices truth at the altar of political correctness.
Why Trump Should Quit the Dangerous and Immoral United Nations' International Treaty on Climate Change. The New York Times is urging President Trump to ignore the facts and the evidence, and instead listen to the siren voices of his daughter Ivanka, his Secretary of State Rex Tillerson and the various assorted members of the Climate Industrial Complex who would prefer the U.S. to remain shackled to one of the most stupid and pointless agreements in American history. They want him to keep the U.S. stuck in the disastrous and ill-advised United Nations Framework Convention on Climate Change (UNFCCC).
Wilbur Ross: We're 'up to our eyeballs' finding regulations to nix. Commerce Secretary Wilbur Ross said Friday that he and others on the economic team of President Donald Trump "are up to our eyeballs" in their search for government regulations to be undone. Trump, who campaigned on an economic message of growth and job creation, has made reducing government regulation a priority in the opening weeks of his presidency. Just 10 days into his administration, the president signed an executive order mandating that for each new regulation put into effect, two others must be removed. And last week, Trump signed an order requiring federal agencies to create regulatory reform task forces.
Sessions Promises to End Federal Harassment of Local Police. Speaking this week to the National Association of Attorneys General, U.S. Attorney General Jeff Sessions (shown) said the Department of Justice will end the Obama-era harassment of local police departments. "We need to help police departments get better, not diminish their effectiveness, and I'm afraid we've done some of that. So we're going to try to pull back on this," Sessions stated in giving the reason for this abrupt change of policy. "I don't think it's wrong or mean or insensitive to civil rights or human rights. It's out of concern to make ... people, particularly in poor communities, minority communities, live a safer, happier life."
Trump's team scraps Obama-era ban on lead bullets. Hours after literally riding into town on a horse for his first day on the job, Interior Secretary Ryan Zinke on Thursday scrapped an Obama-era ban on hunting with lead bullets on federal lands. The rule, put into place during the final days of the Obama administration, was cast as an attempt to prevent the lead poisoning of animals on all lands overseen by the U.S. Fish and Wildlife Service. But critics — including sportsmen's groups, gun rights organizations and a host of others at the federal and state levels — said it was designed to discourage hunting. Mr. Zinke seemed to agree, signaling that he believed the rule hindered hunting and fishing for many Americans.
Donald Trump Orders Deconstruction of Obama-Era EPA Water Rule. President Donald Trump signed an executive order Tuesday effectively walking back the "Waters of the United States" rule issued by the Environmental Protection Agency (EPA) during the Obama administration. "EPA's so-called waters of the United States rule is one of the worst examples of federal regulation, and it's truly run amok," Trump said during the signing ceremony in the Oval Office. Farmers, ranchers, and agricultural businesses opposed the rule, as it allowed the EPA to regulate any water on a farmer's land.
The Bloated Military. The military needs cuts just like every other government bureaucracy. They waste money on administrators, overpriced contractors, and even on those occasions when they want to do the right thing and cut some waste, Congress insists they spend the money anyway. The Defense Department asked Congress not to spend more on "Super Hornet" aircraft, calling it "unnecessary funding." Congress appropriated the money anyway. The military says a quarter of their bases serve no military need. Congress appropriated the money anyway.
More Soldiers, Fewer Bureaucrats. That is President Trump's budget proposal in a nutshell. Trump's plan will include a "whopping" $54 billion increase in defense spending, according to the Associated Press. That will take the defense budget a little more than half way to where it was when President Obama started cutting it in 2011. The president's budget will "impose corresponding cuts to domestic programs and foreign aid," meaning pretty significant cuts for most federal agencies.
Obama administration neglected priorities to focus on climate change, new EPA chief says. Environmental Protection Agency Administrator Scott Pruitt on Saturday [2/25/2017] said the Obama administration neglected would-be department priorities to pursue a climate change agenda and hinted that a rollback of some regulations could be announced as soon as next week. "I wanted to send a message to those at the agency — there are some very important things that the EPA does for this country," Mr. Pruitt said on the final day of the Conservative Political Action Conference. "There are air quality issues and water quality issues that cross state line[s]."
Trump Pentagon names the enemy: It's ISIS, not ISIL. ISIL has been vanquished — at least as an acronym in the administration of President Donald Trump. The Pentagon has issued a directive that officials now use the more common term ISIS to refer to the terror group. ISIL, which stands for Islamic State of Iraq and the Levant, was the preferred acronym of the Obama administration. Some senior State Department officials and military commanders in the field preferred to use the Arabic acronym Daesh, but ISIL appeared in all official documents and statements.
Amid Backlash, Conservatives Push GOP on Obamacare. The Obama administration and Democratic congressional leaders wrote off the Tea Party protests in the spring of the new president's first term as "astroturf" organizing, manufactured to look like a grassroots movement. Democratic lawmakers were caught off guard by raucous demonstrations at town halls in the summer of 2009, and dozens would be swept out of office the following year. Now, with a restive liberal base taking a page from the same playbook — and even earlier than their conservative predecessors — some conservatives are fighting back.
We conservatives didn't vote for the Trump kids or their leftist ideas. You kids go home and let Daddy do his work.
Ivanka, Jared Intervened To Strip Language Critical Of The Paris Climate Accords Out Of An Executive Order. Ivanka Trump and her husband, White House senior adviser Jared Kushner, intervened to get a pending executive order stripped of language critical of an international climate agreement signed by President Barack Obama. Kushner and Ivanka "intervened to strike language about the climate deal from an earlier draft of the executive order," sources familiar with the matter told The Wall Street Journal. Ivanka and her husband "have been considered a moderating influence on the White House's position on climate change and environmental issues," WSJ reports. Now, the executive order will have no mention of the so-called Paris agreement.
Once again, we conservatives voted (reluctantly) for Donald Trump, not his wife or kids.
Inside Ivanka Trump's Campaign for a $500 Billion Child-Care Plan. Ivanka Trump has urged lawmakers writing a tax overhaul to include a deduction for child care expenses, but with a price tag of as much as $500 billion over a decade she may have trouble finding support in Congress. Members of the House and Senate met with the president's eldest daughter in the Roosevelt Room at the White House last week to discuss her proposed child care tax benefit, according to a person with knowledge of the meeting. President Donald Trump said earlier this month that he would soon propose a comprehensive tax overhaul, without offering any details.
Report: Donald Trump Overrides Betsy DeVos' Support for Obama's Pro-Transgender Policy. Donald Trump's education secretary opposed changing President Barack Obama's pro-transgender policy, according to a report in the New York Times, even though Obama's rules would have exposed the nation's single-sex institutions and civic groups to crippling lawsuits by gay advocacy groups. But Attorney General Jeff Sessions prevailed in the closed-door dispute, and with aid from Trump, persuaded Education Secretary Betsy DeVos to support a reform of the Obama's pro-transgender policy.
Trump administration revokes Obama-era transgender bathroom guidance for schools. The Trump administration Wednesday [2/22/2017] revoked federal guidelines issued by former President Barack Obama that allowed public school students to use restrooms and other facilities corresponding to their gender identity. A document submitted to the Supreme Court by the Solicitor General's office said that the Obama-era directive issued this past May did not "undergo any formal public process" or explain how the directive was "consistent with the express language of Title IX," the federal law outlawing sex discrimination in education and activities.
Trump's New Guidance Calls for Vigorous Immigration Enforcement. The immigration-enforcement guidance issued by President Trump Tuesday morning [2/21/2017] patently aims to shift the presumption against deportation created by President Obama's guidance. In 2014, under the guise of setting out "immigration enforcement priorities," Obama's Department of Homeland Security established a three-tier system for deportation. This was quite advisedly done under the rubric of "prosecutorial discretion." Federal agents were instructed to apply prosecutorial discretion as early in the evaluation process as possible, mindful of how sparse were resources to arrest, detain, and deport removable aliens. The message was clear: If an alien does not fit into the top tier, do not even bother to stop and question him, much less to arrest and commence deportation proceedings.
DHS secretary orders immigration agent hiring surge, end to 'catch-and-release'. Homeland Security Secretary John Kelly moved Tuesday to implement a host of immigration enforcement changes ordered by President Trump, directing agency heads to hire thousands more officers, end so-called "catch-and-release" policies and begin work on the president's promised U.S.-Mexico border wall. "It is in the national interest of the United States to prevent criminals and criminal organizations from destabilizing border security," Kelly wrote in one of two memos released Tuesday [2/21/2017] by the department. The memos follow up on Trump's related executive actions from January and, at their heart, aim to toughen enforcement by expanding the categories of illegal immigrants targeted for deportation.
Trump administration to repeal transgender school bathroom order: Report. The Trump administration will rescind an Obama-era order compelling public schools nationwide to permit restroom and locker room access on the basis of gender identity, the Washington Blade reported. The Blade cites Mara Keisling, executive director of the National Center for Transgender Equality, who says she heard from "reliable sources" that President Trump has authorized the Education and Justice Departments to revoke the guidance.
Who Will Hold the IRS Accountable? Americans don't toss and turn at night over fears of a hazy network of Russian hackers. But they do fear letters from the IRS. To their credit, a few conservative Republicans in the House still draw attention to the unresolved scandal at the IRS. "Frankly in my view the most corrupt IRS commissioner that I've ever dealt with continues in my view to mislead Congress," according to Kevin Brady, chairman of the House Committee on Ways and Means. "And until he's removed I don't think the IRS will ever regain its credibility." Brady is referring to the still-unsacked John Koskinen, the Obama-appointed IRS commissioner who stonewalled Republicans during the Lois Lerner investigation.
Scott Pruitt's Game-Changing Call for Debate on Climate Science. In light of charges by a former National Oceanic and Atmospheric Administration scientist that agency researchers are manipulating data to support climate alarmism, Scott Pruitt — President Donald Trump's nominee to head the Environmental Protection Agency — is right to call for open debate on the science. At stake are trillions of dollars, countless jobs, and, if the climate scare is justified, the fate of the global environment. The public needs to have confidence that this is not just a politically convenient crusade devoid of solid scientific support.
Terror plots against U.S. planned by foreign nationals in seven countries on Trump's ban list. Nationals from seven countries listed on a travel ban issued by President Trump have participated in ongoing terrorist plots against the U.S., according to congressional and law enforcement reports that challenge the widely circulated media criticism that no one from those nations has ever staged an attack on American soil. A Senate Judiciary Committee report last year found that of the 390 foreign nationals arrested on terrorist-related charges since the Sept. 11 attacks, 67 come from the countries listed in the travel ban.
Trump Won't Do What Is Necessary To Defeat ISIS Because That Would Be War. Shortly after entering office, President Trump asked his staff for a "comprehensive strategy" to defeat ISIS within 30 days. After all, this was one of his campaign promises — to do what the Obama administration had left undone. As this deadline approaches, we should ask ourselves what would actually be required to destroy ISIS. The reality is, it would most likely necessitate a holistic and long-term approach in Iraq along the lines of George W. Bush's 2007 surge. But this would cost the president significant political capital, especially with a public that has little taste for overseas adventures. Trump, despite his bluster, is unlikely to do this, which is why his "comprehensive strategy" on ISIS could be a non-starter.
President Trump Signs Bill Repealing Obama's Lame-Duck Coal Regulation. Another Campaign Promise Fulfilled — People's President Trump signs a resolution of disapproval bill today eliminating one of President Obama's last minute regulations intended to cripple the coal industry. Prior to signing the repeal, President Trump held a brief presser with legislators and some very happy coal miners.
Trump Says He Is Keeping His Promises to the American People. The People Agree. President Donald Trump said on Thursday [2/16/2017] that he has been delivering on his campaign promises and the American people overwhelmingly agree, according to a poll released early Thursday morning showing that a majority of people on both sides of the aisle agree with Trump on this point. "I'm keeping my promises to the American people," Trump said in the opening statement of his Thursday press conference. "One promise after another, after years of politicians lying to you to get elected." "I'm here following through on what I pledged to do," he said. "It's all I'm doing."
Secretary Rex Tillerson Begins Deconstructing 7th Floor "Shadow Government" at Dept of State. The term "shadow government" is not a construct of critics; it's actually the term the professional bureaucrats within the 7th floor of the Washington DC based Department of State gave to themselves. The career political operatives who reign within the State Department openly view themselves as a distinctly separate state governing authority, with no attachment to the policies or objectives of the United States presidency or any mere elected official therein.
It Has Begun, Tillerson Fires Most of the 7th Floor. Americans were stunned to learn of the State Department rogue Shadow Government which operated in secret from the 7th floor. They were behind the corrupt handling of the Clinton documents. CBS News announced that Rex Tillerson, the new Secretary of State, fired most of the 7th floor policy makers who so famously called themselves the "shadow government". Policy will be controlled by the White House, not professional diplomats, CBS stated. CBS bemoans the loss of the shadow government's policy-making expertise.
Tillerson presides over abrupt shakeup at State Department. Secretary of State Rex Tillerson has reassigned a majority of the staff meant to work most closely with the top US diplomat in what career officials at the State Department fear is the start of a major reorganization. The news sent shock waves through the agency and has left career officials on edge, in part because of its abrupt nature — taking place before their assignments end this summer and replacements have been found — and in part because these officials help the secretary, a government novice, work with policy experts throughout the building.
Report: 72 convicted of terrorism from 'Trump 7' mostly Muslim countries. Since 9/11, 72 individuals from the seven mostly Muslim countries covered by President Trump's "extreme vetting" executive order have been convicted of terrorism, bolstering the administration's immigration ban. According to a report out Saturday [2/11/2017], at least 17 claimed to be refugees from those nations, three came in as "students," and 25 eventually became U.S. citizens. The Center for Immigration Studies calculated the numbers of convicted terrorists from the Trump Seven:
— Somalia: 20
— Yemen: 19
— Iraq: 19
— Syria: 7
— Iran: 4
— Libya: 2
An Alleged Muslim Spy Ring — Why Rex Tillerson Was Right To Clean House. Shortly after Trump took office, and before Rex Tillerson was even confirmed as Secretary of State, a slew of State Department officials were removed from their positions (or were forced to resign) as part of an effort to "clean house" at the State Department. [...] And, just a few weeks after the fact, it appears we know why Tillerson was so quick to purge existing staffers: he just didn't trust them. It also appears his mistrust was more than justified.
There Are Still 117 Court Vacancies To Be Filled By Trump. President Donald Trump's influence on the federal judiciary goes further than just filling one seat on the Supreme Court. The president needs to fill 117 vacancies on various federal courts. On Jan. 31, Trump nominated Neil Gorsuch to fill the Supreme Court seat left vacant by the death of Justice Antonin Scalia. While this was certainly an important seat to fill, more than 13 percent of all lifetime judiciary positions remain vacant.
Four reasons why Betsy DeVos will be a welcome remedy for our nation's education woes. As opinion pieces in the New York Times and Wall Street Journal have argued, the overheated Democratic opposition is motivated by: [#1] Some of their party's most deep-pocketed and powerful interest groups — teachers' unions — who realize that they will no longer have a near-monopoly on education. [and #2] Their party's upper-middle-class suburbanite constituency, who understand that DeVos' charters and vouchers will be attractive to families with financial disadvantages, ethnic minority heritage, or ideological and religious convictions that differ from the mainstream. In other words, private schooling will be accessible to children who are very different than the Democratic Party's upper-middle-class suburbanites.
Groups want Trump to close loophole allowing illegal immigrants to abuse tax credits. Illegal immigrants need only one number to access billions of dollars in free taxpayer cash. The Individual Tax Identification Number (ITIN) unlocks an exclusive gateway for non-citizens to receive monies meant for working, low-income Americans. The nine-digit code was created by bureaucrats in 1996 for foreigners who had to deal with the IRS. It allows people without a Social Security number, including those in the country illegally, to file taxes. "It's just a farce to say it was created to collect taxes," Robert Rector, senior research fellow at the Heritage Foundation, told Fox News. "It's nothing but a welfare program designed for illegal immigrants. ITINS are for tourists or illegals. No ITIN filer is eligible to work in the United States."
Border jumping per se is a crime, so it doesn't matter if that's their only crime.
Trump's 'criminal alien' deportation plan could remove 75 percent of illegal immigrants — including people whose only crime was border-jumping. At least 75 percent of the people living illegally in the United States will be subject to deportation under President Donald Trump's new executive orders, an immigration expert said. Simply hopping the border could get an immigrant kicked out, suggested Robert Mortensen, a retired career U.S. Foreign Service officer, writing for the right-of-center Center for Immigration Studies. Mortensen, whose writing was first reported on by the Washington Examiner's Paul Bedard, pointed to three key provisions in Executive Order 13768, which could impact the broad swath of illegal immigrants living in the country.
Tom Fitton Statement On The Confirmation of Jeff Sessions as United States Attorney General. "When it comes to public policy, the Justice Department has been a locus of evil. President Obama ruined the Justice Department. Senator Sessions, now the Attorney General has to build it from the ground up, practically speaking. On every public policy issue conservatives care about, the Justice Department has been on the other side and usually against the rule of law and helping corrupt politicians try get away with it. So Senator Sessions really has to reorient the Justice Department to actually advance the interest of the American people and the rule of law, as opposed to subverting it. [...]" [Video clip]
Kill Obama's Legacy Projects. President Donald J. Trump simultaneously can advance his policy agenda, fortify the rule of law, and paint vulnerable Democrats into a corner. How? Rather than kill Obama's legacy projects unilaterally, Trump should invite Congress to help him scrap the Iran nuclear deal, the Paris agreement on so-called global warming, and the related Clean Power Plan (CPP). This will force vulnerable Democrats on Capitol Hill to vote on these calamitous measures.
Trump Must Break Judicial Power. When politicians don black robes and seize powers they do not have, they should be called out for what they are — usurpers and petty tyrants. And if there is a cause upon which the populist right should unite, it is that elected representatives and executives make the laws and rule the nation. Not judges, and not justices.
Sessions Sworn In as Attorney General as Trump Signs Three Executive Orders. Vice President Mike Pence swore in Sen. Jeff Sessions as attorney general at the White House Thursday [2/9/2017]. Just prior to the ceremony, President Donald Trump announced three executive orders designed to restore safety in America. "These executive actions continue to deliver on my campaign promises," the president said. The orders instruct the Department of Justice to go after criminal cartels, to form a taskforce to reduce violent crime in the country and to implement a plan to stop crimes targeting law enforcement officials.
Obama appointees flee Pentagon; Trump left with scores of vacancies to fill. The Pentagon has been stripped of almost all of its political appointees from the Obama administration, but an uncertain Senate future awaits the candidates whom President Trump will nominate to remake the armed forces in his image. Of Mr. Obama's 163 political appointees at election time, who included Senate-confirmed service secretaries, undersecretaries and assistant secretaries, only 16 remain at the Defense Department, according to a Pentagon statement to The Washington Times. The exodus might be considered normal in the transfer of power: Political appointees are required to turn in their resignations in December.
Poll Collapses Media Narrative — Overwhelming EU Support for a Muslim Ban. A stunning poll of ten European nations with over 10,000 respondents finds overwhelming support for a Muslim immigration ban within the EU. In total 55% agree Muslim immigration should be stopped, only 20% disagree.
Americans Praise Trump's Executive Orders, Poll Shows. President Donald Trump has evidently found a popular poll that isn't "fake news." The commander-in-chief, under fire for and awaiting the ruling of the Ninth Circuit Court of Appeals ruling on his immigration ban, tweeted out a Morning Consult/Politico poll that shows a majority or plurality of Americans support his executive orders. In particular, the results show that 55 percent of the 2,070 respondents support both revoking federal funding to sanctuary cities and the same percentage are for the ban that locked out immigrants for seven Muslim-majority countries. In contrast, 33 percent disapproved of the sanctuary cities de-funding and 38 percent disapproved of the immigration ban.
New Poll Shows Most Americans Support President Trump's Immigration Ban. Approval of President Trump's executive order that temporarily freezes immigration is on the rise. According to a new poll conducted by Investor's Business Daily and TechnoMetrica Market Intelligence, 51 percent of voters approve of the president's decision to temporarily restrict citizens from Iran, Iraq, Libya, Somalia, Sudan, Syria and Yemen from entering the country, while 42 percent of Hispanics who were surveyed also approved.
Kentucky Rep. Thomas Massie Launches Bill to Abolish Federal Education Department. Rep. Thomas Massie (R-KY) is introducing legislation that would abolish the federal education department. The bill, H.R. 899, is only one sentence and states: "The Department of Education Shall Terminate on December 31, 2018."
Trump's Travel Order Shields the U.S. from Real-Life Migrant Mayhem. If President Donald J. Trump really wanted a "Muslim ban," as his manic critics insist, he would have barred from the Golden Door the citizens of Indonesia (Earth's most populous Islamic nation), Bangladesh, and Egypt, for starters. Instead, of 51 Muslim-majority countries and territories, Trump has placed temporary travel limits on just seven: Iran, Iraq, Libya, Somalia, Sudan, Syria, and Yemen. While some 205 million people are affected by this 90-day order, notwithstanding court orders to the contrary, just north of 1 billion people in those 44 other places are as welcome here as ever. Some "Muslim ban." Trump's executive order actually grants federal officials a grand total of three months to figure out how to give people from those seven states stricter scrutiny — not because they are Muslims, but because those spots are awash in militant Islam.
Trump's Visa Freeze Stands on Solid Legal Ground. Reading through the dozen-plus complaints filed so far against the Trump visa freeze reminds one of the lawyers in ancient Greece who would parade the wife and children of the accused before the judge and jury to emotionally dissuade them from a conviction. First among those here to carry on that tradition is probably Washington, the only state to file a complaint so far and the only complainant to obtain a temporary restraining order (TRO) that applies nationwide. According to state attorney general Bob Ferguson, the state must "protect ... its residents, its employers, and its educational institutions" against the president, whose order is "separating" families, "harming" residents, and "undermining" the entire state in its interest to remain "a welcoming place for immigrants and refugees." The parade of horribles continues. Ferguson goes on to single out the "injuries" caused by the potential loss of H-1B visas to Washington-based tech behemoths Microsoft, Amazon, and Expedia. As immigration-control advocates know well, the sentimental exploitation employed by "immigration rights" activists has always been used to legitimize the cheap-labor lobby. That marriage of convenience is on full display in Ferguson's complaint.
Video of Democrats Supporting Trump Immigration Position — A Reply to 84 Lumber's Support for Illegal Immigration. On Super Bowl weekend, 84 Lumber produced a documercial containing their political appeal toward all Americans and demanding that our nation should fully support illegal mass immigration. The building and supply company purchased a $15 million advertisement to air during the NFL championship football game. The open border Democrat and progressive constituency has applauded the position of 84 Lumber, however there has also been massive back-lash from Americans who simply request the enforcement of borders and a reasonable immigration policy.
51% Back Trump's Temporary Ban On Refugees — IBD/TIPP Poll. Despite almost nonstop criticism from politicians, prominent business leaders and the media over President Trump's decision to suspend refugees for 120 days, the public still supports Trump by a margin of 51% to 48%, according to the latest IBD/TIPP poll.
Trump Starts His Revolution As Reporters and Judges Scream. The President will eventually almost certainly be upheld legally, given the immigration legislation from 1952 and the constitutional powers of the president, which his six immediate predecessors have used. His abiding by the legal processes, if it does lead to judicial legitimization, will severely undercut his opponents. Even if he is ultimately unsuccessful, he has made the gesture, which the apparent majority of Americans support as a national-security measure. His opponents will bear the responsibility if there are any incidents that could arguably have been avoided if his measure had not been challenged. Senator Schumer and others will regret their fatuous histrionics ("The statue of Liberty is weeping," as Mr. Schumer himself pretended to do).
Let's Get Real About the Trump Travel Ban. Hysteria reigned last weekend over President Trump's executive order (EO) restricting travelers from seven countries (Iran, Iraq, Syria, Yemen, Libya, Sudan and Somalia). These countries are located in the Middle East and North Africa. There are a few aspects of this executive order that need to be reviewed. This is not an attack against Muslim countries. You all know that this is branding by the Left, but not real. There are 46 other majority Muslim countries that were not included in the EO. You probably also know that these countries were designated by the prior presidential administration as countries "of concern."
The Beginning of the End of EPA. At the Republican National Convention last summer, the GOP approved a platform that stated: "We propose to shift responsibility for environmental regulation from the federal bureaucracy to the states and to transform the EPA [Environmental Protection Agency] into an independent bipartisan commission, similar to the Nuclear Regulatory Commission, with structural safeguards against politicized science." It also says "We will likewise forbid the EPA to regulate carbon dioxide, something never envisioned when Congress passed the Clean Air Act." [...] Trump and the GOP are saying, finally, what millions of people have been thinking for a long time: EPA has become the cause of, not the solution to, the nation's major environmental problems. It's time to end EPA.
Meltdown at the EPA. [Steve] Milloy, who runs the website JunkScience.com, has chronicled the scientific and bureaucratic abuse at the EPA for two decades, and he is thrilled by President Trump's plans to finally reform the EPA. "I can think of no agency that has done more pointless harm to the U.S. economy than the EPA — all based on junk science, if not out-and-out science fraud," Milloy told me. "I am looking forward to President Trump's dramatically shrinking the EPA by entirely overhauling how the remaining federal EPA uses science." It looks like the EPA will be the agency hardest hit by the Trump sledgehammer.
The Spontaneous Demonstrations at Our Airports Were Carefully Planned. Those "Spontaneous Anti-Trump Airport protests weren't Spontaneous at all," reports Investors Business Daily. They were carefully planned by hard-core left-wing activist groups. Professional organizers have been waiting for, and planning for Trump's orders on deportations, bans and detentions. Trump made it clear early that he planned 'on day one' to issue a temporary ban on visas and refugees from countries where terrorism was rampant. All these groups had to do was be ready when he made good on his campaign promise. The news media was astonished, and rushed to report every last sign, shout, shouter, bullhorn and count the crowds. Yet the groups planning the "spontaneous" protests had been eager to share, and claimed to be in "constant contact with lawyers' associations, lawmakers and reporters." So how much was fact and how much was made up or wildly exaggerated? How many times did you hear that it was a "Muslim Ban?" It was not. There was no Muslim Ban.
Make All Federal Employees Fireable. The American people are paying for employees they can't even control. Federal bureaucrats enjoy ludicrous protections that far exceed what average Americans can expect in their own jobs and thus isolate the bureaucracy from the will of the American people. To correct this, Congress should pass a law to make all federal employees serve at will — just like Americans in the private sector. If a bureaucrat underperforms, undermines policy, or is no longer needed, he should be dismissed. Once upon a time, this was common sense.
Mike Pence vows to use 'all legal means at our disposal' to reinstate Muslim travel ban. Vice President Mike Pence promised on Sunday [2/5/2017] that he will use 'all legal means at our disposal' to reinstate the suspended Muslim travel ban. Pence said that Judge James Robart's decision on Friday [2/3/2017] that the ban was unconstitutional and had to be delayed was 'wrong'. 'From the outset of his campaign and administration, the president of the United States has made it clear to put the safety of the American people first,' Pence told Fox News Sunday. 'We are going to win this argument.'
Immigration. First of all, let's get something straight: this isn't anything new. President Obama in 2011 all but halted visas for Iraqis after two Iraqi immigrants were arrested in Kentucky on suspicion of terrorist ties. Further back, the Chinese Exclusion Act was the first piece of American legislation meant to prevent a specific ethnic group from entering the United States. The left's Patron Deity of Statist Assery FDR in 1942 turned away hundreds of desperate Jewish refugees on the SS Drottningholm, claiming they were a threat to national security. It's a [deplorable] history, but I don't see the pearl-clutching condemners of Trump's recent Executive Order mentioning it in their current outrage about the halt to immigration.
Report: About 900 State Dept. Officials Sign Dissent Memo on Executive Order. About 900 State Department officials have reportedly signed on to a memo disagreeing with the Trump administration's refugee ban and block of people entering the country from a handful of Muslim-majority nations despite White House warnings that they should fall in line.
President Trump Stops Suicidal Immigration Policy — Left Goes Nuts. President Donald J. Trump's finest hour in his first week in office came Friday when he announced that immigration from seven terrorist hotspots would be severely restricted for the next four months and banned entirely from Syria, the center of the Islamic State Caliphate. This sensible policy about which President Trump spoke regularly during the campaign has induced mass hysteria in the establishment media and establishment opinion leaders, who apparently forgot, or didn't believe that this is a promise Donald Trump made to the American people during the campaign and that voters in 30 of the 50 states voted overwhelmingly for him preferred his position over the open borders promised by Mrs. Clinton.
Trump weighs additional immigration restrictions to weed out any who may need public aid. The Trump administration is considering a plan to weed out would-be immigrants who are likely to require public assistance, as well as to deport — when possible — immigrants already living in the U.S. who depend on taxpayer help, according to a draft executive order. A second draft order under consideration calls for a substantial shake-up in the system through which the United States administers immigrant and nonimmigrant visas, with the aim of tightly controlling who enters the country and who can enter the workforce, and reducing the social services burden on taxpayers.
The Editor says...
It's the law. Read 8 USC §1182 for yourself.
This Is Why Donald Trump Is President. A healthy majority of Americans still view the main stream media outlets as nothing more than propaganda machines for the establishment using disinformation and manipulation in a fashion comparable with Soviet-run journalism, collaborators in perpetuating a corrupt status quo. President Trump exploited already-existing sentiments, spawned by non-representative government and an out-of-touch media, but a movement lacking a leader around whom we could rally, someone who would express our views and, if elected, implement those views as policy. Americans flocked to Trump because the country had a de facto one-party state, where all the traditional means for the people to seek the redress of grievances were blocked by the self-absorbed, unaccountable, permanent political-media elite.
With the Bureaucracy, Trump's Got His Work Cut Out for Him. Rep. Nancy Pelosi, then Speaker of the House, seemed like an utter fool when she said that ObamaCare would have to be passed before we knew what was in it. When she said 'we,' Pelosi didn't just mean the American public or even all those Democrats who voted for ObamaCare without having read the bill. She also included herself and other architects of that monstrosity. That's because the ObamaCare law — like many others laws — will come to mean what the relevant bureaucracies say it means. This is done through the regulatory power invested the government departments.
Trump Challenges The Internationalist Order. After just one week in office, President Trump has made a good start at dismantling the internationalist order that for nearly a century has tried to weaken and subordinate national sovereignty and identity to globalist institutions. The hysterical response of the global elites and this country's fellow-travelers tells us Trump is drawing blood. Trump's executive orders and comments on securing our southern border, renegotiating NAFTA, and banning refugees from jihadist-infested countries — from a list drawn up during the Obama administration by the way — drew the usual blustering dudgeon.
Yes, The Trump Executive Order On Immigration Is Legal. At National Review, lawyers Andrew McCarthy and Dan McLaughlin wrote about how the orders were legal and not all that much of a departure from Obama's immigration policy regarding refugees, visas, and national security — though McLaughlin added that he was troubled that the Trump administration was deluding America's tradition of taking in refugees and granting asylum to those who have been persecuted for a variety of sociopolitical reasons. At the same time, he noted that the Obama administration also discriminated against Christian Syrian refugees, ended the wet foot, dry foot policy with Cubans fleeing their communist hell hole, and stopped processing Iraqi visas for six months in 2011. Oh, and some of those visa applicants served as interpreters for the U.S. military and provided intelligence to our forces. But a Democrat was in the White House, and as McLaughlin cited, Cubans are more conservative-leaning voters, therefore not a priority for liberals, nor are persecuted Christians in the Middle East. It's not worthy of liberal outrage, but now with Republicans back in power — everything is triggering.
Trump's Executive Order is quite in order. Feminists, Hollywood celebrities, and Democratic legislators have denounced President Trumps Executive Order titled "Protecting the Nation From Foreign Terrorist Entry Into the United States." Demonstrators have surged at airports, class-action lawsuits have been filed, judicial restraining orders have been issued. I do not view this Act as a "Muslim Ban" since 49 other Muslim-majority countries are not specifically excluded here. Only seven failed Muslim states, well known for training Jihadists, as well as Iran, are named. But I want to focus on something else that no one has mentioned. As a feminist, scholar, and activist, I think this Order is long overdue.
Soros Bankrolling Effort to Stop Trump's Temporary Refugee Halt Order. The flurry of anguished news stories and protests surrounding President Trump's executive action temporarily suspending "immigrants and non-immigrants" from "countries of particular concern" appears to be part of a coordinated PR effort financed by left-wing billionaire George Soros. Rather than a complete "Muslim ban" as promised during the campaign, Trump's executive order contains moderate refugee restrictions, similar to those that have been implemented by President Obama.
Seven Inconvenient Facts About Trump's Refugee Actions. [#1] It is NOT a "Muslim ban." You will search the Executive Order in vain for mentions of Islam, or any other religion. By Sunday morning, the media began suffering acute attacks of honesty and writing headlines such as "Trump's Latest Executive Order: Banning People From 7 Countries and More" (CNN) and printing the full text of the order. Granted, CNN still slips the phrase "Muslim-majority countries" into every article about the order, including the post in which they reprinted its text in full, but CNN used the word "Muslim," not Trump. The order applies to all citizens of Iraq, Iran, Syria, Libya, Somalia, Sudan, and Yemen. It does not specify Muslims. The indefinite hold on Syrian refugees will affect Christians and Muslims alike. [...] [#6] The Executive Order is legal: Those invoking the Constitution to attack Trump's order are simply embarrassing themselves. The President has clear statutory authority to take these actions. As noted, his predecessors did so, without much controversy.
Trump's Executive Order on Refugees — Separating Fact from Hysteria. So, what did Trump do? Did he implement his promised Muslim ban? No, far from it. He backed down dramatically from his campaign promises and instead signed an executive order dominated mainly by moderate refugee restrictions and temporary provisions aimed directly at limiting immigration from jihadist conflict zones. Let's analyze the key provisions, separate the fact from the hysteria, and introduce just a bit of historical perspective. First, the order temporarily halts refugee admissions for 120 days to improve the vetting process, then caps refugee admissions at 50,000 per year. Outrageous, right? Not so fast. Before 2016, when Obama dramatically ramped up refugee admissions, Trump's 50,000 stands roughly in between a typical year of refugee admissions in George W. Bush's two terms and a typical year in Obama's two terms.
Ban of Muslims and Others Already U.S. Law: 8 U.S. Code 1182. Anyone questioning U.S. ability to control who comes to this country isn't thinking. What kind of country has not a single law to control their borders and keep their citizens safe? Not the U.S. We don't use laws, but we have them. A lot of pundits and politicians need to get over themselves.
President Trump's Immigration Ban is Magnificently Right. President Trump kicked over a hornet's nest by imposing a 90-day ban on immigration from selected Muslim countries in keeping with his campaign pledges. Andrew McCarthy, the federal prosecutor who convicted the blind sheikh and his accomplices of the first World Trade Center bombing, explains why the ban is legal — despite a federal judge's restraining order against implementation of the order. I'll leave it to the legal experts to explain why this is yet another outrageous abuse of power by the judiciary. The legal issues will be sorted out soon enough. It's the right policy, despite liberal whining and some conservative complaints.
Trump's Order on Refugees: Mostly Right on Substance, Wrong on Rollout. On Friday [1/27/2017], Donald Trump signed an executive order halting admission of refugees for 120 days and halting travel from seven majority-Muslim countries — Iraq, Iran, Syria, Yemen, Sudan, Libya, and Somalia — for 90 days while the federal government undertakes a review of admission procedures. He has also imposed an annual cap of 50,000 refugees. The instant backlash, which has culminated in thousands of protesters creating chaos at the nation's airports, is the result more of knee-jerk emotion than a sober assessment of Trump's policy. [...] In 2011, the Obama administration halted refugee-processing from Iraq for six months in order to do exactly what the Trump administration is doing now: ensure that terrorists were not exploiting the program to enter the country. No one rushed to JFK International to protest. Also, the seven countries to which the order applies are taken from Obama-era precedents. All of this said, Trump's order displays much of the amateurism that dominated his campaign.
Protester To Daily Signal: Obama's Temporary Iraqi Ban In 2011 Was Fine Because I Love Him. The president has stressed this is temporary. He's also well within his constitutional authority to issue this order. Moreover, they're nations that Obama included in his 2015 revision to the visa waiver program. This isn't a ban either, though the Obama White House seems to have laid the groundwork for Trump's executive order by initially selecting the nations of concern. Also, three of the seven nations in Trump's executive order are designated as state sponsors of terrorism. Again, this isn't a Muslim ban. People from Indonesia, the world's most populous Muslim country, can still come here.
Democrats Tried To Block Thousands Of Vietnam War Refugees, Including Orphans. Despite today's outrage over President Donald Trump's refugee executive order, many liberals in 1975 were part of a chorus of big name Democrats who refused to accept any Vietnamese refugees when millions were trying to escape South Vietnam as it fell to the communists. They even opposed orphans. The group, led by California's Gov. Jerry Brown, included such liberal luminaries as Delaware's Democratic Sen. Joe Biden, former presidential "peace candidate" George McGovern, and New York Congresswoman Elizabeth Holtzman.
Flashback to the '70s: The left's view of refugees, then and now. [Scroll down] What drove the opposition to taking in refugees who had worked with or supported the U.S. during the Vietnam War and whose lives, therefore, obviously were at risk when Saigon fell to the Communists? Was there any record of pro-U.S. South Vietnamese engaging in acts of terrorism against the U.S.? Of course not. Was there a concern about vetting them? I doubt it. If there was, it was not the stated reason for opposing their resettlement here. The stated reason was concern that Vietnamese refugees would take American jobs or go on welfare.
Obama Actually Committed More Religious Discrimination than Any That Trump Is Accused of. Any intellectually honest people who care about immigration should be far more upset with President Obama's immigration policies than President Trump's[.] Syrian Christians constitute 10% of the Arabs in Syria, yet during the Obama administration, they constituted from .5% to 1% of the refugees permitted to escape into America from Syria. It is patently obvious that Christians face far greater persecution in Syria and other Arab countries than Muslims, so the statistic described above demonstrates clear discrimination against Christians by the Obama administration, based 100% on religion and 0% on counter-terrorism. If anything, Christians are less likely than Muslims to be members of ISIS or Muslim fundamentalists or terrorists.
Obama kicked out more migrants than any US president — critics slam anti-Trump protestors. Outrage has erupted over the US President's controversial temporary executive order to halt refugees from seven Muslim countries, with thousands of protestors taking to the street across the world. However opponents have been quick to highlight Barack Obama banned Iraqi refugees from entering the US in 2011 over terrorism fears. Mr Obama's administration stopped processing all applications from Iraqi migrants over a six-month time period.
Rep. Keith Ellison: 'If They Can Ban Muslims, Why Can't They Ban Mormons...?'. Rep. Keith Ellison (D-Minn.) said President Donald Trump's 90-day ban on immigration from seven predominantly Muslim countries is "a religiously based ban," and "if they can ban Muslims, why can't they ban Mormons." "It is a religiously based ban, which is something that our — our Constitution says Congress shall make no law establishing a religion or abridge the free exercise thereof. This is a violation of equal protection. It's a religiously based ban. If they can ban Muslims, why can't they ban Mormons, why can't they ban Seventh-day Adventists, why can't move into ethnic groups?" Ellison asked.
The Editor says...
Once again, for those of you who don't notice small details, it wasn't the Mormons who flew hijacked airplanes into office buildings on September 11, 2001. And the Seventh-day Adventists aren't bent on world domination through violence. And the Baptists don't make women wear headbags in public. And the Catholics' most revered 7th-century prophet wasn't married to a 9-year-old girl. And the Presbyterians don't encourage wife beating.
Trump's Reassertion of Common Sense is a shattering experience for death-wish liberals, bishops, and RINOs. The grandstanding hysteria over Trump's travel ban on people coming from seven terrorist countries falls into the category of sound and fury signifying nothing, save the persistence of death-wish liberalism in our politics. It happened so "abruptly," harrumphed the chattering class. Really? Trump has only been talking about the ban for over a year. People in those countries had since his victory in November time to "prepare" for it. Besides, since when has it been a constitutional right for peoples residing in terrorist hotbeds to travel inconvenience-free to America?
Mexican Official Threatens to Unleash Cartels, Flood U.S. With Drugs and Narcotics. If people had doubts about the Mexican government being influenced and controlled by drug cartels, well, they can put that doubt away. In a stunning segment on Fareed Zakaria's CNN broadcast today [1/29/2017] Mexico's former foreign minister, Jorge Castaneda, states the Mexican government is willing to counter U.S. President Donald Trump policy by unleashing drug cartels upon the U.S. border.
Another Promise Fulfilled — President Trump's Temporary Halt on Refugee Influx and Seven Nation Visa Suspension. In yesterday's executive action (full script not yet released) President Trump suspended the visa travel program with Iran, Iraq, Libya, Somalia, Sudan, Syria and Yemen for 90 days in order to assess the screening process for immigrants, and visitors. Additionally, as reported by Reuters, President Trump put a four-month hold on the State Department refugee program, while the vetting process is reviewed and security practices put into place to enhance the screening process.
List of Trump's executive orders. Since taking office, President Trump has looked to fulfill some of his campaign promises by using executive orders. Here are the 17 orders he has signed so far: [...]
Trump's Executive Order on Refugees — Separating Fact from Hysteria. To read the online commentary, one would think that President Trump just fundamentally corrupted the American character. You would think that the executive order on refugees he signed yesterday betrayed America's Founding ideals. You might even think he banned people from an entire faith from American shores. [...] So, what did Trump do? Did he implement his promised Muslim ban? No, far from it. He backed down dramatically from his campaign promises and instead signed an executive order dominated mainly by moderate refugee restrictions and temporary provisions aimed directly at limiting immigration from jihadist conflict zones.
Report: Trump Halted $181 Billion in Regulatory Costs on First Day in Office. In one of his first acts as president, Donald Trump effectively halted nearly $200 billion worth of regulations, according to a new analysis. President Trump has taken aggressive action to curb regulations in his first week, promising to cut 75 percent or "maybe more," and signing an executive order Monday [1/30/2017] to cut two regulations from the books when every new rule is introduced. The first move came in the form of a memo to all federal agencies from Chief of Staff Reince Priebus, freezing all recently finalized and pending regulations. The American Action Forum, a center-right policy institute, found the action resulted in stopping rules that would cost the economy $181 billion.
Team Trump defends 'extreme vetting' at airports as Priebus and Spicer say just 0.0033 percent of international arrivals were stopped. 'Yesterday, what people need to understand is that 325,000 foreign travelers came into the United States' on Saturday [1/28/2017], Priebus said on the CBS 'Face the Nation' program. 'About 109 of those people were detained for further questioning because they came from the identified seven countries that the Obama administration and both houses of Congress have identified as being countries that harbor and train terrorists. They were asked questions,' he said.
Trump's Exclusion of Aliens from Specific Countries Is Legal. [Scroll down] Federal immigration law also includes Section 1182(f), which states: "Whenever the President finds that the entry of any aliens or of any class of aliens into the United States would be detrimental to the interests of the United States, he may by proclamation, and for such period as he shall deem necessary, suspend the entry of all aliens or any class of aliens as immigrants or nonimmigrants, or impose on the entry of aliens any restrictions he may deem to be appropriate" (emphasis added). Section 1182(f) plainly and sweepingly authorizes the president to issue temporary bans on the entry of classes of aliens for national-security purposes. This is precisely what President Trump has done.
Friendly Reminder: Obama Selected The List Of Muslim Countries in Trump's Executive Order. As the Left and some Republicans lose their minds over President Donald J. Trump's executive order on immigration, let's not forget that the list of concerned countries that the Trump administration outlined in the order is based on the one signed into law by the former Obama administration.
Law And Order Returns To The Border. President Donald Trump is doing something incredibly rare for a politician in Washington, D.C. He is keeping his word. Two of the most important of his campaign promises were to stem the flow of illegal immigrants into this country and to suspend the admission of "refugees" from countries prone to terrorism until a system of "extreme vetting" is put into place.
Trump mulls changing official unemployment rate. President Trump is considering a move that would increase the official unemployment rate by a full point, and it's an idea that many liberals would be OK with. That's because it wouldn't involve any workers losing their jobs. Rather, the new administration is considering switching the calculation the Labor Department uses as the official unemployment rate in place of a broader definition of what constitutes unemployment.
The Editor says...
The President should make this retroactive to 2008 or earlier, to show an accurate picture of unemployment numbers and to highlight the improvement he makes, if any.
Extreme Vetting, Here We Come. President Trump began to fulfill one of his signal campaign promises yesterday [1/27/2017] with the promulgation of an executive order addressing immigration from Muslim countries. [...] Information is to be gathered, reviewed and summarized during the periods of suspension so that policy can be conformed to the national interest of the United States.
Will the Trump DOJ Finally Launch a Criminal Investigation Into Planned Parenthood? In late 2015, it was exposed through an undercover video investigation conducted by the Center for Medical Progress that Planned Parenthood was selling body parts of aborted babies, many of them late-term. The investigation was extensive, with some videos showing abortion "doctors" pushing around baby brains in a petri-dish and discussing their market value. Planned Parenthood, protected by the Democrat machine and the Obama Justice Department, denied the practice and cited any sale of tissue as necessary for medical research. The organization wasn't criminally investigated, despite the selling of body parts being illegal under federal law.
Voter Fraud Truth. A full-scale, non-partisan federal voter fraud investigation is long overdue. I'm not aware of any systematic federal investigation of voter fraud — ever. Initially, such an investigation would be a simple matter of analyzing voter registration databases against federal databases of aliens and deceased individuals. Judicial Watch's Election Integrity team, headed up by Robert Popper, former deputy chief of the Voting Section in the Civil Rights Division of the Department of Justice, would be more than happy to help.
Former INS Agent: Refugee Screening is to Process People, Not ID Terrorists. Just discovered by a citizen activist is this May 2016 discussion about the pros and cons of admitting Middle Eastern refugees to the US at McCuistion, a non-profit organization. We learned that The Foundation for Responsible Television has been producing the McCuistion Program for 20 years. A.J. Irwin, a former Homeland Security agent and expert on terrorism describes the screening process that we have been told is so long and so thorough.
Trump's radical immigration plan: Enforce the law. There's one fundamental difference between the new White House and the old when it comes to immigration: Barack Obama ordered his administration not to enforce a number of immigration laws. Donald Trump has ordered his administration to enforce them. Trump's two immigration executive orders, issued Wednesday, are long, far-reaching, and complicated. But perhaps the most consequential passage in the two combined orders is a single sentence: "The purpose of this order is to direct executive departments and agencies to employ all lawful means to enforce the immigration laws of the United States." That is the heart of Trump's immigration strategy.
Led by Republican Study Committee, 50 House GOPers tell Trump to fire IRS chief. A faction of conservatives is circumventing leadership brass and calling directly on President Trump to tell IRS Chief John Koskinen, "You're fired." Rep. Mark Walker, R-N.C., will make the ask. The chairman of the Republican Study Committee has quietly but urgently been circulating a letter inside the GOP conference to build support. He's now got 50 congressmen signed onto the letter. While Trump has fleshed out his cabinet, so far, he's stayed hush about the fate of the IRS chief. And conservatives really want Koskinen's head. "You have the authority to remove Commissioner Koskinen," Walker writes to Trump, adding that "we encourage you to dismiss him in the most expedient manner practicable."
Three cheers for the State Department exodus. Secretary of State-designate Rex Tillerson has lost his top echelon of staff before he even gets confirmed: The whole senior contingent at State quit Wednesday. Good. Let's hope the same happens at Justice, the Environmental Protection Agency, the IRS and a host of others.
Obama's Open Borders Policy Undone: Trump Reverses Course. Moving swiftly to fulfill his campaign promise to get the nation's illegal immigration problem under control, President Donald Trump signed two executive orders on Jan. 25 that constitute an almost complete reversal of the Obama administration's nonenforcement and open borders policy. From improving the physical barrier at our southern border to finally moving against sanctuary cities, these two executive orders put into effect a comprehensive program designed to secure our borders, implement interior enforcement, and reintegrate the assistance of state and local governments into federal efforts to enforce our immigration laws. It has been a long time coming, but it seems to be finally happening: The federal government is actually enforcing our immigration laws.
Trump's hard-nosed executive order asks what U.N. money is going for-and is it worth it? [H]ow much money does the U.S. give to the United Nations, what is the money going for[,] and is it worth it? The Administration's tough strategy is specifically aimed at reducing, rather than eliminating, U.S. support for the world organization and will not affect, at least in the short term, Washington's current dues-paying commitment to pay 22 percent of the U.N.'s so-called "regular" budget ($5.6 billion for 2016-2017) and 28.5 percent of its peacekeeping obligations ($7.9 billion) this year.
Next on Trump's List: Rein in the UN Dictators Club. Establishment globalists were right to be concerned about the fate of their schemes. After a fast-paced first week of putting "America First" by targeting pseudo-"free trade" regimes and rogue regulatory agencies, President Donald Trump is reportedly preparing to take on the United Nations. Its swarms of agencies, programs, bureaucracies, conventions, and associated schemes are also in the crosshairs. According to a January 25 report in the anti-Trump New York Times, which claimed to have seen a set of draft orders being prepared by the administration, Trump plans to drastically reduce the U.S. government's role at the UN and other international organizations. He is also planning a review of sovereignty-stealing UN treaties, with a view toward restoring self-government in various policy areas and saving U.S. taxpayers billions of dollars. Globalists everywhere are in a panic.
Did someone mention The UN?
Six Obama Gun Controls President Trump Can Undo. On January 25 Gun Owners of America (GOA) released a list of Obama-era gun controls which President Trump can undo. The controls range from those that can be stopped via executive action to those that will require broader administrative action and/or Congressional cooperation.
Trump eviscerates Obama's immigration policy in two executive orders. With a couple of strokes of his pen, President Trump wiped out almost all of President Obama's immigration policies on Wednesday, laying the groundwork for his signature wall along the Mexican border, unleashing immigration agents to enforce the law and punishing "sanctuary cities" that try to defy federal law and thwart his deportation surge. Left untouched, for now, is Mr. Obama's 2012 deportation amnesty that is shielding more than 750,000 Dreamers. But most of Mr. Obama's other policies, including his "priorities" list that protected almost all illegal immigrants from deportation, are now gone.
Draft order: Trump to halt U.S. entry from several Middle Eastern countries. The document, which has been published by several news outlets and was obtained separately by The Hill, is titled "Protecting the Nation from Terrorist Attacks by Foreign Nationals." It would suspend entry into the U.S. from select countries starting 30 days after the order is issued. The countries in question include Iraq, Syria, Iran, Sudan, Libya, Somalia and Yemen. The White House did not immediately respond to questions from The Hill about the document. But in an interview that aired Wednesday night [1/25/2017], President Trump seemed to confirm the details of the document. Trump said the policy is not a "Muslim ban."
Trump to 'withdraw from climate & environmental accords along with UN funding cuts of 40%'. Trump's new administration are set to review US involvement in international treaties and agreements and could cut United Nations (UN) funding by 40 percent — putting aid and peacekeeping operations across the world in jeopardy. Speaking on Newsnight, New York Times analyst Max Fisher said the White House is mulling over two executive orders which would see a massive reduction in US involvement with international partners on a range of issues.
Trump threatens Mexico's biggest cash source. Mexico's biggest cash cow is under threat from President Donald Trump. The country's largest source of cash comes from Mexicans living in the United States. That is now under the microscope after Trump issued an executive order Wednesday [1/25/2016] to start building a wall on the border. During his campaign, Trump said multiple times that Mexico will pay for the wall. He even threatened to halt or tax cash transfers — known as remittances — from the U.S. to Mexico if the country refused to pay for it.
Trump administration asks top State Department officials to leave. Two senior administration officials said Thursday that the Trump administration told four top State Department management officials that their services were no longer needed as part of an effort to "clean house" at Foggy Bottom. Patrick Kennedy, who served for nine years as the undersecretary for management, Assistant Secretaries for Administration and Consular Affairs Joyce Anne Barr and Michele Bond, and Ambassador Gentry Smith, director of the Office for Foreign Missions, were sent letters by the White House that their service was no longer required, the sources told CNN.
The Editor says...
That's a total of four people, not a house-cleaning. And they didn't quit, they were fired.
Senior Management team of US State Department resigns in a possibly coordinated walkout. The entire senior management team of the US State Department resigned on Thursday. Responding to the reports, the US State Department said on Thursday that the outgoing Obama administration, in coordination with the incoming one, had requested that "all politically appointed officers submit letters of resignation" as is standard practice.
Fake News: State Department Employees Quit En Masse, Fact They Were Fired. On Thursday [1/26/2017], media outlets across the international spectrum ran with the story that top level State Department officials had quit rather than serve under President Trump. [...] CNN now reports that the Trump administration told undersecretary for management Patrick Kennedy, Assistant Secretaries for Administration and Consular Affairs Michele Bond and Joyce Anne Barr, and director of the Office of Foreign Missions Gentry Smith were all told to take a hike. State Department assistant secretary for Europe Victoria Nuland was also shown the door.
Trump Fires Hillary's Benghazi Fixer. The mainstream media's fake news operation is predictably spinning this as principled resignations by public officials who couldn't stand the idea of working under Trump. Except that Patrick Kennedy, the biggest fish being forced out, had reportedly been begging to keep his job. These were resignations in name only. They were actually firings.
The Entire Senior Tier at the State Department Just Resigned. The Trump administration just keeps bearing sweet fruit. The entire upper management at the State Department just resigned. This gives the GOP every incentive to expedite Rex Tillerson's confirmation.
Green Energy is a Charter For Crooks And Liars. The Scam Must End Now. When is the rest of the Western world going to catch up with Donald Trump and point out that the green emperor is wearing no clothes? I ask as a concerned UK taxpayer absolutely sick to death of the vast sums of money that continue to be funnelled into the pockets of crooks, liars, spivs, chancers, con-artists and fantasists in the name of solving the non-existent problem of "climate change."
Report: Trump to restrict immigration from certain Muslim countries this Wednesday. President Trump is expected to sign multiple executive actions on Wednesday [1/25/2017] that would tighten U.S. immigration policies with certain Muslim countries, according to a report Tuesday. The signings are set to take place at the Department of Homeland Security. The orders are likely to include restricting immigration from countries including Iraq, Iran, Libya, Somalia, Sudan, Syria and Yemen, Reuters reported.
Trump's $10 trillion stimulus plan. All of Washington seems to be in cardiac arrest over the news reports late last week that President Donald Trump is planning a budget with $10 trillion of budget cuts over the next decade. We can only hope and pray that the report is accurate. Let's also hope that Mr. Trump has the backbone to stick with this plan to staple the stomach of the federal government. This is an enterprise that has been borrowing $1 trillion a year for the past decade and is expected to continue to do so for years and decades to come. The national indebtedness will soon exceed $20 trillion and everyone in Washington is denial about this mestastiszing cancer cell rather than ordering radiation therapy before it kills off the economy.
Pentagon Chief Weighing Options for Trump to Defeat Islamic State. U.S. Defense Secretary James Mattis is leading an internal Pentagon review of options to propose to President Donald Trump to intensify the war against the Islamic State (ISIS/ISIL) and ultimately defeat the jihadist group. While campaigning, the president vowed to ask military leaders to formulate a plan within 30 days of taking office on how to defeat ISIS, which the president alluded to during his inaugural address last Friday.
Top Democrats Voted For The Border Wall Trump Is Building. President Donald Trump will be able to order the construction of a wall on the Mexico border Wednesday with the stroke of a pen, because of a 2006 law passed with the help of Democrats including Barack Obama, Joe Biden and Hillary Clinton. The 2006 law authorized the construction of 700 miles of fencing along the southern border, as well as additional lights, cameras and sensors to enhance security. Although former President George W. Bush signed the measure into law, the Democrat-controlled Congress that took over a few months later ensured it would never be completed by means of an amendment to a 2008 spending bill.
Trump Orders EPA To Take Down Global Warming Web-Page. The Trump administration told the Environmental Protection Agency (EPA) to take down its global warming webpage, an anonymous EPA staffer said. "If the website goes dark, years of work we have done on climate change will disappear," the staffer told Reuters Tuesday. The staffer was not authorized to speak to the media and claimed EPA employees were scrambling to save data on the website. The EPA's global warming webpage is currently still up as of Wednesday morning. The page contains some links to EPA's data on carbon dioxide (CO2) as well as other greenhouse gas emissions and lists the effects the agency says global warming will have. The site doesn't host much of the data, however, and only aggregates links to it.
Trump considering order to reopen CIA prisons for terrorism suspects: Report. President Trump is considering an executive order that would keep open the Guantanamo Bay prison and could lift a ban imposed by former President Obama on the CIA operating overseas clandestine prisons for terrorism suspects, according to a published report. A three-page draft order, titled "Detention and Interrogation of Enemy Combatants," would reinstate other policies from the Bush administration on the treatment of terrorism detainees, according to the New York Times, which obtained a copy of the draft.
EPA Expected To Be Hit With $800 Million In Budget Cuts. The Environmental Protection Agency is facing a projected $800 million in budget cuts, as their facelift from the Trump administration continues. The White House has all but issued a gag order on the EPA regarding social media posts, blogs, and press releases. Needless to say, this seems to be the first steps in reining in the agency that has waged war on Middle America and introduced endless pages of regulations that has hurt American coal workers.
Trump administration deletes apology to LGBT people over government discrimination. The Trump administration removed an apology from the State Department to the LGBTQ community for discrimination dating back to the 1940s, prompting criticism for advocacy groups. Former Secretary of State John Kerry published an apology on the site for the department's past discrimination based on sexual orientation — but it has since disappeared from the site.
Will Trump's CIA Investigate Itself? When President Trump was greeted with cheers and strong applause at CIA headquarters, you knew that Obama's CIA director John Brennan would decide to strike back. The liberal media were quick to quote Brennan as saying that he was "saddened" and "angered" by Trump's remarks. But where did these quotes come from? Who provided them to the media? The rest of the story sheds light on how politically partisan the CIA became under Brennan, and how rank-and-file CIA officers who want to "Make America Great Again" seem so happy that he is gone.
Trump makes his priorities clearer, and deportation of young immigrants has fallen off the list. President Trump signaled Monday [1/23/2017] through a flurry of directives and pronouncements that he will put a priority on remaking U.S. trade and tax policy, even as he quietly backed away from a pledge to end protections for nearly 750,000 immigrants brought to the U.S. illegally as children. The moves punctuated a busy first weekday for Trump's White House. He also banned funding for groups overseas that refer women to abortion clinics and froze most federal hiring, in between meeting with business leaders and lawmakers.
The Editor says...
The anchor baby issue has probably been moved down the list, not off the list.
Trump signed presidential memoranda, not executive orders: Here's the difference. President Trump signed three high-level presidential directives on Monday, but they weren't executive orders. Instead, they were styled as presidential memoranda, an increasingly common but lesser known expression of presidential power that came to replace many executive orders under President Obama.
Trump to sign orders reviving pipeline projects, sources say. President Trump signed executive orders on Tuesday effectively reviving the controversial Keystone XL and Dakota Access pipelines, as a major builder said it will reapply to build one of the projects which had been stalled by the Obama administration under pressure from environmental and other groups. The president said the projects would be subject to a "renegotiation of the terms." But he made clear the government was resuming consideration for both pipelines, describing them as a potential boon to construction workers.
Sanders & Dems applaud Trump for pulling out of global trade deal. President Donald Trump is being commended by former presidential candidate Senator Bernie Sanders (I-Vermont) as well as some Democrats facing tough reelection campaigns, following his executive order removing the US from the Trans-Pacific Partnership. "I am glad the Trans-Pacific Partnership is dead and gone," Sanders said in a statement Monday [1/23/2017].
U.S is OUT of controversial Trans-Pacific trade deal as Trump signs executive order. President Donald Trump yanked the United States out of President Barack Obama's 12-nation trade pact today, making good on a campaign promise to negotiate a better agreement. Trump signed an executive order Monday morning [1/23/2017] withdrawing the United States from the Trans-Pacific Partnership, or TPP. 'We've been talking about this for a long time,' Trump said in remarks from the Oval Office on Monday as he signed the memorandum. 'Great thing for the American worker.'
Trump Signs Executive Order Reinstating Ban On Funding And Promoting Abortions Overseas. President Donald Trump issued an executive order Monday reinstating a Republican policy that would ban U.S. aid to groups that provide or promote abortions overseas. Known as the "Mexico City policy" or the "global gag rule," the measure came one day after the 44th anniversary of the landmark Supreme Court Roe v. Wade case that legalized abortion across the country.
This is America. Speak English or leave.
New White House begins with English-only website as Team Trump breaks with Obama by nixing all Spanish-language content. Donald Trump will not be 'El Presidente,' judging from the website his White House launched on Friday [1/20/2017]. The new whitehouse.gov, unlike the online home of the Obama administration, has no Spanish-language content. Visiting the old White House website address for content 'en Español' brings Web surfers to an error page.
Spanish language content removed from White House website after Trump inauguration. The site became an English-only site shortly after Donald Trump's inauguration as US president on Friday. The Spanish version of the White House page was created in the months following President Barack Obama's swearing-in in 2009.
Trump bans foreign aid to groups that provide abortions. President Trump on Monday reinstated the "Mexico City policy," which bans U.S. foreign aid from any groups that provide abortions. He issued the order on Jan. 23, one day after the 44th anniversary of the Supreme Court's Roe v. Wade decision legalizing abortion. The policy, changeable through an executive order, is typically flipped on and off depending on which party is controlling the White House and is usually done on the Roe v. Wade anniversary. President Reagan first enacted it in 1984, President Clinton rescinded it in 1993, President George W. Bush put it back in place in 2001 and then President Obama rescinded it again in 2009.
Five easy pieces [to add to the Trump agenda]. First, repeal Davis-Bacon. This law, which was enacted in 1931 and purports to ensure that workers on public projects are paid the prevailing local wage, was in fact a pay-off to Big Labor for its support of the Democratic Party. It costs taxpayers dearly. By inflating labor costs, Davis-Bacon inflates overall construction costs for the federal government. If the Trump administration and Congress are going to do an infrastructure bill to push the economy forward, repealing Davis-Bacon would increase its impact. Repeal would also make the point that taxpayers should not be footing the bill to pay off special interests such as trade unions. Repeal of Davis-Bacon could be included in a reconciliation bill.
"Travesty... We Have 23.5 Million Americans Aged 25-To-54 Outside The Labor Force". While deregulation and simplifying the tax code obviously are constructive segments of the Trump plan, they are not the most important obstacles in the way of growth. Neither is globalization. Even the most ardent ''supply-sider" would admit that labor input is key to the outlook and this should really be at the top of the agenda — closing the widening and unprecedented gap between job openings and new hiring.
Trump White House vows it won't coddle 'the rioter, the looter, or the violent disrupter'. On the campaign trail, Donald Trump cast himself as a law-and-order candidate who would always have the backs of local police, though he wouldn't meddle in their affairs. On Friday, the White House website revealed that promise would be a pillar of his administration. Under the heading, "Standing Up For Our Law Enforcement Community," the Trump administration promised a reduction in violent crime, a border wall to keep out illegal immigrants and "more law enforcement, more community engagement, and more effective policing." The administration hinted at a crackdown on protests — "Our job is not to make life more comfortable for the rioter, the looter, or the violent disrupter," it said.
Trump Adviser Kellyanne Conway Says Obamacare 'Penalty' Will End. The Trump administration may stop enforcing the Obamacare requirement that most Americans carry health insurance even before Congress repeals the law, Kellyanne Conway, a top adviser to the new president, said in interviews broadcast on Sunday [1/22/2017]. Such a move would take the teeth out of former President Barack Obama's health-care law and could destabilize insurance markets, analysts say. It was not clear from Conway's remarks whether President Donald Trump would try to use his executive authority to make the change, which would be much faster than writing new regulations or waiting on lawmakers.
Trump moves to withdraw US from TPP deal on Day 1. Newly installed President Donald Trump has moved swiftly to turn his fiercely nationalist "America first" inaugural speech into action, stoking unease abroad over the new direction the United States is headed under his leadership. On Day One of his presidency, the White House moved to withdraw the United States from the Trans-Pacific Partnership trade pact. The Obama administration's signature domestic programme, the Affordable Care Act, also fell victim to Mr Trump's move to unpick his predecessor's policies.
All References to Climate Change Have Been Deleted From the White House Website. At 11:59 am eastern, the official White House website had a lengthy information page about the threat of climate change and the steps the federal government had taken to fight it. At noon, at the instant Donald Trump took office, the page was gone, as well as any mention of climate change or global warming. It's customary for www.whitehouse.gov to flip over to the new administration exactly at noon, but the only mention of climate on President Trump's new website is under his "America First Energy Plan" page, in which he vows to destroy President Obama's Climate Action Plan, which is a government-wide plan to reduce carbon emissions and address climate change. To reiterate: It is normal that the site is completely new; it is notable that climate change is not mentioned on any one of Trump's new pages.
Can Trump Win His Battle With The Unionized, Bureaucratic 'Deep State'? Trump administration officials have let it be known that he'd like to slice 10% off spending and 20% off the federal bureaucracy, part of a broad effort to slash just over $10 trillion from federal spending over the next decade. Not surprisingly, this has frightened bureaucrats.
President Trump halts new federal regulations. President Trump put a hold on all new and pending federal regulation on his first day in office Friday, with a White House memorandum ordering federal agencies to subject the regulations to review by incoming secretaries. Rolling back federal regulation was a top campaign pledged from Mr. Trump, who promised to impose a rule that two existing regulation had to be eliminated for each new regulation created. He has said the regulations had a stranglehold on businesses and slowed job creation and economic expansion.
Trump announces regulatory freeze in first executive orders. President Trump took a series of executive actions minutes after the inaugural parade concluded Friday evening, one of which was to place a regulatory freeze on all federal agencies until his administration provides further notice. "The Trump administration will send a letter to all executive agencies tonight to immediately abide by a regulatory freeze," White House press secretary Sean Spicer told reporters around 7:15 p.m. ET.
Trump administration takes aim at climate regs, sets agenda on WhiteHouse.gov. While new President Donald Trump was laying out a short version of his agenda in an inaugural speech, his communications team was busy rewriting the White House website with a slew of new objectives including scrapping environmental regulations it claims kill jobs. Among the commitments was immediate elimination of the Climate Action Plan and the Waters of the U.S. rule, two administrative regulations Trump's predecessor, President Obama, considered environmental safeguards. Team Trump deemed them "harmful and unnecessary policies" that hurt the economy and said so on the official Whitehouse.gov website. "Lifting these restrictions will greatly help American workers, increasing wages by more than $30 billion over the next 7 years," the website now states.
WhiteHouse.gov Takes Down Climate Page, Puts Up 'America First' Energy Plan. Observers on Twitter noted Friday afternoon [1/20/2017] that the White House's page on climate change, a creation of the Obama administration, appears to have been taken down shortly after Donald Trump assumed the nation's presidency. In its stead, the new White House published an explanation of what the Trump team is calling the "America First Energy Plan." At press time, the link to the White House page publicizing a plan to combat climate change leads to a blank page.
Trump takes away FHA mortgage insurance premium cut not long after being sworn into office. In one of the first undertakings of his administration, President Trump issued an administrative order to suspend one of the Obama administration's final acts. The move undid the quarter-point decrease in the FHA mortgage insurance premium that was announced earlier in the week by outgoing U.S. Department of Housing and Urban Development Secretary Julian Castro. For most borrowers, it would have been a reduction to 0.60 percent from 0.85 percent. The 25-basis point reduction — a basis point is 0.01 percentage point — would have made FHA mortgages more affordable just as interest rates were on the rise.
Trump and Obama's Legacy of Racism. Day one. Every Trump cabinet official will learn how the Obama administration has made racial resentment the major focus of everything they do. And they have been doing that daily for eight years. Job one: The Trump brigade will have to decide whether to ignore it, pretend it is good, or rip it out by the roots. Not one future cabinet member, or their boss at Trump Tower, has indicated they are aware of how widespread this is.
Trump Plans to Eliminate NEA, NEH, Cut Spending by $10.5 Trillion. The Trump administration is seeking major cuts to federal spending upon taking office, with plans to eliminate agencies and programs to reduce the budget by over $10 trillion. The National Endowment for the Arts and the National Endowment for the Humanities would be eliminated, according to a new report on the administration's spending priorities published by the Hill. Both arts agencies have budgets of roughly $147 million. The NEA awards millions of dollars worth of grants for art projects each year, which have included plays about assassinating Christopher Columbus, food stamps, and gun-control activist lesbians, climate change poetry, and "Doggie Hamlet."
The Department of Energy has a fake name. It's time to make things right. Sometimes in politics, business and life you have to deal with the art of the possible, or, to use a Trumpism, the art of the deal. There is a logical and politically achievable deal to be made here. Leave DOE's overall budget as a battle for another day, and simply split up the organization along the lines suggested by its separate energy and military functions. The myriad $20 billion activities involving nuclear weapons materials, propulsion, security, safety and cleanup are all vital. But they belong within a clear non-cabinet-level Defense Nuclear Materials Agency (DNMA) comparable in rank to the EPA or Securities and Exchange Commission. To dilute partisanship and enhance operational efficiency and safety, a DNMA should be structured like the SEC with five commissioners, of which no more than three can be from the same political party, and a chairman who serves five years after presidential appointment and congressional approval.
McCain plans massive boost in defense spending to restore military dominance. Sen. John McCain called Monday [1/16/2017] for a massive boost in defense spending totaling more than $85 billion per year over the next half-decade, saying that is just the beginning of what it will take to restore the U.S. military to a dominant role. The Senate Armed Services Committee chairman's plans, detailed in a white paper, are an important marker, laying out defense hawks' wish list as Congress prepares to debate budget priorities under the Trump administration.
Trump eyes 10% spending cuts, 20% slash of federal workers. Making good on a promise to slash government, President-elect Trump has asked his incoming team to pursue spending and staffing cuts. Insiders said that the spending reductions in some departments could go as high as 10 percent and staff cuts to 20 percent, numbers that would rock Washington if he follows through. At least two so-called "landing teams" in Cabinet agencies have relayed the call for cuts as part of their marching orders to shrink the flab in government.
Obama Fades Away As Trump Laughs At His Enemies. While the helpless mainstream media frets over its irrelevance, Obama is left urging his minions to throw little tantrums out in the Deep State, trying to do just a little more damage to this country before he is finally exiled to comfortable obscurity. But payback is a Pelosi; soon Trump's pen and phone are going to be wielded by the guy who Team Integrity has been calling "illegitimate" since the moment Hillary lost and it again became patriotic to question election results. All that last-minute regulatory nonsense is getting overturned. America will be a beacon of freedom to Cubans once again. The Western land thefts will be undone. We'll drill, baby, drill. It's going to be awesome, as will the tsunami of liberal tears.
What Exactly Is Trumpism? Donald Trump is hated by liberal Democrats because, among other things, he is likely to reverse the entire Obama project. And, far worse, he probably will seek fundamental ways of obstructing its future resurgence — even perhaps by peeling off traditional Democratic constituencies. The proverbial mainstream media despise Trump. Culturally, he has become a totem of their fears: coarseness, ostentatiousness, flamboyance, and the equation of big money with taste and success. His new approach to the media may make them irrelevant, and they fear their downfall could be well earned.
Winston Churchill bust set for Oval Office return by Donald Trump. Donald Trump has made no secret of the fact that he intends to rip up Barack Obama's legacy when he takes office — ending the Trans-Pacific Partnership, redrawing Obamacare and loading up Guantanamo with "some bad dudes". However, one expected action is likely to be less controversial, certainly in Britain: that of restoring the bust of Winston Churchill to the Oval Office.
10 Ways That Donald Trump Could Try To Reverse The Curse That Obama Has Put On America. So it looks like we are stuck with UN Security Council Resolution 2334, but that doesn't mean that Trump can't do anything to try to address this matter. Recently, a Breitbart article suggested five steps that Trump should take regarding Israel once he becomes president, and I would like to add another five to the list.
The Hunt for Waste, Fraud, and Abuse Should Start in the Executive Branch. Last month, Washington Post reporters obtained confidential memos from the Department of Defense detailing an internal study from January 2015, which found $125 billion in administrative waste. (Senator Jeff Flake's Wastebook, an annual catalogue of absurd federal spending, recently revealed one particularly egregious example: The DOD spent $2 million to teach robots how to play jazz.) And yet officials chose to bury the study and ignore its recommendations, said the Post, "amid fears Congress would use the findings as an excuse to slash the defense budget." Trump would be wise to revisit the report's findings and implement the reforms it suggested, which are designed to reallocate funding to troops and weapons.
Facing North Korea and Iran, Trump Must Strengthen Nuclear Deterrence. Like Big Brother in George Orwell's Nineteen Eighty-Four, North Korean dictator Kim Jong-un holds absolute power. And Kim, the same as his father and grandfather, wants to forcibly unify the Korean peninsula under a xenophobic ideology of self-sufficiency. Since the end of the Korean War, the Kims' wacky "Juche" ideology has sparked Western laughter as much as fear. We have rightly assumed the Kims are deterred by their understanding that a conventional-arms conflict with America would destroy them. While the U.S. has had to occasionally reinforce this conventional deterrence, it has been sustained for 60 years. Unfortunately, the status quo is shifting.
Claiming mandate, GOP Congress lays plans to propel sweeping conservative agenda. For six years, since they took back the House of Representatives, Republicans have added to a pile of legislation that moldered outside the White House. In their thwarted agenda, financial regulations were to be unspooled. Business taxes were to be slashed. Planned Parenthood would be stripped of federal funds. The Affordable Care Act was teed up for repeal — dozens of times. When the 115th Congress begins this week, with Republicans firmly in charge of the House and Senate, much of that legislation will form the basis of the most ambitious conservative policy agenda since the 1920s. And rather than a Democratic president standing in the way, a soon-to-be-inaugurated Donald Trump seems ready to sign much of it into law.
Trump Should Have a Celebrity-Free Inauguration. By inviting talented unknowns to perform instead, the president-elect would send a powerful message.
Here We Go! Republicans In Congress Turn On Trump — Make Move To Stop Border Wall. And here come the charging RINOs! Intent on stopping President-elect Donald Trump from building a wall on the border. You'll recognize the names... it's the same [people] every single time: Lindsey Graham, Jeff Flake and Lisa Murkowski. They join Turban Durbin on drafting a measure that would allow illegal alien children to stay in the US. Uh, no. In this particular instance, the sins of the father and mother are the sins of the child. You cannot justify breaking the law because they are children. They should stay with their family in their country of origin until they come here legally... the right way... through the front door, not the back.
Fix Immigration. It's What Voters Want. Donald J. Trump smashed many orthodoxies on his way to victory, but immigration was the defining issue separating him from his primary opponents and Hillary Clinton. President-elect Trump now has a clear mandate not only to stop illegal immigration, but also to finally cut the generation-long influx of low-skilled immigrants that undermines American workers. Yet many powerful industries benefit from such immigration. They're arguing that immigration controls are creating a low-skilled labor shortage. "We're pretty much begging for workers," Tom Nassif, the chief executive of Western Growers, a trade organization that represents farmers, said on CNN. A fast-food chain founder warned, "Our industry can't survive without Mexican workers."
Shocker! Trump Plans To Privatize The VA Just Like He Promised On The Campaign Trail. News headlines this week screamed about how President-elect Trump is considering a plan to partially privatize the Veterans Health Administration. Did nobody read his campaign website during the election?
Appeals court vacancies could give Trump the chance to transform judiciary. When Donald Trump enters the White House on Inauguration Day, he will be able to fill more seats on the courts of appeals than President Obama did when he took office eight years ago, which could give him the chance to transform the judiciary into a more conservative branch of government. The president-elect's preparation to fill the Supreme Court's vacant seat may be getting the most attention, but it's just "the tip of the iceberg," said Lena Zwarensteyn, the American Constitution Society for Law and Policy's strategic engagement director.
Dem attorneys general threaten lawsuits, if Trump repeals climate plan. A coalition of Democratic state attorneys general warned President-elect Trump on Thursday that he will face scores of lawsuits if he follows "misguided" advice to repeal President Obama's climate rules. "We advocate that you reject misguided advice that the Clean Power Plan be discarded; advice that, if followed, would assuredly lead to more litigation," a group of 14 attorneys general, led by New York Attorney General Eric Schneiderman, said in a letter to the president-elect Thursday [12/29/2016]. The Clean Power Plan is the centerpiece of President Obama's climate change agenda, which nearly 30 states are challenging in federal appeals court with more than 100 industry groups. A 10-judge panel of the D.C. Circuit Court of Appeals is reviewing the arguments against the Environmental Protection Agency's plan, which directs the states to cut their carbon pollution a third by 2030.
The Editor says...
For those of you who attended public schools, carbon dioxide is not carbon, nor is it a pollutant.
Trump Could Bring Home $2.6 Trillion in Offshore Profits. At least $2.6 trillion in American corporate profits are parked outside the country, and President-Elect Donald Trump's major tax reform plan could bring it back into the United States — which could provide a big boost to the economy and federal revenue. Trump's plan is part of his larger business tax plan to lower the corporate tax rate from a top rate of 35 percent down to 15 percent.
Trump considering 'public-private option' for VA reform. President-elect Trump is considering a "public-private option" at the Department of Veterans Affairs that would allow all veterans to choose whether they want to receive care from the VA or from private doctors. "We think we have to have kind of a ... public-private option, because some vets love the VA ... some vets want to go to the VA," a transition official told reporters at Mar-a-Lago on Wednesday [12/28/2016]. "So, the idea is to come up with a solution that solves the problem. And it's not the easiest thing in the world because you've got all these little kingdoms out there, which is hard," the official said. "You know, in the federal government, it's hard to break things up and start over. So, those are the types of things that people are talking about."
Cotton: Trump earned 'clear mandate' to stop illegal immigration. Sen. Tom Cotton argued Wednesday [11/28/2016] that President-elect Trump has a 'clear mandate' to weed out illegal immigration and reform a system to prioritize American workers over unskilled, foreign workers. In an op-ed in The New York Times, Cotton pressed that a large part of Trump's victory in November was due to his stance on the issue. "President-elect Trump now has a clear mandate not only to stop illegal immigration, but also to finally cut the generation-long influx of low-skilled immigrants that undermines American workers," Cotton said, arguing that the immigration system skews toward the rich and powerful and their ability to bring in cheap, migrant workers in order to drive down wages.
Abolish the Department of Energy. Why would anyone want to abolish the DOE? According to one liberal commentator, it was because the department "was established during Jimmy Carter's administration and it perhaps sounds like it might have something to do with solar panels." Jimmy Carter created it, all right, but solar panels were only a symptom of the real problem. The DOE was conceived in dark and pessimistic beliefs and forecasts that have proven totally wrong. As Obama might say, the DOE is on the wrong side of history. As it stands the department needs to either be rethought or retired.
Republican attorneys general eager to dismantle Obama climate agenda under Donald Trump. As soon as President-elect Donald Trump assumes office Jan. 20, Republican attorneys general who have spent the past eight years battling the Obama administration's climate change agenda will have a new role: supporting the Republican president's complex legal effort to roll back that agenda. By contrast, states with Democratic leadership — such as California, where Gov. Jerry Brown has promised all-out war against Mr. Trump on global warming — will go from being environmental partners with the federal government to legal aggressors on their own.
Trump is the Exorcist of Political Correctness. Ron Aledo, a retired U.S. Army officer and former senior analyst for the CIA and the Defense Intelligence Agency (DIA), has written a provocative analysis of the U.S. election results, saying that Trump's victory was economic but also cultural. He says that the Trump victory was "not only an incredible miracle as he won basically against all and everything, from CNN to furious non-stop (and something ridiculous) attacks from the Washington Post, the New York Times, ABC, CBS, MSNBC, Hollywood, 90% of all U.S and European journalists, the establishment of both the Democratic and Republican parties and millions of brainwashed naive Millennials; but furthermore, Trump's victory is a real Counter-revolution of the Silent Majority against the brutality of the witch hunt of Cultural Marxism and Political Correctness."
Trump Should Quickly Rescind Obama's Drilling Ban. In his enviro-extremism, President Obama is attempting to tie President-elect Trump's hands by blocking vast swaths of the Arctic Ocean and stretches of the Atlantic from oil and natural-gas drilling. The gambit, announced by the administration on Tuesday, is part of an eleventh-hour wave by which Obama is flooding the regulatory zone: Promulgating so many rules — of the unpopular, hard-left variety that Democrats dare not unveil before Election Days — that he hopes the Trump administration will find it too cumbersome to undo all of them. The incoming president should not let his predecessor get away with it. Obama's lawyers apparently believe they've found a loophole that could make the anti-drilling ban stick. President Trump, however, will have the power to rescind it, and should do so promptly.
Gingrich: Obama's legacy will disappear within a year. Former House Speaker Newt Gingrich predicted that most of President Obama's policies, and thus his legacy, will disappear within the next 12 months under the Trump administration. "What you're watching is a man who realizes all of a sudden 90 percent of his legacy is going to disappear, because he didn't do the hard work of passing legislation," Gingrich said on Fox News. Gingrich's comments were in response to Obama's recent advice to President-elect Trump, when he said Trump should go through the legislative process, "in part because it is harder to undo."
Trump team asks State Dept. what it spends on international environmental efforts. Donald Trump's presidential transition team has asked State Department officials to disclose how much money it provides each year to international environmental groups. It's the latest example of how the incoming administration is reassessing the U.S. government's approach to tackling climate change and other environmental priorities. As part of a list of questions posed last week to the department's Bureau of Oceans and International Environmental and Scientific Affairs, according to multiple people familiar with the matter, the Trump landing team asked, "How much does the Department of State contribute annually to international environmental organizations in which the department participates?"
Schumer Says Trump's Trillion-Dollar Infrastructure Plan 'Sounds Good to Me'. Incoming Senate Democratic Leader Chuck Schumer says he likes the sound of President-elect Trump's proposal of a major infrastructure plan as long as it meets certain Democratic criteria. "We think it should be large. He's mentioned a trillion dollars, I told him that sounded good to me," Schumer told ABC News' Jon Karl and Rick Klein during their podcast "Powerhouse Politics." But Democrats will insist that the package not be, for example, all tax breaks to investors.
Judicial Watch Wants Sessions to Root Evil Out of DOJ. "When it comes to public policy, the Justice Department is a locus of evil," said Tom Fitton, who heads Judicial Watch. He said he hopes the agency will follow his group's advice and put it through a cultural overhaul. "It's just an aggressively ideological and 'what is it we can get away with' Justice Department," Fitton said. "Sessions has a big fight ahead of him." Fitton hopes the senator will "stop the war on police" — meaning, roll back the agency's intervention when police departments face steep public criticism, like in Chicago and Baltimore. And if the department doesn't root out what Fitton believes is intractable internal corruption, his group will keep pushing.
Why Building the Wall Should Not Be Trump's No. 1 Immigration Priority. Ironically, Donald Trump's marquee immigration proposal — a border wall, which Mexico will pay for — is the part of his immigration platform least likely to make much difference. This is not to say it's infeasible or even ill advised. Only about one-third of the border with Mexico has any kind of fencing, and half of that consists merely of low-rise vehicle barriers intended to stop truck traffic; anyone can easily climb over or under them (as I myself have done on many occasions). And the president doesn't need further authorization from Congress to build a physical barrier, although he would eventually need additional funding.
The DOE vs. Ugly Reality. Over at the Washington Post, Chris Mooney and the usual suspects are seriously alarmed by a memo sent out by the Transition Team at the Department of Energy. [...] In any case, the Post put up a copy of the memo in the most idiotic form ever — ten separate individual pages, in image form without searchable text, printed sideways. Thanks, guys, it's clear you've only posted them because you have to. [...] Here are the memo questions and my comments. [#1] ["]Can you provide a list of all boards, councils, commissions, working groups, and FACAs [Federal Advisory Committees] currently active at the Department? For each, can you please provide members, meeting schedules, and authority (statutory or otherwise) under which they were created?["] If I were at DOE, this first question would indeed set MY hair on fire. The easiest way to get rid of something is to show that it was not properly established ... boom, it's gone.
Say, What Are Warmists In Obama Administration Hiding? They do not want their data and methods exposed for the junk science they are. They don't want their cushy positions of prognosticating doom on the taxpayer dime threatened. [...] Team Trump will be digging in to the waste, fraud, junk science, cost over-runs, orphan departments with no accountability, and so forth, not just at the DOE, but other departments. Business likes to run smoothly, without the massive redundancy and such. Warmists had a good run on the public dole, but, that looks like it will soon end.
Two dozen states beg Donald Trump to abandon Barack Obama's plans to combat climate change. Officials in 24 states have urged President-elect Donald Trump to kill the centrepiece of President Barack Obama's strategy to combat climate change and shut down coal-fired power plants. The coalition requested the incoming Republican government undo the Clean Power Plan enacted by the current Democratic administration. The law was designed to lower carbon emissions mainly from coal-fired power plants by 2030 to 32 percent below 2005 levels.
Trump's Urgent Job: Clean Up the VA. In 2014, the nation was horrified to learn that vets were dying while waiting for medical appointments, and VA staff were concealing wait times. Now new patients are waiting even longer. Recently, a vet with heart troubles died while waiting for a cardiology appointment at the Washington, D.C. VA. Investigators concluded he would likely have survived had he been seen. Meanwhile Democratic senators are still blocking a bill to hold VA executives accountable for these deadly failures. What's wrong with firing liars and incompetents? Democrats would rather side with the public service unions that fill their campaign coffers and turn out the vote.
From catfish to kombucha: It's not just Obamacare that conservatives want Trump to repeal. House Freedom Caucus Chairman Rep. Mark Meadows, R-N.C., gave Trump's transition team a 21-page document listing the federal rules, regulations and executive orders implemented under Obama that the caucus wants either revoked or revised. "These last 8 years, we have seen a disturbing trend of the federal government unnecessarily inserting themselves more and more into the lives of hardworking Americans — and the results have been economically disastrous," Meadows said in a statement. "When the American people spoke on Nov. 8, they provided conservatives with an opportunity to restore order in our government and to remove the out-of-control bureaucratic red tape that so often stunts the growth of otherwise successful American [businesses]."
Trump: 'We Are Going to Say Merry Christmas Again'. Tuesday [12/13/2016] at a stop on his "Thank You" tour in West Allis, WI, President-elect Donald Trump opened up his appearance by fulfilling a campaign promise regarding the use of "Merry Christmas" as a holiday greeting.
Go Big: Eliminate the Energy Department. When created in 1977, DOE was given the responsibility for "the design, constructing, and testing of nuclear weapons, and ... a loosely knit amalgamation of energy-related programs scattered throughout the Federal Government." Prior to DOE, the federal government played a very limited role in energy policy and development. Presumed scarcity, excessive dependence on OPEC nations, distrust in markets, and the search for energy independence became the foundation for what is now a $32.5 billion bureaucracy in search for relevance. A series of energy policies have done little to contribute to the abundance of affordable energy that fuels a growing economy. What DOE has done is squander money on the search for alternative energy sources. In the process, it enabled Bootlegger and Baptist schemes that enriched crony capitalists who are all too willing to support the flawed notion that government can pick winners and losers. For 2017, a large chunk of DOE spending — $12.6 billion, or 39 percent — is earmarked to "support the President's strategy to combat climate change."
A How-to Guide for Rolling Back Obama's Regulatory State. One of President-elect Trump's most encouraging campaign promises was his vow to tackle the regulatory state. For hard-working Americans, it's essential that he keeps this promise. The ever-growing regulatory state has harmed economic growth, job growth, and wage growth. Since 1980, regulations have cost the economy $4 trillion, or about $13,000 per American. During the Obama administration, over 600 major regulations have been issued, with a total cost exceeding $700 billion over his eight years. But unraveling these regulatory burdens is not as simple as waving a pen or picking up a telephone. That's why it's critical that Trump and Congress adopt a workable strategy to repeal harmful regulations from the Obama era.
It's refreshing to watch Trump mock the media and political correctness. Wealth is created when governments get out of the way and let people trade as they please, within borders or across borders. I don't want a "strong leader." I want a president of this constitutional republic to preside over limited government and leave us free to lead our own lives.
U.S. Steel CEO: If Trump Eliminates Crazy EPA Regulations, We're Ready To Hire 10K in USA. U.S. Steel CEO Mario Longhi is Ultra Bullish on the Trump Administration and bringing back new jobs to the United States. Longhi said the steel industry is very confident and optimistic on Trump. He said U.S. Steel could bring 10,000 jobs back to America if nonsensical environmental regulations are tweaked and scrapped. [Video clip]
Trump Day One To-Do List: Repeal $1.7 Billion Of Dodd-Frank Rules. The Dodd-Frank financial "reform," passed by Democrats and signed into law by President Obama in 2010, is arguably the most misguided and economically harmful piece of legislation ever imposed on the country (the second, arguably, is ObamaCare). As we've noted in this space before, one of the main reasons the economy has been stuck in neutral for the past six years has been the millstone of a 2,300-page law that has spawned multitudes more pages of costly and economically foolish regulations. The law has calcified the credit markets, forced community banks out of business, and unleashed an unaccountable, out-of-control agency that goes by the innocent-sounding name of the Consumer Financial Protection Bureau.
Memo to Ben Carson: Push for a Repeal of the Community Reinvestment Act. [Scroll down] One idea, in particular, could signal that Carson understands the failure — not just in practice but philosophically — of the department he will head. He could push for the outright repeal of the Community Reinvestment Act (CRA), which mandates bank lending to low-income communities and low-income households. Implicated by some in the 2008 housing-finance crisis, the problem with the CRA — and its much further-reaching regulatory progeny, the affordable-housing goals of Fannie Mae and Freddie Mac, which are directly overseen by HUD — is not its cost but its theory that capital markets will, by their nature, not serve the poor, and that the poor and poor neighborhoods are better off when lending to both is required. Both ideas are wrong and ill serve those in whose name they are invoked.
How Trump Could Create Millions Of Energy Jobs. President-elect Donald Trump wants to create millions of jobs by removing restrictions on American energy development, and the numbers seem to add up. Trump pledged in late November to "cancel job-killing restrictions on the production of American energy — including shale energy and clean coal — creating many millions of high-paying jobs." A study found that the removal of drilling restrictions on federal lands and water could create 2.7 million energy jobs, while another 1.8 million could be created by encouraging hydraulic fracturing or fracking. Since most of the damage to the coal industry has already been done, coal jobs are less likely to be created and only tens of thousands could potentially be generated.
Judge Jeanine: Clinton Foundation is 'Bubbling Beneath the Surface'. President-elect Donald Trump has said he likely won't appoint a special prosecutor to go after Clinton despite promising to do so during the campaign. However Judge Jeanine Pirro, host of Fox News' Justice with Judge Jeanine, says there are plenty of reasons to move forward with a case.
Trump supports completion of Dakota Access Pipeline. U.S. President-elect Donald Trump on Thursday [12/1/2016] said for the first time that he supports the completion of a pipeline project near a North Dakota Indian reservation, which has been the subject of months of protests by tribes and environmentalists. A communications briefing from Trump's transition team said despite media reports that Trump owns a stake in Energy Transfer Partners, the company building the pipeline, Trump's support of the pipeline "has nothing to do with his personal investments and everything to do with promoting policies that benefit all Americans."
Apoplectic Liberals Furious Over Trump's Proposed Economic Freedom. It is going to take years to break through the false constructs of radical left-wing economic principles which have been sold by modern academia and corporate media. However, eventually people will recognize once again that being allowed to keep their own money, the outcome of their own labor, is not an expense on government.
Donald Trump transition team mulling "Muslim registry" says immigration adviser. Donald Trump may push through a controversial registry for immigrants from mostly-Muslim countries without seeking congressional approval, a member of his transition team has said. Kris Kobach, the Kansas secretary of state and adviser to Mr Trump said the president-elect's immigration team are drafting executive orders that would allow the new White House to secure the rapid construction of wall along the border with Mexico. Mr Trump's staff are ensuring that the department of homeland security could "hit the ground running" on issues that were key in the Republican's election campaign, Mr Kobach said.
Judge: FBI must indict Clinton. Fox News Channel's senior judicial analyst, Judge Andrew Napolitano, said on Monday the FBI has collected enough to prosecute Clinton on one of the most serious charges of all: espionage. Napolitano said the evidence the FBI has could be used to make a case for "failure to safeguard state secrets," and that's only the charges she would face for her private email server, which experts believe could have been penetrated by foreign hackers. Napolitano admits he was concerned when Trump said he was willing to let Clinton slide. "I don't think the decision to prosecute or not to prosecute should be a political one," he said. "It should be a legal one." That legal case is still growing as Clinton reportedly faces at least two other investigations: a public corruption case involving pay-for-play allegations from her time as secretary of state... and a probe into the shady activities of the family's charity.
Trump's Latest Cabinet Appointment Seeks To Dismantle Obamacare ASAP. Republican Rep. Tom Price from Georgia is both a politician and a highly experienced orthopedic surgeon who has been among the most vocal and consistent critics of Obamacare, a legislative monstrosity that Price feels is denying Americans access to healthcare and forcing them, under fear of penalty, to pay for increasingly expensive health insurance they don't want or need. Today [11/29/2016] it is being reported Congressman Price is to be the nation's next Secretary of Health and Human Services — a Trump pick that should send an undeniably clear signal to Congress and the American people that Donald Trump is very serious about taking on the trillions of dollars Obamacare mess.
Most Americans think Trump will keep his promise to repeal Obamacare and deport immigrants. According to the survey, a joint effort by Harvard University's Center for American Political Studies and the National Research Group, 64 percent of registered voters said they believed Trump will be very or somewhat effective in fulfilling his campaign promises on immigration, infrastructure, taxes and healthcare. A smaller group, 40 percent, believe he'll be successful in building a border wall between the United States and Mexico, an oft-repeated campaign promise with Trump telling his large crowds that America's southern neighbor would foot the bill.
A Memo for Attorney General Jeff Sessions. The most urgent matter that Attorney General Sessions will face is that of deciding the fate of FBI director James Comey. Comey was appointed in 2013 for a statutory term of ten years. In principle, however, he can be removed by the president at any time. President Bill Clinton removed FBI director William Sessions about halfway through his term on charges that Sessions had misused official resources. Although President Clinton discharged Sessions for cause, the statute creating the FBI director does not limit the grounds for termination, and we believe that the president's constitutional authority of removal would allow him to fire Comey for any reason. Rather than firing the FBI director, however, it is more likely that the president would first request his resignation. We think that Director Comey should leave office for the good of the FBI and the nation.
An Infrastructure Agenda for the New Administration. The best way for the new President to improve the nation's infrastructure is to remove the federal government from the equation through deregulation and funding reforms, not to follow his predecessor down the path of more government spending.
Federal workers worried about Trump plan. In terms of policy, Trump has suggested a federal hiring freeze and hinted at eliminating or sharply curtailing an entire Cabinet agency, the Department of Education.
The Editor says...
Mr. Trump could also eliminate the Department of Energy and nobody would notice. He could eliminate NASA and only the news media would care. He could easily do away with the EPA, because all 50 states have their own EPA equivalent.
Build The Wall: It Will Save Americans Trillions Of Dollars. Each year, illegal Mexican migrant workers send $24 [billion] back to Mexico in cash transfers. American employers paid them under the table and off the books with fraudulent identification. They never paid taxes, FICA or Social Security on that money. Their employers wrangled financial murder for the past 40 years. While illegal alien workers transfer THAT much money annually, all legal and illegal immigrants account for $120 [billion] sent back to Mexico, South America, Africa and Asia. In other words, immigrants from all countries bleed America financially to death. At the same time, Mexico smuggles $50 billion annually of drugs into America across a non-guarded, non-existent border. I've traveled the 1,952 mile Mexican-American border three times to witness that it allows anyone at any time to enter the USA in thousands of unguarded locations.
Donald Trump will never let Argentina take the Falkland Islands, veteran says. Argentina will never be able to reassert its sovereignty claims over the Falkland Islands under the watchful eye of Donald Trump who will back Britain, a leading academic has claimed. The UK is set to gain some very major assurances from the new President-elect, who will stand against sabre-rattling Argentinian officials in their desperate attempt to wrestle back control of the remote British Overseas Territory. Ian Shields OBE, international relations lecturer at Anglia Ruskin University and former RAF Group Captain, said the South American country will "absolutely not" be able to reach out to the US for help.
Lands activists urge Trump to revoke Obama's national monuments. Western lands activists are urging Donald Trump to test the limits of executive power by revoking millions of acres that President Obama set aside as national monuments, setting up a landmark legal battle over one of the nation's most frequently used environmental protections. Such a step would be historic. No president has undesignated a national monument created by his predecessor, and it's unclear whether he has the authority to do so. But Obama administration critics say now is the time to try to establish a precedent. They say Mr. Obama has wildly abused presidential power in using the 1906 Antiquities Act to cordon off huge swaths of land and sea — mostly along the West and East coasts — to prevent energy exploration. In total, he has earmarked at least 553 million acres of land and water as national monuments, far more than any other president.
Trump Says He Won't Take Clinton Investigations Off the Table. In a meeting with New York Times reporters, President-elect Donald Trump said he would not take the investigations of the Clintons off the table. Two reporters tweeted from inside the meeting, as Trump also expressed the view that Clinton "suffered greatly" and that it would be "very, very divisive for the country" to prosecute the Clintons.
Lock Her Up. If there is anything more to Donald Trump than bluster, we have yet to see it. Trump has not even been sworn in as president, and he already is walking away from campaign promises that are too hard to keep, starting with his pledge to pursue the case against Hillary Rodham Clinton, who violated national-security laws, lied about it, and very likely suborned criminal acts by others, including obstruction of justice. Speaking in the jabberwocky that is the lingua franca of Planet Trump, Kellyanne Conway says that the president-elect already has turned his back on his swaggering campaign promise to put his opponent in jail for what are — let us keep in mind — serious crimes.
Trump Won't Pursue Charges Against Hillary: "She's Been Through Enough". After Trump stunned the nation during the second presidential debate with Hillary Clinton, in which he quipped that under a Trump presidency "she would be in jail", and suggested that he would demand a special prosecutor probe into Clinton's email server and the Clinton foundation, moments ago MSNBC's Morning Joe reported, citing a source, that president-elect Donald Trump will not pursue any investigations into his former political rival Hillary Clinton "for her use of a private email server and the Clinton foundation."
Trump announces plan to kill regulations, spark coal production. President-elect Donald Trump on Monday presented his plan to build a wall against new regulations and kill many of President Obama's energy-stifling rules. In a video statement he said that a Trump administration would eliminate two regulations for every new one. [Video clip]
Trump's Path to Obamacare Repeal. On the stump, Donald Trump promised to repeal and replace the Affordable Care Act. Now obstacles are emerging on the left and right. Democrats are sowing panic, falsely predicting that 20 million will lose coverage. Newly elected Senate minority leader Chuck Schumer claims Trump will "rue the day" Obamacare is repealed. Meanwhile, on Trump's right flank, House Republicans are pushing Medicare "reform" and taxes on workers' health benefits — unpopular ideas that will undermine Trump's political support and derail his agenda. Here's the real deal about repeal.
REPORT: Trump Will Not Pursue Clinton Investigations; She's 'Been Through Enough'. Morning Joe is reporting today [11/22/2016] that president-elect Donald Trump will not be pursuing any criminal investigations into his former political rival Hillary Clinton. The report, first announced by Mika Brzezinski, comes just a week after a 60 Minutes interview where Trump indicated that he may not launch a full investigation into the Democratic nominee. "I'm gonna think about it," he said at the time to Leslie Stahl. "I don't wanna hurt them. They're good people," he continued of the Clintons.
Trump Signals He Won't Pursue Legal Charges Against Hillary Clinton. In order for the Trump agenda to gain quick passage, a Trump White House will need the help of at least some Democrats to do so. That does not mean the matter of the still-ongoing FBI investigation into the Clinton Foundation is concluded, though. In fact, that investigation is rumored to be far-reaching and will continue regardless of the Trump administration's statements regarding Hillary Clinton's private email server, though Conway wants to make certain the investigation maintains a the appearance of being entirely independent of any influence from a Trump White House.
Trump backs away from some of his strident campaign promises. President-elect Donald Trump abruptly abandoned some of his most tendentious campaign promises Tuesday [11/22/2016], saying he does not plan to prosecute Hillary Clinton for her use of a private email system or the dealings of her family foundation, has an "open mind" about a climate-change accord from which he vowed to withdraw the United States and is no longer certain that torturing terrorism suspects is a good idea. The billionaire real estate developer also dismissed any need to disentangle himself from his financial holdings, despite rising questions about how his global business dealings might affect his decision-making as the nation's chief executive.
Trump letting Hillary off the hook his biggest mistake yet. At first blush, Donald Trump's decision to swear off criminal investigations of Hillary Clinton didn't look like a good idea. At second blush, it looks like a terrible idea. The decision, dribbled out in a TV report and then confirmed by aide Kellyanne Conway, is too momentous to come in bits and pieces and from anyone other than Trump directly. He made the pledge at a debate to appoint a special prosecutor, and it smacks of Washington-as-usual for the reversal to slither out the back door.
Source: Trump will not seek to prosecute Hillary Clinton. This is just coming out this morning and it's only attributed on background to "a source" with knowledge of the transition team's thinking, but Donald Trump is supposedly not going to pursue any prosecution of Secretary Hillary Clinton over her email transgressions or even the pay to play activities of the Clinton Global Initiative. The story popped up on MSNBC's Morning Joe during the first hour and it immediately prompted questions as to why this would be coming out now. (To be fair, there wasn't a rush of other folks confirming the veracity of the source.)
Trump's climate plan might not be so bad after all. Even ardent supporters acknowledge that the Paris treaty by itself will do little to rein in global warming. The United Nations estimates that if every country were to make every single promised carbon cut between 2016 and 2030 to the fullest extent and there was no cheating, carbon dioxide emissions would still only be cut by one-hundredth of what is needed to keep temperature rises below 3.6 degrees Fahrenheit (2 degrees Celsius). The Paris treaty's 2016-2030 pledges would reduce temperature rises around 0.09 degrees Fahrenheit by the end of the century. If maintained throughout the rest of the century, temperature rises would be cut by 0.31 degrees Fahrenheit. At the same time, these promises will be costly. Trying to cut carbon dioxide, even with an efficient tax, makes cheap energy more expensive — and this slows economic growth. My calculations using the best peer-reviewed economic models show the cost of the Paris promises — through slower gross domestic product growth from higher energy costs — would reach $1 trillion to $2 trillion every year from 2030.
The Editor says...
The article immediately above is accompanied by a photo captioned, "Smoke billows from a factory in northeastern China." But even a public school student can see that the vapor shown in this picture is dissipating and disappearing as it blows downwind, which means it's water vapor, not smoke. I'd show you the picture, but it's the property of Getty Images, and the use of such a photo would come at a cost. Many other articles on the subject of CO2 emissions have used the same deception.
Trump aide Kellyanne Conway: No plan to pursue charges against Clinton. During the presidential campaign, President-elect Donald Trump pledged to appoint a special prosecutor to investigate Hillary Clinton, would join crowds of his supporters in chants of "lock her up!" and said to her face during a debate that if he were president, "you'd be in jail." But now that he actually will be president, Trump says he won't recommend prosecution of Clinton, who he told New York Times reporters has "suffered greatly." What's more, he said the idea of prosecuting Clinton is "just not something I feel very strongly about."
To 'Drain the Swamp,' Start With the Department of Justice. As we approach the inauguration of the 45th president of the United States, we can only hope that the Department of Justice under a Trump Administration is one that believes and, more importantly engages, in pursuing justice ethically, legally and with lots of common sense; and one that will institute department-wide accountability from both the top-down and bottom-up. As someone that has worked in the criminal justice field for close to 35 years and strongly believed that I knew and understood our criminal justice system more than most, I am saddened to admit that I was wrong, but I am optimistic that with the right leadership and management accountability, for positive change in the Justice Department is in fact possible.
Hidden Ipsos Poll: Public Strongly Backs Donald Trump's Plan To 'Pause' Legal Immigration. A just-released poll shows that Donald Trump's campaign-trail immigration and labor policies have overwhelming public support, and strong opposition from just one-sixth of voters. The Ipsos poll shows that only about one-in-six Americans strongly oppose Trump's policies towards immigrant labor, repatriations, sanctuary cities, Islamic migrants, employer oversight and his ground-breaking proposal to reduce legal immigration.
Repeal, Replace, Resist. Republicans should have no trouble repealing the Affordable Care Act, better known as Obamacare. They can invoke the procedure known as reconciliation, which means only 51 votes in the Senate will be needed to kill the unpopular health insurance plan. Since there will be 52 Republicans in the new Senate in 2017 and a Republican in the White House, repeal is a safe bet. As for Obamacare itself, Republicans won't waste their time negotiating over saving any of it. Senate Democrats want to keep the entire program alive by tinkering with its parts and bailing it out with billions in new funding. Forget that. Republicans are committed to a total replacement that emphasizes free-market incentives and patient choice. Both of those features are anathema to Democrats.
Donald Trump Has 47.5 Million Bad Reasons To Support Obamacare Bailouts. Last Friday afternoon [11/11/2016], Donald Trump caused a minor uproar in Washington when he signaled a major softening in his stance towards President Obama's unpopular health-care law. "Either Obamacare will be amended, or it will be repealed and replaced," Trump told the Wall Street Journal — a major caveat heretofore unexpressed on the campaign trail. Why might Trump — who not one month ago, in a nationally televised debate, called Obamacare a "total disaster" that next year will "implode by itself" — embark on such a volte face about the law?
Will Donald Trump channel Ronald Reagan to put an end to sanctuary cities? More than 300 cities and counties have sanctuary policies. For some, it is simply a political statement. They have taken no real action to give sanctuary to people who are there illegally. But other cities like San Francisco actively protect illegal immigrants. They refuse to turn over people who committed low-level crimes to federal agents for deportation. And when ICE asks for a "hold" on a prisoner, the city ignores it. Often they walk free. That is what led to the tragic shooting death of Kate Steinle in July of last year. Juan Francisco Lopez Sanchez of Mexico was in the U.S. illegally. He had 7 felony convictions and was deported 5 times. He kept slipping back through our border, seeking refuge in the safe haven of San Francisco.
How Trump Can Defeat the Establishment Bureaucracy. Trump defeated the GOP establishment, won more primary votes than any Republican candidate in history, defeated the Democrat Party establishment, and the media establishment[.] He has one more establishment he must defeat: the Washington bureaucracy and its nationwide administrative infrastructure. This establishment was not elected. It owes its existence and political influence to the manipulation of the Democrat Party. So while he can appoint agency heads and try to execute his policy goals through them, he has an army of bureaucrats against him.
Trump Has Repeatedly Flirted with Ending the EPA — He Absolutely Should. The $4-trillion-per-year federal government works incessantly against the private sector. Likely no wing is more pernicious than the Environmental Protection Agency (EPA). On his way to prison for defrauding taxpayers out of more than $1 million, former high-level EPA official Jon Beale said that while at the agency he was: "working on a 'project' examining ways to 'modify the DNA of the capitalist system.' He argued that environmental regulation was reaching its 'limits' ... so he began working on his plan." Thankfully that plan was eventually scrapped. But how obnoxious is the EPA — and how much free time does it have — to even consider, let alone work on, such a plan?
Unified GOP to target Obama payday, retirement advice rules. A top House Republican said Wednesday he is aiming to work with President-elect Trump to undo President Obama's pending rules on retirement advice and payday lending. Rep. Jeb Hensarling, the chairman of the House Financial Services Committee, outlined his priorities for the next Congress during a speech in downtown Washington and said he would aim to shutter Fannie Mae and Freddie Mac. Reform of the Federal Reserve also "remains a top priority," Hensarling said.
Obama has just suffered one of the harshest repudiations on record. Despite Obama's continued insistence on his own masterful handling of the economy, working class Americans handed the keys to the candidate who pledged to undo just about all of Obama's so-called achievements. Trump vows to repeal ObamaCare, do a 180 degree turn on Obama's tax policy, undo Dodd-Frank, reverse course on his immigration policy, walk away from Obama's global warming agreements and heavy-handed regulations.
Top Trump immigration adviser predicts immediate change. A key member of President-elect Donald Trump's transition team and a top adviser on matters involving immigration told FoxNews.com Monday the incoming administration will likely move to deport illegal immigrants upon arrest. Kansas Secretary of State Kris Kobach, a key player in several high-profile immigration measures and court cases, advised Trump on immigration during his campaign and will likely have a key role in shaping the new president's policies. Kobach said Trump is likely to scrap the Obama administration's approach of deporting only those who have been convicted, a policy he said releases dangerous people back into U.S. communities.
Little-noticed law gives Trump unexpected power to undo the mischief of bureaucrats. Nobody was counting on this. Barack Obama infamously said that he would govern by a "pen and a phone." He has circumvented Congress and the laws for years. The Democrats (and much of the media, but I repeat myself) have not only given him a pass, but cheered him on. Now it appears a seldom-noticed law might be a powerful tool that Trump can use to eviscerate much of the Obama legacy.
Trump Horrifies Liberals With Plans To Immediately Deport/Jail Up To 3 Million Illegals. Leftists are trying to make a case that there aren't that many with criminal backgrounds, even when considering that crossing the border illegally is illegal. They forget that roughly 40-45% of the illegals in the country overstayed their visas, which is even more criminal than those who jumped the border. Regardless, this gives a good view into how Liberals will respond to the era of Trump, meaning meltdowns and severe opposition to everything he proposes, regardless of whether it is good policy or not. Deporting those with criminal backgrounds? How dare he!
Draining the Swamp Won't Be as Easy as You Think. Consider what happened at the Civil Rights Division of the Department of Justice in 2000 as a case study. The Civil Rights Division is the most powerful and radical part of the most powerful and radical federal agency. In 2000, Clinton political appointees at the Justice Department did all they could in the two months between the election and the inauguration to sabotage any incoming agenda of the Bush administration. These problems will manifest across the federal government, but this agency was the engine of the most radical Obama policies, so it deserves special attention.
Trump's Plan For Coal Country Is To Hollow Out The EPA. President-elect Donald Trump's campaign to jump-start the coal industry is predicated on hollowing out the Environmental Protection Agency (EPA), according to members of his transition team. The EPA will be dialed back to focus solely on pollutants posing harm to public health and will cease its present extracurricular focus on agenda-centered pollutants supposedly causing man-made global warming, Kathleen Hartnett-White, a member of Trump's transition team, told reporters Monday [11/14/2016]. "He's very much for clean air and clean water," she said. "But the better home for considering this discussion about carbon dioxide and climate is in the Department of Energy."
More about the EPA and coal and the EPA's war on coal.
Kerry: 'American People are Committed' to Keeping Paris Climate Agreement. Secretary of State John Kerry wouldn't guess where the next administration would go with environmental measures, but said the American public would continue to demand action to combat climate change. At a Sunday [11/13/2016] press conference with New Zealand Prime Minister John Key, Kerry said he didn't want to "speculate on what President-elect Trump's presidency is going to mean with respect" to the Paris climate agreement. Trump said on the campaign trail that he wants U.S. participation in the agreement scrapped.
Brexit2 Signals the End of the Green Age. Donald J. Trump comes into office with a plan to toss out most of what President Obama achieved on energy and the environment. While vowing to "cancel" the international Paris climate accord Obama championed, Trump would also rearrange domestic energy and environmental priorities. He wants to open up federal lands to oil and gas drilling and coal mining. He wants to eliminate regulations he calls needless. He would scrap proposed regulations for tighter methane controls on domestic drillers. And he wants to shrink the role of the Environmental Protection Agency to a mostly advisory one and pull back the Clean Power Plan, Obama's proposed plan to push utilities toward lower carbon emissions.
The Editor says...
The Washington Post apparently sees this as bad news. I certainly don't. And I wish they would quit saying "carbon emissions" when they mean carbon dioxide emissions. Carbon dioxide is not a pollutant.
Obamacare Repeal: Trump Has a Mandate. Indeed, according to the first major post-election voter survey, "Seventy-four percent of Republicans say they want to repeal the Affordable Care Act when Donald Trump takes the White House." And the desire to deep-six Obamacare is by no means limited to Republicans. Recent public opinion polls indicate that a majority of Americans want to be rid of it.
Nuke 'Em: Priming the Senate for Necessary Action. If you're puzzled by the conflict between the Democrats' proclamations that they're willing to give President-elect Trump a chance and the many riots against Trump taking place every night since the election, don't be. The fact that none of the Dems' leadership from Hillary Clinton on down have asked for calm and condemned the rioting is enough to prove that they've not missed a beat between Hillary's campaign and Mr. Trump's imminent presidency. They're still in the "no justice, no peace" frame of mind. Justice, to them, consisted of Hillary winning the election, and they won't allow anything resembling political peace because she didn't.
Now the Mexican President is Willing to Negotiate About Border Wall. I guess Mexico isn't as opposed to the wall as the media would have us believe. Mexico's President, Enrique Peña Nieto, was one of the first world leaders to reach out to President-elect Donald Trump to congratulate him on his election victory. Nieto also seems very interested on meeting with Trump to speak about a few issues involving our two countries — so interested, in fact, that he would like to begin negotiations before Trump takes office!
Trump re-affirms plan to immediately deport 2 to 3 million illegal aliens. President-elect Donald Trump said that he will incarcerate or deport up to three million illegal aliens upon taking office in January. In a Sunday [11/13/2016] interview, Trump told "60 Minutes" that he is going to "get the people that are criminal and have criminal records, gang members, drug dealers, where a lot of these people, probably two million, it could be even three million, we are getting them out of our country or we are going to incarcerate."
Trump: Criminals will be deported first. Donald Trump will begin tackling the issue of illegal immigration by rounding up and deporting undocumented immigrants with criminal records, a group that he estimates at 2 million to 3 million people, the president-elect said in an interview to air Sunday night. "What we are going to do is get the people that are criminal and have criminal records, gang members, drug dealers, where a lot of these people, probably 2 million, it could be even 3 million, we are getting them out of our country or we are going to incarcerate," he said in the interview, to air on "60 Minutes" on CBS. "But we're getting them out of our country; they're here illegally."
A mandate means you can ... and you'd better. Donald Trump, Mike Pence, Paul Ryan and Mitch McConnell need to get to work quickly, and they need to consider themselves mandated by the voters to make big things happen. They need to repeal and replace ObamaCare. They need to replace the tax code. They need to make Washington a friend to domestic energy producers. They need to adopt business-friendly economic policies and sensible monetary policies. And they need to get spending under control, [...] Our national debt is approaching $20 trillion and unfunded entitlement mandates are more than $100 trillion.
Trump to Designate Muslim Brotherhood as Terror Organization. Donald Trump will work to pass legislation designating the Muslim Brotherhood as a terrorist organization, said Walid Phares, a foreign policy advisor for the president-elect. Speaking to the Egyptian news outlet Youm7, Phares said the legislation, which was already approved by the House Judiciary Committee earlier this year and referred to the Senate Foreign Relations Committee was held up due to the Obama administration's support of the group. Clarion Project spearheaded a campaign to educate legislators and move the bill forward over the past year. The bill currently has bipartisan support.
Trump victory is the end of the line for Obama judicial nominees. Donald Trump's victory in Tuesday's presidential election makes it unlikely that dozens of President Obama's judicial nominees will ever take the federal bench. Fifty-nine of Obama's nominees to the federal courts still haven't been confirmed by the Senate. Thirty of these have already cleared the Senate Judiciary Committee and are awaiting a vote on the Senate floor. Three of the pending nominees — Julien Neals of New Jersey, Mary Flores of Florida and Edward Stanton III of Tennessee — have been in limbo for more than a year and a half.
Trump says he will 'immediately' deport two to three million illegal immigrants with criminal records. President-elect Donald Trump has said he plans to deport two to three million undocumented immigrants with criminal records from the country immediately — and has insisted that he will build his wall. In his first extensive interview since he won the White House, Trump is reassuring his supporters that he will deport or incarcerate up to three million 'gang members' and 'drug dealers.'
Blue Nation Protesters. This is a nation that has been held captive to the liberal dominated media, now discredited by the President-elect. This is a nation that has been held captive to lies about "global warming." The massive amount of commerce that has been denied and restrained by efforts of the Obama Administration are waiting to be unleashed by a President-elect that simply removes the restrictions. The arguments of the left will have no purchase among those who voted for Trump and who will support him as he makes these changes to government policy.
Trump's Looking For Quickest Way Out Of Paris Climate Accord. [Scroll down] So, you have a global elitist scooting around the world on fossil fueled vehicles telling us how dangerous Hotcoldwetdry is while positioning an agreement crafted by global elitists as a mandate for action. It was so important that it wasn't even put up for debate by Obama and Kerry to the duly elected legislative body of the U.S. Many global elitists are thinking (praying, hoping?) that Trump will come around to their (global elitist) Warmist point of view. They surely have another thing coming. And we'll have a good laugh at the ensuing Cult of Climastrology meltdown when Trump negates U.S. participation in the Paris climate agreement.
Graham wants Trump to nominate Cruz to Supreme Court. Sen. Lindsey Graham, R-S.C., recommended on Friday [11/11/2016] that President-elect Trump nominate fellow former GOP presidential candidate, Sen. Ted Cruz of Texas, to fill the vacant Supreme Court seat. "I'm here to tell my Democratic colleagues that I voted for Obama's nominees. I expect them to give Trump's nominees a fair shake. He won this election. He will pick a conservative. I would put Ted Cruz on that list," Graham told WYFF-TV on Friday, while at a Veterans Day ceremony at Greenville Memorial Hospital.
Will Trump Launch Investigation Into Clinton's Many Crimes? With FBI director James Comey again declining to recommend indictment of Hillary Clinton for her numerous crimes involving her illicit use of a private, unsecured e-mail server to send and receive classified information, many — including Clinton and Comey — seem to think the issue is settled. Moreover, Clinton's defeat in the presidential election seems to be taken as a sign by many that it's time to move on and put the Clinton scandals behind us. But neither Comey's cowardly blindness nor the election results set aside the fact that Clinton broke the law and endangered national security. Candidate Donald Trump promised that President Donald Trump would have Clinton investigated by a special prosecutor.
Trump taps climate-change skeptic to oversee EPA transition. President-elect Donald Trump has made no secret of his disdain for the Environmental Protection Agency, saying the regulations it has put out under President Obama are "a disgrace." He has vowed to roll back Obama's signature effort to reduce greenhouse-gas emissions, known as the Clean Power Plan, and to scrap a litany of other "unnecessary" rules, especially those imposed on the oil, gas and coal sectors. The man planning how a Trump administration can obliterate Obama's environmental legacy is Myron Ebell, a Washington fixture who has long been a cheerful warrior against what he sees as an alarmist, overzealous environmental movement that has used global warming as a pretext for expanding government.
It doesn't get better than this. Trump is one hundred percent skeptic, no pandering. Finally, a leader says No to refueling the Global Green Gravy Train. It will still take years to slow and unpack, because it is a pagan religion and a 1.5 Trillion Dollar industrial freight machine. [...] No wonder they are in tears. The two main weapons of carbon-believers are the free money from government treasure chests, and coercion through namecalling. Trump has control of the biggest treasure chest in the world and isn't afraid of being called names.
Trump can eviscerate Obama's policies by dropping lawsuits, revoking memos. Forget about waiting for Congress — Donald Trump can eviscerate Obamacare and cripple President Obama's global warming framework all on his first few days in office by directing policy from the White House and ordering his Justice Department to drop lawsuits that the current administration is pursuing. Lawyers said getting rid of the government's mandate that schools allow transgender students to choose their bathrooms could be as simple as retracting an Education Department letter, then letting judges know that is no longer the administration's position.
Trump Reveals Policy Goals: "Building That Wall", End "War On Coal", Repeal Obamacare, Dismantle Dodd-Frank. On his transition website GreatAgain.gov, the Trump team has laid out the framework of his initial policies with policies focused i) on American Security including as Defense and National security, Immigration Reform and Building That Wall, and Energy Independence; ii) Getting America Back to Work Again including Tax Reform; Regulatory Reform; Trade Reform; Education; Transportation & Infrastructure and Financial Services Reform; and iii) Government for the people including Healthcare Reform (Obamacare), Veterans Administration Reform and Protecting Americans' Constitutional Rights.
Roll Up Your Sleeves, Deplorables. We do not have time to sit on our hands in our basket and bask in the thrill of victory. We must begin right now to crystalize and articulate what we will demand of our newly elected Republican government — from the White House to the Congress — and be prepared to hold all of their feet to the fire. Come January, it will be time for them to deliver. A Supreme Court justice like Scalia? The end of Roe and judicial games with marriage, "gender," and toilets? Abolishing the Department of Education? A patriotic, non-interventionist foreign policy? A border? Gun-owner rights? An attorney general who doesn't persecute state and local law enforcement? Trade deals that benefit Americans?
Mexico and Canada Announce Willingness to Renegotiate NAFTA. Donald Trump is not yet president, and yet within 24 hours of winning the election both Mexico and Canada announce they are willing to begin renegotiation's of the North American Free Trade Agreement (NAFTA). [...] This is EXACTLY what happens when you put a Titan of Industry back in charge of the biggest economy in the world. As a non-politician industrialist Donald Trump has said for decades, the U.S. holds all the leverage in these negotiations. He's right.
This Is Not Your Government. Those who reside within the borders of the United States live under a despotic rule of Supreme Court justices, regulators, random judges, presidential decree and Fed policy. There is no politician in the land responsive to the people. This is how Donald Trump gained the Republican nomination, because folks were fed up with calling their congressperson seeking redress only to be sold out as soon as the votes were counted. US citizens are not constituents in the normal vernacular, they are simply voters, you know, those folks who come around every two to four years and validate all of the larceny that has taken place in the past two to four years.
How to rebuild U.S. military might. In order to rebuild the U.S. military the next president is going to have to do the following things with the economy. The next administration must design a growth plan that will allow the U.S. economy to expand at a 3 percent to 6 percent rate per year. Only Donald Trump's plan has the opportunity to do this.
Trump calls climate change 'hoax,' as Clinton vows to fight it. Presidential candidates Hillary Clinton and Donald Trump offer Americans starkly different views on global warming: Clinton sees it as an urgent concern, while Trump dismisses it as a minor problem at most. "There's never been a bigger contrast between the two candidates and the two platforms," said Tiernan Sittenfeld, senior vice president of the League of Conservation Voters.
Donald Trump Declares Gay Marriage Debate 'Settled,' Uninterested in Overturning Supreme Court Decision. President-elect Donald J. Trump recently stated that he considers the debate over same-sex marriage resolved due to the United States Supreme Court's 2015 ruling legalizing it nationwide. In a Sunday [11/13/2016] interview with Lesley Stahl of CBS' "60 Minutes" program, Trump was asked about his views on the marriage definition debate. "It's irrelevant because it was already settled. It's law. It was settled in the Supreme Court. I mean it's done," stated Trump.
---