You would think that a multi-billion-dollar War on Terrorism would not be limited to international terrorism, but would include some kind of action against eco-terrorists who attack chinchilla farms, throw dye on fur coats, burn down legitimate businesses and deliberately disrupt military training and testing. I'm no lawyer, but at the very least, many of these cases appear to be organized crimes as defined in (18 U.S.C. § 1961), the RICO laws, and most of them probably constitute "interference with commerce by threats or violence" as defined in (18 U.S.C. § 1951). So why aren't these people already in prison?

Ironically, radical environmentalists, anti-war and animal rights activists destroy property and provoke violent confrontations in the name of non-violence. Moreover, they are legally incorporated nonprofit organizations under U.S. tax law.* However, many environmental activists don't even maintain the pretense of non-violence. Some organizations, like the Animal Liberation Front, openly condone and endorse violent activities against legal businesses, and even offer detailed advice about what to do and how to get away with it.

More information about misguided animal rights activists (mainly the non-violent ones) can be found here.


---



Thousands of Mink Released From PA Fur Farm: Authorities Term It 'Agricultural Criminal Mischief.'. Thousands of pen-raised mink are on the run in Pennsylvania, apparently after someone cut holes in the fur farm fence. [Video clip] Mink are nasty little predators. Mustelids — that's the weasel family, of which the mink is a member — are one of the few predators that will kill more than they can eat. This sudden influx of mink into a local ecosystem will do a lot of damage to the local ecosystem, and the mink themselves will suffer badly.

Climate Protester Who Glued His Feet to the Floor Complains About Being Put in Psych Ward. A climate protester at the U.S. Open tennis tournament disrupted the women's semi-final match between American Coco Gauff and Czech player Karolina Muchova for almost an hour. Now he is talking to the press about what he thinks was an attempt to silence him. Shayok Mukhopadhyay and three other climate activists stood up and began to chant "End fossil fuels now" shortly after the second set began. As event security moved in, it became apparent that Mukhopadhyay had glued his feet to the concrete floor of Arthur Ashe stadium. Mukhopadhyay's companions were led away, but it took medical personnel almost 50 minutes to get his feet unglued so he could be taken into custody. [Tweet with video clip]

Dutch Police Clear Thousands of Climate Crazies from Highway with Water Cannons. Several thousand climate activists blocked a Dutch highway on Saturday in anger at billions of euros in government subsidies for industries that use oil, coal and gas — before police dispersed them with water cannons. A report earlier this week detailed 37.5 billion euros ($40.5 billion) in such subsidies in the Netherlands, notably related to the shipping industry, prompting calls for a quick halt to the practice. The protesters — from Extinction Rebellion, Greenpeace and other organizations — broke through a police barrier Saturday morning and sat on a main road in The Hague heading to the temporary venue for the lower house of parliament.

Climate Terrorists Blocking Road In Nevada. Nevada rangers drove directly into a blockade set up by annoying climate protestors blocking the road to Burning Man. An officer pulled a gun out, tackling a protestor and threatening to shoot. Environmental activists were demanding that Burning Man ban private jets and single-use plastics. [Video clip]

Climate protestors are on everyone's last nerve. Regular people going about their daily lives are getting a bit more hands-on when it comes to shrieking eel climate cultists disrupting commutes or destroying property.

Why do Environmental Activists Intentionally Inconvenience the Public? Environmental, climate, and vegan activists make their headlines by interrupting the public's movement and events. Lately, activists are gluing themselves to UK, European, and Australian pedestrian crossings, roads, and runways. On Piers Morgan Uncensored, June 28, 2023, Just Stop Oil Activist Chloe Naldrett insisted disruptive actions are necessary because of "climate emergency." For today's activists, an "action" means intentionally disrupting transportation or public festivities (sports events, theater productions, shopping, restaurant dining). I wonder how they'd react to the news that stopping traffic was originally conceived as a way to discredit, not communicate, an environmental message. Decades ago, environmental activists didn't inconvenience the public for attention. Banners were hung off buildings. Activists organized marches and gatherings, applying for permits to use public streets or parks. Groups printed and distributed leaflets, published magazines, and hired lobbyists. Even when environmental extremists spiked trees, endangering logger and sawmill workers, these sinister acts didn't inconvenience the public.

Strangely, an awful lot of these "climate change" wildfire were started by arsonists, not excess CO2. [Tweet with video clip]

Just Stop Oil gets a taste of its own medicine. The pipsqueaks who call themselves Just Stop Oil spent last week irritating [...] London commuters. They had announced in advance that their goal was to "paralyze" the city. While they didn't accomplish that, they did bring many motorists to the verge of violence with their tactics of either slow walking or sitting in the street to block traffic. The BBC reported the cost of policing the protesters adds up to millions of pounds.

Someone Is Going to Get Killed. You'd have to live under a rock to not have seen videos of these "Just Stop Oil" lunatics throughout Europe being confronted as they block traffic with their asinine signs and stupid attitudes. Normal people have had enough of these idiots. It's one thing to march in front of some company's headquarters because you don't like what they do, it's another to physically prevent other human beings from simply going about their business. That the authorities in these largely left-wing cities have allowed these moronic mutants to get away with their antics with little to no ramifications so far is leading somewhere anyone can see coming: someone is going to get killed.

Eco-Terrorists Block Woman Trying To Get Her Baby To The Hospital. A group of exasperated moms confronted Just Stop Oil protestors blocking traffic on a busy London street. One frustrated parent got out of her car on Westway in Acton, west London, claiming her baby needed to go to hospital. She shouted to one of the eco-activists: 'I've got a baby in my car and we have to get to the hospital.' Despite her pleas, the protestors refused to let her through. [Video clip]

Just Stop Oil is hoping to 'paralyze' London this week. This group has been disrupting events for days. David highlighted some of the incidents which happened over the weekend. But there is apparently a concerted effort focused on shutting down traffic all around the city of London this week. Monday they held 30 separate disruptions. [Tweets] As one group was arrested another group would step into the street and the process would start all over again. This protesters complained she was arrested without being properly warned in advance. [Tweet with video clip] A year in jail would probably put an end to this very quickly but I wonder if it will actually happen or if, as usual, everyone will be let off with a warning. Street disruptions were the main tactic but they also engaged in some vandalism. [Tweet with video clip] This is obviously an organized effort which really is trying to disrupt the city. Hopefully police will take that seriously. The only way to prevent this from happening routinely is to make this effort a failure. The only way to make this effort a failure is to punish the people involved enough that fewer people are interested in repeating this stunt. It's really going to be up to the courts.

Climate Activist Blocking The Road Gets Turned Into A Speed Bump. This happened in Germany so the man in the Mercedes will most likely be arrested and imprisoned since climate change and German genocide is religion over there. [Video clip]

Disney Heiress Arrested at Climate Protest Against Private Jets at Hamptons Airport. Abigail Disney, the granddaughter of Roy O. Disney and self-described Patriotic Millionaire, was arrested Friday as she joined a climate protest at an airport in the Hamptons. Fox News reports the left-wing heiress added her voice alongside members of New York Communities for Change, Planet Over Profit, and Sunrise Movement NYC, on the East End of Long Island.

Just Stop Oil is hardly grassroots. Groups like Just Stop Oil and the countless other 'activist" groups who make our life difficult present themselves as ordinary people who are so selfless and so concerned about the future that they put their lives and freedom on the line to save Mother Earth. They are, of course, gaslighting you. It may be that the idiots who glue themselves to paintings, cement themselves to roads, and slow march during rush hour are not paid — I don't know and don't really care — but the organization itself is bought and paid for by big money billionaires and millionaires. The same sort of people who are foursquare behind The Great Reset, which itself is nothing but a huge and so-far successful power grab by the Elite. [Tweet] There are now huge dark money groups out there funding radical politicians and radical policies, recruiting ground troops who are brainwashed or just stupid enough to believe that without their immediate action life on Earth will evaporate, leaving a hot, dusty wasteland surrounded by seas that have risen to consume the world's cities.

All that security, for what? Just Stop Oil activists storm Wimbledon court for SECOND time. British number one Katie Boulter was left 'shocked' and 'worried' today when a Just Stop Oil activist stormed the Wimbledon court where she was playing, flinging jigsaw pieces and confetti onto the ground. The disruptive protester, named by the group as William John Ward, ran onto court 18 at 4.25 pm as Boulter played her match against Australia's Daria Saville where he was met with boos and jeers from the frustrated crowd before being dragged off the court by security. It calls into question the strict airport-style checks that caused 10-hour queues for tennis fans had their bags searched extensively, with some also having their bodies searched at the gates.

Mad Lads Hijack 'Just Stop Oil' Protest. Of the many odious Left-wing protest groups the West tolerates for some reason, Just Stop Oil (JSO) may be the most reviled in all of England. The group is famous for pulling pranks that inconvenience and annoy people, leading almost everyone they affect to despise them. They interrupt high-profile sports matches. They cause traffic snarls that lead to blocked ambulances and death. They throw food onto famous artworks. They glue themselves to things and ruin commuters' lives. They even caused a pileup at the intersection when they blocked a float in London's Pride parade Saturday: [Tweet with video clip] [...] Clearly, we are dealing with sociopathic infants here. And so, when brave men disrupt the JSO zombies for a change, those people must rightly be recognized as the heroes they are.

When Do We Reach Peak Climate Insanity? It Needs To Be Soon. The global warming gasbags and climate catastrophics seem to have an endless amount of energy. Like the posse chasing Butch and Sundance, they don't get tired, or hungry, or slow down, or even break formation. But unlike that posse, they'll never catch what they're chasing. To listen to the climate alarmists, the casual observer would be convinced that the incineration of Earth due to combustion that produces carbon dioxide is imminent. As in next year ... or maybe next week. Here's Rep. Rashida Tlaib, Democrat from Michigan: "We have to be much more aggressive in regard to fossil fuel expansions," she recently said. The Daily Mail characterized her rant as a "pep talk" for activists who are laying the groundwork for "a campaign of blocking highways and chaotic protests later this summer."

Congresswoman Tlaib Stirs Controversy with Provocative Call for Aggressive Climate Terrorism. In a shocking revelation, Congresswoman Rashida Tlaib of the infamous 'Squad' has been caught on tape, encouraging eco-zealots to unleash havoc in their upcoming summer campaign. DailyMail.com obtained exclusive access to a secret pep talk where Tlaib, a Detroit Democrat, urged more than a hundred hardliners from various environmental groups to take drastic measures, including blocking highways and engaging in chaotic protests. [...] During the private gathering, Tlaib passionately expressed, "We have to be much more aggressive in regard to fossil fuel expansions. If we don't get the policies we need, if our legislative process is failing us, then direct action gets the goods." These words of incitement have sparked intense debate, raising questions about the boundaries of protest and the responsibility of elected officials. [Video clip]

Democrat Donor Arrested for Starting Massive Fire Democrats Blamed on Climate Change. Authorities busted a Democratic donor for allegedly starting a "ginormous inferno" in Yosemite National Park. Democratic politicians had insisted climate change was to blame for the blaze, which destroyed more than 100 homes and injured several firefighters in July 2022. Edward Fredrick Wackerman (his actual name) of Mariposa, Calif., faces a number of charges including aggravated arson following his arrest on Friday. The arson suspect has donated $1,775 to Democratic candidates and committees since 2020, government records show, including a $1,000 donation to Tim Ryan's failed U.S. Senate campaign in 2022 and $400 to the Lincoln Project, a disgraced liberal super PAC.

Are the Canadian fires an act of eco-terrorism? With fires raging in Canada and blanketing America's northeast in thick orange smoke, leftists are again beating the "climate change" drum. Saner minds point to Justin Trudeau's refusal to practice good forest management. But what if it's neither of those things? It turns out that there's compelling evidence suggesting that eco-terrorists set the fires to corral weary Westerners back into a climate change panic — and it won't be the first time that's happened. [...] When you've got an unfalsifiable theory like climate change, which is all faith and no science, you'd expect leftists to tread the same path. But what if that's not what's happening at all? What if we're witnessing arson on a massive, destructive scale to drive the narrative? Elizabeth Nickson has examined the evidence suggesting eco-terrorist arson, and there's a good case. [...] Nickson, who is based in Canada knows what she's speaking about. Arson, she writes, causes well over half of Canada's wildfires, and the people arrested are often tied to environmental NGOs.

AOC seizes on Canadian wildfire smoke covering East Coast for new Green New Deal push. Rep. Alexandria Ocasio-Cortez on Wednesday promoted her Green New Deal in response to record-hot temperatures in Puerto Rico and wildfires in Canada. Congresswoman Alexandria Ocasio-Cortez on Wednesday pushed the Green New Deal on Twitter Wednesday in reaction to record-hot temperatures in Puerto Rico and wildfire smoke from Canada overwhelming U.S. East Coast cities, saying the world is "unprepared" for the "climate crisis." "Between NYC in wildfire smoke and this in PR, it bears repeating how unprepared we are for the climate crisis," the Democrat from New York stated Wednesday[.]

The Editor says...
Evidence exists that seems to indicate the Canadian wildfires were intentionally started in multiple locations. This event appears to be timed for maximum political effect. [Source] In other words, it appears that the worst polluters in North America are the environmental activists.

European eco-crazies encourage recruiting 'arrestable' members for planned mayhem campaign in the states. What we have here is a group with money that's planning in advance to shut the U.S. economy down through its odious road protests in the name of going green. They'll call it "peaceful" protests, but they're exactly the opposite of that in that the highway blockages will be done through force. Thousands of workers — the ones who don't make enough money to afford city rents or homes, and who must live on the outskirts of the cities — will be kept from their jobs, costing companies millions of hours of productivity, at a time when they're desperately trying to get workers back to the office. People who need to get to job interviews, or to the hospital for the birth of a baby, or for urgent surgery, or for an ongoing heart attack or stroke or gunshot wound, or else to someone's deathbed, will be blocked from attending to their time-sensitive needs. Good luck if your house catches fire and you need a fire truck. Good luck if you need an ambulance or a cop. Someone is going to get frustrated and run a car through them, leaving angry protestors then claiming the mantle of martyrs, the media fawning as they claim it.

Europe's top eco-zealots are plotting a huge 'civil disobedience campaign' of highway blockages and disruption. Europe's top climate activists are planning a 'large-scale civil disobedience campaign' of highway blockages, hunger strikes and disruption at 'federal properties' in the US in August, DailyMail.com can reveal. Leaders from Extinction Rebellion (XR) and other European groups known for their large-scale disturbances are rapidly expanding their US-based franchise, Declare Emergency, to create mayhem on this side of the Atlantic. In a videoconference, which DailyMail.com attended, the Europeans taught their US allies how to raise money, boost membership and recruit scores of 'arrestable' members to spearhead the most aggressive protests.

Climate Activists Are Now Deflating Tires in 18 Countries. Vandals deflating the tires of SUVs under the guise of climate activism are now active in 18 countries. The Tyre Extinguishers have deflated over 10,000 SUVs across the United Kingdom, United States, Canada, Czech Republic, France, Spain, Germany, Denmark, Norway, Sweden, Switzerland, the Netherlands, Austria, New Zealand, Italy, Ireland, Belgium, and Portugal, Fox News Digital reported.

Extremist Group Disabling Cars Across America - Dozens of Vehicles Hit at Once, Delusional Leaflets Left at Scene. Did you know that there is an entire group of crusaders dedicated to deflating the tires on certain vehicles? You know, because that's such a noble cause. This merry band of petty criminals call themselves the "Tyre Extinguishers" (though they also go by "The Tire Extinguishers") and think that by deflating the tires to your car, they are going to save the planet. Why? The "Extinguishers" themselves explain: "SUVs and 4x4s are a disaster for our health, our public safety and our climate. Bigger and bigger cars are dominating our towns and cities, and all so a privileged few can flaunt their wealth. Because governments and politicians have failed to protect us from this danger, we must protect ourselves. [...]"

Climate activists turn Rome's Trevi Fountain black. Climate activists in Italy turned Rome's famous Trevi Fountain black on Sunday, saying floods that have killed 14 people in the country's northeast were "a warning". Activists from the anti-climate change organisation Last Generation climbed into the landmark fountain and poured a vegetable-based carbon liquid into it, before being pulled out and escorted away by police. [...] The protest came as Prime Minister Giorgia Meloni arrived in Emilia Romagna to visit areas devastated by floods described as the worst in a century after six months worth of rains fell in 36 hours.

The Editor says...
Climate change activists affect more people than climate change itself.

Judge throws the book at Just Stop Oil protesters. Two Just Stop Oil protestors who scaled a bridge over the Dartford Crossing and caused 40 hours of gridlock have been jailed for five years in a record sentence for the climate group. Morgan Trowland, 40, and Marcus Decker, 36, blocked one of the busiest stretches of road in the country during their climate protest on October 17 last year. The pair hoisted a banner between two pillars of the Queen Elizabeth II Bridge, which links the M25 in Essex and Kent, and slept in hammocks in freezing temperatures overnight.

Eco-zealots wreak havoc on Boston as they slash 43 tires. Eco-zealots have dramatically returned to the US to wreak havoc on Boston as they slashed forty-three tires on luxury SUVs in the name of climate activism. Residents in the sleepy community of Beacon Hill became the latest victims of the maddening mob, who dub themselves the 'Tyre Extinguishers'. The climate-zealots have infuriated motorists on both sides of the Atlantic by purposefully deflating the tires on family vehicles, before leaving a condescending note telling their victims: 'Your gas guzzler kills'.

'Insulate Britain' Enviro-tards Nearly Get Squashed by a Furious Mom Trying to get Her Kids to School. An incident involving 'Insulate Britain' environmentalists and a frustrated driver has caused concern about the impact of climate protests on daily life. Footage shows a group of activists blocking a busy road, preventing cars from passing through. A mother driving her SUV with her children was among the drivers affected and became visibly upset, honking her horn and asking the protestors to move. The protestors refused to budge, and the situation became heated. [Video clip]

Barrister 'proud' to prosecute Just Stop Oil activists who shut Dartford Crossing. A barrister has proclaimed how "proud" he is following the prosecution of two Just Stop Oil protesters as lawyers refuse to take on cases concerning climate change activists. Morgan Trowland, 40, and Marcus Decker, 34, were convicted of causing a public nuisance after they caused the closure of the Dartford Crossing by scaling a bridge. Adam King, who secured the guilty verdicts following a trial at Basildon Crown Court, told afterwards how he had carried out a "public service" by taking on the case. It comes weeks after more than 100 eminent lawyers pledged to sign a "declaration of conscience", meaning they may not prosecute eco-protesters hauled before the courts.

Florence mayor physically intervenes to stop climate activists from defacing ancient building. A mayor has been likened to Superman after springing into action to stop climate activists who were spraying paint on an ancient city building. Florence mayor Dario Nardella intervened to stop activists defacing the facade of Palazzo Vecchio, the city's town hall building, with bright orange paint. Footage captured shows Mr. Nardella grabbing the arms of a male activist pointing a red fire extinguisher at the building that had been sprayed with paint. He can be seen shoving the man away from the vandalized wall as he attempts to put the extinguisher on the ground.

Activists vandalize Scotland's 'Braveheart' monument in climate protest. A pair of climate activists in Scotland will face trial after allegedly vandalizing a display case holding national hero William Wallace's broadsword. "The police say the accused believe they were raising awareness of climate change and that their actions were necessary for the cause," prosecutor Eilidh Smith said. Alexander Cloudley, 29 and Katrielle Chan, 21, both from Glasgow, pleaded not guilty to vandalism in Stirling Sheriff Court last week. They allegedly damaged and spray-painted the case holding Wallace of "Braveheart" fame's sword.

Protester storms stage during foreign policy speech by Sen. Josh Hawley. A female protester invaded the stage during Sen. Josh Hawley's speech at the Heritage Foundation in Washington on Thursday — forcing security to drag her away as she started shouting about the "climate crisis." The unidentified woman was seated in the front row at the influential conservative think tank's event as the Missouri Republican delivered prepared remarks regarding China and Ukraine. Hawley, 43, had just started to touch on the prospect of China invading Taiwan when a live stream of the event captured the woman suddenly standing up and making her way on stage.

'Squawking chicken truck' from PETA will 'confront' diners at 6 Dallas-area restaurants. A replica chicken transport truck "covered with images of real chickens crammed into crates on their way to the slaughterhouse" will drive around Dallas starting at lunchtime today, Thursday, Jan. 19, 2023. It's an effort from PETA (People for the Ethical Treatment of Animals) to "confront Dallas diners," a statement from the company says. They call the truck "Hell on Wheels," and it includes recorded sounds of birds' cries. The text on the truck reads "Does this bother you? Then go vegan."

The Editor says...
These are likely some of the same people who complain about big-city noise pollution.

NY Times: Have we reached peak climate alarmism? On New Year's Eve, the UK environmentalist group known as Extinction Rebellion which is best known for blocking traffic and pouring soup on priceless works of art, announced that it was giving up. "Our #NewYearsResolution is to halt our tactics of public disruption. Instead, we call on everyone to help us disrupt our corrupt government," the group said. As Beege pointed out a few days later, part of that reassessment may have been the result of some new laws which gave police more leeway in dealing with disruptive protesters. In short, the activists couldn't count on being treated with kid gloves for much longer.

Mountain Of A Man Shows You How To Deal With Climate Dweebs Who Block Traffic. An actual giant who obviously likes his cheese and wine, lost it when a group of climate change nuts blocked a busy road, causing massive traffic. The purpose of these disturbances is to force the government to implement an energy renovation plan commensurate with the climate emergency. "This summer there were 11,000 deaths due to heat waves, what will it be like this winter?["] warns a young activist. So faced with this reality, they chose to block the road.

The Editor says...
There is no climate emergency. It's hot in the summer and cold in the winter. The poorly-educated activists seem to be alarmed by both hot and cold weather, as if they are abnormal. Perhaps they should spend more time outdoors.

How left-wing activism got taken over by 'adults' who act like infants. Dumping milk onto floors. Hurling food onto walls. Refusing to eat. Gluing body parts. Threatening to pee and poop in your pants. Are those the behaviors of a toddler? Yes. But they're also the dominant tactics of today's climate activists. Consider the case of Gianluca Grimalda. On Oct. 19, Grimalda, along with 15 other members of a climate activist group called Scientist Rebellion, glued himself to the floor of the visitors center next to a Volkswagen factory in Germany. Although the VW security guards brought pizza to all the activist scientists, Grimalda, an economist who has published work in prestigious publications including the Proceedings of the National Academies of Science, felt disrespected. He declared a hunger strike and went on Twitter to express his outrage.

Why the Uptick in Climate Protests and Stunts? There's been a sharp uptick in protests in the name of a climate change induced catastrophe across the globe. Fridays for Future, the group inspired by Greta Thunberg, recently held protests in 450 locations. Stories are flooding the news of protestors gluing themselves to private property and then expecting the businesses to cooperate with their demands. Why the sharp uptick in protests? Are these grassroot protests or is this a political scheme? [Video clip]

Just Stop Oil protesters throw paint over climate sceptic group's HQ in London. A protester has been arrested after Just Stop Oil supporters threw orange paint over the headquarters of a climate sceptic think tank in central London. Climate activists from the campaign group attacked a building in Westminster used by the Global Warming Policy Foundation and disrupted traffic by sitting in the road. Some supporters also glued themselves to the road, and others locked themselves together. Just Stop Oil has been demanding the government halts new oil and gas licences and consents.

Mashed potatoes are the newest weapon in the climate war. Currently, Germany is facing a massive crisis, one that will have profound ramifications when it comes to food and shelter. In 2018, it smugly ignored Trump's warning not to end its fuel production in service to climate change madness and, especially, not to rely on Russia for natural gas. Now, with the pipeline not merely stopped (Putin's doing) but destroyed (who knows who did that), Germany is looking at a winter so cold and dark, and so lacking in food (you need fuel to bring food to market) that it has a distinctly medieval feel. The German people won't be dreading global warming; they'll be desperate for it.

Insurrection: New York Times Promotes Sabotage, 'Guerrilla Warfare' to End Fossil Fuels. In January of 2021, The New York Times promoted a book titled How To Blow Up a Pipeline by transparently radical author Andreas Malm. On Thursday, the Times directly promoted Malm by publishing his guest essay under the headline "History May Absolve the Soup Throwers." [...] While the Times routinely rails against the "insurrection" on January 6 and sees all "domestic terrorism" as a right-wing problem, it promotes a climate insurrection and left-wing domestic terrorism. Malm explicitly champions sabotage and violence — even guerrilla warfare! — as an efficient path to ending fossil fuels: [...] Malm tyrannically insists "all oil and gas production in rich countries — including the United States, Britain, Canada, Australia and Qatar — must be terminated within 12 years. Not only can there be no new fossil fuel installations; 40 percent of reserves already developed must be left in the ground."

This May Just Be the Best Response to Climate Change Radicals. We've seen a lot of climate change protesters in this country. They're usually incredibly annoying, doing things like blocking traffic by linking themselves together on the highway or gluing their hands to something. Last week as we reported, we saw these two people throw soup at Van Gogh's Sunflowers and glue themselves to the wall. [Tweet] The usual reaction to people like this has been to cut them loose or free them from the glue and arrest them. But the folks at Volkswagen may just have had the best response ever to this kind of idiocy. Sixteen members of "Scientist Rebellion" (which looks like an offshoot of Extinction Rebellion) went to the Porsche pavilion at Volkswagen's Autostadt in Germany. Nine of them glued themselves to the floor, they also had six other people, and one of the glued "scientists" claimed that some were "on hunger strike until our demands to decarbonize the German transport sector are met." [Tweet] But hold on, here comes the best part. Rather than calling the police, getting them loose, and having them arrested, the Volkswagen people left them there and closed, turning everything off, with them glued to the floor, without food, heat, and as, they complained, any way to go to the bathroom. [Tweet]

Volkswagen deserves a medal for this one! Some insane "scientists" decided to glue themselves to the floor of a pavilion to protest the car company's building cars. Because of course they did. [Tweet] What is it with protesters and glue? [...] In any case, these fine scientists who care deeply about the climate went and glued themselves to the concrete floor of the Porsche Pavilion, surrounded by very nice looking Porsches. Because these Porsches use gasoline and move very fast, they must be surrounded by people in white coats chanting to Gaia. [...] Volkswagen did what every single company being protested by [troublemakersa] should: they shut off the lights, turned off the heat, allowed anybody who wanted to leave to leave, and allowed nobody to come back in. You want to protest? Fine. You want to be glued to the floor, enjoy your time on the ground. In the dark and cold. [...] They are literally being left where they glued themselves to the floor without being able to order the food they want! Better yet, they are being left to stew in their own excrement! Priceless! What did they expect? Volkswagen to cater their protest and clean up after their mess? Apparently yes. Because of course everybody else has catered to the jerks who pull these stunts.

Protests have stymied gas production in the Netherlands that could replace most of Russia's supply to Germany. This winter may see Europeans freezing to death, unable to heat their homes as natural gas supplies dwindle. Unemployment and bankruptcies will soar, as companies find themselves unable to cover their costs due to high energy prices. Germany's vaunted chemical industry, heavily dependent on natural gas feedstock, is likely to wither on the vine. An economic and social disaster reminiscent of the 1930s is possible. The word "deindustrialization" is becoming real.

Climate Week Is Over, But The Warming Cranks Are Still Out There. Another Climate Week has come and gone, with Earth no cooler than it was before. But there is plenty to celebrate. Opportunities for virtue signaling, graft, prostituting science, and burning down capitalism have never been so vast. Launched in New York City in 2009, and now aligned with the execrable United Nations, Climate Week, according to organizers' telling, is "an ambitious platform for our mission to drive climate action," and "fast." It's such a wonderful moment, that a particularly dim fellow set himself on fire Friday at the Laver Cup tennis tournament in London to protest the use of private jets in the United Kingdom. The Sun reported that "it's believed the yob" who was momentarily aflame "was a climate change protester." Virtue signaling is generally a "luxury belief" that holds no cost. In this case, it came with some pain, and probably some regret.

Second woman who sabotaged the Dakota Access Pipeline is sentenced to six years in prison. It was a little more than five years ago when two women, Jessica Reznicek and Ruby Montoya, confessed to having sabotaged the Dakota Access Pipeline and damaged construction equipment being used to complete it. Neither Reznicek nor Montoya were caught in the act but they decided to announce their own guilt to draw more attention to the effort to stop the pipeline. That effort didn't work as planned but it did open them both up to federal charges. As I pointed out [elsew]here, 84 Members of Congress subsequently sent a letter to the DOJ asking if both Reznicek and Montoya qualified as domestic terrorists. It took two years before the pair were finally charged and initially they agreed to a joint defense.

Police Foil Suspected Climate Activist Stunt to Disrupt Queen's Funeral. A planned stunt to disrupt the funeral for Queen Elizabeth II by a climate activist group was reportedly foiled earlier this week by London's Metropolitan Police. According to a source from within the Met, a man tried to conduct a "waterborne reconnaissance mission" with a Go-Pro camera attached to his head as he paddled on a float in the no-go area of the River Thames outside the Houses of Parliament. Police suspected that the man, believed to be a member of either Extinction Rebellion or a similar extreme green agenda group, was filming to plan out a route for his fellow-travellers to clandestinely reach Westminster Hall to perform a stunt on Monday during the funeral for the late British monarch, the Daily Mail reports.

Obnoxious Members of a Vegan Mob Drill Into Milk Truck Tires. [A]n eco-mob broke into a dairy plant and damaged truck tires before targeting the new Prime Minister in Westminster. Footage shows one protestor approaching a heavy goods vehicle and attempting to slash one of the wheels. In the short clip, a couple of stationary trucks can be spotted while eco-zealots wreaked havoc on a UK dairy plant. The news comes after police arrested a number of vegan activists today as they targeted Britain's next Prime Minister Liz Truss. [Video clip]

Climate change protesters break into British parliamentary chamber. Climate change protesters have broken into the British Parliament and glued themselves to the speaker's chair in the House of Commons, the latest in a series of stunts by activists. [...] Earlier this year, climate change protesters glued themselves to famous works of art to halt oil production and highlight the global food crisis caused by extreme temperatures.

French Climate Extremists Fill Golf Course Holes with Cement During Drought. Europe has been suffering through a drought of historic proportions, but with water being rationed across the region. As a result, climate activists are taking aim at golf courses. France is in the midst of its fourth heat wave as authorities claim that it is the worst drought in modern history, the Associated Press reported last week. [...] Unfortunately, the heat wave is also bringing wildfires that have become difficult to deal with. Wildfires in northern Spain and France, for instance, caused the evacuation of thousands of residents. Several were killed by the conflagration sending climate change activists to begin posting messages proclaiming "Climate change kills." Activists associated with Extinction Rebellion have not limited themselves to placards and slogans. Last week they began stealing onto golf courses and filling golf course holes with cement to shut the courses down.

The Editor says...
A person killed by a wildfire is not someone who was killed by "climate change." Accidental fires are not part of the climate.

'Like a public shaming': a night with the eco-activists deflating SUV tires. On a searingly hot night in New York City, a group of mask-wearing activists grasping bags of lentils set out to stage the biggest blitzkrieg yet upon a new target for climate campaigners in the US — the tires of SUVs. The group — a mixture of ages and genders — split up as midnight approached, heading down the streets of the Upper East Side, lined by some of the most expensive apartments in the world and a gleaming parade of high-end, parked SUVs. This type of vehicle is the second largest cause of the global rise in carbon dioxide emissions over the past decade. The Tyre Extinguishers, as they call themselves, furtively hand around bags of lentils ahead of their raid (the legumes are jammed into a tire valve to release its air slowly overnight) and size up their quarry.

British eco-zealots have slashed tires of at least 40 gas-guzzling SUVs in NYC. Eco-zealots are slashing tires on SUVs across the globe in an effort to reduce greenhouse gas emissions. The Tire Extinguishers movement, which started in the United Kingdom, has spread to the United States and leaders promised to 'expand massively' in the coming weeks. New York City was hard hit by the group last month, when the tires of approximately 40 SUVs were deflated on the Upper East Side.

Climate Activist In SF Attacked A Man In A White Honda. Calls for a ban on SUVs have surfaced now and again over the years. In 2019, anti-SUV activists protested at the Frankfurt auto show, calling out the "SUV-ization" of the industry. These protesters were glad to make their claims in public, where they were certain to be not only noticed but also apprehended. Now, a new wave of attacks on SUVs is taking place way, way out of sight. Or, at least, that's the idea. As first reported by The Drive, a decentralized group called the Tyre Extinguishers (the spelling hints at the group's U.K. origins) is promoting the idea of deflating the tires of as many SUVs as possible to help make it "impossible to own a huge polluting 4×4 in the world's urban areas." By deflating enough tires on these "massive, unnecessary vehicles," the group hopes to cause enough "inconvenience and expense for their owners" that people just stop driving big vehicles in crowded areas.

14 arrested after protesters block Inner Loop traffic in Silver Spring. Climate activists blocked traffic on the Capital Beltway's Inner Loop for over an hour Monday afternoon [7/4/2022]. It happened on the Inner Loop at the Route 29/Colesville Road exit. Over a dozen climate activists blocked all lanes of the Inner Loop. According to Maryland State Police, troopers responded around 12:30 p.m., and all lanes were reopened around 1:45 p.m. "The 'adults in the room' have shown us they don't [care] about us. The people must now take action, like we've done again and again throughout history," read a flier that was handed out by the group Declare Emergency.

Climate activists slash dozens of SUV tires in NYC, say 'major cities' across US to be hit next. A group of climate activists has started a campaign to randomly slash tires of parked SUVs across the U.S. in an effort to curb greenhouse gas emissions. The Tyre Extinguishers — a group that originated in the U.K. and has expanded to various European nations — conducted its first "action" in New York City this week. The group vowed to conduct similar operations in cities nationwide. "We are rapidly expanding across the United States and are in touch with people in major cities across the USA," a spokesperson for the Tyre Extinguishers told Fox News Digital. "We expect this to expand massively."

Unhinged Climate Activists Glue Their Hands on Van Gogh Painting in London to Protest Global Warming. A pair of Green activists glued themselves on the frame of a Vincent Van Gogh painting in a London gallery earlier today. They, them were protesting global warming in long sleeves and pants. The group they belong to fights all infrastructure projects linked to climate change. The unhinged leftists told their gallery audience, "Sorry everyone, we didn't want to do this." The young man who glued himself to the painting has already been arrested 20 times and spent six weeks in prison this year.

Climate Change Activist Blocks Main Tunnel In Sydney During Rush Hour, This Guy Was Having None Of It. The New South Wales deputy premier has told climate change, protesters, to "go and get a real job" after police made 10 arrests across Sydney. Blockade Australia protesters were among a group of 50 to 60 activists who converged on Hyde Park about 8am on Monday, before marching towards the harbor, chanting, playing drums, with some pulling down signs, dragging wheelie bins onto the road and blocking intersections. One of those arrested was a 22-year-old woman who allegedly locked herself to the steering wheel of her car and blocked the harbor tunnel. [Video clip]

"We Have 1,028 Days Left": Climate Crazy Disrupts French Open. In the same week that a crazed climate fanatic attacked the Mona Lisa at the Louvre, France experienced another unhinged stunt from a climate-change activist. On Friday, a semi-final match between Casper Ruud and 2014 U.S. Open champion Marin Cilic was disrupted for approximately 15 minutes when a young female climate-change activist charged the court and attached herself to the net at Roland Garros in Paris. While Ruud was serving in the third set, a 22-year-old female wearing a shirt that read "We have only 1,028 days left" charged the court and attached herself to the net with metal wires and glue.

Climate Lunatic Ties Herself to Net at French Open. Doomsday prophets warning that "the end is near" used to be rare and fringy; now they're cutting-edge climate activists. On Friday, during the third set at the French Open tennis tournament as Norway's Casper Ruud led Croatia's Marin Cilic 4-1, the match was interrupted for fifteen minutes. Just as Ruud was about to serve, he instead watched incredulously as a "climate activist," that is, a brainwashed lunatic, ran onto the court and tied herself by the neck to the net, to save the planet or something.

Activist disguised as elderly lady in wheelchair smears cake on Mona Lisa portrait in Paris. A purported climate change activist masquerading as a wheelchair-bound elderly lady allegedly tried to vandalize the Mona Lisa at the Louvre on Sunday [5/29/2022] before he was hustled out by security guards. The wig-wearing man allegedly tried to break through the bullet-proof glass that protects the iconic painting and then threw a piece of cake or a custard pie at it shortly before closing time at the gallery. Leonardo da Vinci's 16th-century masterpiece is one of the most popular attractions at the world-famous Paris museum and is situated in its own room where crowds often assemble to view it and routinely take pictures.

Climate-Conscious Oscar Nom Glues Himself to Starbucks Counter so Minorities Can Finally Afford Fake Milk. A Hollywood star is sticking it to Starbucks. Actor James Cromwell [...] recently came upon a sweet way to cream the coffee company. As it turns out, the chain charges extra for plant-based milk. This heated PETA member James, so he percolated a plan. In order to stop Starbucks from choosing their preferred charging scheme, the 82-year-old glued himself to a New York City cafe's counter — that'll teach 'em. From there — because, given the glue, he couldn't do it from anywhere else — he read a prepared statement.

Actor James Cromwell Crazy Glued [Himself] To A Starbucks Counter For Charging Extra Money For Vegan Milk. James Cromwell, "Succession" actor and honorary director of PETA, superglued himself to a Starbucks counter in New York City on Tuesday. Cromwell glued his hand to the counter at a Midtown, Manhattan location to call on Starbucks to stop charging extra for vegan milk. PETA, which stands for People for the Ethical Treatment of Animals, live-streamed the "glue-in" on Facebook.

Video Surfaces Of Brooklyn Subway Shooter Ranting On How Everyone Deserves To Be Exterminated Because We Don't Care About The Planet. NYPD have released a photo of a person of interest in the Brooklyn subway shooting. Frank James, 62, is described as someone they want to speak to regarding the attack. In a video James uploaded in 2019, he rants on about the extermination of mankind over how it treats the planet. [Video clip, profanity warning.]

Environmental group calls for deflating tires of SUVs to combat climate change: target 'wealthy areas'. A radical environmental group raised a few eyebrows on Twitter after encouraging people to let the tires out of SUVs in an apparent bid to combat climate change. The group, Adbusters, tweeted step-by-step instructions for the provocation on Wednesday, calling it a "gentle escalation" or ramping up the urgency about climate change. "Wedge gravel in the tire valves, leaflet the SUV to let them know the tires are flat and why it was done, and walk away. It's that simple," the group tweeted. "If we organize, we can hit enough SUVs in particular neighborhoods to spark reporting and spread the metameme."

New Documents Show NBC Promised To Go Easy On Biden Official's Domestic Terrorism. New documents obtained through a Freedom of Information Act (FOIA) request by the government watchdog Protect the Public's Trust shared exclusively with The Federalist show NBC News sought to downplay a key Biden nominee's links to domestic terrorism. As President Joe Biden's pick to lead the Bureau of Land Management (BLM), Tracy Stone-Manning, faced controversy for her involvement with a 1989 Idaho tree spiking case last summer, NBC's Josh Lederman sought comment from the Interior Department whether the administration stood by its nominee for the preeminent land agency. Stone-Manning had been granted immunity in the case when she agreed to testify against her co-conspirators that she had retyped and sent an anonymous letter to the Forest Service for her friend and former roommate, John T. Blount. The letter warned of 500 pounds of "spikes measuring 8 to 10 inches in length" driven into trees of the Clearwater National Forest targeted for harvest. Such spikes can kill and maim foresters, firefighters, and animals.

Left-Wing Environmental Terrorists Attack Police and Pipeline Employees, Cause Millions in Damage. While the tyrannical leftist PM Justin Tredeau is worried about peaceful protesters throughout his country, violent leftists just attacked a natural gas pipeline and injured a police officer. [Video clip]

Violent overnight attack at Coastal GasLink site leaves workers shaken, millions in damage. Violence has erupted at a Coastal GasLink pipeline work site in Northern B.C., leaving workers shaken and millions of dollars in damage. Very early Thursday, just after midnight, Coastal GasLink security called RCMP for help, reporting it was under attack by about 20 people, some wielding axes.

Whilst truckers are treated like criminals, eco-terrorists are running riot. There has been an outbreak of serious terrorism in Canada. A member of the Royal Canadian Mounted Police was hurt and people going about their daily business were threatened by masked men with axes. Roads were blocked with barricades, Millions of dollars of damage was caused. At one point some of the workers were trapped in a vehicle while the terrorists tried to set light to it while they were inside. The attack happened just after midnight on Thursday night. It didn't happen in Ottawa where hundreds of truck drivers maintain their protest, despite emergency powers being granted to the authorities. Powers to steal their trucks, close their bank accounts — including the bank accounts of those who have merely donated to their cause. Now the authorities are talking about forcibly removing their children, all because they have engaged in peaceful protest. No this terrorist attack took place, not in Ottawa, but in British Columbia, at an industrial site.

Climate activist warns of pipelines getting 'blown up'. An environmental activist has warned about the "next step" in the fight for a green agenda could include pipelines being "blown up," but then quickly backed away from his claim. An "environmental warrior" from Canada, David Suzuki, made a statement over the weekend some considered a threat. If leaders don't act on global warming, now called climate change because, well, the globe doesn't appear to be warming, he said pipelines will be "blown up."

Brainwashed Teens Show Up to Harass People Eating — Claims Eating Fish Contributes to the Fish Holocaust. If you're curious what kids these days are being taught in school, take a look at these children who showed up to a restaurant to harass the people eating. One girl even claims eating fish is contributing to the fish holocaust. [Video clip]

Climate Activist Idiotically Super Glues His Face To The Middle Of The Road. An Insulate Britain activist glued his face to part of London's Liverpool Street on Monday as the climate change group continued its longstanding protest campaign. The activist, who gave his name as 'Matthew', told The Mirror that he was at the "head glued to the road stage of protest" and that he partly regretted taking such drastic measures. "It's not one of my better moves but it was to make a statement that things are fairly critical", he explained. The group is lobbying the Government to better insulate British homes as part of the fight against climate change. [Video clip]

Climate change group blocks drivers in NYC. They might care about the environment, but their regard for fellow humans is questionable. A climate change group blocked a highway in New York City amid rush-hour traffic Monday [10/25/2021]. The area that Extinction Rebellion NYC chose was particularly busy — FDR Drive and the West Side Highway.

Obnoxious Climate Activist Blocking Traffic Is Dragged And Tied To Railing With His Own Banner. New video shows the moment a furious driver ties an Insulate Britain activist to metal railings using the protester's own banner. The video clip was shared by Insulate Britain and is believed to have happened on the morning of October 13, when activists blocked roads around the M25 near Thurrock for the 13th day of protests in the space of four weeks. The footage shows a male protester being tied to metal railings with an Insulate Britain banner wrapped around his bag and strapped in place behind his back. [Video clip]

Are We Just Going to Ignore a Bunch of Green Warriors Who Tried to Storm the Department of the Interior? It wasn't the Capitol Building, but another insurrection occurred in Washington DC this week. Based on the liberal media's rules, this was an attack on our democracy*, our principles, and it should shake us to our core. This isn't who we are. Was this worse than 9/11? I don't know. That's what the establishment media thought of the January 6 riot. Are these domestic terrorists going to be arrested as well? Will there be a congressional committee to investigate how this heinous attack on our country occurred this week? Probably not. It was left-wingers. It was global warming activists who tried to storm the Department of the Interior building. One officer was injured.

Dozens of 'extreme' climate change activists dubbed 'People vs Fossil Fuels' break into the Interior Department, leaving 'multiple officers' injured. Dozens of climate activists have been arrested after they clashed with police in Washington DC and forced their way into the Interior Department building in scenes that some have called reminiscent of the US Capitol riot. An Interior Department spokeswoman said a group of demonstrators rushed the lobby on Thursday, injuring multiple security officers, at least of whom was taken to a nearby hospital. Police and protesters clashed outside the building, and officers used Tasers and batons against several unarmed protesters, representatives for the activist group said. The group said 55 participants were arrested.

Protesters Drown Out Jill Biden's Campaign Speech For Democrat Terry McAuliffe. Far-left protesters interrupted Jill Biden Friday evening while she was stumping for Virginia Democrat gubernatorial candidate Terry McAuliffe. Protesters began shouting as Jill Biden said she "loves the energy" of the crowd. 'ResistLine3 water protectors' who oppose the proposed pipeline from Alberta, Canada to Superior, Wisconsin showed up to McAuliffe's rally and shouted over Jill Biden. "Stop line 3! Stop line 3!" the protesters chanted.

Climate Activists Arrested After Storming Interior Department. A group of activists protesting against fossil fuels were arrested after staging a sit-in at the Interior Department in Washington on Oct. 15. The protesters stormed the Stewart Lee Udall Main Interior Building on Thursday afternoon, with "multiple injuries" reportedly sustained by federal police and one officer hospitalized, according to a statement from Interior Department Communications Director Melissa Schwartz. Thursday was the second to last day of the week-long protest held by People vs. Fossil Fuels to demand a declaration of a national climate emergency by President Joe Biden. The organization also demanded Biden stop approving fossil fuel projects and speed up the end of the "fossil fuel era."

When is an insurrection not an insurrection? During the Kavanaugh hearings, hundreds of hysterical leftist activists stormed the Capitol and even managed to break into the Senate chamber. They were arrested and that was the end of it. On January 6, crowds of pro-Trump people, along with undoubted provocateurs and, almost certainly, FBI agents, entered the Capitol. Once in, they wandered around reverently and left — except for Ashli Babbitt, whom a Capitol Police Officer killed in cold blood. January 6 was called an "insurrection," and Biden's DOJ is using it as an excuse to hold political prisoners and terrorize into silence those who oppose Trump. And no, it's not just a new, stricter standard, as Thursday's "climate justice" riot showed. Admittedly, the climate fanatics didn't head for the Capitol. Instead, they besieged the Department of the Interior.

Climate protesters swarm White House, vandalize Jackson statue, warn Biden. Left-wing climate protesters hit the D.C. streets Monday [10/11/2021], vandalizing a statue of former President Andrew Jackson and swarming the White House while warning President Biden to take their demands seriously. The Build Back Fossil Free coalition took to the DC streets Monday with their five-day-long protest's aim to spur action by the Biden administration against climate change, mainly by declaring a national emergency and ending projects involving fossil fuels. Siqiñiq Maupin, director of coalition core member the Sovereign Inupiat for a Living Arctic, told Fox News in a Monday email statement that the protest was happening because they believe Biden needs to follow through on his campaign promises.

Brits Yanking Protesters Out of the Road Will Make Your Day. Have you ever wanted to just grab idiotic protesters by the scruff of the neck for blocking traffic on the morning commute for some dumb reason (usually climate change — as they make emissions worse by blocking idling cars and trucks)? I know I have, but I've thankfully never encountered them. But a bunch of lads in England had had enough of this nonsense and started dragging climate protesters off the road in a totally satisfying way. [Video clip]

Obnoxious Climate Activists Get Dragged Off The Road By Motorists To Allow Ambulance Through. Angry drivers have been seen dragging Insulate Britain protesters out of the road near Wandsworth Bridge. Footage showed crowds of people attempting to clear the demonstration before police arrived. One of the vehicles stuck in the traffic was an ambulance, with people seen screaming at protesters to move to let emergency services through. [Video clip]

The New Yorker provides a platform for ecoterrorism. David Remnick, of The New Yorker, put up a podcast over the weekend. He opened by saying that, while the Biden administration and the UN are working hard on climate change, it's too late. As the California wildfires show, catastrophic climate change is here. (Never mind that California has had cyclical droughts and fires for centuries.) That's why Remnick respectfully gave The New Yorkers' bully pulpit podcast to Andreas Malm, a lecturer at Lund University in Sweden, who thinks it's time to blow things up. [...] Well, as Remnick explains, Malm's recent book is entitled "How to Blow up a Pipeline." And while "it's a bit more nuanced than the title suggests," even Remnick agrees that, "at its core, he really does want environmental activists to rethink their commitment to non-violence and embrace tactics of sabotage." Then, Remnick has a polite and respectful interview with Malm, as the latter details his rage and the need to destroy property.

It's Time To Stop Terrorizing Our Children. If you are a male or a female (or know someone who is) and have been sleeping too soundly lately, type "billions of children facing climate shock" into Google and you will discover dozens of articles from last week warning that almost half the world's 2.2 billion children will face, as one article says, "climate-related disasters in their lifetimes, [a UNICEF] report found." [...] Now, let's pretend you're a 7 (or 38) year old, lying awake all night, worrying and struggling to solve pollution, injustice, and extinction problems. With these stress-inducing "unfixable" homework assignments, is it any wonder that so many kids (and child-like adults) are consuming record levels of ADHD meds and antidepressants? [...] Many of Grimm's Fairy Tales have been banned or deemed too "violent" for children. However, politically correct Saturday morning cartoons pound home the message that little boys and girls are going to die horrible deaths unless their parents give up their cars, wash their hands properly, become vegans, and stop challenging the effectiveness of wearing masks.

Why is Joe Biden still standing by his Earth First! nominee for Bureau of Land Management? It's starting to look bad for Tracy Stone-Manning, Joe Biden's nominee to run the Bureau of Land Management. The latest news is that she lied to Congress about her involvement in eco-terrorism; an Earth First! tree-spiking incident in Idaho's Clearwater National Forest in 1989. At the time, she wrote a profane threatening letter to "warn" loggers about the spikes and then told Congress she knew nothing about the whole thing and was merely an innocent college kid forced to do it to try to make sure nobody was "getting hurt." It didn't happen that way, according to various sources. Normally, a person with any such involvement, lying or not, would be exceptionally unfit to run the Bureau of Land Management, which oversees 245 to 247 million acres of public land, and has 9,000 employees. Putting her in charge of it would be like putting an embezzler in charge of the Federal Reserve. Yet incredibly, Joe Biden continues to stand by her, even as one bad thing after another about her activity now rolls out.

Republicans ramp up pressure on Biden to pull nominee linked to eco-terrorist plot. Republican senators are ramping up pressure on President Biden to withdraw Tracy Stone-Manning's nomination for Bureau of Land Management (BLM) director, citing her link to an eco-terrorist plot and her apparently misleading answers to senators about it. Every Republican on the Senate Energy Committee signed a letter Wednesday [7/14/2021] urging Biden to pull Stone-Manning's nomination. "Ms. Stone-Manning has made false and misleading statements in a sworn statement to the U.S. Senate Committee on Energy and Natural Resources (Committee) regarding her activities associated with an eco-terrorist cell whose tree spiking in Idaho's Clearwater National Forest in 1989 put lives at risk," the senators wrote.

Lead investigator of eco-terrorist plot involving Biden nominee says she was the 'nastiest of the suspects'. The lead Forest Service investigator of the eco-terrorist plot involving President Biden's Bureau of Land Management (BLM) director nominee sent a letter to the Senate Energy and Natural Resources Committee Wednesday pushing back against Tracy Stone-Manning's testimony. Michael Merkley, a retired criminal investigator for the U.S.D.A. Forest Service with over 28 years of service, said he felt compelled to write the letter to the Senate committee because many of the reports he had seen about the tree-spiking case linked to Stone-Manning were "inaccurate or incomplete" and misrepresented her as a "bystander or a victim." "Contrary to many stories in the news, Ms. Stone-Manning was not an innocent bystander, nor was she a victim in this case," Merkley wrote. "And, she most certainly was not a hero. Ms. Stone-Manning was not only a member of Earth First!, but she played an active role in the Earth First! hierarchy."

Radical Environmentalists Take On DC Commuters, Biden. Radical environmentalists took to the streets near the White House on Wednesday [6/30/2021] to protest against President Joe Biden, saying they would rise up if promised climate change policies were not implemented. The protest, organized by the Indigenous Environmental Network, blocked up portions of Washington, D.C., streets as participants called for Biden to dismantle fossil fuel infrastructure and excoriated him for not delivering on campaign promises. One of the protest's leaders said insurrection against the government may be necessary if their demands are not met. "If they don't want to do what we ask, or do what we're demanding, the next step is to rebel," said Kevin Cramer Jr. of the Palm Collective, a radical black and queer liberation group. "I'm giving us a minimum of probably 10 years — 10 years until we start seeing the severity of like, [...], everyone, we can't take baths, [...], here is a bucket of water. The crisis is that high."

Tree Huggers Surround White House, No Unarmed Protesters Shot This Time. Roughly 500 Eco-Nazis blocked all entrances to the White House yesterday, demanding that Whispering Joe include a "Civilian Climate Corps" addendum in his trillion-dollar infrastructure bill and support the Green New Deal. A group calling themselves "Sunrise Movement" created what some people might deem an insurrection. Fortunately, none were wearing MAGA hats so no unarmed protestors were shot by mystery guards. Dozens were supposedly arrested.

Biden Nominee's Complicity in Eco-Terrorism Case Disqualifies Her from Leading the Bureau of Land Management. Western loggers, mill workers, and small communities were shocked when President Biden nominated Tracy Stone-Manning as the Director of the Bureau of Land Management (BLM). Stone-Manning was part of the notorious domestic eco-terrorist group Earth First! when she was a 23-year-old graduate student at the University of Montana. As an editor of one of the group's publications, she provided fodder to the faithful who opposed congressionally mandated logging on federal lands. On one occasion, however, she went beyond advocacy. In 1989, she was an accessory to an act of eco-terrorism called tree spiking in an effort to stop the sale of Idaho national forest timber.

The Editor says...
Eco-terrorists should be in prison, not in the government.

Court Records Show Eco-Terrorist Letter Received by Forest Service Was Sent by Biden's Bureau of Land Management Nominee. A past link to an activity described as eco-terrorism should disqualify President Joe Biden's nominee to head the Bureau of Land Management, according to a Republican senator. Sen. John Barrasso of Wyoming responded critically to nominee Tracy Stone-Manning's role in sending a threatening letter on behalf of an environmentalist group that committed tree spiking crimes in 1989. "Tracy Stone-Manning collaborated with eco-terrorists," Barrasso said, according to the Daily Caller. "She worked with extreme environmental activists who spiked trees, threatening the lives and livelihoods of loggers."

Jane Fonda Encourages Anti-Pipeline Activists in Minnesota to Mess with Critical US Infrastructure. The 83-year-old Communist and traitor encouraged activists to "raise a ruckus" and create a headache for the Canadian oil company, Enbridge. "Biden has taken a very clear and very beautiful position on the climate crisis," Hanoi Jane said. "But we are really facing a potential catastrophe and the science is very clear — it's not enough to do something good here like shutdown Keystone XL, shut down drilling on the Arctic national refuge and then allow Line 3 to go through." "We can't do this in bits and pieces," she added.

Cyberattack on US pipeline is linked to criminal gang. The cyberextortion attempt that has forced the shutdown of a vital U.S. pipeline was carried out by a criminal gang known as DarkSide that cultivates a Robin Hood image of stealing from corporations and giving a cut to charity, two people close to the investigation said Sunday [5/9/2021]. The shutdown, meanwhile, stretched into its third day, with the Biden administration loosening regulations for the transport of petroleum products on highways as part of an "all-hands-on-deck" effort to avoid disruptions in the fuel supply.

The Editor says...
What kind of "charity" would accept a gift that was extorted by an enivronmental terrorist group?

The Federal Bureau of Intentional Lying Claims Fuel Pipeline Cyber Attack is Darkside Ransomware. The Federal Bureau of Intentional Lying (FBI-L) has claimed the Colonial Pipeline Network was compromised by a hack from Darkside Ransomware: "The FBI confirms that the Darkside ransomware is responsible for the compromise of the Colonial Pipeline networks. We continue to work with the company and our government partners on the investigation." When the state police tell us something prudence dictates we evaluate their motive against previous state police statements and make an independent decision. That's the basis of not being a victim to professional lying.

Cyberattack Forces a Shutdown of a Top U.S. Pipeline Operator. A cyberattack forced the shutdown of one of the largest pipelines in the United States, in what appeared to be a significant attempt to disrupt vulnerable energy infrastructure. The pipeline carries refined gasoline and jet fuel up the East Coast from Texas to New York. The operator of the system, Colonial Pipeline, said in a statement late Friday that it had shut down its 5,500 miles of pipeline, which it says carries 45 percent of the East Coast's fuel supplies, in an effort to contain the breach on its computer networks. Earlier Friday, there were disruptions along the pipeline, but it was unclear whether that was a direct result of the attack, or the company's moves to proactively halt it.

Fears of gas price surge after 'DarkSide' cyber attack shuts Colonial Pipeline between Texas and NJ that carries 45% of East Coast fuel: Experts call it 'most significant assault on infrastructure to date in the US'. The largest gasoline pipeline in the country was shut down on Friday [5/7/2021] after a sophisticated ransomware attack, which experts are calling the most dramatic cyberattack on U.S. soil to date. In a Saturday statement, Colonial Pipeline said that it 'proactively took certain systems offline to contain the threat, which has temporarily halted all pipeline operations, and affected some of our IT systems.' The hackers are likely a professional cybercriminal group, and a group dubbed 'DarkSide' was among the potential suspects, two U.S. government officials told Reuters.

Hold onto your hats: Gas prices may be going up even more. Considering how hard President Trump fought to accomplish anything despite nonstop opposition from Democrats and unusually high opposition from the RINOs in his own party, it seems tacky to complain about one of his failures. Nevertheless, with news breaking late Friday night that a cyber-attack disabled the largest gas and diesel pipeline in America, we must regret the fact that he did not get the chance to harden America's infrastructure against attack. This major ransomware attack reminds us how vulnerable we are, not just to blackmail, but to our infrastructure's destruction.

A cyberattack forced a temporary shut down of the largest US fuel pipeline, which carries nearly half the fuel consumed by the East Coast. Colonial Pipeline, the largest US refined fuel pipeline operator, has shut down operations because of a cyber attack, the company said. After learning it was "the victim of a cybersecurity attack," the pipeline operator on Friday took certain systems offline, temporarily halting pipeline operations and certain IT systems. It also hired an outside cybersecurity firm that is investigating the severity of the breach, the company said in a statement. "At this time, our primary focus is the safe and efficient restoration of our service and our efforts to return to normal operation," the statement said. The company is the country's largest refined products pipeline operator, transporting more than 100 million gallons of gasoline, diesel, jet fuel, and home heating oil daily through a pipeline system that spans 5,500 miles from Houston, Texas to the New York area.

Leftists Dump Piles of Cow Manure at Biden White House in Earth Day Protest. Leftist protesters led by Code Pink's token white male Tighe Barry and Extinction Rebellion D.C. marched through downtown Washington, D.C. Thursday morning pushing pink colored wheelbarrows filled with cow manure, heading to the White House to protest Joe Biden's climate policies on Earth Day. This is one time when wearing masks outdoors might make sense.

The Editor says...
Did they drive right past the National Guard with a truckload of manure? Do you think a Republican in a MAGA hat could do that without being questioned?

Mediterranean oil spill is 'eco-terrorism' by Iran, Israel says. Iran intentionally polluted the Mediterranean Sea and Israel's shores in an act of ecological terrorism, causing the greatest environmental disaster in Israel's history, Environmental Protection Minister Gila Gamliel said on Wednesday [3/3/2021]. "This pollution has people who are responsible for it and have to pay the price. Our nature is damaged, our animals are harmed, thanks to merciless environmental criminals," Gamliel said.

Legalizing Ecoterrorism on the Left Coast. Law & order break down where liberals rule. San Francisco is an obvious example. Portland is another: ["]Five climate radicals arrested for sabotaging train tracks used by Zenith Energy to transport crude oil are free today because Portland, Ore., jurors just couldn't bring themselves to convict the earth's saviors. The five jurors believed the defendants' 'climate necessity defense,' which argues you can break the law if you're saving the planet.["]

Canadian Protesters Set Fires On Tracks To Extend Rail Blockade. Last Friday [2/21/2020], Prime Minister Trudeau abruptly reversed himself and demanded that the blockades of rail lines, which have sprung up in various places this month, be cleared. Monday, police in Ontario cleared out one of the larger protest camps, arresting 10 people and clearing the way for trains to resume service. But the protesters weren't done. Later that night they began throwing burning tires onto the tracks.

Blockades are not terrorism, says Blair following exchange with Conservative MP. While he's concerned about ongoing protests along rail tracks in Quebec and Ontario, Public Safety Minister Bill Blair said this morning they don't constitute acts of terrorism, as some Conservative MPs are suggesting. On Wednesday [2/26/2020], protesters set tires on fire and tossed them onto the track near Belleville, Ont., as CN Rail trains — which often carry flammable chemicals and petrochemical products — rolled by. During this morning's meeting of the House of Commons public safety and national security committee, Conservative MP Doug Shipley asked the minister whether the blockades are being examined as terrorist activity under the Criminal Code. "No, they're not," responded Blair.

Armed ecoguards funded by WWF 'beat up Congo tribespeople'. Armed ecoguards partly funded by the conservation group WWF to protect wildlife in the Republic of the Congo beat up and intimidated hundreds of Baka pygmies living deep in the rainforests, an investigation into a landmark global conservation project has heard. A team of investigators sent to northern Congo by the UN Development Programme (UNDP) to assess allegations of human rights abuses gathered "credible" evidence from different sources that hunter-gatherer Baka tribespeople living close to a proposed national park had been subjected to violence and physical abuse from the guards over years, according to a leaked draft of the report. The allegations, reported to the UN last year, included Baka tribespeople being beaten by the ecoguards, the criminalisation and illegal imprisonment of Baka men, summary evictions from the forest, the burning and destruction of property, and the confiscation of food.

Making the Planet Fit for Food: Climate Protesters Attack Vermont's Dairy Farms. The Vermont Governor's annual "State of the State" address was interrupted this year by a loud group of protesters, who refused to stop screaming bizarre slogans until the Vermont State House session was closed so they could be physically escorted from the building. Amidst their shouts of "I'm afraid I'm going to die!" and "Climate justice is migrant justice!," were repeated condemnations of Vermont's "dairy industry." This vague "industry" boogeyman is actually nonexistent in Vermont. The state's dairy farms have steadily declined, and even its largest operations are puny in contrast to the mega-dairies elsewhere.

Climate lunatics vs. the laws of physics. According to reports, a cohort of Greta worshipers in the Northeast has been throwing their bodies in front of coal-filled freight trains for at least the past month in the hopes of stopping these fossil fuel payloads from reaching their destinations. Video footage of an incident in Worcester, Massachusetts, as one example among many, shows a handful of rabid climate activists almost getting run over by one of these freight trains while it was en route to New Hampshire. Similar incidents have occurred at various other points along the same track. An activist group known as "350 New Hampshire Action" reportedly took ownership of at least one of these dangerous stunts, announcing that nobody was hurt but that the trains "refused to stop" — as if they somehow should have turned right back around and gone back to the coal mine. But momentum is a real thing, unlike climate change.

Animal Rights Activist Stabs Fur-Wearing Woman in Church. An Ohio animal rights activist with a history of attacks on people wearing fur has been charged with attempted murder for stabbing a woman wearing fur boots at a church outside Cleveland, police said. According to the police report, the victim had taken children she babysits to the church for choir practice at Fairmount Presbyterian Church, in Cleveland Heights. Meredith Lowell, came up and stabbed her, the victim suffered two stab wounds to her arm and stomach, Fox News reports. "Witnesses told police they heard a woman screaming and the babysitter fell to the ground due to the stab wounds."

Police: Animal rights activist stabs victim in Ohio church over her faux-fur boots. An animal rights activist is facing attempted murder charges for allegedly stabbing a woman inside an Ohio church. The incident happened Wednesday night, just before children's choir practice at Fairmount Presbyterian Church in Cleveland Heights. Bodycam footage shows the moment officers arrived on the scene after receiving a call indicating someone had been attacked. A churchgoer can be seen pinning 35-year-old Meredith Lowell to the floor before officers rush in and arrest her. The victim was stabbed twice in the arm and once in the stomach.

Climate Protestor Blocks Traffic Gets Knocked Out. Stupid girl blocks traffic to protest global warming... impatient drivers don't care... so she gets a traffic cone to the head. [Video clip]

El Paso Shooter's Extreme Environmentalism Deserves Condemnation. The manifesto that the El Paso shooter posted before his deadly rampage reveals that, along with hate for immigrants, he held a radicalized view of mankind's relationship to nature. The manifesto itself was titled "The Inconvenient Truth About Me," an apparent homage to the many false narratives presented in Al Gore's climate "documentary." [...] Throughout the document race hatred is interspersed with vitriol against so-called corporate greed and technological change and an embrace of radical environmentalism. His own words reveal how much he had been indoctrinated with the belief that human actions were destroying the planet and that extreme measures were required to save us from ourselves. In reading the document, it could be argued that his perverse environmentalism forms the basis for his racism and anti-immigration views.

67 protesters arrested for demonstration at coal power plant. Scores of climate change protesters were arrested outside a coal power plant in New Hampshire on Saturday [9/28/2019] as they staged a demonstration calling for the facility to be shut down. About 120 people gathered outside Merrimack Station in Bow, New Hampshire, on Saturday afternoon, with 67 people being arrested, according to the Bow Police Department.

Vegan activist who 'rescued' 16 rabbits killed nearly 100 in the process. A vegan activist in Spain who claimed to have been attacked by an angry mob last week — after she "rescued" 16 rabbits from their farm — wound up causing the deaths of nearly 100 baby bunnies in the process, a report says. The activist, who goes by the name "Mythical Mia" on social media, conducted the alleged rescue mission on a farm near Osono last Sunday, according to the Spanish newspaper La Vanguardia. Five rabbits, which were pregnant and about to give birth, were killed during the chaotic retrieval and several others were left with broken spines, the paper reports, citing an assessment from a local veterinarian.

We Must Support the American Pipeline Build-Out. From the Keystone XL pipeline in North Dakota to the Bayou Bridge pipeline in Louisiana, eco warriors have protested, sued, blocked, even chained themselves to dozens of pipelines across the nation. Pipeline protesters have a history, and seemingly enjoyment of, extreme tactics. In Louisiana the destruction of property and violence became so severe the Governor signed a law to protect the workers and the state's critical infrastructure. In the case of Keystone, protestors left behind 48 million pounds of garbage and several newborn puppies in their wake. Remember, these protesters love the earth. Right? Pipelines are the safest and least expensive means to deliver energy around the nation. We have over 2 million miles of oil pipelines alone crisscrossing America. Every pipeline means fewer trucks or trains or tankers.

Environmental Activists Superglue Themselves To The U.S. Capitol In Order To Push Ocasio-Cortez's Agenda. A group of environmental activists superglued themselves to the U.S. Capitol on Tuesday [7/23/2019] in protest of Congress' failure to formally acknowledge the planet's climate emergency.

The Editor says...
[#1] Why is this anyone else's problem? If someone glues or chains or handcuffs himself or herself to a building or a railroad track, why should anyone else have to clean up the resulting mess? [#2] There is no climate emergency.

Anti-GMO activist found dead in hotel pool, hours before planned delivery of 200,000 petition signatures to the EPA. An activist who opposed genetically engineered mosquitoes has been found dead in the swimming pool of a Washington D.C. hotel, just hours before she was due to submit a petition with over 200,000 signatures to the EPA. Derrick Broze of Activist Post has investigated the story and spoken to a close friend of the victim, whose name is Mila de Mier from Key West, Florida. [...] Her death, of course, reminds informed observers of all the death threats that other anti-GMO activists have been subjected to over the years, thanks to the "black ops" biotech industry running intimidation campaigns, reputation smear campaigns and political bribery campaigns to grease the palms of politicians. If you weren't aware that people who oppose the biotech giants or vaccine industry are being routinely assassinated across America, you're not up to speed on what's really happening.

'Extinction Rebellion' Climate Activists to Shut Down Heathrow for 10 Days in Drone Attack. The climate change activist group Extinction Rebellion is planning a series of protests using drones to shut down Heathrow Airport for 10 days in July, unless plans to expand the airport are scrapped. The group has threatened to hold a one-day demonstration on the 18th of June, with ten days of disruption planned from July 1st if their demands are not met. This threatens hundreds of thousands of passengers' journeys, most going on their summer holidays, and it is expected it would cost millions of pounds in policing.

The conduct of climate activists has been destructive, deceitful and violent. Global warming alarmists have shouted down legitimate debate and committed deceitful and violent acts in support of their false cause. The Climategate emails provide irrefutable evidence of scientific collusion and fraudulent misconduct. In Canada, skeptic climatologist Dr. Tim Ball and other skeptics have received threats, and buildings related to the energy industry including the Calgary Petroleum Club were firebombed. In the USA, skeptic scientists have had their homes invaded, and several highly competent skeptic scientists have been harassed and driven from their academic posts.

Greenpeace boards Arctic drilling rig. Greenpeace activists have climbed aboard a Seadrill drilling rig commissioned by Equinor to explore for oil and gas in the Norwegian Arctic, the group has told Reuters. Four activists climbed aboard the West Hercules rig on Monday [4/29/2019], the organisation said. The vessel is anchored off Hammerfest, continental Europe's northernmost town and the site of an Equinor liquefied natural gas plant, Snoehvit.

Ecofascism for Real. I normally resist throwing around the "ecofascist" label, partly because the general term "fascist" is overused, and usually with great imprecision. It's a synonym for "everyone I don't like is Hitler." But sometimes it fits.

Call for calm in Australia as militant vegans attack dairy farmers. We live in an age of self-righteous, single-issue groups that feel entitled to physically confront their enemies. With the Green New Deal fact sheet published (and retracted) by Rep. Ocasio Cortez promising to eliminate cows because of their farts and Sen. Booker advocating veganism, American meat-eaters and dairy-lovers sense a wave of bullying ahead aimed at forcing them to change their diets. In Australia, the bullying already has become physical.

California Burning: How the Greens Turned the Golden State Brown. In October 2016, in a coordinated act of terrorism that received fleeting attention from the press, environmentalist activists broke into remote flow stations and turned off the valves on pipelines carrying crude oil from Canada into the United States. Working simultaneously in Washington, Montana, Minnesota, and North Dakota, the eco-terrorists disrupted pipelines that together transport 2.8 million barrels of oil per day, approximately 15 percent of U.S. consumption. The pretext for this action was to protest the alleged "catastrophe" of global warming. These are the foot soldiers of environmental extremism. These are the minions whose militancy receives nods and winks from opportunistic politicians and "green" investors who make climate alarmism the currency of their political and commercial success.

Earth Liberation Front Fugitive Arrested In Cuba After 12 Years On The Run. Joseph Mahmoud Dibee has been on the run for 12 years but now he's facing justice after he was captured in Cuba boarding a plane for Russia and extradited to the U.S. for trial. Dibee is allegedly a member of the Earth Liberation Front which was involved in a string of arson and vandalism attacks in the late 90s.

Suspected eco-terrorist arrested in Cuba after 20 years as a fugitive. Prosecutors say a former Seattle man wanted in connection with an eco-terrorism conspiracy dating back two decades has been arrested in Cuba. Prosecutors say that in the late 1990s and early 2000s, Joseph Mahmoud Dibee joined about a dozen animal rights and environmental activists in setting fires around the West. Cuban authorities detained Dibee, now 50, before he boarded a flight for Russia. He pleaded not guilty Friday [8/10/2018] to federal arson and conspiracy charges in Portland, Oregon.

Leftist Eco-Terrorist Caught Fleeing Cuba for Russia. He thought he would be safe in Cuba. But the Cuban government is too nervous about Trump. And so instead of living it up in Moscow, Dibee will be brought to justice before becoming joining Bradley Manning as a lefty hero seeking political office.

Frivolous climate change lawsuits could leave cities in ruin. As much as we hear nowadays about making America great again, it's worth asking what made America great in the first place Whenever asked, I point to two often overlooked pieces of the puzzle: Our foundation of private property rights, and a strong rule of law to support them. After all, if government can arbitrarily take your property, how can one build wealth or plan for the future? Unfortunately, this very thing is happening right now. Trial lawyers and liberal activists are recruiting cities from California to New York to sign up for litigation against the oil and gas industry. They hope to find a court that will hold the industry solely responsible for "projected damages from climate change" — the key word here being "projected."

French butchers say 'militant' vegan activists using 'terror' tactics to destroy culinary culture. France's world-famous butchers are sharpening their knives — but the target this time isn't lamb chops and pork loins but a brigade of growing and increasingly confrontational vegetarians. In June, the French Federation of Butchers sought the help of the government against the rising number of attacks from what it called "militant" vegan activists, who have been targeting shops with anti-meat graffiti, fake blood and protest stickers. The butchers called the harassment a form of terrorism aided by a hostile media. "It's terror that these people are seeking to sow, in their aim of making a whole section of French culture disappear," federation chief Jean-Francois Guihard wrote in a letter to Interior Minister Gerard Collomb.

Scott Pruitt becomes latest Trump official to be harassed at a restaurant. Environmental Protection Agency Administrator Scott Pruitt became the most recent Trump administration figure to get an earful while trying to get a mouthful at a DC restaurant, according to a Facebook posting Monday [7/2/2018]. Teacher Kristin Mink was shown approaching Pruitt as he chowed down with a pal at the Teaism restaurant Monday, four blocks from his office at the EPA's headquarters. "I just wanted to urge you to resign, because of what you're doing to the environment in our country," Mink said, holding her two-year-old son and a notepad, as her husband recorded the encounter.

Protestor Who Scaled Rafters at U.S. Bank Stadium Pleads Guilty to Public Nuisance Charge. One of the two Dakota Access oil pipeline protesters who climbed the rafters at U.S. Bank Stadium in January 2017 and hung a banner from the roof agreed to a guilty plea on a public nuisance charge Monday [6/4/2018]. A part of a plea agreement, 34-year-old Karl Scogin Zimmerman pleaded guilty to a misdemeanor charge of public nuisance (annoy/injure/endanger safety.) A misdemeanor trespassing charge and a fourth-degree burglary-to commit misdemeanor charge against him were both dismissed.

Animal Rights Activists Endanger Chickens in Massive 'Rescue'. Animal rights activists forcibly broke into a farm supplying Whole Foods with eggs and stole chickens in broad daylight last week. Local farmers worry that in their zeal to save chickens the activists actually endangered them. The Direct Action Everywhere "rescue," which involved hundreds of activists transported to Petaluma, California, on seven buses on May 29, comes as the latest action targeting Whole Foods or businesses connected with the supermarket giant. "They were bused in," Toni Brooks, a neighbor of the targeted Sunrise Farms property, told The American Spectator of the estimated 300 to 400 activists descending on the city about an hour north of San Francisco. "They marched up the street with signs saying, 'Funeral Procession.'"

200,000 bees die when vandals topple hives, pour gas on them. A Prunedale, Calif., man says vandals toppled 100 beehives and killed hundreds of thousands of bees after dousing them with diesel fuel. Mike Hickenbottom told KSBW-TV that the Italian and Russian honeybees on his property were attacked Saturday [1/13/2018]. Hickenbottom says the bees are stored on his property during the winter, and beekeeper Alfonzo Perez leases the hives to pollinate almond trees on farms across the state. Hickenbottom says neighbors have complained about the bees in the past, but the bees are not aggressive. An estimated 200,000 bees died.

Thousands of bees killed and $60G in damage done by vandals in Iowa, police say. Vandals destroyed 50 beehives and did $60,000 in damage to a local honey business in Iowa on Thursday [12/28/2017], police said. The owners of Wild Hill Honey in Sioux City discovered the destruction, which also resulted in thousands of bees being killed, when they went to clear snow off them Thursday morning [12/28/2017].

Climate Activist Convicted After Pipeline Protest in Montana. An activist who was trying to call attention to climate change has been found guilty of criminal charges for closing a valve on a pipeline carrying crude oil from Canada to the United States. A Montana jury found Leonard Higgins of Portland, Oregon, guilty of criminal mischief and trespassing on Wednesday [11/22/2017].

A Green Tries to Defend Eco-Terrorism. Emily Johnston, who admitted shutting down 5 pipelines last year with the help of four friends, has finally found a judge willing to hear her "necessity defence". [...] Emily and her eco-terrorist friends don't get to decide what is legal, the representatives elected by the people have that responsibility. By leading an attack on vital infrastructure, Emily and her friends tried to usurp everyone else's rights.

300 gallons of Vermont maple syrup reportedly ruined by 'disturbed individual' with an ax. Police in Vermont are searching for a suspect accused of putting holes into eight maple syrup barrels earlier this week, resulting in the ruin of at least 300 gallons of the state specialty. Alan Mayer, of Mayer Maple Products, told Vermont State Police that someone entered his sugarhouse in Bristol between late Monday and early Tuesday [11/21/2017].

Eco-terrorist will ask jury to consider his sabotage 'an act of conscience'. An eco-terrorist charged with trying to sabotage part of the Dakota Access Pipeline says he will appeal to the jury to validate his terrorism by asking them to accept his "act of conscience." Michael Foster will claim that the fossil fuel companies are destroying the Earth and that sabotaging the pipeline was a "necessity."

Dakota Access Pipeline Developer Sues Greenpeace Over 'Eco-Terrorist' Campaign. Energy Transfer Partners, the developer behind the Dakota Access Pipeline, has sued Greenpeace and several other groups for what it calls a 'campaigns of misinformation." ETP argues in the lawsuit filed Tuesday [8/22/2017] that environmental groups are running a racket designed to raise money by emotionalizing issues.

Activists Confess To Sabotaging, Delaying The Dakota Access Pipeline. I missed this when it was announced roughly two weeks ago but it's worth pointing out even now. Two activists confessed to multiple acts of sabotage against the Dakota Access Pipeline using cutting torches and other tools. The two women, who are part of an Iowa's Catholic Worker social justice movement, made the announcement before a small group of journalists and then started prying letters off a sign for the Iowa Utilities Board, which got them arrested.

Vegans bully California butcher shop into hanging animal rights sign. Vegan extremists have bullied a mom-and-pop butcher shop in California's most liberal city into hanging an animal rights sign in the window that the shop owners say amounts to "ethical extortion." The Local Butcher Shop, of Berkeley, had been targeted for months by nearly naked protesters dripping in fake blood. The protests had been organized by the vegan group Direct Action Everywhere, or DXE, which said they would continue if the shop's owners, Monica and Aaron Rocchino, didn't cave in to their demands.

One would think the environmentalists would have some objections to this:
Vandals cut down trees at Trump's Bronx golf course: NYPD. Cops are investigating a bizarre incident at Trump Golf Links at Ferry Point in the Bronx, where vandals cut down four 30-foot tall trees with a chainsaw, officials said Wednesday [5/10/2017]. Police recovered the chainsaw at the scene of the severed trees, which a golf course general manager discovered inside the Ferry Point green space at about 9:30 a.m. Tuesday, officials said. Two vandals climbed an iron fence to get to the trees, cop sources said.

States Consider Laws to Penalize Violent Anti-Pipeline Protests. Concerned increasingly violent protests against the construction of new oil and natural gas pipelines pose a threat to public safety, lawmakers in eight states have introduced bills designed to deter protestors from damaging property, injuring bystanders, and blocking traffic. Bills limiting actions protestors can take have been introduced in Colorado, Iowa, Michigan, Minnesota, Missouri, North Dakota, Virginia, and Washington State.

Protesters vandalize $250m Trump golf course by tearing six-foot tall letters into a green. A brazen group of environmentalists vandalized one of President Trump's golf courses over the weekend — and released a video of them doing the damage. The 'anonymous environmental activist collective' snuck into the $250 [million] Trump National Golf Club in Rancho Palos Verdes, California and carved the phrase 'NO MORE TIGERS, NO MORE WOODS' near the fifth hole's green. The group said the act was a rebellion against the Trump administration's 'blatant disregard' for the environment.

Washington Post describes Trump golf course vandalism as 'daring act of defiance'. California environmental activists vandalized one of Donald Trump's golf courses is Los Angeles over the weekend. A video uploaded to YouTube shows a small group sneaking onto the course at night and carving a message into one of the greens which read, "No more tigers, no more woods." While the vandalism itself is noteworthy, perhaps equally significant is the response of the Washington Post. The Post published a news story whose opening line read, "A group of environmental activists pulled off a daring act of defiance."

Enviro-Goofballs Destroy Section Of A Trump Golf Course. A group of activists vandalized one of President Donald Trump's golf courses Sunday morning [3/12/2017] because of the president's "blatant disregard" for the environment. The group of anonymous demonstrators sneaked into the Trump National Gold Club in California and etched a seemingly incoherent message into one of the course's greens. Golf Digest ranked the 18-hole, 7,300-yard course the 43rd best course in California.

Upside-down media: Even anti-Trump vandalism gets good reviews. An outrageous lead in the Washington Post captured the animus that underlies much of the coverage of Donald Trump: "A group of environmental activists pulled off a daring act of defiance." And what was this "daring" act? They snuck into Trump National Golf Club in Rancho Palos Verdes, Calif. and carved six-foot letters into the green. In other words, they broke the law and defaced private property.

Eco-Terrorists Suspected Of Causing $2 Million In Arson Damage At Dakota Pipeline Site. The FBI launched an investigation Monday into a rash of fires along an oil pipeline owned by the Dakota Access Pipeline. The fires damaged various bulldozers and earth-moving equipment. Jasper County Sheriff's Office estimated the fire caused $2,000,000 in damages. The equipment was operated by one of the companies contracted by the Dakota Access Pipeline project. Further investigations indicate the fires were intentionally set.

Greenpeace slapped with RICO lawsuit. I have been following the progressive legal exploits in using racketeering statutes against Big Oil, making the analogy that gasoline producers hid climate data they collected the same way tobacco companies repressed carcinogenicity data. Of course, the eco-activists extraordinaire of Greenpeace were major cheerleaders: [...] It looks as if Greenpeace is going to be taking a big sip from the Karma cup! A forest products company just slapped the organization with a RICO lawsuit of its own.

Animal-Rights Activists Free 5,740 Mink in Cross-Country Crime Spree. The FBI's Joint Terrorism Task Force has arrested two animal-rights activists after they spent half a year driving 40,000 miles around the U.S., raiding fur farms, and releasing about 5,740 mink into the wild. According to the Associated Press, in addition to freeing the mink (and one bobcat), Joseph Buddenberg, 31, and Nicole Kissane, 28, allegedly slashed tires, smashed windows, glued door locks, vandalized businesses using caustic acid, and even tried to flood a fur industry employee's home. The Oakland natives evaded capture by avoiding cell phones, using encrypted email via public computers, and paying for everything in cash while on their road trips. They did, however, detail their exploits on animal-rights websites.

Climate change protesters delay flights at Heathrow Airport. Climate change protesters, demonstrating against a possible third runway, caused delays Monday [7/13/2015] at London's Heathrow Airport. "A group of people is currently staging a protest on the northern runway," Heathrow spokeswoman Rachel Betts said during the demonstration. "We are working closely with the police who are dealing with the incident." A group calling itself Plane Stupid organized the protest.

Art Activists File First-Amendment Rights Suit Against New York City. A trio of art activists has filed a federal lawsuit against New York City claiming their First-Amendment rights were violated during a protest last year outside the Metropolitan Museum of Art. The plaintiffs — Kyle Depew, Grayson Earle and Yates McKee — are members of the Illuminator Art Collective, a group that uses high-powered, mobile video projectors to broadcast images and political messages. According to the complaint, New York City police officers seized the group's van-mounted projector as it was beaming "political speech" onto the side of the museum during an evening gala for billionaire industrialist David H. Koch on September 9.

The Editor says...
There is a similar group in the Dallas area, projecting left-wing environmental propaganda on the sides of buildings owned by companies they don't like. The method is made possible by the use of a theater-size projector mounted in a car, which the group is sure to park on public property. It is a mild form of eco-terrorism: Just a little light-weight bullying to promote their cause. It is also a form of vandalism. Just because their graffiti is in the form of a temporarily projected image that does not leave permanent damage, it still defaces private property for the duration of their protest.

Will there be a National Conversation after environmentalist shoots energy worker? A disturbing story flagged by The Washington Free Beacon's Lachlan Markay out of West Virginia indicates that a man, enraged by the drilling taking place in his state, shot an employee of an energy exploitation company on Monday [4/13/2015]. [...] A reporter with The Charleston Gazette called a member of the West Virginia Sierra Club for comment and received unequivocal condemnation of this violent incident, but the episode has received little attention in the national press. For a media culture that is quick to blame conservatives for every episode of violence with a potential political motive, the commentary community's silence on this incident is deafening.

Activists Who Scaled Shell's Arctic-Bound Oil Rig Leave After Defying Legal Threats. Six Greenpeace activists who brazenly scaled a Royal Dutch Shell oil drilling ship bound for the Arctic Monday left the boat today [4/11/2015], according to the environmentalist group. One day after saying that they refused to leave despite a legal injunction against them, worsening weather conditions forced them to return to the Greenpeace ship Esperanza, which has been stationed close by for the last week, Greenpeace said in a statement tonight.

Greenpeace activists occupy Shell oil rig in middle of Pacific. Greenpeace activists have climbed aboard a Shell oil rig to protest the company's plans to drill in the Arctic near Alaska. The six protesters used ropes and harnesses Monday [4/6/2015] to scale the huge platform in the Pacific Ocean, tweeting images of their daunting climb as they went.

Greenpeace in Peru: Another Epic PR Fail. The Peruvian government is seeking criminal charges against the Greenpeace activists who damaged one of the country's two greatest heritage sites — the Nazca Lines. This is excellent news. Not for the Nazca Lines, obviously: the mysterious ancient desert geoglyphs created over 1,000 years ago are now surrounded by footprints — and a very noticeable C shape — created by Greenpeace activists last week in a publicity stunt designed to coincide with the latest UN climate summit in Lima, Peru. But definitely good for those of us who think it's about time this loathsome, dishonest and hypocritical organisation got its comeuppance.

Activists forced to apologise after damaging 1,500-year-old Peruvian monument with footprints during publicity stunt. Greenpeace activists have been forced to apologise after damaging an ancient Peruvian monument during a publicity stunt. Activists from Greenpeace placed a banner next to a figure of a hummingbird, carved more than 1,500 years ago, in a bid to highlight the case for action at the UN climate summit in Lima. The Peruvian government said it would press criminal charges against Greenpeace activists who left footprints close to the carvings.

Peru: Greenpeace Activists Wreaked Havoc on Ancient World Heritage Site. Greenpeace activists who trespassed and set up pro-renewable-energy banners on ancient grounds may have irreparably scarred the Nazca Lines World Heritage Site, says the Peruvian government. As the Wall Street Journal reports, "The Nazca Lines are one of South America's most famous archaeological wonders, a mysterious series of huge animal, imaginary human and plant symbols etched into the ground between 500 B.C. and A.D. 500." So fragile is the ground that Peru hasn't even allowed presidents and other top officials to tread where the Greenpeace activists went; [...]

Peru government to sue activists for criminal damage to 2,000-year-old UN World Heritage site. The Peruvian government is to sue the environmentalist group Greenpeace after activists conducted a "careless and crass" stunt that may have harmed a 2,000-year-old UN World Heritage site. Activists allegedly damaged the world-famous Nazca Lines when they placed a banner promoting clean energy in the adjacent desert. The stunt was timed to coincide with UN climate talks being held in nearby Lima, the last chance for delegates from 190 countries to shape climate policy before the historic Paris 2015 summit.

Climate Activists Uncaged. Finally, someone has come up with a way to settle the debate over climate change: Put the people on the wrong side of the argument in cages. A writer for the website Gawker recently penned a self-described "rant" on the pressing need to arrest, charge, and imprison people who "deny" global warming. In fairness, Adam Weinstein doesn't want mass arrests. [...] But Weinstein's magnanimity ends there. Someone must pay. Weinstein suggests the government simply try the troublemakers and spokespeople. You know, the usual suspects. People like Limbaugh himself as well as ringleaders of political organizations and businesses that refuse to toe the line. "Those malcontents must be punished and stopped."

Get ready for an explosion of eco-terrorism if President Obama ever approves the Keystone XL pipeline. Imagine looking out your living room window late at night and seeing in your front yard a torch-carrying mob threatening you with violence. That's what happened to oil pipeline company executive Mark Maki recently, according to journalist Lachlan Markay. Maki is president and director of Enbridge Energy Management LLC in Houston, Texas. The torch-carrying protestors on Maki's front lawn were upset because his company filed criminal trespass charges against three of their comrades who chained themselves to Enbridge equipment.

Torch-Carrying Environmentalists Protest at Oil Exec's Home. Masked protesters carrying torches and threatening organized violence protested outside the home of an executive at a major oil pipeline company last week. Eight environmental activists gathered on the lawn of Mark Maki, a member of the Enbridge Energy Company's board of directors and president of Enbridge Energy Management, to protest the arrests of three anti-pipeline activists last year. The protesters, who brandished torches for a photo posted online, held a sign warning, "solidarity means attack" and "we will shut you down."

Fracking protestors glue themselves to wrong gas station. The group thought they were attaching themselves to pumps at a gas station owned by a company called Total. They were upset after the company announced they would invest millions in shale oil and fracking. But there was a pretty big oops involved. Station manager Reezwan Patel told The Bolton News in Ruston Lane UK, "Total don't own the station any more. It is owned by Certas Energy, but the signs haven't changed yet." "We had to close for six hours," Patel grumbled.

Coal train derails in Wisconsin. A coal train derailed in Caledonia, Wis., Sunday morning [1/19/2014], overturning 19 cars. The Caledonia Fire Department said the 19 cars on the Union Pacific train jumped the track around 7:30 a.m. Lt. Walter Leininger of the Caledonia Fire Department told Fox News that no injuries have been reported and the scene is not hazardous at this time.

The Editor says...
All the recent train derailments have involved bulk shipments of fuel. Is that just a coincidence?

Ranchers, farmers fear eco-terrorists after EPA releases private info. The Environmental Protection Agency has told farmers and ranchers it is sorry for handing private information about them over to environmental groups, but agriculture advocates who fear attacks from eco-terrorists say it's like closing the barn door after the horses escaped. In response to Freedom of Information Requests, the federal agency released information on up to 100,000 agriculture industry workers, including their home address and phone numbers, GPS coordinates and even personal medical histories.

'Military-Style' Raid on California Power Station Spooks U.S.. When U.S. officials warn about "attacks" on electric power facilities these days, the first thing that comes to mind is probably a computer hacker trying to shut the lights off in a city with malware. But a more traditional attack on a power station in California has U.S. officials puzzled and worried about the physical security of the the electrical grid — from attackers who come in with guns blazing.

Oregon Legislature Approves Bill Allowing Loggers to Sue Activists. The Oregon Senate approved a bipartisan House Bill that allows logging companies to sue environmental activists who block logging operations. [...] The Senate passed HB 2596 on a 25-3 vote. The bill allows logging and forest management companies with contracts applying to state lands to sue activists for financial damages when activists obstruct or sabotage logging and forest management operations.

Report: Railway head says train in Canada [had been] tampered with. The chairman of the company whose driverless train barreled into the small Quebec town of Lac-Megantic and unleashed a deadly inferno told a Montreal newspaper he believes it had been tampered with. "We have evidence of this," Ed Burkhardt said in an interview published by the Montreal Gazette. "But this is an item that needs further investigation. We need to talk to some people we believe to have knowledge of this."

Brakes had been disabled in fatal oil train crash. The air brakes on the runaway oil train that devastated a Quebec town early Saturday had been disabled by firefighters who were called to extinguish a blaze aboard one of the locomotives 90 minutes before the disaster, the head of the railway said Monday [7/8/2013]. The news came as authorities recovered eight more bodies from the devastation in Lac-Megantic, raising the death toll to 13, with about 40 people still missing and feared dead.

Canada Train Wreck Shows Need For Keystone Pipeline. An oil-laden train not unlike those rolling down American tracks derailed and exploded Saturday [7/6/2013] in a Canadian town, proving why pipelines are safer and environmentalist opposition to a pipeline from Canada is misguided.

The Editor says...
This individual train wreck does not prove or disprove the need for the Keystone XL pipeline. If the train wreck was an act of sabotage or eco-terrorism, it only shows the lawlessness of those who oppose petroleum production. The benefits of the Keystone XL pipeline are almost self-explanatory, because when billions of gallons of a liquid product must be sent down a specific route, a pipeline is quieter and easier to manage (and automate) than a series of locomotives and tank cars.

Quebec oil train derailment sparks criminal probe. Quebec police inspector Michel Forget ruled out terrorism as a cause, but said that an array of other possibilities remain under investigation, including criminal negligence.

The Editor says...
The authorities don't know what went wrong with the train, yet they're sure it wasn't an act of terrorism. Neither Islamic terrorism nor enviro-terrorism. This was probably decided before the fire was out.

Greens and the rule of law. [Scroll down] By coincidence, the US Ninth Circuit court has been considering just this argument in a case involving the Sea Shepherd, the ship that has taken it upon itself to harass and attack Japanese whaling vessels. Overturning the decision of a lower court, the judge ruled, in the following rather amusing terms, that the Sea Shepherd's actions constituted piracy.

Sea Shepherd whale activists called pirates, lose ruling by 9th Circuit judges. "You don't need a peg leg or an eye patch," wrote Chief Judge Alex Kozinski in the majority opinion. "When you ram ships; hurl glass containers of acid; drag metal-reinforced ropes in the water to damage propellers and rudders; launch smoke bombs and flares with hooks; and point high-powered lasers at other ships, you are, without a doubt, a pirate, no matter how high-minded you believe your purpose to be."

Sierra Club Decides to Break the Law to Stop the Keystone Pipeline. The Sierra Club has announced its approval for a "one-time" use of civil disobedience. The civil disobedience is intended to step up their efforts to oppose the Keystone pipeline. Many of the other groups opposing Keystone have been engaging in civil disobedience as a tactic, including arson-based ecoterrorism. This will be the first time in the Sierra Club's history that they have approved violating the law.

Earth First Journal Assassination Hit List. The latest newsletter from the environmentalist group Earth First! Journal contains a curious topic — assassinations. In fact, the newsletter conveniently provides the names, addresses and phone numbers of the assassination targets. Naturally, none of this is to be taken seriously, the environmentalists tell us. [...] Earth First is one of several shadowy fringe environmental groups that engage in the euphemism "direct action" but have no centralized structure.

More about violence and hate speech from the left.

Fugitive in eco-terrorism case turns herself in at US-Canada border. Rebecca Jeanette Rubin, a Canadian citizen who had been living recently in Canada, surrendered to federal agents on Thursday at the international border with Canada in Blaine, Wash., according to federal officials. [...] Rubin is accused of plotting with 12 others to carry out 20 acts of arson from 1996 to 2001 in five Western states. The groups sought to intimidate government agencies, private businesses, and local residents through planned acts of sabotage.

Fracks of life — and death — for NY pol. One of the state Legislature's leading backers of "hydrofracking" for natural gas has received death threats from what he believes are environmental radicals opposed to the controversial drilling technique, The [New York] Post has learned. "There have been repeated threats to me of bodily harm," Deputy Senate Majority Leader Thomas Libous (R-Binghamton) angrily told The Post. "There have been calls saying, 'We know where you live,' 'We'll come to your house' — that kind of stuff," Libous continued. Libous said he had notified law enforcement of the threats.

Greenpeace occupies Russia rig to halt Arctic drill. Greenpeace activists said they climbed OAO Gazprom's Prirazlomnaya platform in the Arctic to protest drilling plans on Russia's first major oil project in the ocean. Six ecologists, including the environmental organization's executive director Kumi Naidoo, occupied the rig and interrupted its operation around 4 a.m. local time, Greenpeace said today [8/24/2012] in an e-mailed statement. "The activists are out of reach and have enough supplies to last them for several days," the group said.

PETA takes 'bets' on when senator will die after objection to USDA vegetarian push. People for the Ethical Treatment of Animals has started taking "bets" on its website over when Sen. Charles Grassley will die, after the Iowa Republican scolded the Department of Agriculture for advocating a vegetarian diet. The USDA drew the ire of rural state lawmakers over a newsletter urging department employees to embrace "Meatless Mondays."

Greenpeace protest in the Arctic threatens to wreak environmental havoc this summer. Greenpeace activists are headed to the Arctic this summer to protest oil and gas exploration but the environmentalists could inadvertently harm marine mammals and pollute the very environs they seek to protect, critics say. The activists plan to shadow Royal Dutch Shell's drilling ships in the coming weeks when they head into the Chukchi and Beaufort Seas off the northern Alaskan coast to drill two exploratory wells.

Greenpeace sabotages Australia-bound super-trawler. Greenpeace activists sabotaged a fishing super-trawler as it prepared to leave the Netherlands for Australia, the group said Thursday [6/28/2012], chaining its propellers and suspending themselves from the ship. The Lithuanian-flagged FV Margiris, which is to be re-flagged as Australian and deployed to catch baitfish off the southern island state of Tasmania, was stopped by the Greenpeace team as it tried to leave the Dutch port of Ijmuiden.

The Sierra Club, ECO Terrorists. The media are finally catching up to America's shale natural gas boom, with even Fortune magazine waddling in with a cover story. But the bigger recent news is that Res Ipsa Loquiturone of the most powerful environmental lobbies, the Sierra Club, is mounting a major campaign to kill the industry.

Greenpeace protesters occupy Arctic-bound ship. Six Greenpeace activists have been arrested in Sweden after they attached themselves to a ship off the southern coast of Sweden in an attempt to prevent Shell's proposed drilling for oil in the Arctic region.

Climate deniers should be tracked and made to pay 'when the famine comes', says inflammatory climate columnist. A liberal environmental analyst sparked a firestorm after he used an outlandish example that suggested those who deny the existence of man-made global warming should have their houses burnt down. Steve Zwick used the example of the fire department in a small Tennessee town allowed several houses to burn to the ground because their owners had not paid the mandatory $75 fee for the service.

Climate Alarmist Calls For Burning Down Skeptics' Homes. Writing for Forbes Magazine, climate change alarmist Steve Zwick calls for skeptics of man-made global warming to be tracked, hunted down and have their homes burned to the ground, yet another shocking illustration of how eco-fascism is rife within the environmentalist lobby.

Global Warming's Reckless Rhetoric. [Scroll down] In 2005, four years after 9/11, the FBI declared eco-terrorism to be America's number-one domestic threat. Of course the most notorious eco-terrorist is Ted Kaczynski — the Unabomber. Over a seventeen-year period during the eighties and nineties, Kaczynski sent out mail bombs, killing three people and wounding twenty-two. He also managed to sneak a bomb onto a 747 passenger jet flying from Chicago to Washington, D.C. Fortunately, the bomb didn't go off as planned. Kaczynski's reign ended in 1996, shortly after he made public his now-infamous manifesto written in his tiny cabin located in the backwoods of western Montana. [...] And discovered by the FBI in the Unabomber's hovel? A well-worn copy of Al Gore's, Earth In The Balance. Kaczynski apparently was quite taken by Gore's missive. The Unabomber's copy of Earth In The Balance was dog-eared, underlined, marked, and well-worn.

Anti-whaling activists claim win after clash. Anti-whaling activists claimed today they have effectively ended this year's Japanese hunt following a late-night altercation near Antarctica, but the whalers said their season will continue. The activists said they finally found the main factory ship after playing cat-and-mouse with the whalers for the past two weeks. The Sea Shepherd ship Bob Barker confronted the whaling ship Nisshin Maru about 100 km from the Antarctic coastline.

Anti-whalers launch kamikaze operation. Radical anti-whaling operation Sea Shepherd is promising dramatic attacks against Japanese whalers in coming months, with volunteers warning they're prepared to die for the cause.

Activists say they set fire at Idaho fur seller. Animal rights activists said they pumped fuel into an Idaho fur and fireworks retailer before setting the place ablaze early Monday [9/26/2011], and federal agents said they were taking the claim seriously.

The Animal Enterprise Terrorism Act Sets an Unusual Standard. In response to attacks on researchers by animal-rights activists, Congress in 2006 passed the Animal Enterprise Terrorism Act. The bill made a critical change to the legislation it replaced: Demonstrators could now earn a sentence in federal prison if the target of their attention felt threatened, regardless of the protesters' actual intention.

US eco-activist jailed for two years. An activist who became a hero to campaigners for disrupting a Bush administration auction for the oil and gas industry with $1.8m (£1.1m) in bogus bids was sentenced to two years in prison on Tuesday [7/26/2011]. Tim DeChristopher was immediately ordered into custody, and fined $10,000. He had been facing a potential sentence of up to 10 years and a $750,000 fine.

When Eco-Terrorists Attack. [Daniel] McGowan is as extreme an environmentalist as one could imagine even if he doesn't rant and rave like a panelist on MSNBC. We see him soaping up a plastic bag in order to re-use it and hear about the time he took off all the labels on his sister's food cans so he could recycle the paper. The fact that she then couldn't tell what was in each can didn't cross his mind. He's a portrait of arrested development, a man who grooved on the vibe of the environmental movement as well as its street cred.

Animal rights activists claim McDonalds firebomb responsibility. The Animal Liberation Front has claimed responsibility for Friday's [7/8/2011] fire attack at a hamburger restaurant in Gothenburg, according to local media reports. In a posting on the animal rights activists website Bite Back Magazine, those allegedly responsible described how they smashed two windows with hammers at the burger restaurant at the Scandinavium Center, poured ten liters of petrol in and set it alight.

Greenpeace protest over Greenland oil drilling ended. A protest by environmental activists against oil exploration in Arctic waters has ended, according to the Edinburgh-based company behind the drilling. Cairn Energy said work was suspended after the protesters breached a restricted area on the Leiv Eiriksson rig off the coast of Greenland.

Greenpeace ships approach Greenland oil rig. Greenpeace says two of its ships are in a "tense standoff" with a Danish naval ship that is guarding an oil rig off the western coast of Greenland, where Cairn Energy is drilling for oil and gas. The environmental activist group said Tuesday [5/24/2011] that a 120-metre-long NATO warship is protecting the Leiv Eiriksson, one of two drilling vessels that Cairn Energy is using for its Arctic offshore exploration program this year.

Activists occupy oil rig in fight to prevent Arctic drilling. The fight to stop the global oil industry exploring the pristine deep waters of the Arctic has been dubbed the new cold war, and early on Friday [4/22/2011] it escalated as environmental activists from 12 countries occupied the world's second largest rig on its way from Turkey to Greenland to drill among the icebergs.

Long prison sentence affirmed for eco-terrorism. A federal appeals court has upheld a prison sentence of nearly 22 years for a woman who committed arson at Michigan State University and other violent acts of environmental protest.

Cops save, arrest Greenpeace activists. Four Greenpeace activists who had clung to an oil rig off western Greenland with rock-climbing gear were arrested on Thursday [9/1/2010] after an Arctic storm forced them to abandon their environmental protest.

17,000 minks set free in southern Sweden. 17,000 minks escaped from a farm in Skillingaryd in southern Sweden on Monday after a lock on the animals' cage was bust [sic] open. "The owner values them to eight million kronor ($1.2 million)," said Bo Kellerth at Jönköping police on Monday morning. The fleeing minks were spotted by a passing motorist as they ran in front of his car at 3.15 am on Monday [9/27/2010]. The car driver realised what had happened and alerted the police.

Why We Blink In Face Of Eco-Terror. An environmental activist inspired by Al Gore's "An Inconvenient Truth" takes hostages at the Discovery Channel headquarters. This isn't the latest example of eco-terrorism, just the latest to be ignored.

Does the Discovery Channel Hostage-Taker Qualify as an Eco-Terrorist? James J. Lee, the man who police say held the Discovery Communications headquarters building hostage today, reportedly wrote a rambling manifesto that calls for the end of human procreation as a means to solving the world's environmental woes. In a press conference after the incident, police said that the demands Lee made during their negotiations with him were similar to those raised in that document.

Discovery Gunman: The Green Frankenstein. The radical green movement is rapidly trying to distance itself from Discovery Channel gunman James J. Lee. ... Wednesday afternoon [9/1/2010], an armed Lee walked into the offices of the Discovery Channel, took hostages and demanded that the TV network alter its programming to suit his demands as laid out in an 11-point manifesto. The incident ended when police shot him dead. Lee called for saving the Earth by getting rid of people, whom he referred to as "filth," and stopping global warming. He called for TV programs encouraging human sterilization and infertility, and exposing civilization's "disgusting religious-cultural roots and greed." "All human procreation and farming must cease," he raved, because "the planet does not need humans."

Inconvenient Truth: Discovery Gunman 'Awakened' By Gore's Film. [Scroll down] This incident points to another inconvenient truth: despite the absurdity espoused by many liberal media members in the past 19 months that conservative talkers are inciting "right-wing extremists" to acts of violence, there are indeed disturbed individuals on both sides of the aisle that can be provoked by any number of things.

Al Gore's Poison. Wednesday [8/1/2010], a gun wielding, bomb toting, eco-terrorist — who claimed to have been "awakened" by Al Gore's Oscar winning film, An Inconvenient Truth — was shot and killed by police after holding several people hostage inside the Discovery Channel headquarters in Maryland. Sadly, it's not the first incident of someone going berserk after taking in Gore's work.

The Discovery Attacker: A True Green Believer. News Wednesday afternoon that an armed gunman had entered the cable TV headquarters of Discovery Communications in Silver Spring, Maryland and begun taking hostages alarmed people throughout the Washington, D.C. area and around the country. As law enforcement officials negotiated with the suspect, posts on social media outlets inevitably began arguing over the ideological motivations of the hostage-taker, James J. Lee. Conservatives were quick to point out the suspect's radical environmentalist manifesto, while left-leaning sources disclaimed any connection.

James Lee is Al Gore is Prince Charles is the Unabomber. Al Gore's Church of Climatism has claimed a new glorious martyr. His name is James Lee — the Discovery channel attempted eco-suicide-bomber — and if he'd had his way he wouldn't have been the only one who ended up in the great recycling bin in the sky. That's because, as far as the late James Lee was concerned, humans like the innocent Discovery channel employees he held hostage are the scum of the earth. Just read some of the manifesto he posted on the internet and see for yourself.

The Face of Eco-Terrorism. There's no doubt that Discovery Channel gunman James Jay Lee was mentally unstable, but it should be equally clear that Lee is far from the first person — and surely not the last — to take their cues from an environmental movement that grows more delusional with each passing day.

Who is responsible for Warmabomber's violent agenda? Filthy. Parasites. Disgusting, overbreeding candidates for sterilization and extermination. Possessed of false morals and a "breeding culture." Hitler talking about the Jews? Nope. This is Discovery Channel hostage-taker James Lee talking about ... human beings. Compared to Lee, Hitler was a piker, philosophically: Der Fuehrer only wanted to kill those he considered "subhuman." Lee considered all humans to be subhuman.

Eco-Terror's Inspiration. Eco-terrorist James Jay Lee [in September 2010] executed a dangerous hostage plot inside the headquarters of the Discovery Channel. Armed with what appeared to be pipe bombs and a cheap pistol, Lee claimed to have been "awakened" by Al Gore's film, "An Inconvenient Truth". Lee regarded humans as the "most destructive, filthy, pollutive creatures around." His desire was to force the Discovery Channel to fill its programming schedule with "solutions to save the planet." Lee was shot and killed by police. Sadly, Lee is not first eco-freak to go off. In 2005 the FBI declared domestic eco-terrorism to be America's No. 1 threat.
This is an original compilation, Copyright © 2023 by Andrew K. Dart

Greek Fur Farms Raided, 50,000 Minks Set Loose. Police say break-ins at two fur farms have set more than 50,000 minks on the loose in northern Greece.

ELF member gets 5 years for attempted firebombing. A Texas man who tried to firebomb a condominium development under construction in Pasadena has been sentenced to five years in federal prison.

Ignoring ELF Violence. Al Gore and his green allies never had to spend a week distancing themselves from the violent acts of the Earth Liberation Front. If the major media had covered ELF's firebombing of resort homes and SUVs as they've covered the last week's fringe-nut spitting and brick tossing, the environmental movement's credibility — not to mention its heated rhetoric about "holocausts" and a "war on carbon" — might be different.

Climate activists in Copenhagen protest coal use. Hundreds of climate activists protested Saturday against the use of fossil fuels, but were blocked from entering a coal-firing plant they had hoped to shut down by chaining themselves to conveyor belts.

Spoiled green mob. I've seen political mobs at work many times over the years. They are bullies, anti-democrats and embody many of the aspects of historic fascism. Rather than bowing to the often frustrating but ultimately civilized electoral process, they attempt to promote their views through dominating the majority and using physical violence. As such they run directly contrary to Canadian freedoms and decency. Such a political mob was what we saw Monday [10/26/2009] when more than 100 climate change zealots tried to storm the House of Commons in Ottawa because, they believed, their views and concerns were more important and more authentic than anybody else's.

Civil unrest has a role in stopping climate change, says Gore. Al Gore has sought to inject fresh momentum into the Copenhagen build-up, saying he is certain Barack Obama will attend and predicting a rise in civil disobedience against fossil-fuel polluters unless drastic action is taken over global warming. Amid increasing incidents of climate protesters disrupting the operations of fossil-fuel industries and airports in Britain and elsewhere, Gore suggests the scale of the emergency means non-violent lawbreaking is justified.

ELF Claims Responsibility For Radio Tower Sabotage. An environmental extremist group has claimed responsibility for toppling two towers near Snohomish owned by a sports radio station. The Earth Liberation Front group took responsibility for the act on its Web site Friday [9/4/2009]. The towers were brought down with a trackhoe.

2 radio towers in Washington state toppled. Two radio station towers were toppled early Friday, and the station's manager said an ecoterrorist group's initials were left at the scene. An e-mail to a newspaper said the Earth Liberation Front was responsible.

WAEB radio tower toppled in Whitehall; FBI called in. A 350-foot-tall WAEB radio tower crashed to the ground early Friday [9/4/2009] in Whitehall Township after its support cables were cut, township police said. Five hours later, two radio towers near Everett, Wash., were knocked to the ground by a bulldozer in what officials feared was an act of eco-terrorism.

Media bias alert!
"Officials feared" it was an act of eco-terrorism? As if they're not sure? I think if the Earth Liberation Front claimed responsibility for the damage and left their calling card at the scene of the crime, we can say with some certainty that it was an act of eco-terrorism. There is no reason for the newspaper writers to leave any doubt in the readers' minds.

Supreme Court sets precedent over animal rights activist attack. Sweden's Supreme Court has upheld a landmark ruling in which a 30-year-old animal rights activist was convicted for his involvement in storming the premises of four companies and harassing members of staff.

FBI's newest 'Most Wanted' terrorist is American. A fugitive animal rights activist believed to be hiding outside the United States has become the first domestic terror suspect named to the FBI's list of "Most Wanted" terrorists. Daniel Andreas San Diego, a 31-year-old computer specialist from Berkeley, Calif., is wanted for the 2003 bombings of two corporate offices in California.

1st U.S. terror suspect on Most Wanted list. An investigation that has "basically come to a dead end" led the FBI to add the first domestic-terror suspect to the bureau's list of Most Wanted Terrorists. Daniel Andreas San Diego, a 31-year-old animal rights activist, is under indictment for the 2003 bombings of two San Francisco Bay Area companies linked to an animal-testing laboratory.

Appeals court overturns convictions in 2003 SUV vandalism. A federal appeals court overturned a Caltech graduate student's convictions on two counts of arson for his role in the 2003 torching of several SUVs at San Gabriel Valley car dealers, attacks authorities blamed on a radical environmentalist group.

Two California animal rights activist accused of stalking, threats against researchers. Two animal rights activists were charged Monday with conspiracy, stalking and other crimes against researchers at University of California, Los Angeles and executives of a juice company. Linda Faith Greene, 61, and Kevin Richard Olliff, 22, pleaded not guilty to the charges during their arraignment in Superior Court.

More than 100 campaigners arrested over 'power station plot'. Officers swooped on environmental protesters as they prepared a mass raid that could have disrupted supplies to tens of thousands of homes. ... Detectives later revealed they recovered specialist equipment that suggested the group represented a "serious threat" to the station's safety.

The New Vigilantes and their Unaccountable Enablers. [Scroll down] How soon before we see this same kind of anarchic domestic terrorism on this side of the Atlantic? It's already here. Animal-rights terrorists have firebombed researchers' homes, Molotov cocktail-bombed their cars, and been convicted of inciting threats, harassment and vandalism against employees of a private company engaged in animal research. Environmental terrorists have set private real estate developments on fire.

The Truth About Terror. On February 12, the U.S. Congress held a hearing on eco-terrorism — that ugly homegrown branch of the environmental and animal rights movements. Called to testify was Craig Rosebraugh, former spokesman for the Earth Liberation Front (ELF), which took credit for 137 attacks in 2001 — many of them coming after September 11. Asked about the terrorist operations of ELF, Rosebraugh pled the Fifth Amendment over 50 times. While hiding behind the Constitution, he also attacked it, refusing to affirm that it represents the law of our nation.

Who Will Defend Industry from Eco-Terrorism? Few of us intellectually grasp, and then rise to defend, the irreplaceable values under attack by environmental terrorists. Their targets are not, fundamentally, a particular ski resort, logging company, meatpacking center or medical research project, but what these represent: human technology, human progress, human life.

Could ecoterrorists let slip the bugs of war? The terrorists' letter arrived at the Mayor of Los Angeles's office on November 30, 1989. A group calling itself "the Breeders" claimed to have released the Mediterranean fruit fly in Los Angeles and Orange counties, and threatened to expand their attack to the San Joaquin Valley, an important centre of Californian agriculture. With perverse logic, they said that unless the Government stopped using pesticides they would assure a cataclysmic infestation that would lead to the quarantining of California produce, costing 132,000 jobs and $13.4 billion in lost trade.

Four animal activists arrested for allegedly harassing UC researchers. Four animal activists have been arrested for their alleged roles in attacking and harassing animal researchers at UC Berkeley and UC Santa Cruz over the last 18 months, the FBI announced Friday [2/20/2009]. The arrests are a breakthrough in the investigation of attacks against a number of University of California animal researchers that have long frustrated police and school officials.

Animal Rights, Human Wrongs. Animal rights extremism — which the FBI has labeled the biggest domestic terrorism threat — has encountered a number of serious reverses recently. These reverses are a great victory for science, free inquiry and public health. In particular, Americans could learn from a popular movement in the UK that is standing up to the threats and intimidation of the animal "liberation" movement and asserting the moral arguments for animal testing.

Animal rights extremists target UCLA researcher in arson attack. Animal rights activists destroyed one vehicle and badly damaged two others in a Palms-area arson attack last week, authorities said. The incident occurred Nov. 20 and appears to be part of a botched attempt to target a UCLA animal researcher, authorities said. Activists with the group Students and Workers for the Liberation of UCLA Primates claimed responsibility for the attack, stating on an animal rights website that the destroyed car belonged to Goran Lacan, a UCLA "vivisector."

Wanted: Daniel Andreas San Diego for Eco-Terror Bombings. Daniel Andreas San Diego grew up in a safe and quiet suburb of San Francisco, the son of a city manager in California's affluent Marin County. Now 30, he swore off drugs and drink as a young man — and even milk and meat — but the straight-edge San Diego was no straight shooter. "He looks like a personable young man," says David Strange, the FBI agent who's been following San Diego's case for five years. But San Diego's bespectacled face masks a violent hate that authorities say turned him into an eco-terrorist, a vicious vegan with an ax to grind.

Hundreds of mink set loose from Utah farm. Animal rights activists broke into a mink farm and released hundreds of the animals from their pens, police said. Lindsey McMullin said "animal rights terrorists" hit his South Jordan farm, about 18 miles south of Salt Lake City, the morning of Aug. 19 [2008] and released about 600 mink. Breeding records were also destroyed, he said.

Update:
3 Utahns with animal-rights group claim they freed minks. Three Utah members of the Animal Liberation Front claimed credit Monday for breaking into a Kaysville farm early Sunday, destroying property and releasing thousands of minks. A statement posted on the ALF Web site states that the group entered the farm, released the minks and destroyed all breeding records. It states that they destroyed an electrical fence, vandalized trucks and equipment and cut about 100 holes in the perimeter fence.

FBI Investigating Terror Attacks on California Scientists. Scientists at the University of California, Santa Cruz are victims of the latest in a surge of firebomb attacks against animal researchers. One scientist was forced to flee his home with his children after a bomb was ignited on his porch.

Scientists Targeted in California Firebombings. Early Saturday morning [8/2/2008], a Molotov-cocktail-like device set fire to the home of a developmental neurobiologist at the University of California, Santa Cruz (UCSC). His family escaped by climbing down a fire escape from a second-story window. Around the same time, a similar device destroyed the car of another UCSC researcher.

Two UC-Santa Cruz Researchers Victims of Firebombing. The university is calling the most recent attacks "criminal acts of antiscience violence," and Santa Cruz police are calling the house fire an act of domestic terrorism and are treating it as an attempted homicide, according to the Chronicle.

Pamphlets threatening UC-Santa Cruz researchers found at coffee shop. The flyers, which police are investigating as threats of a possible attack following a string of incidents this winter, target scientists who use mice, fruit flies and other animals in their work.

The Editor says...
THAT is what all this is about? Special rights and privileges for fruit flies and mice?

Firebombs show new tactics of animal activists. Two firebombs targeting UC Santa Cruz biologists appear to mark an escalation in violence by militant opponents to animal research, a transition from threats and harassment to acts of terrorism and attempted homicide, authorities said Monday [8/4/2008]. "There has definitely been an increase in the volume of harassment, and now we've seen an increase in the stakes of the violence that they're willing to spread in the name of this cause," Santa Cruz police Capt. Steve Clark said. "This signals a new level of aggressiveness."

The war on scientists in America: Extremist animal rights groups have organized anonymously to intimidate and terrorize medical researchers until they abandon their studies out of fear for their children's safety and their own peace of mind. They perfected the art of intimidation in the United Kingdom. First, extremists vandalized research labs. Then, they targeted companies that did business with researchers. In 2004, activists finally went too far when they dug up the remains of the mother-in-law of a guinea-pig breeder.

Santa Cruz firebombs look familiar. The devices used in two firebombings targeting UC Santa Cruz biologists are similar to some used in the past by animal rights activists, investigators said Sunday [8/3/2008]. The bombs were so powerful they were like "Molotov cocktails on steroids," said Santa Cruz police Capt. Steve Clark.

Animal Liberation Front renews its threat to Oxford. Animal rights campaigners are threatening a new wave of attacks on Oxford University as its biomedical laboratory nears completion. Groups such as the Animal Liberation Front have been waging a campaign of arson and vandalism since work on the controversial facility — which will house all of the university's animal testing labs — began in 2004.

Eco-Freaks. Eco-terrorism is simply another form of terrorism. We have long since gone past Earth First's simple spiking of trees, which itself resulted in severe injuries and should not be trivialized. But now these groups are perpetrating acts of destruction with the some of the same characteristics — such as the use of cells and timing-device explosives — that we associate with terrorism aimed at foreign policy. As the Christian Science Monitor has reported, "somewhere along the way, vandalizing log trucks and 'liberating' lab rats escalated into firebombs, plots to blow up electrical towers and dams, code names, and anonymous communiqués boasting of destroying millions of dollars in property."

American terrorist: The terrorists behind the American firebombs were not Islamic fanatics, but animal-rights jihadists bent on harming and intimidating scientists who conduct medical research on animals. They also have targeted employees of businesses that might work with researchers, as well as harassed the spouses and young children of researchers. Americans for Medical Progress President Jacquie Calnan warned that the latest incident "marks a disturbing escalation in the tactics of intimidation and harassment."

Acts of Ecoterrorism: A list of self-proclaimed Earth Liberation Front ecoterrorism acts.

Yes, They're Terrorists. Lawyers for the people who pled guilty and are now being sentenced for a crime spree that included the 1998 Vail Mountain arson naturally argue that their clients are not terrorists, no indeed. … Chelsea Gerlach's attorney argued that Gerlach's name didn't belong on a list of terrorists that included Timothy McVeigh, among others.

Eco-Terrorism: When Violence Becomes An Environmentalist Tactic. Violence by environmental radicals has become depressingly common in the U.S. Radical eco-terrorists commit arson and corporate sabotage, and some groups have a decentralized structure that seems modeled after jihadists' diffuse networks of terrorist cells. Regrettably, mainline environmentalist groups have not taken a lead in denouncing direct-action radicals who care little about human life.

Jury decides that threat of global warming justifies breaking the law. The threat of global warming is so great that campaigners were justified in causing more than £35,000 worth of damage to a coal-fired power station, a jury decided yesterday. In a verdict that will have shocked ministers and energy companies the jury at Maidstone Crown Court cleared six Greenpeace activists of criminal damage.

Briefly Noted: A federal judge in Oregon has sentenced convicted eco-terrorist Kevin Tubbs to a prison term of 12 years and seven months for his role in setting fire to a police substation, a forest ranger station, a dealership selling sport utility vehicles, and a tree farm. Tubbs is a member of The Family, a cell of the radical groups Earth Liberation Front and Animal Liberation Front. "Fear and intimidation can play no part in changing the hearts and minds of people in a democracy," U.S. District Judge Ann Aiken said at sentencing.

Violin teacher sentenced to six years in prison for UW arson. Briana Waters, a California woman convicted in March of assisting in the 2001 arson that destroyed the University of Washington's Urban Horticulture Center, was sentenced this morning to six years in prison. … Federal prosecutors sought the 10-year sentence under a "terrorism enhancement" because they claimed the arson met the legal definition of a violent act "calculated to influence or affect the conduct of government by intimidation or coercion," according to a court filing.

Global Warming Hypocrites. I've come to the conclusion that many of these people are mentally ill. They won't accept any rational opposition, scientific or otherwise, that refutes the global warming theory. Drew Johnson reported that after his organization first revealed Al Gore's electric bill to the general public, his group received a number of death threats. Their computers were hacked. Phoned obscenities were common.

Coal train ambushed near power station in climate change protest. Climate change campaigners halted a coal train yesterday [6/13/2008] outside Drax, Britain's biggest power station, and shovelled its contents on to the only line into the plant. More than 20 tonnes of coal blocked the tracks as protesters strung ropes between the train and the girders of a river bridge as police watched from a distance.

Gore's Rebellion. Speaking last Wednesday [9/24/2008] on a celebrity panel in New York, the Nobel Prize Laureate proclaimed: "If you're a young person looking at the future of this planet and looking at what is being done right now, and not done, I believe we have reached the stage where it is time for civil disobedience to prevent the construction of new coal plants that do not have carbon capture and sequestration." He added, "clean coal does not exist." Mr. Gore didn't explain how far he thinks his young acolytes should go in their rage against the coal-burning machines that provide about 50% of U.S. electricity. Sit-ins? Marches against power plants? How about trashing power lines: What could he mean by "civil disobedience"?

The War on Animal Research. This is an edited excerpt from The Animal Research War by P. Michael Conn and James V. Parker, to be published by Palgrave Macmillan in May 2008.

Eco-terrorists top the FBI's threat list after wave of arson attacks. It began 16 years ago with a meeting of disaffected environmentalists in Brighton. Today the radical organisation they created — the Earth Liberation Front — is described as a decentralised al-Qaeda-style network and America's No 1 domestic terrorism threat.

California Regents Sue Animal Activists. It was late into the night when 25 people in ski masks descended on professor Dario Ringach's family home. Pounding on the door, frightening his small children, they screamed into megaphones, "Animal killer! We know where you live! We will never give up!"

The fight over what "green" means: It was the People's Choice and Best in Show in the 2007 Street of Dreams, the Best in American Living for 2007, according to the National Association of Home Builders, and the first home in Snohomish County to earn a five-star rating as a Built Green home. But with 4,750 square feet, a four-car garage and a location in a rural area where subdivisions aren't supposed to sprawl, was it really green? The Urban Lodge was one of four mega homes burned in an act of arson this month near Maltby.

Environmental Extremists Likely to Attack, Says NIE. The most dangerous domestic terrorists in the United States may have nothing to do with Islam or Iraq but may be little-known extremists who regard violence against animals as akin to violence against people, according to FBI officials. This week, a declassified portion of the latest National Intelligence Estimate for the United States warned that Americans can expect attacks from these groups within the next three years.

Luxury Homes Burn in Apparent Eco-Attack. Three seven-figure dream homes went up in flames early Monday [3/3/2008] in a Seattle suburb, apparently set by eco-terrorists who left a sign mocking the builders' claims that the 4,000-plus-square-foot houses were environmentally friendly.

Fur dealers under attack. Never before has Norway's fur industry been as under attack as it is now. Some Oslo fur dealers have been the repeated targets of vandalism and threats, and even some established animal rights activists are calling the attackers "animal terrorists."

They put the fur in furious.
Arson Near Chicago Mayor's Home May Be Linked to Cougar's Killing. Authorities are investigating whether an arson fire near Chicago Mayor Richard M. Daley's summer home in Michigan last month is linked to threats against the mayor from someone furious about the April 14 killing of a cougar that had roamed into downtown Chicago.

Animal rights group turns its fire on celebrity meat-eaters. Animal rights protesters have launched a series of angry campaigns against A-list carnivores. They are shifting their focus from celebrities who wear fur to others who encourage the "exploitation" of animals by eating them. In its latest campaign, Peta — People for the Ethical Treatment of Animals, which became infamous for dousing fur-wearers in red paint — has launched an attack on the singer Jessica Simpson.

Greenpeace activists board nuclear waste ship. Three Greenpeace activists boarded the Atlantic Osprey carrier as it was making its way to Sellafield with a shipment of nuclear waste for reprocessing.

Green group 'sinks whaling ship'. Norwegian police say they are investigating a green group's claim that it deliberately sank a whaling ship last month. Activists calling themselves Agenda 21 claimed responsibility for the sinking "to celebrate the end of commercial whaling in Iceland," according to a message posted on the US-hosted website…. The activist group said its actions were "a rational response to a world where tens of thousands of species disappear every year."

The Editor says...
Really? Tens of thousands of species disappear every year? Show me the list of species that "disappeared" last year. One researcher has shown that the number of bird extinctions per decade is about one or two. His page also has information on about 50 rediscovered species that were once thought to be extinct. In the United States, according to the U.S. government, there are 69 species of endangered mammals, 75 species of endangered birds, 304 species of other animals, and 598 species of endangered plants. [Source] The notion that "tens of thousands" of species disappear every year is absurd, and the people who make such claims are evidently hoping that nobody will test their claims against the facts.

Furrier's suit against animal rights groups thrown out. The case of a Portland furrier who sued the city and animal rights activists was thrown out by a judge Tuesday. Schumacher Furs filed the lawsuit against In Defense of Animals and People for the Ethical Treatment of Animals for protests that eventually drove the store out of downtown Portland. The suit charged them with a vulgar pattern of harassment that included public nudity, insults, obscene gestures and threats of physical harm. The protests at the store began in late 2005.

Schumachers ordered to pay $97,000 in protesters' legal fees. A federal judge has ordered one of Portland's last furriers to pay nearly $97,000 in legal fees to the animal-rights protesters he has accused of destroying his family business.

Protesters having a whale of a time. Paul Watson is a walking thermometer. Put him anywhere and you'll see how sick we are. … After all, this is the man who's already alienated even green groups by calling humans the "AIDS of the Earth", ramming whaling ships, demanding we slash the world's population by six billion, and boasting that he invented tree-spiking — which puts loggers in mortal danger if they chainsaw a sabotaged tree.

UCLA: Animal Research Leads to Threats. A judge issued a temporary restraining order Thursday [2/21/2008] against animal rights groups and activists accused of threatening UCLA employees and graduate students because they conduct research using animals. The order by Superior Court Judge Gerald Rosenberg forbids the activists from engaging in acts of harassment and threats of violence, and requires that they stay away from anybody who is known to be a university employee involved in animal research, UCLA's attorney John C. Hueston said.

PETA infiltrates primate center. For the second time in a decade, an animal-rights activist has slipped past employment screeners at the Oregon National Primate Research Center, taken a job as a monkey handler and accused the facility of routinely abusing animals.

ALF ... Six degrees of separation. Who at [the Animal Liberation Front] has not taken prescription drugs or taken their pet to the vet for treatment that ultimately led to some kind of drug treatment? It is impossible for even the most stringent ALF anarchist to walk through life without using the benefits of animal testing.

Ex-University of Chicago 'genius' turned ecoterrorist. Two years after his 2002 graduation with honors as a double major in physics and math, [William] Cottrell was charged and convicted as one of the nation's first ecoterrorists of the post-Sept. 11 era. He was found guilty of conspiracy and arson in the 2003 firebombings of Hummer and other sport-utility vehicle dealerships in the Los Angeles area to advocate a radical environmentalism. Two conspirators remain at large.

Fire set at UCLA scientist's house. Authorities are investigating a fire caused by a device left Tuesday [2/5/2008] at a house owned by a UCLA professor who conducts animal research — the second time the house has been targeted in less than four months.

'Ecoterrorism' case stirs debate in US. When law-enforcement agencies arrested 10 animal rights activists and environmental radicals 18 months ago, it was a major breakthrough in the fight against what officials call "ecoterrorism." Among the crimes solved were a string of arsons and other attacks across five Western states totaling more than $40 million in damage.

The Editor says...
Just as in the case of hate crime prosecution, the thoughts, ideology and motivation of criminals should not be a consideration when it comes to handing out punishment. Crime is crime regardless of what goes through a criminal's mind while laws are broken.

The Animal Enterprise Terrorism Act: On Monday, November 27, 2006, President Bush signed into law S. 3880, the "Animal Enterprise Terrorism Act," which expands criminal prohibitions against the use of force, violence, and threats involving animal enterprises and increases penalties for violations of these crimes.

Why the FBI watches the Left: In March 2003, I reported on a manifesto disseminated across the Internet by infamous eco-radical Craig Rosebraugh — former spokesman for the violent Earth Liberation Front — who called on fellow leftists to take "direct actions" against American military establishments, urban centers, corporations, government buildings and media outlets.

Tree-sitter charged with threat to officer. A leader of tree-sitters who oppose a proposed athletic training center next to UC Berkeley's Memorial Stadium was charged Monday [2/26/2007] with two felony counts of threatening a police officer. Zachary Runningwolf Brown, 44, was arrested Friday after he threatened to shoot a campus police officer, said UC Assistant Police Chief Mitch Celaya.

With their heads in the trees. Never before has so much been done for a cause so trivial. The tree-sitters argue that in fighting to save some 100 trees, they are protecting "a healthy, functioning native oak ecosystem." One problem: The stadium property is not pristine wilderness. Most of those trees owe their existence to UC landscaping. "People call us crazy monkey hippies," one tree-squatter told The Chronicle's Carolyn Jones, "but this is the greatest thing I've ever done." Except the tree squatters have achieved nothing.

Senator Inhofe Applauds 65-count Ecoterror Indictment. "FBI counter-terror experts have warned time and again that ecoterror is the most dangerous domestic terror threat our nation faces, and I applaud our Federal agents' ongoing efforts in cracking down on groups like ALF, ELF and SHAC in the name of protecting property and saving lives."

Whaling acid attack terrorist act: Japan. Japan has expressed outrage after anti-whaling activists lobbed acid onto the decks of a whaling ship in the Southern Ocean and slightly injured two crew members, terming their activities "piratical, terrorist acts".

Pom Bomb: Fruit-Juice Diarrhea 'Terror Strike'. Animal-rights terrorists say they've contaminated 487 bottles of trendy Pom pomegranate juice sold in stores all along the East Coast, including in outlets of at least two grocery chains that do business in New York City. People who drink the juices will suffer "diarrhea, vomiting and headaches," the Animal Rights Militia promised in a communiqué.

Activists' passion turns to violence. Jennifer Kolar and Lacey Phillabaum seem unlikely criminals. Well-educated young women passionate about environmental causes, they share a love of the outdoors and similar backgrounds. Both grew up in Spokane and attended the same public high school. … But their activism morphed into something more dangerous — and now both are headed to prison.

Airport protesters chained. Environmental activists said on Thursday [8/16/2007] they had chained themselves to the gates of a small English airport to protest the impact of private air traffic on climate change.

Conspirator in 1998 arson attack may get 10-year term. [Chelsea] Gerlach is scheduled to be sentenced this month for her role in the fires as well as other incidents, including an arson at a meat plant and knocking down an electrical tower. She pleaded guilty to the crimes in July. Prosecutors are recommending a sentence of 10 years in prison.

Update:
Radical Environmentalist Gets 9-Year Term. By the time Chelsea D. Gerlach was 16, she was putting her passion for the environment into action. She drove alone from Oregon to Idaho to protest a timber sale. She spoke at a university conference here alongside professors. Interviewed by her high school newspaper, The Axe, she said, "Our generation was born to save the earth." Now Ms. Gerlach is 30, and although she may continue to be an environmentalist, a federal judge said Friday that she was a terrorist, too.

ELF Arsonist Sentenced to 9 Years. A judge sentenced a radical environmentalist Friday to nine years in prison for torching a police substation and a tree farm and for downing a power line, deeds the judge called acts of terrorism. Chelsea Dawn Gerlach, 30, is the third of 10 members of The Family, a Eugene-based cell of the Earth Liberation Front and Animal Liberation Front, to be sentenced.

When Violence Becomes An Environmentalist Tactic: Violence by environmental radicals has become depressingly common in the U.S. Radical eco-terrorists commit arson and corporate sabotage, and some groups have a decentralized structure that seems modeled after jihadists' diffuse networks of terrorist cells. Regrettably, mainline environmentalist groups have not taken a lead in denouncing direct-action radicals who care little about human life.

Woman Pleads Guilty in University of Washington Ecoterrorism. A woman pleaded guilty Wednesday [10/04/2006] to conspiracy and arson in the 2001 firebombing of the University of Washington's horticulture center, one of the Northwest's most notorious acts of ecoterrorism. … The fire on May 21, 2001, severely damaged the building, which was rebuilt at a cost of about $7 million. The center had done work on fast-growing hybrid poplars in hopes of limiting the amount of natural forests that timber companies log.

PETA & The ALF, Coming To A Theater Near You. The radical animal rights group [PETA] is actively promoting a new film that glorifies the domestic-terrorist Animal Liberation Front (ALF). Along with several leaders of the violent animal rights fringe — including ALF arsonist Rodney Coronado, maritime saboteur Paul Watson, and the murder-endorsing Jerry Vlasak — the movie includes an interview with PETA president Ingrid Newkirk. In her close-up moment, Newkirk praises masked criminals for being "smart enough to know that they need to fight another day. They don't want to be recognized by law enforcement."

Animal activists escalate threats to brokerage's executives. Animal rights activists are targeting executives of a Portland brokerage to coerce the firm into severing its distant ties to a global animal-testing company. Activists held protests last December outside the houses of two of Wachovia Securities' top executives. Then they posted photos of their homes on the Internet, along with their names, addresses and phone numbers.

Activists Threaten World Food Supply. When Kenyan biologist Florence Wambugu developed a virus-resistant sweet potato that promised to feed millions, the Earth Liberation Front destroyed her lab and her crops. In another blow to scientific progress, eco-fanatics bombed a Minnesota plant genetics center to keep it from producing life-saving agricultural research. When activists don't approve, poor people don't eat.

Pennsylvania Toughens Eco-Terror Law. The new law increases penalties for arson, criminal mischief, vandalism, crop destruction, burglary, criminal trespass, and theft intended to intimidate people who participate in lawful activities regarding animals, plants, or natural resources.

Animal activist campaign backfires. Extreme action by animal rights activists has backfired, according to a new poll that suggests British voters are now more supportive than before of medical tests on animals.

People are fed up with protesters' thuggery. Holding placards at peaceful demonstrations is acceptable. Death threats, vandalism, posting names on the internet, even shouting abuse, are not. … I have hesitated in the past to use the word "terrorists" to describe such people but today's poll shows that only 15 percent of the public think that it is unfair to use that word.

Animal rights group targeted UCLA professor. The Animal Liberation Front tried to attack the Bel-Air home of a UCLA primate researcher with a "Molotov cocktail," but left it at the wrong house, an FBI official said.

Ecoterrorism is real. These criminal acts are wholly intended to intimidate and demoralize people to change their behavior and change public and political policy. That is a classic definition of terrorism. Attempts to soft-pedal the sabotage as somehow less ugly and threatening because it is aimed at property, not people, is insulting. All of the fiery menace and destruction is focused directly at people who construct, sell or study things and ideas that offend and incense a radical minority.

Animal rights arsonist is jailed. An animal liberation campaigner was jailed indefinitely yesterday [12/7/2006] after he admitted carrying out an arson campaign against those he believed were linked to the animal testing laboratory Huntingdon Life Sciences.

Accused eco-terrorist to be deported to U.S.. Federal Justice Minister Vic Toews has ordered the extradition of Tre Arrow, who is being held in a jail in Victoria. Mr. Arrow, who is on the FBI's 10 Most Wanted list, is a well-known environmentalist from Oregon who fled to Canada after he was charged with conspiring to commit arson against two logging companies in the Portland area and causing $250,000 in damage in 2001.

Judgment Day for Extremists. Six of America's most committed animal-rights activists will soon find themselves entering cages instead of smashing them. Along with their organization, Stop Huntingdon Animal Cruelty, they were convicted on federal terrorism charges in March. Their campaign of fear and intimidation targeted employees, customers, and suppliers of a medical research laboratory that uses animals. Yesterday [9/14/2006] in Trenton, three were sentenced to six years in jail. The remaining three face sentencing this week and next.

Greenie-Weenies Kill. It's easy to become indignant — even enraged — with greenie weenies. After all, "Eco-terrorists" have committed over 1,100 crimes with property damage at over $110 million in the past few years.

Violinist mom charged with being US environmental terrorist. A mother that gives violin lessons will face trial in the northwestern US state of Washington on charges she was an environmental terrorist, prosecutors said.

Animal Rights Activists Convicted in NJ Federal Court. Six animal rights activists were convicted in federal court in Trenton, New Jersey on March 3 [2006] of orchestrating a campaign of aggressive harassment and veiled death threats against persons associated with a pharmaceutical company. While the jury rejected defense arguments that the activists' conduct violated no laws, the trial nevertheless reinvigorated support for the Animal Enterprise Terrorism Act, currently being debated in Congress.

Jury convicts animal welfare activists. An animal-rights group and six members were convicted Thursday [3/2/2006] of using their Web site to incite threats, harassment and vandalism against a company that tests drugs and household products on animals. The group, Stop Huntingdon Animal Cruelty, maintained its actions were protected under the First Amendment.

Six Suspects Arrested for String of Eco-Terrorist Attacks. From 1998 to 2001, terrorists in Oregon and Washington launched a series of very similar attacks on tree farms and botanical research centers. In what officials have described as sophisticated fire-bombing techniques, the terrorists constructed fire bombs out of gasoline, road flares, batteries, and digital timers. Some of the attacks occurred simultaneously at different locations, indicating collaboration.

Are They Arsonists? Dr. ALF Can't Decide. Which is it? Are these activists a bunch of committed restaurant, research lab, and SUV-dealership arsonists or just innocent bystanders? [Dr. Jerry] Vlasak seems to want it both ways. He told the Associated Press that raising animals for meat and fur "should be stopped by any means necessary. If that means going onto their farms, releasing their animals and burning the place to the ground, that's morally justifiable."

Indicted Eco-Terror Teacher Has A History Of Arson Instruction. Animal-rights and environmental extremist Rodney Coronado … spent 57 months in prison during the 1990s for his role in an animal-rights arson that destroyed a research facility at Michigan State University. Court records show that People for the Ethical Treatment of Animals (PETA) president Ingrid Newkirk "arranged … days before the MSU arson occurred" for Coronado to send her overnight packages containing stolen documents from inside the lab and a videotape of the arson fire being started.

Arrested: Yesterday [2/22/2006] in Tucson, federal agents arrested animal-rights militant Rodney Coronado on charges that during an August 2003 "revolution summer" event in San Diego, he taught a room full of activists how to make incendiary devices out of common household materials. Coronado offered a similar firebomb-building demonstration earlier in 2003 during a "Conference on Organized Resistance" held at American University in Washington, DC.

Rock Icon Endorses PETA, Violence. Stop us if you think you've heard this one before, but another friend of People for the Ethical Treatment of Animals (PETA) has gone on the record advocating violence in the name of animal rights.

Six Arrested Years After Ecoterrorist Acts. Two men were arrested this week in the 2001 burning of a building on a tree farm in Clatskanie, Ore. But on Thursday [12/8/2005], after years of investigation, federal officials announced one of the biggest roundups yet of people involved in a string of ecoterrorist attacks in the Pacific Northwest dating to 1998.

Grand jury indicts three for 'eco-terrorism'. A federal grand jury indicted three alleged "eco-terrorists" on Wednesday [1/25/2006] on charges of plotting to blow up facilities like dams and cell phone towers. "These three individuals planned to commit a number of dangerous and destructive acts in our region, all in the name of the Environmental Liberation Front," U.S. Attorney McGregor Scott told a news conference in the California state capital.

FBI brands animal rights terrorists 'highest domestic terrorism' priority. Testifying May 18 at a U.S. Senate Judiciary Committee hearing on "Animal Rights: Activism vs. Criminality," John E. Lewis, the FBI's deputy assistant director for counterterrorism, said "The Animal Liberation Front … is our highest domestic terrorism investigative priority." In support of the FBI's stance, Lewis detailed animal rights activists' use of "improvised explosive devices" and "threats of more, larger bombings and even potential assassinations of researchers, corporate officers, and employees."

Statement of John E. Lewis Before the Senate Judiciary Committee May 18, 2004: Good morning Chairman Hatch, and members of the Committee, I am pleased to have this opportunity to appear before you and discuss the threat posed by animal rights extremists and eco-terrorists in this country, as well as the measures being taken by the FBI and our law enforcement partners to address this threat, and some of the difficulties faced by law enforcement in addressing this crime problem.

11 People Indicted in Ecoterrorism Plot. Eleven people were indicted in a series of arsons in five Western states that have been claimed by the radical groups Earth Liberation Front and Animal Liberation Front, the Justice Department said Friday [1/20/2006]. The 65-count indictment said the suspects are responsible for 17 incidents in California, Colorado, Oregon, Washington and Wyoming, including sabotaging a high-tension power line, in a conspiracy that dates back to 1996.

Eco-Terrorists Firebomb Washington Homes. Eco-terrorists affiliated with the Earth Liberation Front (ELF) torched one suburban Seattle home and attempted to firebomb another in an April 13 night of terror, say federal Bureau of Alcohol, Tobacco, Firearms, and Explosives investigators. Nobody was hurt in the attacks, although police narrowly escaped harm when a firebomb planted in one of the homes failed to ignite.

The Rainforest Action Network: Major corporations are in the crosshairs of the Rainforest Action Network. This radical environmentalist group regularly resorts to illegal "direct action" tactics and even exploits school kids in order to intimidate and shake down its business adversaries. So why does the IRS still grant RAN tax-exempt status?

Equator Principles: Bad for business and freedom. Following the lead of Willie Sutton who said he robbed banks "because that's where the money is", the Rainforest Action Network, an anti-business activist organization, has systematically intimidated the largest U.S. banks to adopt RAN's vision of corporate social responsibility. RAN wants to hold banks responsible for the social and environmental impacts of their loans in developing countries.

Greenpeace intruders arrested. Three Greenpeace activists were arrested Thursday and charged with mischief after they boarded an ore carrier hauling coal across Lake Erie to a power plant in Ontario. Five activists initially boarded the Algomarine in a bid to delay the delivery of nearly 30,000 tonnes of coal to the Nanticoke power plant and draw attention to the issue of global warming, said Greenpeace spokeswoman Joslyn Higginson.

Greenpeace accused of piracy. Two Greenpeace vessels, the Esperanza and the Arctic Sunrise, have spent the past week engaged in a cat and mouse game with a fleet of six whaling ships.

Japanese claim second attack. A Japanese whaling group has accused the Sea Shepherd activist group of attacking a second ship in the Southern Ocean.

Sea Shepherd running out of fuel. Activists who have halted Japan's whaling in the Antarctic Ocean are were set to return to shore because they are running out of fuel. The Sea Shepherd Conservation Society's announcement came two days after the more mainstream environmental movement Greenpeace also said it was ending its pursuit of Japan's controversial annual whaling expedition.

The Editor says...
Running out of fuel? How can that be? Don't they use "renewable" wind and solar energy?

Salmon sabotage feared. The Norwegian Police Security Service (PST) has asked Norway's salmon industry to be vigilant to the threat of sabotage from militant environmentalists after several facilities have been damaged.

Ecoterrorist Will Spend Seven Years in Federal Prison. A federal judge ruled on April 18 [2005] that 24-year-old William Jensen Cottrell should serve more than seven years in federal prison and pay more than $3.5 million in restitution for an August 2003 firebombing spree that damaged or destroyed some 125 sport utility vehicles at dealerships and homes outside Los Angeles.

PETA's ties to terrorism: Should PETA be investigated for possible ties to terrorist groups like the Animal Liberation Front and the Earth Liberation Front, two domestic terror groups responsible for a series of arsons, bombings, and other violent acts that have caused hundreds of millions of dollars in property damage?

Animal rights terrorists threaten our safety. We must be willing to speak out against these acts of terror. To date they've destroyed over 100 million dollars worth of property and their rhetoric and actions are becoming increasingly more violent.

Animal extremism versus human rights: Last month the FBI and the Bureau of Alcohol, Tobacco, Firearms and Explosives told the Senate that animal rights extremists, along with eco-terrorists, pose one of the most serious and fastest-growing national terrorist threats. Unlike such organizations as the Animal Liberation Front, PETA takes no credit for such actions as torching laboratories. But it does support them both vocally and financially.

Fur flies as Elle tries to escape contract. Elle Macpherson is trying to get out of a $2.3 million contract to promote fur after receiving a threat from animal rights activists. The 42-year-old model, who signed on as the new "face" of Blackglama mink in July, believes she will be terrorised by anti-fur extremists.

Anti-fur group cream pies American Vogue's Wintour. French anti-fur activists said they struck Anna Wintour, editor of the U.S. edition of Vogue, in the face with a cream pie on Saturday to protest against her support for the use of animal fur by the fashion industry.

Bomb attack on Glaxo executive. Animal rights activists have targeted an Oxford college and the chief executive of a pharmaceutical company in a fresh wave of attacks.

Ecoterrorism redefined. The kind of activities they did, by today's terror standards, seem pretty juvenile: pouring sugar into vehicle fuel tanks, cutting up seismic cable, pulling up survey stakes. … The name of their group was Earth First! — exclamation theirs.

The Terrorist Wore Green. Law enforcement officials say the threat of attacks from ecoterrorists has become greater than from the Ku Klux Klan, neo-Nazis and right-wing militias. John Lewis, the FBI's deputy assistant director for counterterrorism, says his agency has seen an escalation in violent rhetoric and tactics with attacks growing in frequency and size. Harassing phone calls and vandalism now coexist with improvised explosive devices and personal threats to employees.

Animal rights activists face trial under terror law. New Jersey is using an anti-terrorism law for the first time to try six animal rights activists charged with harassing and vandalizing a company that made use of animals to test its drugs. Prosecutors say the activists used threats, intimidation and cyber attacks against employees of Huntingdon Life Sciences, … with the intention of driving it out of business.

Green bigots international. First they destroyed the gasoline station, so that you have to drive miles out of your way to get gas. Then they destroyed a parking lot. Now they want to destroy a dam and a reservoir that supplies more than 2 million people with water. No, these are not al-Qaeda terrorists. These are our own home-grown fanatics — and the places mentioned are all in Yosemite National Park.

The animal-right extremists. Animal-right fanatics have gained infamy by firebombing university laboratories, sending envelopes rigged with razorblades to researchers, and dousing fur coats with lighter fluid and igniting them — while still on the backs of their owners.

Environmentalism: Freedom's Foe for the '90s. In April 1987 the Animal Liberation Front torched a university research building in Davis, California. In October 1988 the same group tossed paint and acid on the homes and cars of people working for the San Diego Zoo. Bombs have been planted at British fur stores and, this year, at up-scale department stores around San Francisco. Women wearing furs have been attacked on the streets of New York City. One woman there was recently convicted for attempting to murder the president of U.S. Surgical Corporation, which uses animals to teach doctors surgical procedures; this animal lover was captured with two pipe bombs filled with nails.

The Terror of "Animal Rights". Thanks to intimidation by animal rights terrorists, Cambridge University has dropped plans to build a laboratory that would have conducted cutting-edge brain research on primates. According to The Times of London, animal-rights groups "had threatened to target the centre with violent protests … and Cambridge decided that it could not afford the costs or danger to staff that this would involve." The university had good reason to be afraid. At a nearby animal-testing company, Huntingdon Life Sciences, "protestors" have for several years attempted to shut down the company by threatening employees and associates, damaging their homes, firebombing their cars, even beating them severely.

Why animal activists forced widow, 67, to give up her fight. Halfway down a remote country lane in Staffordshire, May Hudson leads an unremarkable life in a rented cottage, passing the time with word puzzles, television and walking her terrier dog. Yet for the last five years Mrs. Hudson, a 67-year-old widow, has attracted the attention of an international animal rights campaign. [She is the cleaning lady at a guinea pig farm.]

Liberal terror: The nation obviously has been focused very heavily on terrorism for the last three years. Unfortunately, the overwhelming attention paid to foreign terrorist threats has tended to make people complacent about homegrown, domestic terrorism. Those living in the Washington, DC area got a wake-up call on this last week, when an apparent group of environmental terrorists torched a housing development under construction in nearby Charles County, MD.

The Mounting Threat of Homegrown Terrorism: We have seen the results of ignoring early signs of terrorist threats; why are we now disregarding the growing danger of eco-terrorism?

Are Animal Rights Militants Like Mandela? Jerry Vlasak is hardly the only animal rights crusader happy to pervert historic struggles. PETA's "humane lecturer" Gary Yourofsky (a convicted Animal Liberation Front felon) insists that he's just like Gandhi and Jesus — and, in the same breath, condones violence and even arson.

Blunkett told to treat animal rights extremists as terrorists. One of Britain's leading research scientists yesterday [7/29/2004] urged David Blunkett to treat extremist animal rights protesters "like the terrorists they are".

Lobster Liberation Front declares war on fishermen. Police are investigating a claim by an animal rights extremist group that it was responsible for releasing a fisherman's lobsters, seriously damaging his boathouse and splashing red paint around his home. The statement by an organization calling itself the Lobster Liberation Front included a warning that "the war against the lobster industry has begun".

Animal Rights Leaders Predict Violence and Death. The cast of characters at the recently concluded "Animal Rights 2004" convention including a tenured university professor, a self-described ocean-going pirate, and a husband-and-wife team seemingly dedicated to "animal liberation" by any means necessary.

Ecoterrorist Hate Crimes on the Increase. The Earth Liberation Front is taking responsibility for arson fires at three construction sites in an area in San Diego that had been used for agricultural purposes. This is the fifth arson attack against construction sites for which ELF has claimed responsibility in 2003. ELF claims to have caused $100 million in damages to private property since 1997.

Environmental Groups Use Violent Tactics to Advance Their Agenda. Radical groups like the Rainforest Action Network and the Ruckus Society are tax-exempt nonprofits that hold fundraisers and accept foundation grants. They also destroy property, disobey police orders, justify violence — and get away with it.

Did "Animal Rightists" Inject Rat Poison Into Swedish Meat? Zealots have apparently struck another blow at the civility of modern society, this time in broadly-tolerant Sweden. Swedish police are dealing with two cases in which "animal rights" activists may have injected rat poison into meat in supermarkets.

Atkins lawsuit pushed by meat hating animal rights radicals. The Center for Consumer Freedom has outlined the connections between PCRM and Stop Huntingdon Animal Cruelty (SHAC), a subset of the terrorist Animal Liberation Front. SHAC members have bombed cars and office buildings, threatened the lives of innocent Americans, and beaten at least one medical researcher while his family watched in horror.

Animal Rights Terrorism Arrests Tied To "Mainstream" Animal Charities. A five-count federal indictment accuses SHAC's leaders of terrorizing and stalking people because of their connections to disease research involving animals.

Ecoterrorism is a Real Threat to Homeland Security. We should bear in mind that the Islamic terrorism of Osama bin Laden isn't the only threat to life and property posed by extremist groups. For years, the Earth Liberation Front (ELF) and the Animal Liberation Front (ALF) have been carrying out acts of violence all across the United States. The FBI believes that the two organizations have committed over 600 acts of terrorism over the past seven years.

The Green Al-Qaeda: You would think that at least some increased effort would be made in rooting out the evil terrorist cells that inhabit our own country. These domestic terrorists have been hiding behind "Green" camouflage relatively undisturbed and unnoticed. Since their acts of terrorism are done in the name of a tree, instead of in the name of Allah, many do not consider them terrorists. This of course is false, because these eco-terrorists are just as deranged and determined to cause damage as the Islamic extremists are.

Eco-Terrorists Stepping up Attacks Across America. Environmental terrorists, already designated by the FBI as the nation's No. 1 domestic terrorism threat, ran rampant across America during summer and fall 2003.

Eco-terrorists and the Truly Endangered Species: An underground environmental group called Earth Liberation Front (ELF) claimed responsibility for recently incinerating four ski lifts and three buildings worth $12 million at Vail, Colorado. Vail's plans to expand its ski area apparently clashed with environmentalists' plans to re-populate the "endangered" lynx in Colorado. ELF destroyed this property "on behalf of the lynx" and warned skiers to ski elsewhere this winter.

Should Nonprofit Tax-Exempt Corporations Promote Crime? It is time for the IRS to reconsider whether corporations which promote crime or repeatedly break the law deserve tax-exempt status. If it decides that they do not, they should be subject to fines or revocation of their status.

Animal Rights & Ecoterrorism: The Price We Pay. Chronologies of Animal Rights and Environmental Terrorism [PDF file]

Environmentalism, Eco-Terrorism and Endangered Species: While mainstream environmental groups may try to distance themselves from the Earth Liberation Front and its "eco-terrorist" methods, the truth is that ELF did directly what mainstream environmentalists have been doing indirectly for years via the U.S. government's Endangered Species Act (ESA).

In US, a rise of violent environmental tactics: A war on terrorism is escalating in the United States, but it's one that has nothing to do with Osama bin Laden or Saddam Hussein. This form of violence — which the FBI says is the most serious type of domestic terrorism in the country today — involves radical environmentalists and animal-rights activists, some of whom now vow that they "will no longer hesitate to pick up the gun to implement justice…."

Homegrown Terrorism: Militant Environmentalism. We have seen the results of ignoring early signs of terrorist threats; why are we now disregarding the growing danger of eco-terrorism?

Environmentalism: It's not about the pretty little animals. Environmentalists are now taking their "case" to the streets. They are burning down buildings on Long Island because they feel suburban sprawl has gone too far.

Environmentalism and Eco-Terrorism: While few environmentalists openly endorse terrorism, most share this anti-industry sentiment. And they have been busy zealously blocking (via "peaceful" demonstrations and political activism) industrial activities such as forestry, mining, electric power generation and petroleum production — activities beneficial to humans — in the name of "saving the environment."

Terrorists with Tofu breath: The national press, which has put a happy green face on the environmental movement for three decades, has largely ignored a recent rising tide of violence being waged by eco-nuts across the country — and around the world.

American eco-terrorists declare war. As war unfolds, Iraqi sleeper cells and al Qaeda operatives aren't the only threats we face on the domestic front. Homegrown environmental radicals cast their own fatwah on America. And they're not just talking about lighting tea candles while they sing Bob Dylan tunes in their Birkenstocks.

FBI fears trouble from "extremist animal rights group": The FBI alerted local law enforcement agencies Wednesday of potential violence over the Thanksgiving weekend from what it termed an "extremist animal rights group," said to be planning events in New York and New Jersey.

Suspicious fire at mink farm has FBI looking at eco-terrorism: Eco-terrorism cannot be ruled out as the cause of a fire at a Pennsylvania mink farm, because a radical environmental group has claimed responsibility for two other area fires this year, according to the FBI.

43 Indictments in Connection with International Animal Rights Extremist Group: Twelve people allegedly linked to an international animal rights extremist group have been indicted on numerous charges, including attempted extortion, in connection with the alleged stalking, harassment and threats made to a Boston business executive and his family over five months.

Acts of Ecoterrorism: Reports of acts of ecoterrorism by and quotes from environmental organizations that have caused millions of dollars worth of damage and disrupted the lives of ordinary citizens.

From Push to Shove: Radical environmental and animal-rights groups have always drawn the line at targeting humans. Not anymore.

"Environmental Terrorism": Western Governors, Bush Decry Fire Fiasco. Fox News Channel reported that the area around Show Low, Ariz., once had many lumber mills, all shuttered now, the jobs they provided all gone, thanks to lawsuits by "environmentalists." Show Low resident Marc Ridenour, forced to leave his home because of the fires, is furious at the groups of leftists that describe themselves as "environmental."

Animal-rights fanatics: Doctor Dolittle gone bad. Seattle downtowners experienced a wave of fear last Wednesday [7/10/2002] as military-style smoke grenades were set off on the upper levels of two skyscrapers. Could this be the latest al-Qaida plot hatched someplace far overseas? Hardly. It appears to be the work of an extreme fringe of the animal-rights movement right here in the U.S.

Environmental Extremism and Eco-Terrorism: The Costs Imposed on Americans.

Elusive radicals escalate attacks in nature's name: While targets burn, FBI searches for way to strike back Episodes of "eco-terrorism" have risen considerably in recent times, especially in the Pacific Northwest, with at least 45 unsolved crimes against property in Washington and Oregon alone. Meanwhile, groups like the Earth Liberation Front seem to exist only in cyberspace.

Eco-Terror Expert Calls For Inquiry of Green Anarchists: An expert on eco-terrorism is calling on the FBI to investigate an organization that is touting a nationwide tour to "destroy civilization" and raise money for convicted eco-terrorists, but a spokesman for the FBI's Domestic Terrorism Program said the agency is taking a hands-off approach for the time being.

Environmentalists See Threat in Mandatory Gun Laws: The city of Escalante, Utah, is thinking about making gun ownership mandatory, something that environmentalists see as a thinly veiled threat. City leaders are expected to vote on a proposed ordinance that would require all heads of households in Escalante to own a gun. The town of Virgin, Utah, passed a similar law earlier this year. Supporters say such laws are intended to make a clear statement about Americans' individual right to bear arms.

FBI Warns of Ecoterrorists: The FBI recently issued a warning about the environmentalist terrorist group Earth Liberation Front, which has admitted carrying out costly arson attacks across the country.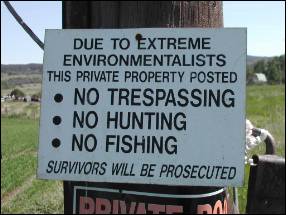 ---

Environmentalists vs. Military Preparedness:



Environmentalists in legal battle with Navy over war games. Worried about collateral damage to whales, dolphins and other marine life, environmentalists are fighting the U.S. Navy in court in a bid to protect the creatures of the sea from war games in the Pacific Ocean — while the Navy insists their claims are overblown and the exercises are necessary and safe.

Environmentalists fear Navy tests will hurt whales. Environmentalists are worried that plans to expand Navy testing off the California, Oregon and Washington coasts will pose a danger for whales.

Navy, environmentalists settle sonar lawsuit. The Navy has settled a lawsuit filed by environmentalists challenging its use of sonar in hundreds of submarine-hunting exercises around the world. The Navy said Saturday the deal reached with the Natural Resources Defense Council and other groups requires it to continue to research how sonar affects whales and other marine mammals.

Supremes Save Sonar. In a 5-4 decision, the Supreme Court decided Tuesday that the Navy can use sonar in its exercises off the California coast — despite objections from environmental groups, who say that sonar is harmful to whales and other animals. Writing for the majority, Chief Justice John Roberts said that national security was a more pressing concern than the well-being of marine mammals.

The Greens Get Harpooned. The case concerned Naval training exercises off the coast of Southern California that have been conducted for some four decades. The Natural Resources Defense Council and other green litigants sued to stop the use of midfrequency active sonar, which they say hurts or confuses whales, dolphins and the like. The Navy had already adopted dozens of measures to minimize any impact on the life aquatic, and no one could point to a single documented instance of sonar-related injury to any marine mammal. But the NRDC claimed the paperwork wasn't in order under certain federal statutes.

Supreme Court Rules for Navy in Sonar Case. Courts must be wary of second-guessing the military's considered judgments, the Supreme Court said Wednesday [11/12/2008] in lifting judicial restrictions on submarine training exercises off the coast of Southern California that may harm marine mammals. In balancing military preparedness against environmental concerns, the majority came down solidly on the side of national security.

Free (From) Willy. The Supreme Court rules that an endangered country trumps an endangered species. The U.S. Navy can now defend the U.S. against an enemy attack that would really ruin the environment.

Batting Ninth. The Ninth Circuit Court of Appeals has made a cottage industry of serving up wacky decisions for the Supreme Court to reverse. And yesterday [6/23/2008], the High Court agreed to swing at two more hanging curves next year. The first concerns whether judges or admirals should command our Navy. As we wrote last week, a federal judge in California has been trying, with the assistance of the Ninth Circuit, to order our sailors to stand down from training exercises that are vital to Naval readiness.

Update:
Navy approves plan for sonar training off Hawaii. The Navy has adopted a new plan for training in Hawaii waters that it says will allow it to accelerate some exercises and hold them more frequently while continuing to limit the effects of its sonar on marine mammals. The Navy created the training plan after completing environmental studies to ensure the plan complies with federal law.

Pentagon: Navy Can Keep Using Sonar. The Defense Department gave the Navy permission Tuesday [1/23/2007] to keep training with sonar for another two years, a move denounced by activists who say the sound waves can harm dolphins and other marine mammals.

Navy rejects California sonar limits. The Navy says it won't comply with sonar training restrictions that aim to protect marine mammals off the California coast, arguing that the commission that imposed the rules does not have the jurisdiction to do so.

White House Exempts Navy From Sonar Ban. The Bush administration jumped into a long-running legal fray in California on Tuesday [1/15/2008], exempting the Navy from a law that environmental groups have used to prevent the use of a type of powerful sonar that is believed to harm whales.

US navy sonar takes precedence over whales: Bush. President George W. Bush has exempted the US Navy from an environmental law protecting whales and dolphins from sonar devices used in military exercises off the coast of California, the White House said Wednesday [1/16/2008]. Animal welfare groups maintain mid-frequency sonar can disorient marine mammals with sometimes lethal results, while the White House argues the naval exercises are crucial to national security.

Judge restricts Navy's use of sonar. For the second time in less than a week, a federal court has found that a Navy anti-submarine training program threatens to subject whales and other sea creatures to harmful blasts of sonar and ordered protective measures in several sensitive zones, including one near Monterey Bay.

Judges hold no rank in military chain of command. Federal courts in San Francisco and in Los Angeles just ordered the U.S. Navy to limit its use of sonar, the underwater technology essential for tracking enemy submarines and detecting the ocean floor. These rulings tie the Navy's hands and are the latest outrage committed by judicial supremacists. … The court rulings allow environmentalism to trump what the Navy needs to do to protect U.S. national interest.

The Military Faces Foes on a Second Front: The Shock Troops of Environmental Extremism. Will some soldiers and Marines die in the Persian Gulf so that some gnatcatchers and other federally protected birds and animals in the United States may live? Rigid application of the Endangered Species Act and other environmental laws — spurred on by lobbying and lawsuits from "green" groups that are stronger on zealotry than common sense — is undermining military readiness.

Nelson: Oil rigs would interfere with military training in Gulf. U.S. Sen. Bill Nelson says the Bush administration is "hell-bent" on offshore oil drilling in the Gulf of Mexico, with some gas rigs as close as 25 miles from Florida's shoreline. But he says the military may prevent it. Nelson told reporters in Tallahassee that the Pentagon needs restricted air space south of Eglin and Tyndall Air Force Bases, to test new types of jets and even secret weapons. He said the Navy also does some weapons testing in the area, and can't have oil rigs in the way.

Attention all ruthless Communist dictators: If Senator Nelson is right — and he isn't — all you have to do is put up some offshore oil drilling platforms around your country and the U.S. military will be powerless against you.

Under Siege: The Left's Assault on America's Military. Last year, Congressman Bob Filner wrote President Bush demanding the U.S. Navy unconditionally withdraw from training facilities in Puerto Rico for "environmental reasons." Why would a United States Representative want to undermine the effectiveness of our military?

Judge Tells Navy to Reduce Sonar Impact. A federal judge ordered the Navy on Thursday [1/3/2008] to adopt measures that would lessen the impact of sonar on whales and other marine life during exercises near Southern California. The preliminary injunction issued Thursday requires the Navy to create a 12-nautical-mile no-sonar zone along the coast and have trained lookouts watch for marine mammals before and during exercises.

Navy, Environmentalists Face Off on Whales. This week, environmentalists won a temporary restraining order to stop the Navy from using a high-intensity sonar during this year's Rim of the Pacific 2006 exercise, which had scheduled sonar use to start Thursday [7/6/2006].

Study fails to link naval sonar with whale strandings. A year-long study has failed to explain why 36 whales stranded themselves along the North Carolina coast in January 2005. At the time the mass stranding attracted much media attention because of possible links to military sonar.

The Battle of Environmentalists versus the US Military: As America's military deploys troops, armor, planes and ordinance to bases in the Middle East surrounding Iraq, they will do so after years of fending off another kind of attack, one by the massed forces of environmental organizations that have done everything in their power to reduce and restrict the ability of our military to train its soldiers, sailors, marines and airmen.

Environmental Regulations Impede Pentagon Readiness: With the United States in the second year of its war on terrorism, the nation's ability to prepare troops for the deadly business of combat is being undermined by environmental restrictions being applied to military bases around the country.

Greens Continue to Hamper Military Training. Military training across the nation has been hamstrung by environmental regulations and lawsuits. For example, training for amphibious landing is severely controlled at Camp Lejeune in North Carolina because of beach restrictions during turtle-nesting season.

Greens have undermined US military for years: As America begins to mobilize to win the war against terrorism, the quality and capability of our Armed Forces is going to become an important priority. For the years of the Clinton-Gore administration, following the Gulf War, the destruction of our military was the priority. Helping in that process were the faceless bureaucrats, many still in place, pledged to environmentalism at any cost.

Judge Ahab and the Whales: In its storied history the U.S. Navy has defeated German U-boats and the British and Japanese Imperial navies, but we are about to find out if it can be whipped by whales and activist judges. Welcome to the new world of lawsuits as antiwar weapons.


---

Editor's Note: The following items can appear under the heading of "Military Preparedness" only if we assume that the Space Shuttle has something to do with military activity and national defense. As I have asserted elsewhere, that would be the only way to justify the Space Shuttle as a Constitutional expenditure.

Cause of Two Shuttle Disasters: Enviro Dogma. Now that a dramatic new test has confirmed that a piece of thermal insulation flaking off of space shuttle Columbia's external tank during launch was the most likely cause of its destruction during re-entry, the typical second-guessing in the press has focused on NASA engineers.

Challenger, Columbia … what next? When NASA's environmental concerns resulted in the tragic deaths of the Columbia crew, it wasn't the first time a space shuttle crew was lost because of misguided regulations and fads.

Earth Worshippers Cause Death in Space: Environmental dogma has led to the sacrifice of fourteen Astronauts on the Space Shuttle.


---

Troublesome Organizations:

The following list was compiled from material found at Activist Cash, a new website dedicated to exposing the ways in which many anti-consumer non-profit groups are funded. Judge the merits of the groups and their missions yourself and, once you have, you can form educated opinions and decisions regarding where their money comes from.

(Activist Cash Listed as Freedom Page of the Week)

PETA: People for the Ethical Treatment of Animals (PETA) has been described as "by far the most successful radical organization in America." The key word is radical. PETA seeks "total animal liberation," according to its president and co-founder, Ingrid Newkirk. That means no meat or dairy, of course; but it also means no aquariums, no circuses, no hunting or fishing, no fur or leather, and no medical research using animals. PETA is even opposed to the use of seeing-eye dogs.

The Truth about PETA: The more I learn about PETA, the less I think of them. The story of them killing animals isn't even unusual. According to PETA's own filings, in 2004 PETA killed 86.3 percent of the animals entrusted to its care — a number that's rising, not falling. Meanwhile, the SPCA in PETA's home town (Norfolk, Va.) was able to find loving homes for 73 percent of the animals put in its care. A shortage of funds? Nope: last year PETA took in $29 million in tax-exempt donations.

The Physicians Committee for Responsible Medicine is an animal rights group. Less than 5 percent of its members are actual physicians. The group's goals are to stop medical research that requires the use of animals, and to remove meat and dairy foods from our diet by demonizing them as "unhealthy."

Earth Liberation Front: Environmentalist, anti-capitalist, eco-terrorist organization established in 1992 by radical members of the group "Earth First". Advocates "economic sabotage and property destruction" designed to "halt the destruction of the environment". Responsible since 1997 for more than $95 million in property damage. ELF has been declared America's top domestic terrorism threat by the FBI.

Organic Consumers Association: OCA works alongside the Chefs Collaborative, Center for Food Safety, and Friends of the Earth on the "Keep Nature Natural" campaign, which is designed to disparage genetically improved foods. This campaign gets its operating funds from several organic marketers, including Whole Foods and Eden.

Center for Science in the Public Interest: The Center for Science in the Public Interest (CSPI) is the undisputed leader of the American food police. In its 30 years of public disservice, CSPI's joyless eating club has promoted questionable reports on soft drinks, fat substitutes, irradiated meat, biotech foods, coffee ice cream (does it really need a caffeine warning label?), and just about everything else that tastes good.

United Poultry Concerns: United Poultry Concerns (UPC) is led by the enigmatic Karen Davis and routinely protests the eating of chicken, turkey, ducks, eggs, and other poultry products. The group can be counted on to launch a letter-writing campaign every year around Thanksgiving, attempting to lay down a guilt trip on those of us who choose to eat turkey.

The Ben & Jerry's Foundation was established in 1985 from a donation of stock from Ben & Jerry's Homemade, Inc., the ice cream company founded by Ben Cohen and Jerry Greenfield. … BJF recently endorsed a document called the Earth Charter, which blames capitalism for many of the world's environmental, social, and economic problems.

Greenpeace was originally the brainchild of the radical "Don't Make a Wave Committee," a group of American draft-dodgers who fled to Vancouver in 1969 and, supported by money from anti-war Quaker organizations, got into the business of forcibly blocking American nuclear tests. Over the years the group has loudly made its feelings known on a variety of issues (nuclear testing, whaling, and global warming, for instance), and its Amsterdam-based activist moguls pull the strings on what is estimated to be a $360 million global empire.

A Look at the Environmental Working Group. The EWG playbook is simple: The group targets an issue and releases a report, or participates in a "study," in order to promote the most alarmist findings. Carefully orchestrated media coverage of these reports effectively creates a public health scare, be it breast implants, alar, unsafe drinking water, farmed salmon, or the EWG's latest blitz around mothers' breast milk. The findings of these reports are largely based on junk science.

Natural Resources Defense Council: The NRDC is the utility infielder of nanny groups. Because its name implies a wide-ranging universe of issues, the group can be counted on to inject itself into just about any debate where there's an environmental argument to be made. Washington PR firm Fenton Communications has made use of the NRDC in a variety of public campaigns, the most famous example of which was the 1989 "Alar-on-apples" food scare.

The National Environmental Trust is really a public relations firm, but it sounds so good!

Gang Green: CRC lists the ten worst environmental groups.

Web site: Undue Influence dot com: Tracking the environmental movement's money, power, and harm. "The environmental movement is not what you think it is. It is not about the environment. It is about power."

More material of this kind can be found at Green Watch.

See also Product Attack Groups Master Page.


---

Scare tactics — a form of low-level terrorism



US City Mandates Gas Pumps Must Carry Cigarette-Style Health Warning About Climate Change. Well, however well warning labels work — or even if they do — the city of Cambridge, Massachusetts, is about to see if it works for gas in the way I described it. According to The Guardian, every pump in the city will come with a sticker that warns you that you're killing the planet with each tank you fill. The warning labels will read that burning fossil fuels has "major consequences on human health and the environment including contributing to climate change." Under a city ordinance that passed in January but didn't get much attention over the course of the year because we were busy with, you know, other stuff, the policy order stated "that in order to reach our sustainability goals, the City must actively pursue innovative methods to reduce vehicular emissions."

Massachusetts city to post climate change warning stickers at gas stations. Cambridge, Massachusetts, has become the first US city to mandate the placing of stickers on fuel pumps to warn drivers of the resulting dangers posed by the climate crisis. The final design of the bright yellow stickers, shared with the Guardian, includes text that warns drivers the burning of gasoline, diesel and ethanol has "major consequences on human health and the environment including contributing to climate change". The stickers will be placed on all fuel pumps in Cambridge, which is situated near Boston and is home to Harvard University, "fairly soon" once they are received from printers, a city spokesman confirmed.

The Editor says...
Hundreds of factors "contribut[e] to climate change." That's why the climate constantly changes, and has done so for millennia — long before gasoline engines were invented. But the climate is changing so gradually, it's imperceptible. If you'll turn off your television, you will find that for all practical purposes the climate is not changing at all. The consequences of filling your gas tank are far smaller than the consequences of running out of gas. Think!

Caught in the Act: Most environmental organizations portray themselves as selfless watchdogs whose mission is to alert the public to alleged risks. They are quick to make demands, sound false alarms, point fingers and place blame. Do they really perform a public service or are they just a public nuisance? Several independent organizations reviewed activist scare-mongering activities.

Air pollution risk exaggerated. Exaggerating the public's risk from air pollution is no better than ignoring real air quality problems. If society misspends scarce resources based on inaccurate information, more people will suffer, not fewer.

Starbucks protestors spread false fears about safe foods: As they did with the Alar-in-apples scare, activists often attack products associated with children — like milk and ice cream — falsely linking these products with horrible ills such as cancer to evoke the greatest fear among parents and the consuming public. The harm and cost to consumers and farmers alike can be significant.

Environmental Group Accused of Hypocrisy in Fight for Tree-Free Paper: A California man is out to expose what he calls the hypocrisy of a prominent environmental group. John Campbell, a Los Angeles-based Republican fundraiser, says the Rainforest Action Network sent out letters asking for financial help to "compensate for the extra costs of using tree-free paper," but actually used regular wood-pulp paper to print the letters.

Behind the Environmental Working Group: The EWG's main claim to fame is its anti-chemical fear-mongering. It scares pregnant women about the non-dangers of chlorinated water and says that even one bite of some fruit sprayed with pesticides could cause "dizziness, nausea and blurred vision." The group has also declared war on nail polish, hairspray, playgrounds, portable classrooms and ABC News correspondent John Stossel.


---

Other related articles:

World Wide Fund For Nature vs. World Wrestling Entertainment: A Switzerland-based environmental group (once called the World Wildlife Fund) is suing a successful U.S. sports entertainment company (once called the World Wrestling Federation) because they share the same logo letters.

George Soros: A Bridge to Radicalism. In 2001, George Soros' Open Society Institute donated $103 million to causes in the U.S. Much funding went to liberal and radical leftwing groups addressing a ranging of issues from opposing the death penalty to undermining property rights.

The Philanthropy of the Celebrity Left: Kim Basinger advocates animal rights. Martin Sheen advocates farm workers' rights. Holly Hunter advocates abortion rights. Mike Farrell advocates death row inmates' rights. Celebrity causes have become a cause celebre. America's celebrity culture has spawned a new sub-industry — the philanthropy brokerage.

Greenpeace donation transfers accidentally multiplied by 100. Approximately 10000 UK supporters of Greenpeace who make regular donations by direct debit have have accidentally had their bank accounts debited by a hundred times their usual amount, with its software adding two [zeros] to the latest batch of direct debit demands.


Document location http://akdart.com/enviro5.html
Updated September 24, 2023.

©2023 by Andrew K. Dart