Walls, fences and militias:
Court of Appeals rules Texas buoy barrier can stay up, for now. The 5th U.S. Circuit Court of Appeals extended a reprieve for the 1,000-foot buoy barrier in the Rio Grande River at Eagle Pass, Texas. Texas can keep the barrier up for at least 3 more weeks. The next hearing is set for October 5 on whether or not the buoy barrier is illegal. Last week Judge David A. Ezra ruled that Governor Greg Abbott must remove the floating buoy barrier he deployed without asking for federal permission. Abbott's deadline was today, September 15. This week that deadline is no longer in effect. Governor Abbott expects the case to go to the Supreme Court, at least that is what he hopes. He wants the justices to have the chance to take a look at whether states can treat illegal immigration as an invasion and invoke their constitutional self-defense rights.
Court Permits Texas to Keep Floating Barrier in Place. Texas will be allowed to keep a floating barrier the state placed in the Rio Grande amid a legal dispute with the Biden administration. The 1,000-foot chain of orange buoys is designed to deter illegal immigrants from swimming across the river from Mexico in order to enter the United States as part of Governor Greg Abbott's Operation Lone Star. The Department of Justice sued Texas, demanding the barrier be removed and accusing the state of violating the Rivers and Harbors Appropriation Act of 1899.
A judge orders Texas to move a floating barrier that's used to deter migrants between US and Mexico. Texas must move a large floating barrier that Gov. Greg Abbott placed on the river between the U.S. and Mexico this summer as part of the Republican's escalating attempts to stop migrants from crossing America's southern border, a federal judge ruled Wednesday. U.S. District Judge David Ezra stopped short of ordering Texas to dismantle the wrecking-ball sized buoys on the Rio Grande but called them a threat to safety and relationships between the neighboring countries.
The Editor says...
Why does the judge want to barrier removed? Because it works!
Biden [is] Literally Selling [the] Border Wall as Illegal Migrants Flood Into [the] Country. The Biden administration is a joke, but it's not just any joke. It's a killer joke. The absurdity of the current administration belongs in a sitcom that would no doubt be funny. But it's not a comedy. It's reality, and this joke of an administration is killing America. In one example, illegal migrants are streaming across the southern border in record numbers. So what's Biden do? He sells off the border wall.
Report: Biden Admin Welds Arizona Border Wall Gates Open. A media report revealed that Biden administration officials welded border wall gates open near Lukeville, Arizona. The open gates allow migrants to freely walk through the border wall and into the Arizona desert. Border Patrol officials admitted responsibility for a decision to weld open flood gates in sections of border wall near Lukeville, the New York Post reported. The admission reportedly came after the agency attempted to blame other federal agencies for the action that allows thousands of migrants to freely cross into what is now the nation's busiest border sector.
This tells me Biden does not expect (or intend!) to be re-elected.
Biden quietly sells off border wall material so the project can not begin again. On Joe Biden's first day in the White House, he put a stop to the border wall construction. Biden is vehemently anti-wall and border control. Now the Department of Defense is quietly selling off materials that were purchased but not used. Joe Biden does not want the construction of the border wall to begin again. Republicans are trying to pass legislation to finish the wall. So, the Biden administration is selling off millions of dollars of border wall materials as quickly as possible. So far, 81 lots of 28-foot-tall hollow beams have been sold for about $2 million. There are photographs of steel "square structural tubes" for sale on GovPlanet, an online auction marketplace. It's run by a publicly-traded Canadian company. The Department of Defense's logistics agency confirmed to the Daily Upside and the New York Post that the beams are "excess border wall materials that the U.S. Army Corps of Engineers turned over to the DLA for disposition and are now for sale."
Biden quietly sells off border wall parts to thwart GOP push to use them. The Biden administration is quietly auctioning off millions of dollars' worth of unused parts from former President Trump's border wall for peanuts — in an apparent end-run around pending legislation in Congress. Since April, GovPlanet, an online auction house specializing in military surplus, has sold 81 lots of steel "square structural tubes" — intended for use as vertical bollards in the border barrier's 30-foot-tall panels — hauling in about $2 million. On Tuesday, GovPlanet netted $154,200 for 729 of the 28-foot-tall hollow beams, sold in five separate lots for an average $212 apiece. Thirteen more lots are set to be auctioned on Aug. 23 and Aug. 30.
Joe Biden is quietly selling off Trump's border wall as unused parts are sold at auction for Millions of dollars in profit. The Biden administration is quietly selling off parts of Donald Trump's border wall to try to thwart Republicans who want to force it to be extended. A website called GovPlanet, which offers online auctions for military surplus, listed hundreds of unused parts of the southern barrier in recent months. Since April[,] 81 steel square structural tubes, which would have been used within the wall's 30 ft panels, have been sold for a profit of $2 million.
Federal judge will not force Governor Abbott to remove Rio Grande River buoy barrier. The buoy barrier system will remain in place in the Rio Grande River until at least September 1. That news came when U.S. District Judge David Alan Ezra gave Governor Greg Abbott's attorneys until August 9 to respond to DOJ's call to remove the buoys, with a hearing scheduled on August 22. If the judge rules in favor of DOJ, Abbott will have 10 days to remove the buoy barrier. The hearing in federal court in Austin will consider the DOJ's call for an injunction that would require Texas to remove the buoy barrier near Eagle Pass. DOJ says Abbott violated the federal Rivers and Harbors Act. That act requires permission from the U.S. Army Corps of Engineers to put structures in the waterway. They say Texas did not seek a permit to do so. Besides the fact that the Biden administration has no interest in securing the Texas-Mexico border, DOJ is kowtowing to Mexico. Mexican officials have registered complaints about the buoy barrier and the use of razor wire along the border to prevent illegal immigrants from entering the state outside a legal port of entry.
Rep. Pramila Jayapal Who Opposed Trump Border Wall Builds Security Fence Around Her Home. Far left 'squad' member Rep. Pramila Jayapal of Washington State was a vocal opponent of Trump's border wall, but apparently has a different attitude when it comes to her home. She has spent over $45,000 on security at her home, including a fence, because of course she has. It's also important to note that she used campaign donations to do this. That's not necessarily illegal, but it doesn't look good.
DOJ threatens to sue Texas if Rio Grande floating barrier isn't removed. The Justice Department has said it plans to sue Texas if the state doesn't remove the 1,000-foot floating barrier it placed in the Rio Grande river in a bid to deter illegal immigrants from crossing the US border. The threat of legal action was made in a letter sent to Texas Gov. Greg Abbott by the Biden administration on Thursday. The barrier of wrecking ball-sized buoys, which was strung up earlier this month near the border town of Eagle Pass, was "unlawful" and violated federal law, the letter charged. "The State of Texas's actions violate federal law, raise humanitarian concerns, present serious risks to public safety and the environment, and may interfere with the federal government's ability to carry out its official duties," it said.
DOJ will sue Governor Abbott over the buoy barrier in the Rio Grande River. When last we left the buoy barrier across the Rio Grande River kerfuffle, Texas Democrats were demanding that the DOJ investigate the legality of Governor Abbott's action. One small business owner had already filed a lawsuit, claiming his kayak business would suffer because of the barrier in the river. Mexican officials have registered complaints against the buoy barrier, claiming it violates treaties between the United States and Mexico. Allegedly a DPS trooper turned whistleblower to leak an internal memo to a superior, who then turned the memo over to a reporter with the Houston Chronicle. The memo alleges that troopers are being told to shove women and children back into the river instead of allowing them to cross illegally. I called b.s. on the truthfulness of the alleged instructions because I have seen too many videos of DPS troopers and Border Patrol agents pulling illegal immigrants out of the river, saving them from drowning or serious injury. Because the leaked memo accuses DPS of encouraging inhumane behavior, DOJ had the perfect excuse to investigate the buoy barrier situation in the Eagle Pass, Texas area. Sure enough, DOJ notified Governor Abbott that the buoy barrier system put up through the Rio Grande River is in violation of federal law. DOJ is ready to sue Governor Abbott.
Biden cancels Trump barrier but quietly fills in half the gaps. The Biden administration has begun quietly filling in small portions of unfenced areas on the southern border where it had abruptly halted Trump-era projects after the president waged a brutal campaign condemning the idea of a wall. The Department of Homeland Security is halfway through filling in 129 gaps in border wall projects after President Joe Biden had abruptly halted the remaining 300 miles of Trump-era wall construction when he took office in January 2021, according to DHS agency U.S. Customs and Border Protection.
Texas Deploys Floating Barrier In Rio Grande River. Governor Greg Abbott has installed a stretch of buoys on the Rio Grande River that divides Texas and Mexico in an attempt to hinder migrants from crossing into Texas. According to spokesperson for the Texas Department of Public Safety, Lt. Chris Olivarez, setting up the barriers could take up to two weeks. At the border security bill signing ceremony on Thursday, the floating barrier was referred to as a "proactive way" by Steve McCraw, head of the Texas Department of Public Safety, to stop migrants from placing themselves at risk of drowning. He also stressed that the buoys will provide another level of border security.
Biden's Feds Cut Through Razor Wire Placed By Texas Authorities To Let Illegals Into U.S.. U.S. Border Patrol agents allegedly cut through razor wire placed by Texas law enforcement officials on the southern to let illegal aliens enter the country, according to new video. Fox News correspondent Bill Melugin shared a video on Twitter of the incident, which he said occured on private property, according to officials with the Texas Department of Public Safety. "Video from source in Eagle Pass shows Border Patrol cutting through razor wire placed by the state of TX to allow migrants to enter & be processed after crossing illegally," Melugin said. "[The Texas Department of Public Safety] tells me this is the first time they know of this happening, and that it's being looked into for potential destruction of TX property." "The federal government's position is that once migrants are on U.S. soil, under U.S. law, they need to be processed, and cannot be repelled or turned away," he continued.
Outgoing Border Patrol Chief Calls For More Wall Construction. Raul Ortiz, the outgoing top U.S. Border Patrol Agent, said he would have preferred more border wall construction, more personnel to patrol the border, and more consequences to disincentivize crossing attempts. Ortiz recently announced he plans to retire from the Border Patrol, notifying agents that June 30 would be his last day. The border security official joined NewsNation host Chris Cuomo on Tuesday to discuss the current situation at the border and his decision to leave. Cuomo asked Ortiz to describe the border security decisions he would have pursued if he had a blank check and absolute say over border security policy. "One of the things I think we need to continue to invest in is infrastructure across the southwest border, technology, roads," Ortiz began his response. "In some areas, we need to continue to build some wall."
This plan will work perfectly, because we all know Mexicans don't carry knives.
Texas to install inflatable barrier along Rio Grande to thwart border crossings. Texas will install a floating barrier along the Rio Grande to deter migrants from crossing the river into the US illegally, Gov. Greg Abbott announced Thursday [6/8/2023]. The first 1,000-foot section will be set up on July 7 near Eagle Pass, a city officials say is a key entry way for illegal border crossings, the third-term Republican said. The contraption — made up of interconnected 4-foot-wide sphere buoys that spin when grabbed — can be moved and extended to cover "hot spots" where asylum seekers are sneaking into the US, according to Abbott.
Apparently they only want to build the border wall to keep the invaders IN.
Democrats: No Border Security Bill Until Citizens Accept More Poor Migrants. Democrats will block a border security bill until American citizens accept more poor migrants into their workplaces and neighborhoods, Texas Democrat Rep. Barbara Lee told a GOP-led hearing on Tuesday. "You're not going to get border security coming first," Lee told a GOP-picked witness, Rodney Scott, the former chief of the U.S. Border Patrol, who urged legislators to first protect the border before opening up more legal routes for migrants.
Democrats know fences work.
Fence Goes Back Up At Capitol Ahead Of Biden SOTU Address. Democrats claim walls don't work and are racist, except when they think they need them. Ahead of Biden's state of the union address on Tuesday night, the fence has gone back up at the Capitol Building. The same fencing Democrat put up after J6. What's the point? Who are they trying to keep out?
Biden says US can't 'wall ourselves off' as his Delaware beach house adds new barrier. President Biden touted new joint efforts between the U.S., Mexico, and Canada to curb illegal border crossings at a summit on Tuesday [1/10/2023]. "There can no longer be any question, none, in today's interconnected world — we cannot wall ourselves off from shared problems," Biden said alongside Canadian Prime Minister Justin Trudeau and Mexican President Andrés Manuel López Obrador. "We are stronger and better when we work together, the three of us, and together we've made enormous progress." [...] Back at the president's vacation home in Rehoboth Beach, Delaware, a taxpayer-funded wall started being constructed last week. That barrier, consisting of tall white fencing and gray stone pillars, is expected to be completed in September.
Funny what even a flimsy border fence can do. So that's all it takes? It makes sense that it does. Put a fence up, even an ugly, flimsy one, redolent of a communist regime, complete with a few guys with guns and patrol cars out there and they won't come. So much for all the arguments that "walls don't work" because migrants will find ways to scale,catapult, or tunnel under the walls. Yes, there are a few cases of this, but the big mass surges suddenly end. There have been arguments that big, high-tech, and impressive walls are what it takes, but these ideas have been thwarted by open-borders leftists, screaming about wildlife and illegal alien "rights." President Trump's border wall was largely thwarted that way, and Arizona's effort to set up stacked boxcars as an impenetrable wall met their fates this way, too. But barbed wire and chain link fences work, too, [...] a lot better than a naked, open, inviting border space, sometimes with only a puddly river to cross.
Huge hole is cut in El Paso barrier to let migrants pour through. A gaping hole cut into the border fence between Mexico and the US reveals the ease at which migrants can cross the border illegally[,] regardless of the strict Title 42 rules. On a stretch of the border fence just four miles from downtown El Paso, Texas, traffickers cut the large opening close to a row of abandoned buildings. The makeshift crossing point, beside the US-85 highway, was discovered by DailyMail.com just one hour after the Supreme Court ruled Title 42 will remain in effect. The 4ft-by-4ft hole appeared freshly cut[,] suggesting it had been used by migrants to cross illegally on Tuesday.
Weak RINO Arizona Gov. Doug Ducey Dismantles Makeshift Border Wall at Behest of Biden Regime. Arizona Governor Doug Ducey, the weak RINO who was a great personal friend of deceased former U.S. senator John McCain, is tearing down his border wall to serve the Biden administration. The makeshift border wall was made of shipping containers that were lined with barb wire. Arizona will bring them all down by Jan. 4, making it easier for illegals to invade the border, after the Biden regime objected. The U.S Interior and Agriculture departments made a filing arguing that "a declaration that Arizona's use and occupancy of lands owned by the United States without the required permits or other authorization constitutes unlawful trespasses." They stated that "hundreds of double-stacked, multi-ton shipping containers... damage federal lands, threaten public safety, and impede the ability of federal agencies and officials, including law enforcement personnel, to perform their official duties." In typical cowardly RINO fashion, Ducey is painting the capitulation as a win, arguing that the Biden regime will take care of the border problem now.
Arizona sheriff tells Gov. Ducey he'll start making arrests for placing containers on border. Arizona Governor Doug Ducey has been sending large shipping containers to the border in an effort to construct a makeshift border wall. Sheriff David Hathaway says he will arrest anyone who tries to place them in Santa Cruz County. He calls it "illegal dumping." So far the wall of containers has come about 6 miles from Santa Cruz County. Hathaway opposes the governor's actions, saying that the containers are on federal land, not state land. He argues he'd arrest anyone involved in placing the containers there, the same as he'd arrest people committing homicides or vehicle theft.
Biden Spending $3 Million Per Day to Not Build the Border Wall. On President Biden's first day in office, he issued a memorandum blocking new border wall construction, including money appropriated by Congress for that purpose as well as Department of Defense (DOD) funds the Trump administration reprogrammed (reallocated) for border wall construction. Biden's January 20 memorandum ordered a 60-day review of the border wall construction contracts and recommendations, but over 180 days later the Department of Homeland Security (DHS) has failed to satisfy that directive. Almost immediately, the Biden administration's inability or unwillingness to secure the border and enforce U.S immigration law led to a historic, and worsening, crisis at the southern border. But, with Democrats in charge of both chambers of Congress, there has been no oversight of the Biden administration's mishandling of the situation. Unable to haul DHS administration officials before a hearing to hold them accountable, the Republicans on the Senate Homeland Security and Government Affairs Committee's Subcommittee on Government Operations and Border Management, took it upon themselves to investigate the effect of President Biden's policy halting border wall construction.
[The] DHS [is] building [a] $500,000 taxpayer-funded wall at Biden's Delaware beach house. President Biden may oppose building a wall along the U.S.'s southern border, but he's currently spending nearly $500,000 of taxpayers' money to construct a barrier around his vacation property at Rehoboth Beach, Delaware. In September 2021, the Department of Homeland Security doled out a $455,000 contract to a Sussex County, Delaware, construction company to build a fence around the president's "Summer White House," according to USAspending.gov, an online database that tracks government spending. Construction began last September and was expected to be completed by the end of 2021. However, unknown delays have pushed the expected completion date to June 6, 2023, and ballooned costs to $490,324.
Arizona's leaders blow off Biden, build the border wall themselves. As the Biden administration refuses to enforce our nation's immigration laws, border states are being forced to take their sovereignty into their own hands. Texas has been leading the charge, and now Arizona is stepping up. Arizona governor Doug Ducey announced earlier this month that he was ordering gaps at the border wall in the Yuma Sector to be filled in. The state plans to use 60 double-stacked shipping containers to fill in more than 1,000 feet of border wall. The Yuma sector has been especially ravaged by the Biden border crisis. In just one week in July, Border Patrol agents apprehended more than 5,600 illegal border-crossers from more than 40 different counties in Yuma. This included more than 100 illegal aliens with felony convictions.
Poll: Majority of Arizona voters want border wall built in the state. A majority of Arizonans support building a wall at the Mexican border in the state and say that the surge in illegal immigration constitutes an invasion, according to new polling. Pollsters Scott Rasmussen and RMG Research also show that a large majority of Arizonans think that illegal immigration is "bad" for the U.S., but legal immigration is "good." The poll of likely voters in the Grand Canyon State asked: "Do you favor or oppose building a wall on the border between Arizona and Mexico?" Forty-five percent of those surveyed said they "strongly support" building a wall, and an additional 17% said they "somewhat support" it, for a combined 62% support. Twenty-four percent said they "strongly oppose" building a wall, and an additional 9% said they "somewhat oppose" it, for a combined 33% opposition.
Joe Biden uses $500,000 federal funds to construct himself a personal border wall. Border walls? Who needs border walls? Apparently, only Joe Biden does. The rest of us can go without. [...] It comes on the heels of news that some five million illegal migrants have crossed into the U.S. on Joe Biden's watch, which is almost a couple of Los Angeleses' worth. About a tenth of those, according to news reports, are known as "gotaways," foreigners with criminal records, or ongoing criminal business for the most part, who have good reasons from their own point of view, to avoid any contact with the Border Patrol, even with its easy, sure-thing "catch and release" policies. Characters from the terrorist watch lists have been sporadically apprehended, with gotaways on that front unknown, so that's some protection these Bidenites are offering.
Democrats know walls and fences work!
Joe Biden Spending Nearly $500K to Build Wall — Around His Vacation Home. President Joe Biden is spending nearly half a million dollars in American taxpayer money to build a security fence around his vacation home in Rehoboth Beach, Delaware. In September 2021, the Department of Homeland Security (DHS) awarded a federal contract to a Delaware construction company to construct the fence around Biden's multi-million dollar beach house. The initial contract planned to spend more than $456,000 on the project.
White House Calls Border Walls 'Ineffective' After Authorizing Resumed Construction in Arizona. The White House said Friday that border walls were ineffective, even though President Joe Biden's administration authorized more construction on former President Donald Trump's signature border security project. "A border wall is an ineffective use of taxpayer dollars," White House press secretary Karine Jean-Pierre said during the daily briefing. The Department of Homeland Security said Thursday they would resume construction on four wide gaps in the wall near Yuma, Arizona, that were not completed yet. When Biden took office, he halted the construction of the wall, but some gaps remain. The announcement signals a betrayal of Biden's campaign promise to cease wall construction entirely.
Biden [is] 'quietly' filling holes in the border wall in Arizona[,] but not in Texas. After leftists yelled that "walls don't work" and Joe Biden declared that "not another foot" of President Trump's border wall would be built on his watch during his presidential campaign, Biden is now "quietly" completing parts of the President Trump's border wall now that three million illegal aliens have surged on in. [...] Not only is it a day late and a dollar short, but the hypocrisy is mind-boggling. Number one, if Joe Biden's administration really cared about migrant safety, why aren't they completing the entire border wall, instead of just a few parts of it? Is the open border unsafe in just a few places, or is the entire problem the open border? Arizona officials note that there are 52 broken spots on the U.S.-Mexican border, and Joe is going to repair... four.
Biden reverses 'not another foot' pledge, quietly gives go-ahead to fill gaps in U.S.-Mexico border wall. After endlessly bashing former President Trump over building the border wall, President Joe Biden has quietly reversed course and given the nod to fill in gaps at the U.S.-Mexico border near Yuma, Arizona. During his 2020 presidential campaign, Biden over and over again declared, "Not another foot," as he blasted Trump for the construction of the border wall. But on Thursday [7/28/2022], his administration approved plans to finish the wall near Yuma under the guise of "safety concerns" for illegal immigrants. Four gaps that have made Yuma one of the busiest corridors for illegal immigration crossings on the border will now be filled, according to Fox News. The plan was authorized by Department of Homeland Security Secretary Alejandro Mayorkas. But it is a plan that began during the Trump administration.
Biden Administration Quietly Orders Part of Border Wall to Be Finished in Arizona. On Thursday [7/28/2022], the Biden administration ordered for the Yuma Morelos Dam Project in Arizona to be completed, which would "close four gaps" along the porous southern border sector. According to the Associated Press, this effort was backed by former President Donald Trump's administration, essentially vindicating conservatives who backed tougher security in the region. The Department of Homeland Security said that the effort will mitigate the risks for migrants, as "the area presents safety and life hazard risks," according to a statement. Of course, nobody should expect the administration to brag about this, as they hated the concept of a border wall. On day one of the Biden White House, they ordered a "pause" of border wall construction and scrapped other Trump-era immigration policies. These swift actions arguably fueled the ongoing border crisis, and the decision to fill these gaps in Yuma comes too late.
House GOP says Biden's border wall halt is 'illegal' as delay tops 500 days. At some point President Biden's delay in building any significant new sections of border wall will cross the line into being an illegal obstruction, congressional Republicans warned in a letter Tuesday to the White House demanding answers about the stall. Mr. Biden halted construction more than 500 days ago, making good on his campaign vow that "not another foot" would be built on his watch. His administration insists he hasn't actually blocked the money Congress approved but is instead figuring out how it should be spent. That explanation no longer holds water, said Republicans on the House Budget Committee, led by Rep. Jason Smith of Missouri.
The Subordinate Citizen. The Biden administration blasted the Trump southern border wall and canceled all further funding. Yet it just appropriated $40 billion to Ukraine to ensure that it does not lose its border war against Russian aggression. That is a tiny percentage of the federal budget. But the aid is full of symbolic irony, nonetheless. The multibillion-dollar appropriation would have more than covered the completion of the entire wall along our own southern border. An outside observer might conclude that the U.S. government intends to uphold the universal idea of national sovereignty, internationally recognized borders, and the security of citizens inside their own country — as long as they are not American citizens.
Border Bombshell: Is Alejandro Mayorkas Actually Approving Wall Projects? The Biden border continues to be a total disaster. According to a report from Fox News, DHS Secretary Alejandro Mayorkas has actually started approving... wall projects at the southern border? The admin, of course, has couched it in all kinds of non-wall language but there's definitely some building going on down in Texas. "Mayorkas has authorized projects across the southern border to fill in gaps in the border wall and replace gates — even as the administration continues to urge Congress to end all appropriations for the Trump-era project," Fox News reports.
Oh, you mean like... a militia?
Biden's Homeland Security is looking for volunteers to work at the southern border fearing an influx of 170,000 migrants in hours when Trump's Title 42 is dropped. The Department of Homeland Security is considering calling on volunteers for reinforcement at the southern border, fearing an onslaught of migrants that would far outweigh its resources. The U.S. could be just hours away from another wave of mass migration if the Biden administration lifts Title 42, a provision border agents have relied on to quell the border crisis during the pandemic. DHS Deputy Secretary John Tien asked employees 'to consider stepping forward to support the DHS Volunteer Force,' according to an email, more than a year after the volunteer force was activated for last year's migrant surge. The volunteer force has also been called up to assist with Afghan evacuee resettlement operation last year, and the 2019 migrant surge. More than 1,400 employees have volunteered, according to the email, seen by Fox News.
The Editor says...
Sounds like a trap. The Mexican border has been left wide open for a year, and now the feds are looking for volunteers to enforce the international boundary. You volunteer to enforce the border (which is the Border Patrol's job, if not the Army's), and your name will be added to a list of domestic extremists. But only after you get fingerprinted and photographed.
Joe Biden Builds Fence Around Capitol After Halting U.S. Border Wall. President Joe Biden has reinstalled a fence around the United States Capitol ahead of his State of the Union (SOTU) address on Tuesday evening, even as he has frozen U.S.-Mexico border wall construction for over a year. The U.S. Secret Service worked with the U.S. Capitol Police to reinstall the fencing that had originally been installed for Biden's inauguration in January of last year. Capitol Police Chief Tom Manger said the fencing has been reinstalled "out of an abundance of caution." The fencing comes even as Biden continues to block the construction of border wall on the U.S.-Mexico border, which has been overrun by record-setting illegal immigration levels for the last year.
Even as Biden tears down our border, he's protecting himself and his friends. When Donald Trump boasted about and then began building his wall along America's southern border to protect us from illegal aliens flooding in, bringing crime in their wake, and taking jobs from low-income Americans, Democrats insisted that walls were evil. Walls were ugly. Walls divided Americans. Blah, blah, blah. And when Biden got into the White House, the first thing he did was stop building Trump's wall and throw open the border to illegal aliens from around the world. Given all that, it's ironic, to say the least, that Biden appears to be building a ten-foot high wall around the White House. Conservative Treehouse writes that "the Joe Biden White House is erecting a concrete (K-Rail) blast and security containment wall directly around the White House." It's a big wall, too: "The perimeter fence appears to be approximately 10' high and is made from reinforced concrete k-rails. It is also being installed directly around the White House building itself."
Texas [is] Building Back A Better Border Wall Because Biden and Harris Won't. On Friday [12/17/2021], Texas Governor Greg Abbott announced that his state has officially started building its own southern border wall. "Biden allows open border policies and refuses to enforce laws passed by Congress to secure the border and enforce immigration laws," said Abbott on Twitter. So, "Texas is stepping up to do the federal government's job."
Construction begins for Texas border wall and it will cost less than Trump's wall. Today is the day Governor Abbott goes to the Rio Grande Valley to see the progress being made on the Texas border wall. The Biden administration continues to ignore the requests coming from Texas for help in handling the humanitarian and public health crisis on the Texas-Mexico border. What's a governor to do? Governor Abbott is taking up where construction of the border wall ended under Biden.
Spite: Joe Biden would rather let border wall materials rot on the ground than sell them to Texas. Joe Biden doesn't want to build a border wall. We all know that he says as much and that he's been captured by the vast open borders industrial complex. One problem for Joe, though: That dereliction of duty has driven his poll numbers straight into the toilet. His public approval is falling, with disapproval of his handling of the border crisis now at an all-time high. Longtime Democrat Hispanic strongholds in south Texas are now turning red, and the illegals are surging on in. Amazingly, he doesn't seem to have the wherewithal to fix that problem. He's got a partially built border wall in possession now, and a lot of building materials for it, paid for by U.S. taxpayers for millions of dollars, rotting on the ground, like this is some third-world country that ran out of cash before finishing its project.
Texas Gov. Abbott shows completed section of state-made border wall, pledges to protect state's sovereignty. Texas Gov. Greg Abbott debuted the first part of the state-made border wall Saturday, which he labeled a sharp rebuke of Biden's "failure to do his job." Abbott authorized the building of the wall six months ago, and then authorized $3 billion funding for the Texas Facilities Commission to bolster the building effort. Abbott stressed that the wall stands on either state land or land that private owners agreed to hand over for the wall. "Texas is taking what truly is unprecedented action: A state to build a wall on our border, to safeguard the sovereignty of our state and of our nation," Abbott said during Saturday's [12/18/2021] press conference. "Already this year there have been over 1.2 million people apprehended coming over the border illegally," Abbott said, noting the number did not include those who entered undetected.
Construction of Texas-Funded Border Wall Underway. Texas Governor Greg Abbott announced the State began construction of its own border wall. The announcement comes as construction crews began erecting bollard walls in the Rio Grande Valley Sector on Texas-owned property. "Texas has officially started building its own border wall," Governor Abbott tweeted on Friday. "Texas is stepping up to do the federal government's job."
Texas Expands Border Barrier Projects in Eagle Pass. The State of Texas continues to direct resources to prevent illegal crossings at the Texas-Mexico border. On Thursday, more National Guardsmen could be seen patrolling the banks of the Rio Grande alongside Department of Public Safety State Troopers. Gov. Greg Abbott recently surged guardsmen to the area and a makeshift border wall made from recycled shipping containers was installed. Humvees were placed in the gaps as more containers are delivered.
Republicans Who Supported Biden's $1.2T Infrastructure Bill Once Opposed $25B For Border Wall. As 32 House and Senate Republicans helped breathe life into President Joe Biden's $1.2 trillion infrastructure bill, some once opposed the prospect of spending $25 billion to build border wall in an effort to reduce illegal immigration to the United States. Last weekend, 13 House Republicans voted with Democrats to send a $1.2 trillion infrastructure bill to Biden's desk. In early August, 19 Senate Republicans did the same, helping pass the bill through the chamber to the House for approval. The bill includes $0 for construction of border wall at the U.S.-Mexico border, despite proclaiming to be a package of infrastructure projects and a record-high flow of illegal immigration to the nation.
Texas builds makeshift border wall with surprising material. Texas Gov. Greg Abbott has begun taking matters into his own hands, installing makeshift border walls created from repurposed shipping containers in strategic locations where migrants are likely to cross. Rep. Troy Nehls, R-Texas, who previously served as a sheriff in the Rio Grande Valley for eight years, called the new border structures "a great idea" Thursday [11/4/2021] on "Fox & Friends." "It's a tool that the governor is using to try to help slow down, curb this invasion, this invasion that we're seeing at our southern border," said Nehls.
Texas and Missouri attorneys general sue to force Biden to restart border wall construction. Attorneys General Ken Paxton of Texas and Eric Schmitt of Missouri filed a joint lawsuit Thursday seeking to force President Joe Biden's administration restart building the wall along the U.S.-Mexico border. The lawsuit, filed in federal court, argues the Biden administration's decision to not use the funds appropriated for the border wall is a violation of the Take Care clause of the U.S. Constitution, which says the president must "take care that the Laws be faithfully executed."
DHS pays over $455K to build 'security fencing' around Biden's beach home. The southern border with Mexico is seeing the highest levels of illegal border crossings in 35 years, but the Department of Homeland Security has found one access point it can shore up — doling out $455,000 to a Delaware construction company for a fence around President Biden's "Summer White House." In September, the department awarded a contract of $456,548 to Turnstone Holdings LLC for [a fence] according to USAspending.gov, an online database tracking federal government spending. The contract started Sept. 21 and is expected to end Dec. 31. Construction of the fence is expected to end by that date. The DHS is listed as the main awarding and funding office of the contract while the US Secret Service is listed as the subagency. Additional information and details about the fence have not been publicly released.
Senate Democrats' Bill Shifts Border Patrol Funds to Remove Border Wall. President Joe Biden pledged during the 2020 campaign that he "would not build another foot" of the wall his predecessor began on the U.S. border with Mexico, but Senate Democrats appear to be setting the stage to tear it down, at least in places. Senate Budget Committee Chairman Patrick Leahy (D-Vt.) on Oct. 18 made public nine proposed spending bills, including one for the Department of Homeland Security, regarding Customs and Border Protection, stating: "Provided further, That not to exceed $50,000,000 may be transferred to the Department of the Interior for mitigation activities, including land acquisition, related to construction of border barriers on federal lands." The $50 million would be shifted from the nearly $2 billion Congress provided on a bipartisan basis during the Trump administration for the construction of a border wall to slow or stop the flow of illegal immigrants entering the country from Mexico.
The Wall: Biden's Other Scandal at the Border. If there is one thing most Americans can't stand, it is flagrant examples of government waste. In the 1980s there was considerable outrage in response to revelations that the Pentagon was paying over $7,000 for coffee makers and $640 for toilet seats, among other excesses. At least those infuriating details were tempered by the fact that there was little to no threat posed to the country as a result of that waste. The Reagan military buildup seemed to be working, and our adversaries were playing catch-up with us throughout the decade. The Soviet Union could not keep up, and communism toppled throughout Europe as a result. We still have government waste today, but with a price tag that is orders of magnitude higher and with this cherry on top: It is causing existential damage to our nation, both now and in the future. Rather than just overpaying for goods and services, our government today buys materials and then pays contractors not to build anything with them.
Mayorkas Faces Calls For Impeachment After Latest Move on Border Wall Construction. Late Friday evening [10/8/2021] Homeland Security Secretary Alejandro Mayorkas announced contracts to construct border wall barriers in the Rio Grande Valley and Laredo Sectors, where the illegal immigration crisis is raging, will be canceled. "Consistent with the Department of Homeland Security's (DHS) border barrier plan, U.S. Customs and Border Protection (CBP), in coordination with the U.S. Army Corps of Engineers (USACE), intends to cancel the remaining border barrier contracts located within U.S. Border Patrol's (USBP) Laredo Sector and all border barrier contracts located in the Rio Grande Valley Sector," DHS released in a statement. "CBP will then begin environmental planning and actions consistent with the National Environmental Policy Act (NEPA) for previously planned border barrier system projects located within the Rio Grande Valley, Laredo, and El Centro Sectors." DHS is also calling on Congress to cancel all remaining and previously allocated funding for border wall construction.
Ex-Border Patrol Chief: Biden Admin Paying Contractors Millions A Day To Not Build Border Wall. Rodney Scott, the former chief of the United States Border Patrol, said during a Fox News interview on Tuesday evening that the Biden administration has been paying contractors millions of dollars a day to not build the border wall along with U.S.-Mexico border, even as the administration faces an illegal immigration crisis. When asked by Fox News anchor Bret Baier about what actions the Biden administration took on the border wall after they took over in January, Scott responded that they issued a presidential proclamation that put in place 60 day pause on the construction.
Biden Dealt Major Blow as SCOTUS Orders Lower Court to Reconsider Border Wall Funding. The U.S. Supreme Court on Monday handed the Biden administration a stunning defeat with regard to construction on former President Donald Trump's border wall, which currently sits incomplete as illegal immigrants continue to flood across the open border. The country's high court ordered lower courts to vacate previous rulings about the wall, citing "changed circumstances" in the case. Environmental activists, activist judges, Democrats in Congress and private law organizations such as the American Civil Liberties Union have of course opposed the wall since before concrete was ever poured.
Media Finally Nails Biden Admin on False CBP Story, Asks Why They Don't Have Wall. The Biden Administration finally caught a lot of flak — not only for having thousands of illegal aliens congregating under a bridge in Del Rio, Texas, immediately after crossing the border. But they got even more flak for the false story that the Border Patrol whipped migrants trying to enter, while on horseback. Despite the fact that the story was false, the Biden Administration seemed to embrace it and didn't deny it, even though it reflected badly on them, because it distracted from the real problem that they were doing nothing about — the massive influx of people. Mayorkas finally got a rather obvious and long overdue question from the media. Fox's Chris Wallace asked him why weren't they building a wall to stop an obvious stream of people crossing, as happened in Del Rio? Suddenly, Wallace realized when he saw the pictures, how the wall can have great utility. [Video clip]
Texas Border Wall Construction Takes [a] Big Leap Forward Amid [the] Ongoing Migrant Crisis. The Texas government is set to sign a contract with private firms to build hundreds of miles of wall along the state's border with Mexico, continuing a federal project begun under former President Donald Trump. The plan is to build an additional 700 miles of wall, according to a post on the website of the Texas Facilities Commission. The agency announced that it had selected an engineering and design firm to oversee wall construction.
Texas to award border wall contract as early as this week. Texas may award a massive contract to begin building a barrier that stretches along more than 700 miles of the state's border with Mexico as early as this week, according to the office overseeing the project. The Texas Facilities Commission, which oversees state contracts, said in a statement it anticipates awarding the border wall project with more than $1 billion in available funding by mid-September. The commission selected engineering firm Michael Baker International of Pennsylvania and design firm Huitt-Zollars of Dallas to team up on the project. The commissioners must vote on the decision before the contract for a program manager can be awarded, and the final monetary amount has not yet been determined. The program manager will handle the budget and determine where to build. Four total companies expressed interest in the contract.
Large Sections of the Border Wall Have Been Removed and Left Wide Open Along Heavily Trafficked Drug Route in Southern Arizona. Thanks to its close proximity to Mexico, Tucson Arizona has long been a national-level distribution center for illicit drugs that have been illegally trafficked across the southern border. Drug traffickers only have to cross about 65 miles of desert to reach the city and the endless network of isolated trails along the way provide the perfect path to complete the journey undetected. Trump made securing the area a top priority and was able to construct almost 245 miles of wall along the Arizona-Mexico border, cutting off countless access points that had been used by illegal crossers for years. Now, the trails opened up again since President Trump left office.
High-tech virtual wall is the latest defense at the US-Mexico border. The feds have turned to cutting-edge cameras developed by a virtual-reality wunderkind to help them monitor the southern border — by creating an invisible border wall. The high-tech watch poles known as Autonomous Surveillance Towers are powered by solar energy and use artificial intelligence to detect movement along a two-mile radius, sending the information in real-time to agents patrolling the area. And they're now being installed at different points along the nearly 2,000 miles of the US-Mexico border. "The ASTs are in remote locations that are difficult to reach," Border Patrol agent Joel Freeland recently told The Post. "They operate 24-hours a day and are environmentally friendly because they rely entirely on solar power."
Texas Senate Passes $1.8B Border Security Bill. Texas state lawmakers are closer to clinching funding for the wall at the southern border. The Texas state Senate recently voted overwhelmingly in support of the nearly $2 billion border security bill. More than half of the budget will reportedly go towards wall and fence construction. Additionally, the rest of the money will be used to prosecute illegal immigrants, human and drug smugglers, along with other legal proceedings related to border security.
Devastating Report Shows Biden Administration Spending A Stunning $2B To Simply Suspend Border Wall Construction. The Government Operations and Border Management Subcommittee of the Homeland Security and Government Affairs Committee found that efforts to suspend or terminate wall construction projects at the Defense Department have cost between $1.8 billion to $2 billion. The Biden administration is spending $3 million every day to suspend construction, the report adds.
DHS cancels 31 miles of border wall in Texas. Homeland Security Department officials on Friday officially canceled contracts for 31 miles of border wall construction that had been planned for Texas, saying the barriers were "not necessary" to save lives or help the environment. Construction hadn't started on the two segments, and the federal government hadn't yet acquired new land that would have been necessary to build the wall there, the department said. President Trump left office with about $2 billion in congressionally allocated wall money unspent, though most of the money had been earmarked and put under contract. Friday's decision marks the first cancellation of those projects.
'We need fighters who are actually going to fight:' J.D. Vance campaigns for Senate in Mansfield [Ohio]. U.S. Senate candidate J.D. Vance said on Tuesday [7/20/2021] that his first order of business if elected would be to fight for legislation that would double the number of agents stationed at the U.S.-Mexico border and finish building a border wall. The former Marine and Iraq War veteran told Republicans at a local sports bar that the situation at the southern border has gotten so out of hand that the Marine Corps should be sent there. "The drug cartels that are there are some of the most vicious people in the world," Vance said. "We're the greatest country in the world and we're letting a bunch of criminal gangs use our southern border as their criminal base of operations? This is ridiculous."
House Republicans tee up border wall funding fight with Pelosi, calling it their 'hill to die on'. House conservatives are gearing up for a showdown on border security funding with Democrats, saying appropriations for border wall construction is their "hill to die on." The House Republican Study Committee (RSC) unveiled their strategy to Fox News to call out Democrats for blocking any border wall construction or money for additional border agents in their homeland security funding plan. Meanwhile, the largest House conservative caucus Wednesday will offer an alternative bill to buck the Biden adminstration and give money directly to states that want to continue former President Donald Trump's fight to build the wall with Mexico. "I believe that protecting our border security through the appropriations process is a Hill to Die On, and I will act accordingly when it comes time to fund our government," Rep. Jim Banks, R-Ind., the chairman of the RSC, said in a memo to colleagues this week obtained by Fox News.
Arizona AG seeks injunction to reverse Biden administration's ending of border wall construction. Arizona's attorney general on Monday [7/12/2021] announced that his office is seeking a preliminary injunction against the Biden administration's efforts to end border wall construction and the Trump-era Remain-in-Mexico policy — claiming the moves violate environmental law. Attorney General Mark Brnovich's office first sued the Department of Homeland Security in April, alleging the administration has not complied with its obligations under the National Environmental Policy Act (NEPA) when it ended border wall construction and the Remain-in-Mexico policy — which kept migrants in Mexico until their hearings were processed.
Democrat Plan Spends $870M for Border Security in Middle East, No Funding for U.S. Border Wall. A Democrat budget plan spends hundreds of millions of American taxpayer money on border security for a multitude of Middle Eastern countries while stripping all funds for construction of a border wall at the United States-Mexico border. On Tuesday [6/29/2021], the Democrat-controlled House Appropriations Committee released their Department of Defense funding bill that includes $870 million in taxpayer money for "border security" measures in foreign countries such as Jordan, Lebanon, Egypt, Tunisia, and Oman.
Texas Governor Demands Biden Return Border Wall Land Seized by Federal Government. Texas Gov. Greg Abbott is demanding that the Biden administration return property that was seized by the federal government for construction of a border wall, as the governor announced a proposal for a state- and crowdsource-financed border barrier. "I write now to demand that you immediately return to Texans any land taken by the federal government but not used for building a border wall," Abbott, a Republican, told to Biden in his letter dated June 16. The governor said that the Trump administration previously used "condemnation powers" to obtain property along the U.S.-Mexico border that was previously owned by Texans. Abbott said that because the Biden administration has issued orders to rescind former President Donald Trump's orders mandating that the wall be built, he's demanding that the federal government return any land that was acquired from Texans and isn't being used to construct a wall.
Texas Governor Greg Abbott uses $250 million in state funds to build his Own border wall. Texas Governor Greg Abbott has announced $250 million in state funding for a state-constructed border wall, as his Florida counterpart Ron DeSantis dispatched law enforcement personnel to assist border patrols in Texas and Arizona. The moves, announced on Wednesday [6/16/2021], signal that Republican governors are increasingly taking the surge in illegal border crossings into their own hands, as they accuse the Biden administration of dereliction. It follows new federal data showing that illegal crossings hit a 20-year high in May, when 180,034 migrants were detained at the southern border, the vast majority of them adults traveling alone.
'Florida Has Your Back': How DeSantis Is Helping Arizona and Texas with Border Crisis. Florida Gov. Ron DeSantis is answering the call for help from his fellow Republican governors in Texas and Arizona, who are struggling with border security issues. "I'm proud to announce that Florida is stepping up to help the effort and to protect our residents from the harms caused by open borders," DeSantis said on Twitter. [Tweet] Since mass illegal immigration is a problem that affects all states, DeSantis said Florida will send law enforcement officers to assist. "We have problems in Florida that are not organic to Florida, that we've been forced to deal with over many years but particularly over the last six months, because of the failure of the Biden administration to secure our southern border and indeed to really do anything constructive about what is going on in the southern border," DeSantis said.
The Editor says...
Governor DeSantis sets a good example: The state of Florida has no border with Mexico, yet the Governor is willing to help with the out-of-control immigration problem. Other Republican governors could do the same, but probably won't. The immigration problem will still exist, however, even if an impenetrable barrier is built along the entire southern border, if the Harris-Biden administration airlifts immigrants from Central America, which they appear to be planning to do.
Texas Gov. Abbott to solicit public donations for border wall. Texas Gov. Greg Abbott said Tuesday [6/15/2021] that his office will solicit public donations to provide funding for his planned border wall in the state. Abbott said he plans to provide further details about the wall project later this week. The Texas governor has unveiled a slew of actions in recent days aimed at curbing a migrant crisis that has strained capacity at immigration facilities near the southern border.
Biden Admin Returning $2 Billion Reallocated To Border Wall Funding To Department Of Defense. The Biden administration redirected $2.2 billion of funds allocated for the border wall under former President Donald Trump to Department of Defense projects, the agency announced Friday [6/11/2021]. The Department of Defense (DOD) canceled all border wall construction projects on April 30 and DOD Deputy Secretary Kathleen Hicks approved using the funds for 66 projects across 11 states and 16 countries, according to the agency. President Joe Biden determined "building a massive wall that spans the entire southern border is not a serious policy solution" to "security challenges at the southern border," according to the DOD.
America Last! Biden Cancels $2.2 Billion That Trump Allocated For Border Wall Construction. With his latest move, Former Vice President Joe Biden has once again proved that he loves open borders. According to the Daily Caller, the Biden administration has canceled $2.2 billion of funds that were allocated for the border wall under former President Donald Trump. Instead of using that money to build a stronger border, Biden appears perfectly fine with the chaos and crime at the border worsening.
Texas to Build Its Own Border Barriers, Says Governor. Texas Governor Greg Abbott told Breitbart Texas the State will immediately begin building border barriers in areas where migrants can easily cross the Rio Grande border with Mexico. The barriers will, in part, enable state law enforcement to arrest migrants for violations of state law. "The influx across the border is out of control, and the Biden Administration has shown that is not going to step up and do its job," Governor Abbott told Breitbart Texas shortly before Thursday's [6/10/2021] border summit in Del Rio, Texas. "And amidst reports of even more people coming in across the border, we know we have to step up and do more."
$2 billion of border wall money sits idle in bank as Biden leaves busiest migrant area wide open. Most of the $2 billion that Congress set aside for 110 miles of wall and technology in the busiest region of the U.S.-Mexico border sits in the bank unspent as thousands of migrants illegally cross each day. Eighty-nine miles of the project is unfinished, along the winding Rio Grande River that divides the two countries. While President Joe Biden's administration shut down wall construction funded through diversions from the Trump administration, the project was approved and funded by the House and Senate. Besides this section, most of the wall projects funded by Congress during the Trump administration have been completed. A senior Border Patrol agent said the project costs about $20 million a mile, and it is not clear why the final 89-mile stretch has been stalled or who will make the final call on whether to spend the money.
CNN Hilariously Nukes [its] Own Narrative With Report From Incomplete Border Wall. For a hopelessly biased "news" outlet with ratings swirling down the toilet on a daily basis, the notion that CNN actually believes that ridiculous self-proclaimed bi-line is so, um, CNN. You can't make that up, but you don't have to — CNN's got you covered. [...] This is reality — vs. the herculean attempts by CNN, MSNBC, and other Democrat Party water carriers to portray illegal crossings primarily as starving unaccompanied children found huddled under some rock. A bit of snark, there, but the point is accurate.
Biden to Resume Construction of Section of President Trump's Border Wall in Texas: Report. Fox News reporter Bill Melugin reported Wednesday evening on Special Report that the Biden administration will resume construction of a 13.4 mile section of President Trump's border wall in the Rio Grande Valley in Texas. [...] Sen. Ted Cruz (R-TX) had recently sent a letter to Biden urging completion of a stretch of unfinished border wall in Hidalgo County due to concerns about a level wall system that was part of the border wall construction that was also left unfinished. With flood season approaching, Cruz called on Biden to finish that part of the wall. Cruz's spokeswoman Erin Perrine posted about the letter Wednesday evening in response to the Fox report.
Biden Pentagon cancels construction of border wall using military funds. Despite the widening southern migrant crisis, the Department of Defense announced Friday [4/30/2021] it is canceling further construction of the border wall that uses military funding, with billions of dollars being sent back to the Pentagon that had been reserved for building the barrier by the Trump administration. The announcement comes as Republicans have been vocal in their calls for the Biden administration to revert back the the previous administration's policies and continue construction of the wall along the U.S.-Mexico border, casting blame on President Biden's policies for the surge of migrants attempting to enter the country. The Department of Defense said that funding would be reverted back to other military projects.
Walls and fences work!
Walls erected outside Academy Awards to protect the Hollywood elite. Security fencing was erected around the perimeter of Union Station in Downtown Los Angeles on Sunday to provide protection for the Hollywood elite and their Academy Award ceremony. The red carpet, and the dazzling celebs who walked it, were well secured from the general public. Union Station was cordoned off with fencing, and the entrances were also blocked, with security guards and additional measures. The Post Millennial reported that Union Station is typically home to a high-population of homeless people. Yet the City of Los Angeles forced those city dwellers to move from their temporary digs in order to make room for the Oscars. The city moved the homeless under the alleged threat of destroying their belongings if they failed to comply.
Pieces of Unused Border Wall Are Rotting in a Lot. During a recent trip to Arizona for a ride along with the Pinal County Sheriff's Department, we drove by Stinger Bridge & Iron and noticed piles of barriers meant for construction of the southern border wall sitting in a lot. Stinger has been contracted by Fisher Industries in the past for the project. Neither company returned calls for comment or context about the unused pieces, but in 2019 Fisher Industries participated in bidding for border wall construction. The company says its construction plan, which also includes paved roads and security technology, would cost $4.31 billion, well below the $8 billion the president has sought for the project. "I think that President Trump would be very impressed with what we have to offer," Fisher said. "With our patented form system, we're significantly under time, significantly under budget, and — of course — all American made."
More Vindication for Trump as Biden Admin Considers Resuming Border Wall Construction. In what might be the most stunning admission that there's a crisis at the southern border of the United States, the Biden administration is considering resuming border wall construction. According to a report from the Washington Times, Department of Homeland Security Secretary Alejandro Mayorkas told department employees that while Biden had cut off funding for border wall construction, there's still "room to make decisions" to finish some "gaps in the wall." "There are different projects that the chief of the Border Patrol has presented and the acting commissioner of CBP presented to me," Mayorkas said. "The president has communicated quite clearly his decision that the emergency that triggered the devotion of DOD funds to the construction of the border wall is ended. But that leaves room to make decisions as the administration, as part of the administration, in particular areas of the wall that need renovation, particular projects that need to be finished."
Biden backtracks, restores border wall contruction, claiming it's to 'plug holes'. As a president, Joe Biden is a mess, always wrong on every foreign policy decision, as Bob Gates used to say. One of his biggest, among many, is his hideous decision to halt construction of President Trump's border wall, which has since led to hundreds of thousands of illegals pouring in. Being Incompetent Joe, he didn't see it coming. Now, old Joe's got no choice but to backtrack. [...] All he had to do was check his urge to issue that executive order and find out what would happen, and listen to the findings. He didn't do any of that. Like a crazy old man, he just couldn't resist whipping out that pen and that phone. With the backtrack, he now looks like a third-world clown dictator. Hugo Chavez used to be like that.
Biden Now Wants To Restart Construction On Trump's Border Wall To 'Plug The Gaps'. Joe Biden is considering restarting construction on Donald Trump's southern border wall as his administration continues to grapple with a growing immigration crisis including record numbers of illegal crossers. Homeland Security Secretary Alejandro Mayorkas told employees, according to the Washington Times, that construction might resume to plug 'gaps' in the current barrier between the U.S. and Mexico. The move comes as Biden made a big spectacle on Day One of his administration by issuing an executive order freezing Department of Defense funding for border wall construction. He later officially ended the emergency order at the border, but there were concerns about where the funds would go that were already appropriated for the border wall project.
White House Says 'Limited' Wall Construction Is Funded, Despite Overall Pause. The White House on Tuesday [4/6/2021] said that "limited" additional wall construction has been funded, despite an overall pause in construction — after a report that the head of the Department of Homeland Security (DHS) had said "gaps" in the wall could still be filled. "Wall construction remains paused to the extent permitted by law. So some has already been funded through congressional authorization and funding allocation," White House press secretary Jen Psaki said Tuesday. Psaki was asked about a Washington Times report that DHS Secretary Alejandro Mayorkas told Immigration and Customs Enforcement (ICE) employees that while money for the wall had been stopped, it "leaves room to make decisions" on finishing "gaps in the wall."
Joe Biden probably thinks this is an original idea.
Report: Joe Biden's DHS Considers Resuming Border Wall Construction. President Joe Biden's Department of Homeland Security (DHS) is considering resuming construction of the border wall after having halted construction in late January, a report claims. An exclusive report from Washington Times reporter Stephen Dinan suggests that DHS Secretary Alejandro Mayorkas is considering restarting border wall construction to fill in "gaps" that exist after former President Trump's administration constructed 450 miles from 2017 to 2020.
Biden's DHS may restart border wall construction to plug 'gaps'. Department of Homeland Security Secretary Alejandro Mayorkas told department employees he may restart border wall construction to plug what he called "gaps" in the current barrier. In a conversation with Immigration and Customs Enforcement employees last week Mr. Mayorkas was asked about his plans for the wall and he said that while President Biden has canceled the border emergency and halted Pentagon money flowing to the wall, "that leaves room to make decisions" on finishing some "gaps in the wall." Mr. Mayorkas, according to notes of the ICE session reviewed by The Washington Times, said Customs and Border Protection, which oversees the wall, has submitted a plan for what it wants to see happen moving forward.
The Editor says...
Yes — build a fence. That's a great idea, Joe!
GAO Launches Investigation into Biden's Decision to Halt Construction on Border Wall. The Government Accountability Office has reportedly launched an inquiry into whether Joe Biden broke the law when he halted construction of the border wall along the U.S.-Mexico border. Biden campaigned on reversing former president Trump's border security policies, including his pet project, the wall, and he made good on his promise as soon as he entered office. It turns out, Biden may not have been legally permitted to end the construction because the funding for the project had already been approved. Charles Young, public affairs officer for the GAO, confirmed the investigation on Tuesday [3/23/2021], as more and more border Democrats spoke out against Biden's disastrous immigration policies.
Biden 'Under Investigation' By GAO For Halting Billions Of Dollars To Finish Border Wall, Report Says. Democrat President Joe Biden is reportedly "under investigation" for halting billions of dollars in payments that were set to go out to companies that were tasked with finishing President Donald Trump's southern border wall. "Now the Government Accountability Office is launching a review to determine whether the new president broke the law by freezing the money in violation of budget rules designed to keep Congress in control of the cash flow," Politico reported. "The probe highlights the challenge presidents have historically faced in fulfilling campaign promises that require money to be spent — or suspended — at odds with Congress' intent."
Biden [is] Spending Millions per Day to Halt Border Wall Construction. The pause on construction of the border wall costs taxpayers about six million dollars per day while construction sites sit idle, Breitbart Texas learned from a senior Department of Homeland Security official. On Sunday, March 21, the 60-day pause in construction of the border wall is scheduled to end. According to the source, the expenditures are required for materials orders placed before the pause and expenses for the cost of equipment sitting idle. When the issuance of a stop work order causes a contractor to idle equipment, they are entitled to be compensated for rental expenses or costs of ownership.
Forty Senate Republicans are accusing Joe Biden of 'unlawfully' freezing funds appropriated for Trump's southern border wall. Most Republican senators signed onto a letter to the Government Accountability Office accusing Joe Biden of 'unlawful' acts in stopping construction of Donald Trump's southern border wall on Day One of his presidency. '[I]n one of the first official acts of his presidency, Joseph Biden suspended border wall construction and ordered a freeze of funds provided by Congress for that purpose,' the 40 senators wrote. 'In the weeks that followed, operational control of our southern border was compromised and a humanitarian and national security crisis has ensued.' The group, led by Ranking Member of the Appropriations Subcommittee on Homeland Security Shelley Moore Capito of West Virginia, claims the president can not provide a sweeping action to freeze funds that were already appropriated for construction of the wall along the U.S.-Mexico border.
Texas State Representative Introduces Bill to Finish Border Wall Construction. Texas state Rep. Bryan Slaton (R-Canton) introduced a bill proposing the border wall construction initiated under former President Donald Trump be completed by the Texas Department of Public Safety (DPS). Slaton said that the actions taken by President Joe Biden shouldn't stop the construction of the wall along the U.S.-Mexico border in Texas. "President Trump fought to bring real border security and was opposed by Republicans and Democrats in Congress. While hundreds of miles of new wall were built under his leadership, the Biden administration has already ceased border wall construction," Slaton said, reported The Texan. "It is time for Texas to stand up and finish the work that President Trump started. Let's finish building the border wall now," he added.
The five biggest omissions in massive Biden immigration bill. [#2] Border wall infrastructure: Throughout the Trump administration, Congress made approximately $1.375 billion available each year for border wall construction, which included technology and roads. The new bill gives more funding to the Department of Homeland Security to acquire technology to inspect cargo, passengers, and vehicles coming through air, land, and sea ports of entry nationwide. The DHS secretary will develop and implement a plan to secure the southern border between official crossing points, where, in fiscal year 2019, more than 1 million people illegally crossed from Mexico and were arrested by Border Patrol. However, the legislation does not include plans for physical infrastructure between ports of entry. The last major immigration reform legislation introduced by the Senate Gang of Eight in 2013 included billions of dollars for border security to prevent illegal migration at the U.S.-Mexico border, though it failed to get through the House.
With Work Stopped, 7 Things I Saw at Border Wall. Construction of the wall along the U.S.-Mexico border has stopped under President Joe Biden's order issued Jan. 20, the day of his inauguration. The Daily Signal traveled to a portion of the southern border Jan. 28 and 29 with nine House Republicans, including Rep. Andy Biggs of Arizona, chairman of the House Freedom Caucus. The congressional delegation visited stretches along the border wall in Nogales as well as in Cochise County, Arizona, where construction of the wall not only has ended but equipment sits unused.
All border wall construction to be stopped Tuesday night. Construction workers on the U.S.-Mexico border were notified to stop all border wall projects by the end of Tuesday, according to a congressman whose district sits on the international boundary. Rep. Henry Cuellar, a Texas Democrat, said in a statement issued late Monday [1/25/2021] that federal contractors working with U.S. Customs and Border Protection were notified by the agency to stop installing the 18- to 30-foot-tall portion of slatted steel wall across California, Arizona, New Mexico, and Texas. "I received notification that in accordance with President Biden's executive order, all CBP contractors have now been formally notified by CBP Procurement to pause construction activities on CBP self-executed projects," Cuellar said.
Biden's Order to Stop Trump's Border Wall Construction Will Be Costly and Also It's Likely Illegal. Joe Biden's Executive Order demanding stopping the building of the southern wall may be costly but also unconstitutional. Joe Biden signed an executive order to stop the building of the border wall immediately after his his unattended inauguration. [...] Not a lot of thought goes into Biden's Executive Orders apparently. Either that or whoever is creating these orders just don't care about the costs to Americans. These people are all about power — they will do anything to gain power and destroy this great nation at any cost.
'Walls don't work' update: 8-foot non-scalable fence around U.S. Capitol replaced by 12-footer. The fence that was put up around the U.S. Capitol (that is expected to remain in place until at least next month) was replaced with an even higher fence this week: [Video clip] For those who spent the entirety of the Trump presidency hearing "walls don't work" it was interesting to find out that apparently they do work.
Trump's Top 10 Accomplishments of 2020. [#5] The Wall. Contrary to the media narrative, considerable progress has been made in building the president's controversial border barrier, despite constant obstructionism from both Congress and the courts — and the unrelenting hostility of the press. Some 423 new miles of impressive border walling now stand guard at our southern border. Officials of Customs and Border Protection make it clear that the wall plus Trump's "remain-in-Mexico" asylum policy regained control of our previously lawless border region.
Lawmakers tell Biden to rescind border wall contracts, military money for wall. A South Texas Congressman has gotten several lawmakers to sign off on a letter asking President-elect Joe Biden to rescind border wall contracts and other aspects with the controversial 730-mile project started by the Trump administration, Border Report has learned. U.S. Rep. Henry Cuellar, D-Texas, on Wednesday [12/9/2020] sent Biden a letter asking that the new administration rescind the national emergency declaration and reprogrammed funding; direct the Department of Justice to dismiss all condemnation suits; terminate for convenience all current and pending Army Corps of Engineer contracts; and rescind Homeland Security waiver authority relating to the construction of new border barriers.
Chaos on the border. More than anything, it was "The Wall" that got President Trump elected four years ago. Mr. Trump's willingness to tackle illegal immigration earned him unswerving devotion from voters, including Hispanics who live in the United States legally. It also brought Mr. Trump unstinting vitriol from anti-American leftists and corporate interests who organize and bankroll the Democrat Party and former Vice President Joseph R. Biden's campaign for president. Four years ago, the battle cry for Mr. Trump was "Build The Wall!" Today, the battle cry from Democrats and their monied interests is: "Mr. Biden, tear down that wall!"
This is what Trump's wall looks like four years after he was elected to build it. Thirty-foot wall now stands up and down the 2,000-mile border and marks a visible accomplishment for the Trump White House, even after critics claimed in early years that it was a silly idea, a waste of taxpayer money, and simply impossible to build. Over the past four fiscal years, Congress passed budgets with $15 billion for 738 miles of a new border wall system, which includes new roads, lighting, a host of technology options, and the physical wall. Early on, the federal agency that planned where wall would go, U.S. Customs and Border Protection, determined that roughly half of the 700 miles of fencing that had been installed during the George W. Bush and Obama administrations was insufficient for blocking people from illegally immigrating into the United States. Four-hundred of the 738 miles of wall funded under President Trump is for building new wall in areas with insufficient barriers. The remaining more than 330 miles are in places that have never had any sort of barrier.
The Editor says...
You can read the article by clicking on the headline (as usual), or you can click here to see the original source, but you'll have to endure a barrage of pop-up annoyances, including full-screen pop-up advertisements. It's like swatting flies away while you're trying to eat. I don't understand how web site operators think unsolicited surprise advertisements will sell any product to anyone.
Twitter Throws Up A Wall On Border Issues. In 2016, building a border wall and reducing illegal immigration were pivotal issues in the presidential election. Human trafficking, drug smuggling, and gang members crossing over onto U.S. soil were such a strong concern that Donald Trump's promises to put a lid on the problem helped him gain the White House throne. Four years later, those worries have slipped a few notches as Americans struggle with a worldwide pandemic, lockdowns, and the loss of jobs, income, and businesses — not to mention their liberty and freedom. Even so, immigration must still be a worthy opponent to the left if Twitter finds it necessary to block border wall construction updates.
The Jaw-Dropping Difference Between the Old 'Wall' and the New Wall the Trump Admin Is Building. "Wow" was all I was able to say as the U.S. Customs and Border Protection (CBP) Blackhawk flew alongside the U.S.-Mexico border and the difference between the old "wall" system and the new wall system under construction came into view. "This is why I wanted to fly," Acting CBP Commissioner Mark Morgan keyed over the Blackhawk's comms, saying the above-ground view shows how the old wall compared to the new one, which was directed to be built under President Trump's famous promise for stronger border security. The Blackhawk landed in New Mexico and we got out to see the difference up close. The old "wall" that covers large lengths of the border is laughably easy to get over. It consists of barbed wire fencing, held together by fragile-looking wooden posts and Normandy barriers intended to stop illegal vehicle crossings.
Somewhat related:
Lemon Farmer Electrifies His Fence to Stop Thieves, This One Got His Bacon Fried. This lemon thief got a shocking plot twist as he tries to escape with his booty over the fence. [Video clip]
DHS: Border Wall Going Up At 10 Miles Per Week, 'Faster Than Ever Before'. The Department of Homeland Security (DHS) put out a statement updating America on the construction of the border wall, reporting it is being built at about "10 miles per week." The statement, issued Tuesday, claims the Trump administration "is building (a) new wall and doing so faster than ever before." "Now construction is moving at a rate of approximately 10 miles per week, setting the administration up to complete its year-end goal with time to spare," it reads. That year-end goal constitutes a 450-mile section at "some of the highest-trafficking and therefore most critical sectors of the southern border for illegal crossings and apprehensions."
Border-wall critic Gretchen Whitmer builds electrified fence around governor's mansion, hands taxpayers $1.1 million bill. Controversial Michigan Gov. Gretchen Whitmer, once considered a frontrunner to become Democratic presidential nominee Joe Biden's running mate, has authorized construction of a large fence around the governor's mansion in Lansing as part of a $1.1 million security upgrade. The 8-foot-tall electrified fence is especially galling to Whitmer critics because she has routinely criticized President Donald Trump's construction of a border wall along the U.S.-Mexico border as a way to help reduce illegal immigration and human trafficking. She has also questioned the effectiveness of security walls but is nevertheless billing taxpayers for the expensive upgrade that will include electrified fencing because, according to local media, Whitmer is fearful of threats.
Man Tries To Climb Trump Wall. Looks like the new border wall is working well. Slowing down the flow just enough to get border patrol there to snatch them up. [Video clip]
Mexican national dies after apparent fall from Arizona border wall. A 33-year-old Mexican man died in American custody on Saturday about a week after falling from the US-Mexico border wall, authorities said. The man was found injured in an open field near Yuma, Arizona by agents from the US Customs and Border Protection on July 26, the agency said. He told agents he had plunged from the wall. Emergency responders immediately rendered first aid before transporting him to Yuma Regional Medical Center. He died there 6 days later, CBP announced Sunday.
Supreme Court sides with Trump on building border wall with diverted military funds. The Supreme Court has allowed President Trump to defy Congress and continue to spend more than $6 billion diverted from military funds to pay for the construction of a border wall in parts of Arizona, New Mexico, Texas and California. By 5-4 vote, the justices on Friday rebuffed lawyers for the Sierra Club and House Democrats who sued to challenge Trump's diversion of funds as illegal and unconstitutional. They won rulings before judges in California and Texas, but in a brief order last summer, the court allowed Trump to continue spending the disputed funds while the litigation continues.
Supreme Court denies request to halt construction of the border wall. The Supreme Court by a 5-4 vote has denied a request to halt construction of President Trump's border wall over environmental concerns. A number of groups, including the ACLU and Sierra Club, had asked the high court to get involved again after the justices last year cleared the way for the administration to use military funds for construction while the case played out in the courts. A federal appeals court had ruled against the administration last month, but the justices, for now, have given another temporary victory to the administration.
9 Radical Ideas in the Biden-Sanders 'Unity' Platform. Former Vice President Joe Biden and Sen. Bernie Sanders (I-VT) released the policy recommendations of their "unity task force" on Wednesday [7/8/2020]. [...] Here are nine of the most radical proposals in the "unity" document: [...] [#9] End the border wall and "provide a roadmap to citizenship for the millions of undocumented workers." A Biden administration would stop the construction of the "unnecessary, wasteful, and ineffective wall on the southern border" — thus allowing an open border — while also giving voting citizenship to the eleven million-plus illegal aliens who are already here, permanently changing the American electorate and enshrining Democrats in power forever.
Supreme Court declines to hear border wall challenge. The Supreme Court is leaving in place a decision that rejected environmental groups' challenge to sections of wall the Trump administration is building along the U.S. border with Mexico. The high court on Monday [6/29/2020] declined to hear an appeal involving construction of 145 miles of steel-bollard walls along the border in Arizona, California, New Mexico and Texas.
Appeals court rejects Trump's border wall funding. A federal appeals court ruled Friday that President Trump did not have the legal power to siphon money from the Pentagon to build his border wall, erecting another legal hurdle in the path of his most flamboyant campaign promise. The 2-1 ruling by the 9th U.S. Circuit Court of Appeals comes just two days after Mr. Trump visited the wall in Arizona, signing his name to a plaque marking 200 miles of construction during his term. In the new decision Judge Sidney R. Thomas, a Clinton appointee, said the wall is not a military project, so Mr. Trump couldn't transfer $2.5 billion in military money over to the border project.
Trump's border wall cam debuts as president continues to fulfill top 2016 campaign pledge. Without question, the most controversial issue of the 2016 campaign was then-candidate Donald Trump's pledge to "build a big, beautiful wall" along the entire U.S.-Mexico border. Indeed, the totality of Trump's immigration policies — a border wall, stricter internal enforcement, deportations, ending sanctuary cities — was attacked mercilessly by the Hillary Clinton campaign and her lamestream media lapdogs. And yet, political analysts believe that's how billionaire real estate mogul Donald Trump became President Donald Trump: His "American First" immigration policies resonated with an electoral majority of voters. Since he was inaugurated, however, Trump has experienced a number of setbacks in effectuating his immigration policies as Left-wing groups filed lawsuits in cherry-picked federal courts, which blocked many of his early initiatives.
Trump admin reportedly opening cases in federal court to complete border wall. The Trump administration is reportedly going to court in order to complete the U.S.-Mexico border wall, not letting the coronavirus pandemic get in the way of its most lauded campaign goal. While the coronavirus crisis has altered the way of life for most of the country's workforce, the Trump administration is only gaining steam in its effort to build barriers along the southern border, according to federal court records reviewed by Reuters. The White House repeatedly turned to the courts to seize land from private owners. The administration has opened 41 federal court cases to obtain land along the southern border in the past year. Sixteen of those cases, or 39%, were filed in the past two months — in the heat of the U.S. COVID-19 pandemic.
DHS Grants Environmental Waiver to Speed Texas Border Wall Construction. The U.S. Department of Homeland Security (DHS) granted an expedited environmental waiver to move the construction of 15-miles of new border wall system segments forward in South Texas. The project consists of five non-contiguous segments in areas where no physical barrier currently exist. DHS officials issued an expedited environmental waiver on April 15 to U.S. Customs and Border Protection (CBP) officials to move forward the construction of new border wall systems along the Rio Grande in South Texas, according to information obtained from CBP. The waivers apply to construction projects awarded in March 2020[.]
Democrats Are Asking The Trump Administration To Stop Border Wall Construction. Nearly 100 Democrats in Congress are urging the Trump administration to halt construction on the U.S.-Mexico border wall during the coronavirus pandemic. Ninety-one Democrats in the House and Senate signed onto a letter addressed to key members of the Trump administration, requesting that "all border wall construction halt immediately." Not only has border construction continued amid the coronavirus outbreak, but the White House has moved to expedite its progress — to the chagrin of its critics.
Now the shoe is on the other foot. Let them build the wall.
Coronavirus: Mexicans demand crackdown on Americans crossing the border. Mexican protesters have shut a US southern border crossing amid fears that untested American travellers will spread coronavirus. Residents in Sonora, south of the US state of Arizona, have promised to block traffic into Mexico for a second day after closing a checkpoint for hours on Wednesday. They wore face masks and held signs telling Americans to "stay at home". Mexico has fewer than 500 confirmed Covid-19 cases and the US over 65,000. The border is supposed to be closed to all except "essential" business, but protesters said there has been little enforcement and no testing by authorities.
It's Not Just Physical Walls the U.S. Must Build in the Coronavirus Era. Walls have been the norm for settlements since the earliest Neolithic days. Farmers have things, such as food and valuable implements. Other people want those things and are sometimes inclined to take them. Walls provide security so that people can live with some degree of peace. Throughout history, everywhere towns and cities, and even nations, have built walls to keep out the riff-raff. Why? Well, walls work! Walls come in many sizes and materials: stone, steel, bricks and wood. They come in many sizes, from protecting a small settlement to protecting an entire territory. Hadrian's Wall, Offa's Dyke and the Great Wall of China show us the effectiveness of long walls in the preservation of a nation. Trump's wall promises similar utility. Walls are a powerful force multiplier — provided they are adequately garrisoned. There are a multitude of examples in history where a small defending force has defeated a massive besieging army through the power of walls.
Border chief: Wall cuts illegal crossings 80%. A 20-mile section of new border wall built near El Paso, Texas, cut illegal crossings by more than 80%, the government's top border official told Congress on Thursday [2/27/2020]. Mark Morgan, acting commissioner of Customs and Border Protection, said the key is not just the border wall but the entire system being built, with roads and lighting and, in some cases, multiple layers of fencing. He said that's giving agents more time to get to spots where breakthroughs happen, and when they can respond, they can make arrests or force people to retreat back into Mexico.
Homeland Security waives contracting laws for border wall. The Trump administration said Tuesday [2/18/2020] that it is waiving federal contracting laws to speed construction of a wall at the U.S.-Mexico border, moving the president closer to fulfilling a signature campaign promise in an election year but sparking criticism about potential for fraud, waste and abuse. The Department of Homeland Security said waiving procurement regulations will allow 177 miles of wall to be built more quickly in California, Arizona, New Mexico and Texas. The 10 waived laws include a requirement for open competition and giving losing bidders a chance to protest decisions.
White House redirecting another $3.8 billion from Pentagon for border wall. The White House announced on Thursday that it would be redirecting another $3.8 billion from the Pentagon to fund President Trump's signature border wall project, likely an indication that the president is hoping to tout the project going into the 2020 election season.
Trump grabs another $3.8 billion from Pentagon for border wall. The Pentagon informed Congress Thursday it will siphon another $3.8 billion from its accounts to build President Trump's border wall, as he rushes to get as much construction done as possible before the end of the year. Mr. Trump has now funneled nearly $10 billion from Defense Department accounts toward his wall over the last two years, sparking bipartisan condemnation from a Congress that says he's stealing their power of the purse and shortchanging the troops. The president on Thursday renewed his declaration of a border national emergency, which he said gives him the power to take the money,
Trump Slams Media Over 'Fake News' Border Wall Report. Ahead of making his crowd-thrilling appearance at the Daytona 500 Sunday, President Trump added one more media-slamming post to a series of tweets he'd issued over the weekend hammering one of the central promises of his 2016 election: that he would "build the wall." "Last week the Fake News said that a section of our powerful, under construction, Southern Border Wall 'fell over', trying to make it sound terrible, except the reason was that the concrete foundation was just poured [and] soaking wet when big winds kicked in. Quickly fixed 'forever'," the president wrote Sunday [2/16/2020].
'We Build The Wall Inc.' Constructs First Ever Border Wall On Rio Grande River. After a months-long legal battle with the International Boundary and Water Commission, a "United Nations-type" globalist agency which has deliberately facilitated the illegal entry of hordes of foreign nationals into the United States, a federal judge cleared the way for Fisher Industries and We Build The Wall to continue building a section of President Donald Trump's Mexico border wall. As Fisher Industries and WBW, a crowdfunded organization founded by triple amputee veteran Brian Kolfage, geared up to construct an 18-foot tall bollard barrier along a 3 mile stretch of the Rio Grande on private property in Mission, Texas, the IBCW flexed its bureaucratic muscle to sabotage the project.
Trump Will Transfer $7.2 Billion for Border Wall. The move, if not blocked by Congress or the courts, would bring the total amount of federal funds allocated to border fencing to $18.4 billion under Trump. So far, a little over 100 miles of an upgraded "wall system" has been built. Trump deputies are in the process of planning and building another 350 miles.
Another Rogue Judge Is Slapped Down Hard Over Blocking the Border Wall. If you've been [following] the fight over securing the border, several district court judges have gone rogue and have had to be slapped down by the appeals courts, or in some cases, the Supreme Court. One specific case involved a judge in Texas, which I wrote on here. Despite the highest court already green lighting Trump's use of certain military funds to secure the border, this judge decided to give standing to pro-immigration groups and claim they would be "damaged" by such a move. [...] In short, it was a tortured decision that the judge massaged to meet his personal political goals, not to actually follow the law.
Appeals Court Releases $3.6 Billion for Border Wall. A federal appeals court released $3.6 billion in border wall funding Wednesday [1/8/2020] that had been blocked by a lawsuit. The 5th U.S. Circuit Court of Appeals in New Orleans lifted the curbs while the Department of Justice prepares to appeal a lower judge's decision to block the spending because of the lawsuit.
Illegal immigrants rescued at border wall in California after 'precarious situation'. Three people were rescued over the weekend after they were found trapped in "a precarious situation" on a new section of border wall near San Diego, according to officials. A U.S. Customs and Border Protection news release said that around midnight Sunday, agents on patrol saw three people perched on top of the wall near Otay Mesa. The three, a man and two women, attempted to enter the U.S. illegally in dense fog by climbing the San Diego Sector's new 30-foot, steel bollard wall before getting stuck, according to officials.
The Editor says...
My solution: [1] Leave them on the fence for 48 miserable hours, then make them sign an agreement to immediate and voluntary deportation, then take them to some distant point in Mexico, or wherever they came from. [#2] The fence should be topped with sharp spikes, so it is impossible to sit on it. Cruel and harsh, perhaps, but the word will quickly spread all over Mexico: Don't try to cross that fence!
Judge blocks Trump's border wall emergency. A federal judge in Texas issued a permanent injunction Tuesday blocking President Trump from using billions of dollars Congress earmarked for the Defense Department to instead build his border wall. Judge David Briones, a Clinton appointee to the bench, had previously ruled Mr. Trump's move illegal, but had given both sides a chance to argue over what the remedy should be. "Because defendants' actions are unlawful and the people's representatives — Congress — declined to augment the border wall budget as defendants attempt, the public interest would be served by halting them," the judge wrote.
Federal judge blocks billions in Pentagon funding from paying for border wall. Judge David Briones of the U.S. District Court for the Western District of Texas issued the block in response to a lawsuit by El Paso County, Texas, and the Border Network for Human Rights. "The President's emergency proclamation was a blatant attempt to grab power from Congress. Today's order affirms that the President is not a king and that our courts are willing to check him when he oversteps his bounds," Kristy Parker, an attorney for the litigants, said in a statement. Secretary of Defense Mark Esper approved $3.6 billion in Pentagon funds to be diverted from other military projects toward construction of the border wall in September. Half the money allotted came from overseas projects and the other half from projects in the U.S.
Judge's order fails to halt privately funded border wall construction. Construction of a private section of border wall in Mission, Texas, is continuing despite a district judge's Tuesday decision to temporarily block the work, The Guardian reported Saturday [12/7/2019]. The expected 3.5-mile-long private section of border wall is being funded by We Build the Wall, a nonprofit organization founded by U.S. Air Force Veteran and Purple Heart recipient Brian Kolfage that has raised more than $25 million since its start in December 2018. Workers were moving soil, digging trenches and positioning the physical wall on Thursday and Friday after Vasquez's ruling, in which he says the construction will cause "imminent and irreparable damage" to the 100-acre National Butterfly Center, a museum adjacent to the wall, according to The Guardian.
The Editor says...
When MS-13 starts a series of turf wars in the Rio Grande Valley, nobody is going to care about butterflies. For that matter, not one person in a million cares about the well-being of butterflies right now, more than they care about maintaining law and order.
Smugglers busted after cutting hole in US-Mexico border wall. Sixteen people have been arrested in what the feds have described as a "brazen" smuggling attempt in which they cut through a portion of the wall along the US-Mexico border and entered Southern California, according to reports. Border Patrol agents spotted a white Dodge 4500 utility truck crossing into the US near Campo about 3:45 p.m. Wednesday [11/20/2019] after human smugglers cut a hole in the wall, officials said. A few minutes later, agents saw a man with a vehicle matching that description trying to cut a lock on the gate of a nearby home with bolt cutters.
Trump Admin. Prepares Court Filings to Seize Private Land in Texas for Border Wall: Report. The Trump administration is preparing to submit court filings as early as next week as a necessary step toward seizing private land in Texas for its wall on the border with Mexico, NBC reported Thursday. Administration officials still haven't said how much the government will compensate affected landowners. "I still think we're on track to get the land we need for 450 miles" of border wall, Acting Commissioner of Customs and Border Protection Mark Morgan told reporters on Thursday [11/14/2019].
The Editor says...
If you own land that directly abuts the international border, and there is not a wall in place already, your land is of very little value: Perhaps less than zero. Sorry about the property seizure, but the addition of a wall or fence will increase the value of the remainder of your land. Maybe you can write off the value of the seized acreage.
Washington Post: Border agents say smugglers in Mexico are sawing through parts of Trump's border wall. Smuggling gangs in Mexico have been able to breach new sections of President Donald Trump's border wall in recent months, according to a new report from The Washington Post. Citing US agents and officials with knowledge of the damage, the Post reported that smugglers have been using reciprocating saws to cut through the steel and concrete portions of the wall, creating openings wide enough for people and drugs to be smuggled through.
Mexico is at War; America Needs A Wall. Recent intense violence in Mexico serves as an ominous reminder of the dangers that lurk nearby and the necessity of gaining operational control of our border. [...] Two events last week encapsulated the systemic violence that has embroiled our southern neighbor in recent years. First, thirteen Mexican policeman were killed in a brutal roadside ambush in Michoacán when dozens of gunmen, using high-caliber weapons, attacked from "presumably armored" vehicles. The brazen gangsters even left posters on the charred police cars signed with the initials of their Jalisco cartel. Then, last Thursday [10/24/2019], an all-out street battle erupted in the upscale neighborhood of Culiacan, the capital of Sinaloa state.
Trump administration cites 'environmental crisis' to spur building border wall construction. Forthcoming border fence construction on federally protected wilderness land is being touted by the Interior Department as a way to prevent fires and eliminate trash left behind by migrants, but it will also help keep President Trump from failing to fulfill a campaign promise: building the wall. By declaring an "environmental crisis," the Trump administration has been able to use a legal loophole to transfer 560 acres of some of the country's most protected public lands to the Pentagon to build nearly 70 miles worth of fence it says will stop "degradation and destruction" on those lands by migrants traversing the border.
CNN: Mexico Has Essentially Built Trump's Wall and Is Paying for It. You may have noticed in reports about illegal immigration that there's been a precipitous drop in apprehensions at the border. That's not because there are fewer being caught, that's because there are fewer coming across. That's in large measure due to the cooperation deal that President Donald Trump struck with Mexico. In fact, even CNN has had to admit Trump's success, as Newsbusters observed.
Senate Fails to Override Trump's Veto on Border Emergency. After the United States Congress voted to end President Trump's national emergency declaration on the southern border, the President vetoed that resolution; yesterday, the Senate failed to override his veto, according to Politico. The motion to overturn the president's declaration, S.J. Res 54 (116), was passed in the Senate in late September with 54 votes in favor and 41 votes against; 11 Republicans sided with the Democrats in favor of the resolution. It was then passed by the House of Representatives with 236 votes in favor: Once again, 11 Republicans sided with the Democrats (224), along with Justin Amash (I-Mich.).
Senate fails to override Trump veto on border wall. Senators gave a backhand approval Thursday [10/17/2019] to President Trump's border emergency wall building plans by failing to override his veto, marking the latest instance when the White House has outmaneuvered Congress. The president's opponents mustered 53 votes to overturn the veto, with 10 Republicans siding with Democrats, but it still fell far short of the two-thirds needed to force Mr. Trump to retreat from his marquee campaign promise. At stake is billions of dollars in money Congress allocated to the Pentagon in 2019, but which Mr. Trump, in his February emergency declaration, said is better spent at the U.S.-Mexico border, erecting hundreds of miles of wall.
Another Federal Judge Spits in the Face of the Supreme Court. Another federal judge has decided that Trump building a border wall through his emergency declaration is illegal. This came from Judge David Briones, a Clinton appointee. His reasoning is as specious as the first judge that tried this.
New Rambo movie tells the brutal truth about Mexico. This current manifestation of the Rambo character is predictable by any film critic's dismissive standards. They will delight in trashing it. [...] But as in all the Rambo films, there is no wondering about who is good and who is not. This film does actually provide an education of a sort. The drug lords of Mexico do kidnap, drug, rape, and traffic young girls. They do it by the many thousands of victimized young girls, snatched from their home villages, never to be returned. Until Trump became president, no one cared about the fate of these girls. Obama encouraged Mexican and Central American parents to send their children here perilously perched on the top of trains, unaccompanied, only to be ravaged on the journey. These children's parents put them on those trains. Some gave their little girls birth control pills knowing full well what the journey would entail.
Pentagon: Border Wall Going Up at About 1 Mile Per Day, and Rising. A Pentagon spokesperson has announced that the border wall is going up at the pace of about one mile per day — and rising. Jonathan Hoffman, the Pentagon's chief spokesman, updated reporters on border wall construction progress during a Sept. 19 press briefing during which he said that by the end of next year, the goal was to have completed 450 miles. "Right now we're at a pace of about a mile a day. And we'll see that continue to go up," Hoffman said.
Hispanic Americans Side with Trump on Immigration: 'I Believe in the Wall'. Despite 2020 Democrat presidential primary candidates' plans to open the border and increase overall immigration to the United States, Hispanic Americans are increasingly siding with President Trump's "America First" agenda.
Interior Department transfers 560 acres of federal land to Army for border wall construction. The Department of the Interior announced Wednesday [9/18/2019] they had transferred over 500 acres of federal land to the Army to build more barriers along the U.S.-Mexico border. National parks or parts Native American reservations were not included in the land transfer. The land is being transferred to the Army under 10 U.S.C. 2808. "Secretary of the Interior David Bernhardt announced today the transfer of administrative jurisdiction of approximately 560 acres of Federal lands to the U.S. Department of the Army to build roughly 70 miles of border barriers," the statement said.
The Editor says...
According to my calculations, a strip of land 66 feet wide and 70 miles long would amount to 560 acres.
Trump May Get His Wall After All. The probability that President Trump builds his "big, beautiful wall" just got ten times more likely. On Wednesday [9/4/2019] the White House announced plans to divert $3.6 billion from military construction projects to erect new wall structures along the southern border with Mexico. The move follows a devastating report in July from U.S. Customs and Border Protection revealing that President Trump had not built a single mile of new wall that didn't merely replace old fencing since taking office, contradicting administration claims. Just days after the CPB report, however, the president received welcome news from the Supreme Court. In a 5-4 decision, the Court approved the use of $2.5 billion in military funding for border wall construction, which the White House claimed would create 100 miles of new fencing.
The President has been effectively locking down the border and sending criminals back home. The massive infiltration of illegals has drastically been reduced. This will be denied by anti-Trump, pro-China crowd who are heavily vested in removing Trump for 2020, but like everything with Trump's accomplishments and kept promises, the facts speak for themselves. [...] If you take a fence that does nothing to prevent someone from crossing, rip it out, and put in this new massive steel wall secured deep underground to curb human trafficking tunnels, that's new construction. The fact that something happened to have been there before doesn't mean this isn't securing the border.
Pentagon chief approves 20 more miles of border wall. Defense Secretary Mark Esper has approved building 20 more miles of barriers along the southern border, according to court documents filed Tuesday [8/27/2019]. Esper approved the Department of Homeland Security request Monday [8/26/2019] for the additional construction after contracts for the previously approved barriers cost less than expected, according to the documents.
Border Wall Replacement from Diverted Defense Funds Underway in New Mexico. Construction crews in New Mexico began work on a 46-mile stretch of replacement border walls. The project is reportedly funded with Department of Defense resources diverted by the Trump Administration under a national emergency declaration. The construction company set forth on a contract to replace a 46-mile section of border fencing with a taller bollard wall.
The Wall Is Working Well: Migrants Fail to Scale New Border Wall Section, Head Back to Mexico. Hungary Has a Wall, Israel Has a Wall, Turkey Has a Wall, Nancy Pelosi's Backyard Has a Wall. Walls work. But Democrats and Paul Ryan don't want a wall.
Border Patrol Chief Mark Morgan: New Supreme Court Ruling Will Allow for 450 Miles of New Border Wall. Mark Morgan, the acting commissioner of US Customs and Border Protection, joined Judge Jeanine Pirro on Saturday to discuss Friday's Supreme Court decision that allows US President Donald Trump to use Pentagon funds to build the US border wall with Mexico. The Supreme Court ruled Friday [7/26/2019] that the Trump Administration can use $2.5 billion in Pentagon funds to build the border wall.
Impeachment Dreams Die; Wall gets Built. This was a week the President could only have dreamed of. [...] Friday in a 5-4 decision the Supreme Court determined that the Sierra Club, ACLU, and the Southern Border Communities Coalition had no cause of action to obtain a review of the determination to use $2.5 billion dollars from Defense Department Funds to build sections of the wall on the Mexican Border. (The administration had authorized other funds — military construction, Defense department and the Treasury department's asset forfeiture accounts [seized narcotics funds] — to supplement the $1.4 billion Congress had allocated for building a wall on the Mexican border, but only the Defense Department funds were at issue.) The case arose from — where else? — the Ninth Circuit, where a District Court judge had issued a nationwide injunction against the use of those funds for wall construction.
Democrats dub Supreme Court's border wall ruling 'regrettable' and 'nonsensical'. Democrats reacted with disappointment to Friday's [7/26/2019] Supreme Court ruling allowing the Trump administration to divert $2.5 billion in Pentagon funds for border wall construction. The 5-4 ruling, which broke along ideological lines, means President Trump can tap into military funds to begin work to replace fencing along the southern border in California, Arizona and New Mexico. Earlier this month, the 9th U.S. Circuit Court of Appeals in San Francisco had agreed with a lower-court ruling that prevented the government from tapping that funding.
Supreme Court Makes Major Ruling On Border Wall Funds. The United States Supreme Court ruled on Friday that President Donald Trump can use $2.5 billion in military funding to build the border wall along the U.S. southern border.
Cruz: Build Kate's Wall with El Chapo's Money. It is an idea whose time has come. It would be poetic justice, fulfill a Trump campaign pledge, and wouldn't cost the taxpayers a dime. It doesn't make Mexico pay for the wall exactly, just one particular Mexican who has done great injury to the people of the United States and who is responsible for a major part of drugs flooding into the U.S. Upon news that Joaquín Archivaldo Guzmán Loera, more commonly known as El Chapo, was sentenced to life in prison on Wednesday [7/17/2019] and ordered to fork over billions, Texas Sen. Ted Cruz resurrected his idea of using any and all assets to be seized from El Chapo's massive stash be used to build Trump's border wall.
CBP Completes 50 Miles of New Border, 50 More Underway. About 50 miles of brand new wall has been completed by Customs and Border Protection (CBP) along the United States' southwest border, with more expected to be constructed, according to acting Commissioner Mark Morgan.
9th Circuit refuses Trump request to block judge's ruling to stop military funds for border wall. An appeals court denied the Trump administration's emergency request to block a federal judge's ruling that prevents President Trump from using $2.5 billion in military funds to build a wall along the southern border. [...] The Justice Department appealed after U.S. District Court Judge Haywood Gilliam, who is an appointee of former President Barack Obama, ruled to permanently block the $2.5 billion after issuing a temporary injunction in May to stop the administration's use of the funds. The ruling stymied several construction projects in California, Arizona, and New Mexico.
Trump revives ICE raid threat, blasts judge who ruled against border wall. President Trump vowed Saturday to "immediately" appeal a judge's ruling blocking funding for his border wall, while reviving threats to proceed with stalled deportation raids as soon as a week from now. The president discussed his immigration plans as part of a wide-ranging press conference following the G-20 summit in Osaka, Japan. His administration, just after notching a win with the passage of a $4.6 billion bill to address the humanitarian crisis along the U.S.-Mexico border, was dealt a blow Friday [6/28/2019] when a California judge barred Trump from tapping $2.5 billion in military funding to build high-priority segments of the border wall in California, Arizona and New Mexico.
9th Circuit judge rules against border wall construction in Ariz., Texas, N.M.. In their decision Friday [6/28/2019], the U.S. District Court of Northern California added a number of states where construction of the wall will not be allowed. Those states include Arizona, New Mexico, and Texas. The judge also solidified a previous order barring wall construction From [sic] may [sic], which pertains to California. This comes amid an ongoing battle for funding to build the wall, which the judge in this latest ruling called an attempt to bypass Congress. The president has since denounced the ruling as being against border security, and in favor of crime.
White House Threatens To Veto House Bill Over Lack Of Critical Border Funding. The Trump administration is threatening to veto the House border funding bill. In a statement released Monday [6/24/2019], the Office of Management and Budget criticized the Democrats' $4.5 billion plan for not setting aside enough money for critical border programs. It goes on to call it a "partisan bill that under funds necessary accounts, and seeks to take advantage of the current crisis by inserting policy provisions that would make our country less safe."
Latinos for Trump Break Out in 'Build the Wall' Chant at Pence's Miami Event. Chants of "build the wall" broke out at Tuesday's [6/25/2019] rollout of the Donald J. Trump for President Latino Coalition event in Miami, Florida. Vice President Mike Pence was headlining the launch of the Trump 2020 presidential campaign event when chanting broke out among what was described by New York Times Miami Bureau Chief Patricia Mazzei as a largely Cuban/Venezuelan/Nicaraguan American crowd, "Build the wall."
Militia Member Arrested for Impersonating Border Patrol Agent. A group of civilians stopping illegal border crossers in New Mexico has been arrested by authorities for impersonating a border patrol agent. [...] This is the second arrest of an armed group member patrolling the border since such groups started patrolling the border last February.
Privately funded border wall ordered to keep gate open indefinitely. Officials have ordered a privately funded section of wall on the U.S.-Mexico border to keep its gate open indefinitely, saying organizers failed to obtain required permits, according to BuzzFeed News. The International Boundary and Water Commission (IBWC), which oversees waterway issues between the U.S. and Mexico, said the organizers of We Build the Wall, which raised more than $23 million, had not obtained permission to build on federal land. The half-mile barrier, on the border near Sunland Park, N.M., restricts access to a public monument and waterways, according to the IBWC.
Update:
'We Build The Wall' Gate Ordered Shut, Organization Blasts Daily Caller As 'Fake News'. The private sector effort to build a wall on the southern border of the United States, We Build The Wall, has announced a major victory after they received permission to lock and shut its gate from the federal government, contradicting reports from media outlets that claimed the gate was locked open after being built without a permit. We Build The Wall, the viral campaign to privately fund the border wall that raised over $20 million via GoFundMe, is blasting fake news and thanking the federal government for its cooperation in the private construction effort to build a wall on the southern border.
US military personnel ordered to paint border barriers to improve 'aesthetic appearance'. United States military personnel deployed near the U.S.-Mexico border have reportedly been assigned to paint certain barrier structures to strengthen their "aesthetic appearance." Sen. Dick Durbin (D-Ill.) said on Twitter on Wednesday afternoon [6/5/2019] that the Department of Homeland Security (DHS) informed Congress that troops are going to spend the next month painting barriers and that "the primary purpose is to improve the aesthetic appearance."
The Editor says...
The walls, fences, and barriers should be painted to prevent rust. Then they should be greased to prevent almost anybody from climbing over them. Then they should be decorated with razor wire.
Cartel Gunmen Reportedly Brandish Rifles, Intimidate Border Wall Construction Crew. Brian Kolfage, the veteran who started the viral We Build The Wall organization, revealed that cartel gunmen approached border wall construction crews brandishing rifles last night [5/30/2019], seeking to intimidate them and prevent them from continuing the border wall construction. [...] This report comes only one day after President Donald Trump posted a video to Twitter, showing over 1,000 illegal aliens crossing the United States-Mexico border illegally where the border wall has not been completed. They were then apprehended by authorities, in what represents the single largest apprehension in United States history.
Trump Just Got A Big Win On The Border Wall As Democrat Lawsuit Is Thrown Out. A judge has thrown out the lawsuit brought by House Democrats that was attempting to stop his use of previously allocated funds to build parts of the border wall. The primary reason for the case being tossed is that the Democrats lacked standing. The judge felt that because of that lack of standing, the judiciary had no role in trying to mediate what was ultimately a political fight. The House had already allocated the funds and granted the executive the statutory ability to allocate those funds further within the departments. It was ridiculous to ever think that House Democrats, absent passage of legislation, could suddenly decide they have the right to tell the President how he can spend money they already allocated to be highly discretionary.
Federal judge rejects House challenge of border wall funding. A federal judge on Monday [6/3/2019] denied a House request to prevent President Donald Trump from tapping Defense Department money for his proposed border wall with Mexico, saying Congress lacked authority to sue.
Federal Judge Rejects House Bid To Stop Trump's Border Wall. A federal judge in Washington, D.C., on Monday ruled against House Democrats who tried to block the Trump administration from reallocating Defense Department funds for a border wall. U.S. District Judge Trevor McFadden said the House of Representatives does not have standing to bring the challenge, calling it a political fight between two branches.
This Trump-Hating Congresswoman Has a Beautiful Wall. Democratic California Rep. Maxine Waters is no fan of President Donald Trump. Waters has repeatedly called for the president's impeachment and has impugned his immigration proposals as racist. The liberal firebrand is perhaps Trump's harshest critic. But, what if we told you Waters uses a wall for her own security?
Judge rejects House Dems attempt to block Trump use of military funds for border wall. A federal judge has ruled against congressional Democrats who sought to temporarily stop the president from using military funds for a border wall. Judge Trevor McFadden, a Trump appointee, handed the president a needed victory after the White House suffered several losses in legal battles with Democrats in recent days. McFadden ruled that House Democrats cannot go to court to block Trump from using military funds to build the border wall "because the Constitution grants the House no standing to litigate these claims."
Judge tosses House Dems' lawsuit over Trump's use of emergency military funds for border wall. Washington, D.C., district court Judge Trevor McFadden threw out House Democrats' lawsuit seeking an injunction against President Trump's emergency border wall funding reallocation, saying that the matter is fundamentally a political dispute and that the politicians lack standing to make a legal case. Trump had declared a national emergency this past February over the humanitarian crisis at the southern border, following Congress' failure to fund his border wall legislatively. House Speaker Nancy Pelosi, D-Calif., and House Democrats then filed suit in April, charging that Trump was "stealing from appropriated funds" by moving $6.7 billion from other projects toward border wall construction.
Pro-wall calls flood Sunland Park City Hall following cease-and-desist. Officials in this Southern New Mexico town received thousands of calls on Wednesday [5/29/2019] in support of a privately funded border fence. This came the day after Mayor Javier Perea issued a cease and desist order stopping further work on the border barrier because it lacked a municipal construction permit. "I got 800 calls on my answering machine in one hour. They're all calling from out of state. They are in favor of the wall," said a Sunland Park city official who declined to be named.
Trump Just Found a Way to Make Mexico 'Pay for the Wall'. President Donald Trump may have found a way to fulfill one of the more ambitious — and controversial — pledges from his 2016 campaign: making Mexico pay for the wall. On Thursday [5/30/2019], hours after Trump tweeted that the U.S. Border Patrol had apprehended a record number of illegal migrants, the president announced that he would impose a 5% tariff on all imports from Mexico, increasing over time, until the Mexican government stopped the migrant flow from Central America.
Brian Kolfage's Private Border Wall Hit With Cease and Desist. The owner of a property where a private border wall was built over Memorial Day weekend received a cease and desist order Tuesday for building the half-mile wall in violation of a Sunland Park, New Mexico, city ordinance. The wall, built near El Paso, Texas, by a nonprofit organization funded by triple-amputee Airforce veteran Brian Kolfage's viral $20 million GoFundMe fundraising campaign, didn't obtain a building permit prior to breaking ground, Sunland Park city officials told KTSM.
"We Build the Wall" Closes Off Human and Drug Smuggling Corridor in One Weekend! For months the liberal media mocked "We Build the Wall" founder and organizer Brian Kolfage and his noble plan to use private donations to help build the much-needed security wall between the US and Mexico. Brian raised over $20 million in private donations from over 260,000 individuals to build a border wall on the US southern border.
Private border wall going up in vulnerable El Paso sector even as federal courts push open borders. In spite of 'open borders' Democrats in Congress and activist federal judges appointed by Barack Obama, a section of wall is nevertheless being erected in a busy half-mile corridor near El Paso, Texas, thanks to a privately-funded effort. Kris Kobach, former secretary of state for Kansas and head of "We Build the Wall," told Fox News' "Fox & Friends" program Sunday that the wall is going up on private land in a section of the border that has become a heavy smuggling corridor for drugs and migrants. Kobach said the wall section is "the first time a private organization has built border wall on private land."
Federal judge blocks Trump from using Defense funds for parts of border wall. A federal judge on Friday night [5/24/2019] blocked President Donald Trump from tapping into Defense Department funds to build parts of his US-Mexico border wall. In a 56-page ruling, Judge Haywood Gilliam of the Northern District of California blocked the administration from moving forward with specific projects in Texas and Arizona, saying Trump couldn't disburse the funds without congressional approval. The lawsuit that prompted the ruling was filed by the American Civil Liberties Union on behalf of the plaintiffs, the Sierra Club and Southern Border Communities Coalition. Although Friday's ruling does not prevent the Trump administration from using funds from other sources to build the projects, it's a setback for the President on a signature agenda item that has consistently been thwarted by Democrats in Congress.
Democrats' Wall Funding Lawsuit Runs Into a Skeptical U.S. Judge. A U.S. House of Representatives attempt to block President Donald Trump from spending about $6.1 billion on a southern border wall ran into what could be a major obstacle of its own Thursday — a skeptical federal judge. The Democrat-led chamber asked U.S. District Judge Trevor McFadden in Washington to bar the administration from reallocating the money from other Defense Department projects in the wake of Congress's outright refusal to give the president all the funding he sought for the project. But the judge — a 2017 Trump nominee — had reservations, opining at the outset about an apparent lack of legal precedent and whether courts are the right forum for resolving disputes between the executive and legislative branches.
Illegals surge, Trump builds, and House tries to shut down border wall construction behind him. With as many as four million migrants vowing to enter the U.S. illegally in 2019, nearly 100,000 apprehended in April alone, and 168,000 "families" released into the U.S. interior this year, the surge is on. President Trump is working at breakneck speed to get some semblance of a wall built, particularly at the critical crossing areas. According to a report from Townhall's Katie Pavlich, citing official Homeland Security releases, waivers are being issued to permit wall construction now.
"We Build The Wall' Donors Demand Answers After Months of No Construction. A "We Build The Wall" GoFundMe campaign quickly raised $22 million in online donations, but months after its launch and still no construction, donors are beginning to ask what's being done with their money. In the run-up to what became the longest government shutdown in U.S. history, all related to a debate over border wall spending, Purple Heart veteran Brian Kolfage launched a GoFundMe in December calling on people to privately fund a wall between the U.S. and Mexico. The activist currently promises that his campaign would "do it for a fraction" of the cost it would take the government, telling The Washington Post in January that his project would cost in the range of $2 to $3 million per mile.
Pentagon to Transfer $1.5 Billion to Border Wall. Acting Defense Secretary Patrick Shanahan has approved the transfer of $1.5 billion to build more than 80 miles of barriers on the border with Mexico, U.S. officials said on May 10, including taking about $600 million from an account meant for Afghan security forces. "The funds were drawn from a variety of sources, including cost savings, programmatic changes, and revised requirements, and therefore will have minimal impact on force readiness," Shanahan said in a statement. Shanahan said that the U.S. military had more than 4,000 service members on the border, along with 19 aircraft.
Pentagon shifting $1.5 billion to border wall construction. The Pentagon is shifting $1.5 billion in funds originally targeted for support of the Afghan security forces and other projects to help pay for construction of nearly 80 miles of wall at the U.S.-Mexican border, officials said Friday [5/10/2019].
The GoFundMe Campaign to Build the Wall Is a Bust. Back in December, Washington state Trump supporter Joshua Greene donated a small amount of money to the crowdfunding effort to build a wall along the southern U.S. border. He wasn't alone. The GoFundMe page to build the wall, to which he'd donated, was a sensation on the right in late 2018 and raised more than $20 million. Organized by triple-amputee veteran Brian Kolfage, the campaign eventually morphed into a nonprofit called We Build the Wall, which promised to build portions of the wall on private land using the money it raised. Months later, there's no evidence that any construction has started, despite claims from Kolfage and his allies that construction would start in April. And now Greene is wondering what ever happened to that wall he was promised his dollars would fund?
The New York Times Says "Give Trump His Border Money". The New York Times has endorsed giving Trump the $4.5B he requested in funds for the border. Not just a single writer either, it's the whole editorial board. [...] While the Times manages to get the top line decision right, they still had to get their shots in.
Barriers Against Barbarism. [Scroll down] An easily overlooked reason that walls were so omnipresent in separating civilization from barbarism was that the nomads of the Eurasian steppe had two main advantages: They were tougher than civilized men and they possessed vast herds of horses that flourished on the Eurasian grasslands. We are constantly lectured today that a 50-foot wall will be overcome by a 51-foot ladder, but horses didn't like ladders. By the early 20th century, however, the civilized powers were developing vehicles, such as trucks and airplanes, even more mobile than horses. It's now easy for a small number of defenders to monitor a long wall. Hence, building effective barriers and manning them is now relatively cheaper than in the past. So, many countries around the world are building new border defenses to keep out unwanted outsiders. But here in America, we are supposed to believe that a technology that worked for Constantinople for a millennium against the greatest armies of the age can't possibly keep out migrant fruit pickers.
NYT Columnist Friedman: Solution To Immigration Is A 'High Wall With A Big Gate'. New York Times columnist Thomas Friedman explained on Wednesday [4/24/2019] on CNN how he thinks the U.S. government can solve the situation at the border, following his trip there. Friedman's appearance on the network corresponded with his op-ed from the day before, in which he described the port of entry at San Diego a "troubling scene."
'This is a war': Meet the Texas ranchers forming their own border militia. For Mike Vickers, not much has changed here since 1823, the year a group of frontier lawmen formed the Texas Rangers to protect settlers and their land. "We're still dealing with the bad guys from Mexico," Vickers, 69, told The Post, referring to smugglers who traffic in drugs and migrants. "This is a war." Dressed in a cowboy hat, tan cargo pants and weathered boots, Vickers, a veterinarian, runs Las Palmas Animal Hospital, but he's also chairman of the Texas Border Volunteers, a 300-strong militia helping thinly spread Customs and Border Patrol agents cover more than a million acres of private land throughout the state's border counties.
Armed border militia member accused of detaining migrants arrested in New Mexico. A New Mexico man belonging to a militia group accused of detaining migrants along the U.S.-Mexico border at gunpoint was arrested Saturday on charges of firearms possession by a felon, authorities said. Larry Mitchell Hopkins, 69, was arrested in the border community of Sunland Park with the help of local authorities, the FBI said in a statement. Hopkins was a member of the group holding migrants in the area, New Mexico Attorney General Hector Balderas said in a separate statement.
Leader of armed militia that held migrants arrested on weapons charges. The leader of a militia operating along the southern border has been arrested by the FBI days after the armed group detained over 200 migrants who had just illegally crossed into New Mexico. Larry Mitchell Hopkins, 69, of Flora Vista, New Mexico, was arrested Saturday [4/20/2019] on charges of being a felon in possession of firearms and ammunition, the FBI Albuquerque office said. Hopkins was arrested in Sunland Park, New Mexico, which lies right on the border with Mexico and is just 8 miles northwest of El Paso, Texas.
Pentagon awards nearly $1 billion to build Trump's border wall. The Defense Department announced Tuesday that it had awarded $976 million in contracts to build President Donald Trump's much-sought-after border wall with a completion date for these projects of October 2020. A $789 million contract was awarded to the Texas-based company SLSCO Ltd. for the construction of border wall in Santa Teresa, New Mexico which is located in the El Paso sector of the border. A second $187 million contract was awarded to the Montana-based Barnard Construction Company for work in Yuma, Arizona.
Democrats hate Trump more than they want to keep our country safe and secure. For decades, presidents along with scores of Members of Congress from both political parties have been in agreement that our nation's immigration system is broken and that a crisis is brewing at our southern border. During his historic 2016 campaign for the presidency, Donald J. Trump, the ultimate political outsider, made border security and building a beautiful border wall the signature issue of his candidacy. President Trump appealed to hardworking American citizen-taxpayers from coast to coast who were elated that there was finally a candidate with the courage to confront the failed status quo by stopping illegal immigration and reforming the ridiculous chain migration and visa lottery systems. During the first two years of his presidency, President Trump has never wavered on his commitment to secure our porous southern border. Much to the dismay of the D.C. swamp creatures, he's determined to make good on his promise to solve the existential threat at the U.S.-Mexico border.
Trump's border wall joins 31 other national emergencies currently in effect. President Trump's "national emergency" declaration to complete construction of his multibillion-dollar wall along the U.S.-Mexico border Friday came as a shock to some Americans. There is less than $1.4 billion in the budget deal the Senate and House approved on Feb. 14 — enough for just 55 miles of new barriers and fencing, significantly less than the 200 miles of wall Trump was hoping to start putting up. In order to accomplish his goal, Trump is reportedly prepared to use his executive authority to gain access to roughly $6.6 billion in Pentagon and Treasury Department funds.
The real story behind Brian Kolfage and 20 million private dollars for the wall. A couple of weeks ago, the liberal blog BuzzFeed "broke" a "story" about President Trump supposedly ordering his former attorney, Michael Cohen, to lie to Congress on his behalf, citing an unnamed "source" within the Robert Mueller investigation. But the "news" was so fake that Mueller's office publicly disavowed it almost immediately after it appeared. And re-appeared, practically everywhere.
Pentagon authorizes up to $1B to start 57 miles of border wall construction. The Pentagon notified Congress late Monday [3/25/2019] that it authorized the transfer of up to $1 billion to erect 57 miles of "pedestrian fencing" along the U.S.-Mexico border in direct support of President Trump's national emergency declaration from last month. The fencing, which will be 18 feet high, is to be erected in the Yuma and El Paso sectors, the statement read. The Pentagon's announcement was notable. A reporter from the New York Times tweeted that it is the first time the funds will be transferred under section 284 for the border wall.
Marine Corps commandant says deploying troops to the border poses 'unacceptable risk'. The commandant of the Marines has warned the Pentagon that deployments to the southwest border and funding transfers under the president's emergency declaration, among other unexpected demands, have posed "unacceptable risk to Marine Corps combat readiness and solvency."
The Editor says...
The Marines go where the Commander in Chief sends them. If you have a son in the Marine Corps, would you prefer that he be in Afghanistan or Laredo?
The Supreme Court will likely approve Trump's wall. Trump's declaration of a national emergency to build the wall derives from that singular authority in the National Emergencies Act (NEA), passed by Congress in l976. Since then, presidents have resorted to the NEA 58 times. In each case, the president — Democrat and Republican — spent funds not appropriated by Congress and the Supreme Court did not overturn the action. Pildes notes, "Courts are uncomfortable when asked to second-guess presidential judgments in areas such as national security, foreign affairs and emergencies." The courts are not experts on these matters. Pildes cites the key Supreme Court decision, Immigration and Naturalization Service v. Chadha, which declared, he says, that "legislative vetoes are unconstitutional" — including vetoes of actions under the National Emergencies Act, the basis on which Trump acted.
Need some wall money? How about $13B? The previous bidding in the government debate over new border wall construction seemed to come down to an offer of $5.7B from the President and one dollar from Nancy Pelosi. With those talks effectively turning into a stalemate, President Trump has been looking into alternate funding options, and it now appears that he's latched onto something else. And that "something else" is big. We're talking about nearly $13 billion and it would all be coming from the military. But not everyone is happy about it.
Pentagon finds $12.8 billion for Trump's border wall. The Defense Department has identified $12.8 billion in possible funding that it could use to fulfill President Trump's call for a border wall. [...] The Pentagon's list said it has found possible funding sources that are "in excess of the amount needed." But it's not clear which projects the Defense Department will draw from. Some states that have been allocated big chunks of money that haven't been spent could see a hit. California, for example, was identified as having more than $700 million in unused Army and Navy military construction that could be used. Hawaii has more than $400 million that could be used.
Pentagon finds $12.8 billion for POTUS Trump's border wall. It appears it really will be another promise made and another promise kept by an American president who continues to confound his enemies and delight his tens of millions of supporters both in the United States and around the world.
GoFundMe Veteran Is Still Building the Wall, and Has Raised Nearly $20 Million. Rumors of We Build the Wall's demise have been greatly exaggerated. In fact, you can go to its GoFundMe page yourself, right now, and see that the group has collected a little over $20 million. This is despite a sustained media barrage claiming GoFundMe was going belly-up and refunding every donation — more than 300,000 — that had been sent into the wall-building effort. It's also despite a sustained online pounding on founder Brian Kolfage's past and character from the likes of BuzzFeed — the people largely responsible for clickbait listicles — and the Daily Beast. Brian Kolfage is the Air Force veteran who, during a deployment to Iraq in 2004, was hit by an enemy rocket and lost three of his limbs. Since his close brush with death and rehabilitation, Kolfage has become a husband and father of two, a frequent guest on cable TV news, and an outspoken advocate for building a wall on the U.S.-Mexico border.
Walls Across America: Rob Reiner Edition. Long-time actor and director Rob Reiner is one of many Hollywood celebrities to have frequently expressed disdain for President Donald Trump, particularly when it comes to his border policies. However, Reiner's stated opposition to Trump's border policies hasn't stopped the "All in the Family" star from implementing a barrier to protect his own home. So reporters from The Daily Caller paid a visit to Los Angeles to check out Reiner's massive wall. [Video clip]
Build the Wall to Save Taxpayers Billions. President Trump launched another battle for border wall funding on Monday, calling for $8.6 billion in his proposed federal budget for next year. Top Democrats came out swinging, bashing a border wall as "expensive and ineffective." Truth is, Dems are not leveling with the public about the billions we're already forced to spend on shelters, food, diapers, medical care, and child care for migrants sneaking across the border and claiming asylum. Not to mention the costs of public schooling and healthcare provided free to migrants once they are released into communities. The wall will pay for itself in less than two years. It's a bargain.
Bipartisan Group of Senators Have Ideas on How to Fund the Wall Without a National Emergency. Legislators in Washington, D.C. have had mixed reactions to President Donald Trump's national emergency declaration in order to obtain funding for his border wall. Senators on both sides of the aisle have contemplated ways to provide Trump with the funding without the president having to utilize the national emergency, the Associated Press reported. One of the proposals include taking $1 billion in leftover funds from military pay and pension accounts. According to Sen. Dick Durbin (D-IL), a member of the Senate Appropriations Committee, funds are available because Army recruitment is down and a voluntary early military retirement program is being underutilized. Durbin, however, isn't happy about the development.
Company offers to build 234 miles of border wall for $1.4 billion. A U.S. company is offering to build 234 miles of President Trump's border wall for just $1.4 billion, a fraction of the $8 billion the Trump administration is hoping to use for that project. Fisher Sand and Gravel Company's President and CEO Tommy Fisher said the government is overpaying and said that for $4.31 billion, he can build the wall and incorporate paved roads and border technology plus warranty. "Our whole point is to break through the government bureaucracy," Fisher told the Washington Examiner. "If they do the small procurements as they are now ... that's not going to cut it."
Border smugglers now ramming down corrugated border fences with trucks in San Diego. As California's leftist Gov. Gavin Newsom grandstands about suing the Trump administration over its construction of a concrete border wall, Mexico's human smugglers are having a grand old time, ramming through the corrugated junk metal fencing that's there with heavy smuggling vehicles, terrorist-style.
Congress Spends 40 Times More On Foreign Aid Than Border Security. While Democrats and Republicans battle over funding for the border, there's one thing they can agree on — sending that money to other countries. One America's Pearson Sharp explains how Congress has approved 40 times more on foreign aid than for protecting the U.S. border.
GOP Establishment Squirms After Trump's Emergency Declaration. The GOP's business-first wing is complaining about President Donald Trump's national emergency declaration, despite the agreement by Majority Leader Mitch McConnell to support it. The pushback began immediately after Trump announced that he would sign the flawed 2019 border security budget because he got McConnell's agreement to support the emergency declaration. The budget — which was negotiated by McConnell's deputies — provides funds for only 55 miles of border wall. The budget also requires that gaps be built in the wall and gives Texas Democrats a temporary veto over construction.
Ocasio-Cortez Doesn't Understand Difference Between Berlin Wall, Border Wall. Democratic socialist Rep. Alexandria Ocasio-Cortez (D-NY) suggested late last week that she does not understand the difference between the Berlin Wall and President Donald Trump's proposed border wall. During an Instagram live video on Friday, the freshman congresswoman said that she thought the wall was a "moral abomination. I think it's like the Berlin Wall." That Ocasio-Cortez thinks the border wall is "like the Berlin Wall" suggests she knows very little about history and concepts of border security.
A Real Emergency. I have to say at the outset, I want a wall built where a wall is needed. I don't claim to have the expertise on where those places are, but the people who have the job of protecting this country do and they have spoken. Our elected politicians, particularly Democrats, would rather play identity politics and appeal to their radical base than protect our country. It's disgraceful. That said, I'm not a fan of the declaration of the national emergency. It's not that I don't think hundreds of thousands of un-screened illegal aliens and millions of pounds of drugs flowing across the border constitutes an emergency, it clearly does. It's that I don't like the idea of a president, any president, being able to subvert the will of legislative branch. Yes, half the legislative branch is currently in the hands of people uninterested in their constitutional duties, but they didn't seize power, they were elected because the people they defeated didn't do the things they promised they'd do.
ACLU of Massachusetts sues for border wall contract records. The American Civil Liberties Union of Massachusetts has filed a lawsuit demanding information about a contract for a section of the wall along the U.S.-Mexico border that President Donald Trump said his administration awarded.
Here's where Trump could order up 234 miles of new border wall. President Trump's national emergency declaration to build hundreds more miles of wall along the U.S.-Mexico border was short on specifics about where the steel structures would go. Trump's emergency order faces opposition in Congress. And even the president, in announcing the emergency declaration Friday, admitted it could get bogged down in court fights for some time to come. In the meantime, though, Trump administration officials are looking to Homeland Security experts for guidance about where along the nearly 2,000-mile southern border it makes sense to add steel wall structures.
Why Trump will win the wall fight. In the matter of the border wall, Congress could not have been more clear where it was heading. It put itself on the path to institutional irrelevancy, and it has finally arrived. I do not agree there is a national emergency on the southern border, but I do believe President Trump will prevail. This crisis is not the making of Donald Trump. This is the making of Congress. For decades, Congress frittered away control over its authority, including the power of the purse. I have testified before Congress, warning about the expansion of executive power and the failure of Congress to guard its own authority. The two primary objections have been Congress giving presidents largely unchecked authority and undedicated money. The wall funding controversy today is a grotesque result of both of these failures.
Trump's emergency declaration is legal and needed to protect America — Here's why. President Trump's national emergency declaration is well within his executive authority. Along with other executive action and a new spending bill passed by Congress, it will permit him to reallocate and aggregate $8.1 billion in funding for a barrier along our southern border [...] Any fair-minded legal scholar or commentator would agree that, "Yes, The President Can Declare A 'National Emergency' To Build A Wall," as a headline on a news story on the NPR website stated earlier this year. Citing Elizabeth Goitein, co-director of the Brennan Center for Justice's Liberty and National Security Program, the article notes: "Congress chose not to put any substantial — or really any — barriers on the president's ability to declare a national emergency."
Why is Trump, and not Obama, the so-called 'dictator'? President Trump has been turned down by Democrats for a sensible border barrier, so he will declare a national emergency in accordance with a law Congress passed in 1976. Somehow, following a law Congress passed gets Trump labeled as a dictator. Here is the case for declaring a national emergency: Tens of thousands of people die each year from drug overdoses, and a huge percentage of those drugs comes across the porous southern border illegally. [...] Hundreds of thousands of illegal aliens, including gang members and other criminals, descend on our long southern border each year.
Angel Families March on Nancy Pelosi's Office: 'Build That Wall'. Angel families stormed into House Speaker Nancy Pelosi's office again Wednesday [2/13/2019] with calls to secure the U.S. southern border, but they were turned away yet again. Americans whose loved ones have been killed by illegal aliens flooded into the office with questions as to why their many requests for meetings with the Speaker went unanswered. Front office staff had little to offer in the way of an answer and wouldn't give an idea of when so much as an aide would be available to meet with the families.
Could California's Doomed Bullet Train Fund Trump's Border Wall? California Gov. Gavin Newsom just pulled the plug on the state's bullet train boondoggle. President Trump should demand the $3.5 billion the federal government dumped into this black hole back, so he can put it to better use building the border wall.
President Trump May Have Up to $21 Billion in Military Funds Available for Border Wall Construction. President Trump declared a State of Emergency at the US southern border on Friday [2/15/2019]. Declaring the immigration crisis a national emergency was overdue. Presidents have declared national emergencies for nearly 50 years. Barack Obama declared 13 national emergencies, 11 of which continue to this day. The Obama emergencies included the Swine Flu, Flint water crisis and Iran.
Spending Bill Allows Mexican Cartel-Connected Texas Counties to Stop Border Wall. A key provision in the spending bill being presented to President Trump for signing stipulates that the federal government give specific Texas border counties the opportunity to derail any efforts to build barriers, fencing, or walls by simply opposing the construction of the border security measures — but many of the specified counties have a long and recent history of top officials taking bribes from the Mexican Gulf Cartel. Ultimately, the bill allows county offices with historic ties to the Gulf Cartel to stop U.S. border barriers from being constructed in the region. Local government officials spoke out against the building of additional border barriers and have relied on the judgment of local law enforcement officials.
It's true, Trump really did start building more wall in Texas. When President Trump said Monday [2/11/2019] at a campaign rally in El Paso that, "We've actually started a big, big portion of the wall today at a very important location, and it's going to go up pretty quickly over the next nine months," I assumed it was nonsense he was spreading in hopes that his supporters might not mob him on stage for so far failing to keep the central promise of his campaign. He similarly said Tuesday at the White House, "We just started a big, big section [of wall] on the Rio Grande." I'm happy to say I was wrong. Trump was telling the truth.
Ted Cruz wants to pass 'El Chapo Act' to make notorious drug lord pay for border wall. Texas senator Ted Cruz has an idea to fund President Donald Trump's proposed border wall. Just make Joaqu'n Guzmán Loera, also known as "El Chapo," pay for the wall. Cruz' Ensuring Lawful Collection of Hidden Assets to Provide Order (EL CHAPO) Act would take money from Guzmán and use the funds for "border security assets" and the completion of a border wall. Cruz reintroduced the bill Jan. 3.
After El Chapo conviction, use seized $14 Billion to build border wall? Mexico's most notorious drug kingpin, Joaquin "El Chapo" Guzman, will spend the rest of his life in prison after a jury found him guilty on all 10 counts following a three month trial. According to Breitbart, the United States has seized $14 billion from the former drug lord, which gave Sen. Ted Cruz a brilliant idea. The Texas Republican introduced the Ensuring Lawful Collection of Hidden Assets to Provide Order (EL CHAPO) Act in April 2017, which calls for the use of the $14 billion seized from the cartel drug lord to be used to pay for the wall.
Democrats Insert Language Allowing States and Municipalities to Veto Border Wall. The language of the bipartisan border security funding legislation is still being written. Unfortunately, reports indicate Democrat language will be inserted into the DHS funding bill that will allow any town, city, municipality, mayor, city manager or local council within any border state to veto the construction of any structural border security wall or fence. This definitely sounds like an approach the Lawfare group would be assisting with. Despite overwhelming support from the majority of Americans, the DC Uniparty seems to consistently find a way to usurp national sovereignty.
Breaking the Left's Deception of Black Americans. Americans welcome immigrants who enter our country legally. The border wall is to stop the invasion of illegals which includes sex traffickers, drug dealers and violent criminals. Stats confirm that walls are effective. Hypocritically, Democrats who preach that building a wall to keep Americans safe is racist and mean live in highly secured communities behind walls.
Ted Cruz wants 'El Chapo' and drug lords to pay for border wall. U.S. Sen. Ted Cruz thinks convicted Mexican drug cartel Joaquín "El Chapo" Guzmán should finance President Donald Trump's long-promised border wall. "America's justice system prevailed today in convicting Joaquín Guzmán Loera, aka El Chapo, on all 10 counts," Cruz tweeted Tuesday [2/12/2019] shortly before the Sinaloa cartel boss was convicted on drug trafficking, weapons violations and money laundering charges in a federal courtroom in Brooklyn, N.Y. "U.S. prosecutors are seeking $14 billion in drug profits & other assets from El Chapo which should go towards funding our wall to #SecureTheBorder."
4 Liberal Arguments against the Wall and How to Beat Them. [#3] The wall is immoral. Liberal argument: Migration is a human right. People in poor countries are entitled to migrate to richer ones that offer more opportunity, and it is only moral and fair that those richer countries let them. Only selfish racists would object to this. Response: Having open borders or no borders is unsustainable and irresponsible. It is unsustainable because American businesses and government cannot offer jobs and social services to every person who would come, particularly low-skilled workers who consume more and produce less than average. Unregulated illegal immigration would quickly overwhelm the system and turn America into a third-world country. Eliminating borders would also enable the villains who drive people north in the first place. Latin American governments already do close to nothing for their people, and there would be little reason to change this.
'Show of force': 100 vehicles line one mile of Texas border to deter caravan on other side. The Trump administration has flooded the Texas border town that sits just over the river from the Mexican city where 1,800 caravan migrants arrived earlier this week with hundreds of law enforcement personnel. More than 100 U.S. police vehicles lined a one-mile stretch of the Rio Grande River in Eagle Pass, Texas, Saturday afternoon [2/9/2019]. Sixty sat together in one section of the river on a local golf course. The massive "show of force" — as Border Patrol is calling it — is meant to deter Central Americans from illegally entering the country, as large groups attempted in San Diego, Calif., last November and again on New Year's Eve.
Texas Police Form Wall of Vehicles to Help Border Patrol Stop Caravan Migrants. Police are lining up their vehicles near Eagle Pass, Texas, to help Border Patrol agents stop the illegal crossing of caravan migrants who arrived in the Mexican border town of Piedras Negras last week. Texas Governor Greg Abbott deployed an additional Department of Public Safety (DPS) troopers to the region to assist in securing the border section that has no physical barriers to prevent illegal crossings.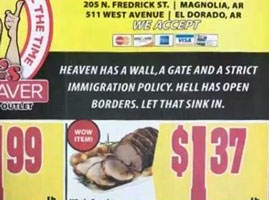 Grocery Store Sparks Outrage With Weekly Advert "Heaven Has A Wall... Hell Has Open Borders". A small grocery chain has sparked outrage (among only progressives) with a message included in their weekly mailer. "Heaven has a wall, a gate and a strict immigration policy. Hell has open borders. Let that sink in."
GOP/Dems Set to Offer Trump a Quarter of $5.7B for Border Wall. A Republican-Democrat House and Senate committee is planning to offer President Trump a border security package that could include less than a quarter of the $5.7 billion for a U.S.-Mexico border wall he originally requested. Capitol Hill sources tell the media that a conference committee of Republicans and Democrats is preparing to unveil a border security funding plan that gives only about $1.3 to $2 billion to Trump for construction of his proposed wall on the southern border to stop wage-crushing illegal immigration.
McCarthy: GOP won't block Trump if he declares an emergency to build the wall. House Majority Leader Kevin McCarthy told reporters Friday that GOP lawmakers would not vote to block President Trump from using a national emergency declaration to divert federal funds for the construction of a southern border wall. "I don't think anyone questions his legal authority to declare a national emergency," said McCarthy, R-Calif. Trump has threatened to issue an emergency declaration if Congress does not agree to provide billions of dollars for the wall.
Pelosi and other Democrats caving to border wall funding? On Wednesday [2/6/2019], House Speaker Nancy Pelosi told the press "there will not be another shutdown" over the proposed border wall. She also said she will fully support any resolution that the bipartisan committee in charge of the negotiations come up with, even if it includes full wall funding. Chances are strong that it will. Nancy says that as the negotiations continue, "left to their own devices," an agreement will be reached as early as Friday. Democratic rep from N.Y. Nina Lowey, who leads the conference committee, told reporters negotiations are happening and could be settled in enough time for the House and Senate to vote on new appropriation bills before the February 15 deadline.
Hey, Commander! Start Commanding! The U.S. Navy Seabees and Army Corps of Engineers have built all kinds of non-military infrastructure in, among other places, Djibouti, Vietnam, Iraq, Afghanistan, the Philippines, Bangladesh, Somalia, the Congo, Cambodia and Grenada — even in little Micronesia (population: 100,000). [...] The U.S. military does these things in other countries but, we're told, can't build a wall in our own. At this point, our only hope may be for the border states to secede from the Union and form their own nation, so that we can send troops to build them a wall. They could call their new country "YouMustGoBackistan." Democrats and the media (and 90 percent of Republicans) believe the president has the authority to use the military to build walls, schools, hospitals and water purification systems — anywhere but here.
U.S. prepares to start building portion of Texas border wall. The U.S. government is preparing to begin construction of more border walls and fencing in South Texas' Rio Grande Valley, likely on federally owned land set aside as wildlife refuge property.
Texas Can Get Trump's Border Wall Accomplished. Texas can make a border wall happen. Many worry that courts will block President Donald Trump from building a border wall with funds reprogrammed from other projects under a declaration of an emergency. However, Texas is in the more conservative Fifth Circuit, not the Ninth. As an attorney who worked for Judicial Watch and more recently for Larry Klayman at Freedom Watch, this topic has prompted legal research by the author. The border wall should be built exclusively in Texas at first, postponing California, Arizona, and New Mexico until after the Texas border is secure. That will keep lawsuits in the Fifth Circuit and out of the Ninth. Texas can make this happen.
Nancy Pelosi: Replacing "Normandy Barriers" with "Normandy Fencing" is OK — Not a Wall. House Speaker Nancy Pelosi starts shifting the semantic granules to avoid a political loss. The financing for, and construction of, a see-through fencing system (Trump's position) is the request of DHS and Border Patrol, and supported by the vast majority of Americans. Today, Speaker Pelosi starts by claiming no wall will ever be permitted, then garbles her way through a pretzel response by saying "Normandy Barriers" being replaced by "Normandy See-Through Fencing", is ok. She's trying to avoid a political loss.
Walls Across America: Celebrity Edition. President Donald Trump has often noted that America's rich and powerful choose to live behind large walls for protection, much like the wall he is trying to build across the U.S.-Mexico border. Nowhere has that thesis proven truer than in the posh neighborhoods of Los Angeles and Hollywood. The homes of the rich and famous, peppered throughout the area, are often gated and feature high walls that protect the homes from outsiders. But what about the viscerally anti-Trump celebrities that reside in Hollywood and hate the idea of Trump's border wall? Do these moguls, sports and film celebrities really live behind walls?
The simple, constitutional way for Trump to build a border wall right now. Since the government reopened, the Democrats have sent unmistakably clear signals that they have absolutely no interest in building a border wall, fence, barrier, or anything else. President Trump is left with virtually no option other than to immediately use his authority under Title 10 of the United States Code. I urge him to declare that our unfenced areas of the southern border are active drug trafficking corridors, which will allow him to use available funds to build walls, fences, roads, lights, detention facilities, and other necessary infrastructure.
Report: Trump can build wall without declaring emergency. Unable to nudge House Speaker Nancy Pelosi, D-Calif., any closer to approving funding for a border wall, President Trump can move on his own without declaring a national emergency, according to a nonpartisan congressional report. The Congressional Research Service, Capitol Hill's think tank, is highlighting laws for Trump to tap that would not be subject to Congress' "termination provison." The CRS "legal sidebar" outlines alternative paths for the president, who has been considering tapping the National Emergencies Act.
Border Patrol Wife Invites Speaker Pelosi to See Why Walls Are Needed. The wife of a Texas-based Border Patrol agent invited Speaker Nancy Pelosi to visit the border to see for herself why walls are needed. "We would like to show you around! You don't need to bring any security detail. Our husbands/significant others are actually very good at their jobs, thank goodness!" Jill Demanski, the wife of a Texas-based Border Patrol agent wrote in a letter to Speaker Pelosi. She told Fox News she wrote the letter because she felt Pelosi needs to see this area of the border in person in order to make an informed decision about border security funding.
What Pundits Get Wrong About The Border Security Fight. It is absolutely true that the shutdown ended without Trump being able to deliver increased border security. The failure to end the shutdown with increased border security is a victory for Pelosi, who said she'd refuse to even think about the topic until the government was re-opened. She won that standoff. It is also true that the government is only re-opening for three weeks. This is not necessarily a permanent failure to secure the border. All will depend on what the White House, Pelosi, and Senate Republicans do in the interim. But here there is also reason for concern from those who support borders, rule of law, and national sovereignty. The White House had lost the high ground in the battle when it started throwing the kitchen sink at Democrats in a bid to get a deal, offering up valuable reprieves on amnesty for younger aliens and Central American programs in exchange for a deal they didn't get.
Of Course a Wall Would Work. [Scroll down] Israel had little to no problem with terrorists coming from Egypt. The problem there was the same as here; illegal immigration. Between 2010 and 2012, 55,000 illegal immigrants entered Israel, but after the 143-mile wall was built, illegal immigration was cut by 99 percent. Even the left-leaning PolitiFact acknowledged this. A border wall also worked in Hungary and cut illegal immigration down by 99 percent. The Harvard International Review further found that Egypt's border wall with Gaza and Spain's fence in Morocco have been successful. Indeed, if a wall is a "monument to racism," the rest of the world has a lot to answer for. USA Today points out that "there are at least 77 walls or fences around the world."
White House drafting emergency declaration to fund border wall: report. The White House is drafting an emergency declaration to begin construction on a wall along the southern border and has already earmarked over $7 billion in funding, a report said Thursday [1/24/2019]. "The massive amount of aliens who unlawfully enter the United States each day is a direct threat to the safety and security of our nation and constitutes a national emergency," says a draft of the declaration, which was obtained by CNN. Trump has repeatedly raised the specter of invoking a national emergency to circumvent the congressional logjam that has been the partial federal shutdown, now in its 34th day.
President Trump Can Fund the Border Wall with Unobligated Balances. To his great credit, President Trump has remained steadfast in his determination to build a border partition on the southern border. Such border partitions have proven to be effective. In San Diego, a border partition lowered apprehensions by 95%, while in El Paso, the number decreased by 89%. President Trump has correctly claimed that Israel's southern border wall is 99.9% successful. According to a report released by Senator Ron Johnson, Israel's southern border fence was central to a decline of 99.9% of illegal border crossings, with over 16,000 crossings in 2011 down to fewer than 20 in 2016. Israel's security partition running near the Green Line has also proven extremely effective in an exceptional decline in terrorist attacks. Since completion of the partition in El Paso, they have seen a significant decrease in drug-smuggling and other crimes.
Sarah Sanders: Border security with no wall is like flying a plane with one wing. White House press secretary Sarah Sanders compared proposals for border security that don't include President Trump's wall to flying on a plane with only one wing. "I'd never want to get on an airplane with only one wing," Sanders said in an interview on CNN when asked if Trump would accept a bill that provided billions for border security without the physical barrier. "The president wants to make sure we're actually securing the border in a totality, not just with one wing," she said. "You need two wings. Which means You have to have a wall. You have to have technology. You have to have all of the things that the president has put forward in his proposal."
CNN announces that Trump is preparing a national emergency declaration and has identified $7 billion to use for border wall. [Scroll down] This has the ring of truth. It would be shocking if it were not true, actually, since contingencies must be planned for in advance, even unlikely ones. The only question I have is, who leaked the confidential documents? It might well be a Deep State saboteur on the White House staff, but my guess is that this is a deliberate leak, intended to remind the Democrats that they can get nothing in return for a border wall, or they can get something, in the form of a three-year DACA extension. Psy ops, in other words.
In apparent shot at Trump, Pope says 'builders of walls' sow fear and divide. Pope Francis has taken another shot at wall-building politicians, telling thousands of Catholics in Panama gathered for World Youth Day that "builders of walls sow fear" and "divide people." "We know that the father of lies, the devil, prefers a community divided and bickering," Francis told a crowd of tens of thousands of youth Thursday night [1/24/2019] at a seaside park in Panama City.
The Editor says...
Yes, walls separate people. In most cases, they separate good people from bad people.
Perhaps the Pope should read the Bible.
God Told Nehemiah To Build a Wall. After the Babylonian Captivity, a remnant of Jews returned to Jerusalem. They had rebuilt their temple and now needed a wall for protection. God told Nehemiah, who was neither a priest nor politician, but a builder, to rebuild the broken walls around Jerusalem. The destruction and deterioration of Jerusalem's wall exposed its people to harm and was a source of disgrace. A new wall would be a warning to Israel's enemies. It would provide protection and dignity to a people that suffered the judgment of God but had later been restored. A broken wall left its people defenseless. It would allow enemies to enter and cause "great trouble" to its people. Rebuilding the wall showed God's blessing in that he wanted them protected.
#2 House Democrat Breaks From Pelosi; Supports Border Wall Because It "Protects People." As reported by D.C. Whispers days earlier, more and more Democrats are upset over House Speaker Nancy Pelosi's "NO DEAL" stance when it comes to sitting down with President Trump and forging a workable compromise that improves border security and ends the ongoing partial government shutdown. Apparently, some internal polling has recently been completed by the DNC and it's not looking good for Democrats as more and more voters see them as the party of no solutions.
Walls are Immoral'. When Nancy Pelosi intoned that "walls are immoral," she was not basing this contention on an analysis of moral permissibility. [...] [I]t is easy to see that it's perfectly okay to install a physical barrier for purposes of preventing unauthorized or illegal entry, which is why such are installed. This can be a door with a lock or a gated fence around a property. Try getting homeowners' insurance without a front door. Does Nancy Pelosi's house have a front door?
The Democratic Party is extinct but for illegal immigration. Even Sun Tzu wrote about the exhaustion of trying to overcome walls: ["]Thus the highest form of generalship is to balk the enemy's plans; the next best is to prevent the junction of the enemy's forces; the next in order is to attack the enemy's army in the field; and the worst policy of all is to besiege walled cities.["] They should be avoided at all cost. [...] Laying siege to walled cities is costly. And while natural barriers like rivers, cliffs, and mountains are good, well constructed ramparts are nearly impossible to defeat.
Walls across America. Walls, Nancy Pelosi tells us, are immoral. Also, they don't work. Which ostensibly is why the Democrats have gone to the mat over Southern border security. Of course, the idea that walls "don't work" flies in the face of common sense and experience. So the Daily Caller has initiated a "Walls Across America" project. Caller reporter Benny Johnson goes from place to place, pointing out that when leftists want to protect themselves, their families and their property, what do they use? Walls. Johnson first tried to check President Trump's statement that Barack Obama's house is protected by a 10-foot wall. He found that Obama's security is so tight that he couldn't get anywhere near the house to measure the height of the wall. His next stop was George Soros's estate in the Hamptons. Guess what — along with other security precautions, Soros's property is protected by a nine-foot-high wall.
Democrats refuse to compromise on border wall funding to end the shutdown. The facts speak for themselves. Over the past three months, an average of 2,000 illegal and inadmissible migrants have arrived at our southern border every day. Today, the majority of illegal immigrants encountered by Customs and Border Protection are families and children. Last month, CBP apprehended nearly 40 percent more unaccompanied children and groups claiming to be families than in May 2014, which President Barack Obama described as a "humanitarian crisis."
We need to build the border wall to stop the migrant caravans. I've changed my mind about building a wall along the Mexican border. Build it! [...] Building a wall just for a relative trickle of immigrants who've been crossing the border for decades would have been expensive overkill at a time when the US should have been watching its spending. There must be more cost-effective, high-tech ways to catch small groups of illegal intruders. Now that "caravans" — the generally accepted word, not mine — are trying to enter the US from the south, the wall makes a whole lot more sense. In fact, Trump couldn't have asked for a better excuse for his beloved barricade. In the past there have been "caravans" of sorts coming into the US, only those were ships. The immigrants coming from Europe in droves came by floating caravans. But the difference was that they arrived here, were screened and allowed to stay if they were deemed not to become a burden on the social services system.
Democrat capitulation begins. On Saturday, I informed readers that "The opposition is about to crumble" on expanding the wall along our southern border. That post cited MSNBC imbecile Donny Deutsch, but an earlier post cited Democrat Congresswoman Katie Hill doing a 180 on the wall. To the consternation of the complacent press, a dozen or so Democrats already are tired of the shutdown. Breitbart News counted as capitulating Democrat Congressmen Colin Allred, Ami Bera, Cheri Bustos, Katherine Clark, Jared Golden, Jeff Van Drew, Lucy McBath, Elissa Slotkin, Max Rose, Abigail Spanberger, and Anthony Brindisi. Add Hill and that's 12 Democrat wall supporters.
Freshman Democrats Turn on Pelosi Over Border Wall, Seek Deal with Trump. Several freshman Democrat members of the new House of Representatives majority have turned on Speaker Nancy Pelosi in her steadfast refusal to fund President Donald Trump's planned wall along the U.S. border with Mexico and are instead seeking for Democrats to cut a deal on the wall with Trump. The ongoing partial government shutdown, which affects a quarter of the federal government and is now the longest shutdown in the history of the United States, began late last year just before Christmas. It dragged through New Years into the new Congress, and Pelosi — after she won the Speakership vote after fending off internal Democrat rebels — has refused to negotiate with President Trump on the wall. She and Senate Minority Leader Chuck Schumer say Trump will never get funding for the wall, and they are keeping the government shut down because they refuse to pass any funding bill that has wall money in it.
Photos: From Vatican Walls to Obama's Fence, 20 Barriers Around the World. As President Trump requests full funding for a border wall along the United States-Mexico border, elected Democrats continue to claim that walls are "immoral" and "racist." [...] Israel has had one of the most effective border fences and walls in the world, decreasing illegal immigration to the country by 100 percent after it was constructed and built. [...] Guantanamo Bay, Cuba, holds some of the most brutal suspected and convicted terrorists in the world. The facility is surrounded, as shown in photos, by not only 24-hour security guards, but also a number of barbed wire fences.
Worst Case: If the Border Barrier Stops Only 14% Of Illegals, It'll Still Pay For Itself. As President Donald Trump has warned, the cost of illegal immigrants on the U.S. is severe and presents a clear and present danger to our country. Now, a new report finds that illegal aliens cost us all $113 billion a year. But making the Democrats' obstruction of a border barrier even more absurd is that best case estimates show that if a wall/fence stops 3-4% of illegal traffic into the U.S., the wall will pay for itself. The worst-case estimate is that if it stops12-14% of illegal aliens the border barrier will pay for itself.
Do the Math: Trump's Wall Is $25 Billion, Illegals Cost $165 Billion. Illegal aliens cost American citizens more in three months than the wall will cost to build in its entirety. What's more, the available evidence suggests that walls are fantastically effective at arresting migrant flows. [...] Illegal aliens cause economic harm to Americans because they consume far more in government services than they contribute in taxes. We make: they take. According to a 2017 report from the Federation for American Immigration Reform (FAIR), illegal aliens and their children cost American taxpayers $135 billion annually — $8,075 per alien per year. These costs are partially offset by taxes collected from illegal aliens, which total around $19 billion. Thus, the net cost of illegal immigrants to American taxpayers is $116 billion annually. The report also details how those billions are spent. Unsurprisingly, state and local governments bear the majority (two-thirds) of the costs, spending $88 billion annually. The federal government has it relatively easy, spending just $45 billion. This is ironic, given that the federal government created this problem.
Democrats who killed Bush's 'virtual fence' now back 'technological wall' at border. The Obama administration in 2011 pulled the plug on the Bush-era Secure Border Initiative Network, or SBINet, which was envisioned as an integrated system of radar, sensors and video cameras along the entire U.S.-Mexico border. Democrats at the time cheered the decision to cancel the contract with Boeing for the long-troubled program. Rep. Bennie G. Thompson, a Mississippi Democrat who was the ranking member of the House Homeland Security Committee, called SBINet a "grave and expensive disappointment" for squandering a little more than $1 billion to achieve just 53 miles of coverage on the border in Arizona. Mr. Thompson, who now chairs the committee, said last week that he is ready to try again rather than spend on Mr. Trump's corrugated steel fence.
Mexican Police Halt Human Smugglers' Attempts to Cut Border Fence in California. Two human smuggling attempts were thwarted by Border Patrol and Mexican police after they observed groups of migrants attempting to cross into the United States from Baja California by cutting holes in a border fence. Border Patrol Agents observed groups of migrants attempting to cut through fenced barriers separating Calexico and Tecate, California, earlier this week, according to local reporting.
Trump is right: Walls work on the southern border. House Speaker Nancy Pelosi (D-Calif.) and Senate Minority Leader Chuck Schumer (D-NY) contend the crisis on the U.S. southern border is manufactured. Yet, The Washington Post, no friend to the Trump Administration, disagrees. According to the Post, the situation on the southern border is indeed "a bona fide emergency." Record numbers of migrant families are coming to the United States, the U.S. immigration courts have a backlog in excess of 800,000 cases and the holding cells and detention centers are at overflow capacity.
Border Wall Construction Continues. With massive amounts of misinformation surrounding the southern border and the need for a border security wall, the following video has been produced. Pushing back against intentional media disinformation is something critical to supporting President Trump.
Trump Has the Democrats Cornered. No sooner had the Democrats taken back the majority in the House of Representatives than they proved their harshest critics correct — the party no longer concerns itself with the interests of the American people. And by refusing to provide a dime for a physical barrier on our border, they did it in the starkest terms possible. Led by far-left Nancy Pelosi, who held off a challenge to her leadership from the even farther left, the House Democrats promptly put themselves in the position of being seen taking the side of foreigners entering the country illegally over the security and economic prosperity of American citizens. They reduced themselves to the absurd position that "walls don't work."
We Could Build 2 Border Walls By Just By Eliminating 'Improper Payments,' Audit Shows. Trump's $5.7 billion would fund 234 miles of border. Eliminating just half of the government's "improper payments" would provide enough money to build a wall across the entire U.S.-Mexico border, with $21 billion left over. The GAO has also found "tens of billions of dollars" in savings simply by reducing overlapping and duplicative federal programs. For example, the federal government spends almost $3 billion on 163 separate STEM education programs across 13 agencies. "Nearly all of these programs overlapped with at least one other program," the GAO found. Citizens Against Government Waste has identified 636 examples of wasteful government spending that, if eliminated, would save $430 billion in the first year alone.
New Dem Talking Point: Wall Is *Luxury* We Can't Afford. It's so hard to keep up with the Dems: from "illegal immigration is wrong," to "they aren't illegal, just undocumented," to "there's a crisis at the border" to "the so-called crisis is a manufactured one," to "border walls are ineffective," to "border walls are immoral," and now this, from Pelosi: [Video clip]
Border Patrol Official in South Texas: 96% of Our Migrant Traffic Occurs Where There's No Fencing. Acting Chief of the Rio Grande Valley Sector Raul Ortiz, who met with President Trump Thursday, told [Pete] Hegseth that his agents patrol a western and eastern corridor in South Texas. Ortiz said the western side accounts for 96 percent of foot traffic, since there is no fencing. On the eastern side, fencing exists and only 4 percent of traffic occurs there, he explained. Ortiz said the eastern side was the busiest area in the country for illegal crossings in the 1990s, before fencing was added.
Border agents: Steel fence not impenetrable but still needed. The steel bollard border fence President Trump is now talking about building is not impenetrable, but it is the best design available and will slow down immigrants who are trying to cross the border illegally, border agents say. It gives agents visibility into Mexico, meaning they have more of a chance of chasing off people attempting to cut through the fence. And it was tougher to breach than other fencing, according to Chris Judd, who was part of the Border Patrol's last big round of fence-building a decade ago.
CNN's Acosta Confirms Walled Part of the Border Is Crisis-Free. CNN reporter Jim Acosta confirmed no crisis existed along a walled portion of the U.S.-Mexico border during a visit Thursday [1/10/2019]. In a video shared to Twitter, Acosta pointed to "some of the steel slats that the president's been talking about." Walking along the border in McAllen, Texas, Acosta noted that the president has warned of a national emergency at the unwalled portion of the southern border. Acosta observed that this emergency did not exist along the portion of the border that had already been secured with steel slats. "As we're walking along here we're not saying any kind of imminent danger," he remarked, patting the border barrier with his hand as he filmed himself. "There are no migrants trying to rush towards this fence."
NBC's myth of sawing through the wall. NBC reporters showed they know as much about saws as they do AR-15s. The network reported, "President Donald Trump has repeatedly advocated for a steel slat design for his border wall, which he described as 'absolutely critical to border security' in his Oval Office address to the nation Tuesday. But Department of Homeland Security testing of a steel slat prototype proved it could be cut through with a saw, according to a report by DHS. I seriously doubt Homeland Security said they sawed through the steel.
DOD IG Reveals The Pentagon Let $27.7 Billion 'Expire' As Trump Seeks $5.7 Billion In Border Wall Funding. The Defense Department has relinquished over $27 billion to the U.S. Treasury since 2013 simply because it couldn't spend the money quick enough, according to a DOD Inspector General report released Tuesday [1/8/2019]. The DOD was required to fork over the "expired funds" because the Pentagon failed to spend it "within the legal timeframes," according to the report. The revelation comes as President Donald Trump is considering declaring a state of emergency that would allow him to bypass Congress and leverage unobligated military funds to build a wall along the U.S.-Mexico border.
San Diego-Based KUSI: CNN Disinvited Our Journalist Because We Reported Border Wall 'Does Work'. KUSI News, a television news outlet based in San Diego, California, said Thursday [1/10/2019] that CNN invited — and subsequently rescinded the invitation — for it to provide a reporter to give "a local view of the debate surrounding the border wall and government shutdown."
CNN rejects local San Diego report on border wall because it doesn't support its 'narrative'. CNN is "news, corrupted." Seriously, the people over there are rejecting actual news because it doesn't support their manufactured "narrative," turning down a report they themselves commissioned from local station KUSI because they didn't like the facts-on-the-ground the report contained — or, more likely, the bigger fact on the ground that the local report supports the stance of a president who says and shows by numbers that there really is a crisis at our border.
CNN Accidentally Proves Why Walls and Fences Work. In the 1980s, illegal border crossings plagued the San Diego sector of the U.S.-Mexico border. The Border Patrol reached its breaking point in 1986, when agents caught more than 600,000 illegal border crossers. At the time, this accounted for approximately one-third of all apprehensions along the southern border. Crime was also a serious problem. The San Diego Police Department logged more than 100,000 crimes committed in 1989. In 1991, the government began construction of a 46-mile-long wall, now referred to as the "primary fence." This fence stands between 8 and 10 feet tall. It was tall enough to stop vehicle traffic, but could be easily breached by ladders and fence jumpers. In 1997, officials began building what's known as the "secondary fence," which runs 13 miles long and stands at 14 to 18 feet tall. This was meant to stop the illegal flow of foot traffic. Today, the San Diego sector accounts for only a small fraction of border apprehensions each year. According to the Department of Homeland Security, illegal crossings have decreased in the region by more than 90 percent since the walls and fences were built.
Democrats Can Fund the World, but Not the Wall. The 2019 federal budget requests nearly $27 billion in foreign aid for economic development, health, humanitarian assistance, peace and security, and other objectives. This is over half the cost of securing "[t]he entire international land and maritime borders of the United States" something Democrats were keen about in 2006. The Secure Fence Act of 2006 budgeted $50 billion over 25 years to control America's borders. Unfortunately, Congress appropriated only $1.4 billion and forgot about the rest. The foreign aid request above was for one single year. Two years of the foreign aid budget spent instead on U.S. border security would create the type of physical borders so common in the countries we are generously supporting.
Clueless:
CNN's Jim Acosta Makes Case for Wall: No Emergency Where There's a Wall. CNN White House correspondent Jim Acosta appeared to inadvertently make the case on Thursday for a steel version of President Donald Trump's border wall. "I found some steel slats down on the border," Acosta tweeted. "But I don't see anything resembling a national emergency situation[,] at least not in the McAllen TX area of the border where Trump will be today[.]"
Democrats Funded a 287 Mile Wall in Jordan — Last Year! But Won't Fund Border Wall in US! Nancy Pelosi argued this week that "walls are immoral." Chuck Schumer called President Trump's stand against open borders a "manufactured crisis!" But less than one year ago Pelosi and Schumer approved funding on a 287 mile long border wall — in Jordan!
Refusal to budge on border wall shows Dems still hung up on 2016. After watching the dueling prime-time speeches last night, it was easy to come away with the idea that the dispute is simply over the president's demand for wall funding and the partial government shutdown. As such, it should be easy for the president and Dems to cut a split-the-difference deal and move on to the next problem. After all, isn't that why they were hired? If only things were as simple as they appear. In fact, the Democrats' refusal even to consider any kind of border barrier and other serious measures illustrates that the dispute is merely a proxy for the real issue dividing the nation: 2016.
Flashback: 7 Democrats Who Once Endorsed Border Fence, Tougher Border Security. [#1] Barack Obama: "The bill before us will certainly do some good," said then-Senator Obama in 2006, adding that the Secure Fence Act would provide "better fences and better security" and that it would make headway against "the tide of illegal immigration in this country." "Real reform means stronger border security," said Obama several years later as president, during his 2013 State Of The Union. "Independent economists say immigration reform will grow our economy and shrink our deficits by almost one trillion dollars in the next two decades," said Obama during his 2014 State Of The Union, bringing up his alleged concern about stopping illegal immigration once again.
It's Time to Listen to Law Enforcement About the Border, Not Politicians. Talk to a Border Patrol agent, sheriff deputy or police officer in a border county and you will get the truth about the need for a wall. This week President Trump appeared with National Border Patrol Council President Brandon Judd at the White House press briefing room. Judd spoke about the effectiveness of a wall and the need for it and has experience on the border making him a valid voice of reason. Judd spoke with the men and women who patrol the southern border. He has been told how a wall would help prevent thousands of illegal crossings annually. Illegal aliens would not have free reign to cross as easily, preventing and deterring unlawful entry. Leon Wilmont is sheriff in Yuma County, Arizona. He said that he cannot speak for others, but in his experience walls work in curbing illegal immigration.
Fact Check: 3 Claims From Trump's Oval Office Address. Claim 3: "Senator Chuck Schumer ... has repeatedly supported a physical barrier in the past." Senate Minority Leader Chuck Schumer has supported a physical barrier along the southern border in the past, specifically a fence. In 2006, Schumer supported the Secure Fence Act. He also sponsored a 2013 comprehensive immigration bill that included $8 billion to repair and erect fencing along the border. The Secure Fence Act authorized the construction of hundreds of miles of fencing and paved the way for more vehicle checkpoints and barriers. The act passed the Senate on a 80-19 vote and was signed into law by President George W. Bush in October 2006.
Levin: Schumer and Pelosi are 'pathological liars,' 'never forced to explain their flip-flop' on the wall. LevinTV host Mark Levin blasted Democratic leaders Chuck Schumer and Nancy Pelosi as "pathological liars" Tuesday night [1/8/2019] on "Hannity," reacting to President Trump's Oval Office address on border security and the Democratic response. Levin said Trump's speech was "outstanding" and hammered the Democrats for their duplicitous flip-flop on support for physical barriers on the southern border. "First of all, the president gave an outstanding speech. It was concise. It was compassionate — and truly compassionate. He provided the context, both in terms of what's going on in the border, the expense, which is de minimis, and who is really responsible. Now, let's keep a few things in mind when you watch Schumer and Pelosi: They are pathological liars. They've been in Congress over half a century. What [...] have they done about the border? Nothing. [...]"
Chuck Norris Supports Cruz's El Chapo Legislation. Chuck Norris knows how the U.S.-Mexico border wall can be funded without spending a single taxpayer dollar: use money from Mexico's most notorious drug lord, El Chapo. To be fair, Sen. Ted Cruz deserves full credit for the idea, but Norris is throwing his full support behind it and is drawing attention to the important legislation the Texas Republican reintroduced last week.
The Great Wall of America Will Break the Democrats. The wall is deserving of proper name capitalization. The Democrats know that The Wall will achieve its intent of deterring and preventing mass illegal immigration, which has resulted in an illegal alien population that the federal government has no true, accurate count of. The Wall will be the physical affirmation of our historic, theory of black swan, glass-ceiling shattering 2016 win over Empress Clinton. Tax reform and withdrawals from bogus deals with Iran and climate change globalist welfare treaties aren't palpable; I can't take a selfie in front of the 2018 Tax Cuts & Jobs Act. [...] The Wall, though? That proposed happy marriage of steel, spikes, and concrete? Oh, it will be glorious.
Lindsey Graham on Border Wall: We're not going to give in to this radical left, ever. Sunday, Sen. Lindsey Graham joined Face the Nation where he minced no words about the border wall funding standoff. The president will compromise, but he will not capitulate, Graham said. When he was asked about re-opening the government for the benefit of the federal workers currently working unpaid, Graham said, Why would you negotiate with somebody who calls you a racist if you want a wall, who gives you a dollar for a wall, when the Democratic Party supported $25 billion in the past? We're not going to negotiate with people who see the world this way. He continued, We'll negotiate with Dick Durban, but I'm not gonna negotiate with someone who calls the border patrol agents a bunch of Nazis when they're trying to defend the border against a mob.
Dem House Armed Services Chair: Trump Has the Authority to Use the Military to Build His Wall. Sunday on ABC's "This Week," House Armed Service Committee chairman Rep. Adam Smith (D-WA) said President Donald Trump does have the authority to declare a national emergency and have the military build a wall on the U.S.-Mexico border. Host George Stephanopoulos asked, "Does President Trump have the ability, have the authority to declare a national emergency and have the military build his wall?" Smith said, "Well, unfortunately, the short answer is yes. [...]"
Forget the wall — Democrats now hate the border itself. It's a wonder that Democrats haven't staked out a negotiating position demanding the destruction of already-existing barriers along the US-Mexico border. Their opposition to President Trump's border wall — or, more properly, his so-called wall — is now so total as to be nearly indistinguishable from opposition to any serious infrastructure at the border at all.
Trump: Democrats Should Look Into the Vatican if They Think Walls are 'Immoral'. Speaking to reporters from the White House, the president criticized congressional Dems for obstructing funding required to build a wall along the United States Southern Border. Trump specifically targetted the Democratic talking point that a wall along the border is "immoral." President Trump highlighted the wall that surrounds the city-state, and headquarters of the Roman Catholic Church, Vatican City in Italy, noting it "has the biggest wall of them all."
Trump Proposes 'Slightly Larger' Obama 'Mansion' Wall for U.S. President Donald Trump pointed to a 10-foot security wall around the Obama's "mansion/compound" as he called for a wall along the U.S. border Sunday [12/30/2018]. "President and Mrs. Obama built/has a ten foot Wall around their D.C. mansion/compound," Trump wrote. "I agree, totally necessary for their safety and security. The U.S. needs the same thing, slightly larger version!"
Democrats: A plague on the nation. These people, these Democrats in Congress, are among the most privileged persons on the planet. They have enjoyed, more than most, the blessings bequeathed by the Founders, the authors of the Constitution. Yet they are determined, like Obama, to transform us into something this nation was never meant to be: a land without borders. While all of them are on record supporting a border wall in the past, now that Donald Trump is president, they all oppose it with every fiber of their being. They know that it will work, and they cannot abide Trump having a win.
Democrats Hate the Wall because Trump Loves It. "The Democrats don't want to let us have strong borders — only for one reason. You know why? Because I want it," said President Donald J. Trump Wednesday [12/26/2018], to the laughter of U.S. troops at Iraq's Al Asad Air Base. "But you gave me an idea, just looking at this warrior group. I think I'll say, 'I don't want the wall.' And then they're going to give it to me." President Trump is on to something. Democrats seem determined to stop his plans for a southern-border wall as revenge for beating Hillary Clinton. They hate Trump's guts more than they love America.
Trump Threatens to Close the Southern Border If Wall Isn't Built. President Trump threatened to close the southern border if Democrats continue obstructing border wall funding. In a series of tweets Friday morning, Trump argued that doing so would be a "profit making operation" given the vast amount of money the U.S. is losing on trade with Mexico. "We will be forced to close the Southern Border entirely if the Obstructionist Democrats do not give us the money to finish the Wall & also change the ridiculous immigration laws that our Country is saddled with. Hard to believe there was a Congress & President who would approve!" he said.
Dems Introduced Bill Requiring Mexico To Pay For The Wall, And No One Seems To Have Noticed. Democratic Rep. Sheila Jackson Lee of Texas introduced legislation forbidding construction of a wall on the U.S.-Mexico border — unless Mexico pays for it. Lee introduced the Protect American Taxpayers and Secure Border Act into the House on Dec. 19, which would "prohibit taxpayer funds from being used to build a wall between Mexico and the United States," and further require that any barrier constructed on the southern border "be paid for using funds provided by the Government of Mexico." She referred the bill to the House Committee on the Judiciary and the Committee on Homeland Security, and already has four co-sponsors: Democratic Reps. Karen Bass of California, Marcia Fudge of Ohio, Joaquin Castro of Texas and Yvette Clarke of New York.
The Editor says...
Obviously a ruse. On the surface, it appears the Democrats have no objections to the wall itself — just the expense of building it. When have the Democrats ever objected to spending money?
Sheila Jackson-Lee Quietly Introduces Bill To Block Taxpayer Money From Building The Wall. Democrat congresswoman Sheila Jackson-Lee quietly introduced a bill called the "Protect American Taxpayers and Secure Border Act." The bill, with a title that means the exact opposite of what it proposes, was introduced on December 19 and now sits in the House Judiciary and Homeland Security committees.
Five Dumb Arguments Against 'the Wall'. [The Berlin Wall] was built to keep people trapped in East Germany. It was erected by the leaders of that communist hellhole to halt the flow of its best educated and most productive citizens to the free market economy of democratically governed West Germany. The "big, fat, beautiful wall" the President wants to build along the southern border of the United States will be designed to stop uneducated and unskilled immigrants — many of whom are also infected with communicable diseases — from entering our country illegally.
When Democrats embraced the 'Southern Border Fencing Strategy'. In 2006 Congress passed the Secure Fence Act, which mandated the construction of multilayer pedestrian fencing along about 600 miles of the U.S.-Mexico border. It passed with big, bipartisan majorities: 283 votes in the House and 80 in the Senate. Some top Democrats who are still in the Senate today supported the fence: Chuck Schumer, Dianne Feinstein, Ron Wyden, Debbie Stabenow, and Sherrod Brown. Just the next year, Congress made clear it didn't really mean what it said. The new law was amended to make fence building optional. In 2013, Congress got back into the fence game.
The cost of the wall is nothing compared to the yearly cost of illegal immigration. Would you let criminals take your home and hurt your family, or would you pay for a front door that locks? It typically costs roughly $1,500-$2,000 to purchase and install a no-frills exterior door on your home. Not cheap at all. But would you agonize over the cost for a minute when the entire cost and safety of your whole home and its occupants are on the line, especially when dangerous criminals, burglars, and murderers are specifically targeting your neighborhood for infiltration? Well, elected officials are like the head of this household, America is our house, and our southern border is our exterior front door.
What Happened To The Fence Promised By The Secure Fence Act Of 2006? The Secure Fence Act was introduced on Sept. 13, 2006, by Rep Peter King (R-NY) and passed Congress on a bi-partisan basis. In the House of Representatives, the Fence Act passed 283-138 on September 14, 2006. On September 29, 2006, the Fence Act passed in the Senate 80-19. Out of the eighty senators in total who voted in favor of the secure fence act, twenty-six (out of the forty-four) Democrats voted in favor of the bill (one, Ted Kennedy did not vote). [...] But why wasn't the fence built before Trump became President? It was supposed to be done by now.
Border walls only work if illegal immigration is illegal. A border wall can stop a physical invasion, but it can't stop an invasion of 1,000 lawsuits. Unless we stop the bogus asylum policies and end all cross-border migration in a legal sense, no amount of border security or infrastructure will help.
Protect Our Nation. Build the Wall. The wall is about protecting our nation and making sure it continues, strong and free, so that the distressed of the world can continue to see America as a light, a refuge and a bastion of the world's greatest ideals. It just so happens there are those around the world who are not huddled masses, but terrorists, drug dealers and others who want to undermine our national safety and integrity.
Stonewalling the Wall. More voters name illegal immigration as the most urgent problem for Congress to fix than any other issue, according to the latest Rasmussen national survey. A staggering 21 percent of those polled say they'd contribute their own money to build a wall if Congress refuses. No wonder the dollars are pouring in. The GoFundMe campaign raised a staggering $16 million by Sunday [12/23/2018], the third-largest haul in history. It was launched by Air Force vet Brian Kolfage, who lost three limbs in combat in Iraq and received a Purple Heart.
Trump Says Contract Awarded to Build 115 Miles of Border Wall in Texas. President Donald Trump claims he has awarded a contract to construct 115 miles of border wall in Texas as a partial government shutdown over the U.S.-Mexico border wall extends into Christmas Eve. "I am in the Oval Office & just gave out a 115-mile long contract for another large section of the Wall in Texas," President Trump tweeted. "We are already building and renovating many miles of Wall, some complete. Democrats must end Shutdown and finish funding. Billions of Dollars, & lives, will be saved!"
Feds spend more in food stamps in ONE month than POTUS wants for entire YEAR of wall funding. Now that Democrats have allowed part of the government to be shut down because they refuse to protect our country and give POTUS Donald Trump his $5 billion border wall budget request, it's time to put some things in perspective. Like the amount of money at play here. And Democrats' true motivations. First the money. Democrats and Leftist talking heads have complained that the $5 billion POTUS Donald Trump wants in fiscal year 2019 funding for his promised border wall is excessively expensive, but a new analysis finds that this argument to be, well, asinine. The federal government spends more on the food stamp program in a single month than the president's entire FY '19 border wall budget request, CNS News' Craig Bannister noted on Friday [12/21/2018].
Cutting welfare to illegal aliens would pay for Trump's wall. Mexico won't have to pay for the wall, after all. US taxpayers won't have to pick up the tab, either. The controversial barrier, rather, will cover its own cost just by closing the border to illegal immigrants who tend to go on the federal dole. That's the finding of recent immigration studies showing the $18 billion wall President Trump plans to build along the southern border will pay for itself by curbing the importation of not only crime and drugs, but poverty. "The wall could pay for itself even if it only modestly reduced illegal crossings and drug smuggling," Steven A. Camarota, director of research at the Center for Immigration Studies, told The [New York] Post.
Fund the Wall "Old School" — Replace War Bonds w/ "Wall Bonds". There's been a big D.C. dust-up over securing $5 billion to partially fund building a wall along vulnerable sections of our southern border. Included in the many conversations are ideas outlining how private citizens might be able to offer money through online efforts. However well-intentioned, that suggestion along with other similar ideas is likely way too problematic. So why not try applying a variation of a government fundraising program that has enjoyed stunning successes in the past? Replace the sale of War Bonds with the selling of "Wall Bonds".
Uh Oh: Funds Raised From The Border Wall GoFundMe Account May Have To Be Returned. House Resolution 7207 was introduced as a way of addressing the issues surrounding the government receiving donations for the border wall. If the House can pass the bill before the Democrats take control before the beginning of the year, H.R. 2707 would establish the "Border Wall Trust Fund" and allow the government to receive funds for the earmarked project. If passed, the Secretary of the Treasury would have 60 days to establish the account. A website would have to be established so people could donate directly to the cause online.
Congress Hides a 'Pot of Money:' Fines on Illegal Aliens, Remittance Tax. While President Trump looks to minimal sources to continue funding more United States-Mexico border construction projects — mainly bollard-style fencing — Congress is hiding some of the most commonly proposed sources of money. On Tuesday [12/18/2018], White House Press Secretary Sarah Huckabee Sanders said the administration was looking to "specific pots of money" to fund the bollard fencing that the Department of Homeland Security (DHS) has been constructing in San Diego, California; Calexico, California; El Paso, Texas; and Santa Teresa, New Mexico.
Ted Cruz Is Right: Make El Chapo Pay for the Wall. It would be poetic justice, is deliciously named, and wouldn't cost the taxpayers a dime. It doesn't make Mexico pay for the wall, just one particular Mexican who has done great injury to the people of the United States and who is responsible for a major part of drugs flooding into the United States. It is legislation introduced by Sen.Ted Cruz of Texas last year — the Ensuring Lawful Collection of Hidden Assets to Provide Order (E.L.C.H.A.P.O.) Act which would use fund confiscated from drug dealers like El Chapo and traffickers to pay for border security.
We need Trump's border wall plus other measures to reduce illegal immigration. Congressional Democrats have made it clear that they will oppose President Trump's common[ ]sense request for $5 billion to expand fencing and begin work on a wall along our southern border. But the fight over the wall is just a small skirmish in a war to decide the future of our country and whether we can control our own borders. Neither President Trump nor the Democrats created the migrant caravans currently camped to our south. The caravans were organized and launched outside of the U.S. with the intent of demonstrating that large groups of immigrants can breech our borders illegally and with impunity — an outcome that will only encourage more illegal immigration.
Mexico Is Building Its Wall — and the U.S. Is Paying for It. he Trump administration is committing billions of dollars to help Mexico engage in "institutional reform" to help stanch the flow of illegal immigrants from Central America into Mexico. Mexican interior secretary Olga Sanchez Cordero tells the Associated Press that Mexico is sealing off its southern border, and that the laxity that invited the flood of illegal immigrants from Central America that crossed into Mexico in October "is no longer an issue." Apparently, all that was required was the fiat of Mexico's new president, Andrés Manuel López-Obrador. The $5.8 billion the Trump administration is promising to put up dwarfs the $20 million sweetener the United States offered Mexico back in September to step up its immigration enforcement.
Rep. Jim Jordan Thanks Brian Kolfage: Your Border Wall GoFundMe Page Had "Tremendous Impact" On House Vote. Florida-based triple amputee veteran Brian Kolfage created a GoFundMe push to fund President Trump's border wall through donations from the public. Not only has the campaign been a huge success with fundraising, according to Congressman Jim Jordan, the border wall GoFundMe had a tremendous impact on Congress Thursday night [12/20/2018].
Trump just declared "the United States Military will build the Wall! Trump is tweeting this morning [12/19/2018] about several things, including getting funding for the wall. This comes after Trump backed down on his threat to close the government over border wall funding.
Why We're Divided. Senator Schumer has rejected the President's request for funding a border wall, even withdrawing an earlier offer of $1.6 billion. As I write, Congress is working on a stop-gap measure to avoid a shutdown but with no funding for the wall. This action doesn't bode well for congressional relations in 2019. It reflects the underlying truth that America is more divided than at any point in modern history. It's not just the border wall. Sen. Schumer's response is the Bronx cheer to anything the President proposes. Nancy Pelosi follows up with her sniveling whine about how "he hasn't got the votes." What about discussion? It's hard to discuss issues with someone who begins and ends the conversation with derision and contempt for the other, and that's the default position of the Democrat Party today. Democrats are so reflexively partisan that compromise is impossible. Then they proceed to accuse conservatives of causing the division. And that accusation is the basis for more division.
Mark Meadows: President Trump, Veto this Spending Bill, Fight for the Wall. The House Freedom Caucus and Chairman Mark Meadows (R-NC) delivered a series of fiery speeches Wednesday night [12/19/2018], calling on President Donald Trump and Congress to fund his promised border wall; Meadows said they will back Trump if he vetoes the spending bill. The House Freedom Caucus led a special order on the House floor on Wednesday night, urging Congress and the president to continue fighting for the border wall. Meadows said, "I rise to encourage my colleagues to stay in the fight to have the president deliver on a promise."
Huge! Trump Border Wall GoFundMe Page Passes $4.3 Million in Donations in 4 Days. A Florida-based triple amputee veteran has created a GoFundMe push to fund President Trump's border wall through donations from the public. Brian Kolfage, who launched the GoFundMe, has also been an active free speech advocate who has spoken against censorship on digital media platforms.
Triple-amputee Air Force veteran on mission to raise $1B for US-Mexico border wall. A triple amputee U.S. military veteran says he was inspired to raise money for President Trump's U.S.-Mexico border wall after reading a New York Post article that questioned why no one had taken up the mantle. In just three days, Brian Kolfage's GoFundMe campaign, "We The People Will Fund The Wall," has racked up more than $2 million from more than 34,000 people, with a goal of raising $1 billion.
Stop Being a Jerk and Give Him His Wall. [A]s of right now it looks like we're going to have a government shutdown over the Democrats' refusal to fund Trump's border wall. And almost no Republicans in America will [care]. Trump surely won't. A Trump shutdown doesn't look like a Barack Obama shutdown, by the way. First of all, most of the government has actually already been funded via appropriations bills which have passed — so you're only looking at a partial shutdown. And Trump isn't likely to play up the negative effects of a shutdown the way Obama did — planting barricades around the World War II Memorial in DC, for example, or holding tourists hostage in Yosemite National Park. It's going to be very mild. So the only people who will really be bent out of shape about a shutdown will be some government workers and Democrats who need a government service here and there.
Democrats [the] Funded 'Wall' Under Bush [and] Obama [but] Refuse [the] Same Barrier to Trump. Many House and Senate Democrats voted to fund the same bollard-style fencing constructed by Presidents Bush and Obama that they now oppose under President Trump. Ahead of a government shutdown, Trump is asking the Republican-controlled Congress for $5 billion in funding — just a fifth of the funding needed — to build what he continues to call a U.S.-Mexico "border wall," though the barrier is almost identical to the bollard fencing erected by both Bush and Obama.
Why hasn't someone started a GoFundMe for Trump's wall? [Scroll down] Jack Murray was blunt and creative. He did the math and came up with this calculation: "If the 63 million people who voted for Trump each pledge $80, we can build the wall."
Seriously, Just Order the Pentagon to Build the Wall. It's strange that the president already hasn't ordered the Pentagon to build the wall. After all, border security is a basic and vital function of the military. The military, however, has been reluctant to engage in this timeless endeavor. When President Trump in October ordered the Pentagon to deploy several thousand U.S. troops shore up the southern border against yet another caravan of illegal aliens, top brass balked. Many argued in the press that the mission was a distraction for the military's far more important duties, like endlessly and ineffectively securing Afghanistan's borders. Understand, the Department of Defense has a budget in excess of $700 billion. The Pentagon is so big and bloated, with a budget process so unwieldy, that for years officials resisted any form of audit. Until this year, when the DOD spent more than $400 million auditing some $2.7 trillion in assets. It will come as no surprise that the budget uncovered a great deal of waste (though not necessarily fraud). Given all the money sloshing around, it's fair to say the Pentagon has the cash on hand to build a $25 billion border wall and still have money to spare to continue building and maintaining warplanes that can't fly.
Democrats can't stand the thought of protecting Americans. Democrats and their cheerleaders in the mainstream media tout themselves as concerned for those addicted to drugs and regularly support increased spending money for therapy. But they refuse to fund building the wall and for border security on the Mexican border. The wall would significantly stop the flow of illegal drugs through the Mexican border to the USA, which would reduce the supply of illegal drugs that cause addiction and deaths by overdose. The Democrats and media support spending money to deal with the effects of drugs smuggled across the border but refuse to spend money to stop the smuggling.
Angel Moms Call Out Nancy Pelosi: Would You Support Border Wall if It Saved Your Loved One? Angel Moms whose children have been murdered by illegal aliens living in the United States called out incoming House Speaker Rep. Nancy Pelosi (D-CA) and Sen. Chuck Schumer (D-NY), asking them if they would support a border wall if it meant their loved ones would be saved from illegal alien crime.
Democrats and the border: What they don't want you to know. Is steel more moral than concrete? House Democratic leader Nancy Pelosi of California said last week that she and other Democrats consider a border wall "immoral." But some of the same Democrats who decry President Donald J. Trump's proposed concrete wall as a 30-foot-tall human-rights violation actually approved 700 miles of steel barriers under the Secure Fence Act of 2006 (SFA). Give Pelosi this: She is consistent. She voted against SFA. Maybe, deep down, she wants an America without borders. Meanwhile, these current, former, and then-ascendant Senate Democrats all voted for SFA, which President George W. Bush signed into law. On September 26, 2006, the Senate passed SFA 80-19, with 26 Democrats voting Yea.
It depends on the meaning of what 'wall' is. Rep. Nancy Pelosi, Sen. Chuck Schumer, and President Trump faced off in the Oval Office Monday [12/10/2018] in a meeting that suggested a shutdown fight is coming on Christmas week. The Democratic leaders did what their base presumably wants (opposing a wall), and Trump did what his base presumably wants (fighting for a wall). Trump even said he would shut down the government to get his wall. But when Trump talks about a "wall," there is a difference between what his supporters and his opponents say he really means, and it is in that gap that the president may have room to maneuver and get off the road to a shutdown.
Pentagon: U.S. Army could fund, build sections of President Trump's border wall. The Pentagon has responded to President Trump's suggestion the U.S. military could build the border wall. In a statement Wednesday, the Defense Department said it currently has no plans to build the wall, but could take part in the construction of border projects in the near future. The Defense Department said U.S. law allows the Pentagon to use its budget for border security purposes.
Trump threatens to have military build border wall if Pelosi, Schumer won't budge. President Trump threatened Tuesday [12/11/2018] to have the military "build the remaining sections" of the U.S.-Mexico border wall, appearing to revive a call to use Pentagon money to finish the project ahead of a meeting with congressional Democratic leaders opposed to the president's funding request.
Mexico wants to end caravans. Mexico wants the USA to aid Central America to keep people from leaving. America wants a wall. But Mexico is willing to keep the caravan migrants.
U.S. top court snubs environmental challenge to Trump's border wall. The U.S. Supreme Court on Monday [12/3/2018] rebuffed a challenge by three conservation groups to the authority of President Donald Trump's administration to build a wall along the U.S.-Mexico border, a victory for Trump who has made the wall a centerpiece of his hardline immigration policies.
Hispanic Democrats say feds should eliminate all money for border wall. Hispanic Democrats drew a red line Wednesday [11/28/2018] in budget negotiations, saying they cannot support any year-end spending bill unless it reduces the government's ability to detain illegal immigrants ahead of deportation. The Democrats also said they want to eliminate all money for the border wall — not the $5 billion President Trump is seeking, nor even the $1.6 billion that Senate Democrats have said they're willing to spend.
Why not build a border barrier? It's the law. The news is filled with images of migrants massing at the U.S-Mexico border near the San Ysidro crossing in California. Why haven't they been able to enter the United States? Because a physical barrier prevents them from doing so. It is just another example of a barrier — a fence, a wall, whatever — providing real border security. Of course, building a wall on the U.S.-Mexico border was President Trump's premier campaign promise. So far, in nearly two years in office, he has made almost no progress toward making it happen.
$145M Texas border wall project awarded, Customs and Border Protection says. A $145 million construction project was awarded Wednesday to build roughly six miles of border wall in Texas, Customs and Border Protection (CBP) announced on Friday [11/2/2018]. The agency, in conjunction with the Army Corps of Engineers, gave the multimillion-dollar job in the Border Patrol's Rio Grande Valley Sector to SLSCO, CBP said in a news release. Work on the project, also known by CBP as RGV-03, is expected to kick off in February, the agency said.
Video shows border wall construction underway in Texas. ideo released this week shows construction underway in El Paso, Texas, for a portion of a U.S.-Mexico border wall. The video published by the El Paso Times shows construction beginning to replace existing fencing with a wall in Chihuahuita, El Paso's oldest neighborhood. The wall, construction for which began last Saturday, is set to run from Chihuahuita and continue east for four miles. The 18-foot-tall steel bollard wall will replace the chain link and metal fence as part of President Trump's executive order last year authorizing construction of his wall along the U.S.-Mexico border, the administration said.
Watch that new border wall going up where it is needed most. Congress still refuses to fund a complete border wall, but that isn't stopping the king of construction, Donald J. Trump, from delivering the goods where it is needed most. The El Paso Times has provided an entertaining and interesting video of construction of a new, much bigger border wall being built on the border separating the metropolises of Juarez, Mexico and El Paso, Texas, with a combined metropolitan population of at least 2.7 million souls.
Ten Inconvenient Facts. [#2] People like walls. Progressives want open borders and limitless migration, and that may please the renowned professor who grew up in one city, went to school 1,000 miles away, took a job in yet another state, and lectures and does research in Europe each year. But most people want a home and they want security. They believe that good fences make good neighbors, that a country without walls isn't a country. Walls reinforce the pride of ownership, too. When liberals decry walls, they belittle the sense of place that people find comforting and meaningful.
Border Wall Construction Progresses In New Mexico. New Mexico is progressing on its 20-mile border wall construction west of Santa Teresa, replacing old posts and rail barriers as part of President Donald Trump's initiative to halt illegal immigration and drug trafficking. U.S. Customs and Border Protection (CBP) said more than 8,100 panels stretching over 11 miles were built as of Aug. 8, according to the Associated Press Friday [8/17/2018]. "It's going to be harder to get over, harder to get through, harder to get underneath," Chief Patrol Agent Aaron Hull of the El Paso sector told the Albuquerque Journal on April 9. "It's going to have a five-foot, anti-scaling plate at the top." The barrier will be as tall as 18 feet in some areas, depending on the location. The "wall of steel" was approved in 2017 and construction of the $73.3 million project began April 9, the Journal reported.
Second Senate Democrat Pledges To Support Trump Border Wall Funding. West Virginia's Joe Manchin has joined Indiana's Joe Donnelly in pledging to support border wall funding in the upcoming budget. Both Democrat senators are facing tough re-election bids in states dominated by pro-Trump voters who fully support the President's desire to increase the nation's border security.
Man breaks legs jumping border wall in California. A man attempting to enter the United States illegally has fallen from a new 30-foot high wall in California, breaking both his legs.
Cutting welfare to illegal aliens would pay for Trump's wall. Mexico won't have to pay for the wall, after all. US taxpayers won't have to pick up the tab, either. The controversial barrier, rather, will cover its own cost just by closing the border to illegal immigrants who tend to go on the federal dole. That's the finding of recent immigration studies showing the $18 billion wall President Trump plans to build along the southern border will pay for itself by curbing the importation of not only crime and drugs, but poverty. "The wall could pay for itself even if it only modestly reduced illegal crossings and drug smuggling," Steven A. Camarota, director of research at the Center for Immigration Studies, told The [New York] Post.
Donald Trump Demands Funding to Keep Building the Wall Faster. President Donald Trump again signaled his support for the wall Monday [7/30/2018], after threatening to shut down the government if Congress failed to deliver construction funding. "We must have Border Security, get rid of Chain, Lottery, Catch & Release Sanctuary Cities — go to merit-based Immigration," he wrote on Twitter. "Protect ICE and Law Enforcement and, of course, keep building, but much faster, THE WALL!"
Irony: Portland's Occupy ICE Protest Builds Wall, Creates Border Patrol To Keep Out Police. On Wednesday [7/25/2018], The Daily Wire reported that "Occupy ICE" protesters in Portland had been given eviction notices and were ordered to pack up their belongings and demonstrate against vague notions of tyranny and oppression elsewhere. But while some indeed cleared out (in a manner of speaking, at least), others decided to stay and fight, erecting — ironically — a "border wall" to enclose the Occupy ICE PDX encampment and stationing "border guards" around their tiny independent nation. No, really. The border wall, which is in fact quite high (perhaps, say, to prevent border jumpers), went up over the weekend.
Mexico reportedly will create its own border force [on its southern border]. Mexico's president-elect has complained about President Trump's immigration policies, but he's looking to adopt some them for his country, a top aide said. Andres Manuel Lopez Obrador is planning his own border force to stop illegal immigrants and drugs crossing into Mexico from Central America, Alfonso Durazo, his chief of public security, told Bloomberg. Mr. Durazo said the border force would also patrol the U.S.-Mexico line, though he declined to give Bloomberg more details.
What Happened To The Fence Promised By The Secure Fence Act Of 2006? TheSecure Fence Act was introduced on Sept. 13, 2006, by Rep Peter King (R-NY) and passed Congress on a bi-partisan basis. In the House of Representatives, the Fence Act passed 283 [to] 138 on September 14, 2006. On September 29, 2006, the Fence Act passed in the Senate 80 [to] 19. Out of the eighty senators in total who voted in favor of the secure fence act, twenty-six (out of the forty-four) Democrats voted in favor of the bill (one, Ted Kennedy did not vote). A dozen years later some of those Democratic Senators are still serving in the upper body [...]
The Same People Who Take a Knee For the American Flag Wave Mexican Flags at Anti-ICE Protests. There is absolutely no question about it, these protests are not about separating children from their parents — it is about abolishing our borders. The Democratic Party has been radicalized against our nation.
Poll: Majority With Trump: Want Wall Built, Migrant Families Deported or Detained. A poll released Sunday [6/24/2018] by CBS News shows a majority of Americans support a wall being built on the border with Mexico and for migrant families who illegally entered the U.S. to be deported or detained. The CBS News 2018 Battleground Tracker Poll conducted by YouGov June 21-22 during the midst of the controversy over migrant families and unaccompanied children flooding the southern border shows a shift toward President Trump's views since a March CBS poll by SSRS showed 60 percent opposed a wall.
The Cost of Providing Health Care to Illegal Aliens. The most objective piece of writing on illegal immigration to emerge from the legacy media last week appeared under the title, "If We Want to End the Border Crisis, It's Time to Give Trump His Wall." It was penned by Andrew Sullivan, of all people, yet he admitted something few progressives have really accepted: "He won the election. He is owed this." Sullivan's regular readers will reflexively disagree, but his reasoning is irrefutable. So, most will have to revert to the "prohibitive cost" canard. In reality, the wall will easily pay for itself in savings to our health care system. The cost of the border wall has been projected by numerous entities, and the estimates vary wildly. The Trump administration and the GOP congressional leadership have estimated its cost at $12 billion to $15 billion. Senate Democrats claim that the price tag would be $67 billion. The Department of Homeland Security (DHS) has projected the cost at $21.6 billion. Going with the Trump administration figure, the savings to our health care system should pay for the thing in a decade. Using the DHS figure, it will take far less time than a typical mortgage. Specifically, about 20 years. This depends on what we pay for the health care we provide to illegal immigrants and how many will be stopped by the wall.
Fund The Wall Before Any Other Immigration Legislation. Republican lawmakers in the House and Senate have suddenly found the time and energy to pass a quick legislative fix to end the practice of separating parents from children when they cross illegally into the country — but they apparently do not plan to act on any real illegal immigration fixes, such as funding the border wall. According to reporting by The Washington Examiner's Susan Ferrechio, Senate Majority Whip John Cornyn, R-Texas, is working with other GOP senators on a bill that would allow families who enter the country illegally to remain together at immigration facilities at the border as they await adjudication. The Trump administration has said a court decision requires family separation as adults are prosecuted. Cornyn's bill would eliminate that requirement, and speed up court hearings for people seeking admission into the country, which can take months.
7 Truths Liberals Will Never Acknowledge About Illegal Immigration. [#2] A wall would make a major difference. A wall was never intended to be a fix for illegal immigration in and of itself. To the contrary, it's a force multiplier. What we see everywhere that we have full fencing up is that illegals overwhelmingly avoid those areas. In other words, you can use a wall to direct illegals to certain areas and concentrate the border patrol in those areas. As we've seen in Israel and even around the White House and the Vatican, walls work. If you're serious about stopping illegal immigration, you support a wall.
Trump border wall crowdfunding possible under Tennessee lawmaker's 'trust fund' bill. Those who want to see President Trump's border wall built may get a chance to help fund the project if a recently introduced bill is passed. The legislation, introduced by Rep. Diane Black, R-Tenn., last week, would create a "border wall trust fund." People could donate any amount of money to it, with the funds specifically designated for "whatever it takes to build the wall" — from supplies to salaries. It would be overseen by the Treasury Department, according to Black.
Taxing Remittances Can Build the Wall. Among the alleged asylum-seekers parked on the U.S. border is a contingent of Hondurans, allegedly fleeing persecution, poverty, crime, and oppression. If that is the case, then why is the Honduran government helping them, driving them northward under orders given to the Honduran ambassador, who is helping and escorting them? [...] Why is the country whose oppression they are allegedly fleeing helping them leave? The answer is remittances, the money sent back home by so-called "migrants." Asylum is in large part a colossal scam designed to provide Latin American countries with both a safety valve and a cash cow of foreign exchange. In 2017, remittances sent back to Honduras totaled $4.33 billion and make up a significant part of the Honduran economy.
DHS to build 20-mile wall along border in New Mexico. Homeland Security began building a border wall in New Mexico on Monday [4/9/2018], moving to replace vehicle barriers with a modern fence that will deter pedestrians attempting to cross in the remote desert west of El Paso. The 20-mile project has been on the books for some time and the contract was awarded Jan. 22, meaning it was finalized before the recent fight over border wall money in the new 2018 spending bill. But the administration says it wouldn't have been built but for President Trump's push for more border wall.
The Military Can Secure the Border and Build the Wall. The United States has 4,000 troops in Afghanistan, 39,000 in Japan, 34,805 in Germany, 23,000 in South Korea, and around 5,200 in Iraq. Our military protects the borders of countless nations. Except our own. In 1919, we had 18,500 soldiers on the border. "Twice a day every foot of the border line is patrolled by cavalrymen and infantrymen," the New York Times noted. A hundred years later, President Trump's proposal to use the military to secure the border is controversial even though Marines fighting drug cartels have come under fire from drug smugglers.
Trump's Idea of Using Military Resources for Border Wall Isn't Unprecedented. The military has been involved before in putting up a barrier along the U.S.-Mexican border without explicit authorization from Congress, according to a 2009 government report. President Donald Trump recently proposed to draw from the $700 billion appropriated for the military for funds to build the border wall, which comes with a price tag estimated at $25 billion. Initial fencing constructed after Congress passed the 2006 Secure Fence Act was paid for by the Department of Homeland Security, while engineering and labor was carried out through an agreement with the Defense Department. It isn't clear whether this is what Trump had in mind.
The Wall is National Defense. What is defense? Is it not to make Americans safe from foreign attack? To prevent foreigners from imposing their way of life upon us, through invasion or other means? To maintain the independence, peace, and prosperity of the already-existing American people? Very little of what the government does in the name of defense accomplishes these things. [...] America maintains hundreds of overseas bases, builds and develops increasingly sophisticated conventional arms, continues to slog on inconclusively in Afghanistan, and, in spite of a smallish uniformed military, still spends mountains of money. [...] The substantial defense budget does nothing to prevent foreigners — whether mere economic migrants, violent drug gangs, or Islamic terrorists — from entering through our porous southern border. Instead, it funds bases, multiple aircraft carriers, and super-weapons to protect us from ... who exactly?
Trump Wants The Military To Build His Border Wall. That's A Terrible Idea. On Tuesday [3/27/2018], The Washington Post reported that President Trump is privately pushing for the U.S. military to build his long-promised border wall. The $1.3 trillion spending bill Trump signed last week allocated a mere $1.6 billion for the wall, far less than the $25 billion Trump wanted, and the money comes with tight restrictions on how it can be spent. Despite the president's grandiose promises of a border wall during the 2016 campaign, when he boasted that he would build a wall and make Mexico pay for it, his efforts to secure congressional funding for the project have hit a wall, so to speak. Democrats balked at his offer to trade long-term wall funding for easier citizenship access for younger illegal immigrants, and Republicans don't see it as a priority. Earlier this month, likely in an effort to keep the issue alive, Trump traveled to California to view prototypes of the wall. But nothing will come of them if he doesn't secure funding.
The Army may build the wall. Install is more accurate. These will be fabricated in a factory, and taken to the site. This haul and install operation seems like great training for the combat engineers. Plus you get a nice big wall.
Is Trump Using Omnibus Bill To Now Fully Fund The Border Wall? It Sure Looks That Way. Whispers are now rampant that President Trump is using the significant funds allocated to military spending in the most recent omnibus bill he signed last week to allocate full and immediate funding for the southern border wall project. If so it would be a brilliant side-step maneuver that would outflank the anti-secure border members of Congress — including many among the Republican leadership. An omnibus bill is not a budget and so allows a president considerable powers to spend those funds as they choose.
President Trump hints he may use Defense budget to build the border wall now. President Trump tweeted something very suggestive this morning, indicating that he may use the powers of the executive to work around the $1.3 trillion abomination's limitations on the border wall.
Watch Paul Ryan and Mitch McConnell Lie About Funding the Trump Border Wall. President Trump promised to build a border wall with Mexico at nearly EVERY campaign stop he held in 2015-2016. The president won the election in an electoral landslide with a promise to build a border wall with Mexico. In January 2017 Speaker Paul Ryan and Senate Majority Leader Mitch McConnell promised to pass funding of $12-15 billion to build the Trump border wall. [Video clip] But it was all a lie.
White House says it can only build 33 miles of new border barriers. White House officials said Thursday [3/22/2018] that President Donald Trump will sign a hotly contested budget bill when lawmakers send it to him, despite the fact that it provides for only 33 miles of new barriers along the U.S.-Mexico border. Trump vowed in April 2017 that his long-promised border wall would be finished by the end of his first term in office. 'It's certainly going to — yeah,' he told reporters then, answering a specific question about a four-year timeline and adding that 'we have plenty of time.' But at the rate the White House has agreed to, the project could stretch through more than two administrations.
Here's what Congress is stuffing into its $1.3 trillion spending bill. [Scroll down] Border wall: The bill provides $1.6 billion for barriers along the U.S.-Mexico border but with serious strings attached. Of the total, $251 million is earmarked specifically for "secondary fencing" near San Diego, where fencing is already in place; $445 million is for no more than 25 miles of "levee fencing"; $196 million is for "primary pedestrian fencing" in the Rio Grande Valley; $445 million is for the replacement of existing fencing in that area; and the rest is for planning, design and technology — not for wall construction. The biggest catch is this: The barriers authorized to be built under the act must be "operationally effective designs" already deployed as of last March, meaning none of President Trump's big, beautiful wall prototypes can be built.
Without wall, illegal crossings expected to spike 70% in 2018. Illegal immigration, sidelined by the so-called "Trump effect" in the past year, is likely to surge 70 percent this year as undocumented aliens try to get into the United States before the president's border wall is constructed and to take advantage of the booming economy, according to a leading expert.
Mexican immigrants say wall might slow them down but won't stop them from crossing illegally. President Donald Trump visited California on Tuesday where he inspected the eight prototypes for a U.S.-Mexico border wall. But Eladio Sanchez, who lives in Tijuana, Mexico, said a wall wouldn't stop him from crossing illegally into the United States, Agence France Presse reported. The 30-year-old said he has sneaked into the U.S. several times and doesn't believe a border wall will be much of a deterrent for those who want to cross the border.
Cutting welfare to illegal aliens would pay for Trump's wall. Mexico won't have to pay for the wall, after all. US taxpayers won't have to pick up the tab, either. The controversial barrier, rather, will cover its own cost just by closing the border to illegal immigrants who tend to go on the federal dole. That's the finding of recent immigration studies showing the $18 billion wall President Trump plans to build along the southern border will pay for itself by curbing the importation of not only crime and drugs, but poverty. "The wall could pay for itself even if it only modestly reduced illegal crossings and drug smuggling," Steven A. Camarota, director of research at the Center for Immigration Studies, told The [New York] Post.
On The Texas-Mexico Border, Migrants Are Overcoming Every Obstacle In Their Path. What does it mean to secure the border? We hear the phrase every time Congress debates immigration reform, usually from immigration hawks who insist that before we extend any leniency to illegal immigrants, even a limited amnesty for those brought to the United States as children, we must first secure the border. President Trump has taken it a step further with his dogged insistence on an actual border wall, which has become synonymous with border security in the broader immigration debate.
Pelosi's Border Solution: 'Mowing The Grass'. House Minority Leader Nancy Pelosi said during a Tuesday [2/20/2018] interview that she thinks "mowing the grass" along the border could be one solution to border security. Pelosi denounced the idea of a border wall during the interview, which was broadcast on Facebook live, stating that such an idea is "never going to happen." "Well, I'm not the wall's biggest advocate in Congress, but I do know that representatives in the House and Senators in that body from the border wall areas have some serious objection to a wall," Pelosi explained. "Because they know how detrimental it can be to the community trade, to all of the other aspects of a border." [Video clip]
Pelosi Proposes 'Mowing the Grass,' Fences as Alternative to Border Wall. Tuesday [2/20/2018] during an interview with the Arizona Republic, House Minority Leader Nancy Pelosi (D-CA) said fences and "mowing the grass" along the U.S.-Mexico border would be a better alternative instead of President Donald Trump's proposed wall.
Monday's Tax Receipts Would Pay for Entire Border Wall. The $18.477 billion in tax revenues the federal government collected on Monday [2/12/2018], according to the Daily Treasury Statement, is more than enough to cover the $18 billion that President Donald Trump is requesting in his new budget proposal for building a wall along the U.S-Mexico border. "As the President has said, a nation without borders is not a nation at all," Office of Management and Budget Director Mick Mulvaney said in written testimony presented to the Senate Budget Committee on Tuesday [2/13/2018].
The butterfly effect: Trump's border wall could be blocked because it threatens endangered insects. A tiny endangered butterfly could stop President Donald Trump from building his beloved border wall. A lawsuit has been filed by the Center for Biological Diversity, environmental groups and the State of California against the U.S. Department of Homeland Security. It outlines that the Quino checkerspot butterfly, Riverside fairy shrimp and the Pacific pocket mouse will be threatened if the border wall is built. The butterfly, which is native to southern California and Northern Mexico, is already on the endangered species list.
McCain, at it again, deals with Dems and kills wall funding. Sen. John McCain is reportedly joining with Democratic colleague Christopher Coons to introduce legislation that gives Deferred Action for Childhood Arrivals' illegals a path to citizenship, but denies President Donald Trump his funding to build a wall. McCain giving the Democrats what they want at the expense of the Republicans — now there's something you don't see every day, right? Not.
CEO of Border Wall Construction Company: 'I Really Believe We'll Change History'. The CEO of Fisher Industries, one of four construction companies selected as finalists to build President Donald Trump's historic border wall, told Breitbart News that he believes his company will change history and can do so at a far lower cost than his competitors. "It's not just a wall. It's a complete border protection system with high-speed access roads," Tommy Fisher, CEO of Fisher Industries, told Breitbart News during a sit-down Facebook Live interview in Washington, D.C. Fisher's wall would be constructed from solid concrete and would span the Pacific Ocean in California through western Texas.
Israel Built a 'Wall' and Is Deporting Illegal Aliens. America Can Learn. A decade ago, Israelis gave little thought to the issue of illegal immigration. In 2006, there were 2,766 illegal migrants in Israel, nearly all of them from Eritrea and Sudan, who had entered Israel through its then-open, 150-mile border with Egypt. In 2007, the dam of illegal immigration burst. According to Israel's Immigration and Population Authority, 5,179 African migrants — predominantly from Eritrea and Sudan — entered Israel from Egypt in 2007. The illegal migration reached its peak in 2011, when 17,281 arrived.
Report: Border Wall Prototypes [are] Almost Impossible To Breach [or] Climb Over. Fox News reports that breach testing of the border wall prototypes was a success. Special Ops soldiers attempted to climb them but only one person was able to climb to the top and he had to be lowered down with a cherry picker.
Illegal Alien Barrier Passes First Test. The Left loves to sneer at the notion of a strong wall between the United States and the illegal infiltrators coming across the southern border from Mexico. As usual, they say it can't be done, it won't work, we can't afford it — their usual litany of reasons How Not to Do It. [...] At this point in the Trump presidency, wouldn't it be smarter for the Resistance Party to stop walking into door jambs, stepping on rakes, and tying their own shoelaces together? Real Americans are finally catching on to the Democrats' can't-do/won't-do playbook, which manifested itself most recently in the tax cut. Once the border wall is up — and actually before, as the Mexicans realize we mean business — watch the numbers of illegal "dreamers" fall precipitously.
Border Wall Models Thwart US Commandos In Tests. Recent assaults by tactical teams on prototypes of President Donald Trump's proposed wall with Mexico indicate their imposing heights should stop border crossers, a U.S. official with direct knowledge of the rigorous assessment told The Associated Press.
Trump's DHS Says 700-Mile Border Wall To Cost Just $1.8 Billion Per year. President Donald Trump's 700-mile border wall would cost just $1.8 billion annually for ten years, according to the Wall Street Journal. The expected construction cost is only 1 cent for every $20 spent by the federal government.
The Editor says...
That amount of money is only one tenth of what it costs to have NASA fly around in circles and accomplish nothing. The border wall is a matter of national defense, which is authorized by the Constitution. (The exploration of other planets is not.) The benefits will far exceed the cost, even before the wall is completed.
Pelosi Lists 8 Things She'd Rather Spend Trump's 'Immoral' Border Wall Funding On. On Friday, House Minority Leader Rep. Nancy Pelosi (D-Calif.) listed some of the things she'd do with the money President Donald Trump wants to protect America from the threats posed by illegal immigration. On her Twitter page, Pelosi introduced her series of posts by claiming the border wall funding "could do so much more" — if it wasn't used to secure the border: "President Donald Trump @realDonaldTrump, that border wall funding you are asking for (again) could do so much more good in other places...." Pelosi followed with eight separate Tweets, each touting something she'd spend the border wall funds on — ranging [from rebuilding] Puerto Rico and subsidizing high-speed internet to expanding the State Department.
MSNBC Segment Proves U.S. Border Needs Bigger Wall. MSNBC reporter Jacob Soboroff went to preview the prototypes that are being built between two existing border fences along the U.S.-Mexico border. During the segment, Soboroff was interviewing border patrol agent Roy Villareal when several migrants were caught on camera jumping the existing fence into the United States. "A small group of three people just jumped over in the middle of the day," Soboroff noted. "So can you explain to me what's going on?" "This is the reality of everyday border enforcement. The United States is the draw for people with dire situations where they are at," Villareal said. "We are going to continue to witness this. It plays out on a regular basis for us."
House committee approves $10 billion initial payment for U.S.-Mexico border wall. The House Homeland Security Committee gave first approval to the broad scope of President Trump's border wall Wednesday, clearing a bill that would authorize $10 billion in new infrastructure spending, new waivers to speed up construction, and 10,000 more border agents and officers to patrol the U.S.-Mexico line. Democrats vehemently opposed the bill, saying the wall was a boondoggle and the fact that U.S. taxpayers will fund it violates the president's campaign pledge to make Mexico foot the bill. But Republicans backed the bill in a 18-12 party-line vote, saying it was time to get a handle on the border.
Mexican Smugglers Admit Border Walls Work. A Mexican trafficker admitted that border walls make trafficking significantly more difficult, but claimed that this would somehow be good for his business. The trafficker, who was identified only as "Alexis," said he specializes in a specific form of human smuggling in cities that are on the border, USA Today reported. "Right now, I can't imagine exactly how [a wall will be built] but I can tell you that it would be a lot harder if they build that wall," Alexis told USA Today. "Really, because it's already hard with the fence we have now. It's difficult because, to start, not just any ordinary person who decides they want to scale it can do it. It requires skill to get up there. And to get down, oh man, one of two things can happen. You jump and if you're athletic you can land OK, but if you're not you can break a foot."
Hungary Builds a Wall, Cuts Illegal Immigration by Over 99 Percent. Hungary has slashed illegal immigration by over 99 percent after rolling out a series of powerful border fences in response to the European migrant crisis, possibly providing a lesson as to the potential impact of constructing President Trump's much-discussed southern wall in the U.S.
Levin on DACA: 'We Have a Little Problem'; We Don't Know Where Trump Stands. On his nationally syndicated radio talk show program Thursday [9/14/2017], host Mark Levin discussed Deferred Action for Childhood Arrivals (DACA), telling his audience "we have a little problem" because it's unclear where President Trump now stands on two key planks of his presidential primary campaign: DACA and 'The Wall.' "Well, the backbenchers, TV, the rest, they've kind of caught up where we are here, ladies and gentleman, that we have a little problem," stated Mark Levin. "We have a little problem. I'm going to pose a question to you: Where exactly does President Trump stand on DACA and 'The Wall' today?"
Donald Trump: The Wall Is Actually Just Renovation of Old Fences. President Donald Trump admitted that he wasn't actually going to build a great new wall on the southern border but repair existing fences and build selective strategic border structures. "The WALL, which is already under construction in the form of new renovation of old and existing fences and walls, will continue to be built," Trump wrote on Twitter on Thursday morning [9/14/2017].
Good fences make good neighbors, and walls make better ones. What could be offensive about a wall, which is as passive a defense system as one can imagine? If you are worried about offending others, you are already on a slippery slope wherein you can be manipulated by anyone willing to claim hurt feelings. If Mexico chose to build a wall, I wouldn't be offended. Amused, perhaps, but I'd cheer them on. Remarkably, Mexico prefers to let its "cows" wander, letting them feast off our resources. If only they were literally cows! They wouldn't ever rape us or kill us in automobile accidents. They would never sell us drugs. While they can tunnel under walls or climb over them, these are not reasons to refuse to build a wall.
House Agrees To $1.6 Billion For Border Wall. The U.S. House of Representatives passed a bill Thursday [9/14/2017] that will provide $1.2 trillion to fund the government past Sept. 30, and will allocate $1.6 billion towards President Donald Trump's border wall. The legislation gives $658.1 billion to the Department of Defense, $44.3 billion for the Department of Homeland Security and allocates the rest of the money towards other federal agencies. The bill lops [sic] all 12 annual spending bills into two one piece of legislation.
The Editor says...
The word lop does not mean combine, it means cut. Perhaps the writer meant lump, which can be used as a verb meaning to put in an indiscriminate mass or group. Five points deducted; see me after class.
Paul Ryan Reportedly Says No Chance for Border Wall at Private Dinner. House Speaker Paul Ryan, at a private dinner earlier this year, said he thought only "one member" wanted to build a wall across the entire U.S.-Mexico border, Breitbart News has learned from multiple sources with direct knowledge of the comments, including former Rep. Tom Tancredo (R-CO). The dinner, sources said, took place on the eve of the House's passage of two relatively minor immigration bills at the end of June: Kate's Law and sanctuary city reforms. The far wider reaching Davis-Oliver Act was tabled at the same time.
That Time When Democrats Really, Really Liked The Border Wall. The Daily Caller reported on Obama's border wall support back in 2016: ["]A leaked internal memo from Barack Obama's 2008 campaign says that fencing at the US-Mexico border could help cut down on illegal immigration.["] [...] Well, by progressive standards, Barack Obama is now a racist. Yet, it also shows how insane the Left has become over the past decade. The descent into identity politics and the general shift leftward in political orientation has led the Democratic Party to become insanely out of touch with ordinary Americans, especially in immigration.
Now Republicans Are Running Away From Border Security Promise. These Republicans. Has there ever been a more disloyal, spineless, leaderless bunch? [...] The latest exhibit to be added to the long list of Republican broken promises is border security. Republicans are now running from the Trump "build that wall" promise that was critical in his winning the 2016 Election. So many Republicans are failing to follow up on this promise (they've been making it to voters for more than three decades) that an open floor vote might prove disastrous. Instead, a bit of cash will be thrown at the problem, a few miles of new fence, and tens of millions of dollars devoted to further "study."
House Republicans seek to dodge border wall vote. House Republicans are poised to fund $1.6 billion for President Donald Trump's border wall through a procedural maneuver designed to avoid a floor vote that might fail. The House Rules Committee is expected to attach funding for the wall that Trump has proposed building along the Mexican border to the so-called minibus, a downsized spending package for the Pentagon, the Energy Department, the Department of Veterans Affairs and the legislative branch — but not DHS, the Cabinet agency responsible for the wall. If an amendment to fund the wall is adopted by the Rules Committee, this line item can circumvent a floor vote, sparing GOP immigration moderates and fiscal hawks from being pressed to approve a project that their constituents might view as xenophobic, misguided and wasteful — and sparing GOP leaders possible defeat.
Trump says border needs 700-900 miles of wall. President Trump put the first concrete number on the miles of border he wants to fence off, saying "anywhere from 700 to 900 miles" need his border wall — and he said he wasn't joking when he suggested erecting solar panels to help pay for construction. "There is a very good chance we can do a solar wall," the president told reporters Wednesday night [7/12/2017] aboard Air Force One en route to France. During the campaign Mr. Trump said he wanted to see a wall across the 1,954-mile border with Mexico, but told reporters that he's been convince d there are a number of areas that don't need fencing because of natural barriers.
House GOP allocates $1.6 billion for Trump border wall in 2018. House Republicans said Tuesday [7/11/2017] they've included $1.6 billion in funding for President Trump's border wall in their new homeland security spending bill, setting up [a] fight with Democrats who have vowed to block any wall funding — even if it means sending the government into a partial shutdown. GOP leaders said the $1.6 billion fully meets Mr. Trump's request to begin wall construction, which includes 32 miles of new border fencing in Texas, 28 miles of levee wall along the Rio Grande Valley, also in Texas, and 14 miles of replacement fence in San Diego.
France to Use a Wall to Deter Terror. The French government is constructing a bulletproof, glass wall around the Eiffel Tower to prevent terror attacks that is projected to cost $20 million. The 8.2-foot-high wall was approved in January, and while many French are outraged by the construction of what they see as an eyesore, local politicians defended the plan. "The terror threat remains high in Paris and the most vulnerable sites, led by the Eiffel Tower, must be the object of special security measures," Deputy Mayor Jean-Francois Martins said. Currently the Eiffel Tower is surrounded by metal barriers as a security measure, but Martins believes the glass wall will be more visually appealing.
Trump Administration Plans Summer Announcement of Wall Prototypes. President Donald Trump's administration plans to announce design finalists for his "big beautiful wall" soon. The announcement will take place sometime in the summer of this year, according to a U.S. Customs and Border Protection spokesperson. It will include four to eight designs for wall "prototypes" to be constructed in San Diego. The exact date and details of the prototypes announcement have not been set, but is expected to be a major milestone for the president's promised project.
Trump requests $24.5-million-per-mile border wall, U.S. choice of immigrants. The first leg of President Trump's planned border wall will cost an exorbitant $24.5 million per mile, according to the 2018 budget he submitted Tuesday [5/23/2017] that details a massive shake-up in immigration policy. Mr. Trump calls for a giant increase in detention beds to help end the catch-and-release policies of previous administrations, requests major infusions of cash for more border and interior agents to apprehend illegal immigrants, and proposes more prosecutors and judges to speed their cases along. Also on tap is a boost in funding for E-Verify, the government's voluntary system that allows businesses to check potential hires' legal status. Mr. Trump says he wants the system to be mandatory for all U.S. businesses in three years.
DOJ Budget Ramps Up Funding for Eminent Domain' Land Acquisition' in Potential Effort to Clear Way for Border Wall. Tuesday's Department of Justice budget proposal asks Congress for $1.8 million to "meet litigation, acquisition, and appraisal demands during the construction along the border between Mexico and the United States." The money will be used to devote 20 new staff members, including 12 attorneys, to the Environmental and Natural Resources Division's Land Acquisition Section (LAS). This small section of the DOJ handles litigation that arises when the federal government uses its "eminent domain" power to seize land for public projects.
Hungary Unveils New Electrified Border Wall, Watch Towers, And Guards With Machine Guns. The country of Hungary, 95% of whose citizens opposed European Union migrant quotas in a recent referendum, has reportedly electrified key portions of their border fence. According to Index.hu, when approaching the border outside of authorized border crossings, those attempting to enter the country will be met with warning signs in Hungarian, Serbian and Arabic advising them that the fence has been electrified.
Trump's Border Wall Will Protect Human Rights. So what sort of immigration policy best protects genuine human rights? The Left's answer (often driven by cynical electoral considerations and a seemingly boundless need to virtue-signal) tends favor uncontrolled borders and unlimited immigration. Many libertarians also support open borders, asserting that people and labor should be allowed to move freely, and that restrictions upon this motion is a violation of rights. This is certainly better grounded in principles than the Left's customary position. However, both positions suffer from the same problem: they privilege the wishes of non-citizens over citizens.
Will Border Wall Divide the Right Over Eminent Domain? President Trump's border wall could potentially drive a wedge into the GOP as building the structure would require acquiring private property including through eminent domain, which flies in the face of traditional conservative support for property rights. Conservative property owners along the border in Texas oppose the wall, according to the South Texas Property Rights Association, which represents more than 600 landowners.
AZ Sheriff Opposes Border Wall: 'Medieval Solution to a Modern Problem'. Pima County Sheriff Mark Napier said in an interview with New York Times podcast "The Daily" that lawmakers would be better off giving a fraction of the estimated billions it would take to build the wall to law enforcement. "I think it's kind of a medieval solution to a modern problem," Napier said. "I mean, 10,000 years ago we were building walls around things, and here we are in 2017, and this is the best idea we can come up with?"
The Editor says...
Pumping water is also "a medieval solution to a modern problem," but we still do it. Walls don't require electricity. They don't have moving parts. They just stand in place and keep unwelcome people out.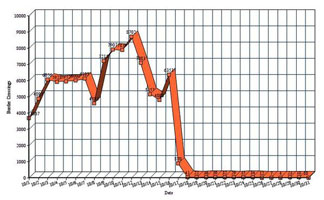 Hungary's new border wall is working spectacularly well. Hungary is getting major blowback from the E.U. elites. But as far as I know, they haven't doubled down on "it can't work" the way their American internationalist brethren have.&Nbsp; We have here a classic case of common sense versus "experts" whose predictions can't be trusted.
How Hungary Managed To Erase Illegal Immigration In Just A Few Months. When other countries welcomed refugees with open arms, Hungary decided it was time to eradicate illegal immigration at any cost. The country succeeded, but that success damaged relations with the European Union in the process. Hungary's second border fence has just been completed in the southern town of Asotthalom. The 96-mile long, 14 ft. tall double-line of defense doesn't look too intimidating from a distance. Go a little closer and you'll notice several layers of razor-wire capable of delivering electric shocks, cameras, heat sensors and loudspeakers ready to tell migrants they're about to break Hungarian law if they as much as touch the fence.
Don't Obsess Over the Wall. From Brownsville, Texas, to San Diego, Calif., the U.S.-Mexico border stretches nearly 2,000 miles, often across rugged, harsh terrain — including Texas's Big Bend National Park and Arizona's Sonoran Desert. Building a single, monolithic wall is not feasible for much of this territory, as Trump himself acknowledges at times. The proposed route of a wall also cuts through privately owned land, raising serious legal questions. Nevertheless, more barriers in select places are welcome.
California's latest move to "fight the wall" is truly something out of La La Land. There are still budget battles and (probably) blockades from the 9th Circuit to come, but sooner or later the President is going to get some work started on the border wall. But if and when he does, California is laying some landmines in advance for any private contractors who dare to bid on the job and pour a single yard of concrete. In a move being dubbed, "Build it and be banned," California legislators are proposing to impose a permanent ban for government contracts on any company who takes part in the project.
Bulk Cash Pays for the Wall. In the hyper-charged debate over the merits of building "the wall" along the U.S.-Mexico border and its funding impact on a possible government shutdown, I would like to propose a solution. The focus has largely been on contraband and illegal immigrants going north. We largely ignore the other side of the equation; i.e. illicit proceeds — mostly in the form of bulk cash — flowing south. If we could recover just a few percentage points of the tens of billions of profits from the sale of drugs and other transnational crimes (TOC) that annually flow south across the border, we could pay for the wall. Moreover, targeting the illicit proceeds should be palatable to both Mexico City and Washington DC, and may serve as a basis for enhanced U.S.-Mexican cooperation on illicit trafficking and related TOC.
Texas Governor: Build Border Wall With 'Sanctuary City' Funds. Texas Gov. Greg Abbott suggested President Donald Trump and both houses of Congress use federal money withheld from defunded cities, counties and states with so-called "sanctuary" policies to help fund a border wall, during an interview Tuesday [4/11/2017] on "The Laura Ingraham Show." Abbott, who has withheld state funds from Travis County in Texas because of its sanctuary policies, urged the president to use federal criminal grants stripped away from localities adopting these policies to aid in securing the border.
Why not 50 percent?
Border wall funding solved: GOP pushes for 2% fee on money immigrants send home. A group of House Republicans on Thursday [3/30/2017] introduced the first major bill to fund President Trump's border wall, saying the government could collect billions of dollars by imposing a 2 percent fee on all the money Mexicans and other immigrants send back home. Estimates vary, but remittances from those in the U.S. to their relatives back home could top $130 billion a year. A 2 percent tax could net more than $2 billion a year if it applied to all money regardless of who's sending it. "This bill is simple — anyone who sends their money to countries that benefit from our porous borders and illegal immigration should be responsible for providing some of the funds needed to complete the wall," Rep. Mike Rogers, Alabama Republican, said in a statement. "This bill keeps money in the American economy, and most importantly, it creates a funding stream to build the wall."
Here are the design Plans for Trump's border wall. [Scroll down] Other requirements include:
• A "physically imposing" height of no less than 18 feet but preferably 30 feet tall.
• Anti-climbing mechanisms, either by ladder or other tools like hooks that humans may be able to get across.
• Prevent tunneling 6 feet below ground.
• For breaches to the wall (using building or cutting tools, or torches) to take at least one hour in concrete designs, and 30 minutes in the "other" designs.
Trump's Wall Is Already Paid For. Critics of the border wall proposed by President Trump have said the cost is prohibitive under current budget and economic conditions, that no way is Mexico going to pay for it, and shifting funds away from the TSA, Coast Guard, and FEMA are counterproductive in terms of national security. These criticisms ignore the costs to the U.S. in terms other than money — increased crime, overtaxed law enforcement, the drain on public resources such as education, medical care, etc., and the driving down of real wages through an endless supply of cheap labor. In fact, thanks in large part to the mere threat of the wall, the sudden enforcement of existing law, and the stripping of funding from sanctuary cities by President Trump, illegal immigration has plummeted by 40 percent in February, a trend that if continued will reduce the costs and burdens of illegal immigration to the point that the benefits of enhanced border security, including the wall, will be more than paid for.
Exclusive: Hungary's Border Walls Pay for Themselves Through Savings on Illegal Migrants. The Hungarian government's decision to rapidly construct strong border fences along their frontiers has had a positive financial effect, achieving substantial savings on the cost of illegal immigration. Zoltán Kovács, official spokesman for Prime Minister Viktor Orbán, told Hungarian media last week that "the monies spent on border protection are very obviously being recouped".
It's worth every nickel, and more importantly, it is fully authorized by the Constitution, inasmuch as we are being invaded.
White House: Border wall cost could run $25 million per mile. The estimates of President Trump's proposed border wall run anywhere from $8 million to $25 million a mile, White House budget director Mick Mulvaney said in a radio interview Monday — though he said no decisions have been made on exactly what the wall will look like. Mr. Mulvaney, speaking on the "Hugh Hewitt Show," said the White House will ask for some money in the next couple of weeks but won't know the details of the cost and construction until it prepares its 2019 budget, which won't be for another year.
Illegals Cut 9,287 Holes in Obama-Era Border Fence. During a six-year stretch of the Obama presidency, people illegally crossing the U.S.-Mexico border cut 9,287 holes in the "pedestrian" fencing that currently covers only 354 miles of the 1,954-mile border, according to a report published by the Government Accountability Office. Only 654 miles of the 1,954-mile-long U.S.-Mexico border currently have any type of fencing, according to GAO. The other 1,300 miles of border have no fencing. Of the 654 miles of fencing, 354 miles consists of what the Department of Homeland Security calls "pedestrian" fencing. The other 300 miles is "vehicle" fencing.
Under Obama, Illegal Immigrants Cut Almost 10,000 Holes In Border Fence. For six years under the Obama presidency, illegal aliens cuts almost 10,000 holes in the border fence, according to a report by the Government Accountability Office. CNS News' Terry Jeffrey wrote about how these gaps are located in the "pedestrian" portion of the fence, which only covers 354 square miles: [...]
La Raza Declares War on Border Wall, Demands "Reconquista" of Southwest. The National Council of La Raza, an organization that promotes the Reconquista of the southwest United States, called President Trump's Executive Order a "declaration of war" on the Hispanic community equivalent to the slave trade. Janet Murgu'a, president of the National Council of La Raza, claimed the president's plan to build a wall on the southern border and deport violent illegal immigrants will "tarnish our nation's character."
More than 200 companies express interest in border wall construction. Hundreds of companies are lining up to bid on building President Trump's controversial border wall. As of Tuesday evening [2/28/2017], 225 companies — mostly construction and engineering firms — have expressed interest in building the wall along the U.S.-Mexico border, according to a website for contractors interested in doing business with the federal government.
Walls And Fences Are Bad... Except If You're A Hollywood Elitist Attending The Oscars. Vacuous celebrities stood and applauded a Mexican, Latin-American director who was chosen to present an Oscar, a political jibe at the President's intentions to strengthen border security. All the while they were safely separated from the unwashed masses by a complex 'maze' of security walls and fences.
The Coming Border War: A Prediction. A prediction: when the "Wall" along the southern border begins to be constructed, the left's professional activists will implement an extensive disruption campaign. It will be modeled after the Keystone Pipeline protest (that involved a makeshift city of 10,000), but be more mobile and flexible, spread out along the border that marks the path of the wall. Protestors will stand in the path of construction, just at activists have, in the past, chained themselves to trees in the Northwest to stop logging.
DHS secretary: Border wall should be finished in two years. In his first television interview as Homeland Security secretary, retired four-star Marine Gen. John F. Kelly told Fox News he wants the U.S.-Mexico border wall finished in two years — setting an ambitious schedule for the project ordered last week by President Trump. "The wall will be built where it's needed first, and then it will be filled in. That's the way I look at it," Kelly said. "I really hope to have it done within the next two years."
Dems Won't Rule Out Endangered Species Act Suits To Block Trump's Wall. President Trump's political opponents may use existing federal laws designed to protect endangered species to stop him from building a border wall to stem the flow of illegal immigrants coming from Mexico. Environmentalists say Trump's proposed border wall would hinder the movement of endangered species migrating through their natural, cross-border habitats, and activists aren't above filing suit under the Endangered Species Act (ESA) to stop the wall.
Texas Rep. Calls Out Trump Wall While Los Zetas Cartel Operates in His District. A congressman from this border city has expressed his disappointment at the executive orders signed by President Donald J. Trump, calling for more border security and a wall. The comments come at the same time the Los Zetas cartel has laid claim to a local park in his district. On Wednesday, Congressman Henry Cuellar (D-TX) issued a statement calling Trump's wall a 14th century solution to a 21st century problem. Cuellar denounced the plan, claiming that the move damages bilateral relations with Mexico.
Trump signs executive orders authorizing work on Mexico border wall, withholding funds for 'sanctuary cities'. President Trump signed an executive order to build a wall along the U.S.-Mexico border and will sign another banning some Muslim immigrants from entering the country — setting off a wave of protests in New York and elsewhere. Trump's order Wednesday paving the way for construction of the wall is the first in a series of steps he says will stem illegal immigration and strengthen national security.
Top Democrats Voted For The Border Wall Trump Is Building. President Donald Trump will be able to order the construction of a wall on the Mexico border Wednesday with the stroke of a pen, because of a 2006 law passed with the help of Democrats including Barack Obama, Joe Biden and Hillary Clinton. The 2006 law authorized the construction of 700 miles of fencing along the southern border, as well as additional lights, cameras and sensors to enhance security. Although former President George W. Bush signed the measure into law, the Democrat-controlled Congress that took over a few months later ensured it would never be completed by means of an amendment to a 2008 spending bill.
The Current State of the Border Fence. Recognizing the effectiveness of physical barriers as a means of border control, Congress first mandated the construction of a border fence in 1996 as part of the Illegal Immigration Reform and Immigrant Responsibility Act (IIRIRA). IIRIRA called for the construction of a 14-mile, triple-layered fence along the boundary between San Diego and Tijuana. By 2004, only nine miles of fencing were completed. Congress subsequently passed the Secure Fence Act of 2006. That legislation called for double-layered fencing along the border, augmented by manpower and technology, and directed the Secretary of Homeland security to construct "reinforced fencing along not fewer than 700 miles of the southwest border, in locations where fencing is deemed most practical and effective."
California Lt. Gov: We'll Stop Trump's Wall with Environmental Suits. President-Elect Donald Trump's plan to build a border wall along with U.S.-Mexico Border will be challenged through environmental lawsuits, according to California's second-highest official. California Lt. Gov. Gavin Newsom said in an interview with 'The Golden State Podcast' that he would use specific environmental laws in the state to stop the border wall from being built, at least in southern California.
TMZ: Obama Family Building a Wall Around New Home. President Barack Obama will reportedly have a big, beautiful wall around his new home in Washington DC. According to spy photos from TMZ, workers are currently building a brick wall around the rental home where the Obamas plan to live after leaving the White House. The home was sold in 2014 for $5,295,000 and has 9 beds and 8.5 bathrooms. It has 8,200 square feet and was built in 1928.
Trump Is Laying The Groundwork For His Border Wall Behind The Scenes. The Trump transition team has asked the Department of Homeland Security to report how much money is available to build a border wall, and to provide other information key to implementing the president-elect's immigration proposals. The requests outlined by the transition team in an early December meeting with DHS officials suggest Trump is serious about his promises to secure the southern border, deport illegal immigrants and reverse President Obama's executive orders on immigration.
Here We Go! Republicans In Congress Turn On Trump — Make Move To Stop Border Wall. And here come the charging RINOs! Intent on stopping President-elect Donald Trump from building a wall on the border. You'll recognize the names... it's the same [people] every single time: Lindsey Graham, Jeff Flake and Lisa Murkowski. They join Turban Durbin on drafting a measure that would allow illegal alien children to stay in the US. Uh, no. In this particular instance, the sins of the father and mother are the sins of the child. You cannot justify breaking the law because they are children. They should stay with their family in their country of origin until they come here legally... the right way... through the front door, not the back.
Why Building the Wall Should Not Be Trump's No. 1 Immigration Priority. Ironically, Donald Trump's marquee immigration proposal — a border wall, which Mexico will pay for — is the part of his immigration platform least likely to make much difference. This is not to say it's infeasible or even ill advised. Only about one-third of the border with Mexico has any kind of fencing, and half of that consists merely of low-rise vehicle barriers intended to stop truck traffic; anyone can easily climb over or under them (as I myself have done on many occasions). And the president doesn't need further authorization from Congress to build a physical barrier, although he would eventually need additional funding.
The law already allows Donald Trump to build the wall. There's no shortage of people telling Donald Trump he can't build a wall on the U.S.-Mexico border. And maybe, in the end, he won't do it. But at the moment Trump takes office, he will have the legal authority and the money he needs to get started on the wall. Yes, there will be obstacles — what's the over/under on the number of lawsuits that will be filed trying to stop it? — but the fact is, the law is already in place that will allow Trump to go forward. As in other areas of immigration enforcement, Trump will be able to effect radical change simply by following the law. In this case, it is the Secure Fence Act, passed in 2006 with bipartisan support — 283 votes in the House and 80 in the Senate, including then-Sens. Barack Obama and Hillary Clinton.
Build The Wall: It Will Save Americans Trillions Of Dollars. Each year, illegal Mexican migrant workers send $24 [billion] back to Mexico in cash transfers. American employers paid them under the table and off the books with fraudulent identification. They never paid taxes, FICA or Social Security on that money. Their employers wrangled financial murder for the past 40 years. While illegal alien workers transfer THAT much money annually, all legal and illegal immigrants account for $120 [billion] sent back to Mexico, South America, Africa and Asia. In other words, immigrants from all countries bleed America financially to death. At the same time, Mexico smuggles $50 billion annually of drugs into America across a non-guarded, non-existent border. I've traveled the 1,952 mile Mexican-American border three times to witness that it allows anyone at any time to enter the USA in thousands of unguarded locations.
How 65 countries have erected fences on their borders. Globalisation was supposed to tear down barriers, but security fears and a widespread refusal to help migrants and refugees have fuelled a new spate of wall-building across the world, with a third of the world's countries constructing them along their borders. When the Berlin Wall was torn down a quarter-century ago, there were 16 border fences around the world. Today, there are 65 either completed or under construction, according to Quebec University expert Elisabeth Vallet.
Obama shutting off aerial surveillance at border proves the need for border wall. If you talk to a liberal about solutions for our porous border, they are willing to discuss everything but a fixed, border fence. They'll filibuster the conversation with talk about aerial surveillance, more border agents, "virtual fencing," cameras, and sensors, etc. But the minute the discussion turns to a physical barrier on the border, they clam up and adamantly oppose it. Why the hatred for a physical fence? For one thing, fences work.
Ill. Legislator Wants to Sanction Firms That Help Trump Build Border Wall. A bill introduced Wednesday [11/16/2016] in the Illinois General Assembly would punish any businesses that help the federal government build a wall along the U.S. southern border by placing them on a "Prohibited Investment List" alongside companies that boycott Israel and do business with Sudan and Iran. Building the wall between the U.S. and Mexico was a major promise President-elect Donald Trump made to voters during his successful presidential campaign. It is also the first goal of Trump's "10 Point Plan to Put America First." Trump said he will "begin working on an impenetrable physical wall on the southern border, on day one. Mexico will pay for the wall."
Trump Immigration Architect — The Wall Will Be Built and There Will Be No Free Passes. Kansas Secretary of State Kris Kobach is the architect of the Trump immigration enforcement structures. Working diligently behind the scenes Kobach is constructing the actual mechanisms and actionable policies that will make President Trump's policy proposals actually come into fruition.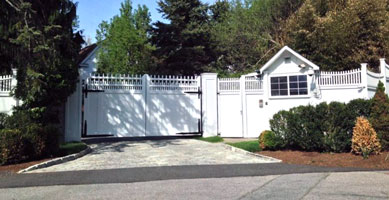 Hillary Clinton's protective wall around Chappaqua estate. Hillary Clinton doesn't miss an opportunity to ridicule Donald Trump's illegal immigration solution of a wall on the southern border — but that's exactly what she's deployed to keep undesirables away from her. [...] A series of photos reveal a massive barrier running the entire border of Bill and Hillary Clinton's estate in Chappaqua, New York — undoubtedly intended to keep the unwashed masses away from the political elites.




Open Borders Zealot Zuckerberg Angers Neighbors by Building Massive Security Wall Around His Hawaiian Home. The island of Kauai is a masterpiece of natural beauty. That Zuckerberg would both build a security wall and despoil one of the most spectacular islands in the world would shame a normal person, but not — of course — any Democrat.

Arts commission approves plan for higher White House fence. A plan to increase the overall height of the fence surrounding the White House by approximately 6 feet, about doubling its current height, won preliminary approval from a Washington arts commission Thursday [6/16/2016].

The Value of a Border Wall. Throughout the course of this primary campaign, Donald Trump has taken virtually every conceivable position on virtually every issue except one. Proving even a blind squirrel can find an acorn, Trump has been consistent all along that as president he will construct a wall along the U.S.-Mexican border. Let's assume for a moment that Trump is telling the truth; an almost always an iffy proposition where Trump is concerned. However, for the sake of this discussion I'll graciously take Trump at his word and assume he would make this a priority in his administration.

President Obama Decides to Build a Border Security Wall. Only Problem: It's in Africa. [Scroll down] Since [2011] not much has been done to secure the Southern border because of the high-cost of such an initiative. However, it appears that spending billions of dollars on U.S. military personnel and supplies to help Niger secure their country from Boko Haram terrorists by, of all things, building a wall, is a cost-effective undertaking. Meanwhile, back in the United States, illegal immigration through the completely wide open border with Mexico is reportedly costing American taxpayers some $100 billion per year — fully 15 times what it would have cost to build a border fence or wall. Undocumented immigrants continue to flood in and the threat of real terrorists originating from the middle east and elsewhere remains at an all time high. In fact, just last year Congressman Jason Chaffetz reported that Federal agents captured four individuals with ties to the Islamic State attempting to cross into the United States.

Migrants Race North as Hungary Builds a Border Fence. Like a movable feast of despair, the mass of people has overwhelmed the authorities in one stop after another, from the tiny Greek island of Kos to impoverished Macedonia, which declared a state of emergency last week, and now the train and bus stations of Serbia, as they head north to their ultimate destinations in the richer nations of the European Union. The next link on their route, almost inevitably, are towns like this one on the Hungarian frontier with Serbia. But Hungarian officials say they have a firm, if unwelcoming, answer to the slow-motion tide: a fence.

World of walls: How 65 countries have erected fences on their borders. Globalisation was supposed to tear down barriers, but security fears and a widespread refusal to help migrants and refugees have fuelled a new spate of wall-building across the world, with a third of the world's countries constructing them along their borders. When the Berlin Wall was torn down a quarter-century ago, there were 16 border fences around the world. Today, there are 65 either completed or under construction, according to Quebec University expert Elisabeth Vallet.

Kenya Begins Construction on Border Wall to Keep Somalis Out. The Kenyan government has broken ground on a new wall that will span a large swatch of the border between Kenya and Somalia. While the project had been announced in March, Kenyan authorities appear to have expedited the groundbreaking in response to the terrorist attack at Garissa University.

Border Fencing: One Tool among Many. Perhaps 40 percent of the illegal population entered legally and then overstayed their visas — pointing to laxity not only in tracking foreign visitors but also in issuing visas to them in the first place. What's more, many illegal aliens sneak through the legal crossing points — called ports of entry — by either using fraudulent documents or hiding in vehicles. Nevertheless, controlling the long stretches of the border between ports of entry is essential, and fencing is an important tool in the border patrol's kit. Consider the situation in El Paso, which used to be one of the main gateways to the United States for illegal aliens.

Senate Just Proved It Can't Be Trusted On Border Security. In 2006, Congress passed the Secure Fence Act, requiring 700 miles of double-tiered fencing get built along the Mexican border. Though the fence would only cover a fraction of that border, President Bush told Americans: "This bill will help protect the American people. This bill will make our borders more secure. It is an important step toward immigration reform." "We have a responsibility to secure our borders," he added. "We take this responsibility seriously." Seriously? A year later, Congress quietly passed a law that largely neutered the fence requirement, and today, only 36 miles of it have been built.

Homeland Security Axes Bush-Era 'Virtual Fence' Project. The Department of Homeland Security today [1/14/2011] officially scrapped a Bush-era program designed to use radar technology to detect illegal immigrants crossing the U.S.-Mexico border, according to a DHS official and a congressional source.

U.S. ends "virtual fence" project on Mexican border. President Barack Obama's administration on Friday canceled the troubled "virtual fence" project meant to better guard stretches of the vast U.S. border with Mexico and will replace it with other security measures. The project, begun in 2006 and run by Boeing Co, has cost about $1 billion and was designed to pull together video cameras, radar, sensors and other technologies to catch illegal immigrants and smugglers trying to cross the porous border.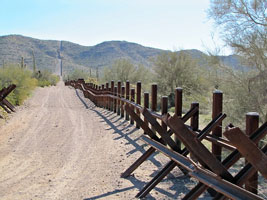 This is a secure border? Here's some of the 700 miles of border fence the Obama administration takes credit for. "Your grandma could get over or under," notes Mark Krikorian.

The virtual fence is abandoned:
Work to cease on 'virtual fence' along U.S.-Mexico border. The Obama administration will halt new work on a "virtual fence" on the U.S.-Mexican border, Homeland Security Secretary Janet Napolitano announced Tuesday [3/16/2010], diverting $50 million in planned economic stimulus funds for the project to other purposes. Napolitano said the freeze on work beyond two pilot projects in Arizona was pending a broader reassessment.

Arizona Can't Wait Any Longer. Weren't we told, ladies and gentlemen, back in 2007 that amnesty would not be pushed through Congress until we had secured the border? We were told this after the American people rose up and opposed amnesty. Work was started on the "virtual fence," right? We were going to secure the border after 2007 and gonna start work on the virtual fence. Anybody notice how that's been going? ... They abandoned the virtual fence. They're about to stop funding for it. It was a pretend thing from the get-go. It was illusory.

Costly virtual border fence in tatters. The Department of Homeland Security, positioning itself to cut its losses on a so-called invisible fence along the U.S.- Mexico border, has decided not to exercise a one-year option for Boeing to continue work on the troubled multibillion-dollar project involving high-tech cameras, radar and vibration sensors. The result, after an investment of more than $1 billion, may be a system with only 53 miles of unreliable coverage along the nearly 2,000-mile border.

Sheriff Babeu: It's 'An Outrage' Obama Stopped Building Border Fence. Sheriff Paul Babeu of Pinal County, Ariz., says it is "an outrage" the Obama administration has stopped building the double-fencing needed to assist the Border Patrol in securing the U.S.-Mexico border and says it is time for the United States to begin fighting illegal immigration and drug smuggling directly at the border instead of within the country where it harms American citizens and communities.

America's Slipping Grasp on Self-Governance. After the public stopped the 2007 amnesty bill, a seemingly repentant Congress promised to build hundreds of miles of double-layered border fence. The lion's share of the fence was meant to disrupt the high-volume human-trafficking areas along the Arizona-Mexico border. It was a start. Unfortunately, the start never started. After delays due to land "surveying," the border fence has been mostly defunded and forgotten. Petitions over the federal government's failure to follow through were met with only token promises of extra protection, virtual fences, and more resources on the border.

Obama builds the crisis, not a fence. In the ongoing chronicle of our broken southern border, Arizona's Republican Sen. John Kyl charged late last month that in a recent one-on-one meeting, Mr. Obama told him if he takes steps to secure the boundary between the U.S. and Mexico, Republicans would be less likely to support comprehensive immigration reform, and therefore he would not do so. Politics: 1, national security: 0.

Who Tore Down the Virtual Fence? The need to secure our nation's borders has never been greater. Each and every day unknown thousands of illegal aliens including, undoubtedly, criminals and terrorists easily make their way across our nation's borders. Each and every day unknown tons of narcotics and ... other contraband are also smuggled into the United States even as our nation's leaders talk about concerns about weapons of mass destruction (WMDs) being smuggled into the United States.

Just Finish the Fence. Why did building the fence along our southern border stop? Instead of building the fence, Barack Obama would rather build a political party of illegal aliens and their supporters. Unless we want to be dealing with immigration problems in perpetuity, the fence must be completed.

After spending hundreds of millions of dollars on it,
Senators Call for Scrapping 'Virtual Fence'. Two senators said Tuesday [4/20/2010] it's time to consider ending a contract for a "virtual fence" along the U.S.-Mexico border, contending it doesn't stop illegal immigration.

De-Fence, De-Fence. The government puts the brakes on a problem-plagued "virtual" fence on our border with Mexico. Whatever happened to the old-fashioned kind? If ever there was a shovel-ready project, this is it.

Napolitano halts funding for 'virtual fence'. Homeland Security Secretary Janet Napolitano announced Tuesday [3/16/2010] that she has cut off funding for a costly surveillance system billed as a "virtual fence" to protect the Southwest border.

No finish in sight for 'virtual' border fence. A multibillion-dollar "virtual fence" along the southwestern border promised for completion in 2009 to protect the U.S. from terrorists, violent drug smugglers and a flood of illegal immigrants is a long way from becoming a reality, with government officials unable to say when, how or whether it will ever be completed.

People From Countries Tied to Terrorism Enter USA through Mexico. Homeland Security Secretary Janet Napolitano told senators it is a national security concern that people from countries with ties to terrorism could 'potentially' gain entry into the United States by crossing the country's southern border. But according to the Department of Homeland Security's own reports, thousands of people from 14 "special interest" countries already have come into the United States illegally, including some across the U.S.-Mexico border.

Environmental laws put gaps in Mexico border security. In the battle on the U.S.-Mexico border, the fight against illegal immigration often loses out to environmental laws that have blocked construction of parts of the "virtual fence" and that threaten to create places where agents can't easily track illegal immigrants.

Mr. Obama, Put Up That Fence. According to the Government Accountability Office (GAO), only 32 miles of the called-for 700 by the Congress in 2006 has been erected by the Department of Homeland Security (DHS). This is in direct defiance of the will of the majority of United States citizens and blame lies directly with Presidents Bush and Obama and the current Secretary of DHS, Janet Napolitano all of whom favored open borders, free entry for illegal aliens and amnesty for those that are already within our borders.

Feds Have Built Only 32 Miles of 700 Mile Double-Border Fence. The Department of Homeland Security (DHS) has built only 32 miles of double-layer fencing along the U.S.-Mexico border out of the 700 miles originally mandated by a 2006 act of Congress, according to the Government Accountability Office (GAO).

Border Fence is Progressing. The $2.7 billion border "fence" authorized by Congress to be built along stretches of the U.S.-Mexico border is just over two-thirds finished — and should be mostly complete by the end of the year. But not everyone is happy with it.

Texas officials sue US over border fence. Texas mayors and business leaders filed a class-action lawsuit Friday [5/16/2008] alleging Homeland Security Secretary Michael Chertoff hoodwinked landowners into waiving their property rights for construction of a fence along the Mexican border.

Homeland Security Scrapping, Replacing Sub-Par Virtual Fence Along Arizona-Mexico Border. The government will replace its highly touted "virtual fence" on the Arizona-Mexico border with new towers, radars, cameras and computer software, scrapping the brand-new $20 million system because it doesn't work sufficiently, officials said.

'Virtual' Border Fence Virtually Gone. When Congress mandated that the Department of Homeland Security build a 200 mile fence along the border with Mexico, DHS decided to make 28 of those miles a "virtual fence" — electronically monitored so that border security would be notified if anyone was crossing. Great idea. Too bad it's a spectacular failure.

Researchers Fear Southern Fence Will Endanger Species Further. The debate over the fence the United States is building along its southern border has focused largely on the project's costs, feasibility and how well it will curb illegal immigration. But one of its most lasting impacts may well be on the animals and vegetation that make this politically fraught landscape their home.

Build the Fence Now. There is an old saying that a good fence makes for good neighbors. This truism has never been more applicable than with our Southern neighbor of Mexico. A good fence makes good immigration policy too. Unfortunately, the current Senate Immigration Bill's focus is not on the fence. It is on making people who've broken the law legal. Unless we want to be dealing with this issue again in five or 10 years, after millions more illegals have entered our country, the fence must become the focus of any solution.

Katrina Nation: Building the first 100 miles of "virtual fence" will take Bush longer than it took FDR to win World War II. The admission of failure comes two years after Bush announced plans for "the most technologically advanced border initiative in American history."

The Incredible Disappearing Border Fence. It's an object lesson in gesture politics and homeland insecurity. It's a tale of hollow rhetoric, meaningless legislation and bipartisan betrayal. And in the run-up to the Iowa caucuses, it's a helpful learning tool as you assess the promises of immigration enforcement converts now running for president.

U.S. Senate Turns Back On Border Fence. In a quiet act of defiance, the Senate approved a $555 billion omnibus spending bill that removed legal requirements mandating the federal government fund 854 miles of a double layer border fence spanning America's southwestern border. The funding requirement was codified into law when Congress passed, and President George W. Bush signed, the Secure Fence Act (SFA) in 2006.

A fence we can live with. A tip of the hat to Homeland Security Secretary Michael Chertoff for setting aside the environmental laws, as Congress permitted him to do, to facilitate prompt completion of the remaining 470 miles of fence along the Mexican border. It's good to see recognition that environmental concerns don't always trump everything else, especially national security.

Hutchison on defensive over border fence amendment. In an uncharacteristic display of public frustration with party colleagues, Sen. Kay Bailey Hutchison on Friday [1/11/2008] sharply criticized two Republican congressmen who had accused her of a stealth effort to derail the fence along the U.S.-Mexico border.

High-Tech Border Patrol: 5 New Tricks to Find Smuggler Tunnels. The Department of Homeland Security says tunnels under the U.S.-Mexico border are proliferating as security is tightened aboveground. The solution? A sensor network that peers through dirt and rock. The technologies to build it are being developed with funding from the department's advanced research wing.

The GOP Senate's Collective Contempt For Its Base. The physical fence is the outward manifestation of an inward conviction to respect the will of the people. The rhetoric about virtual fence is understood — rightly or wrongly but with certainty — to be a ruse….

Mexican anger over US 'trespass'. Mexico's Congress has condemned what it says is a border violation by US workers building a controversial barrier between the two countries. Legislators say workers and equipment building a section of the barrier have gone 10 yards into Mexico. The alleged border violation comes ahead of a high-level meeting in the Canadian capital Ottawa.

Texas Officials Criticize Fence Plan. A new map showing President Bush's planned border fence has riled Rio Grande Valley officials, who say the proposed barrier reneges on assurances that the river would remain accessible to farmers, wildlife and recreation.

Texas Cities Block Access to Border Land. Mayors along the Texas-Mexico border have begun a quiet protest of the federal government's plans to build a fence along the border: They are refusing to give access to their land. Mayors in Brownsville, Del Rio and El Paso have denied access to some parts of their city property, turning away federal employees assigned to begin surveys or conduct other preliminary work on the fence meant to keep out illegal immigrants.

All talk and no action:
Senate denies funds for new border fence. Less than two months after voting overwhelmingly to build 370 miles of new fencing along the border with Mexico, the Senate yesterday [7/13/2006] voted against providing funds to build it.

The immigration facade: Even if lawmakers had come up with all the funding to pay for the fencing — and they didn't — barriers only squeeze more illegal immigrants through those parts of the border that aren't fenced off. In the 1990s, crackdowns in El Paso and San Diego sent millions of illegal immigrants to crossing points in the Arizona desert.

Funding for 700-mile border fence falls short. President Bush's budget includes enough money to build only half the U.S.-Mexico border fence Congress demanded last fall, leaving supporters of a 700-mile barrier seething Monday and immigration advocates shrugging that it was just an election-year ploy.

Minutemen building Arizona border fence. Scores of volunteers gathered at a remote ranch Saturday [5/27/2006] to help a civilian border-patrol group start building a short security fence in hopes of reducing illegal immigration from Mexico.

Rep. Pelosi criticizes border fence. House Speaker Nancy Pelosi called a plan to build fencing along parts of the Mexico border a "terrible idea" that overlooks local communities. Pelosi made the comments during her trip to the Rio Grande Valley for the annual Hispanic Engineering, Science & Technology Week conference at the University of Texas-Pan American.

Lies about the fence. An earlier Homeland Security appropriations bill earmarked $1.2 billion for border security, so a down payment on the fence is available, but there is some question as to whether that money will or won't be used for the fence, which would cover approximately one-third of our border with Mexico. One thing is certain, however: The fence represents a great divide — not between Mexico and the United States, but between those who believe in self-defense and those who don't.

The barrier method works. A Monday story by the Reuters news service should be required reading for anyone opposed to illegal immigration: "Experts see U.S. border fence plan as impractical" is a stunning example of the intellectual dishonesty of Big Media and apologists for illegal aliens. And surely the most stunning, how oblivious both seem to be about it.

With Senate Vote, Congress Passes Border Fence Bill. The Senate gave final approval last night to legislation authorizing the construction of 700 miles of double-layered fencing on the U.S.-Mexico border, shelving President Bush's vision of a comprehensive overhaul of U.S. immigration laws in favor of a vast barrier.

New fences protecting fragile areas on border. Only a few steps north of the barbed-wire fence that separates the Buenos Aires National Wildlife Refuge from Mexico is a chain of steel sawhorses that could help save a park trampled by illicit visitors and littered with trash and rusting vehicles.

Company donates hi-tech fencing for Minuteman group. A Washington-based company is donating up to $7 million worth of fiber-optic security fencing material for the Minuteman Civil Defense Corps to use in any new barriers the group erects to try to keep illegal immigrants out of Arizona.

Wall Costs Worth It. Now that Congress is voting to build fences, punish burrowing illegals, and require Real ID's ofr citizens, (agri-)businessmen and consumers are aghast that improving border security already costs them. The added expense isn't just in resources like fence lumber, brick mortar, technology, and security manpower. No, it's hitting home now that the new efforts to restrict illegal immigration may cause serious economic disruptions. Have you noticed the cost of lettuce lately?

Senate OKs Border Fence, Mulls Citizenship. The Senate voted to build 370 miles of triple-layered fencing along the Mexican border Wednesday [5/17/2006] and clashed over citizenship for millions of men and women who live in the United States illegally.

Fence or no fence, what's all the fuss about? History has shown that immigrants in search of freedom and prosperity will climb over, tunnel under, or circumvent any fence. But if fencing helps pass a broad-based reform bill, so be it.

Minutemen Gaining in Immigration Debate. Minuteman organizers say this spring's marches have proved to be an unexpected recruitment tool for Americans who feel uneasy about the burgeoning immigration movement but may have considered the organization a pack of gun-toting vigilantes.

Minutemen turn away Arab news crew. The Minuteman Civil Defense Corps has canceled plans for an Al Jazeera news crew to interview volunteers patrolling the U.S.-Mexico border today after volunteers threatened to walk off their posts.

Border incursions rattling Arizonans. After long downplaying the number of incursions along the Southwestern border, top Border Patrol officials now acknowledge such incidents are all too common. Over the past decade, the Department of Homeland Security has reported 231 incursions along the border, including 63 in Arizona.

The Official Minuteman Civil Defense Corps web site.

A wall is key to any reform. Every sensible immigration policy has two objectives: (1) to regain control of our borders so that it is we who decide who enters, and (2) to find a way to normalize and legalize the situation of the 11 million illegals among us. Start with the second. No one of good will wants to see these 11 million suffer. But the obvious problem is that legalization creates an enormous incentive for new illegals to come.

Why a 'Virtual Fence' Is a Virtual Farce: The notion that cameras mounted on Predator drones obviate the need for physical barrier infrastructure should be dismissed as absurd on its face, yet several senators are promoting it seriously. Upon examination, however, what they describe as a virtual fence is no such thing. They do not describe a barrier, they describe a detection system.

Border Fence is legitimate self-defense. Build a double border fence all the way from San Ysidro to Brownsville, and patrol it well. Where geography prevents construction of a physical fence, deploy other resources in sufficient number to shut down illegal crossings.

Highway sound barriers as border fences? As discussion of erecting a security fence along U.S. borders with Mexico and Canada heats up, some analysts say it's possible Washington could economically erect thousands of miles of barrier to keep out illegal aliens, smugglers and terrorists, for about half of what the Pentagon is spending a month to fight the war on terror.

"Vigilantes" on the border? Social Security used to be called the third rail of politics but illegal immigration is the real third rail that both political parties are afraid to touch. Cops who find illegal aliens are under orders not to turn them in to the feds. And the federal government's own border guards have their hands tied by the higher-ups as well.

Congress to vote on bill that waives environmental laws. Congress is expected to vote next week on a measure that would allow completion of a controversial triple-fencing project along the U.S.-Mexico border near Imperial Beach [California] without complying with state or federal environmental safeguards. The triple-fencing project would run along the westernmost 3.5 miles of the U.S.-Mexico border.