Walls, fences and militias:
Mexico wants to end caravans. Mexico wants the USA to aid Central America to keep people from leaving. America wants a wall. But Mexico is willing to keep the caravan migrants.
U.S. top court snubs environmental challenge to Trump's border wall. The U.S. Supreme Court on Monday [12/3/2018] rebuffed a challenge by three conservation groups to the authority of President Donald Trump's administration to build a wall along the U.S.-Mexico border, a victory for Trump who has made the wall a centerpiece of his hardline immigration policies.
Hispanic Democrats say feds should eliminate all money for border wall. Hispanic Democrats drew a red line Wednesday [11/28/2018] in budget negotiations, saying they cannot support any year-end spending bill unless it reduces the government's ability to detain illegal immigrants ahead of deportation. The Democrats also said they want to eliminate all money for the border wall — not the $5 billion President Trump is seeking, nor even the $1.6 billion that Senate Democrats have said they're willing to spend.
Why not build a border barrier? It's the law. The news is filled with images of migrants massing at the U.S-Mexico border near the San Ysidro crossing in California. Why haven't they been able to enter the United States? Because a physical barrier prevents them from doing so. It is just another example of a barrier — a fence, a wall, whatever — providing real border security. Of course, building a wall on the U.S.-Mexico border was President Trump's premier campaign promise. So far, in nearly two years in office, he has made almost no progress toward making it happen.
$145M Texas border wall project awarded, Customs and Border Protection says. A $145 million construction project was awarded Wednesday to build roughly six miles of border wall in Texas, Customs and Border Protection (CBP) announced on Friday [11/2/2018]. The agency, in conjunction with the Army Corps of Engineers, gave the multimillion-dollar job in the Border Patrol's Rio Grande Valley Sector to SLSCO, CBP said in a news release. Work on the project, also known by CBP as RGV-03, is expected to kick off in February, the agency said.
Video shows border wall construction underway in Texas. ideo released this week shows construction underway in El Paso, Texas, for a portion of a U.S.-Mexico border wall. The video published by the El Paso Times shows construction beginning to replace existing fencing with a wall in Chihuahuita, El Paso's oldest neighborhood. The wall, construction for which began last Saturday, is set to run from Chihuahuita and continue east for four miles. The 18-foot-tall steel bollard wall will replace the chain link and metal fence as part of President Trump's executive order last year authorizing construction of his wall along the U.S.-Mexico border, the administration said.
Watch that new border wall going up where it is needed most. Congress still refuses to fund a complete border wall, but that isn't stopping the king of construction, Donald J. Trump, from delivering the goods where it is needed most. The El Paso Times has provided an entertaining and interesting video of construction of a new, much bigger border wall being built on the border separating the metropolises of Juarez, Mexico and El Paso, Texas, with a combined metropolitan population of at least 2.7 million souls.
Ten Inconvenient Facts. [#2] People like walls. Progressives want open borders and limitless migration, and that may please the renowned professor who grew up in one city, went to school 1,000 miles away, took a job in yet another state, and lectures and does research in Europe each year. But most people want a home and they want security. They believe that good fences make good neighbors, that a country without walls isn't a country. Walls reinforce the pride of ownership, too. When liberals decry walls, they belittle the sense of place that people find comforting and meaningful.
Border Wall Construction Progresses In New Mexico. New Mexico is progressing on its 20-mile border wall construction west of Santa Teresa, replacing old posts and rail barriers as part of President Donald Trump's initiative to halt illegal immigration and drug trafficking. U.S. Customs and Border Protection (CBP) said more than 8,100 panels stretching over 11 miles were built as of Aug. 8, according to the Associated Press Friday [8/17/2018]. "It's going to be harder to get over, harder to get through, harder to get underneath," Chief Patrol Agent Aaron Hull of the El Paso sector told the Albuquerque Journal on April 9. "It's going to have a five-foot, anti-scaling plate at the top." The barrier will be as tall as 18 feet in some areas, depending on the location. The "wall of steel" was approved in 2017 and construction of the $73.3 million project began April 9, the Journal reported.
Second Senate Democrat Pledges To Support Trump Border Wall Funding. West Virginia's Joe Manchin has joined Indiana's Joe Donnelly in pledging to support border wall funding in the upcoming budget. Both Democrat senators are facing tough re-election bids in states dominated by pro-Trump voters who fully support the President's desire to increase the nation's border security.
Man breaks legs jumping border wall in California. A man attempting to enter the United States illegally has fallen from a new 30-foot high wall in California, breaking both his legs.
Cutting welfare to illegal aliens would pay for Trump's wall. Mexico won't have to pay for the wall, after all. US taxpayers won't have to pick up the tab, either. The controversial barrier, rather, will cover its own cost just by closing the border to illegal immigrants who tend to go on the federal dole. That's the finding of recent immigration studies showing the $18 billion wall President Trump plans to build along the southern border will pay for itself by curbing the importation of not only crime and drugs, but poverty. "The wall could pay for itself even if it only modestly reduced illegal crossings and drug smuggling," Steven A. Camarota, director of research at the Center for Immigration Studies, told The [New York] Post.
Donald Trump Demands Funding to Keep Building the Wall Faster. President Donald Trump again signaled his support for the wall Monday [7/30/2018], after threatening to shut down the government if Congress failed to deliver construction funding. "We must have Border Security, get rid of Chain, Lottery, Catch & Release Sanctuary Cities — go to merit-based Immigration," he wrote on Twitter. "Protect ICE and Law Enforcement and, of course, keep building, but much faster, THE WALL!"
Irony: Portland's Occupy ICE Protest Builds Wall, Creates Border Patrol To Keep Out Police. On Wednesday [7/25/2018], The Daily Wire reported that "Occupy ICE" protesters in Portland had been given eviction notices and were ordered to pack up their belongings and demonstrate against vague notions of tyranny and oppression elsewhere. But while some indeed cleared out (in a manner of speaking, at least), others decided to stay and fight, erecting — ironically — a "border wall" to enclose the Occupy ICE PDX encampment and stationing "border guards" around their tiny independent nation. No, really. The border wall, which is in fact quite high (perhaps, say, to prevent border jumpers), went up over the weekend.
Mexico reportedly will create its own border force [on its southern border]. Mexico's president-elect has complained about President Trump's immigration policies, but he's looking to adopt some them for his country, a top aide said. Andres Manuel Lopez Obrador is planning his own border force to stop illegal immigrants and drugs crossing into Mexico from Central America, Alfonso Durazo, his chief of public security, told Bloomberg. Mr. Durazo said the border force would also patrol the U.S.-Mexico line, though he declined to give Bloomberg more details.
What Happened To The Fence Promised By The Secure Fence Act Of 2006? TheSecure Fence Act was introduced on Sept. 13, 2006, by Rep Peter King (R-NY) and passed Congress on a bi-partisan basis. In the House of Representatives, the Fence Act passed 283 [to] 138 on September 14, 2006. On September 29, 2006, the Fence Act passed in the Senate 80 [to] 19. Out of the eighty senators in total who voted in favor of the secure fence act, twenty-six (out of the forty-four) Democrats voted in favor of the bill (one, Ted Kennedy did not vote). A dozen years later some of those Democratic Senators are still serving in the upper body [...]
The Same People Who Take a Knee For the American Flag Wave Mexican Flags at Anti-ICE Protests. There is absolutely no question about it, these protests are not about separating children from their parents — it is about abolishing our borders. The Democratic Party has been radicalized against our nation.
Poll: Majority With Trump: Want Wall Built, Migrant Families Deported or Detained. A poll released Sunday [6/24/2018] by CBS News shows a majority of Americans support a wall being built on the border with Mexico and for migrant families who illegally entered the U.S. to be deported or detained. The CBS News 2018 Battleground Tracker Poll conducted by YouGov June 21-22 during the midst of the controversy over migrant families and unaccompanied children flooding the southern border shows a shift toward President Trump's views since a March CBS poll by SSRS showed 60 percent opposed a wall.
The Cost of Providing Health Care to Illegal Aliens. The most objective piece of writing on illegal immigration to emerge from the legacy media last week appeared under the title, "If We Want to End the Border Crisis, It's Time to Give Trump His Wall." It was penned by Andrew Sullivan, of all people, yet he admitted something few progressives have really accepted: "He won the election. He is owed this." Sullivan's regular readers will reflexively disagree, but his reasoning is irrefutable. So, most will have to revert to the "prohibitive cost" canard. In reality, the wall will easily pay for itself in savings to our health care system. The cost of the border wall has been projected by numerous entities, and the estimates vary wildly. The Trump administration and the GOP congressional leadership have estimated its cost at $12 billion to $15 billion. Senate Democrats claim that the price tag would be $67 billion. The Department of Homeland Security (DHS) has projected the cost at $21.6 billion. Going with the Trump administration figure, the savings to our health care system should pay for the thing in a decade. Using the DHS figure, it will take far less time than a typical mortgage. Specifically, about 20 years. This depends on what we pay for the health care we provide to illegal immigrants and how many will be stopped by the wall.
Fund The Wall Before Any Other Immigration Legislation. Republican lawmakers in the House and Senate have suddenly found the time and energy to pass a quick legislative fix to end the practice of separating parents from children when they cross illegally into the country — but they apparently do not plan to act on any real illegal immigration fixes, such as funding the border wall. According to reporting by The Washington Examiner's Susan Ferrechio, Senate Majority Whip John Cornyn, R-Texas, is working with other GOP senators on a bill that would allow families who enter the country illegally to remain together at immigration facilities at the border as they await adjudication. The Trump administration has said a court decision requires family separation as adults are prosecuted. Cornyn's bill would eliminate that requirement, and speed up court hearings for people seeking admission into the country, which can take months.
7 Truths Liberals Will Never Acknowledge About Illegal Immigration. [#2] A wall would make a major difference. A wall was never intended to be a fix for illegal immigration in and of itself. To the contrary, it's a force multiplier. What we see everywhere that we have full fencing up is that illegals overwhelmingly avoid those areas. In other words, you can use a wall to direct illegals to certain areas and concentrate the border patrol in those areas. As we've seen in Israel and even around the White House and the Vatican, walls work. If you're serious about stopping illegal immigration, you support a wall.
Trump border wall crowdfunding possible under Tennessee lawmaker's 'trust fund' bill. Those who want to see President Trump's border wall built may get a chance to help fund the project if a recently introduced bill is passed. The legislation, introduced by Rep. Diane Black, R-Tenn., last week, would create a "border wall trust fund." People could donate any amount of money to it, with the funds specifically designated for "whatever it takes to build the wall" — from supplies to salaries. It would be overseen by the Treasury Department, according to Black.
Taxing Remittances Can Build the Wall. Among the alleged asylum-seekers parked on the U.S. border is a contingent of Hondurans, allegedly fleeing persecution, poverty, crime, and oppression. If that is the case, then why is the Honduran government helping them, driving them northward under orders given to the Honduran ambassador, who is helping and escorting them? [...] Why is the country whose oppression they are allegedly fleeing helping them leave? The answer is remittances, the money sent back home by so-called "migrants." Asylum is in large part a colossal scam designed to provide Latin American countries with both a safety valve and a cash cow of foreign exchange. In 2017, remittances sent back to Honduras totaled $4.33 billion and make up a significant part of the Honduran economy.
DHS to build 20-mile wall along border in New Mexico. Homeland Security began building a border wall in New Mexico on Monday [4/9/2018], moving to replace vehicle barriers with a modern fence that will deter pedestrians attempting to cross in the remote desert west of El Paso. The 20-mile project has been on the books for some time and the contract was awarded Jan. 22, meaning it was finalized before the recent fight over border wall money in the new 2018 spending bill. But the administration says it wouldn't have been built but for President Trump's push for more border wall.
The Military Can Secure the Border and Build the Wall. The United States has 4,000 troops in Afghanistan, 39,000 in Japan, 34,805 in Germany, 23,000 in South Korea, and around 5,200 in Iraq. Our military protects the borders of countless nations. Except our own. In 1919, we had 18,500 soldiers on the border. "Twice a day every foot of the border line is patrolled by cavalrymen and infantrymen," the New York Times noted. A hundred years later, President Trump's proposal to use the military to secure the border is controversial even though Marines fighting drug cartels have come under fire from drug smugglers.
Trump's Idea of Using Military Resources for Border Wall Isn't Unprecedented. The military has been involved before in putting up a barrier along the U.S.-Mexican border without explicit authorization from Congress, according to a 2009 government report. President Donald Trump recently proposed to draw from the $700 billion appropriated for the military for funds to build the border wall, which comes with a price tag estimated at $25 billion. Initial fencing constructed after Congress passed the 2006 Secure Fence Act was paid for by the Department of Homeland Security, while engineering and labor was carried out through an agreement with the Defense Department. It isn't clear whether this is what Trump had in mind.
The Wall is National Defense. What is defense? Is it not to make Americans safe from foreign attack? To prevent foreigners from imposing their way of life upon us, through invasion or other means? To maintain the independence, peace, and prosperity of the already-existing American people? Very little of what the government does in the name of defense accomplishes these things. [...] America maintains hundreds of overseas bases, builds and develops increasingly sophisticated conventional arms, continues to slog on inconclusively in Afghanistan, and, in spite of a smallish uniformed military, still spends mountains of money. [...] The substantial defense budget does nothing to prevent foreigners — whether mere economic migrants, violent drug gangs, or Islamic terrorists — from entering through our porous southern border. Instead, it funds bases, multiple aircraft carriers, and super-weapons to protect us from ... who exactly?
Trump Wants The Military To Build His Border Wall. That's A Terrible Idea. On Tuesday [3/27/2018], The Washington Post reported that President Trump is privately pushing for the U.S. military to build his long-promised border wall. The $1.3 trillion spending bill Trump signed last week allocated a mere $1.6 billion for the wall, far less than the $25 billion Trump wanted, and the money comes with tight restrictions on how it can be spent. Despite the president's grandiose promises of a border wall during the 2016 campaign, when he boasted that he would build a wall and make Mexico pay for it, his efforts to secure congressional funding for the project have hit a wall, so to speak. Democrats balked at his offer to trade long-term wall funding for easier citizenship access for younger illegal immigrants, and Republicans don't see it as a priority. Earlier this month, likely in an effort to keep the issue alive, Trump traveled to California to view prototypes of the wall. But nothing will come of them if he doesn't secure funding.
The Army may build the wall. Install is more accurate. These will be fabricated in a factory, and taken to the site. This haul and install operation seems like great training for the combat engineers. Plus you get a nice big wall.
Is Trump Using Omnibus Bill To Now Fully Fund The Border Wall? It Sure Looks That Way. Whispers are now rampant that President Trump is using the significant funds allocated to military spending in the most recent omnibus bill he signed last week to allocate full and immediate funding for the southern border wall project. If so it would be a brilliant side-step maneuver that would outflank the anti-secure border members of Congress — including many among the Republican leadership. An omnibus bill is not a budget and so allows a president considerable powers to spend those funds as they choose.
President Trump hints he may use Defense budget to build the border wall now. President Trump tweeted something very suggestive this morning, indicating that he may use the powers of the executive to work around the $1.3 trillion abomination's limitations on the border wall.
Watch Paul Ryan and Mitch McConnell Lie About Funding the Trump Border Wall. President Trump promised to build a border wall with Mexico at nearly EVERY campaign stop he held in 2015-2016. The president won the election in an electoral landslide with a promise to build a border wall with Mexico. In January 2017 Speaker Paul Ryan and Senate Majority Leader Mitch McConnell promised to pass funding of $12-15 billion to build the Trump border wall. [Video clip] But it was all a lie.
White House says it can only build 33 miles of new border barriers. White House officials said Thursday [3/22/2018] that President Donald Trump will sign a hotly contested budget bill when lawmakers send it to him, despite the fact that it provides for only 33 miles of new barriers along the U.S.-Mexico border. Trump vowed in April 2017 that his long-promised border wall would be finished by the end of his first term in office. 'It's certainly going to — yeah,' he told reporters then, answering a specific question about a four-year timeline and adding that 'we have plenty of time.' But at the rate the White House has agreed to, the project could stretch through more than two administrations.
Here's what Congress is stuffing into its $1.3 trillion spending bill. [Scroll down] Border wall: The bill provides $1.6 billion for barriers along the U.S.-Mexico border but with serious strings attached. Of the total, $251 million is earmarked specifically for "secondary fencing" near San Diego, where fencing is already in place; $445 million is for no more than 25 miles of "levee fencing"; $196 million is for "primary pedestrian fencing" in the Rio Grande Valley; $445 million is for the replacement of existing fencing in that area; and the rest is for planning, design and technology — not for wall construction. The biggest catch is this: The barriers authorized to be built under the act must be "operationally effective designs" already deployed as of last March, meaning none of President Trump's big, beautiful wall prototypes can be built.
Without wall, illegal crossings expected to spike 70% in 2018. Illegal immigration, sidelined by the so-called "Trump effect" in the past year, is likely to surge 70 percent this year as undocumented aliens try to get into the United States before the president's border wall is constructed and to take advantage of the booming economy, according to a leading expert.
Mexican immigrants say wall might slow them down but won't stop them from crossing illegally. President Donald Trump visited California on Tuesday where he inspected the eight prototypes for a U.S.-Mexico border wall. But Eladio Sanchez, who lives in Tijuana, Mexico, said a wall wouldn't stop him from crossing illegally into the United States, Agence France Presse reported. The 30-year-old said he has sneaked into the U.S. several times and doesn't believe a border wall will be much of a deterrent for those who want to cross the border.
Cutting welfare to illegal aliens would pay for Trump's wall. Mexico won't have to pay for the wall, after all. US taxpayers won't have to pick up the tab, either. The controversial barrier, rather, will cover its own cost just by closing the border to illegal immigrants who tend to go on the federal dole. That's the finding of recent immigration studies showing the $18 billion wall President Trump plans to build along the southern border will pay for itself by curbing the importation of not only crime and drugs, but poverty. "The wall could pay for itself even if it only modestly reduced illegal crossings and drug smuggling," Steven A. Camarota, director of research at the Center for Immigration Studies, told The [New York] Post.
On The Texas-Mexico Border, Migrants Are Overcoming Every Obstacle In Their Path. What does it mean to secure the border? We hear the phrase every time Congress debates immigration reform, usually from immigration hawks who insist that before we extend any leniency to illegal immigrants, even a limited amnesty for those brought to the United States as children, we must first secure the border. President Trump has taken it a step further with his dogged insistence on an actual border wall, which has become synonymous with border security in the broader immigration debate.
Pelosi's Border Solution: 'Mowing The Grass'. House Minority Leader Nancy Pelosi said during a Tuesday [2/20/2018] interview that she thinks "mowing the grass" along the border could be one solution to border security. Pelosi denounced the idea of a border wall during the interview, which was broadcast on Facebook live, stating that such an idea is "never going to happen." "Well, I'm not the wall's biggest advocate in Congress, but I do know that representatives in the House and Senators in that body from the border wall areas have some serious objection to a wall," Pelosi explained. "Because they know how detrimental it can be to the community trade, to all of the other aspects of a border." [Video clip]
Pelosi Proposes 'Mowing the Grass,' Fences as Alternative to Border Wall. Tuesday [2/20/2018] during an interview with the Arizona Republic, House Minority Leader Nancy Pelosi (D-CA) said fences and "mowing the grass" along the U.S.-Mexico border would be a better alternative instead of President Donald Trump's proposed wall.
Monday's Tax Receipts Would Pay for Entire Border Wall. The $18.477 billion in tax revenues the federal government collected on Monday [2/12/2018], according to the Daily Treasury Statement, is more than enough to cover the $18 billion that President Donald Trump is requesting in his new budget proposal for building a wall along the U.S-Mexico border. "As the President has said, a nation without borders is not a nation at all," Office of Management and Budget Director Mick Mulvaney said in written testimony presented to the Senate Budget Committee on Tuesday [2/13/2018].
The butterfly effect: Trump's border wall could be blocked because it threatens endangered insects. A tiny endangered butterfly could stop President Donald Trump from building his beloved border wall. A lawsuit has been filed by the Center for Biological Diversity, environmental groups and the State of California against the U.S. Department of Homeland Security. It outlines that the Quino checkerspot butterfly, Riverside fairy shrimp and the Pacific pocket mouse will be threatened if the border wall is built. The butterfly, which is native to southern California and Northern Mexico, is already on the endangered species list.
McCain, at it again, deals with Dems and kills wall funding. Sen. John McCain is reportedly joining with Democratic colleague Christopher Coons to introduce legislation that gives Deferred Action for Childhood Arrivals' illegals a path to citizenship, but denies President Donald Trump his funding to build a wall. McCain giving the Democrats what they want at the expense of the Republicans — now there's something you don't see every day, right? Not.
CEO of Border Wall Construction Company: 'I Really Believe We'll Change History'. The CEO of Fisher Industries, one of four construction companies selected as finalists to build President Donald Trump's historic border wall, told Breitbart News that he believes his company will change history and can do so at a far lower cost than his competitors. "It's not just a wall. It's a complete border protection system with high-speed access roads," Tommy Fisher, CEO of Fisher Industries, told Breitbart News during a sit-down Facebook Live interview in Washington, D.C. Fisher's wall would be constructed from solid concrete and would span the Pacific Ocean in California through western Texas.
Israel Built a 'Wall' and Is Deporting Illegal Aliens. America Can Learn. A decade ago, Israelis gave little thought to the issue of illegal immigration. In 2006, there were 2,766 illegal migrants in Israel, nearly all of them from Eritrea and Sudan, who had entered Israel through its then-open, 150-mile border with Egypt. In 2007, the dam of illegal immigration burst. According to Israel's Immigration and Population Authority, 5,179 African migrants — predominantly from Eritrea and Sudan — entered Israel from Egypt in 2007. The illegal migration reached its peak in 2011, when 17,281 arrived.
Report: Border Wall Prototypes [are] Almost Impossible To Breach [or] Climb Over. Fox News reports that breach testing of the border wall prototypes was a success. Special Ops soldiers attempted to climb them but only one person was able to climb to the top and he had to be lowered down with a cherry picker.
Illegal Alien Barrier Passes First Test. The Left loves to sneer at the notion of a strong wall between the United States and the illegal infiltrators coming across the southern border from Mexico. As usual, they say it can't be done, it won't work, we can't afford it — their usual litany of reasons How Not to Do It. [...] At this point in the Trump presidency, wouldn't it be smarter for the Resistance Party to stop walking into door jambs, stepping on rakes, and tying their own shoelaces together? Real Americans are finally catching on to the Democrats' can't-do/won't-do playbook, which manifested itself most recently in the tax cut. Once the border wall is up — and actually before, as the Mexicans realize we mean business — watch the numbers of illegal "dreamers" fall precipitously.
Border Wall Models Thwart US Commandos In Tests. Recent assaults by tactical teams on prototypes of President Donald Trump's proposed wall with Mexico indicate their imposing heights should stop border crossers, a U.S. official with direct knowledge of the rigorous assessment told The Associated Press.
Trump's DHS Says 700-Mile Border Wall To Cost Just $1.8 Billion Per year. President Donald Trump's 700-mile border wall would cost just $1.8 billion annually for ten years, according to the Wall Street Journal. The expected construction cost is only 1 cent for every $20 spent by the federal government.
The Editor says...
That amount of money is only one tenth of what it costs to have NASA fly around in circles and accomplish nothing. The border wall is a matter of national defense, which is authorized by the Constitution. (The exploration of other planets is not.) The benefits will far exceed the cost, even before the wall is completed.
Pelosi Lists 8 Things She'd Rather Spend Trump's 'Immoral' Border Wall Funding On. On Friday, House Minority Leader Rep. Nancy Pelosi (D-Calif.) listed some of the things she'd do with the money President Donald Trump wants to protect America from the threats posed by illegal immigration. On her Twitter page, Pelosi introduced her series of posts by claiming the border wall funding "could do so much more" — if it wasn't used to secure the border: "President Donald Trump @realDonaldTrump, that border wall funding you are asking for (again) could do so much more good in other places...." Pelosi followed with eight separate Tweets, each touting something she'd spend the border wall funds on — ranging [from rebuilding] Puerto Rico and subsidizing high-speed internet to expanding the State Department.
MSNBC Segment Proves U.S. Border Needs Bigger Wall. MSNBC reporter Jacob Soboroff went to preview the prototypes that are being built between two existing border fences along the U.S.-Mexico border. During the segment, Soboroff was interviewing border patrol agent Roy Villareal when several migrants were caught on camera jumping the existing fence into the United States. "A small group of three people just jumped over in the middle of the day," Soboroff noted. "So can you explain to me what's going on?" "This is the reality of everyday border enforcement. The United States is the draw for people with dire situations where they are at," Villareal said. "We are going to continue to witness this. It plays out on a regular basis for us."
House committee approves $10 billion initial payment for U.S.-Mexico border wall. The House Homeland Security Committee gave first approval to the broad scope of President Trump's border wall Wednesday, clearing a bill that would authorize $10 billion in new infrastructure spending, new waivers to speed up construction, and 10,000 more border agents and officers to patrol the U.S.-Mexico line. Democrats vehemently opposed the bill, saying the wall was a boondoggle and the fact that U.S. taxpayers will fund it violates the president's campaign pledge to make Mexico foot the bill. But Republicans backed the bill in a 18-12 party-line vote, saying it was time to get a handle on the border.
Mexican Smugglers Admit Border Walls Work. A Mexican trafficker admitted that border walls make trafficking significantly more difficult, but claimed that this would somehow be good for his business. The trafficker, who was identified only as "Alexis," said he specializes in a specific form of human smuggling in cities that are on the border, USA Today reported. "Right now, I can't imagine exactly how [a wall will be built] but I can tell you that it would be a lot harder if they build that wall," Alexis told USA Today. "Really, because it's already hard with the fence we have now. It's difficult because, to start, not just any ordinary person who decides they want to scale it can do it. It requires skill to get up there. And to get down, oh man, one of two things can happen. You jump and if you're athletic you can land OK, but if you're not you can break a foot."
Hungary Builds a Wall, Cuts Illegal Immigration by Over 99 Percent. Hungary has slashed illegal immigration by over 99 percent after rolling out a series of powerful border fences in response to the European migrant crisis, possibly providing a lesson as to the potential impact of constructing President Trump's much-discussed southern wall in the U.S.
Levin on DACA: 'We Have a Little Problem'; We Don't Know Where Trump Stands. On his nationally syndicated radio talk show program Thursday [9/14/2017], host Mark Levin discussed Deferred Action for Childhood Arrivals (DACA), telling his audience "we have a little problem" because it's unclear where President Trump now stands on two key planks of his presidential primary campaign: DACA and 'The Wall.' "Well, the backbenchers, TV, the rest, they've kind of caught up where we are here, ladies and gentleman, that we have a little problem," stated Mark Levin. "We have a little problem. I'm going to pose a question to you: Where exactly does President Trump stand on DACA and 'The Wall' today?"
Donald Trump: The Wall Is Actually Just Renovation of Old Fences. President Donald Trump admitted that he wasn't actually going to build a great new wall on the southern border but repair existing fences and build selective strategic border structures. "The WALL, which is already under construction in the form of new renovation of old and existing fences and walls, will continue to be built," Trump wrote on Twitter on Thursday morning [9/14/2017].
Good fences make good neighbors, and walls make better ones. What could be offensive about a wall, which is as passive a defense system as one can imagine? If you are worried about offending others, you are already on a slippery slope wherein you can be manipulated by anyone willing to claim hurt feelings. If Mexico chose to build a wall, I wouldn't be offended. Amused, perhaps, but I'd cheer them on. Remarkably, Mexico prefers to let its "cows" wander, letting them feast off our resources. If only they were literally cows! They wouldn't ever rape us or kill us in automobile accidents. They would never sell us drugs. While they can tunnel under walls or climb over them, these are not reasons to refuse to build a wall.
House Agrees To $1.6 Billion For Border Wall. The U.S. House of Representatives passed a bill Thursday [9/14/2017] that will provide $1.2 trillion to fund the government past Sept. 30, and will allocate $1.6 billion towards President Donald Trump's border wall. The legislation gives $658.1 billion to the Department of Defense, $44.3 billion for the Department of Homeland Security and allocates the rest of the money towards other federal agencies. The bill lops [sic] all 12 annual spending bills into two one piece of legislation.
The Editor says...
The word lop does not mean combine, it means cut. Perhaps the writer meant lump, which can be used as a verb meaning to put in an indiscriminate mass or group. Five points deducted; see me after class.
Paul Ryan Reportedly Says No Chance for Border Wall at Private Dinner. House Speaker Paul Ryan, at a private dinner earlier this year, said he thought only "one member" wanted to build a wall across the entire U.S.-Mexico border, Breitbart News has learned from multiple sources with direct knowledge of the comments, including former Rep. Tom Tancredo (R-CO). The dinner, sources said, took place on the eve of the House's passage of two relatively minor immigration bills at the end of June: Kate's Law and sanctuary city reforms. The far wider reaching Davis-Oliver Act was tabled at the same time.
That Time When Democrats Really, Really Liked The Border Wall. The Daily Caller reported on Obama's border wall support back in 2016: ["]A leaked internal memo from Barack Obama's 2008 campaign says that fencing at the US-Mexico border could help cut down on illegal immigration.["] [...] Well, by progressive standards, Barack Obama is now a racist. Yet, it also shows how insane the Left has become over the past decade. The descent into identity politics and the general shift leftward in political orientation has led the Democratic Party to become insanely out of touch with ordinary Americans, especially in immigration.
Now Republicans Are Running Away From Border Security Promise. These Republicans. Has there ever been a more disloyal, spineless, leaderless bunch? [...] The latest exhibit to be added to the long list of Republican broken promises is border security. Republicans are now running from the Trump "build that wall" promise that was critical in his winning the 2016 Election. So many Republicans are failing to follow up on this promise (they've been making it to voters for more than three decades) that an open floor vote might prove disastrous. Instead, a bit of cash will be thrown at the problem, a few miles of new fence, and tens of millions of dollars devoted to further "study."
House Republicans seek to dodge border wall vote. House Republicans are poised to fund $1.6 billion for President Donald Trump's border wall through a procedural maneuver designed to avoid a floor vote that might fail. The House Rules Committee is expected to attach funding for the wall that Trump has proposed building along the Mexican border to the so-called minibus, a downsized spending package for the Pentagon, the Energy Department, the Department of Veterans Affairs and the legislative branch — but not DHS, the Cabinet agency responsible for the wall. If an amendment to fund the wall is adopted by the Rules Committee, this line item can circumvent a floor vote, sparing GOP immigration moderates and fiscal hawks from being pressed to approve a project that their constituents might view as xenophobic, misguided and wasteful — and sparing GOP leaders possible defeat.
Trump says border needs 700-900 miles of wall. President Trump put the first concrete number on the miles of border he wants to fence off, saying "anywhere from 700 to 900 miles" need his border wall — and he said he wasn't joking when he suggested erecting solar panels to help pay for construction. "There is a very good chance we can do a solar wall," the president told reporters Wednesday night [7/12/2017] aboard Air Force One en route to France. During the campaign Mr. Trump said he wanted to see a wall across the 1,954-mile border with Mexico, but told reporters that he's been convince d there are a number of areas that don't need fencing because of natural barriers.
House GOP allocates $1.6 billion for Trump border wall in 2018. House Republicans said Tuesday [7/11/2017] they've included $1.6 billion in funding for President Trump's border wall in their new homeland security spending bill, setting up [a] fight with Democrats who have vowed to block any wall funding — even if it means sending the government into a partial shutdown. GOP leaders said the $1.6 billion fully meets Mr. Trump's request to begin wall construction, which includes 32 miles of new border fencing in Texas, 28 miles of levee wall along the Rio Grande Valley, also in Texas, and 14 miles of replacement fence in San Diego.
France to Use a Wall to Deter Terror. The French government is constructing a bulletproof, glass wall around the Eiffel Tower to prevent terror attacks that is projected to cost $20 million. The 8.2-foot-high wall was approved in January, and while many French are outraged by the construction of what they see as an eyesore, local politicians defended the plan. "The terror threat remains high in Paris and the most vulnerable sites, led by the Eiffel Tower, must be the object of special security measures," Deputy Mayor Jean-Francois Martins said. Currently the Eiffel Tower is surrounded by metal barriers as a security measure, but Martins believes the glass wall will be more visually appealing.
Trump Administration Plans Summer Announcement of Wall Prototypes. President Donald Trump's administration plans to announce design finalists for his "big beautiful wall" soon. The announcement will take place sometime in the summer of this year, according to a U.S. Customs and Border Protection spokesperson. It will include four to eight designs for wall "prototypes" to be constructed in San Diego. The exact date and details of the prototypes announcement have not been set, but is expected to be a major milestone for the president's promised project.
Trump requests $24.5-million-per-mile border wall, U.S. choice of immigrants. The first leg of President Trump's planned border wall will cost an exorbitant $24.5 million per mile, according to the 2018 budget he submitted Tuesday [5/23/2017] that details a massive shake-up in immigration policy. Mr. Trump calls for a giant increase in detention beds to help end the catch-and-release policies of previous administrations, requests major infusions of cash for more border and interior agents to apprehend illegal immigrants, and proposes more prosecutors and judges to speed their cases along. Also on tap is a boost in funding for E-Verify, the government's voluntary system that allows businesses to check potential hires' legal status. Mr. Trump says he wants the system to be mandatory for all U.S. businesses in three years.
DOJ Budget Ramps Up Funding for Eminent Domain' Land Acquisition' in Potential Effort to Clear Way for Border Wall. Tuesday's Department of Justice budget proposal asks Congress for $1.8 million to "meet litigation, acquisition, and appraisal demands during the construction along the border between Mexico and the United States." The money will be used to devote 20 new staff members, including 12 attorneys, to the Environmental and Natural Resources Division's Land Acquisition Section (LAS). This small section of the DOJ handles litigation that arises when the federal government uses its "eminent domain" power to seize land for public projects.
Hungary Unveils New Electrified Border Wall, Watch Towers, And Guards With Machine Guns. The country of Hungary, 95% of whose citizens opposed European Union migrant quotas in a recent referendum, has reportedly electrified key portions of their border fence. According to Index.hu, when approaching the border outside of authorized border crossings, those attempting to enter the country will be met with warning signs in Hungarian, Serbian and Arabic advising them that the fence has been electrified.
Trump's Border Wall Will Protect Human Rights. So what sort of immigration policy best protects genuine human rights? The Left's answer (often driven by cynical electoral considerations and a seemingly boundless need to virtue-signal) tends favor uncontrolled borders and unlimited immigration. Many libertarians also support open borders, asserting that people and labor should be allowed to move freely, and that restrictions upon this motion is a violation of rights. This is certainly better grounded in principles than the Left's customary position. However, both positions suffer from the same problem: they privilege the wishes of non-citizens over citizens.
Will Border Wall Divide the Right Over Eminent Domain? President Trump's border wall could potentially drive a wedge into the GOP as building the structure would require acquiring private property including through eminent domain, which flies in the face of traditional conservative support for property rights. Conservative property owners along the border in Texas oppose the wall, according to the South Texas Property Rights Association, which represents more than 600 landowners.
AZ Sheriff Opposes Border Wall: 'Medieval Solution to a Modern Problem'. Pima County Sheriff Mark Napier said in an interview with New York Times podcast "The Daily" that lawmakers would be better off giving a fraction of the estimated billions it would take to build the wall to law enforcement. "I think it's kind of a medieval solution to a modern problem," Napier said. "I mean, 10,000 years ago we were building walls around things, and here we are in 2017, and this is the best idea we can come up with?"
The Editor says...
Pumping water is also "a medieval solution to a modern problem," but we still do it. Walls don't require electricity. They don't have moving parts. They just stand in place and keep unwelcome people out.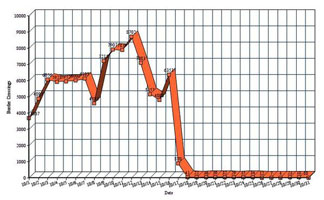 Hungary's new border wall is working spectacularly well. Hungary is getting major blowback from the E.U. elites. But as far as I know, they haven't doubled down on "it can't work" the way their American internationalist brethren have.&Nbsp; We have here a classic case of common sense versus "experts" whose predictions can't be trusted.
How Hungary Managed To Erase Illegal Immigration In Just A Few Months. When other countries welcomed refugees with open arms, Hungary decided it was time to eradicate illegal immigration at any cost. The country succeeded, but that success damaged relations with the European Union in the process. Hungary's second border fence has just been completed in the southern town of Asotthalom. The 96-mile long, 14 ft. tall double-line of defense doesn't look too intimidating from a distance. Go a little closer and you'll notice several layers of razor-wire capable of delivering electric shocks, cameras, heat sensors and loudspeakers ready to tell migrants they're about to break Hungarian law if they as much as touch the fence.
Don't Obsess Over the Wall. From Brownsville, Texas, to San Diego, Calif., the U.S.-Mexico border stretches nearly 2,000 miles, often across rugged, harsh terrain — including Texas's Big Bend National Park and Arizona's Sonoran Desert. Building a single, monolithic wall is not feasible for much of this territory, as Trump himself acknowledges at times. The proposed route of a wall also cuts through privately owned land, raising serious legal questions. Nevertheless, more barriers in select places are welcome.
California's latest move to "fight the wall" is truly something out of La La Land. There are still budget battles and (probably) blockades from the 9th Circuit to come, but sooner or later the President is going to get some work started on the border wall. But if and when he does, California is laying some landmines in advance for any private contractors who dare to bid on the job and pour a single yard of concrete. In a move being dubbed, "Build it and be banned," California legislators are proposing to impose a permanent ban for government contracts on any company who takes part in the project.
Bulk Cash Pays for the Wall. In the hyper-charged debate over the merits of building "the wall" along the U.S.-Mexico border and its funding impact on a possible government shutdown, I would like to propose a solution. The focus has largely been on contraband and illegal immigrants going north. We largely ignore the other side of the equation; i.e. illicit proceeds — mostly in the form of bulk cash — flowing south. If we could recover just a few percentage points of the tens of billions of profits from the sale of drugs and other transnational crimes (TOC) that annually flow south across the border, we could pay for the wall. Moreover, targeting the illicit proceeds should be palatable to both Mexico City and Washington DC, and may serve as a basis for enhanced U.S.-Mexican cooperation on illicit trafficking and related TOC.
Texas Governor: Build Border Wall With 'Sanctuary City' Funds. Texas Gov. Greg Abbott suggested President Donald Trump and both houses of Congress use federal money withheld from defunded cities, counties and states with so-called "sanctuary" policies to help fund a border wall, during an interview Tuesday [4/11/2017] on "The Laura Ingraham Show." Abbott, who has withheld state funds from Travis County in Texas because of its sanctuary policies, urged the president to use federal criminal grants stripped away from localities adopting these policies to aid in securing the border.
Why not 50 percent?
Border wall funding solved: GOP pushes for 2% fee on money immigrants send home. A group of House Republicans on Thursday [3/30/2017] introduced the first major bill to fund President Trump's border wall, saying the government could collect billions of dollars by imposing a 2 percent fee on all the money Mexicans and other immigrants send back home. Estimates vary, but remittances from those in the U.S. to their relatives back home could top $130 billion a year. A 2 percent tax could net more than $2 billion a year if it applied to all money regardless of who's sending it. "This bill is simple — anyone who sends their money to countries that benefit from our porous borders and illegal immigration should be responsible for providing some of the funds needed to complete the wall," Rep. Mike Rogers, Alabama Republican, said in a statement. "This bill keeps money in the American economy, and most importantly, it creates a funding stream to build the wall."
Here are the design Plans for Trump's border wall. [Scroll down] Other requirements include:
• A "physically imposing" height of no less than 18 feet but preferably 30 feet tall.
• Anti-climbing mechanisms, either by ladder or other tools like hooks that humans may be able to get across.
• Prevent tunneling 6 feet below ground.
• For breaches to the wall (using building or cutting tools, or torches) to take at least one hour in concrete designs, and 30 minutes in the "other" designs.
Trump's Wall Is Already Paid For. Critics of the border wall proposed by President Trump have said the cost is prohibitive under current budget and economic conditions, that no way is Mexico going to pay for it, and shifting funds away from the TSA, Coast Guard, and FEMA are counterproductive in terms of national security. These criticisms ignore the costs to the U.S. in terms other than money — increased crime, overtaxed law enforcement, the drain on public resources such as education, medical care, etc., and the driving down of real wages through an endless supply of cheap labor. In fact, thanks in large part to the mere threat of the wall, the sudden enforcement of existing law, and the stripping of funding from sanctuary cities by President Trump, illegal immigration has plummeted by 40 percent in February, a trend that if continued will reduce the costs and burdens of illegal immigration to the point that the benefits of enhanced border security, including the wall, will be more than paid for.
Exclusive: Hungary's Border Walls Pay for Themselves Through Savings on Illegal Migrants. The Hungarian government's decision to rapidly construct strong border fences along their frontiers has had a positive financial effect, achieving substantial savings on the cost of illegal immigration. Zoltán Kovács, official spokesman for Prime Minister Viktor Orbán, told Hungarian media last week that "the monies spent on border protection are very obviously being recouped".
It's worth every nickel, and more importantly, it is fully authorized by the Constitution, inasmuch as we are being invaded.
White House: Border wall cost could run $25 million per mile. The estimates of President Trump's proposed border wall run anywhere from $8 million to $25 million a mile, White House budget director Mick Mulvaney said in a radio interview Monday — though he said no decisions have been made on exactly what the wall will look like. Mr. Mulvaney, speaking on the "Hugh Hewitt Show," said the White House will ask for some money in the next couple of weeks but won't know the details of the cost and construction until it prepares its 2019 budget, which won't be for another year.
Illegals Cut 9,287 Holes in Obama-Era Border Fence. During a six-year stretch of the Obama presidency, people illegally crossing the U.S.-Mexico border cut 9,287 holes in the "pedestrian" fencing that currently covers only 354 miles of the 1,954-mile border, according to a report published by the Government Accountability Office. Only 654 miles of the 1,954-mile-long U.S.-Mexico border currently have any type of fencing, according to GAO. The other 1,300 miles of border have no fencing. Of the 654 miles of fencing, 354 miles consists of what the Department of Homeland Security calls "pedestrian" fencing. The other 300 miles is "vehicle" fencing.
Under Obama, Illegal Immigrants Cut Almost 10,000 Holes In Border Fence. For six years under the Obama presidency, illegal aliens cuts almost 10,000 holes in the border fence, according to a report by the Government Accountability Office. CNS News' Terry Jeffrey wrote about how these gaps are located in the "pedestrian" portion of the fence, which only covers 354 square miles: [...]
La Raza Declares War on Border Wall, Demands "Reconquista" of Southwest. The National Council of La Raza, an organization that promotes the Reconquista of the southwest United States, called President Trump's Executive Order a "declaration of war" on the Hispanic community equivalent to the slave trade. Janet Murgu'a, president of the National Council of La Raza, claimed the president's plan to build a wall on the southern border and deport violent illegal immigrants will "tarnish our nation's character."
More than 200 companies express interest in border wall construction. Hundreds of companies are lining up to bid on building President Trump's controversial border wall. As of Tuesday evening [2/28/2017], 225 companies — mostly construction and engineering firms — have expressed interest in building the wall along the U.S.-Mexico border, according to a website for contractors interested in doing business with the federal government.
Walls And Fences Are Bad... Except If You're A Hollywood Elitist Attending The Oscars. Vacuous celebrities stood and applauded a Mexican, Latin-American director who was chosen to present an Oscar, a political jibe at the President's intentions to strengthen border security. All the while they were safely separated from the unwashed masses by a complex 'maze' of security walls and fences.
The Coming Border War: A Prediction. A prediction: when the "Wall" along the southern border begins to be constructed, the left's professional activists will implement an extensive disruption campaign. It will be modeled after the Keystone Pipeline protest (that involved a makeshift city of 10,000), but be more mobile and flexible, spread out along the border that marks the path of the wall. Protestors will stand in the path of construction, just at activists have, in the past, chained themselves to trees in the Northwest to stop logging.
DHS secretary: Border wall should be finished in two years. In his first television interview as Homeland Security secretary, retired four-star Marine Gen. John F. Kelly told Fox News he wants the U.S.-Mexico border wall finished in two years — setting an ambitious schedule for the project ordered last week by President Trump. "The wall will be built where it's needed first, and then it will be filled in. That's the way I look at it," Kelly said. "I really hope to have it done within the next two years."
Dems Won't Rule Out Endangered Species Act Suits To Block Trump's Wall. President Trump's political opponents may use existing federal laws designed to protect endangered species to stop him from building a border wall to stem the flow of illegal immigrants coming from Mexico. Environmentalists say Trump's proposed border wall would hinder the movement of endangered species migrating through their natural, cross-border habitats, and activists aren't above filing suit under the Endangered Species Act (ESA) to stop the wall.
Texas Rep. Calls Out Trump Wall While Los Zetas Cartel Operates in His District. A congressman from this border city has expressed his disappointment at the executive orders signed by President Donald J. Trump, calling for more border security and a wall. The comments come at the same time the Los Zetas cartel has laid claim to a local park in his district. On Wednesday, Congressman Henry Cuellar (D-TX) issued a statement calling Trump's wall a 14th century solution to a 21st century problem. Cuellar denounced the plan, claiming that the move damages bilateral relations with Mexico.
Trump signs executive orders authorizing work on Mexico border wall, withholding funds for 'sanctuary cities'. President Trump signed an executive order to build a wall along the U.S.-Mexico border and will sign another banning some Muslim immigrants from entering the country — setting off a wave of protests in New York and elsewhere. Trump's order Wednesday paving the way for construction of the wall is the first in a series of steps he says will stem illegal immigration and strengthen national security.
Top Democrats Voted For The Border Wall Trump Is Building. President Donald Trump will be able to order the construction of a wall on the Mexico border Wednesday with the stroke of a pen, because of a 2006 law passed with the help of Democrats including Barack Obama, Joe Biden and Hillary Clinton. The 2006 law authorized the construction of 700 miles of fencing along the southern border, as well as additional lights, cameras and sensors to enhance security. Although former President George W. Bush signed the measure into law, the Democrat-controlled Congress that took over a few months later ensured it would never be completed by means of an amendment to a 2008 spending bill.
The Current State of the Border Fence. Recognizing the effectiveness of physical barriers as a means of border control, Congress first mandated the construction of a border fence in 1996 as part of the Illegal Immigration Reform and Immigrant Responsibility Act (IIRIRA). IIRIRA called for the construction of a 14-mile, triple-layered fence along the boundary between San Diego and Tijuana. By 2004, only nine miles of fencing were completed. Congress subsequently passed the Secure Fence Act of 2006. That legislation called for double-layered fencing along the border, augmented by manpower and technology, and directed the Secretary of Homeland security to construct "reinforced fencing along not fewer than 700 miles of the southwest border, in locations where fencing is deemed most practical and effective."
California Lt. Gov: We'll Stop Trump's Wall with Environmental Suits. President-Elect Donald Trump's plan to build a border wall along with U.S.-Mexico Border will be challenged through environmental lawsuits, according to California's second-highest official. California Lt. Gov. Gavin Newsom said in an interview with 'The Golden State Podcast' that he would use specific environmental laws in the state to stop the border wall from being built, at least in southern California.
TMZ: Obama Family Building a Wall Around New Home. President Barack Obama will reportedly have a big, beautiful wall around his new home in Washington DC. According to spy photos from TMZ, workers are currently building a brick wall around the rental home where the Obamas plan to live after leaving the White House. The home was sold in 2014 for $5,295,000 and has 9 beds and 8.5 bathrooms. It has 8,200 square feet and was built in 1928.
Trump Is Laying The Groundwork For His Border Wall Behind The Scenes. The Trump transition team has asked the Department of Homeland Security to report how much money is available to build a border wall, and to provide other information key to implementing the president-elect's immigration proposals. The requests outlined by the transition team in an early December meeting with DHS officials suggest Trump is serious about his promises to secure the southern border, deport illegal immigrants and reverse President Obama's executive orders on immigration.
Here We Go! Republicans In Congress Turn On Trump — Make Move To Stop Border Wall. And here come the charging RINOs! Intent on stopping President-elect Donald Trump from building a wall on the border. You'll recognize the names... it's the same [people] every single time: Lindsey Graham, Jeff Flake and Lisa Murkowski. They join Turban Durbin on drafting a measure that would allow illegal alien children to stay in the US. Uh, no. In this particular instance, the sins of the father and mother are the sins of the child. You cannot justify breaking the law because they are children. They should stay with their family in their country of origin until they come here legally... the right way... through the front door, not the back.
Why Building the Wall Should Not Be Trump's No. 1 Immigration Priority. Ironically, Donald Trump's marquee immigration proposal — a border wall, which Mexico will pay for — is the part of his immigration platform least likely to make much difference. This is not to say it's infeasible or even ill advised. Only about one-third of the border with Mexico has any kind of fencing, and half of that consists merely of low-rise vehicle barriers intended to stop truck traffic; anyone can easily climb over or under them (as I myself have done on many occasions). And the president doesn't need further authorization from Congress to build a physical barrier, although he would eventually need additional funding.
The law already allows Donald Trump to build the wall. There's no shortage of people telling Donald Trump he can't build a wall on the U.S.-Mexico border. And maybe, in the end, he won't do it. But at the moment Trump takes office, he will have the legal authority and the money he needs to get started on the wall. Yes, there will be obstacles — what's the over/under on the number of lawsuits that will be filed trying to stop it? — but the fact is, the law is already in place that will allow Trump to go forward. As in other areas of immigration enforcement, Trump will be able to effect radical change simply by following the law. In this case, it is the Secure Fence Act, passed in 2006 with bipartisan support — 283 votes in the House and 80 in the Senate, including then-Sens. Barack Obama and Hillary Clinton.
Build The Wall: It Will Save Americans Trillions Of Dollars. Each year, illegal Mexican migrant workers send $24 [billion] back to Mexico in cash transfers. American employers paid them under the table and off the books with fraudulent identification. They never paid taxes, FICA or Social Security on that money. Their employers wrangled financial murder for the past 40 years. While illegal alien workers transfer THAT much money annually, all legal and illegal immigrants account for $120 [billion] sent back to Mexico, South America, Africa and Asia. In other words, immigrants from all countries bleed America financially to death. At the same time, Mexico smuggles $50 billion annually of drugs into America across a non-guarded, non-existent border. I've traveled the 1,952 mile Mexican-American border three times to witness that it allows anyone at any time to enter the USA in thousands of unguarded locations.
How 65 countries have erected fences on their borders. Globalisation was supposed to tear down barriers, but security fears and a widespread refusal to help migrants and refugees have fuelled a new spate of wall-building across the world, with a third of the world's countries constructing them along their borders. When the Berlin Wall was torn down a quarter-century ago, there were 16 border fences around the world. Today, there are 65 either completed or under construction, according to Quebec University expert Elisabeth Vallet.
Obama shutting off aerial surveillance at border proves the need for border wall. If you talk to a liberal about solutions for our porous border, they are willing to discuss everything but a fixed, border fence. They'll filibuster the conversation with talk about aerial surveillance, more border agents, "virtual fencing," cameras, and sensors, etc. But the minute the discussion turns to a physical barrier on the border, they clam up and adamantly oppose it. Why the hatred for a physical fence? For one thing, fences work.
Ill. Legislator Wants to Sanction Firms That Help Trump Build Border Wall. A bill introduced Wednesday [11/16/2016] in the Illinois General Assembly would punish any businesses that help the federal government build a wall along the U.S. southern border by placing them on a "Prohibited Investment List" alongside companies that boycott Israel and do business with Sudan and Iran. Building the wall between the U.S. and Mexico was a major promise President-elect Donald Trump made to voters during his successful presidential campaign. It is also the first goal of Trump's "10 Point Plan to Put America First." Trump said he will "begin working on an impenetrable physical wall on the southern border, on day one. Mexico will pay for the wall."
Trump Immigration Architect — The Wall Will Be Built and There Will Be No Free Passes. Kansas Secretary of State Kris Kobach is the architect of the Trump immigration enforcement structures. Working diligently behind the scenes Kobach is constructing the actual mechanisms and actionable policies that will make President Trump's policy proposals actually come into fruition.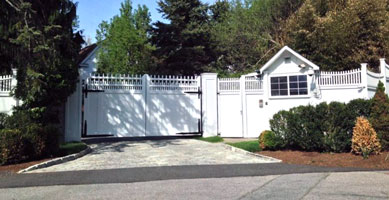 Hillary Clinton's protective wall around Chappaqua estate. Hillary Clinton doesn't miss an opportunity to ridicule Donald Trump's illegal immigration solution of a wall on the southern border — but that's exactly what she's deployed to keep undesirables away from her. [...] A series of photos reveal a massive barrier running the entire border of Bill and Hillary Clinton's estate in Chappaqua, New York — undoubtedly intended to keep the unwashed masses away from the political elites.




Open Borders Zealot Zuckerberg Angers Neighbors by Building Massive Security Wall Around His Hawaiian Home. The island of Kauai is a masterpiece of natural beauty. That Zuckerberg would both build a security wall and despoil one of the most spectacular islands in the world would shame a normal person, but not — of course — any Democrat.

Arts commission approves plan for higher White House fence. A plan to increase the overall height of the fence surrounding the White House by approximately 6 feet, about doubling its current height, won preliminary approval from a Washington arts commission Thursday [6/16/2016].

The Value of a Border Wall. Throughout the course of this primary campaign, Donald Trump has taken virtually every conceivable position on virtually every issue except one. Proving even a blind squirrel can find an acorn, Trump has been consistent all along that as president he will construct a wall along the U.S.-Mexican border. Let's assume for a moment that Trump is telling the truth; an almost always an iffy proposition where Trump is concerned. However, for the sake of this discussion I'll graciously take Trump at his word and assume he would make this a priority in his administration.

President Obama Decides to Build a Border Security Wall. Only Problem: It's in Africa. [Scroll down] Since [2011] not much has been done to secure the Southern border because of the high-cost of such an initiative. However, it appears that spending billions of dollars on U.S. military personnel and supplies to help Niger secure their country from Boko Haram terrorists by, of all things, building a wall, is a cost-effective undertaking. Meanwhile, back in the United States, illegal immigration through the completely wide open border with Mexico is reportedly costing American taxpayers some $100 billion per year — fully 15 times what it would have cost to build a border fence or wall. Undocumented immigrants continue to flood in and the threat of real terrorists originating from the middle east and elsewhere remains at an all time high. In fact, just last year Congressman Jason Chaffetz reported that Federal agents captured four individuals with ties to the Islamic State attempting to cross into the United States.

Migrants Race North as Hungary Builds a Border Fence. Like a movable feast of despair, the mass of people has overwhelmed the authorities in one stop after another, from the tiny Greek island of Kos to impoverished Macedonia, which declared a state of emergency last week, and now the train and bus stations of Serbia, as they head north to their ultimate destinations in the richer nations of the European Union. The next link on their route, almost inevitably, are towns like this one on the Hungarian frontier with Serbia. But Hungarian officials say they have a firm, if unwelcoming, answer to the slow-motion tide: a fence.

World of walls: How 65 countries have erected fences on their borders. Globalisation was supposed to tear down barriers, but security fears and a widespread refusal to help migrants and refugees have fuelled a new spate of wall-building across the world, with a third of the world's countries constructing them along their borders. When the Berlin Wall was torn down a quarter-century ago, there were 16 border fences around the world. Today, there are 65 either completed or under construction, according to Quebec University expert Elisabeth Vallet.

Kenya Begins Construction on Border Wall to Keep Somalis Out. The Kenyan government has broken ground on a new wall that will span a large swatch of the border between Kenya and Somalia. While the project had been announced in March, Kenyan authorities appear to have expedited the groundbreaking in response to the terrorist attack at Garissa University.

Border Fencing: One Tool among Many. Perhaps 40 percent of the illegal population entered legally and then overstayed their visas — pointing to laxity not only in tracking foreign visitors but also in issuing visas to them in the first place. What's more, many illegal aliens sneak through the legal crossing points — called ports of entry — by either using fraudulent documents or hiding in vehicles. Nevertheless, controlling the long stretches of the border between ports of entry is essential, and fencing is an important tool in the border patrol's kit. Consider the situation in El Paso, which used to be one of the main gateways to the United States for illegal aliens.

Senate Just Proved It Can't Be Trusted On Border Security. In 2006, Congress passed the Secure Fence Act, requiring 700 miles of double-tiered fencing get built along the Mexican border. Though the fence would only cover a fraction of that border, President Bush told Americans: "This bill will help protect the American people. This bill will make our borders more secure. It is an important step toward immigration reform." "We have a responsibility to secure our borders," he added. "We take this responsibility seriously." Seriously? A year later, Congress quietly passed a law that largely neutered the fence requirement, and today, only 36 miles of it have been built.

Homeland Security Axes Bush-Era 'Virtual Fence' Project. The Department of Homeland Security today [1/14/2011] officially scrapped a Bush-era program designed to use radar technology to detect illegal immigrants crossing the U.S.-Mexico border, according to a DHS official and a congressional source.

U.S. ends "virtual fence" project on Mexican border. President Barack Obama's administration on Friday canceled the troubled "virtual fence" project meant to better guard stretches of the vast U.S. border with Mexico and will replace it with other security measures. The project, begun in 2006 and run by Boeing Co, has cost about $1 billion and was designed to pull together video cameras, radar, sensors and other technologies to catch illegal immigrants and smugglers trying to cross the porous border.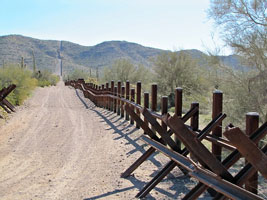 This is a secure border? Here's some of the 700 miles of border fence the Obama administration takes credit for. "Your grandma could get over or under," notes Mark Krikorian.

The virtual fence is abandoned:
Work to cease on 'virtual fence' along U.S.-Mexico border. The Obama administration will halt new work on a "virtual fence" on the U.S.-Mexican border, Homeland Security Secretary Janet Napolitano announced Tuesday [3/16/2010], diverting $50 million in planned economic stimulus funds for the project to other purposes. Napolitano said the freeze on work beyond two pilot projects in Arizona was pending a broader reassessment.

Arizona Can't Wait Any Longer. Weren't we told, ladies and gentlemen, back in 2007 that amnesty would not be pushed through Congress until we had secured the border? We were told this after the American people rose up and opposed amnesty. Work was started on the "virtual fence," right? We were going to secure the border after 2007 and gonna start work on the virtual fence. Anybody notice how that's been going? ... They abandoned the virtual fence. They're about to stop funding for it. It was a pretend thing from the get-go. It was illusory.

Costly virtual border fence in tatters. The Department of Homeland Security, positioning itself to cut its losses on a so-called invisible fence along the U.S.- Mexico border, has decided not to exercise a one-year option for Boeing to continue work on the troubled multibillion-dollar project involving high-tech cameras, radar and vibration sensors. The result, after an investment of more than $1 billion, may be a system with only 53 miles of unreliable coverage along the nearly 2,000-mile border.

Sheriff Babeu: It's 'An Outrage' Obama Stopped Building Border Fence. Sheriff Paul Babeu of Pinal County, Ariz., says it is "an outrage" the Obama administration has stopped building the double-fencing needed to assist the Border Patrol in securing the U.S.-Mexico border and says it is time for the United States to begin fighting illegal immigration and drug smuggling directly at the border instead of within the country where it harms American citizens and communities.

America's Slipping Grasp on Self-Governance. After the public stopped the 2007 amnesty bill, a seemingly repentant Congress promised to build hundreds of miles of double-layered border fence. The lion's share of the fence was meant to disrupt the high-volume human-trafficking areas along the Arizona-Mexico border. It was a start. Unfortunately, the start never started. After delays due to land "surveying," the border fence has been mostly defunded and forgotten. Petitions over the federal government's failure to follow through were met with only token promises of extra protection, virtual fences, and more resources on the border.

Obama builds the crisis, not a fence. In the ongoing chronicle of our broken southern border, Arizona's Republican Sen. John Kyl charged late last month that in a recent one-on-one meeting, Mr. Obama told him if he takes steps to secure the boundary between the U.S. and Mexico, Republicans would be less likely to support comprehensive immigration reform, and therefore he would not do so. Politics: 1, national security: 0.

Who Tore Down the Virtual Fence? The need to secure our nation's borders has never been greater. Each and every day unknown thousands of illegal aliens including, undoubtedly, criminals and terrorists easily make their way across our nation's borders. Each and every day unknown tons of narcotics and ... other contraband are also smuggled into the United States even as our nation's leaders talk about concerns about weapons of mass destruction (WMDs) being smuggled into the United States.

Just Finish the Fence. Why did building the fence along our southern border stop? Instead of building the fence, Barack Obama would rather build a political party of illegal aliens and their supporters. Unless we want to be dealing with immigration problems in perpetuity, the fence must be completed.

After spending hundreds of millions of dollars on it,
Senators Call for Scrapping 'Virtual Fence'. Two senators said Tuesday [4/20/2010] it's time to consider ending a contract for a "virtual fence" along the U.S.-Mexico border, contending it doesn't stop illegal immigration.

De-Fence, De-Fence. The government puts the brakes on a problem-plagued "virtual" fence on our border with Mexico. Whatever happened to the old-fashioned kind? If ever there was a shovel-ready project, this is it.

Napolitano halts funding for 'virtual fence'. Homeland Security Secretary Janet Napolitano announced Tuesday [3/16/2010] that she has cut off funding for a costly surveillance system billed as a "virtual fence" to protect the Southwest border.

No finish in sight for 'virtual' border fence. A multibillion-dollar "virtual fence" along the southwestern border promised for completion in 2009 to protect the U.S. from terrorists, violent drug smugglers and a flood of illegal immigrants is a long way from becoming a reality, with government officials unable to say when, how or whether it will ever be completed.

People From Countries Tied to Terrorism Enter USA through Mexico. Homeland Security Secretary Janet Napolitano told senators it is a national security concern that people from countries with ties to terrorism could 'potentially' gain entry into the United States by crossing the country's southern border. But according to the Department of Homeland Security's own reports, thousands of people from 14 "special interest" countries already have come into the United States illegally, including some across the U.S.-Mexico border.

Environmental laws put gaps in Mexico border security. In the battle on the U.S.-Mexico border, the fight against illegal immigration often loses out to environmental laws that have blocked construction of parts of the "virtual fence" and that threaten to create places where agents can't easily track illegal immigrants.

Mr. Obama, Put Up That Fence. According to the Government Accountability Office (GAO), only 32 miles of the called-for 700 by the Congress in 2006 has been erected by the Department of Homeland Security (DHS). This is in direct defiance of the will of the majority of United States citizens and blame lies directly with Presidents Bush and Obama and the current Secretary of DHS, Janet Napolitano all of whom favored open borders, free entry for illegal aliens and amnesty for those that are already within our borders.

Feds Have Built Only 32 Miles of 700 Mile Double-Border Fence. The Department of Homeland Security (DHS) has built only 32 miles of double-layer fencing along the U.S.-Mexico border out of the 700 miles originally mandated by a 2006 act of Congress, according to the Government Accountability Office (GAO).

Border Fence is Progressing. The $2.7 billion border "fence" authorized by Congress to be built along stretches of the U.S.-Mexico border is just over two-thirds finished — and should be mostly complete by the end of the year. But not everyone is happy with it.

Texas officials sue US over border fence. Texas mayors and business leaders filed a class-action lawsuit Friday [5/16/2008] alleging Homeland Security Secretary Michael Chertoff hoodwinked landowners into waiving their property rights for construction of a fence along the Mexican border.

Homeland Security Scrapping, Replacing Sub-Par Virtual Fence Along Arizona-Mexico Border. The government will replace its highly touted "virtual fence" on the Arizona-Mexico border with new towers, radars, cameras and computer software, scrapping the brand-new $20 million system because it doesn't work sufficiently, officials said.

'Virtual' Border Fence Virtually Gone. When Congress mandated that the Department of Homeland Security build a 200 mile fence along the border with Mexico, DHS decided to make 28 of those miles a "virtual fence" — electronically monitored so that border security would be notified if anyone was crossing. Great idea. Too bad it's a spectacular failure.

Researchers Fear Southern Fence Will Endanger Species Further. The debate over the fence the United States is building along its southern border has focused largely on the project's costs, feasibility and how well it will curb illegal immigration. But one of its most lasting impacts may well be on the animals and vegetation that make this politically fraught landscape their home.

Build the Fence Now. There is an old saying that a good fence makes for good neighbors. This truism has never been more applicable than with our Southern neighbor of Mexico. A good fence makes good immigration policy too. Unfortunately, the current Senate Immigration Bill's focus is not on the fence. It is on making people who've broken the law legal. Unless we want to be dealing with this issue again in five or 10 years, after millions more illegals have entered our country, the fence must become the focus of any solution.

Katrina Nation: Building the first 100 miles of "virtual fence" will take Bush longer than it took FDR to win World War II. The admission of failure comes two years after Bush announced plans for "the most technologically advanced border initiative in American history."

The Incredible Disappearing Border Fence. It's an object lesson in gesture politics and homeland insecurity. It's a tale of hollow rhetoric, meaningless legislation and bipartisan betrayal. And in the run-up to the Iowa caucuses, it's a helpful learning tool as you assess the promises of immigration enforcement converts now running for president.

U.S. Senate Turns Back On Border Fence. In a quiet act of defiance, the Senate approved a $555 billion omnibus spending bill that removed legal requirements mandating the federal government fund 854 miles of a double layer border fence spanning America's southwestern border. The funding requirement was codified into law when Congress passed, and President George W. Bush signed, the Secure Fence Act (SFA) in 2006.

A fence we can live with. A tip of the hat to Homeland Security Secretary Michael Chertoff for setting aside the environmental laws, as Congress permitted him to do, to facilitate prompt completion of the remaining 470 miles of fence along the Mexican border. It's good to see recognition that environmental concerns don't always trump everything else, especially national security.

Hutchison on defensive over border fence amendment. In an uncharacteristic display of public frustration with party colleagues, Sen. Kay Bailey Hutchison on Friday [1/11/2008] sharply criticized two Republican congressmen who had accused her of a stealth effort to derail the fence along the U.S.-Mexico border.

High-Tech Border Patrol: 5 New Tricks to Find Smuggler Tunnels. The Department of Homeland Security says tunnels under the U.S.-Mexico border are proliferating as security is tightened aboveground. The solution? A sensor network that peers through dirt and rock. The technologies to build it are being developed with funding from the department's advanced research wing.

The GOP Senate's Collective Contempt For Its Base. The physical fence is the outward manifestation of an inward conviction to respect the will of the people. The rhetoric about virtual fence is understood — rightly or wrongly but with certainty — to be a ruse….

Mexican anger over US 'trespass'. Mexico's Congress has condemned what it says is a border violation by US workers building a controversial barrier between the two countries. Legislators say workers and equipment building a section of the barrier have gone 10 yards into Mexico. The alleged border violation comes ahead of a high-level meeting in the Canadian capital Ottawa.

Texas Officials Criticize Fence Plan. A new map showing President Bush's planned border fence has riled Rio Grande Valley officials, who say the proposed barrier reneges on assurances that the river would remain accessible to farmers, wildlife and recreation.

Texas Cities Block Access to Border Land. Mayors along the Texas-Mexico border have begun a quiet protest of the federal government's plans to build a fence along the border: They are refusing to give access to their land. Mayors in Brownsville, Del Rio and El Paso have denied access to some parts of their city property, turning away federal employees assigned to begin surveys or conduct other preliminary work on the fence meant to keep out illegal immigrants.

All talk and no action:
Senate denies funds for new border fence. Less than two months after voting overwhelmingly to build 370 miles of new fencing along the border with Mexico, the Senate yesterday [7/13/2006] voted against providing funds to build it.

The immigration facade: Even if lawmakers had come up with all the funding to pay for the fencing — and they didn't — barriers only squeeze more illegal immigrants through those parts of the border that aren't fenced off. In the 1990s, crackdowns in El Paso and San Diego sent millions of illegal immigrants to crossing points in the Arizona desert.

Funding for 700-mile border fence falls short. President Bush's budget includes enough money to build only half the U.S.-Mexico border fence Congress demanded last fall, leaving supporters of a 700-mile barrier seething Monday and immigration advocates shrugging that it was just an election-year ploy.

Minutemen building Arizona border fence. Scores of volunteers gathered at a remote ranch Saturday [5/27/2006] to help a civilian border-patrol group start building a short security fence in hopes of reducing illegal immigration from Mexico.

Rep. Pelosi criticizes border fence. House Speaker Nancy Pelosi called a plan to build fencing along parts of the Mexico border a "terrible idea" that overlooks local communities. Pelosi made the comments during her trip to the Rio Grande Valley for the annual Hispanic Engineering, Science & Technology Week conference at the University of Texas-Pan American.

Lies about the fence. An earlier Homeland Security appropriations bill earmarked $1.2 billion for border security, so a down payment on the fence is available, but there is some question as to whether that money will or won't be used for the fence, which would cover approximately one-third of our border with Mexico. One thing is certain, however: The fence represents a great divide — not between Mexico and the United States, but between those who believe in self-defense and those who don't.

The barrier method works. A Monday story by the Reuters news service should be required reading for anyone opposed to illegal immigration: "Experts see U.S. border fence plan as impractical" is a stunning example of the intellectual dishonesty of Big Media and apologists for illegal aliens. And surely the most stunning, how oblivious both seem to be about it.

With Senate Vote, Congress Passes Border Fence Bill. The Senate gave final approval last night to legislation authorizing the construction of 700 miles of double-layered fencing on the U.S.-Mexico border, shelving President Bush's vision of a comprehensive overhaul of U.S. immigration laws in favor of a vast barrier.

New fences protecting fragile areas on border. Only a few steps north of the barbed-wire fence that separates the Buenos Aires National Wildlife Refuge from Mexico is a chain of steel sawhorses that could help save a park trampled by illicit visitors and littered with trash and rusting vehicles.

Company donates hi-tech fencing for Minuteman group. A Washington-based company is donating up to $7 million worth of fiber-optic security fencing material for the Minuteman Civil Defense Corps to use in any new barriers the group erects to try to keep illegal immigrants out of Arizona.

Wall Costs Worth It. Now that Congress is voting to build fences, punish burrowing illegals, and require Real ID's ofr citizens, (agri-)businessmen and consumers are aghast that improving border security already costs them. The added expense isn't just in resources like fence lumber, brick mortar, technology, and security manpower. No, it's hitting home now that the new efforts to restrict illegal immigration may cause serious economic disruptions. Have you noticed the cost of lettuce lately?

Senate OKs Border Fence, Mulls Citizenship. The Senate voted to build 370 miles of triple-layered fencing along the Mexican border Wednesday [5/17/2006] and clashed over citizenship for millions of men and women who live in the United States illegally.

Fence or no fence, what's all the fuss about? History has shown that immigrants in search of freedom and prosperity will climb over, tunnel under, or circumvent any fence. But if fencing helps pass a broad-based reform bill, so be it.

Minutemen Gaining in Immigration Debate. Minuteman organizers say this spring's marches have proved to be an unexpected recruitment tool for Americans who feel uneasy about the burgeoning immigration movement but may have considered the organization a pack of gun-toting vigilantes.

Minutemen turn away Arab news crew. The Minuteman Civil Defense Corps has canceled plans for an Al Jazeera news crew to interview volunteers patrolling the U.S.-Mexico border today after volunteers threatened to walk off their posts.

Border incursions rattling Arizonans. After long downplaying the number of incursions along the Southwestern border, top Border Patrol officials now acknowledge such incidents are all too common. Over the past decade, the Department of Homeland Security has reported 231 incursions along the border, including 63 in Arizona.

The Official Minuteman Civil Defense Corps web site.

A wall is key to any reform. Every sensible immigration policy has two objectives: (1) to regain control of our borders so that it is we who decide who enters, and (2) to find a way to normalize and legalize the situation of the 11 million illegals among us. Start with the second. No one of good will wants to see these 11 million suffer. But the obvious problem is that legalization creates an enormous incentive for new illegals to come.

Why a 'Virtual Fence' Is a Virtual Farce: The notion that cameras mounted on Predator drones obviate the need for physical barrier infrastructure should be dismissed as absurd on its face, yet several senators are promoting it seriously. Upon examination, however, what they describe as a virtual fence is no such thing. They do not describe a barrier, they describe a detection system.

Border Fence is legitimate self-defense. Build a double border fence all the way from San Ysidro to Brownsville, and patrol it well. Where geography prevents construction of a physical fence, deploy other resources in sufficient number to shut down illegal crossings.

Highway sound barriers as border fences? As discussion of erecting a security fence along U.S. borders with Mexico and Canada heats up, some analysts say it's possible Washington could economically erect thousands of miles of barrier to keep out illegal aliens, smugglers and terrorists, for about half of what the Pentagon is spending a month to fight the war on terror.

"Vigilantes" on the border? Social Security used to be called the third rail of politics but illegal immigration is the real third rail that both political parties are afraid to touch. Cops who find illegal aliens are under orders not to turn them in to the feds. And the federal government's own border guards have their hands tied by the higher-ups as well.

Congress to vote on bill that waives environmental laws. Congress is expected to vote next week on a measure that would allow completion of a controversial triple-fencing project along the U.S.-Mexico border near Imperial Beach [California] without complying with state or federal environmental safeguards. The triple-fencing project would run along the westernmost 3.5 miles of the U.S.-Mexico border.