Sing and Play Music while you still can French citizens, soon they will be banned for being un-Islamic. [Video clip]
New Jersey governor refuses to ban child marriage because 'it would conflict with religious customs'. A high profile Republican governor has declined to sign into law, a measure that would have made his state the first to ban child marriage without exception. Chris Christie, the governor of New Jersey and someone who has been a staunch supporter of Donald Trump, said such a ban would conflict with religious customs. He did not specify what religions he was referring to. Reuters said underage marriage is widespread in the US, where about 170,000 children were wed between 2000 and 2010 in 38 of the 50 states where data was available.
Canada: Landlord who didn't remove shoes must pay Muslim couple $12,000. [T]he small landlord who rented out the main floor of his Brampton home to an Arab Muslim couple must pay them $12,000 for failing to accommodate their religious practices when showing their apartment to prospective tenants. The Human Rights Tribunal of Ontario also found that he "harassed them and created a poisoned housing environment." His sins? John Alabi refused to remove his shoes when showing the bedroom where the couple prayed and while he always gave them the mandated 24-hour notice before showings, he didn't always provide the five-minute heads-up they'd requested to ensure the wife was modestly dressed and they weren't in the midst of their five daily prayers.
New York State Democrat Assemblyman introduces a bill requiring "Halal Compliant" lunches for public schools. Don't you find it interesting that such a bill has NEVER before been proposed for Kosher lunches in New York City schools, even though Jewish students make up a vastly larger percentage of the student population than Muslims do? Whatever happened to bringing a bag lunch when you don't like what's on the menu?
Genital Mutilation Charges Spark Bill to Keep Foreign Laws Out of Michigan Courts. Rep. Michele Hoitenga (R) said that the story of a Detroit-area doctor being charged with genital mutilation of young girls motivated her to sponsor a proposal that would ban the use of foreign countries' laws in Michigan courtrooms. Although House Bill 4499 does not mention it by name, Hoitenga also wrote in an email to her colleagues that Dr. Jumana Nagarwala, who faces federal charges of genital mutilation, was "practicing a fundamental version of Sharia Law."
Some Arguments for Muslim Religious Liberty Are More Compelling than Others. [Scroll down] Religious liberty as guaranteed by the Constitution has never been construed to mean that the members of any particular religion are exempt from the governing laws of the nation. Faith doesn't grant anyone the constitutional right to beat their wife, abuse their children, or stone heretics. It doesn't grant anyone the constitutional right to force other adults to join or belong to any religious, political, or social organization against their will. There are, in other words, existing, constitutionally valid laws that restrict or prevent the adherents of Sharia law from imposing it on unwilling others. Yet not all arguments for religious liberty are equally persuasive, and many advocates of Muslim religious liberty do more harm than good by misunderstanding both the reality of religious belief and the increasing public impatience with political correctness.
German Government Rejects Calls for Islam Law. Members of Chancellor Angela Merkel's center-right Christian Democratic Union party have called for a ban on foreign funding of Islamic organizations, and for Muslims to get statutory rights to pastoral care from an imam in prisons and hospitals.
The Muslim Brotherhood is making it impossible to criticise Islam, government report admits. The Muslim Brotherhood is creating a 'parallel social structure' in Sweden with the help of 'political elites' who foster a culture of silence, a damning government report has found. The document claims that the Brotherhood is building a 'parallel society' within the Scandinavian country, which can help the Islamist group to achieve its ends. Founded in 1826, the Muslim Brotherhood aims to organise Muslims politically in order to create a global, Sunni Islamic Caliphate.
Criticizing Sharia is 'hate speech,' Georgetown students say. Georgetown students protested a speech by Nonie Darwish, a Muslim woman who grew up in Egypt but fled for the U.S. and Christianity, becoming an outspoken critic of Sharia. Calling Darwish "Islamophobic," students demanded that her "hate speech" be censored, including the secretary of the GU College Republicans, who resigned in protest.
Michigan: CAIR shakes down Dept of Corrections over sharia meals. A Muslim civil liberties organization has settled its lawsuit against the Michigan Department of Corrections on behalf of inmates allegedly denied adequate nutrition during the annual month-long Ramadan fast. The Michigan chapter of the Council on American-Islamic Relations (CAIR-MI) filed the suit in 2013 after four Muslim inmates said they received as little as one-third of the recommended daily calories in Ramadan 2011 and 2012. The inmates were serving sentences at four correctional facilities: Saginaw, Newberry, Parnall in Jackson, and Alger, located in Wetmore. The plaintiffs said they often received meals containing inedible food or less than what was set forth on the Ramadan menu. The morning meal also frequently was served after sunrise, precluding them from consuming the meal in accordance with the strictures of Ramadan observance.
Why Sharia Is A Problem For Western Democracy. This series is for Westerners who may not know much about Islam, but who wonder why it seems to lead members of its faith into violence against the West in numbers unseen among adherents of other faiths. It turns out that the structure of Islam's legal philosophy, shariah, is a driving force. The most obvious readings of Islamic law, the readings of the Koran and the other core writings of the faith that is most direct and literal, sets those who come to believe deeply in the faith on a collision course with secular democracies of the type that the West has built since the Enlightenment. This series will explain why.
'Sharia patrol' organised by Muslim preacher ordering people to stop drinking or listening to music is backed by German courts. A group of Islamists did not break the law when they formed 'sharia police' street patrols, telling people to stop drinking, gambling and listening to music, a German court has ruled. The ultra-conservative group, formed by German convert Sven Lau, sparked outrage in 2014 when it held patrols in the western city of Wuppertal in 2014. They wore orange vests bearing the words 'Sharia Police'.
The Editor says...
Potential tourists may want to consider: What's Germany like without beer and music?
Florida Announces Complete Ban On Sharia Law. Florida is fighting back against the push to institute Sharia Law in the United States. Islamists, who do not believe that they are fighting the Battle of Armagheddon, as many ISIS members believe, know that when the dust settles, somebody will be in charge. Their hope, is that it will be them, and that the rule of law will be Sharia. To be clear, an Islamist is a seperate category from a moderate Muslim who wishes to live side by side with other religions. They are a categorized as believing in the missions of the jihadists, but believe in infiltrating the political systems of other countries to lawfully subvert the rule of law into Sharia Law.
Judgment Entered Against Wayne County Sheriffs for Violating Christians' Free Speech Rights. Today [9/28/2016], a federal judge in the U.S. District Court for the Eastern District of Michigan entered final judgment in favor of a group of Christian evangelists who were violently attacked by a hostile Muslim mob while preaching at the Arab Festival in Dearborn, Michigan in 2012. The case, Bible Believers v. Wayne County, was brought by the American Freedom Law Center (AFLC) on behalf of the Christians. As a result of this judgment, Wayne County agreed to pay $197,500 in attorneys' fees and costs. This judgment brings to a conclusion the lengthy and hard fought litigation in this matter — litigation which included a full court (en banc) review by the U.S. Court of Appeals for the Sixth Circuit.
Michigan: County to Pay $197k for Violating Christians' Rights, Defending Violent Muslim Mobs. To our knowledge, not one of the violent Muslim attackers was arrested or charged.
Halal-slaughtered animals are 'dying in agony' because of 'Muslim ignorance' over pre-slaughter stunning, say experts. Animals are dying in unnecessary agony because of a lack of understanding over how stunning stops them feeling pain when their throats are cut, research shows. In conventional slaughterhouses, cows, sheep and chicken are stunned, usually with an electric shock, to ensure they are unconscious before their throats are cut. This minimises suffering but in a number of Muslim abattoirs the animals are not stunned over fears it is not permissible, or 'halal'.
Boone County Jail adopts halal meal plan after RFRA lawsuit. The American Civil Liberties Union of Indiana is dismissing its religious freedom lawsuit against the Boone County Sheriff's Office after the county jail implemented plans to offer inmates the option of a halal diet. The ACLU in August employed the state's controversial Religious Freedom Restoration Act in a complaint that alleged staff at the Boone County Jail violated the rights of a Muslim inmate when they refused to supply him with food that adheres to a halal diet, which excludes pork and includes other meat only if it is slaughtered under certain conditions. The suit also alleged the sheriff's office violated the First Amendment rights of the inmate, Gannon Thomas. It was among early uses of the state's religious freedom law, which Gov. Mike Pence signed in 2015 amid controversy that placed the state in the national spotlight because some opponents believed it could be twisted to discriminate against gay and lesbian Hoosiers. Experts, though, said this suit represents the type of claim such laws are meant to address.
Somali Americans want Sharia Law. Filmmaker Ami Horowitz was alarmed by the growing number of Somali Americans living in Minneapolis who have joined up with the Islamist-terror groups ISIS and al-Shabaab. So he recently traveled to that city to speak with members of the community about how much American values resonated with them, their feelings about sharia law and terrorism, and whether they'd prefer to live in Somalia or America. Their answers were revealing. [Video clip]
Shariah Law vs. the Constitution. This excellent comparison of the two shows they are totally incompatible.
Plot to shut down Sharia Law courts in Britain as protesters call them 'discriminatory'. Thousands of people have signed a petition against Sharia in the UK as hundreds of human rights organisations boycott a "biased" Government inquiry.
Mandatory music classes hit a bad note with some Muslim parents. When music class begins this week at Toronto's Donwood Park elementary school, Mohammad Nouman Dasu will send a family member to collect his three young children. They will go home for an hour rather than sing and play instruments — a mandatory part of the Ontario curriculum he believes violates his Muslim faith. The Scarborough school and the Toronto District School Board originally had offered an accommodation — suggesting students could just clap their hands in place of playing instruments or listen to acapella versions of O Canada — but not a full exemption from the class. After a bitter three-year fight, however, Mr. Dasu felt he had no other opton but to bring his kids home.
Iran shutters 800 clothing stores over 'inappropriate' attire. Iran's state TV says police have shut down more than 800 clothing stores across the country for selling "unconventional and inappropriate" attire — believed to mean Western-style outfits and women's clothing that doesn't meet strict Islamic requirements.
Compulsory attendance at government schools is taken very seriously in some parts of the world.
7 Executed in Iraq for Not Sending Their Children to ISIS Schools. The Islamic State group is said to have recently executed seven people in its Iraqi stronghold of Mosul, after they apparently refused to send their children to schools run by the extremist group. [...] Around the same time, Isis militants also executed a man in Syria after he was caught wearing women's clothes.
Lesbian CNN commentator all in for sharia. So Sally Kohn thinks a subset of Muslims who call themselves "progressive Muslims" believe in Sharia. And apparently that's a good thing. (I wonder what part of sharia law is her favorite. Burqas, stoning, or throwing homosexuals off of rooftops?) That's how far gone the brains of leftists have become, marinated such as they are in a slop of lies, misinformation, and a worldview disconnected from reality. I don't care what descriptor comes before the word "Muslim." If a person believes in Sharia, they do not believe in liberty. Certainly a female and a member of the LGBT community should be alert to that fact since women and homosexuals don't fare too well under the Sharia. To put it mildly.
Not in my courtroom — judge throws out case after woman refuses to remove headscarf. A JUDGE has refused to hear a case because one of the participants refused to take off her hijab in court. Rania El-Alloul was attending a hearing trying to recover a car seized by police when her 21-year-old son was caught behind the wheel with a suspended driving licence. Judge Eliana Marengo asked her to remove her headscarf before the proceedings got under way but she refused. The judge told her: "The courtroom is a secular place and you are not suitably dressed."
If we can't ban halal meat, we should at least let people know when they're buying it. The UK now carries out more halal slaughter than the rest of Europe. Most of us eat halal meat unwittingly on a daily basis, since it is sold in most major outlets, including big brand-name supermarkets, without being labelled as such.
Iran's Western crackdown: Morality police raid clothes shops in ban of un-Islamic clothing. Shops selling un-Islamic clothes have been raided and shut down as morality police step up brutal patrols in Iran. The crackdown on Western outfits in the Islamic Republic has seen factories and shops being targeted — and comes after a leading cleric bizarrely accused the fashion of causing rivers to run dry. At least 15 women's clothes shops have been closed down by morality police in Hamedan in a renewed drive to wipe out improper clothing.
Sell alcohol and pork or we will shut you down, French town tells halal supermarket. A halal supermarket in a Paris suburb has been told by local authorities it must start selling alcohol and pork or else it will be shut down. Good Price discount mini-market in Colombes has been told by the local housing authority, from which it rents its premises, that it has not followed the conditions on the lease that stipulate that the shop must act as a "general food store."
Creeping Sharia in Health Care. [H]ospitals across the country are implementing an array of services for Muslim patients, including halal meals, alternatives to medications that contain alcohol and/or pork derivatives, gowns for women designed to protect their modesty, early morning and late night appointments during the month of Ramadan, hiring more Muslim chaplains, handing out Qurans to the parents of Muslim children after they're born, providing prayer rugs, hosting Iftar events, and setting up prayers rooms exclusively for Muslims who often find existing multi-faith prayers rooms offensive and/or inconvenient. [...] The Muslim-as-victim meme rears its head as well, such as the idea that Muslims "don't have access" to healthcare, as was recently asserted by the vice president of cultural competence at a medical center in Brooklyn, NY.
America absolutely must fear sharia law and it's time people knew why. The site shouldamericafearsharia.org consists mostly of links to videos discussing different topics about Islam and Islamic extremism. The home page urges visitors to sign a petition to ban Sharia Law in the United States. That roving gang of Somali refugee youths in an upscale suburb of Minnesota two weeks ago told a homeowner that they could kidnap and rape her because Sharia law said they could. In the wake of the Pulse nightclub shooting in Orlando, the Center's executive vice president Jim Hanson called the attack, "completely in keeping with totalitarian Islamic code called Shariah."
Hillary's coterie of anti-Semites. [Scroll down] Keith Ellison is the American face of stealth Jihad and another "first" phenomenon on two counts. He is the first black and the first Muslim congressman from Minnesota. Keith is also a converso, a former Catholic, like Lew Alcindor, converted to Islam when black rage and Islam was hip. Congressman Ellison is most famous for taking his oath of office from Nancy Pelosi in Washington on a Koran. Ellison has been cagey about his conversion, but his ties to the Nation of Islam and Louis Farrakhan are matters of record. He has written in support of Farrakhan on more than one occasion under a pseudonym. Ellison also has extensive personal, political, and financial ties to the American Muslim jihad net through such organizations as Council on American Islamic Relations, Muslim American Society, Islamic Society of North America, Muslim public Affairs Council, North American Imams Federation, and the notorious Saudi funded American Open University in Virginia, a kind of seminary for Muslim clerics. Former AOU chairman Ja'far Sheikh Idris considers American democracy to be "the antithesis of Islam." He also claims that no one "can be a Muslim who makes or freely accepts or believes that anyone has the right to make or accept legislation that is contrary to divine (Islamic) law."
Pakistan: Muslim Clerics Declare Transgender Marriages Valid. A group of influential Muslim clerics in Pakistan have issued a religious decree (fatwa) stating that transgender people have full marriage, inheritance and funeral rights under Islamic law, though they may only marry those of the opposite biological sex. The ruling suggests that sharia law allows biological males to marry biological females regardless how they choose to dress. "It is permissible for a transgender person with male indications on his body to marry a transgender person with female indications on her body," the decree states.
The Editor says...
I doubt if it really matters all that much: How many transsexuals — Muslim or otherwise — bother to get married?
Ex-Terrorism Prosecutor: Redacting 911 Calls Shows Obama Administration 'Is Becoming Sharia-Adherent'. In commenting on why the Obama administration initially had decided to release redacted portions of the 911 telephone calls made by the radical Islamic terrorist who killed 49 people at an Orlando night club, columnist, author, and former terrorism prosecutor Andrew C. McCarthy said it was because the government "is becoming Sharia-adherent." Sharia is the Islamic law that many Muslims (and governments) throughout the world follow, and it is based on the teachings in the Quran. On Monday's [6/20/2016] Bretibart News Daily (SiriusXM), host Stephen K. Bannon asked McCarthy, "The attorney general went on NBC yesterday and she said she's redacting the audio of the assailant in Orlando to take out his call to jihad, his pledge to the Islamic State. Did you buy her reason? Or do you think it shows our government is starting to become Sharia-adherent or Sharia-compliant?
New Wave of Muslims Loyal to Sharia. An Afghanistan immigrant warns against Sharia Law and the new refugees who will never accept American law.
Afghanistan Migration Surging into America; 99% Support Sharia Law. Law enforcement sources have identified the gunman in the Orlando terror attack as Omar Mateen, the child of Afghan migrants, according to CBS News. Between 2001 and 2013, the U.S. permanently resettled nearly 30,000 Afghan migrants on green cards. According to Pew, nearly all Muslims in Afghanistan (99%) support sharia law as official law. As legal immigrants, these migrants will be granted lifetime resettlement privileges will be given automatic work permits, welfare access, and the ability to become voting citizens.
In Sharia-Ruled Iran, Muslims Are Willing To Risk Corporal Punishment For A Slice Of Bacon. The demand for bacon, and by extension freedom, has created a large underground market in Iran, despite severe consequences if caught. Pork meat and alcohol are illegal products for Muslims to consume in Iran. The Christian minority — made up of about 300,000 Armenians and Assyrians — can buy pork in certain stores. But for Muslims, the consequences can be severe if they are caught with a slice of bacon in their mouths. "If you get caught by the modesty patrol, the religious police, you face fines, potentially corporal punishment," Emanuele Ottolenghi, a senior fellow at the Foundation for Defense of Democracies, told The Daily Caller News Foundation.
Texas: Muslim convict demands sharia, court agrees. Texas prison officials cannot prohibit Muslim inmates from growing a beard up to four inches long or from donning religious head wear, a federal appeals court has ruled. David Rasheed Ali, serving concurrent 20-year sentences for arson and aggravated robbery, filed suit seven years ago arguing that the tenets of his religion required him to wear a beard and a kufi, a knit skullcap. When Ali sued, prison policy required inmates to be clean shaven, although those with skin conditions could grow a quarter-inch beard. Last year, however, Texas began allowing inmates to grow a half-inch beard as part of their religious practice after the U.S. Supreme Court ruled that prisoners had a right to wear facial hair to express their faith.
Nearly a quarter of Muslims support areas of UK being run under sharia law. British Muslims disagree with the rest of the country on a range of key issues such as sexuality, freedom of speech and polygamy, according to new research. A poll carried out by ICM discovered that more than half of Muslims disagree with homosexuality being legal in Britain, while a quarter support Sharia law being introduced into parts of the country instead of British law.
Muslims in NYC Say Sharia Law Supersedes the U.S. Constitution. Unfortunately Faux News' Hannity didn't let the on-the-street videos speak for themselves and followed it up with apologists. There will be no reformation of Islam. The only valid option is banning Muslims because as the video demonstrates clearly, many Muslims have no intention of fulfilling their Naturalization Oath of Allegiance to the United States of America and likely lied when taking it: [...]
Are you living near a Muslim NO-GO Zone in America? Not yet? Give it a little time. Former CIA counter-intelligence operative, Clare Lopez, vice president of the Center for Security Policy and national security adviser to Sen. Ted Cruz's presidential campaign, told a Minnesota radio program that parts of Minneapolis have become sharia-compliant "no-go zones where the police dare not go."
Do Radicalized Islamic Communities Exist in the US? GOP presidential candidate Senator Ted Cruz's call for patrolling of Muslim communities with signs of extremism is being bashed as pandering to anti-Muslim voters, with critics saying there aren't even Islamist communities in the U.S. to begin with. They are wrong. They exist — and newly-published documents show that they've boasted of enforcing Islamic sharia law, even going so far as to whip children. Jamaat ul-Fuqra, a Pakistani militant group that has rebranded itself as Muslims of the Americas, says it has 22 "Islamic villages" in the U.S. Its "Islamberg" headquarters in New York is the most well-known.
'Sharia Friendly' Social Networks For Muslims Are On The Rise. A month ago, while attending the Startup Turkey conference in Antalya, I had the chance to talk to Shoaib Fadie, CEO and co-founder of the social networking platform Muslimface. He was there to pitch to potential investors his website, which, in addition to social networking also offers prayer times, job postings, a tool to locate the nearest mosque, a 'find your spouse' feature, and much more.
Tennessee: Proposed School Voucher Program — Teaching Kids to Hate Infidels. [Scroll down] For the third time the legislature has not passed this bill. So, it seems the will of the people is not to use their tax dollars to send children to private schools. Maybe there's a good reason. [...] Had the school voucher bill passed in Tennessee, Anoor Academy (Knoxville), Pleasant View School (Memphis) and Nashville International Academy (Nashville), would have been eligible to receive voucher money. All three are private Islamic schools. All three are accredited by AdvancED, a regional accrediting organization. Once they are accredited these schools get classified as "Category III" under the Tennessee State Board of Education rules. Category III schools were eligible for vouchers under the proposed school voucher bill. In 2013, Anoor Academy's promo video showed a row of the textbook What Islam Is All About. This book denigrates Jews and Christians and teaches that the warlord Muhammed is the perfect example to follow. It also states that "there is no separation of Masjid and state," that "Muslims dream of establishing the power of Islam in the world," and that living under sharia law is the preferred state for all humankind.
Hungary says [there are] 900 'no-go areas' in Europe. Europe has more than 900 "no-go areas" with large immigrant populations, Hungary's government claims on a hard-hitting new website aimed at drumming up opposition to an EU scheme to share out migrants around the bloc. In these areas "with a high number of immigrants", for example in Paris, London, Stockholm or Berlin, the authorities have "little or no control" and "norms of the host society barely prevail," the site says.
Man arrested for tweeting about Muslims. A British man has been charged with using social media to incite racial hatred after posting anti-Muslim tweets in the days after the Brussels attacks.
Texas Bans Sharia Law. Dozens of Muslims in Irving are upset after the city council passed a resolution in support of a new state house bill some Muslims believe targets their faith. Council members voted Thursday night on a resolution that support Texas HB 562, which forbids the use of foreign law and codifies the supremacy of U.S. and state law. "I think it's the most disgraceful day in the city of Irving," said Omar Suleiman, an Irving resident who is Muslim. "The elephant in the room is that it's the anti-Shariah bill."
Sharia in Denmark : Documentary investigates claims that imams are working towards keeping parallel societies for Muslims. The documentary consists of an undercover investigation into claims that Muslim imams are working towards keeping parallel societies for Muslims within Denmark. The filmmakers had two young Muslims — brought from outside Denmark — go undercover in Gellerupparken, an area best described as a predominantly Muslim ghetto in Aarhus, Denmark's second city. For three months, the two lived as a fictitious couple, Fatma and Muhammed, while visiting eight different mosques in Aarhus, Odense and Copenhagen — the three largest cities in Denmark — with hidden cameras. The goal was to hear what imams say behind closed doors about Danish law and authorities, gender equality and general contact with Danish society, such as Muslim women participating in the Danish job market.
WARNING: Graphic images.
Death By Halal : Slow and agonizing — just the way Muslims like it. In Halal Islamic slaughter, Muslims don't sever the spinal cord which means the animal suffers in agony until it bleeds out and dies. Muslims believe the suffering makes the meat taste better.
The Editor says...
You can bet that if Catholics or Jews or Mormons were torturing animals for religious reasons, the animal rights activists in the U.S. would be marching in protest. But as long as the Muslims are involved, the activists are all totally silent.
German Cafes Stop Selling Pork Sausages to Spare the Feelings of Muslim "Refugees". It's always the same thing: non-Muslims must change their behavior and adapt their culture to suit Muslims. Muslims are never expected to adapt to the mores of their host culture. And so where will this end? Will Germany surrender completely and become a sharia state? Or at a certain point will Germans say they have had enough? Because of their horrific history of genocide and hatred, many Germans will never say "Enough" even to the point of taking peaceful steps to stop this invasion — they would rather commit national suicide. And that is exactly what they are doing.
Hijabs For Hospital Patients: NHS Trust Introduces 'Multi-Faith Dignity Gowns'. A British National Health Service (NHS) hospital trust has developed official hijabs which they call "multi-faith dignity gowns" to protect the "modesty" of patients, after local Muslims apparently complained about standard hospital gowns. The hijabs, which can also function as niqab due to its inbuilt facemask, are now being offered at two NHS hospitals, the Royal Bournemouth, and Christchurch Hospitals (RBCH), as Muslim women said the traditional gowns made them "uncomfortable".
The Editor says...
If the hospital makes you uncomfortable, don't go there! You know what makes me uncomfortable? People who would fly an airliner into an office building if they had the chance, just to score points with Allah.
Schleswig-Holstein CDU fights to keep pork on canteen menus. The regional arm of Chancellor Angela Merkel's CDU announced plans on Tuesday [3/1/2016] to ensure that pork continues to be available at public canteens, as well as child daycare centers and schools across the north German state. The proposal is due to be presented by the CDU's group in parliament at next week's regional parliamentary session. CDU parliamentary group leader, Daniel Günther, bemoaned on Tuesday [3/1/2016] that an increasing number of canteens, nurseries and schools are removing pork from their menu due to religious considerations.
18 people caned in Aceh for gambling, dating and consuming liquor. The Banda Aceh Prosecutor's Office held a public caning on Tuesday [3/1/2016] to punish 18 people for having violated Aceh's Islamic bylaws, locally known as Qanun. The 10 convicts who had been caught gambling received a sentence of eight strokes, previously reduced by two strokes due to a detention period, six convicts received 40 strokes for consuming liquor and two were punished for dating.
Iran rules 'decadent' Valentine's Day celebrations a crime. Iranian news outlets reported the police directive Friday [2/12/2016] warning retailers against promoting "decadent Western culture through Valentine's Day rituals."
Here's the Deal about Sharia Law. Most Americans, including myself, do no care a whit if Islamic people have their churches and attend them. Most of us do not give them a second glance on the street. So long as those Churches are not places of ideological indoctrination against the US, against Christianity, against other religions, and against our Constitution. The problem is... many of them are just that. And why? Because the underlying teaching of Sharia Law teaches principles that indoctrinate against the US, against Christianity, against other religions, and against our Constitution. Its very basis is rooted in the idea that God's Law is Sharia Law and that mankind must either adopt it or bow down to it in this life. That set of laws extends to rules, regulations, and practices at the secular level, Mr. President, and not only spiritually, but physically forces compliance amongst the adherents, and the desire to spread that adherence to all people. That compulsion regarding dress codes, legal matters, lands, property, gender behavior, etc., etc. is abjectly anti-Constitutional, ant-Bill of rights, and completely incompatible with the most fundamental, foundational principles that America is built upon. [...] [I]f Sharia Law is taught in a Mosque, then that Mosque should no longer be considered a church under the law. It becomes a place of political indoctrination, wholly incompatible with and subversive to the US Constitution.
South Carolina House Passes Bill Excluding Sharia Law From State Courts. The South Carolina House has passed a bill blocking Islamic sharia law from being recognized or approved in the state, after years of debate over similar legislation. The legislation voted upon was explained as "A bill to amend the code of laws of South Carolina ... so as to prevent a court or other enforcement authority from enforcing foreign law including, but not limited to, Sharia Law in this state from a forum outside of the United States or its territories under certain circumstances."
Why Sharia Is Incompatible with American Values. You and I don't like sharia, while hundreds of millions love it. [...] It's time to go deeper and figure out what's happening in us that makes us recoil at it. ISIS and many Islamic nations believe, because original Islam teaches, the following:
• Mosque and state are not separate.
• Apostasy, or leaving Islam, is outlawed up to the penalty of death.
• Speaking against Islam is outlawed up to the penalty of death.
• Jihad or qital (military war only) to force conversions or submit to a tax is allowed.
• Having sex with female prisoners of war is allowed.
• Drinkers and gamblers may be flogged.
• Adulterers and fornicators may be flogged (and adulterers may be stoned to death).
• Bearing false witness about sexual sin (a "crime" in Islam) can incur flogging.
• Homosexuals may be flogged or executed.
• A woman inherits half of what a man does.
• Domestic violence is allowed.
• A woman's testimony counts as half of a man's testimony.
• A man may divorce his wife by pronouncing three times "you are divorced" outside a court of law, and the divorce is legal and final.
Colorado school district requires girls to cover ankles, wear head scarves on trip to mosque. A world religions class is taking a field trip to a Denver mosque and the school is requiring girls to dress in what is described as a Sharia-complaint manner. KNUS radio host Peter Boyles reports the Douglas County school system issued these rules to students in a notification to parents: [...] "Public schools are forbidden from holding girls to different standards than boys," Boyles notes. "They're holding these girls to a different standard — it's a religious reason. "Islam dictates many, I believe — personal belief — repressive practices against women and Islamophobia will trump womens' rights. Animal rights every time, and the environment."
First City in America to be Muslim-majority; can Sharia law be far behind? In November, the blue-collar city that has been home to Polish Catholic immigrants and their descendents for more than a century became what demographers think is the first jurisdiction in the nation to elect a majority-Muslim council. It's the second tipping for Hamtramck, which in 2013 earned the distinction of becoming what appears to be the first majority-Muslim city in the United States following the arrival of thousands of immigrants from Yemen, Bangladesh and Bosnia over a decade. The once-thriving factory town now struggles with one of the highest poverty rates in Michigan.
Muslim Women Must Be Emancipated. [Scroll down] The purpose of the Cox bill is to restrict the powers of sharia courts, now estimated to number 85 in the UK, and sometimes referred to as sharia councils, to help vulnerable women who need protection from exploitation and to end gender discrimination by Muslims. It addresses the problem of religiously sanctioned gender discrimination. The second issue is to question the growth of an alternative Islamic quasi-legal system that undermines the fundamental principle of one law for all. The disapproval of sharia law results from the reality that it condones domestic violence and physical abuse against women, and that it undermines equal rights and protection under the law. Under sharia law, the process of halala allows a man to divorce his wife by uttering the words "I divorce you," three times, divorce can be had by mail, and polygamy to the extent of four wives is allowed. Women are handicapped on issues of child custody, inheritance provisions, and rules of evidence in trials as women's testimony accounts for only half that of men.
New in America: Not Muslim, No Taxi. Islamic taxi drivers at Minneapolis-St. Paul International Airport are refusing passengers carrying alcohol and blind folks with seeing-eye dogs because the animals' saliva is sacrilege according to Sharia law. The enterprising Muslims during the past year have stranded 100 passengers a month, sometimes for more than an hour, according to the Metropolitan Airports Commission, since three-fourths of the 900 taxi drivers servicing the airport are Somali Muslims who have decided to participate in the new discipline. [...] What if Islamic drivers deny the right of transportation to women wearing short skirts, robed priests and rabbis, or homosexual couples, as indeed has happened in Minneapolis? And what to do should conductors, pilots, and stewards on trains and planes insist they should not transport unveiled women or serve alcohol. How far off is the day when emboldened imams in neighborhoods where American Muslims are in the majority, such Dearborn, Mich., demand the broadcasting of the calls to prayer over loudspeakers at dawn and at other times. Farfetched? Not at all.
Shariah: A unique form of religious law. One of the most misunderstood aspects of studying Jihad and Islam is the role of Shariah law. This is largely because so much misinformation about Shariah has been disseminated by Muslim Brotherhood front groups, such as the Council on American Islamic Relations, the Islamic Society of North America, the Muslim Students Association and, especially, the Islamic Circle of North America here in the U.S. Many Westerners, even pastors, priests and rabbis, assume that Shariah is similar to Christian canon law or Jewish rabbinical law. That just isn't true at all. First of all, Shariah covers virtually all aspects of life for a Muslim, whether the aspect at hand is a religious issue or not. Whereas canon law and rabbinical law primarily cover religious issues and ecclesiastical issues, Shariah covers issues of criminal punishment, civil justice, economics/finance and war, in addition to purely ecclesiastical matters.
ISIS sets rules for raping captive women. Most of what the terrorist army of ISIS has done in its murderous march across a wide swath of the Mideast these last two years appears incomprehensible to outside eyes: video beheadings, mass street killings, children enlisted to execute neighbors, victims tossed from tall buildings. Now one document from a stash seized during a bold Special Ops raid into Syria seven months ago has provided a shocking window into the medieval minds of these radical Islamic extremists who would impose harsh Sharia law wherever their caliphate spreads. Hard to believe we're reading such material in what to most of the world is the 21st century.
Muslim Supremacists Won't Take No For An Answer. Two months after asking Columbus' mayor and police chief to reconsider the head-scarf ban for female Muslim police-officer candidates, a local lawyer is asking again for the city to re-evaluate its policy. (The ban is in place for the safety of police officers. Wearing a scarf wrapped around your head and neck makes it easy for a suspect to strangle the officer.)
Woman accused of 'affectionate contact' with man caned in Indonesia. A 20-year-old Indonesian woman was rushed to a hospital Monday [2/28/2015] after being publicly caned for violating Sharia law by allegedly having affectionate contact with a man who was not her husband. The caning of students Nur Elita and Wahyudi Saputra happened in front of a cheering crowd outside a mosque in Banda Aceh, the only province in Indonesia that operates under Sharia law, the Jakarta Post reports. Elita, who received five strokes along with Saputra, 23, had to be carried to an ambulance by officials following her punishment.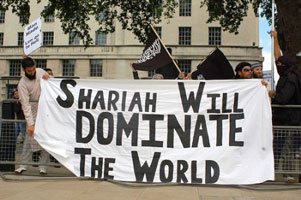 Whistleblower: Islamic Groups Control Narrative Of American Law Enforcement. The stealth jihad in the information battle-space has led to the vigorous enforcement of blasphemy laws under the sharia. Under Islamic law, it is prohibited to criticize Islam. The Obama administration is sharia compliant at all costs. Their number one priority is to protect Islam even when it puts American lives at risk. The cold-blooded slaughter of Americans in the homeland by Muslims has not tempered Obama's sharia enthusiasm. On the contrary, Garland, Fort Hood, Chattanooga, UCMED, San Bernardino etc have accelerated it.




Islam: Not Just a Religion. Americans are having a hard time discussing the problem of Muslim immigration and assimilation because Islam is not just a religion; it's a whole way of life, civil and spiritual. The First Amendment was written because Christians of all denominations believed that while people's religious beliefs are the basis for the law, no one Christian group should be supported by the power of the federal government. After all, that's why many Americans had fled England. Islam, according to many Muslims, rejects that principle and declares that all authority belongs to Islam. It's as though Catholics believed that the pope should be the ultimate authority for setting the fine you have to pay if you get a speeding ticket.

Malaysia's first Islamic-compliant airline takes off. Malaysia's first Islamic-compliant airline Rayani Air began operations Sunday [12/20/2015] with its maiden flight taking off from the capital to the resort island of Langkawi, local media reported. In-flight meals served on board its flights are completely halal, with alcohol consumption strictly prohibited. Muslim flight crew must don the hijab while non-Muslim crew are to be decently dressed, managing director Jaafar Zamhari told reporters.

American Muslims are not the enemy, but Sharia Law is a Clear and Present Danger to America. First, too many Americans have not taken the time to learn about Sharia law, and distinguish the political ideology of Sharia law from a personal belief in God. This is surprising, considering we have been at war with those seeking to further Sharia law for decades. We've had plenty of time to learn in the decade and a half since the 9/11 attacks. Unfortunately, Americans have listened to both Muslim apologists and many American political leaders claiming that Sharia law is no different than U.S. law. The refusal to understand the distinction between a competing political ideology and religion has become dangerous. For those who can handle the truth: Sharia law is a political threat which could spell the doom of our constitutional republic and the end of Western civilization.

Rep. Gohmert: 'You Cannot Be An American Citizen And Believe Sharia Law Should Supplant Our Constitution'. Discussing how the Obama administration apparently is not controlling illegal immigration and is using terrorist attacks to justify calls for more gun control, Rep. Louie Gohmert (R-Texas) said it is lawmakers' duty to protect Americans "against all enemies foreign and domestic," and stressed that Muslim immigrants who believe sharia law (Islamic law) must supplant the Constitution cannot be American citizens. According to the BBC, "all aspects of a Muslim's life are governed by Sharia. Sharia law comes from a combination of sources including the Quran, the Hadith (sayings and conduct of Muhammed), and fatwas (the rulings of Islamic scholars)."

Burger King goes halal. After going homo in the United States with its "Proud Whopper" — a regular Whopper but with a new wrapper and a message inside, "We are all the same inside" — Burger King in France is going halal.

Forsakin' bacon: Burger King chooses Islamic food rules. Burger King is going halal in France, aiming for the business of that nation's estimated 5 million Muslims, according to a new report. The English-language Local report said the U.S. burger chain recently took over the Quick chain of fast-food restaurants in France and is planning to make about 40 of them, about 10 percent of the total, totally halal. That means they would scrap all pork and bacon products from their menu and require that the beef and chicken be certified halal, or slaughtered according to Islamic religious tradition.

UK Cop: 'There Are Areas We Have To Ask Muslim Leaders' Permission To Patrol'. A British policeman has hit back at the UK political establishment's trashing of U.S. Presidential candidate Donald Trump's comments about policing in the United Kingdom, stating that there are some areas in the country where cops have to ask permission from local Muslim leaders in order to patrols.

Donald Trump is RIGHT about parts of London being so 'radicalised' they are no-go areas. Serving police officers today backed Donald Trump's claim that some Muslim communities in the UK are no-go areas because of extremism. [...] The US presidential contender caused worldwide consternation yesterday after a string of incendiary remarks about Muslims, including in Britain, and said: 'We have places in London and other places that are so radicalised that police are afraid for their own lives.' But one serving officer said today [12/9/2015] Trump had 'pointed out something plainly obvious, something which I think we aren't as a nation willing to own up to'.

Trump vindicated: London police do fear for their lives entering Muslim enclaves. Breitbart reports on the current state of policing in and around London, where one police officer stated: "When I was a teenage lad in [B]urnley there were no go white areas. This IS the case still nationally... including London where you have to have extra vigilance in certain parts when you are working." This same officer also said, "Islamification has [been] and is occurring. You have to have extra vigilance in certain parts when you are working." And he's not the only one. The Daily Mail reports that a policeman said that he and his colleagues are fearful they will be targets of terror attacks and that they've received "dire warning" from their superiors not to wear their uniforms, "even in their cars." But they are not the only two reporting on the collapse of police authority in certain regions of the country.

Democratic Senate hopeful: Up to 20 percent of Muslims want a caliphate. A prominent Democratic congresswoman and Senate candidate said that up to 20 percent of Muslims want to establish an Islamic caliphate and would use "terrorism" to achieve that goal. Rep. Loretta Sanchez said Muslims seeking a caliphate are willing to use terrorism and violence to impose their views on the Western world.

After Jihadist Mass Murder, the CAIR's Sharia Agenda Rolls On. In San Bernardino, heartbroken families are preparing to bury the 14 innocent people murdered last week by Islamic jihadists Syed Rizwan Farook and Tashfeen Malik. They are tending to another 21 wounded by the married terrorists. Meanwhile the Los Angeles chapter of CAIR (the Council on American-Islamic Relations) is pressing child custody authorities in California to comply with Islamic law — sharia — in the placement of the six-month-old infant the terrorist couple left behind. They may not be saying that that is what they are doing, but that is what they are doing. In the long term, CAIR-LA is pushing to have the child placed with Farook's sister, Saira Khan. This is going on, mind you, even as FBI Director James Comey told a Senate committee today that the Islamic supremacist couple had been discussing jihad and martyrdom for the last two years (i.e., beginning before Malik immigrated to the U.S. from Saudi Arabia in 2014). Farook may even have plotted a terrorist attack in 2012.

Loretta Lynch is unfit to serve. As most AT readers know, Loretta Lynch recently stated that she would prosecute anyone who expressed "anti-Muslim rhetoric" that led to violence against Muslims. Among other things, she also invited members of the Muslim community to contact her if their children are bullied at school. Wow! Does anyone else have Lynch's direct line so they can hop, skip, and jump over the playground monitor, teacher, counselor, vice-principal, and/or principal to the Attorney General of the United States? I can almost hear the phones dialing now with the next wave of fabricated clock boy complaints. Lynch is enforcing Sharia law, creating two classes of citizens. Muslims are the protected class and non-Muslims are second-class citizens.

Obama's Recipe for Disaster. The recent attacks in France have demonstrated just how reckless unchecked immigration truly is. Europe is seeing the inevitable chickens coming home to roost. The Islamic invasion of Europe has been allowed to go unchecked for a number of years, resulting in large enclaves of Islamists that reside in what has come to be known as "no go zones", or perhaps more accurately as Daniel Pipes said, "semi-autonomous sectors". Regardless of what you choose to call it, granting any form of autonomy to hostile groups on your own soil is a less than safe proposition. The groundswell of European natives had already been rising, calling on their governments to put an end to this insanity before the recent Paris attacks. Now the opposition from everyday Europeans has reached fever pitch, resulting in at least some of those nations to rethink their stances on immigration.

Saudi court sentences poet to death for renouncing Islam. A Palestinian poet and leading member of Saudi Arabia's nascent contemporary art scene has been sentenced to death for renouncing Islam. A Saudi court on Tuesday [11/17/2015] ordered the execution of Ashraf Fayadh, who has curated art shows in Jeddah and at the Venice Biennale. The poet, who said he did not have legal representation, was given 30 days to appeal against the ruling.

Paris Proves Muslim No-Go Zones [are] No Myth. [B]ecause France's multicultural-obsessed leftist leaders allowed the foreign Muslim population to grow so large — thanks to the same kind of liberal refugee policies our American president is jamming us with now — many areas became belligerent and hostile toward local "kuffir" (infidel) authorities. Soon, whole neighborhoods became off-limits to police. Muslim youths rioted and attacked cops, who tried to patrol crime in those urban areas. Paris lost control of these Muslim enclaves, allowing a parallel society to take root, one that has become a breeding ground for terrorists and other Islamic extremists.

Shariahville, USA: Cities 'surrender' to Islam. Hamtramck, known affectionately as "Poletown" by Detroiters and Michiganians for its bustling district of Polish restaurants, markets and beautiful Catholic churches, last week become the nation's first city to elect a Muslim-majority city council — sending three Muslims to join one incumbent who was not up for re-election. In butcher shops that once offered juicy Polish sausages in refrigerated display cases, female customers wearing hijabs now purchase halal meats blessed by an imam. The sound of church bells has given way to the chant of a Muslim holy man giving the call to prayer in Arabic.

Do You Want Sharia Law In America? What about people in our smartest state, California? Do they think sharia law is bogus, or do they find it awesome? A fellow named Mark Dice recently asked some everyday Californians for their opinion on this important issue: [Video clip]

Watch Clinton supporters cheer for Sharia law. California prankster and liberty activist Mark Dice has again taken to the streets to reveal the alarming stupidity of some Americans. For his latest video, Dice asked Hillary Clinton supporters how they feel about Sharia law. [Video clip]

Creeping Sharia in the EEOC. The EEOC said that Star Transport Inc., a trucking company based in Morton, Ill., violated their religious rights by refusing to accommodate their objections to delivering alcoholic beverages. "EEOC is proud to support the rights of workers to equal treatment in the workplace without having to sacrifice their religious beliefs or practices," EEOC General Counsel David Lopez announced Thursday [10/29/2015]. "This is fundamental to the American principles of religious freedom and tolerance."

Sharia Court Shut Down in Texas. The City of Irving, Texas, was the setting for a recent Sharia Islamic Court, and the mayor took a stand against it. Mayor Beth Van Duyne publicly stated that she backs the new Texas law which prohibits any kind of foreign law from being practiced in the state of Texas.

Beliefs About Sharia. Although many Muslims around the world say sharia should be the law of the land in their country, the survey reveals divergent opinions about the precise application of Islamic law. Generally, supporters of sharia are most comfortable with its application in cases of family or property disputes. In most regions, fewer favor other specific aspects of sharia, such as cutting off the hands of thieves and executing people who convert from Islam to another faith.

Obama admin helps Muslims win big religious liberty lawsuit; why not Christian bakers? When a couple of Muslim truck drivers are fired for refusing to haul beer on religious grounds, they're awarded $240,000. When a couple of bakers refuse to bake a same-sex wedding cake on religious grounds, they're the ones being forced to pay big. In the case of the Muslim truck drivers, the Obama administration's Equal Employment Opportunity Commission stepped in and won the case for them.

Muslim men having '20 children each' because of polygamy, peer claims. Muslim men in some communities are having up to 20 children each because of polygomy and the rise of "religiously sanctioned gender discrimination" under Sharia Law, peers have warned. Baroness Cox, a cross-bench peer, highlighted a series of "shocking" examples of the impact of Sharia law on Muslim women in Britain as she called for them to be given greater protection under equality legislation.

The Editor says...
18 years from now, every one of those 20 kids will meet you at the ballot box.

Muslim Drivers Get Religious Freedom but Not Christian Bakers. "Two Muslim truck drivers who refused to transport alcohol were recently awarded $240,000 by an Illinois judge, according to a press release by the EEOC. "Truck drivers Mahad Abass Mohammed and Abdkiarim Hassan Bulshale were fired from Illinois-based Star Transport back in 2009 after they refused to transport alcohol because it violated their religious beliefs. "The U.S. Equal Employment Opportunity Commission sued the carrier on behalf of the drivers, alleging religious discrimination and wrongful termination.

$240,000 jury award to Muslim truck drivers who were fired for refusing to transport alcohol. One more data point on the "When does your religion legally excuse you from doing part of your job?" question — like it or not, under American law, employers sometimes do have to excuse employees from tasks that the employees find religiously objectionable. Tuesday, two Muslim truck drivers who were fired for refusing to deliver shipments containing alcohol were awarded $40,000 in compensatory damages and $200,000 in punitive damages by the jury in their discrimination claim.

So why did federal prisons remove all pork from the menu? Did inmates stop liking bacon, or something? Did pork products spike in price so much that the pork-laden government had to cut back? Why in the world would the federal prison system eliminate all pork products?

Finally, the government has decided to eliminate pork — from the menu in federal prisons. The nation's pork producers are in an uproar after the federal government abruptly removed bacon, pork chops, pork links, ham and all other pig products from the national menu for 206,000 federal inmates. The ban started with the new fiscal year last week. The Bureau of Prisons, which is responsible for running 122 federal penitentiaries and feeding their inmates three meals a day, said the decision was based on a survey of prisoners' food preferences: They just don't like the taste of pork.

The Editor says...
Since when has it mattered if prisoners enjoy their meals? Prison time is punishment, it's not a picnic. And since when have grown men developed a distaste for bacon? Exactly the reverse trend is underway, if popular television advertising is any indication. No, the official cover story is transparently false. This change has nothing to do with the prisoners' preferences. What we see here is the Obama administration appeasing the Muslims, applying halal rules to the prisoners' diet, and then lying about it.

Update:
After firestorm, pork roast is back on the menu at federal prisons. After a week of controversy surrounding its abrupt removal of pork dishes from the national menu for federal inmates, the government did an about-face Thursday [10/15/2015] and put pork roast back on the prison bill of fare. The Bureau of Prisons disclosed the decision to The Post hours after a Republican Senate leader expressed dismay at what he implied was a wasteful survey of inmates' food preferences and a lack of transparency in the decision.

Federal prisons reverse pork menu ban after outcry. The Federal Bureau of Prisons may have bitten off more than it could chew by banning pork from prison menus earlier this month — and apparently has reversed course on the decision. After the bureau drew complaints from the American pork industry and most recently from Iowa Sen. Chuck Grassley for the ban, the senator's office tells FoxNews.com that the bureau informed them they're backing off the decision and returning pork to the menu.

Prison pork prohibition pulled promptly. Last week we told you about the menu change at federal prisons where pork products disappeared from the table back on October 1st. What was up with that? At the time I wondered whether it had to do with pressure from religious groups who don't eat pork or perhaps some sort of political shenanigans between the administration and the pork industry. We don't have all of those answers yet, but the resulting uproar spurred somebody to action and the ban on pork in prison has apparently been ended... at least in part.

Former House Intelligence Chair: Of Course Islamic Law is Incompatible With the Constitution. Is Islamic law (Shariah) compatible with the U.S. Constitution? The question has no simple answer, but we have three recent examples of where regime change forced national leaders to determine Shariah's role in their governance, all failing to reach a definitive conclusion. The first two followed interventions by the Obama administration, in one case actively and in the other passively, that facilitated the overthrow of stable authorities.

Inmates, industry decry feds pulling pork from menus. The Federal Bureau of Prisons is going whole hog in cutting pork from its menu. With this month's start of fiscal year 2016, there will be no bacon, no pork chops, no pork roast, no pork sausage — no pork-related food at all — served to the nation's 205,723 federal inmates, including those at FCI Fort Worth or FMC Carswell. While there have been grumblings from some inmates' family members that the prohibition had to do with Muslim or Jewish dietary restrictions, Bureau of Prisons spokesman Ed Ross said that isn't the case. A woman whose son is in federal prison in Fort Worth says he has complained about the lack of pork, saying he had heard it was because of complaints from Muslim inmates.

Ben Carson: Show me an Islamic text that opposes Sharia law. GOP presidential candidate Ben Carson on Sunday [9/27/2015] stood by his comments that a Muslim should not be president, pointing out that the tenets of Islam come from Sharia law and the Koran. "What we should be talking about is Islam and the tenets of Islam and where do they come from?" he told Martha Raddatz on ABC's "This Week." "They come from Sharia. They come from the Koran. They come from, you know, the life works and examples of Muhammad. They come from the fatwas, which is the writings of scholars."

Mainstream Islamic Doctrine: Build a Caliphate. The vast majority of Westerners — especially Americans — are completely ignorant of Islamic doctrine. When Abu Bakr al-Baghdadi claimed the title Caliph and declared the Islamic State in June 2014, many ignorant observers assumed that the establishment of the Caliphate was something that only "radicals" and "extremists" sought. That isn't true. A study of Islamic doctrine based on the Islamic trilogy — the Quran, the Hadith and the Sirah — reveals that it is a doctrinal tenet of Islam that Muslims are supposed to work for the establishment of the worldwide Islamic state so that Allah's law reigns supreme everywhere.

Do Muslims in the U.S. believe Sharia law supersedes the Constitution? They said it. [Video clip]

ACLU, CAIR Sue Florida for Denying Islamic Meals to Muslim Prisoners. The American Civil Liberties Union's (ACLU) Florida Chapter and the Council Of American Islamic Relations (CAIR) Florida are suing the state of Florida for purportedly denying Halal meals to Muslim convicts locked up in the Miami-Dade Country prison system. The lawsuit was filed on Thursday [9/3/2015] in the U.S. District Court for the Southern District of Florida, Local 10 News, a Miami-based ABC affiliate, reported. Other inmates have been provided with meals that cooperate with their faith, and Muslims should be afforded the same opportunity, the lawsuit claims.

Muslim Stewardess Refuses to Serve Alcohol, Then Plays the Victim. A Muslim flight attendant, Charee Stanley, claims that she was suspended from her job with ExpressJet Airlines because she refused to serve alcohol. She has filed a complaint with the Equal Employment Opportunity Commission (EEOC) — and now the Hamas-tied Council on American-Islamic Relations (CAIR) has jumped onto the case. So now we have yet another Muslim workplace lawsuit from CAIR — once again designed to impose Islam on the workplace. This is what they do. Why would a devout Muslim want to be a flight attendant in the first place, when half your job is serving alcohol?

Mayor Wants to Make Seattle More Sharia-Friendly. Edward B. Murray, the mayor of one of the most politically progressive cities in America — Seattle — wants to make it easier for the 30,000 practicing Muslims in his city to get home mortgages without violating religious Sharia law. It is part of his plan to ease what he says is a "housing crisis." A new company in Seattle wants to help that happen, along with allowing Muslims to invest in retirement plans without violating Sharia law. But conservatives have been warning for years that doing business with Islam is the same as doing business with terrorists, and a Seattle radio talk show host wonders why progressives favor Muslims over Christians.

With Obama's Help, Assembling Al Qaeda's Domestic Army Is Now Easier. If immigrants to the U.S. seek citizenship but are reluctant to take an oath of allegiance because it requires a commitment to help defend the country, what is the solution? If the immigrants in question are Muslim and you have a pro-Muslim U.S. president, the solution is simple — just change the oath to accommodate them. [...] The quandary for U.S. citizen candidates who are Muslim is this: Just like America's first two wars as a new nation were against Muslims, so too have its last two been. However, Islamic law — sharia — prohibits Muslims from fighting fellow Muslims.

Police Warn of No-Go Zones in Germany. Spiraling levels of violent crime perpetrated by immigrants from the Middle East and the Balkans are turning parts of Duisburg, a key German industrial city, into "areas of lawlessness" — areas that are becoming de facto "no-go" zones for police, according to a confidential police report that was leaked to the German newsmagazine Der Spiegel.

Woman posts picture of parked car to Facebook, is jailed. It started in February when Magi, annoyed at a driver who took up two handicap-parking spaces in her apartment's lot, posted a photo (since removed, per the Sydney Morning Herald) of the car on Facebook. The 39-year-old didn't include any identifying elements in the photo, the ABC notes — but the next thing she knew, a complaint was filed and she was in an Abu Dhabi courtroom, where she was found guilty under a UAE cybercrime law of "writing bad words on social media about a person," hit with a $2,700 fine, and told she'd be deported from Abu Dhabi, where she's lived since 2012.

Seattle officials join push for Sharia-compliant mortgages, loans. A proposal in Seattle meant to increase homeownership among Muslims by offering financing compliant with strict Islamic law — known as Sharia — is gaining ground in the latest test for local leaders trying to accommodate diverse religious beliefs. "We will work to develop new tools for Muslims who are prevented from using conventional mortgage products due to their religious beliefs," Seattle Mayor Ed Murray said during a press conference July 13.

Texans threaten to cover land with pigs' blood to block Muslim cemetery. A group of residents in Farmersville, Texas said they are prepared to put pigs' heads on spikes and pour pigs' blood on a plot of land where a Muslim cemetery will be established.

Texas Residents Condemn Plan for Muslim Cemetery. A proposal to bring a Muslim cemetery to Farmersville has stoked fears among residents who are vehemently trying to convince community leaders to block the project.

Ed Murray, Seattle mayor, proposes Sharia-compliant housing. Seattle Mayor Ed Murray has announced plans to increase housing in the city for Muslims who follow Sharia law, which prohibits payment of interest on loans. Mr. Murray's housing committee recommended the city convene lenders, housing nonprofits and community leaders "to explore the best options for increasing access to Sharia-compliant loan products," according to the proposal.

What is halal? In Arabic, the word halal means permitted or lawful. Halal foods are foods that are allowed under Islamic dietary guidelines. According to these guidelines gathered from the Qu'ran, Muslim followers cannot consume the following:
• pork or pork by-products
• animals that have died naturally, or that were killed by accident
• animals not slaughtered properly or not slaughtered in the name of Allah
• blood and blood by-products
However, the muslims are using halal certification as part of their arsenal to convert the whole world to islam.

Minneapolis Muslims Pine for Sharia Law, Condemn Freedom of Speech. Not long ago, six men from a Muslim Somali community in Minneapolis were arrested for attempting to leave the country and join ISIS as terror fighters. The backgrounds of these men were notable, as each held the potential to excel at productive endeavors and create a life of abundance and happiness. These were men who chose, conscientiously, to reject freedom and prosperity in favor of death and destruction. [...] [T]he six men arrested for conspiring to join ISIS were not anomalies. Rather, they were predictable products of their culture, a culture which America has welcomed into its gates.

Supreme Court Rules For Tulsa Woman In Case Against Abercrombie & Fitch. The Supreme Court has ruled in favor of a Tulsa woman who sued Abercrombie and Fitch after it refused to hire her over a head scarf. Samantha Elauf argued that she wore the headdress due to her religious obligations, and the Supreme Court ruled Monday [6/1/2015] that the retail chain violated her civil rights. The ruling cites the Civil Rights Act of 1964, which "prohibits a prospective employer from refusing to hire an applicant because of the applicant's religious practice when the practice could be accommodated without undue hardship," according to the court.

Texas Outlaws Any Application of Radical Islamic Sharia Law Within its Borders. Once again the nation looks to Texas for the way things ought to be. This time the Texas Legislature has passed a law permanently barring Muslims from trying to institute their own sharia-based savagery on their own communities in the Lone Star State.

Can Muslims Be American? 58% of US Muslims Say Free Speech Should Be Illegal. A recent poll seems to suggest that Muslims living in the USA want to outlaw free speech and a large number even agree that blasphemers of the Muslim god should be executed... HERE in the USA! It all makes one wonder if it is possible to be both a Muslim and a true American?

Sharia Tribunal in Texas an Islamic trojan horse?. CBN News has done a great piece on the Sharia Tribunal in Texas, talking to both a judge on the tribunal and Frank Gaffney, president of the Center for Security Policy, who warns that Muslims will be compelled to go through the courts and that's just the beginning.

Kosher food-cart vendor says he's blocked by 'halal mafia' in NYC. A Jewish kosher-food purveyor says he's being prevented from settling in the heart of Manhattan by the "halal mafia." Yisroel Mordowitz insists he just wants to peacefully peddle sandwiches piled high with brisket or pastrami from his Holy Rollers cart in the lucrative Rockefeller Center area, 48th Street off Sixth Avenue. But a group of irate Egyptian competitors block the kosher vendor from setting up on the sidewalk, literally squatting on the curb or placing umbrellas and beverage cartons to cordon off the space.

Sharia Court in Texas: What Could Go Wrong? Contrary to what sharia apologists say, these courts are not just about whether you pray five times a day or which foot you enter a bathroom with. It is precisely where U.S. family law conflicts with Islamic law that is one of the greatest concerns some have with the establishment of sharia courts in the U.S. In 2013, the BBC program Panorama went undercover in sharia courts operating in the UK and found systematic discrimination against women in these courts and advice being given to women suffering from domestic violence not to go to police against UK public policy.

Texas Muslim Community Creates Private Court to 'Dispense Shariah Law'. A community of Muslims in Dallas, Texas have created their own private "court" to dispense shariah compliant "justice" to their own people. The existence of this extra legal "court" has been confirmed by the reporters at Breitbart News. Folks, this parallel court system created for Muslims is the first step in making us just like France, Germany, or England where Muslims immigrate but never become citizens preferring instead to import their backwards ideas into any country foolish enough to host them.

'Voluntary' Sharia Tribunal in Texas: This Is How It Starts. Breitbart Texas confirmed Tuesday [1/27/2015] that "an Islamic Tribunal using Sharia law" is indeed operating in Texas. But not to worry: an attorney for the tribunal assures us that participation is "voluntary," and one of the Sharia judges, Dr. Taher El-badawi, says it's devoted only to "non-binding dispute resolution." This is how it starts. This is how it started in the United Kingdom. When Sharia courts were instituted there, Muslim and non-Muslim officials alike all assured the British public and the world that they would be voluntary, restricted to matters involving non-criminal matters, and subject to the British courts. Any areas in which British law and Sharia law conflicted would be referred not to the Sharia courts, but to the British courts.

Islamic Tribunal Using Sharia Law In Texas Has Been Confirmed. Breitbart Texas has confirmed the existence of an Islamic tribunal in Texas that will make judgments in accordance with Sharia law. The website for the Islamic tribunal states: "It is with this issue that Muslims here in America are obligated to find a way to solve conflicts and disputes according to the principles of Islamic Law and its legal heritage of fairness and justice in a manner that is reasonable and cost effective."

Islamic Tribunal Confirmed in Texas; Attorney Claims 'It's Voluntary'. An Islamic Tribunal using Sharia law in Texas has been confirmed by Breitbart Texas. The tribunal is operating as a non-profit organization in Dallas. One of the attorneys for the tribunal said participation and acceptance of the tribunal's decisions are "voluntary." Breitbart Texas spoke with one of the "judges," Dr. Taher El-badawi. He said the tribunal operates under Sharia law as a form of "non-binding dispute resolution." El-badawi said their organization is "a tribunal, not arbitration." A tribunal is defined by Meriam-Webster's Dictionary as "a court or forum of justice." The four Islamic attorneys call themselves "judges" not "arbitrators."

Dearborn Police Complied With Shariah Law, Arrested Christians for Street Preaching. Video has resurfaced with something disturbing that happened in America. While this is not yet widespread, it is our constitutional and moral duty to expose this, fight this, and keep talking about it until people know the risk of shariah law in America.

Mass immigration has led to Muslim 'ghettos' in Britain run under Sharia Law, says Farage. Mass immigration has led to the growth of Muslim 'ghettos' in Britain which are run under Sharia Law, Nigel Farage declared last night. In an interview with US news channel Fox News, Mr Farage said the authorities had turned a 'blind eye' to the growth of ghettos where 'the police and all the normal agents of the law have withdrawn and that is where Sharia law has come in'. Mr Farage's controversial remarks came after US terror 'expert' Steve Emerson sparked ridicule by claiming Birmingham was 'totally Muslim' and religious police squads were roaming the streets of London.

UKIP's Nigel Farage: Police Turning A Blind Eye To Muslim Ghettos. ["]Yeah, it isn't just France. It's happening right across Europe. We've got no-go zones in most of the French cities. We've been turning a blind eye to preachers of hate that have been coming here from the Middle East and saying things which the rest of us would be arrested for. In parts of Northern England, we've seen a sexual grooming scandal of underage girls committed by Muslim men, in the majority.["]

Kosher vs Halal. Here are some of the difference between kosher and halal slaughter: [For example,] Kosher — requires the animal be slaughtered quickly and humanely, strictly forbidding cruel slow methods like strangulation. Halal — requires the animal be bled out in agony while sick people who get off watching that kind of thing have a "festival."

Emerson on Fox's Hannity: "No Go Zones and Sharia Courts... Europe is Finished." When I was in Brussels a year ago when I asked the police to take me to the Islamic zone or the Islamic community area they refused. They said we don't go there. This goes on in Belgium, this goes on in Sweden, in the Netherlands, in France, it goes on in Italy. It goes on throughout Europe. So there are no-go zones.

Hundreds of 'No-Go Zones' Across France Are Off-Limits to Non-Muslims. In the wake of the terror attacks in Paris, some are questioning if France has helped fuel the rise of radical Islam by allowing "no-go zones," areas that are off-limits to non-Muslims. There are an estimated 750 no-go zones across France, large, insular neighborhoods where the government has all but surrendered authority to the Muslim community. Many of these areas are governed by Islamic Sharia law, and the state is unable to provide even basic public aid such as police, fire and ambulance services.

Muslims segregated from French society in growing Islamist mini-states. A backdrop to the massacre in Paris on Wednesday by self-professed al Qaeda terrorists is that city officials have increasingly ceded control of heavily Muslim neighborhoods to Islamists, block by block. France has Europe's largest population of Muslims, some of whom talk openly of ruling the country one day and casting aside Western legal systems for harsh, Islam-based Shariah law.

Lindt café refused to be Halal certified. I'm glad Lindt café didn't bow to the political correctness clown show and switch just because Muslims may have demanded it.

Alabama voters approve law banning Sharia. Hamas-linked CAIR and other Islamic supremacist groups claim that such laws infringe upon Muslims' religious freedom. In reality, neither Alabama nor any other state would be contemplating anti-Sharia laws were it not for Sharia's political and supremacist aspects, and its elements that are at variance with Constitutional freedoms — notably, its denial of the freedom of speech and the freedom of conscience, and of equality of rights for women and non-Muslims.

We Must Defeat the Poisonous Ideology of Islamism. Political Islam, as distinct from the religious practices of tens of millions of Muslims, is predicated on the idea that individuals have no rights and that the state, Islamic or otherwise, has unlimited power over every aspect of an individual's life. We see this in the brutal force used throughout the Middle East by a host of regimes unified by their rejection of individual rights to life, liberty or private personal happiness. Sharia Law is applied by a select group claiming the right to interpret and execute it without the fundamental dignity accorded to a human being in a civilized society.

Islamic Welfare Colonists Demand Free Halal Food in Minnesota. For the welfare colonists the federal government is importing from the terrorist hotbed Somalia to Islamize Minnesota, free food isn't good enough. It has to be halal free food: [...] That is, they have a human right not just to free food, but to free food that meets the specifications of the terrorist death cult they have come from afar to spread.

'Sharia Police' Patrolling Streets in Germany. Residents of the German city of Wuppertal have expressed concern after a group of young radical Islamists started taking to the streets late at night, trying to deter revellers from drinking and gambling.

Saudi religious police beat up Briton. Members of Saudi Arabia's religious police roughed up a British resident of Riyadh after they caught him paying at a women-only cash desk, local media reported on Monday [9/1/2014]. Saudi Arabia imposes a strict interpretation of Islamic laws, notably a segregation of the sexes.

Declare War on Shariah. Nearly thirteen years after 9/11, it is past time to recognize that we are at war not with one group of "terrorists" or another. Rather, adherents to a doctrine or ideology they call shariah are at war with us. Shariah is, at its core, about power, not faith. While some small percentage (some estimates suggest ten-percent) of its dictates prescribe the religious practices, the rest of it defines comprehensively how every relationship must be ordered — between individuals, families, neighbors, business associates, all the way up to how the world is governed. Most importantly, shariah obliges its followers to engage in jihad (or holy war).

Saudi Arabia has beheaded 19 people in one month. Human Rights Watch reports that Saudi Arabia has beheaded 19 people since the beginning of August. Some confessions may have been gained under torture and one poor defendant was found guilty of sorcery. Yep, sorcery. That might sound archaic, but we are talking about a regime so very concerned about offending God that it has even banned certain names for being "blasphemous".

Caliphate of Fear: The Curse of the Islamic State. In Raqqa, Syria, the Islamic State's "caliphate" has already become a reality. All women in the city are required to wear the niqab veil and pants are banned. Thieves have their hands hacked off and opponents are publicly crucified or beheaded, with the images of these horrific acts then posted on social networks. The few hair salons that are still open are required to black out the pictures of women on the packaging for hair dye solutions. Weddings are only permitted to take place without music. And at livestock markets, the hindquarters of goats and sheep must be covered in order to prevent men from viewing their genitalia and having uncomely thoughts. Any person caught out on the street during the five daily prayer times is risking his or her life.

ISIS Forms Female Brigade to Enforce Sharia Law. The Islamic State, formerly known as ISIS, has formed an all-female brigade tasked with the job of enforcing Sharia law in Syria. The brigade was formed "shortly after [ISIS] retook control of Raqqa earlier this year." According to Syria Deeply, ISIS official Abu Ahmad said, "We have established the brigade to raise awareness of our religion among women, and to punish women who do not abide by the law." He added, "Jihad is not a man-only duty. Women must do their part as well."

Under new rules, Muslim inmates in L.A. County jails observe Ramadan. Since 2012, when the ACLU began complaining about the treatment of Muslim inmates in the Los Angeles County jails, the Sheriff's Department appears to have made significant improvements. Muslims in the county jails now receive halal meals. During Ramadan, a deputy at Men's Central Jail works full-time with the Muslim inmates, ensuring they are fed the pre-dawn meal and that their other religious needs are met. Inmates no longer complain of verbal abuse from deputies denigrating the Muslim faith.

Tesco Apologises After Muslim Worker Refuses to Serve Woman Buying Ham and Alcohol. The Tesco supermarket chain has apologised after a Muslim staff member refused to serve a customer because he said it was Ramadan. The devout cashier said he could not touch the ham and wine as it was forbidden. When the customer, Julie Cottle, complained to the manager, he initially supported the worker's right to refuse to serve her. The chain has now apologised, however, and said that the worker had been "spoken to".

What's a caliphate? News puts focus on ancient form of government. When the Islamic State of Iraq and Syria announced Sunday that it was changing its name and reviving the caliphate, the news lit up the Internet and headlined news reports around the world. But what is a caliphate? And what is the self-described Islamic State hoping to achieve with its declaration?

The City That Offers Sharia-Compliant Loans to Muslim Business Owners. Since 2006, Minneapolis has loaned more than $1 million to Muslim business owners through a program that complies with sharia law, which prohibits Muslims from paying or earning interest in a financial transaction. The program, which is operated in partnership with the African Development Center, makes Minneapolis the only city in the country to offer Islamic financing at a time when states are trying to ban sharia from the courts.

Malaysian Muslim groups call for jihad on Cadbury after pork traces found in chocolate. Muslim groups have declared jihad on Cadbury after two of its products sold in predominately Islamic Malaysia were found to contain traces of pork. The discovery was made during a periodic check for non-halal ingredients in food products by the country's health ministry, which confirmed the presence of porcine DNA in bars of Cadbury Dairy Milk Hazelnut and Cadbury Dairy Milk Roast Almond. Cadbury Malaysia, like most food makers in the country where Muslims make up more than 60 percent of the population, has all of its products certified halal to conform with Islam's dietary restrictions, one of which is a prohibition on pork.

Subway removes ham and bacon from nearly 200 stores and offers halal meat only after 'strong demand' from Muslims. Fast food giant Subway has removed ham and bacon from almost 200 outlets, and switched to halal meat alternatives in an attempt to please its Muslim customers. It has confirmed turkey ham and turkey rashers will be used instead in 185 of its stores, where all the meat will now be prepared according to halal rules. The chain, which has around 1,500 outlets across the UK, explained its decision by saying it had to balance animal welfare concerns with 'the views of religious communities'.

Protestors Picket Britain's Law Society Over Sharia Implementation. Protesters picketed Britain's Law Society last night after it was revealed that the group has taken a step towards assisting the implementation of Sharia law in Britain. [...] The protestors last night expressed concerns that, for the first time, a major legal body is giving credibility to rules that justify discrimination against women and 'illegitimate children'.

Muslim drivers at Cleveland airport refuse to drive cabs with Gay Games advertising. Roughly 25 Muslim drivers dispatched to Cleveland Hopkins International Airport are refusing to drive cabs adorned with advertising for the region's upcoming Gay Games, citing religious reasons. Two of the three companies operating at Ohio's largest airport were informed by the drivers — one-third of the airport's total fleet — last week that they will no longer participate in the airport's dedicated taxicab program.

Rev. Graham: Muslims Who 'Want to Practice Sharia Law' Should 'Go Back to Where You Came From'. "We should be afraid of sharia law" in America, and Muslims here who want to practice sharia should go back to where they came from, "to those nations that recognize sharia law," said Rev. Franklin Graham, head of the Billy Graham Evangelistic Association. In a recent interview with the Charlotte Observer, Graham was asked, "Some say you demonize Islam, and Christians in this country have opposed building a mosque or are worried about Sharia law. Isn't it —" Graham, who oversees the international Christian aid group Samaritan's Purse, said, "We should be afraid of Sharia law. We should be absolutely afraid of it. No question about it, because there's no tolerance in Sharia law. It persecutes those that do not believe in Islam."

Canada: Nine Months in Jail for Blasphemy Against Islam. Caution: If you happen to be in Canada, and you say something in public that hurts the feelings of Muslims, you may well be sentenced to nine months in jail. That's what happened to Eric Brazau in Toronto. Mind you, I've seen a video of Mr. Brazau's street-corner theatrics, and he also wore offensive attire, made insulting facial expressions, and laughed derisively at or in the general direction of Muslims. So he was lucky to get off so lightly.

Enforcing Islamic Law at Brandeis. Officially, Brandeis is now a place where critics of Islam — "blasphemers" and "apostates," according to Islamic law — are scorned and rejected. Not that Brandeis put it that way in its unsigned announcement about Hirsi Ali's dis-invitation, which notes: "She is a compelling public figure and advocate for women's rights, and we respect and appreciate her work to protect and defend the rights of women and girls throughout the world. That said, we cannot overlook ... her past statements that are inconsistent with Brandeis University's core values." Translation: Hirsi Ali's advocacy on behalf of brutalized women is good, but Hirsi Ali's "past statements" — advocacy that connects such violence to Islamic teachings — are bad, or, in faddish twaddle, "Islamophobia."

China official says Islamists seek to ban laughter and crying. The governor of China's restive far western region of Xinjiang wrote on Monday that Islamist militants were trying to ban laughter at weddings and crying at funerals, as he appealed to people to stamp out the "tumor" of extremism.

Sharia law for wills — and then what? The Law Society's decision to issue a practice note to solicitors who may be interested in drafting "Sharia-compliant" wills for their Muslim clients is shocking. Even before we consider the technical issues surrounding the drafting of wills and gender discrimination inherent in Sharia inheritance provisions, the Law Society seems to be endorsing different sets of a laws for different groups of people. The idea of equality before the law is being dangerously undermined.

Sharia Law to be enshrined in British legal system as lawyers get guidelines. Top lawyers have written guidelines for British solicitors on drafting 'sharia-compliant' wills which can deny women an equal share of their inheritance and entirely exclude non-believers, it was revealed today [3/22/2014]. The Law Society, which represents solicitors in England and Wales, has written a guide on Sharia succession rules that will be used in British courts. It will mean that children born outside of marriage and adopted children could also be denied their fair share. The guide states: 'No distinction is made between children of different marriages, but illegitimate and adopted children are not Sharia heirs.

Islamic law is adopted by British legal chiefs. Islamic law is to be effectively enshrined in the British legal system for the first time under guidelines for solicitors on drawing up "Sharia compliant" wills. Under ground-breaking guidance, produced by The Law Society, High Street solicitors will be able to write Islamic wills that deny women an equal share of inheritances and exclude unbelievers altogether. The documents, which would be recognised by Britain's courts, will also prevent children born out of wedlock — and even those who have been adopted — from being counted as legitimate heirs.

Denmark bans Halal and Kosher meat as 'animal rights come before religion'. Denmark has provoked the fury of Muslim and Jewish groups by banning Halal and Kosher slaughter on animal rights grounds. The new law, which came into force yesterday, has been criticised by religious groups. But minister for agriculture and food Dan Jørgensen said that "animal rights come before religion". European regulations require animals to be stunned before they are slaughtered, but exemptions can be made on religious grounds.

New Saudi Counterterrorism Law Criminalizes Speech Critical of Gov't or Society. Saudi Arabia put into effect a sweeping new counterterrorism law Sunday [2/2/2014] that human rights activists say allows the kingdom to prosecute as a terrorist anyone who demands reform, exposes corruption or otherwise engages in dissent.

Latest fatwa from Iran: No online chatting between sexes. The latest religious edict from Iran's supreme leader takes aim at the Islamic Republic's lonely hearts. Online chatting between men and women on social networks is forbidden under Ayatollah Ali Khamenei's latest fatwa, delivered ironically enough on his website in answer to a question sent by email. The top mullah's reasoning is that such contact could eventually lead to activities prohibited by Islam.

Muslim protestors demand restaurants and shops stop selling "evil" alcohol. Dozens of Muslim protestors gathered to demand that businesses stop selling alcohol in a popular East London area yesterday [12/13/2013]. The group, led by former Al-Muhajiroun leader Anjem Choudary, warned restaurants and shops in the Brick Lane area that they face 40 lashes if they continue to sell the product, which is banned under Sharia Law.

Islamists threaten British shop owners with 40 lashes for selling alcohol. Whitechapel is on the outskirts of London, but it is an area where Muslims enforce Sharia law without any interference from British officials. On Saturday [12/14/2013], they took it a step further and told shop owners in the area they will face 40 lashes if they continue to sell alcohol.

Grooming Gangs and Sharia. Muslims['] groups around the world are crying Islamophobia and playing the victim card as horrific Islamic-motivated crimes, such as grooming and rape-gangs, rage on with impunity throughout the Western world, especially in Europe. Rape or grooming gangs, which are almost entirely Muslim, are committing a crime that is religiously mandated in Islamic doctrine.

Fox & Friends Finds Proof That 'Sharia Law Is Changing Everything' in America. Buried among a slew of short news update on Monday morning's edition of Fox & Friends was this disturbing revelation from reporter Heather Nauert: "Sharia law is now changing everything." Nauert was reporting on a YMCA swim class in downtown St. Paul, Minnesota that will cater to the religious beliefs of Somali-American girls. "The minority becoming the majority at one community pool," she said. before issuing the warning that "similar classes are now starting at towns across the Midwest."

St. Paul YMCA and police start Somali girls swim group. Special considerations have to be made to address modesty concerns so that the Muslim girls can swim and not reveal too much of themselves. During the hourlong swim practice, all other swimmers are cleared out of the pool. The men's locker room is locked. Female life guards are brought in. The pool, which is on the building's third floor, has no windows so they don't have to worry about prying eyes from outside.

Hamas-CAIR Goes After DHL in Kentucky to Impose Prayer Times. Muslim Brotherhood group Hamas-CAIR is filing suit against DHL to impose Muslim prayer times on the workplace in Kentucky. Muslim [sic] do not have to pray during the day. They can make it up before work and after work, which is what they do in Muslim countries. It is not necessary for a Muslim to pray at a certain time if necessity makes it impossible to do so. These actions are merely devices in which to impose Islam on non-believers. Prayer is not absolutely required a strict schedule, and Muslim prayers are commonly "made up" after work or school. This is true even in Muslim countries such as Iran. So why sue American companies to impose Muslim prayer on the secular workplace? To impose Islam on the public square.

Canada (and the U.S.) Welcome Polygamy. Polygamy is against the law in the U.S. and Canada, and that's a good thing: the practice devalues women, reducing them to the status of commodities, and stands as an affront to their equality with men as human beings. But now anti-polygamy laws are coming under stealthy and subtle challenge, as both governments bow before the god of multiculturalism and dare not confront the increasing number of Muslims who are practicing polygamy in both countries.

Dangerous Times: The Crisis-Monger. Want to see a real war against women? Wherever sharia takes over, women are systematically intimidated, brainwashed, beaten, raped, murdered, jailed in their homes, and treated with contempt. American feminists are so utterly deluded that they can't see crimes against women all over Dar al Harb, the House of War, right in front of their unseeing eyes. And Obama's "alter ego," Valerie Jarrett, born and raised in Iran, can't be in any doubt about the facts.

Al Jazeera and the soft underbelly of America. Can you imagine Adolf Hitler owning a TV news network that spewed his hateful rhetoric across the United States either before or during World War II? [...] This principle doesn't have anything to do with the First Amendment or tolerance of other people's ideas. It has to do with self-preservation. If you are engaged in a war for cultural survival, you don't just turn a blind eye to a foreign effort to subvert your nation from within. Unfortunately, that instinct for survival no longer exists in modern America — which, like it or not, is engaged in a long-term battle of wills with Islamism, the movement to impose the political and cultural version of Islam known across the globe in a worldwide caliphate dedicated to the implementation of sharia (Islamic law).

Oklahoma Ban on Sharia Law Unconstitutional, US Judge Rules. An Oklahoma federal judge struck down a state constitutional amendment that forbade its courts from considering Islamic law in judicial decisions. The constitutional amendment — approved by more than 70% of Oklahoma voters in 2010 — was part of a broader national push led by a handful of organizations that claim Islamic Sharia law is creeping into courtrooms.

Judge Says Courts Must Accept Shariah Influence. An Oklahoma constitutional amendment barring the state's courts from weighing or using Shariah law was struck down in federal court. How can a law written to protect the Constitution be unconstitutional?

Why Did a Tennessee Grade School Ban Pork? A Tennessee elementary school banned students from eating ham sandwiches, BLT's and anything else made with pork, but eventually lifted the ban after parents complained. [...] "No meats containing pork," read the memorandum. "Starting Monday, August 12, 2013 your child must provide their own snack from the above approved snack list." Kids could nosh on raw vegetables without dips or sauces, fresh fruit, crackers, pretzels, and popcorn — but no ribs or pork rinds.

The Editor says...
The ban was quickly lifted, but don't ever forget that they tried to impose Islamic (halal) restrictions on food that the kids were bringing from their homes! Even the Food Police have never been so brazen, but the Muslims are, and I suspect that's who is at the root of this ill-conceived order.

Blasphemy Law Comes to Facebook. Over the last couple of weeks Facebook has clamped down heavily on various (around 40) counter-jihad and patriot pages. The administrators of these pages were shocked when they logged on and found that their pages had suddenly 'disappeared'. In some cases Facebook has made this statement: 'Your Page was flagged for content containing nudity, pornography or sexual solicitation.' The page admins, however, have claimed not to have posted anything with explicitly sexual content. What will have happened is that Muslims, and/or the Leftist whores/enablers-of-Islam, will have 'reported' these pages for 'sexual content' knowing full well that it would be much more difficult to make a political/religious case for banning them.

2 Mich. McDonald's Drop Halal Food After Suit. This comes after the fast food giant and a Michigan franchise owner agreed to a $700,000 legal settlement in April after a customer sued.

DoJ places a chill on criticism of Islam. By "spreading information considered inflammatory against Muslims" — even if it's true — you could violate the civil rights act and be subject to prosecution. We all know that this new ruling will target those considered to be "blasphemers" against Islam. Muslims here and around the world have been after western governments to enforce their idea of blasphemy and to punish those who speak out against Islam.

French firms see rising religious demands at work. Listing faith-related problems, the new study said some men refused to take orders from a woman boss or shake hands with women and some refused to handle alcohol or pork products. Other problems include employees wanting to pray or wear religious garb at work. Some employees try to impose their religious standards on colleagues, such as preventing non-observant Muslims from eating at work during Ramadan.

The Muslim World's Problem. In Egypt, for example, more than 70 percent of the public supports shariah law, and almost 90 percent of those individuals also support executing those who leave Islam. I feel comfortable saying this is a problem, a much, much greater problem than any alleged American "Islamophobia," and if we turn away from these statistics and believe the fault for continued jihadist bloodshed lies primarily within us — or is primarily the fault of Israel — then we are truly willfully blind.

Bangladesh: Thousands stone police, torch city as they demonstrate for Sharia blasphemy law. Soon Sharia blasphemy laws will come to the West as well, if the clueless and/or complicit [...] get their way.

Time to Suspend Muslim Immigration, Muslims in the Military, and Building Mosques in the U.S. Why? Because Muslims bring with them a totalitarian ideology that calls for the submission of the United States to Islam and Sharia law. Pew released its findings yesterday [5/1/2013] on its worldwide survey of Muslims, and revealed that two-thirds of Middle Eastern Muslims believe in the death penalty for any Muslim who converts to Christianity, and one-third believe in suicide bombings. This is not a religion of peace or liberty. Every tenet of Islam is fundamentally, irreversibly, subversively and implacably hostile to every value we cherish in America.

Muslim Rail Terrorist Claims He Should Go Free Because the Koran Doesn't Ban Terrorism. [Scroll down] And if the Canadian criminal code were more perfect like the Koran, then they would include operating instructions exempting Canadians from being charged with murder for killing non-Canadians in the pursuit of imposing Canadian law on all mankind. But sadly Canadians lack this sort of tolerant perfect legal system that Muslims enjoy and misunderstand the Islamic zeal for killing people in order to impose the perfect laws that allow them to kill people in order to impose laws.

Taliban militants cut off leg and hand of two men because they worked with allied forces. A man lies on a stretcher at a hospital in Herat, west Afghanistan recovering from having his leg and hand cut off by Taliban militants. The attack yesterday [4/20/2013] saw two men captured and dragged in front of a Taliban court who ruled the men should have a leg and a hand each chopped off for working with the allied forces.

Deal Approved In Muslims' Suit Against McDonald's. A judge has approved a long-awaited $700,000 settlement between a Dearborn McDonalds and people who say they ate chicken sandwiches, that should have been prepared as HALAL: the Muslim equivalent of Kosher. Ahmed Ahmed, the Dearborn Heights man who represents plaintiffs in the class-action suit, claims he bought a chicken sandwich in September 2011 at the restaurant but found it wasn't prepared according to Islamic law.

Second university sounds alarm over segregation at Muslim student events. Leicester University voiced concern after photographs emerged showing hand-written signs directing male and female students to sit in separate sections at a public talk on the existence of God organised by the university's Islamic Society.

It's Not Easy Being Red and Green. Islamism is even more untethered than Communism, loosely originating from powerful oil nations, but able to spring up anywhere in the Muslim world. Its proponents have even less use for the nation state than the Communists. What they want is a Caliphate ruled under Islamic law; a single unit of human organization extending across nations, regions and eventually the world.

The Jihad On Free Speech. Over the past few weeks, there have been an alarming number of cases of Muslim pressure groups trying to force Americans to conform to a pro-Islamic speech code. They've insisted on censoring any speech or expression that offends them, including TV ads, Christian symbols, speeches and even parts of speech.

If Christians acted like this, it would be front-page news.
'Muslim Patrols': Sharia Enforcers Hit Britain's Streets. No longer content with preaching Sharia in the mosque, some British Muslims are now attempting to impose Islamic law on the streets. In videos posted on YouTube, self-described "Muslim patrols" have filmed themselves berating young women for being inappropriately dressed, seizing cans of beer from men, and burning posters advertising women's underwear. In another video, a mob pursues a man they suspect of being gay down a street, calling him a "fag" and telling him to get out of their "Muslim area."

GOP donor: Gays must be protected from Islamic shariah law in U.S. Foster Friess, the the multimillionaire who helped keep Rick Santorum's presidential dreams afloat in the GOP primary last year, told reporters at a breakfast hosted by the Christian Science Monitor that he wants to make sure that gay people are not killed in foreign nations because of their sexual preference. Asked whether the Republican Party should embrace gay marriage, the 72-year-old investment manager said, "We have to protect the gay people in our country from Shariah law."

The Editor asks...
What about everybody else?

McDonald's settles $700,000 suit over Islamic diet in US. McDonald's and one of its franchise owners agreed to pay $700,000 to members of the Muslim community to settle allegations a Detroit-area restaurant falsely advertised its food as being prepared according to Islamic dietary law.

McDonald's settles case alleging sandwich sold at Mich. store wasn't halal as advertised. The lawsuit alleged that Ahmed bought a chicken sandwich in September 2011 at a Dearborn McDonald's but found it wasn't halal — meaning it didn't meet Islamic requirements for preparing food.

Sharia amputations in Mali: "This is in the Koran. That's why we do it.". While Muslim spokesmen in the West do their best to convince us that the Qur'an doesn't mean what it plainly says, the Islamic supremacists in Mali have no interest in such elaborate games of deception.

Sharia Honor Code: "Buried alive," Man's eyes gouged out over suspicion. More of that super-special, better-than-yours Islamic justice under the sharia.

Saudi Arabia: 41 people arrested for "plotting to celebrate Christmas". Sharia Alert from the Kingdom of the Two Holy Places.

Virtually Absent From U.S. Press Coverage of Egypt's Constitution and Referendum: It's About Sharia Law. As voting on Egypt's constitution begins, an Associated Press story this morning by Aya Batrawy and Sarah El Deeb typifies how the U.S. press is only nibbling around the edges of its content.

Michele Bachmann says Obama wants to 'lift up the Islamists' and allow Sharia law in America. Representative Michele Bachmann has claimed that Barack Obama is determined 'to lift up the Islamists' and bow to their 'ultimate demand' of imposing Sharia law on America. [...] In an extended on-air conversation with conservative radio hosts Jan Markell and Eric Barger, Bachmann contended that Obama was endangering the United States and Israel by supporting radical Islamists.

The Coming Sharia State of Egypt. Egypt has now a modern pharaoh, named Muhammad Morsi, and with him as the sole ruler, the country will ultimately become an official Sharia state. Sharia is already enforced to some degree, but now that the Muslim Brotherhood is expanding its power, it will implement the edicts of its constitution, the Koran, to is fullest capacity.

The Benghazi Slingshot. Some brave thinkers recognize that beneath the intrigue surrounding the Benghazi tragedy lie the traces of something much larger and far more dangerous. [...] The information offered by the experts suggests, to put it very simply, that the Middle East is rapidly unifying and heading toward a strict application of sharia; that sharia is a totalitarian form of government utterly incompatible with American ideas of freedom and liberty; and, as Diana West noted, U.S. policy is "making the world safe for sharia," as opposed to keeping the world, and specifically America, safe. In Benghazi, that policy proved fatal.

More about the Benghazi scandal.

40 Percent of US Muslim Voters Want Islamic Law, 12 Percent Want Death for Blasphemers. ... and 72 percent are voting for Obama. Sharia law is [...] a complete non-issue for everyone but the 50 percent of Muslims who want blasphemy laws, the 40 percent who want to live under Islamic law and the 12 percent who want to murder blasphemers. Oh and another 9 percent are undecided on the question of whether we should be hanging blasphemers or not.

Sixty Percent of US Muslims Reject Freedom of Expression. After violent Muslim reactions to the amateurish "Innocence of Muslims" video, which simply depicted a few of the less salutary aspects of Muhammad's biography, international and domestic Islamic agendas have openly converged with vehement calls for universal application of Islamic blasphemy law. This demand to abrogate Western freedom of expression was reiterated in a parade of speeches by Muslim leaders at the UN General Assembly.

Maxwell Smart Was Right. What does the man who Newsweek's cover declared is "the first gay president" think is going to happen once sharia comes to his zip code?

The Real Foreign-Policy Failure. [Scroll down] So it is not just al-Qaeda and not just the violence that makes Islamist extremism extreme. It is the ideology's opposition to the West, which is led by the United States and identified by "liberal principles." But what, pray tell, is this ideology's problem with Western principles, "in particular the rights of women"? What has been its problem with the governments of predominantly Muslim countries? The answer is found in one word: sharia. [...] Sharia is Islam's societal framework, its legal code. The classical interpretation of sharia is the backbone of the ideology we are talking about.

Andrew McCarthy's Guide for the Perplexed. [Scroll down] It is often said that the first step towards solving a problem is acknowledging that there is a problem and having the courage to call it by its real name. We Western liberals have a difficult time doing that. We habitually extend to others the benefit of the doubt, the latitude of tolerance, the dispensation that assumes all are, at bottom, freedom-loving creatures with domestic concerns akin to our own. This is dangerously naïve and wrongheaded. Exactly how wrongheaded can be summed up in a single word: sharia, i.e., Islamic law. They — hundreds of millions of Muslims — want it, we do not. Al-Qaeda wants to impose sharia the world over. But it is not just al-Qaeda.

Darkness Descending in England. [Scroll down] Clearly the establishment elites in Britain are extremely worried that [Kevin] Carroll might win and upset the entrenched culture of accommodation to Islam and sharia; in fact, one of the briefs in Carroll's case actually stated that this was why he was arrested — because he is running for PCC. The dhimmi elites understand that this could be the beginning of their end. "The police," said Carroll, "are out to finish us on behalf of the establishment."

The consequences of Obama's love of Islam. Free democracies such as the United States are alien to Islam and socialists because they regard government as a servant to the people and believe that human rights are from God and not from government or Shariah.

Sharia Law Hits the UK. Hardcore Islamists have vowed to ban booze and mixing between the sexes in new Sharia law enforcement zones across the UK.

Western Courts Bend to Islamic Practices. Courts that yield to Islamic norms encourage Islamists and cast doubt on the future of equal rights and responsibilities under the law.

1.5 Billion Bin Ladens. At the heart of events is the intention to create a Muslim caliphate stretching across the Middle East, Northern Africa, and into Southeast Asia. One that will stretch into Europe and, presumably, America. The aim is to establish governments in which Sharia law will replace any remnants of democracy and freedom. It is being aided and abetted by Barack Hussein Obama.

Fast food chain KFC converts eight London restaurants to halal-only menu. Fast food giant Kentucky Fried Chicken is to launch a halal-only menu in eight of its London stores in a move which could be extended to other areas of the UK. The menu, which will form part of a trial, will see the stores selling chicken products which have been fully approved by the Halal Food Authority for the first time. KFC has 720 stores across the UK, and bosses said the move was designed to ensure the company was catering to a broader range of customers, following a growing demand for halal products.

Mali Islamists amputate hand of suspected thief. Islamist rebels have cut off the hand of a suspected cattle thief in Mali, an insurgent leader said on Thursday — the first case of amputation under sharia (Islamic law) imposed by insurgents controlling the country's desert north.

Obama Administration Paves the Way for Sharia Law. The most terrifying danger Americans face from a second Barack Obama term isn't the economy, which is scary enough. The most harrowing prospect is the Obama Administration's passivity in the face of attempts to introduce aspects of sharia law into our legal system. Now there is strong and open evidence of the Obama administration collaborating with Islamist activists to ensure the path toward sharia law is accelerated.

Will the Department of Social Justice Impose Sharia? First Amendment? That will fit in the same trashcan where FDR stuffed the Ninth and Tenth. A society that allows itself to be ruled by its enemies won't long survive.

Mali couple stoned to death for adultery. Sanda Abou Mohamed, a spokesman for the group Ansar Dine, told The Associated Press on Sunday [7/29/2012] that the couple was executed according to Sharia law.

Rep. Carson: America's schools should use madrassas as 'model,' 'where the foundation is the Koran'. Indiana Democratic Rep. Andre Carson claimed in late May that America's schools should be modeled after Islamic madrassas in video that recently surfaced.

Islam and democracy are mutually incompatible. Despite all the claims to the contrary (by believers in Islam), Islam is NEITHER just a religion (as that term is understood by believers in any other faith the around the world), nor is it a secular set of ethnic principles. Islam is an all-encompassing set of commandments that proscribe not only a variety of faith rituals, but also a whole code of "secular" rules and prescribed activities. For example, such "secular" rules of Islam provide for an unequal (lower) status of any non-believer; Islam terms them "infidels." Infidels are second-class citizens who have fewer "legal rights" compared to any believer. That fact is a basic Islamic principle — without exception.

Media Ignores Islamic Khilafah Conference in Illinois Suburbs. You may have heard about the Islamic Khilafah Conference in Illinois that took place on Sunday [6/17/2012]. Although, it's not likely you have heard much if anything about it from the mainstream media. [...] According to David Horowitz's Discover the Networks, Hizb ut-Tahrir (Arabic for "The Party of Liberation") is a political party, more than a religious one, and works within the Ummah (community of believers)... to restore the Khilafah (Caliphate, or Islamic Kingdom) with the long term objective to replace existing governments and bring about a worldwide Islamic state under the Shari'ah (Islamic Law).

New Kansas Law Bans Use of Foreign Law. Governor Sam Brownback of Kansas has signed a law, which takes effect on July 1, 2012, intended to keep Kansas courts from relying upon Islamic sharia law. The language of the new law does not specifically mention sharia; rather, it states that courts and administrative tribunals cannot use any foreign law as a legal basis for its rulings if that foreign law would not grant to all parties involved the same rights that would have existed under federal or state constitutions.

Kansas governor signs measure blocking Islamic law. Kansas Gov. Sam Brownback has signed a law aimed at keeping the state's courts or government agencies from basing decisions on Islamic or other foreign legal codes, and a national Muslim group's spokesman said Friday [5/25/2012] that a court challenge is likely.

Kansas Senate Votes for Freedom. The Kansas Senate just passed legislation restricting the use of foreign law in state courtrooms, and many other states are considering similar laws. These laws are designed to halt the use of Islamic law, Sharia, by American judges — a measure that many see as necessary, since Sharia has already been involved in cases in twenty-three states. Yet many such initiatives have already been stopped by activist judges who see them as encroachments upon First Amendment protection of religion; however, anti-Sharia laws do not actually infringe upon religious freedom at all, and become more urgently needed by the day.

Victory: Kansas Senate passes law banning Sharia. A victory for the defenders of the freedom of speech, the freedom of conscience, and equality of rights for all people before the law. This law now has to go to the governor, who may veto it, and Hamas-linked CAIR and other pro-Sharia Islamic supremacist groups will try to get it overturned by lying about Islamic law's political and supremacist aspects. No one is interested in restricting Muslims' religious freedom. But that freedom does not extend to political actions to subvert Constitutional freedoms.

Inventing Muhammad? There is a great deal of debate today in the United States and Western Europe about the nature of Islamic law; anti-sharia measures have been proposed in at least twenty states, and one state — Oklahoma — voted to ban sharia in November 2010, although that law was quickly overturned as an infringement upon Muslims' religious freedom. Others have been successfully resisted on the same grounds. If it is understood that the political aspect of Islam preceded the religious aspect, that might change.

Jihadist Infiltration. Judging from the progress that anti-Israel "Lawfare" and pro-Shari'a movements have made in advancing the "Palestinian Cause" and Shari'a compliant programs in a distressingly vast array of our society's institutions over the past decade, one must conclude that the Muslim jihadist forces working to infiltrate our society are winning.

The Truth or Taqiyya? One of the most important challenges we face as a free people is understanding the true nature of — and threat posed by — a totalitarian, supremacist Islamic doctrine its adherents call shariah. So, it would seem to be good news that a $3 million public education campaign is being launched nationwide to "clarify" what shariah is.

Sharia and the Constitution: An Incompatible Duo. [In New Jersey,] a female Moroccan immigrant requested a restraining order against her ex-husband who, she alleged, repeatedly raped her under the guise of his religious beliefs. Before his decision was overturned, the judge overseeing the case denied the restraining order because, according to Fox News, the man "felt he had behaved according to his Muslim beliefs." It is no wonder that states like Arizona, Louisiana, Oklahoma and Tennessee are attempting to block judges from considering International and/or Sharia law in their decisions, while groups like the Islamic Circle of North America (ICNA) work on damage control.

Moroccan Girl Kills Herself Thanks To Shariah Law. A 16-year-old girl in Morocco killed herself this week after a judge forced her into marriage with the man who raped her, in compliance with Shariah law.

Impeach Pennsylvania's Sharia Judge. It isn't illegal to mock Muhammad in the United States, but it may be soon, courtesy Judge Mark Martin, who dismissed the case against [Talaag] Elbayomy.

Georgia Mosque Defies American Law, Ignores Mounting Violations. This is Islamic supremacism. Watch this. Illegal structures, parking on neighbors' lawns, blocking their driveways, and of course the 7 am cloying azan call to prayer. Another mosque injected into a (formerly) quiet residential area. Their latest code violation (of many) is paving a car parking area on the property — visitors had been parking on the grass of neighbours' yards.

Defending Shariah. The Washington Post on March 2 ran a piece written by Omar Sacirbey for the Religion News Service. Muslims launch campaign to 'understand' Shariah. It began: "Against a backdrop of heartland fears that U.S. Muslims seek to impose Islamic law on American courts, a leading Muslim group will launch a campaign on Monday (March 5) to dispel what it called misconceptions about Shariah." "Heartland fears" are actually heartland realities: a new study has found that Shariah has already been used as a determining factor in court cases in 23 states.

New Study Finds Shariah Law Involved in Court Cases in 23 States. At the trial court level, 22 decisions were found that refused to apply Shariah; 15 were found to have utilized or recognized Shariah; 9 were indeterminate; and in 4 cases Shariah was not applicable to the decision at this level, but was applicable at the appellate level.

Ohio: Muslim Students Push for Islamic footbaths on campus. Imposing sharia on campus. Muslim students are pushing to install footbaths at the University of Toledo in Ohio. Your taxpayer dollars made to work for Islamic supremacists. Pay attention to how the demand is couched. Muslim students are installing Islamic foot baths in this university school because foot-washing in sinks is "disrespectful to non-Muslims."

Judge Affirms Sharia Defense in Harassment Case. A Pennsylvania judge has dismissed a harassment charge against a Muslim man accused of choking an atheist dressed as the prophet Muhammad. ... The defendant in the case is an immigrant, and said he did not know his actions were illegal, or that is was legal in the U.S. to depict Muhammad in any form.

The Sharia Court of Pennsylvania. A state judge in Pennsylvania has dismissed an assault and harrassment case against a Muslim defendant who admitted attacking the victim. Magistrate Judge Mark Martin, a veteran of the war in Iraq and a convert to Islam, ruled that Talag Elbayomy's sharia defense — what he claimed was his obligation to strike out against any insult against the prophet Mohammed — trumped the First Amendment free speech rights of the victim.

Muslim Judge Dismisses Assault Case. Think you've heard it all? Think you're shock-proof? Read the following report by on a recent trial in Pennsylvania in which an apparently Muslim judge (he states, "I'm a Muslim" while pronouncing his judgement) dismissed harassment charges against a Muslim defendant (despite witness and police corroboration) due to "insufficient evidence" while reading the riot act to the plaintiff for having "trashed the essence of [Muslims'] being" by dressing up as "Zombie Mohammed" for a Halloween parade. First Amendment? What First Amendment? This judge has a copy of the Koran on the bench.

US Judge rules Muslims have a right to assault people who offend them. People who are concerned about the spread of Muslim sharia law into American jurisprudence used to be dismissed as alarmists. That won't happen again for a while, thanks to a Pennsylvania judge who just dismissed assault charges against a Muslim who was videotaped attacking a man dressed as "Zombie Muhammad" during a Halloween parade. The judge, who is a Muslim, didn't even care to see the videotape, because the assault was entirely justified under sharia law, so the First Amendment doesn't apply.

The Sharia Court of Pennsylvania — The Transcript. The victim, Ernest Perce, wore a "Zombie Mohammed" costume and pretended to walk among the dead (in the company of an associate who was the "Zombie Pope" — and who, you'll be shocked to learn, was not assaulted). The assailant, Talag Elbayomy, a Muslim immigrant, physically attacked Perce, attempted to pull his sign off, and, according to police, admitted what he had done right after the incident. The defense argued that Elbayomy believed it was a crime to insult the prophet Mohammed (it is, under sharia law), and that because he was in the company of his children, he had to act to end this provocation and set an example about defending Islam.

Sharia and the Constitution. Muslims are organizing discussions across America to assert that sharia is compatible with the U.S. Constitution. Since these presentations rarely involve a real debate there is no opportunity for thoughtful challenge to the questionable premise. In fact, if these "town halls" are conducted as the recent session in Garden Grove, CA, they will be characterized by partisan rants, baseless platitudes on harmonizing ambiguous values, and a total lock-down on dissent. It is time to find out if there is a Muslim bluff to call on sharia and America foundational values.

Opposing viewpoint:
An Atheist, a Muslim and a Judge: What Really Happened. The story that flew around the blogosphere last week was guaranteed to cause an uproar: A Muslim assaults an atheist for mocking Mohammed, and a Muslim judge dismisses the charges and berates the victim — and it all happens here in America. Suddenly, warnings about the threat of Sharia law on our shores got a strong boost. In fact, there was no "Sharia court," and the judge is not a Muslim.

The Editor says...
The writer of the article immediately above is apparently a Muslim sympathizer who seems to make no great distinction between one religion and another. Also there is no mention of the Koran on the judge's bench, which was reported elsewhere.

Oklahoma's Islamic law amendment can't go into effect, court rules. A federal appeals court has upheld a ruling that blocked the implementation of an Oklahoma law barring judges from considering international or Islamic law in their decisions. The 10th Circuit Court of Appeals, in a ruling released Tuesday [1/17/2012], affirmed an order by a district court judge in 2010 that halted the law from taking effect. The ruling also allows a Muslim community leader in Oklahoma City to continue his legal challenge of the law's constitutionality.

Shariah in America's courts. A panel of federal judges has ruled that states cannot protect their courts from jurists who base their decisions on international or Koranic law. America needs better judges. On Tuesday [1/10/2012], the 10th Circuit Court of Appeals upheld a federal district court order blocking implementation of an amendment to the Oklahoma constitution that sought to ban judges from using international or Muslim law as a basis for deciding cases. The amendment was approved in November 2010 by a 70 percent popular vote but has never been enforced.

Muslims Attacked! Last month, the European Foundation for Democracy (EFD) held an event in Amsterdam featuring two speakers who favor liberalizing Islam. More than 20 members of these pro-sharia groups pushed their way in shouting "Allahu akbar!" They demanded the event be stopped, called the speakers apostates, spat on them, threw eggs at them, and threatened to kill them. Proud of these actions and apparently not overly concerned with legal consequences, they even made a YouTube video of their "protest." Now here's the least funny and most Orwellian part: Very few Europeans — very few journalists, politicians, members of the self-proclaimed Human Rights community, or Muslim organizations claiming to be moderate — have expressed outrage over this boot-stomping suppression of free speech in a city, country, and continent that claim to value freedom and tolerance.

Federal court blocks Oklahoma ban on Sharia law. An amendment that would ban Oklahoma courts from considering international or Islamic law discriminates against religions and a Muslim community leader has the right to challenge its constitutionality, a federal appeals court said Tuesday [1/10/2012]. The court in Denver upheld U.S. District Judge Vicki Miles-LaGrange's order blocking implementation of the amendment shortly after it was approved by 70 percent of Oklahoma voters in November 2010.

Criticism of Islam Could Soon be a Crime in America. In 1990, the OIC membership adopted the "Cairo Declaration," which officially exempted all Muslim countries from compliance with the UN Universal Declaration on Human Rights and replaced it with Islamic law (shariah). One of the fundamental laws of Islam deals with "slander," which is defined in shariah as saying "anything concerning a person [a Muslim] that he would dislike."

Thou Shalt Lie...
How Islam Uses Slander and Lying to Advance Shariah. For a totalitarian system of societal control like shariah, information dominance is very important. Controlling the message, in other words, is critical. ... The prohibition on telling harbi (non-Muslim residents of Dar al-Harb, the lands where inhabitants do not live under shariah) anything negative about Islam is meant to keep infidels unaware of the true character and intentions of shariah-promoting Muslims.

The Case for Banning Sharia Law in America. The incompatibility of Islamic sharia law with secular courts stems from the underpinning of Islamism — the unyielding union of the laws and punishments of the Qu'ran and Hadiths with the country's legal and political system. Sharia law is the legislation of these religious and criminal rules, which rejects America's constitutional secularism and legal penalties. The Qu'ran commands Muslims to change secular laws to conform to sharia, eventually establishing Islamic law worldwide. Islamic courts want their fatwas to supersede the civil and criminal laws, untying Muslims from civil secular courts.

Most Easter Lamb This Year Was Halal. American shoppers seem oblivious to the fact that a strict religious code — highly objectionable to many — is being imposed upon the processing of American meat products. Halal certification of American meat products has largely escaped notice. Costco is one of America's biggest lamb distributors in the United States, and all of Costco's lamb is processed according to halal standards.

Halal meat creating controversy in Quebec. Following in the footsteps of France, some Quebecers are starting to worry that halal meat is increasingly being sold to consumers without their knowledge. Framing the issue once again within the divisive debate over how far Quebecers must go to accommodate religious minorities, the Parti Québécois on Wednesday [3/14/2012] complained that people should know if the meat they're buying has been slaughtered according to Islamic ritual.

Sharia's Encroachment into American Courts. Currently an estimated 2.6 million observant Muslims reside in the United States. Many live their lives according to sharia law, the moral and religious code of the Islamic faith. When Muslims bring legal disputes into U.S. courts, a legal dilemma often arises, pitting individual rights guaranteed by the U.S. Constitution and laws against Islamic sharia law.

Radical Islam or Mainstream Islam? Sharia law is an all or nothing. A true Muslim can't take certain parts of Sharia and not adhere to certain aspects and not others. ... Many readers will criticize me for saying that 80 plus percent of Muslims desire Sharia in all aspects. I can only say this because I have been going to Saudi Arabia and the Middle East since 1979, and the majority of Muslims do desire Sharia law to be implemented in all parts of the world. Not only do Muslims in the Middle East desire Sharia law and an Islamic Ummah (nation) worldwide, but unfortunately for Americans this means America as well.

How Immigration and Multiculuralism Destroyed Detroit: [Scroll down] If 50 percent illiteracy continues, we will see more homegrown terrorists spawned out of the Muslim ghettos of Detroit. Illiteracy plus Islam equals walking human bombs. You have already seen it in the Madrid, Spain, London, England and Paris, France with train bombings, subway bombings and riots. As their numbers grow, so will their power to enact their barbaric Sharia Law that negates republican forms of government, first amendment rights and subjugates women to the lowest rungs on the human ladder. We will see more honor killings by upset husbands, fathers and brothers that demand subjugation by their daughters, sisters and wives.

Sharia Enclaves in the West. Islamist organizations are hard at work creating Muslim enclaves in the West, including right here in the United States. These efforts are designed to create Islamic autonomous areas, often with the expressed desire of incrementally bringing the host country completely under Sharia-based governance.

Sharia Lobby Shifts into 5th Gear. Sharia advocates desperately want to convince legislators and the public that Islamic law is plain vanilla — and totally nonthreatening to existing U.S. legal codes. Notwithstanding a nationwide Muslim Brotherhood-backed pro-sharia push, nothing could be further from the truth.

Federal Appeals Court Considers Sharia Law. A federal appeals court in Denver is poised to hear arguments regarding the use of Sharia law in state court, a day after the somber ceremonies commemorating the 10th anniversary of 9-11. A panel of judges from the 10th Circuit Court of Appeals will eventually decide whether a lower court judge was correct in blocking a 2010 ballot initiative forbidding Oklahoma courts from considering Islamic laws in the their decisions.

Ohio Muslim Inmates Sue Over Meal Preparation. A death row inmate says the Ohio prison system is denying him meals prepared according to Islamic law — known as halal — while at the same time providing kosher meals to Jewish prisoners, according to a federal lawsuit that alleges a civil rights violation.

Is a 'Little Bit of Sharia' Okay? Some Americans argue that U.S. civil and criminal legal codes and courts should recognize Islamic law (sharia), as applied to Muslim families, at least. But sharia critics need point no further than Australia to show the utter incoherence of that contention.

Southern Poverty Law Center on Shariah in American Courts. A recent study ... identifies dozens of American court cases involving sharia law. Many of these cases involve blatant violations of Constitutional rights, usually to the detriment of women and children, including the enforcement of foreign custody orders to wrest children from their mothers. Yet, despite the numerous cases cited in the study, several commentators have chosen to selectively criticize the study, rather than recognize the challenges presented to the American justice system by litigants advocating for the application of sharia as detailed in the study.

First Amendment Trumps Sharia in Dearborn. A rare and striking vindication of American free speech principles came this week, setting back those American Muslims who believe that in their own enclaves, sharia-based restrictions on religious freedom should exist. A seminal, if ominous report released May 17, 2011 by the Center for Security Policy described fifty appellate court cases from 23 states which involve conflicts between Islamic law-Sharia-and American state law.

Judge orders use of Islamic law in Tampa lawsuit over mosque leadership. The question of what law applies in any Florida courtroom usually comes down to two choices: federal or state. But Hillsborough Circuit Judge Richard Nielsen is being attacked by conservative bloggers after he ruled in a lawsuit March 3 that, to resolve one crucial issue in the case, he will consult a different source. "This case," the judge wrote, "will proceed under Ecclesiastical Islamic Law."

7 Topics We Can't Have Adult Conversations About in America. [#7] Radical Islam: There's plenty of talk about radical Islam, but few genuine conversations about the subject because there are so many difficult questions to answer. How do we define a moderate Muslim? How do we tell the difference between the moderate Muslims and the radicals? Shariah law is barbarism that's incompatible with Western civilization. How do we stop it from spreading here? Should the unique problems associated with Islam affect our immigration policy? Why aren't more moderate Muslims speaking out against radical Islam?

Tennessee bill lists Shariah as felony. Tennessee is considering making it a felony to follow some versions of the Islamic code known as Shariah, the most severe measure yet put forth by a national movement whose members believe extremist Muslims want Shariah to supersede the Constitution.

Obama Should Embrace Islam, Says Muslim Cleric. The British radical Muslim cleric Anjem Choudary said on Sunday that U.S. President Barack Obama must embrace Islam as a way of life or face the consequences of a trial under the Shariah Islamic court system.

The ABA's Jihad. The American Bar Association (ABA) has decided to undertake the fight for Sharia law. The ABA's Executive Counsel "has organized a Task Force to review the legislation of 14 states — Alaska, Arizona, Arkansas, Georgia, Indiana, Louisiana, Mississippi, Nebraska, South Carolina, South Dakota, Tennessee, Texas, Utah and Wyoming — in which anti-Sharia legislation has been introduced." The goal of the ABA's Task Force is to fight against these legislative initiatives by free people, and to develop "an informal set of 'talking points' that local opponents of these initiatives could use to make their case in each of these states."

Muslim Cleric Plans White House Protest in Attempt to Spread Sharia Law. A Muslim cleric who called Americans "the biggest criminals" during a recent interview has announced he will hold a protest outside the White House, according to the Daily Mail. Anjem Choudary, who once said "the flag of Islam will fly over the White House," says he will lead a demonstration rallying Muslims to establish Sharia law across the United States.

Protecting Wyoming from sharia law. Wyoming may follow Oklahoma's lead and consider a ban on sharia law, as a legislator has proposed a bill that would amend the state's Constitution and bar judges from using Islamic and international law when ruling on cases before the court. Republican State Representative Gerald Gay says he proposed the bill as a "pre-emptive strike" to protect his state from the growing influence of sharia law around the world.

More states enter debate on sharia law. Although Oklahoma's law is the first to come under court scrutiny, legislators in at least seven states, including Arizona, Florida, Louisiana, Oklahoma, South Carolina, Tennessee and Utah, have proposed similar laws, the National Conference of State Legislatures says. Tennessee and Louisiana have enacted versions of the law banning use of foreign law under certain circumstances. Newt Gingrich, former speaker of the U.S. House, is pushing for a federal law that "clearly and unequivocally states that we're not going to tolerate any imported law."

The Five Best Arguments Against Sharia in the United States. [#1] U.S. law is the "supreme law of the land," no exceptions. The specifics of what's in Sharia law are irrelevant. It doesn't matter whether Sharia is the most wonderful, mild and reasonable set of humanitarian recommendations ever devised, or if it's an oppressive medieval framework for a nightmarish theocracy — or something in between. All of that is off-topic. Why? Because in the United States of America, only U.S. law governs. Period. You can't violate a U.S. law and then offer up as a legal excuse, "Well, in Mongolia what I did is perfectly legal!" You'd be convicted, while the jury laughed.

Go Oklahoma! The state of Oklahoma has spoken loud and clear! The PC crowd can have a fit all they want but 70% of the people that voted in Oklahoma did not want to give a chance for Sharia law to ever be used in the courtrooms in their state to defend a wife beater, stoning of a woman, beheading, flogging, honor killing of a family member, or cutting off of limbs, killing of homosexuals, arranged marriages, and take rights away from Christians and Jews!

Judge Blocks Oklahoma's Ban on Using Shariah Law in Court. An Oklahoma constitutional amendment aimed at stopping the use of Islamic law in its courts was dealt a serious blow on Monday [11/29/2010] when a federal judge temporarily blocked the state from putting it into effect. The amendment would forbid state judges from considering Islamic or international law in their decisions.

De Facto Shariah Law in America. Is the United States today a de facto shariah state? A close look at recent events points to some alarming conclusions about the tenets of shariah law taking hold in our once-proud constitutional republic and the unwitting, unequal application of existing U.S. laws. The result is that when it comes to religious expression, Muslims now enjoy more freedom of religion and speech under our Bill of Rights than non-Muslims. Equal protection under the laws of our country holds for Muslims far better than for non-Muslims. Several recent examples illustrate this point.

Oklahoma Bans Sharia Law. Voters have passed an amendment to the Oklahoma state constitution to ban the use of Islamic Sharia law in the state courts by an overwhelming 70% of the vote. The amendment also bars judges from using foreign law in rendering decisions. Seen as a pre-emptive strike, Oklahoma now joins Louisiana in blocking Sharia law, a draconian legal doctrine that does not recognize the most basic human rights as measured by any Western standard.

Naturally...
Muslim Sues Oklahoma Over Anti-Shariah Ballot Measure. Just two days after Oklahoma voters approved a ballot measure banning state courts from considering Islamic or international law when ruling on cases, a local Muslim has filed a federal lawsuit saying the measure is unconstitutional.

The Editor says...
The State of Oklahoma voted on the matter. One man objects. Tough luck. His only recourse is to leave Oklahoma, or leave the country.

Oklahoma Muslims plan legal challenge to ban on Islamic law. Muslims in Oklahoma say they'll ask a federal court to overturn an amendment to the state Constitution that bars judges from considering international or Islamic law when deciding cases.

The Editor says...
The Muslims have learned this behavior from the American Left: If you lose at the ballot box, run to the federal courthouse and shop around for a leftist judge to overturn the election.

Oklahoma Shariah Ban Is Blocked. A federal judge blocked Oklahoma officials Monday [11/8/2010] from implementing a voter-approved referendum that singles out Islamic religious law, or Shariah, as a threat to the state. Chief Judge Vicki Miles-LaGrange, of U.S. District Court in Oklahoma City, set a Nov. 22 hearing to consider whether the Save Our State Amendment violates the U.S. Constitution. Until then, she issued a temporary restraining order preventing the state Election Board from certifying State Question 755, which passed by 70% on Nov. 2.

Oklahoma's Ban on Shariah Law Blocked. A popular new law that bars Oklahoma courts from considering Islamic law, or Shariah, when deciding cases was put on hold Monday after a prominent Muslim in the state won a temporary restraining order in federal court. Two state legislators were quick to blast the judge's ruling and the Oklahoma attorney general, who they said did not stand up to support the new law.

"Unconstitutional" To Ban Islamic Law In U.S. Courts. A renowned Muslim rights group is suing to stop Oklahoma from implementing a voter-approved measure prohibiting state courts from considering Shariah law — the authoritarian doctrine that inspires Islamists and their jihadism — when ruling on cases. The "anti-Islam" law forbidding judges from contemplating Islamic principles is unconstitutional, according to a federal lawsuit filed this week by the Council on American-Islamic Relations (CAIR), a national organization that serves as the U.S. front for the Palestinian terrorist group Hamas.

Women's Rights Judge Blocks Oklahoma's Shariah Ban. A federal judge who as a senator took pride in sponsoring women's rights legislation has blocked a voter-approved measure banning Shariah law — which calls for the beating and murder of women who don't comply with its oppressive mandates — from Oklahoma courtrooms. Earlier this month voters in the Sooner State overwhelmingly approved (by 70%) the constitutional amendment prohibiting state courts from considering Shariah law — the authoritarian doctrine that inspires Islamists and their jihadism — when ruling on cases.

Oklahoma: When Sharia comes sweeping down the plains. During the recent mid-term election, voters across the country voiced their will on more than just which politicians or political party they wanted to see in power for the next term. Voters in Oklahoma voted on whether or not Sharia, Islamic law, should or should not be used or considered within the state's court system. Seventy percent — that's right, seven out of ten Oklahoma voters — said no to Sharia and international law, and within days Oklahoma's chapter of CAIR, the Council on American-Islamic Relations, filed a lawsuit against the Oklahoma State Election Board.

NPR, Juan Williams, and Sharia Law. NPR's sacking of Juan Williams was more than the politically correct act du jour. It was the latest in a series of media and political capitulations to Sharia law. A central provision of Sharia law is its prohibition against speech that can be construed as "defaming" Islam or the prophet Mohammed. Where Sharia is practiced and enforced, such "defamation" is a criminal offense that can be punished by death. In other words, what we in America take for granted as free speech is a capital crime in some areas of the Muslim world.

Freedom vs. Sharia Law. We've been told there are so-called moderate Muslims who deplore terrorism and that Islam has been hijacked by extremists. If there are in fact moderate Muslims, they have been quiet as mosque mice regarding their positions. For example, Americans don't know if moderate Muslims recognize Israel, what they think about women's rights, or if they believe the proposed New York City mosque should be moved to another location out of concern and sensitivity for the families of the victims of 9/11.

The Shariah Threat to America. [Scroll down] Quite simply, our enemies are at war with us because of our nation's greatness and the world's dependence on that greatness. This underbelly expresses itself in our military, law enforcement, and political elites — Democrats and Republicans alike — refusing to come to terms with the existential threat we face from Islamic terrorists. It is simply incredible that nine years post-9/11, there has been no definitive study or analysis made public, even in unclassified form, which identifies the "common enemy threat doctrine" of the world's Islamic terrorists.

The Shariah Threat. A panel of national security experts concludes that Shariah law is a totalitarian ideology that is being used by advocates of tolerance to undermine the security of the United States.

The Constitution Trumps Islamic Law. When reading stories about that formerly obscure Florida preacher behind the Quran burning controversy, bear in mind that the only law he would have broken in doing so would have been Islamic law. With this in mind, it should become clear that the extraordinary global campaign against this stunt is yet another concerted effort, aided by an army's worth of useful fools, to bring our constitutional republic into conformance with Islamic law.

Islam Is Not A Religion, It Is Foreign Law. The time has come to question if Islam is protected under our First Amendment rights to freedom of religion. Yes, everyone in America has the right to freedom of religion, but Islam is not a religion. Religious faith is only a part of Islam. The rest is a socially engineered society with its own laws and customs that seriously conflict with American law.

Coming to Grips With Shariah. Unfortunately, too many Americans still remain unaware of the magnitude of the danger we face from Shariah. Worse yet, their ability to comprehend this threat, let alone respond appropriately to it, is being seriously disserved by people who know better -- or should. Specifically, the public is being seriously misled by 1) some journalists and politicians who are obscuring the true nature of Shariah and 2) Shariah practitioners who engage in deliberate deception to facilitate the penetration of their doctrine into Western societies.

American Taxpayer, Financial Jihadist. Sharia-compliant finance (SCF) is now a thriving American industry. Sharia is Islam's authoritarian legal framework. It aspires to control not merely spiritual life but all aspects of society, including economic matters. The purpose of SCF is to advance that mission in two important ways. First, SCF legitimizes the incorporation of sharia into our legal system, despite the fact that many features of Islamic law are anti-constitutional.

Sharia Law in Canada and Britain. The spread of Sharia Law to the entire world is part of jihad. In Canada and Britain, jihad is advancing. A June 2010 report entitled "Sharia Law in Britain: A Threat to One Law for All and Equal Rights" begins with Secretary General of the Islamic Sharia Council Suhaib Hasan saying, "If Sharia law is implemented, then you can turn this country [Great Britain] into a haven of peace because once a thief's hand is cut off nobody is going to steal."

What Muslim Scientific Achievements? [Scroll down] Walid Phares, an author and senior fellow at the Foundation for Defense of Democracies, noted that the U.S. shouldn't "be in the business of bringing religion, Islam or other to space development." ... "This is a ridiculous concept. Those who enter a spaceship are humans not members of religious sects. I think what lays behind this medieval perception of space technology is a policy of partnership with Islamist regimes, most of which are oppressive of their own people."

More about the latest NASA scandal.

Say Yes to a National Muslim Holiday. [Scroll down] We should treat the various Muslim holidays as we have the birthdays of American presidents with the singular Presidents' Day. My recommendation: We roll all the Muslim holidays into one National Muslim Day and celebrate it on September 11 each year. ... Rather than working to educate us slow-learning Americans about the merits of holidays like Eid al-Fitr and the birthday of Mohammad, it seems most fitting that we celebrate the contributions and significance of Islam in America's history with one special day each September 11. Mohammad likely does not enjoy birthday cards anyway because those cards too often are filled with cartoons and sketches.

Vote to Bar Sharia May Be on Fall Ballot. Oklahoma is about as far from Saudi Arabia — one Muslim country that follows a strict version of Sharia — as you can get. But legislators in the Sooner State figure you can never be too careful. Hence their push to put a question on November's ballot that would ask voters to make state courts rely on federal and state laws when deciding cases and forbid the courts from using international law or Sharia law when making rulings.

Sharia (Islamic Law) Not O.K. in Oklahoma. Oklahoma State Representative Rex Duncan wants to make sure no judge ever uses Sharia (Islamic law) to decide a case in Oklahoma. "Has any judge ever tried to use Sharia in Oklahoma?" a reporter asked the Republican politician, as he walked in front of the County Courthouse in Tulsa this week. "No," said Duncan, "and we want to make sure they never will."

The 'peaceful' Jihad in America. Jihad is not mindless mass-murder, nor is it a syrupy "internal struggle to become a better person." No, jihad is the mission to establish and spread sharia. The installation of Allah's law, believed by Muslims to be a divine injunction, is the necessary precondition to the creation of Islamic societies. While it can, and often is, waged forcibly, Islamists don't resort to violence (or, at least, to more violence) where surrenders, appeasements and capitulations are available.

The Inevitability of Sharia Law in the West. When you have a hammer, every problem looks like a nail. And so liberals believe that the solution to every problem is more socialism. Americans often believe the solution to every problem is more democracy. And Muslims believe that the solution to every problem is Islam. Combine the three, and you arrive at the inevitability of Sharia law in the West. As Muslims harness democratic pluralities in countries that have become socialist, and thus less free, they will impose Islamic law.

Don't talk about Muhammad or you're dead. We already know the culture and passion of Islamic radicals, fundamentalists and Jihad experts. They want an international caliphate going back to the 1920s. That means they want to control the world and have it run by Sharia law, all other Religions and people submitting to Islam.

Is It Possible for a Practicing Muslim Soldier to Swear Allegiance to the U.S. Constitution? [Scroll down] It is indisputably clear from these two Shariah passages that it is incumbent on every practicing Muslim, which indicates Shariah-compliance, to pledge his or her total allegiance to Islam. Furthermore, it is mandatory for anyone claiming to be Muslim to actively oppose by force of arms U.S. forces in Iraq and Afghanistan.

Political Islam is bent on world domination. Here's what we know: Islamic law (Shariah) punishes "leaving Islam" with death. Islam has a bloody history of expansionism. Almost exactly two-thirds of Muslims in four countries polled in a 2007 survey by University of Maryland/WorldPublicOpinion.org favored both Shariah and the caliphate. And the Muslim Brotherhood's manifesto for "a grand Jihad" in America calls for "destroying the Western civilization from within" so that Islam is "victorious over all other religions."

Wait a minaret! Minarets mean little. What they signify means a great deal. To millions of non-Muslims, they signify terrorist attacks, hysterical mobs salivating with threats after the publication of a cartoon, promises to slaughter innocent people when the Pope makes a comment about history, attempts to introduce sharia law and Dutch movie-makers murdered on the street.

Political Correctness Is Deadly. As many analysts have noted, political correctness has insinuated itself into the analysis of the murders at Fort Hood. Far better to rationalize the atrocity by referring to the assailant, Major Nidal Hasan, as a deranged individual, rather than a radical Muslim intent on bloodshed. It is self evident that not all Muslims are intent on violence, but as the history of the last few decades indicates most of the premeditated violence can be attributed to Muslims who rely on Koranic verses and Sharia to justify sanguinic action.

Islam on Capitol Hill? "Our Time Has Come," proclaims the Islam on Capitol Hill website. ... Is the Islam on Capitol Hill day of prayer meant to be a declaration of Islamic supremacism — that Sharia law's "time has come" in the U.S.? It could be the occasion for a ringing affirmation of adherence to Constitutional pluralism and non-establishment of religion. But it probably won't be.

No to Islamic Law. Those of us who argue against Shari'a are sometimes asked why Islamic law poses a problem when modern Western societies long ago accommodated Halakha, or Jewish law. The answer is easy: a fundamental difference separates the two. Islam is a missionizing religion, Judaism is not. Islamists aspire to apply Islamic law to everyone, while observant Jews seek only themselves to live by Jewish law. Two very recent examples from the United Kingdom demonstrate the innate imperialism of Islamic law.

War and Peace — and Deceit — in Islam (Part 1). Amazingly, for all the talk that Islam is constantly being "misunderstood" or "misinterpreted" by "radicals," the fact is, as opposed to most other religions, Islam is a clearly defined faith admitting of no ambiguity: indeed, according to Sharia (i.e., "Islam's way of life," more commonly translated as "Islamic law") every conceivable human act is categorized as being either forbidden, discouraged, permissible, recommended, or obligatory. "Common sense" or "universal opinion" has little to do with Islam's notions of right and wrong.

War and Peace — and Deceit — in Islam (Part 2). The fact that Islam legitimizes deceit during war cannot be all that surprising; as the saying goes, all's fair in love and war. Moreover, non-Muslim thinkers and philosophers, such as Sun Tzu, Machiavelli, and Hobbes, all justified deceit in war. The crucial difference, however, is that, according to all four recognized schools of Sunni jurisprudence, war against the infidel goes on in perpetuity — until "all chaos ceases, and all religion belongs to Allah" (Koran 8:39).

Cruel and Usual Punishment. Every time I tried to find a solution to all the ills of Muslim society, such as jihad, oppression of women and minorities, I was confronted with an Islamic law that stood in the way of a solution. Having been born and raised as a Muslim who lived under Sharia for 30 years of my life, I know first hand the destructive impact of sharia on the healthy functioning of society and its total disregard for basic human rights.

Amerabia: On May 4, an ominous alarm was sounded in a Pajamas Media column by Youssef Ibrahim, a former New York Times reporter. Mr. Ibrahim is an astute critic of the Islamists' steady, tireless and increasingly effective efforts to impose — on Muslims and non-Muslims alike — the repressive theo-political-legal agenda they call Shariah law. He warned that "In the very real war on terror, a noisy squabble over 'fighting them there so we don't have to fight them here' clouds a simple truth: namely, that 'they' are here already. Indeed, Islamists are busy constructing a wing of jihad in America's backyard."

Stealth Jihad or Hysteria? During the recent Tyson Chicken controversy, I published an article at FrontPage in which I argued that Tyson and the Retail, Wholesale and Department Store Union (RWDSU) should not have agreed to make Eid al-Fitr a paid day off for employees at the Tyson plant in Shelbyville, Tennessee, on the grounds that it set a bad precedent for accommodation of Islamic practices at a time when the Muslim Brotherhood is pressing forward a stealth jihad agenda of trying to impose Islamic Sharia law bit by bit and make American businesses and individuals grow used to the idea that Muslims must have special accommodation.

What Do Muslims Want? For many people, religious practice — striving to obey God's commandments — is a high priority, the highest, even. Yet this priority can come into conflict with the character of the society in which one lives. This is undoubtedly the case for devout Muslims who voluntarily relocate to Western nations. This invariably will compromise what many of them profess to be their ultimate priority: living in accordance to the divine laws of Allah (i.e., sharia — most of which is derived from the words and deeds of seventh-century Mohammad).

We're far too nice to Muslim extremists. Of British Muslims aged 16-24, 37% would prefer to live under sharia in Britain, 37% would like to send their children to Islamic state schools and — most incredibly — 36% think Muslims converting to another religion should be punished by death. ... The usual immigrant experience of gradual integration has failed for more than a third of Muslims. All the exhaustive and intrusive efforts of the race relations industry have been counter-productive.

Muslims can never conform to our ways. Ministers appear whimsically to be shifting from the multi-cultural society towards an integrated one. They are whistling in the dark if they think that will play well with the followers of Islam in our midst. Muslims are rooted in their faith and it governs the way they live. It is the only faith on Earth that persuades its followers to seek political power and impose a law — sharia — which shapes everyone's style of life.

After all that political correctness and diversity and tolerance, they still get targeted by terrorists. What a shame.
Canada's Cry: 'Why Us?' No city within Canada is more Muslim-loving and liberal than Toronto; the provincial government even considered sanctioning oppressive Muslim Sharia law. Want to live in a ghetto with your peeps and not have to integrate with your fellow Canadians? Toronto is the place for you. So why, people here ask, would anyone want to do damage to Toronto?

Arab Majority May Not Stay Forever Silent. Yes, world, there is a silent Arab majority that believes that seventh-century Islam is not fit for 21st-century challenges. That women do not have to look like walking black tents. That men do not have to wear beards and robes, act like lunatics, and run around blowing themselves up in order to enjoy 72 virgins in paradise. And that secular laws, not Islamic Shariah, should rule our day-to-day lives.

"Extreme" and "Moderate" Stonings and Amputations. A peculiar unreality now dominates American public discourse about Islam. Those who traffic in comforting fictions — such as but not limited to the distinction between "extreme" and classical Sharia — are lauded in the mainstream media and consulted by the powerful, while those who dare to point out obvious but uncomfortable facts are dismissed and derided as a "fringe."

The Elusive Moderate Muslim: The government and media are avid to find moderate Muslims — and as their desperation has increased, their standards have lowered. Unfortunately, it is not so easy to find Muslim leaders who have genuinely renounced violent jihad and any intention, now or in the future, to impose Sharia on non-Muslim countries.

The Islamic States of America? The hardest thing for Westerners to understand is not that a war with militant Islam is underway but that the nature of the enemy's ultimate goal. That goal is to apply the Islamic law (the Shari'a) globally. In U.S. terms, it intends to replace the Constitution with the Qur'an.

One-Way Free Speech. On July 19th, a conference entitled "The Fall of Capitalism and the Rise of Islam" took place as scheduled at the Hilton Hotel in Oak Lawn, Illinois, a Chicago suburb. There, in the heartland of a post 9/11 America, Hizb-ut Tahrir, an international organization outlawed as a terrorist group in several European and Middle East countries, sponsored sessions focusing on strategies to end free enterprise and replace it with Shari'ah law.

A movie and a conversion: Europe begins to resist? Some analysts of Islam in Western Europe argue that the continent cannot escape its Eurabian fate; that the trend lines of the past half-century will continue until Muslims become a majority population and Islamic law (the Shari'a) reigns. I disagree, arguing that there is another route the continent might take, one of resistance to Islamification and a reassertion of traditional ways.

Back to the Islam overview
Back to the Home page


---