Young people have to be taught everything, and it is the function of parents and teachers to give them the instruction and guidance they need, either to find a job right out of high school, or to go to college. Along the way they are also taught how to wait in line, clean up after themselves, and play well with others. That's all very nice, but these days you may find that unionized teachers teach more than academics. Leftist propaganda — earth-worshipping environmentalism, multiculturalism, and the expectation of a government handout at some point — seeps into the classroom with the assistance of teachers who believe it is their role to spread socialism in the schools.


---

The turmoil in Madison, Wisconsin

The discussion of the Madison, Wisconsin teachers union uprising has been moved to this page.


---
What Settlement of Vaccine Mandate Case Reveals About Corruption of Teachers Unions. Teachers unions across America have defended members from termination for virtually every imaginable kind of misconduct. The unions defended teachers for illegal marijuana use and intoxication on the job. They defended teachers who stole money, had excessive absences, or otherwise abused their position. They defended teachers who had pornographic materials in the classroom. They defended incompetent teachers who failed to produce positive student achievement. And in Rhode Island, the teachers unions vigorously defended one teacher who engaged in inappropriate touching and language with his female students. They appealed his firing all the way to the Rhode Island Supreme Court. As one of the primary purposes to justify the paying of dues, teachers unions promote themselves as fighting to protect the jobs of teachers and rarely ever backing down when it comes to the dismissal of one of their members. But unions are criticized routinely for defending bad employees, regardless of the cost, and often seeking alternate accommodations or filing their own grievance, no matter the gravity of the sin.
Don't Be Fooled by Randi Weingarten's Rehabilitation Tour. On Tuesday, the fact-checkers over at PolitiFact — which is run by the Poynter Institute, that nonprofit focused on media literacy and journalism ethics training — declared that "it's misleading to suggest that [American Federation of Teachers President Randi Weingarten] didn't want to pursue reopening schools at all." [...] Weingarten has offered a similar line recently: It's not that she or the AFT opposed school reopening, you see. It's that they just wanted schools to safely reopen and, well, when various actors didn't accede to their polite requests, they had no choice but to remain closed. What's conveniently excluded from that framing is the ludicrousness of union demands, the constant goalpost shifting, the coffin-protest hysterics, and the degree to which American school closures were out of step with the rest of the developed world, most severely in blue states and cities. For example, one demand in the union's April 2020 reopening plan (touted repeatedly by Weingarten over the last week) was the cancellation of student loan debt for all teachers, which you might notice is unrelated to airborne virus spread.
Fauci, Weingarten try to rewrite history on disastrous COVID-19 lockdowns: 'Show me a school that I shut down'. Former White House Chief Medical Adviser Dr. Anthony Fauci and teachers union boss Randi Weingarten are furiously trying to rewrite history on their role in promoting the disastrous school lockdowns that paralyzed the U.S. during the COVID-19 pandemic and left a generation of children behind. "Show me a school that I shut down and show me a factory that I shut down. Never. I never did," Fauci told New York Times Magazine last month. "I gave a public health recommendation that echoed the Centers for Disease Control and Prevention's (CDC) recommendation, and people made a decision based on that. But I never criticized the people who had to make the decisions one way or the other."
Teachers' union leader Randi Weingarten says House hearing crossed the line. Congressional hearings are frequently acrimonious, but they rarely descend into the kind of personal attack that Rep. Marjorie Taylor Greene, R-Ga., waged against teachers' union leader Randi Weingarten at a House hearing last week on pandemic-related school closures, an issue that continues to excite strong passions. Those passions were expressed in a "very homophobic" way by the outspoken congresswoman, Weingarten told Yahoo News last Friday. The hearing had taken place two days before, but she was still plainly rattled by the exchange. During the hearing, Greene repeatedly noted that Weingarten is not a "biological mother," a seeming reference to the fact that the 65-year-old American Federation of Teachers president is married to a woman, Sharon Kleinbaum, a rabbi at the world's largest LGBTQ synagogue.
Doc behind study teacher's unions used to keep schools closed torches Randi Weingarten in brutal thread. [T]his editor is a parent and watched what Randi, her grotesque union, and the CDC did to millions of children in this country in a ploy for more power and money. And now she wants to pretend they fought to get the schools open — like other evil villains, she's looking to rewrite history. And we sure [...] aren't going to let that happen. Not on our watch. Luckily, there are other people out there who are more than happy to call her out as well. For example, the doctor behind the Wisconsin study that Randi liked to use when pushing to only open the schools with 'layered mitigation' ... Dr. Tracy Høeg. She ain't too happy with Randi. [Tweet]
Randi Weingarten is an evil liar. Does the headline sound harsh? It is accurate on both counts. Randi Weingarten has been and remains an advocate for evil policies and is, indeed, a provable liar. Consider her testimony before Congress. [Tweet with video clip.] [...] For those of you who live in a cave and just turned on your computers for the first time, Randi Weingarten is the head of the American Federation of Teachers. She helped spearhead the movement to close down schools and keep them closed for as long as humanly possible. She, despite being neither a doctor nor a teacher helped the CDC develop draconian guidelines that kept schools closed for months, and in some cases more than a year. And there is a direct correlation between the level of influence unions have in a school district and the length of those school closures. [Tweet with video clip.] It was indisputable that she was one of the single biggest factors in having schools closed, keeping them closed, and the attacks on those who wanted schools reopened. She was one of the most powerful and loudest voices for keeping kids out of the classrooms. She literally could call the Director of the CDC at a moment's notice and did. She helped write the school closure guidelines and made them much more draconian than almost any other country's.
Teachers Union Thuggery. The tragic consequences of union strong-arming will be on display Wednesday, when a House subcommittee grills American Federation of Teachers President Randi Weingarten on how the unions muscled the Centers for Disease Control and Prevention in February 2021 into setting impossible-to-meet requirements for reopening schools during COVID. Closing schools in the spring of 2020, when no one understood COVID, was understandable. But once science showed negligible risk to students in returning to the classroom, prolonging closures became child abuse. Yet on orders from the Biden White House, the CDC followed the unions' dictates instead of the science.
Randi Weingarten to face GOP grilling on COVID-19 school lockdowns. Randi Weingarten, president of the American Federation of Teachers (AFT), one of the nation's most powerful teachers unions, will testify Wednesday afternoon before the Select Subcommittee on the Coronavirus Pandemic to address her union's role in influencing public policy on school lockdowns. In her prepared testimony, Weingarten will call on lawmakers to "think bigger than the faulty premise of this inquiry," which is the claim that AFT inappropriately coordinated with the Centers for Disease Control and Prevention (CDC) in 2021 to make last-minute changes to school reopening guidance. "With a strategy focused on opening schools, it was completely fitting and proper for the CDC, which specializes in science, not education, to consult with education groups. The CDC conferred with more than 50 organizations about the guidance, according to Dr. Walensky," Weingarten's says in her prepared remarks.
Can We Do Anything About America's Decline? Urban schools are not places of instruction anymore. That fact is accepted by teachers' unions, whose operative principle seems to be that the more hopeless the idea of educating urban youth is understood to be, the less burdensome the workload, and the greater their hazardous duty pay.
Chicago's Hard-Left Choice. For several reasons, the election of Brandon Johnson as mayor is the most important in Chicago for generations and the most politically salient urban election this century. First, it represents the triumph of the hard Left not on one of the coasts but in the heart of the Midwest, in a city known for its pragmatic, if machine-Democratic, politics. Second, it displays the raw power of public-sector unions in Illinois and in today's Democratic Party. Johnson was not just supported by the unions; he is the paid agent of the most powerful and radical of them all — the Chicago Teachers Union.
Incoming Chicago Mayor Brandon Johnson can collect $1.1 million teacher's pension despite having taught only 4 years in Chicago Public Schools. Newly elected as mayor of Chicago, former teacher and union organizer Brandon Johnson, exemplifies why the State of Illinois faces a $210 billion unfunded public employee pension liability, thought by some independent expert observers to be even larger. As the Illinois Policy Review points out, after teaching a mere 4 years in a Chicago classroom, Mayor John is able to receive retirement benefits totaling $1.1 million over his expected lifetime. And, if he plays his cards right going forward, his public pensions could total $2.8 million, which is a nest egg most Americans could only fantasize about. No wonder he is smiling: [Photo]
Chicago proves that FDR was correct about public unions. Up in Chicago, the teachers union won big and I don't mean that test scores or literacy is on the rise. The got their man elected and who knows what happens next. I would not be surprised if a few Chicago residents are looking at a "zip code change." Years ago, our family would drive down to Chicago from our early days in Wisconsin to get stuff at a Cuban "bodega." We'd listen to Larry Lujack on WLS and drive home listening to the White Sox on WMAQ. My parents complimented the clean streets, the order everywhere, and the police were so pleasant at giving you directions when we used maps rather than GPS. Going to Chicago was great. Well, I don't think that my parents would be complimenting Chicago today.
Teachers' Unions Are Destroying American Education. Considering the sheer size and resources of the two teachers' unions, protecting their members should be a no-brainer. The American Federation of Teachers (AFT), has 1.7 million members and besides K-12 teachers. [I]t represents many in non-educational fields such as nursing. The National Education Association (NEA) is the world's largest professional organization with 2.5 million members. Both unions are recognized for their skilled lobbying and lavish contributions to political campaigns. As the recent COVID crisis illustrated, these unions can shut down public schools for long periods, often against the desires of parents and public officials. Why then are teachers' unions ignoring the plight of teachers jumping ship over working conditions? The short answer: both unions prioritize a sweeping radical political agenda versus what daily concerns teachers. Yes, these unions acknowledge their traditional bread and butter missions, but such prosaic concerns fail to drive their passion for racial justice. A recent AFT statement — Reimagining School Safety — illustrates this racial justice obsessions. Its solution to reducing school violence explicitly rejects punitive measures such as expelling troublemakers in favor of preventive therapeutic interventions.
Mass Shooting Statistics. When a mass murderer shot her way into a Nashville school on Monday and killed six people, most Americans reacted with horror. Gun control advocates, however, viewed it as an opportunity. President Joe Biden, for example, saw the crime as a chance to promote an "assault weapon" ban. Randi Weingarten, the president of the American Federation of Teachers, responded with a call for gun confiscation. The corporate media pitched in with a spate of stories claiming that mass shootings literally occur on a daily basis in the United States.
NYC teacher's union to hold seminar on the 'harmful effects of whiteness'. The union that represents New York City's public school teachers is holding a workshop on how to reduce the "harmful effects of whiteness in our lives" for educators who wish to advance their credentials, a shocking New York Post report revealed Saturday. According to the outlet, the United Federation of Teachers (UFT) has scheduled the online seminar, titled "Holding the Weight on Whiteness," for Monday, March 27, for 4-6 pm. The event's landing page says the course "is about cultural humility and inclusion," and "will allow us to discuss how whiteness relates to privilege and identity, and how both become normalized and invisible."
Teachers Union Closes L.A. Schools Yet Again. The Los Angeles Unified School District (LAUSD), the country's second-largest, closed its doors Tuesday on the first of a three-day solidarity strike by teachers who are backing a 30 percent pay raise plus $2 per hour "equity wage adjustment" for custodial workers represented by the powerful Service Employees International Union (SEIU). Keeping kids locked out of schools has become quite the specialty for United Teachers Los Angeles (UTLA). The union struck for six days over contract negotiations in January 2019, then successfully pressured LAUSD leadership to keep school buildings closed for more than a year after the COVID-19 pandemic hit, despite Southern California's famously temperate and ventilatable weather. Still more students would have been turned away from the schoolhouse doors had the pesky legal system not gotten in the teachers' way.
Los Angeles schools to close Tuesday as strike goes forward; negotiations at a standstill. The massive Los Angeles Unified School District is closed Tuesday — and may be Wednesday and Thursday, too — because of a planned strike by tens of thousands of school employees and teachers. "All schools across LAUSD will be closed tomorrow," Superintendent Alberto Carvalho, leader of the nation's second-largest school district, said at a Monday afternoon news conference. "Tomorrow will be a difficult day." Carvalho, who oversees about 420,000 [to] 600,000 students at more than 1,000 schools, expressed frustration with the union representing workers including bus drivers, custodians, cafeteria workers, campus security and teaching assistants.
Failing Ohio School District Moves to 4-Day School Week to Avoid 'Burnout'... of Teachers. North College Hill City School District in Cincinnati, Ohio, recently ranked #597 out of 607 Ohio school districts, according to the state's evaluation index. By my grading scale, that's straight F-minuses across the board. The district's preposterous excuse? The teachers are "all worn out."
LA Teachers Making Six Figures Would See Pay Hike Under Socialist-Backed 'Green New Deal'. Los Angeles socialists are helping a teachers' union strike for massive raises to their six-figure salaries, saying the strike boosts their "Green New Deal" for public schools. The United Teachers of Los Angeles is planning to strike for three days next week in an effort to transform city schools into a "green" social services hub. The Los Angeles chapter of the Democratic Socialists of America has identified the teachers' plan as part of its "Green New Deal for L.A. Public Schools" and said it is the group's priority agenda item for the year. But buried beneath the teachers' sundry progressive demands is a 20 percent salary hike over two years for Los Angeles teachers, who on average make $159,000 per year.
Randi Weingarten Explains it all for You. Over the past few years, I've grown accustomed to hearing ludicrous statements about my former profession, however, Randi Weingarten's recent declaration that "kids do better in schools with teachers unions" certainly takes the cake. Weingarten, who currently serves as president of the American Federation of Teachers and previously presided over the United Federation of Teachers, recently penned an op-ed for the Daily Beast in which she made numerous false claims in an effort to cast teachers unions in a positive light. Apparently, Weingarten is under the assumption that Americans have short memories and have forgotten the wanton destruction wrought by teachers unions, which became especially evident during the pandemic.
We need a state constitutional amendment limiting the power of teachers' unions. Imagine a scenario where you and your fellow cube dwellers could band together, go to your boss, and tell him "If you give us a big fat raise at the expense of the shareholders, we'll give you a personal kickback." That's what teachers' unions do. The union members band together, package some payola in the form of union dues, launder it into "campaign contributions," and give it to politicians who control the union members' pay. In return, the politicians vote to increase the pay of the union members. This is all at the expense of the taxpayers who have little say in the matter and are barely even aware of it. Unlike shareholders in a company, taxpayers don't receive profit and loss statements. They just receive tax bills. In this respect, unions in the public sector are fundamentally different from unions in the private sector.
Teachers Union Sues Rhode Island Mom After She Repeatedly Demands to See Her Child's Curriculum. A baffling story coming out of Rhode Island as the Teachers Union in that state has sued a mom for asking about her child's curriculum. Nicole Solas revealed that she has been sued by the Union, the National Educator's Association (NEA), as part of a years-long "harassment" campaign. Laying the insane saga out to Fox News Sunday, Solas said the disagreement started after she made records requests on the contents of the school districts curriculum. First she was met with pushback, and the mother continued to submit legal requests, until eventually she was sued by the liberal Teacher's Union, which is the most powerful in the country. Part of the clash with educators came when she asked staffers at her child's school whether or not they were teaching students radical gender theory. Which is every parents right to know.
Brandon Johnson, the elected official who still collects big checks from the Chicago Teachers Union, will be a disaster as Chicago's mayor. For all of you cynics who says there is no real choice in most elections, next month's runoff race for Chicago mayoral election proves you wrong. The unpopular and incompetent incumbent, Lori Lightfoot, finished third in last week's first round of voting, collecting an anemic 17 percent of the vote in a nine-candidate field. Former Chicago Public Schools CEO Paul Vallas took first place with 33 percent of the vote and Cook County commissioner and Chicago Teachers Union organizer Brandon Johnson in second with 21 percent of the tally. Chicago's municipal elections are non-partisan, but the remaining candidates are Democrats. Vallas has been largely successful in other education jobs, including posts in Philadelphia, New Orleans, and Bridgeport, Connecticut — but he has butted heads repeatedly with teachers' unions, most notably the far-left Chicago Teachers Union, which has strongly backed Johnson's candidacy. And that's not all. Johnson, who earns over $100,000-a-year as a Cook County commissioner, also has collected nearly $400,000 as a legislative coordinator for the CTU over the past five years. So not only is Johnson in the pocket of the Chicago Teachers Union, the CTU is in Johnson's pocket. As of this writing, Johnson has not said if he will quit his CTU post and stop cashing that paycheck.
Classrooms Gone Woke & Wild. Student misbehavior, disrespect, and violence have become standard features of traditional public schools. Instead of imposing firm consequences, woke ideology — under the guise of "restorative justice" — produces dangerous classrooms. According to a study by the American Psychological Association, "One-third of surveyed teachers reported they experienced at least one incident of verbal and/or threatening violence from students during COVID (e.g., verbal threats, cyberbullying, intimidation, sexual harassment)." A staggering 14% of teachers and 22% of school staff cited physical violence from students during COVID. Considering schools were closed during much of this period, the percentage of adults affected is astounding[.] The teachers' unions blame the violence for a growing teacher exodus and a shrinking pool of college students entering the education profession. Not surprisingly, the teachers' unions take no responsibility for their influence, including demanding police be removed from schools. Without question, the prolonged school closures were detrimental to student learning, development, and well-being. Yet the teachers' unions fought to keep schools shuttered until additional funding was received and their unreasonable and often irrelevant demands were met — including a moratorium on charter schools, defunding of police, and Medicare for all[.]
Virginia teachers union, Democrats oppose teaching about victims of communism. Democrats in the Virginia state legislature put on hold a bill that would require schools teach about communism and its victims. Although House Bill 1816, the "Standards of Learning; instruction on dangers and victims of communism," passed the House of Delegates with some Democrat support, it ultimately met its demise in the Democrat-controlled Senate of Virginia, Fox News reports. The bill was "passed by indefinitely" by the Committee on Education and Health, which means it could be reconsidered at a later date. If it isn't, the bill essentially will be dead. Democrats in both legislative chambers voted "nay" following the Virginia Education Association's claim that the bill might lead to negative reactions against Asian students.
An Arizona teacher claims her credentials mean she outranks parents. Before women's lib, America's teachers were often the best and brightest women in a college class because teaching was one of their few career options. Since women's lib, the women who achieve academically usually choose majors other than teaching. Teachers today tend to fall into two categories: (1) A small number of men and women (usually conservative) with a real passion for education and (2) insecure, narcissistic people who struggle academically and look to a room full of helpless children to validate their ideology and sexuality. Alicia Messing, an Arizona educator, definitely falls in the second category. Messing came to our attention because she testified before the Arizona Senate Education Committee to protest Arizona bill SB 1700, which will amend Arizona's existing education laws to give parents the right to review and, through a defined procedure, to seek to remove inappropriate books from libraries and classrooms, especially books that promote non-traditional sexual and gender roles or that normalize pedophilia. Incidentally, as little as twenty years ago, this kind of thing went without saying. Now, thanks to leftist incursions in education, it's a fight.
Bernie Sanders Calls For Minimum Pay Of $60,000 For All School Teachers Despite Failing Public Schools. Public schools are failing all over the country. States like Illinois and Maryland have barely any students performing at grade level. Schools seem more concerned with pushing woke garbage about 'equity' than teaching basic skills. Despite all of these problems, far left crank Bernie Sanders is demanding more money for teachers. He wants a minimum salary of 60K for all teachers.
Baltimore: not one student at these 23 schools can do math at grade level. That's the situation in Baltimore, where the city brags that they have some of the highest teacher salaries in the country. [...] Baltimore schools as a whole did better than those 23 worst-performing schools: a whopping 7% of students in grades 3-8 were proficient at math. So not everything is terrible. Just 93% of everything is terrible. We often hear about low teacher salaries and insufficient education spending, but whenever people ask about how students are doing the topic changes to something else. That's because school districts no longer exist to educate students; they are money laundering operations to distribute jobs to mainly Democrat voters and political machines to funnel dollars into Democrat campaign coffers. That may sound harsh, but all you have to do is look at the results. Students are getting shafted, and the only thing we hear about is funneling more money into a system that is failing miserably.
How public employee unions damage schools, policing and government itself. Two public schools in Manhattan illustrate the high stakes of a political choice that the nation, and many states and municipalities, must reconsider. In 2019, Success Academy Harlem 2 charter school ranked 37th among New York state's 2,413 public elementary schools, one of which, PS 30, had only about a third as many pupils as Harlem 2, spent twice as much per pupil and ranked 1,694th. PS 30 and Harlem 2 operate in the same building. The contract for PS 30's unionized teachers is 167 pages long, mostly detailing job protections, and what teachers can and cannot be required to do. The contract for Harlem 2's nonunion teachers is one page long. Those teachers can be fired at will, and are paid 5 to 10 percent more than PS 30 teachers on the other side of the building.
There Is Nothing Democrats Won't Destroy. Democrats rail about the "school to prison pipeline" and propose to "fix" it by closing the prisons rather than looking at why the schools fail so many of their students. Apparently "Big Warden" doesn't shovel the kind of money to Democrat candidates the way the teachers' unions do. Then again, no one does. If the UAW did, Democrats would spend their time justifying new cars breaking down after a year, but since the biggest victims of progressive policy failures are black kids who'll still vote 80 percent or more for Democrats in elections, these politicians literally ignore the slaughter of innocent people daily because they can't be monetized or used to mobilize.
A Group of Pennsylvania Teachers Prove It Was Always About Indoctrination, Not Education. Public schools have become a minefield. Sending your kids to one is a gamble as winding up in the wrong classroom could put them into the clutches of an activist posing as a teacher, and as we've seen more and more over the years, these activists are everywhere. [...] While I wouldn't do something so ridiculous as to label every teacher a bad actor — I know plenty of honest and good ones — the analogy of the jar of M&Ms is fitting here. If you had a jar of 10,000 M&Ms but even just 10 of them were poisoned, would you still eat from the jar? Your life is over if you choose poorly. In the case of getting the wrong "teacher," it's your kid whose life gets destroyed. Recently, the school district of Central Bucks, Pennsylvania saw the school board ban flags and banners that have political or social importance. This means LGBT flags, Black Lives Matter flags, Antifa banners, and more were not allowed to be displayed in public schools. This is absolutely reasonable as a teacher's personal politics should have no bearing on what the students are learning. However, teachers from the schools didn't find this acceptable and decided to protest. See for yourself just how many teachers protested. You'll notice it's quite a few, and worse, they have students in tow as well. [Tweet]
For teachers unions, parents and children come last. Schools in the Rochester school district in Michigan include in their curriculum a course called "History of Ethnic and Gender Studies." If my child were attending school there, I would wonder why this is in the curriculum as part of K-12 education and what is taught. One mother, Carol Beth Litkouhi, wondered enough that she went to the school and asked for details about what will be conveyed to her child in this program. The response she got from the school amounted to "sorry, none of your business."
Woke teachers' union boss Weingarten is mocked for gushing to Jill Biden that Joe has done more for schools than FDR. The president of the American Federation of Teachers has been mocked for making a gushing endorsement of President Joe Biden saying that he had done more for schools than Franklin D Roosevelt. Union boss Randi Weingarten was speaking at a virtual educators appreciation event in Washington D.C. on Monday, hosted by First Lady Jill Biden. She made the sensational claim that Biden had done more than FDR -- who was known for implementing several initiatives that aimed to help American students, including the National Youth Administration fund for low-income families.
Mike Pompeo Names the 'Most Dangerous Person in the World': Teachers Union Boss Randi Weingarten. Former Secretary of State and possible 2024 presidential candidate Mike Pompeo thinks he knows who is the most dangerous person in the world. It's not Vladimir Putin, Kim Jong-un, or even Joe Biden; nope, it's teachers union boss Randi Weingarten. While she doesn't currently possess nuclear weapons, she's been busy the last few years nuking the nation's educational system. [...] I and others at RedState have no love for Weingarten, and have strongly criticized her in the past because of her stance on school closures. She mercilessly advocated for schools to remain shuttered for as long as possible even as evidence mounted that it was gravely harming our children.
Mike Pompeo: I challenge Randi Weingarten — the most dangerous person in the US — to debate me. I fear America is on a path to disintegration due to persistent failures in our education system. American Federation of Teachers president Randi Weingarten and her fellow travelers have crippled our nation's schools. The danger she presents to our nation is clear and real and exceeds that of all the bad guys I battled abroad for four years as secretary of state and CIA director. I said she's the most dangerous person in America because it is true. Her power, her ideas and her anti-student policies must be confronted. Weingarten has called this claim "pathetic" and insinuated that I, having made it, am "extreme," "anti-LGBTQ" and "anti-Semitic." She suggested my work as America's most senior diplomat was a failure when in fact we made America far safer and more prosperous than President Biden has been able to do. Her personal venom evidences an unwillingness to defend what she has wrought on our children and our nation. I am prepared to debate her and to present to the American people my case for the risks she presents to our republic and our nation's future.
Ok, Randi, since you decided to weigh in on foreign policy, let me educate you. [Thread reader] While you were busy shutting down schools in 2020, @mikepompeo was busy meeting with Zelensky and making sure Russia didn't invade on our watch (spoiler alert: they didn't). In June 2020, we pushed through $250 million in arms sales to Ukraine. "Undermining Ukraine" you say? We sanctioned hundreds of Russian individuals and entities for their malign activities. Biden wouldn't sanction Nord Stream II for over a year. We gave Ukraine billions in security assistance (Javelins, not blankets). In July 2020, you were screaming that re-opening schools would be "reckless, callous, and cruel". Our kids lost the equivalent of six months of math learning and three months of reading because of your policies.
Another Reason Republicans Didn't Do So Well on Tuesday. For many years, New Mexico's public education system has ranked at or near the bottom among the 50 states. Despite spending enormous sums of money, only a small percentage of students are grade-level competent in reading and math. On March 16, 2020, Governor Grisham ordered all public schools closed in N.M. The schools did not reopen for in-person learning until April 5, 2021. New Mexico's schools were shut the sixth longest of any state in the country. Here's the problem: by May and June of 2020, published health statistics clearly indicated that the Wuhan virus was no more dangerous to children than the common cold. Nonetheless, Governor Grisham commanded that the schools be shut and remain shut. Why? Because the teachers' unions wanted the schools closed. In the battle between what was best for the children and what was best for the teachers' unions, she chose the unions.
Florida Teachers' Union Bleeding Members. The Florida Education Association (FEA) lost more than 4,500 members — a 3.3 percent drop — in just the 2020-21 school year. By comparison, the National Education Association (NEA) and American Federation of Teachers (AFT) lost 2.3 and 2.1 percent of their memberships, respectively, in the same single school year. Perhaps that's because teachers' union leadership overplayed their hand the last few years and, thanks to their own prolonged COVID school closures in states that weren't lucky enough to be named Florida, they've been exposed as leftist political entities that seem to only happen to have an educational bent.
Why suburban women are flocking to the GOP: As simple as A,B,C. [Scroll down] Schools didn't do any better. Education policy (and even at the Centers for Disease Control and Prevention) during the COVID pandemic was essentially run by the teachers unions. This year, Senate Republicans outlined the improper and extensive influence teachers unions, particularly the American Federation of Teachers, wielded over the government's COVID policies on schools. Union officials actually wrote key portions of Team Biden's school-opening guidance. Teachers liked working remotely, and teachers unions fought hard to keep them home as long as possible. Teachers had a nice time, but students suffered, to a degree that's still sinking in. Even in 2020, The Atlantic reported that parents in New York, worried about crime and bad schools, were taking over the education of their kids. Since then, as schools did a worse and worse job, more and more parents decided to educate their own kids.
One of COVID's Worst Tyrants Wants Forgiveness. American Federation of Teachers President Randi Weingarten is calling on Americans to grant amnesty to COVID tyrants. [Tweet] Given Weingarten was one of the worst offenders during the pandemic, driving parents and teachers away from public schools in droves, it's no wonder she's asking everyone to simply forget about it. She's a main reason student test scores are in the toilet and why kids across the country have been set back for years after AFT lobbied the CDC to keep schools closed. Not to mention the billions Weingarten extorted from American taxpayers.
Randi Weingarten stunningly admits teachers are 'social justice warriors'. A narrative shift has been underway when it comes to the politically charged agenda of activists in education and, on Thursday, teachers union boss Randi Weingarten appeared to close the loop on the denial of woke curriculum with an outright admission of teachers becoming "social justice warriors." [Video clip] Weingarten, president of the nation's second-largest teachers union, the American Federation of Teachers (AFT), was joined by Education Secretary Miguel Cardona and Health and Human Service Secretary Xavier Becerra among others as they participated in a back-to-school town hall. Hosted in collaboration with the White House and the National Education Association, the largest teachers union, Weingarten lashed out at politicians as she reacted to the reported issue of a teacher shortage at the beginning of the new school year.
Teachers Leave National Education Association, Say Union Pushes Politics With Member Dues. Imagine part of your paycheck is removed each month and sent to a rich, powerful nonprofit that advances culture-changing causes in conflict with your values, such as anti-gun legislation, promoting racism, and teaching children to how to alter their gender. That is the reality for many teachers union members. Some Pennsylvania State Education Association (PSEA) members were troubled in 2021 when the union presented a 10-hour workshop, "Nice White Parents: A Look at How Parent Groups Have Systemically Impacted the Education System." A workshop flyer promised to discuss the "key driver blocking educational integration and equity: the actions of white families."
Arizona Teachers' Union Push to Overturn School-Choice Expansion Fails. The teachers' union-backed campaign to overturn school-choice expansion in Arizona has failed due to a shortfall in signatures, the state's secretary of state announced Thursday. Under the expansion of Arizona's universal-voucher program, known as the Empowerment Scholarship Account (ESA), enacted in June, over one million K-12 public school students in the state will become eligible to receive vouchers to fund their attendance at private, charter, or home schools, up from the 11,000 students who are currently eligible. To subject the expansion to a referendum, the anti-school-choice advocacy group Save Our Schools Arizona had to collect 118,823 valid signatures. After completing the statutorily prescribed review of petition sheets and signatures enclosed in them, Secretary Katie Hobbs and her office determined that the initiative does not "meet the constitutional minimum" and therefore "will not qualify for the 2024 General Election Ballot."
Randi Weingarten attacks Gov. DeSantis for politicizing education. I think most readers are probably aware of who Randi Weingarten is but for those who aren't she's the leader of the American Federation of Teachers, the second largest teacher's union in the country. She's also constantly engaged in politics.
The 'Big Guy' Resurrects Big Brother NewSpeak. According to Democrat NewSpeak, racism goes in only one direction: Whites are racist, but Blacks or Browns are not. Such illogic ignores the BLM riots during Summer 2020 and the "White oppression" taught to school children, medical students, and the military through mandatory critical race theory indoctrination. It ignores a Minnesota teachers' union contract that favors "people of color" over White teachers when layoffs become necessary.
How AEA-parent organization NEA gained political clout to promote radical ideologies in American public education. Teachers' unions have long been controversial in the United States, especially now, as polarizing discussions about public education in America are front and center. The most prominent teachers' union in the United States is the National Education Association (NEA). By extension, the NEA has affiliates throughout the country. In Alabama, it is known as the Alabama Education Association (AEA), which has been operating in the state for over 165 years but has only existed in its current form since 1969. Paul Hubbert, head of the then-all-white Alabama Education Association, and Joe Reed, head of the all-black Alabama State Teachers Association, merged to create the modern AEA that has been a fixture in Alabama politics ever since.
How Can Teachers Expect to Regain Support from Parents? The politicization of the education system has destroyed parent-teacher relations. Instead of encouraging healthy communication among parents, teachers, and administrators, public school officials have continued undermining parental rights and implementing their own political ideologies into coursework. Teachers unions work to vilify concerned parents and label them as "extremists" for showing up and trying to be involved in their children's educational process. Sixty-eight percent of parents surveyed by The Learning Heroes expressed concerns about politicians making curriculum decisions. Eighty-two percent of parents recently admitted in a Harris Poll that they are willing to change their political affiliation over educational policies. Trust in the public education system has dropped to a second all-time low, and conservative and moderate teachers recognize this. They are leaving left-leaning in favor of private schools, microschools, and homeschooling options. I have been homeschooling my children for over 10 years now.
California teachers union caught 'monitoring' parents who advocated school reopening. California's statewide teachers union undermined White House talking points that redirect blame to Republicans for COVID-19 school closures that erased two decades of progress on math and reading scores and worsened racial learning gaps. Public records posted by grassroots group Reopen California Schools show the California Teachers Association (CTA) launched a research effort in spring 2021, in coordination with allied parents, to sniff out the "ideological leaning" of funding sources for the Parent Association, which had sued to reopen schools that February. Reopen California Schools dubbed the effort "opposition research" in a tweet thread Monday documenting the discussions initiated by CTA Strategic Research Specialist Ann Swinburn, who first protected and then deleted her Twitter account following the publicity.
Assistant Principal Placed on Leave, AG Probes; Teachers Union Tells Teachers to Hush up, Look Away. Just one day following a Project Veritas video that went viral exposing illegal and discriminatory hiring practices at a Connecticut school, the school district and local community have taken action. Jeremy Boland, assistant principal at Cos Cob Elementary School of Greenwich, was put on administrative leave Wednesday after investigative journalist James O'Keefe and his nonprofit group published evidence that Boland intended to politically indoctrinate students by engaging in illegal hiring practices and supporting "subconscious" manipulations by educators. The undercover videos reveal that Boland specifically would seek to discover a job applicant's political or religious affiliations during the hiring process to weed out Catholics and conservatives. He also admitted to having a disregard for parental roles in education and in "shaping" their children. Boland also said he would not offer interviews to older candidates because they were more likely to be conservative.
Test scores show how teacher's union head Randi Weingarten damaged an entire generation of kids. In a surprise to nearly no one, children's reading and math scores have plummeted. National Assessment of Educational Progress, nicknamed "the nation's report card," results show the first-ever drop in math and the largest drop in reading in more than 30 years. Black children had an even bigger collapse in scores. Decades of educational progress undone. Poof. Horrific. Stupid. Unnecessary. We know the school closures did this. It wasn't the COVID virus. It was the hyper-political reaction, from the left, on reopening schools during the pandemic. The orders came from the top. The Centers for Disease Control and Prevention issued the directives. Kids had to be kept six feet apart in classrooms. Why? To this day, no one knows. It made no sense when implemented, since we knew the COVID virus was airborne, and it made even less sense when it arbitrarily switched it to three feet later in the 2021 school year. Anthony Fauci, director of the National Institute of Allergy and Infectious Diseases, kept flipping back and forth on school opening before finally settling on the nakedly partisan position of arguing that President Biden's spending plan must pass before schools could open. This was in February 2021, when schools around the country in places that didn't live or die by his whims had been open for months.
The Shortage Is Not Just For The Reasons Said. I have two good friends who are honored educators, both at the secondary level. One in New Orleans and the other in Kansas City. Helping a young person grow under their tutelage was all they ever wanted to do. But now, like many others of their profession, they have chosen not to return to teach this year. And not just because of reasons the media have you believe is causing a shortage. Both teachers have concerns about the present nature of the education system, the dumbing down of curriculum, a union that is nothing now but an extortion racket and a money bag for the democrat party. Not to mention the exorbitant funding of councilors for the easily triggered snowflakes and the teenage gender confused and those with trendy queer allusions, all at the expense of the needs of teachers. But both firmly agreed the one real pressing reason they and others nation wide are leaving the profession early can't be solved in today's academic atmosphere.
If I were trying to destroy America... I would give teachers' unions unprecedented power. I would allow basic academics to be superseded by woke theology and social justice mandates. I would also eliminate school choice and make it as difficult as possible for parents to educate their children outside the government-run school system. This would produce a nation of surly Bolsheviks who are unable to do simple math, write a coherent paragraph, or read at grade level. But they will be able to protest and burn down entire swaths of once great cities.
Minnesota teachers unions defend "fire whites first" policy. Back in March, an ongoing strike by teachers in the Minneapolis school district was settled and one of the concessions made to the union was new language in their contract. The new provision ensured that merit, performance and seniority would take a back seat to race when layoffs are required. Teachers of color would be exempt from layoffs if there were any white teachers available to be eliminated. The resultant uproar drew attention around the nation. Former Wisconsin Governor Scott Walker weighed in, saying that this was another example of why "government unions should be eliminated." But the unions are firing back this week, describing the complaints as a "right wing" plot against the unions. They offer a couple of different reasons why this blatantly racist policy should be seen as no big deal and how it's actually intended to combat racism.
Teachers Union Runs Ad Calling Conservative Parents 'Extremists'. The New Jersey chapter of the nation's largest teachers union, the National Education Association (NEA), published an ad labeling parents who speak out at school board meetings against Critical Race Theory (CRT) and gender identity lessons as "extremists." The New Jersey National Education Association (NJEA) published a 15 second commercial discussing how New Jersey citizens should agree that students deserve "a world class education" that should be separate from politics, according to an Aug. 15 video. However, the video cuts to black and white photos of people yelling in crowded meetings with headlines of articles describing parent protests at school board meetings over CRT and gender ideology, with a narrator calling the parents "extremist." "When extremists start attacking our schools, that's not who we are," the video said. "People who only want to fight to score political points should take that somewhere else."
Teachers Union Officials 'Extremely Proud' About Agreement to Layoff White Teachers First. Following a decision by the Minnesota Public Schools, a new policy has been enacted that will lay off white teachers first — if the district needs to downsize, white teachers will be fired first. [...] Despite the backlash this blatantly racist policy has received, it was recently defended by the president and vice president of the Minneapolis Federation of Teachers.
Minneapolis teachers' union negotiates clause requiring white educators to be laid off first regardless of seniority. A new contract between public schools and the teachers' union in the city of Minneapolis is causing outrage because it may see white teachers laid off at the expense of teachers of color. The stipulation is part of a new agreement starting in spring 2023 between the Minneapolis Federation of Teachers and Minneapolis Public Schools ending a two-week long teachers' strike. Part of the agreement was an attempt to re-format how the school district hires and keeps teachers of color.
Minneapolis teachers union contract calls for layoffs of white teachers first. A Minneapolis teachers union contract stipulates that white teachers will be laid off or reassigned before "educators of color" in the event Minneapolis Public Schools (MPS) needs to reduce staff. After the Minneapolis Federation of Teachers (MFT) and MPS struck a deal on March 25 to end a 14-day teacher strike, the two sides drew up and ratified a new collective bargaining agreement complete with various proposals. One of the proposals dealt with "educators of color protections." The agreement states that if a non-white teacher is subject to excess, MPS must excess a white teacher with the "next least" seniority.
Major Teachers' Union Supports Keeping Students Sexual Secrets from Parents. The American Federation of Teachers (AFT), the largest teachers' union in the country, demonstrated its support for teachers maintaining a level of secrecy around students' sexual behavior, such as their so-called "gender identity," even if it includes going so far as keeping such information from their parents. According to Fox News, AFT's website features a "Share My Lesson" presentation which includes a series of cards that teachers can use in the classroom, categorized as being for "all" grades. "Something as simple as a Student Introduction Card could make a student feel seen and affirmed," the website post reads. The lesson was created by the AFT's Vision and Mission of the Identity Affirming Classroom Team. The cards feature a number of questions that teachers can ask the students about themselves, including their preferred pronouns, and whether or not they want their parents to know about their different pronouns.
Preferred Pronouns and More: What I Saw at Teachers Union Convention. As a teacher, I attended the National Education Association convention last week, and my worst fears were confirmed. Public schools are no longer a safe place for families who hold traditional values or for families who believe gender (as in male/female binary) is biologically determined. It was also evident that the teachers union is a lobbying arm of the Democratic Party. The NEA seems to think there are many gender options, and that's why teachers and students must always address themselves with their "preferred" pronouns. It thinks this pronoun practice is essential and will create a more inclusive society. That was demonstrated firsthand when each state delegate who spoke during the three-day convention July 4 to 6 was encouraged to state his or her name and "preferred" pronouns before addressing the assembly. Pronouns I heard were he, she, they — and hex. One delegate even announced "they" had a uterus before addressing the assembly, apparently because that was something we all needed to know.
Report: At Least 181 K-12 Educators [were] Arrested on Child-Related Sex Crimes in [the] First Half of 2022. A Fox News Digital analysis of child sex crime data in school districts around the nation has found a minimum of 181 K-12 educators have been arrested on child-related sex crimes in the first half of 2022. Among those educators arrested were four principals, 153 teachers, 12 substitute teachers, and 12 teachers' aides. The crimes ranged from child pornography to rape of students. "Arrests that weren't publicized were not counted in the analysis, meaning the true number may well be higher," Fox News Digital reported. According to the analysis, at least 77 percent, or 140 of the arrests, constituted alleged crimes against students.
Sen. Marsha Blackburn Demands Answers on NEA's $140k 'Enemies List'. Senator Marsha Blackburn (R-TN), joined by Senators Lumis, Daines, and Lankford, demanded answers on the National Education Association's (NEA) plans to spend $140,000 to make an "enemies list" in a letter obtained exclusively by Breitbart News. Addressed to NEA President Becky Pringle, the letter from the coalition of Republican Senators explains a measure was passed at the NEA 2022 Representative Assembly that would allow the organization to "spend $140,000 to create an 'enemies list.'
In Ohio, Janus is More Relevant Than Ever. An analysis of the 2020-2021 school year, for example, showed a sharp decrease in membership for teachers' unions across the country, including Ohio. In the study, the Ohio affiliate of the National Education Association (NEA) suffered a decrease of 1.5 percent of its members, while the Ohio Federation of Teachers lost a whopping 7.5 percent. And nationally, both the National Education Association (NEA) and Weingarten's AFT saw a 2 percent drop in their membership — the equivalent of losing the entire working membership of union affiliates in Los Angeles, Chicago, Miami and Philadelphia combined in a single year. What could possibly make teachers across the country want to leave their unions in droves? Could it be because during the 2019-2020 school year, the Ohio Education Association brought in $56,222,200 in union dues, but only spent $15,148,369 on representational activities? How else did the OEA spend its members' hard-earned dollars? Well, OEA spent $3,132,614 on political activities and lobbying and $1,614,734 in contributions, gifts and grants. OEA also paid its executive director Sheryl Mathis more than $200,000, president Scott Dimauro more than $195,000, vice-president Jeffrey Wensing more than $93,000, and treasurer Mark Hill more than $169,000.
The Shameful Six: Never listen to these people again. [#4] Randi Weingarten, head of the United Federation of Teachers, spread disinformation to defend terrible COVID policies that pandered to her members' fears, doing incalculable damage. She insisted, against all common sense, that "kids are resilient," so the school closures and remote learning she argued for (with zero scientific basis) would do students no lasting harm. Hah! Those policies proved utter disasters for kids, inflicting years of learning loss, harming especially black and Hispanic students. These young Americans will suffer for Randi's evil counsel for the rest of their lives.
National School Boards Association Admits to Colluding with Biden Administration on 'Domestic Terrorism' Letter. The National School Boards Association (NSBA) admitted Friday [5/20/2022] to colluding with senior White House officials to develop a letter asking the federal government to investigate concerned parents speaking at school board meetings as "domestic terrorists." The admission comes after an internal review, which was prompted by significant backlash to the letter that led Attorney General Merrick Garland to sic the FBI on parents and use "counterterrorism tools" to investigate them.
Learning loss is real, and teachers unions owe an explanation. No parent needs to be told that remote learning during COVID was a disaster. But a new study confirms it. Its findings cry out to heaven for accountability among those who brought this disaster upon their own school districts by ignoring science and keeping school buildings closed long after there was any justification. Harvard researchers found that students in schools that stayed remote into 2020 lost the equivalent of half a school year of learning over the two-year window beginning in the fall 2019 academic year. There was a significant difference between the students who went back to in-person learning after the initial jitters over COVID and the ones who did not. Students who returned to in-person schooling in fall 2020 lost only 20% of a school year.
AFT head Randi Weingarten claims unions worked to reopen schools. The head of the nation's second-largest teachers union, Randi Weingarten, raised eyebrows Tuesday for claiming that the union had worked hard to reopen schools during the pandemic. Weingarten's statement was part of a press release by the American Federation of Teachers commemorating Teacher Appreciation Week. The union famously opposed efforts to reopen schools and pressed the Centers for Disease Control and Prevention to change its guidelines on school reopenings to allow for more districts to stay closed.
The Media Doesn't Want To Talk About Why These Educators Featured On 'Libs Of Tik Tok' Got Booted From The Classroom. Legacy media outlets were quick to condone the exposure of the woman behind "Libs of Tik Tok." What they didn't mention was exactly what the educators, who got fired after the account posted their videos, were saying to children in their classrooms. The Washington Post's Taylor Lorenz revealed the identity of the individual behind the "Libs of Tik Tok" account in an article published Tuesday. The article accuses "Libs of Tik Tok" of spreading "anti-LGBTQ+ sentiment" by causing teachers to lose their jobs over their own social media posts, although the article omits mention of the exact quotes that got the teachers fired. Media outlets, like Rolling Stone and The Advocate, expressed support for revealing the identity behind "Libs of Tik Tok," but similarly do not mention the quotes in question. The reality these media companies chose to hide was that the educators were dismissed, reassigned or forced to resign for everything from blaming kids for getting molested to suggesting people who didn't get the vaccine should be slaughtered.
Media that gleefully pilloried the Catholic Church over pedophilia charges averts their eyes over much larger school teacher pedophilia problem. Imagine if 7 separate charges of pedophilia against Catholic priests had surfaced in one day. The progressive media would have blared the total on front pages and in newscasts all day long. But yesterday, 7 separate cases of accused pedophile teachers came to light, and it took astute blogger (and veteran newspaperman) Don Surber to put together the story of the crime wave. [...] I am not complaining that the Catholic Church's problems should have been ignored by the media. The institutional failure of the Church to confront its pedophile priests caused great suffering among innocent children. But that suffering and institutional failure apparently is dwarfed by the magnitude of the pedophilia and grooming problem (they are closely related) in government schools. In both institutions, people entrusted with leadership responsibilities failed their young charges, and used them for their own perverse sexual gratification.
7 pedo teachers in 1 day. [Scroll down] Of course not all teachers are pedos. Not all coaches are. Not all priests are. But let us get real. Just as Willie Sutton hung around banks because that is where the money is, pedos flock to these occupations. We would be foolish not to protect our children from these predators who seek the most vulnerable children they can find. Florida's Parental Right in Education law protects prepubescent children from groomers. Their targets are not all the children. A lion never attacks the whole herd. No, pedos seek the weakest ones. The people who oppose the new law aid and abet these crimes. They don't want to be called groomers. That's an easy title to lose. Stop grooming and stop enabling groomers.
English Teachers' Org. Suggests an End to Reading and Writing. The National Council of Teachers of English published a statement explaining they believe it is time to "decenter" reading and writing, the Daily Wire reported. Now, instead of studying literature and learning to write essays, English classes will focus on "digital media and popular culture." "Students should examine how digital media and popular culture are completely intermingled with language, literature and writing," the statement read. "The time has come to decenter book reading and essay writing as the pinnacles of English language arts education." The statement also asserted that this is a necessary position to "address inequalities" regarding digital technology.
The Editor says...
Apparently the classrooms will be dumbed down to the level of the most poorly-epuipped and least intelligent students, in the interest of fairness and equal outcomes.
I Asked What My Daughter Would Learn in Kindergarten. Then the Teachers Union Sued Me. I'm just like any parent — when I enrolled my daughter in kindergarten, I wanted to know what she would learn. In response, our school district bullied, harassed, defamed, evaded, and stonewalled me. Then the teachers union sued me. I left public school because I no longer felt safe but I'm still taking action to get answers. Kindergarten is a precious milestone. Our babies are not babies anymore: They go to school for full days. Parents want to know their children are safe at school, and they want to feel confident that their children are receiving a quality education. I knew many public schools across the country have been politicizing lessons, so I called my principal in the South Kingstown School District in Rhode Island to ask if they teach concepts of Critical Race Theory or gender theory. That question and the events that followed changed my life.
Is Teachers Union Head Randi Weingarten Trying to Protect TikTok? A story broke Wednesday in The Washington Post that Meta, Facebook's parent company, paid the GOP-aligned public relations firm Targeted Victory to "malign" TikTok. There are, of course, different opinions about the ethics of, as The Post writes, "placing op-eds and letters to the editor in major regional news outlets, promoting dubious stories about alleged TikTok trends that actually originated on Facebook, and pushing to draw political reporters and local politicians into helping take down its biggest competitor."
Republicans release report claiming teachers unions Wrote part of the Biden administration's guidance on reopening schools. Republicans released a report Wednesday [3/30/2022] exposing an unusually 'cozy' relationship between teachers unions and the Biden administration's COVID-19 leaders and the CDC regarding the reopening of schools during the pandemic. An interim report from Republicans on the House Select Subcommittee on the Coronavirus Crisis shows emails between the American Federation of Teachers (AFT), the White House and the Centers for Disease Control and Prevention (CDC). 'Millions of Americans are still outraged at what these Washington Democrats put their children through, and all because union bosses demanded they keep schools closed longer,' said Representatives Steve Scalise, Ranking Member of the Coronavirus Committee, and James Comer, who's on the Committee on Education and Labor, in a statement to Fox News.
Schools primed for 'militant teacher strikes' over post-COVID pay, benefits and respect. In January, Minneapolis Public Schools students stayed home for two weeks as the omicron COVID-19 variant surged and schools shuttered. This month, schools have closed for another two weeks — and counting — because of a teacher strike. Classes will remain canceled Tuesday, the district said Monday night. Since March 8, Minneapolis teachers have been picketing for better pay and benefits, smaller classes and more student mental health services. They're not alone. From Minnesota to Illinois to California, teachers unions are actively on strike or preparing to have members walk off the job over many of the same demands.
UTLA and SEIU Local 99 Grifters Will Not Go Quietly on Dropping Mask Mandates for LAUSD. After Governor Gavin Newsom lifted his hand on February 15 to ease the indoor mask mandates for unvaccinated individuals — but not for the schools, students and parents continued to hammer him on this selective easing and his continued insistence on maintaining his emergency powers, which allow him to keep these COVID mandates in place. Hair Gel claimed he would revisit the student mask mandates on March 11, but certain California county school districts had had enough of his Hairfulness' version of selective science. They independently reviewed the actual science, and their insurance carrier's policies, and proceeded to bypass Newsom to institute their own mask-optional policies before March 11. So, Newsom lifted his hand again and decided that mask mandates in schools were to end after March 11 after all. Amazing how that works.
LAUSD Gender Bias Contractor Embellishes Training With Materials That Encourage Hostile Work Environments for Teachers. RedState recently ran across this training course that teachers in the Los Angeles Unified School District are being put through that seems to encourage teachers to challenge other teachers in their work environments to push what seems to be a more militant form of agenda than the actual LAUSD policy has codified. This particular course is called "Identity Working Terms", a contracted course purchased by LAUSD from the California Conference for Equality and Justice, a 501(c3) non-profit activist organization. The course claims authority to train teachers to comply with a formal policy by the LAUSD known as Bulletin 6224 "Gender Identity and Students — Ensuring Equity and Nondiscrimination". [...] But if you look at the CCEJ course material itself, what stands out is not the official policies of the bulletin but added material that focuses on teachers confronting each other.
How Low Can the Teachers' Unions Sink? Education Minnesota, the NEA branch that runs Minnesota's public schools, has been making war on the state's children for the last two years. In 2020 the teachers' union demanded that the schools be shut down, and in a Democratic administration, what the union demands, it gets. The result, when test results came in at the end of the 2021 school year, was a catastrophic collapse in student performance. That was bad enough. But, now that the schools are finally back in session, the Minneapolis union still doesn't want to work. It has gone on strike, shutting down the schools once again. The context for the strike is grim: Minneapolis's public schools are almost unbelievably bad, despite spending enormous amounts of money. Why is the teachers' union striking, apart from sheer malice directed against our children? For more money, of course.
Minneapolis Educators Strike For Higher Pay, Better Conditions For Students. Minneapolis public school educators are officially on strike as of Tuesday morning [3/8/2022]. The Minneapolis Federation of Teachers and Education Support Professionals announced the strike early Monday evening. The union and school district failed to come to an agreement during the 10-day cooling period following a strike authorization vote late last month.
Mother, 32, who became face of Chicago Teachers Union's push to keep schools closed drank herself to death, medical examiner reveals. A Chicago mother who the teachers' union claimed died when a COVID-positive student was sent home to quarantine as they rallied for more COVID protocols actually died of alcoholism, it emerged on Monday [3/7/2022]. Denisha Henry, the 32-year-old mother of an eighth-grade student at Jensen Elementary Scholastic Academy in the East Garfield Park district of Chicago, died on September 24. The day before, Shenitha Curry, 44, had died of pneumonia from COVID, with diabetes and hypertension as contributing factors. She was not vaccinated. Soon after, the Chicago Teachers' Union claimed at a rally that both mothers caught COVID from a child at the school, where 11 out of 17 classrooms were in quarantine.
Seattle teachers union demands that children be forced to wear masks in school until May. Despite an order from the Washington state governor lifting mask requirements, Seattle school kids may still have to wear face coverings until spring because the teachers union says they 'bring normalcy' to the classroom. 'Future decisions on mask use within the district will be made in partnership with public health, and its implementation will be established after consultation and mutually agreed upon guidelines that are reached through bargaining with our labor partners,' according to a statement from the Seattle Public Schools. Schools around the U.S. will soon be lifting their masks as governors and mayors ease restrictions as infection rates fall, with some notable exceptions.
Educators, schools, families prepare for possible teacher strike. Parents in Minneapolis and St. Paul are closely following negotiations between each city's school districts and their teacher unions as a potential strike approaches. If there is no deal reached, educators are set to go on strike Tuesday [3/87/2022]. Minneapolis school district educators and the community have crafted 4,000 picket signs so they're ready to go if that happens. The Minneapolis Federation of Teachers is fighting for higher wages, smaller class sizes and more mental health resources available in schools. "We know that the time is now and the status quo is unacceptable and we're willing to do whatever takes to get the safe and stable schools that our students, families and educators need," Natasha Docktor, Minneapolis Federation of Teachers representative, said.
Texas Middle School Teacher Caught Saying 'Those Conservative Christians Need to Get COVID and Die'. A Colleyville Middle School teacher identified by school parents [...] was captured on camera saying that political opposition to the COVID vaccine prolonged the pandemic and added "those conservative Christians ... they need to die ... they need to get COVID and die." The video was provided by a family of the school who asked to not be identified at this time. [Video clip]
Hidden Footage Shows Angry Texas Teacher Saying Conservative Christians 'Need to Get COVID and Die'. Over the past couple of years, many public educators have been exposed repeatedly to be the last people you want to entrust your child to. Be they the type trying to push their politics on your child, expose them to radicalized ideologies, convince them to embrace mental illnesses, or even attempt to introduce pedophilia into their thinking, public school has become one of the hottest political battlegrounds. The hard leftist teachers in Texas, especially, are having a very rough time as the state continues to crack down on radical social conditioning and forbid schools from implementing unnecessary COVID rules. One teacher at Colleyville Middle School seems to be so upset by the state cracking down on overboard (and ultimately harmful) COVID precautions that she wished death on her political opposites.
Gov. Newsom announces no change to school masking policy because unions said no. Last Wednesday, Gov. Gavin Newsom said changes to the state's school mask mandate would be coming soon. The state's indoor mask mandate for the vaccinated ends Tuesday and the expectation reported at several news sites was that a change to the school policy would be announced today. But today [2/14/2022] came and instead of announcing a change, Newsome sent California's HHS Secretary out to issue a two week delay: [...] So why the change? There's really no doubt about that. California's teacher's unions demanded more time and as always they got what they wanted.
A Colorado school district was forced to cancel classes after teachers called out sick to protest the new conservative school board. A Colorado school district was forced to cancel classes on Thursday after teachers called out sick to protest decisions made by the district's conservative-majority school board. The Douglas County School District said on its website that a "large number" of staff submitted absences for Thursday and all classes across the district's schools were canceled. "We have reached the point where the number of absences has impacted our ability to provide a safe and supervised learning environment for students," the alert said.
A media bias generator disguised as a "misinformation" filter:
Teachers union partners with news-rating service NewsGuard. The American Federation of Teachers wants its educators to play a bigger role in sorting fact from fiction in the news that students see online. The union on Tuesday said it is partnering with NewsGuard, a digital tool ranking news sources, to make its ratings widely available to AFT's 1.7 million members and the tens of millions of students they serve. Through a new licensing agreement with NewsGuard, schoolteachers will have free access to its "traffic light" news ratings and "Nutrition Label" reviews. AFT president Randi Weingarten said the effort is part of its work focused on middle school, high school and post-secondary students.
America's kids get an internet librarian. Kids increasingly turn to the internet when looking for homework help or doing research for school projects. But unlike books in a library or articles in a journal, online resources can be difficult to filter for quality and misinformation. The AFT teachers union is buying NewsGuard licenses for its 1.7 million teachers, who will then be able to share it with tens of millions of students around the country.
Teachers' Union Taps Liberal Watchdog To Help Students Identify Misinformation. Tens of millions of American school children will soon rely on a liberal media watchdog group to determine what counts as misinformation. The American Federation of Teachers this week struck a deal to license NewsGuard web browser extensions to its 1.7 million union members. Students across the country will soon rely on NewsGuard's tools to determine the reliability of hundreds of websites. [...] But while NewsGuard claims to be nonpartisan, one analysis of its rating system found it skews heavily in favor of liberal outlets. The Media Research Center found NewsGuard rates liberal sites 27 points higher in terms of trustworthiness than conservative outlets. Nine out of the 10 websites on NewsGuard's misinformation list are conservative or pro-life websites.
The Top 10 COVID Villains of 2021. [#9] Randi Weingarten. The Jimmy Hoffa of "educators," Weingarten is president of the American Federation of Teachers, the most powerful teachers' union in the United States. More than any other single individual, Weingarten spearheaded the prolonged and utterly unnecessary school closures that shattered the lives of millions of children throughout the COVID-19 era. Now she attempts to gaslight the public about her central role in that titanic injustice, while still pushing for school closures during omicron. That's the kind of feral, black-hearted goblin that makes Grendel's mother look like Donna Reed.
Chicago Teachers Union Accepts Deal to Return Students to Classrooms. The Chicago Teachers Union accepted a deal to continue in-person learning at city schools, following a five-day teacher walkout protesting the district's Covid policies. The deal passed with support of 56 percent of union members in favor, in an unusually close vote for the organization, according to the Chicago Sun-Times. Students had already returned to school buildings on Wednesday, after Chicago mayor Lori Lightfoot announced the tentative deal to reopen schools on Monday. Under the terms of the deal, Chicago Public Schools and the union agreed to close school buildings if at least 30 percent of teachers in a given building are absent for over two days because of quarantine or positive Covid diagnoses, the Sun-Times reported. Schools will also close if 40 percent or more of the student body is in quarantine for Covid-related reasons.
Save the Children, Fire the Teachers Unions. It started in Chicago, where an incredible 91% of union teachers voted to go on strike and refused to do what they get paid to do, which is teach. Then the union walkouts spread to Maryland, New Jersey and California. Chicago Mayor Lori Lightfoot, a liberal Democrat, has attacked the Chicago teachers unions for "holding kids hostage." She is right. Why doesn't she call a state of emergency and disband the union to save the children from the union terrorists? Or tear up the contract because the unions have violated it? If she did, she would be a hero. President Joe Biden keeps talking about how much he and his fellow Democrats in Washington care about "the children." Uh-huh. He has correctly stated that there is no health reason for closing schools. But in this latest episode of union child abuse waged against our school-age children, he does nothing. Maybe that is because more than 90% of the tens of millions of campaign dollars donated by the teacher unions go to Democrats.
Chicago teachers go door to door to sign families up for COVID testing while students are shut out of classrooms. Chicago teachers are participating in an illegal strike, according to Mayor Lori Lightfoot. With free time on their hands, some teachers are walking door to door signing families up for COVID-19 testing. Apparently, it is safe to expose themselves to random adults but not to do their jobs in classrooms with children. 2022 is starting off as poorly as 2021 ended. Randi Weingarten, president of the American Federation of Teachers (AFT), tweet-bragged on the teachers. Newsweek described it as teachers spreading "education to families by educating parents on COVID-19." Chicago educators gotta educate, I guess, just not in their classrooms doing their actual jobs. What heroes.
Chicago Teachers Union delegate vows to 'report' members who show up for work. A Chicago Teachers Union delegate has vowed to "report" union employees who show up to work at their school. Alex Forgue, a physics teacher at the Chicago Military Academy at Bronzeville, commented on a post inside a "CTU Members Only Facebook Group," stating that he would be reporting members who go into work. "As a delegate, I will be reporting the names of members who go in," he commented on a post asking members if the Chicago Teachers Union is posting a "scab" list.
Unions shut record 4,783 schools across US this week despite assurances classrooms are safe. Hundreds of thousands of students were forced to return to remote learning on Thursday, as unions shut 4,783 schools — a record for the past year — and some states and cities took drastic measures to keep their children in education. Of the 98,000 schools in the U.S., 4,783 were not offering in-person learning on one or more days during the week beginning January 2, according to the Burbio tracker. The number includes 653 Chicago schools that canceled classes on Thursday after 73 percent of Chicago Teachers' Union members voted to suspend in-person teaching — to the fury of the mayor, Lori Lightfoot.
Chicago Mayor Lori Lightfoot Calls Out Teachers' Union Over Latest Stunt. Teachers' unions have consistently put the needs of America's children last since the beginning of the pandemic, and even Democratic Chicago Mayor Lori Lightfoot is getting sick of their nonsense. In Chicago, a vote among members of the teachers' union on Tuesday showed staunch support for remote learning amid record coronavirus case numbers, but Chicago Public Schools decided to cancel classes outright for Wednesday and Thursday to fight back. As for Friday [1/7/2022], some schools have already decided to cancel, and a district-wide announcement is expected Thursday night. The district's administration referred to the union's stunt as an "illegal work stoppage."
As omicron surges, unions prioritize teachers over students, again. Just over two weeks ago, American Federation of Teachers President Randi Weingarten was given a glowing profile in the New York Times, one that tried to recast her as a "fighter" for keeping schools open, not an enforcer for teacher union demands to shut down in-person learning. This Sunday, however, Weingarten was on Twitter justifying teacher demands to "temporarily" return to remote instruction while omicron surges. Students in major school districts in Illinois, Maryland, New York, New Jersey, and Wisconsin will all begin at least one week of online learning this week, a situation that we all know from previous waves of COVID can easily be extended.
Chicago Public Schools Close as Teachers' Union Votes to Strike against In-Person Teaching. Chicago Public Schools will cancel in-person classes Wednesday after the Chicago Teachers' Union voted Tuesday to strike against in-person schooling and conduct remote instruction until the Omicron spike subsides. With 73 percent in favor, the union's 22,000 members voted to take a "remote work action" starting Wednesday [1/5/2021]. General membership was asked to make a final decision on the proposal after the House of Delegates, CTU's governing body, voted 555 [to] 77, with 88 percent in favor, to advance the item earlier Tuesday. The suspension of in-person teaching could continue until January 18 or until the virus-infection rate in the district hits below the threshold set last year.
The Chicago Teachers Union. Reason is no longer a viable tactic against the union cabal. It's time for some brutal honesty, and honestly speaking, the Chicago Teachers Union is nothing more than the mafia dressed up as an advocacy group. The difference is that the traditional mafia didn't take hits out on children; that was the one group of people that were off limits, because even the traditional mafia has some type of principle. The teachers unions are completely devoid of principles at this point. They are willing to take out an entire generation just to satisfy their own greed. These criminals voted in the dead of night — on a school night — to cancel classes... immediately. Unsuspecting parents woke up to the news that there would be no school for their children on Wednesday. Talk about a punch to the gut.
340,000 students left in limbo after teachers union votes to not show up for classes. The Chicago teachers union on Tuesday [1/4/2022] voted that it would not enter school for in-person classes, leading the city's public schools to cancel all classes on Wednesday. The union said that amid a surge in COVID-19 cases, existing mitigation measures were not sufficient to protect the health and safety of the teachers, a contention that the school district has rejected, according to the Chicago Tribune. The district's 340,658 students had returned Monday from their Christmas vacation.
National Educators United demands two week pause in school re-opening. National Educators United, a teachers' advocacy group, calls itself an ally of national teachers' unions such as the American Federation of Teachers and the National Education Association. As school systems across the country struggle with reopening after the Christmas break, this group advocates for going backward, not forward. It is demanding a two-week pause in reopening due to the spread of the Omicron variant. We know that both the American Federation of Teachers and the National Education Association had a strong influence over CDC guidance on school closures. Mitigation measures were put in place in classrooms to minimize the potential for exposure to the virus and children have consistently been shown to be in the low-risk category for coronavirus. Teachers were given priority when COVID-19 vaccinations became available, going to the front of the line with others considered essential workers. Now National Educators United (NEU) wants to inject itself into decisions being made for students heading back to classes in January.
Marxist Public Teachers Group Wants to Lock Down Schools Again. The National Educators United group, the epicenter of the indoctrination machine, wants to lock-out school students again because they are worried about Omicron. The "teachers" are organizing their Marxist tribe to send protest petitions to various education officials in an effort to avoid returning to school after the holiday break.
Error-riddled letter from Virginia teachers union about lack of COVID testing in school district is mocked as parent spots roughly 20 blunders in just five paragraphs. An error-filled letter from a Virginia teachers union president calling for increased protections against the coronavirus was mocked relentlessly on Twitter after an appalled parent took a correction pen to the piece and posted the revised version online. 'Hey @VEA4Kids, are you going to send out more of these grammar worksheets over break?' parent Ellen Gallery wrote Thursday morning, in a post that featured the heavily marked-up document sent by Arlington Education Association President Ingrid Grant. 'My kids and I had a great time spotting errors! Did we find them all?' the mom quipped.
Error-riddled Virginia teachers union letter gets roasted on social media. An error-laden letter from a Virginia teachers union calling for more protections against the coronavirus has gone viral on Twitter. Startled by a slew of linguistic gaffes, an Arlington parent took a correction pen to the piece and posted the aftermath online. "Hey @VEA4Kids, are you going to send out more of these grammar worksheets over break?" the poster quipped derisively. "My kids and I had a great time spotting errors! Did we find them all?" Despite the letter only consisting of five paragraphs, the Twitter teacher spotted roughly 20 blunders and highlighted them in green pen.
Educational freedom is expanding, and the teachers unions brought it on themselves. COVID-19 has revealed many flaws in our society. Among the most important has been the pernicious influence of the teacher union leadership in the world of government-operated K-12 public schools. It's not a pretty picture. The egregious actions of teachers unions during the pandemic have backfired. And parents across the country have counterpunched, leading to greater educational opportunities for children that reach beyond the government school system. The pandemic exposed what education reformers have known and experienced for decades: the teacher unions have a self-serving command over K-12 education that puts them first and always, not children. This control stems from the political power of the unions over elected officials, who determine education policy and funding.
It's Time to Abolish the Teachers Unions. In the private sector, if a business is forced to pay its workers more money, those costs are passed on to the consumer. If the cost of a product is raised too high, the purchaser can choose to go elsewhere. Most unions get this and realize they can't bargain for excessive salaries and perks. But some unions push things too far and ultimately price their members out of a job. An example of the latter is the United Auto Workers, whose exorbitant demands drove car buyers to Japanese models and automakers to produce cars elsewhere, thus sending Detroit down the road to ruin. But the government unions are always a nightmare for consumers, as they can't shop elsewhere for services provided by the state, because the government has a monopoly on them. When union negotiators and elected officials agree on exorbitant pay packages and protections for cops, prison guards, firemen and teachers, what can the public do? Call a different fire department if their house is burning down? There is an exception here with schools, but unless there is a parental choice system in place, where public tax money follows the child, only the well-to-do really have a choice.
Minnesota schools add vacation days to ease teacher stress, staff shortages. Minnesota school districts are tacking on extra days to winter break this year in an effort to curb teacher stress and address ongoing staff shortages that include teachers, paraprofessionals, cooks and bus drivers. But as calendars change for teachers and students, some parents have struggled to find child care options on short notice. Others are worried about more lost instruction days when kids are already behind. "It's become too easy to give away school days," said Shawn Kopnick, the parent of a Prior Lake-Savage third-grader. "There's less fortunate kids whose parents aren't home all day — what do they do? Where do they go?" Districts including Rosemount-Apple Valley-Eagan, Prior Lake-Savage and Sartell-St. Stephen in central Minnesota added one day, while Duluth, Anoka-Hennepin and St. Paul added two days. Osseo and St. Cloud extended their breaks by three days. Three districts scheduled teacher planning days or professional development on the days off.
Biden's Education Department Wants to Roll Back Effort to Catalog Teacher Sex Crimes. The Department of Education wants to roll back a Trump-era effort to collect data on teacher-on-student sex crimes. The department's Office for Civil Rights will not ask school districts questions regarding teacher-on-student sexual assault allegations as part of its 2021-2022 Civil Rights Data Collection, proposed Thursday. The change is designed to "reduce burden and duplication of data," an Education Department spokesman told the Washington Free Beacon. But critics say eliminating the question is the Biden administration's attempt to appease teachers' unions.
Teachers In California Decide That Working Five Days a Week Is Too Hard, and Give Themselves One Day A Week Off. Well, one day a week of "remote learning," sitting on their asses at home, which is what parents do not want, but which teachers do want. And when parents complain, teachers tell parents to "step up" and do the hard work of teaching. This is amazing. I keep wondering what the breaking point is. I'm wondering if there is a breaking point at all. Do they even have to show up, ever? Can we just admit that the "teaching occupation" is just a welfare program for a fairly low-educated, low-ambition bunch?
Teachers Don't Want to Come In to Work Because of Class Privilege. After teachers' unions did everything possible to keep schools shut down, the torrent of parental anger finally forced even the Democrat political machine that the unions had bought and paid for a long time to actually reopen schools. The Democrats and their media suddenly reversed course and insisted that they always wanted to reopen schools. Hilariously, even Randi Weingarten, and the nation's worst and most parasitic union class, insisted that it always wanted in-person education. Except that now the system is back to closing schools to give teachers "mental health days". Mental health days are a pretty unique innovation because no other category of employees get to announce that they can't come in for a day or two a week because they all need time for "self-care".
Build Back Racism. In June, I wrote that Republicans need to embrace the culture war and loudly oppose critical race theory. I said we need to "lean" into the subject and show the organic movement of parents who are concerned about their kids' education that "we have your back." I said Republicans need to make clear that America should be a colorblind society where individuals are judged by the content of their character, not by the color of their skin. Glenn Youngkin clearly heeded that advice. And it's part of what earned him a historic victory in Virginia three weeks ago and why he's governor-elect. Democrats wholly embraced critical race theory. Youngkin's opponent, Terry McAuliffe, campaigned with Randi Weingarten, the president of the American Federation of Teachers, who penned a threatening op-ed for CNN warning parents that "you can't stop" teachers from using concepts borrowed from critical race theory. It's vital to ask why they did that. Why would Democrats embrace such a divisive ideology that instructs its adherents to judge individuals based on the color of their skin? The answer is simple: Democrats cynically believe they can create a coalition of minority voters by telling them they're victims and "oppressed."
Teachers Union Changes Rules So White Votes Count Less Than No-White Votes. The Ontario Secondary School Teachers' Federation for district 20 announced on Monday a change in their rules so that non-white union members would have their vote weighted more than white members. In the slides that this union used to justify this decision, they argued that this did not constitute reverse racism. "Those that do not identify as" non-white "have direct power over the outcome of representation within the committees, maintaining the status quo." [Video clip]
Teachers' union in Canada introduces 'weighted voting' for minority members. In the name of promoting racial equity in that hotbed of racism known as Canada, a labor union representing 60,000 teachers and other educational employees there has restructured its voting system to weight the votes of minority members at the expense of others, in order to ensure a particular outcome in voting on the claim of racial equity.
Diversity Is Our Strength. On Monday, [the] Ont Sec School Teachers' Fed, District 20 announced that their rules would be changed so that each non-white union member would have his/her vote weighted more than white members. Here are the slides they used to justify the decision to rank & file.
Who's three-fifths of a man now, whitey?
Teachers' union in Canada introduces 'weighted voting' for minority members. In the name of promoting racial equity in that hotbed of racism known as Canada, a labor union representing 60,000 teachers and other educational employees there has restructured its voting system to weight the votes of minority members at the expense of others, in order to ensure a particular outcome in voting on the claim of racial equity. [...] Frankly, it's none of anyone's business what someone's color is, and many people don't actually know their entire racial story. But here we are, with the fanatics in charge, demanding a right to place people in racial boxes the same way the plantation owners did in the old days, on the disgusting presumption that they are all cogs in a machine who only vote their own racial interests.
Reason has been superseded by the need to obey. From "New Business Item 39" posted on the National Education Association's website on July 5, 2021: "The N.E.A. will provide an already-created, in-depth study that criticises empire, white supremacy, anti-Blackness, anti-Indigeniety, racism, patriarchy, cisheteropatriarcy, capitalism, ableism, anthropocentrism, and other forms of oppression at the intersections of society." This is the country's largest Teachers Union. What do these words mean? That the teachers will be put in charge of criticising. Whom? Whomever the N.E.A. designates. And how might one, however convinced, ensure that he will not transgress the rules? There are no rules, for the categories are infinitely expansible.
Mask hypocrisy. [Thread reader] Amazing: teacher union president @rweingarten — who demands kids stay in masks all day at school including while outside — got caught partying with NY politicos in an *indoor* "packed room" all night in a Puerto Rico ballroom with no mask, and justifies it this way: [Tweet] Read the replies — from parents, teachers, doctors — to @rweingarten's amazing justification for why it's fine for her to go mask-free at galas in packed indoor party halls, while you kids must remain masked all day, even when outdoors: [Tweet] [...] Puerto Rico has an indoor mask *mandate*. All those NY politico luminaries who partied in what *they* called a "packed ballroom" and danced and chatted all night mask-free not only violated the law but again showed they don't believe COVID restrictions apply to them. Ask why.
Teachers union head Randi Weingarten removes mask at conference, claims people had a 'hard time hearing'. American Federation of Teachers (AFT) President Randi Weingarten, who has called for "universal masking" in schools, is facing criticism after she removed her mask at the 2021 SOMOS conference in Puerto Rico because those in attendance were "having a hard time hearing" what she had to say. In response to a tweet from Adriana Aviles, a concerned parent who shared photos of the teacher's union president sitting maskless on a panel with other guests at the conference, Weingarten attempted to defend her action, writing: "You could not be [at] #Somos or the hotel or panel [without] proof of vaccination. I had also just done a rapid Covid test & was negative."
The Teachers Union's Fumbled Play. I have no doubt that local, state, and federal governments, including school boards, are under the control of teachers unions which contribute significant amounts of time, campaign workers, and money to left-wing politicians. [...] In turn, collective bargaining with the unions is carried out by persons selected by those same politicians whom the unions support to give the unions what they ask for. The true employers — the parents and taxpayers — are not at the table. This has allowed these unions extraordinary power to be free of any meaningful parental control of teaching materials and school operational policies. Any school board member who dares to disagree can expect a well-funded targeting by the unions in an atmosphere where too many parents lack enough interest to defend the member's actions and work to retain him. The outrageous directive by Attorney General Merrick Garland that ordered the FBI to investigate as "domestic terrorists" parents who objected to the public-school boards' policies had only highlighted the overweening power of the unionized teachers.
Teachers Unions. Teachers unions have steadily amped up their political involvement: From 2004 to 2016, their donations grew from $4.3 million to more than $32 million — an all-time high. Even more than most labor unions, they have little use for Republicans, giving Democrats at least 94 percent of the funds they contributed to candidates and parties since as far back as 1990, where our data begins. Two organizations account for practically all of the contributions made by teachers unions: The National Education Association (about $20 million in 2016) and the American Federation of Teachers (almost $12 million). Both groups — which compete for members, but also collaborate with each other through the NEA-AFT Partnership — are consistently among the organizations that contribute the most money to candidates and political groups.
Teachers' Union Tells Members to Treat Complaining Parents as Enemies. Parents opposed to critical race theory-based indoctrination in public schools should be treated as adversaries, teachers in Washington State have been told by their labor union. Critical race theory (CRT) holds, among other things, that white people are inherently racist and calls for engaging in racial discrimination in the name of combating it. Leftists claim CRT promotes racial equality by highlighting the harm they claim white people have done to society. An Oct. 19 report by the Olympia, Washington-based Freedom Foundation states the largest union in the Evergreen State, the Washington Education Association (WEA), representing 100,000 teachers and support staff in Washington's K-12 system, is "one of the biggest forces for transforming taxpayer-funded government schools into indoctrination and recruitment centers for leftist activism."
Teachers unions influenced last-minute CDC school guidance, received copies before public release, emails show. The nation's most powerful teachers unions influenced the Centers for Disease Control and Prevention on last-minute changes to school-reopening guidance, emails reviewed by Fox News show. The records further show that the American Federation of Teachers and the National Education Association, the two largest teachers unions in the U.S., received a copy of the guidance before the CDC released it to the public. The guidance included a phased reopening approach for K-12 schools based on coronavirus cases in the area. "These documents are further evidence that instead of following the science, the White House and the CDC allowed politics to influence policy," Caitlin Sutherland, executive director of Americans for Public Trust, told Fox News.
Virginia Voters, Beware the Weaponization of Teachers. In the educational wars occurring throughout the country, most of the conservative commentary has focused on two parties: children and parents. This is because states and school districts are treating children not as individual human beings but as lumps of clay to be fashioned into the image of the State. [...] But in our resistance to tyranny, we cannot forget the other pawn in the left's war to transform the nation: teachers. While many teachers are all too willing to swear fealty to the radical left and be used as mouthpieces of the state, many more are being conscripted against their will. This is totalitarianism 101, and we must not stand for it. Mandating uniform, ideological curriculum is an effective tool for indoctrination, but its effect is severely limited if teachers don't believe it themselves or simply refuse to implement it.
Gov. Murphy, NJ teacher union heads reportedly caught maskless despite mandate. A New Jersey teachers union posted, and then quickly deleted, online photos that show its leaders and Gov. Phil Murphy going maskless at a fundraising event, according to reports. The expose came after Murphy imposed a mask mandate on teachers, staffers, students and visitors in all of the Garden State's schools in August to prevent the spread of the highly contagious Delta variant of the coronavirus. It also made Murphy — an outspoken proponent of wearing masks who once said it should be a "national requirement" — the latest Democratic governor to be caught in an embarrassing moment of hypocrisy — without one at an event despite requiring others to mask up.
NYC's Unvaccinated Teachers Need to Waive Right to Sue For 1 Year of Health Benefits. Aside from being put on unpaid leave, New York City teachers who've declined to get the COVID-19 vaccine won't be allowed to keep their health benefits for another year unless they give up their right to sue the city over its vaccine mandate. This condition was the result of an arbitration invoked by the city's largest teachers union, the United Federation of Teachers (UFT). The union touted the arbitration verdict as a victory that forced the city to acknowledge medical and religious exemptions to the vaccination. It also allowed the teachers to take a year of unpaid leave with continued health care coverage or voluntarily resign with unused sick days paid out and a year of continued health insurance.
Teachers blast union for telling them to upload vaccination status of student's parents, their names and addresses. A national teachers union training session that asks educators to log conversations with parents about the COVID-19 vaccine — into a campaign app built for Alexandria Ocasio-Cortez's campaign — was blasted as a 'blatant effort to coerce, manipulate, and even track information on students and their parents.' The recurring virtual training is hosted by vaccine equity group Made to Save and is sponsored by the National Educators Association (NEA), and the American Federation of Teachers (AFT). 'Having the audacity to back this type of presentation shows that the NJEA, NEA, AFT, and any other organization involved clearly does not regard educators as professionals or critical thinkers,' Jennifer Mess, a drama teacher for the Middletown Township Public Schools in New Jersey, told Fox News.
Gov. Newsom mandates shots for ALL California students from 7th to 12th grade - but exempts staff. Governor Gavin Newsom has been condemned for his 'wrong and cowardly' mandate which demands all California students from 7th to 12th grade get the COVID-19 vaccine but does not require their teachers to get the shot. Social media erupted in outrage Friday night as people pointed out the alarming difference between the rules for children and staff, with many accusing the governor of being influenced by the powerful teachers' unions. 'Kids must get vaccine, but teacher don't have to. The lesson? Kids need a better union,' one person tweeted.
3,000 NYC Teachers Asked for Vaccination Exemptions, Union Says. Around 3,000 New York City teachers have asked for medical and religious exemptions from the city's COVID-19 vaccination mandate, according to the city's teachers union. The city requires all school staff to be vaccinated or exempted by midnight on Sept. 27. The union, United Federation of Teachers (UFT) said on Sept. 24 that 90 [to] 95 percent of teachers have received the vaccine. That would leave about 4,000 [to] 8,000 unvaccinated, including those who have asked for the exemption. The exemptions are largely medical, UFT President Michael Mulgrew told reporters during a Sept. 24 teleconference. He didn't specify how many have been granted. Those rejected have an option to appeal, but Mulgrew said he didn't know how many have done so. With a pending appeal, a teacher can't participate in instruction, but gets exempted from the mandate, which requires those unvaccinated after the deadline to either leave their jobs with a severance package or take unpaid leave.
The CDC takes orders from the teachers' unions. Last year opened my eyes to the power of the teachers' union to conspire with the CDC to craft policy to derail opening schools. My state, California, has been dead last among 50 states in reopening schools because Gov. Gavin Newsom has implemented every CDC school recommendation. Schools have offered fewer than 40% of students in-person instruction. Reopenings have been thwarted with onerous preconditions and mitigation measures, serving to either decrease teacher workload or increase teacher remuneration. How do we know that the unions are working with the CDC? After local school boards laid plans to qualify for $2 million grant money for reopening, the unions' push for six-foot social distancing put the brakes on real in-person schooling — emails released through Freedom of Information Act (FOIA) showed significant teachers' union influence over CDC guidelines.
Top CDC Official Steps Down Weeks After Emails Surface Showing Collusion With Teachers Union. One of the top Centers for Disease Control and Prevention officials who was included in emails between the agency and the nation's second-largest teachers union on schools reopening will step down from her position this summer, Politico reports. Anne Schuchat, the CDC's principal deputy director, was one of multiple government health officials included in emails between The American Federation of Teachers union, who repeatedly lobbied against in-person schooling, and the agency over the school reopening guidelines which were released earlier this year. Schuchat says she is leaving the agency to "allow more time for creative passions" after spending the last seven years in her spot as the CDC's second-in-command. And while the shifting sands and reported clashed with current Director Rochelle Walensky could be a contributing factor, it is still unclear why she chose to resign now.
Teachers Unions Have Controlled Pandemic Policy All Along. Since the start of the pandemic, many Americans have grown increasingly aware of authoritarian health policies being implemented under the guise of public safety. When faced with the facts, critical thinkers could point to the expansive federal bureaucracy or now-infamous Democratic governors issuing top-down executive orders that have decimated the livelihoods of millions across the country. School children, the hopes and dreams of America's future, were often shuttered out of classrooms for months. Now, insider emails acquired by Fox News suggest that a much more sinister group has been handling the reins of education for more than a year — teachers unions.
New York City Teacher's Union Wins Battle Over COVID-19 Vaccine Mandate. New York City's largest teacher's union has won a battle to keep teachers and other educators employed if they suffer from certain medical conditions and don't want to comply as a result with the Big Apple's COVID-19 vaccine mandate. An arbitrator ruled late Friday [9/10/2021] that teachers with certain documented medical afflictions must be offered assignments outside of classrooms and be kept on the city's payroll. Other educators who don't want a COVID-19 vaccine must be offered unpaid leave that keeps in place their health coverage or a severance package. City officials announced last month that all 148,000 Department of Education employees would have to get a COVID-19 vaccine, with limited exemptions.
New York City Teacher's Union Wins Battle Over COVID-19 Vaccine Mandate. New York City's largest teacher's union has won a battle to keep teachers and other educators employed if they suffer from certain medical conditions and don't want to comply as a result with the Big Apple's COVID-19 vaccine mandate. An arbitrator ruled late Friday that teachers with certain documented medical afflictions must be offered assignments outside of classrooms and be kept on the city's payroll. Other educators who don't want a COVID-19 vaccine must be offered unpaid leave that keeps in place their health coverage or a severance package. City officials announced last month that all 148,000 Department of Education employees would have to get a COVID-19 vaccine, with limited exemptions.
Teachers Union Bullied White House, CDC Into Changing Guidelines for Masks at Schools. The nation's largest teachers union threatened to publicly criticize President Joe Biden's administration if it didn't implement stricter mask guidance for schools, according to internal emails obtained by watchdog group Americans for Public Trust and provided to Fox News. Following a statement published by the National Education Association, new guidance from the Centers for Disease Control and Prevention specified that regardless of vaccination status, masks should be worn by everyone in schools, Fox News reported. The NEA originally sent a drafted statement to White House officials criticizing the CDC's guidance, but ended up publishing a statement with a milder tone, according to the emails. On May 13, the CDC said fully vaccinated Americans did not need to wear masks indoors, which left questions over how the new guidance would be implemented in schools.
Dumbing Down K-12 Education. At a time in history when more learning and skill development are needed, the opposite has occurred. As witnessed throughout the 2020-2021 school year, teacher unions led the charge in our government-funded and run K-12 public education system to make things worse. Putting partisan politics and self-promotion ahead of student learning, they refused to allow teachers to return to their classrooms until outlandish demands are met — including moratoriums on charter schools, defunding the police, and Medicare for all. Furthermore, the school week was reduced from five days to four days a week, with instruction only provided a few hours a day remotely. When in-person school finally resumed after an entire calendar year, the low norm accepted by multiple governors was a mere 30 percent of pre-pandemic instruction hours — e.g., two-and-a-half-hour school days, four days a week.
Teachers to Meet in 115 Cities to Protest Bill Curbing Critical Race Theory. Thousands of teachers are planning to gather in over 115 cities across the U.S. this weekend to protest legislation reining in critical race theory. The "Days of Action" and the "Teach Truth Pledge" event, hosted by the Zinn Education Project, will take place Aug. 27 through Aug. 29. The events across the country are advertised as raising "public awareness about the danger" of bills to counter critical race theory. Critical race theory holds that America is fundamentally racist and teaches people to view every social interaction and person in terms of race. In at least 27 states, legislators have introduced or enacted legislation that imposes limits on curricula discussing racism, sexism, and oppression in American history, ABC News reported.
Teachers Union and School District Appear To Be Colluding Against RI Mom Nicole Solas In Lawsuit. The National Education Association Rhode Island and NEA South Kingstown have filed a Reply Memorandum responding to the arguments of the Goldwater Institute on behalf of Nicole Solas and her husband Adam Hartman opposing the unions' lawsuit seeking a Temporary Restraining Order prohibiting the South Kingstown School District and School Committee from releasing certain records. As detailed in prior posts, the union lawsuit contravenes clear Rhode Island Supreme Court precedent that prohibits outside persons (like the unions here) from seeking injunctive relief to prohibit release of records requested under the RI Access To Public Records Act (APRA). Only Solas/Hartman and the school district/committee have standing to contest the APRA process.
In Mandatory Training, CA Faculty Union Leader Says There's Nothing Good About 'White' Culture. During last week's two-day mandatory "antiracism" training for members of the California Faculty Association leaders went just a bit further than many Critical Race Theory sessions — including laughing over the Taliban takeover of Afghanistan. The union, also known as CALFAC, is the exclusive collective bargaining agent for all faculty in the 23-campus California State University system, including lecturers, professors, counselors, librarians, and coaches.
Steve Hilton says if parents want their power back, teachers unions have to go. Fox News host Steve Hilton blasted teachers' unions on "The Next Revolution," saying parents have been stripped of their power when it comes to determining what is best for their children. This being the very thing Florida Gov. Ron DeSantis endeavored to avoid in signing an executive order banning school mask mandates — some districts are trying to skirt the order by requiring masks, but allowing parents to navigate the red tape to opt-out. "This week, as parents across the country protest cruel, scientifically illiterate mask mandates for kids, [President] Biden's hapless education secretary Miguel Cardona threatens school closures in response, and Biden himself weighed in against kids, against parents, and against science," Hilton declared. Pointing to Rhode Island, the Fox News host said a teachers' union is suing a parent "for the crime of trying to find out exactly what kind of woke poison the schools are spewing into the mind of our children."
Gigantic Teachers' Union Sues Mom for Asking What the Local Public School Is Teaching Her Daughter. There was a time when parental involvement in our kids' education was seen as a good thing that all parents should do. We were invited to meet our kids' teachers and even participated in class once or twice a week. This was all part of making sure our kids obtained the education our tax dollars paid for. The COVID pandemic and the moral panic following George Floyd's death destroyed all of that. Unionized teachers advocated for closing schools and keeping them closed and started sneaking in critical race theory teachings at every level during online classes. When parents noticed and asked, they tended to get a run-around or worse. In Loudon County, Virginia, public school administrators and teachers formed a cabal to hunt down and smear parents who questioned them. Rhode Island mom Nicole Solas wanted to know what her daughter was being taught in kindergarten. So she asked the school for copies of the curriculum. She is entitled to that, as a parent and as a taxpayer. Public school curricula are public documents.
Teachers Union Sues Mom Nicole Solas To Prevent School District From Releasing Critical Race Teaching Records. Nicole Solas is the South Kingstown, Rhode Island, mother who gained national attention when she told her story at Legal Insurrection regarding her stymied efforts to obtain school records regarding teaching of Critical Race and Gender theory[.] [Video clip] [...] Solas has had dozens of national media appearances, and has continued to make news in Rhode Island and nationally. I expect that news cycle will continue because Solas was just sued by the Rhode Island branches of the largest teachers union in the country, the National Education Association, trying to prevent South Kingstown from providing Solas with information she has requsted, including communcations involving the union or its members.
Mask-Wearing: Not Polite, Not Considerate. After the CDC and the Biden administration again ignored science and recommended or re-imposed foolish mask mandates and the like, numerous municipalities and organizations eager to bow to — or afraid to ignore — left-wing dictates, went along with the latest round of Wuhan Virus absurdities. [...] Some schools — especially those in Democrat-run hell-holes, I mean large U.S. cities — are again forcing kids into masks. School leadership making such decisions, along with the teacher unions, are the most foolish of all here. They are ignoring science and data on multiple fronts as the mask mandates, and perhaps even shutdowns, are re-imposed. Not only has science revealed the masks as largely useless to prevent the spread of the Wuhan Virus, but the data have long revealed children to be at very little to no risk from the Wuhan Virus. In addition, schools the world over have long proven to be insignificant spreaders of the Wuhan Virus.
Teachers union head, Fed chair hint that schools might not reopen on schedule. I've said it before, but once again for emphasis: If you have school-aged kids and you live in a blue state, you're courting disaster by not moving before the fall semester. Which is now only a month or so away. It shouldn't be a question at this point that schools will reopen [...]. The American Academy of Pediatrics has endorsed it, the CDC has endorsed it, even AFT President Randi Weingarten has endorsed it — conditionally, depending on whether enough precautions are taken to keep teachers (and students, but mostly teachers) safe. Well, all people aged 12 and up are eligible for vaccination and the CDC has recommended masks for all students this fall regardless. That's a lot of precaution. So what's the language here about "trying" to reopen about?
Providence Teachers Union Confirms Affinity Group Segregation, Historical Books Destroyed, Holocaust Education Ended. Maribeth Calabro, the head of the Providence Teachers Union, an affiliate of Randi Weingarten's American Federation of Teachers, appeared on the show of talk radio host Tara Granahan on WPRO, one of the two large AM stations in Providence. While Calabro denied that CRT is taught in middle school, she backed up many of the key factual assertions by Bessinger about removal of historical books and books by great authors, including black authors, the narrowing of the curriculum, and the removal of teaching the Holocaust. She also confirmed that the school system separates white and non-white teachers into separate affinity groups to discuss issues related to race.
Randi Weingarten's Unhinged Rant Against DeSantis Shows the Crazy Hyperbole of the Left. There's no doubt that if Florida Gov. Ron DeSantis just breathed funny, the Democratic media would find some way to attack it. He's their secondary hate object after President Donald Trump. They're most upset about him standing up for individual freedoms over the past year during the pandemic. Last month, DeSantis told a Florida crowd that the state "chose freedom over 'Fauci-ism'" with a "message for other states and other countries [to] open your states, open your schools, let people live their lives, don't make them wear masks." But they really hyperventilated when they found out what DeSantis re-election team was doing in regard to Dr. Anthony Fauci, of whom he has been deeply critical.
Teachers' Union President Accidentally Made the Case for School Choice. American Federation of Teachers President Randi Weingarten is terrible at her job. No, I mean abjectly awful. The only good thing is that with the whole critical race theory garbage that's being tossed around by the Left as true history, everyone who didn't see teachers' unions as political agents — now do so with immense clarity. Weingarten says CRT isn't being taught in schools. That's false. She also said she was working to reopen schools. That's also false. We'll get to that in a second, but worst of all — if you're pro-union — is that she made the case for school choice. "Your demography does not decide your destiny. Your zip code shouldn't determine whether or not you have resources and a quality education." [Tweets] Weingarten tweeted that — but that's the school choice agenda to a tee. That's their selling point. It's also absolutely true. Democrats' power bases are maintained by keeping underprivileged inner-city kids stupid and poor through their shoddy instruction. In the end, it's all about their contracts that see guaranteed pay raises that don't consider inflation and Cadillac health care benefits. It must be nice to only work nine months out of the year. Weingarten is also being called out for her shameless gaslighting on schools reopening. We've known it's been safe to reopen schools for months.
Teachers Unions Push Critical Race Theory in Schools, Urge Defiance of State Laws Against It. "Critical race theory is not taught in elementary schools or high schools," the head of America's second-largest teachers union insisted Tuesday. American Federation of Teachers President Randi Weingarten said that what you think is critical race theory is actually just "teaching students accurate history." The very next day, however, Weingarten introduced a presentation by Ibram X. Kendi, the author of "How to Be an Antiracist" and a leading proponent of critical race theory ideas, at a conference about educating children. The gaslighting is nothing if not blatant.
An Affront to the State. How long ago was it when children were held in the highest regard, rather than a commodity to be served up to the governmental "authority?" It's not just a "sign of the times" it's a black mark on all of society that they have turned their faces from the horrors of child manipulation and sexual exploitation. In the annals of history, no matter how vehemently one disavows their role, America, in this era, will be seen as in the clutches of child predators. Schools, the Boy Scouts of America, some churches and many of the institutions unto whom we have given over our progeny have served as sexual grooming stations or mind manipulation centers. This was an issue highly featured in the novel Rebel. The teacher's unions now demand to be left in control of the children's minds, in secret, to do as they wish with them, subject them to all manner of sexual deviance, racist curriculums, pre-genocidal indoctrination so that they will know where to lay their heads before the guillotine.
Nation's Largest Teacher's Union Approves Critical Race Theory Plan for All 50 States. The National Education Association, the largest teacher's union in the United States, has approved a plan for Critical Race Theory to be implemented in all classrooms nationwide. The radical agenda was adopted after the 100th NEA Assembly, which was held at the Washington Convention Center and was livestreamed as a virtual meeting. Both President Joe Biden and Jill Biden spoke to the educators in a reportedly "mostly empty" hall in Washington. It was symbolic of the lack of public support for the hard left's racially divisive agenda. Christopher Rufo, a senior fellow at the Manhattan Institute and activist against Critical Race Theory, reported that the agenda item was adopted.
National Education Association Suddenly Deletes Critical Race Theory Documents From Its Website. Last week, the National Education Association held its annual meeting. It was filled with the usual twaddle that NEA activists talk about when they get together, but there was one useful thing it accomplished for the nation. It admitted that Critical Race Theory (CRT) was not only taught in schools; protecting the ability of teachers to conduct struggle sessions by humiliating and intimidating their young charges into submission was a top priority. This is what was termed Business Item 39: [...] If you look for Business Item 39 on the NEA website, [...] you find the page has been scrubbed. The copy posted in this article is from the Wayback Machine. What purpose was served by deleting an item the NEA voted to approve in a meeting viewed by thousands of people? The obvious answer is that the battle over the definition of CRT is not over for some on the left, and the NEA acknowledging that they are pushing CRT undercuts the argument that no such problem exists.
Unions Double Down on Inserting Critical Race Theory Into Education. Periodically, it's worth checking teachers union priorities. Such reviews find just how much these special-interest groups are disconnected from mainstream opinions on the role of schools in society. We also find how singularly focused they are on political fads, such as the toxic ideology of critical race theory, instead of improving the state of American education. The most recent example of this leftist mission creep is a slate of critical race theory-based resolutions the National Education Association — the country's largest teachers union — adopted at its 2021 annual meeting earlier this month. The NEA adopted New Business Item 39, a massive commitment to push critical race theory in public school classrooms across the country.
Activist Teachers Brag About Injecting Race, 'Equity' Lessons in Elementary Classrooms. Several King County, Washington, activist teachers revealed to Crosscut how they inject race and "equity" lessons into their elementary classrooms. Kent teacher Joanne Barber took advantage of violent Black Lives Matter protests last year "to teach more about race" in her second grade class. "I am willing to be that teacher that has those hard conversations," she said. "I would be doing a huge disservice to my students if I didn't give them information that they could see themselves in." She told Crosscut learning that "racial history" is "just as important as reading or math."
Parents fight critical race theory as teacher's union commits over $127k to advance it. The National Education Association (NEA), the largest labor and teachers' union in the U.S., has voted to spread critical race theory as parents across the nation are fighting against it. The union is preparing to commit $127,600 to advance critical race theory, according to the Epoch Times. "According to the plan, the NEA will share and publicize information about 'what CRT is and what it is not,' dedicate a 'team of staffers' to assist union members who 'want to learn more and fight back against anti-CRT rhetoric,' and provide a study that critiques 'power and oppression' in American society, including 'white supremacy,' 'cisheteropatriarchy,' and capitalism," the news website reported. The teachers' union's plan to promote critical race theory comes amid a growing grassroots backlash of parents fighting against the influence of the ideology on educational curriculums in their school districts.
Teachers of color win financial support from Minnesota lawmakers. Shad Williams, a second-grade teacher at the School of Engineering and Arts in Golden Valley, looked for a student to call on as they worked through a lesson in February. The state's newly enacted education funding bill includes a "historic investment" in efforts to boost the number of teachers of color in Minnesota, but there were missed opportunities, too, a chief advocate for the cause said Friday. "We're in a deep hole, and it's going to take decades to get out of this hole," said Paul Spies, legislative action team lead for the Coalition to Increase Teachers of Color and American Indian Teachers in Minnesota. A Star Tribune analysis has found that although about one-third of the state's kindergarten through 12th-grade students are nonwhite, teachers of color make up about 5% of full- and part-time teachers.
Largest Teachers Union Says Critical Race Theory Is 'Reasonable And Appropriate' For Kids. The country's largest teachers union has moved to undermine the left-wing talking point that critical race theory is not taught to children — by voting promote it and arguing it is "reasonable and appropriate" to use CRT in social studies classes. The National Education Association has approved a plan to "publicize" critical race theory and dedicate a "team of staffers" to assist union members looking to "fight back against anti-CRT rhetoric." New Business Item 39 also declares that the union opposes bans on critical race theory and the New York Times' controversial 1619 Project — which roughly half the U.S. states have already implemented.
America's Largest Teachers' Union Votes to Help Members 'Fight Back Against Anti-CRT Rhetoric'. The largest labor and teachers' union has voted to spread and further the teaching of the quasi-Marxist critical race theory (CRT), which it describes as a "reasonable" and "appropriate" framework for students to understand and interpret America's past and present. The National Education Association (NEA), which represent more than 3 million employees in public education, on June 30 kicked off its 100th Representative Assembly. During the four-day online convention, the union adopted a measure that would commit at least $127,600 to advance its pro-CRT agenda. According to the plan, the NEA will share and publicize information about "what CRT is and what it is not," dedicate a "team of staffers" to assist union members who "want to learn more and fight back against anti-CRT rhetoric," and provide a study that critiques "power and oppression" in American society, including "white supremacy," "cisheteropatriarchy," and capitalism.
Co-President Jill Biden Thinks You're Stupid. That's the only conclusion that I can draw after her latest commentary. To get specific, the ambitious First Lady recently spoke to the NEA (National Education Association), a vile union that has had a large hand in keeping many schools closed for the last year. In fact, I just wrote on them yesterday, noting that their latest demands to re-open schools are essentially impossible to meet and completely void of any scientific reasoning. Here's a taste of the absolutely inane thought emanating from the group. [Tweets] [...] These union leaders and their members do not want to return to work, and they see the current circumstances as a chance to further milk taxpayers. Despite all that, Jill Biden wants you to know that American families aren't mad about that at all. Rather, they see the teachers who are members of the NEA as "champions."
Bidens speak to mostly empty hall at teachers' union convention. President Biden couldn't even draw a big in-person crowd at a teachers' union convention on Friday evening, telling a mostly empty hall in Washington that teachers deserve a pay raise. Only about 50 members of leadership and staff of the National Education Association were in the cavernous hall at the Washington Convention Center when Mr. Biden and first lady Jill Biden, an educator with close ties to the NEA, took the stage. "Hello, everyone," Mr. Biden said to laughter. "They tell me there are a few people out there watching [online]."
Seattle Education Association: Poster Child for School Vouchers and Right to Work. Mondoweiss reports that the Seattle Education Association (SEA) passed a resolution endorsing the boycott, divestment, and sanctions (BDS) movement and also called for an end to collaboration between the Seattle police and Israeli military. While I cannot give legal advice, SEA may have exposed itself to something called ultra vires, or "outside powers." An ultra vires act can conceivably put a nonprofit organization's tax exemption at risk. The American Studies Association (ASA) was in fact sued under the ultra vires doctrine but had the suit dismissed because the court found that an anti-Israel boycott did not violate its charter or bylaws.
Teachers union agrees to promote critical race theory, debate mandatory vaccination for students. One of the nation's top labor and teachers unions is debating whether to call for the mandatory vaccination of all children before returning to school. The organization already this week has agreed to support and lead campaigns to advance critical race theory. The National Education Association, the largest labor union in the country with 3 million members, is holding its annual meeting this week. One of the most controversial topics up for debate is whether the organization will demand that all students be vaccinated before returning to school this fall. [...] Teachers unions in the U.S. have taken fire for their handling of the COVID pandemic, especially around their advocacy for delaying the reopening of schools. They grabbed headlines earlier this year after reports that teachers unions gave millions to Democratic causes in the 2020 election before advising the Biden administration on CDC guidance for schools.
Teachers unions' zero COVID-risk demand makes zero sense. It's an unreasonable demand that the risk of coronavirus diminish to zero before life returns to normal. Along the same lines, countries including Ireland, Israel, and Australia experiencing new outbreaks due to the COVID-19 delta variant are either locking down again or pausing their reopening. Los Angeles County has instructed fully vaccinated residents to continue wearing masks indoors. There are two deep misperceptions behind these reactions. The first is a false assumption, undermined by all available data and experience, that the delta variant poses a serious threat to vaccinated people. It doesn't. Vaccines have proven extremely effective against the variant, and almost all vaccinated people who test positive are either asymptomatic or have very mild symptoms. The second mistake is more foundational. It's a demand for zero: Zero COVID and zero risk. Australia's re-lockdown comes from its misguided effort to ensure the entire continent is free of the virus. The teachers unions' resistance to reopening schools fully in the fall is based on an untenable demand for zero risk.
Critical Race Theory Opponents To Be Targeted, 'Researched' By NEA Teachers' Union. The National Education Association (NEA) adopted a measure designed to thwart the ongoing campaign against so-called "anti-racist" education, which critics have described as a form of neo-racism. "NEA will research the organizations attacking educators doing anti-racist work and/or use the research already done and put together a list of resources and recommendations for state affiliates, locals, and individual educators to utilize when they are attacked," the measure reads on NEA's website. "The research, resources, and recommendations will be shared with members through NEA's social media, an article in NEA Today, and a recorded virtual presentation/webinar."
Largest Teachers' Union Has Fresh Demands and Leaves People Asking if Schools Will Ever Open. In all my time on this earth, I've never witnessed a more dramatic fall of credibility among a certain sector of the economy than what we've seen with teachers over the last years. Over the course of the COVID pandemic, we've gone from almost universal praise of teachers as essential workers to a vast number of parents who have lost their patience. Worse, every bit of the downfall was self-inflicted. Teachers' unions have abused the power they never should have had in the first place, making impossible demands while leaving students to flounder. Figures like Randi Weingarten have led the way, constantly moving the goalposts to ensure that schools they have control over remain closed.
How Radical Are the Teachers' Unions? America's teachers' unions are the country's single most malign influence. They do more to promote leftist extremism, and do it more effectively, than anyone else. The teachers' unions dominate the schools of education, from which most teachers come, and they control school board elections in most districts. In effect, they run the public schools, which is the main reason why the public schools are so bad. How radical are they? The National Education Association boasts that it is not just the largest teachers' union, but the biggest labor union in the U.S. One of the NEA's top priorities is promoting the teaching of Critical Race Theory in the public schools.
We Can't Let the Psycho Marxist Democrats Win the Critical Race Theory Fight. The noise surrounding Critical Race Theory (CRT) has been getting a lot louder lately. Democrats keep paying obeisance to Karl Marx by trying to shove it down the throats of American school children. Parents who would prefer that their kids take a path that involves less communism are pushing back. It's an ugly dance that can only end in people breaking beer bottles over each other's heads out in the parking lot. I'm one of those freaks who thinks that parents should have some say in what their children learn and how they grow up. That puts me at odds with almost every public school union teacher in the United States.
Teacher Shares Behind-Scenes Look at How Unions Further Woke Agenda. California teacher Brenda Lebsack says she began seeing "red flags" in public education when she decided to become more involved with her union, the California Teachers Association. After she began attending the union's conferences in 2015, Lebsack says, she was alarmed to see that many of the topics weren't academic but instead focused on social justice, human rights, and LGBTQ issues. "I thought, wow, my union does not seem to care that much about academics as much as they do the political side of things," Lebsack told The Daily Signal in a phone interview. A teacher since 1987, Lebsack has taught a variety of grade levels and subjects. She currently is a physical education teacher for special education students in several elementary schools in the Santa Ana Unified School District, about 35 miles south of Los Angeles.
Mandatory body cameras for teachers, not just cops! Thanks to Don Surber, I learned of a proposal from the Nevada Family Alliance to require teachers at government schools to wear body cameras. If this does not strike you immediately as absolutely necessary, take a look at this recording made by a student recently of a teacher badly abusing a student who objected to her LGBTQ+ indoctrination scheme: [...] You can expect the teachers' unions to howl like banshees and throw around ridiculous objections, such as "academic freedom." There is no such right for government employees teaching primary and secondary school children. They are not scholars pursuing new knowledge of value to humanity, they are instructors following curricula imposed on them by school boards. They may claim a right to "privacy," but a government funded schoolroom is not a private situation. It is a public event funded by taxpayers, who have a right to know what is taking place on their dime.
How Radical Are The Teachers' Unions? Until the U.S. Supreme Court decided the Janus case in 2018, citizens of a number of states, including Minnesota, were essentially taxed to support local teachers' unions. In those states, no one could legally teach in a public school without paying the union out of his or her salary — which, of course, came entirely from taxpayers. That this situation was allowed to persist for decades should have been a scandal. Teachers' unions, like all public sector unions, have always been pro-government and therefore liberal. But I suspect most people do not understand how partisan, and how radical, the teachers' unions are.
Counter the Left's Race War with a Class War. Think about it. For the last year, Big Bossy has been telling us not to mask, to mask, to lockdown, not to lockdown, to wait for vaccination, to get vaccinated or else. Because Science. For the last year "our teachers" have refused to teach our kids, and now the first thing they want to do is to teach our kids Critical Race Theory. The Bigs are pompous, incompetent, overpaid bigots. And it's time we told them so.
Deception Wearing the Mask of Truth. [Scroll down] Follow the Science? The CDC guidance on more obfuscating rules and delaying tactics for re-opening public classroom in-school teaching was written — word-for-word — by the American Federation of Teachers. Even Randi Weingarten, the AFT union president, admitted she was astonished that the CDC accepted the AFT school re-opening conditions without a single edit, and without any reference to scientific evidence, for example, that children are not vectors of Covid-19.
Will the 2020 Madness Last? Teachers and academics are notorious for furious opposition to administrative bloat. For the last 50 years, administrations have proliferated, while the ratio of non-teachers to teachers has skyrocketed — to the chagrin of teacher unions. But in the last year, schools and colleges have gone mad in hiring thousands of "Diversity, Equity, and Inclusion" administrators. Their job descriptions may be vague. But certainly, they will not contribute to classroom education. Instead, they will monitor the speech and thoughts of those who do. How long will mostly left-wing teachers' unions continue to support such vast diversions of money to armies of new left-wing non-teaching administrators?
More L.A. Parents Protest Teachers Union Shifting Re-Open Standards. It seems the legacy media is deliberately ignoring these grassroots protests by parents who are concerned, angered, and extremely tired of the American Federation of Teachers (AFT), local school boards, and local teachers unions using their children as pawns. Parents have been rising up in great numbers, but if you watched any legacy media, you would barely know it. [...] On April 27, 2021, Vail, AZ parents stormed a School Board meeting to protest the board's intention to extend the mask mandate for their children. The Board canceled the meeting and then called the police! [...] On May 20, 2021, parents in Palm Beach County, FL flooded a school board meeting to protest mask infractions being used as a cudgel to penalize their children. [...] On May 21, 2021, Orange County, California parents held a "No More Masks Rally" which was extremely well attended. However, in California, the battle over masks is only one aspect of parents' frustrations; particularly in Los Angeles County.
Why Do Teachers Unions Think Elementary-Age Students Need Vaccines and Masks? If the American Federation of Teachers and other teachers unions actually cared about children, they would not have opposed returning to schools as long as they did. If they actually cared about education, they would not be orchestrating a massive gaslighting campaign to make it look like they were always working toward the goal of returning to schools. If they were serious about being, well, serious, they'd get rid of Randi Weingarten. But, none of that is actually going to happen, because the goal of a teachers union is political and definitely not about education. If it were about education, the unions would have followed the actual science and made recommendations for things that were attainable. They would not have stymied efforts to get schools open or force kids to suffer in social isolation. The science has said, pretty clearly for most of the school year, that kids should be back in school. They do not transfer this virus at the rate adults do, if they transfer it at all. Hard-surface transmission does not appear to actually exist. We are not seeing outbreaks linked to schools that are open.
How the Teachers Union Politicized COVID. Randi Weingarten is confronting unwanted headlines for her politicizing the COVID epidemic as president of the American Federation of Teachers. Her most formidable critic is the financial newspaper of record, the Wall Street Journal, that lambasts the union leader for her "interference as a non-scientist" to push the Centers for Disease Control (CDC) to reverse its recommendation to open schools as far back as early February. Weingarten's success in applying pressure on the CDC was summed up with the WSJ headline: "The Centers for Politics and Unions." "The chronology of (Weingarten's) non-scientific political intervention is even worse than it sounds," wrote the editorial board. Weingarten admitted the AFT was regularly in touch with the CDC, and her COVID-related recommendations that best serve her members made its way into the CDC revised guidelines. School closures offered Weingarten more negotiating room for stimulus funds for higher teacher salaries and pensions. She, and her union friends, would not to be disappointed.
The tail is wagging the dog:
Teachers union prez admits CDC 'asked for language' on opening schools, and doesn't see a problem with it. On the same day that a million-dollar campaign accused President Joe Biden of working with dark money and powerful teachers' unions to keep schools closed, the head of that union gave an interview that essentially confirmed the assertion. Americans for Public Trust, a government accountability group, went after Biden and the Centers for Disease Control and Prevention over reports the American Federation of Teachers lobbied the CDC on school reopenings. In a CSPAN interview Monday, AFT President Randi Weingarten can be heard saying of the CDC, "They asked us for language and we gave them language when they asked for it."
San Francisco's One-Day School Reopening Shows Teacher Unions' True Colors. [Scroll down] Yep, just one day. Yep, just two schools. Yep, just for "in-person supervision," not "in-person instruction." "In-person supervision" is union-speak for "Shut up and sit here in this room all day while we count our money." On May 13, the union's position was that the high schools aren't safe to open. On May 14, they are safe enough to open, as long as you have that check in hand. On May 15? Who knows? Probably back to being unsafe again, unless you really make it worth our while.
Too little, too late: Teachers union president finally says kids need to back in class this fall. "What a joke," tweeted Rory Cooper, reacting to the news. "At the end of the school year, she sees the light after intentionally causing harm to millions of children. She gets no credit. None at all. Her legacy will always be the pain she and her comrades caused." Randi Weingarten's about to storm the beach long after the war ended. I'm going to guess that she got a heads-up from the Biden administration that the CDC would be formally relaxing rules for vaccinated people today, making the unions' reluctance to let teachers go back to class that much more absurd. Let history reflect that, on May 13, 2021, the day the federal government finally told Americans to get back to normal, the American Federation of Teachers only managed to beat them to the punch by a matter of hours — despite schools famously having been a low-risk environment for COVID for many months.
Teachers union gave nearly $20 million to Dems before influencing CDC school reopening guidance. The teachers union in the middle of a scandal for influencing the Centers for Disease Control and Prevention's official school reopening guidance gave nearly $20 million to Democrats in the 2020 election cycle, filings show. Federal election filings reveal that the American Federation of Teachers and its local affiliates spent $19,903,532 on political donations during the 2020 cycle, with nearly all of the funds going to Democrats and liberal groups. Last year's AFT donations include $5,251,400 for the Democrats Senate Majority PAC and $4,600,000 for the Democratic House Majority PAC, according to data compiled by The Center for Responsive Politics' Open Secrets database.
The CDC's crony deal with the teachers unions has cost students dearly. As if our public health authorities needed another black eye, they got it. The Centers for Disease Control and Prevention deferred to the nation's largest teachers union, over the CDC's own science, and changed guidance in February that would have encouraged all schools to reopen for in-person learning. Emails show the American Federation of Teachers began lobbying the CDC shortly after President Joe Biden took office, pressuring the agency to delay its guidance encouraging school reopenings and instead issue a statement that was friendlier toward remote learning. "Thank you again for Friday's rich discussion about forthcoming CDC guidance and for your openness to the suggestions made by our president, Randi Weingarten, and the AFT," AFT Senior Director for Health Issues Kelly Trautner wrote in one of the emails, which were first reported by the New York Post.
CPS aims to help teens get COVID-19 shots. The teachers union wants a student vaccine goal met before fall classes start. Troubled by what leaders say is a lack of a central plan, the Chicago Teachers Union wants the Board of Education to set a goal for vaccinating students 16 and over before the start of the new school year. CTU President Jesse Sharkey told the board Wednesday that while he is "not an epidemiologist or public health expert," it is critical that the school board establish a targeted student vaccine benchmark. "I'm not suggesting I know exactly what that should be," Sharkey said. "But I think you have to be clear and say something like, 'CPS intends to get 90% of eligible students vaccinated as we prepare to return in the fall.' "
Top 10 Absurdities of the COVID Pandemic. [#8] Teachers can't go back to work, but everyone else can: From virtually the very beginning of the pandemic, it was clear that school-aged children were far less susceptible to infection and severe symptoms, and probably not vectors of transmission. Statistically, kids are the least in danger. But while the rest of us were back working in stores or driving trucks, and subjecting ourselves to genuine risks, teachers' unions across the country continued to push the narrative that it's too dangerous for teachers and kids to return to school. Like every other industry, at-risk kids and teachers could have been allowed to stay at home while the rest went back to normal. Instead, we inexplicably kept schools closed, gave students a significantly inferior education, and took away opportunities for social interactions that will never come again.
Powerful teachers union influenced CDC on school reopenings, emails show. The American Federation of Teachers lobbied the Centers for Disease Control and Prevention on, and even suggested language for, the federal agency's school-reopening guidance released in February. The powerful teachers union's full-court press preceded the federal agency putting the brakes on a full re-opening of in-person classrooms, emails between top CDC, AFT and White House officials show. The emails were obtained through a Freedom of Information Act request by the conservative watchdog group Americans for Public Trust and provided to The [New York] Post. The documents show a flurry of activity between CDC Director Dr. Rochelle Walensky, her top advisors and union officials — with Biden brass being looped in at the White House — in the days before the highly-anticipated Feb. 12 announcement on school-reopening guidelines.
CDC becomes a chew toy for the teachers' unions. The Centers for Disease Control, which bills itself to the public as an agency all about "science," is actually pretty political. So in late February, when the agency released its disappointing recommendations to slow and halt school re-openings, despite the pandemic passing its peak, the obvious options for outdoor learning, and the success of school reopenings in Europe, and among private schools here, many assumed they were just a little slow on the uptake, and maybe going by their outdated research. Nope, they were parroting what the American Federation of Teachers told them to say, word for word at times, according to a report in the New York Post: [...]
Does Paying Teachers $500 to be Vaccinated Sound Crazy? It's Happening in Detroit. Detroit is attempting to entice their teachers into being vaccinated by offering a $500 bonus to those who get the shots, as well as providing them with two additional sick days that can be rolled over if not used. Keep in mind, schools in Detroit had been closed for months, finally reopening only last month before closing again for two weeks in early-April due to COVID concerns. Detroit, like so many other governments, has been extremely cautious in protecting students and teachers. But this policy begs many questions to be answered, and one in particular. If COVID is so deadly and threatening, and if the vaccines are so effective and safe, why would Detroit, or any other city, need to essentially bribe teachers into getting the shots if their priorities are indeed the students' educations and health?
Head of teachers' union doesn't understand math. So corrupt has the education industry become, so low have fallen the standards to qualify as a teacher in government schools that the head of the American Federation of Teachers proudly published a tweet demonstrating a complete lack of understanding of the fundamentals of arithmetic. ["]115% of mothers with young children left their jobs in 2020 because of childcare responsibilities.["]
CA teacher caught berating students in leaked Zoom over push for in-person learning. A California high school teacher was caught on camera berating students for their parents' collective push to end remote learning and return children to their classrooms full time. In a video shared on Facebook, San Marcos High School teacher Alissa Piro can be heard raising her voice at several seniors during a virtual lesson over Zoom. [...] "If your parent wants to talk to me about their profession and their opinion on their profession, I would love to hear that...," she says. "However, if your parent wants to come talk to me about how I'm not doing a good enough job in distance learning based on what you need as an individual? Just dare them to come at me. Because I am so sick to my stomach of parents trying to tell educators how to do their job."
Teachers' Union Head Rips Jews in Interview on School Reopening. Union leader Randi Weingarten criticized Jews as "part of the ownership class" dedicated to denying opportunities to others in an interview released on Friday [4/2/2021]. Weingarten — who is herself Jewish and draws a six-figure salary as head of the American Federation of Teachers (AFT) — took aim at American Jews in an interview with the Jerusalem Post. When asked about parents critical of the AFT's resistance to school reopening, Weingarten took aim squarely at Jewish critics. "American Jews are now part of the ownership class," Weingarten said. "Jews were immigrants from somewhere else. And they needed the right to have public education. And they needed power to have enough income and wealth for their families that they could put their kids through college and their kids could do better than they have done." "What I hear when I hear that question is that those who are in the ownership class now want to take that ladder of opportunity away from those who do not have it," she said.
Teachers' union head blames Jews for school reopening controversy. It's finally come to this, the last refuge for scoundrels in need of scapegoats. [...] It is the teachers' unions that are denying opportunities to youngsters by keeping schools closed when private schools across the land have been open for classroom instruction with no waves of illness among students or teachers. I hope and pray that more parents will see the evil that teachers' unions are inflicting on the nation and especially the generations that have been brainwashed into support of socialism and identity politics, both of which are dead ends, while allowing substantive skills of reading and math to deteriorate, leaving America far behind its major competitors. The answer is simple: have all tax monies dedicated to education go to the parents, who can spend it enrolling their children in the schools that are best for them. They might be public schools, when they are capably managed. But they might be union- and bureaucracy-free havens that focus on academic achievement, not indoctrination.
In a Rebuke to Teachers Unions, School Choice Is Going Gangbusters in the States. School districts are slowly beginning to reopen in-person instruction after being closed for nearly a year — or, in many places, for over a year. While this is a wonderful development, it will never erase what parents experienced last year: uncertainty, inconsistency, and, in some cases, ineptitude from public schools. The events of the last year have demonstrated to many families that public schools are not always the reliable institutions many thought they were. It also opened their eyes to just how powerful the teachers unions are, and revealed what many already suspected: that their modus operandi is not to support teachers who want to teach but to score political wins. Thankfully, in response to these disappointments, multiple state legislatures are undertaking one of the biggest expansions of school choice in history.
Modern education is [incompetent] — or Lincoln, math and the CDC are racist. The Center for Disease Control announced in February that schools could safely reopen, and that it was "critical" that they do so. They said the risk of COVID transmission in schools was minimal — even if teachers were not vaccinated — and the damage to children by remaining closed was maximal. Experience in the schools that have opened bears that out. There have not been cases of widespread transmission of COVID in reopened schools. That's undoubtedly because children are nearly immune to COVID. And their teachers retire long before they reach the COVID-vulnerable post-65 age group. That CDC announcement that teachers, vaccinated or not, should return to work was two months ago, though it didn't get much media attention because teachers are overwhelmingly Democrats and so are the media. Since then, many teachers still refuse to return to work even though many have been vaccinated in the meantime. So much for "follow the science." Teachers' unions deserve much of the blame.
Hard to follow what the teacher's union is thinking. We just learned that Mexico has revised its COVID deaths figures upward. In other words, 310,000 according to a BBC story. For comparison, the U.S. has recorded 549,000 deaths with a population of 330 million. Mexico is at 310,000 with a population of 130 million. The new report from Mexico puts Joe Biden's decision to let thousands walk in from Mexico in a different light. What were they thinking at the White House? The answer is that it was all about reversing Trump's decisions. In this context of revised COVID numbers from south of the border, we learned that San Diego teachers will give the migrant kids in-person training but still force their regular students to attend on-line courses.
Cops investigate Virginia teachers' Facebook group for naming parents who were 'against critical race theory'. Virginia police are investigating an 'anti-racist' Facebook group that named the parents of students who members say are 'against critical race theory'. The Anti-Racist Parents of Loudoun County group — which reportedly includes teachers and school board members — shared personal details of those they say had opposed moves to teach the controversial curriculum. It urged followers to 'gather information' on them and encouraged online hackers to silence critics of the theory, The Daily Wire reports. Parent Cherly Onderchain told Fox News she was on the 'hit list', adding: 'Their goal is silence.'
Who's going to teach all the illegal alien children coming here? On Monday [3/29/2021], we learned that the San Diego Board of Education is sending teachers to the San Diego Convention Center to give in-person education to the illegal alien kids there. The most obviously wrong thing about that, of course, is that our kids are not getting in-person education. But I don't want to comment about the obvious. I want to talk about the insane rant from a Sacramento teacher who hates Americans, especially white Americans. Unless we do something, it's these insane teachers who will ultimately end up indoctrinating the new students who will be pouring into American schools.
Landmark school choice law covers 90% of the students in one state. Karma is coming calling for the disgraceful teachers' unions that have kept children from attending school for a year in much of the country. Successfully shaking down the federal government for 9 figures' worth of additional funding, they have ignored the science that says young children are at almost no risk from Covid. The cost to children and to the nation is unfathomable, with child suicides soaring, and the future ability to function in a complex technological society impaired for a generation of future citizens. It is my fervent hope that the selfishness, greed, and indifference to the welfare of children of the unions will finally break the monopoly of government school bureaucracies and see parents free to use taxpayer funding for the education of their children at any school of their choice. Let the bloated, inefficient bureaucracies of the government schools compete with focused, efficient private schools — existing and yet to be founded — that are not tied to lowest common denominator standards and not force-feeding left wing hate-America garbage like the 1619 Project. The first such victory just happened... in West Virginia. And, surprise, surprise, there is so far very little media attention.
For US, Gradual Ruin Is About to Become Sudden. [Scroll down] Then, there is the more serious stuff: the nearly $2 trillion so-called COVID relief package that all but guarantees a spike in inflation but shovels much, much more money to teachers' unions and favored racial groups than to people who have suffered from the government lockdowns during the CCP virus pandemic.
Chicago Teacher's Union Told Members To Hide Vaccination Status. Hey, do you remember back in the beginning of February when Chicago Mayor Lori Lightfoot told the Chicago Teachers Union that the teachers had to return to class in one week or she would "take action?" The union responded by threatening to go on strike. I'm still not sure how that was an effective strategy since they were already basically on strike anyway, but it bought them some additional time. The union insisted that all the teachers would need to be vaccinated before in-person classroom instruction could resume. The situation is still bogged down, though Illinois did agree to prioritize vaccinations for teachers. So what's the holdup? They still don't know how close they are to vaccinating all of the teachers. Maybe one reason for that is that the union sent out an email to the teachers suggesting they don't tell the city or the school district whether or not they had gotten the vaccine.
Lockdowns: Class warfare of the rich and the professional class against the working class. A year after "15 days to flatten the curve" began our lockdowns, we have enough data to answer the classic question about lockdowns (which still exist a year later in many places, including much of California): cui bono? (who benefits?) [...] Unionized teachers in public schools, members of the lower income tier of educated professionals, still have not gone to work in schools in many places, as their unions scheme to use taxpayer relief dollars to pay them bonuses for trips to Hawaii and other goodies, while supermarket and other retail clerks have labored unceasingly, interacting with adult members of the public who are a far greater health risk than children.
Teachers Compile List Of Parents Who Question Racial Curriculum, Plot War On Them. A group of current and former teachers and others in Loudoun County, Virginia, compiled a lengthy list of parents suspected of disagreeing with school system actions, including its teaching of controversial racial concepts — with a stated purpose in part to "infiltrate," use "hackers" to silence parents' communications, and "expose these people publicly." Members of a 624-member private Facebook group called "Anti-Racist Parents of Loudoun County" named parents and plotted fundraising and other offline work. Some used pseudonyms, but The Daily Wire has identified them as a who's who of the affluent jurisdiction outside D.C., including school staff and elected officials. The sheriff's criminal investigations division is reviewing the matter — but the group's activities might be no surprise to top law enforcement because the county's prosecutor, narrowly elected with the help of $845,000 in cash from George Soros, appears to be a member of the Facebook group.
California teachers' unions discussing using Covid relief money for teacher bonuses, trips to Hawaii. Throw billions of dollars at school districts in California, and what do you expect? A group called Reopen California Schools got access to online memos from teachers' unions in California and discovered that in some districts, enriching their members weighs heavier on their priorities than, say, PPE equipment or programs to help children recover from their prolonged absence from the classrooms. Here is what the teachers' union in Dublin, CA, a well-to-do suburb east of San Francisco is discussing: [...] My hope is that the unions have lost public confidence, and their greed and their refusal to go back to teaching — at enormous cost to the mental and emotional health of children, not to mention them falling behind on learning — will result on much more support for vouchers and home schooling support from taxpayers.
LA Teachers Agree to In-Person Teaching After 'Spring Break' Message Leaks Online. The Los Angeles Unified School District -one of the largest in the United States- and the Teachers Unions have reached a tentative agreement that will allow in-person instruction to resume next month with some additional CoVID regulations.
The Los Angeles teachers' union plotted to hide shocking behavior. Nowhere is the corruption of government employee collective bargaining more evident than with the teachers' unions. More than any other union workers, the teachers' unions contribute to the Democrat party. The party, therefore, dances to the teachers' tune. But the teachers' unions have an extra ace in the hole: They have enormous power over children. This is not just the power to educate children well. In fact, in most big-city districts, teachers educate children horribly. Instead, the power is to give grades that will get children into good colleges. Moreover, the higher up the economic ladder one goes, the greater that power is. [...] I know from personal experience that the same attitude is present in public schools. The more ambitious parents are for their children, the more likely they are to accept whatever nastiness the teachers throw their way. The parents know that their children (or, rather, their children's grades) are held hostage in those classrooms. That's how you get this kind of arrogant racism from the President of the United Teachers of Los Angeles: [Video clip]
LA Teachers Union Tells Members To Keep Their Spring Break Travel Pics Off Social Media. United Teachers Los Angeles (UTLA) has always been one of the more radical teachers unions in the country, and during the coronavirus lockdowns they've taken their agenda to new extremes. In the summer of 2020 they presented the school board with a list of demands that seemed more like a ransom note instead of a good-faith effort at finding a way back to the classroom. They've partnered with Black Lives Matter-LA and turned students into BLM activists in an effort to defund both the LAPD and LAUSD school police.
The Case for Closing Public Schools Indefinitely. [Scroll down] This leads us to another reason why parents should be fleeing the public-school system, the teachers hate you. Just watch as the Oakley California school board degrades the parents of the students they teach. [Video clip] Not only do they hate you, but they don't care for the well-being of your children. They know that continuing to keep students out of the physical classroom is causing irreparable harm to pupil's academic progress, but they don't care. They aren't actually worried about themselves or your children contracting COVID at school, they are simply enjoying the time off. Hence why we see teacher's union president Matt Meyer dropping his two-year-old off at a private pre-school while insisting it's unsafe for your child to go to school. These people don't consider themselves to be a vessel for meaningful education. They admit they are nothing more than babysitters and their only instructional objective is to teach progressive dogma.
California Reopening Plan 'Propagates Racism,' LA Teachers Union Says. The Los Angeles teachers union said Monday [3/1/2021] California's school reopening plan is a "recipe" for propagating racism and will unfairly punish minority communities. United Teachers Los Angeles representatives argued that teachers are being asked to make up for the leadership failings of elected officials "from Washington, D.C., to Sacramento to LA" during a press conference Monday. Since California's plan calls on schools in communities with low infection rates to reopen, the union said reopening funding will only go to white communities since they have less transmission.
Chait: Teachers unions and 'Zeroism'. Today [3/3/2021] Jonathan Chait puts a name to something we've all observed over the last few months. Teachers unions around the country have been fighting a return to classrooms and largely ignoring statements from the CDC and other experts that reopening can be done safely even without vaccinating teachers first. The impact of distance learning on many marginal students has been shown to be a disaster but somehow that doesn't seem to matter. Teachers in many places are unwilling to return until the risk to them is effectively zero.
Parents are outraged by a teachers' union official's hypocrisy. A video showing the president of Berkeley's teachers' union — after refusing to send teachers back to school for in-class learning — dropping his daughter off at an in-person preschool has outraged parents in reliably leftist Berkeley, California. This show of hypocrisy and elitism was too much for them. A group calling itself "Guerilla Momz" has posted just two videos, but they're powerful. [Video clip] [...] This video got almost no views. However, what set the Berkeley parent community on fire was the video that Guerilla Momz posted three days ago.
LA teachers union slams California schools plan as 'propagating structural racism'. California's largest local teachers union on Monday [3/1/2021] slammed the state's new school reopening plan as "a recipe for propagating structural racism" hours after Gov. Gavin Newsom and Democratic lawmakers unveiled their compromise proposal. The United Teachers of Los Angeles' strong condemnation is a bad sign for Newsom and Democrats who spent months working to strike a deal on legislation they believe will spur districts to reopen. Los Angeles Unified is the second largest district in the nation with about 600,000 students — and by far the largest in the state with roughly 10 percent of California's public schoolchildren.
Teachers' Union Boss Claims Private In-Person Preschool For Own Son is "Personal Choice". Things are heating up in Berkeley where parents are fed up with teachers' unions and their pet politicians keeping schools closed. But since it's Berkeley, there's more of a radical edge to it. [...] A group called 'Guerrila Momz' then followed Matt Miller and caught him out on a double standard, tweeting, "Meet Matt Meyer. "White man with dreads and president of the local teachers' union. He's been saying it is unsafe for *your kid* to be back at school, all the while dropping his kid off at private school." [...] Or, as Guerilla Momz put it, "It wouldn't be Berkeley if we weren't gaslighting the actual victims, "trying to protect white males." That's what "diversity and inclusion" while pretending to advocate for them." Matt Meyer is claiming that he's advocating for teachers by keeping schools closed, but he has the right to do whatever he wants.
Now's Our Chance To Create Public School Alternatives. Throughout parts of the United States, children have not been in school for a year. Instead, they are expected to daily attend zoom classes. What that means in practical terms is that many kids sit somewhere at home, log in to class, turn off the camera, and go back to bed or play games on their phone throughout the "school" day. [...] Many parents other than long-time conservatives are starting to realize the system is rotten to its core. They see teachers demanding to be in the front of the line to get vaccines, yet still refusing to enter the classroom for "safety."
COVID Bill Gives $570 Million Gift To The Teacher's Unions. Forbes reports the House version of a $1.9 trillion COVID relief package contains "an extra perk for federal workers" paid time off and a bonus to stay at home with children not taking part in in-classroom instruction. It's a gift to the teacher's unions who gave about $52,000,000 to Democratic Party and other leftist candidates during the 2020 campaign season. The "perk" tucked inside a bill dubbed the Pelosi Payoff is defined by critics as "a personal bailout for bureaucrats." But it's more than that; it's a gift to the teacher's unions. While the average American waits for that one-time $1,400 stimulus payment as we struggle with employment and tending to kids who are home at the states that will not reopen schools because they don't want to upset the teacher's unions. Federal employees who stay home, thus reducing pressure on the teachers to go back to work, get a bonus.
Teachers' Union Leader: 'What Does Full School Opening Mean?'. "The teachers of this country understand that in-person education is really important," Randi Weingarten, president of the American Federation of Teachers, told NBC's "Meet the Press" on Sunday [2/21/2021]. And now that the federal Centers for Disease Control and Prevention has laid out a "roadmap" for re-opening schools, Weingarten expects that to happen — eventually and with limitations. "What does full school opening mean?" Weingarten asked rhetorically: [Video clip]
8 Things You Must Know About Deeply Flawed COVID-19 Package. [#3] Its Massive Education Spending Won't Actually Reopen Schools: The package spends $170 billion on education, which supporters say is meant to reopen schools faster. However, the details show something else entirely. First, the nonpartisan Congressional Budget Office reveals that only about a third of the education funds would be spent between now and September 2022, and that more would be spent in 2026 than 2021. That's utterly absurd given the urgency of getting children back in classrooms. Second, about $50 billion in funds for reopening schools have yet to go out the door, most of which was just passed in December. Considering that youths are at the lowest risk from the disease, and that teachers are receiving preferential treatment on vaccinations, $50 billion should be more than enough. In reality, the additional $170 billion is a de facto pay-off to teachers unions, many of which are currently issuing unreasonable demands for reopening schools. Providing the extra funding would reward this counterproductive behavior and should be vehemently opposed.
Levin: 'I'm Sick and Tired' of 'Mobster' Teachers Unions 'Shaking Down' Parents. "Parents by the thousands should be attending their school board meetings by the tens of millions all over the country. They should be demanding either those schools open or that they get a voucher to send their kid to whatever school they want to," radio host Mark Levin said Thursday on "The Mark Levin Show," regarding the prolonged closures of schools during the coronavirus pandemic. Levin honed in on the role teachers' unions are playing in keeping schools closed. "The Democrats and the teachers' union have a stranglehold on our communities; they have a stranglehold on our classrooms," he said. "And I'm sick and tired of it. They don't believe in listening to the science. These unions are thug unions, they're mobsters, shaking down the taxpayer, shaking down the parents." [Audio clip]
A Bad Week for The Science™. Monday [2/15/2021], we learned that the Center for Disease Control (CDC) was consulting teachers' unions about whether it was safe to reopen schools. This might strike you as odd. You probably thought the CDC was following The Science™, and kindergarten teachers, to be sure, are not scientists. Could it be that our esteemed government scientists are beholden to certain political interests, and not necessarily just to The Science™? Could it be that nobody working for the federal or state governments knows what [...] they're doing? That doesn't seem right. These are professional scientists, and The Science™ is sacred, we've been told. Of course, there was a period in time when following The Science™ meant not wearing a mask. Masks weren't effective in fighting the coronavirus, The Science™ said at the beginning of the pandemic. These days, The Science™ says double-masking — wearing two masks instead of just one — is a more effective measure in stopping the spread of the coronavirus. Following The Science™ in 180 degree circles can be dizzying, but who are we to argue?
Harris: We're Following The Science On School Reopenings Except When Teachers Unions Reject It. The New York Post calls this a "fumble," but it's more of a punt — the same punt that the Biden administration has made ever since taking office on this point. When Joe Biden prepared in the transition, he claimed that he would have schools reopened safely in the first 100 days — a claim he made without checking with his constituents in the teachers unions. Despite the CDC's assurance that schools can safely reopen with just a modicum of preparations, the unions are refusing to do so — even when teachers get priority on vaccinations. Ever since, the Biden administration keeps changing the goalposts on what reopening means [...]
Unions Are Keeping Students and Teachers Out of the Classroom. Here's What Lawmakers Can Do About It. President Joe Biden's administration pledged that at least half of K-12 schools in the U.S. will offer in-person learning at least one day per week within his first 100 days in office. Research using a representative sample of school districts finds that 44% of districts were already offering in-person learning in December 2020, so the administration's proposal is hardly a stretch. Yet for weeks, Chicago's teachers union told members not to return to work in person and postponed reopening for K-8 students until next month, with no plan for high school students to return. In Philadelphia, the same process is unfolding now: The district called teachers back to work in person, the union said no, and as of last week, Philadelphia Mayor Jim Kenney had backed off.
The Coming Parent Revolt Over School Reopening. The public health community has long since concluded that the perils of prolonged school closures are far greater than the risks posed by COVID-19 to students and teachers. This fact has not been lost on parents, who are growing increasingly impatient with teachers who won't return to the classroom. [...] In most red states, public schools opened up last fall for full time in-person instruction or some hybrid of in-person and distance learning. The blue states have, however, been considerably more dilatory about reopening. These states are, of course, governed by Democrats who are bought and paid for by the teachers unions.
Maybe the children whose schools are still closed are the lucky ones. In many Republican-run regions across America, schools are back in session and nothing bad has happened. There hasn't been a mass teacher or student die-off. Instead, the kids are once again learning and socializing and their parents are back at work. Life is normal. In many Democrat-run regions, though, the teachers are aggressively resisting returning to school. The Biden administration, which is beholden to the teacher's unions for money and support, is complicit in allowing the teachers to continue to receive paychecks while refusing to do their jobs.
Rethinking American Education. Public K-12 education in this country suffers from a lack of effective competition that prevents market forces from working the way they should. What would happen if there was school choice in America today? Parents who are dissatisfied with the educational product their public schools provide could vote with their feet and take their tax dollars and their children to schools that offer better value. Opposition to school choice is highly regressive because the wealthiest families have the ability to pay twice for their children's education, first through taxes and second through private school tuition. This is not an option for lower-income households. The benefits of school choice are substantial. [...] The teachers' unions oppose school choice precisely because it would force public schools across the country to actually compete on the merits or perish the way any underperforming enterprise should.
Biden Administration Flip-Flops On School Reopening Goal After Flak For Anti-Science 'One Day A Week' Plan. The Biden administration flip-flopped on its school reopening policy on Thursday [2/11/2021], suddenly claiming it is devoted to getting children back into classrooms full-time. During the Thursday White House press briefing, press secretary Jen Psaki told reporters President Joe Biden's plan, which is a drastic shift from the administration's previous goal of only requiring half of the country's children to return to in-person schooling for a minimum of one day a week by his 100th day in office, meaning students being back in classrooms for only five or six days total would meet the goal. "The president will not rest until every school is open five days a week. That is our goal. That is what we want to achieve," Psaki said Thursday, adding that parents shouldn't be satisfied with only partial school reopenings.
The Editor says...
You're paying for public schools to be open five days a week. (I'm paying school taxes, too, and I haven't had a kid in public schools since way back in the 20th century.) Don't settle for schools being open only one day per week, just because the unionized teachers are too lazy to report for work. On a semi-related topic, have you noticed that school zone speed traps are still in operation even though there are no kids in school? That's because radar traps are all about money, not safety.
Teachers union pet: Biden moves the goalposts on re-opening schools. To the extent that Joe Biden drew votes, a very big reason was the expectation from parents and students that he would re-open the public schools, currently on extended shutdown over COVID concerns. That was his promise, that was a signature issue, with many pixels spilled in multiple spots on Biden's campaign website supporting the claim that he was serious about re-opening schools. Now that he's in office, too bad for those who actually believed him. Instead of re-opening the schools, Biden's re-drawn himself a goal line for school re-opening so pathetic, so wretched, so insignificant that it's actually lower than what's already going on now in school reopenings. School re-openings, it seems, no longer mean school re-openings the way normal people see them.
In the fight between Chicago teacher unions and the mayor, unions win. According to news reports, Chicago mayor Lori Lightfoot is blaming President Trump for the state of affairs in the local schools. What's new? Isn't everything Trump's fault? Well, someone please tell Mayor Lightfoot that the teachers' unions own the Democrats, and that's why they don't [care] what she or any other blue-city mayor thinks. How much money are we talking about? This is a report via Fox News: ["]Biden's campaign raked in just over $232,000 from teachers unions during the 2020 election cycle, according to the Center for Responsive Politics' 'Open Secrets' website. The site says the National Education Association (NEA) and the American Federation of Teachers (AFT) 'account for practically all' political spending from teachers unions.["]
Psaki Refuses To Say If Biden Admin Supports Teachers Returning To School. Psaki says that the Biden administration trusts Chicago Mayor Lightfoot and the teachers unions to work it out but will not take a stance on what the Biden administration thinks should happen. [Video clip]
If Schools Are Essential, They Should Be Open. Everyone knows that remote education is failing students, especially immigrant children and others whose parents can't fill in the gaps that plague schooling by computer screen. Yet, somehow, education groups that ostensibly are committed to closing the achievement gap are willing to let this separate-but-equal education policy stand. President Joe Biden likes to say that he'll "listen to the scientists." Apparently, there is an exemption to the science-first approach when teachers unions disagree.
Be a tribe of one. Suppose you're a die-hard Democrat. What do you do about such issues as: [...] Schools for minorities. Do you side with Chicago public school teachers — overwhelmingly Democrats — who want to continue receiving their salary while schools are closed indefinitely on the pretense of COVID fears? Or do you side with black parents — overwhelmingly Democrats — who want to see their kids back in school and point to safe school re-openings across the country? There's the same issue on school choice. Do you side with teachers and their unions — overwhelmingly Democrats — who want to restrict school choice by black parents? Or do you side with those black parents — overwhelmingly Democrats — who want to send their kids to the best schools available?
Surprise: WH Reporters Bring the Heat on Teachers Unions, WH Going Against 'Science'. With Fox News out of the rotation for White House Briefing Room seats, Thursday's briefing left plenty of space for reporters from the liberal media to step up and commit random acts of journalism. Thankfully, some did with pointed questions calling out President Biden's plethora of executive orders and the reality that the administration had sided with teachers' unions over "science" when it came to keeping schools closed. Unfortunately, there were still reporters that were far more casual and friendly, lobbing either bland or outright softballs. [...] While some decided that a top briefing takeaway was that Press Secretary Jen Psaki took questions from almost all women (12 out of 13 reporters called on), many of them brought tough questions. To borrow a phrase from Jeff Zucker's chief propagandist: how refreshing.
David Brooks: These anti-science teacher's unions are 'marring children's lives'. [Scroll down] Brooks is absolutely right but there's another level to this he's not mentioning. If the partisan sides were reversed here, if conservatives were refusing to let children return to school, the media would be full of outrage about it. There would be not one opinion piece but dozens pointing out that this was disproportionately doing damage to minority children like Shemar. We're not seeing that of course because politics are guiding the media coverage in exactly the same way politics is guiding the unions. This ought to be the biggest story in the country right now but the resistance journalists in the media won't let it be.
Biden, Teachers' Unions, and the $630 Billion Shakedown. For all their devastating, long-term side effects, the various failed remedies to COVID-19 have been clarifying. [...] But the biggest takeaway is this: The Democratic Party will never again get away with claiming that their number one priority is "the children." Joe Biden and the Democrats just lost their most overused political prop — exploited to advance every policy from climate to health care — as tens of millions of American children, locked out of their classrooms for almost a year, act as human pawns in the unions' biggest, most brazen shakedown yet. The hustle has been underway since March 2020; unbeknownst both to students and parents, America's youth of all ages walked out of classrooms and off college campuses not to return for months on end. Back then, as today, no scientific justification existed to shut down schools. The decision was based on the now-discredited Imperial College model created by now-discredited British scientist Neil Ferguson. Armed with no reliable data, Ferguson nonetheless warned that unless schools were closed in the United States, millions would die of the disease.
COVID-19 Has Exposed Teachers' Unions as the Shakedown Artists They Really Are. The COVID-19 pandemic has really laid bare a lot of our frailties and flaws as a country. We are all aware that it has not been pretty. It has, however, done this nation a huge service, as it exposed public school teachers' unions for the frauds they are. It began playing out at the end of last summer. School kids had been home since March, not really learning much more than how mommy likes her breakfast mojitos. Mommy and Daddy were beginning to understand why other people weren't so fond of their children. It was time for the kiddies to get back to class and annoy the people who were being compensated for the aggravation. Well, the teachers were enjoying their mojitos too, and weren't quite ready to give up day-drinking. We got a good glimpse of how it was all going to play out when the union representing the teachers in the second-largest public school district in the country issued a list of demands and conditions for their return that read like they were planning on progressive political lobbying rather than teaching.
Teachers' Union Cuts Vaccine Line, Then Refuses to Return to Classrooms Anyway. In Las Vegas, schools are rushing to reopen following a tragic surge in suicides among isolated, depressed children. "The spate of student suicides in and around Las Vegas has pushed the Clark County district, the nation's fifth largest, toward bringing students back as quickly as possible," the New York Times reports. "The risk of student suicides has quietly stirred many district leaders, leading some, like the state superintendent in Arizona, to cite that fear in public pleas to help mitigate the virus's spread." The rise in adolescent suicides and other mental health crises have not yet been definitively linked to school closures and other pandemic-related lockdowns through codified data, but common sense dictates that these are obviously and undeniably significant contributing factors. This has been clear for months, with experts continuing to weigh in. Data from Europe and the United States have also consistently shown that schools are not major COVID spreaders, further calling into question long-term closure and remote learning policies.
An Open Letter From a Teacher to His Peers. Across the country, there are two sides of this battle and often we're caught in the middle. On one side, you have the teachers and unions advocating we stay out of school until impossible demands are met: every teacher should be vaccinated, every student should be vaccinated, the virus completely eradicated, or whatever other measure is set. Some districts have fought to meet one of these demands, only for another to be put up in its place, with districts racing to meet those. On the other side of this battle, you have political advocates and parent activists demanding a change, either in the employment status of the dissenters or to the system that would be a total reform few districts would be prepared for. They want to fund the students and their families rather than the schools. They want to increase options for school choice so that parents and students seeking an open school can send their child to one.
Chicago Teachers Union releases interpretive dance video as part of objection over returning to work. As the standoff between city government officials and the Chicago Teachers Union over reopening the Windy City's public school system has now reached the White House, the CTU released a video over the weekend that has received pushback. The video features six of the Chicago public school system's dance teachers, expressively depicting their yearning for safety as they are being pressured to return to work. The performance, shot in various locations, is entitled "The Moment We're Safe."
Chicago Teachers Union vs. Biden. The Chicago Teachers Union (CTU) this weekend vetoed Joe Biden's plan to reopen schools during his first 100 days by voting to continue remote learning indefinitely. The union is taking kids hostage to extract more money from Congress with no guarantee that it will release them if it does. Chicago's Board of Education had required K-8 teachers to show up at schools on Monday to prepare for a return to in-person instruction on Feb. 1. The union doesn't care. Seventy-one percent of CTU voting members rejected a return to in-person learning until schools are "safe" — meaning whenever teachers feel like going back.
Teacher's Union President Claims It is 'White Privilege' to Worry about Children Committing Suicide During School Closures. Scott Wilson, who serves as president of the Pasco Association of Educators in the state of Washington, claimed on a Zoom call earlier this month that it is "white supremacy" to consider reopening public schools and any concerns over children committing suicides while isolated and away from school is "white privilege." Additionally, Wilson claimed that reopening schools would be the equivalent of letting rioters storm into the U.S. Capitol. "There are decisions to be made. You stand on the lawn of the U.S. Capitol as people break down barriers and head to the doors. Do you follow?" Wilson asked on the call. "You stand at the governor's mansion. The crowd breaks down barriers to enter the grounds. Do you follow? Or do you choose a different way? We must not ignore the culture of white supremacy and white privilege."
Now the CDC is urging schools to reopen ASAP. Try to keep up with the science. Had your child gone back to school yesterday, he and all the teachers in the universe would have died. But today, it's urgent he go to school. And safe for him to do so. [Tweet]
The Teachers Unions vs. COVID Microschooling. Every Thursday morning, Arizona parent Marta Mac Ban dresses her six-year-old daughter in khaki shorts and a navy blue shirt and takes her to a neighbor's house to study with other children. Participants recite the Pledge of Allegiance, review the calendar and collaborate on enrichment activities. Other days during the week, Mac Ban teaches her daughter at home. The routine is new for the family, which did kindergarten in the Cave Creek Unified School District until March. That's when COVID-19 forced an abrupt switch to Zoom. Mac Ban, who tries to limit her daughter's screen time, quickly opted out. "She's not going to sit still for hours at a time staring at a computer," Mac Ban says. Many families across the United States have made similar moves during the past 10 months, as teachers unions have lobbied to keep campuses closed. The showdown in Chicago, where union members have refused to resume in-person instruction, is just one example.
Democrat Gov: Seniors Should Be Willing to Die for the Teachers' Union. In 2020, the title for the Nation's Worst Governor indisputably went to New York's Cuomo. But in 2021, Governor Kate Brown of Oregon is trying to make an early bid for the job by vaccinating teachers ahead of seniors. Brown's plan to put her union base, who are not at risk, ahead of seniors who are, is so terrible that it's drawing a backlash even from other Democrats. [...] The in-person learning pretext is nonsense. Schools have not been shown to spread the virus. While teachers have put on a show of victimhood, marching around with coffins, and claiming that they'll die if they have to do their jobs, the bottom line is that they're a union behaving in the usual fashion. And even when they've been allowed to go to the head of the line for vaccines, they've refused to return to teaching. So this isn't about reopening schools. It's about rewarding a powerful and influential segment of the Democrat base.
Chicago Teachers Union votes to defy order to return to classrooms: Teachers have 'have chosen safety'. The Chicago Teachers Union "overwhelmingly" voted to remain working from home due to concerns over the coronavirus, which defies the Chicago Public Schools' reopening plans. "So what does this mean? It means the overwhelming majority of you have chosen safety," the union wrote. "CPS did everything possible to divide us by instilling fear though threats of retaliation, but you still chose unity, solidarity and to collectively act as one." All in, about 86% of the 25,000 members voted on the resolution, with 71% voting in support of working from home. The district planned to bring 70,000 elementary students back into classrooms beginning Feb. 1 and wanted teachers back in classrooms to plan for their return.
Chicago Teachers Union Defies the City, Votes to Refuse an Ordered Classroom Return. So what's the Chicago teachers union been up to lately? Well, one thing they haven't been doing is going to work. And they won't be starting now. At least, that is, where actually entering any school full o' kids is concerned. As reported by The Daily Wire, on Sunday [1/24/2021], the crew voted to defy Chicago Public Schools' order to return to in-person instruction.
Another teachers union refuses to return to work. Some long-awaited good news for the residents of Virginia came out this week. Governor Ralph "blackface klansman" Northam announced that schools could be safely reopened in the next few weeks. With online "distance learning" turning out to be largely a miserable failure and parents scrambling to find new daycare options, many were breathing a sigh of relief, thinking there was finally a light at the end of the tunnel that wouldn't turn out to be an oncoming train. Unfortunately, the celebrations didn't last very long. Not long after the Governor's announcement, a Virginia teachers union came out and told everyone to stuff it. They're not going back to work unless their demands are met. This is looking increasingly like a hostage negotiation where the children are the hostages.
Biden's Presidency of Disunity. Not content just to waste student's time, the teachers' unions linked to the Democrat party have decided to distort their minds against the foundation of the United States. The National Education Association ed justice project says that the NEA recently worked with the New York Times to distribute copies of the 1619 Project to educators and activists around the country. Parents should be concerned. The aim of this project is to reframe US history by considering what it would mean to regard 1619 as our nation's birth year. This would poison the idea of America's founding based on greed, racism, and unfreedom. In particular the words of project essayist Nikole Hannah Jones wrote in the introductory essay for the New York Times that the 1776 American Revolution was launched "in order to endure slavery should continue" are an assault on the heritage of freedom.
Leftist Teachers Unions are Battling Against their Own Students in order to Keep Getting Paid without Working. Teachers unions claim Covid makes schools too dangerous for teachers. That may be true for elderly teachers, but overall, reopening schools is safe. [...] Studies on tens of thousands of people in the United States do find that closing schools made no difference as far as Covid. Closed schools hurt students, especially poorer kids, because they can't afford the alternatives available to the privileged. California closed government-run schools, while governor Gavin Newsom sent his kids to a private school that's open. [Video clip]
WV Teachers Union Working To Prevent Schools From Reopening. Some good news for the people of West Virginia was announced recently. Governor Jim Justice, working with the Department of Health issued new guidelines that would see all students in K through 8 returning to in-person classes. Older students would also have that opportunity depending on the "color code" of virus cases in each county. Given the disastrous results that parents have been seeing from remote learning and the damaging impact such programs have had on their home and work lives, this was a welcome development for many families. Sadly, there's one significant problem standing in the way of the Governor fully implementing this plan. The West Virginia American Federation of Teachers union has already announced that they will oppose this policy.
Union head says opening schools is 'white supremacy,' suicide concern 'white privilege'. The president of the Pasco Association of Educators (PAE) claims reopening schools for in-person learning is an example of "white supremacy," and compares listening to concerned parents to following rioters breaking into the U.S. Capitol. He even says concern over student suicide is an example of "white privilege." Scott Wilson, PAE president, made a series of unhinged, controversial remarks during a Pasco School Board meeting this week. The statements come as the union pushes for total remote learning for elementary schools, even with near-consensus from the medical community that it is safe to reopen schools with mitigation policies in place. The petition the union promotes baselessly calls in-person learning "unsafe and unsustainable."
Peer-reviewed study finds spread of COVID-19 in schools 'extremely limited'. A new peer-reviewed study has found that the spread of COVID-19 in surveyed elementary schools is "extremely limited," potentially lending hope to advocates who are pushing to reopen schools that have been shuttered in some cases for roughly a year. The study, published in the medical journal Pediatrics by the American Academy of Pediatrics, followed "11 participating school districts" with "more than 90,000 students and staff" present for in-person instruction. "Across the 11 school districts," the researchers write, "773 community-acquired SARS-CoV-2 infections were documented by molecular testing; however, there were only 32 adjudicated cases of secondary transmission across the 11 districts combined in 9 weeks of instruction."
Teachers Unions Fail Science. Is your child's school open now? Probably not — because teachers unions say that reopening would "put their health and safety at risk." They keep schools closed by lobbying and protesting. [...] But schools rarely spread COVID-19. Studies on tens of thousands of people found "no consistent relationship between in-person K-12 schooling and the spread of the coronavirus." Even Dr. Anthony Fauci, head of the White House Coronavirus Task Force, encouraged schools to reopen, saying "close the bars and keep the schools open." Heritage Foundation education researcher Lindsey Burke points out that studies in 191 countries find "no consistent link between reopening schools and increased rates of COVID transmission." She says schools aren't COVID-19 hotspots.
The worst run cities in America. [Scroll down] Even with billions of dollars meant to fund public education, many cities have failing school systems. The deficiencies are reflected in graduation rates across New York, Los Angeles, Philadelphia, Chicago, and Portland, each below 80 percent. New York spends more than double the national average per pupil at $28,800 annually. Its school system often lets down gifted students, running without an accelerated program in an eighth of its districts. A committee created by Mayor Bill de Blasio recommended ending such programs in efforts to push for diversity. Many of the worst run cities have ceded more control of academic policy to teachers unions. The results often place administrators above students. Los Angeles schools ground to a halt in 2019 with a strike led by teachers unions, followed by coronavirus blackmail that schools would not reopen until a list of demands from teachers unions were met.
Joe Biden is set to pull America's schools far to the left. Education reformers breathed a sigh of relief when it became clear that President-elect Joe Biden wouldn't tap a teachers union leader as his secretary of education, contrary to the post-election rumor mill. Instead, Biden nominated Connecticut Education Commissioner Miguel Cardona. Compared to teachers union leaders, Cardona appears moderate. But Biden's Department of Education transition team looks as though it came straight off the field of a National Education Association-vs.-American Federation of Teachers softball game. It seems all but certain that on education, Biden will govern to the left of his ex-boss, President Barack Obama.
Chicago Teachers Union leader under fire for pushing remote schooling while vacationing in Caribbean. A Chicago Teachers Union leader is under fire for pushing for Chicago public schools to remain remote because of coronavirus risks while vacationing in the Caribbean. Chicago Teachers Union area vice president Sarah Chambers opposes requiring teachers to return to the classroom and posted a photo that appears to show her poolside in Puerto Rico, WGN-TV reported. Chambers has since deleted her Instagram account, according to the station.
Teachers Union Leader Encouraged Strikes to 'Stay Safe' From COVID, Then She Got Caught in a Compromising Position. Is there any profession that has taken a bigger hit in the credibility department over the course of the COVID pandemic than teaching? That's unfortunate given the fact that many teachers simply wanted to get back in the classroom as soon as possible, recognizing the dangers prolonged lockdowns represented to students. Yet, there have been so many high profile cases of teachers and their union leaders ignoring science for their own personal gain and laziness that it has unfairly tarnished everyone. One of the most recent cases involves a woman named Sarah Chambers from Chicago (because of course she's from Chicago). Chambers, a member of the Chicago Teachers Union Board, was encouraging teachers to stay home because it was supposedly unsafe to return to work. But it was what she had posted a few hours later that got her caught in a compromising position.
School Superintendent Accepts Apology of Teacher of the Year Rodney Robinson for 'Joke' Calling for Beating of Mitch McConnell. Richmond, Virginia School Superintendent Jason Kamras accepted the "heartfelt" apology by 2019 National Teacher of the Year Rodney Robinson for calling for the beating of Senate Majority Leader Mitch McConnell (R-KY). Robinson later said he meant the comment as a joke. Kamras did not indicate whether Robinson will face any repercussions. [...] Robinson made his Twitter account private Wednesday evening [12/30/2020] after being called out for the McConnell tweet. He posted an apology to Medium on Thursday that was accepted Kamras.
The Real Reason Why Your Kids Can't Go Back To School (Hint: It's Not COVID-19). Schools have been closed for the better part of a year now, for the putative reason that COVID-19 makes them unsafe. Only distance learning and Zoom and other online classes are safe enough for both teachers and kids, we're told. Even though the science says otherwise, powerful teachers unions keep schools closed anyway. But why? Let's start with a blunt fact: The teachers unions — including the American Federation of Teachers (AFT) and the National Education Association (NEA), along with a host of radicalized local unions — don't have your kids' best interests at heart, despite their well-funded, slick propaganda to the contrary. They oppose reopening schools, despite overwhelming evidence they should be reopened immediately.
2020 exposed the teachers unions for the frauds they are. The coronavirus pandemic has brought too many failures of leadership to count. But chief among them is remote learning and teachers unions' continued lobbying against reopening schools. When the virus was still a novel concept and schools shut down in response, we understood why. There was too much we did not know about COVID-19, and the risk of endangering students and teachers was too great. As time went on, however, the science became overwhelmingly clear that COVID-19 posed little risk to children and that schools were not a major source of transmission. It also became clear that distance learning has been a disaster both for students and for parents, especially those with limited resources. Over the course of the year, it has become glaringly obvious that unions insisting on long-term school closures were not concerned about their students' health or teachers' safety so much as they were interested in what they could gain from the shutdown.
Public Schools Are Losing Their Captive Audience of Children. Insisting that "the push to reopen schools is rooted in sexism, racism and misogyny," the Chicago Teachers Union is fighting plans to return children to the city's public school classrooms. Not only is the union seeking an injunction to keep kids at home, but it says "all options are going to be on the table" — an implied threat of a strike in an already chaotic year — if it's not happy with the school board's decision. Amidst a multitude of such battles across the country, it's no wonder that families weary of being held hostage to other people's decisions are abandoning government schools to enroll their kids in private institutions or to teach them at home. That shift is likely to permanently transform education in the United States in a way that lets children experience diverse approaches and viewpoints. School and union officials in Chicago differ over their reading of public opinion tea leaves.
The Teachers' Unions Are Evil. I won't say that those who run America's teachers' unions hate children. I will only say that they act as though they hate children. The teachers' unions are the number one obstacle to education reform, by far. They stand in the way of school choice, school safety, and virtually any attempt to improve teacher quality or reform schools in any way. They feed off of, and promote, incompetence and lack of accountability. No one harms America's youth as much as the teachers' unions, not even drug dealers. The latest case in point is the unions' insistence that our schools remain closed down, even though 1) scientific opinion is unanimous that schools pose little Covid risk, 2) schools in Europe are open, and the CDC says that our schools should re-open as well, and 3) our students and their parents are suffering horribly as a result of this year's ongoing school closures. Many students, especially low-income minorities, have lost a year of education and likely will never catch up. If it is up to the teachers' unions, schools will not reopen any time soon, and the damage to an entire generation will be incalculable.
An Oregon teacher's viral, obscene rant against lockdown protesters. I've written before, haven't I, about the fact that we've raised an obscene, self-loathing, non-rational generation of young white women? If I hadn't written about this before, a single viral video showing a young woman in Bend, Oregon screaming obscenities and threats at a small gathering of anti-lockdown protesters would, on its own, make my case. Teaching in America is a hyperfeminine career. [Video clip] The Wuhan virus has exacerbated these qualities. Although the Chicago teacher's union quickly deleted it, no one who's been paying attention was surprised by a tweet stating that the mere idea that teachers should return to the classroom was "rooted in sexism, racism and misogyny."
Chicago Teachers' Union: Expecting Us to Teach Kids is Sexist and Racist. Ever since the pandemic, teachers' unions have been coming up with excuses not to teach, and the Democrats they have in their back pocket helped them. But the rebellion has very clearly arrived with even the leftiest parents utterly sick and tired of this state of affairs. That led Mayor Bill de Blasio, a guy who spends all his time pricking his ears up to hear lefty whistles, to backtrack on closing schools. But in Chicago, the teachers' union decided to go to the mattresses.
America's Biggest Teachers Union Shakedowns. Teachers unions have been instrumental in keeping American schools online during the pandemic. But some have escalated their positions on reopening to include an array of social justice demands. A set of demands from teachers unions in July, which addressed how to safely reopen schools amid a pandemic, was criticized by The Wall Street Journal editorial board as "political extortion." The board argued that unions were taking advantage of a health crisis to advance their own ideological agendas and to eliminate competition from charter schools. "For most Americans the coronavirus is a scourge. But teachers unions seem to think it's also an opportunity — to squeeze more money from taxpayers and put their private and public charter school competition out of business," the board wrote. "Rather than work to open schools safely, the unions are issuing ultimatums and threatening strikes until they are granted their ideological wish list."
Jill Biden to teacher unions: "With AFT and NEA's help, we won this election". The winner of the most-hated member of the Trump administration's cabinet may be the Secretary of Education, Betsy DeVos. Her strongly conservative ideas on public and private education have greatly agitated the union-supporting Democrats who are in charge of our country's schools. Once Joe Biden's administration comes into power, you can kiss school choice goodbye. Betsy DeVos made it her mission to increase school choice, especially for underprivileged children trapped in failing schools. This is the last thing teacher unions want. Teacher unions want families under their thumb, left with no options for which might work best for their children and families. The union leaders want power from the top down where one size fits all and the federal government knows what is best for school children across the country, not local parents and teachers in each community. This speaks directly to the differences between conservatives and liberals (or socialists and Marxists).
Proposed Illinois teacher standards: 'embrace and encourage progressive viewpoints'. New standards proposed by the Illinois State Board of Education — which allegedly will make teachers and administrators "more sensitive" to students' cultures and backgrounds — have irked some conservative groups. According to NPR and The Center Square, the Illinois Pro-Family Alliance and Thomas More Society contend the "Culturally Responsive Teaching and Leading Standards for all Illinois Educators" are "unconstitutionally vague" and "amount to a form of 'compelled speech.'" "These elements of the proposed rule require teachers to enunciate a government-sourced 'progressive' and activist viewpoint in their educational work with students," said the former's Ralph Rivera and Molly Malone Rumley.
Jill Biden is bringing the teachers unions into the White House, pledges to continue teaching as First Lady. Jill Biden intends to be a full-time working woman outside of the White House. She kept her job of teaching at a community college while she occupied the Vice-President's house and sees no reason why she can't do the same as the first lady. Mrs. Biden calls herself "Dr. Jill Biden" on social media and the media play along. Her "Dr." designation is a Ph.D., not from a medical degree. That is not to dismiss her accomplishment. She has four degrees which include two master's degrees in education, as well as a doctorate. She has taught in public schools for over thirty years. The teacher living in Delaware now will bring along some powerful friends when she moves into the White House — teacher unions.
The Editor says...
Perhaps Mrs. Biden should wait until the election is decided, and the numerous challenges addressed, before boasting about her role as First Lady.
Black Education Matters. Most Americans would probably be shocked and angry if they knew all the dirty tricks used to sabotage charter schools that are successfully educating low-income minority children. This is not "systemic racism." It is plain old selfishness on the part of traditional public school officials and teachers unions protecting their own vested interests. Most of us might see charter schools that succeed where traditional public schools have failed as welcome news, especially in minority communities where there is so much bad news. But, when there are a million public school students on waiting lists to get into charter schools nationwide, that amounts to many billions of dollars a year that traditional public schools would lose, if all those students could actually transfer. That would represent a lot of jobs lost in traditional public schools. It would also represent a lot of union dues lost, because most charter school teachers do not belong to a union. The success of many charter schools is definitely unwelcome news to both traditional public school officials and teachers unions.
Democrats' deadly strings on new COVID-19 aid. Families and businesses are watching their bottom lines and stretching each dollar. But House Democrats are pushing a plan to prevent America's schools from doing the same thing. The proposed HEROES Act, laying out their demands for the next federal COVID-19 relief package, pledges $175 billion to K-12 public schools to help cover pandemic-related costs and backfill lost state revenues. But to qualify, states must keep spending as much on education as they averaged during the past three years from now until mid-2022. That condition was a priority for teachers unions, which claimed that otherwise states might shift funds to other priorities. But there's a real chance that state tax receipts won't rebound to their pre-pandemic levels until 2023 or later, meaning states should be looking for long-term fixes instead of short-term bailouts. And no state needs to look more carefully at how it spends education money than New York.
Chicago Public Schools Says Teachers Union 'Refuses to Even Discuss' Returning to In-Person Classes. Chicago Public Schools on Friday pushed back against the Chicago Teachers Union, which filed an unfair labor practice charge last week accusing the city's school district of illegally refusing to negotiate with the union on how to safely resume in-person classes amid health concerns. The union has "refused to even discuss" returning to in-person classes, school district spokeswoman Emily Bolton said in a statement. "We are disheartened that CTU continues to obstruct and mislead the public about the necessary planning measures needed to prepare for a potential return to safe in-person learning," Bolton said. "While the district is doing everything in its power to plan for all possible scenarios, the CTU refuses to even discuss a return to in-person learning, even as hundreds of private schools in Chicago are open."
Idaho Teachers Go on 'Sick-out' to Protest School Openings — Every Last One of Them Should Be Fired. The first day of in-person public school in the West Ada School District in Idaho was canceled on Monday [10/19/2020] after over 600 teachers called off work in an apparent "sick-out." Fire every last one. Fire them for being science-deniers. They're teachers, for crying out loud. It shouldn't be that hard to find the transmission numbers among students and see that COVID transmission is nearly non-existent and, in fact, there is ample evidence that children don't even pass it on very well. They are less "sticky", meaning the virus, for whatever reason, doesn't really "stick" to them and then "shed" elsewhere. All of the school numbers from March of 2020 up until this very moment support that. We need teachers who believe in science and information and data. We need teachers who go find information instead of waiting for it to be delivered to them. We need curious teachers. If you're denying science you really have no place in the public school system. [...] If you feel you can't do the job you've agreed to do — for whatever reasons — it is your responsibility to quit. Go find other work that doesn't require you to be in a classroom with children.
Trump vs. Biden — 5 reasons why a sane person should vote — again — for Trump. [#1] Education: If you believe in equal opportunity, you want all youngsters to receive a decent education. In many Democrat-led cities, Hispanic and African-American kids do not receive one. And yet the teachers' unions and their Democratic Party backers refuse all accountability or reforms, condemning millions of Black and brown children to second-class status. New York City spends $28,808 per public school pupil but in 2019 only 28% of black kids were proficient in math and 35% made the cut in English. That is unacceptable, but Democratic presidential nominee Joe Biden would respond by handing even more funds over to his union pals and supporting the status quo. Why? Because he needs money from the National Education Association and the American Federation of Teachers, two of our nation's largest political donors. In the past year alone, those two unions spent $25 million on political campaigns, 94% going to Democrats.
Chicago Teachers Union disagrees with some students' possible return to classroom next quarter. Chicago Public Schools started the year fully remote, but a new plan might change that, and teachers want to make sure the district knows they do not approve of the idea. CPS confirmed Friday morning that the district plans to begin the second quarter remotely, with a goal of bringing back students in pre-K and those with special needs later in the quarter. However, the Chicago Teachers Union is pushing back against that, calling it a "dangerous strategy."
Teachers, walk away from unions that keep fighting against reopening schools. More than a month into the new school year, it is already evident that in-person school instruction is not causing mass outbreaks of the coronavirus. Researchers at Brown University have found extremely low levels of infection among students and teachers. To be specific, the rate of suspected and confirmed student infections is just 0.21%. [...] Unfortunately, no one seems to have informed the union bosses about any of this. The Little Rock Education Association is only the latest union to threaten or to encourage teachers to walk out of the classroom based on deliberately exaggerated and thoroughly unscientific fears about the coronavirus.
LA County's Public Health Director says what we suspected about the lockdown. [Scroll down] Los Angeles County is America's most populous county, the largest government entity in America that is not a state or the federal government, and the third-largest metropolitan economy in the world. It's also entirely Democrat-run, as evidenced by poverty, drugs, and homelessness, as well as its vast wealth inequality. Los Angeles students still cannot go to school but must, instead, do online learning. We already know that part of the problem is that the teachers' union had some pretty stringent demands, few related to the students' physical and mental well-being. However, it turns out the continued school closures are also because of politics. We know this because LA County's Public Health Director, Barbara Ferrer, admitted as much when speaking to a gathering of school nurses and other school administrators: [...] There is no scientific connection between the election and the Wuhan virus. There is, however, a cynical connection between the lockdown and the election. The Democrats know that, and Ferrer finally said it out loud.
California Teachers Union Seeks Power to 'Transition' Children's Gender Without Parents' Consent. In liberal California you have to be 18 to get a tattoo, 16 to drive a car, 21 to buy a gun, alcohol, or pot, but if you want to "change" your gender, you only have to be 12-years-old, and your public school will be more than happy to help. Under the policy the California Teachers Association is pushing, children will be able to get an abortion, refill their birth control, or even start hormone therapy to "transition" genders, simply by asking a teacher — and all without their parents finding out. Recent statements from the California Teachers Association suggest that students should be able to undergo a sex change procedure without parental consent or knowledge.
Teachers' Union Won't Go Back to School, But Will Go to Sharpton's 50,000-Person March. The American Federation of Teachers union boss Randi Weingarten claimed at the union's annual convention that teachers were so terrified of going back to school that they were "quitting in droves" and "making their wills". The AFT threatened that its members would go on strike if they were expected to go back to actually doing their jobs and teaching in a classroom. [...] Despite their claim that they feared for their lives, the march had little social distancing. A few weeks after the death march, the AFT's teachers took a break from making out their wills to get on buses and travel to Washington D.C. to take part in Sharpton's 50,000 person rally.
Dem unions planning strikes over social justice, just in time for the election. [Scroll down] So which unions are speaking up in favor of a shutdown of business and more workers being out on the streets? The gang's all here, with the usual suspects who always show up when the Democrats need cash or a larger megaphone. The list includes the American Federation of State, County and Municipal Employees (AFSCME), the Service Employees International Union (SEIU), and affiliates of the National Education Association (the teachers' unions). These are the fattest cash cows funding the Democratic Party, but it looks like now they're willing to do more than simply pour money into the DNC's coffers.
COVID-19 Power Trips of Leftist Politicians, Teachers Unions Must Stop. The Unified Teachers of Los Angeles has released a list of demands the union says must be met before the teachers will go back to work, and many of the demands have nothing to do with health and safety. The teachers union is not simply demanding gallons of hand sanitizer and masks for everyone on campus. Labor leaders are not merely requesting plexiglass barricades around their workspaces to protect them from students who may be carrying COVID-19. Those suggestions could be discussed. No, the teachers union is refusing to go back to the classrooms unless politicians abolish charter and private schools, eliminate unpaid rent evictions, remove school resource officers, and defund law enforcement. [...] Teachers unions don't care about teachers. They only care about collecting dues from teachers' paychecks. That's why they fight teachers who want to leave the union.
No Strike, and No Plan. There will be no teacher strike in New York City. The leadership of the teachers' union is not foolish; there has not been a strike in 45 years, and for good reason. The last thing Michael Mulgrew needs is a loss of the dues check-off privilege in a post-Janus world. Neither does he need to alienate political allies by staging a walkout in the face of a 1 percent positive Covid rate when other municipal workers have been reporting to work throughout the toughest days of the crisis. Carefully leaked announcements regarding preparation for a strike vote — supposedly coming today — are simply the latest farce brought to us by the de Blasio administration. We're being treated to this melodrama because the mayor wasted four months that he had to plan for a successful school reopening.
The Lockdown Has Gone From a Mistake to a Crime. [Scroll down] The world should have followed Sweden's example. That country never locked down and has even kept children under 16 in school the entire time. As Reuters reported on July 15, the number of Swedish children between 1 and 19 years of age who have died of COVID-19 is zero. And the percentage of children who contracted the illness was the exact same in Sweden as it was in Finland, which locked down its schools. As regards teachers, Sweden's Public Health Agency reported that "a comparison of the incidence of COVID-19 in different professions suggested no increased risk for teachers." Nevertheless, with few exceptions, teachers in Los Angeles and elsewhere refuse to enter a classroom that has students in it. Their disdain for their profession has been superseded only by that of the Los Angeles teachers union, which announced that teachers will not resume teaching until the police are defunded.
Teachers Unions Support Guillotines, Strikes & Closures Over Children's Welfare. Americans are sometimes accused of ignorance over history and geography beyond their own shores. It was no different last week after the Chicago Teachers Union tweeted support for a protest outside Jeff Bezos' home, where an effigy was placed in a guillotine. However, any history teachers among them might have pointed out that the French Revolution ended up turning on its leaders. The protestors, who were virtue signaling for a $30 minimum wage outside the house of a man who reputedly earns $4,000 a second, clearly had violence on their minds.
After laying off no city workers during lockdown, Lightfoot complains of Chicago's revenue shortfall. Mayor Lori Lightfoot will go down as the worst mayor in Chicago's history. Crime is out of control. Chicago's cash cow, the downtown area, accounts for 70 percent of the city's economic activity. This section of what is for now America's third-largest city was hit by two rounds of widespread looting this year. Now Lightfoot says Chicago faces massive budget shortfalls. Mayor Beetlejuice was one of the most enthusiastic mayors in America enforcing — over enforcing that is — the COVID-19 lockdown. Let's say she was right about the threat of the coronavirus — which she wasn't — but let's just say she was for now. All Chicago restaurants were closed for over two months this spring. Why not lay off all of Chicago's health inspectors? Air travel way down. How many municipal employees were furloughed this spring? What about the teachers in Chicago's schools who weren't teaching? None, I repeat, none were laid off.
A.G. Barr on 'Public Education:' 'That's a Racist System Maintained by the Democratic Party and the Teachers Union'. If you want to find "systemic racism" in America, then look no further than the public schooling system, which is "maintained by the Democratic Party and the teachers' unions," said Attorney General William P. Barr. The entire system keeps "inner-city kids in failing schools," he added. "And people talk about implicit racism or systemic racism," said Barr during an Aug. 13 interview on Hannity. "The racism in this country, look no further than our public education system." "That's a racist system, maintained by the Democratic Party and the teachers union," he said, "keeping inner-city kids in failing schools, instead of putting the resources in the hands of the parents to choose the schools to send their kids to." "That's empowering kids," said Barr. "That's giving them a future."
Teachers' Unions Falling Out of Favor With Americans. Is It Any Wonder? The debate over schools reopening has affected how Americans view teachers' unions. It has been well-publicized that the unions in many districts have submitted political demands that have little to do with pandemic safety as a condition of returning to the classroom. None of the political demands have anything to do with educating children, either. One of the requirements, defunding the police, has actually been getting children killed in cities like New York City, Chicago, and Atlanta. Perhaps the most annoying displays were members of the teachers' unions protesting school openings in large groups while maintaining that returning to the classroom is too dangerous. Of course, these protests were done side by side with groups like the Democratic Socialists of America and the Center for Popular Democracy.
No Such Thing as a Totally Safe School. To regain any sense of normalcy during the time of Coronavirus, we'll need our kids back in school. They need to be back there, and their parents really need their kids to be back there. Like yesterday. However, the teachers unions and their Democrat masters — or is it the other way around? — hesitate to re-open the schools. While a cynic might think they're doing this for nakedly political reasons, educators and Dems claim they're just worried about safety, and of course, the children. The safety of the children comes first, they say, batting their eyes for the cameras. And until it's safe, [...] kids and teachers will simply have to suffer with "Remote Learning." Or as I call it, "Not Remotely Learning." Sadly, there is no such thing as safety. It's just an illusion, albeit a useful one that keeps us from being paralyzed by fear. If you stop and think about all the dangers your kids face in a typical school day, why, you'd never let them out of the house.
Kamala Harris Lies Repeatedly in [her] First Speech as Biden's Running Mate. In her first speech since Joe Biden selected her as his running mate, Senator Kamala Harris told multiple lies. To wit: "The president's mismanagement of the pandemic has plunged us into the worst economic crisis since the Great Depression," Harris said. False. The pandemic and its associated lockdowns, not the president, are responsible for the economic contraction. Donald Trump is not the president of the euro zone, which suffered through an even more dire economic contraction in the second quarter: minus 40.3 percent, on an annualized basis, as against minus 32.9 percent in the US. [...] "Just look where [Trump and Mike Pence] have gotten us. ... Millions of kids who cannot go back to school," Harris said. Wrong. It is not Donald Trump's decision whether kids go back to school, because the federal government does not run schools, but he has urged the schools to reopen. The primary reason kids cannot go back to school is opposition from teachers' unions. The second-largest teachers' union is threatening to strike if schools reopen.
Chicago teachers follow up a historic 2019 strike with a 2020 ultimatum: schools won't open in person. Last Monday, teachers across the country rallied in a national day of action to protest plans to reopen schools for in-person learning amid rising coronavirus cases. [...] Days later, Chicago Mayor Lori Lightfoot reversed the city's plan to move forward with a hybrid reopening — meaning half-in person, half-remote. She said Chicago Public Schools (CPS) will now start remotely on September 8, and daily distanced learning will continue until the start of the second quarter, November 9, at the earliest. Lightfoot made the decision against the backdrop of a potential strike by the Chicago Teachers Union (CTU) to prevent in-person reopening. The CTU has sparred with the city for much of the last decade, and has won numerous concessions. In fact, it did so shortly after Lightfoot took office just last year, in one of the biggest strikes in recent Chicago history.
The Apocalypse Election. People believe all Americans have only the best intentions and would never deliberately harm the nation and its citizenry merely to obtain political power. Therefore, people can only look on with incredulity as Democrats blatantly strive to keep Democrat-controlled state economies on lockdown — and, with the help of teachers unions, keep most schools closed in an attempt to deliberately immiserate Americans and their families in the hopes their suffering can be used against Trump.
Teachers Unions Are Attempting Political Blackmail. It's Time To Break Them Up. It's not enough that public school teachers and the college professors who train them are increasingly prone to teaching leftist absurdities like "2+2=5" or presenting the mendacious 1619 Project as legitimate American history. Teachers unions are now trying to blackmail the entire country into meeting a set of leftist political demands for reopening the schools this fall, using COVID-19 as their excuse. Of course, the pandemic certainly presents challenges for re-opening schools, but other sectors of society have managed to rise to the occasion over the past several months to keep the country running. Grocery stores clerks, truck drivers, warehouse workers, and of course police, firefighters, doctors, and nurses — all have kept working, sometimes under tough conditions and sometimes at great personal risk.
The Shame of the Teachers' Unions. No other group has shown as much contempt for its own work during the coronavirus crisis as teachers. Their unions are actively fighting to keep kids out of the classroom and also to limit remote instruction, lest it require too much time and attention from people who are supposed to be wholly devoted to educating our children. This has been a wrenching time in the U.S. labor market, with tens of millions thrown out of work. It's been an inspiring time. Workers we never would have thought of as essential before — grocery-store employees, delivery guys, meat-packing workers — have kept absolutely necessary parts of the economy operating even while most of their fellow Americans were staying at home. [...] Then, there are the teachers unions. Their approach has been a diametrically opposed to that of the everyday heroes of America. Their first and last thought has been of their own interests. They have sought to limit their labor while still getting paid — at the ultimate cost of the education of kids who may never fully make up the gaps in their learning during their time away from the classroom.
NYC teachers protest COVID danger of school openings — with loud, shouty, spit-flecked, close-quarters march. In the tweedledum-tweedledee politics of New York's Mayor Bill de Blasio and New York's Gov. Andrew Cuomo, de Blasio is playing the one with a brain this time, creating a plan for opening New York City's schools, which has the opposition of Cuomo and the teachers unions themselves, carrying guillotines and coffins around to persuade us that school openings are death sentences. Never mind that New Yorkers have been so exposed to this virus through the subway that they've apparently developed herd immunity, with very few new cases since the protests and lootings have started. Nope, schools, too dangerous, and the leftist unions have called all their together members for a round of close-quarter shouting, with spit flecks going all over, in what's got to be one of the best ways out there to actually catch COVID. But little kids are the dangerous ones, see, not demonstrations. Or so you're supposed to think.
To Save America, Defund the Schools. I've just been informed by a friend that school's closed this year, but you can send your kid to daycare — in the closed school. For money. There are online classes, of course — but why? They're terrible for children, and we know now that the disease itself isn't the issue. Matt Walsh reports that kids are three times more likely to die of the flu than COVID-19. So we know that schools aren't being closed for their safety. We heard that childcare costs hundreds a month, per kid, which we know parents can't pay, since many of them are too poor. We heard that teachers are essential and then were told, by the teachers, that they're inessential. L.A. County told us they'd take the children back — if we could stop all "police brutality" and adopt universal health care and mail-in voting. The solution to this whole fraud is simple. Truth is, our teachers are overpaid and incompetent. Why send your kid back to school when, according to The Root, 75% of all black boys in California, where state spending on students is enormous, can't read or write proficiently? Why put your kids in a classroom where there are 30 students to one teacher? Or where you're a white God-fearing conservative, and the teacher hates America? Or where teachers can't discipline children because doing so is "racist"? Or where you don't have the time to meet and assess all the teachers? Or where grades are curved to pass dunces?
Antifa Is the Natural Product of Our Educational System. [Scroll down] For decades, our schools have been self-replicating machines, preaching to college students, directly or indirectly, the left-wing gospel according to Howard Zinn (and the Frankfurt School and so forth) and sending them out in turn to preach this junior varsity, critical theory Marxism themselves as teachers at whatever level at all manner of institutions throughout the country. The youngest of those levels is perhaps the most dangerous because it's the most impressionable. Antifa members are therefore only doing what they have been taught all along, getting rid of a cancer called the United States. This connection between Antifa and the teaching profession is so profound that some insist the majority of those hidden behind the black masks are indeed teachers. Others, needless to say including the liberal media, have denied this. It's impossible to know for certain. Antifa, like some Islamic terror groups, doesn't have a formal leadership structure; why would they need it? They also don't keep records. This, however, is probably a case where the cliché about smoke and fire applies. Whether Antifa is 50 percent teachers or 20 percent teachers, it's a lot of teachers.
Teachers' Unions Want To Keep Schools Closed — Welcome To The 'Edupocalypse'. While Americans across the country continue to work despite the many hardships of COVID-19, teachers' unions want none of it. They want to keep schools closed, which will benefit their own members greatly but seriously harm school-age kids. The Twitter hashtag "edupocalypse" has seen some use in recent weeks and months as our nation's schools closed down and all but stopped teaching. It's leading to what we think can be called, without exaggeration, an educational crisis. Public schools may never be the same.
The Teachers' Unions Will Shoot Their Hostages. For America's kids and parents, the reopening of schools in coming weeks is a source of fear and frustration. For teachers' unions, always claiming to "put the kids first," it's another opportunity for politicking. On Tuesday evening [7/28/2020], just before a slated speech by presumptive Democratic nominee Joe Biden, American Federation of Teachers president Randi Weingarten announced that the national union would back strikes by local members objecting to inadequate health and safety standards. That threat marks progress insofar as a strike would see teachers forgo pay if they abstain from work, the same choice facing many other Americans.
Teacher's union president says strikes probable in Texas, Arizona, Florida. The president of the American Federation of Teachers warned Wednesday that strikes due to unsafe working conditions in schools were possible in Texas, Florida and Arizona — all states with high coronavirus infection rates. "If people die while they are educating kids, you eviscerate any credibility that you would have going forward about whether or not a school is safe," Randi Weingarten told POLITICO. Earlier this month the American Federation of Teachers, which represents over 1.7 million educators, adopted a resolution which demands the only schools that should reopen for in-person instruction should be in places where the infection rate of COVID-19 is below 5 percent.
The Editor says...
If the teachers are waiting until there are no germs in the air, it may be a while.
National teacher union supports strikes over reopening plans. One of the nation's largest teachers unions is authorizing its members to strike if their schools plan to reopen without proper safety measures in the middle of the global pandemic. The American Federation of Teachers, which represents 1.7 million school employees, issued a resolution on Tuesday saying it will support any local chapter that decides to strike over reopening plans. In providing its blessing, the union is also offering local chapters access to its financial and legal resources as they navigate a return to the classroom. Union officials said they will provide legal support, communications support and staffing to local chapters that vote to strike.
No students in class until January? Yes, one N.J. union leader says in urging big delay. The local teachers' union president in Paterson says Gov. Phil Murphy should hold off on reopening school buildings until January, and possibly longer, due to the coronavirus pandemic. John McEntee, president of the Paterson Education Association, said he prefers all-remote learning to the hybrid model embraced by Murphy, in which classes will start on time in September but parents may choose to keep their children home for online learning.
Time to Reopen the Schools. It seems almost incredible that in a number of states, serious consideration is being given to keeping the public schools closed in the Fall. Given that the coronavirus is rarely dangerous to children — less so, in fact, than the average seasonal flu — it is hard to understand the rationale for continued school closures. The most commonly offered excuse is that the children may infect teachers. Presumably that is possible, but a U.K. epidemiologist said yesterday that "Scientists are yet to find a single confirmed case of a teacher catching coronavirus from a pupil anywhere in the world." Teachers' unions are the main proponents of continued school closings, apparently because some teachers and administrators would like to be paid in full for working relatively little. The impulse is understandable, if not commendable. As usual, teachers' unions are happy to throw kids under the bus.
Teachers unions have abandoned our students by blocking reopening. Los Angeles County, the nation's second-largest school district, announced this week that students will not be returning for in-person classes this fall and must instead continue to participate in the failed distance-learning experiment it initiated after the onset of COVID-19. This decision was made not by the parents or the schools but by the teachers union, which has opposed all attempts to reopen the county's schools. United Teachers Los Angeles, which represents more than 35,000 teachers in the area, argued at first that the health of its members and the students they teach was the primary concern. How, they asked, would the schools be cleaned regularly with so many different people entering and exiting at all times of the day? And is it even possible for schools to enforce social distancing among young students? These are reasonable concerns, but UTLA didn't stop there.
The Science Is Very Clear: Schools Should Reopen This Fall. Progressives like to brag that they prize science over politics. Indeed, it's a major talking point in their effort to "transform" America from the greatest nation on Earth to, well, something else. But one look at the debate over reopening schools this fall shows just how absurd that assertion really is. Los Angeles, home to the nation's second-largest school district, is a case in point. The city has long been governed by far-left Democrats, to its detriment. But the local teachers' union really takes the cake when it comes to extremist positions on COVID-19 and school closures.
These Are the Ridiculous Non-Coronavirus Demands the LA Teachers Union Wants Met Before Returning to School. There has been great debate over whether or not students should be sent back to in-person classes beginning next fall. Americans seem rather divided on the issue, but the United Teachers Los Angeles — the LA teachers union — has a few demands before they will even consider heading back to the classroom. "No matter the scenario in August, it's clear that it will not be a 'normal' school year. But when 'normal' means deep race and class fissures that result in increased infection and death rates in Black, Brown, and high-poverty communities; when 'normal' means increasing police budgets even as schools, libraries, and public health face catastrophic cuts; when 'normal' means corporations receiving trillions in bailout funds as federal commitments to support special education and high-poverty students remain unfulfilled; when 'normal' means working families lining up for miles for food banks while US billionaires increased their wealth by over $584 billion — it is clear that going back to normal is not an option. This crisis presents an opportunity to create a new normal that supports all students," the union said in their demand document.
Schools are essential, too. Considering how 2020 has gone, it's a shock to no one that the topic of school openings has become politicized, as everything else has. On one side, we have anti-Trump individuals and groups such as the Lincoln Project claiming, "Trump doesn't care whether your kids live or die." On the other, conservatives are loudly beating the drum about the importance of in-person learning. President Trump himself has come out strongly in favor of opening schools come fall. This isn't just politics; conservatives are the ones who tend to have children, and more of them, and thus, they understand the vital importance of in-person learning. Those in the anti-Trump camp without school-age children beating the louder drums about keeping schools closed have no skin in the game as far as school closures are concerned.
Does Trump have a secret well of unreported support? The media routinely avoid any good news that would help Trump's re-election. Perhaps the most convincing evidence has been the performance of the stock market. Again, the return to work is brisker than experts predict as people are allowed to do so by governors. Perhaps the return to normal school functioning is the greatest threat for the Democrats; the economy cannot fully recover from the COVID shutdown until schools allow parents to resume their jobs. The reporting is all focused on negativity regarding the risk to children. In fact, the teacher unions want to keep schools closed, which gives teachers their full income without any risk as an essential worker. Their political clout is noticeable but will likely backfire.
NBC News Shocked to Find Pediatricians Want to Open Schools. Los Angeles teachers union, in exchange for going back to in-person classes, is demanding the defunding of police, Medicaid for all, and a ban on new charter schools. The LA teachers union has announced that before they're gonna go back to in-person classes the police have to be defunded, there must be Medicare for All, and there must be a wealth tax on the rich to pay for at least $500 billion in additional aid to the schools. That is outright blackmail, and it's never gonna happen. [...] If you don't want to go back to work, then you don't get paid. Why should you get paid? Why should people's tax dollars be used to pay you when you are not teaching anybody and when you don't have the guts to go back to the classroom? I think almost all public schoolteachers have been paid as usual since all of this started, despite schools being shut down from day one. And I'm sure that good old desperation will magically solve some of these problems if they're not being paid.
Here is a "news" article that sounds like it was written by somebody from the teachers' union:
'I Don't Want to Go Back': Many Teachers Are Fearful and Angry Over Pressure to Return. Many of the nation's 3.5 million teachers found themselves feeling under siege this week as pressure from the White House, pediatricians and some parents to get back to physical classrooms intensified — even as the coronavirus rages across much of the country. On Friday, the teachers' union in Los Angeles, the nation's second-largest district, demanded full-time remote learning when the academic year begins on Aug. 18, and called President Donald Trump's push to reopen schools part of a "dangerous, anti-science agenda that puts the lives of our members, our students and our families at risk." Teachers say crucial questions about how schools will stay clean, keep students physically distanced and prevent further spread of the virus have not been answered. And they feel that their own lives, and those of the family members they come home to, are at stake.
The Editor says...
If the teachers are still getting paid, of course they don't want to go back to work. If they're teaching classes on line, of course they don't want to go back to a real classroom full of violent, fatherless urchins.
L.A. Teachers Union's demands before reopening schools are really... something. When it comes to California's plans as to when and how to reopen the schools, it's only natural that the teachers unions would weigh in on the subject. After all, those decisions affect the teachers every bit as much as the students. Casting the net a bit further, a failure to reopen the schools will negatively impact many families if they can't afford childcare costs, allowing them to return to work and their pre-pandemic "normal" schedules. So what do the unions want to see before the schools reopen? It would be natural to assume they want to see more distance between students, mask requirements and better sanitation protocols. And they certainly do want some of those things. But according to a statement put out this week by United Teachers Los Angeles, there are several other things on their list of demands.
Los Angeles teachers union links defunding police to reopening schools. United Teachers Los Angeles recently released a research paper on steps needed to safely reopen public schools amid the coronavirus outbreak and pointed to the need to free up additional funding by defunding the police. [...] Teachers unions have long been criticized by Republicans as an extension of the Democrat Party. Republicans will likely use the paper to support that claim. The union's paper also took aim at charter schools and reportedly called for a federal Medicare-for-All program.
L.A. teachers union says schools can't reopen unless charter schools get shut down, police defunded. A major teachers union is claiming that the re-opening of schools in its district cannot occur without several substantial policy provisions in place, including a "moratorium" on charter schools and the defunding of local police. United Teachers Los Angeles, a 35,000-strong union in the Los Angeles Unified School District, made those demands in a policy paper it released this week. The organization called on local authorities to "keep school campuses closed when the semester begins on Aug. 18."
A Nightmare Campaign of Outright Idiocy. As we get into high summer, there must be a very large number of Americans now actively considering whether the country is going mad. [...] [The Democratic] party is bound hand-and-foot to the palsied hulk of organized labor and is a tinny echo of the teachers' unions' demands that schools be kept closed until there is a vaccine: an indefinite fully paid holiday for the nation's underworked teachers who, in a great many cases, provide no more education to America's youth than would a daycare center.
Trump campaign official bashes Biden, claims ex-VP 'in the hip pocket of the teachers union'. Trump campaign communications director Tim Murtaugh accused presumptive Democratic presidential nominee Joe Biden of being "in the hip pocket of the teachers union" as the White House pushes schools to reopen on time this fall despite the coronavirus pandemic. "We know that when it comes to education policy, Joe Biden does not have a thought of his own, and he has to do with the union tells him to do," Murtaugh said on "Bill Hemmer Reports"
Democrats (Accidentally) Make The Case Against Teachers' Unions. The New York Times reports how police union membership has been climbing even as private-sector union membership has plunged, and that this gives unions "resources they can spend on campaigns and litigation to block reform. A single New York City police union has spent more than $1 million on state and local races since 2014." "The greater the political pressure for reform, the more defiant the unions often are in resisting it — with few city officials, including liberal leaders, able to overcome their opposition," the Times reports. No kidding. All this applies equally, if not more so, to teachers' unions. Through the collective bargaining process, they've made it nearly impossible to fire a teacher, unless the school wants to spend roughly two years and $200,000 doing it, according to Stanford Professor Terry Moe.
Big City Schools: Where America's Most Vulnerable Kids Languish. In school systems with teachers unions, Democrats look the other way as the interests of teachers take precedence over the interests of children. And no wonder. The overwhelming share of union dues paid by teachers is money-laundered straight through to the coffers of the Democrats. According to a Brookings Institution study, nearly 99% of teachers' union political donations in 2012 went to Democrats. [...] New York City and Milwaukee aren't the only places where unionized, Democrat-run schools fail miserably at adequately educating minority children. A 2010 investigation by L.A. Weekly found that the Los Angeles Unified School District spent $3.5 million trying to fire seven teachers for poor classroom performance. Only four of the seven were eventually fired at the end of their union-mandated appeals process, which dragged on for an average of five years at an average cost of $875,000 per fired teacher.
'Social Action' as a Bogus Alternative to True Education. I received an email from the United Federation of Teachers (UFT) asking me which topics from a list of pressing concerns I would like to receive emails about. The UFT has 200,000 members in New York City alone and is affiliated with the American Federation of Teachers, which has 1.6 million members nationwide. Following is a list of some of the sixteen topics being advocated by the UFT: Environmentalism/Sustainability, Immigrant Rights, LGBTQ Rights and Issues; Literacy; Political Activism; Racial Justice; Restorative Justice; Student Debt Relief; Women's Rights and Issues. In case anyone tells you the teaching profession has not been politicized but that it is what it always has been — namely, composed of over-worked, dedicated, and underpaid teachers — this list should dispel that mistaken understanding. They are over-worked, dedicated, and underpaid, but at the same time, they are being used by their union leaders to promote a leftist agenda. It is important to see this in order not to sentimentalize the teaching profession.
California Teachers Union Wants Kids to Pursue Gender Transition Without Parental Consent. Even in California, you have to be 18 to get a tattoo, 16 to drive a car, 21 to buy a gun, alcohol, or pot. But if you want to change your gender? Well, then, you just have to be 12. And your public school will be more than happy to help. Need an abortion? Tell your teacher. Want to refill your birth control? Go to the school clinic. Thinking about starting hormone treatments? Your parents will never find out. At least, not under the policy the California Teachers Association is pushing. That's the amazing revelation from last month's union meeting.
Teachers Union Demands Kids Share Bathrooms With Transgender Educators. As the Madison Metropolitan School District faces a lawsuit over its policy on student gender identity, it's being accused of discriminating against transgender teachers in the bathroom. On Tuesday, Madison Teachers Inc. fired out a press release asserting it supports equal restroom access for MMSD students and staff. The union doesn't like the district's directive to Frank Allis Elementary School staff to "limit their use of restroom facilities to the single person restroom."
Minors May Get Sex Changes Without Parental Consent, if California's Teachers Union Has Its Way. The California Teachers Association's recent position statements suggest that students should be able to receive hormone therapy to change their sex without parental consent. Although this CTA belief does not directly change regulations on the matter, it indicates the kind of legislation the powerful union will support. On Jan. 26, CTA changed an existing policy to explicitly include transgender and non-binary youth among the students who can leave class without parental permission to receive birthcontrol, abortions, and other such services.
Best Buy employee found child porn on Pasco teacher's laptop, deputies say. A Pasco County middle school teacher faces felony charges after sheriff's deputies said a Best Buy employee found child pornography on the 69-year-old educator's laptop. William Crawford was arrested Tuesday afternoon [1/7/2020] at John Long Middle School, where he taught, according to a report from the Pasco County Sheriff's Office. He resigned from the job the same afternoon, prior to his arrest, a district spokeswoman said.
How Bloomberg just tanked any possible support from teachers unions. New York billionaire Michael Bloomberg is playing catchup in terms of getting all of his policy proposals fleshed out and published for public inspection. But his team has been hard at work trying to get all of their bases covered and this week they're preparing to release his education plan. A lot of it is fairly standard material by Democratic Party standards, with plenty of free stuff and more taxpayer funding going into the public school system. But there's one portion of the summary that will definitely set Bloomberg apart from the rest of the field, and probably not in a good way. Similar to how he ran things as Mayor of New York City, Mike will be throwing his support to charter schools.
Wisconsin English teacher admits to repeatedly pooping in local park. A Wisconsin English teacher has admitted to defecating on a building in a public park for more than two years, a report said. Jeffrey Churchwell, 60, who will be retiring from Milton School District in January, allegedly fessed up to littering Natureland Park with poop since 2017, leaving behind his human waste and used toilet paper, according to The Janesville Gazette. His run came to an end on Oct. 8 — the same day a county worker met with a sheriff's deputy over a complaint about somebody repeatedly going to the bathroom on a park building up to five days a week, sometimes several times per day, the report said.
The Editor says...
As long as his union dues are paid up, the teachers' union will defend this guy to the bitter end.
Teachers Ask SCOTUS to Review Law Allowing Union to Condition Say in Workplace Rights on Membership. The National Right to Work (NRTW) Legal Defense Foundation has petitioned the U.S. Supreme Court to hear the case of four Massachusetts teachers who are asking the high Court to review a state law that allows a union to block non-members from having a voice in workplace conditions.
The Chicago Teacher Union vs. Charter Schools. This is the second week of the Chicago Teachers Union (CTU) strike. It's the second CTU strike in less than 10 years, and it's having wide and far-ranging repercussions. Even worse, if the strike persists for a few more days, thousands of CPS students will not be able to participate in the upcoming Illinois high school playoffs. This is especially unfortunate because these postseason athletic tournaments are prime opportunities for CPS students to showcase their athletic abilities and receive scholarship offers from college scouts and recruiters, who routinely attend such athletic extravaganzas. Another huge consequence of the current strike is a death blow to charter schools in the Windy City.
This CTU strike has betrayed Chicago's children. There are about 300,000 children in Chicago who have missed nearly two weeks of classroom instruction and after-school activities. There are high schoolers who have fallen behind on college application preparations. Athletes who lost the chance to participate in postseason playoffs and tournaments. And there are children from every community who counted on school as a sanctuary. For thousands of those children, school essentially was their only place of learning, emotional support and consistency.
Chicago Teachers Union rejects latest offer as students miss eighth day of classes. Chicago Public Schools students missed an eighth day of classes as the teachers union rejected the city's latest offer to end the longest teachers strike in more than 30 years in the city. Chicago Public Schools said it had made a $500 million offer, but the union said the two sides are still $38 million apart. "In addition to double-digit raises for all staff, our offer included another 110M to provide a nurse and social worker for every school and prioritized support for high-need schools," the school system tweeted Sunday [10/27/2019].
Why Chicago teachers won't take 'yes' for an answer. Here's what should infuriate Chicagoans: This strike is about power and relevancy for leaders of the Chicago Teachers Union. It always has been. How else do you explain this walkout even as Lightfoot continues to offer a generous pay and benefits package while committing to the union's demands for additional support staff, smaller class sizes and a social worker and nurse in every school? The parameters of those arrangements are in writing. Lightfoot bent to most of CTU's key demands. Yet teachers still were marching on sidewalks and street corners Thursday [10/24/2019] instead of teaching in classrooms.
Closing Schools to Indoctrinate Educators in 'White Privilege'. By longstanding tradition, on the third weekend in October, Minnesota schoolchildren are granted a four-day holiday so that their teachers can attend an indoctrination boot camp — otherwise known as the "Minnesota Educator Academy" or "MEA" — sponsored by Education Minnesota, the state's teachers union. Billed by the union as an opportunity for professional development and for educators to connect with their colleagues across the state, the Academy is a poorly-disguised effort for leftists to further their agendas by promoting radical race theory and the progressive concepts of "white privilege" and "Islamophobia" to the individuals charged with educating our next generation. The most recent MEA which was held last week in St. Paul was no exception and the conference itinerary made no effort to hide the political thrust of its efforts.
Woke Evangelists Spread the Gospel. [Scroll down] The nation's teachers' unions are certainly not lacking in woke zealotry. At their convention in July, the National Education Association's new business items — proposed directives and projects for action during the coming year — included incorporating "the concept of 'White Fragility' into NEA trainings/staff development, literature, and other existing communications...." One adopted item pushes for "reparations for descendants of enslaved Africans in the United States," and another publicizes the union's "vigorous defense of immigrants' rights: defending the right to asylum, ending the criminalization of border crossings, opposing child separation, the construction of a border wall, and immediately shutting down immigrant concentration camps."
Warren Took Thousands From Teachers' Unions Before Charter School Flip-Flop. Democratic presidential candidate Elizabeth Warren raked in tens of thousands of dollars from teachers' unions before reversing her past support for student vouchers and education reform. In 2004, Warren argued that vouchers "relieve parents" from relying on failing public schools. Her campaign's newly-released education plan attacks charter schools and school choice. Warren's reversal comes after the Massachusetts senator took more than $2.5 million in campaign cash from the education industry throughout her political career, including nearly $70,000 from the country's most powerful teachers' unions, according to the Center for Responsive Politics.
Police Block Marching Teachers from Entering Lake Shore Drive. Marching teachers in downtown Chicago were blocked by police as they tried to enter Lake Shore Drive during rush hour Friday afternoon on the seventh day of canceled classes in the city. The teachers began with a rally near Buckingham Fountain before marching down city streets, prompting closures as they went.
From Woke to Broke. "The fact is there is no more money. Period," says Chicago mayor Lori Lightfoot. She's talking about the teachers' strike that has paralyzed her city's public schools — enrollment 360,000 — for the past week. The public employee union is demanding more: more money for salaries (only eight states pay teachers more than Illinois), more support staff (Illinois ranks first in spending on administrators), more teachers per student. Their cause has attracted national attention. Elizabeth Warren joined the picket line. Which is ironic. Lightfoot is not some stingy Republican. Nor is she a centrist Democrat like her predecessor Rahm Emanuel. She's as progressive as you can get. But she now finds herself in the same position as many of her political brethren: facing criticism for failing to reconcile the contradictions in the left's agenda.
It's Day 5 of the Chicago teachers' strike, and 25,000 educators are swarming City Hall with their demands. The city insists "there is no more money" to offer the union, but teachers say they won't back down until they get more support staff, higher raises and class-size limits in the country's third biggest school district. "We're willing to strike until we get the job done," CTU President Jesse Sharkey said. "We are not giving up this fight until we get what is just and what is right."
Chicago Teachers: Stop Holding the City Hostage. The streets of downtown Chicago were packed last week with more than 30,000 teachers protesting for pay increases and other benefits like affordable housing, smaller class sizes and more nurses and social workers on campus. Talks continued over the weekend, and the strike has entered another week, leaving more than 360,000 students stranded with no place to go. To the teachers and union, I say shame on you for holding the city of Chicago hostage. It's time to stop whining and get back to work.
Chicago Teachers Union puts the squeeze on Mayor Lori Lightfoot, and taxed-out taxpayers. As Chicago teachers marched into Week Two of their strike Monday, Chicago Teachers Union leaders pursued their strategy of moving the goal posts. One indicator: Contract demands that started with pay now include rent control, a policy the state legislature has been debating. Rent control policy has no place in a teacher contract negotiation. Nor does affordability of housing. Nor does presidential politics. But in the spaghetti-throwing exercise CTU has employed for months, issues that fall outside the parameters of a labor agreement keep getting tossed at the wall. What will stick? How about free yoga classes at 31st Street Beach? Can CTU get that in the contract? The longer the negotiations crawl, the more expensive the contract risks getting for taxpayers, and the more classroom time shrinks for students.
Chicago teachers demand smaller class size by striking, but enrollment is already declining. Chicago Teachers Union members are on strike again, 300,000 students and their parents have to reshuffle their weekday routines. In Chicago and many other big cities, school is more than being an educational institution. Three quarters of Chicago Public Schools students qualify for government paid-for or subsidized lunches, many also qualify for breakfasts under similar circumstances. Or maybe schools in Chicago are less than being an educational institution as barely one-in-four students read at grade level, despite most schools having "College Predatory" [sic] and "Excellence" in their names. But CPS schools serve, even when there isn't a strike, sadly as day center centers.
Right to Work Legal: Chicago Teachers Have 'Right to Rebuff' Union Demands. The National Right to Work Legal Defense Foundation (NRTW) has issued a special legal notice to the more than 20,000 teachers affected by the Chicago Teachers Union (CTU) strike order. The notice informs Chicago teachers they have a right to refuse to leave their students and to continue to provide for their families during the planned strike. Additionally, the notice offers teachers links to resources to help them exercise their rights without fear of retaliation from union leaders.
Chicago teachers: for themselves, not the children. Teachers in Chicago, where the median pay for educators, according to U.S. Census Bureau figures, comes in around $75,000, have called for a strike for more money, lower health care costs, smaller class sizes and to bring about the hiring of thousands of support staffers and the construction of 55 new schools — and are calling it a strike for "justice," to boot. All while leaving 300,000 district school children in limbo. This is not about "justice." This is not about the students. This is about teachers, guided by the promptings of union heads, getting more for themselves.
New Jersey teacher loses job, accused of snorting morphine in front of students. A New Jersey elementary school teacher has lost his job for allegedly snorting morphine in front of his students, according to a Tuesday [10/1/2019] report. Michael Palladino, 43, was charged in December with possession of a controlled dangerous substance and official misconduct, according to a complaint from the Ocean County Prosecutor's Office.
For the Second Time in Four Years, Chicago Teachers Vote to Strike. It's contract time again for teachers in Chicago and that means one thing: Strike! The teachers want more pay for less work — a lot more pay. They are demanding a 15 percent increase in salary over three years. They are also demanding more union members be hired by schools. [...] Chicago teachers are already earning more than teachers in any other big city.
Chicago Teachers Union Members Vote to Authorize Strike. Chicago Teachers Union members have voted to authorize a strike, union leaders announced Thursday night, setting the stage for more than 25,000 teachers and staff to walk off the job in the nation's third-largest school district. CTU President Jesse Sharkey said the union eclipsed the 75 percent threshold needed to authorize a strike at approximately 9:15 p.m. Thursday. Sharkey said that 94 percent of the votes tallied by Thursday evening [9/26/2019] were in favor of authorizing a strike.
Sanders fires up friendly crowd as teachers union starts strike votes. The senator and presidential candidate visited CTU headquarters Tuesday [9/24/2019] for a rally to mark the start of a strike vote.
Bernie Sanders has the teachers in his wallet. Sanders, by and large, has reaped his biggest whirlwind of support from the so-called educated crowd. From teachers, he's received $949,470; from professors, meanwhile, he's received an additional $361,408. That's $1.3 million and some change from those who are supposed to be the better educated batch of the country — from those who are supposed to be schooled in history and government and civics and law — given directly to the one who is trying with every campaign step to tear down the fabric of the country.
Democrats keeping charter schools down in exchange for teacher's union cash, top activist says. As Democrats seeking to unseat President Trump in 2020 call for funding to be diverted from charter schools, National Alliance for Public Charter Schools president Nina Rees accused the party of bowing to teachers' unions in exchange for sizable campaign contributions. "The simple answer is that the teachers' unions are now more powerful than ever before when it comes to Democrat party politics," she said on the latest edition of "The Journal Editorial Report," which aired Saturday. "The unions have discovered that because our teachers are not unionized, that they have a fewer share of the market than they had before.
UFT director from Queens nabbed after sexting with detective he thought was 14-year-old boy: officials. A United Federation of Teachers director has been charged with attempting to coerce a minor into sex as part of a sting operation, according to a complaint filed in Brooklyn Federal Court Friday [9/6/2019]. According to a statement by Detective Damon Gergar, who was involved in the sting, 41-year-old Jason Seto contacted him via a dating app that Gergar says people "primarily use to meet up to have sexual contact."
PA teacher's unions still charging unconstitutional fees. In the wake of the Supreme Court's ruling in Janus v AFSCME, it appeared as if the question had been settled. The state cannot force public sector workers who are not members of a union to pay dues (or "fair share fees") to that union to support its political speech. This practice is a violation of the worker's First Amendment rights. But it seems that at least one teacher's union in Pennsylvania didn't get the memo. They're still doing it, and now a few of their victims are taking them to court.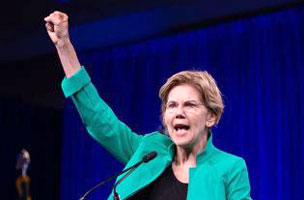 This might go over in Massachusetts, but it doesn't make a good nationwide platform.
Elizabeth Warren's Bias Against Private and Religious Schools — and Their Teachers. From the time she was a little girl, Sen. Elizabeth Warren of Massachusetts had a dream. She wanted to work for the government. "Me, I knew for sure what I wanted to do from second grade on," Warren said in a speech delivered in Philadelphia on May 13. "I wanted to be a public school teacher." "Can we hear it for public school teachers? That's what I wanted," said Warren. The American Federation of Teachers — a union affiliated with the AFL-CIO — hosted the event Warren addressed. Notice she did not tell the teachers' union she simply wanted to be a schoolteacher — or a high school teacher, or a grammar school teacher. She said she wanted to be a "public school teacher."




Chicago Teachers Union visits Venezuela, returns with high praise. Four representatives of the Chicago Teachers Union, including a member of its executive board, visited Venezuela and returned with high praise for the socialist polices of President Nicolás Maduro. So starts the story of those apparently living in an alternative universe. What is worse, these are the teachers who are indoctrinating the children. Chicago, the bastion of all that can go wrong with a city, gives us a chilling insight. The very same people opposed to charter schools and will do all they can to insure incompetent teachers remain in their positions. Who are more than willing to enjoy the largesse of the taxpayers with extraordinary benefits.

Members of Chicago Teachers Union Support Venezuela's Socialist Disaster. According to FightBack!News, The Chicago Teachers Union has a delegation in Venezuela getting behind strongman Nicolás Maduro's regime. The story details that the delegation's goal is to "learn what they could from Venezuela's Bolivarian Revolution, exchange views on effective education and to show solidarity with the students, teachers and social movements of Venezuela." The delegation members are sharing their amazement at Venezuela's socialist experiment on a blog called "Radical Educator Collective." These union members were impressed by the communes they visited.

The American Left Is Racist, Not President Trump. Does anyone really think affirmative action — an explicitly racist practice — does "people of color" any favors when such preferences lower academic standards to admit them into universities even when they lack the academic skills to compete with their classmates? Ah, but create undemanding "ethnic studies" majors and turn them all into left-wing activists! That they can do. The biggest crime committed by the racist Democrats is the destruction of America's public schools, where the leftist teachers unions have stifled innovation and accountability. The worst impact of the union grip on public education has been felt in low-income "communities of color."

NEA teachers union president pitches transgenderism to kindergartners. The National Education Association and the Human Rights Campaign thinks it's critical to teach kindergartners about transgender ideology, so the nonprofits partnered together to "support and celebrate" the cause through the union's Read Across America Day. In schools across the country, teachers and LGBTQ advocates are reading NEA-endorsed stories that explain the gender spectrum and teach students they can "identify" as whatever they want. NEA President Lily Eskelsen Garcia and Sarah McBride, a transgender spokesperson for the Human Rights Campaign, led by example with 50 kindergartners at Ashlawn Elementary School in Arlington, Virginia, late last month. The duo read from "I Am Jazz," about a boy who turns into a girl, and "Julian Is a Mermaid," about another boy who fantasizes about being a mermaid, then answered questions from the wide-eyed 5-year-olds, The Washington Post reports.

For Bernie Sanders, Union Bosses Matter More than Poor Kids. Bernie Sanders is a delusional hard-core statist, but that's part of what makes him attractive for some voters. [...] Today, though, I want to highlight something that's unambiguously bad. He's decided that currying favor with union bosses at the National Education Association is so important that it's okay to trap kids from poor families in failing schools. And that, to me, makes him a political hack rather than an honest leftist.

25,000 Oregon Teachers Walk Out, Forcing Some Public Schools to Close. An estimated 25,000 public school teachers staged a walkout and rally in Portland, Oregon on Wednesday. Thousands of other teachers staged simultaneous walkouts and rallies at a number of other locations around the state. The event, which was sponsored by the Oregon Education Association, forced more than a dozen Oregon public schools to close for the day, [...]

The Editor says...
So much for putting the needs of the children first.

Teachers leave classrooms in S.C., N.C. take part in May Day rallies. Teachers in South Carolina rallied Wednesday [5/1/2019] for the usual demands: more money, smaller classes, and more support staff. The protest in the state capital of Columbia was organized as part of the 'Red for Ed' movement, and was organized by an activist group known as South Carolina for Education. They did not want to call it a walk out, but promoted it, instead, as a day of reflection by telling teachers to take a personal day so they could participate. A reported substitute shortage forced some districts to close for the day.

The Editor says...
The first day of May is a Communist holiday. A surprising number of people don't know this. It's like Christmas for Commies. That's why the socialist labor unions celebrate on May 1st, even if it means abandoning their jobs for the day.

Union Returns Seized Dues. A Connecticut professor will recover thousands of dollars that his university's union improperly seized from his paycheck. The American Association of University Professors union (AAUP) at the University of Connecticut has returned $5,251.48 to Steven Utke under a settlement filed on April 5. The agreement headed off litigation that could have further cemented legal precedent barring labor organizations from continuing to reinforce dues deductions from worker paychecks. AAUP entered into it on the condition that the payment "shall not be considered or construed as an admission of a liability or wrongdoing," while pledging to no longer go after Utke, an accounting professor, for further payments.

Should we shutter the Department of Education? Since its inception 40 years ago as a political payoff from President Jimmy Carter to the National Education Association, the Department of Education has engaged in scores of dubious actions that have made millions of Americans yearn for its expulsion.

Too many school teachers hate capitalism, and are vowing to get rid of Trump in 2020. School teachers are the largest single occupational group contributing to socialist Bernie Sanders's presidential campaign. As Breitbart notes, "A disproportionate number of those to whom we have entrusted the task of passing our values on to the next generation disagree with those values and would prefer a "revolution." So many school teachers in North Carolina joined Marxist May Day protests organized by #RedforEd, the four largest school districts shut down for the day. #RedforEd talks about hirer wages and Medicare for all. They pretend to be bi-partisan. They are anything but mainstream.

Buffalo Teachers Union Continues Gouge of Taxpayers for Tummy Tucks. Since 2004 when the Buffalo Teachers Federation signed a new contract with the Buffalo Board of Education (BOE), which oversees New York State's second largest school district outside of New York City, teachers have been gouging taxpayers for cosmetic surgery. Yet there has been a lack of basic resources to satisfy minimum state requirements for the high poverty area schools. [...] According to a 2012 article in Syracuse News, at least 100 teachers of the 117 who were laid off could have remained on the job had the union agreed to suspend the cosmetic surgery rider for one year.

Teachers Unions Want Legal Teacher-Student Sex. No one expects teachers unions to advance the best interests of kids. Albert Shanker was president of the United Federation of Teachers and the American Federation of Teachers. As Shanker put it, "When school children start paying union dues, that's when I'll start representing the interests of school children." Even so, it is appalling to learn that two major teachers unions want to keep it legal for teachers to have sex with their students in Rhode Island.

Teachers Unions Take Charge in West Virginia. West Virginia's public schools are not academic standouts. Far from it, in fact. The state's 8th graders ranked 45th nationwide in reading on the 2017 National Assessment of Educational Progress. Also, according to the state scorecard, 88 percent of West Virginia's 116 high schools "do not meet standards" in math. In view of these troubling statistics, the state's legislators decided to take action.

The massive, well funded assault on charter schools by teachers unions. For the first time in a generation, there is labor unrest in America's public schools. Strikes in Los Angeles, Denver, Oakland, and West Virginia as well as threatened strikes in other localities are more than teacher unions flexing their muscles to get more pay and benefits for their members. At issue everywhere is the success of charter schools and the perceived threat they pose to the nation's public schools. Indeed, Ray Domanico of the Manhattan Institute points out that the increased activism of the unions is occurring as the Democratic Party is drifting ever farther leftward.

What are the teachers' strikes about? Racing to the left. and Oakland? Local issues like across-the-board raises and increased educational spending are certainly a big part of teachers' demands, but they could have been fought without a strike. The larger issue at play, and the real reason for these strikes, is a shift in the landscape of the party the teachers' unions have always called home.

Socialists Organizing Teachers to Turn Purple States Blue by 2020. This teachers union effort, called #RedforEd, has its roots in the very same socialism that President Trump vowed in his 2019 State of the Union address to stop, and it began in its current form in early 2018 in a far-flung corner of the country before spreading nationally. Its stated goals — higher teacher pay and better education conditions — are overshadowed by a more malevolent political agenda: a leftist Democrat uprising designed to flip purple or red states to blue, using the might of a significant part of the education system as its lever. The movement takes its name from a political organizing tool first seen in Florida in 2010, when teachers union members wore red to express political opposition to public school reform proposals under consideration at that time in the state and encouraged parents and political activists from other unions to join them.

Teacher Strikes Spread to West Virginia, Oakland. Teachers unions are increasingly using strikes as a bargaining tactic in the wake of the Supreme Court's landmark ruling that allows public sector dissidents to opt out of paying union dues. West Virginia is in the midst of a statewide teacher walk-out to protest legislation that would allow for more charter schools and other non-union organizations in the state. The strike is the second from the West Virginia Education Association in as many years after it parlayed a statewide walkout from Feb. 22 to March 7 in 2018 to receive 5 percent pay raises. The teachers union in Oakland, Calif., meanwhile, announced that it would begin its own strike on Thursday after walking away from the bargaining table with the school district over pay raises.

Teachers Want A 12 Percent Raise In A California School District That Went Into A Financial Crisis In 2017. An Oakland, California, teachers' union announced Saturday that a strike will begin on Feb. 21 after failing to reach an agreement with the school district over increased pay and smaller class sizes. Oakland Educators Association (OEA) said teachers were seeking a 12 percent raise over three years to help keep educators in the Oakland Unified School District (OUSD), according to a Saturday press statement.

Will Anything Good Come Out of the LAUSD Strike? Probably Not. As the teachers strike in Los Angeles entered its second week, it appeared the strike would soon be over. On January 22, online reports declared an agreement has been "hammered out," with union members ratifying the deal late last night [1/24/2019]. Union representatives have consistently stated that more pay is not the only reason they're striking. That's believable. The unions also want to unionize charter schools, they want smaller class sizes, and they want more hiring — for example, a full-time nurse at every elementary school. All of this, however, costs money.

Another milestone in California's decline — The LA teacher strike. Teachers in Los Angeles public schools went on strike last week, holding 500,000 kids and their parents hostage as they demand more money for the lousy job their system does at providing an education. The Los Angeles Unified School District (LAUSD) boasts of graduating about 80 percent of students. But only 60 percent of those who graduated actually completed the necessary coursework, reflecting an unfortunate practice of passing students who don't actually make the grade.

The Los Angeles teacher strike has a huge problem: Pensions. Los Angeles' 31,000 teachers are finishing up their first week on strike with no end in sight. This is in spite of the fact that both the teachers' union and the school district, the nation's second-largest, want to spend more money. The sticking point is that the district can't financially afford or legally spend as much as the union demands. The United Teachers of Los Angeles and the Los Angeles Unified School District both want teachers to be paid more, class sizes to be reduced, and more support staff hired. But these items are expensive and run headlong into the fiscal wall created by big employee benefit promises to retirees. Pensions and retiree healthcare commitments now threaten the district with insolvency if it accedes to the union position.

LAUSD employee caught on video making racist remarks to teachers on strike. The Los Angeles Unified School District has launched an investigation after a district employee was caught on video making racist remarks to teachers on strike. It happened Wednesday morning [[1/16/2019] at South Gate Middle School. The LAUSD employee has been identified as Annette Arvizu, a senior technician who has worked for the school district for 18 years. Arvizu says Wednesday morning's confrontation began when striking teachers wouldn't let her leave due to prior tensions.

Los Angeles teachers strike over pay and class sizes. Teachers in the Los Angeles Unified School District, the second largest in the nation, are officially on strike today as several last minute offers from the district were rejected by the teachers' union. At issue are pay raises for teachers, smaller class sizes, and hiring more staff. The underlying issue is an "existential threat" to the union: non-union charter schools that are becoming very popular.

Los Angeles teachers could strike for higher pay, smaller class sizes. For the first time in 30 years, teachers a part of the Los Angeles, Calif., school district — the second biggest in the nation — is slated to go on strike. Roughly 35,000 members of United Teachers Los Angeles (UTLA) are expected to participate if a deal with the Los Angeles school district regarding class size and higher pay, among other issues, is not met.

L.A.'s Teachers Union Can't Do Simple Math. As the federal government shutdown heads toward its third week, parents in Los Angeles are also bracing for a possible shutdown of the public-school system. On Jan. 10, the 33,000 members of United Teachers Los Angeles plan to go on strike. The Los Angeles Unified School District is trying to stanch red ink and avert a state takeover, while UTLA seeks to arrest a decade long decline in membership.

Veteran teacher exposes teachers' unions in new book. Rebecca Friedrichs, an elementary school veteran teacher of almost 30 years and plaintiff in Friedrichs v. California Teachers Association, knows from experience that teachers' unions are the number-one corrupting force in education. Her new book, Standing Up to Goliath, features testimonies of teachers, parents, and kids who have been harmed by the state and national teachers' unions. "If people read this book and find out what is really going on, they will find out that every single problem in our schools is related to the teachers' union," Friedrichs told Red Alert Politics in a phone interview.

The Truth About TIME's 'Underpaid Teachers' Story. "I Work 3 Jobs And Donate Blood Plasma to Pay the Bills. This Is What It's Like to Be a Teacher in America," reads the cover of TIME Magazine this week — and the story is going viral. I haven't been able to scroll through a social media feed without seeing someone linking to the article — which features the stories of a handful of allegedly struggling teachers. [...] While I'm all for paying certain teachers more, TIME's piece doesn't make a convincing case for that. In fact, the TIME article doesn't do anything other than prove life is hard, given that all of the teachers profiled in the piece earn incomes above that of the average American.

American Federation of Teachers President: 'We're Becoming More Political'. Teachers' unions in America have long been notorious for their liberal political policies and positions. Now, it appears the unions may somehow be skewing even farther to the left. According to a recent article in National Review, both the National Education Association (NEA) and the American Federation of Teachers (AFT) appear to be pursuing increasingly progressive political agendas. Universal health care, free college tuition for everyone attending state schools, and the provision of universal daycare are just a few of the positions outlined by the unions this past summer. The AFT's biennial convention, held last month in Pittsburgh, honored Hillary Clinton with their Women's Rights award. Ms. Clinton delivered a speech to the over 3,000 people in attendance, in which she sharply criticized a number of President Donald Trump's policies and encouraged union members to get out and vote in November. Sens. Bernie Sanders and Elizabeth Warren were also featured as keynote speakers.

Teachers' Unions Plan to Become 'More Political, Not Less Political'. In a landmark First Amendment decision, the Supreme Court ruled earlier this summer in Janus v. AFSCME that states cannot require public employees to pay "agency fees" to unions. Prior to the decision, in 22 states, public employees who chose not to join a union could still be required to pay these fees — somewhat less than full dues — for union services. Some have suggested that unions might temper their left-wing politics in response to the decision, in the hopes of wooing potential members put off by union politics.

Hillary: Still Hero of the Aggrieved and Champion Whiner. Who other than the AFT would give an award to a woman as corrupt (and tired) as old Hilz? In my experience heroes and role models are not whiney losers but Hillary broke that glass ceiling too. Amongst the permanently aggrieved nobody is more aggrieved about more things for a longer time than old Hillary.

Hillary Clinton: Republicans 'are trying to rip the heart out of America'. Hillary Clinton had strong words for the Trump administration and Republicans on Friday [7/13/2018] while addressing the American Federation of Teachers, saying the fundamental rights of Americans are what's at stake this November. Speaking at the labor union's conference in Pittsburgh, Mrs. Clinton slammed the administration's separations of families at the border as inhumane and indecent.

Supreme Court Fallout: Calif. Teachers Sue Unions to Recoup Unconstitutional 'Agency Fees'. Justice is coming for unions that forced non-members to pay "non-political" agency fees that went to prop up Democratic candidates. Last month, the Supreme Court ruled that forcing workers who disagree with a union to make these payments anyway violates the workers' First Amendment rights. Less than a week after that ruling, Janus v. Association of Federal, State, City, and Municipal Employees (FSCME), seven California teachers have filed a class-action lawsuit to recoup unjustly forced fees.

I'm A Teacher. Here's Why I'm Cheering My New Freedom From Unions. I recently received an email from the local chapter of the National Education Association informing me that collective bargaining had ended and a salary schedule for the 2018-19 school year had been agreed upon. In other words, a union of which I am not a member has negotiated my new salary for the upcoming school year. As a second-year elementary school teacher in southern New Mexico, I would be lying if I said that I have not seriously considered joining the union, or that I will never join the union. The pressure is high at the Title I school in which I work.

20 Unheeded Warnings in Washington's Farewell Address. Many public schools in the past required knowledge of our political system and the reading of this speech. Every citizen ought to be able to understand why these warnings are important and how to defend against them. However today many public schools are aligned with a faction (their labor unions) and place their own interest above society.

Teacher Unions Across America Face Uncertain Future After Supreme Court Decision. Teacher unions across the country face an uncertain future after the Supreme Court's decision not to force workers to pay mandatory fees to cover union collecting bargaining costs. The Janus v. AFSCME 31 case dealt with Mark Janus, an Illinois state worker, arguing that the state violated his First Amendment rights by making him pay agency fees to a union because he did not want to join it. Janus believed paying agency fees forced him to speak through the union. "This is a fundamental defeat for unions. There's no sugar-coating it; this is a huge defeat," Nat Malkus, deputy director of education policy studies at the American Enterprise Institute, told The Daily Caller.

Supreme Court's Janus decision could change everything for our schools and kids. In 20 to 30 years, we may look back on this week as the turning point when everything changed for America's teachers and their students. That's because the Supreme Court ruled Wednesday [6/27/2018] that individuals who disagree with a union's political activity will no longer be forced to pay dues to the union. The 5-4 high court decision in the case of Janus v. AFSCME (American Federation of State, County and Municipal Employees) is a landmark victory for the First Amendment rights of 5 million public sector employees in 22 states. In addition, a great opportunity for serious school reform may be a consequence as well. The Supreme Court ruling may mark a watershed moment when teachers begin to take their profession back, forever changing the trajectory of America's public school system and the students it serves.

Can We Make American Education Great Again? Not With Teacher Walkouts. The results released a couple of weeks ago were disappointing, showing that scores on reading and math tests for fourth and eight graders remained flat in 2017. Meanwhile, as those results were coming out, across the nation, in West Virginia, Kentucky, Oklahoma, Arizona and Colorado, schools were hit with teacher walkouts and strikes. The bad test scores and the walkouts are not unrelated. The weak test scores say a lot. After a brief burst of improvements in the early 2000s, test scores have shown little change or improvement for nearly a decade — essentially the Obama years until today. For all their talk, the Obama administration was a huge failure at continuing early-2000 improvements in 8-12 education.

No, Teachers Are Not Underpaid. Most commentary on teacher pay begins and ends with the observation that public school teachers earn lower salaries than the average college graduate. This is true, but in what other context do we assume that every occupation requiring a college degree should get paid the same? Engineers make about 25 percent more than accountants, but "underpaid" accountants are not demonstrating in the streets. Wages are not determined by years of schooling but by the supply and demand for skills. These skills vary by field of study. About half of teachers major in education, among the least-rigorous fields at both the undergraduate and graduate levels.

Council of Great City Schools Pushes Anti-Second Amendment Resolution. The Council of Great City Schools (CGCS) is an organization of 70 urban public school systems, first formed in 1956. It started with 10 large, urban schools and has grown with federal funding. As such, it is not surprising it pushes causes dear to those pushing for more and bigger government, more taxes, more spending, more federal funding. It's member are nearly funded by tax dollars. Most of its teachers would be members of the far left National Education Association. When the CGCS says they wish to improve education, they are essentially saying: Give us more money.

Overheard on Acela: Teachers' Union President Plots to Shut Puerto Rico Schools From First Class Car. Teachers' union president Randi Weingarten is plotting a teachers' strike to shut down schools in Puerto Rico, according to a conversation overheard Friday in the first-class car of an Acela train heading to New York. Puerto Rico is in the midst of implementing school-choice reforms, opposed by Weingarten's American Federation of Teachers. Last month Gov. Ricardo Rossell signed legislation to increase the number of charter schools and voucher programs. Weingarten said she does not want to use the word "strike," but wants to use the strategy of recent teacher walkouts in Oklahoma and West Virginia as a model to fight against school-choice reforms.

The Ongoing Teacher Walkout in Oklahoma. Oklahoma is a state heavily dependent on oil and gas and was greatly harmed by the downturn in that volatile industry. Other factors include waste and mismanagement of funds by the government, which have been ongoing in Oklahoma for decades. This isn't a Republican or Democratic issue. This is a government issue. The level of groupthink and the mob mentality that have descended upon the teachers, administrators, and people of Oklahoma is the most concerning thing about this entire walkout. Teachers are unable to think for themselves and see beyond the demands of the OEA. A teacher friend of mine is afraid that if she doesn't show up at the capitol, she will face serious backlash from her fellow teachers at school. She knows that other teachers don't support the walkout but everyone is too afraid to speak up. If they do, they will be labeled as anti-education. The attacks on concerned parents as to how this action affects their children is disturbing. One is instantly branded anti-teacher, anti-education, and against the children if you don't support these specific tax increases.

The Teachers Are Revolting. Today [4/2/2018], 200 Oklahoma school districts are shut down, with students going uneducated and parents scrambling for daycare. Similar protests have been taking place in Kentucky, Arizona, and West Virginia. What do all these states have in common? Republicans hold the governorship and both legislative chambers. But it's totally non-partisan and for the children ... or something. West Virginia teachers kicked off the protests with a two-week strike last month. The state government gave them a 5 percent raise to get them back to work. The Kentucky legislature passed a bill to reform the unsustainable state pension system last week so today all of Kentucky's public schools are closed and thousands of teachers are protesting at the state capitol. Almost no one in the private sector has a pension, but taxpayers aren't allowed even to tweak the extravagant pensions of government workers.

Tens of thousands of teachers planning massive rallies and classroom walkouts. Tens of thousands of public school teachers in Kentucky and Oklahoma plan to attend rallies on Monday [4/2/2018] at their state capitols in what they hope will be the latest display of muscle by the nation's educators demanding higher wages and better classroom resources. The double demonstrations come less than a month after West Virginia teachers went on a nine-day strike that ended with the governor there signing legislation giving them a 5 percent pay hike — their first raise in four years.

Teacher Punished for Questioning Anti-gun Walkout. A California teacher questioned Wednesday's [3/14/2018] national anti-gun school walkout — then found herself in the cross hairs, being told not to come to work that day at all. The story began last week when Julianne Benzel, a history teacher at Rocklin High School in Rocklin, California, questioned the double standard reflected in the protest. She stated that it was wrong for the school to support one walkout if they weren't willing to support those associated with other causes, such as one against prenatal infanticide (she used the common term "abortion"). Benzel's young charges didn't disagree. "I didn't get any backlash from my students," she said. "All my students totally understood that there could not be a double standard," related CBS Sacramento. But her school was a different story. As CBS also reported, "Benzel received a letter from her human resources department, informing her she's being placed on paid administrative leave."

Education Union DeVostated. The union representing Department of Education bureaucrats is crying foul after the agency constrained union privileges following months of delays in negotiation. On Monday [3/12/2018] the agency implemented a new collective bargaining agreement with its employees, who are represented by the American Federation of Government Employees. The terms of the deal could strike a blow against the labor organization. Workers will no longer be automatically enrolled in the union and instead will have to opt into representation. Under the previous contract, workers had only one 48-hour window to opt out of paying union dues or fees. It will also eliminate perks previously given to union officers, including taxpayer-supported office space and supplies. One department official said the contract implemented under Secretary Betsy DeVos will serve "as the gold standard for other agencies in their negotiations" with labor organizations.

Trump's education budget puts students ahead of special interests. President Trump's proposed 2019 education budget, with its elimination of 29 ineffective or duplicative programs, drew howls from special-interest groups. Despite their hyperventilation, the president rightly focuses his spending priorities on the needs of students rather than on what the Washington spending lobby wants. Trump proposes a 5 percent reduction in discretionary federal education spending below the level enacted last year, going from $66.8 billion down to $63.2 billion. American Federation of Teachers chief Randi Weingarten called the cuts "cruel," and claimed that the administration "shows that they failed to learn anything." Yet it is Weingarten and the guardians of the education status quo who have ignored all the evidence.

Public-Sector Unions Deserve To Be Destroyed. In many states, public-sector unions don't have collective bargaining rights. Yet, as I write this, every school in all 55 counties of one of those states, West Virginia, where the average teachers' salary is a bit higher than the average worker's (not counting all the excellent benefits they receive) are now closed due to an illegal teacher's strike. Most of those average workers in West Virginia have no choice when it comes to their children's educations. Yet nearly every story about this situation focuses on the plight of poor teachers rather than powerless parents. On one hand, we hear that teachers unions are vital to the economy because teachers would make far less in the private sector. In the next breath, we hear them argue that teachers are substantially underpaid compared to what others earn in the private sector.

Remark By Teachers Union President Shows Just How Inhuman Political Discourse Has Become. In a recent BuzzFeed News article about the difficulties that "school choice Democrats" will face in the near political future, one interviewee made a remark that disturbed me. [...] Weingarten's comment is, in a word, destructive. She attributed to DeVos, as if it were a simple fact, a negative internal characteristic she couldn't possibly know to be true. DeVos "doesn't care about children." That's a serious accusation, yet Weingarten didn't hesitate to make it. If this were a one-off remark, perhaps it wouldn't be so troubling. However, these types of statements have become the first response in nearly all political debates.

Hypocrisy, Inc.. American Federation of Teachers president Randi Weingarten recently pilloried President Trump's health plan in the Huffington Post: "GOP Rewards The Rich, Rips Off The Rest Of Us," she declared. Is Weingarten among "the rest of us?" The union leader hauled in $472,197 last year. Weingarten is hardly the only fat-cat teachers' union leader. According to the Department of Labor, National Education Association executive director John Stocks bagged $355,721 last year, while NEA president Lily Eskelsen Garc'a scraped by on $317,826. At the 2017 California Democratic Party Convention, California Teachers Association president Eric Heins ranted about billionaires without acknowledging his own $317,000 total compensation package. CTA executive director Joe Nunez's compensation is $460,000; associate ED Emma Leheny makes $480,000, and deputy ED Karen Kyhn gets by on $427,000 yearly. New York City's United Federation of Teachers boss Michael Mulgrew is practically working class by comparison, making $288,000.

The Fight over Flunked-Out Teachers. At the direction of Bill de Blasio's administration, New York City public school principals have begun filling vacancies with teachers languishing on the city's Absent Teacher Reserve. Everyone knows that this decision is lousy for city kids, especially those most in need of top instructors. In hindsight, though, it was also inevitable: the rules that govern public schools are designed to look out for the interests of adults, not children. The ATR is an example of what happens when commonsense reforms run up against an inflexible system.

Spare Us the 'Conversation'. The rise of school shootings is due not to the absence of laws but to the absence of a civilized culture that taught students to follow them. Few lobbies have contributed more to that crisis than the liberal elite's cherished one, the teachers' unions. They overflow with self-interested hacks whose pensions fattened as schools disintegrated. Before these educrats laid waste to them, public schools didn't need" gun-free zones" and little armies to protect them. Teachers took the shaping of minds and souls seriously. But all that discipline and rigor vanished under the ridicule of a ruling class that now treats the debased condition of schools so solemnly.

America's epidemic of substandard teachers. [Scroll down] Recently, New York, after being tied up in court for years, dropped its teacher literacy test amid claims of racism. A 2011 investigation by WSB-TV found that more than 700 Georgia teachers had repeatedly failed at least one portion of the certification test they were required to pass before receiving a teaching certificate. Nearly 60 teachers had failed the test more than 10 times, and one teacher had failed the test 18 times. There were 297 teachers on the Atlanta school system's payroll who had failed the state certification test five times or more. With but a few exceptions, schools of education represent the academic slums of colleges. They tend to be home to students who have the lowest academic test scores — for example, SAT scores — when they enter college.

This may be off-topic. Or maybe not.
Elementary school teachers smoked marijuana in office every day before school began, cops say. Two Virginia elementary school physical education teachers smoked marijuana and hashish in an office nearly every day before classes began, using air freshener to mask the smell before students walked in, police said. Taylor Elementary School physical education teachers Luke Lloyd, 25, and Michael Diaddigo, 28, were arrested, charged with possessing marijuana, and suspended from the school following the accusations, FOX5 DC reported. A third teacher, who has not been identified, was placed on administrative leave.

Where Did All The Public School Money Go? Paper-Pushers. The National Education Association blasted the GOP tax reform plan saying that eliminating the state and local tax deduction for those who itemize taxes would be a severe blow to schools, putting 250,000 education jobs at risk. [...] There are other provisions in the tax bill that might worry teachers' unions, such as letting parents use 529 college savings plans to pay for elementary and secondary school costs. That would help make private schools more affordable — a small step toward encouraging school choice. But it's the so-called SALT deduction that has the unions up in arms. Why? Because getting rid of it might force high-tax states — which benefit the most from the deduction — to cut taxes and rein in their own spending.

Minnesota is Ground Zero in the Left's efforts to brainwash young people. When Donald Trump won the election last November, anarchy and partisan bullying paralyzed the high school. "I felt like the school was descending into mass hysteria," one student said of the day after the election. Another said Trump's victory was treated as "the end of the world as we know it." Students reported "[e]very teacher was crying in class, one even told the whole class 'Trump winning is worse than 9/11 and the Columbine shooting.'" The sheer volume of "liberal propaganda that was pushed every single day in class this year was worse than it's ever been — and you're bullied by the teachers and every student if you dare speak against it." [...] Children have to watch their language and self-censor for fear of incurring the wrath of teachers. "My kids have written things they don't believe just to survive," one mother told [Katherine] Kersten. "They know exactly what the teacher wants. They almost don't see anything incorrect in doing that anymore, because it's so engrained. They have endured enough public shaming to say they will not put themselves in that position again.

Teacher Gets On Social Media — Prays Only "Trumptards" Died In Vegas Shooting. Another sterling example of what a teacher should not be... a dirt bag, radical, political activist full of hate. 59 innocent people got mowed down in Las Vegas and 527 were injured, and the leftists just line up with their hate. So much for love and diversity, which was a pretense anyway. A teacher named Ann took to Twitter to spread the hate and possibly infect her students with it.

NEA Says Trump "Creates Fear in Children". Lily Garcia, president of the NEA — the largest, most progressive, and most activist teacher's union in the country — just used her bully pulpit to address America's foremost educational issue. According to Garcia, that issue is not our failing government schools, the exploding cost and shrinking results of our classrooms, or the developmentally inappropriate leftist social engineering that has replaced genuine education. No, the key issue facing our government schools is that Donald Trump is upsetting teachers and making school children cry because of his evil Trump ways. Specifically, Trump's policies towards Muslims, Mexicans, and transgender students are allegedly causing classroom meltdowns in elementary and middle schools across the nation. So much so, that teachers are forced to take valuable classroom time to "comfort crying children because they are afraid of their president." All of which brings up the question: why are very young children being exposed to such adult issues — topics way beyond their ability to process and comprehend — in the first place?

Antifa Could Be Teaching Your Kids. BAMN [By Any Means Necessary] is part of the explicitly violent Antifa network. It was founded by the Marxist Revolutionary Workers League, and has ties to NAMBLA, which promotes pedophilia. ["]One of BAMN's most prominent organizers is Yvette Felarca, a Berkeley middle school teacher and pro-violence militant.["] As noted previously, Felarca is facing charges for her political violence, despite her assertion that violence against "fascism" is "not a crime." BAMN has been successful at shutting down right-of-center rallies and preventing conservatives from speaking publicly in the San Francisco area. The DHS and FBI now formally classify the activities of Antifa outfits like BAMN as "domestic terrorist violence." But the violence and censorship by intimidation aren't the scariest part.

Public School Teachers Behind Violent Antifa Group. Public school teachers are behind a leading far-left militant group that is part of the Antifa network that federal officials say is committing "domestic terrorist violence." By Any Means Necessary, which has played a key role in riots in Berkeley, Sacramento and elsewhere, has dozens of public school teachers among its members, including among its most prominent leaders. The FBI and Department of Homeland Security began paying closer attention to Antifa groups in general after BAMN and other extremists started a riot and attacked marchers at a white nationalist rally in Sacramento last July, Politico reported on Friday. The Sacramento violence left at least 10 people hospitalized, several of whom had knife wounds.

Plaintiff: Teachers Unions Allow Abuse, Ignore Needs of Students. Fresh out of college in 1988, Rebecca Friedrichs began her career as teacher in Southern California, where she met the catalyst for her crusade against school unions. During that first year she met a teacher she labeled the "Witch," a woman who, according to Friedrichs, grabbed the children by the arms and verbally abused them on a daily basis. She decided then that she didn't want to join the local teachers union, paying into a system that protects teachers who abuse their students. "I didn't want to pay a union that put ... her job security above the safety and education of small children, but I soon found out I didn't have a choice," Friedrichs recalled at the Heritage Foundation on Thursday [8/24/2017].

Broke Chicago Public School System Lays Off 356 Teachers. Officials with the perpetually insolvent Chicago Public School system laid off 356 teachers and nearly 600 school support staffers this week. The teachers and other employees received their pink slips from the taxpayer-funded school district on Monday [8/7/2017], reports the Chicago Sun-Times. Chicago's elementary schools will have 240 fewer teachers this fall. Second City high schools will have 116 fewer teachers. In addition to the 356 teachers, Chicago Public School officials also sacked 362 classroom aides and 221 employees who were security guards and special education aides.

AFT's Randi Weingarten blasts school-choice reforms as 'polite cousins of segregation'. School's out, but the battle between the teachers' unions and Education Secretary Betsy DeVos over school choice isn't taking a summer break. Randi Weingarten, American Federation of Teachers president, argued in a fiery speech Thursday to 1,400 union members that school-choice programs such as vouchers and tuition tax credits are rooted in segregation and racism. "Make no mistake: This use of privatization, coupled with disinvestment are only slightly more polite cousins of segregation," said Ms. Weingarten at the AFT meeting in Washington, D.C.

Union Demands Teachers Undergo Compulsory 'Gender Diversity' Training. The Association of Teachers and Lecturers (ATL) has called for compulsory 'gender diversity' training for sixth form college and further education (FE) teachers, warning staff who refer to 'non-binary' persons using 'incorrect' pronouns could face legal action. ATL Wales president Leslie Tipping said mandatory training on gender identity issues is long overdue, lamenting that staff were confused over pronouns.

Teachers Union Boss Randi Weingarten: My Salary's Only $360K. American Federation of Teachers (AFT) President Randi Weingarten, who was paid $543,150 last year, defended her compensation by claiming her pay is $360,000 and other reported expenses simply prove the union's "transparency." As part of a series of April 28 Twitter posts demanding Congress hike the federal minimum wage to $10.10, Service Employees International Union (SEIU) District 1199 quoted from a January column Weingarten wrote for The Huffington Post. "Justice means that hardworking people must have access to a living wage," Weingarten wrote. AFT paid Weingarten $556,981 in 2012 and $543,150 in 2013.

WI AFT Local President Fails Econ 101 on PLAs and Prevailing Wage. An effort to school Governor Scott Walker on free market forces morphed into a self-taught lesson in irony Tuesday [6/13/2017] for American Federation of Teachers Local 212 President Mike Rosen. Rosen joined Democratic Assembly Leader Peter Barca and Rep. Katrina Shankland on a media conference call to respond to President Donald Trump's visit to Wisconsin and appearance with Walker. Rosen attempted to call out Walker for hypocrisy by supporting repeal of prevailing wage laws and requirements for project labor agreements.

Report: $15 Minimum Wage in Seattle Killed Jobs. Seattle's groundbreaking minimum wage hike hurt the low-income people that it was meant to help, according to a report prepared for the city council. Seattle became one of the largest cities to embrace the $15 minimum wage — double the federal minimum of $7.25 — in 2014, adopting an ordinance that would achieve the hike by 2017 for major employers and 2019 for small businesses. The new base rate pleased labor activists and the politically powerful Service Employees International Union, but it has dealt a blow to the take-home pay of workers even before the hike has been completed.

Study: Seattle's $13 Minimum Wage Led To Drop Of $1,500 In Income For Low-Wage Earners. Remember that time Seattle's socialist city council member Kshama Sawant pressed for the city to increase its minimum wage to $15 per hour? I actually debated Sawant on the issue; I asked her if she would be in favor of raising the wage to $1,000 per hour. She misdirected from the issue. Seattle actually ended up embracing $13 per hour, raising the minimum wage from $9.47 in 2014 to $11 in 2015 to $13 in 2016 under the theory that an increase wouldn't throw people out of work, wouldn't encourage part-time hiring, and would inflate salaries enough to allow more affordability in the Seattle housing market.

Trump's education cuts aren't 'devastating,' they're smart. It's the end of the world as we know it — at least that's what some people would have us believe about President Trump's education budget. It's "a devastating blow to the country's public education system," according to National School Boards Assn. CEO Thomas Gentzel. More like a "wrecking ball," says Lily Eskelsen Garc'a, president of the National Education Assn. teachers' union. No, it's a veritable "assault on the American Dream," insists John B. King Jr., former Obama administration secretary of education.

To Save Public Higher Education, Defang Public Sector Unions. In the New York Times last week, David Leonhardt denounced "the assault on colleges — and the American Dream" by state legislatures across the country that are gradually reducing their investments in public higher education. These cuts, Leonhardt says, undermine social mobility by forcing state colleges to pass over low-income students and enroll less economically diverse freshman classes. While there are reasonable objections to the way colleges spend the money they do have, the trend Leonhardt describes is indeed a cause for concern. But why do public university budgets keep getting the ax? It's not (at least not primarily) about the selfishness of wealthy taxpayers. The real answer is more inconvenient for the Democratic coalition: Namely, that exploding public pension costs are putting tremendous pressure on state budgets, and higher education is the softest political target for the belt-tightening needed to make up for it.

Chicago Teachers Pension fund paid out $1.5 billion in '16, earned $7.8 million. The Chicago Teachers' Pension Fund (CTPF) paid out $1.5 billion last fiscal year, mostly on benefits to retirees. But it only earned $7.8 million on its investments, according to a filing it made with the Illinois Department of Insurance. [...] Such a scheme would be illegal in the private sector. But among public employee pensions, especially in Chicago, its commonplace and tolerated. For now.

Teachers' Union Contract Guarantees Jail-Time Pay. Staff members at the nation's largest teachers' union are guaranteed pay for the time they spend in jail if it is related to union work. Staffers at the National Education Association, the union that represents about 3 million American educators and school employees, are entitled to their standard wage rate during their incarceration, according to a copy of their contract first reported by The 74 Million. [...] The NEA contract specifies that this will be at the regular hourly rate for all time spent in jail," the website reports. The National Education Association Staff Organization represents 369 staff members employed by the union and takes in $600,000 in dues and fees each year — a drop in the bucket compared with the NEA's $387 million revenue in 2016.

Nearly half of Illinois education spending goes to pensions. Some form of bankruptcy is coming to Illinois. What we have now in the Land of Lincoln — what would Abe think? — is absolutely unsustainable. [...] Chicago Public Schools has their own pension system — it's a financial sinkhole too.

In Arizona, teachers can now be hired with absolutely no training in how to teach. The Arizona law is part of a disturbing trend nationwide to allow teachers without certification or even any teacher preparation to be hired and put immediately to work in the classroom in large part to help close persistent teacher shortages. It plays into a misconception that anyone can teach if they know a particular subject and that it is not really necessary to first learn about curriculum, classroom management and instruction.

A Stunning School Sex Scandal the Media Refuse to Notice. On April 15, Jackson County, Missouri, prosecutors charged James R. Green Jr., 52, with six counts of second-degree statutory sodomy. Green was a teacher and coach at a middle school in the suburban North Kansas City School District. Green's victim was a sixteen-year-old boy. It appears likely that Green was abusing other boys over a period of at least twelve years in at least two different school districts, and Green's crime is not the half of it. [...] Without digging too hard, I discovered that Green was the sixth employee, all male, busted on sex charges with underage students in the last thirteen months in this one suburban school district. At least five of those employees were arrested. The reporting on the sixth was too sketchy to determine.

New York About to Eliminate Test Meant to See if Teachers Can Read Because RAAAACISM! There would have been a day when a story saying that teachers were about to be excused from requirements that they be able to read just to avoid charges of racism would have been an entry in an issue of the National Lampoon or even on TheOnion.com. But today, in this day of truly insane liberalism, the idea that liberals don't care if teachers can read just to avoid charges of racism in hiring is... well, sadly, it's not even a little surprising. New York's Board of Regents is expected to adopt the new recommendation of an education standards task force espousing that the state dump a teacher candidate literacy exam known as the Academic Literacy Skills Test, according to ABC News. Sadly, that is where we are in the extreme, left-wing state of New York where state education officials are actually contemplating eliminating a reading test to determine if applicants applying for teaching positions can read at sufficient levels. So, why would a state board of education want to hire teachers too ill-educated to be a teacher? Why would a state want to put teachers in the classroom who can't read? Simple, it's all to satisfy the left's fanatical, self-destructive obsession of seeing racism in every single aspect of life.

Research Shows Firing Teachers Based on Performance Can Actually Work. IMPACT is a system in which teachers are rated annually. It's based half on student achievement and half on four other job-performance factors. Teachers rated at the bottom of a five-point scale are deemed ineffective and fired, and ones at the top receive raises and bonuses. This week, the American Enterprise Institute released a report by Arnold F. Shober suggesting that removing underperforming teachers and installing new ones has improved student outcomes, and that monetary rewards for excellence have led to higher retention rates of the best teachers. Prioritizing students' needs above those of teachers constitutes the revolutionary idea at the core of IMPACT.

New York Public Schools Prefer Illiterate Teachers. As bad as New York public schools are presently, they are about to get a lot worse. The Poughkeepsie Journal reports that, "New York education officials are poised to scrap a test designed to measure the reading and writing skills of people trying to become teachers..." Now why would the New York Education Department do such a thing? Care to take a guess? If you guessed racism, you win the prize. Actually there is no prize other than the satisfaction that you have an understanding of the liberal mind — where if all is not right with their world, the fault must be due to racism. They claim that scrapping the "Academic Literacy Skills Test" is necessary "because an outsized percentage of black and Hispanic candidates were failing it." [...] By some miracle, the tests appeared to doing what they were designed to — separating the wheat from the chaff, so to speak. But the problem is that the chaff is overwhelmingly black and Hispanic.

Women's March Protest Causes 'Burden on Parents'. A feminist protest is forcing public schools in the Washington, D.C., area to close for a day, placing a "burden on parents." Over 300 female teachers asked to take Wednesday [3/8/2017] off to observe the "Day Without a Woman" protest, which is being organized by leaders of the liberal Women's March. Alvin L. Crawley, the superintendent of Alexandria City Public Schools, sent a letter to parents announcing that all schools will be closed on March 8. Crawley insisted the decision to close was not political, but necessary because of the number of teachers who would not be showing up to work.

Teachers' Union Pushes San Diego School District to Drop Invitation to Edu Sec Betsy DeVos. A resolution by the San Diego Unified School District (SDUSD) to invite newly confirmed U.S. Education Secretary Betsy DeVos for a visit has been rescinded at the urging of the city's teachers' union.

Four reasons why Betsy DeVos will be a welcome remedy for our nation's education woes. As opinion pieces in the New York Times and Wall Street Journal have argued, the overheated Democratic opposition is motivated by: [#1] Some of their party's most deep-pocketed and powerful interest groups — teachers' unions — who realize that they will no longer have a near-monopoly on education. [and #2] Their party's upper-middle-class suburbanite constituency, who understand that DeVos' charters and vouchers will be attractive to families with financial disadvantages, ethnic minority heritage, or ideological and religious convictions that differ from the mainstream. In other words, private schooling will be accessible to children who are very different than the Democratic Party's upper-middle-class suburbanites.

The Democratic party has lost its mind — and its soul. Democrats claim to stand for the poor, immigrants and nonwhites. Yet given a chance to actually support someone who is dedicated to improving education for all America's children, especially those trapped in failing urban schools, the Dems said no, [emphatically] no. Joined by two Republicans, they stood in the schoolhouse door to block vital change, casting their lot with teachers unions that fear reform the way a vampire fears garlic. Throw away all the subtexts and subterfuge, a defense of the rotten status quo is the only explanation for the bid to block DeVos. The teachers unions pulled the strings, and the political puppets danced to their masters' tune.

Teacher's Union Demonizes Trump Pick For Supporting Christian Schools. A New York teacher's union is imploring members to pressure U.S. senators to vote 'No' on the confirmation of Betsy DeVos for Secretary of Education. In an electronic mailer signed off with Hillary Clinton's campaign slogan, "Stronger Together," educators are given a list of reasons "Why Betsy DeVos is wrong for public education" — including a line item declaring, "DeVos is in favor of Christian schools."

The war on Betsy DeVos is all about the teachers unions. Get past all the noise, and the opposition to Betsy DeVos, President Trump's pick for the Education Department, is all about the teachers unions — which consider it their right to have a friendly face running federal policy even in Republican administrations. Yes, two Senate Republicans have come out against DeVos — the only two who routinely get A's on the National Education Association's "report card" because they vote the union line. Efforts to find another GOP vote against her will almost surely fail, because the other 50 Republicans aren't in unions' pocket, and Vice President Mike Pence can deliver a 51st vote if needed. We wish DeVos were an existential threat to the unions, but the feds don't really run US schools; that's a state and local power. And the unions are too entrenched in those corridors of power, especially in states like New York.

Republicans Voting Against DeVos Are Backed By Teachers Unions. Two Republican senators who said they would not vote to support Betsy DeVos Wednesday have a friendly history with teachers unions. Republican Sen. Lisa Murkowski of Alaska and Republican Sen. Susan Collins of Maine both announced Wednesday [1/31/2017] that they would not support Betsy DeVos, President Donald Trump's choice to lead the Department of Education. Murkowski was endorsed by the Alaska chapter of the National Education Association (NEA) in her 2016 campaign for Senate.

Why Teachers Unions Don't Want School Choice. [Video clip]

The Democrats' Fight Against School Choice Is Immoral. There's something perverse about an ideology that views the disposing of an unborn child in the third trimester of pregnancy as an indisputable right but the desire of parents to choose a school for their kids as zealotry. [...] Actually, teachers unions are the only organizations in America that openly support segregated schools. In districts across the country — even ones in cities with some form of limited movement for kids — poor parents, typically those who are black or Hispanic, are forced to enroll their kids in underperforming schools when there are good ones nearby, sometimes just blocks away. The National Education Association spent $23 million during the last election cycle alone to elect politicians to keep low-income Americans right where they are. Public service unions use tax dollars to fund politicians who then turn around and vote for more funding. The worse the schools perform, the more money they demand. In the real world, we call this racketeering.

Unions Bankrolling School Choice, DeVos Opposition. Three of the groups challenging the reform agenda of President-elect Donald Trump and his education secretary nominee Betsy DeVos received more than $2.6 million from teachers unions and their allies, according to federal labor filings. DeVos, a pioneer in the school choice and charter school movements over the last two decades, has received vocal opposition from Democrats and some of the country's most powerful unions. The National Education Association, American Federation of Teachers, and AFL-CIO, which serves as an umbrella group for dozens of unions including the AFT, have all called on the Senate to reject the nomination. They have also pumped millions of dollars into think tanks and activist groups that have supplied Democrats with intellectual ammunition to oppose her.

Unions Bankrolling School Choice, DeVos Opposition. Three of the groups challenging the reform agenda of President-elect Donald Trump and his education secretary nominee Betsy DeVos received more than $2.6 million from teachers unions and their allies, according to federal labor filings. DeVos, a pioneer in the school choice and charter school movements over the last two decades, has received vocal opposition from Democrats and some of the country's most powerful unions. The National Education Association, American Federation of Teachers, and AFL-CIO, which serves as an umbrella group for dozens of unions including the AFT, have all called on the Senate to reject the nomination. They have also pumped millions of dollars into think tanks and activist groups that have supplied Democrats with intellectual ammunition to oppose her.

The Editor says...
When the unions "pump millions of dollars" into one project or another, where do you suppose that money comes from?

Democrats Who Have Taken Hundreds Of Thousands In Union Contributions Throw Desperate Hail Mary. A number of Senate Democrats are intent on putting on a great show of political theater tonight by penning a ridiculous letter to Betsy DeVos that attacks her for exercising her First Amendment rights as an American citizen. The signers of the letter are tied at the hip with teacher's unions who are committed to defending the broken status quo in education — having received more than $400,000 combined from the NEA and AFT. Here's the unmistakable connection between these Senators and the special interest unions: [...]

Teacher unions smarting after many members vote for Trump. Two weeks after Republican Donald Trump defeated Democrat Hillary Clinton in the Nov. 8 presidential election, the USA's teachers unions are wondering what happened to their chosen candidate — and how so many of their members could have voted for her opponent. Despite early and eager endorsements of Clinton by both unions, the nation's school teachers and other school workers contributed substantially to Trump's Nov. 8 win.

Democrats and Teachers' Union Fight Against Scholarships for Poor Floridians. A minister in central Florida is striking back at the state's teachers' unions for their dogged attacks on a school tax-credit scholarship that affords tens of thousands of low-income families a choice of schools for their kids. In an Orlando Sentinel column, Reverend R. B. Holmes said that it is "a matter of fundamental decency" to allow parents to choose where their kids are educated, and lambasted the Florida Education Association (FEA) for trying to force students back into failing public schools. Florida's education system includes many school-choice options, yet the teachers' union has targeted the tax-credit scholarship, which primarily assists families with low incomes.

San Francisco Teachers' Union Provides Anti-Trump Curriculum: 'Do Not Tell Them That We Have Lost'. The United Educators of San Francisco, the union that represents teachers in the city's public schools, released a controversial guide Wednesday to teaching public school children about Donald Trump's victory over Hillary Clinton in the recent election. The guide, called the "Lesson Plan on the November 2016 Election," informs teachers that "a racist and sexist man has become the president of our country by pandering to a huge racist and sexist base," and suggests they teach children the same.

If you resent getting paid to nap, find another job. It's hard not to feel a little sympathy for David Suker: He's severely unhappy sitting around and even napping in libraries and lounges to "earn" his $94,000 salary. On the other hand, he's free to find a real job — and the city Department of Education has every right to keep him out of the classroom. As Susan Edelman reported in Sunday's Post, Suker is trying for a third answer — by suing to return to teaching. DOE actually tried to fire him, but the courts — and the United Federation of Teachers contract — prevented his termination. (He did have to pay a $7,000 fine.)

A President Trump Needs to Break the Back of the Education Cartel. The teachers and professors of America have gone from an underpaid lot to one of the most powerful lobbying forces in America. They have a stranglehold on our educational system from kindergarten through post-graduate degrees creating the Education Cartel. [...] The National Education Association (NEA) and the American Federation of Teachers (AFT) are a major element of the Democratic Party and key supporters of Ms. Clinton. The NEA endorsed her in October of 2015. In the past two presidential elections they averaged $24 million in expenditures, and that does not include the in-kind contributions of turning their offices into Clinton campaign headquarters. The AFT has an entire section on their website for Clinton. The reason these organizations are so supportive of Clinton is she will maintain the status quo.

Teachers union, Chicago school district reach contract deal. Chicago teachers and officials in the nation's third-largest school district reached a tentative agreement late Monday [10/10/2016] to avert a strike that would have affected about 400,000 students.

10 Percent of Teachers Union's Charity Goes to Clinton Philanthropy. One of the nation's largest labor unions continues to pour hundreds of thousands of dollars into the Clinton family's controversial foundation. The American Federation of Teachers, or ATF, the second largest teachers union in the country with more than 1.5 million dues-paying members, made about $5 million in "contributions, gifts, and grants" from July 2015 through June 2016, according to its most recent labor filing. The union contributed $500,000 to the Clinton Foundation and Clinton Global Initiative, or CGI, between July 2015 and February 2016 in payments classified as donations to a "charitable organization." The five contributions comprise about 10 percent of the union's overall charitable giving for the year.

Corrupt Academics and the Media. More than 43,000 families are on waiting lists to get their children into charter schools. Teachers unions are opposed to any alternative to public education and contribute to politicians who place obstacles and restrictions on the expansion of charter schools. The NAACP, at its 2016 national convention in Cincinnati, voted to support "a moratorium on the proliferation of privately managed charter schools." It's easy to understand why the NAACP is against any alternative to public schools. Many of its members work in public education. However, many of those people do want alternatives for themselves. In Washington, D.C., and Baltimore, 25 percent of public-school teachers send their children to private schools. In Philadelphia, 44 percent of teachers send their children to private schools.

Teachers who fake being sick to protest school policies can be unmasked, court says. Schools and colleges often invoke the Family Educational Rights and Privacy Act to hide embarrassing information or blatant wrongdoing, claiming they'll get sued if they turn over information relating to students that has nothing to do with their academic records. Courts have started to knock down these self-serving rationales by reading the law literally (what a novel approach!), and the Colorado Supreme Court just upheld a lower ruling on a closely related matter: the privacy rights of teachers under its own state law.

Teachers' union mad Walmart wants to give teachers free supplies. Walmart is asking customers to nominate their favorite teachers to win school supplies and a $490 gift card (approximately how much the average public school teacher spends out of pocket on classroom supplies). For whatever reason, the promotion to give free supplies and money to teachers has the Washington Teachers' Union up in arms. The Washington Post reports that Washington Teachers' Union President Elizabeth Davis called the promotion a "cynical coverup." Other union members called it "deceitful" and "bogus."

Teachers' union head says Clinton is with them against school choice. Hillary Clinton's position on public charter schools has been fairly ambiguous since her presidential campaign began, but at least one teachers' union leader says Clinton is on board with their view. "Hillary Clinton is on the exact same page as we are," Lily Eskelsen Garcia, president of the National Education Association, told the American Prospect's Rachel Cohen. [...] The 3 million-member NEA was one of the first unions to endorse Clinton's presidential bid in October 2015, although they waited until after the 1.6 million-member American Federation of Teachers endorsed Clinton in July.

High Court Deadlocked on Forced-Unionism Case. In a tie 4-4 decision, the nation's top court effectively ruled in favor of government unions and denied a group of California government school teachers the right to decide whether to contribute to teachers unions. Deciding the case Friedrichs v. California Teachers Association after the February 2015 death of Justice Antonin Scalia, a temporarily short-staffed U.S. Supreme Court failed to reach a majority decision. When the Court fails to reach a majority decision, the lower court's decision is allowed to stand. In November 2014, the U.S. Court of Appeals for the Ninth Circuit ruled against the plaintiffs and in favor of the teachers union. Currently, many public school teachers, such as plaintiff Rebecca Friedrichs, are required to contribute funds to a teachers union in order to teach, even if they choose not to be full members of the union.

Caught on Camera: Teachers Union Officials Advise Fraud to Cover up Child Abuse. James O'Keefe, President and founder of Project Veritas released a new video today as part of a new series documenting the egregious behavior upheld by teachers unions across the country. In this first video, Project Veritas journalists and James O'Keefe visit with the United Federation of Teachers office in Yonkers to meet with senior union officials to find out what would happen to a teacher who was guilty of abusing a child. Shockingly, our journalists found the union officials willing to engage in a cover up of child abuse and the violation of workplace rules. The officials can even be seen helping the journalist plot a cover up on hidden camera.

What Teachers Don't Want You to Learn. Brian Davison had to go to court to pry loose state data about student performance in the public schools. Now teachers are going to court to keep him from sharing it. Davison, a Loudoun County, Virginia resident, sought data on student growth percentiles (SGPs), a measure of how well students progress from year to year. [...] Teachers don't like that one bit, because data about student progress can be used to measure teacher performance. And if there is one thing the public education system does not like, it's competition — either with private schools (through school choice), or with alternative public schools (through charter schools) or among teachers themselves (through merit pay). The education establishment is dedicated to the proposition that all mentors are created equal, and any suggestion that some might be better than others is anathema.

Teacher Unions Still Haven't Forgiven Michelle Rhee, Don't Care How Well Her Policies Work. In 2007, Michelle Rhee took over as chancellor of the District of Columbia public school system. In part because her policies were radical, and in part because she expressed her views in an abrasive fashion, and in part because she worked in a major media center, Rhee became the face of education reform, and, consequently, the number-one enemy of teacher unions. Rhee imposed sweeping reforms to introduce measurement and accountability into the schools, including a controversial new teaching contract, which gave every teacher a 20 percent raise, and allowed them to become eligible for large performance bonuses if they gave up the tenure protections that made it difficult to fire them. For teacher unions and their supporters, Rhee remains the premier antagonist, where her name remains a curse word.

Sick-out by Detroit Teachers Prompts 43 School Closures. More than 40 Detroit Public Schools will be closed Monday [5/2/2016], the district said, after the teachers union urged members to call in sick in a protest over funding issues.

Only 7,500 teachers getting $100K a year pensions... for life. This is theft from the taxpayers. Sorry. I know your union "negotiated" the pensions with politicians which got money from your union but it is just stealing with the veneer of bureaucratic legitimacy. You know it. We know it.

Only You Can Stop Whiteness. A specter is haunting America. The specter of white privilege, white supremacy and whiteness. What is whiteness? If you ask the radical education activists at the 17th Annual White Privilege Conference,"whiteness" is the source of all human evil. Also it's the race of the majority of the country. The conference with its 2,500 teachers, school administrators and counselors is a bizarre throwback to National Socialism's ideological indoctrination of every part of society on the evils of one single race.

Philly 'ghost teachers' making $1.5 million this year. Sixteen Philadelphia public school teachers are earning $1.5 million during the current school year not to teach. As part of the contract with the School District of Philadelphia, the local teachers union is permitted to take up to 63 teachers out of the classroom to work full-time for the Philadelphia Federation of Teachers. The practice, known as "release time" or "official time," allows public school teachers to leave the classroom and continue to earn a public salary, benefits, pension and seniority. These so-called ghost teachers perform a variety of jobs for the PFT, serving as either information officers for other teachers or carrying out the union's political agenda.

Thousands of teachers flock to 'White Privilege Conference'. The annual event is aimed at promoting the theory of White Privilege — that American society is hopelessly stacked against minorities and the only way to fix the system is for white people to acknowledge their immense "privilege" and repent. "Our vision is to build a community committed to dismantling white privilege, white supremacy and oppression, every day, everywhere," wrote Eddie Moore Jr., founder and president of "The Privilege Institute," which organizes the event. [...] Metro reports 2,500 teachers, school administrators and counselors will attend the conference — the largest attendance to date. The conference is championed by a radical sect of educators from the organization Rethinking Schools, which promotes the concepts of white privilege and the conference itself to teachers across the country. In 2014, EAGnews attended the White Privilege Conference in Madison, Wisconsin to record some of the sessions. [Video clip]

Salon: Democrat-Run Education System Responsible for Our "Disgraceful State Of Politics". Salon is one of the main websites to head to when you want to see what the nutter Democratic Party base really thinks. Er, feels. Every once in a while, they unintentionally land on a real truth. In this case, how bad the education system is. Obviously, they fail to assign blame, which lands almost entirely upon the Democratic Party. Poll after poll after poll, article after article, protest after protest, they all show that the vast majority of teachers vote Democrat. Sure, not all of them are the nutters creating songs about Obama and forcing students to do exercises that make them "understand radical Islam", and aren't freaking out about water pistols and finger pistols, but, they vote Democrat. Their unions are chock full of the more hardcore Progressives, which vote Democrat.

How Does A Speaker of the House Amass Personal Wealth? [Scroll down] All I hear from teacher's unions is that teachers are woefully underpaid. Hastert received $34,000 in pension from from the State of Illinois In 2012, watchdog group National Taxpayers Union estimated Hastert was receiving around $66,000 in federal pension per year. I did the math a few years ago and it doesn't look like they are in Illinois at least. The real bonanza in teaching is the guaranteed pension benefits that increase every year. School districts also mess with the last three years of teacher's contracts (and administrator contracts) to really increase the amount of pension they will receive.

Lawsuit takes aim at Allentown 'ghost teachers'. The cash-strapped Allentown School District is using taxpayer money to pay the salary of the president of the local teachers union, which has taken more than $1.4 million in public funds since 1999 to pay union leadership. A lawsuit filed Wednesday [2/24/2016] in Pennsylvania Commonwealth Court seeks to end the practice of letting the Allentown Education Association president work full-time for the union while drawing a publicly funded salary and benefits. The suit also wants the union to reimburse the district and the commonwealth for all costs associated with the practice.

Bullies: Chicago Teachers Union threatens to kick out members who defy illegal strike. Teachers — remember, they are supposed to be for the kids — and other CTU members who show up for work on Friday [4/1/2016] and obey the law face expulsion from the union. That may seem be a good thing, but because Illinois is not a right-to-work state the law-abiding CTU members will still have to cough up union dues out of their paychecks.

Chicago Teachers to Walk Out Again on 400,000 Schoolchildren. Chicago teachers voted to approve a one-day strike this Friday [4/1/2016] in protest of "unfair" labor practices, an action that affects about 400,000 public school students as schools plan to shut down for the day. Administrators call the move illegal.

Teachers' Union Attempts to Strangle Charters. Teachers' unions are using the same kind of approach to kill charter schools that abortion opponents use to shut abortion clinics down: pile up expensive regulations that make it increasingly difficult to operate.

Teachers who can't teach. It's called the "law of the vital few" — better known as the 80/20 rule. It states that a disproportionate impact comes from a small input. Eighty-four percent of total income tax payments, for instance, are paid by 20 percent of earners. And more than two-thirds of all drunken-driving fatalities are caused by the tiny fraction of drivers with at least a 0.15 blood-alcohol level (the hard-core drunk drivers). Perhaps nowhere is this rule more apparent than in the U.S. education system. Education economist Erik Hanushek has found that a small percentage of teachers are responsible for virtually all of the United States' poor global education ranking. (U.S. students score worse on international tests than students from countries like Vietnam, Poland and Latvia.)

Teachers' Unions vs. Better Schools. Since 1990, the two largest teachers' unions, the American Federation of Teachers and the National Education Association, have spent a combined $114 million on campaign contributions, according to the Center for Responsive Politics. Teachers' unions spent over $30 million in contributions in the 2014 election cycle alone, and [Bernie] Sanders has received the second highest total of any federal political from teachers' unions in the 2016 election cycle. "By any reasonable accounting, the nation's two teachers' unions, the NEA and the AFT, are by far the most powerful groups in the American politics of education," argues Terry Moe, author of Special Interests: Teachers Unions and America's Public Schools. "No other groups are even in the same ballpark." Moe is not exaggerating. AFT and NEA also spent over $60 million on lobbying from 1998 to 2015. The NEA is the fourth-largest single donor in American politics since 1989. Many of these funds go towards securing favorable collectively-bargained agreements.

How the National Teachers Union Usurped a Local Election. [Scroll down] The unions promptly sent in a full-time organizer from Detroit, forty-eight embedded operatives from eighteen states, as well as a specialist to help coordinate "blitzes, marches, rallies, and other direct actions," all intended to agitate and disrupt our community. A Seattle-based strategies firm was hired to "beat these [conservative] b*stards," and children were encouraged by their teachers to walk out of classes in protest. My daughter's school was marked up with hate graffiti, our board meetings were constantly interrupted by bellicose catcalls, and on more than one occasion we required police escorts to and from our cars.

Chicago Teachers Union Tells Members To Start Saving For Possible Prolonged Strike. The Chicago Teachers Union is warning of a potentially long strike ahead. The union gauged its members' willingness to strike in a questionnaire last week. The union said poll results showed 97 percent of their members support a walkout. Even though there was no use of the word "strike" on the ballot, union officials say the questionnaire was similar to what was voted on before the 2012 strike.

Ohio Teachers Union Officials Are Paid Twice As Much As Teachers. Ohio's largest labor union is in the business of selling worker "solidarity," and for union bosses, business is good. Ohio Education Association president Becky Higgins was paid $209,039 to preside over a union that took member dues and mandatory fees from 121,625 teachers during the fiscal year ending Aug. 31. Regular OEA dues for full-time teachers are $504 — $42 a month — in addition to local OEA chapter dues and $183 in National Education Association dues sent to NEA's Washington, D.C., headquarters.

Admission By California's State Attorney May Blow Union's Case. During this week's much-anticipated oral arguments in the Friedrichs v. California Teachers Association U.S. Supreme Court case, which challenges mandatory teacher-union fees, a critical exchange took place between Justice Antonin Scalia, who is viewed as the swing vote in the case, and the attorney representing the State of California. The result of that exchange could end up freeing teachers from paying for collective-bargaining contracts that hurt them and students.

Most Detroit Public Schools Close Due to Teacher 'Sick-Outs' Demanding Better Classroom Conditions. A city-wide teacher "sick-out" shut down 88 Detroit schools today, causing 44,790 students to miss class, according to the Detroit Public Schools system. Teachers held the sick-out in protest of run-down buildings, large classroom sizes and issues with teachers' compensation and benefits, stemming from the school district's financial crisis, Detroit Federation of Teachers Administrator Ann Mitchell told ABC News today.

Dozens of Detroit schools close due to teacher protest. A wave of teacher absences described by an activist as "rolling strikes" shut down more than half of Detroit's 100 public schools Monday /1z11z2016=, keeping thousands of students at home as a so-called sick-out entered a second week.

Detroit teachers illegally strike with sick-outs and no one cares. Last week five public schools in Detroit were closed due to sick-outs, that is, these for-the-kids educators called in sick when they weren't, likely by the direction of the Detroit Federation of Teachers. This is a strike in everything but name, and teacher strikes are illegal in Michigan. And no one it seems, except for Detroit News reporter Ingrid Jacques, to be angry about these phone-in walk outs. Why aren't the parents up in arms? [...] Will the "sick" teachers be punished? Will their union be cited for organizing an illegal strike? Will Detroit parents finally get angry? The parents should already be angry because for the fourth straight year Detroit's elementary schools ranked last in reading and math scores among big cities.

In Supreme Court labor case, echoes of gay marriage fight. A U.S. Supreme Court case set for argument Monday [1/11/2016] challenging powerful public-sector unions echoes a very different dispute: The recent battle over gay marriage. The legal fight pits a small group of teachers and the Christian Educators Association International (CEAI) against the influential California Teachers Association, a union with 325,000 members and a history of backing liberal political causes.

Obama's Tragic Legacy for Black Americans. At the urging of labor unions, President Obama has pushed for higher minimum wages that price a disproportionate percentage of blacks out of the labor force. At the urging of teachers unions, he has fought voucher programs that give ghetto children access to better schools. Both policies have a lengthy track record of keeping millions of blacks ill-educated and unemployed.

Dems Panicking Over High Court Union Dues Case. Saturday [10/3/2015], the National Education Association, the nation's largest public employees union, endorsed Hillary Clinton for president. That's on the heels of another giant, the American Federation of Teachers. Soon these unions could have a lot less money to tilt elections for Democrats.

All Hail The Unions! Just Kidding, You're Awful. Again and again they prove that the end goal isn't to get the most children the best education, but to maintain their power and ability to exact dues from every teacher working in the state. Even going so far as to vote to, in essence, hold hostage Washington students during their yearly strike in order to bend the state to their contract demands. As it stands right now over 1,000 students will be without schools in the next 20 days if the ruling is upheld.

Striking teachers say pay gap makes Seattle tough to afford. Teachers in Seattle say they have walked off the job largely because they can't afford to live in the same city as the children they teach.

Teacher who was late for work 111 times keeps his job. An elementary school teacher has been allowed to keep his job even though he was late for work 111 times over a two-year period.

NJ teacher who was late 111 times says he was eating breakfast. An elementary school teacher who was allowed to keep his job despite being late for work 111 times in two years said Friday [8/28/2015] that breakfast is to blame for his tardiness.

Chalkboard Marxists In America. There are too many Marxist union teachers and professors in our educational system. If you check out the Left Forum conference which is held annually in New York City, you will be shocked at how many presenting workshops and sitting on panels are Marxist educators. Many state and the national teachers' unions are led by Reds. When Governor Walker was fighting with the teachers union in Wisconsin, the Communist fist was on signs everywhere and the same goes for the union teachers who battled with Rahm Emanuel.

Teachers union caught breaking campaign finance laws, gets off easy. The Philadelphia Federation of Teachers and the Pennsylvania chapter of the American Federation of Teachers coordinated in a deliberate attempt to break Philadelphia campaign finance law, according to a settlement reached Tuesday between the PFT and the Philadelphia Board of Ethics. [...] The maximum penalty for a campaign finance violation in Philadelphia is $2,000. Under the settlement, the union's fine was reduced to $1,500 even though its donation was $11,500 too large. The settlement did not state whether Gym was required to return the excess $11,500 she received.

Torlakson Says LCFF Money Can Go To Teacher Raises. Under California's new local control funding formula, schools get additional money for low-income, non-English speaking and foster youth. In a letter State Superintendent of Public Instruction Tom Torlakson has told districts they can spend that money for across-the-board teacher raises if they can link the increases to better student services.

Teachers union members want Hillary endorsement withdrawn. Furious American Federation of Teachers members are demanding the union withdraw its endorsement of Hillary Rodham Clinton, calling it premature and undemocratic. "There was no internal discussion. Zero. Zip," said Steve Conn, president of the Detroit Federation of Teachers. "This is wrong and something needs to be done."

Teachers union rushes Hillary's endorsement as Sanders surges. With socialist Sen. Bernie Sanders surging among Democratic voters, a national teachers union is rushing to shore up support for Hillary Clinton. The American Federation of Teachers announced Saturday it has endorsed Clinton in the Democratic primary for president — nearly six months before any ballots are cast.

The Coming Confrontation. The 1960's brought about a progressive indoctrination and reform on college campuses. Teacher's unions contributed to the degradation of education. Being socialist in nature, administrations hired progressives to administer and change education and to propagandize the citizenry. Nothing has changed, we still have college professors ranting against the "white privilege" they are so fond of, but no one else can find. You can't easily find American History classes that don't blame America for the woes of the world, but you can learn women's studies, gender equity, you can learn how mean "whitey" is and, best of all, how to effectively riot.

American Federation of Teachers Endorses Hillary Clinton For President. The American Federation of Teachers (AFT) today chose to back Clinton in the Democratic primary for president. "In vision, in experience and in leadership, Hillary Clinton is the champion working families need in the White House," AFT President Randi Weingarten said in a statement released this afternoon [7/11/2015]. "Hillary Clinton is a tested leader who shares our values, is supported by our members, and is prepared for a tough fight on behalf of students, families and communities."

NEA union mandates new government restrictions for homeschoolers. What a bunch of arrogant fascists. Directly insulting parents, claiming that only the public school system is capable of educating their children... demanding that they have to have some random certification to teach their own children. That is farcical. We homeschooled our children and they turned out fine. In fact, most homeschoolers turn out far better than public school students and are educated to a far superior degree as well. Testing proves it time and again. If I still had kids in school, no way would they be in the public school system where global climate change, Marxism, gender theories and other perversions are being forced upon students of all ages now. The NEA can stuff it.

Condi Rice: Today's True Racists are Liberals Who Defend Teachers' Unions. Pointing to the recent ruling in a California court that teacher tenure violates children's civil rights, [Condoleezza] Rice said the true racism of today is when liberals defend the teachers' unions that are trapping minority children in failing schools in poor neighborhoods. Rice is currently a professor of political science at Stanford University. She called out the Democrats' refusal to move forward on school choice or charter programs, opting instead to protect the financial support they receive from the teachers unions.

The Four Horsemen of the Education Apocalypse. The last survey I read showed that over 80% of the members of the teachers' unions were registered Democrats. Nothing shocked my students more than to discover that I was a conservative. I had the reputation of being one of the truly intellectual teachers on campus and I also taught modern dance, so how in the world could I be a registered Republican? They all knew those people were stuffy and stupid and racist. The biases they'd been taught in other classrooms was obvious.

83 Atlanta Public School Cheating Teachers "Unindicted Co-Conspirators" Will Not Be Punished. Those who opted for trial are a small fraction of the original 178 educators and administrators named in the governor's investigative report of teachers changing answers on the Criterion-Referenced Competency Test.

Unions fight to preserve Obama's immigration actions, their members. Two of the country's most powerful and politically influential labor unions are backing President Obama in the recent court challenge to his 2014 executive action on illegal immigration, saying they support the president's effort because "undocumented workers" need more workplace protection and their participation helps the U.S. economy. The AFL-CIO and the National Education Association on Monday each filed so-called amicus briefs in a federal appeals court case in which Texas and 26 other states are challenges the president's 2014 memorandum on illegal immigration.

Chicago Teachers Union, Karen Lewis & Chuy Garcia Unmasked. A former Chicago Public School teacher tells RebelPundit that 50 public schools were closed in mostly black communities as a result of actions taken by Chicago Teachers Union President Karen Lewis.

Weather Underground bomber unmasked — as city schoolteacher. The "bomb guru" for the terrorist group the Weather Underground never served a day in jail — but he did spend decades teaching in New York City classrooms, a new book reveals. Ronald Fliegelman built explosives for the Weather Underground, a far-left group that launched a domestic bombing campaign in the 1960s and '70s, including one explosion inside NYPD headquarters.

The Editor says...
I presume Mr. Fliegelman was a member of the teachers' union, since he was a left-wing activist.

Blue State Utopia: Chicago Public Schools Circle the Drain. Interestingly, the Chicago Democrat machine is being torn asunder by the conflict between the unions and city leaders like Rahm Emanuel. Union leadership continues to fleece taxpayers while insisting that their unsustainable retirement benefits can be maintained. Emanuel, faced with these mathematical impossibilities, is suggesting that the unions must be reined in.

Union lobbyist who worked one day as a teacher suing Illinois for $30,000 pension. After working one day as a substitute teacher in Illinois, David Piccioli could be entitled to an annual pension of more than $30,000. And he's suing the state to make sure he gets paid. Piccioli is a retired union political activist who's already pulling down a pair of state pensions from Illinois' beleaguered public retirement system. But he's taking the Teachers Retirement System to court to squeeze more money out of the state.

[Offensive] Sign Shows Up At Nation's Largest Teachers Union-Funded Protest. Despite the name "Wisconsin Jobs Now," the small, radical group has spent considerable time and energy in recent months protesting police tactics. [...] The National Education Association is a major financial donor for Wisconsin Jobs Now. The teachers union — the largest in the United States — gave $125,000 to Wisconsin Jobs Now in 2014 alone.

A Union Charter Flunks Out. 'Our schools will show real, quantifiable student achievement and with those results finally dispel the misguided and simplistic notion that the union contract is an impediment to success." So declared teachers union chief Randi Weingarten in 2005 upon launching the United Federation of Teachers charter school in Brooklyn, New York.

Los Angeles teachers, union leaders take to streets amid stalled talks. Dressed in red and raising signs into the air, thousands of teachers filled a downtown Los Angeles park Thursday [2/26/2015] to demand higher wages and smaller class sizes amid stalled contract negotiations.

Education is the business of the states. In 1981, Tennessee's 41-year-old governor proposed to President Ronald Reagan a swap: Washington would fully fund Medicaid and the states would have complete responsibility for primary and secondary education. Reagan, a former governor, was receptive. But Democrats, who controlled the House and were beginning to be controlled by teachers unions (the largest, the National Education Association, had bartered its first presidential endorsement, of Jimmy Carter, for creation of the Department of Education) balked.

More non-union teachers than unionized ones for first time in U.S.. Thanks to the good folks at the Bureau of Labor Statistics and unionstats.com we can examine the union membership status of teachers from 1983 through 2014. The numbers do lump private school teachers and public school teachers together in one category, and they do not include other education employees, but they do confirm in 2014 what occurred for the first time in 2013: There are more non-union teachers than union teachers in the United States.

Pennsylvania teachers' union accused of ignoring state law — for four decades. A law firm representing a Pennsylvania college professor has accused the state teachers' union of ignoring — for more than four decades — a law requiring it to report the use of dues money for political contributions. It's the latest salvo in an ongoing dispute between Mary Trometter, an assistant professor of culinary arts at the Pennsylvania College of Technology, and the Pennsylvania State Education Association and the National Education Association, which in a letter urged her husband to vote for Gov.-elect Tom Wolf.

Teachers Union Funding Wisconsin Anti-Police Protests. A Wisconsin based-union front group that has referred to police as racists, animals, and killers has among its major donors the nation's largest teachers union, according to a U.S. Department of Labor report filed in late November.

UAW teachers branch joins boycott of Israel. A local branch of the United Auto Workers has become the first U.S. labor organization to join the international movement to boycott Israel, according to liberal groups. UAW Local 2865, which represents teaching assistants at the University of California, voted to join it on Dec. 4, saying that Israel was engaging in "ongoing human rights violations" against the Palestinians.

Liberals' Use of Black People. The largest and most powerful labor union in the country is the National Education Association, with well over 3 million members. Teachers benefit enormously from their education monopoly. It yields higher pay and lower accountability. It's a different story for a large percentage of black people who receive fraudulent education. The NEA's white liberals — aided by black teachers, politicians and so-called black leaders — cooperate to ensure that black parents who want their children to have a better education have few viable choices. Whenever there has been a serious push for school choice, educational vouchers, tuition tax credits or even charter schools, the NEA has fought against it.

Teachers Union President Totally Sorry For Comparing Teaching To Picking Cotton. The president of the public school teachers union in Orlando, Fla. has apologized for suggesting that teachers and people who labor in cotton fields work under the same difficult conditions. Diana Moore, president of the Orange County Classroom Teachers Association, made the bizarro comparison in an email she sent to members of the Orange County School Board right before Thanksgiving, local ABC affiliate WFTV reports.

The Real Tragedy of Ferguson Is.... In light of comments such as those by American Federation of Teachers President Randi Weingarten, one needs to consider the context of recent events in Ferguson. [...] Weingarten epitomizes the leftist ideology that continually must find a racial basis for anything that occurs in this country.

The Justice Department Becomes a Schoolyard Bully in Wisconsin. It is as remarkable as it is repulsive, the ingenuity with which the Obama administration uses the regulatory state's intricacies to advance progressivism's project of breaking nongovernmental institutions to government's saddle. Eager to sacrifice low-income children to please teachers unions, the Justice Department wants to destroy Wisconsin's school choice program. Feigning concern about access for disabled children, the department aims to handicap all disadvantaged children by denying their parents access to school choices of the sort affluent government lawyers enjoy.

Teachers Union Ignores State Law Against Campaign Spending. Pennsylvania's largest teachers union exploited its members to aid Democrats in the midterm elections and may have broken state law in the process, according to charges filed by a veteran educator. Pennsylvania College of Technology professor Mary Trometter claims in a state Labor Relations Board complaint that the NEA-affiliated Pennsylvania State Education Association (PSEA) sent mailers endorsing Democratic gubernatorial candidate Tom Wolf to her husband. Wolf beat incumbent Republican Gov. Tom Corbett by 10 points. "As a family member of an educator, you know they are devoting their career to helping others ... Please join Mary in voting for Tom Wolf for Governor on November 4th," the letter says.

Do the math: Teacher unions spent $80 million on 2014 elections. American Federation of Teachers' (AFT) President Randi Weingarten recently revealed that her union spent over $20 million on election campaigns this cycle in order to elect politicians who defend an indefensible status quo that she's partly responsible for. The other big teacher union, the National Education Association (NEA), pledged up to $60 million, making teacher unions among the biggest campaign contributors this election cycle.

Teachers unions spend, lose big on midterm elections. Teachers unions spent big on the midterm elections, dropping as much as $80 million on mostly Democrat candidates and losing big. The National Educational Association and the American Federation of Teachers spent their members' dues to support labor-friendly candidates in states like Wisconsin, Michigan, and North Carolina, only to see Republicans win handily. Some critics say not only did they get little bang for their bucks, they may have further alienated members who don't share the organizations' politics.

Teachers Giveth, Union Taketh Away. Two Pennsylvania teachers are fighting the state's largest teachers union for interfering with their charitable giving. The teachers allege in a suit filed in district court that the Pennsylvania State Education Association (PSEA) is blocking them from exercising their right to donate union dues money to charity. Pennsylvania allows religious objectors to cut ties with unions as long as they donate an equivalent agency fee payment to charity. That money is given to the union, which is then supposed to send it to the charity of the teacher's choosing. Jane Ladley, an elementary school teacher for 25 years before retiring in June, said that the union prevented her from directing her $435 donation to a scholarship fund to teach high school seniors about the Constitution because it was "too political."

Forget 'Bullying Prevention Month' real school bullies are the teachers union. The National Education Association is highlighting October as "Bullying Prevention Month." "I hope to never hear an educator or a parent or a Sunday school teacher say to a frightened bullied child, 'Just ignore it.' Schools that are seeing a decrease in bullying are not ignoring it. They are acting," NEA president Lily Eskelsen Garcia said, according to the NEA website. Kudos to the union for focusing on the problem, but it might be taken a little more seriously if its rhetoric didn't ring so hollow.

Philadelphia teachers to pay for health benefits as contract axed. The state panel that oversees Philadelphia's cash-strapped public schools abruptly canceled a contract with teachers on Monday [10/6/2014], despite nearly two years of labor negotiations, and said teachers would have to begin paying for healthcare benefits.

Denver Students Protest Instruction in Capitalism, Patriotism, Respect for Authority. You know things have gotten bad when students are protesting a school board proposal to change U.S. history classes to promote patriotism, capitalism and obedience to authority while putting less emphasis on historical civil disobedience and social strife. Students walked out at the thought of it. They and their parents have been taught socialism. Free market capitalism and respect for authority is out, angry protests are in. This has been going on for two days and it is being encouraged by the teacher unionistas.

'A' Is for Agitation: What's Really Going on in Jefferson County Schools. There's a big battle brewing in the Jefferson County, Colorado, school system. The manufactured controversy over a proposed curriculum review is generating national headlines. But the fight is not about what misguided students and biased reporters say it's about. "Censorship" is a red herring. The real issue is union control. Here's the deal: Public school teachers in this Denver-area district walked out of their classrooms this week to protest the implementation of performance-based pay. The JeffCo school board approved the new compensation system last week, which rewards the most highly effective teachers with 4.2 percent raises, effective teachers with 2.4 [percent] raises and inferior teachers with nothing. Only 2 percent of teachers received no pay raises.

The Latest Action of Teacher's Unions: Ban Them. The simple fact of the matter is that public-sector unions need to be barred as a matter of both State and Federal Law. They are inherently unable to exist without violating the basic precept of adversarial bargaining, since they can (and do) effort to elect people to sit on the other side of the table that will do as they wish. That turns all such "bargaining" into an open and notorious, but legal fraudulent edifice and there only one remedy: Get rid of all of them.

Early Preview of Obamacare Premiums Show a 40% Spike in 2015. It is my sincere hope that one day conservatives will kick teachers' unions to the curb and retake the nation's educational system. One of the first orders of business then would be to teach not only the genius of the American founding but also the utter, repeated and unbroken failures of collectivism. Which brings me to Obamacare, a socialistic plan sold on a panoply of lies and doomed from the outset to failure.

Teachers Wear NYPD Shirts To School Despite Union Warnings. Angry city teachers who refused to be bullied by their union posted Facebook photos on Thursday [9/4/2014] of themselves in NYPD T-shirts — after the UFT warned them not to wear the "inappropriate apparel" on the first day of classes. Many teachers had worn the shirts to school Tuesday and Wednesday as a show of support for cops in the wake of the Eric Garner death and union-backed rally by the Rev. Al Sharpton. But they were warned by a United Federation of Teachers official in an email late Wednesday that, "as public employees, one must remain objective at all times.

Judge: Michigan teachers can exit union anytime. Michigan's largest teachers' union should allow members to resign at any time and stop enforcing an annual one-month opt-out window, a state labor judge ruled, relying on the state's right-to-work law that took effect last year.

A Crisis As Millions Of Students Abused By Teachers. We've all heard of the Catholic Church child abuse scandal that's still regularly covered, 20 to 40 years after much of the abuse took place. It too was tragic, and acknowledged as such by the church, which has taken action to prevent its ever happening again. The same can't be said of unionized public education — where child abuse appears to be rampant, often with little done about it and with teachers unions largely silent. It gets little national media attention — certainly not on the scale that the church scandal did.

Education Secretary Allows Reprieve on Test-Based Teacher Ratings. Secretary of Education Arne Duncan announced on Thursday [8/21/2014] that states could delay the use of test results in teacher-performance ratings by another year, an acknowledgment, in effect, of the enormous pressures mounting on the nation's teachers because of new academic standards and more rigorous standardized testing.

How Community Organizing Busted A Union And Sparked An Education Revolution. [Scroll down] When 300 blue-shirt-wearing union members showed up at a board meeting chanting "This is what democracy looks like" and complaining vouchers and merit pay would "starve public education," the four conservative board members began to consider dropping the union contract entirely. But open negotiations made that crazy-seeming idea a reality. It led to public discoveries that union money and activity in Douglas County — as everywhere else — went more to political activities than instructional improvements. Once that happened, the board began to consider, and then follow through on, ending its union contract.

Your union dues at work:
Teachers union backs Sharpton's planned anti-police rally. The teachers union is pitting its members against cops — by sponsoring and promoting the Rev. Al Sharpton's anti-police rally in Staten Island next week, The [New York] Post has learned. The United Federation of Teachers sent an "action alert" — e-mail that even promised free transportation to Sharpton's Aug. 23 demonstration that is billed as a march for justice for "victims of police brutality." Some teachers were furious that the union would take such a prominent role in the event.

Michael Mulgrew defends Common Core. Teachers union honcho Michael Mulgrew unleashed a venomous screed directed at anyone who would dare threaten his beloved Common Core agenda. "If someone takes something from me, I'm going to grab it right back out of their cold, twisted, sick hands and say it is mine! You do not take what is mine!" the head of the United Federation of Teachers shouted in a speech at a convention last month in Los Angeles. The rant was posted Thursday [8/7/2014] to the Ed Notes Online blog. "And I'm going to punch you in the face and push you in the dirt because this is the teachers'!" added Mulgrew.

Union leader derides Obama education chief. The president of the nation's second-largest teachers union said Friday that President Barack Obama's education chief has turned his back on the concerns of educators and parents, but she stopped short of calling for his ouster.

Lawsuit Contests New York's Teacher Tenure Laws. An education advocacy group on Thursday [7/3/2014] threw down the first challenge to New York's teacher tenure laws in the wake of a landmark court decision in California last month finding such laws there unconstitutional. A lawsuit filed in State Supreme Court on Staten Island argues that the tenure laws violate the State Constitution's guarantee of a "sound basic education" by making it difficult to fire bad teachers and by protecting the most veteran teachers in the event of layoffs, regardless of their quality. The suit, filed against city and state education officials, names as plaintiffs 11 public school students whose parents belong to a group known as the New York City Parents Union. The road ahead is less than certain in either state.

Next On The Federal Agenda: Redistributing Teachers. Just this week, while teachers, schoolchildren, and families frolic in the summer sun, blessedly free of government supervision at least for these few months, the Obama administration resurfaced an old rule from President Bush's tenure that may have states redistributing teachers like so many cattle. It attempted the same last September, far more directly, but in the meantime has had its hands busy juggling its many new interpretations of education law to suit the shifting fancies of National Superintendent, er, Education Secretary Arne Duncan.

Fed up students file lawsuit to overthrow NY tenure laws. A group of fed-up students and parents on Thursday [7/3/2014] declared their independence from incompetent New York City teachers shielded by the state's tenure and seniority laws. In the wake of a landmark anti-tenure ruling in California, the coalition of 11 students filed a class-action lawsuit in Staten Island state — Supreme Court, seeking to eliminate protections afforded to bad teachers. "This lawsuit has to do with students' rights and parents' rights. We have to do away with the 'students last' policies. No one is talking about the children who are failing every day," said Staten Island dad Sam Pirozzolo, a co-leader of the New York City Parents Union.

Lawsuit to be Filed Against Teacher Tenure Rules in New York. Following the widely hailed victory over California's egregious teacher tenure rules in court earlier this month, another group is bringing suit in New York to challenge similar rules. Called the Partnership for Educational Justice, it has enlisted pro bono efforts from Jay Lefkowitz, a skilled and capable litigator with previous victories against teacher unions under his belt. The lawsuit will challenge laws similar to those which Los Angeles Superior Court Judge Rolf Treu ruled to be unconstitutional in California, namely, rules that permit tenure to be granted after just 16 months on the job, rules that make it nearly impossible to fire a teacher who has been granted tenure, and LIFO (last in, first out) rules that terminate teachers during layoffs who were newly hired even if they are competent.

Former Obama Staffers vs. Teachers Unions. We've never waffled on our disgust for unionized teachers. They are not very bright, they're not good at their jobs, they're bloodsucking leeches who will destroy the financial base of every major city in the nation. They're greedy and they don't [care] about the kids they're supposed to teach. We could go on for another couple of thousand words, but you get the idea.

New California law lets schools fire teachers for 'egregious misconduct'. California Governor Jerry Brown on Wednesday signed a law adding "egregious misconduct" to the list of fireable offenses for public school teachers, weeks after a judge said it was too hard to fire incompetent teachers in the most populous U.S. state.

Hinsdale teachers vote to strike? Really? One of Illinois' most successful high school districts is in the midst of a power struggle: teachers vs. the school board. Teachers at Hinsdale Township High School District 86, which includes Hinsdale South and Hinsdale Central high schools, voted to authorize a strike for the fall unless they reach a contract agreement with the board. They met with a mediator Tuesday. Teachers in the district earn on average $105,494, according to 2012 data — the most recent available from the State Board of Education.

'War on teachers' is a union myth. Public schools are constitutionally empowered to educate our next generation, but they often stray from that path to over-emphasize the rights, pay, and benefits of their employees. In a stunning decision, a judge in the California Superior Court has ruled that, because education is a fundamental right of California youth, the laws governing teacher tenure, teacher dismissal and rules for layoffs are unconstitutional. This ruling only applies to California — and surely will be appealed by the teachers union — but it could open up consideration of students' rights in a larger number of states. The California laws addressed in the lawsuit advantage teachers at the expense of students.

Vergara Case Is California's Education Earthquake. [Scroll down] Teachers gain lifetime tenure after just 18 months, before their training is even done. It's almost impossible to dismiss them, no matter what their transgressions — perversion, drug dealing, child pornography, sexual assault, you name it. The regulations are so cumbersome, it's impossible to fire anyone. There's also a layoff system that ensures that seniority trumps performance, resulting in top-performing teachers being laid off over under-performing deadwood who've just been on the job longer. It's a Mafia-like protection racket for the worst of the worst.

California Judge Strikes Down Teacher Tenure. On Tuesday [6/10/2014], teacher tenure was ruled unconstitutional in the state of California, impacting 6 million students from kindergarten through 12th grade. This monumental decision could change the way other states view current tenure laws nationwide. Tenure aims to protect long-standing teachers from being fired by providing them with job security after they have completed a certain probationary period. Opponents argue, however, that these laws keep inept teachers in the classroom and therefore hinder student achievement.

A Defeat for Terrible Teachers in California. It won't be as simple from now on for ineffective California teachers to coast off to a lifetime career on easy street. In a Los Angeles Superior Court ruling today, Judge Rolf M. Treu "found five California laws governing teacher tenure, layoffs and dismissals unconstitutional," reports Politico. "Treu found," reporter Stephanie Simon wrote, "that the statutes permit too many grossly incompetent teachers to remain in classrooms across the state — and found that those teachers shortchange their students by putting them months or years behind their peers in math and reading."

Chicago Teachers Union-Run School Bombs at the Prom. In the "you can't make this up" file, Paul Robeson High School in Chicago just had its prom and its theme was "This Is Are Story." Sadly, this isn't a joke or a bit of intentional irony on the part of the students. Turns out that Paul Robeson High School is a symptom of a school district that is failing its students. [...] The taxpayers pay these teachers $76,000 a year and the school's administration can't even distinguish between "are" and "our" on printed cards they hand out on prom night?

Calif. court rules teacher tenure creates unequal conditions. A Los Angeles Superior Court judge ruled Tuesday that tenure, seniority and other job protections for teachers have created unequal conditions in public schools and deprive poor children of the best teachers. In a case that could have national implications for the future of teacher tenure, Judge Rolf Treu sided with a Silicon Valley mogul against some of the most powerful labor unions in the country.

Favoring Teachers' Unions Over Students. Education has become a major issue in the Texas governor's race, with six months to go. The differing approaches unveiled by the two major candidates for governor tell us a lot. An examination of Democratic state Sen. Wendy Davis' education reform proposal shows the plan clearly refuses to increase accountability and competition in the public education system, opting instead for the tired, liberal trope of "more funding."

Unions in right-to-work states make opting out nearly impossible. In October, a year after his state had adopted a right-to-work law, Michigan Education Association President Steve Cook announced that his union had retained 99 percent of its members. [...] What he didn't say was that eight teachers had filed suit with the Michigan Employment Relations Commission accusing the union of refusing to let them quit. They had reportedly failed to file their decisions to opt out during August, the only month the union accepted them.

Chicago Teachers Union Joins War on Common Core. Echoing concerns from teachers and parents from across America and the entire political spectrum, CTU President Karen Lewis also lambasted the administration's meddling in state and local education issues. "I agree with educators and parents from across the country, the Common Core mandate represents an overreach of federal power into personal privacy as well as into state educational autonomy," said Lewis, who is also a nationally board certified teacher. The criticism is especially devastating coming from Chicago, where a former top-level Obama official now dominates the city.

Teachers Union Boss Randi Weingarten: My Salary's Only $360K. American Federation of Teachers (AFT) President Randi Weingarten, who was paid $543,150 last year, defended her compensation by claiming her pay is $360,000 and other reported expenses simply prove the union's "transparency." [...] "Justice means that hardworking people must have access to a living wage," Weingarten wrote. AFT paid Weingarten $556,981 in 2012 and $543,150 in 2013.

Job Security for Poor Performers. Job security for public employees comes at a cost to government and the public. Firing the poorest-performing teachers may be the biggest free lunch available in education policy. Given that very little else seems to have worked, maybe education policy makers should give it a try.

Chicago Teachers Union to Mayor Rahm: Improving failed schools full of black kids is racist. In late March, the Chicago Board of Education announced an ambitious plan to implement its "turnaround" model for three low-performing elementary schools in poor, predominantly black neighborhoods. The turnaround process involves the sacking of every teacher and staffer at each of the schools, according to an email from the Chicago Teachers Union obtained by The Daily Caller. Naturally, the union bosses aren't happy that the nation's third-largest school district is employing such sweeping measures to improve some of its worst schools.

Teachers union boss wants schools to teach 'social justice'. Chicago Teachers Union president Karen Lewis wants schools to teach social justice, not "consumerism," she said in a video. Lewis spoke about ways to avoid "consumerist" messages while teaching subjects typically seen as apolitical, like math, at the annual conference of the Network for Public Education, a progressive advocacy group that backs public schools.

MI union contract gives "special consideration" to "non-Christian" teachers. Apparently, no one at the Ferndale Public School District in Michigan took a civics course or bothered to read their own state constitution — and neither did the union representing teachers in the district. Michigan Capitol Confidential found an interesting, and totally unconstitutional, clause in the contract between the district and the Michigan Education Association local that requires the district to provide "special consideration" to "those of the non-Christian faith" in hiring decisions.

Nation's biggest teachers union slams 'botched' Common Core implementation. The nation's largest teachers union is pulling back on its once-enthusiastic support of the Common Core academic standards, labeling their rollout "completely botched." National Education Association President Dennis Van Roekel said he still believes the standards can improve education. But he said they will not succeed without a major "course correction" — including possibly rewriting some of the standards and revising the related tests with teacher input.

Nation's Largest Teachers Union Calls Implementation 'Completely Botched'. The country's largest teachers union is no longer a cheerleader for Common Core national education standards. In a letter to the National Education Association's 3 million members, President Dennis Van Roekel issued a sharp critique of Common Core. It marks the first time NEA has voiced concerns about the standards, a key initiative of the Obama Administration.

More about Common Core.

Eva Moskowitz: Teachers Union Enemy No. 1. [Scroll down] As she reminds every audience, the 6,700 students at her 22 Success Academy Charter Schools are overwhelmingly from poor, minority families and scored in the top 1% in math and top 7% in English on the most recent state test. Four in five charters in the city outperformed comparable schools.

Teachers oppose tying student test scores to teacher licensing, push for legislative change. When Tennessee was competing for a half-billion dollars in federal education money, teachers agreed to allow the state to ramp up its use of student test scores for evaluating educators.

New York public school parents demand names of teachers who backed pedophile colleague. Twenty-two teachers at an upstate New York public school wrote letters to a judge supporting a colleague who sexually assaulted an 8-year-old boy, and parents of students in the Rochester district want those teachers' names. The letters, some on school district stationery, were written to a judge on behalf of gym teacher Matthew LoMaglio, 37, who was convicted in November of second-degree sexual conduct against a child and endangering the welfare of a child.

Common Core and Unionitis. Study after study concludes that the one factor that makes a difference in the success or failure of students is the teacher. [...] So why don't we have astounding teachers? Remember the year Bill Clinton promised to hire another 100,000 new instructors? Where did he think he was going to find these people? And why did he think it was a quantity problem when it was clear that we had a quality problem? We didn't have enough good teachers. The biggest reason for that is the unionization of the profession.

Why Is a Teachers Union Fighting on Behalf of Convicted Child Molester? There's outrage in Michigan after the union, Michigan Education Association, began fighting to win a $10,000 severance payment for a convicted child rapist.

The Rev. Jeremiah Wright joins up with Chicago Teachers Union. Wright will give a keynote address Wednesday at a breakfast the teacher's union is holding in honor of Martin Luther King Jr. The union has invited local pastors to the breakfast in the hopes of building a coalition of Chicago clergy to support its causes. In particular, union officials are seeking allies to fight the city's policy of shutting down dozens of neighborhood schools and opening charter schools, which are publicly funded but privately managed — and often, nonunion. CTU is expecting about 250 representatives from the clergy at the breakfast.

Pension Predicament: 14 NEA Affiliates Have Almost $700 Million in Unfunded Liabilities. National Education Association president Dennis Van Roekel says flatly: "There is no teacher pension crisis." [...] An Education Intelligence Agency analysis of 2011-12 Internal Revenue Service filings reveals 14 NEA state affiliates do not have the financial assets to match their liabilities and total almost $700 million in combined debt. The ability of these affiliates to address their long-term debt by increasing pension contributions, as Van Roekel suggests, is compromised by their short-term debt. Nine of the 14 affiliates had deficits in 2011-12. In fact, the combined spending of all of NEA's state affiliates exceeded their combined income by almost $24 million.

OFA Wants You to Fight to Raise Minimum Wage, Won't Pay You to Do It. Organizing for Action is looking to sign people up for its spring 2014 fellowship program, which will teach them "best practices in the areas of community organizing, media relations, and grassroots fundraising." The sign-up page allows users to select to volunteer either 15 or 40 hours per week. But they won't be receiving compensation for their efforts.

NEA Employees Must Be Paid for Time in Prison. Though I have written about the fact often, it bears repeating that the National Education Association and its affiliates are employers. Between them they hire thousands of workers to perform a variety of tasks. Virtually all of these workers are covered by collective bargaining agreements in which the teachers' union is management — bosses, to put it plainly. Union employees use the contract to set salaries, benefits, working conditions and protections against arbitrary actions by union executives. About 500 people work at NEA national headquarters in Washington, DC. A handful of unions represent them, the largest being the National Education Association Staff Organization (NEASO).

American education's race to the bottom. We are paying filet mignon prices and getting Sonic Burger results, in other words. I guess the upside is that our unionized teachers have such great job security that they can hardly be fired once they get "tenure." Oh, and the benefits and retirement pay are outstanding. Naturally, Arne Duncan, Secretary of Education, is calling for even more money. [...] America's government schools have been run for the benefit of teacher unions, not for the students. There is an obvious solution staring us in the face: awarding education funds to parents, and allowing them to choose schools suited to their children.

San Francisco scrambles to find subs as hundreds of teachers skip school ahead of Thanksgiving. More than 600 teachers and classroom aides looking to get an early start to the Thanksgiving holiday weekend skipped school Tuesday [11/26/2013] in San Francisco, leaving officials desperate to find substitutes. In the San Francisco Unified School District, 432 teachers — around 12 percent of its instructional workforce — called in sick or took a personal day, SFgate.com reports.

Second largest California school district pays teachers for not teaching. California has a 1971 state law — the Stull Act — that mandates student performance be included in teacher evaluations. This is just the sort of approach that President Obama and Education Secretary Arne Duncan like as part of their push to eliminate the 10 percent or so of teachers they say are too incompetent to be allowed in the classroom. But guess what: The law has been ignored for decades in California. Why? Because for at least 20 years, the most powerful special interest in the state has been the teacher unions — the California Teachers Association and the California Federation of Teachers. Keeping the CTA and CFT happy has been a higher priority in local school districts and in the Legislature than actually honoring a clearly written state law.

Teacher's union head investigates whether parent is a neo-Nazi. A Pennsylvania father is steaming mad after the head of a local teacher's union suggested he may be a "neo-Nazi" for questioning a school assignment. Josh Barry, of Camp Hill, Penn., expressed concern after his daughter brought home an assignment analyzing a New York Times article discussing the recent government shutdown. Examiner.com first reported the story. The assignment asked questions like, "Whom do you hold most responsible for the government shutdown?" and "Do you feel it is principled or irresponsible for politicians to threaten a shutdown?" Barry thought it was an exercise in indoctrination.

Teachers' unions fight bill that would bar sex offenders from schools. A bipartisan bill that would stop convicted sex offenders from working in schools has been passed by the House but is running into a foe as it heads to the Senate: major teachers' unions like the National Education Association and the American Federation of Teachers. Kyle Olson, with the Education Action Group Foundation told Megyn Kelly Wednesday night [10/23/2013] on "The Kelly File" that the unions' objection to the bill proves "unions are out to protect the adults... they are not out for the interests of the children." "We should have zero tolerance for issues like this," Olson said.

International teachers' unions to politicians: Invest in education. Leaders of America's largest teachers' unions are joining teachers in 170 countries to urge political leaders to invest more in K-12 education around the world. [...] "The whole premise is that every single child ought to have access to a free, universal, quality education," said Dennis Van Roekel, president of the National Education Association, the country's largest teachers' union. "There's not a country in the world where that's happening right now, including the United States."

Bankrupt ideas lead to bankrupt governments. The teachers unions love to talk about how much is being spent per pupil, while ignoring the fact that there are many high-spending school districts with lower achievement levels than many lower spending districts. The private sector — unlike government — constantly reduces costs and improves its products because of competitive pressures, and that creates real wealth. Those in the public sector measure success by the amount spent, not by what is accomplished.

California teachers taught how to dump unions, get rebates on dues. There's a way out of the unions in many states, and way to get some dues money back at the same time. Concerned teachers are encouraged to research their rights — which are frequently concealed by the unions — and learn how they can drop their ties to these increasingly radical groups that only represent the views and interests of a small group of elite union leaders. In California, home to some of the nation's most radical and powerful teachers unions, two groups are providing teachers with the information they need to make a hasty retreat from their unions and recover some of the money they were forced to invest in left-wing political causes.

Three-quarters of Americans think teachers paid less than they really are. Seventy-four percent of Americans think teachers make less than they really do, according to a new poll from Rasmussen. The average teacher salary in America is $55,000 (upward of $75,000 in Chicago), but three quarters of Americans think teachers earn less than that.

Teachers of Third-Largest Wisconsin School District Vote to Decertify Union. Teachers in Kenosha, Wisconsin have voted to decertify their union, putting a halt to the organization's ability to bargain with the state on behalf of educators. Kenosha teachers took advantage of the opportunity to jettison the union after Governor Scott Walker's successful implementation of Act 10, a law that limits what unions can bargain for on behalf of members.

Teachers pack union meeting, say no to pay cuts. In a sea of red shirts, thousands of Philadelphia teachers filled the Liacouras Center on Temple University's campus on Labor Day to hear about the very real labor woes affecting their union.

Kansas Teachers Opt Out of Big Unions. In 2012-2013, KNEA and NEA annual dues were nearly $600, said Joel McClure, a lead negotiator for the Deerfield teachers. "The more information teachers have about alternatives, truly professional alternatives, they don't want to give their money to KNEA or NEA," McClure said. Only five teachers of the 27 in Deerfield had been speaking for all the others as the only certified union members.

What is Literacy in the 21st Century? The National Council of Teachers of English recently announced: "Literacy has always been a collection of cultural and communicative practices shared among members of particular groups. As society and technology change, so does literacy." These people give good sophistry. Presto, literacy can now be defined any way they want. When these Teachers of English get through, it's a safe bet they won't spend as much time teaching English.

North Carolina Ends Pay Boosts for Teacher Master's Degrees. North Carolina Gov. Pat McCrory, a Republican, signed a budget bill Friday that eliminates teacher tenure and — in a rare move — gets rid of the automatic pay increase teachers receive for earning a master's degree. The legislation targets a compensation mechanism that is common in the U.S., where teachers receive automatic pay increases for years of service and advanced degrees. Some research has suggested those advanced degrees don't lead to improved teaching.

Unions Complaining about Digging Their Own Grave. Republican Governor Pat McCrory just signed a bill that ends K-12 teacher tenure and ends the practice of giving teachers an automatic raise for getting a Master's degree. Both reforms are, in my view, quite defensible. Both reforms, of course, were vociferously opposed by the rent-seekers — or rather "the teachers." Hundreds of them turned out to show their anger.

Chicago Public Schools to lay off 2,110 teachers, support staff. The Chicago Public Schools has announced the layoff of about 2,100 teachers and support staff, blaming the move on the failure of the Illinois Legislature to enact pension reform.

California teachers suing to end mandatory union dues. A group of California teachers is preparing for a Supreme Court battle to overturn forced union dues in a groundbreaking lawsuit filed in June. For nearly three decades, the Supreme Court has allowed closed-shop unionism, in which public employees must pay dues to labor groups handling collective bargaining negotiations.

Union Leader: Parents Send Children to Private Schools to Avoid Contact with Lower Class. On June 25, New Jersey's Hoboken Education Association President Gary Enrico said the reason parents send their children to private schools is so that they can avoid contact with the poor. According to the Hoboken Patch, Enrico said, "They don't want their children in the classrooms with the kids from applied housing or the projects."

The Editor asks...
Where does Barack Obama send his kids to school? Come to think of it, can you name one prominent Democrat whose kids are in public schools?

Chicago Teachers Union Prez Blames 'Rich White People'. The president of the Chicago Teachers Union charges that racism and "rich white people" are to blame for the immense financial and educational crisis facing the Chicago Public Schools. [The] Chicago Public Schools (CPS) represent everything that is wrong with public education in America. They are in thrall to the unions that run the system and bankrupt it through bloated salaries and pensions while too many of the students trapped inside graduate as functional illiterates, if they graduate at all.

Lewis Points Finger At 'Rich White People' For School Problems. A day before the first set of school closings was set to begin, Chicago Teachers Union President Karen Lewis had some harsh words about how the Chicago Public Schools are funded and managed, blaming much of the district's problems on racism. WBBM Newsradio's Nancy Harty reports, at a luncheon on education reform, Lewis told members of the City Club that Chicago is the most segregated city in America.

Racial violence in the classroom of a different kind. This is a different kind of violence. The kind where teachers and kids are bullied into hearing that they are racists and their belief — and practice of White Supremacy is responsible for the disparity in achievement between children of different races. Here is just one practitioner: The head of the Chicago Teachers Union who blames poor Chicago schools on "rich white people."

Rift widens between Emanuel and Chicago teachers union, pillar of Democratic support. Chicago's final decision to close 50 public schools — the single biggest reported closure in U.S. history — has again pitted Mayor Rahm Emanuel against the powerful teachers union. The Democratic mayor is backing the city school board's vote last week to help reduce an estimated $1 billion budget shortfall by closing the under-attended elementary schools and programs.

Kansas Law Lets Teachers Choose Political Donations. A labor expert says a new Kansas law adopted this month promotes teachers' freedom to make informed political choices. Republican Gov. Sam Brownback signed House Bill 2022 into law on April 1, enacting a policy often referred to as "paycheck protection" for all Kansas employees.

California teachers sue NEA over forced $1,000 union dues. Ten California schoolteachers on Tuesday sued the National Education Association and California Teachers Association to escape mandatory union fees in a case that piggybacks on a 2012 Supreme Court ruling against forced union dues. The teachers, represented by the Washington-based Center for Individual Rights, claim that California's so-called "agency shop" law violates their free speech and free assembly rights and forces them to cough up $1,000 to pay for the union's mostly Democratic political activities.

California Non-Union Teachers Sue Unions Over Coercive Political Funding. The Center for Individual Rights, a public interest legal group in Washington, D.C., filed the lawsuit Tuesday [4/30/2013] in U.S. District Court for the Central District of California in Los Angeles on behalf of 10 teachers from California and the Christian Educators Association. "The union spends millions of teachers' hard-earned monies supporting causes and candidates that many of us oppose," said Rebecca Friedrichs, one of the plaintiffs, in a statement. "The union is free to press its agenda, but individual teachers should not be forced to pay for it. It is shocking to me and many other teachers that union officials have the power by law to spend our wages to press for causes that many of us oppose on moral, fiscal, or philosophical grounds."

Late Union President's Astonishing $800K Theft. When former Auburn Teachers Association (ATA) president Sally Jo Widmer passed away last November after more than 35 years at the helm of the small New York teachers' union, former Auburn mayor Guy Cosentino eulogized her as "a true union leader who put her union first and personal niceties second." That's because Cosentino didn't have access to her checkbook. Members were informed this week that Widmer misappropriated at least $800,000 in union dues during the period 2006-2012.

Billionaires, Rappers, and Former Lobbyists Give to OFA. [Scroll down] Disclosed donors include hedge fund billionaire S. Donald Sussman and real-estate mogul Wayne Jordan, contributing at least $50,000 each. Both have been supporters of the Democracy Alliance, an organization backed by major progressive donors that steers donor dollars to dark-money groups that disclose very little about their funding sources. Michael Kempner, chairman of the lobbying firm MWW, also gave at least $50,000 to OFA. [...] The organization also accepted a $15,466 in-kind contribution for office space from the National Education Association, which is where OFA has been headquartered.

More about OFA.

School for scandal. The seven were nicknamed "the chosen" and, according to Georgia state investigator Richard Hyde, the less than magnificent seven sat in a locked room without windows, erasing wrong answers and inserting correct ones. It's one thing for a child to cheat on a test; it's quite another for teachers to do it. Compounding the cheating scandal is that the children in this elementary school are mostly poor and African-American. How are they helped to develop a moral sense, not to mention an academic foundation that will lift them out of poverty, if they get the message that cheating is better than achieving?

The Atlanta Cheating Scandal. The news that an Atlanta schools chief spearheaded a vast criminal conspiracy among administrators and teachers to cheat on standardized tests to artificially boost the scores of their pupils is as depressing as it is unsurprising. And it reinforces my belief that merit pay systems for teachers that are rigidly tied to student test scores are a terrible idea, even if school districts are using very sophisticated value-added analysis.

ObamaCare Bites Unionized Educators. Union representatives are now sending their members letters stating that "the Affordable Care Act [aka ObamaCare] has defined full time as anyone working over 30 hours a week or 130 hours a month." Many of these hardworking and well-meaning local labor representatives, who were duped — I mean, told by the American Federation of Teachers Union (AFT) that Obama was the one who would bring all good things to pass — now find themselves in an untenable position.

Chicago Teachers Union President Recommends Lying to Parents! Chicago Teachers Union President Karen Lewis made an eyebrow-raising recommendation at an education conference that took place earlier this week, doling out "tips" that she said really work. One of the suggestions? Lie to parents. [Video clip]

Teachers' Unions Panic as Scott Walker Moves to Expand School Vouchers. There is a reason why teachers' unions oppose standardized ratings. Hard numbers highlight performance and mandate reforms. Scott Walker is proposing to give parents an exit strategy from broken schools, but those broken schools are the bread and butter of the Educrats who can use their failures as bottomless money pits.

NEA's Legacy: $310 Million in Direct Campaign Spending Since 2000. Almost $53.4 million came from NEA national headquarters, while another $257.1 million was spent by affiliates. More than 47.3 percent of that total — almost $147 million — was spent in California or on behalf of California ballot measures and candidates. The union spent more than $92.3 million on candidates and party committees. About 86.3% of those were Democrat-affiliated, and 11.5% were Republican-affiliated.

The Blob That Ate Children. Shortly after I did my first TV special on education, "Stupid in America," hundreds of union teachers showed up outside my office to yell at me. They were angry because I said union rules were a big reason American kids don't learn. The union is a big reason kids don't like school and learn less. Union contracts limit flexibility, limit promotion of good teachers, waste money and make it hard for principals to fire even terrible teachers. But I was wrong to imply that the union is the biggest problem. In states with weak unions, K-12 schools stagnate, too. Education reformers have a name for the resistance: the education "Blob."

California's expensive education failure. According to RAND Corp., as late as the 1970s California's public schools still had an "excellent" reputation. Then, in 1975, Brown (in his first stint as California's governor) signed the Rodda Act, giving government unions the power to take money directly out of government employees' paychecks. The California Teachers Association quickly poured this new revenue stream into an organizing drive, more than doubling the union's ranks. The Golden State's politics have never been the same since — nor has the quality of its public schools.

How Alabama is on the verge of breaking one of the nation's most powerful teachers' unions. For much of the last four decades, the Alabama Education Association has risen to become one of the most powerful teachers' unions in the country. As odd as it may seem in a dark red state, over the years long-time AEA executive director Paul Hubbert, oftentimes described as the "shadow governor" of Alabama, has earned his union the distinction of being one of the most politically involved organizations of its type in the country.

LA's Largest Teachers' Union Endorses Racist Anti-Semite for City Council. Ron Gochez [...] is affiliated with racist groups such as MEChA, La Raza and the African People's Socialist Party. And he also has a history of saying racist things.

Chicago Teachers Union demands end of standardized testing. The Chicago Teachers Union urged school administrators nationwide to discontinue the use of standardized tests, deriding them as corporate tools. The CTU recently released a report arguing that standardized tests are a faulty measure of student achievement. They also advance a pro-corporate agenda, the report said.

NYC teacher pension fund sells stock in gun makers, but keeps the profits. The pension fund for New York City teachers made a bit of a political statement when it announced today that it had sold its stock in gun-makers. "This is the right thing to do," said Michael Mulgrew, President of the United Federation of Teachers. "After the tragedy at Sandy Hook, we, as educators, had to make sure that guns were not part of our holdings." But with those stocks having seen a huge run-up over the last two years, the fund is perfectly happy to keep profits that came due to record gun sales.

Historic education reform 'parent trigger' wins in Los Angeles, deals blow to teachers union. The Los Angeles Board of Education signed off on a parent-led plan to turn a failing public school over to a private charter company this week — the city's first use of the controversial "parent trigger" law. The 5-1 vote granted parents in downtown Los Angeles final approval to convert 24th Street Elementary School into a charter school. The new school will be better equipped to handle demographic changes to the area, parents said.

Pay Up or Get Sued. The president of Michigan's largest union is instructing officials to prepare to sue its own members, according to a leaked memo issued after the state adopted right-to-work laws in December. Steven Cook, president of the Michigan Education Association, circulated an email to local unions officials and staff instructing them to monitor revenue streams in light of the right-to-work laws, which are set to go into effect on March 27, 2013. The law allows workers to opt out of union membership unless they have an existing contract with their employer.

Bill Ayers to Keynote National Teacher Conference in February. Left-wing '60s radical and onetime domestic terrorist Bill Ayers will be a keynote speaker at the Association of Teacher Educators annual conference in Atlanta next month. Ayers gained notoriety alongside his wife Bernardine Dohrn as a member of the Weather Underground during the Vietnam War. He was involved in Chicago's "Days of Rage" riot in 1969 and went underground as a fugitive from justice after an accidental Greenwich Village townhouse explosion in 1970 killed three Weather Underground members who were preparing a bomb that prematurely detonated.

William Ayers a keynote speaker next month at the Association of Teacher Educators conference. The Association of Teacher Educators has recruited Chicago professor — and former domestic terrorist — William Ayers to speak at their the 2013 Annual Meeting in Atlanta, Georgia which will be held next month. William Ayers, a co-founder of the radical Weather Underground domestic terror group, was a key figure during the 2008 presidential campaign due to his Chicago ties to then-Senator Obama.

Shakedown:
Maryland teachers union wants nonmembers to pay fee. Maryland's largest teachers union wants school employees who aren't members of a union to pay union fees. Del. Sheila Hixson, D-Montgomery County, will introduce a bill on behalf of the Maryland State Education Association to require nonunion educators to pay a so-called fair share fee to unions equivalent to about 68 percent of the local dues.

Teachers union leader jokes about killing the rich. Karen Lewis, president of the Chicago Teachers Union, recently gave a speech that joked about the possibility of union members killing the wealthy. The speech, delivered to the Illinois Labor History Society on Dec. 2, attracted attention this week after video of the event surfaced online.

Chicago teachers union president on the rich: 'Off with their heads!' From the leader of the unfailing public servants who brought you 350,000 Chicago students abandoned for two weeks, comes this gem.

Crowd Laughs, Applauds Chicago Teachers Union President After She Jokes About Beheading The Rich. Controversy erupted at the Illinois Labor History Society's "Salute to Labor's Historic Heroes from the History Makers of Today" conference when Karen Lewis, president of the Chicago Teachers Union, drew applause and laughs for suggesting that a past generation of labor leaders preferred to resolve disputes with murder.

Crowd Laughs as Chicago Teachers Union President Talks About Killing the Rich. [Video clip]

NEA, CWA, NAACP, GreenPeace Meet to End Voter ID, End Filibuster. Those in the meeting pledged BIG MONEY to supposedly remove BIG MONEY from the politics they are trying so hard to dominate. The whole affair is known as the "Democracy Initiative." [...] Members of the NEA, America's teachers, are apparently okay with the Democracy Initiative. If you haven't pulled your kids out of public schools, make the sacrifice and do it.

20 Ways America Has Begun to Reap What It Has Sown. [#7] Our first priority when it comes to schools is catering to the teachers' unions, not educating our kids; then we're surprised at the poor quality of public education in our country. [...] [#16] We worry more about children's self-esteem than their performance; then we're surprised when college kids aren't ready for the working world.

Teachers union spends millions from membership dues on parties and conferences. Included in the United Federation of Teachers' $166.5 million in spending last year was a hefty $33.4 million in salary for union staffers — a slight increase from the year prior. More than 90 staffers earned six-figure salaries between July 2011 and June 2012, the records show — including President Michael Mulgrew, who took home $275,000.

Union Boss: What's the Rush on Increasing Teacher Quality? Teacher quality is indeed a major issue that must be addressed. But that process will be painfully slow as long as there are union leaders who fight accountability every step of the way.

Power Hungry: Teachers' Union Wants To Administer Standardized Teachers' Test. As Republicans are painfully reminded, progressives thrive on deception. Throw public sector unions into the mix and the worst aspects of Chicago-style cronyism and pay-to-play politics inevitably surface. Add national teachers' unions, and the potential for a previously unimaginable pay-to-play scam — a scam conservatives might blindly and reflexively support — becomes all too real.

Moving from an Emboldened Left in 2012 to a Legal Insurrection in 2013. During my lifetime, there has always been an undercurrent of collusion between our public school systems and anti-America, anti-freedom philosophies. But they are now emboldened to profess the alliance in the open.

Only 7% of Detroit Public-School 8th Graders are Proficient in Reading. In the public schools in Detroit, Mich., according to the U.S. Department of Education, only 7 percent of the eighth graders are grade-level proficient or better in reading. Some public school teachers in the City of Detroit and around the state of Michigan are reportedly taking a vacation or a sick day today [12/11/2012] to protest right-to-work legislation likely to be approved by the state legislature. Under current law, Michigan public school teachers must pay dues to the teachers' union. If the right-to-work law is enacted, Michigan public-school teachers will be free to join the union and pay dues to it if they wish, but they will also be free not to join the union and not to pay it dues.

NEA, SEIU and AFSCME in Secret Negotiations. The National Education Association is working more closely than ever before with its counterparts in organized labor. NEA, SEIU and AFSCME teamed up to fund a series of ads targeting key lawmakers in the fiscal cliff negotiations and they are the driving force behind today's [12/10/2012] "day of action" rallies in a number of cities.

Millionaires, Billionaires, and Teachers. The main reason the US Post Office, the federal government and many state and local governments face unsustainable debt, bankruptcy and default is due to the costs of public employee pensions. GM went bankrupt largely due to the costs of its retirees' pensions and benefits. [...] Meanwhile, retired public school teachers, who had to work 9 months of the year during their careers, now pull in checks 12 months a year, indexed for inflation and guaranteed by the government, in amounts that often make them millionaires, maybe twice over.

A New Low From The California Federation Of Teachers: Urine Indoctrination. If anything raises questions about the fitness of the California Federation of Teachers to be around kids, just look at its new video pushing class warfare doctrine by graphically depicting "the rich" urinating on the poor. The angry, hate-filled cartoon video was placed right up top on the California Federation of Teachers' website, where children could see it, if it's not already being shown in classrooms.

Chicago Teachers Union VP Busted Participating in Midwest Marxism Conference. While a guest on a local Chicago radio show, Chicago Teachers Union (CTU) VP Jesse Sharkey was questioned over his recent participation in the Midwest Marxism Conference and refused to answer why he was there and what relationship the Chicago Teachers Union has with the conference and sponsoring organization, the International Socialists Organization.

And They Lived Happily Ever After. Today's big controversy is the cartoon produced by the California Federation of Teachers and narrated by actor Ed Asner. It's called Tax the rich: An animated fairy tale, and it contains all the wit and charm you would expect from a video produced by a team of CFT apparatchiki.

California Teachers Union Video Features 'Rich' Urinating On 'Poor'. A new video produced by the California Federation of Teachers — which could be playing in your child's classroom as we speak — drums up the typical class warfare images we've come to expect from Big Labor.

Fighting the Good Conservative Fight. The political contributions of the two largest education unions, the National Education Association (NEA) and the American Federation of Teachers (AFT), tell the story. From 1989-2012, the NEA donated $49,769,888 to political campaigns. 64 percent of those donations went to Democrats, 4 percent to Republicans. The AFT donated $38,218,968 to political campaigns. 81 percent went to Democrats, and 0 percent went to Republicans. This blatantly symbiotic relationship between those entrusted with educating American schoolchildren and the Democrat party has been in place for decades.

Just How Potent Are Teacher Unions? Education today employs more unionized staff than any other industry, public or private. Between them, the National Education Association (NEA) and the American Federation of Teachers (AFT) have some 4.6 million members, a combination of active teachers and other public-school employees, college faculty and staff, retirees, and students. (Meanwhile, membership rates in private-sector unions continue to fall, from 37 percent in 1952 to 6 percent in 2011.) Teacher unions are enormous, no doubt about it. But does big mean strong?

Chicago Teachers Union Rank-and-File Reps Refuse to Endorse Obama. So much for finding favor with the hometown crowd. President Obama managed to gain an endorsement from the Chicago Teachers Union last week, but it took some quick maneuvering by the union's executive committee to make it happen [...]

Irony: Teachers Union Hosts Party at National Crime Museum. The Illinois Education Association chose an odd location for a party in Washington, D.C. in July: the National Museum of Crime and Punishment. A new financial report filed with the federal Department of Labor reveals the union spent $11,008 on the event, EAGnews.org found. [...] That wasn't the only odd news revealed by the government report. While rank-and-file union members struggle to make ends meet working for many smaller school districts, IEA president Cinda Klickna saw a big boost in compensation over last year. She raked in $220,359 — a whopping 23 percent increase.

Minnesota Schools Close So Teachers Can Play with Dolls, Learn About Teaching Islam. Each year, Minnesota government schools close for two days (just before the weekend, of course) so teachers' union members can gather at a conference organized by their union. [...] The union describes it this way: "Used around the world, persona dolls are lifelike dolls with personalities and stories you create. The dolls become members of your classroom community and children learn by empathizing with the dolls and giving them heartfelt advice on the same kinds of situations they struggle with daily in the classroom and on the playground." That's weird. Teachers are taking time away from the classroom to learn how to play with dolls? The conference also includes a workshop on how to teach about Islam.

California's Proposition 32: Ending Union Dominance Of California Politics. Is union money distorting California electoral politics? Many think so. After all, public sector and trade unions are among the biggest donors in California elections. In the years 2000-2010 the California Teachers Association (CTA) was the single largest contributor to California politics, giving twice as much as the second-largest contributor, the California State Council of Service Employees.

Why unions fear this film. Union protesters demonstrated outside the premiere of the new pro-education reform movie "Won't Back Down." [...] In an outraged public letter, the head of the American Federation of Teachers, Randi Weingarten, complained that the movie traffics in "the most blatant stereotypes and caricatures I have ever seen." Really? Weingarten must never have seen a World War II movie, or a film featuring a hooker with a heart of gold, or pretty much any romantic comedy.

Online Schools Becoming More Popular, Despite Union Resistance. Online schools, and other forms of digital learning, are an inevitable and promising form of education for the 21st Century, unless special interest forces are able to keep technology from becoming more integrated into everyday education. Professor Gary Miron of the National Education Policy Center is a leading voice for those special interests, which include teachers unions and the education establishment in general.

Obama's America: Student Reading SAT Scores Hit Record Lows. No doubt the Obama administration will combat this problem by complaining about racial discrepancies in education and suggesting pouring billions more down the rathole that is the public education system — all the while avoiding scrutiny for teachers unions. That's the all-purpose liberal solution: cash, cash, and more cash.

Teachers unions will pay a price for the Chicago strike. In the wake of the strike by the Chicago Teachers Union, many people wonder what the union is complaining about. After all, Chicago teachers make an average of $76,000 for a nine-month year, 60 percent higher than the average annual income for a family in Chicago and 58 percent more than the average yearly pay for a Chicagoan with a bachelor's degree. They get a huge package of benefits on top of that.

Chicago School Leaders Don't Know How They're Going to Pay for the New Contract! The successful business leaders that sit on the Chicago Board of Education must have checked their brains at the door when they went into the negotiating room with the teachers union. How else could they possibly negotiate a contract that the school district can't possibly afford?

Illinois on the hook for $670 million more in teacher pensions for next budget. The state will have to come up with another $670 million for the teacher pension system in the next budget after a retirement fund panel crunched the numbers and adjusted its assumptions. The Teachers' Retirement System lowered what it expects from investments from 8.5 percent to 8 percent. The pension fund's leadership also increased a variety of other assumptions, including how long it expects retired teachers to live. The fund covers teachers outside Chicago.

Useless, Costly Teacher's Unions. [Scroll down] Heartland's S.T. Karnick, Director of Research, noted that "The average teacher salary in Chicago is $74,839, plus benefits far better than those available in the private sector. Yet Chicago Public Schools are among the nation's worst, which is saying a lot." According their own data, Chicago's public schools "failed to make adequate yearly progress in student achievement last year. Children in the city's private and charter schools do much better at a fraction of the cost."

Chicago Teachers Union strikes, publishes Gloria Steinem endorsement. Just after the Chicago Teachers Union released a statement on its website declaring their intent to strike Monday morning [9/10/2012], the union published a solidarity statement from feminist and honorary chair of the Democratic Socialists of America Gloria Steinem as the top item on their website.

Chicago Public Schools offer 16-percent raise to teachers seeking 35-percent hike. While the cash-strapped Chicago Public Schools have offered a 16-percent raise over four years to its striking union, the Chicago Teacher Union has requested a 35-percent pay hike and a guaranteed call-back of any educator who was laid off. Fox News confirmed those reports by The Daily Caller and Time.com as Mitt Romney and his surrogates accused President Obama of quietly giving Chicago teachers the green-light to strike as the historic standoff affecting nearly 400,000 students entered its second day.

Meet the bragging teachers' union chief who has brought Chicago schools to a standstill with strike. The union chief leading 26,000 public school teachers out on strike in Chicago bragged last year about 'smoking lots of weed' at college and mocked the lisp of President Barack Obama's Education Secretary. Speaking at a North West Teaching for Social Justice conference in Seattle, Washington in October 2011, Karen Lewis, President of the Chicago Teachers Union, pacing up and down a stage, delivered a sarcastic tirade.

Chicago Bled Dry by Striking Teachers' Unions. The coverage of the strike has obscured some basic facts. The money has continued to pour into Chicago's failing public schools in recent years. Chicago teachers have the highest average salary of any city at $76,000 a year before benefits. The average family in the city only earns $47,000 a year. Yet the teachers rejected a 16 percent salary increase over four years at a time when most families are not getting any raises or are looking for work.

Chi-Town Shakedown. Though they are already among the best-paid educators in the country, making an average of $76,000 per year in salary — plus benefits — the union is unsatisfied with an offer from the city's board of education that provides them a 16 percent raise over four years, worth a total of $400 million.

Chicago teacher can't even spell neighborhood right. CTU believes in 'NEIBORHOOD' schools ... but can't even spell 'neighborhood.' Yet one of their main reasons for striking is because, even though they've just been given a 16% pay increase ... they don't want a condition requiring teacher performance. As is glaringly obvious, we can all see why.

The Machine: The Truth Behind Teachers Unions. Here is a great video showing why teachers unions — and public employee unions in general — should be illegal.

Chicago's Teachers Strike, Just Another Corrupt Union Powergrab. The CTU wants a 30% pay raise and they want class sizes to be made smaller. For his part, Mayor Emanuel is saying that teachers union reps are fighting his desire to allow local school administrators do the hiring of any new teachers (because they know better what they need) but the union is insisting that they do the hiring. The union also rejected a 16% pay raise offered by the city — itself an absurdly high number that shouldn't have been offered in the first place.

Chicago Teachers Union Strike: Che Shirts, Anarchists Flags and Students as Props. To get their message across, these protesters brought hundreds of Chicago Public School students to march and chant on behalf of the teachers. [...] When questioned, the teachers who were leading their students in the march replied that it is appropriate to bring children — some as young as seventh grade — out to the protest, "because it affects their future."

The anti-dissing strike. Let's get one thing straight: the Chicago Teachers Union strike isn't about what's best for kids, no matter how much unionists insist it is. It is ultimately about bruised egos, and staying unaccountable. That reality is made clear by the regular refrain of Randi Weingarten, the president of the American Federation of Teachers, of which the CTU is an affiliate.

The Chicago teachers strike is a Democratic feud. This strike is about teachers unions testing their boundaries with Chicago Mayor Rahm Emanuel. They're hitting back at him for what they perceive to be the anti-union hardline position he took shortly after assuming office last year. More importantly, the strike is about something that isn't often discussed in the media or in politics: Democrats are divided on education reform.

Unelected Unions. New hires do not get asked if they want union representation. They must accept it as a condition of employment, inheriting the representatives that previous employees voted for. Almost all union members received general representation this way. Look at General Motors. The United Auto Workers organized GM in 1937. None of the union's current Michigan members voted for it. Their fathers or grandfathers did. Or consider New York City public schools. The United Federation of Teachers (UFT) organized the school system in 1961. Everyone who voted in that election has retired, but the UFT still represents every teacher in the district.

After $100k 'public relations' payment from teachers union, Media Matters attacked Fox News. A document the National Education Association filed with the U.S. Department of Labor in 2011 indicates that the teachers union donated $100,000 to Media Matters For America nearly two years ago, describing it as a payment for "public relations costs." In the months that followed, Media Matters' online coverage of teachers unions increased, focusing largely on attacking the Fox News Channel and other media outlets it considers "conservative" in nature.

Louisiana Teachers' Union Calls Black School Choice Group 'Pro-KKK'. On Thursday [8/30/2012], in the shadow of the hurricane barreling down on the region, the Louisiana Federation of Teachers, a large teachers' union, launched an attack on the state's chapter of the Black Alliance for Educational Options, a nonprofit organization working to improve black educational achievement through education reform and school choice. On its official Twitter account, the teachers' union ludicrously alleged that BAEO supports a "pro KKK curriculum," and sent out the statement to various followers.

Teachers Union Claims Black School Choice Group Supports KKK. A major state-level teachers union accused a group promoting school choice for African-American families of supporting the notorious white supremacist group the Ku Klux Klan in a series of statements on Thursday [8/30/2012]. The Louisiana Federation of Teachers accused the Louisiana Black Alliance for Educational Options (BAEO) of advancing a "pro-KKK agenda," in the words of one tweet sent from the union's official Twitter account. Another claimed that the group "endorses teaching that the KKK is good."

California Teachers Assn. a powerful force in Sacramento. The union, backed by an army of 325,000 teachers and a war chest as sizable as those of the major political parties, can make or break all sorts of deals.

Campbell Brown fights against NYC Teachers' Union. Ex-CNN anchor Campbell Brown has joined New York City's Mayor Bloomberg in combating the United Federation of Teachers and American Federation of Teachers over the handling of teachers who are accused of sexually charged misbehavior.

Teachers' Unions in Action. In fact, the LEA [Louisiana Association of Educators] is now in full attack mode. Its lawyers faxed threatening notices to 100 of the 119 schools in the voucher program, warning them that their clients (the union thugs) intend to use "whatever means necessary" to make the schools bar voucher students. "By any means necessary" — BAMN, as it is known to devotees of radical causes — is code language for confrontational action, including violence if necessary. The LEA will start by suing all 100 schools, many of them small private schools catering to poor children. The LEA, flush with fat union dues, is well-positioned to legally harass these schools, whose resources are limited.

Christie to sign changes to NJ teacher tenure law. Gov. Chris Christie is scheduled to a sign a bill to make tenure protections harder to earn for teachers — and easier to lose.

The National Education Association Shows Its Politics. The most powerful union of government employees is the National Education Association, which held this year's annual national convention, as usual, over the Fourth of July weekend, attracting 9,000 delegates. To no one's surprise, it resembled a re-election campaign rally for Barack Obama, with the pressure on delegates to identify themselves as EFO, Educators for Obama. Many delegates wore Obama campaign buttons and T-shirts and sported banners with messages such as "You are our knight in shining armor." The official NEA newspaper, called RA Today and published every day during the week-long convention, featured a very political full-page endorsement of Obama headlined "Do your part and pledge to be an educator for Obama today!"

Teachers Unions Go to Bat for Sexual Predators . In the last five years in New York City, 97 tenured teachers or school employees have been charged by the Department of Education with sexual misconduct. Among the charges substantiated by the city's special commissioner of investigation — that is, found to have sufficient merit that an arbitrator's full examination was justified — in the 2011-12 school year.

Chicago Teachers Union President Blames Woes on Class, Race. The Chicago School system is rapidly collapsing. Its graduation rate is a horrid 56 percent, its finances are in tatters, and even though the Chicago Teachers Union was offered a 10 to 15 percent raise, CTU officials still want to strike claiming it isn't enough. So, what went wrong? CTU President says it's all because of Chicago's "lower class students" and "students of color."

NEA Expects to Spend $25 Million on State Political Campaigns. Each year, each member of the National Education Association contributes $20 to two segregated funds. Eight dollars goes to the Media Fund, which uses it for issue advertising and promotion both nationally and in the form of grants to state affiliates. Twelve dollars is deposited into the Ballot Measures/Legislative Crises Fund, which contributes to statewide ballot initiative campaigns in states that have them, and legislative advocacy in states that don't. The BMLC fund is the primary source of NEA's political campaign spending at the state level.

Teachers' union kills a Democratic bill to remove criminals from California's classrooms. Early this year, Los Angeles police arrested Mark Berndt, a longtime teacher at Miramonte Elementary School, on 23 counts of committing lewd acts on children between the ages of seven and ten. The sickening details of the crimes Berndt is charged with committing horrified the community and the state. More stories about California teachers accused of sexual misconduct with children have now surfaced. The Berndt case casts new light on the tortuous legal process that makes it nearly impossible for schools to rid themselves of even these depraved teachers. Perversely, the case also shows the extent to which teachers' unions will go to protect their prerogatives.

How a Union Boss Turned Old Light Bulbs Into a $574,000 Vacation Home. I've been combing through the arrest warrant for Pat Santeramo, the former president of the Broward Teachers Union (BTU) who was charged with 20 counts of fraud, racketeering and other stuff. It makes for fascinating reading.

Teachers Unions Give Broadly. What do the American Ireland Fund, the Rev. Al Sharpton and the Gay, Lesbian and Straight Education Network have in common? All have received some of the more than $330 million that America's two largest teachers unions spent in the past five years on outside causes, political campaigns, lobbying and issue education. [...] Some of the spending that the two teachers unions identified to the Labor Department as "political and lobbying" activities from fiscal 2007 through fiscal 2011 went to election consultants, voter mobilization and advertising. Additional millions went to PACs that donate almost entirely to Democratic candidates and committees.

NEA Convention Doesn't Reflect Mainstream Teacher Values. While most Americans were enjoying a festive Independence Day last week, the National Education Association was holding their annual convention in Washington, D.C. Beaten down after another solid year of negative press, declining membership, and legislative and legal battles, the NEA convention took on a hyper-partisan tone best reserved for partisan political rallies. [...] Despite a record level of spending in America, students from 16 countries are outperforming their American counterparts. To top it all off, educators are losing confidence in teacher unions in record numbers. This is not the recipe for a well-educated public — and stakeholders are taking notice.

GOP teachers balk at Obama-centric NEA convention. It had all the trappings of a re-election rally: thousands packing a convention center, Barack Obama T-shirts, videos celebrating the health care law, and a wall-size banner with encouraging messages to the incumbent president.

Teachers' Union Expelled from School District. The trouble with education in this country starts and ends with unions. They are out-of-touch museum relics, fitting for a day that used rotary presses to distribute the news, but wildly inappropriate for an age that's both wired and wireless. Unions have prevented, and continue to prevent, much-needed reforms in education, public finance and government. They cultivate a sense of entitlement wholly out of order for the times, which call for more self-reliance and entrepreneurship.

Pols set to block teacher ratings' release. The [New York] state Legislature is likely to pass a last ditch bill that would prevent the release of teacher evaluations, while letting parents see the ratings only of their kids' instructors.

School system lays off "Teacher of the Year". A California woman who was named her school district's "Teacher of the Year" has a new title — "job seeker." The district laid off Michelle Apperson along with thousands of other educators across the state. California has a budget crisis and this is how officials are dealing with it.

The Editor says...
You might be saying to yourself, "That doesn't make any sense. Why would they do that? And the answer is ... the teachers' union!

'Teacher of the Year' Fired for Lack of Union Seniority. It doesn't matter anymore how good you are at your job if you live in the failing state of California; if you're on a lower rung of the ladder in terms of seniority, you're toast. Michelle Apperson, a teacher at the Sutterville Elementary School in Sacramento who was named "teacher of the year" by the school district, was fired because she was outranked in seniority.

Union Workers are not Scientists. Public union workers were never supposed to make more than the people in the private sector. They bought into the low wages of public jobs for the security. High school teachers are not rocket scientists. They are people making a compromise with excellence in order to get a regular pay check. Only now their paychecks have been extended beyond where they should be. Plus union workers are getting pensions coming out of their ears so that they cannot hear their own greed, their own excessive demands, their own lack of talent and competitiveness.

Teachers union president brags about pushing Walker recall in schools. Anyone who claims that teachers unions exist to improve public education is misinformed or lying. The unions have become blatantly political organizations that spend most of their time and resources trying to maintain their domination of public schools and school budgets.

Teachers Unions Have a Popularity Problem. In our latest annual national survey, we found that the share of the public with a positive view of union impact on local schools has dropped by seven percentage points in the past year. Among teachers, the decline was an even more remarkable 16 points.

NEA: Poverty Pimp #1. The nation's education woes began about forty years ago — right at the time the NEA became a major force in education. Certainly other social trends have contributed to the educational morass we find ourselves in, but the National Education Association, the nation's #1 poverty pimp, is the main reason for it — all the time using young children as pawns while vigorously pursuing its political agenda. Despite all the warm and fuzzy platitudes they spew, it is obvious that the teachers unions are not terribly interested in the education of our children or helping them get out of poverty.

Black Teen Run Off the Liberal Plantation. [Scroll down] Certainly the NEA and other teacher unions have had their share of disagreements with the incumbent president. Yet their ranks are foursquare behind his re-election ideologically and financially.

City teachers reject evaluations. A delegation of teachers from the Buffalo Public Schools voted overwhelmingly Thursday [4/19/2012] to reject a proposal for evaluating teacher performance at six troubled schools, and the president of their union vowed to hold the state responsible should it withhold funds to the district. "We're not giving up," Buffalo Teachers Federation President Philip Rumore said after a nearly three-hour meeting of the union's council of delegates at the Hearthstone Manor in Depew.

Teacher upset she can't retire at 47. Terri List says she would tell her students not to become a teacher in Michigan. Why? One of the reasons is because the Saginaw Township Community School District English teacher won't be able to retire at age 47 as she has hoped. List was highlighted by the Michigan Education Association as one of the critics of Senate Bill 1040, which would require public school employees to contribute at least 5 percent of their compensation to their retirement plan.

NYC Teachers Union Reinstates Alleged Molesters. What are parents to do when their child comes home from school with stories about "this creepy guy in my class" — and it turns out to be the teacher?

Teachers Suffering From Paycheck ADHD. It was striking to me how many of the hostile teachers complained about dealing with children. It's like a surgeon griping about cutting people open. Kids are unruly, there are too many of them, they clutter up the hallways, they turn in papers that need to be graded. According to those emails, working conditions rivaled that of a Chinese iPad assembly line worker. With long hours, oppressive supervision and no noodles for lunch.

Wisconsin Teachers' Unions Trained by Well-Funded Alinsky Group. Breitbart.com has learned that teachers in Wisconsin have been attending routine training workshops with the Industrial Areas Foundation (IAF), a radical organization founded by Saul Alinsky in 1940. In a video produced by the MacIver Institute, organizers are seen arriving at a March 17 training session with the Wisconsin Education Association Council, Wisconsin's state teachers union.

Still the Alinsky Playbook. [Saul Alinsky's] enduring influence may have been to inspire the National Education Association to become a political powerhouse. Sam Lambert, the executive secretary of the NEA in 1967, when it hired Alinsky as a political trainer, boasted that it would "become a political power second to no other special interest." The NEA delivered on that promise.

Hellbent on blaming the messenger. The teachers and various free-lance agitators attacked The [New York] Post for publishing Department of Education ratings revealing that several educators scored a big, fat zero. Their response? How dare anyone know this!

Teachers Unions Opt for Plastic Sugery on Taxpayers' Dime. The health plan for teachers union members in Buffalo, NY apparently includes liposuction and nose jobs — and we pay for all of it. ... Now, we all love our teachers. But the fact is that teachers unions — and the contracts they negotiate with the politicians they elect — are greedy, cash-sucking vampires.

The union comes first, education second.
Louisiana Teachers Cancel Class to Protest Education Reform Bill. Canceling class "will allow teachers to travel to Baton Rouge for hearings on Gov. Bobby Jindal's plan to make sweeping changes in public schools," the Baton Rouge Advocate reports. But the teachers are going to protest, not merely to hear the legislature debate the reforms. And they are going to the state capital with union support.

These Are The Worst Teachers In New York City. After a prolonged legal battle, the New York City Department of Education on Friday [2/24/2012] released individual performance rankings for 18,000 public school teachers. The data rates teachers based on their students' gains on the state's math and English exams over five years in fourth- through eighth-grade classrooms, according to the Wall Street Journal's Lisa Fleisher. The teachers' union had filed a lawsuit to stop the data from being released, but last week a judge sided with the city and ruled that it could be made public.

With Teacher Ratings Set to Be Released, Union Opens Campaign to Discredit Them. The New York City Education Department will release the ratings of thousands of teachers on Friday [2/24/2012], ending a nearly year-and-a-half-long legal battle by the teachers' union to keep the names confidential.

Teachers' latest free ride. Everywhere you turn, incredible people are doing amazing things. Then there are the teachers unions. To cut through the complexities of the deals the unions made with Mayor Bloomberg and Gov. Cuomo, consider this: Under the terms, no public-school teacher in New York state can be fired for incompetence until June — of 2014!

Showdown over school closings: Jackson says 'apartheid' exists in system. The Rev. Jesse Jackson and members of the Chicago Teachers Union called on the board to table a vote and put off any closings and turnarounds until it addresses funding inequalities between poor and affluent schools. ... As he waited in line this morning [2/22/2012] to attend the meeting, Jackson said inequities in Chicago's public school system amount to educational "apartheid," echoing sentiments expressed in a Chicago Teachers Union report last week.

Attack on civility: The crowd of more than 2,000 — bloated by swarms of Occupiers and their teachers-union promoters — shouted down any opposition via a standard Occupy trick, the so-called "peoples' microphone," in which one speaker's words are picked up and relayed in short phrases. Naturally, four-letter words flew. The goal was to thwart a legal and democratic process through disruption and intimidation.

Teachers Union Staffers Set Sail on 7-Day Caribbean Cruise. Following an "Advocacy Retreat" with the theme "Building Our Unionism," members set sail on a 7-day cruise from Miami on February 5th "with stops at Cozumel, Grand Cayman Island and Isla Roatan." Sounds fun! Guess what union staff? There are going to be cameras all over the ship documenting your every move — from every Fuzzy Navel to every game of shuffle board. Just think how your rank-and-file members might appreciate seeing all the "fun in the sun" you're having, courtesy of their dues dollars.

The NEA's Plan: Keep Your 'Kids' Captive Longer. Is it wise for sixteen-year-olds to drop out of high school? The answer is almost always no. But requiring them to remain in school five more years is unlikely to produce good results either, since that just means more time in the same education system that already has failed them. Keeping "kids" in school until they are legally adults may save or create jobs in the field of public education. But that is all it is likely to accomplish.



Public Union Hero of the Day. This is working the rules exactly as the unions have negotiated it. The rubber rooms, by the way, were for teachers accused of questionable behavior — not the totally incompetent. And there are plenty of totally incompetent teachers in the NYC system.

Sexting 'rubber room' dean impregnated student: probe. Sent to a "rubber room" for alleged improper conduct with a student, this teacher just couldn't keep his hands off himself. [...] The 40-year-old married father exchanged 132,000 text messages and calls with the female student, had sex with her for several years, got her pregnant and paid for her abortion, says a report by Special Commissioner of Investigation Richard Condon, which The Post obtained through a Freedom of Information request.

SI teacher puts himself on camera languishing in the rubber room. This Staten Island teacher wants the world to know he is paid $75,000 a year to do nothing all day long. More than two years after the city shut down the so-called rubber rooms that served as detention centers for teachers, Francesco Portelos sat in front of a live cam Thursday [10/4/2012], killing time. "I want people to see where their tax dollars are going," said Portelos, 34, who taught technology at Intermediate School 49 until last spring, when he got yanked from the classroom, he said. "I'm getting paid $75,000 to sit around."



One year on the job, 13 years in rubber room earns perv teacher $1M. He worked just one year as a full-time teacher in New York. But he has collected nearly $1 million for 13 years for doing almost nothing. Aryeh Eller, 46, a former music teacher at Hillcrest HS in Queens, is the longest-sitting "rubber room" teacher in the city. He was yanked from the classroom in 1999 and confessed to repeated sexual harassment of female students, according to a 2000 investigative report.

Four NYC teachers banned from classrooms who rake in millions. Three of the city's longest-running "rubber room" teachers have raked in more than $1 million each for a decade of not working in classrooms, and a fourth is paid a top salary — $100,049 a year — not to teach. The Foul Four — who beat sexual-misconduct charges — can't be fired by the Department of Education because they are entitled to job protections under state tenure laws, which require "due process." Educators are entitled to a trial with an independent hearing officer who decides whether any misconduct warrants termination.

The return of 'rubber rooms' — another step backward for de Blasio's schools. Under Mayor de Blasio, New York public schools seem to be moving in only one direction — and it's not forward. For evidence, note Susan Edelman's story in Sunday's [1/17/2016] [New York] Post. The ridiculous "rubber rooms" — where the city Department of Education keeps teachers it's trying to fire for incompetence or misconduct — are back. The power of the United Federation of Teachers is such that out-and-out firing these teachers is a nonstarter. Thus the rubber rooms — officially, "reassignment centers" — where these teachers get paid to twiddle their thumbs.

The Rubber Room: It's a June morning, and there are fifteen people in the room, four of them fast asleep, their heads lying on a card table. Three are playing a board game. Most of the others stand around chatting. Two are arguing over one of the folding chairs. But there are no children here. The inhabitants are all New York City schoolteachers who have been sent to what is officially called a Temporary Reassignment Center but which everyone calls the Rubber Room.

The Child Molester Scandal That Isn't: What the MSM Doesn't Report. In researching my article on "Rubber Room" teachers, who are paid not to teach after being accused of a crime, I came across some information that deserves further discussion. The problem is much worse than the media would have you believe. The teachers in these programs are the ones who managed to escape prosecution but are considered too great a risk to be allowed to return to teaching. Or else they're the accused waiting for judgment. Or they're people the schools can't get rid of due to tenure deals.

Rubber room's 'dirty' old man. He just won't leave. At age 75, Roland Pierre is the granddaddy of the rubber room — 13 years in the purgatory of teachers yanked from the classroom for alleged wrongdoing. But the Department of Education can't fire Pierre, and he's stuck around long past the minimum retirement age.

700 NYC teachers are paid to do nothing. Hundreds of New York City public school teachers accused of offenses ranging from insubordination to sexual misconduct are being paid their full salaries to sit around all day playing Scrabble, surfing the Internet or just staring at the wall, if that's what they want to do. Because their union contract makes it extremely difficult to fire them, the teachers have been banished by the school system to its "rubber rooms" — off-campus office space where they wait months, even years, for their disciplinary hearings.

Teacher tenure must go. Brandi Scheiner believes she is a political prisoner. Held against her will in what is euphemistically dubbed a "rubber room," the 56-year-old woman likens her two-year captivity to being imprisoned at Guantanamo Bay. Alas, it's unlikely the Red Cross will hear her case. She's a New York City public school teacher who, like about 600 fellow NYC teachers, has been removed from the classroom for alleged incompetence or other charges that include being drunk in the classroom or molesting students.

Why "No Child Left Behind" Hasn't Worked: For decades, I've been telling my readers that the federal government ought not to be in the education business and that constitutionalist members of Congress are duty bound to close down the Department of Education. The Cabinet-level department was created during the Carter administration as payback for the National Education Association's help in getting him elected. President Reagan wanted to dump the department but was prevented from doing so by his own big-government Republicans.

Rubber Rooms' Kissing Cousin: New York City's Absent Teacher Reserve Program. New York City government schools have had some pretty outrageous policies. Rubber rooms were a great example. They were special places created for teachers accused of crimes, incompetence and the like. Due to state tenure laws, it actually cost less to house the failed teachers in a location where they couldn't inflict more damage on students, than to go through the lengthy and expensive legal process necessary to fire them. Thanks Big Labor! Now New York administrators are trying to deep-six a program created a few years ago in the collective bargaining agreement with the United Federation of Teachers: the Absent Teacher Reserve.

Membership Losses, Budget Cuts Continue to Plague NEA. It may take some time, and will probably happen under cover of darkness, but soon the claim that the National Education Association represents 3.2 million members will be adjusted downward, as the latest figures show the union's total membership at well under 3.1 million.

Why Pay Teachers More For Poor Student Performance? Does anyone poor-mouth their pay more than public school teachers? A new study finds that to the contrary, teachers make 50% more than comparable private workers. So what do taxpayers get for this premium? The short answer is poor schools, falling test scores, high dropout-rates, foolish policies, a free ride for the academic bottom dwellers and a growing home-school movement fleeing the system. In sum, a Big-Labor dominated system that serves itself — not the public.

The NEA's Progressive Turn. Since March, when governors in Ohio and Wisconsin successfully passed bans on requiring districts to bargain collectively with NEA and American Federation of Teachers affiliates, the NEA has taken a more militant approach to beating back reformers. In July, the NEA successfully enacted a two-fold increase in the member dues dedicated to political campaigning. The $10 a member increase adds another $40 million to the union's war chest, easily boosting its position as one of the biggest donors in American politics.

Sick day payouts for teachers. In the 43 years Bill Meisch taught in the Rockwood School District, he rarely took a sick day. ... Meisch's unusually long tenure with Rockwood schools was a major factor in his large payout, although two other teachers had accumulated values of $79,558 and $63,671 for unused sick days. The average takeaway was about $24,000. In total, Rockwood spent $1.42 million to pay departing administrators and teachers this benefit during the last school year.

NEA Down 100,000 Active Members Since 2009-10. If the strength of the National Education Association is in its members, then the nation's largest labor union is clearly not as strong as it once was. According to its latest figures, NEA has lost 100,000 active members since the 2009-10 school year. Active members are working teachers, certified staff and education support employees — not students or retirees.

Occupy until '2025'! Determined Occupy Wall Street demonstrators have vowed they're not leaving Zuccotti Park anytime soon, and their online agenda suggests they mean business — with events scheduled through Oct. 26, 2025. ... The leaderless anti-greed movement has racked up $750,000 in donations from supporters and unions and gotten space for storage and portable toilets from the United Federation of Teachers.

Public School Teachers Aren't Underpaid. Good teachers are crucial to a strong economy and a healthy civil society, and they should be paid at a level commensurate with their skills. But the evidence shows that public school teachers' total compensation amounts to roughly $1.50 for every $1 that their skills could garner in a private sector job.

Study Concludes Public School Teacher Salaries $120 Billion Over Market Value. Those on the left are wont to complain that government employees are under assualt these days because GOP politicians are going after public sector unions and generous deals they've leveraged through collective bargaining. The standard defense of civil service workers is, yes, they might have good benefits and more job stability but these things are necessary because public sector workers earn significantly less than private sector counterparts.

'Occupying' The Classrooms. Fox News has reported that ... Acorn has partially recrudesced as something called New York Communities for Change, a group aligned with teachers. The Acorn group collected funds for what it claimed was an American Federation of Teachers fundraiser to replace dangerous lightbulbs in schools. The money, according to Fox, went to Occupy protests instead. AFT denied any knowledge of the scam, but its endorsement stands. The union is known for shoveling out members' dues for political activity — $34 million in 2010 alone.

Teachers' Union Fat Cats. There's something rather hilarious about the appearance of the nation's two largest teachers' unions at a protest against allegedly pampered fat cats. Few organizations have managed to become so influential — and build such vast coffers — at the expense of taxpayers and their children. The AFT alone collected $211 million a year in dues during its 2010-2011 fiscal year (most of it by force from the very teachers whose interests they proclaim to represent), while the far-larger NEA pulled in $397 million during its 2009-2010 fiscal year period. ... When one adds in the revenues collected by their affiliates, the two unions are billion-dollar organizations with budgets that match their corporate peers.

Unions: Boosting Teacher Morale One Reheated Casserole at a Time. Virtually no state is immune to the red ink found in school budgets, which is a result of routine overspending. For too long, schools have not kept spending in check. ... The nation's economy has been slipping for the past several years, forcing school districts everywhere to reacquaint themselves with reality. Meanwhile, the unions believe they have a restraining order against reality, and have taken to what they do best: protesting.

What if the NFL Played by Teachers' Rules? Imagine the National Football League in an alternate reality. Each player's salary is based on how long he's been in the league. It's about tenure, not talent. The same scale is used for every player, no matter whether he's an All-Pro quarterback or the last man on the roster. For every year a player's been in this NFL, he gets a bump in pay. ... If you haven't figured it out yet, the NFL in this alternate reality is the real-life American public education system.

Lipstick on a Union Pig. For some strange reason, some union activists prefer their organizations be referred to as "associations," as opposed to unions. That's odd, given that the National Education Association has grabbed the union mantle with both hands, and the American Federation of Teachers adopted the slogan "A union of professionals." ... There's nothing professional about the NEA or AFT. They have never cared much about teacher quality until recently, when they realized that politicians from both parties are demanding it.

Will Third Teachers' Union Bailout Fund Obama's Re-Election? By my estimates, about three quarters of unionized teachers are represented by the National Education Association. Every member pays dues, including $166 per year that goes to the national union, according to a secret union document posted on PublicSchoolSpending.com. The White House says up to 285,000 teaching jobs — that is, dues payers — could be saved. Given these facts, the NEA would be looking at about $35.4 million in "saved" dues.

A secret primer from the teachers union on how to thwart parents and stop charter schools. Almost without fail, teachers unions respond to school reform drives by declaring their commitment to improving education collaboratively with parents and community leaders. In one example, the United Federation of Teachers used just such an argument in fighting in the courts of public opinion and law to block the city from closing 22 failing schools. Now, though, an internal report produced by the political shop of the Connecticut chapter of the American Federation of Teachers reveals the cynical falsity of the labor leaders' claims to have the best interests of students at heart.

National teachers' group endorses Obama for 2nd term. The nation's largest teachers union voted on Monday [7/4/2011] to recommend that President Barack Obama be elected for another term. The vote from National Education Association delegates at a meeting in Chicago was 72.03 percent, a bit down from the last time the NEA recommended Obama in 2008, when the "yes" vote was 79.75 percent.

Obama's Price: $10 Tax for Union Teachers. It's just the latest example of far-left union reps fleecing hard-working teachers by aligning themselves against teachers', kids' and parents' interests, in a quest for power, money and greed. As former NEA president Bob Chase said "[The NEA has] used our power to block uncomfortable changes, to protect the narrow interest of its members, and not to advance the interests of students and school."

At NEA convention, mixed feelings among teachers for Obama. When her union endorsed Barack Obama for president in 2008, retired Montgomery County teacher Jane Stern wrote checks to his campaign and spent hours calling voters in swing states to support a Democrat she though would stand strong for public schools and break from a federal education policy of "testing, testing, testing." Three years later, all the standardized tests are still there.

Nebraska teachers union backs Obama. The board of directors of Nebraska's state teachers union has voted to support President Barack Obama for re-election in 2012.

The coming teacher-union offensive. Already, national political fundraising machines are beginning to hum and sputter toward early targets in their quest to break another election cycle's worth of spending records. ... Along with its state affiliates, the NEA took in $1.5 billion in revenue in 2008-09, the Education Intelligence Agency notes. Nearly all of this revenue came from member dues, and most of the war chest will be spent seeking to increase spending and to block those school reforms deemed most threatening to union clout.

Absent Teachers, Untrained Substitutes. About 5.2 percent of teachers miss any given school day, many more than in our peer countries. In Australia and Great Britain, for example, the figure is near 3 percent. The rate is also much lower among other professional employees in the U.S., around 1.7 percent. Teachers most often miss Mondays, Fridays, and the days surrounding holidays — a pattern that suggests illness is not the main cause for their absences.

Revolutionizing education, Hoosier-style. This year, Indiana lawmakers made dramatic improvements to the state's K-12 education system to empower teachers and principals, put students on a path to success, use taxpayer money more effectively and provide families with new schooling options. One of those acts reformed collective bargaining so that only school employees' wages and benefits can be negotiated. No more will school leaders be hamstrung by such inane contractual provisions as "faculty meetings are limited to one per month."

Ed union: $60 million for reelect. The National Education Association, the largest education union, is preparing for a long, tough fight to re-elect President Obama. In an interview with POLITICO, the group's executive director, John Wilson, said he's prepared to invest resources and manpower to reelect Obama, despite disagreements with the administration on education policy.

Tennessee Trumps Wisconsin: Kills Teacher Collective Bargaining. Dead. To fix public schools, you have to control public schools. And there's little control when teachers unions, with their self-serving agendas, question every cost-cutting proposal and reform on the table. That's why so many state governments have taken swift action to limit the power of organized labor in public schools.

"Card Check" Used To Unionize Unsuspecting Mass. Teachers. Now we know why unionists were fighting so hard for a federal "card check" law. Organizers can unionize private and public employees, forcing them to pay hundreds in union dues, before they even know anything about it. That's the situation at the Cape Cod Lighthouse Charter School in Orleans, Massachusetts.

NAACP vs. Black Parents. The New York state chapter of the civil rights organization and the United Federation of Teachers, the local teachers union, have filed a lawsuit to stop the city from closing 22 of Gotham's worst schools. ... The teachers union wants to keep these abysmal schools open to preserve jobs for their members. This is bad enough. But the union and NAACP also want to limit better educational options for low-income families who can't afford private schools and can't afford to move to an affluent neighborhood with decent public schools. The union knows that in a place like New York City, where space is at a premium, blocking charters from operating in public buildings will hamper charter growth.

Don't Believe What Teachers Tell You. Teachers unions say California must not roll back annual increases in public school spending. And they're not too careful about facts when they make that case. Teachers frequently claim, for example, that California is in either 49th or 50th place among the 50 states in per-pupil spending. In fact, the Golden State is 31st in per-pupil spending.

Government Schools: Antiques Preserved in Political Amber. Politicians defer to the teachers' unions; it's national news when one doesn't. The unions protect the teachers from both competition and hard work and all dig in their heels to prevent change to the system; it therefore plugs on unaltered. Anyone paying attention knows that though many changes are discussed, only one change actually occurs: increased spending. The mass production of brainwashed incompetence chugs on unimpeded.

Stimulus Pays Off With Obama Teachers Union Endorsement. [Scroll down] In other words, teachers unions want more spending, through government grants or collective bargaining, so they can increase their salaries and get more lucrative benefits. Very little money is directed toward increasing opportunities for students. It's simply used to reward thousands of teachers who are not getting the job done in the classroom. The stimulus has not stimulated American education at all. But it's stimulated the bank accounts of teachers unions, and that's really all they care about.

Teachers Union Takes First Step Toward Endorsing Obama 2012. The National Education Association — which represents 3.2 million teachers and education professionals across the country — took its first step Thursday [5/5/2011] toward endorsing Barack Obama for president in 2012, TPM has learned. The NEA is the country's largest union, and the news makes it the first to signal formal support for Obama's reelection bid.

The Education plantation. [Scroll down] From 1989-2010, 81 and 90 percent of campaign contributions made by the two largest education unions in the country, the National Education Association (NEA) and the American Federation of Teachers (AFT) respectively, have gone to that party. In return, Democrats fight tooth and nail to prevent any changes in the status quo, especially vouchers — which are, in reality, "monopoly breakers" that allow parents to get their children out from under failing schools. The unions and their enablers' rationale? Vouchers "drain money" from the system, putting those students forced to remain in lousy schools at even greater risk. Translation: if everyone can't escape lousy schools, then no one should be able to.
This is an original compilation, Copyright © 2013 by Andrew K. Dart

The irresistible force of school reform meets the immovable object of teachers unions.
Education Showdown. There is no denying that U.S. schools are ripe for reform. Per-pupil education spending has doubled in the last three decades, while test scores have remained stubbornly flat. American kids squat solidly in the middle of the pack in international testing, with 15-year-olds ranking about average in math and reading, slightly below average in science. Dropout rates in major cities are approaching 50 percent. But schools have been this bad for a long time. Why the sudden surge of interest?

Dear Unionized Teachers: Quit Yer Bellyachin'. Thousands of union protesters from around the country converged on [Madison, Wisconsin] in an effort to intimidate and stop Gov. Scott Walker and his allies from passing a bill that would not only balance the state budget, but allow schools and municipalities to dramatically cut labor costs. Unionized teachers have been at the head of the line to complain loudly that the public is "ungrateful" for their work. They speak of being "demoralized" and "undervalued." Poor souls. If the private sector has it so good, go join it and see for yourself.

Teachers Pay as Union Chickens Come Home to Roost. Several months ago, Education Action Group published a scathing exposé on the Wisconsin Education Association Council-affiliated WEA Trust, a union-contrived insurance entity that is forced upon the majority of Wisconsin schools during collective bargaining negotiations. It is difficult to determine the extent to which the union benefits from this cozy arrangement, but judging by a similar set-up in Michigan, the union is likely doing very nicely.

Teachers' Pet. The widow of a slain police officer wants to know why the California Federation of Teachers has taken up the cause of the man convicted of murdering her husband in cold blood.

Teachers support cop-killer. Between negotiating for more benefits and teaching their students, the California Federation of Teachers has adopted a resolution of support for convicted cop-killer Mumia Abu-Jamal.

Teachers' Mumia Abu-Jamal Resolution Out of Sync Morally and Historically. What is it about cop killers that incites almost religious devotion from radicals? The California Federation of Teachers (CFT) passed a resolution at its most recent convention claiming that "the continued unjust incarceration of Mumia Abu-Jamal represents a threat to the civil rights of all people." Thirty years ago, Abu-Jamal took away Philadelphia policeman Daniel Faulkner's foremost civil right: his life. How obtuse of the CFT to disregard "the threat to the civil rights of all people" represented by someone capable of gunning down a man tasked with protecting the public.

N.J. governor assails teachers union. Governor Chris Christie of New Jersey said it would be an "obscenity" to not take on the teachers union, which is protecting "lousy" educators as he seeks to overhaul tenure and improve student performance. The education union is "universally self-interested," Christie, a first-term Republican, said during a speech yesterday [4/7/2011] in New York. Good teachers do not need unions, he said. "They're there to protect the lousy ones so they continue to pay their dues every year."

Of Sweatshops And Classrooms: To compare, as some have done and are doing, the plight of workers in the garment district in 1911 with the issues du jour facing public workers is beyond ludicrous. ... Are the classrooms of America akin to "sweatshops" of old (or in many countries today)? Do schoolteachers and other public employees face the same dehumanizing conditions as immigrant workers before World War I? Do the deaths of 20 workers on an inadequate and overburdened fire escape in 1911 compare to the "plight" of public school teachers in Wisconsin who receive over $50,000 in annual salary, full medical coverage, and ten weeks off in the summer?

Virginia's Education System Has 'Managed Well' Without Teacher Unions, Governor Says. Virginia's Republican Gov. Bob McDonnell said his state has "managed well" without teacher's unions. "We banned public sector bargaining 20 years ago in Virginia," McDonnell said on Tuesday [3/22/2011]. "If you're a manager, you take care of your people, you motivate them, you make sure they're compensated well, you treat people fairly — I think that's the right approach in the public or private sector, and really it kind of minimizes the need for a union," he said.

Public School Teachers and Unions are Failing Children and Bankrupting America. Corruption, greed, incompetence, bureaucratic bungling: Those are the things most likely to be found when the charade of public union outrage is peeled back to reveal the inner workings of collective bargaining. There is no doubt America is engaged in an ideological battle. On one side are the public sector unions and "workers" demanding the taxpayers cough up more to fund their fat paychecks and bloated pensions. On the other side are the majority of Americans who work in the private sector, fund their own retirements and health care, and have no entitlement programs they haven't designed themselves. The public sector is asking for more blood while the private sector is beaten unconscious and bleeding from every major artery.

Let's hear it for the 'working class' teachers of Illinois! There has always been the unwritten understanding that working for the taxpayer as a teacher involved sacrifices. Teachers would measure their value to society based on how many young minds they were able to reach, how much they were admired by the community, and how much personal satisfaction they received from the teaching. The job was largely its own reward — at least, that's the way it used to be. Now, teachers are just another bunch of special pleaders, grasping for as much as they can get from the taxpayer regardless of their performance.

Dance of the Tenured Lemons. Teacher tenure is considered holy gospel in most of America's public schools. But this policy does nothing for children, and tends to protect teachers who don't necessarily deserve job security. Why is it we never hear stories about tenure protecting "good" teachers instead of helping "bad" ones?

5 Reasons Unions Are Bad For America. Every few years, it's the same old story. The teachers' unions claim that public education in this country is dramatically underfunded and if they just had more money, they could turn it around. Taxpayer money then pours into our schools like a waterfall and....there's no improvement. A few years later, when people have forgotten the last spending spree on education, the process is repeated.

Teachers' Unions on the Ropes. The teachers' unions are on the ropes. So is the whole idea of tenure. Let's keep pushing until "We the People" are in control of how we spend our money educating our children; letting the unions decide for us the past 30 years hasn't been working.

Teachers Unions 101: "A" is for "Agitation". If public school teachers spent more time teaching in classrooms and less time community-organizing in political war rooms, maybe taxpayers wouldn't feel as ripped off as they do. Before the Big Labor bosses start complaining about "teacher-bashing," let's be clear: An increasing number of rank-and-file teachers feel exactly the same way.

'Waiting for Superman' Exposes Human Cost of Collective Bargaining. With what's happening today in Wisconsin we're hearing a lot about civil rights and workers rights and all those buzz words the Left uses to make something wicked sound noble. The idea that collective bargaining is some kind of right is beyond absurd.

'Waiting for Superman' Director Feeling Heat from Teachers Unions. Needless to say, [Davis] Guggenheim's film did not play well with the National Education Association and the American Federation of Teachers. They set up websites to attack his film. They dispatched high profile speakers around the country to fight back. And they cheered when Guggenheim was snubbed out of a nomination for another Oscar. I have first-hand experience of how vicious the left's attacks can get, so I can only imagine how they treated one of their own who had dared to step out of line.

A Union Education. The raucous Wisconsin debate over collective bargaining may be ugly at times, but it has been worth it for the splendid public education. For the first time in decades, Americans have been asked to look under the government hood at the causes of runaway spending. What they are discovering is the monopoly power of government unions that have long been on a collision course with taxpayers. Though it arrived in Madison first, this crack-up was inevitable.

Stalin-Style U.S. Public Education. [Scroll down] The Wisconsin Education Association Council leads the pack of lobbyists, spending two times as much and five times the amount of time as its closest lobbying competitor in order to buy, bribe and bamboozle legislators to do as it wants. What also chaps my hide is that a gigantic chunk of the WEAC's gangster money and time is used to lobby against alternative choices in schools (including charter schools) and against tuition tax credit programs, which aid parents in sending their children to private schools. The fact is that teachers union-sponsored protests spreading the land are not primarily about the teachers or the students. They are about the unions and feds maintaining their Mafia-style rule over education and our kids and preventing people from choosing educational alternatives.

The Teachers' Unions are on the Ropes. They were marching in Madison. And they'll be on a street in a state capitol near you in the coming weeks and months. The teachers' unions are on the ropes, and they know it. They know that public opinion has shifted, and the public mood has shifted with it. And they know why. The people now know all about the racket the teachers' unions and other public employee unions have been running for the past twenty years.

1,500 teachers paid to do union business and miss class. The [New York City] Department of Education pays about 1,500 teachers for time they spend on union activities — and pays other teachers to replace them in the classroom. It's a sweetheart deal that costs taxpayers an extra $9 million a year to pay fill-ins for instructors who are sprung — at full pay — to carry out responsibilities for the United Federation of Teachers.

Teachers unions are out of step with students needs, financial realities. [Scroll down] But are union leaders really doing the right thing for kids? They are often against alternative teacher credentialing and flexibility in hiring and firing teachers, which allow for better recruitment and retention of highly effective teachers. They support reforms like smaller classrooms, which have not been shown to make significant improvements to student performance. Teachers unions want more money and smaller classrooms and usually blame social issues like poverty as the main culprit in preventing educational attainment. Vouchers are vehemently opposed by the teachers unions. ... Even Democratic Los Angeles Mayor Antonio Villaraigosa called the local teachers union the "one unwavering roadblock to reform."

UFT spends millions on dinners, parties, parking, coffee. As nearly 5,000 city teachers face the ax, their union shells out millions of dollars on feasting, boozing and partying, the Daily News has learned. Free-spending United Federation of Teachers brass last year spent nearly $1.4 million for the UFT's 50th anniversary gala at the Hilton — complete with a movie, a book and a paperweight.

Rowdy teachers union chief trying to skip out on his restaurant tab. Cops booted an unruly group of city teachers union officials from a posh Albany eatery after they caused a ruckus over their dinner tab, the Daily News has learned. ... The union's political and legislative director set off the fracas — claiming the quail he was served, and finished, wasn't large enough — sources said.

Feds and Unions: Foes to Educational Reform. Do you think it's just a coincidence that the two largest teachers unions, the National Education Association and the American Federation of Teachers, are the largest campaign contributors in the nation — $55 million in just the past two years, more than the Teamsters, the National Rifle Association or any other organization — and that 90 percent of those contributions fund only Democratic candidates?

Tennessee moves toward ending collective bargaining for teachers. Democrats may soon be loading up those buses in Madison and heading their mobs toward Nashville. The Tennessee state senate Education Committee voted Wednesday to abolish collective bargaining with teachers.

It's the Teachers, Stupid! Unionized teachers outnumber other government workers and run the schools in every state; why do we keep on accepting their decades of miserable results? A careless airline pilot, a lazy waitress, a crash-prone cabdriver, an unproductive salesman, an innumerate cashier will all have to find other work; poor teachers keep teaching and receiving raises as years go by and kids don't learn. Of course; they, with their unions, run the show.

An Epic Failure: Detroit Public Schools. Few school districts in America rival the dire condition of Detroit Public Schools: staggering dropout rates, functionally-illiterate high school graduates, a dysfunctional school board and a sea of red ink. Emergency Financial Manager Robert Bobb has been trying to fix the city's public schools which are historically awful. At times, it seems that he is the only one trying to fix a school system that is failing its students. The Detroit Federation of Teachers has consistently called for Bobb's removal. The radical socialist group, By Any Means Necessary, makes every effort to stir up racial division and strife. One of BAMN's leaders was nearly elected president of the teachers union, which shows how radical the union has become.

Excuses, Excuses. Spending on education has increased more rapidly in the past two years than any sector other than alternative energy. Yet the president reports that America continues to fall behind its competitors. There is no measurable evidence that Obama's injection of funds has had any effect other than to enrich teachers' unions, which are then able to contribute to the political campaigns of Democratic candidates. Obama's call for more spending on education is nothing more than another payoff for his political constituency.

"Reverse seniority" rules are harmful to American education. Since the 1960s, the National Education Association (NEA) and the American Federation of Teachers (AFT) have used their massive campaign war chests — they spent some $59.3 million in the 2009-10 election cycle alone — and collective-bargaining power to insulate teachers from the kinds of performance management found in the private sector. For Baby Boomers, who account for 26 percent of the nation's teachers, the deals are especially sweet.

Unions' Special Interest: Blocking School Choice. A new spate of documentaries and media coverage have all centered on the role teachers unions play in blocking necessary change and innovation in public schools. At this point in the national discourse, a majority of Americans are convinced that our education system is in crisis and are looking for someone or something to blame. Unfortunately for effective teachers across America, the finger has been pointed in the wrong direction. It is the teachers unions — the NEA and the AFT — that are largely responsible for a system that is failing far too many of our children, especially those trapped in the inner cities.

Did Obama Forget About the Teachers Union? When Obama started to speak about the need to improve education, upgrade our schools and attract quality teachers, an elephant appeared in the living rooms of most Americans who were watching. Obama never mentioned the beast, but most of the country saw clearly the three letters on his back — AFT. American Federation of Teachers — the union that, along with its counterpart, the NEA, National Education Association, has destroyed public education in America. How can we take seriously any proposal to improve schools that does not deal with the force that has dragged them down — the teachers union?

New Film Documents Unions' Destruction of Public Education. "Kids Aren't Cars" is a new short film series set for release February 1st. Using examples from the Midwest, it documents the impact organized labor has had on the American education system, creating a one-size-fits-all assembly line model that leaves students behind and treats teachers equally, stifling innovation and improvement.

Teacher's Union Claims Member's Scalp. The Grand Rapids Education Association, a local affiliate of Michigan's largest teachers' union, is attempting to pick off one-by-one 90-some members that have refused to pay their dues. About 18 months ago, the school board voted to no longer deduct dues from employees' paychecks, which meant union members had to physically write a check to the union. Many saw it as their opportunity to protest the obnoxious behavior of union leaders during a previous contract negotiation period. The union president, Paul Helder, was particularly pompous during negotiations, claiming the union was fighting a "war on terrorism."

Illinois Attempts to Link Teacher Tenure to Results. Illinois lawmakers are considering sweeping legislation that would link teacher tenure to student test scores, make it easier to fire ineffective teachers and curb teachers' right to strike. The measure, debated during a Senate panel hearing Monday, moves Illinois to the forefront of states' efforts to hold teachers more accountable for student performance, while taking on the powerful teacher unions, which often oppose such changes.

Democrats diverging from unions. As the late president of the American Federation of Teachers, Albert Shanker, so honestly put it, "When schoolchildren start paying union dues, that's when I'll start representing the interests of schoolchildren." Until they do, Mr. Villaraigosa's call on UTLA leaders to drop their opposition to his administration's reform efforts and join him in making Los Angeles' public schools better is likely to continue falling on deaf ears. Likewise, government employee unions exist to represent the interests of their members, not taxpayers.

Child Molesting Teacher Can't Be Fired Thanks to Union. In 1997 a Brooklyn teacher was accused of attempting to molest a sixth-grade girl at PS 138. As it happened, he admitted the behavior, but no criminal charges were filed when all was said and done. Still one would think the fact that he inappropriately fondled a teen should be enough to get him fired from his teaching position. But then again, in New York you can't even fire a child molester if he happens to be a teachers union member.

Teachers, Then and Now. [Scroll down] Thomas Lifson recently wrote [an article] about the enormous salaries of teachers in Illinois, a state where 14,000 teachers make more than $100,000 a year. Do you think such well paid public employees could chip in 2 percent to help those less fortunate than themselves, people who are their neighbors? Or has the habit of having the government administer aid sapped them of their charitable inclinations?

The good life on 36 weeks a year of work. Champion News has just published data on the top teacher salaries in Illinois, making it clear that unionization has enabled a massive raid on the taxpayers' funds. Teaching can be a noble profession, but many of these teachers are cleaning up like bandits for a 9-month work year. In all, over 14,000 teachers in this one state make more than 100,000 a year in salary. When you add in pension, health care, and other benefits (15 days a year of sick leave, payable upon retirement if not used), which can add another 40% or more to salary, these teachers are doing much better than most college professors and many doctors.

Phys Ed teacher pulls down $191,124, Superintendent $350,154. As Illinois citizens struggle with the severe economic downturn plaguing the state, Illinois public school employees enjoy another record year of salaries, fringe benefits and pensions.

Governor Chris Christie blasts teachers' unions (again). In his 50-minute speech on education reform — one of Christie's most passionate topics — the governor left no room to question how he feels about teachers' unions, most specifically the New Jersey Education Association (NJEA). In short: he doesn't like them.

The War on Conservative Teachers. The Service Employees International Union (SEIU) is having considerable success in its drive to organize American college and university faculty members. Often the Union is able to gain a toehold at a university by organizing a portion of the faculty. The Union will hold multiple elections, and after each vote it loses winnow out those segments of the faculty who voted against having to join a union, until it comes up with a subset of the faculty who vote to turn the university into a Union Shop.

Teachers Unions Not Representative of Teachers' Changing Views. The unions have done a masterful job at branding teachers and their unions as essentially the same. This could not be further from the truth. The fact is that there are hundreds of thousands of teachers who are not members of the teacher unions and do not support the unions or their positions.

Influence of teachers unions in question. A nationwide school reform movement with bipartisan support has collided head-on with unions over three ideas that labor has long resisted: expansion of charter schools, the introduction of merit pay for teachers and the use of student test scores in teacher evaluations. Even the long-held protections and prerogatives conferred by seniority and tenure no longer seem sacrosanct.

Mutually Assured Destruction. Congressional Democrats angered centrist school reformers, MoveOn.org-style progressives, and other party activists in August when they voted to ladle $10 billion in federal subsidies to school districts in order to stave off layoffs of 160,000 teachers. In turn, the National Education Association and the American Federation of Teachers poured more than $40 million of their hefty campaign war chests (including more than $15 million by the NEA in the last weeks of the election season alone) to help the Democrats keep full control of Congress. It didn't work.

De-Unionize Public Schools now. [Scroll down] Both kids were high school drop-outs — but both had stayed in school until they reached the tenth grade before doing so. How deficient were these boys? Totally, unambiguously, shockingly deficient. Where was I forced to begin their re-education? With the alphabet. That's right. Neither of these kids knew their ABCs, despite sitting in classrooms until they were fifteen years old. Nor did either of them have the slightest clue about money. They couldn't distinguish the difference between a one dollar bill or a ten dollar bill. "How do you know you're not getting ripped off when you go shopping?" I asked one. "I bring my girlfriend with me," he replied.

New Jersey Governor Chris Christie responds to O'Keefe video. New Jersey Republican Governor Chris Christie's spokesperson responded to videos conservative activist James O'Keefe released Monday [10/25/2010] apparently showing unionized educators at a New Jersey Education Association conference attacking the governor and his policies in crude language. ... In the video, the unionized teachers also appear to boast about how it's almost impossible to fire tenured teachers, even those who make racist remarks to students.

Teachers Fight Release of Data. The New York City teachers union is fighting the release of data that tries to gauge the effectiveness of 12,000 of its members, saying the measuring system is too flawed to make teachers' names public. The city Department of Education was set to release the data Wednesday, spurred by public-records requests from news organizations, including The Wall Street Journal. But the United Federation of Teachers threatened a lawsuit, and the DOE delayed its plans.

Judge sides with union in Chicago teacher layoffs. In a blow to the Chicago Public Schools, a federal judge on Monday [10/4/2010] sided with the Chicago Teachers Union by ruling that last summer's layoffs of more than 700 tenured teachers was handled improperly. The decision by U.S. District Judge David Coar follows a months-long battle between the union and district officials over the termination of teachers who are typically protected by their union contract.

'Superman' strikes. It's the film the teachers unions don't want you to see. The revelatory documentary "Waiting for 'Superman'" opened Friday [9/24/2010] to parents' cheers — and union howls. The film follows five families trying desperately to escape failing traditional public schools in favor of charter schools — and it profiles education reformers rebuilding a national school system that's in ruins. The unions panned the flick, naturally: It exposes how they drag kids down into the swamp, spotlighting how bad teachers are passed from school to school and how all-but-automatic tenure allows even the worst teachers to stay on the job.

'Waiting for Superman' fuels parents' furor at broken schools, union. It's class warfare! Fed-up parents and teachers who saw the explosive education documentary "Waiting for 'Superman'" yesterday were left either seething or in tears — and calling for revolutionary change after the film's Big Apple debut. "The passing along of children through the system is just disgusting," said Barbara Levinson, 63, who was crying by the film's end. "Every child should be treated as an individual." Viewers were also rocked by the work's portrayal of the teachers unions' protection of subpar educators.

Liberalism's Greatest Failure? [Scroll down] Is there another major area of American public policy that is more screwed up and more completely the fault of one ideological side? Which party do the teachers' unions support overwhelmingly? What is the ideological outlook of the bureaucrats at the Department of Education? Which party claims it "cares" more about education and demagogues any attempt by the other party to reform it? Who has controlled the large inner city school systems for generations?

The Department of Education — Who Needs it? To the horror of some members of the media a couple of Republican candidates including Nevada's Sharon Angle are pledging that if elected they will fight to abolish the Department of Education. From the howls from the media and the nation's long-coddled educrats you'd think the candidates were proposing to close all of America's primary and secondary schools and fire the teachers ... It seems obvious that the principal function of the DOE has nothing to do with improving the quality of public education and everything to do with doing the bidding of the nation's powerful teacher's unions and supporting politicians such as Mr. Obama.

The myth of the underpaid teacher. "One of the most consistent complaints among teachers is that they don't get paid enough," CNNMoney.com reports. Of course, that's the perception of educators. And the popular culture. The Hollywood version of the overworked, underpaid teacher is the mother's milk of the teachers' unions. "Low teacher pay comes at a high cost for schools and kids," the National Education Association declares on its website as if it's discussing a law of physics.

Some Who Can't Teach Still Do. Public school teachers are unhappy with the growing campaign to grade their performance. They shouldn't be. It's almost impossible to fire a union teacher, even those who are profoundly incompetent.

National Education Association Selling its Saul. The National Education Association (NEA), the U.S.'s largest labor union, is promoting communism to the millions of American public school teachers it represents. Teachers who are influenced by their union's efforts are more likely to indoctrinate American children into communism. For the past several months, the NEA website has recommended that its members read books by communist sympathizer Saul Alinsky. And, for a time, the website listed October 1 as a day for teachers and students to celebrate the anniversary of the Communist takeover of China by Mao Zedong.

NEA Tells Community Organizers 'Read Saul Alinsky'. President Barack Obama started his political career as a community organizer in Chicago. Apparently, the National Education Association intends to train more community organizers to grab political power by recommending on its official website for them to read 'Rules for Radicals,' by Saul Alinsky. Mr. Obama appears to have closely followed Mr. Alinsky's guidebook for seizing power.

Rose Garden Thorn. Public school employment, the Cato Institute reported in its @ Liberty blog, has increased 10 times faster than public school enrollment since 1970 — and the result has been stagnant test scores. Despite these facts, Democrats continue to funnel money into teachers' pockets, rewarding them for a job poorly done. And the party is getting a rich return. Democrats are heavily supported by teachers union money — the top two teachers unions make 95% of their political donations to Democrats, according to opensecrets.org — and union members' votes.

New fairy tales from Obamaland. [Obama, Reid and Pelosi] spun two new fantasies just this week. The first was that without the latest Obama-Reid-Pelosi government bailout, at least 100,000 teachers would lose their jobs this fall. ... [But] the vast majority of those dire warnings of 100,000 teachers being laid off were mostly just hot air. And here's something else to ponder: If it cost $10 billion to save 100,000 teachers' jobs, they are each being paid $100,000 a year. Since the national average teacher salary is just over $54,000 a year, somebody — federal bureaucrats? — is making a bundle on overhead.

Putting Government First. Where a man's purse is, there his heart will be also. If you would know where the heart of the Obama party is today, consider. In the dog days of August, with temperatures in D.C. rising above 100, Nancy Pelosi called the House back to Washington to enact legislation that could not wait until September. Purpose: Vote $26 billion to prevent layoffs of state, municipal and county employees whose own governments had decided they had to be let go if they were to meet their constitutional duty to balance their books.

Not a jobs bill but a special interest bill. According to the Washington, D.C.-based Labor Union Report, the National Education Association in 2009 "raked in a whopping $355,334,165 in 'dues and agency fees' from (mostly) teachers around the country." It spent close to $11 million more than it took in — $50 million of which union leaders poured into "political activities and lobbying" for exclusively left-wing and Democratic partisan causes and candidates. Its primary mission? No, not educational excellence. Not "the children." Political self-preservation.

Bailing Out Teachers. Democrats on Capitol Hill are literally taking food out of the mouths of the most needy to pay back their political cronies. Today, the House will vote on the infamous Bill with No Name, H.R. 1586 (originally the FAA Air Transportation Modernization and Safety Improvement Act), which contains a $26.1 billion bailout for financially strapped state governments. Much of the money will go to public employee unions, in the form of a $10 billion "Education Jobs Fund" to supplement state education costs. This comes on top of a $53.5 billion bailout of unionized teachers in the State Fiscal Stabilization Fund — some of which is still unspent.

Stimulating the unions. As President Obama's poll numbers continue to slide, congressional Democrats faced with increasingly tough re-election contests are turning to their best remaining friend, Big Labor, for help. Tuesday's [8/10/2010] enactment of a $26 billion "jobs bill" was carefully tailored to please public-sector unions, especially those representing teachers.

Buying Union Votes With Food Stamps. In an election year in which Democratic majorities in both houses of Congress are threatened, no price is too high for extra votes — even if it means taking from the poor.

The Left's Special Interest Human Shields. House Speaker Nancy Pelosi deserves a swift rap on the knuckles for hiding underneath the desk of the American schoolteacher. In a cynical ploy to evade accountability for the Democrats' continued fiscal recklessness, Pelosi accused opponents of the $26 billion public employee union bailout bill of "demeaning" teachers — and nurses, police officers and firefighters. Pelosi took great offense at Republican leaders who called out the Big Labor special interests pushing the emergency summer rescue. But if they walk, talk, spend and lobby like special interests, let's call them what they are.

Teachers unions cash in at expense of food stamp recipients. House members return to Washington this week for a special session that will include a vote on a $26.1 billion spending package intended partially to keep states from laying off teachers, a move some critics have called a "bailout for teachers unions." The Senate last week passed their own version of the bill, which cuts $12 billion beginning in 2014 from the Supplemental Nutrition Assistance, or "food stamps," program to help make the measure deficit neutral. Anti-hunger advocates and conservatives alike decried the move.

The NEA's Latest Shenanigans. What does diversity mean to you? Same-sex marriage? Building a giant mosque on the 9/11 spot in New York? Elena Kagan on the Supreme Court? To the largest teachers union, the National Education Association (NEA), diversity means celebrating the anniversary of the Communist takeover of China by Mao Zedong. The NEA posted this on its website calendar as a diversity event for Oct. 1.

More Educrat Funds, Dumbed-down Standards. Consider the teachers in Seattle, for example. According to a study by the Washington Policy Center: Teachers in Seattle receive an average of $70,850 for a 10-month year, plus $9,855 in benefits. Teachers can earn up to $88,463, or $98,318 including benefits. Educational staff associates are paid an average of $76,339 for a 10-month year, or $86,194 including benefits. It is mandatory for teachers to pay union dues or an equivalent. Seattle District officials transfer about $290,000 per month in education funds to union accounts in the form of dues. Over the course of a year, about $3.2 million is forwarded to the Seattle teachers' union.

Marine: Union bullying me to pay $500. A retired U.S. Marine who runs a high school ROTC program in Worcester says he faces the boot for refusing to pay local union dues, leaving the 58-year-old father of two crying foul and school administrators bewildered.

Ooh-rah! Mass. Governor Signs Bill, Saves Marine's Job. The Massachusetts governor signed a bill on Wednesday afternoon [6/16/2010] that saves the job of a retired Marine and public high school ROTC instructor who refused to pay teachers union fees.

Squabble over $10 billion for teachers delays Afghanistan war money. [Scroll down] At issue is the $22 billion in additional spending that the House added to the Senate bill on July 1, including $10 billion to hire teachers or prevent widespread teacher layoffs this fall, $5 billion to cover an expected shortfall in Pell grants for college students, and $700 million for border security. Obey vs. the White HouseRep. David Obey (D) of Wisconsin, who chairs the House Appropriations Committee, initially proposed $23 billion for teachers. But he had to pare it back to $10 billion after protests from fiscal conservatives in the House Democratic caucus.

Why Your Child's Teacher Stinks, and What You Can Do About It. There are certain professions that carry an implicit mandate, one that goes beyond performing the required duties of that profession. A social contract exists in these specialized lines of works that requires the performer to place the needs to those he serves above his own. Police officers, soldiers, and firemen are three such professions. There is a fourth, but this profession's mandate has been corrupted by union greed and politics. I speak of the Teacher, especially the teacher of the American high school and university.

Teachers Unions shaking down kids to pay their exorbitant salaries. A mother in New Jersey got a rude surprise from her child recently: ["]I am looking for your opinions and insights based upon a very distressing situation my youngest daughter brought to my attention last week involving a school fundraiser. As both she and the letter she handed me stated, my daughter was to accomplish chores around the house with the goal of being paid by me for those chores the sum of $20. She would then have to hand the full $20 over to the school to make up for the shortfall in their overall budget...["]

Murdering America. [Scroll sown] There are other government worker's unions such as the teacher's unions that exert political power in money, campaign manpower, and votes. The teacher's unions have largely failed their mission to impart the most basic skills, leaving American students behind their counterparts in other nations. Their health and pension benefits, well in excess of the private sector, are a massive drain on the public treasuries of state governments.

Are Journalists Finally Getting Over their Pro-Teacher-Union Fetish? Let's face it. From the 2004 New York Yankees to that statue of Saddam Hussein, most of us get a kick out of seeing the mighty fall. And that's essentially what's happening to teachers' unions all over this nation. For all the good they did when they were first formed 50 to 75 years ago, teachers' unions have devolved into opponents of meaningful educational reform. Teaching is steady work and in most states the pay is now about the same as a mid-level manager in business, but the profession requires substantially fewer days of work per year.

Which side are you on? NY judges consider joining teachers' union. In a remarkable display of self-degradation, some New York State judges are considering joining the United Federation of Teachers, a highly politicized, big bucks political donor, in an effort to raise their pay.

Teachers Seek $23b — Lifeline or Bailout? Education Secretary Arne Duncan is asking lawmakers to put aside "politics and ideology" as they consider a request for $23 billion in "emergency" funding for public schools — a measure Republicans reject as a massive federal bailout for the teachers' unions.

Public School Teachers Organize Against Tea Party. A Minnesota teacher e-mailed the entire school district to organize a counter-protest against the local tea party rally planned for Thursday [5/27/2010].

Unions, public schools, and minority children. Speaking a couple years ago about technology and education, Apple CEO and founder Steve Jobs said that technology wouldn't matter as long as you can't fire teachers. "I believe that what is wrong with our schools in this nation is that they have become unionized in the worst possible way," he said. Jobs likened schools to running a small business, which he said could never succeed if you can't hire and fire.

Obama pushing $23 billion teachers union bailout. Yet another example of public sector employee union smash and grab, at a time when private sector workers are desperate for jobs.

Here's Another $23 Billion Bailout That You May Have Missed. It didn't get much attention, but this week The White House announced its support for a bailout of one of the President's most important constituent groups: public school teachers (teachers unions, basically). A post on The White House blog (via ABC News) late Wednesday evening [5/12/2010] announced that it was time for "bold action" to save teachers' jobs.

Even abusive public employees can't get fired. Some of the most stunning articles I've read in a long while were in the Los Angeles Times' 2009 investigative series, "Failure gets a pass," which documents the near impossibility of firing unionized public school teachers in the massive Los Angeles Unified School District — even those teachers credibly accused of sexually molesting or harassing their students.

Why Isn't Obama Afraid to Take on the Teachers' Unions? Two extraordinary things happened in the world of education recently. Taken together, they're powerful confirmation of just how precipitously the teachers' unions are declining in power and influence.

AFL-CIO goes after charter school supporters. The New York State AFL-CIO is targeting two of the Legislature's staunchest charter school supporters — Sens. Jeff Klein of the Bronx and Craig Johnson of Nassau — claiming they're anti-union. The 2.5 million member union umbrella group blitzed the two senator's districts today with flyers accusing them of "siding with big corporations and against teachers and students" by voting for a bill last week to expand charter schools "with no real reform."

Liberal bias has tainted schools. "They don't want another voice in the room," Mr. Horowitz said. "The teacher unions and the Democratic Party have a monopoly on the public school systems. ... Teachers get paid for showing up. No one in the world gets paid for showing up." And, he continued, "the kids fail and there's no incentive to teach." The nation's capital is a microcosm of that comment. The Washington Teachers Union has consistently rejected attempts to hold teachers accountable for undereducated students for two decades. All the while, D.C. students in traditional schools have been stuck on the lower rungs of the regional and national academic ladders.

Fat Cat California Teachers Union Misses the Education Mark. The California Fair Political Practices Commission released a report last week detailing the fifteen most influential special interest groups in the state. Over the course of the last ten years, these fifteen groups — consisting of unions, Indian tribes, and corporations — spent over $1 billion on lobbying, candidates, ballot measures, and other political activities. ... But among the top fifteen big spenders, one special interest group particularly stands out: the California Teachers Association.

Teacher's union pay to play. Looks like the mild mannered teachers have figured out how to use union muscle.

California Teacher Union Rallies Around Bad Ideas. The California Teachers Association (CTA), the state's largest teachers union and National Education Association affiliate, organized a statewide rally of teachers and students on March 4 to protest education spending cuts. The CTA's "solution" indicates it is out of touch with economic and educational reality.

How Teachers Are Poisoning Our Children. On their official web-site, the NEA is currently promoting the radical anti-establishment doctrines of Saul Alinsky. The NEA is actively, and openly, advocating the overthrow of capitalism, free enterprise, and conservative (read that, pro-American) values. The NEA is recommending that teachers familiarize themselves with Saul Alinsky's books "Reveille for Radicals," and "Rules for Radicals." They then can then pass the seditious information on to their students — our children.

NEA Website Promotes Communist Guide Books for the Violent Overthrow of the U.S. Government. The NEA's recommended reading list includes two books by Brother O mentor and communist community organizer Saul Alinsky that advocate the violent overthrow of the U.S. government. The Democrat-controlled teachers' union praises Alinsky's Reveille for Radicals and Rules for Radicals as "an inspiration to anyone contemplating action in their community! And to every organizer!"

'Fire Them All' At Central Falls High. If you've ever taken a look at the shoddy excuse that passes for "education" in our public schools, and ever thought that the solution might just be to "fire 'em all," then you'll love Rhode Island's State Education Commissioner Deborah Gist: "It was her [Gist's] Jan. 11 order to overhaul the state's six lowest-performing schools that triggered the chain of events leading to last week's decision to fire the entire teaching staff at Central Falls High School, effective at the end of the school year."

Is this what they mean by 'it's for the children'? Students in San Francisco public schools are being organized by their unionized teachers to protest cuts in tax-supported education budgets, according to SFPublicPress. "On Thursday [3/4/2010], San Francisco public school students as young as five will get a real-life learning experience about civic engagement — through protest. Students from kindergarten through college plan to convene at Market and Powell streets in the late afternoon to protest cuts to public education during a coordinated political action called the Rally for California's Future."

Getting through to unions. It's amazing what a mass of pink slips can do to make a teachers union see the light — especially when the layoffs are publicly hailed by the president of the United States. On Monday [3/1/2010], President Obama endorsed the decision by Rhode Island's smallest, poorest city to fire the entire unionized faculty of its notoriously underperforming high school.

Public Sector Unions Tarnish the Golden State. Last week, teachers in the San Francisco area planned to take their students out of school in order to attend a protest about proposed cuts in education spending. According to a piece in the SF Public Press, children as young as five years old were slated to attend under the auspices of their schools, until the superintendent quashed the idea because of safety concerns. Aside from the disturbing specter of children being used as political props by their teachers, the spectacle is ludicrous.

All Educators Fired at Underperforming RI School. A Rhode Island school district has voted to fire all the teachers at an underperforming school.

Progress Slow in City Goal to Fire Bad Teachers. The Bloomberg administration has made getting rid of inadequate teachers a linchpin of its efforts to improve city schools. But in the two years since the Education Department began an intensive effort to root out such teachers from the more than 55,000 who have tenure, officials have managed to fire only three for incompetence.

ACLU sues city school district and state over teacher layoffs. The American Civil Liberties Union and other groups filed a lawsuit Wednesday [2/24/2010] on behalf of students at three of the city's worst-performing middle schools.

State of the Nation: This headline brightened up my breakfast: "Unionized Rhode Island Teachers Refuse To Work 25 Minutes More Per Day, So Town Fires All Of Them"

Teachers Unions Spends Dues on Left-Wing Causes and Ally of Robert Mugabe. A recent study of contributions made by the nation's two largest teachers unions reveals that both shelled out millions in 2008-09, with a good chunk going to radical and scandal-ridden organizations.

Teachers Unions: The Child Molester's Best Friend. Imagine if you could get full salary and benefits for a decent paying job and you didn't have to work to get it. All you had to do was be accused of a crime.

The Teachers' Unions that Stole Christmas. As Christmas grows closer, the hopes of thousands of D.C. schoolchildren and their families are appearing dimmer and dimmer, and no one is celebrating more than the teachers' unions. Congress's failure to reauthorize the federally-funded D.C. Opportunity Scholarship Program (OSP), which has provided more than 3,300 schoolchildren scholarships to attend private schools of their choice in the District of Columbia, has proven fatal. The program could end even earlier than expected.

Bankrupt mentality a cancer in Detroit. Detroit is not bankrupt — not officially, anyway. But it may as well be. The former mayor, forced to resign in disgrace, is back in court to defend his spending practices. A member of his inner circle cops to a bribery charge, auguring more to come. The city is borrowing money to pay its bills. Public schools students deliver the worst performance in the 40-year history of a national standardized test, even as teachers angrily denounce proposals to inject accountability into their next contract.

Liberal journalist shocked teacher unions shield incompetence. The Post is too polite to answer its own question. Steven Brill, however, has figured it out. "Leading Democrats often talk about the need to reform education," he writes, "but they almost never openly criticize the teachers' unions, which are perhaps the Party's most powerful support group." In other words, on the issue of D.C. vouchers Barack Obama and Arne Duncan are doing what their union paymasters want. The union bosses snap their fingers, and Obama and Duncan jump. It's good for just about everyone involved: the teachers' unions get taxpayers' money, the Democratic party through the teachers' unions gets taxpayers' money. Just about everyone, that is, except for the kids.

The Myth that Liberals Care About Education: Actually, educating our kids comes last to the Left — behind indoctrinating students and supporting their political allies in the teachers' unions. This is why the Left has supported laughable nonsense like teaching Ebonics and bilingual education programs. It's also why the Left opposes vouchers and even merit pay for good teachers — because the teachers' unions don't want the sad sacks in their ranks to look bad by comparison. Liberals love to talk about education, but education in what? Global warming? Gay marriage? Self-esteem exercises — or reading, writing, arithmetic, science, and history?

Teachers strikes are different. [Scroll down] If you're shutting down schools, you'd better have good reason. A reason that's morally unassailable. "We want fewer meetings" doesn't cut it. The Kent teachers say they're forced to have too many staff meetings. Fair enough. (One minute of meetings is too many for me.) The teachers want to limit these staff and training meetings to two 60-minute sessions per month. The administrators want four per month. Two versus four. Really, Kent teachers and administrators? You've shut down a district of 27,000 students over this?

The NEA's Latest Trick. Public school teachers are supposed to teach kids to read, so it would be nice if their unions could master the same skill. In a recent letter to Senators, the National Education Association claims Washington, D.C.'s Opportunity Scholarships aren't working, ignoring a recent evaluation showing the opposite. "The DC voucher pilot program, which is set to expire this year, has been a failure," the NEA's letter fibs. "Over its five year span, the pilot program has yielded no evidence of positive impact on student achievement." That must be news to the voucher students who are reading almost a half-grade level ahead of their peers.

How's that attack on capitalism working out for teacher unions? A number of reports are making their way into the press about how various teachers' unions are being hurt by the drop in the stock market. It is realistic to assume that the leaders and many, though not all, members of the teachers' unions are liberal Democrat Obama supporters. So, let us see how it is going for them.

'Zero to Five:' A scam to help teachers union. Next to universal health care, President Obama's top domestic goal is government financed pre-school for all three- and four-year-olds, regardless of family income. Obama promised his supporters at the National Education Association that he will spend billions on his "Zero to Five" early childhood education initiative, while assuring taxpayers of a $10 return for every dollar spent on the program. ... What "Zero to Five" is likely to do is drive small, privately-owned pre-schools out of business in order to create more jobs for NEA members — who will be the real beneficiaries of this latest educational scam.

Torture in America's Schools. At a public school in West Virginia, a 4-year-old girl with cerebral palsy and autism "was 'uncooperative,' so teachers restrained her in a chair with multiple leather straps that resembled a 'miniature electric chair.'" The girl was later diagnosed with posttraumatic stress disorder. "At least one of the three teachers responsible" is still at the school. At a Texas public school, a 230-pound "special education teacher" placed a 129-pound boy of 14 "into a prone restraint and lay on top of him because he would not stay seated." The student died. The case was ruled a homicide but no charges were filed. The teacher "currently teaches in Virginia and is licensed to instruct children with disabilities."

Unions Trump Students In Arizona. State laws that prohibit school boards from giving money to private educational institutions are now the reason disabled kids in Arizona can no longer attend specialized classes that meet their needs. A unanimous Arizona Supreme Court ruling on Wednesday [3/25/2009] held that vouchers were illegal in their state, and the children who used them to attend private, specialized schools can no longer do so.

How to Buy A City Council. Eyebrows shot up last week when teachers-union operatives handed out pre-printed questions for City Council members to ask at a hearing. But the UFT was merely calling in an IOU. As Chuck Bennett reported in yesterday's Post, the United Federation of Teachers paid good money for those council members. And the union expects value for its cash.

Teachers in Bid to Expel Union. Charter-school teachers to their union: Butt out. The educators, at two city charter schools, have filed for permission from the state to cut their ties with the United Federation of Teachers. The action, at KIPP Academy in The Bronx and KIPP Infinity in Manhattan, came after the UFT recently tried to meddle in the schools' business without consulting the staff first, teachers at both schools told The [New York] Post.

California's Hefty Union Dues. Jobs are fleeing the Golden State, where unemployment has spiked well above 10%. Taxes are soaring, and a new budget shortfall of $8 billion, following the $42 billion gap that was patched up earlier this year, could hike them even more. But California is still not a bad place to be — that is, as long as you have a secure job (which most are) on the public payroll. According to the latest salary survey by the American Federation of Teachers, California teachers are the highest paid in the nation.

Cautionary tale of card check. One reason so many parents want their children in charter schools is precisely because they operate free of union contracts, so that when administrators want to try something new, they can implement it quickly. For this, charter schools are fiercely resented by teachers unions as a competitor to failing public schools. Charter schools use a merit system, rewarding teachers according to results in the classroom. They don't have complicated work rules that smother creativity, nor are they burdened with termination rules that make it almost impossible to dismiss an incompetent teacher.

There is no hope in Obama. In the last election, unions spent $450 million to elect candidates who favor their agenda. They have succeeded beyond the dreams of avarice. The federal government is now virtually the empire of Big Labor. Especially gleeful are the teachers' unions, who helped elect a president explicitly and vociferously opposed to vouchers. Even as America's students have dropped to their lowest level on standardized tests compared to students internationally, and even as drop-out rates soar past the 50 percent mark in most of the largest urban school districts, President-elect Barack Obama has shown contempt for school choice — even as he exercised school choice in enrolling his own children in the most expensive and exclusive private prep school in Washington, D.C.

On the other hand...
Obama takes on teachers' unions. After weeks of pleasing Democrats by overturning policies set by the previous administration, President Barack Obama Tuesday for the first time confronted a powerful constituency in his own party: teachers' unions. Obama proposed spending additional money on effective teachers in up to 150 additional school districts, fulfilling a campaign promise that once earned him boos from members of the National Education Association.

Okay for Obamas to Send Their Kids to Private Schools, Teachers' Union President Says. President-elect Barack Obama and his wife Michelle "have every right" to send their children to public or private school, and no one should "criticize" their decision, Randi Weingarten, president of the American Federation of Teachers (AFT), said in an interview with CNSNews.com on Monday [11/17/2008] at the National Press Club.

NEA Teachers Have Become Re-Educators. NEA resolutions cover the waterfront of all sorts of political issues that have nothing to do with improving education for schoolchildren, such as supporting statehood for the District of Columbia, a "single-payer health care plan" (i.e., government run), gun control ... The NEA fiercely opposes any competition for public schools, such as vouchers, tuition tax credits, parental option plans or public support of any kind to nonpublic schools. The NEA strongly opposes designating English as our official language even though such a designation is supported by more than 80% of Americans.

NEA, the labor union for teachers. Surprisingly and sadly, many parents, perhaps many teachers, are unaware of the political agenda of the National Education Association, to which some 2.7 million public school teachers belong. NEA is a labor union despite its self-characterization as a professional association for teacher training and educational goals.

Education's union label: Back in February, I wrote in this space about Senate Bill 73. Sponsored by a freshman Democrat, Sen. Chris Romer, it would have required Colorado public schools to adopt competency in the English language as a graduation requirement for high school students starting in 2012. The merits of this are so obvious, it's a sad commentary on our public schools that such legislation would even be necessary. But remarkably, the knee-jerk reaction to Romer's bill by Democrats who represent the interests of the teachers' unions in the state legislature was nothing short of scorn.

NEA Dues & Don'ts: It is not the job of the NEA to issue mandates on social and moral issues. To do so is a misuse of members' dues and a misrepresentation of teachers' views.

Change Our Public Schools Need. Democrats are fervent supporters of public education, and the party genuinely wants to help disadvantaged kids stuck in bad schools. But it resists bold action. It is immobilized. Impotent. The explanation lies in its longstanding alliance with the teachers' unions — which, with more than three million members, tons of money and legions of activists, are among the most powerful groups in American politics. The Democrats benefit enormously from all this firepower, and they know what they need to do to keep it. They need to stay inside the box.

Extracurricular Politics: Each year, NEA members pay into a "Ballot Measure/Legislative Crises Fund" that allows the union to spend tens of millions of dollars on all manner of state and national political issues. Mike Antonucci of the Education Intelligence Agency … reports that during the current fiscal year the NEA sent the Hawaii State Teachers Association $20,000 to conduct polling on a state constitutional convention. It sent the Massachusetts Teachers Association $60,000 to oppose a state income-tax repeal. And it sent the Florida Education Association $200,000 to oppose property-tax cuts in the Sunshine State.

Unions shortchange teachers. In 28 states, a teacher is essentially forced to join a costly union. A typical teacher in Southern California, where I teach, pays $922 every year to his or her local, which then sends $611 of that amount to the state affiliate, the California Teachers Assn., or CTA, and $140 to the national affiliate, the National Education Assn., or NEA. (One has to wonder, if the unions are so beneficial, why do teachers need to be forced to join and to fork over such hefty dues in most states?) And just what are all of these forced dues spent on? Untold millions go to political causes, whether a teacher agrees with the cause or not.

Abolish the Department of Education. The U.S. Department of Education, created as a political payoff to the National Education Association by former President Jimmy Carter, is a sewer for taxpayers' money and ought to be abolished outright. Since then, although a few politicians — notably former President Ronald Reagan — have paid sporadic lip service to abolishing this useless organization, most have pushed for additions to its budget in order to curry favor with NEA members at election time.

The Real Obama: Part III. The education situation in Obama's home base of Chicago is one of the worst in the nation for the children — and one of the best for the unionized teachers. Fewer than one-third of Chicago's high-school juniors meet the statewide standards on tests. Only 6 percent of the youngsters who enter Chicago high schools become college graduates by the time they are 25 years old. The problem is not money: Chicago spends more than $10,000 per student.

The Real Issues: Part IV. [Senator Obama] is 100 percent behind the teachers' unions in their fight to preserve their grip on the public schools and exempt their members from being judged by performance instead of seniority — which is to say, he is throwing the students, and especially minority students, to the wolves. … [T]eachers unions are the biggest obstacle to changing the status quo in public schools that have failed American children in general and minority children in particular.

The IRS Will be Hiring. [Scroll down] Then there was the creation of the Department of Education, contrary to the Constitution that excludes federal involvement by not mentioning it. It effectively has nationalized the education system with a one-size-fits-all policy that totally ignores the fact that different children in different places learn at different rates. The failure of urban schools has less to do with the enormous amounts of money spent per pupil than the crime-infested, jobless streets they must walk to get to school. It's not like their parents don't want better schools. They do. The grip of the teacher's unions makes that nearly impossible.

The Ten Worst Union-Protected Teachers: Thanks to outmoded, union-defended employment laws and policies, it can be impossible to fire a bad union-protected teacher. That's why the Center for Union Facts is going to pay the ten worst union-protected teachers in America $10,000 apiece to get out of the classroom — for good. Dedicated, professional teachers have nothing to fear from this contest; we're here to showcase the worst of the worst.

Long Reviled, Merit Pay Gains Among Teachers. For years, the unionized teaching profession opposed few ideas more vehemently than merit pay, but those objections appear to be eroding as school districts in dozens of states experiment with plans that compensate teachers partly based on classroom performance.

The NEA lists its goals and the Democratic Party agrees. Some critics complain that the issue of education has been conspicuously absent from presidential television debates. But Democratic presidential candidates did sound off with their pro-federal government, pro-spending policies at the annual convention of the National Education Association, and the nation's largest teachers union liked what they heard.

American Education Fails Because It Isn't Education. Every American should understand that these three items: higher pay, smaller classrooms and more money for schools are the specific agenda of the National Education Association (NEA). The NEA is not a professional organization for teachers. It is a labor union and its sole job is to get more money into the education system, and more pay for its members. It also seeks to make work easier for its members — smaller classrooms. Clearly the NEA is not about education — it's about money and a political agenda.

Paige on Unions, and a Primer for Reporters. Reporters newly assigned to cover an "education beat" are often woefully unprepared for the job because they do not understand the ins and outs of "the most powerful [force] in public education today" — teacher unions — or the "single biggest influence on what happens in schools" — the teachers union contract.

What is the Teacher Unions' Real Agenda with Your Children? Many non-governmental organizations have been influential in the orgy of spending tax money to corrupt education, for their selfish interests, while claiming the pure motive of helping our children acquire quality education. The two most powerful of these are the American Federation of Teachers and the National Education Association.

California: Giving Home-Schoolers the Shaft. There are still excellent public school teachers out there, but mediocre ones are increasing and so are the downright terrible ones, thanks to teachers' union protection. They may be happy now, but California's decision on home-schooling will touch off a firestorm the unions are going to regret.

The Union War on the No Child Left Behind Act. To the NEA and other change-resistant teachers' unions, accountability and transparency are not worthy goals. They are nefarious plots to embarrass and shame bad teachers. Union leaders are generally unwilling to admit that not all teachers are great at what they do. … That isn't true in any other profession, and cannot possibly be true in education either.

NEA Allies Itself With Far Left Groups. The National Education Association is getting in bed with far-left groups like MoveOn.org, ACORN, and Campaign for America's Future to launch a new campaign called "National Mobilization for Great Public Schools." This "coalition certainly isn't about any new policy directions," says Capital Research Center's David Hogberg in an article in the American Spectator Online. Rather, the "purpose of the coalition is mobilizing the grassroots to pressure politicians to spend more money on public education." The NEA seems unconcerned that they are allying themselves with the far left for this campaign.

NEA Gives Liberally ($12 million) to Advocacy Groups. Groups receiving funding include:
ACORN — $218,452
Amnesty International — $7,500
Citizens for Education — $2,316,000
NAACP — $56,500
National Council of La Raza — $14,700
People for the American Way — $275,000
Sierra Club — $50,000

The Teachers Unions' Fight for Universal Preschool. The National Education Association (NEA) wants the state to control most or all preschool programs as a boon to public education and to the union's membership. Universal preschool is part of the NEA's broader strategy to increase public school work hours at all levels of education, using the dubious argument that more time in school ensures a better education.

Teacher wins fight on where to donate union dues. Vancouver teacher Susan Wiggs may donate her union dues to Shared Hope International, after all, the state Public Employment Relations Commission has ruled. The Vancouver Public Schools teachers union has appealed the decision. Wiggs, a teacher at Jason Lee Middle School, has been embroiled in a two-year dispute with the teachers union about where to direct her dues. Two years ago, Wiggs withdrew from the union as a religious objector.

Teachers and EFF Win Unanimous Victory at U.S. Supreme Court. The cases are the culmination of a decade's worth of work by concerned teachers and the Evergreen Freedom Foundation (EFF), a Washington state think tank. The Court's ruling could potentially affect millions of union-represented workers nationwide.

NEA Moves Even Further from Mainstream at Annual Convention. Sissy Jochmann, a second-grade teacher in Pittsburgh, took issue with non-educational recommendations adopted by the NEA Board of Directors — such as incorporating sexual orientation and gender identity in teacher education standards; enhancing gay, lesbian, bisexual, and transgender (GLBT) partnerships; expanding the union's GLBT Web page; and supporting federal hate crimes legislation. … The Board of Directors subsequently adopted the GLBT policies in a closed session, literally behind closed doors.

Is the NEA a 'terrorist organization'? One of the NEA's formative leaders, John Dewey, an avowed humanist socialist, was made honorary president of the NEA in 1932. In 1933, Dewey was one of the signers of the "Humanist Manifesto." John Dewey, who traveled to Russia in the 1930s to help organize and implement the Marxist educational system there, today is known in America as the "Father of Progressive Education."

Union Told Me to Pay Dues or Change Religion, Teacher Says. Carol Katter, a mathematics and language arts instructor in the St. Marys district, filed a federal complaint in the U.S. District Court in Columbus this week over an Ohio law that prevents the lifelong Catholic from diverting her dues from a union she refuses to fund because it supports abortion on demand.

Teacher Challenges Forced Union Dues. A St. Marys-area teacher today [1/22/2007] filed a federal complaint challenging the constitutionality of a statewide law denying public employees the right to a religious objection to paying union dues if they do not belong to certain state-approved religions.

Judgment day for L.A. teacher union officials. United Teachers Los Angeles is holding elections, the results of which will affect not only teachers but also school-reform efforts and city politics. UTLA's members are the 48,000 teachers, nurses and school psychologists in the Los Angeles Unified School District. The union's endorsements and street troops help elect city and state politicians, and can carry the most weight in school board elections.

West Virginia Salary Posting Raises Unions' Ire. A decision to post teacher salaries on the Internet has irked the teachers union in West Virginia, but an experienced reformer said such policies are needed to expose the current education system's ineffectiveness. In February, the Kanawha County Schools Board of Education adopted a plan to post all employee salaries on its official Web site for public inspection.

Report Finds Teachers' Pay Is More than Adequate Across the Country. The long-lived conventional wisdom is that teachers are underpaid. That belief is virtually unanimous. But it runs contrary to many respectable research studies that conclude teacher salaries are at least equal to, if not in excess of, compensation for comparable occupations. In their article "How Much Are Public School Teachers Paid?" researchers Jay P. Greene and Marcus A. Winters come to some surprising conclusions. According to their findings, "The average public school teacher in the United States earned $34.06 per hour in 2005, and the average public school teacher was paid 36 percent more per hour than the average non-sales white-collar worker and 11 percent more than the average professional specialty and technical worker."

$34.06 an Hour. Who, on average, is better paid — public school teachers or architects? How about teachers or economists? You might be surprised to learn that public school teachers are better paid than these and many other professionals. According to the Bureau of Labor Statistics, public school teachers earned $34.06 per hour in 2005, 36% more than the hourly wage of the average white-collar worker and 11% more than the average professional specialty or technical worker.

How Much Are Teachers Really Paid? According to the U.S. Bureau of Labor Statistics (BLS), public school teachers earned, on average, $34.06 per hour in 2005. That is 36% more than the average white collar worker and 11% more than the average professional specialty and technical worker, which are the categories in which the BLS places teachers. To give some examples, public school teachers are paid at a higher rate than architects, mechanical engineers, psychologists, and chemists.

The $1,470-an-hour loophole: Retirees work for 13 days to earn lifetime health care. A loophole in Michigan's school retirement policy allows the 60-year-old grandmother from Remus and hundreds of former school employees like her to earn lifetime health care at deeply discounted rates — a perk worth an estimated $150,000 per retiree — for returning to work for the equivalent of 13 days.

California teachers oppose the 2014 deadline of No Child act. As Congress prepares to renew the controversial No Child Left Behind Education Act, California teachers announced Wednesday their intention to try and gut its core: the requirement that every student score at grade level by 2014. … They were sponsored by the California Teachers Association.

Teachers union sues Ohio. The state's largest teachers union sued the state over its charter school program on Friday [3/23/2007], saying it lacks proper oversight and takes needed money from traditional public schools.

Court Ruling May Force NEA Disclosures. State affiliates of the National Education Association may be required to disclose details of their operations, including financial information such as income and expenses, salaries and benefits, and election rules, according to a ruling by the U.S. Court of Appeals in Washington, DC.

Teachers in court: Justice Clarence Thomas stayed mum, as usual, but all eight of his colleagues got into the act two weeks ago when the Supreme Court heard argument in the case of a teachers union. When oral argument ended at noon, most observers probably thought the union's luck had run out with the clock, but these things are tough to call.

The NEA Keeps Tilting to the Left. NEA resolutions promote the gay rights agenda in public school curricula by demanding funds to alleviate "sexual orientation discrimination," to use multicultural education to reduce "homophobia," and even to put "diversity-based curricula" and "bias-free screening devices in early childhood education." Another resolution demands that schools hire "a diverse teaching staff." But the NEA certainly doesn't believe in diversity when it comes to schools. The NEA is positively paranoid about any kind of competition, passing resolutions against voucher plans, tuition tax credits, parental option or choice plans, sectarian schools, for-profit schools, distance learning, and home schooling.

Is Obama Another Elitist Limousine Leftist? The left in America pretends to care about poor people, but many of them seem more interested in serving the interests of powerful lobbies such as trial lawyers and teacher unions. The education issue is a great example. Leftists such as Ted Kennedy and Al Gore have been fierce opponents of school choice and other proposals to reduce the power of the government education monopoly. Yet they send their children to private schools.

NEA Seeks Peace Academy, College, Citizenship for Illegal Aliens. Some of the almost 10,000 members of the National Education Association (NEA) attending the teachers union's annual conference this week in the nation's capital spoke out on the issues they hope their lobbyists will fight for during next year's legislative session ... Susie Jablinske, a first grade teacher at Central Elementary School in Edgewater, Md., said children who are in the country illegally should have the same educational rights as American children.

Teachers cheer, boo Obama. Barack Obama got a few boos Saturday [7/5/2008] when he told the National Education Association convention in Washington he supports merit pay.

Governor enlists teachers union in fight for his education plan. Trying to convert teachers into a political force behind his new business tax plan, Gov. Rod Blagojevich on Saturday fired up the Illinois Education Association for a brutal fight in the Legislature. "It will be Armageddon, but we are on the side of the Lord and we will prevail," Blagojevich told more than 1,200 cheering delegates at the IEA's annual meeting in suburban Chicago.

[If a Republican had said that, the Democrats would be howling about a theocracy.]

The Wake-Me-Up-When-Class-is-Over Governor. Massachusetts governor Deval Patrick, politically in debt to the teachers' unions, is attempting to eviscerate his state's successful school reforms and its independent board of education. His drive to ensure that No Teacher-Union Hack Is Left Behind has serious implications for public-school choice nationally. Can Democrats who are committed to school reform summon the political will to sustain it in the face of union opposition?

NEA Conventioneers Promote Gay Agenda. For the past dozen years, NEA resolutions have each year adopted more and more of the gay rights agenda. Whereas, gay rights goals such as same-sex marriage are steadily losing at the polls (20 states have passed state constitutional amendments restricting marriage to a man and a woman), the gay rights agenda is moving ahead full speed in the public schools, with assistance from the NEA.

NEA opposes the use of IDs in order to vote. The [NEA] convention approved Legislative Amendment 6 to oppose the use of voter ID in U.S. elections. However, in order to vote in NEA elections held during the convention, delegates were required to show photo ID. Apparently it's more important to prevent voter fraud in an election for the NEA Board of Directors than in an election for U.S. President or Members of Congress.

Did someone mention Voter IDs?

Follies and Failures of the National Education Association: The largest teachers union, the National Education Association (NEA), held its annual convention this summer in Los Angeles displaying its usual favoritism toward the gays and the feminists, hostility to parents, and support of liberal causes. The badges worn by the delegates included messages bashing President Bush and supporting gays and lesbians.

The curious case of NEA priorities: The toughest question was undoubtedly the first one: where do we start, when it comes to fixing America's schools? Well, they figured it out. And, really, faced with so many incredible challenges, their priority makes sense. This is, after all, the NEA. They know the classroom. They know the teachers. They know the real challenges of education. Which is why their elected leaders decided that, before anything else, the first thing our teachers have to do is win popular support for homosexual "marriage."

When Teachers Flunk, They Sue. By requiring minority teacher applicants to pass a basic competency test, the Board of Education of New York City may have discriminated against them, a federal court of appeals has ruled. The test measures their mastery of basic college material, including science, math, history, and the arts, as well as written communication skills in an essay. To pass, applicants must answer about 66 percent of the questions correctly and score at least 60 percent on the essay. The applicants demonstrated their scores on the examination were consistently lower than white applicants, the court stated. "Between 1993 and 1999, the average pass rate for white test takers ranged from 91% to 94%, while the average pass rate for African American candidates ranged from 51% to 62%, and the average pass rates for Latino candidates ranged from 47% to 55%," the court stated. All of the minority applicants "tended" to do the worst on the essay section of the test, according to the court.

California Law Changes the Rules for Bad Teachers. It can take years to fire a bad teacher. So some principals don't even bother trying. Instead, they make a deal. The principal asks the teacher to look for a job elsewhere in the district. In exchange, the teacher gets a good evaluation. Now here's the rub. Since there's plenty of competition for plum jobs at affluent schools, the bad teacher gets funneled to a struggling school serving a needy population.

Governor Riley says AEA leader is political. [Alabama Gov. Bob] Riley says Alabama Education Association Secretary Paul Hubbert is opposing his plan because he is also vice chairman of the Alabama Democratic Party and not out of concern for the teachers he represents. "You can't be vice chairman of the Democratic Party and totally support the Democratic agenda and then say it's not political," Riley said Friday [8/4/2006].

Teachers Union Adopts Positions on Iraq, Lebanon Wars. Just weeks after the National Education Association came under fire for adopting a controversial resolution that critics said didn't apply to public education, another teachers union has adopted resolutions opposing the war in Iraq, supporting Israel in its struggle against Hizballah and opposing Wal-Mart.

Testing teachers: Teacher certification in most states has been a joke for years. In the District of Columbia, for example, teachers can be certified by scoring barely above the 20th percentile on the Praxis test, an exam used by 29 states to test who is fit to teach. The other states aren't much better, granting certification to teachers so long as they score above the bottom third of all test takers. Yet the National Education Association, the largest union in the nation, has fought tougher standards all the way.

Union bosses get in the way of common sense. Taking six years to fire a teacher doesn't do anyone any good — except bad teachers. So why do it? The short answer is unions.

Washington Teachers Union Scandal: For years, the American Federation of Teachers (AFT) failed to protect the members of its subsidiary, the Washington (District of Columbia) Teachers Union. And according to a March 2003 AFT publication, WTU president Barbara Bullock — along with a small group of co-conspirators — bilked $5 million from the union between 1995 and 2002. That amounts to $1,000 per member stolen, laundered, or used for the personal expenses of union officials.

NEA Approves Pro-Homosexual Resolution. The nation's largest teachers' union voted to amend its resolutions Wednesday [7/5/2006] to include support for homosexual "marriage." The amendment, which met with harsh criticism from conservative family groups, passed with little resistance from delegates.

Orwell in Orlando, as the NEA Constructs Fascist, Anti-Child Policies. Child-damaging, teacher-centered discussions and policy formation transpired at the NEA's annual convention, defying reason, morality and constitutionality. … The word "tolerance" will be replaced by "acceptance and respect" in current NEA policies, including those covering "gay, lesbian, bisexual and transgendered" behaviors, orientations, etc. among students, teachers and staff. So the concept of cross-dressing third graders must now be "respected."

Union Investments Deliver Poor Returns, High Fees. Public school teachers might want to recalculate the money they stand to collect on their 403(b) plans when they retire. That's assuming, of course, the money will be there. In a lengthy expose in its April 25 edition, the Los Angeles Times revealed how cozy relationships between teacher union officials and investment companies result in retirement plans that charge unusually high fees but deliver below-average returns.

The Union Label on the Ballot Box: From their origins in the 19th century until the present day, school boards have been regarded as shining examples of local democracy, the keystone that links public education to ordinary citizens. But this is one of the enduring myths of American folklore. The reality is that, while some 96 percent of school boards are elected (according to data collected by Frederick Hess of the American Enterprise Institute), these elections are usually low-turnout, low-interest affairs in which the vast majority of ordinary citizens play no role at all.

Profile of the National Education Association. Lavish salaries for union staff, and vast sums of money spent on a radical political agenda, demonstrate the wide gap between this union's leaders and the teachers they claim to represent. The American Federation of Teachers reports that the average U.S. teacher's salary was below $46,000 in 2002-2003. But [NEA president Reg] Weaver's salary was $439,000 last year, and more than half of the NEA's 600-person staff took home more than $100,000 in compensation, according to analysis from The Wall Street Journal.

Connecticut Public Employees Live On Easy Street. Connecticut's teacher-retirement fund has a $5 billion gap between assets and liabilities. The unfunded liability for all state employees is $7 billion. Unlike the use-it-or-lose-it policy of the private sector, it is common for unused sick and vacation days to be "purchased" by Connecticut's government entities when employees retire.

Teachers union loses its force in storm's wake. When the Orleans Parish School Board gathered last month and voted to fire virtually the entire work force of 7,500 teachers, custodians, bus drivers and kitchen staff, union brass might have been expected to clamor loudly in opposition. Instead, but for one or two nonunion gadflies who spieled and sat down, you could practically hear the crickets.

Unions fight to protect the nightmare. The unions use their clout to fight against the interests of the best teachers. Union leaders make sure the teachers who work hardest don't get raises or bonuses. Everyone with the same seniority and credentials must be paid the same. That guarantees that no teacher will take home a dime for making extra sure that students learn.

How Republicans Get Teacher Union Endorsements: When a teachers' union endorses a Republican in a major race, or at least fails to endorse a Democrat, it is newsworthy. The unions themselves claim otherwise, cleaving adamantly to the focus-group-tested, talking-point-sanctioned line that they choose candidates not according to party, but according to their pro-public education track records. Since this topic arises so often, I thought it prudent to simply list the four circumstances under which a teachers' union will endorse and/or financially support a Republican running for major office.

Union Foes Seek High Court Ruling on Dues for Politics. Numerous conservative groups are asking the U.S. Supreme Court to reinstate a Washington state law that requires unions to get permission from non-union employees before spending their mandatory dues on political causes and activities.

Teachers File SCOTUS Arguments Seeking Limits on Union Officials' Access to Forced Dues. National Right to Work Foundation attorneys took additional steps today to secure U.S. Supreme Court review of a controversial Washington State Supreme Court ruling which struck down a state law requirement that union officials obtain the prior consent of nonunion public employees before spending mandatory union dues for politics.

Fun Facts from AFL-CIO's Disclosure Report: AFL-CIO took in $189.9 million in total receipts in 2004-05, mostly from per capita taxes, or dues, from member unions. The bulk of the federation's expenditures went towards:
* Political activities and lobbying – $49.3 million
* Representational activities – $29.9 million
* General overheard – $22.6 million
* Benefits – $16.9 million
* Union administration – $6 million
* Contributions, gifts and grants – $2.4 million
The federation had a host of conference and meeting expenditures, including $11,638 for what I'm sure was a lovely staff retreat/dinner cruise.

The Union That Killed Education: Public schools are run by the National Educational Association. They are not run by people you can hold accountable, such as teachers, superintendents and school boards. The NEA opposes merit pay, charter schools and any decision by any school administrator that has not been determined in advance by collective bargaining. Simply put, the NEA opposes everything except its own power.

Schools establishment displays insatiable demand for money. Gov. Arnold Schwarzenegger … should know by now that no amount of spending is ever enough for those who believe money can solve every problem in education. Take the California Teachers Association, for example.

National Education Association Funds Radical Groups With Union Dues. If we told you that an organization gave away more than $65 million last year to Jesse Jackson's Rainbow PUSH Coalition, the Gay and Lesbian Alliance Against Defamation, Amnesty International, AIDS Walk Washington and dozens of other such advocacy groups, you'd probably assume we were describing a liberal philanthropy. In fact, those expenditures have all turned up on the financial disclosure report of the National Education Association, the country's largest teachers union.

Teacher union gives slush money to left-wing groups. The vast majority of teachers in government schools are well-meaning professionals. The National Education Association, by contrast, is a virulently left-wing organization that takes money (coercively in many cases) from these teachers and uses the money to fund a host of radical groups.

HSTA Union Dues Go Largely to Union Payroll, Not to Benefit Teachers. After the Hawaii State Teachers' Association convention in March, when internal election irregularities were revealed, one teacher asked, "What does the union do for us anyway?" A portion of the answer can be deciphered from the HSTA's financials.

NEA: 30 Years of Lobbying Democrats. This year marks the 30th anniversary of the decision by the National Education Association (NEA) to become a major player in politics. While 1976 was the first year that the nation's largest teachers union endorsed a presidential candidate (Jimmy Carter, who was promising to deliver creation of the union's cherished federal Department of Education), it wasn't long before the NEA's political activity became a major part of its raison d'etre.

The NEA Strikes Again! Let's clear up a few ideas about the role the NEA plays in regards to wasted money, overcrowding, teachers, books and materials. To begin with, every time the NEA is challenged in court with regard to its misguided and inappropriate policy decisions, it uses money gained through teacher dues to defer the costs of defending itself … money which is supposed to help the students and teachers in this country achieve excellence in education. But I digress. The money forced out of teacher paychecks and instead used to support the union goes to further a union agenda that takes away from parental choice and responsibility.

The teachers unions are mad at me. [It's] because I hosted an ABC News TV special titled "Stupid in America," which pointed out:
American fourth graders do well on international tests, but by high school, Americans have fallen behind kids in most other countries.
The constant refrain that "public schools need more money" is nonsense. Many countries that spend significantly less on education do better than we do.
Most American parents give their kids' schools an A or B grade, but that's only because, without market competition, they don't know what they might have had.

Follow-up:
Time to teach. I was especially surprised by one history lesson [a group of angry public-school teachers] taught me: "Public schools are what distinguish democracies from every other system in the world," and a country without strong public schools "lends itself to authoritarian thinking." Fascinating. I guess the Communists all went to private school.

A tiny little tidbit of totalitarianism. The Oklahoma Education Association … wants to silence citizens petitioning to place an initiative on the ballot. … Sure, I know that's too strong a word. It's just that squelching speech and strong-arming people to prevent the free exercise of individual rights are the hallmarks of totalitarianism.

Class-Action Lawsuit Pending Against California Teacher Union. While a class-action lawsuit against the California Teachers Association (CTA) was pending, a U.S. District Court judge on October 6 refused to temporarily freeze funds the union seized from teachers statewide without due process in order to fight Gov. Arnold Schwarzenegger and several measures on the November 8 special-election ballot.

Power Motivates Unions. Some wonder why the teacher unions, long so fervently opposed to charter schools, are now aggressively trying to recruit their teachers.

Look for the Union Label. American workers are forced to fund political activities they disagree with. Like virtually all national labor unions in America, the NEA devotes a huge portion of its manpower and money to political action. But it also serves as the collective bargaining representative for a large group of public employees. So its particular political action is aimed at hand-picking the taxpayers' representatives too — and thus controlling both sides of the negotiating table.

These are your teachers? The National Education Association recently concluded its annual meeting in Los Angeles — and you might be surprised what the largest teachers' union in America talked about and decided. … The state of public education in American today is not exactly state of the art. You might think falling test scores, higher drop-out rates, and functional illiteracy of graduates — despite ever increasing taxpayer commitments — would be causes for concern and debate at a forum like this. You would be wrong.

Teachers Union Fights Governor, Wants More Spending and Power. What is the substance of the schools funding debate? Including all sources of education spending, the governor has proposed spending $10,084 per student for 2005-2006. … Mind you, all of this is for a system that, according to the National Education Association website, pays its teachers the most in America. California teachers are paid an average of $58,287 a year, 25% above the national average.

The 65 percent solution: The 65 Percent Solution solves the misallocation of resources, but there is scant evidence that increasing financial inputs will, by itself, increase a school's cognitive outputs. Or that a small reduction in class sizes accomplishes much. Or that adding thousands of new teachers would do as much good as firing thousands of tenured incompetents. However, firing a bad teacher is, according to a California official, less a choice than a career — figure two years of struggle and $200,000 in legal costs. That is why in a recent five-year period only 62 of California's 220,000 tenured teachers were dismissed.

Paying teachers to teach. Study after study shows the quality of teaching is paramount to student achievement. Next to parents, teachers are the most important factors in determining a student's academic success. Yet, instead of rewarding our best teachers and removing the poor ones, we cling to an antiquated, bureaucratic compensation model that is flawed at its core.

Aha! Where Do Public School Teachers Send Their Kids to School? Public school teachers in urban areas are far more likely than city residents in general to send their children to private schools, according to a new analysis of 2000 Census data by researchers led by Denis P. Doyle, who previously analyzed 1980 and 1990 Census data. While just 12.2 percent of U.S. families send their children to private schools, that figure rises to 17.5 percent among urban families in general and to 21.5 percent among urban public school teachers, almost twice the national average.

Must This Teacher Teacher Be Fired? Albert Einstein revolutionized Physics, Alan Turing helped invent computer science and Richard Feynman won the Nobel Prize in Physics while maintaining a reputation as the best science teacher of his generation. … None of these individuals, according to the state licensing board, would be qualified to teach in an Oregon public school.

Stop and think: Part III. No special interest group within the Democratic party has as much influence — domination might be a better word — as the teachers' unions. The top priority of the National Education Association and the American Federation of Teachers is their members' jobs. … Parents may think that public schools exist to educate their children but, to the teachers' unions, these schools exist to provide their members with jobs, with iron-class tenure, and with pay increases based on seniority, not performance. If maintaining that status quo means sacrificing the education of a whole generation of young blacks, the teachers' unions will do it.

The NEA's Lobbying Agenda: The NEA's lobbying goals for public schools include federal funding for public school child care, early childhood programs that are school-based, before- and after-school programs, big spending for school counselors, school-based health care for children, and of course increased federal spending for education. The NEA's non-education-related lobbying goals include funding for the National Endowment for the Arts, a national universal health care system, reparations to African Americans, statehood for the District of Columbia, taxpayer funding of federal elections, and a national holiday for Cesar Chavez.

Teacher Union News: Disputed Elections and Missing Funds. The Washington Teachers Union and United Teachers of Dade (Florida), currently under administration by the American Federation of Teachers, are enduring accusations of vote fraud by losing candidates for the office of president in elections designed to allow the two unions to undertake local self-rule.

Texas Teachers Learn to Cheat: A loophole in the law allows them to pay as little as $3 in Social Security taxes and receive Social Security benefits worth about $5,200 a year for the rest of their lives. How can teachers expect their students to behave honorably if they intend to cheat the Social Security system to get more benefits than they deserve?

Labor Union Masks Motives Behind Teacher Facade. Why do top teacher union officials, like NEA President Reg Weaver, describe themselves as "classroom teachers" rather than union representatives? The annual Harris Poll provides a ready answer: Teachers are regarded by almost half of the American public as belonging to an occupation of "very great prestige," whereas only 15 percent regard union leaders that way. The teacher union has been so successful in downplaying its identity as a labor union that a survey of members of the Alabama Education Association in 2000 showed only 19 percent regarded the NEA as a union, with an overwhelming 77 percent saying it was "a professional association."

Democrats' New Slogan: No Teacher Left Behind. The traditional greeting at the Democratic National Convention is, "Where do you teach?" On rare occasions, the greeting is modified to, "Where does your husband teach?" or "Where does your gay lover teach?" (Democrats could save a lot of money by holding the Democratic National Convention and the National Education Association Convention at the same time.)

John Kerry sells out to big education. The National Education Association, the nation's largest professional employee organization, is fundamentally opposed to any education reform that seeks to hold public schools accountable for their failures. On July 3, it will hold its national convention in Washington, D.C. That's when the association is expected to endorse John Kerry for president. Along with the endorsement will come thousands of votes from teachers across the country.

Political activism takes center stage for NEA. To no one's surprise, delegates to the annual National Education Association convention voted 7,390 to 1,153 to endorse U.S. Sen. John Kerry, D-Mass., for president.

Reds at NEA. The District of Columbia cell of the Communist Party USA has been revealed as holding a monthly luncheon in the cafeteria of the National Education Association (NEA), without the sponsorship but not with the disapproval of the huge, politically powerful schoolteachers union.

Teacher unions get active. School's out, but the nation's teacher unions will be working overtime this summer to help elect John Kerry president.

Other Teacher Union News: In March [2004], more than half of Philadelphia's middle school teachers failed their content exams for certification as "highly qualified" teachers. Nearly two of every three teachers who took the math exam failed it, though one teacher who achieved a perfect score said the test "mostly included seventh- and eighth-grade math and touched on high school math."

Called to the Principal's Office: The nation's largest teachers' union may soon come to regret the educational-policy buzzwords "accountability" and "testing."

Captive Democrats: About 28 percent of the delegates and alternates to the Democratic convention were members of the AFL-CIO or the National Education Association. This is unrepresentative of the population of the whole — only about 15 percent of the work force belongs to unions. Nor is it representative of union members themselves, many of whom have been forced to join unions against their will to hold a job. While the labor leadership is almost unanimously Democratic, 40 percent of union voters supported the GOP in 1994.

The Gathering: You may be under the impression that teachers teach because they are "called in life" to help build a better society. Hearing this suggestion, one union representative said, "That is only for public distribution." They put up with these undisciplined, uncontrollable [illegitimates] for the money.

Oklahoma Teacher Salaries Compare Favorably to Other States: In May 2003 the National Education Association reported Oklahoma is "47th in the nation in public school teacher pay." Unfortunately, Oklahoma's efforts on behalf of elementary and secondary school teachers are rarely put into proper perspective. When differences in tax burden, living costs, employee benefits, and working conditions are taken into account, Oklahoma teacher salaries actually compare favorably to teacher salaries in other states, as well as to salaries of other workers in Oklahoma.

The Education Costa Nostra: Since the job of unions is to accumulate leverage and money, they've fought President Bush and Rod Paige on every meaningful education reform they've proposed.

ACLJ Letter to the National Education Association: The purpose of this letter is to formally object to your recommendations to parents and teachers regarding the anniversary of the terrorist attacks of one year ago included on your "Remember September 11th" website. In particular, we take issue with your advice for parents and teachers: "Do not suggest any group is responsible." The problem with this advice is that there is a group responsible, and we know who that group is - an organization of radical Islamic terrorists called al-Qaeda. By advising teachers not to suggest that any group is responsible, you both shortchange our children's education and risk undermining our nation's effort to eradicate terrorists and prevent further terrorist attacks.

Reforming education against all odds: Teachers unions recoil from accountability and resent evidence that all is not well, or that whatever is wrong cannot be cured by increased funding of current practices. But per-pupil spending, adjusted for inflation, is three times what it was 40 years ago, and the pupil-teacher ratio is 40 percent lower, yet reading scores are essentially unchanged.

NEA confirms spending audits: The National Education Association has confirmed that the Labor Department as well as the Internal Revenue Service are investigating whether the 2.7 million-member school union properly reported millions of dollars in political spending.

Teachers Unions: Are the Schools Run for Them? Public education is the most expensive "gift" that most Americans will ever receive. Government school systems are increasingly coercive and abusive both of parents and students. Government schools in hundreds of cities, towns, and counties have been effectively taken over by unions, and children are increasingly exploited, thwarted, and stymied for the benefit of organized labor.

Let unions pay for their own business. We could buy a stack of textbooks three times higher than the tallest building in Denver with what we're paying teachers for union leave days.

Plundering "for the children": When corporate moguls get nabbed for ripping off shareholders, the media go ape-wild. Last year's front-page headlines were filled with Big Business scandals and barrels of op-ed indignation about capitalist greed. But when teachers' union officials plunder their members' coffers in Enronic proportions, the media go ... AWOL.

IRS Audits Nation's Top Teachers' Union. The IRS is auditing the nation's largest teachers union, scrutinizing an organization that works energetically to elect candidates but files tax returns reporting zero political expenditures from member dues.

Smash the NEA. The Internal Revenue Service is auditing the nation's largest teachers union — one that works energetically to elect candidates, lobbies the Congress on legislation, but files tax returns reporting zero political expenditures from member dues.

Complaint: Teacher's union evading taxes. Alleges NEA failed to report properly on money spent for political activity.

Hopefully WEA is next in line for an IRS audit. Headlines around the nation announced today that the National Education Association is being audited by the IRS for reporting "zero" political expenditures on its tax forms, even though the union spends millions each election cycle to elect candidates and influence policy.

Teacher Unions Crush Philanthropy and Volunteerism. In October [2003], the Mayor of Detroit and Michigan Governor Jennifer Granholm turned away a $200 million gift offered to create 15 small charter high schools in Detroit.

Activists Rally Against NEA. The resolution culminates years of pro-homosexual actions by the NEA, an association for public school teachers that unwaveringly lobbies for liberal causes, which ultimately reach our children in the classroom.

NEA Backs Away from "Gay History Month". While they repealed their overt support for recognizing a "Lesbian and Gay History Month" and "sexual orientation education," the resolutions they passed in their place use different words to say exactly the same thing!

NEA Wastes Money on Washington PR Firm. Instead of paying a big PR firm to tell NEA leadership that a Gay and Lesbian History Month is a bad idea, the NEA leadership could have listened to the over 20,000 letters and phone calls that inundated the organization's national office after Concerned Women for America launched a massive campaign to alert the public of NEA's passage of the controversial resolution.

Teachers Union Scandal in the Nation's Capital: Once again we find that a vocal critic of Enron is embarrassed by scandal in her own ranks.

Washington State Think Tank Takes on the NEA: This past April, [2002], the Evergreen Freedom Foundation sued the National Education Association (NEA) for illegally using member dues to influence state electoral politics.

The looters liberals ignore: Peter Jennings and the New York Times couldn't get enough of the looting stories out of Iraq. But they couldn't care less about a massive, systematic looting scheme here at home that is robbing America's schoolchildren and rank-and-file teachers blind.

Reactionary unions: [I]t is insufficient that the public schools should be public. More to the point is that they should teach.

Education Lobby Cited as Primary Cause of Teacher Shortage: NEA gives more weight to "Education" degree than to professional qualifications.

Gary, Indiana, cancels school amid strike. Officials on Thursday [8/24/2006] indefinitely canceled classes citywide after teachers, striking for a fourth day, blocked streets and swarmed a car attempting to park at an elementary school. Two picketers were slightly hurt as the car rolled through the crowd.

Teacher strikes are illegal and poorly timed: Even if teacher strikes were legal (they are not), the timing of the union's latest demands (cost-of-living increases plus ten percent and expanded health benefits) is poor and unprofessional.

Washington's education establishment: According to The Washington Times and D.C. Watch, the FBI, IRS, Department of Labor and the D.C. Inspector General's Office have been looking into suspected criminal conduct by officers of the Washington Teachers Union.

Teachers Union Being Prosecuted for Illegally Spending Fees: The nation's largest teachers union is being prosecuted for illegally using fees paid by non-members for political purposes.

Hawaii Teacher Union Sued for Violating Professors' Civil Rights: University of Hawaii employee files case to stop the illegal seizure of dues spent for politics.

Christian Educator Perturbed by NEA's Post-Sept. 11 Stance: Dr. Robert Simonds, president of the National Association of Christian Educators, says American schoolchildren should be warned about the severe threat that Islam poses to their country. "We are at war with the Muslims. We are at war with right and wrong. We are at war with evil. And we are war with that Islamic religion because that's the religion that specifically names the Jew and the Christians to be destroyed," Simonds says. "So how can anybody say that it's not going to harm our children?"

No-fault Terrorism? NEA-linked article says not to "suggest any group is responsible" for 9-11 attacks.

Moral disarmament: The National Education Association has weighed in with suggestions to guide teachers on the first anniversary of the terror attacks. "Do not suggest," the NEA advises, "that any group is responsible. Do not repeat the speculations of others, including newscasters. Blaming … is especially difficult in terrorist situations because someone is at fault." Well, yes, someone is always at fault. And unless those "someones" are right-wing radio hosts, liberals just hate to see them blamed for anything.

NEA execs collect 8 times teacher pay: A public-policy think tank says the leadership of the National Education Association, the country's top teachers' union, is so far removed from ordinary classroom environments they can no longer relate to the tasks facing working-class teachers.

The NEA: Let the Indoctrination Begin! The one-year anniversary of the September 11 attacks is only weeks away, and the National Education Association is all revved up and ready to help public school teachers indoctrinate malleable young minds.

Some of the NEA Resolutions Passed at 2002 Convention in Dallas: [The NEA] "believes that closed public school buildings should be sold or leased only to those organizations that do not provide direct educational services to students and/or are not in direct competition with public schools." [This shows that the NEA is protecting its education monopoly and suppressing competition.]

Decoding the (1999) NEA Resolutions: Because so many NEA resolutions are written in a jargon that obscures their real purpose, here is a glossary to explain what some terms really mean.

NEA Slapped With $800,000 Fine for Misappropriating Union Dues: The National Education Association is crying foul play after a Washington state judge slapped the country's largest teachers union with an $800,000 fine for failing to show up for court on charges that it was illegally spending members' dues on politics. Evergreen Freedom Foundation President Bob Williams testified June 20 in front of Congress that the NEA's treatment of members "may be the last institutionalized civil rights violation remaining in our nation."

Union Called the Shots on Democrats' Agenda: A complaint, filed with the Internal Revenue Service on July 20, [2001] alleges not only that the NEA extensively coordinated campaign activities with the Democratic National Committee but also — despite reporting zero spending for political activities — that the teacher union used millions of dollars of tax-exempt funds for political purposes.

Union Hid Political Spending, Suit Charges: The 2.7 million members of the National Education Association apparently get a terrific bargain for their membership dues: Political clout at no expense.

North Carolina Concerned About Teacher's Union: The more-than-cozy relationship between the North Carolina Association of Educators and the Democratic Party should be a matter of concern for the parents of this state's youngsters. One problem, of course, is that the NCAE and the National Education Association have consistently adopted positions on social and political issues which are far to the left of mainstream.

Pro-Family Leaders Continue to Rip National Educators' Union: The NEA's guidelines for commemorating the September 11 terrorist attacks have been called "outrageous," "un-American," "pro-terrorist," and "treasonist" by critics. The suggestions that no individual or group be blamed for the attack — and that America is to blame — have been subjected to harsh criticism.

Local schools? Don't make me laugh! As parents prepare to send their children back to school, more and more of them at some point discover that their local school board has no control whatever over what is taught in their schools. They discover that the schools are controlled by a combination of the teacher's unions and the federal government.

Socrates and the School Fraud: Over two thousand years ago, Socrates told us that if someone started charging money for teaching the youth things that are well known to virtually every adult in the society, it would be fraud. Today, that fraud is well established in our country. Schooling has been taken over and adulterated by government for political purposes and enforced by laws of compulsion. It has been corrupted by teacher unions that keep well educated people out of the public schools by requiring the teachers to be not only "certified" but union members. Those requirements guarantee that only mediocre caliber people will work in the government-run schools.

In Search of… the "Certified" Teacher: It is a farce and a fraud when teachers' unions talk about a need for "certified" teachers, when certification has such low requirements and when uncertified teachers often have higher qualifications.

WEA orders teachers and their representatives to be quiet, or else… After an annual arbitration hearing last week, the Washington Education Association (WEA) drafted a retroactive "gag order" for staff of the Evergreen Freedom Foundation (EFF) and several other individuals. The order, signed by attorneys from the WEA and an American Arbitration Association arbitrator, attempts to prohibit teachers and their representatives from ever talking about what took place at the union's hearing.

Complaint accuses NEA of misusing funds to aid DNC: The National Education Association concealed its use of millions of dollars in tax-exempt teachers' dues and fees for political activities, primarily for Democratic candidates and causes, according to a complaint filed yesterday [4/22/2002] by the Landmark Legal Foundation.

School Boards: Tainted By Liberal, Union Bias? Eighty percent of school board members in a recent survey describe themselves as either moderate or conservative, with only 15.9 percent owning up to a liberal philosophy. Yet many conservatives believe school boards have lost sight of their mission — to serve the interests of kids, parents and the public. The National School Boards Association (NSBA), which conducted the nationwide survey, and many of the nation's school boards individually, have fought school choice reforms like charter schools and vouchers.

Time for outrage! In exchange for NEA money and votes, Democrat politicians will not allow consequential school reforms to take place. Only an informed and outraged people can change this.

NEA: Warping young minds. Between them, the NEA and the American Federation of Teachers (NEA's ideological twin) represent upward of 85 percent of the nation's public school teachers. In terms of shaping the content of public education, the NEA is more powerful than all the school committees and education boards in the land.

NEA "Will Not Back Away" From Homosexuality Issue: The head of the nation's biggest teachers union Thursday denied the union had backed away from a proposal to seek a greater emphasis on teaching about homosexuality in public schools.

Pro-Family Groups Attack NEA's Alleged Homosexual Agenda: Conservatives are stepping up their efforts to thwart the National Education Association's expected push to teach homosexuality in public schools.

Back to the top of the page


---
"You cannot strengthen the weak by weakening the strong. You cannot help the wage earner by pulling down the wage payer. You cannot further the brotherhood of many by encouraging class hatred. You cannot help the poor by destroying the rich."

— Rev. William J. H. Boetcker, 1916.
---

Back to the Organized Labor Page
Back to the Education Issues Page
Back to the Home Page