The Democratic Party is moving further to the political left, and adjectives like Socialist are no longer being avoided. Some of the candidates who are being enthusiastically promoted by the party are indistinguishable from communists. For years, the Democratic Party platform has been completely out of sync with the American mainstream, even though it has the reliable support of the national news media. But some of the newcomers have ideas that are really odious.
Subsections on this page:
Previously-unknown candidates appearing from nowhere
Cory Booker
Kamala Harris
Kirsten Gillibrand
Amy Klobuchar
Howard Schultz
Bernie Sanders
Robert F. "Beto" O'Rourke
Julia Salazar
Pete Buttigieg
Michael Avenatti
Andrew Gillum
Julián Castro
Bill de Blasio
Cynthia Nixon


Related topics on other pages:
Joe Biden
Elizabeth Warren
Alexandria Ocasio-Cortez and the Green New Deal
The Socialist Democratic Party platform
Liberals are out of step with America


---
Previously-unknown candidates appearing from nowhere
How Does a Straight White Male Democrat Run for President? Of the nine candidates officially running in the Democratic presidential primary, only one is a heterosexual white man. And that guy, former Rep. John Delaney, generally polls somewhere between zero and 1 percent. But of the 17 Democrats reportedly still pondering a presidential bid, all but one is a straight white man. It's hard to chalk that up to coincidence. Clearly, the women and minority candidates sensed that the water is warm for them, and the straight white men appear to be worried that this is just not their year.
The Democrats' Nomination Contest Promises Great Fun for Conservatives. This may be the election cycle where we watch identity politics destroy itself live on stage. It'll be the greatest show on earth. With multiple declared candidates, the 2020 election season is now underway. And there couldn't be more hype for the forthcoming Democratic primaries, which will feature candidates with plenty of flaws trying desperately to prove their woke credentials.
Democratic Presidential Clown Car Update for January 21, 2019. This week in the clown car update: Lots climbing in, one getting out. New York Senator Kirsten Gillibrand and California Senator Kamala Harris are both In and Pennsylvania Senator Bob Casey. Jr. is Out. Plus a few more no-hope longshots considering a run.
2020 Candidate Tulsi Gabbard Once Worked For Anti-LGBT Group, Railed Against 'Homosexual Extremists'. According to a new report by CNN's Andrew Kaczynski, Rep. Tulsi Gabbard — who just announced her intentions to run for president in 2020 — once touted her work for an anti-LGBT organization and railed against "homosexual extremists." Gabbard's prior comments are in sharp contrast to her more recent record in support of LGBT rights and seem to stem to work she did with her father. Gabbard's father, Mike, was an anti-LGBT activist in Hawaii and ran a political action group that promoted traditional marriage.
Two Obscure Dems Enter Presidential Race. Technically, Elizabeth Warren is "exploring" whether to run for president. For all intents and purposes, she's running. Now, she's been joined by Rep. Tulsi Gabbard of Hawaii and former HUD Secretary Julian Castro. Gabbard announced her candidacy yesterday; Castro entered the race today [1/12/2019].
The Limits of the Invisible Primary. Elizabeth Warren launched the 2020 cycle on New Year's Eve when she announced the formation of her presidential exploratory committee. She'll be traveling to Iowa this coming weekend. Meanwhile, Kamala Harris is about to embark on a national book tour. Julian Castro is set to announce his candidacy January 12. The Atlantic says Washington governor Jay Inslee will run on climate change. (He's against it.) John Delaney, Richard Ojeda, and Andrew Yang are already in the mix. Bernie, Biden, Bloomberg, Beto, Booker, Bennett, Bullock, Gillibrand, Hickenlooper, Schultz, and Klobuchar may soon join them.
Michelle Obama is the Democrat 2020 frontrunner, even if she doesn't want to be. Sales records for her memoirs confirm that her candidacy would combine the slobbering media and Democrat love affair for her husband with the steroid of Trump Derangement Syndrome.
More about Michelle Obama.
The Democratic Party's Alt-Left. The Democratic Party has an alt-left problem, and no one at CNN seems to care. The DSA has been aggressively pushing its members to run as Democrats, and they're winning. Here are three that embody what's going on: Alexandria Ocasio-Cortez, Summer Lee, and Sara Innamorato. Alexandria Ocasio-Cortez is, of course, the poster-girl for the new zeitgeist. That unclean spirit is the wind of "democratic socialism," which is the rage among the Trump "resistance." But Ocasio-Cortez isn't the only young woman scoring big in the Democratic Party for the DSA. Two others are here in my backyard of Western Pennsylvania, Summer Lee and Sara Innamorato, who defeated longtime state reps Paul and Dom Costa. The Costas (they are cousins) were classic Western Pennsylvania Democrats, expected to hold their seats for life, until they were beat soundly in May in the primary by Lee and Innamorato, both of which now run unopposed in the general election and will glide into the state house as elected socialists. Well, actually, as "democratic socialists" who ran as Democrats.
Democrat Candidate for Governor Is Dead Broke, Owes $77,522 in Credit Card Debt, and Wants to Run Georgia Economy. Georgia Democrat Stacey Abrams became the first black female candidate to win a major party primary for governor in May. Stacey Abrams was the guest of honor at the Democrat "Way to Win: 2022 Victory Party" at the party's annual spring conference. Abrams and fellow Democrats want reparations for blacks and free college for all kids. It's a socialist's dream. Stacey wants to run the Georgia economy. But she is deeply in debt. Stacey owes $96,512 in student loan debt and $77,522 in credit card debt.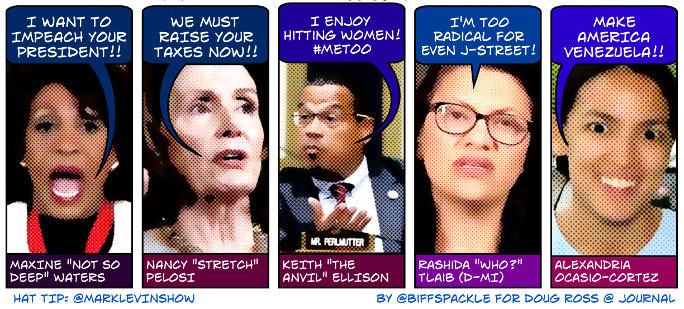 November Is Coming. If you don't show up in November, these will be your new leaders in Congress: [Illustration] Impeachment proceedings? Non-stop subpoenas? More appeasement of China and Iran? Marxists in Congress? Start mobilizing your family, your friends, your colleagues now. It is our mission to send these Communists packing in November.

Note: Keith Ellison is running for Attorney General of Minnesota, not for re-election to Congress.



Cory Booker

Cory Booker Says The Earth 'Can't Sustain' People Eating Meat. On Tuesday, Rep. Liz Cheney (R-WY) had a pointed response to Senator Cory Booker (D-NJ), who is a vegetarian and was quoted saying that the earth "can't sustain" people eating meat. [...] Booker co-introduced the Green New Deal, which had its own problems with cows. He stated: ["]Climate change is a pressing and serious environmental and economic crisis that threatens the way of life for our kids and grandkids. This challenge must be met with a commitment from the federal government that is commensurate with the level of commitment we saw in this country during the original New Deal. And that's exactly the type of determination this proposal brings. Communities of color, low income communities, indigenous communities and our family farmers are on the front lines of climate change, and I'm particularly encouraged that this blueprint addresses climate change in a way that promotes both economic and environmental justice."

Spartacus Compares Bovine Flatulence Regulation to Defeat of Nazis and Moon Landing. Cory "Spartacus" Booker rallies his presidential coalition to advocate for the Green New Deal by comparing bovine flatulence regulation to the U.S. moon landing and defeat of World War II Nazism. The over-their-head irony is that "Nazism" is technically national socialism; which is exactly the current point of political advocacy within the Spartacus coalition.

Cory Booker makes himself look the fool, again. Sen. Cory Booker made himself look the fool yet again this week while questioning judicial nominee Neomi Rao. At Tuesday's [2/5/2019] confirmation hearing, the Jersey Democrat senator went after Rao with the clear suspicion that she's some kind of religious bigot, asking first: "Have you ever had an LGBTQ law clerk?" Her reply exposed Booker's total lack of preparation: "I have not been a judge, so I don't have any law clerks." He fell back to asking if anyone now working for her is LGBTQ — and she humiliated him again: "To be honest, I don't know the sexual orientation of my staff. I take people as they come, irrespective of their race, ethnicity, sexual orientation."

Vacuous Gasbag Joins the 2020 Clown Car. Just what we need. Yesterday Spartacus Booker declared that he is a candidate for President. Unlike vapid lightweights Kamala Harris, Elizabeth Warren, and Kirsten Gillibrand, this preening, vacuous gasbag actually has executive experience. He served as the Mayor of the Murder Capital of New Jersey.

Democratic Senator Cory Booker declares bid for presidency. New Jersey Sen. Cory Booker, the former mayor of Newark, on Friday [2/1/2019] said he will seek the Democratic nomination for president with a sweeping call to unite the nation around a "common purpose." The 49-year-old Democrat, the second black candidate in a primary field that's already historically diverse, made his announcement in an email and video on the first day of Black History Month.

Booker calls for legalizing marijuana as he launches 2020 bid. Democratic Sen. Cory Booker (N.J.) is calling for the legalization of marijuana as part of his 2020 presidential campaign. Booker discussed criminal justice reform and the need for "changing our drug laws," including "ending [the] prohibition against marijuana" on the radio-syndicated "Tom Joyner Morning Show" on Friday [2/1/2019].

Kamala Harris

Kamala Harris [was] Literally Speechless When Asked About Jussie Smollett Hoax. She said it was a modern-day lynching; she said it without evidence; now that the evidence disproved her assumptions, she has nothing to say. 2020 presidential candidate Kamala Harris was literally speechless when confronted by reporters about recent revelations that "Empire" star Jussie Smollett may have staged a hate crime in order to allegedly gain attention. Upon initially hearing about the alleged hate crime, Harris accepted it at face-value despite the obvious holes in Smollett's initial story.

Jussie Smollett: A Case Study in Modern Liberalism. The noose thing was a clever touch. As my observant young colleague, Matt Miano, pointed out to me, Smollett was photographed approximately a year prior to his "noose attack" alongside Sen. Kamala Harris at a protest in Los Angeles. Kamala Harris sponsored an "anti-lynching bill" in the Senate in late 2018 to make lynching a new federal crime. The bill had always previously stalled in the Senate, because it was seen as an unnecessary political gimmick, meant to remind people of historical black oppression in the South. Murdering people with a rope has always been a crime under state law. In the wake of Smollett's faked "noose assault" in Chicago on Jan. 29, Harris's anti-lynching bill unanimously passed the Senate on Feb. 14. Imagine that! And who was one of the first Democratic luminaries to jump in with outrage and sympathy for poor Jussie Smollett following the alleged assault by the evil MAGA headdress-sporting bleach purveyors? You guessed it. Senator Kamala Harris.

Brit Hume Takes On NBC Reporter And Obama Adviser Over Kamala Harris Coverage. Fox News Senior Political Analyst Brit Hume took issue with the way several reporters covered the Kamala Harris campaign — and defended himself when NBC's Kasie Hunt and former Obama adviser Ben Rhodes fired back. It all began with a Saturday tweet from CBS political reporter Caitlin Huey-Burns, who posted a video of Harris trying on a rainbow-colored sequined jacket — apparently at the behest of CNN national political reporter Maeve Reston.

Democracy also dies in a boutique with Kamala Harris. Sen. Kamala Harris, who's running for president, has quite a back-up crew for her photo ops as she campaigns in South Carolina. The girls on the bus not only covered the news, they joined in the fun. A video posted by CBS News political correspondent Caitlin Huey-Burns shows her press buddy CNN correspondent Maeve Reston picking out a new jacket for Harris, the star of the show, to try on in front of a mirror in a South Carolina boutique. Squeals and giggles followed. As Harris staged a shopping trip with the cameras on, the whole chick moment, politicians and press united, was captured by Reston's buddy on Twitter. The women's vote is now assured!

Female 'Journalists' Go Clothes Shopping With 2020 Dem Hopeful Kamala Harris. Female 'journalists' went shopping in South Carolina on Lady Street with 2020 Democrat darling Senator Kamala Harris (D-CA) on Saturday and even helped her pick out a sequin jacket to buy. CNN reporter Maeve Reston posted a video of Kamala Harris trying on the sequin jacket and bragged that fellow NBC reporter Ali Vitali named it the "Mardi Gras Jacket."

CNN: Clothes Shoppers for the Rich and Famous. In 2016, Hillary was the candidate of the liberal press. Who will be the anointed candidate next year? Kamala Harris is a good bet. She features Hillary's leftist politics along with a "minority" look, probably a requirement in the next Democratic nominee. She is also considerably better looking than Hillary. So the press loves Kamala Harris. Can reporters take the affair too far? This morning, Harris went clothes shopping in Columbia, South Carolina — an early primary state. Reporters helped her try on clothes. Seriously.

Why some African Americans are questioning Kamala Harris's blackness. Sen. Kamala D. Harris (D-Calif.) is running to become the first black female president. But in the early days of the campaign, she's had to answer questions about the "legitimacy" of her "blackness." [...] Harris has had some different life experiences than many black Americans. Her father is a Jamaican immigrant; her mother is a Tamil Indian immigrant. Her husband is a white man from New York. While she was born in Oakland — a city with a rich history of African American activism — Harris spent her early childhood in Berkeley, Calif., and worshiped at a Hindu temple in addition to attending black Baptist services. She attended high school in Montreal before returning to the United States for college at Howard University, a historically black college.

Kamala Harris Packed California Prisons for Peddling Pot. Sen. Kamala Harris (D., Calif.) admitted in an interview this week to using marijuana, an act that landed thousands in prison while she was California's Attorney General and opposed legalization of the drug. The drug use admission to the "Breakfast Club" came as part of Harris' attempt to erase the reputation she earned as a California prosecutor. She is now calling for legalizing marijuana as a first step to end the War on Drugs, but opposed marijuana legalization during both her 2010 campaign for Attorney General and 2014 re-election campaign, when she notably lost support from the marijuana industry after she laughed at her Republican opponent for supporting legalization. Under Harris's six-year tenure, hundreds were sent to state prisons for marijuana-related offenses, crime records show.

The Woman Behind the Kamala Harris Presidential Campaign Is Ann Richards's Granddaughter. California Senator Kamala Harris had what many consider a boffo kickoff last week for her Democratic presidential campaign — a huge rally in Oakland, the most widely viewed CNN candidate town hall ever, and kudos from pundits. While Harris was everything her handlers could hope for — poised, polished, prepared — there's always someone behind that kind of success, someone who helped plan and pull together the events, a strategist with a steely vision. In this case, it was a Texan with a political pedigree: Lily Adams, the 31-year-old granddaughter of Texas icon and former Governor Ann Richards, and daughter of former Planned Parenthood president Cecile Richards.

Mainstream Media Working Hard to Shore up Kamala Harris — is She the Female Obama? It seems like virtually every major Democratic politician in the entire country is at least considering running for president, and a bunch of them have already officially entered the race, so why is the mainstream media pushing Kamala Harris so hard? [...] She has been dubbed "the next Obama" or the "female Obama" by many on the left, and just like we witnessed in 2008, the mainstream media can't help but gush about how wonderful she is.

Yes, but there's already a female Obama.

Harris: No Reason to Have Assault Weapons in a Civil Society. During a CNN-sponsored town hall in Iowa Monday night, Sen. Kamala Harris (D., Calif.) said there is "no reason" to have assault weapons in a civil society. "We have got to have smart gun safety laws in this country, and we've got to stop buying this false choice. You can be in favor of the Second Amendment and also understand that there is no reason in a civil society that we have assault weapons around communities that can kill babies and police officers," Harris said. Harris, one of the many Democrats running in the 2020 presidential primary, held a town hall in Iowa where a pastor asked what she would do to tackle gun violence.

Kamala Harris Sounds a Lot Like an Authoritarian. It wouldn't be fair to accuse presidential hopeful Kamala Harris of supporting state control over the means of all production. To this point, the junior senator from California is focused only on the energy, health care, auto manufacturing and education sectors. Good candidates prioritize. In this age of hyperbole, I sometimes worry about overusing words such as "socialist" and "authoritarian." Yet if we accept that an authoritarian is a person who favors or enforces strict obedience to authority, especially that of the government, at the expense of personal freedom, I'm not sure how anyone watching Harris' campaign kickoff this week could maintain that her policy positions do not fit that description. For starters, here are some of the things that Harris believes the state can ban at the expense of your personal freedom: private health insurance, your car, affordable energy, political speech, your guns and for-profit colleges. Of course, the media, complicit in normalizing these hard-left positions over the past decade, treat her agenda as the centrist option for voters.

Harris and progressives are pitching Medicare-for-all. Will she or won't she? Is Sen. Kamala D. Harris (D-Calif.) really going to run on Medicare-for-all the hard way — not as a buy-in for people who want to, but as a ban on private insurance? On Monday [1/28/2019], when Harris sat down for a CNN town hall discussion, the answer seemed to be yes, she's doing the Full Bernie. On Tuesday there were rumors she'd walked it back. And by Wednesday, maybe the walkback was itself being walked back?

"The Next Obama"? Why Is The Mainstream Media Working So Hard To Promote Kamala Harris? It seems like virtually every major Democratic politician in the entire country is at least considering running for president, and a bunch of them have already officially entered the race, so why is the mainstream media pushing Kamala Harris so hard? According to Real Clear Politics, Kamala Harris has not gotten more than single-digit support in any of the 11 major polls for the Democratic nomination that have been conducted so far. And at this point, her average of just 5.0 percent support in those polls puts her in fourth place in this race. But if you listen to the mainstream media, they are constantly using terms such as "leading contender" and "frontrunner" to describe her. In recent days she has been getting more media attention than all of the other declared Democratic candidates combined, and that makes one wonder what is really going on behind the scenes.

Willie Brown says Kamala Harris threatened him with indictment after their affair that helped launch her political career. A week after Sen. Kamala Harris announce that she was running for president, on a weekend when the California Democrat held a big rally in her hometown of Oakland, the former mayor of San Francisco, Willie Brown, confessed that Harris was once his mistress. Brown, 84, also stated that he used his influence to essentially launch her political career. In a weekly column Brown does for the San Francisco Chronicle that was focused on Harris' presidential run, he spoke of an extramarital affair he said he had with Harris.

Kamala's town hall notes: I'll take away your doctor, your guns, your wealth, your free market, your wall. Any questions? Instead of moderating her political positions going into the 2020 presidential election so that she can appeal to more Americans, Democrat candidate Sen. Kamala Harris has chosen to go full left-wing. During a CNN town hall Monday evening [1/28/2019], the California congresswoman endorsed plans to eliminate the fossil fuel industry and the private healthcare market. All that in just one night.

Kamala Harris Walks Back Call to Eliminate Private Health Insurance. Sen. Kamala Harris (D-CA), 2020 presidential candidate, walked back her call for eliminating private health insurance and replacing it with a single-payer, government-run "Medicare for All" program less than 24 hours after she made her inflammatory remarks. Harris inflamed controversy on Monday night during a CNN town hall in which she suggested that she would eliminate private health insurance for millions of Americans and replace it with a "Medicare for All" socialized medicine program.

Kamala Harris' plan to eliminate private insurance. California Sen. Kamala Harris — who has announced her candidacy for the 2020 presidential Opens a New Window. election — voiced support for a Medicare-for-all system that would potentially eliminate the entire private insurance market. A Medicare-for-all system would extend coverage of the government-run program — which currently only covers the elderly — to everyone.

Flipping, flopping, backtracking: Kamala Harris just isn't ready for prime time. Just one day after she formally announced her presidential bid in Oakland to big crowds and applause, Kamala Harris is already on her back foot, flip-flopping on a major campaign stance right out the gate. Monday, she said this, causing a lot of murmuring among Democrats who distanced themselves from her sweeping pie-in-the-sky proposals.

Kamala Harris vows to get rid of private health care plans: 'Let's eliminate all of that. Let's move on'. California Democratic Sen. Kamala Harris, speaking during a town hall Monday night [1/28/2019], vowed to eliminate all private health care insurance for approximately 150 million Americans if she is elected president. Asked by CNN host Jake Tapper if people who like their current health care insurance could keep it under Harris' "Medicare for All" plan, Harris indicated they could not — but that, in turn, they would experience health care without any delays. Her statements appeared to be a full-throated call for single-payer health insurance, as opposed to merely expanding Medicare, and a dramatic embrace of the kind of proposals advocated by Vermont Independent Sen. Bernie Sanders.

Kamala Harris Was Right About Medicare for All (And That's Why It Won't Work). Sen. Kamala Harris committed a most unusual gaffe at her CNN town hall the other night — not by misspeaking about one of her central policy proposals, but describing it accurately. Asked on Monday night if the "Medicare for all" plan that she's co-sponsoring with Sen. Bernie Sanders eliminates private health insurance, she said that it most certainly does. Citing insurance company paperwork and delays, she declared, "Let's eliminate all of that. Let's move on."

Democrats distance themselves from Harris' call to eliminate private health plans. The emerging 2020 presidential campaign has deepened the Democratic party's divide over how the government should cover all Americans, further exposing the differences between those who want a total overhaul of the health care system and those who prefer a more incremental approach to fix it. Sen. Kamala Harris of California renewed the party's debate over single-payer health care in a CNN town hall Monday [1/28/2019], saying she's willing to end private insurance, which more than 170 million Americans use. "We need to have Medicare-for-all," said Harris. "Who of us has not had that situation, where you've got to wait for approval and the doctor says well, 'I don't know if your insurance company is going to cover this.' Let's eliminate all of that. Let's move on."

Kamala Harris's Identity Ticket. Now that first-term Senator Kamala Harris has formally announced for the presidency in 2020, she has to be considered the odds-on favorite to win the Democrat nomination. This stems not from anything in Harris's relatively slight résumé, other than her "identity" and a hard-left stand on most issues. Harris checks almost all the critical boxes. Barring a particularly toxic skeleton in the closet or a major campaign error, she will likely end up President Trump's opponent in 2020. Harris identifies as both an African-American (her father is Jamaican) and Indian-American (her mother hails from the subcontinent.) Being half Native American and gay would be a bit better, but among the current crop of possible Democrat candidates, none identify better as far as Democrats are concerned.

Willie Brown admits it: Kamala Harris slept her way to the top. Kamala Harris, that vaunted self-righteous feminist candidate who's using her 'year of the woman' chops to challenge President Trump in 2020, has a little problem: She slept her way to the top. You know, the mistress thing, not exactly moving on up based on hard work or merit, that little advantage of good looks (President Obama called her the 'best-looking' state attorney general), employed to their optimal practical use. Her political patron, former lawyer to pimps, Mayor of San Francisco, and State Assembly Speaker Willie Brown, admitted he helped her get her political start, writing in his bloggy San Francisco Chronicle column: [...]

Kamala Harris Announces She's Running for President. Sen. Kamala Harris (D-CA) officially announced her candidacy for President of the United States on Monday, joining what is shaping up to be a crowded fray in the double digits. [...] Harris, who is the second black woman to serve in the Senate, announced her bid on Martin Luther King Jr. Day, signaling she will make civil rights a focal point of her campaign.

Sen. Kamala Harris announces 2020 presidential bid. Sen. Kamala Harris, D-Calif., announced on Monday [1/21/2019] that she will run for president in 2020, becoming the third senator since December to enter what is likely to be a crowded Democratic primary field.

Seven Key Facts About Democrats' Top 2020 Contender. [#1] Kamala Harris's career received a boost from a patronage job in dubious circumstances. In 1994, then-outgoing Speaker of the California State Assembly Willie Brown (D-San Francisco) appointed Harris to a state board with a $72,000 salary. The Los Angeles Times reported: "Harris, a former deputy district attorney in Alameda County, was described by several people at the Capitol as Brown's girlfriend." (Brown was married but separated.) [...] [#3] Kamala Harris was accused of using her state office to attack political enemies and reward friends. Harris was sued by conservative groups for forcing them to disclose donor information that the IRS allows them to keep confidential. She was also sued by a healthcare company that claimed she imposed undue restrictions when it tried to buy another company because she wanted to help her ally, the Service Employees International Union (SEIU).

The Left decides Kamala Harris is a cop — but she's running anyways. Any Democrat seeking to unseat President Trump will have to achieve at least one of the following: mobilize the base to achieve Obama-level turnout and enthuse the Left, or successfully splinter off ideological agnostics and the suburbs that defected from the GOP in the midterm elections. Candidates like Julian Castro or Sen. Elizabeth Warren, D-Mass., will probably focus on the former, while Sens. Sherrod Brown, D-Ohio, or Amy Klobuchar, D-Minn., would emphasize the latter. But most candidates will likely require a blend of both to beat Trump. This is where Sen. Kamala Harris, D-Calif., will have a problem.

Kamala Harris' record as 'progressive prosecutor' facing new scrutiny as she eyes 2020 run. As speculation grows over U.S. Sen. Kamala Harris's presidential aspirations, the California Democrat's record as a prosecutor and state attorney general are attracting new scrutiny. The perception that Harris, 54, acted as a "progressive prosecutor" during her tenure as the district attorney of San Francisco and then California's attorney general contradict her actions, a University of San Francisco associate law professor argues in an op-ed piece. "Time after time, when progressives urged her to embrace criminal justice reforms as a district attorney and then the state's attorney general, Ms. Harris opposed them or stayed silent," Lara Bazelon writes in the New York Times.

Twenty Things You Probably Didn't Know about Kamala Harris. [#6] In her first speech on the Senate floor, Harris declared, "An undocumented immigrant is not a criminal." She later avowed the belief that illegal immigration is "a civil violation, not a crime." This classification applies to only a portion of those in the country without permission. First, entering the country illegally has criminal penalties. Overstaying a visa is considered a civil violation, not a criminal one, with deportation as the appropriate penalty. But reentry without permission after deportation is a crime, as is, in most cases, working in the United States without legal residency, since it almost always involves some falsification of documents or lying on work forms under penalty of perjury.

What to Expect from a Kamala Harris Presidency. Democrats have always had schizophrenia when it comes to candidates from poor upbringings. On the one hand, they need such people to run for office and appeal to voters from poor upbringings. On the other hand, incredibly wealthy people like Nancy Pelosi and Dianne Feinstein still run the Democratic Party. Few survive the Scylla and Charybdis of identity politics. You have to show that you are part of an oppressed group and that the oppressor groups can trust you with their support and not get burned. Harris dances this line perfectly. She went to Howard University for her undergraduate work, guaranteeing her bona fides in the black community. She plays to a key donor class, LGBTs, because of her history as California attorney general.

Pocahontas and Krazy Kamala shamelessly pander for Nutroots support. The "Netroots," derisively — and accurately — called the "Nutroots" by some, is a group of hard-left activists who provide the ready foot soldiers when the left goes to electoral war. So would-be 2020 Democratic presidential candidates appeared before them, each trying to appear more insanely left-wing than the others, in an attempt to curry favor with the certifiably politically insane. Most prominent among them was Senator Elizabeth Warren, a Caucasian-American pretending to be an Indian-American, and Senator Kamala Harris, an Indian-American who prefers to emphasize being African-American. Senator Cory Booker was also there, almost as an afterthought, probably for comic relief.

Deserve? Based on what?
Sen. Kamala Harris: Black women deserve bigger role in Democratic politics. Sen. Kamala Harris said Friday black women deserve to have a bigger voice in the upper echelons of the Democratic Party and launched a preemptive strike against those that might try to criticize her vision as "identity politics." Mrs. Harris, the daughter of a Jamaican father and Indian mother, is thought to be laying the groundwork for a presidential run in 2020 and told liberal activists gathered in New Orleans for the annual Netroots Nation conference that the Democratic Party must become more diverse.

Kirsten Gillibrand

2020 contender Kirsten Gillibrand backs third gender classification at federal level. New York Democratic Senator Kirsten Gillibrand, a 2020 candidate, endorsed federal implementation of a third gender listing for Americans who identify as non-binary. Speaking at an LGBTQ-focused meet and greet in New Hampshire on Friday [2/15/2019], Gillibrand emphatically said "yes" about recognizing "X" as a third gender marker. Palana Belken, a transgender woman and organizer for the American Civil Liberties Union of New Hampshire, asked Gillibrand the question and applauded her quick answer. According to the Human Rights Campaign, the largest LGBTQ civil rights organization in the U.S., non-binary is an "adjective describing a person who does not identify exclusively as a man or a woman."

The Editor says...
"Insane" is not a gender. If you "identify" as the opposite sex, that doesn't change your chromosomes.

Kirsten Gillibrand Gets Awkward While Preaching At Church. Presidential hopeful Sen. Kirsten Gillibrand (D-NY) got awkward last week while preaching at Al Sharpton's National Action Network's King Day Public Policy Forum on Martin Luther King Jr. Day. "We will wear the belt of truth because we know the truth," Gillibrand yelled to the crowd while making awkward gestures. "We speak truth to power. We will put on the bright breastplate of righteousness because we know right from wrong." "And we will not forget it," Gillibrand continued. "We will hold that shield of faith, as Dr. King said, faith is taking the first step, even when you don't see the whole staircase. So hold on to that faith tightly."

The Editor says...
Ordinarily the separation of church and state people get very upset when Republicans deliver campaign speeches in churches, but when Democrats do it, that's okay.

Amy Klobuchar

The NRA Wrecks Klobuchar After She Uses Aurora Shooting To Push Gun Control. Three things are certain. Death, taxes, and Democrats using a tragic shooting to push for "sensible" or "common sense" gun control laws that are really just slow plays to confiscation. The latest up to bat is 2020 presidential candidate Sen. Amy Klobuchar (D-MN), who played the same tired tune during a campaign stop in Eau Clair, Wisconsin. The Minnesota Dem decided to use the recent shooting in Aurora, Illinois, as a soapbox to stand on.

Amy Klobuchar shoots herself in the foot with comments on the Aurora shooting. Only a week after launching her presidential campaign decrying global warming during a snowstorm in Minneapolis, the woman who wants to claim the mantle of a "moderate" Democrat has beclowned herself with a nonsensical statement. Even worse, as a veteran prosecutor — county attorney (D.A.) in the most populous county in Minnesota, responsible for all criminal prosecution — she missed a point squarely within her area of purported professional competence.

Klobuchar Says She Can Be 'Tough' on Staff in Response to Mistreatment Reports. Sen. Amy Klobuchar (D., Minn.) responded to reports that she has mistreated her staff for years following the announcement that she would be entering the Democratic field for president by saying she can be "tough" on employees because she has "high expectations." "Yes, I can be tough, and yes I can push people," Klobuchar said Sunday afternoon at Boom Island Park just outside downtown Minneapolis. "I have high expectations for myself, I have high expectations for the people that work for me, but I have high expectations for this country."

Prospective Dem candidate Amy Klobuchar's treatment of staff led to rebuke from Harry Reid: report. Sen. Amy Klobuchar, D-Minn., is expected to launch her 2020 presidential campaign on Sunday, but is facing an early crisis over a wave of accusations that she has mistreated staff — with her conduct reportedly getting so bad that then-Senate Minority Leader Harry Reid told her to change her behavior. Klobuchar is expected to announce her 2020 run in Minneapolis on Sunday. But that announcement was overshadowed this week when HuffPost reported this week that Klobuchar has such a bad reputation over her treatment of staff that a number of potential staffers have withdrawn from consideration to manage her campaign because of it.

Klobuchar's opening pitch sidetracked by staff horror stories. Sen. Amy Klobuchar is pitching herself for the White House as the commonsense Midwestern answer to President Donald Trump — while former staffers portray her as a brutal boss who mistreated them. The run-up to Klobuchar's expected presidential campaign launch on Sunday was sidetracked by former aides, speaking anonymously for fear of retribution, who described a toxic office environment including demeaning emails, thrown office supplies and requests for staff to perform personal chores for the senator.

'Klobuchar's Wrath': Minnesota Senator Once Hit Aide After Throwing Binder. Sen. Amy Klobuchar (D., Minn.) regularly left employees in tears and at one point hit an aide with a binder after throwing it in anger, according to former staffers who spoke to BuzzFeed News. The Minnesota senator's former staffers suggest she ran an office "controlled by fear, anger, and shame," BuzzFeed reports. Based on interviews and emails reviewed by BuzzFeed, Klobuchar "demeaned and berated her staff almost daily, subjecting them to bouts of explosive rage and regular humiliation within the office." Several staffers said employees were frequently left crying due to Klobuchar's anger, which involved yelling, throwing papers, and, in one case, accidentally hitting an employee with a binder.

Amy Klobuchar Reportedly Can't Get a 2020 Campaign Chief Because of Reputation For Mistreating Staff. Sen. Amy Klobuchar (D-MN) will announce this Sunday whether she is running for president. But one new report asserts that the Minnesota senator has had quite a bit of trouble getting someone to run her 2020 camapign — thanks to a reputation for mistreating her staff. According to HuffPost, at least three people have pulled out of consideration from running Klobuchar's presidential campaign. Klobuchar, according to the database Legistorm (via The New York Times), has the third most staff turnover of anyone in Congress. From 2001-2016, she was ranked No. 1 in that dubious category.

Howard Schultz

Run, Howard Schultz, Run — Don't Give In To Democrat Bullies. Starbucks tycoon Howard Schultz had barely gotten the words out of his mouth about a possible independent bid for president before an angry Democratic mob descended on him. He should ignore them. [...] Advisors said that the ferocity of these attacks took Schultz by surprise. They shouldn't have. This is standard operating procedure for today's Democrats. So far at least, the attempt to bully him from the stage hasn't deterred him. He's even showing some Trump-esque spine when it comes to responding to attacks.

The bad news for Democrats about a Howard Schultz run for president keeps getting worse. As I mentioned yesterday, a poll showed that Democrats have good reason to be very, very afraid of a Howard Schultz candidacy. [...] Their screeching isn't confined to just words. They've wheeled out their big slime machine, a PAC led by the founder of the George Soros-bankrolled Media Matters, to dig up and "reveal" dirt on Schultz in a bid to destroy his campaign. Thus far, they're failing miserably.

A republic, not a giant H.R. department. Democrats are vexed over Schultz. Spoiler alert: They consider him a spoiler candidate akin to Ralph Nader in 2000 or Jill Stein in 2016. In a close race, he would siphon votes from the Democratic Party's nominee and hand the election to President Trump. Schultz offered a rationale for his candidacy in USA Today on Tuesday: People seemingly want choice untainted by the Republican or Democratic Party brands. He noted that 66 percent of likely voters in a recent No Labels/HarrisX poll say "neither party is really representing my needs or interests." Moreover, a Gallup poll found that 57 percent of Americans believe the country could use a viable third-party.

How many people do what Michael Moore demands?
Michael Moore Says To Boycott Starbucks Until Howard Schultz Drops Out. The prospect of Starbucks CEO Howard Schultz running for president as an independent against candidates like Kamala Harris has scared the living daylights out of leftists, who fear he may split the vote in President Trump's favor.

The Democrats Lose Their Minds. I'm not a Democrat — in case you haven't noticed — but Howard Schultz is. [...] He's from Seattle, holds liberal positions on, as far as I can tell, every issue, and has donated gobs of money to the Democratic Party and to the last two Democratic presidents. But Schultz is also a democratic capitalist who attributes his phenomenal success — his fortune from Starbucks is around $3 billion — at least in part to America's culture of entrepreneurial risk-taking, minimal government interference in commerce, individual responsibility, and rule of law. He worries that the Democratic Party, radicalized by the presidency of Donald Trump, is in the process of abandoning support for the very aspects of American life that made his life possible.

Howard Schultz 'freaked out' by Democratic backlash to independent presidential run, rethinks effort. Howard Schultz is getting burned, like a bad cup of Starbucks coffee and it may force him to rethink his presidential aspirations. [...] Schultz has been the recipient in recent days of an angry backlash by leading Democrats after he announced he was exploring running as an independent last Sunday [1/27/2019] during a 60 Minutes interview. Schultz once described himself as a lifelong Democrat but said he now may break with his old party because he feels it has moved too far to the left on spending and taxes, while promoting programs that will saddle future generations with enormous debt.

Obama appointee claims Howard Schultz owes his success to ... government housing projects. Like him or not, Howard Schultz is a perfect 10. On the famous Forbes billionaire's list (Full disclosure: I once helped compile it), Schultz got a ranking of '10' in terms of how he acquired his Starbucks wealth. A ranking of '1' reserved for someone who completely inherited his pile and isn't doing a thing to increase it. A '10' is reserved for someone who started at the absolute bottom with significant disadvantages, broke the shackles, and soared to the top. Schultz is in that tiny club with a '10,' and in America, that's the highest status one can get, the biggest kind of American success story. Only in America... and yes, he did revolutionize business.

If Democrats Hadn't Embraced Crazy, Howard Schultz Wouldn't Be A Threat To Them. He's just a man, one who happens to be very wealthy. A very wealthy man who is considering using a slice of his substantial fortune to run for president of the United States. [...] Skipping the party process will allow Schultz to make his case more directly and won't require him to try to shift back to the middle like Democrats will after having spent their primary process veering to the left. But it also means no infrastructure in the states to get his name on all 50 ballots. The parties didn't construct this to make it easy for people working outside it to win. The hurdles Schultz faces can be overcome with money, which he has. Democrats know this and they're scrambling to try to convince him not to do it.

Alexandria Ocasio-Cortez's misplaced criticisms of billionaire Howard Schultz. Note to Rep. Alexandria Ocasio-Cortez: Americans, by and large, don't care if billionaires have billions of bucks. Americans, by and large, aspire to become billionaires themselves — or millionaires, or otherwise financially independent — and therefore don't have a problem with a country that gives the freedom to meet those economic goals. Hating wealth, hating the wealthy — those are socialist things.

Howard Schultz: Democrats Are Too Far Left. Former Starbucks CEO Howard Schultz, who is considering an independent presidential bid, said today's Democratic Party has moved too far to the left, a position hardly likely to win over leading Democrats who already fear that a Schultz candidacy could throw the election to President Donald Trump. In a spate of interviews Tuesday [1/29/2019], Schultz, a lifelong Democrat, took shots at several policies promoted by Democrats' leading lights. "I respect the Democratic Party. I no longer feel affiliated because I don't know their views represent the majority of Americans. I don't think we want a 70-percent income tax in America," the billionaire told CNBC's Andrew Ross Sorkin, referencing Representative Alexandria Ocasio-Cortez's (D-N.Y.) proposed marginal tax rate on incomes over $10 million.

Former Starbucks CEO Howard Schultz hires ex-Obama aide as communications advisor as he mulls running for president in 2020. Howard Schultz has hired ex-Obama aide Bill Burton as a communications advisor as the former Starbucks CEO mulls running for president in 2020, according to two sources with direct knowledge of the matter. Schultz's team has been speaking with potential staffers as the former Starbucks chairman debates whether to run for president as an independent, the sources added.

At least Mr. Schultz has run a successful business, unlike the last Democrat president.
Trump: Former Starbucks CEO Howard Schultz 'doesn't have the guts' to run for president. In an interview that aired Sunday night on the CBS show, Schultz said he was considering mounting an independent bid for president. The businessman, a Democrat, blasted his party and the GOP for what he called a "reckless failure" of constitutional responsibility. And he targeted the president's social media habits. "I think, like most people, I've become bored with President Trump and his tweets," Schultz told CBS.

Democrats take aim at Starbucks to 'school' Howie Schultz. It's pretty obvious that's what's going on, a huge plan of personal and professional destruction just one day out the gate of Schultz's 60 Minutes interview, where he said he was merely considering running for president in 2020. The Democrats' motive is fear — Schultz is a liberal but not the kind of rigid, lockstep, groupthink far leftist seen in their stable of candidates, and worse still, he's likeable and charming, even to Republicans, so he must be irresistible to a lot of the Democrats they expect votes from. But Schultz says he'd go as an independent, which raises the specter of a Ross Perot-style candidacy that could split the national vote three ways. For whoever the Democrats' way-too-far-left candidate is, that means going down in flames against President Trump. So now they've started their pushback, and already it's an ugly spectacle.

Why Starbucks' Howard Schultz Couldn't Run As A Democrat. Democrats are worrying about former Starbucks CEO Howard Schultz running as an independent for president in 2020. They say it will only help President Trump. But the only reason this lifelong Democrat is thinking about an independent bid is because the Democratic party has moved so far to the left.

Starbucks' Howard Schultz: America Exists for Immigrants, Not Americans. Starbucks investor Howard Schultz wants to get elected president and to amnesty at least 11 million illegal migrants in the United States. But his justification for the amnesty includes no rules or principles that would prevent his huge amnesty from expanding into an open-borders policy which would benefit investors at the expense of white-collar and blue-collar Americans, said Jessica Vaughan, policy director at the Center for Immigraiton Studies.

Top Democrats fear Howard Schultz is a Perot or Nader who could help re-elect Trump. Top Democrats were apoplectic Monday about what they fear will be a spoiler campaign by Howard Schultz, the former Starbucks CEO, after he said he is "seriously considering" running for president as an independent. Many Democrats on Capitol Hill said Schultz's campaign would only split the anti-Trump vote and deliver Trump another victory in 2020. "It would be hurtful. History shows it would be hurtful," said House Majority Leader Steny Hoyer, D-Md., in an interview Monday [1/28/2019]. Hoyer likened Schultz to Ross Perot, who helped spoil a second term in the White House for then-President George H.W. Bush in 1992.

Democrats uneasy about potential Howard Schultz bid. or a businessman who grew a small coffee roaster into an inescapable global chain, who ensured that even his part-time workers had benefits and who has given about $150,000 to Democratic campaigns, former Starbucks Chairman Howard Schultz is generating tepid — or even hostile — responses within the party as he weighs a presidential bid in 2020.

Former Starbucks CEO Howard Schultz says Donald Trump is not qualified to be president. Howard Schultz, the billionaire former CEO of Starbucks, tells Scott Pelley he believes Donald Trump is not qualified to lead the U.S. and that politicians in both parties are failing the American people.

The Editor says...
The candidate who gets the most votes in the Electoral College is the one who's qualified to be president.

Ex-Starbucks CEO Could Get Trump Re-elected. Before there was Jill Stein, there was Ralph Nader. Before there was Nader, there was Ross Perot. None won. All argued that the Republican Party and the Democratic Party were basically the same, and the only way to make real change was to ditch them both. Each was blamed for siphoning off enough votes to throw the presidential elections. These days, the difference between the parties is starker than it's ever been in modern times. Yet here comes Howard Schultz, a billionaire who feels that he might be the answer to American politics, and that he'd run for president as an independent.

Bernie Sanders

Bernie Sanders Officially Enters 2020 Race. Following a litany reports teased an imminent announcement, only to be denied by his staff, Bernie Sanders has finally officially thrown his hat into the ring, officially acknowledging his plan to seek the 2020 Democratic nomination during an interview Tuesday [2/19/2019] with Vermont Public Radio.

Bernie Sanders announces he's running for president. Vermont Sen. Bernie Sanders announced Tuesday that he is running for president — launching a second bid for the White House after the self-described socialist's strong run for the Democratic nomination in 2016. [...] An enthusiastic progressive who promotes Medicare for All and free college tuition, Sanders stunned the Democratic establishment in 2016 with his spirited challenge to Hillary Clinton.

Sanders Throws Hair in Ring for 2020. Sanders, a socialist "independent" who's not even officially a Democrat, was born in Brooklyn in 1941 and honeymooned in the Soviet Union in 1988, just before the fall of the Berlin Wall and the collapse of his beloved Communism. His current geriatric possible rival for the nomination is former Delaware senator and Democrat Vice President Joe Biden, who was born in 1942.

Robert F. "Beto" O'Rourke

Trump builds, Beto destroys. President Donald Trump said yes to the budget bill to keep open government, but then bypassed Congress and declared a national emergency to free up funding to build his long-promised border wall. And on the other side of town, Beto O'Rourke — Robert Francis "Beto" O'Rourke — says let's go ahead and rip 'em all down. The campaign lines for 2020 and beyond couldn't be any clearer.

Beto: 'Racism' and 'Hatred' Define Trump Presidency. Former Rep. Robert Francis "Beto" O'Rourke (D-TX) said on Friday evening in Wisconsin that "hatred" and "racism" have defined Donald Trump's presidency. Speaking to political science students at the University of Wisconsin-Madison, O'Rourke told the Badgers that President Trump came to the border in El Paso, Texas, this week to "stoke the anxiety and the paranoia and the fear and the hatred and the racism that has defined his campaigns and his presidency."

Beto O'Rourke is being a hypocrite about the border wall. Donald Trump has a lot of things going for him, a sense of humor, a willingness to say whatever is on his mind, but his best asset is his ability to turn his opponents into absolute idiots. There used to be something called the Monster Raving Loony Party in Britain, and that's what the Democrats are beginning to sound like. No, this isn't about AOC and the Green New Deal. It's about Beto. Robert Francis O'Rourke, the great Democratic hope who lost the Texas Senate race in 2018, but somehow didn't descend into oblivion. Right now, he thinks he has the wind at his back with Trump's campaign for a border wall. If Trump wants to erect a new wall, Beto wants to tear down the existing one.

In El Paso, Beto O'Rourke Makes It Easy For Trump To Target 'Extreme' Democrats. It was altogether fitting that President Trump's rally Monday night in El Paso was something of a circus. After all, it was the first official campaign event of his 2020 reelection bid. The rally had all the trappings of any other Trump rally: itinerant Trump vendors hawking their wares outside the venue, supporters decked out in MAGA gear who traveled from several states away, a handful of angry protesters who managed to sneak signs into the stadium and disrupt things for a minute or two.

Beto O'Rourke says he 'absolutely' supports destroying existing walls on southern border. Former Texas Democratic Rep. Beto O'Rourke said Thursday that he would "absolutely" support tearing down existing barriers along the southern border with Mexico, in a full-throated embrace of open-borders rhetoric that has left conservatives wondering where other potential 2020 Democratic White House hopefuls stand on the issue. O'Rourke's comments came as the House and Senate passed a compromise spending bill that would partially fund President Trump's proposed border wall, to the tune of $1.4 billion. Trump, who had been pressing for billions more, has vowed to declare a national state of emergency to fund the remainder of the project.

Beto's Chances. One purported top contender for the Democrats' presidential nomination so far has stayed on the sidelines: former Representative Robert Francis O'Rourke of Texas, better known as "Beto" O'Rourke. A rising star in the Democratic Party, even after his unsuccessful attempt to win Ted Cruz's Senate seat last year, he has been the subject of numerous media puff pieces, and liberals are going gaga over him the same way they did over Barack Obama in 2008. O'Rourke is a polarizing figure. To some, he is an optimistic, clean-cut, inspirational politician at a dark and foreboding time. To others, he is a living embodiment of the "how do you do, fellow kids?" meme; a 46-year old man trying a bit too hard to seem cool and appeal to youngsters, skateboarding onto stage and live-streaming his dental appointment on Instagram. Though they laugh and roll their eyes as him, Republicans should not underestimate O'Rourke.

Beto O'Rourke Holds Protest Against Barrier for Our Southern Border — While Being Protected by a Fence. Robert "Beto" O'Rourke held a protest on Monday against protecting America with a barrier at our southern border — while being protected himself by really tall fences. O'Rourke, the former congressman from El Paso who had unsuccessfully attempted to unseat Senator Ted Cruz, held the protest in response to President Donald Trump holding a campaign rally nearby in support of a border wall.

Beto Was 'Robert O'Rourke' in High School, Won Award for 'Imaginative Poetry'. The high school yearbooks of former Texas congressman Robert Francis O'Rourke make no mention of him as "Beto," the nickname he says "just stuck" with him ever since he was growing up. The yearbooks from his time at the Woodberry Forest School, an all-boys Virginia boarding school O'Rourke attended after leaving his local high school in El Paso, Texas, refer to O'Rourke as either "Rob" or "Robert," the names he also went by while in college and while trying to find himself in New York City after graduating.

Beto O'Rourke tells Oprah he will make 2020 announcement by 'end of this month'. Beto O'Rourke told Oprah on Tuesday that he will make his decision about whether he will run for president in 2020 "by the end of this month." During an interview with Winfrey in New York City, the Texas politician, whose grassroots Senate campaign against Ted Cruz in the 2018 midterm election attracted national coverage due to his success in a predominantly red state, said that he has "been thinking about running for president," but remained vague on specifics. When Winfrey asked "When are you going to know the answer?" O'Rourke answered: "The serious answer is really soon. Before the end of this month."

Democrats who say there is no threat of terrorists crossing our border are delusional. [Scroll down] Rising Democratic superstar Beto O'Rourke, for example, slammed the president's "rhetoric" on illegal immigration last year, arguing that there is simply no connection between terrorism and the southern border. "[Z]ero, precisely zero, terrorists, terrorist groups, or terror plots have ever been connected with the U.S.-Mexico border to do harm to people within the United States," Beto said during a campaign event. Sadly, O'Rourke is not alone in his delusions.

There's No Way Beto O'Rourke Can Duplicate Obama's Success. A new Washington Post interview of Beto O'Rourke, whom many Democrats would like to see run for president, leaves the impression that he is an empty shirt. He is probably counting on it. On issue after issue, O'Rourke — who just lost a Senate campaign — seems determined to avoid being pinned down. Regarding immigration, he has been very critical of President Trump's proposed border wall, but when asked what America should do about visa overstays, his answer is, "I don't know." According to former Democratic representative Luis Gutierrez, immigration was not a big issue for O'Rourke, even though he hails from El Paso and represented a majority-Hispanic district along the Texas-Mexico border.

Beto O'Rourke Is Our Postmodern Nostradamus. Nostradamus, too, was ridiculed in his day, as Beto is mocked in his. Both men's writings appear abstruse to the unenlightened eyes who cannot (or is it will not?) dare to glean the world-redeeming prognostications which are so patently evident to we, the enlightened. Yet there is a difference. Nostradamus' crystalline quatrains predict what will happen; Beto's rambunctious prose prognosticates what will come to pass — if we allow it. Together.

As Beto O'Rourke Weighs 2020 Run, Democrats Chafe at His Go-It-Alone Style. Mr. O'Rourke's very presence as a would-be presidential contender for 2020 is an issue of heated debate within the party. He is a prolific fund-raiser who proved he can energize younger voters, and some early polls place him third behind Joseph R. Biden Jr. and Senator Bernie Sanders, well ahead of many more decorated politicians. But he is also a relatively inexperienced lawmaker who lost his Senate race against Ted Cruz.

Preseason is over for Beto O'Rourke. Beto O'Rourke: Welcome to the National Football League. As a potential top-tier presidential candidate, O'Rourke has arrived at a much tougher level of competition, and he had better raise his game quickly. To continue the metaphor, he is like a No. 1 draft pick, and everyone is looking to see if he's worth it. The nation's best and toughest reporters have his number and want nothing more than to take his measure and knock him down. Now that he is under a whole new burden of proof, he is going to have a more thoughtful positions on national issues than the one O'Rourke gave The Post's Jenna Johnson, published in an article on Tuesday.

O'Rourke's Close with Guy Who Says Police Are Terrorists, US Is Nazi Germany. The Daily Caller [DCNF] revealed that Beto O'Rourke has a very close relationship to a nut job radio host and author. The man is far more fringe than the much-vilified Alex Jones. But YouTube keeps him on their platform. He's okay because he's a left-wing fringe guy. Rep. Beto O'Rourke, Sen. Ted Cruz's opponent in the Texas senatorial race, has long been an ally of an off-the-charts radical radio host advocating for drug legalization. He frequently compares the U.S. to Nazi Germany.

Beto's excellent adventure drips with white male privilege. O'Rourke, 46, we are told, is "Obama, but white," because of his fundraising prowess — he raised nearly $80 million in his loss to Sen. Ted Cruz. He skateboards! He listens! He connects on the internet! And Jack Kerouac-style, he roams around, jobless (does he not need a job?) to find himself and figure out if he wants to lead the free world. This is a luxury no woman or even minority in politics could ever have. But O'Rourke, tall, handsome, white and male, has this latitude, to be and do anything. His privilege even allows him to turn a loss to the most despised candidate of the cycle into a launching pad for a White House run.

Beto bombs bigly in long interview with the Washington Post. When a CNN anchor warns that "it's a fine line to walk between being a blank canvas and an empty vessel," a pretty-boy, Kennedyesque empty-suit progressive candidate, already recognizable by his first name alone, is in trouble. Beto looks like a beta, if we are to judge by the Washington Post's account of his "lengthy" interview with Post writer Jenna Johnson. The title gives away the verdict: "Beto O'Rourke's immigration plan: No wall but no specifics." The lead paragraphs are no kinder.

Beto's Constitutional Folly. This is a variation on a theme I've heard countless times on the left — often in response to arguments over originalism and (more recently) in response to anger at the very structure of our government itself. Why shackle ourselves to the wisdom of the distant past? How could the Founders have foreseen the challenges of the present? It's worth taking these questions seriously. After all, the Constitution isn't the Bible. It's not the holy and inspired Word of God, and if its terms and structure are hurting our Republic, they can and should be amended. But I'd submit that, when one examines the United States and considers the failings that render our politics so dysfunctional, we in fact do have 18th-century answers to our 21st-century challenges and that many of our dysfunctions are the result of abandoning the Constitution, not of embracing it. We've failed because we've refused to be managed by the "principles that were set down 230-plus years ago."

Beto O'Rourke Questions 'Principles' of Constitution: 'Does This Still Work?'. Former Congressman and potential 2020 Democratic nominee Beto O'Rourke questioned the "principles" of the U.S. Constitution on Wednesday, arguing that its usefulness is the "question of the moment. In an interview with The Washington Post, O'Rourke was asked if he believes the U.S. is capable of "dramatically [changing] its approach to a whole host of issues" or whether he holds a "dismal suspicion that the country is now incapable of implementing sweeping change."

Beto O'Rourke questions relevance of Constitution, principles 'set down 230-plus years ago'. Former Rep. Beto O'Rourke recently questioned the modern-day relevance of the U.S. Constitution and whether the country should still be governed by "the same principles that were set down 230-plus years ago." [...] "Can an empire like ours with military presence in over 170 countries around the globe, with trading relationships ... and security agreements in every continent, can it still be managed by the same principles that were set down 230-plus years ago?" Mr. O'Rourke reportedly asked.

Beto O'Rourke mocked after offering few answers in wide-ranging policy interview. Former Texas Senate candidate Beto O'Rourke faced across-the-board criticism on Tuesday [1/15/2019] after an unflattering interview in The Washington Post portrayed him as equivocal and unsure on a variety of substantive policy issues. O'Rourke, 46, is widely considered a possible 2020 presidential contender, after falling only a few percentage points shy of dethroning incumbent Texas GOP Sen. Ted Cruz in the 2018 midterm elections. But his relative lack of experience and expertise has emerged as a central objection to his prospective candidacy.

Oprah, who gave Obama the nod in 2008, to interview Beto O'Rourke ahead of his 2020 decision. Oprah Winfrey might give former Rep. Beto O'Rourke a familiar boost. The entrepreneur and media personality is set to interview the potential 2020 candidate one-on-one next month live as part of her "Oprah's SuperSoul Conversations from Times Square." Winfrey's support once kickstarted the presidential ambitions of another junior Democratic legislator: Barack Obama.

Beto O'Rourke Mocked for Instagramming Trip to Dentist. Texas Democrat Beto O'Rourke disgusted and confused commentators on both sides of the aisle by posting video to social media of his trip to the dentist. The move from O'Rourke, often floated as a potential 2020 Democratic presidential candidate, comes on the heels of other Democratic stars using social media to speak about politics in a relaxed setting. Rep. Alexandria Ocasio Cortez (D., N.Y.) live-streamed herself making macaroni and cheese in November, while Sen. Elizabeth Warren (D., Mass.) filmed herself drinking a beer at home on New Year's Eve to mixed reviews. But the consensus on Twitter was that O'Rourke went too far in filming an Instagram Live video during his dental cleaning Thursday [1/10/2019], complete with a view of his gaping maw.

Beto O'Rourke and his magic border beans. Beto O'Rourke — or, as he was born, Robert Francis O'Rourke — tweeted out a video response to President Donald Trump's border wall speech that in essence said this: There's nothing to see here, folks. Go home to your families, eat and be merry. The borders are safe, safe, safe. And then he clapped his hands, spun three times and threw down some magic beans and voila, the borders were indeed safe. Just like that. Seriously, this is the guy the Democrats are mulling over for the White House in 2020?

Eyes roll and heads slam to desks when 'Beto' posts his dental cleaning. What's next, colonoscopy?! Democrats have apparently discovered the joys of reality TV with yet another live video feed documenting their oh-so-exciting lives. Former Texas Rep. Beto O'Rourke took his Instagram followers along for a trip to his dentist for a cleaning on Thursday [1/10/2019], following the awkward trend of Democrats live-streaming their lives.

'Draft Beto' effort builds momentum. Beto O'Rourke is getting a significant lift in the early nominating states of South Carolina and Nevada, with operatives in both states joining an effort to draft O'Rourke into the presidential campaign. Boyd Brown, a former South Carolina lawmaker and former Democratic National Committee member, told POLITICO on Monday that he will become national senior adviser to a Draft Beto campaign.

Beto's Latest Attempt at Staying Relevant: Reviving the Confederacy Conundrum. Texas Congressman Beto O'Rourke is calling for the removal of a controversial Confederate plaque that hangs in the Texas state capital. [...] Lawmakers in Texas have continually debated whether or not the plaque should stay up. Texas Attorney General Ken Paxton said the state legislature, the State Preservation Board, the Texas Historical Commission or the Capitol curator all have the authority to remove the plaque, Dallas News reported.

Beto O'Rourke seeks help after ICE leaves 200 migrants at El Paso bus station. U.S. Rep. Beto O'Rourke — a potential candidate in the 2020 presidential election — is calling for donations and help after U.S. Immigration and Customs Enforcement dropped off at least 200 migrants at the El Paso, Texas, bus station.

The Editor says...
Congressman O'Rourke was elected to represent American citizens. His efforts on behalf of intrusive disease-laden freeloaders are misguided, at best. In other words, every minute he spends working on the behalf of illegal aliens is another minute he's neglecting his job. Worse than that, he may be unwittingly un-doing the work of other government officials if he is helping previously-deported aliens re-enter this country.

Inside Bernie-world's war on Beto O'Rourke. Forces loyal to Vermont Sen. Bernie Sanders are waging an increasingly public war against Texas Rep. Beto O'Rourke, the new darling of Democratic activists, as the two men weigh whether to seek the party's presidential nomination in 2020. The main line of attack against O'Rourke is that he isn't progressive enough — that he's been too close to Republicans in Congress, too close to corporate donors and not willing enough to use his star power to help fellow Democrats — and it is being pushed almost exclusively by Sanders supporters online and in print.

Bernie Sanders Supporters Wage War on Beto O'Rourke. Neither Sanders nor O'Rourke has officially declared presidential candidacy, but the games are already afoot. According to a report by NBC, Sanders supporters are already putting the heat O'Rourke, attempting to paint him as a less than committed ideologue. Sanders, a self-described socialist, was the clear left-winger in the 2016 election, but in the two years since Trump was elected, Democrats have wholly abandoned any guise of centrism in a race to prove who is the truest, most leftist progressive.

Why are Democrats trying to annihilate an O'Rourke campaign before it has even started? If you blinked, you might have missed it. Somewhere between Election Day and your 500th gulp of holiday-party red wine, Texas congressman Beto O'Rourke went from being the new darling of the left to its leading bête noire. Not much of substance actually changed in that time, of course. O'Rourke inspired many, but still lost his Senate race, and he's now winding down his time in the House. What has changed is that O'Rourke, having built an $80 million grassroots political movement from scratch, is now seen as one of the top contenders for the Democratic presidential nomination. The polls bear this out: A recent Des Moines Register survey of Iowa placed him third among possible Democratic candidates, behind known commodities Joe Biden and Bernie Sanders.

Beto Busted for Fossil Fuel Hypocrisy. It turns out that Democratic heartthrob Robert Francis O'Rourke, in addition to deceptively insinuating that he is of Hispanic descent, has been less than honest about his commitment to saving the Earth from the menace of fossil fuels. He signed a "No Fossil Fuel Money Pledge" produced by a coalition of environmental activists promising to refuse "any contributions over $200 from the PACs, executives, or front groups of fossil fuel companies — companies whose primary business is the extraction, processing, distribution, or sale of oil, gas, or coal." As it happens, however, O'Rourke accepted $492K in such contributions during 2018.

O'Rourke Removed From 'No Fossil Fuel Money' Pledge Following Report of Donations From Oil, Gas Execs. Rep. Robert Francis "Beto" O'Rourke (D., Texas) has been removed from a list of candidates who pledged to reject fossil fuel donations over $200 after it was revealed he took multiple contributions from oil and gas executives. Oil Change USA, a nonprofit organization based in Washington, D.C., removed O'Rourke's name from a list of those who signed the pledge, according to Sludge. The pledge dictates a politician and their campaign "adopt a policy to not knowingly accept any contributions over $200 from the PACs, executives, or front groups of fossil fuel companies — companies whose primary business is the extraction, processing, distribution, or sale of oil, gas, or coal." Sludge reported earlier this month that O'Rourke received $430,000 from individuals in the oil and gas industries. The report was later updated to note that "the O'Rourke campaign had not returned 29 'large donations' of over $200 from oil and gas executives," according to the most recent campaign finance report.

When it comes to the border, 'Beto' doubles down on dumb. Just when you think politics cannot get any stupider in this country, in skateboards Robert Francis O'Rourke. That would be the same Robert Francis O'Rourke of privileged upbringing and expensive boarding school pedigree who today goes by "Beto" because it sounds Hispanic now that he has decided to get into electoral politics. Whatever happened to all the outrage over "cultural appropriation"?

Team Biden Wonders: Should We Make Beto His Running Mate? No, this is an age thing. Biden is older than time, O'Rourke looks even younger than his 46 years. The thinking goes that pairing Uncle Joe with a next-gen VP who's in his prime will lend some vitality to the ticket and blunt any perception among younger voters that Biden is "old news." I dunno, though. [...] Who wants to roll the dice on President Beto if 78-year-old Joe Biden doesn't survive his term?

Activist Democrats question whether Beto O'Rourke is one of them. The left is where the energy is in today's Democratic Party. Nearly half of Democratic voters describe themselves as liberal, up 17 percentage points from a decade ago, according to Pew Research Center. [...] The problem with O'Rourke, various Democratic activists say, is that he didn't support bills they consider to be crucial to the progressive platform and he was a member of the centrist, fiscally conservative New Democrat Coalition.

Who is Robert Francis "Beto" O'Rourke? Robert Francis O'Rourke was born into an Irish Catholic family on September 26, 1972, in El Paso, Texas. From an early age, he was called "Beto," a common nickname for Mexicans named Roberto. His father, Pat Francis O'Rourke (d. 2001), served as both a County Commissioner and County Judge in El Paso, a political associate of former Texas Governor Mark White, and the state chairman of Jesse Jackson's 1984 and 1988 presidential campaigns. In May 1995, Beto O'Rourke was arrested for attempted burglary on the University of Texas-El Paso campus, but the charges were dropped nine months later. After graduating from Columbia University in 1995 with a BA in English Literature, O'Rourke worked for several Internet Service Providers and then returned to El Paso, where in 1998 he founded the Stanton Street Technology Group (SSTG), a web and software company which he headed for the next 14 years. His mother, Melissa O'Rourke, who once served as a Federal Reserve Bank of Dallas board member, was a shareholder in SSTG.

Stop comparing Beto O'Rourke's potential 2020 presidential bid to Barack Obama's in 2008. As outgoing Rep. Beto O'Rourke flirts with a 2020 Democratic presidential bid, his already soaring stock among the media has been surging even higher, and he is even drawing comparisons to former President Barack Obama, who was a relatively inexperienced national politician before he captured the presidency in 2008. But such comparisons are unwarranted. O'Rourke, D-Texas, who was the most profiled candidate of the 2018 election cycle, quickly drew media buzz about a 2020 presidential run after losing his Senate race to Sen. Ted Cruz, R-Texas. A poll of the race from the liberal MoveOn showed O'Rourke narrowly edging out progressive icon Sen. Bernie Sanders, I-Vt., in a field with lots of possible candidates but no clear front-runner. It's "Betomania," declares ABC News. CNN, meanwhile, has already declared him the second-ranking Democratic presidential hopeful, behind only Sen. Kamala Harris, D-Calif.

The Real Beto O'Rourke. As a child living in El Paso, O'Rourke was given the nickname "Beto," which is a common Hispanic moniker for Roberto, in order to delineate between him and his maternal grandfather, Robert Williams. When O'Rourke attended Columbia in New York he used "Rob," but his father, then El Paso County Judge Pat O'Rourke, suggested that he once again use "Beto" to increase his chance of winning political office in the heavily Hispanic city of El Paso, which Robert readily agreed to do. He graduated from Columbia in 1995, and later that month was arrested for burglary at UTEP (the University of Texas El Paso) along with two others.

So much for all that "grass roots" support...
Mysterious Anti-Ted Cruz Super PAC Revealed To Be Funded By National Democratic Group. A super PAC that spent millions attacking Republican Sen. Ted Cruz during the midterm election was revealed Thursday [12/6/2018] to be funded almost entirely by Washington, D.C., Democrats. The Texas Forever PAC, which spent $2.3 million on last-minute anti-Cruz attack ads, was funded by the Senate Majority PAC except for $10,000, according to Federal Election Commission (FEC) filings in December. The Senate Majority PAC has strong ties to Senate Minority Leader Chuck Schumer and fundraises to help Democrats win control of the Senate. Texas Forever was created less than a month before the November election and after the last deadline to report donors prior to Election Day. Because it launched so close to the election, Texas Forever was able to sidestep revealing where the funds came from until a month after voting concluded, a strategy that has been more frequently utilized with super PACs this election cycle, reported Politico.

If the Dems want to lose in 2020, Beto O'Rourke is the perfect candidate. Beto O'Rourke, with widespread backing, is considering running for president in 2020. If Democrats want to lose, he absolutely should. Nothing has been learned from Hillary Clinton, the two-time heiress apparent who, in 2016, had the support of nearly every mainstream media outlet, who entered the final stretch of her last race with a $449 million war chest (compared with Trump's $163 million), who led in nearly every national poll, and who was roundly depicted as the rational adult tolerating a villainous bozo. Just as Hillary has taken that humiliating defeat as a sign to mull yet a third run, O'Rourke has taken his loss to Ted Cruz — the most loathed senator in modern American history, once called "Lucifer in the flesh" by then-House Speaker John Boehner — as a sign that he, a 46-year-old three-term congressman with a thin record, is the one to defeat Trump.

When Beto Met Barry. The Washington Post reports that Beto O'Rourke, who is weighing whether to mount a 2020 presidential bid, met recently with Barack Obama in Washington, D.C. The meeting reportedly took place on November 16. According to the Post, some former Obama aides have encouraged O'Rourke to run for president. They see him as capable of the kind of campaign that caught fire in the 2008 presidential election. Some Republicans are, or pretend to be, dismissive of O'Rourke as a credible challenger to President Trump. They cite his recent defeat at the hands of Ted Cruz in the Texas Senate race. But O'Rourke ran a strong race against Cruz, losing by less than 3 points in strongly Republican state. It's true that O'Rourke was buoyed by an enormous influx of money. But it's also true that he likely would be similarly buoyed if he runs for president.

Beto O'Rourke seen as a top contender in 2020: poll. Rep. Beto O'Rourke (D-Texas) is considered one of the top Democratic contenders for the White House in 2020 even among more well-known potential hopefuls, according to a Harvard CAPS/Harris poll released exclusively to The Hill. Former Vice President Joe Biden is the most popular Democrat in the potential 2020 primary, with 28 percent of Democratic and independent voters saying they'd most likely vote for him, according to the poll released on Monday [12/3/2018].

Calling O'Rourke. One of the more mystifying outcomes of the recent midterms, particularly as the nation reflects on the full life and multifarious accomplishments of George H.W. Bush, has been the elevation of Robert Francis O'Rourke to the top tier of potential presidential contenders. In response to a recent Morning Consult poll, registered Democrats ranked the losing Senate candidate among their top three preferences for the party's 2020 nomination. They favored "Beto" over Elizabeth Warren, Cory Booker, Kamala Harris, Sherrod Brown, et al. The only two potential candidates who ranked higher than the Texas congressman were septuagenarians Joe Biden and Bernie Sanders.

Beto O'Rourke would have a chance against Trump in 2020. Unsurprisingly, the curiosity and clamor surrounding O'Rourke have little to do with his limited track record and much to do with his Obama-like qualities. There are few truly viable candidates who would pose a legitimate threat to the man who beat Hillary Clinton. If Democrats learned anything before and during former President Barack Obama's eight years in office, it's that election success on a national scale is more about personality than policy.

Just like Obama, Democrats are falling for the idea of Beto 2020. If you thought Betomania was over when the Democratic congressman lost his Senate bid to incumbent Texas Sen. Ted Cruz, you'd better think again. Beto has gone nationwide. With praise coming in from everyone from Beyoncé to former President Barack Obama and the Texas representative hinting at a possible run at the White House in 2020, Beto O'Rourke has become the cause célèbre among Democratic donors and activists around the country — and looks to shake up what already promises to be a crowded field of Democrats challenging President Trump.

Beto O'Rourke changes his mind: He's not ruling out 2020 anymore. Beto O'Rourke said Monday that he is no longer ruling out a run for president in 2020, a reversal that thrilled his legion of loyal supporters while clouding an already-crowded Democratic primary field. "Running for Senate, I was 100 percent focused on our campaign, winning that race and then serving the next six years in the United States Senate," the Texas congressman told reporters after a town hall forum here. "Now that that is no longer possible, you know, we're thinking through a number of things."

The Snob Party. [Scroll down] The people to whom Democrats condescend express similar feelings about Sarah Palin and Donald Trump, who are lionized for standing up to that condescension. Which brings us back to Señor O'Rourke, the most oleaginous, condescending, and sanctimonious man in American politics at the moment. He talks a good man-of-the-people game, as most progressives do, but who he is, is who progressives are and who they want to be: a rich white liberal with political power, from a family of rich white liberals with political power. He has the prep-school diploma and the Ivy League imprimatur, too. As one does.

Liberals' infantile Beto fantasy. I have offended some liberals in the past by referring to Robert Francis "Beto" O'Rourke as a "failson." I understand now why this might have come across as dismissive of his totally awesome campaign to skateboard his way into a Senate seat. So in the future I will be more measured in my language. Beto is not a "failson." He is, in fact, the successful son-in-law of a billionaire real estate developer whose low-key contempt for barrio grandmas puts him squarely within the mainstream of the Democratic Party. His seemingly inevitable attempt to secure his party's presidential nomination in 2020 will be only slightly more embarrassing to himself and his delusional followers than his recent loss to the most loathed senator in the United States.

Here's what you might not know about Beto O'Rourke — but should. Glenn [Beck] briefly introduced Beto's rise through the ranks of legislature, from El Paso City Council member in 2004 to the U.S. Representative for Texas's 16th Congressional District in 2013. "During Beto's five years in Congress, he's been the primary sponsor of countess bills — assuming you can't count to two, cause it was only two," joked Glenn.

Beto O'Rourke's National Celebrity Was His Undoing. In the past year, the Texas Senate candidate Beto O'Rourke has been compared endlessly to the great charismatic stars of the Democratic Party. He was Kennedyesque! He was the next Obama! With his boyish grin, rhythmic speech, and unabashedly left-leaning platform, the Democratic former representative was not just the state's best hope for going blue: According to political strategists across the country, he is among the party's most promising presidential contenders in 2020.

Trevor Loudon Releases Mini-Doc on Senate Candidate Beto O'Rourke. This week, Trevor Loudon exposes the radical ties of Texas Senate candidate Beto O'Rourke. While Beto presents himself as a candidate willing to work with all Texans, his hard-left policies reflect his many socialist allies.

Why did nobody mention that Beto O'Rourke's wife is a billionaire heiress? Young Beto O'Rourke casts himself as the 'anti-Trump'. But his father-in-law, it turns out, is a billionaire property developer with a contentious relationship with non-white residents — not unlike the President. Beto's more the proto-Jared Kushner. The New York Times today [10/29/2018] revealed the highly interesting news that friend-of-the-little-guy Beto married well. Very well. His wife is not only the daughter of William D. Sanders, aka the Warren Buffet of real estate, Cockburn can reveal she is the only daughter. Sanders's portfolio is valued at about $20 billion.

Nearly a dozen Beto O'Rourke profiles, and almost none mention his crony capitalist background. Rep. Beto O'Rourke's, D-Texas, 1998 drunken driving accident isn't the only thing his media profilers have ignored. The New York Times did a fine job this week detailing the Democratic Senate candidate's shady history of political backscratching, including a real-estate deal he championed when he served on the El Paso City Council that would've benefited his billionaire father-in-law, developer William D. Sanders.

O'Rourke Campaign Exposed in Undercover Video for Assisting Honduran Migrants: 'Nobody Needs to Know'. A Project Veritas video released Thursday night [11/1/2018] shows Beto O'Rourke campaign staffers discussing how they can illegally use campaign resources to purchase supplies and assist in the transportation of Honduran migrants. [Video clip] Dominic Chacon, a Field Manager for the O'Rourke campaign in El Paso, Texas, expressed his concern in getting supplies to the caravan migrants.

Poll: Texas women won't propel Beto O'Rourke to victory. The speculation about how women will vote has been prominent in Texas, especially now that Rep. Beto O'Rourke's challenge to Sen. Ted Cruz's re-election has shaken assumptions about the security of the Republican Party's monopoly. Much of this discussion has focused on potential unrest among suburban women and whether the moderate Republicans among them will question their partisan leanings. Don't count on it. The most recent University of Texas/Texas Tribune Poll offers little evidence to support expectations of significant partisan shifts among women. A well-documented partisan gender gap is already a political fact of life: More women identify as Democrats compared with men. But beyond that, O'Rourke does not look to benefit from a new tidal wave of female support.

Ted Cruz Calls for Journalists to Ask Beto O'Rourke Two Questions. Sen. Cruz appeared to be referencing a video, released Thursday [11/1/2018] by James O'Keefe's guerrilla journalism organization, Project Veritas. In that video, an undercover operative obtained footage appearing to show members of O'Rourke's campaign staff alluding to campaign resources that were being used to assist migrants as they approach the Texas border.

Flashback: Hispanic Caucus Refuses Bobby 'Beto' O'Rourke Membership Because He Lacks Hispanic Heritage. Back in July 2013 Rep. Bobby "Beto" O'Rourke tried to join the Congressional Hispanic Caucus in the House of Representatives. But the Hispanic Caucus refused to let him join saying he lacked Hispanic heritage.

Google Employees Second Largest Donors to Beto O'Rourke Campaign. Big Tech company employees are pouring money into Democratic candidate Rep. Beto O'Rourke's senate campaign in an attempt to unseat Sen. Ted Cruz (R-TX), with employees from Google parent company Alphabet listed as the second largest donating force. According to CNBC, employees at Google parent company Alphabet were the second largest contributor to O'Rourke's campaign overall, and came first on the list of Big Tech contributors, with Alphabet employees donating $157,189. Overall, Alphabet was only beaten in donations to O'Rourke's campaign by employees of the University of Texas, who donated $296,123.

Can Beto O'Rourke Name One Thing He's Done For Hispanic Voters? What on earth made anyone thing Beto could win? What could possibly have changed between the ill-fated Wendy Davis gubernatorial run and this one? Apparently, Donald Trump and the Hispanic vote were going to make all the difference. At least, that's apparently what national Democrats thought. So, a ton of money has poured into the race, and Beto currently has nothing to show for it, other than maybe a 2020 or 2024 national platform.

As Jed Clampett would say, "There's somethin' wrong with that boy."
The Real Beto O'Rourke. I recently attended an indoor Beto O'Rourke rally in Corpus Christi, Texas in the Richardson Auditorium on the Del Mar College campus. Arriving 45 minutes late (after meeting for 15 minutes with fawning press backstage), he was introduced by Congressman Joe Kennedy. O'Rourke bizarrely rolled onto the stage on a skateboard (he had done this in an earlier rally in Brownsville) and spoke for 30 minutes. O'Rourke called for essentially open borders and free health care. He attacked Trump along with his senatorial election opponent, incumbent Texas Senator Ted Cruz, but there was no mention of his previous statement approving of disrespect for the flag, which Cruz and others had pounced on. O'Rourke appeared awkward and thin and was constantly flailing his hands and arms. I noticed something rather unsettling. I was only sitting ten feet away from O'Rourke. The temperature outside was a near perfect 78 degrees, and the hall itself, which is kept at 72 degrees, seemed chilly. The stage lights are 20 feet above the stage. But just minutes into O'Rourke's speech, sweat began to pour down his face and spread across the front of his shirt.

Unhappy about getting texts from O'Rourke's campaign? There's a lawsuit for that. At least one Texan is not happy about receiving text messages about Beto O'Rourke's run for U.S. Senate. A class action lawsuit filed against the Beto for Texas campaign claims the organization sent text messages to Texans without obtaining their permission, violating the Telephone Consumer Protection Act. The suit, filed Friday [10/19/2018] in the Northern District of Texas Court, names Collin County resident Sameer Syeed as a plaintiff on behalf of all Texans that the O'Rourke campaign sent texts to Texans without obtaining permission.

The Embarrassing Spectacle of Betomania. Attention, journalists of America: Time is running out! You have under three weeks left to publish your last batch of over-the-top pre-election puff pieces on Texas Democrat/cross-country liberal sensation/wing-and-a-prayer Senate candidate Beto O'Rourke! It is here that we must face the difficult truth: Barring a GOP-related disaster of some sort, O'Rourke — he of that ineffable "cool factor" and "special sauce," at least according to easily impressed columnists at the Washington Post — is likely to lose big. According to the latest polls, Senator Ted Cruz leads him by anywhere between seven and nine points. Tuesday's [10/16/2018] debate between the two, meanwhile, was so mismatched that O'Rourke's best moment might have involved a random deer-in-the-headlights story in which he described how he "got to meet this blind squirrel who is slowly regaining its sight."

Beto O'Rourke's Mother, Who He Says Is A 'Lifelong Republican,' Donated To Obama, Voted In 15 Of 17 Democratic Primaries. Rep. Robert "Beto" O'Rourke, a Texas Democrat running against Sen. Texas Cruz in this November's election, has a curious relationship with the truth. Take what the congressman said in a September debate with Cruz about a drunk driving accident he had in 1998. "I did not try to leave the scene of the accident, though driving drunk, which I did, is a terrible mistake for which there is no excuse or justification or defense, and I will not try to provide one," O'Rourke said. O'Rourke, then 26, reportedly hit a truck traveling the same direction, jumped over a median strip — then did, indeed, try to flee, according to a witness who saw the whole thing.

Beto is as Phony as Barack. In 2008, the national news media swooned over the prospect of an African American President of the United States. The Democratic Party's presidential nominee was freshman U.S. Senator Barack Obama (D-IL). He was treated to kid glove treatment by the media. There were no hard questions and no real examination of his background. He vaulted into the Oval Office on the shoulders of an adoring press. He spouted the slogan "Hope and Change" and the media, Hollywood and millions of poorly informed American voters swooned. After ten long years, the Democratic Party has found a new Barack Obama. He is not one of the 20+ potential presidential candidates in 2020 race. Instead, he is Robert "Beto" O'Rourke, a three-term U.S. congressman from El Paso, who happens to be a U.S. Senate candidate in the second most populous state in the nation, Texas.

The Media's Love Affair With Beto O'Rourke Is Irresponsible. Despite my best efforts, I know exactly what Texas Senate candidate Beto O'Rourke's post-punk indie band from the mid-'90s sounds like (not as bad as you'd think!). At the same time, I don't know much about Senate candidate Josh Hawley, who is 38 years old (meaning, around eight years younger than "rising star" Beto), the attorney general of Missouri, and the Republican nominee for the U.S. Senate. In fact, Hawley's name recognition outside of his state is probably negligible.

The cult of Beto. There is no way Robert Francis O'Rourke, alias "Beto," a.k.a. the no-doubt gleaming future of the Democratic Party is as delusional about his prospects for success as his followers. That would be impossible. The Texas congressman is your average 46-year-old liberal failson politico, the grandson of a secretary of the Navy, the son of a judge, a hanger-on in his party who graduated from playing in an amazingly bad hardcore punk band to a seat on the El Paso City Council. After that, he challenged Rep. Silvestre Reyes, an eight-term Democratic incumbent and chairman of the Congressional Hispanic Caucus, with the help of outside cash and despite endorsements from both Bill Clinton and Barack Obama. The two issues of crucial importance to reviving the fortunes of the working class on which O'Rourke fought his campaign were support for same-sex marriage and drug legalization, both of which Reyes, a Catholic, opposed.

Julia Salazar

Controversial Socialist Julia Salazar wins Brooklyn state Senate primary. Despite a mountain of political baggage, an upstart Brooklyn Socialist toppled an entrenched incumbent in a closely-watched state Senate race dominated by headlines about truth and integrity. Julia Salazar, 27, rode the progressive wave, toppling long-term state Sen. Martin Malavé Dilan in a district that includes swaths of Williamsburg, Bushwick, and Cypress Hills.

Forget Alexandria Ocasio-Cortez, Julia Salazar is the hero that the socialist moment deserves. Just when you thought the story of Julia Salazar, a DSA Socialist candidate who was already enmeshed in a dozen scandals can't get any crazier, it gets much crazier. To recap, Salazar lied about being Jewish, she lied about being an immigrant, and she lied about growing up poor. The media billed her as the "Next Alexandria Ocasio-Cortez". Cortez and Cynthia Nixon backed her. Oh boy did they mess up. The anti-Israel activist with hate groups such as If Not Now, was not Jewish. She was born in Miami, despite claiming to be an immigrant. And lived in a mansion, despite claiming to be poor.

The Democratic Socialists of America Have an Anti-Semitism Problem. [Julia] Salazar's rant had appeared on a racist site whose creator had complained that his publication had been banned from DailyKos because of "my repeated insistence on talking about the large Jewish presence in the American establishment and the importance of Jewish money in the political process" and one of whose editors had declared, "I do not consider myself an anti-Semite, but I can understand why some are." In reality, Salazar had been baptized as a Catholic, her uncle was a Jesuit priest, and her brother made it clear that no one in the family was Jewish. The Jewish part of her past was as fake as the rest. And it was this biography that the Democratic Socialists of America candidate was running on. The DSA had been hoping to turn Salazar into the next Alexandria Ocasio-Cortez, with the support of radical lefties like Cortez, Cynthia Nixon and Zephyr Teachout by playing up her imaginary biography.

Dem Socialist Candidate's Brother and Mother Say She's Lied About Her Upbringing. The brother and mother of a New York City democratic socialist candidate went on the record to dispute many of the biographical claims she has made throughout the campaign. A Tablet profile last week first revealed that state Senate candidate Julia Salazar, a progressive darling depicting herself as a Jewish immigrant, was actually born in the United States and ran several Christian organizations in college. One of the sources negating Salazar's claims was her own brother Alex Salazar, who told Tablet that they were both born in Miami and their father was not Jewish.

Pete Buttigieg

The Mayors of the Worst Cities in America are Running for President. Newark is the most dangerous city in New Jersey, Tallahassee is the most dangerous city in Florida, and South Bend is the most dangerous city in Indiana. But instead of fixing their failed cities, the current mayor of South Bend, and the former mayors of Newark and Tallahassee want to run for president. Mayor Peter Buttigieg has announced that he's forming an exploratory committee for a 2020 run. Media reports have focused on the possibility that he might become America's first gay millennial president, instead of on the fact that he's headed a city since 2011 which has double the national and statewide violent crime rates. And a city where Hispanic poverty rates are 10% higher than the national average, African-American households have double the poverty rate, and Asian-American incomes are halved. South Bend was recently rated one of the "worst cities" to live in. The unemployment rates are higher than average, the property values are lower, and even the water quality is below average. Gushing media reports about the gay millennial mayor, a Harvard grad and a Rhodes scholar, overlook South Bend's poverty rate of 24.7% and that 45% of households are living near the poverty level.

First Openly Gay 'Married' Man Announces 2020 Democratic Presidential Exploratory Cmte. Pete Buttigieg, the 37-year-old mayor of South Bend, Ind., who is openly gay and "married" to another man, announced on Jan. 23 that he has launched a presidential exploratory committee to determine whether he will run for the 2020 Democratic presidential nomination. Buttigieg, pronounced "boot-a-judge," is an Afghan war veteran (Naval intelligence officer), a magna cum laude graduate of Harvard and a Rhodes Scholar. He was first elected mayor of South Bend in 2011 and was reelected in 2015.

Gay is the New Black: The Buttigieg Candidacy. We need to talk about Pete Buttigieg and why his candidacy for president in the age of identity politics is negatively disruptive — though this certainly doesn't mean he shouldn't run. He's the mayor of South Bend, Indiana, and the first openly gay candidate to run for president. It's not a comfortable discussion. I'll be called a homophobe for having it. But it's necessary, so let's dive right in. The politics of the Democratic Party is driven by an ideology that pits one group against another. Blacks against whites. Gays against straights. Women against men. Political agendas and views are often put in that frame. We saw the consequences of this during Barack Obama's reign as the first black president. If you criticized him, you were called a racist. Almost all statements and judgments regarding his policies and performance were filtered through the lens of identity politics.

First Openly Gay 'Married' Man Announces 2020 Democratic Presidential Exploratory Cmte. Pete Buttigieg, the 37-year-old mayor of South Bend, Ind., who is openly gay and "married" to another man, announced on Jan. 23 that he has launched a presidential exploratory committee to determine whether he will run for the 2020 Democratic presidential nomination. Buttigieg, pronounced "boot-a-judge," is an Afghan war veteran (Naval intelligence officer), a magna cum laude graduate of Harvard and a Rhodes Scholar. He was first elected mayor of South Bend in 2011 and was reelected in 2015.

Michael Avenatti

Michael Avenatti gives up control of firm after being accused of hiding millions: report. Michael Avenatti agreed Wednesday [2/13/2019] to give up financial control of his law firm to settle a dispute with a former partner who claimed the celebrity lawyer hid millions in order to fund his lavish lifestyle and avoid having to pay a $10 million judgment. Jason Frank, a former partner at Eagan Avenatti, accused Avenatti in a court filing of spending extravagantly: $13,000 in rent for his Los Angeles apartment; a $3,640 payment on his Ferrari; $150,000 for his coffee company; $53,600 on his ex-wife; and $232,875 for his auto racing team, The Los Angeles Times reported.

Michael Avenatti Lived the High Life While Owing Millions to IRS. On the Fourth of July, Michael Avenatti suited up for a CNN interview and floated his name as a contender against President Trump in 2020. Asked why he'd be qualified, Avenatti told anchor Jim Sciutto, "Because I have three things that this president lacks, Jim — brains, heart and courage. And I think I have those in spades compared to this president." Scuitto then told Avenatti he'd face scrutiny over his finances, including his former law firm's then-unpaid $2.4 million bill to the IRS.

Michael Avenatti is the new Beto O'Rourke. Democratic Senate candidate Rep. Beto O'Rourke is going to lose his bid this November to unseat Sen. Ted Cruz, R-Texas, taking with him the recent avalanche of glowing media profiles that have cluttered the pages of so many newspapers and magazines. But luckily for those who are thirsting hard for puff-pieces profiling supposed anti-President Trump saviors, another character is stepping up to fill the void that will undoubtedly be left behind when O'Rourke loses to Cruz. Enter celebrity porn lawyer Michael Avenatti, the latest target of the press' urge to write overly long, overly friendly profiles on supposed political stars. "Michael Avenatti's Past Won't Stop Him From Running in 2020," reads the headline to a Time magazine profile slated for its November issue.

Andrew Gillum

Andrew Gillum [is] Heavily Bankrolled by 'Black Political Power' Group Complaining Too Many 'White Men' Hold Office. One of the primary donors central to funding Andrew Gillum's recent meteoric rise is The Collective, a little-known but increasingly influential political organization seeking to build a "black political power" movement while complaining that there are too many "white men" holding public office. The organization runs a "Black Campaign School" where The Collective's co-founder says they train people on how to build a political movement in America's "heightened, almost racist environment." He charged that this environment has spiraled into "white supremacy" under the tenure of President Trump.

Who Is Andrew Gillum? The two leading individual donors to Gillum's 2018 campaign have been George Soros and another left-wing billionaire, Tom Steyer. Scarcely two weeks ago, Soros, who already had contributed $1 million to Gillum's Forward Florida political committee, announced that he was giving $250,000 more. And Steyer, who had previously funneled $500,000 to Forward Florida, pledged another $300,000. "I'm obviously deeply appreciative of Mr. Soros, as well as Mr. Steyer, both men who I've known them for some time," said Gillum. The most recent Soros/Steyer donations coincided with a $3.5 million get-out-the-vote effort by a coalition of pro-Gillum leftist organizations. In addition to his political activities, Gillum also serves as a Board of Directors member with the New World Foundation, a far-left entity that was once chaired by none other than Hillary Clinton.

Corruption probe looms over Democrat's historic campaign for Florida governor. Tallahassee Mayor Andrew Gillum's surprise victory in the race to become the Democratic nominee for governor of Florida was fueled in part by a compelling personal biography: The son of a school bus driver and construction worker, he was the first of his parents' seven children to graduate from high school and go to college. At age 23, he became the youngest city commissioner the Florida capital had ever seen. "Between my mother and father, they are the best examples of hard work that I know to this day," Gillum said Tuesday night, after support from progressives vaulted him over older and better funded primary opponents. A less savory narrative threatens to collide with that heartening origin tale.

Florida Democratic Gov. Candidate Does Gymnastics Trying To Avoid Admitting He Plans To Raise Taxes. Florida gubernatorial candidate Andrew Gillum shot onto the national stage when he achieved an upset victory in the Democratic primary last Tuesday. On CNN's "State of the Union" Sunday, he talked policy with guest host Dana Bash — and appeared to have a difficult time admitting that his healthcare plan would involve a tax hike for at least some Florida residents.

I'll bet he is.
Andrew Gillum 'deeply appreciative' of billionaires Soros, Steyer in race for Florida governor. Tallahassee Mayor Andrew Gillum on Sunday thanked billionaires George Soros and Tom Steyer for helping him score his upset win in last week's Florida Democratic gubernatorial primary. "I'll tell you, I'm obviously deeply appreciative of Mr. Soros, as well as Mr. Steyer, both men whom I've known for some time," Mr. Gillum said on NBC's "Meet the Press." The Democratic megadonors and their associated groups directed millions to the campaign of Mr. Gillum, who edged out former Rep. Gwen Graham in the crowded Democratic primary. He faces Republican Rep. Ron DeSantis in the November election.

FL Dem gov nominee Gillum: Abolish ICE, create government-run healthcare. Tallahassee Mayor Andrew Gillum won the Democratic nomination in the state's gubernatorial race Tuesday [8/28/2018], putting him one step closer to achieving his dreams of abolishing Immigration and Customs Enforcement and installing a government-run healthcare program. Gillum appeared on CNN Wednesday morning to talk about his upset victory over former Democratic congresswoman and party favorite Gwen Graham, and his plans for the general election in November, when he squares off against Trump-backed Republican Rep. Ron DeSantis.

Tallahassee Mayor Andrew Gillum shocks Democratic rivals, wins nomination for governor. Democrat Andrew Gillum rode a surge of liberal support from young people and African Americans to a stunning primary victory Tuesday [8/28/2018] and the historic opportunity to be the first black governor in Florida's history. With 94 percent of the votes counted, Gillum had an unofficial 3 percentage point lead over his closest rival, former U.S. Rep. Gwen Graham. Gillum overwhelmed Graham in Miami-Dade and Broward, the state's two largest Democratic counties, by more than a 2-to-1 margin, in the highest turnout for a midterm primary election in Florida history.

Flashback to 2006: Biden said about Delaware, "My state was a slave state". Ron DeSantis, the Republican nominee for governor in Florida, is being attacked by the left and their allies in the media about a comment he made about his liberal Democrat opponent, Tallahassee mayor Andrew Gilliam, whose political stances include abolishing ICE and "Medicare for all," which is a euphemism for socialized medicine. Today DeSantis said that Florida voters shouldn't "monkey this up." Because Gillum is an African American libs are claiming that his remark is racist.

Andrew Gillum's Comments On Law Enforcement Are 'Disgusting' And A 'Disgrace,' Says Florida County Sheriff. Brevard County Sheriff Wayne Ivey called out Florida's Democratic nominee for governor, Andrew Gillum, on "Fox & Friends Saturday" for his "disgusting" comments about law enforcement. "Andrew Gillum has no idea what it takes to serve as a law enforcement officer," Ivey said. "As such his comments about law enforcement officers and those that wear our badge, they're a disgrace. They're disgusting." Gillum appeared on the "Pod Save America" podcast Wednesday" and said "At the time that a law enforcement official has to go to a weapon, to a gun, to a baton, to a taser, they have already had to go too far."

Democrat Andrew Gillum Billed FBI Undercover Agent $4,386 For Fundraiser, Never Disclosed In Finance Reports. The Andrew Gillum campaign continues to implode, now with reports that he failed to disclose $4,386 of an "in kind contribution" made by an undercover FBI agent who had been investigating the campaign. Campaign finance laws require all candidates to report all campaign contributions and expenditures to be listed with the state disclosure portal. While there's usually a 30 day window to file these reports, the FBI agent's contribution is from 2016.

Andrew Gillum: When police reach for a weapon, they've already had to go too far. I don't like him, particularly his habit of using race to deflect from legitimate questions about his ethical behavior, but this smells to me more like a banal point that came out awkwardly than some batty suggestion that any use of a weapon by a cop is illegitimate. Not even progressives believe that. I think? Ideological orthodoxy changes quickly in politics nowadays, and they're pretty far gone on some subjects. One night a few months ago I went to sleep and when I woke up "abolish ICE" was their talking point du jour.

Gillum: Police Are Going 'Too Far' if They Pull Out Gun, Baton, Taser in Line of Duty. Andrew Gillum, the Democratic nominee in Florida's gubernatorial race, said Wednesday [10/31/2018] that police are going "too far" if they have to pull out a gun, baton, or taser when approaching a potential suspect.

Andrew Gillum and the Mystery of 311 East Jennings Street. The building was bought with funding from the Northwest Florida Black Business Investment Corporation, a tax-exempt group that provides investment funding. Two of the investment corporation directors, Harold Knowles and Keith Bowers, are part of a group that in July received $281,000 in community development money for exclusive rights to a development project in the city. All told, it's a morass of addresses, interconnections, swaps and deals raising questions about Gillum's alliances — questions that will not be answered before Tuesday's vote.

Andrew Gillum Campaign Uses Derogatory and Racial Slurs To Describe Florida Voters. This is a little bit more than alarming. Florida gubernatorial candidate Andrew Gillum's staff is recorded on video making stunning racial and derogatory epithets toward Florida residents/voters. This is terrible; Florida deserves better.

DeSantis calls for Gillum to be impeached as Tallahassee mayor. Florida Republican gubernatorial candidate Ron DeSantis says perhaps his Democratic opponent should be impeached as Tallahassee mayor over ethics questions.

Andrew Gillum Fought U.S. 'Genocide,' 'Colonialism' Through 2017 as Youth Director of Extremist Org. Florida gubernatorial candidate and Tallahassee Mayor Andrew Gillum served as the director of a radical youth training organization whose mission was to challenge U.S. "predatory capitalism," abolish the prison system, fight a "spiritual resistance" battle against "Christian hegemony," redefine the meaning of "borders" while aiding "undocumented" aliens, and enact the "collective liberation" of "communities of color" amid what it described as the scourge of "white supremacy." Gillum's group accused the U.S. of being a "colonialist" power perpetrating "structural violence" and "continued genocide." It claimed conservatives in the U.S. judicial system were "justifying white supremacist policing practices."

Julián Castro

Why is the Hispanic Caucus ignoring Julián Castro? Julián Castro is the lone Latino candidate in the crowded 2020 Democratic primary field. He's uniquely positioned to capture the support of the Congressional Hispanic Caucus, which has more members than ever and more clout. Yet so far, he's come up dry. Just one of the 38-member group has publicly endorsed Castro's bid since his campaign announcement last month — his twin brother, Rep. Joaquin Castro (D-Texas), who chairs the CHC and also serves as chairman of Julián's campaign.

Former Obama Cabinet Member Julián Castro Announces 2020 Presidential Bid. Former United States Housing and Urban Development Secretary Julián Castro formally announced his presidential campaign on Saturday at an event in Texas. [Video clip]

Julian Castro: I'm running for president. Julian Castro, the former Obama administration housing secretary and ex-mayor of San Antonio, Texas, is officially running for president. Castro, 44, the grandson of a Mexican immigrant and son of an outspoken Chicana activist, made his announcement on Saturday [1/12/2019] at San Antonio's Plaza Guadalupe, a historic outdoor amphitheater close to his childhood haunts.

Bill de Blasio

Delusional de Blasio actually thinks he should be president. It's been astonishing to watch Bill de Blasio still prancing on the national stage, to hear his delusional musings on a 2020 presidential run and of his announced trip this Friday to the key primary state of New Hampshire, all while he remains unwilling to acknowledge this truth: For most of us, New York City under his mayoralty has become aggressively unlivable. It's the same defiance we're treated to on his weekly WNYC "Ask the Mayor" segments, exchanges that even the smart, affable host Brian Lehrer can't always salvage. Callers who dare to challenge de Blasio are almost always told the same thing: They are surely well-meaning, just woefully misinformed. De Blasio is painfully verbose and always right. Even if you are living the very dreaded experience you are calling about — you're wrong.

Alexandria Ocasio-Cortez

This subsection has moved to a page of its own, located here.




Cynthia Nixon

Game over.
Cuomo cruises past Nixon in NY gubernatorial primary. New York Gov. Andrew Cuomo easily beat back a primary challenge from activist and actress Cynthia Nixon on Thursday [9/13/2018], thwarting her attempt to become the latest insurgent liberal to knock off an establishment Democrat.

Cynthia Nixon self-identifies as 'queer,' not lesbian. Actress Cynthia Nixon has been routinely described as trying to become the state's first lesbian governor. But Nixon actually doesn't self-identify as a lesbian. She considers herself queer, campaign spokeswoman Lauren Hitt said.

Cynthia Nixon might have one trick left up her sleeve. In three weeks more, Cynthia Nixon will be put out of her misery. [...] Or maybe she's about to get a shot in the arm that will reshape the race. I believe there is a good chance the New York Times will endorse Nixon. If so, she would get instant credibility among city and state liberals, many of whom still regard the Gray Lady as a secular Bible. That could give Nixon a chance to seize the momentum before the Sept. 13 vote.

Cynthia Nixon sounds confused by her own 'universal rent control' plan. Cynthia Nixon may be an accomplished actress, but she apparently has a big problem handling material that's not included in her script. In Brooklyn on Thursday [8/16/2018], the gubernatorial candidate and her running-mate, City Councilman Jumaane Williams, tried to tout "universal rent control," a pet proposal of their party's rising socialist wing. But when reporters asked just what that policy means and how it would be enacted, the pair found themselves in over their heads trying to explain.

Cynthia Nixon Thinks You're Totally Underestimating Her 40 Points In The Hole Campaign. There are precisely 45 days left until the exciting conclusion to the New York State Democratic Party primary race for governor. Going by the adoring coverage being offered in local media around the state, you'd think that Governor Andrew Cuomo was in the fight of his political life, attempting to stave off the populist challenge of newly minted Democratic Socialist and former Sex and the City star Cynthia Nixon. Of course, as we've covered here on multiple occasions, the polls don't really portray any sort of tight race at all. But who are you going to believe... a bunch of bean counters at Real Clear Politics or your own lying eyes? Nixon was out on the stump again this weekend warning everyone that they are underestimating her and this campaign could catch fire in the public imagination any day now.

Cynthia Nixon announces she's a 'democratic socialist'. Cynthia Nixon on Tuesday proudly proclaimed herself a democratic socialist. The actress-turned-candidate for governor explicitly embraced the democratic socialist label for the first time in a statement provided to Politico. "Yes. Some more establishment, corporate Democrats get very scared by this term but if democratic socialism means that you believe health care, housing, education and the things we need to thrive should be a basic right not a privilege then count me in," Nixon said in the statement.

Liberals: Radical, Crazy, and Getting Worse. Liberal candidate for New York Governor Cynthia Nixon (former star of "Sex and the City") just went a step further into crazy land. She said, "I can think of no better description than to call ICE (Immigration and Customs Enforcement) a terrorist organization." Well at least it's all now out into the open. Liberals support illegal alien criminals and think ICE agents who protect our border, protect us from terrorism, and save women and children from kidnappers, rapists and murderers are "terrorists." Good luck in the midterms with radical, insane views like this.

7 Examples from the Last Two Weeks That Show How Dangerous and Insane Liberals Have Become. [#7] New York Mayoral Candidate Cynthia Nixon Calls for Us to Get Rid of ICE. A woman running for mayor of New York City called for ICE to be disbanded. In other words, Nixon believes our borders should be wide open to drug dealers, illegal aliens, terrorists, pedophiles, murderers and anybody else who wanders across our border. The idea that our borders should be completely unguarded is now a SERIOUS IDEA on the Left. It may not be THE position of the Democratic Party YET, but it's worth noting Nixon is not alone.

Cynthia Nixon ignites outrage for saying marijuana could be 'form of reparations' in black neighborhoods. Cynthia Nixon took heat Monday from black leaders over her comments that creating a legalized pot industry in New York could serve as a form of reparations in black communities. Nixon on Saturday told Forbes magazine "now that cannabis is exploding as an industry, we have to make sure that those communities that have been harmed and devastated by marijuana arrests get the first shot at this industry."
---

Jump to Liberals - Intro Page
Back to the Home page