The Democratic Party is moving further to the political left, and adjectives like Socialist are no longer being avoided. Some of the candidates who are being enthusiastically promoted by the party are indistinguishable from communists. For years, the Democratic Party platform has been completely out of sync with the American mainstream, even though it has the reliable support of the national news media. But some of the newcomers have ideas that are really odious.
Subsections on this page:
Alexandria Ocasio-Cortez
Cynthia Nixon


Related topics on other pages:
Elizabeth Warren


---
Previously-unknown candidates appearing from nowhere
Democratic candidate implodes in Arizona. "When Kyrsten Sinema began her rise in Arizona politics in the early 2000s, she was a Ralph Nader supporter and local spokeswoman for the Green Party who worked to repeal the death penalty and organized antiwar protests after the Sept. 11 attacks," the New York Times reported on September 24. The story left out a radio interview in 2003 by Ernest Hancock.
AZ Dem Senate Candidate Said 17 Months After 9/11 That She Didn't Care If Americans Joined The Taliban. In February 2003, appearing on a radio show hosted by a local libertarian activist the day before an anti-war event that was protesting U.S. involvement in Afghanistan, Krysten Sinema, who is running in 2018 as the Democratic Party's candidate for the Arizona Senate, told the host, Ernest Hancock, that she didn't care if Americans wanted to fight for the Taliban. The exchange started with Hancock asking Sinema if she would oppose him joining the Taliban, saying, "Now you would say, maybe we do owe something to the world, as long as it's nice and sweet and peaceful and what you want to do."
O'Rourke's Close with Guy Who Says Police Are Terrorists, US Is Nazi Germany. The Daily Caller [DCNF] revealed that Beto O'Rourke has a very close relationship to a nut job radio host and author. The man is far more fringe than the much-vilified Alex Jones. But YouTube keeps him on their platform. He's okay because he's a left-wing fringe guy. Rep. Beto O'Rourke, Sen. Ted Cruz's opponent in the Texas senatorial race, has long been an ally of an off-the-charts radical radio host advocating for drug legalization. He frequently compares the U.S. to Nazi Germany.
The cult of Beto. There is no way Robert Francis O'Rourke, alias "Beto," a.k.a. the no-doubt gleaming future of the Democratic Party is as delusional about his prospects for success as his followers. That would be impossible. The Texas congressman is your average 46-year-old liberal failson politico, the grandson of a secretary of the Navy, the son of a judge, a hanger-on in his party who graduated from playing in an amazingly bad hardcore punk band to a seat on the El Paso City Council. After that, he challenged Rep. Silvestre Reyes, an eight-term Democratic incumbent and chairman of the Congressional Hispanic Caucus, with the help of outside cash and despite endorsements from both Bill Clinton and Barack Obama. The two issues of crucial importance to reviving the fortunes of the working class on which O'Rourke fought his campaign were support for same-sex marriage and drug legalization, both of which Reyes, a Catholic, opposed.
Ammar Campa-Najjar: Black September grandson and CAIR's candidate in California. Ammar Campa-Najjar is flooding the airwaves in Southern California and getting lots of warm, friendly press coverage. The left-wing Democratic candidate, who claims to be a moderate, is seeking to topple now indicted Republican Duncan Hunter, who most certainly has made a hash of his own prospects. Any mention of Campa-Najjar's rather spectacular terrorist heritage (Grandpa was a top leader of the extremely gruesome Black September terrorist massacre of Israeli athletes at the 1972 Munich Olympics) is brushed off as not his circus, not his monkeys, something he's repudiated, and in any case, something he's far from, given that he's 29, never met the guy (who was rubbed out by Israeli commandos), and claims to have been raised Catholic. For this, he's always given an easy pass by the press as his TV ads roll on and on and on, obviously the effect of a large campaign war chest.
Kyrsten Sinema Running for Senate in Gun-Friendly Arizona, Co-Sponsored Gun Control Just Last Year. Democrat Kyrsten Sinema is running for Senate in gun-friendly Arizona but staying mum on the fact that she backed a gun control bill just last year. The bill, known as the Public Safety and Second Amendment Protection Act of 2017, was little more than a reconfigured — and regurgitated — version of the gun control bill Barack Obama unsuccessfully pushed following the December 14, 2012, attack on Sandy Hook Elementary School. (The bill pushed in response to Sandy Hook was also called the Public Safety and Second Amendment Protection Act.)
Ammar Campa-Najjar's Questionable Campaign. Running for Congress in California's 50th district against Duncan Hunter Jr., Ammar Campa-Najjar has been described as a working-class progressive, a "Latino Arab-American," and a "Palestinian-Mexican." Though he has been described and describes himself many things, "transparent" is not one of them. So it came as a shock when it was revealed that Campa-Najjar's grandfather was Abu Yousef al-Najjar — the "leader and operational head" of Black September, a notorious Palestinian terrorist cell.
Donna Shalala Could Be Coming to Congress. Former Clinton Cabinet secretary Donna Shalala has won the Democratic nomination in Florida's open 27th District, one of the party's best pickup opportunities this cycle. With 100 percent of precincts reporting, the former Health and Human Services secretary led with 32 percent of the vote, according to The Associated Press. State Rep. David Richardson, who had tried to claim the mantle as the most progressive candidate in the race, finished second with 28 percent in the five-way primary.
Hogg Announces Run For Office, Touts Ocasio-Cortez For President. Left-wing activist David Hogg announced in a recent interview that he plans to run for political office when he turns 25, following the lead of the young socialist Democratic candidate Alexandria Ocasio-Cortez, who he's touted for president. In the NYMag puff piece, writer Lisa Miller says Hogg told her that he plans to "run for Congress when he's 25."
Liberals Want Socialism, But Still Can't Define What Socialism is. Many times, I have pointed out how liberals want socialism, but can't define the term. When liberal claims they know how to define it, they stutter and spout off some crazy definition. One even claimed it is the "ability to socialize. [...] Let's be honest, "free stuff" is never really free. Someone has to pay. Liberals don't care who pays, as long as they don't have to work for it. As I have highlighted before, what happens when those paying run out of money? Who gets to pay then?
The Democratic Party's Alt-Left. The Democratic Party has an alt-left problem, and no one at CNN seems to care. The DSA has been aggressively pushing its members to run as Democrats, and they're winning. Here are three that embody what's going on: Alexandria Ocasio-Cortez, Summer Lee, and Sara Innamorato. Alexandria Ocasio-Cortez is, of course, the poster-girl for the new zeitgeist. That unclean spirit is the wind of "democratic socialism," which is the rage among the Trump "resistance." But Ocasio-Cortez isn't the only young woman scoring big in the Democratic Party for the DSA. Two others are here in my backyard of Western Pennsylvania, Summer Lee and Sara Innamorato, who defeated longtime state reps Paul and Dom Costa. The Costas (they are cousins) were classic Western Pennsylvania Democrats, expected to hold their seats for life, until they were beat soundly in May in the primary by Lee and Innamorato, both of which now run unopposed in the general election and will glide into the state house as elected socialists. Well, actually, as "democratic socialists" who ran as Democrats.
Pocahontas and Krazy Kamala shamelessly pander for Nutroots support. The "Netroots," derisively — and accurately — called the "Nutroots" by some, is a group of hard-left activists who provide the ready foot soldiers when the left goes to electoral war. So would-be 2020 Democratic presidential candidates appeared before them, each trying to appear more insanely left-wing than the others, in an attempt to curry favor with the certifiably politically insane. Most prominent among them was Senator Elizabeth Warren, a Caucasian-American pretending to be an Indian-American, and Senator Kamala Harris, an Indian-American who prefers to emphasize being African-American. Senator Cory Booker was also there, almost as an afterthought, probably for comic relief.
Deserve? Based on what?
Sen. Kamala Harris: Black women deserve bigger role in Democratic politics. Sen. Kamala Harris said Friday black women deserve to have a bigger voice in the upper echelons of the Democratic Party and launched a preemptive strike against those that might try to criticize her vision as "identity politics." Mrs. Harris, the daughter of a Jamaican father and Indian mother, is thought to be laying the groundwork for a presidential run in 2020 and told liberal activists gathered in New Orleans for the annual Netroots Nation conference that the Democratic Party must become more diverse.
Dems' dream girl for 'first black governor of Georgia' confesses fiscal incompetence. Stacey Abrams, the Democrat nominee for governor of Georgia, has set hearts aflutter among identity politics aficionados all across America. She's black! She's female (cis-gendered, although it shouldn't really matter except to troglodytes)! There's never been a black governor of Georgia, nor a female governor. A twofer! Why, what else could anyone want? It's enough to drive turnout among black American voters, and maybe, just maybe put a Democrat in office as governor of Georgia after 16 long years, and therefore enable headlines proclaiming a national revolt against you-know-who.
Democratic challenger hopes to repeat Ocasio-Cortez's success in Washington state. Sarah Smith was recruited to run by the same national organizations that endorsed [Alexandria] Ocasio-Cortez, and she embraces the comparison. In a one-sentence introduction for a recent forum on Reddit, she wrote: "I'm Sarah Smith and I'm running for US Congress in the 9th on the same slate as Alexandria Ocasio-Cortez." She's running on a Sanders-esque platform of single-payer health care, free public college and refusing corporate donations.
Democrat Candidate for Governor Is Dead Broke, Owes $77,522 in Credit Card Debt, and Wants to Run Georgia Economy. Georgia Democrat Stacey Abrams became the first black female candidate to win a major party primary for governor in May. Stacey Abrams was the guest of honor at the Democrat "Way to Win: 2022 Victory Party" at the party's annual spring conference. Abrams and fellow Democrats want reparations for blacks and free college for all kids. It's a socialist's dream. Stacey wants to run the Georgia economy. But she is deeply in debt. Stacey owes $96,512 in student loan debt and $77,522 in credit card debt.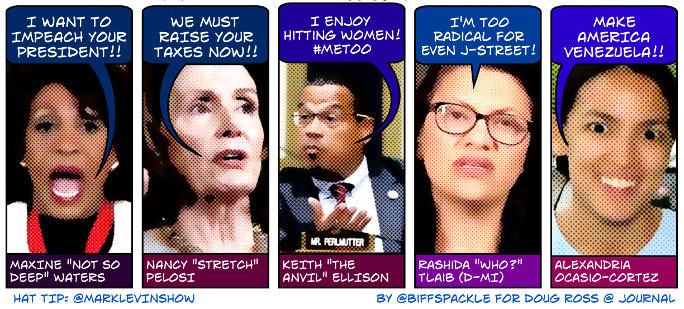 November Is Coming. If you don't show up in November, these will be your new leaders in Congress: [Illustration] Impeachment proceedings? Non-stop subpoenas? More appeasement of China and Iran? Marxists in Congress? Start mobilizing your family, your friends, your colleagues now. It is our mission to send these Communists packing in November.
Note: Keith Ellison is running for Attorney General of Minnesota, not for re-election to Congress.


Julia Salazar
Controversial Socialist Julia Salazar wins Brooklyn state Senate primary. Despite a mountain of political baggage, an upstart Brooklyn Socialist toppled an entrenched incumbent in a closely-watched state Senate race dominated by headlines about truth and integrity. Julia Salazar, 27, rode the progressive wave, toppling long-term state Sen. Martin Malavé Dilan in a district that includes swaths of Williamsburg, Bushwick, and Cypress Hills.
Forget Alexandria Ocasio-Cortez, Julia Salazar is the hero that the socialist moment deserves. Just when you thought the story of Julia Salazar, a DSA Socialist candidate who was already enmeshed in a dozen scandals can't get any crazier, it gets much crazier. To recap, Salazar lied about being Jewish, she lied about being an immigrant, and she lied about growing up poor. The media billed her as the "Next Alexandria Ocasio-Cortez". Cortez and Cynthia Nixon backed her. Oh boy did they mess up. The anti-Israel activist with hate groups such as If Not Now, was not Jewish. She was born in Miami, despite claiming to be an immigrant. And lived in a mansion, despite claiming to be poor.
The Democratic Socialists of America Have an Anti-Semitism Problem. [Julia] Salazar's rant had appeared on a racist site whose creator had complained that his publication had been banned from DailyKos because of "my repeated insistence on talking about the large Jewish presence in the American establishment and the importance of Jewish money in the political process" and one of whose editors had declared, "I do not consider myself an anti-Semite, but I can understand why some are." In reality, Salazar had been baptized as a Catholic, her uncle was a Jesuit priest, and her brother made it clear that no one in the family was Jewish. The Jewish part of her past was as fake as the rest. And it was this biography that the Democratic Socialists of America candidate was running on. The DSA had been hoping to turn Salazar into the next Alexandria Ocasio-Cortez, with the support of radical lefties like Cortez, Cynthia Nixon and Zephyr Teachout by playing up her imaginary biography.
Dem Socialist Candidate's Brother and Mother Say She's Lied About Her Upbringing. The brother and mother of a New York City democratic socialist candidate went on the record to dispute many of the biographical claims she has made throughout the campaign. A Tablet profile last week first revealed that state Senate candidate Julia Salazar, a progressive darling depicting herself as a Jewish immigrant, was actually born in the United States and ran several Christian organizations in college. One of the sources negating Salazar's claims was her own brother Alex Salazar, who told Tablet that they were both born in Miami and their father was not Jewish.
Andrew Gillum
Andrew Gillum [is] Heavily Bankrolled by 'Black Political Power' Group Complaining Too Many 'White Men' Hold Office. One of the primary donors central to funding Andrew Gillum's recent meteoric rise is The Collective, a little-known but increasingly influential political organization seeking to build a "black political power" movement while complaining that there are too many "white men" holding public office. The organization runs a "Black Campaign School" where The Collective's co-founder says they train people on how to build a political movement in America's "heightened, almost racist environment." He charged that this environment has spiraled into "white supremacy" under the tenure of President Trump.
Who Is Andrew Gillum? The two leading individual donors to Gillum's 2018 campaign have been George Soros and another left-wing billionaire, Tom Steyer. Scarcely two weeks ago, Soros, who already had contributed $1 million to Gillum's Forward Florida political committee, announced that he was giving $250,000 more. And Steyer, who had previously funneled $500,000 to Forward Florida, pledged another $300,000. "I'm obviously deeply appreciative of Mr. Soros, as well as Mr. Steyer, both men who I've known them for some time," said Gillum. The most recent Soros/Steyer donations coincided with a $3.5 million get-out-the-vote effort by a coalition of pro-Gillum leftist organizations. In addition to his political activities, Gillum also serves as a Board of Directors member with the New World Foundation, a far-left entity that was once chaired by none other than Hillary Clinton.
Corruption probe looms over Democrat's historic campaign for Florida governor. Tallahassee Mayor Andrew Gillum's surprise victory in the race to become the Democratic nominee for governor of Florida was fueled in part by a compelling personal biography: The son of a school bus driver and construction worker, he was the first of his parents' seven children to graduate from high school and go to college. At age 23, he became the youngest city commissioner the Florida capital had ever seen. "Between my mother and father, they are the best examples of hard work that I know to this day," Gillum said Tuesday night, after support from progressives vaulted him over older and better funded primary opponents. A less savory narrative threatens to collide with that heartening origin tale.
Florida Democratic Gov. Candidate Does Gymnastics Trying To Avoid Admitting He Plans To Raise Taxes. Florida gubernatorial candidate Andrew Gillum shot onto the national stage when he achieved an upset victory in the Democratic primary last Tuesday. On CNN's "State of the Union" Sunday, he talked policy with guest host Dana Bash — and appeared to have a difficult time admitting that his healthcare plan would involve a tax hike for at least some Florida residents.
I'll bet he is.
Andrew Gillum 'deeply appreciative' of billionaires Soros, Steyer in race for Florida governor. Tallahassee Mayor Andrew Gillum on Sunday thanked billionaires George Soros and Tom Steyer for helping him score his upset win in last week's Florida Democratic gubernatorial primary. "I'll tell you, I'm obviously deeply appreciative of Mr. Soros, as well as Mr. Steyer, both men whom I've known for some time," Mr. Gillum said on NBC's "Meet the Press." The Democratic megadonors and their associated groups directed millions to the campaign of Mr. Gillum, who edged out former Rep. Gwen Graham in the crowded Democratic primary. He faces Republican Rep. Ron DeSantis in the November election.
FL Dem gov nominee Gillum: Abolish ICE, create government-run healthcare. Tallahassee Mayor Andrew Gillum won the Democratic nomination in the state's gubernatorial race Tuesday [8/28/2018], putting him one step closer to achieving his dreams of abolishing Immigration and Customs Enforcement and installing a government-run healthcare program. Gillum appeared on CNN Wednesday morning to talk about his upset victory over former Democratic congresswoman and party favorite Gwen Graham, and his plans for the general election in November, when he squares off against Trump-backed Republican Rep. Ron DeSantis.
Tallahassee Mayor Andrew Gillum shocks Democratic rivals, wins nomination for governor. Democrat Andrew Gillum rode a surge of liberal support from young people and African Americans to a stunning primary victory Tuesday [8/28/2018] and the historic opportunity to be the first black governor in Florida's history. With 94 percent of the votes counted, Gillum had an unofficial 3 percentage point lead over his closest rival, former U.S. Rep. Gwen Graham. Gillum overwhelmed Graham in Miami-Dade and Broward, the state's two largest Democratic counties, by more than a 2-to-1 margin, in the highest turnout for a midterm primary election in Florida history.
Flashback to 2006: Biden said about Delaware, "My state was a slave state". Ron DeSantis, the Republican nominee for governor in Florida, is being attacked by the left and their allies in the media about a comment he made about his liberal Democrat opponent, Tallahassee mayor Andrew Gilliam, whose political stances include abolishing ICE and "Medicare for all," which is a euphemism for socialized medicine. Today DeSantis said that Florida voters shouldn't "monkey this up." Because Gillum is an African American libs are claiming that his remark is racist.
Alexandria Ocasio-Cortez
Alexandria Ocasio-Cortez Reveals Her Plan to Overthrow the Supreme Court. Alexandria Ocasio-Cortez has shown her disdain for American institutions, based on a false understanding of history. If she had power, she would destroy America's federal system by abolishing the Electoral College and packing the Supreme Court. Yet more and more liberals are blaming the system for their political losses, suggesting that the Senate — never intended to be democratic — isn't democratic enough!
Ocasio-Cortez: 'There's no debate' that fossil fuel production should stop. Democratic House candidate Alexandria Ocasio-Cortez rallied an audience of supporters in Washington Thursday evening [10/11/2018] with calls to implement single-payer health care and tuition-free college — along with an appeal to stop fossil fuel production entirely. Ocasio-Cortez, who is running to represent New York's 14th Congressional District, has made no secret of her opposition to fossil fuels. She's called for politicians to forsake donations from the industry and is pushing a "Green New Deal" plan which entails a shift to 100 percent renewable energy by 2035.
Alexandria Ocasio-Cortez: We must 'eliminate the Electoral College'. New York congressional candidate Alexandria Ocasio-Cortez, a member of the Democratic Socialists of America, is calling for the abolition of the Electoral College, which she referred to as a "shadow of slavery's power." "It is well past time we eliminate the Electoral College, a shadow of slavery's power on America today that undermines our nation as a democratic republic," the 28-year-old tweeted Saturday [10/6/2018].
Far-Left Democrat Ocasio-Cortez Calls To Abolish Electoral College. Far-left Democrat Alexandria Ocasio-Cortez is ramping-up attacks against the constitution. The Democrat hopeful took to Twitter over the weekend to slam the electoral college as a "shadow of slavery's power."
Ocasio-Cortez and Reality. [Scroll down] The young New York City native is a graduate of Boston University, where she graduated cum laude with a degree in economics and international relations. She is proof of the claim that leftist professors teach Marxism, not classical economics, when they indoctrinate the eager young people before them. Hardly any of the collegians studying economics today are taught sound economic fundamentals. So Boston University is far from alone in laundering the brains and common sense of young people, all of whom at these institutions are led to believe that the rosy promises of government control never materialize. In a televised interview shortly after her primary victory, veteran CNN anchor Jake Tapper asked the democratic socialist how she would finance her calls for universal healthcare, housing as a federal right, job guarantees, tuition-free public college, cancellation of student college debt, and more. He told her that the left-leaning Tax Policy Center estimated her goals would cost upwards of $40 trillion over 10 years. The somewhat befuddled Ocasio-Cortez commented fuzzily that covering their costs could be achieved by increasing taxes on both the wealthy and the corporate world.
Ocasio-Cortez is asked for her 'plan' for Congress — her answer is a word salad mess. Alexandria Ocasio-Cortez appeared on MSNBC in the wake of the stunning news about Brett Kavanaugh heading towards confirmation, and gave a jumbled bizarre word salad of an answer for an important question. [Video clip]
Ocasio-Cortez Describes Herself As 'Therapist' For Her District Because Of 'Re-Traumatizing' Trump Policies. New York Congressional candidate Alexandria Ocasio-Cortez on Friday characterized herself as "something of a social worker or even a therapist" to people in her district to whom President Trump's policies have been "re-traumatizing." [Video clip]
Ocasio-Cortez: We Can't Compromise With 'Insane People' on the Right 'Holding the Country Hostage'. Asked by Vanity Fair how she intended to balance her desire for rapid, progressive change with the need in Washington to make deals, Ocasio-Cortez said Democrats too often compromise even before getting to the table. "When you're dealing with these insane people holding the country hostage on the right, you can't go in with your end point. You have to go in with a strong position," she said. "If they're trying to end Planned Parenthood, I don't think we go in with, 'No, let's keep Planned Parenthood.' I think we go in with, 'Let's expand women's rights to health care and have it guaranteed in every state.' I think we can compromise on our tactics and how we get there, but we can't compromise where we're going."
Ocasio-Cortez already plotting run for president? Alexandria Ocasio-Cortez hasn't even been elected to Congress yet, but she's apparently already moved onto running for president. While speaking to folks in what appears to be a basement, the socialist darling is already thinking about being "inaugurated," an event reserved for a commander-in-chief.
Ocasio-Cortez Hints Fox News Should Be Punished For Reporting On Her. Democratic socialist Alexandria Ocasio-Cortez hinted on Wednesday that Fox News should be punished for the network's reporting on her, claiming that they are "obsessed." Ocasio-Cortez's remarks came after Fox News published an article based on a Tuesday report from The Daily Wire that showed the 28-year-old suggesting that she would be "inaugurated" into office if she won her congressional race in November and that she looked forward to signing bills into law.
Ocasio-Cortez Proves She Has No Idea What Congress Does. Democratic socialist Alexandria Ocasio-Cortez showed her extreme lack of knowledge about the basic roles of the three branches of the federal government during a speech on Monday, suggesting that after she is "inaugurated" into office that she will begin signing bills into law. "After being spurned over, and over, and over again, short-changed on healthcare, short-changed on criminal justice, short-changed on education, there's a lot of folks who don't want to believe anymore," Ocasio-Cortez said. "And that's why what we have accomplished is such an immense responsibility. It is a responsibility." "It doesn't mean you get everything tomorrow," Ocasio-Cortez rambled. "As much as I would love that. I would love to get inaugurated January 3rd [and on] January 4th we're signing healthcare, we're signing this..." Ocasio-Cortez seemed to be completely unaware of the fact that members of Congress are sworn into office, not inaugurated like the President of the United States.
Ocasio-Cortez Can't Answer How She Will Pay for $40 Trillion in Government Programs. Alexandria Ocasio-Cortez was unable to answer on Sunday on how she will pay for her progressive agenda, which some think tanks have estimated would cost $40 trillion. "Various new programs including Medicare for all, housing is a federal right, federal jobs guaranteed, tuition free public college, canceling all student loan debt. According to nonpartisan and left leaning, tax policy center, the overall price tag is more than $40 trillion in the next decade," CNN "State of the Union" host Jake Tapper said. "You recently said in an interview increasing taxes on the very wealthy, [an] increased corporate tax rate, would make $2 trillion over the next 10 years. Where is the other $38 trillion going to come from?" Ocasio-Cortez responded by stating Medicare for all would end up saving the country money.
'Socialist' Alexandria Ocasio-Cortez Wears $3,500 Outfit For Photo Shoot With Construction Workers. Socialists want everybody to get everything — as long as they get theirs first. And socialists looooove money. Take Sen. Bernie Sanders, the Vermont Independent who touts himself as a socialist. He's got three houses, including a shorefront house on Lake Champlain. Same goes for the hot new socialist, Alexandria Ocasio-Cortez. She's everywhere now as she runs for a New York seat in the U.S. House. And with that comes money — and bling. In a photo shoot for Interview magazine, Ocasio-Cortez was pictured wearing a $3,500 outfit as she posed with construction workers. She was decked out in a Gabriela Hearst blazer ($1,990), Gabriela Hearst pants ($890), and some Monolo Blahnik shoes ($625).
Gues [sic] How Much Socialist Ocasio-Cortez' Outfit Cost — $49? $180? $3,500? If NYT weren't so busy reporting misleading stories about Nikki Haley's curtains, maybe they would pick up on the hypocrisy of the budding Democrat Socialist Superstar, Alexandria Ocasio-Cortez. The New York Times, with their usual smug satisfaction, thought they'd scored with a 'gotcha' story implicating our take-no-prisoners Ambassador to the UN, Nikki Haley.
The "New" Left: The Democratic Socialists of America. A radical leftist upstart's unexpected trouncing of a key member of the House Democratic leadership in a primary is sending shockwaves through the Democratic Party establishment. I refer to Democratic Socialists of America (DSA) member and first-time candidate Alexandria Ocasio-Cortez, at the time a 28-year-old of Puerto Rican ancestry, who crushed longtime U.S. Rep. Joe Crowley, a 56-year-old Irish-American Catholic, in the June 26 primary election for the 14th congressional district in New York, covering parts of the boroughs of Queens and the Bronx. Crowley chairs the House Democratic Caucus, the fourth-highest leadership position among House Democrats, and he was a leading contender to become House Speaker, if Democrats regained control of that chamber. Ocasio-Cortez's victory made her an instant star in leftist circles. Democratic National Committee (DNC) chairman Tom Perez promptly hailed her as "the future of our party."
Ocasio-Cortez: ICE 'sexually assaults women with impunity'. Socialist darling Alexandria Ocasio-Cortez wants to abolish Immigration and Customs Enforcement because it's full of rapists and child abusers. Or something. Ocasio-Cortez, who won an upset primary against Chairman of the House Democratic Caucus U.S. Rep. Joe Crowley, took offense to a post on Twitter by Townhall editor Katie Pavlich this week and attempted to set the record straight.
Socialist Alexandria Ocasio-Cortez recruits children to help 'kick out' Trump. In Chicago, Democrats recruit the dead to vote. In New York, they recruit children for their agenda. While Alexandria Ocasio-Cortez was campaigning in Queens today [9/1/2018], she attempted to sway a group of kids to her cause. [Video clip]
These are the real scandals plaguing our country. Political suicide is the path other Dems are taking, as shown by their embrace of any shiny new thing, including socialism. The leftward lurch got a jolt last June, when Alexandria Ocasio-Cortez, a 28-year-old former bartender, defeated incumbent Joe Crowley in a primary for a House seat in Queens. In a flash, Ocasio-Cortez was the darling of the party, and some insiders declared she was its future. The movement toward things that not even Bernie Sanders endorsed surged when she called for abolishing the Immigration and Customs Enforcement police, known as ICE. Briefly, the idea felt unstoppable until cooler heads realized that [#1] abolishing the agency would lead to border chaos and [#2] border chaos would lead to a GOP rout in the midterms. Besides, Ocasio-Cortez turned out to know next to nothing about many things. Her claim that unemployment was low "because everyone has two jobs" was a gift to comedians and Republicans.
The Dems' big problem. My neighbors know they are being coaxed, prodded, and pushed to vote into office the new breed of progressive, socialist Democrats. They know deep inside that the likes of the know-nothing new Dem members of Congress, the kid from Queens, Alexandria Ocasio-Cortez, and Muslim radical Ashida Tlaib from Michigan, would spell financial disaster for them, but they have the required (D) after their names, and that's all they're supposed to consider.
Alexandria Ocasio-Cortez Praised John McCain. Then Things Got Really Weird. Alexandria Ocasio-Cortez did a very nice thing Saturday, tweeting out a heartfelt tribute to the late Senator John McCain, whom she called "an unparalleled example of human decency and American service." Being (mostly) a political amateur in a severely partisan social media landscape, Ocasio-Cortez probably should have known that praise for a member of the opposing party wouldn't be received by her progressive colleagues as a collegial olive branch extended in the spirit of McCain's "Maverick" reputation, but rather as an open invitation to question her progressive bona fides. Things got heated, as leftists roasted Ocasio-Cortez from straying from the party line and daring to suggest anyone right of Karl Marx might have had some good ideas.
Ocasio-Cortez Campaign Spends Nearly $4,000 on Uber After Blaming Company's Success for Taxi Driver Suicides. New York congressional candidate and Democratic socialist Alexandria Ocasio-Cortez has repeatedly castigated ride-sharing giant Uber and blamed its "unregulated expansion" after a yellow cab driver commited suicide, but her campaign has taken nearly $4,000 worth of Uber rides between April and late June. Ocasio-Cortez, who became a household name after defeating Democratic incumbent Rep. Joe Crowley (D., N.Y.) back in June, has criticized Uber several times on Twitter as recently as March, in a post flagged by Fox News. "NYC's fourth driver suicide. Yellow cab drivers are in financial ruin due to the unregulated expansion of Uber. What was a living wage job now pays under minimum," she tweeted.
Ocasio-Cortez Criticizes Uber Despite Campaign Spending Over $4K On Rides. New York congressional candidate Alexandria Ocasio-Cortez is being criticized for her contradicting stance on the state's ride-sharing cap. The self-proclaimed Democratic socialist slammed Uber, saying the company led Yellow Cab drivers to suicide. Additionally, she said the company exploits its drivers by not paying them enough.
She hasn't even been elected yet (to anything) and Salon is already going there. Salon wants to know if Alexandria Ocasio-Cortez is the next Barack Obama.
How Far Left Can Democrats Go? Democratic Socialist congressional candidate Alexandria Ocasio-Cortez has become a media star and "future of the Democratic Party" for her Far-Left platform, her amazingly ill-informed (if not just plain dumb) comments during interviews and the near-zero batting average of her endorsed candidates. The old guard of the Democratic Party's national leadership has studiously avoided being too closely associated with Ms. Ocasio-Cortez — former President Barack Obama pointedly failed to include her in his first list of endorsees — and Democrat-oriented pundits have tended to dismiss her radicalism as a phenomenon of New York City's leftwing politics. But as our friend John Gizzi documented in a recent column for NewsMax, Alexandria Ocasio-Cortez is hardly the only radical Far-Left Democrat on the ballot this November, nor is she in many respects the most radical.
Ocasio-Cortez Mourns Restaurant Driven Out Of Business By Minimum Wage Law She Backs. This week, Alexandria Ocasio-Cortez "swung by" to say goodbye to a restaurant where she used to work. What she didn't say is that it is closing because the owners can't afford New York City's soon-to-be $15 minimum wage — the very job-killing policy Ocasio-Cortez and her fellow Democrats want to impose nationwide.
Don't blame Ocasio-Cortez — blame her schooling. The Left's new IT Girl, Alexandria Ocasio Cortez can't seem to get it straight on anything. We should not be amazed that this newly hatched Socialist Democrat is so clueless about the economy and international relations: namely, at the moment, the Palestinian-Arab/Israeli conflict. On the economy, she's prepared to give everything away for free — healthcare and education gratis for all, with no mention from where the money is coming. On the Middle East, she's prepared to hand over territory that was Jewish since time immemorial. In her lopsided view, the land belongs to the "Palestinians." That's her story and she is sticking to it — though not fully. On PBS'S "Firing Line," she admitted that she is "not the expert" on the topic. On what topic is she the expert? Nothing much, apparently, yet she will be sitting pretty in the next Congress after her surprising defeat over a veteran incumbent.
Media Barred From Townhall Held By ... Alexandria Ocasio-Cortez; Update: Attendees Needed To Feel "Safe". Historically, when have socialists ever been enemies of press freedom? Get excited for "Reliable Sources" this weekend on CNN, when stalwart media defender Brian Stelter will respond to this troubling precedent from a left-wing Democrat by ignoring it.
Ocasio-Cortez is now banning the media from her public town halls! Does Ocasio-Cortez now agree with Trump that the Fake News Media is the enemy of the people? Or is she just tired of being mocked for her dumb statements?
Incompetent from day one:
If Ocasio-Cortez is going to run from debate, then she isn't really running [for office]. Alexandria Ocasio-Cortez, a Democratic socialist congressional candidate from New York City, missed an opportunity when she recently refused conservative political commentator Ben Shapiro's invitation to debate. By turning down Shapiro's offer to donate $10,000 to her campaign if she would agree to a one-hour televised debate on the issues and her socialist ideas, Ocasio-Cortez gave up a significant amount of money. But more importantly, she showed she is afraid to defend her radical leftist ideas in a debate. Since the House of Representatives is in the business of debating legislation whenever it is in session, it seems curious that a candidate who is afraid to debate wants to become a member.
Alexandria Ocasio-Cortez is a Gift to Conservatives. The 28-year-old bartender-turned Democrat is turning out to be an endless fountain of hilariously bad political moments and brilliantly incorrect one-liners. Since she made her debut on the political scene late June, she has had one blunder after another, demonstrating that she is consistently able to speak authoritatively on anything other than bumper-sticker-slogan paraphrases of "democratic socialism" (don't ask her to define democratic socialism, though).
Ocasio-Cortez Proves Once Again That She is NOT Ready for the Spotlight. The election of 2016 may have been just the first of many signs of a dying regime. Not only was the DNC in utter financial peril, but they then allowed themselves to be co-opted by Hillary Clinton's coffers in exchange for a clear shot at the nomination. It was collusion at its finest, but, given that The Clintons were involved, not a great many folks were surprised. Now it looks as though the left is ready to hang their hopes on a democratic socialist named Alexandria Ocasio-Cortez who, at 28 years young, has shown her age for more often than her acumen.
Will the media ever call out Alexandria Ocasio-Cortez's ignorance? I know it's racist to call LeBron James dumb, but what about Alexandria Ocasio-Cortez? The New York Democratic congressional candidate got at least some real questions during an interview this week on CNN. If weren't for Ocasio-Cortez being an attractive minority, the rest of the media would be calling her the next Sarah Palin. Democrats, if they're ethnic and look good on TV, typically get one question from the press: "Are you running for president?"
Another candidate endorsed by socialist darling loses badly. Is an endorsement smooch from the socialist Alexandria Ocasio-Cortez actually a kiss of electoral death? For Hawaii congressional candidate Kaniela Ing, the answer was yes, as he became the fourth high-profile endorsee of Cortez to go down in flames in a primary this week, based on returns.
Is Ocasio-Cortez Afraid of Candace Owens? Everyone's favorite Democratic socialite continues to entertain, and not merely because of her unique views about how the world works beyond Westchester, NY. She has kept us in stitches with her claim that Medicare-for-All will save the nation zillions in funeral expenses, her weird belief that questions about the costs of M4A are merely GOP talking points, and her unique theory about the SCOTUS ruling in NFIB v. Sebelius. Now she has us slapping our thighs with comical excuses for refusing to participate in a debate about the virtues of socialism versus those of capitalism with black conservative Candace Owens.
The Ocasio-Cortez Fizzle : It's Not a Beverage. On June 26, 2018, [Alexandria] Ocasio-Cortez garnered 15,897 votes to Joe Crowley's 11,761, defeating the 10-term incumbent by almost 15 percentage points. A surprising loss sending Crowley home weeping in disbelief. However, considering there are over 300,000 registered voters, 4.4% of the populous isn't a huge bragging point for Cortez. And one should consider that in a district where Hispanics outnumber whites over 2.5 times, a young socialist leaning girl with a "everything for free" message could draw more attention than a older white guy even though he outspent her 19 times.
Lou Dobbs Crushes Alexandria Ocasio-Cortez's Dreams In Brutal Rant. Democrats are cheering on their latest idol, socialist Alexandria Ocasio-Cortez. She gained popularity by saying she will give everyone a lot of free things. When Ocasio-Cortez was asked how she would pay for all these things, she claimed that since Medicaid will save everyone's lives, there will be no more funeral expenses. Fox News anchor Lou Dobbs commented on this bizarre politician. He was spot on. "Ocasio-Cortez is suddenly anointed the face of the Democratic Party. I have to say, it is a motion that I would hardly second and endorse fully because she knows nothing about economics," said Dobbs.
Alexandria Ocasio-Cortez, Airhead. Alexandria Ocasio-Cortez, girl socialist, may know what the Gini coefficient is, but she doesn't know much else. The Washington Post fact checked a series of recent claims by Ocasio-Cortez and found all of them to be false.
New Dem Rock Star O-Cortez Struggles to Describe Pelosi's Role. Democratic Socialist Alexandria Ocasio-Cortez won the Primary for the congressional seat in NY14 — the Bronx — because so few showed up to vote and her opponent didn't bother to campaign. She grew up in one of the more elite suburbs of New York but she thought she was a Capitalist then. Her endless gaffes promise to hurt her as the "future of the Democrat Party", a label she was given by the DNC Chair Tom Perez. In another failed TV interview, she rambled nearly incoherently as she attempted to describe Pelosi's position in the party during an interview with Cuomo Prime Time on Wednesday.
Alexandria Ocasio-Cortez: Socialized Medicine Will Save Money On People's Funerals. It's amazing how the media is holding this woman up as the person who is going to somehow save the Democratic party. She says such outrageous things that the media would never let slide for anyone else. Her recent comment about socialized medicine and funerals was downright creepy.
Ocasio-Cortez dismisses Shapiro's debate offer. Democratic congressional candidate Alexandria Ocasio-Cortez on Thursday [8/9/2018] dismissed an offer from conservative commentator Ben Shapiro challenging her to a debate, saying she doesn't "owe a response to unsolicited requests from men with bad intentions."
No Borders, No Nation. [Scroll down] OK, you say, but Ocasio-Cortez and her cheering section are a tiny, noisy coterie of hard-left overwrought subordinates who have hijacked a small part of the Democratic Party; they don't represent the majority of registered Democrats. Au contraire! The party's leadership says otherwise. Following her surprise victory, Democratic National Committee Chairman Tom Perez joined the hosanna choir proclaiming Ocasio-Cortez to be "the future of the Democrat party." (Emphasis added.) Representative Keith Ellison (D-Minn.), who is the deputy chair of the DNC and formerly served as chair of the Congressional Progressive Caucus, is also on board the bandwagon. Ellison, a Marxist Muslim and one of the most radical members of Congress, says that not allowing foreign people to enter the United States at will is "an injustice." At a May Day parade in Minneapolis this year, he wore a T-shirt emblazoned with the slogan, "Yo no creo en fronteras," which translates from Spanish into "I don't believe in borders."
Ocasio-Cortez Thinks Menendez Is From Florida, Knocks Him and Manchin For Not Being 'Working-Class Champion'. Democratic congressional candidate Alexandria Ocasio-Cortez on Monday knocked a couple key members of her own party, Sens. Joe Manchin (W.Va.) and Bob Menendez (N.J.), saying they don't represent the "working-class champion." She also wrongly identified Menendez as being from Florida before being corrected by her interviewer. The self-described democratic socialist took aim at Manchin and Menendez during an appearance on the podcast "Pod Save America," which is hosted by former Obama administration staff members.
Oops: Socialist 'Star' Ocasio-Cortez Thinks NJ Sen. Menendez Is From Florida. This is the new voice of the Democrat Party.
Socialist star Ocasio-Cortez strikes out: All endorsed candidates lose Tuesday primaries. Alexandria Ocasio-Cortez's record on Tuesday night for her chosen primary candidates was as bare as a Venezuelan supermarket shelf. The socialist pulled off a stunning victory last month in New York, and is now attempting to parlay that win into helping other leftists win Democratic primaries.
New York Socialist Cortez: 'The Whole Country Is Further Left Than Congress'. Alexandria Ocasio-Cortez thinks the rest of the country is as far left as she is. During a recent interview, she claimed that the American people side with her, not the representatives they elected.
Ocasio-Cortez Says Upper Middle Class 'Does Not Exist Anymore' In America. New York congressional candidate and socialist Alexandria Ocasio-Cortez does not believe there is an "upper middle class" in American any longer, a point even liberal news networks contest. Ocasio-Cortez has made some fairly eyebrow raising statements on the economy in America during her meteoric rise to stardom in the Democratic party. Ocasio-Cortez has claimed that unemployment is low because people are working "two jobs" and that people are working "70 or 80 hours a week." These claims have been rated "pants on fire" by fact checkers.
Teaching Good Little Girls to Hate and to Fear. [J[ust when we deplorables had finished digesting the incomparable Democratic Socialist Alexandria Ocasio-Cortez, along comes another tasty dish: the New York Times' pet racist and sexist, Sarah Jeong. AOC's claim to fame is a B.A. at Boston University, which explains everything. So I wondered about Korean-born Sarah Jeong. Sure enough, says La Wik: ["]She attended the University of California Berkeley and Harvard Law School, where she was editor of Harvard Journal of Law & Gender.["] [Expletive deleted] Of course, Jeong is an anti-white racist and an anti-male sexist, for that is what she was carefully taught by her lefty teachers and administrators.
Sorry, Democratic Socialists — you're still pushing poison. The second-most famous Democratic Socialist in America right now, after kingmaker Democratic Socialist Bernie Sanders, is New York City congressional candidate Alexandria Ocasio-Cortez. The newcomer does her best to explain the snake oil: It's "the basic belief" that "in a moral and wealthy America ... no person should be too poor to live in this country." Note the word "wealthy." How exactly does she think the US got that way? It certainly wasn't because of socialistic transfers from wealth-producers to wealth-consumers. In fact, whatever funds are shifted are available only because some Americans are motivated to produce wealth in the first place. Alas, all that escapes those pushing an economic system that has yet to work anywhere.
My Declaration of Incivility. The media's latest crush, the Democrats new Obama — of course I am talking about Westchester socialist Alexandria Ocasio-Cortez, just went on a foreign news service, Al Jazeera, to accuse America of "human rights abuses," even after it was Trump who put an end to the Obama policy of separating adults and children at the border.
Alexandria Ocasio-Cortez Obama's Latest Political Ploy. The MSM and social media are either in on it or just don't get it. Barack Obama's supposed "snub" of the Big Apple's rising star, Bernie Sander boutonniere and strictly socialist Alexandria Ocasio-Cortez, that is. [...] In fact leaving Alexandria Ocasio-Cortez off his list of endorsed candidates is straight out of Democratic Election Strategy 101. Ocasio-Cortez was only trotted out as a congressional candidate in order to make it appear that the garden variety of crazed Dems are 'courageously' fighting off socialism. What a joke when we know that the Dems embrace socialism rather than fight it. When Obama and ex-vice president Joe Biden chowed down over lunch a few days ago, they probably giggled like a couple of school girls convinced they had succeeded in pulling off the Ocasio-Cortez con on the voting masses.
Obama's First Round of Endorsements Doesn't Include Ocasio-Cortez. Former President Obama released his first round of midterm endorsements today, and the young Bronx native who defeated 10-term incumbent House Democratic Caucus Chairman Joe Crowley (D-N.Y.) in the June primary is not on list. For the state of New York, Obama's list only includes two races: Antonio Delgado, who is trying to unseat Rep. John Faso (R-N.Y.), and Anna Kaplan, who is challenging a GOP incumbent for a state senate seat that could determine which party is in control. [...] In all, Obama picked 81 candidates to endorse from across the country.
Alexandria Ocasio-Cortez Thrills San Francisco 'Progressives'. Alexandria Ocasio-Cortez, the 28-year-old "democratic socialist" who defeated a 10-term Democratic incumbent in New York's June primary, made waves with her fellow progressives in San Francisco's Mission District Tuesday night as she described her plans to provide free Medicare and college for all. The San Francisco Chronicle noted that Ocasio-Cortez had proposed those policies in her successful campaign in New York's 14th congressional district, where a Democratic Party primary victory virtually guarantees victory in the general election.
Far Left Street Cred: Alexandria Ocasio-Cortez Attends Event With Anti-Israel Activist Linda Sarsour. Well, Alexandria Ocasio-Cortez, the insurgent democratic socialists who beat top House Democrat Joe Crowley in a primary, is off to a great start in her career in public life, and as the new face of the Democratic Party. She's brain-dead on economics and the Israeli-Palestinian conflict. On her socioeconomic agenda, well, she doesn't know how to pay for it. She doesn't even know how much we spend on the military, [whereas] the military is one of the big-ticket items in our budget. So, given that, you think she has a clue about the complex and ultimately ruinous tax structure that will need to be implemented to pay for her socialist goodie bag — all of which does not have a chance [of] passing Congress.
Ocasio-Cortez's primary win backed by Young Turks, George Soros. Researcher Richard Weinstein joined Glenn Beck and Stu Burguiere on Wednesday's show to discuss his stunning discovery of the deep pockets behind Alexandria Ocasio-Cortez's "grassroots" campaign. Wondering how Ocasio-Cortez achieved her primary win in the 14th district of New York without really knowing any policy, Weinstein began a preliminary search for answers. He quickly discovered that in 2017, Ocasio-Cortez's website belonged to a group called "Brand New Congress."
Socialist candidate Ocasio-Cortez once saw herself as Smithian capitalist, viewed feminism as 'relic'. Alexandria Ocasio-Cortez, the socialist congressional candidate from New York who touts honesty and authenticity as her greatest strengths, used to describe herself as a follower of Adam Smith, the so-called father of capitalism — and said that terms like "feminism" and "empowerment" were "relics from the past." Since then, Ocasio-Cortez has come out as an unapologetic democratic socialist, wishing to see greater taxation and expansion and creation of wide-ranging social programs such as a single-payer health care system, free education, and housing as a right. "I think my strength is I'm honest and authentic," she told "The Daily Show" host Trevor Noah last week. Those qualities helped her in June to beat top Democrat Joe Crowley, whose name was floated as the next speaker of the U.S. House.
Democrats become socialists, so let's look at the costs. Sen. Bernie Sanders, I-Vt., used to stand at the left extreme of the Democratic Party. Now he's in the middle. After the primary victories by Ben Jealous in Maryland, and Alexandria Ocasio-Cortez in New York, some Democrats understandably feel a growing need to deny the obvious truth that the party is becoming socialist. Maxine Waters and Nancy Pelosi, two far-left senior congresswomen from California, both recently denied that theirs is a socialist party. But that's becoming a hard fiction to uphold. And the two of them are indistinguishable from standard socialists elsewhere in the world. Ocasio-Cortez and many Democratic nominees around the country are literally from the ranks of the Democratic Socialists of America. These are brass-knuckle radicals who want class warfare and to constrict individual freedom in order to create their heaven on Earth. They are gaining control over a major political party.
Alexandria Ocasio-Cortez and Linda Sarsour co-headline political action conference. Socialist Democratic Alexandria Ocasio-Cortez and Women's March co-leader Linda Sarsour were featured speakers at the 16th Annual Universal Muslim Association of America (UMAA) held on July 29, 2018. [...] Ocasio-Cortez doesn't hide her hatred towards Israel, but fumbled answers on the subject and admitted that she's "not the expert on geopolitics on this issue."
Democrats have a new millennial problem: Young socialist candidates. While Democrats have always embraced socialist policies to a certain extent, claiming to be a "socialist" was taboo until recently, with the change thanks in large part to a surge in millennial candidates running for office. Even though the 2018 midterm elections are more than three months out, Democrats have quickly lost control of their agenda for the American people. Any plan that Senate Minority Leader Chuck Schumer and House Minority Leader Nancy Pelosi may have had for their divided caucus is now being forcibly pulled further to the left by Sen. Bernie Sanders, I-Vt., and Democratic congressional candidate Alexandria Ocasio-Cortez, a 28 year-old progressive darling of the Bronx who is almost certain to win her election in an overwhelmingly Democratic district.
Soros's Powerful Media Consortium Helped Commie-Cinderella O-Cortez Win. The Communist Cinderella Alexandria Ocasio-Cortez found her prince, George Soros, and that is who helped her defeat Rep. Joe Crowley in NY 14. As far-left as Crowley is, and he is, he wasn't far-left enough or young enough or pretty enough for Soros. They want to put lipstick on the Communist pig. Soros's people always go for the most Progressive [Communist/Socialist] candidates. Ocasio-Cortez was a Bernie Sanders organizer. She was also backed by the powerful George Soros-funded Media Consortium.
I've been wondering about Alexandria Ocasio-Cortez and just how she emerged as a politico. [Scroll down] In a nutshell, Alexandria Ocasio-Cortez's political career was spawned by Cenk Uygur, who's history is sexism & venture capital money, in an attempt to put 400 Bernie Sanders carbon copies into our political system and move the Dems far far left.
Alexandria Ocasio-Cortez's Primary Win Linked To George Soros's Pockets. Alexandria Ocasio-Cortez's primary win in the14th district of New York was astounding. With no experience and a political plan similar to that of we-wish-we-had-toilet-paper Venezuela, she wasn't exactly packing heat. Yet, she managed to defeat incumbent Joseph Crowley, who vastly outspent her. As the 28-year-old prepares her Thank You notes, she should address one to left-wing billionaire George Soros.
The Unserious Face of an Unserious Movement. When, last Thursday [7/26/2018], she was asked an elementary question about spending, Alexandria Ocasio-Cortez struck her best Cobra Kai pose. "I sat down with a Nobel Prize economist last week," she exclaimed, contorting her face into Jack Nicholson's and attempting to shoot webs from her fingers. "I can't believe I can say that," she added. "It's really weird!" Alas, nothing from this brush with greatness appears to have worn off on her. Mere seconds elapsed between the boast and the disaster that followed.
Examining Ocasio-Cortez's Painful Answer on Funding Her Socialist Utopia. As we flagged on Friday [7/27/2018], media sensation and instant lefty icon Alexandria Ocasio Cortez appeared on the Daily Show last week, where she was confronted with a relatively simple question by host Trevor Noah. Ocasio Cortez is campaigning on a laundry list of new government programs and entitlements, including "Medicare for All," free college, and a "universal jobs guarantee." But how does she intend to pay for for this calorie-exploding buffet of government largesse? Her response to that fundamental challenge was a bit of a jumbled mess, to put it rather mildly: [Video clip]
All-renewable energy is a prescription for disaster. Alexandria Ocasio-Cortez stunned the Democratic establishment by crushing incumbent Rep. Joe Crowley in the primary race in New York's 14th Congressional District. [...] Ocasio-Cortez's website says: "In order to address runaway global climate change, Alexandria strongly supports transitioning the United States to a carbon-free, 100 percent renewable energy system." Perhaps it's not surprising that Ocasio-Cortez, who campaigned for Bernie Sanders, has endorsed the same all-renewable agenda that Sanders pushed in his failed bid for the White House. What is surprising is that for all her apparent political savvy, she didn't bother to see if such a scheme is workable or affordable.
The Editor says...
There is no need "to address runaway global climate change" because there is no runaway global climate change.
There's No Such Thing as 'Democratic Socialism'. The new darling of the Democratic Party and the liberal mainstream media is Alexandria Ocasio-Cortez, the bright-eyed twenty-something who upended long-time House member Joe Crowley in a New York state Democratic primary a few weeks ago. In their breathless, frenzied rush to anoint Ocasio-Cortez as the coming of the Savior of the Nation, liberals across the land have wholeheartedly embraced her call for "Democratic Socialism." Ignoring the fact that Bernie Sanders espoused essentially the exact same things in the last presidential campaign but was unceremoniously and dishonestly pushed aside by the Democratic Party in favor of Hillary Clinton, what exactly is this "democratic socialism" that seems to have everyone on that side of the fence so atwitter these days?
The seduction of socialism. Sen. Bernie Sanders, Vermont independent, and 28-year-old Alexandria Ocasio-Cortez, winner of a New York Democratic primary, are the old and new faces of socialist America. Their platforms, it appears, hinge on the concept of shared wealth — in other words, handing out free stuff to just about everyone. How far we've come from JFK's admonition not to ask what your country can do for you, but what you can do for your country. Today, for many, it's all about what you should expect from your country with little or no reciprocity.
Vast Majority of Americans Won't Vote For a Socialist, New Poll Finds. Seventy-six percent of respondents in a recent survey said they would not vote for a "socialist candidate," while 24 percent of those polled said they have no problem with the hypothetical candidate. Those results conflict with Democratic National Committee Chairman Tom Perez's prediction that young politicians like Alexandria Ocasio-Cortez — a dues-paying member of New York City's chapter of the Democratic Socialists of America — represent his party's "future."
Ocasio-Cortez Supporters Stumped on How Democratic Socialism Would Be Funded. Supporters of political newcomer Alexandria Ocasio-Cortez (N.Y.) were unable to surmise how all of the monetary freedoms she is promising will be paid for. Campus Reform Media Director Cabot Phillips asked people in Astoria, Queens if they favored her Democratic socialist platform and her mission of "Medicare for all" and tuition-free colleges and universities. Astoria is a portion of the 14th Congressional District in which Ocasio-Cortez won her nomination against Rep. Joe Crowley (D). On "Fox & Friends" Saturday, Phillips said that some of her millennial supporters don't have the right historical context to know about failed attempts at socialism.
Watters: Ocasio-Cortez' Economic Plan Like Raising '$500 to Buy a BMW'. Jesse Watters and the panel on "The Five" reacted to New York congressional candidate Alexandria Ocasio-Cortez' (D-Bronx) laying out part of her economic plan in a Comedy Central interview. Ocasio-Cortez told "Daily Show" host Trevor Noah that if Congress "reverse[s] the tax bill but raised our corporate tax to 28 percent... that's $2 trillion right there." She also called for people to "pay their fair share" and said that a "carbon tax" could bring in additional revenue. "We gave the military a $700 billion budget increase which they didn't even ask for," she said. Ocasio-Cortez is a heavy favorite against St. Johns University economics professor Anthony Pappas (R-Queens).
Democrat Socialist Rising Red Star Ocasia-Cortez: Enforcing the Border Is "On the Same Spectrum as Ethnic Cleansing". Why aren't the media asking other Democrats if they agree with this idea? That is standard media procedure for Republicans whenever one Republican makes a statement that commands less than majority support.
Democrats Embracing Crazy Could Be A Gift To The GOP. Democratic Socialist Alexandria Ocasio-Cortez could not ask for more fawning media coverage, it makes her campaign's own press releases read like hate mail. Slathered in the drool of her questioners, however, there lies Olympic-level ignorance. It'd be easy to call her stupid, and I have on social media, but it's worse than that. Her lack of basic understanding is coupled with the arrogance of certainty. She knows she's right because she's been taught socialism works, she feels it does. Ocasio-Cortez displayed a frightening level of economic illiteracy on The Daily Show this week, getting even basic information wrong. It was enough to make you wonder if she is capable of making change for a dollar. Yet they still rally around her, propping her up as hero with many leading 2020 Democrats taking their lead from this economic Exxon Valdez.
Democratic-Socialist Explains How She'll Raise a Trillion Here, A Trillion There. Alexandria Ocasio-Cortez, appearing on Trevor Noah's show Thursday night, advocated for a "moral and ethical economy" that provides free health care, free college education, and "bold action on climate change" for the American people. "We're here to talk about wages; we're here to talk about education; we're here to talk about saving our planet; we're here to talk about a carbon tax; we're here to talk about people paying their fair share, and we're here to talk about saving the country, frankly," Ocasio-Cortez said. [Video clip and transcript omitted for brevity, among other things.] Ocasio-Cortez said she believes "we are morally obliged to pursue" her view of where the nation needs to go.
The Editor says...
By all means, let's "talk about saving the country," from people like her!
The supremacy of stupidity. We are suffocating in the stupidity of politicians such as up and coming Democrat Rep.-to-be Alexandria Ocasio-Cortez, a frank socialist. We are suffocating in the stupidity of the Democratic Party's media adjunct such as MSNBC's Chris Hayes.
The Polls Are Crazy. [Scroll down] [H]ow out of the mainstream are the Democrats, really? Pretty far out. Back to Rasmussen, on what voters think about socialism: ["]51% of Democrats have a favorable impression of socialism, with 13% who share a Very Favorable one.["] So it's no accident that Bernie Sanders, Alexandria Ocasio-Cortez and Elizabeth Warren are the Democrats du jour. Still, Democrats betray an odd ambivalence toward the economic system that most of them yearn for.
Ocasio-Cortez hits the campaign trail for other Dems. Alexandria Ocasio-Cortez hits the road to Michigan this weekend, where she'll lend her star power to a crop of political progressives — including the first Muslim women to run for Congress. Since she snuffed out Queens Rep. Joe Crowley in June, Ocasio-Cortez has dedicated significant resources to building up a brigade of new progressives across the country seeking to shake up the establishment. Her public appearances and social media shout outs have helped underdog candidates garner national attention, fresh donations and volunteer support.
Ocasio-Cortez: Trump Zero-Tolerance Policy on Spectrum of 'Ethnic Cleansing'. Democratic-Socialist Alexandria Ocasio-Cortez thinks President Donald Trump's "zero-tolerance" enforcement policy is on the spectrum of "ethnic cleansing." [...] This is not the first time left-wing activists vehemently opposed to President Donald Trump's immigration agenda have made sensational accusations about "ethnic cleansing." After Trump referred to MS-13 illegal immigrant gangsters as "animals" earlier this year, the pro-amnesty group United We Dream group also accused Trump of "building up a racially motivated rationale for his immoral and brutal campaign of ethnic cleansing."
Left Is Not Happy About Allie Beth Stuckey's Parody Video on Ocasio-Cortez. CRTV host Allie Beth Stuckey released a parody video featuring Alexandria Ocasio-Cortez — and those on the Left are not happy about it. [Video clip]
Ocasio-Cortez Channels FALN on Puerto Rico. When Republican Rep. Ron DeSantis suggested that "this girl Ocasio-Cortez" is a symptom of Democratic disarray, the self-styled "girl from the Bronx" (who actually grew up in Westchester County) retorted with a tweet wherein she claimed: "I am a Puerto Rican woman." Leaving aside the possibility that she suffers from multiple personality disorder, Ocasio-Cortez doesn't seem to know any more about the history of her newfound homeland than she does about the Middle East. She delivered herself of several tweets on Wednesday that suggest she believes Puerto Rico was an independent and sovereign nation before the U.S. arrived in 1898.
Is Ocasio-Cortez your kind of GIRL? Moments ago, Florida Rep. Ron DeSantis was on TV, Fox News, explaining why he objects to the Democrats' new IT-Girl from Da Bronx, Alexandria Ocasio-Cortez. Let alone her Socialist views, "She says Israel is occupying Palestinian land. Well, there is no Palestine. She is plainly anti-Israel." No doubt about that, plus... Did someone just say GIRL? Oh yes, I did. No, wait, so did DeSantis, and that's how he got all those Progressives going after his scalp.
Valerie Jarrett Welcomes Socialists Into the Democrat Party. "We have a big tent, and I think there is room for a lot of voices in our party," Valerie Jarrett said. The former senior advisor and close confidant to the last president Barack Obama, welcomes Democratic Socialists [they have a more statist platform than Communist Party USA] to the Democratic Party. She made her comments to the harpies of ABC's 'The View' on Wednesday [7/25/2018]. Co-host Meghan McCain asked Jarrett if she thinks Alexandria Ocasio-Cortez is the future of the Democratic Party. Cortez defeated the powerful incumbent Joe Crowley (D-NY) in the primary.
Alexandria Ocasio-Cortez Missouri Visit Poses Obstacle for Claire McCaskill. Alexandria Ocasio-Cortez, the 28-year-old New York socialist who rose to political stardom by championing far-left policies such as abolishing ICE and pushing a federal jobs guarantee on her way to an upset primary win, is headed to Missouri to help topple another incumbent Democrat. Ocasio-Cortez will be campaigning in St. Louis for Cori Bush, a fellow activist running as a Justice Democrat with hopes of defeating incumbent Democrat Rep. Lacy Clay, a member of Congress since 2001, in an August primary.
Alexandria Ocasio-Cortez Is The Flaky Future of the Democratic Party. Democratic National Committee chair Tom Perez was quick to pronounce young democratic socialist Alexandria Ocasio-Cortez the "future" of his party following her surprising primary win in June. Since that time, she's offered "pants on fire" takes about the U.S. unemployment rate, supported and then immediately retracted that support for a two-state solution for Israel and the Palestinians, confessed to not being an "expert" on geopolitics after calling the Israeli military massacrers, and fretted about "black sites" run by Immigrations and Customs Enforcement. And that's after less than a month! [Video clip]
Democrats embrace Ayn Rand's wary blueprint for the decline of America. The current poster child of the century-long campaign to replace American prosperity with the failed slogans of socialism is Alexandria Ocasio-Cortez, the 28-year-old political activist who unseated 10-term Democratic Congressman Joe Crowley in New York's 14th District. As an avowed Democratic Socialist who played the role of David to Crowley's Goliath, Ocasio-Cortez has enjoyed the spotlight in the national media for the past month and brought attention to the socialist cause espoused by Grandpa Karl Marx, Uncle Joe Stalin and Sen. Bernie Sanders. So here's a bit of the socialist agenda coming to a failed republic near you if Ocasio-Cortez has her way: free college tuition, free health care, universal jobs guarantee, paid child and sick leave for all, open borders.
Nicaragua, Venezuela, and Cuba put Democrats and their beloved S-word on the spot in Florida. Democrats have been feeling their oats with socialism these days, basking in the wins they've gotten. The ascent of Democratic Socialists of America member Alexandria Ocasio-Cortez, in a Democratic congressional primary in New York, has given them a new battery. Ocasio's their new "it" girl. But it might not play the way they think it will play beyond New York.
Socialist Dingbat Alexandria O-Cortez Says Congress Has Too Many Men. Gaffe-prone, know-nothing Alexandria Ocasio-Cortez is on a campaign swing around red states with Bernie Sanders pushing Socialist/Communist candidates. On Face the Nation, O-Cortez said Congress being "80 percent male" created "blind spots in our legislation." Host Margaret Brennan asked if she would say gender was not a factor in her defeat of powerful Democrat Joe Crowley. O-Cortez then went into a barely-coherent and sexist response.
The Editor says...
An elected representative can be dangerous even if he or she is not very bright.
Lieberman slams Ocasio-Cortez, urges voters to pick Joe Crowley. Joe Lieberman, the former Democratic senator, appealed to voters in New York's 14th Congressional District on Tuesday to vote in November for top Democrat Joe Crowley and not the Democratic Socialist Alexandria Ocasio-Cortez. In a scorching article for the Wall Street Journal, Lieberman, who's now an Independent, criticized Ocasio-Cortez's agenda as "more Socialist than Democratic" and said her presence in Congress will "make it harder for Congress to stop fighting and start fixing problems."
The Left's Newest Star Is None Too Bright. Since her surprise primary victory over 10-term Congressman Joe Crowley in New York's 14th District, Alexandria Ocasio-Cortez has been promoted by the legacy media as the prototype of a new generation of young progressives destined to replace the leadership of the Democratic Party. Unfortunately for her media boosters, however, she keeps blowing her lines. It's not just her rote advocacy of single-payer healthcare and guaranteed government jobs, or even that she backs wacky ideas like abolishing ICE and occupying airports — Ocasio-Cortez is genuinely clueless. She outed herself, in several recent interviews, as functionally illiterate in economics, international relations, and history. During a PBS interview with Margaret Hoover, for example, Ocasio-Cortez was unable to provide a coherent answer to a softball economics question that could have been successfully fielded by any Econ 101 student at a community college.
Democrat Ladies of the Lie. The "new rising star" of the Donkeys, according to Newsweek, [Alexandria] Ocasio-Cortez unseated ten-term Democrat incumbent Joe Crowley in the recent New York City primary. Crowley is part of the Democrat establishment, a creature of the bipartisan D.C. swamp inhabited by career politicians from both sides of the political aisle. Ocasio-Cortez also has her eyes on the biggest prize of all, the White House, according to her own mother. The self-proclaimed working-class "girl from the Bronx" actually grew up in Westchester County, New York, one of the ten wealthiest counties in the U.S. It's also the county Bill and Hillary Clinton now call home. She lived there from age 5 through her high school graduation and was even registered to vote there until 2016. Her campaign website bio makes no mention of her upper-middle-class suburban upbringing, instead mentioning only the Bronx.
Boston University's Fake-O-Nomics Darling. The annual list price to attend Boston University — including tuition, fees, room and board — currently rounds out to $70,000. To acquire a degree in economics from this tony institution of higher learning, an undergrad must complete courses in calculus, microeconomic and macroeconomic analysis, empirical economics, statistics and assorted electives. Four years, 52 credits and nearly $300,000 later, the school promises that BU economics majors will depart "with a firm understanding of core microeconomic and macroeconomic theory" and the "empirical skills that are essential to applying economic reasoning in our increasingly data-driven world." How, then, to explain the abject economic illiteracy of meteoric media darling and democratic socialist "political rock star" Alexandria Ocasio-Cortez?
Will Schumer Drop Israel for Ocasio-Cortez? No one's arguing Israel is the only, or even primary, issue before Congress. Nor is [Chuck] Schumer the only Democrat of the ilk whose more centrist policies are being challenged by [Alexandria] Ocasio-Cortez. Schumer, though, has spent a career presenting himself as Israel's greatest defender. How's Schumer going to protect that brand if Ocasio-Cortez wins in November? Even the liberal Israeli daily Haaretz reports that Ocasio-Cortez "is seen as the embodiment of the Democrats shifting away from Israel." It's not hard to see why.
Ocasio-Cortez: Occupy Every Airport! The more I learn about Alexandria Ocasio-Cortez, the happier I am that she is the new face of the Democratic Party. Ocasio-Cortez is an ignoramus on foreign policy, and is devoted to socialism, an ideology detested by all who would rather hug their pets than eat them. This news makes me even more glad that Ocasio-Cortez is officially Ms. Democratic Party: she is urging Democrats to shut down all American airports.
For Dems, Alexandria Ocasio-Cortez is a fox who's gotten loose in the Democratic henhouse. If there's anything that lays out how arrogant and entitled the Democratic Party is, take a look at how many Democratic grandees' feathers are being ruffled by Democratic Socialist "it girl" Alexandria Ocasio-Cortez, who defeated a ten-term Democratic incumbent in their Bronx-Queens congressional district earlier this month and who now outshines them all. It's not that her socialism or her ignorance of world affairs bothers them, the way it does us. It's that she's showing bad machine politics sense, the one thing that keeps Democrats going in the absence of being able to admit they actually are all a bunch of socialists.
Exposed: The Ignorance of Alexandria Ocasio-Cortez. "Abolish ICE" is an ascendant litmus test for the Democratic Party's left-wing base, attracting sufficient support as to inspire hilarious backflips from craven panderers with presidential ambitions. Some "progressives" went so far as to file a bill to dismantle the immigration enforcement agency. The GOP plan, based on widespread reports, was to give Democrats a chance to actually vote on their colleagues' idea. Recognizing the trap, the authors of the legislation balked at their own idea, amusingly denouncing the planned vote, on the exact bill they championed, as a "stunt." And now Republicans have called the whole thing off, it appears.
Democrats' 'Sudden' Hard-Left Turn Has Been Years In The Making. Recent events show just how far things have gone:
• 28-year-old Democratic Socialist Alexandria Ocasio-Cortes beat New York Rep. Joe Crowley, the No. 4 ranking Democrat in the House, in a primary challenge. Despite a series of embarrassing gaffes in just over a week, the Democrat-safe New York district she's in guarantees she'll win.
• In California, far left state Senator Kevin de Leon challenged four-term incumbent Sen. Dianne Feinstein for the endorsement of the state's Democratic Party and won hands down, 65% to just 7%. Feinstein, 85, whose liberal credentials are impeccable, wasn't far left enough, even though she trounced de Leon in the actual primary, 44% to 12%.
• House Minority Leader Nancy Pelosi faces an increasingly open challenge to her leadership in the House. Younger, more radical members of her party now push to replace her with someone from the far left of the party.
• Driving the point home, on July 3 a giddy Democratic National Committee Chairman Tom Perez called self-proclaimed democratic socialist Ocasio-Cortez "the future of our party."
More Ocasio-Cortez: Low unemployment rate is because more people have two jobs, you know. Jazz earlier described Democratic Socialist Alexandria Ocasio-Cortez as a gift to the GOP, but perhaps more accurately, she's a gift that keeps on giving. So too for that matter is her appearance with Margaret Hoover on PBS' Firing Line this weekend. Not only did she fumble an answer on the "Palestinian occupation," Ocasio-Cortez managed to err completely on a basic economic question — despite her supposed expertise in the subject: [...]
Leftist Darling Alexandria Ocasio-Cortez Swiftly Wearing Out Her Welcome Among Democrats. Alexandria Ocasio-Cortez saw her star rise swiftly and shine brightly after her victory over New York Rep. Joseph Crowley, but with all eyes now focusing on her, she's beginning to look less and less like a superstar, and more like a thorn in the side of Democrats. According to The Hill, Ocasio-Cortez is using her new-found fame to attack Democrats from her position on the far-left, which they fear will cause them to divide from within and fall short of retaking the house during the midterm elections. Particularly, Ocasio-Cortez has found it appropriate to attack Crowley, accusing him of trying to get around his defeat by running against her as a third party candidate. Crowley has openly endorsed Ocasio-Cortez following his defeat and has no intentions of continuing to run, however, his name will remain on the ballot regardless due to New York election rules, and cannot be removed unless he dies, or moves away, as he explained to her after she publicly attempted to paint Crowley as an election saboteur.
Alexandria Ocasio-Cortez proves that "socialism makes you stupid". You'd think that if you wanted to be a U.S. congressman, you'd bone up on some of the most important geo-political issues of our time. Apparently not! New darling of the Democratic Party, avowed socialist Alexandria Ocasio-Cortez has been making the media rounds, and PBS was one of the few outlets that pushed back on any of her statements.
Alexandria Ocasio-Cortez is the best thing to happen to the GOP all year. In the midst of a growing number of dismal news cycles, let's take a moment to pause once again and at least be grateful for the unexpected primary victory of Alexandria Ocasio-Cortez, the socialist wonder from the Bronx. Yesterday, Ed brought up her rather, er... remarkable interview in which she demonstrated her policy chops on Mideast unrest. But there's not only more to that story, but some additional highlights from her cross-country adventure which should put a smile on the faces of conservatives hoping for a good result in the midterms. As Ed noted, Ocasio-Cortez's knowledge of the history of Israel and the Palestinians is dismal at best, but she really begins to shine when she attempts to draw comparisons between that conflict and "similar" situations in the United States. The Free Beacon brings us the extended video and her rationale as to why conflict in Gaza is pretty much the same as what you find in places like... Ferguson, Missouri.
Abolishing the Democrats. It's almost as if the Democrats cultured their newest and shiniest pet in a petri dish. Person of color? Check. Not male, pale, or stale? You bet. Millennial? Goody. Tenuous link to the struggles of people Democrats used to care about? Gotcha. Alexandria Ocasia-Cortez is the "future" of the party, at least according to Democratic National Committee Chairman Tom Perez. Her shock primary win in New York certainly stirred a denuded Democratic Party eager to marry the narrative of the enbubbled, to the "oppressed" they're keen to "help." [...] Ocasia-Cortez enjoyed muted support within the pages of The Nation and The New Republic, but non-groupies hadn't heard of her until a few weeks ago.
Alexandria Ocasio-Cortez is one very low-information voter on Israel and Palestinians. Twenty-eight-year-old socialist sensation Alexandria Ocasio-Cortez isn't all that, you know, ummm, up on the news. Good thing she never met Bill Buckley, because on PBS's current version of his old show, Firing Line with Margaret Hoover, she came out looking like an idiot. [Video clip]
Socialist Alexandria Ocasio-Cortez Says Capitalism Will 'Not Always Exist'. Socialist Alexandria Ocasio-Cortez is the new darling of the Democratic party. In a recent interview, however, the upstart politico running in a hyper-liberal district in New York did not show command of the issues. Ocasio-Cortez was being interviewed by Margaret Hoover on the PBS show 'Firing Line.' Hoover asked very basic, softball questions of the young congressional candidate. In explaining her positions on the economy, Hoover asked Ocasio-Cortez "Do you think that capitalism has failed to deliver for working class Americans?" Hoover cited a currently booming US economy and low unemployment.
Socialist Darling Ocasio-Cortz Trashes Israel, Calls Them "Occupiers" of Palestine. Democrat Socialist darling Ocasio-Cortez sent shock waves through the Democrat Party when she defeated the fourth most powerful Democrat in the House of Representatives, Rep. Joe Crowley, in the New York primary in June. The Democrat Socialists of America support no borders, no profit, no prisons and no cash bail.
New Dem star to rattle DC establishment. Democrats are racing to figure out how to handle Alexandria Ocasio-Cortez, whose primary win over a longtime incumbent is set to shake up the party's Washington establishment. [...] A source close to Ocasio-Cortez said the candidate is not interested in following the conventional Democratic playbook.
Two fresh faces from NY — and both are dangerous. Does it make me sexist if I refer to Alexandria Ocasio-Cortez as a pretty woman? Well she sure is prettier than Rep. Joe Crowley, the Dem heavyweight she beat for District 14, which makes this femme fatale a rising star for the Party, and she did not do it on looks alone. The lady is young, witty, smart, and most definitely anti-Semitic. That makes her a shoo-in when she runs as a self-described Democratic Socialist. The Bernie Sanders wing, which includes Keith Ellison and Tom Perez — they love that type. They love it even more when she talks dirty like Farrakhan, blaming the Jews for everything. Just listen to her. She knows the whole story about that and everything else, and she's only 28.
New Democrat Superstar Has Already Given Her Party Reason To Beware. For Democrats, it may be a case of be careful what you wish for. There appears to be a steadily growing apprehension that their new superstar might turn on them. Democrats finally received an infusion of fresh blood when the young and telegenic Alexandria Ocasio-Cortez shocked the nation with her monumental upset win on June 26, in the Democratic primary for New York's 14th congressional district. But there was a catch: she won by defeating ten-term incumbent Rep. Joseph Crowley, the number four Democrat in the House.
Alexandria Ocasio-Cortez Paints The Party Red. I have written on New York's elected Democratic Socialist of America member Alexandria Ocasio-Cortez several times. It always amazes me that people comment on my social media that she is a one-off and nothing to worry about. Nothing could be further from the truth and the left is hoping you keep believing that nonsense. She is the snake in the progressive garden and the DNC has taken a big ole bite of the rotten apple. [...] The young Latina is going to shake the DNC to its very core. She's literally painting the party red as others follow her lead. Gubernatorial candidate, Cynthia Nixon, is now saying she's a member of DSA. Julia Salazar is another DSAer looking to unseat Queens state Sen. Martin Dilan. But if you thought this was just wacky New York and California where this is a threat, you would be sadly and tragically mistaken. This is not hyperbole or fear mongering. This is a clear a present danger to our freedoms here in the U.S. Ocasio-Cortez's victory may have been a shock, but it shouldn't have been. DSA has been aggressively pushing candidates this year.
Who was behind Alexandria Ocasio Cortez's astonishing makeover? Somebody with deep expertise on image creation got ahold of the latest darling of the left and glammed her up for her current role as the standard bearer for the socialist wing of the Democrats, the Great Hispanic Hope to lead the "browning of Amerca" toward a radical future. Sometime between 2011 and 2018, Alexandria Ocasio Cortez was transformed from an earnest and nerdy wannabe entrepreneur into a glamorous radical crusader for socialism, the delusion-of-the-moment that has captured the imagination of the malcontent demographic slice of America.
Democrats Love Socialism Because They Want To Take Your Stuff And Enslave You. Alexandria Ocasio-Cortez is less hideously unattractive than the usual Democrat potentate or potentatette and has therefore been anointed the new face of her pathetic party. This dumb woman, who looks like Huma Abedin without the pedohubby and the weird relationship with Felonia Milhous von Pantsuit, took advantage of her even dumber New York district in order to get elected to Congress by calling herself a "socialist." [...] Here's how bad she is — she apparently went to college, got a degree in economics, and still ended up a socialist. If she went to med school, she would have probably left a chain smoker. As for life experience, she was a bartender.
Socialist Darling Called For Tax Cuts When She Was Running A Business, Now Wants To Raise Taxes To Fund Her Radical Agenda. [Alexandria] Ocasio-Cortez, 28, is a dues-paying member of the Democratic Socialists of America (DSA), an organization that calls for the abolishment of capitalism and argues that "private corporate property is not only wrong, but also nonsensical." Her campaign platform calls for instituting a single-payer health care system, a federal jobs guarantee and housing as a human right, radical and expensive policies she says will be funded through raising taxes on corporations and high-income Americans. But Ocasio-Cortez appeared to have a different outlook on capitalism and taxes in 2012 when she was running a business of her own, Brook Avenue Press, an incorporated publishing firm for children's books set in the Bronx.
The Editor says...
Ms. Ocasio-Cortez is newsworthy partly because she upset an establishment who thought he was going to be routinely re-elected, but also because she is an extreme left-wing socialist, whose beliefs and values are far outside the American mainstream, yet the Democratic Party seems to think it's a good idea to endorse and emulate her. But since she's practically a communist, the real shocker is that she has run a business at some time in the past, unlike Barack H. Obama. But she must not have been an good at it, because she's turning to politics.
Fact Check: 'Girl from the Bronx' Alexandria Ocasio-Cortez Grew Up in One of Richest U.S. Counties. Alexandria Ocasio-Cortez, the Democratic Party's rising socialist star, describes herself as "a girl from the Bronx" to project a working-class image. However, this claim is only half true — to borrow a phrase from the left-wing website PolitiFact. [...] Ocasio-Cortez omits that for most of her formative years, she was actually raised in one of the United States' wealthiest counties. Around the age of five, Alexandria's architect father Sergio Ocasio moved the family from the "planned community" of Parkchester in the Bronx to a home in Yorktown Heights, a wealthy suburb in Westchester County.
'Abolish ICE' is a sign of the left's rising extremism. It's becoming the new litmus test of the Democratic Party's resurgent left: As Alexandria Ocasio-Cortez put it soon after her upset primary win over the No. 4 House Democrat, "If they're not actively calling for the abolition of ICE ... they need to go." Now, spurred by last weekend's celebrity-driven protests against the breakup of families at the border, ambitious Democrats are hopping aboard the bandwagon. Sens. Elizabeth Warren and Kirsten Gillibrand and Mayor Bill de Blasio, among others, are all calling for Immigration Customs and Enforcement to be shut down. Even though President Trump has suspended the breakups — and it was the Border Patrol, not ICE, separating the families.
The socialists are coming. House Democratic Caucus Chairman Joe Crowley's loss at the hands of a millennial socialist barmaid in New York has shocked Democratic Washington. But Republicans merely seem amused by the lopsided victory that Alexandria Ocasio-Cortez won over Crowley's amply funded campaign. They assume, with good reasons, that candidates like Ocasio-Cortez, the sort that reject private ownership of business and want to abolish immigration enforcement and even law enforcement altogether, cannot win on a national scale. They expect to capitalize by, amongst other things, winning more seats in Congress if there is a bitter clash among Democrats between traditional social democrats and out-and-out socialists.
The Democrat-Left: Stupid, Insane, And Very, Very Violent. The Democrat National Committee (DNC) is co-run by a self-avowed Communist (Tom Perez) and a radical anti-Jew Nation of Islam adherent (Keith Ellerson). In the 2016 Democrat presidential primary, Hillary Clinton was the alleged moderate alternative to Communist Bernie Sanders. But when both were in the Senate[,] her voting record was but 0.1% less Left than his. Oh — and there were five Senators more Left than the both of them. The Left just eradicated one of the last non-completely-insane of the Democrat Party's members. Ten-term NY Congressional incumbent Joseph Crowley — in DC leadership and oft mentioned as an heir to radical Minority Leader Nancy Pelosi — just lost a primary to yet another avowed Communist... this one an already-proven-liar named Alexandria Ocasio-Cortez. In short[,] the radical Left-Democrat Party merger is nigh complete and total.
Democrat Communist May Win House Seat in New York. A radical leftist upstart's unexpected primary trouncing of a key member of the House Democratic leadership is sending shockwaves through the Democratic Party establishment. Democratic Socialists of America (DSA) member and first-time candidate Alexandria Ocasio-Cortez, a 28-year-old of Puerto Rican ancestry, crushed longtime U.S. Rep. Joe Crowley, a 56-year Irish-American Catholic, in the primary election June 26 for the 14th congressional district in New York, covering parts of the boroughs of Queens and The Bronx. Ocasio-Cortez, who previously worked as an organizer for Sen. Bernie Sanders' presidential bid, garnered 57.5 percent of the vote compared to the 42.5 percent Crowley earned. Of course, democratic socialism is a profoundly dishonest euphemism calculated to make the horrors of communism more palatable.
Here's a one-word piece of advice for America's growing socialist left: Venezuela. For Democrats planning to head down the path of socialism, especially after Alexandria Ocasio-Cortez's stunning primary win Tuesday [6/26/2018], we have one word: Venezuela. Ocasio-Cortez's lopsided victory is only the latest example of Democratic voters signing on to hard-left candidates. Self-professed socialist Bernie Sanders, for example, has been successfully pushing the party to the left since 2016. Even nonsocialists are embracing many of his themes, like "Medicare for All," free college tuition, whopping minimum-wage hikes [etc.] Before they go down that road, they might consider the real-life consequences of the failed socialistic economic system now destroying Venezuela. Hyperinflation in Nicolas Maduro's socialist paradise is now running at 43,378 percent. It takes a full fifth of a minimum-wage worker's monthly salary just to buy a cup of coffee in a cafe, Bloomberg reports.
Primary defeat of fourth-ranking House Democrat a portent of the radical left takeover of the Democratic Party. The architecture of the 20th-century Democratic Party is slowly dissolving before our eyes, as identity politics and socialism replace the old center-left coalition. Alexandria Ocasio-Cortez, a 28-year-old Bernie Sanders organizer and endorsee of the Democratic Socialists of America, resoundingly defeated Rep. Joe Crowley, a ten-term incumbent who hadn't faced a primary opponent in 14 years, and who spent at least ten times as much money in the race.
Democrats are in a crisis and the media won't talk about it. The Democratic Party is in an ongoing crisis, but most of the national media aren't interested. They'd rather talk about the new "rock star," Democratic Socialist Alexandria Ocasio-Coretz, and ignore that the party is up in flames. Both Republican and Democratic voters are turning out in record numbers for their primary elections this year, according to analysis published this week by the Hill. Democrats have a slight advantage by about a million votes, but that's only in primaries.
Top House Democrat Joe Crowley stunned in primary upset from progressive challenger. Progressive challenger Alexandria Ocasio-Cortez defeated incumbent Rep. Joe Crowley, D-N.Y., Tuesday night [6/26/2018], delivering the greatest primary upset of the 2018 cycle to date. Ocasio-Cortez, 28, bested the 10-term congressman in the primary for New York's 14th District, all but assuring her a November victory in the Democratic stronghold. Crowley's stunning loss echoes the 2014 defeat of House Republican Majority Leader Eric Cantor at the hands of a previously unknown college professor named Dave Brat.
28-year-old socialist's primary upset of key Dem House leader exposes major rift. Alexandria Ocasio-Cortez, a former campaign organizer for Bernie Sanders, pulled off a stunning upset in New York City on Tuesday [6/26/2018] by defeating Rep. Joseph Crowley, D-N.Y., a member of party leadership who was considered all but a shoo-in. Crowley, 56, a 10-term incumbent from Queens and fierce Trump-basher, was a steady fundraiser for fellow Democrats and was thought by some to be a future speaker of the House.
28-year-old socialist knocks off powerful Democrat in primary stunner. Rep. Joe Crowley, the chairman of the House Democratic Caucus who was thought by some to be a future Speaker of the House, suffered a shocking primary defeat in New York's 14th House District Tuesday [6/27/2018]. With 88 percent of precincts reporting, 28-year-old Alexandria Ocasio-Cortez — who has never held elected office — led Crowley by more than 3,600 votes.
She won because she is Hispanic. The New York Times staff was stunned when Democratic Congressman Joe Crowley lost his primary. [...] This was not a rebuke of party bosses. This was not a reform. This was simple arithmetic. Larry Sabato got it wrong, too. He told the Times, "Political machines have been on the decline almost everywhere for decades, and that process has accelerated. Crowley is a perfect example. He grew up in another time and another way of doing business." Baloney. Sabato cannot see what is plainly in front of his eyes. He is a numbers man, and yet he ignored the key to Crowley's District 14 in New York: its demographics. The district is 49.80% Hispanic, 18.41% Non-Hispanic White, 16.24% Asian, 11.39% Black, and so on.
The Democrats' New Evita Peron Needs to Spend 3 Months in Venezuela. As a Christian, I hope that each of us gets better than we deserve. And I pray that Americans don't fall for politicians like the one that just bobbed up to the surface, Alexandria Ocasio-Cortez. A photogenic socialist, she won the Democratic primary in a New York congressional district. (That means she's a shoe-in in November.) Cortez crushed the long-term incumbent, Rep. Joe Crowley. Many had seen him as the likely heir to Nancy Pelosi as leader of Democrats in the House. Just a few months ago, Cortez worked as a bartender in Greenwich Village. Blind-sided political journalists are now scrambling to see where she came from, and why she won.
After Its Hard Left Turn, Will Democratic Party Officially Admit It's Socialist? The shocking primary victory of 28-year-old socialist Alexandria Ocasio-Cortez over Congress' No. 4, Democrat Joe Crowley, underscores what we have long noted: The Democratic Party is no longer a party of moderation, but a party of the extreme left. And it's moving ever faster and farther leftward with each election cycle.
With Ocasio-Cortez's rise, Dems now own their loony far-left flank. Nancy Pelosi tried to wave away the obvious Tea Party parallels by saying the 14th is simply a "very progressive district ... They made a choice in one district. Let's not get yourself carried away." But it's becoming clearer and clearer that Democrats' days of flirting with the more radical wing of their party are over. They're now in a committed relationship with each other, the hammer entwined with the sickle. Party bigwigs should've seen it coming. In the 2016 presidential nomination race, Sanders was supposed to be Hillary Clinton's tomato can. Instead, he gave her a serious run for her money, such that the party had to lean on the scales in Hillary's favor just to make sure she limped across the finish line.
Ocasio-Cortez pockets the tip cup? [Scroll down] Wasn't it Ocasio-Cortez who said, "The definition of Democratic Socialism to me, again, is the fact that in a modern, moral, and wealthy society, no American should be too poor to live"? Is this the same woman who allegedly gave a waitress $50 for a night's work and kept $510 for herself? The server was so shocked by the small amount of money she received that a complaint was registered with the management, who wrested another 50 bucks from Alexandria's tightfisted Democrat-Socialist hands.
Voters Overwhelmingly Reject Socialism. In the Democratic Party, socialism is all the rage. Socialist Bernie Sanders probably would have won the party's presidential nomination in 2016 if the DNC hadn't had its thumb on the scale in favor of Mrs. Clinton, and the Democrats' new "star" is Alexandria Ocasio-Cortez, a socialist like Sanders albeit a far younger one. And how many times have we heard that socialism is sweeping the nation's campuses? Of course, liberals have been telling us that socialism is coming soon for a while now. [...] And a great many liberals, when they heard Barack Obama promise to "fundamentally transform" the United States, were confident that socialism was what he had in mind. But most voters apparently aren't convinced. Rasmussen Reports finds that given a choice between free enterprise and socialism, the overwhelming majority prefer freedom.
Democratic Socialist Alexandria Ocasio-Cortez draws Bronx cheer for misleading campaign bio. The Democratic Socialist candidate seeking to represent New York's 14th Congressional District is facing backlash over her working class "Bronx girl" campaign narrative. As the Journal News reported, the original online bio for Alexandria Ocasio-Cortez — the 28-year-old Bernie Sanders protégé who defeated longtime Democratic incumbent U.S. Rep. Joseph Crowley on June 26 — seemed to suggest that she commuted to a school in the suburbs from her family's home in the Bronx borough of New York City. But after critics noted that she and her family left the Bronx when she was 5 years old, the bio was changed to imply that the Bronx was home to her "extended family," the newspaper reported.
Busted: Democrat Socialist Ocasio-Cortez Is Caught Fudging Her Bio on Campaign Website. Ocasio-Cartez claimed she commuted to school everyday 40 minutes from her home in the Bronx. But after she got caught the Socialist Democrat changed her bio to reflect that she was not commuting 40 minutes a day which was a complete lie.
Did Alexandria Ocasio-Cortez's socialist fanaticism come from bitter failure in business? Far from being the tough, scappy, woikin' class Bronx girl tending bar in New York, as Alexandria Ocasio-Cortez was portrayed in her adoring press, the socialist sensation, who toppled the Democratic establishment's Rep. Joseph Crowley in a surprise primary result, is actually pretty different. Far from being Sandy from the block, she seems to be a ragged remnant of state planning and failed venture capital projects. It raises the question that maybe that's why she turned to socialism. Disappointment can be that kind of motivator, and socialism's only proven outcome is destruction. She's already been outed as someone who's actually from a pretty upper middle class background, who grew up in leafy Yorktown up in Westchester County. She's college-educated, she's young, glamorous, and attractive — somebody gave her a makeover with that famous red lipstick.
Alexandria Ocasio-Cortez tweaks bio after residency questions. U.S. congressional candidate Alexandria Ocasio-Cortez's online bio was tweaked days after she faced scrutiny over where she grew up. Ocasio-Cortez, 28, drew national attention when she won a Democratic Party primary against longtime U.S. Rep. Joseph Crowley in a district that represents parts of the Bronx and Queens. Her bio was called into question by some conservatives after the victory because she lived and went to school in Westchester County, New York, which some critics charged contradicted her Bronx girl campaign narrative.
Cynthia Nixon
Game over.
Cuomo cruises past Nixon in NY gubernatorial primary. New York Gov. Andrew Cuomo easily beat back a primary challenge from activist and actress Cynthia Nixon on Thursday [9/13/2018], thwarting her attempt to become the latest insurgent liberal to knock off an establishment Democrat.
Cynthia Nixon self-identifies as 'queer,' not lesbian. Actress Cynthia Nixon has been routinely described as trying to become the state's first lesbian governor. But Nixon actually doesn't self-identify as a lesbian. She considers herself queer, campaign spokeswoman Lauren Hitt said.
Cynthia Nixon might have one trick left up her sleeve. In three weeks more, Cynthia Nixon will be put out of her misery. [...] Or maybe she's about to get a shot in the arm that will reshape the race. I believe there is a good chance the New York Times will endorse Nixon. If so, she would get instant credibility among city and state liberals, many of whom still regard the Gray Lady as a secular Bible. That could give Nixon a chance to seize the momentum before the Sept. 13 vote.
Cynthia Nixon sounds confused by her own 'universal rent control' plan. Cynthia Nixon may be an accomplished actress, but she apparently has a big problem handling material that's not included in her script. In Brooklyn on Thursday [8/16/2018], the gubernatorial candidate and her running-mate, City Councilman Jumaane Williams, tried to tout "universal rent control," a pet proposal of their party's rising socialist wing. But when reporters asked just what that policy means and how it would be enacted, the pair found themselves in over their heads trying to explain.
Cynthia Nixon Thinks You're Totally Underestimating Her 40 Points In The Hole Campaign. There are precisely 45 days left until the exciting conclusion to the New York State Democratic Party primary race for governor. Going by the adoring coverage being offered in local media around the state, you'd think that Governor Andrew Cuomo was in the fight of his political life, attempting to stave off the populist challenge of newly minted Democratic Socialist and former Sex and the City star Cynthia Nixon. Of course, as we've covered here on multiple occasions, the polls don't really portray any sort of tight race at all. But who are you going to believe... a bunch of bean counters at Real Clear Politics or your own lying eyes? Nixon was out on the stump again this weekend warning everyone that they are underestimating her and this campaign could catch fire in the public imagination any day now.
Cynthia Nixon announces she's a 'democratic socialist'. Cynthia Nixon on Tuesday proudly proclaimed herself a democratic socialist. The actress-turned-candidate for governor explicitly embraced the democratic socialist label for the first time in a statement provided to Politico. "Yes. Some more establishment, corporate Democrats get very scared by this term but if democratic socialism means that you believe health care, housing, education and the things we need to thrive should be a basic right not a privilege then count me in," Nixon said in the statement.
Liberals: Radical, Crazy, and Getting Worse. Liberal candidate for New York Governor Cynthia Nixon (former star of "Sex and the City") just went a step further into crazy land. She said, "I can think of no better description than to call ICE (Immigration and Customs Enforcement) a terrorist organization." Well at least it's all now out into the open. Liberals support illegal alien criminals and think ICE agents who protect our border, protect us from terrorism, and save women and children from kidnappers, rapists and murderers are "terrorists." Good luck in the midterms with radical, insane views like this.
7 Examples from the Last Two Weeks That Show How Dangerous and Insane Liberals Have Become. [#7] New York Mayoral Candidate Cynthia Nixon Calls for Us to Get Rid of ICE. A woman running for mayor of New York City called for ICE to be disbanded. In other words, Nixon believes our borders should be wide open to drug dealers, illegal aliens, terrorists, pedophiles, murderers and anybody else who wanders across our border. The idea that our borders should be completely unguarded is now a SERIOUS IDEA on the Left. It may not be THE position of the Democratic Party YET, but it's worth noting Nixon is not alone.
Cynthia Nixon ignites outrage for saying marijuana could be 'form of reparations' in black neighborhoods. Cynthia Nixon took heat Monday from black leaders over her comments that creating a legalized pot industry in New York could serve as a form of reparations in black communities. Nixon on Saturday told Forbes magazine "now that cannabis is exploding as an industry, we have to make sure that those communities that have been harmed and devastated by marijuana arrests get the first shot at this industry."
---

Jump to Liberals - Intro Page
Back to the Home page