Liberals appear to have no original ideas of their own. Every aspect of socialism in the Democratic Party platform has been tried in other countries (e.g., Venezuela, Greece, Cuba) and the results have been miserable. Nothing the Democrats propose (higher taxes, bigger government, restrictions, rules and regulations, and special rights and privileges for protected minorities) will make American life better. All they can do is obstruct and oppose conservatives, when conservatives make proposals. Typically, when a liberal realizes he's losing a debate, he will start shouting down his opponents. This adds nothing.
When leftist Democrats realize they are sure to be outvoted, one of their favorite tactics has been to flee the state in order to bring their state's government to a halt, rather than face defeat. At the federal level they have been known to boycott a scheduled vote to delay the inevitable.
During the Obama administration, the Republicans proved to be too much of an obstacle for the Democrats to overcome, so the Senate voted (by a very narrow margin, as you might imagine) to eliminate the power of the filibuster, thus blocking all opposition and paving the way for Emperor Obama to pack the courts with left-wing judges.
Now the tables are turned, and the Democrats are resorting to childish tantrums to block President Trump's nominees, appointments, orders and executive actions. The Democrats have been losing elections for years because their platform is wildly out of step with the American mainstream. Now they are just stalling. If President Trump succeeds with even half of what he promised to do, the Democratic Party is finished.
Note: The discussion of Judge Brett Kavanaugh's confirmation battle now has its own page, located here.
---
No Holds Barred at the House Lynch Session. [Attorney General William Barr] is strong and fierce, does not give an inch, does not get thrown off message, sticks to his guns, and sticks it to those who would take him down. [...] For the Democrats the hearing [7/28/2020] was "no holds barred." No lie was off the table. No insult was beneath them. Under the guise of asking the Attorney General to answer questions, they rather used their allotted time to berate him, to berate President Trump, and to lie about the Antifa and other anarchist-driven riots that seek to undermine our Republic and to tear away our freedom. They were not asking questions, and they did not allow Barr to answer them or speak when he tried. Rather, they were like a parent on a tear against a child in big trouble, or a boss on a rampage about to fire his or her employee.
6 Big Takeaways From the Attorney General's Capitol Hill Testimony. Attorney General William Barr announced a new investigation Tuesday while strongly defending the Justice Department's actions in protecting the federal courthouse in Portland, Oregon. Barr's comments came in testimony before the House Judiciary Committee, a hearing that not only was partisan as expected but characterized by rudeness by the panel's Democrats. A Democrat would ask a question, but when Barr began to answer, he or she would interject, "Reclaiming my time" and continue speaking until the allotted time was up. Despite this tactic, Barr managed to make several points, though he sometimes had to wait for time reserved for Republicans so that he could answer questions posed by Democrats.
The Editor says...
The Democrats invited the Attorney General to a hearing, and then didn't want to hear him.
'Reclaiming my time': Tensions soar as Jim Jordan rips Democrats for repeatedly interrupting Barr. Ohio Rep. Jim Jordan condemned Democrats on the House Judiciary Committee for what became a pattern of asking questions of Attorney General William Barr only to interrupt and not allow him to answer. Jordan, the top Republican on the panel, noted hours into the hearing that Democratic members had repeatedly cut off Barr while shouting that they were "reclaiming my time." He asked why Democrats even invited Barr to testify if they were not going to allow him to answer their queries fully. "I don't think we've ever had a hearing where the witness wasn't allowed to respond to points made, questions asked, and attacks — attacks made. Not just in this hearing, not just in this committee, but in every committee I've been on," Jordan said. "Particularly when you think about the fact that we have the attorney general of the United States here."
When 'j'accuse' is just a smear. Last week, the Chicago Tribune's most prominent writer, John Kass, wrote a column decrying the rise in urban violence. Its compelling title: 'Something grows in the big cities run by Democrats: an overwhelming sense of lawlessness.' In today's woke world, it is risky to speak such hard truths about gang shootings, unprosecuted shoplifting, looting, carjackings and more. This rising lawlessness is often cloaked in the language of protest, racial justice and income equality. Speaking out against it runs real risks. You might be doxxed, your home tagged with graffiti, or your family threatened. If you are a columnist, like John Kass, you might face ostracism from left-wing colleagues, attacks by the reporters' union, and concessions to the mob by your paper's editor, Colin McMahon. The dispute began when the union representing Tribune writers (of which Kass is not a member) decided to go after him, full-bore. Their false charge was... wait for it... Kass's column was anti-Semitic.
Hurting Americans to Beat Trump. Democrat governors are not giving up their lockdowns no matter how much they hurt people's lives. With a total lack of irony, they ignore the real science calling for reopening the economy and schools, while at the same time they label "deniers" anyone who disagrees with fake climate change science. Science is defined as "the intellectual and practical activity encompassing the systematic study of the structure and behavior of the physical and natural world through observation and experiment." Samples of science: Don't wear masks, wear masks; coffee will kill you, coffee is good for you; chocolate will kill you, chocolate is good for you; fatty foods will kill you, carbs will kill you; the world will freeze in a nuclear winter, the oceans will bubble away as "kettle's on the boil, [when] we're so easily [led astray]." Even though science does not always live up to its reputation, a decision must be made and when the preponderance of the science says open, you should open.
BLM Protesters Block Highway In Colorado, Some Men Go To Confront Them, Get Beaten. Protesters blocked a section of Highway 24 in Teller County as part of a demonstration against the sheriff's office's policy to detain ICE inmates, and one small group of counter protesters got involved in a fight that's now under investigation. The TCSO gave the community notice about the planned protest outside of the detention facility on Friday [7/17/2020], but at a certain point, a rally of cars moved toward Highway 24 and blocked a part of the road. [Video clip]
House Dems advance spending bill that would slash ICE funding, block Trump asylum policies. Brushing aside worries of spurring a new border surge, House Democrats led the push Wednesday [7/15/2020] to slash ICE funding, saying they were determined to punish the agency for "willful disregard of Congress's role" in setting immigration priorities. Democrats on the House Appropriations Committee also voted to undo the key Trump policies that helped solve last year's border surge, including new standards for asylum-seekers and deals with Mexico and Central American nations that helped slow the flow of people headed north. Rep. David Price, North Carolina Democrat, said they were intent on pushing back on "cruel and arbitrary immigration policies" they say have distorted the immigration system.
Will the Left Kill America's Energy Dominance? If the "liberal" green movement had the political power during earlier periods of our nation's history that it has now, we would not have built the railroads. Also, there would be no interstate highway system, and the electric grid system that powers our country would be disconnected and shattered. What else can one conclude when a significant and vital energy pipeline, the 600-mile Atlantic Coast Pipeline from West Virginia into the southern states, has been canceled because of environmental activist opposition? Another pipeline, the Dakota Access Pipeline, has been suspended by a federal judge's order in recent days. Even the urgently needed Keystone XL Pipeline, which will transport natural gas and oil from energy-rich areas in Canada and the Dakotas down to Houston for export and delivery across the country, faces a court-ordered injunction. These actions are all said to be in the name of wetlands preservation, Endangered Species Act issues and other environmental protections.
Houston Mayor Cancels Texas G.O.P. Convention, Calling It 'Public Health Risk'. Local outcry had grown for weeks over plans by the Texas Republican Party to hold its convention in Houston in the middle of one of the nation's worst coronavirus outbreaks. Sponsors, including the Texas Medical Association, dropped out. Gov. Greg Abbott said he would appear only by video. The city's top public health official called it a "clear and present danger." Yet party activists held firm. Then on Wednesday [7/8/20202], Mayor Sylvester Turner of Houston put an end to the standoff, effectively canceling the gathering a week before it was scheduled by pulling out of a contract to host the event in a city-run convention center. The decision by a Democratic mayor to cancel the state's largest gathering of Republicans set the state up for rancorous finger pointing and potential legal action. Even before the announcement, Republican Party officials suggested that Mr. Turner did not have the authority to do so.
Texas Republican convention in Houston canceled; Montgomery County judge offers to host. Houston Mayor Sylvester Turner announced Wednesday, July 8, that Houston First agreed to his request to cancel the upcoming state Republican convention. The convention was expected to bring some 6,000 delegates to the George R. Brown Convention Center from July 16-18. "Houston is a hotspot in a global pandemic, and we cannot have thousands of people gathering at GRB," Turner said. "This convention is not moving forward because of the public health risk it poses." "Mayor Turner's hypocritical flip flop on public gatherings is a political stunt," Harris County GOP Chairman Paul Simpson said. "While he joined in massive marches in the streets last month, he has now blocked Republican grassroots activists from peaceably assembling even under the most stringent health safeguards." The mayor said Houston First's contract with the state GOP included the right to cancel during a health crisis and said the decision had nothing to do with politics.
The Editor says...
This decision was 100 percent politics. That's why the announcement was made four days before the convention started, when it could do the most damage. (The committee meetings were to start on Monday, but the delegates attend Thursday through Saturday. I've been to a few of these.) That aside, there is no health crisis. The crisis — if it ever really existed in Texas — was finished at least a month ago. The mayor's actions will immediately rob the city of a week's worth of tourism income, and jeopardize Houston's convention business from now on. Democrat conventions won't be affected, of course, because the actions of Houston's mayor are 100 percent political.
Point of No Return. Since Trump led a revolution against all the established factions of both parties, they joined hands to deny him any honeymoon. The first three years of his presidency were consumed by the almost certainly criminal Trump-Russian collusion hoax and the spurious impeachment attempt. By late January, Trump's success in almost eliminating unemployment, oil imports, and illegal immigration, and his revival of economic growth, revision of trade agreements, and elevation of nearly 200 constitutionalist judges, had made his election appear almost inevitable. The Democrats naturally shrieked with glee at the prospect of shutting down the economy to fight the COVID-19 virus, and have continually demanded an economically self-strangling shutdown for an indefinite period. The pandemic has had the additional blessing of giving Democrats an excuse to hide their candidate in his basement, as Joe Biden is obviously not up to the very tough process that a successful presidential candidacy requires.
Liberals reserve tickets to Trump's New Hampshire rally to try making venue look empty. A liberal-leaning group and individuals are using social media to encourage Trump opponents to reserve tickets for the president's upcoming reelection rally in Portsmouth, N.H., in an attempt to make the venue appear empty. "Get your tickets and don't go," one Twitter user wrote Monday [7/6/2020]. The "Make America Great Again! Rally" is scheduled for Saturday and follows one in late June in Tulsa, Okla. In advance of the rally, TikTok users reserved tickets and didn't show up to reduce crowd size. "If you have two minutes of your day to troll the president....Reserve two tickets and laugh knowing that's two seats not filled," another person tweeted about the New Hampshire rally.
Activists Blocking Entry Into Mount Rushmore to Keep Out People Coming for Trump Speech. Just as radical leftists folks tried to keep Trump supporters out of his rally in Tulsa, Oklahoma by blocking off a gate and making people concerned about violence, activists at Mount Rushmore are trying the same tactic. The whole tactic is try to depress the crowd to make it look like fewer people attending the president's event. But this isn't a Trump rally, but a celebration of July 4th but the activists don't [care] about that. They parked vans across the road, linked them and slashed or removed the tires to make it harder to move them and block the way in.
A Will to Overthrow the United States. Last week, federal legislation recommending police reforms was proposed by Senator Tim Scott, a Republican from South Carolina. The House Democrats, refusing even to discuss any of them, blocked the measure. Later the House Democrats came up with a reform bill of their own, however it seemed aimed more at eradicating police forces than reforming them. [...] The House Democrats appeared only to want to block the Republicans from having a victory and an issue about which to rail instead of a solution. (The same political thinking also appears to underpin why so many American children are not able to receive a quality public school education.) The question then arises: are the politicians who claim to want help distressed communities the very ones keeping the distressed communities distressed — and in a perpetual state of reaching out to those same politicians for dangled promises of help?
Duckworth to Block Promotions for 1,123 Military Officers Unless Esper Promotes Vindman. Sen. Tammy Duckworth (D-IL) announced Thursday that she would block the promotions of 1,123 senior military officers until Defense Secretary Mark Esper promises that he will promote Army Lt. Col. Alexander Vindman, who is believed to have communicated with the "whistleblower" that sparked Trump's impeachment. Her office called the move "unprecedented" but said it came in response to reports of "political interference in military matters" by Trump — the commander in chief.
Nothing Is Off Limits to Defeat Trump. We are now witnessing the American dream dying on the altar of the left's belief that Barack Obama's election guaranteed an ascendant Democratic Party's eternal governance. Accordingly, President Trump's election in 2016 was illegitimate. And as illegitimate, any action taken to end the travesty of Trump's presidency, however violent or undemocratic, would not only be justified but also dutiful. Democrats concluded that if they must destroy our economy with false lockdowns and open rebellion to regain power, they will do so because they would rather rule in the ashes than be the minority party in a prosperous republic. As the days dwindle in the runup to November's presidential election, "We the people" appear not to realize that the Democrats will not allow Donald Trump a second term. Citizens believe we are in the midst of a campaign to win the presidency when what we are really seeing is the open rebellion of civil war.
Romney leads bipartisan group to stop Trump pulling troops from Germany. Sen. Mitt Romney is leading a bipartisan group of senators in an effort to curb President Trump's ability to remove troops from Germany after the commander-in-chief opted to withdraw tens of thousands of US soldiers from the region. Romney (R-Utah) introduced a measure Monday alongside Sens. Lindsey Graham (R-SC), Marco Rubio (R-Fla.), Chris Coons (D-Del.), Tim Kaine (D-Va.) and Jeanne Shaheen (D-NH) prohibiting the White House from reducing the number of active-duty troops in the country below 34,500 without Congress confirming that such a move would not negatively impact European alliances or NATO. On Wednesday [6/24/2020], Trump announced that he planned to withdraw tens of thousands of US troops from Germany — accusing the European nation of taking advantage of his administration by not paying its fair share to NATO.
The Marxist Mob Isn't Coming — They're Already Here. An amazing thing has happened in America over the past week. Radical Marxist activists have attempted to gaslight the entire country into believing that a real national conversation is now underway about "systemic racism" and "white privilege", and that it has triggered a dramatic "cultural shift". None of this is real. There is no national dialogue or cultural shift going on. The same old Communist subversives are simply going for broke as they try to stave off total defeat at the hands of President Donald J. Trump. Having failed to take Trump down by a fake impeachment, then politicizing a CCP virus pandemic, politicizing the economic shutdown, and then a coordinated nationwide series of violent rioting, the American Left is now reduced to siccing their Marxist mobs on ordinary Americans in an attempt to browbeat them into submission.
3 Recent Signs Democrats Want a Socialist Revolution. Three events last week showed that Democrats do not want a mere transfer of power if they win the November election: they intend to revolutionize our entire system of government. The first happened Wednesday, when Democrats blocked the Senate from considering a bill on police reform by Sen. Tim Scott (R-SC). Scott, who is African American, has been working on the issue for years. He had the full support of the rest of the Republican caucus. He also agreed to consider whatever amendments Democrats offered. They still used the filibuster to block the bill from even being debated.
Report: Tulsa Arena Management Sabotaged Trump Rally Attendance. An article published several days ago written by an anonymous attendee made the claim that the management for the BOK Center in Tulsa, Oklahoma sabotaged attendance for the campaign rally by President Trump held there last Saturday resulting in thousands of empty seats in the BOK Center and the cancellation of plans for Trump and Vice President Pence to speak to an expected overflow crowd of thousands on a stage set up just outside the arena before speaking at the rally inside. The fire marshal and arena management put attendance at just over 6,000 while the Trump campaign claimed 12,000 had cleared metal detectors.
US Postal Worker Caught on Video Throwing Stack of GOP Congressional Candidate Campaign Mailers in Dumpster. A US Postal worker was caught on video throwing a stack of GOP congressional candidate campaign mailers in a dumpster. Sheriff Troy Nehls is running for Texas Congressional District 22. Mr. Nehls is a pro-Trump conservative, a church-going family man, tough on crime and tough on border security. No wonder why the left is trying to derail his campaign.
Sheriff Troy Nehls Tweet. A US Postal worker was just caught on video throwing a stack of my campaign mailers in a dumpster. Some patriots nearby heard a noise when she tossed them in & went to investigate. They found a stack of them and called me. No wonder people are skeptical of mail in voting. [Video clip]
When Black lives matter to Democrats, and when they don't. In the words of Black Republican Senator Tim Scott of South Carolina: "They cannot allow this party to be seen as a party that reaches out to all communities in this nation." So Scott's bill can't pass. The bill would make lynching a federal crime. It would also place stringent reporting requirements on so-called "no-knock" raids, and tie federal grants to the elimination of police chokeholds like the one that killed George Floyd. It would also use grants to encourage the use of police bodycams. As Washington Post columnist Mark Thiessen put it, If Democrats cared about police reform, they would have advanced Tim Scott's bill. He called the Democrats' move "shameful," and observed: "If Democrats cared about getting something done, they would have allowed the Senate to move forward and sought to amend Scott's bill on the floor. There was plenty of basis for compromise. Scott's legislation had already incorporated a number of Democratic proposals."
Democrats' Despicable Treatment of Senator Tim Scott. Over the past two weeks, Republican Senator Tim Scott, a black man from South Carolina, extended the olive branch of bipartisanship to Democratic House Speaker Nancy Pelosi and Senate Minority Leader Chuck Schumer on police reform. On June 17, Scott introduced the JUSTICE Act as a way to tackle what he believes are needed reforms in cities across the country. He quickly gained 50 co-sponsors and opened the door to the "conversation" Democrats regularly claim America needs to have about race, communities and policing. But it turns out, the talking points about "having a conversation" weren't stated in good faith. After Scott accepted 20 amendments on his legislation from Senate Democrats, they still voted it down, not even allowing debate on the bill.
Anarchists and Trump's Reelection. Leftist governors and mayors are tripling down on their absurd overreaching COVID-19 mandates to depress Americans and stop the remarkable comeback of Trump's unprecedented booming economy. One of Mary's favorite stores in Virginia was empty of merchandise. "Are you going out of business?" she asked a clerk. The clerk said, "No." He explained that upon reopening, customers purchased everything. The store had not restocked its shelves yet. His explanation was in keeping with the 2.5 million new jobs and amazingly swift comeback of our economy. Maryland mandates that shoppers wear masks. However, stores and shoppers have begun relaxing the absurd decree. With a 98% recovery rate, more and more Americans realize the COVID-19 hysteria was created to shutdown our country to destroy our economy to block Trump's reelection.
House Democrats Block GOP Resolution Opposing Efforts to Defund Police. Democrats in the House on Thursday blocked consideration of a Republican resolution opposing efforts pushed by some on the left to defund police departments across the country. "Our resolution strongly opposes what I think is one of the craziest public policy proposals I have ever seen — this idea that we're going to defund the police," Rep. Jim Jordan, R-Ohio, said Thursday [6/25/2020] in remarks delivered on the House floor. The resolution, introduced by Rep. Greg Steube, R-Fla., was a procedural move organized by House Minority Leader Kevin McCarthy, R-Calif. Rejected by Democrats on a straight party-line vote of 231 to 176, the resolution condemned the May 25 killing of George Floyd as "a horrific act," but opposed efforts to defund the police in reaction to it.
McConnell Responds to Democrats Blocking Police Reform. The American people have been asked to swallow a number of contradictions over the past few weeks. I've already discussed some of them here on the floor. Many citizens were told by their mayors that small religious services were just too dangerous — at the same time that massive political protests were not just allowed, but encouraged. Americans have been told they should very carefully distinguish good people from bad apples if they are talking about protests and riots — but they must not make the same distinction if they're talking about the police.
Tim Scott Unleashes Hell in Speech Laying Out Real Reasons Why Senate Dems Blocked Police Reform Debate. As expected, Senate Democrats stalled Republican Sen. Tim Scott's police reform bill today, blocking the bill from being advanced to the Senate floor for debate: [...] Like every other Republican working to try and get meaningful police reforms passed in the aftermath of the death of George Floyd, Scott understands that the real reason why Senate Democrats rejected debate on the bill is because they don't want to give off the appearance of giving Republicans and Trump any sort of legislative victory at a time when Democrats are trying to score all the racially-charged political points they can in a critical election year.
'There is danger coming': Tim Scott masterfully and mercilessly takes Dems apart for police reform snub. South Carolina Sen. Tim Scott snapped. After days of enduring racist tirades and death threats from random left-wing callers, after days of being dismissed by the Democrat Party's top brass, after days of total bullschiff, the black senator finally let them have it. In a 30-minute-long speech on the Senate floor Wednesday, Scott laid into Democrats for refusing to engage on the issues, for walking out in the middle of discussions, for saying no to everything he'd proposed, for smearing him and his Republican colleagues, for being disloyal to black voters and for running so many cities to the ground. [Video clip]
Trump's planned trip to Mount Rushmore draws fire from Native American activists. President Donald Trump's plans to kick off Independence Day with a showy display at Mount Rushmore are drawing sharp criticism from Native Americans who view the monument as a desecration of land violently stolen from them and used to pay homage to leaders hostile to native people.
Woman whose TikTok video led to fake sign-ups for Trump Tulsa rally: This wasn't just a prank. The person who inspired an effort to distort the number of planned attendees to President Trump's Tulsa, Oklahoma, rally said it was not just a "prank" but also a form of protest. CNN's Brian Stelter spoke to Mary Jo Laupp, a TikToker who posted a video Thursday encouraging people to sign up for the Tulsa rally with no intention of going. [...] The Tulsa Fire Department claims that only about 6,200 people attended the rally. The venue where it was held has a total capacity of just over 19,000. Earlier in the week, Trump and his campaign bragged about how more than 1 million people registered to attend the event.
Never Trumper George Conway Trying to Sabotage Trump's Next Event. Never Trumper George Conway appears to be attempting to sabotage President Trump's next event just one day after the president's critics took credit for a TikTok prank, which they claim flooded the campaign with fake RSVPs, thereby heightening expectations for Saturday's [6/20/2020] rally in Tulsa, Oklahoma, attended by 6,200. The president is scheduled to speak at a Students for Trump event in Phoenix on Tuesday. However, Trump critics are seemingly hoping to bombard his upcoming campaign events by artificially inflating the numbers with fake RSVPs, much like what Trump critics say occurred on Saturday.
TikTok Tix Tricks Are Fraud — For Which Watergate Perps Went To Jail. [Scroll down] There's one word for what these perps claim to have pulled off — fraud. Under case law in Oklahoma, "the elements of a common-law action for fraud are: 1) a material misrepresentation, 2) knowingly or recklessly made, 3) with intent that it be relied upon, and 4) the party relying on the false statement suffers damages." Hmmm. Let's put on our legal hats for a second. "Material misrepresentation:" "I want to attend your rally." Check. "Knowingly or recklessly made:" "There's no way I'd be caught dead there. I just want to troll Orange Man." Check. "With intent that it be relied upon." "I want the campaign to think millions of people want to come so we can embarrass them." Check. "The party relying on the false statement suffers damages." Discouraging people who actually wanted to come but didn't, thereby dulling the impact of the event. Economic harm from reserving a large arena that is partly full. Humiliation in being trolled by teenagers. According to some commentators, a "boost" for his opponent. Check, check, check, and check.
Brad Parscale: Campaign Was Not Duped, Media Scared Supporters from Tulsa Rally. Trump 2020 Campaign Manager Brad Parscale on Sunday [6/21/2020] berated the media for savaging the campaign's small crowd size in Tulsa on Saturday, despite boasting a million campaign ticket requests beforehand. "For the media to now celebrate the fear that they helped create is disgusting but typical," Parscale wrote in a lengthy statement to reporters. "And it makes us wonder why we bother credentialing media for events when they don't do their full jobs as professionals."
Democratic 'Dirty Tricks' Sabotage Trump Tulsa Rally. Tik-Tok and K-Pop users are claiming they reserved hundreds of tickets for Donald Trump's Tulsa rally, never having any intention of showing up. The result was a half-empty arena in Tulsa for the president's post-coronavirus restart of his campaign. In fact, Twitter is alight this morning with reports that dozens of teens reserved thousands of rally tickets to sabotage the optics of Trump's speech.
The Editor says...
I'm no attorney, but this sounds like wire fraud to me. In the future, surely there will be ways to prevent this.


Black's Law Dictionary, Sixth Edition, page 661.

Oklahoma Supreme Court Rejects Bid to Block Trump Rally. The Oklahoma Supreme Court rejected a lawsuit Friday from Stormy Daniels's lawyer challenging President Donald Trump's upcoming Tulsa rally. The suit was brought forth by Tulsa attorney Clark Brewster, who began representing Daniels in March 2019. Brewster's suit attempted to delay the rally, citing concerns that it would aggravate the spread of coronavirus. [...] The suit was previously rejected by a Tulsa County District Court judge, but Brewster appealed to the state Supreme Court on Thursday. That appeal was rejected Friday afternoon [6/19/2020].
Oklahoma Supreme Court denies bid to stop Trump rally over coronavirus. The Oklahoma Supreme Court paved the way for President Trump's Tulsa rally to take place. The court rejected an appeal from a previous lawsuit on Friday that sought to block the campaign from holding a rally indoors on the basis that it could lead to the spread of the coronavirus. The suit, which was filed on behalf of local residents in the historically black district of Greenwood earlier this week, demanded the arena to enforce social distancing guidelines. The plaintiffs wanted the court to issue a temporary injunction against ASM Global, the parent company of the organization that manages the BOK Center, "to protect against a substantial, imminent, and deadly risk to the community," according to the Washington Post. The court ruled in favor of the campaign, arguing that the state's June 1 reopening plan allowed business owners to use discretion over social distancing measures and thus were not mandatory.
Confusion in Tulsa: Mayor Issues Curfew as Trump Supporters Gather for Upcoming Rally. Confusion descended upon downtown Tulsa on Thursday evening [6/18/2020] after the mayor issued a curfew for the area surrounding the BOK Center, where Trump supporters have already begun gathering in anticipation of Saturday's rally. Tulsa Mayor G.T. Bynum (R) signed an executive order instituting a 10 p.m. curfew for the area around the Bank of Oklahoma (BOK) Center, where the president's rally is set to take place. [...] The curfew went into effect at 10 p.m. and will remain in effect until 6 a.m. Saturday.
Judge rejects legal bid to stop Tulsa Trump rally. Two black-history organizations that said nothing when tens of thousands of Black Lives Matter demonstrators "protested" and in some cases rioted across the country filed a lawsuit this week in an attempt to block President Donald Trump's upcoming Tulsa rally. But in a ruling Tuesday, Oklahoma Judicial District 14 Judge Rebecca B. Nightingale reportedly rejected the suit. Filed in Tulsa County by the Greenwood Cultural Centre and the John Hope Franklin Center for Reconciliation, the suit had sought a temporary injunction against ASM Global, the owners of the BOK Center arena where the rally is set to take place this upcoming Saturday.
New York Attorney General says she will go to court to stop Donald Trump deploying military to the state. New York State's top prosecutor is threatening to sue President Trump if he follows through on his threat to deploy the United States military to put down domestic protests that were sparked by the police-involved killing of George Floyd. 'The President of the United States is not a dictator, and President Trump does not and will not dominate New York state,' Attorney General Letitia James said in a statement on Monday [6/1/2020]. 'In fact, the president does not have the right to unilaterally deploy US military across American states.' Trump on Monday vowed to order a military crackdown on once-in-a generation violent protests gripping the United States, saying he was sending thousands of troops onto the streets of the capital and threatening to deploy soldiers to states unable to regain control.
Nancy Pelosi's just wrong to keep the House from meeting. President Trump's task force has been working hard to fight the coronavirus pandemic and open up America. Meanwhile, the House of Representatives has been silent — AWOL, you might say. Even as the Senate returns to work this week, the House remains shuttered. And now, feeling the heat for their prolonged absence, House Democrats are floating plans that would upend centuries of legislative precedent and concentrate power in Speaker Nancy Pelosi's hands. One Democratic idea would allow a representative to ask a colleague to cast a vote on her behalf, known as a proxy vote. And this proxy vote would count for purposes of a quorum, the majority needed to proceed with business. If implemented, this brainstorm would create a procedural fiction in which a representative would be considered "physically" present in the Capitol when she is home with her freezer full of gourmet ice cream.
California Judges Block Trump Rule that Immigrants Must Have Health Insurance. A three-judge panel in California has blocked President Donald Trump's October 2019 immigration reform that requires that would-be legal immigrants be able to pay for their own healthcare costs. The nationwide legal block — a "stay" — will allow the continued entry of legal immigrants who cannot cover the cost of treatment during the coronavirus epidemic. One million legal immigrants are admitted each year, regardless of the economic impact on taxpayers, home buyers, and unemployed Americans.
McCarthy says Pelosi refuses to do it, so he released his own plan to re-open Congress safely. House Minority Leader Kevin McCarthy admitted Congress "will look and feel different" but still needs to reopen as he revealed details of a plan to get the House of Representatives back to work. The California Republican and some of his GOP colleagues released details of the plan even as the Senate returns to work in the Capitol on Monday [5/4/2020] and House Speaker Nancy Pelosi continues to delay the return of House members.
New Democrat Coalition to Pelosi: We respectfully request you reopen Congress. Respectfully? Pretty much, yes, but the subtext of this request from the New Democrat Coalition leadership to Nancy Pelosi clearly questions the wisdom of her strategy, if not her leadership. With the COVID-19 crisis stretching out more than a month without any significant oversight in Congress, Pelosi appears to be facing a backbench revolt as House Democrats begin to wonder why Pelosi keeps them sidelined.
Pressure Mounts for Schiff to Release Russia Investigation Witness Transcripts. Republicans are ramping up the pressure on House Intelligence Committee Chairman Adam Schiff to release of dozens of witness interview transcripts from the panel's investigation into Russian election interference. The House Intelligence Committee voted in September of 2019 to publish the transcripts, and at the time, it was thought that their release would come within days. Donald Trump Jr. took to Twitter on Sunday [4/26/2020] and linked to a Wall Street Journal opinion piece asking why Schiff is still refusing to make the transcripts public. According to the WSJ, Schiff is blocking 43 transcripts that have been declassified and he won't allow the declassification of 10 others.
Adam Schiff Has Transcripts From Key Witnesses Of Russia Investigation But Won't Release Them, Report Says. House Intelligence Committee Chairman Adam Schiff (D-CA) won't release transcripts from key witnesses in the Russia investigation even though his committee voted unanimously in 2018 to release them. The Washington Examiner (my former employer) reported exclusively on Friday [4/24/2020] that Schiff is in possession of declassified transcripts but has yet to release them. The outlet reported that the declassification process, performed by the Office of the Director of National Intelligence, was supposed to take a few weeks or months. That was almost two years ago, however, and the transcripts have not been released. Many blame Schiff.
How does Nancy Pelosi get away with blocking desperately needed aid? How does Nancy Pelosi get away with it? How does the speaker of the House, in the midst of an unprecedented pandemic crisis, delay desperately needed aid to small businesses and, in the process, escape blame in a highly politicized environment? Pelosi didn't stand in the way of aid for just an hour or two, or a day or two. She stonewalled for two weeks while small-business people across the country struggled to stay afloat in a time in which public fear of the coronavirus and government stay-at-home orders reduced their business incomes to zero.
Schumer: Paycheck Protection Program delayed to get loans for minority groups and rural areas. Senate Minority Leader Chuck Schumer touted how minority communities and rural areas will receive aid via provisions added to the Paycheck Protection Program in response to a claim that Democrats are holding up funding for small businesses. Schumer joined CNN's State of the Union on Sunday [4/19/2020] and responded to a statement from the former administrator of the Small Business Administration, Karen Mills, who said: "Complexity is not our friend here ... things that have to be implemented quickly can't have a lot of bells and whistles or else there will be too many unintended consequences — one of which is delay. And we don't have time for delay."
Democrats Block Job-Saving Program. Let's not hear one more consonant from Democrats and their housekeepers in the left-wing media about President Donald J. Trump's allegedly slothful response to the COVID-19 crisis. Democratic lawmakers and leftist journalists now are slowing things, on purpose. And that's far, far worse. [...] While Trump stayed busy "not responding," Democrats hurled wrenches into the works. On the brink of bipartisan passage of COVID-19 relief, filibustering Senate Democrats stalled the $2.2 trillion CARES Act for five business days last month. Pelosi abused this national emergency to demand taxpayer dollars for the musician-hating Kennedy Center, subsidies for windmills and solar panels, an ingenious ruse to fund illegal-alien-criminal-coddling fugitive cities, a federal ban on voter-ID cards, and loads more that would have done zero to remedy this homicidal virus or its economic aftermath.
Small Business Relief Program Runs Out of Money After Dems Hold Up Funding. Thanks to actions taken by Congressional Democrats, the small business rescue program has officially run out of money. Last week Republicans and Democrats clashed over additional financing. While Republicans sought an additional $250 billion to prevent this, Democrats used the situation as an opportunity to demand even more spending, including cash for state and local governments, hospitals, and food stamp programs.
Is Nancy Pelosi trying to be the most hated woman in America? As part of its coronavirus relief package, Congress passed the Paycheck Protection Program ("PPP"), a $349 billion fund to help businesses with fewer than 500 employees. [...] Pelosi seems determined once again to put her agenda ahead of "the little people's" needs. This time, she's refusing to let the Democrats agree to Mitch McConnell's clean bill: ["]Instead, Democrats want McConnell to acquiesce to jumps in funding for several entities that received billions under the CARES act, including health care systems, and to demands to reconfigure the PPP system so that minority and female entrepreneurs are given priority in lending.["] That's bad. What's worse is that, as small business owners are forced to fire their employees and shut down their life's work, Pelosi is boasting about blocking the PPP infusion.
As we rebuild from COVID-19, we cannot allow the Democrats, the liberal media or China to take us for a ride. If you have followed American politics over the past four years, you likely picked up on the hatred Democrats harbor for President Donald Trump. Perhaps the best example of this hatred is liberal darling Bill Maher's comments from 2018 when he said he was hoping for a crashing economy because it was the only way to defeat President Trump in 2020. This perverse thinking perfectly exemplifies the mindset of the modern-day Democratic Party, and unfortunately, Americans are forced to witness this irrational hatred on a daily basis. If President Trump says the sky is up, the Democrats will say it is down. If he says north, the Democrats will say south. This irrational hatred is a very dangerous game to play during the COVID-19 pandemic that has paralyzed our country and shattered our economy. Now more than ever, Americans are relying on accurate information and instead of providing that, too many Democrats would rather grandstand on why President Trump is wrong — even when he is right.
Dems block McConnell bid to swiftly approve $250 Billion more for small business fund. A $250 billion urgent request to shore up a depleting small business fund failed to pass the Senate Thursday after Democrats objected to the measure pushed by the White House and Senate Majority Leader Mitch McConnell. With lawmakers home and social distancing, McConnell sought to pass the cash infusion swiftly Thursday by unanimous consent with a skeleton group of senators, but Democrats blocked the effort because they want add-ons to help businesses in disadvantaged communities and an additional $250 billion in funds for other priorities.
McConnell torches Senate Dems for blocking urgent job protection program 'which they themselves literally coauthored'. Senate Democrats sidetracked a request from Majority Leader Mitch McConnell to pass additional small business funding with unanimous consent. Democrats blocked what they called a "political stunt" by the Kentucky Republican, effectively stalling a request from President Donald Trump for a $250 billion small business loan program.
Tom Cotton Outlines Nancy Pelosi Emergency Relief Scheme. There are many people, many voters, simply stunned at how the Democrats are trying to use the COVID-19 economic emergency to add unrelated ideological elements to the Coronavirus Aid, Relief, and Economic Security Act. Senator Tom Cotton walks through some of the items the Democrats are demanding before they will allow economic relief to U.S. companies and workers. [Video clip]
GOP details Pelosi's $2.5 trillion 'socialist wish list' in coronavirus aid package. House Republicans on Monday night offered a detailed critique of what they called House Speaker Nancy Pelosi's "socialist wish list" in House Democrats' $2.5 trillion proposal for responding to the coronavirus outbreak. "Speaker Pelosi unveiled legislation aimed at exploiting the COVID-19 public health crisis by attempting to force the inclusion of a socialist wish list of policies that have nothing to do with the public health and economic emergency," said House Minority Whip Steve Scalise, Louisiana Republican.
Cruz Rips Pelosi on Stimulus, 'What [...] Does a Windmill Have To Do With This Crisis'. Senator Ted Cruz (R-Texas) went on a fiery tirade against Speaker Nancy's Pelosi's (D-CA) pork-laden stimulus proposal that demands "racial pay equity" and "airplane emissions standards." "Nancy Pelosi decided it was time to play politics. Decided it was time to throw a grenade into the whole process," Cruz said. "The demands she's pushing, I ask you, do they have anything to do with the coronavirus epidemic?" "What are they pushing for? Changing the emissions standards on airplanes. Mr. President, what the hell do the emissions standards on airplanes have to do with thousands of people dying and millions of people out of work in the coronavirus epidemic," Cruz thundered from the podium.
Here is the Far-Left Wish, List Nancy Pelosi Just Blew Everything Up For. According to a source close to the process on Capitol Hill, in order to move forward with any kind of [coronavirus emergency] relief package, Pelosi and her far-left Democrat caucus will demand the following be included:
• Publication of corporate pay statistics by race and race statistics for all corporate boards
• A bail out on all current debt at the Postal Service
• Required early voting
• Required same day voter registration
• Provisions on official time for union collective bargaining
• Full offset of airline emissions by 2025
• Publication and reporting of greenhouse gas statistics for individual flights
• Retirement plans for community newspaper employees
• Federal $15 minimum wage
• Permanent paid leave
• Study on climate change mitigation efforts
Pelosi Democrats: No Money to Fight #WuhanVirus Unless We Get Voting Rights for Illegal Aliens. As workers around the country lose their jobs, please remember that Nancy Pelosi, Chuck Schumer, and Invisible Joe Biden want illegal aliens to vote. Because that will fix the Wuhan Virus.
Journey to Surrealville: What's really fuelling Pelosi's shutdown of America's relief package? After days of unusual comity between Republicans and Democrats in the coronavirus crisis, the big congressional economic aid package to help hospitals, laid off workers, and battered small businesses all came crashing down as Nancy Pelosi jetted in from vacation, blocking the set-to-go bill over the weekend. In place of that, she came up with a 1,400-nightmare political goody bag for the left — everything from ballot-harvesting to corporate diversity requirements to greenie airline regulations to a $15 minimum wage and a lot of other horrors — attempting to slip through the entire panoply of laws her party wants to enact but can't get passed. It was Pelosi's and other Democrats' doing, all right — just look at how the New York Times changed its headline sequence, first putting out the facts about Democrat road-blocking, then, likely after some Pelosian phone calls, softening the blame, and then declaring the whole thing a bipartisan morass. Yeah, sure.
Susan Collins Unloads On Senate Democrats For Blocking Coronavirus Deal. Maine Republican Sen. Susan Collins let loose on her Democratic colleagues Monday, criticizing Senate Minority Leader Chuck Schumer directly over the failed coronavirus deal. Collins took the floor to express her disappointment over Senate Democrats blocking the bill — which they claim includes too many "corporate" protections rather than protections for workers — as well as her anger at Schumer for attempting to prevent her from speaking.
Senate Democrats block mammoth coronavirus stimulus package. Senate Democrats on Sunday [3/22/2020] blocked a coronavirus stimulus package from moving forward as talks on several key provisions remain stalled. Senators voted 47-47 on advancing a "shell" bill, a placeholder that the text of the stimulus legislation would have been swapped into, falling short of the three-fifths threshold needed to advance the proposal. Hopes of a quick stimulus deal quickly unraveled on Sunday as the four congressional leaders and Treasury Secretary Steven Mnuchin failed to break the impasse. Senate Majority Leader Mitch McConnell (R-Ky.) also delayed the procedural vote for three hours as they tried to get a deal.
Pelosi's Coronavirus Stimulus Bill Mentions 'Diversity' 32 Times. The word "diversity" appears 32 times in the coronavirus relief bill House Speaker Nancy Pelosi (D., Calif.) unveiled on Monday [3/23/2020]. Pelosi released her plan as critics questioned the priorities of Democratic lawmakers facing the China-caused pandemic. Senate Democrats voted Sunday to block a coronavirus stimulus package worth up to $1.8 trillion, and continued voting down procedural motions on the bill Monday. Democrats in the upper chamber were reportedly upset that the legislation does not do enough to increase fuel-emissions standards for the airline industry or to provide additional tax credits to promote wind and solar energy. Senate Majority Leader Mitch McConnell (R., Ky.) said Senate negotiations over the relief package were going well until Pelosi imposed herself on the process. Democratic obstruction gave the House speaker time to introduce her own coronavirus relief package in the House.
Republicans want a lifeline; Democrats want to remake the country. The cynical partisan opportunism of Democrats exhibited during the coronavirus economic crisis has been breathtaking. Rather than move forward with quick, no-frills, massive $1.8 trillion dollar rescue plan, Democrats decided to hold the country hostage by trying to cram through a slew of lefty goodies that have absolutely nothing to do with the pending economic crisis. As corporate boards struggle to figure out ways to keep their companies afloat, Nancy Pelosi is demanding that they spend time filling gender and racial quotas, down to "subcommittee assignments." As the transportation sector wrestles with a once-in-a-century economic disaster, Democrats are trying to compel airlines — who have seen a 90 percent drop in customers — to cut greenhouse gas emissions every year until they hit a 50 percent reduction. If Pelosi keeps this up, airlines are going to see a 100 percent reduction soon enough.
'Don't treat this bill like a partisan Christmas list': Sen. Ted Cruz unloads on Democrats on the Senate floor. If you've been following Twitchy at all today, you've heard from plenty of people what House Democrats have decided to sneak into the 1,400 coronavirus relief bill — such things as airline emissions, same-day voter registration, student loans, corporate diversity, etc. Sen. Ted Cruz unloaded on the Democrats Monday, telling them to stop treating the bill like a "partisan Christmas list." [Video clip]
Nancy Pelosi Proposes 1,400-Page Coronavirus Bill Stuffed with Special Interest Goodies. House Speaker Nancy Pelosi debuted a 1,120-page coronavirus rescue bill after Democrats tanked the Senate proposal on Sunday night. The bill includes a wish list of Democrats' pet issues including: [#1] Increased fuel emission standards for airlines receiving funds and carbon offsets [...] [#2] Payment for up to $10,000 in student loans [...] [#3] Same-day voter registration, early voting, voting by mail, ballot harvesting [...] [#4] Preserving collective bargaining powers for unions [...] [#5] The expansion of wind and solar tax credits [...] [#6] Requirements for federal and corporate gender and racial diversity data [...] [#7] Post Office Bailout [...] [#8] Automatic extension of nonimmigrant visas [...] [#9] Restricting colleges from providing information about citizenship status [...] [#10] Money for Planned Parenthood
Schumer and Pelosi Try to Add Fuel Emission Standards For Airlines, More Wind and Solar Tax Credits to Coronavirus Stimulus Package. Pelosi and Schumer continued to play politics on Monday [3/23/2020] amid the Coronavirus shutdown and demanded a wish list of Socialist policies that have nothing to do with the global pandemic. Pelosi and Schumer are now pushing these demands:
[#1] Unprecedented collective bargaining powers for unions
[#2] Increased fuel emissions standards for airlines
[#3] Expansion of wind and solar tax credits
Even worse, not only are these demands totally unrelated to the Coronavirus pandemic, they could prevent companies from participating in the loan programs — directly causing unnecessary layoffs, according to a senior GOP aide.
McConnell: Democrats Won't Fund Hospitals or Save Businesses 'Unless They Get to Dust off the Green New Deal'. During a speech on the Senate floor on Monday [3/23/2020], Senate Majority Leader Mitch McConnell (R-KY) [...] said, "Here are some of the items on the Democratic wishlist over which they choose to block this legislation last night. Tax credits for solar energy and wind energy, provisions to force employers to give special, new treatment to big labor, and listen to this, new emissions standards for the airlines. Are you kidding me? This is the moment to debate new regulations that have nothing whatsoever to do with this crisis? That's what they're up to over there. The American people need to know it. Democrats won't let us fund hospitals or save small businesses unless they get to dust off the Green New Deal."
Pelosi and Schumer Making Non-Coronavirus-Related Demands While Holding Up Relief Bill. On Sunday evening, Senate Democrats filibustered a bill designed to provide immediate relief to American workers and businesses, in the midst of a global pandemic and its resulting economic stoppage. The upper chamber worked through the weekend to hammer out a legislative outline, on a bipartisan basis. Ideas from both parties were put into the plan, leading to an agreement in principle on a broad framework. Then House Speaker Nancy Pelosi arrived back in town and announced that she would torpedo the bill, then her Senate counterparts abandoned it. They blamed a "slush fund" for corporations. Republicans dispute this claim — but even setting it aside, the bulk of the bill was bipartisan (Schumer himself hailed the bipartisanship over the weekend) and contained: (1) Direct checks to American workers, (2) hundreds of billions in loans to small businesses, and (3) aid to hospitals.
Democrats Block Coronavirus Bill That Provides Lifeline To Economy, Families. Democrats blocked a massive $1.8 trillion stimulus spending bill to protect the U.S. economy and provide relief to American families who are suffering as a result of the coronavirus outbreak. [...] Townhall political editor Guy Benson reported that Senate sources said that Democrat House Speaker Nancy Pelosi was responsible for tanking the bill. "Talking to some Senate GOP sources. They seem stunned and angry," Benson said. "I'm told there was lots of bipartisan input into the legislative outline & emerging specifics — including an agreement in principle on broad strokes. Then Pelosi showed up and threw a partisan grenade."
Nancy Pelosi Nixes Bipartisan Talks on Coronavirus Package. House Speaker Nancy Pelosi (D-CA) said on Sunday that she has decided to move forward with her own emergency coronavirus relief package. Pelosi spoke just hours before the Senate was scheduled to take a procedural vote that would lead towards a final vote on a bipartisan economic relief package. The bill would provide economic relief after the coronavirus epidemic ravaged the country's economy.
Democrats Block Senate Coronavirus Package. Democrats blocked a coronavirus package on Sunday [3/22/2020] that would provide economic relief to businesses and Americans suffering from the impact of the coronavirus outbreak. The Senate GOP package failed, with 47 votes in favor and 47 against, which fell 13 votes short of what was necessary to advance the legislation.
Are Dems Refusing to Support $2 Trillion Stim Bill Unless It Includes a Bailout for Planned Parenthood? Earlier on Sunday, Secretary of the Treasury Steven Mnuchin sounded optimistic that Republicans and Democrats were getting close to finalizing a $2 trillion stimulus package for the American people and businesses. [...] But that optimism disappeared a few hours later after Democrats balked at several sections of the bill that failed to advance their political agenda. [...] Even more ominous to Democrats was a Medicaid restriction that would hurt Planned Parenthood and other non-profits.
The Real Threat to Our Democracy During Coronavirus. If there ever was a real threat to our democracy in today's rancid political climate, it emanates from Pelosi, Schumer, and the Democrats who follow them like lemmings. [...] These endless internecine efforts by Democrats, aimed not at advancing the public's needs or the common weal but solely at gumming up the machinery of government and sabotaging the Trump Administration, are proving to be the single greatest threat today to our democracy. They raise the question whether such a system of government is capable of protecting the public from invasion, be it by military munitions or biological, from abroad and terror at home. They go around the country ranting about "Medicare for All" and about how we need a "Green New Deal" or everyone will be dead in eleven years, but the reality is that the Democrats became so married to "Resistance" in 2016 when President Trump was elected that they have failed to protect the public and to let the President do his job and focus on what he needs to get done.
Democrats block measure to prevent terrorists from working at TSA. Well, not just terrorists, but that's probably the more alarming part of the headline. With all of the coronavirus and Democratic primary news swamping the networks, you might think that Congress was basically shut down, but it turns out that they're actually trying to get some work done. One example of this effort was a vote this week on the Rights for Transportation Security Officers Act. The bill is designed to bring the handling of TSA employees more in line with other federal workers, possibly making it easier to attract new applicants. But as part of the process, an amendment was offered that would require screening applicants and conducting background checks. These would specifically prevent the hiring of people convicted of sexual assault and other violent crimes or those whose names appear on the terror watch lists. Given all of the complaints about TSA agents misbehaving when screening travelers at airports, that seems to make sense, doesn't it? Apparently not to a lot of the House Democrats.
174 Democrats Vote Against Amendment That Aims To Make It Harder To Hire TSA Employees With Terrorist Or Sexual Crime Record. House Republicans and 42 Democrats joined forces Thursday to pass an amendment to the Rights for Transportation Security Officers Act that would keep people convicted of sexual assault, terrorism and other violent crimes from working for the Transportation Security Agency (TSA). But 174 House Democrats — including House Majority Leader Steny Hoyer — did not support the legislation.
The Editor says...
That's because the TSA workers are unionized, and their union dues go right back to the Democrats.
Obama-Appointed Judge: Ken Cuccinelli 'Not Lawfully' Named USCIS Director. A federal judge, appointed by former President Obama, has ruled that Department of Homeland Security (DHS) Acting Deputy Secretary Ken Cuccinelli was not previously "lawfully appointed" to his job as Acting Director of United States Citizenship and Immigration Services (USCIS). In a federal ruling on Sunday [3/1/2020], U.S. District Judge Randolph D. Moss sided with the Refugee and Immigrant Center for Education and Legal Services — an open borders lobbying group — by stating that Cuccinelli had not been lawfully named to head USCIS in an acting role and thus his policies implemented during his tenure are void.
The Editor says...
Since the U.S. Congress is full of lawyers, one would think that someone in Congress would have noticed this illegality before now. Instead, we have lobbyists and an activist Obama judge making the claim.
Cuccinelli unlawfully appointed to head Citizenship and Immigration Services, judge rules. A federal judge ruled Sunday [3/1/2020] that one of the Trump administration's top immigration officials, Ken Cuccinelli, was unlawfully appointed to his post because of a decades-old law on federal vacancies. U.S. District Judge Randolph Moss ruled that Cuccinelli's appointment as the acting director of U.S. Citizenship and Immigration Services (USCIS) circumvented a law that said a senior government position could be filled only if the Senate first approved the individual. It was not immediately clear what impact this would have on Cuccinelli's tenure, if any.
An Obama Holdover in an Obscure Government Arm Helped Cause the Country's Coronavirus Crisis. Two months after the outbreak of the coronavirus, #TrumpVirus began trending on Twitter. Why? Because it's the only chance that the Democrats have of winning back the White House in 2020. Saddled with broken primaries whose nominee, after a possible brokered convention, will either be a Socialist who admires Communists, a senile lecher who admires young girls, or a billionaire who admires power, the coronavirus is a much more effective candidate than Sanders, Biden, or Bloomberg. #TrumpVirus follows in the footsteps of #TrumpHurricane which attempted to blame a natural disaster and local corruption in Puerto Rico on President Trump.
7 Reasons the Left's Hatred of Trump Is So Deep. President Trump's popularity is higher than before the Democrats' impeachment debacle began, and that continues to frustrate and outrage the leftists in our midst. Like Wile E. Coyote learns over-and-over again, no matter what he does, the Roadrunner just keeps tweeting on down the road at record speed. They've worked to impeach Trump since he took office and finally achieved it, only to have him exonerated by the Senate. They've mocked him, his tweets, and his priorities. They've drowned him in negative media coverage. They've called him a narcissist, a tyrant, and an uncaring fraud. But nothing is working, and the rage in the social media just grows by the day as there are growing signs that no Democrat is in a position to stop his march to a second term.
The Next Coup Against Trump Has Begun. It was inevitable. After the Democrats failed to evict Donald Trump from office through the Mueller investigation and then the ridiculous impeachment over the Zelensky telephone call, they would have to try something else to ruin him before the November election. Rush Limbaugh was the first to predict that they'd go back to the "Russia collusion" narrative, and they have.
States sue Trump administration at record pace. State attorneys general have filed an unprecedented number of lawsuits against the Trump administration, as Democratic-led states exercise new levers of power to block some of President Trump's most controversial initiatives. States have formed coalitions to file 103 multi-state suits against the administration in its first three years, according to data compiled by Paul Nolette, a political scientist at Marquette University. The vast majority of those suits, 96, have been led by Democratic attorneys general. By contrast, states filed 78 multi-state suits in the eight years of President Obama's administration, and 76 multi-state suits during President George W. Bush's eight years in office.
EVERYTHING is done over the Democrats' objections.
After impeachment acquittal, Senate advances another Trump court pick over Dem objections. Minutes after Chief Justice John Roberts gaveled out President Trump's impeachment trial, which had consumed the Senate for almost three weeks, Majority Leader Sen. Mitch McConnell, R-Ky., got right back to what he's said is his top priority — confirming judges. Less than half-an-hour after TV networks cut away from the Senate to dive into the ramifications of the body acquitting Trump, McConnell filed cloture on the nomination of Judge Andrew Brasher to the 11th Circuit Court of Appeals, a procedural step that moved the controversial nominee one step closer to confirmation. The Senate took the next step to confirming Brasher with a 46-41 cloture vote Monday, then confirmed him 52-43 on Tuesday [2/11/2020]. Progressive groups, which have opposed many Trump nominees, cried foul over the move.
Trump Beats Congressional Democrats' Emoluments Lawsuit. President Donald Trump beat back a lawsuit by 215 congressional Democrats who say he has been violating the Constitution's emoluments clauses by profiting from foreign government spending at his Washington hotel and other properties. A federal appeals court in Washington on Friday [2/7/2020] dismissed the case, saying members of the House and Senate lacked the legal standing to sue the president.
Appeals court rejects Democrats' emoluments suit against Trump. A federal appeals court has rejected a lawsuit from Congressional Democrats who accused President Donald Trump of violating the Constitution by receiving profits from foreign governments' spending at his luxury Washington hotel and other businesses. The D.C. Circuit Court of Appeals decision did not address the legality of Trump's business dealings, but held that the more than 200 Democratic senators and House members who banded together in 2017 to bring the suit against the president lacked legal standing to do so.
Trump Wins AGAIN As Court Throws Out Dems' Emoluments Lawsuit. On Friday [2/7/2020], President Trump scored another victory, as a three-judge panel ruled against congressional Democrats, dismissing their emoluments lawsuit, the first case where they sued Trump, that alleged Trump violated the emoluments clause of the Constitution, arguing he had done so because his ownership of certain businesses meant that he was receiving payments from foreign officials without approval from Congress. The Emoluments Clause of the Constitution states, "no person holding any office ... shall, without the consent of Congress" accept gifts or other benefits from foreign states. [...] Trump was enormously persistent in challenging the lawsuit; a district court had originally ruled the members filing the lawsuit had "sustained their burden to show that they have standing to bring their claims."
Next Week Will Bring Something Else. The Impeachment fiasco was just the latest in a nonstop series of Democrats' attempts to overthrow the Trump presidency. They started long before the 2016 election, with the Obama administration's illegal spying on the Trump campaign and the bogus Russia investigation. It continued after he was elected, when they tried getting vote recounts (only in states that Trump won) and attempted to influence the electors to recast their Electoral College votes against Trump. This was closely followed by the Russia collusion hoax, which led to the Mueller investigation. When Mueller came up empty, we were treated to several weeks of "Trump is a racist," because he tweeted criticisms of Democratic congressmen. The impeachment nonsense followed soon after. Now that it too has failed, you can be assured that the Dems are not finished; they will continue to bang their head against the Trump wall.
The Left's Opposition to Mining Threatens Its Green Dream. Though environmentalists may not realize it, increased domestic production of "critical" minerals would benefit the environment. But existing restrictions on recovering these elements are forcing U.S. firms to purchase these resources overseas. This can be problematic if our trading partners are unstable, unreliable or unfriendly, as was the case before the fracking revolution when the Organization of the Petroleum Exporting Countries (OPEC) dominated the global market for crude oil. Now the United States is a net exporter of oil and natural gas. But we continue to be dependent on imported minerals, not because domestic supplies don't exist, but because restrictive regulatory policies prevent their recovery. As a result, the United States today imports 100 percent of the minerals considered critical by the Interior and Defense Departments.
The Democrats' Last Ditch Effort To Upend the Trump Trial. Has the Trump impeachment drama reached its Brett Kavanaugh or Clarence Thomas moment? That would be the moment when, after the hearings are more or less done and it looks like the target will survive, the Democrats confect a last ditch scandal to block, in the case of the two justices, Senate confirmation or, in the case of President Trump, acquittal. We confess we've been expecting something to be brought up at the last minute. It is, after all, the Democratic Party's modus operandi. In the case of Clarence Thomas, it looked like the hearings were done and the nominee on the way to confirmation, when there was suddenly leaked an FBI report touching on Anita Hill's allegation of sexual harassment. Something similar happened in respect of Justice Kavanaugh.
Judge blocks Trump's attempt to let governors refuse refugees. A federal judge ordered a halt Wednesday [1/15/2020] to the Trump administration's plan to give states and localities a veto over refugees being sent into their territory, saying the law doesn't allow them a say. The ruling is a major victory for immigrant rights groups, who had feared some communities would shut their doors thanks to President Trump's executive order last year establishing the veto policy. Judge Peter J. Messitte, an appointee of President Clinton to the U.S. District Court in Maryland, issued an injunction stopping the policy just days before it was to kick in.
House Democrat: We'll Keep Investigating Trump-Russia Conspiracy After Impeachment. Appearing Tuesday [1/14/2020] on MSNBC, House Intelligence Committee member Rep. Mike Quigley (D-IL) vowed Democrats will continue to investigate President Donald Trump over possible ties to Russia after the Senate impeachment trial concludes.
Is today's Democratic Party deceiving the people? [Scroll down] The most dangerous assault on our system of government today is the orchestrated efforts by the Democratic Party to actively work in a series of campaigns to invalidate the results of the 2016 election. Democrats actively resist, impugn, and call into question without exception any policy initiative by the Trump administration. The Democrats currently promote an environment of resistance by outright deception indicating a determination not to offer any compromise on issues. In addition, they do not seem to display any regard for the consequences of their actions on our country.
Trey Gowdy Says Removing Trump is Not Democrats' Goal — They Have a More Devious Plan. Republican Congressman Trey Gowdy said Thursday that Democrats are not using impeachment to try to get rid of President Donald Trump, they instead want to kneecap his second term by regaining control of the Senate so he can't get anything done. [...] "There is no mathematical way he is ever going to be convicted and they know that," Gowdy added. "So their goal cannot be to remove Donald Trump from office, it is to neuter his second term. I think he is going to win in November. It's to neuter that second term by targeting the Cory Gardners and the Martha McSallys and the Thom Tillises and the Susan Collins and Joni Ernst because if Trump wins and doesn't have the Senate then he is not going to get any judicial vacancies filled and he's not going to replace a Supreme Court Justice if he or she retires."
Democrats Have Become a Disfigured Reflection of the Party They Once Were. [Scroll down] We see in their contempt for federal marijuana laws, the institution of sanctuary cities, and their hostility to border enforcement a deranged lack of perspective regarding the health of our citizens, many of whom are struggling with or dying from drug usage. The opioid epidemic we face is clearly connected to the opioid supply, and that, in turn, is clearly a border issue. Yet they put aside the well-being of so many poor souls caught by the hook of addiction into ignoring border enforcement in order to score political hate points against the president. Instead of looking at border issues in terms of law and national health, they turn enforcement into an ugly, defamatory argument about American and Trumpian racism. Only 14 years ago, they were able to agree with Republicans on the need for stronger border enforcement, whereas now they try to block every Trump attempt — mandated by the American people — to bring order out of chaos on our southern border.
Rep. Hoyer floats additional legislation to limit President Trump's military powers. Democrats on Capitol Hill may be looking to further rollback the president's war powers. On Friday, House Majority Leader Steny Hoyer said he might introduce additional legislation as early as next week. Specifically, he could take aim at the 2002 Authorization for Use of Military Force Against Iraq, which the president recently used to carry out the airstrike against Iran's top general. Hoyer also mentioned the House may be looking to block Pentagon funds from going toward any further action in Iran.
Nancy Pelosi's pointless war-powers ploy. Speaker Nancy Pelosi just pushed through a bill aiming to limit President Trump's ability to hit Iran, even though the crisis is over. Why? Thursday's [1/9/2020] House passage of her war-powers resolution is almost certainly pure symbolism: Nothing like this is going to pass the Senate, and even if it did its constitutional status would be dubious. And events, including the president's actions, have shown that the fears that inspired the bill are unfounded.
Pelosi on 'Urgent' Impeachment Articles: 'I'll Send Them Over' to Senate 'When I'm Ready'. House Speaker Nancy Pelosi (D-CA), during her weekly press conference Thursday, said she is not holding back the two articles of impeachment approved against Donald Trump last month "indefinitely." A reporter asked the Speaker," Are you holding the articles indefinitely?" "No. I'm not holding them indefinitely. I'll send them over when I'm ready. That will probably be soon," she replied.
Rep. Bradley Byrne Moves to Censure Pelosi for Holding Up Impeachment. Rep. Bradley Byrne (R-AL) will introduce a resolution on Thursday to censure House Speaker Nancy Pelosi (D-CA) for obstructing the impeachment proceedings against President Donald Trump, Breitbart News has learned exclusively. Byrne, who is vying for the Republican nomination for U.S. Senate this year from his native Alabama, believes the speaker has broken congressional precedence by refusing to send the articles of impeachment to Senate Majority Leader Mitch McConnell.
Pelosi's Urgency of Impeachment at a Snail Pace. Nancy Pelosi's delay in sending the articles of impeachment to the Senate undermines the implied urgency of the issue. Senate Democrats are getting impatient with the delay. Like most Americans, they want to get the process started. Nancy isn't getting her way. She wants a guarantee that witnesses will be called to testify in the Senate hearing. Senate Republicans aren't preventing witnesses, but using the same guideline as the most recent impeachment trial of President Clinton. The video of a discussion between Mitch McConnell's and Nancy Pelosi's former Chiefs of Staff highlights the process and party strategy behind her delay.
Trump calls on all Republicans to oppose 'Crazy Nancy Pelosi's' War Powers Resolution. President Trump called on fellow Republicans to oppose a resolution meant to place restrictions on his ability to take military action without congressional approval, as the House prepares to vote on the measure late Thursday [1/9/2020]. House Speaker Nancy Pelosi announced the planned vote in a one-page statement that said last week's U.S. drone strike that killed Iranian Gen. Qassem Soleimani was "provocative and disproportionate," despite Trump administration claims to the contrary. Many Democrats were also incensed that the administration did not notify Congress in advance.
Schiff Calls For Congressional Hearings Into Trump's Drone Strike That Killed Soleimani. House Intel Chairman Adam Schiff (D-CA) called for Congressional hearings into Trump's drone strike that killed top Iran commander and terrorist Qassem Soleimani. The Democrat-led House has made it clear that they will meddle in every single foreign policy decision President Trump makes.
Democrats draft resolution to limit President Trump's war powers. Senate Democrats are seeking to curb President Trump's war powers in retaliation for his initiation of the drone strike that killed Iranian General Qasem Soleimani. Sen. Dick Durbin and Sen. Tim Kaine are cosponsoring a resolution that would force the administration to withdraw all troops from Iran, unless Congress itself declares war.
The Editor says...
The Democrats weren't too concerned about undeclared wars while Obama was president.
Gov. Andrew Cuomo cites Trump in vetoing bill that would have allowed federal judges to officiate weddings. New York Gov. Andrew Cuomo cited Donald Trump in announcing his veto last week of a bill that would have allowed more federal judges to officiate weddings in the state because some were nominated by the President. The bill, which passed the New York state senate and assembly with overwhelming bipartisan support, would have expanded officiating authority to all federal judges. New York law currently only permits state judges to solemnize weddings, along with certain federal judges like those sitting on the second circuit court of appeals and some federal judges from particular districts. "I cannot in good conscience support legislation that would authorize such actions by federal judges who are appointed by this federal administration," Cuomo, a Democrat, said in his veto message on Friday [12/20/2019].
Newt Gingrich: Nancy Pelosi looks 'foolish' holding up impeachment process. Former Speaker of the House Newt Gingrich said Friday that House Speaker Nancy Pelosi's temporary hold on two articles of impeachment is "absurd" and that she looks "foolish." Appearing on "America's Newsroom" with host Sandra Smith, Gingrich explained that Pelosi, D-Calif., is in a "world that's out of control." "Why would you start a fight in the House knowing you are going to lose control of it to the people who are very capable of making you look very foolish?" he asked. "And yet, that's the dance they began."
Pelosi threatens to delay Senate impeachment trial. Speaker Nancy Pelosi refused to commit Wednesday [12/18/2019] to delivering articles of impeachment to the Senate, citing concerns about an unfair trial on removing President Donald Trump from office. Senior Democratic aides said the House was "very unlikely" to take the steps necessary to send the articles to the Senate until at least early January, a delay of at least two weeks and perhaps longer.
Judge Napolitano: Pelosi withholding articles of impeachment from Senate would be 'grave injustice'. House Speaker Nancy Pelosi, D-Calif., has a constitutional obligation to send articles of impeachment to the Senate, Judge Andrew Napolitano said Thursday [12/19/2019]. Appearing on "Fox & Friends" with hosts Pete Hegseth, Steve Doocy, and Ainsley Earhardt, Napolitano said that while he has said there was a legal basis for impeachment in the House, lawmakers now have a "moral and constitutional obligation" to send the two articles of impeachment to the Senate. In a news conference on Wednesday, following the House impeachment vote, Pelosi said that Democrats may wait to send their articles of impeachment against President Trump to the GOP-controlled Senate, for fear that they are incapable of holding a fair trial. "Well, guess what?" asked Napolitano. "Under the Constitution, the Senate writes its own rules not subject to the approval of the speaker of the House or even the majority of the House."
Pelosi throws impeachment into confusion. Minutes after the House impeached President Donald Trump, House Speaker Nancy Pelosi threw the process into confusion by refusing to say when or whether she would send the articles of impeachment to the Senate for a trial. At a news conference held immediately after the vote, Pelosi said "we'll see what happens" when asked if she would send the articles to the Senate.
Some House Democrats push Pelosi to withhold impeachment articles, delay Senate trial. A group of House Democrats is pushing Speaker Nancy Pelosi and other leaders to withhold the articles of impeachment against President Trump that are expected to emerge on Wednesday, potentially delaying a Senate trial for months. The notion of impeaching Trump but holding the articles in the House has gained traction among some on the political left as a way of potentially forcing Senate Majority Leader Mitch McConnell (R-Ky.) to conduct a trial on more favorable terms for Democrats. And if no agreement is reached, some have argued, the trial could be delayed indefinitely, denying Trump an expected acquittal.
Cunning Lawfare Maneuver — House Will Withhold Submission of Articles from Senate. Seemingly overlooked by most, when the House voted on the 'rules of impeachment' they removed the traditional appointment of House Managers to a later date. Normally the House Managers would be appointed at the same time as the impeachment vote; however, by withholding the appointment House Democrats are indicating they will not immediately send articles of impeachment to the senate but will rather hold the articles as support for pending court cases toward their judicial authority. A cunning Lawfare ploy.
Extortion: Nancy Pelosi Threatens to Withhold Impeachment Articles from Senate Republicans. Today was truly a clown show, with scores of Democrats trying to make the case that Trump is an existential threat to the United States. There was a lot of hot air. The evidence against Trump is the very definition of weak sauce. It's so thin and so nakedly partisan that swing-state voters are sour on impeachment. This move by Democrats has increased the president's popularity. It hasn't moved the needle. In fact, the approval numbers for impeachment are now underwater. It has done the exact opposite of what Democrats had hoped, and this could be one massive in-kind contribution to the 2020 Trump campaign. Maybe within the leadership, they know this too, but they're at the point of no return.
Pelosi turns impeachment circus into even more of a comedy. Ed suggested this maneuver was on the way yesterday [12/18/2019] and now it appears that Speaker Pelosi has decided on the lame explanation the Democrats will hang their hats on. In order to attempt to give Chuck Schumer some "leverage" in the impeachment trial, the Speaker may refuse to send the articles of impeachment to the upper chamber, dragging all of this nonsense out even further. [...] When I turned on CNN this morning, the anchors were desperately trying to explain why the Constitution doesn't demand the Speaker send the articles of impeachment to the Senate. That's technically true, but the Constitution doesn't really "demand" much of anything, other than requiring the Chief Justice of the Supreme Court to preside when the President is on trial.
Dems' Real Impeachment Goal: Sabotage Trump's Second Term. Democratic Party leaders can't possibly be unaware of the fact that their impeachment case has no merit. Despite the endless talk of bribery, extortion, campaign finance violations and other supposed crimes Trump has committed, not one of the articles of impeachment accuses Trump of breaking any of those laws, or any federal law for that matter. Instead, they accuse Trump of an "abuse of power" and of "obstruction of Congress." As Sen. Ted Cruz explained this week at a Heritage Foundation event, as weak as the first article is, "the second article is orders of magnitude weaker." "They've simply said that the mere fact that you assert a privilege is itself impeachable, without their bothering to issue a subpoena or litigating anything.
1 Minor Judge Shouldn't Be Able to Block Trump's Agenda. When a federal district judge issued a nationwide injunction preventing the Trump administration from blocking funds for sanctuary cities, conservatives protested and liberals cheered. Liberals were similarly thrilled by a district court ruling that halted the president's order blocking travel to the U.S. from certain Middle Eastern nations. Yet when several red states sued to block Obamacare, law professors writing in The Atlantic asked, "Can one judge really impose his ruling from one coast to the other?" District courts — whose reach should be limited to the area within their geographic jurisdictions except in certain narrowly-defined circumstances — have inappropriately claimed authority to block presidential and congressional actions throughout the entire nation.
Judge blocks Trump's border wall emergency. A federal judge in Texas issued a permanent injunction Tuesday blocking President Trump from using billions of dollars Congress earmarked for the Defense Department to instead build his border wall. Judge David Briones, a Clinton appointee to the bench, had previously ruled Mr. Trump's move illegal, but had given both sides a chance to argue over what the remedy should be. "Because defendants' actions are unlawful and the people's representatives — Congress — declined to augment the border wall budget as defendants attempt, the public interest would be served by halting them," the judge wrote.
Federal judge blocks billions in Pentagon funding from paying for border wall. Judge David Briones of the U.S. District Court for the Western District of Texas issued the block in response to a lawsuit by El Paso County, Texas, and the Border Network for Human Rights. "The President's emergency proclamation was a blatant attempt to grab power from Congress. Today's order affirms that the President is not a king and that our courts are willing to check him when he oversteps his bounds," Kristy Parker, an attorney for the litigants, said in a statement. Secretary of Defense Mark Esper approved $3.6 billion in Pentagon funds to be diverted from other military projects toward construction of the border wall in September. Half the money allotted came from overseas projects and the other half from projects in the U.S.
Judge blocks Trump's health insurance rule for immigrants. A U.S. judge in Oregon on Tuesday [11/26/2019] granted a preliminary injunction blocking a Trump administration proclamation that would require immigrants to show proof of health insurance to get a visa.
Impeachment Lesson: Cut Government. Every Republican president starts day one on the job in charge of a massive disloyal workforce. Follow the money. Almost every single dollar, to the tune of 95%, donated by a federal bureaucrat during the 2016 election went to Hillary Clinton. This is a massive challenge for every Republican president. One of the easiest jobs in the world is being a Democratic president. The federal bureaucracy quite literally worships you. The media, academia, and entertainment industries call in supporting fires to portray every move as a Nobel Prize-worthy gesture. The corollary to this is that the hardest job in the world is to be a Republican president. The executive branch workers you oversee despise you and seek to undermine every move. They are the head of the resistance, the very heart of the deep state snake.
Drag queen storms into Trump impeachment hearings. A drag queen from Asbury Park, NJ., crashed Capitol Hill on Wednesday — appearing for the first public impeachment hearings in a red latex dress and bouffant platinum wig. Pissi Myles, who character is a riff on the actress Missi Pyle, was spotted stalking the halls of the Longworth building among a sea of grey suits and was reportedly recruited to cover the hearings for a news app called Happs. "It's a crazy day in Washington! I'm flipping my wig over the high-energy proceedings today," Myles told NBC News.
Kimberley Strassel's Home Run. [Scroll down] As she notes, the very term "the Resistance" is associated throughout history with movements designed to fight "occupying powers" as, say, the French Resistance came to life to fight the forces of the occupying Nazi Germany. And once one goes down that road, as has the Trump-hating Resistance, the Resisters "view themselves as justified in taking any action necessary to get rid of the occupier." Set loose the Department of Justice and the FBI to spy on a presidential campaign? No problem. Ambush a Supreme Court nominee "with uncorroborated sexual assault allegations"? No problem. Use "the impeachment process for political retribution"? No big deal. This, says Strassel, "has been the behavior of the Resistance leaders, and it has already caused harm to vital institutions." Yes indeed. And none more prominent than the self-inflicted massive damage the Justice Department, the FBI, and the "mainstream media" have done to their own credibility.
Nancy Pelosi's Stall Tactics Hurt America's Economy. We haven't had a true bipartisan victory in Washington for seemingly ages, but we are tantalizingly close to getting there. This would be the passage of the U.S. Mexico Canada Trade Agreement (USMCA). Both parties want this modernized version of the North American Free Trade Agreement to pass. It is the legacy of Ronald Reagan and Bill Clinton. But this latest modernized trilateral trade deal for North America hasn't happened yet because of an endless parade of stall tactics by House Speaker Nancy Pelosi. She is blockading a vote of the 435 members of the House of Representatives.
The Military-Intelligence Complex. Much has been written about the so-called Resistance of disgruntled Clinton, Obama, and progressive activists who have pledged to stop Donald Trump's agenda. The choice of the noun "Resistance," of course, conjures up not mere "opposition," but is meant to evoke the French "resistance" of World War II — in the melodramatic sense of current loyal progressive patriots doing their best to thwart by almost any means necessary the Nazi-like Trump.
A judge just blocked a new Trump rule forcing immigrants to prove they have health insurance before they can get visas. A federal judge in Portland, Oregon, on Saturday [11/2/2019] put on hold a Trump administration rule requiring immigrants prove they will have health insurance or can pay for medical care before they can get visas.
'Abolish ICE': Protesters shut down event with Thomas Homan at UPenn. An event at the University of Pennsylvania featuring former Immigration and Customs Enforcement acting Director Thomas Homan as a speaker was shut down by protesters before it even started last week. Students chanted, "Go home, Homan," and held signs that read, "Abolish ICE," as Mr. Homan sat alongside former Philadelphia City Solicitor Sozi Tulante and former ICE Public Advocate Andrew Lorenzen-Strait on a panel called, "Detention and Deportation from Obama to Trump," at the university's Perry World House on Wednesday [10/30/2019]. According to The Daily Pennsylvanian, the student newspaper, the speakers sat and watched the disruption for 15 minutes before an organizer finally announced that the event had been canceled.
Haley Recalls Serving With Some Who Tried to Undermine Trump; 'What's At Stake is the Constitution'. Officials serving in the administration are not free to push their "personal agenda" if they do not like President Trump, former U.S. ambassador to the United Nations Nikki Haley said this week, arguing that "we have one president at a time, and that president attained his office by the choice of the American people." Speaking at an American Enterprise Institute event in Washington, where she received the conservative think tank's Irving Kristol Award, Haley recalled serving in the Trump administration "alongside colleagues who believed that the best thing to do for America was to undermine and obstruct the president."
Republicans blocked in what Democrats charge is effort to uncover whistleblower. House Republicans are complaining that House Intelligence Chairman Adam Schiff has blocked efforts to uncover whom Army Lt. Col. Alexander Vindman spoke with about concerns that President Trump abused his power in dealings with Ukraine, efforts Democrats charge were designed to discover the identity of the whistleblower. Democrats who heard at least some portion of the testimony Tuesday [10/29/2019] by Vindman said the Republicans were pressuring him to reveal the identity of the whistleblower, whose complaint first surfaced the allegations that sparked the impeachment process.
Nancy Pelosi 'fiddles while the USMCA is in the deep freeze'. The U.S-Mexico-Canada Agreement is ready to go, but the Trump administration blames one person for holding it back: House Speaker Nancy Pelosi. "She fiddles while the USMCA is in the deep freeze," White House trade adviser Peter Navarro told FOX Business' "Mornings with Maria" on Thursday. "The false narrative here is this whole issue about labor enforcement. That problem's effectively been solved." The USMCA was ratified by Mexico on June 19. Prime Minister Justin Trudeau has said Canada will ratify the deal once Pelosi brings it up for a vote in the House, where her Democratic party regained control in mid-term elections in 2018.
Democrats' 'Immigrants First' Policy. President Donald Trump's key immigration rule change, to discourage immigrants from relying on public health programs, food stamps, housing assistance and other welfare, got derailed on Friday [10/18/2019] by three federal judges. Their decisions, blocking Trump's rule from going into effect, are wins for Democrats and immigration lobbyists. America's poor are the losers. Our country needs to take care of its own needy first. Trump's proposed rule would make it harder for immigrants who use welfare to qualify for green cards and permanent residence, and it would give preference to immigrants who fend for themselves. The rule would also require visa applicants to show they won't use welfare if they're let in the country. Manhattan federal Judge George Daniels blasted Trump's proposed rule as an "exclusion in search of a justification," implying it was a racist ploy to keep out foreigners.
The Strategies of Targeting Trump. After failing with the voting machine gambit, the Logan Act, the 25th Amendment, the emoluments clause, the McCabe-Rosenstein faux-coup, the Comey memos farce, the "resistance" efforts outlined by the New York Times anonymous op-ed writer, the campaign finance violations accusations, Stormy, tax returns, whistleblowers, leakers, the Mueller 22 months charade, and now impeachment 2.0, what exactly is the point of impeaching Trump just 13 months before the election? [...] There doesn't have to be a point to impeachment. Democrats loathe Trump. That is enough. They would have impeached him on day one of his presidency before he set foot in the White House but they did not have control of the House. Now they do, so they can.
Trump violated the law by declaring emergency to divert funds to border wall, judge rules. President Trump acted unlawfully when he declared a national emergency in order to fund his long-promised border wall, a federal judge ruled Friday [10/11/2019]. Texas federal Judge David Briones' order left open the option he could also temporarily bar construction of the wall at the southern border. The County of El Paso and an organization called Border Network for Human Rights sued Trump and the administration earlier this year, claiming the president violated the law when he declared a national emergency in order to divert funds from the Department of Defense to bankroll the project.
Judge blocks Trump policy that makes green cards harder to get. A Manhattan federal court judge has issued a nationwide order blocking the Trump administration from enforcing a new regulation that would make it easier to deny green cards and visas to immigrants who might need public assistance in the future. Judge George Daniels' Friday [10/11/2019] ruling came just days before the so-called "public charge" rule was set to go into effect on Oct. 18. The new rule would have made it possible to brand any immigrant with the potential to end up on public assistance as a burden, and consider that in deciding to issue green cards or visas.
Trump Campaign Says Target Center Has 'Backed Off Cancelling The Contract' For Thursday Rally. President Donald Trump's campaign will soon arrive in Minneapolis to prepare for Thursday's rally at Target Center. It comes after a day filled with a back-and-forth between the president and Mayor Jacob Frey about who will pay the bill for security at the event.
Team Trump: We'll sue Minneapolis over $530,000 shakedown by liberal mayor. As of now, Donald Trump is scheduled to appear at the Target Center in Minneapolis on Thursday [10/10/2019], part of his plan to flip Minnesota to the GOP in 2020. The city wants to make sure he pays for the privilege — through the nose, apparently. The city sent a $530,000 security bill to the venue for Trump's rally, which then passed it along to Team Trump, which then promptly threatened to sue the city over its "outrageous abuse of power."
Left-Wing Minneapolis Mayor, Jacob Frey, Attempts to Block President Trump MAGA Rally. The radical leftist mayor of Minneapolis, Jacob Frey, is abusing the power of his office and attempting to extort President Trump's re-election campaign by conjuring a phony and outlandish bill for security in an effort to block a scheduled Keep America Great rally. Democrat Mayor Frey is using the bogus security charges to pressure the Target Center, site of the contracted October 10, 2019 rally, into preventing Minnesota residents from exercising their First Amendment rights in support of President Trump. Frey's city government preemptively informed the Target Center that it would be responsible for $530,000 in security and other costs related to the event. The Target Center attempted to pass the costs on to the Trump campaign under threat of withholding the use of the arena.
Liberal Minnesota Mayor Tries to Extort Money and Block President Trump from Holding Rally in Twin Cities. Liberal Minneapolis Mayor Jacob Frey is trying to extort money from the Trump Campaign to pay for an outlandish security bill to hold a campaign rally in the Twin Cities this week. This is a common tactic of the left to deny Trump supporters access to venues for their events and gatherings. Of course, the violent left NEVER have to go through this same torment. Mayor Frey is quite bold though for pulling this on the Republican President of the United States. The Justice Department should sue him for harassment.
Trump campaign threatens to sue Minneapolis over 'phony' security bill for rally. Tensions between Minneapolis city leaders and President Donald Trump's campaign escalated Monday when the campaign threatened to sue the city for trying to force it to pay $530,000 for security during this week's rally. Trump's campaign team said in a news release late Monday night that Mayor Jacob Frey is "abusing the power of his office" by "conjuring a phony and outlandish bill for security" to cover those costs for Thursday's [10/3/2019] campaign rally. City officials told the Target Center, which is managed by AEG, that it would be responsible for paying the costs. The center then allegedly tried to pass the bill on to Trump's team and told them they would not be able to use the arena unless they agreed to the charges.
Minneapolis' liberal mayor trying to 'bully' President Trump out of Minnesota, says head of police union. The mayor of Minneapolis, a Democrat, is trying to "antagonize" and "bully" President Trump to discourage him from coming to the historically blue state, a police union leader said Tuesday. Lieutenant Bob Kroll, president of the Police Officers Federation of Minneapolis, said on "Fox & Friends" that Mayor Jacob Frey is discriminating against Trump ahead of his upcoming rally at the Target Center on Thursday [10/3/2019]. Kroll's claims are in line with Trump's campaign manager, Brad Parscale, who accused Frey of "abuse of power" over a proposed $530,000 security fee to use the arena.
Trump Campaign: Minneapolis Mayor Jacob Frey Trying to Block Trump Rally. President Donald Trump's campaign accused Minneapolis mayor Jacob Frey on Monday [10/7/2019] of trying to block the president's scheduled political rally in the city. "This is an outrageous abuse of power by a liberal mayor trying to deny the rights of his own city's residents just because he hates the President," Trump campaign manager Brad Parscale said in a statement sent to reporters.
The Walls Really are Closing In On the Elite. If the Ukraine corruption case is so obviously weak, why rush to use it as a basis for impeachment? The best answer is that they're scared. They needed something, anything, to bring down this administration, and this was the best weapon they had on hand at that moment. [...] The personal corruption and moral bankruptcy of our elite are ripe for exposure. The scandals of the Obama administration, which have been hushed by a supine media, could be thrust before the public. The attempts of our elites and their allies in the bureaucracy to prevent Trump's election or to depose him after he became president, are clearly targets of Barr's and Durham's investigations. Once the dominoes begin to fall, who can say what will follow?
How The Media's Lies About Innocent Fathers Also Harm Their Daughters. While I don't know them personally, I can't help but feel empathy for Justice Brett Kavanaugh's two young daughters, Margaret and Liza. I'm sure it's hard for them to understand why anyone would attempt to humiliate someone they know is a wonderful man, all based on something even the attackers know is a lie. I suspect that, like me, Margaret and Liza never thought they would have a famous father, or that anything so terrible could happen to him as it has to all three of us. My father certainly wasn't famous when I was growing up, but he is now. He's Andy Puzder. He's often in the press talking or writing about ideas to help American workers. My dad comes from a working-class background; he worked his way through law school and later became the CEO of a big company and President Trump's first choice to be America's secretary of labor. While Justice Kavanaugh made it through the confirmation process, my dad didn't. His nomination was defeated because of abuse allegations that, like those against Justice Kavanaugh, were not only unsupported but admittedly false.
Dick Durbin Stalls Landmark Immigration Bill, But Won't Explain Why. The "Fairness For High Skilled Immigrants Act" has already passed the House of Representatives and has bipartisan support in the Senate. The bill would eliminate the cap on the number of immigrants who come from certain countries, which would in turn reward high-skilled immigrants who want to come to the U.S. Currently, the U.S. government hands out roughly 1 million green cards every year, but mandates that no country can receive more than 7% of all employment-based green cards.
How Trump wins. The Democrats have disgraced themselves through their antics since before Trump took office. They've proven they hate America, and Americans themselves are only a means to an end for them. They play to the ignorant and uninformed, the dependent and the needy, the inner-city poor, the Left Coast loonies, and the New England trust fund fortunes. They have made every effort to resist, delay, halt, or otherwise dilute the impact of Trump's policies and decisions, despite every measurable metric of national health trending toward greater health and prosperity. [...] They have ended any sense of honorable disagreement, respectful debate on the merits, or concept of agreeing to disagree. They must leave no trace of a contrary idea, shut down dissenters, and destroy lives, careers, and businesses. No one is safe. No one is off limits.
Obama judge blocks Trump attempt to close illegal immigrant family 'loophole'. A federal judge in California ruled Friday [9/27/2019] against the Trump administration's plan to detain illegal immigrant families longer than 20 days, undercutting the president's attempt to close the chief "loophole" that caused this year's border surge. Judge Dolly M. Gee, an Obama appointee, has long been a stumbling block for Homeland Security and its immigration plans, and the ruling was expected. The administration is likely to quickly appeal. Homeland Security had asked Judge Gee to cancel the Flores agreement, a 1990s-era court settlement that sets out strict rules for how illegal immigrant children who arrive at the border without parents are treated. Judge Gee in 2015 expanded the agreement to children who arrive with parents.
Why the Democrats have gone insane. [Scroll down] So what's really going on here? Why have the Democrats, to put it bluntly, gone berserk? [...] The president is engaged in negotiations of tremendous significance with the Chinese and trying to neuter as much as possible the violent mullahs of Iran, but the Democrats don't care. In fact, they would prefer he fail, and seem to be doing everything in their power to make it so. To call that un-American is an understatement. Actually, it's despicable and deeply immoral, not just for the citizens of this country, but for the world.
Federal judge bars Trump administration's plan to open Alaskan forest for development. The Trump administration's plan to allow logging in more than 40,000 acres of an Alaskan national forest was put on hold by a federal judge Monday [9/23/2019]. The U.S. District Court for the District of Alaska issued a preliminary injunction blocking the development of 42,500 acres of the Tongass National Forest for logging. The court said: "Plaintiffs have demonstrated that they are very likely to suffer irreparable harm in the absence of preliminary injunctive relief." The rulings come the day before the Trump administration would have begun reviewing logging bids and offering contracts to clear out parts of the nation's largest temperate rainforest.
Climate Activists Block D.C. Roads, Disrupt Morning Commute. Climate activist groups plan to "Shut Down D.C." early Monday morning [9/23/2019], aiming "to take action all over the district to disrupt business as usual." The protest follows a weekend of climate strikes across the country and coincides with the United Nations Climate Action Summit in New York.
Frivolous Lawsuits Once Again Threaten the Gun Industry. In 2005, a wave of lawsuits threatened to bankrupt the gun industry. These suits were based on — pick your adjective — "creative," "novel," "inventive," and "imaginative" legal theories that rarely held up in court, and they did their damage primarily by forcing gun companies to incur the costs of defending against them. Congress, seeing the problem, stepped in to put a stop to it — or at least tried to — by passing the Protection of Lawful Commerce in Arms Act (PLCAA). A decade and a half later, anti-gun activists have responded with yet more new legal theories, and the Connecticut courts have bought one of them.
Cruz on reported Kavanaugh allegations: There's nobody Democrats don't want to impeach. Sen. Ted Cruz (R-Texas) said the attention to the recent New York Times report on sexual assault allegations against Supreme Court Justice Brett Kavanaugh reflects the "shameful circus" from the Senate hearing last year. The Texas senator told George Stephanopoulos on ABC's "This Week" that he thinks the Democratic candidates will call for impeachment to rile their base. "I bet you, the next Democratic debate, they'll all be saying, 'Impeach Kavanaugh. Impeach Trump,'" Cruz said. "There's nobody they don't want to impeach. And at some point, they just have to let the anger go and recognize that the democratic process actually moves on."
Climate Activists Try to Shut Down Heathrow by Flying Drones in Front of Passenger Planes. Brain-dead climate activists came up with the scathingly brilliant scheme of protesting against airplanes at Heathrow Airport by flying drones in front of passenger planes to prevent them from taking off or landing. I guess the climate activists got it in their heads that making airplanes crash would be an excellent way to reduce the world's carbon footprint. Fortunately, British police foiled their plan by jamming drone frequencies. Several nutcases were arrested and, for the moment, plane passengers have been spared the ordeal of being grounded by idiots who think threatening to kill people is a legitimate way of battling global warming.
Why a 'Fair and Impartial Judiciary Has Special Meaning' to Second Circuit Nominee Menashi. According to someone present at Second Circuit nominee Steven Menashi's confirmation hearing on Wednesday, it was difficult to hear Menashi's poignant retelling of his family's flight from vicious mobs in 1940s Iraq because of a vicious mob in the Dirksen building. So I provide here an extensive excerpt from Menashi's opening statement: [...]
Democratic Candidates Want To Punish Energy Companies To Satisfy Left-Wing Nuts. Democratic presidential candidates have gone so far off the rails that they are now even fabricating their records to promote policies so far to the left that they are at odds with many former top Obama Administration officials. Last week, Senator Kamala Harris (D-Calif.) lied and said she sued Exxon Mobil when she was California's attorney general. In reality, she did not sue Exxon — she only investigated the oil company. While this demonstrates Harris's loose relationship with the truth, it does show she thinks it's good to sue Exxon and other energy companies. Harris supports climate litigation, even if she hasn't pushed it herself. Climate litigation aims to punish energy companies for the sake of the environment. These lawsuits don't actually help the environment, but they do waste taxpayer dollars on behalf of politicians' ambitions, and enrich plaintiff attorneys.
The Enemies of American Infrastructure. In less than 20 years, the Chinese have completely transformed their rail transportation network. This is typical for the Chinese. China is also building three new airports — offshore. [...] To argue that Americans don't need high-speed rail, or massive new airports on ocean landfill, or yet another massive hydroelectric dam, is beside the point. Americans can't do any big projects. A perfect example is the Keystone Pipeline, which, if it's ever completed, will be capable of transporting 830,000 barrels of oil per day south from the tar sands of Alberta to existing pipelines in Nebraska. This pipeline has been tied up in permitting delays and litigation since 2008. Eleven years later, not one mile of pipeline has been built. Even with aggressive support from the Trump Administration, will Keystone ever get built? Not if an army of environmentalist plaintiff attorneys have their way.
Liberals In Pittsburgh Announce Boycott Of Local Businesses For Trump Support, Backlash Ensues. The far left has been saying for two years now that Trump is a fascist, but they need to look into a mirror if they want to see what a real fascist looks like. In Pittsburgh, leftists have been compiling a list of local small businesses which are owned by Trump supporters because they want to put these people out of business.
Anti-ICE protesters block rush-hour traffic in Boston area; 12 arrested for trespassing at Amazon. Police in Massachusetts reportedly arrested 12 pro-immigration protesters Thursday [9/5/2019] after hundreds of demonstrators marched through the Boston area, blocking rush-hour traffic. The group, arrested for trespassing at the Amazon building in nearby Cambridge, across the Charles River via the Longfellow Bridge, were advocating for private businesses to stop cooperating with U.S. Immigration and Customs Enforcement (ICE), Cambridge police said, according to The Hill. The unscheduled route frustrated passengers and police. "It's rush hour, there's only one way (on the bridge). Take some other way around," a man said to WBZ-TV in Boston. The protesters reportedly refused to tell police their planned route.
Federal Reserve Bank's 'myth of political neutrality' now is dead and gone. Donald Trump is only the most recent POTUS to discover that the Fed wields enormous political power, able to speed up or slow down the economy via its manipulation of interest rates and the money supply. He is far from the first president to complain about the Fed when he perceives it as hampering his growth agenda. What is different is that one of the top officials of the Fed in recent years has fought back and urged the Fed to operate so as to exert political influence against Trump.
Lawfare Expects McCabe Arrest — That Explains Why CNN Hired Him. The Lawfare group are the external influence agents for corrupt politically motivated lawyers working in government. The group fingerprints show up everywhere including among "beach friends" and legal schemes hatched from the premise of their assembly. Lawfare = use the law as a tool in warfare. The Lawfare group is headed by Comey's friend Benjamin Wittes; and the group give resistance advice to ideologues inside government as well as outside organizations who are resisting (suing) the Trump administration.
Ex-Federal Reserve Official Bill Dudley Calls on Fed to Manipulate Economy to Stymie Trump's Reelection. Former New York Fed President Bill Dudley on Tuesday [8/27/2019] called on the Federal Reserve to manipulate the economy to stymie President Trump's reelection. Dudley made the plea in an op-ed published by Bloomberg News. Dudley argued that Trump's effort to reset trade with China is hurting the economy and that the Fed should enact policies that hinder Trump and hurt his reelection chances.
FNC's Wallace: If Ginsburg Leaves, It'll Make Kavanaugh Hearings 'Look Like a Tea Party'. On Friday's [8/23/2019] broadcast of Fox News Radio's "Guy Benson Show," FNC host Chris Wallace stated that if Supreme Court Justice Ruth Bader Ginsburg has to leave the court, the fight over her replacement would make the Kavanaugh hearings "look like a tea party."
New Anti-Trump Ploy Is Conjuring A Recession. The latest ploy of the anti-Trump press phalanx, and their weekly echo chamber of assorted Democratic candidates and legislators, is to try to move the voter-approval needle by insisting an economic recession is about to occur. The problem is, it isn't. As weeks pass without a recession or even increasing objective statistical hints of a recession, the continued trumpeting of a recession becomes self-stifling. Not even the economically illiterate mouthpieces of CNN and MSNBC can keep a straight face for long predicting recession when there are no signs it is happening.
The Editor says...
The surest way to induce an economic recession in this country is to elect another socialist nitwit as president.
House Democrats appear less likely to get Trump's tax returns before 2020 election. House Democrats appear increasingly unlikely to secure President Trump's tax returns before the 2020 presidential election, according to interviews with legal experts and several lawmakers, as resistance from the Trump administration has stymied the party's efforts to obtain his personal financial records. Several Democrats involved in oversight, including Rep. Daniel Kildee (Mich.) of the Ways and Means Committee, see a long path to getting a final court decision, even if they expect to win in the end. Trevor N. McFadden, a Trump-appointed judge who was assigned the case in July, will hear the case first, and any decision is likely to be appealed to higher courts, up to the Supreme Court.
Presidential Candidate John Delaney: Democrats Guilty of 'Cheering on a Recession'. Former Rep. John Delaney (D-MD) told the Associated Press in Iowa on Wednesday that fellow Democratic presidential candidates were guilty of "cheering on a recession because they want to stick it to Trump."
Bill Maher Doubles Down on Wish for a Recession. Real Time host Bill Maher doubled down on his desire for a recession Friday night [8/16/2019]. Maher has expressed his wish for a recession multiple times; hoping that an economic downturn would lead to President Trump losing his bid for a second term in the White House. Maher first indicated that he was rooting for a recession on June 8 of last year, when he said "I feel like the bottom has to fall out at some point and by the way, I'm hoping for it because I think one way you get rid of Trump is to crash the economy. So please, bring on the recession. Sorry if that hurts people but it's either root for a recession or you lose your democracy."
The Editor says...
Who hates America as much as the man who would rather see the entire economy crash than to see his political foes succeed?
China joins MSM and Federal Reserve in trying to tank the stock market. In the hours before American equity markets open for trading, China sent a huge sell signal to the traders on Wall Street. [...] China made this announcement after viewing yesterday's steep decline in the American equity markets, sort of a one-two punch aimed at searing into investors and the voting public the notion that a recession is coming, which can be a self-fulfilling prophecy. No matter that our economy is still strong, even as Europe and Japan falter. Jack Hellner points out that the yield curve inversion yesterday [8/14/2019] was a very weak excuse to drive down the market, yet the media pretended and hammered home the theme that it is a sign of impending doom.
'Flagrantly illegal.' Trump sues California over new law targeting his tax returns. President Donald Trump, the California Republican Party, and the national GOP joined together Tuesday [8/6/2019] to sue California over a new tax-return law Gov. Gavin Newsom signed last week. The law requires Trump and other presidential candidates to release the last five years of their tax returns to get their names on the state's 2020 primary ballot.
Trump Just Got Another Win In Court, Democrat Party Lawsuit Is Dismissed With Prejudice. Ridiculous lawsuits have become the norm during the Trump era in regards to targeting a Presidential administration. Just a few weeks ago, a judge threw out a lawsuit brought by various activists alleging that Trump was violating the emoluments clause. While there are still quite a few outstanding, another frivolous lawsuit bit the dust today [7/30/2019] and this one was filed directly by the Democratic party.
Trump, Baltimore, and Racism. One of the great anomalies of today's U.S. House of Representatives is the propensity of elected Democrats to ignore their Congressional districts and voters' needs for the glories of the Trump Investigation Circus. [...] It is not clear how many hours Adam Schiff, Nancy Pelosi, Jerrold Nadler, or Elijah Cummings sleeps, but these individuals devote their days, nights, staff times, television appearances, and public speeches to conducting one after another ridiculous investigation of President Trump. That is their focus, their attention, their purpose. They simply do not attend to their constituents with the focus that voters presumably would expect if constituents were more sophisticated.
Yelling 'racist' won't clean up our cities. [Scroll down] So it seems we can't talk about our southern border because to do so is racist. We can't have a dialogue about problematic inner-city schools because any such discussion is racist. America can't debate violent crime because the judicial system is racist. America cannot move forward in any way because liberals don't want to. They like things the way they are — the crime, the rats, the drugs, the decay, and the rot.
Northern Virginia state delegate interrupts President Trump's speech in Jamestown. Virginia Del. Ibraheem Samirah (D-86th) interrupted President Donald Trump's speech Tuesday [7/30/2019] in Jamestown. Trump was speaking at the 400th Anniversary of the America's First Representative Legislative Assembly, but the president was stopped by Samirah a few minutes into his speech. "I disrupted the President's speech in Jamestown because nobody's racism and bigotry should be excused for the sake of being polite," Samirah said in a prepared statement. "The man is unfit for office and unfit to partake in a celebration of democracy, representation, and our nation's history of immigrants. [...]"
Dems refuse to help fix border crisis because bashing Trump is more fun. Now that Democrats have stopped calling the untenable situation at America's southern border a "manufactured crisis" and recognized it as a "humanitarian crisis," perhaps a bipartisan solution can be found to at least one aspect of the problem: the continuing flow of unaccompanied children across the border. But we shouldn't hold our breath. The left — activists, the media and Dem politicians — are more interested in badgering the Trump administration than solving the crisis.
The Mueller Fantasy Comes Crashing Down. In the hours and days after Mr. Mueller gave his opening statement before the House Judiciary Committee, it became clear how tenaciously many liberals and progressives are clinging to fantasy — not just that President Trump will eventually find himself impeached and removed, but also that they can advance their values by means of legal machination rather than political vision. And at a moment of intense polarization in American politics, this fantasy is especially shortsighted.
Democratic Party has become a Continuing Criminal Enterprise. In cooperation with Democrat-aligned Federal Judges, and with the complicity of multiple outlets of the liberal media, the Democrat Party continues to act to block and delay efforts by the Federal Government to prohibit and interdict the illegal entry of persons into the United States from Mexico. An unknown number of those persons pose a clear and present physical danger to America's citizenry. Facilitating the entry of criminals into the U.S. is, on its face, a criminal enterprise.
10 Things Democrats Want to Take Away. Lately, Democrats have been talking a lot about "what's at stake." Want to know what's at stake? A booming economy, safer communities, and a strong military. When everyday Americans look at their bigger paychecks or the "now hiring" signs in their hometowns, they have only one party to thank for that. Spoiler: it isn't the Democrats. No, they fought us every step of the way as we worked to help everyone in this country have a chance at a better life. When we rolled back regulations that were hurting families and small business owners, they voted NO. When we overhauled an outdated tax code so that workers and families could get ahead, they voted NO. And they had plenty of chances to help us with border security, and they always voted NO.
Trump trade deal with Canada and Mexico gives Dems what they want — Why won't they support it? This week, President Trump appeared to renew his threat to withdraw from the North American Free Trade Agreement (NAFTA) if Democrats do not pass his new United States-Mexico-Canada Agreement (USMCA). His threats may worry pro-trade Republicans, but they are music to the ears of anti-NAFTA Democrats, who would love nothing better than to get rid of NAFTA without giving Trump a trade victory.
Democrats are lying to the American people about ICE and immigration. The issues surrounding zero tolerance and the conditions of confinement at Border Patrol stations is an important one and it is vital that the American people know the facts. But every time one of the witnesses or members of Congress said something that was downright wrong — a lie, an intentional mis-truth — and I attempted to speak up and correct the record, I was refused many times the opportunity to speak. They didn't want to hear from me. They didn't want the truth. They simply wanted to continue to push their false narrative about the Border Patrol and ICE. They wanted to continually attack our president.
Feinstein objects to Trump judicial nominee — who was her intern! Sen. Dianne Feinstein is an excellent judge of character, except when she's not. Last fall, America learned Feinstein employed a spy for the Chinese government for two decades. Feinstein told the FBI she was unaware and promptly fired the man, who worked as her driver, without any consequences for either of them. Now, the 86-year-old senator from California is weighing in on the character of a man President Trump appointed to fill a seat on the Ninth Circuit Court, and it seems Feinstein's judgement hasn't improved.
Trump responds to big win; appeals court dismisses Emoluments Clause case attacking his brand name. The Fourth Circuit Court of Appeals dismissed an Emoluments Clause claim against President Trump on Wednesday [7/10/2019], questioning whether the lawsuit was an "appropriate use of the courts." "The District and Maryland's interest in enforcing the Emoluments Clauses is so attenuated and abstract that their prosecution of this case readily provokes the question of whether this action against the President is an appropriate use of the courts, which were created to resolve real cases and controversies between the parties," wrote Judge Paul Niemeyer, speaking for the court.
9th Circuit refuses Trump request to block judge's ruling to stop military funds for border wall. An appeals court denied the Trump administration's emergency request to block a federal judge's ruling that prevents President Trump from using $2.5 billion in military funds to build a wall along the southern border. [...] The Justice Department appealed after U.S. District Court Judge Haywood Gilliam, who is an appointee of former President Barack Obama, ruled to permanently block the $2.5 billion after issuing a temporary injunction in May to stop the administration's use of the funds. The ruling stymied several construction projects in California, Arizona, and New Mexico.
Federal judge blocks Trump policy keeping asylum seekers locked up. A federal judge in Seattle on Tuesday [7/2/2019] blocked a Trump administration policy that would keep thousands of asylum-seekers locked up while they pursue their cases, saying the Constitution demands that such migrants have a chance to be released from custody.
9th Circuit judge rules against border wall construction in Ariz., Texas, N.M. In their decision Friday [6/28/2019], the U.S. District Court of Northern California added a number of states where construction of the wall will not be allowed. Those states include Arizona, New Mexico, and Texas. The judge also solidified a previous order barring wall construction From [sic] may [sic], which pertains to California. This comes amid an ongoing battle for funding to build the wall, which the judge in this latest ruling called an attempt to bypass Congress. The president has since denounced the ruling as being against border security, and in favor of crime.
Judge blocks Trump from using billions in military funds for border wall. A federal judge on Friday [6/28/2019] issued a ruling blocking the Trump administration from tapping billions of dollars in military funds to construct a wall on the United States's southern border. U.S. District Judge Haywood Gilliam issued the permanent injunction in a California federal court, after initially ruling last month to temporarily halt the administration's use of military funds for the border wall. President Trump declared a national emergency earlier this year in order to divert roughly $6 billion in Defense Department funds toward border wall construction. Friday's ruling blocks the administration from using $2.5 billion in military funds for a border wall.
Podesta's CAP Fuels Dark Money Group Hitting Trump with Lawsuits. The Democracy Forward Foundation, a D.C.-based 501(c)3 nonprofit, was founded in 2017 to "help expose the rampant corruption in the Executive Branch and fight in court on behalf of the people it hurts." The group also has a 501(c)4 "social welfare" arm that goes by Democracy Forward. The foundation has filed suit against numerous government agencies, such as the Department of Justice, Department of Treasury, and the Office of Management and Budget, and has aided other entities with similar litigation, including Baltimore's lawsuit against the Trump administration over immigration policy. The group, which has maintained a relatively low profile despite its litigation efforts against the administration, dubs itself "nonpartisan" and is referred to as "anti-corruption" by major media outlets. The group's leadership, however, is made up of Democratic operatives, including [former Clinton campaign manager John] Podesta himself.
The Dems' 2020 Election Strategy. Investigations. Every single day's news is dominated, day after day, week after week, month after month by investigations of the President, subpoenas to his executive branch, his friends and associates, his family. Investigations that go from Michael "Cash Cab" Cohen as the very first sworn witness of the Congressional term to Mueller to John Dean, who masterminded Watergate. It's like swearing-in Harvey Weinstein to testify about Bill Clinton. And never-ending daily discussions of: FISA warrants. Redactions. Grand jury transcripts. Hold the Attorney-General in contempt. Hold the Secretary of the Treasury in contempt. Hold the Secretary of Commerce in contempt. Demand the President's taxes. Subpoenas and litigation for his taxes.
Massachusetts federal judge blocks ICE from making civil immigration arrests inside state's courthouses. A federal judge in Massachusetts on Thursday [6/20/2019] blocked federal authorities from making civil immigration arrests inside the state's courthouses. US District Judge Indira Talwani issued a preliminary injunction that blocks US Immigration and Customs Enforcement and the Department of Homeland Security "from civilly arresting parties, witnesses, and others attending Massachusetts courthouses on official business while they are going to, attending, or leaving the courthouse," according to the court order.
Judge in MA Blocks ICE from Arresting Alien Criminals in Courthouses. This is absurd. Anyone can come into the country without vetting and ICE can't arrest criminal illegal aliens in courthouses. These Democrats are destroying the country.
Democrats pass bill to STOP Trump from going to war without their approval. House Democrats passed an appropriations bill Wednesday that includes a measure that would block Donald Trump from using the 2001 Authorization for Use of Military Force to go to war with Iran as tensions with Tehran continue to rise. The 11-line measure, approved as part of a nearly $1 trillion appropriations bill that includes funding for the military, health programs and the Energy Department, will likely be struck down in the Republican-controlled Senate. It's reasonable to anticipate that Mitch McConnell, the Senate Majority Leader, would not send the version of this bill to the president's desk — especially since it takes away power from the presidency.
The Editor says...
Such a law already exists. It's called Article 1, Section 8 of the U.S. Constitution. It's just a shame that elected Members of Congress don't know about it.
Dems' New Strategy To Defeat Executive Privilege: Subpoena Randos! After the John Dean debacle, Washington Post columnist Karen Tumulty lamented, "Is this the best Democrats can do?" Staging stunt hearings is apparently the only thing Democrats can do.
Without Mining There Is No 'Green Revolution'. The recent threats by Beijing to cut off American access to critical mineral imports have many Americans wondering why our politicians have allowed the United States to become so overly dependent on China for these valued resources in the first place. [...] The U.S. Geological Survey reports that we still have about 86% of key mineral resources such as copper and zinc remaining in the ground, waiting to be mined. These resources aren't on environmentally sensitive lands, such as national parks, but on the millions of acres of federal, state and private lands. The mining isn't happening because of extremely prohibitive environmental rules and a permitting process that can take five to 10 years to open a new mine. Green groups simply resist almost all new drilling.
Democrats Block Emergency Funding for Border Crisis. Democratic Senator Pat Leahy bluntly told GOP Senators that Democrats are blocking $4.5 billion needed to manage the Central American migration emergency until Republicans submit to their pro-migration demands.
The Open Border Extremists. Since he was inaugurated, President Trump has been searching for solutions to the immigration problem and most — nearly all — of what he's tried to do has been thwarted by the Dems and court actions.
Democrats go dumpster diving for William Barr contempt. Democrats finally formally introduced what they've been threatening to introduce for weeks now: their latest lame-road attempt to derail President Donald Trump's presidency. They call it a contempt resolution. It's aimed at holding Attorney General William Barr and ex-White House counsel Don McGahn in contempt of Congress for failing to turn over documents that would put Barr in violation of the law — the full, unredacted findings of special counsel Robert Mueller, the ones that contain protected grand jury statements.
California City Officials Fight To Keep Chick-Fil-A From Doing Business. Another city has taken up the torch in the Left's ongoing quest to hound fast-food giant Chick-fil-A. "A San Mateo County official is pushing to stop a Chick-fil-A restaurant from opening up in Redwood City," reports CBS Local news. "The McDonald's restaurant on Whipple could soon be tuning into a Chick-fil-A, making it the chain's 13th restaurant in the San Francisco Bay Area." San Mateo County supervisor David Canepa told reporters he is seeking to prevent the restaurant from obtaining an "architectural permit" due to its founder, Dan Cathy, previously expressing support for traditional marriage and for donating funds to pro-marriage groups.
Why Are Democrats Obstructing Justice? In what can only be described as legitimate obstruction of justice, unlike the vague allegations against Donald Trump in the Mueller report, Democrats are frustrating Barr's investigative efforts with a number of procedural maneuvers coupled with public ad hominem attacks against the attorney general. Panicked over a White House directive that would permit the declassification of key documents related to the FBI probe, House Intelligence Committee Chairman Adam Schiff (D-Calif.) encouraged top intelligence officials to quit rather than submit to Trump's request.
The Democrats are preventing Trump from securing the border. President Donald Trump has announced that he will impose a 5 percent tariff on goods imported from Mexico on June 10, 2019, unless Mexico takes effective action before then to dramatically reduce the number of Central American migrants crossing its territory to reach the United States. If the crisis continues, Trump said he will raise the tariff every month until it reaches 25 percent in October. This is a dramatic shift from his previous border security measures, such as a border wall. The money for those projects would have come from federal taxes. Voters wouldn't have been impacted directly. The tariff, however, will raise the cost of groceries, cars, and many other consumer goods. Voters will notice, and they won't be happy about it.
Jerry Nadler Starts The Mueller Hearings And His First Witness Is Hilariously Bad. Jerry Nadler, Chairman of the House Judiciary Committee, has decided he's moving forward with hearings on the Mueller report. Because we must get to the bottom of what happened, according to Democrats, and 400+ pages from the Mueller report just won't do. In reality, this is a partisan exercise with no real end game except to drag the issue out into the 2020 election.
Adam Schiff Demands Authority Over Executive Branch Declassification, and Advanced Warning of Investigative Content. First, the executive branch controls the declassification process unilaterally. The legislative branch can request briefings; and customarily the executive informs the 'gang of eight' (when needed) on matters of intelligence releases. However, the legislative branch has no authority over the independent decisions/purposes of the executive in that regard. Second [Mr. Schiff] claims the Declassification Directive is inappropriate because President Trump has empowered the U.S. Attorney General with discretionary decision-making; while Schiff simultaneously avoids/manipulates the inherent conflict avoided by President Trump in granting discretionary decision-making authority to the AG.
Trump Finally Has the Wind at his Back. President Donald Trump has been sailing into the wind, against the tide, dragging an anchor, for the first two years of his presidency. And despite these hindrances, he is presiding over a booming economy and record low unemployment, circumstances that were said to be unattainable without a magic wand, according to the last president. [...] The wind against him has been the virtually nonstop negative media coverage each and every day. Not just anti-Trump spin, but actual fake news. Media outlets bristle when accused of peddling fake news, but one has to only look to last weekend for the latest example. Time columnist Ian Bremmer fabricated a Trump quote and set it loose in the Twitterverse, only to be immediately retweeted by other Trump haters like CNN's Ana Navarro, before being deleted. No contrition was offered since in their view the quote "could have" been true.
CNN's Cooper Complains About FB After They Won't Remove Funny Pelosi Parody Video. For the past two years, what have Democrats accomplished? Resist, investigate, whine, divide, project promote identity politics, whine, lie, deceive, and lay false accusations. Did I mention whine? I may have missed a few things here, but what have they accomplished?
Federal judge blocks Trump from using Defense funds for parts of border wall. A federal judge on Friday night [5/24/2019] blocked President Donald Trump from tapping into Defense Department funds to build parts of his US-Mexico border wall. In a 56-page ruling, Judge Haywood Gilliam of the Northern District of California blocked the administration from moving forward with specific projects in Texas and Arizona, saying Trump couldn't disburse the funds without congressional approval. The lawsuit that prompted the ruling was filed by the American Civil Liberties Union on behalf of the plaintiffs, the Sierra Club and Southern Border Communities Coalition. Although Friday's ruling does not prevent the Trump administration from using funds from other sources to build the projects, it's a setback for the President on a signature agenda item that has consistently been thwarted by Democrats in Congress.
AG Barr Joins VP Pence, Also Says 'Nationwide Injunctions' Are Unconstitutional. This week, Attorney General William Barr joined Vice President Mike Pence in condemning the harrowing recent rise of "nationwide injunctions" as anti-constitutional judicial power grabs that disturb the carefully calibrated separation of powers system that the Constitution's Framers so sagaciously devised. [...] As a factual and historical matter, Barr is completely correct about the anti-constitutional remedy having only recently increased so dramatically in its judicial deployment.
Democrats' Wall Funding Lawsuit Runs Into a Skeptical U.S. Judge. A U.S. House of Representatives attempt to block President Donald Trump from spending about $6.1 billion on a southern border wall ran into what could be a major obstacle of its own Thursday — a skeptical federal judge. The Democrat-led chamber asked U.S. District Judge Trevor McFadden in Washington to bar the administration from reallocating the money from other Defense Department projects in the wake of Congress's outright refusal to give the president all the funding he sought for the project. But the judge — a 2017 Trump nominee — had reservations, opining at the outset about an apparent lack of legal precedent and whether courts are the right forum for resolving disputes between the executive and legislative branches.
Democrats aren't interested in legislating, and Trump knows it. Politics is a business of trade-offs, and I don't know a single person who would give me something I want if they know I'm going to go on TV immediately after and call them a lying criminal. But that's what Democrats are asking for. The endless probes into Trump's 2016 campaign and the Russia collusion that never was, his tax history, and his personal business is exactly today what it was two years ago: political. It has worked. Trump's presidency is handicapped by the accusation that he worked with Russia to steal the 2016 election, even if he was cleared. There's a perpetual cloud over the White House with Democrats pushing conspiracy theories about Trump and his family, their businesses, and personal lives.
Trump Correctly Cannot Work Productively With People Aiming to Destroy Him. Anyone who ever has been in any business or profession knows the difference between the challenges of trying to get something done with others who have differing, even competing, goals versus the utter impossibility of accomplishing anything serious and meaningful with people bent on personal vendettas of destruction. When Trump tries to engineer a revamped trade deal with Mexico and Canada, he knows that each side will negotiate to achieve its respective goals. [...] By contrast, when dealing with Democrats driven by an insane desire to impeach Trump or "at least" to destroy him personally — to ferret through his personal taxes, to go after his family and associates, to concoct one hoax after another aimed at bringing down his very reputation and raising preposterous specters regarding treasonous collusion with enemies or engaging in "cover-ups" — there is no point in his proceeding with them. No matter what is agreed, they ultimately will sabotage him and the agreement.
Jerry Nadler's cynical, cowardly show. Jerry Nadler was at it again Tuesday [5/21/2019], waxing indignant about former White House counsel Don McGahn's refusal to testify before the House Judiciary Committee. It's all a show, meant to keep old news in the headlines, and to appease the large "Impeach Now!" wing of the Democratic Party without actually doing anything. Everyone on Judiciary knows perfectly well that Congress can't compel testimony from top presidential advisers except in the most extraordinary circumstances: The chief executive's right to frank, confidential discussions with his staff is well-established. So Nadler's bluster about how he'll "go to court to secure" McGahn's appearance is just noise for the cameras.
Obsessive Democrats like Nadler and Schiff are a plague upon this nation. After the 2016 election, the disease broke out throughout the Democratic Party, infecting millions of progressives who had confidently assumed that Hillary Clinton would be their president. Unable to accept their loss, they descended into a depression of their own making. Those first afflicted, James Comey, John Brennan, James Clapper, Robert Mueller, et al., rather than do their due diligence to stop the epidemic they had begun, doubled down and did everything they could to exacerbate the plague. For nearly three years now, this truth-resistant cancer has eaten away at our body politic. So blighted are the Democrats in Congress that they have been unable to perform any of their duties as representatives of their constituents.
Obama Judge: Congress Can Subpoena Trump's Personal Finances. House Democrats are pursuing members of the president's family and private family-owned businesses, demanding banking records and financial statements. As part of this partisan attack strategy, two committees in the U.S. House of Representatives controlled by Democrats — the Financial Services Committee and the Select Committee on Intelligence — issued subpoenas to Deutsche Bank and Capitol One Bank for at least ten years of records involving President Trump's children, the children's spouses, and various family businesses including the Trump Organization.
Trump's agenda hampered by troubling number of lower court injunctions, Barr says. Attorney General William Barr on Tuesday said he has noticed a troubling trend of nationwide injunctions issued by lower courts that have taken their toll on President Trump's agenda and threaten the political process for future administrations. Barr, who has been accused by Democrats of protecting Trump after the release of the Mueller report, told the American Law Institute that there is a new trend of judicial "willingness" to review executive action, which injects courts into the political process. He pointed to the district court in California that in January 2018 issued a temporary injunction to block the Trump administration from ending Deferred Action for Childhood Arrivals, or DACA.
Contempt vote on hold as House takes 'inventory' of additional contempt charges against Trump administration. Rep. Steny Hoyer, D-Md., said Wednesday [5/15/2019] the House won't take up a contempt measure against anyone in the Trump administration before the Memorial Day recess, which would push off any action until June at the earliest. Hoyer, told reporters Democrats are waiting to "take an inventory," of more contempt charges against Trump administration officials related to the president's refusal to fully cooperate with sweeping House investigations by six different committees.
Trump vs. Congress Isn't a 'Constitutional Crisis,' It's How the Constitution Is Designed to Work. House Judiciary Committee Chair Jerry Nadler and House Speaker Nancy Pelosi say we are now in a "constitutional crisis" because Attorney General William Barr declined to comply with a Judiciary Committee subpoena for the unredacted Mueller Report and underlying materials based on President Trump's assertion of executive privilege. The Judiciary Committee responded by recommending, with a party-line vote, that Barr be held in contempt. The Democrats' pronouncement comes amidst other disputes between the executive and legislative Branches: Barr's no-show at a Judiciary Committee hearing; the Treasury Department's refusal to provide the House Ways & Means Committee with Trump's business and personal tax information; and the unresolved effort by the House Intelligence Committee to get the full Mueller Report, ostensibly for counterintelligence purposes.
Democrats Continue Presidential Harassment — Committee Chair Subpoenas Trump's Tax Returns. Democrat House Ways and Means Committee Chairman Richard Neal issued a subpoena Friday for President Trump's tax returns. Demmocrats want the billionaire's returns so they can find something to attack him with. Trump knows this and refuses to release them.
This 'Constitutional Crisis' Has Been Completely Contrived By #Resistance Democrats. At this very moment, there is a virtually redaction-free version of the Mueller report available to Nadler and other top Democrats. In this version, supplied by the Justice Department in deference to Democrats' demand for more transparency, the sum total of the redaction in Volume II of the Mueller report — the part Democrats say they are most interested in because it deals with obstruction of justice — is two full lines of text and seven partial lines of text. That document is sitting in a secure room in the House. Yet not a single Democrat has bothered to look at it.
New York State Making Moves To Give Congress Access To Some Of Trump's Taxes. With President Donald Trump not playing the Democrats' impeachment games (and rightfully so), states have done their part in fighting this administration. Washington State and New Jersey have passed laws keeping presidential candidates off the ballot if they don't release their taxes. Well, it's not like any Republican candidate was going to win those states anyway, but it's all part of the two-year long temper tantrum over Hillary Clinton's shocking election loss in 2016. Taxes remain another front in the ongoing crusade to impeach Trump. Democrats don't have Russian collusion anymore; that was nuked by the Mueller report. They're still clinging to obstruction of justice, but there's not enough evidence to pursue charges, as determined by Attorney General William Barr and soon-to-be-ex Deputy Attorney General Rod Rosenstein.
No Senate Intelligence Committee Republicans Publicly Stand Up for Richard Burr's Rogue Donald Trump Jr. Subpoena. Not one GOP senator on the Senate Intelligence Committee was willing to publicly align himself or herself on Wednesday evening [5/8/2019] with the panel's chairman, Sen. Richard Burr (R-NC), after Burr made the determination, against indications from Senate Majority Leader Mitch McConnell, to issue a subpoena to Donald Trump Jr. to testify again on the Russia probe. News broke late Wednesday afternoon that Burr had issued Trump, Jr. a subpoena to try to compel the president's eldest son to testify again. The subpoena is in contravention of a previous promise Burr made to Trump, Jr. that he would only need to testify once and would not be subpoenaed, and it contradicts McConnell's edict on Tuesday that the Russia hoax is "case closed" after two years of investigating with no evidence of collusion or obstruction.
Why are so many Democrats so reprehensible in exactly the same way? [Eric] Holder actually was in contempt of Congress for authentic scandals involving deaths of Americans, such as Operation Fast and Furious. Barr is not. Unlike Holder, Barr is the smartest lawyer in the room. He knows, as does any sentient legal scholar, that to give the House Judiciary Committee what they are asking for — names of intelligence assets, legally protected grand jury testimony — would be breaking the law. The Democrats with their handmaidens in the media are manufacturing a "constitutional crisis" simply to hound the president and prolong the collusion hoax as long as possible.
Congress contempt citations pretty toothless, says Brit Hume. Eric Holder, Lois Lerner proved that. There are a lot of growls and roars coming from congressional lions of the Democrat party, such as Rep. Jerrold Nadler, over Attorney General Bill Barr's refusal to comply with their demands that he turn over documents and appear before the hostile House Judiciary Committee. The thing about that, according to Brit Hume of Fox News, is that none other than the Obama AG Eric Holder proved congressional contempt citations are toothless. On Wednesday [5/8/2019], the House Judiciary Committee, chaired by Nadler, is set to vote on whether to hold AG Barr in contempt of Congress, specifically for refusing to comply with a subpoena for the full, unredacted Mueller report.
Ilhan Omar Boasts: I'm Trump's 'Biggest Nemesis'. Speaking with The Huffington Post, Rep. Ilhan Omar, who has made numerous anti-Semtic and anti-America remarks, bragged that she is President Trump's "biggest nemesis." Omar boasted, "This is a president who has come to power because he was very much willing to vilify and demonize immigrants and refugees. He so proudly said we should halt Muslims from entering our country. He clearly has a disdain for black women who see themselves as equal to him. And so, for many people, it's not a surprise that he finds his biggest nemesis in me. Clearly, I am a nightmare — because he can't stop really thinking about ways that he can continue to use my identity to marginalize our communities."
The Brainwashing of a Nation. The "Resistance" isn't a political movement. It's a political cult whose crisis was the 2016 election. Its irrational belief that Trump is a Russian agent is typical of the conspiratorial mindset of cults. Its inability to understand that its convictions are completely irrational show how brainwashing works. The 2016 election inflicted on its members a loss of control. Trump became the crisis embodying their loss of control. Their fear, guilt and anger induced stress that altered their behavior and beliefs. And, within the very recent past, millions came to believe that Trump was really working for Moscow. This is brainwashing on a timescale so immediate that we can easily recall it. Yet most of us have trouble understanding how it works and why it works.
California moves to keep Trump off 2020 primary ballot. The California Legislature is trying again to force presidential candidates to publicly disclose their tax returns, hoping a new Democratic governor known for his clashes with President Donald Trump won't block them this time.
The Latest: San Francisco sues Trump over conscience rights. The city of San Francisco is suing the Trump administration over its new regulation allowing health care professionals to opt out of providing treatments they oppose.
Tom Cotton: No, Jerry Nadler's Tactics Aren't Normal Procedure. House Judiciary Committee Chairman Jerry Nadler is threatening to subpoena Attorney General Bill Barr. Barr threatened to back out of scheduled and voluntary testimony on Thursday after Nadler changed the ground rules for the hearing. Nadler wants Committee attorneys, in addition to lawmakers, to ask questions about the Mueller report. He argues this is standard practice and that Barr should comply. But according to Republican Senator Tom Cotton, who used to be in the House, Nadler's demands for this format style are unusual.
Inside the EPA's 'resistance room,' where Trump was never president and climate change is real. No such thing. That was the verdict delivered by the security guard inside the Ronald Reagan Building on the question of whether there existed a museum of the Environmental Protection Agency and, more to the point, whether that museum was somewhere within this airy warren of federal offices in downtown Washington. In fact, she appeared to regard the question as downright insane. Actually, there was — and is, as of this writing at least — such a thing as an EPA museum. The security guard looked on with annoyed concession as this reporter produced on his phone seemingly incontrovertible evidence that not only did an EPA museum exist in the reality-based community, it existed inside the Reagan Building, which is adjacent to the EPA's headquarters (and just a few hundred feet from the Trump International Hotel).
Obama-Era Judge Slams the Brakes on Trump Order to Open Fed Lands to Coal Mining. A federal judge in Montana delayed a Trump administration attempt to open up more federal lands to coal mining Friday [4/19/2019], The New York Times reported. U.S. District Court Judge Brian Morris ruled that the Trump administration illegally overturned a moratorium placed on coal mining on federal lands by former President Barack Obama. Obama instated the policy in 2016 as part of his administration's environmental agenda to cut coal usage.
Obama judge blocks Trump from keeping illegals in Mexico. Democrat obstruction of the presidency continues as Obama-appointee Judge Richard Seeborg sided with a liberal group in stopping President Donald John Trump from executing his constitutional duty as commander in chief. Seeborg is the same obstructionist judge who earlier blocked the Trump administration from restoring the citizenship question on the census that Obama had unilaterally removed in the 2010 Census. That unconstitutional decision is on appeal.
Ineffective Democrat subpoenas. A House panel voted yesterday [4/3/2019] to authorize subpoenas to obtain Robert Mueller's full report on Russian interference in the 2016 election. The vote was strictly along party lines. Democrats aren't going to issue the subpoena yet. First, they will negotiate with the Justice Department. But Democrats are holding a losing hand. This subpoena, like all the others House Democrats are thinking about issuing, cannot, in all likelihood, be effectively enforced. The normal enforcement mechanism for a subpoena is to cite for contempt the party that refuses to comply. But it's up to the Justice Department to prosecute that case. The DOJ isn't going to prosecute its head.
Estrada's Revenge. Largely as a result of unprecedented Democratic obstructionism in the United States Senate, President Trump has yet to staff many executive positions in his administration or fill many judicial vacancies. This afternoon comes word that the Republican majority has finally altered Senate rules to reduce debate time on most presidential nominees by reducing post-cloture debate. They have done so by exercising what the media refer to as the "nuclear option" — what should probably be known as the Harry Reid option — under which a Senate majority changes the Senate rules.
Senator Amy Klobuchar's Claims about Post-Cloture Debate Shouldn't Go Unchallenged. The Senate today began the process of addressing one of the tactics Democrats have used to slow the confirmation process. It voted on a resolution that would limit the time available for debate after the chamber has voted to bring debate to a close. Speaking against the change earlier today, Senator Amy Klobuchar (D-Minn.), made claims that cannot go unchallenged. Senate Rule 22 provides a process for invoking cloture, or ending debate. This process includes the voting on a motion that asks: "Is it the sense of the Senate that the debate shall be brought to a close?" If that motion passes, Rule 22 currently allows up to 30 more hours of debate before a final vote on confirmation.
House Dem asks IRS for 6 years of Trump's tax returns, setting up showdown with White House. President Trump responded with a dismissive taunt on Wednesday after a House committee chairman formally requested the IRS provide several years of his personal and business tax returns, in a move that prompted congressional Republicans to warn that Democrats had "weaponized" tax law. Told by a reporter at the White House that Democrats wanted six years of his tax returns, Trump replied: "Is that all? Usually it's 10. So I guess they're giving up. We're under audit, despite what people said, and we're working that out — I'm always under audit, it seems, but I've been under audit for many years, because the numbers are big, and I guess when you have a name, you're audited. But until such time as I'm not under audit, I would not be inclined to do that."
The Editor says...
[#1] What the President did with his tax returns six years ago is irrelevant and immaterial to his performance as President. [#2] Two can play this game, and Mr. Trump could easily use his critics' tax returns to counter anything they find in his.
Finally! Mitch McConnell shuts down Democrats' obstruction of confirmation of Trump appointees. Because of unprecedented abuse of Senate rules, two and a half years into his presidency, President Trump has not been able to put all of his own qualified, confirmable appointees into senior-level positions. This obstructionism has allowed Obama administration holdovers to obstruct and sabotage implementation of his policies (and to leak to the media). Senate Democrats have cynically exploited the Senate rules allowing 30 hours of debate of each appointee to slow down the staffing of his administration. Finally, Senate majority leader Mitch McConnell yesterday pushed through a majority-vote measure that changes those rules, limiting debate to two hours per appointment. The same trick has been used to limit the confirmation of federal judges, and those rules also have been changed.
Democrats hate Trump more than they want to keep our country safe and secure. For decades, presidents along with scores of Members of Congress from both political parties have been in agreement that our nation's immigration system is broken and that a crisis is brewing at our southern border. During his historic 2016 campaign for the presidency, Donald J. Trump, the ultimate political outsider, made border security and building a beautiful border wall the signature issue of his candidacy. President Trump appealed to hardworking American citizen-taxpayers from coast to coast who were elated that there was finally a candidate with the courage to confront the failed status quo by stopping illegal immigration and reforming the ridiculous chain migration and visa lottery systems. During the first two years of his presidency, President Trump has never wavered on his commitment to secure our porous southern border. Much to the dismay of the D.C. swamp creatures, he's determined to make good on his promise to solve the existential threat at the U.S.-Mexico border.
Obama Judge Decrees That Obama's Decisions Are Permanent and President Trump Can't Change Them. In the late December 2016, just a few weeks before his term of maladministration and race-baiting ended, Barack Obama decided to take one more shot at the country he despised above all others. By executive order, he banned drilling in large swaths of the Arctic. This had been done by past presidents, but always with a time lime. Obama, being the Lightworker, desired his decisions to have immortality and he banned drilling in perpetuity. Shortly after he was sworn in, President Trump issued an executive order overturning Obama's executive order an opening the Arctic to exploration and drilling. The enviro-nazis sued and yesterday an Obama-appointed judge in Alaska handed down a surprising, yet unsurprising, decision that because Obama had intended for his ban to last forever, it could not be changed by any other president, but only by act of Congress.
Judge tosses Trump executive order, restores Obama drilling ban. President Donald Trump exceeded his authority when he reversed bans on offshore drilling in vast parts of the Arctic Ocean and dozens of canyons in the Atlantic Ocean, a U.S. judge said in a ruling that restored the Obama-era restrictions.
Judge scraps Trump order for Arctic, Atlantic oil leasing. A federal judge in Alaska has overturned U.S. President Donald Trump's attempt to open vast areas of the Arctic and Atlantic oceans to oil and gas leasing. [3/29/2019]
Six Dems Submitted A Letter To Barr Saying... Six Democratic Congressmen who chair various committees on Monday [3/25/2019] sent a letter to Attorney General William Barr formally requesting Special Counsel Mueller's "full report." "Each of our committees is currently engaged in oversight activities that go directly to the President's conduct, his attempts to interfere with federal and congressional investigations, his relations and communications with the Russian government and other foreign powers, and/or other alleged instances of misconduct," the letter reads. According to the Committee Chairmen, Barr's summary is "not sufficient for Congress, as a coequal branch of government, to perform this critical work."
House Democrats Are Relentlessly Harassing the President with Abusive Investigations. [Scroll down] In October of 2018, Koppel got under the skin of CNN's Brian Stelter when he said that the network's ratings would be in the toilet if it weren't for Donald Trump, despite the anti-Trump bias that oozes from the television set. It's all part of a rather funny dynamic. The media hates Trump, but they get rating boosts when they broadcast his rallies, which in turn could help him win re-election in 2020.
House Democrats pass yet another laughable measure. It's pretty clear that the Democratic caucus that runs the House of Representatives has a low opinion of the intelligence of the American public, but a measure passed Tuesday takes the cake when it comes to wasting the taxpayers' time, attention span, and money. At least the media have done them the favor of largely ignoring it. Intoxicated with the idea of investigating President Trump right out of office, until yesterday, they were able to cling to some pretense of plausibility, even if making ridiculous (and financially ruinous) demands on anyone associated with President Trump, including his children. Those constraints no longer apply.
Pentagon Issues 2020 Budget Request To Strengthen American Military. Dems Will Likely Oppose It. The Trump administration has been determined to restore the American military to strength, and the Democrats taking the House of Representatives may impede that mission. As far back as June 2017, former Secretary of Defense James Mattis stated that he was shocked at the state of the American military's readiness.
Nadler leading Cold War-style 'inquisition' against Trump, House Judiciary panel's ranking Republican says. The top Republican on the House Judiciary Committee unloaded on the panel's chairman, Jerry Nadler, in a fiery letter on Thursday [3/7/2019], accusing the New York Democrat of conducting an unconstitutional "inquisition" into President Trump and his associates "reminiscent of Eastern regimes during the Cold War." Nadler, who would oversee any impeachment proceedings against President Trump, this week announced dozens of document requests — including to the National Rifle Association, WikiLeaks and key figures in the Trump Organization — in a barrage that Nadler called the opening salvo in new and wide-ranging investigations into the White House. Georgia Republican Rep. Doug Collins, the ranking member on the committee, charged that Nadler's investigation runs "afoul of nearly 150 years of Supreme Court precedent and over 200 years of oversight conducted by this committee."
None of this is normal. Half a dozen House committees with Democrats in charge are investigating Trump, his administration, family, appointees, political affairs, businesses, lifestyle, and various antics. This is abnormal. There's never been an offensive so vast against a president by his rival party. It took only two committees — one in the Senate, one in the House — to look into the Watergate scandal and drive President Nixon out of the White House in 1974. But Trump is more popular today than Nixon was, and Democrats are taking no chances he might escape their grasp.
Ninth Circuit Has Just Made Deportation Of Illegals Nearly Impossible. On RedState, we've posted repeatedly on how a small number of hyper-partisan judges are using the cover of a legal decision to impose their preferred policy goals on the nation by way of nationwide injunctions and are working actively to stymie any effort by the Trump administration to create its own policies. While malicious decisions have affected all manner of programs, they are most pronounced and frequent in those areas most cherished by progressives, in particular, immigration. In its very first days, the Trump administration was forbidden to place any limits on travel to the US from failed states or state sponsors of terrorism. It took several trips to the Supreme Court before the Resistance was overcome. One of the most egregious was the decision to forbid the Trump administration from ending the Deferred Action for Childhood Arrivals (DACA) program. This program, patently illegal and created by a simple memorandum signed by Janet Napolitano, should have been easily quashed, but it wasn't. Now at least three federal judges have taken the position that a memo written four Homeland Security secretaries ago cannot be rescinded.
"Show me the man and I'll find you the crime."
House Democrats using extreme tactics. House Judiciary Chairman Jerrold Nadler (D-N.Y.) and House Intelligence Committee Chairman Adam Schiff (D-Calif.) — formerly of Framingham — are everything thing that's wrong with Washington. Consumed with hate toward the president, the partisan hacks are leading a scorched-earth campaign by waging endless investigations against President Trump, his family and associates. Unsatisfied that multiple extensive congressional investigations have found zero evidence of "Russian collusion" with the 2016 Trump campaign — despite Democrats telling us and every media outlet otherwise — they're now shifting their focus to Trump's business dealings, taxes, former charitable foundation and virtually every aspect of his life.
G-Men Out of Control. Every nomination to the Supreme Court is now a pitched battle replete with paid demonstrators at hearings and extensive campaigns of character assassination, but that court has sat inert as practically all the Bill of Rights' constitutional assurances of due process, prompt and impartial justice, and the avoidance of capricious prosecutions have been abandoned. It is in this, as other civilized jurisdictions would consider it, tenuous state of the rule of law that the antics of the Comey-McCabe FBI and Brennan-Clapper intelligence direction, and their partisan effort to bend the law to install Hillary Clinton as president and sandbag Donald Trump, should be considered.
Schumer pledges to defund Trump's 'fake climate panel'. Senate Minority Leader Chuck Schumer vowed Tuesday to defund any effort by the Trump administration to form an advisory committee on climate change, calling it a "fake climate panel." His floor remarks came after multiple media outlets reported that the White House is assembling a group of science advisers, including those who cast doubt on worst-case climate scenarios, to assess the federal government's findings on global warming.
The Resistance is Everything They Accuse Trump of Being. The fictitious dossier, written by a foreign spy citing unnamed Russian intelligence sources, was deployed to smear Trump. When the dossier failed to defeat him, it was used to justify endless investigations, congressional hearings, and ominous news coverage that hobbled his presidency, wrecked his efforts to improve relations with Russia and greatly diminished voters' confidence in our democracy. Only after this witch-hunt was set in motion was it revealed that the bogus dossier was a product of the Clinton campaign and the Democratic National Committee.
Rep. Schiff Warns of Subpoenas, Lawsuit Over Mueller Report. A top House Democrat threatened on Sunday to call special counsel Robert Mueller to Capitol Hill, subpoena documents and sue the Trump administration if the full report on Mueller's Russia investigation is not made public.
Adam Schiff has collusion problems of his own. [Rep. Adam] Schiff has kept up the pressure in Congress that's led to endless investigative hearings and the appointment of Special Counsel Robert Mueller. But he may have played a bigger role in all this than anyone realized. Last summer, as John Solomon noted recently, Schiff was spotted openly talking with Fusion GPS founder Glenn Simpson in Aspen, Colorado. This, of course, leads to many new questions about Schiff's affiliation and involvement with Fusion GPS. Was this the first time he met with Glenn Simpson? What is his past history with one of the more significant characters in the Russia-collusion hoax? Schiff is still working to hold up the increasingly waterlogged tent of the "collusion" story.
The shrinking states sue Trump. As expected, many of the blue states are challenging President Trump in the 9th Circuit. Again, it's not a shock for those who understand "judge-shopping." The states are California, New York, Colorado, Connecticut, Delaware, Hawaii, Illinois, Maine, Maryland, Michigan, Minnesota, Nevada, New Jersey, New Mexico, Oregon, and Virginia. So let the lawsuit go forward, and we will see what happens.
Why is Trump, and not Obama, the so-called 'dictator'? Trump has tried to get sanctuary cities and states to comply with immigration law and cooperate with ICE, but he has been blocked by Democrats and complicit judges. Trump is essentially trying to enforce immigration laws Congress passed and is being thwarted at every turn. Democrats have declared that illegal aliens crossing the border had to be stopped in the past, but have never followed through. Now they are absolute obstructionists.
What We Still Have to Lose. These are dangerous times. The Left has made them so and insists on increasing the danger. Leftists hold virtually every commanding height in our society — financial, intellectual, educational, cultural, administrative — and yet they affect the posture of an oppressed and besieged "resistance." Nonsense. The real resistance is led by President Trump. It is resistance to the Left's all-consuming drive for absolute power, its hostility to all American and Western norms — constitutional, moral, prudential — and its boundless destructive enmity. [...] The president stands clearly and firmly against these virulent attacks on America and firmly for the protection of life and liberty, and the promotion of the good life for the American people. Those are the core responsibilities of any American president.
Dems Blocked Steve Scalise From Testifying on Gun Violence. House Democrats blocked Republican Whip Steve Scalise from testifying at a hearing on "gun violence" this week despite being a victim of a shooting. The reason? He doesn't support new gun control measures Democrats are hoping to pass with their new majority. "It was pretty bizarre. Historically when Republicans were in charge, even when Democrats were in charge prior to this more radical leftist majority, if a member of Congress wanted to testify on a committee, they always provided a venue for that to happen," Scalise said. "In this case they were holding a hearing in the Judiciary on reducing gun violence and I've got a perspective clearly mine dealt with something that happened to me and I saw how guns were used to save people's lives. It should have been able to be part of the testimony. They wanted to focus on taking away the rights of law abiding citizens which their bill ultimately does."
Senate Dems block bill requiring medical care for abortion survivors. The Democratic Party seems to be willing to protect not just late-term abortions, but killing of babies who survive the attempt on their lives. Governor Ralph Northam's cold-blooded explanation of allowing parents and doctors to discuss whether or not to finish off the victim, as part of the bill sponsored by Democrat Kathy Tran, shocked most people who heard about it — those who don't rely on the mainstream media.
Senate Democrats Try to Block 'Emergency Funds' For President Trump's Border Wall. Senate Democrats introduced a bill Monday to block 'emergency funds' for President Trump's border wall. The legislation, sponsored by Senator Tom Udall (D-NM), would prevent President Trump from using funds from the Army Corps of Engineers or the Department of Defense's military accounts to be used to fund his border wall should he declare a national emergency.
NJ Dems Propose Legislation To Potentially Remove Trump's Name From 2020 Ballot. Lawmakers in New Jersey have revived legislation intended to keep President Donald Trump's name off the ballot in 2020. Democrats have targeted Trump with a proposal that "requires candidates for President and Vice-President of United States to disclose federal income tax returns to appear on ballot" and "prohibits Electoral College electors from voting for candidates who fail to file income tax returns." As he has yet to disclose his tax returns, President Trump's name, if all things were to stay the same, would not appear on the ballot in the Garden State come 2020 if the bill were to pass.
Dems are trying to Bork and Kavanaugh appeals court nominee Neomi Rao. Neomi Rao is the nominee to fill the vacancy created on the D.C. Circuit Court of Appeals created when Brett Kavanaugh was confirmed to the Supreme Court after a vicious campaign against him. Rao's Judiciary Committee hearing is Tuesday, February 5. Senate Democrats and liberal interest groups are trying to attack Rao in order to damage her prospects for a future Supreme Court nomination and to serve as a warning that if she is nominated, they will Bork and Kavanaugh her.
Senate Dems introduce bill to block Trump from using military funds to build wall. Senate Democrats introduced legislation on Monday to prevent President Trump from using military and disaster relief funds to construct the U.S.-Mexico border wall should he declare a national emergency. The legislation would prevent Trump from using funding from the U.S. Army Corps of Engineers civil works funds and military construction funding "for the construction of barriers, land acquisition, or any other associated activities on the southern border without specific statutory authorization from Congress" if he declared a national emergency. Sen. Tom Udall (D-N.M.) said that while an emergency declaration to construct the U.S.-Mexico border wall would be challenged in court, "Congress should not wait for the courts to act."
President Fires a Shot Over the Bow of Obstructionist, Pro-Crime Democrats. President Trump is growing impatient over the lack of progress bipartisan negotiators in Congress have been making in talks over funding a desperately needed wall on the nation's porous multi-state border with Mexico — and this continuing failure makes another government shutdown increasingly likely this Feb. 15. The GOP-controlled House of Representatives voted 217 to 185 on Dec. 20 for a spending bill with $5.7 billion for the wall. The measure floundered in the Senate and the partial shutdown got underway Dec. 22. The Senate remains in Republican hands but the House is now controlled by Democrats.
How long are we going to tolerate the sliming of decent people? You'd think they would learn: assassinating the character of a decent person, just because you disagree with their politics, will not turn out the way you hoped. After their failure to prevent the elevation of Justice Brett Kavanagh to the Supreme Court, the left is now going after Neomi Rao, who is the Trump administration's nominee to the important D.C. Circuit Court of Appeals. With Kavanagh, they went back to his high school yearbook, searching desperately for anything that would slime his teenage character. With Rao, they've gone to her college writing!
Obstructionist Democrats vow lawsuit if Trump declares wall emergency. Obstructionist open-borders Democrats will promptly file a lawsuit to halt the building of a desperately needed wall on the nation's porous multi-state border with Mexico if President Trump declares a national emergency to move forward with construction, the new chairman of the House Armed Services Committee is threatening. White House aides have reportedly prepared an executive declaration that gives the president the ability to redirect billions of dollars in military construction and flood-control funds.
It's Time to Get Real About Our Enemies. There is more to #TheResistance than the political panic inspired by the likes of House Speaker Nancy Pelosi (D-Calif.) and Senate Minority Leader Chuck Schumer (D-N.Y.). They are riding a monster not of their own making. In order to survive, they are providing cover and normalization of something not at all normal. Conservative pundits have latched onto the fun words "hysteria" and "Trump derangement syndrome." These words, though cute, mask the seriousness of what is actually happening. The mass hysteria is a goal and a tactic, whipped up by cool-headed, purposeful people. It was not caused by Trump's tweets or orange coloring. It has everything to do with a long game to change our country. The exaggerated, weird loathing of President Trump and all Republicans — that flies in the face of our peace and prosperity — is the daily work of thousands of professional leftists.
Democrats Block GOP Attempts to Pay Federal Workers During Shutdown. House Republicans voted twice over the past two weeks to pay federal workers during the partial shutdown. Democrats went on tropical spas during the shutdown but won't pay government employees. They know the liberal media will carry their water.
Senator Lindsey Graham to Investigate Obama and Hillary Scandals. Since taking over the House, Democrats have promised to open the investigation floodgates. If Donald Trump or anyone in his administration ever so much as misplaced a paper clip, you can be sure there would be hearings. When the Mueller probe reveals that there is no evidence of Russian collusion, they will start their own investigation, no doubt. Their main objective is to make sure Trump is not reelected, and in the meantime, they will do everything they can to make it impossible for him to govern. To them, that is called transparency and accountability.
Schumer blocks bill to pay Coast Guard. Senate Minority Leader Charles Schumer (D-N.Y.) blocked a request to pay the Coast Guard on Thursday after Republicans refused to also open the rest of the federal government. Sen. John Kennedy (R-La.) tried to take up legislation to pay the Coast Guard, which is part of the Department of Homeland Security. Schumer blocked the request after first asking if Kennedy would modify his request to instead reopen the quarter of the government currently closed.
Trump's State of the Union address is still not happening Tuesday despite shutdown ending, Pelosi says. Despite President Donald Trump ending the government shutdown, his State of the Union address is still up in the air. One thing is for sure, however: It's not going to take place on Tuesday as originally planned. "It's not happening on 1/29," said Drew Hammill, a spokesman for House Speaker Nancy Pelosi.
Pelosi and the Caucus of Crazy. Less than a month after regaining their majority in the House of Representatives, the Democrats have already demonstrated why they can no longer be trusted with power. They are so in thrall to their special interest financiers and extremist base that they can't accept a compromise favored by 70 percent of the voters on the government shutdown. House Speaker Nancy Pelosi's arbitrary dismissal of President Trump's latest offer as "a non-starter" is not merely unreasonable[,] it does genuine harm to millions of her own party's most loyal constituents.
The state of Nancy Pelosi's union. The new majority party has elected to marshal all resources to destroy President Trump. Their strategy is to refuse to engage him on public policy (i.e. do their jobs). Instead, they are pouring all of their energy into investigating every aspect of his life. Rather than provide solutions, they obsess about how much money people from Liechtenstein might be spending at Trump hotels. Democrats use their bully pulpit not to sell good ideas, but to complain and whine about the president day in and day out. For voters who just want peace and a strong economy, it is exhausting, unproductive and ultimately unattractive.
Dems introduce bills to block offshore drilling. A group of House Democrats introduced a suite of eight bills Tuesday aimed at blocking President Trump's proposal to expand offshore oil and natural gas drilling around the country. Taken together, the bills would ban or put a 10-year moratorium on offshore drilling in the Atlantic, Pacific and Arctic oceans, as well as the eastern Gulf of Mexico. The bills came as the Interior Department is expected soon to move forward on its plan released in January 2018 to open the offshore areas of the Atlantic, Pacific, Arctic and Gulf coasts to offshore oil and natural gas drilling. That plan has met stiff opposition from political leaders and coastal communities that neighbor nearly all of the areas.
Dreamers: Pawns of the resistance. On Saturday afternoon [1/19/2019], President Trump put an idea on the table: DACA for the wall! It was a courageous idea because many in the GOP will balk at it. In other words, President Trump was willing to take some heat from his side to move the ball forward. What did the Democrats do? Resistance and more resistance.
Why Democrats Said No to Trump's Border Compromise. Lots of people are wondering just why Democrats rejected President Trump's plan to reopen government agencies even before he announced the plan. House speaker Nancy Pelosi called it a "non-starter," and Senate Democratic whip Dick Durbin rejected it even though, as the Daily Caller noted, Trump's proposal to protect immigrant "Dreamers" from being deported "included everything" that Durbin had asked for "just over two years ago."
It's All About the Wall. In his brief remarks Saturday on border security, Donald Trump outlined a plan that made multiple concessions to Democratic desiderata in exchange for $5.7 billion to fund 230 miles of the wall along the southern U.S. border. Indeed, the president's plan deliberately took cues from some Durbin's own legislation on the subject. Didn't matter. Pelosi said the president's plan was "a non-starter."
Buzzfeed, Like Lawfare, Has a Role to Play in Resistance Operation. While the media banter relentlessly about their latest resistance angle du jour; it is perhaps a more beneficial discussion to remind and outline the larger strategy at play. Honing the political skills. The baseline here is that everything the institutional-left does, is sequential and planned. This is what they do. This is all they do. None of the characters within the institutions of professional leftism create anything; build anything; have a life purpose for anything, other than organizing their efforts to exploit control of others via politics. This is all they know how to do.
It's Now Undeniably The Pelosi Shutdown. In a nationally televised statement from the White House, President Trump offered concessions on DACA, expressed a desire to work with Democrats toward a much-needed overhaul of the outdated immigration system and a desire to end the government shutdown. Speaker Pelosi's handlers released a response to the media even before the president finished his speech. That response was NO and came at the same time reports indicated Speaker Pelosi was leaving Washington D.C. for a long weekend at one of her many (walled) properties.
They already have amnesty. In exchange for a few more miles of a border wall, President Trump agreed to amnesty for about a million illegal aliens, those whose sympathy stories are worthy of the Amana washer on "Queen for a Day." This is the same offer he made in September 2017 when Coulter freaked out. The problem with conservatives is we already have open borders and have had them all along. Democrats have no incentive to negotiate, and they won't.
The Left Attacks Trump's Pick to Replace Brett Kavanaugh for Her Smart College Writings. Young conservatives, be warned: Reasonable ideas written in college — such as the notion that binge drinking can lead to dangerous consequences for young women — can and will be twisted and used against you should you be nominated for high-powered positions two and a half decades later. That's what's happening to Neomi Rao, President Donald Trump's nominee to replace Brett Kavanaugh on the U.S. Court of Appeals for the District of Columbia Circuit, and who reportedly is on the short list for the Supreme Court.
DOJ Seeks to Stall Court-Ordered Discovery on Clinton Email Scandal; Cites Government Shutdown. Susan Rice and Ben Rhodes will be deposed under oath on the Benghazi scandal. Last week Judicial Watch submitted a court-ordered discovery plan seeking depositions from top Obama officials involved in Hillary Clinton's email scandal including Susan Rice and Ben Rhodes. The discovery plan stems from a December, 2018 ruling by Judge Royce Lamberth ordering the State Department and DOJ to submit discovery in three areas. Judge Lamberth called Clinton's use of the private email server "one of the gravest modern offenses to government transparency."
After Puerto Rico Retreat, Dem House Now Taking An ELEVEN DAY 'Break' From Congress. After more than 30 Democrats flocked to Puerto Rico over the weekend for a fancy retreat, the Democrat-controlled U.S. House of Representatives will take an 11-day "break" from Congress. On Tuesday, Rep. Lee Zeldin, R-N.Y., took to Twitter to slam his progressive colleagues and urged them to stay in town until the partial government shutdown is over.
Embarrassed by Optics — Democrat House Leader Steny Hoyer Cancels (not really) 11-Day Recess. Amid the ongoing partial government shutdown; and with the unwillingness of Democrats to negotiate on border security funding; and coming on the heels of a massive Puerto Rico junket funded by K-Street lobbyists; it may have been a bridge-too-far for Democrats to start another eleven day vacation on Thursday. So they cancelled it, sort of. House Leader Steny Hoyer technically cancelled (in writing only) the recess (to keep the talking points out of the hands of the opposition), while factually telling membership to go ahead and take the vacation but be prepared to return if needed.
Secret Service, DHS say they can handle State of the Union security. The Secret Service and Department of Homeland Security said they can handle security at President Trump's State of the Union address — which House Speaker Nancy Pelosi wants Trump to postpone. Both federal agencies have been largely shuttered as the partial government shutdown enters its record-breaking 26th day. But Homeland Security chief Kirstjen Nielsen wrote on Twitter that both agencies are good to go.
Pelosi asks Trump to postpone SOTU until gov't reopens; Dems planned move for "months"? It's tough to tell. Does this make the shutdown a bug, or a feature? Nancy Pelosi has asked Donald Trump to put off his State of the Union speech to the joint session of Congress until after the funding issues have been resolved: [...] Pelosi's not looking to restore the proper co-equal-branch dynamics under the Constitution. She was delighted to offer regal hosannas to Barack Obama, and she'd be equally delighted to offer them to President Alexandria Ocasio-Cortez or President Jill Stein, for that matter. She just doesn't want Trump using Congress to beat up Democrats over the wall.
Citing 'security concerns' due to government shutdown, Speaker Pelosi urges delay of State of the Union address. House Speaker Nancy Pelosi asked President Donald Trump to reschedule his State of the Union address this month if the government remains shuttered — or deliver it in writing. "Sadly, given the security concerns and unless government re-opens this week, I suggest that we work together to determine another suitable date after government has re-opened for this address or for you to consider delivering your State of the Union address in writing to the Congress on January 29th," Pelosi wrote in a letter to Trump on Wednesday [1/16/2019].
McCarthy: Pelosi's move to disinvite Trump 'unbecoming of the office'. House Minority Leader Kevin McCarthy said Wednesday [1/16/2019] it was "unbecoming of the office" for Speaker Nancy Pelosi to call for a postponement or cancellation of President Trump's planned January 29 State of the Union address. "I think Speaker Pelosi is playing politics like I've never seen a speaker before," McCarthy, R-Calif., told the Washington Examiner Wednesday. "I think it's unbecoming of the office to disinvite the president. The American people have the right to be able to hear the president and the president has a right to deliver a state of the union." Pelosi, D-Calif., said in a letter to Trump that the partial government shutdown would make it difficult to secure the event, which is attended by members of all three branches of government and typically requires a massive law enforcement presence.
Obama Judge Strikes! Admin Can't Ask on Census If One's a Citizen! An Obama federal judge in the southern district of New York has ruled against the Trump administration's decision to add a citizenship question to the 2020 census. The Trump administration can't ask if someone is a citizen, even though it was done in 1950. U.S. District Judge Jesse Furman ordered the administration to stop its plans to include the question on forms for the upcoming national head count "without curing the legal defects", the judge identified in his opinion released on Tuesday [1/15/2019]. The Trump administration announced last year that the 2020 census would include a question about U.S. citizenship status. The left likes to call the question "controversial" because they disagree with it.
Federal judge blocks citizenship question on 2020 census. A federal judge on Tuesday blocked the Trump administration from asking about citizenship on the 2020 census, ruling that the government cut too many corners in its decision-making on adding the question. The ruling is a serious blow to President Trump, whose campaign has repeatedly bragged about the controversial question's inclusion. Judge Jesse M. Furman, an Obama appointee to the bench, rejected immigrant-rights groups' claims that the question was motivated by racism or other nefarious motives, saying those claims went unproven.
A nuisance lawsuit turns into a serious problem:
Colorado Supreme Court rules in favor of oil and gas regulators in Martinez environmental case. The Colorado Supreme Court on Monday [1/14/2019] overturned a lower court's decision that said the Colorado Oil and Gas Conservation Commission was required to weigh the impact of oil and gas development on public health and the environment in deciding whether to approve new drilling permits and rules pertaining to the oil and gas industry in Colorado. Colorado Supreme Court Justice Richard Gabriel wrote the unanimous 7-0 decision that was released Monday [1/14/2019], which found that the COGCC "properly declined to engage in rulemaking to consider a rule" proposed in 2013 by Xiuhtezcatl Martinez and a group of Boulder teenagers.
Not About the Wall: Democrats are Rejecting a Long List of Other Border Security Measures to Spite Trump. Last week, Office of Budget and Management Acting Director Russell Vought sent a letter to the Senate Appropriations Committee outlining requirements for an adequate funding bill. "Appropriations bills for fiscal year (FY) 2019 that have already been considered by the current and previous Congress are inadequate to fully address these critical issues. Any agreement for the current year should satisfy the following priorities," the letter states. "The President requests at least $563 million for 75 additional Immigration Judges and support staff to reduce the backlog of pending immigration cases." The current backlog for asylum claims made at the border is 800,000 cases. According to the Department of Homeland Security, asylum claims have increased by 2000 percent over the past five years and approximately 90 percent of them are thrown out in court. President Trump has also requested additional funding for 750 new Border Patrol Agents and $571 million for 2,000 additional Immigration and Customs Enforcement Agents to help "address gang violence, smuggling and trafficking, and the spread of drugs in our communities."
How Convenient: Charter Spectrum has Major Outage Across US before President Trump's Address on Border Security. Spectrum has announced a major cable outage across the country just 1 hour before President Donald Trump is supposed to address the nation about the immigration crisis and the need to build the wall. What are the odds? Interesting how the outage is in all major cities and border states.
'Swamp strikes again!' Less than 4 hours on the job and Dems unanimously vote to leave town. Don't blame President Trump for the ongoing government shutdown. Look to the Democrats, who unanimously voted to leave town just four hours into the first day of the 2019 Congress. [...] Republican Congressman Steve Scalise dared the media to report on the continued Democrat obstructionism. (So far, nada).
Ninth Circuit Finally Hands Trump A Big Win Against Youth's Global Warming Lawsuit. The Trump administration's battle against a global warming lawsuit brought by 21 youths will continue into 2019 after a federal court handed the government a big win over the holiday season. The Ninth Circuit Court of Appeals sided with the Department of Justice (DOJ) in a Dec. 26 ruling largely missed by major media outlets. The court granted DOJ's petition for interlocutory appeal that decreases the chances of the climate lawsuit going to trial anytime soon.
The Left Will Make 2019 a Dark Year. Thanks to the Left's control of the House of Representatives and the news media, Americans will be kept in a fevered state throughout 2019 — with innumerable hearings, exposés, criminal investigations and possible indictments of those around the president and the president himself. Truth will not be the point. Defamation will. Anything that might muddy the president, no matter how spurious, no matter how thin the evidence, will be pursued with gusto. The media will drop "bombshell" after "bombshell." If lives and careers are ruined, so much the better; no one should be associating with this president anyway, as far as the Left is concerned. [...] The goal of the Left to weaken, disable and impeach the president is the heart of its mission to undo the 2016 presidential election.
Mick Mulvaney Highlights Nancy Pelosi Position to Weaponize Government Shutdown as Part of Coordinated Resistance Agenda. Incoming chief of staff Mick Mulvaney gives an impromptu press briefing to the media highlighting the position of incoming House Speaker Nancy Pelosi and the democrat intention to weaponize the government shutdown. Career Democrats are working through a highly coordinated political agenda, defended by institutional media allies, that involve weaponizing the House of Representatives.
Democrats Hate the Wall because Trump Loves It. "The Democrats don't want to let us have strong borders — only for one reason. You know why? Because I want it," said President Donald J. Trump Wednesday [12/26/2018], to the laughter of U.S. troops at Iraq's Al Asad Air Base. "But you gave me an idea, just looking at this warrior group. I think I'll say, 'I don't want the wall.' And then they're going to give it to me." President Trump is on to something. Democrats seem determined to stop his plans for a southern-border wall as revenge for beating Hillary Clinton. They hate Trump's guts more than they love America.
Going Ballistic: What the Democrats' 'subpoena cannon' means for Trump. With Democrats seizing the House and Republicans keeping the Senate, bills beyond the proverbial post-office-naming will be hard-pressed to make it out of both chambers in the next Congress. The threat President Trump faces from Democrats, then, isn't legislative obstruction, but the ready-aim-fire of the opposition's "subpoena cannon." That's the term one senior Democratic source used last month in describing to Axios the opposition's main anti-Trump weapon. Not all of the investigatory weapon's payload will be fired at once, but the appetite for "resistance" is strong and will tie up significant White House and agency resources.
Kavanaugh 2.0: Smears Against Court Nominee Tom Farr. We learned during the fight over Justice Brett Kavanaugh that Democrats will stop at nothing to block nominees who defend the Constitution's limits on government. Lies, smears, screams, and even crimes are the tools of their trade. Now, the same tactics are being used to smear another nominee to the federal bench — Tom Farr from North Carolina. Farr was appointed by President Trump for a vacancy on the United States District Court that sits in Raleigh — the site of multiple fights over election process laws and Congressional redistricting. The seat has been vacant since 2006, the longest vacancy on the federal bench nationwide. Farr, like Kavanaugh before him, is experiencing ritual defamation by his opponents.
Special Counsel opens investigation on Matt Whitaker, acting AG. Acting Attorney General Matt Whitaker is facing more opposition as he is now the subject of a federal investigation into potential Hatch Act violations. As Democrats have continuously come against President Trump's temporary appointment of Whitaker following the departure of former Attorney General Jeff Sessions, the Office of Special Counsel confirmed that a complaint had been filed against him by the "watchdog" organization, American Oversight.
The Saddest Election Ever. For Republicans, they lost the House and had a bunch of House and Senate seats flipped, and the Senate races they did win, they won by a thread — with some victories subsequently erased via a "recount" (*cough*). For Democrats, yeah, they won the House, but not by 2010 GOP margins. Whether or not they manage to "recount" their way to a tie in the Senate, they're having to struggle for a victory that they thought would be an easy win. And they know that no matter how many boxes of ballots they find [...], they still can't actually win the Senate, meaning that if Ruth Bader Ginsburg slips on one more banana peel between now and 2020, they're gonna have to work [hard] to concoct some unprovable disqualifying transgression from Amy Coney Barrett's past [...]
Why they hate Matthew Whitaker. On the surface, Democrats going all in to fight the appointment of Matthew Whitaker as acting attorney general makes little sense. It is perfectly legal. Republicans control the Senate which confirms nominations. Going after Brett Kavanaugh backfired. But Sundance at the Last Refuge (aka, Conservative Treehouse) offered evidence that Whitaker has given them cause by exposing Democrat skulduggery in the Department of Justice. As chief of staff, Whitaker had access to everything that crossed the desk of Attorney General Jeff Sessions.
Good News: House Democrats have readied more than 84 subpoenas to gridlock government and attack your President. I have a sneaking suspicion that issuing all of these subpoenas may play well with the Antifa-BLM-Code Pink-Jennifer Rubin types, but not with the American people. At some point, most of us will come to the rightful conclusion that Democrats don't care about election results. They hate Republicans and therefore don't believe they should be allowed to win elections, or fight back, or even be allowed to speak.
Democrats Will Investigate, Not Legislate. It will be all investigations, all the time — a two-year grudge match between Congress and the Trump Administration. The games already have begun. From subpoenaing Trump's tax returns to probing former and current cabinet officials, Democrats and the media are salivating over all the damaging headlines they think they can generate just as the 2020 presidential race gets underway. The House Oversight Committee alone has at least 60 subpoenas ready to go when Rep. Elijah Cummings (D-Md.) takes over.
The Democratic Party Is Working To Destroy The American Way Of Life. When they didn't get the president they wanted in 2016, Democrats attacked the legitimacy of our election and of the Electoral College. They questioned the integrity of the result and boycotted his inauguration. They encouraged electors to go rogue and overturn the election, and moved to abolish the Electoral College, disregarding its purpose of preventing mob rule. As they undermined faith in the American electoral process in these and other ways, they helped Vladimir Putin achieve one of his primary election-meddling goals. Democrats weaponized the FBI and the Justice Department in hopes of taking down Trump, or at least of bogging him down in investigations and a cloud of suspicion that would undermine the legitimacy of his presidency. Some who are paid to implement the president's agenda continue to brag about efforts to sabotage him from within the administration.
Democrats boycott another hearing for Trump judicial nominees. Democrats boycotted Wednesday's [10/24/2018] hearing on another slate of President Trump's judicial nominees, continuing their attempts to hinder Republicans' plans to stock the courts with an army of conservative judges. The Judiciary Committee heard from four nominees, including two picks for the 9th U.S. Circuit Court of Appeals, one of the most liberal panels in the country and long a target for Republicans who complain of activist liberal judges. Wednesday's boycott is the second in a row after Democrats refused to show for a hearing last week on other court picks.
Eric Holder Rallies Resistance Inside Trump Admin: 'We Support You'. Former Attorney General Eric H. Holder Jr. sent a message of encouragement to discontented Justice Department "career employees" on Friday morning [10/19/2018]. "Trump and Sessions are trying to destroy the traditions of the Justice Department," Holder wrote. "Hope is found in the career employees who stand for institutional norms. Now is the time for them to continue to be strong — change will come. We support you." Holder recently made news by pressing for the impeachment of President Trump under the 25th amendment.
Trump: Democrats Obstruct Easy Fixes for Border Crisis, Caravan. On Friday [10/19/2018], the caravan broke through barriers at the Guatemalan side of the border and rushed onto a bridge linking the two countries. Mexican police used tear gas to stop the migrant column, which then stayed on the bridge during the night. Mexican officials say they will allow 100 migrants through the barrier to seek asylum in Mexico. Once in Mexico, officials expect most of the migrants to travel north to the U.S. border alongside thousands of other migrants who are being covertly trafficked into the U.S. by cartel-connected human smugglers.
Confirm 'em All. The editors of the Wall Street Journal urge Senate Republicans to keep Democrats in Washington, D.C. until every pending Trump administration nominee is confirmed. They have a point. Democrats have succeeded to a shocking (and unprecedented) degree in preventing the president from staffing his administration with the well-qualified personnel of his choice. Eric Dreiband and Jeff Clark are perhaps the two best examples of this pattern of obstruction but, at the same time, are the tip of the iceberg.
George Soros's March on Washington. I started following the money for the "resistance" when it was born, hours after Election Day 2016. I have organized my findings in a spreadsheet I have made public. At least 50 of the largest organizations that participated as "partners" in the Jan. 21, 2017, Women's March had received grants from Mr. Soros's Open Society Foundations or similar funds in the "House of Soros," as his philanthropic empire was once called internally. The number of Soros-backed partners has grown to at least 80. At least 20 of the largest groups that led the Saturday anti-Kavanaugh protests have been Open Society grantees.
The Resistance is Everyday, Everywhere. We've learned that there are active efforts inside the administration to thwart President Trump's agenda and policies. This person thinks he (or she) knows better than the tens of millions of Americans who voted for Trump. But what should be sobering to Trump supporters — and to all serious conservatives and Republicans, for that matter — is the fact that [the New York] Times op-ed represents just a small sliver of what's going on inside even a Republican administration on virtually a daily basis. There is a vast, unelected body inside the federal government that silently influences the ways in which our country is run. This permanent, unelected elite views citizens and their elections as nothing more than white noise. Something to be tolerated, but never heeded.
Hundreds of Unhinged Kavanaugh Protesters Descend on Capitol Hill — Dozens Arrested. Far-left protesters donning "Be a Hero" t-shirts flooded the Russel Rotunda on Capitol Hill Monday morning [9/24/2018] chanting "We believe the women!" Other protesters lined the hallways outside of Jeff Flake's and Susan Collins' offices. Capitol police began to make arrests early Monday afternoon; dozens so far have been arrested according to USA Today.
Deep State Unmasked, Leaks at HHS; DOJ Official Resists "From Inside," and "Can't Get Fired". Project Veritas has released the second installment in an undercover video series unmasking the deep state. The first report in this series featured Stuart Karaffa, who admitted to engaging in political activism on behalf of the Democratic Socialists of America (DSA) while working at the Department of State. The Department of State issued a response to the video stating that they are investigating the matter. Today's [9/19/2018] video features Department of Justice paralegal Allison Hrabar reportedly using government-owned software and computers to push a socialist agenda. Also featured is Jessica Schubel, the former Chief of Staff for the Centers for Medicare and Medicaid Services during the last Obama administration. Both Schubel and Hrabar make admissions revealing that federal employees appear to be using their positions inside our government to resist or slow the Trump administration's policies. It appears some laws have been broken in the process.
James O'Keefe Strikes Again: Open Communist in GAO Admits to Slow-Walking President's Agenda. James O'Keefe and Project Veritas released the third installment in their undercover video series unmasking the Washington DC Deep State. The first report in this series featured Stuart Karaffa, a member of the Metro DC Democratic Socialists of America (DSA), who admitted to engaging in political activism while working at the Department of State. The second report featured Allison Hrabar of the Department of Justice, also a member of DSA, reportedly using government owned software and computers for advancing political activism.
Project Veritas Second Release: DOJ Official Resists "From Inside" and "Can't Get Fired". Project Veritas has released the second installment in an undercover video series unmasking the administrative state, ie 'deep state'. Today's video features Department of Justice paralegal Allison Hrabar using government-owned software and computers to push a socialist agenda. Also featured is Jessica Schubel, the former Chief of Staff for the Centers for Medicare and Medicaid Services during the last Obama administration. Both Schubel and Hrabar make admissions revealing that federal employees appear to be using their positions inside our government to resist or slow the Trump administration's policies. It appears some laws have been broken in the process.
DOJ Looking into 'Misuse of Government Resources' Alleged in Project Veritas 'Deep State' Sting. The U.S. Department of Justice said on Wednesday [9/19/2018] it would look into alleged "misuse of government resources to advance personal interests" in response to a video from James O'Keefe's Project Veritas purporting to expose "deep state" federal employees. In the video, a Department of Justice paralegal, Allison Hrabar, is caught on camera saying there is "a lot of talk about how we can, like, resist from inside."
Pelosi Haunted by Women Her Party Suppressed. The Democratic Party was the primary obstacle in the way of women's suffrage for half a century until the Republicans finally passed the Nineteenth Amendment — codifying the right of women to vote. Democrat obstruction of suffrage led Anthony's National Woman Suffrage Association (NWSA) to support Republican President Grant's 1872 reelection campaign. Moreover, she shamed the election board of Rochester, NY into registering her to vote (over the protests of the 3-man board's only Democrat). She cast her ballot on November 5, 1872, for which she was arrested and put on trial. The Democratic war on women's suffrage became even more vicious in 1878, when Republican Senator Aaron A. Sargent, a friend of Susan B. Anthony, introduced the Nineteenth Amendment. Congressional Democrats, when they were unable to bottle it up in committee, voted it down every time it reached the floor of either House until 1919, when the GOP won landslide victories in both houses of Congress.
Protesters plan to disrupt Labor Day traffic to [and] from O'Hare. An anti-violence demonstration scheduled for Monday [9/3/2018] plans to shut down a part of the Kennedy Expressway aiming to disrupt traffic to O'Hare International Airport. The Labor Day protest is led by Reverend Gregory Livingston, who organized a similar protest that shut down a part of North Lake Shore Drive on August 2.
Document: Nancy Pelosi Will Destroy Trump Presidency with over 100 Investigations If Dems Win House. A spreadsheet reportedly circulating among House Republicans details over 100 potential investigations into President Donald Trump that Democrats will launch if they win the November elections. They intend to impeach him — or, at best, cripple his presidency. The document, reported by Axios on Sunday [8/26/2018] and hinted at by HuffPost on Friday (which put the number at a mere 52 investigations), is said to have Republicans "getting ready for hell," as Democrats will use oversight to create gridlock, or worse
The Democrats' Entire Agenda After The Midterms: Investigate Trump, 24/7. As the New York Times put it, Democrats "are discarding the lessons of successful midterms past and pressing only a bare-bones national agenda, leaving it to candidates to tailor their own messages to their districts." Democrats do have an agenda, however, one they plan to pursue with abandon should they take the House: Tie the Trump administration up in endless investigations, then hope they can stitch together something to justify impeaching the president. At the moment, of course, they aren't openly talking about impeachment. Not because they don't intend to do so. But because party leaders realize that impeachment doesn't poll well, and could energize the GOP base.
Oregon Gov. Kate Brown fights for political life as voters tire of 'resistance'. Oregon Gov. Kate Brown positioned herself early on as a leader of the anti-Trump opposition, but the state's never-ending panoply of protest activity has backfired on her re-election bid with voters suffering from resistance fatigue. Ms. Brown, who was expected to coast to victory in deep-blue Oregon, has found herself deadlocked in the latest polls with state Rep. Knute Buehler, an affable orthopedic surgeon whose moderate brand of Republicanism is attracting crossover voters.
What Do Serial Killers and the Left Have in Common? Fact is, the last two years of "resistance" has had little to do with upholding morality or fighting for what the Left believes in. Whatever it may believe in, the Left's pursuit of raw power — its long march through the institutions — has always been its primary goal. [...] The Democrats are utterly abusing the immense powers of the federal government's intelligence and law enforcement capabilities in order to accomplish that which they cannot at the ballot box: defeat the Republicans. So terrible has the "resistance" to Trump's presidency been that the Democrats now impede the president's governing abilities, as mandated by the very same Constitution the Left is claiming to defend.
Future Congresswoman Chelsea's Scottish Book Festival. [Scroll down] Exhibiting familial messiah-complex tendencies, Chelsea shared that "every day," she is "outraged ... by something our president has done or said or left undone or neglected." Then again, a booming economy, Americans working, a soaring stock market, affinity for the Constitution, respect for life, and healed relationships with problematic world leaders are successes that should outrage any self-respecting progressive. Mimicking her mother's thoughtful mid-sentence pauses and injecting ostentatious vocabulary into a discussion about children's literature, at the U.K. book event, know-it-all Chelsea expressed gratitude toward obstructionist Democrats in Congress erecting barriers to Trump's agenda every step of the way when she said: ["]At the federal level, as much as I abhor so much of what President Trump is doing, I have a great amount of gratitude for what my congresswoman and my senators are doing to try to stop him at every point.["]
The 'But Judges' argument applies much more this election. Senate Majority Leader Mitch McConnell, R-Ky., kept the Senate in session this month with two goals in mind. First, he wanted to prevent vulnerable Democrats from getting out on the campaign trail. The longer they're stuck in Washington, the less time they have to defend their records back home. Second, he wanted to keep the judicial confirmations rolling, in spite of ongoing Democratic obstruction. Senate Minority Leader Chuck Schumer, D-N.Y., has been resourceful in using every possible tool to delay hearings and votes for as long as possible. It isn't hard to see why. Democrats are in a struggle for ideological survival, and it's nobody's fault but their own.
Mark Warner threatens amendment to block Trump from stripping security clearances. Senate Intelligence Committee vice chairman Mark Warner, D-Va., said Friday [8/17/2018] he plans on introducing an amendment next week that will prohibit President Trump from stripping critics of their security clearances.
MSNBC's Geist to Dem Sen Baldwin: 'Looks Pretty Nakedly Political' to Oppose Kavanaugh Before Meeting Him. During a Friday [8/17/2018] interview on MSNBC's "Morning Joe," guest host Willie Geist pressed Sen. Tammy Baldwin (D-WI) about her decision to not support President Trump SCOTUS nominee Brett Kavanaugh before meeting with him, telling her it "looks pretty nakedly political." "Shouldn't you wait to get all the documents and shouldn't you wait to get through the hearings before you declare that you won't support his nomination, because that kind of thing, and it's not just you, by the way, looks pretty nakedly political to a lot of people," said Geist.
Statue of Liberty climber spews anti-American chant outside court. The immigrant rights activist who ruined July 4 for tourists visiting the Statue of Liberty when she scaled the green lady and forced the icon's evacuation, was in Manhattan federal [court] on Friday pushing for a no-jail guarantee from a judge — and then promptly spewed an anti-American message outside court. Therese "Patricia" Okoumou climbed onto Lady Liberty's right foot, causing an emergency evacuation of the monument on one of the busiest days of the year.
Protesters Tried To Blockade A Colorado ICE Facility, Then SWAT Showed Up. A group of protesters in Colorado were arrested Thursday [8/2/2018] after blocking Immigration and Customs Enforcement (ICE) officials from entering or leaving its facility in Centennial. [...] The SWAT team arrived in riot gear roughly four hours after the blockade began, according to Westword. Protesters were asked to disperse or face arrest. Eight protesters were ultimately arrested for not complying.
Chicago highway closure latest US protest targeting affluent. A planned march Thursday along Chicago's picturesque roadway bordering Lake Michigan to one of the most historic baseball stadiums is the latest chapter in the nation's long history of protesters targeting places where they believe their anger goes unnoticed.
Soros-Funded Illegal Alien Activists Shut Down Florida Intersection. A group of illegal alien activists with the open borders organization "United We Dream" — partially funded by globalist billionaire George Soros — shut down an intersection in Miramar, Florida last week, demanding an end to all immigration enforcement. More than a dozen of the illegal alien activists were arrested after shutting down the Florida intersection for hours, sitting around in human chains wearing orange shirts that read "abolish ICE."
Black Conservatives Booted from Uber for MAGA Hats Won't Be Silenced. Matthew Handy and Adria Barrington discovered it is not always easy to be a black conservative who supports President Donald Trump in Washington, DC. Handy and Barrington were part of the Rocky Mountain Black Conservatives' summer intern program. The program, which just wrapped up last week, affords young, black conservatives the opportunity to work with like-minded members of Congress and at conservative think tanks in the nation's capital.
Just How Far Will the Left Go? Progressives are urged to go to stores, gas stations, restaurants and confront Trump Administration officials, in a sort of Obama-like "get in their faces" or "take a gun to a knife fight" advice to make life miserable for anyone who would dare work for Trump. A former Clinton aide has organized adolescent noise-maker rallies near the White House, ostensibly to make so much racket that Trump will not be able to sleep in the presidential bedroom. Restaurants have refused to serve Trump appointees. There is no respite from the war against Trump. The NFL, the NBA, late-night comedy shows, cable news, sitcoms, Hollywood movies, books, and music have all found ways to turn their genres into anti-Trump theater. There is no respite; there is no refuge — not the Super Bowl, not the Emmys, not the Grammys, not the Oscars. Almost every aspect of American culture has been weaponized to delegitimize Trump.
It's Oakland in Muellerville. The Mueller investigation and its attendant pseudo-pods in the media and "intelligence community" are indeed self-perpetuating. But they exhibit a purpose that goes far beyond their own self-perpetuation. No, in this safari, big game is the object, the end, the purpose, to wit the destruction of the president of the United States. That is the true purpose of this charade: not the truth about "Russian meddling," not alleged wrong doing by Paul Manafort in 2005, not a lack of candor under FBI questioning by George Papadopoulos (who?) or Michael Flynn. The one true purpose (in addition to the welcome subsidiary effect of helping out the ratings of the MSM) is to hobble Donald Trump, a prelude to removing him from office.
Democrat Congressional Candidate Repeatedly Booed and Heckled During Debate for supporting ICE. A Democrat congressional candidate in Arizona was booed and heckled at least five times for supporting U.S. Customs and Immigration Enforcement (ICE) during a debate on Thursday [7/19/2018]. Ann Kirkpatrick, a candidate for Arizona's 2nd Congressional District, raised her hand when asked by the moderator if any candidates would declare "support for ICE agents without any increased oversight." She was the only candidate to do so. The crowd erupted in an angry chorus of boos.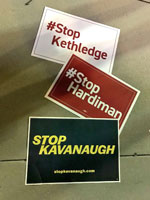 One Picture Shows Why Democrats Who are Protesting Trump's SCOTUS Pick are Unprincipled Losers. Trump could have nominated a reincarnated Earl Warren and he'd face opposition from the goose-stepping, far left, resistance-at-all-costs Democrats.
Why Comey and Company Want Democrats to Take Back the House. House investigators are seeking to learn more about the Obama administration's improper actions toward the Trump campaign in 2016, but with the 2018 midterms quickly approaching, they could be running out of time. The Justice Department inspector general, meanwhile, is also investigating Comey for leaking information to the media. In a recent interview with his House colleague Rep. Sean Duffy (R., Wis.), Nunes accused top officials at the FBI and DOJ of "putting all their chips on the Republicans losing the House" so that Democrats could "shut down" the Intelligence Committee probe.
Antifa Attempts Attack on Lauren Southern — Fails Miserably. The Canadian-born Conservative activist Lauren Southern is on tour in Australia. In a video posted to YouTube promoting her visit, Southern said Australians are "at a crossroads." She asks "Do you want to retain your culture, do you want to retain your borders, family, identity." As you'd expect, her tour will focus mainly on immigration and multiculturalism. The 23-year-old commentator rose to popularity almost exclusively online, working for the right-wing group Rebel Media before pursuing an independent career funded by fan donations, posting her own reports to her YouTube channel that boasts nearly 800,000 subscribers. The cost to see Southern speak in Australia starts at $79 a seat and goes up from there, but it's clear that she didn't have much trouble filling an auditorium despite the cost. Australian media billed her as an "alt-right" activist coming to Australia, which predictably led to Antifa groups planning massive protests against her talks.
They Want Trump's Liquor License Yanked — and They Just Might Win. Five Washington, D.C., religious leaders and two retired or inactive D.C.-based judges have launched an effort designed to force President Trump to fully disengage from the Trump family business while serving in office. And unlike other challenges, this one has a very narrow, precise, and attainable target: The Trump International Hotel D.C.'s liquor license, which Trump continues to hold personally, despite having purportedly stepped back from Trump Organization business dealings.
DC commissioners fight to revoke Trump Hotel liquor license. The anti-Trump resistance has gone from blasting Russia's interference in the White House race to interfering with White Russians. Fox 5 reports that a D.C. Advisory Neighborhood Commission (ANC 4C) is backing a petition that looks to pull the Trump International Hotel's liquor license — citing D.C. law that only individuals of "good character" qualify for a liquor license.
Young Republicans say Uber driver kicked them out of car, taunted 'welcome to the resistance'. Chris Godbey, executive director of the Young Republicans National Federation, and his peers said they were abruptly told to exit an Uber driver's car over the weekend after an event near Raleigh, North Carolina. The reason: an anti-Trump "resistance" driver wanted to deliver a message. "About halfway through the trip our driver said he needed to stop and get gas," said Mary Russell, a federation volunteer, the Daily Caller reported Monday [7/16/2018]. "Then he quickly turned off and stopped the car and said, 'your ride has been terminated and you've reached your destination — and I have the right to deny you service. And so, we were all shocked. ... And then he drove off and said, 'welcome to the resistance.'"
The Left's dismally weak case against Brett Kavanaugh. The venerable Washington Post, the newspaper that brought down a Republican president and spawned at least two Hollywood movies, a paper backed by the resources of the wealthiest man in America, sicced three reporters (including a Pulitzer Prize-winning investigative reporter) and six researchers on Supreme Court nominee Brett Kavanaugh. This fearsome team produced two exposes on the nominee revealing that — drum roll, please — Kavanaugh drinks Budweiser at his local pub and used a credit card to buy season tickets to his hometown baseball team. When NARAL, the multimillion-dollar abortion lobby, trained its resources on the man, they came up with — another drum roll, if you please — a tweet mocking his name and calling him a frat boy.
Will Upcoming Emmy Awards Double as Resistance TV? Awards shows have always had an emotional element to the winners and losers. The best movie, TV show, song, or production should snare the highest awards, but other factors can't help but creep in. When an actor is in his or her golden years, for example, they have a sentimental edge over the competition. Or, as in the case of this year's Best Actor Oscar winner Gary Oldman, a legacy of rock solid performances prior to becoming Winston Churchill in Darkest Hour. Today, there's another factor threatening to overwhelm the usual standards for the best of the best. How does the nominee factor into The Resistance?
Women's March mocked for pre-written press release opposing Supreme Court nominee 'XX'. The Women's March opposes XX. A pre-written — and poorly edited — statement from the Women's March on President Trump's Supreme Court nomination became the subject of mockery on Twitter on Monday night [7/9/2018], including from Mr. Trump's former press secretary. The feminist group blasted out a statement shortly after Mr. Trump nominated Judge Brett Kavanaugh, saying him confimation would "further erode protections for almost every marginalized group in America." The introduction to the statement read "In response to Donald Trump's nomination of XX to the Supreme Court of the United States."
The Democrats Disgrace Themselves. Peter Strzok testified today [7/12/2018] — sort of — before a joint session of the House Oversight and Judiciary committees. The hearing crashed on takeoff and never recovered. After giving an opening statement lauding his own patriotism, Strzok refused to answer questions on the ground that an FBI lawyer had told him not to. What followed was a farce — a farce deliberately created and sustained by the Democratic members of the committee. They interrupted constantly with silly points of order, heckled the committee chairman, and generally tried to disrupt the proceedings.
Protesters Shut Down Major Chicago Highway; Mayor Emanuel Says Go For It, Comrades. Today [7/7/2018], a massive movement of "anti-violence" protesters blocked traffic across a major Chicago highway in an effort to shutdown the road and call for "commonsense" gun laws. Mayor Rahm Emanuel had initially disapproved, then approved of the group's plan to march on the Dan Ryan Highway, but Illinois Governor Bruce Rauner claims today that the group moved beyond what it was permitted to do. The march is led by Rev. Michael Pfleger, an Illinois Roman Catholic priest who advocates liberation theology, and the left-wing Rev. Jesse Jackson.
The Democrat Plot to Stop Trump's Supreme Court Pick. Heeding the call of their radical left base and a pliant Trump-hating media, Democrats are promising total resistance to even meeting with the president's nominee before the mid-term elections, let alone holding any hearings or an up or down floor vote. They are still sore over what they view as the Supreme Court seat stolen from the left in 2016 when Senator McConnell, backed by the Republican majority in the Senate, refused to allow hearings or a vote on former President Obama's nominee to fill the seat left vacant by Justice Scalia's passing, Judge Merrick Garland.
Federal Court Orders DOJ to Begin Searching and Producing Fusion GPS Records in Response to Judicial Watch Lawsuit. Judicial Watch announced U.S. District Court Judge Reggie B. Walton instructed the Justice Department to immediately begin producing records about DOJ communications with Nellie Ohr, the wife of senior DOJ official Bruce Ohr. Nellie Ohr worked for Clinton campaign vendor Fusion GPS on the anti-Trump Dossier campaign document. Judge Walton rejected a Justice Department request to begin producing documents six months from now and ordered the DOJ to begin producing documents immediately on a rolling basis over the next two months. Judge Walton also rejected DOJ's efforts to restrict their search to only 2016.
Sore Loser Hillary Clinton Works to Block President Trump's Next Supreme Court Nominee. President Trump is choosing Justice Kennedy's replacement from a list of 25 judges — the same list he chose Justice Neil Gorsuch from last year. On Friday [29/2018], President Trump said he cut his list of potential Justice nominees down to five candidates, including two women; he will be announcing his pick on July 9th. Twice-failed presidential hopeful, Crooked Hillary wasted no time and immediately got to work fighting Trump's next SCOTUS nominee.
Democrats Plot to Block Trump Kennedy Replacement. Justice Anthony Kennedy's announcement Wednesday of his retirement from the Supreme Court has sent the left into a tizzy. Although Justice Kennedy has often sided with the more conservative-leaning Justices in 5-4 decisions, he has also joined the four liberal-leaning Justices as the swing vote on several contentious cases important to the left involving such issues as abortion rights and same-sex marriage. With Justice Kennedy's retirement, which will take effect at the end of July, the door is open for President Trump to nominate a more reliable conservative replacement in the mold of his first pick, Justice Neil Gorsuch. "We have to pick a great one. We have to pick one that's going to be there for 40 years, 45 years," President Trump told supporters at a campaign rally Wednesday night [6/27/2018] in North Dakota.
DOJ to Devin Nunes: We already 'provided documents and answers to your inquiries'. The Justice Department responded to House Intelligence Committee Chairman Devin Nunes' latest deadline, telling him he already has the "documents and answers" he has been inquiring about. "Your letter asks whether the Department and the FBI 'intend to obey' the law. We believe that is exactly what the Department and the FBI have been doing responding to the Committee's subpoenas and requests," wrote Assistant Attorney General Stephen Boyd in a Monday letter obtained by the Washington Examiner.
Curious Releases — FBI Provides "Initial" Compulsory Documents To House Oversight Amid Ongoing Impeachment Threats. Due to the ongoing and unresolved scale of corruption within the administrative offices of the DOJ (Sessions/Rosenstein) and FBI (Wray/Bowdich), it is no longer possible to provide any benefit-of-doubt regarding their obstruction of oversight. The IG report; the manipulation (red-lining) of the draft content therein; and the subsequent DOJ/FBI willful blindness toward the remaining content; affords no leniency toward motive. In essence, if we are to honestly call the baby ugly, we are also to admit: there is an ongoing and institutional cover-up taking place. Yes, even by Trump officials.
Mark Meadows says Justice Dept. turned over only 'small percentage' of subpoenaed Russia documents. A conservative lawmaker is challenging media reports that the Department of Justice gave members of Congress documents related to the probe of Russia's meddling in the 2016 presidential election. Late Saturday, The Associated Press reported the Justice Department this week turned over documents related to the probe. But Rep. Mark Meadows, North Carolina Republican, called the report "not accurate" and said the department provided merely a fraction of what lawmakers subpoenaed.
DOJ turns over docs to House Intelligence following explicit threats by Republicans. The Justice Department has begun to provide documents to the House Intelligence Committee this week, following explicit threats by Republican chairmen. A small cache of documents was given to intelligence panel staff on Tuesday [6/19/2018], followed by another tranche on Wednesday, a congressional source told the Washington Examiner. The exact content of those records was not disclosed, but they came on the heels of tough talk from House Oversight Committee Chairman Trey Gowdy over the weekend.
DOJ hands over documents to GOP committees after contempt threat. The Justice Department this week gave House Republicans some of the documents they seek related to the Russia election-meddling investigation and Hillary Clinton email probe — after lawmakers threatened to hold officials in contempt for stonewalling.
No more 'internment camps': Democrats disrupt congressional hearing. U.S. President Donald Trump told Republican lawmakers on Tuesday he would back either of the immigration bills making their way through the House of Representatives, as the outcry grew over his administration's separation of immigrant parents and children at the U.S.-Mexico border.
House Dems, John Cusack Block Border Patrol Office in Protest. House Democrats protested the Trump administration deterrence policy of separating children from parents at the border with a rally today in front of the U.S. Customs and Border Protection office. Rep. Joe Crowley (D-N.Y.), the House Democratic Caucus chairman, collapsed at the rally from heat exhaustion. "Thanks for everyone's concern — doing fine now," he tweeted later. "Wish I could say the same for the children and parents at the border."
Judicial Watch Uncovers Hidden Strzok Emails in Clinton-Lynch Tarmac Documents. This is just too rich. We now have emails from notorious anti-Trump, pro-Hillary Clinton FBI officials who seem to confirm that James Comey and Loretta Lynch decided to let Hillary Clinton ride on her email abuses before she was even interviewed by the FBI. [...] The FBI originally informed us it could not locate any records related to the tarmac meeting. However, in a related FOIA lawsuit, the Justice Department located emails in which Justice Department officials communicated with the FBI and wrote that they had communicated with the FBI. As a result, by letter dated August 10, 2017, the FBI stated, "Upon further review, we subsequently determined potentially responsive documents may exist. As a result, your [FOIA] request has been reopened..." This is the second batch of documents the FBI produced since telling us they had no tarmac-related records. So this makes two cover-ups!
Lawmakers Warn IG Being Pressured to Slow Roll Clinton FBI Report. The Department of Justice and the FBI are deliberately attempting to slow roll and redact significant portions of DOJ Inspector General, Michael Horowitz's report on the bureau's handling of the Hillary Clinton investigation, according to numerous congressional officials and investigators. The 400-page report, which was completed several weeks ago and addresses Clinton's use of her private server for government business, is currently being reviewed by the DOJ and FBI. According to sources, individuals mentioned in the reports are also allowed to review the document. It is expected to be "long and thorough" and will criticize the handling of the investigation by former FBI Director James Comey, who has spent the better part of the past several months promoting his book A Higher Loyalty.
State Department says it'll take 45 to 65 YEARS to get me info on its role in the 2016 election. For years my organization, Citizens United, battled the Obama State Department over dozens of Freedom of Information Act (FOIA) requests and lawsuits. It became common knowledge that if you wanted to get information out of the State Department in a timely manner, you had to go to court. During the 2016 presidential campaign, it was Citizens United and Judicial Watch that pried open Foggy Bottom to expose Hillary Clinton's emails and pay to play scandals at the Clinton Foundation. Fast forward to today and we are still being forced to litigate with the "Deep State" Department. Unbeknownst to President Trump and Secretary of State Mike Pompeo, the State Department continues to stonewall our investigations by slow-walking the production of vital documents that might be detrimental to the left's fake narrative of so-called Russian collusion with the Trump presidential campaign.
Tom Fitton: FBI Delays Release of 16 Pages of Clinton-Lynch Tarmac Meeting Docs Again. The FBI once again delayed the release of 16 pages of Clinton-Lynch tarmac meeting docs which were supposed to be given to government watchdog groups Thursday [5/31/2018].
Why the Mueller probe is really five scandals, not one. [Scandal #4] Documents requested by the Senate Judiciary Committee were heavily redacted for supposed national security reasons — which turned out to have nothing to do with national security (including the fact that the FBI had spent $70,000 on a conference table). Meanwhile, more than 1 million documents were withheld from the House Judiciary Committee for so long that the committee had to issue a subpoena. The reason for this deep state resistance is simple. Transparency is going to get a lot of people in trouble — and it goes to the very top. When Lisa Page wrote Peter Strzok in September 2016, "POTUS wants to know everything," there is good reason to believe President Obama was the one she was referring to as POTUS. If President Obama wanted to know everything, given the way his White House worked, it is very likely his senior adviser Valerie Jarrett knew everything. The more we learn, the bigger the scandal web gets.
Environmental red tape stalls border agents trying to fill drug-smuggler tunnels. Environmental red tape is causing "long delays" for border agents as they try to fill tunnels used to smuggle people and dangerous drugs into the U.S. from Mexico, according to border officials and Republican lawmakers who have discussed the problem with agents. Frustrated agents complain the lengthy federal review process can stall critical tunnel-plugging efforts for months after passageways are first discovered. The tunnels are being used to move people, illegal drugs and even fake pharmaceuticals. But regulations stemming from laws like the Endangered Species Act, the National Environmental Policy Act and the Migratory Bird Treaty Act are putting "remediation" on hold.
Progressives on the Brink. The left's opinion of the president, echoed in every left-leaning corner of the media, is that he is illegitimate; incompetent; racist; sexist; and, in some vague and inchoate sense, "fascist." Because they view President Trump in these extreme terms, progressives view themselves not as violent extremists, but as "the resistance." But resistance implies that there exists something worthy of resisting. The progressive resistance began just seconds after Trump was declared the victor on election night. The resistance was not engendered by anything Trump had actually done. It was just a refusal to accept any candidate who varied from the left's own line of thinking.
Republicans override Dem objections to confirm federal judge. The political battle over President Donald Trump's judicial nominees escalated on Thursday when the Senate took the rare step of confirming the nomination of a Wisconsin attorney to serve as a federal judge despite the objections of one of his home-state senators.
The pathetic push to torpedo Gina Haspel. Democrats' obsession with opposing President Trump on all fronts, no matter the merits, opens a new phase this week as CIA Director-designate Gina Haspel goes before the Senate Intelligence Committee. That there's any opposition at all to this supremely qualified candidate only underscores just how petty and partisan the Democrats have become. Haspel would be not only the first woman to head the CIA, but also the first career officer in 52 years to rise through the ranks directly to the director's chair.
Illegal Immigrants Block Traffic in Grand Rapids Marching for Driver's Licences, Other Rights. Thousands of protesters marched in Grand Rapids, Michigan this week demanding rights for illegal immigrants. Blocking traffic has become a staple tactic for the left despite being extremely dangerous and annoying.
Stormy Daniels' Lawyer Makes Stuff Up About Probe Into Trump's Lawyer. It was quite the week for lawyers outdoing themselves on television. Let's start with the ever-present Michael Avenatti. In less than two months, Avenatti appeared on CNN 59 times. Fifty-nine times! As tweeted by the Washington Free Beacon's David Rutz, Avenatti appeared on seven different programs on MSNBC on a single day, May 4. [...] On Thursday [5/3/2018], he was on MSNBC and just made stuff up about Trump lawyer Michael Cohen and the alleged "wiretap." I'm not exaggerating. He not only spewed nonsense, but he made it appear that he had inside knowledge to confirm his statements as fact.
How To Counter Democratic Obstruction Of Trump Nominees. Senate Democrats are holding up President Trump's nominees to a degree never witnessed before in my lifetime, and probably not in all of American history. [...] What is to be done? Sen. James Lankford has presented a resolution that would cut post-cloture debate for most executive branch nominees from 30 hours to just eight. It passed the Senate Rules and Administration Committee on a 10-9 straight party line vote. Unfortunately, it seems destined to fail in the Senate. Sen. Susan Collins says she opposes the Lankford measure. With Sen. John McCain absent (and who knows how he would vote if present), the resolution almost surely will fall short of majority support.
Let's talk Deep State. [Scroll down] To make matters more interesting, in 1962, by fiat, JFK did what no one had dared to do before: Permitted the unionization, after the Italian Fascist form, of government employees, colective bargaining et al. Nixon modified it in 1969, but the cat was out of the bag. [...] The unionization of government employees created a new class of American citizen: A mass of untouchables who ran the daily business of government and who, through the alliance of their unions with the Democratic Party, created a state within the state. Government contracts flowed in one direction guaranteeing the unions ever increasing revenues, and these let the campaign contributions flow at the same rate; and an army of "operatives" was ready to stuff envelopes, slash tires or, more recently, write absentee ballots. If an opponent was elected by chance, he or she'd have to confront a sea of molasses slowing their every move.
Are There Any Adults Left in Washington, D.C.? Trump is a junkyard dog from New York City. He will fight back and likely prevail, but at what cost to his administration, his agenda, the Constitution, and the country? Is this Trump coup, attempting to force him out of office or pressure him to resign, worth the damage to the Constitution and the country? Fortunately, the president's agenda successfully marches on, but imagine how much more he could be accomplishing if he didn't have everyone in Washington, D.C., including his own party, constantly throwing stones and placing roadblocks in his way.
Revolution and Worse to Come. First came the failed lawsuits after the election alleging voting-machine tampering. Then there was the doomed celebrity effort to convince some state electors not to follow their constitutional duty and to deny Trump the presidency — a gambit that, had it worked, would have wrecked the Constitution. Then came the pathetic congressional boycott of the inauguration and the shrill nationwide protests against the president. Next was the sad effort to introduce articles of impeachment. After that came weird attempts to cite Trump for violations of the emoluments clause of the Constitution. That puerile con was followed by plans to declare him deranged and mentally unfit so that he could be removed under the 25th Amendment. From time to time, Obama holdovers in the DOJ, National Security Council, and FBI sought to leak information, or they refused to carry out presidential orders.
TGP Still Under DDoS Attack Since Posting Soros Article- 918K DDoS Hits Today. The Gateway Pundit has been under constant DDoS attack for the past ten days from an unknown source originating in California, DC, and Seattle. A DDoS (short for distributed denial of service) attack is a cyber attack that floods a website with so much fake traffic that the server that the infrastructure that hosts the website is unable to function, shutting the site down and providing unreliable service. It's a very common tool used by malicious leftists, the Drudge Report was targeted with a similar attack last year.
Supreme Court justices to weigh in on Trump's powers with travel ban case. What the Supreme Court does with President Trump's travel ban case, which reaches the justices this week, is likely to determine whether courts across the country give him the usual deference due a president and allow him leeway to pursue his immigration crackdown — or whether they join the anti-Trump resistance determined to thwart him at every turn. From battles in California, Illinois and Pennsylvania over sanctuary cities, to illegal immigrant teens gaining abortion rights, to the border wall, to Mr. Trump's attempts to limit some paths to legal immigration and to cancel the Obama-era Deferred Action for Childhood Arrivals program for illegal immigrant Dreamers, immigration rights activists and the administration have been battling on nearly every front of the issue.
Supreme Court and the Trump travel ban case: What's really at stake is our country's future. The threat began with the practice, begun over a year ago, of federal District Court judges announcing that Trump's travel bans were unconstitutional. It wasn't that presidents lack the authority to manage immigration policies. That wasn't in question. Rather, it was the authority of this president that was impugned. Trump was poison, and his directives were the fruit of a poisoned tree. He had shown himself to be biased against radical Islam, and as a consequence was deprived of any constitutional authority over immigration from Muslim countries. As the Fourth Circuit Court of Appeals put it, Trump's tweets showed that he was "tainted with animus toward Islam." There have been a series of such decisions, from District judges cherry-picked as Trump haters. And they did more than impugn Trump's authority in their judicial District. They went beyond this to issue a countrywide injunction, a single judge ruling over the United States as a whole.
Tom Perez: DNC didn't ask Hillary Clinton for permission to file collusion lawsuit. Democratic National Committee chairman Tom Perez said failed presidential candidate Hillary Clinton has not been consulted on the DNC's civil lawsuit alleging collusion between Russia, WikiLeaks, and the Trump campaign. Perez said on NBC's "Meet The Press" Sunday he hadn't talked to Clinton ahead of the DNC filing the lawsuit. "I have not consulted Hillary Clinton to ask her permission to file a complaint. The buck stops with Tom Perez and we filed this complaint because our democracy is at risk," Perez said. "This was an assault on our democracy and we have to protect that."
The Editor says...
[#1] If you filed a lawsuit on my behalf, and for my benefit, would you not consult with me first? [#2] What are the plaintiffs asking for? The reversal of the last presidential election? Would the benefits outweigh the enormous consequences? This is the political equivalent of a chess player throwing a tantrum upon realizing he can't win. Civilized people don't act that way.
FBI Wants to Take 16 Months to Process Only Half of Comey Docs Requested Under FOIA. President of Judicial Watch Tom Fitton was outraged on Thursday [4/19/2018] after the FBI told the watchdog group it will take 16 months to process only half of the Comey docs they requested under FOIA.
Muslim group sues to block Trump terrorism report. Two anti-Trump organizations filed a lawsuit Monday [4/9/2018] arguing that a government report earlier this year linking immigrants to most of the country's terrorism cases since 2001 is so misleading that it violates federal law. The request seeks to recruit federal judges to police the accuracy of the administration, in what — if it's successful — could become a model for anti-Trump groups to push back on a president they see as having a tenuous connection to the truth. The January report concluded that 73 percent of the 549 people convicted of international terrorism between 2001 and 2016 were foreign born.
Screaming Code Pink Leftists Interrupt Mike Pompeo Senate Hearing. [Video clip]
Indian Tribe Won't Let National Guard Into "Most Notorious Area for Drugs Entering the County" — Border Patrol: "They Told Us They Don't Want White Man on Their Land". An Indian reservation along one of the most perilous sections of the Mexican border won't allow National Guard troops to enter its land, which is a notorious smuggling corridor determined by the U.S. government to be a "High Intensity Drug Trafficking Area (HIDTA)." Sources inside the U.S. Border Patrol and other law enforcement agencies working along the Arizona-Mexico border tell Judicial Watch that the tribe, Tohono O'odham Nation, has banned National Guard troops deployed by President Donald Trump to help crack down on a crisis of drug smuggling and illegal crossings along the 2,000-mile southern border. "They told us they don't want white man on their land," said a high-level federal official working in the region. "The agency, of course, is going to cater to that."
FBI Notifies Judicial Watch It Needs At Least Three Years To Turn Over Strzok-Page Communications. On Monday [4/9/2018], the FBI notified Judicial Watch that the bureau will need at least three years to hand over "releasable," communications between anti-Trump FBI agents Peter Strzok and Lisa Page.
Federal judge blocks Trump administration officials from stopping immigrant teens from getting abortions. A federal judge on Friday evening temporarily blocked Trump administration officials from stopping pregnant, unaccompanied immigrant teens who are or will be in federal custody from getting an abortion. Judge Tanya Chutkan of the U.S. District Court for the District of Columbia said the Office of Refugee Resettlement (ORR) is violating the teens' constitutional rights to obtain the procedure. According to the judge, the administration cannot strip unaccompanied immigrant minor children "of their right to make their own reproductive choices," Chutkan wrote in the decision.
The FBI Gets The Attention Of The AG And Courts Over Ignoring Subpoenas. Morale Possibly Ruined. Late last week, House Judiciary Committee Chairman Bob Goodlatte hit Deputy Attorney General Rod Rosenstein with a subpoena for documents related to several investigations, such as the Clinton email investigation. What brought this on was stonewalling of the committee's document requests by the FBI.
Injunction Junction, What's Your Function? Since taking office, President Trump has phased out President Obama's Deferred Action for Childhood Arrivals program for illegal aliens, initiated a travel ban, put in a place a new policy on refugees, and stripped federal grants from sanctuary cities. So, why aren't any of these policies in place? Because each of them has been blocked by individual judges at the lowest level of the federal judiciary. District judges, empowering themselves with a judicial tool known as the national injunction, have single-handedly blocked the president from implementing his electoral mandate.
Democrats' Obstructionism is Unprecedented. When the Democrats say, "He's not my president," they aren't kidding. Most Democrats still refuse to accept the result of the 2016 election, and their party consistently refuses to extend to President Trump the routine cooperation that makes our democracy function. The most blatant example of this is the Democratic minority in the Senate. The Democrats under Chuck Schumer have abused longstanding Senate rules and courtesies in a way that we have never seen before.
White House: Chuck Schumer's 'Historic' Obstruction Will Block Some Trump Admin Nominees for More than a Decade. Legislative Director Marc Short took the White House briefing podium on Friday to call out "historic obstruction" by Democrats for requiring 30 hours of debate over Trump administration nominees at a rate far beyond that which prior administrations faced. Short repeatedly pointed to Democrat Senate Minority Leader Chuck Schumer for "...the historic obstruction that we have faced by Sen. [Chuck] Schumer and Senate Democrats in confirming our nominees to enable us to fill out our White House."
FBI Continues to Skirt Court Order to Turn Over McCabe Communications. For more than two months, the FBI has failed to abide by a judge's order to turn over all of former FBI Deputy Director Andrew McCabe's text messages, emails and SMS phone messages to a government watchdog group that has filed a lawsuit on behalf of a former senior FBI special agent. The communications in question are related to McCabe's wife's unsuccessful run for Virginia State senate and might also contain invaluable information on McCabe's role in the Bureau's investigation into Hillary Clinton's private email server used to send classified information, several former FBI sources and a government official told this reporter.
Pity a Poor Liberal Activist. If you haven't noticed in the last week or so, our liberal friends seem to have taught just about every young head full of mush how to do "protest." In the liberal universe, activism and protest are the highest forms of human social interaction. When liberals enact a day of marches, or a town hall full of baying students, this is seen by all as a triumph of the progressive will and faithfully recorded by our modern Leni Riefenstahls. But is it really such a good idea?
Dems Delay Trump's Judicial Nominees by Running Out the Clock. President Donald Trump has nominated 84 people for federal judgeships. Yet despite Republicans' enjoying total control of the federal government, the judiciary has more vacancies than when the president took office. Trump inherited 112 vacancies when he took the oath of office in January 2017. That has grown to 148, a 32 percent increase, according to the Administrative Office of the U.S. Courts.
Democrats Stonewall Ed Civil Rights Nominee As Anti-Semitism in Schools Rises 94%. Democratic obstruction in the Senate has left the Department of Education without leadership in its office of civil rights at a time when anti-Semitism has risen by 94 percent in U.S. schools. Kenneth Marcus, the Trump administration's nominee to be assistant secretary for civil rights, has been stalled since Oct. 30. Marcus is the founder and president of the Louis D. Brandeis Center for Human Rights Under Law, a nonprofit dedicated to advancing civil rights of the Jewish people. Marcus was not confirmed out of the Senate HELP committee until last month on a party line vote and now awaits confirmation before the entire body. While the permanent position to lead the civil rights division remains vacant, news broke this week that anti-Semitism is surging throughout America, particularly in K-12 schools.
Anti-Trump bureaucrats accused of weaponizing security clearance process. The security clearance process has tied the Trump administration in knots — and that is exactly what the bureaucrats running the White House personnel security office intended, said a lawyer who has been battling the office. The problem is a small group of career bureaucrats holed up in the Old Executive Office Building who turned security reviews into quicksand to ensnare President Trump's team, said Sean M. Bigley, a federal security clearance lawyer who represents several senior administration officials caught up in the process. "The security clearance process is being weaponized by anti-Trump bureaucrats who are using it as a tool to not only thwart the president's agenda but to prevent him from installing appointees who will execute it," Mr. Bigley told The Washington Times.
Liberal state attorneys general promise unrelenting fight against Trump for 'illegal' environmental moves. A coalition of liberal state attorneys general opposing the Trump administration's rollback of environmental regulations expressed confidence on Tuesday that they would emerge victorious in court. "We are resolute with our colleagues that we will fight tooth and nail to stop reckless activity by Secretaries Zinke and Pruitt, who not only fail to act as stewards, but joyride around the country on first class flights consulting with folks on the other sides of these issues and fail to stand up for the American people," said Maryland Attorney General Brian Frosh, referring to Interior Secretary Ryan Zinke's and EPA Administrator Scott Pruitt's frequent use of first class travel. Frosh, a Democrat, on Tuesday participated in a briefing for reporters with colleagues on the sidelines of the National Association of Attorneys General 2018 Winter Meeting in Washington. He was joined by fellow Democratic state attorneys general Xavier Becerra of California, Maura Healey of Massachusetts, and Karl Racine of Washington D.C.
Mark Levin: The attacks on Trump and his family are 'unparalleled in American history!'. Friday night [3/2/2018] on his radio show, LevinTV host Mark Levin went off on the media and the Democrats for their attacks on President Trump and his family, calling their relentless assault "unparalleled in American history!" "I have never seen anything like this in my entire life ... these people have done nothing to deserve this kind of treatment," Levin said. He also broke down how leftists in the government and media have sought to undermine Trump since the beginning of his campaign.
Dem Obstruction of Education Officials Handcuffing Agency on School Safety. The Department of Education has been handcuffed as it works to provide guidance on school safety following the murder of 17 students at a Florida high school due to continued Democratic obstruction of nominees for its top leadership posts. One appointee who has been waiting months to be confirmed is Frank Brogan, who happens to have a personal experience with school shootings.
Senate Democrats are trying to stall Trump's nominations by rewriting the history of 'blue slips'. The blue slip was not intended to give a single senator the power to veto the president's nominees for political or ideological reasons. But in 1956, Sen. James Eastland, D-Miss., became chairman of the Judiciary Committee and decided to change tradition. He imposed a strict policy requiring both home-state senators to return positive blue slips before he would schedule a hearing for a nominee. Some scholars have maintained that Eastland, an unapologetic segregationist, adopted this policy to prevent judges sympathetic to school desegregation from sitting on the federal bench in the South. Sen. Ted Kennedy, D-Mass., succeeded Eastland as chairman in 1979 and reverted to the original blue slip policy. Under Kennedy, a negative or unreturned blue slip would not necessarily prevent the nominee from receiving a hearing before the committee.
How the Pennsylvania Supreme Court Could Derail Trump's Agenda. It was ruled constitutional in 2013 — but then unconstitutional in 2018. Yet it, the Pennsylvania congressional districts map, hasn't changed in the last five years. Nor has the Keystone State's constitution. What's different is Pennsylvania's Supreme Court; it now has five more Democrats and has decreed that the judges' own redistricting map, which gives a relative advantage to Democrats, must be implemented. As Politico reported, "Democrats' hopes of winning the House this fall got a boost Monday with the release of a new congressional-district map in Pennsylvania that could help the party pick up several seats in the battleground state." This, along with redistricting challenges in other states, could facilitate a congressional power shift that helps derail President Trump's agenda.
Yes, It's True, Michael Moore Did Participate In A Russia-Sponsored Anti-Trump Rally. The question now is who paid for Mr. Moore's trip there? Moore is notoriously stingy and has a longtime habit of showing up to such events after negotiating a fee to do so. Did he collect a fee for this? Who provided transportation? Was it the DNC? The Hillary Clinton campaign? And if so, would that not be clear evidence of collusion between the DNC/Clinton with the Russians? They did it with the fake Trump dossier. Why not with fake anti-Trump rallies — some of which became very violent by the way, thus pushing the wrongdoing beyond mere collusion and into full-on treason.
The Judicial Resistance Reveals Itself. Over the past 60 years, the federal judiciary has led a transformation of American society -- from mandating enormous expenditures on diversity programs, to requiring the provision of abortion on-demand, to redefining the meaning of marriage itself. No other nation in the world has been subjected to these judicially imposed upheavals. But the 2016 election, in challenging the wisdom of our ruling elites, has elevated this judicial activism even further, fostering what constitutional law professor Josh Blackman has aptly dubbed the "judicial resistance."/p>
Our New Secessionists. As the months pass, however, and Trump's achievements pile up the disjunction between the reality of his administration and the hysteria of his opponents becomes ever more glaring. We long ago passed through the stage where the antics of "The Resistance"™ seemed merely comic to the stage where they are merely pathetic. What, after all are they resisting? The results of a free, open, democratic election in which their candidate lost.
Our Radicalized Media: A Clear And Present Danger. The Washington establishment, the Deep State, and special interests have launched their own jihad, built on a battle cry to "resist." Today, calls to "resist!" echo through Congress as half of the House and Senate stage a mutiny against a duly elected president. "Resist!" is the call to arms from Democrat leaders (Hillary Clinton and Barack Obama) and radical activist groups (Black Lives Matter, Antifa). More than 50 organizations have formed to "resist!" the Trump administration. Just as ISIS leader Abu Bakr al-Baghdadi calls on his followers to resist infidels, so this Washington cabal calls on its warriors to resist our government, to obstruct the president. These machinations are not conducted in the shadows, not a secret plot carried out in the dead of night. It's all in our faces.
Police Remove Activists Blocking Way to US Bank Stadium. Police in Minneapolis have removed protesters who locked themselves across a light-rail line near U.S. Bank Stadium, temporarily halting trains carrying fans to the game. Activists protesting police brutality chained themselves along the Green Line carrying ticketholders to the Super Bowl on Sunday [2/4/2018], stopping trains in both directions. In a release Sunday afternoon, organizers said Black Lives Matter, the Movement for Black Lives and other groups shut down light rail at "several critical transit lines in Minneapolis" starting about 2:30 p.m. It was unclear how many lines were affected.
Good speech - tough room. President Trump was good. Maybe even great at last night's State of the Union address. One problem, though. Too many in the room were rooting against him, and always will, no matter what he says. They want him to lose and when he succeeds, to them, to the Democrats, it's counted as a failure for their cause and their Party. So, everything that's right for the country is wrong for them — means another seven years on the outside looking in... and they certainly will not join him to Make America Great Again. While HE'S in office? No way. Their job is to trip him up at every turn. The last thing they want is to "work together."
The Shabby, Sophomoric Behavior of Democrats at the SOTU. It is difficult to imagine a more galling demonstration of incivility than the Democrats in the room for Trump's SOTU speech. They scowled, frowned, and sat on their hands throughout the speech. They could hardly be bothered to acknowledge the heroes in the audience when they were introduced. While the Dems brought illegal immigrants, Trump invited actual paragons of American character and the families of victims of illegal immigrant crimes, as well as a victim of North Korea. It was embarrassing, like watching the anti-Semites in the UN stomp out of the room when Benjamin Netanyahu speaks. How is it any different? Our Democrats behave exactly like the most racist, intolerant people on the planet, and in their own Capitol.
Despite Dems' Petulant Scowling, Trump's SOTU Was Strong and Effective. From start to finish, Democrats looked like they were attending a funeral. Some didn't stand, and many did not applaud, as the president entered the chamber and made his way to the lectern, bucking a long bipartisan tradition. They rose and cheered when they absolutely had to, but remained seated and stone-faced throughout much of the speech — including appearing glum or bitter as Trump celebrated unequivocally good news for the American people. It wasn't a great look. We get it, guys — you don't like Trump and you oppose most of his agenda. But looking downright angry when the president accurately notes that, for example, black unemployment is at an all-time low looks really strange.
No class.
Democrats scoff, boo, groan, glower at Trump's State of the Union. Many Democrats showed how little stock they put in Trump's calls for cooperation by staying seated during rhetoric that would have prompted bipartisan applause if it came from almost any other president. And on Twitter, Democrats splashed cold water in real-time on Trump's proposals, even on traditionally noncontroversial items like infrastructure spending and combating the opioid epidemic.
Prejudged: Liberals Warn Pundits Not To Call State Of The Union 'Presidential'. Hours before the State of the Union address, many prominent liberals were already forming the left-wing narrative in response to the speech by warning their fellow ideologues against referring to anything President Donald Trump says as "presidential." New York Times columnist Charles Blow made it clear he will be banning anyone who uses the word, no matter what the president says.
Senator Grassley burrowing in to DoJ, Democratic party corruption. If there's one thing Democrats have learned since Republicans took over the House and Senate, it's that they can stonewall, lie, and simply refuse to answer questions put to them with no consequences whatsoever. From the ATF, to the IRS, to the State Department, to the Clinton Foundation and Hillary's staff, the byword has been non-cooperation. Think of all the subpoenas that have been ignored or only partially filled. Think of the misleading and even lying testimony given over the years.
From Conspiracy Theories to Conspiracies. [D]id anyone believe that in the year 2017 the losing side in an American election would immediately dub itself the "Resistance" — channeling the World War II nomenclature of the guerrilla campaign against the Nazi occupation of France? Or that the defeated candidate Hillary Clinton would formally embrace the imagery of liberationist patriots fighting a Nazi-like Trump's occupation of the United States? One ingredient for removing a president would entail a nonstop effort by the opposition to use the courts, the legislative branch, the investigatory agencies, and the administrative state to discredit, undermine, and remove an elected government.
Using Nullification To Destroy Federalism. Animosity reigns supreme among Democrats who now are anything but "the loyal opposition." The intention to disrupt, undermine, insult, reject, and vilify anything and everything about President Donald Trump's person, his programs, and his policies is there for all to see. Character assassination is but one dimension of the attack on this administration. Ridicule on late night talk/comedy shows is standard and has been standard throughout the President's first year in office. Incessant conversations about the investigation into the bogus "Russia collusion" has been allotted more than 80% of news and discussion time on major media outlets. But lately, with the failure to make collusion stick, the failure to make Trump's mental health disqualification stick, the failure to make his breaking of the emoluments clause of the Constitution stick, and the failure to make his supposed womanizing and #metoo wrongdoings stick, the disloyal opposition is now clinging to the charge of racism for his having reversed President Obama's executive order regarding DACA for a class of persons living within our borders.
Desperation Time As Democrats Seek to Stop Trump From Succeeding. Remember back in the day when Democrats were supposed to be the friends and protectors of oppressed minorities who stood up for their rights out of basic decency and courage? Me neither — the Party of Bull Connor was never really concerned about any minority, just about creating client voter groups they could pillage for money and ballots. Well, now the Democrats are holding up the confirmation of Ric Grennell as ambassador to Germany. Luckily, Germany is not an important country going through a political crisis right now. Phew! So, why are the Dems eager to ensure this vital post remains unoccupied? Because Ric is openly gay and a hardcore conservative. His track record at the U.N. as a U.S. spokesman beating the foreigners into line is terrific, and he went to all the fancy schools that normally make the pinkos squee, but the Democrats just can't let Trump nominate an openly gay, pro-military conservative to a very high position in the government. That would be another blow to the lie the Dems have been telling their clients for decades about how the Republicans are evil monsters of terror.
Report: 'Resistance' Leader George Soros Spent $16 Million Opposing Trump in 2017. Radical leftist billionaire George Soros has funded violent insurrections all across the globe. In 2017 alone, Soros spent a record $16 million opposing President Donald Trump.
The Resist Movement in the Federal Government. The #Resist movement is strong within the federal government. Ever since Donald Trump became president, his policies — or frankly, just his presence — has led government workers to stage public protests or quietly resign.
The DeepState Endgame. Immediately following the election we commenced Operation Hypo. As I noted in the after action report, a new phase of infiltration and investigation was launched to penetrate the "resistance" movement that had been formed to obstruct the President and attempt to remove him from power. Our efforts started by infiltrating a George Soros led group named "Democracy Alliance". This organization is singularly focused on undermining the President and financially supporting a myriad of efforts towards that objective.
Rep. Adam Schiff, election transparency crusader, does NOT want to Release The Memo. California Democrat Rep. Adam Schiff has been among the leading voices on the Left calling for full transparency about the 2016 election so the American people can know exactly what happened. However, the transparency Schiff has called for apparently only applies to anything that might fit the Democrats' "Trump/Russia collusion" narrative. As far as the classified memo that has shocked Republicans in Congress by documenting alleged surveillance abuses, Schiff is saying "not so fast":
Schumer's shutdown reveals: Democrats will destroy America just to spite Trump. Donald Trump was inaugurated one year ago after promising to make America great again. Throughout the campaign everyone knew what he believed, though it was not clear what his opponents stood for. The Schumer shutdown has revealed the totality of the Democrats' agenda: animosity and amnesty. When President Trump set out to deliver historic tax cuts for the American people, Democrats sat on their hands, rather than participating in the legislative process. Now they've come off the sidelines to actively sabotage the government established to serve the American people. Their stated reason for doing so is even more astounding than the act itself.
What The Shutdown Tells Us About Modern Democrats. Democrats will block the longest-ever extension of the CHIP program, because they believe it politically expedient to connect the DACA issue to the funding debate. Perhaps it's good politics. We'll see. But the fact is, during the shutdown of 2013, the consensus of all serious, right-thinking people was that Republicans, who took basically the same position, were unfit to govern.
A Primer on the "Government Shutdown". It seems Senate Democrats are determined to have a government shutdown probably because of the default requirement of the Democratic base of "total resistance" to Trump. [...] Democrats are banking on the premise of the media-academic complex that a government shutdown will be blamed on Republicans. The second premise of the media-academic complex is that Republicans are supposed to forever be the Washington Generals to the Democratic Progresstrotters, and roll over for "the side of history." Trump just might be the kind of person who will call an end to this perverse state of affairs.
Democrats decree death in the swamp for the Dreamers. Chuck Schumer, Nancy Pelosi and their Democratic followers laid a careful trap for their Republican tormentors, and then fell in it. The Republican leadership can keep them from climbing out if they're smart and show a little courage. Determined not to recognize the results of the 2016 election, as if they were the losers of an election in a third-world backwater, the losers set out to put their candidate on the throne by "any means necessary." The Democrats established not the usual loyal opposition, but a "resistance." A resistance does not try to make a government work, but to thwart it by fair means or foul.
Fearful Dems preemptively strike State of Union. "Democrats ramp up efforts to boycott Trump's State of the Union address," blasted one Fox News headline. That's after four Dems — Reps. Frederica Wilson, Maxine Waters, John Lewis and Earl Blumenauer — announced intent to boycott the speech. Not that anyone cares. But just in case you wondered why, here's a bit, from Waters to MSNBC: "Why would I take my time to go and sit and listen to a liar?" [...] All this comes in addition to Democrats' announced plans to bring sexual misconduct victims to the speech — not to protest their own party's Al Franken-types, but rather, allegations against Trump — and to hold as many protests both inside and outside the venue as possible.
Democrats ramp up efforts to boycott Trump's State of the Union address. Florida Rep. Frederica Wilson added her name to a growing list of Democratic lawmakers who say they are fed up with President Trump and will boycott his State of the Union address at the end of the month. Wilson, who was elected in 2010 and made headlines last year for fighting with Trump over his telephone call to the widow of a fallen soldier, cited the president's "recent racist and incendiary remarks about Haiti and African nations" for reasons why she wouldn't be attending the Jan. 30 speech. "For the first time since I began serving in the U.S. House of Representatives, I will not be attending the president's State of the Union address," Wilson said in a statement late Sunday [1/14/2018]. "I have no doubts that instead of delivering a message of inclusivity and an agenda that benefits all Americans, President Trump's address will be full of innuendo, empty promises and lies."
The Editor says...
Barack H. Obama made his share of State of the Union speeches that were "full of innuendo, empty promises and lies," and the Republicans didn't boycott those event for political gain. As a public service, I have kept excerpts from the reviews of Obama's SOTU speeches (and many others) here and here.
The Obstruction of a Vital Election Integrity Commission. The commission's assignment was to examine the integrity and security of the American election process. It was similar to work done by several prior presidential commissions. This time, however, unprecedented obstruction from many state election officials and partisan "lawfare" made fulfilling our responsibilities virtually impossible. Right off the bat, a third of the states flatly refused to give the commission the voter registration and voter history data we requested — even though it is supposed to be publicly available information. States routinely provide that same data to political parties, candidates, and other third parties. There are only two possible explanations for their refusal: either they were part of the partisan resist-Trump-at-any-costs movement, or they were afraid of what we might find. Additionally, a swarm of meritless lawsuits, filed by progressive groups, hobbled our ability to make progress on our assignment. Even one of our fellow commissioners joined in. Maine Secretary of State Matt Dunlap (a Democrat) rushed to federal court because he didn't feel sufficiently included.
Is the Washington Post Part of the Far Left? We may have been the first to expose the Democracy Alliance, back in 2014. The Democracy Alliance is a shadowy group of far-left money men who organize their efforts to try to radically transform American society through left-wing organizations of various kinds. The Democracy Alliance rates such groups and encourages its far-left donors to support those who rate the highest, and it attempts to coordinate the efforts to transform America that are carried out by elements of the far left. [...] The Democracy Alliance seeks to lead the "resistance" to President Trump's common-sense policies, and the Washington Post has placed itself squarely in the ranks of the "resistance." (When a Democrat is president, resistance is called "obstructionism.")
A Ludicrous Ruling That Trump Can't End DACA. Yesterday [1/9/2018], Judge William Alsup ordered the Trump administration to keep its predecessor's Deferred Action for Childhood Arrivals (DACA) program in place. This remarkable 49-page order has all the aesthetics of a judicial decision but is, at heart, an amateur act of punditry. Judge Alsup paints the picture of a divided White House, wherein "the Chief Executive publicly favors the very program [his Administration] has ended." Citing a "presidential tweet," the court suggests that DACA's recision "was contrived to give the administration a bargaining chip to demand funding for a border wall in exchange for reviving DACA." These talking points could have been plagiarized from the MSNBC chyron. Such rhetoric in a judicial decision would have been unthinkable barely a year ago. But now it passes for the new normal. Once again, the judiciary has attempted to shackle President Trump from making his own judgments about how to exercise his own power. The Supreme Court has reversed Judge Alsup's outlandish rulings on DACA before. And it will do so again.
Trump and Sessions must tell this amnesty judge to shove it. Not in [Alexander] Hamilton's wildest imaginings could he ever have envisioned a time when a lowly district judge can force a president to make denizens of aliens, contrary to the most foundational sovereignty statutes. Even King George couldn't do what Obama did on immigration without the consent of Parliament, according to the Library of Congress. In that sense, the power of lower court judges has been elevated to a higher status than that of a king, much less a president. Remember when Hamilton said even the Supreme Court would have "neither force nor will" on political issues even governing American citizens? Those were good days. It's not worth delving into the details of the ruling from this Antifa-style judge in San Francisco who declared last night that Trump must continue renewing work permits, visas, and Social Security cards for people who, pursuant to law, must be deported. After all, Judge William Alsup is merely continuing "the resistance," with the power of supremacy that even conservative legal eagles have bestowed upon the judicial robes. Let's put aside the fact that it is a settled, uninterrupted stream of case law that illegal aliens are considered as if they are outside the country and do not have standing to sue in court. This is why we have administrative immigration judges, given that aliens have no access to Article III courts.
Judge rules against Trump administration on rescinding DACA. A federal judge in San Francisco on Tuesday barred the Trump administration from turning back the Obama-era DACA program, which shielded more than 700,000 people from deportation, Reuters reported. U.S. District Judge William Alsup, an appointee of President Bill Clinton, ruled that the program must stay intact while litigation is played out. Alsup ordered that until a final judgment is reached, the program must continue and those already approved for DACA protections and work permits must be allowed to renew them before they expire.
The Judicial Rebellion. We are witnessing a treasonous rebellion by leftist judges who are declaring the last election null and void. At the core of these traitors' arguments is the belief that the people do not have the right to express their views through the electoral process. Essentially, these courts are declaring that President Trump doesn't have the same authority as his predecessor and that the powers of the executive branch are constrained by what the judiciary thinks is good policy. These judges assert that President Trump can't overrule the executive orders of his predecessor with his own executive orders. If that were the case, elections would be meaningless, since one president could effectively prevent the people from rejecting his position by voting for a candidate who disagreed with him. We see this in the judge's ruling on DACA. Ignoring for a moment the fact that DACA was an unconstitutional usurpation of power by Obama, there is still a huge problem with a court effectively declaring that one president, Obama, can make edicts that other presidents can't change.
Judicial Anarchy Over DACA. A federal judge, U.S. District Judge William Alsup, took it upon himself to order that the Deferred Action for Childhood Arrivals program (DACA), put in place by former President Obama's executive order and wound down towards ultimate termination by President Trump's own executive order last September, must stay in place at least for the time being. The judge issued a preliminary injunction against ending DACA while lawsuits over President Trump's decision go forward. The effect of Judge Alsup's order is to throw out a temporary lifeline to the illegal immigrant "Dreamers" who have or have had DACA protection to be able to continue staying and working in the country while they apply for renewals. Needless to say, President Trump was not happy with this latest example of judicial overreach.
White House: San Francisco Court DACA Ruling 'Outrageous'. The White House responded to a ruling issued by a federal district court in San Francisco demanding that President Donald Trump immediately reinstate DACA. "We find this decision to be outrageous, especially in light of the President's successful bipartisan meeting with House and Senate members at the White House on the same day," White House Press Secretary Sarah Sanders said in a statement. Sanders added that President Donald Trump was determined to work on DACA through Congress, not through executive action.
Leaked Memo: DREAMers Are 'Critical' To Dems 'Future Electoral Success'. The Center For American Progress (CAP) Action Fund circulated a memo on Monday calling illegal immigrants brought here at a young age — so-called "Dreamers" — a "critical component of the Democratic Party's future electoral success." The memo, co-authored by former Clinton communications director Jennifer Palmieri, was sent around to allies calling on Democrats to "refuse to offer any votes for Republican spending bills that do not offer a fix for Dreamers and instead appropriate funds to deport them."
Kris Kobach: Voter Fraud Commission 'Being Handed Off' to DHS, Will No Longer Be 'Stonewalled' by Dems. Kansas Secretary of State and gubernatorial candidate Kris Kobach says the Presidential Advisory Commission on Election Integrity will be "handed off" to the Department of Homeland Security (DHS) to "more effectively" investigate voter fraud without being "stonewalled" by Democrats. In an interview with Breitbart News, Kobach said the news that President Trump is dissolving the voter fraud commission should not be grounds for leftist organizations and Democrats — who sought to stop the investigations into double voting and ballots cast by non-citizens — to celebrate, as the investigations will continue under DHS.
Dem Wants To Block Trump From Nuclear First Strike Without Congressional Permission. California Democratic Rep. Ted Lieu told his Twitter followers Tuesday night to support his legislation to prevent President Trump from launching a nuclear first strike without congressional authorization. The bill, known as the Restricting First Use of Nuclear Weapons Act of 2017, (H.R. 669), had been proposed by Lieu and was referred to the House Committee on Foreign Affairs last January, just four days after Trump was sworn into office. According to the bill summary, the legislation would bar the president from using the military "to conduct a first-use nuclear strike unless such strike is conducted pursuant to a congressional declaration of war expressly authorizing such strike."
Texas County 'Concealing' Noncitizen Voter Records, Says Group. A public interest watchdog put one Texas County on notice for failing to disclose noncitizen registered voter records, the group says. Shortly before the holidays, the Indiana-based Public Interest Legal Foundation (PILF) sent a letter to attorneys representing Bexar County Elections Administrator Jacqueline Callanen to state her office is "hereby notified that it now faces federal litigation should [it] continue to deny access to requested" records related to voters that were later removed for failing to be U.S. citizens.
New York's Attorney General in Battle With Trump. Eric Schneiderman, New York's attorney general, reached a milestone of sorts recently. By moving to sue the Federal Communications Commission over net neutrality this month, his office took its 100th legal or administrative action against the Trump administration and congressional Republicans. His lawyers have challenged Mr. Trump's first, second and third travel bans and sued over such diverse matters as a rollback in birth control coverage and a weakening of pollution standards. They have also unleashed a flurry of amicus briefs and formal letters, often with other Democratic attorneys general, assailing legislation they see as gutting consumer finance protections or civil rights.
Feeble Resistance. Shocked by Donald Trump's election, Democrats adopted a strategy of resistance that's simple and blunt: Anything Trump is for, they're against. It's turned out to be one of the least successful strategies a political party has ever pursued. Yet Democrats have stuck to it. At least resistance does have one benefit. It assures Democrats they're operating on higher moral ground than Republicans. This may explain why their commitment to resist Trump didn't flag in 2017. They didn't bother with offering an alternative tax bill. Their job is to resist. The result has been a string of failures.
Washington Bureaucrats Are Quietly Working to Undermine Trump's Agenda. In report after report following Donald Trump's election, career staffers at the National Oceanic and Atmospheric Administration kept saying the same thing: climate change is real, serious and man-made. That's surprising because Trump has called global warming a hoax. His political appointees at the Commerce Department, which oversees NOAA, have complained to its staff, but stopped short of demanding changes or altering the findings. So the reports, blog posts and public updates kept flowing. The bureaucrats won. "Everything coming out of NOAA does not reflect this administration," said David Schnare, a retired lawyer for an industry-backed think tank who served on Trump's transition team and is skeptical about climate change. "It reflects the last one." That's true across the government as some of the roughly two million career staff have found ways to obstruct, slow down or simply ignore their new leader, the president.
Judge blocks Trump administration rules on contraceptive coverage. A U.S. judge on Friday blocked President Donald Trump's administration from moving forward with new rules that undermined an Obamacare requirement for employers to provide health insurance that covers women's birth control.
Things fall apart: The decline of 'Dumbledore's Army'. Resistance to the Trump administration within the intelligence community is beginning to unravel. When Mick Mulvaney was selected to lead the Consumer Financial Protection Bureau (CFPB), he complimented the staff for being professional. There are a significant number of CFPB employees opposed to the president and any of his appointees. They have formed a resistance group they call Dumbledore's Army. Although members of other departments, agencies, and bureaus do not call themselves Dumbledore's Army, they are essentially of the same mindset. Perhaps the largest number of these Dumbledores are in the Department of Justice and the intelligence community. They are mounting an attack on the Trump administration and are suffering one defeat after another.
Trump is the Most Conservative President Since Reagan. He would like to build up the military further. They're blocking him. He would like to secure the border, including physical barriers like a wall. They're blocking him. He would like to repeal all of Obamacare. They're blocking him. A president can only do so much if a president actually honors the Constitution, unlike Obama. He's trying to undo what Obama did to some of our lands, our open spaces, which were nationalized by Obama.
Obama blocked deportation of 550,000 illegals, more than Atlanta's population. U.S. immigration officials have revealed that they face a deportation backlog of 550,000 illegal immigrants who were given temporary amnesty by former President Obama or simply let off the hook by liberal judges. The massive backlog is being tackled by Immigration and Customs Enforcement, but the sheer numbers — bigger than the populations of Atlanta or Sacramento — is overwhelming the agency's enforcement and removal department.
Trump's Downsizing Utah's Bears Ears, Grand Staircase-Escalante National Monuments Taken To Court. Another decision made by President Donald Trump is being taken to court. The president issued two proclamations Monday to reduce the size of the Grand Staircase-Escalante National Monument, as well as the Bears Ears National Monument, and to allow mining in the newly public lands, and conservation groups filed a lawsuit against it a few hours later.
Congress Stalling Trump Ambassadors, Harming U.S. Effort to Combat N. Korea, Conduct Diplomacy. Amid a global showdown over North Korea's repeated and increasingly dangerous nuclear tests, Republican leaders in the Senate have declined to hold a vote on several of President Donald Trump's picks for U.S. ambassador, most notably Richard Grenell, the former U.S. spokesman at the United Nations who was tapped in September to serve as the next American ambassador to Germany. With no indication that Congress will move in the near future to confirm Trump's picks, congressional and administration insiders are expressing growing concerns that the holdup is interfering with U.S. attempts to rein in North Korea's nuclear program, according to multiple sources who spoke to the Washington Free Beacon about the situation.
Exclusive: Liberal Organizers Incentivize Protesters To Get Arrested. Organizers with the left-leaning group Housing Works told protesters they must "risk arrest" in order to be reimbursed for airfare to Washington, D.C., according to an internal email obtained by The Daily Caller News Foundation. "We will transport, house and feed you, and deal with all legal support. Caveat: if you are far away from DC and expensive to transport, we can probably only fly you if you can risk arrest," the internal email told supporters.
Sen. Tom Cotton: Here's How to End Democrats' Obstruction of Trump's Nominees. Sen. Tom Cotton, R-Ark., says Democrats have forced the Senate into 47 cloture votes this year alone on President Donald Trump's judicial nominees, compared with just six cloture votes in the first years of the four prior administrations combined. Cotton said Senate Democrats are abusing procedures that allow them to stymie Trump's executive branch nominees. He said that allows career bureaucrats to run their agencies anyway they want, "without any political accountability." The freshman Arkansas senator leveled the charge in remarks to the Federalist Society, a conservative legal group, on Nov. 16 in Washington.
Federal judge says Trump administration can't stop funding sex-reassignment surgeries for military members. A second federal judge has halted the Trump administration's proposed transgender military ban, finding that active-duty service members are "already suffering harmful consequences" because of the president's policy. The ruling Tuesday [11/21/2017] by U.S. District Judge Marvin J. Garbis in a Maryland case comes just weeks after another judge in Washington blocked the administration's proposal that would have stopped military recruitment of transgender men and women and possibly forced the dismissal of current service members, starting in March. The preliminary injunction issued by the judge in Baltimore on Tuesday goes further than the earlier ruling by also preventing the administration from denying funding for sex-reassignment surgeries after the order takes effect.
Ted Cruz: Dems Filibustered Legislation That Would Have Had Texas Church Shooter in Prison. Yesterday, on "Fox News @ Night," Cruz really laid into Democrats. He said that in 2013, the Democrats filibustered the Grassley-Cruz legislation that "would have resulted in this shooter being in federal prison instead of murdering those innocents in that Texas church." I still admire and really follow Ted Cruz and I know he is sick in his soul over this killing in his state. I'm also sure he's furious because it didn't have to be this way.
The Dems' Tax Demagoguery. Senate Minority Leader Chuck Schumer and the Democratic Party are trying to torpedo the biggest tax cut since 1986. Schumer accuses GOP tax cutters of "messing up the good economy the president inherited from President Obama and hurting the middle class." The senator must think we're stupid. The Obama economy wasn't "good." It was lousy, sputtering along at a pathetic 2.1%, far below the 3.8% norm for this nation. Who got clobbered? The middle class, who had to settle for almost no increase in wages and disappointing job prospects.
11-minute Trump Twitter outage prompts company investigation. President Trump blamed his 11-minute Twitter account outage on Thursday [11/2/2017] on a "rogue employee." "My Twitter account was taken down for 11 minutes by a rogue employee. I guess the word must finally be getting out-and having an impact," Trump tweeted early Friday morning. Twitter launched an internal investigation Thursday after a "customer support" employee, reportedly working his or her last day with the company, briefly deactivated the highly viewed account of the president.
Twitter: Employee 'inadvertently' deactivated Trump's account. Twitter attributed a brief disappearance of President Trump's personal Twitter account on Thursday night to "human error" on the part of one of its employees. "Earlier today @realdonaldtrump's account was inadvertently deactivated due to human error by a Twitter employee," Twitter said in a statement posted to the platform. "The account was down for 11 minutes, and has since been restored. We are continuing to investigate and are taking steps to prevent this from happening again," Twitter added.
It's Time For GOP Leadership To Stop Letting Democrats Stall Judicial Nominations. Legislative victories are typically short-lived, budget reforms sunset, regulations can be rescinded, and policy guidance is often not worth the paper it's written on. But federal judicial appointments are for life; those black-robed arbiters continue shaping our world long after the president who appointed them has left the White House.
The Left's Last Spasm. As far as anybody knows, the November 4th revolution/tantrum/jamboree planned by Antifa and its associate organizations remains on schedule. The "Opposition" — Antifa, the John Brown Clubs, Refuse Fascism, and assorted other scraps have announced that on that date the revolution will begin with a mass nationwide uprising that will continue until the Trump/Pence regime is overcome. Dozens of hundreds of the people's vanguard will hit the streets, squatting at intersections and holding their breaths until the fascists are exorcised and the new epoch of light is fully underway.
Judge blocks latest Trump travel ban hours before set to take effect. A federal judge in Hawaii on Tuesday [10/17/2017] blocked President Trump's newest attempt to implement a travel ban, hours before it was scheduled to take effect at midnight. U.S. District Court Judge Derrick K. Watson issued a temporary restraining order Tuesday [10/17/2017] on Trump's third executive order, which had banned citizens of eight countries from entering the U.S. because of national security concerns. The Justice Department said it would appeal the decision.
Federal judge blocks Trump's third travel ban. A federal judge on Tuesday [10/17/2017] largely blocked the Trump administration from implementing the latest version of the president's controversial travel ban, setting up yet another legal showdown on the extent of the executive branch's powers when it comes to setting immigration policy. The decision from U.S. District Judge Derrick K. Watson in Hawaii is sure to be appealed, but for now, it means that the administration cannot restrict the entry of travelers from six of the eight countries that officials said were unable or unwilling to provide information that the United States wanted to vet the countries' citizens.
Here Are The Lawmakers Fighting Trump's Transgender Ban. Democratic and Republican members of Congress introduced a bill Friday [10/13/2017] to block the Pentagon from removing active-duty transgender troops. Republican Reps. Charlie Dent of Pennsylvania and Ileana Ros-Lehtinen of Florida joined Democratic Reps. Jackie Speier of California, Susan Davis of California, Adam Smith of Washington, and Kyrsten Sinema of Arizona in introducing the House companion bill to Senate bill S. 1820, that blocks the Department of Defense (DOD) from removing transgender troops based on gender identity. "Kicking out members of the United States Armed Services solely based on their gender identity is hateful, discriminatory, and on the wrong side of history," Speier said in a statement Friday. [...] Former President Barack Obama's administration repealed the ban on transgender individuals serving openly in the military in June 2016.
Democrats promise to derail Congress until Dream Act passes. Leading Hispanic Democrats said Monday they're so disappointed in President Trump's new 70-point immigration enforcement plan that they'll withhold support for must-pass legislation in Congress until lawmakers work out a better deal to protect illegal immigrants. "They are not going to have Democrats to get them over the finish line on anything they need," said Rep. Michelle Lujan Grisham, chairwoman of the Congressional Hispanic Caucus. She and fellow Democrats, on a conference call with reporters, said Mr. Trump's demand for a border wall, a crackdown on sanctuary cities, more deportation agents and a rewrite of a number of loopholes that have allowed illegal immigrants to gain a foothold in the U.S. are all non-starters.
Ryan Zinke plans overhaul because Interior Department employees 'not loyal'. Interior Secretary Ryan Zinke said Monday 30 percent of his agency's employees are "not loyal" to him or President Trump and he is developing a plan to overhaul the department. "I got 30 percent of the crew that's not loyal to the flag," Zinke said in remarks to the National Petroleum Council, a federal advisory panel.
Oregon Dems Push Phony Precedent To Block Ninth Circuit Court Nominee. Oregon's two Democratic senators are blocking one of President Trump's judicial nominees with claims that a "longstanding" state tradition mandating that nominees be chosen from their "judicial selection committee" was violated, but the tradition they cite has never applied to picks for the U.S. Circuit Court, according to records viewed by the Washington Free Beacon. Sens. Ron Wyden and Jeff Merkley alerted the White House that they would be blocking the nomination of Oregon native Ryan Bounds for a seat on the U.S. Circuit Court of Appeals for the Ninth Circuit. Bounds is currently serving as assistant U.S. Attorney for the District of Oregon.
The Deep State Wraps Its Protective Cocoon Around Hillary Clinton. Question: Now that the Republicans control all three branches of government, my question is really simple. Why is it that when organizations have sued the Justice Department and State Department — I'm, of course, speaking of Judicial Watch here — for documents related to Hillary Clinton, Benghazi and all of the other Obama scandals... why is it that State and Justice are so slow in releasing the documents that the judges have ordered to be released? And if it is the deep state that you talk about, then why isn't Secretary Tillerson and Attorney General Sessions getting in there and kicking some tail to get this information out?
Colorado joins lawsuit to block Trump from ending DACA. Colorado on Wednesday [9/13/2017] announced that it would join 15 other states and the District of Columbia in a lawsuit against President Trump's decision to phase out the Deferred Action for Childhood Arrivals (DACA) program. Gov. John Hickenlooper (D-Colo.) called Trump's decision to end the program "outrageous," pressing Congress to "immediately" pass the Development, Relief, and Education for Alien Minors (DREAM) Act and immigration reforms.
Trump prods State Department to stop delaying release of Clinton emails. The White House has been privately urging the State Department to speed up its protracted process for releasing Hillary Clinton's still-undisclosed emails. [...] The pressure from the White House may be working. On Thursday, the State Department released a batch of Clinton-related emails that show how she honored requests from Clinton Foundation and campaign donors to pull some strings. The department turned over to Judicial Watch, a government watchdog group, 1,617 pages of documents, including 97 email exchanges not previously disclosed.
Luis Gutierrez: Democrats ready to shut down government if Dream Act fails. Rep. Luis Gutierrez, D-Ill., said he and other liberal House Democrats are prepared to support a government shutdown if House members fail to pass the Dream Act and protect hundreds of thousands of young illegal immigrants from being deported. "We have a Democratic caucus where I know the vast majority of the members of the Democratic caucus are ready to say 'If there is no pathway forward, not only for the 800,000 and for visas for all of you, but also for the rest of immigrant youth through the Dream Act, then there is no government for anyone,'" Gutierrez said Friday [9/8/2017] during a press conference with the United We Dream advocacy group. "We will shut it down or let the Republicans keep it open with their own votes."
Al Franken will use Senate blue-slip tradition to block Trump judiciary nominee. Sen. Al Franken said Tuesday that he will use an arcane Senate tradition to try to derail one of President Trump's appeals court nominees, marking an escalation in what has become a nasty fight over the shape of the federal judiciary. Mr. Franken said he won't return his "blue slip" for Minnesota Supreme Court Justice David Stras, Mr. Trump's nominee for the 8th U.S. Circuit Court of Appeals. Under Senate tradition, the chamber won't proceed on a judicial nominee unless both home-state senators return their blue slips, signifying acquiescence in the pick. Left with little power to filibuster, the blue slip has become the most effective tool Democrats have to obstruct Mr. Trump's court nominees.
Filibuster is Senate invention to aid and abet senators. First of all, let's get it straight. There is no such thing as filibuster in the United States Constitution. The notion that this was an invention of the Founding Fathers is just wishful thinking by senators who want to give their shameless power grab the imprimatur of legitimacy. Actually, the Constitution provides that a simple majority in both the House and Senate is sufficient to do business. We know that was the plan because the authors of the Constitution spelled out only a handful of circumstances when a super-majority would be required such as ratifying treaties.
What Are Democrats So Afraid Of? Mention voter fraud near a liberals and you'll see Pavlov's Basic Principles of Classical Conditioning in action. "There is no voter fraud," they'll instinctively say, then expect a treat. [...] But why would Democrats, both elected and in the media, be so upset at the prospect of looking into it? As Napoleon is credited with saying, "Never interfere with your enemy when he is committing a mistake." Yet Democrats are adamant that this commission end, and their fellow Democrats in positions of power in the states resist any cooperation. Their activist arms have gone so far as to file lawsuits to delay sharing voter information with the commission. Not to stop it — it's public information, after all — but to slow the process in the hope of stopping it altogether.
Klobuchar, Franken Impede the Path of an Outanding Judge. When Minnesota Supreme Court Justice David Stras was nominated for the U.S. Circuit Court of Appeals for the Eighth Circuit, the news was met with enthusiastic support by Minnesotans from across the political spectrum. A diverse group of judges, attorneys and law professors urged the Senate to act on Stras' nomination and confirm him for the Eighth Circuit. Among those who signed letters of support for Stras are former colleagues on the Minnesota Supreme Court, including retired Justice Alan Page and others appointed by a bipartisan list of governors, as well as former Gov. Tim Pawlenty and Gov. Mark Dayton. Stras is also supported by 12 former members of Congress from Minnesota (Republicans and Democrats), by members of the faculty at the University of Minnesota Law School and by more than 100 prominent Minnesota attorneys.
Big Plans on the Hard Left for November 4. One thing overlooked in the uproar over Charlottesville is that this was, evidently, merely a dress rehearsal for a much larger-scale effort planned for this Autumn. Activist groups on the left evidently have something big in store for November 4th. The idea seems to be a revival of the 1971 "Days of Rage" — an effort to shut down the country as a whole to force a change in government.
ACLU sues Trump administration over arrests of immigrant teens. The American Civil Liberties Union (ACLU) has filed a class action lawsuit against President Trump's administration over the detention of immigrant teenagers for "unsubstantiated claims of gang affiliation." The lawsuit, announced on Friday [8/11/2017], targets Attorney General Jeff Sessions, Immigration and Customs Enforcement (ICE) and the Department of Health and Human Services' Office of Refugee Resettlement. In a press release, the ACLU accuses ICE and the Office of Refugee Resettlement of detaining children and transporting them to detention facilities without notifying their parents or lawyers.
Federal Government, HHS, DOJ: Gaming the Freedom of Info System. In addition to the active lawsuit I have in federal court over the intrusion into my government computers, I have been litigating several of the many failed government responses to lawful Freedom of Information Act requests. I'm giving up on one of them as of this week. It's my request for public material the government withheld after the disastrous launch of Obamacare in 2013 when I was reporting on the topic for CBS News. We have learned, among other things, that federal officials gave incorrect and misleading information to the public and under oath to Congress regarding serious security failures in development and testing of the national website and system, and other important topics.
Transgender Active-Duty Troops Sue Trump Over Military Ban. President Donald Trump is being sued by five transgender people serving in the United States military who are requesting for transgender troops to be permitted to stay in the armed forces. The lawsuit comes in response to Trump's July tweets announcing transgender troops would not be allowed to serve in the military in "any capacity," according to the New York Times. The case, organized by the National Center for Lesbian Rights and the GLBTQ Legal Advocates & Defenders, is filed under pseudonyms "Jane Doe" one through five.
Fired NSC Aide Reveals Political Warfare Operation Targeting Trump. A White House National Security Council official has charged that leftist opponents of President Trump are engaged in political warfare operations designed to subvert his presidency and drive him from office. Rich Higgins, until recently director of strategic planning at the NSC, revealed the program in a seven-page memorandum produced in May that warns of a concerted information warfare campaign by the Marxist left, Islamists, and political leaders and government officials opposed to the populist president. "The Trump administration is suffering under withering information campaigns designed to first undermine, then delegitimize and ultimately remove the president," Higgins states.
Silencing ALL opposition voices: Inside The Media Matters Playbook. Even to casual observers, it has been obvious for months that the left is orchestrating a tightly-coordinated campaign to undermine and delegitimize the current presidential administration. As an extension of the decades-long campaign to wrestle the narrative away from conservatives, independents and centrists, they're smearing right-leaning commentators with anything they can find. [...] So, what exactly do they want? Nothing less than complete control over political discourse in America.
Russia probe: Democrats block key witness against shadowy firm Fusion GPS. Senate Democrats used a parliamentary maneuver Wednesday [7/26/2017] to cut short a high-profile hearing, where a key witness was set to testify on Russia's misdeeds and also raise fresh allegations against the company behind the infamous anti-Trump dossier. Bill Browder, the CEO and co-founder of Hermitage Capital, was set to tell the Senate Judiciary Committee that the co-founder of the firm Fusion GPS was hired to conduct a "smear campaign" against him.
Senate Parliamentarian Blocks Defunding Of Planned Parenthood. On Friday night [7/22/2017], Elizabeth MacDonough, the Senate parliamentarian, made [...] sure that defunding of Planned Parenthood will not be part of the Senate health care bill, citing the Byrd rule to stipulate that the key provisions violated Senate rules. [...] It is now clear the Senate's version of a new health care bill will not defund Planned Parenthood, as it would require 60 votes in the Senate to implement such an action.
Will the Senate Parliamentarian Try to Save Obamacare? [Scroll down] This was the "clean repeal" that Senator Rand Paul and other conservative Senators would like to vote on rather than BCRA, and President Trump would certainly sign it into law if Congress could get it to his desk. Would the Senate parliamentarian move the goalpost on reconciliation to prevent that? Probably. This functionary is expected to be a kind of nonpartisan referee and advisor to the Senate leadership concerning the proper interpretation of that body's rules and procedures. That anonymous person you sometimes see on C-SPAN quietly conferring with the presiding officer is likely to be the parliamentarian explaining some arcane rule. But that specialized knowledge is no guarantee of political neutrality.
Soros-Funded Groups Fight to Stop Trump's Voter Fraud Commission. President Donald Trump's voter fraud commission announced late Monday it's temporarily suspending its collection of voter data from states following a lawsuit by the Electronic Privacy Information Center. The Electronic Privacy Information Center had asked for a temporary restraining order in its July 3 suit, saying the commission should have had a plan to protect the data on individual voters before it set about collecting it from the state. But there's more to the story.
Americans want results, not resistance. Beltway Democrats like Elizabeth Warren can barely contain their glee at what they perceive as a difficult pace of change. But their euphoria is misplaced. [...] Democrats are oddly convinced they are winning when they keep losing. In the four post-Trump special elections Democrats are 0 for 4. That is not momentum. That is failure. My special election in Kansas was one of those four races, along with contests in Georgia, Montana and South Carolina.
White House to Dems: Stop Obstructing Trump's Nominations. Democrats in the Senate have launched an "unprecedented obstruction" campaign of President Donald Trump's nominees, the White House said Monday [7/10/2017]. Marc Short, director of Legislative Affairs, likened the Democrats' behavior to children on the playground who take their toys and go home out of spite.
White House slams Senate Democrats' 'unprecedented campaign of obstruction' against Trump nominees. Senate Democrats are blocking President Trump's political nominees at unprecedented rates, White House legislative affairs director Marc Short said on Monday [7/10/2017]. "The Senate is conducting the slowest confirmation process in American history," Short told reporters at the White House. Short accused Senate Minority Leader Chuck Schumer, D-N.Y., of spearheading an "unprecedented campaign of obstruction" against Trump's nominees. "It is the will of the American people that is being denied," Short said.
Senate stonewall: 23% Trump picks OK'd vs. 69% of Obama's. Putting numbers behind his claim that Senate Democrats have stonewalled his agenda and creation of a Republican government, President Trump today charged that he's only been able to get approval of 23 percent of his top picks compared to former President Obama, who had 69 percent confirmed at this stage of his first term. In a long and detailed accounting of the effort to block his administration, the White House today said, "Less than a month away from the August recess, the Senate has confirmed only 23 percent of President Trump's 216 nominations. By the first August recess during President Obama's first term, the Senate had confirmed 69 percent of his 454 nominations."
Trump mulls cancelling Congress' summer recess to break Senate Democrat obstruction of nominees. President Trump has not ruled out cancelling Congress's August recess to force votes on nominees that the administration says have been held up by unpretending obstructionism by Democrats. Marc Short, the White House director of legislative affairs, said Senate Democrats blocking of confirmation of key nominees was jeopardizing national security and denying Americans a fully staffed federal government. "The president has every right to call Congress back if necessary," Mr. Short told reporters at the White House.
ACLU sues to demand transparency from Trump's voter integrity panel. The ACLU filed a new lawsuit Monday [7/10/2017] against President Trump's voter integrity commission, delivering a fierce rhetorical attack on the panel as part of a complaint that the commission is violating open-government rules. Lawyers for the American Civil Liberties Union said the commission, which Mr. Trump set up to study the scope of voter fraud and the size of potential barriers to voting, is actually an attempt to give "a veneer of legitimacy" to the president's claims that millions of illegal votes were cast in last year's election.
Time to Do Away With the Blue Slip. The "blue slip" — the power of senators to block judicial nominations within their states — is a venerable Senate tradition that has long outlived its usefulness. Similar to the filibuster, liberals view the blue slip either as incorrigible obstructionism or as the height of prudent constitutionalism, depending only on which party's president is nominating judges.
Immigration agency won't commit to giving noncitizen data to voter fraud commission. The U.S. immigration agency that holds millions of records on noncitizens living legally in the U.S. will not commit to turning over that data to President Trump's commission on voter fraud. The Commission on Election Integrity already has clashed with Democrat-run states that are refusing to meet its written requests to provide voter rolls. The information is considered public and is often given or sold to political groups. Commission Vice Chairman Kris Kobach, the Kansas secretary of state, told The Washington Times in May that he also wants U.S. Citizenship and Immigration Services to provide the identifications of noncitizens living as permanent residents with green cards.
Kris Kobach: Only 14 states have refused Trump election commission request. Kris Kobach, vice chair of the Presidential Advisory Commission on Election Integrity, said Wednesday [7/5/2017] that only 14 states and the District of Columbia have refused the commission's recent request for voter data, disputing reports that dozens of states had rejected the request. "At present 20 states have agreed to provide the publicly available information requested by the commission and another 16 states are reviewing which information can be released under their state laws," Kobach said in a statement. "In all, 36 states have either agreed or are considering participating with the Commission's work to ensure the integrity of the American electoral system."
Senate Democrats blocking Trump court picks. Senate Democrats are turning to procedural tactics to delay confirmation of President Trump's appeals court picks, and conservative groups are firing back with a new ad in Michigan trying to force two Democrats to clear a path for one embattled nominee. The Judicial Crisis Network says it will spend $140,000 on the ad, which demands Sens. Debbie Stabenow and Gary Peters drop any objections to Michigan Supreme Court Justice Joan Larsen, who Mr. Trump nominated to the 6th U.S. Circuit Court of Appeals on May 8.
Terry McAuliffe Again Obstructs Efforts to Investigate Voter Fraud. The decision by Virginia governor Terry McAuliffe (D.) not to cooperate with a White House commission examining voting processes in federal elections comes after a year in which the governor circumvented the commonwealth's supreme court to restore voting rights for convicted felons and stalled efforts by the Virginia legislature to fight voter fraud. McAuliffe announced on Thursday evening [6/29/2017] he has "no intention of honoring" a request for publicly available voter data made by the Presidential Advisory Commission on Election Integrity, which was established through a May executive order and is being led by Vice President Mike Pence. McAuliffe stated in his rejection that there is "no evidence" of voter fraud in Virginia, and that the "only irregularity in the 2016 presidential election centered around Russian tampering." He also stated his belief that the commission was set up as a "tool to commit large-scale voter suppression."
The Editor says...
In a way, Mr. McAuliffe is correct: The commission was set up to help suppress the votes of dead people, non-citizens, incarcerated felons, and the victims of identity theft.
Schumer uses Senate rule to scuttle meeting on 'unmasking' by Obama officials. Capitol Hill's competing Russia-election meddling investigations boiled over as Senate Democrats blocked a closed-door hearing into possible Obama White House efforts to "unmask" members of the Trump presidential campaign, while the chairman of the leading Senate probe said he hoped to complete the panel's work by the year's end. A planned Senate Judiciary Committee inquiry into whether Mr. Obama's aides tried to improperly identify U.S. citizens swept up in intelligence surveillance of foreign targets was short-circuited after Minority Leader Charles E. Schumer invoked a parliamentary rule against holding committee meetings beyond the first two hours of the Senate's day.
Paying workers to protest: The controversial trend of social justice benefits. Since the election, scores of activists have taken to the streets, town halls and rallies to blast President Trump. That's all with the blessing of their boss thanks to social justice benefits and paid time off work policies that are growing in popularity. At San Francisco marketing firm Traction, social justice benefits take the form of two so-called "Days of Action" a year. "They can take part in a protest, they can volunteer for a cause that is meaningful to them," says CEO Adam Kleinberg. "Civic engagement is a foundation of our democracy, and companies should encourage it."
Video: Health Care Bill Protesters Dragged Away by Capitol Hill Police. Hundreds of protesters gathered this morning [6/22/2017] Capitol after Senate Republicans released their plan to repeal and replace ObamaCare. Katie Pavlich noted that many of the demonstrators have not even gotten a look at what's in the 142-page bill. [Video clip]
Bernie Sanders: Act in 'unprecedented' ways to thwart Republicans. Vermont Sen. Bernard Sanders says "unprecedented" actions by his supporters must be taken to stop Republicans from passing a health care bill in the Senate. A Facebook Live event Monday [6/19/2017] with Mr. Sanders and Massachusetts Sen. Elizabeth Warren included a call for unorthodox actions to halt Republican efforts to replace Obamacare, former President Barack Obama's signature legislative achievement.
Dems to grind Senate to a halt over ObamaCare repeal fight. Senate Democrats are slowing the Senate to a crawl as they escalate their fight over the GOP push to repeal and replace ObamaCare. Senate Minority Leader Charles Schumer (D-N.Y.) announced that Democrats will invoke the so-called "two hour" rule on Tuesday [6/20/2017], which blocks committees from meeting after the Senate has been in session for two hours.
Democrats Block Witnesses from Testifying in House Intel Probe. House Democrats are continuing to block testimony from about a dozen witnesses who sought to appear before the intelligence oversight panel investigating Russian interference in the 2016 election. Congressional officials said one of the key witnesses, former informal adviser to the Trump campaign Carter Page, was scheduled to testify at a closed hearing of the House Permanent Select Committee on Intelligence. But Democrats on the committee blocked the testimony, asserting they needed more time to prepare.
Democratic Slumber Party Part VI: Seizing The Senate Floor Over Obamacare Repeal. Senate Democrats took over the floor to protest Neil Gorsuch's nomination to the Supreme Court. Okay — that's not exactly fair. It was mostly Sen. Jeff Merkley (D-OR), but they held another slumber party over global warming. Over on the House side, Democrats occupied the floor to force a vote on gun control after the horrific mass shooting at the LGBT Pulse nightclub in Orlando. And now, Democrats are going to takeover the Senate floor again for the lack of transparency over the GOP health care bill... until about midnight.
Schumer Wants to Hear Lynch's Side of the Story Before Requesting Investigation. Senate Minority Leader Chuck Schumer (D-N.Y.) said he wants to hear former Attorney General Loretta Lynch's side of the story before calling for an investigation into whether she tried to downplay the seriousness of Hillary Clinton's email practices. "Well, before I say anything further on this, I want to hear what Loretta Lynch's side of the story is. I haven't heard that yet," Schumer told a press conference on Tuesday [6/13/2017].
Trump Is Winning His War on Washington. No one who followed closely really believed that the war was over on election night. The Democrats contested some local results, very unsuccessfully, and then, in their stark disbelief, took out television advertisements reaching tens of millions of people to ask some of the 538 people elevated to the electoral college to break their pledges and vote for Hillary Clinton instead of Donald Trump. It was an absurd fiasco. Democratic Senate leaders Chuck Schumer and Richard Durbin made prodigious efforts to block virtually every nominee of the incoming administration to high office.
Despite not knowing a anything about it, 66% of millennials oppose Trump budget. Just like Congress passes bills before they know what's in them, millennials are passing judgement on President Donald Trump's budget before the full details are known and understood. Millennials, which mostly get their news from Facebook, couldn't possibly understand the impacts of Trump's budget overhaul, but in a GenForward poll, 66 percent of young Americans say they oppose the budget because it helps the rich. How exactly does the Trump budget help the rich?
Trump calls for rebuilding transportation systems, blasts Democrats as obstructionist. Standing on the banks of the Ohio River, President Trump pledged Wednesday to rebuild America's waterway transportation system and took a swipe at Democrats for failing to support his efforts. Saying Americans "deserve the best infrastructure any where in the world," the president promoted his $1-trillion plan to rebuild roads, bridges and canals with a direct investment of $200 billion from the federal government.
Treason. There is a division of the nation that cannot be repaired. While the media pretends that everything it does is out of concern for the nation, it is really out of concern for the advances toward collectivism that have been made under Barack Obama that piques their concern. The way that the media and the "deep state" cooperate to maintain those collectivist advances is startling, or would be, if anyone reported on it. Understand that everything that has gone on since the election of Donald Trump has been to deny him the presidency, not so much the office, but the power of the office.
Prominent Anti-Trump Group has Received More than $20 Million in Government Grants. A prominent liberal activist group that is closely involved with anti-Trump campaigns has been awarded more than $20 million in taxpayer-funded government grants since 2002, according to a review of the organization's Form 990s. Make the Road New York (MRNY), a New York City-based Latino immigrant group with 19,000 dues-paying members, has been actively involved with anti-Trump campaigns and is closely linked to an organization that is spearheading a new $80 million anti-Trump network that will span across 32 states. In addition to generous funding from liberal billionaire George Soros, MRNY has hauled in millions in government grants.
Schumer's effort to cripple Trump. Sen. Chuck Schumer is trying to sabotage the Trump administration, at the expense of the country. [...] Schumer says he will try to block a new director of the FBI until Trump appoints a special counsel to investigate Russia's meddling in the 2016 election. It's obvious what Schumer sees to gain from this effort. It pleases the liberal base and serves Schumer's broader purpose of crippling an administration, making it ineffective, and then reaping the electoral rewards of complaining against a president who can get nothing done.
DNC funds 'Resistance Summer' in the hopes of harnessing Trump opposition. The Democratic National Committee reportedly is planning to pump $1 million into everything from rallies, town halls and neighborhood meetings in hopes of growing voter opposition to President Trump. The so-called "Resistance Summer" is billed as a 50-state strategy. The DNC plans to hold events across the country in early June before sponsoring a national training summit in the hopes of attracting scores of new Democratic voters, the Hill reported. The move is the party's first concrete expansion plan since Tom Perez took over as chairman.
Chuck Schumer's Threat To Block New FBI Director Shows Democratic Incompetence. One of the reasons Democrats freaked out over [James] Comey's firing is because they said it interfered with the ability of the FBI to function properly and do their job. So the solution is to block the appointment of a replacement? [...] It's fascinating to watch. Donald Trump keeps shooting himself in the foot, and instead of sitting back, allowing it to happen, Schumer is grabbing the gun from Trump and firing shots into both of his own feet.
Democrats Ponder Whether Resisting Donald Trump Is Enough. For Democrats these days, the key word in their political vocabulary is "resistance." Amid the flurry of analysis and commentary marking President Donald Trump's first 100 days in office, the Democratic Party's position was clear: It is fighting the president and all he does, pure and simple.
California's latest move to "fight the wall" is truly something out of La La Land. There are still budget battles and (probably) blockades from the 9th Circuit to come, but sooner or later the President is going to get some work started on the border wall. But if and when he does, California is laying some landmines in advance for any private contractors who dare to bid on the job and pour a single yard of concrete. In a move being dubbed, "Build it and be banned," California legislators are proposing to impose a permanent ban for government contracts on any company who takes part in the project.
The Democrats' Desperate Ploy To Block Tax Reform. Democrats say they won't work with President Trump on tax reform unless he first releases his tax returns. This has to be the lamest excuse for not fixing the tax code we've ever heard.
More Than 70 Liberal Groups Partnered for Anti-Trump Tax Day Protests. A coalition of more than 70 liberal groups coordinated to plan nationwide protests demanding President Donald Trump release his tax returns. The April 15 protests drew thousands of people in Washington, D.C. 'Local protests' took place in 44 states, with international protests in Germany, Japan, New Zealand, and the United Kingdom. The protests were organized through a website called TaxMarch.org. The site claims the demonstrations were the result of ordinary Americans, community organizers, advocates, and "people from all walks of life and all backgrounds" holding Trump, his administration, and Congress accountable.
With Gorsuch Gambit, Democrats Claim The Stupid Party Label. Trump derangement syndrome claimed its first victim today [4/6/2017], when Senate Democrats decided to filibuster the appointment of the supremely qualified Judge Neil Gorsuch to the Supreme Court, and ended up handing Trump and the GOP the opportunity to dramatically shift the ideological balance on the court.
Dianne Feinstein In 2006: You Can't Block A SCOTUS Nominee Because You Disagree With Him. The Democrats are going crazy over the appointment of Neil Gorsuch to the Supreme Court. Gorsuch is completely qualified but they're trying to block him just because they hate Trump for winning. Back in 2006, Dianne Feinstein had a much more reasonable view on this subject. [Video clip]
The Yasser Arafat of the Democratic Party. [Chuck] Schumer is so practiced at saying one thing to Democratic elites and another to the Democratic base that it is easy to fall for his charade. But neither Arafat nor Schumer should fool you. [...] His decision is chum in the water for the frenzied "resistance" to President Trump, which has decided that a judge who was approved to the Tenth Circuit Court of Appeals with Democratic support — including Schumer's — and whose fans include President Obama's former solicitor general and legal scholar Cass Sunstein is somehow a jurisprudential freak who should be prevented from joining the Supreme Court by extraordinary means.
Soros-Tied Networks, Foundations Joined Forces to Create Trump 'Resistance' Fund. Three liberal donor networks and foundations with ties to billionaire George Soros have joined forces to form a new fund to "resist" President Donald Trump. The Emergent Fund, which carries a goal of fighting "immediate threats" to "immigrants, women, Muslim and Arab-American communities, black people, LGBTQ communities, and all people of color," was established late last year to quickly fund groups to take direct, immediate action against Republicans. Since the fund's formation, it has received little public attention. It has raised over half a million dollars to give to groups opposing Republicans, such as the Black Lives Matter Network. The fund has extensive ties to significant liberal networks and groups.
Dem Chair Pledges Opposition to Trump on Everything but Socialized Medicine. Newly-elected DNC Chairman Tom Perez downplayed the notion that Democrats are becoming the "Party of No" by saying he'd be willing to work with Trump on socialized medicine, while vowing to block nearly every other White House initiative from infrastructure spending to Supreme Court nominee Neil Gorsuch.
Even Dick Durbin Blasts Democrat Anti-Gorsuch Strategy. Senator Dick Durbin (D-IL) has taken a different tone regarding the confirmation process of Judge Gorsuch, and his Democrat colleagues should take note. While radical left-wingers like Elizabeth Warren, Sherrod Brown, and Jeff Merkley have said they would oppose Gorsuch even before the hearing, Sen. Durbin stated rejected that kind of behavior, saying: "I don't think that serves the country well."
$15,000 a month offered to 'A Teams' to fight Trump agenda. A group known for its successes fighting digital wars, notably net neutrality, is offering $15,000 to activists who quit their jobs and form "A-Teams" to jump into a war on President Trump's agenda.
Monasteries of the Mind. There is now something called the "Resistance," which by its nomenclature poses that its opposition to Trump is reminiscent of European partisan resistance to Hitler: Affluent progressives are now on the barricades to stop another Holocaust? Cities now nullify federal law in the spirit of the Old Confederacy. A federal judge doesn't enforce federal law because he says he does not like what the president and his associates said in the past, during the campaign. Op-ed writers overseas wait eagerly for the president's assassination.
Supreme Court needs judges like Gorsuch because America has leaders like Schumer. Senate Minority Leader Chuck Schumer, D-N.Y., [...] trotted out three people, representing supposed "victims" of [Judge Neil] Gorsuch's jurisprudence. He hoped to demonstrate that Gorsuch is hostile toward workers and cancer patients, and takes the side of "the powerful" and corporations against the "powerless" little guy. Never mind that in all three cases, one of which was decided unanimously by a three judge panel that included one of former President Bill Clinton's appointees, Gorsuch scrupulously applied the text of the laws as written by the Congress in which Schumer serves. Schumer just didn't like the outcomes or, to be more precise, he hopes the outcomes might be sufficiently tear-jerking that they can inflict damage on the judge's chances of confirmation.
Chuck Schumer calls for chaos. New York's senior senator doesn't like the fact that Republicans mean to insert provisions for border-wall funding and deportation of illegal immigrants in a must-pass bill to keep the government funded past April 28. So he's threatening a filibuster to block passage — which would result in furloughing government employees, just like last time. Back then, Democrats called it "hostage-taking." Now they're blaming Republicans for leaving Democrats no option but to take hostages themselves. Or, as Schumer put it: "They will be shutting down the government and delivering a severe blow to our economy." Meaning: When they do it, it's reckless; when we do it, it's principle.
Today's Riot-Prone Mobs Are A Product Of America's Cult-Like Education System. If you are of sound mind and watched the anti-Trump demonstrations unfold on Inauguration Day, then during the recent anti-speech riots at the Cal Berkeley and New York University campuses, two developments probably stood out to you. First, you could see how violent rioters systematically infiltrated and punctuated those purportedly "largely peaceful" protests. I dare say, the Black Bloc presence and body language looks eerily similar that of ISIS terrorists, right down to the black hoods and masks. Second, there is a particularly cult-like feel to the behavior of these mobs: the incoherence, blind rage, encouragement of lawlessness, and utter hostility to anyone who doesn't conform to their mindset. It's an anger sustained by vilification tactics reminiscent of the "two minutes hate" in Orwell's novel "1984." Rather than acting as individuals who exercise rational thought, participants in these mobs act more like atomized parts of manufactured hives. They have been deployed at the drop of a hat — at airports, town halls, campuses — no doubt to create the illusion of mass resistance to a duly elected president and his administration. Such mobs are also aggressively pre-packing and swarming town halls of GOP members of Congress in solidly GOP districts.
Rep. Vern Buchanan Holds Off Thousands of Leftists Who Storm His Town Hall: 'The Bottom Line Is' Donald Trump 'Won the Election'. Both sides — pro-Trump activists and anti-Trump activists — showed up in force as a capacity crowd of thousands packed into the Van Wezel Performing Arts center with thousands more watching outside. Interestingly, Trump won this district in the general election by 11 percent, so the outsized show of force from leftists is not representative of the feelings of those in the district, which sprawls along Florida's southwestern coast. Despite the clear and concerted efforts to disrupt, Buchanan kept his cool for more than an hour throughout, made his case, and did not buckle under the left's pressure.
Author: It's Not College Kids Creating Chaos To Resist Trump, 'They're Professionals'. A New Zealander we interviewed at the Conservative Political Action Conference, who has studied the radical left for some 30 years, says he is watching an escalating number of radicals foment hate, violence and chaos by any means necessary to destroy the American constitutional way of life. These "ain't college students; they're professionals." He hopes more Americans are connecting the dots and paying attention.
ACLU Leading Resistance Movement Against Trump, Launches Nationwide Protest Training. According to the Associated Press, the American Civil Liberties Union recently launched a nationwide training event to "urge organized, public resistance by those opposed to policies of President Donald Trump." The first one happened over the weekend at a University of Miami sports arena and was streamed to all 50 states. The executive director of the ACLU, Anthony Romero, said 200,000 people attended across 2,000 local events. Romero said the seminar focused on protesters knowing their rights and encouraged them to march for "priority issues" such as immigration, LGBT, free speech, religious freedom, and civil and reproductive rights.
The Dirty Dem Dogs of Disruption. A new nonprofit called American Oversight launched this week to combat President Trump's "culture of impunity." The outfit declared itself "nonpartisan" and claims its crusaders will fight for a "transparent and ethical government." [...] These Democrat operatives aren't interested in accountability. Their mission is to attack, obstruct and destroy their political opponents at all costs. Executive Director and Obama donor Austin Evers is certainly familiar with the "culture of impunity." He worked as a lawyer at Williams and Connolly — the firm representing Hillary Clinton and the same firm that boasts longtime Clinton consigliere David Kendall, who shepherded scandal-ridden Bill and Hill through Whitewater, Lewinsky-gate and Email-gate. Evers had zero experience handling public records and classified document requests before he was hired by the State Department in 2015 to be Hillary's information blocker.
They Broke It, Why Won't They Help Fix It? Last night [3/8/2017], House Democrats forced a series of nuisance votes, in an attempt to slow debate down as much as possible and obstruct any effort to replace Obamacare. House Democrats have "declared parliamentary warfare in an attempt to delay the bill as much as possible."
New Trump executive order hurts Hawaii's feelings. There's a race going on for states to file or join new lawsuits against President Trump's second executive order temporarily halting entry into the U.S. for some people from a few terror-plagued countries. The new actions promise to be rehashes of the states' earlier suits against Trump's original order. Washington State, for example, which managed to stop the first order, has gone so far as to argue the new order and the now-rescinded original measure are identical, and has asked a judge to simply apply his emergency stop to the new order as if nothing has changed.
Democrats vow government shutdown over Trump border wall. Congressional Democrats signaled Monday [3/13/2017] that they're ready to block spending bills over President Trump's planned border wall, raising the risks of a new government shutdown early in the new administration. Adding more immigration agents to Homeland Security's deportation agency, making Planned Parenthood ineligible for federal cash and changing former President Barack Obama's policies on the environment, labor, veterans or consumer protections would also invite a shutdown, Senate Democrats said in a letter to GOP leaders.
ACLU launches nationwide training on protest, resistance. The American Civil Liberties Union staged a nationwide training event Saturday to make sure people are aware of their rights as protesters and urge organized, public resistance by those opposed to policies of President Donald Trump.
Democrats announce bill to revoke Trump's 'extreme vetting' order. Senate Democrats announced a bill Monday [3/13/2017] to revoke President Trump's latest extreme vetting executive order, saying it's discriminatory and counterproductive to the country's efforts to influence allies. Led by Sen. Dianne Feinstein, ranking Democrat on the Judiciary Committee, the new bill is succinct — it cancels the March 6 order that suspends the refugee program and puts a 90-day halt on most admissions from six Middle East and African countries. "President Trump's discriminatory executive order isn't about strengthening our national security. It's a transparent effort to fulfill his campaign promise to implement a 'Muslim Ban,'" Mrs. Feinstein said in a statement.
Legal watchdog launches to hound Trump agencies. Concerned by the shortage of government experience and early missteps by Trump administration officials — including President Trump — a group of lawyers is launching a watchdog organization that will seek to track the administration's ethics and expose potential conflicts, fraud or other wrongdoing. The organization, "American Oversight," which says it is nonpartisan despite some of its founders having deep ties to Democrats, will focus on prying loose documents through public records requests and lawsuits under the Freedom of Information Act. Regardless of what they uncover, such efforts could haunt the administration much the way similar actions by conservative group Judicial Watch produced emails from the State Department that dogged Hillary Clinton's presidential campaign.
Hawaii Sues to Block Trump Travel Ban; First Challenge to Order. President Trump's revised executive order barring citizens of six predominantly Muslim countries from traveling to the United States confronted its first legal challenge late Tuesday [3/7/2017], the day after it was signed, when lawyers for the State of Hawaii asked a federal judge to block it temporarily. The court filing from the office of the attorney general of Hawaii, Doug Chin, a Democrat, may signal a wave of legal assaults on Mr. Trump's second take on the travel ban, which preserves the fundamentals of the first while lifting restrictions on Iraqis, green card holders and lawful permanent residents, and people who are already approved to enter the United States.
'This is Muslim Ban 2.0': Hawaii plans to fight President Trump's revised travel ban in court. A day after President Donald Trump signed a revised travel ban, attorneys for Hawaii said the state plans to challenge that order as well. The state wants to amend its existing lawsuit challenging Trump's previous order to contest the revised one, according to a motion filed Tuesday [3/7/2017] in federal court in Honolulu. The new order bars new visas for people from six Muslim-majority countries and temporarily shuts down America's refugee program, affecting would-be visitors and immigrants from Iran, Syria, Somalia, Sudan, Yemen and Libya.
Left-wing group to Democrats: Don't even meet with Trump, or else. [Scroll down] We disagree on a lot, but surely we agree on some things. There is such a thing as bipartisan action, and it takes place when parties can find common ground. It doesn't sound like we're going to see much of that during the Trump Administration, because congressional Democrats are apparently under orders from the left-wing group We Will Replace You to engage in all-out, total obstruction of everything Trump wants to do — even to the point that they will be punished if they meet with the administration or try to seek common ground.
Sabotage is All They Have Left on the Left. This is no longer "just politics." This is political jihadism that attempts to make America ungovernable. There is no concern for the potentially dire consequences here or abroad of their actions. All that matters to today's progressives is that they, and they alone, hold all the power in the massive progressive state they have built. Elections, the law, the future of the nation, and even logic [notwithstanding]. The latest manifestation of progressive sabotage comes in the assault on AG Sessions.
Schumer's plan to Keep Obama appointees in power. Minority Leader Chuck Schumer and the Democrats continue to snub President Trump by slowing down Senate confirmation of his Cabinet appointments. Their underlying goal is to allow remaining Obama-appointed bureaucrats to do as much damage to the Trump administration as they can before leaving. CNN reported last week that "Trump is noticeably behind the last three presidents when it comes to securing the confirmation of his Cabinet and other top appointments that require Senate approval."
Schumer's plan to Keep Obama appointees in power. [Scroll down] Senate Democrats are keeping the Department of Justice from functioning at full capacity. But other seats are currently filled by Obama appointees quietly working behind the scenes to sabotage Trump's efforts by continuing their previous leader's agenda while Schumer works to hamstring Trump's presidency. These include deputies, managers, and political appointees who are meant to keep the government running while a new administration comes into power. A clear example of this is occurring in the Department of Education, where bureaucrats are continuing what the Washington Post called Obama's "ideological crusade" on for-profit colleges.
Krauthammer: Obama WH Officials Engaged in 'Revenge of the Losers' to Make Trouble for Trump. For weeks now, some of the reporting around Russia and the intel community has concerned actions of members of the Obama administration and holdovers serving under Trump. President Trump himself and others have argued that the big leaks are coming from those holdovers, and one report last month said that Obama loyalists engaged in a "months-long campaign" to take down Michael Flynn in the name of preserving the Iran deal. And now this week there's a new report that Obama White House officials rushed to leave a "clear trail of intelligence" on Russia for the right people to investigate once President Trump was sworn in.
Townhall "Protesters" All Following the Same Script Authored by... George Soros. A radical group linked to rogue billionaire George Soros has been providing scripts containing anti-Trump talking points for constituents to read aloud during congressional town hall meetings. One of the scripts distributed by the Revolutionary Love Project encourages town hall participants meeting with their member of Congress to accuse the Trump administration of — wait for it — "xenophobia, racism, and Islamophobia." Constituents are urged to use those precise words to "forcefully condemn" President Trump's immigration and border security initiatives, Aaron Klein reports at Breitbart News.
Voters say Democrats hurting party, nation with scorched-earth anti-Trump tactics: Poll. The Democratic Party's never-ending anti-Trump siege isn't just bad for the country, it's also hurting Democrats with the voters. A Rasmussen Reports poll released Tuesday [2/28/2017] found that 63 percent of those surveyed said it was better for the country as well as the Democratic Party for Democrats to work with President Trump instead of countering him at every turn. Just 29 percent agreed that it's better for the party and the nation for Democrats to oppose Mr. Trump "in every way possible."
Soros-Financed Groups Provided Script for Anti-Trump Town Halls. An organization partnered with far-left groups that calls itself the Revolutionary Love Project distributed an actual script with anti-Trump talking points for citizens to use when meeting with constituents in town halls, including during last week's Congressional recess. The script provides word-for-word language suggestions that accuse the Trump administration of "xenophobia, racism, and Islamophobia." It asks activists to use the descriptors to petition their representatives to "forcefully condemn" and support legislation opposing President Trump's immigration and border security agendas.
Trump's Speech and Our Infantile Left. Tuesday's [2/28/2017] address to a joint session of Congress was without a doubt the best speech President Donald Trump has ever given, perhaps the best speech to a joint session of Congress since the great Ronald Reagan. But who could watch it and not be embarrassed by our infantile, bitter Left? [...] Like spoiled children, who had not gotten their way, they refused to applaud at the most obvious good-for-the-country lines. In fact, they were like a clique of mean girls in middle school who have decided to target one of their own. They knew what they were hearing was monumental and good for the nation. But consumed in schoolyard jealousy, they got angry, not glad. In doing so, they showed no intention of working "with" President Trump. They are still scrambling for, and planning to sabotage him any way they can.
The Coming Border War: A Prediction. A prediction: when the "Wall" along the southern border begins to be constructed, the left's professional activists will implement an extensive disruption campaign. It will be modeled after the Keystone Pipeline protest (that involved a makeshift city of 10,000), but be more mobile and flexible, spread out along the border that marks the path of the wall. Protestors will stand in the path of construction, just at activists have, in the past, chained themselves to trees in the Northwest to stop logging.
Portland Mayor: 'Culture Of Protest' New Norm For 'Foreseeable Future'. Portland Mayor Ted Wheeler called for peace in the wake of the latest violent anti-Trump protests, but said the "culture of protest" is going to continue both locally and nationally for the "foreseeable future." Wheeler also said he wants Portland's police officers to "create a more positive space for expression" for protesters. Portland, known for its liberal politics, has been the site of regular anti-Trump protests since the election last November. Those demonstrations have often devolved into riots and property destruction, forcing police to arrest dozens of agitators.
Trump Versus Obama: Whose Cabinet Nominees Faced More Obstruction? President Trump is still waiting for the Senate to confirm several of his Cabinet nominees one month after he was inaugurated. "We're using everything we can to stop these awful nominees," Senate Minority Leader Chuck Schumer (D., N.Y.) said at a press conference earlier this month. The same day, Trump decried "obstruction by Democrats" for delaying confirmation votes to fill his Cabinet.
Seven Days in February. Currently, the political and media opponents of Donald Trump are seeking to subvert his presidency in a manner unprecedented in the recent history of American politics. The so-called resistance among EPA federal employees is trying to disrupt Trump administration reform; immigration activists promise to flood the judiciary to render executive orders inoperative. Intelligence agencies had earlier leaked fake news briefings about the purported escapades of President-elect Trump in Moscow — stories that were quickly exposed as politically driven concoctions. Nearly one-third of House Democrats boycotted the Inauguration. Celebrities such as Ashley Judd and Madonna shouted obscenities to crowds of protesters; Madonna voiced her dreams of Trump's death by saying she'd been thinking a lot about blowing up the White House. But all that pushback was merely the clownish preliminary to the full-fledged assault in mid February.
Michael Moore Launches 'Resistance Calendar' to Track Anti-Trump Protests. Leftist documentary filmmaker Michael Moore launched what he called a "resistance calendar" on Sunday [2/19/2017] that will track anti-Donald Trump demonstrations across the country. In a tweet announcing the launch of the calendar, the 62-year-old filmmaker described it as a "one-stop site for all anti-Trump actions EVERY DAY nationwide."
Trump under attack by 187 organizations directly funded by George Soros. There have been many articles written about George Soros and his collectivist activism. Soros is a business magnate, investor, philanthropist, and author who is of Jewish-Hungarian ancestry and holds dual citizenship. He is chairman of Soros Fund Management. Discover the Networks has published a comprehensive list of organizations funded by Soros and his Open Society Institute. Some of these groups have actively opposed Donald Trump for president and may be part of the recent levels of violence and chaos seen at his rallies. Many of the groups favor: open borders, amnesty, giving illegals voting rights, Muslim migration and social justice.
Obama-linked activists have a 'training manual' for protesting Trump. An Obama-tied activist group training tens of thousands of agitators to protest President Trump's policies plans to hit Republican lawmakers supporting those policies even harder this week, when they return home for the congressional recess and hold town hall meetings and other functions. Organizing for Action, a group founded by Obama and featured prominently on his new post-presidency website, is distributing a training manual to anti-Trump activists that advises them to bully GOP lawmakers into backing off support for repealing ObamaCare, curbing immigration from high-risk Islamic nations, and building a border wall. In a new Facebook post, OFA calls on activists to mobilize against Republicans from now until Feb. 26, when "representatives are going to be in their home districts."
Trump Necessitates a 'New Standard' for SCOTUS Nominees, Schumer Says. Senate minority leader Chuck Schumer said President Donald Trump's behavior in the first few weeks of the new administration necessitates a "new standard" for Supreme Court nominees, including a unique a demonstration of judicial independence. "What is particularly new" about the circumstances of Judge Neil Gorsuch's nomination to the High Court, Schumer said Sunday [2/12/2017], "is that we have a president who is overreaching dramatically, who shows little respect for the rule of law, who seems to violate the Constitution in his first three weeks, and intimidates judges who have cases before them."
The Editor says...
In other words, there's nothing wrong with the nominee or his qualifications, but the Democrats are stonewalling just to burden the President.
Democratic Obstruction on Trump Cabinet Reaches Historic Levels. Not since President George Washington's initial formation of a cabinet in 1789 has an American president's cabinet picks been approved as slowly as the Senate is approving President Donald Trump's nominees. Trump has now been president for a full three weeks, and the number of approved members in his cabinet stands at seven — a number that was boosted by three contested confirmations last week that were opposed by almost the entire Democratic caucus. Senate Democrats, vowing to use "everything" they can to stop Trump's nominees, have used procedural tricks like boycotting committee meetings to slow the confirmation process to a historically slow pace.
Cardin on Trump Cabinet Nominees: 'We Are Going to Take Our Time'. Sen. Ben Cardin (D., Md.) said on Sunday [2/12/2017] that the reason there has been such a low number of nominees confirmed to President Trump's Cabinet is because Senate Democrats are "taking their time." "We can't stop these nominees and we know that," Cardin told host Chris Wallace on Fox News Sunday. "I think it's important that we took as much time as possible so that the American people understood our concerns."
The Media Can't Attack Gorsuch On Much, So They Went After His Mother. Pretty much everyone has lauded President Trump's Supreme Court nominee Neil Gorsuch. The man is eminently qualified. He has academic credentials that are impeccable — he has a Ph.D. from Oxford — and he's unified the Republican Party behind his nomination. As for Democrats, you have some, like Sen. Jeff Merkley (D-OR), threatening to go to the mattresses and filibuster his nomination. Yet, Democratic opposition has splintered.
DNC Candidate Keith Ellison Wants Full Democrat Filibuster on Gorsuch Nomination. During the last of the DNC regional forum's today in Baltimore Maryland, leading candidate Keith Ellison outlines why every non-Democrat should hope he wins the chairmanship. Ellison's expressed approach is that Supreme Court Nominee Neil Gorsuch should be filibustered by all Senate Democrats.
Black Caucus members storm Senate floor to protest Sessions. House lawmakers led by Rep. Sheila Jackson Lee, D-Texas, and other Congressional Black Caucus members staged a protest against Alabama Republican Sen. Jeff Sessions' nomination to attorney general on the Senate floor Wednesday [2/8/2017]. The group of roughly 10 House members, including the dean of the House, Rep. John Conyers, D-Mich., and Democratic Reps. Lacy Clay of Missouri, Hank Johnson of Georgia and Rosa DeLauro of Connecticut, traveled to the Senate side of the Capitol and marched onto the floor in an effort to draw attention to their opposition to Sessions' confirmation on civil rights grounds.
Why Democrats can't just obstruct their way back into power. Democrats are preparing to try to stop President Trump's agenda at all costs. Senate Democrats have voted more and more in unison against Trump's Cabinet nominees, and now there is even talk of an unprecedented filibuster of a Supreme Court nominee. It's what the party's base is demanding right now. But there is a difference between doing what feels good and what is strategically sound. Chicago Mayor Rahm Emanuel (D) said it well this week: "You've got to pick which ones you're going to fight about; not every pitch has to be swung at."
Dem Who Lied About Vietnam Service Calls for Extreme Vetting of Gorsuch. A Democratic senator who lied about his military service for decades is now calling on his colleagues to thoroughly vet the background of President Donald Trump's Supreme Court nominee. Sen. Richard Blumenthal (D., Conn.), a member of the Senate committee that handles legal confirmation hearings, said that Appellate Court Judge Neil Gorsuch will face tough questions about his background. He said the Colorado-based judge will have "every aspect of his background" investigated by Democratic committee members before his nomination to the nation's highest court moves forward.
Anti-Trump, Pro-Obamacare Crowds Target GOP Lawmakers' Town Halls. A crowd of about a thousand people, dominated by opponents of President Donald Trump's agenda, packed a raucous town-hall event here in the latest example of increased activism targeting Republican members of Congress.
Note to bewildered Democrats: Hating Trump is not a policy. Democrats are overjoyed that the 9th Circuit Court of Appeals has ruled against President Trump's immigration order. That figures; never mind the legal issues or the possible impact on the White House's ability to enact measures aimed at keeping the country safe. Most important: it was a blow to Trump, and Democrats couldn't be happier. It's gotten personal. The decision will doubtless pump up House Democrats who are meeting in Maryland, presumably exploring a path back to relevance. Given their strident denunciations of President Trump, working with Republicans to move the country forward does not appear to be an option.
Call It 'Going Original': Time's Come To End The Senate's Filibuster. Republicans control both houses of Congress and the White House. Yet Senate Minority Leader Chuck Schumer boasts that he can block Trump's legislative agenda. "He won't be able to do it," Mr. Schumer says confidently. What allows Schumer to thwart the majority's will and paralyze the Senate? Not the Constitution. No, the answer is a centuries-old Senate practice called the filibuster. Senators in the minority could take the floor and talk endlessly, never agreeing to formally end debate so the majority could vote. They'd talk the legislation to death, in the process shutting down all other Senate business. The House never permitted it, always allowing a simple majority to shut down debate. In the Senate, the idea was to make sure the minority was heard. But over the years, the rule was exploited to actually stop legislation altogether.
The Numbers Don't Lie: Comparing Trump's Cabinet Confirmations With Obama's. Donald Trump began his presidency with fewer Cabinet nominations confirmed than any other president in almost 30 years. Both George W. Bush and Barack Obama had seven of their nominees confirmed by their first day in office in 2001 and 2009. Bill Clinton had three confirmed the day he was sworn in. Trump had two. By this time in 2001, Bush had his entire Cabinet confirmed.
Warren Breaks Senate Rule, Prohibited From Debating Sessions Nomination. For the remainder of Tuesday night [2/7/2017] and for most of Wednesday, Massachusetts senator Elizabeth Warren is prohibited from debating on the floor of the Senate. That's because her Senate colleagues found her guilty of impugning another senator, Jeff Sessions, whose nomination for attorney general is being considered. With a 52 seat Senate majority and control of the White House, Republicans are now able to confirm Trump cabinet nominees with a 50 vote majority and Democrats are furious. And while Democrats can't stop nominees unless Republicans defect, they're resorting to the time-honored Senate tactic of parliamentary delay.
Why Did Obama's Cabinet Picks Get Voice Votes But Not Trump's? Orrin Hatch, the old, Utah RINO is going around Twitter bragging how spineless Republicans were at the start of the first Obama term. As we enter the third week of the Trump administration, only four cabinet level positions have been confirmed by a Republican lead Senate. After two weeks of the first Obama administration, many of Obama's cabinet picks were confirmed, many by simple voice votes.
Back to the Future with Nancy Pelosi. House Minority Leader Nancy Pelosi has served in Congress a long time. She has served long enough to oppose Republican presidents going back to Ronald Reagan. In the modern era she has missed only Presidents Eisenhower and Nixon, but she opposed them too! Make no mistake about that. She has served in Congress long enough to oppose both Presidents Bush, father and son, over a period of twelve years. It therefore makes perfect sense that in a press conference yesterday she confused her current opposition to President Trump with her opposition to the Presidents Bush in ages past.
Not Even My Contractor Takes This Long to Get a Cabinet in Place. I can understand the opposition to a game-changing, consequential pick like Betsy DeVos. I can understand the Democrats' need to placate their base by opposing Jeff Sessions in every way possible. But tell me, what's the advantage of slow-walking Ryan Zinke's nomination to be Secretary of the Interior? Or Sonny Purdue's nomination to be Secretary of Agriculture? The nominee to be Secretary of Veterans Affairs, David Shulkin, is a holdover from the Obama administration! This isn't reasoned or justifiable opposition, this is obstructing nominees for the sake of obstruction.
From George Washington To Barack Obama: Senate Democrats' Cabinet Blockade Has Never Been Seen Before. The Senate Democrats' obstruction of President Trump's cabinet nominees has reached a record-setting level. Yesterday [2/2/2017], ABC News reported: "President Trump has more unconfirmed Cabinet nominees at this point in his term than all previous presidents combined." Senate Democrats have failed to a historical magnitude to offer deference to the president, running counter to what they argued for during previous administrations.
Democrats are becoming the party of secession. Some call it Trump Derangement Syndrome, but that's too kind. It's not a temporarily insane reaction, it's a calculated plan to wreck the presidency, whatever the cost to the country. Things never seen in the modern era are now rapidly becoming common. Impeachment talk already is rumbling in the party's hothouses, and Trump was met with a lawsuit the minute he took the oath. Chuck Schumer and Nancy Pelosi, the top Dems in Congress, led a raucous demonstration Monday night, as if they are community organizers. And Obama couldn't bear the irrelevance after eight days out of office and felt compelled to encourage disruptions. This is Third World behavior and it's now the M.O. of one of America's two political parties.
Schumer And Leadership Team Refuse To Meet With Gorsuch. Senate Minority Leader Chuck Schumer and other Democratic Senate leaders refused to meet with Judge Neil Gorsuch Thursday [2/2/2017]. The act appears to be revenge against Republicans for holding the seat of the late Justice Antonin Scalia open and not holding a hearing for Obama Supreme Court appointee Merrick Garland. The White House requested that Gorsuch meet with Schumer, but aides said he declined in order to learn more about the nominee's record, The Washington Post reported.
Senate GOP suspends rules, advances Trump picks without Democrats. The Senate Finance Committee advanced Steven Mnuchin to lead Treasury and Rep. Tom Price as health secretary on a pair of 14-0 votes without any Democrats present. The votes were supposed to occur on Tuesday. Yet Democrats derailed the markup by refusing to show up, which meant the panel didn't have the quorum needed to do business.


Comparison of Number of Cabinet Nominees Confirmed by Senate. When even Chuck Todd calls the Democrats' obstructionism a "petty delay tactic", you know things have gotten out of hand.
GOP changes rules to push through nominees after Dem boycott. Senate Republicans pushed through a pair of President Trump's Cabinet nominees Wednesday, upending standard committee rules to circumvent a Democratic boycott. The Senate Finance Committee advanced a pair of Trump's nominees with only Republican members present — Steven Mnuchin to head the Treasury Department, and Rep. Tom Price (R-Ga.) as secretary of Health and Human Services. By unanimous consent, the Republicans gathered in the hearing room agreed to change the committee's standing rules, which normally require at least one member of each party to be in attendance for committee work to proceed.
Dems escalate anti-Trump offensive. From Washington State to Washington DC, Democrats across the country are stepping up what some call "The Resistance" to President Trump, moving across political, legal, bureaucratic, legislative, and civil disobedience fronts to frustrate the newly elected president's agenda.
Should Sally Yates Be Indicted? No matter what your attitude about the substance of Donald Trump's executive order temporarily suspending visas from seven countries involved in terrorism, that an acting attorney general took it upon herself to disobey it is nothing less than the deliberate subversion of the rule of law in the United States of America. She deserves to be indicted — or at least be disbarred. Not only did Sally Yates announce she would not enforce the order, she gave absolutely no legal justification for her inaction.
180 federal employees sign up for 'civil disobedience' class. A large group of federal employees have signed up to participate in a workshop on civil disobedience in the President Trump era. According to a Washington Post report, 180 federal employees have signed up for a workshop featuring expert advice on workers' rights and expressing civil disobedience. Dozens of federal workers have reportedly attended a support group for civil servants that serves as a forum for discussing opposition to the Trump administration.
Democrats boycott vote on EPA nominee Scott Pruitt. The boycott by Democrats on the Senate Environment and Public Works Committee comes amid other attempts to hold up Mr. Trump's nominees. In the case of Mr. Pruitt specifically, Democrats claim he's failed to answer substantive questions. But Republican leaders say that excuse simply doesn't hold water. "The minority may not like all of Attorney General Pruitt's answers, but he's given them answers," said Sen. John Barrasso, Wyoming Republican and committee chairman. "Mr. Pruitt ought to get at least a vote."
Democrats running Tea Party playbook against Trump. Senate Democrats are dispensing with talk of cooperation and preparing to fight President Trump across the board, delaying his nominees where possible and filibustering his Supreme Court pick if necessary. Despite their minority status in the Senate, Democrats are under increasing pressure from their progressive base to stand up to a president they consider authoritarian and illegitimate. These activists demand that Democrats emulate Tea Party conservatives' opposition to President Obama by doing everything in their power to obstruct President Trump.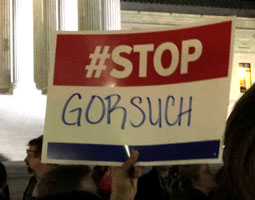 Unreasonable Obstructionists: Democrats Use Fill-In-The-Blank Protest Signs to Oppose Gorsuch. There really is no reason to keep the filibuster for Supreme Court nominees. Democrats are showing they are going to obstruct no matter who it is. Now we know it is going to be Neil Gorsuch who even Barack Obama's Solicitor General supports. But the left does not care about his credentials or pedigree. [...] They are going to oppose Gorsuch for the sake of opposing him. You need no further evidence of this than one tweet by Ben Sasse. At the Supreme Court tonight [1/31/2017], the Democrats had pre-printed opposition signs, but had to let protestors hand write in the name of the nominee.
The Democrats' New Opposition Strategy: Obstruction. President Trump's selection for the Supreme Court won't get a fair hearing from the Democrats. No, that's not an opinion. The Democrats themselves say so. [...] Then there's the case of the nominations of Dr. Tim Price as Health and Human Services secretary and Steve Mnuchin as the next Treasury secretary. They were scheduled to be approved Tuesday by the Senate Finance Committee and sent to the floor or a vote so that President Trump could get his government up and running. But the Democrats didn't show. Literally. Senate rules require a simple majority with at least one member of the minority party for a quorum. But the Democrats, despite promising just one day earlier to vote, deserted the chamber. No quorum, no vote.
Tom Cotton suggests ordering sergeant at arms to force Dems to vote on nominations. Arkansas Sen. Tom Cotton on Tuesday suggested ordering the sergeant at arms to force Democrats to vote for President Trump's nominees at the committee level, ratcheting up the rhetoric after Democrats delayed the votes with a boycott Tuesday morning [1/31/2017]. "I don't know how long they plan to do this," the Republican said from the Senate floor. "I don't know if they intend to abscond out of the District, if we're going to have to vote to have the sergeant at arms track them down, haul them to work to do their business."
Milk Carton Democrats — Washington Democrats in 2017 Deploy Wisconsin Senate Democrat 2011 Strategy. History repeats. Many people will remember what happened in Wisconsin in 2011 when control of the state legislature flipped from Democrat control to Republican control and Wisconsin Governor Scott Walker began initiating a series of state budget reforms. In 2011 the fourteen defeated Wisconsin senate democrats that remained in office fled to Illinois in a failed attempt to block legislation by not providing a quorum.
Dems boycott confirmation votes for Trump nominees. Senate Democrats on Tuesday [1/31/2017] refused to attend a committee vote on two of President Trump's more controversial nominees, effectively delaying their consideration. [...] Republicans expressed outrage at the move, while Democrats gathered outside the Senate Finance Committee hearing room to outline their gripes with the selections.
Democrats, Including Chuck Schumer, Voted Unanimously to Confirm Neil Gorsuch in 2006. President Donald J. Trump on Tuesday nominated Judge Neil Gorsuch for the U.S. Supreme Court. Democrats immediately pounced on the decision with preprepared statements they would've released regardless of whom the president nominated. Judge Gorsuch, 49, who serves on the U.S. Court of Appeals for the 10th Circuit in Colorado, was appointed in 2006 by President George W. Bush. In July 2006, the U.S. Senate confirmed him unanimously by a voice vote, in which had the support of the very Democrats who are now objecting to his nomination.
Democrats announce plans to filibuster of Gorsuch nomination. Democrats have already decided they will force a filibuster on Judge Neil Gorsuch, Senate Minority Leader Charles E. Schumer said Tuesday [1/31/2017], just minutes after President Trump announced the pick. "The Senate must insist upon 60-votes for any Supreme Court nominee," Mr. Schumer said in a statement. Republicans could counter with the so-called "nuclear option," using a shortcut to change the rules and eliminate the 60-vote filibuster threshold. But GOP leaders have been circumspect on that option.
Democrats are already plotting to block Trump's Supreme Court pick. Eager for political payback, Senate Democrats plan to do everything they can to block President Trump's nomination for the Supreme Court — even though they don't know who it will be. Sen. Jeff Merkley (D-Ore.) said Monday [1/30/2017] that he will filibuster any pick that is not Merrick Garland — former President Obama's nominee to replace the late Antonin Scalia — who was never granted a hearing or a vote by the GOP-controlled Senate. "This is a stolen seat. This is the first time a Senate majority has stolen a seat. We will use every lever in our power to stop this," Merkley told Politico, adding that an overwhelming majority of his Democratic caucus will oppose Trump's pick.
Soros Bankrolling Effort to Stop Trump's Temporary Refugee Halt Order. The flurry of anguished news stories and protests surrounding President Trump's executive action temporarily suspending "immigrants and non-immigrants" from "countries of particular concern" appears to be part of a coordinated PR effort financed by left-wing billionaire George Soros. Rather than a complete "Muslim ban" as promised during the campaign, Trump's executive order contains moderate refugee restrictions, similar to those that have been implemented by President Obama.
Chuck Schumer wants delay on Rex Tillerson vote, possibly other nominees, after executive order. Senate Minority Leader Charles E. Schumer said Monday [1/30/2017] he plans to ask for a delay on the confirmation vote of Rex Tillerson, President Trump's secretary of state pick, in the wake of the administration's "extreme vetting" immigration executive order and resulting fallout.
Anti-Trump Protests Block Airports, Frustrate Travelers. Protests against President Donald Trump and his executive order restricting travel from several terror-prone countries continued Sunday evening [1/29/2017] at several West Coast airports, blocking traffic and causing some travelers to miss their flights. In contrast to the demonstrations on Saturday evening, which ostensibly were aimed at securing the release of individuals who had been detained after arriving from one of seven countries on a list originally approved by the Obama administration, the protests on Sunday aimed primarily at disrupting travel and creating chaos to send a signal to the Trump administration.
Trump's EPA Secretary Will Have '16,000 Employees Working Against Him'. When likely EPA Secretary Scott Pruitt walks into his first day at the office, "He'll have 16,000 employees working against him," Sen. James Lankford told a large gathering of libertarian donors Saturday evening. "And I expect a flood of lawsuits over everything he does." Pruitt, who has been nominated to lead the EPA by President Donald Trump, is the attorney general of Lankford's state, Oklahoma. He has faced fierce opposition from the environmentalist left.
Soros Bankrolling Effort to Stop Trump's Temporary Refugee Halt Order. The flurry of anguished news stories and protests surrounding President Trump's executive action temporarily suspending "immigrants and non-immigrants" from "countries of particular concern" appears to be part of a coordinated PR effort financed by left-wing billionaire George Soros. Rather than a complete "Muslim ban" as promised during the campaign, Trump's executive order contains moderate refugee restrictions, similar to those that have been implemented by President Obama. If reports are true that restrictions are being applied even to green-card holders, that is an unfortunate misapplication of the law that will likely soon be corrected.
Trump backs curbing filibuster if Dems block Supreme Court pick. President Trump is urging Majority Leader Mitch McConnell (R-Ky.) to abolish the filibuster for Supreme Court nominees if Democrats block his pick. Trump told Fox News that he would back getting rid of the 60-vote threshold for high court nominees if he can't win over the support of at least eight Democrats for his nominee, who is expected to be announced next week. "We have obstructionists," Trump said, pointing to Democrats' treatment of his Cabinet nominees and their push to delay a committee vote on Sen. Jeff Sessions's (R-Ala.) attorney general nomination.
Dems Force Trump's Ed. Nominee To Answer 1,397 Questions In Writing — Obama's TWO Had 109, Combined. Democrats are blocking the confirmation of Donald Trump's Secretary of Education nominee Betsy Devos by forcing her to answer 837 written, followup questions from her Senate confirmation hearing. "Mrs. Devos' Senate opponents are grasping for straws," Sen. Lamar Alexander said of the decision in a post for Medium. "We didn't have time to question her, they say, even though she met with each one of them in their offices, and her hearing lasted nearly an hour and a half longer than either of President Obama's education secretaries."
Trump's Nominees Face 'Unprecedented' Democrat Obstructionism. President Donald Trump starts his first full week in the White House with just two Cabinet secretaries confirmed by the U.S. Senate. That's the lowest number in decades and a sharp contrast from former President Barack Obama. Trump's picks have fared worse than past Cabinet nominees. Even though Trump enjoys a Republican-led Senate, Democrats have kept their promise to delay confirmation of his nominees, even if they lack the votes to ultimately defeat them.
Chuck Schumer Says Democrats Will "Absolutely" Obstruct SCOTUS Nominee. Senator Chuck Schumer (D-NY) has only been Democratic leader for one day, yet his media appearances show he's already way out of his depth. Last year, in his capacity as head of the Democratic Policy and Communications Center, Schumer was one of the most vocal advocates for the need to fill the Supreme Court vacancy. Yet last night [1/3/2017(?)] on MSNBC, Schumer announced that he would "absolutely" look to block a Supreme Court confirmation indefinitely.
And Now The Left's War On Normal Americans Truly Begins. The left's strategy is simple — deny normal Americans normalcy. After all, that's what we really want, a return to normal. [...] It's what we want, and liberals want to deny it to us in order to doom Donald Trump and reopen their path back into power. So how will they do it? Constant resistance at every turn. They will ignore norms and rules — remember, norms and rules are only supposed to constrain us. They will lie, cheat, and engage in any conduct that they believe will help their hateful cause. A huge part of the progressive effort will go toward policing their own for any weakness or faltering in their lockstep opposition to everything Trump and the GOP do.
California Lt. Gov: We'll Stop Trump's Wall with Environmental Suits. President-Elect Donald Trump's plan to build a border wall along with U.S.-Mexico Border will be challenged through environmental lawsuits, according to California's second-highest official. California Lt. Gov. Gavin Newsom said in an interview with 'The Golden State Podcast' that he would use specific environmental laws in the state to stop the border wall from being built, at least in southern California.
The Editor says...
In this case, environmental laws are being used as weapons. The matter at hand has nothing to do with the protection of the environment. One thing politicians and environmentalists do well: they obstruct and impede their enemies' progress.
Chuck Schumer's Unprecedented, Unreasonable Demand to Slow Walk Trump's Cabinet Nominees. It may be a new year, but Senate Democrats are continuing on a course of obstruction. Senate Minority Leader Chuck Schumer (D-N.Y.) wants to slow down the confirmation process of President-elect Donald Trump's cabinet nominees. In a recent Washington Post story, Sen. Schumer indicated that his conference planned to target eight nominees, including Scott Pruitt, who is President-elect Trump's nominee to lead the Environmental Protection Agency (EPA), and Rep. Mick Mulvaney (R-S.C.), the nominee to serve as director of the White House Office of Budget and Management (OMB).
How liberals squelch opposing points of view. Journalist and TV pundit Kirsten Powers has a problem with her own people — liberals. The liberal columnist for USA Today doesn't have a problem with all liberals, just the subset she defines as the "illiberal left." As political discourse has become more coarse, she sees growing danger.
Inauguration Protesters Plan To Destroy Property And Disrupt Balls. On the day of President-elect Donald Trump's inauguration protesters are planning an anti-capitalist march, road blockades and disruptions to inauguration balls. The protests will likely include property destruction, a source with intimate knowledge of the protest plans told The Daily Caller Friday [1/13/2017]. The blockades are not limited to roads but will also be at every security checkpoint, the source said. The source added that the protesters blockading each checkpoint will represent a different liberal cause such as climate change or money in politics.
Protesters planning to blockade inauguration checkpoints, 'party' outside Pence home. An anti-Donald Trump group is planning massive disruptions for next week's inauguration covering everything from "blockades" at security checkpoints to a "dance party" outside VP-elect Mike Pence's house, according to group leaders as well as newly obtained audio of their apparent plans. The organization #DisruptJ20 already announced at a press conference Thursday its various plans to wreak havoc at Trump's Jan. 20 inauguration and in the days leading up to it.
The Left Means to Break This President. Hillary Clinton's 2016 campaign against Donald Trump largely amounted to a reprise of the left's attacks on Judges Robert Bork and Clarence Thomas in the 1980s. "Borking" — nice slang for Hillary's "politics of personal destruction" (which she decried when it was employed against her husband in 1998) — succeeded against Judge Bork. It did not work against Justice Clarence Thomas. And it demonstrably didn't work against president-elect Trump. So what is the left going to try next, now that Borking Mr. Trump has failed? "Massive resistance." That's what.
Protesters dressed as KKK members [were] dragged out of Sessions' attorney general hearing. Sen. Jeff Sessions (R-Ala.) had barely entered the room for his Attorney General confirmation hearing when he was met by protesters. A pair of men dressed as KKK members jumped up on their seats in the back of the Senate hearing room the moment Sessions walked in, adopting seemingly fake southern accents to troll the controversial senator.
Protests erupt as Jeff Sessions confirmation hearing begins. A series of protests disrupted the opening minutes of the confirmation hearing for attorney general nominee Sen. Jeff Sessions, R-Ala., with opponents of the nominee apparently staggering their interruptions for maximum effect. First up were a pair of demonstrators posing as Ku Klux Klan members masquerading as Sessions supporters, who erupted into protest at the outset in order to highlight charges of racism against him.
In Historic Move, Sen. Booker to Testify Against Sessions. Sen. Cory Booker is set to make history this week when he testifies before the Judiciary Committee against Sen. Jeff Sessions' nomination for attorney general in hearings that begin Tuesday morning [1/10/2017]. Booker's office said Monday [1/9/2017] that the Senate historian had been unable to find any previous instance of a sitting senator testifying against a fellow sitting senator nominated for a Cabinet position.
Democrats hunker down for 'permanent opposition' to Donald Trump presidency. For those stunned to see Tuesday's [1/10/2017] Senate confirmation hearing disrupted by shouts, chants and protesters dressed as Ku Klux Klan members: Get used to it. President-elect Donald Trump won't take office for another week, but Democrats and left-wing groups have already laid the groundwork for a relentless four-year assault on his presidency, vowing to disrupt and discredit his administration long before he signs his first bill. Trump campaign manager Kellyanne Conway and former House Speaker Newt Gingrich have a name for it: the permanent opposition.
The Real Reason Cory Booker Testified Against Jeff Sessions. Although it is not without precedent for a Senator to vote against the nomination of a fellow Senator, never in the country's history has a sitting member of the legislative body actively testified against the confirmation of one of his or her peers for a cabinet position. [...] "Senator Booker is putting partisan politics over legitimate policy concerns with his stunt," Congressman Chris Collins (R-NY) said in a statement to FOXBusiness.com. "This is just the latest desperate attempt by Democrats to derail the inevitable and avoid the reality that Americans rejected their liberal ideas on Election Day."
Jeff Sessions attorney general showdown fizzles. There was a lot of talk that the Senate Judiciary Committee's confirmation hearing for Attorney General-designate Jeff Sessions would be an epic showdown, with Democrats slashing Sessions' record and protesters turning the historic Russell Senate Office Building hearing room into a war zone. The buzz in the minutes before the hearing seemed to suggest something was up. A group of protesters staged a brief sit-in in Sessions' office just down the hall. Khizr Khan, center of a white-hot controversy with President-elect Trump last summer, showed up, talking with Democratic Sen. Patrick Leahy. Al Sharpton came in, after Maxine Waters, Sheila Jackson Lee and others. A brightly dressed contingent from Code Pink took seats in the center of the spectator session.
ACLU Aims To Derail Sessions' Attorney General Confirmation. The national legal director of the American Civil Liberties Union (ACLU) David Cole will testify against Republican Alabama Sen. Jeff Sessions at his confirmation hearing to be the next U.S. attorney general. "The ACLU is nonpartisan, and as a matter of longstanding policy does not support or oppose nominees for federal office. As a result, the ACLU rarely testifies in confirmation hearings," a Saturday [1/7/2017] statement from the ACLU said. "However, the organization is taking the extraordinary step of testifying in this hearing because Sen. Sessions' record raises significant, serious questions about his hostility to civil rights and civil liberties."
Will Chuck Schumer become Senator 'No' and wipe out his party's future? I'm amazed by the continuing stream of negativity Democratic Senate Minority Leader Chuck Schumer has been communicating to the American people. Schumer asserted on CNN "The only way we're going to work with him [Donald Trump] is if he moves completely in our direction and abandons his Republican colleagues." He further warned on MSNBC that "It's hard for me to imagine a nominee that Donald Trump would choose that would get Republican support that we [Democrats] could support." Schumer knows better than to get defined as "Senator No".
Biden gavels down die-hard Clinton loving Democrats who launch futile protests against the electoral vote. Democrats were shut down in their final, futile attempt to protest President-elect Donald Trump's electoral college win — and this time it was Vice President Joe Biden wielding procedure against them. Congress met in a Joint Session Friday to certify the electoral college, which met in December in state capitols across the country. 'It is over,' Biden said at one point, after shutting down an array of Democrats who tried to force a debate on the certification of the vote.
Celebrities Call for 'Month of Resistance' to Fight 'Fascist' Trump. Rosie O'Donnell, Debra Messing, Ed Asner and Michael Shannon are among the dozens of artists, entertainers, and activists who have attached their names to an effort calling for a month-long protest to stop President-elect Donald Trump. "No! In the Name of Humanity We Refuse to Accept a Fascist America!" reads a full-page ad placed in the New York Times on Wednesday [1/4/2017] by the group Refuse Fascism.
Impeaching Trump Before He Takes Office. The single most enjoyable part of Trump's election (thus far) has been the collective lefty meltdown; a glorious sight to behold. First, there were the attempts to overturn the results of the election by way of that whole embarrassing Electoral College coup that never materialized. When the coup fell flat, the entirety of the Democrats and establishment media woke up one Monday and miraculously, simultaneously decided that despite zero evidence, the Russians had "hacked the election" — whatever that means. Sure they probably hacked into the DNC's emails, but that was old news. Now, and this is probably my favorite, there's talk of impeaching Trump before he's been sworn in.
Democrats to Fight Any Trump Supreme Court Nominee: Schumer. Suggesting that turnabout is fair play, the Senate's new top Democrat promised Tuesday night [1/3/2017] to do his best to block whomever President-elect Donald Trump nominates to the Supreme Court. [...] Senate Republicans blocked President Barack Obama's March 16 nomination of U.S. Appeals Judge Merrick Garland for more than nine months — more than twice as long as any other nomination to the court has gone without a vote. Garland's nomination expired Tuesday as the new 115th Congress was sworn in.
NAACP president arrested in Jeff Sessions' office. The president of the National Association for the Advancement of Colored People and other employees of the organization were arrested around 7 p.m. CST Tuesday [1/3/2017] after they refused to leave Sen. Jeff Sessions' office in Mobile, Ala. President Cornell Brooks and three other staffers were taken into police custody after spending the day sitting on the floor of the Republican senator's office. Brooks said they would not leave until either Sessions declined his nomination as attorney general or they were arrested.
NAACP stages protest in Jeff Sessions' office. The NAACP staged a sit-in on Tuesday [1/3/2017] to protest the nomination of conservative U.S. Senator Jeff Sessions as the nation's next Attorney General, vowing to occupy his Mobile, Alabama, office until he withdrew as a candidate or demonstrators were arrested. Sessions, 70, has a record of controversial positions on race, immigration and criminal justice reform. Along with the sit-in, the National Association for the Advancement of Colored People (NAACP) organized demonstrations at his offices statewide to draw attention to their concerns about his track record.
GOP to combat Schumer nominee [and] stall with a public shaming. Senate Republicans have launched a public shaming campaign to try to shift public opinion against Democrats' threats to stall action on eight of Donald Trump's Cabinet nominees until March. Democrats, led by new Minority Leader Sen. Chuck Schumer, D-N.Y., have repeatedly warned that they will drag out confirmation votes with a series of procedural tactics. They say they have no qualms delaying the Trump nominees if they feel they don't receive adequate background information and financial records and don't have enough time to review them.
Schumer: "Democrats Will Resist Trump's Picks Vehemently!" According to [a report in The Washington Post], Schumer told Senate Majority Leader Mitch McConnell that he will target Trump's pick for the head of State, Sen. Jeff Sessions for head of the Justice Department, and two other notable appointees. Democrats will also target picks for the Department of Health and Human Services, the Department of Labor, Treasury and the Environmental Protection Agency.
Democrats prepare for early 'act of cowardice' with GOP attempt to repeal Obamacare. Democrats mounted a preemptive attack as the new Congress gets ready to meet Tuesday, accusing Republicans of "cowardice" for what is expected to be an early-session effort to repeal Obamacare. House Minority Leader Nancy Pelosi, preparing for her fourth straight Congress in the minority — she lost her speakership in 2010, in an anti-Obamacare backlash — now says it's the GOP that will pay a political price if it moves to dismantle the Affordable Care Act. "You break it, you own it," the California Democrat said.
The Editor says...
The last sentence is particularly amusing, because Obamacare is already broken, and the Democrats already own it, since they alone implemented it, yet their only solution is more government intervention.
Democrats target eight cabinet nominees, threaten to drag out process. Senate Democrats are vowing to stall action on eight of Donald Trump's Cabinet nominees tasked with carrying out his economic, law enforcement and regulatory agenda, a senior Democratic aide told CNN Monday. If carried through, the threat that could delay confirming the President-elect's choices for months. Those targeted include secretary of state nominee Rex Tillerson, attorney general pick Jeff Sessions and health and human services secretary hopeful Tom Price.
Rules Package Expected To Be Introduced To Prevent Another Dem Sit-In. GOP House Leadership is expected to roll out a rules change package to prevent lawmakers from doing anything similar to Democrats' anti-gun protest on the House floor in June. Democrats broke a number of rules during the sit-in, which lasted more than 24 hours. Violations included live streaming the event on social media and fundraising from the floor. Shortly after the occurrence, House Speaker Paul Ryan and House Majority Leader Kevin McCarthy met with the sergeant at arms to review the violations to determine the best way to address the issue. While their plans for disciplinary action took months, McCarthy assured throughout the process repercussions would be brought forward to prevent future instances.
GOP moves to block 'disorderly conduct' in House chamber. In a delayed response to Democrat's sit-in last summer to protest a lack of Congressional action on gun control, House Republicans are proposing rules to punish members of Congress who record or broadcast from the chamber floor.
CA's Senator Boxer Attempts To Block Her Own Bill. California Tea Party activists have long battled the bureaucrats and politicians over policies related to water. One of the most well-known of the myriad of issues is the diversion of water from farms in the Central Valley (a major source of this nation's fruits and nuts... outside of San Francisco, that is). One goal of this reallocation of a prime agricultural resource is the protection of a bait fish known as the Delta Smelt. Last week, the House of Representatives easily passed a major water bill that includes emergency aid for Flint, Mich., and boosts U.S. ports, dams and waterways. This bill, known as the Water Resources Development Act (WRDA), was initially co-authored by the notorious Senator Barbara Boxer, who infamously derided a Brigadier General for referring to her as "ma'am".
National Mall sites shut down for protests during inauguration. Protests scheduled to take place around President-elect Trump's inauguration next month won't have access to the Lincoln Memorial and other sites on the National Mall. The Guardian reported the National Park Service has filed documents securing large swaths of the Mall for inauguration events, essentially shutting them off to protesters. While this is standard procedure for inaugurations, and would have happened if Hillary Clinton was elected instead, it has angered some who planned to protest Trump.
Democratic Senators Stall CR, Force Federal Government into Weekend Shutdown. Senate Democrats from coal mining states shamed their Democratic colleagues in joining them in a procedural vote Thursday that would have ended debate on the continuing resolution to extend federal government funding through April over an extension of benefits for out-of-work coal workers. In the Senate, there are two votes. The first vote ends debate, and that must pass with 60 votes. The effort to extend debate is called the filibuster, which is what Senate Democrats, led by Ohio's Sherrod Brown, did when they kept the Republicans from getting the 60 votes to end debate. The second vote on a bill merely requires a simple majority.
Brown blocks Senate resolution for Pearl Harbor in effort to get better health deal for miners. Sens. Joe Manchin, D-W.Va.,and Sherrod Brown, D-Ohio, both vulnerable senators facing re-election in 2018, took to the Senate floor to block a host of bills and resolutions that usually sail through unnoticed. Manchin and Brown want a longer guarantee of health benefits for miners beyond April 28. The miners' health care issue has emerged as a flashpoint on a bill to fund the government through next spring. Funding for the government expires Friday night. Sen. Thom Tillis, R-NC, repeatedly tried to get clearance from Manchin and Brown on a panoply of non-controversial bills Wednesday night. But the Democrats repeatedly objected, effectively blocking each item.
Brown blocks Senate resolution for Pearl Harbor in effort to get better health deal for miners. Sens. Joe Manchin, D-W.Va.,and Sherrod Brown, D-Ohio, both vulnerable senators facing re-election in 2018, took to the Senate floor to block a host of bills and resolutions that usually sail through unnoticed. Manchin and Brown want a longer guarantee of health benefits for miners beyond April 28. The miners' health care issue has emerged as a flashpoint on a bill to fund the government through next spring. Funding for the government expires Friday night [12/9/2016]. Sen. Thom Tillis, R-NC, repeatedly tried to get clearance from Manchin and Brown on a panoply of non-controversial bills Wednesday night. But the Democrats repeatedly objected, effectively blocking each item.
Led By California, Democrats Vow to Say 'No' to Trump — on Everything. Democrats are vowing to oppose incoming President Donald Trump on everything — from his Cabinet nominees to his policy proposals, from his executive orders to his Supreme Court nominations. They are doing so based on their mistaken projection of Trump as a nascent fascist; their hysterical and self-serving delusions about being "unsafe"; and their own faulty memories of Republican opposition to President Barack Obama. In do doing, [sic] Democrats are setting themselves up to continue to fail.
Michael Moore: Trump 'Has No Right To Enter' White House. On Friday's [12/16/2016] broadcast of MSNBC's "All In," filmmaker Michael Moore argued that President-Elect Donald Trump "has no right" to enter the White House. Moore called for "protesting, obstructing, disrupting, civil disobedience."
Michael Moore: 'Disrupt the Inauguration'. Liberal documentary filmaker Michael Moore is encouraging Americans to take to the streets to protest the inauguration of President-elect Donald Trump.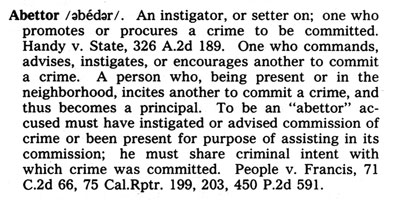 Black's Law Dictionary, Fifth Edition, 1979, page 5.

Senate Dems Vow to Hold Up Bills Until Vote on Coal Miners' Healthcare. After Democrats took an Election Day hit in coal country, a group of Senate Democrats has vowed to block unanimous consent bills until a pension shortfall for retired mine workers is addressed. Last month, 22 senators wrote to congressional leadership urging that the Miners Protection Act, sponsored by Sen. Joe Manchin (D-W.Va.), be passed before Congress leaves for the year.
Dem Rep Ellison: House Democrats Will Do Nothing But 'Vote No' Under Trump. Minnesota Rep. Keith Ellison, widely considered a frontrunner to be the next Democratic National Committee chair, says House Democrats will do nothing but "vote no" in the coming years under the new Trump administration. Ellison, who has faced questions over whether he can juggle both working in Congress and rebuilding a depleted Democratic Party, defended himself at a party meeting on Friday [12/2/2016] by suggesting that working as a Democratic congressman won't require much effort.
"Fight for $15" protests sweeping the country. A national day of protests for a higher minimum wage is seeing demonstrations from O'Hare Airport in Chicago to Kansas City to Los Angeles. The national "Fight For $15" protest is the latest in the fight for a $15-per-hour minimum wage. Protesters called the day of action "Disruption Tuesday." Fast food employees, child care teachers, graduate assistants, and others in low-wage jobs who plan to walk off their jobs in 340 cities.
Stick This in Your Pipeline. The next radical environmental tactic is now evident for eyes to see: block all infrastructure projects — especially oil and gas pipelines — with criminal trespass and obstruction. Having killed the Keystone pipeline (only temporarily, now that Trump is going to approve it once he takes office), the red-greenies are trying to stop the Dakota Access pipeline that has received all of its regulatory permits.
US Green Party raises enough funds for Wisconsin recount. The former Green Party presidential candidate Jill Stein has raised the necessary $1.1 million to request a vote recount in Wisconsin, her campaign announced Thursday [11/24/2016]. The Midwestern state was a key battleground in the November 8 election, helping propel the Republican President-elect Donald Trump past his Democratic rival Hillary Clinton to a victory that shocked the nation.
Jill Stein Raises Enough Money To Force Wisconsin Recount Michigan & Pennsylvania Up Next. A couple of days ago we wrote about a group of scientists, which included voting-rights attorney John Bonifaz and J. Alex Halderman, the director of the University of Michigan Center for Computer Security and Society, who announced they had found "persuasive evidence" that results in Wisconsin, Michigan, and Pennsylvania may have been manipulated or hacked. Of course, they presented absolutely no evidence to support their startling claim other than to point out that Clinton received, on average, 7% fewer votes in counties that used electronic voting machines rather than optical scanners and paper ballots. Apparently that was all the evidence that Jill Stein needed to be convinced that she might have a chance in Wisconsin, Pennsylvania and Michigan where she received 1.1%, 0.8% and 1.1% of the vote, respectively.
The Editor says...
It's almost comical when a presidential candidate demands a recount after losing by a ratio of 99-to-1. Obviously the recount will allow the Democrats to "find" another truckload of straight-party Democrat ballots that weren't counted the first time. As I understand the situation, they'll need to manufacture at least 10,000 more ballots to change the outcome of the election. This effort has nothing to do with fair elections and everything to do with friction, obstruction and disruption.
Live from Omaha, it's Jill Stein. At the end of her talk in front of about 250 people in Omaha tonight, Green Party candidate Dr. Jill Stein strongly hinted that if she and Gary Johnson are not included in the first debate then they will bring 5,000 followers to the debate site and all get arrested. Apparently she had done something similar when she ran for Governor of Massachusetts. You read it here first. And please alert the Secret Service. Stein earned two degrees from Harvard; she can't be stupid. I went to see if she is trying to win or just running to make a statement. In my view, if she was trying to win she would attack Hillary Clinton full bore on all fronts. So I tossed her a softball. I stated that it is obvious that Mrs. Clinton has consistently and repeated lied to the American people. Former US Attorney Rudy Giuliani is of the professional opinion that Madam Hillary should be indicted under RICO for her activities with the Clinton Foundation. In light of that was she going to attack Hillary's character down the stretch?
Update:
What Happened to Jill Stein's Recount Millions? Shortly after the 2016 election, Jill Stein raised more than $7 million from shell-shocked liberals eager to pursue a swing-state recount. Two years later, the U.S. Green Party's last candidate for president is still spending that money. Ongoing litigation, travel costs, and staff salaries are also likely to eat up whatever is left, meaning those who donated to Stein are unlikely to receive a once-promised chance to vote on how the post-recount money would be spent. Nor have donors been given much of a window into how Stein is actually spending their donations.
Jill Stein Recount Going Exactly as You Expect. Before the Mueller coup won the soft hearts of progs from Marin County to Martha's Vineyard, before Hillary's Sour Grapes Across America tour, there was Jill Stein's recount. Dr Jill Stein, DDS, PDHD, DOS, SNAFU, announced that there would be a recount of the election. The more money gullible idiots sent her, the more recounting there would be. Until the recount finally proved that Trump didn't win. Jill Stein did. Lots and lots recounting. And now, hold on to your top hats, the recount is still going on. And no, nobody's getting their money back.
Black Lives Matter Plans To Block White-Owned Businesses On Black Friday. Black Lives Matter and other groups plan to block white-owned Chicago stores on Black Friday [11/25/2016] to bring awareness about police shootings, economic issues and alleged racism. Local churches, Black Lives Matter and the Chicago Alliance Against Racist and Political Repression will block stores along Michigan Avenue and prevent customers from entering stores for the second year in a row, reports Crain's Chicago Business. A big part of the protest is to force on people that it's important to shop at businesses that aren't owned by white men, Kimberly Veal, a leader of Black Lives Matter, said. It's not yet known who owns the businesses that will be targeted as part of this effort.
Black Lives Matter Activists Plan to Disrupt Black Friday Shopping in Major Cities. Black Lives Matter agitators plan to disrupt Black Friday shopping in at least two cities this year in an attempt to draw attention to what they call unjustified police shootings. Organizers in Chicago and Seattle are planning demonstrations that they hope will attract thousands of protesters. In Seattle, as many as 2,700 people may attend a Black Lives Matter protest downtown on Black Friday, according to a Facebook page set up by the "Black Freedom Front of Seattle."
Limbaugh: Hillary Campaign Behind Push to 'Threaten Electors'. As the revolt against Donald Trump's victory Nov. 8 takes another turn — with calls to challenge results in three states and more "faithless" electors vowing not to vote for Trump — Hillary Clinton's lecture to Trump after the third presidential debate on the virtue of accepting election outcomes comes to mind. When considerable attention was given to Trump's reluctance during the third presidential debate to pledge that he would accept the results of the election, Clinton went on record stating "one of our hallmarks has always been that we accept the outcomes of our election."
Report: Huma Sister Trying To Undermine Legitimate Trump Victory. The sister of Huma Abedin — the longtime aide of Hillary Clinton and estranged wife of former Democratic congressman and serial sexter Anthony Weiner — appears to be trying to undermine Donald Trump's legitimate electoral victory. Heba Abedin urged her Facebook followers to call the Department of Justice to demand an "audit" of votes cast because "there is something really off about the election results as they come in," according to a screenshot captured by New York Magazine writer Yashar Ali. Heba appears to have since deleted the post.
Activists urge Clinton camp to challenge election results in three states. [Scroll down] The group found the Democratic nominee got 7 percent fewer voters in counties in Wisconsin that used electronic-voting machines instead of optical scanners or paper ballots, according to the magazine. Clinton could have reportedly not received as many as 30,000 votes, which could have cost her the state, the publication reported. Clinton lost Wisconsin by about 27,000 votes. The group is saying the pattern should be looked into, though it has not found proof of hacking.
Clinton Campaign Looking into Challenging Outcome of Election to Undermine the Vote. During the weeks before the final day of the campaign, both the Clinton camp and the media attacked Donald Trump for refusing to say he would automatically accept the outcome of the vote on Election Day. But now Clinton's campaign chief is taking meetings with groups urging him to do just that by considering a challenge to the final vote in several of the key states that gave Trump the White House. Reports from several sources revealed on November 22 that Clinton campaign chief John Podesta was taking meetings with a group claiming it had discovered "irregularities" in several counties of some of the states that Trump won.
Borking:
How ugly will Democrats get in smearing Jeff Sessions? Sen. Jeff Sessions, President-elect Donald Trump's pick for attorney general, will likely face a tough confirmation fight. What remains to be seen is how ugly those hearings will get. No sooner had Sessions been named than the left — and much of the press — were tarring the Alabama senator as a racist. The NAACP tweeted that he "supports an old, ugly history" when it comes to civil rights. Most of this traces to 1986, when the Senate rejected his nomination for a federal judgeship, based on hearsay testimony from two lawyers alleging he'd made racially charged statements.
Democrats' new Senate leader open to filibustering Trump's Supreme Court picks. Senate Democrats' new leader claimed the right Wednesday [11/16/2016] to filibuster Donald Trump's Supreme Court nominees, making clear Democrats won't give the president-elect much of a honeymoon on the most significant of his upcoming appointments. Sen. Charles E. Schumer, New York Democrat, said nominations to the high court should get support from both parties, and said the filibuster is a way to enforce that on a president. He pointedly noted that when his party changed filibuster rules three years ago, they left intact the ability to filibuster at the Supreme Court level. "I'll underline that we did not change the rules for Supreme Court because we thought on something as important as this, there should be some degree of bipartisan agreement," Mr. Schumer said.
Soros Gathering With Top Democrats in D.C to Plot Trump Resistance. Liberal billionaire George Soros is meeting behind closed doors with top Democrats to plot a resistance strategy against President-elect Donald Trump and Republicans. The three-day conference began Sunday at the Mandarin Oriental hotel in Washington, D.C., and is sponsored by deep-pocketed liberal members of the dark money Democracy Alliance donor network, Politico's Ken Vogel first reported. The group will seek to pick up the pieces from the 2016 election, plot its strategy for upcoming elections, and map out a game plan to battle Trump during his first 100 days in office.
Soros Prepares For Trump War. George Soros and his fellow liberal mega-donors are currently readying the post-Hillary Clinton Democratic party to oppose President-Elect Donald Trump. According to Politico, Soros and other key members of the so-called "Democracy Alliance" met in Washington, DC at the Mandarin Oriental hotel on Sunday [11/13/2016] for the first day of the group's three-day investment conference.
Al Sharpton Promises Donald Trump 'a Fight for the Future of This Country'. Rev. Al Sharpton warned President-Election Donald Trump to "saddle up your horse" because he's planning to spend the eight weeks leading up to Trump's inauguration fighting any changes that could adversely impact communities of color — starting with a rally at the Dr. Martin Luther King Jr. Memorial on January 14. At a special edition of his Saturday gathering and radio address at the Harlem headquarters of his National Action Network [11/12/2016], Sharpton announced his plans to march on the on the monument in Washington, D.C. just two days before the official Martin Luther King, Jr. holiday and six days before Trump's inauguration. He urged people to put pressure on the Senate to maintain the Affordable Care Act and to push back on every proposed member of the Trump cabinet at every confirmation hearing.
Progressive groups vow to 'obstruct, delay, and halt' Donald Trump's agenda. Despite bipartisan calls for healing and unity after a brutal presidential campaign, liberal activist groups vowed Wednesday to fight from the get-go to stop President-elect Donald Trump's agenda. Democracy for America, a leading liberal political action committee and dependable advocate for the Democratic Party, called for a "progressive political revolution" to stymie what it described as Mr. Trump's racist and sexist agenda. "So let's be absolutely clear: Democracy for America will do everything in our power to obstruct, delay and halt the attacks on people of color, women and working families that will emerge from a Trump administration," said Charles Chamberlain, the group's executive director.
Protesters Block Upper Level of George Washington Bridge. The inbound upper level of the George Washington Bridge was closed by an immigrant rights protest on Wednesday morning [10/26/2016], snarling traffic on one of the region's most important crossings at the height of rush hour. Delays at the bridge for traffic heading into New York from New Jersey were up to nearly 90 minutes; traffic cameras showed bumper-to-bumper traffic barely inching along.
VA Suicide Hotline Reform Bill Sails Unanimously Through House, Harry Reid Crushes It. The House approved GOP Rep. David Young's bill last Monday [10/3/2016] by a vote of 357-0. Young introduced the legislation after hearing numerous complaints from constituents that the Veterans Crisis Line, designed to provide support for veterans feeling suicidal, simply failed to answer emails or calls. The bipartisan bill passed the House without a hitch and Democratic Sen. Amy Klobuchar teamed up with GOP Sen. John Thune to move the legislation through the Senate. Both majority and minority staff on the Senate Committee on Veterans' Affairs cleared the bill, Meg Baglien, communications director for Young, told The Daily Caller News Foundation. But a nod from the committee didn't prevent Reid from stopping the bill in its tracks, [...]
Senate Democrats Block Zika Funding for Florida. Before adjourning for its August recess, Congress failed to approve an emergency Zika-funding bill that would have provided $1.1 billion for Zika-related vaccines and research to local and state health departments, and Medicaid programs. Senate Democrats blocked the bill because they say Senate Republicans excluded funding for Planned Parenthood.
Many recovered Clinton emails won't go public before election. Hope you aren't waiting for the State Department to publish every last document from Hillary Clinton's private email server before making a voting decision — you're going to be disappointed. A federal judge has set a schedule that will only publish 1,050 pages of recently recovered material (out of roughly 10,000 pages) by November 4th, mere days before the US presidential election on the 8th. The Department has promised to process 500 pages per month, so you won't get the full scoop until well after the next president takes office.
The Editor says...
It is obvious to anyone with a calculator that the State Department is engaged in partisan foot-dragging until after the presidential election. Here's why: If it takes a month to read 500 pages, that's 86 minutes per page. Does it take you an hour and a half to read every email message you get, and figure out what it means? Is there only one person at the State Department doing this work?
Obama pledges to veto bill forbidding ransom payments to Iran. The White House threatened Wednesday [9/21/2016] that President Obama would veto two bills aimed at curbing the impact of his so-called "ransom" payment to Iran for the release of American hostages. The administration issued the veto warnings against House bills, one that would forbid any future ransom payments to Iran and another that would require public disclosure of the assets of all top Iranian leaders, including Ayatollah Ali Khamenei. The House passed the latter bill, the Iranian Leadership Asset Transparency Act, on Wednesday night by a vote of 282-143. On the ransom measure, the White House said the legislation is trying to solve a problem "that does not exist."
Obama threatens veto of bill to disclose assets of Iranian leaders. The White House issued a veto threat Wednesday [9/21/2016] against a House bill that would require the federal government to publicly report all assets held by Iran's top leaders, calling the measure "onerous." The administration said the Iranian Leadership Asset Transparency Act wouldn't stop Tehran from financing terrorism or laundering money, and would spur Iranian officials even more to hide their assets. Further, the White House said the measure could be "perceived by Iran" as an effort to undermine the administration's nuclear deal with Tehran.
Documents appear to implicate State Dept. in cover-up on Clinton emails. The U.S. State Department waited over a year before producing emails stored on former Secretary of State Hillary Clinton's private server despite 17 Freedom of Information Act (FOIA) requests. According to documents obtained by Judicial Watch, "in August 2013, State Department officials were aware of 17 FOIA requests relating to requests for Clinton correspondence, including four that 'specifically mention emails or email accounts.' "Despite the large number of FOIA requests and growing concern among top agency officials, the State Department did not formally request that the former secretary of state produce the emails on the clintonemail.com server until October 2014."
Obama expected to veto bill allowing 9/11 lawsuits against Saudi Arabia. President Barack Obama is expected to veto a bill allowing the families of 9/11 victims to file lawsuits against Saudi Arabia. White House Press Secretary Josh Earnest said President Obama "does intend to veto this legislation," on Monday [9/12/2016] during a briefing. The veto would be Obama's 11th during his presidency, setting up for possibly his first veto override.
Trump, GOP calls on Clinton to have full State Dept schedule released. The Donald Trump campaign and Washington Republicans are calling on Democratic presidential nominee Hillary Clinton to have all of her daily schedules as secretary of state released before Election Day, after the State Department said Friday it cannot comply with the court-ordered release until after voting. The Associated Press reported earlier this week, after analyzing schedules released so far, that more than half the people outside the government who met or spoke by telephone with Clinton while she was secretary of state had given money — either personally or through companies or groups — to the Clinton Foundation.
Clinton's full State Dept. schedule won't be released until after Election Day. Seven months after a federal judge ordered the State Department to begin releasing monthly batches of the detailed daily schedules showing meetings by Hillary Clinton during her time as secretary of state, the government told The Associated Press it won't finish the job before Election Day.
Hillary Clinton's run-out-the-clock strategy. She is not planning on sitting for another televised armchair confessional to rehash regrets about a private email server. Nor is the campaign setting up the kind of war room employed last year to discredit a book that aimed to expose a quid-pro-quo relationship between Clinton Foundation donors and State Department officials. With 75 days until Election Day and new emails once again casting a pall over her campaign, Hillary Clinton aims to "run out the clock," confidants say, on the latest chapters of the overlapping controversies that have dogged her campaign since the start. According to allies and operatives close to the campaign, Clinton's team thinks "they can ride out" any negative reaction to a set of new emails that show Clinton Foundation officials trying to set up State Department meetings for donors during her tenure as the nation's top diplomat.
Activists Plot Civil Disobedience, Mass Arrests, Infiltration Attempts at DNC. Over five hundred activists have pledged to risk arrest by engaging in nonviolent mass civil disobedience at the Democratic National Convention here in Philadelphia between Monday and Thursday, according to Kai Newkirk, mission director for the Democracy Spring activist group. During an in-person interview outside the Pennsylvania Convention Center in downtown Philadelphia, Newkirk revealed that, besides street protests, activists from his group will attempt to infiltrate and disrupt this week's DNC events from the inside.
Exclusive — Code Pink Founder: We'll Try to Infiltrate, Disrupt RNC. Medea Benjamin, co-founder of the infamous Code Pink leftwing antiwar activist group, admitted in an interview with this reporter that her organization will attempt to infiltrate the Republican National Convention here this week with the goal of disrupting the event. Code Pink has a history of infiltrating and briefly disrupting events, including the confirmation hearing for CIA Director John Brennan; a Senate hearing at which Defense Secretary Chuck Hagel was testifying about the threat posed by the Islamic State; Prime Minister Benjamin Netanyahu's 2011 address to Congress, and many others.
Nitwit White People Arrested for Being Tools of Black Lives Matter. A group of self-hating white people decided to become tools of the Black Lives Matter movement and block Interstate 95 in Richmond Monday [7/18/2016]. At least a dozen protesters blocked off all southbound lanes around 5:45 p.m. and draped a sign on the overpass.
Bringing Down the Left. The Left, by faithfully executing the strategy as laid out by Saul Alinsky, are now the dominant political and social force in The United States. However, the one factor that none of the icons of the American Progressive movement bothered to consider was: what are they going to do with a nation the size and population of a continent, with a long history of independence and free enterprise, once they vanquished an increasingly spineless opposition? They do not know how to be or what to do as the new governing class. They are incapable of governance as they can only oppose, topple and demagogue. Thus, they are destined to fail. Unfortunately, with that failure will come additional suffering, chaos and displacement for the American people.
Senate Dems block votes on immigration issues, including sanctuary cities. The Republican-controlled Senate failed Wednesday to advance efforts to change federal immigration law — including one to cut funding to so-called sanctuary cities. The vote was 53-44, failing to get the minimum 60 votes to begin debate on the issue. The measure attempted to block congressional funding for sanctuary cities — municipalities that ban police from cooperating with immigration officials to potentially deport illegal immigrants. Senate Republicans also failed to get enough votes to advance their proposed Kate's Law — named after Kate Steinle, who was fatally shot in July 2015, allegedly by an illegal immigrant who had multiple felony convictions and was deported several times prior to the incident.
Congressional Black Caucus to 'Cause Chaos' on the House Floor Over Guns. What more do these Congressional Black Caucus goons want? Paul Ryan has already caved and will allow a House vote on gun confiscation. Apparently that's not good enough for the racist Congressional Black Caucus. They plan to "cause chaos" and are urging other fascist Democrats to join them all over gun control and confiscation.
Obama Administration Wants to Keep Clinton Foundation Emails Hidden Until Late 2018. The Obama Administration is already infamous for slow-walking information requests, causing investigations to drag out for years, and then complaining loudly about how long the investigations are taking! But they've really outdone themselves this time. The Justice Department has filed a motion in court, on behalf of the State Department, seeking to keep a vast trove of correspondence between Secretary of State Hillary Clinton's aides, and the notorious Clinton Foundation, hidden from voters' eyes for 27 months... in other words, until October 2018, about halfway through President Hillary Clinton's prospective first term.
The Former "Occupy Wall Street" Fools Now Occupy The House Floor. The chumps who formerly were so proud of their allies in the Occupy movement, in other words, the liberal/progressive Democrats, are taking their idiocy to laughable ends by now occupying Congress.
Al Gore's daughter arrested in Boston pipeline protest. Organizers say the daughter of former Vice President Al Gore was among 23 people arrested during a protest of a Boston pipeline under construction. The arrests happened Wednesday at the site of Spectra Energy's West Roxbury Lateral pipeline. Forty-two-year-old Karenna Gore was among demonstrators that tried to block construction activity on the site by lying in a trench.
Obama Admin Tells Florida Agencies To Deny Public Records Requests On Orlando Attack. While Attorney General Loretta Lynch holds firm to her claim that the motive of Orlando terrorist Omar Mateen may never be known, the FBI is instructing Florida agencies that responded to the attack that night to deny requests for public records pertaining to the case. Mateen called police several times during the three hour ordeal to declare his allegiance to ISIS, yet only a fraction of his discussions with authorities that night have been released to the public — first an edited version, than an unedited one. In response to a lawsuit by local media seeking the release of the 911 audio, the Seminole County Sheriff's Office released a letter they got from the FBI instructing them to deny all requests for information and refer news outlets seeking information to the feds, the Orlando Sentinel reports.
FBI asks agencies who responded to Pulse to deny records requests. The FBI has asked law enforcement agencies who responded to Pulse nightclub to withhold records from the public, according to officials. A June 20 letter from the FBI, attached to the City or Orlando's lawsuit over withholding 911 calls and other records from 25 media outlets including the Orlando Sentinel, was also sent to the Seminole County Sheriff's Office with instructions pertaining to how they should respond to records requests. The letter requests that agencies deny inquiries and directs departments to "immediately notify the FBI of any requests your agency received" so "the FBI can seek to prevent disclosure through appropriate channels, as necessary."
State Department Won't Release Clinton Foundation Emails for 27 Months. Department of Justice officials filed a motion in federal court late Wednesday [6/29/2016] seeking a 27-month delay in producing correspondence between former Secretary of State Hillary Clinton's four top aides and officials with the Clinton Foundation and Teneo Holdings, a closely allied public relations firm that Bill Clinton helped launch. If the court permits the delay, the public won't be able to read the communications until October 2018, about 22 months into her prospective first term as President. The four senior Clinton aides involved were Deputy Assistant Secretary of State Michael Fuchs, Ambassador-At-Large Melanne Verveer, Chief of Staff Cheryl Mills, and Deputy Chief of Staff Huma Abedin.
State Department seeks 27-month delay for release of Clinton Foundation emails. The State Department has sought to delay the court-ordered release of emails between four of Hillary Clinton's top aides and officials at the Clinton Foundation and a closely associated public relations firm. The motion, filed in federal court by the Justice Department late Wednesday, seeks to put off the release of the emails by 27 months. It was first reported on by The Daily Caller. In the filing, the State Department says it originally estimated that approximately 6,000 emails and other documents were exchanged between the aides — identified as former Deputy Assistant Secretary of State Michael Fuchs, former Ambassador-At-Large Melanne Verveer, Chief of Staff Cheryl Mills, and Deputy Chief of Staff Huma Abedin — and the Clinton Foundation and Teneo Holdings, a communications shop that former President Bill Clinton helped launch.
Why Hillary Is Stalling Her FBI Interview. James Comey, the straight-arrow director of the Federal Bureau of Investigation, is eager to wind up his investigation of Hillary's use of an unsecure email system, but he can't do that until he and Justice Department prosecutors sit down with Hillary and interview her. Hillary says that neither she nor her campaign have been contacted by the FBI. But that is not true. Negotiations have been going on for quite some time between the FBI and Hillary's attorney, David Kendall, who went to law school with Hillary and defended Bill Clinton in his impeachment trial.
Paul Ryan: I won't tolerate another sit-in from Democrats. After Democrats held what the Speaker of the House has called a fundraising stunt last week, some Republicans have recommended he file ethics charges against anyone who violated House rules. Ryan doesn't seem ready to go there quite yet but he did tell WISN news that if Democrats try it again his response will be different: [...]
Immigrant activists stage blockade to stop deportations. Immigrant rights activists attempted to block the road to federal immigration agents' headquarters in Atlanta on Monday, demanding President Obama stop deporting anymore illegal immigrants after last week's Supreme Court stalemate. Led by the Not1More campaign, which webcast the protest, the demonstrators called Mr. Obama to hamstring U.S. Immigration and Customs Enforcement (ICE), the deportation agency, saying it's up to the administration to protect illegal immigrants now.
Democrats: We Will Overcome The Constitution. Nothing stirs the passions of Democrats these days quite like the prospect of gutting the Constitution. In an unprecedented act of pretend political bravery, House members held a catered sit-in, demanding that Republicans allow a vote to strip away protections of Second, Fifth and Sixth Amendments of the Constitution. It was quite the scene. There were the selfie-happy Democrats singing "We Shall Overcome" while demanding passage of a bill that those right-wing nutjobs over at the American Civil Liberties Union have "strongly" argued would undermine civil liberties. As of this writing, no participant has been beaten down by the cops or thrown into a dank cell, although iPhones were probably getting perilously low on juice for those who'd forgotten their chargers.
Congressional Democrats Clueless on Gun Bills. Congressional Democrats emerged from the Capitol building Thursday afternoon [6/23/2016] from their 25-hour long "sit-in" in the House of Representatives sleepy but satisfied with what they'd accomplished. They may not have secured a vote on gun control legislation they were demanding in the wake of the Orlando terror attack, but they had grabbed headlines across the media that portrayed the their gun control ploy as a historic civil rights crusade. To the tune of "We Shall Overcome," members of the Democratic caucus sang outside the Capitol: "We shall pass a bill, some day."
Sit in, shut up and disarm: The Democratic response to terrorism. If you are old enough, you remember how campus after campus in the 1960s had the president's office "occupied" by students who would rather be making demands for "social justice" than actually attending class. These ruffians were loud, petulant and self-righteous, and they considered their issues more important than civil behavior, the rights of others or common decency. Sound familiar? That's because, if you follow the timeline from the late 1960s to now, you will discover that many of those unwashed radicals or their younger siblings are running everything from major corporations to, yep, Congress. And the lesson they learned is that if you are loud enough and obnoxious enough for long enough, you just may be able to get your way after all.
House gun control sit-in a media coup, but party gets a pass on disruption. [Scroll down] Unlike the Senate, where anyone can filibuster, the majority party rules the House with an iron hand. So Ryan was basically on target in telling CNN the move was a "publicity stunt." The speaker, like Nancy Pelosi before him, can keep any bill he wants off the floor. What's more, and some of the stories acknowledged this, if there had been a vote, the Democrats would have lost, just as they failed to win approval for four Senate measures, two sponsored by each party. So this is pure protest politics. Back in 2008, when Democrats ran the House, the GOP tried to block an adjournment, refusing to leave while insisting on a vote on an energy bill. Pelosi was dismissive, accusing the Republicans of "obstructing common-sense proposals." She and her party left town for summer recess anyway, darkening the chamber and having the C-SPAN cameras turned off.
Chuck Schumer, world-class hypocrite. [Senator] Schumer, along with several other Senators and numerous members of the House, staged a 24-hour "sit-in" on the House floor to demand votes on gun control. (Yes... Democrats actually believe that stripping the American people of their Second and Fifth Amendment rights is a "civil rights" issue justifying a 1960s-style sit-in.) Predictably, milquetoast "establishment Republican" speaker Paul Ryan refused to have the protesters arrested or removed by the House sergeant-at-arms. So the Democratic protesters got away with their misbehavior. Now, dear reader, what do you suppose would happen to you if you joined a conservative group that employed 1960s-style sit-in tactics to oppose — oh, let's say, abortion — in front of an abortion clinic? Well, it just so happens that we know the answer to that question, because a lot of people did exactly that in the early 1990s. And the very same Chuck Schumer who was part of the "sit-in" for gun control yesterday threw the book at them.
C-Span, Cameras & Sit-Ins: A Fun Lesson in Selective Amnesia & Hypocrisy. Ah, those eeeeevil Republicans... embracing Orwellian censorship by shutting off C-SPAN cameras to hide the world from democracy in action and of Democrats in the House who via a sit-in were simply trying to do the right thing on gun control measures. Even the barely-relevant Trevor Noah got into the act with the usual bias by omission (some call that "dishonesty") by mocking Ryan for cutting off the feed without ever mentioning the precedent behind it. No matter... he's allegedly just a comedian, right? [...] Of course, never once in the [Boston] Globe's pious preaching on censorship did they once include this little tidbit from 2006. [...]
Tom DeLay: I Would've Filed Ethics Charges Over Sit-in. There was a jubilant, circus-like atmosphere outside of the U.S. House chamber on Thursday afternoon [6/23/2016], as Democrats brought an end to their day-long "sit-in" over gun control. But one man walking past the bullhorns and cheers found the scene repellant. It was former House Majority Leader Tom DeLay. If the Sugar Land Republican were still running the show at the U.S. Capitol, he said, he would've had no mercy for the Democrats participating.
The Symbolic Self-Liquidation Of The Democratic Sit-In. The House gun control stunt has all the trappings of a sit-in protest. Because they're, you know, sitting on the floor and all. But what are they occupying? Their own legislative chamber. [...] Ah, but if they sat in the chairs, this would look exactly like any ordinary day in the House of Representatives, and it would be obvious that nothing brave or interesting is happening. Then there are the copious quantities of food that make the whole think look like a catered picnic.
There Are Elected Morons Sitting On The Floor In The House Of Representatives. Why? Because they're unhappy that no gun-grabbing legislation is moving. The Speaker, Paul Ryan, did a great job dealing with this. The House gavelled into recess, and since it did that C-SPAN's cameras got turned off. And there was no live coverage of John Lewis' babblings and bad Martin Luther King impressions while sitting on his fat rump.
Nets Trumpet Democratic Sit-In, Twist House Rules to Trash Republicans. On Wednesday [6/22/2016], House Democrats staged a sit-it on the House floor trying bring their failed Senate bills to a vote in the House. Many are calling their actions a publicity stunt, and they seem to be right. All three of the liberal networks were glued to Capitol Hill during their evening broadcasts. "The dramatic sit-in on Capitol Hill," ABC's David Muir touted on World News Tonight, "Sitting down, demanding action on gun control." The sit-in also gave them the opportunity to trash House Republicans. "And as funerals continue for the 49 who were murdered, Democrats today seized the floor of the House of Representatives, demanding that the Republican majority allow a vote on gun control," stated CBS' Scott Pelley on Evening News, trying to shame the opposition.
Bias alert!
Read that last sentence again. Why would funerals still be underway ten days after the murders? -->
Rep. John Lewis: It's OK to Break House Rules 'To Uphold a Greater Law, a Moral Law'. Supported by President Obama, Rep. John Lewis (D-Ga.) justified Democrats' disruption of House business on Wednesday [6/22/2016] by saying, "It is always right to do right." Applying 1960s tactics to the ongoing gun control debate, Lewis led Democrats in a noisy sit-in on the House floor, demanding a vote on gun control legislation that Republicans refuse to bring up.
House Sit-In: A Brief Tutorial on How American Government Works Now. For those of you who may still be laboring under the illusion that we live in something resembling the antiquated notion of a constitutional republic, allow me to enlighten you about how things have changed since your high school government class. Here's how the legislative branch works now: When the Democrats are in power they get everything they want, even if it means ramming through legislation in the middle of the night and twisting the rules until they are virtually unrecognizable. When the Republicans are in power, the Democrats still get everything they want because the Republicans basically just hand it to them to avoid being called racists or misogynists. When they don't get what they want, Democrats throw temper tantrums and hold their breath until they get what they want. Either way, they win. Always. This is definitely not how I learned it in government class, but trust me, this is how it works now.
Determined To Avoid Islamic Terrorism — Democrats Sit On House Floor, Pout and Whine Against Guns. If you were paying attention early 2011 you might remember the Wisconsin "Fleebaggers". The Fleebaggers were Wisconsin Senate Democrats who lost the November 2010 election and lost control of the Wisconsin Senate. In an effort to avoid voting in the minority, the Democrats literally left the state of Wisconsin, and went to stay in hotels in Illinois, in an effort to shut down the legislative session. The same mindset is applied today in Washington DC as national Democrats begin staging a sit-in in an effort to force House Republicans to bring up legislation on gun control measures.
Internet Has Field Day with House Democrats' Temper Tantrum. In case you missed it, House Democrats staged a sit-in Wednesday to push for gun sale restrictions. They vowed to stay on the House floor until Republicans allow a vote on gun control legislation, in what they called an "unprecedented" move. But the political endeavor quickly turned into a running internet joke once pictures emerged from the House chambers. The "sit-in" started to look more like a daycare with Democrats throwing a temper tantrum.
Dem: 'The Second Amendment needs some changing'. Rep. Mike Doyle, D-Pa., called for a revision of the Second Amendment during Wednesday's [6/22/2016] "sit-in" on the House floor, which has shut down the House while Democrats demand a vote on gun control legislation.
Democrats stage sit-in on House floor to force gun vote. Dozens of House Democrats staged a "sit-in" on the House floor Wednesday in protest of GOP leadership's refusal to allow a vote on a gun control measure following the Orlando massacre. Led by Reps. John Lewis (D-Ga.), the civil rights icon, and John Larson (D-Conn.), more than 40 Democrats walked into the chamber just before noon and pledged to "occupy" the House floor until GOP leadership allowed a vote. Their numbers over the course of an hour more than tripled — even as Republicans recessed the House, turning off CSPAN cameras and the video feed to the public. Democrats countered the TV camera blackout by streaming everything on their cell phones, which ended up on C-SPAN anyway.
Democrats Block Sensible Gun Proposals In Senate. This afternoon [6/20/2016], the Senate voted on four proposals for increased gun control, two submitted by Republicans and two by Democrats. All four went down to defeat, although both Republican bills had majority support. Senator Chuck Grassley proposed legislation that would have increased funding for the NICS background check system, and would have pressed states to send more records to the FBI on felons and others barred from buying guns. It also revamped language that prohibits some people with mental health problems from buying guns. Grassley's bill had majority support, 53-47, but wasn't passed because the Democrats filibustered it.
Dems take over floor to protest Senate inaction on gun control. Sen. Chris Murphy (D-Conn.) and other Democrats have taken over the Senate floor to call for tougher gun control laws and specifically action on keeping people on terrorist watchlists from buying firearms. "I'm prepared to stand on this floor and talk about the need for this body to come together on keeping terrorists away from getting guns ... for, frankly, as long as I can, because I know that we can come together on this issue," Murphy said in beginning the filibuster on Wednesday [6/15/2016]. Murphy began speaking at about 11:20 a.m., and the filibuster was still going at 2 p.m.
McConnell: Dems skipped FBI's brief on Orlando to join filibuster. Senate Majority Leader Mitch McConnell, R-Ky., said Thursday [6/16/2016] that many Senate Democrats skipped the FBI's classified briefing on Wednesday about the Orlando shooting attack that killed dozens, and instead chose to participate in a "filibuster" over gun control. "Senate Republicans attended and asked serious questions," McConnell said on the Senate floor. "A rather significant group of Senate Democrats skipped it, skipped the briefing altogether for a campaign talkathon out here on the Senate floor, which also prevented us from going forward on the bill."
Democrats shout down Paul Ryan after Orlando shooting moment of silence. Shouting erupted Monday evening [6/13/2016] on the House floor after a moment of silence for the victims of the Orlando massacre as Democrats demanded that the House consider gun control legislation. After the brief moment of silence that Speaker Paul Ryan, R-Wisconsin, called for, Democrats began shouting from one side of the chamber, interrupting Ryan. Ryan's office only tweeted out a clip of the moment of silence, but not the shouting that followed.
Democrats consider every public meeting to be a shouting match.
House Democrats Protest Moment of Silence for Orlando Victims to Demand Gun-Control Legislation. A moment of silence held in the House to honor victims of the mass shooting in Orlando didn't quite proceed as House Speaker Paul Ryan had anticipated. On Monday, following the moment of silence, the House floor erupted in shouts of "Where's the bill?" as frustrated House Democrats protested their colleagues' inaction when it comes to gun-control legislation. After the moment of silence ended, Representative James Clyburn of South Carolina requested recognition. "I am really concerned that we have just today had a moment of silence and later this week the 17th..." Clyburn said before he was interrupted by a question from Ryan.
HHS replies to GOP subpoena with one blacked-out page. Department of Health and Human Services officials have only released "one heavily redacted page of one document" in response to congressional subpoenas about the funding of a disputed Obamacare program, and HHS staff has refused to communicate with congressional investigators, House Republicans charged Tuesday [5/31/2016]. "The pattern of conduct to this point suggests that the department intends to frustrate our legitimate efforts to conduct oversight of the Basic Health Program," House Energy and Commerce Committee Chairman Fred Upton, R-Mich., and House Ways and Means Committee Chairman Kevin Brady, R-Texas, wrote to HHS Secretary Sylvia Mathews Burwell.
Hillary Clinton aide moves to block release of deposition video. Hillary Clinton's former chief of staff, Cheryl Mills, is asking a federal judge to order a conservative group not to release audio or video recordings of a deposition Mills is scheduled to give Friday [5/27/2016] about Clinton's use of a private email server during her tenure as secretary of state.
Schumer upends 9/11 Saudi suit bill at 11th hour. Last week's unanimous passage of a Senate bill making it easier for 9/11 families to sue Saudi Arabia and other foreign terror sponsors was widely heralded as a major victory. It's more of a cruel hoax. It turns out that just before the vote, Sen. Charles Schumer and other proponents of the Justice Against Sponsors of Terrorism Act stuffed an amendment into the final draft allowing the attorney general and secretary of state to stop any litigation against the Saudis in its tracks.
White House snubs Chaffetz, refuses to let aide testify after controversial Iran remarks. The White House confirmed Monday [5/16/2016] that Obama adviser Ben Rhodes will not be allowed to testify before House lawmakers on the Iran nuclear deal, after a last-ditch attempt by Republican Rep. Jason Chaffetz to pry the controversial aide loose for the hearing. Chaffetz and the White House have been engaged in an escalating feud, all on the heels of a New York Times Magazine piece where Rhodes was quoted boasting about the administration's success in crafting a public narrative for the Iran deal. The profile on Rhodes quotes him saying they built an "echo chamber" of experts who sold that narrative to young, often inexperienced reporters.
Judicial Watch Lawsuit Uncovers More Hillary Clinton Emails Withheld from State Department. Judicial Watch today [5/5/2016] released new State Department emails (one batch of 103 pages, the second of 138 pages) that again appear to contradict statements by former Secretary of State Hillary Clinton that, "as far as she knew," all of her government emails were turned over to the State Department and that she did not use her clintonemail.com system until March 18, 2009. Judicial Watch recently released Clinton State Department emails dating from February 2009 that also call into question her statements about her emails.
Leftists Organize to Silence Border Patrol Agents Over Trump Endorsement. Radical leftists pushing for an open borders agenda are attempting to destroy the ability of over 80 percent of our nation's Border Patrol agents to speak out and sound the alarm to the public and to Congress. The Huffington Post reported that the open-borders extremist group, Not1More, is a "prominent immigrants rights group" and that they were behind an effort to have the AFL-CIO kick out the National Border Patrol Council from its ranks. Not1More derives its name from the idea that "not one more" illegal alien should be deported from the U.S.
The Questions Liberals Never Have to Answer. Liberals do a poor job of defending their beliefs with facts, logic or debate, but they have become unparalleled masters at keeping their opponents' side of the argument from being presented at all. We have kids who are never exposed to conservatism in high school who go to college where the professors are liberal; then they graduate and get their information from their local paper and all TV outlets except for Fox which are liberal, and they watch ostensibly non-political Hollywood-produced liberal movies and TV shows that reinforce left-wing viewpoints. As if that isn't enough, liberals go to great lengths to convince people that their opponents are so cruel, evil, racist and despicable that their arguments are tainted by default and shouldn't be considered at all.
A Trump-Lover's Manifesto. Once upon a time, political correctness was an inside joke on elite campuses. Twenty-five years ago, it referred to outlandish arguments at Cornell and Oberlin about whether to celebrate "Womyn's Herstory Month" or ban the word "Oriental." Now it's become something far more serious. It grew and grew, breaking out of the college elite to universities everywhere, and then eventually to the government and all of civil society. It now stands as a system to silence people who oppose the power brokers' cultural agendas; it punishes dissenters through defamation, intimidation, a new McCarthyism, and even threats of outright violence. Nothing we debate matters if Americans can't have a real debate. And we can't have a debate on anything as long as political correctness blockades us.
Report: Obama denied a record 77 percent of FOIA requests. The Obama administration has set a new record for rejecting Freedom of Information Act requests, according to a report published Friday [3/18/2016]. The administration censored materials or rejected requests for access in a record 596,095 cases, or 77 percent of the time, according to the annual review conducted by the Associated Press. That's an increase of 12 percent since Obama's first year in office.
Obama to GOP: Do As I Say, Not As I Did. Start with President Barack Obama, who, in introducing Judge Merrick Garland as his choice to replace Justice Antonin Scalia on the big bench, asked the Senate "to give him a fair hearing and then an up-or-down vote." He told senators: "If you don't, then it will not only be an abdication of the Senate's constitutional duty, it will indicate a process for nominating and confirming judges that is beyond repair. It will mean everything is subject to the most partisan of politics — everything." You'd never guess Obama not only voted against Chief Justice John Roberts but also supported a filibuster — that is, he opposed an up-or-down vote — to thwart the confirmation of Samuel Alito in 2005. Hillary Clinton also opposed Roberts and supported an Alito filibuster. Both Roberts and Alito won confirmation with Democratic support — which tells you they were qualified but not immune to the sort of partisan opposition that Obama now finds distasteful.
10 Times Democrats Vowed To Block Republican Court Nominees. Senate Majority Leader Mitch McConnell (R-K.Y.) has vowed to block any of lame-duck President Obama's Supreme Court nominations. The media have taken to acting as if this move is unprecedented, and that a senator has never publicly stated he would intentionally block a presidential nomination. Not true. Not only have there been several lengthy Supreme Court vacancies, but there are plenty of past instances when senators refused to confirm a president's nominations. Here are 10 other times Democrats vowed to block Republican court nominees. [...]
Dems Passed A 1960 Resolution To Prevent Supreme Court Appointment Ahead Of Election. In the wake of Supreme Court Justice Antonin Scalia's death, President Barack Obama said he plans on nominating a successor despite Senate Majority Leader Mitch McConnell's vow not to fill the seat until the election is over. While Democrats in the upper chamber — including Sen. Chuck Schumer of New York and former Sen. Russ Feingold of Wisconsin, both of which called for blocking former President George W. Bush's nominations — have slammed the GOP for its decision not to consider a nominee until after a new president is elected, Democrats have not always held that stance. The Democrat-controlled Senate passed a resolution in 1960 preventing a recess appointment, much to the dismay of Republicans.
Former Inspector General: Powerful Democrat Women Standing in the way of Hillary Indictment. Former Inspector General Howard J. Krongard says the current FBI investigation should be focused on how material made it from the classified email system, known as SIPRNet, to Clinton's unclassified private server. "It can't just jump from one system to the other. Someone had to move it, copy it. The question is who did that?" Krongard tells the New York Post. [...] Even if the FBI decides Clinton holds the ultimate responsibility for creating the private server, "It will never get to an indictment," Krongard tells the Post. The decision to act on the FBI's recommendation would have to pass through, "four loyal Democrat women." Krongard is referring to Loretta Lynch and her deputies Leslie Caldwell and Sally Yates. In addition, Valerie Jarrett, one of President Obama's top advisers, could weigh in.
Grassley probes Clinton aide's refusal to cooperate with investigators. A top aide to Hillary Clinton "refused" to cooperate with investigators looking into whether the Clinton team suppressed a 2012 records request that could have exposed their private email use years before a separate congressional inquiry did so, Sen. Chuck Grassley said Monday [2/1/2016]. The Senate Judiciary Committee chairman raised concerns about the role Cheryl Mills, then-chief of staff to Clinton, played in blocking a Freedom of Information Act request for Clinton's email use in a pair of letters to the State Department and the agency's inspector general Monday [2/1/2016].
Insider: Democrats in Congress waste $2 million protecting Clinton on Benghazi. For months, Democrats in Congress have been accusing Republican lawmakers of wasting taxpayer dollars investigating Hillary Clinton's actions leading up to the attack on the U.S. diplomatic compound in Benghazi, Libya, in 2012. But new information about the inner-workings of the investigation shows that Democrats are the ones wasting money, all in the name of protecting Clinton's presidential bid. Matt Wolking, spokesman for the House Select Committee on Benghazi, says that roughly $2 million of the $5.5 million spent by the committee on the investigation is money wasted as a result of Democrats trying to stifle the effort.
Networks Neglect to Cover Senate Democrats Blocking Passage of Bipartisan Syrian Refugee Bill. On Wednesday night, the major broadcast networks failed to cover the move by Senate Democrats earlier in the day to filibuster the bipartisan Syrian refugee legislation that had passed the House in November with the help of 47 Democrats that would have tightened restrictions to more thoroughly vet refugees from the war-torn region seeking to enter the U.S. Overall, the vote failed to hit the 60 votes needed to overcome the fatal blow by Senate Democrats as the final tally was only 55 to 43.
Black Lives Matter Protester Says Disrupting Christmas Travel Is 'A Good Idea'. Black Lives Matter organizer Asha Long says that disrupting air travel is not a bad thing: "I think it's important for that we realize people who are upset about missing their air, their flight, that many black lives are disrupted every day." Appearing on "CNN Newsroom" with Carol Costello on Thursday [12/24/2015], Long was unable to provide statistics to back up her claims arguing, "I do not have statistics but I do have lived experience which is just as valid."
The Environmentalist Crusade Against Progress and Technology Aims at Making Man's Life a Hell on Earth. Energy lights our homes and cities, keeps us cool in summer and warm in winter, moves our cars, ships, trains and airplanes, powers our industries and factories, and creates all the material goods on which our lives depend. The whole of our civilization depends upon the production and use of energy. But there is not a single viable energy source that Environmentalism does not attack. [...] It is important to note that environmentalists offer no alternative solutions to our needs of energy. All of their efforts aim instead at banning, stopping, restricting and reversing all progress. There is not a single industry or technology that Environmentalism does not attack, directly or indirectly.
Also posted under Liberal obstructionism.
Harry Reid Objects to Bill That Would Ban Taxpayer Funding for Portrait of Harry Reid. Senate Minority Leader Harry Reid (D., Nev.) objected to legislation that would prevent taxpayer funding from going towards oil paintings for members of government such as Harry Reid, Wednesday [11/18/2015]. Sen. Bill Cassidy (R., La.) attempted to pass his bill to ban funding for official portraits of the president, vice president, cabinet members, and Congress by unanimous consent. Reid, who is retiring after his term ends in 2016, objected, preventing the legislation's passage. The Senate honors its former majority and minority leaders with portraits after they leave office.
Democrats Mount Third Filibuster Against Bill to Pay Troops, Fund Military. Remember, the ostensible reason that Democrats have engaged in this obstruction over recent months — which also entailed filibustering the Veterans Affairs appropriations bill — was to exploit the troops and veterans as leverage to force Republicans to agree to higher federal spending on unrelated matters. It was a cynical play, but thanks in part to President Obama's hyper-partisan veto, it worked. Leadership in both houses huddled together and hammered out a noxious budget deal that raised spending caps on both defense and domestic discretionary spending, relying on gimmicks to "pay for" the increased outlays. In other words, Democrats got what they wanted.
Ted Cruz illegal immigration crackdown blocked by Democratic leader Reid. Senate Democrats rejected an effort to push back against sanctuary cities Wednesday, denying a request by Republican presidential hopeful Sen. Ted Cruz to immediately begin debating a bill to impose mandatory minimum federal sentences on repeat-illegal immigrants. Just a day after the "sanctuary sheriff" in San Francisco, Sheriff Ross Mirkarimi, lost his bid for re-election in large part due to his stance on the issue, Mr. Cruz tried to force the debate onto the national level.
Democrats and GOP Senator Mark Kirk team up to block 'sanctuary cities' law. This is what having a GOP majority and gutless, go-along-to-get-along leadership in the Senate gets you. [...] The idea that cities can create no-go zones for the enforcement of US immigration laws, our own equivalent of Parisian suburbs where the national law does not run, is bizarre. It is doubly bizarre as the Supreme Court has ruled that states and municipalities have to defer to the federal government on this subject.
Democrats mull exit from Benghazi panel: House member. Democrats on a U.S. House of Representatives panel set up to investigate the 2012 Benghazi attacks will discuss resigning from the committee after Hillary Clinton testifies before it this week, a Democratic member of the panel told Reuters on Tuesday [10/20/2015].
Benghazi BS — Democrats Begin Coordinated Campaign of Obfuscation. Representative Elijah Cummings has produced a 124 page report intended to defend Hillary Clinton in advance of her congressional testimony on Thursday [10/22/2015]. The strategy is for all Democrat operatives, campaign officials, media pundits and spokespeople to use the Cummings report in their defense of Clinton.
GOP lawmaker: Dems' obstruction slowing Benghazi probe. Responding to criticism that the investigation into the Benghazi attack has stretched on longer than the Watergate investigation, Rep. Mike Pompeo, R-Kan., said Sunday [10/18/2015] that the committee has been working for so long because of obstruction on the part of Democrats. "What's taken us so long is Democrats on the committee and in this administration have played hide the ball," he said on NBC's "Meet the Press." "We would have been happy to move more quickly but we were met with obstruction all along the way."
Obama's puzzling priorities: Veto threat for defense bill, thumbs up to billions for Iran. Each year, Congress takes up the National Defense Authorization Act, the bill to authorize funds for our nation's military and our national defense. [...] Right now, the president is threatening to veto the National Defense Authorization Act, even though it meets the funding levels he requested. Despite the fact this legislation passed Congress with strong bipartisan support, including the approval of 70 senators, the president is threatening to veto it in part because Congress isn't granting him more funding for government agencies like the IRS and EPA.
Trey Gowdy Smacks Elijah Cummings Around Over Leaks/Stonewalling on Benghazi Committee. This is pure political gold — you just have to read Trey Gowdy's letter to Elijah Cummings. He deftly smacked him alongside the head over the Benghazi Committee and his leaks and stonewalling techniques that have done nothing but throw sand in the gears of the proceedings. It was epic and masterful. Gowdy simply eviscerated Cummings. I think he obliterated the two brain cells the man had left. The Democrats have done nothing but throw baseless allegations around concerning the Benghazi Committee. They have not called one new witness in months. No document requests have been made either. Cummings and his fellow Marxists finagled their way onto the committee to drag it down and kill it procedurally. It was all arranged and pre-planned. The only ones mischaracterizing testimony here are the Democrats. It's what they do.
Iowa Democrat education forum cancelled when not a single candidate agrees to attend. Back in August, a half dozen of the GOP presidential candidates dutifully showed up for an Iowa forum on education reform to present their plans on the issue to the voters. A similar event is scheduled for the Democrats this month. Or perhaps I should say that it was scheduled. The event is now pretty much canceled because not one of the Democrats running for the White House was willing to show up.
Senate Dems block GOP bill that would curb late abortions. Senate Democrats thwarted a Republican effort to ban late-term abortions on Tuesday [9/22/2015] as GOP leaders strained to avoid a government shutdown in eight days over the dispute — all against a tangled backdrop of presidential politics.
Dems Try to Block Planned Parenthood Videos at House Hearing. House Republicans showed the gruesome Planned Parenthood videos in a hearing today [9/17/2015]. Democrats tried to block them. The hearing in the House subcommittee on health of the Committee on Energy and Commerce was to consider proposals to expand protections for unborn children who survive an abortion and also the federal ban on partial birth abortion. Reps. Rep. Marsha Blackburn (R-TN) and Renee Elmers (R-NC) want the Congress to give states the right to withhold federal funding, especially Medicaid funding, if an abortion provider is even suspected to violating either the Infants Born Alive Protection Act or the Partial Birth Abortion Act.
Iran nuclear deal survives: Democrats block disapproval vote. The hard-fought nuclear accord with Iran survived the U.S. Senate on Thursday [9/10/2015], as Democrats overcame ferocious Republican opposition and delivered President Barack Obama a major victory on his top foreign policy priority.
The Editor says...
Sounds like we're getting mixed signals from the Associated Press: Did the Democrats block the vote, or did they overcome ferocious Republican opposition?
The obscene drive to avoid any Senate vote on the Iran deal. Whether to approve the disastrous nuclear deal with Iran is the most important question to face Congress in years — yet the president wants to stop the Senate from even debating it. [...] The Senate calls itself "the world's greatest deliberative body." And the Constitution requires Senate consent for the approval of treaties. Obama's already done an end-run around the treaty rules. Will Senate Democrats enable even worse — a total mockery of Congress' role?
Wasserman Schultz blocked Iran resolution at DNC meeting: report. Democratic National Committee (DNC) Chairwoman Debbie Wasserman Schultz blocked consideration of a resolution at the party's summer meeting that would have praised President Obama and backed the his nuclear deal with Iran, The Washington Post reported Saturday [8/29/2015], citing unnamed sources.
Cotton blasts Reid for threatening to block Iran vote. A leading Republican critic of the Iran nuclear deal Tuesday [8/25/2015] blasted Senate Democratic Leader Harry Reid for pushing to prevent a vote on a resolution that could kill the agreement.
Is There a Dime's Worth of Difference between the Two Major Parties? With the exception of global warming, the Republicans are the reformers. It's the Democrats who want to keep things like they are.
President Obama Averages One Veto Threat Every Five Days. President Obama spent years tarring House Republicans as the cause of a "do-nothing" Congress, but House Majority Leader Kevin McCarthy (R., Calif.) has turned that critique back on him. Obama welcomed the new Congress by issuing veto threats about once every five days, on average, McCarthy's team points out.
Obstruction Leader Harry Reid to Attempt Historic Filibuster on Override of Keystone Veto. In another example of Democrats playing the role of obstructionists, Harry Reid will force the Senate to go through procedural hurdles to delay Majority Leader Mitch McConnell from bringing up the president's Keystone XL veto for an override vote. Last week, President Obama vetoed the popular bipartisan Keystone XL Pipeline bill passed by the Senate. This week, the Senate is planning a vote to override the president's veto. Democrats, led by Minority Leader Harry Reid, are set to revoke normal order and attempt to filibuster the override of the President's veto message. The cloture vote on a veto message will be the first in the history of the United States Senate.
Republicans Should Declare War on the Mainstream Media. Unlike Harry Reid when he was majority leader, Mitch McConnell is willing to entertain amendments proposed by the minority and vote them up or down. The Democrats will have none of it. Three times the measure has been brought up and three times the Democratic minority has used the filibuster to prevent debate from even beginning.
Obama Routinely Breaches Bipartisan Deals. Among so many of President Obama's flaws, near the top of the list is that he has never understood the art of the deal. [...] Obama rejected the convention of reaching across the aisle from the very start. In his first two years in office this White House never moved an inch in the GOP's direction and passed his major bills on stimulus and Obamacare without a single Republican vote. Those bills were written with zero input from Republicans and when asked why, he haughtily lectured "we won the election." Then he pouts the Republicans were no help.
Senate Dems block immigration bill for third day in a row. Senate Democrats on Thursday [2/5/2015] blocked, for the third time in as many days, a Homeland Security spending measure that would also torpedo President Obama's executive actions on immigration. Similar to the previous two votes, Sen. Dean Heller (R-Nev.) joined nearly every Senate Democrat in opposing the roughly $40 billion spending bill. Senate GOP Leader Mitch McConnell (R-Ky.) switched his vote from "yes" to "no" in order to preserve his ability to bring the measure to the floor again.
Black Saint Louis Resident Gets On Jury, Sits Through Murder Trial, Then Refuses To Participate In Deliberations Against Black Defendant. The juror obviously held an agenda, and manipulated his way onto the jury intent on creating antagonism. He sat through the murder trial, then when it came to deliberations, presto — he sat in corner and refused to participate.
Report: Obama Admin Delays Deportation Hearings for Thousands of Illegals Until 2019. Thousands of illegal immigrants will remain in the United States for at least five more years after the Justice Department moved their deportation hearings to 2019 — at the earliest. The Wall Street Journal reported that the Department of Justice "has begun sending out notices to thousands of immigrants awaiting hearings that their cases will be pushed back nearly five years," and "began notifying employees in the immigration court system last week that nonpriority cases were being bumped off the court docket and would get a Nov. 29, 2019, court date, which happens to be Black Friday."
But in the meantime, go get a driver's license and some food stamps.
Immigrants could wait until 2019 to have cases resolved. Thousands of immigrants seeking legalization through the U.S. court system have had their hearings canceled and are being told by the government that it may be 2019 or later before their futures are resolved.
The big problem with Obama's veto threats. This project has been mired in controversy and delay for years. But it actually has supporters on both sides of the aisle, including labor unions on the left and free-market conservatives on the right. It's largely just liberal environmentalists who are pressuring Democrats to hold things up. But Obama's own State Department produced an environmental impact statement long ago green-lighting the project.
GOP's Hoeven: Keystone is all about jobs and only Obama's in the way. Along with roads, rail, and transmission lines, pipelines like the Keystone XL are part of a comprehensive national energy plan. The pipeline will carry 830,000 barrels of oil a day, including 100,000 barrels of domestic oil from North Dakota and Montana. Working with one of our closest friends and allies, Canada, we can achieve true North American energy security at home, and at the same time help our allies abroad, which makes our people more secure both here and overseas.
Pressure mounts on Obama as Nebraska ruling eliminates Keystone obstacle. President Obama is under fresh fire from both sides of the Keystone XL pipeline debate after a Nebraska court last week eliminated a major legal obstacle and once again put the project's fate in the hands of the White House. Supporters of the pipeline — including lawmakers of both parties, business, labor, the Canadian government and others — and opponents each say now is the time for the president to decide whether to approve or reject Keystone, which has languished in federal bureaucracy for the past six years.
Wyden town hall disrupted by 'hands up, don't shoot' protests. A town hall meeting with U.S. Sen Ron Wyden was called off Saturday afternoon [1/3/2015] when "hands up, don't shoot" protests broke out. The event, at Portland Community College's Southeast Campus, was canceled after 45 minutes. More than 100 protestors entered the Wyden event shortly after 2:30 p.m. shouting, "I can't breathe" and "hands up, don't shoot." Wyden, D-Oregon, stepped away from the microphone as the protesters moved to the front of the meeting area and continued shouting and holding placards.
Issa: Obamacare Enrollment Data Provided to Congress Was Password-Protected, in 6 Point Font. Obamacare enrollment data that the Department of Health and Human Services was compelled by sub poena to provide to Congress was in 6 point font, unreadable even with glasses, according to Chairman of the House Oversight and Government Reform Committee Darrell Issa (R-Calif.) Issa said data was also password-protected and locked.
Cornyn: Obama [was] 'Defiant' When GOP Leaders Confronted Him On Executive Amnesty. Sen. John Cornyn (R-TX), the incoming majority whip in the 114th Congress, described "person after person" aggressively confronting the president about his plans to issue a unilateral amnesty for millions of illegal aliens at a closed-door lunch Friday [10/7/2014]. But President Obama was unbowed, even after an electoral shellacking last week, Cornyn said. "He was pretty defiant. He was pretty defiant," Cornyn said. "For the president to poison the well at the very outset is really unimaginable."
If You Can't Beat Them, Indict Them. [Former Travis County Prosecutor Ronnie] Earle took it upon himself to go after several people, including: Senator Kay Bailey Hutchison, State Representative Mike Martin, Texas Attorney General Jim Mattox, and Speaker of the House Tom Delay. His record is spotty at best, but he has succeeded in ending the careers of many of those whom he opposes, Tom Delay included. The Delay persecution was a classic case of retribution and vindictiveness.
Obama's post-election plans for a secret radical agenda. He's the Staller in Chief — President Obama has punted almost every hot-button issue past the key midterm elections on Nov. 4. Obama has postponed decisions on a raft of contentious issues related to ObamaCare, Gitmo, immigration and his Cabinet. This is partly to protect Democratic candidates and hold onto the Senate. But it's more than that. Obama plans a number of radical moves later this year when the administration believes the media, and the public, are paying less attention. This includes a forced transformation of our neighborhoods, a huge influx of immigrants and billions of dollars in additional taxes.
Why is there no surgeon general? Ask Democrats. The Ebola scare has made many Americans aware that there is no U.S. surgeon general. (The post is filled by an acting official who is not in line for the job.) There is, however, an Obama nominee for surgeon general, Dr. Vivek Murthy, who has not been confirmed by the Senate after more than a year of waiting. Why hasn't Murthy won Senate approval in all that time?
Republicans and the IRS. On Tuesday [9/22/2014], the Republican House passed several reform bills. One would ensure that anyone who did what Lois Lerner did — i.e., send out confidential taxpayer info on her private e-mail — would be violating the law. Others are designed to help taxpayers appeal when their groups are denied tax-exempt status or to ensure that officials who deliberately destroy federal records get the old heave-ho. Here's the problem: The bills now head to a Senate controlled by Democrat Harry Reid. During his time as majority leader, Reid has ensured that the best reforms passed by House Republicans never even come up for a vote — sparing President Obama the bother of an embarrassing veto.
Senator Blocks Ted Cruz bill to seize passports from ISIS fighters who return to the US. A showdown over the passports of so called 'foreign fighters' — Americans and other westerners who have joined the ISIS terror army in Iraq and Syria — came to a head on Thursday [9/18/2014] when a U.S. senator killed legislation aiming to strip them of their citizenship. Democrat Mazie Hirono, a freshman senator from Hawaii, objected on the Senate floor when Republican Sen. Ted Cruz of Texas tried to fast-track his 'Expatriate Terrorists Act.'
Harry Reid's anti-Koch crusade eats up precious Senate time. There's a lot lawmakers need to do when the Senate returns from its August recess Sept. 9. To take just one example, the government is set to run out of money by the end of the month, and senators must pass a measure to keep funding going and avoid a shutdown. [...] What is striking about the coming session is that Reid has decided to devote as much as half of the Senate's precious time in Washington to a measure that has no chance — absolutely zero chance — of passing.
352 Reasons Harry Reid and Senate Democrats Are Actively Working To Stop Congress From Doing Its Job. Barack Obama and the Democrats have railed against the "do-nothing Congress" (translation: House Republicans) for nearly six years. So what are the facts? Rep. Lynn Jenkins (R-KS) recently addressed the charge: ["]Currently, 352 bills that passed the House are awaiting action on Harry Reid's desk. Of these bills:
• 98% passed with bipartisan support
• Nearly 70% passed with 2/3rds support or more
• Over 50% passed with no opposition at all
• And 55 were introduced by Democrats["]
And still, Harry Reid refuses to bring them up for a vote.
Harry Reid's reign of paralysis. The Senate has not voted on jobs bills sent by the House, any "fix" for Obamacare or a domestic energy development bill. The Senate will not take up a real vote on the Keystone XL pipeline. It will not take up Iran sanctions. It did pass Veterans Affairs legislation and Iron Dome funding, not exactly difficult votes. Other than that, not much of consequence has gone on in the Senate, but not because of Republican objections. The GOP would love to take up many of these subjects, debate them and offer amendments; it is Reid who either won't take up meaty issues or won't allow any minority amendments, a practice he has taken further than any modern Senate leader.
Obama says GOP must be hounded on economy; Republicans cite 40 jobs bills passed by House. President Obama urged Americans Saturday [8/2/2014] to pressure Republican lawmakers who are on vacation in their districts to support his economic agenda, including a hike in the federal minimum wage. [...] But Rep. Greg Walden of Oregon, chairman of the House Republicans' campaign arm, said Mr. Obama refuses to work with the GOP on measures that would grow the economy. "We've focused on solutions to rein in big government, and help grow our economy," Mr. Walden said in the weekly Republican address. "The House has passed more than 40 jobs bills, but the president and his party refuse to give them a hearing."
Jeff Sessions Holds The Line, Blocks Democrat Immigration Travesty. There was high drama on the Senate floor this evening [7/31/2014]. Harry Reid brought on for a vote President Obama's $2.7 billion proposal to support illegals from Central America who are flooding across the border, in the form of a supplemental budget request. An extremely knowledgeable Senate insider offers this blow-by-blow account of what happened: ["]Harry Reid filled the amendment tree on the supplemental, meaning no amendments can get votes. Sessions offered a motion to table the filled tree with stated purpose of making room to get a vote on the Cruz amendment.["] "Filling the tree" has been Reid's preferred strategy for years. It effectively shuts all Republicans out of the legislative process, while insulating Democrats from having to vote against popular proposals.
The Democrats Try to Shut Their Opponents Up. Why are the Democrats carrying on this selective war against "dark money," which is itself, ironically, funded almost entirely with dark money? Democrats want to be able to identify conservative donors so that the Obama administration can use federal agencies to take revenge on them; so they can try to get them fired (like Brendan Eich); and so union goons can lead busloads of demonstrators onto their lawns. When liberal ideas have to compete with conservative ideas, they consistently lose. So the Democrats want to intimidate conservative donors in order to have the political field to themselves. There is nothing noble about their selective enmity toward "dark money."
Tyranny of the Majority Leader. The Senate once prided itself on being "the world's greatest deliberative body." That it no longer is. According to the Congressional Research Service, Senator Harry Reid (D., Nev.) has obstructed the amendment process for his colleagues 85 times — more than double the total of his six predecessors combined. Neither Republican nor Democratic senators can offer amendments. This negates every senator's right to debate and amend legislation and thus fully represent his or her constituents. This was especially evident in May, when Senator Reid killed three bipartisan pieces of legislation in as many weeks.
Obama dismisses House Speaker John Boehner's lawsuit against him as a 'stunt'. The House has passed legislation that would curb the president's power to take executive actions that Republicans say fall outside his constitutional authority, but Senate Majority Leader Harry Reid has declared them dead on arrival.
White House Vows to Veto 'Unreasonable' Bill to Expedite Cross-Border Pipelines. The White House has threatened to veto a bill expected to pass the House this week that would remove any Keystone-like delays from pipeline projects that enter the U.S. from Canada or Mexico. The North American Energy Infrastructure Act, authored by Energy and Commerce Committee Chairman Fred Upton (R-Mich.) and Rep. Gene Green (D-Texas), requires the secretary of Commerce, with respect to oil pipelines, the Federal Energy Regulatory Commission (FERC), with respect to natural gas pipelines, or the Secretary of Energy (DOE), with respect to electric transmission facilities, to approve a request for approval of construction, connection, operation, or maintenance unless it is not in U.S. national security interests.
Here's how the Keystone XL bill will likely die. The Senate Energy and Natural Resources Committee is expected on Wednesday to approve legislation mandating construction of the Keystone XL pipeline's northern leg, but its chances of reaching the Senate floor are already dashed. "I agreed to give them a vote. They, the Republicans, they wouldn't take it," Senate Majority Leader Harry Reid, D-Nev., in reference to a May proposal allowing the same standalone Keystone XL measure in exchange for an amendment-free energy-efficiency bill.
Sen. John Barrasso: Harry Reid won't allow vote on Keystone pipeline bill. Sen. John Barrasso said Monday [6/16/2014] that he expects a Senate energy committee will easily approve a bill this week to approve the Keystone XL Pipeline, but Senate Majority Leader Harry Reid will never let the measure get a vote in the Senate. "Harry Reid continues to block it on the floor," Mr. Barrasso said on MSNBC's "Morning Joe." "The president doesn't seem to want it. I believe he is being held hostage by extremists and funders." The Senate and Natural Resources Committee is expected to approve a bill, co-sponsored by Sen. Mary Landrieu, Louisiana Democrat and Sen. John Hoeven, North Dakota Republican, this week that would green-light the project. But few expect Mr. Reid, Nevada Democrat, to let the Senate vote on the proposal.
In Bowe Bergdahl hearing, Chuck Hagel hedges the tough questions. Defense Secretary Chuck Hagel is not a lawyer. He's not famous for lawyerly evasions. But when it came to a few of the most critical issues discussed at the House Armed Services Committee's hearing on the Bowe Bergdahl case Wednesday [6/11/2014], Hagel was full of wiggle words. Actually, just one wiggle word — "direct" — but Hagel used it repeatedly to sow confusion about some key questions.
[There are] Over A Dozen House-Passed VA Reform Bills Sitting on Harry Reid's Desk. Rep. Jackie Walorski (R-IN) interviewed with Larry O'Connor, WMAL radio in Washington, D.C. on Wednesday, May 21st. Get this: she serves on the House Veteran's Affairs committee and says over the last 18 months, the House has passed dozens of reform bills for the VA, some bi-partisan, none of which have made it to the floor of the Senate — meaning Harry Reid killed them, didn't give Senators the opportunity to even consider them. Can we say anything other than Harry Reid may have killed those 40 or more veterans who were not treated, and may kill more as diseases have advanced during this time? There is only one reason not to bring legislation to the floor after it is passed and received from the House, and that is to keep the intent of the bill from happening — in this case, improving the VA.
The Dems' plot to control America rolls on. Harry Reid's nuclear option has caused a lot of damage — and the worst is yet to come. [...] Democrats have used the filibuster to check Republicans when they have been in power, and both Harry Reid and Barack Obama have publicly extolled the value of the filibuster as a key aspect of democracy. But then they decided it was an impediment to their power grab and threw it into the dustbin of history. Once that occurred, Reid and the Democrats went into overdrive to populate the federal courts with left-wing judges (who have lifetime tenure). Now the damage is becoming more visible.
Democrats Join Benghazi Hearings — To Obstruct And Play More Politics. Kicking and screaming, Democrats have agreed to join the House select committee probing the Benghazi attack and cover-up. But they aren't aiming to air the facts, just to obstruct the GOP. It's politics at its worst.
33 Democrats Opposed a Bill to Make VA Bureaucrats Easier to Fire. On Wednesday, the House of Representative overwhelming approved the Department of Veterans Affairs Management Accountability Act, a bill that would relax the standard bureaucratic red tape that makes it exceedingly difficult to fire government employees, even those implicated in an embarrassing scandal. The vote was not unanimous, however, as 33 Democrats for some reason voted against the legislation. The opposition was comprised of union-backed liberals, as well as lawmakers such as Jim Moran (Va.), Steny Hoyer (Md.), and Chris Van Hollen (Md.), who represent the D.C. suburbs where many senior VA employees reside.
House votes 390-33 to speed up VA firings. The House on Wednesday [5/21/2014] overwhelmingly passed a bill to grant the Veterans Affairs secretary expanded authority to fire senior executives for poor performance. The measure passed on a 390-33 vote amid allegations that veterans encountered delays in access to medical care at multiple VA hospitals across the country, leading to dozens of deaths. All 33 votes in opposition came from Democrats, including leadership Reps. Steny Hoyer (Md.) and James Clyburn (S.C.). House Minority Leader Nancy Pelosi (D-Calif.) voted to approve the measure.
Hillary Stacks the Benghazi Select Committee. On Wednesday, Democrats deigned to join Republicans on the House Select Committee investigating Benghazi, primarily to protect Hillary Clinton's reputation in particular, and the Obama administration's in general. Toward that end they will likely do what they always do whenever their party is threatened: denigrate the investigation as it unfolds and obstruct it as much as possible. Thus, it was completely unsurprising that even as House Minority Leader Nancy Pelosi (D-CA) appointed five colleagues to the panel she dismissed the need for it.
Dem Rep.: We're on Benghazi Committee to 'Scream Bloody Murder' over GOP Abuse. Early this month, when Democrats still hadn't made up their minds about participation in the Benghazi select committee, Congressman Adam Schiff said there's no way Democrats would participate in that "colossal waste of time." Well, funny story: Schiff is one of the five Democrats Nancy Pelosi picked yesterday to actually serve on that committee. And on Rachel Maddow's show last night, Schiff explained they decided to participate to keep the Republicans from making it a partisan, stunt-driven affair.
The Editor says...
Yes, there was a bloody murder involved. Too bad that's not what he's talking about.
Nancy Pelosi appoints five Democrats to fill up Benghazi panel slots days after threatening boycott. House Democrats have decided to play ball and participate in a special committee charged with investigating the Obama administration's handling of a 2012 terror attack in Benghazi, Libya that left four Americans dead and forced the withdrawal of U.S. diplomats from the eastern port city. House Minority Leader Nancy Pelosi named five Democrats to the panel. [...] Some in the Democratic caucus had floated the idea of boycotting the committee and leaving Republicans to pursue the Benghazi investigation, opening the opportunity to paint the investigation as a partisan political stunt in an election year.
Democrats Still Undecided on Benghazi Committee Participation. House Democrats are still weighing whether they will appoint members to the GOP-led special committee to investigate the September 2012 attacks on the U.S. consulate in Benghazi, Libya — but don't call it a caucus-wide "division," two senior lawmakers implored. "[It's] the wrong word," Caucus Vice Chairman Joseph Crowley of New York said at a Tuesday morning news conference. "The caucus is not divided. ... What the caucus is doing is helping our leadership come up with a plan on how to approach what is a very serious issue."
Mitch McConnell: Harry Reid's 'embarrassing' behavior is leading Senate to ruin. Senate Minority Leader Mitch McConnell says his Democratic counterpart is leading the chamber down a "disturbing" and "embarrassing" path, as Republican lawmakers' frustration over what they consider a hardline stance on GOP amendments boils over. "This institution has been fundamentally changed by one man, the majority leader, who has the ability to impose a gag rule on all the rest of us," McConnell, R-Ky., told reporters Tuesday. "It's a disturbing thing." "This is really quite embarrassing that the greatest deliberative body in the world doesn't deliberate anymore."
Harry Reid's Senate Blockade. The U.S. Senate failed to advance another piece of popular bipartisan legislation late Monday, and the reason tells the real story of Washington gridlock in the current Congress. To wit, Harry Reid has essentially shut down the Senate as a place to debate and vote on policy. The Majority Leader's strategy was once again on display as the Senate failed to get the 60 votes to move a popular energy efficiency bill co-sponsored by New Hampshire Democrat Jeanne Shaheen and Ohio Republican Rob Portman. Mr. Reid blamed the defeat on Republican partisanship. But the impasse really came down to Mr. Reid's blockade against amendments that might prove politically difficult for Democrats.
Obstruction: Reid Blocks Bipartisan Vote on Keystone Pipeline. [Scroll down] Rich people who engage in the political process for the "right reasons," as determined by [Harry] Reid of course, should be left alone. Others — who supposedly get involved in politics for personal gain (about which Harry knows a thing or two) — must be publicly slandered at every opportunity. Among the hallowed class is Reid's buddy Tom Steyer, a liberal environmentalist billionaire who's pledged to raise $100 million in support of Democrats this year. Steyer is a staunch opponent of the Keystone pipeline, as are many of his fellow travelers on the ideological fringe.
Shouting protestors shut down Senate, some arrested. For about an hour Tuesday morning [5/6/2014], Medicaid expansion demonstrators shut down the Senate, shouting and praying as police led them away. Twenty-three people were arrested in a demonstration that involved more than a hundred protestors.
Joe DiGenova: 'I'm Delighted the Democrats Don't Want to Participate'. Former U.S. Attorney Joseph diGenova says he'll be happy if Democrats decide not to appoint members to the special select committee on Benghazi that Republicans plan to establish. "I'm delighted the Democrats don't want to participate. All they would do is obstruct," diGenova told WMAL talk radio in Washington, D.C. Monday morning [5/5/2014]. "The president is going to pay a price ultimately," he added.
Dems mull whether to boycott House GOP Benghazi hearing. The House GOP leadership just announced [5/5/2014] that Rep. Trey Gowdy will head the newly announced special committee to probe what happened in Benghazi. Gowdy, as it happens, has already informed America that he knows that the administration is guilty of a serious cover-up, claiming he has "evidence" of a "systematic, intentional decision" to withhold untold numbers of Benghazi documents from Congress. The question now is whether House Dems will boycott the proceedings.
Dem wants party to sit out new House probe. A Democratic member of the House intelligence committee called Sunday for his party to boycott the newly announced committee tasked with probing the Benghazi attacks, dismissing new evidence that Republicans have called a "smoking gun" showing the White House politicized the tragedy. Rep. Adam Schiff, D-Calif., told "Fox News Sunday" [5/4/2014] that Democrats should not give the select committee more "credibility" by joining. "I think it's a colossal waste of time," he said. "I don't think it makes sense, really, for Democrats to participate."
Issa pens scathing letter to Cummings as IRS feud escalates. Republican Rep. Darrell Issa has penned a personal, scathing letter to his Democratic counterpart on the House oversight committee, escalating the public feud between the two high-ranking lawmakers amid the committee's investigation into IRS targeting. The letter to Rep. Elijah Cummings, D-Md., top Democrat on that committee, was obtained by Fox News. In it, Issa countered, point by point, a series of claims that Cummings and two legal experts made earlier this week about whether former IRS official Lois Lerner could be held in contempt for refusing to testify. Issa went further, effectively accusing Cummings of running interference on behalf of his party and the administration.
Nothing but hot air from Senate Democrats' talkathon. The talkathon is a product of the Senate's Climate Action Task Force, co-chaired by Sens. Barbara Boxer of California and Sheldon Whitehouse of Rhode Island. Boxer described the purpose of the marathon gabfest as a call to "wake up Congress" for "action" on global warming. That's an odd claim coming from the chairman of the Senate Committee on Environment and Public Works. Boxer has a solid majority on her committee and could report dozens of bills to the Senate floor. So her committee is the first place to look for an explanation of the lack of action in the Senate.
Go to Jail — Get Obamacare. Defend a Cop Killer — Get a Massive Job in DoJ. It seems every day the Democrats currently in power find a new way to express sneering contempt for everyone who disagrees with them for any reason. Democrat Leahy did not allow the widow of slain police officer Daniel Faulkner to testify as to why the attorney who represented her husband's murderer should not be confirmed to head DoJ's Civil Rights Division. Why did he deny her her right to speak? A technicality. And because he could. It would have been inconvenient to the Obama administration for Congress to have heard directly from Abu Jamal's surviving victim.
Democrats Block Widow of Murdered Police Officer From Testifying Against Obama DOJ Nominee Debo Adegbile. Last month Maureen Faulker, the widow of murdered Philadelphia Police Officer Daniel Faulkner, requested a chance to give testimony against President Obama's nominee to head the Department of Justice Civil Rights Division. Her husband was killed in 1981 by former Black Panther Mumia Abu-Jamal, who was convicted of murder in 1982. Thirty years after the conviction, nominee Debo Adegbile voluntarily took up Abu-Jamal's case and the cause in the name of race during his time as the head of NAACP Legal Defense Fund.
Silencing the political opposition. Chuck Schumer, the Senate's No. 3 Democrat, thinks the Internal Revenue Service hasn't done enough to silence the Tea Party. He wants the White House and the IRS to "immediately redouble" efforts to shut down conservative political-action groups through tougher government oversight and enforcement. The Tea Party opposes much of President Obama's agenda, and to Mr. Schumer, that's both a sin and a crime.
The Phone and Pen President. The view that an assertive executive can break the maddening constraints of the constitutional system and enact the public will by personally embodying it is, of course, at the core of the progressive outlook in our politics — though few progressives today put it quite that way. But that White House officials would actually express themselves like this — in the form of a kind of trope of pure progressivism devoid of content — strikes me as more than anything an indication of the sheer intellectual exhaustion of the left.
Harry Reid's Obstructionism. It took a while, but the media seem to have finally noticed Senate majority leader Harry Reid's unprecedented obstructionism. The New York Times reported last week on Reid's "brutish style" and "uncompromising control" over the amendments process in the Senate. Why are more people finally catching on to Reid's flagrant disregard for Senate customs? In part because conservatives aren't the only ones complaining.
Obstruction of justice. Congress' top GOP watchdog is warning the secretary of Health and Human Services to stop instructing contractors behind healthcare.gov not to talk to Congress about the project. House Oversight and Government Reform Committee chair Darrell Issa, a hard-charging California Republican, told Sec. Kathleen Sebelius in a letter on Wednesday that it's against the law to get between Congress and the companies her agency hired to work on the crash-and-burn website. 'Obstructing a Congressional investigation is a crime,' Issa said Thursday [12/12/2013] in a statement.
Issa Accuses Sebelius, Health Department Of 'Criminal Obstruction'. Issa, the chairman of the House Oversight Committee, stated in a letter to Sebelius that the Health and Human Services Department instructed Creative Computing Solutions — a contractor that worked on HealthCare.gov — not to comply with the committee's investigation.
The 'Unprecedented Opposition' Canard. [Wisconsin] Democrats, cheered on by their counterparts in Washington, attempted to oust the state's duly-elected governor via a do-over election. Scott Walker's crime? Using the democratic process to implement budget reforms that liberals and Big Labor vehemently opposed. The organized Left pulled out all the disruptive stops to block these measures from even receiving a vote. Thousands of left-wingers occupied the capitol rotunda in Madison, issuing death threats against Walker and other Republicans.
Senate Democrats Just Took Us a Step Closer to the Imperial Presidency. Why would the Democrats, who never seem to stop worrying about overweening presidential control, roll back the filibuster — and hand their own power to Obama? They'll be sorry, and soon.
An outbreak of lawlessness. The problem is not the change itself. It's fine that a president staffing his administration should need 51 votes rather than 60. Doing so for judicial appointments, which are for life, is a bit dicier. Nonetheless, for about 200 years the filibuster was nearly unknown in blocking judicial nominees. So we are really just returning to an earlier norm. The violence to political norms here consisted in how that change was executed. By brute force — a near party-line vote of 52 to 48. This was a disgraceful violation of more than two centuries of precedent. If a bare majority can change the fundamental rules that govern an institution, then there are no rules. Senate rules today are whatever the majority decides they are that morning.
America Is One Step Closer to a One-Party Tyranny. November 21, 2013, may be another date that will live in infamy. Instead of conventional bombs and aerial torpedoes exploding at Pearl Harbor, Hawaii, the "nuclear option" went off in the U.S. Senate at Washington, D.C. By a 52-48 vote, the Senate voted to change the institution's regulations related to the filibuster, thereby emasculating a political minority's ability to thwart, or at least delay, majoritarian dictatorship. A Senate minority can no longer thwart the president's nominations of judges to lesser federal courts or of executive department officials.
The Senate Loses Its Tradition of Consensus. After the increasingly problematic Obamacare debacle, it seems as though President Obama and his fellow Democrats have given up the hope of governing through a national consensus. Instead, Obama has signaled that he will try to rule with the club of 51 percent for the rest of his term: Push through as much as possible with a narrow majority.
Reid Drops Nuclear Bomb and His Party Will Rue its Fallout. Fresh off the disastrous rollout of Obamacare which Senate Majority Leader Reid and (now former) Speaker of the House Pelosi rammed through Congress using unconventional procedures and with zero Republican support, his extremist wing compelled him to make yet another ham-handed move which predictably will hurt his party in the long run more than it will help it.
The Very Useful Lesson of Obama's Judicial Power Grab. It's no secret that President Obama was behind the push to end the filibuster as a means of blocking nominees for U.S. appeals court judgeships. At a fundraiser earlier this month, he told liberal donors that he is "remaking the courts." Recognizing that the filibuster stood in the way of a full radical makeover, Obama personally lobbied three Democratic Senators who were undecided about whether to eliminate it. Obama reportedly told them "how important this was to him and our ability to get anything done for the rest of the term."
Let's Go Nuclear!. Unless you live under a rock, you've heard by now that 52 Senate Democrats voted to end the filibuster for executive branch and judicial nominees after eight years of employing it against President George W. Bush. The hypocrisy is award-worthy.
America has gone from government of laws to semi-political banana republic. The rule of law has been replaced in Washington by "yes we can." The events we witnessed Thursday [11/21/2013] in the Senate, that is Majority Leader Harry Reid's success at invoking the so-called 'nuclear option,' stripping the minority party of its primary power to block nominations, have become a stunning capstone to what has been already a steady erosion of a government of laws down to a sort of semi-political banana republic. We are now living in a republic in which politicians do what they want without regard to tradition or the best interests of our country.
Harry Reid Smashes History. Harry Reid went and did it. He bent the rules to break them. In so doing, he effectively annihilated hundreds of years of procedural convention that has required a firm 60-vote majority to confirm presidential appointments. Now, the president's executive branch and judicial nominees can slide through with a simple majority. Any opposition will prove toothless.


How Harry Reid Just Nationalized the 2014 Midterms. President Obama delivered remarks today supporting Sen. Majority Leader Harry Reid's decision to deploy the "nuclear option" ending minority filibusters of some judicial nominees. The Democrats tried to limit the effect of their action, stating that it only applies to nominees below the Supreme Court level. But the damage done will go far beyond judicial nominees. Bipartisanship in the Senate is dead. Harry Reid and Barack Obama had already done grave damage to it by passing Obamacare. Today they finished it off.


Cruz: Dems want to pack court with judges to protect O-Care. Sen. Ted Cruz (R-Texas), the Senate's leading critic of the Affordable Care Act, denounced a vote Thursday to prohibit filibusters against appellate court nominees as a scheme to save the healthcare law. "The heart of this action is directed at packing the D.C. Circuit because that is the court that will review the lawless behavior of the Obama administration implementing ObamaCare," he said.

Nuclear Option 'Greatly Eroded' Graham's Leverage to Get Benghazi Answers. "President Obama is committed to protecting Obamacare, his signature achievement, regardless of the damage done to millions of Americans," he continued. "He is even willing to throw the judiciary into chaos if necessary. Any American who wants to bring a legal challenge to the thousands of Obamacare rules and regulations lost big today."

Senate Dems weaken GOP power with major filibuster rule change. Senate Democrats bowled over Republicans on Thursday to win approval for a highly controversial rule change which would limit the GOP's ability to block nominees, in a move Republicans called a "raw power grab." "It's a sad day in the history of the Senate," Minority Leader Mitch McConnell, R-Ky., said after the vote. Majority Leader Harry Reid, D-Nev., moving quickly following days of speculation, used the so-called "nuclear option" to pass the change. Typically, major changes like this take 67 votes, but he did it with just a simple majority.

Senate Dems go 'nuclear,' eliminate filibuster of presidential nominees. The change, approved 52-48, would prevent the minority party from using the filibuster to stall most presidential nominations, though it would not eliminate the use of the filibuster on Supreme Court nominees or legislation. Judicial and Executive Branch nominees once needed 60 votes to advance to an up-or-down vote on the Senate floor, giving Republicans an opportunity to block them. Under the rule change, only a simple majority would be needed to advance the nominees, so that Democrats, who control 55 votes, can do so without Republican interference.

Senate votes to limit filibuster after Reid goes nuclear. The Senate voted Thursday to change its rules to prevent the minority party from filibustering any nominations other than nods to the Supreme Court. The change was approved after Senate Majority Leader Harry Reid (D-Nev.) triggered the "nuclear option," which allows a change to Senate rules by majority vote. The 52-48 vote dramatically changes the rules of the Senate and limits the minority party's ability to prevent confirmation of presidential nominees.

52 Democrats Change Two-Century-Old Senate Rule: Abolish Filibuster of Nominees. Sweeping aside a century of precedent, Democrats took a chunk out of the Senate's hallowed filibuster tradition on Thursday [11/21/2013] and cleared the way for speedy confirmation of controversial appointments made by President Barack Obama and chief executives in the future.

While Obama Remakes the Courts, Harry Reid Wants to Remake the Senate. Every few months, it seems, Harry Reid (D-NV) threatens to upend the Senate so that he can push something through without following the rules. This time, it's the President's judicial nominees.

Rangel falsely claims no Republicans voted for Social Security, sidetracks ObamaCare hearing. Lawmakers had to pause for a fact check about a 78-year-old law during a hearing that was supposed to be about ObamaCare, after Rep. Charles Rangel made the — inaccurate — claim that no Republicans supported the Social Security Act. The New York Democrat made the assertion Tuesday [10/29/2013] while railing against Republicans for opposing the health care law. It was during a House hearing where Marilyn Tavenner, head of the Centers for Medicare & Medicaid Services, was testifying.

Progressive Activists to Disrupt GOP Town Halls in August. A progressive group will coordinate with liberal activists to disrupt Republican town halls during the August recess, when lawmakers will face questions about Obamacare and comprehensive immigration reform. Americans United for Change, run by a former Democratic National Committee communications head, plans to send activists to Republican town halls in swing states and even red states to target lawmakers like Sen. Ted Cruz (R-TX).

Putin and Obama: Brothers in Tyranny. [It is] increasingly obvious that Obama's 2012 re-election was facilitated by widespread unlawful harassment of his opposition by the Internal Revenue Service. The increasing evidence of this flagrant misuse of the IRS was highlighted in this week's House Oversight Committee where Congressman Elijah Cummings, ranking Democrat redoubled his efforts to deflect the testimony and cut off the hearing is proof that the hearings, despite the often pathetic performance by many of its members, are hitting pay dirt.

Why Are North Carolina Liberals So [Very] Angry? On Monday [7/15/2013], for the 11th week in a row, thousands of protesters descended on the copper-domed [North Carolina] Capitol denouncing the policies of a Republican Party that for the first time since Reconstruction controls North Carolina's governorship and legislature. Some 800 agitators have been arrested for disrupting the legislature. By all accounts, these "Moral Monday" rallies, though peaceful, are growing in size and volume.

IRS Hearings: Republicans Ask Questions, Democrats Attack Issa. Right out of the gate, Democrats' top priority was attacking Chairman Issa — accusing him of overreaching and conducting committee business in an overly partisan manner. Ranking Democrat Elijah Cummings also asserted his desire to "get to the bottom" of the IRS scandal, intoning that he's seeking, "the truth, the whole truth, and nothing but the truth." But just last month, he called the IRS affair "solved." Rep. Gerry Connolly, a liberal from Virginia, spent his entire question period upbraiding Issa and launching pre-emptive strikes against the Inspector General, who will testify later. He did not ask a single question of the witnesses.

DC Politicos Block Walmart, Help Special Interests, Hurt The Poor. Why, when there is no question that nothing has created more wealth and eradicated more poverty than capitalism, do left wing politicians hate it so much? After all, it's supposed to be the left that cares about the poor. The latest chapter in this ongoing saga of economic perversity is action being taken in Washington, DC, to prevent Walmart from opening stores there.

Fracking phobia fails yet again. The EPA just dropped its study of fracking allegedly contaminating the water in Pavillion, Wyo. The enviro left had rejoiced at the news a few years ago that the EPA had for the first time implicated fracking as a threat to groundwater. Now, amid criticisms of its methodology, the EPA has backed down and won't issue a final report.

Black caucus member to GOP: 'You all do not care about the 47 percent'. Democrats, led by dozens of members of the CBC, have been trying since 9 a.m. Thursday [7/11/2013] to use procedural tactics to raise points of order and force delays in a final vote. As lawmakers began debating the rules of debate on the bill, more liberal Democrats and members of the CBC lined up to read similar messages of opposition, saying that the new farm bill "hurts the children of America" or "increases hunger in America."

Key commander to be questioned on Benghazi goes missing. During the Sept. 11, 2012, attack on the U.S. Consulate in Benghazi, Marine Corps Col. George Bristol was in a key position in the U.S. Africa Command leadership, CBS News reported. While it would be expected he could answer Congress' questions about that night, no one seems to know where he is — or isn't telling. "They say he's retired and they can't reach out to him," Rep. Jason Chaffetz, R-Utah, told CBS News. "That's hogwash."

Democrats resort to screaming mob action at the usually dignified Texas capitol.
Abortion bill dies after late-night chaos, confusion. Capping a chaotic end of the special legislative session, Lt. Gov. David Dewhurst said early Wednesday [6/26/2013that proposed abortion restrictions didn't pass after all. The abortion requirements were in Senate Bill 5, which was called up for a vote that couldn't be heard over shouting and screaming from opponents in the gallery.

Texas Chaos Illustrates Left's Increasing Reliance on 'Mob Rule'. It appears from the actions of pro-abortion supporters in Texas on Tuesday night, "mob rule" is now the preferred way the left conducts legislative business. Gov. Rick Perry has called a special session of the Texas legislature on July 1st for another vote on a bill that will ban abortions after 20 weeks of pregnancy and set higher health standards for abortion clinics to be brought forward. It seems Obama's Organizing for Action is quickly planning another "unruly mob" for that event.

Why does the left want to suppress free speech? Many people on the political left don't much like the First Amendment. [...] Anyway, here are some examples of liberals trying to shut down speech.

Case Closed? Far From It. Right now the IRS story looks stalled and confused. Congressional investigators are asking for documents — "The IRS is being a little slow," said a staffer — and interviewing workers. Pieces of testimony are being released and leaked, which has allowed one congressman, Democrat Elijah Cummings, to claim there's actually no need for an investigation, the story's over, the mystery solved.

The left's outrage over the IRS turns to a plea to 'move on'
Moving a Washington scandal out of town. The left is doing all that it can to keep the focus off Washington in this scandal. The latest attempt came just days ago when Rep. Elijah E. Cummings of Maryland, one of the top House Democrats leading the congressional probe of the IRS, made the proclamation that the "case is solved" — and that it's time for the nation to "move on." This disturbing about-face by Mr. Cummings is a reflection of the Obama administration's desire to sweep this unconscionable abuse under the rug as quickly as possible. His comments directly contradict what he had said just days earlier when he called for a "thorough investigation" to restore "truth and trust."

One sentence that could keep the House in GOP hands. [Scroll down] Here is one important primer point: if one party controls either the House or the Senate, that party controls the agenda for that branch of Congress. This is one reason why politicians who foresee continued minority status for their party often retire: they do not like a feeling of powerlessness. This is why Harry Reid basically has monopolized power in the Senate and has allowed that body to degenerate into a wholly-owned subsidiary of Team Obama, and why Nancy Pelosi and Barack Obama so desperately want the House back in Democratic hands.

Lawmakers tire of playing '20 questions'in surveillance briefings. Some members of the Congress say that getting straight answers from intelligence agencies about top-secret surveillance is like playing the game "20 Questions," where answers come only if a questioner knows exactly what to ask.

Environmental Rules Delayed as White House Slows Reviews. The White House has blocked several Department of Energy regulations that would require appliances, lighting and buildings to use less energy and create less global-warming pollution, as part of a broader slowdown of new antipollution rules issued by the Obama administration.

Semantics alert!
Global warming is not pollution. Neither is global cooling. Global warming is merely an excuse to expand the federal government.

Reid Blocks Senate Vote on Border Security Amendment to Immigration Bill. On Wednesday [6/12/2013], Senate Majority Leader Harry Reid (D-NV) blocked a vote on the border security amendment to the "Gang of Eight" immigration bill offered by Senate Judiciary Committee ranking member Sen. Chuck Grassley (R-IA).

Hillary Clinton, Eric Holder Still Blocking the Truth. This is not the first time that Hillary Clinton, Cheryl Mills, and Eric Holder have been accused of attempting to thwart a congressional investigation. Not by a long shot.

California Dems push anti-fracking bills, aim to curb potential oil bonanza. California is on the verge of a new gold rush. Expanded hydraulic fracturing — or "fracking" — at the Monterey Shale formation is sparking estimates that 15 billion barrels of oil could be accessed, along with millions of jobs and huge contributions to the domestic energy supply. Even the state's green-friendly Democratic governor, Jerry Brown, says "the potential is extraordinary." But standing in the way is a flurry of anti-fracking bills.

Jackson Lee Shut Down at Committee Hearing. Representative Sheila Jackson Lee (D., Texas) continually interrupted ranking member Darrell Issa (R., Calif.) during a Judiciary Committee hearing today by claiming that she was lodging parliamentary objections. Committee chairman Bob Goodlatte continually reminded her that her comments didn't qualify as legitimate interruptions to Issa's time, and she eventually relented.

Holder plays dumb. Attorney General Eric Holder was in a familiar spot yesterday: testifying before the House Judiciary Committee, dodging and weaving and otherwise doing his best imitation of Sgt. Schultz from the old TV show "Hogan's Heroes": I know nothing. Scandals at the IRS? Under investigation, can't comment. Subpoenaed phone records of Associated Press reporters? How should I know? I recused myself. That's not testifying — that's obfuscating.

Eric Holder's abdication. As the nation's top law enforcement official, Eric Holder is privy to all kinds of sensitive information. But he seems to be proud of how little he knows.

Know Nothing. Attorney General Eric Holder used the phrase "I don't know" or some variation, at least 57 times during a hearing before the House Judiciary Committee today as House Republicans grilled him over controversies including the IRS' targeting of Tea Partiers, the Justice Department's seizure of journalist phone records, and the security lapses surrounding the Boston bombing.

The Keystone Pipeline: Delay is the Name of the Game. The four-year saga of the Keystone XL pipeline is a textbook case of the game Washington politicians play. To avoid making decisions that might anger one constituency or another, they appoint a committee or commission a study and then sit back, hoping the report never comes in. If they don't like the results, they commission another study.

Harry Reid's Great Disappearing Act. In Mr. Reid's Washington, the House works its will, the Senate does crossword puzzles. Its committees do not produce bills, its senators do not debate or amend, the body does not vote. The House, to accomplish anything, is forced to engage in backroom wrangling with the White House, the results of which are presented to the nation as a fait accompli. The Senate claims total deniability.

House Dems call for dismissal of contempt lawsuit against Holder over Fast and Furious. The ranking Democrat on the House Committee on Oversight and Government Reform filed an amicus brief Wednesday [12/19/2012] asking for dismissal of the contempt lawsuit brought by House Republicans against Attorney General Eric H. Holder Jr. in the botched "Fast and Furious" gunrunning investigation.

You Think the GOP Has Problems? Despite the worst economy in the last 50 years, Democrats decided to run the old plays out of the old playbook, and they just went ahead and burdened the economy with more stimulus, more entitlements, more environmental regulation, and more crony capitalism/socialism. In consequence, the economy failed to thrive as it tried to rally from the depths of the Great Recession. What a surprise!

Political Elites Keep Power By Blocking Change. A couple of economists have determined that rulers around the world keep their subjects in poverty so they can maintain power. What does this impart to us about where our country is headed today?

An activist judge makes it easier for dead people to vote.
Texas Court Halts State Attempt to Purge Voters as Dead. Texas officials were temporarily barred by a state judge from ordering county election officials to purge presumably dead voters from registration rolls because the initiative may violate the election code. The ruling came in a lawsuit filed yesterday by four voters who were told they would be purged from voter-registration lists as deceased. They asked state court Judge Tim Sulak in Austin to stop the state from striking about 77,000 names, arguing the plan violates state and federal law.

Fallacy Of Redistribution Has Grave Economic Impact. The history of the 20th century is full of examples of countries that set out to redistribute wealth and ended up redistributing poverty. The communist nations were a classic example, but by no means the only example. In theory, confiscating the wealth of the more successful people ought to make the rest of the society more prosperous. But when the Soviet Union confiscated the wealth of successful farmers, food became scarce. As many people died of starvation under Stalin in the 1930s as died in Hitler's Holocaust in the 1940s.

Obama sells old ideas as new. [Scroll down] Oh, but what about all his innovative ideas for green energy: faster trains local governments don't want and electric cars consumers won't buy? The New York Times reports that the electric car "has long been recognized as the ideal solution" because it is "cleaner and quieter" and "much more economical." The Times reported that in 1911. Obama has turned his back on nuclear power while investing massively in a technological breakthrough pioneered by Heron of Alexandria in the first century: the windmill.

Democrats Want Simpson-Bowles Question Barred From Presidential Debate. If you thought the Democrats would be satisfied with the fact that a solid phalanx of liberals have been chosen to moderate the presidential (and vice-presidential) debates, you would be wrong. Now they want to dictate what questions will be forbidden from being asked at the debates. I kid you not. The Politico reports on the question that the Democrats want to make taboo: ["]Some Democratic lawmakers want to make sure that one question does not get asked at the upcoming first presidential debate — about Simpson-Bowles.["]

Playing Politics: Democrats Block Drought Relief Measures For Farmers. On Thursday [8/2/2012], the House passed a short-term $383 million measure to provide immediate relief for farmers and livestock producers impacted by the recent drought. Conservative groups urged Representatives to proceed with caution on a pork-laden farm bill, as roughly 80 percent of the bill dealt with items such as food stamps rather than actual farming issues.

Look Who's Holding the Economy Hostage Now. Democrats say they'll let all the Bush-era tax cuts expire if they can't raise taxes on the rich. Apparently, economic catastrophe is a reasonable price to pay for class warfare politics.

Reid Worries About Olympic Uniforms, Not Budgets. The Senate Majority Leader hasn't proposed a budget in three years, won't bring tax cuts to the floor, yet adds Olympic uniforms to a priority list that includes boxing rules, cowboy poetry and a train to nowhere.

Racial Politics Thicker Than Justice. When the House voted last Thursday to find Attorney General Eric Holder in criminal contempt of Congress, members of the Congressional Black Caucus walked out. Why is the Black Caucus trying to make this about race? It's about Holder's refusal to turn over Justice Department documents requested by the House Oversight and Government Committee in its investigation of the "Fast and Furious" operation.

Congressional Black Caucus Walks out on Contempt Vote. Instead of voting on Thursday [6/28/2012], the members of the CBC walked out of the Chamber of Congress. Joining them were Minority Leader Nancy Pelosi and Minority Whip Steny Hoyer.

Pols set to block teacher ratings' release. The [New York] state Legislature is likely to pass a last ditch bill that would prevent the release of teacher evaluations, while letting parents see the ratings only of their kids' instructors.

Bid to kill EPA coal plant regulations thwarted in Senate. Senate lawmakers on Wednesday [6/20/2012] blocked a GOP-led effort to scuttle Environmental Protection Agency regulations that mandate cuts in mercury pollution and other toxic emissions from coal-fired power plants. The 46-53 vote against Sen. James Inhofe's (R-Okla.) resolution staves off what would have been a stinging election-year rebuke of the White House green agenda.

How Obama Bureaucrats Fueled Western Wildfires. The Obama administration's neglect of the federal government's aerial tanker fleet raises acrid questions about its core public safety priorities. Bipartisan complaints goaded the White House into signing a Band-Aid fix last week. But it smacks more of election-year gesture politics: Too little, too late, too fake. Ten years ago, the feds had a fleet of 44 firefighting planes. Today, the number is down to nine for the entire country.

Sessions: Reid unwilling to consider reasonable food stamp reform. The Senate's final vote on the farm bill is expected next week, but according to Alabama Republican Senator Jeff Sessions, there will be no substantial reforms to the food stamp program due to Senate Majority Leader Harry Reid's obstructionism. Eighty percent of the spending from the farm bill this year goes to the federal government's Supplemental Nutrition Assistance Program (SNAP), or food stamps, constituting $770 billion in spending over the next decade. According to Sessions, the ranking member of the Senate Budget Committee, Reid will not allow any of his reform measures — aimed at dealing with the swelling cost and growth of the welfare program — to even receive a vote.

Longshoremen file suit while clogging Northwest cargo at Port of Portland. An escalating dispute between two unions tying up millions of dollars of freight across the Northwest boils down to a spat over just two waterfront jobs, the Port of Portland's executive director said Thursday [6/14/2012].

Dems block McCain resolution on special counsel for leaks. Senate Democrats blocked a resolution introduced by Sen. John McCain (R-Ariz.) calling for Attorney General Eric Holder to introduce an outside special counsel to investigate a number of recent military and intelligence leaks. McCain introduced a resolution Tuesday [6/12/2012] expressing the Senate's support for Holder to appoint a special prosecutor. But Sen. Ron Wyden (D-Ore.) objected after McCain asked for unanimous consent that the Senate proceed to consideration of his resolution.

10 Reasons Obama Must Disclose His College Records. Desperate, Obama supporters portray all who look into his past as "birthers." Now they ridicule efforts to find how a pot-smoking slacker got into Columbia and Harvard.

Obama's Discredited Policies Are Symbols of the Tired Past. President Obama sent a warmed-over, five-point "to-do list" to Congress this week that he said will create jobs and spur growth. There was nothing new in any of the ideas. He's offered these same ideas before, but Congress rejected all of them.

Senate Dems hold Pentagon Hostage. Republicans on the Hill attempted to protect increased funding for the Defense Department by cutting funds for other programs, but were attacked by Democrats who threatened to refuse to negotiate.

Mining permit backlog leaves U.S. dependent on China for widely used rare minerals. Strategic minerals that are essential components in green and high technology such as hybrid cars, iPods and solar panels are readily available in the U.S. but efforts to mine the elements are being stalled by bureaucrats for years, industry officials say.

GOP: Obama's budget got 0 votes in Congress; Where's the leadership in 0? The federal government, which spends more than $3.5 trillion a year, much of it borrowed from outside the United States, has no guideline for how that money is spent. The Democratic Leader of the Senate said it would be 'foolish for us to do a budget at this stage,' and he's even refused to hold a vote. When the Democratic chairman of the Senate Budget Committee attempted to hold a markup on a budget, he was stopped at the last minute and pulled a vote from consideration.

Are you on a "Block-List?" As of late, conservatives have been dominating social media platforms including Twitter. In 140 characters or less, conservatives have managed to get deep under the skin of the progressives using the site and in retaliation, it seems, some Twitter users from the left are creating "blocklists" to automatically get conservatives' accounts suspended. If you are conservative and using Twitter, you may be on a "blocklist."

Twitter used to silence conservatives? Conservative Chris Loesch, music producer and husband of radio host and CNN contributor Dana Loesch, had his Twitter account suspended on Sunday [4/29/2012]. He was apparently targeted by leftist users who utilized the "Block & Report Spam" function to trigger the social media account's automatic spam algorithm. He was notified of his suspension via an email from Twitter claiming it was due to multiple unsolicited mentions to other users. "You will need to change your behavior to continue using Twitter," the email admonished.

A Mournful Milestone. Sunday, April 29, 2012, is an anniversary unprecedented in the history of American politics, marking three years since the Democratic-led Senate last complied with federal law by passing a budget. The Congressional Budget Act of 1974 stipulates that Congress must approve a budget resolution by April 15 of each year. In the Senate, only 51 votes are needed to pass a budget, as budgets are one of the few pieces of legislation invulnerable to a filibuster. Democrats currently control 53 seats.

Senate's scofflaw Democrats. Adopting a budget is not optional. It is required by law. Under the 1974 Congressional Budget Act, the Senate must move a budget out of the Budget Committee by April 1 of every year and adopt a budget resolution on the floor by April 15. The House has completed its budget work each of the past two years since the GOP attained a majority in that chamber. By contrast, the Democratic Senate is continuing its open defiance of budget law for the third year in a row.

Five Devastating Numbers That Show Obama's Incompetence. [#3] We're now up to 1,091 days without a budget despite the fact that it's the most basic function of Congress and it's required by law. There's a simple reason for this: Democrats don't want to offend the general public by increasing spending or their base by cutting spending; so they've decided to do nothing.

Senate Democrats Not Even Showing Up for Budget Meetings At This Point. Granted, this entire exercise was somewhat academic because its resulting product would receive neither a vote in this committee, nor in the Senate at large.

Why Democrats won't vote on a budget. Households make budgets. So do businesses and nonprofits. There was also a time when Congress made them, but those days are long gone — 1,086 days gone, to be precise. That's the last time Democrats, who have controlled one or both houses of Congress this whole time, passed a budget resolution through either the House or the Senate. [...] Asked to explain this bicameral failure in the face of trillion-dollar deficits, House Majority Leader Steny Hoyer said, "It's difficult to pass budgets in election years."

Democrats punt on Senate budget bill for 3rd year. In a stunning backtrack that virtually guarantees Congress for the third year will be unable to produce a budget, Senate Democrats' top budget writer Tuesday canceled this week's expected votes on a 2013 fiscal blueprint. [...] [Senator Kent Conrad's] move stunned Senate Republicans, who had been preparing amendments for Wednesday and Thursday. "It's hard to negotiate with somebody who won't tell you where they are," said Sen. Jeff Sessions, the ranking Republican on the Budget Committee, who said Mr. Conrad was breaking a promise he made to debate and vote on a budget.

Harry Reid Shuts Down Budget Process In Senate. The Democratic Senate has not adopted a budget in three years. This is not only flagrantly irresponsible, it is a violation of federal law.

It Takes A Lot of Nerve ...to criticize Mitt Romney's support for the House Republicans' budget when Senate Democrats won't even write one, in violation of the law, and President Obama's budgets can't garner a single vote. But that is nevertheless what Obama did.

Left's Orwellian Censorship Campaign. The evidence of this calculated assault on free speech is overwhelming, but the most recent and high-profile examples include carefully orchestrated campaigns by three well-funded, interconnected, George Soros-linked organizations: Media Matters for America (MMFA); the Southern Poverty Law Center (SPLC); and the Gay and Lesbian Alliance Against Defamation (GLAAD).

Senate rejects drilling for oil in Arctic refuge. The U.S. Senate on Tuesday [3/13/2012] resoundingly rejected a sweeping measure to open the Arctic National Wildlife Refuge and other protected areas to drilling as well as approve construction of the Keystone pipeline project. The vote was the first time in four years the Senate has voted on a measure including ANWR drilling, and it failed miserably.

Online, liberals far less tolerant than normal people. The new research found that instead of engaging in civil discourse or debate, fully 16% of liberals admitted to blocking, unfriending or overtly hiding someone on a social networking site because that person expressed views they disagreed with. That's double the percentage of conservatives and more than twice the percentage of political moderates who behaved like that. The proportion jumps even higher when someone on a social site disagrees with a liberal's post.

Trashing the democratic process in Maryland. Ludicrously entitled the Maryland Referendum Integrity Act, this is a blatant political attempt to prevent similar grassroots efforts in the future. In a one-party state like Maryland, referenda are an essential constitutional check on government overreach. But the bill would basically outlaw online petition gathering by requiring each voter to sign "in the individual's own handwriting," with each page notarized.

Leftists attempt to squelch their critics:
Want Proof of How Democrats Would Shut You Up, Tea Partiers? On MSNBC, John Kerry told us that Tea Party ideas are not "real" ideas, not "factual," and thinks that the media should stop reporting on anything that smacks of ideas or news coming from Tea Partiers. ... Fortunately, the Fairness Doctrine has not come back. But this un-American policy idea has been talked about by leftists every few years since it was torpedoed by Reagan in 1987. They would love to bring it back. And despite what they claim, the left would use a new Fairness Doctrine to squelch the free political speech of those on the right.

Not So Super. The new "supercommittee" mandated by the debt ceiling agreement is a train bound for nowhere. Democrats made sure of that by appointing a bunch of class warriors who put politics first.

NY Times: It's the Democrats Who Are Blocking a Deal. Though we've been told again and again how irresponsible, obstinate Republicans were blocking a deal on the debt ceiling, the New York Times admits this morning the Democrats have actually emerged as the primary obstacle to an agreement.

Governor Doofus Shuts Down Minnesota. Governor Mark Dayton, a Democrat, shut down state offices this week in Minnesota by not signing on to the largest budget in state history. It's the stuff of theater of the absurd, and ironic too: It puts more than 24,000 state workers out of work temporarily, dealt them by a wild-eyed governor they helped elect.

Obama continues his war on cheap American energy. Barack Obama's EPA has been on a crusade to kill off efforts to boost America's domestic energy supplies. We are now among the least attractive nations for energy companies seeking to explore and develop energy supplies. The American people are waking up to the man-made disaster that Barack Obama has created. Three quarters of Americans now think our oil and gas resources are under-exploited. Yet, Barack Obama and his Democratic allies are doing all they can do kill carbon and jam down our throats ruinously expensive and uneconomic green schemes that benefit their donors.

Obama's Final Solution. [Scroll down] Obama is fundamentally a very simple, extreme ideologue. He has only one answer. Everything Obama does comes straight from the most stilted and destructive clichés of the left. The man has never had an original idea in his life, and wouldn't recognize one if it were served up on a plate with arugula. He is intellectually locked in concrete.

Too Little, Way Too Late. Why has the Democratic Party done everything in its power for more than 30 years to suppress domestic production of oil? Let's consider some sources of petroleum that the Democrats have blocked. ANWR is estimated to have the capacity to produce 1,000,000 barrels per day. Currently, around 1.5 million barrels per day are produced in the Gulf of Mexico; if the Obama administration would stop blocking permits and allow that production to increase by only 20 percent, that would be 300,000 barrels per day. Then there is the Keystone pipeline. The administration would like to block its construction, which would prevent 900,000 barrels per day from entering the U.S.

The Democrats' Recall Bomb. The left-liberals have got themselves a new political weapon. Democrat inability to prevail at the ballot box has led to tactics of desperation. Falling numbers of Democratic voters ... [has resulted in] the introduction of all sorts of novel electoral tactics, usually backroom stuff that would be familiar to Boss Tweed and Frank Hague: endless recounts spiced up by ballots appearing out of quantum black holes, opponents being denied places on the ballot by legal action (a Cook County special strongly endorsed by none other than Barack Obama), voting by felons and illegal immigrants. Frivolous recall elections are simply the latest of these.

Pure Class: Wisconsin Leftists Disrupt Special Olympics Ceremony to Picket Scott Walker. Thanks to the MacIver Institute's clear commentary, and the clip's self-explanatory images, this wretched scene needs no further context.

It's Official: The Left Is Out of Ideas. With a little over a year to go until the next national election cycle is complete, it has become apparent that from an economic standpoint, the SS Liberal has officially run out of steam. ... And despite all the rosy window dressing provided by the beaming ship attendants of the mainstream media, who pretend to be shocked every time another leak opens up, we passengers are fully aware of our surroundings.

It's called stonewalling.
What's the Hold Up on the Maxine Waters Investigation? [Scroll down] On the heels of the massive investigation and very public trial of Rep. Charles Rangel (D-NY), there was reason to be somewhat optimistic that Waters would be held accountable. That is until House Ethics Committee Chairman Zoe Lofgren (D-CA) started meddling in the process. Not only did Lofgren fail to issue subpoenas for records related to the scandal, but she also delayed the ethics committee hearing after doing everything in her power to undermine the professional committee staff leading the investigation. And, as if that were not enough, Lofgren then improperly fired two attorneys working on the investigation.

La Follette's Stall: Last week, Gov. Scott Walker signed legislation that limits collective-bargaining privileges for unionized public employees to pay raises. The law is not really the law, though, until the day after it's published, a duty of Wisconsin's secretary of state — in this case a Democrat who says he'll hold off publishing as long as legally possible.

Wisconsin judge blocks collective bargaining bill from taking effect. Though Wisconsin Governor Scott Walker signed a bill last week to curtail collective bargaining rights for public sector union employees, the legal battle has only just begun. Friday [3/18/2011], a Wisconsin judge issued a temporary restraining order blocking the law from taking effect, at least for now. Dane County Judge Maryann Sumi issued the ruling in a lawsuit that was filed by the county's District Attorney, Ismael Ozanne.

Leftist resort to the courts is sign of desperation.
Ending the global-warming argument. Leftists are rushing to the judiciary as a refuge against efforts to undermine their global-warming tax schemes. In the current economic environment, the idea of massive hikes in the price of gasoline and other sources of energy has become radioactive. In response, the attorneys general of California, Connecticut, Iowa, New York, Rhode Island and Vermont are hoping activist judges will enact policies that elected, accountable representatives are increasingly afraid to touch.

Judge blocks contentious Wisconsin union law. A Wisconsin judge issued a temporary restraining order Friday [3/18/2011] blocking the state's new and contentious collective bargaining law from taking effect, raising the possibility that the Legislature may have to vote again to pass the bill.

Wisconsin Judge Sumi's Conflict(s) of Interest. FreedomEden's Mary writes: "Jake Sinderbrand, son of Judge Maryann Sumi, poses a bit of a problem for his mother." Sumi is the county judge who on Friday temporarily blocked implementation of the collective bargaining-related law passed by the Wisconsin legislature and signed by Governor Scott Walker. ... You see, Jake Sinderbrand is "a former field manager with the AFL-CIO and data manager for the SEIU State Council." Both organizations have members who are employed in Wisconsin's public sector. That's already a pretty clear conflict of interest, one would think.

They're Not Serious. No-drill Democrats are looking wan under the bright light of rising gasoline prices. So what do they do? They retreat to their worst ideas and claim they've brought a fresh set of solutions to the table.

Reminder: President Obama isn't a Supreme Court justice. Two political parties dominate the American political landscape. One is committed to the rule of law. The other is called the Democratic Party. ... Legislators are elected to do one thing and one thing only: legislate. When they leave the state to avoid doing precisely that, they, by definition, are refusing to do their jobs.

AWOL Dems defy ballot box. American-style democracy holds together because no matter how nasty the political game gets, the players honor a few inviolable rules. We obey the laws, even the ones we disagree with. We respect the ballot box. And after even the most bitterly contested election, the loser accepts the results, works within the system and awaits another chance to prevail with voters. ... But what's happening in Wisconsin and Indiana breaks that tradition and puts a crack in our democratic foundation.

Exclusive: AWOL Democrats Experiencing 'Dissension in the Ranks'. Fox Nation has learned exclusively from a highly placed source within Wisconsin state politics that the fourteen AWOL Democrats are experiencing "dissension in the ranks." State Sen. Julie Lassa (D) is pregnant and "extremely unhappy" about being on the run. State Sen. Jon Erpenbach (D) has been hit particularly hard by his paycheck being withheld.

The Editor says...
They should have thought of that two weeks ago.

Missing Wis. Dems Face Daily Fines. If the absent Democratic state senators in Wisconsin don't return soon, they will face fines of $100 per day starting Friday [3/4/2011]. This is just the latest in a series of measures designed to entice the senators back to the state.

Public Unions & the Socialist Utopia. [Scroll down] When Democratic lawmakers flee the state in order to deprive their legislatures of the quorum necessary to vote, they are declaring that they would rather have no legislature than allow voting on any bill that would break the power of the unions. National Review's Jim Geraghty describes these legislative walk-outs as "small-scale, temporary secessions." The analogy is exact. One hundred and fifty years ago, Southern slaveholders realized that the political balance of the nation had tipped against them, that they could no longer hope to win the political argument for their system. Faced with a federal government in which they were out-voted, they decided that they would rather have no federal government at all.

Democrats: Cowards of the Country. The Democratic Party, unwilling to face tough choices on state budgets, is making a systematic effort to thwart the will of the people. They have taken legislative bodies in Wisconsin and Indiana hostage by denying them a working quorum. Insurgent Democratic lawmakers have fled over the border to find safe haven in Illinois, their equivalent of Pakistan, whence they have issued lists of demands. Similar tactics may be employed in Ohio, Michigan and other states where Democrats face assertive governors trying to clean up the fiscal messes left by their predecessors.

Dems halt action in Indiana House. A second attempt to reconvene the Indiana House of Representatives was again unsuccessful Tuesday [2/22/2011] as only two Democrats showed up for roll call. The House needs only five more Democratic Representatives to conduct business. Only two Democrats showed up for the legislative body's 10 a.m. start time, bringing legislative action to a standstill. Tuesday's walk out comes as Republicans attempted to file controversial "right to work legislation," without the Democrats, the legislation cannot be considered.

Groups explore recalling missing Democrats. Groups are taking the first steps toward recalling two Democratic state senators who have fled the Capitol to avoid a vote on an anti-union bill.

Wisconsin Dems lead the way in the abrogation of duty. The Spider Hole Party will regret escalating this into a national crisis, because it highlights their greed, and their total abrogation of duty. Wisconsin Democrats hiding in Illinois is really no different than Barack Obama dropping an absurd and delusional budget on Congress. Both are the actions of a Party that has run completely out of ideas, and has no clue how to deal with the collapse of the unsustainable system they have built over the past few decades. They've retreated to animal instincts, screaming for even more spending, and snarling in rage when any of their hoarded loot is threatened.

Pelosi says she's 'proud' of Wisconsin Democrats who fled. House Minority Leader Nancy Pelosi (D-Calif.) said she supports the Democratic state senators in Wisconsin who left the state to stop a vote on curbing collective bargaining rights for unionized public employees.

Mockery of Democracy — the Wayward Senators of Wisconsin. [Scroll down] On CNN, John Nichols of The Nation referred to them as heroes, with fighters' spirits. Running away? Hiding? In what Bizarro World does this pass as courage? They hijacked the political process. They made a mockery of democracy. Elected to a job they abandoned, swore an oath to a duty they shirked. In a child's world it's called running away from home, and is reason for a beating.

Mob Mentality, Mob Rules, We All Lose. Democratic state senators, objecting to a Republican plan that increases the pension and health care contributions of state employees (and largely removes their ability to bargain collectively) have fled the state to deny the elected body a quorum. One legislator without a sense of irony posted "Democracy" on his Facebook page before bailing out on the duties of his elected office. If there was a question about whether loyalty to unions trumped loyalty to constituents, it has been answered.

Running away is irresponsible. They made their point. Now it's time to get back to work — in Madison, not Rockford, Ill., or Chicago. The Senate Democrats who fled Wisconsin for Illinois last week need to do the jobs they were elected to do at the state Capitol in Madison. Running away from their problems won't solve them. All 14 Democrats in the 33-member Wisconsin Senate staged a walkout from the Wisconsin Capitol in Madison on Thursday.

Howard Dean and the $100,000 Wisconsin Slush Fund. Former Vermont Governor and Democratic National Committee Chairman Howard Dean, a one-time presidential candidate, is the founder of a group that by mid-day of President's Day had raised over $100,000 in a slush fund to "back" the on-the-lam Wisconsin Democratic State Senators.

Feds and Unions: Foes to Educational Reform. Last week, Wisconsin Gov. Scott Walker called on 14 state Senate Democrats, who had fled the state instead of voting on a deficit-cutting anti-teachers-union bill, to return and do their jobs. Senate Republicans hold a 19-14 majority there but can't vote on the bill unless at least one Democrat is present. Does that sound like democracy at work to you?

Flashback to 2003:
Texas House paralyzed by Democratic walkout. With action in the Texas House brought to a standstill, roughly 50 state Democratic representatives said they would remain in neighboring Oklahoma "as long as it takes" to block a Republican-drawn redistricting plan that could cost them five seats in Congress.

Gov. Rick Perry Calls Runaway Wisconsin Lawmakers 'Immature' and 'Juvenile'. Long before Gov. Scott Walker watched Democrats flee Wisconsin last week, a similar scenario played out in Texas when another first-term governor faced a contentious political debate.

Block and Blame is the Name of the Game. In the closing days of the 2005 congressional session, it became crystal clear which party had ideas and legislative priorities, and which party was content to adopt a "block and blame" strategy. Ground zero for this demonstration was the floor of the United States Senate.

Obama on Energy: Fancy New Rhetoric, Same Failed Policies. In the State of the Union address, President Obama missed a prime-time opportunity to truly usher our nation into a secure energy future. He changed his rhetoric and his tone, but not his harmful policies or misinformed ideology.

The Climate of Hate Will Not Dissipate. [Scroll down] The blood libel also endures for the same reason liberals always fall back on charges of greed, racism, or similar paranoid fantasies: it's all they've got. These people are deeply frightened by America's decisive turn against them. They have no logical arguments left — the wreckage of their failure is strewn from coast to coast. The blood libel is a wail of desperation from a dying movement furiously trying to claw its way from the grave of history.

'Civil' Discourse: A One-Way Street? In the wake of the attempted murder of Rep. Gabrielle Giffords in Tucson, and the murders of six of her constituents who went to see her at a local Safeway grocery store, the American people have been hearing a lot about the need to return to "civility" in our political discourse. What exactly does that mean? It depends upon whom you ask.

Filibuster Follies. Waking up to a thinner majority, the Senate majority leader suddenly finds the filibuster a threat to democracy. So he decides that the first legislative day will be the day the Senate stood still.

Liberals in denial about Obama's 'achievements'. [Scroll down] Then there's the problem of President George W. Bush. If Obama is so much smarter than Bush is, how come he can't come up with new ways to do things but ends up instead with the Bush tax cuts, with the Bush protocols for the war on terror, with the Bush wars, the Bush generals, the Bush surge strategies, and the Bush policies on Guantanamo Bay?

The Biggest Target is Liberalism. One thing that the Obama presidency has raised to the level of an axiom is the fact that no aspect of liberalism ever dies. The administration has reached back to the New Deal, the British National Health Service, and the Great Society for its "new, unheralded policies" to overcome our current problems. It seems that no policy or concept is too antiquated, over the hill, or moribund for the Obama administration.

Truth Imitates Fiction — It Has Already Happened Here. [Scroll down] A closer and more realistic look at the characteristics of the National Democratic Party in the 1930s and today will reveal that indeed, the fear of a Fascist take-over in the United States was most likely then and is most likely to occur today as a direct result of a charismatic leader and collectivist policies that weaken the checks and balances of our representative form of government and the built-in safeguards of Constitutional Liberties.

Soaking the Rich. Liberals have an amazing ability to overlook the obvious. This is particularly true when it comes to deficits and debt. Their proposals to tax their way to solvency is akin to proposing to rescue a sinking ship by moving the water to another deck. The left imagine they can bail out the boat by soaking the rich. Simply stopping the flood of deficit spending somehow escapes them.

The Big Bamboozler. On Monday [8/2/2010], at yet another campaign fundraiser, the part-time President, full-time campaigner Barack Obama told Democrat fat cats, with both hands in taxpayer pockets, that Republicans "have not come up with a single, solitary new idea to address the challenges of the American people." But where are Barack Obama's new ideas? The Keynesian deficit spending of the 1970s, focused on the make-work jobs programs of the 1930s, is not exactly a new idea.

Will Senate Democrats Stifle Free Speech? The DISCLOSE Act is a desperate attempt to influence the November elections, and minimize Democrat losses. Senator Schumer and the legislation's other sponsors aim to have a law on the books that will take effect prior to November regardless of whether a regulatory system is in place to enforce the burdensome new reporting requirements. The Act, its reporting burdens, and penalties are set to take effect 30 days after it has been signed by President Obama.

Pelosi: We'll stop blaming Bush when his problems go away. Democrats will keep blaming George W. Bush until the problems from his administration end, according to Speaker Nancy Pelosi. In an interview with MSNBC, Pelosi said congressional Democrats feel justified in blaming the Bush administration because of the problems it left behind for President Barack Obama. Asked if there was a statute of limitations on blaming Bush, Pelosi said: "Well, it runs out when the problems go away.

The Editor says...
I hope Speaker Pelosi doesn't mind that she and Obama get the blame for the duration of all the problems they have caused, because that will be a long time.

Democrats Censor Climate Skeptics in Congress. The Democratically-controlled Committee on Energy Independence and Global Warming held a hearing yesterday [12/2/2009] to examine the science behind global warming. Two climate experts from the Obama administration testified, but when Republicans asked to have a global-warming skeptic at the hearing, Chairman Ed Markey (D-Mass.) refused to allow it.

Liberals are silencing the global warming skeptics.

Violation of Senate Rules. Today [12/16/2009] Sen. Tom Coburn forced the reading of Sen. Bernie Sanders's entire 767-page amendment to provide single-payer health care. This process would have taken some twelve hours at least. The Senate rule is that once the clerk starts reading the bill, no senator can stop the reading of that bill unless every senator agrees. Somehow, though, the chair allowed Bernie Sanders to interrupt the reading and withdraw his amendment, which, under the rules, he should not have been allowed to do without unanimous consent.

Franken shuts down Lieberman on Senate floor. Democratic Sen. Al Franken took the unusual step Thursday [12/17/2009] of shutting down Sen. Joe Lieberman on the Senate floor.

A clown's impression of seriousness. Sen. Joe Lieberman was making remarks on Medicare on the Senate floor when his allotted time expired. As is standard practice in the Senate, Lieberman asked the chair for a few minutes of additional time to conclude, "without objection." But the presiding officer, one Sen. Al Franken, said no. "In my capacity as Senator from Minnesota, I object."

John McCain: Al Franken-Joe Lieberman episode shows deterioration of Senate. Sen. John McCain on Friday denounced the decision of Democrats to cut off Sen. Joe Lieberman in the middle of a floor speech, saying that the good will in the usually clubby Senate seems to have evaporated. "I've been around here for more than 20 years, yesterday on the floor of the Senate, the senator from Connecticut was finishing up his remarks ... and was objected to by the newest member of the United States Senate — and in the most brusque way."

Franken the Clown Turns Senate Into a Circus. [Scroll down slowly] Reportedly, Franken was following orders by Senate Majority Leader Harry Reid when he cut off Lieberman's speech. Reid is claiming that Franken's action was not personal against Lieberman, but it was just a way to keep the debate moving so that health care reform can be passed by Christmas. However, few honestly doubt that this wasn't deeply personal. Lieberman has slowed down a rush to socialized health care and many Democrats are furious with him.

More about Senator Franken.

Democrats: Answer These Questions or it's Buh-bye in 2010. By now, the American people realize that the leaders of the Democrat party don't have much respect for the principles that made this country great. Their only interest is in remaining in power while pretending that they're concerned for the working class. What a joke. It's the working class that always gets hammered by the socialist policies of the liberal left. It's clearer every day that Democrats stay in power by subverting the laws of the land whenever it suits them. Every single time legislation is introduced to combat voter fraud, the Democrats prevent it from getting out of committee.

Republicans Desperately Need a Star. Turns out Republicans were right all along. Hellbent terrorists around the world really do want to kill Americans, and the best place to keep those we catch is Gitmo. Just ask Democrats in Congress. And the best way to try the relentless bastards is through military tribunals. Just ask President Obama.

I Feel Your Pain. Not Theirs. Yours. After aggressively blocking [Miguel] Estrada's nomination to a federal appeals court during Bush's first term solely on the grounds that he is Hispanic and was likely headed for the Supreme Court — according to Senate Democrat staff memos — now Democrats have the audacity to rave that Sotomayor will be the first Hispanic Supreme Court justice!

The Obama Counter-Revolution. The radicals of the 1960s were not rebelling about what their professors told them: they were, instead, advancing the collectivist elitism of their professors. I endured these dull dons of the classroom decades ago. They held no new thoughts. They had no fresh ideas. They were, instead, mean priests of an old intolerant religion which we call the "Left." Barack Obama learned his catechism under these narrow-minded champions of the Old Regime.

Attacking the Tea Party Movement. Those on the left have spent so much time over the past eight years bashing George Bush that they are having trouble shifting gears. Instead of enjoying their big win in 2008 and going positive, following their leader Obama's "hope and change" message, they are still tearing down anyone who doesn't agree with them.

The Rapacity of Odacity. Socialism is rapaciously greedy —that's what endless envy warfare comes down to. The Left likes to preen itself with the word 'progressive,' when it is actually the most regressive political strategy in history. The key political move is to seek out the most rapacious people —not hungry for food but power —and use them to mobilize an attack on the productive sector, the milk cows of society. It is the most primitive political strategy ever. It goes back to the Romans and long before.

The Shrine of FDR: Sirota's point about high-school civics classes helps explain the vitriol. The glory of the New Deal is, for liberals, settled dogma. To question it is akin to casting doubt on geocentrism in the 14th century. Worse, it is an attempt to erase liberalism's most usable past. Significantly, FDR has recently become more relevant and popular among "progressives" than he's been for a generation. In 2006, Nancy Pelosi reportedly said that three words prove the Democrats aren't out of ideas: "Franklin Delano Roosevelt." This revival has many causes. One is surely the rise of the "netroots" and their renewed emphasis on reviving the Democratic party as a vehicle of progress. Since the Democratic party is still for all intents and purposes a Roosevelt cargo cult, any Democratic "comeback" would be a comeback for New Dealism as well.

Democrat Wage Controls Mean Mediocre Management. Over the ages of human existence, wage and price controls have ended the reign of Egyptian pharaohs, brought down the Babylonian Empire, and further weakened the Nixon administration. But that didn't stop Senator Claire McCaskill from proposing wage controls again. McCaskill (D-MO) introduced a bill that would make it illegal for any employee of a company bailed out with taxpayer money to get more compensation than the president gets.

The Geithner Exception: [Scroll down] The just-issued Conyers report on "Reining in the Imperial Presidency" calls on the new Obama administration to "begin an independent criminal review (my emphasis) of activities of the outgoing administration, such as enhanced interrogation, extraordinary rendition, and domestic warrantless surveillance." As prelude, the House last February voted contempt of Congress against Bush White House officials Josh Bolten and Harriet Miers and referred them for prosecution.

The Unconstitutional Constitution. Last November, 13,402,566 California voters expressed themselves for or against Proposition 8, which said that their state's Constitution should be amended to define marriage as a relationship between a man and a woman. The voters, confident that they had a right to decide this question by referendum, endorsed Proposition 8 by a margin of 52.3 to 47.7. Now comes California's attorney general, Jerry Brown — always a fountain of novel arguments — with a 111-page brief asking the state Supreme Court to declare the constitutional amendment unconstitutional.

Obama Dusts Off Hoover Playbook. The Obama campaign is using Wall Street's woes as a new rationale for its massive tax increases and protectionism. The last president to take that approach helped cause the Great Depression.

Barack Obama-san. Not to spoil the party, but this is not a new idea. Keynesian "pump-priming" in a recession has often been tried, and as an economic stimulus it is overrated. The money that the government spends has to come from somewhere, which means from the private economy in higher taxes or borrowing. The public works are usually less productive than the foregone private investment.

Harry Reid's America: The Senate Rules make clear that legislation should be subject to debate and amendment. These two are essential rights provided to the minority, unless [Harry] Reid is the majority leader. During the 110th Congress, Reid filed a record 137 cloture petitions, effectively abrogating the ability to debate. A number of times, Reid filed cloture on legislation the same day it was made available to Republicans; these cloture petitions occurred before some senators had an opportunity to read the legislative language.

Obama's not 'new'. America first encountered the vision Obama espouses under Woodrow Wilson, the first progressive president, and the first to openly disparage the U.S. Constitution as a hindrance to enlightened government. His new idea was to replace it with a "living constitution" that empowered government to evolve beyond that document's constraints.

Read this article.
The Cloward-Piven Strategy of Orchestrated Crisis: The Strategy was first elucidated in the May 2, 1966 issue of The Nation magazine by a pair of radical socialist Columbia University professors, Richard Andrew Cloward and Frances Fox Piven. David Horowitz summarizes it as: "The strategy of forcing political change through orchestrated crisis. The 'Cloward-Piven Strategy' seeks to hasten the fall of capitalism by overloading the government bureaucracy with a flood of impossible demands, thus pushing society into crisis and economic collapse."

Congressional corruption: Congress has become corrupt. "Public policies for the benefit of the people" is no longer the purpose, nor even the goal of Congress. The first purpose of Congress is to gain and retain the control of congressional power. No issue or public need takes precedence over this purpose. Congress has devised rules and procedures that are used to avoid debate and prevent opposing views and ideas. A perfect example of this corruption is the current gridlock over the issue of energy.

Dems like $10 per Gallon Gasoline. You have to see this video to believe it. Senate Minority Leader Mitch McConnell (R-Ky) was on the Senate floor earlier today, attempting to get offshore drilling authorized. As you'll see on the YouTube shot, he tried to get Democrats to agree to a trigger for it, at ever-increasing levels of gas prices. McConnell was asking for unanimous consent, so the bill could pass immediately. Try as he might, Sen. Ken Salazar (D-Co) objected no matter how high McConnell raised the ante. $4 a gallon? Salazar objected. $7.50 a gallon? Again, Salazar objected. Finally, McConnell offers a trigger for offshore drilling permission at $10 a gallon gasoline prices. And guess what? Salazar objected.

That '70s Show: You may have noticed that denouncing the "failed policies of the past" has become the official catechism of the Democratic Party. So, you'd think if everything Bush has done is wrong, then a reversal of his position would be right. Wrong again. We didn't hear applause from Democrats this week when President Bush "reversed" his "longstanding position" (in the words of The New York Times) on offshore drilling.

Liberals as reactionaries: Despite his talk of change, [Obama] has failed to deviate from oldline liberal orthodoxy on a single issue of importance. There is nothing in his world view that wouldn't have been familiar to and approved of by mainstream liberals circa 1968.

Forty Years after the Death of a Party. No major political movement that despised America could have survived in America in 1940. Indeed, no major political movement can survive in a democracy which despises its homeland — except in America. Forty years ago, the Democratic Party became an anomaly in the history of democracies: It assumed a posture of contempt towards the very nation which it sought to govern.

The Gods of Liberalism: While visiting the Rivermont Evangelical Presbyterian Church in Lynchburg, Va., a few weeks back, I heard a troubling, albeit thought-provoking, sermon. Pastor John Mabray addressed the ancient Canaanite practice of Baal worship and, though he didn't reveal it by name, connected the dots to its present-day progeny: liberalism. Baal, the half-bull, half-man god of fertility, was the focal point of pagan idolatry in Semitic Israel until God revealed His monotheistic nature to Judaism's forebears. In his sermon, Pastor Mabray illustrated that, although they've now assumed a more contemporary flair, the fundamentals of Baal worship remain alive and well today. The principal pillars of Baalism were child sacrifice, sexual immorality (both heterosexual and homosexual) and pantheism (reverence of creation over the Creator).

Recycling Jimmy Carter: Barack Obama doesn't just talk about conservation, he practices it. In his thinking and proposals on energy, the Illinois senator has expertly recycled Jimmy Carter. Though there may be a difference here or there, the Obama policies are essentially Carter's. You have doubts? Read through Carter's energy speech from April 1977. In a nationally televised addressed, Carter struck themes that are echoed by Obama today.

How Chuck Schumer Caused the Second Largest Bank Failure in US History: Why would a federal official with enormous power, destroy an institution on which tens of thousands of depositors (not all of whom are insured) and employees depend? Why would a New York Senator attack a Pasadena bank, acting as some sort of amateur, self-appointed, long-distance bank examiner? Perhaps this might help answer the question: Indymac has been under attack from the hard left.

The House of Waxman. When the Democrats regained control of Congress in 2006, headline writers had a field day with the bestowal of subpoena power on Henry Waxman, the dogged hound of oversight from California.

Democrats' Energy Plan: Tax, Sue, and Investigate. To most Americans, addressing rising energy prices might include at least a bow to the law of supply and demand. It might contain some true common sense ideas such as stepped-up exploration, added domestic refinery capacity, or other measures to increase U.S. energy and reduce dependence on foreign supplies. But Democrats made clear they have other priorities. They want to tax, sue and investigate their way out of this problem.

What Do The Democrats Take Us For? The public wants more oil, but Democrats keep offering the same solutions, not one of which includes drilling and all of which are asinine. Do they think the American people are fools?

Are Facts Obsolete? As the hypnotic mantra of "change" is repeated endlessly, few people even raise the question of whether what few specifics we hear represent any real change, much less a change for the better. Raising taxes, increasing government spending and demonizing business? That is straight out of the New Deal of the 1930s. The New Deal was new then but it is not new now. Moreover, increasing numbers of economists and historians have concluded that New Deal policies are what prolonged the Great Depression.

Of Course, Liberals Want to Nationalize Oil! The Democrat Party has a lone objective when it comes to the vital issue of energy: Obstruction! By opposing drilling, additional refining capacity, and the development of nuclear power, the Left has left no stone unturned in assuring that America will never achieve energy independence. At least not through private enterprise, that is. After all, $10 a gallon gasoline is worth the price to liberals if they can destroy the American oil industry.

President Boxer. In March, the White House nominated David Hill as general counsel for the Environmental Protection Agency. He ought to have zipped through the Senate. ... The 10-9 vote had no relation at all to Mr. Hill's qualifications to serve and everything to do with preventing any policy supervision at the EPA. The committee is chaired by California's Barbara Boxer, who is livid that the EPA has so far declined to rewrite existing environmental laws to regulate greenhouse gasses.

The Democrats' Choice. Next week the Democrats will mark their 100th day running Congress, and Speaker Nancy Pelosi has declared herself "enormously proud" of their record. We think it's too soon to judge success or failure, and in any case the more pertinent question concerns what the Democrats are trying to accomplish: Do they want to get something done, which will require the signature of a Republican President who still has 21 months in office? Or is their goal to delegitimize the Bush Presidency with a purely partisan goal of regaining the White House in 2008?

Over to You, Speaker Pelosi. Gas is still at $4 a gallon, but the good news is there's an emerging consensus on a measure that would help: Drill for more oil here at home. President Bush dropped the executive ban on offshore oil and natural gas exploration last week, and House GOP leader John Boehner plans to lead a congressional delegation to Colorado and Alaska to highlight America's abundant energy resources this week. Polls show more than two-thirds of the public support increased domestic energy exploration and production. Guess who stands in the way.

Democrats Float Bill to Curb Gasoline Demand. Anxious to look like they're doing something about rising oil and gas prices — but unwilling to expand domestic oil drilling — Democrats have introduced a bill that's supposed to ease pain at the pump by offering alternatives to driving. The bill does nothing to increase domestic energy supply.

Wasted energy. Energy policy is now on life support. … Reasonable measures that actually produce more domestic energy garner strong bipartisan support. … Needless to say, the current crop of Democratic congressional leaders won't offend their environmental special interest group friends and bend to what the rest of America really wants.

Are liberals victims of SHD? Libs are the victims of their own media dominance. They're talking to themselves when they turn on the news or read the paper. The trouble is that talking to yourself keeps you deaf and blind to new ideas. You always stay in the same mental box, creating a vicious cycle when liberals enforce speech codes, which just protect them from new ideas again. (They must feel very, very vulnerable intellectually.)

Core Conservative Beliefs: I've recently read two articles that have as their theme the fact that liberals, while currently riding the anti-War, anti-George Bush juggernaut, are defined by negativity and, in fact, offer no new ideas to replace the doctrines and people they seek to defeat. In that regard, modern liberalism (or, as liberals have restyled the movement, Progressivism) is a political movement akin to the person who rips down an ugly house, but has no idea how to rebuild a new one, leaving the former residents homeless.

Radio Free America: Sen. Dianne Feinstein and the liberal left have a problem with unfettered free speech on talk radio and are calling for government regulation. Is it because in the marketplace of ideas they're bankrupt?

Michael Moore: A Criminal Profile. There is little doubt that Michael Moore is one of the most public anti-American propagandists of modern times. Without fail, his lengthy lists of so called documentary works have all encompassed his varying visions of the shortcomings of the United States. What many Americans take issue with Moore, is the deceptive means by which he collects his information and the even more deceptive way he portrays this information to the public.

Regurgitating the Apple: How Modern Liberals "Think". I assume that just about everybody in this room agrees that the Democrats are wrong on just about every issue. Well, I'm here to propose to you that it's not "just about" every issue; it's quite literally every issue. And it's not just wrong; it's as wrong as wrong can be; it's 180 degrees from right; it is diametrically opposed to that which is good, right, and successful. What I discovered is that this is not an accident. This is part of a philosophy that now dominates the whole of Western Europe and the Democratic Party today. I, like some others, call it Modern Liberalism. The Modern Liberal will invariably side with evil over good, wrong over right, and the behaviors that lead to failure over those that lead to success.

Leftist Thought Control: The political left, which holds itself as progressive, rational and fact-based, is becoming an enemy of academic inquiry, and a practitioner of thought control on a wide variety of issues. Increasingly, from the left's perspective, there is just one acceptable viewpoint. Consider the subjects of evolution, global warming, special rights for homosexuals and abstinence education.

Blank Check from America? It is now clear to all that this year's Democrats are deliberately avoiding spelling out any coherent policy program of their own. Their strategy is to second-guess, denigrate, and undermine Republicans instead of offering an agenda of their own. Rather than having a contract with America, they are seeking a blank check from America. Moreover, they may get it.

The Threat of Reimposition of the So-called Fairness Doctrine. Liberals have tried to imitate what conservatives have done with radio. First, they tried various programs. They all failed. Then with Air America they were going to try to put a network together. In case you haven't heard, it went belly up. Now they are trying again. Likely they will fail. Why? Because of the hopelessness of their message.

The Party's Over. The Democrats have become a colation of interests in search of power, and lack any unifying ideas. Today the ideas pushing the political forum are found not among the Democrats, but rather their opposition.

The Europeanization of the Democratic Party. Ronald Reagan famous declaration that he "did not leave the Democratic Party. It left me" can be made more contemporary. The Democratic Party has not only left behind many of its old principles and ideals, it now seems to be in the process of losing its moorings and leaving America entirely.

In Key Races, Democrats Look at Rivals' Personal Lives. In the wake of the Mark Foley page scandal, Democrats are targeting the personal lives of Republicans in numerous key House races as part of a campaign to capitalize on voter disgust with the messy personal lives and alleged character defects among elected officials.

[These are the same people who dismissed the Lewinski scandal by saying that Bill Clinton's "personal life" was nobody else's business.]

State of the Democratic party: Today's Democrats largely refuse to even admit that the problems President Bush is trying to solve even exist. They offer nothing. … On Iraq, on Iran, on intercepting terrorist communications, they have no positive proposals for success.

A response to my many critics — and a solution. For the record, because I deem this a significant statement about most of the Left, I found virtually no left-wing blog that was not filled with obscenity-laced descriptions of me. Aside from the immaturity and loathing of higher civilization that such public use of curse words reveal, the fury and hate render the leftist charge that it is the Right that is hate-filled one of the most obvious expressions of psychological projection I have seen in my lifetime.

Why liberals are crushing dissent: Liberals are actively undermining first amendment rights to free speech by trying to crush opposing views. Growing ever bolder in their naked grab for power they are leaving scorched earth behind those who disagree with them. This is why Dick Gephardt, Joe Lieberman, and Zell Miller no longer find themselves included in the modern Democratic Party. What is left over for the Democrats are wildly anti-American, anti-God, and anti-biblical leftists who are now bragging about their use of brute force to crush the voices of those who disagree with them.

Democrats: Avoiding the flow chart. [Democrats] continue to hide behind their naked criticisms of President Bush and his policies, offering no intelligible alternative policy. Nonsense, you say. Democrats are demanding withdrawal. Are they? To be sure, they make loud noises about withdrawal, but when Republicans have forced a vote on it, most of them have run for the tall grass.

The Ideology of Defeatism: It is clear that the objective of liberal policy is not to be more effective, but to uphold liberal values. If this means losing a war, so be it. It is better to accept defeat than to adapt to the needs of an illiberal world. … Liberal opposition to the death penalty for any crime, no matter how horrific; and for widening the definition of "cruel and unusual punishment" is the domestic side of this ideology. So is opposition to private gun ownership, as it keeps alive a familiarity with weapons, and a belief in active self-defense.

Democrats endorse domestic spying. What changed their minds on Iraq is the same thing that's changing their minds today on the NSA program: public opinion. Once again, their attempt to demonize and hamstring the commander in chief has backfired. Once again, they have exposed themselves as the party frightfully weak on national security and dangerously tentative on the War on Terror.

To My Democratic Friends: Though Democrats continue an organized campaign to find something — anything — to justify their anger at the president, they have yet to develop a campaign for anything.

Real security mirage: After the 2004 election liberals bombarded us with endless screeds sneering at how stupid, gullible and reality-challenged Red-staters were to have voted for President Bush. But in ploy after partisan ploy ever since, the Democratic leadership has made it painfully obvious they regard their own constituencies with similar contempt.

A Party Without Ideas: What has happened to the Democrats over the past few decades is best captured by the phrase "reactionary liberalism." Spent of new ideas, their only remaining idea is to hang on to the status quo at all costs.

Brain dead democrats: The reason Democrats have no message is that they have no ideas. When prescription drugs is your poster issue, you know that you're in trouble.

Democrats Deserve the Blame for Failing Our Inner City Schools — and Our Kids. Any failures of Baltimore's school system — which, according to a Manhattan Institute study, graduates only 48 percent of its students and only 39 percent of its black male students — have to be blamed on the political party that's run the system for years. That would be Democrats.

The Impeachment Agenda. Russ Feingold reveals what many Democrats really want. … Everyone should understand that censure and impeachment are important — and so far the only — parts of the left's agenda for the next Congress.

"We Can Do Better," But Don't Ask Us How. Yes, Republicans are experiencing great difficulties right now, but … Democrats are in even worse shape. While they can feast on their anti-Bush cuisine between elections, they're eventually going to have to come up with a menu of their own.

The plantation that Hillary loves. Mudslinging by leading Democrats, usually taking form these days as trying to brand Republicans as racists, confirms what I have been writing about for a number of years: the Democratic Party is running on an empty tank. Bankrupt of ideas, the only thing they have to offer is slamming the opposition and playing the race card.

Desperately Ignoring Foley. The Democrats think they have found their smoking gun. A little-known Republican congressman has resigned in a cloud of immorality, and the left and their media minions are sounding the midterm election victory bell. Hurray for them. Of course, they can only succeed with this strategy — one that conveniently doesn't require them to offer an alternate platform or one single idea to the electorate — if enough conservatives buy into the clarion call, and stay home on November 7. Cynically, this is what the Democrats are counting on, and intelligent voters across the country must not fall prey to this charade.

Will we survive the Clinton process? The gaudy, 24-hour-a-day, Clinton offensive operation has replaced political ideas, thoughts, philosophy, and tenets in the now completely and utterly bankrupt Democratic Party populated by an increasing number of secular progressives of the George Soros stripe. Can we Americans survive this empty almost violent Clinton process much longer?

Put up or shut up. Add "domestic spying" to the long list of botched attempts to unseat George W. Bush. The New York Times' would-be bombshell alleging Nixonian snoopery has detonated in its builders' faces. The story not only hasn't shaken Washington, it has restored the president's standing by reinforcing popular suspicions that he, unlike leading Democrats, takes seriously (a) terrorists' intentions and (b) the necessity of winning the war.

Money can't buy you safety. These are difficult times to be a liberal. On issue after issue, they're outflanked by conservative ideas and hampered by their own lack of ideas. With Social Security, liberals oppose personal accounts and progressive indexing. The only liberal idea introduced this year is Rep. Robert Wexler's plan to increase taxes.

Reforming Social Security. The canard propagated by Democrats and enabled by spineless Republicans is that any GOP reform would rob benefits from today's seniors. The Democrats' alternative? Why, they have none….

A bankruptcy of values and ideas. Democrats tell us the American people share their vision, yet many of their leaders won't be honest about who they are and what they believe.

The Democrats' "Partnership for America's Future": What big idea, what sui generis concept, what revelation has been delivered to them that puts the "new" in the Demos' "New Partnership" with you and me? The answer is — drum roll, please — more government.

Democrats need to come up with some ideas. One would think that a decisive loss in the presidential election, along with losses in the House and Senate, would have caused the creative juices to flow in the Democratic Party. Yet, the opposite is happening. Rather than opening up the faucet of ideas, they've completely turned it off.

The new status quo: The evolution of liberalism from a forward-looking to a backward-looking creed is partly the result of success — and partly a result of a failure to see where liberal ideas would lead. History does not always move in one direction, and if it seemed headed left a half-century ago, it seems headed the other way now.

Old campaign tactics, new weapons. You can always count on the Democratic Left to unfurl their favorite three strategies: class warfare, generational warfare and race-baiting. An "Election Day Manual" put out by the Kerry campaign reveals the strategy: "If no signs of intimidation techniques (at the polls) have emerged, launch a pre-emptive strike" alleging voter suppression by the Republicans.


---

Have you noticed that Environmentalists Oppose Every Practical Source of Energy?
Jump to Liberals - Intro Page
Back to the Home page