—
Hillary Clinton
,
Toledo, Ohio, October 3, 2016.
---
Obama is set to cash in on presidency with a reported $20Milllion advance for his memoirs. Former President Barack Obama could rake in more than $20 million in advance for a memoir. Esther Newberg, co-head of ICM Partners' publishing unit, claims that an Obama memoir would 'go for more than any president's memoir has ever gone'. Obama, 55, went into the White House as a bestselling author for his book Dreams of My Father, which was published in 1995. The only other presidents to enter office as bestselling authors are Dwight D Eisenhower, for his 1948 book, Crusade Of Europe, and Donald Trump for his 1987 book, The Art of The Deal.
Former first family end Palm Springs vacation - with Michelle boarding billionaire Richard Branson's private jet. An eight-vehicle motorcade left the home of Spanish Ambassador James Costos and his partner Michael Smith, where the Obamas had been staying, around 10am and headed to a private terminal next to Palm Springs International Airport. A Riverside County Sheriff's Department vehicle blocked traffic in both directions on Highway 111 as the motorcade sped to the airport. Once there former First Lady Michelle was seen boarding a private jet owned by Sir Richard Branson.
Soros' Son Quietly Steps Up as Major Liberal Donor. Alexander Soros, the son of liberal billionaire George Soros who acts as the managing partner for Soros Brothers Investments, has quietly emerged as a major donor to Democratic campaigns and causes. Alexander has remained relatively unknown in the world of political giving thanks to his father garnering a bulk of the family's attention. However, Alexander has stepped up his political contributions even as his father continued to pour tens of millions into the coffers of Democratic campaigns and political action committees.
The Democrat money machine. Building a titanic campaign war chest was the paramount concern of the Democrats in 2016, because they thought it — and their media allies — would give them an unbreakable headlock over the public debate. So Joe Biden was told he could not afford to get into the race. Same for Maryland Gov. Martin O'Malley, who barely raised enough cash to pay for a Philly cheese sandwich. Their financial kneecapping allowed Clinton to suck up hundreds of millions in campaign cash, sometimes in legally questionable ways, even as she railed against the influence of money in politics.
Chaffetz Wants To Relocate Federal Agencies Away From Washington, D.C. Four of the five richest counties in the U.S. are Washington, D.C. suburbs — Loudoun, Fairfax and Arlington in Virginia and Howard in Maryland — so it is unsurprising that many Americans question the federal government taking money to prop up far-off elites? One solution to the federal government being too expensive and out-of-touch is moving parts of it away from Washington, D.C., according to House Committee on Oversight and Government Reform Chairman Jason Chaffetz.
It's Still a Mad, Mad California. Hypocrisy, when coupled with sanctimoniousness, grates people like few other human transgressions: Barack Obama opposing charter schools for the inner city as he puts his own children in Washington's toniest prep schools, or Bay Area greens suing to stop contracted irrigation water from Sierra reservoirs, even as they count on the Yosemite's Hetch Hetchy project to deliver crystal-clear mountain water to their San Francisco taps. The American progressive elite relies on its influence, education, money, and cultural privilege to exempt itself from the bad schools, unassimilated immigrant communities, dangerous neighborhoods, crime waves, and general impoverishment that are so often the logical consequences of its own policies — consequences for others, that is. Abstract idealism on behalf of the distant is a powerful psychological narcotic that allows caring progressives to dull the guilt they feel about their own privilege and riches.
The Obamas set for a $40 million payday. President Obama has made more than a tidy $15 million from his books since he published his first — Dreams from My Father — in 1995, and now he's set to earn another $15 to $20 million — or even more — from his forthcoming presidential memoir, top publishing insiders tell DailyMail.com. And high-ranking publishing insiders are talking at least another '$20 million' in an advance paycheck for First Lady Michelle Obama's long-awaited — and highly anticipated — memoir about her eight White House years. A source claims she's been quietly working on her book already.
How George Soros Destroyed the Democratic Party. In 2016, Republicans control both legislative chambers in 32 states. That's up from 16 in 2000. What happened to the big donkey? Among other things, the Democrats decided to sell their base and their soul to a very bad billionaire and they got a very bad deal for both.
Top Clinton Fundraiser Selected For Key Democratic Post. The Democratic Congressional Campaign Committee announced a new finance director for the 2018 election season, according to a Wednesday report in Politico's Playbook. Mike Smith previously served as finance chair of the campaign to elect Democratic nominee Hillary Clinton, where he reportedly managed a 5,000-person high-profile donor list. Smith served in the DCCC previously, first as deputy DC finance director, then as DC finance director before coming to the Clinton campaign.
Obama's Hawaii Christmas vacations cost taxpayers $35 million over 8 years. For the last time, taxpayers are paying for a Hawaiian Christmas vacation for President Obama and his family, an annual luxury getaway that has cost the Treasury easily more than $35 million over eight years. Golfing on oceanside courses, dining at high-end restaurants and frolicking on stunning white-sand beaches where security guards keep other tourists at bay, the president and his family are in the midst of a 17-day holiday that requires dozens of Secret Service agents, military personnel and other government employees to guarantee their safety and ease of travel around Oahu. The Obamas are once again renting a multimillion-dollar oceanfront home in Kailua, a town on the northeast side of the island where houses in the neighborhood fetch around $10 million. It's near golf courses and a Marine Corps base where the president goes for morning workouts at the gym.
Running For That Okidoke, and Shave Ice. [L]et the record reflect that BHO is one of very few Presidents whose golf game has actually improved during his time in office. And in case you're interested, we had dinner last night at the exclusive Vintage Cave Club, which is not just a restaurant it's a concept.
The 'Staggering' Campaign of Liberal Billionaire George Soros to Swing Local Prosecutor Elections. As part of his quest to overhaul the American justice system, liberal billionaire George Soros is targeting local prosecutor races like the one in Harris County, a large jurisdiction that includes the city of Houston. [...] Soros, 86, an American hedge fund manager and philanthropist, is No. 22 on the Forbes list of the world's billionaires, with a net worth estimated at $20 billion. He finances a variety of liberal political causes, including ones related to education, immigration, climate change, and the environment.
Hope and humility. [Scroll down] Humility is the polar opposite of what Michelle Obama displayed to Oprah and what the president has mirrored during his eight years in office. Throughout his presidency, you might have thought the pronoun "I" was his first initial for all the times he referred to himself. The Obamas could have offered real hope, especially in the hearts of African-American children, by leading the poor among them out of failing inner-city schools and giving their parents a choice of where to send them for a better education, which would have led to a better life. They rightly sent their daughters to elite private schools, rather than bad D.C. Public Schools, but denied that choice to those less affluent, thus perpetuating a spirit of hopelessness in those voters who had hoped for something beyond a "let's move" exercise program and a vegetable garden on the White House lawn.
Census Bureau: 4 Richest Counties in U.S. Are Suburbs of D.C. The four richest counties in the United States, when measured by median household income, are all suburbs of Washington, D.C., according to newly released data from the Census Bureau. They are Loudoun County, Va., where the median household income was $125,900 in 2015; Falls Church City, Va., where it was $122,092; Fairfax County, Va., where it was $112,844; and Howard County, Md., where it was $110,224. The Census Bureau treats independent cities such as Falls Church, Va., as the equivalent of a county when calculating its median household income statistics.
Hillary to celebrate dismal failure with ritzy party for rich donors — paid for by campaign funds. An essential companion piece to the other big Hillary story this morning, detailing just how inept her mega-bucks campaign was when it counted. The fact that she's throwing a party for her biggest contributors tomorrow to toast to her squandering their money was already public knowledge. What wasn't known until now, I believe, was that that party will itself be paid for with, um, their squandered money. For all the heat Jill Stein has taken for fleecing dumb liberals to pay for a doomed recount, Hillary was and apparently will remain the master at getting Democrats to chip in for hapless political vanity projects.
Hillary Clinton Donors Who Gave Less Than a Million Booted from Party Invite List. Hillary Clinton campaign donors who gave less than a million were left off the guest list for the Democratic nominee's glitzy "thank you" party — and they're not happy. Clinton will fill the iconic "grand ballroom" at New York's posh Plaza Hotel — one of the ritziest event spaces in the city — but with just a few hundred of her top bundlers (those donors who maxed out on individual contributions and then began soliciting million dollar checks from their friends and family). Invitations to the party went out last week, and the "Clinton campaign has been fielding complaints ever since." Because if you made less than a million for her campaign, or aren't one of Clinton's favored few mega-donors, you were bumped from the party.
Hillary Clinton throwing party to thank millionaire donors. Hillary Clinton and Tim Kaine are throwing a party at the Plaza hotel on Dec. 15 to thank those who donated millions to the campaign. The party will be held in the Grand Ballroom on the third floor, to honor the Hillary for America finance leadership council.
Obama's last White House Thanksgiving: Turkey, prime rib, six kinds of pie. The White House on Thursday [11/24/2016] released the menu for President Obama's last Thanksgiving as president, which includes a half dozen hors d'oeuvres, turkey, prime rib, lots of side dishes and six kinds of pie.
The Obamas 'have bought a mansion at a California golf mecca as well as leasing a $4.3 million DC home' for life after the White House. When President Obama leaves the White House this January, his family is expected to become bi-coastal, with homes in both DC and California. Sources told the New York Post that the Obamas have purchased a home in Rancho Mirage, California. The Obamas are also leasing a $4.3 million home in the Kalorama neighborhood of DC, which will be their main home — at least for the next two years.
Obama's transition from 'man of the people' to 'Lifestyles of the Rich and Famous'. Barack Obama grew up among much richer people than his family, in Jakarta and at the Punahou School in Honolulu. Whatever resentment he may have developed was directed at getting a heaping helping for himself at least as much as redistribution.
Hillary and friends are shocked to learn radical fringe politics is NOT the new normal. It used to be that Democrats abhorred the role of big money in politics. But Clinton outspent Trump 3-1 and raised more than a billion dollars. The plutocracy — Wall Street, Silicon Valley and the great American gilded fortunes of Goldman Sachs, Amazon, Berkshire Hathaway, Facebook and Google — were not just Clinton supporters but often strident ones. The old idea of a liberal populist underdog had morphed into a haughty moneybag, with a huge staff, lots of opposition researchers and internal pollsters, surfeits of questionable cash donations, and politically correct endorsements that the left used to find plastic and inauthentic.
Democrats: The party of the little guy no more. The Democratic Party has historically stood for the little guy — defending low-wage workers from inhumane conditions, and later protecting women and minorities from institutional discrimination. But times have changed. [...] Wherever you look, you find Democrats abandoning their traditional role as defenders of the little guy and embracing the big guy. The biggest PACs, unions and Wall Street bankers support Democrats, including their presidential nominee Hillary Clinton. The Democrats often pursue polices that are at odds with small business, law enforcement, the church — institutions that were once revered and powerful but that now have considerably less influence and stature.
NYT: 'Vibrant Washington Fears Trump Will Drain Its Culture'. Jason Horowitz writes in The New York Times that the Beltway elite fear that President-elect Donald Trump's "drain the swamp" mentality will greatly reduce the posh culture of Washington, D.C., which expanded under Barack Obama's presidency.
About those rioters. [Scroll down] This is why Trump won. Those millions of people across the nation are sick to death of being ignored, mocked, and dismissed as annoyances by the people they elected to serve their interests. Our elected officials get to send their kids to the best schools in the nation but deny their constituents school choice because they are beholden to the teacher unions. They eat in the finest restaurants while millions of their constituents do not eat out at all. The men and women in Congress have great health insurance while Obamacare is imposed on the folks back home and they cannot afford it. Their doctors cannot afford it. Obama still talks as though he did American citizens a favor! He did not. He has been increasingly despotic, going around Congress to regulate more and more aspects of all our lives.
RT visits Obama's post-presidential $5.3 mn Washington mansion. RT traveled to Kalorama, Washington DC — the opulent embassy district which, like five US presidents before him, Barack Obama has chosen as his new home. We spoke to his future neighbors, were stared down by his security detail, and even tried to rent a house next door. Like other former leaders dealing with the chaotic and often testing transition out of office, Obama did not buy his new residence — a 8,200-sq ft, nine-bedroom, eight-bathroom 1928 Tudor-style brick house — renting it instead from Joe Lockhart, Bill Clinton's former press secretary, and his wife Giovanna Gray, a Glamour journalist, who previously profiled Michelle Obama.
Wikileaks: Here's How The Clinton's Free Private Jet Scam Works. Ira Magaziner, the CEO of the Clinton Health Access Initiative, asked former President Bill Clinton to thank Morocco's King Mohammed VI for "offering his plane to the conference in Ethiopia." "CHAI would like to request that President Clinton call Sheik Mohammed to thank him for offering his plane to the conference in Ethiopia," Magaziner gushed in a November 22, 2011 email released by WikiLeaks. Clinton frequently has expected free, luxurious private jet travel during his post-presidential life. Clinton, his wife and daughter have artfully secured free air travel and luxurious accommodations since they left the White House. It's an effective way to accept gifts of great value without declaring them for the Clinton Foundation.
Forget the FBI cache; the Podesta emails show how America is run. They are the comfortable and well-educated mainstay of our modern Democratic party. They are also the grandees of our national media; the architects of our software; the designers of our streets; the high officials of our banking system; the authors of just about every plan to fix social security or fine-tune the Middle East with precision droning. They are, they think, not a class at all but rather the enlightened ones, the people who must be answered to but who need never explain themselves.
Ukraine stunned as vast cash reserves of political elite are made public. Two years after angry Ukrainians deposed Viktor Yanukovych and broke into his vast, opulent residential compound outside Kiev, revelations thrown up by a new system that requires government officials to declare their wealth and property online have led many to suspect the new elite are no better. The declarations, which all officials were required to file by Sunday evening, have made public many curiosities, including politicians who own multiple luxury watches, Fabergé eggs and large collections of weapons. One politician declared that he owned a personal church. By far the biggest shock, however, has been just how much money Ukraine's politicians seem to stash away in hard cash. The prime minister, Volodymyr Groysman, declared $1.2m (£980,000) and €460,000 (£410,000) in cash, as well as a collection of luxury watches.
Hillary Clinton: 'I Love Having the Support of Real Billionaires'. Democratic presidential nominee Hillary Clinton says she loves having rich people support her. "You know I love having the support of real billionaires," Clinton said, during a speech in Florida.
University of California is Hillary Clinton's top source of campaign cash. Individuals working for the University of California were the biggest source of cash for Hillary Clinton's presidential campaign, according to the nonpartisan Center for Responsive Politics. Individuals affiliated with the University of California system gave nearly $1.2 million to Clinton's campaign committee, the largest bloc of contributions she received for her presidential run. The second biggest giver to Clinton was another California entity, Alphabet Inc., the Mountain View-based parent company of Google. Donors associated with Alphabet gave Clinton $1.1 million
Exclusive: An Inside Look At An Opulent Clinton Foundation 'Site Visit'. Former President Bill Clinton and 11 wealthy Clinton Foundation donors generously served meals to 250 underprivileged children July 16, 2014, at the Akshaya Patra kitchen in Jaipur, India, as TV cameras recorded the moment. Clinton's group then quietly retired to Oberoi Rajvilas, a five-star "royal resort" where the former chief executive booked into Kohinoor Villa, an 11,377-square foot luxurious villa with a 60-foot swimming pool, according to the hotel's management. The same villa today goes for $13,900 per night, not including the 21 percent government tax. Clinton's villa was five times as big as the average American home, according to U.S. Census Bureau data.
Soros Gives $61 Million to Media Groups Promoting Clinton's Liberal Agenda. As U.S. citizens prepare to select the next president, one liberal donor spent more than $103 million on media over the last 14 years to promote his own progressive agenda. Liberal billionaire George Soros pledged to give at least $25 million to Democratic nominee Hillary Clinton and other Democratic candidates and causes, according to Politico. And emails exposed by WikiLeaks showed Clinton staffers going out of their way to "make Soros happy" before the 2016 campaign even started. But that's just a small slice of the pie. Media groups in the U.S. promoting the same liberal platform as Clinton got more than twice as much Soros money.
High-rollers have given at least $113M to Clinton and the Dems. Hillary Clinton has built the largest big-donor operation in history, with 1,133 high-rollers pledged to raise at least $100,000 each for her campaign. That's almost twice the number of "bundlers" that President Obama had four years ago, Politico reported. It means that at least $113 million — and maybe much more — of the money raised for Clinton and the Democratic Party has come from big-money hedge funders, tech investors and celebrities like George Lucas, Anna Wintour and Will Smith. Clinton raked in $526 million in campaign and super-PAC donations through mid-September, according to federal campaign records.
Chelsea and Bill join dozens of Hollywood A-listers led by Julia Roberts for $10,000-a-head New York fundraising show. Dozens of Hollywood and Broadway stars performed and urged Americans to vote for Hillary Clinton at a fundraising concert where tickets went for up to $10,000-a-head. The 'Broadway for Hillary' concert was held at the St James Theatre in New York City and hosted by Billy Crystal on Monday night, with proceeds going to the Hillary Victory Fund. Ticket options ranged from $45 for balcony seats to a staggering $100,000 for ten premium orchestra seats as well as two tickets to the wrap party.
Leaked emails reveal Hillary Clinton's life of deceit. It's all in a day's work for a woman who claims to be for the Little Guy but spends most of her time frolicking with the political and financial elites.
Obamas' Next Home: 9 Bedrooms in a Wealthy Washington Neighborhood. President Obama and his family plan to move to a mansion in the upscale Kalorama neighborhood of Washington, a mere two miles from the White House, when he leaves office in January, according to people familiar with his plans. Mr. Obama, who has said his family will remain in the capital until his daughter Sasha completes high school in 2018, will rent the 8,200-square-foot, nine-bedroom home, the people said, speaking on the condition of anonymity because they were not authorized to reveal his plans.
State Department-Funded Nonprofit That John Kerry Had 'No Role' In Was Founded In His Home. News reports show that's Kerry's home address, which Zillow estimates is worth nearly $18 million. Kerry's wife, Teresa, is an heir to the Heinz family fortune. Beacon Hill is the most expensive block in Boston, with median home values estimated at $6.7 million in 2015, a Boston Globe affiliate reported. The Boston Business Journal ranked Kerry's house the third most valuable home in the city in 2013.
America's Versailles Set. Chelsea Clinton, for example, is married to hedge-fund operator Marc Mezvinsky (whose suspect Greek fund just went broke), and she once made over $600,000 for her part-time job as an NBC correspondent. She serves in a prominent role and is on the board of the non-profit billion-dollar Clinton Foundation, which has been cited for donating an inordinately small amount of its annual budget (often less than 15 percent) to charity work, while providing free jet travel for the Clinton family and offering sinecures for Clinton political operatives in between various Clinton campaigns. Explaining why she works at the Clinton Foundation and for other non-profits, Chelsea confessed, in Marie Antoinette style, that "I was curious if I could care about [money] on some fundamental level, and I couldn't." She cared enough, though, to purchase a $10.5 million Manhattan apartment not long ago rather than, say, rent a flat in the Bronx.
America's Versailles Set. Take the case of Colin Kaepernick, the back-up quarterback for the San Francisco 49ers who makes $19 million a year (or about $20,000 per minute of regular season play). He has been cited by National Football League officials in the past for his use of the N-word, yet he refuses to stand for the pregame singing of the national anthem because he believes that his country is racist and does not warrant his respect. His stunt gained a lot of publicity and he now sees himself as a man of the revolutionary barricades. A number of other NFL athletes, as well as those in other sports, have likewise refused to stand for the national anthem to express solidarity with what they see as modern versions of the oppressed peasantry. But Kaepernick and his peers make more in one month than many Americans make in an entire lifetime.
Finally! The Clinton Family has a compound. As every Godfather fan knows, you've got to have a compound when your famiglia hits the big time. I am sure we are supposed to associate "family compound" with the words "Hyannis" and "Kennedy," but for me, "Corleone" comes to mind.
Bill and Hillary Clinton buy the house next door — their third $1 million manse. Democratic presidential nominee Hillary Clinton is seeking a job that comes with a house, but she and her husband, former president Bill Clinton, have many options if the White House thing doesn't work out. The couple have purchased a home next door to their primary residence in Chappaqua, N.Y., according to real estate records. That makes three homes worth north of $1 million owned by the Clintons, including a stately mansion near the British Embassy in Washington that Clinton used when she was a senator.
Mrs Clooney's worn £34,000 of clothes in 14 days while grandstanding as a champion of the downtrodden. With silk dresses, £1,000 designer bags and skyscraper heels, Amal Clooney's outfits are glamorous enough to grace a red carpet. Yet the glossy-haired human rights barrister, 38, has spent the past fortnight parading her wardrobe at events linked to issues ranging from sex slavery to the refugee crisis. Amal wore a different designer label — often several designer labels — each day. But given her worthy role, some of her haute couture fashion seems out of place. Even saving the world, it seems, is better done in designer clothes, be they bought or borrowed.
Hillary Absent Again: We Don't Need Another Part-Time President. Hillary Clinton postponed a lunch fundraiser in Chapel Hill with some of the state's wealthiest and most prominent Democrats. No reason was given for postponement of the Clinton event, according to CBS North Carolina. It was expected to take place at the home of Betty Craven and Michael Warner. The event was billed as "lunch with Hillary Rodham Clinton" and costs ranged from $2,700 to $100,000.
Bill Clinton's swanky birthday bash proves the Clintons just can't stop influence-peddling. For a giant, flashing sign that the Clintons' influence-peddling will never end, look no further than Bill's 70th birthday party Friday night at the Rainbow Room — which of course is a Clinton Foundation fund-raising bash. Yup, that's right; show 'em the money, money, money: Donors must give $250,000 to be a "chair" of the party, six figures to be a co-chair, 50 grand to be a vice-chair. True, buying a ticket will get you some glam — Barbara Streisand, Jon Bon Jovi and Wynton Marsalis are all to perform. But how many others hope their gift will at least get them onto some future White House guest list, and possibly buy even larger favors?
Where is Hillary Clinton? Campaign 'Postpones' North Carolina Fundraiser. Hillary Clinton postponed a lunch fundraiser in Chapel Hill with some of the state's wealthiest and most prominent Democrats. No reason was given for postponement of the Clinton event, according to CBS North Carolina. It was expected to take place at the home of Betty Craven and Michael Warner. The event was billed as "lunch with Hillary Rodham Clinton" and costs ranged from $2,700 to $100,000.
Hillary Clinton Campaign Systematically Overcharging Poorest Donors. Hillary Clinton's campaign is stealing from her poorest supporters by purposefully and repeatedly overcharging them after they make what's supposed to be a one-time small donation through her official campaign website, multiple sources tell the Observer. The overcharges are occurring so often that the fraud department at one of the nation's biggest banks receives up to 100 phone calls a day from Clinton's small donors asking for refunds for unauthorized charges to their bankcards made by Clinton's campaign. One elderly Clinton donor, who has been a victim of this fraud scheme, has filed a complaint with her state's attorney general and a representative from the office told her that they had forwarded her case to the Federal Election Commission.
Michelle Obama, 'Woman of The People,' Wears $4,200 Gucci Dress to Co-Host 'Ellen'. US Magazine says Michelle looked "out of this world" in her Gucci number. Agreed: She looked like a visitor from the planet Krypton.
Last Chance for the 'Deplorables'. Speaking to 1,000 of the overprivileged at an LGBT fundraiser, where the chairs ponied up $250,000 each and Barbra Streisand sang, Hillary Clinton gave New York's social liberals what they came to hear. "You could put half of Trump's supporters into what I call the basket of deplorables. Right?" smirked Clinton to cheers and laughter. "The racist, sexist, homophobic, xenophobic, Islamophobic, you name it." They are "irredeemable," but they are "not America." This was no verbal slip. Clinton had invited the press in to cover the LGBT gala at Cipriani Wall Street where the cheap seats went for $1,200.
Deplorable me and disgusting Hillary. [Scroll down] Now I won't call people names but wannabe president Hillary Clinton's remarks, made at a fundraiser, certainly found an appreciative audience, laughing and applauding her. So yes, they got their $50,000 worth; [...] Clinton made the comments before introducing Barbra Streisand at an LGBT fundraiser in downtown New York. According to average ticket prices and attendance figures provided by the campaign, Clinton raised around $6 million at the fundraiser, at which some attendees paid $50,000.
Obama will likely become the first ex-president billionaire. Ah, the riches of public service. We are now assured the Obamas will be able to finance their post-White House lives with record-breaking book deals. [...] According to various book agents, it appears private citizen Barack Obama should expect to be handed a book deal in the range of $45 million. His wife, the woman whose mission as first lady was to make sure your kids never got enough to eat at school, is also said to be worth a book contract of at least $10 million. Public service now gets you filthy, fabulously rich. And as we've seen with the Clintons, is now a game for grifters, selling access and influence, with the highest bidder rewarded with the most influence.
Where Has Hillary Clinton Been? Ask the Ultrarich. Mr. Trump has pointed to Mrs. Clinton's noticeably scant schedule of campaign events this summer to suggest she has been hiding from the public. But Mrs. Clinton has been more than accessible to those who reside in some of the country's most moneyed enclaves and are willing to spend hundreds of thousands of dollars to see her. In the last two weeks of August, Mrs. Clinton raked in roughly $50 million at 22 fund-raising events, averaging around $150,000 an hour, according to a New York Times tally.
Hillary Takes Questions From Children — For *Only* $2,700 Each!. Who says Hillary has not been busy this month? She's been raking in millions of dollars from the ultra-rich. And the NYT reports that Hillary attended a $100,000-per-couple lamb dinner at the Martha Vineyard's mansion of Lady Lynn Forester de Rothschild. Mrs. Rothschild told the guests: "Let's make it a nice night for her and show her our love."
Lucrative book deals might finance the Obamas' post-White House life. After he is out of the White House, President Barack Obama has said that he wants to become a venture capitalist, own part of an NBA franchise and avoid taking off his shoes during security screenings at commercial airports. All of those goals, serious or not, might soon be achievable if Obama and his wife, Michelle, sign post-presidency book contracts for what literary agents and major publishers say could amount to $20 million to $45 million — more than enough to pay the estimated $22,000 monthly rent for the nine-bedroom home they will occupy in the Kalorama neighborhood of Washington and foot the bill for flights on private jets. (Obama has said he would like to avoid commercial flights once he surrenders Air Force One.)
Soros Spends Millions in DA Races, Supported Potentially Criminal Candidate. George Soros has been busy pumping money into district attorney (DA) races across the country, according to reports. Soros-funded shell groups called "Safety & Justice" PACs dominate DA races in Florida, Illinois, Louisiana, Mississippi, New Mexico and Texas, Politico reports. Soros spent much of 2014 and 2015 giving substantial sums of money to Black Lives Matter (BLM) and affiliated groups, and is now pushing candidates at the local level as part of his "criminal justice reform" agenda. One beneficiary of Soros money is Kim Foxx, who won the Democratic March primary for Cook County, marking a major victory for BLM.
Clinton wraps up Hamptons fundraising swing. The Democratic presidential nominee hopped from mansion to mansion in the tony New York oceanfront vacation destination, appearing at parties and dinners where the contributions ranged from $1,000 to $100,000 for guests and hosts.
Hillary collected $270,000 per HOUR in secretive three-day California celebrity fundraising blitz. Hillary Clinton mingled with Hall of Fame basketball player Magic Johnson and Apple CEO Tim Cook, vamped in a photo booth with actor Justin Timberlake and dined with some of California's richest families on what was likely the most lucrative fundraising swing of her presidential campaign. The Democratic presidential nominee raised $18 million on a three-day trip through California, or roughly $270,000 an hour.
Hillary Raises Over $1 Million At Martha's Vineyard Home of Economist Magazine Owner. Hillary Clinton raised more than one million dollars over the weekend at a Martha's Vineyard house party given by top supporter Lynn Forester de Rothschild. Unmentioned in major media coverage of the fundraising event is that de Rothschild is a member of the Economist Group and also owns a major stake in the group, which has controlling ownership of the Economist magazine.
Cash Scramble: Hillary Closes August With 21 Fundraisers, One Campaign Event. Democratic presidential nominee Hillary Clinton is spending that last days of August raising cash before heading into the busy post-Labor Day weekend campaign season. According to ABC News, Clinton attended five fundraisers in Martha's Vineyard last weekend and is leaving today for California where she will host seven more fundraisers in just three days. Later this week, according to Politico, she will head to the wealthy East Coast Hamptons area where she will hit nine additional fundraisers. In California, Clinton will attract the wealthy and powerful members of the Hollywood and Silicon Valley communities.
Hillary Clinton Flies 20 Miles In Private Jet To Attend Rothschild Nantucket Fundraiser. As we reported a few days ago, Bill and Hillary Clinton spent Friday night [8/19/2016] in Martha's Vineyard celebrating Bill's 70th birthday. We're sure it was a grand affair, well worth the heat Obama had to take from Louisiana flood victims to attend. Turns out the following morning, Hillary, not one to be bothered with traditional peasant forms of travel, awoke and took her private jet just 20 miles over to Nantucket where the Rothschilds will be hosting a fundraiser. The event is open to all... well anyone who can afford the $100,000 per person price tag.
'Rigged system' crusader Bernie Sanders conveniently never got around to releasing his personal financial disclosure form. Vermont Sen. Bernie Sanders almost giddily hit Hillary Clinton for giving paid speeches to Wall Street during the Democratic primary, but yet he never filed a personal financial disclosure form of his own. The non-profit Center for Public Integrity discovered that Sanders, amid a tough primary campaign, asked for an extension twice and then never provided the documents to the Federal Election Commission as his presidential campaign wound down. Meanwhile both Clinton and Republican nominee Donald Trump filed their forms by the mid-May deadline.
What happened to those $ millions from the Bernie Sanders campaign? For those who want to get rich off of politics, the surest racket is to become the media buyer for a major campaign. For the underwhelming task of actually buying television airtime and print space, one receives a huge commission of 15%. If a campaign spends ten million bucks on television advertising, the buyer gets a million and a half. For the Bernie Sanders campaign, which raised over $90 million, who received this generous bounty?
Obama golfs 'organic' on Martha's Vineyard, $350,000 initiation fee. President Obama is golfing organic Wednesday, taking his clubs to one of the most exclusive venues in New England, and one famously known as the nation's first "organic" course. Obama, who has golfed several times during his annual summer vacation on Martha's Vineyard, steered his motorcade to Vineyard Golf Club, where the initiation fee is $350,000 and annual dues $12,000 for the 305 members.
It must be nice to have so little to worry about.
Obama from Martha's Vineyard: 'Climate Change... Is a Genuine Existential Threat That We All Face'. Speaking at a Democratic National Committee fundraiser at a private home on Martha's Vineyard on Monday night [8/15/2016], President Barack Obama said that climate change "is a genuine existential threat that we all face." "Despite the extraordinary work that we've done in mobilizing 200 nations to, for the first time, tackle climate change in a comprehensive, aggressive way, we've still got a long way to go before we're out of the woods on that one," Obama said, according to a White House transcript. "And that is a genuine existential threat that we all face and, more importantly, our children and our grandchildren face." The Associated Press reported that people attending the fundraiser paid between $10,000 and $33,400.
Obama urges Democrats to campaign aggressively for Clinton. About 60 Obama and Clinton supporters paid between $10,000 and $33,400 to attend the event that was held in a tent on the sprawling property.
Soros Paid Al Gore Millions To Push 'Aggressive US Action' On Global Warming. Liberal billionaire George Soros gave former Vice President Al Gore's environmental group millions of dollars over three years to create a "political space for aggressive U.S. action" on global warming, according to leaked documents. A document published by DC Leaks shows Soros, a Hungarian-born liberal financier, wanted his nonprofit Open Society Institute (OSI) to do more to support global warming policies in the U.S. That included budgeting $10 million in annual support to Gore's climate group over three years.
Video: Hillary Clinton's cribs shock young people. Hillary Clinton has vowed to be a champion for "everyday Americans." The former Secretary of State — who once described herself and husband Bill Clinton as "dead broke" — kicked off her campaign on June 13 and in her 45-minute speech on New York City's Roosevelt Island, Clinton delivered a message similar to her initial presidential announcement. "Americans have fought their way back from tough economic times," Clinton said in the video announcement on April 12. "But the deck is still stacked in favor of those at the top." So what do Millennials think of a candidate who criticizes the "1 percent," but simultaneously owns multi-million dollar properties in Washington, D.C. and New York and spends her summers in the Hamptons? [Video clip]
Black Lives Matter cashes in with $100 million from liberal foundations. For all its talk of being a street uprising, Black Lives Matter is increasingly awash in cash, raking in pledges of more than $100 million from liberal foundations and others eager to contribute to what has become the grant-making cause du jour. The Ford Foundation and Borealis Philanthropy recently announced the formation of the Black-Led Movement Fund [BLMF], a six-year pooled donor campaign aimed at raising $100 million for the Movement for Black Lives coalition. That funding comes in addition to more than $33 million in grants to the Black Lives Matter movement from top Democratic Party donor George Soros through his Open Society Foundations, as well as grant-making from the Center for American Progress.
Bill Clinton netted $1.6 million from for-profit colleges. Bill Clinton netted $1.6 million last year from a pair of for-profit education companies that caused controversy for the future president during Hillary Clinton's time as secretary of state. Laureate Education paid Bill Clinton nearly $1.1 million in 2015, according to tax returns released by his wife's campaign Friday. GEMS Education, a Dubai-based firm, paid him more than $560,000. Both companies are major donors to the Clinton Foundation. Bill Clinton's lucrative consulting contracts with the corporations have raised questions about how closely his personal fortune is linked to his philanthropic activities.
Clintons Made $6,725,000 in Speaking Fees in 2015. Hillary Clinton's 2015 tax returns show that Hillary and Bill Clinton combined to make $6,725,000 from speaking engagements last year. According to the returns, which were released at noon on Friday [8/12/2016], Hillary Clinton was paid $1,475,000 for speaking last year while Bill Clinton pulled in $5,250,000.
Clinton releases tax returns; earned nearly $240M since leaving White House. Hillary Clinton's income took a huge hit as she ran for president last year, dropping to less than half of what she made the year before, according to tax returns her presidential campaign released Friday [8/12/2016]. Mrs. Clinton hoped the release would embarrass GOP presidential nominee Donald Trump, who has refused to release any of his, while also shining a light on the high rate she and her husband paid in their own taxes. The power couple reported earning $10.7 million in income in 2015, and claimed a tax liability of $3.6 million.
Bernie Sanders Pays $600,000 For New Summer Vacation Home. Bernie Sanders proved capitalism is alive and well when he paid a whopping $600,000 for a lakefront home in Vermont this week.
One in 10 DNC superdelegates were registered lobbyists. Nearly one in 10 superdelegates who voted in the Democratic presidential primaries were registered lobbyists, according to a new report, adding some support to Bernie Sanders's claim that "the system is rigged." At least 63 of 712 superdelegates were registered at some point as lobbyists on the state or federal level, according to an analysis conducted this year by the nonpartisan, nonprofit Sunlight Foundation. These individuals represented interests that span across big banks, healthcare insurers, the telecommunications industry and unions, including Goldman Sachs and Planned Parenthood.
Americans' sense of 'alienation' at an all-time high: poll. While a contentious presidential election dominates the media, a new survey finds that a sense of "alienation" among average Americans is at an all-time high. For decades, the Harris Poll has gauged how much, or how little, people feel their interests are heard and addressed by those with power and influence. The latest survey found that 82 percent of Americans believe that the people running the country don't really care what happens to them. Another 78 percent say the rich are getting richer and the poor are getting poorer while 70 percent believe that most people in power try to take advantage of people like them.
The Everyday Woman: Ivanka's $138 Dress versus Hillary's $12,495 Jacket. Ivanka Trump reportedly wore a $138, blush-colored dress from her own fashion line — sold at Macy's and Nordstrom — when she introduced her father Donald Trump on Thursday night at the Republican National Convention in Cleveland, Ohio, where he accepted the Republican Party's nomination for President of the United States. The 34-year-old fashionista also wore her own dress on Wednesday night [7/20/2016]. [...] Trump's decision to adorn her reasonably priced clothing line makes her relatable to every woman and it's in stark contrast to presumptive Democratic nominee Hillary Clinton's decision to wear a $12,485 Giorgio Armani jacket during her New York primary win in April.
Dead Broke: Forbes Says the Clintons Pulled in $229 Million Between 2001 and 2014. Remember when Hillary Clinton claimed she and Bill were "dead broke" when they left the White House? Hey, I know this will startle you, but it turns out that's [not true]. Because even before they left the White House, the Clinton had purchased both a "...a five-bedroom home in Chappaqua, N.Y., for $1.7 million [and] a seven-bedroom house near Embassy Row in Washington, D.C. [for] $2.85 million."
Michelle Obama Lectures the World on Girl Power. First lady Michelle Obama has wrapped up her six-day "Let Girls Learn" tour of Liberia, Morocco and Spain. Together with her mother Marian and two daughters Sasha and Malia, the FLOTUS, under the guise of promoting access to education for 62 million girls worldwide, embarked on a multimillion-dollar excursion where she ate great food, wore great clothes, hung out with celebrities, and spent $600,000 for one night in Marrakesh.
The Worst Smear Site In America. The far-left Southern Poverty Law Center relentlessly promotes the Big Lie, wildly popular in the media, that conservative Americans are racists and the real threat to the nation rather than Islamic terrorists. The group claims the principal enemies of the American people are presumptive Republican presidential nominee Donald Trump, conservatives like David Horowitz, and the Tea Party movement. The SPLC is a shamelessly hypocritical leftist attack machine funded by radical speculator George Soros and a rogue's gallery of rich people and established philanthropies that want to fundamentally transform America. The fabulously wealthy 501(c)(3) nonprofit has an astounding one third of a billion dollars ($338 million) in assets, as well as investments in Bermuda and the Cayman Islands, two offshore tax havens the Left loves to attack (but only when non-leftists stash cash there).
Here Are The Two Multi-Million Dollar Mansions Hillary Says She "Struggled" To Pay Mortgage On. In an interview with Diane Sawyer, Hillary Clinton claimed that after the White House their family "struggled... to piece together the resources for mortgages, for houses." The "we struggled to get by" defense from a multi-millionaire might be tough to swallow for Americans actually struggling to pay their mortgage. Hillary, after-all, left the White House having spent 20 years living in gratis government mansions in Little Rock and Washington D.C. Additionally, lets not forget that Bill Clinton's annual salary was $200,000/year as President and he was able to cash-in on a $50,000 expense account. The Clintons made roughly FOUR times what the average American made and "struggled to get by." After leaving the White House, the Clintons bought two multi-million dollar mansions.
Obama girls land in windy Madrid after jaunt to Liberia and Morocco. It was a windy day in Madrid as they landed at Torrejon air base, forcing Malia to have a Marilyn Monroe moment with her stunning $78 wrap dress. Flying in from a jaunt in Morocco and Liberia, Sasha was sporting a henna tattoo that spiraled up her arm. And Michelle wore Spanish-style espadrilles with her $1,800 Proenza Schouler summer dress to greet officials and members of the public waiting on the tarmac.
Michelle Obama Pledges $100M of U.S. Tax Dollars to Educate Girls — in Morocco. FLOTUS must be unaware of all the black kids in DC and Chicago that could really use $100M for their failing public schools, since her daughters attend the super-fancy Sidwell Friends private school, where tuition is $34,268 a year. But that includes hot lunch! Truly, a bargain.
Common Core Fails Students. What if someone who was really rich got together with some people who were really smart and discovered what was best for everyone? What would happen if they all used the power of government to nudge (that is, to coerce) people to adopt their program... because it was for the best, even if no one knew it? You would get Common Core educational standards, a one-size-fits-all curriculum reform program that has been forced down school districts around the nation. The reigning genie behind all this is Bill Gates. After all, he is richer than everyone else, so therefore he must be smarter than everyone else. Better yet, he suffers from a malady that seems to inflict nearly all tech oligarchs — they believe that they constitute a class of Platonic philosopher kings or guardians who know what is best for everyone because they have a clearer vision of the Ideas.
Hillary Claims To Be Everyday American, But Look What She Was Carrying In NY. Although Hillary Clinton likes to pretend that she's "just like every other American," there's some strong evidence to the contrary. Take, for example, what she had in her hands during a recent stop in New York, and you'll see the serious issue with such a sentiment. [...] According to Mail Online, she had a sold out, Alexander McQueen handbag, which is valued at a whopping $1,500 — $1,645 depending on the source.
Hillary Clinton shows off her $1,600 Alexander McQueen handbag. Hillary Clinton arrived for her interview on The View carrying a stylish — and sold out — Alexander McQueen handbag that costs $1,645. As voters headed to the polls in Wisconsin on Tuesday, the presidential hopeful returned to her native New York, where she was twice elected by the state's voters to represent them in the Senate.
The surprising strategy behind Hillary Clinton's designer wardrobe. Hillary Clinton's New York primary victory speech in April focused on topics including income inequality, job creation and helping people secure their retirement. It was a clear attempt to position herself as an everywoman. But an everywoman she is not — she gave the speech in a $12,495 Giorgio Armani tweed jacket. The polished outfit was a stark contrast to the fashion choices Clinton has made in the past. As first lady, Clinton wore frumpy pastel skirtsuits. As New York senator and secretary of state, she attempted a more serious look, wearing pantsuits in a rainbow of colors — so mocked that they sparked memes. In comparison to Michelle Obama, who's become known as a style icon during her time in the White House and appeared on the cover of Vogue twice, Clinton has never been able to nail down a personal aesthetic that works for her.
Hillary Clinton wore $12,495 Armani jacket during speech on inequality. You just can't make this stuff up anymore. Hillary Clinton, dead broke as she claimed after leaving the White House with rapist Bill Clinton wore a $12,495 priced Armani jacket while giving a speech about inequality back in April. Some people struggling today don't even make that in a year. Others are lucky if this is 1/3rd of what they make in a year. No matter to 'dead broke' Hillary.
Hillary Clinton wore a $12,495 Armani jacket during a speech about inequality. Hillary Clinton took a lot of flak on Monday after a report surfaced that the presidential candidate wore a Giorgio Armani jacket worth more than $12,000 during a speech in April about inequality. Clinton, who was well-known for her vast pantsuit collection, has upgraded her wardrobe during her most recent bid for president to appear more relatable, according to the New York Post.
Obamas' Next Home: 9 Bedrooms in a Wealthy Washington Neighborhood. President Obama and his family plan to move to a mansion in the upscale Kalorama neighborhood of Washington, a mere two miles from the White House, when he leaves office in January, according to people familiar with his plans. Mr. Obama, who has said his family will remain in the capital until his daughter Sasha completes high school in 2018, will rent the 8,200-square-foot, nine-bedroom home, the people said, speaking on the condition of anonymity because they were not authorized to reveal his plans. The house — valued around $6 million, according to several real estate websites, with an estimated monthly rent of $22,000 on Zillow — is owned by Joe Lockhart, a former press secretary and senior adviser to Bill Clinton. Mr. Lockhart was until this year the managing director of a communications and political consulting practice he founded, the Glover Park Group, but has moved to Manhattan to become executive vice president for communications for the National Football League.
The $5 Million D.C. Mansion Where The Obamas Will Live After Leaving The White House. After President Obama leaves the White House, his family has plans to move to a $5 million mansion in Washington D.C. According to Politico's Mike Allen, Obama will lease the mansion from former Bill Clinton press secretary Joe Lockhart and Giovanna Gray.
Here's the mansion the Obamas will live in starting in 2017. President Obama and his family will reportedly lease an 8,200-square foot mansion in Washington, D.C.'s Kalorama neighborhood after they leave the White House. Sources confirmed Wednesday to Politico that the Obamas will rent the mansion owned by Joe Lockhart and Giovanna Gray a day after it was reported by National Journal that they had settled on the Kalorma neighborhood.
The Editor says...
With what money will the Obamas pay the lease on this house?
Obamas 'choose upmarket suburb of Karolama, DC, as their post- White House home. The Obamas are choosing the manicured gardens and marble fountains of Kalorama, Washington DC, as their new home, according to reports. The soon to be former leader of the free world has eschewed Embassy Row, which he had apparently been toying with, and decided upon the salubrious Karolama, according to the National Journal. Its streets are lined with distinguished colonial homes, and its residents range from ambassadors to statesmen.
The Editor says...
This maneuver probably indicates one of several scenarios, for example: [#1] The Obamas will embark on fresh new careers as lobbyists, or [#2] The Obamas are staying close to Washington in case Michelle runs for the White House.
Report: Obamas choose DC neighborhood to live at after presidency ends. Back in March, President Barack Obama said he and his family will be sticking around the nation's capital after he leaves office in January. It appears they have chosen which neighborhood they plan on living in after his second presidential term is over. According to the National Journal, the Obamas plan to rent a home in the Kalorama neighborhood of Northwest D.C., just east of Massachusetts Avenue.
You Too Can Live Like Chelsea Clinton For A Mere $6 Million. The former first daughter and Marc Mezvinsky's starter home is on the market again after the couple sold it in 2013 for $5.9 million.
Obama foundation donors at the White House. A new study details how President Barack Obama has been inviting his Obama Foundation donors to events at the White House, a venue that obviously won't be available to him to entertain mega contributors in a few months. The Obama Foundation, created on Jan. 31, 2014, has to date only 39 contributors, with the money coming either from individuals or foundations controlled by Obama supporters.
Hillary reveals she earned $1.5 million from just six speeches last year and $5 million in book royalties. Hillary Clinton filed financial documents Tuesday [5/17/2016] showing that in 2015 she earned more than $5 million in royalties from her book 'Hard Choices' and about $1.5 million in speaking fees before she launched her presidential campaign. Her husband, former President Bill Clinton, continued his lucrative speaking tour through last November, more than six months after his wife entered the race, reaping more than $5 million from banking, tech and other corporate interests.
The Progressive Lust For Power. Hillary Clinton and Bernie Sanders have been talking a lot about "fairness" and "equality" during their primary campaigns. Like most progressives, they pass themselves off as the champions of the ordinary people who are suffering beneath the boot of rapacious capitalists and the plutocratic "one percent." Give us power, they say, and we will create "social justice" for all the victims of "white privilege" and capitalist greed, not to mention redistributing even more money from the selfish "rich" in order to finance such utopian goals. Promiscuously displaying their hearts bleeding for the oppressed has long been the progressive camouflage that hides their real motive: the lust for power.
Hillary and Bill Clinton Made $6.7 Million from Speeches in 2015. Hillary and Bill Clinton raked in a combined $6.725 million in paid speeches in 2015, a decrease from the year before, according to a personal financial disclosure form released late Tuesday night [5/17/2016]. As a presidential candidate, Clinton has come under fire for paid speeches she gave, particularly to big banks and Wall Street, after leaving the State Department. Her Democratic opponent, Bernie Sanders, and his supporters have called on her to release the transcripts of these speeches, which she has thus far refused to do.
Rift Between Labor and Environmentalists Threatens Democratic Turnout Plan. Two of the Democratic Party's most loyal constituencies, labor and environmentalists, are clashing over an effort to raise tens of millions of dollars for an ambitious voter turnout operation aimed at defeating Donald J. Trump in the November election. The rift developed after some in the labor movement, whose cash flow has dwindled and whose political clout has been increasingly imperiled, announced a partnership last week with a wealthy environmentalist, Tom Steyer, to help bankroll a new fund dedicated to electing Democrats.
The Greens' Daddy Warbucks Helps Himself. Any comprehensive review of green energy and its politics and policies has to include the name of wealthy liberal Tom Steyer — who has been called the environmental movement's new "Daddy Warbucks." Having made his billions from his tenure atop Farallon Capital Management — much of it from coal projects around the world — Steyer apparently had an environmental epiphany and now wants to atone for his past sins by trying to save the planet from manmade climate change. He is using his wallet to try to elect candidates who will promote policies and energy plans that agree with him. And that plan is "green."
NY Democrats selling national convention access to big donors. Despite federal and state probes into government pay-to-play schemes, New York's Democrats are offering fat-cat donors access to bigwigs at the party's national convention in exchange for contributions, The [New York] Post has learned. In their pitch for cash, state Dems promise to grant a dizzying array of perks to top donors at the Democratic National Convention in Philadelphia in July.
The Great Culture War. [Scroll down] Normal Americans are the ones paying the price for gesture politics. John McCain can be generous on immigration because he never experiences it. He lives in one of his wife's 23 mansions, rides in government limousines and works in fortified government facilities. Men like John McCain live as strangers in this country. What they see of it is from a safe distance. Similarly, the chattering skulls on television pull down six figure salaries and live in bunkered, whites-only communities. It is not an accident that they are crowded into the richest counties on earth, all of them around Washington DC. They are the petty royalty of the ruling class. To these people, normal Americans are aliens, indistinguishable from the people sneaking over the border.
John Kerry, Teresa Heinz Family Trusts Invest Heavily In Fossil Fuels. Despite Secretary of State John Kerry's outspoken demand that America drastically reduce its reliance on fossil fuels, his family investments heavily favor oil, coal and natural gas companies while giving scant attention to renewable energy firms, according to a Daily Caller News Foundation analysis. In his latest 2015 financial disclosure report obtained by TheDCNF, Kerry listed family trust investments in 94 companies involved in the exploration, extraction, storage and transportation of oil, natural gas, coal and liquefied natural gas. Several of the investments are in companies that use hydraulic fracturing, known as fracking, which is passionately opposed by environmentalists.
Kerry, Heinz Family Have Millions Invested In Offshore Tax Havens. Secretary of State John Kerry and his wife Teresa Heinz have invested millions of U.S. dollars through family trusts in at least 11 offshore tax havens, according to The Daily Caller News Foundation's Investigative Group. The revelation comes on the heels of the release of the Panama Papers, a treasure trove of 11.5 million legal and financial records documenting how some of the world's richest and most powerful people have used offshore bank accounts to conceal their wealth and avoid taxes.
One Law for the Rich, Another for the Average. Somewhere, Big Tim Sullivan might be laughing. Over 100 years after the enactment of New York City's handgun licensing law (commonly referred to as the Sullivan Act), the measure is still working as the political boss intended. That is to say, it is ensuring that New Yorkers who are well-connected, either by status or more nefarious channels, are able to arm themselves with handguns, while average residents remain at the mercy of the criminal element.
Hillary's State Department Stopped Haiti From Increasing Its Minimum Wage to 61 Cents. The #FightFor15 movement is continuing to make gains. After steamrolling through large urban centers such as Seattle, San Francisco, and New York, now it may be coming to entire states near you. New York and California recently adopted a $15 statewide minimum wage, and both Democratic presidential candidates have advocated extending the policy nationwide. While Bernie Sanders has made political hay out of Hillary Clinton's seeming reluctance to fully embrace his rush to $15, she has been coming around to the same talking points of late. Of course, when the rubber meets the road, Hillary seems to have a different take on drastic wage hikes. When she was running the show, the State Department helped block Haiti's efforts to increase its minimum wage from 27 cents to 61 cents per hour.
Surprise! Socialist Bernie Sanders' Free-College Plan Would Help Rich People Most, Study Says. The proposal by self-proclaimed socialist Democratic presidential candidate Bernie Sanders to make tuition free at America's public colleges and universities would provide almost $17 billion in free handouts to already-comfortable American families in the upper half of income distribution. Meanwhile, Bernie's plan would cause just $13.5 billion to trickle down to families in America's poor half — the ones who would have considerably more trouble covering room, board, textbooks, travel and other non-tuition costs.
Billionaire-Bashing Bernie Sanders Is a Millionaire With Three Homes. Democratic presidential hopeful Bernie Sanders rails against the "billionaire class" and has called income inequality "the greatest moral issue of our time," but the senator from Vermont is "not exactly a man of modest means," according to an article written by Kerri Anne Renzulli for the TIME magazine website. However, "nothing about Bernie's net worth devalues his progressive beliefs," stated Peter Daou, a former adviser to Hillary Clinton who responded on the Blue Nation Review website to reports that Sanders and his wife, Jane, could retire with an "effective retirement nest egg" valued at "nearly $2 million."
Hillary's Haircut Inequity. The Clintons claim that in 2001 when they left the White House in a moving van stuffed to the rafters with $190K worth of stolen items, they were poverty stricken. Then, between 2001 and 2012, on speaking fees alone, the destitute couple managed to stockpile approximately $160 million dollars. With that kind of haul, who needs commemorative china and cutlery? Anyway, now it's 2016 and, thus far, Hillary watchers haven't seen the former penniless first lady/current prosperous presidential hopeful wear the same outfit twice. In fact, every time Hillary Clinton's bulging eyes approach the podium, if you listen closely, besides the signature squawking and screeching, you'll hear a cash register ring up $1,400 for each and every Nina McLemore power pantsuit she shows up in.
Hillary Clinton's entourage blocks up traffic in New York as she gets $600 haircut. She has been out and about in New York trying to woo voters in Harlem. But before hitting the campaign trail [3/31/2016], Hillary Clinton's entourage reportedly blocked up traffic on Fifth Avenue as she enjoyed an early morning hair appointment at luxury department store Bergdorf Goodman.
Gridlock In NYC So Hillary Can Get a $1,200 Haircut. Hillary Clinton's oversized motorcade gridlocked Manhattan traffic this week so she could, eh, get a coiffe. Looks like the cut and color cost a mere $1,200. But she's for the little people!
The $50 Billion Hypocrite. Facebook founder and CEO Mark Zuckerberg has a net worth that exceeds $50 billion, but he really wants you to know that he's a Champion of the proverbial "little guy." How does he prove this? By promoting the notion that America would benefit greatly from the swift legalization of countless millions of illegal aliens — you know, "little guys" — who are highly likely to become permanent wards of the welfare state and, most importantly, permanent Democratic voters. In 2013 Zuckerberg visited Capitol Hill, where he pressed members of Congress to support an amnesty bill designed to confer citizenship to millions of people residing unlawfully in the United States.
The Apology Tour of Our Next President. In Havana recently, President Obama talked of the similarities between Cuba and the United States, as if a constitutional republic of some 240 years and a thuggish and murderous communist dictatorship were kindred souls. In Argentina, Obama both tangoed and then apologized for the nth time for his country while abroad, this time supposedly for not opposing the brutal Argentine military dictatorship at the height of the Cold War. He also advised young people that there was not that much difference between communism and capitalism — without giving them a glimpse of his own retirement plans that will make the Obamas fabulously rich by following the hyper-capitalist post-presidential get-rich program of the Clintons.
Bernie Sanders calls George Clooney's $33,400-a-ticket Hillary Clinton fundraiser 'obscene'. Bernie Sanders took a shot at Hollywood on Sunday [3/27/2016], calling two upcoming Hillary Clinton fundraisers organized by George Clooney 'obscene'. The actor is hosting a fundraising dinner for the Democratic candidate in San Francisco on April 15, where two seats at the head table with Clinton, Clooney and his wife Amal cost $353,400. The following night, Clooney is hosting yet another event at his home in Los Angeles where tickets are $33,400 each.
Michelle Obama's Floral Outfits Cost 23 Times Average Annual Salary in Cuba. The two floral dresses that first lady Michelle Obama sported in Cuba this week would not be affordable for the wide majority of individuals living in the repressive country. US Weekly recently spotlighted two outfits that Obama wore during appearances in Havana on Sunday and Monday that, according to a [Washington] Free Beacon analysis, together cost more than 23 times the average annual state salary in Cuba recorded in 2014.
Hillary Clinton to Miners: Let Them Eat Coal. By now, most people probably know about one of Secretary Hillary Clinton's biggest campaign gaffes to date: "we're going to put a lot of coal miners and coal companies out of business." As soon as I heard it, I tweeted: "Imagine a presidential candidate running for office based on putting people out of work?" I wasn't the only one shocked by the uncharacteristic clarity of her statement.
40 Reasons Not To Vote For Donald Trump. [#22] Eminent domain: Not only is Donald Trump in favor of having the government use the power of eminent domain to take property from private owners so it can be given to fatcats like him, he tried to use eminent domain to take a widow's home away from her so it could be used as a limo parking lot. If you think Donald Trump is for the little guy, you're a sucker.
Wage gap: One Hillary Clinton speech more than average CEO salary. Democratic presidential candidate Hillary Rodham Clinton's charge that corporate CEOs earn 300 times more than their workers isn't just wrong. It hides another very real wage gap: She earns more in just one speech than the average American CEO in a year.
White Lady with $650K Speaking Fee Wants Black Americans to Know She's Down with Their Struggle. [Scroll down] I'm glad we are finally getting around to airing out a subject that's been put on the back burner for so long. After the Democrats got a free pass on making the African-American citizens of Detroit significantly poorer for almost half of a century, Hillary probably rightfully feels that there is no level of Demspeak feel-good pandering that she can't get away with now.
Obama dines privately with DreamWorks CEO Jeffrey Katzenberg, actor Will Smith. As he is wont to do when he visits Los Angeles, President Obama dined secretly with moguls and stars. Mr. Obama had dinner at a hotel Thursday night [2/11/2016] with Jeffrey Katzenberg, DreamWorks CEO and a major campaign donor; Alan Horn, chairman of Walt Disney Studios; and actor Will Smith, most recently in "Concussion." The White House didn't disclose the dinner, nor was it on Mr. Obama's public schedule. It was first reported by Deadline.com.
Obama hits golf course in California. While Washington was facing a deep freeze Friday [2/12/2016], President Obama was eager to hit the links on the West Coast. Fresh off a Thursday fundraising swing through San Jose and Los Angeles, Obama flew to Palm Springs, Calif., for a weekend golf getaway. Obama's motorcade arrived at Porcupine Creek golf course, owned by Oracle co-founder Larry Ellison, in nearby Rancho Mirage just over 20 minutes after Air Force One landed on Friday [2/12/2016].
Financial Scandals Follow Socialist Millionaire Sanders. Responding to one of Anderson Cooper's softball questions, socialist Bernie Sanders (I-VT) told the CNN Town Hall on Wednesday night [2/3/2016] that he lives a frugal life and indicated that he doesn't care about money or status. "I have a small Chevrolet," he said. "It is one of the smallest Chevys that they make." He said it was about five years old. But James O'Brien, a political consultant and former publisher of Campaigns & Elections magazine, says the career politician, who has been a mayor, member of Congress and U.S. senator, has achieved the financial status of a millionaire. O'Brien has analyzed the financial status of Sanders and his wife, including their financial disclosure report, and has concluded they have a net worth in the range of $1.2 to $1.5 million, not the $700,000 or less that is usually reported by the media.
The many contradictions of Hillary Clinton. [Scroll down] Clinton has also vowed to raise taxes on hedge fund managers. Is that a way of expressing displeasure with her son-in-law, Marc Mezvinsky, who operates a $400 million hedge fund? For that matter, how did Clinton's daughter, Chelsea, who worked for a consulting firm and a hedge fund despite having no background in finance — reportedly become worth an estimated $15 million? Hillary Clinton recently proposed a new $350 billion government plan to make college more affordable. Certainly, universities spike tuition costs, and student-loan debt has surpassed $1 trillion. Colleges spend money indiscriminately, mostly because they know that the federal government will always back student loans. Yet, since she left office, Clinton routinely has charged universities $200,000 or more for her brief 30-minute chats. Her half-hour fee is roughly equal to the annual public-university tuition cost for eight students.
The Tet Offensive: European Union Edition. [Scroll down] Over on the Fourth Estate, the global mass media have been almost entirely subverted, scripted and stage-managed for decades by these über-wealthy elites through a thousand channels greased with kickbacks, no-show jobs, and secret payoffs that are disguised as special stock offerings and private land deals. Media figures morph seamlessly into senior political advisors and corporate board members, adding millions to their portfolios with each well-timed transition. Even many retired generals and admirals eagerly wallow in this swamp of sell-out and sleaze. It should not be a surprise to anyone that so many politicians leave Washington or Brussels as millionaires. Just as it should not be a surprise that long-time CBS News anchor Walter Cronkite, "the most trusted man in America," was for his entire adult life secretly a leading member of the World Federalist Association, a fact he proudly revealed only after his retirement from in front of the camera.
Clinton donors use Maine Democrats to skirt campaign cash limits. A Cuban-born sugar tycoon. A California-based registered foreign agent for the government of Sri Lanka. A Chicago billionaire. All of them are recent large donors to the Maine Democratic Party via a complex fundraising scheme called the Hillary Victory Fund. The fund exploits recent court decisions and weakened campaign finance laws to maximize political contributions and funnel them to the Democratic National Committee.
Hillary Clinton pocketed $37 million in campaign cash in 4th quarter; $112 million in 2015. Hillary Clinton's presidential campaign said Friday [1/1/2016] it raised $37 million in the past three months and more than $112 million in all of 2015 to support her bid for the Democratic nomination.
Elitist President Obama Back To Familiar "Bitter Clinger" Remarks Ridiculing The "Blue Collar" Middle Class. You could not time a more damaging contrast than presidential candidate Donald Trump rallying with thousands of middle-class patriotic Americans, while the Democrat President of the country pokes them in the eye and heads off to Hawaii for a golf-filled Christmas vacation.
President Barack Obama and his family to spend Christmas in Hawaii for eighth consecutive year. President Barack Obama and the first family will return to Hawaii for their Christmas vacation next week for the eighth year running. The White House confirmed Friday [12/11/2015] that the Obamas are due to leave Washington for the island on December 18, the Huffington Post reports. It is not yet known where they will stay this year, though they have traditionally rented out a property in the upscale Kailua area on Oahu island.
In Paris for Climate Summit, Obama, Susan Rice, John Kerry Dine at Fancy French Restaurant. While in Paris for the Cops21 climate change summit, President Obama took some time off to enjoy a fancy meal at L'Ambroisie with French President Hollande. [...] According to an estimation from Zagat, a meal at L'Ambroisie costs about $200 and is described as "a jewel of French gastronomy" on the restaurant's website.
Ex-NYC mayor with multiple mansions, jets: 'Crazies' like Ted Cruz don't accept climate change reality. According to the New York Times in 2012, [Michael] Bloomberg has eleven homes. Eleven. ELEVEN! He also has a fleet of private planes that he uses to get to and from those homes, as well as to arrive at "climate change" summit meetings in style. That's the guy accusing others of not believing what they're saying. Here's just one of Bloomberg's places: A 22,000-square-foot mansion with 11 bedrooms, 8 bathrooms with hot and cold running hypocrisy.
Green Tech and the climate crisis syndicate. Renewable Portfolio Standard advocates recently held their 2015 National Summit. The draft RPS agenda suggests it was quite an event — populated by bureaucrats, scientists and consultants who have jumped on the climate and "green energy" bandwagon, to follow the money. Indeed, they are no longer content with 10% corn ethanol in gasoline, or some wind and solar power in the electricity mix. Now they want to convert the entire electrical grid from fossil-fuels to renewable sources and, if Catholic bishops get their way, totally eliminate hydrocarbons by 2050, despite the horrendous impacts that would have on workers, families and the world's poorest people. There's certainly a lot of money to be made. The green revolution is estimated at $1.5 trillion per year, which means potentially huge profits for those with political connections.
Top 10 reasons George Soros is the most dangerous man in America. [#1] Gives billions to left-wing causes: Soros started the Open Society Institute in 1993 as a way to spread his wealth to progressive causes. Using Open Society as a conduit, Soros has given more than $7 billion to a who's who of left-wing groups. This partial list of recipients of Soros' money says it all: ACORN, Apollo Alliance, National Council of La Raza, Tides Foundation, Huffington Post, Southern Poverty Law Center, Soujourners, People for the American Way, Planned Parenthood, and the National Organization for Women.
Resettlement Contractors Lie to Protect Their Franchise. In the wake of the horrific terrorist attacks in Paris, and the revelation that at least two of the terrorists were Syrian refugees, the governors of Texas, Alabama, Illinois, Iowa, Michigan, Arkansas, Louisiana, Indiana, and even Massachusetts, have announced they will seek to bar Syrian refugee resettlement in their states. More are likely to join them. Good for them! But the resettlement contractors have fired back.
Politico: Big-money leftists considering major funding for #BlackLivesMatter. Oddly enough, the MSM denouncers of "big money" in politics are never concerned with the cabal of left-wing billionaires who manipulate public opinion from behind the scenes by funding the Astroturf-ish movements like #OccupyWallStreet in the last presidential election cycle and now #BlackLivesMatter. Operating under the ironic name of "Democracy Alliance," a cabal of billionaire and mere centi-millionaire leftists meets in secret to decide where to spend their money to keep the left powerful. George Soros, the financier whose billions mostly reside overseas in banking secrecy havens, already is known to have spent tens of millions of dollars funding Ferguson protests and spin-offs like BLM, according to the Washington Times. Now his colleagues in the Democracy Alliance are reportedly ready to up the ante with many millions more to fan racial resentment.
Democrats Decry Income Inequality That Their Own Policies Make Worse. [Scroll down] Under Obama, the poor have gotten poorer and the rich richer. Incomes for the bottom 20% have fallen in each of the past four years and are now 8% below where they stood when Obama took office. Meanwhile, incomes of the wealthiest 5% have climbed under Obama, after adjusting for inflation. Then there's the report published in September by the European Central Bank, which examined the correlation between welfare spending and income inequality in European countries. It found that the higher the welfare spending, the higher the income inequality.
Bloomberg targets states suing over climate rules. Billionaire media mogul Michael Bloomberg will begin shelling out millions of dollars to counter the 26 states suing the Obama administration over its climate rules, and Democrats aren't immune. Bloomberg advisers said Friday that the $10 million campaign will target state attorneys general who are part of a multi-state suit comprising more than half the nation, including the Missouri attorney general who is running for governor.
Hillary's 'everyday Americans' base is questioned as ZIP codes at the top of her donor list are among America's richest. Hillary Clinton's donors have something else in common other than their support for the Democratic candidate. Turns out, they're neighbors. The top 10 zip codes of her donor list represent some of the richest neighborhoods in the country, and they're all clustered in Manhattan or near Northwest Washington, D.C.
How The Clintons Have Made $230 Million Since Leaving The White House. Less than a week before the Clintons left the White House in 2001, they bought a replacement house 15 minutes down the road for $2.85 million. It was a pricy purchase for a couple who had more than $1 million in legal debt and a net worth of nearly nothing at the time. But the Clintons had little reason to worry — they were poised to make a fortune. Over the next 15 years, they earned more than $230 million before taxes.
Lobbyists for Clinton's 'Enemies' Are Bankrolling Her Campaign. Asked to name the enemies that she is most proud of during Tuesday's Democratic presidential debate, Hillary Clinton cited industries represented by lobbyists who are among her top campaign fundraisers. In addition to Iran and the Republican Party, Clinton said she was proud to count "the health insurance companies" and "the drug companies" as her enemies. Those industries' lobbyists do not appear to share that enmity. By mid-July, seven of them had raised hundreds of thousands of dollars for her presidential campaign, according to campaign finance records.
Clinton Promises to 'Make the Wealthy Pay' and Make 'Companies Share Profits'. At the very beginning of the debate, Clinton introduced herself as "the granddaughter of a factory worker" to establish her credibility with the middle class. Later, debate moderator Anderson Cooper challenged her on that point, noting that Hillary and her husband Bill "are part of the one percent." "Well, you know, both Bill and I have been very blessed," Clinton responded.
The Editor says...
I suppose "blessed" is a code word for greedy.
Hillary Clinton's Hidden Big Business Agenda Exposed. Despite all this anti-corporate rhetoric, the fact is that [Bernie] Sanders and [Hillary] Clinton will be the best friends big business could ever hope for, since their regulatory agenda will invariably help big, established businesses at the expense of small, entrepreneurial competitors. That, after all, is their legacy in the banking and health care industries. Both Sanders and Clinton are big boosters of the Dodd-Frank financial reform. But a recent Harvard study found that the massive regulatory scheme that it imposed has hurt small community banks the most.
President Obama's mysterious trip to San Diego. Those attending the Democratic National Committee fundraiser paid between $250 and $10,000.
Obama to party with Jamie Foxx at $10K a ticket fundraiser hosted by the DNC in Southern California. President Barack Obama is reportedly hosting yet another big ticketed star-studded event in Southern California on Saturday, that will include entertainment from singer Jamie Foxx. According to TMZ, the Democratic National Committee is throwing the ritzy $10,000 a ticket fundraiser in Pacific Palisades at a private home. The original invitation to what is expected to be an all night affair, said that the musical guest had not yet been determined.
Planned Parenthood Got $528M In Tax Dollars, Paid Cecile Richards $523,000. Planned Parenthood received $528 million in government health services grants and reimbursements or 41 percent of its total revenue for the fiscal year ending on June 30, 2014 and gave its president, Cecile Richards, $523,000 in annual compensation. "My annual compensation is $523,000 a year," Richards told House Oversight and Government Reform Committee Chairman Chairman Jason Chaffetz (R-Utah).
Because they both care so much about the poor and unfortunate...
Michelle Obama Wears $2300 Dress To Greet Pope. Politico reports that First Lady Michelle Obama, looking lovely and classy, greeted Pope Francis Tuesday while wearing a $2,290 dress. While the Obamas are not Catholics, this is still a finger-in-the-eye to a White House guest who frequently speaks out — to wild Democrat applause — about the evils of excessive capitalism. [...] According to WorldVision, you can feed a child for just $35 a month. Michelle Obama's dress would feed over 80 children for that month. This choice obviously is contrary to the values of Pope Francis. But the Obamas' religious values come from elsewhere, a divisive and disturbing place, not a charitable or unifying one.
Michelle Obama Wears $2300 Dress To Greet Pope. Both President and Mrs. Obama are disciples of Jeremiah Wright, a racist Jew-hating Chicago-based preacher. Not long after Obama ascended to the presidency, Wright, Obama's religious mentor for 20 years, retired to a $1 million, 10,400 square foot mansion located next to a country club and golf course.
Obama rubs elbows with Harry Reid's corporate welfare lobbyists. The crowd cheered the President's toast to their taxpayer-provided profits, and soon Obama headed off to a $33,000-a-head fundraiser at the mansion of the billionaire owner of the local newspaper. You, the taxpayer, paid for Obama's flight to Vegas. This is what Hope and Change looks like seven years after Obama accepted the Democratic nomination. Obama was the keynote speaker at the National Clean Energy Summit, an annual confab organized by outgoing Senate Minority Leader Harry Reid — which tells you a lot about the nature of the event.
Hillary Clinton plans to spend break from campaigning among 'ordinary Americans' in $50,000-a-week Hamptons home. Her campaign has centered on her claim that she will be the champion of the middle class if she is elected to the White House. So the average person will no doubt find it easy to relate to the beachfront mansion that Hillary Clinton is renting for her summer vacation in The Hamptons. Exclusive pictures obtained by Daily Mail Online show what exactly the Democratic Presidential candidate is getting for her $100,000 — which covers just a two week rental.
Bill and Hillary Clinton spending $100K on Hamptons rental. Following Hillary Clinton's recently announced plan to help the middle class, she and Bill are again renting a house in the Hamptons for the last two weeks in August for a rumored $100,000. The Clintons are renting a four-bedroom home from Republican art collector Andre Nasser and his real estate guru wife, Lois, at 44 Broadview Road — a hidden cul-de-sac in Amagansett that boasts wealthy neighbors, including Harvey Weinstein.
Obama Leaving For Vacation But Troubles May Follow. [Scroll down] Reportedly staying at the same location they rented last year, the secluded 8,100 square foot estate boasts seven bedrooms, nine bathrooms, a pool, a hot tub and dual tennis/basketball court. Zillow estimates the property at more than $13 million.
Obama's Martha's Vineyard Sojourn Four Times Longer Than Average American Vacation. The Associated Press reported that the Obama family moved up the date of departure, extending their summer vacation to 17 days, more than four times the length of the average American vacation. In fact, Obama's summer break is one day longer than the total amount of vacation time the average American worker is allotted for an entire year. The first family will reside in the same $12 million mansion in Chilmark that they rented last year. Positioned on 10 acres of land, the 8,100-square-foot home houses seven bedrooms and nine bathrooms. The estate is enhanced by a dual basketball/tennis court and an infinity pool.
Progressive liberals reveal their true character. Liberal Democrats love to run for office wearing missionary robes. They proclaim that they will help the poor, that they want the minimum wage raised, and that they want the sick, helpless, and elderly to receive money that they will take from the rich. Republicans are not qualified to run government, Democrats say, since they are mean, selfish corporate types who want to do nothing but grab money from the working class and keep it to themselves. Oh, really? Look what Democrats do in Chicago, a crucible of Democratic rule.
Obama's big $1 million take in the Big Apple. President Obama raised nearly $1 million for Hillary Clinton's presidential campaign and other Democrats' re-election efforts in Manhattan Friday night [7/17/2015] at the uptown home of a British shipping magnate. The president headlined a Democratic National Committee "roundtable" with some 30 donors who paid $33,400 each to attend the event held at the east side four-story brownstone of George Logothetis and his wife Nitzia. The event was closed to the press and the White House provided only a read-out of the name of the hosts and the amount each person paid to attend.
Hillary's coming out speech. [Scroll down] Lest anyone think Hillary has changed her mind since 1993, it's now clear that she is competing with Bernie Sanders for the office of socialist-in-chief. Her speech at the New School for Social Research focused on the failings of capitalism. [...] Hillary hit all the right notes in her coming out speech on Monday, with appeals to working women, unions, illegal immigrants, the LGBT community, environmentalists, and other Democratic constituencies. But underneath it all was a tired old vision of Big Government coming to the rescue of helpless citizens victimized by the rich. That has been the orthodox progressive line in this country and elsewhere for over a century, and everywhere it has been tried it has failed.
Obama and daughters set to attend $33K a head private soirée on Manhattan's upper east side. President Barack Obama's motorcade will bring Manhattan to a standstill tonight as he heads to the uptown home of a British shipping magnate for a $33,400-a-head fundraiser. Obama and some 30 Democratic faithful will head to the luxury east side brownstone of 40-year-old George Logothetis and his wife Nitzia for the meet-and-greet that will boost Democratic Party funds by a cool million dollars Daily Mail Online has learned. Logothetis, who comes from a wealthy Greek family, is a strong supporter of Obama's attempts to reform the nation's immigration rules to allow a path to citizenship for those who entered the country illegally.
Michelle Obama Arrives in London Wearing a $1,795 Designer Dress. It's First Lady Michelle, the one that wears J. Crew and shops at Target just like all of us...
Obama's secret dinner with Hollywood moguls. Tinseltown is emerging as a transparency-free zone for President Barack Obama, where for the second time he appears to have given his pool the slip to have a private, off-the-schedule dinner with movie moguls. Deadline Hollywood reported that Obama dined at his Beverly Hills hotel Thursday night with Dreamworks CEO Jeffrey Katzenberg and director Steven Spielberg. White House spokesman Eric Schultz would only confirm that "the president did have dinner with two of his friends last night in Los Angeles," adding, "I believe they've been supporters of the president in the past."
Hillary Clinton's Hamptons Quandary. For the past several summers, Bill and Hillary Clinton have done what New York City's moneyed residents have done for decades: They spent their vacation amid the prime beachside real estate of Long Island. In 2011 and 2012, there was the eight-bedroom, 12,000-square-foot East Hampton rental with a heated pool that the couple took for part of August, the kind of house that typically goes for $200,000 per month, according to local real estate listings. Then, in 2013, they opted for an equally pricey six-bedroom mansion in Sagaponack with a private pathway to the beach. (Mrs. Clinton worked on her memoir, "Hard Choices," from a sunny office with an ocean view.)
Someone Tell the Pope: Environmentalism Crushes the Poor. Yesterday [6/16/2015] the American Coalition for Clean Coal Electricity released a report that documents how the Obama administration's war on coal (and on cheap energy generally) has hurt poor and middle-class Americans. While I can't vouch for the calculations, the report is an impressive piece of work, based on energy consumption and price data from the U.S. Department of Energy's Energy Information Administration, along with data from the Census Bureau and the Congressional Budget Office. Energy costs consume a substantial portion of the budgets of lower-income Americans. This simple chart tells the story: while energy costs account for only 7% of expenditures by those who earn over $50,000 per year, those making less than $30,000 pay an astonishing 23% of their after-tax income for energy.
Bankroller of Democratic Voting Rights Cases? George Soros. A Democratic legal fight against restrictive voting laws enacted in recent years by Republican-controlled state governments is being largely paid for by a single liberal benefactor: the billionaire philanthropist George Soros. Mr. Soros, the Hungarian-born investor whose first major involvement in American politics was a voter-mobilization drive in the 2004 presidential race, has yet to commit the many millions of dollars that Hillary Rodham Clinton's allies hope he and other like-minded billionaires will pour into the "super PAC" directly aiding her campaign.
40 Years of Democrats Saying How Much They Want to Get Money Out of Politics. Democratic Party platform, 1992: It's time to reform the campaign finance system, to get big money out of our politics and let the people back in. We must limit overall campaign spending and limit the disproportionate and excessive role of PACs. Jimmy Carter, accepting the Democratic nomination, July 1976: Too often unholy, self-perpetuating alliances have been formed between money and politics, and the average citizen has been held at arm's length.
The Democrats: America's Poor Little Rich Party. Something deep in the psyche of the Democratic Party prevents it from acknowledging that it, and its candidates, are awash in cash.
What is wrong with Democrats? I see unions corrupt politics and teachers' unions protect their interests and the future of their pensions over protecting the future of our children we place in their care. The work ethic is being eviscerated. People who build things are derided by President Obama as having not built things or dismissed as "lottery winners." Doctors do not heal, they are greedy people who yank out tonsils and lop off legs solely for profit — or so says the Democrats' leader, Barack Obama, and the Democrats who cheer him. People who work in finance are "fat cats" and "one-percenters" who must be "toppled" — or so sayeth the one percent of one percenter, Hillary Clinton, probably the most hypocritical person in America. Why do Democrats worship her?
Inside the war on coal. Beyond Coal is the most extensive, expensive and effective campaign in the [Sierra] Club's 123-year history, and maybe the history of the environmental movement. It's gone largely unnoticed amid the furor over the Keystone pipeline and President Barack Obama's efforts to regulate carbon, but it's helped retire more than one third of America's coal plants since its launch in 2010, one dull hearing at a time. With a vast war chest donated by Michael Bloomberg, unlikely allies from the business world, and a strategy that relies more on economics than ecology, its team of nearly 200 litigators and organizers has won battles in the Midwestern and Appalachian coal belts, in the reddest of red states, in almost every state that burns coal.
The Green Behind California's Greens. [Scroll down] Since the deaths of HP's cofounders, their heirs have pushed the two foundations' philanthropy ever-leftward, and activist environmentalism is a prime beneficiary. Under the direction of Packard's three daughters, the conservative Republican's philanthropic wealth has gone to the National Abortion Rights Action League Foundation, the Feminist Majority Foundation, and the very green Earth Action Network. This liberal giving has prompted Packard's son, David, whose political views are closer to his father's, to withdraw his money from the foundation and form his own nonprofit, which gives to more traditional and nonpolitical causes. In a signature moment in green giving, the Packard and Hewlett Foundations decided in 2007 to boost their spending on climate-change issues, funneling the money into a new, San Francisco-based nonprofit, ClimateWorks, led initially by the former head of environmental programs at Hewlett. The Hewlett Foundation, according to the Columbia Journalism School report, agreed to put $500 million into ClimateWorks, with the Packard Foundation adding approximately $390 million since 2008.
New Clinton speech disclosures reveal foundation's take. Hillary Clinton, former President Bill Clinton and daughter Chelsea Clinton brought in more than $12 million in speaking fees since 2002 that was donated directly to their family foundation, covering a a total of 97 speeches across the U.S. and around the world, according to data made public for the first time Thursday night [5/21/2015]. The new list of paid speeches gives a more complete financial picture of the Clintons' high-dollar public appearances. A personal financial disclosure filed last week by Hillary Clinton shows that the couple made over $25 million in personal income on public speeches since the beginning of 2014.
By the Way, Bill and Hillary Have Banked More than $30 Million Since Last January. She's running for president as a "topple the rich" champion of "everyday Americans," and he's just tryin' to pay the bills, y'all: [...] "The former President was even paid $175,000 for a speech in Miami where he appeared via satellite." Hillary also made six figures for addressing a gathering she didn't physically attend.
Clintons report making $25M for speeches since Jan. '14. Hillary Clinton and former President Bill Clinton earned more than $25 million combined in speaking fees since January 2014, Fox News confirmed Friday [5/15/2015]. [...] Clinton has started her campaign for president by painting herself as a champion for the middle class. However, Republicans have scrutinized her about the wealth she and Bill Clinton have amassed since she left the White House. That includes their ability to command six-figure fees for delivering speeches and the finances behind the Clinton Foundation because of its acceptance of donations from foreign governments.
$1.3M loophole for Elizabeth Warren. Federal law requires members of Congress and other federal officials to annually disclose their financial assets and liabilities, including mortgages. In a form filed last week, Warren stated she and her husband, Bruce Mann, had no debt liabilities in 2014. But according to a Middlesex South Registry of Deeds record, Bank of America holds a $1.3 million mortgage on the Cambridge home owned by Warren and Mann. An aide for Warren said the amount represents a home equity line of credit, not a mortgage.
Dem. Congressman With Millions in Legal Bills Demands Pay Raise. A Democratic congressman who still owes millions of dollars in legal bills racked up while fighting corruption allegations said on Monday [5/18/2015] that members of Congress need a raise in order to cope with the District of Columbia's rising cost of living. Rep. Alcee Hastings (D., Fla.) said at a Monday Rules Committee hearing that members of Congress, who make an average of $174,000 per year, "aren't being paid properly." "Members deserve to be paid, staff deserves to be paid and the cost of living here is causing serious problems for people who are not wealthy to serve in this institution," he said. Observers scoffed at the comments, saying congressional pay and benefits are quite generous.
George Stephanopoulos' future — and $105M contract — in danger. The "Good Morning America" and "This Week" anchor renewed his contract last year for $105 million, TV industry sources told The [New York] Post Monday [5/18/2015]. The seven-year deal — which dwarfs the five-year, $50 million contract scored by since-suspended NBC rival Brian Williams — was supposed to keep Stephanopoulos in front of ABC's cameras through 2021. But now his credibility, and future, have been called into question since he admitted Friday that he had donated $75,000 to the Clinton Foundation since 2011, just as the presidential race gears up with Hillary Rodham Clinton the leading Democrat.
Obamas worth millions, disclosure forms reveal. President Obama and first lady Michelle Obama's assets total somewhere between $1.9 million and $6.9 million, according to financial disclosure forms released Friday [5/15/2015] by the White House. The bulk of the Obamas' wealth is invested in U.S. Treasury bills and notes, the total being estimated between $1.25 million and $5.25 million.
Obama Disapproves: 'Kids Start Going to Private Schools... Private Clubs'. President Barack Obama told a gathering at Georgetown University on Tuesday that the problem isn't racial segregation, it's wealth segregation, manifested by "elites" who "are able to live together, away from folks who are not as wealthy." "Kids start going to private schools," he said. (Just as he did and his own kids do.) [...] Even before he was elected president, Obama campaigned on the promise of wealth redistribution. Throughout his presidency Obama has been a champion of the middle class and an adversary of the wealthy. When he called for tax hikes on the wealthy in September 2011, he insisted it was "not class warfare," but "fairness."
Barack and Michelle the Poverty Pimps. Obama was never poor. He lived a charmed and privileged life, including the photographed chapter where he was the spoiled and spiffy little darling of his well-heeled maternal grandparents. Ditto for the woman he was later to make his wife. Crying poor mouth by the Obamas has about as much validity as the rich-by-billions Clintons trying to get away with crying poor mouth.
Michelle Obama Needs To Get Over Herself. [Scroll down] I don't know who was far-fetched enough to say Mrs. Obama was "uppity." I think it's perfectly normal to travel the world on the super-generous taxpayer's dime to places like Ireland and Africa, to the tune of approximately $10 million. A date night in New York for $11,000? Chump change and so truistic. They probably ate at dumb, cheap places like Per Se or Le Bernardin and just drank water and nibbled on a bread basket, you know? And it's totally not cronyism to hang out with Gwyneth Paltrow, Jamie Foxx, or George Clooney. Those people are so pedestrian and dreary. You know what baby mamas cannot do? They cannot afford to purchase and wear designers like Isabel Toledo and Jason Wu.
Earth to Chuck Todd: George Soros Backs New 'Progressive Agenda' with $159 Million. According to Rolling Stone, New York City Mayor Bill de Blasio held a closed-door meeting at his mayoral residence on April 2, 2015, to create the Progressive version of the 1994 Republican "Contract with America." De Blasio called his update the "Progressive Agenda" and its stated purpose was to address "income inequality" in the U.S. A dozen far-left leaders attended the closed-door meeting, including George Soros' son Jonathan Soros. Jonathan claims to support removing money from politics, yet hypocritically serves on several boards at the Open Society Foundations (OSF). OSF has given more than $550 million to liberal organizations.
Fidel's Millions and Streisand's Lawn. The routine is as simple as it is ageless. Divide people by class and race, convince the don't-haves that somehow they have been robbed by the haves — and when the don't-haves aren't looking, take every last dime you can get out of manipulating the system for yourself and your friends. Then buy yourself an island off of Cuba, light up a good Cuban cigar, pour a glass of fine whiskey, and sit on the fan tail of your yacht and laugh. Or if you're a rich liberal celebrity in Southern California? Just turn on the sprinkler and let it rain.
Hillary Clinton the Populist Begins Courting the Plutocrats. One of Hillary Clinton's biggest applause lines in her early days on the campaign trail has come when she talks about getting big money out of politics — even when she's talking to the big-money donors. It's one of the paradoxes of a campaign that regularly employs populist rhetoric while courting plutocrats. Clinton can't change the system unless she wins the election, a campaign official argued, and the only way to win the election is with the help of deep-pocketed allies.
Grifter Granny Clinton Favorite in Poll of Millionaires. The party of old, rich white people. Can you imagine the media reaction if a Republican candidate was the darling of millionaires? We'd never hear the end of it.
Is Mr. Sanders going to speak about the wealthy Clintons? The Clinton Foundation controversy is getting more controversial by the minute. [...] Yesterday [5/1/2015], Senator Bernie Sanders announced that he is running for president. He spoke about millionaires and billionaires. He attacked the Koch Brothers but did not mention the Soros group. I hope that Mr. Sanders, and Mr. O'Malley, start talking about how the Clintons got rich over the last decade. Otherwise, their attacks on the rich will be just pathetic class warfare!
Granny Clinton Ditches 'Common American' Ruse, Flies 1st-Class Back to DC. She must have been seething to have to drag her baggage (and boy howdy, does this woman have baggage) through Logan Airport under the glare of television cameras and gazes of the average schlubs. This woman has spent the better past of the past quarter century flying on Air Force One or private jets and now she has to lower herself to fly commercial.
Hillary Clinton Flies First Class Back to Washington. With her first campaign trip drawing to a close, Hillary Clinton traded the Scooby road-trip van for a first-class airplane seat to make the trip back to Washington. The Democratic presidential candidate flew from Boston's Logan Airport to Ronald Reagan National Airport on Tuesday night [4/21/2015], sitting in row one of the U.S. Airways' first-class section.
Hillary at meeting with economists: We need to "topple" the wealthiest one percent. It takes a net worth of around $8 million to join "the one percent." The Clintons' net worth is estimated at $55 million; Hillary alone got a cool $14 mil as an advance for her dismal memoir "Hard Choices." The electorate's usually willing to let populists slide on their personal wealth — FDR is the ultimate example but John Edwards was a lefty heartthrob for a time as recently as 2008 — but I wonder if they'll be so forgiving for Hillary.
Demagoguery:
Wealthy Hillary Clinton Lambasting CEOs For High Pay is, Well, Rich. Hillary Clinton apparently plans to base her presidential campaign on the noble goals of greater fairness and shared sacrifice. She has already lambasted vast differences in compensation. "The average CEO makes about 300 times what the average worker makes," Clinton warned. She is right — but can best appreciate that fact from her own career and family. Recently, Clinton has demanded up to $300,000 for brief 30-minute speeches. She apparently believes in the free-market theory that on the lecture circuit, speakers — like CEOs — should be paid as much as the market can bear. At UCLA recently, Clinton's fee worked out to about $165 per second. In three minutes of autobiographical chitchat, Clinton pulled in more than the average full-time fast-food worker makes in a year.
Why are Democrats Talking about Income Inequality in the 7th Year of Obama? Did you catch Senator Bernie Sanders on the Fox Sunday Show? Or Governor Martin O'Malley on NPR? It's a bit strange, but they are talking about the state of the middle class and the nation's inability to create good-paying jobs. They say that the jobs are going overseas and that wages are under siege. They say all of these things in the seventh year of "hope and change" and after six years of a U.S. Senate Democrat majority (2009-15). Am I the only one who finds all of this a bit surprising?
No one is buying that Hillary is anything other than the candidate of Wall Street. It was only a few short years ago that Democrats in high office were openly embracing the anarcho-communist, semi-criminal Occupy Wall Street movement. There is no small amount of irony in the realization that the Democratic Party is today prepared to nominate a presidential candidate with a history of defending the interests of the financial classes.
Greens against the poor. Barack Obama, Hillary Clinton, Elizabeth Warren and the whole gang of Democratic leaders claim that one of their highest priorities is to lift up the middle class and reduce the income gap between rich and poor. That goal collides with what they admit is their very highest priority: stopping climate change. Their agenda is driven by the millionaire and billionaire Democratic donors who make the party possible. But the agenda also involves making energy, home heating, transportation and just about everything else less efficient and more expensive to the middle class and poor. The people who lose their jobs when the climate-change Stalinists prevail are the people at the bottom and the middle of the income ladder. The billionaire club members don't seem to mind this collateral damage.
By one measure, Hillary earned more than America's top 10 CEOs. Democratic presidential candidate Hillary Clinton is drawing a populist bead on lavish Wall Street pay packages as she revs up her march to the 2016 Democratic presidential nomination, but in some respects the fat-per-speech fee she can charge puts her far ahead of the top 10 highest-paid American CEOs.
Chipotle Manager: Hillary Clinton Didn't Leave Anything in Tip Jar. "Her bill was $20 and some change, and they paid with $21 and left" without putting anything in a tip jar on the counter [4/12/2015], Charles Wright, the manager at the Maumee, Ohio, Chipotle restaurant told Bloomberg.
Hillary Has A History of Stiffing Waitresses, Hair Stylists. While the revelation that Hillary Clinton failed to leave a tip during her stop at a Chipotle earlier this week fell flat — few customers tip at the fast-casual Mexican restaurant — a deeper look at the former First Lady's tipping habits shows she does have a history of stiffing people who depend on tips to make ends meet. [...] Clinton's tipping habits were put front-and-center on Wednesday [4/15/2015] when Bloomberg News reported that Clinton and her aide, Huma Abedin, did not leave money in a tip jar after ordering at a Chipotle in Maumee, Ohio.
MSNBC's Melissa Harris-Perry and Husband Owe IRS $70K in Delinquent Taxes. According to The Winston-Salem Journal, Wake Forest University professor and MSNBC weekend host Melissa Harris-Perry and her husband James Perry owe the Internal Revenue Service $70,000 in delinquent taxes. A notice filed this month in the Forsyth County Hall of Justice indicates the IRS has placed a lien on the Perrys.
'Middle Class Champion' Hillary Plans To Raise $2.5B. You could feed a lot of 'hongry' childrens for $2.5 billion dollars. (And who knows how much of this money will have ultimately come from her slush fund 'foundation'? So it could be taking the food right out of the mouths of the poor.) And don't worry, in any case she will spend far more than she raises. (As her last campaign did.)
A breakdown of every scandal swirling around Hillary. [Scroll down] Clinton will likely position herself as the champion of the middle class. Yet in 2014, it was revealed that Clinton, who charges a minimum of $300,000 per speech, also had an extensive list of demands. Most anyone who hires Hillary to speak must also provide a private jet — a $39 million Gulfstream G450 or better — and put her up in presidential suites. Her standard agreement requires her presence for only 90 minutes, and 50 photos with 100 attendees — no more. Hillary has defended her enormous speaking fees by saying she and Bill were "not only dead broke, but in debt" when they left the White House. In 1999, Bill and Hillary bought their house in Chappaqua for $1.7 million, and in 2000 purchased a seven-bedroom in Washington, DC, for $2.85 million.
Woman with $14 million book advance attacks CEO pay. [Scroll down] First, she takes in six times the annual average household income per hour for her speeches, at $300,000 a pop. It would only take her 50 speeches to get to the same 300x metric she decries here. Furthermore, Hillary signed a deal in 2013 for a $14 million book advance for the memoir she released last year, which sold unimpressively for such a marquee advance. On top of that, she'd already received an $8 million advance for her first memoir, "Living History." That totals $22 million in advance of any work at all, or roughly 440 times what average American households gross in a year. In the years since the Clintons left the White House, they've earned well over $100 million. And unlike CEOs at that level, they don't employ many people, and don't produce anything except income for their own benefit.
Hillary Clinton's road from riches. The economic gap between Hillary Rodham Clinton and an average, "everyday American" is wide enough to drive a Scooby van through. On Monday [4/13/2015], the newly minted Democratic presidential front-runner had nearly completed her 1,000-mile journey from her mansion in Chappaqua, N.Y., to a first campaign event in Iowa, in the van her staff has likened to the rattletrap "Mystery Machine" from the 1960s cartoon "Scooby-Doo." The trip was intended, in part, to rebrand the former secretary of state, a 67-year-old multimillionaire accustomed to private jets and presidential suites, as a warrior for the middle- and working classes.
Obama golfs with big money, oil moguls in Florida. Obama was joined for his round of golf Sunday [3/29/2015] by Jim Crane, who owns the Floridian [National Golf Club].
Rain Dances in California. On February 14, 2014, President Barack Obama arrived on Air Force One in Fresno, California, with Senators Barbara Boxer and Dianne Feinstein aboard. [...] Air Force One took off again from Fresno Airport, mission accomplished, heading toward a Palm Springs golf holiday in the super-irrigated Coachella Valley. Obama met that evening with King Abdullah II of Jordan at Sunnylands, the legendary Annenberg estate in Rancho Mirage, to discuss the Syrian crisis and then emerging ISIS threat.
Hillary, Obama, and the Democrats' Vices. Since 1992, the Clintons have had exceptional, almost unparalleled political power. From the point of view of most Americans, they've been wealthy. But not super-wealthy. In 1992, they listed their net worth at nearly $700,000. Yes, they had to spend quite a bit of money on lawyers during their time at the White House. But even before President Clinton gave his first post-presidential speech or signed his first book deal, he was going to get a pension of about $199,000 per year, plus a taxpayer-funded office, etc. She was elected to the Senate, with a salary of $141,300. Hillary Clinton famously declared she and her husband were "dead broke" when they left the White House; of course, around that time they bought a $2.35 million home in Chappaqua. Between leaving the White House and beginning her Senate term she signed the $8 million book deal for "Living History"; years later, she got a $14 million advance for "Hard Choices."
On Ex-Im Bank, the Democrats Are the Real Corporate Shills. The [Export-Import] Bank has been around for decades. Its primary activity is to extend cheap loan guarantees and direct loans to foreign companies to buy U.S goods under the pretense of boosting exports and creating jobs. Don't buy it. Economists have shown that these kinds of export credit subsidies will never raise the overall level of trade. The subsidies are also hurtful (PDF) since they simply redistribute wealth away from unsubsidized American firms, employees, and consumers and direct it toward a tiny number of beneficiaries. And that is where Democrats have some explaining to do: The bank's data show that it overwhelmingly benefits some of the biggest, most politically connected firms in America.
The First-Class, Five-Star Rev. When he speaks at public colleges and universities, Al Sharpton flies first-class, stays in upscale hotels, travels to events in a chauffeured vehicle, and often brings a bodyguard or aide with him. He makes these demands on taxpayer-funded institutions, despite owing as much as $4.5 million in unpaid taxes and penalties. "In terms of travel, Rev. Sharpton travels first class on flights and will require a large black SUV for transportation and, if the trip requires lodging, he will require a suite in a four/five star hotel," wrote Sharpton's assistant, Abyssinia Tirfe, in an August 14, 2014, e-mail to Michigan State University (MSU) obtained by National Review.
Clinton has received $16 million in post-presidency benefits. Former President Bill Clinton has received nearly $16 million in taxpayer funds since leaving the White House, covering everything from his pension to personnel to benefits — and renewing questions over how much taxpayers really should spend on ex-presidents who make millions after leaving office. A new Politico report and analysis examined the payments since he left office in 2001, and claimed it amounts to more than any other ex-president has received. Meanwhile, Politico points out, Clinton has a personal annual income that beats all the other living former presidents.
Won't you please not donate $1 million to Jeb Bush's campaign. [T]his month the fundraisers for former Florida Gov. Jeb Bush have a real problem: Too much money coming in. So much money coming in that they're worried people may get the idea that these presidential candidates are somehow beholden to mega-donors. You know, like Bill Clinton renting out the Lincoln Bedroom or Barack Obama making his finance chair a Cabinet secretary. Money = access. Big money = Big Access.
Awash in cash, Bush asks donors not to give more than $1 million — for now. An unusual request has gone out to wealthy donors writing large checks to support former Florida governor Jeb Bush: Please don't give more than $1 million right away. The requested limit, confirmed by multiple people familiar with the amount, may mark the first time that a presidential hopeful has sought to hold off supporters from contributing too much money. The move reflects concerns among Bush advisers that accepting massive sums from a handful of uber-rich supporters could fuel a perception that the former governor is in their debt.
The Editor says...
Almost everything else on this page refers to wealthy liberal Democrats, but for the article above an exception was made, since Jeb Bush (in my estimation) is about as liberal as a Republican presidential candidate could ever be.
Hillary Clinton's soapbox. It's one thing when Hollywood stars dripping in couture get up on their soapboxes and make political statements at awards ceremonies, but quite another when an all but announced presidential candidate earning more for a speech than most Americans will in several years trumpets wage equality, when it already exists and she knows it.
The real Hillary Clinton. If you want to know why Hillary Clinton thought she could get away with violating federal regulations in order to conceal her emails when she was secretary of state, take a look behind the facade. Mrs. Clinton pretends to be a compassionate woman who cares about the little people and will champion the middle class if elected president. The reality is that behind the scenes, she is abusive to those same people.
Democrats don't know how to tell environmentalist billionaire Tom Steyer to stop helping. We all have one: The well-meaning relative or friend who is perhaps so zealous in the pursuit of your best interests that they end up doing more harm than good in the process. Despite their best intentions, they end up making a bad situation worse. More often than not, you wish that they would just stop helping and, instead, maybe just write you a check. For the Democrats, that's Tom Steyer.
Meet Hillary's Welfare Queens. Sixty companies that lobbied the State Department between 2009 and 2013, while Hillary was secretary of state, donated more than $26 million to the Clinton Foundation over that time period. At least 44 of the 60 participated in $3.2 billion worth of philanthropy projects by the Clinton Global Initiative, while at least 15 were part of Clinton-created public-private partnerships. It's not clear that any of this was illegal and it's possible that some of this supported worthwhile projects. But it illustrates the nexus between crony capitalism and modern American liberalism as we know it.
President Barack Obama Raises Money, Dines With Elon Musk In San Francisco. During his visit to the Bay Area, President Barack Obama spent a night on the town Friday [2/13/2015], raising money and enjoying dinner in Presidio Heights with Tesla CEO Elon Musk.
Hillary's Million-Dollar Air Travel. Hillary Clinton is, maybe not best know[n] for her utter destitution upon her husband leaving office in the early 2000s, but may be most recently known for her claim that she and Bill struggled desperately to make ends meet once they were relegated to only two homes and lucrative speaking tours that paid in the six figures per appearance. It now seems that those hard times were even shorter than previously imagined.
Hillary Clinton Spent a [Lot] on Private Plane Fare for 2008 Campaign. How much plane did Hillary Clinton do during the 2008 campaign? According to documents from her campaign, she spent roughly $19.2 million on private, chartered flights around the country — more than nine times the amount her next competitor, noted rich person Mitt Romney, spent on private flights. The National Review, which unearthed the documents, pointed out that the wild discrepancy between the two numbers was partially due to the length of their respective primary campaigns — Romney dropped out four months before Clinton did — but even then, Hillary still managed to spend $6.7 million on flights during that time, while Romney spent $2.2 million.
Why Obama's Tuition Proposal Got Torched. To understand the backlash President Obama received after proposing to remove the tax exemption for college savings accounts, it's essential to recognize how closely it struck at the political heart of his own party. Contrary to popular stereotypes, Democrats depend nearly as much on upper-class voters as Republicans do. Democrats represent seven of the 10 wealthiest congressional districts in the country, and Obama also won those districts twice.
'Fruit Loop' Obama's Peculiar Priorities. Barack Obama is a man who painstakingly sets his priorities. Take, for instance, the recent funerals of two NYPD officers who were shot in the head by a radical Islamist thug as they sat in their parked police cruiser. Sadly, the president was not able to attend either Officer Ramos's or Liu's funeral. However, while the Big Apple was steeped in unbearable heartache, with a heavy heart about being otherwise committed and under much emotional duress, a greatly shaken Obama and the first lady did manage to soothe their grief with a $1,000-a-couple dinner at the swanky Hawaiian Vintage Cave.
Center for American Progress Donors Buy Clinton Access, Experts Say. Supporters of an independent pro-Hillary Clinton Super PAC are pouring money into the Center for American Progress (CAP), a liberal think tank expected to be the ideological nerve center of a Clinton presidential campaign and, possibly, White House. High-dollar Democratic donors that have publicly backed Clinton's long-expected presidential bid and donated funds to the effort featured prominently on donor lists released by CAP on Wednesday [1/21/2015]. Even before Hillary Clinton declares a presidential run, experts say, donations to CAP can serve as a means to influence its eventual policy platform and to gain access to Clinton's secretive and powerful inner circle.
Brian Williams Earns 350 Times More Than The Average TV News Anchor. The perceived disparity between a company's CEO and its average worker has been a trope of the left and an obsession of the news media for decades. The argument goes that a CEO's pay comes at the expense of rank-and-file workers, and fuels a level of animosity that necessitates a government response. It is a canard that would be rightly ridiculed in any other sector of our society. Television's top news anchor, NBC's Brian Williams, earns a reported $13 million a year to read the news. His pay packet is 350 times the earnings of the average TV news anchor, reporter or correspondent, who pull in around $37,000 a year. This disparity far surpasses the 150-1 ratio earned by the average CEO, according to Bloomberg.
U.S. Ambassador to France Jane Hartley is big fundraiser for President Obama. Our woman in France got her job the old-fashioned way — raising boatloads of money for the president. Ambassador to France Jane Hartley — the US's highest ranking representative at a rally in Paris on Sunday that brought out 40 world leaders — doesn't have much diplomatic experience, but put in plenty of time raising and bundling money for President Obama's campaigns. Between 2007 and 2012, Hartley raised $2.2 million for Obama, the New York Times has reported. She's also doled out plenty of cash from her own pockets to Democrats — including $54,000 in the 2014 campaign cycle, The Hill reported.
Liz Warren: Class Warrior With Heap Big Wampum. Liberals hope that the populist-sounding Elizabeth Warren will run to the left of Hillary Clinton, whom they fear is now too rich and out of touch. But Sen. Warren's financial records may dash their hopes.
Blue billionaires on top. Democrats spent much of the 2014 campaign castigating Republican big money, but, it turns out, their side actually finished ahead among the biggest donors of 2014 — at least among those whose contributions were disclosed. The 100 biggest donors of 2014 gave nearly $174 million to Democrats, compared to more than $140 million to Republicans, according to a POLITICO analysis of reports filed with the Federal Election Commission and Internal Revenue Service.
HHS execs living large, flying first class around the world. Helping America's poor, aged and sick is the U.S. Department of Health and Human Services' reason for being, but hundreds of its top officials are traveling in style and luxury at taxpayer expense. Records obtained by the Washington Examiner under the Freedom of Information Act show that HHS executives spent $31 million taking 7,000 first class and business class flights between 2009 and 2013, including 253 trips for which a one-way ticket cost more than $15,000. Half the records listed the price of a coach ticket for comparison. For that portion alone, the upgrade boosted the cost by almost $14 million, from $4.9 million to $18.5 million.
The Party of Snobbish Elites. Snobbery's twin is hypocrisy. For a liberal, when the poor waste money on $300 Air Jordans, such spending should not be criticized. But for the middle class to supposedly squander cash on a shotgun or Jet Ski is gauche. If an undocumented immigrant has seven children, it is not declared to be unwise family planning with the same disdain shown a Mormon blue-collar roofer with a comparably large family.
The Rich Liberals of Academe. Beyond just being intellectual hypocrites wholly intolerant of thoughts or voices other than their own, there's something else college campus elites are: rich. Average total compensation for professors at elite schools is around a quarter million dollars a year, but that is just the starting point. Books (it helps to assign your own textbook to students), outside lectures, and consulting fees not uncommonly double professorial salaries. Consider MIT Professor Jonathan Gruber, whose consulting fees on Obamacare totaled into millions of dollars. A drive through faculty parking lots at any major university in America is like taking a tour of luxury automotive dealerships.
Another night, another top restaurant: Obamas head to luxury Japanese eatery Nobu. Just 24 hours after President Obama sat down for five-star dinner with the first lady, he was back in another renowned Hawaii restaurant for a luxury meal. He took his family to Nobu, a Japanese restaurant inside the hip Waikiki Parc Hotel where meals cost around $180 per person.
Pearl Jam and lots of golf: Obama ends Hawaiian vacation. It was Obama's sixth visit to Hawaii as President, and his routines on the island have become familiar to residents and his traveling entourage. He prefers the beach at Bellows Air Force Station — which can easily be cordoned off to prevent any photographs of a body surfing President. He's made annual visits to the collection of four-star kitchens near Waikiki: Alan Wong's Morimoto and Nobu. This year he added another restaurant to his repertoire: Vintage Cave, a wine-and-dine club that charges $500,000 for a charter membership (one doesn't need to be a member to eat there).
Obamas drop $1K for meal at Hawaii restaurant that charges $500K for membership. President Obama and first lady Michelle Obama spent a leisurely couple hours at Vintage Cave Honolulu, dropping an estimated $1,000 on a meal with wine at an upscale restaurant that actually charges $500,000 for those who want to buy a membership. Mr. Obama passed on the membership at the Vintage Cave Honolulu, but he did order the price-fix menu at $295 per plate, Mediate reported. And, according to Honolulu Magazine, "the total bill for two, with wine, will approach $1,000."
Obamas welcome 2015 with $295-a-head dinner at Hawaii's most acclaimed restaurant. The president and first lady treated themselves to a five star dinner on New Year's Day at renowned Honolulu, Hawaii, restaurant Vintage Cave, where a 15 course, prix fixe meal costs a cool $295 a person, wine pairings add another $130 a head and the total tab often nears $1,000 after taxes and tip. Formally an Asian cuisine restaurant, Vintage Cave recently began serving contemporary French-American food after Jonathan Mizukami, of Napa Valley's The French Laundry fame, replaced the restaurant's founding executive chef, the Pacific Business News reports. An example menu posted to YELP lists courses that include caviar, cabbage from Hirabara Farm, Jidori egg yolk, foie gras, King Crab, caramelized white chocolate and Candy Cap Cheesecake.
Hillary Clinton veers left in search of the Democratic base. Hillary Clinton angrily condemned the bleakest results of Barack Obama's economy in a recent speech, but didn't dare say who was responsible for them. "What would Robert Kennedy say about the fact that still, today, more than 16 million children live in poverty in the richest nation on earth," she said in an address to an elite, well-fed crowd in a Manhattan ballroom at an awards gala to honor the slain Democratic presidential candidate.
Obama Didn't Spread the Wealth, He Concentrated It, Pew Study Finds. A Pew Research Center report released on Wednesday [12/17/2014] found that the gap in net worth between the country's wealthy and the middle class reached record highs in 2013 — the last year for which it has data. According to Pew, which used data from the Federal Reserve's Survey of Consumer Finances, upper-income median net worth in 2013 was 6.6 times greater than the median net worth of middle-income families ($639,400 vs. $96,500). That's up from 4.5 in 2007, the last year before the recession hit, and higher than it was in 2010, when the Obama recovery was just getting started.
US Commerce Secretary: Obama's Amnesty Will 'Help' Economy. Commerce Secretary, Chicago native Penny Pritzker, penned an editorial in support of Obama's amnesty policy, claiming that the president's move would be a "source of economic opportunity" for the nation. Pritzker, a Chicago socialite and heir to the Pritzker family fortune, began her piece equating the millions of legal immigrants in past decades to today's illegals and said that without past immigrants America would not have experienced the progress and prosperity it has realized.
Income Inequality Is Greatest In the Most Liberal States. The list of worst-run states — compiled by the news site 24/7 Wall St. using things like pension funding, credit ratings, unemployment, poverty, crime and high school graduation rates — shows that three of the bottom five are liberal. Illinois ranks dead last, followed by New Mexico, with Rhode Island coming in at No. 5. At the other end of the spectrum, only one of the top 5 best-run states — Minnesota — is liberal. North Dakota comes in first, followed by Wyoming, Nebraska and Iowa. Liberal states also show up, amazingly enough, as having the greatest levels of income inequality.
The secret list of requirements to get a Hillary speech (Not counting the $300K). Hillary Clinton is going to have a real problem running for president as a woman of the people. And the evidence mounts by the day. First, you'll recall her hilarious claim of being "dead broke" upon leaving the rent-free White House in 2001 and confronting mortgages on two mansions. We've all heard about her scores of strictly-controlled, quarter-million dollar speeches to every convention of scrap metal dealers and the like since jumping off the sinking S.S. Obama last year. Now comes a most amazing compilation of regal needs and demands before the ex-first lady, ex-senator, ex-secretary of State will condescend to accept up to $10,000 per minute to address her countrymen.
Meet The Rich White Guy Who Is Running the Black Boycott of Capitalism. There's a white, rich dude running the black boycott capitalism movement known as United Blackout. His name is Michael Latt and he is the marketing director of United Blackout. "Control how Black money is spent and you win the game," says United Blackout's campaign video. And Latt seeks to deliver.
White House Thanksgiving; turkey, ham, 6 pies and more. President Obama is spending a quiet Thanksgiving at the White House where the belly-stuffing menu featured all the holiday's basics.
Six pies on the Obamas' Thanksgiving menu. Michelle Obama's campaign for healthier eating apparently has taken a holiday. While schools across the country are offering skimpy lunches to comply with the first lady's initiative, the Obamas will be celebrating Thanksgiving with six pies.
Hillary's hummus. When The Washington Post exposed Hillary Clinton's contract for a March speech at UCLA, the terms looked more like something a rock star might demand than something from a former senator and first lady. Among the details Clinton negotiated were the color and style of the armchairs she would be sitting on, the plates of hummus and crudités she demanded and the number of photos she would be willing to pose for. Oh, yes, she also told the school it would have to cough up a $300,000 speaking fee on top of all this to get her. When a college representative asked if Mrs. Clinton would consider a discounted rate because it was a public university, her people quickly responded: This was the discounted university rate.
Hillary Clinton charged $300k for UCLA speech, demanded crudité and diet ginger ale. Former Secretary of State Hillary Rodham Clinton charged $300,000 to speak to students and faculty at University of California Los Angeles in March, even after school officials tried to negotiate the deal. According to new documents obtained by the Washington Post under the Freedom of Information Act, the school asked for a reduced rate for public universities, but Mrs. Clinton's representatives said that $300,000 was the "special university rate."
America's Richest Counties 2014. Want to live the good life? Move to Washington, D.C. Or, specifically, to its suburbs. Six of America's 10 wealthiest counties lie within a stone's throw of the Beltway. Plenty of lucrative jobs are available in tech contracting and other professional services, while other big sources of employment are local school systems and major federal agencies like the Department of Defense.
Obama's condescending stereotype of Mexicans. It is unbelievable that the president of the United States would say something this elitist regarding the nation's largest minority group — and perhaps just as worse that it's gone virtually unreported. [...] Not all Mexicans do the type of work that Obama described, especially the ones who have been in the country for several generations and have gone to college. This is just more of the same, sadly, to be expected from this arrogant president who jaunts around the world on luxury vacations, and whose favorite past time is golf, not charity and actually helping those less fortunate.
Wealth of Congress Jumps $150 Million. Roll Call has for decades calculated the "50 Richest" members of Congress by poring through financial disclosure forms, and this year, we've taken the added step of tallying the minimum net worth of every member of Congress. The combined minimum net worth of Congress jumped — up more than $150 million to $2.1 billion — according to a CQ Roll Call analysis of the financial disclosure forms for every member of Congress and delegate who filed one for 2013.
A $71,000 necklace for Michelle Obama from the queen of Brunei and a $10,000 falcon sculpture for Barack from Qatar. The State Department reported Tuesday [11/11/2014] that the queen of Brunei gave Mrs Obama jewelry worth $71,468 in 2013.
Sharpton Guest Defends Hillary's Private-Jet Travel: 'American Royalty'. Appearing on Al Sharpton's MSNBC show this evening [11/11/2014], [Chris] Witherspoon defended Hillary against an RNC email criticizing her for expensive private-jet travel billed to the campaigns of candidates for whom she made appearances. Witherspoon generated this gem: "they're the Clintons. They're American royalty. I don't want to see them flying on domestic Delta flights in first class. I mean, they were flying on Air Force One for eight years. How do you go from that to not staying on private jets and kind of having like that luxurious travel experience?"
Tailor: Obama prefers soft Italian fabric for his handmade suits. In his new biography, Measure of a Man: From Auschwitz Survivor to Presidents, [Martin] Greenfield wrote that Obama aides brushed aside his request to measure the president and instead shipped him an old suit to copy. "Martin Greenfield doesn't copy anybody's suits. Everybody copies Martin Greenfield's suits," he said in the book provided to the Washington Examiner.
Democratic Candidates Spent At Least $700K To Fly In Clintons. Bill and Hillary Clinton were the most sought after surrogates in the Democratic Party this year. He campaigned for more than 47 candidates. She for more than 26. Supporters estimate that, together, the Clintons headlined 75 rallies and fundraisers — and logged roughly 50,000 miles jetting from state to state. When the Clintons travel, they fly private. This year, their airfare cost candidates at least $699,000, available state and federal campaign finance reports show.
U.S. Mid-Terms, Tom Steyer and the Death of 'Climate Change' As a Serious Political Issue. [T]his is what is so good about the US mid-term results. Not only did they personally cost Steyer many millions of dollars in wasted campaign expenditure — nearly $75 million of the funding for his Nextgen Climate superPAC came out of his own pocket [...] — but they represented the US electorate's comprehensive repudiation of the notion that "climate change" is the most pressing political issue of our age.
Tom Steyer, greens have rough night at the polls. For Tom Steyer and other environmentalists, $85 million wasn't enough to help Democrats keep the Senate blue or win more than a single governor's mansion in Tuesday's toughest races. The billionaire's super PAC and other green groups saw the vast majority of their favored candidates in the battleground states go down to defeat, despite spending an unprecedented amount of money to help climate-friendly Democrats in the midterm elections.
Democrat Billionaire Tom Steyer May Have Blown $74 Million on Elections. Democrat hedge fund billionaire and global warming activist Tom Steyer spent $74 million on Tuesday's [11/4/2014] midterm elections, making him this election season's single-largest donor. Almost $67 million of Steyer's campaign war chest was spent on his super PAC, NextGen Climate Action, reports Forbes.
Nancy Pelosi raises over $100 million. House Minority Leader Nancy Pelosi has raised over $100 million for Democrats during this election cycle, the Democratic Congressional Campaign Committee announced Monday [11/3/2014]. The California Democrat raised $101.3 million for her party, including $65.2 million raised directly for the DCCC — the campaign party arm for House Democrats.
Politicians live it up and have the lobbyists pay. On any given weekend, lobbyists in Washington head for the airport to jet off to luxurious locations across the country. Destinations include Napa Valley in California for wine tasting, Wyoming for fly fishing and any number of spas, golf courses, even exclusive hunting trips. They are invited to these weekend retreats by members of Congress and their political action committees. The cost of accepting the invite is a political donation of anywhere from $1,500 to $5,000.
Election Day looking like a referendum on competence. The effect of the weakest recovery in two generations is reflected in President Obama's 13-point underwater ratings for his handling of the economy. Moreover, here is a president who proclaims the reduction of inequality to be the great cause of his administration. Yet it has radically worsened in his six years. The 1 percent are doing splendidly in the Fed-fueled stock market, even as median income has fallen.
Grayson's Wife, Kids Now On Government Assistance. The estranged wife and children of Democratic Rep. Alan Grayson have turned to government food stamps to support themselves, despite lawyers representing Grayson asserting that he provides them about $120,000 of assistance, WFTV 9 Orlando reports. Grayson was named the 17th richest member of Congress this month by CQ Roll Call.
Likely Democrat Presidential Candidate Cozies Up to the Environmentalists. As Maryland Gov. Martin O'Malley considers a 2016 White House run, he's cozying up with groups key to positioning him as the anti-Hillary candidate. The governor and billionaire Tom Steyer joined forces Wednesday night [10/22/2014] at the Mercedez-Benz Superdome in New Orleans to speak to thousands of architects, designers and central planners attending Greenbuild 2014, a conference for those interested in green living. But the most important person in the audience for O'Malley was Steyer, the Democrats' new piggie bank.
Government Gold-Plating. Just consider the following: the Speaker of the House currently receives an annual salary of $223,500, and will receive a payment of roughly that amount, depending on the years of service, for life. An annual payment of this magnitude amounts to about five times the average annual wage in the United States. But that's not all. For those who have had different positions in Congress, their retirements can be augmented. For example, Nancy Pelosi will not receive $223,500 for life, but roughly double that. Why? Because she is a member of Congress, currently the House of Representatives' Minority Leader, and a retired Speaker of the House. For purposes of computing retirement pay, Congress adds and accumulates. They do not net.
Obama Attends $32,400 Democratic Fundraiser As Ebola Hits NYC. Obama's attendance at Rockefeller's $18 million palatial mansion marks the president's 62nd presidential fundraiser this year. Media were barred from Obama's one-percenter confab — the 28th such fundraiser wherein the "most transparent administration in history" blocked access to reporters.
Wealth of Congress Jumps $150 Million. Roll Call has for decades calculated the "50 Richest" members of Congress by poring through financial disclosure forms, and this year, we've taken the added step of tallying the minimum net worth of every member of Congress.
Obama's Bully Tactics Force Campaign Donors to Give Secretly. Democrats rail about the "secret money" flowing into political campaigns, alarmed that Americans are allowed to donate anonymously to political causes. A recent front-page piece in The New York Times breathlessly reported that more than half of all campaign advertising was being funded by organizations that "disclose little or nothing about their donors." They claim that such funds have "overwhelmingly benefited Republican candidates." What they don't say is that Democrats are more than holding their own when it comes to shaking down wealthy contributors.
Party of the rich: In Congress, it's the Democrats. In Congress, the wealthiest among us are more likely to be represented by a Democrat than a Republican.
Mary Landrieu: My Multimillion-Dollar Home Is Not a Mansion. Democratic senator Mary Landrieu insists that her multimillion-dollar home in Washington, D.C., isn't a mansion. At a campaign event in Bogalusa, La., this weekend, Landrieu called a woman up on stage to explain that the 7,300 square-foot house doesn't qualify as a mansion, and then interrupted the woman to add that she lives next to the cleaners and her home is only 36 feet wide. "They say I live in a mansion," Landrieu said. "It's a townhome, which I also have a home in New Orleans." Landrieu reportedly lives in a 7,316 square-foot house in D.C. that boasts five bathrooms, four water heaters, and 82 fire sprinkler heads. She claimed this $2.5 million residence as her address on her statement of candidacy, but listed her parents' address in New Orleans when she was qualifying for the ballot.
Top Dem Super PAC Gets Big Boost from Soros, Spielberg, Democracy Alliance. The Democratic Party's top super PAC disclosed more than $9.2 million in September contributions on Monday [10/20/2014], listing a who's who of wealthy liberal donors, many associated with the secretive Democracy Alliance donor network. New York City businessman Ian Cumming — who "was awarded the largest bonus for any CEO of a publicly traded company in New York" in 2012, according to Crain's — and a company called HFNWA LLC donated $1 million each. It is not entirely clear what that company does, but it appears to be affiliated with Franklin Haney, a Democratic mega-donor who was accused of campaign finance violations in the 1990s.
Energy trade group, green bosses rake in green. It pays to be a top dog in the energy and environment business — even in the nonprofit arena. Big bosses at some of the most influential environmental nonprofits and energy trade associations are making comfortable salaries — from hundreds of thousands of dollars to several million per year — and many have racked up sizable raises recently.
White House caught tweaking official Obama transcript. Usually, this White House is mopping up verbal messes left by its vice president. But the latest wrinkle came in a bid to protect the president from his own mouth. It occurred Monday evening [10/20/2014] at a South Side Chicago fundraiser for about 50 supporters who shelled out $10G's apiece to meet him in a private home not far from Obama's own Hyde Park residence. Obama rarely returns to the Windy City anymore for anything but political money harvests.
Sen. Reid Won't Say Whether Americans Should Be Forcibly Barred From Asking Him a Question. Senate Majority Leader Harry Reid (D-Nev.) did not respond to repeated questions from CNSNews.com about whether American citizens who try to ask him a question in the Capitol hallway should be physically barred from doing so by Capitol Police — as happened recently when reporter Jason Mattera introduced himself, shook Reid's hand, and asked him a question about how he became a millionaire on a government salary.
Hillary Hypocrisy Talks About Student Debt, Hits UNLV Foundation For $225K Speaking Fee. Despite objections from a student body which faces the burden of 17% tuition hikes during the next four years, probable Democratic Party presidential nominee Hillary Clinton spoke to the UNLV foundation Monday night [10/13/2014], drawing a speaking fee of $225,000. Ironically, in her speech, she opined that more needs to be done to assure young people can achieve their dreams and free students from debt. Ms Clinton delivered her remarks to a crowd of about 900 people gathered in a Bellagio resort ballroom for the annual UNLV Foundation dinner benefiting the University of Nevada, Las Vegas.
It Cost $50,000 To Fly The Clintons To Iowa Steak Fry. An annual steak fry held by retiring Iowa Sen. Tom Harkin forked out $50,000 to fly Bill and Hillary Clinton to the state last month to headline the event. Bloomberg Politics discovered the line-item tucked into the Harkin Steak Fry 2014 committee's campaign finance disclosures.
From Comedy to Farce. No president in recent memory has so hectored the American people on the dangers of elites, and no president in the last half-century has so enjoyed the perks and culture of the elite. Unfortunately, this is not just mindless hypocrisy, but rather calibrated medieval exemption: the more Barack Obama berates the high life of others, the more he feels he deserves it for himself.
Concierge Service for Obama Donors at the Department of Homeland Security. That's the state of liberalism in the Obama era: the President gets paid by some billionaires to say mean things about other billionaires. Some are looted so that others can be subsidized. Political connections are the most valuable resource in a controlled economy.
It's more expensive to live in D.C. than New York, study says. The Washington region ranks as the most expensive place to live in the country, ahead of the pricey markets of New York and San Francisco, according to a government study. The surprising statistic comes from a Bureau of Labor Statistics report that shows that — on average — Washingtonians spend more on housing and related expenses (utilities, furnishings and equipment) than New Yorkers and San Franciscans.
Not a Parody: Obama Fundraises with Rich Guy Named Rich Richman. A terrible slaughter is coming in the Middle East, Ebola virus has invaded our shores, and President Obama is in the affluent Manhattan suburb of Greenwich, Conn., for a Democratic fundraiser at a $16 million estate owned by a rich guy whose actual name is Rich Richman.
Obama meets with rich Democratic donors, warns about 'interests of billionaires'. President Obama raised money Tuesday [10/7/2014] from wealthy Democrats who have benefited from his policies and warned supporters in an email that if Republicans win both houses of Congress in the midterm elections, "the interests of billionaires will come before the needs of the middle class." Mr. Obama attended private fundraisers in New York City and in Greenwich, Connecticut. At the first event, about 25 donors paid up to $32,400 each to attend a closed-door discussion with the president. The events brought to 56 the total number of Democratic fundraisers that Mr. Obama has attended this year.
In a week of crisis, Obama focuses on fundraising, gourmet meals, elite schmoozing. Kicking off a week of travel to raise political money, yesterday [10/6/2014] President Obama pushed "immigration reform" at a $10,000 a plate fundraiser held at a restaurant belonging to celebrity chef Jose Andres.
Latte liberals, literally. Remember those early mornings back in high school, waiting in the limo line, craving an organic vanilla apricot soy latte from your favorite artisanal coffeesmith, and thinking about how great it was to be a member of America's upper crust? Those were the days. Sidwell Friends, the elite D.C. private school where the Obamas send their kids, is hiring a barista to "prepare smoothies and espresso drinks" for children who are too rich to fail. The position, which pays $125,000 a year*, could be a great opportunity for a young person suffering under the failed Obama economy. Realistically, it will probably go to a former student who recently moved back in with his political consultant parents to pursue his dream of writing a Catcher in the Rye for the digital age.
Obama Heads Home — Without Family — for Night. President Obama has arrived in Chicago, where he'll spend the night before two public events in his hometown. The president did not travel with his family. He's now dining out with top adviser Valerie Jarrett and various friends, according to the White House pool report. They're at the steak house RPM Steak, where a nice cut can cost up tp $155, according to the restaurant's website.
What's Michelle Obama really campaigning for? There's much more to come in the 31 remaining days. The cover story is both Obamas are dutifully trying to help Democrats. Because of his own unpopularity and that of his programs and scandals, the president's not being invited to do the hands-in-the-air joint campaign appearances that Mrs. Obama has. He's bent on fundraisers, usually high-priced events ($32,400 on up to $100,000 per person) tacked on to to some official presidential appearance to help split the travel costs of Air Force One.
The anti-Mary Landrieu ad that is catching fire. Republican Louisiana State Sen. Elbert Guillory in an ad this week savaged vulnerable incumbent Sen. Mary Landrieu, D-La., for living a life of luxury while many African-Americans in the Pelican State live in poverty.
Who Are You Calling the Party of the Rich? One in four working-age Americans is out of a job. Wages have stagnated. Debt is off the charts. Obamacare has increased the cost of health insurance. Immigration reform is no longer popular. Inequality, supposedly the holy grail of Democrats, has increased on Obama's watch.
Protect the Poor — From Climate Change Policies. In a more rational, moral, compassionate, scientifically literate world, this Cornwall declaration would not be needed. It assesses the "far-reaching, costly policies" that the world's governments are adopting, supposedly to prevent global warming and climate change. It calls on governments to focus instead on protecting the poor, who desperately need the affordable energy that those policies circumscribe.
Obama Tells Fundraiser Islamic Terror Fight Not as Big of an 'Existential Threat' as Cold War. Obama left the Waldorf Astoria hotel in the early evening [9/23/2014] to head over to a private home at West 90th and Central Park West for the Democratic Senatorial Campaign Committee event, which was attended by DSCC Chairman Michael Bennet (D-Colo.), Sen. Chuck Schumer (D-N.Y.) and senior adviser Valerie Jarrett. [...] That 40-minute meeting at the Waldorf included King Abdullah of Jordan, Iraqi Prime Minister Haider al-Abadi, and the foreign ministers of the United Arab Emirates, Saudi Arabia, Qatar and Bahrain.
Why Won't Democrats Talk About Obama's Fundraising? Last week, President Obama headlined a $100,000-a-plate fundraiser at the swank Jefferson Hotel in downtown Washington on behalf of the Democratic Party's Senate campaign arm. The ticket price was high — even by modern standards. But beyond that, there was almost no information to be found about it.
Democrats Unfazed. Obama hasn't lost one single billionaire donor. They are holding firm. It is only independents who are running away from the Democrat disaster — citing Obama's record on terrorism, foreign policy, immigration, the economy, and health care. The puzzle is that 84% of Democrat voters are completely unfazed.
De Blasio has sent 1,412 homeless packing. Mayor de Blasio has sent 1,412 homeless people packing since taking office in January — keeping pace with Mayor Bloomberg's bum-banishment program despite lambasting his Republican predecessor's homeless policies. Liberal advocates for homeless New Yorkers slammed de Blasio for ignoring his own "Tale of Two Cities" campaign rhetoric to "push poor people out of the city." "This is ridiculous," said Luis Tejada, former head of the Mirabal Sisters Cultural and Community Center in West Harlem. "I worked for [de Blasio's] campaign. We expected more from him. This is a big surprise."
How Democrats Use the Minimum Wage Issue To Exploit The Poor. The Democrat Party of the U.S. has gained and kept political power by portraying themselves to the masses of people as the only political party that cares about the working middle class and the vulnerable poor. You need us, Democrats love to say at every election cycle, to help you achieve a better life. And as the November election nears, they are once again bringing up the minimum wage issue. Their position is that the Republicans are too insensitive to the needs of the poor to raise the minimum wage. Voters must elect Democrats in order to see a minimum pay raise. But at some point American voters, particularly the working middle class and poor, may begin to wonder whether or not Democrats are incompetent or something else is at play.
Top campaign donors mostly live in California, New York. Labor Day weekend is over, which means one thing to political junkies: The fall campaign season kicks into high gear. Specifically, candidates and committees tap into all that cash they've raised over the last two years to inundate the airwaves with advertising for the final two-month stretch (yes, even more than they already have).
Obama Explains to the Very Rich. At a fundraiser in the home of an occasional Obama golf partner and former president of UBS Investment Bank, Obama spoke before an audience paying $15,000 a couple to bask in his aura. Let me tell you about the very rich. They are different from you and me. They want to hear more Obama, and they can afford his policies.
Landrieu claims parents' home as her own, raising questions of Louisiana residency. In Washington, Sen. Mary Landrieu lives in a stately, $2.5 million brick manse she and her husband built on Capitol Hill.
5 Liberal Mega-Donors Nearly as Dangerous as George Soros. As the 2014 midterm elections approached, the media were quick to criticize conservative donors like the Koch brothers for backing issues important to them. But journalists largely ignored the incredible financial power being used to promote the liberal agenda. Five top donors — Michael Bloomberg, Warren Buffett, Pierre Omidyar, Tom Steyer and George Soros's own son, Jonathan — are major funders of the left. Together, they have contributed at least $2.7 billion since 2000 to groups pushing abortion, gun control, climate change alarmism and liberal candidates. That's not how major media depicted them. Broadcast networks applauded when billionaire hedge fund manager Tom Steyer promised $100 million to influence environmental policy. CBS News praised Steyer for "giving back" and ABC News called the billionaire an "everyman."
Bill Clinton Now Enjoys $1,000 Cigars. Bill Clinton enjoys a Gurkha cigar, "the Rolls Royce of the cigar industry." He "loves the Gurkhas," Gurkha chief executive officer Kaizad Hansotia, maker of the HMR cigar, which stands for His Majesty's Reserve. It is, according to Hansotia, "the world's most expensive cigar." One box is $25,000 — and the price will rise next year to $30,000. "The cigars are close to $1,000 each," says the cigar boss to Bloomberg.
Kansas Democrat Senate candidate Dave Domina got rich — very, very rich — while "looking out for the little guy". Democratic Senate nominee Dave Domina bills himself as a champion of the little guy, but his financial disclosure shows he is fabulously wealthy. Domina is one of the most prominent trial lawyers in the state and worth between $20 million and $82 million, according to the financial disclosure forms he submitted to the secretary of the U.S. Senate. [...] He would rank 19th on Roll Call's list of the 50 richest members of Congress.
Fundraising, Or Hate Speech? What is the point of being in power if you can't help your friends and screw your enemies? That is the Democratic philosophy. Thus, the Democrats hand out massive tax breaks, subsidies and mandates to their "green energy" supporters like Tom Steyer, who in turn pledge tens of millions of dollars in campaign contributions to help the Democrats maintain control of Congress. So they can continue to subsidize the businesses that make Steyer a billionaire. Same thing with Wall Street, which supports the Democratic Party almost monolithically. And, of course, while both parties use cash to "buy control of Congress" — i.e., try to persuade voters by putting ads on television — the Democrats always have more money to "buy control of Congress" than the Republicans.
For Hillary Clinton, Nothing Less Than A Gulfstream G450 Will Do. Wherever Hillary Clinton is going, she needs at least a Gulfstream G450 to get there. The once nearly "dead broke" former First Lady now makes steep demands when she gives speeches to corporations, groups and universities, according to emails between Clinton's agent and the University of Nevada, Las Vegas, where Clinton will earn $225,000 for a 90-minute speech in October.
Hillary Clinton requires 'presidential suite,' stenographer for speaking engagements, report says. Hillary Clinton has not yet announced whether she will be running for president in 2016, but a new report suggests that she has a taste for luxury to match any world leader. The Las Vegas Review-Journal obtained Clinton's contract and related documents related to a scheduled October 13 speech at a University of Nevada, Las Vegas (UNLV) Foundation fundraiser. The documents show that Clinton received $225,000 to speak at the fundraiser, a discount from her initial $300,000 asking price. But the fee was only the first of Clinton's many stipulations.
10 Things You'd Have to Offer Hillary Clinton In Order to Have Her Speak at Your Event. [#10] A speaking fee of between $225,000 and $300,000, depending upon the situation. [...] [#7] A TelePrompter. [#6] A stenographer. [#5] Meals and incidentals for Clinton, her travel aides and advance staff, as well as all phone charges.
Too rich for her own blood. Numerous reports have revealed that top Democratic 2016 presidential hopeful Hillary Clinton is living a lavish, over-the-top affluent lifestyle befitting — you guessed it — a mean old One-Percenter. She and her fellow Democrats pretend they're the party of the poor, the "hammered" middle class — the 99 percent. Well sorry, Hillary, but average Americans don't vacation in the Hamptons in $18 million homes, fly private jets, get paid more than $200,000 a pop for speeches or stay in presidential suites while traveling.
Landrieu to reimburse taxpayers for private charter flight to fundraiser that may have broken federal law. When you're in a tight race, it's never good to be billing the good people of Louisiana, many of whom will never see the inside of a chartered plane, $6,000 for your cushy seat and in-flight mimosa in an election year.
Nancy Pelosi Spearheads $1B Project Aiding Left-wing Mega Donor Tom Steyer; Networks Ignore. A new report suggested that liberal billionaire Tom Steyer's hedge fund profited from a $1 billion San Francisco light rail project pushed by House Minority Leader Nancy Pelosi, D-Calif. Steyer was also a big supporter of Pelosi. Despite being quick to criticize conservative political donors, the morning and evening news shows on ABC, CBS and NBC have all ignored the allegation since the Washington Free Beacon broke the story Aug. 12.
Is Nancy Pelosi About to Break Campaign Fundraising Law? According to Politico, Nancy Pelosi is holding a meeting in Napa Valley with a number of distressed Democrats. Heavyweights like Google's Eric Schmidt are also on hand, along with billionaire leftist Tom Steyer. If they were Republicans, Democrats would accuse Schmidt and Steyer of trying to buy elections. [...] House Majority PAC's presence is problematic. As a super PAC, the Democrats are legally forbidden from coordinating with them.
Mission Bay Maps. Brilliant work by Lachlan Markay at the Washington Free Beacon that highlights the corruption of D.C. and the ruling elites, especially the hypocrites in the Democrat Party. I decided to excerpt some key graphs and illustrate just how diabolical these mega-wealthy oligarchs are, gorging on borrowed money as the federal government sinks into bankruptcy.
Obama Donor Sells Internship for Five Figures. [Film studio executive Harvey] Weinstein is a major Democratic donor, giving thousands to Democratic candidates across the country during the 2012 election cycle, including $5,000 to President Barack Obama. Weinstein also hosted a $35,800 a plate fundraiser for the president. The fundraiser netted the president $2.3 million.
Obamas and Clintons Will Party Together on Martha's Vineyard. President Obama and First Lady Michelle Obama and Bill and Hillary Clinton are apparently in the mood to party. The foursome is expected to attend an event at the Farm Neck Golf Club on Martha's Vineyard this Wednesday [8/13/2014]. The Obamas are renting a vacation home on the island while the Clintons have landed in the Hamptons for some R&R.
[The] Bidens [are] in [the] Hamptons to Begin [their] Third Vacation in [a] Month. The Hamptons are in Long Island. Last week the Bidens were in Wyoming for another vacation. "It's summer vacation time for the vice president," USA Today reported on August 7. "Joe Biden and wife Jill began some time off Thursday in Grand Teton National Park, Wyoming, his office said, and will be there through Monday." The week before that one, the Bidens vacationed in Rehoboth Beach.
Dems stand for poor, vacation like the wealthy. The Obamas and Clintons sure know how to summer! And you have to hand it to them, they aren't letting their position as standard-bearers of the party committed to end income equality get in the way. While the president and his family enjoy a lavish getaway in tony Martha's Vineyard, the woman who wants his job is also indulging in a glitzy summer vacay. Hillary and Bill Clinton spared no expense for their digs in the Hamptons — shelling out a cool $100G for a three-week stay in one of America's most exclusive summer destinations.
Obama claims US is 'stronger' than 'when I first came into office' as economy weakens, debt soars. President Barack Obama claimed Monday night [8/11/2014] during a Democratic Party fundraising dinner that the United States is 'stronger' than it was when he assumed office in January 2009. [...] 'In all sorts of ways,' Obama told Democratic partisans who paid between $15,000 to $32,400 to hear him speak, 'we are not just stronger than when we — where we were when I first came into office.'
No Matter What Happens, Politicians Will Live Very Well. For readers who perhaps missed it, an African economic summit that included a talk by President Obama was held in Washington, D.C. last week. As one would expect, leaders of the 54 African nations were in attendance. And if the Four Seasons lobby was at all indicative, many of the African leaders booked rooms for themselves and their staffs at some of D.C.'s finest hotels. The scene in the lobby was perhaps more notable mainly because Africa is a tragically poor continent.
The Clintons downsize their summer home to pay $100,000 on $18m Hamptons property after 'dead broke' gaffe. The Clintons are 'downsizing' their summer home to a simple, $18million house in the pretty Hamptons hamlet of Amagansett. [...] Sources tell MailOnline they are paying $100,000 for their three-week stay — saving $100,000 from last year's luxury rental in Sagaponack.
Fundraiser in chief breaks 400 donor events, while on vacation. Vacationing President Obama is hosting his 401st fundraiser Monday night [8/11/2014] on Martha's Vineyard, Mass., continuing his record-setting pace that has had him collecting checks from donors at events on average every five days since becoming president.
Press Shunned from Obama's 400th Fundraiser Charged to Taxpayers. As we celebrate President Barack Obama's 400th fundraiser since taking office five-and-a-half years ago, it should be noted that of all the thousands of people who have attended, one group has been barred from ever entering the events: The press. Now, fundraisers can be a dicey place for the media to be. You (almost) never know what kinds of things are said in what is supposed to be behind closed doors — just ask Mitt Romney. To that end, our current president — who greatly benefited from that infamous Romney recording — has barred the press from all fundraising events. No pictures, no recordings, and no questions asked of the richest one-percent in the room paying for exclusive access to the most powerful person in the world. And of course, no questions for the president, either.
No 'DREAMers' in Dem Disneyland. The Vineyard is the dream destination of every carbon footprint-obsessed Democrat billionaire with his own private jet — an island, four miles out into the ocean, far, far removed from the foul breath of the plebeians. Martha's Vineyard — the ultimate gated community. Every imaginable amenity is at Obama's beck and call, except one. There are no "DREAMERS" on Martha's Vineyard. Oh sure, a handful of illegals may be lurking about the local resort spas, but the island has largely avoided, well, integration. It's astounding, this lack of diversity, because we all know how sincerely Barack and his pals cherish the migrant urchins, who are "fundamentally transforming" America.
Inside Obama's Vineyard vacation rental. The Obamas will unwind at a nearly $12 million property that features a seven-bedroom house along Vineyard Sound. The home, on Gosnold's Way, is in a more secluded spot than the South Road house the first family rented last year, a location that caused traffic headaches. This summer's 8,100-square-foot rental home has sweeping views of the Elizabeth Islands, a combination basketball and tennis court and an infinity pool, but is not located on a swimming beach.
Fair share: Al Sharpton and his organizations owe $4.7 million in unpaid taxes. Sharpton [...] insists the actual sum he owes is "significantly less" than public records indicate, and that the debts are "being paid down." The MSNBC host is, naturally, an ardent advocate for raising taxes on "the rich."
Robert Reich Sticks It To Poor People With $242,613 Salary For Teaching One Class This Semester. Robert Reich, who served as U.S. secretary of labor for four years under Bill Clinton, is currently a public policy professor at the University of California, Berkeley. The ultra-progressive economist — inasmuch as a mere law school graduate can be an economist — raked in an impressive income of $242,613 from the taxpayer-funded school in 2013, according to EAGnews.org. For that sweet salary of $20,217 per month, Reich is slated to teach exactly one course this fall.
Senators spent $1 million on charter flights last year. Last summer, Sen. Mark Warner, D-Va., embarked on what his office trumpeted as a four-day, 1,000-mile trip across his state, with press releases noting he "woke up early to hit the road," making stops at a minor league ballpark, a craft brewery and a Roanoke rail yard, among others. But for several hundred of those miles, Warner was not hitting the road — he was flying a chartered plane at a cost to taxpayers of $8,500. Warner was one of two dozen U.S. senators who flew taxpayer-funded charter airplanes to, from or around their home state last year at a total cost of just under $1 million, according to a USA TODAY analysis of Senate spending records compiled by the nonpartisan Sunlight Foundation.
Secretive far left network uncovered. Mediatracker, a website that tracks media stories and works for transparency in government, has uncovered a heretofore unknowm group made up of some of the most powerful and influential leftists in the country. [...] Like Journolist, the advantage of a group like this is that talking points and political attacks can be highly coordinated. Most of the biggies on this list are frequent media guests, and being able to closely coordinate responses to news of the days amplifies the message.
$5 million, $50 million or even more — just how rich is Hillary Clinton? Ever since Hillary Clinton drew attention to her finances by claiming her family was "dead broke" when they left the White House, speculation has focused on a seemingly simple question: Exactly how rich are the Clintons? [...] In 2010, then-Secretary Clinton's financial disclosures revealed a net worth totaling between roughly $10 and $50 million. In 2012, the last year for which she disclosed finances, Clinton's net worth was estimated to be between $5 million and $25 million.
Senate Report Ties Soros Group to 'Billionaire's Club' Dictating EPA Actions. An "elite group of left wing millionaires and billionaires" fund "the far-left environmental movement, which in turn controls major policy decisions," according to a U.S. Senate report released on July 30. The report singled out, among other groups, the secretive Democracy Alliance, a group founded in part by liberal billionaire George Soros. The report stated that "DA flouts transparency and public participation as the group emphasizes secrecy in all its operations." It also said that the influence of the DA and groups like it could be traced through other liberal groups to environmental regulations mandated by the EPA.
Obama, Clinton could collide on Vineyard. President Obama and Hillary Clinton will both be on Martha's Vineyard next month at the same time, The Boston Globe reports. [...] The trip by Clinton overlaps with Obama's Aug. 9-23 vacation at Martha's Vineyard.
Want A Real Anti-Poverty Plan? Stop Amnesty! While cynical politicians prattle on about protecting the American Dream, they're working together to destroy it. If these elected officials care so much about reducing poverty, why are they working so hard to import more of it from around the world? Leaders in both political parties have thrown struggling Americans under the bus to feed the cheap illegal alien labor machine. The working poor are the biggest losers in D.C.'s amnesty game.
Report: US, Foreign Elites Pay Greens To Push EPA Policies. Environmental organizations are often portrayed as homegrown groups fighting back against the tide of corporate boogeymen like Big Business or Big Oil. But this is not the case, according to a new congressional report. A report by Republicans on the Senate Environment and Public Works Committee says environmentalists are being backed by "an elite group of left-wing millionaires and billionaires." This "Billionaire's Club" funnels money to environmental groups who then lobby on behalf of the Environmental Protection Agency to help promote its agenda, in return, getting access to generous tax write-offs and federal funding.
What is Obama Hiding at His Wealthy Donor Fundraisers? A common complaint about George W. Bush's second term is that he was "insulated" and cut off from the outside world, and increasingly so from what he perceived to be a hostile press. This alleged isolation caused many liberal commentators to begin to derisively refer to President Bush as a "Bubble Boy." It has taken considerably longer for the press to openly criticize Obama for the same tendencies given their largely shared ideological heritage but finally the Press is starting to carp openly about Obama's refusal to allow them basic access to Presidential events.
Michael Moore's class act. The marriage was officially ended this week. But in the process of securing their divorce, Moore and Glynn's filings have again confirmed that the filmmaker who styles himself a champion of the working class has wealth that would be the envy of many a Wall Street banker. For all his proletarian pretenses, Moore is worth nearly $50 million, and doesn't seem to mind owning all this wealth.
Report: Obama Fundraiser Admission Price Slashed 80%. A donor who attended one of two events at which the president spoke told the [San Francisco] Chronicle on condition of anonymity that he paid $5,000 instead of the initially-requested $25,000 donation to sit down with POTUS. The event took place at the Four Seasons Hotel located on Market Street.
Between high end fund raisers, Obama talks middle class issues. On Wednesday evening [7/23/2014], Obama appeared at a fundraiser at the Hancock Park home of television impresario Shonda Rhimes, creator of the hit ABC show "Scandal." About 450 supporters there contributed up to $32,400 each to the Democratic National Committee.
Joining fundraising spree, first lady asks for 'biggest, fattest' checks. First lady Michelle Obama jumped into the White House fundraising spree on Thursday [7/24/2014], prodding supporters in Chicago to hand over the maximum campaign contribution in an attempt to shore up Democrats' chances in upcoming midterm elections.
Michelle Obama says money in politics is bad, asks donors for 'big, fat check'. First lady Michelle Obama on Thursday night [7/24/2014] urged Democrats to "dig deep" into their pockets and "write a big fat check" before the midterm elections, but minutes later complained of too much money in politics.
Democrats have no problem with people cutting them the 'biggest, fattest checks,'. Michelle Obama spoke at the event, which cost between $500 and $10,000 per person and up to $20,000 per couple, for maybe 20 minutes. The first lady's fundraising plea is especially rich considering it comes at a time when Democratic lawmakers have complained often and loudly about the negative influences of money in politics.
Michael Moore's lavish property empire is revealed in court documents. The lavish wealth of underdog-defending filmmaker Michael Moore has been laid bare in his divorce battle with now-ex-wife Kathy Glynn, and their breakup is the talk of their small Michigan community. [...] According to Celebritynetworth, Moore and Glynn are worth $50 million, much of his success coming from documentaries protesting capitalism.
Five Things You Need to Know About Chelsea Clinton. [#3] Chelsea began her business career making MBA degree salary, despite having no experience[.] NBC was criticized for Chelsea's $600,000 "special correspondent" salary, but that is not the most absurd offer sheet that Chelsea has agreed to. After deciding that various career paths weren't right for her, Chelsea settled at the age of 23 for a $120,000 a year salary at premier consulting firm McKinsey & Company. She was their youngest hire that year and made as much as consultants with MBA degrees, even though her Stanford degree was in history.
The left's dark money. Philip Gara LaMarche is a secretive political operative who funnels billions of dollars from undisclosed donors to nonprofits and astroturf groups. But you won't hear unhinged Harry Reid railing Queegishly about him on the Senate floor. Why? Here's why: LaMarche is a militant leftist philanthropist. He's a protected elite — Columbia University grad, former ACLU leader and Human Rights Watch official — with ready access to the White House. He and the left's other dark money managers preach transparency and openness, while plotting behind closed doors to secure power at every level of government.
Senators Blast Dem Mega-Donor Over IRS Investigation into Tax Avoidance Scheme. A major Democratic donor who is funding some of the left's most politically active electioneering groups was subject to bipartisan condemnation this week in the midst of a federal investigation into his hedge fund's tax avoidance schemes. Senators from both parties blasted efforts by Renaissance Technologies, a hedge fund owned by Democratic mega-donor Jim Simons, to shield itself from federal income taxes during a Tuesday [7/22/2014] hearing.
First Lady Michelle Obama in Chicago to raise money for Dems. Speaking to an estimated 150 people in the fifth-floor ballroom of the Waldorf Astoria Chicago in the Gold Coast at a Democratic National Committee event, the First Lady repeatedly urged donors to "dig deep." [...] Donors paid from $500 per person to $20,000 per couple, and the First Lady asked them to give more.
On Multi-Million Dollar Fundraising Trip, Obama Proves He's a Comedic Genius. The President is in the middle of a three-day fundraising trip to the West Coast, costing us taxpayers millions of dollars. This practice is not new with him, to be sure, as it's become standard practice over the last 30 years for presidents to sprinkle official events amongst their money-seeking events.
Barack Obama locks out the press — again. President Barack Obama went to the West Coast to meet donors from two top Democratic super PACs, but the press wasn't invited. Tuesday [7/22/2014], the reporters and photographers traveling with the president on Air Force One and in his motorcade were left on the gravel path not even within sight of former Costco CEO Jim Sinegal's house in the Seattle suburbs where Obama sat for a Senate Majority PAC fundraiser with a $25,000 entrance fee.
Obama heads off to raise money on the West Coast. Obama on Tuesday [7/22/2014] was starting a three-day West Coast trip, scheduled to attend at least five fundraising events in Seattle, San Francisco and Los Angeles less than four months ahead of midterm elections that could change Washington's balance of power.
President To Dem Donors: 'You're Chronicling The Slow Deterioration Of Barack Obama'. The luncheon, sponsored by the Democratic Congressional Campaign Committee, was hosted by real estate mogul George Marcus at his home in California's Los Altos Hills [7/23/2014]. Tickets started at $10,000, with a VIP option available for just $32,400 — the maximum amount an individual can contribute to the DCCC in one year.
Signs of donor fatigue at Obama's Bay Area fundraisers. There was no listed price for tickets for Obama's morning appearance [7/24/2014] at a roundtable in San Francisco for the House Majority PAC — the type of intimate gathering for which admission is usually $32,400 per person, the legal maximum. Some donors said tickets had been offered for a deep discount.
Obama set to rake in millions, despite criticism of fundraising during tumult. Based on descriptions of Obama's fundraisers from Democratic officials, Obama could raise north of $6 million during the trip, which comes at the same time as an Israeli ground invasion into Gaza and international outcry over the downing of a jetliner over Ukraine. That figure is based on estimates of attendance at Obama's five fundraisers, using the highest in a range of possible ticket prices. The total sum could be far less.
Clinton Earns $12 Million Speaking, Writing After Service. Hillary Clinton has earned at least $12 million in 16 months since leaving the State Department, a windfall at odds with her party's call to shrink the gap between the rich and the poor. Clinton's income since her resignation as secretary of state in February 2013 is derived mostly from her latest memoir, speeches and paid appearances at corporate retreats, according to an analysis of data compiled by Bloomberg.
Obama Donor Fights to Keep Riff-Raff Away From Private Beach. A wealthy venture capitalist and major Obama donor is fighting tooth-and-nail to prevent others from accessing his private Northern California beach, according to Bloomberg News. Vinod Khosla's support for Obama has paid off in the form of millions in taxpayer subsidies for green energy companies in which he has invested.
Poor Hillary Clinton. Is this really what "dead broke" looks like? Seems like the Clintons should be just fine with their two multi-million dollar houses. No need to add the "White House" to the list.
Obama Headlines Fundraiser for Democracy Alliance Group at DA Donor's Home. A major donor to a secretive club of wealthy Democratic financiers hosted President Barack Obama at her home last week for a fundraiser benefitting one of that club's most politically active organizations. The event came as the president faced withering criticism for raising money as international crises proliferate, and just days ahead of a hearing of Democrat-backed legislation to force "dark money" political donors to disclose more information about their finances. House Majority PAC is one of the most nakedly political recipients of cash from the Democracy Alliance, a shadowy network of liberal millionaires and billionaires that doles out tens of millions of dollars to top left-wing groups each year.
Mogul shells out $500K for lunch with Bill and Hillary. A mogul spent six figures to win lunch for two with Bill and Hillary Clinton at a charity auction benefiting the Clinton Foundation — but when the winner asked to bring his two kids along, he was told he'd have to double his bid to $1 million.
Clintons Demand $1 Million to Allow Donor's Kids at Benefit Dinner. A Chinese businessman paid $500,000 to have dinner with Bill and Hillary Clinton. But when he asked if his kids could join, the former first couple demanded another half-million, the New York Post reports.
Obama library raises at least $850,000. The foundation planning Barack Obama's presidential library has raised between $850,000 and $1.75 million, the organization said Tuesday [7/15/2014]. The Barack Obama Foundation has pledged to release the names of donors that contributed more than $200 on its website on a quaterly basis. Tim Collins, Cari and Michael J. Sacks, and Marilyn and Jim Simons each contributed between $250,001 and $500,000. Lise Strickler and Mark Gallogly contributed between $100,001 and $250,000. All of them raised money for Obama during his campaigns or have served on various baords.
Obama plans 16-day Martha's Vineyard vacation on $12m estate. It's going to be hot tubs, basketball, tennis and golf for the first family this summer, having set plans for a 16-day vacation in Martha's Vineyard, Mass., on a $12 million, 10-acre forested estate on the southwestern corner of the island. Reports from the Bay State indicate that President Obama and his family will vacation August 9-24 at the 8,100-square foot, beachfront home of a Democratic donor that includes a pool, hot tub, basketball and tennis court.
University at Buffalo paid $275,000 for Hillary Clinton speech. When Hillary Rodham Clinton agreed to address the University at Buffalo, the largest campus of the State University of New York system, she negotiated a few requirements in addition to her pay of $275,000. The potential 2016 presidential candidate's agent requested that the university provide "a presidential glass panel teleprompter and a qualified operator," that Clinton's office have "final approval" of her introducer and the moderator of any question-and-answer session, as well as "the sets, backdrops, banners, scenery, logos, settings, etc," and that the topic and length of the former secretary of state's speech would be at her "sole discretion."
Hillary Clinton's $275K Speaking Fee Comes with Diva Demands. Former Secretary of State and almost-certain 2016 presidential candidate Hillary Clinton not only demanded $275,000 to speak at the University of Buffalo, her nine-page contract is filled with the kinds of demands that Pop Divas like Madonna are regularly mocked for.
Keywords; imperious, arrogance, control freak
Hillary's $2,777 PER MINUTE speaking contracts demand a 'presidential' teleprompter, let her cancel 'for any reason whatsoever'. Hillary Clinton, the former secretary of state who is preparing to run for president on a populist platform of fighting income inequality, demanded $2,777 per minute for two university speaking engagements and insisted on contracts that cut off reporters' access to her and limited the number of photos she would take with well-wishers. [...] The once-and-maybe-future White House resident is routinely granted iron-grip control over the circumstances surrounding her speeches.
Jay Carney cashes in. Jay Carney just left the White House podium and he's already joined the ranks of George W. Bush, Tom Brokaw and Mike Ditka in one profitable enterprise: lecturing on the private speaking circuit. The former Obama administration flack signed on this month with the Washington Speakers Bureau, a gig that came with a signing bonus and is likely to yield payments as high as $100,000 per speech to share his personal presidential anecdotes and analysis of the next two election cycles.
Here are some of the lobbyists and business PACs trying to drive Justin Amash out of Congress. Rep. Justin Amash, R-Mich., is probably the most libertarian member of the U.S. House, which means he's made some enemies on K Street. They are funding his primary opponent, Brian Ellis. The latest campaign filing from Ellis's campaign shows some of the business interests that want Amash gone.
NY Times Columnist Slams Chelsea's Buckraking for 'The Rapacious, Gaping Maw of Clinton Inc.'. Team Hillary is staring daggers at New York Times columnist Maureen Dowd, the one journalist who actually won a Pulitzer (for commentary) on a Clinton scandal (Lewinsky). Dowd had the audacity to knock Chelsea Clinton for giving speeches for $75,000 a pop, even if it went to the Clinton Foundation, which is designed for the further aggrandizement of the Clinton reputation.
The hypocrisy of Obama's 15-day Vineyard vacation. One-third of people aged 18-29 have moved back in with their parents. Millions of Americans this summer will enjoy yet another "staycation": They just can't afford to go to the beach or the mountains, even for a week — again. Swipe cut to President Obama: He's eating shave ice in Honolulu; playing golf (some 180 rounds so far); jetting off to Martha's Vineyard for a 15-day vacation in a $12 million house on the beach. He's playing pool in Colorado (he turned down an offer from a young heckler to smoke some weed); eating barbecue with a college student in Minnesota; hitting fundraiser after fundraiser across the country (at $228,000 an hour for his swank 747 super-jumbo jet).
Report: Obamas will return to Martha's Vineyard to vacation in $12 million home. While an estimated 400 illegal immigrant children stream across America's southwest border every day in August, President Barack Obama will take a 15-day vacation in a $12 million home nearly as far away as it's possible to travel in the continental United States. The pricey real estate belongs to a wealthy Connecticut widow whose late husband, then a General Electric executive, made $6,900 in donations to Hillary Clinton's presidential campaign in 2007 and 2008 — then the maximum allowed by law.
Obama to Take 15-Day Vacation in August. President Obama will embark on a 15-day vacation next month, even as the nation and the world are engulfed in crises from the border with Mexico to the Middle East. The Obamas will depart Washington on Saturday, August 9th and head for Martha's Vineyard, staying in a $12 million vacation home until Sunday, August 24th, reports the Martha's Vineyard Times.
Check Out Obama's Multimillion-Dollar Martha's Vineyard Vacation Pad. President Obama and the first lady are planning a two-week vacation at a seven-bedroom, nine-bathroom home in Chilmark, the Martha's Vineyard Times reports. The first family will travel to the island from Aug. 9 to Aug. 24, making the 15-day getaway the longest summer vacation of Obama's presidency. While the location of their vacation home was supposed to be under wraps, neighbors confirmed to the local newspaper that the Obamas will be staying at a luxurious home owned by Joanne Hubschman, whose late husband, Henry, was a former executive at General Electric.
Hillary's Biggest 2016 Competitor: A Native American Millionaire Who Also Pretends Not to Be Wealthy. A huge question in Democratic politics — other than "When is Hillary going to announce?" — concerns whether or not Senator Elizabeth Warren (D — Cherokee Nation) will run for president. If Hillary does not run, it is almost certain that Warren will. Well-known for her populist and Occupy-esque perspectives on healthcare, taxes, income redistribution and everything in-between, she is one of the rising stars of the Democratic party. Anticipating that it could happen, we're getting out in front and establish her as a storyteller, to put it nicely, about her wealth.
Billionaires Call For Amnesty As Obama Plans To Legalize Millions of Illegal Aliens With Executive Power. Billionaires Warren Buffett, Sheldon Adelson and Bill Gates have teamed up to call for amnesty for America's illegal immigrants as a solution to the ongoing crisis at the border as President Barack Obama mulls granting amnesty to millions via executive power.
The BBQ joint where NO ONE cuts the line... except Obama. The president was seen cutting the line at Austin's Franklin Barbecue Thursday afternoon, while in town to raise money for the Democratic Party. Lives at the eatery are infamously long, and have been known to stretch as long as three hours wait. But Mr Obama did no waiting today, as he showed up at the restaurant, shook a few hands and made his way straight to the register to order more than $300 worth of meat.
Chelsea Clinton Follows Parents' Lead as a Paid Speaker. There is a new Clinton paid to deliver speeches — Chelsea, the former first daughter — and she is commanding as much as $75,000 per appearance. Aides stressed that while Bill and Hillary Rodham Clinton often address trade groups and Wall Street bankers, Ms. Clinton, now 34, focuses on organizations whose goals are in line with the work of the family's philanthropic organization, the Bill, Hillary & Chelsea Clinton Foundation. Organizers said her star power helped sell tickets and raise money.
Lefty Professor Who Speaks Out Against Income Inequality Gets Paid $205,400 for One Class. University of North Carolina School of Law's Professor Gene Nichol is a real opponent of income inequality. That's why he gets paid $205,400 to teach one class, plus more to run the Poverty Center at the school. Nichol's noble opposition to income inequality puts him in a class with other great academic class warriors like Elizabeth Warren, who was paid $350,000 by Harvard Law to teach a single course and Clinton's former Labor Secretary turned inequality campaigner Robert Reich who pulls in $235,791 a year from a public university at UC-Berkeley to teach a course on "Wealth and Poverty" making him one of the highest paid state employees.
What's behind Chicago's carnage. Tens of thousands of children are flooding across our border illegally, on the scent of Obama's executive-order amnesties. Advocates of open borders, such as progressive grandees Mark Zuckerberg and Nancy Pelosi, assume that these impoverished Third World children will not enroll in the private academies attended by their children or grandchildren, or need housing in one of their vacation estates, or crowd their specialists' waiting rooms. They do not worry about the effects of illegal immigration on the wages of low-income Americans. Dealing first-hand with the ramifications of open borders is for unenlightened, illiberal little people.
The Golf That Divides Americans. President Barack Obama is fond of describing the deep inequality afflicting American society. And then he goes off to play golf. He's getting near the 200-round mark for his entire presidency, a sporting feat perhaps worthy of Teddy Roosevelt for its sheer audacity. Golf is the most unequal sport in America, demanding expensive fees or country club memberships.
Hillary Clinton donates big speaking fees to a nonprofit foundation — her own. To give the organization its full name, that's the Bill, Hillary & Chelsea Clinton Foundation (originally, the William J. Clinton Foundation). Set up the year after Bill Clinton finished his second term as president, the Clinton Foundation says its mission is "to bring people together to take on the biggest challenges of the 21st century," including economic development, global health, climate change, and empowering women and girls. The Wall Street Journal reported recently that the foundation has collected between $750 million and $1.7 billion over the years. That's a lot of clout for influencing the public — i.e., political — discussion on major issues, something any other politician with presidential stars in his or her eyes could only envy.
With Democrats split on inequality issues, Obama shifts talk away from income gap. After making fighting income inequality an early focus of his second term, President Obama has largely abandoned talk of the subject this election year in a move that highlights the emerging debate within the Democratic Party over economic populism and its limits. [...] The pivot is striking for a president who identified inequality as one of his top concerns after his reelection, calling it "a fundamental threat to the American Dream, our way of life and what we stand for around the globe."
Michelle Obama returns to NYC to mine Wall Street funds for DNC. Just when we thought there couldn't be any more Democratic donors on Wall Street with money left to channel to the DNC, Michelle Obama is back in town for another "intimate" fund-raiser. Evercore Partners' Charles Myers is hosting a "round-table discussion" with the first lady at his Midtown home July 10 with tickets from $10,000 to $32,400.
Hillary Takes Six-Figure Speaking Fees From Universities Raising Student Tuition. The Washington Post reports that likely 2016 presidential contender Hillary Clinton made somewhere around $1.8 million from eight universities in just nine months. While paying the former Secretary of State anywhere from $200,000 to $300,000 per speech, some of these schools were raising tuition prices on students already burdened by the growing student loan bubble. Clinton was paid $251,250 from the University of Connecticut not long after the school hit its students with 6.5% tuition increase.
At time of austerity, eight universities spent top dollar on Hillary Clinton speeches. At least eight universities, including four public institutions, have paid hundreds of thousands of dollars for Hillary Rodham Clinton to speak on their campuses over the past year, sparking a backlash from some student groups and teachers at a time of austerity in higher education. In one previously undisclosed transaction, the University of Connecticut — which just raised tuition by 6.5 percent — paid $251,250 for Clinton to speak on campus in April. Other examples include $300,000 to address UCLA in March and $225,000 for a speech scheduled to occur in October at the University of Nevada at Las Vegas.
White House: Staff salaries total $38M. The White House pays out $37.8 million a year in salaries to 456 staffers, according to a new report to Congress released by the Obama administration. That averages to an annual salary of $82,844 per year, although staff salaries are top-heavy: the median salary is $70,700 per year. [...] Some 22 senior administration officials, including chief of staff Denis McDonough and senior advisers Valerie Jarrett and John Podesta bring home the maximum $172,200 salary.
Why Democrats insist on lying about how 'poor' they are. Hillary Clinton claimed that, at the moment she and her husband were signing up for $18 million in book deals, that they were "dead broke." Harry Reid (who lives in the Ritz-Carlton Hotel) said liberals are getting bullied by Republican billionaires but the Democratic Party "doesn't have many billionaires" behind it. Joe Biden (family earnings: $407,000 last year plus a free house, driver, meals, etc.) claims he "I don't own a single stock or bond... I have no savings accounts... I'm the poorest man in Congress." (Triple fail: Joe isn't poor, isn't in Congress and wouldn't be the poorest member of it if he were.)
Chelsea Clinton's wealth can't buy her class. Chelsea Clinton, the former and potential future first daughter, has stiff competition for the title of Most Tactless Human. Greedy reality-TV creature Kim Kardashian is a contender. Chelsea's mom, the once-"dead broke" Hillary Rodham Clinton, might rank even higher on the scale of bad taste. Chelsea, 34, has jabbered like an overeducated trailer-park habitué about her family's No. 1 obsession — money.
How the Clintons went from 'dead broke' to rich: Bill earned $104.9 million for speeches. Over seven frenetic days, Bill Clinton addressed corporate executives in Switzerland and Denmark, an investors' group in Sweden and a cluster of business and political leaders in Austria. The former president wrapped up his European trip in the triumphant Spanish Hall at Prague Castle, where he shared his thoughts on energy to a Czech business summit. His pay: $1.4 million. That lucrative week in May 2012 offers a glimpse into the way Clinton has leveraged his global popularity into a personal fortune.
Bill and Hillary Clinton go to the grocery just like us. Bill Clinton and his wife are just regular folks, you should know. He says they talk to towns people near both of their mansions. They go to the grocery store on weekends and perhaps squeeze the fruit, as careful shoppers would watching their dollars in this stagnant Obamaconomy. Never mind the burly guys in cool shades nearby with curly wires running into their ears and machine guns under the jackets. Or their specially-trained defensive driver. Or the friends' private jets that whisk them to another $200K speech.
Here's How Little Chelsea Clinton Cares About Money, In Dollars. [Chelsea] Clinton is currently pulling down $600,000 per year for the kind of no-show job you probably thought had disappeared with the demise of the American mafia. She is officially employed as an on-air correspondent for NBC News even though she hasn't appeared on NBC for the past four months. Clips of Clinton's work for the Peacock Network are hard to find online, and one of the few accessible segments — her interview with the GEICO gecko — reveals that NBC's coaching failed to improve her affectless voice, lazy delivery and absolute lack of charm, charisma or talent.
Joe Biden and Hillary Clinton shouldn't pretend to be poor. On Monday morning, at a White House summit on policies to help working families, Vice President Joe Biden reflected on his wealth. He said that while he wore a "mildly expensive suit" and was vice president of the United States of America, he didn't own a stock or a bond, and as a senator, was the poorest member of the club. This bit is a longstanding part of Biden's shtick, but was interpreted — most loudly by the Republican National Committee — as a dig at possible presidential rival Hillary Clinton.
Hillary Clinton will collect massive speaking fee from Nevada university as students grapple with tuition hikes. Former Secretary of State Hillary Clinton will collect a $225,000 speaking fee from the University of Nevada, Las Vegas in October, it emerged on Tuesday. The massive expense was confirmed just weeks after the university formalized a 4 percent tuition increase for each of the next four years. Rate hikes have nearly tripled tuition costs there since 2004. Clinton will deliver the keynote address at an invitation-only gala for philanthropists and other high-dollar donors who support UNLV. The university said private funds are being tapped to pay her speaking fee.
Bill Clinton defends family wealth, says Hillary 'not out of touch'. Former President Bill Clinton on Tuesday defended his wife's modest depiction of the couple's wealth, saying their affluence does not mean Hillary Rodham Clinton is out of touch with the concerns of average Americans. Speaking in Denver at an annual meeting of his philanthropic organization, Clinton said his wife was correct to state they were "dead broke" when the couple left the White House in 2000.
Biden one-ups 'dead broke' Hillary by boasting he's 'the poorest man in Congress'. At a White House summit for working families Monday, Vice President Joseph R. Biden tried to relate to the audience by calling himself "the poorest man in Congress." While acknowledging that he was wearing "a mildly expensive suit," Mr. Biden said he's not as wealthy as most of his peers in Washington. [...] Mr. Biden and wife Jill reported $407,009 in adjusted gross income in 2013, including $230,700 for his salary as vice president.
Bill Clinton Budgeted to Receive Nearly $1 Million in Taxpayer Money in 2014. An April Congressional Research Service (CRS) report shows that the Government Services Administration (GSA), which is in charge of supporting federal disbursements, budgeted $950,000 for former president Bill Clinton in the 2014 budget. Clinton will collect a $201,000 pension in 2014, a figure four times larger than the median family income in the United States. The Clintons have received a total of $15,938,000 in federal money since 2001.
White House officials will meet with billionaire activist during new climate push. Senior White House officials and Treasury Secretary Jack Lew are set to meet this week with Tom Steyer, an environmental activist pledging to pump up to $100 million into the November midterm elections, as part of a new campaign to promote President Obama's green agenda. "On Wednesday, senior White House leadership and Secretary Lew will meet with former Treasury Secretary Hank Paulson, former HUD Secretary Henry Cisneros, Cargill CEO Greg Page, and Tom Steyer [to] discuss the results of their soon-to-be-released Risky Business report — which assesses the economic risks of climate change," a White House official said, previewing the meeting. The gathering between the big-money donor and senior White House officials is likely to draw criticism from watchdog groups, which have accused Obama of embracing the pay-to-play politics he once so actively decried.
Democrats criticize White House over meeting with billionaire Tom Steyer. Senior political officials on Wednesday are scheduled to host a mega-donor with plans of making a nine-figure investment in the 2014 midterm elections. No, Washington Republicans aren't meeting with Charles and David Koch, the deep-pocketed energy titans — and public enemy No. 1, according to Senate Majority Leader Harry Reid and many Democrats. Instead, the White House, which has repeatedly bemoaned the influence of big money in politics, will open its doors to Tom Steyer, the environmental activist who has pledged to spend up to $100 million on November's elections to promote his climate-change agenda. Steyer is also a high-profile opponent of the Keystone XL pipeline, a project the Obama administration is still reviewing.
'I don't care about money': Says Chelsea Clinton, who is paid $600,000 by NBC for doing nothing. Chelsea Clinton lives a charmed life, but don't be fooled: secretly, she's not attached to the oodles of money she and her hedge fund manager husband make each year, the former first daughter said in an interview published over the weekend.
Chelsea Clinton tried to care about money but couldn't. The daughter of former President Bill Clinton and ex-secretary of state Hillary Clinton explained in a recent interview why she left lucrative professions and opted for working with her family's philanthropic foundation. 'I was curious if I could care about (money) on some fundamental level, and I couldn't,' she said.
White House's Valerie Jarrett dines with Rupert Murdoch to plot immigration strategy. President Obama's longtime senior adviser Valerie Jarrett confessed to breaking bread this week with conservative media titan Rupert Murdoch, a new White House frenemy of sorts on immigration reform. The two dined at the posh Blue Duck Tavern on Tuesday night [6/17/2014] in Washington's Foggy Bottom, and Jarrett described the evening as "very enjoyable." "Good policy sometimes makes strange bedfellows," she told reporters at a breakfast hosted by the Christian Science Monitor Friday, adding that she was impressed by Murdoch's passion for passing comprehensive immigration reform.
Harry Reid: Democrats Do Not 'Have Any Billionaires'. This is categorically false. After all, the Democrats have the support of Tom Steyer, George Soros, and many, many others.
Tapper Calls Out Reid for Saying Dems Don't Have 'Many' Billionaires. CNN's Jake Tapper caught this odd statement and called out Reid for overlooking all the billionaires who actually do support Democrats. Tapper played the video of Reid and said, "The left doesn't have many billionaire backers? Oh, really? Well, you could name George Soros, David Shaw, Irwin Jacobs, to name a few." He also singled out Tom Steyer, the billionaire philanthropist and environmentalist who has taken on climate change and killing the Keystone XL pipeline as big issues.
Barack Obama golfs while the Middle East burns. Last weekend Barack Obama played his 175th and 176th rounds of golf as president. He played first at Sunnylands, the famously private course on the Rancho Mirage, California estate of the late billionaire Walter Annenberg. Obama next played at Porcupine Creek, the equally private course on the nearby estate of the very-much-alive tech billionaire Larry Ellison.
President Obama on vacation in California. Despite temperatures above 100 degrees, Obama was able to golf at two nearby courses — Saturday at the Sunnylands estate and Sunday at the Porcupine Creek Estate owned by software billionaire Larry Ellison.
Obama to Visit Southern California, Deliver UCI Commencement Speech. Obama will attend a private Democratic National Committee fundraising event at a home in Laguna Beach at 9:45 a.m. before heading to Anaheim for his commencement address, according to the White House.
Bill and Hillary Clinton top the list of richest ex-first families. They may have left the White House "dead broke," as Hillary Clinton claimed, but she and Bill Clinton cashed in so fast and big that they sit atop the list of former first couples who struck gold after the presidency. Since leaving office, according to financial records and news reports, they have earned at least $155 million from speeches, salaries and book deals, easily outpacing the post-White House incomes of other former presidential families and distancing themselves from the time when Bill Clinton deducted $2 apiece for used underwear donated to an Arkansas charity.
Prez schmoozes and country loses. Today [6/11/2014], President Obama flies in to do what he does best: schmooze with one-percenters at a $32,000-a-head fundraiser in Weston.
Clintons 'dead broke' after White House? Actually, they earned over $12M that year. Technically, Bill and Hillary Clinton were in debt when they left the White House. Financial forms filed for 2000 show assets between $781,000 and almost $1.8 million — and liabilities between $2.3 million and $10.6 million, mostly for legal bills. But as the outgoing first couple, they had tremendous earning potential. And within just one year, their financial troubles were effectively gone. Hillary Clinton's Senate disclosure forms show that in 2001, they reported earning nearly $12 million. Most of that came from Bill Clinton's speechmaking, and the rest came from an advance for Hillary Clinton's book.
DEMOCRATS tear into 'imperial' Hillary after major gaffes about her enormous wealth. Hillary Clinton's fellow Democrats smell blood in the water after her recent gaffes over her considerable wealth and they began pouncing on the presidential hopeful on Monday. Dick Harpootlian, a former Democratic Party chairman in South Carolina, framed his insult in terms the fictional aristocratic Crawley family and their servants could understand. 'I don't know whether it's just that she's been "Madam Secretary" for so long, but she's generating an imperial image,' Harpootlian told The Washington Post.
Hillary Clinton's impoverished claims. All this matters for several reasons. First, how she made her money and to whom she is indebted matters greatly. Between the two of them, they've taken in a whole lot of speaking fees from industries that do a lot of business with or are regulated by the federal government. She runs in circles with the richest of the rich, at a time when government cronyism is a pressing public issue. Second, if it mattered how much Mitt Romney made — in part because it reflects on his ability to relate to average people — then it matters for Hillary Clinton. And, finally, there is something distasteful about a woman supposedly so dedicated to women and kids and the world's needy who spends her time making millions upon millions of dollars speaking to rich people.
Bill Clinton: Why doesn't anyone believe we were poor? Secretary of State Hillary Clinton has had a rough time of it ever since she asserted that both she and her husband were "dead broke" and "struggled" after leaving the White House in 2001. "A few weeks before they left the White House, the Clintons were able to muster a cash down payment of $855,000 and secure a $1.995 million mortgage," Politifact observed. "This hardly fits the common meaning of 'dead broke.'" Clinton might have taken the public backlash over this minor gaffe in stride, but she didn't.
Hillary Clinton Says She Isn't 'Truly Well Off'. Clinton responded to criticism of her wealth in an interview with the Guardian newspaper published Saturday night [6/21/2014] by suggesting Americans won't be concerned about the more than $100 million her family has reportedly earned in recent years because they're not "truly well off." "They don't see me as part of the problem," Clinton said of Americans who are upset about income inequality, adding, "Because we pay ordinary income tax, unlike a lot of people who are truly well off, not to name names; and we've done it through dint of hard work."
The Editor says...
Making speeches is not particularly hard work, especially if one enjoys the services of professional speech writers. And for people like the Clintons, making $100,000 overnight in cattl futures isn't especially difficult, either.
Hillary Clinton was 'dead broke' leaving White House despite more than $780,000 in assets. At the end of Bill Clinton's presidency, the couple had big legal bills from investigations of Whitewater and the Monica Lewinsky affair. Hillary Clinton's first Senate financial disclosure forms, filed for 2000, listed assets of $781,000 to $1.8 million, and legal debts of $2.3 million to $10.6 million. Still, as the Clinton presidency ended, the couple bought a $2.85 million home in Washington and a $1.7 million spread in Chappaqua. And Hillary landed an $8 million advance for her book, "Living History."
2001 was Hillary's Year of Great Fortune, not of being "dead broke". The problem is not that the Clintons made a fortune. This is America, after all. People are entitled to make a fortune so long as they do so lawfully, and we've not yet reached the point where the law dictates when people have made enough. The problem is that Hillary is not being straight with the public. [...] In mid-December 2000, a month before Bill left office, Hillary signed a book deal with a near record $8 million advance.
Hard Knocks Hillary. Democratic presidential candidate Hillary Clinton thinks everyone should shut up and stop second-guessing her (and her husband's) voracious appetite for money. Clinton, who charges up to $200,000 to give one-hour speeches to Goldman Sachs executives and others, claims that she and Bill were "dead broke" and in debt following their eight years in the White House, and "struggled" to pay the mortgages on their multiple mansions and finance their daughter Chelsea's education at Stanford, Oxford, Columbia, and Oxford (again).
Political reporters unload on Hillary's gaffetastic day. Clinton's first gaffe of the day was revealed in a clip of an interview she gave ABC's Diane Sawyer. In that interview, Clinton attempted to relate to the working man by saying that, in spite of her family's current multimillion dollar annual income, they were "dead broke" and "struggled" after leaving the White House. They were so broke that they couldn't afford the mortgage on multiple houses, including the house Hillary had to purchase in New York in order to run for U.S. Senate.
Hillary Received $8 Million in Book Advance Before Leaving White House 'Broke' in 2000. Hillary Clinton may not have been as "dead broke" as she's claimed her family was upon leaving the White House in 2000. In the final month of her husband's presidency, Clinton reportedly inked a near-record book advance deal worth millions. In an interview with Diane Sawyer to air on Monday evening [6/9/2014], Clinton explained that she and her husband had to earn millions from speaking engagements because they were so deep in debt. "We had no money when we got there, and we struggled to piece together the resources for mortgages for houses, for Chelsea's education — it was not easy," she told Sawyer.
Hillary: We 'Struggled' to Buy 'Houses' After White House. Hillary further explains, "Bill has worked really hard — and it's been amazing to me — he's worked very hard. First of all, we had to pay off all our debts, which was, you know, he had to make double the money because of obviously taxes and then pay off the debts and get us houses and take care of family members."
The Editor says...
It is amusing to hear Hillary Clinton complain about taxes, which are painfully high because of left-wing tax-and-spend liberals like her.
Poor little rich girl. If you're a Clinton, it's not easy to play poor mouth. She has earned $5 million in speaking fees since she left the State Department, and got a further $8 million in advance for her new book. Together she and Bubba have scooped up $109 million over the past seven years. They're entitled, but she could show a little perspective.
The Editor says...
Enough with the derisive mockery, already! Well... maybe just one more:
Ready for Blatant Censorship. According to Hillary, after her husband was forced to retire from his job as President of the United States, the impoverished couple lacked financial resources with no future job prospects or source of income for Bill. Hillary, with a husband and one child to support, was forced to find work, any work she could. And she did. All by herself. The financially strapped Clinton family moved to New York State, somehow scraped together money for a down payment and qualified for a mortgage on a $1.7 million home in a town inhabited by the upper 10% in wealth. Adapting to her new situation, plucky Hillary soon found a job as U.S. senator from her new home state based just on her totally awesome skills.
The Editor says...
I'd let this subject drop if I were Hillary. But no ...
Hillary Clinton doubles down on poverty claim and says 'relentless persecution' by Republicans made them 'deeply in debt'. Former secretary of state Hillary Clinton told the German magazine Der Spiegel on Tuesday that she and her husband Bill were indeed 'deeply in debt' when they left the White House and blamed 'relentless persecution' by Republicans for her legal bills after his presidency. The claim has added fuel to the fire Clinton herself touched off last month when she claimed they were 'dead broke' after their time in the White House. The former first lady earns $200,000 or more every time she makes a public speech. The former president has earned a reported $104 million in speaking fees since he left the Oval Office behind him.
Dialing It In. One evening in March, during a visit to Italy, President Obama asked the U.S. ambassador to round up a bunch of — and I quote — "interesting Italians" for a dinner at the ambassadorial residence. [...] The menu that evening included a variety of pastas, and wines from Tuscany and the regions around Venice. Dinner lasted four hours. In this sumptuous and Baroque setting, amid these beautiful artifacts of long-gone civilizations, enjoying the finest foods and most delicate wines, President Obama was at home.
Guess Which Loyal Obama Voter Block Will Be Punished The Most By EPA's Climate Change Regulations. Black households have the lowest average incomes and highest unemployment among demographic groups. As reported by The Wall Street Journal, black households income was at $33,321 in 2012 which is the lowest median income among race groups according to a report by the U.S Census Bureau. As promised by Obama in 2008, his climate change regulations will make electricity prices "skyrocket." A study by the U.S. Chamber of Commerce estimated that climate change regulations like the EPA's recently announced new rules for existing power plants will result in added electricity expenses of $17 billion a year through 2030. That $17 billion in added costs are going to hurt black families a lot more than Obama's billionaire donors [...]
Lunch with Clintons auctioned for more than $300K. The Clinton Foundation has auctioned off a "once-in-a-lifetime opportunity" to sit down for a private lunch with Bill and Hillary Rodham Clinton for more than $300,000. Charitybuzz, the website where the auction was held, would not disclose how much the lunch was actually sold for, but a report by the Daily Caller published less than three hours before the auction's close showed the bidding war had reached at least $305,000 by a bidder named "moatistheke." The price exceeds the foundation's goal of $250,000.
Who pays for first lady's fabulous fashions? The financing of the first lady's wardrobe is something that the Obama White House is loath to discuss.
CA Legislators Are Highest Paid in USA. Stateline's data, which indicated California legislators are averaging a base salary of $90,526 per year, is a few months old, and that base salary will be raised to $95,291 in December as a result of a decision last year by the California Citizens Compensation Commission. The Commission is also considering a further raise. In addition, the legislators receive an additional tax-free "per diem" of $141.86 per day every day the Legislature is in session. The closest average salary to the California legislators is in Pennsylvania, where the average salary is $84,012.
New Education Department rules help elite college students at the expense of poor and minorities. You have to hand it to President Obama: He sure does do a good job of socking it to the folks he claims to be helping. Tuesday marked the end of the comment period on the Education Department's proposed new "gainful employment" regulations. While the administration says it wants to expand educational opportunities, the proposed rules would target community colleges and for-profit colleges — institutions that educate disproportionately poor, minority, and working-class Americans.
Lord Obama. [Scroll down] The very wealthy are with him also because he instructs them how to indulge, to ignore the problems of others, to be narcissistic and self-absorbed with a veneer of hipster cool. Golf, shoot hoops, wear shades, hang with Jay-Z and Beyonce, talk about your rap menu on your iPhone, fluctuate your cadences, do you Final Four predictions — all that means you can be cool and very rich and very self-absorbed while fooling hoi polloi and feeling great about your privilege at the same time. If you are a jean- and T-shirt wearing Silicon magnifico, Obama is your guy.
Hillary Clinton's wealth complicates image as populist champion. When your own minimum wage reportedly is in the neighborhood of $200,000 a speech, it might be difficult to sell yourself as the populist champion of the working class. In recent weeks, Hillary Rodham Clinton has begun a calculated transition from respected diplomat to fierce advocate for the 99 percent, using a "haves versus have-nots" message to build support among progressives who are desperate for a strong voice to battle Wall Street, protect entitlement programs such as Social Security and promote income equality. But for Mrs. Clinton, a rich, successful woman and part of one of America's most powerful political families, there are questions about how effectively she can carry that banner if she runs for president in 2016.
Billionaire plans to target Republicans in seven states. Billionaire environmental activist Tom Steyer will target Republicans in seven Senate and governors' races this year, as he pushes to make climate change a top issue in November's elections, his political aides announced Wednesday. [...] Steyer also will spend heavily to shape governor's races in Maine, Pennsylvania and Florida, another presidential swing state, where Gov. Rick Scott has said he is not convinced that climate change is caused by human activity.
Obama raises money for Durbin in Chicago. President Barack Obama used a pair of hometown fundraisers Thursday [5/22/2014] to defend Democratic control of the Senate against potential gains in the fall mid-term elections by what he called "ideologically rigid" Republicans. Donors paid as much as $35,000 for a ticket to the campaign events for Illinois' senior senator, Dick Durbin, and the Democratic Senatorial Campaign Committee.
Obama to raise cash for Dems at Texas BBQ dinner. Tickets start at $10,000 per person and go up to $32,400 for a couple.
Wendy Davis hosted by Hollywood stars. Director Steven Spielberg is among the hosts of the "celebration and fundraiser honoring Davis" on the rooftop of the Bad Robot in Santa Monica, California. Besides Davis, it benefits Battleground Texas, dedicated to making Texas competitive for Democrats. The tab for hosts is $25,000, while contributions range down to $1,000 at the "friend" level.
Hillary Clinton's Speaking Circuit Payday: $5 Million (and Counting). Since leaving [the] State [Department], Clinton has made more than 90 speeches and notable appearances. Her hosts have included private equity firms, investment banks, nonprofit galas, trade association conventions, and a slew of colleges and universities. At least two-dozen of those were paid speeches. With her usual fee of $200,000 a speech, Clinton has banked close to $5 million for her speeches and appearances in the last 15 months.
Obama to Fundraiser: We're Debating 'About What, Benghazi? Obamacare? It's Not Serious'. Ticket prices for the Democratic Congressional Campaign Committee fundraiser ranged from $10,000 to $32,400. The White House pool reporter said the press pool was socked away in a second-floor bedroom of the home while waiting for Obama's remarks.
President Obama golfs with Bain Capital lobbyist. One of President Barack Obama's golf partners this weekend was a lobbyist for the financial firm Bain Capital. According to a White House pool report, Obama hit the links on Saturday at the exclusive Robert Trent Jones Golf Club in Gainesville, Va., with Joe O'Neill, president and CEO of the lobbying and public affairs firm Public Strategies Washington. Rounding out the foursome was U.S. Trade Rep. Ron Kirk and Milton Carroll of CenterPoint Energy.
White House downplays Obama's golf round with lobbyist. President Obama's weekend round of golf with a veteran lobbyist didn't weaken his pledge to narrow the influence of K Street, the White House insisted on Monday [5/19/2014]. White House press secretary Jay Carney dismissed a question on whether the president's round with Joe O'Neill, the president and CEO of Public Strategies Washington, violated his promise to limit lobbyist access to the White House. "I think he played a game of golf," Carney said.
Barack Obama's Net Worth Has Risen 438% Since Running for President. While the average US citizen has a median income of roughly $51,000, Obama rakes in the cash with an annual presidential salary of $400,000. In addition, he receives money from book royalties and other investments. Hypocrisy isn't a stranger to the liberal elite. Michael Moore's fifty million dollar fortune came from creating documentaries that makes free enterprise look like the same as corporatism. The activist left said Mitt Romney was too rich to be president, but had no problem supporting John "I'm Wealthier Than Romney" Kerry when he ran for the same post in 2004.
Obama speaks at the Upper East Side home of investment banker Blair Effron. Tickets for the event, which followed a DNC roundtable in NYC with the same pricetag, were $32,400.
Harry Reid speaks with Jon Stewart. "Billionaire Tom Steyer has rapidly become one of America's most visible environmental advocates, vowing to punish lawmakers who oppose climate change action and pledging to spend up to $100 million to put the issue center stage in the November 4 elections." (Reuters) "Fortune built on Asian coal: It turns out that much of Steyer's wealth is the fruit of immensely profitable investments in development of Indonesian and Australian coal." (Washington Examiner) "Forbes estimates the former hedge fund manager is worth $1.5 billion. He has used that fortune to advance his anti-oil, anti-coal, and climate-concerned political agenda." (Washington Free Beacon)
Nuclear physicist sues Oprah Winfrey over trail access near her new megamansion in Telluride. A hiking-trail dispute between an 86-year-old nuclear physicist and Oprah Winfrey, one of the world's wealthiest and most famous women, has sparked a lawsuit as she prepares to build a megamansion high above Telluride. An attorney for retired physicist Charles D. Goodman has filed a lawsuit in San Miguel County District Court claiming that Winfrey's Yellow Brick Road company, the couple who sold the property to Winfrey and Mountain Village made a below-the-radar deal to close off access to trails that Goodman's family and his neighbors have had rights to use for nearly three decades.
Tom Steyer's Dirty Energy Record. Billionaire Tom Steyer has rapidly become one of America's most visible environmental advocates, vowing to punish lawmakers who don't oppose climate change and pledging to spend up to $100 million to put the issue center stage in the Nov. 4 elections. His in-your-face tactics have made him fierce enemies on the right who accuse him of hypocrisy and claim that he made much of his fortune through investments in fossil fuel energy at Farallon Capital Management, the San Francisco-based hedge fund he founded in 1986.
Why Are Democrats Afraid of Tom Steyer? Democrats have made casting conservatives as beholden to the ultra-rich central to their 2014 strategy, and that makes it awkward when a billionaire of their own puts himself front and center. [...] Steyer's persona, the skeptics feel, opens Democrats up to charges of hypocrisy, and leaves too much of the party's profile in the hands of a man who has been popularly elected to exactly nothing.
Warren Buffett has given $1.2 billion to abortion groups. May 13, 2014, marks one year since Philadelphia abortion Dr. Kermit Gosnell was convicted of first-degree murder "in the deaths of three babies who were delivered alive and then killed with scissors at his grimy, 'house of horrors' clinic," according to the Associated Press. Gosnell instantly became the face of abortion in the prolife community. But there's another, more recognizable face pushing abortion in the U.S. — liberal billionaire Warren Buffett. The so-called "Oracle of Omaha" has donated more than $1.2 billion to abortion organizations from 2001 to 2012.
Law-Flouting David Gregory of NBC Parks Illegally Outside Fancy D.C. Jewelry Shop. NBC's David Gregory drew special treatment from the District of Columbia for illegally possessing a high-capacity magazine and displaying it on national TV. There must be an exemption for "educational" media-bias reasons. So he won't worry about any fine for illegally parking his SUV the other day outside the "upscale bauble shop" Tiny Jewel Box, whose website advertises items for "Above $5000."
Angry heckler at $32,400 a ticket Democrat fundraiser in California. Obama was the headline speaker at four California fund-raising events, raising his two-day total to five. His last was a Silicon Valley event in San Jose co-hosted by Y Combinator President Sam Altman and Yahoo Inc CEO Marissa Mayer. About 250 people paid between $1,000 and $32,400 to attend.
Obama to Headline Fundraiser at Palatial Home of Billionaire Bundler. President Barack Obama will attend a fundraiser on Thursday [5/8/2014] at the palatial San Diego home of Qualcomm founder and Democratic mega-donor Irwin Jacobs. The $10,000-per-plate event will benefit the Democratic Congressional Campaign Committee, according to local news reports.
Meet The Radical Billionaires Controlling the Democrat Party. While top liberal organizations blast the right for accepting dark money, the Alliance's entire business model is based on maintaining secrecy akin to the Illuminati. [...] The group requires some hefty financial backing. It costs $25,000 just to join, yearly dues of $30,000 and an additional $200,000 donation to Alliance causes.
Guess the Party Affiliation of the Investor Who Just Bought a Beach House For a Record $147 Million. Activist investor and hedge fund owner Barry Rosenstein just set the record for the highest residential sales price for home. Paying $147,000,000 for a beachfront home in the Hamptons, his new neighbors will include Jerry Seinfeld, along with other, well-known entertainment industry and business tycoons. The previous record set was $120 million, just a couple of weeks ago, by another hedge fund manager for a home purchased in Greenwich, Conn.
Liberals: Exempt from Scrutiny. Too many modern liberal fetishes are predicated on the medieval notion of exemption, and should not be taken as anything much other than useful pretensions or smart career moves — something like joining the Masonic lodge in the 1920s in small-town America. Charter schools are bad, and troubled public schools are noble, but the coastal elites, whether at Sidwell Friends or the Menlo School, assume that they should not sacrifice their children on the altar of their own ideology. [...] Concern for the Sierra toad and frog should stop logging-road and mountain development, but incinerating fauna with solar mirrors or grinding up eagles and hawks in wind turbines is the necessary price of green membership.
Read the Confidential Document Left Behind at the Democracy Alliance Meeting. The Democracy Alliance takes pains to ensure that its work disbursing millions of dollars to top left-wing organizations remains secretive and free from public scrutiny. But a document left on the floor of the group's recent gathering reveals for the first time the names of a number of individuals involved in the effort. It lists new Democracy Alliance "partners," individuals who every year must pay $30,000 in dues and contribute at least $200,000 to the groups that DA supports.
Teachers Union Boss Randi Weingarten: My Salary's Only $360K. American Federation of Teachers (AFT) President Randi Weingarten, who was paid $543,150 last year, defended her compensation by claiming her pay is $360,000 and other reported expenses simply prove the union's "transparency." [...] "Justice means that hardworking people must have access to a living wage," Weingarten wrote. AFT paid Weingarten $556,981 in 2012 and $543,150 in 2013.
If You Criticize the President's Vacation Spending You're Probably Racist or Something. To put these figures in perspective, the administration spends every 5 hours what the average American family spends each summer on vacations. [...] Is there any conceivable way to justify a monthly average travel and vacation budget of $625,000? For a President that constantly harps on about income inequality and shared sacrifice, his lavish presidential lifestyle is the epitome of hypocrisy.
One-percenter Liz Warren milks system then slams it in phony soundbites. While U.S. Sen. Elizabeth Warren sleeps in her $5 million mansion in Cambridge, and got paid $350,000 to teach just one class at Harvard, she had the audacity to say in an interview with Jon Stewart this week that "the system is rigged to benefit the rich." Yes, Sen. Warren, that would be you. Under a free-market, capitalist system, you became a U.S. senator and multimillionaire whose own net worth hovers around $14.5 million, according to personal financial disclosure reports filed in 2011.
Michelle Obama spotted at the Salamander Resort in Middleburg. First lady Michelle Obama spending a quiet weekend in Middleburg with daughters Malia and Sasha in tow at the tony Salamander Resort. While the president was being trailed by flashing cameras and notebook-wielding reporters on a four-country tour through Asia, Michelle Obama's itinerary was a tad bit more low-key. On Friday she was spotted in the lobby of the luxury resort owned by multimillionaire Sheila Johnson.
Greens Are Reds. The dirty little secret of the modern environmental movement is that it has become a luxury good for the uber-rich. Its policies — from carbon taxes, to renewable energy standards, to crushing regulations on coal plants — would impose high costs on the people who can least afford to pay the green tab. A Pew Research Center poll released in March offered further confirmation of this truth. It found that only two major voting groups oppose the construction of the Keystone XL pipeline: Democrats who make more than $100,000 annually and Dems with a college or advanced degree.
Oligarchy in the Twenty-First Century. "To see what is in front of one's nose," George Orwell famously wrote, "needs a constant struggle." In front of my nose as I write this is a copy of last Sunday's New York Times. I have opened it to the business section. Below the fold is one of many Times articles on Thomas Piketty, the French economist and author of Capital in the Twenty-First Century, which argues that America has entered a second Gilded Age of vast inequality, inherited fortunes, and oligarchic politics, where the shape of public discourse and public policy is determined by a wealthy few.
Obama only ate HALF of the pricey dinner at the 'world's best sushi restaurant'. President Obama reportedly only ate half of the expensive sushi dinner he was treated to last night in Tokyo. Instead of savoring every morsel of the made-to-order 20-course meal at Sukiyabashi Jiro — dubbed the world's best sushi restaurant and the subject of the 2011 documentary 'Jiro Dreams of Sushi' — the President reportedly put his chopsticks down after only 10 pieces.
Five Alarmist Celebs and Their Double Standards. Showtime's new climate change series, "Years of Living Dangerously," premiered April 13, 2014, slightly more than a week before Earth Day 2014. It relies on several wealthy, Hollywood celebrities to spread fear about climate change. While these actors and directors talk a lot about reducing carbon footprints and saving the world, they haven't given up their own enormous mansions and private jets. Director James Cameron, former Governor Arnold Schwarzenegger, and actors Harrison Ford, Matt Damon and Ian Somerhalder who are worth a collective $1.2 billion, according to Celebrity Net Worth, were just some of the Hollywood types involved in Showtime's nine-part series.
America is an oligarchy, not a democracy or republic, university study finds. America is no longer a democracy — never mind the democratic republic envisioned by Founding Fathers. Rather, it has taken a turn down elitist lane and become a country led by a small dominant class comprised of powerful members who exert total control over the general population — an oligarchy, said a new study jointly conducted by Princeton and Northwestern universities. One finding in the study: The U.S. government now represents the rich and powerful, not the average citizen, United Press International reported.
Dems May Regret Steyer's Keystone Payoff. After a lengthy study of the plans for the construction of the Keystone XL pipeline, the U.S. State Department issued an 11-volume report back in January confirming what most experts had already concluded long before then: the vital project would not damage the environment or increase the rate of carbon pollution. But liberal activists weren't happy and have used the 90-day automatic review process that followed that report to furiously lobby the administration to stop the construction of the 1,700-mile pipeline from Alberta to the Gulf Coast refineries. The key player in that effort was Tom Steyer, the billionaire environmental extremist who has pledged to give $100 million to Democratic candidates who do his bidding.
Bidens Earned $400,009 in 2013 — 5% Went to Charity. Vice President Joe Biden and his wife, Jill, reported an adjusted gross income of $407,009 in 2013, from which they contributed 5% to charity, or a total of $20,523, according to their 2013 income tax return, which was released by the White House on Friday [4/11/2014]. Among that charity-total — $20,523 — a sum of $15,300 was royalties earned from Jill Biden's 2012 children's book, Don't Forget, God Bless Our Troops. Excluding those book royalties, the Bidens' charitable contributions of $5,223 equaled 1.2% of their income.
NYC Mayor De Blasio Pays 8.3% Effective Tax Rate. As predictable as the media silence to follow comes the news that New York City's new left-wing mayor, who ran on a platform based in large part on raising taxes, paid an effective 8.3% tax rate in 2013 based on a total income of over $200,000.
Income Inequality Institute Will Pay Paul Krugman $25,000 Per Month. According to a formal offer letter obtained under New York's Freedom of Information Law, CUNY intends to pay Krugman $225,000, or $25,000 per month (over two semesters), to "play a modest role in our public events" and "contribute to the build-up" of a new "inequality initiative." It is not clear, and neither CUNY nor Krugman was able to explain, what "contribute to the build-up" entails.
Poor Little Rich Man. Being a "distinguished professor" of economics at the City University of New York is nice work if you can get it. "During year-one," the boss explains in a letter to the new hire, "you will not be expected to teach or supervise students." In subsequent years, "you will teach one seminar per year." In addition, the boss informs the distinguished professor that he "will play a modest role in our public events" and "will be asked to contribute to the buildup" of one of the university's programs. The pay is $225,000 a year, plus a $10,000 expense budget — and the distinguished prof gets summers off.
HHS nominee got $1.2M at 'zero' salary job at Wal-Mart. Her White House biography touts her key private-sector experience as president of the massive foundation, but Internal Revenue Service records show that the job is unpaid and the more than $1.2 million in salary, deferred compensation and bonuses paid to Ms. Burwell came through her lesser-known role as a vice president at Wal-Mart Stores Inc., according to a government ethics filing. James Joseph, a tax lawyer at Arnold & Porter LLP, said such arrangements are common among corporate foundations.
Lois Lerner sits in her lavish house on $2.4 million property as she awaits possible contempt charge. Ex-IRS official Lois Lerner is living the life of a private citizen at her more-than $2.4 million property in Bethesda, Md. while Republicans consider holding a House floor vote to hold her in contempt of Congress. The House Oversight and Government Reform Committee voted 21-12 to hold Lerner in contempt last week after she waived her Fifth Amendment rights but continued to stonewall the committees investigation into the IRS targeting scandal. The measure was opposed by all 12 of the committee's Democrats, including Ranking Member Rep. Elijah Cummings, whose staff requested information from the IRS about a conservative non-profit applicant group under agency scrutiny.
Rep. Joe Kennedy sees support from NYC's most fashionable. Our spies say 80 people packed into [Sam] Hamadeh's 4,000-square-foot loft — which has been a filming location for "Gossip Girl" and photo shoots for Cosmo and Elle — for the event, which raised around $40,000 for the 33-year-old Kennedy scion who is kicking off his re-election bid.
Export subsidy fight pits Maxine Waters against Mike Lee. Democratic Congresswoman Maxine Waters — "a dynamic liberal Democrat who champions the causes of the poor and downtrodden," as the liberal press calls her — held a rally of sorts at the Capitol on Tuesday. Waters' cause: supporting the federal agency called the Export-Import Bank, which subsidizes exporters, banks and foreign companies. Among the needy on stage with her was the top lobbyist for Boeing, the prime beneficiary of Ex-Im.
2 Obama fundraisers after grieving Fort Hood deaths, one at $17 million home. From the White House pool report: ["]Later today, the president will headline two fund-raising events in Houston. The first, for the DNC, is closed press. Background from a DNC official: "The President will attend a roundtable discussion for the DNC at a private residence in Houston with approximately 30 supporters who will contribute up to $32,400."["]
7 fun facts about President Barack Obama's tax return. [#1] The Obamas paid $98,169 in total federal income tax on adjusted gross income of $481,098. That's an effective tax rate of 20.4 percent. [#2] The Obamas are due a tax refund of $19,108. What should they spend it on? [#3] Besides his salary, Obama reported $104,809 in business income from book sales. That's down from $258,772 in 2012.
The Editor asks...
How much of the income from his book sales are due to Bill Ayers?
Obamas pay $98,169 in taxes on income of $481,098. [Mr. and Mrs. Obama] paid an effective federal income tax rate of 20.4 percent and donated significantly less to charity than they did the year before.
Report: Obama To Attend Dem Fundraiser In Texas. The Associated Press obtained an invitation to the April 9 event where tickets start at $16,200 a person and go up to $64,800 for a couple.
Democrats: The Real Party Of The Rich. By almost every measure, in fact, it's the Democrats, not the Republicans, who are the party of the rich. Start with Congress itself. Who are the wealthiest members? Well, there are 269 millionaires among Congress' 535 members. And most of them are Democrats. And contrary to the hand-wringing on the left about the Supreme Court's 5-4 McCutcheon v. Federal Election Commission ruling Wednesday [4/2/2014], Democrats far outspend Republicans on elections. It isn't even close. According to OpenSecrets.org, from 1989 to 2014 rich donors gave Democrats $1.15 billion — $416 million more than the $736 million given to the GOP. Among the top 10 donors to both parties, Democrat supporters outspent Republican supporters 2-to-1.
Dem Rep.: 'Members of Congress Are Underpaid,' Can't Afford to 'Live Decently'. Do you think members of Congress are overpaid or underpaid? Most likely you'd go with the former, but Democratic congressman Jim Moran argues it's actually the latter. In an interview with CQ Roll Call, Moran says, "I think the American people should know that the members of Congress are underpaid." The House recently took up a bill to freeze members' paychecks, placing another halt on the annual cost-of-living pay increases they would normally get and keeping annual salary at $174,000.
Testing and Detesting SGO. At week's end, retiring Cong. Jim Moran (D-of course, VA-unfortunately) told Roll Call that Congress was underpaid. Before we could see clearly through our laughter-teared eyes, he added that "I understand that it's widely felt that they underperform, but the fact is that this is the board of directors for the largest economic entity in the world." And he said all that with a straight face.
Which Party Represents the Wealthier U.S. Districts? In order to appeal to everyday, average Americans, both political parties like to trot out the attack that the other side is the party of the rich (or super-rich, just to make it stick more). Well, the Associated Press looked at the financial stats for every congressional district and concluded that most of the wealthiest districts in America are represented by Democrats.
Environmentalists to the Peasants: Drop Dead. California is going through a terrible drought and 2013 was the driest on record in the state. So who is suffering, financially and otherwise, from its effects? Hint: it is not the coastal elite. The water still flows to the upscale neighborhoods of La Jolla, Malibu, and Marin County. Their lawns are watered, their BMW's washed and polished, their swimming pools full. No, it's the farmers in the Central Valley and the agricultural workers who are idled as 500,000 acres of the best farmland on the planet lies fallow. Where is their water going? To save the environment.
The Progressive Aristocracy. If, as I suspect, the currency of progressivism isn't policies or results, but emotions, what does that approach build? What kind of a country do you get when political leaders are driven by a desire to feel that they are more enlightened, noble, tolerant, wise, sensitive, conscious, and smart than most other people? The evidence before us suggests progressives' ideal society would be one where they enjoy great power to regulate the lives of others and impose restrictions and limitations they themselves would never accept in their own lives. Very few people object to an aristocracy with special rights and privileges as long as they're in it.
Why is Obama administration blocking Detroit River bridge? Why isn't the Obama administration willing to finance the customs plaza for the new international bridge over the Detroit River between Detroit and Windsor, Ontario? That's a question raised by this article in the Wall Street Journal. As the Journal notes, the government of Canada has agreed to pay, as part of a public-private partnership, about $3.65 billion for building the bridge, including a $550 million link with Interstate 75 in Detroit. The new bridge would provide an alternative for the privately owned Ambassador Bridge, which was opened in 1929. Yet the Obama administration isn't ponying up $250 million to build a customs plaza. [...] Why is the Obama administration withholding the $250 million for the customs plaza? One possible reason: to propitiate Matty Maroun, the Michigan billionaire who owns the Ambassador Bridge and profits handsomely from tolls and concessions.
Your Political Leaders Are Unsurprisingly Terrible at Empathizing with Your Salary. Democratic Rep. Jim Moran of Virginia wants you to know that, at $174,000 a year, members of Congress are underpaid. Because Jim Moran, like others, doesn't understand actual economic hardship and, frankly, isn't that great at politics either. Moran is not the only public official to make a dubious claim about salary hardship in the past 24 hours.
Fish Instead of People, Ideologies without Consequences. There is a great sickness in California, home of the greatest number of American billionaires and poor people, land of the highest taxes and about the worst schools and roads in the nation. The illness is a new secular religion far more zealous and intolerant than the pre-Reformation zealotry of the Church. Modern elite liberalism is based on the simple creed that one's affluence and education, one's coolness and zip code, should shield him from the consequences of one's bankrupt thoughts that he inflicts on others.
Party of the rich: In Congress, it's the Democrats. Republicans are the party of the rich, right? It's a label that has stuck for decades, and you're hearing it again as Democrats complain about GOP opposition to raising the minimum wage and extending unemployment benefits.
The Left's War on Horses. [Scroll down] Animal rights activists and their real estate backers have more money than horse carriage drivers. The modest stable buildings are no match for the liberal real estate developers seeking to put up pricey hotels and progressive animal rights activists easily overwhelm drivers who may get only eight fares a day. The anti-horse activists of Homo progressivus spent $1.3 million on Bill de Blasio. The drivers bring their own coffee with them in a thermos because a Starbucks coffee is too pricy for their budgets. Bill de Blasio refused to visit the stables where the horses are kept. The money has changed hands, his mind is made up and he doesn't want to be confronted with the anger and suffering of the working men whose jobs he is taking away.
Bill Clinton cashes in on struggling nonprofit hospital. Bill Clinton accepted a $225,000 speaking fee from the nonprofit Washington Hospital Center smack in the middle of two big rounds of layoffs in 2012 — one of a number of tax-exempt organizations that have paid big money to hear the former president talk. The $225,000 payment wasn't made public by the hospital on its annual Internal Revenue Service forms, but rather appeared among dozens of lucrative speeches by Mr. Clinton reported on his wife's final ethics filing as secretary of state.
Spoiled Rotten Kids of DC's Elite. Connected children of political families catching a break is something we Americans are plenty used to — there would be no Kennedy or Bush dynasties without the public's acceptance that some people just raise their kids up all square-jawed and rolled shirtsleeves, ready to run for office. But the nexus of private business and politics is always one that's skated over lightly in high school civics classes.
Lucky Jim. Earlier this week, inside a ballroom at the luxury Mandarin Oriental hotel in D.C., President Obama met with Organizing for America. OFA, as it's called for short, raised $26 million last year, much of it from an assortment of heirs, heiresses, hedge funders, and Hollywood executives.
Fat Cats and Democrats. Consider the Center for Responsive Politics' recently released list of "Heavy Hitters," the biggest donors among political organizations from 1989 to 2014. Number 1 is ActBlue, "the online clearinghouse for Democratic action," as it styles itself, that bundles individual contributions for distribution to Democratic candidates. ActBlue has already raised $12 million for the 2014 election cycle. In 2012 it tallied $33 million. All but 4 of the top 16 "heavy hitters" give the overwhelming majority of their funds to the Democrats. Only 2 of the top 20 give to Republicans.
'Torquemada' John Dingell. On Monday the 88-year-old [Representative John] Dingell [(D., Mich.)] announced his retirement. His media and political allies celebrate him as a populist man of the middle, but the reality of who he is couldn't be more different. Over his record 57 years in Congress, Dingell has been one of the key architects of centralizing regulatory power in Washington to the benefit of big-business lobbyists — and to the detriment of the little guy.
The Biggest Donors In American Politics Give To Democrats. Contrary to what the Democrats tell you, the Koch brothers are not the biggest donors in American politics. In fact, very few of the top donors give to Republican candidates. By far, they give to Democrats. [In the accompanying chart], you have to go down to number 17 before finding one with a Republican tilt. And that one is UPS. Also notice that most of the biggest donors to Democrats are unions, including public employee unions who survive on our tax dollars. Remember this the next time you hear liberals whining about money in politics.
Obama Plays Water Guzzling Desert Golf Courses Amid California Drought. President Barack Obama traveled to California on Friday to highlight the state's drought emergency at two events near Fresno, calling for shared sacrifice to help manage the state's worst water shortage in decades. He then spent the rest of the weekend enjoying the hospitality of some of the state's top water hogs: desert golf courses. Vacationing with DVDs of his favorite television shows and multiple golf outings with his buddies, the duffer in chief played at two of the most exclusive courses in the Palm Springs area.
Obama plans bachelor Valentine's Day golfing weekend in California. President Obama is traveling to California on Friday to discuss the severe drought that is threatening farmers' livelihood and meet with the king of Jordan. [...] The president will spend the evening of Valentine's Day dining with King Abdullah II of Jordan followed by two days of golf, according to a senior administration official to the New York Times.
President Obama golfs at Larry Ellison's Porcupine Creek. President Barack Obama, in town since Friday and fresh off a meeting with Jordan's King Abdullah II, left the Sunnylands estate Sunday morning for a little more golf. He didn't have far to go. The destination was Porcupine Creek, the private golf course owned by Oracle co-founder and BNP Paribas owner Larry Ellison.
After decrying inequality, Obama golfs at personal course of mega-billionaire. Inequality in America is a terrible thing, unless it results in a nice afternoon at a golf course so private that "uncrowded" does not begin to describe the solitude a presidential foursome can enjoy. Few things in this world are more unequally enjoyed than the luxury of a personal golf course. But our inequality-hating president found the time to enjoy one yesterday [2/16/2014].
Barack Obama spends holiday weekend playing Oracle billionaire nineteen-hole golf course as Michelle hits the slopes. First lady Michelle Obama and her daughters, Sasha and Malia, are in Aspen for the President's Day weekend while Barrack has been golfing in sunny Southern California with childhood friends. 'She likes it here,' Pitkin County Sheriff Joe DiSalvo said, noting that this is Mrs Obama's third consecutive trip to Aspen over the holiday weekend.
Media Sidestep Five-Figure Price Estimate on Mrs. Obama's State Dinner Dress. Michael W. Chapman of our sister site CNSNews.com reports on cost estimates for the hand-sewn gown Michelle Obama wore at Tuesday's state dinner for the prime minister of France. Think five figures. If Ann Romney were First Lady now, would that escape the media's politicized scrutiny?
Obama Tees Off on Billionaire's Private Golf Course. President Barack Obama is teeing off on a private California golf course owned by supporter Larry Ellison, the billionaire co-founder of the Oracle software company. Ellison ranks third on Forbes' annual list of the 400 richest Americans, with an estimated $41 billion fortune. His 249-acre desert property in Rancho Mirage came with a 19-hole private golf course. The extra hole is available for playoffs.
Obama's state dinner for France: Let them eat beef, caviar, fudge and cotton candy. Tuesday's state dinner was the usual self-indulgent Washington lavishness oblivious to the unemployed, food-stamped lives of millions of back-country Americans. The 350 strutting attendees playing dress-up were a combination of Obama cronies, B-level Hollywood types, media, campaign bundlers and assorted beltway politicos who can consider themselves D.C. royalty until Jan. 20, 2017. They were over-fed and entertained in what passes for the Palace of Versailles in Washington, a heated tent on the White House lawn decorated like a Monet spring painting.
Michelle Obama [wears] $12,000' Carolina Herrera gown at the White House state dinner. Michelle Obama chose Venezuelan-American designer Carolina Herrera for the gown she wore Tuesday [2/11/2014] to the state dinner honoring French President Francois Hollande.
CNN: Michelle Obama's 'Dress Probably Cost Around $12,000'. The dress first lady Michelle Obama wore at last night's state dinner was the topic of discussion last night on CNN. [...] Another guest on CNN last night thought the cost was about $12,000. "Well, by the way, I think that dress probably cost around $12,000. But that's just my guess," said Sally Quinn.
Michelle Obama chooses Carolina Herrera for state dinner dress. The first lady chose a dramatic Carolina Herrera ball gown with a voluminous skirt and lace-overlay top. The blue and black gown is the first dress with sleeves Obama has worn to a state dinner. Previously she donned one-shouldered pieces from Peter Soronen and Doo-Ri Chung, and a strapless gown by Naeem Khan for the administration's first official state dinner in 2009 for India.
Hereditary Democracy? Bill and Hillary Clinton left office in 2000. They were all but broke. Legal bills had been a draining burden. Flash forward. Bill Clinton made $17 Million last year in speaking engagements. Hillary can knock out $400,000 for a monotone vapid speech rife with platitudes and banalities.
Michelle's dogs apparently dine on china and crystal. Poverty and unemployment are at near-record levels, the economy is stalled, and a record 47 million Americans are on food stamps, yet aides for first lady Michelle Obama's tweeted out a picture of her two dogs apparently dining at a table laid with crystal and china.
Stunning insensitivity from Michelle Obama. Michelle Obama's lust for luxury has always been a bit of a problem for her husband and Democrats in general. Jetting off to five star resorts with a large entourage has too much dissonance with the rhetoric denouncing inequality currently in favor with the left. But the First Lady has now outdone herself, and because a picture is worth a thousand words, the damage may be a bit more serious than the occasional grumble over designer shoes and livin' large.
Obama's Opulent State Dinners Cost The Taxpayer About Half A Million Dollars Each. Obama is having a grand old time with his socialist buddy President Francois Hollande of France on his visit, and for the first time ever, Americans will get a view of just how much a State dinner costs them. It took thirteen months for the State Department to respond to the request for the costs of such dinners, but here they are!
Obama, first lady go out on the town. Three days before they throw a state dinner for the president of France, President Barack Obama and his wife are whetting their appetite for — Mexican food.
[Extraneous punctuation in original.]
Hillary's Billionaires. Billionaires Alice Walton, George Soros, and Marc Benioff all made major contributions to the Super PAC supporting Hillary Clinton's presidential run in 2016, according to recent Federal Election Commission filings. The three each contributed $25,000 to Ready for Hillary PAC, the maximum allowed donation, Bloomberg reported on Sunday [2/2/2014]. Walton is the daughter of Walmart founder Sam Walton. She is the world's 13th richest person and has an estimated worth of $33.9 billion.
First Lady, Barbra Streisand Raise Cash for Dems, Warn of GOP Resurgence. Barbra Streisand, Tim Robbins and other progressive stars helped First Lady Michelle Obama fill Democrat coffers yesterday [1/29/2014] to keep both the House and Senate out of the GOP's mitts. The L.A. fundraiser, held at the home of Everybody Loves Raymond creator Phil Rosenthal, also included James Brolin, Paul Reiser, Dolores Roberts and L.A. Mayor Eric Garcetti. The event netted $700,000 for the liberal cause.
Here's what Michael Tusk served Michelle Obama at Cotogna. But in middle of the day, Ms. Michelle Obama and a number of her guests dined at Cotogna. It looks like the Obamas are fans of Lindsay and Michael Tusk's Pacific Avenue restaurants; back in 2012, Michael Tusk cooked for President Obama (in a private home), serving him dishes like cheese-filled tortelloni and poularde in various preparations. On Thursday [1/30/2014], this was the menu presented to the First Lady and company: [...]
Obama's 'Operation Choke Point' Will Only Hurt Working Poor. The Obama administration thinks driving payday lenders out of business will help the urban poor. In fact, a Fed study suggests it will only drive them into the jaws of loan sharks.
Report: Obamas, Bidens spent $295,437 on just one vacation weekend. According to new records obtained by the taxpayer watchdog group Judicial Watch, three separate jaunts taken by President Obama, first lady Michelle Obama, and Vice President Joe Biden during last year's Presidents Day weekend cost at least $295,437. And that's mostly just for security, not Air Force One or other official costs. The records were obtained from the U.S. Secret Service and details some of the "security and/or other services" of Obama's mid-February 2013 golf trip to West Palm Beach, Fla., the annual Aspen, Colo. ski trip taken by the first lady and her daughters, and the Biden family trip, also to Aspen.
Millionaire Congresswoman: Income Inequality is 'Existential Threat' to U.S. Rep. Rosa DeLauro (D-Conn.), who is worth millions of dollars according to her congressional financial disclosure statement, says Congress needs to tackle income inequality because it "poses an existential threat to our nation and our way of life."
Obama vs. Obama. [Scroll down] So who is responsible for this state of affairs? Consider the trillion and a half dollars handed over to the banks and other financial institutions shortly after Obama took office. This money was supposed to be extended as credit to businesses — including small businesses — in a bid to supercharge the economy according to the old Keynesian formula. Instead it went directly into the markets, where it triggered the growth of the current market bubble, generating plenty in the way of paper profits, bonuses, and so forth along the way. Also consider the $65 billion a month handed to the banks in the form of "quantitative easing."
Liberalism in Brooklyn. I am watching them take my country from me — the Obamas, the de Blasios, the Holders, the generic Democrats with their imaginary sincerity and their simplistic complaints about income inequality. As if excellence and the ability to earn are wicked traits. In the meantime, Obama and his ilk are living pretty well. They are not sleeping in boxes on cold urban streets. Like thieves in the night, they try to steal the votes from the poor so that they can live even richer lifestyles. They pretend to identify with the middle class, as if their lifestyles and prestige even resemble such a thing as "middle class."
White House imposes secrecy rules on First Lady's lavish, celebrity-filled birthday party. There was a party in the East Room of the White House Saturday night [1/18/2014], an affair attended by a reported 500 people, a lavish celebration with celebrities galore, appearances by some of the world's most popular performers, lots of dancing and powerful government officials, including, of course, the most powerful official of all, the President of the United States. And the White House wants to make sure you know as little as possible about it. [...] [M]aybe, since the president has announced he is devoting the rest of his time in office to an "inequality agenda," the White House felt photos of a champagne-soaked, star-studded party would be somewhat off-message.
Maryland is for millionaires! Of all the states in the nation, Maryland once again reported the highest concentration of millionaires, according to an annual survey conducted by a wealth research firm. A report released this week by the New York-based Phoenix Marketing International showed that there were just over 6 million millionaire households in the nation — an increase of 53,000 from the year before.
More Democrats than Republicans Sit on 10 Richest Members of Congress List. While Republicans often get the reputation for being "the party of the rich," seven of the 10 richest members of Congress are Democrats, according to the Center for Responsive Politics (CRP). CRP compiled a list of the 10 richest members of Congress using 2012 personal finance disclosure information, the latest available. These wealthy Democrats are not afraid to use their big bucks and high-powered connections to get ahead.
Obama's ambassador picks, by the numbers. $436,000 to Democratic causes — that's from former White Sox outfielder Mark Gilbert, the nominee for the U.S. Embassy post in New Zealand. [...] $291,000 in contributions to Democratic campaigns and committees — that's from "The Bold and the Beautiful" executive producer Colleen Bell, who is up for the job of ambassador to Hungary.
Taxpayers foot the bill for First Lady's extended Hawaiian vacation. The White House conceded on Monday that the federal treasury will foot the bill to fly First Lady Michelle Obama back to Washington, D.C. on a separate government aircraft after she finishes her extended vacation at the palatial 12-bedroom Hawaii home of talk show legend Oprah Winfrey. Dedicated vehicles, Secret Service costs, and security sweeps of the Winfrey estate on Maui will add considerably to the total tab.
Michelle Obama spending extended vacation at Oprah's Maui home. Michelle Obama is spending her extended Hawaiian vacation at Oprah's "exquisite" Maui getaway, The Daily Caller has learned. While White House pool reports indicate the first lady stayed behind this week in Hawaii to chill out with friends before her 50th birthday, there weren't many specifics.
1 percent pay raise latest pinch for troops, veterans struggling to pay bills. President Obama on Monday [12/23/2013] signed an executive order giving military personnel and civilian federal workers a 1 percent pay raise, the first raise for civilians in four years. But for military families, it was another hit. Military members had been receiving an annual pay increase of 1.8 percent, and ther order comes as more benefit cuts loom on the horizon for military families due to tightening budgets.
The Editor says...
The President was on vacation in Hawaii on Monday the 23rd. Did he sign this executive order on the beach or the golf course?
Obamas Go Out on the Town in Hawaii. [Scroll down] Later in the day, the First Family headed out again, this time to dinner at Morimoto Waikiki, an upscale restaurant from Masaharu Morimoto, the star of "Iron Chef" and "Iron Chef America." No word on what the Obamas ordered, though the restaurant boasts a $140-per-person "omakase" chef's choice tasting menu.
You Call This Tax Fairness? Imagine lower-income families watching their incomes drop while their tax burden goes up. Patently unfair, right? Yet it actually happened under President Obama.
Michelle Obama wears controversial J Mendel jacket again despite backlash over its $6,800 price tag. Michelle Obama has once again stepped out in her $6,800 J Mendel jacket, despite fielding a backlash last time she wore the pricey garment. The First Lady looked suitably festive as she joined her family yesterday for the taping of TNT's Christmas in Washington at the National Building Museum. But the last time she wore the embellished garment, in July 2012 at a Buckingham Palace reception in London, political commentators took issue with the fact that she had spent so much on fashion while so many in the U.S. are suffering financially.
Who the Democrats Really Are. The richest Americans divide their votes evenly between the two parties, depending on how they earned their wealth. The Democrats are the party of the super-rich. Republicans are the party of the great middle.
Who Funds the Far Left? You'll Be Surprised. The Center for American Progress is a left-wing organization that is closely associated with the Obama administration. Its principal product is a web site called Think Progress. Think Progress is part of the internet cesspool that modern liberalism has become. Written by hack left-wing bloggers, it is bitterly hostile to free enterprise. It is a low-rent site that traffics in the most absurd smears and conspiracy theories. Many have wondered for some years who finances far-left web sites like Think Progress. As of today, we know at least part of the answer, as CAP released its corporate donor list for the first time.
GE, Walmart, AT&T, Google Among Center for American Progress Donors. On Friday [12/13/2013], the Obama- and Clinton-allied Center for American Progress finally revealed its long-sought corporate donor list after heavy pressure arising from CAP's quasi-lobbying history. That scrutiny ratcheted up following the announcement that CAP founder John Podesta would be formally joining the Obama administration. Both Politico and The New York Times called for the donor list to meet the public eye. And so CAP handed over the list to the leftist Huffington Post.
Celebrity Hypocrites. I'm annoyed that so many Hollywood celebrities hate the system that made them rich. Actor/comedian Russell Brand told the BBC he wants "a socialist, egalitarian system based on the massive redistribution of wealth." Director George Lucas got rich not just from movies but also by selling Star Wars merchandise. Yet he says he believes in democracy but "not capitalist democracy." Actor Martin Sheen says, "That's where the problem lies ... It's corporate America." And so on.
Latter-Day Marxist. A week ago, the White House Marxist declared that income inequality was the "defining challenge" we face. If Obama really means what he says (which he almost never does) he could begin by giving up the millions he has already pocketed and the fancy houses and the fancy vacations he funds with taxes coming from Americans who are scraping to make ends meet. Or he could close down Obamacare, the largest redistribution of income from the have nots to the haves in our lifetimes.
'Income Inequality' — The Biggest Lie of All. In the last few days Barack Obama has attempted to change the subject of public discourse from healthcare to income inequality, which he has dubbed "the defining challenge of our time." Now he tells us! Since POTUS hasn't paid much attention to this problem for the first five plus years of his administration, even with African-American unemployment through the roof and the middle class disappearing from American economic life, [...] this should come as some surprise.
America's Royalty On Its Coasts Decides How The Rest Live. The densely populated coastal corridors from Boston to Washington and from San Diego to Berkeley are where most of America's big decisions are made. They remind us of two quite different Americas: one country along these coasts and everything else in between. Those in Boston, New York and Washington determine how our government works; what sort of news, books, art and fashion we should consume, and whether our money and investments are worth anything. The Pacific corridor is just as influential, but in a hipper, cooler fashion.
President Obama has nine different types of pie for White House Thanksgiving dinner. President Barack Obama is celebrating Thanksgiving with a quiet family dinner at the White House — where he will be feasting on a choice of nine pies.
New survey: Despite Michelle Obama, Americans are eating less healthy. According to the Obama White House, the first family consumed a Thanksgiving dinner of turkey, honey-baked ham, cornbread stuffing, oyster stuffing, sweet potatoes, mashed potatoes, greens, green bean casserole, dinner rolls and macaroni and cheese. Then, the family washed all that down with nine kinds of pies: huckleberry, pecan, sweet potato, peach, apple, pumpkin, banana cream, coconut cream and chocolate cream.
Obama Hailed as 'the Greatest Leader in the World' at Magic's House. President Obama partied with the stars in Beverly Hills on Monday night [11/25/2013] to raise cash for the Democratic House and Senate campaign committees. [...] In a tent on the grounds of Magic Johnson's mansion, the former Lakers star hailed Obama as "the greatest leader in the world." With ticket prices between $2,500 and $15,000 a head, the crowed included Samuel L. Jackson and Diane Keaton along with some L.A. Clippers players and members of Congress.
Obama leaving D.C. for three-day West Coast fundraising blitz. With his popularity sinking and his faulty health care law endangering Democratic candidates, President Obama headed out of Washington on Sunday [11/24/2013] to show he's still an asset to his party — by raising campaign money. Mr. Obama embarked on a three-day swing to the West Coast, where he'll raise millions for Democratic congressional candidates at stops in Seattle, San Francisco and Los Angeles. Along the way, he'll mingle with celebrities such as former NBA star Magic Johnson and DreamWorks studio CEO Jeffrey Katzenberg.
Keyword: uppity
Obama Donor Complains About No Valet Parking at White House. One of President Obama's wealthy supporters complained about the lack of valet parking at the White House — during a campaign event in California. Haim Saban needled the president about parking at 1600 Pennsylvania Avenue during a high-dollar fundraiser for Democrats. The event was held at Saban's sprawling Beverly Hills estate.
Obama to visit DreamWorks facility in boost to major donor. President Obama will deliver an economic speech at a DreamWorks Animation facility Tuesday [11/26/2013], giving a major presidential favor to Jeffrey Katzenberg, the film studio's CEO and one of Obama's largest donors.
Obama: The Affirmative Action President. Unfortunately, minorities often suffer so that whites can pat themselves on the back. Liberals routinely admit minorities to schools for which they are not qualified, yet take no responsibility for the inevitable poor performance and high drop-out rates which follow. Liberals don't care if these minority students fail; liberals aren't around to witness the emotional devastation and deflated self esteem resulting from the racist policy that is affirmative action. Yes, racist. Holding someone to a separate standard merely because of the color of his skin — that's affirmative action in a nutshell, and if that isn't racism, then nothing is. And that is what America did to Obama.
Obama's Fallout for the Left. Obama has left other dilemmas for liberals. He was the largest recipient of Goldman Sachs and BP money in history. His financial team — notably Peter Orszag, who left the administration for Citigroup, and Jack Lew, who came to the administration from Citigroup — are proverbial revolving-door Wall Street fat cats who, in the parlance of Occupy Wall Street and Elizabeth Warren, did not really build their own wealth. It will be hard to take seriously any future liberal critique of a Republican cozying up to Wall Street.
Immigration staffers pressured to rush visas for wealthy investors. Staff at a U.S. Citizenship and Immigration Services field office in California were regularly pressured by senior officials to fast-track visa applications from wealthy and well-connected foreign investors, causing security concerns so severe that the program was moved to Washington this year.
D.C. awash in contracts, lobbying wealth. The winners in the new Washington are not just the former senators, party consiglieri and four-star generals who have always profited from their connections. Now they are also the former bureaucrats, accountants and staff officers for whom unimagined riches are suddenly possible. They are the entrepreneurs attracted to the capital by its aura of prosperity and its super-educated workforce. They are the lawyers, lobbyists and executives who work for companies that barely had a presence in Washington before the boom. During the past decade, the region added 21,000 households in the nation's top 1 percent. No other metro area came close.
Richer Than Romney: Jon Stewart Hides Mansions Under Pet's Names. Jon Stewart, the left-wing star of the low-rated "Daily Show," might not be richer than Romney today, but the pace he's currently on means that someday he may very well be. Of course that means nothing to Stewart as he continues to carry Obama's water and launch divisive class warfare attacks from the platform of a super PAC known as Comedy Central to attack Mitt Romney's wealth.
President Obama has a meal fit for a king in Miami. Politics aside, a president's gotta eat. Just ask Barack Obama, who was feted with a few fundraisers Friday [11/8/2013]. At the Pinecrest home of businesswoman/philanthropist Leslie Miller Saiontz, a 30-person dinner was catered by Chef David Catering, whose menu included Kobe hot dogs and tenderloin filet. Then there was the one at the Coral Gables home of personal injury attorney Ralph Patino, catered by Caffe Abbracci, where restaurant owner Nino Pernetti witnessed the Commander in Chief munching on pumpkin tartlette with crumbled amarettini cookies and miniature chocolate ganache cake.
Obama's second-term ambassador nominees raised more than $16 million for him. President Obama's second-term nominees for foreign ambassadorships raised more than $16 million for his presidential campaigns and inaugurations. Obama has nominated 24 campaign bundlers that have raised at least $16.6 million for his presidential efforts, according to a database created by the Center for Public Integrity. Eight six-figure Obama bundlers have already been confirmed to key posts including Singapore, the United Kingdom, Germany, Australia, and Italy.
At least one group of Americans loves ObamaCare. For those on the left who thought that ObamaCare would mean large health insurance companies might get their comeuppance, they might want to look at UnitedHealth. Wall Street analysts expect the giant to see its stock price rise 40 percent over the next two years, thanks to expanding profit margins. The company has also won big contracts to help implement the rollout. Quality Software Services, Inc., a major contractor for Healthcare.gov, is a subsidiary of UnitedHealth. One of President Obama's most reliable fundraisers in both 2008 and 2012 was Anthony Welters, executive vice president of UnitedHealth. He raised more than $500,000 for the 2012 election, according to opensecrets.org
Winners and Losers: ObamaCare Exposes the 'Soylent Green Liberals'. America is learning that under ObamaCare there are losers — millions of them — and almost all among the working and middle class. Up to 20 million will lose the insurance President Obama reassured them they could keep, and as the cost of premiums and deductibles spike, they will find their health care choices limited. But the only reaction to this human carnage from America's "Soylent Green Liberals" is that it is all for the greater good.
Obama Decries 'Winner-Take-All' Economy to Rich Folks 'Who Are Doing Very Well'. President Obama attended a Democratic fund raising event in Weston, Massachusetts Wednesday night [10/30/2013] at the home of Alan and Susan Solomont. Among the 60 attendees were a number of high-profile Democrats, according to the Boston Globe. [...] The Globe also noted that the fund raiser "ticket prices ranged from $16,200 per person to $64,800 per couple. The DCCC would not say how much Obama expected to raise in total."
Obama to raise Democratic money at Weston fete tonight. Tickets range from $16,200 per person to $64,800 per couple. DCCC officials declined to discuss how much money the event is expected to raise.
First lady dines at Bibiana. Spotted: Michelle Obama sitting down for a meal at a downtown Washington Italian restaurant on Wednesday [10/16/2013], just hours before Congress passed legislation to fund the government and avert a default. The first lady was seen dining with two companions at Bibiana, arriving at 7 p.m. and staying for nearly three hours.
First lady cancels Bay Area fundraisers. Democratic insiders said there was queasiness at the prospect of the first lady raising millions from wealthy donors and campaigning for Democratic causes while thousands of federal employees are furloughed because of the partial government shutdown.
Serving Our Government Masters. [George] Washington once said that government is "a troublesome servant and a fearful master." Government has long ceased being a troublesome servant and has become our fearful master. Today the servants of the people have more servants of their own than many kings and queens. The government shutdown has forced Obama to make do with only a quarter of his 1,701 person staff. That would leave 436 "vital" employees. The 90 people who look after his living quarters would be slashed to 15 to "provide minimum maintenance and support".
Obama: Transforming America. Plenty of presidents have proved vicious, but few so adept in attributing their own base behavior to others. Damning fat cats and corporate-jet owners allows a president to hold serial $50,000-a-head fundraisers. Ridiculing Romney's elevator seems to make vacationing in Aspen, Costa del Sol, Vail, and Martha's Vineyard perfectly natural.
Chelsea Clinton gets $750,000 break on new condo. Chelsea Clinton and hubby Marc Mezvinksy paid $9,250,000 for a four-bedroom apartment in the celebrity-studded Whitman condominium building on Madison Square Park, city records filed this month show. That is $1.2 million less than the $10.5 million asking price, and $750,000 below what the building's other two occupants paid for their 5,000-square-foot units.
Ruling class Princess Chelsea Clinton. I propose Chelsea Clinton as the poster girl for the Ruling Class. She is a princess of the ruling class, a "tell" of the techno-feudal nature of power in the new order of things. By virtue of her birth, she has been handed many things unavailable to the serfs by ruling class organs. Her gig at NBC News is a prime example of how things work when the RC is taking care of its young.
Party of the Rich? That's the Democrats. Another liberal storyline in shambles. Could it be that "Reaganomics" and the "Bush tax cuts" actually favor the middle class more, and the rich less, than the corresponding liberal policies enacted under Clinton and Obama? Nearly three and a half decades of data suggest that this may be the case.
House CR Forks Over $174,000 for Late Senator's Wife. There are many things House Republicans liked about the government continuing resolution. It defunds Obamacare, locks in the sequester spending cuts and keeps the government running. But there's one provision tucked into the CR that may anger constituents back home: Among the various sections of the House-passed CR are 28 words that would pay $174,000 to the widow of the late Sen. Frank R. Lautenberg, D-N.J. [...] Before Lautenberg's death, he was No. 8 on Roll Call's 50 Richest Members of Congress with a net worth of at least $56.8 million.
Update:
House eliminates payout to wealthy senator's widow. After an outcry, the House has dropped a $174,000 payment to the widow of the late Sen. Frank Lautenberg from its stopgap spending bill.
Obama's Middle-Class 'Mission Accomplished'. Just before he delivered his Chattanooga speech, claiming victory on the "durable" jobs front, he had been on Martha's Vineyard vacationing at the exclusive Blue Heron Farm, the $22-million estate owned by Lord Norman and Lady Elena Foster of Great Britain. There, in the course of his ten-day retreat, Obama got in six rounds of golf with the likes of Jim Kim, President of the World Bank, and Eunu Chun, a wealthy attorney and prominent Democratic fundraiser. Just kicking around with ordinary middle-class folks, the kind Obama cares so much about.
Life is good for Janet Napolitano. Higher education is an enormous industry, heavily subsidized, and the people who run it consider themselves entitled to the lifestyle of the mega rich. Even at taxpayer-owned institutions. Take the example of Janet Napolitano, newly installed president of the University of California.
UC leases housing at $9,950 a month for president Napolitano. The University of California has leased an Oakland residence for incoming system president Janet Napolitano for $9,950 a month, officials said Monday [9/16/2013. Napolitano, the former U.S. secretary of Homeland Security and former governor of Arizona, will be provided the housing plus an annual $570,000 salary, $8,916 a year for car expenses and $142,500 for one-time relocation costs.
Al Qaeda rises, the economy sinks: What progress, President Obama? You would never know from taking our chief magician at his word, but America is actually sliding backward towards chaos and the economic abyss as we approach autumn. Discontent is rising across the entire political spectrum even after we hear President Obama's many soothing sentences. Young adults now rightly fear war without end as they wonder where the decent paying jobs are.
ObamaCare Subsidies: Not For Low-Income Young People. Young people making as little as $20,394 won't be eligible for any ObamaCare subsidies, thanks to the way that the subsidies are calculated, according to a study released on Monday [9/16/2013]. The study also found that, overall, young people will get far less generous subsidies from ObamaCare than older people.
Obama's Economy Hits His Voters Hardest. Mr. Obama was re-elected with 51% of the vote. Five demographic groups were crucial to his victory: young voters, single women, those with only a high-school diploma or less, blacks and Hispanics. He cleaned up with 60% of the youth vote, 67% of single women, 93% of blacks, 71% of Hispanics, and 64% of those without a high-school diploma, according to exit polls. According to the Sentier research, households headed by single women, with and without children present, saw their incomes fall by roughly 7%. Those under age 25 experienced an income decline of 9.6%.
Obama Postpones $32,000-a-Head Hollywood Fundraiser Amid Syria Crisis. The Sept. 9 Hancock Park fundraiser with Obama was set to include an exclusive $32,400-per-person "off the cuff" roundtable discussion with the president, as well as a photo line for those who donate $5,000 to the party — and raise an additional $20,000 from others.
PETA: Obama in 'doghouse' for choosing breeder pup over a rescue. Fans of cute animal photos were overwhelmed Monday [8/19/2013] to find the Obama family had brought home a new buddy for Bo. But animal-rights activists were not pleased that the First Family once again ignored the millions of dogs waiting to be adopted in shelters in favor of an expensive breeder.
The Editor says...
According to two reports [1] [2] the Obamas paid $2,300 for their new dog.
Ambassador post filings show Caroline Kennedy could be worth up to $500M. Caroline Kennedy may be worth far more than previously thought, with newly filed documents reportedly pegging her personal wealth as high as a half-billion dollars. The notoriously private Kennedy refused to release her financial information back in 2008, when she briefly sought an appointment to fill the U.S. Senate seat vacated by Hillary Clinton. But her nomination last month to be ambassador to Japan has forced her to file her financials with a federal government ethics office.
Caroline Kennedy 'is worth up to $500m'. Caroline Kennedy has been forced to reveal her net worth by submitting financial statements in order to be considered as the next American ambassador to Japan, and it is believed she may be worth up to $500 million. The former first daughter's wealth has been a closely-guarded secret for decades, but now that President Obama has nominated her to represent the United States abroad, she has to list the sources of her massive income.
Caroline Kennedy discloses financial information for ambassadorship. Five years after Caroline Kennedy refused to release financial information during her bid to take over Hillary Clinton's US Senate seat, newly filed documents reveal a personal fortune that could be as high as $500 million.
Bubba just 'plane' extravagant. Bill Clinton's foundation has spent more than $50 million on travel expenses since 2003, an analysis of the non-profit's tax forms reveal. The web of foundations run by the former president spent an eye-opening $12.1 million on travel in 2011 alone, according to an internal audit conducted by foundation accountants. That's enough to by 12,000 air tickets costing $1,000 each, or 33 air tickets each day of the year.
Larry David, Carly Simon headline star-studded Obama Vineyard party. President Obama and other top administration officials rubbed shoulders with stars of screen and stage during an exclusive Martha's Vineyard cocktail party hosted by Comcast CEO Brian Roberts earlier this week, according to a report from the New York Post. In addition to the president and first lady, top Obama fundraiser and Hollywood producer Harvey Weinstein was in attendance, as was "Curb Your Enthusiasm" star Larry David and singer Carly Simon.
Power-packed Vineyard party for Obama. Comcast CEO Brian Roberts' cocktail party for President Barack Obama and wife Michelle in Martha's Vineyard last night was attended by a host of notables close to the administration. [...] Roberts has reportedly been close to the president for years and endorsed the Affordable Care Act.
It's good to be king. Barack Obama is off on yet another vacation — his third this year and fifteenth since taking office. And while Obama vacations, the American people are forced to cut back as he, his family, and his cronies are living like royalty on the taxpayers' tab. With unemployment at 7.4 percent and the economy failing to create enough jobs to keep up with population growth, most Americans cannot even afford a night out — let alone a luxurious Obama-type vacation in what Politico calls "the playgrounds of the rich and famous."
How much did it cost U.S. taxpayers to airlift Bo, the First Dog, to Martha's Vineyard? This is the worst kind of arrogance and hubris ever displayed by a U.S. president when millions are struggling to put food on the table.
The Obamas Taste The Sweet Life. President Obama proved Sunday night that even as he fights for "the middle class" he prefers to hang out with "the upper class," indulging in an expensive repast at the overpriced "The Sweet Life Cafe" on Martha's Vineyard. Dinner can easily run above $200 for two, even if the Obamas stick to the Let's Move diet plan and share dessert.
Obamas dine at posh DC restaurant for president's birthday. President Obama and Michelle Obama had a date night Thursday in honor of the president's birthday. The couple dined at Rasika West End on New Hampshire Avenue, according to a White House pool report. [...] On Saturday, the Obama family heads to Martha's Vineyard, Mass., for an eight-day vacation.
The Clintons rent a new house in Hamptons this summer. The Clintons have decided to rent a different house in the Hamptons this summer after they only received a small portion of their security deposit back from the home they rented last year. The famous Democrats have been frequent visitors to the expensive summer getaway in Long Island, and rented the same beachfront house in 2011 and 2012. Even though they pencilled in a month-long stay in the Hamptons this year, they won't be making it a hat-trick as they decided to rent a different home due to the expensive utility costs at their prior rental.
The Editor says...
There must be a really good reason that they forfeited a large portion of their security deposit. I wonder what happened.
Let Them Eat Wind. [Scroll down] Democrats are the Government Party, the Washington Party, and not the party of working people. The whole of their lives, these leftist elites lecture helpless college students, threaten businessmen with litigation and other similar shakedowns, and advance proposals to create wealth by the failed mechanism of taking money from those who engage in useful work and giving that money to those who do not — after, of course, a healthy "piece of the action" for leftist cadres.
Biden Vacationing in the Hamptons. The Hamptons will play host to not one but two potential 2016 presidential aspirants this month, with Vice President Joseph R. Biden Jr. arriving this week for a vacation in Southampton. Former Secretary of State Hillary Rodham Clinton has rented a house for August here in East Hampton, the next township over.
Obama vacation: Martha's Vineyard the playground for black elites. In a few days, President Obama and his family will arrive on Martha's Vineyard for a family vacation. For centuries, Martha's Vineyard and the town of Oak Bluffs in particular has been the epicenter of black elitism. It has been said, "it does not matter where America's wealthy black families winter ... they summer in Martha's Vineyard."
The Death of Populism. Gas has gone up about $2 a gallon since Barack Obama took office. Given average yearly rates of national consumption, that increase alone translates into an extra $1 trillion that American drivers have collectively paid in higher fuel costs over the last 54 months. Such a crushing burden on the cash-strapped commuter class is rarely cited in the liberal fixation on cap-and-trade, wind and solar subsidies, and the supposed dangers of fracking.
Obama Says Income Gap Is Fraying U.S. Social Fabric. "If we don't do anything, then growth will be slower than it should be. Unemployment will not go down as fast as it should. Income inequality will continue to rise," he said. "That's not a future that we should accept."
Carson Refuses To Live On Left's Racist Plantation. [Dr.] Ben Carson isn't just a brain surgeon, but an inspiring voice of wisdom and liberty who, like Clarence Thomas, is a threat to a leftist establishment that cannot stand, as Thomas put it over 20 years ago, "uppity blacks who in any way deign to think for themselves, to do for themselves, to have different ideas."
Black America's True Nemesis: Liberals, Not Zimmerman. In the midst of all the racial hullabaloo stirred up by so-called advocates for black empowerment after the Zimmerman trail, guess who is really being harmed? Answer: black America. All of you black pastors, black politicians, and black celebs who have joined Sharpton and the MSM's lynch mob to "get Zimmerman" should be ashamed of yourselves. You are doing a huge disservice to the very people you claim to champion by chasing a straw man while ignoring the real issues that are devastating black America.
Hillary Clinton, Queen of Profit (Cattle Futures Aside). Hillary Clinton is getting $200K per speech. I think that qualifies as "cashing in." I also think it qualifies as "trading on one's public office." I have used some pretty old-fashioned phrases here. We heard them in 1989, when Ronald Reagan went to Japan for a week and came back with $2 million. (An old Reagan hand described this as "the Reagans' retirement fund.") There was a storm of condemnation. Has there been any storm over Hillary Clinton? Over Bill Clinton, and Al Gore? Haven't they made tens of millions or hundreds of millions of dollars?
Al Sharpton, Posh Populist. Named by Business Insider as one of the "11 exclusive clubs Wall Streeters are dying to get into," the Grand Havana Room is where power brokers and celebrities hobnob with captains of industry in one of the last places where it's still legal to smoke in the Big Apple. [...] The one question I have is: Who's paying for Al Sharpton's membership? "The Rev" is an omnipresent member of the club. After his MSNBC show, he'll swing by for dinner and cigars amid the other Masters of the Universe.
President Obama and family expected to vacation in Chilmark. Though not confirmed by the White House, the Obamas are expected to stay in a four-bedroom house valued at $7.6 million with an attached two-bedroom guesthouse on Snail Road, off South Road and surrounded by woodlands.
Another of Obama's fundraisers nominated for top ambassador post. Campaign finance chairman Matthew Barzun is set to move into the sumptuous residence in London's Court of St James which boasts a sprawling garden second only in size to that of Buckingham Palace. Obama raised a record-breaking $1.1 billion to defeat Mitt Romney last year, of which his big money donors, or 'bundlers' as they are known in Washington, brought in an estimated $286 million.
Egypt Crisis Finds Washington Largely Ambivalent and Aloof. In polo shirt, shorts and sandals, President Obama headed to the golf course Friday morning with a couple of old friends, then flew to Camp David for a long weekend. Secretary of State John Kerry was relaxing at his vacation home in Nantucket.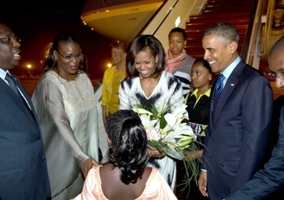 Michelle Obama Arrived in Senegal Wearing a $1,295 Designer Dress.
(Official White House Photo by Pete Souza.)
The Editor says...
Just as a sidebar topic, I have noticed that the Obama's two daughters, in every photograph, appear to be put out and disgruntled about having to travel on Air Force One or on the Marine Corps helicopter — which would be a once-in-a-lifetime thrill ride for the rest of us. Criticism of the surly, ungrateful Obama brats is strictly off-limits in the mainstream press, but not on this site.

Keywords: insolent, arrogant, snooty, brat, snob.
First Daughter looks unimpressed while on a bicycle ride during the family's stay on Martha's Vineyard. The 'First Daughter' looked spectacularly unimpressed while on a bicycle ride with her family during their vacation on the Massachusetts island of Martha's Vineyard. Malia Obama was photographed peddling in between her mother and father along a path in Vineyard Haven. While biking, the 17 year old appeared to be in a sour mood.
Keywords: Sourpuss, royalty, ungrateful.
The Obamas look downcast as they return home from two-week break on Martha's Vineyard. En route to the capital on Sunday [8/23/2015], they stopped off at Cape Cod to swap their first helicopter for the President's plane Air Force One, and they managed to smile at crowds on the tarmac. But as the family disembarked Air Force One at Andrews Air Force base, before taking another helicopter back to their official residence, the happy faces had vanished.


Well, it appears the Obama family had a simply delightful time on their 17-day, multi-million dollar vacation. I wouldn't be surprised if Michelle Obama's middle name was Antoinette.
Amazing picture of the Obamas coming home to the White House. It doesn't look like being on vacation improved the spirits of the Obama family.
The Editor says...
With the exception of Mr. Obama, who is a professional politician, the whole family looks like they just came back from Mississippi in 1958, and had to ride in the back of the bus. I've never seen three pampered celebrities look as put out with their miserable lives as the Obama women do.
Obamas jet off on their Christmas vacation but Sasha and Malia don't look too impressed. President Obama and the First Family have landed in Hawaii tonight for a 17-day holiday together. The family flew overnight in Air Force one, direct from Maryland to Pearl Harbor, Hawaii. They are not expected to return to Washington D.C. until January 4.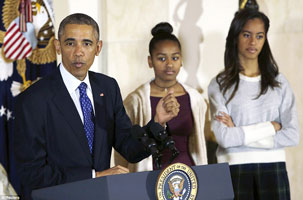 Sasha and Malia can't hide their disdain as Obama saves turkey from the slaughterhouse. It is a time-honored tradition — but Sasha and Malia would rather have been anywhere else than having to watch their dad crack lame jokes as he pardoned the National Thanksgiving Turkey. Shuffling awkwardly and rolling their eyes like any teenage girls would while their father laughed at his own mildly controversial jokes Malia and Sasha made no attempt to appear anything other than bored stiff.
The Editor says...
Once again, here we have two teenagers who live in the lap of luxury, yet they act as if their lives are so-o-o-o tough.

Apparently I wasn't the only person to get the same impression.
Congressional Staffer Apologizes for Saying First Daughters Acted Classless at Turkey Ceremony. A communications director for a GOP congressman has apologized for saying the first daughters weren't showing "class" and were wearing clothes fit for a "spot at a bar" during this week's turkey pardoning ceremony. [...] Elizabeth Lauten, a former Republican National Committee staffer and current communications director for Rep. Stephen Fincher (R-Tenn.), posted an open letter to the girls on her Facebook page. "Dear Sasha and Malia, I get you're both in those awful teen years, but you're a part of the First Family, try showing a little class. At least respect the part you play. Then again your mother and father don't respect their positions very much, or the nation for that matter, so I'm guessing you're coming up a little short in the 'good role model' department," Lauten wrote.
US lawmaker's aide draws ire over first daughter scolding. A US lawmaker's communications director was facing social media calls she be sacked after her Facebook rant about President Barack Obama's daughters prompted widespread anger. Elizabeth Lauten, spokeswoman for Republican Congressman Stephen Fincher of Tennessee, wrote a scathing post to her Facebook account scolding Malia and Sasha Obama, 16 and 13, for looking bored while attending a public event with their father on Wednesday [11/26/2014].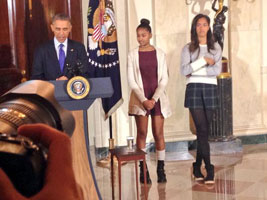 Malia, Sasha, and the turkey affair. How it became political. [Scroll down] That was just too much for some conservative commentators, who felt the need to weigh in — not only on the girls' turkey response but on their appearance. "I don't think you would have ever seen the Bush daughters in dresses that short. Class is completely absent from this White House," sniffed Amanda Shea at a web site called "Mad World News," which describes itself as "firmly devoted to bringing you the truth and the stories that the mainstream media ignores." But it was Elizabeth Lauten, communications director for US Rep. Stephen Lee Fincher, (R) of Tennessee, who has gotten the most attention.

The Editor says...
The article immediately above is the first in which I saw a wider shot of the Obama girls, and you must admit they do appear to lack proper guidance. One wonders how the girls dress and act when they're not prepared for a photo-op with the national news media.
Update:
GOP aide resigns after online digs at Obama daughters. Republican congressional aide Elizabeth Lauten resigned Monday morning [12/1/2014] after making controversial comments about President Obama's teenage daughters, Fox News confirms. Lauten, the communications director for Rep. Stephen Fincher of Tennessee, had posted on Facebook about their casual demeanor during last week's annual White House turkey pardon. She wrote that Sasha, 13, and Malia, 16, should "try showing a little class." "Rise to the occasion. Dress like you deserve respect, not a spot at the bar," Lauten wrote. "And certainly don't make faces during televised, public events."
RNC Calls Out Media Mob For Coverage Of Comments About Obama Daughters. The chief spokesman for the Republican National Committee is criticizing the media for piling on a GOP House staffer for her widely-reported negative comments about President Obama's daughters. It was announced Monday that Elizabeth Lauten, the spokeswoman for Tennessee Republican Rep. Steven Fincher, plans to resign her position for a weekend Facebook post telling the first daughters to "try showing a little class." After a media firestorm, Lauten deleted and apologized for the post. But the RNC says the media mob doesn't cover stories to this extent when it has to do with Democrats.
Hill staffer Elizabeth Lauten resigns after remarks about Obama daughters. Embattled Hill staffer Elizabeth Lauten has resigned amid a backlash over critical remarks she posted on Facebook Friday about President Obama's daughters. Lauten, communications director for Rep. Stephen Lee Fincher (R-Tenn.), came under fire over the weekend after posting derogatory remarks about Sasha and Malia Obama regarding their appearance at the president's annual Turkey pardoning.
Networks Continue Hyping Resigned GOP Staffer After 'Snarky Posting' About First Daughters. On Monday night [12/1/2014], the "big three" of ABC, CBS and NBC each spent portions of their evening newscasts reporting on the resignation of a House Republican staffer after she criticized Sasha and Malia Obama on her personal Facebook page. This marks the second full day of coverage since the first reports aired on Sunday morning and provides another example of a media double-standard between Democratic and Republican administrations.
CNN: 'Slow News Cycle' Led to Media Hype About 'Cyber-Bullying' GOP Staffer. On Monday's At This Hour, CNN's Brian Stelter brushed aside a regular conservative critique about the media — that the press has a double standard about covering controversial remarks from Republican/conservative officials, while ignoring similar comments from Democrats/liberals.
Elizabeth Lauten and the 'kids are off limits' canard. On Monday, the media claimed a scalp. A formerly obscure staffer for a still relatively unknown Republican congressman was outed in the press over the slow holiday weekend after she had the temerity to notice (and be offended by the fact) that the Obama daughters were not especially thrilled to join their father for the annual pardoning of the Thanksgiving turkey.
Criticism of the Royal Family Will Not Be Tolerated. When Jonathan Gruber, the architect of ObamaCare, was caught on tape admitting to the massive fraud necessary to shove the program through Congress, it was scarcely treated as news by Big Media (although Jake Tapper at CNN was a notable exception.) When President Obama straight-up lied to the American people about his association with Gruber, the media yawned and relayed the lies with little objection or criticism, essentially taking the attitude that it was a non-story because everyone knew Obama was lying out of obvious political necessity. But a staffer for a Republican member of Congress says something critical of the Royal Family, and look out — it's an instant four-alarm fire, complete with an Internet flash mob — the laziest form of pressure ever invented — and a head swiftly rolls.
Elizabeth Lauten Did Not Deserve What Happened to Her. I don't think any child asks for their dad to be President or run for office. They don't deserve the spotlight. But that did not keep the media from making a spectacle of the Bush daughters. That did not keep the media from making a spectacle of the Palin family, including speculating on why Trig Palin was not aborted and, by a credible media figure, whether or not Trig Palin's paternity was legitimate. It did not stop Carol Costello from laughing about Bristol Palin. In the past this did not stop media hilarity over adopted children into the Romney family and the Bush family. This rule apparently only applies to Democrats and their children. I disagree with Elizabeth Lauten, but the level of character assassination on her by the Washington press corps in a coordinated attack by the White House itself was uncalled for.
This is getting completely off-topic, but ... just one more update:
Media in Frenzy Over Hill Staffer's Comments on Obama's Daughters. Five days after Elizabeth Lauten published a Facebook post criticizing the outfits worn by President Barack Obama's daughters, the previously obscure Republican Hill staffer is being inundated with threatening messages and major media outlets are pouring resources into tracking her moves and digging into her past. Two network news vans camped outside of Lauten's parents home in North Carolina on Tuesday, one day after she resigned as communication director for Rep. Steven Fincher (R., Tenn.) due to the controversy.
Pelosi's wealth falls to $24.4 million. House Minority Leader Nancy Pelosi's (D-Calif.) substantial personal wealth dropped for the second year in a row after she took on more debt with her husband, according to her latest financial disclosure report. Pelosi's personal fortune was at least $24.4 million in 2012, according to her financial disclosure statement released on Friday [6/14/2013]. That's an almost 8 percent decline from her minimum net worth of $26.4 million for 2011.
Obama, Harry Reid and Nancy Pelosi are America's great dividers. This statement appears on the House Minority Leader's web site: "Democrats are building an economic approach that lifts every American, not just the privileged few. The average American CEO earns more before lunchtime in one day than a minimum wage worker earns all year. This is not the kind of America we want our children to grow up in. Today's economic challenges result from years of Republican inaction and failed policies that have left more and more Americans behind." In Pelosi's world, Democrats are for "every American," while Republicans favor only "the privileged few."
Supreme Court Justice Sonia Sotomayor nets over $3 million from memoir. Being a Supreme Court justice has not only been good for Sonia Sotomayor's legal career, it's also helped her bank account. The justice on Friday [6/7/2013] reported that she's received more than $3 million in advance payments for her best-selling memoir, "My Beloved World." Her annual financial disclosure forms show that Knopf Doubleday Group paid Sotomayor $1.925 million in 2012 in anticipation of her book. This comes in addition to the $1.2 million in advance payments she received from the publisher in 2010.
President woos Hollywood donors for DNC campaign coffers. The event, at the home of media executive Peter Chernin, featured a mix of celebrities and high-level politicos. President Obama wooed some of Hollywood's elite at a $10,000-a-plate Santa Monica fundraising luncheon Friday afternoon [6/7/2013] for the Democratic National Committee (DNC).
The California Captivity of the Democratic Party. This is a story about politics and power in the golden land, and it begins with the money. In early May a luxury resort in Laguna Beach, Calif., hosted a five-day semi-annual meeting of the Democracy Alliance, a secret, invitation-only organization of liberal moneybags that since its formation in 2005 has directed some $500 million in contributions to progressive groups. Never has a wolves' den been so posh. The Alliance discloses neither its members nor its beneficiaries, but some of the details of its structure have leaked out over time.
JNF pays Bill Clinton $500,000 for 45-minute talk. The Peres Academic Center has paid former US president Bill Clinton $500,000 for a headlining appearance in Rehovot on June 17. Clinton will feature at a reception, and then do a one-hour speech and Q&A session. Guests were last week sent invitations requiring them to stump up NIS 3,000 (just over $800) apiece to attend the gala dinner, and thus to help cover his fee, but that requirement has now been canceled.
Obama sells access to the highest bidder. How would the media have reacted if George W. Bush had done the same?
Electric Car Lover Rejected After Liquidating Savings to Meet Obama. Paul Scott, 60, was willing to do just about anything to get President Obama's ear for a few minutes about his lifelong passion for electric vehicles. So the car salesman raised $32,000 by taking out money on credit cards and liquidating stock that constituted much of his life savings to attend a June 7 Democratic National Committee fundraiser the president plans to attend in California.
Salesman pays $32,400 to lobby Obama for two minutes. A Los Angeles car salesman and electric car advocate is shelling $32,400 out of his retirement savings so he can make a pitch directly to President Obama at a "private, off-the-record" Democratic fundraiser next week.
Obama: Fundraiser in Chief. On Thursday [6/6/2013], he plans to be the main attraction at a $32,400-a-person fundraiser in Portola Valley, Calif., and a reception in nearby Palo Alto, and on Friday he will be featured at a Democratic fundraiser in Los Angeles. Then he is scheduled to meet with Chinese President Xi Jinping Friday and Saturday at the Southern California estate of publisher Walter Annenberg. Democratic sources say President Obama will participate in several other fundraisers in the coming weeks, hauling in millions of additional dollars, but those events have not yet been announced.
Obama Advocates for Gay Marriage at Swanky $50,000 Donor Dinner. While Barack Obama visited his rich donors at a swanky Chicago dinner where tickets cost $50,000, the common rabble were dying in the streets without protection against criminal gun violence because of Chicago's stringent gun laws.
Even the mainstream media has given up on the hopey-changey stuff. There was a time when Obama couldn't get a bad headline in this town. Now he's the new Nixon. [...] When Nixon was stuck in Watergate he used to escape to friendly territory to meet with his few remaining admirers and console himself with their loyalty. On Wednesday the President of the United States took time off work to visit two Chicago Democratic fundraisers — the cost of flying aboard Air Force One to his home town was an astonishing $180,000 an hour. He met with 70 friends at the home of longtime supporters Bettylu and Paul Saltzman, the kind of fans prepared to spend $32,400 per head to have dinner with the Prez.
Travels of the President Under a Microscope in an Era of Belt Tightening. On Wednesday [5/29/2013], President Obama left the White House for two Chicago fund-raisers in the hope of helping Democrats retake the House in next year's elections. The cost of flying aboard Air Force One to his hometown: $180,000 per hour. The same day, Michelle Obama traveled to Massachusetts to lunch with rich donors who had paid up to $37,600 per ticket at the Taj Boston Hotel. The meal included roasted Chilean sea bass with a fricassee of asparagus.
New York Times questions Obama's expensive travel. The New York Times on Thursday [5/30/2013] reports on President Obama's frequent travel aboard Air Force One at a time when government employees are suffering furloughs and budget cuts.
Emanuel reports gifts from the rich and famous. A stay at the house of a Hollywood entertainment mogul, transportation on the tabs of millionaire venture capitalists and, for the second straight year, sports tickets, meals and more from his close adviser Michael Sacks. These perks and others are listed on Mayor Rahm Emanuel's annual economic interest statement, and once again illustrate how Chicago's chief executive moves in some of the country's elite entertainment and financial circles.
Four Things to Know About Penny Pritzker, a Billionaire and Obama's Commerce Secretary Pick. [#4] With a net worth of an estimated $1.8 billion, this heir to the Hyatt Hotel fortune, which her family founded, has become one of the leading philanthropists in the Windy City. The Pritzker family name is one of the most prominent in Chicago.
Commerce nominee tangled in massive bank collapse that cost depositors millions. President Obama's nominee for Commerce secretary was embroiled in a massive bank failure more than a decade ago, in a collapse that cost depositors and federal insurers millions of dollars. The 2001 collapse of Superior Bank FSB now appears likely to re-emerge, more than a decade later, as Commerce nominee Penny Pritzker prepares for a confirmation hearing and Republicans already draw attention to the bank implosion.
Diane Feinstein's husband's company lands big high-speed rail contract. The group lead by Tutor Perini bid $985,000,000 to build the initial 29-mile stretch, roughly from Fresno to Madera, which doesn't include the costs for electrification and land purchase. And, as Laer points out at Crazifornia, they started with this section because it's the cheapest. (I can't wait to see what the bids are to lay track through the mountain passes...)
Dianne Feinstein's Husband Bags High-Speed Rail Construction Contract. Sen. Diane Feinstein's husband Richard Blum won a construction contract for California's high-speed rail project, reports the California Political Review. Author Laer Pearce says Perini-Zachary-Parsons, a construction group partially owned by Blum's investment firm, Blum Capital, and their investors, bagged the nearly billion dollar contract.
Sarkozy and Carla gave Obama and Michelle $40,000 worth of gifts in just one year. Former French President and pop singer wife Carla Bruni gave America's first couple more than $40,000 worth of gifts in a single year, it emerged today [4/26/2013]. Presents included a designer Hermes golf bag and Baccarat crystal statuettes of players, according to newly released records.
Inaugural group amends report: Pritzker gave $250,000, not $500,000. Chicago billionaire Penny Pritzker, under consideration to lead the Commerce Department, gave the president's 2013 inauguration a contribution of $250,000, not $500,000, according to an amended report filed Tuesday [4/23/2013].
Obama Schedules Whirlwind Fundraising Week for DNC, Planned Parenthood. On Wednesday [4/24/2013], President Obama is slated to head to Dallas, Texas, to attend the opening of the Bush Presidential Library, along with Presidents Bill Clinton, George H.W. Bush, Jimmy Carter, and George W. Bush. But he's using the opportunity to fundraise for 2014. Obama will be headlining a $10,000-per-plate fundraiser for the Democratic National Committee at Naomi Aberly's home on the night before the library opens. That fundraiser will mark Obama's third for the DNC this year.
Former Obama Advisers Cash In. From the first lady's former communications director now the vice president of Siemens corporate affairs, to individual consulting deals for Obama campaign operatives like Stephanie Cutter and David Plouffe, there is a new generation of "Obama millionaires." For instance, [Noam] Scheiber notes, former UBS president Robert Wolf has opened shop with a new firm called 32 Advisors, which advises domestic and foreign business clients.
Obama back in NYC for cash. The president will appear at a cozy reception for fewer than 65 guests with tickets priced at $32,400 per couple at the Manhattan home of movie mogul Harvey Weinstein and his designer wife Georgina Chapman on May 13, Page Six has exclusively learned. The invitation explains attendees get "a frank and intimate discussion with the president" where they can ask questions, and afterward Obama will "say thank you to each guest and take a photo with them."
Another Exclusive Party at W.H. — at Taxpayer Expense. [W]hile the performers are known, the guest list for the private event has not yet been released. One imagines it's a tough ticket to come by. To attend any event at the White House, one must be invited.
Protesters greet Obama on S.F.'s Billionaires' Row. Barack Obama is an addict. And his drug of choice is the money showered on him by Bay Area billionaires. The lure of endless cash and boundless adoration is just too much to resist, and so for the umpteenth time since 2008 he once again scheduled a fundraising trip through San Francisco, this time on April 3 to benefit Nancy Pelosi and her quest to reclaim the Speakership of the House: since Obama himself no longer needs campaign donations, all the money gathered on this trip would go to Democratic congressional candidates.
Versailles on the Potomac. The American people are enduring 0.4 percent GDP growth and 7.7 percent unemployment. A record 48 million citizens are on food stamps. Meanwhile, those in America's royal palace are enduring tropical beaches, country clubs, and ski resorts. As Joseph Curl recalled in Sunday's Washington Times, the Obamas rang in 2013 in a 6,000-square-foot, $8 million estate in Oahu's Paradise Point. That's when Obama played his 100th presidential golf round, one of five during the first family's 17-day Hawaiian getaway.
The $32,400 brunch. President Obama kicked off his DNC fundraising in California Thursday [4/4/2013] with a $32,400-per-head brunch at the Atherton home of investment guru Mark W. Heising and his wife, Liz Simons. [...] The intimate affair included only roughly 30 guests, who for the price of admission got a photo with the president and to listen to his remarks [...]
Obama decries "perpetual campaign" at $2.5 million House Democrat fundraiser. Hedge fund billionaire Tom Steyer hosted Obama's cocktail party at his San Francisco mansion Wednesday night [4/3/2013], before Obama transitioned to an even more exclusive $32,400-per-person dinner at Ann Getty's mansion in Pacific Heights ($32,400 is the maximum amount any one person can give a national party committee in one year.)
White House 'Memphis Soul' Concert to Feature Justin Timberlake, Al Green, Queen Latifah, and Others. Next week Justin Timberlake, Al Green, Queen Latifah, and many others will perform at the White House in a "Memphis Soul" concert, the White House announced today [4/2/2013].
Obama Fundraiser at Home of Exec Who Sits on Board of Stimulus Recipient. President Obama is scheduled to headline a Democratic National Committee fundraiser next week at the home of a California private equity executive who also sits on the board of a company that received stimulus funds. The fundraiser will be held at the Atherton, Calif. home of Mark Heising. Tickets to the event cost $32,400.
Joe Biden runs up bill of $585,000 for just one night in five-star Paris hotel. Paris may be known as the City of Light, but that title certainly doesn't mean that visitors are light on spending as Vice President Joe Biden's one day trip cost taxpayers more than half a million dollars. When Mr Biden and his hefty entourage stayed in Paris for an evening in early February and it cost $585,000.50 for that single night.
Biden's $459,388.65 Hotel Bill. Vice President Biden and his entourage spent a little time in London in early February during his first foreign trip of the second term of the Obama administration. A document released today [3/22/2013] revealed that the cost of lodging in London alone was close to half a million dollars.
Sequester Joe Biden. Vice President Biden's hotel bill in Paris — the Drudge Report headlines it at $585,000.50 for a night at the Intercontinental, not including the ride in from the airport — is prompting the futureofcapitalism.com to wonder why Amtrak's most famous passenger failed to stay at the sprawling palace that serves as the residence of the American ambassador in the Rue du Faubourg Saint-Honoré. A good question, to which we'd add our own: What was Mr. Biden, whose only constitutional duty is to serve in the Senate as its president, doing in Paris in the first place?
Joe Biden's trip abroad gets even costlier with $322K limo bill ON TOP of $1million hotel stays. Vice President Joe Biden's costly trip to London and Paris last month just got more expensive. A newly uncovered receipt from the February trip shows the vice president's office spent $321,665 to a limousine company in Paris, in addition to the previously reported hotel tabs of $585,000 for one night's stay in the city and and $459,338 for a night in London. State department officials say Biden's staff members, who are not allowed to drive themselves, used the limo company to get around the city.
Biden's $321,665 Limo Bill. After two items last week on the cost of lodging for Vice President Joe Biden's early February trip to Europe, other news organizations began to investigate further. Wolf Blitzer's show The Situation Room on CNN uncovered a contract apparently also related to the same visit to Paris: ["]Also on the receipt was $321,665 for a limousine company.["]
How Obama Turned America into Venezuela. Seven of the 10 richest counties in America are now in the Washington D.C. area. Arlington County alone added $6,000 to its average income in one year alone. D.C. and its bedroom communities got rich at twice the rate of the rest of the country and in the last election; Obama won 8 of the 10 richest counties in the country. Washington D.C. is richer than Silicon Valley. Median income in the D.C. area hit $84,523 despite the city itself having horrendous unemployment and poverty statistics.
Will Smith Revealed as Obama 'Superbundler'. Over the weekend we learned Smith was one of President Barack Obama's superbundlers, a term used for those who cleverly work around current campaign finance laws to raise oodles of cash for a politician. [...] This wouldn't have mattered four years ago, but Obama's recovery-free recovery continues to pound ordinary Americans.
Obama camp identifies more bundlers. The Obama campaign is identifying high-dollar fundraisers for the fourth quarter of 2012. The updated list of bundlers on the campaign's web site includes roughly a dozen new names in the $500,000 and above category. They include actors Will Smith and Jada Pinkett-Smith, as well as clean-energy venture capitalist Steve Westly. Westly was bumped up from the $200,000 to $500,000 range, while the Smiths are on the list for the first time.
Will Smith among new additions to Obama campaign bundlers. The Obama-Biden campaign released an updated list of bundlers from the fourth quarter of the 2012 campaign on Saturday [3/2/2013]. Those bundlers — which the campaign refers to as voluntary fundraisers — are able to collect large sums from other donors. Actors Will Smith and Jada Pinkett-Smith landed on the list, having hosted a fundraiser at their Los Angeles home, in the $500,000-and-above category. Filmmaker Tyler Perry is also billed in the top category.
Want to meet Obama? It will cost you $500k. One of my favorite scenes in Lincoln takes place at the White House. Petitioners from across the United States wait in the lobby for an audience with the president. [...] Those days are over — needless to say. Unless, that is, you happen to have a spare $500,000. In which case you too can meet with the president, on a quarterly basis, provided the $500,000 finds its way to Organizing for Action (OFA), the nonprofit, social welfare organization "established to support President Obama in achieving enactment of the national agenda Americans voted for on Election Day 2012."
Obama Talks Out of Both Sides of His Mouth on Campaign Finance. Last Friday, a story by Nicholas Confessore of the New York Times revealed that President Obama's political team is trying to raise $50 million to fund the conversion of his reelection campaign into Organizing for Action, a "powerhouse" new national lobbying group. The story said that at least half of the organization's budget will come from a small number of well-connected donors who each raise or contribute more than $500,000. In return, those donors get a spot on a national advisory board, the right to attend quarterly meetings with the president and access to other White House meetings.
President Obama doesn't (really) care about campaign finance reform. Organizing for America, the new grassroots lobbying and advocacy organization being run by top aides to the 2012 campaign, has set a budget of $50 million with at least half of that total coming from large checks written by a handful of very wealthy donors, according to the New York Times' Nick Confessore. The group has also been set up as a non-profit 501(c)(4) organization, meaning that it can not only accept unlimited donations from individuals but that it is under no requirement to disclose the sources of those contributions.
5 Reasons Barack Obama is a Creep. [#2] What he says is completely unrelated to what he does: Barack Obama is like an alcoholic who pledges to quit drinking and then gets hammered every night. [...] This is how Barack Obama can demand a sequester and then turn around and run against it or yammer on incessantly about transparency while he stonewalls on Fast and Furious. We're talking about a man who's worth nearly 10 million dollars, who has campaign events with celebrities and millionaires on a regular basis, and who just seems to squeeze in a little bit of work in between lavish vacations and golf outings with Tiger Woods; yet he spent most of last year campaigning against rich people.
S.A. Democratic stalwart eyed. Seven months after hosting a private $35,800-a-plate fundraiser for President Barack Obama at his home in The Dominion, nationally recognized plaintiff's lawyer and Democratic Party stalwart Mikal C. Watts finds himself under federal investigation over the legitimacy of his client list in a case stemming from the 2010 BP oil spill.
Explaining the Inexplicable. The president, as is his wont, blasted the "one percent," the "millionaires and billionaires," and the "well-connected" in his recent State of the Union speech — and then he flew off to golf and hang out with the one percent of the one percent in South Florida while his wife and kids jetted to Aspen to ski.
Obama and his 1 percent. In the State of the Union, Mr. Obama once more went after "the few," and "the wealthiest and the most powerful," whom he blasted as the "well-off and the well-connected" and the "billionaires with high-powered accountants." Like clockwork, the president then jetted to West Palm Beach, Fla., for yet another golfing vacation at one of the nation's priciest courses, replete with lessons from a $1,000-per-hour golf pro to improve the presidential putting.
Hollywood's Pious Hypocrisy. Hollywood stars routinely tout the virtues of the little guy battling the rich and powerful. They are legendary in their support for the income-leveling agenda of Barack Obama-while enjoying a sybaritic lifestyle (multiple houses, servants, nannies to act as proxy parents, chauffeurs) that make them the 1% of the 1%. They have access to private planes (John Travolta has a veritable air fleet) to avoid long lines and exposure to the hoi polloi at airports. These are the same planes that Barack Obama condemned while vilifying the rich. Of course, Barack Obama and his family hypocritically revel in the same luxe lifestyle.
Obama selling White House access to wealthy donors who support Organizing for Action. The group 'Organizing for Action' is a reorganized version of President Obama's 'Organizing for America' campaign juggernaut — now a tax-exempt "advocacy" group where federal contribution limits don't apply. According to the Times, wealthy donors who give $500,000 or more get to join the group's "national advisory board" which allows them to attend quarterly meetings with the president "along with other meetings at the White House."
White House denies claims that a $500,000 donation 'buys' face time with the president. The White House defended itself today after suggestions that high-dollar donors to President Obama's new non-profit advocacy group would 'buy' face time with the Commander-In-Chief. [...] There have been reports that those who contributed more than $500,000 to his cause would be invited to quarterly meetings with the president in a pay-to-play.
Obama's Backers Seek Big Donors to Press Agenda. President Obama's political team is fanning out across the country in pursuit of an ambitious goal: raising $50 million to convert his re-election campaign into a powerhouse national advocacy network, a sum that would rank the new group as one of Washington's biggest lobbying operations. But the rebooted campaign, known as Organizing for Action, has plunged the president and his aides into a campaign finance limbo with few clear rules, ample potential for influence-peddling, and no real precedent in national politics.
Cost of Obama Hawaii Vacation Could Save 160 Teachers' Jobs. The $7 million price tag for President Obama's most recent Hawaii vacation could pay the salaries of about 160 teachers for a full year.
President Obama's latest uphill battle: Playing golf in Florida with Tiger Woods. President Obama played golf Sunday with Tiger Woods during the president's long holiday weekend in Florida, amid concerns from the media about a lack of access before, during and after the newsworthy outing. The foursome at the Floridian National Golf Club, in Palm City, Fla., included U.S. trade representative Ron Kirk and Jim Crane, a Democratic donor who owns the club and the Houston Astros baseball team.
$1000/Hr: Obama Books World's Top Golf Pro for Vacation. Economic growth is in the negative, unemployment is on the rise, Walmart's forecasting a disastrous February for retail sales, poverty's up, gas prices are up, the cost of health care premiums are up, middle class incomes are falling, consumer confidence is at a two year low, our deficit is unsustainable, and Barack Obama has just signed up for private golf lessons with two of the top teachers in the country.
Long after Election Day, major donors keep giving to Obama. President Obama's special large-donor campaign vehicle, which can accept donations of more than $100,000 — far more than individuals can give to standard campaign committees — continued to take in money weeks after the election, raising $1.8 million between November 27 and December 31, record show.
Nancy Pelosi Meets with Barbra Streisand, Plots Dem House Comeback. Hollywood Democrats aren't happy that one half of Congress remains out of their control. So a gaggle of big name celebrity donors, including Barbra Streisand, convened at the home of liberal activist/producer Norman Lear to plot a comeback strategy and watch a little must-see TV.
Nancy Pelosi Meets with Barbra Streisand, Plots Dem House Comeback. More than 40 Hollywood politicos — including Barbra Streisand, James Brolin and Haim Saban — gathered Thursday night [1/31/2013] at a closed-door meeting at Norman Lear's Westside mansion, where they heard Minority Leader Nancy Pelosi lay out the party's plans for recapturing the House in the 2014 mid-terms.
Twinkie-Killer Donates To Dem Super PAC. Timothy Collins, the CEO of private equity firm Ripplewood Holdings, was the lone donor to the Super PAC dedicated to helping Democratic Senate candidates disclosed in the year-end filing. Collins contributed at least $10,000 to Majority PAC, according to the dark money group's most recent FEC filing.
Gun Control Frenzy — Proof Democrats Are The Real Racists. There is no doubt that the Sandy Hook school massacre was an unspeakable tragedy but I doubt seriously that had the murdered children been killed at an inner-city school, Presidential Obama would be holding a conference using children as a dramatic prop for his dictatorial gun control agenda. Nor would there be hysterical politicians calling for tighter gun control laws nor column after column from leftwing writers exploiting the tragedy. The sad truth is that none of these demagogues care one bit about murdered black or Hispanic children unless the perpetrators of these crimes are white.
'All My Babies' Mamas' reveals liberals opinion of blacks. All My Babies' Mamas is characteristic of liberals' typical bigotry of lowered expectations regarding minorities. Liberals accuse black conservatives who reject liberal racist stereotypes of being traitors to their race, trying to be white, and "selling out." Long-suffering courageous black conservatives offer blacks real empowerment: liberation from crippling victimhood and entitlement mindsets. Due to liberals' resentment/hatred for America and traditional values, they are repulsed when black conservatives encourage blacks to get an education, work hard, revive traditional black community morality, and go for their dreams.
Obama hosts 'benefactors' at White House. President Obama hasn't been seen in public today, but he hasn't been idle either — he's been entertaining financial backers at the White House. The president and first lady Michelle Obama hosted donors and other supporters in town for second inauguration weekend. A "Benefactors' Brunch" took place at the White House from 10:30 a.m. to 2:30 p.m., says pool reporter Alexis Simendinger of Real Clear Politics.
Elon Musk: Poster Child of Obama Gilded Age. We live in the gilded age of crony capitalism. If you have any doubt about that fact look no further than Elon Musk's purchase of a $17 million mansion in Bel Air, California. Who is Elon Musk? He struck it rich with the invention of PayPal. Lately, though, he has cashed in on the Obama "green energy" and government giveaway bonanza. He plays the game well.
A Conspiracy So Immense. The brainchild of Michael Brune, Phil Radford, Larry Cohen, and Ben Jealous, the Democracy Initiative, according to Mother Jones's Kroll, is "the first time so many groups teamed up to work on multiple issues not tied to an election." These guys have pull. Brune is the executive director of the Sierra Club and former executive director of the more radical Rainforest Action Network. Radford runs Greenpeace. Cohen is the president of the 700,000-member Communications Workers of America, "the largest telecommunications union in the world." Jealous is the president and chief executive officer of the NAACP.
The Vast Left-Wing Conspiracy. Matthew Continetti writes at the Washington Free Beacon about the formation of an incredibly powerful lobbying group, composed of organizations that boast millions of political foot soldiers, with a total income measured in the billions of dollars. It plans to spend tens of millions of dollars pushing a rigid ideological agenda. It's a textbook example of everything we are constantly told is "wrong" with Washington, a combination of big money, political self-interest, political influence, and secrecy.
The Democracy Initiative: a Coup in Plain Sight. Matthew Continetti [...] picks up on a report by Andy Kroll in Mother Jones about a coordinated effort by about 36 different interest groups with reported revenues of no less than $1.69 billion, pledging millions of dollars to work together to attack conservative supporters and organizations, to intervene directly in Democratic politics, to push for filibuster reform to better enable a push through their agenda without any input from the opposition, and expanding "voting rights" and fighting voter registration laws to further grease the skids for their legislative agenda.
Labor union bosses' salaries put 'big' in Big Labor. There can be riches in standing up for the working class: The Boilermakers union president earned $506,000, plus hundreds of thousands of dollars more for travel expenses, while the Laborers union president made $441,000. The Transportation Communications Union leader made $300,000, bumped up to $750,000 with business expenses. Patrick W. Flynn makes $435,000 a year in his capacity as treasurer of a 13,600-member Teamsters union local, and the $30,000 in business expenses he collects on top of costs associated with carrying out his duties around Mokena, Ill., approach that of a typical worker's entire salary.
Meet The 'Bullies': Breitbat Editor Exposes Obama's Army of Thugs In New Book. President Obama and his leftist allies like to claim they're anti-bullying. They stand up for the little guy. They stand up to the powerful. They protect victims. They're liars.
The New Liberal Aristocracy. [Scroll down] Senator John Kerry, who will soon become secretary of state, is a tireless advocate of higher taxes while enjoying his multimillionaire wife's multiple estates. In 2010, Massachusetts resident Kerry docked his new $7 million yacht in nearby Rhode Island in order to avoid paying about $500,000 in taxes to his home state. Should not Kerry have welcomed the chance to chip in half a million to an insolvent treasury, given his advocacy for higher taxes?
Al Gore is now richer than Mitt Romney — and it's all thanks to big oil. Al Gore's strategy for saving the Earth seems to be to raise enough money to be able to buy it. After selling his failing Current TV company to Al Jazeera, Gore is suddenly a super rich man. Forbes analyst Ryan Mac says, "Taking into account taxes to be paid on the deal, possible earlier debt and the fact that Gore's representatives declined to comment, Forbes conservatively estimates the former vice president's net worth to be at least $300 million."
Al Gore is now 'richer than Romney'. Someone finally has done all the math on the recent sale of Al Gore's Current TV to the Arabic language channel Al-Jazeera for $500 million. Jobs were lost, buzz created, employees angered, but the former vice president had little to say about it. He did walk away with a reported $100 million — a tidy sum for a man who had less that $2 million in assets when he ran for president more than a dozen years ago, says Forbes magazine.
The Democrats' War on Science Aids Our Enemies. [T]his week Al Gore, anti-carbon fuel drum major, made a cool $100 million selling his 20% share in the failing, unwatched Current TV to Arab Al-Jazeera, owned by major carbon fuel producers. (His partner, Joel Hyatt, son-in-law of former Ohio Democratic senator Howard Metzenbaum, also benefited mightily.) It's hard to conclude that this $500 million Al-Jazeera purchase is anything other than a payoff for effectively hampering the exploitation of American carbon fuels and advocating openly for giving a cable entrée to this Arab-broadcasting network. Current TV isn't worth anything like the price paid for it.
Years ago, somebody was the first to sell rifles to the Indians, and more recently, somebody else was the first to sell bandwidth to Al-Jazeera.
Terror TV Pays Al Gore $100 Million for U.S. Media Access. Al-Jazeera, once considered the voice of Osama bin-Laden and known for anti-American and anti-Semitic rhetoric, has announced the purchase of Al Gore's low-rated cable channel, Current TV, in a transparent attempt to buy access to the U.S. media market for operatives of the pro-terrorist Muslim Brotherhood. Gore has reportedly made $100 million from the $500 million deal.
The Al Jazeera Deal: How Al Gore Race-Baited His Way to a $100M Pay Day. One of America's great legal rackets is cable/satellite television, where somewhere around 100 million Americans pay for literally dozens of channels they never watch. As you well know, to do business with any cable/satellite provider means being forced into expensive tiers and/or packages that include channels we wouldn't watch for free. Because of this, we're not only forced into subsidizing junk; we're also subsidizing programming that works against our own political and cultural beliefs, like MSNBC, CNN, OWN, MTV, etc.
Who's Worse — Al Gore or Bernie Madoff? Whatever else he is, Gore is arguably a business genius when it comes to generating massive amounts of income from dubious enterprises and, unlike Bernie Madoff, getting away with it.
Teachers union spends millions from membership dues on parties and conferences. Included in the United Federation of Teachers' $166.5 million in spending last year was a hefty $33.4 million in salary for union staffers — a slight increase from the year prior. More than 90 staffers earned six-figure salaries between July 2011 and June 2012, the records show — including President Michael Mulgrew, who took home $275,000.
Kerry Has Investments in Companies Accused of Violating Iran Sanctions. John Kerry, who will be nominated later today to be the next secretary of state, is the richest member of the U.S. Senate. His estimated net worth is, at minimum, $198.65 million, according to disclosure forms. Kerry's disclosure forms also reveal that he has invested in companies accused of doing business with Iran.
Six of country's 10 richest counties in D.C. area. Six of the 10 richest counties in the nation are in the Washington region, as median household incomes rise and Washingtonians benefit from a government-driven economy. Loudoun County maintained its crown as the wealthiest county in the nation, with a median household income of $119,525 in 2011, according to data released Wednesday by the U.S. Census Bureau.
Democratic super PACs get jump on 2014, 2016. Winning changes everything. It took Democrats a while to warm up to super PACs, but their glee over 2012 is — for now — eclipsing any moral qualms about big money eroding democracy, and they're already busy at work courting their wealthiest supporters and planning even more ambitious efforts for future elections.
The Democrats and Big Money. Like much in the Democratic playbook, Obama's self-righteous complaint about the rising tide of big money in politics told a certain truth, but it did not tell the whole truth, and the story of Democrats' moral posturing about money illuminates the hypocrisy and deception at the heart of the party's most cherished self-image.
Obama will take oath twice this time, just to be safe. [Scroll down] Because an inauguration's folderol costs tens of millions of dollars, and even Chicago pols lack the chutzpah to demand federal funds, Obama's money-raisers must assemble the money privately. Oh, look! Corporate donors and special interests will foot the bill.
Obama to take corporate cash for inauguration. President Barack Obama will accept unlimited corporate donations for his Inauguration in January, reversing his position from his first Inauguration, according to two sources close to the planning. There are no legal limits for inauguration donations, but four years ago, the president capped all contributions at $50,000 and barred companies from kicking in any money. Obama had also banned corporate money from the 2012 Democratic National Convention.
Christmas for Obama Bundlers. While President Obama's lips champion the middle class, his administration's old hands are preparing to lavish rewards on the creme de la campaign creme: his wealthiest political donors. Several media outlets reported this week that the White House is considering fashion doyenne Anna Wintour for a possible appointment as U.S. ambassador to Great Britain or France. The rumored short list also includes Obama campaign finance chairman Matthew Barzun and investment banker Marc Lasry. The three share one common, er, "qualification": Each raked in more than $500,000 for Team Obama 2012.
Will Google's Eric Schmidt join the Obama administration? Schmidt's big role in the Obama re-election campaign, Google's $1.9 million donation to Democrats during the race, and Washington's efforts to quiet a looming Federal Trade Commission investigation into Google are key signs that the president wants Schmidt in his cabinet, insiders believe.
The Confessions of a Confused Misfit. I was not surprised when Susan Rice just disclosed that she is worth considerably over $30 million — and has money in Keystone no less. Are they all part of the "one percent"? Did they pay "their fair share"? Do they "spread the wealth"? At what point in his life did Al Gore know that he had made enough money (before barreling ahead and making more)?
The perks of being a union executive. Wage amounts are usually public record, but are perilously difficult to pin down. What a union executive makes can be inflated in the record by sick leave accrual or severance payouts, or can be understated because of tax deferments or allowances in lieu of pay. Still, with that caveat in place, an examination of 2010-11 tax records reveals wages of the highest paid employees of the National Education Association and its state affiliates — defined here as the money reported in box 1 of a W-2 form — ranged from almost $540,000 down to less than $92,000.
Anna Wintour is a ludicrous pick for US Ambassador to London. Anna Wintour, editor-in-chief of Vogue, is reportedly in the running to become the next US Ambassador to the United Kingdom, to succeed the outgoing Louis Susman. According to Bloomberg, Wintour was among "Obama's biggest bundlers of donations in the campaign", raising over $500,000 to re-elect the president. As Bloomberg notes, the Obama administration (like many previous US administrations) has a penchant for rewarding top donors with plum diplomatic posts.
It's Good to be King: The Extravagance of the Obama Family. On Thanksgiving, the Obamas had a feast that would have made Marie Antoinette green with envy. President Obama spends outrageous sums of money for lavish dinners and his family gets multiple vacations per year.
White House Thanksgiving: Six Types of Pie. As food pantries across the United States are overwhelmed by the newly poor and food stamp use is the highest it's ever been, the Obama first family is enjoying a Thanksgiving meal with six different types of pie.
Wal-Mart heir funding Obama big time. This is at first surprising for a couple of reasons. First, the Waltons tend to be Republican. Second, the conventional wisdom is that megacorps like Wal-Mart are a Republican thing. But Sam Walton gave the maximum $30,800 to the Obama Victory Fund in 2008, and $40,000 to the OVF this election.
Medical giant Stryker cuts 1,170 jobs, citing ObamaCare. The company will cut 1,170 jobs, or five percent of its worldwide workforce, despite the fact that the founder's grandson was one of the largest contributors to President Obama's re-election campaign. Medical tech scion Jon Stryker, whose net worth is currently estimated at $1.2 billion, contributed $2 million to the Priorities USA Action super PAC and has given $66,000 in contributions to Obama and the Democratic Party.
Letter: Menendez Must Be Investigated. New Jersey Republicans are accusing Sen. Bob Menendez (D., N.J.) of having violated Senate ethics rules by failing to disclose or seek Senate permission for air travel and lodging provided by a wealthy campaign donor. [...] Records indicate Menendez made at least four trips on a corporate jet owned by Salomon Melgen, a Florida ophthalmologist who has donated more than $220,000 to Democratic candidates and committees since 1993. Melgen gave at least $12,600 to Menendez during that period.
Fundraiser luncheon for Michelle Obama: tickets cost $2,500-per-head
. TMZ reports that to simply attend, and presumably eat, at the event, each person will have to pay $2,500-per-head. The tickets go up in those increments depending on how much access each individual wants.
Liberals' green-energy contradictions
. Al Gore is about 50 times richer than he was when he left the vice presidency in 2001. According to an Oct. 11 report by The [Washington] Post's Carol D. Leonnig, Gore accumulated a Romneyesque $100 million partly through investing in alternative-energy firms subsidized by the Obama administration.
Lies come home to roost
. Granny Warren, the fake Indian, is now portraying herself as the tribune of the middle class, the people Middle Class Joe Biden said have been buried for the last four years, and you can believe him, because he always tells the truth. [...] Granny lives in the People's Republic of Cambridge, and bought her Victorian for $447,000 in 1995, the year she drifted into Massachusetts. It's now assessed at $1,749,000. The mansion itself is so incredibly posh that last year, when a magazine writer wanted to interview Warren there, the campaign insisted that the house itself was "off the record." During the past four years, the Warrens have averaged $845,000 a year in income.
World's Richest Man Gets Richer Supplying 'Obamaphones' to Poor
. Make one wonder how many more rip-off programs that we are paying for.
Mexican billionaire making millions from American government program that gives poor free cell phones
. The richest man in the world, Mexican billionaire Carlos Slim, is making millions in profits from a government program that supplies poor Americans with free cell phones. Mr Slim, who is worth an estimated $69 billion, owns the parent company of both the service provider and phone producer which creates the phones used in the Lifeline program.
More about
free cell phones
.
Who gets rich off 'free' government phones
? One of America's fastest-growing wireless carriers is a company you've probably never heard of: Tracfone Wireless. It's the U.S. arm of a telecom empire controlled by the world's richest man, Carlos Slim, and it's the biggest player in an increasingly lucrative market: subsidized mobile phones for low-income Americans.
Obama Flying to LA to Reassure Hollywood Donors
. Presidential pal [George] Clooney will make a special appearance to introduce [Stevie] Wonder. Afterward, Obama will head next door for a $25,000-per-plate dinner at Wolfgang Puck's chic WP24.
Obama appoints wife of Univision owner to UN diplomatic post
. President Barack Obama appointed Cheryl Saban, wife of the owner of Univision, as U.S. representative to the United Nations, according to reports from various news blogs. According to the Politico blog, Haim Saban, owner of the television network, backed Hillary Clinton in 2008, but during the summer donated $1 million to groups supporting the campaigns of Democrats.
First Lady: Cost-Free Contraception Is 'Basic Preventive Care'
. The first lady spoke [10/2/2012] at the Westin Hotel in Seattle where, according to the White House press pool report, about 700 attended, paying between $500 and $10,000.
On the Road to Benghazi
. In retrospect, the Democratic Convention highlighted a liar, Elizabeth Warren. She was hired by Harvard law school because she lied about her ethnicity to gain affirmative action benefits, exaggerated her scholarship which was shoddy, practiced law for years in Massachusetts out of her law school office without being a member of that state's bar — and possibly at the time a member of no bar at all. She gummed on before the crowd about working for the middle class hiding from the audience that she had made hundreds of thousands of dollars representing big corporations in disputes against steel workers and asbestos victims among others.
Democrat Senate Hopeful Warren Exposed As Complete Fraud
. On top of fraudulently claiming minority Indian status without any documented ancestry, the Harvard law professor has now been busted practicing law in Massachusetts without a state license. Worse, her client list includes the type of corporations that Ms. Populist has demonized on the campaign trail as greedy polluters and exploiters of the "little guy." Turns out working-class champion Warren in 1995 hired herself out as a legal gun for LTV Steel to help the conglomerate fight thousands of retired coal miners who wanted more health and pension benefits, the Boston Herald says. She pocketed a cool $10,000 in the case. Records show in 2009 she also defended insurance giant Travelers against asbestos victims.
Elizabeth Warren represented large utility seeking to liquidate rural electric cooperative
. I'm not from Massachusetts, and I'm perfectly willing to let the good people of Massachusetts decide who their Senators should be without my assistance. But I do think you're entitled to the facts before you vote, and in at least one respect Professor Warren is not being accurate in her description of one of the cases she handled. Rather than working to save a rural electric cooperative, Warren represented a large utility which sought to liquidate the cooperative and purchase the cooperative's main asset, a large coal burning plant north of Baton Rouge.
More about
Elizabeth Warren
.
Obama's Class Warfare Rhetoric Is Preparation for Tyranny
. Mitt Romney was entirely correct when he alluded to the efforts by Obama and the Democrats to create a faction of people dependent upon the government, and therefore upon themselves, who therefore would form a reliable voting bloc. Indeed, this has been the Left's modus operandi since FDR's time — lure Americans into the addiction of government handouts, continually make the income tax code more and more "progressive" so that greater and greater numbers of us in effect do not pay any income taxes while shifting the burden more and more to the capital-providing, jobs-producing rich. By draining and driving out these victims of redistribution, the government then generates more "need" for hand-outs and assistance as jobs disappear and the economy systematically slows down. Obama has been working for the last four years to accelerate these trends because he is making a concerted effort to grasp total power.
Obama Oct. 7 LA Fundraiser Locks In Exclusive Dinner Location & Concert Performers
. Jeffrey Katzenberg will be co-hosting the now $25,000 a ticket dinner scheduled after the 30 Days To Victory Concert at the Nokia Theatre. Harvey Weinstein may also come on board as a co-host for the intimate meal between the incumbent and his wealthier supporters.
The poor people Obama left behind
. Four years after Barack Obama's historic election as president, little seems to have changed for the African-American communities on Chicago's South Side. The lack of change — or the sense that these neighborhoods are getting worse — is eroding the president's standing among African-Americans in his hometown. In 2011, Chicago suffered the third-highest black jobless rate among the nation's major metropolitan areas, at 19 percent, according to the liberal Economic Policy Institute.
Obama Books Another Lavish La-La-Land Fundraiser
. What else to expect from the same President who dashed off to a Vegas fundraiser the same day the Middle East blew up and we learned of the assassination of Ambassador Stevens.
Obama pulls in $4M at Jay-Z, Beyoncé fundraiser
. After enduring a little ribbing on "Late Show With David Letterman" in New York on Tuesday [9/18/2012], President Obama collected $4 million at a fundraiser hosted by Jay-Z and Beyoncé at their lounge bar, Manhattan's 40/40 Club. About 100 donors who paid $40,000 each to attend the event sat on sofas in a large, glass room, according to the pool report.
Beyoncé & Jay-Z host NY Bam ba$h
. When President Obama addresses an elite roster of hipsters and multimillionaires, including hosts Beyoncé and Jay-Z, in New York tonight, he will do so next to a custom-designed tower of $800-per-bottle champagne that dominates the main room at Jay-Z's 40/40 nightclub.
Speaking to the 47%:
The $105,000 champagne tower featured at Obama fundraiser hosted by Jay-Z and Beyonce
. President Barack Obama attended a fundraiser at Jay-Z's 40/40 Club in Manhattan that featured a champagne tower of 350 bottles worth $105,000 — more than twice the median household income of an American family. The tower of $300-a-bottle Armand de Brignac Brut Gold, known as 'Ace of Spades' because of its label, is a permanent fixture at the club.
Obama has time to meet with Jay-Z and Beyonce at fund-raiser, but can't fit Netanyahu into his schedule
. The fund-raiser hauled in about $4 million for Obama and the Democrats. Guests, who included Yankee ace pitcher CC Sabathia, sipped $800-per-bottle Armand de Brignac champagne. "Beyoncé could not be a better role model for my girls," Obama told the crowd.
Rep. Nita Lowey collects an extra $10G pension on top of her salary
. Rep. Nita Lowey is the wealthiest member of New York's congressional delegation and one of the richest members of Congress. She's also a double dipper. The Westchester Democrat, who is worth at least $14.3 million, collects a $10,302 annual state pension on top of her $174,000 congressional salary.
Report: Top Obama Bundlers Bag Millions in Taxpayer Money
. An investigation by the Government Accountability Institute found that more than half of the most politically active 50 campaign bundlers for President Obama were either appointed to a presidential council, committee, board, or other White House post. Many bundlers' businesses or relatives' businesses also received millions of dollars in taxpayer-funded federal contracts, grants, loans, or other crony perks. In all, the top 50 bundlers received three council appointments, one ambassadorship, two committee appointments, and a whopping 20 State Dinner invitations.
Obama attends fundraiser in nation's capital
. The event Friday night, at a private residence in the nation's capital, attracted 35 donors who each contributed $40,000.
Meet the Bundlers
. Bundlers are fundraisers who gather high-dollar donations and "bundle" them together for their favored candidates. Recently, we at the Government Accountability Institute decided to look at some bundlers to see whether they, their relatives, or their businesses have received government contracts, loans, or other perks.
Not all Obama bundlers are on his public list
. President Obama's campaign has left off its public list of "bundlers" at least 25 names its own finance team considers to be among their most valuable funders, including seven who live in foreign countries, a review of records by The Washington Times found. In one case the campaign's own internal documents listed Cynthia Stroum as bundling $400,000 this election cycle, yet she is not on the campaign's official public list. Mr. Obama tapped Ms. Stroum to be ambassador to Luxembourg after she raised half a million for his 2008 campaign.
Dr. Biden's Mystery Necklace
. Dr. Jill Biden wore an expensive Van Cleef & Arpels Vintage Alhambra necklace in Pink Gold and Pink Sevres Porcelain as she arrived at the Charlotte airport on Tuesday [9/11/2012] with the Vice President for the Democratic National Convention. [...] Because the necklace cannot be bought in the United States, the
Washington Free Beacon
cannot determine its exact price. We estimate, based on similar necklaces, that it would cost between $10,000 and $14,000. The per capita individual annual income in the United States between 2006 and 2010 was $27,334.
Wasserman Schultz's Luxury Cars and Growing Net Worth Raise Questions
. Congresswoman Debbie Wasserman Schultz has famously stated that she is a "middle class American," and it was this very claim that prompted many of her critics to openly question whether or not it was a realistic assessment of her personal income and assets. Wasserman Schultz' Republican congressional opponent Karen Harrington has called on her to release her personal tax income tax returns in response to her repeated calls for Republican Presidential candidate Mitt Romney to do the same.
Democratic Millionaires Spew Hate On The Rich
. The most ridiculously annoying aspect of the Democratic political run for offices in 2012 is the incredibly long line of leftist millionaires who continually spew extreme hate and venom on the wealthy. Every time a financially successful person gets up before the masses and promotes the leftist's class warfare by denouncing the successful and wealthy persons and businesses among us, it is the most bizarre thing happening in the current elective campaign process.
Fact Check: First Lady's False Fairy Tale of Struggle
. First Lady Michelle Obama's pitch to voters last night relied on the premise that she and her husband understand what it is to struggle to make ends meet. She spoke movingly about their early years — about how a young Barack Obama drove a car that was "rusted out" and found his furniture "in a dumpster," how they both came from families that had to "scrape by." Her fairy tale — however well-delivered — was one great, big, colorful lie.
Media Fail to Fact-Check Michelle's Speech
. The basic premise of Mrs. Obama's speech — that she and her husband had struggled economically like so many other Americans — is false. Not only did they enjoy many advantages that others do not, but CNS News reports that Barack Obama inherited half a million dollars in stock from his grandmother, a bank vice president who Michelle misleadingly cited as a victim of gender discrimination. These fibs are not new for the Obama camp.
10 Celebrities Who Have Made Big Donations To Obama
. Clint Eastwood, Chuck Norris, Kid Rock, Jeff Foxworthy, Vince Vaughn, and Jon Voight have all endorsed [Mitt] Romney without giving the candidate a dime. President Obama, on the other hand, has received considerable support from his high-profile supporters, some of whom even spoke at the Democratic National Convention this week.
Yes, that was Clooney's voice on Obama film
. Deadline notes that Clooney hosted a dinner for Obama at his LA home that brought in a record $15 million for the campaign on May 10, and attended a Democrats Abroad fundraiser in Geneva that raised $625,000 last month.
Dem. Keynote Speaker a Beneficiary of Bain Capital, Refuses to Release Tax Returns
. Maryland governor Martin O'Malley, who is giving a keynote address tonight [9/4/2012] at the Democratic convention in Charlotte, is a beneficiary of Bain Capital, the private equity firm Republican presidential candidate Mitt Romney helped create. The irony is that Democrats have tried to argue, throughout this campaign, that Bain is bad — that the company has put other, smaller companies out business, and helped ship American jobs overseas. But, when O'Malley retires, he'll receive $135,000 annually from the Maryland state retirement and pension system.
Michelle Obama's day and perks reserved for the big donors
. Major donors will experience a very different convention than rank-and-file delegates who will fill the arena on Tuesday and Wednesday night and the Bank of America stadium on Thursday. [...] The best VIP perks go to those who donated at least $75,800 to the joint Obama campaign/Democratic National Committee fund-raising committee with more perks going to donors who have a track record of giving at least $122,400 from Feb., 2009 to June 1 or who raised $350,000 from Jan. 1, 2011 through June 1.
Real Estate Market Recovers for Senior White House Advisor
. Valerie Jarrett currently owns an 11-percent equity interest in Kingsbury Plaza, a 46-story luxury apartment complex developed by Habitat between 2005 and 2007 at a cost of more than $100 million. She valued the investment at between $1 million and $5 million on her 2011 financial disclosure form, up from $250,001 in 2010. A Jarrett spokesmantold the Washington Times that the investment was "a direct result of her 13 years working for Habitat."
Not exactly the 99%: Top union leaders' salaries
. Advocating for the working man doesn't pay too poorly, it seems. Here's a list of the annual salaries and benefits earned by the nation's top labor officials, according to the Labor Department. This data is based on 2011 filings:
AFL-CIO President Richard Trumka — $293,750.
National Education Association President Dennis Van Roekel — $460,060.
Service Employees International Union President Mary Kay Henry — $290,334.
American Federation of State, County & Municipal Employees President Gerald McEntee — $512,489.
International Brotherhood of Teamsters President James P. Hoffa , Jr. — $372,489.
American Federation of Teachers President Randi Weingarten — $493,859.
Obama Hoops-Themed Fundraisers to Net Millions
. A trio of hoops-themed fundraisers, hosted by Michael Jordan and other current and former NBA stars, is expected to net at least $3 million for Obama and the Democrats, according to figures provided by his campaign. The "Obama Classic" includes a $250 per-person autograph signing event, a $5,000 skills camp and shoot-around, and a $20,000 per-plate dinner co-hosted by Jordan and 120 guests. The events are slated to take place in various venues at Lincoln Center.
Obama slammed for fundraising with 'pro-drug dealing, anti-police' NBA player
. Obama is in New York City raising campaign cash with 'NBA Heroes' — a selection of former and current basketball stars including Michael Jordan, Patrick Ewing and Alonzo Mourning. But the all-star line up also includes New York Knicks player Carmelo Anthony, who is currently seen in a YouTube video and DVD that promotes drug use and threatens people who 'snitch' to police about drug dealers and other criminals.
Secret 'Menu' Details Perks for Big Democratic Donors
. Those seeking invites to the most lavish receptions at the 2012 Democratic National Convention, "gold ticket" access to "dialogues," and private breakfast briefings with party luminaries, can expect a hefty price of admission. A list of high-end convention packages circulated by the Charlotte in 2012 Convention Host Committee, and obtained by ABC News, shows that those and other perks are being offered to donors who raise $1 million or donate $100,000 to the convention's nonprofit planning arm.
The Left-Wing Money Machine
. With the overwhelming financial advantage of the left-wing money machine, it is hard to take seriously a president who castigates Republicans as the party of the rich.
Liberal Bigotry
. Progressives — liberals — are the worst offenders of their own axioms when they talk about the "evils" of those who dispute liberal versions of facts, policy, or, especially, morality. The bigotry liberals direct toward those with whom they merely disagree is 7staggering. Liberals believe in free speech, unless it offends someone's tender sensitivities (meaning only that liberals disagree with it). They protest the "wealthiest 1%," but exempt from their condemnations billionaire liberals and wealthy movie and rock stars, most of whom share the same ideology.
Obama Set For $35,000-Per-Person Dinner At Movie Mogul Weinstein's Connecticut Home
. The events include a $500 per person reception at the Stamford Marriott and a $35,800 per person dinner at the Westport home of movie producer Harvey Weinstein.
Miscellaneous reports of celebrity fundraisers: [
1
] [
2
] [
3
] [
4
] [
5
] [
6
] [
7
] [
8
]
Trio of Hollywood Elite Hosting Obama Fundraiser Tonight
. [Scroll down] The president will hold two fundraisers in Connecticut today [8/6/2012], a firmly Democratic state. In Stamford, he will speak at a reception for 500 supporters, who will pay $500 each to attend the event, before heading to the $35,800 per person star-studded dinner.
Connecticut beaches closed so Obama can fund-raise with Hollywood mogul
. Amid the peak summer season, two of Connecticut's popular public beaches — maintained with taxpayer money — were closed Monday [8/6/2012] to accommodate President Obama's fundraising excursion that ends with a $35,800-per-plate event at movie mogul Harvey Weinstein's mansion.
Who's Afraid of Wealthy Politicians?
Among recent prominent American politicians, it's challenging to find a single one who is not a millionaire. Harry Reid has a net worth estimated at between $2.6 and 5 million. Nancy Pelosi recently lost $8 million, bringing her net worth down to $26.4 million. John Boehner is said to have $1.7 million. Hillary Clinton, one of the most popular political figures in the country, is worth about $85 million. No one objected to her wealth when she ran in 2008, and no one suggests it would be a handicap in the future.
Jordan, NBA players to hold basketball-themed fundraisers for Obama in New York
. [Michael] Jordan, who played for the Chicago Bulls, Obama's favorite NBA team, and NBA Commissioner David Stern are co-hosting a $20,000-per person fundraising dinner with the president later in the day [on 8/22/2012].
Obama brings Manhattan to a standstill AGAIN for $40,000-a-head fundraiser
. Barack Obama last night returned to New York City for a $40,000-a-head fundraising dinner which was expected to bring rush hour traffic to a standstill. The trip came just six weeks after a star-studded event at Sarah Jessica Parker's house in Manhattan which raised $4.5 million for the President's re-election campaign.
Michelle Obama Sports $6,800 Jacket to London Soiree
. The jacket cost more than the average American family makes in a month ($4,284). And, she does this as Americans continue to suffer through a deep recession and record unemployment.
Michelle Obama sparks fury after splashing out on $6,800 designer jacket
. Political commentators have expressed their fury over the fact that Michelle Obama wore a jacket worth $6,800 to the pre-Olympics Opening Ceremony reception at Buckingham Palace on Friday [7/27/2012]. Though the dazzling J Mendel jacket and skirt won critical acclaim from the style set, some pundits are furious that she elected to spend so much money on a garment while so many in the U.S. are suffering financially.
Ann Romney slammed for $990 Shirt, Michelle Obama praised for $6,800 jacket
. Back in May, Ann Romney, wife of Republican Presidential candidate Mitt Romney, wore a $990 Reed Krakoff silk shirt for a media appearance. The item of clothing set off a media firestorm, with the Romneys widely accused of being "out of touch" with average Americans. In particular, the Washington Post wrote that the $990 blouse "will not help her husband change those perceptions, no matter how many Laundromat photo ops are on the campaign's itinerary." Fast forward to last Friday...
Mrs. Obama's $6,800 Jacket OK; Mrs. Romney's $990 Blouse Not
. The media's double standard when it examines the wealth and privilege of the two presidential candidates was on display again this week. The analysts of haute couture and its intersection with politics were silent when First Lady Michelle Obama showed up to meet the Queen of England in an very, very, very, very expensive jacket. But in May, the media were ready to erect a guillotine after they saw Ann Romney, the wife of GOP presidential candidate Mitt Romney, appear on television in a blouse that cost about one-seventh as much as Mrs. Obama's attire.
More examples of
media bias in Obama's favor
.
Obama gets personal on Planned Parenthood
. [Scroll down] About 200 people are expected later Tuesday night [7/24/2012] in the Seattle suburbs at a $5,000-per-plate dinner at the home of Jim Sinegal, the co-founder of Costco. He'll also attend another fundraising roundtable with 20 people at $35,800 per ticket. [...] Obama's stop in the Rose City Tuesday was for a pair of fundraising events: a roundtable with about 25 people with $30,000 individual tickets and a $500 admission for his speech.
Obama Crosses Picket Line
. Penny Pritzker, the billionaire heiress whose family owns the Hyatt hotel chain, took a ride on Air Force One this afternoon from San Francisco to Portland, Ore., where President Obama was making a series of fundraising stops. The ride came hours after the announcement of a global boycott of Hyatt Hotels by Unite Here, the nation's largest hospitality workers union. That boycott has been joined by the National Organization for Women, the National Gay and Lesbian Task Force, the National Black Justice Center, and the National Football League Players Association. Pritzker was the national finance chair of Obama's 2008 campaign.
Lost Obama donor Penny Pritzker surfaces on Air Force One
. Penny Pritzker is a billionaire who raised gobs of money for Barack Obama in 2008, then emerged as a central figure in two recent media stories about rich Democratic donors who are down on the president, in part because they feel unappreciated and stiffed on presidential perks. But there she was Tuesday [7/24/2012] on Air Force One, hitching a ride from San Francisco to Portland with Obama. Coincidence? There are few coincidences in politics.
Obama fund raises at "ruthless" out-sourcer's penthouse at $25,000 a pop event
. Immediately after bashing Mitt Romney for allegedly out-sourcing American jobs overseas at Bain and claiming he wants "to be a pioneer in in-sourcing," yesterday [7/18/2012] Obama's motorcade sped to the luxury penthouse of former Dell exec Tom Meredith, on record as priding himself in being "ruthless" in cutting American jobs in Texas and other states, while preserving them in Asia to cut costs for Dell. [...] One would think the media might be interested in reporting Obama's brazen hypocrisy but I guess not.
Rich Liberal Hypocrites!
In 2011, you couldn't swing a dead cat in Congress without hitting a multi-millionaire, many of them Democrats. John Kerry who ran against George Bush has a net worth of $193.07 million, much of it the result of marrying rich wives. Jay Rockefeller whose very name suggests wealth has $81.63 million. The California ladies, Diane Feinstein comes in at $55.07 million and Nancy Pelosi is worth $35.20 million. The Daily Caller recently reported that Rep. Pelosi's 2011 financial disclosure statement included between $1 million and $5 million earned from partnership income with Matthews International Capitol Management, a firm that invests exclusively in Asia where much U.S. outsourcing occurs.
Dem. Chair Invested in Swiss Banks, Foreign Drug Companies, and the State Bank of India
. Disclosure forms reveal that Democratic National Committee chair Debbie Wasserman Schultz, a member of Congress from Florida, previously held funds with investments in Swiss banks, foreign drug companies, and the state bank of India. This revelation comes mere days after the Democratic chair attacked presumptive Republican presidential candidate Mitt Romney for holding money in Swiss bank accounts in the past.
Obama's Millionaires
. President Obama's latest proposal to raise taxes on high-income earners would effectively cut taxes for a number of senior White House advisers whose net worth exceeds $1 million. At least five millionaires currently employed in senior White House positions would receive a tax cut under Obama's plan, an initial Washington Free Beacon review of financial disclosure records has found.
Air Jordan and the 1%
. What does Michael Jordan tell us about income inequality in the United States? The U.S. has greater income inequality than nearly all other developed nations, and the former basketball star earned far more in most years than the typical American earns in a lifetime. So is our system unfair and stacked against the middle class?
Joe Biden 'considers $379,000 income middle class'
. Joe Biden considers himself to be part of America's middle class, despite his $379,000 income. Speaking to the National Council of La Raza in Las Vegas about home ownership, the vice president said that the upper class 'doesn't get it — for middle class folks like me and you, owning a home is the single most consequential element to our existence.' President Obama has been heavily campaigning his $250,000 threshold that would cause income taxes to rise for the wealthy.
7 Unhappy Truths About Politicians
. [Scroll down] The median net worth of members of Congress is about $913,000. On top of that, members of Congress have staffers who do everything for them and treat them like god-kings in the process. These aides schedule their lives, read everything for them and regurgitate back what they think they need, and incessantly tell them how wonderful they are. Most members of Congress have more in common with celebrities like Madonna or Barbra Streisand than they do with the teachers, factory workers, and small business owners who vote them into office.
Awkward! Obama hosts those congressional laggards for a picnic
. Since everything is running so smoothly across the country, it was a good time for another summer party at the Obama White House. Last night the current first family had an outdoor picnic with hot dogs and hamburgers and some uniformed Marines providing musical entertainment. "It is spectacular," Obama admitted at his own party, having just returned from another $40,000-for-a-cup-of-coffee with POTUS fundraiser.
Obama's Tone-Deaf Fundraiser
. After Obama's attempt to reassure the public about the economic recovery fell flat Thursday [6/14/2012], he jetted off to a celebrity fundraiser in Manhattan hosted by Anna Wintour and Sarah Jessica Parker — and the contrast could not have been more tone-deaf. As AP reports, Obama seemed to temporarily abandon his middle class warrior routine, telling the $40,000-a-plate dinner guests that they were the "ultimate arbiter" of the country's future.
Obama attends fundraising events in Maryland
. President Barack Obama swung through Baltimore on Tuesday [6/12/2012] for a trio of fundraisers intended to energize the deep-pocketed donors his campaign will need to compete amid the onslaught of money flowing into this year's presidential election. [...] About 100 people attended the first fundraiser, which cost between $10,000 and $50,000 apiece.
Only in America...
• Only in America could the President talk about the greed of the rich at a $35,000 a plate campaign fund-raising event.
• Only in America could people claim that the government still discriminates against black Americans when we have a black President, a black Attorney General, and roughly 18% of the federal work force is black while 12% of the population is black.
• Only in America could we have had the two people most responsible for our tax code, Timothy Geithner, the head of the Treasury Department and Charles Rangel who once ran the Ways and Means Committee,
both
turn out to be tax cheats who are in favor of higher taxes.
Where is President Obama Today? Fundraising and Partying with Rich and Radicals
. Fridays usually include a video wrap-up of the week just completed. But so far today [6/1/2012], nada. If and when the White House gets around to emailing the official schedule out, it will note that on the day that we learned unemployment has ticked back up to 8.2% and previous jobs numbers have been revised negatively, President Obama is not focused on the economy at all. His schedule would show that Obama is holding six fundraisers for his re-election campaign. And chances are, you can't get in to see him.
A New Level of Shamelessness
. John McCain actually did believe in "campaign-finance reform," but candidate and President Barack Obama most certainly did not: He was the first presidential candidate in the general election to renounce public campaign financing in the history of the legislation so that he could go on to out-raise McCain three to one. He raised the most money in campaign history, and was the largest recorded recipient of Wall Street cash. In three-and-a-half years, he has held the most fundraisers of any sitting president; he has accepted super PAC money when he said he would not; he has allowed big donors to receive preferential treatment in green-company subsidization.
Mayor Bloomberg shells out $25 million for two new houses
. New York's Mayor Michael Bloomberg has added two new multi-million dollar properties to his already extensive real estate portfolio. America's richest mayor gave a glimpse of his wealth on Friday [5/25/2012], allowing reporters to look at a redacted mock-up of his tax returns and his annual city financial disclosure. The tax returns show the mayor purchased a 33-acre estate in Westchester County in June last year at a cost of $4.55 million.
Obamateurism of the Day
. If you think life is tough, Chicagoans, just consider the hard life of ...
Barack Obama
. Angry that the NATO conference tied up traffic for hours? That's nothing, says President Obama. Why, he had it so tough that he had to stay at a
five-star hotel
.
Biden Calls Himself 'Middle Class Joe,' Owns Mansion
. Joe Biden, speaking in Ohio today [5/17/2012], said that he is "tired of being called a 'Middle Class Joe.'" While it's not clear who actually calls the vice president that, it is clear that his house and finances tell a different story.
Democrats who cheat on their taxes want us to pay more
. Treasury Secretary Tim Geithner did not pay the taxes he owed; Charles Rangel (D-NY) who as chairman of Ways and Means wrote tax laws, has run afoul of tax authorities for years' worth of malfeasance; and the latest: Democratic Senator Claire McCaskill of Missouri — a stalwart supporter of Barack Obama and one of the richest members of Congress. Lest we forget, Tom Daschle, Obama's putative first choice for HHS Secretary had to drop out when it was disclosed that he also failed to pay taxes he owed. These are all members of the 1% Club. Meanwhile, the staff of the IRS is being boosted by thousands of new auditors to snoop on our taxes to make sure we pay our "fair share" and Democrats rail against the "rich" who don't pay their fair share of taxes.
President Obama raised most from private equity, hedge funds in 2008
. President Obama raised far more cash from hedge fund and private equity donors than any other candidate in the 2008 election cycle. According to an analysis by the nonprofit group Open Secrets, Obama took in nearly $3.5 million from large private-equity donors that year — nearly twice what his general-election rival, Sen. John McCain (R-Ariz.), pocketed.
Transparency? Secret, Soros, Left-Wing, 1% Summit Meeting Held Behind Closed Doors
. A luxury resort in Miami, Florida with police-guarded closed doors was the home of a secret George Soros-backed summit attended by deep-pocketed left-wing donors over the weekend of May 12. They met to plan their strategy for the 2012 elections and beyond. Yes, it was all hush hush and secret-like — so much for all that "transparency" those lefties are always braying about. The event hosted by the leftist group Democracy Alliance was reported upon by the Washington Free Beacon from afar. I say from afar because the Soros-paid group refused the reporters access to the event.
Lovitz's Latest Obama Slam: Clooney Fundraiser Reeked of Hypocrisy
. The "Saturday Night Live" alum took aim at George Clooney's Obama fundraiser this time, calling the president hypocritical for trashing the rich while letting them line his campaign coffers.
Obama Courts Private Equity Cash at New York Fundraiser
. Hamilton "Tony" James — the president of the Blackstone Group, the nation's largest private equity firm — is hosting a $35,800-a-head dinner for Obama, with 60 Democratic allies expected to attend, according to a campaign official. Many in attendance are expected to have ties to the private equity sector.
Godfather of the Left Gives $550 Million to Liberal Causes
. It's easy to see George Soros's imprint on most major American left-wing organizations. All you have to do is look at their financial forms. George Soros aids hundreds of left-wing groups in America each year under the auspices of his Open Society Foundations. In just 10 years, Soros has given more than $550 million to liberal organizations in the United States. And that's really just a beginning. That total represents about 27 percent of the $2 billion given out by the American branches of his Open Society Foundations from 2000 to 2009.
Clooney's Obama party full of 'Hollywood hypocrites'
. They say tonight's soiree for President Obama at George Clooney's house in Studio City is supposed to gross $15 million, and the operative word is "gross." Yeah, pardon me for being such a party pooper, but isn't it a little offensive that 150 of L.A.'s high rollers would shell out $40,000 to kiss Clooney's ring and get maybe 10 seconds of face time with Obama?
Obama campaigns for cash at George Clooney's house
. Fresh from announcing his support of same-sex marriage, President Obama headed Thursday night for a Hollywood campaign fundraiser that was projected to bring his re-election campaign nearly $15 million — a record for such an event — at the home of actor George Clooney.
Marin County: Garden of Delusion
. The population of Marin is overwhelmingly white, Democrat, and financially well-off. In 2008, nearly 80% of the vote went to Obama. The main minority consists of Spanish-speaking immigrants who prosper by providing services such as gardening, house-cleaning, and child care. The going rate for babysitting is close to $20 an hour. Although official statistics say that the Hispanics have low incomes, those statistics are based on the assumption that landscapers and babysitters, often in the country illegally, carefully report their earnings to the government.
Rogue Democrats Loot Detroit As Nation Sleeps
. Few readers will be surprised to learn that decades of incompetence and entrenched corruption in Detroit's government have not only helped wreck the city; firms linked to former Democratic mayor Kwame Kilpatrick also looted the pension fund. The latest scandal, which leaves even hardened observers of the abysmal Democratic machine that has run the city into the ground bemused, involves a real estate firm which gave the felonious mayor massages, golf outings, trips in chartered jets and other perks as this enemy of the people went about his hypocritical business of pretending to care about the poor while robbing them blind.
Hey, Big Spender
. Even as Ann Romney's wardrobe becomes an issue in the 2012 presidential election, critics of her sartorial choices have turned a blind eye on first lady Michelle Obama's frequent appearances in pricey designer outfits. When the wife of the presumptive Republican nominee appeared on television last week wearing a nearly $1,000 blouse, pundits were quick to point out the price tag. MSNBC's Lawrence O'Donnell called the blouse "a really ugly T-shirt" that is "yet another example of how out of touch the Romney family can be with how 99 percent of Americans live." The first lady's expensive designer clothes, however, rarely warrant mention.
Clooney's Obama Fundraiser Expected to Collect Record $12 Million
. Campaign sources say the May 10 event will be the biggest in presidential election history.
Smartest Guy in the Room
. [Senator John] Kerry's net worth as listed on his 2011 financial disclosure form is at least $193 million and likely much higher, making him the wealthiest member of the Senate. He is also a prolific investor, maintaining an array of stocks and other holdings through a mix of family trusts, marital trusts, and commingled fund accounts with his wife, Big Ketchup baroness Teresa Heinz.
Michelle O wears $2700 sweater
. In March, the first lady visited her British counterpart Samantha Cameron wearing a L'Wren Scott sweater in a trendy bright yellow hue. The embellished cardigan costs $2,720. Obama, widely regarded as a fashion icon, likes the brand so much that she wore a peach cardigan from the same line last week during the Take Your Child to Work Day festivities. The next day, she wore another sweater from L'Wren Scott, this one white with red trim from the Spring 2011 ready to wear collection, for a visit to Fort Stewart with the president.
Obama wraps another fundraising month with a chilling plea
. Money = Access. No coincidence that about three dozen guests at that recent state dinner for British Prime Minister David Cameron were Obama bundlers. On May 10 [George] Clooney will throw open the doors to his 7,000-square-foot LA home to welcome the president and enough Obama supporters, at $40,000 per head, to give the Chicagoan a one-night haul of about $6 million. There, this Democrat will talk yet again about how much he needs so much money to fight for America's struggling middle class.
Obama Attends Two $40,000-Per-Person Fundraisers — That Are Closed to Press
. President Barack Obama is mingling with donors at two high-dollar fundraising events, aiming to raise about $2 million toward his re-election effort.
Silver Spoon Obama: Is he Calling the Kettle Black?
Obama has to be delusional. Just think about it, a poor black man writes a book about the dreams of his father and he makes millions of dollars. A poor black man is born in Hawaii and he goes to a private school in Hawaii. A poor black man on his way to Harvard Law School takes a little time (a month) to fly to Kenya to meet his relatives. I think Obama may be confused by the notion of a silver spoon.
Obama fundraises at BET chair's home
. President Barack Obama attended a fundraiser Friday night at the home of Debra Lee, chairwoman and CEO of BET. About 40 people attended the $40,000-a-plate dinner in D.C.'s Woodley Park neighborhood.
Obama's tainted bundler
. Jon Corzine left Goldman Sachs with a net worth far exceeding even that of Mitt Romney today. Many accounts of his tenure at Goldman suggest he "failed up" the corporate ladder.
Obama Charges $1,000 Per Handshake
. President Obama's fan base is willing to pay through the nose to get a glimpse of him. In fact, supporters in Dearborn, Michigan showed up today to shell out $1,000 just to shake the hand of The One.
Obama Asks Donors for A $75,800 Contribution
. The Obama campaign may constantly paint presumptive GOP nominee Mitt Romney as the corporate fat cat candidate, but a new fundraising invitation from the president may even break the biggest wallets on Wall Street. For $75,800, donors can attend the Obama-backed 18th Annual National Women's Issues Conference in Washington. The price tag earns a donor the title of "chairman," special seating, a photo op and special recognition at the conference.
Cost to Discuss War on Women? $75,800
. As President Obama continues to amp up his class warfare rhetoric and paint Republicans as in the bag for the "rich," he seems to have no problem raking in campaign cash on backs of women by using them as political pawns and treating them (well, liberal women anyway) like victims.
Obama's Hollywood Palace Guards Pour In Big Bucks
. If you're wondering why America's so-called satirists still haven't found the fact that Obama ate a dog funny... In fact, if you're wondering why no one in Hollywood will satirize Obama in any way whatsoever, this should help to explain a lot.
Jon Corzine Still Bundling for Obama
. Barack Obama's reelection campaign has released the most recent list of names of fundraising bundlers. On that list is Jon Corzine, the former governor of New Jersey and embattled money man, the former head of MF Global. Corzine, according to the Obama campaign, has once again helped raise more than $500,000.
Axelrod buys $1.7 million Michigan Ave condo
. Longtime political strategist David Axelrod, who helped advise President Obama's presidential run in 2008 and is serving as communications director for Obama's re-election campaign, has paid $1.7 million for a four-bedroom, 3,320-square-foot condo unit in a high-rise condo along Michigan Avenue.
President Obama's 'Fairness' Vision Would Bankrupt Nation
. It's ironic that President Obama would make two speeches this week in Florida about "fairness," sandwiched as they were between $10,000-a-plate fundraising dinners. But that's the level of hypocrisy coming from the White House these days. To be polite, most of the comments Obama makes these days about the economy, taxes and, especially, "fairness" stretch all credibility. Hearing the large number of outright falsehoods and partial truths he uses to support his argument, it's impossible not to believe it's simply a ploy to get votes from those who envy the rich and the successful. A full unpacking of Obama's whoppers would require a much larger space than we have here.
Obama Family Tax Shelter
. President Obama and his wife, Michele, gave a total of $48,000 in tax-free gifts to their daughters, according to tax records made public on Friday. [...] There is nothing illegal about the president's taking advantage of this tax shelter, but it does raise eyebrows given that he has lamented the myriad tax exemptions used by the wealthy — "millionaires and billionaires" like himself — to pay less in taxes.
Obama attacks inequality while soliciting big-money donors
. Pausing between $10,000-a-plate fundraisers for his re-election campaign, President Obama called on Congress in a highly partisan speech Tuesday [4/10/2012] to approve a tax increase on the wealthy to pay for programs for the middle class.
Joe Biden, manipulator of the working class
. Hot on the campaign trail, Vice President Joe Biden is once again trying to prove that he is a product and friend of the working class. The facts say otherwise.
Obama on Why Michelle Was a Working Mom (at $316K Per Year)
. Speaking Friday [4/6/2012] at what the administration called "The White House Forum on Women and the Economy," President Barack Obama said that after his two daughters were born, he and his wife — both Harvard Law School graduates — could not afford the "luxury" of having her stay home with the children. In 2005, when Obama began serving in the U.S. Senate (and his daughters turned 4 and 7), he and his wife were earning a combined annual income of $479,062.
The Editor says...
It must be tough to scrape out a living on such meager wages.
President Obama raises nearly $1.5 million in 3 hours
. President Obama attended a whirlwind pair of exclusive fundraisers with top Democratic donors Thursday night [4/5/2012], further padding his reelection campaign coffers as his defense of the White House pivots into general-election mode. At the first of the two fundraisers, 20 donors paid $40,000 apiece for an intimate closed-press meeting with the president. Shortly thereafter, Obama crossed town for a larger fundraiser where some 250 people chipped in $2,500 apiece.
Pelosi held over 400 fundraisers in one year
. NPR reporter Andrea Seabrook recently toured with Nancy Pelosi during a fundraising swing through Texas covering two days, five or six events, three cities. When asked by Seabrook how often she attends fundraisers a week, she replies, "A lot, you know. They're either on the phone or attending events. But I think they've said this year I've attended almost 400 fundraisers in nearly 40 cities."
Obama's Trust Fund Baby
. Although he is not listed as a bundler for the Obama campaign, [Rob] McKay is on the board of the Priorities USA Action super PAC and in January helped organize a $35,800-a-head January fundraiser for Obama. McKay and his wife Anna have given more than $305,500 to Democratic candidates and groups since the 1990 cycle, according to the Center for Responsive Politics, including $100,000 to the America's Families First Action Fund, the biggest Democratic-aligned super PAC of the 2010 election cycle.
Michelle Obama headlines S.F. fundraiser
. Today's [3/30/2012] fundraiser, which is expected to draw 350 people, will raise at least $175,000 for the Obama Victory Fund. Since May, Michelle Obama has attended as many fundraisers as Vice President Joe Biden.
Dinner With Obama
. Listening to him speak, one would never guess that a man who often criticizes the wealthy for not sharing enough would then turn around and warmly embrace those he disparages.
Biden at $10,000-a-Couple Dinner Says the GOP Doesn't Get the 'Middle Class'
. Joe Biden, the second most powerful man in the world, who went to a private Catholic college prep school and had his own law firm before getting into politics, while attending a posh and very expensive dinner, says that the GOP doesn't have a sense of average folks?
Biden hails middle class at wealthy fundraiser
. Vice President Joe Biden addressed 87 wealthy Democrats last night [3/12/2012] attending a fundraiser at the home of Sen. John Kerry in Georgetown. As they dined on grass-fed New York strip steaks and white truffle mashed potatos underneath a outdoor tent, Biden criticized Republicans for being out of touch.
Biden Says GOP Can't Relate to Average Folks at Posh Fundraising Dinner
. "It's a shame that Republicans don't understand the plight of the downtrodden," Sen. John Kerry, the evening's host, told a reporter as he pulled the antique silver spoon out of his mouth to dip it into a bowl of Pâté de Foie Gras prepared by his personal chef.
The Myth of "Middle-Class" Uncle Joe
. The nation's vice campaigner in chief went on the attack against Republicans this week, clad in full populist armor. "These guys don't have a sense of the average folks out there," said The Everyman. "They don't know what it means to be middle class." But who was his audience? Nope, not blue-collar workers in Allentown, Pa. Biden was speaking to an exclusive club of $10,000-per-couple campaign donors gathered at the home of the Senate's $200 million man, Democratic Mass. Sen. John Kerry, in Georgetown, D.C.
Forget red and blue, Obama coming to Houston for the green
. In Houston Friday evening [3/9/2012], he will be dining with Democratic elected officials and some 60 well-heeled supporters from around the state who will have paid $38,500 for the privilege. The private event is sold out. At an afternoon event at Minute Maid Park's Union Station, he will shake hands with folks who paid $500 for the privilege, or $10,000 if they want to pose for pictures with him.
Texans rain a lot of cash on Obama
. Although Texas is a not in play from an electoral standpoint, having last voted for a Democratic presidential nominee in 1976, it does serve as a cash cow for national candidates. Obama, who reportedly has already obtained $3.4 million from Texas donors, kicked off Friday night's fundraising effort with a meet-and-greet at Union Station, which was open to anyone interested in buying a $500 ticket, and then headed to a more intimate gathering at the River Oaks home of Tony Chase and Dina Alsowayel.
Fat cats pig out for Obama
. Wall Street's top Democrats were out in force Thursday night [3/1/2012] at the $71,000-a-couple, 60-person fund-raising dinner with President Obama at Jean-Georges Vongerichten's ABC Kitchen.
Money to burn:
Moran Makes It Rain
. Congressional staffers working for Rep. Jim Moran (D., Va.) received a 120 percent pay hike in the final three months of 2011, financial disclosure records show. According to the website Legistorm, which maintains a database of congressional staff salaries, Moran's quarterly payroll averaged $200,802 for the first nine months of 2011, but jumped to $427,999 in quarter four, an increase of 113 percent.
Obama's Beach Bundler
. One of President Obama's major bundlers is a lawyer who helps her wealthy clients exploit the very offshore tax benefits the president has criticized. Marjorie Rawls Roberts, a Virgin Islands tax lawyer who specializes in offshore funds, has committed to bundling at least $100,000-$200,000 for the Obama Victory Fund 2012.
Michelle Obama wears $2400 outfit, asks rich people to share their wealth
. The punchlines are all written for you when you meet someone who claims to believe so deeply in something, yet they can't even be bothered to fake interest in it in public. Because Michelle Obama clearly enjoys the spoils of wealth. I mean, why else would you walk out of that speech just to change into a $2,500+ outfit for an evening event?
Obama Taps NBA Millionaires for Campaign Cash
. President Obama held a fundraiser at Vince Carter's Florida mansion Thursday evening [2/23/2012], raking in more than $2.1 million for his campaign and the Democratic Party, the Orlando Sentinel reports.
Michelle Obama Loves the Corporate Cash in Exclusive Colorado Ski Resort
. Michelle Obama and her daughters are spending the long weekend at the "huge private home" of long-time Democratic donors, Paula and Jim Crown. The Crowns, who hail from Chicago, have given the Democratic Party plenty of money over the years, according to FEC filings. Indeed, Michelle Obama hosted a fundraiser at the Crown home last year, too, where more than 150 Democratic donors donated between $1,000 and $10,000 to the Obama re-election campaign.
Your picture with Michelle Obama? That'll be $5G
. What would you pay to have your photo taken with first lady Michelle Obama, she of the ripped arms and healthy diet? If you said 5 grand, well, you're in the ballpark, because the First Spouse is headed to Boston next month to do a parade of grip-and-grins with local Demmies, Obama-ophiles, fitness freaks, Dougie aficionados and anyone else who can pony up the dough.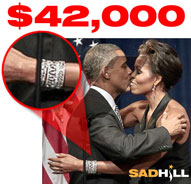 Illustration found at
Sad Hill News
.
The Little Sisters of Limousine Liberalism
. [Scroll down] So let's get down to brass tacks. How much is Sister Keehan worth for such political interventions? The checkered Catholic hospitals Keehan represents as chief executive officer of the Catholic Health Association stand to receive gobs and gobs of cash from the federal government if Obamacare holds up past 2012. Consequently, the members of the association are more than happy to pony up huge salaries to executives skilled at manipulating the Catholic electorate for Obama. Keehan is worth $962,467 to them in total salary and benefits, according to the Schedule J (Form 990) 2010 document sent to me by CHA.
Stop Picking on President Bully
. Sadly, there's nothing remotely humorous about free citizens who not only welcome, but willingly fund their own subjugation. Worse, they embrace a campaign which heralds the bottom donor, even as Obama jet sets at enormous taxpayer expense to lavish, star-studded campaign events — more than a dozen in January — some with ticket prices as high as $35,800. The campaign raised $68 million in the last three months of 2011 alone.
Project Obama: A Puppetmaster or a Puppet?
[Scroll down] His limp-wristed demeanor, more typical of a world-weary courtier than a king, bespeaks indolence rather than energy. What we know about his schedule is certainly no evidence of a workaholic. Endless hours spent on the links, a net of three months over the last three years, so that his caddy has far more face time with the president than any member of his cabinet. Frequent, prolonged vacations in posh spots. Regular, come-hell-or-high-water parties at the White House, rubbing shoulders with the rich and famous. Sybaritic habits and expensive tastes in food (Wagyu beef, which sells for upwards of $150 per pound, is said to be a particular favorite) matching his spouse's exorbitant taste in clothes.
First lady's office will not comment 'as of right now' on $2K SOTU dress
. While the president spoke about the economic frustrations of average Americans in his State of the Union address Tuesday night, his wife, Michelle Obama appeared at the event in a sapphire blue dress from designer Barbara Tfank's 2012 Resort collection, estimated to cost over $2k.
Obama's Open Buffet
. While the nation drowns in debt and the economy continues to teeter, Obama devotes himself to the empty symbolism of the "Buffett rule." He had the Omaha billionaire's secretary placed in a seat of honor near the First Lady. Barack and Michelle are the quintessential champagne socialists, enjoying the trappings of power — the First Lady donned an ostentatious royal blue designer dress that probably cost more than several months of her prop's secretarial salary — while decrying the excesses of the rich.
The land of Obama make-believe
. Where did President Obama go after killing off thousands of Keystone XL pipeline construction and manufacturing jobs? Why, Disney World, of course. Sabotaging work is hard work for Goofy and his pals. And where'd he head after that? Why, up to Manhattan for more high-priced campaign fundraisers charging up to $38,500 per partier.
The Bank of (Democratic Party) America
. President Obama, man of the people, will deliver his presidential nomination acceptance speech at the Bank of America Stadium in Charlotte, N.C. — so that Democratic Party fundraisers can reward big donors with skyboxes and other lavish perks. As usual, the White House and its allies are trying to camouflage naked partisan money-grubbing in populist garb.
Environmental activism + Kennedy surname = big bucks.
Gov. Cuomo's ex wife Kerry Kennedy in $40 million anti-oil deal
. Governor Andrew Cuomo's (D-NY) ex-wife Kerry Kennedy, daughter of Robert F. Kennedy, stands to make up to $40 million while promoting a ridiculous $18 billion judgment from an Ecuadoran court against Chevron by indigenous peoples. That case, where the US judge hearing Chevron's countersuit stated that much of the evidence presented in Ecuador was "fraudulent," has been a windfall for western environmental groups who gleefully pounced on the opportuntity to politicize a case that never should have gone to trial.
Cuomo's ex Kennedy stands to make $40M in secret anti-oil deal
. What [Kerry] Kennedy has never mentioned during her campaign is that she is being paid handsomely for her seemingly selfless advocacy. Kennedy, 52, was secretly hired as a "public-relations consultant" by the lawyer representing the Ecuadoreans in an $18 billion lawsuit against Chevron, according to court documents. Cashing in on her respected family name and legacy, Kennedy raked in tens of thousands of dollars and was given a 0.25 percent stake — worth as much as $40 million — if the $18 billion judgment handed down by an Ecuadorean judge is ultimately upheld.
Obama's DNC speech could move to BofA stadium
. President Barack Obama's re-election campaign is considering moving the final day of the Democratic National Convention to Bank of America Stadium to sell more skyboxes to wealthy donors, three Democrats involved in the fundraising told Bloomberg News.
Obama raising money in DC for Democrats
. [Scroll down] At the first event Obama was to join around 25 guests for a closed-press roundtable discussion with tickets $45,000 each and proceeds split between his campaign and the Swing State Victory Fund, which supports Democrats in battleground states.
Middle Class Warriors Dine Out for $260
. I realize the Obamas are wealthy people, and that wealthy people have the right to drop $260 of their disposable income on chow. But if you're going to invite Associated Press photographers along to capture your trip to Target and stage photo ops at PetSmart and Best Buy, then I'm going to write about your unpublicized excursion to Alan Wong's. The press pool was not invited in to take photos this time. In fact, others were discouraged from doing so too.
Uproar over Michelle Obama's $2,000 Sundress
. We're back to Michelle Obama, and as much as I hate to say it yet
again
— it's all about the double standard. Here we have a woman who preaches financial abstinence, but whose personal expenditures are promiscuous beyond belief. Mrs. Obama is a harbinger of 'safe-spending' and then uncontrollably prostitutes herself on the altar of sartorial elegance and sumptuous living. The latest controversy surrounds a $2,000 designer sundress the first lady wore to church on her $4 million Hawaiian vacation.
Same Politico Obsessed with Palin's Wardrobe Ignores First Lady's Pricey Duds
. Personally, I don't care what Michelle Antoinette wears on her taxpayer-funded lavish Hawaiian vacations with her husband President FailureTeleprompterDuffer. Thanks to an autobiography that was probably ghost-written by domestic terrorist Bill Ayers, Obama's a millionaire and more power to him. If the First Lady wants to lord over the peasantry her fashionable dresses and skirts and purses that cost enough to feed about 500 hungry families, that's Our Champions Of The Poor's business.
The Democratic Party's War on the Poor
. The day the American welfare system first made it more desirable to stay on relief than to move up to just the next notch upward — that was the day that the Democrats truly declared war on America's poor. The right may not look like Santa Claus nearly as often as the left does, but the right is always the one with the best interests of the poor in mind.
Michelle Obama's lavish Hawaii wardrobe revealed
. Michelle Obama successfully managed to rile U.S. taxpayers with her lavish $4m family jaunt to Hawaii this Christmas. But it seems her expensive taste has not stopped there, as her vacation wardrobe has proved to be equally lavish.
Nancy Pelosi, Dianne Feinstein Are Stinking Rich
. According to the Center For Responsive Politics, our San Francisco reps have a total net worth of greater than $310 million. That includes Pelosi's whopping net worth of $196,299,990; Sen. Dianne Feinstein's $93,707,020; and Congresswoman Jackie Speier, who is the 31st-richest rep, with a net worth of $20,527,999. Meanwhile, Senator Barbara Boxer is valued at a little more than $5 million.
First Family Arrives in Kailua
. First Lady Michelle Obama and her daughters, Sasha and Malia, spent the night in Kailua, Oahu, on Saturday [12/17/2011]. President Barack Obama has not yet arrived for the family's 17-day holiday vacation in a beachfront home.
Another Load of Trickle-Up Economics
. It's the return of Trickle-Up Economics, an article of nearly religious faith on the Left these days, despite the rather stunning volume of evidence that it doesn't work. Cast a flurry of government dollars across the deserving poor, and their rush to spend Big Government's largesse will cause businesses to pop up all over the place and begin hiring. Obviously liberals are in love with this fantasy, because it means Big Government gets to exercise ever-greater control over the private sector. Taxpayer money is seized and spent, while liberals get to posture as the selfless champions of the little guy.
The Rich Are Not Conservative
. Where is income highest in America? It is not where oil company executives live or where computer software executives roost, but rather the environs of our nation's capital: ten of the top-sixteen highest-income places in America are Virginia or Maryland suburbs of Washington, D.C.
As Americans struggle, the Obamas make do with 37 Christmas trees
. The economy may be weak, unemployment strong and the first family soon to vacate the White House for another half-month of vacation in Hawaii. But the Obamas have gone all out in decorating their house this year, including a nearly quarter-ton gingerbread White House. They have also installed 37 different Christmas trees. Thirty of the trees are live, or were, including one nearly 19-feet tall from Wisconsin.
FLOTUS dines at Co Co. Sala
. First lady Michelle Obama enjoyed a lovely evening at Co Co. Sala on F Street on Monday night [11/28/2011]. ... We're told Obama's favorite savory was Chef Tiptur's Moroccan Swordfish Sliders with chermoula marinade, fennel salad, aged pecorino and hazelnut coffee dressing.
The very angry first lady Michelle Obama
. Mad Michelle this week popped down to Davis Island, Fla., to hobnob with the very people her husband despises — the 1 percent. At a massive mansion on the bay, filled with the wealthiest of the wealthy, America's first lady launched into a tirade about "them" — the Republicans.
Report: Democrat spends $9K to attend donor's wedding
. Rep. Robert Andrews, D-N.J., spent more than $9,000 in campaign funds so he and his family could be in Scotland for the wedding of a donor, a New Jersey newspaper reports. The Star-Ledger of Newark reviewed Andrews' campaign-finance reports and found Andrews spent $7,725 for three nights in a ritzy hotel in Edinburgh, $953 in cab rides, meals, tips and airline baggage fees, and $463 on china as a wedding gift — all paid for out of his campaign account.
Obama's growing disdain for American worker
. The president, jaunting around the world as America's economy crumbles and Congress lumbers along, leaderless, dropped into a high school in Australia. Talking to the Aussie kids, he said America's public school students have "fallen behind" them in math and science. And he said in the U.S., many children don't get the "support they need when they're very young" so they're "already behind" when they enter elementary school. Of course, that doesn't apply to the president's and first lady's daughters. There was no chance the One Percent Couple were going to send their own children to a public school in the District of Columbia; they're off at a private school that costs $30,000 per child per year.
Joe Biden addresses secretive donor conference
. Vice President Joe Biden spoke at a secretive conference attended by about 150 rich liberals deciding how to divvy up their cash in the run-up to the 2012 election. A variety of liberal groups pitched the donors throughout the three-day conference, including a network of Democratic outside groups hoping to raise upwards of $120 million to fund a sort-of shadow party effort supporting the reelection campaign of Biden and President Barack Obama.
6 Million Dollar Man: Obama Family Plans to Spend Holidays in Hawaii
. "It is great to be home, great to feel that Aloha spirit. And Michelle and the girls will be back shortly for Christmas vacation, as we do every year. We'll see if Washington gets its business done, so I can get here as well. But that's always a challenge," Obama told a room of at least 300 supporters who paid $1,000, $5,000 or even $18,000 to attend his fundraiser at the Aulani — A Disney Resort & Spa — in Ko Olina.
Michael Moore's Mansion Beyond 99 Percent's Wildest Dreams
. Left-wing filmmaker Michael Moore has been touring Occupy Wall Street demonstrations across the country — including some of the most violent, such as Occupy Oakland — urging activists to continue their fight against the wealthy "one percent" of Americans. Initially, Moore tried to deny that his massive wealth made him a member of that one percent.
Nancy Pelosi's '60 Minutes' Of Fame
. [Scroll down] A version of the swipe-fee bill made it into an amendment by Sen. Dick Durbin, D-Ill., to the Dodd-Frank bill in 2010. As the bill was proceeding, Pelosi's husband, Paul, a wealthy San Francisco investor of the type the Occupy Wall Street mobs have targeted, bought $1 million to $5 million of Visa stock in three separate transactions in a part of the IPO that "60 Minutes" said was offered to a select group of investors. Interestingly, the wealthy Pelosi has voiced support for the OWS mobs, calling them a genuine and spontaneous movement protesting the very financial wheeling and dealing that the great unwashed feel has victimized them.
The Rich Kids of Occupy Wall Street
. People spending their free time camping out in protest of the wealthiest one percent share more in common with that top one percent than with the bottom one percent with whom they wish more to be shared in common. One needn't rely on visuals of the protestors' Cabela tents or iPhones. The Daily Caller has examined the arrest records of hundreds of Occupy Wall Street demonstrators and found that they live in homes with a median value of $305,000 versus the national median of $185,000. The median rent for apartments listed by OWS arrestees was $1,850.
NYC arrest records: Many Occupy Wall Street protesters live in luxury
. Many "Occupy Wall Street" protesters arrested in New York City reside in more luxurious homes than some of their rhetoric might suggest, a Daily Caller investigation has found. For each of the 984 Occupy Wall Street protesters arrested in New York City between September 18 and October 15, police collected and filed an information sheet recording the arrestee's name, age, sex, criminal charge, home address and — in most cases — race. The Daily Caller has obtained all of this information from a source in the New York City government.
Ten richest celebs supporting OWS have collective net worth over a billion dollars
. Celebrity airheads who are supporting the occupiers are feeding Wall Street to the crocodile, forgetting that the beast quickly gets hungry for more. Celebrity Net Worth has a highly amusing article on the subject.
More about
Occupy Wall Street
demonstrations.
The very angry first lady
. Michelle [Obama] is going to break with a hundred years of tradition and play the role of attack dog, heaping derision on her husband's political opponents like no other first lady before her. And it's already begun. Mad Michelle this week popped down to Davis Island, Fla., to hobnob with the very people her husband despises — the 1 percent. At a massive mansion on the bay, filled with the wealthiest of the wealthy, America's first lady launched into a tirade about "them" — the Republicans.
Obama Rakes In Cash From Lobbyists, Enron Executives
. [Scroll down] Meanwhile, First Lady Michelle Obama will be hosting a big-bucks fundraiser in Houston next week... at the home of a former Enron executive. Politico has the details: ["]An upcoming Houston fundraiser featuring first lady Michelle Obama at the home of a former Enron executive who is part of a movement to convert public pensions to 401(k)-style plans is angering some local Democrats. John Arnold, a Houston billionaire and former Enron trader, is hosting the Michelle Obama event with his wife, Laura Arnold, at their Houston home on Nov. 1.["] Arnold, for the record, says he's a libertarian, while his wife is a Democrat. If you want to reminisce about the Enron glory days with him and Michelle Obama, you'll have to fork over $10,000 for a ticket to the event, or go for the "co-host level" gold with a $35,800 contribution to re-elect Barack Obama.
Middle Class Warrior Obama Hits Hollywood For Millions
. [President Obama joined] Actor Will Smith and basketball legend Earvin "Magic" Johnson for dinner and Melanie Griffith and Antonio Banderas for post-meal canapes.
Michelle Obama and 'the Few at the Top'
. When Ms. Obama charges, "Will we be a country where opportunity is limited to just the few at the top? Who are we?" one wonders, why, then, in the past three years of hard times, did she insist on vacationing, in iconic fashion, at Vail, Martha's Vineyard, and Costa del Sol, the tony haunts of "the few at the top"? In these rough times, surely a smaller staff, less travel, and budgetary economies would have enhanced her populist message of some at the top enjoying perks at the expense of others.
Obama freezes local reporters out of S.F. event
. President Obama is scheduled to appear before hundreds of donors at a $7,500-a-plate noontime fundraiser today at San Francisco's W Hotel — but not a single local reporter will be allowed inside to cover his only stop in the area, the White House said Monday [10/24/2011].
First Lady Asks for $10K Photo Fee
. How much would you pay to have your picture taken with First Lady Michelle Obama? When she travels to Chicago next week to tour Chicago food deserts with Mayor Rahm Emanuel and later host a fundraiser at Plumber's Hall, she will be asking for a pretty penny. The going rate for a photograph at the near West Side fundraiser with the First Lady is $10,000 for a family of up to six members.
Protester: fundraisers tie Obama to 'money elite'
. President Obama's high-dollar fundraisers demonstrate that the president is "in touch with the money elite,' says a Washington D.C. protest group representative who supports the Occupy movement against "corporate greed." Kevin Zeese observed to WMAL.com that "President Obama, with his one billion dollar campaign, is holding fundraisers that cost $38,500 to get into." ... He added that such a fundraiser "puts Obama out of touch with the people and very much in touch with the money elite."
Pelosi's disclosure belated in husband's land deal
. House Minority Leader Nancy Pelosi's husband, a real estate developer and investment banker, stands to make millions of dollars in a previously undisclosed residential real estate project in California as a partner with the father of a woman Mrs. Pelosi helped become ambassador to Hungary, records show. Paul F. Pelosi's investment in Russell Ranch is worth at least $5 million and possibly as much as $25 million in a deal put together by his friend and longtime business associate, Angelo Tsakopoulos, patriarch of a multimillion-dollar real estate development firm, according to Mrs. Pelosi's latest personal-disclosure statement.
Alec Baldwin Fund Tied to Wall Street, Big Oil
. Well now. Isn't this rich? Morgan Stanley, the legendary Wall Street investment banking company founded by J.P. Morgan that took $10 billion in federal bailout funds back in 2008 during the financial crisis, is a "Corporate Partner" providing funding to the Carol Baldwin Breast Cancer Research Fund.
Obamas celebrate wedding anniversary at stylish $150-a-head restaurant
. Restaurant Eve has two 'dining experiences'. One is the 34-seat 'Chef's Tasting Room' with prix-fixe tasting menus costing up to $150. Mr Armstrong's signature dishes include the heirloom tomato tart with garden basil and butter poached Maine lobster with Eastern Shore corn.
Donors Get Reception With Michelle Obama
. First lady Michelle Obama will meet supporters who donate at least $250 at an upcoming Washington, D.C., fundraiser for President Barack Obama's re-election campaign.
Ten Lessons from Obama
. [#5] Obama cemented the notion that liberal Democrats are the party of really big money and of very little money — and of few in between. The next populist will have to cut back on golf, stay at Camp David, and avoid the playgrounds of the rich and famous.
Two days, seven fundraisers for Obama
. On Sunday, September 25, Obama began his tour at 12:33 p.m. with a fundraiser at the 27,000-square foot, art-draped home of former Microsoft chief operating officer Jon Shirley in Medina, Washington. 65 attendees paid $35,800 per couple to join Obama at an intimate dinner.
Hollywood won't abandon Barack Obama
. [Scroll down] In July, the President attended a fundraiser at the house of producer John Wells. Steven Spielberg, Will Farrell, Tom Hanks, and George Clooney paid $30,400 per couple for dinner and a photograph with Obama. That month's quarterly report said that Obama had just passed the $85 million mark in fundraising for 2012. Forty percent of his money was "big money bundles" that had come from, amongst others, Hollywood big-shots Steven Spielberg, Jerry Katzenberg, and Andy Spahn.
Obama gets $7 million from Hollywood
. Among the Hollywood VIPs who turned out for Mr. Obama at a $17,900-per-plate dinner late Monday night [9/26/2011] at the chic Fig & Olive restaurant on Melrose Place in Los Angeles was Dreamworks CEO Jeffrey Katzenberg, whom the president praised for "helping us consistently move an agenda forward that creates a more just and fair and more competitive America."
Showbiz Heavies Plan More Democratic Party Fundraisers
. House minority leader Nancy Pelosi will be the big draw at a Tuesday night [9/27/2011] fundraiser hosted by director J.J. Abrams and his wife, Katie McGrath. The event will be held on the rooftop of Abrams' Santa Monica production studio Bad Robot, with all proceeds going to the Democratic Congressional Campaign Committee.
Why Obama and Warren Buffett are suddenly best pals
. First, President Obama seized upon populist comments by multibillionaire investor Warren Buffett to make his tax-the-rich proposal more palatable. Now, Buffett says he will attend an Obama fundraiser. He's becoming the poster boy for Obama's plans.
The Bugaboo of the Left
. Contrary to the Marxist "working class" myth, the left has always been a movement largely of and by intellectuals. Their strong suit is propaganda, and they owe their undeniable successes in propaganda warfare to acting in a highly disciplined fashion and strictly hewing to their own rules of the game.
The Five Million Dollar Man
. The Chicago Tribune reports that an investigation it conducted with WGN-TV found "23 retired union officials from Chicago stand to collect about $56 million from two ailing city pension funds." That's an average of $2.4 million each, and some will rake in even more. Dennis Gannon, a former president of the Chicago Federation of Labor, stands to collect some $5 million.
Michelle Obama dazzles in New York, wearing diamond bangles
. The First Lady wore Katie's Lotus cuff priced at $15,000 with 2.9 carats of diamonds, her Gothic cuff at $15,350 with 2.17 carats in diamonds and the Quatrefoil bracelet at $11,800 with 1.73 carats in diamonds.
A $35,800 Date With the President
. [Scroll down] The location of the early reception is the Woodside home Symantec CEO John Thompson and his wife Sandi. The entrance price at the Thompson's is $2,500 without a picture or $7,500 with a photo of yourself and the president. The evening meal will be far more costly. A dinner date with Mr. Obama will cost a cool $35,800.
I'm exactly what's wrong with Barack Obama's America
. Barack Obama would prefer we all be wards of the state rather than active producers. How else can you explain the incentives he champions: endless jobless benefits, cradle-to-grave welfare handouts, "tax cuts" for non-taxpayers, and on and on. Thus proclaims the president who himself raked in a cool $7.2 million over the past two years, "I do think at a certain point you've made enough money." The key word there is "you."
Mark Levin: Michelle and Barack Obama "power hungry," "arrogant"
. During the 2008 election cycle, political talking heads kept a sharp eye on the alleged extravagance of former Alaska Gov. Sarah Palin. And decades ago they had a lot to say about First Lady Nancy Reagan and her lifestyle in the White House. Why are there no stories about First Lady Michelle Obama? London's Daily Mail newspaper claims Michelle Obama has spent $10 million in taxpayer money on vacations.
Expensive massages, top shelf vodka and five-star hotels
. The Obamas' summer break on Martha's Vineyard has already been branded a PR disaster after the couple arrived four hours apart on separate government jets. But according to new reports, this is the least of their extravagances. White House sources today claimed that the First Lady has spent $10 million of U.S. taxpayers' money on vacations alone in the past year.
Obama goes hobnobbing with friends and donors
. Barack Obama is spending time apart from his wife and daughters during their family holiday on Martha's Vineyard, opting instead to schmooze with friends on the golf course and at their private oceanfront mansions. The President has been hobnobbing some long-time confidantes, as well as some deep-pocketed donors while on his break.
Obama's Vineyard retreat stirs criticism
. There's never an ideal time for a presidential vacation. But President Barack Obama's sojourn this week to Martha's Vineyard — known as a playground for the wealthy and well-connected — comes in the wake of the nation's first credit rating downgrade, with the economy sagging, the markets zigzagging and unemployment hovering at 9.1 percent.
It's official, President to vacation on Martha's Vineyard
. The White House confirmed Wednesday [8/10/2011] what many people on Martha's Vineyard have known for weeks. The Obama family will vacation on the Island for the third summer in a row.
It's no time for a presidential vacation
. Is there anyone in the White House with nerve enough to tell Barack Obama that Martha's Vineyard is the last place on earth that the president of the United States should find himself next week?
The partier in chief
. This is the third year the Obama family has escaped to the liberal, upper-crust enclave of Martha's Vineyard. They are staying "up-island" in the town of Chilmark, far away from the troubled cities and towns of America's heartland. The commander in chief will relax at Blue Heron Farm, a $20 million mansion he rented for its sprawling 28 acres of property complete with swimming pool, basketball court and putting green. The elite island is the kind of place where Mr. Obama feels right at home.
Will ritzy vacation trip Obama up?
[Obama has] mostly played out of the spotlight, and his team has done its best to downplay the recreational aspects of what is undeniably a very rich guy's very expensive vacation in a place regarded as a lobster-roll-and-Chardonnay Shangri-La for the moneyed Democratic elite.
Limousine liberals don't send their kids to government schools.
Emanuel's children going to private school this fall
. Mayor Rahm Emanuel and his wife have decided to forgo Chicago public schools and send their children to the University of Chicago Lab School in Hyde Park this fall, a source familiar with the decision has told the Tribune. Leah, Ilana and Zach will be going to the same school once attended by Barack and Michelle Obama's daughters Sasha and Malia, the source said.
Barack's Bankruptcy/Birthday Bash
. The elaborate Chicago event will serve as an all-in-one Obama 2012 campaign fundraiser, concert, and birthday celebration. ... The entry fee to get into the Aragon Ballroom for Barry's big day will cost well-heeled couples a large pile of the type of "additional income" Obama just the other day suggested they should give to the needy. Without having to win the "Dinner with Barack and Biden" raffle, donors willing to part with $35,800 get to enjoy a private dinner with the President and VIP seating at a birthday concert rumored to be featuring native Chicagoans.
Prez's vacation makes little $ense right now
. Obama, who's got us panicked over this debt-ceiling stalemate, will soon be off — again — to Blue Heron Farm, Martha's Vineyard. Check out the pictures of this "farm" online. You practically drool. It looks like the centerfold of "Town & Country," the magazine for aspiring zillionaires.
DNC White House Event Included Big Money Obama Donors
. A March 7 White House meeting with President Barack Obama hosted by the Democratic National Committee (DNC) for several dozen Wall Street executives also included several big-money Obama fundraisers. The meeting, which White House Spokesman Jay Carney said "was not a fundraiser" included many big-money donors known as bundlers, a moniker derived from the fact that they solicit large contributions on behalf of a campaign.
Bill Clinton made $75 million from speeches
. In the 10 years since leaving the White House, former President Bill Clinton has earned more than $75 million in speaking fees alone, including nearly $11 million last year, a report Tuesday [7/12/2011] found.
141 White House staffers make six figures
. One out of every three White House employees makes at least $100,000 a year, according to data released by the White House on Friday [7/1/2011]. Top earners pull down a salary of $172,200 a year, while three employees have a salary of $0. Most staffers fall somewhere in the middle.
What Obama donors ate last night
. What did Obama supporters get for $35,800-a-plate at Thursday night's DNC fundraising dinner at Manhattan's swanky Daniel restaurant? The menu included Maine lobster salad with roasted beets, followed by a duo of Black Angus beef made with braised short ribs, roasted tenderloin, baby spinach, stuffed potato and hen of the woods mushrooms.
Liberal American Jewish suckers
. At a five-star hotel [6/20/2011], eighty Jewish donors shelled out between $25,000 [and $]35,800 to attend a fundraiser with US President Barack Obama.
Pelosi's wealth grows by 62 percent
. House Minority Leader Nancy Pelosi (D-Calif.) saw her net worth rise 62 percent last year, cementing her status as one of the wealthiest members of Congress. Pelosi was worth at least $35.2 million in the 2010 calendar year, according to a financial disclosure report released Wednesday [6/15/2011]. She reported a minimum of $43.4 million in assets and about $8.2 milion in liabilities.
Obama wants credit for cleaning up 'big mess'
. "My job over these first two years has frankly been to clean up a big mess," Mr. Obama said at a $10,000-per-ticket event at a gated mansion in Miami Beach. ... The president spoke to guests on a tented lawn with a view of the Miami skyline at the $5.9 million home of former Samsonite CEO Steve Green, former ambassador to Singapore in the Clinton administration.
Leave No Limo Behind
. They are buying limousines in Washington. Lots of them. The number of government limousines increased by 73 percent during the first two years of the Obama administration. The official justification for the acquisition (with borrowed Chinese money) of all this rolling stock is "security." Our bureaucrats, it seems, are not safe riding around in ordinary vehicles or, perish the thought, driving themselves to work. This, it seems, is especially true of those brave souls who toil at the State Department, which is where most of the limos have been put into service.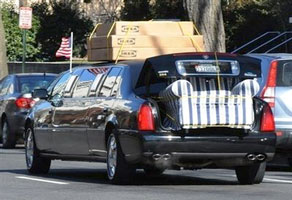 New definition decreases government limo count
. Due to confusion about what a limousine is, the General Services Administration has had a hard time counting its limos in recent years, but now insists a new definition will accurately account for the fleet of government agency-owned luxury vehicles. [...] Two months after the rise was reported in May 2011, the GSA changed the definition of "limousine" to exclude such vehicles as shuttle buses and sedans, previously classified as limos.
And another thing: Are Washington politicians buying furniture from a
Swedish company
?
More about
President Obama, the gas-guzzling limousine liberal
.
Royals, Obamas Sip $1,000 Vino
. Finally, after two straight presidents who didn't appreciate the taste of a fine French burgundy, Buckingham Palace tonight [5/24/2011] had a chance to put on the Ritz for a first family who enjoy a long dinner and luscious wine. Most notable from the wine cellars of the famous palace: A Echezeaux Grand Cru 1990, Domaine de la Romanee-Conti, that goes for $1,000 — $1,700 per bottle in the United States.
The world's richest dinner party
. It's difficult to imagine a wealthier set of guests than those invited to the home of Silicon Valley venture capitalist John Doerr earlier this year, in the mega-wealthy enclave of Woodside, California. Together they represent companies worth nearly $1 trillion. By all accounts, Obama didn't have an easy ride — many of the diners are generous political donors and the President was criticised for slow progress on policy promises.
Obama's $3 million S.F. dinner — the complete guest list
. [Several famous people] happily dropped $35,800 to dine with President Obama at billionaire Marc Benioff's San Francisco home Wednesday evening [4/20/2011]. These are just some of the 85 famous names on the fundraiser's guest list which was plainly visible to rubberneckers as attendees checked in. Combined, Obama's take for the 90-minute event was a cool $3 million — or $3,043,000 to be exact (85 guests x $35,800 each).
Obama Visits the S(lush) F(und) Bay Area
. [Scroll down] After satiating the
hoi polloi
with his Facebook stagecraft, Obama set off for some hardcore fundraisin' — the
real
point of the visit. The first, and swankiest, of his three whirlwind back-to-back-to-back fundraisers was a $35,800/plate (not a typo) dinner at the Presidio Heights home of billionaire Salesforce.com CEO Marc Benioff.
The US President's $30,800 dinner menu
. Celebrity chef Marcus Samuelsson hosted a dinner for President Barack Obama and First Lady Michelle Obama this week at his newest restaurant Red Rooster in Harlem. The small dinner party of 50 shelled out $30,800 (€27,710) per plate for the party fundraiser. Samuelsson is one of the president's favorite chefs and has been called upon to cook a handful of state dinners for him in the past.
Lead balloon
. Rhode Island federal district court nominee John J. "Jack" McConnell Jr. is due for a vote in the Senate Judiciary Committee today. His nomination should be rejected due to ethical questions about his record. In addition to being accomplished at the dark arts of ambulance chasing, Mr. McConnell is a political high roller. In the past two decades, he and his wife donated $700,000 to Democratic Party groups and candidates.
Michelle Obama carries $1,000 tote
. Michelle Obama put another label name on the map this week, when she was spotted carrying a bold new handbag to her daughter's parent-teacher conference. The teal blue leather tote by U.S. designer Reed Krakoff has already sold out around the world — despite the fact that it costs nearly $1,000.
Big Obama donor quits envoy job amid criticism
. As a supporter of presidential candidate Barack Obama, Cynthia Stroum was a superstar whose financial backing of the campaign landed her a plum diplomatic posting in Europe.
Democrats, environmentalists pushing Blacks out of their neighborhoods
. The black population of San Francisco is less than half of what it was in 1970, and it fell another 19 percent in the past decade. ... Blacks are being forced out of San Francisco, and out of other communities on the San Francisco Peninsula, by high housing prices. At one time, housing prices in San Francisco were much like housing prices elsewhere in the country. But the building restrictions — and outright bans — resulting from the political crusades of environmentalist zealots sent housing prices skyrocketing in San Francisco, San Jose and most of the communities in between. Housing prices in these communities soared to about three times the national average.
The Rise of the Adolescent Mind
. Just because one is a former Chicago organizer does not mean he cannot be the largest recipient of Goldman Sachs or BP donations in history. Railing against Las Vegas jet-setters does not mean that one cannot prefer Martha's Vineyard, Vail, or Costa del Sol to Camp David. We talk about all these "millionaires," but fail to include a Rahm Emanuel who managed to receive several million for his apparent fiscal and investment "expertise" or the liberal Clintonite insiders who looted Fannie and Freddie in bonuses just before these agencies imploded. The Koch brother are deemed evil; George Soros and Warren Buffet enlightened billionaires about whose modes of acquisition of riches we must be indifferent.
Progressive Ralliers Call for Lynching of Black Justice
. Among Common Cause's, well, common causes, are campaign finance reform, net neutrality, outlawing the filibuster, promoting cap and trade, and in this particular case, herding a mass of protesters outside a nearby hotel to yell at Charles and David Koch for being conservative and rich. Unfortunately several "haves" have missed the memo that you're not to be both rich and conservative at the same time, and that bankrolling your pet causes is an extra no-no if you're conservative — thus exempting left-wing billionaire philanthropists George Soros (from whom Common Cause has received $2 million over the past eight years) Peter Lewis, John Doerr, Julian Robertson, Nicolas Berggruen, and many others from being yelled at too.
Pelosi spent $101,000 in two years while travelling with US Air Force
. If the US Airforce did all airline food, it would be strawberries dipped in dark chocolate and grilled chicken salads all round. Unfortunately this luxury is reserved for top US politicians alone, as new documents detailing Nancy Pelosi's travel expenses reveal. The former House Speaker was showered with a cornucopia of gourmet food and alcohol as she travelled over 90,000 miles around the world in just nine months last year — all courtesy of the US Airforce (USAF).
More about
Pelosi's jet
, provided at taxpayer expense.
$$ party for Charlie
. Charles Rangel wants to party away his legal bills. The embattled Harlem congressman — who has been buried under a mountain of debt from his ethics case — is throwing a fund-raiser next month to raise money for his legal-defense fund. Tickets to the event — co-hosted by former state Comptroller Carl McCall — start at $250 and go up to $5,000.
Foie Gras and Other Healthy Fare
. Recently, America was shocked to learn the Obamas' 10-day-plus Hawaiian Christmas is costing over $1 million. The fact that the First Family shows their faces outside the beachfront compound takes guts, especially in a season when some Americans are struggling just to eat. Don't the Obamas know that throwing rollicking palace parties while the little people starve is the stuff insurrections are made of? The Obamas' behavior has reduced America to a famished child with its nose pressed against the cold windowpane of a warm bakery where Michelle and Barry, covered in cream from unlimited Charlotte Russes, toss maraschino cherries at one another, laughing and having a wonderful time, oblivious to the waif outside.
Obama party stays in home taxed at $300
. The absentee owner of a multimillion-dollar home being used by President Barack Obama's visiting entourage gets one of the biggest residential property tax breaks on Oahu. Kevin Comcowich, the Houston investment executive who purchased the nearly 5,000-square-foot home for $9 million in January 2008, was charged $300 in property taxes this year.
Obamas Depleting U.S. Lobster Supply
. So how much lobster are you having during these precarious economic times? What? You've had to cut back? No longer ordering it stuffed with crab meat, at least? Well, if you happen to be the President of the United States or the First Lady, your lobster consumption is continuing at a robust pace.
Obama Has Shot 41 Rounds of Golf as President
. President Barack Obama has played a remarkable 41 rounds of golf since becoming president, easily outpacing his predecessor and possibly damaging his ability to portray himself in 2012 as a populist advocate of average folks.
Liberal Math
. Why do Democrats always go after the orthodontist, electrical contractor, or insurance agency owner, and never the Buffetts, Kerrys, or Gateses?
Lifestyles of the Rich and Liberal
. In July 2010, as Bill and Hillary Clinton were throwing a $2-3 million-plus wedding for their daughter Chelsea of which $11,000 went for a gluten-free wedding cake) and Michelle Obama was planning a lavish vacation to Spain's Costa del Sol, the
Boston Herald
revealed that John Kerry was the owner of the
Isabel
, a 76-foot, $7 million yacht custom-made in New Zealand, which he had kept at a dock in Newport, Rhode Island, to avoid paying an estimated $500,000 in Massachusetts state tax. The boat, according to the brochure of the company, had two VIP suites (and one for the help), a wet bar, cold wine storage, and seated six around a custom-made table of Edwardian style ornate varnished teak. Add this to the Heinz-Kerrys' five land-based places of residence, and they now have in all six luxury "houses," each estimated at over $4 million, for a total of $36 million.
How Privileged Democrats Pay for Their Houses
. Former senior senator from Delaware and current Vice President Joe Biden has a custom-built house in Delaware's ritziest Chateau Country neighborhood. It is now worth at least $2.5 million and is the Bidens' most valuable asset. Biden tapped campaign funds to pay for his compound's lawn needs. He secured the new estate with the help of a corporate executive who worked for Biden's top campaign donor, credit card giant MBNA. In 1996, Biden sold his previous mansion to MBNA Vice Chairman John Cochran. The asking price was $1.2 million. Cochran forked over the full sum.
The Obama-Soros Connection
. The first shots in the Obama Revolution, the highly unlikely campaign that elevated an inexperienced former Chicago community organizer born in Hawaii and raised in Indonesia into the Oval Office, were fired at the Long Island Southampton beach house of billionaire hedge fund manager George Soros. Soros is one of the wealthiest men on the planet, with a personal fortune of at least $7 billion and additional investments of another $11 billion or so. His collaborative group of pro-Left foundations distributes more than $400 million a year to causes ranging from underwriting left-leaning Democrat Party candidates to legalizing marijuana to advocating for euthanasia.
Still Hill's fattest cat
. [Sen. John] Kerry's financial disclosure form revealed that, despite the struggling economy, his minimum net worth at the end of 2009 was $188.6 million — an increase of more than $20 million from 2008. ... Rounding out the top 10 richest members of Congress are:
2. Rep. Darrell Issa, R-Calif., $160 million
3. Rep. Jane Harman, D-Calif., $152 million
4. Sen. Jay Rockefeller, D-W.Va., $83 million
5. Rep. Michael McCaul, D-Texas, $73 million
6. Sen. Mark Warner, D-Va., $70 million
7. Rep. Jared Polis, D-Colo., $56 million
8. Rep. Vern Buchanan, R-Fla., $53 million
9. Sen. Frank Lautenberg, D-N.J., $49 million
10. Sen. Dianne Feinstein, D-Calif., $46 million
The Editor says...
Looks like a lot of Democrats in the top ten.
The Party of the Rich
. We live in an era — the worst economically since the Depression — when the daughter of the first couple of the Democratic Party has a multi-million dollar, Marie Antoinette-style wedding with port-a-potties almost as luxurious as a toilette in Baden Baden; its self-proclaimed environmental leader, the first global warming billionaire, sprouts "green" McMansions from Nashville to Montecito; and its already multi-billionaire senator from Massachusetts moors his yacht in another state to escape taxes we hoi polloi could only dream of paying. But wait, as they say, there's more.
Liberal Billionaires Good, Conservative Billionaires Evil
. Liberals
love
their billionaires, a very long and sometimes radical list that includes Barack Obama's special favorites Warren Buffet and George Soros. ... [But] For liberals there is a special place in hell for
conservative
billionaires who support free market economic think tanks and causes.
Fine dining
: [Scroll down] Obama, apparently, was a big fan of chef Scott Ehrlich's beef tenderloin and short ribs, so the prez ordered it for his entre after his appetizer of pasta with lobster. The first lady, resplendent in a black and white Narciso Rodriguez dress and a cropped black cardi, chose local greens (because she's a big fan of farmers) and the beef tenderloin with a lobster tail instead of the highly caloric short ribs. The group shared four desserts including a creme brulee.
Could you just put that $1 million in the mail next time?
If you live in Los Angeles, like I do, you already know that things went [bad] Monday night thanks to President Obama, whose arrival in town for a fundraiser at "West Wing" producer John Wells' Hancock Park house caused utter chaos, snarling traffic all across the city's Westside. It was ugly. It was also one of those events that may represent a tipping point when it comes to people's attitudes about an out-of-touch politician and his wealthy supporters.
Obama goes Hollywood at tonight's fundraiser, $30,400 apiece
. Democrats like to characterize themselves as the party of "the guy who showers after work, not before." The people bankrolling the continuation of Obama's agenda — the ones he'll be mixing it up with tonight in Hollywood for a major Democratic Party fundraiser — don't take showers. They take baths in tubs of caviar.
Obama: Fighting the Yuppie Factor
. From the price of arugula to vacations in Marbella, the Obamas are the perfect yuppie couple. ... Barack Obama — the son of a Ph.D. and a Harvard-educated economist, graduate of a Hawaii prep school, replete with Ivy League education, stylish digs in a good Chicago neighborhood, properly tamed and presentable radical social circles, and the requisite power-couple marriage — appreciates the ambience of a vacation spot: Who goes there and why, and what others will say and think, alone matter. Otherwise, the sun and surf at Pismo Beach would do just as well.
Michelle Antoinette?
I think the Obamas' tone-deafness, which was on exhibit long before Michelle's Spanish vacation, more likely results from their inexperience and the fact that if you are a significant figure in Democratic Party politics, you spend a great deal of time with rich people. That can skew one's perspective.
Out-Of-Control Michelle Obama's Spending Spree
. After blowing nearly a half-million dollars on a Spanish shopping spree, Michelle Obama has plans to spend a whopping $2 million in the coming year — while the nation struggles with its worst recession ever.
The Party of the Rich
. At this moment, two of [the Democratic Party's] leaders from a supposedly disadvantaged minority are about to be tried for ethical transgressions (read: thievery) even Congress couldn't sweep under the rug. Never mind that these transgressions mostly exploit the very minority these people purport to represent. It's part of the game. Convince minorities they should act like victims. Extort guilt payments from the majority and keep the change. Meanwhile, nothing improves for the minority because it would interrupt the system.
President Obama courts wealthy donors
. Four times in the last week, President Barack Obama has quietly slipped into private, exclusive Democratic Party fundraisers around town, glad-handing well-heeled donors away from the eyes of the press — and contradicting his pledge to run the most transparent administration in history.
Obama lands in Dallas for fundraiser at Highland Park lawyer's home
. President Barack Obama landed at Dallas Love Field this afternoon [8/9/2010], en route to a fundraiser at the Highland Park home of a prominent trial lawyer.
Obama's Dallas host is prolific Democratic donor
. The host for President Barack Obama's Dallas fundraiser is a well-known trial lawyer who has been a prolific donor to the Democratic Party. Russell Budd served as a "bundler" in Obama's presidential campaign, raising at least $50,000 for the presidential campaign by soliciting money from other donors. Budd and his wife, Dorothy, will host the president at their Highland Park home, where Vice President Joe Biden also came to raise money in March.
Michelle Obama, Sasha on Lavish Vacation While President Turns 49
. Mrs. Obama and Sasha were invited for an "official" visit with Spain's King Juan Carlos and Queen Sofia during their stay — expected to last about four days. Spain's royal couple happen to be vacationing at their summer palace on the island of Majorca, and Mrs. Obama is likely to join them there.
Michelle and Sasha go to Spain
. Greeted by a large red, white and blue banner, Michelle Obama landed safely in España. The First Lady and an entourage including daughter Sasha and three dozen of Michelle's closest and most intimate friends were warmly welcomed on the Iberian Peninsula for "a private, mother-daughter trip." Notwithstanding the 5-star rating, the Villa Padierna is a peculiar choice for a mother/daughter moment as it is "often associated with reality TV and gangsters."
Another getaway for Mrs. Obama
. First lady Michelle Obama may catch some flak for vacationing at an expensive luxury hotel on Spain's Mediterranean coast. By the end of the summer, Mrs. Obama will have taken eight vacation trips — including her visit to Marbella, staying at the five-star Hotel Villa Padierna with daughter Sasha and some pals.
Material girl Michelle Obama is a modern-day Marie Antoinette on a glitzy Spanish vacation
. While most of the country is pinching pennies and downsizing summer sojourns — or forgoing them altogether — the Obamas don't seem to be heeding their own advice. While many of us are struggling, the First Lady is spending the next few days in a five-star hotel on the chic Costa del Sol in southern Spain with 40 of her "closest friends." According to CNN, the group is expected to occupy 60 to 70 rooms, more than a third of the lodgings at the 160-room resort. Not exactly what one would call cutting back in troubled times.
Let them eat tapas
. The Obama family has been working hard to show their indifference to the plight of middle America. Whether it's the president's golfing fetish, private air transportation for family dog Bo to a Maine vacation, or Michelle Obama's taxpayer subsidized trip to the Spanish Riviera, the gulf between the White House leisure class and the American middle class has grown to unprecedented proportions. Everyone is entitled to some R & R, though Mrs. Obama's jaunt is her eighth holiday this summer.
Spanish police close public beach for Michelle Obama's £250,000 Spanish holiday
. Michelle Obama today faced a fresh wave of attacks over her lavish break in Spain with 40 friends, which could easily cost U.S. taxpayers a staggering £50,000 a day. The First Lady has been lambasted for her extravagance at a time when the economy is still struggling. One blogger went so far as to brand her a modern-day Marie Antoinette.
Michelle Obama's Lavish Spain Vacation Sparking Criticism
. While First Lady Michelle Obama continues sightseeing and shopping in southern Spain with daughter Sasha and friends as "private" tourists, questions are being raised about the cost to taxpayers and whether a lavish vacation sends the right message during tough economic times in the U.S.
What Was Michelle Obama Thinking?
When we're in the middle of the worst recession in living memory, it's not a good idea to take a luxury vacation that most of your countrymen could never possibly afford in the best of times, at considerable taxpayer expense for the security, in a foreign country.
The Pain in Spain Falls Mainly on US Taxpayers
. While millions of Americans cut back on what they can spend on their vacation, Michelle Obama is concluding her last vacation with a new vacation trip along with 40 guests to Spain billed at a cost of 300,000 dollars a day. If Michelle Obama wants to go for a swim, an entire beach in Spain must be closed. Considering her busy working schedule of appearing on talk shows and then appearing on magazine covers, I think we can all agree that nine vacations is very modest. And the real tab gets much higher when you consider how many of the other unstated expenses are being picked up by "friends", which is usually a fancy way of saying people who expect favors in return, again, at taxpayer expense.
Even the liberal Seattle Times questioning Obama's 'lavish' vacations
. More than any presidential couple in recent memory, the Obamas are demonstrating that they see themselves not only better than everyone, but more privileged than the rest of us. They've made it to the penthouse and are determined to enjoy their status to the fullest.
Pampered populists
. It's surreal to see President Obama play the class-warfare card against the Republicans while on his way to vacation on the tony Maine coast, and even more interesting to note that now gone are the days when the media used to caricature Bush I for boating in the summer off the preppie-sounding Kennebunkport. The truth is that the real big money and the lifestyles that go with it are now firmly liberal Democratic.
Obama raises nearly $1 million for Giannoulias
. The nearly $1 million fundraising event at the Palmer House Hilton highlighted a quick visit by Obama back home to Chicago that also included a tour of a Southeast Side Ford plant and a 49th birthday dinner Wednesday night [8/4/2010] with friends including Oprah Winfrey.
Oprah Winfrey Tops Our List Of The Highest-Paid Celebrities
. Oprah Winfrey may have wrapped up her syndicated talk show last year after a 25-year run, but her empire sails on.
Price to attend Obama's birthday bash: $30,000
. Happy Birthday, buddy! Sneed hears real estate mogul Neil Bluhm is tossing a private birthday party here for President Obama, who turns 49 on Aug. 4. The shocker: The dinner invite to the Barack bash at Bluhm's home requires a $30,000 donation to the Democratic National Committee!
Obama Meets With Big Donors
. President Obama met with about 50 of the Democratic Party's biggest donors on Tuesday night [7/27/2010] at an upscale Washington hotel, but aides excluded reporters from the event since the president did not give a speech.
Obama ate alone at fund-raiser dinner
. The big spenders who shelled out $30,400 a head for dinner with President Obama at the Four Seasons restaurant and at Anna Wintour's house didn't actually break any bread with him. After starting Tuesday night [7/27/2010] at a dinner for 60 high-rolling Democratic supporters hosted by hedge-fund billionaire Marc Lasry, Obama headed to a private room at the Four Seasons to wolf down steak, potatoes and broccoli with two aides before heading to Wintour's Greenwich Village home.
John Kerry will pay if 'taxes are owed'
. U.S. Sen. John Kerry, the owner of a new, super-luxe 76-foot yacht, is not dodging a six-figure Massachusetts tax bill by docking the Isabel in Rhode Island and will pony up to the state if "any taxes are owed," a spokesman for the alleged tax-skipping skipper said. And it appears the senior senator may be on the hook for more than $500,000 in state and local taxes because Kerry tied his toney tub up in Martha's Vineyard and Nantucket waters within six months of buying her.
John Kerry saves $500,000 by docking ultra-luxury yacht in Rhode Island
. Times are tough for everyone. Including gazillionaire John Kerry. The Massachusetts senator is under fire for docking his brand new $7-million yacht in Rhode Island. It's not illegal to moor your boat there or anything. It's just that Rhode Island doesn't have a boat sales and use tax anymore.
Kerry's $lick sailing
. John Kerry, the tax-happy Massachusetts Democrat, is docking his new, multimillion-dollar yacht in Rhode Island — an eyebrow-raising decision that saved him an estimated $437,500 in sales tax from his home state, it was reported yesterday [7/23/2010].
The more Kerry changes, the more he stays the same
. Give John Kerry this. Some things, he learns. Republicans swift-boated him in 2004. Yesterday he swift-boated his wife for the second time in three days, when asked about whether he ducked a half million in state taxes by berthing his $7 million, foreign-built yacht in Rhode Island. "That depends on who owns it," he said when asked whether he's ever docked the oh-so-posh Isabel here. Translation: Take it up with Teresa.
Benedict Arnold's Yacht
. If Massachusetts Senator John Kerry had escaped $500,000 in state taxes by docking his yacht in Rhode Island, the offense wouldn't have been as serious as, say, plotting with the British against the Continental Army in 1780. But then, it was Kerry himself who upped the rhetorical ante against those who use tax loopholes for their own gain.
Update:
John Kerry's bucks stop where?
It's been more than three months since we first told you about Capt. John Kerry's high-seas tax dodge on his new $7 million yacht, Isabel, and the town of Nantucket still doesn't have a check from the senior senator! You may recall that Kerry lowered the flag and surrendered in July, agreeing to pony up more than $400,000 to cover state taxes on the toney tub.
President Obama to summer like it's 2009
. President Obama, his poll numbers tanking, will return to Martha's Vineyard — the most Democratic spot in the bluest of blue states — for his summer vacation next month, island sources said. Our spies on The Rock report that the first family will return to Chilmark's Blue Heron Farm for about 10 days in August.
This was apparently not intended to be satire, as far as I know, and yet...
President Obama, to see sights, eat lobster in Bar Harbor, Maine
. Exactly 100 years after the last President visited this coastal haven in Maine for old-money Republicans, President Obama and his family are arriving Friday [7/16/2010] for the weekend. The summer playground of the Astors, the Rockefellers and the Morgans — as well as newer social titans like Martha Stewart — the island is positively aflutter.
Obama's Maine Island Long Visited by Rich
. Serving as a summer retreat for Rockefellers, Vanderbilts and Morgans, this town and the surrounding area have long been known as a place where well-heeled and well-known visitors could beat the heat — and have their privacy respected.
Obama Team rewards Hollywood donors
. Why the rush to help Hollywood? Well, midterms are approaching, the Democratic Party is held in high disregard by many Americans, and the fundraising is reflecting its bad poll numbers. So why not go where the money is? This is Cook County pay-to-play politics writ large.
Clintons dealing for $11M Westchester mansion
. Looks like Bill and Hillary Rodham Clinton are moving on up — to a deluxe mansion away from prying eyes. Sources told The Post the Clintons are planning to trade their almost-modest suburban Chappaqua home for a sprawling $10.9 million estate in the bucolic Westchester town of Bedford Hills, complete with 20 acres of gorgeous land surrounded by New York's elite.
Kerry and his energy companies
. For all you curious as to why Sen. John Kerry, D-Mass., is so inspired to cut a deal on energy reform, wonder no longer. Apparently, the senior senator from Massachusetts is positioned to hit the jackpot if a subsidy-laden energy "reform" bill passes. In some years, Kerry makes more money in dividends and capital gains from these holdings than he does as a senator.
A Surreal Presidency
. Obama enjoys the top job in the country and avails himself lavishly of all its perks, posting as well an annual income in the millions of dollars, over five million in 2009 alone. His cohorts and backers are doing quite proudly too, not to mention Democratic godfather George Soros, one of the world's richest men. Home foreclosures and job terminations are not an issue for these people, who are good at theoretical empathy and not much else, apart from making the situation even worse than it already is.
Pelosi's New District Office Costs $18,736 a Month
. San Francisco is a high-rent city. Just ask Nancy Pelosi. The House Speaker's district office in the new federal building in San Francisco costs a whopping $18,736 a month — the highest rental paid by any member of the House — or, more precisely, the highest rental paid by taxpayers on behalf of a member of the House.
Obama raises $1.7 million for Boxer, Dems
. President Barack Obama flew into San Francisco Tuesday night [5/25/2010], spoke at two receptions, had dinner with some high-rolling donors and raised $1.7 million for Sen. Barbara Boxer and Senate Democrats. This was the second fundraiser the president has done for Boxer in just over a month, and raised $600,000 — bringing to $1.1 million the amount Obama has brought in for her.
Barack Obama didn't part the waters — he just made them dirtier
. On the day of the memorial service for the 11 dead on the oil rig last week, Barack flew to San Francisco for a fund-raiser on behalf of the hideous Sen. Barbara "Botox" Boxer. It was held in a mansion owned by a member of the Getty family, of Big Oil infamy. And yet nary a word among the usual Ivy League pukes on MSNBC and in The New York Times.
A Bad Case of the Bitters
. With oil from the still-gushing, five-week-old Deepwater Horizon leak lapping unimpeded into the marshes of Louisiana, on Tuesday [5/25/2010] the President of the United States jetted past the oily Gulf to a San Francisco fund-raiser for Sen. Barbara Boxer, held, incredibly, at the home of the 350th richest person in America — Gordon Getty, inheritor of the Getty Oil fortune.
Chuck Schumer and the confluence of policy and campaign cash
. Chuck Schumer has always lived at the intersection of Big Money and Big Government. He regularly leads the Senate in raising funds from the biggest industries. His former top staffers are now Wall Street lobbyists and his top fundraisers.
Obama's Wall Street problem
. How much credibility can a person expect to have if demonizing fat cats is the basis for fund raising at $50,000-dollar a couple events? ... Speaking on behalf of the poor, indigent and oppressed Obama reiterated the call for Wall Street reform and in the process raised $1.3 million from 185 donors.
The Obamas Made $5.5 Million in 2009
. President Obama and First Lady Michelle Obama released their 2009 federal and state income returns today [4/15/2010], reporting an adjusted gross income of $5,505,409. Vice President Joe Biden and his wife Dr. Jill Biden released their returns as well, reporting an adjusted gross income of $333,182.
Ka-ching: Obama is rich!
[Scroll down] As a side note, the White House still hasn't said where that Nobel Prize money is going.
In case you haven't heard, President Obama won the Nobel Prize and apparently
put the prize money in his pocket
.
How Obama Himself Made More Than 'Enough Money'
: In defending his administration's efforts at putative financial reform, President Obama suggested a ceiling, perhaps government-imposed, for Wall Street executives. Although he did not begrudge them income that is "fairly earned," he added ominously, "I do think that at a certain point, you've made enough money." The president may be projecting guilt from his own excellent adventures in greed.
After beating up Wall Street 'fat cats,' President Obama takes their money
. President Obama has been happy to beat up on Wall Street "fat cats," but tonight [5/13/2010] he'll be even happier to take their money. The President is slated to headline a superswank, $50,000-per-couple fund-raiser for the Democratic Congressional Campaign Committee at Manhattan's gilded St. Regis hotel on Fifth Ave. The high-dollar affair will feature fine French food, a bevy of Wall Street titans and 23 Congress members — including House Speaker Nancy Pelosi (D-Calif.).
2008 Market Crash Should be Investigated
. [Scroll down slowly] Over the years, [George] Soros has positioned himself to take control of the Democrat Party through the hundreds of 527 organizations he has helped financed. These organizations have become a "Shadow Party" unto themselves, and manipulate public opinion for their own end. Among them: the National Education Association, ACORN, AFL-CIO, American Federation of Teachers, The Media Fund, the Open Society Institute, Planned Parenthood League, the Sierra Club, America Coming Together, the Huffington Post, Moveon.org. If a left-wing organization is in the news, it has probably received money from George Soros.
Reflections on the Revolution in America
: The present attempt to remake America is the effort of the liberal well-to-do — highly educated at mostly private universities, nursed on three decades of postmodern education, either with inherited wealth or earning top salaries, lifestyles of privilege indistinguishable from those they decry as selfish, and immune from the dictates they impose on others. ... They are all battling on behalf of "them," the poorer half of America, currently in need of some sort of housing, education, food, or legal subsidy, whom the above mentioned elite, in the way they live, send their children to school, socialize, and vacation so studiously avoid.
The real fat cat party
. The U.S. Climate Action Partnership, led by GE, includes many other Fortune 500 companies, including Goldman Sachs — the company that has profited mightily from Obama's brand of hope and change. CAP is an aggressive supporter of the Democrats' climate change scheme. Why? Because GE and company stand to make billions from carbon pricing, thanks largely to investments in technologies that cannot survive in a free market without massive subsidies from Uncle Sam.
The Pathology of the Rich Socialist
. People such as George Soros and Michael Moore certainly talk a good game, but the next Mother Teresa they are not. Mother Teresa never criticized the free-market system; wealth just wasn't for her. Soros and Moore are quite the opposite. They will never take a vow of poverty and dedicate themselves to helping the poor. They just want our civilization to take a vow of poverty and
become
poor.
Nancy Pelosi spends $2,993 on flowers
. House Speaker Nancy Pelosi (D-Calif.) spent $2,993 in taxpayer money on flowers between June and October. House Majority Whip James Clyburn has a thing for Chantilly Donuts, spending about $265 at the Virginia shop in the past quarter. ... Pelosi, who has come under fire in the past for spending on flowers, also spent roughly $30,610 in food and beverage and about $2,740 on bottled water, contributing to the nearly $120,531 total from all congressional leadership accounts.
It takes this much money to eat with Barack Obama
. [It took $34,000] for a couple to have dinner with Barack Obama on Thursday night [10/15/2009] in San Francisco's Westin Hotel. And hundreds of Northern Californians lined up to do so. It better be an abundant shrimp cocktail for that price.
Big money buys seats at lawmakers' dinner tables
. Want to dine with five U.S. senators? Then just drop by Wednesday night and, oh, by the way, bring $30,400. That's what it costs to be a "co-chair" of the Democratic Senatorial Campaign Committee's Women's Senate Network party, thrown by power lobbyist Heather Podesta.