The Unspoken Genocide of Christians in Nigeria: The black lives that don't matter. Did you know that, all throughout sub-Saharan Africa — in Nigeria, Mozambique, the Central African Republic, Mali, the Democratic Republic of Congo — Muslims have for many years been terrorizing and slaughtering Christians? Nor is there any hope on the horizon: problems that cannot be honestly addressed are doomed to persist in perpetuity. Enter the so-called "mainstream media." As far as they are concerned, the persecution of Christians in Africa is a byproduct of economic and territorial grievances. One report, titled, "How poverty and corruption fuel terrorism across Africa," is emblematic. After citing an incident where "jihadis" connected to the Islamic State slaughtered dozens, it insists that such terrorist attacks, which "are on the rise across the African continent," are "a consequence of poverty, domestic grievances new and old..." This has been the mainstream media's argument, and they're sticking to it — no matter all the mountains of contradictory evidence.
NPR says bombs in Israel are "rare." They aren't, but the truth doesn't serve their narrative. These are not "rare" events. There are an average of more than one pipe bomb every day this year. If NPR was doing its job, it would have known this information and reported on it way before deadly bombs exploded in Jerusalem. And it is pretty obvious that the "rare" statement was meant to downplay Palestinian terror, and to avoid mentioning that this has been the bloodiest year for Israelis since 2015, and second deadliest since 2009.
Why Isn't Salman Rushdie's Attacker a Household Name? The news of the Rushdie stabbing was no more welcome among the American media than it was at the institution. Muslim extremist Matar pulled off the most significant attack on a major cultural figure since Mark David Chapman shot the Beatles' John Lennon 42 years prior, and the media have denied the would-be assassin a spotlight. Their motives, however, go deeper than protecting Islam's reputation as the religion of peace. For the record, Matar has been charged with second-degree attempted murder for the attack on Rushdie and second-degree assault for injuring another person during the attack. Until my encounter at Tops, I did not know that he was being held in the local county jail — and I follow the news. Chautauqua chief public defender, Nathaniel Barone, argued that Matar had no record and was not a flight risk. Chautauqua County Court Judge David Foley, considerably saner than judges downstate, denied Matar bail. On a hate crime of this magnitude, I assumed the FBI would have stepped in. It has not. Nor have the media beyond western New York shown much interest.
New York Times, New York State Police say Rushdie stabber's motive is unclear. The man's motive couldn't possibly be clearer. Salman Rushdie has had a death fatwa over his head since 1989. This is just more willful ignorance, a refusal to confront the ugly realities of jihad violence.
Stop calling them 'Asian' grooming gangs. Last week's landmark report into grooming gangs in Telford made for truly horrifying reading. It revealed that 1,000 mainly white girls had been subjected to horrific sexual abuse by groups of men of mainly Pakistani heritage since at least the 1980s. Tom Crowther QC, who chaired the Telford inquiry, said that 'the overwhelming theme of the evidence has been the appalling suffering of generations of children caused by the utter cruelty of those who committed child sexual exploitation'. He then went on to say that the failure of the authorities to intervene was in part driven by 'a nervousness that investigating concerns against Asian men, in particular, would inflame racial tensions'. 'Asian' men? This is an odd description of the perpetrators. Crowther pulled almost no punches in his summing up. But this was definitely one he did pull. The members of the grooming gangs were not simply 'Asian' — by and large, they were Muslim men of Pakistani heritage.
US women's magazine lionizes Palestinian female terrorists. Jezebel had an article recently about Palestinian female prisoners and how awful their lives supposedly are behind bars. Written by Wafa Aludaini, a Gaza activist, the entire article praises these prisoners as it describes their supposed plight. And they are all wonderful people: [...] Oh, they also happen to be terrorists. The article never describes the crimes that put them in prison to begin with. They are innocent lambs, all 32 of them.
Democrats Use Journalist's Death and Funeral To Spread Palestinian Disinformation. On the issue of the recently killed Palestinian-American journalist Shireen Abu Akleh, the Democrats once again find themselves parroting Palestinian propaganda. In fact, several progressive Democrat members of the House, including Reps. Jamaal Bowman (NY), Cori Bush (MO), Betty McCollum (MN), Marie Newman (IL), Alexandria Ocasio-Cortez (NY), Ilhan Omar (MN), and Rashida Tlaib (MI) have used the Akleh matter to introduce a resolution calling Israel's rebirth in 1949 a "catastrophe," or as the Palestinian nationalists say, a "nakba." But the truth of what happened at both the journalist's death, and her subsequent funeral procession is much more complicated.
Media Cover-Up: 'Allah' Screaming Muslim Stabs Father in Throat Outside of his Children's Catholic School. The media consistently acts as an attorney to defend jihadis and the Islamic ideology that motivates these attacks. An Islamic terrorist previously known to police repeatedly stabbed a father picking up his two children (3 and 7) from a Catholic middle school in Marseille, France. The 23-year-old Muslim shouted that he was acting "in the name of Allah" while butchering the Military doctor who was severely injured. He was rushed to the hospital, where he is in grave condition, and his prognosis is critical. According to French media, the victim reportedly received several knife blows and was struck in the throat. He was in a state of cardio-respiratory arrest when emergency workers reached him. The attacker, known to police for drug trafficking, was subdued by witnesses and then arrested by police.
Nigeria: Muslims murder 29 Christians, including at least two children. If this had happened in Europe or North America, we would be hearing about it. We would be hearing about how the perpetrators were mentally ill, and/or about how they had misunderstood Islam, and about how the local mosque was asking for police protection against an "Islamophobic backlash," and about how Muslims are victims everywhere. But at least we would be hearing about it. This? We won't hear about this.
Muslim Riots Engulf Sweden For Nearly A Week, Corporate Media Silent. Unbeknownst to most Americans is the very real and very disturbing news that the northern European nation of Sweden, Bernie Sanders' white, idyllic socialist paradise, is suffering under the immense reality of the inevitable failure of multiculturalism. Trending Politics noted that it all started after a Danish politician who recognizes Europe can either be rooted in historical Western value or Islamic values — but not both — desecrated a copy of Islam's holiest book.
Why aren't we talking about the Islamist uprising in Sweden? Right now, in Europe, mobs of people are rioting. They're hurling rocks and stones at police officers and setting fire to cars. Several cities have been shaken to their core by this riotous fury. A police chief says they are the most violent street disturbances he has ever known. Worse, this is an entirely regressive riot. It is not an angry uprising for democracy or liberty, but its polar opposite — it's a screech of religious rage against the expression of certain 'blasphemous' ideas; it's a fiery effort to suppress 'offensive' speech. Some of the worst riots in a country's living memory, all to the end of defending archaic religious beliefs from challenge or criticism... why aren't we talking about this?
Roses are Red, Crime is Blue. It's interesting that the media and law enforcement have trouble finding motives or explanations when those might be politically incorrect. For example, if a young Muslim male shouts "Allahu Akbar" before opening fire on a crowd of shoppers, big media will struggle to find motive. This story of a French terrorist shooting makes the point, "The New York Times claimed Wednesday that it is 'unclear' what motivated the gunman who shouted 'Allahu Akbar' before opening fire on a Christmas market in France."
San Francisco Officers Fatally Shoot Man Who Charged At Them With A Knife While Screaming "Allahu Akbar" — No MSM Coverage. A man wielding a knife was fatally shot by police inside a residential building in San Francisco Friday [11/19/2021], authorities said. Officers responded to the building in the South of Market neighborhood after receiving a call about a man armed with a knife, San Francisco Police Officer Robert Rueca said in a statement. The officers made contact with the man and an officer-involved shooting occurred, Rueca said without offering any other information on what led to the fatal shooting. Chief Bill Scott and other department officials held a virtual town hall Wednesday in the death of 41-year-old Ajmal Amani. [...] What it's more important is the fact that not one mainstream media reported that the man was screaming "Allahu Akbar" while running towards the officers and that he was a former Afghan interpreter!
Reporting on Muslim Persecution of Christians Offends Facebook's 'Standards'. Apparently, reporting on the horrific persecution Christian minorities experience in the Muslim word is a punishable offense for Facebook, as that topic falls beneath the social media giant's "standards." That's what I was told when I logged onto my Facebook account a few days ago. A box popped up saying, "This post goes against our Community Standards," followed by, "Only you can see this post because it goes against our community standards," with a link to the offensive post in question. I was then locked out for 24 hours.
American Leftists Who Hate Religion Melt At The Sound Of Allah's Prayers And Join In The Kneeling. The Left (institutionally) hates Christianity, and that standard explanation, such as its alleged bigotry, we can't explain why the Left gives Islam a pass. Christianity stands in the way of the Leftist agenda. Moreover, if the Devil exists, he would favor not just the "false religion" of environmentalism and Marxism, but also postmodernism. [...] The question of the day is why do liberals love Islam and defend Muslims adamantly while continuing to hate and mock Christians and Christianity. Christians today are compared to the nuts at Westboro Baptist, or blamed for the Inquisition, slavery, and Nazis. On the other hand, Muslims today (let me check the year. Oh, it's 2021) regularly beat, stone, pour acid on, and behead women, gays, and non-Muslims. (What America hears on the news is when a white country gets attacked; when it's Africans or Asians the Western media doesn't care at all.) So Islam and its followers do those atrocities today and daily, and so did the founder, and liberals say "Those people aren't really Muslims."
Islamist Terrorism Again: A Herd of Elephants in the Room. The latest Islamic terrorist attacks in the West — in England on October 15, and Denmark two days earlier — were shocking, given that the war on terror was supposedly behind us. These attacks raise questions. At this point, there is not just one elephant in the room, but a whole herd. For a start, initially there was the usual reticence on the part of the mainstream (legacy) media to call the dreadful attacks acts of terrorism. The Guardian — always a friend to Islam, despite the contradictions between its support for feminism and gay rights and Islamic orthodoxy which opposes both — was quicker to acknowledge the Islamic terror link when, on October 15, a long-serving and popular English Member of Parliament, Sir David Amess, died after being stabbed 17 times in a frenzied but carefully-planned and executed attack by a man of Somalian heritage. Two days earlier the Guardian had been more reluctance to cite terrorism as a motive when five people died in the bloody attack in Kongberg, Denmark, in which five people died. It was initially keen to downplay the link between Islamic ideology and terror attacks by telling its readers the perpetrator will undergo psychiatric evaluation. Ever keen to label Islamic terrorists as victims of mental health issues, this enthusiasm for using psychological problems as an excuse inevitably evaporates whenever supposed right-wing extremists and terrorists are identified. This elephant in the room is never discussed by the MSM.
Suspect arrested for assassinating Brit MP is finally named by police, but the New York Times won't print his name. We can guess that British Member of Parliament Sir David Amess, cruelly and painfully stabbed to death while meeting with constituents, was likely targeted for his pro-Israel and philo-Semitic views, now that the name of the suspect arrested at the scene has been released.
From 9/11 to 1/6. The season is almost upon us of lachrymose memorials to the victims of 9/11. As a nation we choke each year as the anniversary approaches. We can talk about the heroic firefighters and cops, those first-responders who that day sometimes made their last response. We can recount the lists of the dead and the daring of some survivors. A great many Americans remember in vivid detail how the horrors of that day intersected their own lives. What we don't have is a strong sense of what 9/11 meant and still means to the nation. [...] That may be because the terrorist attacks that day were inspired by militant Islam and executed by Muslim fanatics. It is bad manners to say that aloud or to make much of it. We still say that 'Islam is a religion of peace', and we censure those who dissent as guilty of 'Islamophobia'. Our national commitment, for so it appears, to multiculturalism precludes any frank assessment of the irreconcilable elements between Western liberal democracy and the Islamic Middle East.
Another Opinion Columnist Pushing War With Iran Who Doesn't Actually Exist. There is at least one more foreign policy opinion writer from the Mujahideen-eKhalq (MEK) whose existence is dubious, based on a study by a social media analyst and statements from a defector from the group. Amir Basiri, who contributed to Forbes 9 times, the Washington Examiner 52 times, OpenDemocracy, Algemeiner, and The Hill once also appears to be a fabrication. The MEK is an Iranian exile group for which John Bolton, Rudy Giuliani, and other foreign policy luminaries have given paid speeches. Dems like Joe Lieberman and Howard Dean have also spoken on their behalf. But the group has American blood on its hands, has been accused of practicing forced sterilization, and their belief system has been described as a mixture of Marxism and Islamism.
Why Isn't Big Tech Treating the New York Times as Disinformation? Within a short space of time, the New York Times published a fake map of Israel and a photo of a little girl whom it alleged Israel had killed, only to find out that the girl was actually alive. The New York Times issued a tepid defensive correction of the photo, blaming the anti-Israel group it had been working with to assemble the hit piece, and refused to correct the map, describing it as "art". After James Bennett, the New York Times had outsourced its op-ed page to anyone who hates Israel. And the paper's writers about Israel include Sheera Frenkel, the former BuzzFeed disinformation troll who got famous by spreading the false claim that Hamas had not kidnapped and murdered three Israeli teens. These days Frenkel is accusing Israel of disinformation for the New York Times. Obviously. The upshot is that anti-Israel content at the New York Times is indistinguishable from social media hate. And involves the same sources and even less fact-checking. The paper has hired discredited social media trolls like Frenkel and Vox's Max Fisher. And its op-eds are just social media hate revamped into column form.
Elite anti-Semitism at the Boston Globe. Some people think the vicious attacks on Jews happen only in Times Square or in Los Angeles restaurants. Not so. They think the apologists for these crimes are limited to the Squad and extreme leftists, some of whom actually tweeted it is wrong even to condemn anti-Semitism. That sewer of hatred would be dreadful enough, but the problem is bigger than that. The thugs on the street have some ideological backing from the mainstream media and, of course, universities. Take a truly noxious cartoon in the Boston Globe, one of America's most prominent newspapers. It appeared in the May 22 print edition (page A9) and online on May 21. The drawing and text by Christopher Weyant efficiently consolidated elite hatred of Israel and Jews into a neat, toxic mix. It is shameful that the Boston Globe printed it and tried to ensure its national distribution by posting it as an official newspaper tweet.
The Squad Is Rooting for Hamas. [Alexandria] Ocasio-Cortez, usually a font of half-baked socialist economic ideas, now regularly offers thoughts on the Israeli-Palestinian situation to her 12 million Twitter followers. Here is one: [Tweet] First of all, there are no "expulsions of Palestinians."&Nbsp; Six Palestinian families may be evicted from their homes in the Sheikh Jarrah neighborhood in a property dispute — and the Israeli supreme court has delayed a decision — over land that was seized from Jewish families by the Jordanian Army after 1948. It's a complicated case, brought to the judicial system by private citizens and adjudicated in an independent court.
This CNN Contributor Hates Israel So Much, He Praises Hitler For Killing Jews. On Sunday, about a week into a budding war between Israel and Palestine, a CNN contributor in Pakistan by the name of Adeel Raja declared, "The world today needs a Hitler." Raja has a long history of supporting the late Nazi dictator Adolf Hitler, sometimes explicitly mentioning what Hitler did to the Jews — a reference to the unspeakable horrors of the Holocaust. Raja has deleted the tweet, but Greg Price and Benny Johnson kept the receipts. CNN issued a brief statement on the matter on Sunday evening, distancing the network from Raja. "The world today needs a Hitler," Raja posted on Twitter Sunday afternoon. [... Update:] CNN released a statement to Yashar Ali, a contributor to New York magazine and HuffPost. "As a freelancer, his reporting contributed to some newsgathering efforts from Islamabad. However, in light of these abhorrent statements, he will not be working with CNN again in any capacity," the network said.
Outrage after social media users discover series of Hitler-praising tweets from CNN freelancer. CNN is under fire for having hired a writer who posted several times on social media that he believes the world needs another "Hitler." Social media users demanded that the network respond after discovering the tweets from one of its freelance contributors, Adeel Raja, who has written dozens of pieces for the outlet. After some digging, it turned out to be one of several messages Raja has posted praising the Nazi leader.
Ri-i-i-ght.
AP Denies Any Knowledge Gaza Office Building Was Shared with Hamas Terrorists. The Associated Press (AP) denied any knowledge that Jala Tower, the building housing its offices in Gaza, was also shared by Hamas terrorists, as claimed by the Israeli military and Israeli Prime Minister Benjamin Netanyahu after the office block was bombed on Saturday [5/15/2021]. AP President and CEO Gary Pruitt denied that the news organization knew Hamas was in the building.
The Editor says...
To put this as politely as I can, I find it impossible to believe that the people working in a professional news-gathering organization, in a volatile part of the world, would have been oblivious to terrorists in their office building. That level of cluelessness is almost incomprehensible. I'm not the only one who's skeptical.
AP Pretends It Didn't Know It Was Sharing a Building With Hamas. After an airstrike struck a building with terrorist tenants that included Hamas and Al Jazeera, controlled by Qatar, a backer of Hamas, the main story in the media was about... the media. Specifically the AP's presence in the same building. "We are shocked and horrified that the Israeli military would target and destroy the building housing AP's bureau and other news organizations in Gaza. They have long known the location of our bureau and knew journalists were there. We received a warning that the building would be hit," the AP's statement says. And the AP is complaining about what? Israel warned it that the building was a target. AP chose to share a building with Hamas and pretend not to know about it.
Confirmed: the AP Is Incredibly Ignorant and Yes, Hamas Was in the Building. We reported yesterday how the AP was furious that Israel had leveled the building in which they had offices in Gaza because they were sharing it was Hamas. We asked the basic question: how could they not know they were sharing the building with Hamas? The AP issued a statement saying they'd been in the building for 15 years — and had no indication that Hamas was in the building.
Muslim CNN reporter: 'The world today needs a Hitler'. Now deleted, but the screenshots are everywhere. Will CNN fire him? Or give him a promotion? [Tweet]
Ever notice how the perpetrator is portrayed? The Socialists have their fingers-crossed — oh, please let the shooter be a white guy! This automatically means the killer is a racist conservative who voted for Trump. Doesn't matter who he kills. This is their narrative: NEED to stop people like that from buying firearms! And if he purchased the gun illegally? We require more laws. But what happens when he is an Islamic Terrorist? First, we can't use those words. Second, regardless of his postings on Facebook or Twitter — where he is from or worships — We can't infer anything. The shooter can make the most outrageous Social-Media statements on his beliefs and Allah, but there is still nothing to see here. Ignore it. Not Real. The Man is Obviously Insane! [Of course]. Anyone who kills a bunch of people isn't going to be of sound mind. And the sympathetic Liberals will go out of their way to call it a Hate Crime. Work Related Crime. Anything but an Islamic Terrorist Act.
These 6 Stupendous Hoaxes Are Reasons to Give Media Narrative About 'Asian Hate' the Hairy Eyeball. [#6] The so-called Arab Spring in 2011 wasn't a freedom movement, as the moniker "spring" connotes, it was the Islamist takeover in the guise of a freedom movement in Tunisia, Egypt, Syria, Libya, and Bahrain. Touted by the Obama administration and then-Secretary of State Hillary Clinton, the administration predicted the protests would "truly establish democracy." The media heralded this as an Obama foreign policy triumph. The media lauded the "pro-democracy" riots and protests that started with the self-immolation of a Tunisian street vendor in 2010. But it wasn't about freedom, unless, as Andy McCarthy explains in his book about it, you mean freedom within the religion of Islam and being in total submission to Allah — not exactly a Western democracy. In Spring Fever: The Illusion of Islamic Democracy, McCarthy explains that what happened within these countries was the opposite of democratic spasms and the yearning for freedom.
A big news story from last week is swept into the Memory Hole:
Did Something Happen In Boulder? The point is that I went looking through the media, because whatever it was that went down was a super-big deal for a while, and then — nothing. Nada. Zip. I guess the media and the Democrat politicians forgot about what went down in Boulder too. It seems strange though because I recall it was really important at the time it happened. It's almost like there was some coordinated effort to never mention the event again. [...] And then, I think, there was some sort of press conference about the person who actually did the bad thing and ... poof! Everything went black — except the part about us having to give up our guns. [...] I'm also a bit confused because I think I remember that a police officer was murdered, and all those smart setpeople were talking about the horrible crime of murdering a cop until they suddenly stopped talking about it. I have to confess to having some confusion about this, because these same people usually seem to hate cops, calling them systemically racist and wanting to defund them. But once in a while they love cops, like when they can blame their murder on people like us or when the cops are arresting conservatives for protesting.
Twitter's Jack Dorsey declares that disrespecting the quran is forbidden. And if you rip up or otherwise destroy a quran and post it on Twitter, you will get banned for life. But the people (Muslims) who call for your execution and threaten your life on Twitter because you disrespected the quran do NOT get banned.
MSNBC gives a raging anti-Semite his own show. David Harsanyi writes MSNBC hired a former Al Jazeera, anti-Semite journalist Mehdi Hasan to host a show. "A guy who regularly peddles anti-Semitic tropes for Qatar, once said gay men are no better than pedophiles, and calls non-Muslims "cattle," gets a show. But if you don't believe there are 90 genders, you get your book banned." MSNBC is giving journalist Mehdi Hasan his own prime-time television show starting this Sunday, the Los Angeles Times reports. Hasan's first guest will be another anti-Semite Rep. Alexandria Ocasio-Cortez (D-N.Y.). Hasan is a former journalist for Al Jazeera, where he hosted the show "UpFront." He has also been a senior columnist for The Intercept and the host of that outlet's podcast "Deconstructed."
What a Reporter's Arrest at a BLM Riot Tells Us About the Media. [Scroll down] While working for the Des Moines Register, [Andrea] Sahouri had repeatedly covered publicity stunts by Rep. Ako Abdul-Samad. Even after her arrest, the paper continued to use Sahouri to cover the protests and Samad, including glamorizing the arrest of a BLM organizer busted over the vandalism of a cop car. There's a basic conflict in having an activist, especially one that has a history with a hate group, covering a cause she's passionate about, especially after she's been arrested. The Des Moines Register has gone on insisting that Sahouri is a journalist who was wrongly arrested. But Robnett, her fellow activist and boyfriend, isn't a journalist. He appears to work in marketing. Journalists don't bring their boyfriends along to a rally unless they're there to take part in the event. During the BLM riots, leftist members of the media frequently blurred the line between activism and journalism. But Sahouri may be one of the more egregious examples. The Register, Amnesty International, and other left-wing organizations continue to attack the police, but have refused to ask basic questions about Sahouri's extremist background. Or why she was arrested, along with her boyfriend, while another Register reporter wasn't.
Why is the BBC so scared of criticising Islam? If you want to understand what's going wrong at the BBC right now, you could do worse than look at the bizarre Zara Mohammed controversy. The Beeb has removed from social media a clip of Ms Mohammed, the new head of the Muslim Council of Britain, being interviewed on Radio 4's Woman's Hour. Cancel-culture mobs had complained that the interview was a form of 'bullying' and that it had undertones of 'Islamophobia'. And now the BBC has caved to these crazy, unfounded criticisms and shoved the interview clip in the memory hole. This reveals a lot about the great moral anchoring of the BBC in the 21st century.
NYT Falsely Claims Embassy Move Caused 'Unrest Across the Middle East'. The New York Times falsely claimed in a Tuesday [1/12/2021] piece on the death of Sheldon Adelson that the United States's decision to move its Israeli embassy to Jerusalem "led to unrest across the Middle East." The piece by Jeremy Peters and Shane Goldmacher argues that the recently deceased Jewish billionaire's push for moving the embassy had disastrous consequences. "The Adelsons were among those who helped persuade Mr. Trump to lean into a hard-line pro-Israel stance, which led to his decision in 2017 to relocate the American embassy to Jerusalem from Tel Aviv," the article reads. The authors then contend that the move "incensed Palestinians and led to unrest across the Middle East after it was announced."
Are the American Media Legitimizing Terror Attacks in France? The Financial Times has never understood France grappling with extremist Muslim terrorism and the country's battle for freedom of expression. After the Charlie Hebdo massacre in 2015, Tony Barber wrote in the Financial Times that the massacred journalists and cartoonists had been "stupid". The article was then edited. It recently happened again. The British newspaper removed an article on French President Emmanuel Macron's anti-Islamist policies. The article, "Macron's war on Islamic separatism only divides France further", by Mehreen Khan, appeared in the online version of the newspaper and was then also removed. The piece argued that after two beheadings in Yvelines and Nice, Macron would need six million Muslims in the country to eradicate violent extremism, but that instead, he chose to feed "moral panic". Clearly, the article postulated, if there are Islamist attacks in France, it must be because its president has been looking for them.
The AP Didn't Really Mean to Suggest France 'Incites' Islamic Terror, Did It? On Friday [10/30/2020], a Tunisian Islamic terrorist ran into Notre-Dame de Nice in France and beheaded a woman and stabbed two others who also died in the name of Allah. This attack followed the beheading of a teacher in Paris who showed a cartoon of Mohammed to her class. Another Islamic jihadist murdered her in the name of taking revenge for the insult to his prophet. In response to these vicious attacks on innocent people exercising their freedom of speech and religion in a free Western country, the Associated Press decided to go with this headline blaming France's secularism and colonialism for the brutal attacks: [Illustrations]
BBC journalist sets up anonymous Twitter account to bash Israel. The BBC is investigating one of its journalists for an anonymous Twitter account on which he reportedly wrote anti-Israel posts. The Jewish Chronicle outed Nimesh Thaker, a longtime BBC World News journalist, as the man behind the now-private Not that bothered Twitter account. Thaker's account tweeted that Israel is "racist" and a "white supremacist state." After Jewish BBC host Emma Barnett spoke out about the British rapper Wiley's incendiary tweets about Jews, Thaker's account retweeted a message saying that Barnett was using "the same old 'antisemitism' excuse whenever people criticise Israel."
Fox 'Soul' Network to Air Nation of Islam's Louis Farrakhan July 4. The new Fox 'Soul' network has announced that it will air Nation of Islam leader Louis Farrakhan's "Message to America" on a special July 4th program, despite his history of racism, antisemitism, and homophobia. [...] Farrakhan's history of hateful rhetoric is well-documented. In 2018, he compared Jews to termites. That same year, he drew criticism for defending the use of the phrase "death to America" during a conversation with students in Iran.
Update:
Nation of Islam's Farrakhan Booked, then Canceled, on 'Fox Soul' for July 4. Fox Soul, a streaming TV channel launched earlier this year by 20th Century Fox, announced it would feature a speech by Nation of Islam leader Louis Farrakhan on the Fourth of July. A flood of influencers, political leaders, and even CNN media personalities took to Twitter to express their shock and denounce the programming. Those calling on the channel to cancel the program by the notorious antisemite Farrakhan included The Simon Wiesenthal Center, CNN's Jake Tapper and ADL's Jonathan Greenblatt, among others. [Tweets] The network quickly responded and canceled the program.
Black Lives don't seem to matter when it is Muslims who are doing the killing. In Nigeria, 350 Nigerian Christians were massacred in the first two months of 2020 by Fulani Muslim militants. Over 11,500 Christians have been murdered since June 2015. Four to five million Christians are displaced. 2000 churches were destroyed, but the Western media is silent.
Google Erases the Existence of Those Who Speak Unwelcome Truths. Daniel Greenfield, the peerless Shillman Fellow and FrontPage writer, tweeted the news on May 7: "Google just erased my Sultan Knish blog and Front Page Mag articles from the first pages of results for my name doubt very much this is accidental." I did too, so I checked for myself, and sure enough: a Google search for "Robert Spencer" now does not bring up Jihad Watch, where most of my writing outside of books has been published for the last seventeen years, but it does give you defamatory and distorted attack pieces from the far-Left Southern Poverty Law Center and the Saudi-funded Bridge Initiative, and nothing that doesn't portray me and my work in the most unfavorable possible light. This latest example of the tech giants' determination to silence all dissenting voices reveals one often overlooked fact: they are desperately afraid. Google is so afraid of Jihad Watch, in fact, that it is going to great lengths to make you think that the site (which you can find here) doesn't exist at all.
The Washington Post Wants You to Fast for Ramadan. The far-Left anti-Trump propaganda organ masquerading as a news source and operating under the name the Washington Post on Thursday [4/30/2020] published an inspiring op-ed entitled "As American Muslims fast this Ramadan, maybe the rest of America should consider joining in." The Post's articles exhorting people to keep the Lenten fast or the Yom Kippur fast have not yet been published, but I'm sure that they will be when the appropriate times for them roll around again. Won't they? [...] Still, if someone had sent in those stories about how Americans should join in the Lenten fast, or the Yom Kippur fast, would the Post have published them? Almost certainly not. [Imam Omar] Suleiman's article, however, is just one example of a general tendency: it is imperative in today's society to be solicitous to Muslims and warmly positive toward even the aspects of Islam that are oppressive.
The film "Hotel Mumbai" is a Must-See in order to understand what's happening in India. A few weeks ago, Hindu friends and colleagues in India turned to me in desperation about the way in which the Western media has been covering the latest chapter in the forever ongoing Hindu-Muslim wars. Every single article in the mass media has blamed Hindus only and has presented the Muslims as the most innocent and non-violent of beings. Missing entirely is the history of eight hundred years of Muslim persecution of Hindus in India; what happened in 1948 that led to partitioning India into a Hindu state and into two Muslim states: Pakistan and thereafter, Bangladesh, both states where Hindus and Christians are persecuted.
New York Times publishes Taliban propaganda. It used to be that a murderous regime needed a pliable Western journalist to get its propaganda printed in the New York Times. Not anymore! It can submit directly to the Times opinion section, as the Taliban proved this week. "What We, the Taliban, Want," reads the actual headline to an article published Thursday [2/20/2020] by an actual American newsroom. The op-ed, authored by Taliban deputy leader and suspected terrorist Sirajuddin Haqqani, opens with a series of sentences that attempt to "both sides" the conflict between the Taliban and the United States and present the Americans as unreliable and untrustworthy negotiators.
Time Offers Tips On How to Make Your Kid See Soleimani as the Good Guy. Time magazine isn't just in the business of brainwashing the masses, they also want you to do it to your kids on behalf of them as well. On Monday [1/6/2020], Time offered up a "how-to" that explains how you should talk to your children about the Iran situation. Spoiler alert — they want you to make your kids think Trump is the villain of this story and that the Iranian terrorist general, Qassem Soleimani, was actually an okay guy. When talking to your kids, Time advises, describe the situation like this: First, start off by telling your kids that "Qasem Soleimani was a top military leader in Iran, a country in the Middle East." That's it. Don't tell them that he was a terrorist leader, or that he was responsible for the deaths of hundreds of Americans. Just that he was a "top military leader."
Ted Cruz: Media and Dems have 'lost their minds,' act as apologists for Iran. Sen. Ted Cruz, R-Texas, ripped a fact check by The Associated Press that claimed President Trump spread a "false tale" about the Obama administration paying out billions of dollars to Iran as part of the Iran Nuclear Deal. Appearing on "Fox News @ Night" Wednesday with host Shannon Bream, Cruz said that the AP and mainstream media have acted as apologists for Iran by "defending" their Supreme Leader Ayatollah Ali Khamenei. "To serve as essentially apologists for the enemy of America, it's really sad," Cruz said. "I get that they don't like Donald Trump. That is not lost on anybody. The media has lost their minds, many congressional Democrats have lost their minds."
Trump's Iran Policy Isn't the Problem; Barack Obama's Was. This week, President Donald Trump launched a global round of teeth gnashing when he ordered the killing of the greatest terrorist leader in the modern Middle East, Iranian Maj. Gen. Qasem Soleimani. Soleimani was unquestionably responsible for the deaths of hundreds of Americans in Iraq and thousands of others throughout the Middle East — mostly Muslim. His global terror network ran from South America to Europe to Africa to Lebanon, Syria, Yemen and Iraq. Soleimani was an unparalleled organizer and a pitiless murderer. His death was richly earned. But for many in the media and on the domestic and international left, Trump's action was precipitously "provocative."
Time magazine pummeled for 'guide' meant to help parents explain Soleimani killing to kids. Time magazine was slammed on Tuesday [1/7/2020] over a bizarre article meant to help parents explain the significance of the killing of Iranian Gen. Qassem Soleimani. "If you need help talking with the children in your life about the aftermath of Iranian Gen. Qassem Soleimani's killing, @timeforkids has a guide to explaining the topic," Time tweeted. In the introduction to the "guide," Time for Kids executive editor Jaime Joyce acknowledged that children who are watching the news "are likely to have lots of questions" about last week's airstrike ordered by President Trump and that it's a "difficult topic to explain to kids."
Montage: Media Mourn Loss of Iranian Terror Leader. News of the strike on the Iranian general Qassem Soleimani is being felt not just in Iran but also in U.S. newsrooms. Many in the major media are portraying the death of the terror leader as a grave loss to humanity. The morning Soleimani's killing was first reported, CBS's Holly Williams described him as a "revered figure" and a "war hero." "He wasn't well-known in the United States, but he was one of the most powerful figures in the Middle East, sometimes even touted as a possible future leader of Iran," Williams said. "For America, though, General Soleimani was a problem." CNN's Fareed Zakaria agreed with Williams that Soleimani is "revered" in Iran: "Imagine the French Foreign Legion, at the height of the French empire. This guy is regarded in Iran as a completely heroic figure, personally very brave." Picking up on the French theme, Zakaria's CNN colleague, Anderson Cooper, likened him to the World War II leader, Charles DeGaulle, calling him "personally incredibly brave" and reporting that "the troops love him."
Top 10 atrocities from the now-vaunted Soleimani. As creeps like Rep. Ilhan Omar denounce the rubout of Iranian terrorist kingpin Qassem Soleimani as the killing of a "foreign official," the press calls him "a farm boy" or "icon," and stupid Hollywood celebrities send their condolences to "the Iranian people," (who are celebrating, actually) the ugly hard reality remains that Qassem Soleimani, leader of the terrorist Quds force, was a monster, a stone-cold killer of innocents, the driving force behind Iran as a state sponsor of terror.
Media criticize killing of Iranian terrorist Soleimani and glorify him. The U.S. drone strike this week that killed Iranian Gen. Qassem Soleimani — a terrorist murderer responsible for thousands of deaths — resulted in extensive news coverage that criticized President Trump for ordering his killing and falsely portrayed Soleimani in a positive light. Journalists couldn't pile on enough praise or make enough ridiculous comparisons glorifying Soleimani — from the despicable to the ridiculous. He was like Gen. George Patton or the Duke of Wellington (Business Insider), and former French President Charles de Gaulle or the French Foreign Legion (CNN).
The Media's Worst Year. Exhibit A: A Washington Post headline declared that slain ISIS leader and hardened terrorist Abu Bakr al-Baghadi an "austere religious scholar." Nothing to see here other than another charming chap in horn-rimmed glasses. They simply did not have it in them to celebrate a major U.S. achievement that reflected positively on the president they hate. Showing that they never learn from their mistakes, this week's headline from the same paper declared that the world's worst terrorist, Qasem Soleimani, who ran Iran's terrorist and intelligence networks with the blood of scores of Americans on his hands, was Iran's "most revered military leader." The media are going to need to open a reverential hall of fame to celebrate the likes of al-Baghadi, Soleimani, and the "peaceful protestors" who tried to Benghazi the embassy in Iraq.
NY Times reporter's tweet of Soleimani reciting poetry draws backlash. A New York Times reporter received backlash Friday after posting a video on social media showing slain Iranian Gen. Qassem Soleimani reciting poetry. Farnaz Fassihi, an Iranian-American journalist who covers Iran for the paper, shared the video in the early morning hours after the Pentagon confirmed President Trump ordered a targeted drone strike that killed Soleimani and other military officials at Baghdad International Airport in Iraq. "Rare personal video of Gen. Soleimani reciting poetry shared by a source in #Iran. About friends departing & him being left behind," she wrote in a tweet with the video.
Iran's al-Quds Force Chief Killed; U.S. Foreign Policy Establishment Hardest Hit. Demonstrating that it learned nothing from the backlash after it called ISIS top dog Abu Bakr al-Baghdadi an "austere religious scholar," the Washington Post called Qasem Soleimani, who was killed today [1/2/2020] in a U.S. airstrike in Baghdad, Iran's "most revered military leader." If Soleimani, who as head of the Iranian Islamic Revolutionary Guards Corps' Quds Force was responsible for aiding numerous jihad terror activities worldwide, was revered at all, it was more by the Obama foreign policy team that saw him and his government as a valid partner for negotiations than by anyone in Iran. And tonight, the Obama team and the entire U.S. foreign policy establishment sees all of its core claims and principles proven false, and its recommendations rightly disregarded.
CNN Anchor Compares Iranian Terror Boss to French Resistance Leader. CNN anchor Anderson Cooper compared Qassem Soleimani, the head of the Iranian Revolutionary Guard Corps killed in an American airstrike on Thursday, to French president Charles de Gaulle, a leader of the French resistance against Nazi occupation during World War II. "Soleimani is — it's difficult to convey how revered he is in Iran. Imagine the French Foreign Legion, at the height of the French empire. This guy is regarded in Iran as a completely heroic figure, personally very brave," CNN host Fareed Zakaria said.
No Surprise Here: Some CNNers Are Not Taking Soleimani's Death Well. Late Thursday night [1/2/2020] in the U.S., the Defense Department accepted responsibility for the air strike that killed key Iranian military figure and Quds Force head Qassim Soleimani, less than a week after U.S. airstrikes on the Iranian-backed Kataib Hezbollah and just over two months after the death of ISIS leader Abu Bakar al-Baghdadi. But for some CNNers, it was a rough night. Much like their friends at The Washington Post, one might as well have kidnaped their pets or stole their lunches. And not surprisingly, CNN global affairs analyst and cartoonishly bad Post columnist Max Boot was the hardest hit.
US Mainstream Media Shills for Brotherhood (Read: Qatar). Many mainstream media newspapers have joined The New York Times in shilling for the Muslim Brotherhood — claiming that the movement gave up violence years ago and such a designation stems merely from Islamophobia — yet few are looking at the Qatar connection. In a particularly disingenuous article, The Washington Post ran an op-ed authored by human rights lawyer and Muslim personality Arsalan Iftikhar titled "Calling the Muslim Brotherhood a terrorist organization will scapegoat all Muslims." The article postulates that "Nearly 7 million American Muslims would become the primary domestic target of such a designation." Putting aside the fact that the Muslim population in the U.S. is about 3.5 million, this suggests that all American Muslims are somehow affiliated with or sympathetic to the Muslim Brotherhood.
Washington Post Pens Glowing Obituary For ISIS Leader. While Grabien lists media coverage condemning a violent meme video shown at a Trump resort as October's most mortifying moment, media reaction to the video wasn't entirely unjustified given the nature of the video depicting Trump of murdering his opponents and members of the press. Instead, the media's coverage of the president's successful war on ISIS is far more worthy of condemnation. After Trump announced the successful execution of the world's most dangerous terrorist Abu Bakr al-Baghdadi, the Washington Post published an astonishing obituary for the ISIS leader, branding the dead anti-American warmonger as an "austere religious scholar" in the headline.
New York Times Scrubs 'Terror' from Islamic Jihad Story. Abu Bakr al-Baghdadi was a "terrorist" who led a "terrorist group" that committed "acts of terror" before ultimately losing his life during a U.S. "counterterrorism action," the New York Times reported in numerous stories following the ISIS leader's death in late October. Those are all accurate, precise terms to describe the head of an organization that's clearly guilty of targeting civilians with violence for political aims. But now, two weeks later, after Israel's military killed senior Palestinian Islamic Jihad leader Baha Abu al-Ata, the T-word is nowhere to be found in the New York Times report on Tuesday [11/12/2019] about the incident. More puzzling is that the first versions of the article, published in the early morning hours of November 12 after the terrorist was killed, did accurately note Islamic Jihad's terror designation — but that information was later scrubbed from the story.
MSM ecstatic over young Somali woman newly elected in Maine. Of all the local election victories decided in Tuesday's [11/5/2019] vote, a Muslim Somali immigrant named Safiyah Khalid elected to a local office in Maine's second largest city has gotten the royal treatment from the MSM. It reminds me of the primary victory of Alexandria Ocasio-Cortez in June 2018, which I wrote about here. AOC was largely pooh-pooed at the time but she has gone on to quickly become the most influential politician in the country. Khalid, 23, a covered Muslim Somali immigrant who came to the U.S. at age seven, was elected to a spot on the Lewiston, Maine city council in a race that was tailor made for immediate, major national exposure.
The Washington Post's Terrible, Horrible, No Good, Very Bad Week. Considering the current state of our media class, cataloging a single newspaper's patterns of journalistic malpractice is a seemingly pointless task. And yet, when a publication claims to be the purveyor of preventing our democracy from dying in darkness, the importance of cataloging its very dark week becomes imperative — you know, for democracy's sake. [...] It started on Sunday with a bizarre obituary for the world's most wanted terrorist, Abu Bakr al-Baghdadi. Someone decided the original headline that labeled Baghdadi a "terrorist-in-chief" needed to be sugar-coated and changed to "austere religious scholar at helm of Islamic State."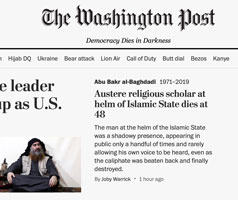 Washington Post headline: "Austere religious scholar at helm of Islamic State dies at 48.". Look at this, on the front-page at The Washington Post: [Illustration] It's as though the paper is honoring him. I wonder how long that will stay on the front page in that form. It's the teaser for [an] obituary, and there is another article — to the left — about the military raid, "Trump says Islamic State leader Baghdadi blew himself up as U.S. troops closed in." Note how that forefronts Baghdadi's agency. He "blew himself up." If you click through to the obituary, the headline is different — "Abu Bakr al-Baghdadi, Islamic State's 'terrorist-in-chief,' dies at 48." So that makes the form of the headline on the front page even more startling — "Austere religious scholar..."
Washington Post Columnist, CNN Analyst Suggests Al-Baghdadi Did Not Die Like a 'Coward'. Washington Post columnist Max Boot on Monday [10/28/2019] suggested ISIS founder and leader Abu Bakr al-Baghdadi did not die like a "coward" as President Trump described on Sunday, arguing that the president's assertion is "contradicted by the fact that rather than be captured, he blew himself up." Boot, who is both a Post columnist and CNN analyst, wrote in a column on Monday that Trump turned al-Baghdadi's death into another "risible spectacle."
Social media parodies the Washington Post's tone-deaf obituary headline that called ISIS leader al-Baghdadi an 'austere religious scholar'. A Washington Post obituary referring to Abu Bakr al-Baghdadi as an 'austere religious scholar' after the ISIS mastermind was killed in a US military strike has sparked a deluge of death tribute parodies on Twitter. The newspaper came under fire on Sunday after it changed the headline on al-Baghdadi's obituary two times -- first calling him 'terrorist-in-chief', followed by 'austere religious leader at the helm of ISIS' and finally 'extremist leader'. Twitter users seized on the second iteration, accusing The Post of painting al-Baghdadi in an inappropriately positive light given the brutality he championed while leading the terrorist organization.
White House Knocks Washington Post 'Religious Scholar' Terrorist Obituary. The White House on Monday [10/28/2019] knocked the Washington Post obituary for founder of the Islamic State terrorist organization Abu Bakr al-Baghdadi after he was killed during a United States raid on Saturday. "Despite what the Washington Post wants you to think, this was not some religious leader, a religious scholar, this was a terrorist, a disgusting man with a record of death and viciousness and destruction," White House Deputy Press Secretary Hogan Gidley said in a Fox News interview on Monday.
Washington Post columnist issues correction after claiming Baghdadi [was] not a coward. The Washington Post was forced to issue a correction after columnist Max Boot said Islamic State leader Abu Bakr al Baghdadi was not a coward because he evaded capture by committing suicide. Boot initially stated in his Monday [10/28/2019] column that, "The assertion that Baghdadi died as a coward was, in any case, contradicted by the fact that rather than be captured, he blew himself up." After backlash from people accusing Boot of praising Baghdadi in an attempt to make a dig at President Trump, the Washington Post deleted the line and issued a correction.
Was it Trump's magic wand that turned the Washington Post into a laughingstock? I'm beginning to think that hidden somewhere in the White House or Trump Tower there's a magic wand that the president wields which turns his detractors — old Obama hands, make-believe conservative politicians and commentators, Democrats, and the media, into laughingstocks. If so, this weekend he waved it over the Washington Post. [...] You had to read to the 40th paragraph for this: "Later, former hostages would reveal that Mr. Baghdadi also kept a number of personal sex slaves during his years as the Islamic State's leader, including slain American hostage Kayla Mueller and a number of captured Yazidi women. U.S. officials corroborated the accounts," the Post wrote. In any event the headline provoked a torrent of satires.
You Can't Mock the Post Enough. As Scott noted a little while ago, the Washington Post has made a fool of itself with its obituary for al-Baghdadi. The Post's headline for its obituary — its second attempt, apparently — was "Abu Bakr al-Baghdadi, austere religious scholar at helm of Islamic State, dies at 48." That prompted mockery across the internet; [...]
WaPo's outrageous headline: 'al-Baghdadi, austere religious scholar at helm of Islamic State, dies at 48'. Following the elimination of ISIS's top leader, Abu Bakr al-Baghdadi, one of America's most notoriously left-wing papers rushed to portray the now-deceased terrorist mastermind in a way that seemed like many to be sickeningly positive. "Abu Bakr al-Baghdadi, austere religious scholar at helm of Islamic State, dies at 48," the since-deleted headline from The Washington Post reads. As of noon Sunday [10/27/2019], the headline had been updated, though evidence of the paper's stunning decision to portray the terrorist leader as a "scholar" remains: [...]
Washington Post Writes Glowing Obituary For World's Most Dangerous Terrorist. President Donald Trump announced the killing of ISIS leader Abu Bakr al-Baghdadi Sunday morning in an address to the nation after a Saturday night [10/26/2019] raid in northwest Syria. "He died like a dog, he died like a coward," Trump said. Baghdadi's death marks the execution of the world's most dangerous terrorist since Osama Bin Laden's killing in 2011. Baghdadi, the founder of the Islamic State, otherwise known as "ISIS" or "ISIL," oversaw the extrajudicial killings of James Foley, Steven Sotloff, Peter Kassig and Muadh al-Kasasbeh capturing international attention in addition to the slaughtering of hundreds more. The obituary from the Washington Post however, framed one of the world's most brutal terrorists as an "austere religious scholar." "Abu Bakr al-Baghdadi, austere religious scholar at helm of Islamic State, dies at 48," read the initial published headline from one of America's leading newspapers.
Washington Post changes al-Baghdadi obituary headline after calling ISIS leader 'austere religious scholar'. The Washington Post changed the headline on its obituary for ISIS leader Abu Bakr al-Baghdadi after initially calling him an "austere religious scholar at helm of Islamic State." The Post changed its headline at least twice Sunday for the article, starting by describing al-Baghdadi as the "Islamic State's terrorist-in-Chief." The newspaper then adjusted the headline to call him an "austere religious scholar at helm of Islamic State," sparking some backlash on social media.
Washington Post Mourns Passing of "Austere Religious Scholar" Abu Bakr al-Baghdadi. Reactions vary to the U.S. killing of ISIS terrorist chief Abu Bakr al-Baghdadi. However, perhaps the most alarming headline was the sympathetic obituary from The Washington Post: [...] The Washington Post was not alone in their sympathy over the killing of the brutal terrorist. Bloomberg News also followed quickly with deep sympathies for the death of a leader who "transformed himself" into a "teacher of Koranic recitation": [...] In an era where the ideology of U.S. media has become increasingly disconnected from the majority of Americans, it is becoming less surprising to see radical leftist positions in mainstream organizations. However, that said, for any U.S. media to position themselves as sympathetic to one of the most brutal terrorists in the last half-century, is a level of disconnect far beyond comprehension.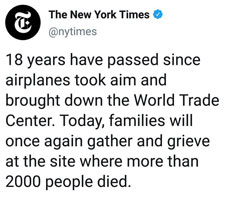 New York Times remembers 9/11 as the day airplanes became sentient and killed 2,000. I count at least three problems in this since-deleted tweet. First, there is no mention of who carried out the 9/11 attacks or what motivated them. That's like writing a headline memorializing the Aug. 3 El Paso, Texas, mass shooting and not once mentioning that there was a white nationalist gunman involved. Second, and I hate to be the one to say this, airplanes lack agency. They did not take aim or crash themselves. The terrorists flying them did.
Somewhat off-topic:
Disney's Ms. Marvel series will feature a Muslim superhero. When is Marvel going to introduce their Christian, Jewish, Hindu and Buddhist superheroes? They are only introducing this Muslim superhero because of the hugely successful post-9/11 campaign by Islamic supremacists and their Leftist allies to portray Muslims as victims of "Islamophobia" and "hatred" — when actually the incidence of attacks on innocent Muslims is very low (not that a single one is acceptable or justified), and the entire "Islamophobia" campaign is an attempt to intimidate people into thinking that there is something wrong with fighting against jihad terror and Islamic supremacism. Will Kamala Khan fight against jihadis? It's much more likely that she will face an array of "right-wing Islamophobes," leering evilly as they pull of hijabs and vandalize mosques.
This was published in 2006:
Google dumps news sites that criticize radical Islam. [Scroll down] Newsbusters commented: "At first blush, one can easily ignore such business decisions by the most powerful company on the Internet as being routine. However, on closer examination, such behavior could give one relatively small technological corporation (when measured by the size of its workforce) a degree of political might that frankly dwarfs its current financial prowess." The media watchdog noted columnist and blogger Michelle Malkin wrote in February 2005 her difficulties in becoming part of Google News. Charles Johnson of Little Green Footballs had a similar complaint. When Google News launched its beta site in April 2002, it said its mission was to construct an unbiased news engine free of human intervention using new methods of aggregating news from sources worldwide.
Ilhan Omar Happened Because Media Chose to Lie to You. Three years ago, most American newsrooms picked Ilhan Omar — despite her crawling Jew-hatred and evidence of an extensive criminal past — to be the transcendent face America needed to fight bigotry and federal corruption. Reporters apparently chose to lie about Omar to help birth a more trusting country. Perfectly irrational idiocy. Legacy newsmedia, decayed, perhaps brought itself final ruin by getting exactly what it wanted. The first Somali-born woman and the first female Muslim to be elected to a U.S. statehouse, Ilhan Omar defeated 44-year incumbent Phyllis Kahn in the Democrat-Farmer-Labor primary for Minnesota House District 60B in 2016. A former child refugee from civil war, Omar was perceived as a best-case image for shepherding progressive causes against President Trump. Ilhan Omar's individual character, however, was openly trending towards worst-case.
London Calling: An American SJW Lays Down the Law. Last month in London, Uruguayan-born Melania Geymonat and her American girlfriend Chris (last name unknown) were riding home on a bus after a date when they were physically attacked by four teenagers yelling homophobic and misogynist slurs. A photo of the two beaten and bloodied women quickly went global, though details about the actual attackers have been strangely devoid in subsequent media coverage. [...] One would think a socialist rag like the Guardian would have an acute interest in exposing both the perpetrators and the motives behind such hate crimes, especially if they fit Chris's theory with regards to their supposed systemic foundations. One of the attackers is a legal adult, so there is no legal reason his identity cannot be publicized. One wonders if there aren't other reasons. Political reasons. Maybe the attackers' identities don't fit a certain narrative.
WordPress De-Platforms Blog That Posted Statistics About Muslims. A blog that posted statistics about Muslims has been squashed from WordPress in an apparent effort to censor information that might portray the "religion of peace" in a negative light. The site, called muslimstatistics.wordpress.com was suspended for an alleged terms of service violation: [Screenshot] One of the pieces from the website, archived here, shows that the content was in no way malicious. Rather, it was factual.
Houston mosque gets one anonymous online threat and the non-story gets coverage on FOX News. In a post on the internet forum 4-Chan (below), the would-be attacker refers to the recent mosque attack in New Zealand, the first attack of its kind anywhere in the West. As usual, CAIR is the instigator behind all the media coverage it can for its victim wannabes.
BBC to stop using the word 'terror' to describe attacks — report. The British Broadcasting Corporation has decided to stop using the word "terror" in order to avoid being perceived as being biased in its reporting, the Daily Mail newspaper reported Sunday [6/9/2019]. The report quoted "well-placed BBC sources" as saying the worldwide network's management is "eager to report terror attacks consistently, regardless of the terrorist's political ideology." Instead of calling all incidents "terror attacks" and risk accusations of bias, the BBC will be changing its editorial policy to remove the word "terror" from its lexicon unless it is contained in a direct quote.
"Rarely Reported by the Media Anymore": Persecution of Christians, March 2019. When it comes to violence between Muslims and non-Muslims, March news was dominated by the Christchurch massacres in New Zealand, where, on March 15, an Australian man killed 51 Muslims in two mosques. A statistical report that did some number-crunching, however, found that "a Christian living in a majority Muslim country is 143 times more likely to be killed by a Muslim for being a Christian than a Muslim is likely to be killed by a non-Muslim in a Western country for being what he is." The report — citing that "at least 4,305 Christians ... were murdered by Muslims because of their faith in 2018" and that "300 million Christians, overwhelmingly in the majority-Muslim countries, were subjected to violence" — refers to the persecution of Christians by Muslims as "the most egregious example of human right violations in today's world.["]
The Islamization of Minnesota Media. The Council on American Islamic Relations (CAIR) is the U.S. branch of HAMAS, a designated foreign terrorist organization; notwithstanding, CAIR has turned into the go-to source on all matters Muslim for much of American media. In this, Minnesota media are not different than any other, only worse. Much worse. It's become evident that media outlets in the state, primarily the Twin Cities, increasingly refract each and every story about Muslims generally, and Minnesota ones specifically, through the prism of a CAIR press release or its invidious Islamic agenda. One of the more mindless in this regard has been Minnesota Public Radio (MPR). The usual caveats to MPR always apply: taxpayer-funded promulgator of liberal narratives, comfort zone of the intellectually incurious, and whenever circumstances warrant. It was still somewhat of a shock when Tom Weber agreed to serve as Master of Ceremonies for CAIR's 9th Annual Banquet in 2016 at the Minneapolis Marriott NW.
The New York Times Says "Give Trump His Border Money". [Scroll down] While the Times manages to get the top line decision right, they still had to get their shots in. "There is no pressing national security threat — no invasion of murderers, drug cartels or terrorists. No matter how often Mr. Trump delivers such warnings, they bear little resemblance to the truth," it said. They of course base that on absolutely nothing. When you have 100,000 un-vetted people crossing in a few weeks time, the idea that the drug cartels and gangs aren't heavily taking advantage of that is nonsensical. They are out to make money, among other things. As the system is being overrun, it's common sense that bad actors would work toward their own gain. The Times assuming otherwise is pure gaslighting.
The Increasingly Narrow, Parochial Prism of Journalism. Last month, immediately after fire had almost destroyed the cathedral of Notre Dame in Paris, the Washington Post ran a piece with the headline, "The Notre Dame fire ignites the West's far-right." The author, Ishaan Tharoor, used his piece to expand on that untimely and inaccurate claim. [...] What is strangest — and most defamatory — is to call people "far-right", or insinuate that they are linked to the far-right because they are saddened by the fire at Notre Dame. It might be possible to think this article was just the dishonest and dishonourable smear-job attempted by one jobbing hack. Yet a week later, and the Washington Post was back at a similar trick. In the aftermath of the appalling Easter Sunday attacks on Christians and tourists in Sri Lanka, the Washington Post ran a story, "Christianity under attack? Sri Lanka church bombings stoke far-right anger in the West."
Jesus was not a Palestinian. It's one thing when Palestinian activists and Muslim propagandists recreate Jesus in their own image, calling him a Palestinian. It's another thing entirely when a member of the House of Representatives does this same thing — and the New York Times jumps on board to perpetuate the lie. [...] In an op-ed in the New York Times, published one day before the misleading tweet, Eric V. Copage claimed that "Jesus, born in Bethlehem, was most likely a Palestinian man with dark skin." Jesus the Palestinian! And note carefully that, in an op-ed of roughly 700 words, the word "Jew" does not occur a single time. The same with the word "Israel." Not one single mention.
How does the website 'Media Bias Fact Check' rate Bare Naked Islam? Media Bias Fact Check claims to bean independent online media outlet. MBFC is dedicated to educating the public on media bias and deceptive news practices. MBFC's aim is to inspire action and a rejection of overtly biased media. We want to return to an era of straight forward news reporting. MBFC follows a strict methodology for determining the biases of sources. Dave Van Zandt is the primary editor for sources. He is assisted by a collective of volunteers who assist in research for many sources listed on these pages. Funding for Media Bias Fact Check comes from donations (I smell George Soros) and third party advertising.
The Media Has Decided That Louis Farrakhan Is A Far-Right Extremist Now. Louis Farrakhan has been banned from by Facebook's network of social media, along with Alex Jones, InfoWars, and Milo Yiannopolis. The ban has presented the media with the new and exciting opportunity to re-write history and present Farrakhan as being a problematic member of the right. [...] I am wondering what definition of "right wing" the Washington Post is using here, because the "right wing" has spent a lot of time pointing out just how many Democrats love to pose with and praise Farrakhan. Do Linda Sarsour and Ilhan Omar know they've been rubbing shoulders with a notorious, right-wing extremist?
It's Getting Difficult To Tell The Difference Between The New York Times And Al Jazeera. Whether the Muslim Brotherhood's many disparate groups and organizations meet the criteria of a single terror organization under U.S. law is debatable, but what isn't debatable is that a large faction of the Muslim Brotherhood leads a Sunni movement that aims to implement sharia law under a global caliphate. Its deep network of "charitable" institutions and political parties form an infrastructure for extremist causes. One could, if not a New York Times writer, describe its philosophy as dogmatic, illiberal, theocratic, and violent; and its "storied" history a long-term threat to secularism, Muslim reformers, liberalism, Christians, and Jews in the Middle East. These days, members of the Muslim Brotherhood advocate for child suicide bombings, political assassinations, mass murder of minorities, violent mobs — basically the entire deadly menu of jihadist activities. This is context that Times readers would not learn.
The Notre Dame fire: Conclusions enforced before the evidence was examined. The recent fire in Notre Dame Cathedral has highlighted the attempts of the powerful to control the news. The Paris prosecutor, Rémy Heitz, has decided the fire was "likely accident, not arson." [...] There it is: the orthodox truth. If you don't accept the "orthodox" story, you are a "conspiracy theorist," an Islamophobe, and a racist. Deviance from the orthodox view must be silenced. Fox News's Shepard Smith invited the French media analyst Philippe Karsenty for an eyewitness interview while the fire was still raging. Karsenty said, "Of course you will hear the political correctness, that it's probably an accident, but..." Before he could finish, Smith interrupted: "Sir, sir, sir, we're not going to speculate here of the cause of something that we don't know." Karsenty continued: "I'm just telling you, you need to be ready..." Smith cut him off: "No, sir. We're not doing that here. Not now. Not on my watch! Philippe Karsenty, it's very good of you to be here." Fox's Neil Cavuto had a similar experience in his interview with William Donohue, president of the Catholic League. Donohue was skeptical about the accident claim. He commented, "Forgive me for being suspicious. Just last month, a 17th-century church was set on fire in Paris. We've seen tabernacles knocked down, crosses have been torn down, statues." Cavuto responded, "We don't know that. So if we can avoid what your suspicions might be." Dohohue then stated, "When I find out that the Eucharist is being destroyed and excrement is being smeared on crosses..." At that point, Cavuto decided to terminate the interview: [...]
Orwellian WaPo Slams the 'Far-Right' for Saying Christians Were Under Attack in Sri Lanka. In the wake of the horrific Easter terrorist attack against churches in Sri Lanka, The Washington Post published an article slamming "far-right" political leaders for saying that Christians are under attack. The Orwellian article suggested there was something untoward about reporting on global Christian persecution — by selectively quoting far-right European and American leaders on the issue and ignoring the broader discussion. The bombings, which claimed the lives of at least 321 people and wounded more than 500 others, took place on the most important holiday for Christianity, the day Christians remember the Resurrection of Jesus. They targeted Christian churches, and according to Sri Lanka's defense minister, a radical Islamist terror group carried the attacks out in "retribution" for the Christchurch mosque shootings last month.
Taqiyya for Easter. It used to be said that ninety per cent of news is announcing Lord Jones is dead to people who were entirely unaware that Lord Jones was ever alive. Now the trick is to announce Lord Jones is dead and ensure that people remain entirely unaware of why he is no longer alive. One senses that a line was crossed in yesterday's coverage. As one of our Oz Steyn Club members, Kate Smyth, put it, the media have advanced from dhimmitude to full-blown taqiyya.
Katie Pavlich's Response To Washington Post's Preposterous Analysis Of Sri Lankan Bombings. [Scroll down] First, outrage over the persecution of Christians is not confined to the far-right. Many conservatives condemned the attacks and likely many independents as well. But the $64 million question is, shouldn't the left be as outraged as the right? The death toll from Sunday's bombing has climbed to 290 and there are over 500 injured. Why has the response from the left been so restrained in comparison to the outpouring of love and support following the murder of 50 Muslims in New Zealand?
Fires at college in Vancouver were caused by a terrorist attack. According to Vancouver police, 23-year-old Nasradin Abdusamad Ali placed at least three incendiary devices around Langara College. At least two of them detonated resulting in fires around noon. The college was evacuated with no injuries. Ali was apprehended around 4:00 pm. "T Building" suffered significant structural damage and will remain closed. T Building is a five-story building that housed science and technology classes. It was full of students when the attack occurred. For an attack that had the potential to cause so many deaths, the media seems like they can barely be bothered to report on it.
The Notre Dame Fire: Our Fault, Our Most Grievous Fault. Buildings like Notre Dame do not erupt into flames spontaneously. That's not how God works, even to punish a civilization as deep in moral ruin as ours. My suspicions, and those of almost everyone I know, are hardly calmed when we see Fox News — yes, even Fox — repeatedly refusing to host an honest discussion of the possibility, even as experts tell French TV that eight hundred year old timber simply doesn't burn that way without an accelerant. I mean, it's not as though news networks restrain their hosts from wild speculation during other crises. So, understandably, the first reaction from anyone who has been reading the news lately was: "Muslims, right?" Alas, even Right-wing newsreaders are terrified of saying the wrong thing when the perp might be a member of the Religion of Peace. Attacks on Christian churches in Europe have become so numerous that even Newsweek has had to admit it — though the magazine hilariously claims that no one knows why these attacks are happening, and the words "Islam" and "Muslim" are nowhere to be found in its reporting.
Reuters Propaganda Headline: "Man Arrested After Boy Falls from Balcony". The Minnesota Mall of America is well known for danger and violence due to its proximity to a large Muslim population near Minneapolis. However, it is not politically correct to talk about it openly, thus Reuters pulls out the cultural Marxist headline transcriber.
Austin Smith Kills Family, Media Hides Why. Looks like we can add four more to the thousands upon thousands killed over the centuries in the name of the Religion of Peace. Given that violence against women is a hallmark of Islam, responsible news outlets would report the probable Muslim connection, rather than leave the public to imagine that Smith is some Hollyweird parody of a Christian. Yet Fox News is not alone in failing to mention it. ABC News even gives the story the following subheading: ["]Austin Smith allegedly told police he acted 'under his religious beliefs.'["] But the story never mentions Islam. "It's unclear what religion Smith practices," we are told.
As census approaches, many Arab Americans feel left out. Yousuf Abdelfatah already knows the answer he'll give about his race on the 2020 census questionnaire will be wrong. He's an Arab American, but the only race options on the census are white, black, Asian and categories for American Indian, Alaska Native, Native Hawaiian Pacific Islander.
The Editor says...
This style of writing has become a cliché in the print media: The writer starts off with an emotional tale about some likable (usually young) person who, presumably, has never done anything wrong in his or her life, yet he or she is now the hapless victim of some government policy that the article is intended to change. It's propaganda masquerading as journalism, in other words. In this case, the Associated Press wants us to feel sorry for the central character in this melodrama because he has to identify as white. (Oh, how awful!) Is Muslim a race now? The sob story ain't workin'.
Newsweek's 'Who Is Louis Farrakhan?' Story Originally Failed to Mention Anti-Semitism. Newsweek failed to mention Louis Farrakhan's extensive history of anti-Semitism in a story published Thursday [4/11/2019] about his involvement with the funeral processions for the late rapper Nipsey Hussle. Newsweek subsequently decided to add the missing detail to their piece after The Daily Caller reached out to them about it.
How Qatar infiltrated The New York Times. Last weekend, Israel was attacked in a new way. No, I'm not referring to the horrific onslaught of rockets Hamas launched into Israel that left two children hospitalized and five others injured; the tens of thousands of rioters who tried to breach the Gaza border fence; or the three Palestinian youths who were killed. I'm talking about an outlandish article published in The New York Times Magazine about the Boycott, Divestment and Sanctions (BDS) movement that evokes age-old anti-Semitic tropes to accuse prominent Jewish philanthropists, like Haim Saban, of holding the Democratic Party hostage on Israel — authored by a man with ties to one of the world's biggest sponsors of terrorism. Many rushed to shame the Times for welcoming writer Nathan Thrall's "propaganda." But it isn't just the propaganda or anti-Semitism that should concern Jews everywhere — it's Nathan Thrall himself and his alarming ties to Qatar.
Judge Jeanine is back, without a word about her two-week suspension. The best evidence of a powerful media taboo is the absence of any mention of something that the public is well aware of. The power to banish any reference to a subject that media consumers are interested in is almost awe-inspiring; it demonstrates genuine command. So, when Judge Jeanine Pirro returned to the Fox News Channel's air Saturday night [3/30/2019], her fans, including me, tuned in eagerly to see what she would say about hijabs, Ilhan Omar, CAIR, and the forces that drive her into a two-week suspension, with worries over her future at the dominant cable news outlet.
Jihad and the Media in an Age of Delusion. In initial reports of all jihad attacks, we are told "it is not terror related." The shifting definition of terror is slippery but expected. [...] The root cause, above all, is never to be spoken of. Verboten. Anyone who dares cross that line will be ultimately destroyed — a pariah, his or her good name murdered, unable to make a living. You will submit or you will cease to exist, literally or figuratively. There is no motive, we are told; the motive, we are told, is "mental illness." There is almost nothing in Sunday's BBC article about the London stabbings that is correct, save for the reporting that four people were stabbed. After that it is all editorial and subtle propaganda.
Time to Investigate the Washington Post's Qatari Collusion? Even as the New Zealand government was condemning the Erdogan regime for using mosque shooting footage in its election rallies, the Washington Post decided to give the Islamist tyrant a platform. It was the second time in six months that The Post had given Erdogan a platform. Recep Tayyip Erdogan has prisons full of political dissidents. He has silenced the media and has tortured opponents. His brutal Islamist regime has been described as the world's biggest jailor of journalists. It's been estimated that a third of the world's imprisoned journalists have been locked up by his regime. But that didn't stop the Washington Post from giving the man who has locked up hundreds of journalists a forum to posture about the mysterious death of The Post's own Qatari lobbyist: Jamal Khashoggi.
Yet another brutal sexual attack on two women by gang of "African" men in Melbourne. "African" is the preferred description the media like to use, so people won't jump to the conclusion that the attackers, more than likely, were Muslims.
Nigeria: Muslims Murder 32 Christians, Torch Church in Brutal Attack, Muslims Have Killed 120 Since February. Why do attacks on New Zealand mosques warrant international media coverage and condemnation from world leaders, but murderous jihad attacks on churches get no attention at all? The mosque attack is the rarity, the exception, while Muslims attacking churches and synagogues are commonplace; yet there is no outcry about attacks such as this one. The double standard is glaring and obvious. In this as in all other cases, Judaism and Christianity can be freely denigrated and their adherents killed; all that matters to the enemedia is protecting Islam's image and portraying Muslims as victims.
Source Claims Fox News Host Secretly Worked to Get Jeanine Pirro Suspended to Curry Favor With Democrats. A source with intimate knowledge of the situation is claiming two Fox News hosts secretly maneuvered to get Judge Jeanine Pirro suspended over her controversial remarks about Muslim Rep. Ilhan Omar (D-MN), with one, Bret Baier, allegedly seeking to curry favor with Democrats to reverse a decision to not allow Fox to host any of the party's presidential primary debates by getting Fox to suspend Pirro.
Muslim FOX News Producer Who Called Out Judge Jeanine has Twitter Account Littered with Vile Attacks on Conservatives. On Sunday FOX News "strongly condemned" Judge Jeanine Pirro for asking viewers if Rep. Ilhan Omar's hijab means she follows Sharia Law. Judge Jeanine attacked anti-Semite Ilhan Omar on Saturday and asked if her hijab means she's against the Constitution. [...] Now it appears Hufsa Kamal, who is a producer for Bret Baier on FOX News, has a long history of vicious attacks on conservatives. Hufsa has attacked Michelle Malkin, Candace Owens, Dan Bongino and Charlie Kirk.
How Do We Know What We Know? This last week, on the other side of the world, 32 Nigerian Christians were brutally murdered by jihadists. Some missionary sources say the number is closer to 200. Has that been on the news? No. We heard all about the mosque attack in Christchurch, but not a word about Nigeria. In the last few years 6,000 Nigerian Christians have been murdered — burned in their own churches, beheaded, mutilated. But no major news stories. Silence. What else is happening that we don't know about? How are our opinions and decisions being shaped by what we don't hear?
Judge Jeanine is right — Fox News is wrong. Fox's newest fan is a Jew-hating member of Congress. Minnesota congresswoman Ilhan Omar is extremely grateful that Fox defended her and punished Judge Jeanine Pirro for asking a legitimate question. On Saturday [3/16/2019], Fox suddenly canceled Pirro's highly rated weekly show Justice with Judge Jeanine. After Justice failed to appear on Fox's upcoming weekend schedule, a spokesperson for the network refused to comment on "internal scheduling matters," according to USA Today. In a statement following Judge Jeanine's opening remarks on March 9, Fox News "strongly condemned" Pirro's comments about Muslim Rep. Omar. A Muslim Fox News associate producer, Hufsa Kamal Khan, also called out Pirro, asking her to stop "spreading the false narrative" that Muslim women wearing a hijab "aren't American enough." The funny thing is, the judge's logical examination of the origin of Omar's anti-Semitic statements was not bigoted, nor false, nor inciteful. She asked a valid question.
Media Gorges Itself on Hatred While Ignoring Atrocities. On a day in March, more than 40 members of a religious minority were targeted for their faith and murdered. I don't mean the Mosque shooting in New Zealand, but the massacre of Christians in Nigeria, about which the American media was altogether unconcerned. [...] A search for "Nigeria" in the [New York] Times' archives shows that no ink has been spilled in the columns of this, America's "newspaper of record," for the Christians facing extermination at the hands of Muslims in that country. This is odd, isn't it?
Media Silence Surrounds Muslim Massacre of Christians. Political leaders and public figures were falling over themselves this weekend to condemn the mosque attacks in New Zealand, while dozens of Christians were slaughtered by Muslims in Nigeria to the sound of crickets. The mosque attacks were indeed a horrific affair and worthy of universal condemnation. Presidents, prime ministers, royalty, and religious leaders rushed to extend their condolences to victims and their families — as well they should — while decrying the hate that purportedly motivated the shootings. [...] The bizarre aspect of the coverage was not, in fact, the attention paid to a heinous crime committed in New Zealand, but the absolute silence surrounding the simultaneous massacre of scores of Christians by Muslim militants in Africa.
Media Silence Surrounds Muslim Massacre of Christians. Political leaders and public figures were falling over themselves this weekend to condemn the mosque attacks in New Zealand, while dozens of Christians were slaughtered by Muslims in Nigeria to the sound of crickets. The mosque attacks were indeed a horrific affair and worthy of universal condemnation. Presidents, prime ministers, royalty, and religious leaders rushed to extend their condolences to victims and their families — as well they should — while decrying the hate that purportedly motivated the shootings.
Minneapolis: Muslim refugee brutally rapes 10-year-old girl, media hides facts. A 34-year-old Muslim immigrant has been arrested and charged with brutally raping a 10-year-old girl in Minnesota and the local media in Minneapolis has refused to identify the man as a refugee from Somalia. KSTP 5, an ABC affiliate in Minneapolis, referred to the suspect, Ahmed Hersi Abdi as "A Minneapolis man." CBS affiliate WCCO 4 used the same description, giving no mention of the man's background or how he arrived in the U.S. The attack occurred Sunday evening in an apartment complex in the city's Cedar Riverside neighborhood, also known as "Little Mogadishu" for its high concentration of Somali refugees imported from United Nations refugee camps in Africa.
Islam forbids the killing of spiders, therefore, Islam is a religion of peace. And if you dare to disagree, as one ex-Muslim (@ApostateProphet) on Twitter did, you will get banned.
A New Low in Media Lies from the Miami Herald. It's commonplace and universal: if you're a dissident from the Leftist agenda, you're not going to get fair, accurate, or honest treatment from establishment media reporters. But in this hit piece on Hallandale Beach Commissioner Anabelle Lima-Taub, who called Muslim Rep. Rashida Tlaib a "Hamas-loving anti-Semite" who might "become a martyr and blow up Capitol Hill," Sarah Blaskey of the Miami Herald hits a new low even for Leftist "journalists," whose integrity was already a notch below that of child molesters, and provides a textbook example of how those "journalists" distort the facts, libel people, and lie outright in order to manipulate the public into believing what they want them to believe.
NewsGuard Linked to Saudi Arabia's PR Machine. Newsguard, the beltway establishment-backed "news rating" browser plugin that assigns websites a green or red rating based on their "trustworthiness," claims to care about integrity in news. But one of the project's top investors operates a D.C.-based subsidiary that has been trying to manipulate American news media on behalf of Saudi Arabia and its brutal military intervention in Yemen. Navigate to Newsguard's website and you'll be greeted with a slogan that proudly proclaims "restoring trust and accountability."
Fox News Promotes Microsoft's NewsGuard Blacklist as 'Good Idea'. On Friday's [1/25/2019] Fox & Friends, Kurt Knutsson gushed over Microsoft's NewsGuard blacklist as "fair" and a "good idea." [...] What is Fox News going to do when Microsoft and NewsGuard add Fox News to this blacklist? Seriously, what is Fox going to do now that it is on record gushing over just how "fair" and "down the middle" NewsGuard is? In brief, what is Fox News going to say for itself when Fox is blacklisted just in time for the 2020 presidential election, which is probably what's going to happen? Fox News has no principles. This is a news outlet that will rage against Silicon Valley when Silicon Valley harms Fox News.
Why do the leftist media always seem to leave out the "M" word in their headlines about the Gay purges taking place in Chechnya? "M" word as in Muslim. Chechnya is the Islamic republic on Russia's southern border, where the Kadyrov Regime has a policy of cleansing Chechen blood from what it sees as harmful elements — first and foremost — the Gay element.
Video surfaces of WaPo op-ed contributor chanting 'Death to America'. Less than two months after he was given prominent op-ed space in the Washington Post, a video has surfaced of Houthi rebel leader Mohammad Ali al-Houthi launching a shoulder-fired missile and then reciting the Houthi slogan, which calls for "Death to America." [...] Ali Shihabi, the founder of the Arabia Foundation, a Washington D.C.-based Middle East think tank, confirmed to Conservative Review that it is indeed al-Houthi in the video.
Media Suddenly Interested in the Plight of Saudi Women Under Islam. It's possible to disagree with someone and still respect their convictions and integrity. The mainstream media however is purely contemptible. It will tell any lie and spin any spin that suits its toxic agenda. The media couldn't care less about the treatment of Saudi women for generations. Then the Saudis turned on the Muslim Brotherhood. The new king made some limited reforms on the treatment of women. And the media joined in a Qatari pro-Brotherhood information operation against the Saudis. Now, after generations of ignoring the mistreatment of Saudi women, the media is suddenly running multiple pieces about it. Not because it cares about the impact of Islamic law on women. That's why there are no pieces on the treatment of women in Iran or Pakistan. Just Saudi Arabia. Because the media has no ethics or principles. It has agendas. And those agendas have zero to do with human rights.
New Details Ruin Khashoggi Hero Story. Time's Karl Vick laid on the praise, and thick, writing: "Khashoggi put his faith in bearing witness. He put it in the field reporting he had done since youth, in the newspaper editorship he was forced out of and in the columns he wrote from lonely exile." In Vick's overwrought prose, Khashoggi was a bold and independent fact-finder. "What irked the kingdom and marked the journalist for death was Khashoggi's insistence on coming to that conclusion on his own, tempering it with troubling facts and trusting the public to think for itself," Vick wrote. Holy smokes! But it gets even better: "Such independence is no small thing. It marks the distinction between tyranny and democracy." But wait. How independent was Khashoggi? On Dec. 23, the Washington Post acknowledged a "problematic" arrangement between Khashoggi and the autocrats of Qatar, a nemesis of Saudi Arabia (and the owners of "independent" Al Jazeera). Of course, the Post buried these facts in paragraph 19 on page A-14, in a massive 5,000-word story.
The American Media, Suckered Again. [E]ver since the news broke of Jamal Khashoggi's grim fate inside a Saudi consulate, I've taken the view that this man was not a "journalist" at all but a deep-state spook who made the mistake of falling out with the wrong people. [...] So in other words The Washington Post passed off foreign-government propaganda as an authentic op-ed opinion column. Khashoggi wasn't a journalist at all, notwithstanding that pathetic Time "Person of the Year" cover whose truth didn't even make it to December 31st.
Trump vindicated, media is silent. Two months ago, Jamal Khashoggi was a thing. He died in Saudi Arabia's embassy in Istanbul apparently painfully and slowly. The Washington Establishment went whacko and demanded President Trump break relations with Saudi Arabia for the death of Khashoggi, whom the elitists described as a journalist for the Washington Post. He wrote 20 columns for the paper. Now we know the rest of the story. Khashoggi was a propagandist for Qatar, the one gulf state that sides with Syria and Iran. A Saudi paper, Arab News, reported, "Washington Post subtly admits Khashoggi columns were 'shaped' by Qatar."
Report: Slain Journalist Jamal Khashoggi Was Acting As Anti-American Foreign Agent For Terror Group. The implications are troubling to say the least given the direct link to a leading U.S. news organization — the Washington Post. According to a just-published Independent Sentinel report, deceased Washington Post reporter Jamal Khashoggi was in fact an operative for the Muslim Brotherhood, the government of Qatar, and a friend to Osama Bin Laden. This information was and is widely known throughout various media agencies and yet has received almost no coverage. Instead, the Establishment Media has elevated Khashoggi to media martyr status and used his death to attack the Trump administration, once again ignoring truth in favor of politically biased, anti-American "reporting."
Report Says WaPo Reporter Killed In Saudi Consulate May Have Been Foreign Agent. Writing in The Federalist, Jim Hanson, president of Security Studies Group and a former member of U.S. Special Forces, notes that the Post admitted in an article on December 21 that an executive at Qatar Foundation International worked with Khashoggi to influence Khashoggi's columns so they aggressively targeted the Saudi government. The Post wrote, "Text messages between Khashoggi and an executive at Qatar Foundation International show that the executive, Maggie Mitchell Salem, at times shaped the columns he submitted to The Washington Post, proposing topics, drafting material and prodding him to take a harder line against the Saudi government." Hanson notes, "The Qatar Foundation denies they were paying him to produce the anti-Saudi material."
Washington Post Admits Khashoggi Let Qatar 'Draft Material' for Columns. The Washington Post published an interesting piece last weekend about its slain contributor Jamal Khashoggi that painted a very different portrait of the man transformed into an avatar of pure journalistic integrity by most of the media. The new Post article conceded that Khashoggi was a political activist and admitted his writing may have been "shaped" by the government of Qatar, including an executive linked to that government "drafting material" for Khashoggi's columns.
Dear New York Times, here's why Hezbollah is bad. The New York Times made waves on Christmas after the "paper of record" decided to publish a piece that trumpeted the supposed good deeds of the Iran-backed terrorist group Hezbollah. In the piece "Christmas in Lebanon: 'Jesus isn't only for the Christians,'" Times reporters Vivian Yee and Hwaida Saad paint a sympathetic picture of the U.S.-designated Foreign Terrorist Organization. Writing on Christmas in Lebanon, they report: "Even Hezbollah, the Shiite political movement and militia that the United States has branded a terrorist organization, has helped ring in the season."
Somewhat related:
Marvel's low-selling Muslim Ms. Marvel writer out, new Muslim propagandist, Saladin Ahmed in. [O]ne of the most contemptuous SJWs Marvel and DC alike could ever have possibly hired is leaving the low-selling propaganda vehicle misusing the original codename of Carol Danvers, and giving the reins to a fellow propagandist, author Saladin Ahmed.
Texas Media Desperate to Defend Jihadis. As if on cue, media across the Dallas-Fort Worth area of Texas launched an Information Operation to defend a muslim and attack citizens concerned about the Islamic threat to Texas and the nation. Citizens and GOP leaders have raised questions about the Vice Chair of the Tarrant County (Texas) GOP, who is a muslim man named Dr. Shahid Shafi. The media — as per their SOP — alleges bigotry and "Islamophobia," while simultaneously promoting the terrorist group Hamas doing business as CAIR. Nashwa Bawab at the Dallas Observer attacked UTT President John Guandolo and Understanding the Threat, while applauding Hamas (dba CAIR) for calling on Tarrant County officials to cancel scheduled UTT training. Similar stories ran in the Dallas Morning News (Sarah Sarder), the Fort Worth Star Telegram (Anna Tinsley), the Texas Observer (Gus Bova) and others, despite the fact UTT President John Guandolo directly contacted Tinsley and Bova with facts and evidence. The media attacks citizens concerned about the Islamic Movements unthwarted assault on liberty while promoting Hamas terrorists from CAIR.
CNN Commentator Calls For The Destruction Of Israel. Progressive CNN contributor and Temple University Professor Marc Lamont Hill significantly moved the goal posts regarding America's position towards Israel. Speaking at the United Nations today, he used a line that Hamas and other terrorist organizations have used for years. He said that justice requires a "free Palestine, from the river to the sea." For many years, this phrase has been the central mantra of those who wish to wipe Israel from the map. The river in question is the Jordan River, the sea is the Mediterranean, and between those two bodies of water exist the state of Israel. Quite frankly, for a Palestinian state to exist between them can mean nothing but the destruction of Israel. There is literally nowhere else for the Jewish state to exist.
Update:
CNN fires Marc Lamont Hill after he calls for 'free Palestine from the river to the sea'. Marc Lamont Hill lost his gig as a commentator at CNN after he used a familiar slogan calling for the destruction of Israel at an anti-Israel conference at the United Nations on Wednesday [11/28/2018].
Marc Lamont Hill is Sorry Jews Misinterpreted His Defense of Murdering Jews. Hill is sorry that his defenses of murdering Jews were misinterpreted in a Philadelphia Inquirer op-ed titled, "Marc Lamont Hill: I'm sorry my word choices caused harm." It's not the word choices. It's the ideas. But Hill's defense is claiming that his meaning was pure, but his words were misunderstood.
How Many Times can you Justify the Murder of Jews Before CNN Fires You? Marc Lamont Hill is a fan of the Sixers, Farrakhan and killing Jews. He also holds the answer to the question, 'How many times can you justify the murder of Jews before CNN fires you?' Hill had spent at least four years justifying and defending the murder of Jews before CNN finally parted ways with its former commentator. And it did so without ever condemning his hateful remarks. In 2014, Hill had claimed on CNN that the kidnapping and murder of three Jewish teens, Naftali Frenkel, Gilad Shaer, and Eyal Yifrah, one of them an American citizen, wasn't "terrorism", but "resistance". And CNN let it pass.
CNN Fires Marc Lamont Hill Following Israel Comments. CNN severed ties with contributor Marc Lamont Hill on Thursday, following comments the university professor made about Israel and Palestine in a speech at the United Nations. "Marc Lamont Hill is no longer under contract with CNN," a CNN spokesperson told Mediaite. Hill urged countries to boycott Israel in a speech on Wednesday, calling for a "free Palestine from the river to the sea." His comments sparked an immediate backlash, with many noting "from the river to the sea" is a phrase used by Hamas and other anti-Israel terror groups. The phrase implies the replacement of Israel by a Palestine stretching from the Jordan River to the Mediterranean Sea — though Hill disputes this characterization of his comments.
Our Childish Elite Shed Crocodile Tears for Khashoggi. The gory murder of a non-American Muslim in the former capital of a Muslim country by a group of Muslim assassins from another Muslim country has somehow been transformed into an American problem. Why should that be? The decedent in question occasionally wrote propaganda pieces disguised as journalism for a preening American newspaper in Washington, D.C., whose motto is "Democracy dies in darkness." In fact, what died in the darkness of the Saudi embassy in Istanbul was Jamal Khashoggi, a Saudi national of whom no one in the Western world had heard until a month ago.
The Media Is Gaslighting Us on the Khashoggi Affair. In a world with a great many tragedies and crimes, I couldn't care less about the death of Saudi Arabia's Jamal Khashoggi. While his death at the hands of Saudi intelligence agents in Turkey reportedly was brutal, as well as a violation of the ordinary rules of the game insofar as it happened in the Saudi consulate, what [...] does any of this have to do with me, the United States, or anyone other than Khashoggi himself? The relentless and breathless reporting is chiefly in the service of embarrassing Trump and influencing his behavior.
The Editor says...
I do not take any delight in the death of a lost person, but Mr. Khashoggi was a Muslim, which means that he went straight to Hell on October 2nd. He was not an American citizen. He was an opinion writer, not a journalist. He was a contributor to the Washington Post. He was apparently rubbed out (overseas) by even more loathsome men than himself — probably other representatives of the Religion of Peace. There is no reason to report his death in the U.S. news media, outside of the Washington Post, nor is there any reason to think his death should be an embarrassment to the U.S. President.
NY Times Claims 'True Islam Does Not Kill Blasphemers'. Here is a quick test of whether what Mustafa Akyol says is true or not: let him go to Pakistan, or Iran, or Afghanistan, or Saudi Arabia, or Somalia, or Sudan, or any other country that implements Islamic law, and tell the Islamic authorities there that true Islam does not kill blasphemers. Akyol apparently expects us to believe that all the Islamic authorities in all those countries, and all the Islamic scholars who formulated Islamic law from the Qur'an and Sunnah, got Islam all wrong, wrong, wrong, and finally here comes Mustafa at last, with the genuine article. In reality, if Akyol denied the death penalty for blasphemy in any Sharia state, he could end up being executed for blasphemy himself.
There's No Terrorism Like Islamic Terrorism, Despite the Left's Lies. Donald Lemon, on CNN: "So, we have to stop demonizing people and realize the biggest terror threat in this country is white men, most of them radicalized to the right. And we have to start doing something about them. There is no travel ban on them. There is no ban on — they had the Muslim ban. There is no white guy ban. So, what do we do about that?" Racist Donald Lemon chooses to make this a race issue, and yet you never hear him refer to ubiquitous Muslim terrorism by the race of its perpetrators, as most Muslim terrorists are non-white. Another leftist hack, politician Corey Booker, told CNN in January, "In American history since 9/11, we've had 85 major attacks in our country, 73 percent of them have been by white nationalist hate groups." As I noted above, this lying leftist cites the study that conveniently and deviously begins on 9/11, in order to downplay or even exonerate Islamic terrorism, and not even mentioning leftist terrorism, in order to conveniently make it appear that his political opponents are the most dangerous terrorists around.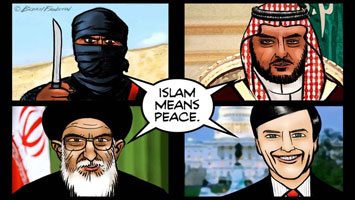 From Countering Enemy Propaganda to Promoting It. The West, particularly the left, not only believes the enemy's big lie that "Islam means peace", but we propagate the lie ourselves. And we do this while blaming ourselves for the Islamic enemy's jihad on us. This corrupt state of ours began with our pretending that inferior cultures aren't inferior and superior cultures aren't superior. It began when we told nice lies about rotten cultures and rotten lies about great cultures. It began with the double poison of political correctness and multiculturalism, which spawned Islamic correctness. This self-destructive rot in the West allows the enemy to remain undefeated 17 years after 9/11, and it allows many of us to utter "Islam means peace" no matter what Islam preaches, no matter what Muslims do, no matter what horrors we witness with our own eyes. [...] In comic books, Muslim superheroes are being shoved down reader's throats, without demand, and without much interest even from Muslims. In TV, there's always that kind, wise Muslim teaching Westerners the errors of their ways. And this goes for movies as well, where Muslims are only portrayed as victims or heroes.
Murdered WaPo 'Reporter' Jamal Khashoggi [was] Connected to Osama bin Laden, Muslim Brotherhood and Russiagate [and] Wasn't Even [a] US Green Card Holder. Murdered WaPo 'Reporter' Jamal Khashoggi was connected to Osama bin Laden and the Muslim Brotherhood. It also turns out he may have been related to Russiagate and he wasn't even a US citizen. In October, CNN criticized reports that Washington Post reporter, Jamal Khashoggi was related to Osama bin Laden. They said this was all talking points [...] But what CNN doesn't report and what Khashoggi may have neglected to note is that when Khashoggi was with bin Laden in Afghanistan he was very much in sync with bin Laden, as noted in the Arab Weekly [...]
The sickness of the articles that justify/minimize Farrakhan's hate. In the wake of #MeToo icon Alyssa Milano saying that the leaders of the Women's March have not distanced themselves enough from antisemite Louis Farrakhan, faux person of color Linda Sarsour recommends an article at Medium as a "must read for white sisters." Written by Women's March coordinator Cassady Fendlay it claims that Milano is a racist by her showing concern for antisemitism. [...] The article goes on to say, sure, Farrakhan says things that are antisemitic, but look at all the wonderful things he does! [...] Didn't Bill Cosby also do some wonderful things? Does that make up for his being a rapist?
Flashback: When the Media Defended Muslim Synagogue Terror Plotters. The orgy of self-righteous virtue signaling after the Squirrel Hill synagogue shootings is truly repulsive for anyone who remembers the history of anti-Semitic terror in America. There are two groups that plot to attack synagogues: Muslim terrorists and Neo-Nazis. The media covers for the former and condemns the latter.
Why Would the Washington Post Hire Someone Like Jamal Khashoggi? The Washington Post is indignant that "hard-line Republicans and conservative commentators are mounting a whispering campaign against Jamal Khashoggi," supposedly in order to "protect President Trump from criticism of his handling of the dissident journalist's alleged murder by operatives of Saudi Arabia." The Post hits these "hardliners" for highlighting Khashoggi's ties to the Muslim Brotherhood, and claims that "while Khashoggi was once sympathetic to Islamist movements, he moved toward a more liberal, secular point of view." In reality, Khashoggi was the real hardliner, supporting jihad violence and Sharia right up to the time of his murder — even in his recent Post columns. This raises questions about why the paper hired him as a columnist in the first place.
BBC Calls Out Washington Post for Turkish Fake News. The Washington Post and the New York Times have taken the lead in Khashoggimania by repeating every Turkish lie and scam. While the European media is more lefty, the US media is an echo chamber for Qatar and its allied Islamists in Turkey. You won't see any criticism of Qatar in US paper. You will however see it in British papers. So it fell to the BBC to call out the Washington Post and the New York Times for their addiction to Turkish fake news.
WSJ Exposes Qatari Info Op on Khashoggi. The Wall Street Journal is the only US paper doing any Khashoggi coverage that doesn't consist of 1/3 bile, 1/3 Turkish propaganda and 1/3 calls for a Muslim Brotherhood takeover of Saudi Arabia. This is a balanced piece that takes a casual look at info operations. [...] Qatar these days dictates coverage of the Middle East by major American media outlets. WSJ is committing heresy by even identifying Al Jazeera as a Qatari operation that represents that its political agendas. British and European media outlets have no problem doing so. But the American media won't.
Why the Washington Post Fears the Freedom Center. The Washington Post had provided Jamal Khashoggi, a Hamas supporter and an old friend of Osama bin Laden, with column space in which to promote the agenda of the Muslim Brotherhood. It had seized on the pretext of his disappearance and death to fracture the coalition against Iran and advocate regime change in Saudi Arabia. These had also been Khashoggi's two fundamental Islamist goals. Advocating Muslim Brotherhood regime change under the guise of human rights had worked in Egypt, Libya, and other countries in the Arab Spring. But it faltered in Syria when people started asking difficult questions about the "secular" and "democratic" Muslim Brotherhood and Al Qaeda militias. Now the Washington Post was concerned that members of Congress were asking tough questions about Khashoggi, a "secular" and "democratic" Islamist advocating regime change in Saudi Arabia.
Jamal Khashoggi: The Media Fights for a Muslim Brotherhood Pal of Osama Bin Laden. In high school, Jamal Khashoggi had a good friend. His name was Osama bin Laden. "We were hoping to establish an Islamic state anywhere," Khashoggi reminisced about their time together in the Muslim Brotherhood. "We believed that the first one would lead to another, and that would have a domino effect which could reverse the history of mankind." The friendship endured with Jamal Khashoggi following Osama bin Laden to Afghanistan. [...] That's the real Khashoggi, a cynical and manipulative apologist for Islamic terrorism, not the mythical martyred dissident whose disappearance the media has spent the worst part of a week raving about. Jamal Khashoggi was not a moderate. Some describe him as the leader of the Saudi Muslim Brotherhood. The Islamist network admires Hitler and seeks to impose Islamic law around the world. Nor was he a supporter of freedom of the press.
New York Times Hits "Disturbing Trend" Of Seeing Islam As "Not A Religion". This outstandingly disingenuous article is written by Asma T. Uddin, a Muslim religious liberty lawyer and scholar, who undoubtedly knows very well that when Bennett, McCarthy, Flynn and others say that Islam is a political ideology, they're 100% correct. And that's the real issue here, not whether or not Islam is a religion. If Islam is a political ideology, even if it is a religion as well, then that political ideology has to be evaluated in light of its compatibility, or lack thereof, with the U.S. Constitution and the rights and freedoms it guarantees. Asma Uddin presents her quotes from people saying that Islam is a political ideology as if they were self-evidently false, yet Islam is implemented as a political ideology today in Saudi Arabia, Iran, Sudan, and elsewhere. The elements of Islamic law that are political, authoritarian, supremacist, and injurious to the rights of women and others are the focus of anti-sharia laws, not the aspects of sharia that involve Muslim religious practices.
Google employees considered manipulating search results to help protest Trump's travel ban. An undisclosed number of Google workers considered ways to use the company's powerful search engine to assist in a protest against the travel ban implemented by the Trump administration in January 2017, the Wall Street Journal reported Thursday evening [9/20/2018]. The Journal said it reviewed emails that show Google employees proposed several ways to "leverage" the company's search engine to direct users to pro-immigration organizations and contact government agencies, especially when searching for terms like "Islam" or "Muslim." Those Google workers involved considered the existing search results for some of those terms to be "Islamophobic," according to the report. Late on Thursday evening, Google sent a response to the Journal's story to Business Insider.
Alex Jones Banned From Twitter, Louis Farrakhan and Hamas Remain. On Thursday [9/6/2018], Twitter permanently suspended conspiracy theorist Alex Jones and InfoWars from Twitter and Periscope. This followed Jones' altercation with Sen. Marco Rubio (R-Fla.) outside of the hearing with Facebook COO Sheryl Sandberg and Twitter CEO Jack Dorsey. Some have accused Twitter of applying a double standard, however, since both notorious anti-Semite Louis Farrakhan and the terrorist organization Hamas still have accounts on the platform.
New Mexico Compound Story Buried by Opposition Media. What do you think would happen if a compound was found in rural Kansas where children were being held against their will? Particularly if at least one of the children had died mysteriously and been buried secretly. And the surviving children were undergoing military-style training designed to help them carry out killing sprees in nearby Kansas government schools. Finally, the compound was founded and run by the homosexual-hating Westboro Baptist Church. Can you say Opposition Media jihad against Christians? First network news reader anchors would be on-site "investigating." Childcare experts would be interviewed to explain to the audience at home the harm of "forcing religion down children's throats." Other experts would talk about exposing vulnerable children to firearms. Neighbors would be button-holed and asked about the compound and its inhabitants.
California Muslim Arrested For Killing Cop, Liberal Media Scrambles To Hide 1 Detail. On August 15, California resident Omar Abdulsattar Ameen, 45, was arrested and placed in Sacramento County Jail for the brutal execution of an Iraqi police officer and suspected Islamic State membership. Although this story is yet another crucial example of the threat of Islamic terrorism in the U.S., the mainstream media are widely ignoring the report for one disturbing reason — Ameen came to the U.S. as a war-torn refugee under the Barack Obama administration.
First They Came for Alex Jones. [Scroll down] Molly Norris, once a cartoonist for the liberal Seattle Weekly, learned this new reality the hard way. In 2010, upset by Muslim threats against the creators of the TV show "South Park," Norris conceived the nicely mischievous new holiday, "Everybody Draw Muhammed Day." "Do your part to both water down the pool of targets," wrote Norris bravely, "and, oh yeah, defend a little something our country is famous for... the first amendment." Norris apparently had not gotten the DNC memo. The national left had absorbed Muslims into the multicultural rainbow and elevated their sensitivities over any quaint notion of free speech. Her cartoon in the Seattle Weekly announcing the event quickly went viral, and just as quickly, Islamic firebrands went postal. Norris came under increasing pressure and quickly backed off. Not satisfied with Norris's surrender, Yemeni-American cleric Anwar al-Awlaki insisted she be made "a prime target of assassination."
The Gray Lady Once Again Sanitizes Radical Islam. For many years now, the New York Times has sanitized radical Islamic groups, militant Islamic leaders and even Islamic terrorist attacks. The paper has does this by deliberately omitting critical details that would discredit Islamist groups. For example, the Times routinely describes the Council on American Islamic Relations (CAIR) as either being a civil rights or a Muslim advocacy group. In reality, CAIR was started as a front for Hamas and continues to serve as one. But over the course of more than two decades, the Times has never reported on any of the many government documents and official transcripts that prove CAIR's role as a front group for Hamas.
ABC/CBS Refuse to Report Links to Muslim Extremism at New Mexico Compound. The disturbing reports about the mysterious New Mexico compound were 11 starving children and one little boy's body were found grew even darker on Wednesday, after court documents were released alleging that the kids were being trained to carry out school shootings. Despite those revelations, ABC's World News Tonight and the CBS Evening News still refused to report the connection to Muslim extremism by the five adults there. The alleged training appeared to be the final straw for NBC because, up until that point, they were in lockstep with the rest of their liberal colleagues and omitted the extremism connection from their reports. ABC seemed to be tired of reporting on the disturbing compound because they only gave it a news brief lasting only 15 seconds.
Media Omits New Mexico Compound Leader's Muslim Ties. Media outlets are leaving out a key detail about the New Mexico compound leaders who were reportedly training young children to commit school shootings. Eleven children were recently rescued from the "filthy" compound, which police say appears to be run by Siraj Wahhaj and Lucas Morten. Wahhaj, the son of a prominent imam, was accused in court documents released Wednesday of training the children on the compound to commit school shootings.
Caught in the act: Film crew staging fake Muslim migrant drownings at sea on the Greek island of Crete. The video below is yet another reason to question what the media report about the poor Muslim 'refugees' drowning at sea. The footage being shot by these hoaxters will likely be presented as fact when shown on CNN or the BBC. [Video clip]
Netflix Gives Farrakhan a Platform. There's no room for Roseanne in Hollywood. But there's always room for an anti-Semitic and homophobic racist who praised Hitler. As long as he's a black nationalist. [...] Netflix is a hyper-leftist mega-corporation. Farrakhan had praised Hitler as a great man. But clearly there's no contradiction here.
Older brother of Toronto mass shooter was facing drug and weapons charges: court docs. The older brother of the gunman responsible for one of Toronto's worst mass shootings was facing drug and weapons charges when he went into a coma last year, court records show. After Faisal Hussain was identified as having carried out Sunday's attack that killed two and wounded 13, it emerged that his brother had been unconscious in a coma at Sunnybrook Hospital in Toronto for months.
The Editor says...
Nice try but this is all immaterial. It is an attempt to generate sympathy for a terrorist and his family.
The Top 50 Liberal Media Bias Examples. [#28] Ground Zero Mosque: The media outdid itself in the Ground Zero Mosque battle and always came down on the side of those that wanted to build the thing on the very grounds where Muslims murdered so many thousands of Americans on that dark day on September 11, 2001. Take an AP report, for instance, that tried to characterize the Ground Zero Mosque as just one of many Muslim mosques in the area. But the facts run contrary to what AP tried to massage into being. Of course, this is another issue that the Old Media tried for months to avoid talking about.
An Unauthorized Tour of Paristan. The following cell-phone video was recorded by a French mother driving her kids to school. With undisguised disgust she narrates the cultural enrichment of her neighborhood, with its mosque, hijabs, and an imam. This footage was originally posted on YouTube, then later removed, presumably for violating YouTube's "community standards" — which, like "community cohesion" in Britain, is codespeak for "slavish submission to sharia." [Video clip]
Hungarian Minister Chides 'Unbalanced, One-sided' BBC Anchor for Pro-EU, Pro-Migration Rant. Hungarian foreign minister Péter Szijjártó had to chide BBC anchor Emily Maitlis for "unbalanced, one-sided" journalism after she lost her temper and launched into a rant about the EU standing for "tolerance, diversity, and human rights". Speaking to Szijjártó on the publicly-funded broadcaster's flagship BBC Newsnight programme, Maitlis took umbrage with the Hungarian statesman's claim that "the current migration policy of the European Union can be very easily translated as an invitation" to illegal migrants.
The Editor says...
I'm with Mr. Szijjártó on this one. That BBC woman is obnoxious, presumptuous and eristic.
Facebook permanently bans young anti-migration "Identitarian" movement. Over the last few years, Westerners have been conditioned to accept madness. Calling out human rights abuses and trying to save Western countries from becoming mirror images of Islamic states is not "extremist," and does not constitute "hate." The young "identitarian" movement has been expanding to defend against Islamization.
Islamic Terrorists and Gay Targets. Islamic terrorists often start out with a wide variety of targets that they narrow down. And in those plots they usually try to avoid locations where fellow Muslims would risk ending up in their field of fire. Hitting a gay nightclub is one way of doing that. Like a church, it's a place where no devout Muslim could or should be found. And, from the point of view of an Islamic terrorist, that makes it an ideal target. The most significant thing about Pulse, from Omar's point of view, wasn't who was inside, but who wasn't. That missing piece is still what defines the coverage of the Pulse massacre. And of so many terrorist attack plots which linger on the identity of the targets, but not on the motivation of the attacker.
AP Tries To White-Wash Terrorist Attack in France. In case you missed it (and you probably did since the rest of the media ignored it), there was a terrorist attack this weekend in France. Two people were injured by an Islamic terrorist yelling Allahu Ackbar with a box cutter in Southern France. Of course if you read the Associated Press' report, you'd think it was just some random whack job without religion being a motive for the attack on two women. Check out how the AP white-washes their report on the terrorist attack in Southern France: [...]
YouTube Shooter, Previously Identified As "White Woman", Turns Out To Be Iranian. When a gunperson shot up YouTube Headquarters, where executives are have been talking about banning videos by normal Americans about normal guns, people first expected it to be a white male, because they always do, and blamed the NRA, because etc. Then we learned that it was a woman, and unusually, that it was a white woman. Not unusually because white women commit almost no gun crime, but because the MSM/law enforcement generally make you wait for the shooter's ethnicity. We also learned that she used a handgun, not an AR-15, in the same way that when an Iranian drives an SUV into a crowd — a real case — the headline says SUV, not Iranian. That turns out to be very relevant, since shooter Nasim Aghdam is, in fact, an Iranian woman.
In the span of one week, the American media showed us exactly whose side it's on. Last Monday [5/14/2018], the Trump administration opened the new American embassy in Jerusalem, fulfilling a key campaign promise made by both Democratic and Republican administrations since Congress passed the Jerusalem Embassy Act in 1995. The Palestinian terrorist group Hamas organized an assault on the Gaza border, with the intent to kill or harm as many Israelis as possible, in response. The evil thugs marched with knives, bombs, hatchets, grenades, and Molotov cocktails, using women and children as shields. They wanted Palestinian civilians to die when the Israeli military responded forcefully, because they believed the international media would side with the terrorists and accuse Israel of massacring innocent protesters. And that is exactly how most of the media covered the "protests."
Why the left buys into every anti-Israel smear. Eight armed Hamas terrorists fought Israeli troops last Monday [5/14/2018]. All were killed — then counted in the day's death toll of "60 protesters." Hamas itself identified 50 of the 60 "martyrs" as Hamas members and admitted to "terminological deception," because it was deploying "peaceful resistance bolstered by a military force." The widespread condemnations of Israel caused by characterizing those 50 violent fence-invaders as "peaceful" suggests how Palestinians are playing so many for dupes. Reporters love playing the "peaceful, oppressed protesters-of-color" against "the armed, white, persecuting soldiers" card (even though there are many dark-skinned Israelis and light-skinned Palestinians; the conflict is national not racial). Images of flak-jacketed Israeli soldiers and injured Palestinians trigger waves of simplistic stereotypes. Suddenly, the Palestinians are Martin Luther King and Mahatma Gandhi and Black Lives Matter all in one.
How Media Turn U.S., Israel Into Villains By Misreporting Gaza 'Protesters' Violence. You might think that national news outlets would be extra careful not to sensationalize or distort what's happening in Gaza and the West Bank in response to the U.S. moving its embassy to Jerusalem, Israel's capital. But if you did, you would be incredibly naive.
Media Spread Fake News by Calling Palestinian Violence "Protest". These articles carry inflammatory titles. But the story doesn't match the headlines. The story reported by all is that Hamas-led violence leads to Israel firing back. Hamas-backed Palestinians "set tires on fire, sending plumes of black smoke into the air, and hurled firebombs and stones toward Israeli troops across the border," according to the LA Times (and every other news organization). Fox News explained that at least 3 were killed because they were armed terrorists who were stopped before they detonated a bomb. Mainstream media is also reporting growing numbers of dead and injured, numbers provided to them by the "Gaza Ministry of Health." Let's start at the beginning. Hamas is designated a terrorist organization by the U.S. A terrorist organization.
Twitter Bans Criticism of Islam. Hamas has a Twitter account and its top tweet calls for, "intensifying efforts to resist Israeli Judaisation of Jerusalem." (The Hamas site is protected by Cloudflare.) Twitter doesn't have a problem with a murderous Islamic terror group slurring Jews on its service. Here, as Front Page's Jamie Glazov found out, is what it does have a problem with. [...]
Daily Mail Tries to Pass Off Old Video as Footage of Latest Gaza Death. The Palestinian Health Ministry claims 15-year-old Azzam Aweida died of injuries sustained yesterday, after being shot by IDF troops while he participated in the Great March of Return riots. The Daily Mail report about his death has photos from his funeral, including many of mourners, designed to evoke as much sympathy as possible. This is typical of the mainstream media; but what they do at the end of the report goes beyond "mere" manipulation of emotions into outright lie territory.
NBC's CAIR-Less Coverage. The Council on American Islamic Relations (CAIR) portrays itself as a U.S. civil rights organization. However, as numerous terrorist analysts and the U.S. government itself has noted, CAIR is an unindicted co-conspirator in the 2009 Holy Land Foundation (HLF) retrial — the largest terrorism financing case in the nation's history. NBC, however, has treated the organization as a credible source on the subject of Islamic extremism. In an April 23, 2018 article, "John Bolton presided over anti-Muslim think tank," NBC reporter Heidi Przybla used CAIR to attack Bolton, who is currently the National Security Adviser to President Donald Trump, and Gatestone Institute.
The Pulse Terror Attack Was About Islam Not Homophobia. It was not unreasonable to assume that Omar Mateen had deliberately targeted a gay club. But there's no evidence that he did. There was evidence that he didn't. But it was the left that played up the homophobia narrative, especially by pushing the discredited claims that Mateen was gay. It wasn't doing this to advocate for gay people, but to protect Islam. That's why the media chose to depict Mateen as gay rather than a Muslim.
France: Toward Total Submission to Islam, Destruction of Free Speech. The French government and the French justice system claim to treat all religions equally, but they treat Islam as if it were "more equal than others" — able to enjoy special privileges. Those who criticize Islam — or who just show the results of Islamic terrorism — are victims of fierce prosecution, while hate-filled, racist organizations are never touched. [...] President Macron recently said he wants a law against "fake news". If the law is adopted, all online magazines in France that do not broadcast what the government defines as "true news" could be subject to immediate government suspension. If they are located outside France, access to them would be blocked. Islamic online magazines and websites are not on the list of "fake news" providers. What online magazines and websites top the list? Those that question Islam.
The Editor says...
Special farewell message to our readers, if any, in France: Perhaps you should have resisted the Muslims while you had the chance. Now you are no longer free even to criticize Islam. Soon, you will will be forced to submit to Islamic law. After that, you will be forced to either convert to Islam or die. If I were in your position, I'd flee the country, while that's still possible.
ABC News star Joy Behar: Hanging with Farrakhan [is] 'baggage'; talking to Jesus [is] 'mental illness'. Apparently, ABC News star Joy Behar thinks it's okay to talk to anti-Semitic figures, but not to Jesus. Behar and former Obama aide Valerie Jarrett sparked outrage on Friday [3/9/2018] on "The View" when they defended Women's March co-founder Tamika Mallory, who has been criticized for her ties to bigoted anti-Jewish Nation of Islam leader Louis Farrakhan. Behar is no stranger to controversy, as she has been under fire for saying that Vice President Mike Pence suffers from "mental illness" because he believes in communicating with Jesus.
Citizens need secret decoder rings when reading about immigrant crimes. How many times have you seen headlines like (for example): Minneapolis "man" arrested for _____? [...] We have to play the name game and try to figure out who the perps are — from which country they came. Sometimes there is a photo to help you play the game. But, rarely does the mainstream media admit his (or her) home country and almost never immigration status.
Joy Behar Mocks Christians, Curiously Silent On Muslims. Christians are soft targets for anti-Christian media bigots. Joy Behar on "The View" is the latest example. She took a swipe at Vice President Mike Pence's Christian beliefs with some of the most offensive comments I've heard on a mainstream TV show. Not only did her comments reveal her bigotry but they exposed her willful ignorance.
Muslim gets life for killing Denver transit guard who was also a pastor. Despite the evidence, the media refuses to headline their articles with the truth. That's why they are rightfully called fake news. CBS and many others titled it "Ex-soldier" instead of "Muslim jihadist."
The Canadian Broadcasting Corporation: Serving Canada or Serving Islamists? In practice, the CBC only respects sensibilities when it comes to Islamists such as ISIS or to those who attacked Charlie Hebdo. When it comes to attacking Christians and Jews, the CBC exercises no such restraint. The CBC also quotes organizations such as the National Council for Canadian Muslims, formerly known as CAIR CAN, which the CBC has referred to as a civil rights group. But they failed to note that CAIR CAN was formed to support its parent organization, CAIR USA, which is a listed terrorist group in the United Arab Emirates. It also does not mention that CAIR USA was formed in part by supporters of Hamas and that it has had multiple run-ins with terrorism financing. Similarly, when supporting a variety of Islamist issues, the CBC quotes as a source the Canadian Council of Imams. The CBC does not reveal, however, that the Vice President of the Council of Imams, Hakim Quick, believes that the position of Islam on homosexuality is death. It also does not state that the "Emir" of the council is also the head of the Islamic Circle of North America (ICNA). The ICNA believes that Islam is not compatible with democracy, women are inferior and wife beating is permissible.
U.S. woman stabbed 14 times by Somali migrant, media go dark. [Scroll down] Police have called the case unusual for the level of brutality just to get a woman's purse, leading some to wonder if the assailant didn't want more than just a purse. The Minneapolis Star-Tribune, the city's largest newspaper, has been AWOL on the story. The newspaper's on-duty news editor, Maria Reeve, did not return WND's calls Tuesday to inquire about why it went dark on such a brutal, unprovoked attack on a defenseless, unarmed woman walking home from work. Other media, such as the Southwest Journal, have reported on the crime but left out the assailant's full description as a Somali migrant. Only one media outlet, local ABC News affiliate KSTP, included in its on-air coverage the fact that the victim described her assailant as Somali, but the station's website article failed to mention that fact.
Somali stabs Minneapolis woman 14 times as she walked home from work. Morgan Evenson was walking home in downtown Minneapolis about 8:30 p.m. on Dec. 13 when a black man got out of his car, chased her down, tackled her and repeatedly thrust a four-inch blade into her flailing body. The 26-year-old computer-store clerk frantically fought back, kicking, scratching and screaming for help. At some point, neighbors heard her screams and came to her aid. Her attacker — described as a Somali man in his early 20s, about 5-foot-7 with a slight build and wearing grey stone-washed jeans — ran away. Evenson was left bleeding on the curb with 14 stab wounds on her arms, neck and back. Her kidney was lacerated. She was lucky to survive the attack. [...] "You had to get all the way through that KSTP [broadcast only] report to find out he's Somali, and it was never mentioned in the other media outlets at all."
More chain migration Islamic terrorism; more media blackout. While Americans were celebrating this long Christmas weekend, another chain migrant from an Islamic country was arrested for plotting a terror attack against the very country that admitted him. It's part of a growing wave, almost daily, of Islamic immigrants arrested on terrorism-related charges, yet there is a complete blackout in the media about the existence of this troubling pattern and about the growing problem with imported terrorism. Meanwhile, as we gear up for a new legislative year in Congress, the focus is all about more amnesty for illegal aliens rather than protecting Americans from the autopilote chain migration from the Middle East. The only one who cares about protecting our sovereignty is President Trump, but the runaway courts and their status as supreme arbiter of national security are rendering his actions moot.
Lefty media has lots of love for terrorists. C'mon down, Akayed Ullah, the New York Port Authority bus terminal suicide bomber from Bangladesh, this month's "diversity lottery" terrorist. In the underground corridor linking the bus station to Times Square, the devout Muslim walked by any number of ads and billboards for assorted infidel products, until he got to where he wanted to detonate his homemade pipe bomb full of nails. He set it off in front of a Christmas poster. Needless to say, The New York Times has been swooning over this nice young man. The undocumented immigrant got the traditional front-page sob story last week. He was a good boy, a very good boy. He had recently returned to the Third World hellhole from which he came. It was a "lonely trip."
Radio station's panel on 'preventing' terrorism features terror-linked Muslim group. Wilfredo Amr Ruiz is an attorney, Muslim Chaplain, columnist for the Huffington Post, and communications director for CAIR Florida. [...] What Ruiz won't tell you is that the Islam requires Muslims to wage jihad. That Muhammad was a terrorist — among other things. That CAIR is listed as a terrorist group in the United Arab Emirates. That the FBI banned its agents from working with CAIR due to CAIR's Hamas links. That CAIR is an unindicted co-conspirator to the largest terror conviction in U.S. history. That numerous CAIR leaders have been found guilty of terror offenses.
Washington Post Says Fake Hate Is Rare, and Other Fairy Tales. The reality is that black victimization is the biggest hoax of our lifetimes, and fake hate is a part of that huge liberal con game. And it is easy to see with even a cursory look at a list of recent fake hate stories that gathered national attention. The SPLC tells so many fibs about so many fake hate crimes even they have trouble keeping track. After the election of Donald Trump, Mark Potok and MSNBC's Chris Matthews were talking about the millions — or was it billions? — of hate crimes that Trump supporters were creating all over the universe when they settled on one particularly egregious example of a Moslem woman in New York whose hijab was torn from her sainted head. Trump supporters did it, of course, all the while threatening even more violence. It never happened. Even the New York Times figured that out a few months before. But that hardly mattered to Potok and Matthews.
How Leftism Makes Us Stupid. Perhaps the worst thing about having an exclusively leftist media is that it makes all of us, right and left, stupider. Take for example that media's reaction to the latest Islamist terror attack in Manhattan. Evil loser Sayfullo Saipov follows the ISIS playbook by driving a rented van over innocent civilians, killing eight. He jumps out of the van shouting "Allahu Akbar!" (Allah is the greatest) and later tells police he's glad about what he did and requests an ISIS flag in his hospital room. In reporting the event, CNN Crime and Justice reporter Shimon Prokupecz refused to share the police description of the killer after he was caught. Because he's a journalist, and the last thing we want is to have journalists going around giving people information! CNN's Jake Tapper responded to news of the loser's Arabic shout by remarking inanely that Allahu Akbar is "sometimes said under the most beautiful of circumstances, and too often we hear it being said in moments like this." He later clarified that he was referring to beautiful circumstances like weddings and births. Yeah, what if the guy had been waving a Confederate flag? They wear those at some weddings too. [...] None of which is to make fun of a tragedy, of course, but only of the absurd reaction of the leftist press.
Watch: CNN Falsely Claims That Terrorist Said "God Is Great" Instead Of "Allahu Akbar". CNN falsely reported on Tuesday that the Islamic terrorist who attacked and murdered innocent civilians in New York City shouted, "God is Great," instead of what he is alleged to have actually said: "Allahu Akbar." Sayfullo Saipov, 29, is the alleged terrorist who yelled "Allahu Akbar" — "God is greater" (superlative) [sic - comparative] and in Arabic — as he got out of his truck, after he ran over multiple pedestrians, the New York Post reported. However, on CNN's The Situation Room with host Wolf Blitzer, the left-leaning news network chose to distort what Saipov said — claiming on their banner that he said "God is Great" in Arabic.
Chris Matthews is baffled why an Uzbeki would want to attack us. Chris Matthews has put in a strong entry for the title of stupidest reaction to the Halloween jihad massacre in Lower Manhattan. Was there a memo at NBC News that forbade any mention of Islam or Jihad in discussing Sayfullo Saipov? Or is Matthews really that stupid? Was this madness passed down from the suits at 30 Rock? Or does Chris Matthews wear such huge blinders that he can't connect the dots and see that this attack is like Barcelona, Nice, and several other examples of jihadis renting trucks and mowing down infidels?
MSNBC "Terrorism Analyst" on NYC 'Allahu Akbar' Attack: "Not Islam Whatsoever". After the deadly Islamist attack Tuesday by Muslim Sayfullo Saipov, an Uzbek national screaming, "Allahu Akbar!" Chris Matthews turned to MSNBC contributor Malcolm Nance for his expert analysis. Nance told the far left audience: "What you're seeing is not Islam, whatsoever ... None of that is Islamic. It's anti-Islamic." [Video clip]
Megyn [Kelly] Responds To Saudi Arabia Letting Women Drive — By Criticizing America. In response to the news that Saudi Arabia is now allowing women to drive, NBC's Megyn Kelly criticized the United States for having "such a long way to go" on women's rights. After announcing that the Muslim country is now allowing women to drive, Kelly almost immediately turned to criticizing perceived gender inequality in the United States. [Video clip]
Fake "Muslim ban" is now a "refugee ban". Remember the "Muslim ban"? President Trump signed two executive orders calling for a moratorium on travel in six countries. The word Muslim did not appear in either. But the media called it a "Muslim ban" in January, February and March. Marxists challenged the orders in court, but the Supreme Court let the orders stand pending a hearing later this month. The story died until this week. Look how it is reported. ABC in LA: "Supreme Court allows Trump administration to continue ban on most refugees."
Iranian Spy Service Threatening, Blackmailing Global Media Outlets. Iran's clandestine spy network has been threatening and blackmailing scores of journalists, even going so far as to detain and threaten the family members of these reporters, in order to ensure positive coverage in global media outlets, according to a new report that estimates at least 50 international journalists have been threatened in just the past year.
Want a Pass from the Media? Call Yourself 'Mohammed'. Some crime stories the media relish. Others they resist covering. In February of this year, a drunken peckerwood named Adam Purinton shot and killed an Indian engineer in suburban Kansas City thinking the man was an Iranian. The media nationwide ran with this story and shamelessly tied the shooting to the rise of Donald Trump. The Kansas City Star posted more than 50 articles on this one crime alone. Three years earlier, the Star widely covered the story of a highway shooter who terrorized the metro for more than a month, hitting at least a dozen cars and wounding several people. Then the police arrested the shooter. The fact that he was black dimmed the enthusiasm in local newsrooms. The fact that his first name was "Mohammed" killed it.
Australian National News Channel Wipes Israel Off the Map, Defends Move. Australia's ABC News last Thursday [8/17/2017] screened a graphic on television displaying a map of the Middle East that included "Palestine" instead of Israel. Avi Yemini, a local Jewish leader, noticed the omission and posted it on his Facebook page, accusing the broadcaster of deliberately wiping Israel off the map. '"Last night ABC wiped Israel off their map. They're literally doing the Islamists dirty work for them," he wrote on his Facebook page.
Islamist Propaganda Coming Soon to [a] Local Newspaper Near You. An investigative journalism center is passing off as fact a report by the Hamas-tied Council on American-Islamic Relations that hate crimes against American mosques jumped sharply in 2015 and continue to occur at historically high rates — about once every three days. ProPublica is a New York City-based nonprofit journalism center partially funded by billionaire George Soros that shares data-driven investigative stories with newspapers of all sizes and local TV stations across the United States.
NY Times Finally Admits That Islamic Terrorists Are Islamic. Now that Mr. Obama isn't in office making pronouncements that Islamic terrorists aren't Muslims, despite the Islamic terrorists stating they are Muslims, the Times is free to call Islamic terrorists Islamic[.]
Media Emphasizes Florida Cop Killer is a Marine, Not Muslim. Let's not jump to any conclusions, but Glenn Miller aka Malik Mohammad Ali's past time in the Marines didn't have much to do with shooting two police officers. His new identity change might have. And his racist tantrums. But the media keeps emphasizing that he was a Marine.
Charlottesville, Barcelona, and the Left's Nostalgia for Nazism. Within minutes of the announcement of the vehicular terror attack in Barcelona, Jim Sciutto and Wolf Blitzer of CNN were opining that the horrifying events in Spain may have been inspired by (i.e. were a copycat of) Charlottesville. The implications of this comparison are not only wrong-headed, they are reactionary and dangerous to the American public and the world. [...] It isn't because of neo-Nazis or the KKK that it's been decades since any of us has walked onto an airplane or entered a concert or museum without being examined or x-rayed, that our daily lives have not been the same.
Let's Not Talk about Islam. On the BBC, on Sky News, and on CNN (I live in Norway, and therefore was unable to watch the U.S. broadcast networks), reporters and newsreaders talked about the specifics of the carnage, caused by a truck whose jihadist driver deliberately steered it off the road and onto the pavement, killing at least thirteen pedestrians. [...] They pondered the apparent lack of sophistication of this particular crime, the biographical background of the truck driver, the timeline of the atrocity, the apparent speed and weight of the truck itself, and so on. They talked about the wounded, about the degree to which they had been wounded, about how many had been sent to hospitals. But they didn't talk about Islam. They didn't talk about jihad. They used words like assassin, murderer, criminal. Even terrorist. But I didn't hear the word jihadist.
She Blamed Islamophobia, Then Her Husband was Arrested for Weapons Smuggling. In April, the Los Angeles Times ran an op-ed complaining that Muslims were being singled out in airports. "Does the 4th Amendment apply to Muslim citizens at LAX?" Lubana Adi, its author, fumed. Adi, a Syrian, told a sob story about visiting her "aged mother" and two brothers who were refugees in Turkey. Then airport security "groped" under her Hijab and demanded that she empty her purse. [...] The Los Angeles Times felt that the story was so important that it needed to be referenced in future pieces as an example of the abuses that Muslims face in this country. It was a shocking Islamophobic outrage. But now the Times is telling another story.
New German study finds its media up to its old tricks, colluding with the Merkel government. A new study from a couple of media/academic sources in Germany finds that the German media colluded with its government to hide the truth about the migrant crisis that flooded the country as part and parcel of Chancellor Angela Merkel's 'let 'em all in' refugee policy. [...] Essentially, the press covered up the extent of rapes, ripoffs, welfare-mining, terrorism and pillage the German people were subject to, all to advance the political fortunes of Chancellor Merkel, who seems to have little regard for the fate of her countrymen.
Linda Sarsour, Portrait of a Hater and a Hypocrite. Linda Sarsour is a dangerous demagogue who craves attention and revels in the spotlight. Ever the self-promoter, Sarsour is a master at manipulating leftist elements within the mainstream media into providing her with a platform to disseminate her odious views. The Washington Post is the latest press outlet to fall victim to her manipulations, allowing her to promote herself on their opinion page. This despite her well documented tribalism and anti-Semitism. She has made appearances on other left-wing media outlets as well where her rabid anti-Semitism has shamefully been left largely unchallenged by craven or ignorant hosts.
Snopes Carries Water for Muhammad. The self-proclaimed fact-checker Snopes.com has been harshly criticized for its Leftist bias, and as is so often the case, a tilt to the Left also means a willingness to foster ignorance and complacency about the nature and magnitude of the jihad threat. After a billboard went up in Indiana pointing out six unsavory aspects of the life of Muhammad, the prophet of Islam, Snopes labeled the billboard's charges "Mostly False" — but that label applies far more accurately to the Snopes report than to the billboard. Snopes' falsehoods begin with its initial assertion that the billboard's title, "the perfect man," "is poor translation from an Arabic phrase in the Koran, which describes the Prophet as an excellent example." In reality, the appellation "perfect man" is not a poor translation of a Qur'anic phrase; it is not a Qur'anic phrase at all.
The Incomplete Media Narrative about a Murdered Muslim Girl. "Muslim Teen Kidnapped and Brutally Murdered in Virginia: This Is Terrorism" read a headline from Affinity magazine. Actress and producer Mindy Kaling also decried the murder on Facebook as "another innocent Muslim person targeted for their faith." The Atlantic then ran a profile, "'Muslims Feel Under Siege'" highlighting Islamophobia around Ramadan. Many stories used Hassanen's murder as a lede to foray into a greater narrative about the collective crisis of violence against Muslims. But then actual facts and details around the case emerged. First, the Fairfax County Police Department publicly ruled out a hate crime as a motive, announcing that they were looking more closely into extreme road rage. Then, the Daily Caller reported that the murderer, Darwin Martinez Torres, was an illegal immigrant from El Salvador, with ICE confirming that it had issued a detainer request against him. Reports subsequently emerged that Torres, who has a girlfriend and son, barely speaks English and required the use of a translator following his arrest.
Spot the difference: CNN vs. Breitbart edition. Why would CNN leave out what the stabber actually said in the article plus the person's race? CBS radio also is not saying what the person said or his name and saying it is impossible to tell if it is terrorism. Somehow, the other day, when a white person drove a truck into Muslims in London, the media were immediately able to declare it terrorism and say the driver's race. Isn't that amazing? I am not a law enforcement officer or a reporter, but my deep analysis of the situation leads me to conclude that the stabbing was a terrorist attack done in the name of Islam. Why don't the media report what they know instead of intentionally keeping certain information from the public?
POSSIBLE terror incident. NBC isn't quite sure. Let's keep an open mind, after all.
Michigan Airport Stabbing: Officer Attacked in Possible Terror Incident. An officer for Bishop International Airport was stabbed Wednesday [6/21/2017] in a possible terror-related incident in Flint, Michigan, sources told NBC News. The attacker allegedly shouted "Allahu akbar" before stabbing Lieutenant Jeff Neville, who was bleeding from the neck, sources and witnesses at Bishop International Airport said.
Media Blackout: No Jail Time for Muslim 'Refugees' Who Raped 5-Year-Old Girl. The travesty of justice in Idaho is now complete. In the summer of 2016, a 5-year-old girl was orally and anally raped and urinated upon by three Muslim migrant boys in Twin Falls, Idaho. Since then, instead of getting justice, the victim's family has been abused by law enforcement and governing authorities as if they were the criminals — because what happened to their little girl contradicts the politically correct narrative about Muslim migrants. On Tuesday [6/6/2017], the perpetrators were sentenced, and the final injustice was done to this poor girl.
Journalist Shills For Palestinians; Slams Israel, Omits Basic Facts. Sophie McNeill has a history of advocacy journalism. She has openly dedicated herself to: ["]...frame stories from the point of view of the people who are 'really suffering.'["] McNeill made it clear that when she said "people who are really suffering," she meant Palestinians. And while there's nothing wrong with presenting one, agenda-driven side to a complex story, it is not journalism. It is activism.
CNN Caught Staging Fake News Scene. CNN was caught staging news in a video captured by citizen journalist, who posted the footage to his Twitter account @markantro. Becky Anderson of CNN is seen in London handing props to a "peace group." This footage was then passed off as real news by CNN.
Watch as fake news created by CNN to confirm narrative of 'good Muslims'. Whenever Muslims act out the violence against infidels that Islamic scripture requires, the left-wing media swing into action to create and reinforce a contrasting narrative: that most Muslims condemn and fight such attacks. [...] Because the actual facts on the ground do not support the benign view of Muslims as overwhelmingly hostile to terrorists and committed to peaceful coexistence, it is necessary to create (not simply report) events that confirm the media narrative. CNN has just been caught creating a fake news event to support its narrative, and its efforts were rewarded with pick-ups by the BBC and the AP, among others. In this two-minute video, CNN puts together a handful of people, carrying pre-printed signs (no spontaneity involved), and arranges them before the camera to look like a substantial crowd. The elevated stage is a nice touch, confirming the professional expertise brought to bear in prepping this scene for the cameras.
CNN's W. Kamau Bell: Islam Part of America's Founding. CNN's W. Kamau Bell devoted a recent episode of his series United Shades of America to exploring Muslim and Arab communities. Aside from some interesting vignettes, the program is left-wing, anti-Trump propaganda that firmly establishes the network's political bias. Bell also serves up some historical distortions of the sort spoonfed to undergraduates on politically-correct campuses, such as the claim that Islam has always been present in the U.S.
New York Times Can't Figure Out 'What Led Salman Abedi to Bomb the Manchester Arena'. In an attempt to build up its already "we'll never really know why they did it" file relating to Islamist radicals taking innocent lives, three reporters at The New York Times composed a 1,900-word report Saturday evening [5/27/2017] (for Sunday's print edition) about Manchester bomber Salman Abedi's family background.
After Manchester, Growing Concerns In Minneapolis. The massacre in Manchester this week seems to have prompted attention to the arrest of brothers Abdullah and Majid Alrifahe in north Minneapolis on May 11. Inside the parked car they were sitting in was a stash of guns, ammo, drone parts and an inert hand grenade. [...] The Star Tribune published a brief article the following week. The Star Tribune story appears to be drawn directly from the arrest report. It has not returned to the story since the linked May 15 article.
That Didn't Take Long: Newsweek Already Fretting About 'Reprisals' Against Manchester Muslims. This seemingly is the first reaction from the media whenever a Muslim fanatic slaughters innocent people. Don't concern yourselves with the victims or the next terrorist attack. Worry instead about the backlash that never comes and so-called "Islamophobia."
In Wake Of Manchester Bombing, NY Times Calls For Respecting Hardcore Islamists. This is a dance we've seen time and time again. A person who practices extremist Islam, referred to as an Islamist, attacks in the name of their religion, and the Leftist apologists immediately go into a mode of "let's not be mean to Muslims or talk about the root causes and we all need to be respectful and diverse", even though the Islamists offer no respect and are happy to kill those who aren't Islamists, including other Muslims.
Abdullah Alrifahe — Muslim in Minnesota Arsenal of Guns and Bombs Seized. Abdullah Alrifahe a Muslim in Minnesota was possession of an arsenal of guns, hand grenades and bombs seized. Police seized the arsenal of weapons, and no further information about the Muslim was released. The local media in Minnesota is just calling Abdullah Alrifahe "a man." No word yet if he is another Somali refugee or if it he is a citizen of this country. Don't expect the media to go digging either.
Student editor fired for reporting unapproved truth. National Review Online got the scoop of the original article on this event from graduate student Andy Ngo, who, until days ago, was the multimedia editor of the Portland State University Vanguard. NRO chose the stark headline "Fired for Reporting the Truth." And that's a nice editorial decision, focused on the point that Andy Ngo was merely, in fact, reporting the truth. No more, no less.

Kansas man arrested in Egypt suspected of 'jihadist activities', lied on his passport application and wiped his internet history. A Kansas City man is being held by federal authorities over passport fraud after he returned from Egypt where he was arrested and is now suspected of 'jihadist activities'. Isse Aweis Mohamud, 21, was first reported missing to authorities on April 25 by his family who expressed concerns about why they believed Mohamud left, The Kansas City Star reported. They claimed he 'wiped clean' his internet history on several electronic devices and had cordoned off an area inside their home where he was heard several times conversing with unknown people, the newspaper reported.
Fired for Reporting the Truth. Simply tweeting video of a Muslim student characterizing his religion on an interfaith panel cost me my job.
Canadian media silent on ISIS plot to assassinate Toronto journalist. On Wednesday's [4/26/2017] show I was joined by Toronto Sun columnist Tarek Fatah who has just become a target for an ISIS assassination plot in India. Four suspected terrorists are now behind bars facing charges after the foiled plot.
NYT Tiptoes Around Feelings Of People Who Mutilate Little Girls. Worried the term "female genital mutilation" might sharpen the divide between those who oppose brutally cutting away a little girl's genitalia to deprive her of sexual pleasure and those who practice the "rite," one New York Times editor instead refers to the ritual as "genital cutting." "There's a gulf between the Western (and some African) advocates who campaign against the practice and the people who follow the rite, and I felt the language used widened that chasm," NYT science and health editor Celia Dugger explained Friday [4/21/2017]. She also said the widely used term (FGM) is "culturally loaded" in the explanation, which came as a result of inquiries from The Daily Caller News Foundation regarding a reporter's decision to use the term "cutting" in a recent story about a doctor in Michigan.
The Associated Press Won't Report What a Killer Actually Said. A man in Fresno, CA has shot several people. He claimed he did not like white people and he yelled "Allahu Akbar" before shooting. That is according to the police. But, as the Associated Press reports it, ["]Fresno police say suspect in triple slaying told them he hates white people, shouted "God is great" before killings.["]
Suspect in Fresno shooting spree that killed 3 shouts 'Allahu Akbar' when arrested. Three people are dead in a shooting spree in downtown Fresno on Tuesday [4/18/2017], and the suspect was wanted in connection to the Motel 6 killing last week, the Fresno Police Department said. Kori Ali Muhammad, 39, shouted "Allahu Akbar" as police tackled him to the ground after the shootings which were spread over four locations, Police Chief Jerry Dyer said.
AP Changes Fresno Shooter's Words From 'Allahu Akbar,' Removes Islam Reference. The Associated Press edited the words of a Muslim man who allegedly killed three white people in downtown Fresno Tuesday afternoon [4/18/2017] and shouted "Allahu Akbar!" The suspect, 39-year-old Kori Ali Muhammad, holds fervent anti-Trump beliefs according to his social media profile, and he told police afterward that he hates white people. Rather than reporting the gunman's literal words, however, the AP reported the gunman as saying "God is great." On Twitter, the AP's report gave no indication that the suspect's words were said in Arabic.
AP Removes Fresno Killer's Allahu Ackbar and Islam Reference. Kori Muhammad, the Muslim terrorist who killed three in Fresno earlier today targeted white, non-Muslim people for his attacks. His social media was full of hatred of white people, Trump and non-Muslims. But that doesn't matter to the media like the Associated Press.
Fresno Police: Shooter Not A Terrorist, Killed Solely Based On Race. Authorities in Fresno, California, are saying that Kori Ali Muhammad did not commit a terrorist act on Tuesday when he went out and shot and killed three people. Despite shouting "allahu ackbad" as law enforcement moved in, Muhammad committed a "hate crime," police say. "This is solely based on race," said Fresno police chief Jerry Dyer. Muhammad has a lengthy criminal record, with the Associated Press reporting that he has been in court several times between 1997 and 2004 for "forgery, domestic violence, criminal threats and driving under the influence."
AP Edits Fresno Killer To Erase Islam Reference, Implicate God. The Associated Press may want to reconsider the publication of their stylebook if they're choosing to fake translate words in order to score political points. Which is what they just did on a huge story, where the words matter a great deal. [...] Who are they to translate what he actually shouted? He chose his words, that specific phrase, for a reason. And you know what? So did the AP.
NYT Fails To Disclose Terrorism Conviction Of Op-Ed Contributor. The New York Times has given precious space on its op-ed page to a Palestinian man leading a hunger strike in an Israeli prison. But the essay, from Marwan Barghouti, leaves out one crucial fact: he is in prison because he was convicted of killing five Israelis in terrorist attacks more than a decade ago. A footnote to the op-ed describes Barghouti only as "a Palestinian leader and parliamentarian," omitting any reference to his 2004 terrorism conviction. In the piece, Barghouti, a leader in Fatah, a Palestinian political party, decries what he says is Israel's unjust judicial system and inhumane conditions in Hadaram Prison, where he currently resides.
The New York Times Wipes Blood Off The Hands Of Arch Terrorist Marwan Barghouti. Last week, the New York Times hired Bret Stephens, former Wall Street Journal columnist and editor-in-chief of the Jerusalem Post, in a move that many saw as perhaps heralding in a period of more balanced reporting from the paper commonly known as the New York Slimes. But any elation over his appointment has been dampened after the Times went really low, even by their own low standards: publishing an editorial by arch terrorist Marwan Barghouti and describing him as a "Palestinian leader and parliamentarian" — without any reference to his murderous legacy — at the bottom of the piece.
The Great 'Christian Terrorist' Unicorn Hunt. It's amazing how stupid smart people can seem when intent on putting a square peg in a round hole. This is seen continually when certain apologists try to dig Islam out of its hole — the one dug deeper every time there's another terrorist act. [...] There simply is no Christian analogue, in all of history, to today's Islamic terrorism. It only exists in the minds of quislings who, wittingly or not, have become the propaganda arm of global jihad.
Keep Calm and Propagandize On. In 2006, Melanie Phillips wrote a book called Londonistan: How Britain Is Creating a Terror State Within. She argued that Britain was a sitting duck for Islamic terrorists, owing to its idiotic embrace of political correctness, multiculturalism, and religious relativism. The left greeted the book with hisses and dismissed Phillips as an alarmist crank. But on Monday [3/20/2017] her description of Britain's capital as "Londonistan" came graphically to life, as a terrorist chose one of its chief symbols, the area around the Houses of Parliament and Big Ben, as the place to plow his car into pedestrians and then stab a police officer. The initial reporting after terrorist attacks these days is often full of hesitation and curious silences. The death toll is usually low-balled and the identity of the attacker is left hazy for as long as possible. So it is not surprising that the first reports on this attack identified the terrorist as merely "Asian."
Sweden's Migrant Crime Wave Becomes Top National Story As Media's Lies Backfire. In their quest to attack President Trump for any possible reason, the lying media made up a fake news story claiming Trump spoke of a non-existent "terror attack" which occurred Friday night [2/17/2017] in Sweden. In fact, Trump never said there was a "terror attack" in Sweden, he said people should look at what's happening in Sweden to see how their country is being destroyed by "refugees."
Oddly enough, media silent about Muslim bakeries that all refused to bake cake for gay couple. Stephen Crowder (a Conservative humorist and commentator) went to multiple bakeries in Dearborn Michigan and could find a single Muslim bakery that would bake him a wedding cake celebrating gay marriage. [...] But this post is not about how Muslims are big fat bigots and homophobes for not wanting to bake a cake for a gay couple. We support the Muslim bakers' rights to refuse service just as much as we support the Christians. As a matter of fact, I'll take it a step further than Crowder does in his video and say that we believe any private establishment should have the liberty to refuse service to anyone for any reason. [...] No, this is a story about media bias. You see, when the media baited a Christian pizzeria owner into saying that she probably wouldn't cater a gay wedding, the media went ballistic!
Linda Sarsour Rekindles the Left's Love Affair with Radical Extremism. The profile was titled "Linda Sarsour Is a Brooklyn Homegirl in a Hijab," but Sarsour is much more than that. Designated a "champion of change" by the Obama White House, she was a delegate to the 2016 Democratic National Convention and a Bernie Sanders surrogate. In January, she served as one of the four national co-chairs of the Women's March on Washington. Currently, she is the lead plaintiff in a lawsuit filed against Donald Trump's executive order on refugees. The [New York] Times did not err in portraying Sarsour as a new left-wing champion, but like others who have lauded her, it omitted some details.
NYT Warns Trump: Designating Muslim Brotherhood Terrorist Org Could Make 'Entire Muslim World' His Enemy. The New York Times editorial board thinks President Trump shouldn't designate the Muslim Brotherhood a terrorist organization because it could make Trump the enemy of all Muslims. The liberal paper published Thursday an editorial Thursday [sic] titled "All of Islam Isn't the Enemy" arguing against the move, which the Trump administration is reportedly considering as a possible option.
Canadian Media Cover Up Syrian Refugee Sex Assault on 6 Young Girls at Waterpark. Six young girls sexually assaulted by a Syrian refugee at a waterpark. This story doesn't take place in Germany, in Sweden, or in Belgium. The alleged attack took place right here in Canada. Soleiman Hajj Soleiman has been charged with six counts of sexual assault and six counts of sexual interference after six girls — all under the age of sixteen — reported to police that a Syrian migrant inappropriately touched them while they were swimming at the West Edmonton Mall World Waterpark this week. The Syrian refugee, a 39-year-old father of six, was arrested at the scene after the girls reported the incidents to a lifeguard. Well-meaning Canadians will minimize the claims of these six young girls. They'll say you can't speak of a trend based on just one incident. But it hasn't been just one incident.
Muslim Men Raped 11-Year-Old Girl, Shout "Allahu Akbar" at Sentencing, Girl Had Baby at 12. It's shocking that the mainstream media does not cover this story as it should. It's a case of political correctness and a fear of "racism" destroyed the lives of over 1,400 young girls. Since our press does not bring us much news from the UK, you probably haven't heard about the case of over 1,400 young white working class girls who were used for sex by a group of older Pakistani Muslim men.
Trump's orders on immigrants bring hypocritical and hysterical uproar. The mainstream media and opportunistic politicians are in high dudgeon over President Trump's executive order to ban immigrants form certain terrorist-infested regions from entering America. Journalists are putting blinders on to justify their attacks. These include the New York Times's Maggie Haberman who made a fool of herself on Twitter by questioning whether any immigrants since 9/11 have been implicated in terror attacks. She was quickly answered by many Americans who do not make a living at America's "paper of record" — numerous immigrants have been involved in terrorism in America since 9/11. By the way, Haberman, the New York Times White House correspondent, was revealed to be a partisan Democrat hack by Wikileaks.
How To Make Islamic Propaganda and Influence Media. The media submitted to Islam long ago and really needs no help, but Muslims won't stop until it is fully sharia compliant. And you are silenced.
Spencer article pulled after pressure from Leftists and Islamists. The Hill published my piece on Lindsay Lohan's possible conversion to Islam yesterday [1/18/2017]; you can read it in its entirety [elsew]here, but you can't read it at The Hill. It was a minor piece about a minor celebrity, but it caused the foes of freedom major agitation. All day today, Leftists and Islamic supremacists have been tweeting at The Hill, outraged that they published the "racist" "hatemonger" Robert Spencer. What was "racist" or "hateful" about the actual article they did not and could not say, because there wasn't really anything racist or hateful about it. But The Hill has succumbed to the neo-fascist impulse, emulating the Nazi Brownshirts who shouted down and physically menaced anti-Nazi professors in Germany in the early 1930s, and has pulled the article. Leftists and Islamic supremacists cannot engage their foes intellectually any more than the Nazis could, and so they do what the Nazis did: demonize and stigmatize them until people are too intimidated and ashamed to hold their positions. Any opinion that violates Sharia blasphemy laws must be silenced. And there is no end of cowards in the West who willingly become mute as fish when thus challenged.
Media Blackout as yet another Somali Muslim so-called 'refugee' is convicted of attempting to sexually assault a special-needs disabled woman. Liban Mohamed, 39, was in the the United States for only about a week when he tried to force himself on a 31-year-old woman with severe disabilities in Aberdeen, South Dakota. He is not a U.S. citizen, but whether he will be deported in the wake of his conviction remains unclear.
CNN Morphs Photo of Fort Lauderdale Shooter to Hide ISIS Salute and Kaffiyeh. Speaking of fake news, CNN is up to their old tricks again.
CNN Dishonestly 'Alters' Photo Of Fort Lauderdale Shooter's Connections to Radical Islam. CNN is at it again with fauxtography doctored for political reasons. During CNN's coverage of the Ft. Lauderdale shooting, they put up a photo of the shooter, Esteban Santiago-Ruiz. But it was the way they did it. They showed it in black and white and they cropped it. The scarf CNN cut out of their picture is a keffiyeh and the one finger salute is a common ISIS symbol. Selective editing.
Florida Shooter Went by the Name "Aashiq Hammad". Fort Lauderdale Airport terrorist Esteban Santiago registered on MySpace under the name "Aashiq Hammad" and recorded Islamic religious music on the site, 3 years before he ever deployed to Iraq as a U.S. soldier, destroying the lying mainstream media's narrative that he was just a mentally disturbed veteran and that "Islam had nothing to do with it."
'Modest,' Yet 'Vibrant': New York Times Gushes Over 'The Fashion of Islam' Exhibit. The same liberal media that tout women's rights, gender equality, equal pay, the freedom for a woman to express herself by choosing how to dress, is the same media now pushing the narrative that "modest" Islamic fashion is the hottest style to hit the catwalks. Yes. For the moment, The New York Times has thrown their feminist beliefs out the window, opting to promote a fashion that is often viewed as oppressive to women because it forces them to cover their entire body and face for fear of receiving unwanted glances from anyone other than their husbands.
Where are the tears for Aleppo's Christians and Jews? 250,000 Christians lived in Aleppo before the Sunni-Shiite Islamic civil war began. Today their numbers have fallen to 40,000. There were no worldwide protests over this ethnic cleansing of Christians from Aleppo as there are over the fall of the Sunni Islamic state whose Jihadis are euphemistically described as rebels. There were no photos of crying Christian children blanketing every media outlet. But today you can hardly open a newspaper without seeing a teary Sunni Muslim kid allegedly being evacuated from Aleppo.
Why Journalists Always Tap the Brakes on Terrorism Stories. Whenever there's a terrorist attack, the immediate response from government officials and the media is: "Let's not jump to conclusions." Yet when there are breaking reports that Muslim or Arab Americans were allegedly victimized by bigots in some hate crime, the response is instant credulity, outrage, and hand-wringing. This doesn't really even scratch the surface of the double standard. When there's a terrorist incident, there's deep skepticism at every stage of the unfolding story. At first we're told there's no evidence that the attack is terror-related. Then, when reports come in that a shooter shouted "Allahu akbar!" or has an Arabic name, we're assured there's no evidence that the shooter is tied to any international terror groups. Days go by with talking heads fretting about "self-radicalization," "homegrown terror," and "lone wolves."
Media and Professional Left Begin Rewriting Obama's Mid-East History. There's a visible twisting of history taking place that's increasingly obvious within the last few days. Against all intellectual honesty, an entirely different version of historical reality is being seeded by the media. [...] The insufferable Western media would have the world believe the "rebels" in Libya, and later Syria, were simple ordinary people. Moderates. However, the reality was and is the "rebels" are 100% Islamic Extremists. Period.
CNN: 'No Guarantee' Allahu Akbar-Screaming Assassin In Turkey 'Speaks For Muslims'. The world is still in shock after a rogue police officer gunned down the Russian ambassador to Turkey and shouted "Allahu akbar" Monday, but one of CNN's priorities was apparently to claim the jihadi doesn't "speak for Muslims," as if people might think he were an elected official and not a murderous Islamic extremist.
A Jerusalem church was destroyed by Muslims two weeks ago. No one reported it. Here is how the church described the event: ["]The team went to lunch and the terrorist came in through the window under the direction of Hussam. When the police came 'Alaa, the extremeist' told them 'i ask him to remodel.' He took all our personal items, musical instruments, camera equipment, and many computers. They burnt our bibles and made huge fires with our personal items from the church.["]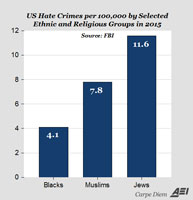 2015 FBI data: Jews were nearly 3X more likely than blacks, 1.5X more likely than Muslims to be a hate crime victim. Members of which of these groups were most likely to be a victim of a hate crime in 2015: Muslims, Blacks or Jews? Based on media coverage, you would have to say Muslims or Blacks. According to a Google news search for the term "hate crimes" along with the name of each of those three groups, there are 164,000 results for "hate crimes" + black, 134,000 results for "hate crimes" + Muslims and only 36,400 results for "hate crimes" + Jews. Based on news reports, you would think that blacks were 4.5 times more likely than Jews to be the victim of a hate crime and that Muslims were almost 4 times more than likely than Jews to be a hate crime victim. And yet recently released hate crime data from the FBI for 2015 reveal that there were 1,745 African-American victims of hate crimes last year, 664 Jewish victims of anti-religious hate crimes and 257 Muslim hate crime victims.




France: Decomposing in Front of Our Eyes. What is reality in France today? Violence. It is spreading. Not just terrorist attacks; pure gang violence. It instills a growing feeling of insecurity in hospitals, at schools, in the streets — even in the police. The media does not dare to say that this violence is coming mainly from Muslim gangs — "youths," as they call the in the French media, to avoid naming who they are. A climate of civil war, however, is spreading visibly in the police, schools, hospitals and politics.

German State Media Defends Not Reporting Girl Raped and Murdered by 'Refugee'. The Tagesschau show, produced by ARD, the world's largest public broadcaster, claimed that the story was "too regional". Others, however, blame political correctness and an establishment desire to silence criticism of mass migration. Last week's revelation that 19-year-old Maria Ladenburger — a medical student, migrant home volunteer, and daughter of a prominent European Union (EU) official — was attacked and killed by a recently-arrived 17-year-old migrant shocked the nation. Despite having a budget of €6.5 billion and 20,617 employees, the public broadcaster decided not to allocate resources to bringing the story to national attention.

Post Ohio State Terrorist Attack — CNN Suggests American Women Wear Hijabs in Solidarity. During a conversation about yesterday's OSU terrorist attack carried out by a Somali refugee using a machete to attack students, CNN suggests that American women wear hijabs to show their solidarity with Somali Muslim terrorists. [Video clip]

The Editor asks...
Why should we be "in solidarity" with homicidal maniacs bent on world domination?

Moroccan state TV shows women how to hide domestic violence. Women in Morocco have reacted in horror after a programme on state television demonstrated how they could use makeup to cover up evidence of domestic violence. The segment in the daily programme Sabahiyat, on Channel 2M, showed a smiling makeup artist demonstrating how to mask marks of beating, on a woman with her face made up to appear swollen and covered with fake black and blue bruises.

Minnesota elects 1st Somali-American lawmaker in the US. Long home to the nation's largest Somali population, Minnesota elected the first Somali-American lawmaker in the U.S. on Tuesday [11/8/2016]. Ilhan Omar won a state House seat to represent a Minneapolis neighborhood often called "Little Mogadishu." A steady rise in the Somali community's political power in the area led to Omar's election. The city elected a Somali city councilor in 2013 and a Somali school board member in 2010. A 33-year-old community activist with deep ties in Minneapolis' Somali community, Omar came to the United States as an 8-year-old after spending four years in a Kenyan refugee camp.

The Editor says...
Somehow the Associated Press was able to write an entire article about this person without using the word Muslim.

The New Anti-Racist Racists. The media today in America are increasingly wary of Islamic extremists. Most journalists do not want the parameters of what should be discussed dictated by Islamic fanatics. Whereas an organisation such as the SPLC, which did something good forty years ago, is the sort of institution that the media is for the time-being happy to hear from. Perhaps after this latest development that will no longer be the case. The SPLC's latest production is disgraceful, discrediting and sloppy even by its own increasingly disgraceful, discredited and sloppy standards. For this publication, they have listed "Fifteen anti-Muslim activists," most likely in the hope that they will scare the media off inviting them on, or the wider public from being allowed to listen to them.

German press deliberately covering up Muslim identity of attackers in rape crisis. "When reporting on criminal offenses, details about the religious, ethnic or other background information of the suspects or perpetrators is to be mentioned only if it is absolutely necessary (begründeter Sachbezug) to understand the reported event. Remember that such references could foment prejudices against minorities." Translation: We want to sell the German public on this Muslim migrant inundation. So don't tell the people that Muslim migrants are involved in sexual assaults and rapes on a near-daily basis. This is treason, as it is leading Germany to national disaster, and the German Press Council should be prosecuted.

Not publishing his Muslim name and despite wearing body armor, the media are reporting it as "domestic disturbance."
Mainstream Media Not Reporting Boston Police Shooter's Islamic 'Rebirth'. Wednesday evening [10/12/2016], two Boston Police officers were shot by Kirk Figueroa after responding to a domestic disturbance call. Figueroa is now dead and the two officers are recovering from bad injuries. And that's about all the mainstream media want everyone to know. However, Boston's WCVB 5's investigation has uncovered a much different picture of Figueroa including his Islamic faith. That fact is missing from nearly every major news site that this author searched. [...] [T]he shooter was a Democrat and inspired by the words of the Obamas, who back the anti-police Black Lives Matter and constantly defend Islam as a religion of peace.

Can the New York Times Discuss Whether Mohammed's Flying Horse Really Visited the Temple Mount? So the New York Times lapsed into what has been called Temple Trutherism by trying to deny the existence of the Jewish temples on the Temple Mount. [...] But let's have some equal time here. The Temple Mount is holy to Jews because of the Temples. So the New York Times chose to discuss whether the Temples really existed. It's holy to Muslims because Mohammed supposedly flew there on a flying horse (with a woman's head). Can we get a discussion of whether that really happened? Or does the New York Times only find it acceptable to mock Judaism, not Islam?

Free Speech Crackdown: Europe tells British press not to reveal if terrorists are Muslims. Meddling Brussels has said the British press should not report when terrorists are Muslims in a slew of demands to the Government to crack down on the media. A report from the European Commission against Racism and Intolerance (ECRI) found there was an increase in hate speech and racist violence in the UK from 2009 to March 2016. Blaming the press, ECRI Chair Christian Ahlund, said: "It is no coincidence that racist violence is on the rise in the UK at the same time as we see worrying examples of intolerance and hate speech in the newspapers, online and even among politicians."

Hijabi women furious Americans don't smile at them on airplanes. Muslim women are being beaten, killed, and sold into slavery in the Muslim Middle East. But these are small potatoes compared to the indignities fundamentalist Muslim women are suffering in America. In America, sharia-compliant women complain that Americans do not smile enough at them on airplanes. This is why the New York Times has chosen to put a spotlight on the indignities hijab-covered women suffer every time they go to the airport.

Europe's New Media Darlings: Terrorists. In the pro-Palestinian credentials of the mayor of Naples, Luigi de Magistris, the only item missing was giving honorary citizenship to a Palestinian terrorist. Bilal Kayed is anything but a "man of peace." He is a dangerous Palestinian terrorist who spent 14 years in Israeli prisons for two shooting attacks, and for planning and attempting the (unsuccessful) kidnapping of a soldier. Kayed is now a new honorary citizen of Naples.

If We Can't Call it Terrorism, We're on the Verge of Orwell's 1984. I'm old enough to remember when the dystopian vision of George Orwell's 1984 was as impossible to see in America as communism or anarchy. Now, it seems to be a race between the three most destructive societal establishments to see which one can take hold first. At this point, the most likely winner would be the totalitarian police state of 1984 creeping quickly into the thoughts of Americans because media's and politicians' mastery of doublespeak is polluting the cultural awareness. Most non-conservatives don't even think twice when the media questions Donald Trump about why he called the explosion in New York City a "bombing." They want us to ignore the fact that dumpsters do not blow up by themselves. They definitely want us to pretend that Trump was evil for calling it a bombing while Hillary Clinton was righteous for calling it a bombing moments later.

Exposing 5 Little Known Facts about Islam Politicians and the Media Are Deliberately Concealing from You. Despite the fact that the perpetrator, named as Sami Ayad, a "Frenchman" apparently, shouted what the media incorrectly call "an Arabic phrase meaning God is greatest," police insist there's no evidence showing he'd been radicalized or motivated by politics. They didn't go as far to say he's suffering from a mental illness this time. True to form, the media is downplaying any connection to Islam. Instead of accurately describing Ayad as a "French Muslim", he's portrayed as a "Frenchman." Furthermore, the exclamation "Allahu Akbar" is not an Arabic phrase nor does it mean "God is greatest" as the duplicitous media reports state. It's an Arabic phrase specific to Islam [...] and it means "Allah is greater." Meaning Allah is greater than your Gods and greater than your man-made governments and laws. These kinds of desperate attempts to disconnect from Islam atrocities committed by Muslims in the name of their deity are deployed by both politicians and the media in the aftermath of each attack. They're deliberately concealing the truth about Islam in order to maintain the "it's a religion of peace" narrative.

UK's Independent: 'Allahu Akbar' Is A Publicity Stunt, Not Jihad. Andrew MacLeod is a "visiting Professor at Kings College London and a former UN and Red Cross official who served in countries like Rwanda, Yugoslavia, Pakistan, Afghanistan and others." What sloppy writing. What countries are like Rwanda, Yugoslavia, Pakistan, and Afghanistan? "He has negotiated with warlords and terrorists." Is that something to be proud of? In the UK Independent Tuesday [8/30/2016], he explains that a Muslim who screams "Allahu akbar" and kills people may not be a terrorist, but just a lonely publicity-seeker committing the Muslim equivalent of "suicide by cop." And the never-ending mainstream media quest to exonerate Islam of all responsibility for the crimes committed in its name and in accord with its teachings grows even more absurd than it already was.

Media silent on surge in Islam-inspired knife attacks. The spate of grisly stabbings and beheadings being carried out by Muslims around the world is not really a sudden or unique occurrence but part of a decades-long pattern of violence inspired by the Quran, say Islam critics. The latest attack on American soil came over the weekend in Roanoke, Virginia, by a 20-year-old man who used a 10-inch butcher knife to attack residents of the Pines apartment complex while shouting, "Allahu Akbar!" It happened again Monday in Australia, where a 21-year-old British woman, Mia Ayliffe-chung, was hacked to death and two others injured by a Muslim man chanting "Allahu Akbar!" as 30 other tourists looked on in horror.

Philippine leader orders extremists crushed after beheading. Abu Sayyaf extremists have beheaded a kidnapped Filipino villager after a ransom deadline lapsed in their first such brutal act under President Rodrigo Duterte, who pressed an order for troops to crush the militants.

The Editor says...
Somehow the AP writer left out the words islamist, islamic, and muslim from this report.

AP Claims ISIS Recruits Have a Poor Grasp of Islam. At last the universal claim has been proven: Islamic terrorism has nothing, nothing whatsoever to do with Islam! [...] This AP study is one of an endless stream of mainstream media articles intended to show us that the Islamic State has nothing to do with Islam, that the real Islam is peaceful and benign, and therefore we need have no concern about the elites' suicidal Muslim immigration policies. The study is, as one might expect, vague and anecdotal. Apparently much of the AP's assumptions rest on jihadis' self-evaluation of how much they knew about Islam, as well as their refusal to expound on Islamic theology in court.

Lesbian CNN commentator all in for sharia. So Sally Kohn thinks a subset of Muslims who call themselves "progressive Muslims" believe in Sharia. And apparently that's a good thing. (I wonder what part of sharia law is her favorite. Burqas, stoning, or throwing homosexuals off of rooftops?) That's how far gone the brains of leftists have become, marinated such as they are in a slop of lies, misinformation, and a worldview disconnected from reality. I don't care what descriptor comes before the word "Muslim." If a person believes in Sharia, they do not believe in liberty. Certainly a female and a member of the LGBT community should be alert to that fact since women and homosexuals don't fare too well under the Sharia. To put it mildly.

CNN Host Called on U.S. Flag Bearer at Olympics to Step Aside for Muslim Fencer. The host of the CNN show "United Shades of America" called on Olympic champion swimmer Michael Phelps to forgo the honor of carrying the American flag at the head of the American delegation and allow a Muslim female fencer to carry it instead. Kamau Bell penned a column on the CNN website saying that Phelps should withdraw in the name of "diversity."

London: Somali who stabbed six, killed American, is a devout Muslim, read jihad books. Zak [Zakaria] Bulhan launched a six minute rampage on Wednesday night [8/3/2016] which left five people injured and the wife of an American professor dead in the Russell Square area of the capital. After initially circulating reports that a "white chubby man" was responsible for the attack, the media subsequently reported that Bulhan, an immigrant of Somali origin, was the culprit, yet press outlets still bizarrely insisted on calling him "Norwegian".

Are the French media already covering up Muslim terrorist attacks? According to witness reports, a gang of Muslim migrants in Paris allegedly ambushed and burned down a passenger bus in the Saint-Denis district around 1 AM on the night of Wednesday-Thursday, the 28th of July 2016. Saint Denis has a large Muslim migrant population.

Why the Establishment Can't Grasp the Nature of Islam. The media and effete powers-that-be have been twisting themselves into Halal pretzels Islamsplainin', rationalizing how a given Muslim terrorist attack isn't really "Islamic" or isn't significant. These contortions can become quite ridiculous, such as suggesting that recent Allahu Akbar-shouting Munich shooter Ali Sonboly might somehow have had "right-wing" motives because, among his violent passions, was an interest in Norwegian mass murderer Anders Breivik. A more common (un)intellectual contortion is the minimizing tactic of claiming, as is politically correct authorities' wont, that a given jihadist attacker "has no ties to IS" (the Islamic State), as if there's nothing to see here if a man doesn't provide notarized evidence of allegiance to the boogeyman du jour.

New York Times Plays Down ISIS Tie to Brutal Murder of French Priest. Earlier today [7/26/2016], 84-year old Catholic priest Father Jacques Hamel was murdered his when one of two assailants who allegedly yelled "Allahu Akbar" and said they were from "Daesh" (ISIS) burst into his French church and slit his throat. Father Hamel was killed around 9 AM while celebrating mass in St. Étienne Church in the village of Saint-Etienne-du Rouvray in northern France. Father Hamel, two Catholic nuns, and two parishioners were taken hostage by the assailants. One of the hostages was critically injured. The two terrorists were shot dead by French security forces as they left the church. UK newspapers The Telegraph and The Daily Mail called the assailants "Islamic gunman" and said the killers claimed they were from Daesh. [...] The first story by the New York Times on this incident referred to the killers only as "attackers" and did not mention ISIS, Daesh or the words "Islamic" or "Islamist."

You'll Never Guess Who Reuters Blames for the Nice Terror Attacks: Yep, "Muslim Grievances". After the Nice, France terror attack — where approximately 84 people were killed and hundreds injured — Western "mainstream media" is again in full damage control trying to rescue "the narrative," namely, that Islam has nothing to do with terrorism. [...] Consider: if Muslims are terrorizing France due to social and political "grievances," why are they also terrorizing and slaughtering other non-Muslim minorities who have no political power to "aggrieve" anyone?

Motive of Muslim Refugee Axe Attacker Shouting "Allah Akbar" Unclear. [Scroll down] Motive unclear. There are so many reasons why a Muslim would attack non-Muslims with an axe while shouting a Jihadist battle cry that originated with the Muslim genocide of non-Muslims. Maybe it was the lack of a job or a failure to integrate. Or it was raining. The possibilities are endless. But we know it had nothing to do with Islam.

"I am a Soldier of the Caliphate and I am Going to Carry Out a Suicide Attack in Germany["]. For a while it was fashionable by experts to sneer at the inevitability that the "poor refugees" swarming Europe and the rest of the free world included ISIS supporters. Surely such a thing was impossible. Even after Bataclan, they kept finding excuses. But the latest axe attack in Germany by an ISIS refugee is the end of that road. The Muslim attacker was of your classic "widow and orphan" flavor. He came as an unaccompanied minor. He was exactly the sort of migrant that Merkel would cheerfully take selfies with. And then he began hacking away in a train car while shouting Allahu Akbar. He had an ISIS flag in his room and ISIS took credit for his attack.

How The Media Covers Up Muslim And #Blacklivesmatter Terrorism. The propaganda, the artful selection and deselection of facts, have become as familiar to us as they were to any of the residents of the Soviet Union or North Korea. Anyone who pays attention knows not only that they are being lied to, but can easily predict the lies that they will be told on the evening news even before they actually hear them being spoken out loud. We always knew that the Muslim terrorist, even before he was identified, would turn out to be a secular loner who was depressed over his family life. All the media had to do with Mohammed Bouhlel, the Islamic terrorist who murdered 84 people in Nice, France was to replay the same exact narrative as the one that they had fed us with Omar Mateen, the Islamic terrorist who murdered 49 people in Orlando. Irreligious, depressed loner with family problems. Check. No connection to Islamic terrorism. Suggestion of mental illness. Check and check. Insistence on his lack of interest in religion? One final check.

French woman and her three daughters stabbed by Moroccan-born man in Alpine resort. A French woman and her three young daughters were seriously wounded in a knife attack at an Alpine resort on Tuesday [7/19/2016] by a man who reportedly complained that they were scantily dressed. The man was arrested after the attack at the Alpine resort of Garde-Colombe, near Laragne, in southern France. [...] The attacker, named as Mohamed B, 37, "may have acted out of religious motives", French television channel TF1 reported.

Same story as above, from a reporter who is even more afraid to state the obvious:
Woman and girls stabbed by man at French Alps resort. French authorities have detained a Moroccan man after he stabbed a woman and her three daughters, briefly causing panic in a nation reeling from its third major attack in 18 months. The motive for the attack was not immediately clear.

MSNBC's 'truck crash' framing of France terror attack ignites Twitter mockery. An MSNBC tweet on late Thursday [7/14/2016] that framed France's latest terror attack as a "truck crash" elicited a stinging response from readers. "Follow our live blog for the latest from Nice after a truck crash leaves at least 70 dead," the network tweeted at 8:49 p.m. EST., well after even President Obama and French President Francois Hollande called the event an act of terrorism. Mohamed Lahouaiej Bouhlel, 31, killed at least 84 people during Bastille Day ceremonies by plowing a giant truck through crowds along the Promenade des Anglais.

Media blames truck, not terrorists or Islam, for Nice attack. Leftist media outlets reacted to the devastating attack in Nice not by blaming Islam or even terrorists, but by suggesting that an inanimate object — the truck — was responsible for the carnage. Instead of pointing the finger at Islamists, CNN, CBC and the New York Times all published headlines that served to hide the true nature of the attack. CBC reported, "Children feared killed in Nice as truck attacks family event". Presumably, the truck was somehow able to manifest artificial intelligence and plough itself through dozens of victims.

France Terrorist Posted 'kill. kill. kill.' on Facebook; Motive for Attack Remains a Mystery. That part about it being a mystery is what we surmise they're saying in the White House today. The rest of the planet outside the dopey left and the media (redundancy) know what the deal is.

Meet Democratic Convention Delegate Linda Sarsour, a Brooklyn Girl with Hateful, Islamist Views. When it comes the political left's favorite Islamists, they have chosen a champion in Linda Sarsour. You may have seen her on a CBS panel of ordinary Muslim Americans. Perhaps you've seen her discussing the struggles of fasting on Ramadan in a new Huffington Post video; or, maybe you read the glowing profile of her last year in The New York Times. Sarsour is the executive director of the Arab American Association of New York (AAANY). She is an activist with political aspirations and she makes it a point to be seen at the events of any and every social justice cause known to man. Recently, she was featured on the cover of the ACLU's magazine Stand.

Good News: Media Decides Islamic Terrorism is a Mental Illness. The growth in Islamic terrorism is leading the media to even more bizarre realms of propaganda. So unable to deny Islamic terrorism, they insist that it has nothing to do with Islam. It's a mental illness.

Hillary's coterie of anti-Semites. [Scroll down] Other than Louis Farrakhan at the Nation of Islam, Professor Cornel West of Princeton might be the signal anti-Semitic role model in black America. West brings academic gravitas to the role. On the one hand, West plays the home boy race card with effect, at the same time vilifying Jews for "occupation and annihilation." West's favorite media stooge is Tavis Smiley of PBS. Professor West and Smiley are often seen as an Islamophilia tag team, apologizing for Muslims on the public dime. Anti-Semitism is now a prominent feature of black American culture nationwide. Professor West and Smiley count Louis Farrakhan, NOI high priest, unapologetic misogynist, and Jew hater, as a touchstone in skin game circles.

Islamic State Arrests Growing in Muslim Brotherhood Front Group's Backyard: Indiana. The FBI's June 21 arrest of an 18-year old-suburban Indianapolis high school student on charges of attempting to join the Islamic State (ISIS) elicited all the usual protestations of disbelief from local politicos, school spokespeople, and media outlets. To the extent the arrest was covered at all, it contained rich details of the cooperative steps taken by federal, state, and local enforcement to monitor, track, and finally arrest the suspected terrorist as he attempted to board a Greyhound Bus. None of the local coverage of Brownsburg High School student Akram Musleh's arrest made any mention of ties he might have had with local Islamists, let alone who those Islamists might be. Nor was Musleh the first Muslim arrested in Indianapolis on terror support charges. Last February, local authorities charged six people with material support for terrorism. In its only story on those arrests, the Indianapolis Star proclaimed the reason for their presence in Indiana "was unclear."

Your Antique Media: Islamic Terror Attack in Orlando Completely Unrelated to Islamic Terror. The mainstream media are desperate to distract from the facts of the Orlando shootings, choosing instead to blame Republicans and conservatives for the deaths of 49 individuals at a gay bar called Pulse. In reality, the attacks were perpetrated by an American-born Islamic jihadist who pledged allegiance to the Islamic State during the attack, and had in the past "boasted of ties to the terrorist groups Hezbollah and Al Qaeda." Instead of discussing the ramifications of terror worldwide and in our midst, the liberal media have reignited their quest for new gun control legislation and have sought to blame this attack on Republicans in general, and presumptive Republican candidate Donald Trump in particular.

Obama Administration Erased Terrorist "Dots". Only in DC could this sound sane! Only in America would the news media be so clueless. Of course, a modern news media career relies on access to people in power. So the people in power ensure the media is clueless — or buys their "dots" only from official channels so as ensure the brain-washed masses don't connect dots on their own.

The media's apologetic coverage of Islamic terror. The Orlando media circus started early Sunday morning within hours of the massacre. At the first press briefing, police presented one individual as a spokesman of Orlando's "faith communities". He wasn't a Christian, like many of the victims, but a Muslim. In addressing reporters, Muhammad Musri, president of the Islamic Society of Central Florida, appeared to shift blame for the mass murder away from the ISIS-inspired jihadi who committed it, towards a concern about mass shootings in general and, presumably, support for gun control.

Newsweek Goes Off The Rails. Newsweek recently put forth a theory about right-wing extremism. It was a fantastic piece of fiction. After they had waded through all of the crimes committed by right-wing extremists, totaling them up as more than Jihadists had committed, it came up to much less than one day in September of 2001. They carefully crafted the discussion to begin in 2002. During which they claimed that "Islamists launched nine attacks that murdered 45, while the right-wing extremists struck 18 times, leaving 48 dead." But, that only leads one to question what definitions they used. From the obviously stilted tenor of the story, it is logical to conclude that they vastly minimized "Islamic" terrorism and vastly maximized "right-wing extremist" terrorism.

Would there be gag order on THIS? Would there be gag order on story about "3 Jewish men who brutally raped a mentally disabled Muslim girl and filmed it?" Of course not, but when the actual story is about "Three Muslim men who brutally raped a mentally disabled Jewish girl in Tel Aviv," it gets hushed up, demonstrating the blatant double standards of the mainstream media and the international community. [...] As one might imagine, had the roles been reversed — had three Jewish men violently raped a handicapped Arab girl while shouting racist slogans — it would take mere minutes for the story to become headline news around the globe.

Huffington Post Calls On Christians to Recognize Muhammad as a Prophet. Can you imagine the Huffington Post publishing a series of articles calling upon Muslims to accept Jesus Christ as their Lord and Savior? Neither can I. But the HuffPo seems intent on compelling Christians to accept Muhammad as a prophet. In publishing Craig Considine and now Ian Mevorach both calling on Christians to accept Muhammad, the Huffington Post illustrates what happens to Leftists when they ally with Islamic supremacists: they fall completely under their sway and begin to proselytize for Islam.

Internal Report Claims BBC Programming is Too Christian. Several British newspapers are reporting that an internal review prepared by the British Broadcasting Corporation (BBC) claims that the BBC's output is too Christian. As reported in The Telegraph, the Daily Mail and the Sunday Times, Aaqil Ahmed, who is head of the BBC's religion and ethics office, compiled the report following consultation with non-Christians who feel the BBC is disproportionate in its religious content. According to the Times, the report says that the BBC should produce more content about the Muslim, Hindu and Sikh faiths for a better balance.

BBC says it is 'too Christian' and vows to make more Muslim, Sikh and Hindu programmes. The BBC should give more airtime to religious programmes for faiths other than Christianity, a report by the corporation's own ethics boss has concluded. Schedules could be changed to make room for live broadcasts from mosques, with extended coverage of the Eid celebrations, according to Muslim leaders. The suggestions come after Aaqil Ahmed, BBC head of religion and ethics, said the broadcaster's current output was "too Christian" in an internal review now being considered by director general Lord Hall.

The Facebook Wrath of Khan. On May 5, 2016, London elected Sadiq Khan its new mayor. Khan is a Muslim and the son of Pakistani immigrants. [...] I wanted to know what significant statements Khan had made about his own history-making place in society. I turned to NPR. In lieu of news, I heard a blast from a confetti cannon. NPR journalists are nothing if not expert at using every feature of their voice to instruct the listener in the correct response. Pauses, high pitch, sighs, monosyllables snippily clipped, all conduct the listener's progress as deftly and firmly as your tour guide at a super-max prison. This day the NPR announcer was giddy. Surely Khan's election was as worthy of unalloyed celebration as the rescue of a kitten from a well. It was as if Mayor Khan had saved Britain from a long, dark night in which only — ew, yuck — Christians had held office. Khan's election lifted some medieval curse.

New York Times Lets Slip the T-Word: Taquiya. [Scroll down] It's almost like terrorists won't tell you the truth unless you repeatedly interrogate them and subject them to pressure. Perhaps in some sort of isolated facility accompanied by gentle flowing streams of water. But it's interesting that the New York Times even used the term "taquiya". When Ben Carson mentioned taquiya, the media hurriedly rushed to throw together their usual "fact checks" to disprove the idea. Sunni Islamist groups have generally maneuvered the media into repeating their talking points on the term backed by the usual "interfaith scholar" who are treated as authorities on Islam.

Stunning Fall of Hillary's 'Real News' Network. Al Gore sold his channel to Al Jazeera and the left embraced them though they are clearly propaganda for radical Islamists. Iraq has just shut down Al Jazeera for 'instigating violence and sectarianism." It's already banned in Egypt and a number of other Middle Eastern nations but it's not banned here though their TV station failed because people weren't ready for the jihadist network. Iraq has banned Al Jazeera journalists from the country and closed the channel's Baghdad office, accusing Qatar's state-funded TV network of inciting violence and sectarianism.

What the media didn't tell you: Muslim student who got kicked off Southwest Airlines. The mainstream media and their pals at designated terrorist group CAIR went ballistic after learning that an Iraqi student was removed from a flight after an alleged 'Islamophobic' woman reported him after overhearing him speaking Arabic. What the media conveniently left out is that the (see something say something) woman is a native Arabic speaker and said he was talking about terror group ISIS.

One Controversial News Outlet Just Shut Its Doors. In April of 2013, Qatar-based news agency Al Jazeera embarked on an ambitious project — to break into the U.S. news scene, a realm dominated by major players like CNN and Fox News. Since then, Al Jazeera America has indeed made a name for itself, though it wasn't always in the most flattering light. So it was in January, after a tough string of controversies, that the announcement was made that the network would be shutting down.

Al Jazeera America goes dark and CEO reflects: 'I believe we succeeded'. Al Jazeera America will fade to black on Tuesday night [4/12/2016] not even three years after it launched. But its CEO, Al Anstey, feels the news channel achieved something special. "We are signing off but, somewhat counterintuitively, I believe we succeeded," Anstey said. "People believe passionately in what we did."

Top 10 Misreported or Underreported Stories of 2015. [#1] The Fake Iran Agreement: In July the mainstream media celebrated a deal between Iran and the P5+1 that would provide Iran with sanctions relief along with virtually no accountability. Today, the administration, along with their lapdogs in the press, continues to argue that this somehow adds up to a good deal for the world. It doesn't. In fact, there really is no deal at all. The New York Times and other news organizations still call this a "signed" deal. It isn't.

How The Mainstream Media Spread Another False 'Islamophobia' Story. The journalists and publications which implied the hit and run in Molenbeek this weekend was a 'far right' anti Islam attack had no evidence to suggest that it was as they reported, but they knew what story they wanted to write. That's why most hesitantly wrote "during" a "far right demonstration" instead of bluntly labelling the driver a "far right activist" as did the Daily Mail, the first publication to report on the story. Instead of acknowledging the categorical error, or clearly reporting the truth as it emerged, however, the Mail quietly edited their original article, burying the factual change three quarters of the way down the page, and failing to issue a correction or clarification.

Busting Dumb Clichés About Terrorism. The public organs often say that 'radical clerics' cause 'radicalization' or that otherwise ordinary Muslims become 'radicalized' after watching too many cool beheadings on Youtube and reading too many Al Qaeda PDFs. The responsible press people want to do this to draw a distinction between peaceful, law-abiding Muslims and the types of people who detonate nail bombs next to baby carriages in airports. This is a foolish distinction to draw. Terrorism is a disquieting demonstration of power that synergizes well with instantaneous global communications technology. It can make people in Chicago nervous from a small explosion thousands of miles and an ocean away. The bomb isn't just a bomb: it's a media event. [...] The terrorists are just dramatizing what's going on over a longer period of time in an instant.

A terrorist attack has happened in Europe. Let the standard response begin. This morning Islamist suicide-bombers struck one of the few European capitals they haven't previously hit in a mass-casualty terrorist attack. [...] We will shortly move to the next phase, which is to find a good news story amid the rubble. Anything will do, but best of all is a Muslim good news story. After Paris it was swiftly reported that one of the suicide bombers at Stade de France had been turned away by a brave Muslim security guard. The story whizzed around the world before anyone could check whether it was true. It wasn't. But people needed it to be. Not because Muslims don't do good deeds, but because in the wake of any Islamist terrorist attack people need people opposed to the bombers to be Muslim and the bombers themselves not to be Muslim. Then the good Muslim can represent Islam while the bad Muslims can be said to have nothing to do with it.

Terrorists Kill Nuns at Nursing Home in Yemen; Networks Out To Lunch. As of Tuesday morning [3/8/2016], ABC, CBS, and NBC's morning and evening newscasts have yet to cover the attack by suspected ISIS gunmen in Aden, Yemen on Friday which left 16 people dead — including four nuns of Mother Teresa's order — at a nursing home. According to a Friday article by the New York Times, the deceased Nobel Peace Prize winner founded the home, which was "one of several care facilities in Yemen established by Mother Teresa beginning in the 1970s." Correspondent Hakim Almasmari, who is based out of Sanaa, Yemen, filed a report on the terrorist attack on Sunday's CNN Newsroom.

HuffPo: 'Is Islam Really the Religion of Violence?'. In an fascinating exercise in selective data use, the Huffington Post has published a remarkable essay suggesting that the vast majority of terrorists have nothing to do with Islam and that Islam itself has nothing to do with encouraging violence. In his article Monday [2/22/2016], "Is Islam Really the Religion of Violence? Here Are the Facts," Saudi-born writer Hanzala Bin Aman tiptoes through an FBI study on terrorism to cull the statistics that seem to justify his thesis that Islamic terrorism only makes up a tiny percentage of all terrorist acts, and therefore shouldn't be singled out as a source of particular concern. For example, Aman declares that a mere 6% of all terrorist attacks on US soil between 1980 and 2012 were carried out by Muslims. What he fails to mention is that 94% of the deaths due to terrorist acts in the United States during the same period were carried out by Islamic terrorists.

Washington Post Airbrushes Obama's Mosque Visit. Greg Jaffe of the Washington Post provides a near-worshipful account of President Obama's Wednesday [2/3/2016] visit to a Baltimore mosque. [...] Jaffe describes the Islamic Society of Baltimore mosque as "a simple house of worship." Post readers are never informed that things at the mosque aren't quite that simple. As Scott [Johnson] has pointed out, just a few years ago the FBI was monitoring this mosque as a breeding ground for terrorists, after arresting a member for plotting to blow up a federal building. Agents secretly recorded a number of conversations with a 25-year-old Muslim convert — Antonio Martinez, aka Muhammad Hussain — and other Muslims who worshiped there. According to the criminal complaint, Martinez said he knew "brothers" who could supply him weapons and propane tanks.

Sex Crimes Across Germany: The Coverup Unravels. Britain's Daily Mail must be one of the world's oddest news sources, but occasionally it does some good original reporting. That is the case with respect to its coverage of the epidemic of sexual assault that has erupted across Germany: [...] The common denominator, of course, is that the attackers were recent Islamic immigrants, most of them apparently "refugees."

Europe's Dishonest Elites, and Ours. The German situation is even worse than you presented. Sure, the Cologne police chief got fired, but the despicable mayor hasn't resigned. And, sure, there has been some scrambling and slithering by left politicians, including, mirabile dictu, Angela Merkel, Mutti herself, to tap dance away from the catastrophe they've created and countenanced. But the massive coverup and deafening silence from the left and the MSM is the real story and it's disgusting. [...] There is a complete blackout — utter silence — from the likes of the execrable Salon, from Slate, The Nation, Mother Jones, The New Republic. Zip, nada, nothing!

Coverup of Mass Molestations on New Year's Eve in Cologne Draws Ire. Oh, how the German authorities wanted to bury this story. But when nearly a hundred women reported sexual molestation by a crowd of Arabs numbering nearly 1,000 during the Silvester celebrations in the heart of Cologne, the news got out: [...]

CBS Muslim Panel Accidentally Includes Professional Leftist Obama Operative. CBS's Frank Luntz sought to gauge the attitudes of an ostensibly ordinary panel of Muslims in America towards Donald Trump. Undeclared to the audience, however, is a professional left-wing agitator seated in the front row who is an alumnus of the Obama Administration. Linda Sarsour, an anti-American hater of Israel, Islamic supremacist, and regular commentator on left-wing media, was not identified as such when offering her views on Trump. Rather, she was presented as an ordinary Muslim in America.

Executed Saudi Shiite Cleric Al-Nimr Backed Terror Attacks on America. The Saudi justice system is cruel and barbaric. But occasionally they get one right. The media is scuttling to turn Sheikh Nimr al-Nimr, a Shiite leader so great they named him twice, into a martyr after the Saudis put him down on terror charges. But Nimr al-Nimr was a terror leader. There are no shortage of quotes from him endorsing terrorism, backing Iran and calling for Iranian intervention in Saudi Arabia. And yes, he hated America too. [...] Nimr was an agent of Iran. We, these days, have no ability to execute traitors. The Saudis do. Saudi Arabia is full of Sunnis who say most of the same thing. Nimr got it because he was a Shiite and backed Iran. We don't actually have a dog in this fight, but we can say good riddance to another enemy. The media has tried to turn Nimr and his relative Ali Mohammed al-Nimr into martyrs.

In WABC Report, Palestinian Assailants Are the Victims. CAMERA has contacted editors ABC's New York station to request a clarification making clear that of the four Palestinians killed Dec. 24, three were killed as they carried out attacks against Israelis, and the fourth was killed in a violent clash with Israeli soldiers. Contrary to the false impression given in the Dec. 24 report, they were the perpetrators of West Bank attacks, not the victims.

Jihadists Do The Strangest Things. I read an interesting article by Daniel Pipes in which he pointed out that in the United States we have had many ["]potential instances of jihadi violence in which the Establishment has colluded to sweep the Islamic dimension under the rug, treating the perpetrators as common criminals whose biographies, motives, and connections are of no interest and therefore remain unknown.["] Pipes mentioned the pending criminal case of a Jersey City Muslim named Yusuf Ibrahim. Pipes noted that Ibrahim had allegedly shot and killed two Coptic Christians, cut off their heads and hands, knocked out their teeth, and then buried them in Buena Vista Township, New Jersey. Yusuf Ibrahim is a Muslim, but can Islamic Doctrine actually support such actions? Islamic Doctrine is based on the commands of Allah found in the Koran and the teachings and example of Muhammad. So let's see what Islamic Doctrine has to say about this.

Huffington Post's 'Muslim Christmas Message' Is More Lies. While Christians across the Muslim world suffer oppression, humiliation, and slaughter, the Huffington Post continues to pound out an alternative reality about the "religion of peace." The latest in its long string of cynical and deceptive nonsense about Islam comes from the dishonest Ahmadi Muslim Kashif Chaudhry: "A Muslim's Christmas Message."

'Allahu Akbar': It Means Almost Everything — Except What The Establishment Media Says. Media outlets routinely mangle the true meaning of "Allahu akbar," the ubiquitous battle cry of Islamic jihadists as they commit mass murder. The war-cry is mistranslated in the Western media as "God is great." But the actual meaning is "Allah is greater," meaning Allah Is Greater Than Your God or Government. It is the aggressive declaration that Allah and Islam are dominant over every other form of government, religion, law or ethic, which is why Islamic jihadists in the midst of killing infidels so often shout it. One primary purpose of shouting is to "strike terror in the hearts of the enemies of Allah."

Muslim Gang-Rape Marathons Continue Across Europe: Where's The Press? Political-correctness now extends to the identification of rapists in Europe where the press continually under-reports the high incidence of the most heinous sexual assaults and gang-rapes you can hardly imagine. The true War on Women is being waged as we speak in the form of child-rape, sexual assault, paedophilia and gangs of Muslim men brutally raping women, in marathon fashion while crowds cheer them on and the press all but ignores.

CBS Muslim Panel Accidentally Includes Professional Leftist Obama Operative. CBS's Frank Luntz sought to gauge the attitudes of an ostensibly ordinary panel of Muslims in America towards Donald Trump. Undeclared to the audience, however, is a professional left-wing agitator seated in the front row who is an alumnus of the Obama Administration. Linda Sarsour, an anti-American hater of Israel, Islamic supremacist, and regular commentator on left-wing media, was not identified as such when offering her views on Trump. Rather, she was presented as an ordinary Muslim in America.

New York Magazine Makes Light Of Female Genital Mutilation. In a remarkable screed, New York Magazine's Ed Kilgore dismisses established reports documenting the rise of Female Genital Mutilation in the United States stemming from years of large-scale Muslim migration. Kilgore, a self-described "veteran Democratic wonk", took issue with a Breitbart News report detailing how Rep. Paul Ryan (R-WI)'s omnibus spending bill fully funds all visa programs utilized by Muslim migrants and, in fact, expands those programs to fund President Obama's new Syrian refugee resettlement operation. In the piece, Breitbart News reports that by funding and expanding these visa programs, Ryan's omnibus enables next year's admission of nearly 300,000 Muslim migrants on autopilot visas.

You can't blame America for not letting this lot travel to Disneyland — I wouldn't either. Just a family of eleven, off to Disneyland. A lovely big British family, off to the place where magic happens and Mickey Mouse makes dreams comes true. They'd saved hard to get together the £9,000 for flights to make their family happy at Christmas. But were turned away at the gate by ruthless officials from USA Homeland Security who said they were no longer allowed to board. At least, that's the story you'd be believing if you listened to the BBC or Labour's blond-bobbed maniac Stella Creasy, whinging on about the obvious discrimination against them on religious grounds.

Poor Muslim banned from Disneyland was self-proclaimed 'Taliban supervisor'. The liberal media was crying foul when a British Muslim family of ten was suddenly and mysteriously denied permission to travel to America. All they wanted to do was visit Disneyland! The liberal media was crying that this poor Muslim family simply wanted an all-American vacation, and they suffered evil discrimination, simply because they were Muslim! At least, that was the story, until today, when it turns out that one of the banned Muslims said in on Facebook that he was a "Taliban supervisor".

Facebook page linked to Taliban and Al Qaeda was registered to same address as British Muslim father whose Disneyland trip was blocked by Homeland Security. A British Muslim father whose planned Disneyland trip was ruined when he and his family were barred from boarding a flight to the U.S. has now been forced to distance himself from a Facebook account claiming links to Al Qaeda and the Taliban. Mohammad Tariq Mahmood, 41, his brother and their children, aged between eight and 19, said they were stopped at the departure gate at Gatwick airport and told their visas to the US had been revoked. He claimed the family were barred from flying 'because they are Muslim'.

Was mosque link reason for British family's US travel ban? An American relative of the British Muslim family barred from entering the US to visit Disneyland has suggested it might have been because he attended the same mosque as one of the shooters behind the California terror attack. Muhammad Mahmood, who runs a car repair shop in San Bernardino, California, told the BBC that the US government must justify the decision to exclude his British relatives.

Muslim Sensibilities Offended In Londonistan After Being Refused Travel Permission To Disneyland and California. According to the perpetually aggrieved version: the Muslim "family" has spent $9,000 for a joyful "family" Christmas vacation, before they encountered the U.S. Department of Homeland Security and Islamaphobia at the airport. Cue spontaneous acts of media outrage. How dare the U.S. deny them their right to visit Mickey Mouse? However, what they don't tell you is the "family" was actually two brothers. Two middle-aged brothers, last name Mahmood, traveling with their nine kids aged 8 to 19. No moms, no wives, just the two brothers. Oh yeah, and then there's this: [...]

Also posted under Muslims pretend to be the victims of the conditions they have created.

Where is the reporting on Iran's Islamic terrorist groups that are as monstrous as ISIS? It is intriguing that mainstream media has focused on violent terrorist acts of the Islamic State (IS or ISIS), a radical Sunni Islamist group, while they are deliberately avoiding raising awareness about other Islamist terrorist groups that are as brutal as ISIS, if not worse. The other groups that I am referring to are primarily the Iranian-backed radical Islamist militias. Brutal terrorist groups such as Kataib al-Imam Ali (KIA) are not any less violent than ISIS when it comes to the aggressive and horrific tactics they use against civilians. In fact, they are known for showing videos of cut-off heads and bodies burned over open fires. This particular group, which is backed by Iran, originated from the Muqtada al-Sadr's Mahdi Army. Shebl al-Zaidi is the secretary-general of Kataib al-Imam Ali and he is known for his sectarian and vicious tactics. Another militia group that is known locally for its violent attacks is Asa'ib Ahl al-Haq. It reportedly receives approximately $2 million a month from the Islamic Republic. There exist more than 100 of these Islamist terrorist groups and they are increasing on a daily basis as they branch out.

"Swedish Problem" is Here: Muslims Gang Rape 39 year old woman in upscale DC exurb; crickets in major media. The following story unfortunately is a sad and growing problem across the Western world, one that is going to be replicated in every town and city across the US unless citizens begin to vocally, forcefully and equivocally say NO. Haymarket, VA is a wealthy, upscale exurb of Washington DC that has gone in less than 10 years from a sleepy majority white rural hamlet to a sprawling landscape of McMansions occupied by the multicultural box checking apparatchiks that fill out Tables of Organizations in bloated DC agencies. It has turned a formerly solid red Republican congressional district rabid Blue. With the multiculturalism and diversity and tolerance comes a crime wave that was before unknown. If it's not black males in hoodies committing armed robberies, which has now come to be "expected", it's that most pronounced high water mark of multiculturalism: Muslim gang rape. Not a word in any of the major media.

NBC Promotes Agenda Driven Poll Result — AND, Yet Again, Hides The Data. Against an increasingly obvious level of support for a common sense freeze on Muslim immigration the progressive apparatchik within the bowels of NBC/WSJ rush to the typeset to deflect the damage. We've written extensively before about pollster Mark Murray, NBC, and their agenda-polling promotion, so there's no reason to re-hash that again. However, the latest attempt is so far beyond absurd the light from where absurd emanates won't catch it for a year.

9 Facts About Islam The Media Doesn't Want You To Know. The way in which Trump made his proposal, a press release no one saw coming late on a Monday afternoon, was a tactical move — one designed to keep his enemies off guard and sputtering. Whether it is Jeb Bush or Wolf Blitzer or Hillary Clinton or Joe Scarborough or the White House, they look dazed, confused, and weak. Best of all, they are exposing themselves by retreating into their dangerous, politically correct talking points — talking points that lie about the true threat of Islamic extremism. Here's the thing, though: The American people know these are lies. They have seen Paris and San Bernardino and Fort Hood and Boston and Chattanooga and on and on and on and on. They have access to a New Media that tells the truth about Islam. Even if they don't have all the facts, their instincts tell them something is horribly, terribly wrong when Obama and his DC Media allies paint Islam with Happy Talk.

FBI Stats Debunk DC Media's 'Muslim Backlash' Myth. The suspect in the recent mass-shooting at a Colorado Planned Parenthood is an obvious lunatic. Nevertheless, our rotted DC Media has had a field day using those murders to attack all pro-lifers as culpable. Naturally, this Narrative was flipped entirely after last week's Islamist atrocity in San Bernardino. Although the most recent F.B.I. statistic prove the "Muslim backlash" is a pure myth, the DC Media, ever in pursuit of labeling everyday Americans as racist, relentlessly spread the myth.

New English Quran Praised by CNN Says Book Often Means Opposite of What It Says. CNN hopes that the new Study Quran, a book of English translations and commentaries on the Quran, will help "curb extremism." Is the book a genuine attempt to counter the jihadists' interpretation of Islam? Or is it a cynical exercise designed to deceive Western non-Muslims, keeping them ignorant and complacent about the nature and magnitude of the jihad threat? Unfortunately but predictably, it's much more the latter than the former.

How the Left Sees Islamic Terrorism. This is a glimpse into a parallel universe, i.e., MSNBC. The MSNBC host, the appalling Melissa Harris-Perry, explains that Islamic terrorists are nowhere near as bad as the police, "right wing" terrorists — all murderers who are not Muslims are presumed "right wing" — and so on. Her guest adds that it is extraordinary how few Islamic terrorists there are. [Video clip]

Having ruled out Islam...
CNN Insanity: Erin Burnett Wonders If 'Postpartum Psychosis' Led to Slaughter. Struggling to offer an alternative explanation for the obvious conclusion of terrorism, CNN's Erin Burnett on Thursday [12/3/2015] wondered if one of the killers from Wednesday's rampage snapped as a result of "postpartum psychosis." This was after two former FBI agents explained to Burnett just how Tashfeen Malik was radicalized. Despite this, the CNN anchor wondered, "I just have to ask you, could there be something else, anything else, that could have explained her involvement? Something like a postpartum psychosis?"

Another Jihad Attack, Another Cover-Up. [N]o one on CBS or NBC or ABC or PBS or NPR or in the New York Times or the Washington Post will remind his or her audience that the Islamic State and other jihad groups consider themselves to be at war with the United States, and have explicitly and repeatedly called upon Muslims in the U.S. to commit mass murder of American civilians. Would anyone have wondered about the motive of a German national who slaughtered fourteen Americans on U.S. soil in 1943?

The Real Scandal(s) Behind the Muslim MU Hair-Dragger. On Wednesday, November 25, Youssif Z. Omar made international news. According to Columbia, Missouri, police, the 53-year-old Omar stopped by the local public high school, spotted a 14-year-old relative not wearing a hijab, grabbed the girl "very violently by the hair," and pulled her down a flight of stairs. Once outside, Omar slapped the girl in the face and pulled her by the hair into his car. [...] As of Monday morning [11/30/2015], the daily Missourian, the award-winning publication of the university's overpraised journalism school, had yet to mention a story that had been covered in the days prior from New York to London. From all appearances the J-School is training its students to avoid stories with inconvenient narratives, a useful skill, one supposes, if they hope to fit into America's major newsrooms.

New Report Points To DC Media Cover-Up of 9/11 NJ Muslim Celebration. Despite the corrupt DC Media's dishonest and highly-coordinated campaign to shut him down, Donald Trump's refusal to back up even a step has resulted in yet more proof of the media's ongoing cover-up of the almost certain fact that some number of American Muslims celebrated the collapse of the World Trade Center.

Washington Post: "Want to stop Islamic terrorism? Be nicer to Muslims." At last, we have hit on the solution to the global jihad onslaught: just be nicer to Muslims, you greasy Islamophobes. All those people sitting in those Paris cafes — just think of how mean they were being to Muslims. Some of them were probably even drinking alcohol. Oh, the Islamophobia! And those people in the Radisson Blu in Bamako, Mali: if only they had dropped their radically Islamophobic stance of going about their business, eating, drinking, sleeping and the like. How dare they provoke Muslims in that way!

5 arrested on Ohio Turnpike in Trumbull County. They are all from in and around Columbus and are being held in the Trumbull County Jail. Officials confirmed with WCMH in Columbus that there was no terrorist link to the alleged activity. Once the vehicle was stopped, it was searched. According to the report, the five men arrested were Jibril Abdiselam, 24; Mohammeddeq Hassan, 27; Mohamed Mahamoud, 26; Zakaria Warsame, 25; and Said Sheikh.

Same story as above, but now it turns out they're "foreign nationals."
Ohio: 5 Muslim Foreign Nationals Arrested with Identify Theft Equipment. How many did they help around and through the vetting process?

Facebook Censored Me for Publicizing Islamist Atrocities. Three weeks ago, just as I flew to India to speak at the "India Ideas Conclave" in Goa about international jihadi terrorism, I received a warning message from Facebook. The social media conglomerate said I could no longer post any messages on my timeline addressed to my 80,000 friends and followers worldwide. It said I had violated Facebook's "community standards." My offence? I had shared a video that implicated Islamic State (ISIS) in committing war crimes against enemy prisoners of war. As much as I was shocked to learn of Facebook's decision, the irony was I found the video on Facebook. It did not show beheadings and I had labeled the post with a warning of graphic violence, and that "viewer discretion is advised". None of that mattered. For days, I tried to reach Facebook, with no success. I discovered that Facebook's security was apparently being handled out of an office in Hyderabad, India, home to some of that country's leading and most vocal Islamists.

When the Third World Attacks. Give me a break, New York Times. The Paris terrorists were 100 percent Middle Eastern, although most were born in Muslim ghettos in Europe. After 50 years of the most backward, dysfunctional cultures pouring into the civilized world, the media are forced to blatantly lie to us whenever immigrants attack: This has nothing to do with refugees! Ismail Omar Mostefai is "a Frenchman." Ismail is "French" in the same way that Caitlin Jenner is a "woman."

Liberal Media Claims Lady Liberty Is a Muslim. Obama often blathers delusionally about the supposed contribution of Islam to American culture, raving at one point that Muslims built "the very fabric of our nation." His friends at the Washington Post have finally uncovered what they are passing off as evidence to back him up: [...]

Also posted under media bias in favor of Islam and lies about Islam.

With Blood Still in the Streets of Paris, New York Times Defends Islam. Blood still stains the streets of Paris. France is in a deep state of shock; it is a nation of walking wounded. A British survivor of the concert at Bataclan tells how ISIS terrorists "tortured wounded victims by slitting their stomachs with knives." The media isn't reporting these gruesome details. They are over Paris — not even a week has passed and the New York Times, the Associated Press and the rest of elite herd are promoting and proselytizing for Islam.

NBC News Accuses Obama Critics of Ebola-Style 'Freak Out' Over Syrian Refugees. First Read's Chuck Todd, Mark Murray, and Carrie Dann are smart people, and at least they are not accusing anyone of racism, but their Tuesday morning [11/17/2015] attack on Obama's critics is equal parts smug, factually-challenged, filled with false choices, and clueless. Nothing is more ridiculous, though, than the premising of this piece on the anti-science basis that eventually Obama's response to the Ebola crisis was "vindicated."

Mika Attacks 'Hateful' 'Stupid' GOP Governors for Questioning Syrian Refugees. On Tuesday's [11/17/2015] Morning Joe, co-host Mika Brzezinski went off on a number of governors who have vocally expressed their opposition to allowing Syrian refugees into their state without a proper vetting process, calling their views "hateful" and "stupid." The MSNBC host accused the governors, which include Democrat Maggie Hassan of New Hampshire, of "tapping into hatred" for daring to suggest that the federal government should press the pause button on allowing any new refugees into this country until we fully know who they are.

Fox's Shep Smith Tears Into 'Political Extremists' Refusing Refugees: This Isn't Who We Are. Fox News anchor Shepard Smith delivered a commentary Monday afternoon [11/16/2015] in which he scolded the various state governors who decided to bar refugees from their states in the wake of the terrorist attacks in Paris. Without specifically mentioning the governors, Smith said the U.S. has a responsibility to protect the values on which the nation was founded, warning that "political extremists" could lead the country to "self-destruction."

Heilemann: Governors Refusing Syrian Refugees 'Shameless, Un-American'. Would John Heilemann have called Francois Hollande "shameless" and "un-French" if a few months back he had halted the immigration of Syrian immigrants into France, thus stopping two of the Paris terrorists — who reportedly posed as refugees — from entering the country? The question arises because on today's [11/16/2015] With All Due Respect, Heilemann condemned as "shameless" and "un-American" the dozen or so governors, mainly Republicans, who have declared that their states won't accept Syrian refugees.

Lying through their teeth and their maps. When MSNBC used inaccurate and misleading maps in October to illustrate Jewish and Arab land claims in the Holy Land, it took only hours for it to admit their error. Church groups have been using the same set of maps for many years, with no sign of slowing down. The maps are a set of four (sometimes five) panels purporting to show the shrinkage of "Palestinian" land from 1946 and on. The first panel shows what is currently called Israel, Gaza, and the West Bank almost entirely colored Palestinian green, with the faintest amount of Jewish blue. As the maps progress through 1947 to 1967 to the present day, wending their way through the U.N. partition plan of 1947, the aftermath of the June War and Oslo, the blue gobbles up more and more of the green.

Media Rushes to Shift Focus of Paris Attacks Away from Jihadist Terror. Before the dust had settled and even the extent of the damage and number of dead had been tallied from a string of terror attacks in Paris, France, liberals in the old media establishment were already writing pieces blaming conservatives, bemoaning that the attacks had taken the focus off pet liberal issues like Mizzou and global warming and wringing their hands over the safety of Muslims. Salon was early out of the gate with a story twisting the terror attacks into a weapon to use against conservatives.

No, There's No Terrorists Among the 'Migrants'. Definitely not Abdurraouf Eshati, 29, who claims to be from Wales but was busted with a bunch of other dodgy Arabs exploiting Europe's open borders. [...] One of the details CNN leaves out: according to the BBC, he didn't just live in Wrexham, Wales, UK, but he lived in the jihadi/terrorist mosque there, the Wrexham Islamic and Cultural Centre. (Islamic Culture? That's what they do with orange jumpsuits and knives). Why did he live in the mosque? He was one of the imams. CNN spares you that knowledge, you delicate flower, you. After all, he wasn't the main imam.

New Muslim Majority City Council Member in Michigan Issues Warning. The message is clear: non-Muslims move or else. Yet when the Muslims gained control of the city council last week, a local reporter, Will Jones, summarized how immigrants had "dramatically changed the face and culture of this community," and said exultantly, "Now, the Hamtramck City Council is going to reflect that diversity." What's diverse about a Muslim majority? Is there anything less diverse and more oppressive than Islamic law? What Muslim countries are diverse?

The Editor says...
This shows that "diverse" is a code word used in the news media when they are too timid to say "non-white."

Moral Equivalence in the Middle East. In the current epidemic of Palestinian violence, scores of Arab youths are attacking, supposedly spontaneously, Israeli citizens with knives. Apparently, edged weapons have more Koranic authority, and, in the sense of media spectacle, they provide greater splashes of blood. Thus the attacker is regularly described as "unarmed" and a victim when he is "disproportionately" stopped by bullets.

According to the left, Israeli citizens deserve to be murdered. It's been clear for years that the left has been losing the moral plot. But I never thought I would see it apologise for, even defend, the stabbing to death of Jews. The silver lining for the left is that it's impossible for it to sink any lower. This is as low as it gets. The response in the West to the spate of foul murders by car, knife and meat cleaver in Israel has been almost as shocking as the killings themselves. Many have stayed silent, a global version of "bystander culture", where people look awkwardly at the ground as someone is battered in front of them. The Western media is currently a shameless shuffling bystander to murders in Israel.

MSNBC Admits Anti-Israel Graphics Were 'Wrong'. MSNBC has admitted that highly controversial graphics aired on the network that depicted Israel as stealing land from the Palestinians were "factually wrong" and that the broadcast would be corrected on Monday [10/19/2015], according to a network spokesperson. The cable news network has been fighting off criticism after it aired the graphics and analysis, including a map linked to conspiracy groups branded as anti-Semitic, that portrayed Israel as existing on territory expropriated from Palestine. The graphics garnered criticism from pro-Israel advocates and has now prompted the network to acknowledge that the graphics were highly misleading.

Reporting from Jerusalem: The astonishing bias of NBC's Ayman Mohyeldin. NBC News foreign correspondent and Palestinian-American Ayman Mohyeldin reported from Jerusalem this week as a Palestinian man dressed in camouflage raced past his camera wielding a knife. [...] The incident ended with the man being shot dead by Israeli police at the Damascus Gate. Mohyeldin went live to report on the incident minutes after it happened and stayed live for roughly an hour on MSNBC. But Mohyeldin, failed to give viewers the full picture of what he had just witnessed. He failed to tell viewers for over an hour that the suspect was a Palestinian and that he was dressed in a camouflage uniform similar to the ones Israeli soldiers wear. Mohyeldin never referred to the attempted terrorist attack as anything other than a man being shot by Israeli officials.

Biased coverage of Israeli-Palestinian 'violence': When terror becomes 'tensions'. If you are seeking an example of bias in the media's coverage of what journalists are calling the latest round of Israeli-Palestinian "violence," consider the case of Ahmad Manasra. In an angry speech on Wednesday night [10/14/2015], Palestinian Authority President Mahmoud Abbas, appealed for calm but accused Israeli security forces of killing Palestinian boys "in cold blood," singling out the 13-year-old Manasra as one of the Palestinian youths Israel had "executed." [...] There are at least two major problems with Abbas' charge: First, Ahmad Manasra was not "executed" or even shot by Israelis.

Can the New York Times Discuss Whether Mohammed's Flying Horse Really Visited the Temple Mount? So the New York Times lapsed into what has been called Temple Trutherism by trying to deny the existence of the Jewish temples on the Temple Mount. [...] But let's have some equal time here. The Temple Mount is holy to Jews because of the Temples. So the New York Times chose to discuss whether the Temples really existed. It's holy to Muslims because Mohammed supposedly flew there on a flying horse (with a woman's head). Can we get a discussion of whether that really happened? Or does the New York Times only find it acceptable to mock Judaism, not Islam?

He stopped a jihadist in France. Now he's been stabbed in California. The original story about Skarlatos and Harper-Mercer evidently has legs. In all there have now been three high-profile, possibly related violent attacks in France, Oregon, and California that might be connected to the world of Islamofascist (some prefer the descriptor Islamo-Nazi) terrorism. In this writer's opinion, no reasonable person who follows current affairs can reflexively dismiss the seeming connection of attackers and victims, given what's going on in the world right now. This is not to say that there necessarily is (or was) an Islamist plot against the three American men. But the mainstream media, as usual, isn't doing its job. Journalists are sitting on their hands, regurgitating talking points, and failing to consider the big picture.

Muslim refugee riots ignored in U.S. media blackout. Sweden, seen by many American progressives as the model of multiculturalism and tolerance, has been experiencing increasingly violent unrest involving immigrants in its three largest cities, Stockholm, Gothenburg and Malmo. Sweden, along with Germany, make up Europe's two most generous welfare states. They are also the most welcoming of Islamic immigrants, more than a million of which have flooded into the continent this year from Syria, Afghanistan, Iraq, Pakistan and North Africa. The unrest and destabilization in Sweden, which has received zero coverage in the U.S. media even as President Obama plans to ramp up his own refugee welcoming program, is exactly the type of upheaval that the global elite have planned for all of Western Europe and America, analyst Paul McGuire told WND in a[n] Oct. 6 article.

Media and Muslims. Complaining about liberal media bias is like complaining about a puppy peeing on the rug: it's just what they do, and if you don't like it then don't have them in your house. We've all seen editorials masquerading as news and television anchors impersonating objective journalists when hosting Republican debates or Sunday talk shows. We, America's non-leftists (whether or not Republicans), know the game and filter our processing of "news" and debate questions through that lens. But the media's recent obsession with what Republican presidential candidates think of Muslims (or whether President Obama is one), their badgering of said candidates with questions that are irrelevant to the governing of the country, their distraction away from legitimate issues and into the looking glass of political correctness so extreme that it is literally ridiculous (i.e. not just silly but, as one online dictionary puts it, "deserving or inviting derision or mockery") demands a response beyond "that's just what they do."

Washington Post: 'Prejudicial' to Judge Islam's 1,200 Year-Old Ideas. The Washington Post's sensitive editorial board writes it is "prejudicial" for a GOP candidate to judge the catastrophic record created by the 1,200-year-old Islamic ideology. The editorial's headline, "Prejudice is on full display in the GOP presidential race," was initially aimed at the two leading GOP candidates, outsiders Donald Trump and Dr. Ben Carson. [...] In fact, Carson said what is obvious to the vast majority of Americans — that a person who embraces Islamic ideas should not be president.

Ben Carson Zooms to Top of Media's Kill List. The enemedia is patting itself on the back, congratulating itself with headlines that declare, "Ben Carson Walks Back Anti-Muslim Comments With More Anti-Muslim Comments," when in fact the subheadline is, "I stand by the comments." This is the sharia-compliant media at its deadliest. Islamic supremacists and their running dogs in the media have unilaterally adhered to the blasphemy laws under the sharia (Islamic law). Anyone who violates these laws (which mandate that one must not criticize Islam or Muhammad) will be destroyed. In Muslim countries, you are executed for blasphemy. In the West, for the same "blasphemy" your character and good name are assassinated.

CNN's Cuomo Fears NYT Piece Detailing ISIS Raping Women and Girls Casts Negative Light On Islam. Thursday [8/13/2015], The New York Times published a disturbing piece about the Islamic State having enshrined "a theology of rape," specifically against women and girls who aren't Muslim. In other words, if the female isn't Muslim, it's totally fine to assault her, sell her, and keep as property. [...] Yet, for CNN's Chris Cuomo, the New York Times piece might promote stereotypes.

There Was a Significant Terrorist Attack in France This Week and the Mainstream Media Hasn't Even Bothered Telling You. Three deliberate, simultaneous explosions rocked a major petrochemical plant in France on Bastille Day, but as usual it is still 'too early to talk about terrorism'. Despite the nature and severity of the attack, which French investigations have conceded was deliberate and with a delicious turn of French understatement "malicious", yesterday's explosions at the Berre L'Etang refinery in second city Marseilles failed to make the front page of a single English-language newspaper this morning. The explosions took place on Tuesday morning [7/14/2015] and set alight two enormous petrochemical tanks which stood half a kilometre apart, immediately ruling out the possibility of blaming an industrial accident.

No, the Chattanooga Shooter Really Does Appear to Be a Jihadist. In the immediate aftermath of Mohammod Youssuf Abdulazeez's killing of four Marines and wounding of at least three other people, there was a noticeable effort to portray the jihadist as an all-American boy from small-town Tennessee. With just a bit of digging, however, a different picture is emerging. The New York Times reported Friday morning [7/17/2015] that Abdulazeez had spent about seven months in Jordan last year. As is their wont in cases where Muslims kill Americans, investigators hastened to point out that overseas stays in a region rife with Islamic radicalism are not necessarily suggestive of terror ties ... even if the traveler, on his stateside return, promptly shoots up military installations while the Islamic State and al-Qaeda urge Muslims to shoot up military installations.

Two shootings, and two very different media reactions. Newsrooms demonstrated remarkable caution this week and avoided speculation about the motives of Mohammad Youssuf Abdulazeez, 24, who went on a shooting spree in Chattanooga, Tenn., killing four U.S. Marines and injuring several more. The same cannot be said, however, for how the press reacted in February when three Arab-American teens were shot and killed in Chapel Hill, N.C., over what turned out to be a parking dispute. In that case, many in media appeared to suggest that the motive was anti-Muslim sentiment. But when news broke Thursday [7/16/2015] that there was a mass casualty event in Chattanooga, the media was careful not to jump to conclusions based on Abdulazeez's name or the fact that he was a naturalized citizen from Kuwait. "I know we don't know the motive of this young man," MSNBC's Andrea Mitchell said during a broadcast shortly after the attack.

Muhammad... Muhammad... Where Have I Heard That Name Before? In the wake of the latest mass shooting, carried out by Muhammad Youssef Abdulazeez, an engineer like so many Islamic terrorists, we are seeing the usual scramble to avoid stating the obvious. On CNN, Tom Fuentes ludicrously cautioned that Muhammad is not an Islamic name: [...]

Mitchell Fishes for Better Angle on Chattanooga Terrorist. MSNBC host Andrea Mitchell went fishing for a better angle Friday [7/17/2015] when she asked a former classmate of Chattanooga mass murderer Mohammad Youssuf Abdulazeez whether he enjoyed "hunting" and other "small-town Tennessee activity." "Were guns a big part of activities — social or other activities?" Mitchell asked her interviewee abruptly. [...] Mitchell is a vocal opponent of the widespread availability of firearms.

The Editor says...
Andrea Mitchell was apparently hoping to portray an Islamic terrorist as Jed Clampett, just because he lived in Tennessee. "Fishing for a better angle" is exactly right -- it appears that she desperately wanted to steer the conversation away from the obvious: This was just another in an endless series of "lone wolf" attacks, encouraged and incited by Islamists via the internet.

The Religion of Peace Spreads Its Good News. Islamic terrorists carried out deadly attacks on three continents yesterday. In all, over 60 people were killed following a call by ISIS for Muslims to go the extra mile in honor of the holy month of Ramadan. You might miss this story if you look for it in the Washington Post, as it is vastly overshadowed by an above-the-fold, screaming headline celebrating the Supreme Court's gay rights decision.

CNN still running dubious right-wing vs. Muslim extremists statistic. CNN aired a statistic Friday morning [6/19/2015] alleging that "right-wing extremism" is responsible for more deaths since Sept. 11, 2001, than "Muslim extremism." The thing is: The statistic is dubious.

Detroit Reporter Tells Truth About Muslims in Michigan: Forced to Apologize. A reporter for a Detroit TV station got in hot water earlier this week when she mentioned that, given the substantial Muslim population in the state, "it should not come as a real surprise" if there was a Michigan connection to Islamic State. The reporter was roundly criticized. Not for stating the obvious, but because she said the words "Muslim" and "ISIS" in the same sentence.

It Takes a Good Guy with a Gun to Defend Freedom of Speech. When two terrorists in body armor and carrying assault rifles came for a roomful of cartoonists and fans of freedom of speech in Texas, the media took the side of the terrorists. CAIR, a Muslim Brotherhood front group with ties to terrorists, spun the attack by claiming that the contest had been intended to "bait" the terrorists. The media quickly picked up the "bait" meme. The New York Times, the Atlanta Journal Constitution, the Dallas Morning News, CNN and even FOX News all accused the cartoonists of "baiting" the poor Muslim terrorists into attacking them. The actual attempt at mass slaughter was dismissed as the terrorists "taking the bait" from the cartoonists who had been fiendishly plotting to be mass slaughtered by them for the publicity.

Media Coverage of Pam Geller Proves Many Journalists Don't Believe in Free Speech. Journalists are supposed to understand the first amendment; their profession is based on it. Yet so many people on both political sides of American media have shown themselves to be absolute boobs in the wake of Pamela Geller's event in Texas. This week, a Muslim cleric told her she deserved death for blasphemy over cartoons. Where's the outrage over this?

There's a war on free speech — and radical Islam is winning. The New York Times ran an editorial distinguishing between "free speech" and "hate speech" writing that the event "was not really about free speech. It was an exercise in bigotry and hatred posing as a blow for freedom." CNN's Chris Cuomo wrote on Twitter that "hate speech is excluded from protection," later claiming it was a "clumsy tweet." Fox's Bill O'Reilly got into the act, saying the organizers of the event "spurred a violent incident." Alia Salem, executive director of the Dallas and Fort Worth chapter of the Council on American-Islamic Relations, floated restrictions on the First Amendment freedoms, stating, according to the New York Times, that, "The discussion we have to have is: When does free speech become hate speech, and when does hate speech become incitement to violence?"

MSNBC: America killing Muslims 'in the streets for decades" explains Garland shootings. If there's an attack on American's anywhere, I think there's a law that there has to be someone on MSNBC to defend the attackers. They always seems to get TV time.

The New York Times Loves Blasphemy, Except When It Targets Muslims. The New York Times editorial board tore into the nearly-murdered organizers of the Garland, Texas "Draw Mohammad" event Wednesday [5/6/2015], calling it "hate speech" and "an exercise in bigotry and hatred posing as a blow for freedom." "Some of those who draw cartoons of the Prophet Muhammad may earnestly believe that they are striking a blow for freedom of expression, though it is hard to see how that goal is advanced by inflicting deliberate anguish on millions of devout Muslims who have nothing to do with terrorism," the Times editorial reads. "As for the Garland event, to pretend that it was motivated by anything other than hate is simply hogwash."

Why Won't Pamela Geller Shut Up? How dare Pamela Geller get targeted by terrorists bent on committing mass murder. That's been the reaction of a portion of the opinion elite to news that Geller's "draw Muhammad" contest in Garland, Texas, was (unsuccessfully) assaulted by two heavily armed Muslim men in an attack the Islamic State took responsibility for. The Washington Post ran an article on Geller headlined, "Event organizer offers no apology after thwarted attack in Texas." News that the Post has yet to break about other terrorist targets: "Malala Yousafzai refuses to admit fault for seeking an education"; "Coptic Christians won't concede error for worshiping wrong God"; "Unrepentant Shiites continue to disagree with Sunnis."

Times Editors Hate Geller's 'Hate Speech' and Love Others' 'Free Speech'. Yesterday, the New York Times editorial page informed us of the fine distinctions between "free speech" and "hate speech." We are instructed that "the Muhammad Art Exhibit and Contest in Garland, Tex., was not really about free speech. It was an exercise in bigotry and hatred." It turns out that the difference is what lies in the heart of the creator. And the Times knows what's in the heart of the creator. The cartoons of Charlie Hebdo, which lost a dozen employees when jihadists sprang into their office with machine guns in an incident that later evolved from an attack on ideas to an attack on Jews, are according to the Times, worthy of defense because the publication "has always been graphic satires of politicians and religions, whether Catholic, Jewish or Muslim."

Liberal Media Work With Jihadists. With the help of the media, the Southern Poverty Law Center (SPLC) is setting people up for terrorist attacks inside the United States. Pamela Geller is the latest on the list of the SPLC that has now been targeted for death by the jihadists. ISIS says "...we will send all our Lions to achieve her slaughter." ISIS is angry that Geller, an opponent of jihad, has defended the First Amendment right of free speech against Islamic Sharia law. In response, ISIS tried to massacre people at Geller's Muhammad cartoon contest in Texas on Sunday. Two terrorists were killed and an unarmed security guard protecting the event was shot in the leg. It's an open secret that ISIS can get locations for its targets from the SPLC website.

Actual WaPo headline: "Event organizer offers no apology after thwarted attack in Texas". The media is so, so angry at Pam Geller for putting them in a position where they have to side with her (sort of). They already despised her. Now that she's made them unwilling allies in defending her right to mock Mohammed, they'll never forgive her.

NBC News Reporter Ayman Mohyeldin Wants Islam Protected From Satire. Ayman Mohyeldin is advertised by NBC News as an objective reporter. This objective reporter became infamous earlier this year for lying about and smearing a decorated veteran sniper, the late Chris Kyle, as a "racist" who went on anti-Muslim "killing sprees" in Iraq. Mohyeldin, who is a Muslim, used his MSNBC perch Tuesday [5/5/2015], not to condemn the murderous savages in his faith who attempted to murder Pam Geller and Geert Wilders at a free speech event, but to demand a culture change in America that would not "allow" people to engage in what he calls "hate speech" against Islam.

New York Times: Not Entirely Clear What Motivated Mohammed Cartoon Gunmen. Completely and utterly unclear what might have led two devout Muslims to try and kill cartoonists drawing Mohammed. It's not one of those obvious things like plastic bottles destroying the planet or all the problems in the Middle East being caused by the Jews. This is a great big mystery which we may never solve. Was it Global Warming? Or maybe some of that airborne PTSD? Maybe it was economic inequality.

Cartoonists are Controversial and Murderers are Moderate. Controversial, intolerant and provocative. Mainstream media outlets broke out these three words to describe the "Draw the Prophet" contest, the American Freedom Defense Initiative and Pamela Geller. While the police were still checking cars for explosives and attendees waited to be released, CNN called AFDI, rather than the terrorists who attacked a cartoon contest, "intolerant." Time dubbed the group "controversial." The Washington Post called the contest, "provocative."

I support free speech, but.... After Pamela Geller's free speech event in Texas and the terror attack that followed, it has been stunning to hear one journalist after another ask Ms. Geller why she held the event, question the wisdom or need for such an event, and go so far as to insinuate that she was somehow to blame for the violence.

What is the American Freedom Defense Initiative? Its name paints an image of a group dedicated to protecting American ideals. But critics call it the opposite — an intolerant hate group opposed to freedom of religion. Now, with two gunmen killed outside one of its events, the American Freedom Defense Initiative is back in the spotlight — once again, surrounded by debate. Here's what to know about the controversial group: [...]

The Editor says...
It's almost amusing to see CNN paint the AFDI as the hateful troublemakers and homicidal Islam as the victims. CNN is a media bias self-caricature.

Americans Support Nuclear Deal With Iran? Presumably, hardly any of those telephoned by the pollsters realized that the objective of the agreement, assuming that Iran abides by it — a laughable assumption — is to extend the time it will take Iran to build a bomb to one year. Even assuming that objective could be achieved, which most experts do not believe, it would be a small payoff for ending sanctions, which will entrench the mullahs' regime and increase the resources they can devote to nuclear enrichment and ICBM development, which will not be addressed in the prospective deal.

Colonized by the Muslim Brotherhood. [Scroll down] So why doesn't the Press report just the facts? What is the reason for such an incredible failure by the press to inform the American people of the dire state of their government under Barack Obama? There are several. Many advisors to Obama are married into the media, or have worked in media themselves prior to joining the administration. Both Ben Rhodes and Susan Rice have familial connections with powerful executives in (what was once known as) the free press. Four times more journalists identify as liberal compared to conservative. Evidently, with the case of Brian Williams coming to light, some in the media don't care about the truth and would rather make up bald-faced lies. Yet the biases above don't fully explain the conspicuous silence of the mainstream press on the Muslim Brotherhood. For it is no longer bias or loyalty that sway the press, but fear. The Obama administration has proved that it will stonewall, punish, illegally wiretap, and in general make life difficult for inquisitive members of the press. Case in point, Sharyl Attkisson, who refused go along with the official lies regarding Benghazi.

CBS Evening News Omits United Flight Passenger Was Screaming About Jihad. All three of the major broadcast networks covered during their Tuesday night [3/17/2015] newscasts the story of unruly passenger abroad a United Airlines flight from the day before, but it was the CBS Evening News that left out the key detail that the man was screaming about Jihad and there being a bomb abroad the plane. In what should have an easy story to cover and then move on, anchor Scott Pelley created another case of media bias in labeling by not providing any real details as to what the man was doing while competitors ABC's World News Tonight and NBC Nightly News mentioned it multiple times.

Does a Climate-of-Hate Lead to Violence? At Vox it Depends on the Victim's Race and Religion. The killing of a Iraqi immigrant last week has become an occasion for Vox to revive the climate of hate argument, i.e. the claim that malevolent forces prompted the violence. Vox made exactly the opposite argument less than three months ago after the killing of two NYPD officers at the hands of a black Muslim.

Number of Christians Kidnapped by ISIS Soars; CBS and NBC Yawn. News concerning the mass kidnapping of Christians by ISIS in Syria worsened on Thursday [2/26/2015] with reports from multiple human rights groups that raised the initial number of those taken from 150 to now at least 220. If you watched the network evening newscasts, though, you would not have known that if you had tuned into CBS or NBC. This latest case of network bias by omission comes as NBC has yet to cover this story on either Today or NBC Nightly News while CBS had covered it on the February 24 editions of CBS This Morning and the CBS Evening News with Scott Pelley.

The 'Unmasking' of an Islamic Terrorist, mainstream media style. In mainstream media reports brutal Islamic terrorists go very quickly to the "Mr. Emwazi" stage and are portrayed in sob sister-sympathy: [...]

Vox: Media, President Must End Political Correctness About Radical Islam. One of Vox's authors who has been at the forefront of the push to denounce critics of radical Islam as "Islamophobes" has dramatically reversed course on the issue of ISIS' connection to Islam. On Thursday [2/19/2015], Max Fisher said it's time for the president to stop pretending no such connection exists. Just as significant, he revealed that he and others in the media have been intentionally misleading Americans out of a desire to control what readers think about Islam.

Man Asks Bus Passengers If They Are Muslims And When They Say No, He Stabs Them. Incidentally, the Washington Post's headline makes it sound as if a non-Muslim is stabbing Muslims:

Police: Man stabs two after asking if they are Muslim

People objected to that deliberately-misleading headline, so they've changed it to a slightly different lie:

Police: Muslim man stabs two after discussion about religious beliefs

They did not have a "discussion about religious beliefs." He asked people if they were Muslim and, upon learning they were not, attacked them in accord with the teachings of his religion.

The Media's Difficulty in Perceiving Christians as Victims. [Scroll down] Finally, some newsroom denizens practice an open contempt for Christians and/or religion in general: The Washington Post's Sally Quinn had no problem openly declaring, "When It Comes to Hateful Internet Speech, Christians Are the Worst." Separately, the President of the United States just did an interview with Vox's Matt Yglesias who once declared, "I take an old-school Jacobin-style line that religion should be stamped out." The coverage of Christians abroad is pretty skimpy — other than when Pope Francis says something that progressives like.

Say it, Obama: 'Islamic'. A recent news bulletin announced that police in Nova Scotia broke up a plot by two men who aimed to carry out mass murder at a shopping mall and then commit suicide. Here is what the Associated Press said about the plot in its second paragraph: "Police and other officials said it was not related to Islamic terrorism." Whew, that's a relief. And a surprise. If you shared my instant reactions, you also are wondering what [...] is going on with the Obama administration. When the liberal Associated Press feels the need to address readers' assumptions about Islam and terrorism, we have a reached a tipping point.

Barnicle: We Can't Call It Radical Islam 'Because We're The Crusaders. Joe Scarborough opened today's [2/17/2015] Morning Joe with a protracted and impassioned plea for America — and in particular President Obama — to call out radical Islam by name. Mika Brzezinski was dubious, citing unspecified "difficult times" in the past when presidents used the wrong language. But taking Mika's misgivings a giant step further, Mike Barnicle flatly declared that we can't call radical Islam by name because "we're the Crusaders."

Washington Post Offers Up Five Myths Of Islamic Radicalization. [Scroll down] ["]Europe's bigger problem is the divide between its Muslim and non-Muslim communities. This is less about counterterrorism and more about the need for better political and economic integration.["] That might be important if these radicals actually wanted to integrate on our terms. They don't. They want nations to integrate on their radical terms. They want to continue creating more radicals. They want to operate in their own terms. That is the forest. The attacks are almost a distraction from the true aim of radical Islam.

PBS: America's "Most Trusted Institution" and its Coverage of Islam. [Scroll down] It is with Islam too that PBS betrays its own reputation for trustworthiness and lack of bias. To explain this, it would help first to see how PBS ended up, no doubt with the best of intentions, presenting to the American public a series of apologetics about Islam — all still available.

Media's Lack of Curiosity About Killer of Muslims in North Carolina. [Scroll down] The SPLC runs a hate crimes racket, and the media — desperate to promote headlines that fit their pre-existing left-wing narratives about race, inequality and religion — are quick to swallow their propaganda. "I think it's perfectly natural to guess that this is anti-Islamic," [Mark] Potok told the [Washington] Post in the interview regarding the triple murder. "Not just because the three victims are Muslim, but because there has been so much terrible news in recent days about extremist Muslims." Potok also appeared on MSNBC on the morning of February 13 with the news anchor Tamron Hall, and there was no mention of Hicks' political leanings, which appear to be consistent with their own.

NYT Defends Houthis: 'Very Reassuring' that 'Death to America' Slogan Not Meant Literally. The Yemeni rebels, the Houthis, have taken control of the capital, including the airport and the United States embassy. The Houthis forced US Marines leaving the country to leave them their weapons. The rebels have also seized abandoned vehicles once used by US officials. New York Times reporter Rod Nordland met with the Houthis who reassured him that they were just keeping US vehicles for safekeeping.

Annals of Dhimmitude: New York Times Celebrates Early America's 'Islamic Roots'. If you ever doubted for a moment that the Gray Lady has become a crack whore for the Obama administration, put your doubts aside.

High Horses. Politicians seem to know lot about religion these days. They can, like [Ta-nehisi] Coates not only inform people of their true beliefs, as opposed to what they believe they believe, but can do something even more remarkable: tell who belong to other faiths. Journalists and politicians with no discernible religious training have the astonishing ability to declare with confident certainty that individual persons are "not Muslims" or that particular acts have "nothing to do with Islam". They can do this while somehow remaining Christians themselves — if that's what they are.

Scarborough on Obama Prayer Speech: "Where Did He Go To Church? Where Would He Get Such Ideas From?" [Scroll down] ["]I saw a CNN documentary maybe five, six years ago and it was — it was, you know, 'extremism in the name of God.' And they were so desperate to find Jewish examples of extremism and then — this was right after 9/11 — and then their example for Christian examples of extremism was some schools — some Christian schools in America actually make women wear skirts below their knees. How ghastly. Let's see. Wear skirts below your knees on this side at fundamentalist schools, blow up the World Trade Center on this side.["]

Media struggling with images of Islamic State murder. The Islamic State of Iraq and Syria's brutal murder this week of Jordanian pilot Lt. Moaz al-Kasasbeh presents a dilemma for U.S. media: Should images of the execution be aired or should they be withheld from the public? Right-leaning news organizations, including Fox News and Glenn Beck's TheBlaze, say the images should be shown to the public, arguing that it will better help the American people to understand the terrifying nature of the Islamic State, which controls portions of Iraq and Syria.

Whitewashing savagery: Al-Jazeera English bans use of 'terrorist' for mass killers. Al-Jazeera America launched with plenty of lofty rhetoric about covering the world in a deeper way without the ideological baggage of the main channel in Qatar. The new outfit hired a number of big-name journalists from such outlets as CNN, MSNBC and PBS, and hoped to establish a foothold in America with a global focus. But the Al-Jazeera enterprise here just lost a chunk of its credibility, in my view, for the way its sister network, al-Jazeera English, has chosen to describe terrorism.

Fox Should Apologize For Their Apology. Fox has undermined its own credibility by apologizing for something that was true. Accurately reporting on no-go zones dominated by Muslims in Europe is now a no-go zone. Our media have made a mess of the whole issue and are now afraid to dig themselves out. What a disgrace and disservice to news consumers.

Journalism school dean: The First Amendment ends at insulting Mohammed. Unusual, not because it's rare to see an American journalist bowing to Islamic sensibilities on depictions of Mohammed but because typically they don't go so far as to demand legal limits on their own profession. When the New York Times refuses to run a cartoon goofing on Islam, they don't want the reason to be government censorship. They prefer to be censored by more sympathetic agents, like violent Muslim radicals.

NBC Hyped 'Da Vinci Code,' but 'Charlie Hebdo' Is Too Offensive. In the wake of the massacre of journalists in France by Muslim terrorists, NBC has made an editorial decision to not show the cover of the new Charlie Hebdo cover featuring Muhammad, deeming it too offensive for viewers. This is quite a contrast to the way the network promoted The Da Vinci Code in 2006. The movie (and Dan Brown book it was based on) insisted that Jesus Christ was not divine and had a sexual relationship with Mary Magdalene. Many Christians considered that offensive.

Bias at the BBC. When interviewing a Jewish woman at the unity march in Paris, BBC Reporter Tim Willcox had the temerity to admonish her, "Many critics of Israel's policy would suggest that the Palestinians suffer hugely at Jewish hands as well." This was a woman who herself might have been murdered in that very supermarket earlier that day. Clearly, this man lacks sensitivity and benevolence, and could never have visited Israel. He evidently attended the march not as a reporter of events, but as one whose ideology was to challenge its purpose where Jews were concerned.

'Foist-a-phobia' mainstream media coined the term 'Islamophobia'. Question: If there is, as Barack Obama and many 'world leaders' contend, no such thing as Islamic terrorism, how then can there possibly be such a thing as 'Islamophobia'? All those video-taped beheadings you see on the Net are in your overactive imagination. Balking, blogging, and speaking out against them in any way, lands you in the Islamophobia category. Resistance is futile when the mainstream media gangs up with Big Government against the plebes.

Charlie Hebdo Editor Blasts U.S. Outlets For Not Showing Prophet Muhammad Cover. The editor-in-chief of Charlie Hebdo on Sunday [1/18/2015] slammed news organizations that refuse to publish the newspaper's controversial cartoons, saying "they insult the citizenship."

'Hug a Terrorist' mentality following Paris attacks? [Scroll down] There are other stories in the Paris terrorist attacks that also go a long way to stretch credibility. Like the one about the Kouachi brothers allowing the man whose car was confiscated to get his dog before they raced off in his car. Then there's the latest one reported today by Britain's Daily Mail how 40-year-old Charlie Hebdo journalist Sigolène Vinson revealed how she stared into the killer's 'big, soft, troubled eyes' as he told her 'have no fear we don't kill women'. Perhaps the biggest question of all about the terrorist attacks in Paris could be: Is it the mainstream media or some other source attempting to leave the impression that terrorists let the owners of confiscated cars to first retrieve their pets and don't kill women. Before we know it, we will be hearing that Islamist terrorists don't kidnap, enslave, decapitate, crucify and bury their victims alive.

NY Times Editor: Charlie Hebdo Cartoons 'Innately Offensive' to Muslims. The New York Times published two stories today about the latest cartoon cover of Charlie Hebdo, but still refuses to print the cartoon, saying it is needlessly offensive to Muslims. In a story titled, "New Charlie Hebdo Cover Creates New Questions for U.S. News Media," editor Dean Baquet says the image is "innately offensive" to Muslims.

Media need to stop covering for murderous Muslims. Every time another Muslim terrorist beheads, butchers or bombs, journalists do their best to hide from the reality. Or quickly cover up the result as if they believe the rest of us will soon forget. Recent terror attacks in the United States, Canada, Australia and Israel (journalists love to skip them) haven't stopped the short-term memory wipe. On Monday evening and Tuesday morning, ABC, CBS and NBC left out the Islamic connection from the trial of alleged Boston bomber Dzhokhar Tsarnaev. ABC Chief Investigative Reporter Brian Ross speculated that, "the jury will also see this bullet-pocked anti-American message." Islam? Nope.

Don't Be Deceived by the Reaction to Charlie Hebdo Massacre — Our Media Are Cowards. In the wake of today's massacre in Paris, there has already been a lot of preening about journalistic bravery. Much of it has come from people who, it can be shown, don't have the guts to work in Charlie Hebdo's newsroom. Preening about free speech may be reassuring at times like this, but what we need are apologies from those who haven't done enough to defend free speech, as well as a real desire to hold those journalists and politicians who have undermined free speech accountable.

AP: Islam Fundamentally a Religion of Peace, 'Brazen' Critics Probably Racist. AP writer Lee Keath published an article on Monday dealing with the "debate among Muslims over interpreting faith" — without mentioning that thousands of deaths are meted out every year in the name of Islam across the globe. Keath instead describes those who question the link between Islam and jihadist violence as "increasingly brazen." Rather than focusing on the "brazenness" of the murderers in Islam's name, the author instead points towards those who dare critique the Religion of Peace.

The Media's Main Bias is Anti-American. Here is a useful thought experiment. Pretend that yesterday's French terrorists were not radical Muslims but instead members of the Westboro Baptist Church. How many news stories would a) omit their religious affiliation or b) express concern that members of the Westboro Baptist Church now faced anger and discrimination in their community? Of course the answer is zero, and in fact we could expect a steady stream of stories that examined the exact opposite and laid out in painstaking depth how the twisted religious beliefs of the Westboro Baptist Church members and the poisonous rhetoric of church leaders directly led to this abominable event. Nightline and 20/20 would doubtless send reporters to Kansas for lengthy pieces complete with videos of the scary rhetoric to which the Westboro members are regularly exposed.

The Official Apologist for Murder and Terror of The New York Times: Nicholas Kristof. On the day when journalists were massacred in Paris, while blood still ran wet where they had fallen, and as eye witnesses described the killers' shouts of "Allahu Akbar" — "Allah is great" — the New York Times' Nicholas Kristof asked the world not to judge the killers too quickly: most urgently, he said, don't jump to the conclusion they are Muslims. Really? Even when they sounded the Muslim prayer? Even when they called their deeds, loud and clear in the streets of Paris, "vengeance for the Prophet"?

Lib Pols and Media Are Just Plain Cowards. Anyone with a brain in their head knows that the killers who attacked the cartoonists at Charlie Hebdo in Paris were Muslims. Whether they were fanatics or not, the killers believe they are Muslim when they commit acts of violence while shouting 'Allahu Akbar' to avenge slights against their prophet Mohammed. Cowardly politicians, however, and the craven media refuse to call a spade a spade and consequently encourage these acts of savagery against civilization.

The problem is within Islam itself. [E]ven before the broken bodies of the French cartoonists had been removed from the scene, apologists on the American political left were taking to cameras and keyboards to make sure the apparent greater crime of political incorrectness was not perpetrated. CNN pundit Sally Kohn sent out a barrage of politically correct tweets that repackaged the foolish charge made years ago by fellow left-winger Rosie O'Donnell that, "radical Christianity is just as dangerous as radical Islam." You can be forgiven for struggling to remember the last time monks with suicide belts stormed a mall food court or a group of knife-wielding nuns beheaded an infidel before mass.

Internal CNN memo: 'We are not at this time showing the Charlie Hebdo cartoons'. CNN is not showing detailed images of cartoons from the Charlie Hebdo magazine that could be viewed as offensive to Muslims, CNN senior editorial director Richard Griffiths said in a message sent to CNN staff Wednesday afternoon [1/7/2015].

New York Times: With A Dozen Parisians Dead, MUSLIMS Hit Hardest. A dozen people may have been murdered by Islamic terrorists in Paris Wednesday morning, but The New York Times can't help but note the real tragedy behind the shooting: the growth of Islamophobia.

New York Times Reports On Muslim Proselytizing During Charlie Hebdo Attack, Then Deletes It. When Islamic terrorists expressly tell their victims why they're being attacked, our mainstream media will do anything to cover it up. They'll change the subject, they'll blame the victims... they'll even stealth-edit their own copy. Here's the latest example of the New York Times censoring itself to avoid offending Muslims after an act of Islamic terror.

USA Today column: Why did France allow satirists to attack Mohammed? USA Today caused a stir last night when they published a column from Anjem Choudary, whom they describe as "a radical Muslim cleric" from London specializing in shari'a law. Earlier in the day, the Financial Times attracted a raft of criticism for publishing a column that insinuated that Charlie Hebdo's staff brought on their massacre themselves, but Choudary doesn't even bother with a sop to free speech, which he dismisses as a non-Islamic concept. Instead, Choudary blames France for not protecting "the sanctity of a Prophet," and says we should not expect anything else other than murder from Muslims when that doesn't happen.

Video: Shep Smith Not OK with Calling Paris Attackers Muslims. Fox News anchor Shepard Smith went on an editorial rant against those rushing to judgment and suggesting that the terrorists who massacred twelve people at Charlie Hebdo on Wednesday [1/7/2015] might be — gasp — Muslims. [...] It's not Catholic, it's not Jewish, it's not Mormon, it's not 7th Day Adventist, it's not Buddhist. No one in the intelligence community is running around Paris today looking in Baptist churches for these terrorists or checking their connections to the local Jehovah's Witness community. The terrorists are Muslim, by their own definition. Who is Shep Smith to define what Islam is for these jihadi terrorists, who self-identify as Muslims? Or who is President Obama, who has said the Islamic state is not Islamic, to tell anyone one else what the parameters of their religion must be?

CNN's Sally Kohn Wonders Why Jews and Christians Aren't Blamed for Terrorism In the Same Way As Muslims. Hey Sally, let me know the last time the Christians and Jews went on a religious massacre or a beheading spree.

National Cathedral to host Islamists. The cathedral, part of the Episcopal Church, has long been the site of important services, including memorial services for presidents, some of whom are buried there. But the Cathedral has never before been used for Muslim services. The [Washington] Post reports this as a feel-good story.

You Don't Say, New York Times. Up until yesterday's attack in Canada these things were classified as "workplace violence," or by some other euphemism. Now, we learn that it is "extremism" that is behind the attacks. Progress of a sort. Next question for the Times: What kind of extremism are we talking about here?

Must We Talk Nonsense? The New York Times editorial board — a motley collection of knuckleheads — is wrestling mightily with the fact that everything they believe just happens to be untrue. Most especially, all that end-the-war-in-Iraq stuff hasn't turned out as well as they hoped and their militant-Islam-is-no-worse-than-any-other-religion meme is beginning to seem a bit shaky and, oh yeah, even though there's no such thing as evil, these ISIS guys look suspiciously like what evil would look like if it were, you know, evil.

Pro-islam propaganda in the Minneapolis newspaper:
Minnesota Muslim leaders spread the word that ISIL is not Islam. Muslims across Minnesota gathered this weekend for one of Islam's major religious holidays, one rooted in prayer, charity, sacrifice to community — and nothing to do with beheadings or violence.

Sharyl Attkisson: CBS News Nixed Story that Predicted Obama's Comments on ISIS. Former CBS News investigative reporter Sharyl Attkisson told Fox's MediaBuzz Sunday morning [10/5/2014] that her former employer nixed a story of hers two years ago that anticipated much of what President Barack Obama is currently saying about ISIS. Attkisson very publicly split with CBS News in the spring following a string of stories on Fast and Furious and Benghazi; on the way out she accused CBS of being too compliant with the Obama administration.

Melissa Harris-Perry and Guests: Islam Not Relevant to Oklahoma Beheading. MSNBC's Melissa Harris-Perry hosted a roundtable discussion last week which eventually turned to the topic of the beheading of a woman in Moore, Oklahoma on Friday. Harris-Perry and her guests Dean Obeidallah and Negin Farsad argues that it was merely a case of workplace violence to which Islam had no particular connection. "It is a story that I read as a workplace violence," Harris-Perry said to open the topic.

NBC Silent on Oklahoma Beheader's Islamic Radicalism. In NBC's sole report on the incident on the Friday "Nightly News," host Brian Williams didn't mention Islam. Segueing from a report on ISIS that, ironically, mentioned beheadings, Williams said "The FBI is investigating an absolutely awful attack in our country." Williams went on: ["]Police say a man who was fired yesterday from a food processing plant went on a rampage there beheading a co-worker then repeatedly stabbing another before a company executive who happens to be reserve deputy in the area shot and subdued him. The suspect is expected to survive his wounds and face multiple charges.["] So as far as NBC viewers know, Nolan could be a Methodist, a devotee of Wicca or an atheist.

The Jihadi Serial Killer no One's Talking About. For two bloody months, an armed jihadist serial killer ran loose across the country. At least four innocent men died this spring and summer as acts of "vengeance" on behalf of aggrieved Muslims, the self-confessed murderer has now proclaimed. Have you heard about this horror? Probably not. The usual suspects who decry hate crimes and gun violence haven't uttered a peep. Why? Like O.J.'s glove: If the narrative don't fit, you must acquit. The admitted killer will be cast as just another "lone wolf" whose familiar grievances and bloodthirsty Islamic invocations mean nothing.

"13 Year Old Boy" Killed by Israel Turns Out to be Adult PLO Terrorist. Maybe a really old 13. A 13-year old who has been left back more times than Arafat at the airport security checkpoint. Elder has found a bunch of other "children" who could easily get a drink in any bar.

A ringside seat to our own destruction. Headlines have focused on the atrocities committed by ISIS on the northern Iraqi front. The leading stories seem almost expressly written by the Onion to make fun of political correctness. [...] The story adds, almost superfluously, that ISIS is attempting to shoot down aid deliveries. They would do that, wouldn't they? Yet all this time the world was assured there was nothing to worry about in the hundreds of radical mosques, the thousands of militants eagerly received into the West and creeping sharia law in its institutions. The dangers, they were told, all lay in the Tea Party and elusive militia groups holed up in a cabin in the Ozarks.

Journalists Restricted By Hamas Rules and It's Reflected in Their Coverage. On August 6, Cliff May of the Foundation for Defense of Democracies charged that while the media have filled their stories on the current conflict in Gaza with "pictures of neighborhoods reduced to rubble, with Palestinian men, women and children in desperate circumstances," they have been negligent in telling their audiences that Hamas has been "deploying civilians as human shields, storing missiles in mosques and UN schools, setting up command posts in hospitals, using ambulances to ferry terrorists to battle, and children to dig tunnels." One reason for this bias, according to May, is Hamas' intimidation of journalists. May relayed that when one Spanish journalist was asked why TV viewers weren't seeing more footage of Hamas fighters the reporter responded: "It's very simple, we did see Hamas people there launching rockets, they were close to our hotel, but if ever we dared pointing our camera on them they would simply shoot at us and kill us."

Ben Shapiro Blasts CNN Over Its Anti-Israel Coverage. Appearing on CNN Tonight Monday evening [8/4/2014], Breitbart News senior editor-at-large Ben Shapiro blasted the left-wing network for its anti-Israel coverage over the past three-plus weeks of Israel's war of self defense against Hamas terrorists in Gaza. Just as National Review's Lee Habeeb did Monday morning, Shapiro again proved that CNN has no answer for its indefensible behavior... other than straw men.

Americans support Israel and the press hates it. One gets the impression that America's broad support for Israel's mission in Gaza over that of Hamas militants, support reflected in policy in Washington, is evolving into an obsession for members of the press. In fact, it seems that the more stubbornly Americans cling to their support for their country's democratic ally in the Middle East, the more frenetic and scolding the media's tone has become while covering the conflict.

Was a UN School in Gaza Really Bombed? (Update: No, It Wasn't). The UN is going bonkers because they say another one of their schools in Gaza was shelled. Ten people were killed and dozens injured, but read this account carefully from The Guardian: [...] The UN is going bonkers because they say another one of their schools in Gaza was shelled. Ten people were killed and dozens injured, but read this account carefully from The Guardian: [...] The attack was not on the school. The bomb hit the street outside the gates of the school and killed and injured people standing at the gate — not in the school itself which was being used as a shelter.

Forty questions for the international media in Gaza:
[#7] Have you seen Hamas fighters in Gaza?
[#8] If yes, why have you not directly reported Hamas fighting activity when you are eye-witnesses in Gaza, but rather indirectly reported about what the IDF says they Hamas has done?
[#9] Are you scared to publish photos of Hamas operatives on your Twitter page, or broadcast images of Hamas fighting and aggression on your news channel?
[#10] Have you published any photos of terrorists launching rockets in Gaza? If so, are these images being turned down by your newspaper or broadcaster?
[#11] Have you thought of interviewing the traumatised residents of southern Israel?
[#12] When Israeli authorities say that most of the dead in Gaza are terrorists, and Hamas says most of the dead in Gaza are civilians, how do you differentiate?

The Self-Inflicted Hamas 'Massacre' Blamed By the Media on Israel. According to the Hamas version of events — widely promulgated in the media by ITN, the Telegraph and the Belfast Telegraph — an Israeli airstrike on a crowded market place during a partial ceasefire in the Shijaiyah neighbourhood of Gaza City on July 30th, 2014 was responsible for the deaths of 17 people, including blue-helmeted photojournalist Rani Rayan. However as Thomas Wictor has incontrovertibly demonstrated using close analysis of film footage of the incident, the deaths were not caused by Israeli shrapnel but by secondary explosions from a vast cache of Hamas rockets. Oh, and the market wasn't 'crowded' either: it had been closed for the day. And this particular area wasn't included in the ceasefire zone, either, because Hamas was continuing to fire rockets from it.

Top Secret Hamas Command Bunker in Gaza Revealed And why reporters won't talk about it. The idea that one of Hamas' main command bunkers is located beneath Shifa Hospital in Gaza City is one of the worst-kept secrets of the Gaza war. So why aren't reporters in Gaza ferreting it out? The precise location of a large underground bunker equipped with sophisticated communications equipment and housing some part of the leadership of a major terrorist organization beneath a major hospital would seem to qualify as a world-class scoop — the kind that might merit a Pulitzer, or at least a Polk. So why isn't the fact that Hamas uses Shifa Hospital as a command post making headlines?

Media cover-up of Hamas crimes starting to unravel. Yesterday [7/28/2014] one of the stories thrust into the mainstream media was nearly simultaneous explosions in a Palestinian neighborhood and at al-Shifa hospital. The media immediately took the Hamas line that it was Israeli missiles. Later, the IDF stated that it had not fired on those locations, and that the explosions were misfired Hamas or Islamic Jihad missiles.

Why the media bear moral responsibility for the Gaza civilian casualties. Former Col. Richard Kemp, who was head of British forces in Afghanistan, has laid out with great clarity why the very media who bemoan the civilian casualties in Gaza bear moral responsibility for the carnage. [...] [T]he essence of his point is that Hamas deliberately uses children and others as human shields in order to gain media coverage of the victims. Without media coverage, there would be less incentive for this cruelty.

A Letter of Thanks from Hamas to the Media. Dear Members of the Mainstream Media, You've been awesome! Everyone knows that we start unwinnable wars with Israel because the real victory happens when you predictably side with us each time. And you've been so supportive of our strategy that we really want to acknowledge your helpfulness.

White House condemns Israeli shelling of UN school. The United States is condemning Israel's shelling of a U.N. school in the Gaza Strip that was sheltering displaced Palestinians.

The Editor says...
The AP didn't mention anything about missiles being stored in UN schools. Hmmm. I wonder why they left that part out.

Over 700 Syrians Were Killed Last Week. But Jews Didn't Do it, So the Media Doesn't Care. From reading the international and national news you would probably never have known that last Thursday and Friday alone, over 700 people were killed in Syria at the hands of jihadists and pro-Assad forces. Muslim on Muslim, Arab on Arab, human on human, whatever you like to think of it as[,] Western media is doing an awful job of reporting these abhorrent incidences[,] and I think I know why.

French 'Mother' Kills Teacher in Front of Class. It was headlining AOL on Friday [7/4/2014]: a story about a woman stabbing a schoolteacher to death in front of a class of five and six-year-olds. The gruesome and bloody crime occurred in the southern French town of Albi; the victim was a 34-year-old mother of two. But a certain bit of information is conspicuously missing from virtually all the reportage. We're told the killer was under the impression that the teacher had accused her five-year-old daughter of theft. We're told she had a history of child abuse and "severe psychiatric problems." We're told she's 47. And we're told she's a she. But her name is nowhere to be found, and information about her background is... well, you'll see.

MSM finally realizes that Islam is really, really scary. After years of terrorism that resulted in, among other things, the September 11, 2001 attacks on the World Trade Centers, Pentagon, and Shanksville, Pennsylvania, murder of Americans in Benghazi, and the brutal hacking death of off-duty soldier, Lee Rigby in London, the main stream media is finally sounding the alarm on the religion President Obama claims America "shares common principles of justice and progress, tolerance and the dignity of all human beings."

Dana Milbank's Heritage disaster. Washington Post columnist Dana Milbank set off a flurry of outraged tweets on Monday night [6/16/2014] after posting a highly critical recap of a panel event at The Heritage Foundation that, he says, "deteriorated into the ugly taunting of a woman in the room who wore an Islamic head covering." Video of that panel has since surfaced and — in my view — Milbank grossly misrepresented the nature of that exchange.

What Dana Milbank Does Not Tell You. [Scroll down] But what's more, Milbank relies on the account of "Saba Ahmed, an American University law student," who is the aggrieved victim of his piece. She's a moderate, caring Muslim girl targeted by the group because she is Muslim. What Milbank does not tell you is that Saba Ahmed is a family friend of Mohammed Osman Mohamud, the convicted Islamic bomber who tried to blow up Portland, OR in the name of jihad. Milbank also does not tell you Saba Ahmed has been arrested for stalking and her family claims she was diagnosed with a mental disorder. She's also been active at Occupy rallies denouncing American war efforts. She has made opposition to the American war against terrorism a key part of what she does. And she took to Heritage to hijack a conversation on Benghazi, turning it to her issue, which had not even been a topic of conversation.

Who is the Most 'Bloodthirsty' Enemy? Certainly, "bloodthirsty" comes to mind whenever the Taliban is mentioned. Consider the five terrorist leaders released from Gitmo by the White House. [...] Yet, they are not the ones who earn the "bloodthirsty" title from [Brian] Beutler. [...] No, the term "bloodthirsty" is used as follows: "the problem for the diffuse conservative outrage industry is that nuanced debates over public relations strategies and the relative 'value' of Guantanamo detainees probably wouldn't have satisfied bloodthirsty right-wingers." Does Beutler really think that Rush Limbaugh, Mark Steyn, or Sean Hannity is more likely to order a car bomb into a crowded marketplace to kill women and children than any of the Taliban Five? How about the beheading prisoners or the honor killing of women? Would he rather see a Taliban gunman walking down the street than a Fox commentator?

The Obama Doctrine. To leftists like our president, we are the bad guys. Sharia law is a right. Israeli's self-defense and sovereignty are wrongs. Islam is a beautiful religion; Judaism and Christianity are backward and hateful. Islamophobia is real. The jihadi threat is not real.

Politico Honchos 'Jump the Shark' To Defend Obama's Taliban Release. Blake Hounshell, an editor at Politico Magazine, downplayed Obama's decision to release five Taliban leaders in exchange for Army Sergeant Bowe Bergdahl, based on the fact that the five terrorists are not "ninjas." On his verified Twitter feed Hounshell wrote, "What's the argument that these five Taliban guys are so dangerous? Are they ninjas? Do they have superpowers?"

The New York Times: Making the world safe for terrorism. On the front page of Sunday's New York Times was a hysterical article charging the New York Police Department with trampling Muslim civil rights by trying to recruit Muslims who had been arrested on other charges to be informants. [...] The article implied that Muslims were being singled out by law-enforcement officials because of their religion, and that they were asked invasive and improper questions about their religion. Freedom of the press is limited to those who own it, H.L. Mencken once said, an axiom that The Times has demonstrated repeatedly by routinely deprecating the threat of "Islamic terrorism" in the United States. For years, The Times has blindly pursued an agenda that coincides with the same agenda of radical Islamic groups masquerading as "civil rights" groups in trying to prove that Islamic terrorists were unfairly convicted and framed.

Journalists' guide to Islam called cave-in to political correctness. A "how-to" guide published by a prominent journalism school to help reporters covering Islam-related issues is under fire from critics who say it sacrifices the First Amendment to political correctness. "Islam for Journalists," an online guide from Washington State University, says coverage of the Muslim world can be fair, yet inoffensive without compromising journalistic principles. Yet it pointedly condemns publication of images of Muhammed, an act which is forbidden by the Koran, and seems to equate it with violence carried out in the name of Islam.

Islam for Journalists: [Video clip]

Sinking Al-Jazeera American Launches Left-Wing Docs. According to the latest report, Al-Jazeera America's (AJA) ratings are exactly zero. Although available in 55 million homes, no one is watching. Worst of all, AJA has had absolutely no impact on the national conversation. Nothing the cable news network has done so far has penetrated anywhere — which is all that matters to the media.

WashPost Suffers Another Disgusting Case of Fort Hood Amnesia in Assessing Obama's Terrorism Record. On the front page of Saturday's Washington Post, reporter Scott Wilson spun furiously to avoid the obvious fact that candidate Obama's promises and President Obama's record on the War on Terror are remarkably at odds. Worse yet, Wilson insisted that only the Boston Marathon bombings (death toll: three) counts as a "successful mass terrorist attack on Obama's watch," which completely avoids the mass shooting at Ford Hood by an Islamic radical (death toll: 13), which is often ridiculously categorized as workplace violence.

Media Imbalance on the Nairobi & Peshawar Massacres. On a weekend in which 75 Christians were killed by jihadists outside a Church in Pakistan, you may wonder why the main news (by far!) was the killing of 68 people in Nairobi (Kenya) — also by jihadists. (The UK's 'Islamophobic' Daily Mail hasn't featured it all so far and the 'right wing' Telegraph only featured it in its 'World' section.) There must be reasons for this very large imbalance. So I will suggest a few.

This story originally appeared at NewsBusters
'Islam,' 'Muslim' censored from newspaper reports on Kenya, Pakistan attacks. In Nairobi, Kenya last weekend, Islamist militants took over a high-end shopping mall and began executing non-Muslims. In Pakistan, Islamist suicide bombers detonated at a Christian Church on Sunday. Yet on Monday, September 23, 90 percent of the top ten (via circulation numbers) daily newspapers' headlines in the United States censored the words "Islam" and Muslim" from Nairobi and Pakistan reports. One — the New York Daily News — didn't even have a headline for the latest Islamic terrorist attacks. That's journalism at its finest.

Kenya terror attack: disgracefully, the BBC still won't call these murderers 'terrorists'. Let's get this straight. There is nothing wrong with using the term "militants" to describe the al-Shabab gunmen. But they are terrorists, by any criterion, and that word should also be used. The Beeb won't do it, however. It virtually bans the word from reporting, lest it be used "inappropriately". Many BBC journalists, who are overwhelmingly on the Left, support the causes for which armed gunmen fight in, say, Palestine.

Al Jazeera and the soft underbelly of America. Can you imagine Adolf Hitler owning a TV news network that spewed his hateful rhetoric across the United States either before or during World War II? [...] This principle doesn't have anything to do with the First Amendment or tolerance of other people's ideas. It has to do with self-preservation. If you are engaged in a war for cultural survival, you don't just turn a blind eye to a foreign effort to subvert your nation from within. Unfortunately, that instinct for survival no longer exists in modern America — which, like it or not, is engaged in a long-term battle of wills with Islamism, the movement to impose the political and cultural version of Islam known across the globe in a worldwide caliphate dedicated to the implementation of sharia (Islamic law).

Media Matters Gushes Over Al Jazeera's Anti-American Propaganda. Media Matters for America doesn't often find much time in its busy schedule of incessantly attacking Fox News to praise other news outlets, so it is noteworthy that it took a moment Wednesday [8/21/2013] to give a slobbering electronic kiss to Al-Jazeera.

Al-Jazeera In America. The mainstream press went similarly apoplectic when Rupert Murdoch decided to buy the Wall Street Journal a few years back. And it routinely bashes Murdoch's Fox News as an illegitimate source of news. Yet these same folks think it's just peachy that Al Jazeera launched its cable news network in America on Tuesday after buying up the remains of Al Gore's failed Current TV. National Press Foundation President Bob Meyers, to cite just one example, called it a "transformative" event in journalism, akin to the launch of CNN in 1980.

Al Jazeera Targets America. Anti-Al Jazeera posters have recently appeared in Egypt saying, "A bullet kills a man, a lying camera kills a nation." This attitude led to the new government closing the channel, after 22 staffers quit in disgust over its pro-Muslim Brotherhood bias. Al Jazeera is the voice of the Muslim Brotherhood, the group now laying siege to Egypt and burning Christian churches there.

Liberal media love new Jesus book 'Zealot', fail to mention author is Muslim. Reza Aslan, author of the new book, "Zealot: The Life and Times of Jesus of Nazareth" has been interviewed on a host of media outlets in the last week. Riding a publicity wave, the book has surged to #2 on Amazon's list. Media reports have introduced Aslan as a "religion scholar" but have failed to mention that he is a devout Muslim. His book is not a historian's report on Jesus. It is an educated Muslim's opinion about Jesus — yet the book is being peddled as objective history on national TV and radio.

Fox Guest Slams Reza Aslan's 'Aloof Arrogance'. President of the Media Research Center Brent Bozell appeared on Fox News Wednesday afternoon [7/31/2013] to rebut days of criticism over Lauren Green's recent interview with author Reza Aslan, in which the Fox anchor repeatedly questioned Aslan's motives for writing a text on Jesus when he himself is a Muslim. "It was the exact correct question that needed to be asked," Bozell said. "She had every right to ask him, 'Do you have a bias? Are you being influenced by your faith to write what you're writing?' He should have said, first and foremost, said, 'Yes I am.' To deny it shows the aloof arrogance of 'How dare she even ask that question?'"

If you see something, say nothing. It was a report of the now numbingly familiar sort. Witnesses at the synagogue in Paris recounted that an Iranian immigrant had been screaming "Allahu Akbar!" while he chased the rabbi and his son. When he finally caught up, he slashed away at them with a box-cutter, causing severe lacerations. Nevertheless, the Associated Press assured readers that "[a]n official investigation was underway to determine a possible motive."

Domestic Propaganda: NY Times Puffs Al Jazeera America's U.S. News Focus. Al Jazeera, bank-rolled by the emir of Qatar and based in Doha, used $500 million petro-dollars to buy Current TV from Al Gore back in January. At the time, according to [Brian] Stelter, it planned to produce just 60 percent of AJA's programming in the United States. The rest would come from its existing propaganda channels Al Jazeera and Al Jazeera English. The network has since rethought that plan.

Islamist Media Mavens Sabotage Our War On Terror. The London and Boston attacks are a gruesome reminder we're still at war with jihadists, at home and abroad. However, we're also at war with their apologists and propagandists.

A multicultural society where all truths are equal stokes the flames of evils like Woolwich. There has been the usual outpouring of predictable responses since Drummer Rigby was murdered by (alleged, for legal reasons) Islamists: Iraq war; Muslim anger at that war; EDL every bit as big a threat to our way of life as Islamist murderers, etc. Every report is couched in ultra-cautious terms by the media: after two war memorials were desecrated this week, most reports stated that the police couldn't say whether it was the act of Islamists or some trouble-stirring, shadowy "far-Right" group.

10 arrested so far in British soldier's killing as Muslims fear backlash. As concerns about rising Islamophobia in Britain grew amid anti-Muslim protests and attacks targeting mosques, authorities made a 10th arrest in last week's knifing death of a British soldier. Armed police arrested a 50-year-old man on a street in the town of Welling in southeastern England. The man's connection to the case was unclear, but like the other nine suspects, he was arrested on suspicion of conspiracy to commit murder.

The Editor says...
Apparently CNN wants us to feel sorry for the Muslims because they "fear backlash."/p>

What Spurred Woolwich Attacks? What Difference At This Point Does It Make? None at all, to the head-in-the-sand (or elsewhere) US media. According to Newsbusters, the US media are bending themselves into pretzels to keep from having to connect two killers who brutally murdered a British soldier while they shouted "Allahu Ackbar!" to Islamism, jihad or anything else that might illuminate their motives.

As Stockholm Riots Move Into Fifth Day, Press Aversion to the M-Word Is Nearly Unanimous. A Google News search on "Sweden riots" done tonight [5/24/2013] at 10 PM ET (not in quotes, sorted by date, with duplicates) returned 314 items. Adding the word "Muslim" to the search reduced the number of results to nine. Fewer than a handful are from establishment press outlets, and one of those only appeared in the search results because a commenter and not the story's writer used the M-word. That pretty much tells you all you need to know about the determined denial of reality in which the worldwide press is engaged in reporting riots in the suburbs of Stockholm, which have entered their fifth day.

Networks' Evening Shows Don't Name Islam in London Terror Attack. What does a murderous jihadist terrorist have to do to get some recognition for his cause? You hack a British soldier to death in broad daylight on a London street while shouting "Allahu akbar" and then "swear by the almighty Allah" that you'll never stop fighting, and the U.S. broadcast networks still can't bring themselves to utter a word about Islam. True, the ABC CBS and NBC evening broadcasts called the attack "terrorism," but for all the information they gave viewers, the attackers might have been Basque separatists or animal rights zealots.

LA Times: Boston Bomber's Faith was 'Conservative Islam'. Exactly what is "conservative Islam"? Was Tamerlan self-radicalized into "conservative Islam," LA Times? How about Hasan at Ft. Hood? Was he another "conservative Islamist" who committed "workplace violence?" Matt Pearce is the reporter responsible for coining this new phrase.

The New York Times Erases Islam from Existence. While the New York Times dispatched its best and brightest lackeys to Boston to write sensitive pieces on how hard it was for the two Tsarnaevs to fit in, it fell to a UK tabloids like The Sun to conduct an interview with the ex-girlfriend of the lead terrorist and learn that he wanted her to hate America and beat her because she wouldn't wear a Hijab.

Busted Rhetoric "Explains" the Brothers Tsarnaev. As more information about the brothers — and their parents — has emerged, various pundits continue trying to explain away anti-Western, militant Islam's role in forming the Brothers Tsarnaev's murderous mindset. That piece of the puzzle doesn't suit their purpose when they play the Blame Game. They have a need for something else, something deeper, in their never-ending attempt to tell us rubes "what it all means." In the case of Tamerlan Tsarnaev, one theory getting attention was his stymied dreams of a boxing career.

Boxing Extremists. The media has found the real cause of the Boston Marathon Bombing. It was not radical Islam. Oh no. That's silly and, if we're being honest with each other, a little offensive. I'm disappointed in you for even thinking such a thing. How dare you jump to conclusions like that? No no, the real spark? The real evil that sent Tamerlan Tsarnaev down his deadly path? The New York Times has found the real killer. It was boxing.

Bombers' Mosque In Boston A Factory For Terrorists. The New York Times thinks the Boston bombers "self-radicalized" on the Web. But it didn't look at their mosque, which has churned out other terrorists, too. USA Today, on the other hand, did look at their mosque — the Islamic Society of Boston — and found "a curriculum that radicalizes people," according to a local source quoted in the paper's investigation. "Other people have been radicalized there."

The Lazy, Intellectually Bankrupt Racial Prism Through Which Media And Academia View Terrorism. Chris Matthews, whose analysis is often a leading indicator of the impulse on the left to ascribe racial and political motives to the violent compulsions of sociopaths, took the opportunity of an erroneous report about an attack on the JFK presidential library on the day of the bombings to speculate about the conservative political beliefs of the yet-unidentified perpetrators. Matthews' speculation proved to be prescient — his reaction foreshadowed a shameful spree of baseless conjecture by other journalists, commentators, and professors.

Geraldo Rivera Apologizes To Muslims For The Boston Marathon Bombings. Your first thought after reading that title is probably something like, "Wait, what?" Then, you realized it was Geraldo Rivera and it started to make more sense.

I Saw Something, So I'm Saying Something. Are you fed up with the antiseptic slogan, "If you see something, say something?" The authorities expect us to report suspicious backpacks, but stay silent as the tomb about the nature of the men who put them there. We're instructed to speak up about a bloodied man's movement under a boat tarp, but to shut up about the ideological movement that drove him to commit his carnage.

Boston jihadi had direct contact with Chechen jihad terrorists. "But scholars cautioned Friday against concluding that the Tsarnaevs' motives were purely religious." — Lisa Wangsness in the Boston Globe, April 20, running interference for Islamic supremacists yet again.

NBC Nightly News Ignores Boston Bombers Ties To Islam. After the media spent the week praying the Boston Marathon bombers wouldn't have ties to radical Islam, it's now going to be interesting to see how they report the religious beliefs of the Tsarnaev brothers. Failing miserably Friday [4/19/2013] was NBC's Nightly News which despite airing a 90 minute special broadcast on the ensuing manhunt in Watertown, Massachusetts, according to an examination of the closed-caption transcript didn't once mention the Tsarnaev's Muslim connection.

Mark Steyn: Media will downplay Boston bomber-Muslim link, same as Ft. Hood, underwear bomber. As it turned out, the suspects Tamerlan Tsarnaev and Dzhokhar Tsarnaev were indeed Muslims, and Steyn, author of "After America: Get Ready for Armageddon," said the media wagon-circling would begin "any moment now."

Newspaper caught photoshopping injuries out of Boston Marathon photograph. A US newspaper has admitted that it digitally altered a front-page photograph of a Boston Marathon bombing victim so that the woman's pants covered her horrific leg wounds. The woman's gory wounds had vanished on the large image that wrapped around the New York Daily News on Tuesday [4/16/2013], despite the photograph appearing unedited online and in other publications in the US.

CNN's Amanpour Hoped 'Beyond Hope' the Boston Bombing Suspects Weren't Mideast Muslims. Dave Weigel at Slate reported from an awards dinner Tuesday night [4/16/2013] for the leftish Arab American Instiute about the crowd's discomfort with the notion that the Boston assailants would turn out to "look like them." (That, I think, would mean Middle Eastern and Muslim, although AAI president James Zogby describes himself as a Maronite Catholic.) They tried not to say it out loud, he said, but then CNN's Christiane Amanpour, there to receive an award, said it for them.

NBC News Covers For Muslims' Vicious Destruction of Non-Islamic Artifacts. Ian Johnston, a Staff Writer for NBC News, writes this about the recent destruction of archaeologically important sites in Mali: "To many in the West, such actions are simply wanton vandalism. However, experts say the thinking behind it is actually part of a wider tradition of rooting out idol-worship and superstition found in Christianity and Judaism as well as Islam." (Emphasis added.) How dare they? Jews are not destroying religious symbols, idols, churches, or mosques, ever. And Christians do no such thing, either. But Muslims have been on a jihad to destroy the religious artifacts that non-Muslim believers hold precious. Only Muslims are doing this, and they are committing the greatest archaeological crimes in human history.

Is Saudi Prince Steering News Corp. Coverage? [Saudi Prince Alwaleed bin Talal] owns the largest chunk of News Corp. stock outside the Murdoch family. Shortly after his purchase of 5.5 percent of News Corp. voting shares in 2005, Alwaleed gave a speech that made it clear just what he had bought. As noted in The (U.K.) Guardian, Alwaleed told an audience in Dubai that it took just one phone call to Rupert Murdoch — "speaking not as a shareholder but as a viewer," Alwaleed said — to get the Fox News crawl reporting "Muslim riots" in France changed to "civil riots." This didn't make the "Muslim" riots go away, but Alwaleed managed to fog our perception of them.

Virtually Absent From U.S. Press Coverage of Egypt's Constitution and Referendum: It's About Sharia Law. As voting on Egypt's constitution begins, an Associated Press story this morning by Aya Batrawy and Sarah El Deeb typifies how the U.S. press is only nibbling around the edges of its content.

The Ground Zero Mosque and Media Sleight of Hand. The entire controversy over the Ground Zero mosque is an illuminating example of how the media manipulates public perceptions. Now the central deception — that the Ground Zero mosque was never really a mosque at all — has been fully revealed. [...] The entire episode showed how far the mainstream media's version of events can be from reality — an increasingly important lesson nowadays.

Something Is Wrong. Don't look now, but Islam is becoming the MSM's official religion of America. [...] We are not supposed to be doing obeisance to a religious group that has many adherents who want us dead. We are not, as journalists, supposed to be labeling anyone as "The" Prophet. But somehow, it's happening. The MSM has become a voice for Islam. Hitler saw it long ago. Terror and fear of violence can bring about amazing changes in people's behavior. So can a misguided political correctness and self-loathing for the greatest nation on earth.

Taliban Attack Destroys Six Harrier Jets at 180 Million Dollar Cost. This is yet another disaster in Obama's failed war in Afghanistan and it also gives the lie to the notion that these worldwide coordinated attacks timed at around September 11 were due to popular outrage because of a movie. The media talking heads still spewing that nonsense in their way on free speech are engaging in criminally irresponsible reporting and are covering up the real scope of events.

Letting Islamists dictate 'Free speech'. An incendiary video about the prophet Muhammad, "Innocence of Muslims," was blamed for the mob attacks on our embassies in Libya and Egypt (and later, Yemen). [...] Over at MSNBC, contributors Mike Barnicle and Donny Deutsch, plus University of Pennsylvania professor Anthea Butler, all agreed that the people behind the video should be indicted as accessories to murder. "Declared Butler: "How soon is Sam Bacile [the alleged creator of the film] going to be in jail folks? I need him to go now."

Shariah vs. the Constitution. A New York Times editorial on the current Mideast crisis is mostly a predictable attack on Mitt Romney, and an unusually dishonest one. But the conclusion is a clueless classic: "Libyan leaders have condemned the killings and promised to work to apprehend those responsible. Egyptian leaders, inexplicably, have not followed that lead." Inexplicably! Let's see if we can explain.

Time Magazine: Anti-Islam Filmmakers Are 'Islamophobic' But Deadly Rioters Just 'Orthodox Muslims'. The caption accompanying a September 13 TIME magazine photo slide tags the filmmakers behind "The Innocence of Muslims" as "Islamophobes" while those rioting in the Arab street supposedly in reaction against said film are merely "orthodox Muslims." [...] Of course, "orthodox" means "right teaching," which may be the exact opposite of what TIME wants to communicate. If violent protests are the mark of theologically orthodox Muslims, that suggests they are acting in accord with the tenets of their faith, not contrary to it.

Christiane Amanpour: West Is Extreme, Not Islamists. ABC journalist Christiane Amanpour, (a journalist? Really?) appeared on Good Morning America with George Stephanopoulos to discuss the film that supposedly ignited the furor in the Middle East and spew her usual venom about the intolerance of the West and benevolent Muslims.

NBC Publishes Unproven Claims of 'Anti-Muslim Incidents' in USA. When "journalists" confront conservatives, typically every claim, statistic, or assertion is challenged, but when talking to kindred spirits, reporters allow any manner of claim to pass by unchallenged. Such is the case with NBC's interview of spokesmen for CAIR who, without any proof, were allowed to claim that "a spike in hate" against Muslims was occurring in the U.S.A.

1.5 Billion Bin Ladens. To suggest, as the White House keeps saying, that rioting in more than twenty-five mostly Muslim nations is the result of some amateur film that no one has seen reveals an administration that thinks Americans are stupid and unaware that President Obama's foreign policy in the Middle East is responsible for the crisis that has killed our ambassador to Libya and others. A compliant mainstream news media continues to report this fiction.

MSNBC Liberal Pundits, Muslim Brotherhood on the Same Side Against Free Speech. Earlier today [9/12/2012] two MSNBC commentators called for the prosecution of those involved in making the film that has been blamed for the attacks on US interests in Egypt and Cairo. This afternoon, the Egyptian Muslim Brotherhood-dominated government has formally called for such prosecution.

The Huffington Post Whitewashes Sharia. Big broadcast news and print media offer Islamic supremacists and their leftist shills unfettered access to defame, lie about, smear, and give misleading information about freedom's fiercest defenders, without giving the victims of these vicious defamation campaigns the opportunity to rebut the false charges. This is twenty-first-century Goebbels-style propaganda. Islamic supremacists and their useful idiots on the left are given enormous power — the kind of influence and access to deceive and mislead the American people that Nazi propagandists were given in Germany.

Suicide of the Western Media. That the mainstream media leans overwhelmingly to the Left has long been known; that it shares the hard Left's taste for authoritarian controls on the freedom of speech has not been so widely noted, but is becoming increasingly clear. Last week both the British Guardian and the New York Daily News published pieces equating truthful and accurate reporting about jihad violence and Islamic supremacism with "hate speech," and calling for such reporting to be placed beyond the bounds of acceptable public discourse. That restrictions on free speech might come to harm their own profession is apparently something they haven't considered.

The Terrorists Among Us, Protected by Media & Governmental Forces. What is going on now went on in Iran and Gaza. The people had the freedom to vote for enslavement to theocracy and Shariah law. Their freedom usually ends there. It took Patrick Poole of PJ Media to expose one Ohio terrorist — Dr. Sultan Sallah — who was living among us, spreading terrorist ideals while he was at the same time being protected by the U.S. government and the media.

Suicide of the Western Media. Last week both the British Guardian and the New York Daily News published pieces equating truthful and accurate reporting about jihad violence and Islamic supremacism with "hate speech," and calling for such reporting to be placed beyond the bounds of acceptable public discourse. That restrictions on free speech might come to harm their own profession is apparently something they haven't considered.

Media Ignores Islamic Khilafah Conference in Illinois Suburbs. You may have heard about the Islamic Khilafah Conference in Illinois that took place on Sunday [6/17/2012]. Although, it's not likely you have heard much if anything about it from the mainstream media. [...] According to David Horowitz's Discover the Networks, Hizb ut-Tahrir (Arabic for "The Party of Liberation") is a political party, more than a religious one, and works within the Ummah (community of believers)... to restore the Khilafah (Caliphate, or Islamic Kingdom) with the long term objective to replace existing governments and bring about a worldwide Islamic state under the Shari'ah (Islamic Law).

Journalists don't have good grasp of religion. Evidence of big media's bias against religion that doesn't advance the secular and liberal agenda of the Democratic Party is beyond dispute. Any faith attached to a conservative agenda is to be ridiculed, stereotyped and misrepresented. Islam is a notable exception. The media appear to bend over backward not to offend Muslims.

Afghan girls poisoned in anti-school attack. More than 120 schoolgirls and three teachers have been poisoned in the second attack in as many months blamed on conservative radicals in the country's north, Afghan police and education officials said on Wednesday [5/23/2012].

Bias alert!
There is nothing "conservative" about poisoning little girls. Reuters blames the attack on "conservative radicals", which is an oxymoron in itself, but they are really talking about "Muslim radicals."

Dearborn Arab shoots black customer in back, kills, media ignores. The killing happened on March 9 but curiously national media attention has been nil as have been the typical race-baiting mouthpieces. Neither would dare question the Muslim or Arab community they've protected for so long.

Ted Turner: U.S. and Israel Should Disarm to Prevent Nuclear Iran. Appearing as a guest on Thursday's [5/3/2012] Piers Morgan Tonight on CNN, the news network's founder, Ted Turner, complained that a double standard exists between the U.S. and Israel being allowed to possess nuclear weapons while Iran is expected to be nuclear-free, as he suggested that all countries dispose of their nuclear arsenals to persuade Iran not to build such weapons.

60 Minutes' Journalistic Crime of Omission. Bob Simon's Sixty Minutes segment titled Christians in the Holy Land can be legitimately accused of the journalistic crime of omission, and for those with an ungenerous spirit, Simon may be blamed as well for the act of commission. Simon simply ignored the obvious in covering the status of Christians in the Holy Land: the fear and intimidation Palestinian Christians suffer at the hands of the Muslim-led Palestinian Authority in the West Bank and Hamas in Gaza.

Media's Deadly Bias. Writing articles on terrorism in a post 9/11 world becomes more difficult each day. It's certainly not due to the lack of terror or terror arrests; that, unfortunately, is never ending. Since 9/11 there have been 18,598 deadly terror attacks all in the name of Islam. The writing on the subject of terror for myself and others has become a 'cat and mouse game' with the media and the current administration. I cannot even count the amount of times arrests have been made in a terror plot here in the U.S. and there is absolutely no further information available. When I say no further information, I am referring to the suspect's gender, age and of course, the name.

Destroy all churches. If the pope called for the destruction of all the mosques in Europe, the uproar would be cataclysmic. Pundits would lambaste the church, the White House would rush out a statement of deep concern, and rioters in the Middle East would kill each other in their grief. But when the most influential leader in the Muslim world issues a fatwa to destroy Christian churches, the silence is deafening.

New York Times nixes anti-Islam ad, runs anti-Catholic ad. Executives at The New York Times have rejected a full-page anti-Islam advertisement that mimicked a controversial anti-Catholic advertisement they published on March 9. According to a Mar. 13 letter sent by the Times to the ad's sponsor, anti-Islam activist Pamela Geller, the $39,000 anti-Islam ad was rejected because "the fallout from running this ad now could put U.S. troops and/or civilians in the [Afghan] region in danger."

The Editor says...
Apparently the editor of the New York Times believes that American troops and/or civilians in the [Afghan] region are currently in no danger, but if the NYT runs the wrong sort of advertisement, all that tranqulity goes out the window.

German media totally ignore the brutal rape and mutilation of a 16-year-old German girl by Muslim savages. 'Gates of Vienna' blog has asked the blogosphere to do the job that the pro-Muslim biased left wing media refuse to do. AGAIN!

Rick Santorum: An American Ayatollah? It's the latest Leftist talking point: Rick Santorum is a bit dangerous, a bit unhinged, deeply religious and dangerously fanatical, not to be trusted with the governance of our pluralistic republic, and certainly not with guardianship of the First Amendment protection of the freedom of religion. The prominent Leftist Muslim writer Reza Aslan has recently become a foremost exponent of these claims, although they did not by any means originate with him. Leftist journalists and Islamic supremacist spokesmen always march in lockstep, using the same talking points, as I've pointed out previously...

We Are at War. Is the Media Scared to Really Cover It? Journalists are much more tolerant of attacks on Christianity than Islam. It is a fact. ... The media's present politically correct excuse is that Islam binds certain minority group's cultures in a way Christianity does not. First, that is [nonsense] and speaks of a secular ignorance about many Christian communities even in this country. Second, it is an excuse so the media does not have to admit it is scared of muslims. You'll see a news story about Christ in a jar of urine, but don't ever expect to see a cartoon of Mohammed on the nightly news. The reporter doesn't want to get murdered.

Ten Minutes on Honor Killings. There were many important things that I did not have time to discuss. I should have congratulated Canada for prosecuting both the actual perpetrators and the collaborators in the Shafia Honor Killing. However, the 25 years without parole sentence for the murder of the four Muslim female victims only amounts to 6½ years for each victim. Not good enough.

Learning the Wrong Lessons From the Fort Hood Massacre. Submission to Islam has been institutionalized by our national security apparatus. The official handling of the Fort Hood massacre proves the case. ... Immediately after the shootings, President Obama called Hasan's actions "inexplicable" and suggested that he may have "cracked" under stress. The media followed suit, emphasizing the stress of treating soldiers emotionally scarred by war, and insinuating that Hasan had been unfairly picked on by his colleagues. One talking head said "we may never know if religion was a factor" in the killings.

Why Pay to Read Lies? Newspapers in Decline. [Scroll down] Almost anything published about Islam must be read through the thin gauze of political correctness that ignores the menace of Islam to those living in Muslim nations and in nations where they gain a population foothold. It is a religion that sanctions stoning women to death, decapitating "infidels", and even sending children into mine fields to clear them. It is pure barbarism and has zero tolerance for freedom of speech, the press, other religions, or independent thought. All of this has much to do with the decline of newspapers nationwide.

The High Price of Telling the Truth About Islam. [Scroll down] CNN breezed through town and produced a quick hit piece painting all of the mosque opponents as uneducated rednecks and the Islamic community as everyday people who were being wrongly persecuted. Soledad O'Brien's producer offered to buy some of my footage from me with the explicit promise that their piece was going to be called "Islam: In America" and would not focus more than a few minutes on Murfreesboro. After an inside tip that this producer was lying to me, I confronted him and got some rather vague answers.

Canadian confusion over honor killings. Mohammad Shafia, his second wife Tooba Mohammad Yahya and their son Hamed were all convicted of first degree murder in a court in Kingston, Ontario for murdering Shafia's first wife and his three teenaged daughters by Tooba. ... The Toronto Star wants to know if the murders were honour killings or domestic violence. ... I'll answer the question for their readers right off the bat. The murders were honour killings, absolutely no doubt about it.

NBC, AP Avoid 'M-word' in Report About 'Honor Killings'. It is the religion that dare not speak its name... at least on NBC News and at the Associated Press among other politically correct circles. Both media outlets reported on a verdict in an "honor killings" case in Canada while managing to avoid mentioning a certain religion whose name starts with "M."

Med student shot to death near Galleria. A 30-year-old student in the Texas Medical Center was shot to death driving in her car Monday [1/16/2012], yards away from her family's townhome near the Galleria area. Gelareh Bagherzadeh was studying molecular genetic technology at M.D. Anderson Cancer Center. She was of Iranian descent and was active in promoting Iranian women's rights, Houston Police Department spokesman Victor Senties said.

The Editor says...
Before it was sanitized by the Houston Chronicle, the headline was, "Iranian women's rights activist slain in car near Galleria". The URL shows some evidence of that, and if you need additional proof, I grabbed a screenshot from Lucianne.

Muslims Attacked! Last month, the European Foundation for Democracy (EFD) held an event in Amsterdam featuring two speakers who favor liberalizing Islam. More than 20 members of these pro-sharia groups pushed their way in shouting "Allahu akbar!" They demanded the event be stopped, called the speakers apostates, spat on them, threw eggs at them, and threatened to kill them. Proud of these actions and apparently not overly concerned with legal consequences, they even made a YouTube video of their "protest." Now here's the least funny and most Orwellian part: Very few Europeans — very few journalists, politicians, members of the self-proclaimed Human Rights community, or Muslim organizations claiming to be moderate — have expressed outrage over this boot-stomping suppression of free speech in a city, country, and continent that claim to value freedom and tolerance.
[Emphasis added.]

Nine Michigan car dealerships in Hizbollah scheme, laundered money in US banks. Another update on All-American Muslim life in Michigan... that won't be seen on TLC.

New TV Show Idea: All-American Christian. I have a great idea! How about a TV show titled "All-American Christian"? Christians have been getting a bum rap in cinema and the mainstream media for quite a while. In a spirit of fairness, compassion, and tolerance, a TV show promoting Christianity is simply the right thing to do. After all, the last thing we need is Christian-phobic Americans. We must educate Americans to realize that Christianity is a religion of peace. Christians are not anti-American. The TV show will confirm that Christians are not very different from you and me, and they're just as patriotic. Also, Christians would never attempt to force Biblical law down our throats.

The Santa Killer Was a Religion of Peacer. Aziz Yazdanpanah, known only as the "Santa Killer," was a follower of this "amazing faith" who slaughtered his family on Christmas Day after his wife dumped him and his 19-year-old daughter wouldn't stop dating a non-Religion of Peacer. The adherents of said faith refer to this act as an "honor killing," and when it occurs police and the press reckon it unworthy of unearthing and condemning publicly.

Gunman Shoots Hollywood Drivers While Screaming "Allahu Akbar". A 26 year-old gunman opened fire on random drivers yesterday in Hollywood until he was shot dead by police. He was screaming "Allahu Akbar" while he shot Hollywood drivers. That's what the witnesses said. ... As Atlas Shrugs reported — not one media outlet reported that the man was screaming "Allahu Akbar" as he shot at innocent Hollywood drivers. Once again the media hides the truth from the American public.

Hollywood Jihad. What is most disturbing about this story, apart from the obvious horror, is that not one news account reported what one witness said the shooter was screaming: "allahu akbar." Not one news account. The media is the enemy.

Teaching Journalists How to Report on Jihad. Muslim-American advocacy groups with ties to the Muslim Brotherhood, like the Council on American Islamic Relations (CAIR) and the Muslim Public Affairs Council (MPAC), are on a mission to combat what they claim is the Western media's habitually negative reporting on Islam. After all, it's difficult to advance the Brotherhood's agenda of "eliminating and destroying Western civilization from within" when the media keep reporting on a steady stream of terror plots, honor killings, and encroachments by shariah on American soil. But if journalists take to heart the message of an online course from The Poynter News University, then their "skewed" perspective won't be a problem anymore.

Jihad For Journalists. An elite media school is training reporters to downplay Islamic violence, arguing more people die from AIDS. ... Must we spell it out for Poynter profs? Jihadi murder isn't run-of-the-mill murder. It's mass murder done in the name of religion. That makes it uniquely horrifying — and far more newsworthy. It also targets governments and destroys properties — even whole economies. In another blunder, the course redefines jihad as "struggle" against sin rather than the holy war it's overwhelmingly practiced as.

Sharia Vigilante Street Justice in America. [Scroll down] After I learned of the attack on Mr. Alsaegh, I did not want to rush to judgment and waited until he told me that the FBI concluded that this was a hate crime. I believe that my article on this incident is the first to be reported in the media. This incident has been totally ignored by the mainstream media. Why is it that attacks perpetrated by Muslims against Muslim infidels or honor crimes are ignored?

Breivik no Christian nut, just nuts. So a murderer quotes Gandhi. So a fascist quotes Churchill. A Satanist calls himself a Christian soldier. But that was enough to shift the coverage in the mainstream media. They were positively relieved, even thrilled, the mass murder here was done by someone who wasn't Muslim. CBC news anchors started repeating every hour: The murderer was by a "Christian fundamentalist" who hated Muslims.

New York Times Downplays Muslim Fort Hood Terror Plotter. The New York Times downplayed the arrest of an AWOL Muslim soldier charged in connection with a plot to attack Fort Hood soldiers. The newspaper all but ignored the role Pfc. Naser Jason Abdo's religious faith may have played in the alleged plot. Abdo was arrested in Killeen, Texas, near Fort Hood. He was found with weapons, explosive, and jihadist materials.

A thinly-disguised infomercial for Islam:
TLC to Air 'All-American Muslim' Reality Series. TLC unveiled plans Thursday [7/21/2011] for an upcoming reality TV series about Muslims living in the US.

Prince of Lies. "A Prince Among Slaves" was one of the more ambitious efforts to sell African-Americans on Islam. Aired nationwide on PBS and still making a tour of the United States, the documentary claims to tell the story of an African Muslim prince who was sold into slavery in the South. The story of Prince Abdul Rahman Ibrahima Sori is used as a springboard to incorporate Islam into American history, misrepresent it as an anti-slavery creed and convince African-Americans that their cultural background is Muslim. ... [But] The Prince was actually a vicious racist who was a mass murderer of Africans and a brutal plantation overseer.

Losing His Religion. We learn from the CBS story that [Yonathan] Melaku is a lance corporal in the Marine Reserves. The Associated Press adds that he is a naturalized American citizen, originally from Ethiopia. CBS also reports that "Melaku was carrying a notebook that contained the phrases 'al Qaeda,' 'Taliban rules' and 'Mujahid defeated croatian forces' when he was detained," but "that the suspect is not thought to have been involved in a terrorist act or plot." All of which raises an obvious question — but one that goes unanswered in the reports from CBS and AP, as well as others from ABC News and the Washington Post. We could only find one news organization that had the answer: Fox News Channel, which reports that Maliku is Muslim.

Stop Al Jazeera's expansion in the United States. Let's not let the Islamic supremacists once again invoke the freedom of speech to kill our freedom of speech. The ruse of using freedom of speech to allow propaganda broadcasts over our airways is another stealth attack on the United States of America. The issue of the expansion of Al Jazeera into the United States can only be likened to an expansion of Goebbels's media network into the U.S. at the height of World War II.

Another Al-Jazeera Journalist Suspected of Terror Ties. A journalist for Al-Jazeera has been arrested on suspicion of being an agent of the Palestinian terror group Hamas. The journalist, Samer Allawi, Al-Jazeera's bureau chief in Afghanistan, is a Palestinian. He was apprehended by Israeli authorities as he attempted to leave the West Bank. The detention of Allawi, a major development in the media wars over the future of the Middle East, is not the first time that Israel has detained journalists from the channel.

A family is butchered in their beds and the world neither knows nor cares. Today, five members of one family lie buried. There is no good reason why the story of their deaths should be similarly entombed.

NPR on a Bad Day. [Scroll down] The motives of NPR are also clear: they are advocates for the Palestinians. In their Middle East reporting, where the distortions are not so obvious to their American audience, NPR can get away with promoting Arab hate propaganda, and the murder of Jews which follows. We have come to a new low, where respected America media are perfectly willing to balance a lie with a truth and call it fair reporting. The facts themselves are not open to doubt.

British Columnist Under Investigation For Criticizing Terrorists. In Great Britain, the historic cradle of liberty and sanctum of freedom of expression, it appears that you can no longer refer to Arab depravity in the slaughter of an Israeli family — including a three month-old baby — as they slept without someone going to the police to get you arrested for racism.

CBS, NBC Newscasts Give Scant Coverage to Muslim Terror Attack at German Airport. Two US airmen were killed by a Muslim terrorist in Germany yesterday [3/2/2011], but neither CBS nor NBC thought it worthy of more than 30 seconds of coverage on their evening newscasts Wednesday night. While ABC devoted a full segment of the March 2 "World News" to the issue, the CBS "Evening News" and the NBC "Nightly News" offered only scant news briefs and buried the story deep into their broadcasts.

Gunman Screams 'Allahu Akbar', Obama Sees Motive Unclear. A terrorist described as a "21-year-old Kosovar who lives in Frankfurt," opened fire at the Frankfurt Airport, killing two American soldiers. Kosovo's population is 80% Muslim. The New York Times reports that "the gunman first talked to the military personnel to find out who they were and then opened fire, shouting 'God is great' in Arabic." ... Once again, the President and the mainstream media — even the report on Fox News — scrupulously avoid the words "Muslim," or "Islam" and reference to any possible religious motive for the attack.

NPR Insists Buffalo Beheading Has No Islamic Overtones. Almost the entire media skipped this chilling honor-killing verdict from Arizona on Tuesday, from Reuters: "An Arizona jury on Tuesday found an Iraqi immigrant guilty of second-degree murder for running down his daughter with a Jeep because she had become too Westernized." Faleh Almaleki killed his daughter Noor in October 2009 because she spurned his arranged marriage and was living with her boyfriend. Apparently, to report this is to be "Islamophobic."

Sharks Are Not Misunderstood Dolphins, and Islam Is Not a Religion of Peace. When a Muslim commits an act of mass-murdering terrorism, in contrast, the left does not camp out in front of the shooter/assassin/bomber's home and scrutinize every person he ever in his life came in contact with and blame them all for his actions. Instead, the media personalities report on acts of terrorism the way they do shark attacks.

Katie Couric: 'Maybe We Need a Muslim Version of The Cosby Show'. In her Web show analyzing the trends of 2010, the CBS Evening News anchor made a serious speech (in her serious, deep-thinker glasses) against the deep "seething hatred" against Muslims in America.

Another NPR Hit Piece on Israel. Never mind Juan Williams: What really gets me about National Public Radio is the way it manages to cover Israel in a manner more reminiscent of Tishreen's or Al Jazeera's style than that of an American news outlet.

NBC "People of the Year;" shades of 1939. In the event you didn't tune in to the NBC Thanksgiving special "People of the Year" with Matt Lauer, you missed that distinction being bestowed upon (among others) Sharif El-Gamal, the developer behind the "Ground Zero mosque" in New York City. Appearing very comfortable answering a short series of softball questions from "Lauer the enabler," El Gamal wants us to believe that his intentions to build an iconic symbol of Islamic conquest are noble.

Turning Churches Against Israel. The Evangelical Left is anxious to neutralize evangelicals as America's typically most pro-Israel demographic, especially by focusing on the plight of Palestinian Christians, who are portrayed as victims exclusively of Israeli oppression. "With God on Our Side," predictably, portrays pro-Israel Christians as mindless zealots indifferent to Palestinian suffering and exploiting Israeli Jews as merely tools for precipitating the Second Coming. Hapless quotes from Christian Zionists are contrasted with thoughtful articulations from Palestinian Christians and other pro-Palestinian advocates.

Surrendered Nation. NBC is naming a waiter-turned-thug-turned-impostor developer, Sharif El-Gamal, as "person of the year" because he is behind building a triumphal mosque at Ground Zero, the site of the largest, most heinous attack on U.S. soil in American history. Then there is this outrage: one of TIME magazine's "Person of the Year" candidates is the radical Ground Zero mosque imam Feisal Abdul Rauf, who has said that "the U.S. has more Muslim blood on its hands than al-Qaeda has the blood of innocent non-Muslims on its hands" and that Osama bin Laden was made in the USA.

Juan Williams and the Left's Intellectual Bankruptcy. Juan Williams makes the understandable post-9/11 observation that the sight of Muslims on airplanes makes him nervous, and NPR immediately fires him. Bill O'Reilly states the obvious truth that Muslims attacked the United States on 9/11, and Whoopi Goldberg and Joy Behar walk off the set. These incidents and others demonstrate that the Leftists in the mainstream media and their Islamic supremacist allies are wholly intellectually bereft — and so they cannot engage their opponents on the level of ideas, but must instead bludgeon them into silence.

Why Is Everyone Still Missing the Real Story of the Fort Hood Massacre? I was reading through media coverage over the past couple days on the anniversary plans and all the various recaps of that sad and violent day when it occurred to me that the unifying thread among all the various stories was the apparent inability to directly address the Muslim angle. While not a scientific survey, I must've gone through 8 newspaper articles and half a dozen write-ups from television online websites and none could bring themselves to refer to Hasan as an American-born Muslim...

Did someone mention Fort Hood?



This is an original compilation, Copyright © 2013 by Andrew K. Dart

NPR Grant Raises Coverage Questions. National Public Radio, which fired news analyst Juan Williams last month after pressure from the Council on American-Islamic Relations (CAIR), has featured the Islamist group's leaders on air nearly two dozen times in the past three years, while never addressing CAIR's designation as a cog in a Hamas-support network, a review of NPR transcripts shows. Earlier this year, the Department of Justice stood by its inclusion of CAIR on a list of unindicted co-conspirators in the terror-financing prosecution of the Texas-based Holy Land Foundation for Relief and Development (HLF). That list became public in June 2007, but never has been discussed in any of the NPR broadcasts featuring CAIR Executive Director Nihad Awad, national spokesman Ibrahim Hooper and other officials.

Media Capitulation: If Juan Williams Is Fair Game... Over the last few days, on the news channels and the net, it has been wall-to-wall coverage of the Juan Williams firing by the tools over at National Public Radio. NPR was serving the hydra-headed, Hamas-supporting Council on American-Islamic Relations (CAIR), which called on them to take action against Williams. I am grateful for this high-profile incident. Much like with the Ground Zero mosque affair, Americans have suddenly become aware of something quite terrible — a sea change, a profound transformation of a basic assumption, and a stunning reversal of their very basic unalienable rights.

Did someone mention Juan Williams?

In CNN's America, We're Heavily Black and Muslim. CNN, like many liberal media outlets, is very interested in diversity — in race, creed, sexual preference, everything but ideology. But this image today, as CNN launched a new marketing gimmick asking viewers to fill in the sentence "My America Is...." If we're going to get into bean-counting here, judging from the graphic behind anchorman Tony Harris today, America is majority-black and has a lot of Muslim women.

Just Admit it, Newspapers: You're Scared of Muslims. Advice for my newspaper friends: Listen to Penn Jillette. "[W]e haven't tackled Islam because we have families," he says. "[A]nd I think the worst thing you can say about a group in a free society is that you're afraid to talk about it."

The Jihad Against A Seattle Cartoonist. It should be front-page news in every newspaper in the country: Seattle cartoonist Molly Norris has given up her job, her home, and even her identity because of death threats for Islamic supremacists. That Islamic jihadists can force an American citizen into hiding for exercising her freedom of speech is bad enough; that her cause has aroused only indifference from the media and the nation's leading officials is even worse.

Dutch Courage, Liberal Cowardice. As a parable on the cluelessness of the liberal commentariat about the threat of Islamic extremism, Slate magazine's feature "explaining" why the Netherlands is supposedly more "anti-Islam" than other nations is hard to top. The idea that Holland is uniquely given to "Muslim bashing," as Slate's headline writers put it, is itself highly suspect.

Ground Zero Imam's Group Trained NY Times Mosque Reporter. A New York Times reporter, who has co-authored several fawning articles on the Ground Zero mosque, previously attended a media training program run by the mosque's organizer, Imam Feisal Abdul Rauf, according to the group's website.

The Media's Debacles. The latest reporting from the New York Times, Newsweek and Time have set new records for not wanting to report the news that doesn't fit their editorial line. Glenn Beck's Tribute to Honor in Washington D.C. that attracted in the neighborhood of half a million participants was resigned to a few inches on page 34 of the Times and the other liberal journals were hardly more accurate in their non-coverage. Their sanctimonious condemnation of all opponents of the Ground Zero Mosque was the icing on the cake of irresponsible journalism.

Fabrication: Newsweek Makes Up Ground Zero Election Day Tea Party Rally. [If a mosque at Ground Zero] isn't appropriate, would it be an appropriate place for a Tea Party rally to be held? Possibly not. But whether that's the case or not, Newsweek's David A. Graham would have you believe there will be a so-called "Election Day Tea Party rally" held at Ground Zero, led by former United Nations Ambassador John Bolton, as an effort to shore up support for a 2012 presidential bid.

Survey Shows Arabs More Opposed to GZ Mosque Than American Media. According to a recent survey by the Arabic online news service Elaph (Arabic version here), 58 percent of Arabs think the construction should be moved elsewhere. And according to a Media Research Center study released last week, 55 percent of network news coverage of the debate has come down on the pro-Mosque side.

CNN Continues One-Sided Reporting on 'Islamophobia' in America. On Thursday's [9/2/2010] American Morning, CNN's Deborah Feyerick continued her network's promotion of the charge the "Islamophobia" is growing in the U.S. All but one of Feyerick's sound bites during her one-sided report were from those who agree with this charge, with the sole exception being used an example of someone using "Islam...[as] a political wedge issue."

Bigotry on bigotry. Why did Florida pastor Terry Jones garner all that media attention last week for threatening to burn Qurans on Saturday's 9/11 anniversary? I believe it's because network swells had spent weeks trying to frame opponents of the ground zero mosque — also known as the Lower Manhattan Islamic community center — as stupid anti-Islam bigots, but that story line wasn't sticking. So networks found a stupid anti-Islam bigot in Florida who had nothing to do with the mosque, but who reinforced their political view.

The Problem of Inbreeding in Islam. There is a dire phenomenon rising in Europe that is crippling entire societies and yet the continent sleeps, refusing not only to confront the destructive elephant in the room, but also to admit its very existence. The troubling reality being referred to is the widespread practice of Muslim inbreeding and the birth defects and social ills that it spawns.

ABC News Tries To Incite Incident At Mosque Protest. In 1989 during my first gig as an investigative reporter with the Guam Tribune, my editor sat me down and I've never forgotten his warning, "It's the job of the news media to report the news, not incite it." Tell that to ABC News.

ABC News Issues 'Reprimand' To Their Ground Zero Mosque Plant. ABC News has reprimanded one of its employees for trying to start some kind of ruckus during Sunday's Ground Zero Mosque protest.

Talk About a Cartoon Controversy. Why is no one questioning the media's sham portrait of the Cordoba House/Park 51 mosque detractors? On Sunday, the New York Times' Frank Rich leveled a flurry of nasty accusations at those on "the neocon and the Fox News Right" who object to the placement of the mosque near Ground Zero. He substantiated none of them.

The Media and the Mega-Mosque. It was deceptive. At a White House dinner with Muslims celebrating Ramadan, Barack Obama finally weighed in on the Ground Zero mosque controversy. Incredibly, he lectured Americans about the religious freedom of Muslims "that includes the right to build a place of worship and a community center on private property in Lower Manhattan." Those were prepared remarks, a clear and very deliberate effort to skirt the issue. But this time, it was blatantly sophomoric, too.

American 'Bigots' Versus Media Propagandists. Once the Constitutional issue was resolved — and it was resolved when Americans demonstrated that they clearly understood the First Amendment — the issue became one of respect. How has the left framed the issue of respect? Americans must completely respect Muslim sensibilities — even as the Muslims involved with the project completely ignore Americans' feelings.

More about the proposed Ground Zero mosque.

AP Orders Staff: 'Stop Using the Phrase "Ground Zero Mosque"'. In an unusual move, the Associated Press has publicly released an advisory memo to its reporters on how to cover of the Ground Zero mosque story — and the first rule is that journalists must immediately stop calling it the "Ground Zero mosque" story.

Did someone mention the proposed Ground Zero mosque again?

Time Deputy Managing Editor: America's 'Obsessed' with 'an Enemy That May No Longer Exist'. "[N]ine years after 9/11, the fight over the mosque near Ground Zero shows how obsessed we remain with an enemy that may no longer exist." That's the argument from Time magazine deputy managing editor Romesh Ratnesar in his August 17 online Viewpoint essay entitled, "The 'Ground Zero Mosque' Debate: Exaggerating the Jihadist Threat."

At Last, CNN Finally Gets Something Right About Islam. A chilling and shockingly honest portrayal of poor immigration policy by CNN. This is a freak act of journalistic integrity aimed squarely upon the crippling policies of arch-tolerance and appeasement. CNN, for perhaps the first time I applaud you.

The Gaza Flotilla Ambush: What Did the White House Know? For decades, the network of leftists and Islamic fascists behind the Gaza ambush has been trying to create a media extravaganza to make Israel look bad before the world. Call it a conspiracy, or call it a network of like-minded radicals and Islamofascists. Whatever it was, their chance came on May 31 off the coast of Gaza.

Alinsky, Stalinsky, It's Still the Same Old Agitprop. [Scroll down] What do you suppose Bill Ayers and Jodie Evans were doing in Egypt and Cyprus before sailing toward Gaza with that boatful of Turkish suiciders who were all ready to kill and be killed for Allah? Was that a coincidence? It looked like a classic piece of agitation-propaganda. A whole mob of journos were there to get pictures of all the blood and gore. The media are basically lazy, and they want onlly to hustle for photo-ops when they know they can get a big headline. It's simple laziness. The Turkish suicider stunt on the "peace flotilla" gave them headlines for weeks. Today the brainwashed masses in Europe and the Muslim countries still think the innocent side was guilty, which was the whole purpose of the stunt.

This Is Rare Courage. [Scroll down] When it comes to the brutal slayings of young Muslim women by their fathers, brothers, or husbands, The [New York] Times gets squeamish. As Ms. Hirsi Ali relates, this misplaced sensitivity arises from the cult of multiculturalism, which would rather tolerate egregious crimes against women than offend Third World sensibilities.

Honor, and Shame. When you look at all the formulaic sludge that wins the Pulitzer Prize for Most Unread Multipart Series, it is striking that not one of the major newspapers has done an investigative series on the proliferation of "honor killings", not in Yemen or Waziristan but in the heart of the western world. Instead, as Phyllis Chesler writes: ["]The mainstream media rarely covers them. More often, local media does, but even local media does so walking-on-eggshells, careful to quote from at least one apologist and one know-nothing.["]

More about so-called honor killings.

The Consequences of Media Failure. For some time now, critical observers have warned about the "halo effect" that "human rights" NGOs have benefited from even as they were taken over by radical political activists who had strong links to jihadi organizations and individuals. This halo effect works in two directions: it extends to the "allies" of these hijacked NGOs ("peace activists") and also to the MSM which tends to convey the "testimony" of the NGOs as reliable news. All of this comes to a grotesque climax in the flotilla affair.

"Soft" Censorship: Honor Killings That You Won't Read About. The mainstream media rarely covers them. More often, local media does, but even local media does so walking on eggshells, careful to quote from at least one apologist and one know-nothing. Usually, the (hardcopy) mainstream media covers such events weeks later, only briefly, or as a way to "spin" any possible prejudice against the perpetrators involved. Sometimes they are mentioned, but only in passing. Rarely do follow-ups appear. Usually, a wire service piece is used, and no original reporting is done. Sometimes, the newspaper's blog might refer to a piece which first appeared in another newspaper which, in turn, has mentioned the subject only in passing. I am talking about how rarely the American mainstream media covers honor killings committed in North America.

A New Reuters Anti-Israel Photography Scandal? During the Second Lebanon War in 2006, the news agency Reuters admitted that one of its pictures of smoke and destruction caused by Israel's bombing of Beirut had been augmented in a Photoshop program by photographer Adnan Hajj. The Israeli newspaper Haaretz yesterday [6/7/2010] reported Reuters was under fire again yesterday for manipulating photographs in a bias against Israel, this time in the Gaza flotilla story.

In Both Words and Pictures, Reuters Continues To Lie About Israel. Having been caught doctoring pictures during of the violence aboard the guerilla flotilla boat, Mavi Marmara, Reuters is circling the wagons and looking for other ways to discredit Israel. Officially, Reuters says the elimination of the IHH terrorists holding knives in the pictures it originally published to its wire was an editing error.

Al-Reuters: Sorry! We always crop our photos at the edges. Israeli officials, facing criticism for boarding an aid flotilla bound for the Gaza strip, stress that their troops used deadly force in self-defense. News that Reuters had cropped two images of armed "peace" activists, including one with bleeding Israeli soldiers surrounded by armed flotilla crews supports the Israeli position and threatens Reuters with scandal.

Inaccurate, biased reporting on Obama-Abbas meeting. In its June 10 edition, the Washington Post runs an article by Michael Shear about President Obama's meeting with Palestinian Chairman Mahmoud Abbas in the White House. The article is both inaccurate about Obama's pledge of more aid to the Palestinians and also biased with its total silence about a strong disagreement between the two leaders about continued anti-Israel incitement by the Palestinian Authority.

Muslim Lies and Videotape. More and more facts are coming out about the [Gaza flotilla] incident and it does not look good for those who rushed to judgment and fell for the hype. As we now know, for instance, video footage has proven that the Gaza flotilla jihadists initiated the violence against Israeli soldiers: However, those who conspired to manufacture such a crisis know that they have won the PR war since whatever facts come out later will not be covered with the same intensity and passion of the first days following the incident.

See No Evil. Daniel Pipes is one of several commentators to note that many reporters would love to dismiss each new terrorist incident as the work of lunatics, until the disappointing news arrives that the suspect is yet another Muslim Jihadist. Several observations leap to their feet immediately, and there is a deeper point too.

FOR EXAMPLE: There is no mention of the word "muslim" in this article, even though that's obviously what they're talking about.
Immigrant youths riot in Sweden, burning down school. Rioters in the Swedish capital, Stockholm, have burned down a school building and thrown stones at police in a second night of disturbances.

The plain truth about Israel: In other times, Hearst Newspapers White House Correspondent Helen Thomas's demand that the Jews "get the hell out of Palestine," and go back to Poland, Germany and America would have been front page news in every newspaper in the US the day after the story broke. In other times, had the dean of the White House Correspondents Association expressed such hatred for the Jews, the White House would have immediately removed her accreditation rather than wait three days to criticize her.

The dots some don't want to connect. [Scroll down slowly] At Fort Hood, Maj. Hasan jumped on a table and gunned down his comrades while screaming, "Allahu Akbar!", which is Arabic for "Nothing to see here" and an early indicator of pre-Post-Traumatic Stress Disorder. The Times Square Bomber, we are assured by The Washington Post, CNN and Newsweek, was upset by foreclosure proceedings on his house. Mortgage-related issues. Nothing to do with months of training at a Taliban camp in Waziristan.

When is a Dirty Bomb Attack Not a Terrorist Attack? Critics have been accusing The Philadelphia Inquirer newspaper of failing to accurately report on terrorism and terrorists for years and have pointed to the failure of the newsroom to use the word "terrorist" when it is clearly called for as evidence.

The MSM looks for any explanation other than the obvious.
Mystery Solved. As information about Faisal Shahzad accumulates, a number of misconceptions are being dispelled. It turns out that the Times Square would-be bomber was not, Mayor Bloomberg's speculation notwithstanding, someone who was unhappy about Obamacare. Nor was the bomber the random "white man" who was filmed by a security camera removing his shirt a block away from Shahzad's Pathfinder. Nor was he, to Contessa Brewer's deep regret, one of those dreaded Tea Partiers. Nor was his "motivation" a mystery, as suggested by the Associated Press. No, to the surprise of some — but not us — Faisal Shahzad was a jihadist.

Times Square Jihad? What Jihad? Now that would-be Times Square car bomb jihadist Faisal Shahzad has been exposed as an Islamic jihadist, the liberal media are searching for an explanation, any explanation, for his attempted attack that doesn't involve Islamic jihad.

Left Is Certain of Tea Partiers' Motives, but Finds Terrorists Inscrutable. For days after the [Fort Hood] murders, liberal-Left commentators and mainstream media reports attributed Hasan's mass murders to everything but his Islamic beliefs — even though it was known that he yelled out "Allahu Akbar" ("Allah is the Greatest") just as he began his shooting. As "Hardball's" Chris Matthews announced, "It's unclear if religion was a factor in this shooting," and then added, "He makes a phone call or whatever, according to Reuters right now. Apparently he tried to contact al-Qaida ... That's not a crime, to call up al-Qaida, is it?"

MSNBC's Ratigan Worries About 'Racism' Toward Muslims After NYC Bomb Attempt. Near the top of Tuesday's Dylan Ratigan Show on MSNBC, host Dylan Ratigan fretted over American Muslims being harassed in the wake of the failed Times Square bombing: "how do you deal with these types of crimes without resulting in racism, effectively, towards people of Pakistani or Middle Eastern descent? ...is there not a natural backlash to this?"

All Things Considered ... Except Evidence — and Scholarship. Despite being interviewed by NPR religion reporter Barbara Bradley for over thirty minutes, and providing her much additional written material countering Jenkins' flimsy speculations, precious little of my rebuttal was included in the broadcast.

How To Kill Political Correctness Before It Kills Us. One of the strongest supporters of Islamic terrorism is our mainstream media. That's because its political correctness means that the mainstream media doesn't give the public the truth about the threat of radical Islam (or whatever you want to call it — Islamic extremism, Islamic terrorism, hijacked Islam, jihadism, etc.). In other words, if we don't kill political correctness, it will kill us by making us unaware of the ongoing war fought by radical Islam against the U.S. and the West.

AP Silent on Motive of Killer Who 'Needed to Take His Family Back to Allah'. Why is the legacy media so reluctant to note the possibility of a radical Muslim faith leading to violence? On numerous occasions, the mainstream press has refused to note even a potential connection. The latest such example concerns a recent quadruple homicide in Chicago.

CNN Trots out Jihad Teaching Extremist, Calls Him Instructor of Islam. As has been noted here in the recent past, it isn't just government entities that are a little slow on the uptake when it comes to identifying radical Muslim preachers as accessories to terrorism — it's also the media. Consider the case of Anwar al-Awlaki, a man who has consistently shown ties to terrorist attacks, yet who had gone predominantly under the media radar as nothing more than a simple cleric.

Merry Christmas from the World of Islam. With attention focused on the flagrant security breaches around Flight 253 on Christmas Day, too little has been made of the timing of the attack. Most readers will be surprised to learn that this was not the only Christmas attack on Christians. Here is a list of other holiday attacks which I found without extensive research... Isn't it noteworthy that you did not hear about any of this from the general media?

The Islamic Roots of Abdulmutallab's Suicidal Odyssey. [Scroll down] It's just all so mysterious. It's so mysterious that the news anchors on CNN continue to incredulously ask each other and their guests these questions — back and forth, over and over again, in a cyclical circus that has no end and that never produces the most obvious answer staring any sensible person right in the face. ... All one can be sure of is that an adversarial culture or ideology must not be blamed and that America, somewhere, somehow, must definitely be at fault.

Now They Tell Us — Ft. Hood Was Terrorism. [Scroll down] It never occurred to our politically correct media — or if it did, they would never have dared to give voice to their suspicions — that the self-evident answer was that Maj. Hasan was a Muslim terrorist, either sent to infiltrate the Army and attack it from within, or radicalized while in the service and ordered to kill as many Americans as he could before this "Soldier of Allah" became the latest martyr for Islam.

Why Won't the MSM Cover Islam? What Are They Afraid Of? There are many things on the World Wide Web that are not suitable for public viewing but that should be required viewing for journalists and political figures to alert them to the horrors that exist in some parts of the world. This should not be to incite but rather to rinse away their naïvité in dealing with a hostile culture and our potential enemies. It is apparent that the mainstream media has no interest in covering stories that shed an unfavorable side of Islam and, frankly, this smacks of cowardice.

Dangerous Myths. [Liberals apparently believe] the mainstream media will report the facts truthfully and accurately. Sure they will — without using the words "terrorist," "Islamic" or "Muslim" whenever they can avoid them. The Fort Hood massacre by Islamic terrorist Major Nidal Malik Hasan was the epitome of such willful denial.

Guess The Missing Word In NY Times Report On Attempted Plane Bombing. Imagine that there had been a series of three incidents in which members of a [invented for present purposes] fanatical Jewish sect had attempted to bring down airliners from Arab countries. In reporting on the latest attempt and describing the previous ones, do you think the New York Times might have mentioned the religion of the perpetrators?

Ali Velshi Stops Rep. King From Naming Northwest Airlines Terrorist. CNN's Ali Velshi on Friday [12/25/2009] stopped Rep. Peter King (R-N.Y.) from divulging the name of the terrorist who tried to set off a bomb as a Northwest Airlines flight from Amsterdam began to land in Detroit. Velshi did this claiming, "[W]e have not got any information on anyone being charged. So thank you for bringing us information. But would ask you not to name anybody on TV right now, we do not have any word of official charges."

Flight 253: AP Scrubs 'M-Word'. It has been interesting watching the Associated Press reports on the attempted takedown of Flight 253 devolve in the past 12-plus hours. In its 8:56 a.m. report (likely dynamic and subject to change), it looks like the assemblage of AP writers who worked on the story have succeeded in ... ridding the report of the M-word ("Muslim").

The anything-but-Islam pundits strike out. Not long after Major Nidal Malik Hasan had pulled the trigger for the last time at Ft. Hood, the mainstream media began assembling their anything-but-Islam narratives. A rationale was needed, something that could plausibly be claimed to motivate a killing spree. A desperate rush to explain his behavior in politically palatable terms naturally resulted in desperate stories in which preposterous motivations, contrary to the known facts, were posited.

Jihad at Fort Hood. According to NPR, "the motive behind the shootings was not immediately clear, officials said." The Washington Post agreed: "The motive remains unclear, although some sources reported the suspect is opposed to U.S. involvement in Afghanistan and Iraq and upset about an imminent deployment." The Huffington Post spun faster, asserting that "there is no concrete reporting as to whether Nidal Malik Hasan was in fact a Muslim or an Arab." Yet there was, and what's more, Major Hasan's motive was perfectly clear — but it was one that the forces of political correctness and the Islamic advocacy groups in the United States have been working for years to obscure.

Reaction to the Fort Hood shootings:
Memo to ABC: There's a Reason He's Not Called Smith. Of course, what else is predictable is how the media is covering it. In the words of an NPR report: "we know he took his faith seriously, but we can't say for sure that was a factor." Right. That's exactly what they say about anyone who bombs an abortion clinic, as we know.

More commentary about Fort Hood. Major Malik Hassan, after being transferred from Walter Reed Hospital to Fort Hood decided to celebrate his promotion and transfer by shouting "God is great" in Arabic while gunning down a dozen of his fellow soldiers. The mainstream media is falling all over itself today in an attempt to somehow paint this domestic Islamic terrorist as the victim rather than the perpetrator. Muslim-friendly to the point of being Muslim-centric, the news networks are even trying to do their reporting without mentioning the killer's name.

Muslim Suffers Bruised Ego in Fort Hood Tragedy. President Obama honored the victims by immediately warning Americans not to "jump to conclusions" — namely, the obvious conclusion that the attack was an act of Islamic terrorism. As conclusions go, it wasn't much of a jump. But the mainstream media waited for no information — indeed actively avoided learning any information — before leaping to the far less obvious conclusion that the suspect's mass murder was set off by "stress."

Dobbs Compares President's Post-Cambridge to Post-Fort Hood Remarks. Some of the mainstream media intelligentsia following the Fort Hood, Texas massacre have cautioned people to reserve judgment about the suspect Major Nidal Malik Hasan and have bypassed many key details in order to live up to what could be construed as a politically correct standard. CNN's Lou Dobbs isn't one of them.

Fort Hood Horror. Horror spread quickly across America as the story unfolded: An Army psychiatrist went on a shooting rampage at Fort Hood in Texas, killing 13 and wounding 30. But as more information emerged, clearly pointing to an act of terrorism, many in the "news" media simply chose not to report news.

They Kill Us and We're the Ones to Blame. By ignoring the fact that 66 percent of the deliberate attacks within the US military by other soldiers, have involved Muslims — the media is engaging in blatant deceptiveness. Unless Muslims somehow suffer from a form of PTSD more severe than non-Muslim soldiers, or unless Muslims comprise 66 percent of the US military — both false statements, it is obvious that the question of Islamic beliefs should be investigated as central to these acts of violence.

ABC, CBS, NBC: Obama's Lapdogs. Ever since Candidate Obama set foot on the national scene, the "mainstream" media have been eating out of his hand. And regrettably, today those same news stations still are. This has been made abundantly clear through their coverage of the recent terror attack on Fort Hood.

Mainstream Misreporting: Ft. Hood Shooter's Motives. "We don't know all the answers yet, and I would caution against jumping to conclusions until we have all the facts," said President Obama with regards to Nidal Malik Hasan's motives in murdering thirteen people last week. So maybe President Obama and his press secretary won't acknowledge that Nidal Malik Hasan is a terrorist, but that is no excuse for members of the mainstream media who are ignoring this facet of the recent Fort Hood shooting.

Political Correctness, Ft. Hood, and Hollywood. Almost before the echo of gunfire from the massacre at Ft. Hood had faded, the news media launched a pre-emptive rationalization for the slaughter committed by Muslim traitor Nidal Malik Hasan. To divert attention from the shooter's inconvenient name, the talking heads began speculating sympathetically about the fragile mental state of poor frazzled Hasan, who had never seen combat but nonetheless must have "snapped."

More about the incident at Fort Hood.

CAIR coverage ignores terror ties. Is the Council on American-Islamic Relations merely a civil rights organization exercising its constitutional right to lobby on Capitol Hill like hundreds of other non-profit organizations? That's the way Politico and other mainstream news outlets have portrayed CAIR — despite the FBI's decision this year to cut off ties to the Muslim group after its designation by the Department of Justice as an "unindicted co-conspirator" in the largest terrorist-finance case in U.S. history.

Freedom of Religion: A Precious American Right, an Islamic Capital Crime. Given the anti-Christian views of many Muslims and of all the Western book-and-column writing atheists and secularists, I wonder if Rifqa Bary, the teenage convert from Islam to Christianity, is not respected as a hero who is fighting for her freedom of religion but seen, rather, as someone who has taken yet another reactionary path. Perhaps if Rifqa had launched a lawsuit for the right to wear hijab or a burqa in Ohio she might immediately have gotten mainstream media sympathy.

Did someone mention Rifqa Bary?

News Media Blackout: Iraqi Muslims Slaughtering Christians. Either intentionally or unintentionally, United States news media outlets are ignoring the violence perpetrated by Muslims against Christians in Iraq. While some believe this stems from the fact that reporters have moved on to stories other than US operations in Iraq, others believe this lack of coverage has more to do with the anti-Christian bias that exists within the media.

'Apostate' Girl's Father: The Unreported Story. Rifqa's parents, Mohamad and Aysha Bary, signed affidavits declaring themselves indigent. That's why the Florida court appointed a lawyer for the father and a lawyer for the mother. Both their lawyers are being paid by the taxpayers of Florida. ... Yet in a Dunn and Bradstreet report filed by Mohammad Bary himself for his business, Bary Gems, he states his business does $237,561 per annum. The wife, Aysha Bary, makes high-end bridal gowns (that income may be off the books, but she works every day).

Iran Linked to International Terror; Media Snoozes. Ever since the failure to find WMDs in Iraq, the American public and the media have demanded a nearly unreachable standard of proof before indicting a foreign government. When someone calls Iran a state sponsor of terrorism, proof that they are "linked" to al-Qaeda is demanded. Once al-Qaeda's refuge in Iran is offered as a counterpoint, proof that the regime knows of their presence and that the group isn't merely working with "rogue elements" of the government, but the government as a whole, is required. ... In the world of intelligence, it is extremely rare to come by the "smoking gun" now commonly requested.

Armed and Extreme, but Buried in Briefs. The Tiller assassination garnered three stories, an editorial and a column (mine) over the following two days, and a week later a front-page story, whereas The Chronicle ran two national briefs about the military-recruiter attack, on Page A5 one day, and Page A6 the next. Other media underplayed the domestic terrorist attack as well. For me, the reason is pretty obvious: Stories that reinforce journalists' political beliefs rate the front page or top of their newscasts; stories that do not are not considered big news.

Media Takes Whitewashing of Islam to a Whole New Level. [There is] a blog on the Post/Newsweek website by top-tier Islam apologist John Esposito. Esposito is the founding director of something called the Prince Alwaleed bin Talal Center for Muslim-Christian Understanding at Georgetown University — which means that the Saudi royal family pays his salary. Which, in turn, means that a man on the payroll of the world's most oppressive Islamic regime is engaged by the Washington Post and Newsweek to provide their readers with objective facts about Islam. This perverse state of affairs is, alas, par for the course in today's mainstream media.

Bidding farewell to the country's 'war on terror'. The liberal media are now actively downplaying Muslim terrorism, and that was vividly demonstrated last week when two soldiers were shot by an American-Muslim in Arkansas. One of them, 24-year-old Private William Long, was killed. There is no doubt the cold-blooded murder of Pvt. Long by Carlos Bledsoe, aka Abdulhakim Muhammad, was a shocking story. But if you were watching Katie Couric on the "CBS Evening News," you missed it, as Couric did not mention the murder. On ABC, Charles Gibson ignored the story as well. On NBC, Brian Williams spent less than two minutes on the situation.

Oh, and Incidentally ... You gotta' love the New York Times and its hyper-politically correct sensitivities about revealing the ethnic or religious backgrounds of criminal suspects. Thus we have today's front-pager: "4 Accused of Bombing Plot at Bronx Synagogues." Who were these four, I wondered?

The Media, Islam & Political Correctness. The New York Times has been assailed by conservative critics such as Dallas Morning News columnist and blogger Rod Dreher for downplaying a troubling aspect of the case: all the suspects are Muslims. (They had converted to Islam while in prison for drug offenses, theft and other crimes.) The first Times report on May 20 mentioned this fact only in passing — despite a statement by New York Police Commissioner Raymond Kelly at a press conference that the four had talked frankly about wanting to "commit jihad."

Homegrown Islamic Jihad in the Bronx. Four African-American converts to Islam, all of whom converted to Islam in prison, have been arrested by the FBI just as they attempted to bomb two Riverdale synagogues, (the Riverdale Jewish Center and the Riverdale Temple), in the Bronx and a New York National Guard air base in Newburgh, New York where they lived and attended a mosque. Why do I begin by clearly stating the race and religion of the terrorists? Because the liberal mainstream media refuses to do so, or buries such facts on its back pages.

Show Me the Mullah. I am struck by the lack of coverage in the media of the obvious beneficiary of the rise in Somali piracy. Let's just ask the question; who stands to gain from this phenomenon? It's pretty simple really. The piracy in the northern Indian Ocean raises large sums of money for fundamentalist Mullahs and puts a big hurt on Suez Canal traffic. This piracy is a de facto extension of the strategy behind the assassination of Anwar Sadat and busloads of foreign tourists.

Were Shooters Unidentified in Press Because They Were Muslim? We have a shooting incident in Minnesota perpetrated by three Muslim Somali immigrants but for some reason almost every single media report about the incident omits the names of the shooters, names of obvious North African or ethnic origin. So, the question is, did the Old Media in Minnesota purposefully leave the names unreported so that they could cover up the fact that the criminals were Somali immigrants? And, if so, why would they do this?

The words "islam" and "Muslim" are conspicuously absent from this story:
FBI raids three Minneapolis money-transfer shops. Federal agents raided three Minneapolis money transfer businesses that mainly serve the Somali community Wednesday [4/8/2009], seeking records of financial transactions to several African and Middle East countries. E.K. Wilson, a special agent for the FBI in Minneapolis, confirmed that agents searched the businesses on the city's south side to track money transactions, but wouldn't disclose any further details.

Somali Pirates Tied to Jihad. The latest crisis off the coast of Africa where Somali pirates hijacked a US flag ship is not something that suddenly materialized out of thin air.

The darkest brand of 'honour'. When an Ethiopian man in Alexandria, Va., killed his wife, the report in last week's Alexandria Gazette Packet tiptoed nervously around his motive. It said that cultural issues were involved and that he had ordered her not to interact with co-workers. In case the point still wasn't clear, the reporter attempted to explain: "In Ethiopia, women have more defined roles." That's a cowardly way of saying that women automatically obey their husbands in Ethiopia but sometimes don't in America. The deliberate ambiguity would be comic if it were not attached to a tragedy.

Not Merely Wrong, but Unprofessional. Every time you think the New York Times cannot sink any lower, you open the paper and find something else that leaves you wondering about the lack of editorial judgment at the Grey Lady. Today's Op-Ed page is, on the surface, clear evidence of the paper's editorial agenda with regard to the Islamist regime in Iran. Of the three pieces on the page, two are devoted to the cause of appeasing Iran.

The Media Sees No Evil. Consider media coverage of last November's Mumbai terrorist attacks, which left more than 170 dead. While the media were quick to link the group responsible, Lashkar-e-Taiba, to the territorial battle over the Kashmir valley, they were largely silent when it came to the group's main objectives: to establish an Islamic state in South Asia and annihilate all "enemies of Islam," including Hindus and Jews.

Muslim misperceptions: It seems that world's media agrees with the majority of the world's Muslims that the 900 killed by the Israelis in Gaza are more worthy of outrage that than the two hundred thousand African Muslims killed by Arabs in Darfur. As a result, Hamas is encouraged to attract Israeli fire towards civilian targets, by firing weapons from schools and homes, correctly believing that their tactics will not be criticised.

Is Israel Doomed? Israel's enemies assert that its destruction is inevitable, and those who would destroy her are cheered on by many in the West. At the same time, Western mainstream media, particularly in Europe but also major media outlets in America, do puff pieces on Israel's genocidal adversaries, slant the news to conform to her enemies' propaganda, and support the delegimitization of the Jewish state.

Gaza and The One-World Media's Propaganda. As the Israelis continue their push into Gaza; as they continue an offensive military campaign against Hamas, born of the need to protect Israeli civilians from rockets fired by Hamas jihadis, it is almost impossible to gather accurate information regarding the conflict, at least not from the mainstream media.

CNN busted running phony Gaza propaganda, doesn't fess up. Down the memory hole goes fake video run by CNN to tug on viewers' heartstrings, following its debunking by clear-headed observers. The "most trusted name in news" lacks the integrity to fess up for channeling Palestinian propaganda, though.

The Media Collude in Terrorist Crimes against Humanity. The key is not the terrorists. They are stuck in their ways. The real key is the international media — who are hardly neutral observers as they like to pretend. The international leftist media are essential players in this melodrama.

LA Times gives column space to deported Hamas terrorist. How low can a newspaper go? The LA Times edges closer to Der Stürmer territory, giving precious op-ed space to Hamas terrorist Mousa Abu Marzook, deported from the US in 1997.

The Disgrace of "The Nation": As Israel fights a life and death battle with Hamas terrorists, the American Left is doing its part to come to the aid of Hamas. Spearheading this effort is The Nation magazine.

The So-called International Community. The so-called international community has a script already prepared for any news from the Middle East. In this script, there is only Israeli violence, Israeli repression, Israeli guilt.

The Mumbai Massacre: Caused by the Jews. In a bout of journalistic malpractice, The Washington Post ran a story Tuesday declaring that officials had uncovered the true motivations of the Mumbai terrorists: 400 years of persecution by the West and the existence of Jews, especially in Israel.

The Case of the Missing Honor Killing: I'm glad that America's Most Wanted chose to dramatize the honor killing of Sarah and Amina Said in Dallas on Jan 1, 2008 by their father Yaser Abdul Said, who has been missing ever since. I hope the program helps aid in his capture. I applaud on-camera narrator John Walsh, who has turned his own grief at the loss of his child into something positive for so many others. However, the dramatization was oddly, perhaps even purposefully misleading.

The Media's Hypocritical Obsession with Madoff's Faith. As I've previously noted, the Times goes out of its way to describe terrorists who are ethnic Arab Muslims and south Asian Muslims as "gunmen," "attackers," "fighters," (never as terrorists), and they rarely use the word "Arab" or "Muslim" to characterize the perpetrators of a deadly rogue action. However, the paper of record will use the word "Muslim" to describe an aggrieved victim who has alleged "Islamophobia" or "racism."

Were There Muslims in Mumbai? Let's see: In the past 30 years, the overwhelming majority of acts of terrorism were committed by Muslims. Most terrorist groups have names like jihad-this and Islamic-that. Terrorists regularly quote the Koran's kill-the-infidels verses. ("O True Believers, when you encounter the unbeliever, strike off their heads!") Al-Qaeda and company tell us that their goal is to advance the global jihad. Those inciting inter-religious violence have titles like sheikh, imam and mullah. But linking Islam to terrorism is "misleading"?

There's Nothing To Explain. The Left's rush to explain the Mumbai attack in terms of Western antagonism, and not in terms of the doctrine of jihad, feels like simple collusion with monsters. The musings of the average American accountant or traffic cop or lawyer are one thing, but are we really to believe the editors of Newsweek and Time suffer from "naiveté" in their understanding of global frictions.

Whose side are they on?
We thought we were safe... then CNN stepped in! A South Wales couple caught in the Mumbai terror attacks claimed last night that CNN put their lives at risk by broadcasting where they were. Lynne and Kenneth Shaw, of Penarth, warned that terrorists were listening in to the media to pinpoint Western victims. Mrs Shaw claimed the American cable TV channel had broadcast details of where they were at the Taj Mahal Palace Hotel.

Roars About Russia, Bare Whispers About Islam. What American presidential candidate would ever explain the Islamic push, financial and otherwise, in the West for mosque construction, Islamic schools (madrassas), campus Islamic studies (apologetics) departments, Sharia law-inspired legal challenges, lobbying for Sharia-compliant banking and the like as a matter of Islamic imperialism?

PBS dropped 'Islam vs. Islamists' on political grounds. The producer of a tax-financed documentary on Islamic extremism claims his film has been dropped for political reasons from a television series that airs next week on more than 300 PBS stations nationwide.

Deal lets PBS stations air Islam film. A documentary billed as "the film PBS doesn't want you to see" will at long last get a national audience. The Corporation for Public Broadcasting (CPB) and Oregon Public Broadcasting (OPB) announced a joint agreement yesterday to make "Islam vs. Islamists" available to the 354 Public Broadcasting Service member stations across the nation as a "stand-alone" TV program, with a little extra embellishment.

Nation of Islam Allowed to Review PBS Documentary on Moderate Muslims. A conflict of interest involving the radical Nation of Islam and the Washington, D.C., affiliate of the Public Broadcasting System (PBS) is an example of unethical journalism that benefits extremist Muslims, according to a national security expert and a Hollywood filmmaker.

New 'Useful Idiots'? For years, the Soviet Union benefited from those Vladimir Lenin is said to have dubbed "the useful idiots of the West" — reporters, scholars, leftists, and assorted romantics who said the Soviet system of totalitarianism was not so bad. Leading its own charm offensive, another evil empire, the Muslim Brotherhood, has assembled its own enablers among the West's august institutions during the last few years.

This is what passes for journalism these days:
ABC Fakes Muslim Prejudice, Unsurprisingly Finds 'Islamophobia' in America. Apparently to prove that the US is filled with Muslim hating yahoos, ABC went on the hunt to find "Islamophobia" in America and the result is "Witness to Discrimination: What Would You Do?" Since they didn't really know where to find any, ABC News decided to create their own prejudice against Muslims by hiring an actress to put on Muslim dress and get "confronted" by a Muslim hating coffee store server — also an actor hired by ABC.

CAIR's Spin Guide: As part of its ongoing campaign to make sure you learn about Islam only what it wants you to learn, the notorious Council on American Islamic Relations (CAIR) has issued a new media guide — available only to "media professionals" — that purports to "educate the media and disabuse journalists of misinformation" about Islam.

Look Forward to Anger. Our media regularly make the assumption that the book burners and fanatics really do represent the majority, and that assumption has by no means been tested. (If it is ever tested, and it turns out to be true, then can we hear a bit less about how one of the world's largest religions mustn't be confused with its lunatic fringe?)

Defining Terror Down: Apparently the media elite spent too much time on the phone with CAIR apologists to bother reading the FBI affidavit, which makes it clear they were motivated simply by Islamic jihad (as if that were anything new). It records the men saying they were willing to die killing infidels in the name of Allah. One asks who'll take care of his family. Not to worry, another responds, "Allah will take care of your wife and kids." They watched speeches by Osama bin Laden calling for jihad, videos of jihadi attacks, and videotaped messages from two of the 9/11 "martyrs." Yet the media would have none of it.

A hate crime with no hater. In an AP story on Naveed Haq, "Man charged in Seattle shooting rampage", Gene Johnson of AP leaves out Haq's declaration, "I'm a Muslim American, I'm angry with Israel." … This omission makes his grievance seem purely political — one that any self-respecting Leftist would share. This is compounded by the fact that Johnson also neglects to mention that Haq is Pakistani, thereby leading the reader to the impression that when he says "our people," he must be Palestinian or Lebanese. After all, he couldn't possibly mean "Muslim people," could he?

French Police Faulted in Youths' Deaths. An internal police review of the 2005 electrocutions of two teenagers that triggered weeks of rioting in poor French neighborhoods faulted police officers for their handling of the case, a lawyer for the victims' families said Thursday [12/7/2006].

Editor's Note: Notice that the word "Muslim" is conspicuously absent in the article above. The "youths" were killed during the French riots, which are discussed at greater length here.

Louis Farrakhan's First Congressman. At this particular time in history, it is a matter of note that Congress is about to receive its first Muslim member. ... [Keith] Ellison's Muslim faith has generated no controversy in the campaign. On the contrary, it has served to insulate aspects of his public record from close scrutiny in a city whose dominant news organ, the Minneapolis Star Tribune, is a paragon of political correctness. With the exception of columnist Katherine Kersten, the Star Tribune has scrupulously avoided examining Ellison's long train of troubling associations, foremost among them his ties to the Nation of Islam.

The Terrorists Among Us: Reporting the arrests, the New York Times called the men "South Asians" — though one of them was an Egyptian, two were Somali, and most had been born in Canada — thus concealing by an inaccurate euphemism the most salient characteristic of the alleged plotters: that they were all Muslims.

Poisonously biased. CNN's Christiane Amanpour has set a new standard -- and not the kind a news network usually trumpets. God's Jewish Warriors, her two-hour screed against Israeli settlers and American supporters of Israel, is the most poisonously biased and factually shoddy feature to air on mainstream American television in recent memory.

Stop Our Networks from Helping Al Qaeda. You have seen it. We have all seen it. Worst of all, the families of the heroic soldiers killed, have seen it. "It," is a video montage of American military vehicle after American military vehicle, getting blown up in Iraq by Improvised Explosive Devices, or IED's. … More often than not, our very networks will use this footage as a propaganda tool to demonstrate to the American people that "Bush's war" in Iraq is a failure. Yes, we have all seen these horrible images, but did you ever ask yourself where the video came from?

Does AP stand for Al-Qaeda Propaganda? The Associated Press, the reliable just-the-facts news agency you and I once knew, no longer exists. Amoral propagandists have taken over. It is not only in the disturbing matter of Bilal Hussein, AP photograher and al-Qaeda associate, being held without charge in U.S. custody in Iraq that this is evident. But also in the departure from balanced, nonpartisan coverage that has always been the AP's promise to us, its customers.

Underreporting Muslim violence: Like many news junkies, I've noticed that stories putting Muslims in a bad light tend to be sketchy and underreported. A minor example is the comment — "the greatest terrorists in the world occupy the White House" — by the head Muslim chaplain of New York City's prisons. … A much bigger example is the misleadingly low-key reporting of the Ilan Halimi murder in Paris.

Baltimore Sun Leaves Terrorism out of Nigerian Oil Violence. One country's terrorist menace is one Baltimore Sun reporter's insurgency.

How Islamic Terrorists Manipulate the Media: Thuggery helps explain the obscenely low volume of negative press coverage of the Palestinian Authority, Fatah, Hamas, Hezbollah, and others. But it doesn't account for all, or even most, of the persistently slanted coverage. As any veteran of Middle East media coverage knows, many Arab stringers and free-lancers — hired on the cheap by Western outlets, ostensibly because of their superior knowledge for local leaders and events — see it as their duty to demonize Israel, while exalting fellow Arabs or Muslims.

The Imam Scam and the Democrats' House of Games. Since [9/11/2001], it's doubtful that even the most ardently PC liberal has boarded any airplane without carefully evaluating all fellow passengers — and not to evade inebriated conventioneers. It is that same indelible angst of their brothers' making which a group of Muslims exploited last month to perpetrate a hideous apparent hoax. And the soon-to-be empowered Democrats and their gullible accomplices in the media proved the perfect patsies for this odious plan to make the skies ever more dangerous for Americans.

Note: There is much more discussion of the Minneapolis incident on this page.

CAIR, Hamas and the House Candidate. Minnesota Democrat Keith Ellison is shaping up to be the first-ever Muslim member of Congress, and the mainstream media is treating his candidacy as an unalloyed triumph of multiculturalism.

A Conversion You Can't Refuse. The kidnapping in Gaza of two Fox News reporters, and the significance of their subsequent "conversion" to Islam at gunpoint, vanished from the front pages after their August 27 release. … Their plight shows the problems of evaluating reports emanating from areas infested by terrorist groups and authoritarian governments. We know already that some "journalists" are simply propagandists … But a larger problem is that honest local reporters have their lives threatened if they tell the truth.

Why abduct us? We cede our values for free. Did you see that video of the two Fox journalists announcing they'd converted to Islam? The larger problem, it seems to me, is that much of the rest of the Western media have also converted to Islam, and there seems to be no way to get them to convert back to journalism.

Covering the Conflict in the North: The media's coverage of Israel's conflict with the Iranian-backed Hezbollah terrorist group was filled with examples of bias, inaccuracy, and manipulation. While firing thousands of rockets into Israeli cities, Hezbollah was able to frequently manipulate the media into portraying the conflict as a "disproportionate" Israeli attack against Lebanese civilians.

War on terror is also war against liberal media and politicians. Terrorists around the world love America's liberal politicians and liberal media who support these so-called "insurgents" and "freedom fighters." Insurgents? Freedom fighters? No, they are cold-blooded murderers with a mission to destroy every Jew, Christian and infidel if they do not convert to radical Islam. And every American, by definition, is an infidel.

Muslims urged to buy influence in world media. Muslim tycoons should buy stakes in global media outlets to help change anti-Muslim attitudes around the world, ministers from Islamic countries heard at a conference in Saudi Arabia on Wednesday [9/13/2006].

Riots over mosque on the Queen's doorstep. The outbreak of disorder began after a mother and her daughter were set upon by a gang of 20 Asian youths armed with baseball bats, iron bars and pitchforks. The shaven-headed thugs — all dressed in white robes — launched the attack after pouring out of a former office building which is being used as an unofficial mosque.

[There they go again, calling young Muslim men "Asian youths" to avoid calling them what they are.]

CBS's Wallace Played Softball in Interview With Iran's Leader. A conservative media watchdog organization says while the recently televised interview of Iran's President Mahmoud Ahmadinejad by CBS's Mike Wallace was not as embarrassing as Dan Rather's 2003 talk with Saddam Hussein, it was clear Wallace was kissing up to the Iranian strongman.

Media in Lebanon — The fevered manufacture of the liberal agenda. There is so much honest news to peddle, I don't know why the media is offering us so much pure visible tommyrot when it comes to the Israeli attacks, unless they openly favor Hezbollah and have an axe to grind.

Movie shows photo fraud involved in wartime journalism. Numerous examples of Photoshop embellishment and throw-down toys carefully arranged by news photographers to evoke emotion.

Speaking of fraud...
No more ambulances for terror. I remind you again of CNN's Anderson Cooper's description last month of Hizballah's ruse: "…One by one, they told the ambulances to turn on their sirens and to zoom off, and people taking that picture would be reporting, I guess, the idea that these ambulances were zooming off to treat civilian casualties, when in fact, these ambulances were literally going back and forth down the street just for people to take pictures of them."

Use and Abuse of Euphemism: When a coven of Islamist terrorists got arrested in Canada, the news wires initially had a devil of a time conveying the information that, well, a coven of Islamist terrorists had been arrested. The New York Times reported that the suspects were "mainly of South Asian descent." Many reporters quoted Mike McDonell, a police spokesman, who said the terrorists "represent the broad strata of our society."

The Criminalization of Christianity: Unfortunately, the widespread persecution of Christians around the world continues unabated and receives almost no attention from the international media. For instance, over the last several months, nearly 2,000 Christians in one African nation have been rounded up and imprisoned. Yet these victims of religious persecution have received nowhere near the attention [Abdul] Rahman received.

When is Jihad Not Jihad? When it is spiritual struggle. Witness the latest European Union pronouncement, which advocates an exclusive definition of jihad as "spiritual struggle" in the public discourse, lest the tender sensibilities of Muslims be offended.

Understanding Bias: You click on MSNBC.com and notice a hot new development in the Mideast. How should you go about analyzing the news report? There are certain questions you can keep in mind that may reveal underlying bias.

Tactical victory no match for media superiority. Israel has yet to figure out that wars aren't just fought on the battlefield. They are also fought on the mediafield. And the mediafield ultimately is larger than the battlefield. Why? Because world opinion is what ultimately settles issues of world politics.

Louis Farrakhan Rips 'Wicked Jews' in Hollywood. It's been nearly a month since Nation of Islam leader Louis Farrakahan blamed "Zionists and neo-cons" for "manipulating" President Bush into invading Iraq – before blasting "wicked Jews" in Hollywood for promoting "lesbianism [and] homosexuality." Yet, outside of a few newspapers in Chicago, the same press that showers positive coverage on Farrakhan's Million Man marches has yet to get around to covering his Feb. 26 Saviours Day speech.

Liberal use of language: Officials of that great bastion of liberalism — the European Union — reportedly want to replace the term "Islamic terrorism" with "terrorists who abusively invoke Islam."

Sometimes survival gets a bit noisy. If the Jews would just die without making a lot of noise, the Nice People could get on with the really important things in life, stuffing their faces with salmon and bean sprouts, watching the Rev. Billy Don Moyers pontificate on PBS, and making more Nice People. The Nice People, manipulated by the coverage of the fighting in Lebanon, are getting fed up with the Israelis, who are acting as if they have the right to survive ….

Islamic States Press for Limits on Free Expression. Islamic groups and governments are pressing ahead with a campaign to have international organizations take steps, including legal ones, to provide protection for their religion in the wake of the Mohammed cartoon controversy.

Hell no, we won't work. After the rampages last fall, mostly by unemployed and disaffected Muslims — almost universally referred to as "French youths" by an international press too afraid to reports facts that may not be considered polite — French Prime Minister Dominuque de Villepin has proposed measures designed to encourage French companies to hire more young workers.

Al Jazeera goes global. Al Jazeera is ready for America, but is America ready for Al Jazeera? The Al Jazeera Channel, the controversial Arab-language network that has emerged as the principal television news source in the Arab world, is going global with an international English-language spin-off designed for European and American audiences.

What is 'Human Rights Watch' watching? When it comes to Israel and its enemies, Human Rights Watch cooks the books about facts, cheats on interviews, and puts out predetermined conclusions that are driven more by their ideology than by evidence. These are serious accusations, and they are demonstrably true.

American news media: little courage and little honesty. Everyone and his mother knows why the networks and the print journals haven't shown the cartoons — they fear Muslims blowing up their buildings and stabbing their editors to death. The only people who deny this are the news media. They all claim that they won't show the [Mohammed] cartoons because of sensitivity to Muslim feelings.

Note: There is a separate page for material about the Riots over the Mohammed Cartoons.

PBS Station Nixes Show On Terrorism. Following last-minute cries of protest from Muslim leaders last week, a Public Broadcasting Service affiliate in Dallas canceled the premiere of a documentary on the roots of Islamic terrorism. "The Roots of War: The Road to Peace" was scheduled to air on KERA-TV on Sunday, January 29, but the premiere was postponed by the station's managers after a local Muslim group alleged that the program contains inaccuracies and anti-Muslim bias.

Lott's Comments Get 20 Times the Coverage of Murray's: The mainstream media gave former Senate Majority Leader Trent Lott's comments praising his Senate colleague Strom Thurmond nearly 20 times the coverage it devoted to Sen. Patty Murray's remarks praising Osama bin Laden during the same period of time.

Protecting Muhammad: The most striking aspect of the controversy is the leverage of the offended Muslim community. Even in the United States, even a publication as venturesome as Slate magazine describes the offending caricatures but is careful not to reproduce them. A quite natural curiosity attaches to how these 12 caricatures actually looked.

NASCAR Furious With NBC Over 'Dateline' Segment. "It is outrageous that a news organization of NBC's stature would stoop to the level of going out to create news instead of reporting news," [NASCAR spokesman Ramsey] Poston said [4/5/2006]. "Any legitimate journalist in America should be embarrassed by this stunt. The obvious intent by NBC was to evoke reaction, and we are confident our fans won't take the bait," he said.

More Muslim Enemies from Within: If this event had been an anti-Muslim rally, the story would be front-page news. Editorialists and academics would be decrying racial and religious intolerance. Left-wing celebrities and MTV veejays would be hectoring us about the need for unity and harmony. But it was an anti-American rally.

This article is on topic, really. Read the whole thing.
Muslims and media: There's one good thing about the news that Alwaleed bin Talal, the richest Saudi prince in the world, just bought Harvard and Georgetown Universities — or, at least buried them up to their ivy in $40 million. It gives everybody reason to relive a McAuliffe moment.

Radical Arabs Seek Influence Over U.S. Media. There are terrorists in the Muslim world seething with hatred for all Americans. This war, unlike any other we have confronted, presents us with an enemy that is everywhere and nowhere. The media are a key battleground. It is a war largely without nation-state soldiers in uniforms. To add to the confusion, our enemy has skillfully blurred the lines between bloodthirsty murderers and legitimately religious people. Thus, the pressure for "tolerance" that often fails to distinguish the former from the latter.

A thug by any other name... It's unclear how [Christophe] Bertossi would prefer that the violent young Muslims (invariably called "French youths" in the mainstream media) be treated. If torching cars and destroying schools isn't criminal and terrorist behavior, nothing is.

Al Qaeda Loves Our Unpatriotic Media. The New York Times, CBS, and other news organizations have joined with the ACLU in demanding that the Pentagon release more sensational photos and videos of Iraqi prisoner abuse. The inevitable result of such disclosure, according to General Richard B. Myers, chairman of the Joint Chiefs of Staff, is that Islamic terrorists will exploit the material and kill Americans. Do our media care?

Well, they got me.... The First Amendment and I have been evicted from ABC Radio in Washington, DC. On July 25th, the Council on American-Islamic Relations demanded that I be "punished" for my on-air statements regarding Islam and its tragic connections to terrorism. Three days later, 630 WMAL and ABC Radio suspended me without pay for comments deemed "hate radio" by CAIR.

CAIR killing free speech in the U.S.? Though there is some disagreement between local talk station WMAL and fired mid-morning host Michael Graham over the details of his recent termination, one thing is not in dispute: the big winner is the Council on American-Islamic Relations, which called for his ouster, yet has never specifically condemned Islamic terrorist organizations such as Hamas or Hezbollah.

French Fried Muslim Madness. Here's the typical feed coming from liberal thought police central: "Riots have broken out in Paris suburbs. This wave of destruction has been at the hand of North African and Middle Eastern descent French youths who have been disenfranchised and unemployed by haughty white French people." Yeah, if you do a little digging, I bet you'd find that, as Mark Steyn wrote, the names of the "French youths" culpable for this anarchy are not Pierre, Patrice, Henri and Claude, but rather Habib, Achmed and Mohamed.

Cowed by CAIR: DC talk station fires host. Washington, D.C. talk radio station WMAL, 630 AM, has caved to pressure from the Council on American-Islamic Relations, a group that has savaged journalists, critics of radical Islam, even the Fox TV show "24" but which just as steadfastly has refused to specifically condemn various Islamic terrorist organizations.

Take off the muzzle. These days, there's very little you can't do on television. However, there are plenty of things that you can't say, on television or in print. Not because these things aren't true, but because they're considered politically incorrect.

Michael Graham, spiked by ABC. Remember this the next time ABC toots its own horn as a defender of free speech. Michael Graham, a popular talk-radio host on ABC-owned WMAL in Washington, D.C., publicly declared that "Islam is a terror organization." Under pressure from a radical Islamic group, ABC fired him.

Excellent Caution: Muslims easily inflamed. Absent from this blame exchange is any recognition that many Muslims can be incited to violence by anything or nothing. It's as if they live poised for outrage.

NPR Repeatedly Describes Far-Left Islamists as "Conservative". When it comes to ideological labeling, the media standard is to presume that the bad guys are the conservatives or the ones on the right. How else to explain "hard right" and "conservative" communists when communism is on the far left?

Privatize PBS and NPR. PBS became the object of outraged citizens when it broadcast a blatantly anti-Boy Scout documentary called "A Scout's Honor" in 2001. And last December, "Mohammed: Legacy of a Prophet" was more an infomercial for Islam than an objective documentary. To a greater extent even than PBS, NPR has become a mouthpiece for the radical left. Conservatives have their talk radio and Christian stations while liberals occupy the mainstream media. But the radical Left has found its home at NPR.

Newsweek and the rioters: One will have to search extensively for any editorials condemning these primitives in the Western press, let alone in the Muslim press. This is because moral expectations of Muslims are lower than those of other religious groups. Behavior that would be held in contempt if engaged in by Christians or Jews is not only not condemned, it is frequently "understood" when done by Muslims.

Remember 9/11: Stop sanitizing the killers. Contrast the media whitewashing of our Islamofascist enemies with the press coverage of the Waco, Texas, siege in 1993 — which constantly reminded us that David Koresh and his Branch Davidian followers were members of a "peculiar religious sect" and "a group of religious zealots with a known propensity for violence".

The academic/media complex. For some reason, Ramadan's inability to enter the country for an extended stay in an influential post seems to raise the hackles of weighty editorial pages from around the country. Why would this particular academic get such special treatment? It is just another manifestation of class solidarity within the liberal academic/media complex.

War without spin: This is no "guerilla insurgency." By definition, "guerillas" or "insurgents" represent an organized political alternative to an established regime. Radical Sunni and Shi'ite clerics like Muqtada Al-Sadr, who tortured and killed 200 men, women and children, and buried them in a mass grave in Najaf, don't promise to make things better for the Iraqi people. Nor do the remaining Baath Party warlords or foreign extremists like Abu Musab Al Zarqawi. These men inciting gunfights in Iraq aren't "insurgents," they are anarchists. They offer no unified "platform" other than "jihad!"

Oprah's Mag Misses the Mark. Incredibly, the lengthy 'O' article completely ignores a main factor behind Islamist terror — the incitement to violence that continually spews forth from Palestinian media and mosques….

The Hate Crimes That Weren't. The public discourse on Islam and terrorism is largely dominated by self-important blowhards who are wrong and wrong again, wrong consistently, and yet are never called to account and are called upon as "experts" again and again.

Women's magazine offers tips to terrorists. Al Qaeda has introduced an online women's magazine with articles including dietary advice for suicide bombers and tips on how to "dominate the passions" before blowing yourself up.

Is the Media Downplaying Possible Muslim Connection to New Jersey Murders? An Israeli author and lecturer says he is aggravated that the American news media has once again chosen to ignore a major story because it paints the religion of Islam in a bad light. The bodies of a Coptic Christian family were found in their New Jersey home on January 14. Hossam Armanious, an immigrant from Egypt, his wife and their two daughters had been bound and gagged, and their throats slashed.

Jihad at the St. Petersburg Times: Over the past month, Mike Frazier has received, by his count, six death threats and 47 menacing phone calls. ... Such is the price Frazier has paid for criticizing the Council on American-Islamic Relations, the most influential radical Islamist group in the United States. Frazier's plight is symptomatic of the politically correct hysterics that critics of militant Islam have been subjected to since 9/11, as anyone who dares question the motives of certain American Muslims is invariably tarred as an "Islamophobe" by the mainstream press.

CAIR's war on conservative radio: The Council on American-Islamic Relations won't condemn Muslim fanatics, but it has declared war on outspoken Americans who will. CAIR, which calls itself "America's largest Islamic civil liberties group," has lately focused its wrath on conservative radio talk show hosts.

Four Myths About Muslims: Given the ground rules of politically correct discourse, only a minority may criticize a minority — only a Muslim may criticize Muslims.

Pushing the bias button: The Council on American-Islamic Relations and other lobbying groups are reporting a rising tide of anti-Muslim bigotry and a massive increase in anti-Arab crime in America. Obvious questions: What rising tide? What massive increase?

More Muslim hate crime myths: They milked the compassion of their communities. They won sympathy from the media and politicians. And now it appears they were all hate crime hucksters who cried "racism" to cash in on the terrorist attacks.

Four Myths About Muslims: While the attacks of September 11th roused a dormant patriotism in the collective American bosom, it also unveiled how deeply entrenched public discourse is in political correctness. Day after day the "war on terror" brings more misinformation, disinformation and propaganda. Most security measures are either window dressings for public consumption or usurpations of civil liberties by power-hungry elements within the bowels of bureaucracy.

The lie heard round the world: Some have theorized that al-Dura was accidentally killed by Palestinians and then immediately transformed into a martyr to cover up the mistake. Others believe it is possible that he was intentionally sacrificed because his father had been a little too friendly with Israelis. We will probably never know. But one thing is certain — the story of the deliberate killing of 12-year-old Muhammad al-Dura by Israeli soldiers was a damnable lie.

Oprah's Lies, Part II: Oprah's crash course program "Islam 101", which aired on October 5, still has me reeling. In Oprah's interview with Queen Rania of Jordan, the Queen affirmed that Islam "doesn't impose anything" on people.

Web site:
Honest Reporting: "Israel is in the midst of a battle for public opinion — waged primarily via the media. To ensure Israel is represented fairly and accurately HonestReporting monitors the media, exposes cases of bias, promotes balance, and effects change through education and action."

Back to Media bias in general
Back to the Home page