Incompetence
Secrets and Lies: Three Russian Stories. The major developing stories this week have been so scantily and poorly covered in the mainstream press that you may want an easy primer. To fully understand it you have to look at alternative media, because just as Harvey Weinstein counted on complicit enablers — his colleagues, victims and the press — Hillary Clinton, Robert Mueller and a cast of characters, including a press determined to cover for them have hidden what occurred.
The general schools doltish press corps. Gen. John Kelly stepped to the podium in the White House briefing room and delivered a bare-bottom, wire-brush, red-rash public spanking of the political press Thursday [10/12/2017] — the likes of which we have never seen in the age of modern media. [...] Ordinarily, military generals are not called on to give journalism lectures. But you don't have to be an expert in journalism to know how utterly ridiculous these people have gotten, "reporting" about made-up squabbles between people inside the administration.
Ann Coulter: Las Vegas Massacre — The Story Is Coming Apart. The media are either doing PR for the gambling industry or they don't want anyone considering the possibility that Paddock was using gambling to launder money. [...] The media think about money the way Democrats do. They have absolutely no conception of where it originates. Those casino owners sure are generous! reporters think to themselves. Economist Thomas Sowell is always ridiculing journalists for not understanding basic economics. It turns out, they don't understand the spreadsheet of a lemonade stand. The New York Times explained that the "top" video poker machines pay out 99.17 percent. That's great that Paddock was only losing cents on the dollar (if true), but it's still losing. The Times quickly explained that he could have more than made up his losses with all the "comps" — the free rooms, meals and "50-year-old port that costs $500 a glass," as his brother Eric said. Gamblers who are beating the house are not given $500 glasses of port. Refer to the profit/loss spreadsheet. And yet, according to his brother, Paddock was treated like royalty by the casinos. Which means he was losing.
Someone tell CNN's Chris Cillizza that words actually matter in the gun control debate. The debate over gun control rages after mass shootings, and it is almost painful to watch how poorly reporters try and stumble around an issue they're apparently not familiar with reporting. When reporters use terms such as "automatic rounds" and "semi-automatic machine guns," the public is less informed on public policy. There is no such thing as an "automatic round" or "semi-automatic machine guns," but the terms sound intimidating and mislead the public into thinking they exist. Chris Cillizza wrote an article at CNN that is loaded with errors and shouldn't have made it past an editor with any knowledge of firearms and firearm laws.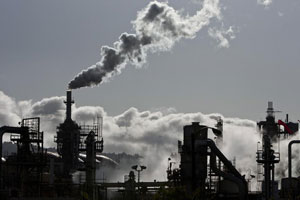 Trump EPA to propose repealing Obama's climate regulation: document. The U.S. Environmental Protection Agency will propose repealing the Clean Power Plan — the Obama administration's centerpiece regulation to fight climate change — and plans to solicit input on a rule to replace it, according to an EPA document seen by Reuters.

The Editor says...
This article is accompanied by a photograph (left) which appears to be a photo of an industrial plant of some sort, with the dishonest caption, "Smoke is released into the sky at a refinery in Wilmington, California March 24, 2012." The "smoke" being released is obviously water vapor, since it appears to be absorbed into the surrounding atmosphere within a few seconds of its release. The contrast on the photo appears to have been enhanced to make the emission appear to be black as it leaves the vent, but smoke doesn't turn white and then disappear within a few seconds. This appears to me to be a shamelessly dishonest attempt to make harmless vapor look like smoke.




Was Las Vegas Shooter "Radicalized"? The deadliest mass shooting in modern American history has been cravenly transformed into anti-American propaganda by the Left, as Democrat commentators race to ghoulishly disparage white men, gun rights and the NRA, Republicans, and President Trump, blaming them for what otherwise looks like a Muslim terrorist atrocity. Islamic State continues to claim responsibility for the massacre. The terrorist group also claims Paddock converted to Islam six months ago and refers to him by a nom de guerre, Abu Abdul Barr al-Amriki. In Las Vegas Wednesday [10/4/2017] FBI Special Agent in Charge Aaron Rouse said, "We have found no evidence to this point to indicate terrorism, but this is an ongoing investigation. We're going to look at all avenues, not close any." Paddock may have been "radicalized unbeknownst to us," Clark County, Nevada, Sheriff Joe Lombardo said at a presser without elaborating. The reporters present for the statement did not bother to follow up. For much of the mainstream media, the fact that Paddock was a white male explained his violent rampage.

The media doesn't understand guns — and doesn't want to. The American political left and mainstream media pundits at large do not understand guns. They are not educated about them and they refuse to learn about them. They could not tell you the difference between an automatic or semi-automatic firearm. They don't understand what a suppressor does or does not do.

Three Big Stories Imploded This Week. The Department of Homeland Security stated last Friday [9/22/2017] that Russian hackers tried to hack into the voting systems of 21 states including Wisconsin and California. But DHS backtracked this week, stating that hackers targeted the California Department of Technology and the Wisconsin Department of Workforce Development but not voting systems in those states. "Either they were right on Friday and this is a cover up, or they were wrong on Friday and we deserve an apology," Mark Thomsen, chairman of Wisconsin's Elections Commission, said Tuesday.

Democrats will use any excuse not to give power back to the states or the people. A major culprit in the ACA, health care mess we have today are the significant majority reporters that just go out and repeat Democrat talking points. They never cared and still don't that Obama continually lied to get the ACA passed and that the disastrous premium and cost increases are because of Democrats. The story will be written that Republicans and Trump caused the collapse even though that is demonstrably not true.

Chuck Todd is a constitutional illiterate. Roy Moore's primary victory in Alabama is terrifying progressives, and so the all-out assault on Moore and the Republican party has begun. Tripping over themselves to paint Moore as an extremist theocrat, some liberal anchors like MSNBC's Chuck Todd are stepping in it. On Wednesday evening's [9/27/2017] episode of "Meet the Press," Todd alleged that Moore "doesn't appear to believe in the Constitution as it's written." "Roy Moore, where the phrase 'Christian conservative' doesn't even begin to describe him," Todd said, "could very well be your next U.S. senator."

CNN Howler: Abraham Lincoln Was Pro-Science Back in... 1963? Celebrity scientist Neil deGrasse Tyson appeared on CNN, Sunday [9/17/2017], to lecture those he deemed too stupid to accept the linkage of climate change to Hurricanes Harvey and Irma. Proving he should stick to science on TV, deGrasse pompously botched history: "Abraham Lincoln, the first Republican president, signed into law in 1963 — a year when he had important things to be thinking about — the National Academy of Sciences." Of course, Lincoln had been dead for 98 years in 1963.

Apology, apology, who's got an apology? ESPN, the sports network, is part of Disney entertainment enterprises, and last week one of its "anchors," a $1.98 cent [sic] word for "announcer," or "reader," had to be disciplined by the network for telling her semi-vast following that "Donald Trump is a white supremacist who has largely surrounded himself w/other white supremacists." She said it in a tweet, naturally, the preferred communication of those unable to speak words of more than one syllable. She offended a lot of people, or at least some people. How could she not? Taking offense is the great American pastime. Ms. Hill is, of course, entitled to her opinion, however ill-informed by liberal group-think, but she should have known that even as a commentator, entitled to pop off about whatever pops into her mind, she should beware of making a fool of herself.

Wile E. Coyote press says Trump betrayed you. Each month, the press magically has a bunch of stories that center on the same theme. Last month, it was President Trump as inciting violence. This month, it is President Trump is stabbing his supporters in the back. [...] However, real journalism requires that you get the White House to comment before you publish as a "fact" that President Trump reversed himself. An attribution to a third party does not cut it.

Trump Killed the New York Daily News. The sale of the New York Daily News for a dollar isn't the death of the sleazy leftist tabloid. It died a while back. Today, the Daily News is best known for its trolling front pages. That and bizarre trolling hate pieces from a staff of repurposed and unqualified trash like Linda Stasi, a former Post movie critic turned hate spewing bigot, and sportswriter Mike Lupica, trying to churn out political commentary. Stasi summoned a boycott of the already failing paper when she blamed one of the victims of the Muslim terror attack in San Bernardino because he was a Republican. Lupica has no idea when the Constitution was written. The Daily News had once been a powerhouse. But as the end approached, it lacked any actual talent.

NBC News Incorrectly Labels Menendez a Republican Before Correcting Article Hours Later. NBC News published an article Wednesday incorrectly labeling Sen. Robert Menendez (D., N.J.), currently in federal court on bribery charges, a Republican. NBC styled Menendez as a Republican in the lede of the article, then confusingly labeled him a Democrat at the end of the introductory paragraph, the Daily Caller reported. The article appears to be a wire from the Associated Press, but the original piece on the AP's website does not feature the mistake, suggesting it was added in by NBC.

Scientific American Sokalized. A few years ago, I learned of an article by Mark Z. Jacobson and Mark A. Delucchi in the November 2009 issue of Scientific American called "A Path to Sustainable Energy." My first impression was, "These guys must be joking." My second impression was, "Yes, they are joking, and the joke is on Scientific American."

Soros-Funded Groups Fueled Joel Osteen Church Story. Megachurch pastor Joel Osteen was taking considerable heat Monday evening [7/28/2017] for allegedly not opening his 16,000-capacity Houston church to flooding victims in that city. But the story appears to have been concocted by members of a George Soros-backed group keen on simply smearing Osteen and Lakewood Church. Once it became viral on social media, the liberal mainstream media picked up on it — seemingly without ever asking if it was true.

Media Stunned — President Trump Support Stronger Than Ever, and Growing. President Trump has been in office for 30 weeks, and 20 of those weeks have been called "the worst" by media. However, if you actually engage with people living their lives and not focused on who the media blame for the latest round of horrid offenses; well, then you might recognize the scope of how over-emphasized and out-of-touch the media perspective really is. CBS and The Associated Press each found themselves picking their corporate media jaws off the floor when they actually did ask people. You know, ordinary people. Folks like you and me. The media didn't anticipate the power of common sense to see through their [duplicity].

Let's Treat College Admissions like Immigration. Last week, President Donald Trump endorsed an immigration bill put forth by Senators David Perdue and Tom Cotton. The reaction was swift yet predictable. [...] CNN's Jim Acosta, auditioning for Wolf Blitzer's or Don Lemon's gig on CNN, beclowned himself during a White House press conference by equating a contest-winning poem with the US Constitution. Big deal. CNN doesn't recognize the US Constitution as a founding document, instead relying on the front page of the New York Times or the Washington Post as the law of the land.

Does The New York Times Even Have Editors? On September 30, the New York Times published a long article about Donald Trump's wife Melania in its Fashion and Style section. The article said little of substance — Mrs. Trump is a nice lady, apparently — but it resulted in an epic sequence of five corrections: [...]

All the Speculation That's Fit to Print. Over the weekend, the New York Times published a story on Republicans who supposedly are angling for their party's 2020 presidential nomination: "Republican Shadow Campaign for 2020 Takes Shape as Trump Doubts Grow." The story was, of course, part of the paper's daily war on President Trump. Its purpose was to cause "doubts" about President Trump's being the GOP nominee in 2020 to "grow." The Times article contains no actual news.

CNN Anchor Doesn't Recognize US National Anthem. CNN anchor Poppy Harlow apparently didn't recognize the Star Spangled Banner on Thursday, mistaking it for the French national anthem. Harlow was covering President Trump's arrival in Paris, France to meet with French president Emmanuel Macron. After the two world leaders shook hands, they stood together as a band played the United States national anthem. However, Harlow cut to the scene by saying, "Let's just listen in to the French national anthem for just a moment." It took at least ten seconds before whispering could be heard in the background — presumably a producer who caught Harlow's error — and Harlow had to correct herself.

Stupid Hostile Media. President Donald Trump drives people crazy. Especially those in the media. They hate him so much, they leap on every anti-Trump rumor. The Federalist's Jordyn Pair points out that the press repeatedly told us that a dozen Trump administration members were about to be fired, including Attorney General Jeff Sessions, Press Secretary Sean Spicer and strategists Steve Bannon and Jared Kushner. Months later, all still work for or with the administration.

Rubio pushes back on media for calling Bible verses 'Republican'. Sen. Marco Rubio (R-Fla.) on Sunday pushed back at a news article that claimed the conservative lawmaker was tweeting "the most Republican part of the Bible." "Proverbs is the Republican part of the bible? I don't think Solomon had yet joined the GOP when he wrote the first 29 chapters of Proverbs," Rubio said tongue-in-check, while retweeting Politico Magazine's story on the matter.

The Editor says...
I have worked with a number of people who call themselves "journalists," and 90 percent of them appear to know next to nothing about the Bible. I'm not a Bible scholar, either, but if you're going to write about Biblical issues and make accusations in the media, perhaps you should have the facts on your side.

Democracy Dies Due To Journalists' Lies. One of CNN's reporters complained that the president had the audacity to take questions in Poland from a reporter who had applied for a job with the Trump Administration. Please pay no attention to the actual number of reporters who went to work for Barack Obama and those who did not but chose to carry his water for him. After the election, the media pushed out the story that Russia had stolen the election for President Trump. One newspaper claimed Russia had hacked the American power grid. That story had to be retracted. [...] In February, the Associated Press ran a story that President Trump intended to mobilize the National Guard to round up illegal aliens. The story was not true, but just about every major media outlet ran with it. In May, the media claimed the GOP had trucked in beer to congress to celebrate repealing Obamacare. That was not true either.

CNN Just Published A Fake Quote From Abraham Lincoln. The quote, which is also displayed at the Newseum, was interpreted as yet another attack from the media giant against the president. [...] Insofar as a hearsay quote should ever be tweeted out or inscribed in walls, at least it should be accurate. Particularly when it's about "truth" and "facts."

Trump's visit to Poland and the incoherent media. CNN is already against the wall after recently retracting a report on a Trump associate's supposed ties to Russian money. But in a rush to find something wrong with Trump on his trip, White House correspondent Jim Acosta bruised his network again. Before his speech in Poland, Trump said in a press conference that he had found that only "three or four" out 17 U.S. intelligence agencies made formal conclusions about Russia's election interference. Acosta called Trump's comments "fake news" and wondered, "Where does that number come from? Where does this 'three or four' number come from? My suspicion ... is that if we go to the administration and ask them for this question, I'm not so sure we're going to get an answer." Except everyone else by that point, including the New York Times, had known that Trump was correct. Just four agencies have formally and independently made their conclusions about the election interference.

Reminder: Many reporters are basically clueless about Christianity. No topics confound media with greater regularity than firearms and Christianity. To put it plainly, many commentators and reporters have no idea what they're talking about when it comes to either of these subjects.

Sketchy Media Now Retreating From Sketchy Russian Conspiracy Reports. Hillary Clinton and aligned political operatives manufactured the illusion of a connection between Russian entities and the Trump campaign/organization. Those manufactured points of evidence, including a sketchy Russian Dossier, were used by the political intelligence community (Clapper, Brennan Comey) to open an investigation of nothingness — to nowhere. The mere existence of the investigation was then used as the originating point for a series of media intel leaks (the narrative) intended to cloud and damage the Trump campaign/organization.

Three CNN Employees Resign Over Retracted Story on Russia Ties. Three CNN employees have handed in their resignations over a retracted story linking President Trump to Russia, the network announced Monday [6/26/2017]. Thomas Frank, who wrote the story in question; Eric Lichtblau, an editor in the unit; and Lex Haris, who oversaw the unit, have all left CNN. "In the aftermath of the retraction of a story published on CNN.com, CNN has accepted the resignation of the employees involved in the story's publication," a network spokesperson said in a statement Monday [6/26/2017].

Three Employees Resign from CNN Amid Very Fake News Scandal. Three CNN employees have resigned amid the network's very fake news scandal in which it was forced to retract a hit piece on President Donald Trump and his associates. "CNN said Monday [6/26/2017] that three journalists, including the executive editor in charge of a new investigative unit, have resigned after the publication of a Russia-related article that was retracted," CNN's Brian Stelter reported late Monday. "Thomas Frank, who wrote the story in question; Eric Lichtblau, an editor in the unit; and Lex Haris, who oversaw the unit, have all left CNN."

Report: CNN Imposing New Rules On Russia Coverage After Another Botched Story. Higher-ups at CNN are cracking down after another botched story regarding President Trump and Russia. The network retracted and deleted a story late last week that claimed Anthony Scaramucci, who served on Trump's transition team, was under FBI investigation for a meeting he had with a Russian executive. That story, which was based on one unnamed congressional source, was false.

Why CNN can't have nice things. In an extraordinary move, CNN's staff, from social media, to video, to editorial, to MoneyStream, has been told "No Russia reporting for you!" without adult supervision. [...] It's probably a reasonable response, given that the network's claim about Trump transition team member, Anthony Scaramucci, claiming he was under investigation for Russia ties, turned out to be pure garbage and the network had to apologize to him, probably to stay out of libel court. But oh, what an embarrassing thing to get out in the journalism world! Not just the order to clear it with the adults, the leaked memo, too.

CNN Has to Completely Retract a Major Anti-Trump Story. CNN, you will recall, ran a major story about James Comey claiming that Comey would contradict the President on whether the President is being investigated. They went wall to wall with the coverage of that story. Then James Comey did not contradict the President. CNN had to walk it all back. Now they have done it again. On June 22, CNN ran a story claiming that Anthony Scaramucci had dealings with a Russian investment group.

Making It Up As You Go Along. Two articles that could have come from different universes were actually written in the same week. The first is a Washington Post article describing how president Obama, aware of Russian plans to influence the 2016 election "choked" by not responding forcefully, lulled by "the assumption that Clinton would win" anyway. The second article by Emile Simpson at Foreign Policy warns that Trump may be stumbling into a war involving the very same Russia. They are representative of stories that depict the administration either at Putin's throat or at his feet, in collusion or conflict with the Kremlin. Although this is contradictory nobody seems to notice. In fact both can simultaneously be true if you assume the political system is inconsistent, as if driven by a random number generator. That may in fact be the case. The entire political system, not just Trump administration, is zig-zagging through public policy.

They're Wrong About Everything. What I have heard from the media and political class over the last several years has been so spectacularly proven wrong by events, again and again, that I sometimes wonder why I continue to read two newspapers a day before spending time following journalists on Twitter. [...] The fact is that almost the entirety of what one reads in the paper or on the web is speculation. The writer isn't telling you what happened, he is offering an interpretation of what happened, or offering a projection of the future. The best scenario is that these theories are novel, compelling, informed, and based on reporting and research. But that is rarely the case. More often the interpretations of current events, and prophesies of future ones, are merely the products of groupthink or dogma or emotions or wish-casting, memos to friends written by 27-year-olds who, in the words of Ben Rhodes, "literally know nothing."

Infuriating: Gun 'Expert' on NBC Doesn't Know How Guns Work. Evy Poumpouras, a correspondent and security analyst for NBC, MSNBC, CNN, and HLN, was invited on NBC to give expert opinion on the assassination attempt of congressional Republicans on Wednesday [6/14/2017]. This former Secret Service agent under President Obama and current cast member on the CBS show Hunted inaccurately described how semiautomatic rifles and pistols function. Her remarks are what continue pushing the narrative that assault rifles are somehow more deadly than other firearms.

Journalism is dead; whatever these guys are doing isn't journalism. What do all of these stories have in common? They're completely unsourced. No names. No real people. Just claims that come from, in order, "two administration officials and three outside advisers familiar with the matter," an anonymous tweeter who set up a dummy Twitter account, and "a Downing Street adviser." None of the latest stories have anyone on the record making the accusations. Instead, the "news" sites that posted the stories — Politico, the Daily Mail and the Guardian — simply make the surprising claims and cite anonymous sources. The subjects of the anonymous slurs have no recourse whatsoever, no right to face their accusers, no way to fight back. The accusation streams out onto the internet, where it lives forever — whether it's true or not.

What it takes to be fired by CNN. But even at CNN, there are limits. First the network fired "comedian" Kathy Griffin from what was apparently her only CNN gig, co-hosting the network's New Year's Eve show. Griffin's offense, as we all know, was displaying a model of the president's severed, bloody head. Given the magnitude of the offense, finding a new New Year's Eve co-host didn't seem like much of a price to pay. Now CNN has brought down the hammer again. It has fired Reza Aslan, who hosted a CNN series. Aslan has a degree, among others, from Harvard Divinity School. Divinity isn't what it once was; his offense was this tweet about President Trump: [...]

Fired Philadelphia Journalist, Colleen Campbell, Upset After Video Goes Viral. Play stupid games, ya win stupid prizes. Journalist Colleen Campbell called work at PHL 17 to tell her boss why she was unable to come to work. [It is unknown whether she told her boss she was in jail.] Ms. Campbell was surprised to discover she was fired. There was video. "Video, what video"? She protested.

Police: Colleen Campbell Later Assaulted the World's Most Patient Cop. By now, you're probably familiar with the viral video of since-fired PHL 17 reporter Colleen Campbell ranting and raving and getting arrested outside of Helium Comedy Club on Sunday night. Earlier, we told you that the 28-year-old South Philadelphia woman had been charged with resisting arrest, criminal mischief, and disorderly conduct, but now the Philadelphia Police Department is saying that it's worse than we originally thought. According to a police statement about the incident, shortly after the calm, cool, and collected cop who responded to the scene led her away in cuffs and the video stopped, Campbell, a recent Temple University graduate, allegedly assaulted him. Police say that she kicked him repeatedly and also kicked the doors and windows of a police car.

Media Bias In Action: NY Times Makes Obama The Victim Of His Incompetence. The concern here is we are a culture that demands a ton of information, and we want it fast. Twitter, Facebook, Apple News, news alerts and email alerts keep us up to date on every bit of news we want from sports to politics. Unfortunately, an environment also exists wherein people are happy to read a headline and not read an article.

Leakers and Journalists Are Destroying Our Republic. Leakers and journalists are tied together like drug dealers and junkies. Unfair analogy? Maybe a bit, but people who live "respectable middle-class lives" can be just as dangerous, more dangerous, ultimately, than the murderous El Chapos of the world and that's pretty bad. Only the other day some U.S. intel people or person leaked to the New York Times about the Manchester terrorist, causing news to be reported that could have instigated more Islamist child murders. We have an epidemic of leaking in our society unlike anything I have seen in my lifetime.

Journalists' brains below average due to alcohol and caffeine: Study. [Dr. Tara Swart's] research titled "Study Into The Mental Resilience of Journalists," blames journalists' cognitive shortcomings on dehydration caused by excessive alcohol consumption along with poor diet, including higher levels of sugar and caffeine. Less than 5% of journalists drink enough — or any — water while 41% drank more than 18 alcoholic drinks per week. The study measured "executive functioning" which, as Swart writes in her report, is "the ability of the brain to regulate emotions, suppress bias, switch between tasks, solve complex problems and think flexibly and creatively." She notes that some of the deficiencies may be a result of a high-pressure work environment that doesn't allow time for mindfulness.

Study Into the Mental Resilience of Journalists. Results indicated that, on average, the journalists who participated were no more physically stressed than the average person. Blood test data, which would have shown high levels of cortisol to indicate stress, was mostly normal — save for two anomalies, one showing high cortisol and the other high testosterone levels. Anecdotally, a high proportion of the group reported experiencing some stress, but often cited factors other than their job, including family and finances, as being the cause of this. This was supported by heart rate variability data in several instances indicating a higher degree of stress during hours spent at home. The demands of digital were often cited as contributing to feelings of stress at work. The headline conclusion reached is that journalists are undoubtedly subject to a range of pressures at work and home, but the meaning and purpose they attribute to their work contributes to helping them remain mentally resilient despite this.

The Mass Media Cult Goes Pathological. If these people weren't so malignant, I'd feel sorry for them. This is a kind of death anxiety for the American ruling class, which is also why they constantly fantasize about killing Donald Trump. For psychiatrists, it's an interesting mental disorder, and it's too bad that millions of Americans still depend on Mass Cult for their daily news. This is not a college textbook; it's America today. [...] Most people don't realize that "media concentration" — a functional news monopoly, day after day — has the same effect as cult indoctrination. It doesn't matter if Disney Corp. has a different name from the New York Times. It matters only that they tell the same "news" story every day. For a mental mass monopoly, you don't need to violate anti-trust law. All you need is mass media that make up the "news" by consensus, not by empirical reality.

CNN's Cutting-Edge Reporting Brings You ... Ice Cream? CNN seems to have taken Trump's 'You Are Fake News' statement as a challenge to lower their bar. The seem to be SEEKING out stories to prove JUST how fake their reporting can be. They breathlessly report on ANYTHING that could possibly put President Trump in a bad light. Even secondhand whispers about rumors are presented as though they were established fact.

Mark Levin On Comey: "A Lot Of Legal And Historical Illiterates Posing As TV Hosts And Commentators". Nationally syndicated radio host Mark Levin rips the media and pundits posing as legal and historical experts, namely CNN's Jeffrey Toobin. [Video clip]

NBC's Lester Holt Interrupts Trump 9 Times in Less than 3 Minutes. NBCNews.com on Thursday posted a two minute and 34 second preview clip of anchor Lester Holt's exclusive sit-down with President Donald Trump. The clip features Holt conducting an interrogation-like interview in which the NBC personality interrupted Trump nine times and spoke over the president on many of those occasions. The short clip is part of a 31-minute White House interview set to air Thursday night [5/11/2017] on NBC Nightly News. [Video clip]

What Caused Venezuela's Collapse Is No Mystery — Except To Economically Illiterate Journalists. When the New York Times wrote about Venezuela's ongoing collapse a year ago, it described how the country was suffering "painful shortages ... even of basic foods," and how "electricity and water are being rationed, and huge areas of the country have spent months with little of either." Here is how the Times explained the reason for Venezuela's dire situation: "The growing economic crisis (was) fueled by low prices for oil, the country's main export; a drought that has crippled Venezuela's ability to generate hydroelectric power; and a long decline in manufacturing and agricultural production." There's no mention — not one — of the fact that Hugo Chávez tried to turn Venezuela into a socialist paradise, policies that his successor Nicolás Maduro has continued. The Times' coverage is par for the course.

The Left's Culture Of Contempt. The left is devoutly convinced that this snickering can save America. That it's better than the news. The Peabody awards celebrated the Daily Show as "a trusted source of news for citizens united in their disappointment and disgust with politics and cable news". But the media was the first in line to anoint the politics of contempt, ridicule and disgust as the future of journalism. Now the future is here. The Washington Post, once a paper of record, swarms with snarky Stewartesque headlines like, "Jeff Sessions doesn't think a judge in Hawaii — a.k.a. 'an island in the Pacific' — should overrule Trump". Journalism is dead. And replacing it with snarky lefty spin hasn't saved the Republic. Or anything else.

When Will The Media Realize That Anonymous Sources Undermine Their Credibility? [Scroll down] Why does all this matter? Because precision matters. Accountability matters. When they support their arguments with the lazy and hazy "some" and "many," the fabled New Yorker is no better than the "anonymous" message boards and blogs the mainstream media routinely ridicules. And because while this might go unnoticed by many, some are still paying attention.

How many buzzwords can the liberal media write in one sentence? I was reading a very poorly written Los Angeles Times article about North Carolina legislators introducing a bill to define marriage as between a man and a woman, and I was surprised to read the following sentence: ["]Opponents of the legislation castigated it as an unnecessary step that will stoke division in a state still reeling from the fallout of a controversial bill regulating which bathrooms transgender people can use.["] I have rarely seen a sentence so sensationalistically, so chock-full of so many liberal buzzwords. The over-dramatization of facts makes this news article read like an action thriller.

When reporters slip on ICE. Hmm. What a coincidence. Two illegal alien moms from Mexico, each with four kids, living in Lorain, Ohio, worry about deportation after a traffic stop in the same month in Sheffield Village. Sheffield's population is 3,982. It is 6% Hispanic in a county that is 8% Hispanic in a state that is 3% Hispanic. The truth is, they are the same person. Anabel Barron Sanchez works as a caseworker at El Centro DE Servicios Sociales INC in Lorain, Ohio. Until she was 16, she migrated back and forth between San Antonio and Mexico. Then she moved to Ohio. She knows the system. She knows the media. That is how she got a national magazine to cover her story — as Anabel Barron.

Is the Media Too Comfortable with Its Own Mistakes? In November, New York magazine excitedly reported on the claims of computer scientists that "results in Wisconsin, Michigan, and Pennsylvania may have been manipulated or hacked." No credible evidence of hacking was ever presented. In December, Politico reported that the bank of Treasury Secretary Steven Mnuchin had "foreclosed on a 90-year-old woman after a 27-cent payment error," a claim widely repeated in publications such as Vanity Fair. As the Competitive Enterprise Institute's Ted Frank pointed out, the "widow was never foreclosed on and never lost her home, and it wasn't Mnuchin's bank that brought the suit." Seven hate crimes widely reported after the 2016 election turned out to be hoaxes. Do members of the media feel bad when they get facts wrong or gullibly repeat implausible claims? Guilty? Angry at themselves? Do they resolve to do better next time?

ABC, CNN, Washington Post can't find evidence of vote fraud that a 9-year old could using Google. The problem for these big brains is that a 9-year old using Google could raise enough questions about systematic, rampant vote fraud to completely legitimize Miller. Here's a starter kit for the idiots reporters on the Left:
• On hidden camera, an authority on the subject — Democrat election commissioner Alan Schulkin from New York City — admitted that "there's a lot of voter fraud... they bus people around to vote"
• In the 2014 publication of Election Studies Journal, the authors estimate that 2.8 million illegal aliens voted in both the 2008 and 2010 elections
• In just three Virginia counties, more than 1,000 illegal voters are eligible to cast a ballot
• California's Los Angeles county reported the most provisional ballots — the easiest to game — in the country, representing a stunning 40 percent of all votes cast.

Trump's Got a Big Job Reining In Voter Fraud. It is hard to fathom how anyone, especially those inquiring minds of the Washington press corps, legitimately would be so uninterested in finding the truth. Despite insisting that the President provide evidence of voter fraud, he is being assailed even more vehemently by the Democrat pols, late-night talk show hosts and reporters when he offers to do just that. [...] Fraud long has been an ugly element of American politics, and it has been almost exclusively the dominion of Democrats.

Errors From The Press Are Piling Up In The Opening Weeks Of The Trump Administration. Journalists can't seem to get their stories straight in the opening weeks of the Trump administration, whether in tweets or in articles where falsehoods have been spread almost daily. The mistakes have not just been from newer liberal news outlets such The Huffington Post or BuzzFeed, but from legacy media like Reuters, The Washington Post, and The New York Times. What follows are several botched stories or conflicting reports since President Trump took office.

Here's A List Of Stories The Media Got Wrong This Week. It was an embarrassing week for the mainstream media. In case after case, stories pushed by news outlets turned out to be either unsubstantiated or fell apart upon closer scrutiny.

Yet Another Media Meltdown Turns Out To Be Totally Wrong. News that President Donald Trump was easing sanctions against Russia was refuted almost immediately, like so many other stories. The Department of the Treasury said Thursday that it would allow U.S. companies to make limited transactions with the Federal Security Service (FSB), Russia's intelligence agency. Possibly eager to establish a connection between the new U.S. president and Russia, numerous media outlets and journalists were quick to claim that Trump was easing, and even lifting, sanctions against Russia. "I haven't eased anything," Trump told reporters at the White House Thursday [2/2/2017].

Media Covers Trump's First Executive Orders With The Worst Camera Work In History Of Broadcast Journalism. Donald Trump signed his first executive orders as president Monday morning, and for some reason, the cameraman the White House press pool assigned to cover the event appeared to have never operated a camera before.

'Tell Me What Your Real Name Is': Tucker Carlson Confronts Guest Over Hoax in Bonkers Interview. The video above contains quite possibly one of the most bizarre interviews you will ever watch. Here's how Tucker Carlson began the interview: "This is a sham, your company isn't real, your website is fake, the claims you have made are lies, this is a hoax. Let me start at the beginning, however, with your name, Dom Tullipso, which is not your real name. It's a fake name, we ran you through law enforcement-level background checks and that name does not exist. So let's start out with the truth. Tell me what your real name is." [Video clip]

The Editor says...
This fellow apparently was invited on to Fox News Channel only after they discovered he had been fooling other news organizations into publicizing his fictitious claims.

Hoax ads in two dozen cities offered protesters up to $2,500 to agitate at Trump inaugural. The polished Demand Protest website, the Backpage.com ads recruiting paid protesters for the Trump inauguration: Apparently it was all a hoax. A man using the alias "Dominic Tullipso" said Tuesday [1/17/2017] on Fox News Channel — well, it was hard to figure out what he was trying to say, but it was also clear that he wasn't running a business that involved spending thousands on hiring activists.

Unserious anchor wastes Pence's time. Governor Mike Pence, who will become vice president on Friday, gave John Dickerson an interview on Sunday [1/15/2017] on CBS's "Face the Nation." Waste the Nation was more like it as Dickerson asked no substantive questions. Not one. Instead Dickerson pestered Pence about John Lewis pouting over President Trump's election, and about the totally discredited Russian dossier.

Fake News, Or: 'The Art of the Fail'. Actually, I am starting to think that maybe the mainstream media is not dishonest at all, just incapable of serious analysis or examination of ideas.

Politico discovers "new" network that's been around 74 years. Today in Fake News, Politico reported: "President-elect Donald Trump is about to inherit a newly empowered Voice of America that some officials fear could serve as an unfettered propaganda arm for the former reality TV star who has flirted for years with launching his own network." The network began in World War II, on February 17, 1942 to be exact.

Prominent Journos Uncritically Retweet Fake Rex Tillerson Twitter Account. New York Times energy reporter Clifford Krauss thought he had President-elect Donald Trump's secretary of sate pick on the ropes when he retweeted what he thought was ExxonMobil CEO Rex Tillerson's Twitter account. It wasn't. Krauss went after a fake Tillerson Twitter account that was apparently created Saturday — the day before he retweeted it. Krauss went after Tillerson for tweeting "he is a patriot," but other journalists on Twitter quickly questioned the legitimacy of the fake Tillerson account.

Newsweek editor: We didn't read 'Madam President' issue before publishing. A Newsweek editor admitted Wednesday [11/30/2016] that he and other staffers didn't actually read their recalled commemorative "Madam President" election issue before it was published. Newsweek political editor Matthew Cooper said Wednesday on Fox News' "Tucker Carlson Tonight" that the magazine's issue, which incorrectly anticipated a Hillary Clinton win, was not produced by Newsweek but by a third party. "Well, no one on our staff wrote that," Cooper said. "Again, we subcontract out to a company."

Newsweek Didn't Even Read Its Own Recalled President Hillary Commemorative Issue. An editor at Newsweek magazine admitted on Tucker Carlson Tonight that the magazine hadn't even proofread a commemorative issue honoring Hillary Clinton before having it distributed in anticipation of her winning the 2016 presidential election. Like many others, Newsweek believed Clinton was a strong favorite to defeat Donald Trump in November's election. Seeking to take advantage of her win, the company printed out 125,000 copies of a commemorative issue honoring the triumph of "Madam President," and even had Clinton sign some of them.

Nigel Farage Spoke at a Media Conference and Journalists Lost Their Minds. Nigel Farage has sent the international establishment media into a tailspin by telling them that they are wrong on climate change, wrong on immigraion, wrong on radical Islam — and that they need to change. Appearing in Copenhagen at the News Xchange annual conference for the international broadcast news industry Farage addressed the audience of around 630 journalists from around the world and promptly sent them into a Twitter frenzy by informing them they were out of touch.

Reuters Explains How It "Fudged" Its Polls. Over the past couple of weeks, we have constantly pointed out that polling data was seemingly being manipulated to "manufacture" artificial leads for the mainstream media's chosen candidate, Hillary Clinton. By "oversampling" democrats and/or various minority groups, pollster after pollster kept rolling out predictions that seemed utterly ridiculous to us but were gobbled up by complicit media outlets.

Media Reaction: We And Our Self-Obsessed Liberal Friends Were All Wrong. Journalists flatly admitted they completely failed to understand the 2016 presidential election following Republican nominee Donald Trump's win Tuesday [11/8/2016]. "To put it bluntly, the media missed the story," Margaret Sullivan wrote in The Washington Post. "We were all wrong," Anna Palmer and Jake Sherman wrote in Politico's Playbook newsletter. "That seems obvious, right? But we were more than wrong. We were laughably oblivious. The entire Washington political-media complex completely missed the mark. Not by inches or feet, but by miles."

Celebrities, Have the Grace to Fulfill Your Promises. The Left was quite positive that the first woman to be president would triumph, and obviously the whole thing was quite a shock. Celebrities, always eager to get their faces or persons before any available camera, did so. But just what is a celebrity? They are people who are famous because you might recognize their face or their name. They prefer to think that because they may or may not have some name recognition, that the world is interested in their political opinions — it isn't. Unfortunately there are always some star-struck reporters around who are.

News Media Yet Again Misreads America's Complex Pulse. The misfire on Tuesday night [11/8/2016] was about a lot more than a failure in polling. It was a failure to capture the boiling anger of a large portion of the American electorate that feels left behind by a selective recovery, betrayed by trade deals that they see as threats to their jobs and disrespected by establishment Washington, Wall Street and the mainstream media. Journalists didn't question the polling data when it confirmed their gut feeling that Mr. Trump could never in a million years pull it off. They portrayed Trump supporters who still believed he had a shot as being out of touch with reality. In the end, it was the other way around.

Hacking concern on Election Day: The companies that bring you the news. Experts have been warning for months that hackers could try to disrupt Tuesday's election by penetrating local voting systems. But another target could prove easier to hack: U.S. media outlets offering election night results. Upguard, a Mountain View, California, company that assesses how well companies are protecting themselves from hackers, has found that three major news organizations — The Associated Press, The Wall Street Journal and CBS News — tallied "pretty abysmal" scores on key criteria to thwart breaches. All three are key sources of election night results, with the AP perhaps the largest provider of election tabulations in the country.

CNN's Carol Costello to Millennial Republican: I'm Not Sure What You Mean by 'Traditional Values'. In a CNN panel for first-time voters, a young conservative explained that Millennial voters could learn a lot from the "older generations" and their "traditional values". CNN's Carol Costello admitted that she wasn't sure what that meant. Robert Wines, who is casting his first vote for independent conservative candidate Evan McMullin, said, "Millennials have to be more accepting of traditional values ... that are greatly found in the older generations." "Hm," Costello said, "I'm trying to figure out what you mean by that."

Too Stupid To Rule. [Scroll down] Once e-mail was sent from the domain to outsiders, it was only a matter of time before the secret was out. They were lucky that most media people are remarkably stupid so they lack the wherewithal to wonder why Hillary Clinton did not have a State Department e-mail account. Watch the cable channels and you come away thinking that the people on TV just learned about e-mail last week. Eventually the Romanian cab driver unearthed the whole thing and the enterprise came crashing down. [...] There are a lot of angles to these Clinton scandals, but the thing that transcends all of it is the rank stupidity of the people involved.

Clueless CBS Anchors on Obamacare Premium Hikes: "What Happened?". How did this happen? Well, Charlie, Norah and Gayle: You carried the water for your 'messiah,' Barack Hussein Obama, for eight years, you all hailed Obamacare as an amazing success, and you ignored the suffering of real Americans as Obamacare began to implode.

Liberal CBS Morning News Anchors Act Shocked at Totally Predictable, Huge ObamaCare Rates Increases. Watch the liberal CBS Morning News Anchor crew act totally shocked at the totally predictable huge premium rate increases announced for ObamaCare. Premiums are going up 25% on average, and many providers are dropping out of the system. CBS' Norah O'Donnell acts like it is a total mystery. Yet, conservatives said years ago this is what would happen with ObamaCare. It is a total disaster. [Video clip]

CBS Anchors Bamboozled by Obamacare Rate Hikes. Have a look at the CBS This Morning anchors, totally mystified about why Obamacare premiums are rising. I mean, do they administer IQ tests to these people before they put them on TV? Listen to Norah O'Donnell — "The premiums are skyrocketing!" She sounds like she just found out Martians had landed and opened up a chain of delicatessens. [Video clip]

CNN Host Tries to Burn Trump, Thinks Members of Congress Already Have Term Limits. CNN anchor Brooke Baldwin criticized Donald Trump's call for term limits on members of Congress on Tuesday [10/18/2016] by incorrectly saying that such limits already existed. As part of a new policy to "drain the swamp" in Washington, D.C., Trump announced Tuesday he would push for a constitutional amendment as president to impose term limits on all members of Congress. "Correct me, there already are term limits, so what does he mean?" Baldwin skeptically asked reporter Dana Bash. Indeed, Baldwin had to be corrected. Bash did so politely.

Smug CNN Moonbat Claims "There are already term limits in congress". In what can only be described as the current intelligence customarily found amid the Clinton News Network, host and pundit Brooke Baldwin looks at her panel, smugly and condescendingly replying: ... "there are already term limits, so what does he mean"? [Video clip]

CNN Anchor Brooke Baldwin Doesn't Know There Are No Term Limits for Members of Congress. The liberal media that is pushing Hillary Clinton down our throats while trashing Donald Trump every chance they get may not be as informed as they portray themselves. Take for instance CNN anchor Brooke Baldwin who is under the impression that there are term limits for members of the US Congress. Even funnier is that she made this mistaken point while trying to stick it to Trump. Brooke Baldwin is a fairly attractive woman and perhaps she got her job more on her looks than her journalist chops. On Tuesday she was reporting that Donald Trump has made a pledge that if he were elected president, he would propose a Constitutional amendment that would place term limits on Congress. Here's what Baldwin had to say about this: [...]

NPR Reporter Has No Idea What 'Come And Take It' Means. Sunday marked the 181st anniversary of the Battle of Gonzales, the first military engagement of the Texas Revolution, when Texian militiamen, responding to Mexican soldiers demanding the surrender of a small brass cannon, coined the now-famous battle cry, "Come and Take It!" An NPR reporter decided to mark this anniversary with a story about how the phrase has been stolen by Second Amendment activists, "with no appreciation of its origins." Some local residents of modern-day Gonzales, we're told, "think it's been cheapened — and they want it back." But neither the hapless NPR reporter nor the several anti-gun residents of Gonzales interviewed for the story know the actual origin of the phrase, or why its application to the ongoing national debate about gun control and the Second Amendment is entirely appropriate — and historically accurate.

Tax Expert: All Journalists Proved About Donald Trump's 1995 Return Was Their Own Ignorance. Tax preparer and Forbes contributor Ryan Ellis writes that "professional" journalists' hot takes about Donald Trump's 1995 tax return show how little they know about taxes and business.

Trump Tax Return Story Exposes Policy Ignorance Of Political Reporters. Over the weekend, the New York Times reported that they had obtained a copy of Donald Trump's 1995 New York state tax return (whoever sent it committed a felony). It showed that he claimed a net operating loss (NOL) of about $900 million that year. What followed was a collective explosion of talking heads over the weekend, with the theatrics inversely proportional to the pundit's knowledge of tax policy. To state the obvious, political reporters don't know [any] thing about taxes.

How the media caused the 2000 Florida recount. On November 7, 2000, during the final hour and a half of voting in Florida's most conservative region, the Panhandle, 13 national television journalists, representing all six major outlets, asserted a total of 39 times that the polls in that region closed an hour earlier than they really did. Not once did anyone on ABC, CBS, CNN, Fox News Channel, NBC, or MSNBC inform the audience that Florida has two time zones and two poll closing times. They hammered away that there was only one poll-closing time throughout the entire state of Florida: 7 p.m. Eastern. The polls in the ten westernmost Panhandle counties — all heavily Republican — were actually open until 8 p.m. Eastern.

"Election Fraud Underway" — NBC Affiliate Posts "Election Results" For Florida Race That Hasn't Happened Yet. Republican candidate for Florida House District 86, Laurel Bennett, was a bit shocked over the weekend when she discovered that a local West Palm Beach NBC affiliate, WPTV, reported that she had lost a race even though votes hadn't been cast yet. Why do we need voters when it's far easier to just skip straight to the results?

Relying too much on polls doesn't serve public. Every major broadcast and cable network, and many major newspapers, feel compelled to sponsor their own political polls. But the polling conducted today by news outlets and universities does little to serve the public interest. The polls do, however, serve the branding and marketing interests of the sponsoring organizations. That financial motivation drives the polling frenzy more than any sense of civic duty. When CNN, Fox News or NBC releases periodic poll results, the news channels benefit from having those results reported across the journalistic world, raising the profile of the respective news outlets. Polls provide journalists with something to report about, fill time and endlessly analyze. That's easier for news organizations than covering issues and providing election news of substance. Such "horse race" coverage diminishes the process of democracy to the level of a sporting event.

Media Push Obama's 'Cool Brand,' Present Summer Playlist as 'News'. Who in the world decided that revealing Obama's summertime playlist actually constituted as newsworthy? Apparently ABC News did, as well as CNN, Politico, The Washington Post — and even Obama himself when he tweeted: "Been waiting to drop this: summer playlist, the encore. What's everybody listening to?"

Brexit fueled by backlash against media bias and deception. On Thursday [6/23/2016], the British voted by a 52% to 48% margin to take the United Kingdom out of the European Union, an action known as "Brexit." In doing so they ignored virtually all of the self-styled "experts" cited in British newspapers, who opposed leaving, and the majority (although by no means all) of Britain's media (including the Guardian, the BBC, the Financial Times, The Times, the Daily Mirror, The Economist, etc.). As Alexandra Petri writes in the Washington Post, "The people who were in favor of remaining were Basically All Experts ... the Economist, the Financial Times)... and Every Prime Minister of Britain Who Is Still Alive, but what do these establishment types know? ... All of this has come about thanks to a world that is increasingly suspicious of experts."

Oops: Politico mistakes disgraced Democrat for Republican. Politico misidentified disgraced Rep. Chaka Fattah, D-Pa., this week as a Republican. [...] The article as it appeared on social media carried the headline "Fattah submits resignation but wants to stay until October," and it included a picture captioned, "Convicted Pennsylvania Republican wants to remain in House until sentencing."

New York Times quietly backs away from story on Orlando terrorist's weapon. After widespread complaints on social media, the New York Times has quietly backed away this afternoon from inaccurate reporting on the weapon used in Saturday's Orlando terror attack. Second Amendment supporters and others have repeatedly questioned why "AR-15 Rifles Are Beloved, Reviled and a Common Element in Mass Shootings" was so quick to incorrectly draw a common theme between other domestic incidents and this one based on the killer's weapon of choice.

Media fail: Orlando terrorist did not use an AR-15. Since Sunday's terrorist attack on an Orlando gay nightclub, the Democrat-media complex has gone on a tear demonizing the AR-15. A number of ignorant outlets and biased operators (as opposed to "reporters" who actually try to get the story right) breathlessly reported that the shooter used an AR-15. Here's an example of the false reporting. A video at the Washington Post is captioned: "Orlando shooter Omar Mateen used an AR-15 style rifle to kill at least 49 people, officials say. Here's what you need to know about the gun some are calling 'the gold standard for mass murder.'" But, Bob Owens wrote at Bearing Arms, they got it wrong.

The Orlando Killer Didn't Use An AR-15 Rifle. [T]he demonization of the AR-15 rifle has begun in the media. The usual talking points about its lethality, its rate of fire, and its scariness are coursing through the veins of the anti-gun Left following the Orlando attack. Omar Mateen committed the worst mass shooting in U.S. history on Sunday morning, which will likely be reclassified as a terrorist attack, when he murdered 49 people at a gay nightclub (Pulse). As Bob Owens and Streiff noted at Bearing Arms and RedState respectively, Mateen didn't use an AR-15 rifle, but the media has a narrative to dole out.

NBC 'Law Enforcement Expert' Blamed Orlando Terror Shooting on Anti-Gay 'White Hate Groups'. Early on Sunday before the world learned the identity and religion of the man who murdered up to 50 people in an Orlando, Florida, gay bar, a "law enforcement expert" for NBC went on the air on MSNBC and hinted that the shooter was probably a Christian and a member of a "white hate group."

NPR + NYT: A Recipe for Cluelessness. What happens when a National Public Radio host interviews a New York Times reporter on the subject of Venezuela's economic collapse? You get a perfect storm of cluelessness. The host is Terry Gross, the guest is New York Times reporter Nicholas Casey, and the program is Fresh Air. Gross asks Casey about the utter disaster that Venezuela has become. Casey understands the depth to which Venezuela has fallen — he lives in Caracas! — but he can't bring himself to offer an honest diagnosis.

John Dickerson's Face the Nation Interview with Hillary a Disgrace to CBS News;. John Dickerson was one of the better moderators we saw during the campaign season. He asked solid questions and follow-up questions, didn't editorialize and kept the trains running on time with multiple candidates to juggle. This space gave him an 'A' for the way he handled a Democratic presidential debate back in December. But an interview with Hillary Clinton that was broadcast this morning [5/8/2016] on CBS' Face the Nation was not only profoundly disappointing, but even disgraceful... particularly for someone as seasoned as the 47-year-old CBS political director and host. Never have there been so many questions to a presumptive presidential nominee that were so unfocused, so tilted, so teed-up, so non-probing than whatever that was Dickerson served up during his long sit-down this morning.

Chris Matthews: 'We Don't Even Know What the Facility's Called' Where the Benghazi Attack Happened. MSNBC host Chris Matthews said Wednesday [4/27/2016] that "we don't even know what the facility's called" where the 2012 Benghazi terrorist attack occurred that killed Ambassador Chris Stevens and three other Americans. Discussing Donald Trump's attack on former Secretary of State Hillary Clinton for not being awake for the phone call about the attack, Matthews appeared not to remember it occurred at the diplomatic compound in the Libyan city.

Florida news group runs picture of a rifle for story about a pistol. A Florida newsweekly on Monday [4/25/2016] used a picture of religious liberty activist holding a rifle instead of the pistol that was the subject of its story, and justified it by saying the image of the larger, more powerful firearm was "just too good to pass up."

How and Why the Conservative Media Sold Its Soul To Facilitate Trump's Nomination. In short, the vast majority of "conservative" media is simply just a business cynically disguised as a cause. The reason this is the case is actually quite simple. Because the vast majority of "newsish" media outlets are overtly liberal, the business model and employment opportunities (or lack thereof) on the right are vastly different from the rest of the media. Liberals have an abundance of chances to opine on network television, major newspapers and books from mainstream publishers, usually without any serious worries about having to sell products or get ratings. Meanwhile, radio talk show hosts and Fox News anchors are forced to fight for every possible ratings point (usually against people allegedly on the same "team") and often sell their souls to maintain their ability to sell soap. Conservative websites, with the exception of the Drudge Report, are in a constant battle to stay afloat, often with badly broken business models. This dynamic set up a perfect storm of circumstances for "Trumpsanity" to overtake the process and ultimately produce a result about as unjust and destructive as the OJ Simpson verdict. There is even evidence that Trump understood this reality and designed his campaign's launch during the slowest news period to take advantage of it.

The Hill Calls Lifelong Democrat Segregationist George Wallace a Republican in Piece About Donald Trump. Mark Hensch, a staff writer for The Hill, wrote an article tiltled, "Kiefer Sutherland: Trump recalls segregationist George Wallace," in which Hensch wrote, "Actor Kiefer Sutherland sees similarities between GOP presidential front-runner Donald Trump and former Alabama Gov. George Wallace (R), one of American history's most vocal segregationists." The glaring problem here is George Wallace was never a Republican.

CBS Interview Devolves Into Asking Obama What's in His Pockets. After sitting down with the President and the First Lady on Sunday [2/7/2016] for a friendly chat before the Super Bowl, CBS This Morning co-host Gayle King was not finished with her sycophantic fawning as she followed Obama into the Oval Office for a one-on-one exchange highlighted by her asking what "cool things" he was carrying in his pockets that day.

Of Course Whites Commit Most Of The Crime In Fargo You Idiots. It's time for another fantastically stupid "exclusive" news story from the folks at Fargo-based television news station Valley News Live. Their big revelation? White people commit most of the crime in Fargo. A city where, according to the U.S. Census, is 90.2 percent white.

The seven deadly stupidities of 2015 political coverage. [Scroll down] One particular bit of bah-humbuggery: three tweets are not a story. Once, reporters had to call people on the telephone or even, heaven forfend, go places in order to get information. In time, the fax machine started dropping story ideas and statements into our laps. That electronic dependency deepened a decade ago when cut-and-pasteable emails started populating our inboxes. But now, Twitter feeds provide ongoing press conferences in Crazytown. It is a ruthlessly efficient outrage generation machine.

'It's Because I'm Black, Isn't It?' Race makes people crazy, but often not in the way you'd expect. A nation watched wide-eyed as Melissa Harris-Perry of MSNBC complained that the Star Wars franchise was racist because the major villain is "black." Darth Vader is black in the sense that Johnny Cash or Ben Roethlisberger or certain figures from Arthurian legend are "black" — white guys in black outfits — so people kept waiting for Harris-Perry, "America's foremost public intellectual," to crack and let us know that she was joking. But she wasn't joking.

Journalists Refuse to Talk About Storming San Bernardino Suspects' Home. Journalists gathered at the home of Syed Farook and Tashfeen Malik, the terrorists who carried out Wednesday's attack in San Bernardino, will not talk about whether they had permission to storm inside. Breitbart News' Michelle Moons and Raheem Kassam arrived on the scene shortly after MSNBC, CNN, and other networks burst through the door, which had been opened with a crowbar after the landlord allegedly gave permission to journalists to enter.

During Paris Attacks, MSNBC's Brian Williams Asks About Impact On Climate Conference. A climate conference is underway in Paris, and Weather Channel Managing Editor Sam Champion is there, along with former Vice President Al Gore, filming the event and doing promotion there for the cause. Champion was on MSNBC to discuss the terror attacks in Paris as they were occurring. After some back and forth, tone deaf Williams asked Champion how the conference would be affected. Williams did not merely ask about how the event would proceed, or whether security would be affected, which might be natural questions even if grossly untimely. But instead he asks specifically, how this attack would impact the messaging.

Brian Williams Asks About How Paris Attacks Will Affect Climate Summit Messaging. Right in the middle of the reports of the Paris attacks yesterday [11/13/2015] comes a really bizarre and tone deaf note of concern from Brian Williams of MSNBC. Brian was concerned about how the attacks will affect the messaging of the Paris Climate Change Conference which is scheduled to begin at the end of this month.

Media Bias Goes Extreme. The national and local media bias against the Second Amendment reached bizarre heights this week when a newspaper headline proclaimed "Shooter kills 4; 30 injured." The problem? Well, even a casual reader would note that the tragedy described in the article had nothing to do with a "shooter" but was about a individual who drove her car through a homecoming parade at Oklahoma State University. While the motives of the driver's actions remain unclear, we find it simply incredible that a headline could be so abundantly off the mark.

1,001 Times the Media Acted Shocked That Trump Was Running a Real Campaign. Indeed, by succeeding so easily at the campaign game, Trump has made a mockery of political journalism's obsession with campaign strategy.

MSNBC Admits Anti-Israel Graphics Were 'Wrong'. MSNBC has admitted that highly controversial graphics aired on the network that depicted Israel as stealing land from the Palestinians were "factually wrong" and that the broadcast would be corrected on Monday [10/19/2015], according to a network spokesperson. The cable news network has been fighting off criticism after it aired the graphics and analysis, including a map linked to conspiracy groups branded as anti-Semitic, that portrayed Israel as existing on territory expropriated from Palestine. The graphics garnered criticism from pro-Israel advocates and has now prompted the network to acknowledge that the graphics were highly misleading.

He stopped a jihadist in France. Now he's been stabbed in California. The original story about Skarlatos and Harper-Mercer evidently has legs. In all there have now been three high-profile, possibly related violent attacks in France, Oregon, and California that might be connected to the world of Islamofascist (some prefer the descriptor Islamo-Nazi) terrorism. In this writer's opinion, no reasonable person who follows current affairs can reflexively dismiss the seeming connection of attackers and victims, given what's going on in the world right now. This is not to say that there necessarily is (or was) an Islamist plot against the three American men. But the mainstream media, as usual, isn't doing its job. Journalists are sitting on their hands, regurgitating talking points, and failing to consider the big picture.

CNN's Chris Cuomo Has Absolutely No Idea Where Babies Come From. Chris Cuomo is a broadcast journalist, currently anchoring at CNN. [...] He interviewed Sen. Marco Rubio (R-Florida) the day after the first GOP presidential primary debate last week. And Cuomo came out hard in support of abortion. That's not particularly noteworthy in the current media environment, where journalists openly advocate for abortion. But it is worth noting that he did it in a mind-numbingly idiotic manner.

Clueless Reporters Question President Pinocchio: A Pathetic Press Conference. Today [7/15/2015] President Obama met the White House press corps at length to defend his Iran nuclear deal. One could deconstruct his evasions line by line, but that would largely duplicate the content of many posts we have done over the past weeks and months. Instead, I want to focus on a few key issues. But first, this observation: if any of the reporters present had read the agreement, which is only 159 pages long, it was not apparent. Maybe reporters are not accustomed to reading legal documents; maybe they are too lazy to try; maybe they have read and understood the agreement and are just partisan hacks, covering for their president. But I have a full-time job, and nevertheless have read the agreement several times. Why can't reporters do the same? That would seem to be a prerequisite to participating intelligently in a press conference on the subject.

Hillary-Slayer Fiorina: Give Me Shot on Debate Stage to Ask Every Question Press Won't. [Scroll down] "She was not asked a single question about her track record as secretary of State. She wasn't asked about why she thought a gimmicky reset button would stop Vladimir Putin. She wasn't asked about why she called President Bashar al-Assad of Syria a positive reformer. She wasn't asked why she declared victory in Iraq in 2011. She wasn't asked if she thought she had lied to the American people about Benghazi and what she thinks now of the fact that Libya is a failed state and a haven for terrorists," she continued. "In other words, she isn't going to be asked all the questions she needs to be asked, which is why we must have a nominee who will face her on a general election debate stage and ask every single one of those questions so that the American people have the facts they need to make a good judgment."

A shocking breach of professionalism:
CNN's GoPro antics rile Supreme Court. The Supreme Court of the United States briefly removed media interns from its press room on Monday after a CNN intern was caught recording video footage with a GoPro camera that he had strapped to his chest, the On Media blog has learned. The episode led to an impromptu meeting among top CNN executives and editors in Washington, a call to the company's legal department, and a profuse apology to the Supreme Court's public affairs team.

New York Times 'Reporter' Who Can't Tell a 'Luxury Speedboat' from a Fishing Boat Upset that People Think He's an Idiot. For the second time in a week, the New York Times made an attempt to do some damage and, once again, it was a spectacular failure. [Michael] Barbaro could have avoided his embarrassment if he'd engaged in the most basic of journalistic activities: making a phone call.

ABC's '08 Prediction: NYC Under Water from Climate Change By June 2015. New York City underwater? Gas over $9 a gallon? A carton of milk costs almost $13? Welcome to June 12, 2015. Or at least that was the wildly-inaccurate version of 2015 predicted by ABC News exactly seven years ago. Appearing on Good Morning America in 2008, Bob Woodruff hyped Earth 2100, a special that pushed apocalyptic predictions of the then-futuristic 2015. The segment included supposedly prophetic videos, such as a teenager declaring, "It's June 8th, 2015. One carton of milk is $12.99." (On the actual June 8, 2015, a gallon of milk cost, on average, $3.39.) Another clip featured this prediction for the current year: "Gas reached over $9 a gallon." (In reality, gas costs an average of $2.75.)

Journalists: Do Your Job. If someone says something, you have an obligation to report it accurately and without bias. Your job is not to tell people how to think. In a free and open society, your job is to inform readers and viewers so that they may form their own opinions. You keep your views in check while presenting the information. Is it near impossible to keep all bias out of a story? Admittedly, yes. But, if you bring up all points and lets readers and viewers decide for themselves, you have done your job.

Who is a Journalist? My first job in journalism was as a copyboy at the NBC News Bureau in Washington, D.C. In my early 20s, I asked Bill Corrigan, the newsroom manager, "What must I do to get on the air?" He replied, "Get a college degree and a minimum of five years writing experience with a newspaper or wire service." [...] The rules of the road to journalistic success have changed dramatically, as has the definition of journalist. Today, one can self-identify as a journalist without any background or experience. Which brings me to George Stephanopoulos, the ABC News anchor and co-host of "Good Morning America."

Members of the Media Downplaying, Making Excuses for Baltimore Riots. Last week the media tried to characterize the increasingly violent protests in Baltimore as "peaceful." Now, even after the demonstrations have turned into outright riots, some members of the media are still trying to excuse the violence or are otherwise downplaying what has been going on since last Thursday. The rioting in Baltimore has gotten so bad that now the Maryland National Guard has been called in to try and restore order, yet some members of the media are spinning the unrest to take blame off the rioters.

News media's sloppy week. [Scroll down] Last week Bloomberg News ran, and then retracted a report that Nancy Reagan had endorsed Hillary Clinton. Except that it came from a parody news site and wasn't even slightly true. Again, this was something that the editors just wanted to believe. In reportorial parlance, it was a story "too good to check."

The Very Deep Thoughts of Sally Kohn. Would it be uncivil to suggest that lesbianese CNN pundit Sally Kohn is the dumber, blonder version of Rachel Maddow? I know I'm not supposed to be uncivil, but what else can you say about someone who... almost daily... spews idiocy like this: [...]

Reports: MSM Reporters Give Hillary Clinton Standing Ovation. On Monday evening, mainstream media reporters reportedly gave Hillary Clinton a standing ovation after she joked about her private email scandal and took no questions from the press — at an event honoring excellence in journalism.

Ted Cruz Befuddles MSNBC Hack on Congressional Role in Foreign Policy Using... History, Facts. For some reason, Ted Cruz decided to appear on MSNBC's The Morning Shmoe (Mark Levin's name for the lowest-rated news program on the lowest-rated network), where the combined IQ of the hosts — the science is settled — is roughly the square root of that of a goldfish. Which makes Ted Cruz schooling Mika Brzezinski akin to teaching calculus to a Maine lobster.

How Hillary Clinton and Barack Obama Became Media Control Freaks. Embattled former secretary of state Hillary Clinton can console herself with the knowledge that she's not alone. The presumptive presidential candidate and email deleter — whose apparent reluctance to release public records and documents prompted the Associated Press to sue the State Department this week — is by no means unique in her wish to starve the insatiable media, or at least restrict ravenous reporters to a bland diet of happy news.

MSNBC solidifies its standing as the clown version of cable news. I suppose you call this another historic first for Eric Holder: the first attorney general asked by a TV interviewer to quack like a duck on air. The incident came toward the end of a fawning interview by Melissa Harris-Perry (no stranger to clownish and embarrassing stunts, some of which caused tearful on air apologies).

Obama Depicted as Rape Suspect in Fox 5 News Graphic Error. In a stroke of Friday the 13th bad luck, Fox 5 San Diego briefly portrayed President Obama as a sex-assault suspect on its 10 o'clock news. At 10:04 p.m., viewers heard anchor Kathleen Bade say: "The only suspect in a sex assault at SDSU will not be charged." At the same time, a picture of Obama appeared with the legend "NO CHARGES." The Obama shot lasted about 5 seconds, but it was noticed immediately in the newsroom, said Mike Wille, an assignment editor.

The Editor says...
I wasn't there, but I can tell you exactly how that happened: The owners of television stations all over the country, especially the stations with "local news" programs, enjoy tremendous profits. And yet they are constantly looking for ways to increase those profits. The actual amount of yearly profit doesn't seem to matter — only the annual increase in profits over last year. As a result, the station owners cut costs in any possible way, and many of them have decided that labor costs are the easiest to reduce. (I could write another couple of paragraphs in this space, but I'll skip ahead.) The television stations used to have graphic artists who would take stock photos and apply a certain amount of typesetting to make the "over the shoulder" graphics we've seen on TV since the 1960's. Then an associate producer would check the graphics before the big show to see that they all matched the scripts. Even then, if one of the graphics had an egregious error, either the director or the technical director or the "still store" operator would catch the error, a last second change of plans would occur, and the on-air news reader would appear on camera without the graphic beside him or her. But, as you may have guessed by now, almost all of those jobs have been eliminated, and one person can now put graphics requests into a template, specifying (in this case incorrectly) the underlying photo and the text, and a computer system a thousand miles away assembles the graphic and stacks it in the playlist for the big show. (You'll notice I don't call it the news.) Then the director, now sitting alone in the automated control room, steps through the playlist and, since he probably hasn't had a chance to run through the entire show in advance, he sees these graphics for the first time when you see them at home. This is what would be known as being penny wise and pound foolish, except that the commercial breaks still air, so the station still gets paid. In fact, in this case about half of the viewers probably found the error more entertaining than the constant drone of the rip-and-read announcer telling us about all the great things Big Government has done for us in the last 12 hours. I should write a book.

Army of 'fact checkers' and 'proof readers' at NY Times fails again. How out of touch with the rest of the country are employees of the New York Times? An editorial skewering Wisconsin Governor Scott Walker was a typical Times hit piece on a potentially dangerous opponent in 2016 — typical except earlier versions of the editorial referred to Mr. Walker as "Mr. Scott." [...] The governor of Wisconsin is just not imporant enough to register on the Times' radar. Besides, he's a Republican. Those two factors make errors like "Mr. Scott" possible.

The New York Times Commits One of Its Funniest Blunders Ever. [Scroll down] The paper eventually realized its mistake and corrected it, although without acknowledging the correction. I suppose it was just too embarrassing. You can see how this kind of thing might happen; people occasionally have such synapse failures. But some people expect more from the Times editorial board. (I don't, but some others do.) In fact, the Times editorial board is no better than, or different from, a minor-league left wing blogger. Actually, that's where they get a lot of their material.

Debunked: Media Hoax Claims 'American Sniper' Inspired Anti-Muslim Threats. It looks as though the Left and the mainstream media gathered in their hollowed-out volcano over the weekend to cook up another anti-science Narrative to destroy Clint Eastwood's "American Sniper." The latest lie is that the film is inspiring a surge of death threats against Muslims. A thorough search of the countless stories launched by this well-coordinated Narrative found exactly 3 Twitter examples in a country of nearly 350 million.

According to the government, there's no inflation. Government data reports are so funny. The blaring headlines today tells us that prices dropped in December. We are all saving billions from the drop in oil and gas. Hallelujah!! The corporate MSM never digs into the numbers to get the real truth. These reports and their distribution to the sheep are designed to keep you sedated and calm. Facts are not necessary. How this data pertains to your everyday life is not important to the .1% who control the flow of information.

Ronan Farrow's Awkwardly Condescending Exchange with Black Teen. As we've written here many times before, Ronan Farrow's MSNBC show is something to behold: An awkward mess of obvious inexperience, nepotism, self-congratulatory sanctimony, and preening condescension. Today's [1/20/2015] edition of the program showcased the lattermost element.

Notorious Red Exploits King Legacy. Janel Davis of the Atlanta Journal-Constitution reports that a "noted scholar, author and veteran civil rights activist" by the name of Angela Davis will deliver the keynote address January 18 at Kennesaw State University's annual Martin Luther King Jr. Day observance. This is the same Angela Davis "who supported the imprisonment of Soviet political dissidents (calling them common criminals), cheered on the 1968 Soviet invasion of Czechoslovakia, and was awarded the International Lenin Peace Prize (formerly the International Stalin Peace Prize) by communist East Germany," as noted by another paper, the British Telegraph. The differences reflect the abysmal state of our media today, as compared to a foreign newspaper that conducted some basic research.

Three Major December Media Misfires. [#3] The imaginary Kwanzaa "parade." In recent years, the annual late-December Kwanzaa parade in South Central Los Angeles has fallen on hard times. In 2011, the second-last year the Los Angeles Times covered it, the paper claimed that "hundreds" attended, but could only muster a photo showing a half-dozen participants and about the same number of onlookers. On December 26, 2014, apathy won. A CBS-Los Angeles reporter tweeted a photo showing an empty boulevard with no spectators captioned, "People in #SouthLosAngeles disappointed by lack of turn-out for #Kwanza parade. Parade lasted 10 mins." (What "people"?)

More than 90 Percent of a Group of Illegal Immigrants Never Showed Up to Their Immigration Hearings. Once again, local-TV investigative reporters are showing up their national counterparts. Recall that this summer the administration insisted the thousands of Central American illegal immigrants it was waving across the border would be put into deportation proceedings and those who did not qualify for asylum would be removed. You'd think, then, that there'd be bigshot D.C. journalists interested in finding out how many actually bothered to attend their immigration hearings. You'd be wrong.

The worst journalism of 2014. As one of the most recognizable anchors on CNN, Don Lemon has helped lead the cable network's coverage of the biggest stories of the year. Live television is exceedingly difficult to produce, of course, but Lemon's gaffes this year offer a case study in how to choose words wisely — or not.

72 Million More Reasons To Doubt The Mainstream Press. In less than two weeks, bombshell stories of a vicious gang rape and a millionaire teen investor were exposed as frauds that never would have made it into print but for gross negligence and liberal bias.

Progressive Media Failed Again in the Brown Case. What we saw in their handling of the Brown case is a rerun of the Martin case. The facts don't seem to fit with the left's views and even after substantial evidence comes to light showing what did happen, they refuse to believe it. [...] Comparisons to the Martin case began with the NAACP which made the connection almost immediately. That comparison was more apt than the spokesman knew and not in the way he probably intended. In case the details are no longer in the forefront of your mind, recall that major news outlets repeatedly bungled the evidence in the Martin story and always in a way that made Zimmerman out to be something worse that he was.

More about Ferguson.

Scientists Warn About Bias In The Facebook And Twitter Data Used In Millions Of Studies. Writing in today's [11/27/2014] issue of Science, Carnxegie Mellon's Juergen Pfeffer and McGill's Derek Ruths have warned that scientists are treating the wealth of data gathered by social networks as a goldmine of what people are thinking — but frequently they aren't correcting for inherent biases in the dataset. If folks didn't already know that scientists were turning to social media for easy access to the pat statistics on thousands of people, they found out about it when Facebook allowed researchers to adjust users' news feeds to manipulate their emotions.

Gross exaggeration alert:
How is it possible that "millions of studies" have been conducted since Facebook and Twitter were created? Facebook started up in 2004, and Twitter was launched in 2006.

Man Who Has Found Damning Gruber Vids Faults Media's Failure to Uncover Them. The Associated Press deserves a special mention here. AP assigned eleven reporters to review 2008 Republican Vice Presidential nominee Sarah Palin's book in 2009, but wire service health reporter Ricardo Alonso-Zaldivar and others involved in covering the Affordable Care Act during the past several years somehow never found (or if they found it or knew it, never reported it) what Weinstein was able to find. How can that be? (That said, Obamacare's opponents didn't find it either, which makes one wonder how they could also be so ineffective.) The press has also been extremely reluctant to report on another "architect," namely "Zeke the Bleak" Emanuel, who has a history of advocating the rationing of medical care to patients depending on their age and other "useful lives" factors.

Debate Moderator Apologizes to Scott Brown After Falsely Correcting His Geography. Last night, a debate moderator was forced to apologize to former Massachusetts Sen. Scott Brown, after the GOP candidate proved that he, in fact, did know something about New Hampshire, which he now hopes to represent in the Senate.

Palin-bashing CNN anchor claimed Michelle Obama signed bill into law. A sillier moment than earlier this week for CNN's Carol Costello, but perhaps just as revealing. [...] The state of civics education in this country may be poor, but it's not that poor. Schoolchildren can make this distinction, and an average high-school student would know better than to claim that a First Lady signed a bill into law. Perhaps Costello should have taken a refresher course of Schoolhouse Rock in J-school.

The News Is Fit to Print But Are Major News Organizations Fit to Report It? Over the past several months, a variety of polls and reports have documented the declining trust of the American people in the news media. A starting point for reversing this trend is for the heads of major American news organization to look in the mirror and ask whether their organizations or their journalists are part of the problem.

Reporter Thought Earplugs Were Rubber Bullets. Does It Matter? The thing about not knowing that earplugs are not rubber bullets is that it makes it really hard to take any other reporting about police tactics, much less guns, seriously. It's one of those unfortunately boneheaded errors that destroys credibility.

Media Clueless About the Inner City. The media's frenzy that descended upon Ferguson, Mo. once again demonstrates its complete ignorance of life in the inner city. Anyone who has survived the barrios and the ghettos would recognize the usual cast of characters that converge on these incidents and would stay far away from them. But no-these media lapdogs shove mikes in their faces and actually believe their 'eyewitness' versions that nearly always turn out to be bogus and nothing other than a self-serving photo op.

Most Americans Disapprove of Media's Coverage of Ferguson. Most Americans say that things would be different in Ferguson, Mo., if the racial roles had been reversed. According to a Rasmussen Poll released today, many believe the media's coverage of the incident would differ if a black police officer had shot a white teenager. A majority, 54 percent, agree the media would have reported the death of Michael Brown differently according to the color of his skin. Regardless of race — white, black and other minority adults — most believe the shooting would garner less media attention.

Gross Media Irresponsibility in Showing House of Accused Officer. Jim Hoft is reporting that several news media outlets are brazenly broadcasting in front of the house of accused Ferguson police officer Darren Wilson. [...] What are these people thinking?

Was a UN School in Gaza Really Bombed? (Update: No, It Wasn't). The UN is going bonkers because they say another one of their schools in Gaza was shelled. Ten people were killed and dozens injured, but read this account carefully from The Guardian: [...] The UN is going bonkers because they say another one of their schools in Gaza was shelled. Ten people were killed and dozens injured, but read this account carefully from The Guardian: [...] The attack was not on the school. The bomb hit the street outside the gates of the school and killed and injured people standing at the gate — not in the school itself which was being used as a shelter.

Did Ben Nelson Doom Obamacare? Is this the first time you've read about Nelson's misgivings? Well, it would appear that you're not alone. Many alleged reporters who claim to have thoroughly covered the Obamacare debate from the Pleistocene era until the present are also ignorant of the role he played in determining the destiny of the exchanges. Indeed, some these "journalists" have advised their readers that there couldn't have been any serious discussion in Congress about differing rules for state and federal exchanges because no one told them about it.

Five Things You Need to Know About Chelsea Clinton. [#3] Chelsea began her business career making MBA degree salary, despite having no experience[.] NBC was criticized for Chelsea's $600,000 "special correspondent" salary, but that is not the most absurd offer sheet that Chelsea has agreed to. After deciding that various career paths weren't right for her, Chelsea settled at the age of 23 for a $120,000 a year salary at premier consulting firm McKinsey & Company. She was their youngest hire that year and made as much as consultants with MBA degrees, even though her Stanford degree was in history.

Media Ignorance is Becoming a Serious Problem. [Scroll down] The real problem is the arrogance that goes with the ignorance. Take Kate Zernike's 2010 attempt at an expose of the ideas that motivate tea party activists that ran in the New York Times. She wrote: ["]But when it comes to ideology, it has reached back to dusty bookshelves for long-dormant ideas. It has resurrected once-obscure texts by dead writers — in some cases elevating them to best-seller status — to form a kind of Tea Party canon.["] Who are these obscure authors of long-dormant ideas? She points to Friedrich Hayek, for one. Yes, the same Hayek who won the Nobel Memorial Prize in Economic Sciences in 1974 and died way, way back in ... 1992. Whose Road To Serfdom was so obscure that it has never been out of print and was excerpted in Reader's Digest, that obscure publication with only 17 million readers.

Here's How Little Chelsea Clinton Cares About Money, In Dollars. [Chelsea] Clinton is currently pulling down $600,000 per year for the kind of no-show job you probably thought had disappeared with the demise of the American mafia. She is officially employed as an on-air correspondent for NBC News even though she hasn't appeared on NBC for the past four months. Clips of Clinton's work for the Peacock Network are hard to find online, and one of the few accessible segments — her interview with the GEICO gecko — reveals that NBC's coaching failed to improve her affectless voice, lazy delivery and absolute lack of charm, charisma or talent.

Chelsea Clinton hasn't been on NBC News for four months but still earns $50,000 a month. Chelsea Clinton — under scrutiny for her pricey contract with NBC News — hasn't been featured since January, but the network says it does expect two completed stories to air soon, and two others are in the works. Bill and Hillary Clinton's daughter, who was hired in 2011, has done just a smattering of reporting for NBC News. Last week, Politico reported she is being paid $600,000 a year.

Sources: NBC not concerned about Chelsea Clinton's alleged 'overpriced' salary. Chelsea Clinton's contract as an NBC "special correspondent" has come under intense public questioning given that she hasn't been featured on-air since January despite being on a $600,000 annual salary deal, as reported by Politico. But according to a well-placed media insider, the network higher-ups are hardly perturbed by the high price tag for little TV time.

A Basic Primer On The Scott Walker Case For Ignorant Reporters. This is a true story: in 2012, Democratic district attorneys in Wisconsin launched a secret probe known as a John Doe investigation with the goal of proving that conservative groups illegally coordinated activities during Gov. Scott Walker's recall election. They issued more than 100 subpoenas, demanded the private information of conservatives and conservative groups, and actually conducted secret raids. And under state law, individuals who were targeted or witness to the investigation were forbidden from making knowledge of it public. Fortunately, judges saw right through this partisan abuse of power. Early this year, a state judge, ruling in a secret proceeding, quashed the subpoenas and all but ended the investigation.

CNN Anchor Gives Michelle Obama Power to Sign Bills into Law. CNN anchor Carol Costello ascribed new powers to the ceremonial office of first lady of the United States on Tuesday [5/27/2014] in a report about Michelle Obama's healthy school lunch initiative and the opposition it is receiving from Republicans and members of the food industry. Costello declared that Michelle Obama signed a bill regarding her initiative into law in 2010 after it passed Congress. The Constitution, however, limits the power to sign legislation into law to Mrs. Obama's husband, the president.

The downfall of American journalists. It ought to be a matter of deep shame that the most popular news website in the United States is the U.K. Daily Mail. And the fact that so many top editors and journalists in the United States happen to be from Britain is something that ought to disturb all those professors of journalism at elite schools like Columbia. You know, the ones that hand out big prizes like the Pulitzer, touting how wonderful our journalists are. Strangely enough, with all the university and foundation resources available for conferences, commissions, studies, and the like, nobody seems much interested in this embarrassing situation. There's a good reason for that.

The White House Impressed Corps. On Friday, the speaker of the House ordered a special probe into a White House cover-up of terrorism. On Saturday, the White House press corps buried the news and yukked it up with the president at the black-tie dinner. Once viewed as a serious news network, CNN blacked out hard news for five full hours to cover the gala, including "live updates of the red carpet arrivals." Instead of interviewing White House officials about Benghazi emails, anchors interviewed comedian Joel McHale, who roasted Republicans as racists.

America's Appalling Ignorance of Christianity. New York Times columnist Nicholas Kristof [...] admitted that when he was covering the presidential campaign of George W. Bush, he was surprised at how the candidate connected with Americans because of his evangelical faith; more surprisingly, Kristof admitted that he had "only the vaguest idea at the time what an evangelical was."

Reporter Caught Scribbling 'Blah Blah' While GOP Senate Candidate Speaks; Drama Ensues. Staffers of the alt-weekly newspaper Willamette Week recently met with Oregon Republican U.S. Senate candidates seeking an endorsement and things got quite dramatic after one reporter was caught scribbling "blah blah blah" on his notepad while a candidate spoke.

Boston Marathon victim storms off 'Meet the Press' set after being 'disrespected'. A survivor of the Boston Marathon bombing stormed out of a scheduled interview with NBC's "Meet the Press" in tears on Friday. Adrianne Haslet-Davis, a dancer who lost part of one leg during the attack, said NBC promised not to name alleged bombers Dzhokhar and Tamerlan Tsarnaev in her presence but did not follow through on the request.

Sebelius: Health Care Launch 'Terribly Flawed'. Outgoing Health and Human Services Secretary Kathleen Sebelius says the administration's own predictions that the new health care law's online sign-up system would be ready by Oct. 1 were "just flat out wrong." Sebelius told NBC's "Meet the Press" in an interview airing Sunday the health care website's launch was "terribly flawed and terribly difficult."

Oops: ISU losing its nuke program due to concealed carry law not exactly accurate. When the Idaho State Journal and the Associated Press reported last week that Idaho State University in Pocatello could lose its nuclear program if legislators pass a bill to allow guns on campus, the news wire and social media hummed with the revelation. Problem is, the story's not exactly accurate and no one wants to take blame for misleading the public on the volatile issue.

Haven't I Seen You Before? Why News Reports Quote The Same People. Al Cross has been all over the news lately. Just in the past couple of weeks, he's been quoted in Time, The New York Times and The Washington Post on no fewer than three separate occasions. Who is Al Cross, and what has he done to earn such exposure? Cross is a longtime political columnist for the Louisville Courier-Journal. When national reporters are exploring the Kentucky Senate race, they often turn to him for perspective on the ground.

You've got to know the territory. The uproar over "Duck Dynasty" should be studied forever in the business schools as a priceless teaching exercise in marketing quackery. Television executives are so highly paid because they're supposed to be so smart. Rarely have so many smart guys been so out to lunch.

When '60 Minutes' Checks Its Journalistic Skepticism at the Door. [V]iewers expect the show to bring its A game, and deserve it, when it takes on a huge issue like the N.S.A., to serve as a stand-in for the American people and ask the uncomfortable questions.

CNN's Top-Five Credibility Catastrophes of 2013. This was supposed to be a rebuilding year for the former Most Trusted Name In News. The belief was that CNN's ratings couldn't sink much lower than its 2012 lows and that newly-installed president Jeff Zucker couldn't possibly make things worse. Wrong. After months of retooling, CNN is still in last place and its primetime viewership has improbably sunk even further.

In Defense Of Lara Logan. Once it became clear they had been duped, Logan publicly apologized for the mistake saying on CBS This Morning that "The most important thing to every person at 60 Minutes is the truth, and today, the truth is that we made a mistake," she said, calling it a very "disappointing" situation. After all, what makes a show like 60 Minutes different from, say, a cable news show is that every word in the script is supposed to be heavily vetted by producers and lawyers alike. So on the scale of news screw-ups, this was pretty egregious. It wasn't just an error — their entire report was based on what seems to have been a lie.

Trey Gowdy Rips MSM For Media Malpractice On Benghazi. On October 30, Senator Lindsey Graham reiterated his threat to hold up all future Senate confirmations unless the Regime is more forthcoming with the information Republicans are seeking. And Trey Gowdy took the opportunity to shame the MSM for being basically AWOL on the story. He asked if they could answer a series of pertinent questions about the attack — knowing, of course — that the answer would be no, because the media as a whole allowed the Regime to lie and stonewall on Benghazi so Obama could be reelected. Some great investigative journalism was called for, and they totally dropped the ball.

Media Malpractice, Chapter 12,894. A few months back we were treated to MSNBC identifying George Wallace as a Republican. Yesterday [10/27/2013], CBS News proved itself unable to distinguish J. Edgar Hoover from Herbert Hoover. It's a wonder they can still tell the Kennedys apart.

A Quick Note on Weaponry and Language. I just watched the press conference from Los Angeles airport and I was irritated as usual by the way in which law enforcement agents and politicians who should know better throw around incorrect terminology to the press. Over and over, we were told that the shooter at LAX used an "assault rifle." This is now being repeated widely. There is one key problem with this: It's not true. We can argue all day about the silly "assault weapon" term, but "assault rifle" actually has a meaning. An "assault rifle" means that the rifle can be switched between safe (off, in layman's terms), semi-automatic, and automatic fire.

Questions Rarely Asked — and Never Answered. Is there still a notion of scandal? If EPA director Lisa Jackson's fake email con and the Pigford payouts were small beer, what were the scandals about Benghazi, the IRS, the AP, and the NSA? Does anyone care that every presidential pronouncement about the Affordable Care Act was false? We have reached a new point where either the media is an appendage of government, or the public is too weary to care about the conduct of its government — to the degree that this administration could do pretty much anything. [...] How did Barack Obama become the most anti-civil liberties president in history — to almost complete silence?

The Press Endures Obama's Unrequited Love. Journalists pride themselves for being on the cutting edge of events and trends, but they have been slow to realize or to admit that they have been instrumental in electing a pathological liar to the highest office in the land.

Wussies! Every Last One of You. The liberal media can't help themselves. They have a huge crush on the President. He can do no wrong. [...] There's something very dangerous about the liberal love affair with the President. Fear of asking the tough questions crushes accountability. And without accountability, tyranny follows.

J-school failure: Just 26 percent of new reporters have skills to do the job. A journalism degree can cost nearly $100,000 for graduate students, but for many it's a waste of money because they are leaving school without the skills needed in the new age of digital reporting and publishing, according to a sweeping new survey of the industry. The highly-regarded Poynter Institute, an international strategy center and leader in journalism education, found in their 2013 "Future of Journalism" study that only one quarter of journalism school students showed up on the job ready for work.

Media, The Navy and the DC Shooter: A Retired Navy Security Officer's View. If you are watching the news in the early stages of the Navy Yard shooting, you may not be surprised that you hear one thing and hours later hear something totally different. [...] That's why we first believed there were 3 shooters, then 2, now 1. That's why we still don't know how many or which guns were used. Supposedly there is a shotgun, a Glock pistol and an AR-15. It was first reported that he bought an AR-15 in Virginia but later determined he rented in during a practice session. Now they don't even know if there was an AR-15 on the scene or if that is just typical hype.

Professional media ID wrong man as Navy Yard shooter. That would be CBS and NBC, who offered the name Rollie Chance as the dead suspect in the Washington Navy Yard, responsible for six deaths and a number of wounded. The only problem? Rollie Chance is still alive and had nothing to do with the shooting, apparently.

Less than three weeks after the conclusion of the Fort Hood terrorist shooting trial:
CNN Fail: Anchor Can't Remember the Last Shooting at 'U.S. Military Facility'. During CNN's coverage of the Washington D.C. Navy Yard shooting Monday morning [9/16/2013], Carol Costello asked when the last time a gunman wrecked "havoc at a U.S. military facility." It would seem that Costello forgot about the 2009 Ft. Hood shooting that claimed the lives of 13 Americans.

Limbaugh Compiles Round-Up of Media Celebrating Obama's 'Genius' Embrace of Kerry's Gaffe. Conservative radio host Rush Limbaugh tore into the media on Tuesday and accused them of malpractice in their reporting of how the so-called Russian proposal to impose a diplomatic solution on Syria. Limbaugh played a montage of clips of members of the media celebrating the "genius" of President Barack Obama for embracing a misstatement by Sec. John Kerry and making it the centerpiece of American policy towards that country's civil war. "Turns out, this was the plan all along — at least what the media wants us to believe," Limbaugh said of the Russian solution. "This is journalistic malpractice."

Miley Cyrus and the Pornification of America. Consider this: during a week in which news reports on NSA mass surveillance, militarized police forces, and a war brewing with Syria were vying for attention, CNN's number one news story was Miley Cyrus' VMA performance. Sounds like the death knell of an empire to me.

America the Trivial. President Obama is making the argument that the executive branch by presidential fiat can pick and choose which laws should and should not be faithfully executed — whether Obamacare, immigration amnesties, or No Child Left Behind statutes. The fate of the entire concept of voluntary tax compliance is currently endangered by the politicization of the Internal Revenue Service. Whether the government can monitor the communications of either reporters or average citizens depends on getting to the bottom of the National Security Agency and Justice Department/Associated Press scandals. Instead, the media seem more interested in whether Obama is playing golf on Martha's Vineyard.

Meet the worst Sunday morning show. [NBC's Meet the Press], you see, is at a 21-year low in ratings. [...] David Gregory is a weak host, the weakest of any Sunday show. I've documented the lame questions, the absence of follow ups and the blatant bias. That's bad journalism and uninteresting TV.

Millennial Generation Is Abandoning Liberalism. The media have claimed that conservatives must become more moderate or face permanent irrelevancy after the supposedly solid liberal Millennial generation of 18-29 year olds overwhelmingly supported reelection of Barack Obama. These dire warnings reminded me of the media geniuses who proclaimed after Jimmy Carter's Presidential victory in 1976 that the 18-29 year olds of the Baby Boomer generation would always vote as a liberal block. Four years later, Baby Boomers abandoned liberalism and began reliably voting as Ronald Reagan conservatives for the next three decades.

The Editor says...
The news media peddles predictions favorable to the Left, hoping their predictions will be self-fulfilling.

Limbaugh, Hannity, Levin eyed as 2016 GOP debate moderators. Miffed that their candidates were singled out for personal questions or CNN John King's "This or That," when he asked candidates quirky questions like "Elvis or Johnny Cash," GOP insiders tell [The Washington Examiner] that they are considering other choices, even a heavyweight panel of radio bigs Rush Limbaugh, Sean Hannity and Mark Levin.

Reporters Afraid To Ask Obama White House About Benghazi. Obama has apparently taken his cue for this from Hollywood. It is a well-known fact that movie stars in Hollywood will not grant access to those reporters and media outlets that do not write or report favorably about them. [...] The end result of this is that there is no honest reporting coming out of Hollywood these days. This has likely been obvious to most everyone for quite some time. Now that Obama is doing the same thing, how long will it be before there is no longer any honest reporting coming out of the White House Press corps? Perhaps we are at that point already?

Deferential Press Corps Meets President, Takes Careful Notes. President Barack Obama held a rare press conference on Friday afternoon [8/9/2013] in the East Room of the White House, and was treated to all-too-common deference by the White House Press Corps. Only Ed Henry of Fox News asked a question that challenged the president in any way. The rest asked soft questions that often invited him to take shots at the Republican opposition and revisit talking points he has made repeatedly in recent speeches.

Liberals will believe anything if you call it a 'study'. [L]iberals in the left wing media, led by the HuffPo, are citing a "study" claiming that doubling the wages of McDonald's workers would only result in a 17% price rise: "Doubling McDonald's Salaries Would Cause Your Big Mac To Cost Just 68 ¢ More: Study" headlined the story by Christine Fairchild, citing a study by someone described as a "researcher at the University of Kansas." Ms. Fairchild later had to acknowledge that author Arnobio Morelix "is registered as a undergraduate student at the university, according to University of Kansas School of Business Communications Director Austin Falley." A not particularly bright undergraduate, it turns out. As in laughably ignorant about the nature of the business McDonald's is in.

How did mainstream media get the NSA PRISM story so hopelessly wrong? If you don't understand the technical workings of these surveillance programs, you can't understand whether they're working as intended, you can't identify where the government has overstepped its bounds, and you can't intelligently debate the proper response. The fact that the government has maintained rigid secrecy compounds the problem. [...] The basic facts in that story aren't news. We've known since at least 2006 that the U.S. security establishment is collecting details of phone calls and mining that data to identify calling patterns consistent with terrorist activity.

Study: 22% of TV Journalists Face Job Burnout. You think carrying The State's water is easy work? Think again, my friends. A study of 900 journalists done by the University of Kansas found that a full 22% of television journalists were facing burnout. Why, one morning show host complained that she was required to tweet three times every half-hour while she was on the air. Imagine how difficult that must be with only ten minutes of commercial breaks.

MSNBC Mistaken History: Segregationist George Wallace Was A Republican? Former Alabama Governor George Wallace was many things: segregationist, lawyer, Methodist. But one thing he most certainly was not: a Republican. But during a segment of last night's [6/11/2013] All In on MSNBC, a chyron mistakenly identified the well-known racist governor as a member of the GOP, despite his affiliation with the Democratic Party of that era.

Mainstream Media Fail to Break Even One of Four Obama Scandals. Over the past few weeks, four major scandals have broken over the Obama administration, and it is a very sad (and frightening) truth that our pathetic, American, lapdog mainstream media is not responsible for breaking even a single one.

Brace yourself for deep disillusionment.
Another News Channel Abandons 'Advertising Trick' Of 'Breaking News' Coverage. In a slick new advertisement released Monday afternoon [6/3/2013], WDRB urged its viewers to recognize that "breaking news" is simply a "marketing ploy." The narrator asserted that stations claiming to be "first" in "breaking news" use that branding as an "advertising trick" despite it being "simply not true." "Breaking news is seldom breaking," the narrator continued, "and quite often isn't even news."

MSNBC Chief Phil Griffin: Our Network Is 'Not The Place' For Breaking News. Over the last several months, it has become pretty clear that when it comes to ratings, MSNBC struggles during breaking news events, while CNN and Fox both receive boosts. In an interview with the New York Times this morning, MSNBC chief Phil Griffin essentially conceded the "breaking news" mantle to the other networks, telling viewers that his network is not focused on that sort of coverage.

The article itself is off-topic -- see remarks below.
Aust signs global arms control treaty. Australia has signed a landmark global arms treaty, joining 60 other countries in a move to stop the vast illicit trade in weapons. The treaty, co-authored by Australia, is designed to end the free-for-all of international arms sales.

The Editor says...
This is the first and only time I've ever seen Australia referred to as Aust. Is bandwidth (or ink) so scarce that Australia can't be spelled out, or is it just a matter of laziness?

Sins Of The Fourth Estate (Part I). The one clear thing that came out of last week's chaotic activity in Boston, Massachusetts is that real reporters were missing. For that matter, they've been missing since last year's attack in Benghazi. From Benghazi, the Gosnell abortion trial, gun control debates, immigration and then the Boston Marathon bombings, television news reporting has become positively painful to watch. The First Amendment to the Constitution grants freedom of the press but this was supposed to endow it with a responsibility to be the people's watchdog. The modern Fourth Estate represented by the mainstream media has made a mockery of this privilege.

Media outlets can't get their stories straight. Here is what we know thus far: The cops have photos of one of the suspects, or two. The suspect(s) may be either "dark-skinned" (CNN) or "white" (CBS). They were carrying backpacks, or maybe bags. The backpacks, or bags, were black, unless they were blue. The bombs were detonated by control boards, unless it was cellphones, unless it was egg timers. Yesterday's [4/17/2013] press conference was supposed to take place at 5, until it was supposed to take place at 8, until it was canceled.

The media's 'marathon' meltdown. The fast-moving news out of Boston on Wednesday [4/17/2013] snared some of the most respected reporters and news outlets in the country into offering false or conflicting information about whether a suspect had been arrested — leaving CNN and the Associated Press, among others, scrambling to clean up their reports as the day went on.

Two NY Times Columnists Embarrass Themselves on Guns in Sunday Review. Two New York Times columnists embarrassed themselves over the weekend, betraying anti-gun ignorance in the paper's Sunday Review. Frank Bruni went hunting for the first time (with the chef of a ritzy Manhattan restaurant), and remarked "what an unfair fight" hunting is, as if he was the first person to think that up.

WaPo page one oops: '70 deer per square acre'. In the fifth paragraph, right there on the front page, it reads, "With 70 deer per square acre, the park has about four times the density considered ideal." Error one: an acre is a square measurement. It's redundant and ignorant to say "square acre." Error two: anyone who has any idea of how big an acre is would know that "70 deer per square acre" is pretty much impossible.

Ravens fans celebrate Super Bowl win by car tipping and looting a Baltimore 7-11. But AP told us there were no reports of "disturbances" after the Ravens' Super Bowl win. Once again, Twitter has the news first.

DHS Backdooring Gun Registration in Missouri. Missouri cannot be alone in this scandal; doubtless numerous other states have complied with DHS requests as well. We are seeing but the tip of the iceberg.

The Editor says...
Backdoor is not a word, and certainly isn't a verb. Please develop an adequate vocabulary before becoming a writer.

'Heckle' and Jive. It started as an awkwardly written article by Ken Dixon, a reporter at the Connecticut Post of Bridgeport. It became a fast-moving rumor and in some cases an outright lie propagated by national journalists.

It's Time for Media Control. Was there anything about the Sandy Hook massacre the media got right on the day it happened? In their rush to be first, they ignored their obligation to be right. Nearly every detail they disseminated Friday was wrong, even down to the name of the killer. [...] As liberals love to remind us, broadcasters make their living over "public airwaves." Conveying false information over them is a violation of the trust placed in those institutions by the public and should be punished.

Chris Matthews Claims GOP Ignorant of Science While Claiming Plants Absorb Carbon Monoxide. Note to Chris Matthews: when seeking to slam Republicans for their supposed ignorance of science, try not to expose your own. On Tuesday's [11/13/2012] Hardball, Matthews — mocking the Republican congressmen vying for the chairmanship of the House Science Committee — committed this whopper: "As we all learned in grammar school — young people watching — trees absorb carbon monoxide."

The Real Culprits. Anyone willing to invest a little time in a search for facts can find plenty of them literally at his fingertips. But vast numbers of Americans are still totally dependent for their information — and thus in large measure for their political opinions — on the TV networks and the printed media. It is the duty of the press to perform the crucial function of enlightening the public. But the liberal media refuses to act as a guardian of democracy, fulfilling its obligation enshrined in the First Amendment. Rather than supplying its customers with unbiased, factual information, it feeds them a steady diet of blatant propaganda.

An Ode to Citizen Journalists. Why are newspapers published? ... During my thirty years in journalism, I've interviewed dozens of candidates who were hoping to be hired as a reporter or editor. I asked each one: Why are newspapers published? In thirty years, no recent graduate of a journalism school has known the answer.

How Republics Fall. [Scroll down] This is how republics die, in thrall to the inane, the frivolous, and the inconsequential. A liberalism incapable of persuading the public to embrace its policies has been converted by its media tribunes into a publicity stunt. As a result, the nation that gave the world the Federalist Papers and the Lincoln-Douglas debates may very well reelect a flawed chief executive for no other reason than that he has been continuously portrayed as a super-nice guy by the media lackeys who tend the Obama cult.

NBC Skips 9/11 Moment of Silence to Talk Breast Implants with Kardashian. This morning after 8AM Eastern most of the networks observed a moment of silence to commemorate the terror attacks that hit the Big Apple on Sept 11, 2001. But not NBC. No, NBC thought it would be much for fun to talk about boobs with a Kardashian. ABC, CBS, Fox, MSNBC and CNN all took a moment out of their busy broadcast mornings to observe the moment of silence for those who fell that day.

MSNBC Host Asks Brother of Colorado Shooting Victim How His Dead Sister Is Doing. NewsBusters has been for years exposing the breathtaking ignorance, incompetence, and unprofessionalism of the on air personalities associated with the so-called cable "news network" MSNBC. On Monday [7/23/2012], Michael Eric Dyson, filling in for Ed Schultz, actually asked the brother of one of the victims of Friday's shootings in Aurora, Colorado, how his dead sister is doing.

Brian Ross of ABC takes heat for another blunder. In television journalism, few reporters are as controversial as Brian Ross of ABC News. The investigative correspondent has landed major scoops and won prestigious awards for his reporting on the Peace Corps, Solyndra, and U.S. antiterrorism efforts — to name just a few. And yet, he has also produced more high-level haphazard reporting than perhaps any other reporter on television.

Chicago Tribune Journalism Offshoring Scandal Ends. For months the Chicago Tribune has been suffering the slings and arrows of local critics for having hired a web-based company called Journatic to write many of its small, "hyper local" stories for its Trib Local newspapers. Critics lambasted the stories after it was discovered they were written by writers in the Philippines for 35 cents per piece — people that had never even heard of the Chicago suburbs they were writing about. Another big reason the Trib was so mercilessly mocked is because the stories often carried fake bylines with American names instead of the names of the Filipino writers that really wrote them.

After U.S. Uproar, Another Syrian "Civilian Massacre" Story Falls Apart. Yet another alleged "massacre" of "civilians" by the Syrian regime was in the establishment-press headlines this week, supposedly a brutal killing spree by dictator Bashar al-Assad's forces in the village of Tremseh that left up to 250 people dead. As has become typical, Western governments and mainstream media outlets — the New York Times, the BBC, and others included — parroted anonymous "opposition activists" for the claims. But within days, after foreign powers seeking regime change had their chance to beat the war drums even louder, the carefully constructed tale was already falling apart.

ABC's Terry Moran is a Know Nothing On Bush v Gore. Terry Moran was on the panel on George Stephanopolous' ABC Sunday morning program today [4/1/2012], as he was last week. He was introduced as ABC's Supreme Court "expert." For the second straight week, Moran misstated the Supreme Court's vote in Bush v Gore in December, 2000. The vote to overturn the Florida Supreme Court's decision on how ballots should be counted in the Florida recount controversy was not a 5-4 decision, but 7-2.

The fruits of the public school system:
MSNBC blows it again on U.S. geography. For all of MSNBC's efforts to promote public policy on education, the graphics department at that network might be proof there is a lot of work that needs to be done in this area. During Alex Witt's 7 a.m. program on Saturday [3/10/2012] on the channel, Alabama was labeled as Mississippi and Mississippi as Alabama.

When English is the official language of this country, lots of writers and reporters will be out of a job.
Nation wondering: what happening to language? Something funny going on across the country. Verbs disappearing. Other speech parts, too. Meanwhile: sentence fragments, participial phrases running amok — starting in New York and Los Angeles, then blanketing the entire nation. Law enforcement puzzled. FBI, no leads yet. Investigations ongoing. And now a theory: Nightly news to blame.

Secrets of the American Nomenklatura. [#1] The media and the Democrats are joined at the hip and have created a "hereditary celebrity class". ... TV news is now officially entertainment and if you are looking for journalism turn it off and look elsewhere.

The Hot-Air Car. It would be so easy for "journalists" to ask an engineer to verify the claims in their stories, but then they would not have a story.

It's no wonder that the public hates journalists. I'm ashamed to be a journalist. Yes, again. Like little kids who continually put their hands in a flame and get burned every time, my profession just never learns from its mistakes. We have an unfortunate habit of hyping the wrong stories. Over and over. And when it comes to assessing the effect that our foolishness has on our craft's reputation, it's practically a fatal flaw.

Murdoch to media: You dug yourself a huge hole. With newspapers cutting back and predictions of even worse times ahead, Rupert Murdoch said the profession may still have a bright future if it can shake free of reporters and editors who he said have forfeited the trust and loyalty of their readers. ... Murdoch, whose company's holdings also include MySpace and the Wall Street Journal, criticized what he described as a culture of "complacency and condescension" in some newsrooms.

The Problems with Al Gore: [Scroll down slowly] The world is full of ignorant people. As a college professor, I interact constantly with students, many of whom are very concerned with global warming. But in my interactions I have invariably found that the more science a student knows, the more skeptical they are of the standard global warming alarmist scenario. Students majoring in engineering or physics have some appreciation for the scientific method and the uncertainties involved in understanding and predicting climate change. ... Students who buy into global warming alarmism are almost always from non-technical majors such as journalism. They can't think quantitatively, critically, or analytically. They have beliefs, but no interest in or appreciation for facts.

Mike Huckabee: Journalism is dead. Former Arkansas GOP Gov. Mike Huckabee, currently a Fox News talk show host, ripped the media this weekend, claiming that journalism has been reduced to "ink-stained drivel that smeared the pages of paper and the people who attempted to read it."

Doctors are the most trustworthy and journalists the least, poll finds. It is the 25th year running that doctors have been rated as the most trustworthy in the survey commission by the Royal College of Physicians. Four times as many people believe doctors tell the truth as believe politicians do, the poll found. More than nine in ten adults in Britain trust doctors, compared with 87 who trust teachers, 79 percent who trust professors, 78 percent trust judges and 74 percent trust clergymen.

Media Rubes: The Merriam-Webster online dictionary defines a "rube" as a "naïve or inexperienced person," or "an awkward unsophisticated person." Clearly, no better set of adjectives can be found to describe a great many American journalists, who together have managed to provide Obama with an 86 percent favorable report rating, at least through March of this year.

Modified Media Mea Culpa. [Scroll down] The Cardiff researchers did point out that British reporters today have about two-thirds less time to check their stories as their media counterparts did 20 years ago. Nevertheless, "The researchers went on to look at those stories which relied on a specific statement of fact and found that with a staggering 70 percent of them, the claimed fact passed into print without any corroboration at all," Powers writes. Indeed the Guardian is so infamous that there is even a web site devoted exclusively to exposing its inaccuracies….

Crypto box failure causes MTA credit card processing failure. There are a few lessons here. One, of course, is that headline writers shouldn't be trusted to get technical details right. Saying "M.T.A. Blames Encryption for MetroCard Problems" is just wrong — the MTA didn't blame encryption, they blamed the failure of a particular unit.

Spitzer's Media Enablers: The fall of New York Gov. Eliot Spitzer holds many lessons, and the press will surely be examining them in coming months. But don't expect the press corps to delve into the biggest lesson of all — its own role as his enabler. … What makes this more embarrassing for any self-respecting journalist is that Mr. Spitzer knew all this, and played the media like a Stradivarius. … He doled out scoops to favored reporters, who repaid him with allegiance. News organizations that dared to criticize him were cut off. After a time, few criticized anymore.

Network TV News: Evil or Incompetent? In the complex and intense world of the 21st Century, an informed and aware public is more essential than ever. Citizens are asked to make judgments on issues and candidates where the decision could literally mean life or death for millions. And yet, what is the public fed nightly by those over-paid "news" organizations at what is called the Networks? The public is force fed a steady diet of propaganda, distortions and outright pap.

Alinsky, Stalinsky, It's Still the Same Old Agitprop. [Scroll down] "Mainstream" now means homogenized, lowbrow, ignorant, robotic, group-thinking cheap plastic puppets. America used to have great journalists — Benjamin Franklin was one, and Mark Twain, and Henry Louis Mencken, all sharp writers and independent thinkers. They would be nauseated by today's media. Today, the only real journalists write for blogs.

The Mainstream Moron Media: [At the Democratic National Convention] the media gaggle, with few exceptions, has plangently repeated — tediously and cheerlessly — many things that I know to be untrue. The preeminent untruth resounding across the airways is that the Clintons are political geniuses. … Since the early 1990s I have sedulously researched the Clintons' life and work. My finding is that they are mediocrities in all things political, save one: huckstering. Moreover, they are accomplished hucksters solely because the media are composed of credulous ignoramuses.

ATF Seizes Gun Shipment Labeled 'Toys' — But They Really Were Toys. Working from a Customs and Border Protection (CBP) press release entitled "Tacoma Seaport U.S. Customs and Border Protection Officers Seize Shipment of Machineguns," these news organizations had every reason to feel that they were just reporting the news ... But there was much, much more to the story that [Rolando] Suliveras and the CBP failed to mention, starting with the fact that the 30 "machine guns" seized in the raid really were toys.

Media Blunders in Covering California's Prop 8. Six months ago, California voters passed Proposition 8, denying legal recognition to same gender marriages. Petitions are now being circulated to put the issue back to the voters in June 2010. Before venturing into this thorny thicket again, the media should realize what a poor job it did in covering the fundraising for Prop 8. The reporting blunders include gross inaccuracies and one where the media did not recognize a good story right before their eyes.

Media Malpractice: Now I am not a scientist, but the idea that a few alleged degrees of warming — with none apparently in the last decade — could cause an increase in earthquakes seemed pure quackery to me. So, I decided to perform Google and Yahoo searches of the "scientist" who had issued the finding, one Thomas Chalko, MSc, Ph.D. In less than five minutes I found that Chalko was perhaps the last person who should be quoted on the purported impact of allegedly man-caused global warming.

CBS Pulls Unvetted Story Blaming Earthquakes on Global Warming. CBS News and the Associated Press were quick to regurgitate claims that global warming has increased the intensity of earthquakes fivefold in the past 20 years. But had either taken the time to investigate, they would have discovered that both the source's facts and credentials were, if you'll pardon the expression, on very tremorous ground.

The Editor says...
I am amazed that a story like this got on the CBS web site, and may have aired on CBS stations. Anyone with a milligram of critical thinking skills should be able to conclude that a one-half degree temperature change is not enough to cause an earthquake, without having someone else point it out.

Happy Birthday, Monicagate! The press loves anniversaries of big public events because they're predictable, a quality seldom found in the news. Coverage can be planned in advance. Stories can be written, laid out, and put to bed without any worry that later developments will compel revisions. Sputnik is turning 50? Let's cover it. The only thing it can possibly do while we're not looking is turn 51. Given this predisposition, I find it worth studying the rare instances when the press accords a significant anniversary little attention.

Citizen journalist 1, MSM 0. Is there anything that moves slower than a government bureaucracy? Actually, it seems that there is: the mainstream media. Back on March 17, [2006,] I posted a story about FEMA going after people who received duplicate or fraudulent Hurricane Katrina disaster payments. It was a followup to a February 13 story on the Government Accountability Office's report on people defrauding FEMA. And despite their having access to the same sources I do — and a whole lot more — it's taken the mainstream media until today [4/21/2006] to get a story out.

Highway Robbery: Rick Perry's vision for Texas, the Trans Texas Corridor, made it through the State Legislature in 2003. H.B. 3588, the enabling bill for the Trans Texas Corridor and, hence, the largest spending bill in the state's history, became law in large part because Texas' mainstream press, used as a watchdog, was inexplicably asleep.

Ship collision with San Francisco Bay Bridge: Despite many reports calling it a tanker, the Cosco Busan was actually a container ship, and the fuel on board was solely for the purpose of running the ship.

Norman Hsu Who? Radio personality Rush Limbaugh has coined the term "Drive-By Media" to refer to those in the MSM who shot up a story and then leave others to clean up the mess, or not. First the WSJ broke the Norman Hsu story. Then, last October the LATimes broke the story of the vanishing NYC Chinatown donors. Neither story was completed. The "Drive-By's" just shot them up and drove on down the road. Meanwhile, where's Hsu and what's his story?

Treason, Plagiarism and The Washington Post: Winning a Pulitzer Prize for a story about CIA "secret prisons" has been quite lucrative for Dana Priest of the Washington Post. … But the article for which she won the prize not only damaged the security of the United States and endangered the safety of American citizens but appears to have been largely based on the work of London-based journalist Stephen Grey.

The End of America As We Know It: [Scroll down] Add to that a heavily partisan, politicized environment where different political parties can't even agree on the most basic facts, much less the issues — and an incompetent mainstream media that cries wolf on an almost daily basis about something that's going to kill us — and we're producing a society riddled with people who have extreme difficulty coping with or even recognizing basic threats.

Journalism's Hoax on Duke: As the late commentator and editor Michael Kelly wrote, "most journalists learn to see the world through a set of standard templates into which they plug each day's events." The most obvious templates concern race — whites are oppressing blacks, gender — men are oppressing women, and class — the privileged are oppressing the poor. Since all three of these templates were in play during the Duke race case, how surprising is it that this triple high tide resulted in some of the worst journalism of the decade?

Don't know much about voting. Two-thirds of those surveyed in NYU's Foundations of Journalism course would trade their vote for a year's tuition, department chair Brooke Kroeger found. Twenty percent would trade it for an iPod, and 90 percent would give up their franchise forever for $1 million. At the same time, it is claimed, the students "value" their votes. About 70 percent still believe that one vote can make a difference. This result is strange for a profession which counts "government watchdog" among its roles.

Journalism School Probes Possible Cheating on Ethics Exam. It was an ethics exam in a journalism class, and someone may have cheated. Ironic? Yes. Unfortunate? Certainly. But what made the incident particularly notable was where and when it took place: at Columbia University, one of the premier journalism schools in the country, at a time when media ethics are much in question.

Scooping the mainstream media: The Associated Press reached a new level of incompetence, and the "news" industry they serve doesn't seem to care. If you want political opinion, you'll find it in Associated Press dispatches. If you want news, you might have to read conservative opinion columns.

Clueless Press Can't Decide If Espionage Is Journalism. Imagine the year is 1942 and the German government runs a news bureau in Washington, D.C. collecting government secrets. Even FDR would have laughed at claims they were actual journalists, locked them up and thrown away the key. He would have been right. There's a huge difference between an individual or an organization reporting abuses in government or business one at a time and the same people stealing enough classified material to run a spy agency.

Amateur Hour at CNN: Error-Filled Chyron During Beck Rally. There is something about CNN and the people writing chyrons for the alleged "most trusted name in news" with the "best political team on television." Last week, these geniuses clarified the White House's position on President Barack Obama's religion. However on CNN Aug. 28 coverage of Glenn Beck's "Restoring Honor" rally, which CNN reporters and anchors seemingly held their collective noses up and reported on throughout the event, the chyron on the screen was something likened to one of those parlor games where you circle the numerous errors involved.

The Media is the Politics. The "debates" between the current crop of presidential wannabes bear little resemblance to the stirring intellectual drama of Lincoln and Douglas, but they accurately reflect our times. Short answers to trivial questions for short attention spans. There's little opportunity for eloquence in a sound bite and it's not likely that television audiences would stay tuned if there were.

The News Media Vs. the Innocent. Years ago, Ray Donovan, Ronald Reagan's Labor Secretary, was prosecuted for corruption, only to be acquitted. After the verdict, Donovan asked plaintively, "Which office do I go to to get my reputation back?" Steven Hatfill knows where to go to get his reputation back. But upon arriving there, he finds the door blocked by someone who says her privileges are more important than his good name. That someone, of course, is a journalist. And, not surprisingly, she enjoys the broad support of other journalists, who have proved to be slow learners about the obligations they share with their fellow citizens.

AFP Takes Lessons from TNR. The caption that accompanied the photo read: "An elderly Iraqi woman shows two bullets which she said hit her house following an early coalition forces raid in the predominantly Shiite Baghdad suburb of Sadr City." … The only way these "bullets" could have hit the woman's house was if they'd been thrown at it. They'd obviously never been fired.

Haditha Massacre: Media and Terrorist Hoax? As charges against U.S. Marines — regarding an apparent fabrication of the "Haditha massacre" — continue to be proved false and based upon unsubstantiated "evidence," only some of the leftist media appear to be standing by their original spin on the story.

A press storm over secrets. The media may not be the most detested institution in America, but it is surely a contender for the title. A Harris poll in March found that only 14 percent of American adults express a "great deal" of confidence in the press, while 34 percent — one American in three — have "hardly any" confidence in it.

Media Should Have 'Outed' Foley. The finger-pointing in the Mark Foley scandal has curiously not focused on one particularly powerful player complicit in allowing the Florida Republican to continue his detrimental behavior for years: the American media.

Update:
After election, Foley story fizzles. If ever a news story bolstered Rush Limbaugh's low opinion of the "drive-by media," it is the tawdry saga of former Rep. Mark Foley, R-Fla. When the story about Foley's e-mails to former House pages first broke, cable news was All Foley/All the Time. … When the House Committee on Standards of Official Conduct report came out this month finding no violations by GOP leadership of House rules or standards, the once-big story devolved into news briefs and tepid editorials. No big scandal, no big story.

Hillary and the Ghost of LBJ: Much complained about every four years is the tendency of the media to play elections for the presidency as a horse race. There is reason for this. Exciting, colorful, horse races never fail to capture an audience. They have a winner and a batch of losers. But horse races always end. What the horse racing model of media coverage never does is illuminate the long-term success or failure of the underlying ideas at stake in the ever fluid, always forward-moving history of the American experience. But those ideas do win — and they do lose. One of the most continually defeated ideas that has appeared in American politics is that of weakness and appeasement in foreign policy.

Big Media are Repeatedly Wrong Claiming 'Record-High' Gas Prices. Since Hurricane Katrina swept ashore on the Gulf Coast, we've heard seemingly countless reports of "record high" gas or oil prices. From the beginning of September last year, the big three networks — ABC, CBS and NBC — have told us about record high gas or oil prices close to 100 times. They've been wrong each and every time.

The media's shabbiest moments. The year 2005 is ending as it began, with another successful election in Iraq and a liberal media still flapping around trying to find other controversies to submerge it. It does not matter to them that a Gallup poll found that 74 percent of Americans express confidence in their military, but only 28 percent express confidence in their newspapers or TV news outlets.

Jellyfish of the Year: The intellectual flubber of Time's decision is manifest on many levels. Though some argue that Time was patting the American people on the head for voting the way they wanted in the last election, the more obvious explanation is that Time's editors didn't want to offend anybody. "If you choose an individual, you have to justify how that person affected millions of people," Richard Stengel, Time's newly vintaged managing editor, told the Associated Press. "But if you choose millions of people, you don't have to justify it to anyone."

The KGB's Useful Idiots: There are numerous examples of leftists unwittingly serving the Soviet cause in the 1980s, which today sit in Communist government and media archives, some of which have been translated and are easily accessible in the United States. There they gather dust, as liberal historians and journalists ignore them, failing to do their jobs, never reporting the real history that exists.

Anchors Aweigh: According to a Pew Research Center survey of 552 journalists and news media executives from November 20, 1998 to February 11, 1999: "40% of journalists working for national news organizations and 55% of those working for local outlets said that news reports were increasingly marred by factual errors and sloppy reporting. About 60% said the boundary between reporting and commentary had eroded."

Funniest Media Gaffes of 2006: In the dubious sources category: "Don Spille — A man who told the Tallahassee Democrat that he lost everything in Katrina — including his father. Ed Spille Sr., his father, later contacted the newspaper to disagree."

Media Report of Raids on Tulsa Illegals Draws Outrage. A series of raids in Oklahoma last week led to the arrests of 127 criminal aliens, fugitives and other immigration violators despite a TV station's news report that not only exposed the operation to the public, but also described the people and the vehicles being used in the effort.

This Ain't Nightline. It's not Ted Koppel's fault that the New York Times has made him a Times contributing columnist. … [T]he fault belongs to whomever assigned, accepted, and edited or rewrote Koppel's self-indulgent, self-congratulatory, late-to-the-party, and punishingly obvious 1,500-word piece about the state of television news. (It's bad.)

The Press And the Rush To Judgment. Remember those January newspaper headlines heralding the survival of all 12 trapped miners in West Virginia? Even the august New York Times reported "12 Found Alive 41 Hours After Explosion," but only one miner had actually survived. In the frenzy to scoop competitors, reporters failed their journalistic responsibility, and this penchant to rush to judgment before all the facts are verified is again occurring on two recent hot button issues — homeland security funding cuts to New York City and the Haditha civilian deaths.

Life after Ted Koppel: Koppel's debut as a New York Times columnist has been widely panned, but it is a revealing column, for Koppel confirms what many of us had figured out as he and his broadcast became increasingly irrelevant. He writes that journalists "should be telling their viewers what is important, not the other way around." Finally, all of his cards are on the table and he's revealed the contempt that he had for his audience all along.

Whatever happened to news as information? Most hurricane reporters aren't exactly war reporters, so once they've proved how hard the wind is blowing, they pack it in. … And have you noticed where most of these reporters were "reporting" from? More often than not, it's either just outside their station's office building or on the patio of some hotel. There's nothing seriously wrong with reporting from your hotel, but it's awfully lazy.

Myths of rich and poor: There is a fundamental difference between seeking the truth and scoring points. In politics, the truth is strictly optional and that also seems to be true in parts of the media.

Journalists have become ambitious courtiers. Gone are the days of the cheerfully humble reporter sticking to the facts and keeping his opinions to himself. Today's media forget how much they don't know. … You may have noticed, for example, how thoroughly the media omit any religious perspective on the news — which means that they miss the actual significance of the news for countless Americans. They utter self-assured pronouncements about the Constitution from depths of confusion.

How the CIA Uses the Press: One of the fascinating aspects of coverage of the Joseph Wilson affair is the tendency of the media to go to the defense of the CIA, which arranged for Wilson's dubious Africa trip.

When accountability is compromised: The disgraceful affair of Wen Ho Lee, the onetime Los Alamos scientist defamed but never tried for supposedly stealing nuclear secrets for China, is over. The U.S. government and five news organizations will pay Lee $1.64 million for sliming him by publishing private information from his personnel files to support espionage allegations that nobody could ever prove and that apparently were unfounded.

Hiding Barrett. In a very clever year-end column the venerable William Safire writing in the New York Times asks whether "special prosecutor David Barrett's 400-page expose of political influence within the Internal Revenue Service and the Clinton Justice Department" will be the government report "most likely to resist investigative reporting" this year. I certainly hope not.

Media Report Miracle Mine Rescue — Then Carry the Tragic Truth. In one of the most disturbing media performances of its kind in recent years, TV news and many newspapers carried the tragically wrong news late Tuesday and early Wednesday [1/4/2006] that 12 of 13 trapped coal miners in West Virginia had been found alive and safe. Hours later they had to reverse course. … It was "Dewey Defeats Truman" all over again.

United Flight Diverted Because of Unruly Passenger. Boston's Channel 7, an NBC affiliate, reported that the woman had a screwdriver, Vaseline and a note referencing the al-Qaeda terrorist group. [George Naccara, federal security director for the U.S. Transportation Security Administration at Logan Airport] said she was not in fact carrying any of these items.

Judith Miller, TWA 800 and the Death of Press Freedom. All those wonderful federal sources who spoon-fed you, the dominant media journalist, story after story for which you were praised and rewarded with even better stories — as long as you did not demand that officially sanctioned stories be backed up with actual documents and other provable facts. These "sources" would never again be available to you if you ever crossed the Beast, the National Security State. You'd actually have to push away from your desk, get out of your chair, go out into the cold, cruel world, walk past your favorite pub and find sources.

And now, a touching, fake story of bogus courage and false hope. Who can really blame student journalist Michael Brenner, editor of The Daily Egyptian at Southern Illinois University in Carbondale, Ill., for grabbing onto what seemed to be a really good story when it dropped into his lap? How was he to know that it wasn't true at all?

Conventionally Ignorant: Washington is an echo chamber. One pundit, one senator, one reporter proclaim a snazzy "truth" and almost immediately it reverberates as gospel. Conventional wisdom about Iraq is rarely questioned. A notion seems to find validity not on its logic or through empirical evidence, but simply by the degree to which it is repeated and felt to resonate.

Why the media passes off bunk as news. I like oddball news as much as anyone. In fact, I make a decent living showcasing a daily collection of silly news, offbeat items, and real news with amusing headlines on my website, Fark.com, which attracts 3.5 million unique visitors each month. What's scary, though, is that the ratio of filler news to real news is now so high that the content of Fark and major news websites is often nearly identical. That should never happen because, in theory, mass media outlets are staffed by full-time, serious journalists who have better things to do.

No, they really don't.
Disgruntled CNN visitor launches website due to marimba-playing robots. Do you ever go to CNN.com to check up on the latest news? Neither do we. Well, unless we're writing about CNN's political analyst Jeffrey Toobin watching baseball on his laptop during a vice presidential debate. But why bring that up? At least one disgruntled CNN visitor is challenging the network's choice of news selection. Not that the network is too liberal or too conservative but too fluffy.

Math Is Harder for Girls. The New York Times is determined to show that women are discriminated against in the sciences; too bad the facts say otherwise. … Either the Times is deliberately concealing the results of the study or its reporter cannot understand the most basic science reporting.

Clinton's Mythical FEMA. While making the rounds of the network morning shows, [Senator Hillary Clinton has] been very hard on the Federal Emergency Management Administration and, of course, the Bush Administration. She went as far as complaining that Bush damaged "Bill's FEMA." Naturally, the mainstream media are too lazy to investigate her politically-charged exploitation of Katrina to not only revise her hubby's legacy, but also to score brownie points as she eyes a 2008 presidential run.

Media Mind Control in the War on Terror. By using graphic images, focusing only on what they want you to see and hear, shaping events by reporting only on those that fit the media's political agenda, ignoring anything that is counterproductive to their goals, they control an empire that is actually a fourth arm of government.

Preserving the public trust: Most of the truly profitable newspapers in the country today are essentially shopping circulars with some cheap journalism printed on those pages not devoted to shopping mall sales. The great newspaper chains take over local papers, fire journalists, and set out to fill their pages with still more advertisements.

USA Today's Reporting Scandals: USA Today recently acted correctly to remove a reporter guilty of fabricating facts and sources for several articles. Too bad they weren't so responsive several years when Michael Fumento reported major errors in reporting on the Gulf War Syndrome story by a reporter named John Hanchette.

Schools for Scribblers: On the education of young journalists, there has been much recent debate. There is one argument over whether or not journalists should aspire to objectivity and another about the liberal bias that permeates journalism programs. But the problem isn't that journalists are being taught improperly; it's that the foundations of journalistic education are faulty.

Soft on the stars' scientology. Many people believe, as I do, that Scientology is a cult, an oppressive organization that splits families and milks believers for every cent they can muster. But to entertainment journalists, Scientology is about as harmless as scuba diving.

Fannie Mae's bailout tab: Fannie Mae, the government-sponsored mortgage association, has been battling a mounting scandal since last year. It has accounting errors of about $11 billion. [That's Enron × 19.] This is news — $30 billion worth of news — but only print reporters are out there covering it regularly. TV news is out to lunch.

The hardest numbers: Polls on unfamiliar issues are notoriously volatile, and results can shift wildly when questions are worded slightly differently.

Poll Accuracy in the 2008 Presidential Election: 23 organizations ranked by the accuracy of their final, national preelection polls.

Poor reflections in the media mirror. The mainstream public does not perceive that the "mainstream media" takes the time to check facts and eschews opinion in its "reporting." According to the Pew Center for the People and the Press, only 35 percent of Americans think the media get the facts right.

Self-indulgence: The enraged speeches and street disorders across the country that accompanied the inauguration of President Bush may tell us more than we want to know about what is happening to this country. Elections are supposed to be an alternative to other ways of settling political differences, including riots, military coups and dictatorships. But riots have been re-christened "demonstrations" by the mealy-mouth media.

Tainted media: Who in the major media has asked why John Kerry would need to be issued an honorable discharge during the Carter administration, years after leaving the navy, unless his original discharge was less than honorable? One of Jimmy Carter's first acts as President was to issue an order granting amnesties to draft dodgers who had fled the country during the Vietnam war and also allowing an upgrading of military discharges that had been less than honorable.

How to skew the news without really trying. As columnist Jill Stewart notes, "disingenuous reporters hate … term limits because reporters must woo new legislators every eight years, working their butts off for leaks and cell phone numbers." Journalism depends on access. Term limits, by making old cultivated sources of access irrelevant every few terms, make reporters work harder. Why would they want that?

Be Doubly Afraid Of Cell Phones Lost In Airports. Earlier this week, a scare story about the supposed dangers of hidden data left on used cell phones did the rounds, spurred on by a self-serving vendor's "research". … Somehow, stories like this would be a lot more believable if they didn't originate from vendors who just happen to have a solution to these invented problems for sale.

News 4 sale: Local newscasts are passing off corporate press releases as news, according to a new report.

The Editor says...
Manufacturers and marketers of new products know how local TV news works. The stations have time to fill, and one of the highest priorities is getting video on the air other than a studio camera pointed at the happy team of news anchors. Pre-packaged "news" stories, called Video News Releases (VNR's) are fed via satellite, sometimes two or three times a week. In some cases, the items are syndicated and available only to subscribing stations, and in other cases they're made available to any station that wants them. Someone at the station looks them over, and decides if the donated items are interesting enough to use as filler. Naturally, the "news" in each story is about some problem that a new product — a drug or gadget or software package — will fix, and that's the point of the story. Sometimes, the satellite feed contains footage of the product, along with "suggested anchor lead-in" scripts, and sometimes it is a complete pre-produced "package," essentially a 90-second infomercial, ready for air. Small market stations probably put the stories on the air exactly as they were received. In larger markets, if it's interesting enough, the story is given to a reporter, who then re-records the announcer track in his or her own voice, often without even rephrasing it (except to remove verbs!), making it look like (s)he went out and dug up the story. Thus the station gives the appearance of providing "local news" coverage, without spending any money, and without mentioning that the footage was shot a thousand miles away by somebody else. There has apparently been some backlash to the story above, because the news managers at many stations are now being careful not to run VNR's.

Simpletons in the press. Can we have a serious political debate in this country any more? Why is it that when a politician, addressing an important national issue — articulating the position held by an overwhelming majority of Americans — is ridiculed, his words distorted, twisted, caricaturized?

The Malkin Media Diversity Test: The diversity they seek is, by definition, skin-deep. They call themselves "journalists of color." Not journalists of substance. Or journalists of integrity. Or journalists of independent thought.

When diversity is only skin-deep: What the convention should have been told is that it is neither moral nor progressive to view the world through a racial prism. Unity's "journalists of color" should have heard the blunt message that journalism does not need more reporters and editors of color. It doesn't need more white journalists, either. What it needs are men and women of talent and integrity — adults who have no interest in a "diversity" that is merely skin-deep.

Real Sherrod Story Still Untold. [Scroll down] The major media reported the settlement as though it were the signing of the 1964 Civil Rights Act. For the last forty years, as the civil rights industry has manufactured more and more absurd grievances — most notably the Tea Party smear that incited Breitbart's reprisal — the media have reported on them with increasingly wide-eyed innocence. In the various stories on the settlement, not one reporter that I could identify stopped to do the math. ... Although 86,000 black farmers are alleged to have received payments, at no time in the last three decades have there been more than 40,000 black farmers. Nor is there much turnover in the farming business.

Blame uninformed voters. Whether you are liberal or conservative, Democrat or Republican, if your only news source is the boob tube you are simply underinformed, though not necessarily misinformed. Unfortunately, most Americans are underinformed.

Climate Reality Bites. Thankfully, the American system makes it hard for colossal tax and regulatory burdens to foxtrot into law without scrutiny. So we hope our politicians will take responsibility for the global-warming policies they say they favor. Or even begin to understand what they say they favor. For a bill as grandly ambitious as Warner-Lieberman, very few staff, much less Senators, even know what's in it. The press corps mainly cheerleads this political fad, without examining how it would work or what it would cost.

Media ignorance: Many media people have been journalism and/or communication majors. Most of these programs have little analytical rigor. Along with departments of education, they are a dumping ground for the most ill-prepared students. That might explain a lot.

All the News We Get From the ACLU: In case you aren't able to read ACLU press releases for yourself, The Associated Press and The New York Times will helpfully restate them for you as important, breaking "news."

CNN called Castro's "megaphone": After analyzing every Cuba-based story that has appeared on CNN since it established a Havana bureau five years ago, the Media Research Center is calling the network a "propaganda tool for Fidel Castro's government" and a "megaphone for a dictator."

Chris Matthews' latest verbal blunder. Discussing the Ground Zero Mosque: "Suppose they built this thing right square over....right over the Wailing Wall in Jerusalem." Obviously, he does not realize that the Dome of the Rock Muslim "Shrine" was built directly on the site of the 2nd Temple...

Juan Williams and the Left's Intellectual Bankruptcy. Juan Williams makes the understandable post-9/11 observation that the sight of Muslims on airplanes makes him nervous, and NPR immediately fires him. Bill O'Reilly states the obvious truth that Muslims attacked the United States on 9/11, and Whoopi Goldberg and Joy Behar walk off the set. These incidents and others demonstrate that the Leftists in the mainstream media and their Islamic supremacist allies are wholly intellectually bereft — and so they cannot engage their opponents on the level of ideas, but must instead bludgeon them into silence.



This is an original compilation, Copyright © 2013 by Andrew K. Dart


Newsroom Clichés

Why do reporters and news anchors constantly refer to ordinary people as "folks"? When will they stop using "absolutely" as an expletive? Why must news writers refer to snow as "the white stuff"? Why are politicians called "lawmakers" in the press when nobody uses that term in person? When was the last time you went somewhere and then "fled the scene?" The Medical Examiner probably doesn't actually say, "I pronounce you dead at the scene," but that's the way it's often reported when someone dies on the highway. What are these news writers thinking?

The most overworked cliché in the field is the ubiquitous "How do you feel?" to which every reporter resorts when he or she runs out of ideas during an interview. Of course, many reporters start out with that question because it makes the other guy talk a lot, and because it adds emotional appeal to the story. (If they start to cry, zoom in!)

I'm sure to face stiff opposition from some of you, but you owe it to yourself to keep reading.



15 Most Annoying Expressions in Politics. Irritating phrases and words are not confined to political circles, or solely to Washington, although here in the nation's capital they burrow in and proliferate like obsolete, but entrenched, government programs.

150 journalism cliches — and counting. Over the past few years, some colleagues at The Washington Post and I have played our own parlor game, assembling a list of verbal crutches, stock phrases, filler words, cliches and perpetually misused expressions that we should avoid in The Post's Sunday Outlook section — or at least think hard about before using.

Lake Superior State University Banished Words List. This "breaking news" just in: Lake Superior State University releases its 33rd annual List of Words and Phrases Banished from the Queen's English for Mis-Use, Over-Use and General Uselessness.

And then there's this…
Banished Word List Archive from 1976 to the present.

Groaners! You know 'em. You love 'em. But can't we live without 'em? Groaners are those horrible, overused, hackneyed phrases that turn news copy into boring, "same old, same old" stuff. This is a list of some of the worst offenders.

[But they left out "every parent's worst nightmare", "an emotional roller coaster" and "a mile-long path of destruction."]

Sports Clichés: The Sports Cliché List was assembled from a detailed survey of numerous player and coach interviews, pre-game, post-game, and halftime analyses, sports radio commentaries, television sportscasts, and printed sports reports. … For the purpose of this website, we define a sports cliché as an expression that has been used in and around sports with sufficient frequency over a protracted period such that it is "tired" at best and meaningless at worst.

At the end of the day, do an about-face on clichés. Chris Pash is an executive with Factiva, the database company that loads news articles from 10,000 sources, including 1,600 American newspapers. [He took] the leading 55 clichés and developed a detailed index which charted how often each cliché was used and which publications used that cliché the most.

More Clichés Than You Can Shake a Stick At. Some of these are classics. Others might more accurately be called newspaper or media jargon because you'll never see or hear these phrases anywhere else. What normal person says "densely wooded area" or "blueprint for growth" in everyday — or any — conversation?

Inspiring 'overcomer' stories are newsroom cliches. "Supercrips are everywhere in the media," Wolfe went on. "The person with no use of her arms who paints masterpieces with her feet, the guy with Tourette's syndrome who becomes a radio announcer, Stephen Hawking explaining the universe from his wheelchair. And, of course, that blind mountain climber."

Banned For Life: This page is devoted to those expressions so hackneyed and insufferable that they should be forever banned from the nation's news reports.

rising tide of clichés, The. Periodically an old (or hoary old) question is raised. Is the standard of writing at the BBC declining (or plummeting or plunging or even in free-fall)? Or is it improving (or soaring or rocketing)? ... It is lucky for the BBC that the only people who continue to be worried about such matters are the Radio Four audience, and the smattering of news snobs who insist in a superior fashion that they much prefer the World Service bulletins. Listeners to other networks give no sign of knowing or caring about good English. The same applies to the television news, in which words count for almost nothing.

The Cliché Community: But let's turn the page! Paul[ McCartney]'s right that the times are ever-changing, but I wish they'd change a little more quickly, so we could get a new set of insta-clichés and cant phrases for everybody to start using all at once — or better, so we could all return to using the perfectly fine words we were using before we popped these new verbal pacifiers into our mouths.

Show me where Stalin is buried and I'll show you a Communist Plot. Cable networks in particular label weather phenomenon as The Battle for Des Moines! Crisis in the Heartland! The term hero is applied to everything from crossing guards to anyone in the military. It's heroes and battles all the time. Watch the language of the media carefully and see if you don't detect it. The battle for this, a politician goes to war for such and such. A Senator speaks of how hard he had to fight. And on and on it goes. Naked plagiarism of Soviet era propaganda.

Oxford compiles list of top ten irritating phrases. Heading the list was the expression 'at the end of the day', which was followed in second place by the phrase 'fairly unique'.

See No Evil. [Scroll down slowly] If reporters ever read their own words or listened to their own voices, they would stop repeating the ugly cliché that the Taliban (or gang X) has "claimed credit" for some revolting crime or attempted crime. Do we say that "The jury assigned credit to Joe Shmoe for beating up an old lady and kicking her dog down the stairs"? The word reporters are looking for is guilt. The Taliban have admitted guilt, once again, for an attempted mass murder. Do liberals ever listen to what they are saying?

Man up, Media and Open Your Eyes! One of my complaints in the local newsrooms that I worked in was that we did not do "real" very well. We liked telling viewers early and often in our promos that we are, "part of your community," or, "your neighbors in the newsroom," or, "watching out for your neighborhood," or whatever silly slogan was used. The reality is that the local TV newsrooms are more connected to grabbing stories out of the daily newspaper and repeating them, or repeating what they are told by the last public official they spoke to than they are at being on the pulse of a community. If you try to do "real" on a TV newscast you don't last very long...


Back to the top of this page
Back to the Media bias page
More about the New York Times
Read about the prosecution (in the media) of the Duke Lacrosse Team
and Steven Hatfill
Back to the Home page