Scarborough Slams Evangelicals For 'Bizarre, Bizarre, Bizarre' Concern About Abortion. On today's [2/5/2021] Morning Joe, Joe Scarborough slammed evangelicals for their focus on abortion. No fewer than four times, Scarborough called evangelicals' concern about abortion "bizarre." All this arose in the context of the show opening by contrasting President Biden's National Prayer Breakfast remarks yesterday with those by President Trump a year ago. It's true that Biden's remarks were more conventionally appropriate. But which "brilliant" aide thought it was a good idea to have an unusually frail and subdued Biden say, "we need to lean on each other, lift one another up?
CNN's Jeff Zucker Announces 'New and Expanded Race Team'. CNN's Jeff Zucker on Monday [7/13/2020] sent out a memo announcing a "new and expanded race team" as part of the network's broader effort to ensure race coverage remains a "permanent part of our journalism." The CNN Worldwide president sent a memo to staff on Monday detailing the "new and expanded" race team, which he said will ensure that race coverage continues to be a permanent part of their newsroom.
Netflix Airs 'Salute to Abortion;' Host Declares: 'God Bless Abortions!" On Sunday [7/8/2018], Netflix aired a "Salute to Abortion," hosted by "comedian" Michelle Wolf, who closed the segment with a star-spangled, flag-waving, drum corps declaration: "God bless abortion!" On her weekly Netflix program, "The Break with Michelle Wolf," Wolf used Supreme Court Justice Anthony Kennedy's announced retirement to tout abortion rights and demean pro-life Americans, [...]
Google Bans Pro-Life Ads Ahead of Ireland Vote to Legalize Abortion. As the vote on abortion quickly approaches in Ireland, another online media giant has decided to ban all ads related to the referendum. Google no longer will run ads related to the Irish abortion vote on its search site or YouTube, according to the Irish Independent. Google said the policies will apply to ads from both sides of the abortion debate; but when LifeNews searched Google for ads just prior to its new policy taking effect, it found only one ad — a pro-life ad — when it searched "Ireland abortion referendum" and "Ireland 8th amendment" The ad is for the Love Both campaign, a coalition of Irish pro-life groups working to defend unborn babies' rights in the country.
Mainstream media heralds book depicting Santa Claus as a gay black man. Mrs. Claus is now a mister in a new gay-themed Christmas storybook for children that has CNN and the rest of the Mainstream Media all aflutter. "Santa's Husband" tells the story of a black Kris Kringle and his white husband living in holy matrimony at the North Pole. I don't mean to curdle your egg nog, but the storybook was written for children as young as four-years-old.
Words matter: The media's use of 'anti-abortion' to describe the March for Life is willful deception. The outlets that decided to cover the march [1/27/2017] at all used phrases like "anti-abortion" and "abortion opponents" to advance the progressive pro-choice narrative that pro-life individuals are enemies of women's rights, and therefore human rights.
Liberal Media Bend Over Backwards To Avoid Describing March For Life As Pro-Life. Liberal media outlets bent over backwards to avoid describing the March for Life as pro-life, relying exhaustively on terms like "anti-abortion" or "abortion opponents" to describe the hundreds of thousands of pro-life marchers in Washington, D.C. on Friday [1/27/2017]. "Anti-Abortion Groups Hold Triumphant Rally After Obama Years" was how the Associated Press titled its coverage of the march, later referring to the pro-life marchers as a "politically ascendant anti-abortion movement."
Transgender Regret Is Real Even If The Media Tell You Otherwise. When Carol Costello, CNN reporter, interviewed me in June on the subject of Olympian, trans-Jenner, she couldn't help beginning with a false narrative that only 2 percent regret of transgender have regrets. That is, the media's propensity to fluff over the regret statistics. Early in the interview, she made the statement, "We have researched... and we found a recent Swedish study that found only 2.2 percent of transgenders, male and female, suffered from sex change regret." Costello is a bright reporter. That it is why it was so puzzling she would use her interview of me to misinform her audience, unless the intent was to diminish and dismiss reports of sex change regret among the transgender population.
After Firing Curt Schilling for Transgender Comments, ESPN Hires LGBT Activist Abby Wambach. Curt Schilling's politics got him fired from ESPN. Abby Wambach's politics didn't prevent her from getting hired. And neither did her recent DUI arrest, which resulted in a guilty plea less than a month ago and admissions of past marijuana and cocaine use. ESPN hired Wambach to analyze soccer at the Olympics, and venture into more contentious matters with "Outside the Lines" and on a planned podcast called "Fearless Conversation with Abby Wambach," a program the AP describes as one in "which she promises won't shy away from controversy."
CNN Asks Activist Behind Planned Parenthood Videos if He's a 'Violent Extremist'. In an interview with the Center for Medicial Progress' David Daleiden, CNN's New Day host Alisyn Camerota asked the activist behind the undercover Planned Parenthood videos to respond to criticism he was a "violent extremist." "Your critics — critics of your organization I should say — say that you're not journalists as you purport to be on your website, but rather you're violent extremists," Camerota said to Daleiden.
The Editor says...
The abortion "doctors" are tearing babies apart and selling the pieces, and the guy who goes undercover to document this practice is accused of being a "violent extremist." That's a textbook case of liberal media bias.
Geraldo Rivera Frets Planned Parenthood Scandal 'Might Put an End' to 'Garbage' Used to 'Be the Cure for Cancer'. On Tuesday's [7/28/2015] edition of The Five on the Fox News Channel (FNC), liberal panelist Geraldo Rivera defended Planned Parenthood in wake of the video scandal concerning body parts from aborted babies, fretting that it "might put an end to the harvesting of what would be garbage" that "may" help contribute to a "cure for cancer" or "heart disease."
The Editor says...
Chopping up babies to cure cancer is lower than even the sickest cancer patient would stoop, even if there were the slightest connection, which there isn't.
CNN's Camerota Downplays Baby Organ Harvesting Outrage; Suggests Price Fixing. On Tuesday's [7/28/2015] New Day, CNN's Alisyn Camerota made no mention of the outrage over Planned Parenthood varying its abortion techniques in order to preserve unborn babies' organs for medical research, as was revealed in two undercover videos. Instead, Camerota zeroed in on "these representatives from Planned Parenthood negotiating" over prices for these organs. She even touted how the "exchange of fetal tissue... obviously, does a lot of good. There's a lot of research — cures for diseases that come from it." [Video clip]
As Media Scolds America on Race, Less Than 5% of Reporters are Black. If you were to listen only to the nation's old media establishment you'd think that they are the arbiters of race in America today, you'd think that that they know how to fix the "endemic racism" infesting our country. Yet, reality proves that the media is more "racist" than the rest of America, at least if you measure racism by "balance" in minority versus majority in the old media's pool of employees.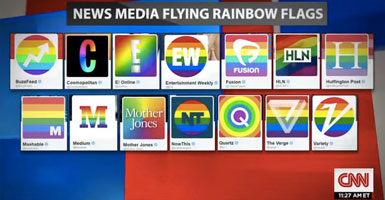 We Must Stop the Media From Silencing Your Voice on Marriage. If there's one thing the Supreme Court accomplished last Friday (besides unleashing cultural chaos on America), it was ending the liberal media's charade. Whatever scrap of journalistic impartiality existed flew out the courtroom window Friday when the press decided five justices not only invented a right to same-sex marriage but to censorship, too. [...] After years of trying to drive out debate, the liberal media are using the cloak of the court to do it. Desperate to take away the voice of Christians at the public table, the left is already on the march to undermine the very freedom that gives breath to the speech it now enjoys.




Time magazine says:
Now's the Time To End Tax Exemptions for Religious Institutions. The Supreme Court's ruling on gay marriage makes it clearer than ever that the government shouldn't be subsidizing religion and non-profits.

The Silencing: Paper Will Limit Anti-Gay Marriage Op-Eds. The editorial board of PennLive/The Patriot-News in Harrisburg, Pa. is taking a hardcore stance against those who disagree with the Supreme Court ruling to legalize gay marriage. "As a result of Friday's ruling, PennLive/The Patriot-News will no longer accept, nor will it print, op-Eds and letters to the editor in opposition to same-sex marriage," they declared. After receiving strong pushback, the newspaper's editorial board, which is overseen by Editorial Page Editor John Micek, quickly revised its policy. Freedom of speech will be allowed — but only for a "limited" period of time.

Caitlyn Jenner Brought Out the Left's 'Speech Police' in Full Force. Of all the many aspects of the "Caitlyn" Jenner story which bother conservatives, the one which causes me the most agitation is how the liberal "thought police" have attempted to censor any debate over the many issues related to this extraordinary tale. It's not just that the vast majority of media coverage has been overwhelmingly celebratory. That alone is annoying by default. What is flat-out scary is that the many forces of the left have used media intimidation and political correctness to enforce the notion that enthusiastically honoring Jenner's transformation is the only acceptable reaction.

The 'Trans-jennering' of Reality TV. Public Relation hacks behind the international debut of 'Caitlyn' Jenner didn't do it to better the lives of the few and far between transexuals living in fear of being discovered. They did it for the mega millions that would soon be pouring into their bank accounts. The neon light advance of 'Caitlyn' as the "new norm" was not for all the guys in hiding waiting to become dolls. That's just the sugar-spin for the fairytale the mainstream media would have us swallow whole.

It's Not Hateful To Point Out Bruce Jenner Isn't A Woman. Of all the trends currently working their way through journalism, there is perhaps none so baffling as the media's indulgence in the transgender narrative. Journalists appear to have acquiesced to this ideology en masse. No less a formidable source than the "AP Stylebook" declared a few years ago that Associated Press employees are to use "the pronoun preferred by the individuals" in cases where confusion may arise. [...] Journalists should not buy into this. Simply as a matter of factual accuracy, it is nonsensical: if tomorrow I declared myself head of the executive branch of the U.S. government, for instance, the AP would not suddenly be required to call me President Payne.

WashPost Whines for Wyoming Woman Who Drove 400 Miles for an Abortion. To liberal media outlets, the saddest thing about abortion is how women seeking to terminate their baby may have to drive more than 20 minutes to a clinic. The Washington Post on Thursday [5/7/2015] offered a 2,390-word opus on a woman named Emily [last name sympathetically withheld] who procured an abortion in Missoula, Montana, driving 407 miles from Wyoming. The headline was "The long drive to end a pregnancy." The story took up two entire inside pages with a page of scenic color pictures along the drive, but no people in them.

Feminist Media Hail Satanists for Deeming Abortion a 'Religious Belief'. The pro-abortion media crowd is embracing new ally in their fight: Satanists. "Mary" from Missouri is hoping to bypass her state's 72-hour abortion waiting period by citing "sincerely held religious beliefs" — as a Satanist. The Friendly Atheist blog broke the story of how the Satanic Temple plans to aid a woman it calls Mary who believes in its "tenets." The media followed suit, from a Think Progress editor expressing "love," to a Salon editor concluding, "[R]eligious exemption laws are maybe cool when Satanists use them to get abortions."

NBC Champions Children's Gender Confusion. On April 21 and 22, NBC ran a two-part series revolving around "transgender" children that featured its correspondent Kate Snow interviewing Pediatrician Michelle Forcier, associate professor of pediatrics at Brown University Alpert. Forcier was honored by "The Center for Sexual Pleasure and Health" as its "Hump Day Hero," and who advocates early puberty interventions of kids who think they should be the opposite sex.

Liberal media struggles to find name for dismemberment abortions. Governor Sam Brownback of Kansas signed a law banning dismemberment abortions. The problem? The liberal media can't figure out a way to report it. The Associated Press writes: "Kansas governor signs nation's 1st ban on abortion procedure." Procedure? What kind of procedure? Why so vague? Meanwhile, the Huffington Post, always the master propagandists, wrote, "Kansas Becomes First State To Ban Common Form Of Abortion." Why is the only feature they were able to use to describe it "common"? Well, I think they want us to think "we don't know what kind of abortion it is, but if it's common, how bad can it be?" But still, they can't really talk about what it is, because it's so grisly, to break a baby up into pieces, that they know to describe it would be to lose readers' sympathy.

NYTimes Hypocrisy: It Denounces Corporate Speech in Citizens United, Cheers When Against Indiana. When the issue was the Citizens United ruling and the resulting ability of corporations to directly spend money on political advertising, well the Times worried about the supposed corrupting influence of the practice and the drowning out of the common man's voice, which is not amplified by hordes of corporate cash. But fast-forward to this week and it's a far different story.

The Left wages total war; and then plays victim. On one side is the CEO of the world's largest company, the president of the United States and a growing chunk of the Fortune 500. On the other side is a solo wedding photographer in New Mexico, a 70-year-old grandma florist in Washington and a few bakers. One side wants the state to conscript the religious businesswomen and men into participating in ceremonies that violate their beliefs. The other side wants to make it possible for religious people to live their own lives according to their consciences. Yet somehow, the Left and most of the mainstream press paint the current skirmishes over religious liberty as conservative offensives.

Hey Media, 'Religious Freedom' Is a Real Thing. Why is it that the media regularly adorns the term "religious freedom" with superfluous quotation marks but not terms like "environmentalist" or "civil rights" or "marriage equality" — or any other of the many debatable issues of American political discourse? Well, maybe unbiased journalists feel a responsibility to intimate to readers that religious freedom is considered a dubious assertion by one side of the debate. And this would be a reasonable editorial decision if it were employed consistently. It's not. What's more likely is that editors and journalists consider the term "religious freedom" dubious because anything that strikes them as "discriminatory" or stands in way of "progressive" moral aims is by default illegitimate.

MSNBC's Conflict of Interest: Al Sharpton. [Scroll down] Sharpton is "rewarded with invitations to White House Super Bowl parties, where he laughs it up with the president," is a "special host to the president" and "provides the president with protection from his critics in the African-American community," reports the Times. And, according to Politico, he vacationed at Valerie Jarrett's condo in Martha's Vineyard, close to where the President was staying with his family.

The 'Transgender Tipping Point' to Censorship. Now that our cultural elites feel they have sufficiently educated the public on the virtues of gays and lesbians, it's time to drill down to the next level. Here comes transgenderism. Time magazine placed "Orange Is the New Black" star Laverne Cox (born Charles Cox) on the cover as the face of "The Transgender Tipping Point: America's Next Civil Rights Frontier." Cox wrote on Facebook that the Time cover was a wonderful present on her birthday, and "I realize this is way bigger than me and about a tipping point in our nation's history where it is no longer acceptable for trans lives to be stigmatized, ridiculed, criminalized and disregarded."

Skid Roe. "The abortion rate in the United States dropped to its lowest point since the Supreme Court legalized the procedure in all 50 states, according to a study suggesting that new, long-acting contraceptive methods are having a significant impact in reducing unwanted pregnancies," the Washington Post reports, leaping to conclusions right in the lead paragraph. The impulse behind that leap is understandable. Journalists are attracted to cause-and-effect explanations because they make storytelling easier, and in this case the causal explanation bolsters the cause of the group doing the study: the Alan Guttmacher Institute, research arm of Planned Parenthood.

If You Don't Want to Pay for Abortion Pills You're a Secessionist? So says legal scholar Garrett Epps in The Atlantic. Alarmed by the Supreme Court's recent stay in the Little Sisters of the Poor and Hobby Lobby cases, Mr. Epps actually writes this: [...]

Daily Texan Student Reporter Uses 'Pro-abortion' Label in Story; Editors Scrub Term After Uproar. A reporter for The Daily Texan, the student newspaper for the University of Texas, got it right when calling abortion supporters what they are — "pro-abortion" — five times in an article about a counter-demonstration held during the annual pro-life Texas Rally for Life on January 24. [...] But she infuriated those who support abortion but who strangely aren't proud of it.

MSNBC Showcases Six Pro-Choice Guests, Zero Pro-Lifers on Roe v. Wade Anniversary. The annual March for Life took place yesterday in our nation's capital, and MSNBC marked the occasion by inviting a slew of pro-choice guests onto its daytime programming to slime the pro-life movement without giving any pro-lifers a chance to respond. Between 6 a.m. and 5 p.m. on Wednesday [1/22/2014], MSNBC featured six pro-choice guests and zero pro-life guests.

The Mass Murderer Who Didn't Make the Mass Media. Relatively few people wish to commit mass murder on the scale of Gosnell — that's the good news. The bad news is that the vast ranks of newspaper publishers, TV executives, editors, news producers, radio assignment editors, and reporters somehow reached an instant, near universal consensus that a man who may well be America's all-time champion mass murderer isn't a story at all, never mind one to hold the front page for — because they didn't see him as a murderer; they saw him as a "choice-provider" who got a little out of hand.

The Gosnell silence: Murder, abortion and the media. In Philadelphia, a doctor is on trial for the gruesome murders of eight people inside his low-rent office. A former assistant testified that she personally witnessed the physician commit at least 30 murders. Most of the patients were "beheaded," another assistant said, adding that there was "blood all over the place." If you have not heard of this doctor's trial for committing a terrifying, decades-long string of serial killings, there is a reason. He is an abortionist.

We've forgotten what belongs on Page One. Since the murder trial of Pennsylvania abortion doctor Kermit Gosnell began March 18, there has been precious little coverage of the case that should be on every news show and front page. The revolting revelations of Gosnell's former staff, who have been testifying to what they witnessed and did during late-term abortions, should shock anyone with a heart.

Dead silence. The [Kermit Gosnell] trial is receiving intensive coverage in Philadelphia and across the conservative press and Web sites. But national networks and newspapers? Not so much. The reason seems obvious: Much of our press corps skews to one side on abortion. So even though what Gosnell is charged with is closer to infanticide — an unlicensed abortionist profiting mightily by killing the newborn babies of poor, minority women — somehow it's not news.

Byron York: 'Media Bias' [is] Keeping Reporters From Covering McConnell Bugging Story. When Senate Minority Leader Mitch McConnell (R-KY) asked the FBI to investigate how a recording of a private meeting at his campaign headquarters in Kentucky was secretly made and then released to Mother Jones, the reaction from Washington DC political reporters was curious, to say the least.

Rep. Chris Smith: 'If Gosnell Had Shot Seven Infants with an AR-15, It Would Be National News'. Thanks to conservative new media, the Kermit Gosnell trial is finally part of the national dialog. But before the mainstream press got around to doing their job, ten congressmen took to the floor of the House to protest the lack of media attention being paid to the horrifying story. One such congressman, Rep. Chris Smith (R-NJ), contrasted the abortionist's trial to another ongoing narrative that the media covers obsessively: gun control.

Media Acknowledge Blowing Gosnell Story, Pledge Extensive Coverage. Something truly remarkable happened yesterday [4/12/2013]. After days and weeks of pushing by New Media and social media, the mainstream media have not only admitted that they should have covered the ongoing capital murder trial of abortion doctor Kermit Gosnell; they have promised to immediately remedy that mistake.

Media Ignore Domestic Terrorist Conviction of Gay-Rights Activist. How many stories have you seen on the broadcast networks or cable networks — any of the networks — about the first-ever domestic terrorism conviction in our nation's capital? Is same-sex marriage such a politically correct issue that no one wants to inform the public when a gay-rights political activist shoots someone in an attempted mass-murder?

NBC Accused of Pushing Abortion Through 'Parenthood' Episode. NBC is being accused of engaging in some pro-abortion propaganda with its latest episode of Parenthood. The hourlong NBC drama that aired Tuesday night featured teenage girl Amy (Skyler Day) aborting her fetus at a pristine Planned Parenthood clinic while boyfriend Drew (Miles Heizer) sat nervously in a waiting room.

Piers Morgan Takes Aim at the Bible. You've got to hand it to bloviating Brit Piers Morgan. While he got most of the facts wrong in his recent targeting of the Second Amendment, it hasn't stopped him from moving on to even more formidable targets. Such as the Bible. He says the book is "inherently flawed" — and needs to be amended. Piers handed down his decree while interviewing Saddleback Church pastor Rick Warren on the December 24th "Piers Morgan Tonight." Yes, on Christmas Eve.

CNN's Piers Morgan: Amend the Bible to Embrace Homosexuality. CNN host Piers Morgan, who is already facing angry deportation calls from thousands of Americans over his attacks on the Second Amendment, is calling for a gay marriage amendment to the Bible, Townhall.com reports. During a discussion on CNN's "Piers Morgan Tonight" on Christmas Eve with megachurch pastor Rick Warren, Morgan argued that there needs to be an "amendment to the Bible" for same-sex marriage.

The Editor says...
This sounds like an oblique admission that homosexuality is incompatible with Biblical teaching. But Mr. Morgan has chosen to defend homosexuality and enter in to a quixotic contest with the Bible.

Piers Morgan: How About We Amend the Bible. CNN host Piers Morgan, who is already facing angry deportation calls from 75,000 Americans over his attacks on the Second Amendment (and no, England doesn't want him back), is calling for a gay marriage amendment to the Bible.

CNN's Morgan: Amend The Bible. Piers Morgan has done it again, this time saying that both the Bible and the U.S. Constitution are "inherently flawed" and need new "amendments." During Morgan's Monday, December 24 broadcast of his cable spectacle, CNN's British import once again attacked America's most deeply held principles by slaming both the Constitution and the Bible.

Pathetic Dan Savage. June is Gay Pride Month, which immediately begs two questions: 1. Says who? 2. How is it that we have become a nation of such compliant sheep that we accept this rubbish? The Viacom corporation, on the other hand, thinks it's the perfect opportunity for its MTV and gay Logo channels to announce they're creating a second "It Gets Better," anti-bullying special starring their favorite gay bully, Dan Savage.

'Post-Racial' Lynch Mob. Even after the Duke lacrosse case, Texaco executives allegedly using the N-word in private meetings — which turned out to be "St. Nicholas" — the Tawana Brawley case, not to mention virtual hailstorms of racist graffiti and nooses materializing on college campuses, all of which invariably end up having been put there by the alleged victims, the Non-Fox Media (NFM) didn't even pause before conjuring a racist plot in the shooting death of Trayvon Martin in Florida last month. Like Captain Ahab searching for the Great White Whale, the NFM is constantly on the hunt for proof of America as "Mississippi Burning."

Reuters Indecisive On Zimmerman's Race. Numerous media entities have labeled Zimmerman a "white Hispanic" and have thoroughly investigated his heritage and ancestry. It's important for the media to do that so they can justify personalities like Al Sharpton and groups like the New Black Panthers who are determined to turn this into a white vs black 60s race war election tactic.

Eugene Robinson: Believing Life Starts at Conception is 'Frankly Insane'. Washington Post columnist Eugene Robinson set off alarm bells last month when he denigrated Rick Santorum as "very weird" for the manner in which Santorum and his wife mourned the loss of their newborn son Gabriel, who died within hours of his birth in 1996. ... Robinson doesn't limit himself to his belief that a fertilized egg is not fully human. He also believes this of babies born prematurely who die shortly after birth — as shown by his dismissive criticism of the Santorums' response to the death of their son.

Barbara Walters Weeps for Aborting Mothers Subjected to Guilt. Even moonbat apparatchiks in the liberal media establishment can show compassion when it comes to abortion. However, it isn't the children dismembered in their mothers' wombs folks like Barbara Walters feel sorry for. This is what she has to say about a Texas law requiring mothers to look at ultrasounds of their inconvenient children before killing them...

Barbara Walters: It's 'Heartbreaking' to Force Women to View an Ultrasound Before an Abortion. The liberal women on The View, Wednesday, shrieked at the "totalitarian" decision by a Texas judge to uphold a law requiring women to look at an ultrasound before having an abortion. Co-host and journalist Barbara Walters found the legal ruling — and not the act of abortion itself — to be "heartbreaking."

The race card is a joker. When I watch MSNBC and read plenty of liberal commentary online, I get the distinct feeling that I am not living in 21st century America, but in some imagined past where racism is still an all-pervasive, all-powerful bogeyman. ... MSNBC's white anchors seem to think they know more about race and racism than I do. Their obsessed daily rants insist that almost everything the Republicans do is really about sending messages to white people about black people.

Netherlands abandoning multiculturalism. In a landmark turnabout, one of the cornerstones of contemporary liberalism is being rejected by one of the fountainheads of liberalism. The politically correct doctrine of multiculturalism is heading for decline, as Holland, one of the most socially liberal societies on earth, is reversing its former policy of multiculturalism. Soeren Kern, writing for Hudson New York, covers an important story that has gotten almost no notice from the American media, which wishes to pretend that multiculturalism works just fine.

Salon Writer Admits Embellishing Abortion Story. [Mikki] Kendall's entire Salon story was built upon her accusation that a heartless, negligent, anti-abortion doctor was willing to let her hemorrhage to death rather than provide a life-saving abortion. And she has now admitted her story was a big, fat, fabricated lie.

MTV's Teen Abortion Sales Pitch: It's Just "A Ball of Cells". The show was even worse than I suspected it would be. It was infuriating and horrifying, almost beyond words. It was also heartbreaking beyond belief.

Black Murders Eight Whites; Media Blames Whites. The title of this column seems unbelievable, but it is in fact what happened in America this past week. And almost no one has noticed. After 50 years of being inundated with stories of white racism, and being taught in college that in this white-dominated society, only a white can be a racist, the American public has been properly brainwashed into accepting the otherwise incredible: A black man murdered eight white people at his place of work because they were white, and the media story is about the murderer's alleged experiences of racism.

When will our media reflect America on abortion? During the health-care summit earlier this year, Vice President Joe Biden was roundly mocked for saying, "I don't know what the American people think." He was, however, showing a refreshing modesty. Especially when compared with those who believe the American people don't know what they think — or cannot possibly mean what they say when they tell us what they do think. Gallup provoked some of this reaction when it released new data early last month on American attitudes toward abortion.

Homosexual Activist Group Honors 'Outstanding' CNN for 'Excellence'. CNN received two awards on March 13 from the Gay & Lesbian Alliance Against Defamation (GLAAD) during its annual GLAAD Media Awards.

CNN Documentary Depicts Sex Change as a 'Medical Necessity ... Done to Preserve Life'. CNN dished out a heavy dose of liberal bias last night [3/15/2010] with its two-hour long documentary "Her Name Was Steven."

The Shameless Abortion Carnival. If anyone was looking for a self-righteous extreme feminist, they found one in Angie Jackson. This is a woman who was so proud she was aborting her baby that she announced she would "tweet" her chemical-cocktail abortion live, as it happened, on Twitter. The liberal media found this made-for-TV slaughter fascinating, and not at all a controversy worthy of discussing with two sides.

MSM Scoffs At 'Black Children Are an Endangered Species' Campaign. On January 25 a whopping 62 billboard signs sprang up in African-American neighborhoods in Atlanta, Georgia, all with the same message: "Black Children are an Endangered Species." The two groups sponsoring the billboard campaign, Georgia Right to Life and the Radiance Foundation, intended the signage to be provocative. Black genocide demands attention — but not, apparently, from the MSM.

Media's Pro-Choice Darling Called Humans 'Ecotumors'. To liberal media outlets, Warren Hern, one of the few late-term abortion providers in the country, has been worthy of praise as a doctor who boldly stands up for his beliefs in the face of intimidation — a lonely humanitarian braving violent death for the sake of his patients. That's the picture painted by TV and other media. What's missing from the portrait is Hern's belief that humans are "malignant ecotumors," his refusal to be called an abortionist, and his strident denunciations of the pro-life movement.

Life's Showing. Anytime a poll is released indicating greater support for the pro-life position the mainstream media, like clockwork, tries to either downplay or dismiss the results. The media's reaction to Thursday's [10/1/2009] release of a Pew Research Center poll showing a 14 percentage point gain in pro-life public support was certainly no exception.

How The Media Have Mangled The Pro-Life Story. This past year, I found myself chief chronicler of the two of the year's most important stories involving the pro-life movement. One was the inspiring saga of the 2009 March For Life, the largest in its 36-year history. The second was the dispiriting saga of the recently murdered late-term abortionist Dr. George Tiller. What the two stories have in common is that each was consciously and completely mistold by the major media.

Did we mention that our health expert doesn't think you're a person? This morning, CNN's American Morning tried to explain health-care rationing. Their guest? Princeton ethicist Peter Singer. The network failed to mention anything about Singer's extremely controversial background as a euthanasia advocate who defines "person" in such a way as to exclude newborn infants and others — such as elderly dementia patients — who lack self-awareness and the ability to make plans. ... "Killing a defective infant," Singer has written, "is not morally equivalent to killing a person. Sometimes it is not wrong at all."

When Are Gay Rights Groups 'Far-Left'? When They Criticize Obama. During the Bush administration, do you recall the MSM ever describing a gay rights group such as the Human Rights Campaign as "far-left"? Neither do I. To the contrary, such organizations were sympathetically portrayed as proponents of mainstream values. But let such groups criticize Pres. Obama and — what do you know? — the MSM suddenly decides they're "far-left."

Back to the 90s: Media Decried Violence Outside Clinics, But Not Inside. For the first time in more than a decade, an abortionist has been murdered. During a series of clinic bombings and shootings in the mid-1990s, the networks were relentlessly pro-abortion — not merely decrying the violence, but whitewashing the violence inside abortion clinics as they put angelic haloes on abortion clinic doctors and workers.

ABC: Abortion Broadcasting Company. ABC gave pro-abortion advocates free advertising last night with its "World News Sunday." During the report, an abortionist unequivocally stated that late-term abortion is "really a miscarriage of a stillborn fetus." Anchor Dan Harris framed Steve Osunsami's segment as a look at why doctors risk their lives to perform abortions given the "constant threat" of violence they face, as evidenced by last week's murder of abortionist George Tiller and recent comments from Tiller's accused killer that "similar attacks are planned all over the country."

A Pro-Life 'Jihad'? [MSNBC's Keith] Olbermann insisted that the mere act of denouncing [George] Tiller as a killer of babies — as if he were instead removing tumors — is an invitation to terrorism and murder. This was not a call for moderation by the pro-life movement, but for rhetorical surrender. The media demanded that pro-lifers stop defining abortion as the ending of a human life. Such a definition was so raw and emotional that it somehow disfigured the "truth" that this is merely a woman-saving health procedure that was not only legal, but also commendable. While they pawed through Twitter looking for anti-Tiller "hate speech," liberal journalists expressed no distaste for the revoltingly gilded rhetoric in praise of this monster.

Manufacturing Consent for the Gay Agenda. [Quoting Camille Paglia:] "The 11th commandment of the liberal mainstream media is that no evil shalt be spoken of any gay persons, who have been sanctified by their precious victim status, without which liberalism would implode." The liberal media will report ad nauseam about the victimization of a homosexual provided the accused attacker is heterosexual but it will remain mum when it's gay-on-gay violence.

The Liberal Media: Every poll shows journalists are more liberal than the American public — and the public knows it. Leading journalists may deny their bias, but every survey over the past 25 years shows journalists do not think or vote like the American public. Reporters overwhelmingly vote for Democrats, their views on issues such as abortion and gay rights are well to the left of most Americans, and large majorities want big government even more involved in the economy.

Why should a journalist's race matter? With so many other things to worry about, and with the whole world able to see that racial identity is no longer a barrier to even the most powerful position in American life, you might think the press would finally be ready to abandon its unhealthy preoccupation with the color of skin — especially the skin within its own ranks. Alas, no.

Condom Nation. Major news organizations are just gloating about the latest study "proving" that abstinence education not only doesn't work but is dangerous. If protecting kids mattered to them, they would dig deeper.

The pro-illegal alien media: Tossed and turned by internal diversity police who demand a greater minority presence and minority consciousness in the newsrooms, those who report the "news" are doing their level best to ensure that the protesters for "immigrant rights" get the best possible publicity boost.

Why the "Racist" Card Has Lost Its Sting. Ordinary people are getting smarter as the mainstream media loses its power, which is probably why the "amnesty" bill recently went down in flames.

The answer to AIDS is values. [It is] clear that in a world of abstinence, monogamy and sex exclusively within the framework of marriage, AIDS and sexually transmitted diseases in general would be rare. Yet, such a world is such a remote possibility and so irrelevant to the Newsweek reporters that it does not receive a word of mention in the article.

Media recruiting less credibility. Following the Pew Research Center's latest survey, which shows the public's continued distrust of the American media, one might think the press giants would be more careful about their public associations and agendas. One would be wrong.

HBO'S Anti-Whitewashed Fairy Tales: In Jack and the Beanstalk, not only are all the players black but so even is a rabbit that jumps out of a magician's hat. In Little Red Riding Hood (or "Happy Coat" in this China-based tale) even the squirrels have almond-shaped eyes. That squirrels do not have the extra fold that characterizes Asian eyelids is irrelevant. Even nature bows to the PC gods at HBO. It seems only one major ethnic group has been left out. Of over 90 voices used in this series, just one appears to belong to a token white of non-Hispanic descent.

No Respect for Diversity in News Coverage of Rice 9/11 Testimony. It's not unusual for folks to wonder if there is a double standard in the news media. Usually, that question has to do with ideology, a liberal or conservative bias perhaps. But the headlines about Dr. Rice's testimony are not about ideology, but about diversity in views. The press just can't seem to understand that a well-educated black woman could hold the views Dr. Rice holds.

"Never gayer" Tony Awards: For all its fizzling ratings, it's amazing that the Tony show hasn't been moved kit and caboodle from a major network to PBS or Bravo. Why the collapse in public support? Perhaps it's because the public has become disgusted by the Tonys' sexual agenda.

Learning through images: Television images have become remarkably successful at distilling complex issues into the broadest and most knee-jerk dimensions. This is particularly true of political programming, which has perfected the rapid fire style of discourse that leaves little time for thoughtful analysis.

Journalism 101: The surest way to predict the top stories on any evening network newscast is to read the front page of The New York Times. Most journalists consider the paper fair and balanced, and they follow it almost religiously. A story just isn't a story until it's in the Times.

Rush and race: The left obsessively racializes nearly everything, but if a conservative dares mention anything related to race, he is dubbed a "racist" and considered unfit for polite company.

Liberal Media Lashes Out at Christians. The culture wars have turned nastier than ever. And if conservative Christians are offended by being called insane, stupid, sinister — or even the next incarnation of fascist storm troopers — they'd better get used to it. The news media is a major player in these cultural conflicts, and if there was ever a pretense of impartiality when it came to liberal versus conservative, or secular versus religious, that disguise has been stripped away.

Disgraceful. Most media hiring today is from universities where a military career is regarded as bizarre and almost any exercise of American power is considered wrongheaded or evil.

Fired Christian Radio Host Sees Ecumenism Behind Dismissal. An evangelical Christian talk-show host is speaking out after being fired from the largest Christian broadcasting network in the country for questioning whether certain Roman Catholic beliefs were biblical.

Expert Mistrusts Polls Showing Public Support for Homosexuals in Military. A conservative military watchdog says she does not agree with several media polls that show increased public acceptance for allowing homosexuals to serve openly in the U.S. military.

The MSM's life and death distortions: However you feel about the Terri Schiavo case, one fact is indisputable: The mainstream media coverage of the matter has been abysmal. On a fundamental matter of life and death, the MSM heavyweights have proven themselves utterly incapable of reporting fairly.

Racial censorship: If this was a criticism of anybody, it was a criticism of the powers that be in the NFL. Nevertheless, people have gone ballistic, just as if he [Rush Limbaugh] had criticized blacks as a race. But you have to twist the truth like a pretzel to reach that conclusion.

Media, darlings, your abortion bias is showing again: What if the women who helped make abortion-on-demand the law of the land changed their minds? They did. And what if no one cared? Apparently, no one does.

Maureen Dowd's Tambourine: Pulitzer Prize winning "journalist" Maureen Dowd in her April 20th article entitled "A Tale of Two Fridays," in the New York Times thought it was "pandering" and culturally "insensitive" to have Franklyn Graham and presumably other Christians espousing Christianity at a Good Friday service.

Racism in the newsroom: The diversity craze in the newsroom has not only hurt good, qualified white male reporters and editors in tangible ways, it has hurt the very people it was intended to help and it has hurt the credibility and viability of the news organizations infected with this disease.



This is an original compilation, Copyright © 2015 by Andrew K. Dart

Left and Right Agree: Journalists Are out of Touch: Both sides in the diversity debate agree that establishment journalists do not connect with average Americans.

Black journalists jeer peer: A conservative activist says that he was booed, jeered and called "the white man's boy" by a crowd of nearly 300 black reporters and media figures for speaking against reparations at last week's annual convention of the National Association of Black Journalists.

Study Reveals Abortion Harms Women's Mental Health... Media Yawn. Unless you subscribe to the American Journal of Orthopsychiatry, which published the report last month, or are a fervent researcher of the Internet, you probably haven't heard of this important study. That's because our mainstream news media recurrently decline to broadcast studies that cast a skeptical shadow on abortion.

"Partial truth" abortion: Many in the media resent any suggestion that they are either politically biased or that journalists' personal views stop them from doing a good professional job of accurately reporting the news. The way the issue of partial birth abortion has been reported — or not reported — gives the lie to such protests.

The Ugly Truth: Exsanguination or draining of blood? A federal judge is demanding that abortion-industry witnesses speak in plain English as he considers one of three challenges to a federal law banning partial-birth abortions. But despite all the sensational testimony and courtroom drama, the major news media are paying no attention.

Media Promotes Illegal Abortion Death Myths, Though Legal Abortions Kill Too. Some major newspapers in the U.S. are using foreign horror stories to try to promote the idea that the federal government should get involved in the overseas abortion business. But the editorials and columns are filled with myths circulated by the abortion lobby, according to pro-life advocates in the U.S.

Silence on Welfare Reform: What may be most striking about the current welfare debate may be the remarkable absence of journalistic interest in the topic. In fact, the news media's silence speaks volumes, testifying to the emergence of a broad new consensus surrounding a law that was vilified by opponents when it was originally passed.

Glossary for the Liberal Media: Death tax vs. estate tax; Preferences vs. affirmative action; Strategic Defense Initiative (SDI) vs. Star Wars; Fetus vs. unborn. Words matter.

Nickelodeon Ignores Quarter Million Parents Protesting Pro-Homosexual Show!: "In fact, Nickelodeon is blocking many of its email addresses to prevent parents from expressing their outrage over this show," said Traditional Values Coalition Executive Director Andrea Lafferty.

Nickelodeon is afraid of Losing Advertisers! Traditional Values Coalition has learned that in an attempt to stop the hemorrhage of negative press and to preempt losing sponsors, Nickelodeon will be airing its controversial Nick News program on homosexual parenting/families commercial-free.

Is Nickelodeon Promoting Diversity or Perversity with its Homosexual Agenda? Nickelodeon, one of the Viacom Corporation's divisions, has decided your children need to accept the notion that homosexuality is merely a form of "diversity" like religion, or race. Linda Ellerbee produced the show "My Family Is Different" which was aired Tuesday night [6/18/2002 (?)]. She said she was "puzzled" by the backlash against the production from pro-family groups such as The Traditional Values Coalition.

Charlton Heston Takes Aim at Hollywood.

Heston Blasts P.C. Media as a Threat to Freedom.

Shibboleths: A Great Labor-Saving Device for Rational Thinking. Shibboleths are the life blood of the media. Stories which seem to support the side of the angels are trumpeted from coast to coast, while stories which support the other side are either downplayed or ignored altogether. For example, vicious crimes committed by white people against black people are big news because these stories fit the shibboleths which establish the moral identity of the journalists who tell these stories. Vicious crimes committed by blacks against whites are not big news because these stories undermine the shibboleths -- or, as it is phrased, "feed stereotypes."

Politically Correct Murder and Media Bias: Some Murder Victims Are "More Equal" Than Others. Never mind that where violent crime takes place between blacks and whites, the cases overwhelmingly involve a black perpetrator and a white victim.

Media Push Homosexuality as Part of P.C. Agenda: In this second of our three-part series we show how, and why, a political agenda has damaged honest coverage of homosexual issues.

Hollywood Leftists: You Pay, We Insult: How long will consumers put up with celebrities who assault political views and who falsely accuse them of racism? Celebrities who insult audiences with their political views may indeed face a reckoning at the box office.

Coloring the News: How Crusading for Diversity Has Corrupted American Journalism. William McGowan presents case after case in which, he contends, reporters and editors got stories wrong or ignored topics worthy of coverage because of their liberal ideologies and their fear of offending African-Americans, gays or feminists.

Coloring the News: Feminism and Diversity: "Journalists are more disproportionately liberal on [the abortion] issue," wrote Jonathan Alter, Newsweek's poster boy for liberal bias in the media. "So they are more likely to rely on whether consciously or unconsciously, the information they get from the pro-abortion side." What he neglected to add was that in almost every case, liberal reporters don't even bother to seek comments from the pro-life forces, relying most often on what the spokeswomen for the abortion industry tell them.

How Homosexuals Skew the News

NAACP vs. Racist Hollywood: According to the Screen Actors Guild, blacks, who comprise 12 percent of the population, are cast in 14.8 percent of all roles on television and in movies. Besides, don't the "good guys" -- mostly Leftist Democrats -- run Hollywood?

Editor's Note: (In this article, Larry Elder makes another interesting point: black households watch more TV than do white households. Compared to some other groups, black children under-perform on standardized tests. Studies also show black children do less homework than their white counterparts. Meanwhile, the president of the NAACP seeks ways to make television more appealing to blacks.)

Under-the-Radar Trash TV: So many [kids] don't tune in for specific shows; they turn the set on because they're not comfortable without it on. At times they pay full attention to it; sometimes partial attention. But oftentimes they're paying virtually no attention to what's on the screen. It's impossible for them to stay with one channel; they must, by necessity, mindlessly, endlessly flip around.

Fatherhood Group Studies TV's Portrayal of Male Figures

Back to Feminism and Abortion
Back to the Affirmative Action Page
Back to the Home page