President Barack Obama has never managed or owned a business in his life. He has never worked in a for-profit situation of any kind — not even a hot dog stand — but he is now starting at the top by taking over the operation of GM and Chrysler.

Subsections for related topics include:

Dealergate

Cash for Clunkers

The UAW


---
Joe Biden Keeps Touting The Auto Bailout As A Success. Here's The Full Story. During the 2008 Great Recession, the three major U.S. automakers — General Motors (GM), Chrysler and Ford — each experienced significant declines in sales, according to a Reuters timeline. Obama formed a presidential task force in February 2009 led by Timothy Geithner, secretary of the Department of the Treasury, and Lawrence Summers, director of the National Economic Council, which was devoted to keeping the U.S. auto industry afloat, The New York Times reported at the time. However, the bailout didn't save the U.S. auto industry, but transferred tens of billions of taxpayer dollars to the United Auto Workers (UAW) union, according to experts.
Forget it when journalists and other Democrats stand on principle. As soon as Obama took office, he showed he had no respect for the law or equal treatment under the law as he violated bankruptcy law to award political supporters over more secure creditors. [...] The Obama administration shook down corporations at Justice, EPA and CFPB and used a significant amount of funds for political purposes and to reward supporters.
Spoiler: It's the taxpayers.
Tesla's Secret Source of Cash Has Finally Been Revealed. General Motors Co. and Fiat Chrysler Automobiles NV disclosed to the state of Delaware earlier this year that they reached agreements to buy federal greenhouse gas credits from Tesla. While the filings are light on detail, they haven't been reported on previously. They also represent the first acknowledgments from carmakers that they're turning to Tesla for help to comply with intensifying U.S. environmental regulations. The deal with GM will come as a surprise to those who thought years of sales of plug-in hybrid Chevrolet Volts and all-electric Chevy Bolts would leave the largest U.S. automaker in the clear with regard to regulatory compliance. But while sales of those models have put GM in a position where it doesn't need extra credits today, demand for its battery-powered vehicles are dwarfed by its gas-guzzling trucks and SUVs.
Trump, Mnuchin Call For GM To Pay Back Federal Bailout. President Trump made his frustration with GM abundantly clear on Tuesday when he threatened to cut all EV subsidies to the Detroit carmaker. But on Wednesday both the president, this time joined by Treasury Secretary Steven Mnuchin, took the administration's attacks on GM to their next logical endpoint: Demanding that the federal bailout recipient return the $11.2 billion loss eaten by taxpayers from the federal bailout that the company received during the depths of the financial crisis.
Destroyed for Nothing. General Motor's announcement that it's cutting thousands of jobs and closing several plants has met intense criticism because the company was the beneficiary of a $50 billion government bailout in 2009 — which wound up costing taxpayers $11 billion — even as the government awarded the United Auto Workers' health-care fund a 17.5 percent stake in the restructured company. Like many big American companies, GM has been the recipient of government-subsidized largesse over several decades. One particular piece of this history is especially noteworthy now. Nearly 40 years ago, in one of the most egregious cases of eminent domain abuse in American history, GM built a plant on land seized from homeowners and businesses in Detroit, obliterating a multi-ethnic neighborhood known as Poletown — all for a plant that will now be shuttered so that GM can invest somewhere else in new manufacturing facilities.
GM Layoffs: A Tragedy Caused By Embracing Government Subsidies, Not Markets. General Motors' decision to close four U.S. plants and lay off 14,700 workers, 15% of its domestic workforce, is an economic tragedy. And it might have been avoided if GM had listened to the market, rather than the Obama administration.
Major North American GM Workforce Reduction Announced Due to Declining Sales of Sedan Vehicles. Following major drops in the sedan sector of the U.S. automotive market, General Motors CEO Mary Barra announced plans to halt production next year at three assembly plants: Lordstown, Ohio; Hamtramck, Michigan; and Oshawa, Ontario. GM will fully stop production on several models assembled at those plants: Chevrolet Cruze, Cadillac CT6 and the Buick LaCrosse. These cuts could lead to approximately 6,000 to 8,000 lost jobs.
Obama's 'car of the future' goes kaput. It came with a turbocharged four-cylinder engine, churned out about 140 horsepower, and made upwards 40 mpg highway. What's more, the Chevy Cruze was the only compact sedan to come with a presidential seal of approval. When a prototype of the 2011 model rolled off the assembly line, then President Barack Obama put his signature on the hood writing that the Cruze was "the car of the future." But the future lasted only seven years. Responding to slumping sales, General Motors announced plans to push the Cruze out of their showrooms and off of a cliff.
General Motors cutting nearly 14,000 workers in North America and putting five plants up for closure. Auto giant General Motors is cutting up to 14,000 workers in North America in a restructuring that will lead to a focus more on self-driving and electric vehicles. More than 8,000 white-collar workers will either take buyouts or be laid off, and 6,000 factory workers could lose their jobs in the U.S. and Canada. The company is also putting five plants up for possible closure in addition to dropping 15% of its workforce.
Electric Cars: The Real Killers. There weren't any "zero emissions" mandates or carbon credits back in the mid-'90s and while CAFE — the government's fuel economy edicts — did exist, back then it was only 27-something miles-per-gallon and so it wasn't yet necessary to build EVs as compliance cars, just to even out the MPG math (as it is now; this is one of the non-market mechanisms being used to nudge EVs onto the market). So the EV1 had to stand on its own two bowed and rickety legs — and of course, couldn't. As today, it was much too expensive ($35,000 in mid-1990s dollars) to make any kind of economic sense and didn't go very far and took forever to recharge before you could go not-far again. Which didn't make sense generally. GM tried give-away leases but that was just the problem. The only way to get people into an EV1 was to basically give it to them.
Now that Obama is gone...
700 laid-off GM workers will get their jobs back. It the kind of news that no one who gets laid off expects to hear — you're rehired! But that's exactly what's about to happen 700 General Motors workers who were laid off earlier this month when the automaker cut 1,100 jobs. The automaker said Wednesday [3/18/2017] that it is adding 500 jobs back to its Lansing Delta Township plant in 2018. And another 180 jobs are being created at a nearby plant in Flint, Mich., for laid-off GM workers from Lansing.
GM Has Huge Supply of Unsold Cars. U.S. consumers want vehicles built on light truck bodies — pickups, sport utility vehicles and crossovers. U.S. carmakers have failed to switch production from passenger cars to light trucks fast enough to keep up with the changing demand, and now they are paying the price with bloated inventories of cars nobody wants to buy.
"Car Recession" Bites GM: Inventory Glut, Layoffs, Plant Shutdowns. But GM already booked those vehicles on dealer lots as revenues. GM has been reacting to its fabulously ballooning inventory glut by piling incentives on its vehicles. But that hasn't worked all that well though it cost a lot of money. Now it's time to get serious. It will temporarily close five assembly plants in January and lay off over 10,000 employees, spokeswoman Dayna Hart said today [12/19/2016].
General Motors announces plans to lay off 2,000 employees at two US plants. General Motors announced its plans to lay off more than 2,000 workers just hours after Donald Trump won the presidential election - putting his campaign promises to an early test. Trump criticized the manufacturer after reports that it would shift some of its production to Mexico and vowed during his campaign to prevent layoffs in the auto industry. But on Wednesday [11/9/2016], the company announced that it would lay off more than 2,000 workers indefinitely at two assembly plants in Ohio and Michigan -- two swings states that Trump won — starting in January.
The Editor says...
That's one way to put it. It would be more truthful to say that GM delayed the announcement until after the election, to give Hillary Clinton a better chance of winning.
Clinton-backed branch of foundation donor GM now caught in major scandal. Hillary Clinton had glowing words for the General Motors plant in Tashkent, Uzbekistan, when she traveled there in 2011 as secretary of state to announce the joint venture — of GM and an Uzbekistan state-owned firm — as a finalist for a State Department award. "It is a collaboration between Uzbek and American companies, and it will serve as a symbol of our friendship and cooperation," Clinton said, touting the plant's "newest, most advanced technology." The visit came a year after the General Motors Foundation had contributed $684,455 in vehicles to the Clinton Foundation.
Fiat Chrysler ending car production in the US. The company may be called Fiat Chrysler Automobiles, but by early next year, it won't be making cars in the U.S. Instead, Fiat Chrysler's U.S. plants will be focusing entirely on pickups and SUVs for the Ram and Jeep brands. Fiat Chrysler is winding down production of the Chrysler 200 and Dodge Dart and will primarily produce Jeep SUVs and Ram pickups in the U.S. The company's remaining car models will be made in Mexico or Canada. Ending passenger car production in the U.S. is part of CEO Sergio Marchionne's multibillion-dollar plan to increase profit margins to match competitors. It's a bet that recognizes the growing popularity of SUVs in America, low gas prices and lower cost of producing vehicles in Mexico.
Where's the Presidential Debate on GM's Crony Capitalism? A dive into GM's filings with the Securities & Exchange Commission reveals that while the carmaker makes nearly all of its profits in the U.S., it pays virtually no U.S. federal, state or local taxes. The carmaker paid just $5 million in federal taxes last year, its SEC filings show. For its total federal, state and local bill, all in, it booked zero taxes, the filings show. Meantime, in 2015, GM paid more than $908 million in taxes to China, due to its profits from its joint ventures there, the filings show. GM's historically low tax bill has flown under the radar screen in this presidential election season, when candidates from both parties offer ideas on reforming the corporate tax code. While the White House has railed against loopholes for big corporations, Democrat candidates Hillary Clinton and Bernie Sanders continue to stump for getting companies to pay their "fair share," and the GOP candidates largely push for lower tax rates.
Fullsize GM SUVs have a problem that's making owners sick. Some fullsize SUV owners are getting sick, thanks to a buffeting and vibration problem in 2015 model year examples of the Chevy Tahoe and Suburban, Cadillac Escalade, and GMC Yukon. According to owners' complaints to the National Highway Traffic Safety Administration, the issue can vary from an annoying vibration inside the cabin to an experience so severe that it leads to dizziness and headaches.
GM to sell Chinese-made cars in the US: report. General Motors plans to sell Chinese-made cars in the United States beginning early next year, a first for a major automaker, The Wall Street Journal reported Thursday [11/12/2015]. GM, the top US automaker, will introduce the Buick Envision, a midsize sport-utility vehicle made in Shandong province, the Journal said, citing unidentified people familiar with the plan.
'What a Phony': See Why Greta Says AG Lynch 'Sold Us Out Fast'. Earlier this week, the Justice Department announced a $900 million settlement over the automaker's defective ignition switches, which are blamed for the deaths of 124 people. The feds also deferred prosecution of the company for three years and no individual employees were charged. Preet Bharara, the United States attorney for the Southern District of New York, praised GM for cooperating with the investigation[.] "Good behavior after the fact does not absolve G.M. or any company of responsibility but companies should be encouraged to act as G.M. did here to help the truth come out faster," he said. Some victims' family members were disappointed with the punishment, with one woman — whose daughter died in a 2006 crash — arguing that GM's executives "knew what they were doing and they kept doing it."
GM plans to sell Buicks made in China to Americans. Most Buick vehicles sold in the United States after 2016 could be imported from China and Europe, according to two sources familiar with parent General Motors Co's plans. Only two of Buick's future US models, replacements for the mid-size LaCrosse sedan and the large Enclave crossover, are expected to be built in North America, according to the sources, who did not want to be identified because their companies work with GM.
What was the Point of GM Share Buyback? General Motors' shares have taken a hit this week with the catalyst for the latest downturn being news out of China. Continued weakness in China (including weakening car sales) has led the country to devalue its currency in an attempt to bolster its economy at the expense of its trading partners. This latest news confirms my views that GM's China gamble puts the company and its shareholders at increased risk. The horrible performance of GM's stock over the past few months also brings into question the rationale for the much-hyped share buyback that was instigated by ex-Obama Auto Task Force member, Harry Wilson[.]
Gov't: Fiat Chrysler must offer to buy back 500,000 pickups. Fiat Chrysler must offer to buy back from customers more than 500,000 Ram pickup trucks and other vehicles in the biggest such action in U.S. history as part of a costly deal with safety regulators to settle legal problems in about two dozen recalls.
The Obama Presidency — A Cacophony of Corruption. [Scroll down] Conjure up the Harding administration and one thinks singly of the Teapot Dome Scandal, where politically privileged special interests received government largesse while other, more deserving applicants, were, quite simply, ripped off. Would Obama ever do such a thing? Just ask the GM creditors who were denied bankruptcy deficiency claims while the Obama administration orchestrated a multi-billion-dollar payoff to its political cronies at the UAW.
G.M. Inquiry Said to Find Criminal Wrongdoing. Justice Department investigators have identified criminal wrongdoing in General Motors' failure to disclose a defect tied to at least 104 deaths, and are negotiating what is expected to be a record penalty, according to people briefed on the inquiry. A settlement could be reached as soon as this summer. The final number is still being negotiated, but it is expected to eclipse the $1.2 billion paid last year by Toyota for concealing unintended acceleration problems in its vehicles, said the people, who did not want to be identified because the negotiations weren't complete.
It's Official: Taxpayers Lost $16.6 Billion On The Auto Bailout. [I]f you look at only the new money the Obama administration spent bailing out General Motors, Chrysler, and Ally Financial, taxpayers did get back "every dime" of that cash. But that completely ignores the $17.4 billion President Bush promised General Motors and Chrysler in December 2008. If you take the entire Troubled Asset Relief Program bailout into account, taxpayers spent a total of $79.7 billion on the auto bailout, received only $63.1 billion back, for a total loss of $16.6 billion.
Despite Recalls, G.M. Pays Workers a Big Bonus. To cope with the gravest safety crisis in its history, General Motors has spent freely — almost $3 billion — to compensate accident victims and recall nearly 30 million vehicles. But when the company closed the books this week on last year's recall-plagued financial results, Mary T. Barra, its chief executive, had one more costly decision to make: Should the decade-long failure of executives, engineers and lawyers to address deadly defects in millions of cars result in a smaller annual bonus for G.M.'s blue-collar workers?
Obama Brags About $10 Bil Auto Bailout At Plant He Helped Idle. Just days before Obama's planned swing through Detroit, the Treasury Dept. reported that the final taxpayer cost of the auto industry bailout was $9.26 billion. That equals $441 for every single car and light truck that GM and Chrysler have sold since 2009. That's an awfully big price tag for Obama to claim bragging rights over. Maybe the outsized bailout cost explains why Obama will give his talk at an assembly plant owned by Ford, which didn't take any bailout money yet somehow managed to survive the recession. Ford did, however, put its hand out for a $5.9 billion low-cost Department of Energy loan, which it used in part to convert that Wayne, Mich., plant from one that made popular SUVs to one that now makes politically correct hybrids and compacts.
Government Says It Lost "Only" $9.26 Billion On Auto Bailout. A Department of the Treasury report this week released some of its final numbers on the auto industry bailout, with good news: "only" $9.26 billion was flushed down the drain bailing out America's labor union-dominated auto industry.
Federal government lost $9.26B on auto bailout. The U.S. government lost $9.26 billion on the auto industry rescue, according to the final accounting released late Monday [12/29/2014]. In its report, the U.S. Treasury Department said it recovered $70.43 billion of the $79.69 billion it gave to General Motors Corp., Chrysler LLC and auto lending arms Ally Financial Inc. and Chrysler Financial. The government was repaid through a combination of stock sales, partial loan repayments, dividends and interest payments.
50 Things Barack Obama Has Done Wrong: [#12] Taxpayers lost 25 billion dollars on Obama's bailout of General Motors and Chrysler. Chrysler isn't even an American company any more. It's now owned by an Italian company, Fiat.
Still Fighting: The Delphi Workers Obama Robbed. The White House pretended to champion American workers this week with gimmicky initiatives on federal job training and "workplace innovation." But far from the Beltway dog-and-pony show, a group of American workers ruthlessly shafted by the Obama administration was finally getting some real support — and inching toward justice. It was five years ago this summer that 20,000 white-collar nonunion workers from Delphi (a leading auto parts company spun off from GM in 1999) had their pensions sabotaged as part of a rotten White House deal with Big Labor. Two court rulings this summer have given the victims hope. Their plight must not be forgotten.
General Motors recalls 717,949 more vehicles. General Motors (GM) is recalling an additional 717,949 vehicles due to a range of issues, including loose bolts and potentially incomplete welding on some seat hooks. The carmaker has recalled nearly 29 million vehicles this year, most due to faulty ignition switches. The recall-related repairs are expected to cost GM $1.2bn (£700m).
General Motors Recalls Another 3.16 Million Vehicles, Boosts Quarter Recall Tab To $700 Million. The Detroit-based automaker on Monday [6/16/2014] recalled another 3.16 million 2000 to 2014 model year vehicles, according to a U.S. regulatory filing. It was the second recall over consecutive business days, coming on top of a recall Friday of more than 500,000 Camaro sports cars plus other models. GM also said it now expects to record recall-related costs of $700 million for the second quarter, up from a previous estimate of $400 million.
GM to recall further 3.4 million vehicles over ignition problems. General Motors says it needs to change or replace the keys for about 3.4 million cars because they could cause the ignition switch to move out of position if they are carrying too much weight. In a statement released Monday, GM said that the switches can rotate out of 'run' if the key has excess weight and the car 'experiences some jarring event', such as hitting a pothole or crossing a railroad track.
GM Is Alive. Drivers Are Dead. Any Questions? How many lives and billions of taxpayer dollars will it take before the cost of Obama's meddling with the economy becomes prohibitive?
Did the Obama administration defraud purchasers of GM shares? When a controlling shareholder in a corporation sells shares to the public, and the corporation subsequently discloses damaging information known to it at the time of the sale, the SEC normally gets to work investigating a possible crime. Withholding such data can be a crime, defrauding investors by withholding material information. It would appear that something like that happened when the federal government sold GM shares to the public. In the private sector, it would be time to call in the criminal defense lawyers.
GM Bailout Cost Taxpayers Far More Than Just $11 Billion. The Detroit Free Press' announcement on Wednesday [5/14/2014] that taxpayers lost more on the General Motors bailout in 2009 than originally thought was brief, to the point, and missed most of the real story behind the GM bailout. Taxpayers lost $11.2 billion following the government's sale of the last of the stock it held in GM following the company's government-assisted bankruptcy and restructuring, according to the announcement. The key quote from a Treasury spokesman, however, was revealing. Said Adam Hodge: "The goal of Treasury's investment in GM was never to make a profit, but to help save the American auto industry, and by any measure that effort was successful." Not if one was a bondholder in GM. Not if one believed that a company should be run by experienced automakers and not by government bureaucrats.
General Motors Is Recalling 51,000 Cars to Fix Fuel Gauge. General Motors is recalling 51,640 Buick Enclave, Chevrolet Traverse and GMC Acadia sport utility vehicles of the 2014 model year because faulty software may cause the fuel gauge to read inaccurately, federal regulators said Saturday [5/3/2014].
US government says it lost $11.2B on GM bailout. The U.S. government lost $11.2 billion on its bailout of General Motors, more than the $10.3 billion the Treasury Department estimated when it sold its remaining GM shares in December, according to a government report released on Wednesday [4/30/2014]. The $11.2 billion loss includes a write-off in March of the government's remaining $826 million investment in "old" GM, the quarterly report by a Treasury watchdog said.
G.M. Seeks to Fend Off Lawsuits Over Switch. General Motors moved on Tuesday [4/22/2014] to prevent future safety lapses by expanding its oversight of problematic vehicles even as the automaker continued to take an aggressive legal posture in dealing with its past missteps. General Motors has asked a federal bankruptcy judge to dismiss dozens of potentially costly lawsuits filed against the company over its handling of a defective ignition switch in millions of cars, and to bar similar cases in the future.
Released Emails Reveal GM CEO Was Warned of Steering Problems in 2011. Despite the testimony of GM CEO Mary Barra that the company "acted without hesitation" to address the ignition switch problems that served as the basis for the latest recall of millions of vehicles, emails show that GM failed to address product problems, some of which Barra herself seemed fully aware of, at least as far back as 2011. The company, often derided as "Government Motors" because of the billions of tax dollars infused into it by President Obama, has been under fire this month because of ignition switch problems linked to dozens of crashes and perhaps as many as 13 deaths.
Did GM Reject Safer Ignition Switch Design in 2001 Because of Cost? Newly released internal GM documents reveal that the company in 2001 considered — and rejected — an ignition switch design that two prominent safety advocates say could have avoided the problem that led the automaker to recall millions of vehicles this year. The company's decision to reject the safer switch was motivated by cost, the advocates say. They say GM documents show that design was the same one GM quietly began providing years later, in 2006, as a replacement part, and is now beginning to add to all recalled vehicles.
GM to seek court protection against ignition lawsuits. General Motors Co said it would ask a U.S. court to bar lawsuits related to actions before its 2009 bankruptcy, signaling a tougher stance toward legal claims stemming from its recent recall over faulty ignition switches.
The GM Scandal Is Worse Than You Think. Here's another reason why government should never own a business. [...] Not only did the Obama administration have the power and ideological motive to damage the largely non-unionized competition, it was busy propping up a company that was causing preventable deaths. No one is innocent, of course, but not everyone is bailed out.
Why GM's safety calamity, an utter Washington failure, isn't a hot TV topic. GM, you'll recall, had to be rescued by the taxpayers in 2009, and the federal stake was so large that the company was dubbed Government Motors when it went through bankruptcy. But bankruptcy rules require a disclosure of all liabilities as well as assets. By hiding the defect in its cars, GM may have committed bankruptcy fraud. Beyond that, the utter failure of the National Highway Transportation Safety Agency to crack down on the defective ignition switch is an embarrassing failure. But regulatory agencies are a journalistic backwater, drawing a fraction of the coverage lavished on the White House, Congress and politics. Even so, with GM's CEO and the acting NHTSA chief scheduled to be hauled before a Hill committee today, you'd think there would be a drumbeat on the air.
What will it take to put you in this government-created death trap today? If you buy a car from Government Motors (yes, I still call 'em that), you have chosen... poorly.
Michael Moore: General Motors 'criminals' deserve death. Liberal filmmaker Michael Moore believes that whoever was responsible at General Motors for failing to recall a faulty ignition switch deserves death. "I am opposed to the death penalty, but to every rule there is usually an exception, and in this case I hope the criminals at General Motors will be arrested and made to pay for their pre-meditated decision to take human lives for a lousy ten bucks," he wrote.
GM Recall Scandal Goes Straight to the White House. New General Motors CEO Mary Barra will testify before Congress Tuesday about why it took so long for GM to issue product safety recalls involving faulty ignition switches that caused air bags to fail in crashes, contributing to thirteen deaths. [... She] ought to be accompanied by former Secretary of Transportation Ray LaHood, as well as "car czars" Steven Rattner and Ron Bloom, together with White House and Treasury officials who oversaw the government's huge bailout of General Motors. Many — though not all — of the safety problems happened on their watch. In addition, LaHood and other Obama administration officials led a witch-hunt against Toyota during the same period.
No One In Media Asks Where GM's Top CEO, Barack Obama, Was During All This. In addition to the 4.8 million vehicles recalled for various problems ranging from dodgy ignition switches to non-deploying airbags, an additional 1.3 million are now being recalled due to a problem with the power steering that could cause an accident.
GM stops selling some Cruze small cars, offering no reason. General Motors Co said on Friday it had told its dealers to stop selling certain Chevrolet Cruze small cars without saying why, in another blow to a company already facing a crisis over defective ignition switches linked to at least 12 deaths.
Recall Could Cost GM Billions and Its Reputation. General Motors Co.'s recall of 1.6 million vehicles could prove to be one of the most costly in automotive history. The company not only faces fines. The legal liability triggered by what could be thousands of personal injury lawsuits may be just as damaging to the reputation of GM's important brands, which almost certainly will erode sales. At the heart of the injury to GM is the accusation that some of its employees knew about an ignition switch fault as early as 2004.
Obama's SOTU: 18 Lies and Distortions That Should Concern Us. [#5] The auto industry came roaring back, he claims. Chrysler is now Fiat and GM is struggling. Ford, which didn't take taxpayer money is faring the best.
Fiat to buy full control of Chrysler. U.S. automaker Chrysler will become fully owned by Italy's Fiat under terms of an agreement announced Wednesday that also involves the United Auto Workers union. The agreement comes more than 4½ years after the Obama administration brought Fiat in to keep Chrysler in business as part of a packaged bankruptcy proceeding.
GM's CEO rejects repaying Feds for bailout losses. The General Motors bailout may have cost the government $10 billion, but GM CEO Dan Akerson rejects any suggestion that the company should compensate for the losses. He says Treasury officials took the same risk assumed by anyone who purchases stock.
The Editor says...
That is an obvious canard. When a private individual buys stock he risks the loss of some or all of his money. When the government buys stock, it risks other people's money.
Government Gets Out of General Motors With Loss of $10.5 Billion . The U.S. government this week sold its last shares of General Motors Company, ending the multi-billion dollar bailout of the automaker and costing taxpayers a net loss of approximately $10.5 billion.
Government sells remaining stake in GM. The U.S. government ended up losing $10.5 billion on the General Motors bailout, but it says the alternative would have been far worse.
Federal Government Sells Off Last GM Stock. The federal government announced today [12/11/2013] that it has sold the last of its General Motors stock, about 31.1 million shares or 2 percent of the company, ultimately losing about $10.5 billion on the original investment. The government once owned 912 million shares, or 60.8 percent of GM, which it received in return for the $49.5 billion bailout given to the auto manufacturer during the financial crisis of 2008-09.
Obama uses fuzzy math to blame Bush for GM losses. With final losses from the auto industry bailout near $15 billion, President Obama is using fuzzy math to claim that taxpayers lost no money on his administration's portion of the rescue program, analysts say. On the heels of the Treasury Department's announcement Monday that it was selling its final shares of General Motors Co. acquired during the 2008-09 bailout, Mr. Obama seems more intent on claiming credit and avoiding blame than providing taxpayers with a final accounting of the bailout that also included Chrysler LLC and GM's financing arm, Ally Financial.
GM doesn't owe $450 million in retiree benefits, U.S. judge rules. A federal judge said General Motors Co is not required to pay $450 million to cover medical benefits for retirees, in a defeat for the United Auto Workers union.
Treasury to sell last GM shares from auto bailout. How'd taxpayers fare? The Treasury Department is finally getting out of the automotive business, five years after interceding to rescue the US industry from apparent annihilation at the onset of the Great Recession. On Thursday [11/21/2013], it announced it sold 70.2 million shares of General Motors (GM) stock and intends to sell its remaining 31.1 million shares by Dec. 31. Once the final sale is complete, however, US taxpayers will have lost nearly $10 billion of the $49.5 billion the federal government used to prevent the auto giant from collapsing in 2008, Treasury officials say.
Treasury Seeks an Exit From G.M. by Year End. The Treasury Department said on Thursday that it would sell its remaining shares in General Motors by year's end, allowing the government to finally sever ties to the bailed-out automaker a few months sooner than expected. If the government meets that projected timeline — the plan is subject to market conditions — it would clear the last vestiges of its 2009 rescues of G.M. and Chrysler, controversial moves that the Obama administration has defended as crucial to saving jobs. In exchange for providing loans to the two carmakers, the Obama administration took majority stakes in the companies. The lifelines to G.M. and Chrysler have cost taxpayers several billion dollars.
Government Dumping Stock in General Motors. A new report given to Congress on Tuesday [11/12/2013] reveals that the federal government bailout of General Motors is going to end up costing the U.S. taxpayers billions of dollars once the feds sell their share completely. In October, the U.S. government sold another $1.2 billion worth of stock in the fallen giant, leaving the government's share down from 7% on September 26 to as low as 4% by October 31.
It's official: GM bailout has cost taxpayers almost $10 billion. If Drudge had not linked to this Detroit News story by David Shepardson on his website today, there would have been no national media attention to news of the massive subsidy given primarily to labor unions.
GM got bailout, now ships jobs to China. Saving General Motors from bankruptcy was among President Obama's most frequently cited achievements when he ran for re-election last year. Democrats everywhere touted the company's revival as proof of the 2009 bailout's wisdom. That was then. Now, Obama has quietly released the auto manufacturer from a bailout requirement that it increase its production in the U.S. Instead, GM is spending billions of dollars building up its production capacity in ... China.
Chrysler to invest $164M in Mexican engine plant. Chrysler Group LLC confirmed Thursday [10/10/2013] that it will invest $164 million in its engine factory in Saltillo, Mexico, to boost production of its Tigershark engine. The Auburn Hills automaker has invested nearly $1.25 billion in Saltillo this year, and Mexican President Enrique Pena was on hand Thursday to thank CEO Sergio Marchionne for his ongoing commitment to the country and dedicate the new van assembly plant that went online in July.
Poll: Texans Reluctant to Buy GM Trucks Because of Bailout. More than half of Texans said that the nearly $50 billion taxpayer bailout of General Motors may deter them from buying from the company, according to a survey released Tuesday. The National Legal and Policy Center (NLPC), a nonprofit ethics watchdog, surveyed more than 500 Texas residents and found that 40 percent said the bailout would "absolutely" affect their decision about buying one of GM's new pick-up trucks. More than 22 percent said it would "likely" or "very likely" affect their decision, while just 24 percent answered "not too likely." About 150 of those surveyed said that they were in the market for a new truck.
Former Auto Czar Admits Telling GM to Selectively Fund Pensions. The GM bailout cost taxpayers nearly $50 billion, with the federal government taking over more than 60 percent of the automaker after it went bankrupt. Delphi, which was GM's largest supplier of parts, had been itself in bankruptcy since 2005 and did not have enough money to fund its pensions. Under the bailout, the automaker agreed to fully fund pension obligations of former hourly employees who were members of the UAW union and had worked at GM's Delphi before it became an independent company in 1999.
Detroit bankruptcy filing puts Obama in awkward spot. When Detroit on Thursday became the largest U.S. city to file for bankruptcy, it punctured a major narrative that was key to President Obama's re-election: that his auto bailout would help resuscitate the Motor City's battered economy and inject life into an area unable to shake hard times.
Flashback: Obama boasted in 2012: 'We refused to let Detroit go bankrupt'. On October 13, 2012, President Obama boasted to Americans in his weekly address that he refused to "let Detroit go bankrupt." "[W]e refused to throw in the towel and do nothing," Obama said.
Government Motors Is Alive and Detroit Is Dead. Last Oct. 13, President Obama boasted in a weekly address about the bailed-out auto industry that, "We refused to throw in the towel and do nothing. We refused to let Detroit go bankrupt. I bet on American workers and American ingenuity, and three years later that bet is paying off in a big way." Less than a year later, the American auto industry is indeed surviving, bolstered largely by a Ford that refused government assistance and foreign transplants located in right-to-work states. Even General Motors has been forced to pay the free market some lip service, lest its customers go elsewhere, even as it accepts Chevy Volt subsidies. Detroit, however, is dead, and unions and government killed it.
Chrysler to recall 840,000 vehicles. US carmaker Chrysler has said that it will recall nearly 840,000 vehicles. This includes 490,000 vehicles which may have a potentially faulty component for head rests that are designed to move forward during rear-end crashes. It is recalling 282,000 minivans to fix software which is "inadvertently programmed" to deploy side airbags on the opposite side to that of an impact.
Chrysler expected to formally refuse Jeep recall. In one of the biggest-ever showdowns between an automaker and the government, Chrysler on Tuesday [6/18/2013] is expected to file papers explaining its refusal to recall 2.7 million older Jeep SUVs that are at risk of catching fire in rear-end collisions.
NHTSA's Jeep Witch Hunt. Having saved Chrysler to satisfy its Big Labor pals, will the Obama administration now feed it to its tort-lobby friends? That's one question that pops to mind after the National Highway Traffic Safety Administration's (NHTSA) announced — and Chrysler refused — the recall of 2.7 million Jeep Grand Cherokees and Jeep Libertys this week, thus opening the automaker to hundreds of millions of dollars in damage suits from trial lawyers.
Another Obama Victory! Taxpayers to Lose $10 Billion on GM Bailout. The hits just keep on coming. We're sure to be told it could have been worse, but thanks to the deft maneuvering of noted businessman Obama we're only losing $10 billion.
Thanks for the Bailout, Suckers! GM Builds a New Plant in China. As a general rule, corporations should be able to build plants where they want, whether it's in America or elsewhere. Moreover, if they choose to go overseas, we should be asking, "Why is that?" Are our corporate taxes too high? Do we have too many regulations? Is there something else that we can do as a nation to be more business-friendly, to keep building plants here in America, so that we can employ more people and rake in more taxes?
Nationalized GM now builds Cadillacs in China, creating thousands of jobs — in China!
GM Wins Approval to Build $1.3 Billion Cadillac Plant in China. General Motors Co., the largest foreign automaker in China, said it won regulatory approval to build a Cadillac factory to boost sales of luxury vehicles in the world's biggest automobile market.
Obama Saved Detroit — for China and Italy. We taxpayers ponied up the money for Chrysler's revamped lineup, the profits from which are going to prop up unsustainable union jobs at an unsustainable company in an unsustainable foreign country. And as soon as Marchionne cons banks out of enough money to buy Chrysler's outstanding shares, then all of Chrysler/Dodge/Jeep's profits will wind up in FIAT's sinkhole. GM on the other hand retooled its lineup with our tax dollars, the profits from which are going to build more plants in China to build cheap [...] cars to sell to unemployed Americans.
Welcome to General Tso's Motors. American taxpayers may have rescued GM during its moment of need, but it is China that is disproportionately benefiting from the bailout of America's erstwhile automotive icon. GM's most recent round of investments vividly demonstrates the change.
Little Red Ink Corvette. General Motors CEO Daniel Akerson plans to roll up to Capitol Hill Thursday [3/21/2013] in a flashy new Corvette Stingray less than 24 hours after settlement talks fell apart in a lawsuit that could cost GM at least $1 billion — and add to the nearly $20 billion taxpayers have already lost on the 2009 bailout. GM spokeswoman Heather Rosenker expects a "full house" when Akerson debuts the 450 horsepower sports car at the Capitol Hill Club. The CEO then plans to update the bipartisan gathering on the state of GM in a closed-door meeting.
GM has 574,000 Cars In Dealer Inventory, Despite No Interest Loans, Highest Car Discounts. As of yesterday desperate car buyers who can't rub two dimes together, can drive to the local unemployment office in the luxury of their brand new Chevy Imapala, or alternatively pick a just as worthless Chevy Malibu, HHR WAgon, Traverse SUV, as well as a Silverado, Colorado and Avalanche pickups, which are now offered at either 72 or 60 months of interest-free loans. "The 60-month deal also applies to the Buick Enclave and GMC Acadia SUVs and Sierra pickups." That pretty much covers the entire line up.
The "Stuffing" Is Back As GM's February Dealer Inventory Soars To Second Highest Ever. [GM has] a near record 743K cars with dealers -- the second highest ever.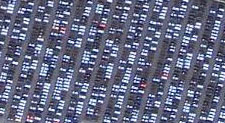 Where 'Channel-Stuffed' German Cars Go To Die. This car park of chaos is full of nearly-new cars meant for destruction so as never to enter the car market as a cheap alternative and to maintain a high-priced spare parts market. It seems the Keynesian profligacy or digging a hole to fill it in has progressed in the 21st century to building a car and crushing that car as the engine of growth for our economies.


Treasury gradually unloads GM stock. The department is expected to unload its approximately 300 million shares on the open market by the end of 2014.

Fannie Motors. General Motors has flooded financial markets with auto-backed securities in an effort to offload its risky subprime loans onto banks, a strategy industry insiders say could produce a bubble. High production costs and falling profit-per-car have led auto manufacturers to turn to financing to earn higher profits. Automakers have capitalized on lending by not only loaning money to customers but also packaging and selling those loans to investors in a manner similar to the sale of mortgage-backed securities that created the housing bubble.

Grand Theft Auto Loans. Bailout recipient General Motors leads the world in car sales thanks in part to subprime auto lending that may cause a fiscal calamity, financial and auto industry observers fear. "You have the government trying to sell the bailout and this recovery and they've allowed, encouraged GM to revive itself off the back of subprime lending," said Ed Niedermeyer, auto industry consultant.

GM reports $4.86B profit in '12, to pay workers up to $6,750 in bonuses. General Motors Co. said Thursday [2/14/2013] it earned $4.86 billion in 2012, down from a record $7.59 billion profit in 2011 mainly due to one-time tax accounting changes and a non-cash charge in Europe of certain assets that hit the carmaker's bottom line.

Government Motors Stole $20 Billion from Taxpayers, Spent $18 Million on Lobbyists. This is what happens when government gets into business. Crony capitalism ends up with the taxpayers footing the bill for insider deals between connected CEOs and unions and their pet politicians.

The dirt on 'Government Motors'. Maybe the most disturbing news in "American Turnaround," Ed Whitacre's new book that describes his stint as head of General Motors, is how naïve he was about what it means to run a company that's been bailed out by the federal government, and is now regulated by the anti-business types who populate the Obama administration. As Whitacre takes the job back in 2009, he thinks that the automaker's government masters are rational people looking to help the company survive and thrive. Along the way, he finds out that they're not.

GM Buyback of Treasury Shares — Why Now? General Motors moved quickly to complete its buyback of 200 million shares from the US Treasury Department before year end. It is a welcome sign that the Obama Administration is finally beginning to exit taxpayers' GM stake, a move that could have been made a year and a half ago when share price was closer to $30.

The Auto Bailout Failure Is Now Complete. Taxpayers had sunk $50 billion into a union bailout in 2009 and were now proud owners of 26.5 percent of the struggling company. Reportedly, GM had growing concerns that the stigma of "Government Motors" was hurting sales in the United States. At the time, any transaction would have come at a steep loss to taxpayers and undermined the president's questionable campaign assertions that the auto union rescue had been a huge success.

GM is alive and taxpayers got ripped off. Even by the standards of Washington, spending about $31 billion worth of taxpayer dollars to get yourself re-elected is a pretty audacious act. Yet that is exactly what President Obama did with the GM bailout. "Osama bin Laden is dead and GM is alive" was his campaign's mantra. And lest anyone think that using TARP funds to keep the auto company alive was an act of charity, Obama said as recently as October: "We got back every dime." Now that the election is over, he doesn't need to keep up that pretense any more.

The Feds Can't Unload GM Quick Enough. With the GM buyback of shares from the government, and a planned sell-off of remaining government-owned shares, it's likely that taxpayers will lose about $25 billion on the deal.

Making Mullah Mobiles. A French car manufacturer that is partially owned by the taxpayer-funded General Motors Company (GM) claims to have ceased its longtime business dealings with Iran, though experts have cast doubts on this claim. GM owns a seven percent stake in PSA Peugeot Citroën, which has faced intense scrutiny for its business relationship with Iran. Peugeot has long been one of Iran's central auto partners, providing parts and technology to Iran's leading car manufacturer, Khodro Company. Khodro is believed to have economic ties to the regime's Islamic Revolutionary Guard Corps.

Debunking Obama's "Big Three". The GM bailout was a financial mistake. GM should have gone through a standard bankruptcy to allow it to restructure properly. Instead, when GM had its IPO the United Auto Workers union cashed out big time. This group, the same group largely responsible for the initial demise of GM in the first place was given 17.5% to 20% ownership of the company (depending on how you count Chrysler and GM percentages). Why? It's the Chicago way.

Auto Bailout Loss Could Exceed $70 Billion. Courtesy of the $83 billion auto bailout — on which we are already poised to lose more than $40 billion — the taxpayers are stuck with 26% stock ownership of General Motors. It could get much worse.

GM Wins, America Loses. Having already heard Obama praised, repeatedly, for saving GM, and having witnessed both presidential candidates show support for the company, I've decided that it's time to explain — not in emotional terms or statistics, but in simple philosophical truths — what exactly it was that Obama saved. For when the matter is closely examined without national prejudice, it turns out that what Obama did by "saving" GM was actually quite sinister.

Taxpayers to Lose $25 Billion on Auto Bailout, Not $3.3 billion. The Treasury underestimated how much money taxpayers would lose on the auto bailout by 15 percent or $21.7 billion. That's right, they missed the estimate by $21.7 billion.

Obama gave Chrysler to Fiat, even though the Italian car maker was bleeding cash.
The real Fiat scandal. The real outrage arising from the 2009 Chrysler bailout is not that its parent company, Fiat, is planning to build plants in China. It's that the politicized bankruptcy process limited Chrysler's growth potential by tying it to an Italian dinosaur in the midst of the European fiscal crisis. The Obama administration literally gave away ownership of one of the Big Three American auto manufacturers to an Italian car maker struggling with labor and productivity issues worse than those that drove Chrysler to near-liquidation.

GM cuts thousands of jobs, expects to lose up to $1.8 billion in Europe this year. General Motors Co. has cut thousands of jobs in Europe with more on the way, officials announced today [10/31/2012]. The Detroit-based automaker said it has cut 2,300 jobs in Europe this year and wants to trim 300 more by year's end in an effort to cut $300 million in costs this year and an additional $500 million by mid-decade, when GM expects to break even.

Fiat Says Chrysler, Jeep Production May Move to Italy. Coming hot on the heels of speculation that some Jeep production may be moved to China comes a bombshell from a Bloomberg report. Fiat is now considering moving Chrysler and Jeep production to Italy. According to the piece, "To counter the severe slump in European sales, (Fiat CEO Sergio) Marchionne is considering building Chrysler models in Italy, including Jeeps, for export to North America.

The Delphi Legacy. Republican vice presidential nominee Paul Ryan slammed President Barack Obama for the Auto Task Force's treatment of nonunion workers who saw their pensions slashed by 70 percent, while their union coworkers lost no funds thanks to a $1 billion "top-off" by GM, during a rally in Sabina, Ohio, on Saturday [10/27/2012].

Obama auto-bailout strategy running on fumes in Ohio. The Obama campaign is counting on the auto-industry bailout to carry the president to a victory in Ohio, but it ultimately may hold little sway with voters across the state who are still out of work and struggling to stay solvent. The bailout package undoubtedly saved thousands of jobs in places such as Lordstown, Toledo and elsewhere, but in Ohio as a whole, a weak economy and poor job prospects trump the car company rescue.

Jeep, an Obama favorite, looks to shift production to China. In another potential blow for the president's Ohio reelection campaign, Jeep, the rugged brand President Obama once said symbolized American freedom, is considering giving up on the United States and shifting production to China. Such a move would crash the economy in towns like Toledo, Ohio, where Jeeps are made and supplied, and rob the community of the economic security they thought Obama's auto bailout assured them.

Obama's Auto-Bailout Whopper. [Scroll down] But this time, Candy Crowley didn't come to Obama's rescue by butchering the record. The record clearly shows Romney is right. And Obama is fibbing.

GM to invest 450m in Argentina to manufacture a global Chevy vehicle. General Motors (GM) will invest 450 [million] dollars to manufacture a new global Chevy vehicle at its Rosario Automotive Complex in Argentina. The investment will be made between 2013 and 2015 at the Rosario facility, which produced more than 136,000 vehicles in 2011.

An Insider's Account of the White House's Unseemly Tactics in the Chrysler Bailout. If you are interested in a first hand account of the strong-arm tactics, threats, and intimidation employed by the White House to get its own Chrysler bankruptcy plan rubber stamped through the process in 2009, you will want to see this video of [Richard] Mourdock speaking at a Cato event. It is truthful and chilling.

General Motors is Alive — For Now. As GM teetered on the edge of bankruptcy in June 2009, it cut a $367 million "lock-up agreement" with several major creditors in order to prevent its Canadian subsidiary from going under. The move spared the subsidiary from fulfilling the $1 billion debt it owed the creditors — major hedge funds — ensuring that GM would not have to face bankruptcy courts in two nations, which could have delayed the company's recovery. The trustee for (old GM) creditors shortchanged by the government-driven bankruptcy are now suing the hedge funds in a move that could undo the bailout.

GM's devil's bargain. The Obama campaign raves about how it "saved the auto industry" — that is, the government's bailout mainly of General Motors — and so preserved millions of jobs. But if it was such a success, why is the bailout losing so much money — and why do current GM managers want nothing to do with Washington as they try to save the company?

With $33.6 Billion Cash, If GM Can't Tell the Truth They Can Give Us Our Money Back. Over the weekend General Motors fought back against critics who have been all over the company after published reports say that the government-subsidized car company is spending as much as $90,000 to produce the "breakthrough" electric car, the Chevy Volt. The Volt retails for only $40,000.

Obama's General Motors hypocrisy. The Wall Street Journal reports today [9/17/2012] that General Motors executives have asked the Treasury Department to sell its stake in the giant automaker. The administration has refused. Oddly enough, today we also learned that the Obama administration is launching a complaint at the World Trade Organization over China's allegedly unfair subsidizing of its auto industry.

General Motors pushing U.S. to sell stake: report. The Treasury Department is resisting General Motors' push for the government to sell off its stake in the automobile maker, The Wall Street Journal reports. Following a $50 billion bailout in 2009, the U.S. taxpayers now own almost 27% of the company. But the newspaper said GM executives are now chafing at that, saying it hurts the company's reputation and its ability to attract top talent due to pay restrictions.

Sen. Sherrod Brown pushes to top up Delphi pensions with taxpayer money. The draft legislation, obtained by The Daily Caller, shows that Brown would use taxpayer money — and more Obama administration control — to fix the problem that was created by the Obama administration's control and decisions during the government auto bailout. The draft shows that Brown would angle to obtain the funding necessary by selling taxpayer shares of General Motors stock at a loss. The stock is currently trading at around $23, and taxpayers wouldn't break even on it until it traded above $52. It's unclear when — if ever — GM stock will trade above $52.

The Democrats' GM Fiction. The Democrats have decided to run in 2012 as the bailout party. It is an odd choice — the 2008-09 bailouts were deeply unpopular among the general public, and even their backers were notably conflicted about the precedent being set and the ensuing moral hazard. But Democrats have nonetheless made one of the most abusive episodes in the entire bailout era their economic cornerstone: the government takeover of General Motors.

Why Blame Obama? Let me count the ways. [...] When the dust clears, the CBO expects TARP to cost taxpayers $32B. Who got that money if banks didn't? General Motors, Chrysler, and "mortgage programs." But GM and Chrysler went bankrupt anyway. The U.S. auto industry was not "saved."

Democratic Platform: Obama 'Rescued' Auto Industry — GM, Chrysler ... and Ford? According to the Democratic Party platform, President Obama rescued Detroit's Big Three automakers — GM, Ford and Chrysler — leading to their recovery and resurgence. However, the claim flies in the face of the fact that one of the Big Three — Ford — managed to turn things around by itself, without taking federal help.

GM goes from bad to worse despite Obama bailout. GM has been selling cars in the U.S. at deep discount and, while it's making money in China — and is outsourcing operations there and elsewhere — it's bleeding losses in Europe. It's spending billions to ditch its Opel brand there in favor of Chevrolet, including $559 million to put the Chevy logo on Manchester United soccer team uniforms — and just fired the marketing exec who cut that deal. It botched the launch of its new Chevrolet Malibu by starting with the green-friendly Eco version, which pleased its government shareholders but which got lousy reviews. And it's selling only about 10,000 electric-powered Chevy Volts a year, a puny contribution toward Obama's goal of 1 million electric vehicles on the road by 2015.

General Motors Is Headed For Bankruptcy — Again. President Obama is proud of his bailout of General Motors. That's good, because, if he wins a second term, he is probably going to have to bail GM out again. The company is once again losing market share, and it seems unable to develop products that are truly competitive in the U.S. market. Right now, the federal government owns 500,000,000 shares of GM, or about 26% of the company. It would need to get about $53.00/share for these to break even on the bailout, but the stock closed at only $20.21/share on Tuesday [8/14/2012].

DNC to Promote 'Success' of Auto Bailout. President Barack Obama claims the $82 billion auto bailout "created or saved" one million jobs. But this is the Administration that claimed the $1 trillion so-called "Stimulus" bill "created or saved" jobs — in non-existent Congressional districts. The administation spent $80 billion on "green jobs" — but couldn't define what a "green job" was. And when they finally started defining it — counted things like oil industry lobbyist, bus driver and garbage man. Suffice to say, President Obama and his Democrat cohorts have a long history of being... disingenuous. And having a great deal of difficulty with math.

Obama's $25 Billion Government Motors Lemon. On Tuesday [8/14/2012], GM fell $0.26, or 1.3%, to $20.21. At that price, the government would lose another $995 million on its GM bailout. The report notes the government still has 500 million shares of GM and needs to sell those shares at $53 each for the government to break even on the bailout. Worse yet, the entire financial loss suffered by taxpayers is the result of a massive and planned redistribution of wealth from them to the auto unions that form a key part of Obama's base and re-election drive. In its analysis, the Heritage Foundation says all the taxpayer losses occurred because the administration manipulated bankruptcy law to shelter the United Auto Workers' compensation.

Government Motors: Obama's British Leyland. The president may detest Churchill and British colonialism, but he adores British socialism. In fact, his GM takeover parallels the Brits' auto nationalization of the '70s. This of course is nothing to cheer about. London's takeover of carmaker British Leyland is a well-documented disaster. Predictably, Obama's ham-handed meddling in the U.S. auto industry is producing similar results.

Treasury: U.S. to lose $25 billion on auto bailout. The Treasury Department says in a new report the government expects to lose more than $25 billion on the $85 billion auto bailout. That's 15 percent higher than its previous forecast.

If Obama is re-elected, many other businesses will be taken over.
Does President Obama Want to Take Over Other Industries? It's no secret President Obama is proud of the taxpayer-funded government intervention that rescued U.S. automakers GM and Chrysler back in 2009. He regularly takes credit for the companies' resurgent profitability and hiring as one of his top achievements. Now, Republicans say Obama is suggesting on the campaign trail that he wants to do it again, this time in other sectors of the economy, in order to "get the hand of government driving every industry in America."

The Definition of Fascism: As an economic system, fascism is socialism with a capitalist veneer. [...] Where socialism sought totalitarian control of a society's economic processes through direct state operation of the means of production, fascism sought that control indirectly, through domination of nominally private owners. Where socialism nationalized property explicitly, fascism did so implicitly, by requiring owners to use their property in the "national interest" — that is, as the autocratic authority conceived it. (Nevertheless, a few industries were operated by the state.) Where socialism abolished all market relations outright, fascism left the appearance of market relations while planning all economic activities.

Did White House Commit Perjury About GM Bailout? In recent days, the scope of the Obama White House's cronyism has become shockingly apparent. A trove of emails shows it deprived thousands of workers of their pensions to benefit unions, then lied about it.

General Motors is Imploding — and Team Obama is Lying About It. GM is serially throwing people over the side in part as a personnel bailing of the sinking ship. But it appears the Bad Ship Bailout is going down even faster than we knew — or they can address. Sit back and take in the additional cavalcades of terrible Government Motors news.

GM Ramps Up Risky Subprime Auto Loans To Drive Sales. President Obama has touted General Motors as a successful example of his administration's policies. Yet GM's recovery is built, at least in part, on the increasing use of subprime loans.

Government Motors Still Owes Taxpayers $42 Billion. President Obama and his supporters have been more than happy to tout his bailout of the auto industry, but General Motors still owes taxpayers $42 billion according to an Inspector General's report and the company's stock has hit an all time low.

Former Obama auto czar, Treasury officials break in eleventh hour after years of stonewalling on GM bailout. President Barack Obama's former auto industry adviser and two former Treasury Department officials cracked at the last minute before a House oversight committee subcommittee hearing and agreed to stop stonewalling an investigation into alleged union favoritism during the administration's General Motors bailout. Ron Bloom, Obama's former auto czar, and former Treasury officials Matt Feldman and Harry Wilson have refused to give interviews to the Special Inspector General for the Troubled Asset Relief Program (SIGTARP) about their roles in topping up pensions for union workers while non-union workers lost nearly their entire pensions.

Government Motors: As GM shares near record low, taxpayer loss on bailout rises to $35 billion. General Motors shares fell to a fresh 2012 closing low of 19.57 on Monday [7/2/2012]. The stock hit 19 in mid-December, the lowest since the auto giant came public at $33 in November 2010 following its June 2009 bankruptcy. Normally you might say, tough luck investors. But this is Government Motors. The Treasury still owns 26.5% of GM, or 500 million shares. Taxpayers are still out $26.4 billion in direct aid. Shares would have to hit $53 for the government to break even. Those shares were worth about $9.8 billion as of Monday. That would leave taxpayers with a loss of $16.6 billion.

Obama's United Auto Workers Bailout. President Obama touts the bailout of General Motors and Chrysler as one of the signature successes of his administration. He argues that the estimated $23 billion the taxpayers lost was worth paying to avoid massive job losses. However, our research finds that the president could have both kept the auto makers running and avoided losing money. The preferential treatment given to the United Auto Workers accounts for the American taxpayers' entire losses from the bailout. Had the UAW received normal treatment in standard bankruptcy proceedings, the Treasury would have recouped its entire investment.

The administration's special treatment of UAW cost taxpayers $26.5 billion. On Wednesday morning, The Heritage Foundation released a paper by Center for Data Analysis Senior Fellow James Sherk on the cost of the 2009 auto bailout. The Treasury Department estimates that the auto bailout will end up costing taxpayers $23 billion and, according to Sherk, all of those losses are the result of the Obama administration's special treatment of the United Auto Workers (UAW) union. In the paper, Sherk pegs the eventual cost of that special treatment at $26.5 billion — $3.5 billion more than the auto bailout's estimated net cost.

Auto Bailout or UAW Bailout? Taxpayer Losses Came from Subsidizing Union Compensation. The U.S. government will lose about $23 billion on the 2008-2009 bailout of General Motors and Chrysler. President Obama emphatically defends his decision to subsidize the automakers, arguing it was necessary to prevent massive job losses. But, even accepting this premise, the government could have executed the bailout with no net cost to taxpayers. It could have — had the Administration required the United Auto Workers (UAW) to accept standard bankruptcy concessions instead of granting the union preferential treatment. The extra UAW subsidies cost $26.5 billion — more than the entire foreign aid budget in 2011. The Administration did not need to lose money to keep GM and Chrysler operating. The Detroit auto bailout was, in fact, a UAW bailout.

From 'General' to 'Government' to 'Gay' — The G in GM. What do GM and President Obama have in common (besides that fact that he bought it)? They're both catering to the gay agenda for cash. Soon after President Obama declared that "same sex couples should be allowed to marry," government-owned GM decided that gays should also be targeted by its ad campaigns.

Media Hail GM 'Record' Profits, Forget to Mention GM Doesn't Pay Any Taxes. One thing I've learned in the year I have spent tracking General Motors cum Government Motors (GM) — and all its Crony Socialist, green non-energy "energy", flammable absurdities — is the fact that the car media are every bit the Leftist open-channel steno pool as are the political media. And with President Barack Obama running for reelection in large part on the utterly failed "success" of the $85 billion auto bailout, the car and political media have by now achieved fully melded fusion. The examples are myriad.

The Media's Lockstep Elation About a Chevy Volt Non-Improvement. The $82 billion auto bailout has been a Crony Socialist nightmare mess. We're going to lose at least $30 billion on the deal. And that's only if the Barack Obama Administration's math can be trusted — a dicey proposition at best.

Romney vows quick U.S. exit from GM. Republican Mitt Romney believes President Barack Obama is holding on to the government's stake in General Motors to avoid an embarrassing financial loss before the election, and says he'd sell the stock quickly if he wins the White House.

GM's Bailout Bucks. General Motors has funneled more than $1 million to two powerhouse Democratic lobbyists since the taxpayers rescued the automaker in 2009.

GM Unloads $26 Billion in White-Collar Pensions; Could Union Workers Be Next? General Motors said Friday [6/1/2012] it will offer 42,000 white-collar retirees in the U.S. a lump-sum payment in lieu of their monthly pension check and will transfer pension responsibility for 76,000 others to a group annuity plan managed by Prudential Insurance.

Romney team to paint Obama as lousy businessman. The Romney campaign wants to introduce a new concept into the debate over President Obama's economic record. Imagine the president ran an investment firm. He poured billions of dollars into green energy projects that didn't work. People lost jobs. He poured billions into sometimes implausible stimulus projects that didn't work, either. And even when he succeeded in keeping companies afloat, as he did with General Motors and Chrysler, he did it by downsizing and laying off thousands of workers.

Obama and GM Cook the Books. Would you hire President Obama as your financial adviser? Three years ago his administration invested more than $100 billion in taxpayer money to bail out General Motors. On Tuesday [5/15/2012], the entire company, not just what the government owns, was worth less than $34 billion. By anyone's definition, that investment is a glaring failure. Yet over the last few days the Obama campaign, in a $25 million marketing blitz, has flooded the airwaves with ads in battleground states, claiming the bailout should be counted a rousing success.

10 Things That Would Be Happening Today If Obama's Policies Were Working. [#1] Obama touts General Motors as a success story. If that were true, General Motors would have made a profit without taxpayers losing 14 billion dollars on the deal while GM received a special $45 billion dollar tax break.

Obama Pushes False GM Success Story. The Obama camp can't stop clucking about how he saved GM and the car industry. But if the GM bailout is such a success story, why can't it pay back its debt to taxpayers?

The Auto Bailout Bust. President Barack Obama has made the auto bailout a centerpiece of his reelection campaign, using it to bash Republican nominee Mitt Romney. But the tactic may backfire as the general election heats up, public opinion surveys suggest. Recent polling from Rasmussen indicates that 59 percent view the bailouts as a "failure" and only 44 percent think the bailouts were "good for America."

It's Time for the New York Times to Face Reality. The president is touting the fact that he saved the auto industry, but that's not true. He saved GM, not the auto industry. The survival of the auto industry was never in doubt, but unless GM makes mammoth changes in the way that it operates, it still won't make it. Like the [New York] Times, GM made promises to its employees that it could not keep. The company promised to pay them a specific amount of money each month in retirement if they worked for a certain number of years, and in addition, it promised to pay their health care costs or a big portion of those costs until they died. That's called a defined benefits pension plan. It doesn't work in the current environment because people live longer now than they did when those promises were made...

Hard times for Obama Motors. The fallout from Barack Obama's absolute incompetence as an "investor" continues to descend into farce, as we learn that Government Motors — touted as some kind of "success" by Obama, even though taxpayers lost $26 billion on it — is now on the hook for the junk-bond degeneration of French automaker PSA Peugeot Citroen.

Obama's Hidden $18B Gift to GM. With Obama boasting of GM's highest profits in it's 100-year-history, whatever the truth, we remind him that GM still owes taxpayers at least $25 Billion, and there that's hidden $18 Billion that even the Wall Street Journal missed for awhile. We haven't forgotten shareholders who lost everything — their share price, their retirement, their health insurance, maybe their homes, surely their peace of mind.

The Autoworkers Obama Left Behind. The White House fairy tale about the Happily Ever After Auto Bailout is missing a crucial, bloody page. While President Obama bragged about "standing by American workers" at a rowdy United Auto Workers meeting Tuesday [2/28/2012], he failed to acknowledge how the Chicago-style deal threw tens of thousands of nonunion autoworkers under the bus. In a campaign pep rally/sermon billed as a "policy speech," Obama nearly broke his arm patting himself on the back for placing his "bets" (read: our money) on the $85 billion federal auto industry rescue.

Halftime in Detroit. The bailouts worked, the story goes, because General Motors and Chrysler still exist and their stocks are trading above $0. Yet existence is a lousy measure of success, given that the car makers were able to shed billions of dollars of debt and labor obligations in their government-managed and -financed bankruptcies. And while GM, Chrysler and Ford may be out of financial danger, for now, their political liabilities continue to multiply. The Bush-Obama bailout isn't over because its terms increase the chances that one or more of the Big Three end up in trouble again.

All Hail Obama. The willingness of the White House to exceed the Constitutional powers of the President and assert authority beyond that directed in federal statutes is starting to show up more frequently. ... Obama's willingness to take over companies and bully lenders into giving up their priority rights to be paid their capital back was evident at the beginning of his term, in the cases of the GM and Chrysler bailouts.

Why Hasn't Chrysler Repaid Taxpayers the $1.3 Billion It Still Owes Them? Amid the controversy over Chrysler's "It's Halftime In America" Super Bowl commercial, a glaring question remains: if Chrysler is back on top and so strong, then why hasn't it repaid taxpayers the $1.3 billion it still owes them? "I was, frankly, offended by it," said Republican strategist Karl Rove. "I'm a huge fan of Clint Eastwood, I thought it was an extremely well-done ad, but it is a sign of what happens when you have Chicago-style politics, and the president of the United States and his political minions are, in essence, using our tax dollars to buy corporate advertising."

How about repaying the bailout money instead of padding the nests of the unionized hourly workers?
GM bonuses could pump millions into Lansing area. Thousands of local General Motors Co. hourly workers will see average bonuses of $7,000 next month as the Detroit carmaker shares its record 2011 profit. And those checks could pump millions of dollars into the Lansing area's economy. The record bonuses are the result of a $7.6 billion profit for GM, which recently underwent massive restructuring after accepting a government bailout, along with filing for — and emerging from — bankruptcy in 2009.

Chrysler's Wisconsin Moment. By now the Chrysler Super Bowl advertisement has become well known. And not surprisingly it's gotten political.

Super Bowl Chevy Volt Ad -- Who Paid? An example of the good management at GM, seeking to boost embarrassing sales of only 603 Chevy Volts in January 2012, is the Super Bowl ad .... The Atlantic reports the going price for this year's commercial is $3.5 Million for each 30-second spot. Then there's the cost of making the ad.

Eastwood and Down. My problem here is that we were milked by this company, and that we're paying for the ads to glorify the guy who milked us.

Obama's Auto Bailout Lies. Why not Chapter 11 bankruptcy? Politics. The same unions that threw their support behind Barack Obama's presidency wanted quid pro quo. A Chapter 11 bankruptcy proceeding was viewed as a lose-lose proposition for the United Auto Workers Union (UAW), whose contracts would have undoubtedly been re-worked to include major concessions, and a pro-union president eager to portray himself as a savior of a major American industry. That the administration made a complete mockery of bankruptcy laws in the process was of little consequence.

After Billions in Federal Bailouts, Now GM Lobbying States for More?. How much bailing out does one company need? After receiving some $50 billion in tax dollars from us courtesy of Obama's "cash stash," GM is claiming success with a "big profit" with last year's third quarter report, and in his recent State of the Union Speech, President Obama claimed that GM was "back on top as the world's number one automaker." But true or not, if all is coming up roses for GM, why is the company now lobbying the individual states for mini bailouts? That is exactly what is happening.

15 Questions The Mainstream Media Would Ask Barack Obama If He Were A Republican: [#3] Unions invested a lot of time and money in helping to get you elected. In return, they gained majority control of Chrysler, the taxpayers lost 14 billion dollars on General Motors, and General Motors received a special 45 billion dollar tax break. What do you say to people who view this as corruption on a scale never before seen in American history?

The Death of DeSoto and the Decline of the American Auto Industry. Pontiac, Oldsmobile, and Mercury are gone. Even the low-end price field of Plymouth could not compete with its sister ships at Dodge. You may recall Plymouth's demise was July of 2001. Buick is reported to be on the chopping block too. As the euro is about to fall and Italy itself is under water, one has to wonder how the FIAT Corporation can keep Chrysler afloat. It has been talked about Dodge being phased out and replaced by FIAT models at Chrysler dealers.

President Obama's top 10 constitutional violations. [#4] The Chrysler bailout: Building on the Bush administration's illegal use of TARP funds to bail out the auto industry, the Obama administration bullied Chrysler's secured creditors — who were entitled to "absolute priority" — into accepting 30 cents on the dollar, while junior creditors such as labor unions received much more. This subversion of creditor rights violates not just bankruptcy law but also the Constitution's Takings and Due Process Clauses. This blatant crony capitalism — government-directed industrial policy to help political insiders — discourages investors and generally undermines confidence in American rule of law.

GM Non-Story: Dealer Inventory Build-up Continues. Contrary to the drawdown or at least level-off I expected after the IPO, GM, with of course virtually no establishment media coverage, has continued to push vehicles out to its dealers to what would appear to be potentially dangerous levels.

Obama's Car Trouble: Since lecturing Detroit automakers as a candidate in 2007, Obama has fashioned himself an expert on what Americans want in an automobile. His choice of Fiat was inspired by the chance to bring the company's tiny, 40 mpg [Fiat] 500 to the States. Never mind that gas prices in Europe are $8 a gallon. Or that Americans drive longer distances. Or that Europeans demand smaller cars for narrower streets.

Treasury Admits What Everybody Already Knew: Taxpayer Losses On GM Bailout Are Going to be Massive. The Treasury Department yesterday [11/16/2011] revised its loss estimate for the Government Motors bailout from $14.33 billion to $23.6 billion, thanks to the company's sinking stock price. GM's Sept. 30 closing price, on which the new estimate is based, was $20.18, about $13 less than its December IPO price and $35 less than what is needed for taxpayers to break even.

U.S. boosts estimate of auto bailout losses to $23.6B. The Treasury Department dramatically boosted its estimate of losses from its $85 billion auto industry bailout by more than $9 billion in the face of General Motors Co.'s steep stock decline. In its monthly report to Congress, the Treasury Department now says it expects to lose $23.6 billion, up from its previous estimate of $14.33 billion. The Treasury now pegs the cost of the bailout of GM, Chrysler Group LLC and the auto finance companies at $79.6 billion. It no longer includes $5 billion it set aside to guarantee payments to auto suppliers in 2009.

Obama promotes "Government Motors" Chevy Sonic. "Plants like this are churning out groundbreaking cars like the Chevy Sonic, the only one of its kind made and sold in the United States of America." said President Obama, at a General Motors plant, after touting the success of the auto-industry bailouts. "You gotta sit in that car, its got a lot of room in it," Obama added. "Even for a tall guy like me."

A Disastrous Presidency. The administration diverted TARP funds to rescue GM and Chrysler, while flipping the order of secured and unsecured creditors. Obama may have saved the UAW, but at what cost? The UAW was made whole, while some secured creditors had to take fifteen cents on the dollar. Will any investor ever purchase secured debt from GM again? If secured creditors don't have primacy in bankruptcy, what is the point of being a secured creditor?

Obama Crony Socialism on Parade. [Scroll down] GM is now neck-deep in "green" non-energy energy. Of the oh-so-successful Solyndra sort. They last year received more clean (non-energy) energy patents than any other organization. They are dramatically ramping up production of the unprofitable and unselling hybrid Chevy Volt. And creating a like-model for Cadillac. They have fitted an (again, unprofitable) Volt plant so as to be solar-powered. Which cost $3 million — but only saves them $15,000 a year in electricity.

Obama: Stop selling pickup trucks. The U.S. auto industry wouldn't exist today if it weren't for President Obama, or so he says. According to the White House, the 2009 $80 billion auto bailout — of which at least $14 billion was lost — not only saved the American auto sector but preserved 1 million jobs. If you believe that one, he has a $45,000 electric Chevy to sell you.

General Motors Again Ripping Off Americans. The transformation of General Motors to Government Motors has cost a lot of Americans a lot of money. ... Let us begin with the $50 billion 'We the People' were forced to "invest" in General Motors — including a $30 billion Barack Obama bump so as to give his Administration greater sway in how things would subsequently go down. We were originally told — by Obama himself — that we would make money on the bailout. Now we're told we'll lose somewhere between $11 and $14 billion.

A Big Welcome To EPA Motors. It's bad enough that the Obama administration owns GM. Now it's taking over the entire auto industry by imposing a radical fuel economy mandate. Worst still, carmakers are letting them get away with it.

U.S. loses $1.3 billion in exiting Chrysler. U.S. taxpayers likely lost $1.3 billion in the government bailout of Chrysler, the Treasury Department announced Thursday [7/21/2011]. The government recently sold its remaining 6% stake in the company to Italian automaker Fiat. It wrapped up the 2009 bailout that was part of the Troubled Asset Relief Program six years early.

The General Motors Management Lie. Back in June of 2009, when General Motors went bankrupt — even though billions of tax dollars had been spent to avoid bankruptcy — President Obama declared, "What we are not doing — what I have no interest in doing — is running GM. ... The Treasury emails reviewed by the Daily Caller show the government becoming involved in union negotiations, and even micro-managing GM press releases. Along with other evidence gathered by the House Oversight subcommittee on Regulatory Affairs, Stimulus Oversight, and Government Spending, it's pretty clear that Treasury officials lied to Congress about the degree of Administration control over the auto companies, and President Obama lied to the American people.

Obama admin involved in cutting non-union worker pensions post-GM bailout. New emails obtained by The Daily Caller contradict claims by the Obama administration that the Treasury Department would avoid "intervening in the day-to-day management" of General Motors post-auto bailout.

General Motors Rapidly Becoming a Taxpayer-Funded, Disingenuous Leftist Entity. General Motors continues apace its government-backed conversion from a company existing to manufacture automobiles for money -- into a fully-formed, Leftist ideological entity working as another wing of the Barack Obama Administration's fundamental transformation of America. A de facto non-profit organization posing as a for-profit car joint.

GM's gas-tax fraud. Government Motors has become yet another mouthpiece for the Obama administration. General Motors Co. CEO Dan Akerson told the Detroit News Saturday that he wants a $1 per gallon hike in the gas tax. Consumers already facing nearly $4 a gallon prices at the pump aren't going to be pleased to see that figure jump overnight to $5, but the left and its crony capitalist allies don't care what the public thinks.

GM chief pushing for higher gas taxes. General Motors Co. CEO Dan Akerson wants the federal gas tax boosted as much as $1 a gallon to nudge consumers toward more fuel-efficient cars, and he's confident the government will soon shed its remaining 26 percent stake in the once-bankrupt automaker.

President Obama's phony accounting on the auto industry bailout. What we found is one of the most misleading collections of assertions we have seen in a short presidential speech. Virtually every claim by the president regarding the auto industry needs an asterisk, just like the fine print in that too-good-to-be-true car loan.

The truth behind Chrysler's fake auto bailout pay back: The New York Times reports: "Chrysler said Tuesday that it had paid back $7.6 billion in loans from the American and Canadian governments, marking another significant step in the revival of the company, the smallest of the Detroit automakers." But as The Truth About Cars reports, the loan pay back is just another Obama con job.

General Motors Will Never Repay Taxpayers. The Obama administration, and its media backers, have seized upon news that General Motors made a $3.2 billion profit in the first quarter of 2011 as proof positive that its auto bailout is a success. President Obama is so buoyed that he is reportedly planning to make the bailout a major part of his reelection campaign. But by this standard, Charlie Sheen's comedy tour ought to be declared a smash hit. Sheen's backers will lose relatively less money on him than taxpayers will on the bailout.

GM's profits: Nothing to gloat about. While bailout enthusiasts hail GM's first-quarter earnings as proof that the administration saved the auto industry, President Obama should know better than to gloat. No such feat was accomplished and the imperative of extricating the government from GM's operations has yet to be achieved.

GM Sponsors Chi-Com Propaganda Film. The American taxpayers own 33 percent of General Motors, but that hasn't stopped the company from cozying up to the Chinese Communist Party. According to the Washington Times's Kerry Picket, GM is sponsoring a propaganda film produced by the Chinese government.

GM Will Spend $109 Million To Preserve 96 Michigan Jobs. The still taxpayer funded General Motors has just announced it will spend $109 million to keep and add 96 jobs. This amounts to $1.135 million per employee. That's right, a carmaker is about to spend on a per worker basis, roughly what an average Goldman worker makes in base+bonus... in the hub of wage expansion, Michigan.

Read the facts about the GM Bailout. Despite Obama's billions of tax dollars shovelled to the bailout and his ceaseless campaign on behalf of alternative energy, the endless lectures of the American public by Big Green environmentalists, never-ending blandishments from the likes of the U.S. Environmental Protection Agency, and endorsements from every Politically Correct celebrity on either side of the Mississippi River, GM's Chevrolet Volt has sold exactly 1,703 cars. That's through the end of April, according to Automotive News' data center. ... Obama spent $50 billion bailing out GM so that, among other things, it could get the Volt to market and help lead Americans to that Clean Energy Paradise the Big Greeners and their political allies have been promising us for decades.

More about electric cars.

GM sponsors and celebrates soon to be released Chi-Com propaganda film. In late 2010, General Motors agreed to sponsor a propaganda film celebrating the 90th anniversary of the Chinese Communist Party (CCP). The CCP made film titled (translated to English) "The Birth of a Party" or "The Great Achievement of Founding the Party" is set to premiere all over the Communist nation on June 15 reported China AutoWeb last September.

The General Motors Debacle. [Scroll down] Of the 61 percent ownership the government once owned, it is now down to 26 percent, but to break even, the government would have to sell at $53 per share whereas it is now priced at less than $30 per share, a new low as of April 19. The original "investment" was $50 billion. Estimates of the sell-off of remaining shares suggest a loss of more than $11 billion if the shares were sold now.

GM, Chrysler dominate 'worst cars' list. Thank goodness we put up $80 billion to bail out GM and Chrysler. They are now building such wonderful cars that they have achieved total dominance of the Forbes "Worst Cars on the Road" list, which we could also call the "Bottom Eleven." GM and Chrysler account for nine of the cars among the bottom eleven. In other news, the UAW is grateful for your generosity in keeping their union from disappearing. It appears you've achieved little else with your donation.

Will consumers revolt against the Volt? [Scroll down] Just four years from now, Mr. Obama has mandated a CAFE average of 35.5 MPG for all manufacturers. The current average achieved is 22.2 MPG. It is not possible, with current technology, to say nothing of customer preferences, to reach this absurd goal. Only the production and sale of huge numbers of "advanced technology" vehicles will allow GM to avoid huge fines for failing to engineer technologically ignorant wishful thinking. In GM, taxpayers have a corporation partially owned by the government of Barack Obama. GM management surely understands the wishes of Mr. Obama and his bureaucrats, and the consequences for ignoring them, despite Obamaite claims to have no role or influence in daily operations.

Buy high, sell low.
U.S. Hurries to Sell GM Stake. The U.S. government plans to sell a significant share of its remaining stake in General Motors Co. this summer despite the disappointing performance of the auto maker's stock, people familiar with the matter said. A sale within the next several months would almost certainly mean U.S. taxpayers will take a loss on their $50 billion rescue of the Detroit auto maker in 2009.

Obama doesn't care about making a profit. After all, it's somebody else's money!
Obama to Sell GM Stock at Huge Loss to Taxpayers. Wasn't the Obama administration supposed to make money back on a sale of GM stock? Or so Treasury Secretary Timothy Geithner and other administration officials suggested back in 2009. Now taxpayers learn that Mr. Obama wants out of GM and is willing to sell Washington's stockholdings short — to the tune of an estimated $11 billion loss. That's $11 billion in losses to taxpayers.

Obama's Stupid Car Tricks. Fiat just earned 5 percent more ownership in Chrysler for creating a product no one has bought yet. Payment for non-performance. If you suspect this is government's benchmark for success, you'd be right. More precisely, this is how the Obama administration measures success. ... Obama is transforming the U.S. auto industry as promised. Into what is anybody's guess.

Free-market Ford laps Government Motors. Ford Motor Co. beat General Motors in March sales, another small but significant victory of private enterprise over government micromanagement. Since the 2009 government takeover of GM, competition between the two leading domestic auto manufacturers has taken on strong ideological overtones. It serves as an ideal test case, a microcosm of the competition between two worldviews, the automotive equivalent of North vs. South Korea. Right now, the good guys are winning.

General Motors — This is What Government Ownership Looks Like. We have twice already looked at the debacle that is General Motors (GM) under the TARP-bought, government-sponsored guidance of Chief Executive Officer (CEO) Dan Akerson. It's been terrible. And it's getting much, much worse.

Gangsta Wrap. Why send a group of pinstriped thugs from the Treasury Department to interfere in a private company's bankruptcy, all so that the property of its lenders can be given to a politically favored union? Why should officials at Chrysler, who actually pushed at one point for fairer treatment of the secured creditors, receive threatening, angry e-mails from the Treasury, and the creditors receive threats from a White House smear campaign?

Barack Obama: Losing $84 billion = big success. Barack Obama has some 'splaining to do about taxpayers' profitable "investment" in General Motors. It turns out the president is imagining things. Though Democrats tout the auto bailout as a success, recent reports illustrate the taxpayer cost of the GM auto bailout was substantially larger than the Obama administration and a Congressional oversight report has owned up to.

The Powers of This President. Not all the powers President Obama has wielded or claimed seem clearly identifiable in the U.S. Constitution. ... Presidential and Congressional actions assuming control of GM and Chrysler and providing a pre-designed, non-standard bankruptcy that arbitrarily favored the auto unions at the expense of share and bondholders are considered by many to violate the Constitutional protections of property as well as Presidential authority. ... Various Presidents have seized businesses and industries during emergencies; President Truman intervened with the railroads and meat packers to maintain production during the Korean War. His nationalization of the steel industry for the same reason however, was ruled out by the Supreme Court as beyond his authority.

President Obama, job killer. By bailing out banks, insurance companies and auto firms — done to a lesser extent by the previous administration — Obama rewarded poor performers and punished their better-managed competitors. Prevented from pouncing on wounded rivals and thus increasing market share or buying the assets of the wounded at fire sale prices, Ford, for example, watched GM and Chrysler get a cash infusion from taxpayers. Despite GM's recent "successful" public offering, taxpayers lost billions of dollars.

What's Good for GM Is Now Terrible for America. [Scroll down] But what exactly is so remarkable about a company coming back to life after a $65 billion taxpayer bailout, additional billions in tax breaks not available to other companies, and even an amazing "sovereign immunity" exemption for this IPO from anti-fraud securities laws and lawsuits? With this massive infusion of government aid and favors, even a company selling ketchup Popsicles to women wearing white gloves would likely show a profitable quarter!

GM disrespects American taxpayers with bonus offers. You can take General Motors out of bankruptcy, but cannot take the bankrupt mentality out of General Motors management with its latest bonus offerings before paying off its government loans.

The GM Bonus Bonanza. As a stockholder in General Motors — your stock was purchased against your will by politicians a couple of years ago — you'll be glad to know that GM executives and workers are enjoying huge bonuses this year. According to a Bloomberg News report, those bonuses will approach 50% of salary for top managers.

GM's Bailout Is a Financial Disaster. Only the government would consider it a success to buy stock at $43.84 a share and sell it at $33. — But President Obama and those who supported his bailout of General Motors and Chrysler are claiming just that today [11/18/2010]. First, the alternative to the government bailout wasn't to "give up" as Obama claimed on Thursday at his press conference. Bankruptcy didn't mean that all jobs were going to be lost. It didn't mean that all the factories producing cars would be closed. Yet, the president made that claim in his announcement again today and he continually misstates what would have happened in a normal bankruptcy.

GM Could Be Free of Taxes for Years. General Motors Co. will drive away from its U.S.-government-financed restructuring with a final gift in its trunk: a tax break that could be worth as much as $45 billion.

Vote for Restoring the Rule of Law in November. Since the Obama administration assumed control, is has become clear to many Americans that the equal application of law has been completely undermined by "Chicago way," progressive political considerations. Here are four blatant examples: [#1] The nationalization of Chrysler and GM. When the Obama administration nationalized GM and Chrysler, bankruptcy laws were tossed under the bus. This was the biggest — and most calculatingly ignored — story of 2009.

Should 'Government Motors' Be Making Campaign Contributions? General Motors has given more than $90,000 to political campaigns this year, according to data released by the Federal Assistance Commission last week. These are the company's first political contributions since the 2008 election and, unsurprisingly, most of these contributions were to Midwestern congressmen and senators from states in which GM has a large presence. The contributions were evenly divided between the two parties, according to the Center for Responsive Politics, which provides the details.

Newest GM Chief is the Highest Paid Federal Bureaucrat. Daniel Akerson, the new CEO of General Motors — a substantially owned subsidiary of Uncle Sam — just struck it rich. Barack Obama's Pay Czar, Kenneth Feinberg, approved a three-year $9 million compensation package for Akerson, who hails from the telecommunications and private equity industries. Feinberg approved the pay package before resigning — one hopes from shame.

SAIC May Invest in General Motors' Share Sale, Chairman Says. SAIC Motor Corp. said it may invest in the initial public offering of partner General Motors Co., cementing ties between the biggest U.S. and Chinese automakers. China's largest carmaker will consider investing in GM if "conditions are favorable," Chairman Hu Maoyuan said in Shanghai yesterday [9/19/2010].

China's Saic considering stake in GM. SAIC Motor Corp., China's biggest auto maker, is considering buying an equity interest in General Motors Co. this fall, according to a report.

Former Car Czar Rattner Rats on Obama. Former Obama administration car czar Steven Rattner is coming out with a new book that depicts him swashbuckling through the financial crisis and also shows Obama as "out to get" the car companies and the administration making political decisions about how to deal with bankrupt automakers GM and Chrysler.

Engineered by Obama Motors. A report by the Troubled Asset Relief Program's inspector general, Neil M. Barofsky, underscores the danger of handing control of private enterprise to government bureaucrats. In running General Motors and Chrysler, the Obama administration's Auto Team made decisions based on what its members know best: race and politics.

Obama's 'Mission Accomplished' Moment At GM. The General Motors IPO, the second largest ever, is arguably this decade's most hyped financial event. But it might also turn out to be this decade's biggest financial fiasco. Its timing is driven not by the financial needs of the company — or the interests of taxpayers who are poised to get royally screwed — but the election-year needs of the Obama administration.

900 More Days of Obama's Demolition Derby. A year and a half into Obama's term, he "owns" the economy and with it the widespread view that his Stimulus Act did nothing to create any new jobs and only "saved" the jobs of teachers, police and firefighters in cash-strapped states. Whether the government takeover of General Motors and Chrysler was a good thing or not remains to be answered. The Cash-for-Clunkers program did little to address the problems endemic to both companies. My guess is that Chrysler will likely go out of business in the none-too-distant future. The auto union killed the goose that laid the golden egg. The government unions are sucking federal and state government budgets dry with excessive health and pension benefits.

The Detroit Money Pit. General Motors and Chrysler are much better off because Bush gave them $24 billion and Obama gave them another $60 billion. Any company would be. Pouring federal dollars into businesses does improve their bottom lines, but that doesn't mean it helps the overall economy.

GM to buy auto financing company AmeriCredit. General Motors Co. will buy AmeriCredit Corp. for $3.5 billion, a deal that allows the automaker to expand loans to customers with poor credit and offer more leases, key areas where GM must grow to accelerate its car sales.

The Editor asks...
(1) What happened to GMAC? (2) Where is GM going to get $3½ billion?

Treasury takes $1.6 billion loss on Chrysler loan. The Treasury Department said Monday [5/17/2010] it will lose $1.6 billion on a loan made to Chrysler in early 2009. Taxpayer losses from bailing out Chrysler and General Motors are expected to rise as high as $34 billion, congressional auditors have said.

Obama's Hard Choices for Other People. Obama may speak of tough choices but he has been remarkably unwilling to make them, or to force his close allies to do so. Democrats structured the stimulus bill to help prop up public employee unions and Obama continues to plead for more stimulus. The president angrily lashed out at automobile debt holders, including state pension funds, that complained he was giving the United Auto Workers a sweetheart deal.

Obama's credibility crisis: [Scroll down slowly] General Motors claimed in national advertisements this week that it repaid its Troubled Asset Relief Program loans, plus interest, five years early. But the TARP inspector general said GM used other TARP funds to repay its original TARP loans, so the ads were fundamentally dishonest. Recall here that White House adviser Carol Browner told GM and other automakers to "write nothing down" about their dealings last year with administration officials on fuel economy standards. So it seems entirely appropriate to ask if GM's repayment claims were "suggested" by somebody in the Obama White House.

Government Motors repayment fraud. General Motors lost $3.4 billion in the fourth quarter of 2009 and is still struggling to reorganize so the company can try to eke out a profit. This grim reality didn't stop GM from making hay last week for supposedly paying back a $6.7 billion government loan five years ahead of schedule. What was left unsaid was that the automaker used another kitty of taxpayer cash to pay off the earlier government loan. This is an accounting shell game, not progress.

GM's Phony Bailout Payback. GM CEO Ed Whitacre announced in a Wall Street Journal column last Wednesday that his company has paid back its government bailout loan "in full, with interest, years ahead of schedule." He is even running TV ads on all major networks to that effect — a needless expense given that a credulous media is only too happy to parrot his claims for free.

GM repays federal loan with government money. In an ad that has been blanketing the airwaves since last week, General Motors Chairman and chief executive Ed Whitacre boasts that "we have repaid our government loan, in full, with interest, five years ahead of the original schedule." ... Neither the ad nor the press release mentioned that GM repaid its government loan with other government money, or that U.S. taxpayers could lose money on the roughly $50 billion they still have invested in General Motors.

GM Under Fire for 'Misleading' Bailout Ad. At issue is whether GM is correct in trumpeting what it says in a national ad and an op-ed in the Wall Street Journal that it has repaid — with interest and ahead of schedule — the $4.7 billion in bailout funds that it owed to the government. The money for the loan repayment came from other bailout funds housed in an escrow account belonging to GM.

Still Government Motors. Uncle Sam gave GM $49.5 billion last summer in aid to finance its bankruptcy. (If it hadn't, the company, which couldn't raise this kind of money from private lenders, would have been forced into liquidation, its assets sold for scrap.) So when Mr. Whitacre publishes a column with the headline, "The GM Bailout: Paid Back in Full," most ordinary mortals unfamiliar with bailout minutia would assume that he is alluding to the entire $49.5 billion. That, however, is far from the case.

Geithner and GM tell a whopper. [General Motors Chairman Ed] Whitacre sounds convincing in a down-home sort of way in the TV spot, but the reality is that this statement is a blatant misrepresentation. And Whitacre knows it. He's probably not worried about that fact, however, because it was endorsed by none other than Secretary of the Treasury Timothy Geithner...

Rattner: GM may have stretched truth about loan repayment. General Motors Co. Chairman and Chief Executive Ed Whitacre may have stretched the truth in a commercial saying the automaker had repaid its federal obligations, former autos czar Steve Rattner said today [5/10/2010]. GM "may have slightly elasticized the reality of things," Rattner told reporters ahead of a speech today.

Gangster Government becomes a long-running series. Almost a year ago, in a Washington Examiner column on the Chrysler bailout, I reflected on the Obama administration's decision to force bondholders to accept 33 cents on the dollar on secured debts while giving United Auto Worker retirees 50 cents on the dollar on unsecured debts. This was a clear violation of the ordinary bankruptcy rule that secured creditors are fully paid off before unsecured creditors get anything. The politically connected UAW folks got preference over politically unconnected bondholders.

Out of Control. President Obama and Congress are looking to "Europeanize" the United States through a legislative stampede of government control: the nationalizing of our health care system, cap and trade energy taxes, and aggressive unionization. How can it be that the United States government now owns banks and auto companies?

Forget Toyota — Chrysler's got the most problems. The car company that is off to the worst start of 2010 isn't Toyota. It's Chrysler Group. Industry experts say that even though Chrysler's overall sales are down only 3% during the first two months of the year, estimates show more than half of Chrysler's sales have been to fleet customers, such as rental car companies.

States Need to Protect Us from ObamaCare. [Scroll down] It should be painfully obvious that the current reforms are not intended to provide additional access; "ObamaCare quality" will become an oxymoron. The financial demise of hospitals and insurance companies is likely [to] take less than three years, making them eligible for "bailouts." Surely we have learned by now that any move to control a system, while termed "bailout," is in actuality a "takeover." This mechanism was used in the General Motors and Chrysler bailouts: The federal government and the unions now control those corporations. In health care, insurance companies, like the automobile bondholders, will be dumped, and the hospitals will by necessity be globally budgeted by government. None of this is accidental.

GM, Amtrak and an Increasingly Fascist America. Political pressure, rather than the rule of law, is deciding how to divide up the remains of GM. The bondholders had billions in retirement savings invested in the company, and though they were entitled to nearly three times as much as the United Auto Workers, the bondholders were left with just a 10 percent stake compared to the union's 17.5 percent stake. For their 60 percent stake, taxpayers have a future of constant bailouts to look forward to. Comingling public control of private business is known as fascism.

Government Takes Majority Stake in GMAC. The federal government said Wednesday [12/30/2009] that it will take majority control of troubled auto lender GMAC and provide an additional $3.8 billion in aid to the company, which has been unable to raise from private investors the money it needs to staunch its losses.

The White House's Illegal Piggy Bank. [Scroll down] Last year, Indiana filed a lawsuit challenging the constitutionality of using TARP funds to bail out Chrysler and General Motors. The state argued that the law was specifically written to help financial institutions, which the car firms clearly are not. The ruling on the petition brought before the U.S. Court of Appeals for the 2nd Circuit in New York was that while the case had constitutional merit, Indiana lacked legal standing to bring it.

Obama's Progressive Goose and Our Conservative Gander: When two-thirds of the U.S. auto industry, for years encumbered by unreasonable union demands, finally went belly up, President Obama put GM and Chrysler under direct government control. Big Labor is one of the president's most important and valuable allies deserving a handsome payoff. So he gave a piece of the action to the UAW in spite of its prominent role in steering both auto companies into the ditch.

Top Ten Green Auto Headlines of 2009. In February, GM CEO Rick Wagoner warned that, unless the feds threw sinking Detroit automakers a $30 billion lifeline (a bargain!), the companies would descend into Chapter 11 chaos that could cost taxpayers up to $100 billion in lost tax revenue and unemployment checks. By year's end, the taxpayer bill for rescuing GM, Chrysler, and their Delphi and GMAC subsidiaries had climbed to nearly $100 billion.

GM Indefinitely Lays Off More Workers Barely a Week After It Said It Wouldn't. It look [sic] like GM, which was not exactly a model of corporate clarity before it went bankrupt and became a government- and union-controlled entity, has learned a lot about government-speak in a very short time. It also looks like the press has learned not to look for contradictions or falsehoods in anything Government Motors says or does.

Government Motors. Amid creepy assurances that the firing of GM's CEO Fritz Henderson was just business, evidence is piling high it wasn't. It was politics, and another reason why government must get out of the private sector.

GM reaches deal to sell Hummer brand. Hummer, the off-road vehicle that once epitomized America's love for hulking trucks, is now in the hands of a Chinese heavy equipment maker.

20 More Questions for Barack Obama. [#6] Your administration has been fond of saying that you've "created or saved" jobs. Aren't those numbers made-up and completely unverifiable? [#7] When do you anticipate having the government completely out of GM and Chrysler? [#8] Doesn't the special treatment that unions have gotten in the bailout of GM and Chrysler smack of favoritism and political corruption?

If Obama Had Told Us Before His Election. If Barack Obama had campaigned on what he has actually done in his first 300 days in office, would he have been elected? ... If Obama had told us he would take over the automobile industry faster than any socialist dictator ever nationalized an industry, fire the CEO of General Motors and replace him with a Democratic Party campaign contributor, would Obama have been elected? If Obama had campaigned on closing down thousands of profitable car dealers, nearly all Republicans, would we have believed that this vindictive financial retaliation against those who didn't vote for Obama could happen in America?

Government Motors. Twenty-five years ago President Reagan told auto workers in Orion, Michigan, "You've demonstrated when the chips are down, what people can do working together freely, rather than at the dictates of some central planner or bureaucratic mandate of government. I happen to believe the last thing your industry needs is the federal government bringing in outsiders to tell you how to run a business." Fast-forward to 2009: President Obama fires GM chief Rick Wagoner, the company files for bankruptcy, a government-appointed auto task force calls the shots, and the federal government now owns 61 percent of the new GM.

Congressional Report Questions Legality of GM and Chrysler Bailouts. A report issued by the Congressional Oversight Panel (COP) tasked with overseeing the implementation of the 2008 Troubled Asset Relief Program (TARP) questions whether the Bush and Obama administrations had the legal authority to use TARP funds to bail out General Motors and Chrysler.

Obama's revenge against GM: Obama must have real, ingrained grandiosity, the kind that is anchored deep in the soul. He goes 'way beyond the usual high-fallutin' rhetoric from presidential speech writers -- because he has just fired the President and CEO of General Motors, something no previous president, including FDR or JFK, would ever have imagined doing. That's not rhetoric, and it isn't just show. It's a political gamble unprecedented in American history, a throw of the dice so breath-taking that the press, the pundits and the voters haven't yet been able to take it in.

Another Day, Another Scary Nomination. As usual, President Barack Obama is multi-tasking the dismantling of the American system on so many fronts that not all of the outrages can be properly monitored. So while you should be mortified by his dictatorial power grab with General Motors, please don't miss his recent nomination of former Yale Law School Dean Harold Koh as legal adviser for the State Department.

Would you buy a used car from this man? Nobody is buying stock in the Ameri can auto companies. Except, that is, for President Obama. And he just bought a couple of the world's largest automakers. With your money, naturally.

Don Barack. When the Godfather helps you out, you owe the Godfather. And you'd better comply when the favor is called in. That appears to be the model the Obama administration is following when it comes to companies that accept federal bailout money — and, in one case, the "favors" owed are being called in. General Motors accepted $9.4 billion dollars in bailout money, and has a request pending for another $16.6 billion. The latter hasn't been granted, but we now see some indication of the unwritten price for those loans.

We Have Chapter 11 for a Reason. Our Beltway sans-culottes are tasting blood. First the people's representatives took their tar and torches to American International Group's bonus payments. Now the president has dropped the guillotine on the chairman and CEO of General Motors. The irony, of course, is that far from signaling an end to federal dollars for a failing industry, the high-profile firing of Rick Wagoner paves the way for more aid down the road.

Obama takes over General Motors. Of all the economic teams beavering away in Washington, any ranking of the least likely to produce credible results would have put the Presidential Task Force on the Auto Industry high on the list. Headed by a former journalist turned investment whiz, the task force also includes a union industrial strategist, three climate change experts, a smattering of economists and a former legislative assistant to Hillary Clinton. None knew anything about the auto industry before their appointments on Feb. 20, suggesting the task force was destined to become a central planning nightmare, ground down by its own ignorance and the bureaucratic futility of it all.

No Nominee Yet for Secretary of Rustproofing. The White House was aiming high with yesterday's announcement that President Obama was pretty much becoming CEO of the American automotive industry. Minutes before the president's arrival in the Grand Foyer of the White House, a technician in the back of the room tested the teleprompter for Obama's speech. ... "If you buy a car from Chrysler or General Motors, you will be able to get your car serviced and repaired, just like always," the president promised yesterday morning from the executive mansion. And that's not all, folks! "Your warranty will be safe," the salesman in chief went on.

The Obama Autoworks. Responding to their plea for $21.6 billion more in taxpayer cash, President Obama yesterday [3/30/2009] declared "the end of that road" for GM and Chrysler. In the next breath, he seemed to put Washington and Detroit on a new road of politicized industrial policy. So pick your poison.

Hoyer: 'I Don't Know' Where Obama Got Legal Authority for Auto Plan. House Majority Leader Steny Hoyer (D-Md.) told CNSNews.com on Tuesday [3/31/2009] that he does not know where President Barack Obama gained legal authority to oversee a restructuring of General Motors and Chrysler. But if authority is a question, he said, then Congress will grant it to the administration.

Car Crazy. The good news is that the Obama administration's task force charged with revamping the auto industry has concluded what many suggested last year before massive taxpayer bailouts. The task force is now saying the best chance for success for both GM and Chrysler "may well require utilizing the bankruptcy code in a quick and surgical way." Now they tell us — after $22 billion in taxpayer subsidies have been poured into the two companies.

You break it, you own it. GM, now renamed Government Motors, has a new CEO: President Barack Obama. By replacing the head of the company and demanding a restructuring of its board in return for further TARP aid, Obama has taken upon himself the responsibility for the future of the company. As Gen. Colin Powell said when Bush was considering invading Iraq and toppling the Saddam Hussein government there: "If you break it, you own it." Now it is Obama's company.

Obama's Lemon. The farcical bailout of GM and Chrysler drew nearer to its inevitable end yesterday [3/30/2009] as Pres. Barack Obama started laying the groundwork for a blameless escape. The administration rejected both companies' restructuring plans as inadequate but nevertheless offered them one more last chance: To qualify for more government aid, GM must fire its CEO and come up with a new viability plan within the next 60 days, and Chrysler must reach an agreement to merge with Fiat in the next 30 days.

The Editor says...
Fiat? How will a merger with a foreign company benefit America?

The Illegal, Unconstitutional Bush-Obama Auto Bailout. When the president takes an official action, let alone one fundamentally altering the relationship between government and a major industry, two questions must be asked: Is it constitutional? Does the president have legal authority to do it? In the case of the auto-industry bailout and restructuring program begun under President Bush and now escalating under President Obama, the answer to both questions is: no.

Et Tu, Barack? In the space of 48 hours, the president of the United States seized control of one of the world's largest manufacturing companies and fired its CEO. He followed up by congratulating our representatives for creating the 14th-largest paid entity on the planet — a quarter-million government-paid "volunteers." And then he departed the capital to receive the cheers of adoring crowds — in Europe. If Adolf Hitler or Josef Stalin had done any of this, Americans would have gone crazy.

Obama's Own Report on GM Says Plan to Build Non-Gas-Burning Car Would Not Save Company. The report on General Motors released by the White House says the company's restructuring plan will not lead to a stronger company, in part because the beleaguered auto giant's proposal to rely more heavily on advanced, fuel-efficient cars is not commercially viable. The report's findings stand in stark contrast with the President's chief goal for America's auto industry: leading the world in green car production.

The Editor says...
It would be far better to lead the world in the production of affordable cars or high quality cars or reliable cars or even safe cars, but Obama's goal is to produce tiny little environmental utopian cars for which there is no demand -- unless Obama and Company can choke the supply of oil and gas.

Obama's Losing Bet on Detroit. If you had bought $1,000 worth of General Motors stock in 2000, your holdings would now be worth less than $40, for a loss of 96 percent. ... So anyone looking to participate in a viable business would look a lot of other places before they would look there. But the United States government thinks GM might just be a really smart place to put its money.

Invasion of the Corporate Snatchers. The plot of the 1956 cult classic "Invasion of the Body Snatchers" seems remarkably similar to the storyline of the Obama administration, which is invading, and appears eager to take over, corporate America. Unfortunately, the reality of the threat to American corporations is far creepier than any science-fiction film could ever be.

Satire:
Government Motors (GM) Unveils its First Model! Now that President Barack Obama is wielding greater control of the auto industry, he's decided it's time to design a vehicle fit for this new era. He got a thousand of the government's best and brightest (995 lawyers and politicians and five engineers) to design a car fit for the needs of the twenty-first century while including forward-thinking sensibilities. This new car is called the B-ROC and it is truly the Obama of automobiles.

You've Been Warned. Over the past three months we have witnessed some truly amazing movements by the Obama administration. He has proposed more spending than all Presidents in history combined; he has trampled the Constitution by allowing the Treasury to take on a dictator style infringement on private companies, and now the democratically lead Congress has proposed the "Pay for Performance Act" which passed Thursday [4/2/2009] with even some Republican Congressman voted for it. This bill essentially allows the Treasury to define "fair pay" for all employees, at any level.

Few in White House appear to drive American cars. Oops, it seems that many on President Obama's team, including those seeking to save the American automobile industry, do not actually drive vehicles from the American automobile industry. According to a study by the Detroit News and a White House parking lot survey by Politico.com, neither do Obama's White House staffers. ... The Politico survey of cars parked next to the White House found only five U.S. brand cars out of 23 -- a Dodge, two Fords, a Jeep and a Cadillac.

Government vs. the Axles of Evil. Presidents must be able to speak pluperfect nonsense with a straight face, lest the country understand what the government is doing. Obfuscation serves political salvation when what the government is doing includes promising that if Chrysler will sell itself to Fiat, U.S. taxpayers will lend that Italian firm $6 billion.

Let's look under the hood of the Constitution. Maybe it's me. I could just be missing something in the Constitution that authorizes the federal government to run private businesses or to enter into business on its own. So if anyone knows how the president of the United States got the power to tell the president of General Motors that he was fired (or more politely, that he must resign), please e-mail me.

Obama treats GM like a fraudulent Enron while shoveling billions to Wall Street. General Motors resembles Martha Stewart in three interesting aspects: As a sacrificial goat to pacify mobs of pack-instinct media, any distraction will do if it sidetracks the public's attention away from the indecencies the Obama administration is committing in servicing Wall Street bandits while forcing auto makers to beg for gruel.

Nothing to Fear but O Himself. Obama and his economics team decided [Rick] Wagoner had to go because, one source told the Wall Street Journal, "This is Obama, and symbols of change are important." So even the government isn't saying Wagoner was a poor manager but that his dismissal had symbolic, i.e. political, value. What symbol was it Obama was thinking of? Maybe it's the thunderbolt. A president who can fire the head of one of America's most storied companies has a lot of power. Obama wants businesses to get the message that they should fear him.

Ford is not Obama Motors. Ford does not want to be lumped in with GM and Chrysler. Ford is not taking government bailout money, company types say. Bottom line: Ford is not Obama Motors.

Fiat CEO: Concessions or no alliance with Chrysler. Fiat Group SpA CEO Sergio Marchionne is ready to walk away from a proposed alliance with beleaguered Chrysler LLC if the U.S. automaker's unions do not agree to concessions that would put their pay on the same scale as workers at North American plants owned by foreign car companies.

Fiat Delivers Ultimatum to Chrysler Unions: Cut Costs or We Walk. Fiat is playing a hardball game of "Deal or No Deal" with the United Auto Workers union, which has been resisting proposed cuts in benefits and pay that would come as part of a government-suggested merger with Chrysler.

This is what the GM takeover is all about — environmentalism!
Obama's Energy Policy Driven by Ideology, not Reason. Obama's dealings with General Motors provide ample evidence that his strident left-wing beliefs supersede sound economic judgment. With GM, Obama is leveraging bailout money to shape the automobile industry according to the designs of the environmental lobby. Soon after Obama fired GM CEO Rick Wagner, the Administration announced it was overriding the recommendation of the president's own auto task force by deciding to move forward with the Chevy Volt — the company's electric car. But it's no secret that the Volt is going to be a financial loser.

GM Is Becoming a Royal Debacle. It's good to be the king — until you start tripping over your own robe. So King Barack the Mild is finding as he tries to dictate the terms of what amounts to an out-of-court bankruptcy for Chrysler and GM. He wants Chrysler's secured lenders to give up their right to nearly full recovery in a bankruptcy in return for 15 cents on the dollar. They'd be crazy to do so, of course, except that these banks also happen to be beholden to the administration for TARP money.

TARP Looking More Criminal by the Minute. The Emergency Economic Stabilization Act, the statute that authorizes TARP, doesn't give the Treasury the power to make direct investments in banks at all. It gives the Treasury the power to buy troubled assets and to write insurance against losses in troubled assets. But there's not one single solitary word in the act that authorizes the Treasury to buy stock in banks. And there's not one single solitary word in the act that authorizes the Treasury to do anything at all for auto companies like General Motors and Chrysler. The act only authorizes helping "financial institutions." Yet billions of TARP dollars have gone to the two automakers.

Geithner: The Fox Guarding the Henhouse? What is going on in this country? The government is about to take over GM in a plan that completely screws private bondholders and favors the unions. Get this: The GM bondholders own $27 billion and they're getting 10 percent of the common stock in an expected exchange. And the UAW owns $10 billion of the bonds and they're getting 40 percent of the stock.

GM Bankruptcy Probable as Obama Shields UAW Benefits. General Motors Corp. may be more likely to end up in bankruptcy based on the Obama administration's willingness to place Chrysler LLC into court protection to safeguard union health-care benefits. With GM and its biggest bondholders at odds over resolving $27 billion in unsecured claims by a June 1 deadline, the Chrysler model indicates that President Barack Obama may resort to bankruptcy to end any impasse over that debt...

Would you buy a car from Obama? The real test of Barack Obama's sex appeal is coming soon to an automobile showroom near you — Would you buy a new car from this man? The president has given his personal warranty on cars from Detroit — if a fuel pump on your new Pontiac falls apart and the dealer won't make it good, just call the White House and ask for the president.

Return of Le Car. "When you buy a car, I hope it will be a Democratic car." Oops. We have misquoted the president. He said last week he hoped you would buy an "American car" — though apparently not one built in a red state in a plant owned by Japanese or German investors. He meant a car built by a company headquartered in Detroit, even if the car itself is assembled in Mexico or Canada. How confusing.

Chrysler bankruptcy creates lemon law turmoil. Chrysler's bankruptcy is throwing a wrench into California's lemon law, which is intended to make it easier for consumers to get refunds for defective vehicles. As the automaker's bankruptcy grinds away, settlement checks from Chrysler to unhappy car buyers are bouncing and complaints are stymied in and out of court.

O's Road to Ruin. There's nothing wrong with Chrysler and GM building fuel-efficient green cars — if they can make money. I'd have no problem whatsoever if one of them manufactured a pink, snout-grilled mini-car that ran on manure — as long as it proved profitable. My goal as a taxpayer is to see that these companies earn enough so that they return my tax dollars as soon as possible. And what if green cars aren't the way to go?

The Top Ten Reasons Obamanomics Won't Work. [#5] Government creates a new welfare system for union members when it preserves zombie auto companies in order to save "jobs." It creates a sham "financial system" when it bails out "systemically important" banks and insurance companies — those that are too embarrassing to fail.

Obama-UAW theft, payoff. President Obama and his advisers are determined to turn control of Chrysler Corp. over to the United Auto Workers in spite of the fact that concessions to the union are largely responsible for the automaker's inability to make a profit. Still, the UAW and other unions were among Obama's biggest supporters and are ready to collect.

Did someone mention the UAW?

GM shares fall to 76-year low after execs dump stock. General Motors Corp stock plunged more than 22 percent to a 76-year low on Tuesday, a day after GM's top executives dumped their shares as the automaker heads toward a bankruptcy or a restructuring that would all but wipe out existing shareholders.

Chrysler and the Rule of Law: While the rest of the world in 1787 was governed by the whims of kings and dukes, the U.S. Constitution was established to circumscribe arbitrary government power. It would do so by establishing clear rules, equally applied to the powerful and the weak. Fleecing lenders to pay off politically powerful interests, or governmental threats to reputation and business from a failure to toe a political line? We might expect this behavior from a Hugo Chávez. But it would never happen here, right?

CEObama: The Car Czar. As the saying goes, be careful what you wish for — you just might get it. Just ask American car makers. In December, the CEOs of General Motors and Chrysler flew, hat in hand, to Washington. They needed billions of taxpayer dollars to stay out of bankruptcy court, company executives said. Unfortunately for all of us, they got their wish. And more than they thought they'd bargained for.

Deadly Dreams in Tiny Cars. According to MSNBC, President Obama is enjoying amazing support from "an uncommon alliance of auto executives, union leaders and environmental activists" concerning is new proposal to raise mileage standards and curb vehicle emissions. But if you look at this support, you can see why it's as pathetic as spoilers on a Yugo. Of course, the auto executives are behind it, because the government is paying them to be behind it.

Ex-Piston Sura files first Saturn lawsuit. A Saturn dealership co-owned by former Detroit Piston Bob Sura has launched the first of an expected flood of lawsuits against General Motors Corp., arguing the automaker's plan to eliminate the brand rendered his franchise "worthless."

Chrysler objections mount. A flurry of objections in the Chrysler LLC bankruptcy case continue to be filed in advance of a hearing next week to approve a tie-up with Fiat SpA. The latest bankruptcy court filings submitted in New York come from various groups including the city of Auburn Hills, which says it is owed $1.9 million in property taxes, to worried pensioners scared about their future, to lawyers concerned that bankruptcy will wipe out dozens of product liability lawsuits.

Small investors feel stiffed in GM deal. "Creditors have better memories than debtors." Benjamin Franklin could not have imagined a spectacle like the bailout and restructuring of General Motors in 1758, but thousands of individual bondholders across the country are getting a bitter reminder of the Founding Father's wisdom.

Obama at the Auto Buffet. With his latest installment of ever-higher fuel mileage requirements for the auto industry, Barack Obama embraces a momentary, crisis-spawned expansion of the art of the possible, unleavened by any art of the rationally desirable. Detroit is dependent on Washington loans for survival. The industry's lobbyists and its congressional allies have collapsed in a heap, offering no resistance.

Obama's theft: He can't blame 'speculators' now. The legal issue here is investor rights. These pension funds and many other Chrysler investors were secured investors. They are contractually entitled to be repaid first, before other Chrysler bondholders are, and to receive an ownership stake in the company should it go bankrupt. The President willfully ignored those contractual obligations. To secure more money and power for Chrysler's unions, which he grants 55 percent ownership of the company, he simply nullified the company's contracts with its secured investors. Then he covered his tracks by attacking the investors as "speculators."

Fund Managers Burned by Obama Now Say They Are Wary. Hedge fund manager George Schultze says he may avoid lending to any more unionized companies after being burned by President Barack Obama in Chrysler LLC's bankruptcy.

Lawmakers want Obama to slow down on GM, Chrysler. Lawmakers appealed to the Obama administration on Friday [5/22/2009] to slow down the restructuring of General Motors and Chrysler, wary of shuttered car dealerships, job losses and the big unknown of a GM bankruptcy. "We are asking President Obama to call 'time-out' on his automobile task force," said Rep. Steve LaTourette, R-Ohio.

U.S. Lends Additional $4 Billion to Ailing GM as Bankruptcy Looms. General Motors Corp. said Friday that it has borrowed an additional $4 billion from the Treasury Department, meaning the automaker has now accepted $19.4 billion in loans from the U.S. government. GM started taking government money in December and said it intended to borrow $2.6 billion more by June 1 and an additional $9 billion after that. But in a regulatory filing Friday [5/22/2009], GM said it needed $1.4 billion sooner than originally forecast.

Obama: Not The First Head Of State To Design Cars. This week, Obama imposed on American car manufacturers strict fuel efficiency and emissions standards, to be introduced in 2012. Manufacturers will reportedly get extra pats on the head for cranking out electric cars like General Motors' Chevy Volt — which will soak American consumers for about $40,000. In other words, they're going to make cars only hippies want, at prices only CEOs can afford. Don't like it? Then ride a bike or take the bus.

Obama Asserts Government Control Over the Auto Industry. President Barack Obama asserted unprecedented government control over the auto industry Monday [3/30/2009], bluntly rejecting turnaround plans by General Motors Corp. and Chrysler LLC, demanding fresh concessions for long-term federal aid and raising the possibility of quick bankruptcy for either ailing auto giant.

The new GM: Government Motors? A new name for Detroit's weakened auto giant GM is making the rounds, sometimes with irony, sometimes with dread, suggested by the deepest Washington industrial intervention in a half-century. The Obama administration is planting itself at the wheel of General Motors with a major ownership stake — and all that goes with it for the U.S. taxpayer.

And They Said Bush Was Clueless. The President mentioned the Rule of Law in a speech last week. At the National Archives about his policies on terrorism, he said: "From Europe to the Pacific, we've been the nation that has shut down torture chambers and replaced tyranny with the rule of law." But the previous week the administration blew off the Rule of Law in the Chrysler bankruptcy.

Beat the Dealer. When people talk about the problems that have driven Chrysler to bankruptcy and General Motors to the brink thereof, they usually have in mind the companies' excessive commitments to those who build their cars: the high wages, lavish benefits and irrational work rules written into union contracts. A less-discussed problem is the companies' relationship with those who sell their cars.

In search of real conservatives. The figure of $1.4 million, for the amount of the taxpayers' money that will be spent on saving each job at General Motors and Chrysler, has now appeared in the media. I have no idea whether it is accurate; more fundamentally, no idea how anyone could arrive at a plausible final reckoning, at the bottom of a sheet of wildly expensive variables. ... Government bailouts are unlimited, more or less by definition. For were a government to say, "You may have $13.5 billion, but after you've blown that in, you're on your own," it might as well say, "You may have zero." Once the principle of fiscal accountability is abandoned, it is abandoned.

See the USA in Your Government Car. Despite disclaimers from President Obama that the government doesn't want to be in the car business, it is hard to see what it has bought with our tax dollars other than two of what used to be known as "the big three." Government by default or determination will choose the types of cars the companies it owns will make. Government will buy a lot of them because not enough customers will unless they are made offers they can't refuse, not by a car salesman in a loud sport coat, but by a government bureaucrat in a suit.

Just say no to Government Motors and Obamacars. I won't buy a socialist car, which means I won't be buying a GM or Chrysler car for as long as the U.S. government owns huge blocks of the companies. Today's bankruptcy filing by GM will see the end of a once-great car company and the birth of a federal government-union partnership dressed up as a business. It won't work, even with the $50 billion federal tax dollars plowed into the new entity past and present, and not even with the UAW's "concessions." Governments can do very few things well and almost nothing efficiently.

What I Learned as a Car Czar. The current takeover of General Motors by the U.S. government and United Auto Workers makes me think back to Romania's catastrophic mismanagement of the car factories it built jointly with the French companies Renault and Citroen. I was Romania's car czar. When the Romanian dictator Nicolae Ceausescu decided in the mid-1960s that he wanted to have a car industry, he chose me to start the project rolling.

GM shows Obama is no Vulcan. Yes, bondholders may well accept General Motors' new proposed offer of 10 percent of a reorganized company and warrants to purchase another 15 percent. But that doesn't change the topsy-turvy reality of unions being favoured over creditors. Coming out of bankruptcy, the government could own 72.5 percent of the automaker, the United Auto Workers 17.5 percent and creditors 10 percent.

Easy answers from Ministry of Truth. "As GM goes, so goes the nation." Those words from the era of capitalist glory in the post-war boom are a little scary these days. General Motors is expected to file for bankruptcy protection on Monday [6/1/2009]. Can the nation be far behind?

Will the GM bailout be Obama's tipping point? The government takeover of the automakers is by far the most unpopular thing Obama has done so far. And it's not just unpopular — it is partisan, appealing to the base of his party and virtually no one else.

Fannie Motors. Even after the government divests itself of its formal ownership stake, the reality is that GM will remain a government-sponsored enterprise — Fannie Motors might be a better nom de ridicule. All three Detroit automakers now share the same GSE structure (public mission, private ownership) that failed Fannie and Freddie.

Government's Role in GM Bears Resemblance to Amtrak Route. General Motors is trying to prove that it is the little engine that could. But the bankrupt automaker may never fully climb the mountain ahead of it, if Amtrak is any example. Some analysts say the federal government's effort to prop up the nation's largest auto manufacturer is eerily similar to a 40-year effort to revive the nation's ailing railroad system. Billions of taxpayer dollars later, Amtrak still needs the government to survive — and critics say General Motors appears to be headed down the same track.

Obama's socialized bankruptcy for GM. America's recession might have been longer and the job cuts steeper if General Motors and Chrysler had been thrown into a normal bankruptcy. Under that route, a judge would have salvaged only the most market-worthy parts of the carmakers and liquidated the noncompetitive parts. Instead, President Obama chose a different course — prenegotiated bankruptcies — to reorganize each company. He decided to use his clout to force only certain concessions from stakeholders. And he decided to cater to political interests, such as demands in Congress not to allow GM to import its own cars made in China.

Obama's Jalopy Co. The problems began last December when the Bush administration, rather than risking taking GM into Chapter 11 and streamlining its bloated union and corporate structure, blinked in a high-stakes game of chicken with the United Auto Workers union and loaned the company $14 billion. ... Well, seven months and a Democratic president later, GM has entered bankruptcy. Guess what? It's on UAW terms and at even greater cost to taxpayers.

I, Barack Obama. President Obama used the first-person singular pronoun "I" 34 times on Monday [6/1/2009] when he announced he was nationalizing General Motors. He used "Congress" once and "law" not at all. As Obama described it, the government takeover of General Motors was Obama's decision made for Obama's reasons. ... To prevent GM from becoming a ward of the state, Obama made it the property of the state.

Has anyone stopped to ask if this takeover is legal? Apparently not.
Hoyer: 'I Don't Know' Where Obama Got Legal Authority for Auto Plan. House Majority Leader Steny Hoyer (D-Md.) told CNSNews.com on Tuesday [6/2/2009] that he does not know where President Barack Obama gained legal authority to oversee a restructuring of General Motors and Chrysler. But if authority is a question, he said, then Congress will grant it to the administration.

Pelosi Says She's 'Not Heard' Whether Congress Needs to Approve Automaker Bailout. The auto bailout and government-supervised restructuring plan is an executive branch matter, and it is not something that Congress will get involved in unless asked, House Speaker Nancy Pelosi (D-Calif.) said Wednesday [6/3/2009]. "If and when the Administration thinks that there should be legislation, then we will take that up," Pelosi said at her press conference yesterday. "We have not heard, I have not personally heard from the executive branch that they need any legislative remedies," she said.

Barney Frank Doesn't Think Congress Will Vote on Obama's Auto-Industry Restructuring Program. House Financial Services Chairman Barney Frank (D-Mass.), whose panel has oversight over the Troubled Asset Relief Program (TARP), told CNSNews.com on Thursday he is "not very well informed" about President Barack Obama's plan to restructure General Motors and Chrysler, and he said he does not think that Congress is going to vote on the matter.

Let's push the toothpaste back into the tube.
36 Congressmen Ask Obama to Return Authority Over Auto Bailout to Congress. A bipartisan coalition of 36 members of the House of Representatives — including 30 Republicans and 6 Democrats — has sent a letter to President Obama asking him to return to Congress its constitutional legislative authority to oversee the bailout of the auto industry. In December, Congress failed to pass a bill authorizing a bailout of Chrysler and General Motors. President Bush and now President Obama, however, proceeded with a bailout process even without legislative autority.

Seeking More Federal Money, GM and Chrysler Promise Greener Vehicles. Both General Motors and Chrysler made green vehicles a key part of their respective restructuring plan presented to federal officials this week, as the struggling U.S. car makers again asked for billions more in taxpayer funding.

Socialism won't work for Obama, either. [Scroll down] If the businesses were not producing what people wanted at a price people would pay, they were simply taking up resources that could be better allocated elsewhere, the economists said. ... My question is where are those economists now that we need them to preach the same lesson to the Obama administration, which has nationalized General Motors, saying that, well, if we didn't, GM would collapse and unemployment would climb to 10 percent or worse, and, anyway, Washington knows best.

Stopping Government Motors. President Obama's decision to seize General Motors and convert it into Government Motors is as shocking as it is unpopular. Polling shows, like the president's stubborn insistence that Gitmo be closed and its terrorist prisoners brought stateside, the president's insistence that GM be nationalized is appalling to large majorities of Americans. The socialization of America's biggest brand is not the sort of decision that can be cloaked in head-faking rhetoric.

Obama Motors: Costly, Bureaucratic, and Pointless. It is overwhelming to consider the ways this new mandate will harm the American economy. This stealth energy tax will significantly increase the cost of every single new car on the market. Early reports suggest that consumers can expect to pay between $1,000 and $3,000 more for small cars and up to $5,000 more for large cars. ... The mandate demonstrates just how seriously the feds are taking their new role as car company chief: The government isn't just going to make decisions about how best to run their operations. They're also going to limit your choice of automobile and force you to pay more in the process — that is, those who can still afford a new car.

President Obama: We Are 'Reluctant Shareholders' of GM. "We are acting as reluctant shareholders," President Obama said today, announcing the federal government's unprecedented 60 percent stake in General Motors, a company that will ultimately receive almost $50 billion from the U.S. taxpayer. "That is the only way to help G.M. succeed." Attempting to reassure Americans skeptical of this step, the president said, "What we are not doing — what I have no interest in doing — is running G.M."

The Obama Motor Co. Welcome to Obama Motors, and what is likely to be a long, expensive and unhappy exercise in political car making. ... Every decision the feds have made since December suggests that nonpolitical management will be impossible. First they replaced Mr. Wagoner — whom they are nonetheless still paying — with the more pliable Fritz Henderson as CEO and Kent Kresa as Chairman. The latter are good at playing Washington but unproven in making popular cars.

The Quagmire Ahead. Over the last five decades, this company [GM] has progressively lost touch with car buyers, especially the educated car buyers who flock to European and Japanese brands. Over five decades, this company has tolerated labor practices that seem insane to outsiders. Over these decades, it has tolerated bureaucratic structures that repel top talent. It has evaded the relentless quality focus that has helped companies like Toyota prosper. As a result, G.M. has steadily lost U.S. market share, from 54 to 19 percent.

A Matter Of Law. With General Motors' long-awaited "pre-packaged bankruptcy" finally here, America is on the verge of a new era — one where government, not investors and consumers, is the final arbiter of success.

'Green' cars will go flat. Get ready, folks. America has bought a car company. As of Monday [6/1/2009], we, the taxpayers, own a majority stake in General Motors Corp. Whether the company will be formally renamed Government Motors remains to be seen. But that's what it will be. ... Yes, we the people will be left holding the bag for the mistakes of GM's management and labor leaders over the past four decades.

The United Auto Workers: Busted? It's been a long time since American devotees of Marx (Karl, not Groucho) have had much to cheer about. But with the bankruptcy filings of General Motors and Chrysler, and the transfer of stock ownership from the firms' long-suffering shareholders to the government and unions, communists of the world can rejoice. The workers are now, finally, significant owners of the means of production. The United Auto Workers control about 65 percent of Chrysler and 17.5 percent of General Motors.

Venezuela Chavez says "Comrade" Obama more left-wing. Venezuela's President Hugo Chavez said on Tuesday [6/2/2009] that he and Cuban ally Fidel Castro risk being more conservative than U.S. President Barack Obama as Washington prepares to take control of General Motors Corp. During one of Chavez's customary lectures on the "curse" of capitalism and the bonanzas of socialism, the Venezuelan leader made reference to GM's bankruptcy filing, which is expected to give the U.S. government a 60 percent stake in the 100-year-old former symbol of American might.

Cops and Teachers vs. Chrysler and Obama. The list of victims for Obama's government squeeze of auto maker bondholders is longer than anyone thinks. Not only is the story of pension funds who were stiffed when Obama wiped Chrysler's slate clean not being widely reported, but the victims of those funds — in one case, Indiana cops and teachers — remain unidentified by the media. It is a calamity for tens of thousands of Americans as reported in Business Week by Esme Deprez.

Obama's man called shots on bankruptcy. Not since President Harry S. Truman seized the American steel industry in 1952 has America seen such a bold exercise of federal power over a vital organ of the U.S. economy. More than 30 hours of testimony and dozens of e-mails in the court of U.S. Bankruptcy Judge Arthur Gonzalez lift the curtain on how forcefully President Barack Obama's automotive task force pushed Chrysler LLC into bankruptcy and into the arms of Fiat SpA of Italy.

Detroit's New 'Green' Delusion. It's obvious why Saturn flopped: The company had built a popular brand as a sort of feel-good anti-car — vaguely tractor-like, noisy, but made of semi-indestructible plastic by dedicated Tennessee workers and — unique in nearly all of GM — actually reliable. GM threw all this away and filled Saturn showrooms with cars designed to appeal to totally different buyers: rebadged mainstream Opels. They were OK, but creepily overstyled and not so reliable. End of explanation.

Administration blames Bush for GM crisis. The Obama administration has a familiar response to criticism of the General Motors bailout — they inherited this mess from George W. Bush. Austan Goolsbee, a senior economic adviser to President Obama, said the administration's options were sharply limited by President Bush's handling of the auto industry, and accused the prior administration of running out the clock.

Obamanomics: How Stupid Do They Think We Are? Bush's move came after then President-elect Obama implored him to take action to stave off the collapse of the auto-industry. This was one of the major topics of their meeting in the White House on November 11, covered ... by the Wall Street Journal. Back then, Speaker Nancy Pelosi and Majority Leader Harry Reid were already urging Bush to study whether — regardless of how Democrat sponsored auto bail-out legislation fared — the president already had the authority to divert financial sector bail-out funds for Detroit. So it was that when Republicans defeated the auto bail-out bill December, Bush, at the urging of Obama and the Democrats, made one of the worst gaffes of his presidency by extending over $17B in government "loans" to GM and Chysler. For the Obama/Democrat line to now be that Bush foisted this mess on the new administration, and that Bush is to blame for Obama's geometric exacerbation of the problem, is breathtaking.

Have We Got a Deal For You at GM. [Obama says,] "When a difficult decision has to be made on matters like where to open a new plant or what type of new car to make, the new GM, not the United States government, will make that decision." But the government is GM's largest shareholder, customer, tax collector, regulator, partner in determining employees' compensation, protector of dealers and pension guarantor. GM's other large owner, the United Auto Workers, is increasingly a government dependant. Yet Steve Rattner and Ron Bloom, two of the president's fixers of Detroit, recently wrote in USA Today that government "will play no role" in running GM. They were not under oath.

Supreme Court Halts Chrysler Sale to Fiat. The Supreme Court on Monday granted an emergency appeal asking it to halt the impending government-backed sale of Chrysler to Italian automaker Fiat. The order stops for now Chrysler's sale, which the company claims could scuttle the deal. Justice Ruth Bader Ginsburg signed the order, but it may be only temporary.

Top court's move throws Chrysler deal in doubt. Chrysler LLC's plan to wed Italian automaker Fiat SpA and create the world's sixth largest automaker was thrown into serious doubt after the highest court in the United States ordered the marriage be delayed until it reviews objections by creditors including teachers and police officers.

Taxpayers Have $80.3 billion Invested in Detroit. The taxpayers' investment in the U.S. auto industry rose to $80.3 billion, after the U.S. Treasury provided a new $30.1 billion bankruptcy loan to General Motors on Wednesday [6/3/2009], two days after GM filed for bankruptcy, a new Treasury report said.

High court blocks Chrysler sale to Fiat. Supreme Court Justice Ruth Bader Ginsburg today delayed Chrysler's sale of most of its assets to a group led by Italy's Fiat, but didn't say how long the deal will remain on hold. Ginsburg said in an order that the sale is "stayed pending further order," indicating that the delay may only be temporary.

Mice Roar At Fiat Deal. Fiat wants to establish a "global strategic alliance" with its U.S. counterpart Chrysler. But pension funds opposition to Chrysler's sale to Fiat might pose the latest challenge for the Italian carmaker's ambitions. ... Fiat, which is not paying anything for its 20% stake in Chrysler, still has the right to walk away from the deal if it hasn't been consummated by June 15.

Republicans hope General Motors is President Obama's Hurricane Katrina. General Motors hopes that bankruptcy will make the struggling automaker stronger and more competitive. Republicans are hoping it will do the same for them. The GOP sees President Barack Obama's decision to help the unpopular carmaker as an easy opportunity to paint him as a bailout-happy, deficit-drunk spendthrift eager to impose a heavy government hand on a swath of industries.

Obama Motors. President Obama claims to "have no interest" in running General Motors. He does so with a straight face — and the same monotonous cadence that he employs whether condemning North Korea for nuclear explosions or joking with Jay Leno. But his actions, as well as his words, betray him. ... Which is more absurd — his implication that he is the embodiment of the U.S. government or that a former community organizer, part-time lawyer, part-time lecturer, part-time author, and fulltime politician knows beans about running the nation's largest automaker?

Ford pulls its weight without bailout funds. Amid bankruptcies and forecasts of Detroit doom, one of the Big Three is hanging tough. Ford tough. Once defined by the revolutionary Model T, Ford is motoring on without federal bailouts, Treasury-led restructurings or bankruptcy judges. Ford Motor Co.'s U.S. market share grew last month, and sales surpassed even mighty Toyota's. Ford's shares have outperformed those of Honda and Toyota over the past year. Shares of archrival General Motors Corp., now in bankruptcy, are nearly worthless.

The Party Of Yes: 6 Ways Democrats Are Hurting America. [#1] Taking over the auto industry: Welcome to "Government Motors," where Barack Obama is the Super-CEO and the union now owns 51% of Chrysler. By the time it's over, the price tag for this debacle looks likely to reach into the hundreds of billions despite the fact that both companies will still go through bankruptcy, which is what critics of the bailout suggested as an alternative to government intervention last year. We have the government hiring and firing corporate execs, getting involved in the cars they're making, politicizing dealer closings — and Barney Frank apparently even has veto power over which plants are shut down. In other words, if you thought GM and Chrysler had problems before, just wait until Barack Obama, Barney Frank, Nancy Pelosi, and Harry Reid get through tinkering with companies. My advice? Buy Ford.

Local investor's life savings wiped out in bankruptcy. Michael Byrne, 81, worked long hours for decades in various businesses to raise his six children. He and his wife, Lucy, paid their bills and set money aside for retirement. But his decision to put all his savings behind General Motors appears nearly to have wiped him out financially, and he's joined with other small GM investors in a suit to recoup more of their losses.

Auto plan hits potholes. President Obama's plan to save GM and Chrysler through forced bankruptcy got blindsided on Monday [6/8/2009] by the other two branches of the federal government. On Monday afternoon the Supreme Court agreed to delay the sale of Chrysler's assets to Italian carmaker Fiat in order to further consider the argument of three Indiana bondholders who claim they were shortchanged by the prepackaged bankruptcy organized by the Obama administration.

No. 2 House Republican compares Obama to Putin. The No. 2 Republican in the House on Thursday [6/11/2009] compared President Barack Obama's plans for the auto industry to the policies of Russian Prime Minister Vladimir Putin, saying the White House has stripped credit holders of rights and given them to Democratic allies. "They said, 'Set aside the rule of law, let's strip secured creditors, bondholders, of their rights. Take them away outside of the bankruptcy process and give them to the political cronies and the auto workers' unions," Rep. Eric Cantor, R-Va., said in an interview with The Associated Press.

FOX News Poll: Americans Disapprove of GM Takeover. By 58 percent to 38 percent voters across the country say they disapprove of the government takeover and majority ownership stake in General Motors. Majorities of Republicans (79 percent) and independents (59 percent) think it was a bad move, as well as a sizable minority of Democrats (39 percent). And by an 8 percentage point margin slightly more Americans think the government should have let the market decide GM's fate (52 percent) than believe it was in the country's best interest to save the car maker (44 percent).

Once, We Would Have Called It a Scandal. Between 2000 and 2008, the United Auto Workers (UAW) union gave $23,675,562 to the Democratic Party and its candidates. In 2008 alone, the UAW gave $4,161,567 to the Democratic Party, including Barack Obama. In return, the UAW received 55 percent of Chrysler and 17.5 percent of GM, plus billions of dollars. But nobody's calling this a scandal. It's time we start.

The Unsustainable Obama Presidency. Less than six months into it and the Barack Obama presidency has been unmitigated mayhem. Barack-caused disasters befall the nation on a near daily basis, one can scarcely keep track anymore. ... Obama's despotic seizure of the auto industry has resulted in entirely predictable calamity. Rather than allow GM and Chrysler to go through an orderly Chapter 11 bankruptcy, Obama forced the car companies into a prefab restructuring contrived to be political recompense to the UAW. Characteristically, the mainstream media has been oblivious to the fiscal carnage Obama has wrought in less than half a year.

Would You Invest in the New GM? President Obama dismantled two centuries of contract law in his "pre-packaged bankruptcy" of GM. Legal and binding contracts were wiped out with the GM assets disproportionately distributed to the government and unions, leaving investors and dealers holding the short straw. The United Auto Workers (UAW) will receive about 17.5% of the stock for $10 billion of unsecured debts, the bondholders will receive about 10% of the stock for $27 billion in secured debt, and stockholders will get zero. Where else would unsecured debt be favored over secured debt?

New GM CEO's Chicago Links. Don't be hard on GM's new chairman Edward Whitacre for confessing during an interview last week that he knows nothing about cars. He simply suffered a Joe Biden moment. Texans often tumble over their tongues when taking a stab at humility. In fact, few car companies, let alone their CEOs, know how to build cars, which is why so many of them are conking out. The Obama administration, in my view, picked Whitacre to run General Motors because he has a more important talent: He knows how to play Chicago-style politics.

Creditors Cry Foul at Chrysler Precedent. Chrysler Group LLC's restructuring is altering the bankruptcy landscape well beyond the auto industry. Within days of a bankruptcy-court judge's approval of the government's plan to sell Chrysler to Fiat SpA and leave creditors with big losses, a lawyer in the bankruptcy case of the National Hockey League's Phoenix Coyotes invoked Chrysler in trying to push through the speedy sale of the team.

The Newest Unnecessary 'Car' Fad. A collaborative effort between General Motors and Segway Inc. debuted Tuesday, April 7, in New York: the new PUMA (Personal Urban Mobility and Accessibility vehicle). With the assistance of GM, Segway did something everyone thought was absolutely impossible: They made the Segway even dorkier.

GM's Sale Opposed by 10 States, Union Retirees and Chrysler. General Motors Corp.'s planned sale drew objections from Chrysler Group LLC, the other U.S. automaker that filed for bankruptcy protection this year, as well as at least 10 states and union retirees. Attorneys general from Connecticut, Kentucky, Missouri, Nebraska, Maryland, Vermont, Minnesota, North Dakota, Ohio and West Virginia objected to the sale, saying it would circumvent state laws that protect GM dealers' contracts and consumers with product liability claims.

A Cancer In The Capitol Is Killing Us. How well do you suppose the new GM Obamobile is going to sell? Just like the "Smart Car," it's going to be the laughing stock of the roadways and put GM into deeper debt than it had before all this started. Eventually, it will have to be recalled for being unsafe to drive on American highways after the lawsuits start flooding in from all of the fatalities in crashes. ... They tell us that the people now own AIG, General Motors, Chrysler, and many others. No we don't. We have less control over those companies now than we had when they were stockholder owned.

GM, Amtrak and an Increasingly Fascist America. Public officials are now involving themselves in tactical business decisions such as where GM's headquarters should move and what kind of cars it will build. The promise that this is temporary and will eventually be profitable is supposed to ease the American people into accepting this arrangement, but it is of little comfort to those who remember similar promises when the American taxpayers bought Amtrak. After three years, government was supposed to be out of the passenger rail business. 40 years and billions of dollars later, the government is still operating Amtrak at a loss, despite the fact that they have created a monopoly by making it illegal to compete with Amtrak. Imagine what they can now do to what is left of the great American auto industry!

Labor in the Driver's Seat. How does the Obama administration love organized labor? Let us count the ways it uses power to repay unions for helping to put it in power. It has given the United Auto Workers majority ownership of Chrysler. It has sent $135 billion of supposed stimulus money to state governments to protect unionized public-sector employees from layoffs and other sacrifices that private sector workers are making. It has sedated the Labor Department's Office of Labor-Management Standards, which protects workers against misbehavior by union leaders.

Something's Smelly At GM. You're a once-mighty auto company that's been bailed out by taxpayers, taken over by government and just posted a 22% sales drop. What's your next move? Why, unveil a new men's fragrance, of course!

Obama's auto chief: Government won't sell all its GM stake. The U.S. Treasury will not sell its entire 61% stake in General Motors Co. if the automaker succeeds in selling shares to the public next year, the head of the Obama auto task force said today [7/27/2009]. "We would not expect to sell the entire stake," said Ron Bloom who testified before the Congressional Oversight Panel at a hearing in Detroit. Bloom was questioned by Chairwoman Elizabeth Warren, who is a Harvard Law School professor, and Rep. Jeb Hensarling, R-Texas.

Obama's Pitchforks: [Scroll down] Next up? The cram down bankruptcies of Chrysler and GM, and the wasting of at least another $60 billion of our money. Now the US Government owns a majority share in what was once the world's largest manufacturing company. Who won? Labor unions and corporate executives. Who lost? The American public.

GM's $4,000 Car We Won't Get: In coverage of GM's reported intention to produce a $4,000 car, the company revealed that its near-term "goal" is to "have 75 percent of its sales" outside the United States. Your tax dollars at work.



---



This is an original compilation, Copyright © 2016 by Andrew K. Dart

Dealergate



America's cry for help lost in the White Noise. Back in the salad days of President Barack Obama in the Oval Office, the first sign of the coming soft tyranny against We the People should have been the roughly 2000 car dealerships forced out of business by the anti-free enterprise cabal squatting on the White House. [...] This was the first visible social engineering adventure of the Obama regime and tens of thousands of jobs were lost as a result.

Congressmen: Were Conservative Car Dealers Targeted for GM Closures? Republicans Mike Kelly (PA-03) and Jim Renacci (OH-16) circulated a letter Thursday [5/16/2013] requesting Treasury Secretary Jack Lew to release documents detailing the process and methodology the Automotive Task Force used to shut down General Motors dealerships in 2009 during the automotive industry crisis. Renacci's Northeast Ohio Chevrolet dealership was closed in 2010 after losing a battle with General Motors.

Uncle Sam, Incorporated. A good money manager might call it a diversified investment portfolio. Some banks. An insurance company (AIG). And automaker General Motors! Uncle Sam must be feeling good. For that's what he's holdings as a result of President Obama's shopping spree of the last few months — actual businesses in which the US federal government has taken controlling interest.

Obama's Dictator Status Expands With Firing Of Wagoner. The staggering spectacle of a sitting President effectively firing the CEO of a private company heralds the beginning of a new phase in the government takeover of free enterprise, according to shocked economic observers. Obama's decision to send GM CEO Rick Wagoner packing on Sunday afternoon stunned a previously buoyant stock market into a 250 point drop on Monday [5/30/2009] as traders struggled to digest the unprecedented move.

Is Obama closing GOP car dealers? Bloggers on the Right side of the Blogosphere are up in arms over data suggesting that President Barack Obama's White House auto industry potentates are targeting for closure Chrysler dealers with records of contributing either to Republicans like Sen. John McCain or to other Democrats in the 2008 presidential primary.

Furor grows over partisan car dealer closings. Evidence appears to be mounting that the Obama administration has systematically targeted for closing Chrysler dealers who contributed to Repubicans. What started earlier this week as mainly a rumbling on the Right side of the Blogosphere has gathered some steam today with revelations that among the dealers being shut down are a GOP congressman and closing of competitors to a dealership chain partly owned by former Clinton White House chief of staff Mack McLarty.

Obama's "Dealergate" Scandal Needs Investigation. The Obama administration's heavy handed foray into the corporate world of the automakers is rapidly turning into a Class A scandal. More news is out today on the questionable process used to determine which dealerships would be closed and which ones would reap the remaining business.

What DealerGate Says about the Conservative 'Message' Problem. Did the administration purposefully use its bailout-acquired influence to put the squeeze on Republican auto dealerships? It doesn't actually matter what the answer to that question is. The point is, there was evidence to suggest that the Obama administration may have been wielding its economic power — gained at future taxpayers' expense — to punish political enemies. The accusation was serious enough to call for very thorough reporting, but the major media tried to dismiss the accusation before actually doing the reporting.

Protected dealerships that were spared by the Obama administration:
Chrysler Dealership Campaign Donation Information. In my analysis of the Chrysler dealers that will remain open, I came across one dealer group that stood out to me. The company is called RLJ-McLarty-Landers, and it operates six Chrysler dealerships throughout the South. All six dealerships are safe from closing. ... The interesting part is who the three main owners of the company are. The owners are Steve Landers (long-time car dealer, 4th-generation dealer), Thomas "Mack" McLarty (former Chief of Staff for President Clinton), and Robert Johnson (founder of Black Entertainment Television and co-owner of the NBA's Charlotte Bobcats). Landers has given money to Republicans in the past, but McLarty campaigned for Obama in 2008, and Johnson has given countless amounts of money to Democrats over the years.

A New Enemies List? Chrysler, an American institution, is no longer being operated as a private-sector company. It's being run by a task force appointed by the White House. So far, the government has halved Chrysler's ad budget and forced it into a shotgun wedding with Italian carmaker Fiat. Has it also directed the company to end its contracts with dealers who dared give contributions to the Republican Party and its candidates? The mainstream media seem less than curious. But the new media haven't shied away from asking the question.

Scandal could derail Democratic dreams. With $60 billion from taxpayers circling the drain at General Motors and Chrysler, the president is sending mixed signals. While he doesn't want to be held politically liable for the decisions the companies make, he promises accountability and to be involved on all the major moves. This will lead to indecision and errors. And in the chaos, opportunists will take advantage. Rep. Barney Frank has already been leaning on GM to favor his Massachusetts district, and the first round of dealer closings prompted an outcry about favoritism.

Study: Rural Chrysler dealers hit worst. Rural Chrysler car dealerships have taken a disproportionate hit in the bid to keep the bankrupt company afloat, according to a study released Friday by a group devoted to rural issues. Of the 789 Chrysler dealerships that were forced to close on Tuesday, non-metro and rural areas were hit harder than anywhere else based on a analysis of shuttered dealership locations and census data.

Hundreds of CEOs for General Motors. Rep. Barney Frank, chair of the House Banking Committee, says his successful intervention to keep a General Motors distribution center open in his Massachusetts district isn't evidence that Congress will have undue influence in running the new 60% government-owned auto company. "I don't think this will lead to a pattern," Mr. Frank assured The Hill newspaper last week after word spread that his phone calls had secured a new lease on life for a GM facility in Norton, Mass.

Obama's Real Enemies List. Apparently successful franchises such as Chrysler's highest-rated 5-star dealerships were ordered closed in favor of less successful car lots and the consistent discriminator was which political party the owners supported. Reportedly, the closure list was drawn up by the office of the then-car czar, Steven Rattner. It is no surprise that Rattner's wife is Maureen White, the former Democratic National Committee Finance Chair.

Dealergate: Destroying Jobs in the Name of "Shared Sacrifice". Everything you need to know about the nightmare of government-controlled businesses can be found in a damning new inspector general's report on Dealergate. The independent review of how and why the Obama administration forced Chrysler and General Motors to oversee mass closures of car dealerships across the country reveals grisly incompetence, fatal bureaucratic hubris and Big Labor cronyism. No wonder you won't hear much about the report's in-depth details in the so-called mainstream media.

Race Played Role in Obama Car Dealer Closures. The Obama administration, already under fire for unprecedented allegations of racial bias, faces a new bias claim from a most unlikely source: one of the administration's own inspectors general. Decisions on which car dealerships to close as part of the auto industry bailout — closures the Obama administration forced on General Motors and Chrysler — were based in part on race and gender, according to a report by Troubled Asset Relief Program Special Inspector General Neal M. Barofsky.

Somewhat related:
Obama's 'Mandate for Sacrifice' Costs Thousands of Jobs. As many as 100,000 Americans who lost their jobs, or will soon, because of GM and Chrysler dealership closings can thank Barack Obama and his "mandate for shared sacrifice," according to a top Obama official.

The Unsung Heroes of the Federal Government. President Obama has been busy firing [Inspectors General] when they uncover taxpayer abuse perpetrated by Barack Obama's friends and Democratic allies (as was Gerald Walpin when he reported on the antics of Sacramento Mayor Kevin Johnson, a Democrat ally of Obama) and trying to prevent them being hired to watch a $30 billion dollar new government program that was under the control of the Obama administration. One of the best Inspectors General has been Neil Barofsky, the TARP Watchdog who recently announced that the Obama administration mishandled the closing of auto dealerships and that decisions may have been made based on whether minorities owned dealerships.

Did someone mention the firing of Inspector General Gerald Walpin?





---

Cash for Clunkers

What part of the Constitution authorizes the Cash for Clunkers program? Or is that just a technicality?

What better way to stimulate business for Chrysler and GM than to buy a billion dollars' worth of older cars and send them to the scrap yard? What a great way to keep the UAW afloat! What a remarkably easy way to buy votes! A brilliant idea, except that the taxpayers have to pay for it.

One man's clunker is another man's dream car. Driving a clunker is better than walking. I know a few people who would love to have a "clunker" of their own, rather than ride the bus to work alongside a bunch of nasty, smelly strangers. But no, these vehicles are just too big. They must be crushed, and you must drive a 40-mpg crackerbox instead.

This program may be the most aggressively wasteful project ever undertaken by the U.S. government.

I know not what course others may take; but as for me, I'm keeping my clunker.




Here are 1,366 well sourced examples of Barack Obama's lies, lawbreaking, corruption, cronyism, hypocrisy, waste, etc.. [#101] Although Obama claimed that his "Cash for Clunkers" program would help the environment, it actually caused net harm to the environment. Because the program required cars to be shredded instead of recycled, it wasted 24 million barrels of oil. Many of the cars that were destroyed were in perfectly good condition. Because the program's minimum requirement for so-called "fuel efficiency" was only 22 mpg, the reduction in pollution was negligible.

Cash for Clunkers Was a Complete Failure. Keynesian economics is fundamentally misguided because it focuses on how to encourage more spending when the real goal should be to figure out policies that result in more income. This is one of the reasons I wish people focused more on "gross domestic income," which is a measure of how we earn our national income (i.e., wages, small business income, corporate profits, etc) rather than on "gross domestic product," which is a measure of how our national income gets allocated (consumption, investment, government, etc). Simply stated, Keynesians put the cart before the horse. Consumption doesn't drive growth, it's a consequence of growth.

13 Incompetent Failures in the Obama Administration. [#7] U.S. Treasury Secretary Timothy Geithner determined where the "stimulus" money would go. His decisions lost billions on auto bailouts for failed companies, wasted even more billions on "cash for clunkers," and produced economic confusion by supporting failing companies at the expense of strong ones. This crony capitalism and financial mismanagement contributed to the Obama economic slump masquerading as a "recovery."

Study: 'Cash For Clunkers' Reduced Spending. The Obama administration has hailed the"cash-for-clunkers" stimulus program for its part in the automobile industry recovery. But a recent study is putting the program that ended in 2009 back in the news and highlighting its alleged failures. Economists from Texas A&M University evaluated the stimulus program and found it cost the automobile industry billions of dollars.

50 Things Barack Obama Has Done Wrong: [#7] Not only was Cash for Clunkers a wasteful government program that "cost $1.4 million for every job it created and did little to reduce carbon emissions," destroying the "clunkers" helped dramatically jack up the cost of used cars for the rest of the country.

Obama's Economy In Action! Data Shows Cash For Clunkers Was An Epic Debacle. "Cash for Clunkers," the 2009 Obama administration stimulus program designed to spend $2.85 billion to jumpstart the auto industry, turned out to be a complete disaster — for the auto industry. In the minds of Obama's team of advisers and economists, the program made total sense, of course. The plan was to dangle a $4,500 credit to persuade car owners to trade in their older automobiles for new cars with better fuel efficiency. [...] According to the findings of three Texas A&M University economics professors, "Cash for Clunkers" ultimately caused auto industry revenue to shrink by about $3 billion in less than a year

Study: 'Cash for Clunkers' [was] an even bigger lemon than thought. While the program's fuel-efficiency restrictions led to the purchase of more fuel-efficient cars, Americans ended up buying cheaper cars than they otherwise would have, the study found. "Strikingly, we find that Cash for Clunkers actually reduced overall spending on new vehicles," the researchers reported, noting households "tended to purchase less expensive and smaller vehicles such as the Toyota Corolla, which was the most popular new vehicle purchased under the program." They found buyers who participated "spent an average of $4,600 less on a new vehicle than they otherwise would have."

Clunker progressivism. "Cash for Clunkers" was born with Obama's administration as a component of his stimulus. Its fate is a window into both why the recovery has been extraordinarily weak and what happens when progressives' clever plans collide with recalcitrant reality. [...] Most of the 677,842 sales were simply taken from the near future. That many older vehicles were traded in — and, as required by law, destroyed. Gayer and Parker accept as reasonable an estimate that the cost per job created by the program was $1.4 million. Although the vouchers did not come close to covering the cost of the new cars, voucher recipients seem not to have reduced their other consumption.

Our Cash For Obama's Clunkers. The last five years of American economic policy has been a sad and expensive replay of what governments should never do. Amidst the uproar over the pathetic ObamaCare website rollout, many Americans missed the stinging report about Obama's Cash for Clunkers program. Not surprisingly, it was a failed program that cost us $1.4 million for each job allegedly created — a perfect representation of the failure of government-led economies.

Study says 'Cash for Clunkers' created few jobs. The nearly $3 billion "Cash for Clunkers" program approved by Congress in 2009 did little to boost the environment and created few jobs, a new study released Wednesday [10/30/2013] found. A Brookings Institution study found the $2.85 billion program "provided a short-term boost in vehicle sales, which were pulled forward from sales that would have occurred in subsequent months. There was a small increase in employment but the implied cost per job created ($1.4 million) was far higher than other fiscal stimulus programs."

Whoops — 'Cash for Clunkers' Actually Hurt the Environment. According to the Automotive Recyclers Association (ARA), automobiles are almost completely recyclable, down to their engine oil and brake fluid. But many of the "Cash for Clunkers" cars were never sent to recycling facilities. The agency reports that the cars' engines were instead destroyed by federal mandate, in order to prevent dealers from illicitly reselling the vehicles later. The remaining parts of each car could then be put up for auction, but program guidelines also required that after 180 days, no matter how much of the car was left, the parts woud be sent to a junkyard and shredded.

Great News: Obama's Cash for Clunkers Actually Hurt the Environment. When you have an administration run by pinheads who haven't spent much time outside government, you get things like Cash for Clunkers. [...] Of the 250 million cars on America's roads, Cash for Clunkers swapped just 690,000. Of those, many were relatively young and fuel efficient, so we didn't save all that much gasoline.

"Cash for Clunkers" environmental cost/benefit balance seems to have been negative. That should make us skeptical, but also, if it's true, more critical of the government, since (I assume) they knew all this and did it anyway.

Did President Obama Restore Science to Its Rightful Place? [Scroll down] Even though the program wasn't as green as the Obama administration said it was, did Cash for Clunkers at least stimulate the economy? Not so much. People who received rebates were already planning to purchase new cars. Instead of generating new demand for vehicles — which truly would have been a "stimulus" — the program concentrated existing demand into the lifetime of the government program. Auto dealerships and car manufacturers got a burst of sales, but not substantially more than they would have had over a longer period of time. The short-term cost to taxpayers, according to an analysis by automotive website Edmunds.com, was $24,000 for each clunker.

'Cash for clunkers' rules are released, sparking a rush. Clunkermania officially began Friday [7/24/2009]. The federal government finally released the rules that dealers and their customers have to follow to participate in the much-discussed "cash for clunkers" program, which can provide consumers with up to $4,500 when they trade in an older vehicle and buy a newer, more fuel-efficient model from a participating dealer.

Crush for Clunkers. How much do our green representatives in Washington hate SUVs? They're having them dismantled and destroyed. As customers flocked to auto dealers this week to see if they qualified for $3,500-$4,500 in taxpayer-subsidized "Cash for Clunkers" rebates, a little noticed provision of the program requires that the trade-in vehicles be "scrapped, crushed or shredded."

Cash-for-clunkers program may be suspended. Four days after it launched, the popular cash-for-clunkers program has burned through its $950-million budget, sending the Obama administration scrambling to find additional money tonight [7/30/2009] and avoid a shutdown of the program.

Brakes put on 'cash for clunkers' plan. The government suspended the explosively popular "cash for clunkers" program, fearing it would go broke before it could pay what it still owes dealers for a huge backlog of sales, according to congressional offices and a dealer group.

'Cash for Clunkers' Car-Rebate Plan Sells Out in Days. New-car shoppers appear to have already snapped up all the $1 billion that Congress appropriated for the "cash for clunkers" program, leading the Transportation Department to tell auto dealers Thursday night [7/30/2009] to stop offering the rebates.

Uh-oh...
Five reasons why Cash-for-Clunkers will become a permanent federal entitlement: [#1] Anytime Congress and the White House see an opportunity to take tax dollars and give them to somebody who can vote, they will do it, regardless of which party is in power. In a $3.4 trillion annual federal budget, the $1 billion for Cash-for-Clunkers might seem like a drop in the bucket. Oh ye of little understanding! The politicians have a billion reasons for why that is the wrong way to look at it.

House Votes to Add $2 Billion to 'Cash for Clunkers'. The U.S. House approved an emergency measure to add $2 billion to the "cash for clunkers" automobile purchase program after a burst of demand exhausted most of the initial $1 billion in less than a week.

'Cash for clunkers' gets stalled. The government's cash for clunkers program has burned through its $1 billion budget in less than a week as car buyers swarmed dealerships, and federal officials are scrambling to find more money to keep it going, according to government sources. The program, designed to jump-start car sales and improve the fuel efficiency of the nation's auto fleet, unleashed a wave of pent-up demand that threatened to exhaust funds before dealers could be fully reimbursed for rebates under the plan.

'Cash for Clunkers' Language Gives Feds Authority to Take Control of Computers. "A warning box comes up, and it says, 'This application provides to the DoT CARS system. When logged on to the CARS system, your computer is considered a federal computer system and it is property of the United States government,'" [Glenn] Beck read. "'Any and all uses of this system and all files on this system may be intercepted, monitored, recorded, copied, audited, inspected, and disclosed to authorized CARS, DoT and law enforcement personnel, as well as authorized officials of other agencies, both domestic and foreign.'"

Dealers warned off Cash for Clunkers. Despite the Obama administration's promises that any Clunker deals written this weekend would be honored, the National Automobile Dealers Association is advising its members to play it safe and not close any more deals until the program's fate is clearer.

Dealers May Not Honor Clunkers Trades Amidst Government Uncertainty. With the House pushing for another 2 billion to be injected into the cash-for-clunkers program, auto dealers have found themselves in a sticky situation. Many dealerships are offering their customers the full $4,500 discount despite uncertainty about when or even if they'll be reimbursed by the government. This uncertainty stems from not only the grim news about the solvency of the program, but unnerving frustrations over the logistics of the reimbursement system.

Well, since that worked out so well... Imagine the government making an estimable promise of enormous proportion. Imagine the government pledging a promise so big that it would, in fact, as they would argue, actually save an entire sector of the economy. ... Health care is still a ways off. No, we're talking about a program that uses our tax dollars to purchase cars that can not be resold, and that no one will drive, but instead be taken directly to the nearest junk yard and crushed. That's how your government spent 1 Billion dollars in roughly six days.

Cash for Clunkers could raid renewable-energy loans. The money to fund an extended Cash for Clunkers program could come at the expense of renewable energy companies. The House on Friday [7/31/2009] overwhelmingly passed a bill to extend the program which gives consumers up to $4,500 for trading in old cars for new, fuel-efficient ones with an additional $2 billion. The initial $1 billion set aside is said to be already or nearly exhausted.

Beware the high cost of unintended consequences. [Scroll down] Mind you, the government hasn't yet shelled out the $1 billion authorized for Cash for Clunkers. Dealers reduce the buyers' prices and have to apply to the National Highway Traffic Safety Administration for the rebates and NHTSA — surprise, surprise — has only managed to process 23,000 of an estimated 250,000 applications. The checks, we are told, will be in the mail. Oh, there's another problem. The dealers are required to destroy the clunkers, which will reduce the supply and increase the price of spare parts for those low-income folks who can't afford to trade their clunkers in even with a $4,500 subsidy. So much for helping the poor.

Clunkers Staff Doubled to Handle Paperwork Backlog. The U.S. Transportation Department is doubling the number of contract workers to process "cash for clunkers" transactions in an attempt to clear a backlog of dealer applications that grew to hundreds of thousands. A burst of demand exhausted most of the program's initial $1 billion in less than a week.

Chrysler Modifies 'Clunker' Incentive. Chrysler Group LLC is changing an incentive plan that offered to double the government's "cash for clunkers" rebates amid complaints from dealers that inventory is running short. The move also comes after the cash for clunkers program, which offers rebates from the government of up to $4,500, brought waves of consumers into dealer showrooms.

Cash From Clunkers. The buying spree is good for the car companies, if only for the short term and for certain car models. It's good, too, for folks who've been sitting on an older car or truck but weren't sure they had the cash to trade it in for something new. Now they get a taxpayer subsidy of up to $4,500, which on some models can be 25% of the purchase price. It's hardly surprising that Peter is willing to use a donation from his neighbor Paul, midwifed by Uncle Sugar, to class up his driveway. On the other hand, this is crackpot economics.

A clunker of a law: Throwing away money to destroy cars. The Car Allowance Rebate System — cash for clunkers — is designed to stimulate the economy while providing other supposed benefits by reducing greenhouse gases. To encourage new automobile sales, the government gives $3,500 or $4,500 to motorists when they turn in an older car to buy a new ride. However, if a driver were even mildly conscious of gas mileage early on, forget it, she won't get anything. It only rewards those who bought gas guzzlers.

More Cash for Clunkers? It is true that Internet car shopping activity, showroom traffic, and sales are all up, which is why the auto industry wants to keep the program going. I love a good sales surge as much as anyone. But it's not that simple. First, it's not clear that cash for clunkers actually increased sales.

Clunker Confusion: MPG Figures. Some car shoppers are finding that their trade-in vehicles, which qualified for a Cash for Clunkers rebate last week, don't this week thanks to changes in the EPA's fuel economy ratings. In some cases, car buyers say, dealers are backing out of sales they've already made because the EPA changed the fuel economy figures on their trade-in.

The Killer App for Clunkers Breathes Fresh Life Into 'Liquid Glass'. Robert Mueller deals in chemicals for a living — things that can unstick glue, thin paint, make plastic — but he'd never seen an order like the one he got for sodium silicate. The compound is typically used to repel bugs or seal concrete, but this buyer's online order form betrayed a whole different intent: "To Kill Car Engines."

How much is that clunker in the window? For starters, who says the smartest thing for people with working cars is to buy new ones? Indeed, because personal debt is supposed to be a problem, why not look at this as bribing consumers into taking out car loans they don't need? Even with the $4,500 subsidy, not all of these customers are going to be paying cash upfront for their new cars. So they'll be swapping serviceable-but-paid-for cars for nicer cars that are owned by the banks.

U.S. declines to release data on 'cash for clunkers'. The Obama administration is refusing to release U.S. government records on its "cash for clunkers" rebate program that would substantiate — or undercut — claims of the car purchase program's success.

Reid: Senate 'will pass' $2B extension for clunkers. The Senate "will pass" an additional $2 billion to the popular "cash for clunkers" program before leaving on its recess this week, Sen. Majority Leader Harry Reid said today. That would continue the program at least through Labor Day, Transportation Secretary Ray LaHood said. In a news conference today, Secretary LaHood sought to reassure car buyers and dealers that the money will be there to support ongoing purchases.

When the Clunker Is Greener. Even when new cars and appliances are more efficient than the ones they replace, the act of replacing them entails environmental costs not accounted for in the stimulus programs. Building a new car, washing machine or refrigerator takes energy and resources: The manufacture of steel, aluminum and plastics are energy-intensive processes, and some of the materials used in durable goods, especially plastics, use non-renewable fossil fuels as feedstocks as well as energy sources. Disposing of old products, a step required by most incentive and rebate programs, also has environmental costs.

Clunker Debunker. It's hard to say where the Clunkers program falls on the spectrum of Washington economic policies that, these days, run in a narrow span from the thoroughly asinine to the merely ill-considered. Start with the focus on cars. What strange, narrow-minded obsession with the internal-combustion engine made Congress only pay people to buy new automobiles? Why aren't they paid to buy appliances, TVs and sofas? To go out to eat, and to buy business suits, bluejeans and lingerie? Are all of these consumer activities inherently less worthy than trading in a 1999 Dodge Caravan for a Chevy Cobalt?

Senate clears $2 billion "clunkers" extension. The U.S. Senate approved and sent to the White House on Thursday a $2 billion extension of the "cash for clunkers" autos sales incentive program. The measure, approved by 60 to 37, extends the successful program that has raised sales of the U.S. auto industry. President Barack Obama was expected to sign it quickly.

Little Bitty Bang, Bang. Here's an idea: Let's give $50,000 to anyone looking to upgrade to a brand spanking new, environmentally friendly home. All we ask in return is that you burn your previous residence into a heap of smoldering cinder. That's the concept behind the bizarre "cash for clunkers" program so many people are deeming a success. It's so successful, in fact, that Congress will increase funding for it by 200 percent.

Cash for Hummers: Taxpayers Foot the Bill for Guzzler Upgrades. When the House passed the $2 billion addition to "Cash for Clunkers" last week, President Obama touted the environmental benefits of the soon-to-be $3 billion taxpayer funded program, promising it will "help lessen our dangerous dependence on foreign oil, while reducing greenhouse gas emissions and improving the quality of the air we breathe."

Vote for the Clunkers. The biggest trade out there seems to be selling the Ford Explorer and buying the Ford Focus. Of the top-five-purchased higher-mileage cars that qualify, Toyota has three, the Corolla, Prius, and Camry. The Prius is made overseas, but the other two are manufactured mostly in the United States. The No. 3 trade, the Honda Civic, is made in Indiana, while the Dodge Caliber and Chevrolet Cobalt rank in the top 10. Yes, as for the Chevy, it is a little bizarre that the government that owns General Motors Corp. is in effect paying itself. So it goes.

Cash for Clunkers. Just when you thought the wizards in Washington couldn't distort the economy any more, along comes the "cash-for-clunkers" program. Spending billions of tax dollars to bribe people to buy new cars is always a silly idea, but it's especially ludicrous with unemployment near 10% and the federal budget deficit near $2 trillion. What's especially ironic is that the allegedly "green" program will barely put a dent in carbon dioxide emissions. Cash-for-clunkers is a loser even on its own terms.

Where clunkers go to die. To help the auto industry and clean up the environment a little bit, the government is paying up to $4,500 to people who agree to buy a new, more fuel-efficient vehicle while turning in their beater. The catch is that the dealer has to certify that the trade-in never hits the street again. And so, the mechanics at Jennings had to set aside their version of the Hippocratic oath and raise three otherwise drivable cars up on the lift and then put them to sleep.

Cash For Clunkers just does not make sense to us. If you'd like an eye-opening experience stop by your local auto dealer (it will be more efficient if you pick your Toyota or Honda dealer) and take a look at the "clunkers" that are being destroyed in the Cash For Clunkers program. Many are perfectly good cars, trucks and even SUV's. Even though many are in fine running condition and some get pretty good gas mileage, they have to be destroyed by the dealers in order to qualify for the government money. It seems like such a waste.

Of Course Cash for Clunkers Was Going to Work! Cash for Clunkers is using our tax money to help one industry over others. Money from the local plumber shop, hair stylist, or hardware store is being used to help a business down the street. Auto repair shop owners and employees, who make their living fixing old cars, may see a drop in business because the government is using tax money to prop up their parent industry. The Cash for Clunkers program is just one more step in the liberal effort to bail out the UAW. The UAW spent $1.98 million to help elect Democrats in the last election and spent another $4.87 million in independent expenditures to help Obama become president. What did the United Auto Workers get for all of their campaign spending? Well, they succeeded in placing thousands of their members on the public dole. Despite their involvement in helping bring down their parent companies, the UAW (thanks to the Obama administration) owns part of these companies.

Did someone mention the UAW?

Charles Krauthammer on cars for clunkers, and the clunker health care for bills: Yes, it is stimulative, and I'm not particularly against it. However, number one, why autos? I mean, after all, we're already putting $80 billion into auto and subsidies. Why not furniture? The housing industry is dying. Why not get cash for couches. But secondly, here's the real problem. The liberals in the Congress have insisted that the cars that you trade in have to be scrapped in two days, turned into a block of steel. That's it. You cannot keep the car or use it as parts, which means there's going to be artificially imposed scarcity of used cars and parts, which means that poor people, immigrants, students, young people who need a starter car are going to have higher prices.

Vehicle trade-in program a clunker. An Associated Press story on Friday [8/7/2009] indicated that the Senate voted to refuel the "popular" cash for clunkers program with an additional $2 billion, meaning more people will be able to trade in their old gas guzzlers for new, more fuel-efficient vehicles. The word "popular" ... is in quotes because it is not true. The program no doubt is popular with those who qualify to trade in their older model vehicles and receive up to $4,500 so that they can buy new fuel-efficient vehicles. But it is not popular with the general population.

When Precision Is Only 92.11567% Accurate: Pity the owner of a 1987 Plymouth Sundance. ... Someone hoping to dump an '87 Sundance in the cash-for-clunkers program was shocked recently when the Environmental Protection Agency re-checked fuel economy figures. In the new math, some Sundances got 19 miles per gallon, just ahead of the clunker-cutoff of 18. It and 77 other cars were bumped from the bad-enough-for-cash list.

More Trouble in Cash for Clunkers? The program started late, cost $50 million to administer, crashed computers and ran out of money. All to see people spend money now that they would likely have spent later. ... [Now some auto] dealers say they're counting on the money to cover expenses and that payments aren't coming as quickly as the government had promised.

Dealers wait for 'cash for clunkers' payments. The slow payments coming from the federal government are reinforcing the paradoxical nature of the program for dealers: It has generated the most showroom traffic they have had in months while at the same time heaping unease, frustration and worry onto the industry's worst-ever downturn. As of the close of business Friday [8/14/2009], there was talk in the industry that some dealers are considering pulling out of the clunkers program altogether.

Auto Dealers Paid for Just 2% of 'Clunkers' Claims. The federal government has only reimbursed auto dealers for 2 percent of the claims they've submitted through the popular "cash for clunkers" program, a Pennsylvania congressman said, calling on the Obama administration to help speed up the process. Rep. Joe Sestak, D-Pa., called for "immediate action" to address the problem in a statement Sunday [8/16/2009], after writing a letter to President Obama Saturday expressing his concerns.

NY dealers pull out of clunkers program. Hundreds of auto dealers in the New York area have withdrawn from the government's Cash for Clunkers program, citing delays in getting reimbursed by the government, a dealership group said Wednesday [8/19/2009].

GM's $4,000 Car We Won't Get: The proposed $4,000 car costs less than the government's loathsome "cash for clunkers" giveaway — which forces some taxpayers to subsidize the "purchase" (loosely used) of a new car by others. Instead of ripping off one group of taxpayers to provide a government giveaway to another set of taxpayers, GM's $4,000 car would represent honest productive effort, free exchange — goods produced by a market that freely consents to buy them.

'Cash for clunkers' won't be running much longer, government says. The government will announce a plan as soon as today [8/20/2009] for winding down its popular but problem-plagued "cash for clunkers" program. The announcement by Transportation Secretary Ray LaHood came as a New York dealership group said that hundreds of its members had stopped doing clunker transactions because of delays in getting reimbursed by the federal government.

It couldn't happen to a more deserving group of people.
Cash For Clunkers Leaves Dealers in the Lurch . Politicians have been quick to crow about the success of the Cash for Clunkers program and its stimulative effect on automotive sales, and compared with dumping over $80 billion into AIG's black hole, I suppose Clunkers seems like a home run. ... But most of the auto dealers have been left trying to get reimbursed by the hastily conceived bureaucracy.

'Clunkers' Program Benefits Foreign Automakers More, Data Shows. The Obama administration has declared the wildly popular 'Cash for Clunkers' program a success, saying it has revived the country's ailing auto industry and taken polluting vehicles off the road. But the data shows that the program, which ends Monday [8/24/2009], has apparently benefited foreign automakers more than their U.S. counterparts.

The Editor says...
"Polluting vehicles?" Nobody said the vehicles were polluters, necessarily -- just that they were old and used a lot of gasoline.

U.S. adds clerks to clear clunkers. The U.S. Transportation Department, billions of dollars behind in paying "cash-for-clunkers" rebates, has hired private contractors and solicited volunteers from the Federal Aviation Administration and its own executive ranks to work overtime to clear the backlog.

A Multi-Billion Dollar Clunker of a Program. Paying people to destroy perfectly good cars. That is Congress and the president in action. It turns out that "Cash for Clunkers," which mercifully ends at 8 pm today [8/24/2009], doesn't do much for the environment — contrary to claims made when the legislation was approved.

All Clunkered Out. The Transportation Department is ending its "cash for clunkers" program today, but the deadline shouldn't pass without recording a few economic and political lessons. To wit, the feds can't even give away money very well. The $3 billion plan is being hailed in Washington as a great success ... But it's hardly miraculous that some Americans would be willing to apply for "free" money to do what they probably would have done eventually anyway.

Classic Obamanomics: CFC pumps up GM while stifling small business.
Cash for Clunkers puts the brakes on used car sales. Roy McDonald, a salesman with Levis Used Car Clearance Center in Slidell, can't wait for the Cash for Clunkers program to end. "It's our worst month ever. It's killing us," McDonald said. "Customers are not even coming to the used car lot. They're going straight to new cars."

How Cash For Clunkers Failed American Taxpayers. Today, let us celebrate the end of an unjustifiable drain on the US taxpayer: the Cash for Clunkers (C4C) program. True, C4C greatly boosted the number of consumers visiting car dealers. Doubtless, some new cars were sold to consumers who thought they had a clunker to trade in but, on discovering it didn't qualify, they bought a new car regardless.

Feds skewed Clunkers results. An analysis of purchasing data conducted by Edmunds.com found that the top models purchased under the Cash for Clunkers program were not small foreign cars as government data suggested, but SUVs. The government data separates models by engine and transmission type; Edmunds does not.

Clunkers' Tab So Far: $2.58 Billion. With the deadline for the government's "Cash for Clunkers" program now just hours away, the Department of Transportation says the total requests for "clunkers" rebates are up to at least 625,000 at a value of $2.58 billion...

Turns out that the $4500 "cash for clunkers" rebate is taxable. The rebate will be taxed as regular income which means — with no payroll deductions — most of the buyers will have a nice, healthy tax bill next year.

Seven lessons of Cash-for-Clunkers' failure: It's over, finished, done. And quiet returns to the auto showrooms of America. Cash-for-Clunkers has outlived its funding. But left us with a host of useful lessons. First, government forecasters are really bad at their job. The program was originally funded with $1 billion of taxpayer money to cover rebates of $3,500-$4,500 on cars traded in for more fuel-efficient models, and the money was expected to last for about six months. It lasted for one week.

"Clunkers" Another Botched Performance by the Change Gang. In yet another dismal performance by the Obama Change Gang, the much ballyhooed "cash for Clunkers" debacle actually hurt sales of goods other than autos in the U.S. economy.

Clunkers' Drives Insurance Business Higher. The "Cash for Clunkers" program may be over but the great deals consumers thought they received may be offset somewhat by higher insurance premiums on their new vehicles.

After the Clunker Party, an Auto Sales Hangover. U.S. government rebates helped Ford, Honda, Hyundai, and others post dramatic gains. But some of those car sales were pulled from coming months.

The economic illiteracy behind Cash for Clunkers. The government paid car owners to trade in their old cars, which will be destroyed. But the government is running a deficit. So it doesn't have $3 billion to hand out. It must borrow the money, which reduces the amount of money for other investments. Moreover, the government must raise taxes in the future to pay back the principal and interest -- or the Federal Reserve will monetize the debt through inflation. Either way, we pay.

Spreading the Taxpayers' Green. [The Cash for Clunkers program destroyed] some of the finest luxury cars ever built. Among the list of "gas-guzzlers" that had their engines destroyed were a 1997 Bentley Continental R (once valued at $300,000), a '97 Aston Martin DB7 Volante (that once stickered at $135,000), a 1999 Mercedes C43 AMG, a rare 1987 Buick GNX (only 547 were built), and 131 Chevy Corvettes. Car enthusiasts will cringe at the thought that these precious used cars were crushed by order of Pelosi & Company. But they had to be destroyed. They had sinned against the planet.

Exotic clunkers also got the crunch under program. A few weeks back, the owner of [a] Continental R decided it wasn't worth more than $4,500, had its engine destroyed and shipped it to a junkyard with the rest of America's clunkers. It's one of several rare or surprisingly new vehicles destroyed under the Obama administration's cash for clunkers program designed to sweep old gas guzzlers off U.S. roads.

Obama Makes U.S. Taxpayers Bail Out Foreigners. [Scroll down slowly] Similarly, the so-called "Cash for Clunkers" program also turned into a foreign boondoggle. ... Initial data collected indicate that more than half of the vehicles sold, each underwritten by a $3,500-$4,500 taxpayer subsidy, were in fact foreign brands. Indeed GM, now dubbed Government Motors, accounted for only 18% of the cars sold under the program. Thus the massive $3 billion federal subsidy program has actually done more to revive Japanese and Korean rather than American automakers.

Beware of "Cash for Clunkers" Scams. President Obama signed the cash for clunkers bill into law less than 24 hours ago, and already scams have started popping up. CNNMoney reports, "Some purported 'Cash for Clunkers' Web sites are asking consumers to provide personal information, including names, addresses and social security numbers, so they can 'register' for the program ... NHTSA spokesman Eric Bolton told USA Today about the scam sites: "Some want a lot of personal information, and talk about consumers being able to pre-register. Consumers don't have to register for this program at all."

GM's US sales crash 45 percent in September. General Motors saw US sales crash in September, falling 45 percent in the wake of the expiration of the popular government-funded "Cash for Clunkers" program, the automaker said Thursday [10/1/2009].

If Obama Had Told Us Before His Election. If Barack Obama had campaigned on what he has actually done in his first 300 days in office, would he have been elected? ... If Obama had told us he would spend $3 billion in a Cash for Clunkers program that would use taxpayers' funds to buy mostly foreign cars and grind up the used American cars traded in to make them unusable, would he have been elected?

Dealers say federal clunkers program has made cheap, used vehicles harder to find. In her search for a cheap, used minivan for her and her husband, Krissy Dieroff has visited seven dealerships across Berks and Schuylkill counties in the last week, but to no avail. "There's not much to pick from, and the ones we do find are overpriced," said Dieroff of Auburn, Schuylkill County, while browsing the lot of a city dealership on Monday [10/19/2009].

Recyclers want more time to dispose of clunkers. Trade-ins from the Cash for Clunkers program are piling up and auto recyclers are seeking more time to meet the deadline for disposing of all those vehicles.

Hit and Run. Some recyclers still need months to strip thousands of clunkers before they send the last of the steel carcasses to the crusher. Other than the recycling story, there has been little journalistic follow-up of Cash for Clunkers (C4C). The business media has written about the economic lunacy of the C4C program, but the Obama media seems suspiciously quiet about its final results.

The White House Stupidly Goes To War With Car Website Edmunds.com. It is an odd, and we'd say regrettable, pattern of this White House that it lets itself get dragged down into fights with specific media outlets. ... But in addition to Fox News, now The White House is going after highly-respected and influential car site Edmunds.com.

'Clunkers' critique draws fire from White House. The White House lashed out again Thursday [10/29/2009] at a media outlet, calling the automotive site Edmunds.com "wrong (again)" for saying that the "cash for clunkers" program cost too much money and had little lasting impact on car sales or the economy.

Clunkers: Taxpayers paid $24,000 per car. A total of 690,000 new vehicles were sold under the Cash for Clunkers program last summer, but only 125,000 of those were vehicles that would not have been sold anyway, according to an analysis released Wednesday [10/28/2009] by the automotive Web site Edmunds.com.

Edmunds.com Responds to White House Comments. Today [10/29/2009] the Department of Transportation and White House chose to respond to an analysis Edmunds.com released Wednesday that looked at auto sales this year and what sales volumes would have been had the popular Cash for Clunkers program never existed. At issue is one point of the analysis showing the taxpayer cost for every incremental vehicle sold was $24,000.

Cash for Clunkers Results Finally In. Nearly 690,000 vehicles were sold during the Cash for Clunkers program, officially known as CARS, but Edmunds.com analysts calculated that only 125,000 of the sales were incremental. The rest of the sales would have happened anyway, regardless of the existence of the program.

White House, Edmunds in war of words over 'clunkers'. The White House said the influential automotive news Web site Edmunds.com's harsh analysis of the impact of "cash for clunkers" was "faulty" and "implausible." Edmunds CEO Jeremy Anwyl shot back that the White House was "shooting the messenger." Edmunds said cash for clunkers cost taxpayers $24,000 per vehicle sold.

Clunker pickups traded for new pickups. The most common deals under the government's $3 billion Cash for Clunkers program, aimed at putting more fuel-efficient cars on the road, replaced old Ford or Chevrolet pickups with new ones that got only marginally better gas mileage, according to an analysis of new federal data by The Associated Press. The single most common swap — which occurred more than 8,200 times — involved Ford 150 pickup owners who took advantage of a government rebate to trade their old trucks for new Ford 150s.

Old Truck For New Truck the Most Common Cash-For-Clunker Trade. Of the thousands of Americans who took advantage of the government's $3 billion Cash for Clunkers program, most reportedly replaced old pickup trucks with new ones. A high percentage of the new trucks purchased in the program, designed to put more fuel-efficient cars on the road, get "only marginally better gas mileage" than the ones they replaced, according to an Associated Press analysis.

Carfax Warns Clunkers Could Be Sold. Some have expressed concern that vehicles that should have been destroyed in the Cash for Clunkers program may turn up on a used car sales lot. Though federal law allows for the resale of some parts from clunkers, the engine and drivetrain cannot be used again.

Five More Amateur Mistakes By the Obama Administration. In a nutshell, the Cash for Clunkers program involved borrowing billions from the Chinese to incentivize Americans to destroy their working cars in order to buy brand new foreign cars. Although it's debatable how accurate their data is, according to the Department of Transportation, 4 out of the top 5 models bought in the program were made by foreign car companies. Moreover, after the program ended, predictably, the sales of new cars dropped considerably because the program didn't create new demand so much as cause people to buy a few months earlier than they would have anyway.

"Clunkers" project fell flat. When Coloradans traded in their old cars for new ones in the federal "Cash for Clunkers" program, they received an average 9.8 miles per gallon increase in fuel efficiency. About 40 percent of those folks waved goodbye to gas-guzzling SUVs and opted instead for passenger cars. That's certainly good news. But don't think the billion-dollar federal program did anything to measurably improve the environment. In reality, the program only helped a relative few select consumers.

The Media's Top 10 Worst Economic Myths of 2009. Though the [Cash for Clunkers] program was touted as "great for the auto industry" and the environment, the Washington Post concluded that the program was not "necessarily a boon to the environment." Jeremy Anwyl, CEO of Edmunds.com (a car buying Web site), said "it's not clear that cash for clunkers actually increased sales." Later analysis from Edmunds found that the government didn't get much bang for the taxpayer buck either — shelling out $24,000 per car once you subtract cars that would have been sold without the program.

More pain from the Cash for Clunkers program. As part of the deal, buyers had to turn over to a new car dealer a clunker — which was roughly defined as a vehicle your kids wouldn't be caught dead in. Here's where the latest twist comes in. Everyone knows that those clunkers were rendered inoperable when something akin to your grandma's beef stew was poured into the engine. The clunker, we were led to believe, became worthless. Well, that's not really true.

Top Ten Green Auto Headlines of 2009. Congressional greens deemed gas guzzlers traded in under the Cash for Clunkers program to be immoral. They had to be destroyed — including disabling their internal combustion engines with a sodium silicate solution so that they would never sin against the planet again. The real victims? Lower-income Americans who typically buy used vehicles and parts.

Months later...
'Cash for clunkers' car dealers investigated. The government is investigating at least 20 car dealerships it claims violated the rules of last year's cash-for-clunkers program. Government auditors say up to $94 million in rebates may be ineligible because they lack the proper documentation. One year after the $3 billion car-buying frenzy, the National Highway Traffic Safety Administration has reached an enforcement phase. Nine dealers have paid a total of $71,500 in fines.

Update:
Cash for Clunkers 2: The Return of Government Motors. Ready for another cash for clunkers program? It looks like General Motors is attempting to replace it's own consumer incentives with tax payer money. The car company, bailed out of bankruptcy in 2009 by the American tax payer, appears to be turning the government into an automatic rebate provider. The Obama administration and their friends on Capitol Hill are floating around a proposal to change the $7500 tax credit for green vehicles.


Clunkers II -- the sequel

Latest in Stimulus: 'Cash for Refrigerators'. A $300 million cash-for-clunkers-type federal program to boost sales of energy-efficient home appliances provides a glimmer of hope for beleaguered makers of washing machines and dishwashers, but it's probably not enough to lift companies such as Whirlpool and Electrolux out of the worst down cycle in the sector's history.

'Clunkers' Sequel Rattles Appliance Producers. The cash-for-clunkers program was so successful in getting Americans to buy new cars that it ran out of money early. Now, a sequel, dollars-for-dishwashers, is coming to an appliance store near you.

Federal 'cash for appliances' program should spur sales. Did you recently trade in that old clunker for a new car? OK, so how are you fixed for a new refrigerator? Or maybe a new dishwasher or heat pump? Brace yourself. A federal "cash for appliances" program is likely on its way to a store near you before the end of the year.

Cash For America? If there were any doubts that America is headed for a complete nanny-state, socialist government just read the global warming bill recently passed by the house or any portion of the health care legislation proposed by congress and the Obama administration. The prelude to a new and improved socialist America is evidenced by an $8,000 federal tax credit to buy a home, an up to $4,500 government rebate to buy a car if the trade involves remitting an environmentally "unfriendly" clunker, and now the Obama administration is proposing another government program to give everyone up to a $200 rebate for purchasing energy efficient appliances.

'Cash for Clunkers,' household edition. In U.S. history, there may have been no better time to own a junk car, a rattling old fridge and a leaking dishwasher. On the heels of its ballyhooed "Cash for Clunkers" program for cars, the federal government is expected to finalize details in the coming weeks of another tax-supported shopping extravaganza, known as "Cash for Appliances."

EPA Celebrates the 'Crushing' of One Million Working Refrigerators. In a move that recalls the government venture that pulverized 700,000 used cars under the "cash for clunkers" program, the Environmental Protection Agency is now praising a company for "crushing its 1 millionth refrigerator." EPA hailed Southern California Edison (SCE), a partner in its Responsible Appliance Disposal (RAD) Program, for reaching the "national conservation milestone."


Possibly even Clunkers III

Cash for Clubbers. We thought cash for clunkers was the ultimate waste of taxpayer money, but as usual we were too optimistic. Thanks to the federal tax credit to buy high-mileage cars that was part of President Obama's stimulus plan, Uncle Sam is now paying Americans to buy that great necessity of modern life, the golf cart.

Detroit Auto Show hears call for new Cash-for-Clunkers program. A top automotive parts industry executive told attendees today [1/13/2010] at the Automotive News World Congress held in conjunction with the North American International Auto Show in Detroit that America needs another Cash-for-Clunkers program, only this time it should be modelled on the more successful program in China.



---

Jump to Corporate Average Fuel Economy (CAFE) standards.
Jump to Pork barrel politics.
Jump to President Obama -- Year One.
Jump to the Obama Index Page.
Back to the Home page