— Mark Twain
---
O'Donnell: 'Brilliant' Obama's Mind Is 'Too Complex' 'Compared to My Own'. Appearing as a guest on Saturday's [6/2/2018] AM Joy show, MSNBC host Lawrence O'Donnell again descended into sycophancy toward former President Barack Obama as he declared that the former President's mind is "too supple, too complex, too rich compared to my own." [Video clip]
Hawaii Considers Building a Statue of Barack Obama in His Birth State. A state Senate committee in Hawaii on Tuesday [3/27/2018] called for a statue of former President Barack Obama to be erected in the state where he was born.
The Editor says...
The Associated Press continues to carry water for Barack H. Obama, carefully ignoring any evidence that Obama was born in Kenya.
The Obama Comfort Doll Isn't the Worst of it. I'm a day late with this, so you likely have already seen it: Jill Abramson, former Executive Editor of the New York Times, told the Guardian that she keeps a Barack Obama doll in her purse and calls on it for comfort in the distressing Age of Trump: [...] But the rest of Abramson's column strikes me as more significant. Why? Because she makes no pretense of being anything other than a Democratic Party operative. Writing for the Guardian's far-left audience, she is among friends. Any pretense of objectivity is gone.
Ex-Times editor Jill Abramson carries an Obama doll in her purse. Former New York Times executive editor Jill Abramson revealed, in an opinion piece this week about the 2020 election, a bizarre superstition.
Godflix, according to the Prophet Bama. Jill Abramson, once the editor-in-chief of the Democrats' Holy of Holies, the very NYT op-ed page, has just revealed an extremely private secret. Wait. Hold on. Don't say a word. In her own private purse, says Ms. Abramson, Who Cannot Tell a Lie, she keeps a much-loved plastic doll of ex-president Barack Hussein Barry Soetoro Obama, Jr., presumably to hug at times of stress after the latest tweet from Pretender to the Throne Donald J. Trump, aka Satan with red horns. This news sent a thousand psychiatric couches aflutter in Manhattan, wrestling with the Freudian significance of a plastic Obama doll in a worshipful woman's purse, given her far too obvious fantasy life.
The Portraits and the Obama Reality Distortion Field. [T]he Obamas are the center of the most delusional cult of personality that the media has yet spawned. [...] This isn't journalism. It's not a free press. It's a bunch of cult members rushing out to explain that the flawed thing is flawless. You're the flawed one for not seeing its gloriousness. All hail the beloved leader.
Now We Know Who's Really A Genius. Actually the world has been collectively mad since Barack Obama appeared in all his Marxist glory on the scene. Will America ever admit that the senseless adoration fostered on Obama compared far closely to Adolf than any rally attended by Trump supporters. Remember those elementary school kids chanting Obama, Obama, Obama like little lobotomized brown shirts or those Grecian poles rather than American flags erected to frame The One and his teleprompter? Has any right wing pundit admitted that Trump made his leg tingle like how Obama affected Chris Matthews? I watched in horror as our country acted like an idiocracy numbingly selecting a president who was at best a community organizer who never revealed his education records or held a real job.
America's Media Meltdown. [Scroll down] Newsweek editor Evan Thomas declared Obama to be a deity ("Obama's standing above the country, above the world, he's sort of God.") His very words were able to make the leg of MSNBC's Chris Matthews "tingle." His pants' crease proved for David Brooks a talisman of his future greatness, along with the fact that the mellifluent Obama "talks like us." While a few journalists were aware of their cult-like worship, most were hooked and competed to outdo one another with embarrassing hagiographic praise. Upon election, Obama was summarily declared by one presidential historian and television pundit to the smartest man with the highest IQ ever to have been president. Obama himself channeled the veneration, variously promising in god-like fashion to cool the planet and lower the seas, remarking that his own multifaceted expertise was greater than that of all of the various specialists who ran his campaign.
The Obama Cult. Do you remember president Obama's eight scandal-free years? This question, posted on an acquaintance's Facebook page, drew my astonished attention. My immediate "LOL" response received a reprimand for expressing "disrespect." Among other responses to this lead question were rapturous expressions of "love" and even "worship" for The Great Leader Barack Obama. As the furor ignited by the Trump election continues to burn and blow, the melancholy longing for an alleged Golden Age is arising. The longing is deep, and accompanied by swooning ecstasy at the reappearance to public life of Mr. Barack Obama.
CNN's Angela Rye Compares Obama to Jesus. Barack Obama isn't even in office anymore but Democrats are still pining for their long lost savior. Liberal commentator and former executive director of the Congressional Black Caucus Angela Rye bemoaned this fact on Anderson Cooper 360 Monday night [3/27/2017]. After discussing Congressman Devin Nunes' comments about the investigation into Trump's wiretapping claims, Rye expressed outrage that the media wasn't talking about other issues, instead of talking about "something that didn't happen." After conservative commentator Mary Katharine Ham expressed that she had "no chill" for any administration wiretapping any individual, Rye jumped in to tie this back to racism and how this would've been treated differently if Obama was in Trump's shoes. She also said Obama was "the next best thing to Jesus": [...]
Too soon.
Illinois House votes against making Obama birthday a holiday. Barack Obama's name is revered in his home state. But the Illinois House has rejected making his birthday a state holiday.
Barack Obama named recipient of JFK Profile in Courage Award. The award is presented annually by the John F. Kennedy Library Foundation to public servants who have made courageous decisions of conscience without regard for the personal or professional consequences.
Obama the great: Smithsonian cues up glowing documentary. He's been retired for less than two weeks, but the Smithsonian Institution and its TV channel are already enhancing his legacy and have already finished and readied for airing a complimentary documentary on former President Obama.
This Is What Post-Christian Dissent Looks Like. Remember the shining faces in Chicago the night of Obama's first victory? Remember the promise that the rise of the oceans would stop, and the planet would start to heal? That wasn't politics; it was religion, and Obama was — if not actually Ba'al — then his high priest, the central figure empowered to enable the hopes, dreams, and very evolution of the American people. Fast-forward eight short years and the ecstasy has turned to agony.
The Gospel of Matthews. David Rutz's supercuts video of MSNBC's Chris Matthews extolling the gospel of Barack Obama over the past eight years serves a serious purpose. It is illustrative of the media's slobbering love affair with Barack Obama — a love affair rivaled only by Obama's love of himself. It reminds us of the media's incredibly low state. Rutz recalls: "Such was Matthews's love for Obama that he thanked Superstorm Sandy for coming along in 2012 and helping the president's successful reelection bid[.]" This suggests another point. Obama incarnates the devout leftism that works as a substitute religion for these people. Matthews puts it this way: "The biblical term for it, since we're in a biblical era, is deliverance." Matthews is a believer spreading Obama's gospel.
My Obama moment — and ours. The video below looks to be just another idiotic Hollywood production celebrating the godhood of Obama, but it must be a production of the Obama administration itself. The thing has been posted by the White House under the official title "Yes We Can: People Share Their Most Memorable Moments from the Obama Presidency. [Video clip] Those of you who persist in declaring Obama Muslim are obviously mistaken; the man worships himself. It's the common denominator between him and his followers. In the video, worshipers testify to their "Obama moment." Here I would note that the worshipers represent — how to put it? — a limited cross section of the American people.
ESPN Will Memorialize Obama on Martin Luther King Day with Formal Tribute. Just in case you had forgotten how obscenely biased and liberal ESPN is, well, they've reminded us yet again. On Martin Luther King Jr. Day, the sports network that had vowed to become less overtly-liberal will feature a tribute to the "sports fandom," of President Barack Obama. According to a press release, the program will feature, "segments saluting the "First Fan" only a few days before he leaves the presidency, ending his historic eight years as the first African-American to hold the office. Michael Eaves will anchor the program."
Fallon On Obama: 'I Lost It' 'No Way Could There Be a Cooler Human Being Than That Guy'. Wednesday night on NBC's The Tonight Show, host Jimmy Fallon had Michelle Obama on as his guest for one of her final television appearances as First Lady. Fallon is known for being very friendly towards his guests but his interview with Mrs. Obama was completely out of the ordinary in gushiness. The show began with a really weird segment in which a few "regular Americans" are asked to go backstage and stare at a painting of Michelle Obama and tell her "what she meant" to them. Michelle then showed up to surprise each person while they were giving their emotional tributes, complete with shrieking, sobbing and hugs. Somehow, no one on The Tonight Show thought having people talking to a painting and telling it how much they mean to them is in any way creepy or unusual.
Obama's Transparent Presidency. Tuesday [1/10/2017] Obama gave his final interview to the Israeli media to Ilana Dayan from Channel 2's Uvda news magazine. Dayan usually tries to come off as an intellectual. On Tuesday's show, she cast aside professionalism however, and succumbed to her inner teenybopper. Among her other questions, she asked Obama the secret to his preternatural ability to touch people's souls. The only significant exchange in their conversation came when Dayan asked Obama about the speech he gave on June 4, 2009, in Cairo. Does he still stand by all the things he said in that speech? Would he give that speech again today, given all that has since happened in the region, she asked. Absolutely, Obama responded. The speech, he insisted was "aspirational" rather than programmatic. And the aspirations that he expressed in that address were correct. If Dayan had been able to put aside her hero worship for a moment, she would have stopped Obama right then and there. His claim was preposterous. But, given her decision to expose herself as a slobbering groupie, Dayan let it slide.
Saint Barack? Obama's frequent appeals to history's judgment reflect his confidence that history will be kind to him. In the short run, it will: liberals will canonize Obama. Like the faithful Catholics chanting "santo subito" after the death of Pope John Paul II, Obama's liberal boosters will turn him into Saint Barack, savior of health care and slayer of bin Laden. You might see hints of this already in your liberal friends' wistful Facebook posts: "I'm really going to miss this guy." If liberals are calling the shots, Obama's name will shortly be inscribed on statues and state buildings, and his face will someday appear on coins and currency, while the divisions he sowed and exploited in pursuit of personal glory will be papered over. Generations of schoolchildren will learn about the beloved, barrier-shattering college professor with the megawatt smile who could tell a joke and make a jump shot — not the ambitious, polarizing ideologue whose disdain for half the country was palpable.
Matt Lauer: 'I Just Burst Out Crying' When Obama Gave Biden Medal of Freedom. Following a gushing report on Friday's NBC Today about President Obama awarding Vice President Joe Biden with the Presidential Medal of Freedom, co-host Matt Lauer revealed that he was overtaken by emotion while watching the White House ceremony on Thursday: "So I'm glad there were no cameras in my apartment yesterday because I was just sitting there weeping.... I just burst out crying when I saw that moment. It was incredible." Introducing the three-minute segment, Lauer proclaimed: "...there was something special in Washington yesterday. It's getting a lot of attention. President Obama surprising his vice president, Joe Biden, with the Presidential Medal of Freedom." Correspondent Andrea Mitchell followed: "It was extraordinary, Matt.... Barack Obama had a parting gift for his vice president, Joe Biden. Also on display, the kind of friendship rarely seen between high-powered politicians here in Washington."
BuzzFeed Editors Cry During Obama's Speech. BuzzFeed editors tweeted that they were crying as President Barack Obama delivered his farewell address. [...] The site's official Twitter account even posted a picture of Obama wiping away a tear and commented "same."
People Are Actually Crying During Barack Obama's Farewell Speech. People were in tears as Barack Obama delivered his final speech as president from his adopted hometown of Chicago Tuesday night.
Still 'Thrilled!' Chris Matthews Remembers 'Physically Stirring' Obama. Chris Matthews may have another thrill up his leg. The liberal MSNBC host on Tuesday reminisced about his admiration for Barack Obama. He looked back: "To see Barack Obama elected president, was, to me, emotionally and physically stirring." Matthews compared, "I don't think I've been through anything like that since, maybe, the fights over the Vietnam War." Later, the journalist ended the show by playing a clip of the then-2008 presidential candidate attacking "Bush/McCain Republicans." Matthews marveled, "Looking back and listening to those words, I can see why I was thrilled. Mr. President, thank you for having the courage to stand up for this country."
Farewell to a Decade of Media Drooling Over Barack Obama. From the moment then-state senator Barack Obama showed up on the national stage to address the Democratic convention in 2004, the news media were in love. "Obama is a rock star," NBC's Andrea Mitchell exclaimed during MSNBC's live convention coverage back on July 27, 2004. The next morning, ABC's George Stephanopoulos echoed Mitchell's enthusiasm: "He's the Tiger Woods of the Democratic Party right now." When Obama ran for President four years later, news reporters led the cheers. "It's almost hard to remain objective because it's infectious, the energy, I think," then-NBC reporter Lee Cowan confessed in an MSNBC.com video posted January 7, 2008. On CNN a few days later, Politico editor John Harris admitted: "A couple years ago, you would send a reporter out with Obama, and it was like they needed to go through detox when they came back — 'Oh, he's so impressive, he's so charismatic,' and we're kind of like, 'Down, boy.'"
This overview was published in 2008:
The Fierce Urgency of Lies. Grown men weep in his presence, women faint, and thousands scream his name like a rock star. The liberal press prints glowing tributes to their new progressive prophet, calling him "the triumph of word over flesh" and other absurd and profoundly unwarranted accolades. Obama, a very junior Senator, will guide us to a Utopia that has yet to be defined, an America that the left envisions but cannot quantify; but rest assured it will be swell. Obama's image is picture perfect Ivy League political correctness. He is an educated man of color. He is a socialist. He has an intelligent and lovely wife, which he publicly embraces with obvious devotion. Even better, he has a deep and melodious speaking voice, full of the heroic righteousness of Martin Luther King, which echoes a time of triumph over injustice. He is the embodiment of our popular culture, passionate and handsome, well spoken yet carefully imprecise, and so absent of consistency he cannot long endure critical examination.
Fareeds Song Of Love. You probably missed Fareed Zakaria's two-hour CNN special "The Legacy of Barack Obama". When it comes to hero worship, a teenage fangirl of Justin Bieber has absolutely nothing on Zakaria. Defying heavy odds, the Washington Free Beacon's David Rutz has made Zakaria's CNN special watchable by reducing it to a 90-second highlight reel. [Video clip]
Plagiarist Fareed Zakaria's Love Letter to Barack Obama Cut Down to 90 Seconds. Fareed Zakaria is liberal, a plagiarist, and a journalist who proudly endorsed Barack Obama for president in 2008. Naturally, CNN gave him two hours of primetime television last month to showcase his fawning documentary on the outgoing president called "The Legacy of Barack Obama." We condensed it down to 90 seconds to save you the two hours of propaganda. Complete with interviews with no Republicans but plenty of former and current White House staffers — including Valerie Jarrett, Van Jones, Denis McDonough, Rahm Emanuel, and David Axelrod — Zakaria takes viewers on a sweeping and rosy tour of the Obama presidency. [Video clip]
Obama's full-blown, year-end temper tantrum. This is a man described by his closest advisor, Valerie Jarrett, as "just too talented to do what ordinary people do." More flattering, Jarrett noted that "I think Barack knew that he had God-given talents that were extraordinary. He knows exactly how smart he is. ..." He is so smart, said Jarrett, that "he's been bored to death his whole life." Very few people surround themselves with people capable of such uncompromising adoration. It isn't healthy. But Obama is different. He has been told over and over — even by the Nobel Committee that awarded him their coveted Peace Prize on spec — that he is extraordinary.
John Legend: Americans 'Already Missing the Way Obamas Conducted Themselves in Office'. Singer John Legend is apparently already feeling nostalgic about Barack Obama's presidency, portraying the last eight years as a "scandal-free" era the American people will surely miss. "I think people are already missing the way the Obamas conducted themselves in office," the "Darkness and Light" singer said in an interview for the winter cover story of Jocks & Nerds. "Particularly when you compare them, especially with Trump and how tawdry so much of the campaign has been," Legend continued. "I think people are appreciating how scandal-free his Presidency has been."
Williams: Obama Is 'A Communicator Who Can Deliver That Unlike Anything We Have Ever Seen'. In the hours following President Barack Obama's campaign stop for Hillary Clinton on Tuesday afternoon [9/13/2016] in Philadelphia, MSNBC's Chris Matthews was beyond giddy at the "magical" stump speech but he was later joined by Brian Williams, who declared on The 11th Hour that Obama will go down as "a communicator who can deliver" enthusiasm "unlike anything we have ever seen."
Andrea Mitchell Calls Obama Greatest Speechwriter Since Lincoln. Following President Obama's speech Wednesday night [7/27/2016] at the Democratic National Convention, several political commentators on MSNBC rushed to praise his address and extol his speechwriting skills. One of them was MSNBC reporter Andrea Mitchell. Mitchell took the political fawning to another level with her commentary on Obama's speechwriting skills. Obama was "extraordinary in invoking the Framer's thoughts to form a more perfect union, the most optimistic speech, the most generous speech. Politically, having covered the campaign eight years ago, I could have never imagined this kind of embrace of Hillary Clinton," Mitchell began.
Barak X. Barak Obama was a "new breed" of black politician. He was the product of the best schools and, according to Joe Biden, "the first mainstream African-American who is articulate and bright and clean and a nice-looking guy." Even better, he had an exotic back story with a white mother, a Kenyan father and a youth spent in Indonesian madrassahs. Obama's 2004 speech at the Democratic convention made him a star in the party and punched his ticket as the next big thing. The 2008 presidential was one long sales pitch about how Barak Obama was the salve to what ailed America. Obama was the quintessential example of what post-racial America was going to be. He was a post-racial healer, who would close the books on America's racist past. The way the Obamasoxers carried on in 2008, you could be forgiven if you thought Obama was the leader of a new cult. They truly believed he was the fulfillment of prophecy. He was the one to bring about the end to the long civil war in favor of those on the winning side of history.
NBC, CBS Declare: 'Familiar Ritual' for Obama to be 'America's Pastor'. President Barack Obama was in Orlando, Florida Thursday to pay his respects to victims of Sunday's terrorist attack and push for more gun control in the process. And the liberal news networks were happy to aide with his agenda on their evening news programs. "It has become a familiar ritual of a current national tragedy," lamented NBC's Lester Holt starting off Nightly News, "The president of the United States traveling to embrace survivors and grieving family members after an act of mass violence." "Grief beyond description" — those were the words of President Obama late today after meeting with families of the fallen from the Orlando nightclub massacre," stated CBS's Scott Pelley to begin Evening News. Pelley echoed Obama asking, "Why does this keep happening?" The CBS host went so far as to declare that Obama is America's pastor saying, "We were reminded today of how many times in recent years a president has been called on to play the role of America's pastor. To lead the nation in prayer for victims of a deadly attack."
The Editor says...
Nobody has ever "called on" Barack H. Obama to be America's pastor. Barack H. Obama inserts himself into every high-profile news story for his own petty self-aggrandizement. He only enters a church when he is the featured speaker or the center of attention.
$1 billion for Obama's library? Stop this presidential trend. Recently it was revealed that President Barack Obama intends to raise $1 billion to build his library and fund the associated endowment. Let me say this again: The president intends to raise one billion dollars for his library. The collective public response to this news was a big ho-hum. Everyone simply assumes former presidents will build monuments to themselves. But despite being a student of presidential history and a supporter of Obama, I think it's time to put an end to this modern-day version of the Egyptian pyramids.
Obama seeks $1 billion for monument to himself. When Obama announced the plans to build his presidential library in Chicago, even his most outspoken critics were shocked by his plans — and they've started sounding the alarm. The president has announced that he's seeking to raise an eye-popping $1 billion in outside donations for this project. To put that number in context, consider that President Ronald Reagan raised just $52 million for his library. In fact, with this huge price tag, the Obama library — by itself — will cost approximately the same amount as every single presidential library since FDR combined. This isn't a library, as much as Obama's personal testimony to his greatness.
Obama Acolytes Gush Over His 'Powerful' Commencement Address. The networks on Saturday, Sunday and Monday gushed over Barack Obama's "powerful" commencement address to Howard University, highlighting the President's self-serving calls for compromise and touting how successful he's been. CBS This Morning co-host Gayle King on Monday [5/9/2016] unquestioningly hyped, "I thought one of most important things he said is when he said when you disagree with somebody, you got talk about it. You can't reach any kind of agreement or compromise without talking." How often has the President compromised on ObamaCare or gun control? King didn't discuss Obama's tendency to "listen." Instead, she praised, "It was such a powerful speech.... I thought that was a powerful statement that many people need to hear."
Washington Post's virtual Obama museum: 'Cool,' or 'cult worship'? The Washington Post's virtual museum of President Obama's legacy has drawn both praise and uneasiness from media. The newspaper unveiled its ambitious new project Friday morning [4/22/2016]. [...] But for some in media, the Post's new project seems less about education, and more about heaping fawning praise on America's 43rd president.
The Never-Ending Obama Valentine. President Obama may be a lame duck, but the press never tires of celebrating him as the first black president. They ran President Bush's poll ratings into the ground as his term ended, but here in Black History Month, they are promoting Obama like it's still 2009. [...] Obama fans from 4 to 106 are presented as the "news." The White House put out a video of 106-year-old Virginia McLaurin being so delighted to meet the President and First Lady that she broke out into dancing. After years of requests to visit, McLaurin was invited to a Black History Month event. The same networks that bury Obama scandals and shrug at his insults — the bad manners of skipping Justice Scalia's funeral is only the most recent — all celebrated this official White House promo on their morning shows and their evening shows.
Trump's Cult of Personality. In the last two presidential election cycles there was a veritable cult following for "The One" that venerated and idolized him regardless of what he said or did. He could do no wrong. His speech was lofty; language grandiloquent; substance lacking; and promises vapid. This year the leading GOP candidate has a similar cult following.
Liberal Media Outdid Itself In 2015. [Scroll down] Former CBS News producer Dick Meyer won the "Obamagasm" Award for lecturing an "ungrateful nation" in a July 16 op-ed on the glories of Obama. "Americans are lucky to have Barack Obama as president, and we should wake up and appreciate it while we can. President Obama will go down in history as an extraordinary president, probably a great one. ... It would be a morale-booster and a sign of civic maturity if more Americans appreciated what an exceptional president they have right now."
Please, Dear Leader — Ban Firearms By Decree. Dr. Barbara LeSavoy, gun confiscation advocate and Director of Women and Gender Studies at The College at Brockport in New York, may be the authentic embodiment of contemporary totalitarian leftism. [...] Either she, or the character she is playing, is the post-feminist equivalent of the New Soviet Man. Programmed at a chromosomal level to think and act in collectivist terms, LeSavoy looks upon Barack Obama with the same enraptured, unalloyed devotion once directed at Stalin and Mao by their most dutiful cadres. To her, Obama is social justice incarnate.
So Is Barack Obama a Muslim or What? "It's like church in here," actor Jamie Foxx said at the 2012 Soul Train Awards. "First of all, give an honor to God and our Lord and Savior Barack Obama." Obama could not have said it better himself. If he really is a secret Muslim, I suspect even Allah would have to take a back pew in the Church of Obama.
Steven Spielberg and the Temple of Obama. Reporters Michael D. Shear and Gardiner Harris reveal the "methodical effort taking place inside and outside the White House as the president, first lady, and a cadre of top aides map out a post-presidential infrastructure and endowment they estimate could cost as much as $1 billion," or about as much as Obama fundraised for the 2012 campaign. This effort began in November 2012, shortly after his reelection, when the president hosted filmmaker Steven Spielberg at the White House for a screening of Lincoln. President Obama was "spellbound," the Times reports, as Spielberg held forth "about the use of technology to tell stories." Such technology, Spielberg went on, could also be used to tell Obama's story — to somehow convince future Americans, against all evidence to the contrary, that his presidency was an experience they would like to repeat.
Obama in full, and full of it. President Obama appeared on the Daily Show with Jon Stewart the day before yesterday [7/21/2015]. [...] Obama is playing before a friendly audience and Stewart does everything but give him a French kiss. He wants to, but modesty somehow intrudes. [...] Obama's misrepresentations and prevarications are striking and comprehensive. He shamelessly exploits the ignorance of his audience and followers.
Actress Calls Obama 'Father-In-Chief' At White House Event For Educators. At the White House on Wednesday, Valerie Jarrett's co-speaker proclaimed that President Barack Obama is "kind of like the brother-in-chief or the father-in-chief" for large numbers of American teenagers. The statement came during a White House-sponsored conference called "Rethink Discipline." The audience was a group of public school superintendents, principals and teachers from around the country. Jarrett, a senior advisor to Obama, spoke alongside Anna Deavere Smith, an actress.
Chris Matthews: Obama Has Had 'Immaculate' Presidency With No Corruption Allegations. [Scroll down] Matthews continued, "He's been immaculate in the presidency. Nobody has accused him of any corruption. His kids are perfect. His wife is perfect. He's done everything that these right-wing white conservatives say we're supposed to be in this country. He's done everything right. [...]"
Flashback: Fawning Brian Williams Bows To POTUS At White House. Although I rarely watch any MSM news shows, I do remember catching a segment on NBC, in June, '09, that I had found troubling: Brian Williams, over a period of several days, had aired a two-hour special about the new president and his life in the White House. At the end of the last segment, I was shocked when Williams, saying goodbye, bowed to Obama.
CNN's Gloria Borger: Obama is basically Superman. You have to hand it to CNN's Chief Political Analyst Gloria Borger. She's not afraid to bear all her biases in a naked display of cheerleading under the guise of dispassionate political scrutiny.
CNN's Don Lemon: Obamas Are 'Closest Thing We Have to Royalty'. CNN's Don Lemon on Thursday [12/18/2014] insisted that Barack and Michelle Obama are the "closest thing we have to royalty." The anchor was discussing complaints by the First Lady that she had been mistaken for a Target employee during a visit. Lemon lamented, "But speaking to People magazine, according to the Obamas, they're sometimes treated less than like royals, or the first couple, and more like the help."
MSNBC Gushes Over Obama's Press Conference 'Swagger'. An MSNBC panel could barely contain their glee at President Obama's press conference performance on Friday, repeatedly noting the president's "swagger" and gushing over what they termed "Obama 2.0." "This was relaxed, confident president today, in a way that we have not seen him in a news conference," said former White House press secretary Robert Gibbs. "Incredibly strong," agreed "Meet the Press" host Chuck Todd. "That was a president who feels as if he has earned the right to have some swagger."
Gwyneth Paltrow gushes over President Obama at $15K per plate star-studded fundraiser. 'You're so handsome that I can't speak properly,' the actress, singer and food writer gushed after introducing Obama to several hundred supporters seated on white fold-out chairs in the lush backyard of her home in the movie star haven of Brentwood, a neighborhood in Los Angeles.
MSNBC's Michael Eric Dyson: Many of Obama's Followers See Him as Jesus. Communist MSNBC contributor Michael Eric Dyson, who in July said Sarah Palin calling for Obama's impeachment was "treason," had another outlandish comment on the low-rated news arm of NBC. [...] Dyson, who referred to himself as a "Christian preacher," applauded Obama Attorney General Eric Holder, the only sitting AG to be held in contempt of Congress (and the vote was very bipartisan), as one of the five most powerful black figures in history, putting him ahead of Booker T. Washington, Frederick Douglass, Martin Luther King, Clarence Thomas and many great black American leaders.
This can happen here, too.
Venezuela's Socialist Party unveils new prayer 'Our Chavez who art in heaven'. Venezuela's Socialist Party PSUV (Socialist Party United for Venezuela) unveiled a new version of the Lord's Prayer during an ideology workshop on Monday [9/1/2014]. Attendees of the First workshop for designing socialist training systems were the first to hear "Our Chavez," the Hugo Chavez-inspired version of the Our Father. Representative María Uribe introduced the prayer as "The Delegate's Prayer" during Monday's event and began reading: "Our Chavez who art in heaven, on earth, in the sea and in us the representatives, Hallowed be Thy Name."
Venezuela Socialist Party Prays: 'Our Chavez, Who Art in Heaven... Lead Us Not Into Capitalism'. Venezuela's Socialist President Hugo Chavez, who ruled for 14 years before dying of cancer in 2013, is so highly venerated by his followers that a leader with the Venezuela Socialist Party ended a party conference recently by praying a rewritten, Chavez-anti-capitalist-laced version of the "Our Father." Catholic Church leaders in Venezuela said the "Our Father" Chavez prayer was idolatrous.
The worship of Obama. The left-wing politician Barack Obama has been worshipped like a God since he emerged in 2007. The worship does not seem to be based on any accomplishments. In fact, he was worshipped before he had done anything at all. It seems to me like a mass delusion.
Creepy Obama Worship. A compilation of some of the most creepy and disturbing videos of Obama worship on Youtube.
Spooky brainwashing video features celebrities telling children to worship Obama. That much of Hollywood and the political Left in America nearly worships President Barack Obama, almost as a cult figure more than a president, has been patently obvious since even before his first election. Celebrities especially have fawned over Obama, treating him more like a rock star or a messiah than a president.
Idolizing Obama. Video recordings [At least a dozen links].
Is Obama worship like Scientology? The cults of Scientology and Obama have attracted well-intentioned, wealthy, but dim celebrities. Scientology has Tom Cruise. Obama has Jay-Z. In both cults, the leader has bizarre past associations with crazies, connections that the leader would rather forget. [...] In recent years, both the cult of Obama and the cult of Scientology have increasingly lost members, largely due to mounting evidence about the competency of the leader.
Are People Literally Starting To Worship Obama As A God? Below is the most disturbing video I've seen in a long time. It's not another clip of fascist police ganging up on and murdering some peaceful citizen for no good reason. It's not US military personnel or drones blowing up brown children in some faraway occupied land. It's a small child offering a prayer. [...] A child. Praying. To a president.
Missing Life-Size Obama Statue Found On Park Bench With Beer. Pennsylvania resident Tiffany Bruce checked into a hospital after she discovered that her life-size Obama statue was missing. [...] "I peeked my head out the door, and Obama's gone, and I kind of went into a panic. I couldn't breathe, and I had to go to the hospital," Bruce told KFOR, a local news station.
Actor Who Plays POTUS on Fox's '24' Touts He's 'a Big Fan' of 'Smart' Obama. William Devane (IMDb page), who plays "President James Heller" on Fox's prime time 24: Live Another Day, told USA Today that "obviously I'm a big fan of Obama, as a guy who's smart and articulate" and, in his acting, "I say to myself, 'what has got to be going on in the private side of this guy's brain' — the pressure, the racism that is thrown out — and he handles it with such dignity.'"
Obama wins place on Lakers' roster from Kobe Bryant. Basketball star Kobe Bryant says President Barack Obama's hoops game is good enough to get him on the Lakers' roster. "Yes, he could actually," Bryant told Dan Patrick, a radio DJ. "I'm not dissing the current roster that we have," Bryan said March 19. "It is more a sign of respect for the skill that the president possesses," he explained. Bryant's sincerity or his professional judgement, however, may be incomplete. Last April, Obama played a picked game, but only made 2 of 22 shots, much to the embarrassment of everyone involved.
Joe Biden jokes that he would nominate Obama for 'sainthood'. Vice President Joe Biden in a speech Friday [3/21/2014] joked that he should have nominated President Obama for "sainthood" after seeing his patience during the rocky rollout of the health law's new insurance exchanges.
The Editor says...
Mr. Biden apparently mistakes incompetence and narcissistic detachment for patience.
Barbara Walters on Obama: 'We Thought He Was Going To Be The Next Messiah'. Yes, she really said it. On CNN's Piers Morgan Live Tuesday [12/17/2013], in a brief discussion about President Obama, Barbara Walters actually said, "We thought that he was going to be — I shouldn't say this at Christmastime, but — the next messiah"[.]
Barbara Walters: We Thought Obama Was 'the Next Messiah'. Barbara Walters said the difficulties engulfing President Barack Obama are a reflection of the let-down people are feeling from the high expectations they had during his earliest days in office when she and others thought he was going to be "the next messiah."
Common Core Lesson Teaches Children Obama Is A Messiah. During the Soul Train Awards in 2012, comedian and actor Jamie Foxx exhorted a wildly cheering crowd to "first of all (give) honor to god, and our lord and savior Barack Obama," exhibiting the all-too-widespread hero worship that casts rational thought aside and labels even legitimate criticism as virtual blasphemy. The same cult of personality is creeping into lesson plans and reading materials being created under the guise of the platform for nationalized education known as Common Core. One new lesson teaches our children that Obama is indeed the messiah.
Obama Worship Syndrome. Primarily affecting low-information voters and members of the mainstream media, Obama Worship Syndrome attributes impossible capabilities to Obama's political opponents, finds excuses for every Obama failure in everyone around him and praises the president as the finest politician — nay, human being — of our time.
Common Core third grade book goes full Dear Leader on Obama. [Quoting an Amazon review of the book:] I'm pretty neutral about Barack Obama as a person and a candidate, but the messianic message in this utterly insipid book makes me roll my eyes over and over again. The language is decent enough on a technical level for that age group, though patronizing. When he starts seeing the ghosts of JFK and MLK and references are made to Langston's Harlem, I'm not sure that the kids that the book is aimed at are going to pick up on the references. The illustrations are passable in the beginning, but as it continues, they become more and more over-the-top (Barack Obama crying in church, Barack Obama praying with a butterfly perched on his clasped hands, Barack Obama glowing with a heavenly aura). Cramming this political tripe into a children's book is bad enough, but the heavy-handed treatment and political sloganizing makes it unbearable.
Obama Hailed as 'the Greatest Leader in the World' at Magic's House. President Obama partied with the stars in Beverly Hills on Monday night [11/25/2013] to raise cash for the Democratic House and Senate campaign committees. [...] In a tent on the grounds of Magic Johnson's mansion, the former Lakers star hailed Obama as "the greatest leader in the world." With ticket prices between $2,500 and $15,000 a head, the crowed included Samuel L. Jackson and Diane Keaton along with some L.A. Clippers players and members of Congress.
One Nation Under Obama? Before President Obama was elected, the United States was known as one nation under God — but the Obama Administration seems to think otherwise. Organizing For America published an email Sunday [11/17/2013] suggesting the greatest nation on the face of the Earth owes its allegiance to another deity. [...] No wonder the Democratic National Committee voted to remove the Almighty from their party in 2012. They only have room for one God.
Obama's 1984. From the beginning of his presidential career, Obama has been at the center of a cult of personality unequalled in American political history, an idolatry that is central to consolidation of control. From the iconic "Hope" campaign poster showing Obama gazing off toward the utopian horizon much like the workers of Soviet propaganda art, to the tendency of news editors to print photos in which Obama's head is haloed by the Presidential Seal, the President has benefited from a cult of personality consciously constructed by his supporters in political and media bureaucracies. This deification — which is itself a subtraction from the power of average Americans — is summarized by a gushing comment of Newsweek editor Evan Thomas: "In a way Obama is standing above the country, above the world. He's sort of God. He's going to bring all different sides together."
Lenin, Stalin, Ceausescu, Obama: How Marxist Leaders Conceal Their Pasts. [T]here is a nauseating glasnost-style operation now being conducted here in the United States that makes me feel as though I were watching a reenactment of the immense glasnost I used to manage during the years when I was an adviser to Romania's communist president Nicolae Ceausescu. No, glasnost is not a misprint or a typo. During the years I was at the top of the KGB community, glasnost was the code name for an ultra-secret intelligence tool of the KGB's ultra-secret black "science" of dezinformatsiya. Its task was to transform the country into a monument to its leader, and to portray that leader as god himself.
School shows Obama campaign video that includes celebrities pledging 'be a servant to the President'. A Wisconsin middle school has been forced to apologize after showing students a video produced after Barack Obama's 2008 election that included celebrities pledging to 'be a servant to the President.' Some parents who watched the video at an assembly at Hudson Middle School in Hudson, Wisconsin, called it propaganda and complained that it was inappropriate for young minds. The video, produced by Oprah Winfrey's production company, [...]
Dem Congresswoman: Only Reason I'd Vote for Syria Attack Is Loyalty to Obama. Democratic Congresswoman Eleanor Holmes Norton said Tuesday that at the current time, the only reason she would vote in favor of an attack on Syria was out of loyalty to Barack Obama. Appearing on radio's Bill Press Show, the non-voting delegate from the District of Columbia also said if the President actually gets the votes he needs, "it'll be because of loyalty of Democrats. They just don't want to see him shamed and humiliated on the national stage".
The Editor says...
Remember, if the District of Columbia becomes a state, this woman (and two like-minded senators) will be able to vote in the U.S. Congress.
Obama Flag at March on Washington Gets Twitter Riled Up. We know a picture is worth a thousand words. Apparently it's also good for fifty stars. An American flag with President Barack Obama's face where the fifty stars normally go caused a bit of a stir on Twitter, where some objected to the "hero worship" of Obama, and complained that it was part and parcel with the rally's overall "Democratic" feel.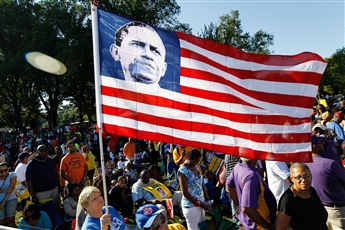 Pledging Allegiance To The Flag Of The Obama Nation. A U.S. flag with the president's face replacing the field of stars resurfaces at the March on Washington's 50th anniversary, turning the symbol of freedom many have fought and died for into a campaign prop. It has been a while since President Obama accepted his first nomination among faux Greek columns in Denver in 2008. But judging from the reappearance of the "Obama flag" at a march celebrating Martin Luther King Jr.'s "I Have A Dream" speech, the cult of personality that has risen around him has not been diminished or discouraged.
The Editor says...
Look at the creases in that flag. That thing is a commercially available product — not just a one-of-a-kind creation put together by a fanatic.

First Newsweek, now Foreign Policy calls Obama 'Second Coming'. Foreign Policy Magazine has just delivered its new issue, and like Newsweek before, FP dubs Obama "The Second Coming." It includes stories about the 10 things the president can do now "to make the world a better place." Among the ideas: "Fix American Democracy." That includes changing our election system.
Our Father, Who art in the White House. Do you accept Barack Obama as your Lord and Savior? Chris Rock does — calling him our father, who art in the White House. The media does as well.
Chris Rock: President Obama 'our boss,' 'dad of the country'. Actor and comedian Chris Rock called President Obama the "dad of the country" as he rallied on Capitol Hill to support his father figure's call for new gun controls. "I am just here to support the president of the United States," said Mr. Rock, [...] "The President of the United States is, you know, our boss. But also, you know, the president and the first lady are kind of like the mom and the dad of the country. And when your dad says something, you listen.
No, Chris Rock, He Ain't My Daddy, or Yours. [Scroll down] If you want government to be a quarterback that steers people and resources toward "good" opportunities, and deflects them from "bad" choices, you are a progressive statist, whether right or left. But, if you want government to be a sheriff, that takes a dim view of people hurting, cheating, or forcing their neighbor, then you are a defender of liberty and limited government: Freedom except when fist hits nose. Finally, if you argue that challenging the permanent 20% jump in spending and the relative size of the federal government we've experienced with this administration is tantamount to rejecting roads, schools, police and fire protection, you're either ignorant or dishonest.
A Black Father in the House. By now you likely have heard that Chris Rock considers Barack Obama America's father. If that is true, then would somebody call Child Protective Services and find us foster parents! [...] Chris Rock wants a daddy who has spent the family's mortgage money, and can't keep food in the fridge. He wants a father who has gambled away the kids' college fund, and made us believe he "invested" our money. All that is left for Obama to do is to kill mother for the insurance.
Dear Leader: CNN Correspondent Wrote Obama Letter Every Day for Four Years. Most people would cut a 13-year-old girl some slack if she became obsessed enough with Justin Bieber to write the teen singer emails and letters all the time, but what if an ostensibly professional journalist were to do the same to a politician? This odd scenario actually is not a hypothetical, however. A CNN correspondent named Tom Foreman has been doing just that, writing a letter every single day to President Obama for the past four years.
Inauguration Poster Likens Obama to Jesus. Street vendors and souvenir stores across Washington, D.C. are selling posters depicting President Obama as Jesus Christ — and one national news publication called him the "Second Coming." The poster, which does not have the official endorsement of the White House, features an image of the president in prayer with the headline, "Prophecy Fulfilled."
Liberals are comparing Obama to Jesus. Glory be, it's Obama's inauguration day! And for some of his followers, it's nothing less than a religious event. Fox News (who else?) reports that mega Obamaphiles are handing out posters in the streets of DC that claim Obama's coming was predicted by the Bible.
Inauguration 2013: Obama saved the world, but nobody knows how. Platitudes, slogans, and talking points are not policies. "Cleaning up the mess" of his predecessor is nonsense unless one can state exactly what policies caused the mess to begin with. Tax cuts in 2001 and 2003 have nothing to do with the financial crisis of 2008 in the same way that Clintonomics does not deserve credit for the 1990s dot-com economy or blame for the 2000 crash. If liberals cannot name a single successful Obama economic policy, then maybe it is possible that he has never had one. Maybe his supporters despise his predecessor so much that they do not care what Obama does. They love Obama for merely being.
Reporter: Campaign journalists 'swooned' over Obama during off-the-record bar visit. "The behavior of the assembled press corps was telling. Everyone, myself included, swooned. Swooned! Head over heels. One or two might have even lost their minds," [Michael] Hastings writes, as each reporter had a chance to speak personally with the president. "We were all, on some level, deeply obsessed with Obama, crushing hard, still a little love there. This was nerd heaven, a politico's paradise, the subject himself moving among us — shaking our hands, slapping our shoulders!"
Government: America's New God. [T]he insidious spirit of anti-Christ emanating from the Obama administration has spread far and wide. All historical rules for winning and losing elections do not apply to Obama. His political bullying power and irrational status as a cult hero are unprecedented. But here is the kicker and the scariest truth about America's zombie-like loyalty to Obama. On November 6, 2012, half the country, which includes millions of Christians, chose a Democrat and media man-made "golden man" idol as their "new" Lord and Savior. Amazingly, actor and Obama disciple Jamie Foxx admitted it.
Scandals show the Obama administration is corrupt. Many Obama supporters worship him not for anything he does, but for what he is, and is not: He is a biracial political liberal, the culmination of liberals' hopes and dreams. He is not a conservative Republican. For many liberals, that suffices.
Progressives and the Supernatural Powers of Government. If we are to understand Progressives, we have to understand that they are True Believers in the power of the State to make all of society whole simply by passing and administrating laws that are created "in the public interest." This religious belief is non-negotiable. E.J. Dionne believes ultimately that the State is God. So does Jim Wallis, and both men believe that Barack Obama is the very epitome of the Holy State and that Obama "is going to save us."
The gospel according to David. [David] Gregory appears to be a disciple of his Lord the President. Gregory seeks to disseminate the Obama gospel. "Is this your Lincoln moment?" Gregory actually asked him. And that may not have been the worst of it.
Claim: 'Hail Obama' Chants at First Lady Rally
. At campaign a rally featuring First Lady Michelle Obama in Daytona, Florida, there were reportedly chants of "Hail Obama," according to one local reporter.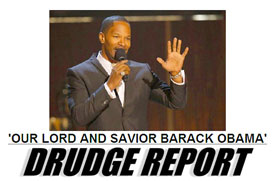 Jamie Foxx: 'Our Lord and Savior Barack Obama'. Oscar-winning actor Jamie Foxx recently called Barack Obama "our lord and savior." This occurred at the previously recorded Soul Train Awards broadcast on BET Sunday.
Barack Obama Isn't Anyone's "Lord and Savior". Given the job that Barack Obama did in his first term, anybody who's waiting for Barack Obama to be his "lord and savior" is going to be waiting a long, long time.
Is it a Mental Illness? And they talk about Reagan worship?

Rick Warren Says Obama Deification is Blasphemy. Instances of the president being portrayed as a Christ-like figure have increased since the Democratic National Convention — where unauthorized street vendors sold Obama prayer garments and posters that proclaimed him to be "prophecy fulfilled." A painting of the president portrayed as the Crucified Christ is on exhibit at Bunker Hill Community College in Boston. The artwork shows Obama with outstretched arms — a crown of thorns on his head. But one of the more egregious instances of deification came during last week's Soul Train Awards. "It's like church over here," Foxx told the audience. "First of all, give an honor to God and our Lord and Savior Barack Obama."
President-for-Life, King of the World paving the way for Messiahship. Barack Hussein Obama is not only not denying his Messiahship, he's basking in the new role cast for him by gloating supporters. At Sunday's Soul Train awards, Obama was nominated as "Our Lord and Savior" by Oscar-winning actor/comedian Jamie Foxx, who was answered by a wildly cheering throng. The YouTube showing the cheering throngs to Foxx's naming Obama "Our Lord and Savior" was mysteriously removed from the Internet yesterday morning [11/27/2012].
Another creepy pro-Obama video featuring singing children
. You remember the creepy Obama children's choir singing "Yes We Can" back in 2008. Now Obama supporters have rolled out another creepy video, via NewsBusters which has the full lyrics.
Russell Crowe: 'Obama is the light & the future'
. President Obama received a surprise endorsement from another Hollywood star over the weekend. In a tweet on Sunday [10/21/2012], Russell Crowe appeared to make the unusual argument that a vote for Obama meant "going towards the light."
U.S. Capitol Christmas Tree Pays Homage to Obama — But Not Jesus
. The 63-foot Sierra White Fir lighted at the U.S. Capitol Grounds on Dec. 6 as the official 2011 Capitol Christmas Tree includes a prominently displayed ornament paying homage to President Barack Obama, but includes no ornament readily visible to a person standing near the tree's base that uses the word "Christmas," or includes an image of the Nativity, or bears the name or image of Jesus Christ. On the north side of the tree — at a height of about 4 feet and easily visible to people standing near it — there is an ornament that says: "I ♥ President Obama."
Obama: "If You Love Me, You Got to Help Me Pass This Bill"
. Flashbacks from 2008 ought to be in full swing, as President Obama attempts to champion legislative support by resorting to the cult of personality — claiming that, to love him, we must implement his political agenda.
The Unbelievable Brilliance Of Barack Obama
. Ever since Barack Hussein Obama emerged as a candidate for president he has received glowing accolades from celebrities and liberal pundits for his supposed intelligence. After his election, Barbra Streisand gushed, "It's such a wonderful thing for our country and our world. He's so intelligent and so smart." Gore Vidal was on the Joy Behar show and lamented that "he's too intelligent for the job." Behar agreed and said that after George W. Bush's presidency, the American public wasn't prepared for "the shock of such a smart guy."
Woody Allen thinks Obama would get much more done as dictator
. "It would be good...if (Obama) could be dictator for a few years because he could do a lot of good things quickly," Allen is quoted as saying.
Woody Allen says President Obama should be granted dictatorial powers (seriously)
. Woody Allen has a strange take on the democracy that allowed him to become rich and famous. The "Scoop" director said it would be a cool idea for President Barack Obama to be dictator for for a few years. Why? So he could get things done without all the hassle of opposing views getting in the way.
An Obama Dictatorship: Hollywood's Dream Come True
. In 2008, when Woody Allen last spoke of Barack Obama to a group of Spanish journalists, he declared that it would be a "
disgrace
" if the then-U.S. Senator failed in his quest to become the 44th President of the United States. Now, 16th [sic] months into Obama's first term, Allen has apparently mistaken
La Vanguardia
, a Spanish newspaper, for the Make-A-Wish Foundation.
Obamanutz: A Cult Leader takes the White House
. Author and columnist, Joy Tiz provides a compelling look at Barack Obama's dizzying rise to power. Until now the focus has been on Obama and his story. This approach overlooks the complex convergence of political, economic and social issues that made Obama's election possible, if not inevitable. Tiz identifies the similarities between the abrupt ascendancy of Obama and mass movements of the past. She points out that our attraction to charismatic leaders dates back to primitive times when people had faith in magic.
Why Conservatives Love the Founders
. America never had a rock star president until the Obama campaign. George Washington made very sure no one would suspect him of being an Obama. Lincoln never claimed to be an Obama. None of our presidents have paraded themselves as Obamas — not until Obama came along and brought the psychology of self-glorifying narcissism to these shores. And the Left snapped to and saluted Obama, worshiped at his feet of clay in that ancient and corrupt way that humans have known for millenia. Are rock stars your idea of an American president? If so, please go back to school and read a little history.
Obama's Burden of Brightness
. This adulation may cause a serious problem for supporters of the president. Joe Scarborough pointed this out on his MSNBC program: "I tell you my biggest fear for Barack Obama, he has been sainted. He is Saint Barack. The same mainstream media that tried so desperately to get him elected has engaged in hyperbole, engaged in exaggeration. They have deified this man. ... They have set up such unrealistic expectations that no politician could meet those expectations." Scarborough might blame the media for this hyperbole, but they are only willing accomplices.
All Must Love Obama
. In a little over four years, Obama went from being an obscure Illinois State Senator to the most beloved man in the world. In the year since Obama's election this orgy of adoration has continued unabated with schoolchildren singing his praises, the Nobel Committee bestowing him with its highest honor and National Endowment of the Arts Chairman Rocco Landesman calling him the most powerful writer since Julius Caesar.
The Making of a Fuehrer
: When cheering for someone turns into adulation, something is wrong. Excessive adulation is indicative of a personality cult. The cult of personality is often created when the general population is discontent. A charismatic leader can seize the opportunity and project himself as an agent of change and a revolutionary leader. Often, people, tired of the status quo, do not have the patience to examine the nature of the proposed change.
Obama and the Spirit of Antichrist
: [Scroll down] CNN went so far as to compare Obama's inauguration to the Hajj — the journey by Muslims to the holy city of Mecca, an obligatory pilgrimage that demonstrates their dedication to Allah. In Des Moines, Iowa, an inaugural parade for Obama included a simulation of the triumphant entry of Christ in which a facsimile of Obama rode upon a donkey. As the reproduction made its way down the streets, palm branches were handed out to onlookers so that they could wave them like Christ's adorers did in the 21st chapter of Matthew.
Obama's ties to the Nation of Islam
: Jeremiah Wright, Obama's esteemed pastor for 20 years, came out of a Nation background. Recently he accepted protection from an NOI security detail, and has praised Louis Farrakhan, the NOI's leader, as one of the "giants of the African American religious experience." Wright's church celebrated Farrakhan for his having "truly epitomized greatness." Farrakhan himself endorsed Obama, calling him "the hope of the entire world," "one who can lift America from her fall," and even "the Messiah."
Obamamania is making me nauseous
. Don't get me wrong. I like Barack Obama. I think he'll be way better as president than the other guy would have been. Obama is young, smart and inspiring. New generation of leaders, America's first black head of state, all that. Wonderful. But really, the spin and fuss about the new guy's coming inauguration, particularly in Canada, is becoming more than a little nauseating. Have we no shame?
We Will Not Surrender!
We're not buying the unconstitutional financial, industry and homeowner bailouts for one second; we're not buying amnesty, bilingual education, health care and safety net benefits for illegal aliens that break our laws; we're not buying radical environmental laws that render constitutionally protected property rights non-existent, or lock up millions of acres of land for UN biospheres and wildlife corridors at the expense of all Americans but mostly private landowners; we're not buying national health care that will seriously deteriorate health care in America and add to our national debt; we're not buying proposed or ratified treaties that dilute, diminish or extinguish our sovereignty, (like the Law-of-the-Sea Treaty, or the North American Union), and we are certainly not buying the words of the traitors who promote the one-world-order, over American sovereignty.
President Oxybarama
. This half-Luo tribesman from Hawaii whose African father had no connection whatsoever with the West African ancestors of American slaves, was not imbued, but rather hued, with significance. His melanin carried the meaning, which is to say that he was judged by the color of his skin rather than the content of his character, in a precise reversal of Martin Luther King Jr's famous phrase. America's African Americans, who have failed to produce a credible leader in the two generations since the Civil Rights Act of 1965, broke America's last color bar, hailed this carpetbagger as a savior.
Jackie Mason: People Are Worshipping Obama More Than God
. According to Mason, "Mao Tse Tung wasn't so venerated and people weren't so fearful of disagreeing with him as the Congress of the United States including the Republicans who are afraid to disagree with anything he says or does because they'll be called a racist."
A Nation Tottering Close To Political Idolatry
. With all the fanatical behavior being exhibited, one must stop to ask would this devotion reach such a fever pitch if Obama was White or, even more importantly, conservative?
Obama raises heart rates, lowers expectations
. How dazzling is President Obama? So dazzling that he didn't merely give a dazzling inaugural speech. Any old timeserving hack could do that. Instead, he had the sheer genius to give a flat dull speech full of the usual shopworn boilerplate. Brilliant! At a stroke, he not only gently lowered the expectations of those millions of Americans and billions around the world for whom his triumphant ascendancy is the only thing that gives their drab little lives any meaning ... .
Introducing 'Pocket Obama': Must-have Anthology of Obama Quotes
. Just in case you can't get through a day without some refreshing and uplifting words from the new president, the History Company has created the "Pocket Obama." This is a tiny, pocket-sized book filled with "quotations borrowed from Barack Obama's speeches and writings." According to its creators, "It is an unofficial requirement for every citizen to own, to read, and to carry this book at all times." I kid you not.
An Uneasy Feeling
. I distilled from the press coverage and the crowds and the punditry yesterday that for all too many suddenly a vote for Obama redeems America. Now, to paraphrase Michelle Obama, for the first time in their lives they are apparently proud of the United States. ... So I am surprised that suddenly the election of a single individual means that we are united, patriotic, proud of America? Suddenly Okinawa or Antietam, or all those who died at the Argonne, are ours to claim again?
After less than a week in office, Barack Obama's approval rating plunges 15 points
. Barack Obama might have been in office for less than a week, but the euphoria is beginning to wane. The new President's approval ratings have fallen from a stratospheric 83 percent to a more modest — although still impressive — 68 percent.
Barack fools us
. [Scroll down] Even so, the people spoke. A victory for the hysterical Oprah Winfrey, the mad racist preacher Jeremiah Wright, the mainstream media who abandoned any sense of objectivity long ago, Europeans who despise America largely because they depend on her, comics who claim to be dangerous and fearless but would not dare attack genuinely powerful special interest groups. A victory for Obama-worshippers everywhere. A victory for the cult of the cult. A man who has done little with his life but has written about his achievements as if he had found the cure for cancer in between winning a marathon and building a nuclear reactor with his teeth. Victory for style over substance, hyperbole over history, rabble-raising over reality.
Obama's ratings drop 15 points
. Barack Obama's approval ratings have nosedived by 15 points after only six days in office, according to a new poll. The Gallup poll shows that reality is setting in for the new US President after the euphoria that greeted his inauguration last Tuesday. But his ratings still stand at an impressive 68 percent despite the fall.
Obama's Little Red Book
. Well, actually it's blue, but that doesn't diminish the Pocket Obama's creepy resemblance to Mao's Little Red Book. ... What exactly justifies this cultish adoration of a man who hasn't been president for even a week?
Time to Beam Down to Earth, President Obama
. We are already seeing that simplistic polarity was infantile — even if the enthralled media desperately wanted to believe in the mythology. ... Obama should decide quickly whether to beam back down to earth. If he doesn't, at some point even a sympathetic media won't be able to warn him that his all-too-human actions are beginning to make a mockery of his all too holy sermons.
Obamamania sparks changes
. "Good morning, Barack Obama Elementary School!" That is what children attending the former Ludlum Elementary in Hempstead, New York have been hearing ever since the local school district board voted unanimously to change the name to honour the United States' first black president. Barack Obama took office barely 10 days ago, but already schools and streets are being renamed. In the Hempstead case they didn't even wait until Inauguration Day ... .
Sacred Secularism
. Many folks have pointed out that Barack Obama has been treated by his supporters in and out of the media like a new messiah, the savior, the chosen one. Many other folks, including me, thought that this was not only sacrilegious but a case of downright overblown rhetorical politics. Now I'm not so sure.
How Obama Stimulates Feminists
. Barack Obama is the first affirmative action president in our nation's history and the evidence for his being so is overwhelming. Throughout the course of his rise to the pinnacle of American power, he was benefited time and again from the hand of identity politics. Obama's fairytale life is a Shangri-la fabricated from society's obsessions with oppression. ... Indeed, he is a beacon of promise for all who covet unearned riches.
The con artists have taken over the asylum
. While the Obama Cabinet choices suggest this is already among the more ethically questionable administrations in modern history, that's not even a particularly big deal in my eyes. The most disturbing thing going on in America today is the art world's complete and utter totalitarian behavior toward the new president.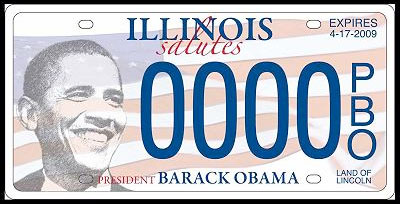 Illustration courtesy Chicago Sun-Times
How many of these temporary plates will be used past the 60 day limit?
State unveils Barack Obama license plates
. Can't get enough of Barack Obama? How about an Obama license plate? Illinois Secretary of State Jesse White today unveiled an "Illinois Salutes Barack Obama" temporary license plate, which can be used for 60 days beginning Tuesday.
Obama Worship and the Herd Mentality
: Despite pledges of being an open and ethical administration, and despite Obama's promise of a lobbyist-free administration, we now see a long string of ethically questionable Democrats and lobbyists connected to Obama's past and his present nominated for lucrative jobs within his administration. Yet there are no complaints from the left, who were so caustic over George W. Bush's ethical failings. Obama can do no wrong in their eyes. The transition is remarkable but predictable.
Denver archbishop warns against 'spirit of adulation' surrounding Obama
. Canadians packed St. Basil's Church in Toronto on Monday evening [2/23/2009] to hear Archbishop Charles Chaput speak about how Catholics should live out their faith in the public square. He warned that in the U.S., Catholics need to act on their faith and be on guard against "a spirit of adulation bordering on servility" that exists towards the Obama administration.
He'll Only Break Your Heart
. I owed it to you to give him a chance. I watched him. I listened to him. I read about him. And as I learned who he really was and what he really wanted, it became harder and harder for me to bite my tongue. It was too much to hope that you would see this on your own, and now it's time someone told you what you need to hear. You hang on his every word. Each of his silver-tongued pronouncements takes you higher, draws you closer, beckons you to drink deeper. You want to believe the promises of a better life, of being whisked away to a place where danger can't find you, of a place where your heart can stay intact. He promises you the world and he gives you something to believe in.
Professor Barack Who?
During the presidential campaign, I alternately ground my teeth and laughed uproariously every time I heard Barack Obama described as a "former professor of constitutional law" on the basis of several years of part-time lecturing at the University of Chicago Law School. Obama supporters assured us that never had any presidential candidate before Obama been so wise, so learned, so scholarly in his knowledge of the U.S. Constitution.
The Celebrity President
. Americans have a long-standing infatuation with celebrities. ... The emergence of Barack Obama marries American popular culture and American politics. Unfortunately, as a result, mounting evidence suggests that up to this point the general public has disconnected Obama the celebrity from Obama the politician.
Obama: The Hollow Man
. [Scroll down] This point may say more about Obama's supporters than the man himself. His fans — and "fans" is certainly the right word — don't look on him as a manager they've hired to make sure the Department of Housing and Urban Development keeps its graft to a minimum. They regard him as spiritual leader. ... Political cults of personality are bad for another reason, besides their intellectual shallowness. They blur the proper distinctions between public and private life. ... The blurring of public and private realms, such as we see in the idolatry of public figures as if they were revered family members or respected religious leaders, is a troubling sign for liberty.
100 days in office, coronated Messiah
. On his 100th day in office, President Obama will be "crowned" in messianic imagery at New York City's Union Square. Artist Michael D'Antuono's painting "The Truth" — featuring Obama with his arms outstretched and wearing a crown of thorns upon his head — will be unveiled on April 29 at the Square's South Plaza.
Suckers United for Change
. [Scroll down] Anyone with a single grain of common sense saw right through the man with the postage-stamp sized resume the first day he announced his bid for the presidency. And as exit polling demonstrated beyond any doubt, Obama voters were so swept-off-their-feet they didn't even know the basic facts about the candidates last year. They voted with their feelings, their fancies, and their fools' gold blinders. Were they just old fashioned ninnies? Or were they actually brainwashed?
Obama criticism shuts down conversation
. If you want to stop a conversation in its tracks, just question something President Barack Obama has said or done. It's not open to debate — and I don't think that's healthy, for the country or the president. ... One example: Obama's comment to Jay Leno on "The Tonight Show," comparing his bowling abilities to someone in the Special Olympics. Can you imagine the uproar had Bush said that?
An Unhealthy Infatuation With Obama
. [Scroll down slowly] The infatuation matters because Obama's ambitions are so grand. He wants to expand health care subsidies, tightly control energy use and overhaul immigration. He envisions the greatest growth of government since Lyndon Johnson. ... Are his proposals practical, even if desirable? Maybe they're neither.
Antigua's 'Mount Obama' to be national park
. Antigua plans to do more than just rename its highest peak to honor President Barack Obama. Prime Minister Baldwin Spencer says his government wants to create Mount Obama Monument and National Park with a new network of hiking trails.
Nearer, My God
. When Gerard Baker a year ago wrote in the Times of London that Barack Obama had "Ventured Forth to Bring Light to the World," it was widely acknowledged to be a clever satire, but this past week we have broken new ground in divinity politics. ... Religious tradition tells us that God created man in His image, but the press has created this God in its image — diverse, multilateral, and nonconfrontational. He is cool, hip, urbane, and extremely un-Texan. He is all that the Fourth Estate values in life, and aspires to be in its own private dealings. He is all it holds dear.
America's Fatal Attraction
: Excuse my mastery of the obvious, but I have to believe the greatest obstacle to America's return to policy sanity is the electorate's cultish adoration of Barack Obama. ... I don't quite understand how people, especially religious people, can place their trust for salvation in a fellow mortal, but history shows they do, and present-day America shows they are. ... The mainstream media are his biggest institutional enablers, drooling over his every utterance, irrespective of his many contradictions, his assaults on the Constitution and our liberties, and his spate of broken promises.
Obama's Top Five Health Care Lies
: President Barack Obama walked into the Oval Office with a veritable halo over his head. In the eyes of his backers, he could say or do no wrong because he had evidently descended directly from heaven to return celestial order to our fallen world. Oprah declared his tongue to be "dipped in the unvarnished truth." Newsweek editor Evan Thomas averred that Obama "stands above the country and above the world as a sort of a God." But when it comes to health care reform, with every passing day, Obama seems less God and more demagogue, uttering not transcendental truths, but bald-faced lies.
Gathering My Thoughts
. As far as I'm concerned, respecting the office of the president has nothing to do with loving America and everything to do with the man occupying the White House. The way I see it, it makes no sense to respect a man whom I believe is single-handedly destroying the country simply because he won a beauty contest last November. Furthermore, I'm getting tired of hearing what a magnificent orator he is.
'We want him to rule all African countries'
. In flip-flops, a faded old T-shirt and ragged trousers, Abraham Laeyea looked the image of Africa's frustrating, dispiriting poverty. "We like Obama," he said. "We want him to come and rule all African countries. He brings hope but we need employment, jobs for the youth."
Even Wide Awake, I'm Having Nightmares
. [President Obama] is doing his best to destroy our industries with Cap and Trade; bankrupt our economy with trillion dollar stimulus bills; bring Cuban-style socialized medicine to America; turn a blind eye to nuclear-armed enemies; fund a criminal organization like ACORN with taxpayer dollars; allow the DNC to take control of the census; threaten to silence the opposition through the so-called Fairness Doctrine; and do everything but fly the hammer-and-sickle from the roof of the White House, and yet let him be photographed holding hands with Michelle and the kids, and millions of us seem ready to give him a "Well done!" and a friendly pat on the back.
Antigua's highest peak renamed 'Mount Obama'
. Antigua's highest mountain officially became "Mount Obama" on Tuesday [8/4/2009] as the small Caribbean nation celebrated the American president on his birthday and saluted him as a symbol of black achievement.
Obama and the Cult of Personality
: [George Washington] set the country on a democratic course that would explicitly reject the cult of personality. ... Perhaps for the first time in our history since Washington, the nation's present leader has come to power through the cult of personality, except this time he appears to welcome and encourage the movement surrounding him rather than reject it, as Washington did, in the interests of democracy. Barack Obama ran a campaign largely based on personal charisma as well as the promise of "change."
The Theological Virtue of Obama
. For quite a while now, there has been an excessive embrace of Obama, sometimes bordering on reverence, from Europeans literally hailing him as their Messiah to schoolchildren singing songs of praise to their dear leader. Have you seen the Obama "prayer candles?" How about the crucified Obama? ... To observe Americans putting their "hope" in Obama, and even making Obama hope, is troubling. Sadly, though, this is a logical, inevitable conclusion of an increasingly secular left that seeks salvation in politics rather than conventional forms of religion.
Do Not Blame Barack
. Contrary to what my title indicates, I probably judge Barack Obama more harshly than most reading this page. I don't think he is just a misguided ideologue or merely a creature of expediency. I believe, practically speaking, he is an evil man. That is to say, while he is largely ignorant like so many others, he has developed an affinity for evil. He mistakes it for good. ... [But] without millions of fawning Americans, he would just be a community agitator, vainly preaching Alinsky principles from a soapbox.
Michelle Obama, joins Barack, gets action figure
. The toy company that created the Barack Obama action figure has done the same for his wife, Michelle — but don't even think about calling her a sidekick.
Dreams of their Fathers
. The popularity of Barack Obama with the nation's youth is attributable to the success in weaning children from the authority of their parents; Obama acts surrogate. He's hip, cool (unlike their parents) yet speaks with authority and seeming moral righteousness, it should be pointed out. Our young desperately seek someone to represent authority and virtue to them; they have been taught to ignore it in their homes, so seek it from celebrities, with Obama tapping into that fundamental need.
He Came, He Saw, He Kowtowed
. It seems Rocco Landesman, the head of the National Endowment for the Arts, didn't get the memo, literally. ... By demonstrating with brazenly self-abasing ignorance that he is wholly Obama's man, Landesman is making it clear that the NEA is completely committed to Obamaism. There's no need for any more of Mr. Sergant's tacky, Chicago-style pay-to-play. Self-humiliation sends a far more powerful signal. No doubt the provincial official has pleased his Caesar.
Video:
A man who is proud to have voted for Obama
— several times!
Obama goes from dazzle to drone
. [Scroll down] By contrast, the point of Barack Obama is to dazzle. That's why he got all the magazine covers of him emerging topless from the Hawaiian surf, as if his beautifully sculpted pectorals were long-vanished Pacific atolls restored to sunlight after he'd fulfilled his pledge to lower the oceans before the end of his first term. The squealing Obammyboppers of the media seem to have gotten more muted since those inaugural specials hit the newsstands back in late January.
Obama Becoming More 'Transparent' Every Day
. It's important to recall that Obama was not elected because of his record or personal achievements or the power of his ideas; by those standards, Obama offered very little. His appeal was to the aesthetic side of politics; his supporters spoke of him, and at times Obama spoke of himself, in almost mythical terms. He would not only govern well, they believed; he would transform the way politics was practiced. Mr. Obama was so good, so pure, so very nearly perfect that, as one liberal person I correspond with wrote me, our country did not deserve him.
The Art of Obama Worship
. Campaign posters are discarded like yesterday's newspaper the morning after an election, but not in the case of Obama. If anything, the demand for posters bearing his image has only grown.
Obama in dire need of an intervention
. Denial is a river that runs through the White House, where the denizens are in the grip of two major delusions: One, that the country really wants really expensive big government, and two, that Obama is "sort of like God."
Deadly Triumvirate Destroying America
. [Scroll down] The problem is much deeper and far more serious than Mr. Obama, who is a mere symptom of what ails us. Blaming the prince of the fools should not blind anyone to the vast confederacy of fools that made him their prince. The republic can survive a Barack Obama. It is less likely to survive a multitude of fools such as those who made him their president.
Obama is calculating, organized and evil
. Obama wants control of all of us from cradle to grave. The trick of any wanna-be dictator is to ride in on the white horse first... seduce the people by attending to contrived and manipulated needs, i.e. health care, jobs and security. ...
This is exactly what Hitler did to get voted in, then seduce and distract a nation, while inventing enemies to destroy
. Many German fans, young and old, were robotically obedient, thinking they were doing the right thing. A nation was destroyed and millions were slaughtered.
When Lame Ducks Attack
. [Scroll down] Despite the best efforts of the mainstream media to keep the Obamanutz cult alive, at least a few Americans are starting to question both Obama's competency and motives. While it is in our nature to look for the happy ending and believe that the good guys will ultimately prevail, dismantling a cult is a large-scale project. There will be no Perry Mason moment in which the truth is revealed about Obama, and the nation comes to its senses. Directly challenging the true believer makes him dig his heels in deeper. The one truth about cults or mass movements is that the outcome depends on the character of the leader. They often end badly.
Obama and the Morning After
. Of course, the press sold Obama like the newest form of crack, getting the public fixated on his every word. The same media that stalks Angelina and Paris anointed Obama the ultimate celebrity. And to the addicted masses, entranced by leering reality shows and 24/7 texting, the Obama Show was just another sexually charged extravaganza. But while reporters behaved like lovesick schoolgirls, Obama's sex appeal wasn't just manufactured by the press. His handlers carefully crafted his image to seduce and excite.
Are Barack's Followers Mindless Fanatics?
Obama & the Eighty-One Percent True Believers
. Recent polls reveal a giant gap in Obama's approval between parties, with 81% of Democrats approving Barack's job performance, while only 12% of Republicans concur. Despite unprecedented failure, why do liberals strongly approve Obama's performance? Barack's hyper-political stance and stunningly inept decisions ought to repulse every patriotic American.
The Art of Obama Worship
. Campaign posters are discarded like yesterday's newspaper the morning after an election, but not in the case of Obama. If anything, the demand for posters bearing his image has only grown. ... What is striking about these paintings is not their quality, about which the less said the better, but their consistent tone. They belong to that class of objects known as "devotional art."
Busted! — Obama's Revolution
. There's a fascinating YouTube video that explains exactly how Barack Obama was elected. It's titled "Obama voters-Brainwashed with Change." None of those interviewed in this video can articulate exactly what they think Obama stands for other than change. The voters are black, white, young and old but they all believe that Obama as president will bring a change to the government.
Obama's Evolving Image
. Barack Obama's image as president is still in a state of flux. No previous president put more effort into image formation. Obama was presented to the country, with his own approval and collaboration, as a religious figure, a prophet for a secular age. A messiah to match the new millennium, a god-emperor possessing abilities beyond those of average men. His rhetoric, behavior, and iconography all reflected this — the halos, the church-like lighting, the worshipful descriptions of his followers.
The Obamorons Strike Back
. During the 2008 election campaign I coined the phrase "Obamorons" to describe the uncritical cheerleaders of Obama — the people who would leap to his defense even if he drove a truck over his aged grandmother. Love-stricken TV host Chris Matthews comes to mind, complete with thrills running up his leg, as does English major Maureen Dowd, lifestyle columnist for the
New York Times
. The
Times
itself is a leading Obamoron outlet.
Bill Encourages Schools To Teach About Racial Significance Of Obama's Presidency. A bill that passed the Assembly with unanimous bipartisan support Thursday encourages California schools to teach students about the racial significance of Barack Obama's presidency.
Michelle Obama, all dolled up
. If you happen to be a Michelle Obama fan with $195 burning a hole in your pocket, the Franklin Mint has something for you. The seller of gold coins, Princess Diana dolls and Elvis heirlooms has released the "Michelle Obama Official White House Portrait Doll" for, you guessed it, $195.
Union leader resorts to blasphemy for the sake of politics:
AFL-CIO official: Jesus couldn't do anything more than Obama has done
. If you thought liberals stopped admiring President Barack Obama as the Messiah, think again. In an October 15th piece about union membership's lack of enthusiasm for the 2010 campaign, the Associated Press interviewed Herb Johnson, secretary-treasurer of the Missouri AFL-CIO.
The Editor says...
If you belong to a union that is a subsidiary of the AFL-CIO, ask yourself this question: Do you really want to be part of an organization whose leadership equates Barack Obama with God himself? If you say, "He was only kidding," do you really want to be part of an organization whose leaders will say anything to win an election?
Obama's Screaming Meemies May Be A Recording
. Obama is talking to his sheeple — back on the campaign trail. The only thing he knows how to do is campaign. He was doing it here in the west this week but it is always the same old story and lies. They always fill the audience with his union supporters and other special interests that will scream and cheer on cue at his every word. I am almost convinced that the screaming and cheering is a recording that they put on the videos. It is just so silly to hear this screaming and cheering after every statement, when he has said absolutely nothing. He tells them that "undocumented workers" will get free healthcare and they all scream and cheer, why?
Rev. Obama's Revival Meeting
. To the untrained eye, the University of Arizona ceremony appeared to be a well-meaning memorial service visited by a somber president attempting to heal the nation. However, to an educated onlooker, the event closely resembled a tent revival run by a hypster whose pious pontificating was more about furthering a political agenda than consoling the aggrieved. Was I the only one who recognized that when Obama entered the packed stadium, all that was missing was a donkey and palm branches?
Jesus And Obama Tie In Recent Poll
. Who are the role models for today's 13-17 year olds? That's the question recently posed by Barna Group in his annual YouthPoll. The way youths answer this question has great import. According to the study, ["]Teenagers' preferences and tastes greatly influence America's cultural identity. The people teenagers look up to as their role models matter a great deal in determining the shape and substance of the next generation of churchgoers, consumers and citizens.["]
Youth were not permitted to identify their parents as role models.
Yet, family members were still listed as the chief role models by 37% of respondents.
[Italics added.]
Obama Re-Election and the Cult of Personality
: The cult of personality can be best summed up as: a country's leader using the mass media, staged public events and government assets to create an idealized and celebratory public image often through unquestioning flattery and praise as well as outwardly sincere empathy with the populace. This term in connection with Barack Obama was first brought up in 2008 campaign by the Hillary Clinton supporters and notable left-wing commentators such as Paul Krugman in the New York Times in reaction to the tactics of the Obama campaign and the adulation of the media.
Obama is better than you
. The administration is downplaying the revelation that the State Department blew $70,000 in taxpayer cash buying copies of President Obama's books. As first reported in The Washington Times, the purchase was meant to "engage key audiences in discussions of foreign policy." It's another uncomfortable reminder of the degree to which those who surround Mr. Obama feel it necessary to bathe him in adulation.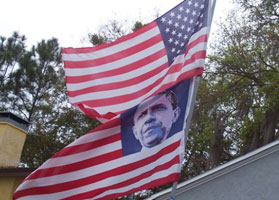 Photo courtesy Don Van Beck.
American flag with President Obama's image sparks outrage at Florida Democrats
. An American flag with President Obama's image in place of the stars flew over a Florida county's Democrat headquarters long enough to enrage local veterans who called the altered banner "a disgrace." Lake County Democratic Party officials took down the flag, which flew just below a standard Old Glory on the flagpole outside headquarters in Tavares following complaints by local veterans. But merely taking it down wasn't enough for several local veterans, who said they fought for the flag Betsy Ross made famous, not one with a politician on it.
Dems entangled in Obama flag flap
. President Obama's face in place of stars on an American flag flying at Lake County Democratic Headquarters in Tavares irked a group of veterans on Tuesday [3/13/2012], who found themselves engaged in a verbal confrontation and the threat of police action when they requested the flag be taken down. The matter was resolved peacefully when Democratic party officials removed the flag.
The Obama Spangled Banner
. We're getting a lot of e-mail about a faceplant from the Democratic Party in Lake County, Florida, which decided to run a little Obama worship up the flagpole to see who'd salute. Not veterans in the local community, who dragged the media out to the Democratic headquarters to make sure they reported on the altered flag they flew. .... It's one thing for someone to go to the trouble of producing that flag, but another level of cluelessness to actually fly it — and especially at the party's HQ. It demonstrates a deep disconnect between the Democratic Party leadership and the people they claim to represent.
Remember, this flag was flown at the Democratic Party Headquarters.
The Obama Spangled Banner
. We're getting a lot of e-mail about a faceplant from the Democratic Party in Lake County, Florida, which decided to run a little Obama worship up the flagpole to see who'd salute. Not veterans in the local community, who dragged the media out to the Democratic headquarters to make sure they reported on the altered flag they flew. .... It's one thing for someone to go to the trouble of producing that flag, but another level of cluelessness to actually fly it — and especially at the party's HQ. It demonstrates a deep disconnect between the Democratic Party leadership and the people they claim to represent.
'American Idol': Worship Obama, Not Jesus Christ
. Contestant Elise Testone on Fox's fading pop star showcase "American Idol" sang a duet of sorts with Obama this week as part of her cover performance of the Al Green classic "Let's Stay Together." Just imagine anything of the sort being done with former President George W. Bush. Impossible, we know. But now word is out that a spiritual "Idol" wannabe has been told in no uncertain terms by the producers not to sing the praises of Jesus Christ, according to The Daily News.
Michelle: Barack 'brought us out of the dark, into the light'
. First lady Michelle Obama hit the campaign trail again Tuesday [4/17/2012], preaching the Gospel of Barack and telling a Nashville fundraiser that the nation is lucky to have him at the helm. "We are so blessed to have him. We are so blessed," she said to applause. The reason: "This president has brought us out of the dark and into the light."
Do We Have a Narcissistic and Psychopathic Leader in the White House?
Remember the Obama praise songs that teachers taught their students to sing in grade school? Remember those that swooned over Obama in his first campaign for the Presidency? Remember those that fainted? Remember those that proclaimed that the Messiah had arrived? One has to ask if this over adoration is healthy. Is this how we usually regarded our Presidents?
Michelle Campaign E-Mail: Barack's Your Husband, Too
. The Obama campaign has sunk to a new low. Today, Michelle Obama sent an email to the entire campaign list, titled "Being married to Barack." It is precisely what you'd expect: maudlin and ridiculous.
The First Lady's Curious Theology
. The theology of the Bible makes two things very clear. One is that angels are superior in every way to man, the other is that no angel in Old or New Testament ever allowed themselves to be worshipped. Most of them claimed to be messengers or servants of the Lord and abruptly halted any attempt to worship them. No Christian who has seen these examples would suspend the lessons taught by these examples and then worship a man, even if he is a sitting U.S. President. In the one instance where a crowd was allowed to worship an orator after he delivered a speech, that orator (Herod) was stricken by an angel of the Lord and fell down dead.
The Editor says...
Barack Obama calls himself a Christian, but if that were true, he would have heard of Herod's story long ago, and would not put himself in the same position.
Read more:
Is Obama a Christian?
Obama versus Jesus: Black Christians Must Decide
. A poll claims that Romney will receive zero percent of the black vote. Well, if the poll proves correct, it means that a vast majority of black voters are ignorant of the truth... or else they're racist. Black Christians who vote for Obama knowing his crimes against Christianity and biblical principles have chosen to worship the idol of racial loyalty over their discipleship to Jesus Christ. Pure and simple. [...] Incredibly, some blacks have completely forsaken their Christianity for Obama. A fellow PK (preacher's kid) said her parents recently changed their stance on same-sex marriage in support of their black president. I find this remarkable.
Obama Cult of Personality Dominates DNC
. The Obama cult of personality dominates the Democratic National Convention to such a large extent that it has replaced the donkey, the traditional symbol of the Democratic Party — which is nowhere to be seen in Charlotte.
Actress Jessica Alba asks voters to pledge allegiance to Obama
. The Obama campaign has launched its "For All" campaign, encouraging supporters to take pictures of themselves with their hands on their hearts and a note explaining why they support President Obama. Actress Jessica Alba uses the Pledge of Allegiance as an example of the campaign in an email to supporters.
The U.S. of O.
: Yesterday we had some fun at the expense of the Obama campaign's latest effort to attract voters whose age and IQ are both in the 18 to 29 range. The campaign instructed its followers to write messages on their right hands then upload to Facebook or Twitter photos of themselves pledging allegiance to the Dear Leader. The hashtag, #forall, echoes the final words of the real Pledge of Allegiance.
An Obama Revelation: Supporters Marking Their Right Hands
. The Obama campaign recently asked its followers to write messages on their right hands and, with their hands pressed over their hearts, pledge their allegiance to Obama by posting these pictures on Twitter or Facebook. A number of celebrities such as Natalie Portman, Scarlett Johansson, and Jessica Alba complied. Of course, for those who are not part of the Obama cult, such actions, as well as the very request, are creepy. The act seems more an expression of quasi-religious adoration of and not just political support for Obama. But for one who has read the New Testament closely, the actions are much more ominous.
Obama's Creepy Cult of Personality
. Last week, the Obama campaign started selling a refashioned American flag with its logo replacing the stars, and then urged Americans to pledge allegiance to Barack. Did we just wake up in Mao's China?
A short visual history of the creepy Obama cult
.
Obama Campaign Quietly Ditches Faux Flag
. The Obama campaign produced a poster of an American flag, with Obama's "O" symbol replacing the field of stars, as an item of campaign merchandise, selling for $35. The image was tasteless at best.
Book compares Obama to Jesus Christ and Martin Luther King
. The book's thesis is that Obama is not just the 43rd president of the United States. Much more than that, he's an apostle akin to Martin Luther King, Jr. or even Jesus Christ.
Democrats Better Start Soul Searching. It is in the nature of personality cults to fail at most things beyond generating and disseminating propaganda. This inability is the result of two things. First, the personality's popularity is not results-driven. Since adoration hasn't been earned by achievement but by the advent of charisma, why kill yourself trying to get results.
The Year of "Our Savior" Obama. The year 2012 was defined by the calculated re-emergence of Obama worship, no matter how obvious his failures in office.
CNN reporter writes letter to Santa Claus every single day for four years. Wait, no, not Santa Claus. What's the name of the other jolly fellow who hands out free toys and candy to everyone as if by magic, and only the emotionally stunted believe in him? Oh yeah, that's right: President Barack Obama. I had never heard of Tom Foreman before today, but that's only because he's on CNN.
Obama's Speeches are Chilling. [Adolf Hitler] was, quite likely, the greatest orator of the 20th century. Here in the 21st century, we have another great orator. He, too has to power to move his listeners to act while disregarding consequences. He, too, has worshipers — some who even refer to him as "Lord and Master." His Name is Barack Hussein Obama. And he is President of the United States of America.
CBS's Pelley Hails Trilogy of Thomas Jefferson, John F. Kennedy and Now Barack Obama. Does journalistic insistence on catapulting President Barack Obama into historic greatness and relevance know no bounds?
Obama Fizzles Out. In 2009 Newsweek editor Evan Thomas summed up the MSM adoration of Obama when he said, "I mean in a way Obama's standing above the country, above — above the world, he's sort of God." The god-factor resulted in a de facto "don't ask don't tell" pact between Obama and the media. The media didn't ask Obama to detail his hope and change and he didn't tell. Gods don't have to explain themselves.
MSNBC Contributor Michael Eric Dyson: Eric Holder 'Is The Moses Of Our Time'. In an elaborate effort to exonerate the members of President Barack Obama's Justice Department of any wrongdoing in relation to the scandal surrounding the sweeping subpoenas of the communications records of journalists, an MSNBC panel implied that the administration was the subject of persecution. During the discussion, MSNBC contributor and Georgetown University Professor Michael Eric Dyson said that Attorney General Eric Holder, himself a victim of an elaborate right-wing effort to smear him, is "the Moses of our time."
Chris Matthews: Obama Has Literally Never Done Anything Wrong. Chris Matthews, thy delusion knows no bounds. In a month where the veritable pileup of scandals resembles an especially bad freeway car accident — indeed, on the heels of the PRISM revelation — Matthews maintains that President Obama is as close to a perfect person as we've seen, potentially since Christ.
Mother uploads video of little boy appearing to pray to the President. A little boy's prayer for President Barack Obama has sparked the ire of conservatives after his mother videoed her son on his knees and uploaded it to YouTube. [...] 'You are good, Barack Obama. You are great and when you get older you will be able to do great things. Love, Steven,' the boy concludes as he throws his arms into the air and screams, 'Barack Obama!' However, the reaction posted online to the YouTube video has been massively negative, with many interpreting the prayer as a sign that the president is being idolized.
A Puzzled Ed Schultz Marvels: 'It Amazes Me That People Don't Love Obama'. A perplexed Ed Schultz on Friday [9/13/2013] couldn't fathom why Americans have failed to "love Obama." The MSNBC anchor highlighted a new poll showing that the President only has a 45 percent approval rating. Schultz marveled, "I just cannot believe this number. Seriously."
Obama's Journey from Arrogance to Incompetence. When he ran for the presidency, it was Barack Obama who never put limits on his criticisms of others. He spoke as if the problems of the world would disappear with two events: the removal from office of his predecessor and his arrival as president of the United States. Even in a profession not known for attracting modest individuals, Mr. Obama's arrogance set him apart. In 2008 his campaign aides referred to him as the "black Jesus."
Lois Lerner's Former FEC Colleague Has Emails Go Missing Too. The Federal Election Commission recycled the computer hard drive of April Sands — a former co-worker of Lois Lerner's — hindering an investigation into Sands' partisan political activities, according to the House Committee on Oversight and Government Reform. [...] One of Sands' tweets, from June 4, 2012 read "I just don't understand how anyone but straight white men can vote Republican. What kind of delusional rhetorical [sic] does one use?" Sands is a black female. "Dear every single Republican ever, When will U learn that Barack Hussein Obama is simply smarter than U? Stand down, Signed #Obama2012 #p2," Sands wrote on May 1, 2012. In a message from Aug. 25, 2012, Sands called Republicans her "enemy."
On Celebrating Obama's Birthday. This is really not the biggest deal in the world, but every year on August 4, I'm reminded of something kind of creepy in the Cult of Obama. That, my friends, is the obsession with his birthday. [...] This is not to be encouraged for two main reasons. One, it's childish. Birthdays are for kids. And even for kids, they should be restrained. Yes, it's another year to be thankful for God's provisions. Great. Do that with family and friends. Don't make a big production.
Michelle Obama Asks Me to Sign President Obama's Birthday Card. I find it hard to say precisely why I find this email a bit creepy. At one level this seems innocuous enough — and it is definitely not a big thing. At another level, asking millions of Americans to sign a birthday card for the President suggests a tone-deafness about the cult of personality. If we lived in a dictatorship, getting millions of subjects to celebrate the Dear Leader's birthday would be routine, but in a free republic this appeal to get millions of citizens to celebrate a current president's birthday strikes a discordant note to my ear.
Obama's Addiction Problem. [Scroll down] He seems to revel in using big venues to spike the football since he followed his Berlin Obamapalooza with his speech before a faux Greek temple at Denver's Mile High Stadium[.] He was compared to God by Newsweek's Evan Thomas, so perhaps his appearance in Denver just brought him closer to his fellow deities. Perhaps he was inspired by his Greek Temple time to interject himself by flying to Europe to try to bring the Olympic flame to Chicago, as he thought his mere presence would be enough to bring the games to his hometown. Had he been successful another spiking of the football surely would have followed. [...] Obama has a heroic image of himself and his team of idolizers know how to create and burnish that image. His entourage knows what he wants and are chosen to deliver it — in abundance.
'Unbiased' Veteran DC Journalist to Obama: 'On Behalf of an Ungrateful Nation, Thank You'. What's funny here is that [Dick] Meyer works for a project called Decode DC, which Scripps describes as a "podcast and narrative reporting tool aimed at smart, curious people of all ages who want political coverage that is rooted in D.C. but is not of D.C." Meyer's gush doesn't sound just like D.C. — it sounds like he's tapping it out on a laptop in the White House residence.
People, places, and things named after Barack Obama
List of things named after Barack Obama. Wikipedia.
List of Things Named After Barack Obama. Gutenberg.
New Jersey to remove President Woodrow Wilson's name from high school; School may now be named after Obama. A New Jersey high school will remove President Woodrow Wilson from its name over complaints it perpetuates racism. The Camden School District voted on the decision 18 months ago, but due to COVID-19 priorities, the process to pick a new name had been postponed until now. High contenders to have the school named after them include former President Barack Obama, late civil rights activist and Representative John Lewis, and a superintendent who recently passed away.
Chicago Area Immigration Activists Protest Renaming Middle School After Former President. Chicago-area immigration activists are protesting a decision to rename an elementary school after former President Barack Obama because of the Democrat's record on deporting illegal immigrants, even though the school is currently named after Thomas Jefferson. The Waukegan, Illinois, Board of Education decided several weeks ago to rename two "controversially" named elementary schools, Thomas Jefferson Middle School and Daniel Webster Middle School, over concerns that both historical figures supported the practice of slavery. "Renaming committees were formed for each school and included people in the community, students, and staff," ABC Chicago reported earlier in 2020.
Not entirely off-topic:
California school changes its name from Woodrow Wilson to Michelle Obama. The Woodrow Wilson Elementary School in Northern California will close for extensive renovations and open next year as Michelle Obama Elementary. "We have the opportunity to have a beautiful new school named after a person who really represents our diversity and values," Claudia Velez, the school's principal, told CNN on Thursday [2/13/2020]. The proposal — which was approved in a unanimous vote by the West Contra Costa Unified School District Board — is not the first time President Wilson's name has come under scrutiny.
Michelle Obama will have a Northern California elementary school named after her. Former first lady Michelle Obama will soon have a second California school as her namesake. In a unanimous vote, the West Contra Costa Unified School District Board decided to change the name of Wilson Elementary School to Michelle Obama Elementary School. The idea was first proposed when the PTA sent a letter to the school board, the school board said. Two ad hoc meetings received unanimous support from parents, students and community leaders.
Barack Obama to Elijah Cummings: Monuments to the men who "didn't build that".. The Chicago Museum of Science and Industry has a storied past. It occupies one of the few remaining buildings from the World's Columbian Exposition of 1893. [...] Barack Obama plans to destroy this neighborhood in homage to Barack Obama. [...] The structure designed by Tod Williams Billie Tsien Architects and Michael Van Valkenburgh Associates — with its steep angled outer walls — is similar to Guatemala's towering Tikal Temple. A monument dedicated to the bloody business of appeasing the gods through human sacrifice. That this monument to Obama's ego will cast a giant shadow, blocking views of the Museum of Science and Industry and snarling traffic, is telling. After all, Obama's superstitious inklings, like those of the doddering Bernie Sanders, incline him to worship at the altar of intrusive and incompetent government.
Obama Boulevard? In Los Angeles, the new street name is fitting. The news accounts are oh so breathless about Rodeo Road in Los Angeles being grandly renamed 'President Obama Boulevard.' [...] But if you actually know the place, you might have a different reaction. This is a rather desolate and unpleasant part of Los Angeles, the sort of place that sees nasty gridlock in some places, lots of cement, and nothing inspiring to look at. It isn't anyone's idea of a nice street. Not the worst road in the city, but not one you'd go to unless you had to, either.
'President Barack Obama Boulevard' unveiled in Los Angeles. Former President Barack Obama now has a second stretch of roadway named for him in Los Angeles. On Saturday [5/4/2019], thousands gathered for the renaming of Rodeo Road to "President Barack Obama Boulevard," a 3.5-mile street that runs through the historically black Baldwin Hills-Crenshaw neighborhood. The former president was not in attendance as onlookers celebrated his legacy at a spot where he held a presidential campaign rally in 2007, the Los Angeles Times reported.
Los Angeles Will Celebrate Unveiling of 'Obama Boulevard' With Day-Long Party. Obama Boulevard will be unveiled this weekend and the city of Los Angeles intends to celebrate with a day-long festival featuring '80s hip hop sensation, Doug E. Fresh. Last summer, the city council voted unanimously to rename a 3½-mile stretch of Rodeo Road to 'Obama Boulevard.' The road should not be confused with the more popular Rodeo Drive in Beverly Hills. This Saturday [5/4/2019], they intend to celebrate that decision when they unveil the new road meant to honor the first black President of the United States.
Rodeo Road to be renamed Obama Boulevard, with festival where he once campaigned. A Los Angeles road will officially be renamed in honor of former President Obama on May 4, City Councilman Herb Wesson announced Tuesday [4/23/2019]. Along with the unveiling of the road's new name, the councilman will host a street festival with music performances, vendors and food trucks at the intersection of the new Obama Boulevard (currently Rodeo Road) and West Martin Luther King Jr. Boulevard. The name change was first suggested by Wesson in 2017.
More cities add Barack Obama's name to landmarks, highways. The nation's first African-American president need not go far around the country these days to find something that carries his name. There's Barack Obama Way in New Albany Township, Indiana, and Barack Obama Boulevard in Pahokee, Florida. There's a long list of schools now named for him, like Barack Obama Academy for Academic & Civic Development in Plainfield, New Jersey, and Barack Obama Elementary School in Richmond, Virginia.
Los Angeles Highway Named For Obama. Next Target: Major Chicago Expressway. Areas in or around major American cities in blue states are pushing to name their highways after former President Barack Obama. The latest case in point: Los Angeles, where a part of the 134 Freeway between Glendale and Pasadena has been named the President Barack H. Obama Highway. That portion of the highway runs between Glendale CA-2 and the 210 Freeway, and includes the exit that leads to Occidental College, which Obama attended from 1979 to 1981. State Senator Anthony J. Portantino (D), who co-authored the bill, gushed that the time Obama was a student at Occidental "influenced his political trajectory and lead him to become one of the most revered and respected Presidents in history."
Dem's plan to put Obama's name on Chicago's Dan Ryan Expressway irks Ryan's descendants. Former President Barack Obama may get a famous stretch of highway named for him, if a Chicago mayoral candidate — who once worked for Obama — gets his way. But the descendants of the late Dan Ryan, for whom the city expressway is named, are not happy about the idea. Democratic candidate Bill Daley, who was Obama's White House chief of staff in 2011, proposed Friday [12/21/2018] that the Dan Ryan Expressway on Chicago's South Side be renamed for America's 44th president, the Chicago Sun-Times reported.
The Editor says...
Obviously this is all about paving the way for Michelle Obama to run for president.
Los Angeles-area freeway named for Barack Obama. The signs posted Thursday [12/20/2018] on State Route 134 apply to a stretch running from State Route 2 in Glendale, through the Eagle Rock section of Los Angeles to Interstate 210 in Pasadena.
Obama Boulevard becomes newest L.A. street. Los Angeles City Council voted to change Rodeo Road's name to Obama Boulevard in honor of former President Barack Obama, Mayor Eric Garcetti said in a tweet. "It's official," Garcetti said Tuesday night. "We're thrilled that Angelenos and visitors will forever be reminded of the legacy of President @BarackObama when traveling across L.A."
Los Angeles street to be renamed after Obama. A residential street in southwestern Los Angeles will be renamed after former President Barack Obama, Mayor Eric Garcetti announced in a tweet Tuesday [8/28/2018]. The vote by L.A. City Council comes more than a year after City Council President Herb Wesson proposed renaming the three-and-a-half-mile "Rodeo Road" to "Obama Boulevard" in honor of the former president. Wesson's proposal noted that Obama held a campaign rally at Rancho Cienega Park on Rodeo Road during his 2008 bid, The Los Angeles Times reported.
3 Reasons 'Obama Day' Is a Terrible, Horrible, No Good, Very Bad Idea. On Saturday, Illinois celebrated its first annual "Barack Obama Day," a holiday on the 44th president's birthday in his home state. Republican Governor Bruce Rauner signed the bill into law after Obama's birthday last year, making Saturday the first official celebration. While it is good for Illinoians — and Americans — to take pride in the fact that the U.S. had its first black president, 2018 is a premature time to celebrate the man who vacated the office less than two years ago. There are many reasons why Rauner arguably should have waited.
Illinois celebrates first annual Barack Obama Day. Illinoisans honored former President Obama on Saturday [8/4/2018] with the first annual "Barack Obama Day." The Illinois legislature last year unanimously passed a measure establishing Aug. 4, the former president's birthday, as a state holiday. Gov. Bruce Rauner (R) signed the bill into law on Aug. 6, 2017, making this year the first that the holiday is celebrated.
Open Letter to School Boards Everywhere: Stop Renaming Your Schools After Obama. It was bad enough that pretty much within seconds of Barack Obama winning the presidency there seemed to be a rush to rename schools to honor the newly elected first black president. According to Wikipedia, eighteen schools in fourteen states have so far been named or renamed in honor of the 44th president. According to another Wikipedia article (which is incomplete and out-of-date) Obama already has enough schools named after him to rival John F. Kennedy, Abraham Lincoln, and Thomas Jefferson. The latest school to jump on the Obama bandwagon is the J. E. B. Stuart Elementary School in Richmond, Virginia. This week, the school board voted 6-1 to rename the predominantly African-American school named after a Confederate general Barack Obama Elementary School.
Scientists discover fossil of ancient sea creature, name it after President Obama. It lived an uneventful life in Earth's oceans 500 million years ago, but now this newly discovered creature has an unusual honor: It's been given the scientific name Obamus coronatus, a name that honors President Barack Obama's passion for science. ("Coronatus" means "crowned.") The tiny, disc-shaped animal was about a [half] inch long, with raised spiral grooves on its surface. It spent its entire life embedded on the ocean floor, likely never moving, according to scientists from the University of California-Riverside. A second small animal, an egg-shaped critter that may have looked like a raisin, was also discovered. It was given the name Attenborites janeae, after the English naturalist and broadcaster Sir David Attenborough, who was known for his science advocacy and support of paleontology.
School honoring Confederate general to be renamed for Obama. A Virginia city is rebranding its only school named after a Confederate general to honor the United States' first black president.
Obama Center reps visit churches to spread the word. Representatives of the Obama Foundation borrowed pulpits at churches on the South and West Sides Sunday to share this message: If you support the Obama Presidential Center being built, then speak up, because it isn't a done deal. "The main reason I am here is so that people know it's not a done deal," Brian Sleet, a spokesman for the Obama Foundation, told congregants during a service at the Mount Pleasant Missionary Baptist Church in the Woodlawn neighborhood.
Colorado Dems rename annual event the 'Obama Dinner'. The Colorado Democratic Party is renaming its annual dinner the "Obama Dinner." The dinner is being named after both former President Obama and first lady Michelle Obama, with the party's executive director Pilar Chapa saying the move was to recognize the couple's "historic contributions."
Mississippi school named after Jefferson Davis to be renamed after Obama. A Mississippi school is shedding the name of the Confederacy's only president and will instead be named for the first African-American president of the United States. Davis International Baccalaureate Elementary School in Jackson was named decades ago for Jefferson Davis. The school with 98 percent African-American enrollment is set to be renamed for Barack Obama in the next academic year, in a move proposed by parents and approved by a majority of students, parents, faculty and staff members.
Jefferson Davis school in Mississippi to be renamed after Barack Obama. A predominantly black elementary school in Jackson, Mississippi, named after Confederate President Jefferson Davis, will be renamed after former President Barack Obama, leaders announced Tuesday [10/17/2017]. Davis Magnet IB PTA President Janelle Jefferson said during the Jackson Public Schools Board of Trustees meeting that school stakeholders voted earlier this month to rename the school Barack Obama Magnet IB, a move that will go into effect for the 2018-19 school year, The Clarion Ledger reported. "Jefferson Davis, although infamous in his own right, would probably not be too happy about a diverse school promoting the education of the very individuals he fought to keep enslaved being named after him," Ms. Jefferson said.
Illinois Liberals Get a Holiday to Celebrate Their Messiah - Barack Obama. Governor Bruce Rauner signed into law legislation that would designate August 4th as "Barack Obama Day." NBC News Chicago reports the holiday will be "observed throughout the State as a day set apart to honor the 44th President of the United States of America who began his career serving the People of Illinois in both the Illinois State Senate and the United States Senate, and dedicated his life to protecting the rights of Americans and building bridges across communities," Senate Bill 55 reads.
'Barack Obama Day' now an Illinois holiday. Former President Barack Obama got a special treat for his birthday this year — his very own holiday. Governor Bruce Rauner signed into law Friday [8/4/2017] a measure to designate Aug. 4 as "Barack Obama Day" across Illinois.
Los Angeles considers renaming Rodeo Road in southwest L.A. 'Obama Boulevard'. President Obama has been out of office only a few months. But he might have both a street and an L.A. freeway named after him soon. Los Angeles City Council President Herb Wesson has proposed renaming Rodeo Road in southwest L.A. "Obama Boulevard" in honor of the president. Wesson noted that Obama held a campaign rally at Rancho Cienega Park on Rodeo Road when running for president and that the area already has streets named after presidents (Washington, Jefferson, Adams). In May, a plan to name a stretch of the 134 Freeway after Obama moved forward with approval from the state Senate. The freeway is not far from Occidental College in Eagle Rock, which Obama attended.
Southwest L.A. loves 'Obama Boulevard' proposal but wonders: 'Why not a major street?'. The street, a 3½-mile residential strip in a predominantly African American community, is flanked on both sides by squat one- and two-story houses and gated communities. The road is also home to Dorsey High School, Baldwin Hills Elementary school and Rancho Cienega Sports Center and Park — where Obama held a campaign rally when he was running for president. "At one point, Martin Luther King Jr. Boulevard used to be called Santa Barbara Avenue," said Admee Aguierre, 33, a locker room attendant at the sports center who was present for the rally. "So that will be kind of cool, because Martin Luther King ends right here where the park is and then to have Rodeo called Obama, it's like we have these streets being named after our own."
Officials want Madison's City-County Building named for Obama, 'the JFK of our generation'. Madison and Dane County leaders are hoping to inject a note of inspiration into the seat of local government by renaming it after the only president who ever set foot near it. At a Thursday [6/15/2017] press conference, County Executive Joe Parisi announced the effort to christen the structure known for 60 years as simply the City-County Building as the President Barack Obama City-County Building.
Wisconsin Officials Want To Name Soviet-Style Building After Obama, 'JFK Of Our Generation'. Local leaders in and around Madison, Wisconsin are seeking to rename the main county government building after former President Barack Obama — "the JFK of our generation." The seven-story building is currently called the City-County Building. It's a gray, soul-crushing, Brutalist slab of concrete. Inside the dreary, Soviet apartment-style exterior walls — originally erected in 1956 — are administrative offices and a jail.
Illinois closer to celebrating Barack Obama Day. A measure to make former President Barack Obama's birthday an honorary state holiday now heads to the governor's desk after clearing the Illinois House unanimously Friday [5/18/2017]. The bill would make Aug. 4. Barack Obama Day in Illinois, but state government and businesses would remain open. "Mr. Obama served this country well, and I really believe personally, that we should give folks their flowers while they're still alive," bill sponsor state Rep. Marcus C. Evans Jr., D-Chicago, said on the House floor. "So honoring our president while he can experience it and feel it and and show the love, I think is needed."
Attempts to honor Obama legacy generate fury. In California, a state senator recently proposed naming a portion of the Ventura Freeway "President Barack H. Obama Freeway," as a way of flagging that the president had attended Occidental College in Eagle Rock in 1979. In New Jersey, the Jersey City school board agreed last fall to name a public school after Obama — but only after a political clash on the board and a series of public meetings. In January, New Albany, Indiana, renamed one of its streets "Barack Obama Way" with the mayor crediting Obama's stimulus plans with helping the town create jobs and redevelop a 40-acre site into an industrial park.
State rep hopes to rename I-55 for Obama. Should it be the Barack Obama Expressway or the Barack Obama Tollway? Democratic state legislators seem to agree that the hometown state senator made good should take his place alongside Ronald Reagan, John F. Kennedy and others immortalized in Illinois highways. But they apparently hit a fork in the road over just what stretch of pavement should get the honor. Two Illinois state representatives have competing plans to rename different Illinois highways after Obama.
L.A. Proposal to Rename Freeway After Barack Obama. In the time-honored tradition of naming clogged urban thoroughfares after politicians, a group of Democrats in Los Angeles is proposing to rename a freeway after President Barack Obama. The proposal would rename California route 134, from Glendale to Eagle Rock, north-northeast of downtown Los Angeles, between CA-2 and US-210, near Occidental College and south of the Rose Bowl.
Newly discovered Flatworm is named after Obama. A new species of blood fluke was found infecting the lungs of turtles in Malaysia. This parasitic flatworm has been dubbed Baracktrema obamai, in honor of the President of the United States (who is the fifth cousin twice removed of one of the discovering scientists).
Obama has parasitic worm named in his honor: Baracktrema obamai. A scientist was spent years studying turtle viruses has named a parasitic worm that infects the creature after President Obama. Thomas R. Platt recently retired from St. Mary's College in Notre Dame, Indiana, but not before cementing Baracktrema obamai into scientific lexicon. He says Mr. Obama should take it as a compliment to be associated with the flatworm, or "blood fluke," that infects the lungs of black marsh turtles and southeast Asian box turtles in Malaysia.
The Obama Effect: More black babies given African American names. More black babies have been given "African American sounding" names since President Barack Obama's election, the result of new parents feeling better about their heritage after America elected its first minority president, according to a new study. [...] The unusual study of over 120 black women found that Obama's election made them feel good and they embraced their African heritage. And one of the best ways to display that was to give their children more African American sounding names.
The Editor says...
"African sounding names" do not make your children African. And in any event, black mothers were giving their kids incomprehensible names long before they ever heard of Barack H. Obama, hoping that a unique and exotic name would help keep the kid from becoming another statistic. For proof, notice how many grown women have names like Lakisha and Tamethia and Moshumba. Moreover, unless you think Barack H. Obama was born in Africa, why do you honor him by attempting to make your family sound African? No, the real reason little black kids have absurdly synthetic "African-sounding" names is that their mothers hate white people and traditional American customs.
Hawaii can't seem to name anything after native son Obama. Stanley Chang hatched a plan last year to overcome seven years of failed attempts to name something after Hawaii's most famous native son. His target: Sandy Beach, a stunning strip of sand and volcanic ash that he hoped to re-christen "Barack Obama Beach." [...] Like all of the previous Obama naming efforts, however, it has gone nowhere.
Obama's legacy: Hawaii once again refuses to name something after [its] only native son president. If his post-presidency is a reflection of his actual achievements in office, Barack Obama will spend his life living down his shame. But sadly, for the cause of justice, he is likely to enjoy great wealth and acclaim from a substantial segment of American, not to mention world society. Still, it is quite interesting that several efforts to name things after him in his home state of Hawaii have failed.
Old Dixie Highway renamed in honor of Obama in Riviera Beach. Riviera Beach renamed Old Dixie Highway in honor of President Barack Obama during a ceremony on Thursday [12/17/2015], a change that city officials say will help move the community past its segregated history. It is the second road in Palm Beach County to be named in honor of the 44th president, county officials said. Two years ago, Pahokee in western Palm Beach County renamed East First Street to Barack Obama Boulevard.
Riviera Beach City Council votes to approve change from Old Dixie Hwy to President Barack Obama Hwy. A dividing highway in Riviera Beach is becoming historic again. A proposal to rename Old Dixie Highway to Barack Obama Highway ultimately passed in Riviera Beach, but not without hitting some speed bumps.
Kenyans Name Babies 'AirForceOne,' 'Barack' To Celebrate Obama's Visit. President Barack Obama's trip to Kenya inspired several women to name their children after the First Family. One woman took it a step further to keep her child more unique. "I have decided to call my baby AirForceOne Barack Obama so that we can all remember Obama's visit to Kenya because it is a huge blessing," explained Lucy A Akiniyo Okoth. Another mother decided to keep it simple with AirForceOne. "I have been told that it is the best airplane because it carries a very powerful leader of America who is also a Kenyan," said Lucy Atieno.
The Editor says...
Two words: cargo cult
Schools in his honor, children proudly named Obama — and even his hair is in style: Gushing Kenya welcomes the President. Banners and billboards sporting the President's face sprung up around Nairobi ahead of the visit, while thousands of eager fans waved American flags and painted their faces while getting as close as they could to the Presidential motorcade amid intense security. In Kogelo, the hometown and place of burial of Barack Obama Snr, Obama has two schools named in his honor, dedicated when he was still an Illinois senator. Kogelo locals named the Senator Obama Kogelo Primary School and Senator Obama Kogelo Secondary School in his honor when he visited in 2006.
Rahm Emanuel floats naming Chicago airport after Barack Obama. Chicago's Mayor Rahm Emanuel, currently fighting for his political life in a heated run-off campaign, floated the idea Wednesday [3/25/2015] of naming an airport after the Windy City's favorite son: President Barack Obama. When asked at a candidate forum at Chicago State University why he was no longer supporting his own proposal to name two high schools after Obama and influential religious and community leader Arthur Brazier, Emanuel said that he was still looking for ways to "acknowledge people who have done significant things."
Hawaii locals: Sorry, Obama, no beach for you. President Obama won't be able to enjoy time on a beach named after himself after all. Honolulu city council members Stanley Chang and Ernie Martin stopped the effort of re-naming Oahu's Sandy Beach Park after the president, citing concerns from the local community, according to Yahoo News.
Obama won't visit school named after him during fundraising trip. When officials at the Barack Obama Elementary School in Hempstead, LI, learned three weeks ago that the president would be in town this week for an up-to-$5,000-per-head fundraiser for the Democratic National Committee at The Garden City Hotel, they sent their third official request for a visit. Students at the primarily Hispanic and black elementary school have been sending letters begging for an appearance by the nation's first black president ever since they campaigned in 2008 to have the name of the school changed from Ludlum Elementary School to Barack Obama Elementary School.
Honolulu councilmen propose Obama beach park. Hawaii News Now reported Councilmen Stanley Chang and Ernest Martin introduced a resolution on Thursday [10/2/2014] to change the name of Sandy Beach Park.
Three days later...
Hawaii officials drop plan to name park for Obama. The Honolulu Star-Advertiser reports Councilman Stanley Chang and Council Chairman Ernie Martin decided to withdraw the proposal after hearing from the public.
Fallon Roasts President After Chicago Decision To Squash 'Obama High School'. The late night host railed on Obama in the wake of last week's news that Chicago Mayor Rahm Emanuel quashed plans to name a new $60 million high school after the president. "More bad news for the president: Chicago is reversing its plan to name a high school after President Obama because it received multiple complaints from people in the community," said Fallon. "I guess parents were afraid their kids would spend eight years at the school and still get nothing done," skewered the "Tonight Show" host.
Mayor: New high school won't be named after President Obama. Mayor Rahm Emanuel backed off Thursday [9/18/2014] from naming a new elite high school after President Barack Obama amid ongoing criticism from African-Americans who felt the honor inappropriate for a school slated for a wealthy, predominantly white part of the Near North Side. Instead of naming the new school after his former boss, the mayor indicated he would consider other names for the selective enrollment high school set to be built near the site of the former Cabrini-Green public housing project just northwest of downtown.
Rahm cancels plan to name Chicago school after Obama. Chicago's plan to honor President Obama with the "Barack Obama College Preparatory High School" had a certain logic to it that I found compelling. The selective admissions school was to occupy the former site of the Cabrini-Green housing project, one of the most conspicuous examples of the failure of liberal social policies. Designed and implemented by progressives, Cabrini-Green was intended to use government money to improve the lives of poor city dwellers. Instead, it turned into such a nightmare of crime and broken families that it had to be demolished. Honoring Obama on a site known for liberal failure made sense.
JFK Center Won't Be Renamed Obama Center. The decision whether to re-name the JFK Center in Willingboro, New Jersey, in honor of President Barack Obama has been drawing national attention. Opinions about the name change have been all over social media and large crowds came out on Tuesday to weigh-in.
Ten things named after US President Obama. [#4] A rare white tiger cub: Earlier this month [5/2014], five rare white Bengal tiger cubs were born at a zoo in Austria. Four are females, and the lone male was named Obama for an unknown reason. The zoo owner told ABC News that he had no idea why the boy tiger was named Obama.
Five Most Unusual Things Named After Barack Obama. [#4] A Parasite: Paragordius Obamai, the hairworm parasite, was named for the President because it hails from Kenya, the area where his father was born and raised. Interestingly, these parasites infect crickets, forcing them to commit suicide by jumping into water.
Things named after Obama. [#6] Barack Obama College Preparatory High School.
New Chicago high school to be named for Obama. Mayoral critics noted the $60 million high school was announced a day after CPS voted to turn over management of three failing schools in impoverished neighborhoods on the city's West and South Sides to a private organization. They contend that instead of investing more resources in top-tier schools that serve a small number of students, the money should be used to help neighborhood schools across the city, many of which saw severe budget cuts this school year.
List of things named after Barack Obama. This list includes proposed name changes.
Why new Barack Obama Chicago public high school is unjust. Despite the appearance of increased school choice (Barack Obama College Prep High School will host 1200 students), this CPS decision — again — favors affluent, mostly white, families. Latino families, especially, remain at a disadvantage.
Does Barack Obama deserve a Street Named after him? Not to soon after the election, the question came up (well, at least in my city) that should President Obama get a street named after him?
Orlando Unveils Barack Obama Parkway
. On the same day President Barack Obama will visit Orlando, the city unveiled the first part of a roadway project named after him. Orlando Mayor Buddy Dyer attended a ribbon-cutting ceremony that showcased President Barack Obama Parkway, near the Mall at Millenia.
Obama Gets a Fish Named After Him. A new species of fish was recently discovered, and it's been named after Barack Obama. The Bulletin of Alabama Museum of Natural History revealed four presidents and a vice president have had their names given to recently identified fish.
N.J. town erupts after council votes to rename Kennedy Center as the Obama Center. The governing body of one New Jersey town voted in favor of renaming the local Kennedy Center after the current White House head — and calling it the Barack Obama Center — and some residents aren't exactly happy. Philly.com reported that the renaming came at the request of Willingboro Township Mayor Jacqueline Jennings, after she recalled how the black population in the region reacted with excitement at the campaign and election of Mr. Obama.
Normandy board names new school after Obama
. The Normandy School Board voted unanimously Friday [9/17/2010] to name its new elementary school in Pine Lawn after President Barack Obama. "If you put all politics aside, he exemplifies the American dream," said School Board President Cozy Marks.
The Editor says...
If you put all politics aside — which Obama never does — he's still an
incompetent
narcissist
with a blank resumé. And really, if you put all politics aside, no school would be named for Barack H. Obama in a million years. How well did Obama perform in school? Nobody knows, because his transcripts have never been made public.
New Chicago high school to be named for Obama. A new selective enrollment high school named after President Barack Obama will be built near the former site of the Cabrini-Green public housing complex, Mayor Rahm Emanuel announced today [4/24/2014]. The new high school will be built near the intersection of Division and Halsted streets by Skinner North Classical School. It will open in fall 2017 with a freshman class of 300 students, adding more students each year to ultimately hold 1,200 students.
Emanuel's Plan to Build Elite 'Barack Obama High School' in an Upscale Chicago Neighborhood Has Parents Enraged. Shortly after he became president, Barack Obama killed Washington, DC's school voucher program. His own Department of Education had concluded that students who received the vouchers benefited from it and improved, but that did not matter a bit. [...] So, Barack Obama's record on education opened to scenes of him siding with the powerful teachers' unions against the powerless children our public schools are supposed to exist to educate. Barack Obama stood in the doorways of private schoolhouses, keeping poor children out. His former chief of staff from those days is now Mayor Rahm Emanuel of Chicago. Emanuel's ear is made of even thicker tin than Obama's. Emanuel announced Thursday [4/24/2014] that he intends to build a selective-enrollment elite public school in one of Chicago's upscale neighborhoods, and he is naming it after one Barack H. Obama.
A parasite named Obama. [Jason] Bond, a spider expert at the university's Department of Biological Sciences and its Museum of Natural History, discovered several new species of trapdoor spiders in late 2012, and named one of his favorites, "Aptostichus barackobamai" after the president. It had unique characteristics, Bond said, like Obama. This week Chicago Mayor Rahm Emanuel announced plans for a Barack Obama Preparatory High School to open in fall 2017. There are already schools, and roads, and even a mountain in Antigua, with the sitting president's name.
Building in N.J. town named after John F. Kennedy will now be named after Obama. A recreation and senior citizens center in Willingboro known as the "Kennedy Center" will soon be named after the sitting president and not a former one. The change became official Tuesday [8/5/2014] when the township council voted to change the name of the building to honor President Barack Obama, according to a report on BurlingtonCountyTimes.com. The change is not meant as a slight to former President John F. Kennedy, councilman Chris Walker told the website. Walker said it was "time to be about change," in explaining the new name for the building.
Lenin, Stalin, Ceausescu, Obama: How Marxist Leaders Conceal Their Pasts. [Scroll down] Finally, there is the current tendency to change the U.S. into a glasnost-style monument to its leader. Below I republish a partial list of institutions and places already named after President Obama:
California: President Barack Obama Parkway, Orlando; Obama Way, Seaside; Barack Obama Charter School, Compton; Barack Obama Global Preparation Academy, Los Angeles; Barack Obama Academy, Oakland.
Florida: Barack Obama Avenue, Opa-loka; Barack Obama Boulevard, West Park.
Maryland: Barack Obama Elementary School, Upper Marlboro.
Missouri: Barack Obama Elementary School, Pine Lawn.
Minnesota: Barack and Michelle Obama Service Learning Elementary, Saint Paul.
New Jersey: Barack Obama Academy, Plainfield; Barack Obama Green Charter High School, Plainfield.
New York: Barack Obama Elementary School, Hempstead.
Pennsylvania: Obama High School, Pittsburgh.
Texas: Barack Obama Male Leadership Academy, Dallas.
State monitor orders Asbury's Barack Obama School closed
. The state fiscal monitor who oversees financial operations in the school district Thursday morning [3/17/2011] closing of the Barack H. Obama Elementary School as of July 1. Students next year will go to the district's two other more modern elementary schools — Thurgood Marshall on the east side and Bradley on the west side.
Obama — a name synonymous with low achievement and soaring costs.
Obama school set to close
. The Barack H. Obama Elementary School in Asbury Park, New Jersey will close its doors July 1st because of low academic achievement and declining enrollment in the district's schools, according to a release from the Asbury Park State Fiscal Monitor's office.
The Fukushima 50 and the White House Cipher
: [Scroll down] In another time, people would already be chiseling the name of such an inept leader off all official tablets to hide from history his having reached such an exalted place. As it is, perhaps we will have to settle for the unmaking of all the acts and legislation undertaken in his name. Already in Asbury Park, N. J., one of the first schools named for him has been shut down. It was an elementary school where the community spent $36,000 per pupil only to get low test scores in return. Somehow it seems fitting.
The Name Game: Obama Beats Bush in School Names
. He has been in the White House 18 months, but President Obama already has seven U.S. schools named after him, far more than his predecessor George W. Bush and a designation that educators say bucks the trend. ... Barack Obama Elementary School in Upper Marlboro, Md., which opened its doors today, became the latest U.S. school to be named after the president.
It is surprising when
any
new school is named after a Republican, since the public schools are run by
unionized
leftists
.
Barack Obama Elementary Opens in Maryland
. The first school in the D.C. area named after the current president opens Monday morning as the school year begins in Prince George's County. Barack Obama Elementary School opens its doors in Upper Marlboro, Md., for the first time Monday [8/23/2010]. The school is being touted as being an environmentally friendly "green" school.
Barack Obama Jr: Babies named after the US president
. It is hard to imagine a more personal endorsement of a politician than to give your baby his name — after all, a vote takes a moment, a name is for life. But there is a tradition of Americans reacting to their presidents in this way. The name Franklin reached its peak of popularity in 1933, when Roosevelt's tenure was beginning.
Obama school proposed
. The Kern High School District on Wednesday morning will hold a public hearing and consider a petition for a new charter school named after the nation's president. The Barack H. Obama Leadership Academy aims to teach disadvantaged, at-risk teenagers and at the same time provide mental health services and substance abuse treatment, according to the petition.
Debate Heats Up Over Renaming Of Dallas Schools
. The debate to rename two Dallas schools after President Barack Obama and newly sworn-in Supreme Court justice Sonia Sotomayor is heating up. Much of the focus has been on the call to add Mr. Obama's name to a much-loved south Dallas school.
St. Paul School wants to change name to Obama
. A St. Paul elementary school has voted to officially change its name to "Barack and Michelle Obama Service Learning Elementary," pending approval of the school board. ... The Webster school name has been around since the 1880s, even though the current Webster building was built in 1925. The school is named after statesman Daniel Webster.
Somewhat related:
San Fernando Valley School Named After Michelle Obama. School board members have approved a plan to rename a San Fernando Valley elementary school after First Lady Michelle Obama. Los Angeles Unified board members voted unanimously Tuesday [6/18/2013] to name Valley Region Elementary School No. 13 after Mrs. Obama.
The Obama Highway
— one of many!
Should I-20 be named the Barack Obama Freeway?
Sen. Royce West (D-Dallas) has proposed a bill that names Interstate 20 between Dowdy Ferry Road and Mountain Creek Parkway as the President Barack Obama Freeway. The bill — SB 1510 — will be considered in a public hearing before the Senate Transportation and Infrastructure Committee Monday April 6 at the Capitol.
Testimony Against Naming Freeway After Barack Obama
. Choosing this name for the freeway does not reflect the values of the Texans that will drive on it. President Obama did not carry the state of Texas. His extreme liberal views on the issues of Life, Taxes, and Global Government are not shared by the majority of Texans.
YCT Oppose Barack Obama Freeway Bill (SB 1510)
. "We should be naming highways after people who have done things for Texas, not Chicago machine politicians trying to do things to Texas," said Laura Elizabeth Morales, Senior Vice Chairman of YCT [Young Conservatives of Texas].
Texas Lawmakers Propose Renaming Interstate Highway After Obama
. [Senator Royce] West's measure attempts to bypass current laws which state that Texas freeways are named only in honor of 'deceased people,' and only people who 'were significant in the state's history, or in the lives of people in this state.' Opponents, like Laura Elizabeth Morales of the Young Conservatives of Texas, joked that any road named after Obama should be a toll road, with tolls that 'increase with a driver's income.'
The Prospect of Variable Toll Collection on the Obama Highway
. Laura Elizabeth Morales has humorously suggested that if there is to be a highway named after Mr. Obama, it should be a toll road. (I would suggest perhaps a toll road that runs headlong into an inescapable abyss, a black hole, or an enormous pit of quicksand.) Ms. Morales further suggested that the toll should "increase with a driver's income." That's an amusing quip, but upon further consideration, such a system is not impossible.
New Road To Bear President Obama's Name
. Is it too soon to name a road after President Barack Obama? A new road being built through Orlando will have his name.
Road Built By Stimulus Money Named "Barack Obama Parkway"
. Orlando leaders made President Barack Obama Parkway the first road under construction in the nation named after our 44th president, and surely one of the few in history to be named after a sitting president in his first term.
A New Twist in the Obama Cult of Personality
. It should be noted that the Orlando parkway will be the sixth road named (or renamed) after our God-like president by officials, severely infected with the Obama virus. The others are...
Obama's Mean Streets: Crime wave on Obama Way, Barack Obama Boulevard
. A battery assault was reported to have occurred at 6:54 p.m. on the evening of February 22 in the 1600 block of Broadway Avenue, aka Obama Way, in Seaside, Calif. The alleged assault comes on the heels of two reported thefts along Delmar Boulevard, aka Barack Obama Boulevard, in St. Louis, Mo.
'Obama Blvd.' Crime Update
. There have been 12 crimes on Barack Obama Boulevard in St. Louis, MO, over a recent 9-day span. Between August 25 and September 3, there were nine thefts, two robberies, and one incident of breaking and entering. In addition, one registered sex offender resides on Obama's honorary highway, according to crimereports.com.
---
Using public schools as indoctrination centers
At first I thought this controversy was about a single event, but evidently there are two parts to the story. The first part is about a video presentation in which an assortment of so-called celebrities urge the school kids to pledge their allegiance to Barack Obama. Anyone who has studied the history of Germany in the 1940s can tell you what that could lead to. The second angle of the story has to do with a video teleconference on September 8, 2009, in which President Obama himself addressed the school attendees himself.
Part 1
Child worship of Obama. When children talk about politics, they usually talk nonsense. And when children start worshipping some political leader, something deeply disturbing is going on.
School Children Complain Of "Obama Worship" During Lessons. Several disturbing stories have come to our attention over the past weeks and days that further highlight how sections of the American population have elevated Barack Obama to a dangerously inflated "messianic" status normally only associated with Royalty or totalitarian leaders. What makes the following accounts so much more insidious, however, is that they all involve children.
The story of LA teachers indoctrinating kids on ObamaCare goes national. Millions of people are having second or third thoughts as they get new health insurance bills with steeply hiked rates, as employers cut work hours to save on insurance coverage or as companies drop the coverage plans and leave workers to go on the government's version. In desperation, the Obama administration is seeking any way it can to promote ObamaCare to the uninformed. California's health insurance clearinghouse got $37 million in taxpayer funds just to push the plan in the Golden state.
California Schools to Train Kids to Sell ObamaCare. The Los Angeles Unified School District will use a state grant to train teens to promote ObamaCare to family members. Covered California, the state's health insurance exchange, announced grants of $37 million on May 14 to promote the nationally unpopular law. LAUSD will receive $990,000. The district listed as a primary outcome for its project, "Teens trained to be messengers to family members."
L.A. schools use your tax dollars teaching students to sell ObamaCare at home. With great excitement, the Los Angeles Unified School District has designed a nearly $1 million program to train teenagers to promote the glories of ObamaCare to parents, relatives and friends at home. The state's health insurance exchange, Covered California, is handing $990,000 to LA schools, along with federal grants totaling 36-million more U.S. taxpayer dollars to districts around the most populous state. The goal is to train millions of student messengers statewide to sell the idea of government-subsidized health insurance to parents and relatives at home and to get more people enrolled in ObamaCare.
Abusing School Kids With Pro-Obama Propaganda
. A number of teachers have reacted with appropriate indignation to the misuse of public resources and precious school time to encourage the cult of Obama worship. Carole (not her real name), a gutsy middle school teacher in the Midwest, discussed the upcoming speech on my radio show on Monday [8/31/2009]. Teachers from four different states called in to say that they would follow her example and refuse to devote class hours to watching and discussing the presidential address.
Parents upset over 'leftist propaganda' video
. [Scroll down slowly] Gayle Ruzicka, president of conservative Utah Eagle Forum, said the video was blatantly political. She said other offensive pledges included, "I pledge to be of service to Barack Obama," "I pledge allegiance to the funk, to the united funk of funkadelica," and pledges to not use plastic grocery bags and not flush the toilet after urinating. "It's very inappropriate to show a radical, leftist propaganda piece that political to children," Ruzicka said. "If parents want their children to learn about those things and do them in the home, wonderful, fine, but it's not the place of the school to show a one-sided propaganda piece to children without parents knowing about it."
WH withdraws call for students to 'help' Obama
. President Obama's plan to inspire the nation's schoolchildren with a video address next week erupted into controversy Wednesday [9/2/2009], forcing the White House to pull out its eraser and rewrite a government recommendation that teachers nationwide assign students a paper on how to "help the president."
The Sayings Of Chairman Barack
. Great news. Our leader will be addressing all schoolchildren on September 8th. And the Department of Education has helpfully prepared a
menu
of activities for the day. As you'll note above, 7-12th graders are to view quotations from Pres. Obama, discuss them, and strive to understand what "the president believes is important" for students to be successful in school. Wonderful. But why stop with students? Shouldn't Americans of all ages have the benefit of the President's wisdom? And why limit it to one day, and only to the topic of education?
Watch the Obama indoctrination video
. It's no wonder kids have such short attention spans.
Rage Against the Obama Propaganda Machine
. In this video, various tabloid types seeking to "Be the Change" vow to "smile more" and "love more." Other plans include "to be the voice for those who have no voice"; and to not always flush the toilet, for the sake of the planet; "To pledge allegiance to the funk, of the United Funk of Funkadelica"; and, most audaciously, "To free one million people from slavery in the next five years." Yes, it was a bit of a mix. The culmination of the whole mess, however, was very clear; to "pledge to be of service to Barack Obama ... to be a servant of our president and all mankind."
---


"Liberals have long realized that, if they can win the battle over what is taught in schools, they will win elections."


---
Obama's Education Power Grab
. The President is in the process of creating a top-down strategy to "prepare" (translated to mean indoctrinate) teachers to literally transform education as we know it, from an American system to a full-fledged corporatist regime where big business backs the socialist programs. No wonder Obama devoted 11 paragraphs in his SOTU to the topic of education. Helping him to implement these goals are co-conspirators Michelle Rhee, former DC schools chancellor and founder of StudentsFirst.org, and Anita Dunn, former WH communications director.
Part 2
Ferguson Schools Let Students Leave to Protest in Streets — Without Notifying Parents. Hundreds of students were allowed to leave several high schools in Ferguson, Mo., Tuesday morning [12/2/2014] to protest in the city's streets — a decision the school district made without notifying the children's parents before or during the protest. Teachers and administrators also walked with the students as they blocked traffic and clogged congested intersections.
Obama White House Pushes Public Schools To "Honor" Mike Brown. When will the insanity end? While tragic Michael Brown died prior to his 19th birthday, he was clearly a young man engaged in negative and abusive behavior that led to his shooting death. He died due to poor choices. Despite the facts of Brown's death, the Obama White House is now urging public schools (with YOUR tax dollars no less) to honor Michael Brown with classroom memorials as a way of forming "classroom solidarity." It is a blatantly disgusting act of divisive lies being used to manipulate students into conforming with the far left, anti-American ideals of this Age of Obama.
Administration exploits Ferguson to undermine race relations and rule of law. Fast-forward to the present and we learn that just days after the grand jury decided not to indict police officer Darren Wilson based on his shooting of Michael Brown in Ferguson, Mo., the White House tweeted its endorsement of an article by Christopher Emdin, Ph.D., a professor at Teachers College, Columbia University. [...] Professor Emdin can advocate whatever he wants, but the president of the United States is endorsing his suggestions. This means that the chief executive officer of this nation is inspiring teachers to view Brown as a victim of police violence and to honor him as such.
Obama's Classroom Campaign: No Junior Lobbyist Left Behind
. "ABC" stands for All Barack's Children. On Sept. 8, young students across the country will be watching television. Yes, they'll be parked in front of boob tubes and computer screens watching President Obama's address on education. Instead of practicing cursive, reviewing multiplication tables, diagramming sentences or learning something concrete, America's kids will be lectured about the importance of learning.
Right blasts Obama speech to students
. President Barack Obama's plans for a televised back-to-school address to students next week are drawing fire from some conservatives, who say he's just trying to indoctrinate them to his political beliefs.
What Does Obama Want with Our Children?
As many parents are focused on back to school clothes and supplies, the royal Czar Czar prepares to circumvent parental authority and speak directly to our children in one week. What will he command? That's a good question that the media won't ask, and one that could easily be answered right now while parents still have time to decide if they need a sitter or not. But like all things Obama does, it's spur of the moment and covert.
WH, Dept of Education Revise Language
. In an acknowledgment that the Department of Education provided lesson plans written somewhat inartfully, surrounding the President Obama's speech to students next Tuesday, the White House today [9/2/2009] announced that it had rewritten one of the sections in question.
School Districts in Six States to Refrain from Showing Presidential Address
. White House officials seemed to be caught flat-footed by the response to what they say was a simple back to school address by President Obama to students across the nation — and has turned into a firestorm. The White House now admits that one of the lessons plans surrounding the speech was written clumsily, subjecting it to misinterpretation, and had to be re-written. Some parents are talking about keeping their kids from school on tuesday (sic) to avoid the president's remarks.
Some Schools Will Block or Delay Obama's Pep Talk for Students
. Parents who want their children to hear President Obama's back-to-school message Tuesday might have to keep them home. School systems from the Washington suburbs to Houston are balking at airing the speech to all of their students.
Some Parents Choose Not to Allow Their Kids to Hear Obama's National Address
. [Regine] Gordon, of Tampa, Fla., is among a growing number of parents across the country who are troubled by the president's plan to address elementary, middle and high school students in an online and televised speech Tuesday. "It's a form of indoctrination, and I think, really, it's indicative of the culture that the Obama administration is trying to create," Gordon told FOXNews.com on Thursday. "It's very socialistic."
School Officials Leave Obama Broadcast Up to Schools
. Virginia schools are fielding questions about a back-to-school speech President Barack Obama plans to make to students after conservative columnists and talk-radio hosts roundly criticized what they're calling an attempt to indoctrinate children.
More school districts taking harder line on Obama's speech
. It's rare we hear from Dickinson ISD, but the small Galveston County school district sent us a press release today with its take on President Obama's Sept. 8 address to schoolchildren.
Critics Decry Obama's 'Indoctrination' Plan for Students
. A suggested lesson plan that calls on school kids to write letters to themselves about what they can do to help President Obama is troubling some education experts, who say it establishes the president as a "superintendent in chief" and may indoctrinate children to support him politically. But the White House says the speech is merely "designed to encourage kids to stay in school."
In Loco Parentis
. Barack Obama's plans to reach out to millions of suggestible school children has met with parental consternation. Their collective alarm is a bit tardy. Radical Leftists already have control of the public school system. ... The Left is asserting that there is nothing intrinsically amiss with the president talking to school kids and eoncoraging them to study diligently and do well in school. This argument might carry more weight if Obama were willing to liberate his own school records to illustrate his point.
Some object to Obama speech to students
. Some Texas parents are asking school principals to excuse their children from listening to a speech that President Obama will make to schools next week on the grounds that it smacks of political indoctrination.
Obama's plan to speak to schoolchildren ignites furor
. Obama announced the speech weeks ago, but opposition and concerns spread rapidly Wednesday morning through conservative social networking Web sites and radio talk shows.
Bogeyman Bamster back to scare you into submission on September 8
. Barack Hussein Obama is not even unique. He only stands out because he is methodically dismantling the country he was elected to lead — and that country just happens to be the leader of the Free World. ... But not since the days of Hitler and Stalin has one of them stomped over the backs of parents in order to go after their school children. And that is just what Obama is trying to do next week with his plans to inspire the nation's schoolchildren with a video address to tens of millions of children in their classrooms. Without the sales pitch, it's astroturfing of the youngest and most innocent. Presidential aides now acknowledge that the White House helped the U.S. Education Department craft the proposal ...
Local School Districts Pass on Obama's Speech
. School districts across Texas are pondering whether they'll have their students watch a national address by President Barack Obama next week. The speech on the importance of education is aimed directly at the nation's school children at 11 a.m. Tuesday. Obama has asked school districts to carry the live webcast.
Satire:
Scrappleface: Obama will urge kids to go to private school
. A draft copy of President Barack Obama's planned September 8 address to America's public school children, tells students that "If you want to grow up to be like me, you should beg your parents to put you in private school, right now."
The Brainwashing Bunch
. American news outlets (well at least those not in Barack Obama's lap) are filled with criticism on the Department of Education plans to bring Obama's agenda into our nation's classrooms. The ploy to reach and teach our children through a presidential speech
and through
instruction guides (little red books?) appears to be stalled for now as parents — if nor educational unions — resist the idea of brain-swaying our children into writing paeans to Obama and his agenda.
Inexplicable italics in original.
Obama Offends — And Doesn't Seem To Know It
. For example, it is suggested that students in grades 7-12 should, before the President's speech, write their responses to the following questions: "Why does President Obama want to speak with us today?;" "How will he inspire us?:" and "How will he challenge us?" That line of questioning may seem harmless to some. But notice that President Obama, himself — not education, not the idea of becoming a learned person, but Barack Obama — is the central theme of the questioning. And it presupposes that President Obama is, necessarily, inspiring to all who hear him.
A Call to Arms for Parents Upset About Obama's Public School Address
. Public school parents cannot afford to be passive any longer. You cannot simply delegate your child's education to others — some who are wholeheartedly committed to subverting the traditions and values you hold dear — and walk away. You must be prepared to work as hard as homeschooling parents when the need arises. You must make every effort to know what is going on in your children's schools — and now, obviously, coming down from the executive branch — and become a parent activist in what in some places is beginning to look like a resistance movement.
Obama Remarks on Education
. The White House has released the text of the speech the President will give to America's schoolchildren tomorrow [9/8/2009].
The Editor says...
Note that the text was released on a holiday, when it was least likely to be read.
Obama exhorts kids to pay attention in school
. In a speech that drew fire even before he delivered it, President Barack Obama is telling the nation's schoolchildren he "expects great things from each of you."
Obama Heeds Dictator Handbook With School Speech
. President Barack Obama cannot possibly intend to resemble an aspiring dictator. Somehow, he keeps doing so. Now he's going ahead with plans to address America's schoolchildren, having dropped the part about encouraging those children to then "write letters to themselves about what they can do to help the president." This administration's run is rapidly transforming into an episode of "The Twilight Zone."
Administration's Suggestions for Teachers: Post Obama Quotes on Classroom Walls
. The "corrected" lesson plans the U.S. Department of Education is suggesting that schools around the country use to turn President Obama's speech to students today into a "teachable moment" still call for teachers to read books about Obama and to post quotations from Obama in large print on classroom walls. The Department of Education created two "menus of classroom activities" for use with the president's speech.
A crucial week for Obama's teleprompter
. The White House, first dismissing the protests as "silly" and pretending that Mr. Obama's speech was really only about hand-washing and good toilet etiquette, finally backed down with the familiar explanation that "we didn't do it and we won't do it again (at least until next time)." Arne Duncan, the secretary of education, offered a "clarification" that his bureaucrats were only trying to say that the kids should "write a letter about your own goals and what you're going to do to achieve those goals." Some "clarification." If you can't trust the teacher to write a simple declarative sentence in the first place, who can you trust?
When Bush spoke to students, Democrats investigated, held hearings
. When President George H.W. Bush delivered a similar speech on October 1, 1991, from Alice Deal Junior High School in Washington DC, the controversy was just beginning. Democrats, then the majority party in Congress, not only denounced Bush's speech — they also ordered the General Accounting Office to investigate its production and later summoned top Bush administration officials to Capitol Hill for an extensive hearing on the issue.
It's not the speech itself that's offensive...
The Problem Is Obama's Dictatorial Style and Socialist Agenda
. Obama's botched attempt to force American school children to promise to help him shows again how he is out of touch with average American family values. The politicizing of public school classrooms outraged parents and teachers. ... The public outrage stems primarily from Obama's dictatorial style of forcing children to support him. Who can't help but think of the Soviet Union during the Cold War?
Revealing Convergence: Van Jones and the Education Speech
. What is the actual lesson of Obama's academic career? The answer is: We don't know, because no one has ever seen any of his academic work, or his transcripts from high school, Occidental College, Columbia University, or Harvard Law School. We have no idea how hard the president worked in school. We don't know what he did or did not master or like.
NEA Scandal: U.S. Senator Cornyn's Letter to President Obama
. "... [E]ven if no NEA funding was intended for political purposes, one cannot escape the disturbing impression that this Administration — including appointees within the White House and the NEA — believes that it is appropriate for the federal government to enlist the arts community for the purpose of furthering a specific political agenda.
Lessons of Obama's School Speech
. His offense was to use his office to impose on a captive audience of youngsters in an appearance that inevitably carries the odor of politics. No one objects when he speaks to the nation or Congress on TV, because we can ignore him or jeer him as we choose. But some parents who distrust him feel aggrieved that he can force his message on defenseless children.
Obama DID Talk Politics With The Kids
. The president traveled to Wakefield High to give a speech on education reform. The speech was posted in advance on the White House Web site to quell fears that the president intended to plug his political agenda to impressionable minds. Although the president avoided controversial topics in his speech, he did promote health care reform in a face-to-face discussion at Wakefield High School.
Training Kids to Be Obama's Servants
. The Menu for grades 7-12 instructs teachers to post "notable quotes" from Obama's speeches on the board, and to have students "take notes while President Obama talks" and identify "the three most important words in the speech." Students should be queried: "What is President Obama inspiring you to do?" and "How will he inspire us?" The hero worship and brainwashing built into these lesson plans are, to say the least, inappropriate. Parents should rise up and stop the public schools from using classroom or assembly time to teach schoolchildren to be cheerleaders for Obama and his policies.
Obama's Titanic arrogance and the folly of ignoring the masses on 9/12
. [Obama's] malignantly narcissistic Cult of Personality led him last week to attempt the enlistment of the nation's children into his "Obama Jugen" with the complicity of the NEA which is heavily influenced by one William Ayers with whom Obama claims to be only casually acquainted. The speech he gave was not the one originally intended. The original was to be accompanied by Lesson Plans and "Workbooks" so the nation's children could "help" the president and "serve" his leviathan bureaucracy.
Education
. Instead of President Obama addressing school students across the nation, he might have accomplished more by focusing his attention on the educational rot in schools in the nation's capital.
Fearing Obama
. It's true that [President Obama] does like to play the Dear Leader role. The national speech to schoolchildren was right out of the Mussolini and Peron handbook, while the "lesson plans" and quotations of the One's wisdom recommended for classroom use come direct from Stalin and Mao. But it's all theater, of a piece with his epoch-making speeches that never seem to contain a quotable line and revolutionary programs that can't quite get rolling.
President Obama Goes to School
. Obama is the real message. Trust him. Nah, it's not a matter of self-promotion; not at all. It's pure-as-driven-snow selflessness. Look at me, he fairly shouts. Look what I did! This President is well-practiced at speech-making, bringing it to near art form, with a cadre of excellent writers feeding teleprompters. (Woe be to Obama if the teleprompter breaks down.) Obama has has been on TV many times (112 by one count) so far in his presidency, like no other president. Why not pop up in the nation's schools, too? With this speech, a self-focused Promotion of Himself. Makes a swell photo op, too. Think FDR's Fireside chats, kiddies at his knee in rapt attention.
Part 3
The public schools offer their services without being asked.
California Schools To Teach Kids Racial 'Signifiance' Of Obama Presidency. In a unanimous 71-0 vote last Thursday, with no debate or discussion, the California State Assembly passed a bill that would require the state's board of education to teach students the racial "significance" of Barack Obama's presidency as part of the standard history-social science curriculum in the Golden State. The bill, AB-1912, also makes a number of factual findings, such as that Obama's election in 2008 was "a historic step in the effort towards equality in the United States" and that he won the Nobel Peace Prize less than a year later because of "his extraordinary efforts to strengthen international diplomacy and cooperation between peoples." At the time, President Obama had been in office for less than nine months.
Common Core Lesson Teaches Children Obama Is A Messiah. During the Soul Train Awards in 2012, comedian and actor Jamie Foxx exhorted a wildly cheering crowd to "first of all (give) honor to god, and our lord and savior Barack Obama," exhibiting the all-too-widespread hero worship that casts rational thought aside and labels even legitimate criticism as virtual blasphemy. The same cult of personality is creeping into lesson plans and reading materials being created under the guise of the platform for nationalized education known as Common Core. One new lesson teaches our children that Obama is indeed the messiah.
Obama biography, required reading, tells fourth-graders that white Americans are racists. Some parents in Dupo, Ill. are not happy that a biography of President Barack Obama is required reading for fourth-graders. They say the book contains a host of controversial elements, not least of which is that it casts white Americans who disagree with Obama's politics as racist. Fourth-grade students at Bluffview Elementary School were instructed that they would be tested and graded on the book's contents, reports EAGnews.org. The book, called simply "Barack Obama," is published by Lerner Publications.
Common Core third grade book goes full Dear Leader on Obama. [Quoting an Amazon review of the book:] I'm pretty neutral about Barack Obama as a person and a candidate, but the messianic message in this utterly insipid book makes me roll my eyes over and over again. The language is decent enough on a technical level for that age group, though patronizing. When he starts seeing the ghosts of JFK and MLK and references are made to Langston's Harlem, I'm not sure that the kids that the book is aimed at are going to pick up on the references. The illustrations are passable in the beginning, but as it continues, they become more and more over-the-top (Barack Obama crying in church, Barack Obama praying with a butterfly perched on his clasped hands, Barack Obama glowing with a heavenly aura). Cramming this political tripe into a children's book is bad enough, but the heavy-handed treatment and political sloganizing makes it unbearable.
Obama's 1984. Every totalitarian leader knows how crucial it is to indoctrinate children into the cult of personality, in order to secure the future for the Party. Joseph Stalin presented himself as a strong, caring father figure to Soviet children, just as Hitler and Saddam Hussein did for their people. Now, in the age of Obama, Chris Rock described the President and First Lady Michelle as "kind of like the mom and the dad of the country. And when your dad says something, you listen." We have disturbing video of New Jersey elementary school students being taught to rap his praises ("Mmm mmm mmm, Barack Hussein Obama"). Then there is the even creepier video of Venice, California schoolchildren in matching "Imagine Hope" t-shirts singing "Obama's gonna change it, Obama's gonna lead 'em" and chanting "Yes, we can" before a banner of his red, white and blue "O" icon. Such indoctrination is unprecedented in American history.
W.H. Releases Letters from Little Kids Pleading for Gun Control. Half way through the article, the AP admits, "The White House shared three such letters with The Associated Press, from young writers who seemed to agree that Obama should do what's necessary to make it harder for people to get guns." White House spokesman Jay Carney announced yesterday that Obama will be surrounded by little kids when he announces his gun proposal later today. [...] The White House appears not to have released a single letter to the AP in opposition to President Obama's gun proposal.
The Editor says...
I suspect the little kids were instructed by their unionized teachers to write to the President, and were probably told exactly what to say. The little kids, as far as I know, have not been interrogated about their letter-writing initiative.
Video:
School kids taught to praise Obama
.
Video stirs controversy
. An Internet video showing children at a local elementary school singing song praising President Barack Obama is garnering national attention and its appropriateness will be the subject of a school district review.
Review Ordered of Video Showing Students Singing Praises of President Obama
. Nearly 20 young children are captured in an online video as they sing songs that overflow with campaign slogans and praise for "Barack Hussein Obama," as they repeatedly chant the president's name and celebrate his accomplishments.
The Editor says...
Singing about his accomplishments is premature at best.
What has he accomplished?
Why Obama Sycophants Are So Compromised
. [Scroll down] This week a video tape turned up from a Burlington New Jersey public elementary school in which the children themselves were the ones singing literal praise and worship tunes to the President. Singing about his "great accomplishments," making the "economy number one again," and replacing the name of the crucified Lord and inserting the name of President Obama were just some of the elements of the tape. Nearly everyone in the nation described the event as creepy and inappropriate, and even liberal trolls on conservative blogs were referring to the tape as "scary." Everyone except the principal of the school where the event took place, that is.
Singing Heil Obama in New Jersey
. Red alert to parents: If you send your children to a public school, they may be secretly indoctrinated in the cult of Obama-worship. If that's not your plan for your children, you had better act now, before it's too late. We now know that the "I pledge" video shown in Utah in August, and only afterward discovered by parents, was not isolated evidence of indoctrination of public schoolchildren in the new cult of Obama-worship. Second-graders in New Jersey were taught to sing songs of praise and fidelity to Barack Obama in February and again in June, and parents only found out about it this September.
Indoctrination Watch: Obama school praise hymn of the day
. Take a look at the Obama worship song that students at Longfellow Elementary in Howard County, MD were assigned to memorize last week, according to Red Maryland's Brian Griffiths.
Protesters come to NJ school over Obama song
. About 70 protesters let their voices be heard outside a school in New Jersey where students sang praise of President Barack Obama. Members of anti-tax Tea Party groups and others joined outside B. Bernice Young School in Burlington Township Monday [10/12/2009] to denounce what they believe was political indoctrination of students.
N.J. School Official: Obama Song Video Violated Students' Privacy
. The superintendent of a South Jersey school district stands behind the student performance of songs about President Obama that created a national stir last month. The video that captured the children is another matter. Burlington Township Superintendent Christopher Manno today discussed the results of an internal investigation concerning the controversial songs.
Protesters Rail Against Obama Song In N.J. School
. A New Jersey elementary school is under scrutiny after students were seen on tape singing a song in praise of President Barack Obama. On Monday [10/12/2009], dozens of protesters chanted outside the school, saying the children are being brainwashed.
Not Ashamed to Love My Country
. Liberalism has contributed greatly to the decline of patriotism. The hostile takeover of our schools by Liberalism has indoctrinated many of our kids to hate their country. They are encouraged to sing the praises of Barack Hussein Obama, but not of God and country.
Elementary Epidemic: 11 Uncovered Videos Show School Children Performing Praises to Obama
. Big Hollywood has already posted a couple disturbing videos of young school children singing/speaking praises to President Obama, but when eleven more dropped in our email box it came as quite a shock. What seemed like an aberration now appears to be a troubling pattern. Maybe "epidemic" is a better word.
Presenting: The 'Fourth Graders For Obama' YouTube Channel
. Here's a little mid-week scare courtesy of the 4thgraders4obama YouTube Channel. Yes, you read that right, an entire portal filled with nearly a dozen videos devoted to nine and ten year-olds singing, speaking and in general, getting awfully excited over a politician on the brink of having us all long for the good old days of Jimmy Carter.
Obama Recruiting Radicals in High Schools
. Barack Obama is using our public school system to recruit for his Alinsky-inspired private army. Organizing for America (OFA), formerly Obama For America, is recruiting in our high schools to "build on the movement that elected President Obama by empowering students across the country to help us bring about our agenda" — that is, his agenda of socialism for the United States of America.
Obama Using Public Schools To Recruit Agenda Advancing Interns
. A rather disturbing document surfaced on the Internet Saturday with grave implications concerning how the Obama administration is recruiting interns from public schools to assist in advancing the President's agenda along with his desire to get Democrats including himself elected. Even scarier, the internship application recommends participants read Saul Alinsky's "Rules for Radicals."
Ohio High School Accused of Promoting Political Agenda in Classroom
. An Ohio high school teacher's giving students job applications for a Democratic organization that included suggested radical reading material has raising concerns of indoctrination in the classroom. The government teacher at Perry High School in Massillon, Ohio, handed out forms recruiting students to intern for Organizing for America, a grassroots organization with direct ties to the Democratic National Committee and the successor organization for Obama for America.
Organizing for America can Recruit in New York Schools but the Boy Scouts Can't
. The Boy Scout's law conflicts with the Obama agenda, and a title of honorary president of the Boy Scouts is more of a hassle than it is an honor of Obama. If Obama could find a way to use the Boy Scouts as community organizers, a sudden interest would appear.
Organizing Kids for Obama
. Obama is using the public schools to recruit a private army of high-schoolers to "build on the movement that elected President Obama by empowering students across the country to help us bring about our agenda." We now know that Obama's "agenda" is to move the United States into European-style socialism. Obama's Internet outreach during his campaign, Obama for America, has been renamed Organizing for America (OFA) in order to recruit students to join a cult of Obama and become activists for his goals.
An Open Letter to the Evil Tyrants in Washington
. You and your ilk have been creeping into our institutions for much of the last century. You have crawled into our schools, polluted our colleges, and for most of the past thirty or more years have poisoned the minds of untold numbers of children and young adults, and you have deliberately lowered the educational standards to create a class of dumbed-down kids, while you continuously scream for "more money for education!" Now, you will use many young people of our country as unwitting tools to be your personal army, your Gestapo.
Teachers Take Kids on a Protest Trip to Arizona
. Standing in front of a wall-to-wall mural featuring a who's who of revolutionaries, including Ho Chi Minh, Fidel Castro and Che Guevara, and boldly displaying the motto Patria o Muerte, Venceremos!!! (Fatherland or Death, We Shall Overcome!!!), a group of teachers, students, parents and community activists in the Los Angeles Unified School District gathered last month for an unusual field trip — to Arizona, to protest that state's controversial immigration law.
No teacher left behind
. The black-hole of public education which continues to suck in obscene amounts of tax dollars in spite of the economic plight of their benefactors show what can happen when the liberals have near total control of any institution for a lengthy period of time. The left has removed the foundation of objective knowledge in favor of agenda based indoctrination and now we are dealing with the consequences. ... Hey, here's an idea. Why not teach the students how to read, write and do arithmetic instead of devoting endless hours teaching them to sing and dance in praise of Obama!
Biden Tells Third-Graders Obama Is 'Really Cool'
. Vice President Joe Biden remains a loyal wingman, talking up the president even to people who won't be eligible to vote for another decade or so. During a recent visit to an after-school program in Redwood City, California, Biden repeatedly described Obama as "really cool" to a group of third-graders. "Barack Obama is really cool," Biden told the students. "No, he's not coming today, but he's really cool." According to MSNBC, Biden also called Michelle Obama "the nicest person you'll ever meet."
Boxer's Campaign Solicits Help From Los Angeles Area Students Via Teachers
. California's
Flash Report
recently obtained a letter proving that Barbara Boxer's campaign has attempted to solicit Los Angeles public school government and social studies teachers to urge students to "volunteer" for the Barbara Boxer senatorial campaign.
California Wins Dumbest State Award in Landslide
. [Scroll down] Even when news broke last week that Ms. Boxer had illegally implored California's public school teachers to send their students to work for her campaign, the dumb-beyond-dumb citizens of California just rolled their eyes, donned their valley-girl ninny suits, and marched right in to vote for the Hollywood candidate.
The hippie holiday
. Newsweek magazine dismissed the first Earth Day in 1970 as "a bizarre nationwide rain dance." The only difference between then and now is that the rain dancers moved into the government and pushed their views on impressionable school children around the world. The Environmental Protection Agency website encourages kids to "Join with other teens to green your energy scene," because nothing says "cool" quite like earning the EPA's coveted title of "Climate Ambassador."
EPA Raps for Kids: 'Public Transportation Is the Way to Go'
. "Click it, flip it, turn the handle to the right, turn off the water, twist the handle real tight." So begins a song about climate change, available for downloading from the EPA's Web site. The EPA says we should "blast out" the song at our Earth Day celebrations — "because if this won't save the planet nothing will." The song tells children, "The climate is changing and that's a fact..." ... According to the Washington Times, the song was recorded by Ted Coopwood of the EPA's Office of Children's Health Programs, who has written a number of raps intended to galvanize kids to take an interest in the environment.
Obama Administration to Honor 'Green' Schools That Teach 'Environmental Literacy'
. Next year on Earth Day, the Obama administration plans to announce which U.S. schools have been selected as "Green Ribbon Schools," a designation that will "honor" schools for "creating healthy and sustainable learning environments" and for "teaching environmental literacy." The Green Ribbon Schools program was announced in late April, but details on how schools will be picked or what the honor entails have not been released.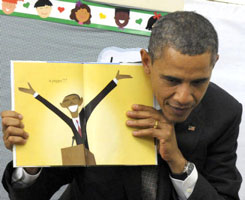 Obama reads children book about himself
. Before his speech Tuesday [10/4/2011] at Eastfield College in Mesquite, Texas, President Obama stopped by an early childhood education laboratory to read to children ages 3 to 5. Among his reading selections: A book about the presidential dog Bo, including a drawing of the president himself.
Occupy Your Third Graders
. This month a report surfaced of 3rd graders in Charlottesville, Virginia singing a song that the kiddos wrote (or so we were told) about being part of the 99% "Occupiers." Here is a sample of the lyrics that the 9-year-olds supposedly drafted and then crooned for their comrades in class.
I used to be sad, now I'm satisfied
'Cause I really have enough
Though I lost my yacht and plane
Didn't need that extra stuff
The Editor says...
Pick a third grader in a public school at random and ask him (or her) if he (or she) knows what a yacht is.
10,000 Students To Be Bused In For First Lady Exercise Event
. Thousands of students, several well-known athletes and a number of politicians are expected to join Michelle Obama for an event in Des Moines that will promote exercise and healthy eating.
Elementary School Kids Indoctrinated About Obama's Incredible Awesomeness
. A tipster sends in this video from Cass Elementary School in Livonia, MI. The video purportedly shows a dramatic and inspirational movie montage tribute to President Barack Obama displayed to the assembled children as part of the school's Martin Luther King Jr. Day celebration. Most of the school children appear to be less than inspired.
The Ministry of PropOganda
. [Scroll down] Yet when educational institutions are systematically teaching their young children to chant phrases supporting Barack Obama's political agenda...well, there's just no harm in that. School children singing in support of the notion of "spreading the wealth around": "
Hooray, Mr. President! We honor your great plans to make this country's economy number one again!
" Children too young to know the meaning or implications of Obama's proposed "change" involving expansive government infrastructure, yet creepily singing: "
Obama's gonna change it, Obama's gonna lead 'em, we're gonna change it, and rearrange it.
" And most recently, children innocently singing the nonpartisan phrase "
Who do we know is the man? Barack Obama is our man! He's our man, yes he can!
" All this, though... it's all innocent in the eyes of the left.
Teacher tells eighth grade class to dig up dirt on GOP field
. President Obama may have a secret weapon to propel him to victory in November — an eighth grade class in Virginia, whose students were told by their teacher to do opposition research on the GOP presidential field and then pass along whatever they found to the Obama campaign.
Obama Administration Honors 78 Schools for Educating 'Tomorrow's Environmental Leaders'
. The Obama administration on Monday [4/23/2012] recognized 78 schools across the nation for their efforts to promote a "green" environment — and train budding environmental activists for "jobs of the future." "Science, environmental and outdoor education play a central role in providing children with a well-rounded education, helping prepare them for the jobs of the future," said U.S. Education Secretary Arne Duncan. He schools that focus on the environment can help students build "real-world skillsets."
Oh, boy!
Green collar jobs
for everyone!
Indoctrination 101: Teaching Chicago Students to Protest
. Jones College Prep, a Chicago Public Schools "selective enrollment" school, held "Social Justice Week" in March, a collection of events geared towards turning students into activists.
NC Teacher Screams at Student: It's Criminal to Criticize Obama
. [Scroll down] Clearly, the student should be teaching the class, and the teacher should be reading the Constitution more often. The school district classified the exchange — which is obviously just another case of a pro-Obama teacher shoveling her views down students' throats — a "learning experience." It isn't. It's political intimidation, and it's just another example of how the American public school system has become an indoctrination tool for the left. This teacher should be suspended or fired forthwith, if only for incompetence.
Video stirs debate on teacher's actions in North class
. After reviewing a video in which a North Rowan High School teacher tells a student he can be arrested for speaking ill of President Barack Obama, the Rowan-Salisbury School System said it can be a learning experience. Meanwhile, an expert on politics at Catawba College says the social studies teacher just doesn't have her facts straight when she insists speaking your mind about a president can get you charged with a criminal offense.
Obama Admin Tells High Schools to Push Obamacare
. The Departments of Health and Human Services and Education are now acting as outlets for the Obama re-election campaign. In a press announcement released yesterday [5/21/2012], HHS stated that HHS Secretary Kathleen Sebelius and Secretary of Education Arne Duncan "are reaching out to campus leaders to remind graduating high school, college and university seniors about their new health insurance options under the Affordable Care Act — the health care law."
School kids taught to praise Obama
. Remember last year when that video of school kids singing about Obama appeared on the net to creep out parents? Here's a new one of school kids being taught to sing praise of Obama. No one knows yet where this took place, or what school.
Indoctrinate U: Professor Forces Students to Pledge They Vote For Obama and Democrats
. A professor in Florida is under fire today after forcing her students to sign a pledge to vote for Barack Obama and Democrats.
Professor Made Students Sign 'Vote for Obama' Pledge
. A Florida community college has launched an investigation and placed a tenured professor on leave over reports that she made students in a math class sign a pledge to vote for President Obama. A spokesman for Brevard Community College told Fox News that Sharon Sweet was placed on an unpaid leave of absence effective immediately after they received a call from a concerned parent.
Obama and Your Child's Mind: Why does President Obama want your child to read "Executive Order 13423: Strengthening Federal Environmental, Energy, and Transportation Management" in school? It's not the business of a president to shape your local school's reading assignments. The Constitution and several federal laws prohibit it. Yet by conditioning federal education aid and regulatory waivers on state acceptance of the "Common Core," Obama has managed to manipulate the states into adopting what is fast becoming a de facto national K-12 curriculum.
Houston elementary school assembly sings ode to Obama, but diss to Bush. The superintendent of one Houston, Texas, school system was forced to issue an apology for an elementary-aged production with overtly political tones that praised President Obama while criticizing former President George W. Bush. The assembly, at Katherine Smith Elementary School, was in celebration of Black History Month, The Blaze reported.
Obama should end up on Mount Rushmore say a third of George Washington profs surveyed. According to a survey of George Washington University professors, some 30 percent generally endorse the eventual addition of President Barack Obama's face to the Mount Rushmore National Memorial. The survey, conducted and reported by The College Fix, is hampered by an extremely limited sample size. Nonetheless, the results are fascinating.
Obamacare ad agency asks high school marching bands to play pro-Obamacare songs. The point of asking high school bands to play the Obamacare anthem is to create more attention for Cover Oregon. It's not clear if the ad agency has asked the high school bands to play pro-Obamacare songs at football games or at other venues. A primary reason the ads have generated national buzz is because they fail to provide any detail whatsoever concerning the Affordable Care Act.
School shows Obama campaign video that includes celebrities pledging 'be a servant to the President'. A Wisconsin middle school has been forced to apologize after showing students a video produced after Barack Obama's 2008 election that included celebrities pledging to 'be a servant to the President.' Some parents who watched the video at an assembly at Hudson Middle School in Hudson, Wisconsin, called it propaganda and complained that it was inappropriate for young minds. The video, produced by Oprah Winfrey's production company, [...]
Creepy Propaganda: High School Bands To Play Obamacare Songs. In the sort of creepy move you'd expect to see in Saddam Hussein's Iraq or Kim-Jung-Il's North Korea, high school bands in Oregon are being used as propaganda organs for Obamacare.
This is an original compilation, Copyright © 2022 by Andrew K. Dart
---
The Obama Presidential Library Center
Related topic: Chicago.
Impact of Obama Center Construction on Woodlawn. Construction at the Obama Presidential Center is back on after being halted when a noose was found on the site late last week. The disturbing discovery prompted a halt to work, a reward for information on who put it up and anti-bias training for the crew working on the site. The Center has been the source of excitement and anxiety for residents in the South Side Woodlawn community, who are eager to benefit from the major development but are concerned about being priced out. The're also raising concerns about the difficulty of getting around the massive construction site. Local commuters shared street closures, changing lane patterns and truck traffic are creating delays and confusion for drivers and CTA passengers.
One would think that construction workers in the 21st Century wouldn't be afraid of a piece of rope.
Construction Halted At Obama Presidential Center After A Noose Was Found At Site. Construction of the Obama Presidential Center in Chicago has been temporarily suspended following the discovery of a noose at the worksite. The Lakeside Alliance, a group of Black-owned construction companies building the center, said they are investigating to identify those responsible for what the Obama Foundation described as an "act of hate". The noose was discovered on Thursday morning on the premises of the center, located in Jackson Park, and the police were notified.
About those Obama classified records in the Chicago-area furniture warehouse.... It almost sounds like a scene from an Indiana Jones movie: [...] But this is no flight of Hollywood fantasy. It is the reality of what remains of the Barack Obama presidency: Twenty truckloads of crates, kept in a space that formerly housed the inventory of Plunkett Furniture, containing roughly thirty million documents generated during the eight years of Obama's time in the Oval Office. And to the best of anyone's public knowledge, it may still sitting there, uncatalogued and unscanned for future perusal. It's composed in part, it can be assumed, of classified files. That is the conclusion being made following a letter from the Obama Foundation to the National Archive and Records Administration that has recently come to light.
Letter Reveals Obama Foundation Is Keeping Classified Docs in Abandoned Furniture Warehouse. The Obama Foundation stored classified documents in an abandoned furniture warehouse, according to a 2018 letter from the Obama Foundation to the National Archives and Records Administration (NARA). The letter, available on the Obama Foundation website and dated Sept. 11, 2018, reveals that the Obama Foundation not only acknowledged possessing classified documents but also admitted that they kept them in a facility that did not meet NARA standards for the storage of those documents. [...] This means that, as the debate over the supposedly classified documents at Mar-a-Lago is unfolding, the Obama Foundation is, at this very moment, storing classified documents in unused retail space in the suburbs of Chicago. While the storage of these documents appears to be with the full knowledge and coordination of NARA, it still raises significant questions, not just concerning the raid of Mar-a-Lago, but also surrounding the legal actions being taken by the Biden administration against Trump over the storage of these documents.
Memos Show Joe Biden Tried to Entrap Donald Trump Over 'Classified' Documents. A new report is shedding light on exactly how the DOJ investigation into Donald Trump over supposed "classified documents" at Mar-a-Lago got started. [...] Apparently, it started with the National Archives, which is run by a partisan hack who decided to treat Trump differently from all other presidents before him. When Barack Obama took millions of pages of documents, including many that were undoubtedly classified, upon leaving office, the National Archives gave him a sweetheart deal allowing him to digitize everything at a later date (none of that has happened all these years later and surprise, no raid).
There's no sainthood for Obama, National Archives in Trump FBI raid uproar. Accusations are flying fast and furious regarding last week's FBI raid at former President Donald Trump's Mar-a-Lago home. In my Wednesday piece for The [New York] Post, I noted that 30 million pages of Obama administration records had been trucked to Chicago. The Obama Foundation, working with the National Archives, promised to digitize and put them online. Almost six years after the records arrived at a Chicago-area warehouse, that hasn't happened.
Supreme Court Allows Barack Obama Library to Be Built, Despite Controversy. The U.S. Supreme Court gave the go-ahead for former President Barack Obama's presidential center on Monday despite ongoing controversy about its location in Chicago's Jackson Park. This is the second time the court has denied an application for an injunction against the Obama Presidential Center, which will be overseen by the nonprofit Obama Foundation. Chief Justice John Roberts denied an application for relief filed by Protect Our Parks, a Chicago-based nonprofit group "dedicated to keeping public park land open to the public," according to the website.
Obama breaks ground on presidential library in Chicago. Former President Barack Obama and former first lady Michelle Obama broke ground on the Obama Presidential Center in Chicago on Tuesday [9/28/2021], beginning one of the final steps in the long delayed project. During an event at the center's construction site on Chicago's South Side, the former President spoke about his desire to make the center more than just a "static museum," but for it to strengthen democratic ideas at a time when Americans are "seeing more division and increasingly bitter conflict."
The Editor says...
Fact check: [#1] It's a "Presidential Center," not a "presidential library," as stated in the headline. [#2] Breaking ground is not "one of the final steps" in the construction of any building.
Obama's personal monument sacrifices 800 old growth trees in Chicago park designed by Frederick Law Olmstead. Without so much as a groundbreaking ceremony, heavy construction machinery has been brought in to rip from the ground about 800 old growth trees in order to make room on Chicago's lakefront for a personal monument to the wonderfulness of Barack Hussein Obama. The so-called "Obama Presidential Center" is not a "presidential library." It will not house any presidential papers for use by scholars, nor will it be controlled by the National Archives. Ownership and control will rest in the hands of the private Obama Foundation, whose board of directors is packed with Obama acolytes, so there is no chance that the "revisionist scholarship" of the Obama presidency (sure to come), critically evaluating (for instance) the deterioration of race relations during his presidency or the disaster wrought by the "Arab Spring" that Obama endorsed, will find a home there.
Supreme Court refuses to block construction of the Obama Presidential Center. Supreme Court Justice Amy Coney Barrett refused Friday [8/20/2021] to block the construction of the Obama Presidential Center in Chicago as demanded by an environmental group. The groundbreaking for former President Barack Obama's namesake library and presidential archives center began earlier this week, but Protect Our Parks, an environmental advocacy group, asked the high court to stop the construction. The group lost multiple requests in lower courts to halt the construction of the Obama center because it is located in a public park, Jackson Park on Chicago's South Side.
Obama Center construction kicks off Monday; foundation to get Jackson Park land on Friday. The Obama Presidential Foundation takes possession of 19.3 acres in Jackson Park at 11:59 p.m. Friday [8/13/2021] for the Obama Center unless there is a last-minute delay needed for City Hall to scrutinize the foundation's new IRS financial disclosure report. There will be no ceremony marking the official transfer, which was not publicly announced. The final legal documents will be electronically signed Friday at 9 p.m., a City Hall official said. [...] In July 2016, then-President Barack Obama, who launched his political career on the South Side, selected Jackson Park, the site of the 1893 World's Columbian Exposition and listed in the National Register of Historic Places in 1972, for his center. Obama's decision to locate his presidential complex in a landmarked park automatically triggered a federal review. Foundation planners did not factor in that a federal review typically takes years and at one point predicted groundbreaking would be in 2018.
Obama Is Building An Opulent 'Presidential Center' In Chicago. It's Not In A Poor, Black, Or Environmentally Friendly Neighborhood. ormer President Barack Obama dialed back his planned 700-person birthday bash, set to take place this weekend, after sustained criticism for the large-scale gathering at a time when Democrats are telling ordinary Americans to hunker down or wear masks. But that's just the tip of the hypocrisy iceberg. Obama is using his birthday to raise funds for his planned "presidential center," a monument to the man and his legacy that is scheduled to break ground as soon as this month on prime parkland in Chicago. Critics say that the project has brazenly violated the policies and philosophies that Obama spent his presidency pushing on others, in ways that will permanently harm the environment and the city of Chicago.
Obama's presidential library estimated to cost nearly $700M. The cost of former President Obama's library in Chicago will be a bit heftier than initially anticipated. Valerie Jarrett, president of The Obama Foundation, said during an interview with The Economic Club of Chicago last week that the informal presidential library will cost slightly "less than" $700 million — $200 million more than an initial estimate of $500 million. "We are in the process of raising the capital for the building," Jarrett said during the June 4 interview, adding that the Obama Foundation has raised nearly $900 million so far for The Obama Presidential Center and wants to raise an additional $400 million from Chicago. Excess funds will go toward the foundation's "program" and to "create an endowment," the former Obama adviser said.
Obama Presidential Library Cost Skyrockets: It Is Going To Cost Barry's Foundation At Least $700 Million. The saga of former President Obama's library has been going on for years. At one point, the library was encountering legal troubles. It seems the builders were going to go right through a historic section of Chicago. Some criticized the library for not containing certain documents from the Obama administration. Those documents would not be available in physical format, but only digital. Now, more controversy is arising over the long-delayed project. It turns out this monument to Barry will cost quite a large sum.
With $847 million raised, mid-fall groundbreaking set for Obama Center". With more than $800 million in commitments and cash on hand, the Obama Foundation intends to begin construction of the long-planned Obama Presidential Center in Jackson Park by mid-fall, officials said today [3/30/2021]. In a meeting with Crain's editorial board, foundation President Valerie Jarrett and construction chief Lori Healey said that, with only routine city building permits yet to be obtained, land clearance work on the 18-acre site will begin "around Sept. 1," with actual construction perhaps two months later but definitely before winter.
The Obama Presidential Center revisited. Lately, especially during the current Democratic presidential debates, we keep on hearing about Barack Obama. You know, the Great One, the Rock-Star President, the messianic leader, much beloved overseas, though not so much in America, and even about his wife, Michelle, as a presidential "hope" for the Democrats sometime in the future. That is odd, considering that Obama legacy-to-be, his projected mammoth presidential center in Chicago, would have an "adverse effect" on the surrounding area, according to a new study completed by the city municipal planners.
Obama-appointee to federal bench dismisses lawsuit against transfer of park land to Obama's personal monument. The monument to Barack Obama, the community organizer turned president, has vanquished the community organizers who attempted to stop its takeover of public land. Federal Judge John Robert Blakey, appointed by Barack Obama and confirmed by the Senate in 2014, wants construction to begin "without delay" on the "Obama Presidential Center" (OPC) on former park land belonging to the citizens of Chicago. The OPC should not be confused with a presidential library, as it will not contain any official records of the Obama presidency and will not be under the control of the National Archives or any governmental body at all. It is strictly a private project, under the control of a board of Obama acolytes unaccountable to the public and will function as a monument to Obama.
Obama delivers speech to Boeing after $10M donation made to his presidential center. Former President Barack Obama delivered a speech at Boeing's annual executive retreat earlier this month after the company donated $10 million to Obama's library and museum in Chicago. Obama made an appearance at the retreat to provide leadership tips and waived his usual speaking fee for the occasion, Obama's spokeswoman Katie Hill told Bloomberg.
Obama Presidential Center will pay just $10 for a 99-year lease as Chicago city council is set to approve plans that have angered community advocates. The presidential center named after Barack Obama will pay the city of Chicago $10 for a 99-year lease to use 19.3 acres of public land, it has been revealed. Mayor Rahm Emanuel's administration is asking the City Council to approve two ordinances that would pave the way for the construction of the Obama Presidential Center in historic Jackson Park. The park, a 500-acre public space on the shores of Lake Michigan in the city's South Side, is just a few blocks away from the University of Chicago.
Obama Center-related construction in Jackson Park stopped by City Hall. The city and Chicago Park District on Monday [9/17/2018] announced a halt to Obama Presidential Center-related construction in Jackson Park after moving ahead while crucial federal reviews of the project were still ongoing. The Chicago Sun-Times reported in August that the park district was cutting down trees in Jackson Park despite a federal lawsuit, city and federal approvals pending, and a pledge from the Obama Foundation CEO to keep trees intact until the permitting process is complete. Given the controversy over the tree cutting and federal agencies becoming more active in reviews, the city at the beginning of September decided to slow down construction of a new track field — needed because the proposed Obama Center will be taking over land where an existing field is located.
Obama's Latest Lie: If You Like Your Century-Old Trees You Can Keep Them. If you listen carefully, you can almost hear the exasperated groans of the good people of Illinois carrying on the wind, as former President Obama sticks it to them again. The original purpose of the transfer of public parkland to the Foundation — a private non-government entity — was to house an official federal Obama Federal Library. However, that purpose no longer exists. Obama decided that "The Obama Center" will not include his official presidential library. The federal National Records and Archives Administration will run it from someplace else. One of his promises in selling the non-library-library project was the building, or the center wouldn't touch the trees in Jackson Park some of which were planted in preparation for the Chicago World's Fair which opened in 1893.
Obama Foundation's monumental rip-off. The Obama Presidential Center planned for Chicago is nothing more than a personal monument to Barack Obama and a center for political indoctrination in his radical views. It serves no public purpose the way that a presidential library would. Obama's presidential papers will not be housed there, and no scholars will be afforded the opportunity to explore the history of his presidency. And, this is receiving vast public subsidies, despite assurances that it would be privately funded. Barack and Michelle Obama have been playing a major role in its design, in a fashion reminiscent of a dictator putting up monuments to himself in some third world country. As the revised design stands, it will look like a cenotaph bizarrely erected before the death and burial of its principal.
Obama Presidential Center Panned as 'Socially Regressive'. The planned construction of the Obama Presidential Center near the University of Chicago has been criticized as "socially regressive" by over 150 faculty members. In an open letter released Monday [1/8/2018], the professors and lecturers echoed the concerns of multiple community organizations regarding the center's current blueprint, which would saddle local taxpayers with an estimated $100 million tab, and commandeer large swaths of beloved historic public parks for private development. "The Obama Center as currently planned will not provide the promised development or economic benefits to the neighborhoods," wrote the lecturers.
Obama non-library 'presidential center' in Chicago devolving into a fiasco. The first community organizer to become president has managed to anger community groups so much with his planned personal monument, aka a "presidential center," that part of the plan was just scrapped.
Dem leaders want state to pay for Obama Center-related road projects. Senate President John Cullerton and House Speaker Michael Madigan — the Chicago Democrats who control the Illinois General Assembly — are mapping plans for the state to help pay for infrastructure improvements in and around Jackson Park related to the Obama Presidential Center. The two leaders "are looking for a commitment from the governor to support road projects that would support the Obama Presidential Center," Cullerton told the Chicago Sun-Times on Tuesday [10/3/2017]. Gov. Bruce Rauner's office did not respond to a request from the Sun-Times for a comment on state assistance for road projects associated with the future Obama Center.
'Privately funded' Obama presidential library could cost Illinois taxpayers $100 million or more. Erecting a monument to the Obama presidency is a task best handled quickly, before the seeds of disaster planted in Iran, the federal debt, and the FISA Court (among other places) come to full flower. And despite promises of private funding, taxpayers are going to have to cough up, even in Illinois, a fiscal dead man walking with pension obligations that dwarf the taxing capacity of the state and the City of Chicago. Barack's plans for a monument to his glory will not be thwarted by mere politicians or community groups.
Obama Presidential Center could lift entire South Side. South Shore was mentioned only a couple of times during the news conference to discuss the selection of Jackson Park as the site for the Obama Presidential Center. But this struggling neighborhood is at the crossroads and is an example of what's at stake as the Obama Foundation and the city tries to make the Obama Presidential Center an economic engine for the city's South Side.
Obama library to be built on Chicago's South Side. President Obama and first lady Michelle Obama have chosen Jackson Park, a 500-acre park on Chicago's South Side next to the University of Chicago, as the site for his presidential library, according to multiple reports. The White House is expected to make a formal announcement in the next few days. The site is near the Museum of Science and Industry, Lake Michigan and the eastern edge of the university campus. The university, where Obama used to teach constitutional law, proposed both Jackson Park and Washington Park as sites for the library. Jackson Park, designed by famous landscape architect Frederick Law Olmsted, was home to the historic 1893 World's Columbian Exposition.
Architect Sought for Obama's Presidential Library Complex. The foundation overseeing the development of Barack Obama's presidential library began a global competition on Wednesday to select the architect who will design the elaborate Chicago complex. The start of the selection process is the latest step in Mr. Obama's quiet but painstaking planning for his post-presidential initiatives, which his advisers say could cost as much as $1 billion.
Obama's library team to ask some architects for bids but casts global net. The foundation tasked with building the Barack Obama Presidential Center will cast a global net in its search for an architect, asking designers from the United States and overseas to compete for the prized Chicago commission, officials said Wednesday [8/26/2015]. The officials on Wednesday issued a request for qualifications to a select group of architects who may vie for the project, though others may also apply. The foundation asked them to submit credentials, references and examples of work, but not a design for the library, by Sept. 16.
Obama Foundation formally announces he will build president's library on the South Side of Chicago. President Barack Obama has announced that he will be building his presidential library on the South Side of Chicago, where his political career began. The Barack Obama Foundation revealed in a press release early on Tuesday [5/12/2015] that the University of Chicago's bid to erect the library on park land near the campus was selected over bids made by Columbia University in New York, the University of Hawaii and the University of Illinois at Chicago.
How Much Will Obama Library Cost, Who's Paying and What Will Be In There? The Obama library, expected to cost over $500 million, is being paid for so far by private donations, though the city is giving the project 20 acres of land in either Washington or Jackson parks. An effort by the state legislature to contribute $100 million in state funds has been shelved with Illinois facing serious debt and some Republicans objecting. However, the idea could come back, some say.
Report: Obama library to be built in America's most corrupt major city. As a sort of farewell present to the city he adopted as his political base but will leave for more glamorous New York City after his presidency, the Barack Obama Presidential Library is to be built on parkland taken from the citizens of Chicago. Unless, that is, Republican Governor Bruce Rauner vetoes a bill authorizing the transfer of city-owned park acreage to the library.
Bring on the Obama Presidential Temple! I'm changing my mind on the Obama presidential library. Once I was opposed, thinking the last thing Chicago needed was a multimillion-dollar Temple of Presidential Lies on parkland. But I've since "evolved" after having my brain hit by wave after wave of positive, gushing, unctuous cheerleading news reports about how wonderful the library will be for all. Oh, and because the Democratic Bosses and Mayor Rahm Emanuel and now Republican Gov. Bruce Rauner support Obama Temple legislation, because the Temple of Obama is a good thing.
Obama library coming to Chicago. As first reported in the Chicago Sun-Times, the Obama library, museum and presidential center will be located on Chicago's South Side, with the University of Chicago bid beating out the competition for the massive project. The Sun-Times has reported in several stories since April 14 that the Obama development was coming to the city. The official announcement will be made in Chicago by the Chicago-based Barack Obama Foundation in about two weeks, the Sun-Times has confirmed with several sources with direct knowledge of the rollout.
City Council authorizes transfer of parkland to city for Obama library. Mayor Rahm Emanuel on Wednesday [3/18/2015] appealed to Friends of the Parks to drop the threat of a lawsuit — and get on "one team, the Chicago team" — after the City Council removed a hurdle standing in the way of an Obama presidential library here. By a vote of 47-to-0, the City Council voted to authorize the transfer of up to 21 acres in either Washington or Jackson Parks from the Chicago Park District to the city. Both parks were designed by famed landscape architect Frederick Law Olmsted.
---
Back to the
Barack Obama index page
More about
Obama's narcissism
Back to the
Home page