Note: You might want to start at the Barack Obama Index Page, especially if you arrived here by using a search engine.
No introduction to this topic is necessary, as the news and opinion items below speak for themselves. Please note, however, that the news items don't all point to Obama's direct actions. Every agency of the federal government is apparently being encouraged to promote homosexuality in any way possible.
Related pages:
Same-sex marriage and adoption
Homosexuality in general
The War on the Boy Scouts
Liberals are out of step with the American mainstream

---
On Easter Sunday, here's why Christians are giving thanks that Obama's out of the White House. Four years before the Supreme Court case that required the recognition of same-sex marriages throughout the country, Obama — who ran for president as a firm believer in traditional man-woman marriage only — laid the groundwork for the major cultural shift. The former community organizer in 2011 instructed then-Attorney General Eric Holder to stop defending Section 3 of the Defense of Marriage Act (DOMA), a federal law signed by Bill Clinton. Section 3 of DOMA federally defined marriage as "only the legal union of one man and one woman as husband and wife." Section 2 protected states from being forced to recognize other states' same-sex relationships as marriage.
Ryan: Presidents Often Prioritize Refugee Claims — Obama 'Put a Preference in for Sexual Orientation'. House Speaker Paul Ryan (R-Wis.) said Thursday [2/2/2017] that there's nothing wrong with President Donald Trump's executive order on immigration including a preference for religious minorities facing persecution, because it's a common practice for presidents to include preferences in refugee populations and that former President Barack Obama did the same thing for sexual orientation. "Presidents always and often put preferences in refugee populations," Ryan said. "I think President Obama had one for sexual orientation. They didn't call that a sexual orientation test. He put a preference in for sexual orientation.
Barack Obama used his final day in the White House to help transgender immigrants. The 44th President issued a memo to the US Citizenship and Immigration Service (USCIS) altering the rules and allowing transgender immigrants to request a change in gender on their official documents. The memo only applies to legal immigrants and foreign doctors will now be able to provide statements of proof for those who wish to make the alteration.
Trump Should Dump Obama's Transgender Shower Decree. Obama's transgender bathroom, locker-room, and shower-stall decree belongs high atop the list of edicts that President Donald J. Trump should obliterate. From priorities to prematurity to procedure, this is public policy at its worst. Obama jointly used his departments of Justice and Education to declare that all learning institutions that take federal funds — from kindergarten through graduate school — must allow students to enjoy the lavatories, locker rooms, showers, other facilities, and sports teams that correspond not to their objective genitalia but to their subjective "gender identity." According to the DOJ and the DOE: "Gender identify refers to an individual's internal sense of gender. A person's gender identity may be different from or the same as the person's sex defined at birth." This pronouncement emerged via a May 13 "guidance letter."
Former first family end Palm Springs vacation - with Michelle boarding billionaire Richard Branson's private jet. An eight-vehicle motorcade left the home of Spanish Ambassador James Costos and his partner Michael Smith, where the Obamas had been staying, around 10am and headed to a private terminal next to Palm Springs International Airport.
CNN Reporter: Obama Is Freeing Chelsea Manning Because She's Transitioning. CNN reporter Jeff Zeleny argued on Tuesday that President Obama commuted Chelsea Manning's prison sentence because the former Army private is transitioning from a man to a woman. "I think the question this president and the White House will have to answer here, will answer, and I think it's an important one, how much was the personal story of Chelsea Manning involved in this," Zeleny said in a panel discussion of the White House decision. Manning, who was formerly known as "Bradley," was sentenced to 35 years in prison in 2013 on espionage charges for stealing nearly one million classified documents and leaking them to WikiLeaks.
Obama to Free Chelsea Manning. For the past month, Democrats have screamed about the danger of WikiLeaks and Russian hackers. But when it comes to a guy who damaged US military and intelligence assets instead of the DNC, Obama has decided even massive leaks are unimportant.
By Commuting Bradley Manning's Sentence, Obama Broke Faith with the Military. In essence, soldiers make two simple pledges: I will obey lawful orders, and I will lay down my life for the mission and my brothers and sisters. Good commanders know that soldiers trust them to reinforce the warrior ethos with effective discipline. Soldiers who can't be trusted can't be coddled; violating orders, acting selfishly, or disregarding the mission can ultimately break units and armies.
No Unicorns, Only Rainbows — President Obama Commutes Bradley Manning Sentence. [Bradley] Manning copied hundreds of thousands of military incident logs from the Afghanistan and Iraq wars, which, among other things, exposed abuses of detainees by Iraqi military officers working with American forces and showed that civilian deaths in the Iraq war were likely much higher than official estimates. The files Manning copied also included about 250,000 diplomatic cables from American embassies around the world showing sensitive deals and conversations, dossiers detailing intelligence assessments of Guantánamo detainees held without trial, and a video of an American helicopter attack in Baghdad in two Reuters journalists were killed, among others.
Freeing Private Manning. Shocking is the only word for President Obama's decision to release Private Manning from prison after serving but six of the 35 years to which the disgraced soldier had been sentenced by a military court. We understand that it is fully within the President's constitutional power. And that the private's circumstances — as a transgender soldier being held largely in solitary at a prison for men — must be exceptionally excruciating. Yet what kind of signal does this commutation send when we are still in the middle of a war in which thousands of our GIs are in harm's way?
A man who thinks he's a girl. THAT'S nuts.
In Manning clemency call, Obama sought to reduce sentence viewed as 'nuts'. From the moment a military judge handed down a 35-year prison term for Chelsea Manning in 2013, President Obama and some administration officials saw the sentence as excessive. "Nuts," said one person close to Obama. They said Manning, an Army private charged with disclosing troves of secret files to WikiLeaks, should be punished for her crime. But while Obama, a former law professor, was known for his tough stance on government leakers, he had also advocated for changing America's often harsh, inconsistent sentencing practices. Long before Manning's attorneys submitted a second clemency request in November, Obama had considered the notion of "proportionate sentences" in evaluating the soldier's case, as he had in decisions to grant clemency to more than 1,300 drug offenders.
Departing CIA chief John Brennan wants his legacy to be the work he did for LGBTQ community. When Sen. Kamala Harris grilled President Elect Donald Trump's pick for CIA Director Mike Pompeo last week, she demanded to know his personal views on the lesbian, gay, bisexual and transgender movement. Never mind, the growing jihadist threat, how the agency missed Russia's invasion of Crimea, the potential of a nuclear-enabled North Korea, and the growing expansion of China in the South China Sea. Altogether, it was a bizarre exchange. But apparently, she was onto something. In a wide-ranging interview with the Wall Street Journal, departing CIA Director John Brennan said he wants his legacy to be the work he did to advance the LGBTQ community.
Jake Tapper: Manning Commutation 'Contradicts the Last Eight Years' of White House on Leakers. CNN's Jake Tapper reacted to President Obama's commutation of Chelsea Manning's sentence by pointing out how the White House has felt about Manning, WikiLeaks, and leakers in general in the past eight years. Bill Kristol called this "great news for Donald Trump" to start off, because it shifts focus away from him versus the intel community. Tapper pointed out that Obama has used the Espionage Act to go after leakers a great deal more so than presidents past, and now for him to commute the sentence of "one of the most notorious leakers... certainly contradicts the last eight years of policy in terms of leaking."
CIA Director Bemoans Growing Up 'A White Male from New Jersey'. Director John Brennan said growing up a "white male from New Jersey" led him to his strong promotion of gay rights in the Central Intelligence Agency, which included his wearing a rainbow lanyard around Langley to show he is an LGBTQ ally. In his final interview as head of the CIA, Brennan told the Wall Street Journal that he hopes his legacy is the "way he fought to nurture a workforce that reflected America's diversity."
Obama Commutes Almost All of Chelsea Manning's Sentence. President Obama on Tuesday commuted the bulk of Chelsea Manning's 35-year prison sentence, which she received for providing classified information to WikiLeaks in 2010 pertaining to details of the wars in Iraq and Afghanistan. Manning was found guilty in 2013 and her sentence was originally set to end on May 17, 2045. Now it will end in May of this year, taking 28 years off the conviction. [...] Manning, a transgender woman whose first name was Bradley at the time, was a low-level intelligence analyst in the Army deployed to Iraq when she copied 750,000 pages of military documents and videos.
John Kerry apologizes for State Department's past treatment of gay employees. After gay-rights advocates demanded penitence, Secretary of State John Kerry apologized on Monday [1/9/2017] for the State Department's past treatment of gay employees.
Update:
Trump administration deletes apology to LGBT people over government discrimination. The Trump administration removed an apology from the State Department to the LGBTQ community for discrimination dating back to the 1940s, prompting criticism for advocacy groups. Former Secretary of State John Kerry published an apology on the site for the department's past discrimination based on sexual orientation — but it has since disappeared from the site.
Court Strikes Down Transgender Mandate, Protecting Doctors, Children, and Hospitals. While family and friends were counting down to the new year, I was watching a different kind of countdown — whether doctors and health care providers would be forced to violate their medical judgment and provide procedures, including gender transition services and abortions, under a new government mandate. The mandate is a 362-page regulation that claims to interpret part of the Affordable Care Act. It was issued in May 2016, and major portions of this mandate would have kicked in on Jan. 1. Becket Law had asked a Texas court for an order protecting health care providers. It was less than nine hours to midnight when we heard the good news: A Texas court issued an injunction protecting doctors and the families they serve from the mandate.
EPA Asks Employees If They're Straight, Gay, or 'Something Else'. The Environmental Protection Agency is asking all its employees whether they are straight, gay, or "something else" in an effort to create a more "inclusive" workplace. The Washington Free Beacon obtained a copy of the agency's Sexual Orientation Gender Identity (SOGI) survey, which is part of a pilot program to voluntarily collect information on its employees. The survey first asks the employee's pay grade, supervisory status, education, age, marital status, and race, before inquiring, "What sex were you assigned at birth?"
Texas judge halts federal transgender health protections. A federal judge in Texas on Saturday [12/31/2016] ordered a halt to another Obama administration effort to strengthen transgender rights, this time over health rules that social conservatives say could force doctors to violate their religious beliefs. U.S. District Judge Reed O'Connor granted a temporary injunction stopping federal health officials from enforcing rules that are intended to ban discrimination by doctors and hospitals against transgender persons.
U.S. judge blocks transgender, abortion-related Obamacare protections. A federal judge in Texas on Saturday [12/31/2016] issued a court order barring enforcement of an Obama administration policy seeking to extend anti-discrimination protections under the Affordable Care Act to transgender health and abortion-related services. The decision sides with Texas, seven other states and three Christian-affiliated healthcare groups challenging a rule that, according to the judge, defines sex bias to include "discrimination on the basis of gender identity and termination of pregnancy."
Federal judge overturns Obamacare rules for transgenders. A federal judge in Texas has struck down rules issued by HHS that would force doctors to help with gender transition procedures for transgender people even if it vioilated [sic] their religious beliefs. Conserviatve [sic] groups hailed the decision as a victory for reliigious [sic] freedom.
Obama loses Merrick Garland battle — but reshapes federal courts for decades to come. President Obama has reshaped the federal courts for decades to come with a record number of women and minorities appointed to lifetime judgeships, despite losing his high-profile battle over the U.S. Supreme Court this year. Of the more than 340 judges nominated by Mr. Obama and confirmed by the Senate, about 42 percent are women, 19 percent are black and 11 percent are Hispanic — more female and minority appointees than any other president. Mr. Obama also has appointed at least 11 federal judges who are openly gay, another record.
Federal Hate Crime Law Used For Transgender Violence For The First Time. The US Justice Department has used a federal hate crimes law for the first time to bring criminal charges against someone for targeting a victim on the basis of gender identity, according to documents unsealed on Wednesday [12/21/2016] by a federal court in Mississippi. Joshua Brandon Vallum pleaded guilty Wednesday to violating the Matthew Shepard and James Byrd, Jr. Hate Crimes Prevention Act by killing Mercedes Williamson in 2015 because she was transgender. Court records show he was charged Dec. 14.
Speakers At West Point Transgender Day Of Remembrance: US Ignores Hate Crimes. The U.S. Military Academy, which used to focus only on books, training and discipline, hosted its annual "Transgender Day of Remembrance" for cadets. The event complements other cultural initiatives in U.S. military colleges: the Virginia Military Institute is combating stress with coloring books and therapy dogs while Annapolis midshipman enroll in a "Transgender 101" seminar. West Point celebrated the special remembrance day on Nov. 30 — the fourth time it has done so.
Naval Academy Hosting 'Transgender 101' Training for Midshipmen. The U.S. Naval Academy is bringing in Google employees to provide voluntary "Transgender 101" training to midshipmen this week as part of an ongoing "safe space" training series. The academy's Center for Teaching and Learning is holding two events on Friday, one for faculty and staff and another for midshipmen. The hour and a half-long workshops will be hosted by Marnie Florin and Kevin Perry, who are "transgender trainers" for Google.
Judge Spanks Transgender-Obsessed Obama: You Lie! For a third time, a federal judge has affirmed a nationwide injunction against the Obama administration's agenda to impose mandatory open-restroom policies on schools from coast to coast, scolding the White House for repeating old arguments and catching those who submitted the newest arguments in a lie. The ruling this week from U.S. District Judge Reed O'Connor left intact his nationwide injunction against Obama's decision that transgender public school students can use the restroom of their choice, rather than the restroom designated for their biological gender. The White House issued the order some months ago, and when several states sued, O'Connor ruled in August that they were likely to prevail in their arguments, so he suspended implementation of the program nationwide.
Kerry: We Have To Worry About Treatment of Transgender People Globally. On Sunday [11/20/2016], Secretary of State John Kerry marked "Transgender Day of Remembrance" with a released statement on the State Department website, imploring the United States to focus on the treatment of transgender people across all nations. Kerry expressed concern over the violence perpetrated against trans folks, "fueled by hatred and bigotry." The Secretary of State labeled this fight a "global challenge."
Women in Combat and Transgender Service Member Reform 'Makes Sense' Moving Forward, Carter Says. Defense Secretary Ashton Carter said policies that opened up combat roles to women and allowed transgender members of the military to serve openly are progress that "makes sense." En route to Twentynine Palms in California on Monday [11/14/2016], Carter was asked during a media availability whether the Pentagon is concerned that reforms made during his tenure would be rolled back in the upcoming year under new leadership.
The Editor asks...
If someone is perpetually confused about something as simple as his or her gender, how is that person an asset to the military?
Lawsuit Challenges Federal Regulation Forcing Doctors to Provide Gender Transition Treatment for Children. The Becket Fund for Religious Liberty has filed a lawsuit on behalf of the state of North Dakota and health providers challenging a federal regulation that would force doctors and others to perform gender transition procedures on children even if it's believed these procedures could harm a child. "The governmentdoes not require Medicare and Medicaid to cover these same procedures, because Health & Human Services' (HHS) [the agency putting forth the regulation] own medical experts found the risks were often too high and benefits too unclear," the press release announcing the lawsuit said. "Yet any private doctor who made the same decision about the risks would be in violation of the new mandate and face potential lawsuits or job loss."
Feds Name New National Historic Landmarks, Including Ouija Board-Using Gay Poet's Home. The Department of Interior (DOI) and the National Park Service (NPS) have announced 10 new national historic landmarks, including the home of a homosexual poet, a relic from Shamanism, and the location of a "utopian society." "These 10 new national historic landmarks reveal important pieces of our nation's diverse heritage through art, architecture and stories of community and identity," DOI Secretary Sally Jewell said in a Nov. 2 press release announcing the landmarks. "Today's designation ensures future generations can trace, understand and learn from these properties, which join more than 2,500 other landmarks nationwide," she said.
Susan Rice: Expanding Gay Rights Increases GDP. White House National Security Advisor Susan Rice said expanding the rights of the LBGT community would result in an increase of gross domestic product. [...] Rice, the former U.S. ambassador to the United Nations, said the LGBT rights issue is "deeply personal" for her, connecting it to the civil rights movement.
Obama Administration Mandate Ordering "Sex Change" Surgeries Is Challenged. It has become increasingly apparent that the Obama administration looks upon the First Amendment protections of religious liberty as meaningless — if it contradicts its liberal social agenda. This is demonstrated in a recent mandate from the federal Department of Health and Human Services (HHS) that physicians and other healthcare workers must perform surgeries to "alter" people's gender. Objections raised on the grounds that the physician views the surgery as harmful to the patient's mental health, or that the surgeon has religious or ethical objections, do not matter. If surgeons refuse, they can face fines or even the loss of their jobs. The mandate includes surgeries on children. Thousands of healthcare providers and eight states are now challenging the validity of the federal rule.
Obama: 'It's Because of You That a Marine Can Serve His Country Without Hiding the Husband He Loves'. Speaking at the University of North Carolina this afternoon, President Barack Obama told voters it was because of them that millions of people had health care who did not have it before and Marines could enter publicly into same-sex marriages. "It is because of you that millions of people have health care today that didn't have it before," Obama said. "It is because of you that millions of young people are going to college that couldn't afford it before. It's because of you that a Marine can serve his country without hiding the husband he loves. It is because of you that more young immigrants came out of the shadows and are serving our country."
DoD: Protections for transgender youth apply to all facilities, programs. All transgender youth are allowed to use restrooms and other facilities consistent with their gender identity in Defense Department programs and activities, according to a new DoD memo. In an Oct. 26 memo to the services and to the Department of Defense Education Activity, Todd Weiler, assistant defense secretary for manpower and reserve affairs, said he has established a task force to establish procedures for implementing the guidance.
President Obama requires LGBT equality from religious aid contractors. The Obama administration announced a rule last week that threatens to strip federal contracts from religious relief organizations and charities that adhere to traditional views of gender and sexuality, continuing a trend of governmental hostility toward religion. National Security Adviser Susan E. Rice said the rule prohibits organizations that contract with the U.S. Agency for International Development from discriminating on the basis of sexual orientation and gender identity in the administration of aid. "The United States also needs to do more to institutionalize efforts to promote LGBT rights," Ms. Rice said in a speech at American University last week on the state of gay rights around the world.
Susan Rice: U.S. Must Integrate LGBT Rights into Gov't and Foreign Policy. National Security Advisor Susan Rice told students at American University in a speech on LGBT rights Wednesday that the "United States must continue to integrate LGBT rights into our government and foreign policy," including "creating a more diverse national security workforce." "This is an issue that I'm particularly passionate about, and one that President Obama has prioritized," Rice said, "because without tapping America's full range of races, religions, ethnicities, social and economic experiences — without embracing people of every sexual orientation and gender identity — we're leading in a complex world with one hand tied behind our back."
Obama Threatens to Veto Military Bill Because It Protects Religious Groups. The National Defense Authorization Act (NDAA) is an annual bill that sets policies and budgets for our nation's fighting forces and is currently being negotiated by both houses of Congress in conference before a final vote. Included in the House-version of the National Defense Authorization Act is an amendment offered by Rep. Steve Russell, R-Okla., that applies decades-old religious exemptions from Title VII of the Civil Rights Act (1964) and the Americans with Disabilities Act (1990) to federal grants and contracts. The Russell Amendment is sound policy that will prevent the administration from stripping contracts and grants from faith-based social service providers whose internal staffing policies reflect their faith. Jewish day schools and Catholic adoption centers, for example, are not liable under Title VII for being authentically Jewish or Catholic, and their staffing policies shouldn't disqualify them from federal grants and contracts either. But Obama's veto threat is actually the strongest proof of why the Russell Amendment is needed. It shows that the president wants absolute freedom to discriminate against religious social service providers that interact with the government — all because many religious organizations won't endorse the LGBT cause.
Obama State Department 'Stands in Solidarity With Intersex Persons Around the World'. "On the occasion of Intersex Awareness Day, the United States stands in solidarity with intersex persons around the world," the U.S. State Department announced in a press statement on Wednesday [10/26/2016]. "We recognize that intersex persons face violence, discrimination, stigma, harassment, and persecution on account of their sex characteristics, which do not fit binary notions of typical male or female bodies."
Air Force releases guidance on transgender airmen. The Air Force this week publicly released its guidance for how the service will incorporate transgender airmen into its ranks. "Transgender airmen serve alongside us with integrity, service and excellence," Air Force Secretary Deborah Lee James said in a news release announcing the guidance. "This is another step in allowing transgender airmen to serve openly, receive medical care relating to gender transition and allow transgender individuals to join the Air Force. Our strengths as a military are the quality and character of our people, and those things that make us unique are the same things that make us strong."
Pentagon issues handbook on sex change in the ranks. Political correctness remains a central characteristic of the Obama administration's policies. Take the Pentagon's new anti-discrimination policy on what a newly-published handbook calls "gender dysphoria," or "the distress that some transgender individuals experience due to a mismatch between their gender and their sex assigned at birth." Under the new policies, military commanders are now responsible for approving or denying sex changes for troops who self-identify as the opposite sex, according to the 72-page handbook, "Transgender Service in the U.S. Military: An Implementation Handbook," published Sept. 30.
Mission creep, indeed.
National Park Service Explores 'LGBT History and Heritage... Sex, Love and Relationships'. The Interior Department and the National Park Service held a conference call on Tuesday — "Coming Out Day" — to announce a renewed effort to "tell a more inclusive story of our nation's history" by giving places around the country connected to the homosexual movement certain historic designations. "I'm pleased to be joined by [National Park Service] Director [Jonathan] Jarvis to discuss the efforts of the National Park Service to tell a more inclusive story of our nation's history," Interior Secretary Sally Jewell said on the conference call with reporters. "It's fitting that we do this today, on National Coming Out Day and during National LGBT History Month."
47 Lawmakers Demand Answers to HHS Rule Requiring Doctors to Perform 'Gender Transition' Procedures. Rep. Joe Pitts (R-Calif.) announced Thursday that he and 47 of his colleagues have sent a letter to Health and Human Services (HHS) Secretary Sylvia Burwell expressing "a number of significant concerns" with an HHS regulation requiring "doctors to perform gender transition procedures or treatments on patients including children, even if the doctor believes the procedures could be harmful." The new rule, Section 1557, went into effect in July and prohibits health programs that receive federal funding from HHS from discriminating against an individual on the basis of gender identity, gender expression and transgender status.
NIH recognizes LGBTQ community as 'health disparity population'. In an effort to begin the process of rectifying health-related issues that disproportionately affect the LGBTQ community, the National Institutes of Health (NIH) announced on Thursday [10/6/2016] they will formally designate "sexual and gender minorities (SGMs) as a health disparity population for NIH research." "Mounting evidence indicates that SGM populations have less access to health care and higher burdens of certain diseases, such as depression, cancer, and HIV/AIDS. But the extent and causes of health disparities are not fully understood, and research on how to close these gaps is lacking," Eliseo Pérez-Stable M.D., director of the National Institute on Minority Health and Health Disparities, said in a statement. "This designation marks an important and necessary step in realizing NIH's mission to advance the health of all Americans," Pérez-Stable added.
U.S. Military Instructed To Be 'Sensitive' Of Pronoun Use, Warned Against Gender 'Assumptions'. A new Department of Defense handbook on transgender persons released Friday instructs service members to be "sensitive" of each other's preferred pronouns and warns against making "assumptions" about another person's gender. The handbook also states that anti-transgender "bias" will not be tolerated and suggests that "attitudes, or comments that marginalize transgender Service members" may constitute harassment.
Air Force Announces It Will Mandate Diversity Quotas In Candidate Pools For Key Positions. The Air Force announced a new set of 13 inclusion initiatives Friday [9/30/2016] with the goal of ensuring the force isn't as white, male and heterosexual as it is now. Air Force officials are intent on building upon a foundation of nine initiatives from 2015, in order to boost diversity. Those nine initiatives weren't enough to make the Air Force as diverse as desired, which is why it is taking more intensive steps in 2016.
Dem Lawmakers Ask VA to Cover Sex-Change Operations. Six Democratic lawmakers have written the Secretary of The Department of Veterans Affairs (VA) urging the removal of a rule banning VA coverage of sex-transition surgeries for veterans. "We urge you to move forward with publishing a proposed rule to remove the arbitrary and outdated restriction that prohibits VA from providing medical services to treat gender dysphoria," the letter states. Current VA regulations prohibit the covering of "gender alterations." The letter says that regulation is in violation of The Affordable Care Act.
EPA to Collect Employee Data on Sexual Orientation and Gender Identity. The Environmental Protection Agency will begin collecting sexual orientation and gender identity information on its employees this fall, according to an internal email. The email sent last week by EPA Chief of Staff Matt Fritz announced a "ground-breaking" pilot program that will allow employees to answer survey questions about their sexuality. "A professional, productive, and inclusive workplace is essential to our mission of protecting human health and the environment," Fritz wrote. "Today EPA is taking a crucial step forward and playing a leadership role for the federal government in equal employment opportunity and diversity and inclusion by piloting the collection of voluntary, self-disclosed sexual orientation and gender identity (SOGI) workforce data."
Team Obama's new low in the name of 'trans rights'. One of the top guardians of American freedoms just entered the fight against the Obama administration's insane excesses in the name of "trans rights." The Department of Health and Human Services recently issued rules telling doctors they can't decline to perform gender-reassignment surgery on kids if it's recommended by a "mental health professional." Refusal could be a career-ender. How crazy is the rule? Well, for starters, most trans teens identify differently later in life — yet reassignment surgery is often irreversible, and even less-radical procedures can be harmful, as HHS' own medical experts note.
Feds spend $911,056 studying the drinking habits of lesbian couples. The National Institutes of Health is spending nearly $1 million on a study of lesbian couples to see if stress makes them drink too much. The grant awarded to Old Dominion University will involve lesbians filling out daily diaries about their romantic relationships to determine what causes them to drink.
Department of Justice releases video showing officers how to interact with transgender community in 'respectful' manner. A new training video released this week shows law enforcement officers how to interact with transgender individuals in a respectful and professional manner. The 12-minute video discourages officers from stereotyping the transgender community and encourages them to ask: 'Do you prefer if I call you ma'am or sir?' Featuring several staged scenarios, it also highlights the best practices for ensuring interactions with transgender individuals are both polite and safe.
DOJ police-training video on transgender interactions highlights public bathroom complaint. The Justice Department has released a training video meant to be used by law enforcement to demonstrate best practices for interactions with members of the transgender community — including a scenario that involves a complaint about public bathroom use. The training video emphasizes that, when interacting with transgender individuals, officers should keep their questions relevant to the report or investigation at hand and remain courteous. When in doubt, the video says, an officer should ask about the person's gender pronoun preference.
What Buildings Obama's New Transgender Bathroom Regulation Affects. Biological sex will no longer determine restroom accessibility in thousands of federally operated facilities across the country. A new regulation from the Obama administration allows individuals to use whatever bathroom they decide is consistent with their gender identity when visiting or working at properties managed by the General Services Administration, the government agency responsible for managing federal workspaces.
Federal Guidelines Force Homeless Shelters to Accept Transgender Ideology. "Transgender women are women regardless of whether they were born male," argued David Stacy, government affairs director at the Human Rights Campaign. Stacy was praising new "guidelines" issued by the Obama Department of Housing and Urban Development (HUD), which will order homeless shelters that receive federal funding to allow "transgenders" to stay in their shelters based on their self-identified "gender." In other words, if a biological man identifies as a woman, a shelter must lodge him with the women, not the men. This is the latest chapter in what Barack Obama promised during his 2008 presidential campaign: that he was going to "fundamentally transform America."
Obama's Transgender Bathroom Policy Blocked by Federal Judge. A federal judge in Fort Worth, Texas, on Sunday sided with Texas and 12 other states that argued the administration's policy usurps local control and threatens students' safety and privacy. The use of public bathrooms and locker rooms by transgender people has become the latest front in civil rights struggles between social conservatives and the administration following battles over same-sex marriage and military service by openly gay members of the armed forces in which President Barack Obama has sided with gay-rights advocates. The ruling by U.S. District Judge Reed O'Connor came after the U.S. Supreme Court on Aug. 3 temporarily blocked an order that would let a transgender student use the boys' bathrooms during his senior year at a Virginia high school.
Obama: 'We've Designated New Monuments to... Folks Who Stood Up For Equality at Stonewall in New York'. President Barack Obama said in his weekly address today [8/20/2016] that he had set aside "more than 265 million acres of public lands and waters" as national parks and monuments, which is "more than any administration in history." Among the national monuments he created, Obama said in his weekly address, was "Stonewall." This monument commemorates riots that took place in 1969. Citing Yosemite and Yellowstone national parks, leading into his citation of Stonewall, Obama said: "As President, I'm proud to have built upon America's tradition of conservation."
Transgender: Obama To End Single-Sex Bathrooms on Federal Property. President Barack Obama's deputies will insert a rule in federal regulations on Friday [8/19/2016] to prevent federal facilities from operating single-sex bathrooms. The rule in the "Federal Register" of regulations will open up thousands of bathrooms in federally operated buildings to employees and visitors who claim on any given day to be "transgender" members of the opposite sex.
USDA teams up with Iowa law school and Cyndi Lauper to celebrate lesbian farmers. It's tough being gay and living in rural areas — or so says the U.S. Department of Agriculture (USDA). That's why the agency known for grading your beef is teaming up with LGBT groups and Drake University's law school to host an "LGBT Rural Summit" on Thursday [8/18/2016]. [...] It is unclear how much the program is costing U.S. taxpayers, although USDA's Office of Civil Rights, which is coordinating the summits, requested $24.4 million in funding in its fiscal-year 2016 budget request.
In a first, VP Joe Biden officiates a gay wedding. Vice President Joe Biden has officiated a gay wedding, a first for the early proponent of same-sex marriage.
Navy oiler to be named after gay rights activist Harvey Milk. Pioneering gay rights activist and former Navy diver Harvey Milk is set to have a fleet oiler named after him, according to a leaked congressional notification. Navy Secretary Ray Mabus sent a letter to Capitol Hill on July 14, according to a Navy official, to inform lawmakers that he intends to name a Military Sealift Command ship after the politician, who became the first openly gay person to hold public office in California in 1978. Mabus' office declined to comment on the issue until an official ship-naming release is sent out, spokesman Lt. Eric Durie told Navy Times.
Obama To Name Navy Ship After Child Molester. This is what Obama thinks of the military. This is what he thinks of children. This is what he thinks of us. [...] Harvey Milk was a major gay activist and the usual suspects will be getting a kick out of this. Except that, aside from everything else, Harvey Milk was also the creepy guy trying to lure kids into his van.
U.S. opens door to a change in blood donation policy for gay men. The U.S. Food and Drug Administration opened the door on Tuesday [7/26/2016] to a change in its blood donor deferral recommendations, which currently prohibit donations from gay men for a year following their last sexual encounter in order to reduce the risk of transmitting HIV, the virus that causes AIDS.
Pentagon issues sex change manual, allows extended time off for process. The U.S. military has a manual for everything, from how to dress to how to wage war. Now the Pentagon has sent out a detailed written instruction to commanders on how a service member can change his or her sex in a step-by-step process that allows for extended time off. The directive restricts personnel from living their "preferred gender" lifestyle, or "Real Life Experience," on a military base among peers until the sex change transition is complete. The Army, Air Force, Marine Corps and Navy must set up a bureaucracy — dubbed the Service Central Coordination Cell — to guide commanders overseeing sex change transitions.
Dems want gender identity included in federal surveys. A pair of Democratic senators want questions on sexual orientation and gender identity included in federal surveys. Sens. Tammy Baldwin (D-Wis.) and Patty Murray (D-Wash.) have introduced legislation to "improve federal population surveys by requiring the collection of voluntary, self-disclosed information on sexual orientation and gender identity in certain surveys." The legislation would require the government to incorporate data on sexual orientation and gender identity in surveys, including the census, that collect other demographic information. It would give the federal agencies approximately six months to review what information is currently included and develop questions for their surveys, according to the legislation.
Also posted under Tampering with the Census.
US military lifts ban on transgenders serving openly. Transgender people will be allowed to serve openly in the U.S. military, the Pentagon announced Thursday [6/30/2016], ending one of the last bans on service in the armed forces.
Pentagon ends transgender ban. The Pentagon said Thursday it was ending the ban on transgender people being able to serve openly in the U.S. military. The announcement — which removes one of the last barriers to military service by any individual — was made by Defense Secretary Ash Carter, who had been studying the issue for almost a year. The decision comes as the military has witnessed major changes in the role of women and the inclusion of gays, lesbians and bisexual service members in recent years.
U.S. Military to Allow Soldiers to Crossdress. Military personnel who wish to dress as the opposite sex may now do so, according to an announcement from Defense Secretary Ashton B. Carter. Carter said, however, that new recruits would have to crossdress for at least 18 months prior to joining the military, presumably to avoid last-minute transitions from one mode of dress to another. Still, if a member of the armed forces wishes to swap genders while serving on active duty, that person may be able to do so "if a military medical provider determines it is necessary," according to reports. If any soldier would like to take a further step and undergo gender reassignment surgery, the Pentagon would cover the medical costs, Carter added.
Three Amigos make pacts on environment, LGBTI rights. [Scroll down] Canada, the United States and Mexico are expected to pledge to do more to protect LGBTQ rights both in North America and abroad, the Toronto Star has learned. Senior Canadian sources, unable to speak on the record while negotiations are continuing, say the three countries are working to include a call for greater protection for LGBTQ rights in the three leaders' joint statement.
Restrooms at National Parks 'Align' With Gender Identity. Visitors to national parks are free to use whichever public restroom they believe matches their gender identity, the Department of Interior says. "As it relates to recently passed state laws relating to the transgender community, visitors to public lands and water sites are welcome to use restrooms that best align with their gender identity," an Interior Department spokesperson told The Daily Signal in an email. But a national policy expert says visitors to national parks should be concerned that others can enter the restroom of their choice regardless of their biological sex.
Obama Pushes Military to Salute Transgender, Cross-Dressing Soldiers. President Barack Obama is forcing the Pentagon to repeal its ban on transgender service members, meaning U.S. soldiers will soon be serving under the command of cross-dressing soldiers. The policy change is another example of how progressives bypass Congress and the voters by using the military to promote and advance social changes nationwide. Since 2009, for example, the military has been used to aid illegal immigrants and to help change the definition of marriage so that it can include single-sex couples — regardless of the far-left policies' impact on combat readiness and recruitment.
New Obamacare Rule Prohibits 'Sexual Stereotyping' — People Can Be 'Male, Female, Neither, or a Combination of Male and Female'. Health and Human Services Secretary Sylvia Burwell cited a new rule added to the Obamacare law to prevent discrimination, including "sexual stereotyping," as one of the Obama administration's successes in advancing homosexual rights. "We took a major step just last month in the final rule of Section 1557 of the Affordable Care Act," Burwell said at an event on June 9 at the agency in Washington, D.C., to mark Gay Pride Month.
U.S. Set to Lift Ban on Openly Transgender Troops. Nearly a year ago, Secretary of Defense Ash Carter said the U.S. military's ban on the open service of transgender troops was "outdated" and promised the policy would be reviewed. Advocacy groups had grown impatient in the early months of this year, but a report late Friday indicates their wait is almost over. USA Today, citing an unnamed Department of Defense official, reports the ban will end on July 1 and that Pentagon officials are gathering to finalize the details in the coming days. Individual branches of the armed services would have a year to implement new policies. A study commissioned by the Department of Defense and conducted by the RAND Corporation found that there "would be few hurdles to allowing transgender people to serve openly," the New York Times recently reported.
Stonewall Inn is officially the first national monument to gay rights. President Barack Obama created the first national monument to gay rights on Friday, designating the iconic Stonewall Inn in Manhattan, where the modern gay rights movement took root nearly five decades ago.
Feds Threaten To Pull Special Ed Funding If School Doesn't Let Boy In Girls' Bathroom. An Ohio school district in danger of losing federal funding over its transgender bathroom policy has filed a lawsuit against the federal government. Leigh Moore, a 14-year-old male student who identifies as female, has demanded access to the women's restrooms, but the Highland Local School District denied. They allowed the student access to the individual staff bathroom, but it wasn't good enough. The Department of Education sent a letter to the school district at the end of March threatening to withhold federal funding because of the district's "sex discrimination." Now, the district has filed a lawsuit to challenge the Department of Education's threat.
Obama at 'Pride' Reception: 'Discrimination, It's So Last Century'. Marking his eighth and final LGBT Pride reception at the White House Thursday [6/9/2016], President Obama celebrated "the ways that so many lesbian, gay, bisexual, and transgender Americans have helped to make our union just a little more perfect." He also hailed the "real change" that has taken place on his watch, dismissing objections to the redefinition of marriage and family and gender as "passe."
Obama Civil Rights Director: Against American Values To Keep Men Out Of Women's Bathroom. Legislation that keeps men out of women's bathrooms is directly contrary to American values, according to assistant attorney general Vanita Gupta, who heads up the Department of Justice's (DOJ) Civil Rights Division. Gupta made the claim at a forum held on Tuesday [6/7/2016] by the Washington Council of Lawyers.
Navy Secretary Ray Mabus celebrates gay pride. Navy Secretary Ray Mabus said Wednesday that pro-military activists who opposed lifting the ban on gays serving openly in the ranks are just like the bigots who fought against racial desegregation decades ago. His remarks came at the Pentagon's fifth annual pride celebration honoring lesbian, gay and bisexual service members, as well as transgender civilians. Mr. Mabus said the argument against lifting the ban in 2011 is "exactly the same flawed logic as those who had earlier opposed racial integration or gender integration, claiming that policies of inclusion would erode the war fighting capabilities of the United States. That's a suggestion that is not only an insult to the professionalism of our armed forces, but it undermines our core values as service men and women and as Americans."
AG Lynch: LGBT Pride Led 'To a White House Draped in the Rainbow Flag'. U.S. Attorney General Loretta Lynch says the Department of Justice (DOJ) has been part of the "extraordinary movement" of the LGBT community that has led up to "a White House draped in the rainbow flag." Lynch made the comments Tuesday at a LGBT Pride month event held in the Great Hall of the Justice Department. "So here and now, in this place, let us celebrate these achievements and express our own pride," Lynch said.
As DOD Celebrates LGBT Pride Month, 'There Continues to Be Progress' on Transgenders in Military. The U.S. Defense Department will host its fifth LGBT Pride Month ceremony on Wednesday in the Pentagon courtyard, a spokesman announced on Monday, but don't expect an announcement on transgenders in the military. "There continues to be progress on that front, even in the last few days," Pentagon spokesman Peter Cook told reporters on Monday [6/6/2016]. "There have been a range of — I'm not going to get into private deliberations...but there have been — the secretary challenged people within the department to work out issues resolving — to try and resolve this issue.
Obama Appoints Transgender Woman to Advise on Faith Issues. President Barack Obama's appointment of a Christian transgender activist as an adviser on faith issues represents part of a larger agenda, some social conservatives fear. Last month, Obama named Barbara Satin, a man who identifies as a woman, to the President's Advisory Council on Faith-Based and Neighborhood Partnerships. Satin is the assistant faith works director for the LGBTQ Task Force and a member of the United Church of Christ, where she served on the church's national executive council. The denomination is among the nation's most open to the LGBT community.
VA Wants to Provide Transgender Surgeries. Sex reassignment surgeries might soon be covered by the Department of Veterans Affairs. The VA has proposed lifting its ban on the medical procedures, which treat a condition called gender dysphoria and allow a man to live as a woman or vice versa. The department recently posted a notice and requested public comment on the White House's Office of Management and Budget website. VA's effort to cover the transition-related surgeries comes as the military prepares to allow transgender troops to serve openly and President Barack Obama's administration wrangles with states over the rights of transgender people to use the restrooms of the their choice.
White House declares June LGBT Pride Month. LGBT rights just got another big push from the president himself. The White House on Friday issued a proclamation by President Barack Obama calling on Americans to eliminate prejudice "everywhere it exists," declaring June as Lesbian, Gay, Bisexual, and Transgender Pride Month. "As progress spreads from State to State, as justice is delivered in the courtroom, and as more of our fellow Americans are treated with dignity and respect — our Nation becomes not only more accepting, but more equal as well," the proclamation begins.
News from the latrine orderly. "Somehow people think that I made it an issue," he told an audience in Indiana this week. "I didn't make it an issue." He told a questioner that he agrees that other presidential concerns are more important. "There are a lot of things that are more pressing, you're absolutely right." Mr. Obama sometimes shows a conveniently short memory. It was his "directive" to the nation's schools that they must accommodate the transgendered among us in the way that the transgendered — who account for less than one-tenth of 1 percent of the population — insist on being accommodated. If the schools don't, he will withhold the millions of dollars of federal money they have coming to them.
Grijalva Bill Would Require Federal Surveys 'to Gather Data on Sexual Orientation'. At the urging of the Obama administration's inter-agency working group, which is tasked with establishing best practices for collecting data on LGBTs, Rep. Raul Grijalva (D-Ariz.) introduced a bill last week that would require federal agencies that conduct demographic surveys to include questions about sexual orientation and gender identity. "This bill builds on the inter-agency working group's success by making data collection within this community law," Grijalva said in a press release distributed at a briefing on the legislation on Wednesday [6/1/2016] at the U.S. Capitol.
Obama wants to starve kids in Texas. State officials there are opposed to Obama's edict to allow students to determine which restroom or locker room they use, based solely on how they feel about themselves. Obama says any state that does not bow to his wishes faces a cutoff of education funding. Texas gets almost $2 billion a year from the federal government for its school breakfast and lunch programs. Thus, over an issue affecting less than 0.01 percent of students in Texas, Obama is threatening to take food out of the mouths and bellies of the poorest of the poor children. And it's not just kids in Texas. More than a dozen other states are refusing to go along with Obama's edict on bathroom and locker room for so-called "transgendereds." We're talking about millions of kids not getting breakfast and lunch as a direct result of Obama's bullying.
Obama defends transgender bathroom policy, says order is based on law. President Barack Obama said Wednesday [6/1/2016] his order that public schools allow transgender students to use the bathroom of the gender they identify with as based on the law and the best interests of children. Obama, speaking at a town hall broadcast on PBS, said the federal government got involved in the matter after several school districts asked the Department of Education for guidance. However, Obama has been under heavy scrutiny for his directive.
Obama Admin. Sued Business Because It Kept Male Employee Out Of Women's Room. The Equal Employment Opportunity Commission (EEOC) sued a private business for sex discrimination and harassment after a male employee — who announced he was switching genders to become a woman — was barred from using the women's restroom and was referred to with male pronouns by his coworkers. Deluxe Financial Services, a Minnesota-based company that helps small businesses with marketing, denied that it violated any anti-discrimination laws but agreed to settle the case for $115,000 in order to avoid further costs of litigation, according to the settlement agreement.
43 Republicans Join Democrats to Support Obama's Transgender Agenda. On Wednesday night [5/25/2016], 43 Republican members of Congress joined the Democrats to vote for President Barack Obama's transgender agenda. Whereas last week Congress voted to reject this proposal — known as the Maloney amendment — last night they voted to ratify Obama's 2014 executive order barring federal contractors from what it describes as "discrimination" on the basis of "sexual orientation and gender identity" in their private employment policies. And, of course, "discrimination" on the basis of "gender identity" can be something as simple as having a bathroom policy based on biological sex, not gender identity, as we learned last week from Obama's transgender directives.
Obama to hospitals: Perform 'sex-change' operations or lose federal funding. President Obama's Department of Health and Human Services implemented a rule change to the Affordable Care Act (a.k.a. Obamacare) last week mandating that all health providers receiving taxpayer dollars must perform sex-change operations or lose their federal funding. The final rule states that, under Title IX, any hospital receiving funding from HHS must "treat individuals consistent with their gender identity." The rule provides no religious exemption. In other words, religious hospitals that receive taxpayer dollars via Medicaid or Medicare will be required to perform sex-change operations or get cut off financially. The rule change is not the only directive from the Obama administration forcing individuals to embrace the transgender agenda.
Obama, The Great Bathroom War of 2016, and The Cultural Revolution. The left is advancing a cultural revolution of radical egalitarianism, creating a new cultural hegemony of which the Great Bathroom War of 2016 is but the most recent element. [...] As reported by the New York Times, maybe only three out of a thousand people identify as transgender. So why would Obama stir up a hornets nest to accommodate this tiny minority?
Obama Appoints Transgender Person To Advisory Faith Council. President Barack Obama has named a transgender individual to the President's Advisory Council on Faith-Based and Neighborhood Partnerships. [...] After a kidney infection ended his flying career, Satin returned to St. Paul, married, and had three children with his wife. He is now a grandfather as well. Satin enjoyed a successful career as a public relations director for a well-known international firm and says he also served as chairman of the archbishop's Council for the Archdiocese of Minneapolis-St. Paul. When he was 54, Satin retired early and began to explore his "transgender identity."
New immigration detention facility to include separate transgender housing. A new immigrant detention facility opening in November will house about 700 detainees, including a separate 36 bed unit for transgender immigrants[.] Immigration and Customs Enforcement spokesman Carl Rusnok told Fusion.com the new Prairieland Detention Center will operate with the agency's most advanced care guidelines for transgender detainees. Each will have an individualized detention plan "covering items such as searches, clothing options, hygiene practices, medical care, and housing assignments."
Does Obama's Troubled Childhood Explain His Bathroom Weirdness? It is not considered polite to mention it, but Obama observers have ignored a great deal of evidence that the president of the United States was abused at approximately age ten and afterwards, in a way that would be criminal under American and European law. [...] All this should be irrelevant, but it is not — certainly not when the president of the United States issues decrees to our school systems that directly affect the psychological development of children. The Western world has seen major "revolutionary" movements based on assumed or real sexual desires and behavior. [...] Obama's "Bathroom Edict" is an obvious abuse of presidential power. It should not be obeyed, even if parents and teachers have to mount a major resistance campaign. The fact that it hasn't already stirred enormous public outrage shows how desensitized we have become.
Vice President Biden says 'more women and openly gay soldiers will strengthen the country's armed forces'. Vice President Joe Biden told the U.S. Military Academy's class of 2016 on Saturday [5/21/2016] that greater diversity, including more women and openly gay soldiers, will strengthen the country's armed forces.
GOP files bill to block Obama's transgender rule. Rep. Luke Messer, R-Ind., proposed legislation on Wednesday [5/18/2016] aimed at blocking President Obama's new guidelines that require schools to let transgender students use the restrooms of their choice, or risk losing federal funding. Messer's bill would put into U.S. law that schools can't lose their funding for failure to comply, and Messer said that step is needed to stop the federal government's overreach into local issues. "Everyone on both sides of this debate should be treated with respect," Messer said. "And, through public discourse, I believe we can come to a solution that protects the privacy and dignity of everyone involved."
Burlington College. [Scroll down] [H]ow about the coming swarm of transvestites, transsexuals, Tim Curry impersonators, and just general perverts ready to descend on public-school girls' bathrooms and locker rooms? That comes courtesy of America's own would-be caudillo Barack Obama, who has decided the plight of trannies with an urge to drain the main vein is the civil rights cause of our time. So urgent, he's decided, that constitutional niceties like the separation of powers and federalism must go by the wayside. His administration put out a letter to the nation's 98,000 public schools, not a single one of which is run by the federal government, demanding they allow sexually confused boys into the girls' rooms and vice versa. The letter went even further, resisting any attempt to define eligibility for such treatment — if a boy determines he "feels" like a girl on a given day and demands entry into a girls' bathroom the school shouldn't question his judgement.
Obama: 'I Am Proud' of My Administration's 'Focus' on Advancing the Human Rights of LGBT Individuals. President Barack Obama marked International Day Against Homophobia and Transphobia on Tuesday [5/17/2016], saying he is "proud" that his administration "has made advancing the human rights of LGBT individuals" a focus of U.S. engagement around the world. "On May 17, Americans and people around the world mark the International Day Against Homophobia and Transphobia by reaffirming the dignity and inherent worth of all people, regardless of who they love or their gender identity," Obama said in a statement on the White House website.
Senate confirms first openly gay Army secretary. The Senate on Tuesday afternoon [5/17/2016] confirmed the first openly gay Army Secretary. The Senate approved Eric Fanning to lead the Army by unanimous consent, after his nomination had been held in limbo for months because of a fight over the Guantanamo Bay detention center. Sen. Pat Roberts (R-Kan.) said Tuesday that he had dropped his hold on Fanning's nomination because the "clock has run out" for the president to move Guantanamo Bay detainees into the United States.
Senate backs Fanning as Army secretary. The U.S. Senate unanimously backed President Barack Obama's nomination of Eric Fanning as secretary of the Army on Tuesday [5/17/2016], making him the first openly gay leader of a U.S. military service branch. Fanning previously worked as undersecretary of the Air Force and chief of staff to Defense Secretary Ash Carter.
To Obama, transgender lives matter more than black ones. The U.S. Justice Department and Department of Education, based on a decree from Obama, released a joint letter online to school systems around the nation, threatening them to let transgenders use the bathroom they "identify" with, or face the wrath of the federal government. Attorney General Loretta Lynch has blasted North Carolina's HB2 law and accused backers of endorsing "state-sponsored discrimination" against transgendered people. "This is about the dignity and the respect that we accord our fellow citizens," she said. Lynch also equated the passing of HB2 with states enacting Jim Crow laws to stop civil-rights progress. She pointed out that just a few decades ago, black people were also barred from using certain bathrooms. What about the "dignity and respect" of black Americans and the civil rights pioneers who fought for real equality, Mrs. Lynch?
Obama Says Transgender Students Are Vulnerable And Must Be Protected. Transgender and LGBT students are vulnerable to potential bullying and it is society's responsibility to protect them, President Obama said in an interview with BuzzFeed News Monday [5/16/2016]. "We're talking about kids," the president said from the Roosevelt Room in the White House. "Anybody who has been in school, in high school, who has been a parent should realize that kids who are sometimes in the minority, kids who have a different sexual orientation or are transgender are subject to a lot of bullying, potentially. They're vulnerable." Obama's comments referred to laws being passed around the nation that in various ways ban transgender people from using bathrooms that correspond with their gender identity.
Obama Admin Rule Forces Hospitals, Doctors Accepting Federal Funds to Provide Gender Transition Services and Abortions. The Obama administration is capping off a week of forcing Americans to accept gender ideology as normal with a final rule on Obamacare's nondiscrimination policies in healthcare. The rule will require physicians, hospitals, insurers, and other healthcare entities that receive federal funds — such as Medicare and Medicaid — to include gender transition treatments and even abortion among their services for the alleged sake of "equity."
'Bathroom Barry's' Real Legacy. 'Bathroom Barry' is no longer just a figment of overworked imagination. Barack-aka-Barry-Soetoro-Obama has gone into the school washroom and he's never coming out again. This latest invasion on the safety and privacy of innocent school children, came hurtling at their parents in the middle of the night.
Obama in the girls' bathroom. The diktat comes in the form of a letter from the Justice Department's Office of Civil Rights stating that "when a student or the student's parent or guardian ... notifies the school administration that the student will assert a gender identity that differs from previous representations or records, the school will begin treating the student consistent with the student's gender identity." Schools are forbidden from seeking to verify a student's "gender assertion." In short, there will no longer be any single sex locker rooms or showers in America's public schools. You could not have found a conservative fever swamp in 2008 in which anyone would have predicted a slide so far and fast into such absurd relativism within the short (but seemingly endless) span of a single presidency.
Feds' push for trans rights in US schools is simply insane. Sheer lunacy: That's the only way to describe the Obama administration's decision to enforce the full "trans rights" agenda on the nation — in public accommodations, and in school bathrooms and locker rooms. Yes, polite society in progressive precincts has embraced the idea that those with non-standard "gender identities" deserve the same protections as racial and other minorities. But that idea surely never entered the mind of any lawmaker who voted for (or against!) the Civil Rights Act of 1964 or any of the other laws Team Obama is citing as authority for its actions.
Obama's 'Transgender' Plan: Exclude Parents, Let Officials Handle Childrens' Sexual Problems. President Barack Obama's new transgender plan for K-12 schools recommends parents be secretly excluded from any decisive role when their children experiment with sexual "gender identities" as male or female. The exclusion of parents from their children's life-and-death, prosperity-or-suicide, teenage development is explicitly approved by Obama's Democratic Party aides in a nine-page, May 13 legal directive, dubbed a "Dear colleague" letter.
White House Suggests 'Just Putting Up Curtains' Will Protect Privacy in Transgender Locker Rooms. White House Spokesman Josh Earnest told reporters Friday that the Department of Education issued specific suggestions today along with its directive that federally funded schools nationwide must allow students to use bathrooms and locker rooms according to their "gender identity" and that one of those suggestions was "just putting up curtains" in school locker rooms. "There are some school districts across the country that have sought to enhance the privacy of their students by making relatively minor changes to shared use facilities," Earnest said. "In some cases that means just putting up curtains, so that people are, have more privacy when they are changing their clothes or taking showers in what had previously been shared use facilities."
Escape from Obama's transgender school bathrooms. Barack Obama's transgender regime has officially carried its demands for your child's compliance with sexual deviancy to the level of an imperial directive: [...] The Department of Justice, which apparently now means primarily "social justice," aka cultural Marxism, is joining the Department of Education — a thoroughly anti-constitutional entity the continued existence of which represents the greatest failure of the Reagan presidency — to complete American compulsory schooling's true, original, and essential mission: the reduction of the population to a confused, helpless mass of spiritually unindividuated "worker units" for the benefit of a permanent corporate-political ruling elite.
Obamacare Regulation Pressures Insurers to Cover Sex Change Operations. The Department of Health and Human Services issued a final regulation Friday [5/13/2016] that will pressure health insurers to cover sex change operations, which could then be subsidized by taxpayers through Medicare, Medicaid, and Obamacare. The final rule comes the same day the Obama administration ordered schools to let children use whatever bathroom or locker room matches "their chosen gender identity," or risk losing federal funding. The agency released its final "Nondiscrimination in Health Programs and Activities" rule, which enforces Section 1557 of the Affordable Care Act.
Obama administration to issue decree on bathroom access for transgender students. The Obama administration will issue guidance Friday to all public school districts in the U.S. telling them to allow transgender students to use the bathrooms that match their gender identity, according to The New York Times. While the letter doesn't have the force of law, it does carry a threat: Schools that don't comply could face lawsuits or a loss of federal aid. It is signed by officials at the Justice Department and Department of Education.
Obama's Lawsuit Against North Carolina Isn't About Civil Rights. It's About Crushing Dissent. Some of us care little about the debate over public bathrooms. We do, however, care about the ongoing destruction of federalism, individual choice, and good-faith debate. One reliable way to quash dissent and force moral codes on others is to liken your cause to that of the civil rights fight. Every liberal issue is situated somewhere on the great historical arc of "equality" and "justice." If a person stands against even one of these causes — which were once great but are increasingly trivial — they have, according to the cultural imperialists of the Obama administration, aligned themselves with the Klan. Literally.
U.S. Orders Public Schools to Allow Transgender Access to Restrooms. The Obama administration is planning to issue a sweeping directive telling every public school district in the country to allow transgender students to use the bathrooms that match their gender identity. A letter to school districts will go out Friday [5/13/2016], adding to a highly charged debate over transgender rights in the middle of the administration's legal fight with North Carolina over the issue. The declaration — signed by Justice and Education department officials — will describe what schools should do to ensure that none of their students are discriminated against. It does not have the force of law, but it contains an implicit threat: Schools that do not abide by the Obama administration's interpretation of the law could face lawsuits or a loss of federal aid.
The Department of Justice Tries to Create a Third Sex. The Obama administration's top attorneys are resorting to ever greater legal contortions as the "bathroom wars" heat up. In its recent letter to North Carolina demanding the instant repeal of its recently passed "bathroom bill," the Department of Justice's Office of Rights claimed that requiring people to use public accommodations in institutions, universities, and workplaces in accord with their biological sex violated equal protection for the sexes under both Title VII of the Civil Rights Act and Title IX of the Education Amendments Act. That is simply not true. The letter from the Office of Civil Rights (OCR) cited four cases in which, they claim, that federal courts have accepted "transgender" as a sex with the right to protection from discrimination that is identical to the protection enjoyed by males and females.
"When you want to take a country down, first you neutralize its military capability."
How Obama transformed the military. [Scroll down] Compounding this travesty is Mr. Carter's decision to allow "transgender" members of the military to serve openly starting this year. This is unconscionable. Dr. Paul McHugh, former head psychiatrist at John Hopkins, stated in a July 12, 2015 Wall Street Journal article that our policymakers are doing a disservice to the public (and certainly to the military) by treating transgender's confusion as a "right" rather than as a "mental disorder" that deserves understanding, treatment and prevention. He went on to state that this disorder should not be treated as a "civil rights" issue. Clearly, the military should not be burdened with this problem. In my view, embracing the "LGBT" agenda is a slow decline toward paganism.
Justice Department sues North Carolina over law restricting use of public restrooms by transgender people. The Justice Department is suing North Carolina over its controversial law banning transgender people from using the bathroom of the gender they identify with. Attorney General Loretta Lynch condemned the anti-LGBT legislation which she claims amounts to 'state-sponsored discrimination' and is aimed at 'a problem that doesn't exist.' She insisted that the law only serves to 'harm innocent Americans.' The law states that transgender people must use the bathroom that conforms with the gender on their birth certificate.
The Obama Administration Provokes a Legal Crisis — the War against North Carolina. The state of North Carolina and the federal government are now in a state of declared legal war. On Wednesday afternoon [5/4/2016], the Obama administration sent a letter to North Carolina governor Pat McCrory demanding that the state "not comply with or enforce H.B. 2," its so-called transgender bathroom law. According to the letter, a state requirement that people use the bathrooms reserved for their biological sex violates Title VII of the Civil Rights Act of 1964. The Department of Justice gave the state until today, May 9, to assure the federal government that men can use women's restrooms and showers in state facilities. Today, the state answered the Department of Justice — with a lawsuit. In its complaint, filed in federal court, North Carolina accuses the DOJ of engaging in a "baseless and blatant overreach," an "attempt to rewrite long-established federal civil rights laws in a manner that is wholly inconsistent with the intent of Congress and disregards decades of statutory interpretation by the courts." Simply put, Title VII does not establish "transgender status" as a protected class, and any effort to do so by executive fiat violates the law.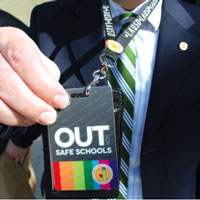 Feds Promote Rainbow Badges for Teachers, Staff at Public Schools to Identify as LGBT 'Allies'. The federal government's anti-bullying website posted a blog last month touting the OUT for Safe Schools program started by homosexual activists in the Los Angeles, Calif., public schools where "rainbow badges" are worn by teachers and staff to identify them as "allies" of lesbian, gay, bi-sexual or transgender students. "School continues to be a dangerous place for lesbian, gay, bisexual, and transgender (LGBT) youth," said the April 19 blog, which was written by staff from the Los Angeles LGBT Center and the Department of Education. The blog said that 30,000 rainbow badges were provided to Los Angeles Unified School District (LAUSD) teachers, administrators and staff "to wear voluntarily that proudly identify themselves as allies and protectors of students who are LGBT."
Presidential Proclamation — Mother's Day, 2016. On Mother's Day, we celebrate those who are the first to welcome us into the world. [...] Regardless of sexual orientation, gender identity, or marital status, mothers have always moved our Nation forward and remained steadfast in their pursuit of a better and brighter future for their children.
Rabbi: Obama Enacted 'Words and Laws That War Against the Very Word' on Which He Swore His Oath of Office. In a speech to commemorate the National Day of Prayer in Washington, D.C., on Thursday [5/5/2016], Rabbi Jonathan Cahn said President Barack Obama enacted "words and laws that war against the very word' on which he took his oath of office, citing as an example how he celebrated the U.S. Supreme Court legalizing gay marriage by lighting up the White House with the colors of the rainbow. "Mr. President, did you not lay your hand on the word of God to assume the oath of your presidency?" Cahn asked. "Then how did you take the same hand and enact words and laws that war against the very word on which you swore your oath, and you uttered the words, 'so help me God,' but on the day that the order of God was struck down, you issued the order to illumine the White House in the colors of the rainbow to celebrate that striking down."
White House poised to create first monument to gay rights. President Obama is poised to declare the first-ever national monument recognizing the struggle for gay rights, singling out a sliver of green space and part of the surrounding Greenwich Village neighborhood as the birthplace of America's modern gay liberation movement. While most national monuments have highlighted iconic wild landscapes or historic sites from centuries ago, this reflects the country's diversity of terrain and peoples in a different vein: It would be the first national monument anchored by a dive bar and surrounded by a warren of narrow streets that long has been regarded the historic center of gay cultural life in New York City.
Report: Obama to create first gay rights monument. The Obama administration is preparing to create the nation's first monument dedicated to the gay rights movement, The Washington Post reported on Tuesday [5/3/2016]. The monument would be located in New York City's Greenwich Village, commemorating the epicenter of the nation's LGBT rights movement. The spot was the site of the 1969 Stonewall riots, which came in the wake of a police raid on the Stonewall Inn, a bar popular among gay men.
Feds Spend $35.7 Million on LGBT Anti-Smoking Ads. The Food and Drug Administration is using young lesbians, drag queens, and transgender individuals in a $36 million advertising campaign to encourage the LGBT community to quit smoking. The government launched the "This Free Life" campaign Monday [5/2/2016], which encourages young people to "find their own truth" and not smoke cigarettes. "This Free Life is a campaign that proudly celebrates the lives of the lesbian, gay, bisexual, and transgender (LGBT) community," the campaign's website states. "We wave our colors high and seek to improve LGBT people's health by encouraging tobacco-free lifestyles."
The Editor says...
[#1] An adult has the God-given freedom to make good or bad choices about the conduct of his or her life, and then deal with the (infinitely!) long-term consequences. But one does not have the right to "find your own truth." If you make up "your own truth," it isn't truth. [#2] If the Obama administration wants to "improve LGBT people's health," then instead of focusing on tobacco, perhaps their new 36-million-dollar web site should say something about cryptosporidium, human papilloma virus (HPV), anal cancer, syphilis, syphilitic lesions, pelvic inflammatory disease (PID), chlamydia trachomatis, isospora belli, giardia lamblia, microsporidia, herpes simplex virus, herpes Type 8 (HHV-8), human immunodeficiency virus, gonorrhea, hepatitis-A, -B, and -C, trichomoniasis, giardia lamblia, entamoeba histolytica, Epstein-Barr virus, neisseria meningitides, shigella, pediculosis, scabies, campylobacter, salmonella, suicide, and of course, AIDS.
Obama's Civil Rights Divisions. For instance, under the Office of Civil Rights within the Department of Education (DOE), public schools will now be in violation of Title IX if they do not permit transgender students to use the locker room or bathroom of their choice. At an LGBT Summit hosted by the White House and attended by officials from seven different federal agencies in Michigan last Thursday, the DOE Assistant Secretary for the Office of Civil Rights Catherine Lhamon assured the LGBT community that the White House would be "aggressively engaged" in the fight to allow transgender students use whichever bathroom they please at school. As Peter Hasson of the Daily Caller reported, the event was co-sponsored by the activist group Equality Michigan, which has led the charge to allow schoolchildren to choose their name, gender, and bathroom without parental knowledge or input. This radical interpretation of Title IX was in fact upheld by Judge Henry Floyd, whom Obama appointed to the fourth circuit U.S. Court of Appeals.
Obama Appointee To Activists: White House 'Aggressively Engaged' In Transgender Fight. A top Obama appointee in the Department of Education personally assured a group of LGBT activists that the White House is "aggressively engaged" in the fight to allow transgender students use whichever bathroom they please at school. DOE Assistant Secretary for the Office of Civil Rights Catherine Lhamon delivered the good news at an LGBT summit hosted by the White House in Michigan last Thursday [4/21/2016], where she gave the keynote address. The event was co-sponsored by activist group Equality Michigan, which has led a statewide charge to allow schoolchildren choose their name, gender and bathroom, all without parental knowledge or input.
Barbarians Inside the Gate. Overlooked by most in Obama's relentless efforts to "remake" America has been his ongoing and dangerous transformation of our military. Here I am not going address the dozens of weapon systems cut, or the tens of thousands of troops given their "pink slips." What I want to speak to is his administration's systematic destruction of the 200+ year-old culture of the U.S. military. This "multicultural makeover," happening right before our eyes, threatens to undermine the very fabric of our armed forces. The forced acceptance of open homosexuality and the burgeoning hostility toward Christianity; the gratuitous degradation of our troops (e.g., forcing ROTC cadets to march in red high heels to experience what it's like to be a woman; making male soldiers wear simulated lactation devices, or lecturing them on "white privilege," dare I go on?); the "full-court press" to make our forces more diverse, most alarmingly by opening up combat positions (even special forces) to female soldiers; and the relentless purging from the ranks of dozens of fine general officers whose only "offense" was their failure to "get with the program" — all of this, like some nightmarish "progressive" Blitzkrieg, is now wreaking havoc with our reluctant service members, the objective being that of a complete and irreversible cultural transformation.
The great Obama love-in. Questions also focused on minorities including gay rights and racism. On gay relationships, he said: ["]People I loved who were in monogamous same sex relationships explained to me what I should have understood earlier — that it was not about legal rights but about a sense of stigma. I believe that the manner in which the LGBT community described marriage equality — as not some radical thing, but actually reached out to people who said they care about family values. If you care about everything family provides — stability, commitment, partnership — then this is actually a pretty conservative position to take — you should be in favour of this.["]
Obama Tells Emotional Young Trans Activist He Can't Change Bathroom Law Without Congress. Speaking with young people at the Royal Horticultural Halls in London Saturday morning, President Obama took questions following brief remarks, and the subject of LGBTQ rights came up repeatedly. In a particularly emotional exchange, the President responded to a young trans activist named Maria Munir, who said ze (a gender-neutral pronoun) was taking the "terrifying" step of "coming out as non-binary, and asked President Obama to do more to protect the rights of trans-people. The President explained that he doesn't have the ability to repeal state laws like the North Carolina "bathroom bill" without a congressional majority, but said he was "proud" of activists like hir (also a gender-neutral pronoun): [Video clip]
First Lady Targets Mississippi 'Religious Freedom' Bill in Commencement Speech. In a rare entrance into a politically charged controversy, first lady Michelle Obama used a commencement speech Saturday [4/23/2016] at Jackson State University in Mississipppi [sic] to directly target the state's recently-passed "religious freedom" bill. "We see it right here in Mississippi — just two weeks ago — how swiftly progress can hurtle backward," Obama said. "How easy it is to single out a small group and marginalize them because of who they are or who they love."
Obama in UK: NC Bathroom Law and Mississippi Religious Freedom Law Should be Overturned. President Barack Obama in a joint press conference with UK Prime Minister David Cameron said that a North Carolina law that requires people to use the bathroom that corresponds with their biological sex and a Mississippi law that protects religious organizations and individuals from being forced to act against their faith in dealing with same-sex marriage should be overturned. "I also think that the laws that have been passed there are wrong and should be overturned, and they're in response to politics in part, in part some strong emotions that are generated by people — some of whom are good people, but I just disagree with them when it comes to respecting the equal rights of all people regardless of sexual orientation, whether transgender or gay or lesbian," Obama said.
When Obama speaks about ethics and morality here's what I would ask. [Scroll down] President Obama may be the most pro-abortion president America has ever had. He has done little to reduce their number, which near 60 million in the U.S. since 1973. By what standard is his position "moral"? The president used to be against same-sex marriage, now he's for it. Was he moral when he opposed it, or is he moral now that he supports it? And what is his standard, because these positions are contradictory?
Rainbow Ray and the Navy's highest priority. The problem according to [Navy Secretary Ray] Mabus and his chief enlisted naval adviser is that, try as they might, their naval social justice retitling team can't seem to come up with a satisfactory gender-neutral replacement for the Navy's traditional title for a clerk, which, as it has been since the birth of the United States Navy, is yeoman. I kid you not, folks: with all the problems our military faces in this very dangerous world, our secretary of the Navy has his top chief petty officer, Master Chief of the Navy Michael D. Stevens, busy changing the titles of the countless combat specialty ratings in that force, which includes the United States Marine Corps. This quixotic quest is necessitated by the relentless insistence of the Obama administration that women be allowed to serve in all combat units and positions regardless of continuing demonstrations that this is a clearly foolish program with coming deadly consequences.
Official behind DOD's transgender push to resign. The Pentagon official who proposed including transgender individuals and women in the military announced Monday [3/14/2016] he will resign from his post next month. Brad Carson, the Defense Department's top civilian over personnel policies, will leave the Pentagon in April. Carson had served in that role since 2015 and had been charged with making controversial changes to military policies. He ran into other problems last month when the Senate Armed Services Committee ruled Carson had violated the federal Vacancies Act by taking on responsibilities of the job prior to his confirmation.
Calls Grow in Caribbean Nation for Gay U.S. Ambassador's Removal. A little over two years after Obama campaign bundler and LGBT advocate James "Wally" Brewster arrived in the Dominican Republic, accompanied by his spouse, Bob Satawake, to assume his duties as U.S. ambassador, calls are growing in the conservative country for his recall. Church leaders, politicians and education officials in the Caribbean island nation are clamoring for his removal, and a petition was lodged with the White House this week accusing him of promoting an "LGBT agenda inconsistent with the Christian cultural values and tradition of the Dominican Republic."
CIA Has Dedicated Program to Recruit Transgender Individuals. The Central Intelligence Agency three-year "Diversity and Inclusion Strategy" includes a dedicated program to recruit transgender individuals and agency-wide "unconscious bias" training. The plan, released by the CIA's Diversity and Inclusion Office last week, lays out several goals for "weaving diversity and inclusion throughout the talent cycle." One agency goal is "Becoming an Employer of Choice," and includes "dedicated programs" to recruit every demographic imaginable.
Obama praises Ellen DeGeneres for empowering gays. President Obama is crediting talk-show host Ellen DeGeneres with changing "hearts and minds" about gays. On her show airing Friday [2/12/2016], Ms. DeGeneres begins by thanking Mr. Obama "for what you have done for the gay community." The president said promoting gay rights "is one of the things I'm proudest of," and then praised his host. "Changing hearts and minds, I don't think anyone has been more influential than you," he told her. "You being willing to claim who you were, [it] suddenly empowers other people. The law has followed, but it started with folks like you."
Obama Whines About 'Inaccurate' Media Coverage Claiming Government 'Wildly Overspending'. Appearing on Friday's [2/12/2016] Ellen DeGeneres Show, President Obama lamented the "Twitter culture" in which people "expect quick answers without sacrifice" and complained about supposedly unfair media coverage: "The amount of stuff that is just put out there on the internet or on sometimes news broadcasts that are just factually inaccurate is surprising and it's really hard to catch up."
Feds Propose Removing 'He' and 'She' from Regulation to 'Avoid the Gender Binary'. The Department of Labor is seeking to remove the terms "he" and "she" from a regulation prohibiting discrimination in the workforce in an effort to "avoid the gender binary." The agency is also adding "sex stereotyping, transgender status, and gender identity" to the list of types of employment discrimination banned under the Workforce Innovation and Opportunity Act. If adopted, the regulation would cost job training centers millions of dollars to change their equal employment opportunity posters to include "gender identity."
The Editor says...
"The gender binary" hasn't really been a problem over the last several thousand years. That alone should tell you that the government is trying to fix something that isn't broken.
Why Obamacare Might Force Doctors to Perform Sex-Reassignment Surgeries. You've heard about the Obamacare Individual Mandate. That's the one that requires every person in America to get government-approved health insurance or face significant IRS penalties. You've heard about the Health and Human Services (HHS) contraception mandate. That's the one that requires private employers, including religious institutions like the Little Sisters of the Poor, to help provide insurance coverage for abortion-inducing drugs or face millions in IRS fines. Well, now Health and Human Services has a "Gender Identity Mandate" in the works. This one would require doctors and insurers to provide or cover "gender transition" treatments or face discrimination charges and loss of federal funds and Medicaid reimbursements.
Also posted under Obamacare is being used for more than insurance.
Obama Administration hides gay agenda in vandalism crime at Missouri Mosque. The DOJ misreported anti-Muslim graffiti on a Missouri Mosque by leaving out very important details that will change one's perspective on the crime. The DOJ reported it as an ordinary hate crime towards Muslims and the mean words spray painted on a mosque then seemed to be from a random "hater" of Islam and a senseless act. However, the vandalism was actually a pro-homosexual response to the way Muslims mistreat gays.
Obama: 'Bisexual Men and Women in Uniform Make Our Country Stronger'. President Barack Obama, who is vacationing in Hawaii, released a pre-Christmas statement yesterday [12/22/2015], celebrating the fifth anniversary of his having signed legislation that allows openly homosexual, lesbian and bisexual individuals to serve in the U.S. military. "Today, Americans can serve the country they love no matter who they love, and openly gay, lesbian and bisexual men and women in uniform make our military stronger and America safer," said the president.
State Department chides cardinal over gay slurs against US ambassador. The State Department weighed in Tuesday [12/22/2015] on an escalating war of words between the U.S. ambassador to the Dominican Republic and a cardinal who has leveled gay slurs against him — telling FoxNews.com the fight "does underscore" the importance of pushing human rights causes. U.S. Ambassador to the Dominican Republic James "Wally" Brewster, who is openly gay and married, has been mocked over his sexual orientation by Cardinal Archbishop Nicolas de Jesus Lopez Rodriguez for more than two years. It got so heated that earlier this month, Sen. Dick Durbin, D-Ill., sent a letter to Pope Francis asking him to intervene in the verbal attacks.
U.S. Support of Gay Rights in Africa May Have Done More Harm Than Good. Four years ago, the American government embarked on an ambitious campaign to expand civil rights for gay people overseas by marshaling its diplomats, directing its foreign aid and deploying President Obama to speak before hostile audiences. Since 2012, the American government has put more than $700 million into supporting gay rights groups and causes globally. More than half of that money has focused on sub-Saharan Africa — just one indication of this continent's importance to the new policy.
FDA eases restrictions on blood donations from gay men. Gay and bisexual men are now permitted to donate blood one year after their last sexual contact with a man, the federal government said Monday in its final recommendations to the blood-product industry. The one-year deferral policy — which mirrors several countries' policies on men who have sex with men (MSM) — was decided by health professionals who considered blood safety issues as part of their plan to lift a blanket ban on MSM blood donations that was put into place in 1985, the Food and Drug Administration said in a 27-page guidance document.
Feds Asking Gay Men to Post Selfies From the Gym to Promote Obamacare. The Department of Health and Human Services is partnering with an advocacy organization that is asking gay men to send selfies from the gym to promote Obamacare. The agency announced Tuesday [12/8/2015] it was joining with several lesbian, gay, bisexual, and transgender groups to encourage the LGBT community to enroll. "As part of LGBT Week of Action from Dec. 7-11, Out2Enroll and other organizations will hold enrollment activities and provide in-person assistance across the country," the department said. "Additionally, partners will leverage social media campaigns to ask their members and affiliates to sign up for an affordable health plan for 2016 through the Health Insurance Marketplace."
Obama's Favorite Moment of 2015 Was Party Outside Rainbow Lit White House. President Obama's favorite moment of 2015? Sitting in the rainbow lit White House while a crowd of people gathered outside to celebrate the legalization of gay marriage. "The gathering outside the White House following the Supreme Court ruling upholding the right of same sex couples to marry," he replied, when asked for his favorite moment of 2015 by People magazine. "Never thought I'd do that."
Cruz: Obama 'More Interested in Promoting Homosexuality in the Military Than He Is in Defeating Our Enemy'. Morale in the U.S. military has "plummeted" in recent years because President Barack Obama "doesn't support our soldiers," won't even name the enemy "radical Islamic terrorism," and is "more interested in promoting homosexuality in the military" than in "defeating our enemy," said Sen. Ted Cruz (R-Texas). During a conference call with Bishop E.W. Jackson of the National Emergency Coalition (NEC), Senator Cruz said, "You look at the military and one of the things we've seen is morale in the military under the Obama administration has plummeted, and it has plummeted because you have a commander-in-chief that doesn't support our soldiers and sailors and airmen and Marines."
Obama's Real Legacy: Ten Ticking Time Bombs. [#10] Conscience wars. The Left is following the inescapable logic of its fundamental rejection of human nature and common sense. With Mr. Obama's active support, our elites are now determined to make us all cooperate in same-sex "marriage," to accept a radical redefinition of gender, and to pay for other people's contraceptives and elective abortions. Freedom of speech, religious liberty, the rights of conscience, and even intelligible grammar and clear thought, must all be sacrificed to the gods of sexual liberation.
HUD's New Rule Requires Transgender Homeless to Be Housed at Shelters of Their Gender Identity. The Department of Housing and Urban Development (HUD) announced a new proposed rule Friday [11/20/2015] that amends its Equal Access Rule to require homeless shelter operators to place transgender people based on the gender with which they identify. "A person seeking shelter is already in a very vulnerable situation, and they deserve to be treated with dignity when they request our assistance," said HUD Secretary Julián Castro in a statement. "This rule takes us one step closer to full acceptance of transgender men and women, and will ensure they receive the proper services that respect their identity."
Smithsonian Adds Transgender 'Sex Worker' to Civil Rights Exhibit. The taxpayer-funded Smithsonian Institution's National Portrait Gallery has added a photo of a transgender sex worker to its "Struggle for Justice" civil rights exhibit. The photograph depicts Sylvia Rivera — described as having been a "trans woman sex worker" — along with her partner Julie Murray and activist Christina Hayworth. The photograph was taken at a rally prior to the 2000 Gay Pride Parade in New York City.
Ally of The Year: Obama Becomes First US President to Grace LGBT Magazine Cover. President Barack Obama became the first president photographed for the cover of an LGBT publication after being named OUT magazine's 2015 "Ally of the Year." In an interview with the magazine, Obama said he fights for the LGBT community because one of the driving forces behind his political ambitions "was to help deliver on our promise that we're all created equal, and that no one should be excluded from the American dream just because of who they are."
Obama Becomes First U.S. President To Pose For An LGBT Magazine Cover. President Obama appears on the latest issue of Out magazine, becoming the first sitting U.S. leader to be photographed for the cover of an LGBT title, the publication said.
Secret White House Gay Wedding Revealed. Before the White House was bathed in rainbow light to celebrate the Supreme Court's decision to legalize gay marriage nationwide, a secret gay wedding was conducted in the building by former Obama speechwriter Jon Lovett. Lovett, who worked for Obama during his first term, reveals that he used his White House privileges to sneak in a pair of gay men under the guise of giving them a tour, then performed a wedding ceremony in the Rose Garden without the knowledge of the president.
Obama speechwriter reveals secret same-sex marriage at White House. During a special presentation of the popular live storytelling podcast "The Moth Radio Hour" at this year's Aspen Ideas festival, former Obama speechwriter Jon Lovett shared a story about how, years before gay marriage would become legal nationwide, he secretly performed a same-sex marriage at the White House.
The Editor says...
If an unauthorized wedding ceremony takes place in the Rose Garden, and the President doesn't immediately fire everyone who allowed it to happen, then the President is complicit in the event.
Putin Warns Isis — Obama Warns School District about Girls Shower Room. The story is not complicated. One boy who thinks he is a girl wants to play on girls' teams, be allowed into the girls' locker rooms and shower with the girls, is not satisfied with the broad accommodations the school district has already made. Now liberalism's standard knight in shining armor (ACLU) has come to the boy's defense along with Barack Obama breathing out warnings that the school will lose its Title IX federal funding if it does not speedily comply. Since the boy has had no genital alterations, his male anatomy would have to be seen by any and all girls showering. Their discomfort and any other feelings that may conger will be ignored for the exception, and progressivism has once again proven that America is in the throes of collective reprobation.
Obama Insists High School Girls Stare at Naked Boy Who Thinks He's a Girl. [T]he federal government has now mandated that high school girls be forced to change and shower in their locker rooms next to mentally ill biological boys who think they're girls. On Monday, the federal government ruled that a Chicago high school could no longer merely allow a transgender girl [...] into the girls' locker room: they had to allow him to change, shower, and do all the other activities the girls do with the girls present.
The DOE is now in the High School Girl's Shower. The Civil Rights Division of the DoE declared a new cultural battleground when it sent a letter to Dr. Daniel Cates, Superintendent of the Township High School District 211, a school district near Palentine, Illinois, accusing the district violating anti-discrimination laws when it did not allow a transgender student who identifies as a girl to change and shower with the girls in the girls' locker room without restrictions. The DoE gave the district 30 days to accommodate the transgender student or lose its Title IX funding. The problem began when the transgender student's family filed a complaint with the U.S. Department of Education's Office of Civil Rights (OCR), because the student was not allowed to shower with the female students. The student filing the complaint is biologically male, but self-identifies as female. The school made arrangements to accommodate transgender students by providing separate, private facilities for the student to use to use. This was not satisfactory for this student.
'Gay' rape in military underreported by Pentagon. Far more military men are being raped by other men and experience other sexual traumas than is reported by the Pentagon because of the stigma attached to such assaults, says a new study released Tuesday [11/3/2015] by the American Psychological Association. "Rates of military sexual trauma among men who served in the military may be as much as 15 times higher than has been previously reported, largely because of barriers associated with stigma, beliefs in myths about male rape, and feelings of helplessness," the APA said in releasing findings published in its periodical Psychological Services.
Office of Civil Rights says disguised boy has right to shower with girls. The Department of Education's office of civil rights says that a disguised boy has been discriminated against because he is not allowed to shower naked with girls. [...] This is an enormous opening for Republicans. Who is waging the "war on women" now? It is radical Democrats pushing for girls to be exposed to naked men. Now Hillary Clinton has become a born-again transvestite supporter. Would it really be hard for a Republican in a debate to turn to her and say, "Mrs. Clinton, do you really want girls to be forced to expose themselves to boys in locker rooms?" It's indefensible.
Feds back transgender teenager in school restroom dispute. Schools can't prevent transgender students from using the restrooms that correspond with their gender identities without violating federal law, the Obama administration says.
Refugee Resettlement Fact Sheet. [Scroll down to #14] The Obama administration has placed a priority on LGBTQI asylum seekers and refugees. This has resulted in an upsurge of asylum requests on this basis — even from countries like England! Since the State Department does not keep data about numbers admitted by reason for admission, we can't obtain exact numbers of those admitted on the basis of LBGTQI persecution, but one private refugee agency has set up an office in Nairobi, Kenya to assist intending LBGTQI refugees. This office also advises about how to get into the refugee pipeline.
Obama's Purge. Obama's priority has been to replace warriors in front line combat units with Illegal Aliens who are not proficient in English, women, transgender individuals, felons with police records, and gay members who are being recruited into Obama's new "Politically Correct" US military. Obama has turned the US Armed Forces into the first major openly gay military force in the world, and last year 11,000 straight male members in the US Armed Forces were sexually assaulted by gays — driving the retention rate for straight males to new lows.
Obama: 'There is a Fundamental Decision We Have to Make as a Country in Terms of Our Values'. In an event held at a private home in Los Angeles on Saturday [10/10/2015], President Barack Obama said that America must make a "fundamental decision" about its values. The president went on to cite as an example of what he meant the Supreme Court's decision declaring same-sex marriage a "right" — which he described as "one of the proudest things that we've been able to achieve during the course of my presidency."
Obama Paints Border Patrol with Rainbow Colors. Border Patrol agents and others operating under the umbrella of Customs and Border Protection (CBP) must now consider not only the sex of the criminal they are detaining, but the "gender identity" of the individual and how they feel and identify. The terms "illegal alien" or even "illegal immigrant" do not appear at all in a new 31-page instruction document. The new rules were published by CBP and according to the agency, "includes language on gender identity, which was not previously included in the individual component policies. Specifically, whenever feasible, officers and agents who conduct a search or are present at a medical examination must be of the same gender, gender identity, or declared gender as the individual being searched."
The Editor says...
In other words, the Border Patrol will have to add plenty of transvestites to its staff to comply with this order.
Gay Gala Offers Pulpits for Two Favorites in Joe Biden and Hillary Clinton. As Joe Biden nears a decision on whether to seek the White House in 2016, gay rights advocates got a side-by-side look on Saturday of the would-be candidate and the front-runner in the Democratic race, Hillary Clinton. Biden delivered the keynote speech at the gala dinner in Washington for the Human Rights Campaign, a prominent LGBT civil rights and lobbying group.
Biden suggests GOP and other presidential candidates are 'homophobes'. Vice President Joe Biden, who is considering a 2016 presidential run, on Saturday pledged his full support for gay and transgender equality while suggesting Republican and other White House candidates are "homophobes." Speaking at the Human Rights Campaign's annual gala in Washington, Biden said gays and lesbians shouldn't fear Americans trying to undo gay marriage and other advances because the country has moved beyond homophobia. "There's homophobes still left," he continued to laughter and applause, in his keynote address. "Most of them are running for president, I think."
White House Promotes 'A Safe Place To Pee' For Transgender Community. The White House is reaching out to the transgender community for a list of things that its members want as they follow their lifestyle choices. The initiative was launched with the help of White House Chief Data Scientist DJ Patil, who expressed concern that there is very little data of what the transgender community needs from the government.
Obama Warns Christians: Gay Rights More Important Than Religious Freedom. As Pope Francis flew back to Rome, President Obama issued a stern warning to Christians, warning them their attempts to assert their religious liberty to oppose gay rights would fail. "We affirm that we cherish our religious freedom and are profoundly respectful of religious traditions," he insisted during a dramatic speech at a LGTB fundraiser in New York City on Sunday night [9/25/2015], praising the progress made on gay rights under his administration. "But we also have to say clearly that our religious freedom doesn't grant us the freedom to deny our fellow Americans their constitutional rights."
Obama: 'Gay' Trumps Religion in the Constitution. President Obama, who has been trying to reframe the Constitution's protection of religious rights to the narrower "freedom to worship" rather than "freedom of religion" went a step further over the weekend in an address to a homosexual festival. He said at the Democratic National Committee's LGBT Gala in New York that the Constitution's protections for "gay" rights trump the protection for religious rights. "We affirm that we cherish our religious freedom and are profoundly respectful of religious traditions," he said. 'But we also have to say clearly that our religious freedom doesn't grant us the freedom to deny our fellow Americans their constitutional rights."
Obama: Religious freedom no excuse to deny rights to others. Freedom of religion isn't reason enough to deny any American their constitutional rights, President Barack Obama said Sunday [9/27/2015] as he addressed members of the LGBT community, one of his major sources of political and financial support.
Obama Administration Enables 'Boy Play'. Here's what America's newly homosexualized, "values neutral" military looks like. Last week, in a strange fit of actual news reporting, the New York Times published an exposé revealing that, under this Obama administration, the Department of Defense is not only permitting the homosexual abuse of little boys at the hands of Muslim allies in Afghanistan, but is effectively facilitating it. A handful of U.S. servicemen have had enough and are courageously blowing the whistle on this unimaginably evil policy. Naturally, they're being punished and drummed out of the service for doing so.
Barack Obama is a Moral Coward and Fluffer of Totalitarians. President Obama has decided to greet Pope Francis with transgendered activists, the first gay Episcopal Bishop who is now already divorced, and activist Catholic nuns. The Vatican is not happy about it and is pushing back.
US government says it will now use the term 'sexual rights'. The statement at a U.N. meeting this week comes after years of lobbying from groups who have argued that the U.S. should show global leadership on the rights of people of all gender identities and sexual orientations.
Obama to nominate first openly gay service secretary to lead the Army. President Obama, in a historic first for the Pentagon, has chosen to nominate Eric Fanning to lead the Army, a move that would make him the first openly gay civilian secretary of one of the military services. Fanning, 47, has been a specialist on national security issues for more than two decades and has played a key role overseeing some of the Pentagon's biggest shipbuilding and fighter jet programs. Now he will oversee an Army that has been battered by the longest stretch of continuous combat in U.S. history and is facing potentially severe budget cuts.
Obama nominates first openly gay military service chief. President Barack Obama is nominating longtime Pentagon official Eric Fanning to be the Army's new secretary. If confirmed, Fanning, a civilian, would be the nation's first openly gay leader of a military service. The nomination comes at a time when the Obama administration is working to eliminate barriers to military service based on sexuality or gender. The "don't ask, don't tell" policy that allowed homosexuals to serve in the military as long as they hid their sexuality was officially repealed during Obama's first term. Gays are now allowed to openly serve.
Obama's Tasteless Welcome of Pope Francis. [T]he way this White House is choosing to "welcome" Pope Francis is appalling. When Francis arrives at the White House on Wednesday [9/23/2015] for a welcome reception, his greeters will include "Episcopal Bishop Gene Robinson, the first openly gay Anglican bishop who's now a senior fellow at the Center for American Progress, a think-tank with ties to the Democratic Party, and Sister Simone Campbell, executive director of the Catholic social justice lobby Network, and a leader of the 'Nuns on the Bus' advocacy tours," reports the Associated Press.
Obama To Nominate Eric Fanning For Army Secretary: Would Be First Openly Gay Man To Serve. President Barack Obama is nominating longtime Pentagon official Eric Fanning to be the Army's new secretary. If confirmed, Fanning would be the nation's first openly gay leader of a military service.
Gays, Transgenders, 'Nun on the Bus' Invited to White House Pope Francis Reception. Guests at the White House reception for Pope Francis on September 23 will include several gay and transgender persons, a controversial nun, a radical preacher and a gay Episcopal bishop. Several of the invitations to the event, which is part of the pope's three-city tour of America September 22-27, were offered by Vivian Taylor. Taylor, 30, considers himself transgender, which means he identifies as a sex different from his biology. Taylor has male anatomy but dresses and presents himself as female.
'You Can Be Catholic and Be Gay' — Gay Blogger Invited to White House to Meet President, Pope. A gay Catholic man has been invited to the White House to meet with President Obama and Pope Francis. Aaron Ledesma, 23, writes a blog called "The Gay Catholic." In early August he was looking for topic to cover when he read that Pope Francis was coming to America September 23-27 for a three-city tour — and that one of the stops would be in Washington, D.C., not far from Ledesma's home in Richmond. Ledesma contacted the White House via an online form, discussing his experience as a Catholic who is also homosexual.
Obama to attend Democratic Party's LGBT event. President Obama will attend the Democratic National Committee's attend its LGBT gala next month in New York City, the DNC has announced. DNC CEO Amy Dacey told supporters in an email that soccer star Abby Wambach actor George Takei of "Star Trek" fame are also scheduled to attend.
Pentagon Considers Offering Leaves of Absence to Transgender Troops Undergoing Surgery. The Pentagon is preparing to end the ban on transgender troops in the military by May 27 of next year, according to a memo sent to top military personnel and medical officials last week. The Aug. 19 document, which maps out a timeline of the end to the policy, also indicates that the military is considering implementing a pilot program that would grant leaves of absence to transgender soldiers undergoing surgery or treatment with hormones.
Pro-Obama group's Twitter account @barackobama follows purported prostitution promoter Rentboy.com on social media. The Twitter account @barackobama, which is run by staff of the pro-Obama group Organizing for Action, had been following the account for an alleged online brothel busted Tuesday [8/25/2015] by the feds for promoting male prostitution. Rentboy.com, which gets its name from the slang term for a male prostitute, counts @barackobama as one of its more than 20,000 Twitter followers. Federal agents raided the Manhattan offices of Rentboy.com and arrested CEO Jeffrey Hurant and six employees.
Samantha Power: U.S. Injecting LGBT Rights 'Into the DNA of the United Nations'. The United Nations Security Council on Monday [8/24/2015] held its first-ever meeting on the persecution of homosexuals by Islamic State terrorists — the same terrorists who are slaughtering Christians and forcing women and young girls into sexual slavery. But Monday's focus was all on LGBT "rights and issues."
U.S. pushes for world outrage at ISIS targeting gays. Top representatives from the United States and Chile hosted a United Nation's Security Council briefing Monday [8/24/2015] on the plight gays face from Islamic State fighters in hopes of generating world outrage at the LGBT persecution. It was the first-ever security council meeting on gay rights and included testimony from those targeted by ISIS. It was hosted by U.S. Ambassador Samantha Power and Chile's U.N. Ambassador Cristian Barros Melet.
First Openly Transgender Official Hired at White House. The White House announced Raffi Freedman-Gurspan's appointment on Tuesday. Freedman-Gurspan is an outreach and recruitment director for presidential personnel in the Office of Personnel.
Obama Makes Political Statement, Hires Transgender Staffer. Representative of America? Not a chance. But I definitely agree this reflects the values of the Barack Obama Administration and Valerie Jarrett. You betcha. The White House has hired Raffi Freedman-Gurspa (formerly known as Rafael) as the Outreach and Recruitment Director for Presidential Personnel. Looks like they have one token person from every uber-minority out there — they're collecting the whole set... everyone but Christians that is.
Transgender Regret Is Real Even If The Media Tell You Otherwise. The Washington Post reported Tuesday [8/18/2015] that the White House has appointed its first openly transgender staff member. Raffi Freedman-Gurspan has been hired as an outreach and recruitment director for presidential personnel in the White House Office of Presidential Personnel. I do not know how this will work out for the White House but everyone needs to know the truth about regret, suicides and untreated mental illness among the transgender population.
Taxpayer money being used to teach 'transgendered' men to talk like girls. The University of Connecticut, which received state and federal funding, has a program to teach men who want to be pretend to be women how to talk like girls (and vice versa, of course — no discrimination there!). You would think this would be something easily accomplished without classes, but I guess, like thespians, they want to learn from professionals.
The Failed Missionary. President Obama's loud support for multiculturalism and his condemnation of Western colonialism have never stopped him from seeking to spread liberal ideology in foreign lands. [...] Obama sees African nations as easier to push around than Islamic ones. He has created a position at the State Department for a roving gay activist, called the nation's "first special envoy for the human rights of L.G.B.T. persons," to meddle abroad. Obama has dispatched that envoy to Africa but he wouldn't dare send him to an Islamic conference, say, in Riyadh.
Obama Admonishes Africa on Homosexuality. "Son of Kenya," Barack Obama, proved once again that his patience with people, nations, and world leaders that disagree with his view of the world registers a big fat zero on the liberal Tolerance Meter. When Obama finds out anyone (other than a Muslim) disagrees with his social policy focus, it becomes his personal mission to convince them otherwise. And if the mere awesomeness of his presence fails to change minds, Obama will attempt to humiliate his ideological adversaries into submission by getting in their face. For example, after Barack 'LGBTQ' Obama was specifically asked by the Evangelical Alliance of Kenya to leave his gay pride light show back at the White House, true to form, the self-important agitator disrespected his hosts and brought up the touchy subject of gay rights in Kenya, where homosexuality is illegal.
Obama chides Kenya on gay rights, ready for closer security work. President Barack Obama told Kenya on Saturday the United States was ready to work more closely in the battle against Somalia's Islamist group al Shabaab, but chided his host on gay rights and said no African state should discriminate over sexuality.
Tolerance is one thing, but Obama is actively advocating homosexuality.
Obama Pushes African Nations to Treat Gays Equally Under Law. [Scroll down] Obama did little to paper over policy differences with Kenya's government, most notably on gay rights.
Barack the Garrulous. [Scroll down] Barack the Garrulous became the first president to utter the words "lesbian," "bisexual," and "transgender" in his State of the Union speech. He was quite proud of this heroic first. Now the country is alive with transgendered activists. One, Jennicet Gutiérrez, recently disrupted him during a speech in the White House and, by the way, Gutiérrez is another illegal immigrant. But her outburst only came after Barack the Garrulous tweeted the transgendered Caitlyn Jenner, "It takes courage to share your story."
EEOC Stretches the Ban on 'Sex Discrimination' to Cover LGBT Employees. The Equal Employment Opportunity Commission enforces federal laws that make it illegal to discriminate against a job applicant or an employee because of the person's race, color, religion, sex, national origin, age, disability or genetic information. Despite pressure from activists, Congress has not passed the Employment Non-Discrimination Act — a bill that would explicitly outlaw discrimination against LGBT people, but never mind.
Huge Media Cover-Up of Criminal Charges Against Obama Bundler, Gay Leader. Last November, Terrence Bean was taken into custody in Portland, Oregon following an indictment by a jury that charged him with multiple sex crimes against minors. Now additional child sexual abuse charges have been made against him. Why isn't the media covering this? Because he's a prominent gay leader, that's why. Bean is the co-founder of the Human Rights Campaign (HRC), the most influential gay group in the nation; he is also a big donor to President Obama and even flew on Air Force One with him. The Associated Press (AP) chose not to cover the latest allegations, but not because it has no interest in new charges against alleged sex offenders: it does if the accused is a priest.
Christians Must Brace Themselves for the Coming Persecution in Obama's LGBT America. America in 2015 has officially become a post-Christian society, led by the treasonous activities of our post-American president, Barack Hussein Obama. The massive paradigm shift towards the full-throated embrace of same-sex culture will be the main legacy that Obama will leave behind. That is if he actually ever leaves the White House. Obama ran for president on the platform of being a "committed Christian", but obviously, he is nothing of the kind. He has completely fulfilled his promise to "fundamentally transform America", and Christians are now in the cross-hairs of the coming persecution.
Pentagon Readying Plan to Lift Transgender Ban. The Pentagon's current regulations banning transgender individuals from serving in the military are outdated, Defense Secretary Ash Carter said Monday, ordering a six-month study aimed at formally ending one of the last gender- or sexuality-based barriers to military service.
Loretta Lynch: Same-sex couples to get federal marriage benefits. Federal marriage benefits will soon be available to same-sex couples nationwide, according to Attorney General Loretta Lynch. "I directed Justice Department staff to work with the agencies to ensure that the ruling be given full effect across the federal government," including Social Security and veterans benefits programs, Lynch said in a statement Thursday [7/9/2015]. "[W]e have now taken the further step of ensuring that all federal benefits will be available equally to married couples in all 50 states, the District of Columbia and the U.S. territories."
'We Owe You': Joe Biden Celebrates Same-Sex Marriage, Says More to Be Done. Biden spoke at an event in Manhattan hosted by Freedom to Marry, a New York-based organization. He praised the Supreme Court's recent ruling that same-sex couples have a right to marry anywhere in the United States, and said federal officials will continue to fight for the rights of the lesbian, gay, bisexual and transgender community.
Rev. Graham on Obama's Embrace of Gay Marriage: 'He Might Want Extra Lightning Rods Installed' on White House. President Barack Obama's enthusiasm for homosexual marriage, to the point that he lit up the White House with gay rainbow lights to celebrate, reveals his arrogant flaunting of "sinful behavior" in the face of God, said Rev. Franklin Graham, who added that Obama thus might want to consider having "some extra lightning rods installed on the roof of the White House." [...] "A lot has changed in three short years!" said Rev. Graham in a July 7 post on Facebook. "Just three years ago, the President was on record as holding to the biblical definition of marriage."
What Obama Has Taught Us. He twice ran for president expressing opposition to gay marriage while emphasizing the religious element of holy matrimony, which, he argued, precluded same-sex marriages. Is he delighted that the Court ignored his prior views?
Kenya believe it?
Kenyan Leader: If Obama Brings 'Gay Agenda, We Will Tell Him to Shut Up and Go Home'. When he visits his father's homeland in Africa later this month, President Obama is expected to run into vocal opposition over his administration's high-profile promotion of lesbian, gay, bisexual and transgender (LGBT) issues. Obama's trip to Kenya, his first as president, is scheduled to take place four weeks after the White House was bathed in rainbow colors to mark the U.S. Supreme Court ruling declaring that same-sex marriage is a right. At a small pro-family demonstration at the parliament in Nairobi Monday [7/6/2015], organized by the Evangelical Alliance of Kenya, participants called on the American president not to raise the subject during his visit.
Kenya protesters warn Obama not to bring up gay rights in visit. Kenyan anti-gay protesters marched in Nairobi Monday [7/6/2015] warning US President Barack Obama not to speak about gay rights when he visits the country of his ancestors later this month. [...] "It is important for us as Kenyans to know that the US is not God, and thus we cannot follow them blindly," said protest organiser and evangelical Christian pastor Bishop Mark Kariuki.
O the Graceless. In 2008, Barack Obama was touted for, among other things, his great healing properties: He was going to heal our divisions, making us not the red states and the blue states but the United States. Awww. In reality, he is one of the most divisive leaders we have ever had. I think of a slogan he used in an ad in the last presidential election: "Mitt Romney. Not one of us." And I think of how he spiked the football after the Supreme Court's gay-marriage decree: He bathed the White House in rainbow colors. To much of America, that was a middle finger in the face. And isn't the White House supposed to belong to all of us, sort of? Has the building ever been used in this fashion before?
U.S. Air Force allows rainbow-striped U.S. flag at Arizona base. Officials at Davis Monthan Air Force Base in Tuscon, Arizona, are allowing a rainbow-striped American flag to remain flying at someone's home after an airman complained it violated Title 4 of the U.S. Code. Writing for The Blaze, former Senior Airman Brian Kolfage said he was driving through the base when he saw an American flag with rainbow stripes instead of red and white stripes flying high on a two-story house. Mr. Kolfage argued that the flag violates a section of Title 4 that states the American flag "shall be thirteen horizontal stripes, alternate red and white; and the union of the flag shall be forty-eight stars, white in a blue field."
Obama: Rainbow-Lighted White House 'A Moment Worth Savoring. The White House was illuminated with the colors of the rainbow in celebration of the Supreme Court decision imposing, by judicial fiat, same-sex marriage on all 50 states. The nation is deeply divided on both the ruling and the issue itself, and while some happy Americans basked in the glow of the rainbow illumination, others were offended by what was perceived as a divisive and in-your-face move at the "people's house."
Homeland Security: Give Transgender Illegal Alien Detainees Their Choice of 'Undergarments'. After six months of study, the U.S. Immigration and Customs Enforcement agency, a division of the Department of Homeland Security, has issued new guidelines on how to care for transgender illegal aliens who end up in detention facilities, awaiting possible deportation. The goal of the Transgender Care Memorandum is to provide a "respectful, safe and secure environment for all detainees, including those individuals who identify as transgender."
Transgender immigrant detainees to be housed according to preferred gender. In new guidelines Monday [6/29/2015], Immigration and Customs Enforcement said staff will be trained for sensitivity on the treatment of transgender immigrants, including directions on obtaining detainees' preference on which pronouns to use, what clothing to provide, and where to house them. "ICE will allow for the placement of a transgender woman consistent with their gender identity, meaning that a transgender woman could be with biological females," said Andrew Lorenzen-Strait, ICE's deputy assistant director of custody programs.
Valerie Jarrett Organized White House Rainbow Lights. White House Senior Advisor Valerie Jarrett was one of the mobilizing forces behind the decision to light up the White House with the colors of the gay pride movement to celebrate the Supreme Court ruling on same-sex marriage. According to the Washington Post, Jarrett worked with gay rights organizations to pay for the display to avoid using taxpayer money. The idea came from one of Jarrett's aides who was also the LGBT liaison in the White House.
More about Valerie Jarrett.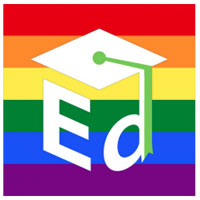 U.S. Dept. of Education Celebrates Same-Sex Marriage Decision With Rainbow on Facebook. On Friday [6/26/2015], just two hours after the U.S. Supreme Court issued its 5-4 ruling giving homosexuals the "right" to marriage, the Department of Education posted an altered image of its logo that included a rainbow — a symbol that has become synonymous with the gay rights movement. The Facebook message says: "U.S. Department of Education changed their profile picture," without any additional remarks. The profile photo has since been changed back to the blue, white and green logo.
The icing on Obama's same sex wedding cake is already melting. It isn't matrimony-bound gay couples belting out 'Get Me to the Church on Time', but only Obama and the black robes. Like most folk in the current jobless economy, they're more likely humming the song that laments how the rich are getting richer and the poor getting poorer. The world didn't stop in its tracks after June 26 'Gay Day' came to pass even though that's what the Obama-led progressives so badly wanted. That's because the world doesn't stop in its tracks all because Obama needs it to happen to fulfill his absurd and over-rated fundamental transformation of the West. So what was with the flooding the White House with gay rainbow flag colours on Friday?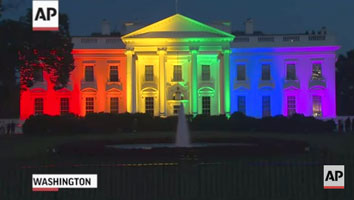 White House lights up rainbow colors to celebrate SCOTUS ruling. The White House on Friday night [6/26/2015] is splashed with rainbow-colored lights to celebrate a Supreme Court ruling that legalized same-sex marriage around the country. The light display capped a day of jubilation over the decision at the executive mansion.
Remember When Barack Obama Assured Rick Warren He did Not Support Gay Marriage? — 8/20/2008. The Liar-in-Chief was always planning to push Gay Marriage on the nation. He just lied about it in 2008 to get himself elected. His "belief" that Marriage is "between a man and a woman" was not much of a conviction. He's a total charlatan. [Video clip]
The Supreme Court Has Ruled. Principled People Will Not Obey. Following the Supreme Court's illegal, immoral, and incredible "gay" rights decision, the White House (owned by the American people, not the President) was flooded with rainbow-color lights in celebration of that disgusting, dangerous, and decadent decision. Such impudence and defiance was an insult to America and a goading of God.
Meaning of 'one nation under God' died with decision. [God is] good to have on your side in an argument, as President Obama demonstrated yesterday in South Carolina, trolling for easy applause by telling the congregation at Pastor Clementa Pinckney's funeral that the Confederate flag must come down. "By taking down that flag," he declared, "we express God's grace." Really? Don't we do the same thing by honoring what He ordained a marriage to be, a union of one man and one woman in which "the two become as one"?
Obama Tweets #LoveWins After Supreme Court Redefines Marriage. President Obama reacted quickly to the Supreme Court decision to redefine marriage today [6/26/2015], sending out a message on Twitter. "Today is a big step in our march toward equality. Gay and lesbian couples now have the right to marry, just like anyone else," he wrote on his Twitter account. He signed his message with the hashtag "#LoveWins."
Obama: Ditch Religious Convictions About Same-Sex Marriage Already. President Barack Obama urged supporters of same-sex marriage Friday [6/26/2015] to "help" people to overcome their religious convictions, so they are no longer held back from a progressive American view of equality.
Obama hails gay-marriage ruling as a 'victory for America'. President Obama, who opposed same-sex marriage until three years ago, hailed the Supreme Court's ruling to legalize gay marriage Friday [6/26/2015] as "a victory for America." "When all Americans are treated as equal, we are all more free," Mr. Obama said in the White House Rose Garden. "This ruling will strengthen all our communities. America should be very proud." He called the decision "a victory for gay and lesbian couples who have fought so long for their basic civil rights."
Obama shuts down White House heckler: 'You're in my house!'. President Barack Obama is used to hecklers stopping him during speeches — but he draws the line when the audience interrupts him in his own house. As Obama was speaking at a White House event honoring LGBT Pride Month on Wednesday [6/24/2015], an accented voice rang out from the crowd. Obama wasn't amused. "Shame on you," he told his heckler, who was protesting deportations under the Obama administration. Obama responded, "Listen you're in my house ... it's not respectful."
'You're in My House!': Obama Kicks Trans Woman Activist Out of LGBT Event. President Barack Obama was delivering remarks at an LGBT Pride Month reception at the White House Wednesday afternoon [6/24/2015] when a transgender woman interrupted him, shouting "President Obama, release all LGBTQ immigrants from detention!" Judging by the cell phone video of the confrontation that was quickly uploaded to YouTube, the woman is connected to the Not One More Deportation movement. "You're in my house," Obama said in response as the crowd tried to shush the activist.
The Editor says...
Throw the heckler out, by all means. But perhaps Mr. Obama should be more careful about the company he keeps.
Obamacare Guidelines: Insurance Must Cover 'Mammogram or Pap Smear for a Transgender Man'. The Department of Health and Human Services' most recent guidelines explaining the "preventive services" mandate under the Patient Protection and Affordable Care Act — or Obamacare — says health insurance plans must provide co-pay-free pap smears and mammograms to "transgender men." As defined by the federal Office of Personnel Management: "a person assigned the female sex at birth but who identifies as male is a transgender man."
The Editor says...
A person's sex is "assigned" at conception, not at birth. It is observed and recorded at birth, but not assigned.
Obama, Biden Hosting LGBT 'Pride' Reception at White House Today. President Obama and Vice President Joe Biden will host an LGBT "Pride" reception at the White House Wednesday evening [6/24/2015]. On Tuesday, a reporter noted that "at least two transgender service members" will be there, and he asked White House spokesman Josh Earnest if Obama will use the occasion to call for an end to the U.S. military's ban on transgenders. "I wouldn't anticipate an announcement like that tomorrow," Earnest said.
Green Policies Kill Military Readiness and Vets. We reported recently that the Obama administration didn't have time to develop a strategy to fight against global Islamic terrorism because it was too busy putting homosexuals into the Armed Forces and celebrating gay pride.
America's Openly Gay Ambassadors Boast: ObamaTrade 'Will Export' LGBT Agenda. The nation's openly gay ambassadors and a State Department envoy say President Obama's proposed trade agreements "will export our values of equality and tolerance," and "promote greater justice beyond our borders." In an op-ed at The Advocate.com, which also ran at White House.gov, the eight openly gay U.S. representatives abroad say "trade policy" is one of the "most promising tools" to advance the meme that the LGBT agenda is the agenda that expresses America's "values."
Navy weighs rule change for transgender sailors. The Navy is considering policy changes for how it deals with transgender sailors, following similar changes underway in the Air Force and Army. The Navy's modified policy will likely include elevating any potential dismissal of a sailor to at least the Office of the Assistant Secretary of Manpower and Reserve Affairs, according to a Navy official who requested anonymity. The Defense Department's current policy prevents all transgender service members from openly serving, but in recent months both the Army and the Air Force have announced policy modifications that require each individual case be provided a high-level review. On Thursday [6/11/2015], the Navy indicated it is following suit.
Why does the State Department have a "movie night?"
Movie Night at the State Dep't: 'Matt Shepard Is a Friend of Mine'. June 12 is movie night at the U.S. State Department, where the push for global homosexual "rights" has never been stronger. In conjunction with the Council for Global Equality, the Obama State Department plans to screen the award-winning documentary, "Matt Shepard Is a Friend of Mine." "This film powerfully shares the story of University of Wyoming student, Matthew Shepard, who was beaten and killed for being gay," the State Department announced. (Since Shepard's murder in 1998, questions have surfaced about the motive, with some suggesting the crime was driven by drugs and money, not Shepard's sexual orientation. [...])
7 Homosexual U.S. Ambassadors: Trade Deals Should Advance LGBTI Rights. International free-trade agreements like those being negotiated with countries in the Pacific and Europe should help to export American values such as human rights, including for lesbian, gay, bisexual, transgender and intersex (LGBTI) people, according to seven openly homosexual U.S. ambassadors. The seven, joined by the State Department's first "special envoy for LGBTI persons," Randy Berry, signed a joint letter published Tuesday [6/9/2015] in the national gay and lesbian news magazine The Advocate, and re-posted by the White House.
Leading docs group supports transgender in military. A leading group of U.S. doctors passed a resolution Monday [6/8/2015] saying there's no medically valid reason to exclude transgender individuals from the military. The resolution, approved unanimously by the American Medical Association's policy-making House of Delegates, calls the military's current rules about transgender service members "out of date" and says transgender men and women are fit to serve in high-stress environments just as any other qualified members are.
Why is there a "gay pride" event at the Pentagon?
Army Gen. Randy Taylor introduces his husband at Pentagon Gay Pride event. A married Army general on Tuesday [6/9/2015] introduced his spouse at a Pentagon event that featured lots of top brass, including Defense Secretary Ashton Carter as the keynote speaker. What made this seemingly routine introduction noteworthy is that Brig. Gen. Randy S. Taylor introduced his husband, Lucas.
Pentagon adds sexual orientation to employee protection rules. Defense Secretary Ashton Carter announced Tuesday [6/9/2015] that the Pentagon is now including sexual orientation in its anti-discrimination policy. Carter made the announcement, which affects the department's Military Equal Opportunity policy, during the LGBT Pride Month ceremony at the Pentagon.
Bruce "Caitlyn" Jenner can use the ladies' room. It's official — Caitlyn Jenner can now use the ladies' room. The US Department of Labor has issued guidelines to private businesses that say transgender employees should be allowed to decide for themselves whether to use the men's or ladies' room. "The core belief underlying these policies is that all employees should be permitted to use the facilities that correspond with their gender identity," according to OSHA guidelines released by the Occupational Safety and Health Administration of the Labor Department.
Media Dimwits Celebrate "Courage" of Caitlyn Jenner While Ignoring True Hero Chris Kyle. BizPac Review noted how quickly and for what reason President Obama sprung into action after [Bruce Jenner's Vanity Fair] cover: "It takes courage to share your story," the president tweeted in response to Jenner, who broke the president's record for fastest new Twitter account to reach 1 million followers. Never on to miss an opportunity to push the progressive agenda, Obama tweeted three minutes later, asking other lesbians, gays, bisexuals and transgenders people to tell their tale (because they're not in the news enough these days).
Barack Obama makes heroine of drag queen. One thing that's great about America is that regardless of what your opinion is, you're free to express it. That is what LGBT advocate Barack Obama did when he tweeted kudos to Bruce/Caitlyn Jenner for dressing in drag and posing proudly on the cover of Vanity Fair. Judging from the media circus surrounding the former Olympic champion-turned-reality TV star, even a wrongful death suit pales in comparison to what Obama feels is the remarkable valor of a clearly troubled grandfather of five leaving as his legacy a picture of himself dressed like he's auditioning for a role in La Cage Aux Folles.
Breaking: Obama to Force Faith-Based Grant Recipients to Hire LGBTs. The Obama Administration is poised to require faith-based recipients of federal grants to accept applications from LGBT individuals, according to a report published today by the Center for Family and Human Rights (C-Fam). By executive order last summer, President Obama amended the Johnson-era federal order on non-discrimination in hiring by federal contractors to include non-discrimination based on "sexual orientation and gender identity." That order has roiled faith-based groups. A confidential source tells C-Fam that the White House has directed federal agencies to include "sexual orientation and gender identity" as protected classes in all grant agreements.
Joe Biden Celebrates Gay Marriage Victory In Ireland. In an op-ed for The Advocate, Vice President Joe Biden is praising Ireland for voting to recognize gay marriage, and encouraged the United States to do the same. "In 22 years, Ireland has gone from a nation where simply being LGBT was against the law to a nation where the people resoundingly stand for equal rights," he said glowingly.
Obama: LGBT rights are human rights. A full month ahead of what the White House has declared LGBT Pride Month, President Obama and the first lady are honoring the International Day Against Homophobia and Transphobia (IDAHOT) — May 17 — by saying LGBT rights are "human rights" and that "all people deserve to live free from fear, violence, and discrimination, regardless of who they are or whom they love." In a statement released by the White House, Obama addressed workplace discrimination for LGBT employees and the rights of transgender individuals, and he also acknowledged the importance of LGBT rights overseas.
AG Vows to Advance Obama's Push to End 'Zero Tolerance' School Discipline Policies. Attorney General Loretta Lynch vowed on Tuesday [5/12/2015] to continue the Obama administration's push for public schools to abandon their "zero tolerance" discipline policy, because critics claim it is aimed disproportionately at minority students and other "at risk" youth, including migrants and LGBT students.

Feds Recommend New Rules To Ease Blood Ban For Gay Men. The Food and Drug Administration released draft guidance Tuesday that recommends reforming a three-decade-old rule that bans blood donations from men who have had sex with another man. [...] U.S. Senator Tammy Baldwin of Wisconsin hailed the proposal as progress, but said in a statement to BuzzFeed News that "it doesn't go far enough."


Obama Warns Parents: Your Kids Are Mine. President Barack Obama has issued a declaration on human sexuality and what constitutes moral and mental health for the nation. He is warning Christian parents that the federal government wants their kids. This is not how the story is being reported, however. For example, a story in Politico carries the headline, "Barack Obama denounces 'conversion therapies' for gays," with the words "conversion therapies" in quotes, as if to suggest there's some doubt that homosexuals can return to being straight. This is all too typical of the mentality that grips the major media and is designed to suggest that homosexuality is somehow natural and cannot be changed. But honest journalism, which is virtually non-existent when covering homosexuality, would take a different approach to the topic.

Obama to Call for End to 'Conversion' Therapies for Gay and Transgender Youth. A 17-year-old transgender youth, Leelah Alcorn, stunned her friends and a vast Internet audience in December when she threw herself in front of a tractor-trailer after writing in an online suicide note that religious therapists had tried to convert her back to being a boy. In response, President Obama is calling for an end to such therapies aimed at "repairing" gay, lesbian and transgender youth. His decision on the issue is the latest example of his continuing embrace of gay rights.

The Tough Questions Hillary Faces As Candidate. Today both Obama and Clinton support same-sex marriage, both acknowledging that their views have "evolved" over the years. Obama's public positions certainly "evolved." In 1996, as a state Senate candidate in Illinois, he filled out a questionnaire saying he was for it. As a U.S. Senate candidate in 2004, he was against it. In 2008, as a candidate for president, he was not only against it, but told interviewer Rick Warren on national television, "I believe that marriage is the union between a man and a woman. Now, for me as a Christian, it's also a sacred union. God's in the mix." Yet, by 2012, when he sought re-election as president, he was for it, again. Last year he decided it was a constitutional right for same-sex marriages to be recognized in all states. One of his closest presidential campaign advisers in 2008, David Axelrod, wrote in his book "Believer: My Forty Years in Politics," that Obama was deceiving the public about his true position from 2004 through 2012.

White House opens first gender-neutral bathroom. The Obama administration announced Wednesday [4/8/2015] that it had opened a gender-neutral bathroom for staff and visitors within the White House complex. The newly designated restroom will be located in the Eisenhower Executive Office Building, where much of the White House staff works, Politico reported. The restroom is the latest in a series of symbolic steps the president has taken to protect the rights of LGBT individuals, following an executive order that bans discrimination against LGBT employees of companies that contract with the federal government, Politico reported.

Joe Biden to Address Secretive Network of Gay Donors. Biden famously blurted out his support for gay marriage during an appearance on "Meet the Press" in May 2012, knocking down an important barrier — only it wasn't supposed to be his to knock down. President Obama was preparing to announce his own "evolution" on marriage, before Biden stole his thunder. The White House scrambled to arrange the Obamas' televised announcement on ABC four days later. Biden later apologized to the president. Yet even so, Biden has attained rock-star status in the gay political community.

Justice Department Sues University Over Alleged Anti-Transgender Discrimination. The Justice Department on Monday filed a lawsuit against Southeastern Oklahoma State University, alleging that the school discriminated against a transgender professor in violation of the Civil Rights Act of 1964. The case is the first time the Justice Department sued an entity alleging that the sex discrimination ban in Title VII of the historic civil rights legislation protects transgender people from discrimination.

White House slams Indiana religious freedom law. The White House on Friday [3/27/2015] panned a bill signed into law by Republican Indiana Gov. Mike Pence that would allow businesses to refuse service to gay and lesbian customers on religious grounds. Obama spokesman Josh Earnest pointed to a number of businesses that have threatened to boycott Indiana in the wake of the bill signing. "I think that is a testament to the kind of reaction a lot of people across the country have, which is this certainly doesn't seem like it's a step in the direction of equality and justice and liberty for all Americans," Earnest said.

White House hits Indiana's religious freedom law amid criticism of Obama hypocrisy. White House spokesman Josh Earnest took aim Sunday at Indiana's newly signed religious-freedom law, saying it appears to "legitimize discrimination," even as critics said that President Obama voted in favor of a similar law as an Illinois state senator. "When you have a law like this one in Indiana that seems to legitimize discrimination, it's important for everybody to stand up and speak out," said Mr. Earnest on ABC's "This Week with George Stephanopoulos."

Time for the Obamadorian Reaction. Unlike many, I do not think President Obama is a secret member of the Muslim Brotherhood. Nor do I think he has sympathies for radical Islam. His gay friendly endeavors run counter to sharia. Rather, I think President Obama is a benighted leftist who actually thinks that, if given a free chance, everyone everywhere would choose a gay friendly, animal loving, socialist world view that by means of democracy would lead the whole planet to a palm fronded halcyon multicultural eco-friendly paradise. To put it bluntly, Obama is probably a true believer. A true believer in Christ ... certainly not! In Allah ... probably not! Or he would not have tried to ram gay friendly practices on African Nations.

Navy bans chaplain from ministering to family of dead sailor. Chaplain [Wes] Modder is facing the end of a stellar, 19-year-career in the Navy because he expressed his faith-based views on marriage and human sexuality during private counseling sessions with sailors. Last December, a gay officer took offense at Christian chaplain's take on homosexuality. Modder, who is endorsed by the Assemblies of God, was accused of discrimination and failing to show tolerance and respect, among other things. Just a few months earlier, Modder's commander had called him the "best of the best" and a "consummate professional leader." But now he's on the verge of being kicked out of the military.

Top military brass resisting calls to lift transgender ban. Defense Secretary Ash Carter has gotten pushback from senior military leaders on whether the Pentagon should lift its ban on transgender people serving in the armed forces, according to U.S. officials familiar with the discussions.

Navy Beats Down Chaplain's Appeal for Religious Freedom in Homophobia Complaint. Using language that once kept open gays out of the military, the commanding officer of the Navy Nuclear Power Training Command is using identical language to remove a Christian Chaplain from his duties. The Commander says certain kinds of Christian teachings are harmful to "unit cohesion" and "military readiness." In a sharply-worded memo, Modder's commander denied his request for a "religious accommodation" in a disciplinary process that has relieved him of his command and could kick him out of the Navy forever.

Michelle Obama Dances with Ellen DeGeneres to Promote 'Let's Move' Campaign. Michelle Obama is "going Hollywood" with her "Let's Move" health and fitness campaign. While President Obama was occupied Thursday [3/12/2015] reading "mean tweets" about himself on ABC's Jimmy Kimmel Live, the First Lady was busy taping Friday's episode of The Ellen DeGeneres Show. Before the spot deteriorated into a choreographed dance routine, Obama informed Ellen she was on set to promote more healthy living and issued a social media challenge.

Conservative Black Leaders: Obama's Likening Selma to Gay Activism 'Ridiculous,' 'An Insult'. Conservative black leaders are calling President Barack Obama's likening of homosexual activism to the 1965 Selma to Montgomery civil rights march "ridiculous" and "an insult." "We're the gay Americans whose blood ran in the streets of San Francisco and New York, just as blood ran down this bridge," President Obama said in a speech delivered Saturday at the Edmund Pettus Bridge in Selma, Ala.

Feds Spent $432,000 Studying Gay Hookup Apps. The National Institutes of Health (NIH) has spent nearly a half a million dollars studying gay hookup apps such as Grindr. The government awarded $432,000 to Columbia University to interview gay men who use GPS dating apps and determine whether it increases their likelihood of engaging in risky sexual behavior.

Joe Biden to speak at gay rights convention. The Human Rights Campaign says Biden will headline its annual convention on Friday [3/6/2015] in Washington. The group advocates for equal rights for gay, lesbian, bisexual and transgender people. Biden spoke at the group's annual gala fundraiser last year, and President Barack Obama has also spoken to HRC.

Obama's Quiet Change To The Definition Of 'Spouse' Is Going To Have Far-Reaching Consequences. The Obama administration re-defined the word "spouse" Tuesday [2/24/2015] to include gay couples. The Department of Labor quietly issued a new 52-page regulation, to be published in the Federal Register Wednesday, updating the term "spouse" to include gay couples so that gays now get job-protected leave from work to care for their gay partner or partner's children or parents under the Family and Medical Leave Act. The new definition applies to all gay couples who were legally married in states where gay marriage is legal, regardless of whether or not they now live in states where gay marriage is not legal. The IRS also adopted this "place of celebration" definition of residency after the Defense of Marriage Act was struck down at the Supreme Court.

U.S. State Department Appoints First Special Envoy for LGBT Rights. Secretary of State John Kerry announced Monday that Randy W. Berry would become the State Department's first ever Special Envoy for the Human Rights of LGBT Persons. "Defending and promoting the human rights of LGBT persons is at the core of our commitment to advancing human rights globally — the heart and conscience of our diplomacy," Kerry said in a press statement released Monday [2/23/2015]. "I'm confident that Randy's leadership as our new Special Envoy will significantly advance efforts underway to move towards a world free from violence and discrimination against LGBT persons."

New Def Sec On Transgender Military Service: 'I'm Very Open-Minded'. New Defense Secretary Ashton Carter indicated that he is open to transgender people serving in the U.S. military, as long as they can do what is required of them. A Department of Defense (DoD) regulation prohibits transgender individuals from openly serving in the military. The Pentagon has the power to change that policy without congressional approval because it is a regulation, not a law.

Carter Selects Fanning as First Openly Gay Pentagon Chief of Staff. New Defense Secretary Ashton Carter has chosen former acting Air Force Secretary Eric Fanning to become his chief of staff and the first openly gay man to hold the post. Fanning, currently the Air Force undersecretary, was a key member of the transition team along with Army Maj. Gen. Ron Davis that guided Carter through his Senate confirmation hearings to replace outgoing Defense Secretary Chuck Hagel. As chief of staff, Fanning will have major sway over Carter's schedule and access to his office.

Decisions on removing transgender soldiers from Army moving to federal level. USA Today has turned up an interesting memo making its way through the ranks of the Army this month which, if implemented, will impact how personnel procedures are handled. According to the memo, the decision to process and discharge transgender soldiers would be made by a high level civilian official, presumably making it far more unlikely that such dismissals would take place.

He's a Raging Partisan. President Obama's claim to have disapproved of gay marriage until he changed his mind in 2012 has been exposed as a lie. It was a small, politically expedient lie, but it got a lot of attention last week. Meanwhile a bigger lie hovers over the Obama presidency like an avenging angel, unseen and unheard. The bigger lie wasn't a fleeting comment. It was the crux of Obama's presidential campaign.

Obama Not Called 'Black Jesus' Any More. "Confession is good for the soul," said Mark Twain, "but it's bad for the reputation." Candidate Barack Obama in 2008 confessed to his top advisor, David Axelrod, "I'm just not very good at bull____ing." Actually, he was very good at it. He told millions of Americans that he believed marriage was "a sacred union" between a man and a woman. He answered about marriage in Rick Warren's question famed Civic Forum, going even further to say that "God is in the mix." Four years later, he claimed he had evolved.

Former top presidential adviser says Obama LIED about his support for gay marriage for years so he could get elected. President Barack Obama is slapping back at a former longtime top adviser who writes in a new book that he lied for years about his position on gay marriage so he could get elected president in 2008. David Axelrod 'is mixing up my personal feelings with my position on the issue,' the president said Tuesday [2/10/2015], in a startling admission that his public stance on the divisive social issue wasn't always in sync with what he actually believed.

Obama Misled the Nation in 2008 about Same-Sex Marriage. This flashback is particularly appropriate seeing as today marks eight years to the day since Obama declared his candidacy for the White House in 2007. On that cold Illinois day, Obama promised an end to "the smallness of our politics" and "our chronic avoidance of tough decisions." But within months of his utterance of those words, members of his own campaign team were counseling him to do just that on the subject of marriage — avoid it, and then mislead people in the same small and petty way as every other politician before him. Obama did just that throughout the '08 campaign and throughout his first term until his vice president forced his hand in 2012.

Obama: I didn't mislead voters on gay marriage. President Obama is denying a former top political adviser's contention that he intentionally deceived voters about his position on gay marriage in an interview published Wednesday [2/10/2015]. The president said David Axelrod, his former senior adviser, was "mixing up my personal feelings with my position on the issue" when he said Obama publicly backed civil unions rather than gay marriage because it was more politically palatable.

Axelrod's Book Claims Obama 'Modified' Gay Marriage Position to Win in 2008. According to former Obama senior advisor David Axelrod's new book, President Barack Obama misled on his gay marriage position in the 2008 election, claiming to be against the change when he in fact fully favored it. According to Believer: My Forty Years in Politics, Obama had long been in favor of same-sex marriage, but struggled to find a way to articulate the then-unpopular stance. In the 2008 race aides worried it would cost him key support in African-American communities.

Obama's Gay Marriage Lie Was a Lie About His Faith, Too. Barack Obama lied about his opposition to gay marriage, according to David Axelrod's new memoir. The revelation is reported by Time magazine's Zeke Miller as: "Axelrod: Obama Misled Nation When He Opposed Gay Marriage In 2008." But that headline could just as easily have read: "Obama Misled Nation About His Faith," since Obama claimed his opposition to gay marriage was based on his religious views.

The End of a Dream. Pervasive disconnect is the Obama administration's standard operating procedure. The full-moon extent of the Obama world view still survives in his second National Security Strategy which lists among its national security priorities the need to "be a champion for ... people with disabilities; Lesbian, Gay, Bisexual, and Transgender (LGBT) individuals; displaced persons; and migrant workers". It is something that looks curiously out of place in a national security document — until you read the rest of it.

Obama apparently lied about 'evolving' on support for gay marriage. Few will be surprised to learn that President Barack Obama apparently "misled" the nation for years regarding his personal support for same-sex marriage rights. That's apparently what former White House advisor David Axelrod revealed in his forthcoming memoirs. But, first, a warning: The self-flattery masquerading as candor in the revelation that Obama lied to the public for the better party of his political career is tough to stomach.

Rice: Climate Change, Gay Rights Part of National Security Strategy. Speaking at the Brookings Institution in Washington, D.C., on Friday [2/6/2015], White House National Security Advisor Susan Rice described the terrorist threat from radical Islam as "violent extremism" and said part of President Barack Obama's national security strategy is fighting "the very real threat of climate change" and promoting gay rights. Rice's remarks followed the release on Friday of Obama's 2015 National Security Strategy, which updates a similar document released by the White House in 2010.

Standing Up for Gordon. In July 2014, President Obama, carrying out yet another threat to act by executive fiat where the federal legislature would not, signed an order prohibiting the federal government and federal contractors from discriminating in hiring based on "sexual orientation" and "gender identity." However, unlike the Senate-approved Employment Non-Discrimination Act, after which it was modeled, the president's order offered no exemption to religious organizations, raising the possibility that organizations with faith-based objections to same-sex marriage might no longer be able to qualify as federal contractors.

U.S. Air Force allows rainbow-striped U.S. flag at Arizona base. Officials at Davis Monthan Air Force Base, in Tuscon, Arizona, are reportedly allowing a rainbow-striped American flag to remain flying at someone's home after an airman complained it violated Title 4 of the U.S. Code.

ICE: Transgender Illegals Guaranteed 'Right to Hormone Therapy' in Detention. An official with U.S. Immigration and Customs Enforcement testified Friday [1/30/2015] during a discussion on immigration detention facilities, hosted by the U.S. Commission on Civil Rights, that transgender individuals are guaranteed "a right to hormone therapy." "With respect to treatment while in detention — the medical care standard — the standards guarantees a right to hormone therapy for individuals who need it for treatment, and even in facilities that are not covered by that standard.

Michelle Obama Praises Movie-TV Industry for Promoting Same-Sex Marriage. Speaking to a group of television and screenwriters in Washington, D.C., on Friday [1/30/2015], First Lady Michelle Obama praised the movie and television industry in the United States for promoting same-sex marriage. "Every day, through the movies and TV shows and ads you all create, you have the power to shape our understanding of the world around us," said Mrs. Obama. "You challenge our most strongly held beliefs. You influence our opinions on current events."

Obama Makes History: First Time Lesbian, Bisexual and Transgender Used in SOTU. Although President Obama omitted the words "Islamic terrorism" from his speech tonight, many applauded him for uttering "lesbian," "transgender," and "bisexual" for the first time ever in the history of the State of the Union Address.

FDA to Amend Ban on Gay Men's Blood to Allow Donors Who Haven't Had 'Sexual Contact' in Last Year. The FDA will seek to change the ban on gay men's blood, so long as the donor hasn't had sexual contact in the last year. "The U.S. Food and Drug Administration is a science-based regulatory agency that works to protect and promote the public health. In this role, it is our responsibility to regulate the blood supply and to help ensure its continued safety for the patients who receive these life-saving products," announces FDA commissioner Margaret A. Hamburg.

The Editor says...
Good luck finding a homosexual who hasn't had sexual contact in a year. Homosexuals define themselves by their sexual activity.

Holder Decrees Crossdressing Protected Under Federal Law. Attorney General Eric Holder has issued an edict, through a memorandum, that cross dressing and transsexualism is now protected under federal civil rights laws which were designed to protect women from sex discrimination. Existing federal law provides no statutory support for treating cross-dressers and transsexuals as the law treats female victims of discrimination. This means that the Justice Department could now, for example, consider the decision by a school or church to not hire a transvestite as a violation of federal law.

Democrats demand better protections for transgender illegal immigrant children. Dozens of congressional Democrats asked federal health officials Monday to take extra steps to protect gay illegal immigrant children from abuse while they're in custody, including ensuring that transgender children are housed with the sex they identify as. Saying reports of mistreatment "continue to emerge" from federal facilities, the lawmakers asked the Health and Human Services Department's Office of Refugee Resettlement to improve care for the tens of thousands of illegal immigrant children who streamed across the border over the last year, and who are still coming, though in smaller numbers.

Air Force secretary supports lifting transgender ban. Now that the U.S. military has opened more jobs to women and allowed gay men and lesbians to serve openly, Air Force Secretary Deborah Lee James says the ban on transgender troops is likely to be reassessed and should be lifted. "Times change," she told Capital Download, saying the policy "is likely to come under review in the next year or so." Asked whether dropping the ban would affect military readiness, she replied: "From my point of view, anyone who is capable of accomplishing the job should be able to serve."

Discharge pending for combat pilot who tried to halt lesbian officers' make-out session. The Army is moving to discharge a decorated combat pilot who intervened to stop two lesbian officers from showing what he considered inappropriate affection on the dance floor during a full-dress formal ball at Fort Drum, New York, in 2012.

Some fed-worker health plans to cover sex changes and transgender care next year. Federal workers will be eligible for sex-change operations next year through some of the government's employee health-insurance plans. Aetna, which participates in the Federal Employee Health Benefits program, announced last month that it will cover gender-reassignment surgeries for federal employee members in all 50 states. About 121,000 federal workers used the insurance provider last year, according to a report from the nonpartisan Congressional Research Service.

Obama's assault on the rule of law. Even the liberal San Francisco Chronicle marveled at the Obamanistas' audacity: "The latest San Francisco court filing on same-sex marriage reads like a gay rights manifesto: It rejects tradition, morals and procreation as justifications for marriage restrictions and concludes that a federal ban on spousal benefits was unconstitutionally based on 'animus' — dislike, rooted in prejudice — toward gays and lesbians. The brief comes not from Lambda Legal or the American Civil Liberties Union but the Obama administration's Justice Department." Does anyone really believe that marriage as created by God is protected in the law solely to marginalize homosexuals?



Obama Admin To Poor Africans: Choose Food Or Marriage. Across Africa, millions of people face starvation, war, oppression, poverty, and death on a regular basis. The United States has long provided financial aid to many of the continent's nations in order to help them survive and flourish. Under the Obama administration, however, this worthy humanitarian effort has taken a backseat to sexual ideology by attaching aid to approval of gay marriage.

Sec. of Education: Gov't Funded Preschool a 'Social Movement' Compares to Civil Rights, Gay Marriage. Secretary of Education Arne Duncan says government funded universal preschool is a "social movement" and compared it to civil rights and gay marriage during a speech in Los Angeles last month.

Same-sex marriage gets another big boost from the Obama administration. Midway through his first term, President Obama said he was "unwilling to sign on to same-sex marriage primarily because of my understandings of the traditional definitions of marriage." As a US Senate candidate he had declared his belief that "marriage is between a man and a woman." But Obama also mused that "attitudes evolve, including mine," and it seems now that that evolution has occurred at head-snapping speed — prompted by others in his administration, including Vice president Joe Biden (who apparently got out ahead of his boss on the issue) and Attorney General Eric Holder.

America's Number One Vote Suppressor? When he was first running for statewide office in Illinois, state Sen. Barack Obama said he could not support marriage for same-sex couples because "I am a Christian." When, just four years later, in 2008, he was asked about this issue at Rev. Rick Warren's Civic Forum, then-presidential candidate Barack Obama said marriage was between one man and one woman and that "God is in the mix." If you like your God, you can keep Him. As for President Barack Obama, he has moved on. [...] In just six years, President Obama has gone from opposition to counterfeit marriage to full-throated endorsement of it.

President Obama Evolves on Marriage and He Wants the Constitution to 'Evolve' With Him. After supporting marriage as the union of a man and a woman until just before the elections of 2012, Obama announced back then that he supported democratic efforts to redefine marriage — but he didn't think judges should redefine marriage. Now, just before the elections of 2014, Obama has announced that he thinks there's a constitutional requirement to redefine marriage to include same-sex relationships.

Obama names his favorite Supreme Court decision. President Obama said his favorite Supreme Court decision of his time as president was the one on gay marriage. In an interview with the New Yorker, Obama said he liked the pragmatic approach that the court took in two cases on same-sex marriage. "In some ways, the decision that was just handed down to not do anything about what states are doing on same-sex marriage may end up being as consequential — from my perspective, a positive sense — as anything that's been done," he said.

Pelosi: Let transgender troops serve openly. House Minority Leader Nancy Pelosi (D-Calif.) supports the elimination of rules that ban transgender people from openly serving in the military, her office told the Washington Blade. "Leader Pelosi believes there is no place for discrimination in the U.S. Armed Forces, including on the basis of gender identity," spokesperson Drew Hammill told the Blade.

Media and schools try to reeducate us to embrace cross-dressing. Aided by national media and the education establishment, President Barack Obama is using federal agencies to push special treatment for transgender persons — people who want to ignore their biological sex and live life as the opposite sex. Some have sex-change operations, but most don't. Now Obama's administration has authorized use of Medicare funds for those surgeries, and some states are including those as benefits under Obamacare.

Weeks after he supposedly resigned...
AG Eric Holder Says Feds to Recognize Gay Marriages in Seven More States. Attorney General Eric Holder announced Friday [10/17/2014] that the federal government will recognize same-sex marriages in seven more states — Colorado, Indiana, Nevada, Oklahoma, Utah, Virginia and Wisconsin. "With their long-awaited unions, we are slowly drawing closer to full equality for lesbian, gay, bisexual, and transgender Americans nationwide," Holder said.

State Department ends transgender exclusion from health plan. The State Department, which has been on the leading edge of policies affecting lesbian, gay, bisexual and transgender federal employees, is eliminating the "transgender exclusion" from the agency's largest health insurance program. Insurance policies under the Federal Employees Health Benefits program generally exclude services "related to sex reassignment."

Obama applauds gay marriage move at Dem event. President Obama celebrated the Supreme Court's decision allowing gay marriage to proceed in several states while speaking at a Democratic fundraiser Tuesday [10/7/2014] in New York City. "All across the country now, couples who love each other are able to join in that most meaningful of unions," Obama told a group of approximately 250 supporters gathered at the restaurant White Street in Tribeca.

Justice Department Promotes Lawyer Who Argued Same-Sex Marriage Case. A senior Justice Department lawyer who defended same-sex marriage, President Obama's health care law and the government's right to collect bulk phone records has been promoted to the department's No. 3 position, officials said Friday [9/5/2014]. As acting associate attorney general, the lawyer, Stuart F. Delery, will oversee civil rights, antitrust and environmental cases, among other matters, the Justice Department said. He is replacing Tony West, who announced this week that he was leaving the department.

Feds Still Studying Why Lesbians Are Obese. The federal government is still seeking answers as to why the majority of lesbians are obese and U.S. taxpayers are footing the bill, which now totals $2.87 million. The National Institutes of Health (NIH) study is now in its fourth year, receiving an additional $670,567 for fiscal year 2014. The project seeks to determine why "nearly three-quarters of adult lesbians overweight or obese," and why gay males are not. In just two years the project's budget has nearly doubled, growing from $1.5 million to nearly $3 million today, despite fears that sequestration could jeopardize the project and other NIH funding.

Federal study on lesbian obesity costs $3 million. A federal study to determine why 75 percent of lesbian women are obese and gay men are not has totaled nearly $3 million. The National Institutes of Health study is now in its fourth year, receiving an additional $670,567 for fiscal year 2014, for a total cost of $2.87 million, the Washington Free Beacon reported.

The Pentagon can easily drop its ban on transgender troops, study finds. The Defense Department repealed its controversial "don't ask, don't tell" policy banning gay people from openly serving in the military three years ago in September. Some senior officers questioned the decision, fearing it could cost lives, but Pentagon officials said the repeal has not hurt military readiness or cohesion. Civil rights advocates, including some retired military officers, are now pressing for another change. The armed forces continue to enforce a ban on transgender military service, months after Defense Secretary Chuck Hagel said in May that he was open to a review that would lift it.

Obamacare Now Covers Gender Reassignment Surgeries. Transgender Americans seeking gender reassignment surgeries are finding relief through Obamacare, The Daily Beast reported on Monday [8/25/2014]. Federal laws banning health insurance discrimination against transgender people, combined with Obamacare's ban on denying coverage for those with pre-existing conditions, have paved a path for transgender patients who wish to make the transition from one gender to another.

Smithsonian adds LGBT history to museum. Hundreds of photographs, papers and historical objects documenting the history of gay, lesbian, bisexual and transgender people are being added to the Smithsonian Institution's collection Tuesday, including items from the popular TV show "Will and Grace."

Gay illegal immigrants demand deportation protection. Gay immigrants are mounting a campaign to demand that they be included in any unilateral moves President Obama makes this year to halt deportations, arguing that they face unusual circumstances that otherwise might leave them on the outside. The demands pose a tricky test for Mr. Obama, who has made major inroads with gay rights groups during his time in the White House, but who will have to draw lines somewhere as he seeks to craft a more lenient deportation policy without canceling deportations altogether.

D.C.'s Congressional Cemetery to host LGBT veterans memorial in 'gay corner'. The nation's first-ever memorial to gay military veterans will be placed in the "gay corner" of the historic Congressional Cemetery on Capitol Hill, home to the gravesites of senators, congressmen, Supreme Court justices and vice presidents. In announcing the new memorial, cemetery President Paul K. Williams said the stone structure will be put close to "the 'gay corner,' thought to be the only LGBT cemetery section in the world."

Obama Makes Surprise Appearance to Kick Off Gay Games. President Obama made a surprise video appearance at the opening ceremonies of the 2014 Gay Games in Cleveland on Saturday. Joining Greg Louganis, Lance Bass, the Pointer Sisters, and Broadway's Andrea McArdle and Alex Newell in celebrating the event, Obama said, "Since 1982 the Gay Games have given lesbian, gay, bisexual, and transgender athletes and supporters around the world a chance to come together to compete, celebrate, and inspire others."

Obama Administration Advances Gay Agenda at African Leaders Summit. The president, vice president and a former State Department official with the Obama administration took advantage of the U.S.-Africa Leaders Summit this week in Washington, D.C., as an opportunity to advance the homosexual rights agenda. "Despite the focus and emphasis on these issues, the United States has remained committed to its principles of strengthening and promoting democratic institutions, encouraging good governance and accountability and also promoting good human rights, including respect for the LBG [lesbian, bisexual, gay] communities across Africa," Johnnie Carson, former assistant Secretary of State for African Affairs under Hillary Clinton and senior adviser at the U.S. Institute of Peace, said at a press conference on Tuesday [8/5/2014] at the summit.

This article in the New York Times sounds like a White House press release:
Obama's Bold Order on Bias. "Our government of the people, by the people and for the people will become just a little bit fairer," said President Obama on Monday [7/21/2014] just before signing an executive order prohibiting federal contractors, which employ 20 percent of the nation's work force, from discriminating against gay men, lesbians and transgender people in their employment practices. "We're on the right side of history," Mr. Obama correctly declared regarding this important measure, which also explicitly protects federal employees against discrimination based on gender identity, a category covering transgender employees (bias based on sexual orientation was already prohibited).

Obama's New Gay/Transgender Rights Executive Order Doesn't Include Religious Liberty Protections. On Monday morning [7/21/2014], President Obama signed an executive order prohibiting organizations that receive federal contracts from making employment decisions on the basis of sexual orientation or gender identity. A group of religious leaders and Obama allies had called for the executive order to include a religious exemption, so that "religious organizations will not be automatically disqualified or disadvantaged in obtaining contracts because of their religious beliefs." But the president rejected their request. The order allows religious organizations permitted to prioritize the hiring of coreligionists to continue to do so, but it does not include an exemption for any group that has a federal contract.

Obama's LGBT Executive Order Threatens Religious Liberty, Say Advocates. Unwilling to wait for Congress to pass the Employee Non-Discrimination Act, Obama signed an executive order Monday [7/21/2014] prohibiting organizations with federal contracts from discriminating against employees who identify themselves as gay, lesbian, or transgender. For religious freedom advocates, that could pose a major problem. Obama's order does not provide an exemption for religious organizations, whereas the ENDA bill before Congress does.

White House says Obama's LGBT executive order will not provide religious exemption. President Obama, resisting calls from several prominent faith leaders, will not include a new exemption for religiously affiliated government contractors when he issues an executive order Monday barring discrimination on the basis of sexual orientation and gender identity, the White House said Friday [7/18/2014]. Obama announced last month that he would sign such an order after concluding that Congress was not going to act on a broader measure prohibiting discrimination based on sexual discrimination or gender identity by companies.

Obama to sign orders protecting gay employees. President Barack Obama plans to sign executive orders Monday [7/21/2014] prohibiting discrimination against gay and transgender workers in the federal government and its contracting agencies, without a new exemption that was requested by some religious organizations.

After jumping in front of everyone else in the line...
Barack Obama fist bumps Texas restaurant employee in support of gay rights. President Barack Obama shared a fist bump with a Texas restaurant employee who urged him to do more to promote gay rights in the United States. [...] When the President approached the till, Webb, 32, cast his hand down onto the counter and said: "Equal rights for gay people!" Obama responded: "Are you gay?! To which Webb replied: "Only when I have sex." Laughing, the President told Webb to "bump me" and the pair knocked their fists together.

HHS Launches Online Tool to Train Long-Term Caregivers about LGBT Patients. The Obama administration has launched an online training "tool" to teach caregivers about "issues" facing older homosexual patients living in long-term care facilities. "This training tool will play an important role in educating a wide audience of care providers about the needs of LGBT seniors," said Hilary Meyer, director of the National Resource Center on LGBT (lesbian, gay, bisexual and transgender) Aging. "It can help improve the quality of care given to this vulnerable population." "Helping to create a more welcoming environment for our LGBT populations will benefit everybody," Meyer added.

It's MSNBC. They intend this headline as a compliment!
The political perks of being 'The First Gay President'. June, also known as LGBT Pride Month, was busy for President Barack Obama. First, there was the announcement that he'd be signing an executive order barring federal contractors from discriminating on the basis of sexual orientation or gender identity. Then there were the sanctions against Uganda for the country's anti-gay laws. Then there was the extension of marriage benefits to same-sex couples who live in states that don't recognize their unions. And to cap it all off, at a White House Pride Month celebration on the last night of June, Obama announced he'd be taking yet another step for equality — this time, by signing a separate executive order protecting transgender employees of the U.S. government.

Hobby Lobby Is Already Creating New Religious Demands on Obama. [Scroll down] Last week, the administration announced it would issue an executive order banning federal contractors from discriminating on the basis of sexual orientation or gender identity, a reform long sought by gay-rights groups. Such an order would essentially impose on contractors the provisions of the proposed Employment Non-Discrimination Act, which passed the Senate but hasn't been taken up by the House. But the text of the order has not yet been released, so it is not known whether it will include a religious exemption. (A White House spokesman declined to discuss the order.)

HHS Promotes: 'Embrace, Encourage, Celebrate' Gay, Transgendered Children. The Department of Health and Human Services recently recognized the RISE project (Recognize, Intervene, Support, and Empower) in Los Angeles County for its work to fight "anti-gay and anti-transgender bias" in the child welfare system in the county: [...] One of the posters features the rainbow colors now ubiquitous in LGBTQ literature along with a message to "embrace, encourage, celebrate who we are."

US takes gay rights global, despite unsure welcome. President Barack Obama has taken the U.S. gay rights revolution global, using American embassies across the world to promote a cause that still divides his own country.

Justice Dept Uses Lesbian Cartoon Characters To Teach Kids About Cell Phone Safety. The Department of Justice has spent $1.2 million on a website which depicts cartoon cellphones engaging in real-life dating scenarios, in an effort to help teens define their "digital line" as it pertains to relationship abuse. The website, ThatsNotCool.com, which is operated through the DOJ's Office on Violence Against Women, is perhaps the cheesiest government-funded ad campaign in recent memory. The site features a series of cartoon videos as well as "callout cards," which teens can send to their "textual harassers," or people who send intrusive text messages.

SEAL Team 6 member becomes Pentagon's poster girl in transgender recruiting. A former member of SEAL Team 6 has become the poster girl for a Pentagon effort to include transgenders — people who have undergone sex-change operations — in the ranks. Kristin Beck, formerly Senior Chief Petty Officer Christopher Beck, spoke recently at several high-profile events at intelligence agencies and the Pentagon to promote the integration of transgenders.

The Myriad Contradictions of Barack H. Obama. Candidate Obama proclaimed in multiple venues that he was "not a supporter of gay marriage." Is there really any point in citing evidence of actions and statements to the contrary? We have a president who personally picks up the phone to call and congratulate citizens on publicly proclaiming their (homo-)sexuality.

Rice sets aside global crises, insists U.S. must be global leader in promoting gay rights. White House national security adviser Susan E. Rice took time away from a variety of global security emergencies Tuesday [6/24/2014] to promote international gay rights, calling it "among the most challenging human rights issues we face." The president's top national security aide told about 200 gay-rights activists that the Obama administration is fostering gay rights in the U.S. to serve as an example for the rest of the world. She said President Obama has ordered a diplomatic and financial effort to promote the rights of lesbian, gay, bisexual, and transgender men and women around the world.

Sen. Markey Wants to Establish Special LGBT Envoy at State Department. A bill introduced June 12 by Senator Ed Markey (D-MA), would establish a special envoy at the State Department to coordinate America's "global response" on lesbian, gay, bisexual and transgender (LGBT) issues and allow LGBT individuals "who have a well-founded fear of persecution... to seek protection in the United States." The International Human Rights Defense Act of 2014 would reinforce the Obama administration's already established foreign policy position on LGBT rights, including the public funding of overseas LGBT groups.

See if you can imagine why this situation exists...
Poll: L.A., Bay Area Love Obama; Rest of California Hates Him. A new Field Poll released Tuesday shows that 50% of registered voters in California approve of President Barack Obama's job performance, while only 39% disapprove. However, there a striking divergence between the Los Angeles and San Francisco Bay areas on the one hand, and the rest of the state on the other.

Uganda, Anti-Gay Laws, and Liberalism. This week, the United States issued a message of disapproval towards Uganda's anti-gay law which can impose life sentences on homosexuals in the country. The White House described the law as an "affront" to "protecting human rights." National Security Council spokeswoman Caitlin Hayden stated: "The Department of State is taking measures to prevent entry into the United States by certain Ugandan officials involved in serious human rights abuses, including against LGBT individuals[.]"

How The Trans-Agenda Seeks To Redefine Everyone. In November, the U.S. Senate voted in favor of the Employment Non-Discrimination Act (ENDA). The law is based on the assumption that one's perceived "gender identity" does not always "match" your sex "assigned" or "designated" at birth. So, the thinking goes, the law should allow a more ambiguous array of gender identities: male, female, both, neither, or something else entirely. It's not an overstatement to say that ENDA is a huge step, mostly under the radar, to codify a new definition of humanity.

Kerry: 'I'm Working Hard to ... Have Lesbian, Bisexual, and Transgender Ambassadors'. With much of the Obama administration's foreign policy in tatters, John Kerry is clear on at least one goal he hopes to achieve by the end of his time as secretary of state: having lesbian, bisexual, and transgender ambassadors representing the United States. In remarks to a GLIFAA (formerly Gays and Lesbians in Foreign Affairs Agencies) Pride event in the Ben Franklin Room at the State Department, the secretary ran through a litany of accomplishments by the Obama administration that benefit the "LGBT/gay community."

Black Pastor on Obama: 'This is the Most Immoral President We've Ever Had'. The "March for Marriage" is Friday [6/20/2014] in Washington, D.C., and Reverend Billy Owens of the Coalition of African American Pastors (CAAP),talked with TPNN's Tim Constantine about the event, Barack Obama, and the moral decay in America.

Obama expands government benefits for gay couples. A year after the Supreme Court struck down a law barring federal recognition of gay marriages, the Obama administration granted an array of new benefits Friday to same-sex couples, including those who live in states where gay marriage is against the law.

Without fanfare, Obama advances transgender rights. President Barack Obama, who established his bona fides as a gay and lesbian rights champion when he endorsed same-sex marriage, has steadily extended his administration's advocacy to the smallest and least accepted band of the LGBT rainbow: transgender Americans.

We The People of Faith. Ever since he's been in office, Obama has been looking for ways to root out the Good News for once and for all. But, like the many tyrants before him, he is up against the brick wall that comes from the Good News not being something that can be tinkered out of existence, but rather an ongoing way of life for millions. Every Friday of every week, Obama tries to slap his arrogant rising sun logo on everyday life. This Friday it was his signed executive order that gay partners will be buried together in vet cemeteries, [...]

White House imposes penalties on Uganda after anti-gay law. The White House announced Thursday [6/19/2014] that it will impose further penalties against Uganda after its president signed a law that toughens punishments against gays and defines some homosexual acts as crimes punishable by life in prison. The admnistration will prevent Ugandan officials involved in serious human rights abuses, including against LGBT individuals, into the United States; discontinue or redirect money for certain programs involving the Ugandan Police Force, Ministry of Health and National Public Health Institute; and cancel plans to hold a U.S. military-sponsored aviation exercise in Uganda.

U.S. Targets Aid in Uganda, Cancels Military Exercise Over Homosexuality Law. The United States on Thursday cut aid to Uganda, imposed visa restrictions and canceled a regional military exercise in response to a Ugandan law that imposes harsh penalties on homosexuality. The White House said in a statement the measures were intended to "reinforce our support for human rights of all Ugandans regardless of sexual orientation or gender identity."

Obama to Extend Array of Marriage Benefits to Gay Couples. The federal government on Friday announced regulatory changes to extend a wide range of marriage benefits to same-sex couples, making good on a promise by President Obama after the Supreme Court struck down the Defense of Marriage Act last year. The Department of Labor said it will clarify that federal employees will be able to take leave from their jobs to care for a same-sex spouse, something that has long been limited to heterosexual married couples. The Social Security administration and the Veterans Affairs department said they will also expand benefits for same-sex couples, subject to some legal restrictions.

An obvious violation of the Tenth Amendment:
Obama extends family leave rights of gay couples. President Barack Obama on Friday will announce a rule that makes legally married same-sex couples eligible for benefits under the Family and Medical Leave Act in all 50 states, a White House official said. [...] Obama is directing the Department of Labor to propose a rule extending the FMLA rights even to states where gay unions are not legal.

Obama cashes in on giving orders to private employers. A president's executive order is a special type of regulation, intended to tell federal bureaucrats how to do their jobs in enforcing the nation's laws. Instead, President Obama wants to use them as imperial edicts, creating new laws that tell Americans how we must live our lives. Some individuals would receive new benefits at the expense of others, but Mr. Obama mislabels these as "rights." He and his fellow Democrats are cashing in on issuing these special privileges. Most recently, Mr. Obama has promised an executive order granting LGBT (lesbian, gay, bisexual, transgender) protections for everyone connected with a company that does business with the federal government. No federal law requires this as a condition of having a federal contract or grant.

Director of National Intelligence Celebrates LGBT Pride Month: 'What The IC Is About'. In line with President Obama's official proclamation of June as "Lesbian, Gay, Bisexual, and Transgender Pride Month," the banner headlining the website of the Office of the Director of National Intelligence (ODNI) Wednesday proclaims the agency's celebration of the same, noting, "It's also about what the IC is about: integration":

In Face of Islamist Terror, Senate Bill Makes LGBT U.S. 'Foreign Policy Priority'. Russia is expanding, taking over Crimea, threatening Ukraine. Russia and China have signed trade deals. Violence between Buddhists and Muslims in Sri Lanka has lead to terror killings. Thailand has been taken over by a military junta. Somali radicals have attacked a Kenyan town, killing dozens. President Obama's critics accuse him of being soft or absent from most of these conflicts and many others. They say the US has ceded its global leadership role. One area where the US under Obama has not retreated, indeed has ramped up American pressure, is in the promotion of LGBT rights.

Obama at NY fundraisers, including gay donor gala. To a raucous embrace, President Barack Obama told gay donors Tuesday that American society and its laws have advanced the cause of gay rights over the past 10 years but said the job was hardly over in the United States and especially abroad.

Obama's day trip highlights economy and courts gay community donors. President Barack Obama was courting high-dollar Democratic donors Tuesday [6/17/2014], headlining for a super PAC like the ones he once decried and appearing at a gala fundraiser for gay contributors one day after agreeing to take executive steps on workplace discrimination long sought by the gay community.

Five times that President Obama went around Congress. Once again, President Obama has cheered supporters by bypassing Congress. Gay and lesbian rights groups are celebrating news that Obama plans to sign an executive order barring federal contractors from hiring or firing employees based on their sexual orientation or gender identity. Obama's move, which the White House confirmed Monday, will undoubtedly energize Democrats liberal base four and a half months before a critical midterm election.

Left Demands Religious Groups Promote Gays, Cross-Dressers. President Barack Obama is expected to deny federal contracts to companies and non-profits — including religious employers — that treat homosexuality differently from heterosexuality, according to White House officials. That's a huge step, because federal contractors employ roughly 20 percent of the nation's workforce. Progressives applauded the announcement — which comes one day before a major fundraiser with gay donors — and demanded that Obama leave no exceptions, even for religious non-profits that use federal dollars to aid the poor and disadvantaged.

Obama set to sign order banning LGBT discrimination by federal contractors. Top Democrats said Monday [6/16/2014] that President Obama is ready to sign an executive order, long sought by liberals, than [sic] bans discrimination by federal contractors on the basis of sexual orientation. Democratic National Committee Chairwoman Debbie Wasserman Schultz said Mr. Obama's move "marks another significant step in our nation's progress on civil rights." "This executive order adds to the list of the [Lesbian, Gay, Bisexual and Transgender] community's accomplishments during the Obama administration and is cause for celebration as we recognize June as LGBT Pride Month," she said.

Obama to move on gay rights. The White House is drafting an executive order that would ban federal contractors from discriminating against their employees on the basis of sexual orientation. "Following on his pledge for this to be a year of action to expand opportunity for all Americans, the President has directed his staff to prepare for his signature an Executive Order that prohibits federal contractors from discriminating on the basis of sexual orientation or gender identity," a White House official said Monday [6/16/2014].

Obamas kick off long weekend in California. They are staying with White House decorator Michael Smith and his partner, U.S. Ambassador to Spain James Costos, at their vacation home.

Attorney General Eric Holder blasts Boy Scouts for anti-gay discrimination. Attorney General Eric Holder said Tuesday that the Irving-based Boy Scouts of America perpetuates "the worst stereotypes" by barring gay people from becoming Scout leaders. "The continuation of a policy that discriminates against gay adult leaders — by an iconic American institution — only preserves and perpetuates the worst kind of stereotypes," Holder said in a speech to the gay civil rights group Lambda Legal in Washington.

Holder: Boy Scouts gay ban preserves worst stereotypes. Taking aim at the Boy Scouts of America's continuing ban on gay adult leaders, Attorney General Eric Holder said Tuesday [6/10/2014] that the prohibition perpetuates "the worst kind of stereotypes." "It's a relic of an age of prejudice and insufficient understanding, the attorney general said Tuesday evening to Lambda Legal, an advocacy group for LGBT rights.

White House declares June LGBT Pride Month. LGBT rights just got another big push from the president himself. The White House on Friday issued a proclamation by President Barack Obama calling on Americans to eliminate prejudice "everywhere it exists," declaring June as Lesbian, Gay, Bisexual, and Transgender Pride Month. "As progress spreads from State to State, as justice is delivered in the courtroom, and as more of our fellow Americans are treated with dignity and respect — our Nation becomes not only more accepting, but more equal as well," the proclamation begins.

Interior Dept. Launches Program to Incorporate Gay-History Sites Into Parks System. The Interior Department announced today that the National Park Service is launching a study to "identify places and events associated with the story of lesbian, gay, bisexual, and transgender (LGBT) Americans" for inclusion in the national parks system. The National Historic Landmark Program began actively looking for sites associated with LGBT history in 2010 for the potential of being listed in the National Register of Historic Places. Today's directive, part of a broader administration initiative to "ensure that the National Park Service reflects and tells a more complete story of the people and events responsible for building this nation," will expand those efforts.

Medicare Ban on Sex Reassignment Surgery Lifted. Medicare can no longer automatically deny coverage requests for sex reassignment surgeries, a federal board ruled Friday [5/30/2014] in a groundbreaking decision that recognizes the procedures are medically necessary for some people who don't identify with their biological sex.

Gay, transgender Americans to get markers in parks. The announcement Friday that the National Park Service will begin installing markers at places of importance to the history of lesbian, gay, bisexual and transgender Americans is a step toward including them in the national narrative — and components of education, supporters said.

National Park Service Will Start Promoting Historic LGBT Places. The National Park Service will start considering more sites important to the history of LGBT rights in the U.S., based on the recommendation of a recently convened panel through the Department of Interior. The panel of 18 scholars is examining the history of the LGBT movement, according to a report from the Associated Press. Interior Secretary Sally Jewell will announce the panel on Friday [5/30/2014]. There are three federally recognized sites in the U.S. chosen in part for their importance to LGBT history, one of which is landmarked — the Stonewall Inn in New York gained the distinction in 2000. The area around the inn is also on the National Register of Historic Places.

Harvey Milk stamp's debut celebrated in S.F., D.C.. U.S. Sen. Tammy Baldwin looked out at the crowd of politicians, federal officials and gay activists who had been invited to the White House on what would have been Harvey Milk's 84th birthday. The occasion was the U.S. Postal Service's first day of issue Thursday [5/22/2014] for a stamp honoring the slain San Francisco supervisor and gay rights leader. But as the venue would suggest, this was about a lot more than a stamp.

Rainbow Flag Flies Over U.S. Embassy In Madrid. The Obama administration seems to have forgotten the International Day of the Family last week that was celebrated at the UN and around the world May 15. Yet the administration was very enthusiastic about the May 17th celebration of the International Day Against Homophobia and Transphobia, issuing proclamations by the Secretary of Defense and a statement by the President. Moreover, at least one ambassador flew the rainbow flag over his embassy.

Kerry Commemorates 'International Day Against Homophobia and Transphobia'. Secretary of State John Kerry has put out a statement "Commemorating International Day Against Homophobia and Transphobia," which is today [5/16/2014]. "Today of all days, we are reminded that the cause of justice can and must triumph over hatred and prejudice. This is a day of action for lesbian, gay, bisexual, and transgender (LGBT) communities and their allies all over the world. It is time to reaffirm our commitment to the equality and dignity of all persons, regardless of their sexual orientation or gender identity," said Kerry in a statement.

The Intolerant Hypocrisy of America's 'Tolerant' President. It makes one wonder what exactly the president is talking about when he lauds Michael Sam, the Rams, and the NFL for "taking an important step forward in our Nation's journey." Where exactly are those steps taking America? And as far as this "Nation's journey," what's the destination if a culture that claims inclusiveness excludes, punishes, and demonizes 83% percent of Americans who call themselves Christian, 37% of whom, like the Benhams, identify themselves as evangelical?

'An Important Step In Our Nation's Journey'. The president of the United States (who never bothered to issue a statement on the death of Navy Seal hero Chris Kyle), did find the time to put out a congratulatory statement: "The President congratulates Michael Sam, the Rams and the NFL for taking an important step forward today in our Nation's journey." Where is the nation journeying? Are we journeying to a place in which a player is fined and suspended and sent to sensitivity training for saying, "OMG" on Twitter in reaction to something he finds offensive? To one where you will be forced to bake the cake, provide the flowers, and take the photographs for events you find morally objectionable or be financially ruined if you refuse?

Obama congratulates Michael Sam, first openly gay player drafted by NFL. President Barack Obama congratulated Michael Sam on Saturday for being the first openly gay football player taken in the National Football League draft, the White House said in a statement. "From the playing field to the corporate boardroom, LGBT Americans prove everyday that you should be judged by what you do and not who you are," Obama said.

Air Force cracking down on Christians. Senior Master Sgt. Phillip Monk found himself at odds with his Lackland Air Force Base commander after he objected to her plans to severely punish an instructor who had expressed religious objections to homosexuality. During the conversation, his commander ordered him to share his personal views on homosexuality. "I was relieved of my position because I don't agree with my commander's position on gay marriage," he told me. "We've been told that if you publicly say that homosexuality is wrong, you are in violation of Air Force policy."

Feds to Hold 'Focus Groups' for LGBT Renters. The Department of Housing and Urban Development (HUD) will conduct focus groups to see whether Lesbian, Gay, Bisexual, and Transgender (LGBT) individuals face discrimination when looking for apartments. The department posted a 30-day notice in the Federal Register on Monday, explaining its intention to interview 60 LGBT potential renters and 15 heterosexual renters, and document their experiences in big cities.

Biden: 'No downside to executive action on LGBT workplace rights. Vice President Biden said he didnt see "any downside" to President Obama signing an executive order banning workplace discrimination against lesbian, gay, bisexual and transgender workers employed by federal contractors. "I dont see any downside," Biden told the Huffington Post, adding that "the way to do this is to pass ENDA [the Employment Non-Discrimination Act]. That ends it everywhere." The White House has routinely sidestepped questions on the issue, saying they preferred Congress to pass legislation that would prevent similar discrimination for all workers.

Sensitivity: DOD's 'Human Goals' Updated to Include LGBTs. In a celebration of its sensitivity on Monday, the Defense Department unveiled a revised document celebrating the department's "diversity" and "culture of inclusion." "I'm proud that the language of the charter has been updated to reflect the contributions of gay and lesbian military personnel, who now serve openly and proudly across America's armed forces," Defense Department Secretary Chuck Hagel said as he and the nation's top military leaders signed the document at a public ceremony.

NBA's first gay player appointed to Obama's fitness council. President Obama has appointed Brooklyn Nets center Jason Collins, the first openly gay NBA player, to serve on his Council on Fitness, Sports and Nutrition, the White House said Thursday [4/24/2014]. Obama also tapped daytime television host Rachel Ray and former Miami Heat star Alonzo Mourning, who earlier this year hosted the president at his home for a fundraiser benefitting the Democratic Congressional Campaign Committee.

Obama taps gay bishop to wrap Easter Prayer Breakfast with invocation. When President Obama needed a preacher to fulfill the closing prayer duties at the annual White House Easter Prayer Breakfast, he turned to none other than the Episcopal Church's first openly gay bishop — who said he was as shocked as anyone at the appointment.

Obama Selects First Openly Gay Episcopal Bishop to Lead Easter Prayer. President Obama pulled a surprise move Monday at the White House's Easter Prayer Breakfast when he selected Gene Robinson to lead the closing prayer. Robinson is famously known as the first openly gay Episcopal bishop.

Official Policy: Male Federal Workers Can Use Women's Restrooms, Locker Rooms. When an expectant mother visits her doctor for an ultrasound, the doctor invariably asks: Do you want to know the sex of your child? The Obama administration, however, does not believe an unborn child has a sex — even when a doctor sees indisputable physical evidence. Obama's Office of Personnel Management has published what it calls "Guidance Regarding the Employment of Transgender Individuals in the Workplace." This document speaks of "sex" as something a person has "assigned" to them only after they make it through the birth canal.

Obama Told Military Leaders: Accept Gays In Military Or Step Down, Admiral Says. In a meeting with the heads of the five service branches in 2010, President Obama offered the leaders a choice: Support my efforts to end the military's Don't Ask, Don't Tell policy, or resign. In a video obtained by BuzzFeed via a Freedom of Information Act request, Coast Guard Commandant Adm. Robert Papp revealed that Obama was unwilling to compromise with service leaders over DADT during a meeting in 2010. "We were called into the Oval Office and President Obama looked all five service chiefs in the eye and said, 'This is what I want to do.' I cannot divulge everything he said to us, that's private communications within the Oval Office, but if we didn't agree with it — if any of us didn't agree with it — we all had the opportunity to resign our commissions and go do other things," he said.

HHS updates Medicare enrollment rules for same-sex couples. The Obama administration on Thursday [4/3/2014] announced that it was updating Medicare rules to allow partners in same-sex marriages to apply for benefits during special enrollment periods. The Department of Health and Human Services said that the Social Security Administration would now be able to take applications for special enrollment periods for Medicare Part A and Part B and reduce late penalties for some eligible same-sex couples. The move is the latest step taken by HHS after the Supreme Court in 2013 struck down a key part of the federal Defense of Marriage Act, which defined marriage as a union between one man and one woman.

Obama calls homosexuality one of our 'fundamental freedoms' in statement slamming Ugandan bill. President Barack Obama has elevated the right to have sex with a member of the same sex to the level of universal "fundamental freedoms" in a new presidential statement criticizing Uganda. But critics say his promotion of homosexuality in a continent that overwhelmingly opposes that behavior amounts to a form of liberal "cultural imperialism."

First lady: Gay football player is an 'inspiration'. Michelle Obama says a gay University of Missouri football player is "an inspiration to all of us."

Messiah Obama Turns 2014 Winter Olympics into Sexuality Games. Anyone who thought the Olympics was about sports competition among nations apparently was wrong, at least according to President Barack Obama. Just like he has tried to reinvent America off her throne of greatness, Obama uses the 2014 Winter Olympics in Sochi, Russia to remake the games into a forum on gay rights.

Justice Department to give married same-sex couples equal protection. The Justice Department on Monday [2/10/2014] will instruct all of its employees across the country, for the first time, to give lawful same-sex marriages sweeping equal protection under the law in every program it administers, from courthouse proceedings to prison visits to the compensation of surviving spouses of public safety officers. In a new policy memo, the department will spell out the rights of same-sex couples, including the right to decline to give testimony that might incriminate their spouses, even if their marriages are not recognized in the state where the couple lives.

Federal government to expand recognition of same-sex marriage. In a new milestone for gay rights, Atty. Gen. Eric H. Holder Jr. will issue a directive Monday [2/10/2014] expanding government recognition of same-sex marriages to all federal courtrooms and prisons, and some federal benefits programs. The new policy, which Holder plans to announce Saturday night [2/8/2014] at a gay rights dinner in New York City, means the Justice Department will not object if gay or lesbian partners refuse to testify against their spouses in federal criminal and civil cases, and will push for them to be accorded the same rights in Bankruptcy court as other married couples.

Out2Enroll video has men in holiday undies promoting subsidized healthcare. The Obama administration has teamed up with a campaign called #Out2Enroll, the brainchild of the Sellers Dorsey Foundation, a 501(c)(3) that focuses on "improving the health of the lesbian, gay, bisexual, and transgender community," according to their website.

State of the Union Guests Will Include Boston Marathon Bombing Survivors, First Openly Gay NBA Player. The White House has partially unveiled the list of guests who will join first lady Michelle Obama in her box at the president's State of the Union address Tuesday night. Six names have been revealed thus far, including two survivors of the April terror attack on the Boston marathon and the first male athlete in a major American sport to come out as openly gay.

Obama ignores Constitution by recognizing same-sex marriages in Utah. Demonstrating his disdain for the 10th Amendment and the rule of law, Mr. Holder said Friday [1/10/2014] the federal government would recognize the marriages of homosexual couples who wed during the two-week period such unions were made legal in Utah by a federal judge. The Supreme Court stayed that ruling on Jan. 6, but Mr. Holder insisted on "confirming" for the purposes of U.S. law that a thousand of those marriages "will be recognized as lawful and considered eligible for all relevant federal benefits."

Kerry 'Deeply Concerned' By Nigeria's Ban on Same-Sex Marriage. Of all the problems in Nigeria, including the ongoing persecution of Christians by Islamic terrorists, the U.S. State Department on Monday [1/13/2014] condemned the African nation's new law banning same-sex marriage.

Drag Queens Promote Obamacare. A group of drag queens in Louisiana has decided to use their cross-dressing talents to help promote Obamacare. Wednesday Night Tea — "a unique, interactive drag queen show held every Wednesday at Central Station in Shreveport, Louisiana" — has partnered up with the non-profit Out2Enroll to help market Obamacare to the LGBT community.

Obamacare Panders To Gay Community. President Obama is now hoping that the gay community will "come out" and sign up for the embattled Obamacare plan, as a new video pandering to "the boys" has just been released to help with enrollment.

Obama reveals $100 million HIV research initiative. Obama says his administration is redirecting $100 million into the project to find a new generation of therapies.

Kerry Marks Transgender Day of Remembrance. Secretary of State John Kerry marked "Transgender Day of Remembrance" Wednesday [11/20/2013], noting that these individuals are "harassed, arrested or even killed simply because of who they are and who they love." The U.S. was joining the international event by "honoring the memory of lives lost to violence provoked by fear and hatred of transgender and gender non-conforming people," he said.

Rethinking Gay Marriage. Anyone who is active in the political world knows that the most obnoxious, profane, hateful partisans, the ones most likely to engage in harassment, are the left-wing gay activists. So I was not at all surprised to see the latest misbehavior from that source: gay activists invited to the White House for a "gay pride" event by President Obama photographed each other making obscene gestures toward Ronald Reagan's portrait.



Obama Honors Gay Socialist, Lesbian Astronaut with Presidential Medal of Freedom. President Barack Obama on Wednesday [11/20/2013] awarded the highest honor that can be bestowed on a civilian — the Presidential Medal of Freedom — to 16 people, including a homosexual who led the socialist party in the United States and astronaut Sally Ride, whose partner "outed" her as a lesbian in Ride's obituary last year. On Bayard Rustin's website, his lover and the executor of his estate, Walter Naegle, wrote about the gay activist's life, including his 10-year homosexual relationship with the author and his national chairmanship of the Social Democrats USA, formerly the Socialist Party of America.

For Obama, Gay Is Green. Mr. Obama is pandering to gays with his marriage switcheroo for two reasons: 1) money; 2) onground support. Gays aren't a large cohort in the U.S., despite misconceptions and propaganda. For years, it was in wide circulation that gays constituted 10% of the U.S. population. A May 2011 Gallup poll claims that Americans, on the whole, perceive that gays are about 1 in 4 Americans. Not so. Gays are more like 3.5% of the nation's citizenry. Yet gays have a disproportionate influence in politics.



Obamas 'overjoyed' as Illinois moves to OK gay marriage. In the wake of the Illinois state House's vote Tuesday [11/5/2013] to approve gay marriage, President Obama said that he and first lady Michelle Obama are "overjoyed for all the committed couples in Illinois whose love will now be as legal as ours." Mr. Obama's home state is now expected to become the 15th to legalize same-sex unions after the bill heads to the Democrat-controlled state Senate, where the measure almost surely will pass.

Hollywood: Driving the Homosexual Agenda for 40 Years. Hollywood celebrities exuberantly celebrated President Obama's recent declaration of support for gay marriage. But Hollywood did not have to come out of the closet and support homosexuality — it has long used its influence to purposely swing public opinion in favor of homosexuality. For several decades, Hollywood has shown its overt support for homosexuality. Brokeback Mountain was nominated for Best Picture for its unabashedly sympathetic portrayal of a doomed gay relationship. Newt Gingrich's half-sister officiated at a gay wedding on "Friends" in the 1990s. More recently, late night talk show host Conan O'Brian officiated at an actual gay wedding.

Creepy-crawlies for the evolved Obama. The moral imprimatur that homosexuals seek is the endorsement from the larger culture, of the straight, sober society that lives beyond gay-pride parades with their outlandish prancing and eight-foot papier-mache penises meant to taunt those whose approval they secretly want most. Such approval is beyond the power of presidents, whether Barack Obama or Bill Clinton, to confer. The landslide of disdain for same-sex marriage in North Carolina, the 30th state in a row to give such rebuke, demonstrates just how far the gays still have to go to overturn centuries of rejection and scorn of homosexual behavior.



Reid Hopes to Pass LGBT Workplace Protections. The search is on for one last senator to protect gay, lesbian, bisexual and transgender employees from workplace discrimination. Majority Leader Harry Reid, D-Nev., will bring the Employment Non-Discrimination Act to the Senate floor for the first time in 17 years next week, a statistic that both awes and infuriates advocates who say the vote is long overdue. "People realize this is the next big civil rights step in America," says Sen. Tom Harkin, D-Iowa. "It is a historic step forward."

The Editor says...
It's the next big step, he says. Not the last big step, just the next step in a long series.

Ban on Gay Bias Gains Ground in Senate. Senator Joe Manchin III, Democrat of West Virginia, said Wednesday [10/30/2013] that he would vote for a nondiscrimination bill that protects gay men, lesbians and transgender people, putting the measure within one vote of gaining the support it needs to overcome a filibuster.

Sexual Predator Honored With U.S. Postage Stamp. Harvey Milk's only claim to fame is that he was the first openly homosexual candidate to be elected to public office (San Francisco city commissioner). His chief cause was to do away with the Judeo-Christian sexual ethic. [...] While most sexual predators get time in prison and a dishonorable mention on the registry of sex offenders, Harvey Milk got his own California state holiday ("Harvey Milk Day") and, more recently, his own commemorative postage stamp, awarded by the Obama administration's USPS.

Homosexuals Aggressively Push Agenda in Federal Government. While [John] Berry may be one of the most high-profile homosexuals serving in the Obama administration, he is by no means the only one. According to the Washington Post, no less than 200 "LGBT presidential appointees serve under President Obama, among them the first two who are openly transgender." Additionally, thanks to Obama's aggressive efforts on their behalf, "gay men and lesbians can serve openly in the armed forces. Intrusive questions about sex lives have been purged from security-clearance vettings."

Is Obama Stacking The West Point Board With Activists? President Obama on Tuesday [7/5/2011] appointed an openly gay former Army officer to the U.S. Military Academy's Board of Visitors. Former Capt. Brenda S. "Sue" Fulton, a founding board member of OutServe, an association of actively serving gay military personnel, is also co-founder and executive director of Knights Out, an organization of gay West Point graduates. She graduated in 1980 with the first West Point class to include women.

Obama Praises Homosexual 'Spouses' in Gay Gathering at White House. At the urging of homosexuals gathered at the White House on Wednesday [6/29/2011], President Barack Obama praised gay "spouses" in his speech marking lesbian, gay, bisexual and transgender "Pride Month."

Gay donors fuel President Obama's 2012 campaign. President Barack Obama's reelection campaign is banking on gay donors to make up the cash it's losing from other groups of wealthy supporters who have been alienated and disappointed by elements of Obama's first term. Pleased by an all-out White House push to repeal "don't ask, don't tell," gay donors have surprised campaign officials with the extent of their support.

HHS Official Tells Youth Summit: We're Recruiting LGBTs to Adopt Kids. David Hansell, who runs the federal government's Administration for Children and Families, told a group of high school students at the U.S. Department of Education's "Lesbian, Gay, Bisexual and Transgender (LGBT)" youth summit on Tuesday [6/7/2011] that the Obama administration is recruiting "LGBT parents" to adopt children.

Gov't 'Has Finally Come Out of the Closet'. Health and Human Services Secretary Kathleen Sebelius spoke at the first "Federal LGBT Youth Summit" on Monday [6/6/2011] after being introduced by a homosexual on her staff, who said the secretary "gets us" and is "tireless" in her support of lesbian, gay, bi-sexual and transgender youth. "Your federal government has finally come out of the closet in support of LGBT youth," said Pam Hyde, HHS administrator for Substance Abuse and Mental Health Services.

Senate confirms first openly gay man to federal bench. J. Paul Oetken on Monday [7/18/2011] became the first openly gay man confirmed to the federal bench. The Senate approved his nomination 80 to 13. Sen. Charles Schumer (D-N.Y.), who recommended Oetken to President Obama for the nomination to the District Court for the Southern District of New York, offered a ringing endorsement from the Senate floor prior to the roll-call vote.



Biden to headline Human Rights Campaign dinner. Vice President Joe Biden is set to deliver the keynote address at the Human Rights Campaign's annual dinner next month.

The Pentagon prepares to welcome recruits to the New Gay Army.
Obama's new 'Don't Ask, Don't Tell' policy: Soldiers offended by the sight of two male Marines kissing in public better not mention that fact to their superiors. Under President Obama, the new "Don't Ask, Don't Tell" rules turn the Clinton-era policy on its head. Now those who embrace traditional moral values are the ones being told to stay in the closet.

US demanding gay rights support at UN body. The Obama administration will introduce its first statement calling for the United Nations' top human rights body to combat discrimination against gays and lesbians around the world, completing a U.S. reversal from years of ambiguity on the subject during the presidency of George W. Bush.

Obama Administration to Expand Family Medical Leave Act to Gay and Lesbian Employees. The Labor Department is poised to announce new regulations this week that order U.S. employers to give gay employees equal treatment under the law, allowing those workers unpaid time off under the Family and Medical Leave Act. Critics say the Obama administration is going too far. "They're trying to redefine marriage and family by these arbitrary policies with no debate by congress, no public discussion about it," says Carrie Gordon Earll of Focus on the Family.

Obama, Proclaiming LGBT Pride Month, Pushes Repeal of DOMA. Citing his commitment to repeal the Defense of Marriage Act (DOMA), President Obama on Friday [5/28/2010] issued a proclamation declaring June 2010 "Lesbian, Gay, Bisexual, and Transgender Pride Month." The president also emphasized his intention to secure "adoption rights" for same-sex couples and end both employment discrimination against LGBT individuals as well as the "Don't Ask, Don't Tell" (DADT) compromise that bars homosexuals from serving openly in the military.



Obama tells gay activists in Russia their work is 'critically important'. President Obama told LGBT activists and human rights workers in Russia Friday that their work was "critically important" to an open society. The afternoon meeting, which also included representatives from environmental and free media groups, comes amid heavy criticism of Russia over new anti-gay laws approved by its Parliament in June.

Obama's Gay-Rights Hypocrisy. "What," Ayatollah Ali al-Sistani was asked, "is [Islam's] judgment on sodomy and lesbianism?" "Forbidden," he curtly pronounced. "Those involved in the act should be punished. In fact, sodomites should be killed in the worst manner possible." So what does Barack Obama have to say about that?

DOD: Gay Troops Will Get Extra Time Off to Go to Same-Sex Marriage States and Get Hitched. The U.S. Defense Department announced on Wednesday that it will make "spousal and family benefits" available no later than Sept. 3, 2013, regardless of sexual orientation, for all service members who can provide a valid marriage certificate. And what about same-sex military couples who live in a state where same-sex marriage is not allowed? No problem.

Obama's Hypocrisy on Gays. [Scroll down] Obama audaciously declared of Russia: "I have no patience for countries that try to treat gays or lesbians or transgender persons in ways that intimidate them or are harmful to them." Really? Russia is not mutilating and executing gays the way Muslim regimes do under the Sharia. And Obama supports most vicious anti-gay regimes in the world. The gay community should be disgusted by such political exploitation. The Muslim Brotherhood's genocidal position on homosexuality is quite clear. Where is Obama's condemnation?

Air Force Says Drag Acts Symbolize Gay Pride. The U.S. Air Force said that a well-known drag queen group was invited to perform on base during a "Diversity Day" celebration because drag is a "symbol of gay pride and unity. But the performance sparked outrage among some airmen who called the drag show "totally offensive and inappropriate."

Maternity, sick leave for gay spouses OK'd at Labor Dept. Urged by President Obama to extend sweeping federal benefits to legally married same-sex couples following a court victory for gay rights, the Department of Labor Friday told employees that spousal leave for maternity and long-term illness will be included with other federal benefits like retirement. Newly-installed Labor Secretary Thomas Perez is moving swiftly to provide benefits to the spouses of gay and lesbian employees now that the Defense of Marriage Act is dead, the result of a June Supreme Court decision.

Obama: June is Lesbian, Gay, Bisexual, and Transgender Pride Month. As he did last year, Obama today [5/28/2010] declared June "Lesbian, Gay, Bisexual, and Transgender Pride Month." But this year the announcement comes as Congress began moving to repeal the controversial "Don't Ask, Don't Tell" policy used by the US military when dealing LGBT service members.



Robert Mugabe Slams Barack Obama for Supporting Gay Rights in Africa. Zimbabwe's president Robert Mugabe has slammed US president Barack Obama for tying to aid African countries that have decriminalised homosexuality. Ahead of Zimbabwe's elections on 31 July, Mugabe, 89, has reiterated his previous claim that gays are "worse than pigs and dogs" and said his country will never legalise homosexuality.

Dominicans Freak Out Over Obama's Gay Ambassador Pick. Opposition to President Obama's nominee for U.S. ambassador to the Dominican Republic reached a fever pitch this week as religious organizers stage a "Lunes Negro" or Black Monday protest against James "Wally" Brewster. If confirmed, Brewster will be the first openly gay ambassador to the country, a prospect that is not going over well with some segments of this conservative Christian country of 9 million people.

In just one year, a majority of VA medical centers establish pro-gay policies. Medical facilities operated by the Department of Veterans Affairs have moved at light-speed to change policies after the 2011 elimination of Don't Ask, Don't Tell, with a majority winning an "equality" award from the nation's largest LGBT lobby, the Human Rights Campaign. Next week, the group plans to award their "Healthcare Equality Index" award to 76 percent of VA facilities that participated in the equality survey, nearly all for the first time. "This is a big victory, particularly when you consider how well the VA hospitals did," said an HRC spokesman.

Live On MSNBC, Obama Calls Prop 8 Plaintiff's Cell Phone Mid-Interview With Congratulations. Moments after the Supreme Court of the United States ruled the Defense of Marriage Act unconstitutional and refused to rule on California's Proposition 8, effectively legalizing gay marriages in the Golden State, President Barack Obama gave a congratulatory call to the lesbian and gay litigants in those cases.

ENDA: End it, don't mend it. President Obama, Nancy Pelosi and Harry Reid are ramping up to force the Employment Non-Discrimination Act (ENDA) down the throats of all American employers, trampling your right to freedom of religion, freedom of speech and freedom of association. ENDA prohibits workplace "discrimination" on the basis of "sexual orientation or gender identity." Values-driven employers who happen to be Christians will be forced to hire male employees who want to wear dresses to work and use the women's restroom or face crippling lawsuits. Employees who express reservations about homosexual conduct will find themselves out of a job.



Obama: Gay couples no longer treated as 'lesser class of people'. President Obama placed congratulatory phone calls to the gay rights activists who prevailed in a pair of Supreme Court cases Wednesday, telling them he was proud of their efforts and pleased that the Defense of Marriage Act and a ruling restricting gay marriage in California had been overturned. "We're proud of you guys, and we're proud to have this in California," Obama told Kris Perry and Sandy Stier, the plaintiffs who challenged California's anti-gay marriage Proposition 8. The call, placed from Air Force One as the president and the first family traveled to Senegal, was broadcast live on MSNBC while the couple was being interviewed.

Pentagon's LGBT 'Pride Month' Comes With a Poster. On Tuesday, June 25, the U.S. Defense Department will give special recognition to "gay, lesbian and bisexual servicemembers" — as well as gay, lesbian, bisexual and transgender civilian workers — for their "dedicated service to our country."

Kerry 'Proud' of Obama for Refusing to Defend DOMA. Secretary of State John Kerry, wishing "Happy Pride to all," told a gathering of State Department homosexuals that he's proud of the Obama administration for refusing to defend a federal law the president dislikes. "And the fact is that we have an administration today that I am proud to say no longer defends the constitutionality of DOMA (Defense of Marriage Act). That's an enormous step forward," Kerry said at a "pride" event for Gays and Lesbians in Foreign Affairs Agencies (GLIFAA) on Wednesday [6/19/2013].

Holder: More to Be Done for LGBTs, No Matter How SCOTUS Rules on DOMA, Prop 8. Attorney General Eric Holder hosted a "pride" event for gays, lesbians, bisexuals and transgenders at the Justice Department on Tuesday, telling attendees that the homosexual agenda will be a "priority" during the remainder of his time as the nation's top cop. "The fact remains that across the country far too many LBGT Americans suffer discrimination each and every day," Holder said.

Obama at LGBT event: Nation at 'turning point'. President Obama told attendees at an LGBT Pride Month celebration that the U.S. needs to get marriage equality "done now," but that he believed the nation had reached a "turning point" on gay rights. "We're not going to have to wait that long," Obama said. "From Minnesota to Maryland, from the U.S. Senate to the NBA, it's clear we've reached a turning point."

Kathleen Sebelius Advocates for GaybamaCare. Along with Health and Human Services Secretary Kathleen Sebelius, Barack must feel it's time that fairness be extended to the gay community. That's why, for those who tend toward melancholy and depression, if ever there were a time to be gay, this would be it. Why? Because in addition to reassuring college grads that free birth control should give them peace of mind and sharing the roster at Girl Scout conferences with late-term abortionists, HHS Secretary Kathleen Sebelius wants to commemorate LGBTQ month by making it one of her priorities to actively advocate on behalf of the sexually confused, conflicted, and/or questioning.

Sebelius: Obamacare opens door wider to gays, AIDS victims. Health and Human Services Secretary Kathleen Sebelius on Monday [6/3/2013] said that members of the lesbian, gay, bisexual and transgendered community will be a special focus of Obamacare because "for too long... [they] were pushed to the side." To honor Lesbian, Gay, Bixexual and Transgender Pride Month in June, the administration is drawing attention to new benefits under Obamacare targeted to the LGBT, which Sebelius said have had their access to health care limited and who, she added, have higher rates of tobacco use and are at increased risk for mental health illness.

DOJ Tells Employees to Verbally Affirm Homosexuality. The Department of Justice has been accused of religious intolerance and viewpoint discrimination after workers were sent an email directing them to verbally affirm homosexuality, according to a law firm specializing in religious liberty and now representing a DOJ whistleblower. Liberty Counsel said DOJ employees were emailed a brochure called "LGBT Inclusion at Work: The 7 Habits of Highly Effective Managers." The brochure was created as a resource from DOJ Pride, an association of lesbian, gay, bisexual and transgender employees of the DOJ.

DOJ on 'Gays': 'Silence Will be Interpreted as Disapproval'. [Scroll down] The document is chilling. It's riddled with directives that grossly violate — prima facie — employees' First Amendment liberties. Following are excerpts from the "DOJ Pride" decree. When it comes to "LGBT" employees, managers are instructed: "DON'T judge or remain silent. Silence will be interpreted as disapproval."

Pentagon recognizes transgender service members for [the] first time. The Pentagon for the first time has officially recognized transgender service members in a significant step being hailed by the LGBT community. The acknowledgement came in the form of a letter to veteran and transgender activist Autumn Sandeen confirming that the Navy had updated its records to show she is a woman.

Obama: Boy Scouts Should Expose Homosexuals to Opportunities. One day after President Obama said "yes," he thinks the Boy Scouts of America should admit homosexuals — to expose them to "opportunities and leadership" — dozens of conservative groups are running a newspaper ad, urging the Boy Scouts to "show courage" and "stand for timeless values." The 41 conservative organizations, in a full-page ad in Monday's USA Today, said it would be a "grave mistake" for BSA to change their longstanding policy against having openly homosexual Scout leaders or Scouts.

Obama's Inaugural: If God 'Truly' Created Us Equal, Homosexual 'Love' is Equal as Well. President Barack Obama opened his second inaugural address by quoting the statement from the preamble to the Declaration of Independence that all men "are endowed by their Creator with certain inalienable rights." He then went on to say that if men were in fact created equal, then homosexual "love" must be equal as well.

Heterosexual Pride Month. Obama came through on his campaign theme of 'equality' Monday [6/1/2009] by proclaiming June as "Lesbian, Gay, Bisexual, and Transgender Pride Month".

POTUS to LGBT: "Welcome to Your White House". ABBA's "Dancing Queen" filled the East Room, as more than 200 prominent gays and lesbians gathered for the first ever celebration of Pride month at the White House. The President and First Lady entered to thunderous applause. President Obama told the group he is committed to equality for their community.

Obama holds gay pride reception, vows to overturn 'unjust laws'. President Obama honored Lesbian, Gay, Bisexual and Transgender Pride Month with a White House reception Monday [6/29/2009] where he likened the struggle for gay rights with the struggle of African-Americans for civil rights.

Obama tells gay activists: Trust me. President Barack Obama's unprecedented White House celebration of the four-decades-long struggle of gay Americans for full equality hit all the right notes, including the host's acknowledgement that politicians' pretty words are no substitute for getting rid of discriminatory laws. Standing beside a beaming first lady in the ornate East Room on Monday, Obama warmly welcomed more 250 gay, lesbian, bisexual and transgender Americans "to your White House."

Homosexuality and the Laws of Moral Physics. It makes front page news when conservative elected officials are accused of selling-out to monolithic corporate lobbies like "Big Oil" or "Big Tobacco." Yet the media rarely take notice when liberal politicians toe the line for extreme ideological special interests. Case in point: Within minutes after swearing in, President Obama had the White House web site updated to declare his unconditional support for every demand of the politically powerful and very well-funded homosexual lobby.



Obama's Mention of Gay Rights May Raise Eyebrows Among Black Backers. By linking the founding moments of women's rights (Seneca Falls, N.Y.), African-American rights (Selma, Ala.), and gay rights (Stonewall Inn), President Obama stepped forcefully into a politically charged zone. He became the first president to mention the word "gay" and the issue of gay rights in an inaugural address, according to ABC News. While praised by gay-rights advocates, the remark might raise eyebrows in the African-American community, where social conservatism runs deep, as does skepticism about gay rights.

Could Dr. King Have Given the Inaugural Benediction? The Rev. Louie Giglio, designated to give the benediction at this year's presidential inauguration, has withdrawn, under apparent pressure, after the surfacing of remarks he made, some 25 years ago, about the sinfulness of homosexuality. Note that the pastor of the evangelical Passion City Church in Atlanta has been pushed off the stage not because of a deed, but because of words he said — words expressing a widely held Christian belief that homosexuality is a sin.

"Reverend" Fails To Mention Jesus At Benediction — Credits MLK For Jesus' Words. Rev. Luis Leon is the guy who replaced Louie Giglio, who was ironically axed for embracing the same biblical positions on homosexuality as MLK himself. Although he never mentioned Jesus, the good Rev — to no one's surprise — did not fail to mention gays and race.

Pastor Backs Out of Obama Inauguration Over Previous Anti-Gay Comments. [Rev. Louie] Giglio, who is now Pastor at Passion City Church in Georgia and his role at Obama's second inauguration was first announced Tuesday [1/8/2013]. But the liberal website Thinkprogress reported Wednesday on audio of Giglioi delivering a sermon in the mid-1990s in which he said homosexuality is a sin and advocated gay "recovery."

The Editor says...
He may have backed out, or he may have been dis-invited to the event, but whatever the case may be, it's just as well, because honorable people should not dignify Obama's inauguration by their presence.

U.S. Dept. of Labor Observes 'Transgender Day of Remembrance'. The U.S. Department of Labor is officially observing Nov. 20 as "The Transgender Day of Remembrance." "The Transgender Day of Remembrance [TDOR] will be commemorated in cities and countries around the world today, reflecting on those who have died as a result of fear, hate and transphobia," Labor Secretary Hilda Solis said in a statement on Tuesday [11/20/2012].

Maxwell Smart Was Right. What does the man who Newsweek's cover declared is "the first gay president" think is going to happen once sharia comes to his zip code?

Obama endorses gay marriage in 3 states. President Barack Obama on Thursday [10/25/2012] endorsed state ballot initiatives to legalise same-sex marriage in Washington state, Maryland and Maine as he sought to galvanise gay and lesbian enthusiasm for his re-election bid.

NYC gay bar hosts Obama fundraiser. Outside, posters of President Obama and the first lady were the only signs that Eastern Bloc was closed for a private party. To some regulars of the grungy gay bar in Manhattan's East Village, the $100 minimum cover charge seemed too pricey for a Saturday night.

Obama's Dangerous, Futile Anti-Bullying Crusade. I have long suspected that deep within the Obama White House there exists a super-secret agency dedicated to undermining the America cherished by most Americans. Probably innocuously called something like the "Office of Special Projects," its subversive mission is as follows. First, uncover some must-solve "problem" that, supposedly, requires an immediate government solution; second, make sure that "solving" this phony problem will greatly expand federal power regardless of constitutional constraints; third, the end result should be an army of meddling bureaucrats; and finally, high-minded aims aside, solutions will fail, but expanded federal power and bloated payrolls will be forever. Though the aforementioned is speculative, it might as well exist; consider the Obama administration's recent initiative to stop school bullying.

Federal agency says transgender people protected. The agency that enforces the federal job discrimination laws has for the first time ruled that transgender people are protected from bias in the workplace.

Obama: Building a Monument to Tolerance on the Rubble of Religious Freedom. No sooner had he finished speaking of his fellow Americans in his inaugural address as a people who "have chosen hope over fear [and] unity of purpose over conflict and discord" than his staff posted, on the White House Web site, a virtual declaration of war against those who oppose the demands for special rights and privileges by those who engage in homosexual behavior.

'Change' We Never Imagined. On issues involving marriage, family and sexual morality, Obama's been even more brazen than some of his most ardent detractors could have expected. Literally within minutes after he took the oath of office, the official White House webpage was updated — under the heading of "The Agenda: Civil Rights" — to detail his wholesale "support for the LGBT (homosexual activist) community." His stated plans include the following: Defeating all state and federal constitutional efforts to defend the millennia-old definition of natural marriage from attacks by "gay marriage" activists.

NIH under fire for grants toward creation of homoerotic website. The National Institutes of Health has spent millions of dollars over the past decade to fund the construction of an HIV-prevention website that, among other sexually explicit features, includes a graphic image of homosexual sex and a Space Invaders-style interactive game that uses a penis-shaped blaster to shoot down gay epithets.

Is Barack Obama a Red Letter Christian? Many evangelicals seem taken with Barack Obama. Tired of the Religious Right and seeking a new tone in Washington, they see in this untested, enigmatic senator a chance for real change. And indeed he is congenial and a breath of fresh air when compared with the grasping Clinton dynasty. Many Bible-believers seem ready to look the other way with Obama, despite his extremely liberal voting record (including unfettered backing of abortion), because he appears to be a genuine person they can work with. I wonder how his latest, religiously based comments might change this. The other day Obama reiterated his support for civil unions for homosexuals.

Gay Couple Receives Obama Congratulations on Wedding. Matt Katz and Aaron Lafrenz of Brooklyn, N.Y., were surprised to receive a letter from President Barack Obama congratulating them on their marriage.

Hillary Clinton: 'Religious Beliefs' Are 'Standing in the Way of Protecting Human Rights of LGBT People'. Religious beliefs and cultural values do not justify the failure to uphold the human rights of homosexuals, Secretary of State Hillary Clinton told the United Nations in Geneva on Tuesday [12/6/2011]. "Now, raising this issue, I know, is sensitive for many people and that the obstacles standing in the way of protecting the human rights of LGBT people rest on deeply held personal, political, cultural, and religious beliefs," Clinton said.

A Global Gay-Rights Crusade. There is some that is commendable and much that is pernicious in Secretary Clinton's speech Tuesday [12/6/2011] announcing that the United States will be making "LGBT rights" — that is, the rights of lesbians, gays, bisexuals, and transgendered persons — "a priority of our foreign policy" and a factor in determining the uses of "foreign assistance."

Obama's war on decency: [Scroll down] The second news item was Secretary of State Hillary Rodham Clinton's speech in Geneva on Tuesday [12/6/2011], announcing that American taxpayers will be paying for homosexual activism around the world through a $3 million Global Equality Fund. That's right. In a time when the United States is facing massive debt, plus a rising China and militant Islam, we're going to use foreign aid money to promote "gay rights" to the world.

Obama to speak at gay rights dinner. Obama is scheduled to speak at the Human Rights Campaign's 15th annual dinner on Saturday night at the Washington Convention Center, the group announced. Close to 3,000 people are expected at the event for the nation's largest organization fighting for lesbian, gay, bisexual and transgendered people.

Obama to Keynote Event of Gay Group That Promotes LGBT Curriculum in Elementary Schools. President Barack Obama will speak on Saturday [10/1/2011] at the Human Right Campaign's (HRC) annual dinner in Washington, D.C. — the HRC is a pro-homosexual lobbying group that, among things, is promoting a lesbian, gay, bisexual, and transgender-inclusive curricula for children in elementary school.

A President Who Promotes Sodomy. President Barrack Hussein Obama has of late been heaping great praise on homosexuality. He has indicated that he is now rethinking his position on homosexual marriage, and Vice President Joe Biden has led the way in expressly supporting "gay" marriage. He said there is an "inevitability for a national consensus on gay marriage."

Our "Gay Pride" President. The President of the United States has again declared June 2011 "Lesbian, Gay, Bisexual and Transgender [LGBT] Pride Month." For reasons I will try to explain below, however, his declaration did not include the "Q" in the LGBTQIA family of perversions from the norm of male/female biology even though Queer Youth Advocacy Day is an important part of the new educational curriculum "to unite and educate lawmakers on the needs of LGBTQ youth and what is needed to end harassment and discrimination in school." Harvard and Yale University's "queer/sodomy studies" are a vital part of the same curriculum. The Pacific School of Religion and other seminaries offer "Queer Theology."

CIA to sponsor LGBT advocacy group summit. With the country mired in a grave debate about the debt and government spending, the CIA confirmed Monday [7/11/2011] that they are sponsoring a gay advocacy group's summit on issues affecting lesbian, gay, bisexual, and transgender (LGBT) military members.

Education Secretary Advises School Districts on Homosexual Clubs for Students. Education Secretary Arne Duncan issued a "Dear Colleagues" letter on June 14 advising federally funded schools about establishing clubs on campuses, specifically Gay-Straight Alliance clubs for lesbian, gay, bisexual and transgender students. The letter was issued from the department's Office of Civil Rights for elementary and secondary schools and was sent to all school districts in the United States, according to Jo Ann Webb, spokesperson for the Department of Education (DOE).

ATF Hosts Its First Gay Pride' Observance. The Bureau of Alcohol, Tobacco, Firearms and Explosives (ATF), under fire for allowing U.S.-purchased guns to flow to Mexican criminals, celebrated its first gay pride event on Wednesday [6/22/2011]. The celebration at ATF's Washington headquarters was intended to recognize the "accomplishments and contributions of lesbian, gay, bisexual and transgender Americans to ATF and the nation, and to promote awareness of the LGBT culture," ATF said in a news release. "ATF works to ensure sexual orientation discrimination and prejudice are not tolerated in our workplace," said Acting Director Kenneth Melson.

Obama's Father's Day message about what you'd expect. A holiday like Father's Day would not be complete without Barack Obama taking full advantage of the opportunity to poke his finger in the eye of convention. On the White House website, in homage to heads of traditional families, Barry in his Presidential Proclamation 2010 exploited Father's Day to make political points with the gay community.

Obama inches toward gay agenda. President Barack Obama is chipping away at his long list of promises to gay voters but has yet to earn the enthusiastic backing of the reliably Democratic voting bloc.

President Obama and family host 'green' Easter fest — and make it gay. Among the innovations: The White House rolled out new "green," environmentally friendly souvenir eggs and invited gay parents. "It's cool," said Norma Johnson, 44, of Silver Spring, Md. ... "The administration really reached out, and there are gay and lesbian people here from all over the country. It's a really positive first step, and hopefully there are even better things to come," she said.

Obama turns WH site into Gay Clearinghouse. As thousands waited along the parade route, the official White House website became the Obama Gay Rights Channel. Within an hour of his swearing-in, the following was posted on the official White House website, as Obama's immediate "civil rights" goals. Protect cross-dressing and transgenderism in workplace (including schools) through federal law: Pass "Employment non-discrimination Act" [EDNA] to prohibit "discrimination based on sexual orientation or gender identity or expression".

White House Invites Gay Families to Easter Event. The White House is allocating tickets for the upcoming Easter Egg Roll to gay and lesbian families as part of the Obama administration's outreach to diverse communities.

Gay families to join White House egg roll. The White House is allocating tickets for the upcoming Easter Egg Roll to gay and lesbian parents as part of the Obama administration's outreach to diverse communities. Families say the gesture shows that the new Democratic administration values them as equal to other families.

Obama Sees Presidency As 'Bully Pulpit' for Full 'LGBT Equality'. In an open letter posted on his presidential campaign Web site Thursday [2/28/2008], Sen. Barack Obama (D-Ill.) expounds on the "promise of equality for all — a promise that extends to our gay brothers and sisters." He said he'd use the "bully pulpit" of the presidency to press for a number of laws and policy changes backed by the homosexual community.

Three Dangerous Bills Threaten Religious Freedom. The Employment Non-Discrimination Act is … designed to create special rights protections for those with sexual orientations different than heterosexuality. The original bill contained language that included "gender identity," which is code for cross-dressers, transvestites and transsexuals (known as "transgenders" by radical sex activists).

Michelle Obama Praises Husband's Commitment to Homosexuals. The wife of Democratic presidential candidate Barack Obama told a crowd of homosexual activists last week that her husband wants to repeal the Defense of Marriage Act (DOMA) and reverse the rule on homosexuals in the military. Michelle Obama also drew parallels with homosexual advocacy groups and the civil rights movement, referring to events "from Selma to Stonewall."

Obama's Mandate for Nationalized Same-Sex Marriage. Appearing Monday on "The Ellen DeGeneres Show," Joe Biden made the most high-profile statement yet of the Obama-Biden position on same-sex marriage. DeGeneres asked where he stands on California's Proposition 8, a 14-word proposal that says, "Only marriage between a man and a woman is valid or recognized in California." Those exact words were enacted originally as a California statute in 2000, when 61 percent of voters approved Proposition 22, the California Defense of Marriage Act.

How Obama Got 'Ahead of the Curve' on Same-Sex Marriage: When presidential candidate Barack Obama spoke last month with Advocate.com — which describes itself as an "LGBT" (lesbian, gay, bisexual and transgender) news site — he took a different approach to same-sex marriage than he took in 2004, when he was running for the U.S. Senate. … In The Advocate, he noted that "I for a very long time have been interested in repeal of DOMA," the Defense of Marriage Act. In a position paper, "On LGBT Rights," published by his campaign, it says Obama believes "we need to fully repeal the Defense of Marriage Act."

Obama wants 'don't ask' repealed. Sen. Barack Obama says if elected president he won't require that his appointees to the Joint Chiefs of Staff support allowing gays to serve openly in the military. The Democratic presidential front-runner told The Advocate, a gay magazine, that he wants to repeal the "don't ask, don't tell" policy on gays, which was instituted during the Clinton administration.

Obama Pledges 'Total Equality' for Same-Sex Families. Sen. Barack Obama (D-Ill.), who has studiously avoided coming out in full support of same-sex marriage, may have finally tipped his hand on how he really feels. In recent letters written to homosexual activist groups, the presumed Democratic nominee said he supports homosexual couples adopting babies. Further, he said, he wants to repeal the federal Defense of Marriage Act (DOMA), which defines marriage as being between one man and one woman — and forbids states from being forced to accept any other definition of marriage under the U.S. Constitution's Full Faith and Credit Clause.

Democratic Platform Calls for Homosexuals in the Military. The national platform approved at a Democratic Platform Committee meeting in Pittsburgh on Saturday [8/9/2008] includes language that calls for repealing the "Don't Ask, Don't Tell" policy implemented by Democratic President Bill Clinton and for allowing homosexuals to serve openly in the military.

Minorities, women, gays lobby for Obama jobs. As the United States awaits the inauguration of its first nonwhite president, organizations representing women, gays and lesbians and people of color are working overtime to encourage President-elect Barack Obama to make good on his remark that he would nominate "one of the most diverse Cabinets and White House staffs of all time."

Combat troops to get gay sensitivity training. American combat troops will get sensitivity training directly on the battlefield about the military's new policy on gays instead of waiting until they return to home base in the United States, the senior enlisted man in Afghanistan said Thursday [2/24/2011]. The Pentagon is launching an extensive force-wide program to ease the process of integrating open homosexuals into the ranks, including into close-knit fighting units.

First Openly Gay Man Chosen as the New White House Social Secretary. In a job typically filled by a woman, the White House has chosen the first-ever man to be the next White House Social Secretary. Jeremy Bernard, who is openly gay, will be named Special Assistant to the President and Social Secretary.

Obama's homosexual-Muslim conflict. "Human rights are gay rights," Secretary of State Hillary Rodham Clinton said recently, "and gay rights are human rights, once and for all." That's a touchy-feely liberal talking point, but don't tell it to the Muslims. Eventually, the Obama administration might have to decide to which radical group it's most important to pander: homosexuals or Muslims. There is some friction between these two Obama constituencies.

Obama Sabotages the Defense of America Act. President Obama's Justice Department colluded with gay marriage advocates to make sure the 1996 Defense of Marriage Act was overturned by the courts. That's not just my view — it's pretty close to the searing conclusion drawn by professor Richard Epstein in a piece for Forbes: "This controversial case might well go up on appeal. But if so, it looks almost like collusive litigation, unless some true defender of DOMA is allowed, as an intervener, to defend the statute on the merits."

House Democrats Insert Gay Rights into Immigration Debate. House Democrats are trying to broaden support for immigration reform by reaching out to the gay and lesbian community with a provision in immigration legislation that would allow gay and lesbian Americans to bring foreign partners home to the United States.

Obama Is No Closet Centrist. After reviewing many of Obama's personnel decisions, it's clear that Obama intends to be anything but a centrist on social issues. Many of Obama's social policy advisors are leading figures in the abortion industry and heavy hitters of the homosexual lobby.

He won't attend the National Day of Prayer, but...
Obama to Speak at LGBT Rights Dinner. President Obama will be the keynote speaker at the Human Rights Campaign's annual dinner on Saturday in Washington, D.C. "We are honored to share this night with President Obama, who has called upon our nation to embrace LGBT people as brothers and sisters," The Human Rights Campaign President, Joel Solmonese, said in an announcement today [10/5/2009].

The Privatization of the First Amendment. President Obama's nomination of Chai Feldblum to be a member of the Equal Employment Opportunity Commission (EEOC) represents one of the most serious threats to religious freedom we have seen in a long time. ... Feldblum is a radical homosexual activist whose views on "homosexual rights" are among the most extreme. Although our right to religious freedom is expressly guaranteed by the Constitution, Feldblum argues that the "homosexual rights" judges have read into the Constitution should be held higher.

Clinton pledges to defend gay rights at home and abroad. Secretary of State Hillary Clinton pledged to end violence and discrimination against gays and lesbians at home and abroad Tuesday [6/22/2010], as the Obama administration moves to extend further benefits to gays working in the federal government.

Obama Fatherhood Proclamation Mentions Families with 'Two Fathers'. While speaking Monday about fatherhood and personal responsibility, President Barack Obama made an overture to homosexual parents during his Father's Day remarks.

Obama uses powers to expand federal rights, benefits for gays and lesbians. In the past year and a half, President Obama has quietly used his powers to expand federal rights and benefits for gays and lesbians, targeting one government restriction after another in an attempt to change public policy while avoiding a confrontation with Republicans and opponents of gay rights.

Hillary Clinton Urges State Department Employees to Let Teens Know It's Okay to Be Homosexual. At an event celebrating Gay Pride Month on Tuesday, Secretary of State Hillary Clinton encouraged State Department employees to let teenagers know homosexuality is okay. ... Clinton's remarks are part of a high-profile campaign by the Obama administration to mark Gay Pride Month with gatherings at various federal agencies, including the State Department on Tuesday. The Department of Justice and the Federal Bureau of Investigation have held similar events.

Obama Promises to Keep Working Until 'Don't Ask, Don't Tell' Signed Into Law. Celebrating LGBT pride month at the White House this evening, President Obama declared that the nation has never been closer to ending the "discriminatory policy" of Don't Ask, Don't Tell and promised to keep working until the bill is signed into law.

Mr. Obama's Disingenuous (and Disturbing) Proclamation. If there were any need to further establish the radical and reckless vision for America embraced by the man who presently inhabits the White House, one need look no further than his proclamation declaring June 2010 as "Lesbian, Gay, Bisexual, and Transgender Pride Month." This is the second year Mr. Obama has made the proclamation honoring a group of individuals based on nothing more than their sexual proclivities, following the lead of his Democratic predecessor Bill Clinton. President George Bush passed on this politically motivated opportunity.

Obama Celebrates "Gay Pride" as HIV Cases Rise. As President Obama holds a White House "Gay Pride" reception on June 22, the homosexual rights movement is quietly acknowledging that decades of "safe sex" education have failed and that cases of HIV/AIDS and illegal drug use are on the rise among gay males. Indeed, gay members of Congress have scheduled a June 24 briefing on Capitol Hill to examine "the rising incidence of HIV, STDs and Viral Hepatitis among gay men in the U.S."

Obama's war on the traditional family. [Scroll down] Mr. Obama expressed his support for such priorities by using his Father's Day proclamation to elevate the status of homosexual "families" as if they could rear our youth just as well as a traditional family consisting of a mom (female) and dad (male). "Nurturing families come in many forms, and children may be raised by a father and mother, a single father, two fathers, a stepfather, a grandfather or caring guardian," he wrote. Kids with two mommies and two daddies happens to be the goal of the Labor Department's latest policy. The department is using the Family and Medical Leave Act (FMLA) to force companies to accept up to 12 weeks of leave every year for homosexual couples that adopt children.

Amtrak's first-ever ad campaign targeted at LGBT demographic. For the first time, Amtrak is courting lesbian, gay, bisexual and transgendered travelers with a targeted $250,000 multimedia advertising blitz this summer. The government-owned rail company is looking to the LGBT community for business with the hopes that its propensity for travel will translate well into rail transportation.

Senate Dem to Introduce Repeal of "Defense of Marriage Act". Sen. Dianne Feinstein, D-Calif., a senior member of the Judiciary Committee announced Wednesday that she will introduce legislation to repeal the federal Defense of Marriage Act (DOMA) which defines marriage as being solely between a man and a woman. This move comes on the heels of a decision by the Obama Administration to abandon it's [sic] defense of the constitutionality of DOMA, a 1990's measure that outlaws the federal recognition of same-sex marriages.

U.S., in Shift, Sees Marriage Act as Violation of Gay Rights. President Obama, in a major legal policy shift, has directed the Justice Department to stop defending the Defense of Marriage Act — the 1996 law that bars federal recognition of same-sex marriages — against lawsuits challenging it as unconstitutional.

President abandons marriage. The Obama administration announced yesterday [2/22/2011] that it will not defend the constitutionality of the Defense of Marriage Act (DOMA). This is the next step of President Obama's strategy to force the radical homosexual agenda on America against the will of the people and Congress.

'We Must Stand Up for the Rights of Gays And Lesbians Everywhere,' Obama Tells U.N.. In his speech to the U.N. General Assembly Wednesday [9/21/2011], President Obama called for "open societies" that "empower their citizens," including homosexuals and women. "No country should deny people their rights because of who they love, which is why we must stand up for the rights of gays and lesbians everywhere," Obama said one day after the United States started allowing homosexuals to serve openly in the U.S. military.

Obama crashes LGBT fundraiser. President Obama crashed "an LGBT fundraiser" today in Florida at a hotel where he is having his own, separate fundraiser in the same building this evening [4/10/2012]. Obama "dropped by an LGBT fundraiser to participate in a photo line," according to the pool reporter. The Democratic National Committee (DNC) and "senior campaign officials" are meeting with about 50 LGBT supporters who paid $2,500-a-piece to hear about Obama's record on LGBT issues.

Obama's same-sex evolution. Adopting an evolving position is a classic political dodge, allowing Mr. Obama to claim to be sympathetic to the concerns of homosexual activists while not offending traditionalists. His stance is calculated to grab centrists whose votes he needs in November. It gives him wiggle room with leftists who are curious why he won't be more explicit. But when Mr. Obama says he is evolving, he does so with a wink. His liberal supporters know where he really stands.

Gay for Pay. President Obama announced his support for same-sex marriage less than 48 hours after the Washington Post reported that prominent political donors were threatening to withhold donations over the president's position on gay rights.

How President Obama, in Six Days, Decided to Come Out for Gay Marriage. Vice President Biden torpedoed the White House plan to endorse gay marriage before the Democratic convention.

Mocking derision:
Another Gutsy Call! This now puts Barack Obama in the same reviled category as the Hollywood elite, the New York Times editorial page, the American professoriat, his Wall Street fundraising bundlers, the Gay and Lesbian Alliance Against Defamation, readers of the Nation, the cast and crew of The Daily Show, and the majority of residents on New York's Upper West Side. And lest we forget: He now risks the wrath of zealots, extremists, partisans, and ideologues.

Obama Was For Same-Sex Marriage Before He Was Against It. Today the President announced that he has evolved on the issue of gay marriage and that, contrary to what he said in 2004 and 2008, he now supports it. But there's reason to question whether Obama was ever really against gay marriage or whether he simply took the path of least resistance to get elected to the Senate and then the White House.

Obama's politics of distraction. While Europe is inching ever closer to plunging into a financial abyss, there are moments of comic relief provided by the current President of the United States. He has not only become the butt of innumerable jokes but his re-election campaign tactics are the stuff of low-brow comedy. A case in point, his recent "evolution" into supporting gay marriage. [...] Virtually every time the issue has been brought up to a popular vote the gay marriage propositions have been defeated — in 32 states.

Obama's cynical endorsement of gay marriage is a gift to Mitt Romney. The day after North Carolina voted 60-40 to ban gay marriage, Barack Obama did what any sane politician would do and ... endorsed gay marriage. He told ABC that he felt compelled to by the gay interns he knew, his wife, his children and Jesus. Why did he really do it? Sheer, naked opportunism. Like the contraception issue before it, this is an attempt to distract from how bad the economy is. What will Obama do next in his desperate bid for re-election? Make a claim on the Falklands?

Gay Marriage is Obama's Poison Pill. Gay marriage is a deal-breaker for a vast swath of American voters that includes Catholics as well as the black and Hispanic communities. Urbanites and suburbanites may say that they are okay with gay marriage, but what they tell pollsters and what they say privately among friends and family is far different. Americans may want to be tolerant, but their distaste for the gay lifestyle and incessant demands for acceptance is deeply offensive to most people.

Franklin Graham: Obama is shaking his fist at God. In another provocative comment aimed at Barack Obama, evangelist Franklin Graham on Thursday accused the president of having "shaken his fist" at God by changing his position on same-sex marriage. "It grieves me that our president would now affirm same-sex marriage, though I believe it grieves God even more," Graham said in a prepared statement. "This is a sad day for America. May God help us."

Obama's homosexual America. President Obama has made it official: He now supports same-sex marriage. It is his latest onslaught on traditional America. [...] He has crossed a cultural watershed, paving the way for the eventual triumph of the homosexual agenda. Rather than being a victory for "civil rights" or "marital equality," Mr. Obama's decision puts America on the path to moral disintegration. We are one step closer to becoming like secular, post-Christian Europe.

The Once and Future Liberal. Much of the loyal opposition's response to President Obama's new position in favor of gay marriage centered on the back-and-forth in which he has indulged over the years getting to it. He was for it; he was against it; now he's for it again (not that he apparently proposes to do anything to advance the cause beyond his "historic" expression of personal support). In short, the "evolved" presidential view is of the genus "political cynicism": On the eve of a major Hollywood fundraiser (and, hmm, a Washington Post exposé on Mitt Romney's prep school bully-boy days), Obama chose to pander to a group that was feeling under-pandered-to.

Obama's wicked marriage proposal. It's one thing to be a hypocrite, which Mr. Obama has been for years. Since he began pretending to oppose the redefinition of marriage but refusing to defend the federal Defense of Marriage Act while homosexualizing the military. It's quite another thing, however, to invoke Christ when doing the devil's work. Forget the voters. Mr. Obama's going to have to answer to God for this one. [...] With this wicked move, Mr. Obama is insisting that we bow down and worship the false idol of sexual anarchy. That's what his wealthy supporters in Hollywood demand.

Homosexuality is Not Normal. North Carolina is now the 31st state to approve a constitutional amendment on marriage. NC voters banned same-sex marriage, also barring legal recognition of unmarried couples by state and local governments. And now Obama has come out with a public statement exclaiming he is absolutely in favor of gay marriage. For once, I am elated at something he has done. This "evolving" position coming from Obama is more proof of how out of step with the American people he really is.

Rand Paul Says He Didn't Think Obama's Views 'Could Get Any Gayer'. Sen. Rand Paul mocked President Obama's recent support of gay marriage on Friday [5/12/2012] [...] "The president recently weighed in on marriage and you know he said his views were evolving on marriage," the Kentucky Republican said at Iowa's Faith and Freedom Coalition meeting. "Call me cynical, but I wasn't sure his views on marriage could get any gayer."

Gay Marriage as a Distraction. Barack Obama has been for same-sex marriage (to the extent he is for anything other than himself) since he declared himself a supporter back in the nineties in Chicago. He just changed his mind publicly for electoral expediency. Now he is changing his mind back for the same reason, but it's amped up. He wants to put Mitt Romney — who polls are showing to be a formidable presidential opponent — on the spot on an issue the governor would rather not talk about (and probably shouldn't). Obama and his people are seeking to change the subject of this election from the dreadful financial condition of our country to same-sex marriage or anything else that sticks.

'Out for Obama' and Other Outlandish Campaign Slogans. A few hours after the President 'came out' for same-sex marriage to Good Morning America news anchor Robin Roberts, who struggled as Obama spoke to contain her uncontrollable "chills," the campaign's website was awash in lesbian, gay, bi-sexual and transgender wares. The White House claimed that "President Obama's decision to reveal his personal position on gay marriage was not political — and it was not planned," which means that some ambitious silk-screener churned out those gay friendly t-shirts on incredibly short notice.

Free Our Kids From Arne Duncan. President Obama now commands center stage following his formal announcement that, yes, he supports same sex marriage. But for perspective on how we got to this point, we should shift our sights to three days before the president's announcement. Secretary of Education Arne Duncan appeared on MSNBC where he responded "yes, I do" when asked if he supports same sex marriage. Duncan at best raised a few eyebrows by stating his support for same sex marriage. If he had said that homosexuality is immoral there would have been demands for his ouster.

Losing Ground: 1 in 4 Less Likely to Vote for Obama After Gay Marriage Announcement. According to a new CBS/NYT poll, one in four voters are less likely to vote for President Obama after he came out publicly to support gay marriage last week. However, the vast majority of voters say his annoucement will have no effect on the way they vote.

Obama, touting gay marriage stance, calls for repeal of Defense of Marriage Act. While his administration has put out statements on the idea of repealing the 1996 federal law defining marriage as between a man and a woman, it's unusual for Obama to call for its repeal. He did so Monday [5/14/2012] as one of a list of policy goals for what he hopes will be a second term, along with passing the immigration legislation known as the Dream Act, reforming Wall Street and investing in schools.

African-American Church Leaders Condemn Obama For Gay Marriage Support. Just days after President Barack Obama announced his support for same-sex marriage, pastors and priests around Maryland took to their own pulpits with their reaction — and in some cases — condemnation of the president.

How the Democratic Party lost its way. Why is the country debating gay marriage right now? The deficit is out of control. The economy is stuck in neutral. Incomes are flat. Unemployment is stubbornly high. Europe is on the brink of collapse. The Middle East is on the brink of war. So why are we talking about gay marriage? The reason is simple: President Obama was facing a backlash from a core Democratic constituency, namely the gay rights community, and he had to respond because he desperately needs its campaign contributions.

Black pastors condemn Obama's gay marriage support. A group of black pastors gathered in Memphis on Thursday to denounce President Barack Obama's support for gay marriage and call on him to change his views.

Black pastors bash NAACP for endorsing gay marriage. The Coalition of African American Pastors announced Tuesday [5/22/2012] that it does not agree with the National Association for the Advancement of Colored People's decision to endorse the legalization of same-sex marriage. CAAP launched a petition last week to oppose broadening the legal definition of marriage.

On gay marriage, Obama's critics and supporters alike think he may shift again. Despite his comments that he thinks the matter should be left to the states, many gay rights advocates strongly believe that it must be dealt with nationally — and that Obama is quietly on their side. Conservative critics of the president suspect the same, citing this as one way the president might tack left if reelected.

Religious leader: Obama's gay marriage support a 'slap in the face of black clergy'. Bishop Harry Jackson, senior pastor at Hope Christian Church, is leading a coalition of 176 religious leaders against President Barack Obama's declared support for gay marriage and the repeal of the Defense of Marriage Act. "We want to know whether he is going to use the bully pulpit of the presidential office to absolutely erase the image of biblical marriage from the face of the earth," said Jackson at the Capitol on May 24.

Sebelius touts health law's work for LGBT community. Health and Human Services (HHS) Secretary Kathleen Sebelius touted the impact of the 2010 healthcare law on lesbian, gay, bisexual and transgender Americans in a statement celebrating LGBT Pride Month. "All Americans, no less LGBT individuals, deserve the right to accessible, affordable, quality healthcare," Sebelius said Friday.

The Editor says...
Health care is not a right, and the people who engage in perverse, disease-spreading behavior deserve medical care less than anyone because they bring their health problems upon themselves.

Obama hails LGBT Pride Month. [Quoting from Barack Obama's proclamation:] From generation to generation, ordinary Americans have led a proud and inexorable march toward freedom, fairness, and full equality under the law — not just for some, but for all. [...] The lesbian, gay, bisexual, and transgender (LGBT) community has written a proud chapter in this fundamentally American story.

Obama Heads West for Big LGBT Fundraiser with More Celebrities. President Obama will hit the campaign trail hard Wednesday [6/6/2012], collecting cash in two California cities with big A list stars including Ellen DeGeneres. His two day swing includes a large gala of the LGBT Leadership Council, an organization he started in 2007 for the gay community to organize and fundraise on a larger scale.

From 'General' to 'Government' to 'Gay' — The G in GM. What do GM and President Obama have in common (besides that fact that he bought it)? They're both catering to the gay agenda for cash. Soon after President Obama declared that "same sex couples should be allowed to marry," government-owned GM decided that gays should also be targeted by its ad campaigns.

President Obama gets enthusiastic welcome at L.A. gay event. The LGBT community turns out in force to celebrate the man who has been dubbed the nation's 'first gay president.' It's a striking change from last year, when he was heckled for not supporting same-sex marriage.

President Obama Proclaims June "Gay Pride Month". Every year he has been in office President Obama has made it a point to cozy up to America's tiny homosexual activist minority by officially recognizing June as "Lesbian, Gay, Bisexual, and Transgender Pride Month." This year, of course, was no exception. Having just come out officially in favor of legalizing same-sex "marriage," the President followed up on June 1 by issuing this year's proclamation setting aside the entire month to commemorate the valuable contributions that gays, lesbians, transvestites, and an odds-and-ends assortment of sexually- and gender-confused individuals have made to American society.

Pentagon to salute gay troops. They declined to give details about what the event will be, but officials said Defense Secretary Leon Panetta feels it's important to recognize the service of gays in the armed forces.

Pentagon plans to hold Gay Pride month event. The Pentagon is planning to hold an event celebrating Lesbian, Gay, Bisexual and Transgender (LGBT) Pride month. The move comes less than a year after the Defense Department's "Don't ask, don't tell" policy toward gay and lesbian service members was repealed. Pentagon spokeswoman Eileen Lainez said the Pentagon is planning its first event for LGBT Pride month, which will be held later in June. Details about the event had yet to be finalized, she said.

Obama hosts LGBT Pride reception, vows to be 'advocate'. President Barack Obama promised a roomful of gay, lesbian, bisexual, transgender (LGBT) activists on Friday [6/15/2012] that he would be their "fellow advocate" as long as he is in the White House.

Obama Celebrates Anti-Police Riot Started at Mafia-Owned Bar for Transvestites. At a White House reception held Friday evening in honor of Lesbian Gay Bisexual and Transgender Pride month, President Barack Obama celebrated a 1969 anti-police riot that started in what the New York Times reports was an illegal Mafia-owned bar for transvestites.

African-American Christian Coalition Can't Get Meeting With Obama. The rubber may be meeting the road in the relationship Barack Obama has with African-Americans who are believing Christians. The Coalition of African American Pastors, fed up with Obama's anti-Biblical stance on gay marriage, is demanding a meeting with Obama — and so far, they're getting nowhere.

Religious Freedom Under the Gun. The State Department recently announced that it was dropping coverage of religious freedom from its annual Human Rights Report. The declared reason: to avoid duplicating coverage available in the annual Report on International Religious Freedom. There may be other reasons. Given the Obama administration's consistent downgrading of religious freedom at home and in foreign policy, this move may be part of a larger reprioritization in human rights policy in favor of the advancement of lesbian, gay, bisexual, and transgender rights.

Obama And NAACP Pervert Civil Rights To Advance Gay Agenda. The mainstream "progressive" media created a stir about the NAACP crowd booing Mitt Romney at the decidedly liberal group's national convention in Houston, Texas. The activist attendees didn't like the fact that President Obama's presumptive GOP challenger intends to repeal Obamacare if elected. Still, what you won't hear from the mainstream media is the fact that those very same left-leaning activists gave Mr. Romney a rousing ovation when he pledged to defend the institution of real marriage from secular extremists' ongoing attempts to radically re-define it.

Sebelius Calls for AIDS 'Education Campaign That Helps Reduce Homophobia or Promotes Gender Equality'. Health and Human Services Secretary Kathleen Sebelius speaking at the opening session of the 2012 International AIDS Conference in Washington, D.C., said the key to helping someone stay on their HIV treatment might be "an education campaign that helps reduce homophobia or promotes gender equality." Sebelius, who spoke on Sunday [7/22/2012] about what strategy is needed to achieve "an AIDS-free generation," including educating people about "homophobia." She touted how the "historic health care legislation," or Obamacare, will eliminate pre-existing conditions so that more people with HIV/AIDS can have access to treatment.

Obama's Ultimate Cover-up. [Scroll down] Perversion was a central aspect of [Frank Marshall] Davis's communist identity. That's why he wrote Sex Rebel. We can see this facet of Davis's Marxism reflected in Obama, at least in terms of his policies on such subjects as gay rights, gay marriage, gays in the military, and so forth. Obama's openly gay appointee Kevin Jennings facilitated that at the Department of Education, while Leon Panetta supervises this radical transformation at the Pentagon, our last line of defense, even while he bemoans anticipated cuts to the Pentagon budget. In the latest example of this subversion from within, Panetta's Department of Defense issued a policy approving members of the U.S. Armed Forces to march in a "gay pride" parade while wearing their service-issued uniforms.

President Obama Opposes Boy Scout Policy Banning Gay Members. Months after officially coming out in favor of gay marriage, the White House affirmed today [8/8/2012] that President Obama opposes the Boy Scouts' policy of banning openly gay individuals from joining the group. When former White House press secretary Robert Gibbs was asked about what President Obama thinks of the policy, Gibbs did not say whether or not the president approves of it, but in a statement to the Washington Blade today, the White House makes the president's opposition to the policy unequivocal.

90 Reasons to Vote for Obama. [Ben] Gibbard's reason to re-support Obama is that he "is the first president in U.S. history to acknowledge the right of gay couples to marry and enjoy the full benefits of marriage in the eyes of the law." That's the lead-off reason? Gay marriage? The left insists on making this issue, of marginal or no importance to the vast majority of Americans (fewer than 5 percent of Americans self-identify as gay), more pressing than, say, rising unemployment or crushing national debt.

Barack Hussein McGovern. Gay marriage is the issue most likely to hurt Obama. After his announcement on May 9 that he had changed his mind on the issue, Gallup concluded that "his new position is more of a net minus than a net plus for him."

"Bullying" campaigns are really about promoting homosexuality.

Anti-Bullying Speaker Bashes Christianity, Mocks Students. According to one of the teachers in the audience, the speech was also replete with obscenities and "sexual innuendo not appropriate for this age group." As expected, a number of students and teachers complained, prompting the National Scholastic Press Association and the Journalism Education Association to release a joint statement. ... As of this writing, no one from the NSPA or any other organization affiliated with the conference has issued a formal apology.

Anti-Bullying Speaker Curses Christian Teens. Rick Tuttle, the journalism advisor for Sutter Union High School in California, was among several thousand people in the audience. He said they thought the speech was one thing — but it turned into something else. "I thought this would be about anti-bullying," Tuttle told Fox news. "It turned into a pointed attack on Christian beliefs."

Obama White House Fundraises For Anti-Christian Bully Savage. President Obama's administration has focused heavily on ending childhood bullying. So why would the Obama administration get behind an anti-bullying organization headed by one of America's most vulgar, extreme bullies?

Parent of Kids Who Walked Out on Savage: 'What a Pig'. The father of two students who attended the high school journalism conference where White House-endorsed "anti-bullying" advocate Dan Savage attacked the Bible and Christianity has spoken out vehemently against Savage and against the conference organizers.

Inside Savage's Visit To The White House. On June 29, 2011, Dan Savage and his partner Terry Miller visited the White House for the Obama administration's "Pride Reception." There, Savage wore a pin reading "EVOLVE ALREADY" — an attempt to push President Obama into fully embracing gay marriage. "I believe the president should evolve," Savage told the press pool. "He says he's evolving. I believe him. I want to hurry him along." Savage said Obama would embrace gay marriage in February 2013, after his re-election.

Anti-Bully Advocate Dan Savage Bullies High School Kids With Profane Bible Rant. As many as 100 high school students walked out of a national journalism conference after an anti-bullying speaker began cursing, attacked the Bible and reportedly called those who refused to listen to his rant "pansy a····." The speaker was Dan Savage, founder of the "It Gets Better" project, an anti-bullying campaign that has reached more than 40 million viewers with contributors ranging from President Obama to Hollywood stars. Savage also writes a sex advice column called "Savage Love."

Dan Savage: 'Tolerant' Bully. This deviant troglodyte is the face of the left's anti-bullying efforts. I've often said that those wonderfully "tolerant" liberals — the self-styled opponents of "hate" and "bigotry" — are the most intolerant, hateful bigots among us.

The Left's Idea of Tolerance: When homosexual bully Dan Savage unleashed a foul-mouthed tirade against the religious beliefs of a group of teenagers at the National High School Journalism Convention in Seattle last month, he exposed the lie behind the Left's idea of tolerance. [...] In what world — in what cause — is it even vaguely acceptable for a grown man to bully teenagers for their spiritual beliefs in that manner? We need only imagine Rush Limbaugh making his points in such terms and in such a place to know the reaction from the Left would have been much different.

Stand Up to Dan Savage's Bullying. How is it that Dan Savage and his actions during a Seattle regional journalism event to about one thousand high school students go unreported? How is it that an individual who purports to promote tolerance and a no-bullying policy could be such a bully? And how is it that Dan Savage can savage the Bible and the Christian faith, and there is no response from Christian leaders or churches?


---
"Accuse others of what you do."

- Karl Marx
---



This is an original compilation, Copyright © 2017 by Andrew K. Dart

Back to the Barack Obama index page
More about Liberals in general
Back to the Home page