natural gas.



Alarm on Energy. Fifty years ago, in the wake of the Yom Kippur War, the Arab members of OPEC initiated an oil embargo against the United States. The boycott was retribution for America's support of Israel during its brief war against Egypt and Syria. What was true in 1973 remains true in the wake of Hamas's brutal terror attack on Israel on October 7: America's national strength depends on the availability of cheap, abundant, reliable energy. Our national security, and that of our allies, depends on energy security. Energy is the economy. We forget these realities at our extreme peril. Fortunately, some things that were true a half-century ago are no longer so. Over the past decade or so, the geopolitics of energy have shifted dramatically in favor of the U.S., due mainly to the shale revolution. Instead of relying on oil imports, the U.S. has become a huge exporter of both oil and natural gas.

Texas could be an OPEC country someday.
Drill, Baby, Drill. In 1948, [...] Odessa [Texas] was booming. Over the preceding decade, the population had tripled to about 29,000 people. The town's population would nearly triple again during the 1950s as drillers, laborers, bankers, and manufacturers flooded into the region to tap one of America's most productive oilfields. Between 1948, when Bush began working as an equipment clerk for the International Derrick & Equipment Co., and the mid-1950s, oil production in the Permian more than doubled to about 1.2 million barrels per day. Over the next 20 years, oil production in the Permian would double again. Today, the Permian produces nearly 6 million barrels of oil and 24 billion cubic feet of natural gas per day, and it's the hottest hydrocarbon province on the planet. I would gladly wager $100 that more oil and gas wells have been drilled within a 100-mile radius of Odessa than anywhere else in the world. And yet, the Permian Basin continues to produce staggering volumes of hydrocarbons and attract stunning amounts of capital.

Haynesville Natural Gas Production Sets New Record — Again. Dry natural gas production from the Haynesville shale play in northeastern Texas and northwestern Louisiana reached new highs in March 2023, averaging 14.5 billion cubic feet per day (Bcf/d), 10% more than the 2022 annual average of 13.1 Bcf/d, according to data from Enverus. Haynesville natural gas production currently accounts for about 14% of all U.S. dry natural gas production.

Biden will announce sweeping protections preventing new Arctic drilling ahead of Willow decision. President Joe Biden on Monday is expected to announce sweeping new protections for federal lands and waters in Alaska, according to an administration official, as the administration is poised to soon approve a major oil drilling project in the state. Biden will declare the entire US Arctic Ocean off limits to future oil and gas leasing and will announce new rules to protect over 13 million acres in the federal National Petroleum Reserve in Alaska from drilling. In all, the administration will move to protect up to 16 million acres from future fossil fuel leasing. The announcement comes as the administration is preparing to green-light the ConocoPhillips' Willow project, a massive oil drilling venture in the National Petroleum Reserve.

The Editor says...
It sounds like Joe Biden has one foot on the gas pedal — the Willow project — and one foot on the brake — putting the entire US Arctic Ocean off limits — and is pushing both as hard as he can. If he made both decisions, it would be a sure sign that he's either incompetent or schizophrenic. But since his decisions are made by anonymous party bosses, it means that the bosses don't talk to each other before announcing their edicts.

It Looks Like America's Energy Future Is Still Going to Be a Gas. The fossil fuel will likely remain a mainstay of America's electrical grid for some time, according to energy experts and lawmakers. That's a big disappointment to liberal Democrats and environmentalists. In protests in cities and campuses nationwide, one of them fronted by Senate Majority Leader Chuck Schumer, they made natural gas the new climate villain, replacing coal, the dirtier fossil fuel that's fading in the states. Climate activists had pinned their hopes on the administration's proposal to remake the energy industry at breakneck speed. It gives financial incentives to utilities to ramp up the deployment of clean energy sources such as wind and solar and would slow if not stop the expansion of gas-fired power plants.

Los Angeles County votes to phase out oil and gas drilling. Los Angeles County supervisors voted unanimously Wednesday [9/15/2021] to phase out oil and gas drilling and ban new drill sites in the unincorporated areas of the nation's most populous county. Over 1,600 active and idle oil and gas wells in the county could be shuttered after the 5-0 vote by the board of supervisors. A timetable for the phaseout will be decided after the county determines the fastest way to legally shut down the wells. Among the sites is the Inglewood Oil Field, one of the largest U.S. urban oil fields. The sprawling, 1,000-acre (405-hectare) site, owned and operated by Sentinel Peak Resources, contains over half the oil and gas wells in the county's unincorporated areas. The field produced 2.5 million to 3.1 million barrels of oil a year over the past decade, according to the company.

Biden maims US energy industry, then begs OPEC for oil. During the pre-COVID-19 Trump era, the low price of gas helped sustain an economic boom that brought wage increases for lower-class workers and spurred unprecedented low levels of unemployment. The main reason for the low gas prices was that a huge surge in domestic and North American production was driving prices down. Even more importantly, the production was freeing the United States energy market from the vagaries of Middle Eastern politics and weakening such malign actors as Russian President Vladimir Putin, whose ability to sow chaos depends upon oil revenue. During that period, thanks to fracking technology and a federal government committed to commonsense regulation, the U.S. became the world's leading oil producer. It also became a net exporter of oil, even as the nation decreased carbon emissions, thanks to the surge in natural gas production.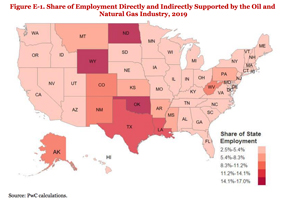 Why Does Joe Biden Want to Kill Our Oil and Gas? In 31 U.S. states the oil and gas industry, directly and indirectly, supported at least 100,000 jobs in each during 2019. Texas alone had 2.5 million jobs supported by the industry, and California had over 1 million jobs attributable to the industry. The share of employment supported by the oil and natural gas industry (including direct, indirect and induced impacts) in each state ranges from 2.6 percent in the District of Columbia to 16.7 percent in Oklahoma. [Map] Over the last decade, U.S. natural gas production increased by about 60 percent and oil production doubled. Despite the push by the federal government and a growing number of states to transition to electric vehicles and renewable energy sources, demand for oil is expected to continue to increase through 2050, according to the Energy Information Administration in its Annual Energy Outlook 2021. This is because it represents over 90 percent of the U.S. transportation sector and is used in over 6000 products essential for modern life. All of our food, and virtually every good Americans depend upon for living are transported to them by the use of oil.
Natural Gas [is] Replacing Nuclear, Despite What Cuomo and Others Say. Belgium is the latest country to announce it will replace its shuttered nuclear plants with natural gas generation. The country has seven nuclear plants that will be retired by 2025 and has put in place a system of electricity production capacity auctions to replace its nuclear power. In October, about 2.3 gigawatts of new capacity will be sold during the first auction, which will consist of two to three natural gas-fired power plants. Germany is another country that is building natural gas plants. As part of Germany's Energiewende — the mandated transition to renewable energy, it is shuttering its nuclear plants and is building natural gas plants with 2.4 gigawatts to be added over the next two years. In the United States, New York has shuttered the second reactor at its Indian Point nuclear plant last month with the plant's power being largely replaced by natural gas. In California, the Diablo Canyon nuclear reactors will be shuttered in 2024 and 2025. When the San Onofre nuclear plant shuttered in California in 2013, the replacement power was provided by natural gas.
Death of shale 'exaggerated': US oil patch springs to life. U.S. shale oil production is ramping back up, with crude prices returning to pre-pandemic levels following recovery of demand, making drilling profitable again for the majority of companies. The increased activity that surged in March follows a temporary slowdown in February due to freezing weather and comes after drillers shut in a record amount of production in 2020 because travel shutdowns during the pandemic sapped consumption of oil-based fuels. The strong rebound shows that some oil producers are refusing to resist the temptation to drill from higher prices, despite the pandemic worsening financial problems that companies faced from taking on debt to pay for growth during the shale fracking boom of the 2010s, without providing sufficient returns.
Delivery is sometimes the weak link.
Natural gas supply is critically low in Texas. Are rolling gas outages next? As Texas electric plants slowly come back online during below-freezing temperatures across the state, natural gas has become the latest concern, as that supply is now critically low. Atmos Energy, the gas utility in North Texas, texted customers an emergency alert on Wednesday [2/17/2021] asking them to reduce usage.
Texas governor vows to fight U.S. curbs on oil and gas activity. The top elected official of the largest U.S. oil and gas producing state on Thursday [1/28/2021] pledged to fight President Joe Biden's executive orders that he claimed would undercut Texas energy production. In a case of dueling executive orders, Texas Governor Greg Abbott authorized state agencies to bring legal challenges Biden's policies. Biden on Wednesday unveiled a series of actions to combat climate change, including pausing new oil and gas leases on federal land and cutting fossil fuel subsidies.
Natural Gas About to Get Even Cleaner; What Will Fractivists Do? Researchers at the University of Illinois Chicago have developed a cutting edge catalyst made up of 10 different elements — each of which on its own has the ability to reduce the combustion temperature of methane — plus oxygen. This unique catalyst brings the combustion temperature of methane down by about half, from above 1400 degrees Kelvin down to 600 to 700 degrees Kelvin. What it means is that natural gas can burn cleaner and emit far less carbon dioxide. Once again science shows that fossil fuels like natural gas can be and are clean and just fine for the precious environment.
The Editor says...
Environmentalists don't care if the combustion of natural gas emits less carbon dioxide. They still object to the use of natural gas if it produces any carbon dioxide. The environmentalists' goals can never be achieved in the real world.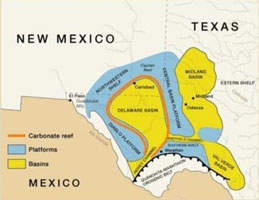 The World's Next Giant Oil Discovery Could Be Here. The Permian basin is a 250-mile-wide, 300-mile-long sedimentary basin housing the Midland Basin, the Delaware Basin and the Central Basin Platform across West Texas and Southeast New Mexico. It currently boasts the world's thickest deposits of sedimentary rocks formed during the Permian geological period. It's a geological wonder: Over nearly 300 million years, layer upon layer of rock, sand, silt, and water run-off added to the mix, creating a pressure that created one of the most lucrative bonanzas of natural resources anyone has ever seen. We're talking about a lucrative 28.9 billion barrels of oil and 75 trillion cubic feet of gas, with no sign of letting up. As of the time of writing, the Permian basin is producing over 4 million barrels per day. And while today the Permian Basin is synonymous with unconventional oil and gas, the majority of the production (and value) to date has come from the conventional oil and gas plays, good old fashion vertical wells which don't need to be frac'ed, don't need a lot of water and produce for 20 years.
Under Trump, America Became a Net Exporter of Natural Gas and Crude Oil for the First Time in More than Fifty Years. Much of America's energy boom during Trump's tenure can be attributed to his stated strategy of "energy dominance." The White House's Council of Economic Advisors (CEA) 2020 report found that in 2017 the United States became a net exporter of natural gas. It was a feat not seen since 1958. Further amplifying Trump's success in boosting America's energy boom, the United States became a net exporter of crude oil and petroleum products and will likely remain a net exporter for all of 2020 for the first time since 1949. The CEA contended that the country's growth and dominance in the fossil fuel sector has boosted the economy and has fortified national security. "The innovation-driven surge in production and exports has made the U.S. economy more resilient to global price spikes. It has also improved the country's geopolitical flexibility and influence, as evidenced by concurrent sanctions on two major oil-producing countries, Iran and Venezuela," the CEA report said.
Crude Oil Market Might Soon Be In An Oil Glut Era. Crude oil prices ended the trading session w/w on a bearish note, with losses of more than 6% on the basis that oil traders continued to worry over the outlook for energy demand, as well as a weekly surge in U.S. crude inventories raised fears that the energy market might soon be in an oil glut era.
The Editor says...
No, I don't know what "w/w" means, and I have neither the time nor the inclination to find out.
President Trump Orders Department of Energy to Fill SPR with American-Made Oil. President Trump took another bold and decisive move during the Wuhan coronavirus epidemic, where the American energy sector is concerned. The Department of Energy announced that by the order of President Trump, the DOE will fill the Strategic Petroleum Reserve (SPR) to maximum capacity by acquiring 77 million barrels of American-made crude oil.
Getting Smart With the Strategic Petroleum Reserve. President Trump announced Friday [3/13/2020] that he was ordering the Department of Energy to buy up some 77 million barrels of oil to fill the Strategic Petroleum Reserve, the massive store of crude oil the federal government has stashed in salt caverns along the Gulf Coast. The SPR's capacity sits somewhere in the neighborhood of 713.5 million barrels; currently, it holds about 635 million barrels after Congress demanded last year that oil be sold off from the SPR. The Department of Energy has the ability to store some 225,000 barrels a day of production. It's been estimated that the effect of this buy-up could be to absorb some 430,000 barrels a day of demand. That's the equivalent of someone opening a large oil refinery and putting production through it. The announcement briefly halted an absolute slaughter in the oil markets, which began when Saudi Arabia announced it was ramping up oil production following a breakdown of talks between the Saudis and Russians over production levels.
Democrats Trot Out 'Peak Oil' Again, and Are Just as Wrong as Ever. But what happens if production eventually does fall off, as it will, from recent levels in the Permian? U.S. production will fall — unless new wells are drilled to replace those just a few years old. Unless... there's more to the Permian than critics think. Advances in recovery technology have steadily increased the percentage of reserves that can be recovered in any one field. There is every reason to believe that more efficient methods will be developed in the future. Unless... old fields, such as the Anadarko and Woodford shale basins in Oklahoma, are re-drilled using fracking techniques. Unless... New York State and other areas now closed to fracking are opened up. Unless... offshore fields, which, according the U.S. Minerals Management Service, contain as much as 115 billion barrels of recoverable oil (an estimate subject to increase), are opened up for drilling.
U.S. Reports First Month in 70 Years as Net Exporter of Oil. Remember a few years ago when the United States was heavily dependent on foreign oil and experts were telling us we'd be a slave to OPEC forever? I remember it well. We fought wars for oil, undermined unfriendly governments for oil, but in the end, we were at the mercy of others for our oil supply. Our economy was held hostage by OPEC, as even a small change in the price of oil would send markets reeling and slow economic growth. But in September, that all pretty much ended. For the first time since records were kept beginning in 1949, the United States became a net exporter of oil.
Why renewables need gas. Everyone is predicting the continued expansion of gas through to 2050. Jim Conca reviews the state of play in the U.S. to explain why that projection makes sense. The welcome and rapid growth of renewables still needs something to provide backup load-following to a growing and increasingly intermittent electric grid. Gas is the cheapest to roll out and can keep prices low for decades. The other two contenders, hydro and nuclear, just can't match it. There are limits to where dams can be built, and the new Small Nuclear Reactors will take decades to deploy at scale. The other benefits are that gas is displacing the far dirtier coal, serves existing hard-to-abate gas appliances, and the U.S. has its own bountiful supply.
We're Number One! When it comes to energy and the environment, the United States ranks a clear number one among the world's nations. Not only have we increased our energy production, courtesy of fracking, to the point that we are the world's pre-eminent energy power, we have, at the same time, reduced our pollution and our CO2 emissions (if you think that matters) more than any other country. So when it comes to energy, the U.S. is the undisputed champion.
US Fracking Will Continue Its Forward March. The Abqaiq attack in Saudi Arabia by Iran, or one of its proxies, is the largest oil and petrochemical disruption in over fifty years. Over 5.7 mb/d was lost, and estimates are that it will take months or weeks to return to full production. The interruption highlights Saudi Aramco's vulnerabilities and how energy infrastructure can be shut down via military forces or environmental demonstrations like what recently occurred in Houston, Texas. The world needs U.S. fracking to continue unabated. No other country has the stability and proven reserves like the U.S. Russia, Iran, and Saudi Arabia want higher oil prices to balance their budgets. However, the U.S. shale revolution that has upended global oil supplies and geopolitics is the deterrent to energy attacks. American fracking has changed the world, and the U.S.-led liberal order in place for over seventy-five years, for the better.
America's Exclusive, Math-Challenged Party. The notion of the federal government going door to door to confiscate something like 8.5 to 15 million weapons, especially since the definition of "assault weapon" is so fluid and unclear, is both unconstitutional and politically and practically preposterous. Though I suppose it's no more ridiculous than Bernie Sanders's promise to criminally prosecute fossil-fuel executives for "the destruction they have knowingly caused." Some destruction. Affordable energy that makes our high standard of living possible. As we are now the world's leading producer of essential fuel, we have minimized the power of Middle Eastern oil magnates to manipulate the West and bleed our economies dry. And the President in opening up the Arctic Reserve for drilling will see us in the catbird seat for a long, long time.
Natural Gas, America's Wonder Fuel. One of the many idiocies of the "Green New Deal" and other such anti-fossil fuel crusades is that all of this arrives on the political scene at a time when the price of producing energy from fossil fuels is lower than at any time before in human history. The Wall Street Journal reported last week that natural gas prices "in Europe and Asia have plummeted this year to historic lows." Meanwhile in the United States, the natural gas price is flirting with a price of $2 per million BTUs. This means natural gas prices have fallen by 80% since 2005 and the advent of the shale gas revolution. [...] America is now the OPEC of natural gas production as our exports surge.
If there is a shortage, you can thank the left-wing anti-pipeline protesters and left-wing activist judges.
US is overflowing with natural gas, but not everyone can get it. Earlier this year, two utilities that service the New York City area stopped accepting new natural-gas customers in two boroughs and several suburbs. Citing jammed supply lines running into the city on the coldest winter days, they said they couldn't guarantee they'd be able to deliver gas to additional furnaces. Never mind that the country's most prolific gas field, the Marcellus Shale, is only a three-hour drive away. Meanwhile, in West Texas, drillers have so much excess natural gas they are simply burning it off, roughly enough each day to fuel every home in the state. U.S. gas production rose to a record of more than 37 trillion cubic feet last year, up 44% from a decade earlier.
It's Time to Celebrate American Energy Independence. This summer we reached a milestone in the American energy industry. The United States now produces 12 million barrels of crude oil per day. This shatters the record set a year ago, which in turn shatters the U.S. production record set way back in 1970. The United States is now the world's top energy producer. We didn't break the record by sheer luck. In fact, if the Democrats had their way, we wouldn't have broken the record at all.
Another Record for U.S. Crude Oil Production: 12 Million Barrels Per Day in April!. Two recent reports confirmed the preeminence of the United States in its production of crude oil and its related derivative, natural gas. Earlier this month British Petroleum (BP) released its "Statistical Review of World Energy" for 2019 in which it reported that the United States extended its lead as the world's top oil producer to a record 15.3 million bpd (barrels per day): 11 million bpd of crude and 4.3 million bpd of natural gas liquids (NGL) in April. BP added that the United States led all global oil producers by increasing its production by more than two million bpd in 2018, 98 percent of the total new global production.
Quietly, the US just became the world's largest oil producer. Of course, it's a summer holiday week. So, this good news somehow slipped by most media critics of this president. But the latest government figures just showed that in April the United States produced a new record amount of oil per day — a stunning 12.16 million barrels of oil every 24 hours. That's up another quarter-million barrels a day from March and the third straight monthly increase, according to the U.S. Energy Information Administration.
The Editor says...
Just imagine what will happen when fracking operations move into Alaska, like they have in West Texas.
The End of the Oil Age Keeps Getting Postponed. Oil production in the Permian Basin dates back to the 1920s although production data from the Texas Railroad Commission only goes back to 1940 when production reached 84 million barrels annually. The Permian Basin is one of the oldest as well as one of the largest and thickest deposits of sedimentary rocks in the country, covering the western part of Texas and eastern portion of New Mexico. Annual production grew to about 550 million barrels in 1957 and then began a decline that took about a decade to get back to the 1957 level. It continued to increase and didn't peak until about 1975 when it hit 750 million barrels. The 70s were a time of price and wage controls and a belief that domestic oil production was on the verge of exhaustion. By 1998, oil production had fallen to less than 400 million barrels annually. Today, as a result of horizontal drilling and "fracking", production has reached almost 4 million barrels a day meaning that it exceeds its 1975 production peak in a little more than 6 months. Not only has technology unlocked a tremendous amount of output, it has also helped to lower the break-even cost per barrel from $60 to $33.
The Solar Energy Racket. [Scroll down] It is useful to remember that 86% of CO2 emissions come from outside the United States, where they are increasing. But U.S. emissions have been decreasing due to substitution of natural gas for coal and due to energy conservation. The other justification for solar is that we will run out of fossil fuels. The sun won't run out of sunshine for around 10 billion years. There is no prospect for running out of fossil fuels anytime soon. Fracking has just unleashed a 100-year supply of natural gas and oil. The U.S. has coal for 500 years. The supply of nuclear fuel is, for practical purposes, unlimited. What we have is an alliance among hysterical environmental groups, profit-making solar developers, and politicians eager to make important friends. The environmental groups need a stream of impending catastrophes for which they propose impracticable or crackpot solutions. That's how they excite interest and stay in business.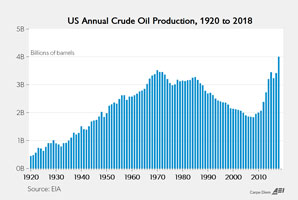 Chart of the Day shows annual US oil production from 1920 to 2018. From the previous peak of 3.5 billion barrels in 1970, conventional oil production steadily declined and fell below 2 billion barrels during the seven-year period from 2004-2010 during a period when concerns about "peak oil," rising gas prices that nearly tripled from January 2002 to September 2005, CO2 emissions and dependence on foreign oil motivated Congress to enact the Renewable Fuel Standard in 2005 and expand it in 2007. But then the technology-fueled Great American Shale Revolution supercharged US oil production, which doubled from about 2 billion barrels in 2011 to slightly more than 4 billion last year. That eye-popping 2X increase in US oil production in only seven years is arguably the most remarkable energy success story in US history, maybe in world history.
AOC would make a great poster child for Russia. The United States has established itself as the greatest oil producer in the world ahead of Russia and Saudi Arabia. There is a power dynamic from being oil independent that cannot be ignored. Putin knows this. The Saudis know this. The 184 countries that signed the Paris Accord know this and are aware they need to align themselves with an energy giant. Traditionally that giant was the U.S., but the gild is coming off the lily. Russia has traditionally been painted as the bad guy. Prosperity around the world from deep earth minerals/fuels is now being weaponized against the West since the oil, natural gas and particularly coal prosperity has led to reduced infant mortality, extended lifespans, and allowed the movement of goods and people anywhere in the world via the diesel engine and jet turbine. Both have done more for the cause of globalization than anything else; and both get their fuels from oil.
US Oil Output Hits 12 Million Barrel-A-Day Milestone Way Ahead Of Schedule. U.S. crude oil production hit 12 million barrels per day in mid-February, according to the Energy Information Administration's (EIA) latest report. EIA's weekly petroleum report, for the week ending Feb. 15, showed crude output jump more than 1.7 million barrels per day compared to the same time in 2018 — from roughly 10.3 million barrels per day to 12 million barrels per day.
US [is] Predicted to Drill More Oil Than Saudi Arabia and Russia Combined by 2025. The far left media will not report this success but it means more than just being number one. By drilling more oil in the US, the US economy benefits and billions of dollars remain in the US rather than going to terrorist regimes around the world. President Obama had a policy of preventing oil drilling in the US and this only prevented the US from being energy independent from oil producers elsewhere. It made no sense unless Obama wanted to keep the US poor and dependent.
Peak Oil Theory's No Good Terrible Very Bad Week. Just when you thought continued belief in any of the various brands of "Peak Oil" theory could hardly become less sustainable, you get a week like this one. No matter whether you come at Peak Oil from the supply side or the demand side, several events this week would have had to put you in a definitively sour mood. Starting off this "No Good Terrible Very Bad" week for the Peak Oilers, UN International Energy Agency (IEA) Executive Director Fatih Birol debunked a popular piece of the demand side of the theory.
US to Become Third Largest LNG Exporter in 2019. The coming year is expected to make the U.S. the third largest exporter of liquefied natural gas (LNG) in the world, creating jobs stateside while reducing emissions and providing reliable energy to countries around the world, said American Petroleum Institute (API). API, Center for LNG, and LNG Allies, the three national trade associations specializing in U.S. LNG, today issued a first-of-its-kind joint statement on the extraordinary developments expected in U.S. LNG in 2019.
USGS Finds Record Reserves Expected to Yield 46 Billion Barrels of Oil. The U.S. Geological Survey said oil and natural gas reserves straddling the New Mexico-Texas line amount to the largest such continuous energy field ever found in the region. The find was assessed to harbor 46.3 billion barrels of oil, 281 trillion cubic feet of natural gas, and 20 billion barrels of natural gas liquids, according to USGS, which did not assess the financial cost-benefit analysis of tapping into the reserves. "Christmas came a few weeks early this year," Interior Secretary Ryan Zinke said in a statement. The previously undiscovered reserves are deemed to be technically recoverable using currently available drilling equipment and technology, and stretch across the Delaware Basin portion of Texas and New Mexico's Permian Basin. Oil companies currently operate in the area using both traditional vertical drilling, horizontal drilling and fracking.
'Christmas came a few weeks early': Ryan Zinke announces massive new oil find. The U.S. Geological Survey announced Thursday that it discovered one the largest new sources of oil and natural gas under Texas and New Mexico. [...] The new shale oil and gas formation known as Wolfcamp, which is adjacent to the oil-rich Permian region in Texas, contains an estimated mean of 46.3 billion barrels of oil, 281 trillion cubic feet of natural gas and 20 billion barrels of natural gas liquids, according to the U.S. Geological Survey.
New Report Shows How Incredibly Wrong Obama Was About Energy Independence. Has any politician ever been more wrong than Barack Obama was about U.S. oil production and energy independence? [...] Crude oil production in the U.S. has climbed more than 67% in just the past six years. And the Department of Energy expects it will climb an additional 11% next year. Earlier this year, U.S. production hit 11 million barrels a day, surpassing Russia as the world's largest oil producer, after having blown past Saudi Arabia in February. This explosion in domestic oil production is largely due to fracking, which has opened vast expanses of once-inaccessible crude oil. It was also never supposed to happen. At least not if you'd been listening to President Barack Obama. For eight years, Obama told the country over and over again that the U.S. would forever be dependent on foreign countries for oil.
The United States is Probably World's Largest Crude Oil Producer, Government Report Says. The United States has "likely" become the largest crude oil producer in the world, surpassing Russia and Saudi Arabia, a new government report states. [...] EIA credits the hydraulic fracturing ("fracking") revolution for increased U.S. domestic oil and natural gas production. With the widespread use of fracking, U.S. oil production has increased 84 percent and natural gas production has increased 39 percent over the last decade. "Much of the recent growth has occurred in areas such as the Permian region in western Texas and eastern New Mexico, the Federal Offshore Gulf of Mexico, and the Bakken region in North Dakota and Montana," says the EIA report.
America becomes the world's largest oil producer after overtaking Russia and Saudi Arabia for the first time in 45 years. America has risen to the top the list of oil-producing countries for the first time in more than four decades, analysts believe. The US overtook Saudi Arabia for monthly crude oil production back in February and likely surpassed Russia some time in June or August, new data shows. It comes after the development of fracking led to a boom in shale oil production while massively reducing drilling costs.
North Dakota Is Now Pumping as Much Crude as Venezuela. North Dakota's oil production surged to a new record in July, putting the mid-western state on par with OPEC member Venezuela. Home to the Bakken shale play, North Dakota pumped 1.27 million barrels a day in July, according to state figures released Friday. That's roughly the same output as Venezuela during the month. The South American nation, whose oil industry has collapsed amid a prolonged financial crisis, saw production fall further in August to 1.24 million barrels a day — about half the level seen in early 2016, according to data from OPEC secondary sources.
US says conserving oil is no longer an economic imperative. Conserving oil is no longer an economic imperative for the U.S., the Trump administration declares in a major new policy statement that threatens to undermine decades of government campaigns for gas-thrifty cars and other conservation programs.
Hundreds line up for gushing West Texas oil jobs. More than 500 men and women flocked to the hotel in Odessa, Texas, on a Thursday last month to be courted by Halliburton, which needs people to handle everything from oilfield technicians to truck drivers, as oil production booms and qualified workers become more scarce.
Oil prices drop on reports of U.S. inventory build. Crude oil prices turned sharply lower ahead of the start of trading Wednesday [8/1/2018] in New York after a surprise build in crude oil inventories in the United States.
Texas to pass Iraq and Iran as world's No. 3 oil powerhouse. The shale oil boom has brought a gold rush mentality to the Lone Star State, which is home to not one but two massive oilfields. Plunging drilling costs have sparked an explosion of production out of the Permian Basin of West Texas. In fact, Texas is pumping so much oil that it will surpass OPEC members Iran and Iraq next year, HSBC predicted in a recent report. If it were a country, Texas would be the world's No. 3 oil producer, behind only Russia and Saudi Arabia, the investment bank said.
Move over OPEC, America is the new king of oil. U.S. oil production is booming and oil exports are following. In its latest weekly update, the U.S. Energy Information Administration also reported that oil refining hit its highest level on record last week. The EIA report comes after U.S. crude exports surged to a record 1.76 million barrels per day in April. This is a big change for a country that just a few years ago wasn't exporting any crude.
Billions of Barrels in Oil Untapped in Texas' Eagle Ford Shale, Say Feds. The Eagle Ford shale formation, a Texas oil and natural gas powerhouse, appears primed for another energy boom. According to the latest report from the U.S. Geological Survey (USGS), the land sits on billions of barrels of untapped oil and natural gas. The feds estimate these shale fields contain approximately 8.5 billion barrels of oil, 66 trillion cubic feet of natural gas, and 1.9 billion barrels of natural gas liquids, all undiscovered and technically recoverable resources in continuous accumulations.
U.S. oil output jumps to record 10.47 million barrels per day in March: EIA. U.S. crude oil production jumped 215,000 barrels per day (bpd) to 10.47 million bpd in March, the highest on record, the Energy Information Administration (EIA) said in a monthly report on Thursday [5/31/2018]. Production in Texas rose by 4 percent to almost 4.2 million bpd, a record high based on the data going back to 2005. The Permian basin, which stretches across West Texas and eastern New Mexico, is the largest U.S. oilfield.
Time to gush for American oil production. Spring has sprung, and you might have noticed that gas prices have sprung a little, too. It's never pleasant to fill your tank and feel your wallet empty at the same time. But console yourself by recalling how much higher prices were in the spring of 2014. Things would be a lot worse today if not for America producing ever-more oil to counteract OPEC's price manipulation. This calendar year is projected to set a new record for domestic production. The resurrection of the U.S. oil and gas industry has been a godsend. Even President Barack Obama, for all his dedication to carbon reductions, couldn't resist taking credit for it in his 2012 State of the Union address.
Goodbye, OPEC. I have argued many times on these pages, and elsewhere, that the shale oil and gas revolution is the story of the decade. Since 2007 U.S. oil and gas output has risen by about 75 percent and the renaissance is still in its infancy stages. This year the surge in domestic energy production has further accelerated in part due to higher world prices for oil (approaching $70 a barrel) and to massive drilling operations in rich oil patches like the Permian Basin in Texas and in the Bakken Shale in North Dakota. The Energy Information Administration reports that the U.S. could surpass Saudi Arabia in oil and gas by the end of the year. With massive oil and gas shale reserves, we could be No. 1 in the world before the end of the decade.
Trump's revenge: US crude oil floods European markets in blow to OPEC and Russia. THE United States is flooding the European markets with record amounts crude oil as US producers seize on Russia and the Organisation of the Petroleum Exporting Countries (OPEC) pact to cut output resulting in soaring oil prices.
US oil production will lead world by 2023: IEA. America is on its way to becoming the largest oil producer in the world. The nation will surpass Russia, the current No. 1, by 2023, the International Energy Agency estimated on Monday. U.S. crude production is projected to hit a record of 12.1 million barrels a day in 2023, which would reflect an increase of roughly 2 million barrels compared with this year. Russia pumps about 11 million barrels of oil each day. IEA Executive Director Fatih Birol, speaking at the CERAWeek by IHS Markit conference in Houston, said the U.S., Brazil, Canada and Norway will contribute to supply growth by non-OPEC nations, according to The Wall Street Journal.
The World's Energy Superpower: Us. It is ironic that our myopic press obsesses on trivialities like Russians posting on Facebook, while largely ignoring the geopolitical implications of the policies that are freeing up U.S. energy production.
US to overtake Saudi Arabia and Russia to become top oil producer in 2019. The United States will overtake Saudi Arabia and Russia next year to become the world's largest oil producer. Surging output from its shale fields boosted output by 846,000 barrels per day in just the three months to November last year. The country is on course to jump from third largest producer to global leader.
The Triumph of American Oil. There are a couple of articles, one at the New York Times and the other at Reuters, which are required reading for anyone who isn't aware of perhaps the greatest American economic victory in recent times. There was a War for Oil, for the benefit of our friends who remember fondly the protests from the previous decade, and we won — without firing a shot.
U.S. Awash in Oil Production. According to the EIA, "U.S. crude oil production has increased significantly over the past 10 years, driven mainly by production from tighter rock formations including shale and other fine-grained rock using horizontal drilling and hydraulic fracturing to improve efficiency." Drilling has long been criticized by leftists, both because of its alleged detrimental effects on the environment and its supposed lack of sustainability. The evidence puts both of these narratives to rest. For starters, carbon dioxide emissions here in the states aren't rising. That's largely thanks to the boom in natural gas that's being derived from fracking — another extraction procedure the Left despises. Secondly, for decades leftists have said that oil extraction can't be maintained. Yet exploration and innovation keep proving them wrong. All of this benefits the economy big time. U.S. imports have fallen from 12.9 million barrels a day in 2006 to just 2.5 million now.
U.S. On Track To Unseat Saudi Arabia As No.2 Oil Producer In the World. New forecasts from the International Energy Agency say the United States is on track to overtake Saudi Arabia as the second-largest oil producer in the world, just behind Russia, according to the organization's report on Friday [1/19/2018].
US Quickly Becoming The 'Undisputed Global Oil And Gas Leader,' Says IEA Head. The head of the International Energy Agency (IEA) told U.S. Senators during a hearing that the U.S. is becoming the world's "leader" in oil and natural gas production. IEA chief Fatih Birol said one of the "[f]our large-scale shifts in the global energy system set the scene for the coming decades" is "the U.S. becoming the undisputed global oil and gas leader." "The remarkable ability of producers to unlock new resources cost-effectively pushes the combined United States oil and gas output in 2040 to a level 50% higher than any other country has ever managed," Birol said in his Senate testimony. IEA is an independent agency set up in the wake of the 1973 Arab oil embargo to keep global energy statistics and respond to supply shocks.
United States is Still the World's Largest Oil and Natural Gas Producer, EIA Reports. Demonstrating the dramatic shift in global energy production over the past few years, the U.S. Energy Information Administration (EIA) reports the United States remained "the world's top producer of petroleum and natural gas hydrocarbons in 2015." According to EIA's June 2017 estimates, U.S. petroleum and natural gas production first surpassed Russia's in 2012, with the United States being the world's largest producer of natural gas since 2011 and the world's leading producer of petroleum hydrocarbons since 2013.
Seven Reasons America Should Pursue Energy Dominance. Hydraulic fracturing and horizontal drilling, the innovations behind our shale revolution, have been the catalysts for America to become the world's largest producer of natural gas and petroleum since 2013. For the decade 2007-16, U.S. crude oil production rose 75% to 8.9 million barrels a day. Over the same period, marketed production of natural gas rose 40%, to 78.7 billion cubic feet per day. America remains a net importer of energy, but perhaps not for long. In its January 2017 Annual Energy Outlook, the U.S. Energy Information Administration found that under most scenarios, the U.S. will be a net exporter of energy by 2026, the first time this has happened since 1953.
Say, Whatever Happened To 'We Can't Drill Our Way To Lower Prices'? The Energy Information Administration projects that, next year, U.S. oil production will average almost 10 billion barrels a day, which would beat the previous record of 9.6 billion in 1970. What's more, a quarter of this production is coming from one oil field: the Permian Basin in West Texas. Those "obscene" industry profits? They've fallen as well. ExxonMobil's (XOM) revenue in 2016 was about half what it was in 2011. In its most recent quarter, the company earned $3.4 billion — or 78 cents share. In the same quarter in 2011 it earned $10.7 billion, or $2.18 a share. Oil companies for a time even had to borrow money to pay dividends. Low oil prices have also led to a sharp drop in the taxes paid by the industry to the federal government. In 2016, the federal government collected about $6 billion in royalties, rental costs, and other fees from oil production on federal lands. That's down from $14 billion in 2013. Now Shell is saying that it's bracing for low oil prices forever.
The World Keeps Not Running Out of Oil. "Peak Oil" — the idea that global oil production will soon reach a maximum and then begin to decline — attracted a significant number of believers in the 1990s and early 2000s. Then unconventionals happened. Unconventional resource production blossomed in the United States. With rising crude production, the U.S. stopped soaking up the world's excess oil supply. Instead of cutting back crude production to balance the market, Saudi Arabia increased production to protect its market share. And ta-da! — we got a global glut of crude and liquids, along with a truly major price collapse.
Trump Launched An Energy Revolution While Everyone Was Obsessing On His Tweets. On Thursday [6/29/2017], Trump said he was ushering in a new energy policy that marked an end to decades of fretting about an alleged "energy crisis" brought on by supposed limited domestic supplies and an insatiable demand for fossil fuels. "We now know that was all a big, beautiful myth," Trump said in remarks at the Department of Energy. "The truth is that we have near-limitless supplies of energy in our country." Trump had already taken several steps toward unleashing domestic energy supplies, but he announced six more that he plans to take, including reviving nuclear energy, lifting barriers to building coal plants overseas, building more energy pipelines — including one into Mexico — increased natural gas exports, and creating a new offshore-leasing program.
Signs of oil boomlet in North Dakota after pipeline finished. More than two years after the state's unprecedented oil bonanza fizzled to a lull, North Dakota — the nation's No. 2 oil producer behind Texas — is experiencing a sort of boomlet that has pushed daily production back above 1 million barrels daily.
Game Changer: Huge Alaskan Oil Find. Oilprice.com has announced discovery of 1.2 billion barrels of oil on Alaska's North Slope, which they expect will revitalise Alaska's oil industry.
The Problem of Success. The twilight of Saudi oil dominance has arrived, a point underscored by the announcement of a giant onshore oil find in Alaska. "Some 1.2 billion barrels of oil have been discovered in Alaska, marking the biggest onshore discovery in the U.S. in three decades. The massive find of conventional oil on state land could bring relief to budget pains in Alaska brought on by slumping production in the state and the crash in oil prices." But the impact of that change has not yet been assimilated in public perception.
Companies claim largest US onshore oil discovery in 30 years. Spanish energy company Repsol says an oil reserve of 1.2 billion barrels has been identified in Alaska's North Slope, which the company says is the largest onshore discovery in the United States in three decades.
Revisiting Obama's Energy Lies. [Scroll down] [I]n the U.S., "proven oil reserves" has nothing to do with the total amount of oil in the ground. It includes only those hydrocarbons that are "commercially recoverable" under "current economic conditions" (which means that when the price of oil increases, our "proven reserves" increase, too) and, most notably, under current "government regulations." So, for example, ANWR has never been included in the tabulation of U.S. oil reserves, nor has offshore oil in the areas — most of them — where drilling is prohibited by regulation, nor has oil on federal lands where current regulations don't allow it to be developed. In fact, the U.S. has more fossil fuel reserves than any other country. More than Russia, more than Saudi Arabia. Fracking has alerted most Americans to the fact that we have far more recoverable oil than they thought, but it only scratches the surface of what we could do under a pro-America regime.
Warmists convert a stunning scientific discovery into a sign of looming Armageddon. This new discovery seems to be consistent with existing theories of abiogenic petroleum, "which propose that petroleum and natural gas are formed by inorganic means rather than by the decomposition of organisms." These theories suggest that the actual hydrocarbon deposits of the Earth are virtually limitless, since they are not dependent on dinosaur bones and plant life decomposing over millions of years, but rather come from below, the product of the very composition of the earth's interior. Of course, at current oil and gas prices, drilling deep into the Earth's crust to tap deep gas and oil is not practical. In fact, under current technology, it is impossible.
The Oil War Is Over, and We Won. Last week was a bad week for Saudi Arabia. First, Congress overrode Obama's veto of the bill letting Americans sue the kingdom for its alleged role in the 9/11 attacks. And second, Riyadh finally decided to throw in the towel in its two-year war on American energy producers by announcing that it was prepared to cut oil production by half a million barrels. That war was supposed to collapse America's fracking industry. Instead, as reported on OilPrice.com, "Saudi's entire economy is collapsing" — and they are desperate to push oil prices back up again.
The USGS Just Found 20 Billion Barrels of Oil. In what seems to becoming a weekly occurrence, the oil industry just produced another stunning example of its ability to find new reserves in the 21st century. A new assessment of the so-called "Wolfcamp shale" formation near Midland, Texas estimates that the region contains some 20 billion barrels of crude and another 1.6 billion barrels of natural gas liquids. Take that, "peak oil" doomsayers.
Permian's Wolfcamp formation called biggest shale oil field in U.S.. In a troubled oil world, the Permian Basin is the gift that keeps on giving. One portion of the giant field, known as the Wolfcamp formation, was found to hold 20 billion barrels of oil trapped in four layers of shale beneath West Texas. That's almost three times larger than North Dakota's Bakken play and the single largest U.S. unconventional crude accumulation ever assessed, according to the U.S. Geological Survey. At current prices, that oil is worth almost $900 billion. The estimate lends credence to the assertion from Pioneer Natural Resources CEO Scott Sheffield that the Permian's shale could hold as much as 75 billion barrels, making it second only to Saudi Arabia's Ghawar field. Irving-based Pioneer has been increasing its production targets all year as drilling in the Wolfcamp produced bigger gushers than the company's engineers and geologists forecast.
USGS announces largest estimate of oil and gas 'ever assessed in the United States'. Tuesday the U.S. Geological Survey announced the largest ever assessment of "continuous oil" ever made in the United States. The Wolfcamp shale in the area of Midland, Texas is estimated to contain three times the oil and gas of the Bakken shale formation in Montana and North Dakota.
The coming Trump administration's yuuge transformational opportunity. [Scroll down] Now here's where it gets really, really interesting from a geopolitical point of view. The Saudi regime is headed toward a crisis. Their receipts from oil have been cut in half, roughly, so now they are covering half of their bills, roughly. There have been plenty of rumors flying about the Saudis pushing OPEC to restrict production to drive up prices. But even without any new discoveries, American frackers can fairly quickly ramp up production if OPEC succeeds in raising prices, at the expense of market share. And because American engineers and managers never stop finding a better way, fracking is getting cheaper and better as time goes by. Now the Saudi Royal Family, who number in the thousands, have justified their appropriation of oil wealth for lives of indolence and luxury by essentially claiming to use it to spread Wahhabi Islam around the world. And in that, they have succeeded. Now that we don't really need their oil in America, and can start replacing their exports elsewhere with our own supplies, we can tell them to stop funding the spread of violent jihad's religious infrastructure.
What a Trump Presidency Might Mean for Your Electric Bill. Trump's policies will likely make American energy production not "great" again — the so-called shale revolution guaranteed that — but even greater. "Producing more American energy is a central part of my plan to making America wealthy again, especially for the poorest Americans," Trump told the Shale Insight Conference during his campaign. "America is sitting on a treasure trove of energy." What will this entail? Oil- and gas-pipeline construction, which the environmental Left has hindered, will soon likely proceed apace. Restrictions on offshore drilling and fossil-fuel production on federal land will be eased. TransCanada has begun to lobby for the approval of the Keystone XL crude oil pipeline, the construction of which would confer $3 billion in economic activity and scads of dollars in property taxes to counties traversed by the pipeline. The $3.7 billion Dakota Access pipeline, stalled by tribal and environmental disputes over easement issues, is poised to receive the federal permits it needs to begin service.
Big Oil: Feds Call West Texas Deposit 'Largest' in History. A western Texas oil and natural gas shale formation was labeled the "largest" of its kind by the U.S. Geological Survey on Tuesday [11/15/2016]. Federal surveyors announced that the Wolfcamp shale in the Midland Basin portion of Texas' Permian Basin now holds the record for most oil, natural gas, and gas liquid deposits that are "undiscovered, technically recoverable resources."
Time to Unlock America's Vast Oil and Gas Resources. The doubling of U.S. oil production between 2008 and 2015 is an amazing story of American ingenuity, persistence, and, of course, drilling. The story is made more amazing by the fact that federal energy policy actively hindered this energy renaissance as it was taking place. What sort of energy powerhouse, then, could the U.S. be with an energy policy that unleashes America's total energy productivity? The combination of a rational regulatory environment with open access to energy sources would put a 50 percent increase within reach. Heritage Foundation energy policy analysts explain the Heritage Energy Model that shows these results, and how needless regulations hurt American consumers and companies.
U.S. importing more oil for the first time since 2010. The U.S. Energy Department said it expected more crude oil will enter the country from foreign countries in part because U.S. oil was less cost effective. During the first half of the year, the U.S. Energy Information Administration, part of the Energy Department, said total crude oil imports increased 7 percent year-on-year. The increase marks a first since 2010, when imports started to decline in response to rising domestic output.
Apache Discovers 3-Billion Barrel Field in Texas Shale Country. Apache Corp. said it made a "significant" discovery in a Texas shale formation that holds enough crude oil to supply every refinery on the U.S. Gulf Coast for a year. The Alpine High discovery in West Texas contains an estimated 3 billion barrels of oil and 75 trillion cubic feet of natural gas, Apache said in a statement on Wednesday [9/7/2016]. The asset is in the Delaware Basin, a subsection of the Permian Basin that has been a hotbed of acquisition activity among oil explorers this year.
Feds Sued For Illegally Refusing To Sell Oil Leases. Western Energy Alliance (WEA), an industry-aligned interest group, sued the Department of the Interior and the Bureau of Land Management (BLM) Thursday [8/11/2016] for failing to hold quarterly oil and natural gas lease sales on public lands. Though the Mineral Leasing Act requires BLM to hold quarterly oil and natural gas lease sales in each state where lands are available and industry interest exists, the agency has cancelled lease sales and auctions during the Obama administration. Environmental groups have simultaneously organized to lobby the federal government to postpone the sales so as to discourage or delay drilling on the public range.
Natural-gas Futures Pare Gains After EIA Says U.S. Supplies Up 29 Billion Cubic Feet. Natural-gas futures pared their gains to trade nearly flat on Thursday [8/11/2016] after the U.S. Energy Information Administration reported that supplies of the commodity rose 29 billion cubic feet for the week ended August 5.
U.S. Natural Gas Exports Begin. In a development few could have foreseen as recently as a decade ago, the United States recently exported its first shipment of liquefied natural gas (LNG). A tanker bound for Brazil departed Cheniere Energy's Sabine Pass LNG export facility in late February. Cheniere originally intended the Sabine Pass facility to receive imported LNG. The U.S. natural gas boom, resulting from hydraulic fracturing, prompted Cheniere to "reverse-engineer" the Louisiana terminal for the export of LNG. Cheniere is the first U.S. company to receive a federal permit to export LNG. "Ten years ago, the experts thought the United States needed to import natural gas," said Dan Simmons, vice president of the Institute for Energy Research. "Now, we are a natural gas exporter. "It is difficult to understate [sic] the impact of the hydraulic fracturing revolution on the global natural gas market," Simmons said. "The biggest problem for producers is not too little natural gas in the United States, but too much, leading to super low prices."
US Oil Reserves Now Top Saudi Arabia. The world of energy, which is to say the course of the world economy, has been turned upside down with the fracking revolution. Less glamorous than information technology, perhaps, but the extraction of the formerly inaccessible reserves embedded in shale is having a profound effect on the world's political economy, and in particular on the United States' preeminence, strategically and economically. Nothing could better symbolize the change than the revelation that the United States is now calculated to have more oil reserves than Saudi Arabia.
America's Energy Outlook Is Bright — and Obama Hates It. [By 2040, oil and coal] will provide for 80% of the world's energy needs. Nuclear energy, projected to double by 2040, will provide most of the remaining 20%. Wind power will deliver a mere 2% of global energy. Solar even less. Fortunately, there are ample supplies of oil and gas to power the world economy well beyond 2040. The International Energy Agency estimates that recoverable oil and condensate resources now stand at 4.5 trillion barrels, replacing earlier "peak oil" estimates of one trillion barrels. By 2040, it is likely that recoverable oil will have risen again, perhaps by a factor of five and certainly enough to power the global energy through the end of the century. Recoverable natural gas resources are even greater. According to IEA, current gas resources are enough to supply the current level of global needs for another 200 years. And this estimate does not include vast reserves that will result from new exploration and advances in technology. With the U.S. now self-sufficient and exporting natural gas, the West's energy security is assured to a degree that has not existed in the past. That's good news for the American people and for the world, even if it is not news that Obama wants to hear.
In 1977 Jimmy Carter Said We Should Have Run Out of Oil by Now. Global Warming/Climate Change advocates claim that the debate is over. The science is settled. Debating the "science" behind the certainty of man-made Climate Change is like debating whether the earth is flat or round. So say supposedly 97 percent of all scientists. Rubbish. A similar no-debate claim was made in the 1970s about peak oil — that there was a limited supply and we had nearly reached the limit. Keep this prediction in mind every time you hear some scientist tell us what the future will hold regarding this claim or that claim.
Oil, America's inexhaustible resource. In August 1859 on the eve of the Civil War, Col. Edwin Laurentine Drake completed the first commercial oil well in the United States on Oil Creek just outside of Titusville, Pa. Over the next century and a half, oil and gas companies have extracted tens of billions of barrels of oil from the ground from California to New York and nearly everywhere in between. During that time period, one thing has been constant: Doomsayers and declinists have predicted that we would soon drill the last barrel of oil. Famously in the 1920s, the U.S. Department of Interior projected less than a few decades worth of recoverable oil in the United States. Jimmy Carter declared in 1980 that by 2000 we'd be nearly out of oil — running on empty. Last month, the Department of Energy reported that the U.S. hit a new energy milestone: We produced 9.52 million barrels a day. That was very close to the highest output level in recorded history. So much for running out.
Natural gas discovery could be largest ever. In what could be the largest natural gas discovery in history, Italian energy company Eni says it has unearthed a "supergiant" gas field in the Mediterranean Sea covering about 40 square miles. The gas field could hold a potential of 30 trillion cubic feet of natural gas. Eni says that's the energy equivalent of about 5.5 billion barrels of oil. The company won't know the field's true size until it begins to develop it.
Peak Oil Barrel. The reported death of peak oil has been greatly exaggerated. [Web site.]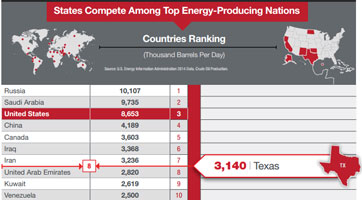 Texas Now Produces More Natural Gas Than All Of OPEC. Everything is bigger in Texas, especially natural gas production. The Lone Star State alone produces more natural gas than every country in the world, except Russia, and that includes every member state of OPEC. The American Petroleum Institute has released a graphic showing that Texas produces 18.81 billion cubic feet of natural gas per day, well above any member of OPEC. The graphic is meant to show how hydraulic fracturing and horizontal drilling into shale formations has made the U.S. the world's liquid fuels producer.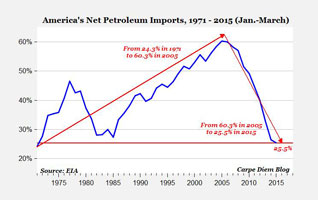 America's Net Petroleum Imports 1971-2015. In the first three months of 2015, net petroleum imports fell to a 44-year low of 25.5%, the lowest dependence on foreign sources of petroleum since 1971.
Obama admin gives final OK to Md. natural gas facility; environmentalists sue. The Obama administration on Thursday granted final approval to a $3.8 billion natural gas export facility in Calvert County, Maryland — the first gas export site on the East Coast — but environmentalists sued within hours to stop the project. After an extensive review that spanned multiple federal agencies, the Energy Department gave the green light to the Cove Point liquefied natural gas terminal. The move allows the project's operator, Virginia-based energy giant Dominion Resources Inc., to ship fuel to countries with which the U.S. does not have free trade agreements. The site, expected to come online by late 2017, is now authorized to export up to 0.77 billion cubic feet of liquefied natural gas per day for the next 20 years.
The Mysterious Explosion In U.S. Oil Reserves. Since 2008, domestic oil and gas production has exploded, and so have the nation's oil and gas reserves. How is that even possible? Weren't we supposed to be running out of oil and gas 40 years ago?
Oil council urges US to drill in Arctic. The U.S. should immediately begin a push to exploit its enormous trove of oil in the Arctic waters off of Alaska, or risk a renewed reliance on imported oil in the future, an Energy Department advisory council says in a study to be released Friday [3/27/2015].
The Keystone Pipeline — Will It Ever Be Built? Canada's vast reservoir of tar sands in eastern Alberta has long attracted people looking for alternative sources of oil. The Athabasca Tar Sands are the largest deposit of bitumen oil in the world and that's only half of it. Two other giant formations lie in the Peace River and Cold Lake formations. Together these total 1.7 trillion barrels of oil, equal to all the other proved reserves in the world. Since the 1970s, energy enthusiasts have been asking why this "black Golconda" (a reference to India's famous diamond mine) was not being developed.
State of Energy: Enough Gas for 100 Years. There is enough energy in the ground right now to supply the needs of the U.S. for the next 100 years, and we can get to it economically. That's the premise of Exxon-Mobil CEO, Rex Tillerson's 'State of Energy' address to the Greater Houston Partnership.
Oil Output to Exceed 2 Million Barrels Per Day in West Texas. Thanks to technological advances including fracking, some older oil fields in Texas are now booming again, according to the Wall Street Journal. "Refracking" — the process of drilling in wells where fracking took place years ago — is simultaneously taking hold of the industry and encouraging the industry's boom.
A New American Oil Bonanza. With the Labor Day weekend approaching, the national average price for a gallon of regular gasoline was $3.43 on Thursday [8/28/2014], according to the AAA motor club, nearly a dime lower than a month ago. Energy and travel analysts project the lowest gasoline prices this holiday weekend of any Labor Day since 2010, and the highest level of motor travel since 2008.
U.S. Seen as Biggest Oil Producer After Overtaking Saudi Arabia. The U.S. will remain the world's biggest oil producer this year after overtaking Saudi Arabia and Russia as extraction of energy from shale rock spurs the nation's economic recovery, Bank of America Corp. said. U.S. production of crude oil, along with liquids separated from natural gas, surpassed all other countries this year with daily output exceeding 11 million barrels in the first quarter, the bank said in a report today [7/4/2014]. The country became the world's largest natural gas producer in 2010. The International Energy Agency said in June that the U.S. was the biggest producer of oil and natural gas liquids.
Of course, development will have to wait until the Democrats are out of the White House.
Shell announces new Gulf of Mexico discovery. Shell Oil Co. on Tuesday [7/15/2014] announced an offshore discovery in the Gulf of Mexico it believes contains 100 million barrels of oil equivalent. The discovery was made about 75 miles offshore in the eastern portion of the Gulf in water that's nearly 7,500 feet deep.
America the Lone Bright Spot in International Oil Outlook. One side effect from the chaos in Libya following the armed conflict in 2011 has been constant disruptions of the country's considerable supplies to the global oil market. But while its output remains just a fraction of what it was under Qaddafi, it does seem to be rebounding recently, [...]
Texas oil production set to top No. 2 OPEC country. Texas now is pumping 36 percent of the nation's oil, more than doubling its production in three years, according to new federal data. The Energy Information Administration reports that Texas oil production topped 3 million barrels per day in April, for the first time since the late 1970s.
Doubled Oil, Natural Gas Estimates Invite Fracking in Bakken, Three Forks. The US Geological Survey (USGS) ignited the Williston Basin oil boom in 2008 with its assessment of over two billion barrels of recoverable oil from the Bakken field but gave made no assessment of America's Three Forks field to the south. The USGS just announced that its 2013 survey doubled its 2008 estimates for combined shale oil and recoverable natural gas deposits in the Bakken and Three Forks areas of the Williston basin to 7.4 billion barrels of oil and 6.7 trillion cubic feet of natural gas. The USGS survey results are expected to dramatically increase oil and gas investment in the region.
'Saudi Dakota' Tops One Million Barrels a Day in Oil Production. It is the most remarkable economic story of our time and it comes in the midst of the Obama economy's miserable performance. The United States of America leads the world again in petroleum production, which includes crude oil, natural gas, and other liquids. We're number 3 in crude oil production behind Russia and Saudi Arabia and the Financial Times notes that we will eventually surpass both countries and become the leading producer of crude oil in the world. Four decades of declining oil production has been reversed in just the last 5 years.
No great loss, since Californians oppose oil drilling anyway.
Government Cuts California Oil Reserve Estimates 96 Percent. A federal agency reported Tuesday [5/20/2014] that its previous estimate of the amount of recoverable oil from California deposits was way too optimistic. Its 2012 estimate that the Monterey formation contained 13.7 billion barrels of recoverable oil was cut to 600 million barrels, just four percent of its previous estimate. [...] The Monterey formation has been described as "folded," "jumbled," and "shattered" instead of neatly piled up like a stack of pancakes as in North Dakota's Bakken or the Eagle Ford formations in Texas, making it more difficult and costly for oil companies to extract the oil deposits.
Shale riches helping South Texas towns help pay for upgrades. South Texas communities seem to have come to the same conclusion: The Eagle Ford is here and they'll be dealing with it for the long term. Although no one anticipated the oil boom or was able to plan for it, communities have started devoting more money to long-term planning. McMullen County Judge James Teal joked this week at the Eagle Ford Consortium's annual conference that if he had known the Eagle Ford would have been so big, he would have "probably kept my job in oil and gas."
Don't let politics ruin Alaska's energy future. During the summer of 1977, I worked in Alaska, 160 miles above the Arctic Circle, as a weather observer on the shores of the Chukchi Sea. Today, I long to see this truly wild and wonderful state continue to prosper as not just a terrific employment or tourist destination, but as an even bigger energy lifeline to the lower 48 states, as well. But, there is considerable difficulty in tapping Alaska's frozen frontier for its copious energy reserves. The difficulty is not so much physical as political, and the politics are sometimes laundered through the courts.
Gushing about America's Energy Future. In November, the International Energy Agency (IEA) recognized the remarkably positive developments in the U.S. energy sector of the past few years. Not only did the IEA project that U.S. oil production would exceed that of Saudi Arabia by 2020, it also projected that the United States would become virtually energy independent by 2035. However, what the IEA did not do was emphasize how much of this good news has occurred as the result of market forces rather than government planning aimed at securing energy independence. The IEA is now projecting that U.S. oil production will increase markedly to over 11 million barrels a day by 2020. That should allow U.S. oil imports to decline to 4 million barrels a day from their present level of around 10 million barrels a day. The IEA is also forecasting that the United States will become a major natural gas exporter over the next few years.
US energy security threatened by prairie chicken and sage grouse. The Obama administration seems hell-bent on sabotaging domestic energy production, one way or another. As James Freeman writes in the Wall Street Journal, "Delaying approval of the Keystone XL pipeline, maintaining export limits and discouraging refinery construction haven't stopped a revolution that will soon make the United States the world's largest producer of crude oil." But the administration, goaded by radical environmentalists, has a new weapon to curtail production: more endangered species. Washington may add a record 757 new species to the endangered list by 2018.
Fracking is turning the US into a bigger oil producer than Saudi Arabia. The expansion in volumes of oil and gas produced by hydraulic fracturing is taking experts and politicians by surprise, with profound consequences for US geopolitics, and even Europe's reliance on Russian gas.
The Oil and Gas Boom Booms On. The domestic oil and gas boom is rolling on, with no end of positive effects for the American economy. At the official end of the recession, in June 2009, we pumped 158.266 million barrels of oil that month. In November 2013, we pumped 233.051 million barrels, a 47.2 percent increase. This has led directly to much less imported oil, a much improved balance of trade, and a less influential OPEC. But as Investor's Business Daily points out, the economic benefits of the energy boom spread far beyond the oil industry into the economy as a whole.
An opposing viewpoint:
Reversal of Fortune: The Fate of Oil. The shale gas boom has given the U.S. another couple of decades of higher fossil fuel production. Will we squander that bounty on riotous living, or will we set the nation up for cheap energy and a high standard of living in the post-fossil fuel eternity? Any scientist, engineer, or politician who has contributed to the demonizing of carbon dioxide, or has been silent on that issue, has disqualified himself from being involved in providing the solution.
The Year of the Dud. Lots of things that should have happened in 2013 did not. We were supposed to have long ago reached "peak oil" and an age of always-higher gas prices. Wind and solar power — and a reduced lifestyle — were our dismal future. But someone or something did not cooperate with gloomy government predictions. After all the failed subsidized green companies, the postponement of the Keystone Pipeline, the radical restrictions of new gas and oil leasing on federal lands, and the promises for radical climate-change legislation curtailing carbon-energy use, the United States nevertheless seems awash in old energy. Gas prices have been going down. Oil and natural-gas production is going up.
Time to Call Climate Change for What It Is: The Weather. [A] report last year confirmed what I've been saying for three years now: There's enough fossil energy available domestically for the United States to not just be energy independent, but for the U.S. to be the great exporter of energy for the world. "Shale oil (light tight oil) is rapidly emerging as a significant and relatively low cost new unconventional resource in the US," writes PWC in its February, 2013 report Shale oil: the next energy revolution. "There is potential for shale oil production to spread globally over the next couple of decades. If it does, it would revolutionise global energy markets, providing greater long term energy security at lower cost for many countries." The big winner in all this would be the United States because it has large reserves of this type of energy.
Electricity Prices Soar As Government Regulation Surges. In November, the Bureau of Labor Statistics' Electricity Price Index hit 202.284, an all-time record and nearly 20% higher than just six years ago. This might strike some as strange, given the private-sector shale-fracking boom going on in the Midwest, Northeast and Texas, which has led to soaring new domestic supplies of natural gas and oil. According to the U.S. Energy Information Administration, as recently as 2008 the U.S. produced 2.1 billion cubic feet of natural gas per day. Today, it's 12.3 billion cubic feet and growing fast — truly astounding growth.
Report: U.S. energy industry flirting with all-time high crude-oil production record. In yet another testament to just how big a thank-you the Obama administration owes to the oil-and-gas industry and particularly hydraulic fracturing for helping to spur onward what has otherwise very largely been a paltry excuse for an economic "recovery," the Energy Information Administration released their 2014 energy outlook report on Monday [12/16/2013] — and the United States has not only far and away surpassed the EIA's own forecasts of yesteryear but is on track to hit new production records.
Second Life for an Old Oil Field. The Permian Basin — 86,000 square miles centered on Midland, Texas — has been pumping oil since the 1920s, though production peaked at about 2 million barrels a day in the early 1970s. For decades, geologists have known that oil could be found in different layers of rock piled up like a stack of geologic pancakes. But now drillers are starting to tap those layers simultaneously from a single site — and are committing billions of dollars to do so.
Hackin' and frackin', &c.. What has given this nation its dynamism recently is hackin' and frackin', computer technology and oil (and natural gas). Do you realize that the United States has passed Russia and Saudi Arabia as the top producer of oil and natural gas in all the world? This is a greatly underreported fact. A hugely significant fact.
U.S. has overtaken Saudi Arabia to become the world's biggest oil producer on jump in output from shale. The United States is now the world's biggest supplier of oil overtaking the world number one, Saudi Arabia, according to latest output figures. A surge in US oil output, which includes natural gas liquids and biofuels, has swelled 3.2 million barrels per day (bpd) since 2009. The spike in oil production is the fastest expansion over a four-year period since Saudi Arabia's output surge from 1970-1974, energy analysis firm PIRA said in a statement.
In Oil and Gas, We're No. 1. Guess who is the world's largest producer of liquid and gaseous hydrocarbon fuels (oil, natural gas, and natural gas liquids)? For years it has been Russia, which is deeply dependent on the production and export of such products (taxes and tariffs on them provide 40 percent of the government's budget). But this year, probably already, Russia will be overtaken by the United States, according to an article in the Wall Street Journal. U.S. oil production increased by more than a million barrels a day last year, the largest annual increase since oil production began in 1859. Russian oil production has been falling.
U.S. Is Overtaking Russia as Largest Oil-and-Gas Producer. U.S. energy output has been surging in recent years, a comeback fueled by shale-rock formations of oil and natural gas that was unimaginable a decade ago. A Wall Street Journal analysis of global data shows that the U.S. is on track to pass Russia as the world's largest producer of oil and gas combined this year — if it hasn't already.
The US is the Gassiest Country. Over the past seven years, the US has firmly established itself as the global king of natural gas production (and consumption). In 2011, the US produced 62.7 billion cubic feet per day (bcfd) — more natural gas than any country had ever produced in a single year. That record fell in 2012 when the US produced 65.7 bcfd — which represented just over 20% of all the natural gas produced in the world.
Basic Power Gen Cost Information. Natural gas (NGCC) power plants require the smallest investment, and while natural gas prices are below $4 per million BTU, will generate the least expensive electricity; above $4 per million BTU, coal is likely to generate electricity at lowest cost.
The Editor says...
Natural gas and coal are two energy sources of which we have plenty. Why then must we waste money on windmills and solar panels?
Two West Texas plays poised for surge in production, investment. Exploration and production giants such as Apache Corp., ConocoPhillips, and Chevron are positioned to lead an investment boost in the oil fields, and in five years, capital expenditures could jump 57 percent to $22 billion in the two Permian Basin plays. Together, the Bone Spring and the Wolfcamp plays could pump 1 million barrels of oil per day by 2018, Wood Mackenzie reports.
Energy Manipulation. Why is it that natural gas sells in the U.S. for $3.94 per 1,000 cubic feet and in Europe and Japan for $11.60 and $17, respectively? Part of the answer is our huge supply. With high-tech methods of extraction and with discovery of vast gas-rich shale deposits, estimated reserves are about 2.4 quadrillion cubic feet. That translates into more than a 100-year supply of natural gas at current usage rates.
Texas Oil And Gas Numbers Fly Off The Charts. We've pointed out a couple of times that Texas's oil production represents roughly 30% of the total US output, an amazing statistic, especially considering that the percentage was below 15% just a few years ago. In May, that statistic became even more amazing, as Texas accounted for 34.5% of total US oil production, thanks to continued production growth in the Eagle Ford Shale and in several shale plays in the Permian Basin region of West Texas.
Texas will continue to lead US oil boom. The growth in the energy sector is expected to continue to grow like gangbusters — led by Texas, according to Karr Ingham, a petroleum economist for the Texas Alliance of Energy Producers and creator of the Texas Petro Index, speaking at the Petroleum Club on the latest release of the index. "We would be the 14th largest oil producing country on the planet, if Texas were a country," Ingham said. "You have the Permian producing 925,000 barrels a day and the Eagle Ford escalating to 540,000 barrels a day — that is just extraordinary."
Exactly what the environmentalists dont want:
US shale oil supply shock shifts global power balance. A steeper-than-expected rise in US shale oil reserves is about to change the global balance of power between new and existing producers, a report says. Over the next five years, the US will account for a third of new oil supplies, according to the International Energy Agency (IEA). The US will change from the world's leading importer of oil to a net exporter. Demand for oil from Middle-East oil producers is set to slow as a result.
What If We Never Run Out of Oil? In the 1970s, geologists discovered crystalline natural gas — methane hydrate, in the jargon — beneath the seafloor. Stored mostly in broad, shallow layers on continental margins, methane hydrate exists in immense quantities; by some estimates, it is twice as abundant as all other fossil fuels combined. Despite its plenitude, gas hydrate was long subject to petroleum-industry skepticism. These deposits — water molecules laced into frigid cages that trap "guest molecules" of natural gas — are strikingly unlike conventional energy reserves.
The Editor says...
"Methane hydrate" is no more jargon than "carbon dioxide." This is an example of a writer dumbing down a technical article, presumably to avoid alienating poorly educated readers, of which there are so many.
A Tale of Two Oil States. Barely unnoticed [sic] outside energy circles, Texas has doubled its oil output since 2005. Even with the surge in output in North Dakota's Bakken region, Texas produces as much oil as the four next largest producing states combined.
10 Points to Consider in the Great Natural Gas Vehicle Debate. [#3] The number of natural gas vehicles (NGVs) in the world could reach 65 million by 2020, according to the International Association of Natural Gas Vehicles, which indicates an annual growth rate of 19%. Another study by Navigant Consulting puts this number at a much more modest (but still impressive) 35 million.
Companies line up to drill after survey shows Dakota oil, gas fields far bigger than believed. Energy companies are lining up for their shot to drill in the Dakotas and Montana after a new government report revealed that a massive geological formation stretching across the states contains twice the oil and three times the amount of natural gas than was originally believed.
N.D. oil is more plentiful than previously thought. The sea of oil and natural gas underneath North Dakota is far larger than first thought. There are 7.4 billion barrels of recoverable oil in the western part of the state and extending into Montana, according to the latest estimate by the U.S. Geological Survey. That's more than twice the oil the USGS estimated could be recovered five years ago. What's more, the USGS has nearly tripled its estimate of the natural gas available in the area.
An Era of Endless Energy Is At Hand. The cost of energy is one of the key determinants of economic growth, and the United States is poised to become the world's great energy superpower for the foreseeable future. Cheap energy is like an across the board tax cut: it lifts all the boats. If the U.S. only had a competent government, there would be no stopping us.
ND oil production has increased more than 600%. Oil production in North Dakota has increased more than 600% in the past several years, from 35.7 million barrels of oil in 2005 to 237 million barrels in 2012. In 2005, North Dakota was the No. 8 oil-producing state in the nation, and in just seven years has moved up to become the No. 2 state for oil output in 2012, behind only No. 1 Texas.
Gas News: North Dakota building first US oil refinery since 1976. In one of the biggest news to come out of North Dakota, one of the first domestic oil refineries in the U.S. is under construction, the first since 1976. This, and the Keystone XL oil pipeline, could help the U.S. wean itself from past over-reliance on foreign oil.
Texas oil and gas jobs flourished in 2012. A recent report confirms what you already knew: People in the oil and gas industry make more money than you, and Texas is producing lots more oil. The Texas Independent Producers & Royalty Owners Association's "State of Energy Report" says the industry employs more than 971,000 people in the U.S., including about 379,800 in Texas.
America Can Drill Its Way Out Of The Middle East. Iraq, relieved of a tyrant and transformed into a representative government, is falling under Iran's command. Meanwhile, Afghanistan resists progress. We need a new Mideast policy, which begins with a new energy policy.
Peak Oil Cult Is Proved Spectacularly Wrong. In December, U.S. oil exports hit a record of 3.6 million barrels per day, thanks in part to soaring domestic petroleum production. Last year, domestic natural gas production averaged 69 billion cubic feet per day, a record, and a 33% increase over the levels achieved back in 2005. That year, Lee Raymond, the famously combative former CEO of ExxonMobil, declared that "gas production has peaked in North America."
UK Shale Gas Numbers Could Be Stratospheric. While Europe dithers over whether the blatant economic success of the US shale gas 'miracle' will translate to these shores, the UK Government has been slightly more pro-shale active. But, while the threat of (liberal democrat-instituted) over-regulation still casts a shadow, the pro-shale (mostly conservative) wing of government looks set for a stratospheric boost.
Oil's new reign in Texas draws comparisons to the Kingdom. Oil production in Texas is soaring, jumping to an average 2.139 million barrels a day in November — the best showing in more than 25 years. Analysts are chalking up Texas' booming production to shale plays, especially South Texas' Eagle Ford, where production was minuscule just five years ago, along with a revival of West Texas' Permian Basin.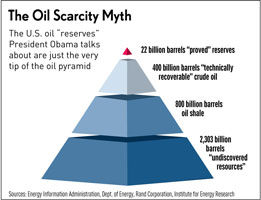 The President's Energy Policy Leaves a Lot of Energy Out. In Obama's big Energy Speech, at the truck plant in North Carolina, he reiterated his usual excuse that "America has just two percent of the world's oil, but we use twenty percent of the world's oil." President Obama's two percent is that teeny little red pyramid on the top.

Oil production to grow at fastest rate ever. Driven by the shale boom, the United States in 2014 will hit its highest daily oil production level since 1988 and will grow oil output at the highest rate ever, the U.S. Energy Information Administration predicted Tuesday [1/8/2013]. U.S. daily oil production, which averaged 6.4 million barrels a day in 2012, will surge 23 percent to average 7.9 million barrels a day in 2014, the administration said.
Robber Barony: Obama Energy Policy By Another Name. It is time for more Americans to learn about the real energy boom that the Obama Administration is trying to keep under wraps in major and countless minor ways.
California could edge out Texas in oil production. Last week, the U.S. Bureau of Land Management sold 15 leases for about 18,000 acres in California's Monterey Shale, which stretches 200 miles south from San Francisco. The U.S. Energy Information Administration estimates the shale formation could hold 15.4 billion barrels of oil, which would be double the combined reserves of the Bakken formation in North Dakota and the Eagle Ford shale of South Texas, Bloomberg News reports.
Energy to Spare. Coal, natural gas, and oil remain the least expensive and most convenient fuels. That's why they supply more than 85 percent of energy today. There are technical alternatives to these energy sources, but no economic alternatives. [...] Americans could produce even more energy if the U.S. government freed up access to existing resources. The U.S. alone is estimated to possess 30 billion barrels of oil reserves based on current technology. Total resources are far greater and will yield even more recoverable supplies as technology advances. Off-shore oil deposits add even more.
Oil and Gas Jobs Hit 25-year High; Coal Slumps. The number of oil and gas jobs in the U.S. climbed to 196,300 in November, according to Friday's Bureau of Labor Statistics (BLS) monthly jobs report. This is their highest level since February 1988. According to the BLS report, oil and gas jobs rose from 183,200 in November 2011, and grew slightly over October's numbers, continuing a trend of resilient job growth in the oil and gas sector. Meanwhile, coal job numbers continued to slump down from 81,100 in September to 80,500 in November. Those numbers are both down from the 87,00 coal jobs reported in November 2011.
U.S. To 'Become Largest Global Oil Producer' By 2020, 'Net Oil Exporter' By 2030 — If We Let It. In a striking blow for the environmental left, the International Energy Agency has released a report detailing how the United States is on track to outpace Saudi Arabia in oil production. This surely puts the Obama administration in a bind concerning its green energy monomania that has dominated their energy policy for the past four years. This finding shows that the United States can be energy independent, and we have the resources to do so. However, the boot of government is trying to centralize and control those resources to expand their dependency agenda.
IEA: U.S. to Become the World's Largest Oil Producer Oil. The International Energy Agency (IEA) is telling us what we already know: the shale oil boom will make the global energy picture with the United States as the top oil and natural gas producer. According to the IEA, the United States will become the world's largest producer of oil by 2017 overtaking both Saudi Arabia and Russia.
This is an original compilation, Copyright © 2023 by Andrew K. Dart
The Editor says...
That's five million barrels of oil per acre, potentially. Ten billion barrels of oil is almost a million acre-feet.
The Editor says...
How does Mr. Obama know the environmentalists' fears have any merit?
The Editor asks...
Why can't Texas do that, too?