This page is the third in a series of pages about poverty and dependency in America. If you arrived here from a search engine, you might want to start at the index page.

Subtopics on this page:

Welfare programs attract illegal aliens

The Cloward-Piven strategy

Negative income taxes: People who pay less than zero income tax.

SCHIP

Other countries' experiences

Miscellaneous news and commentary about homeless people



---
Welfare programs attract illegal aliens and other immigrants
The 'migrant gold rush' sends hundreds of thousands of people to America's border. Today the NY Times published a story about the big business of moving migrants from South America through an area called the Darién gap. [...] Julie Turkewitz, the author of the article, also posted a thread on X which actually shows what is going on. [Tweets with video clips] The small Colombian towns near the jungle are poor and get no support from the government dealing with the problem so they turned the endless flow of migrants into their own cash cow. One Venezuelan called it "a ticket to Disney." Ultimately, that may even be true for some of these people, many of whom will wind up in California. [More tweets, more video clips]
Border Patrol Agent Reveals Biden Regime Gives $2,200 of Taxpayers Money Per Illegal Immigrant Families Each Month. In a shocking revelation, Todd Bensman, the Center's Texas-based Senior National Security Fellow, has reported that the Biden regime is allocating a staggering $2,200 per month to illegal immigrant families (1 parent & 1 child) for the cost of living expenses. This comes at a time when the average American on Social Security receives just $1,400 per month and Maui survivors with only $700. According to a video interview with an anonymous Border Patrol Agent, illegal immigrants are "double dipping" the system. One parent and one child receive $2,200 per month, and then a separate parent and child — often from the same family — receive another $2,200 per month. This amounts to a whopping $4,400 per month for some immigrant families, a figure that exceeds what many working Americans earn.
Biden Admin to Encourage More Migrants by Finding the Ones Already Here Jobs. The Biden administration claims that it doesn't want millions of illegal aliens showing up at the border. Local mayors and governors who were all for sanctuary states and cities until tens of thousands of invaders showed up in their own jurisdictions claim the same thing. Instead of building a wall though they want work permits for the illegal alien invaders so they can get jobs and never leave. Biden will help them get it. So really what Democrats from the White House down to NYC really want is more migrant invasions.
Biden Plan for Health Care for 'Dreamers' Called 'Back-Door Way to Give Taxpayer Subsidies to Illegal Aliens'. President Joe Biden is proposing a plan for recipients of the Deferred Action for Childhood Arrivals program to receive subsidized health care through Obamacare and Medicaid. If the plan is finalized, illegal aliens who were brought to America as children will be eligible for the health care programs. "[M]y administration is announcing our plan to expand health coverage for DACA recipients by allowing them to enroll in a plan through the Affordable Care Act or through Medicaid. Health care should be a right, not a privilege," the president said Thursday in a brief video shared on Twitter. [Video clip]
Migrants are Paying $10,000 to "Financial Sponsors" to Sponsor Them. Who could have possibly predicted this entirely inevitable outcome? [...] ["] Pedro Yudel Bruzon was looking for someone in the U.S. to support his effort to seek asylum when he landed on a Facebook page filled with posts demanding up to $10,000 for a financial sponsor. It's part of an underground market that's emerged since the Biden administration announced it would accept 30,000 immigrants each month arriving by air from Venezuela, Cuba, Nicaragua and Haiti. Applicants for the humanitarian parole program need someone in the U.S., often a friend or relative, to promise to provide financial support for at least two years.["] The arrivals have enough money to pay for financial sponsors, but they have no intention of reporting how much money they have because they want to be on government benefits as soon as they can. Financial sponsorship is supposed to prevent the arrivals from becoming a public charge, but the whole thing is a scam because that's the purpose of the exercise.
Biden's New Border Admission Policy Allows Haitian, Cuban Migrants To Receive Medicaid, Food Stamps, Cash Handouts. The Biden administration's new policy to permit migrants that would otherwise be expelled allows for Haitians and Cubans to receive an array of public benefits, according to the Department of Health and Human Services (HHS). Haitian and Cuban migrants paroled into the U.S. can receive Medicaid, food stamps and cash benefits, according to HHS' Office of Refugee Resettlement (ORR). The new program uses parole authority to allow 30,000 Venezuelans, Nicaraguans, Cubans and Haitians to enter the U.S. on a monthly basis if they have a sponsor. Migrants of the aforementioned nationalities would otherwise be expelled under Title 42, the Trump-era order used to quickly expel certain migrants who cross into the U.S. illegally.
Chicago-area's guaranteed income program [is] open to illegal immigrants. Illegal immigrants can apply for a guaranteed basic income pilot program in Illinois that will provide participants with monthly cash payments for two years. The Cook County Promise Guaranteed Income Pilot will send 3,250 residents $500 each month in cash assistance. Eligible participants must meet certain thresholds in order to be eligible. They must be adult residents of the county and make a household income of or below 250% of the federal poverty level or make less than $69,375 for a house of four. Applicants will not be asked about their citizenship status, according to the program website.
DHS adopts a lenient policy toward immigrants' use of welfare. Homeland Security on Thursday announced it has adopted a new lenient policy on immigrants' use of welfare, tossing a Trump-era policy that would have been far stricter. Under the new system, known as the "public charge" rule, immigrants will only be penalized for potential welfare use if the government believes they will eventually become "primarily dependent" on government payments. By contrast, living in government housing, using Medicaid for health coverage or accepting food stamps wouldn't count against an immigrant.
Border Crossers Awarded Healthcare, Free Cellphones Upon Arrival in NYC. Border crossers arriving in New York City on migrant buses sent from Texas by Gov. Greg Abbott (R) are being awarded healthcare services as well as free cellphones, among other things. On Sunday, as the New York Post reports, the city's hospital system held an event for arriving border crossers at a hospital in the Bronx where they were offered healthcare services along with free cellphones, food, library cards, and school supplies. The event comes as Mayor Eric Adams (D) estimates that, in the last few weeks, Abbott has bused more than 4,000 border crossers to New York City as part of his plan to alleviate waves of illegal immigration to Texas by transporting new arrivals to sanctuary cities run by Democrats.
Brandon Admin Seeking To Give ID Cards, Government Benefits To Illegal Immigrants. The Biden administration intends to provide illegal immigrants in the United States a temporary identification card so they can access government benefits while they wait for final decisions on their cases. The program, titled the "ICE Secure Docket Card program," would be funded with $10 million from the Biden administration's fiscal year 2023 appropriations bill, which states, "$10,000,000 for the ICE Secure Docket Card program to allow noncitizens access to immigration files and documents." "The ICE Secure Docket Card program is part of a pilot program to modernize various forms of documentation provided to provisionally released noncitizens through a consistent, verifiable, secure card," an ICE spokesperson told Axios. "The cards would feature a photo and biographic identifiers. It would also include 'cutting-edge security features."
California announces it will become the first state to give health insurance to undocumented immigrants. Governor Gavin Newsom released attack ads on Monday urging Florida residents to move to California in the days after it became the first state to move to offer all illegal immigrants state-subsidized health insurance. Newsom bought $105,000 worth of ad spots that started airing on Fox News in Florida, which is sparking speculation that he could mount a presidential run in 2024. The ads urge Sunshine State residents who are fed up with their Republican Governor Ron DeSantis to head west. DeSantis is rumored to be considering a 2024 run as well[,] despite former President Donald Trump likely to seek the nomination.
Libertarians: It's Americans' Fault Illegal Migrants Die. Migrant Haitians are drowning in the Atlantic, and it is Americans' fault, says Reason magazine, a libertarian publication. "With land-based migration proving difficult, some desperate Haitians are attempting to reach American soil aboard overcrowded ships," says the June 13 article, which is headlined "America's Harsh Immigration Restrictions Mean Haitians Drown Trying To Get Here." [...] "Significant numbers of people are losing their lives because the administration is luring them to take these foolish risks," responded Mark Krikorian, the director of the Center for Immigration Studies.
Republican presses to find out how much food stamp aid [is] going to migrants crossing [the] border. Rep. Scott DesJarlais (R-Tenn.) said that food stamps are going to most people who are crossing the southern border, despite denials from Democrats. DesJarlais told the John Solomon Reports podcast on Tuesday that, while Democrats claim food stamps, or SNAP benefits as they are formally known, only go to minors, asylum seekers, and refugees — most of the people entering the U.S. fit into those categories. "According to the Biden administration, the USDA, it's very difficult" for border-crossers to obtain SNAP benefits, he said. "But if you look at the list of reasons and exclusions of those who can get it, it includes about everyone crossing the border today.
New Jersey Officials: Democrat Phil Murphy Improperly Gave $10M in Coronavirus Funds to Illegal Aliens. New Jersey Gov. Phil Murphy (D) improperly gave $10 million in Chinese coronavirus funds to illegal aliens in the form of stimulus checks, state oversight officials allege. As Breitbart News reported last year, Murphy provided the state's nearly half a million illegal aliens with rounds of stimulus checks to the sum of tens of millions of dollars — paid for by American taxpayers — that was meant as coronavirus relief for Americans.
The Editor says...
And of course the illegal aliens gladly took the money, indicating that they're only here for the perks, they don't care about our laws, and they have no fear of being deported.
DHS eyes more welfare for legal immigrants as Supreme Court hears challenge. The Biden administration has moved to make it more attractive for immigrants to sign up for welfare, laying down a marker just days before the Supreme Court is slated to take up the issue in a legal challenge seeking to restore stricter Trump-era rules. The Homeland Security Department released a proposal to raise the bar for becoming a "public charge." Joining programs such as Medicaid won't be counted against most immigrants, it said. Homeland Security Secretary Alejandro Mayorkas said immigrants "will not be penalized for choosing to access the health benefits and other supplemental government services available to them."
Kellogg Foundation Bankrolls $500 Monthly Income for Illegal Aliens. The left-wing W.K. Kellogg Foundation, which effectively controls the Kellogg Company, is bankrolling a pilot program that will provide hundreds of illegal aliens living in the United States with a guaranteed basic income. A coalition of activist organizations has teamed up to institute the pilot program across 13 counties in New Mexico where 330 illegal alien households will receive monthly payments of $500 for the next year.
In Mexico's Deep South, the United Nations [is] Handing Cash to U.S.-Bound Migrants. The United Nations refugee agency (UNHCR), which receives billions in U.S. taxpayer money, is handing out cash debit cards and other funds for lodging and prescription medicines to U.S.-bound migrants who spill out into this southern Mexican city by the hundreds of thousands. Every day, word of the UN's cash assistance draws long lines of hopeful U.S.-bound migrants to a large, grey building staffed by application-takers and interviewers who determine who gets the money. Haitian Luis Ponce was in line one recent day, not to get his application going, but to complain to the officials inside that the UN is in arrears. The international agency had not recharged his debit card-linked local bank account, a yellow and gray plastic affair with a UNHCR/ACNUR insignia in the upper third left corner, with the 3,600 pesos owed (about $180). "We don't have money now," Ponce complained, flashing the empty card.
The Editor says...
Hold on to that empty debit card, Luis. In some places, that's all the ID you need to vote
CBO: Joe Biden's Bill Will Invite 'Millions' of New Migrants. The Democrats' Build Back Better (BBB) bill will add millions of new immigrants to the U.S. population in the first 10 years, on top of an amnesty for roughly 6.5 million people, according to the Congressional Budget Office (CBO). "About 6.5 million aliens (non-U.S. nationals) would receive parole," say the notes to the CBO's $121.7 billion cost estimate.
Federally Funded Non-Profits Are Running Illegal Immigrant Processing Centers in Nice Hotels, Helping Migrants Avoid Arrest. The Biden administration has deputized non-profit groups to move illegal migrants across the nation, allowing the charities to put them up in nice hotels and give them instructions on how to avoid capture. Rep. Lance Gooden (R-Texas) said Monday that a whistleblower told him about an ongoing operation in San Diego, and decided to go there to see for himself what is going on. "What I found were nonprofits that were running secretive closed-down hotels, the four point Sheraton Sea World, a Wyndham, a Ramada Inn," he revealed on Fox and Friends. Gooden said that he witnessed buses unloading about 100 illegal immigrants in about an hour at one hotel, and they were welcomed by the charity "with open arms." Once the migrants are processed, and tested for COVID, Gooden said they are each given a packet, which detail how they can get past the TSA at the airport without any identification, as well as how to enroll their children in American schools. "It's encouraging illegal immigration!" Gooden declared.
Democrat Budget Gives $80B in Child Tax Credits to Illegal Aliens. Illegal aliens living in the United States would stand to get about $80 billion over a 10-year period if a filibuster-proof budget reconciliation package by Senate Democrats passes through Congress, a new analysis concludes. For months, Senate Democrats have sought to pass a $3.5 trillion budget reconciliation package that would need only majority support in the House and Senate. The reconciliation process would also prevent Senate Republicans from using the filibuster to stop the plan.
Magnet! Joe Biden's $3.5 trillion bill hands cash to illegals worth more than per capita income of 74 countries. Imagine you are a Honduran. If you make the average Honduran per capita income of $2,405.70 a year, and suddenly learn from a relative up in el norte that Joe Biden is handing out $3,600 a year to anyone in the U.S., legally present or not, for nothing more than having kids, what would you do? [...] You'd weigh your options, and decide what your best ones were. One, you could be breaking your back to earn the $2,405.70 a year back in Tegucigalpa, assuming you were earning the average (and at least half the country earns less). Or two, you could go to the states illegally, get a federal tax I.D. and the $3,600 would be yours. And as a bonus, you'd qualify it the minute you broke into the country illegally, and you wouldn't have to lift a finger to work for it. All you'd have to do is bring the kids. You'd also be get free health care, free education, other cash benefits for the kids, and this doesn't even include the benefits handed out by states such as California, such as free housing and cash transfers. You'd also free to earn more if you wanted, legally or illegally, since under Biden, there'd be no possibility of deportation once you break in. What would you do?
Leftists force mass Third World immigration by deceiving us into feeling guilty. Milton Friedman, the economist, was such a libertarian that he supported open borders. However, there was a caveat to this support: "It's just obvious you can't have free immigration and a welfare state." It's obvious, of course, because having both spells imminent national bankruptcy. But that's exactly what leftists are selling to America and they're using false historic narratives to create in native-born Americans a sense of guilt so profound that they're willingly opening the borders to those who will irrevocably drain the nation's wealth.
AOC Urges Illegals to Apply for Welfare in New York. The conscience of the American left, Rep. Alexandria Ocasio Cortez, told illegals how to apply for welfare in a recent video. AOC told illegal aliens, "Do not count yourself out," as she urged them to sign up for their government benefits. AOC has been pushing welfare for illegal aliens for years now. It is also widely known that most U.S. families headed by illegal immigrants use taxpayer-funded welfare programs on behalf of their American-born anchor babies.
New immigration crackdown begins, no more welfare. The Trump administration today is reinstating a Clinton-era welfare reform rule, once widely embraced by top Democrats in Congress, requiring immigrants to be self-sufficient, a move that could end up to $3 billion in federal and state welfare payments to them. After receiving a blessing from the Supreme Court Friday [2/21/2020], the "Public Charge Grounds Final Rule" kicked in nationally, essentially forcing immigrants to prove that they won't become a burden on taxpayers. Under the rule, U.S. Citizenship and Immigration Services "will look at the factors required under the law by Congress, like an alien's age, health, income, education, and skills, among others, in order to determine whether the alien is likely at any time to become a public charge," said an official.
Supreme Court allows Trump policy against immigrants receiving public aid to go into effect. The Supreme Court ruled Monday that the Trump administration can block more non-citizens from receiving public assistance while legal challenges continue. Under the Department of Homeland Security rule, immigrants receiving or deemed likely to need non-cash benefits, such as housing and food aid, for more than a year can be denied residency or green cards. It was challenged by officials in California, New York, Illinois, Maryland, Washington State and elsewhere, but only one nationwide injunction from New York remained in effect until Monday [1/27/2020].
The 'Welfare Magnet' for Immigrants. That term refers to a controversial concept — and a salient one, given the Trump administration's efforts to make it harder for immigrants to use welfare in the U.S. A new study finds that there's something to it: Immigrants were more likely to come to Denmark when they could get more welfare there.
'Climate migrants,' the left's tool to pry borders wide. "Climate migrants" are defined as those individuals in the world who've suffered some sort of weather-related disaster and are, therefore, in the eyes of the left, in the minds of radicals like Sen. Bernie Sanders, are worthy of automatic entry into the United States. [...] It's environmentalism at its most radical. "As president, Bernie will ... create a new program to welcome migrants displaced by climate change, and set a floor of accepting at least 50,000 climate migrants in his first year in office," his plan states. Forest fires in Indonesia? Come to the United States. Mudslides in Sierra Leone? Come on in. Droughts in Ethiopia? Just look at the possibilities. "Drought in Africa leaves 45 million in need across 14 countries," The New Humanitarian reported in June.
The Editor says...
What this "climate migration" idea omits is the simple observation that there are closer destinations than the U.S. For example, if you have a problem with "mudslides in Sierra Leone," perhaps you could find a nicer place in Liberia. Oh, but Liberia doesn't offer food stamps, Medicaid, school lunches, public housing, SNAP, TANF, SSI, AFDC, and WIC, in exchange for your lifetime of Socialist Democrat votes. You'd be better off dealing with the mudslides than living in low-level slavery for the rest of your life.
What Happened to California Republicans? [Scroll down] A cynic might argue that once a federal judge allowed undocumented immigrants to enjoy the full array of state services and entitlements, there were incentives for millions of other immigrants to enter the U.S. illegally, and California in particular. Statistics suggests they did just that — often to the chagrin of Democratic politicians, the United Farm Workers and other liberal groups who worried about the negative effects of illegal immigration on entry-level wages, unionization and poor citizens' access to overtaxed social services. [...] The final irony? Those most hurt — and growing the most angry — are the immigrants who once fled to a different California that now no longer exists.
Illegal Aliens Sue Trump Administration To Ensure They Can Get Taxpayer Money Via Welfare. Two illegal aliens who were granted the right to stay in the United States by Barack Obama have filed a lawsuit against the Trump administration to make sure they can continue to receive taxpayer money in the form of welfare and still be able to obtain green cards to permanently stay in the country. "The open borders group CASA de Maryland and two DACA illegal aliens are suing the Trump administration over its soon-to-be enforcement of the 'public charge' rule, which would save American taxpayers billions by effectively ending welfare-dependent legal immigration to the U.S.," Breitbart reports.
Poll: Majority of Hispanics Support Ending Welfare-Dependent Immigration. A majority of Hispanic Americans support President Trump's seeking to prevent welfare-dependent legal immigrants from permanently resettling in the United States, a new poll finds. In August, the Trump administration published a regulation that ensures legal immigrants would be less likely to secure permanent residency in the U.S. if they have used any forms of welfare in the past, including using subsidized healthcare services, food stamps, and public housing — saving American taxpayers billions.
Illegal immigrants will be eligible for [New York C]ity's affordable housing lotteries. New Yorkers with family members in the country illegally will be able to more easily apply for the city's highly competitive affordable housing lotteries as part of broader rules changes announced by City Hall on Wednesday, which are meant to expand eligibility. The new rules will allow applicants to provide proof they pay their rent on time instead of submitting for a formal credit check, which required prospective tenants to put down their Social Security or taxpayer identification numbers.
Yes, Immigrants Should Be Less Dependent On U.S. Welfare, And So Should Everyone Else. From the beginning of America's colonial period, the colonies' governments were concerned about the arrival of immigrants from Europe who were not able to support themselves. While the colonies craved immigrants, they knew the people they needed were those who would build the new societies being created on these shores. This was contrary to the will of the British Crown, which saw America as a convenient dumping ground for the poor, the criminal, and anyone else seen by high society as a problem. The colonies were struggling — and kept that way by Britain's mercantile system — so the prospect of supporting more people was not feasible. And support them they would, if such immigrants were allowed entry.
The Left creates a hullabaloo over denying green cards to migrants who are public charges. The whole thing goes to show how intertwined mass migration has become with the use of taxpayer-financed welfare services. The original American idea around immigration had been one of requiring a new entrant to show self-sufficiency instead of living off some feudal lord — supplicant, dependent, and obedient to the state. Today, immigration has become something different. According to the lefty New American Economy Research Fund, 7 million immigrants (as of 2017) now take some form of public assistance, whether it's straight welfare, food stamps, public housing, Medicaid, Medicare, or long-term care. For perspective, note that the U.S. takes in about a million legal immigrants per year, so we have seven years' worth of legal immigrants living on public assistance signaling something very wrong with the admission system. Walk into any food stamp office and notice how many languages the food stamp forms are printed in to get a sense of how word has gotten around and the bureaucrats are accommodating.
Trump Administration Enforces Immigration "Public Charge" Laws — Green Cards Dependent on Self Sufficiency. The White House has announced the Trump administration will enforce long-standing immigration laws that require entrants to be economically self-sufficient and limits public welfare benefits. An entry alien who is, or becomes, dependent on public welfare assistance, is known as a "public charge". Aliens will be barred from entering the United States if they are deemed likely to become public charges, or welfare dependent. These immigration rules have been in place for over 100 years, and generally were strictly enforced until the last 25 years. The Trump administration is re-enforcing the rules.
Do You Understand that Democrats will Destroy America? Virtually all of the Democratic candidates have advocated for opening the border to all who want to come. All the Democratic candidates on the second night of the debate supported free health benefits for illegal immigrants and several have advocated for free college for all. But even without these additional incentives, the level of living available in the US, even to the poorest Americans, far exceeds what many of the world's peoples can hope for in their own countries. No one starves in America. Our poor have cars, large screen TVs, air conditioning, video games for their kids and eat better than the average GI in World War II. This is an invitation to all the world's poor to come to the US in unlimited numbers. All you need is to get to our southern border.
The 6.4 California Earthquake That Should Have Been Getting Covered. [Scroll down] In fact, for once and for all, let's stop calling them "illegals." They are not "illegals." Let's start calling them what they really are: Imported Voters. Imported Voters changed all that. The Imported Voters came from dire poverty, with limited English skills and limited passion for our Declaration of Independence and Constitution. They came to escape the dregs amid them in search of safety, free food, free shelter, free healthcare, free education, free college, free-free-free. The Democrats promised them all that, and the Imported Voters reciprocated by giving the Democrats the only thing required: their votes. As a result, California underwent a 6.4 social earthquake — and the epicenter was anywhere and everywhere that people live. When you offer free food, people lacking food flood in.
Bill Cassidy Proposes to Prevent Americans from Subsidizing Health Care for Illegal Aliens. As California remains poised to adopt a bill that would give full Medicaid benefits to illegal immigrants, Sen. Bill Cassidy (R-LA) and other Senate Republicans proposed legislation to block leftist states from forcing Americans to subsidize programs that expand benefits to illegal immigrants. The bill would offer illegal aliens full Medicaid benefits as part of Gov. Gavin Newsom's plan to create a universal healthcare system.
Immigrants' sponsors to be on hook for 'every dollar' if new arrivals end up on dole, new Trump appointee warns. Sponsors of legal immigrants to the United States received word Friday [6/14/2019] that they'll be on the hook "for every dollar" if those immigrants end up receiving welfare funds or other public support instead of earning a living and paying taxes. The message came Ken Cuccinelli, a former Virginia state attorney general who last week became acting director of U.S. Citizenship and Immigration Services (USCIS) following his appointment by President Trump. "If the sponsored immigrant receives any federal means-tested public benefits, the sponsor will be expected to reimburse the benefits-granting agency for every dollar of benefits received by the immigrant," Cuccinelli wrote in a USCIS memo.
Feds to warn immigrants about welfare use. Officers handling legal immigration cases will now warn people that they are under an obligation to support themselves rather than end up on the public dole, under a new policy implemented Friday [6/14/2019] by acting U.S. Citizenship and Immigration Services Director Ken Cuccinelli. The warning will be issued both to the immigrant and his or her sponsor, who under the law has signed an agreement not to let the immigrant become a public charge.
California Says, 'Go West Young Illegals, Go West'. Doctors and hospitals are in the gunsights of many Democrats who want Medicare-for-all as a draconian price control scheme by government over all medical care in the US. Hospitals are told they charge too much and doctors are vilified for earning too much. What a relief that a sugar daddy has appeared, a rich boyfriend, a benefactor with a fat wallet, ready to bestow his financial largess on financially strapped healthcare providers. This sugar daddy is named Gavin, tall and handsome with good hair. I speak of California Governor Gavin Newsom, who finalized a deal with the California legislature, "to provide full health benefits to low-income illegal immigrants under the age of 26."
What's the matter with California? It's almost incredible, but also entirely characteristic, that California lawmakers have now decided to give healthcare free to nearly 100,000 illegal immigrants aged 19 to 25. California has covered illegal immigrant children since 2016 under MediCal, the state's version of Medicaid, at a cost of some $360 million. Now Gov. Gavin Newsom has agreed with state lawmakers to add another $98 million to California's spending by expanding coverage to young adults. Just as California lacks enough homes to house its inhabitants, so it also lacks enough doctors to care for them. The additional budget bloat on healthcare will worsen that shortage. The promise of unlimited free stuff from the government isn't just an unfunded liability. It's also a magnet for illegal immigration.
California to pay full health benefits for illegal immigrants. Democrats in the [California] state Legislature reached an agreement Sunday afternoon [6/9/2019] as part of a broader plan to spend $213 billion of state and federal tax money over the next year. The agreement means low-income adults between the ages of 19 and 25 living in California illegally would be eligible for California's Medicaid program, the joint state and federal health insurance program for the poor and disabled.
Trump Signs Order Cracking Down on Welfare-Dependent Legal Immigration. The order signed by Trump will enforce existing 1996 laws known as the "Illegal Immigration Reform and Immigrant Responsibility Act" and "Personal Responsibility and Work Opportunity Reconciliation Act" which were signed by then-President Bill Clinton. The order ensures that federal agencies will enforce the existing 1996 laws which seek to save American taxpayers by having their public welfare funding benefits reimbursed when they are used by a legal immigrant.
If Trump wants black votes, he should talk about illegal immigrants seizing rare public housing spots. A sure-fire campaign issue for President Trump heading into 2020 is sitting on the table like free money if at any point he feels like taking it. His own HUD secretary, Ben Carson, is reconfiguring the way people of low income receive public housing subsidies. The goal is to ensure that illegal immigrants aren't taking in welfare that otherwise might go to Americans.
Illegals Fueling Public Housing Shortage. Housing shortages are plunging New York City and Los Angeles into crisis. Affordable rents are scarce, families are doubling up, shelters are jam packed, and over one hundred thousand people are sleeping sprawled on the streets of these two cities. The waitlist for public housing is over four years long in L.A., and a staggering ten years here in NewYork. These lists would be even longer if public officials hadn't just closed them to any new applicants. Nationwide some 32,000 public apartments are being taken up by illegal immigrants. It's a powerful reason why the Trump administration is giving illegals eighteen months to get out of taxpayer subsidized public housing.
Public housing for illegal immigrants is transparently unfair. Housing shortages are plunging New York City and Los Angeles into crisis. Affordable rental units are scarce, families are doubling up, shelters are jam-packed and tens of thousands are sleeping sprawled on the streets of these two cities. The wait-list for public housing is more than four years long in LA and would be even longer if officials hadn't closed it to new applicants. Here in New York, the wait is a staggering 10 years. Nationwide, illegal immigrants take up some 32,000 public apartments. It's a powerful reason why the Trump administration is giving them 18 months to get out of taxpayer-subsidized public housing.
What's It Gonna Be, A Welfare State or Open Borders? After the Civil War, several states passed their own immigration laws. In 1875 the Supreme Court stepped in declaring immigration to be a federal responsibility. As a result, as immigration rose in the 1880s, with economic conditions worsening in some areas, Congress began passing immigration legislation. In this period, certain aliens were prohibited from entering the United States by the Chinese Exclusion Act of 1882 and by the Alien Contract Labor Laws of 1885 and 1887. The latter prohibited the importation and migration of foreigners and aliens under contract or agreement to perform labor in the United States. The Immigration Act of 1882 levied a head tax of fifty cents on each immigrant and excluded (worded from the .gov website) idiots, lunatics, convicts, and persons likely to become a government charge (people that cannot take care of themselves).
Watch aliens pour in illegally, bringing diseases & crime. Non-Citizens are disproportionately committing crimes and illegal aliens are bringing in diseases, and pouring in at the rate of 4,000 a day from all over the world. About 70 percent come from Central America after they see ads on TV. Central American nations are clearing out their welfare recipients, grifters, and criminals. Undoubtedly many are nice, but they are all destroying our sovereignty.
HUD proposes rule to oust illegal immigrants from public housing. The Department of Housing and Urban Development proposed a new rule Friday to make people seeking housing assistance have to prove their legal status, in a move that could oust thousands of illegal immigrants. Secretary Ben Carson said the rule would bring policy into compliance with the law, which generally tries to restrict public benefits to citizens and legal residents. "There is an affordable housing crisis in this country, and we need to make certain our scarce public resources help those who are legally entitled to it," Mr. Carson said.
In homeless-plagued America, why are taxpayers financing second homes for illegals? The mainstream media are making a big fuss about the Department of Housing and Urban Development's plan to extend public housing subsidies solely to families with legal or citizenship status. [...] The press is framing this as a heartless-to-children issue, but the problem is one of priorities in how federal resources are used. Should illegal parents get benefits because of their 55,000 kids when the homeless citizen parents of another 55,000 homeless children are left to huddle in the cold? Or even more pointedly, should illegal aliens who are financing second households back home be entitled to housing assistance here even as citizens don't get it? Second homes aren't exactly the purpose of a government program intended to help the impoverished.
Migrant Collects Welfare For Four Wives, 22 Children. Some Christians, Muslims, and others allow men to have more than one current wife. While each person is free to view their relationships as they wish in the privacy of their own lives, the law in the West recognizes one spouse. Don't tell that fact to Ghazia A., a 49-year-old former "self-employed car salesman" who is making a fortune off of the welfare system, as the Daily Native News has observed. In Denmark, "Mr. A" has no less than three wives and is living off of the welfare system since he holds refugee status!
Trump Proposal Aims To Make It Easier To Deport Immigrants Using Public Benefits. The White House is considering a proposal to make it easier to deport low-income immigrants who are dependent on public benefits. The Department of Justice has written a draft regulation that, if implemented, would greatly expand the number of immigrants in the U.S. who could be subject to deportation for using public benefits, Reuters reported Friday. The new proposal is part of the Trump administration's larger effort to limit immigration from low-income foreign nationals.
Another line they cut into: Illegals get free public housing as impoverished Americans wait. Want some perspective on why so many blue sanctuary cities have so many homeless encampments hovering around? Try the reality that illegal immigrants are routinely given free public housing by the U.S., based on the fact that they are uneducated, unskilled, and largely unemployable. Those are the criteria, and now importing poverty has never been easier. Shockingly, this comes as millions of poor Americans are out in the cold awaiting that housing that the original law was intended to help. Thus, the tent cities, and by coincidence, the worst of these emerging shantytowns are in blue sanctuary cities loaded with illegal immigrants — Orange County, San Francisco, San Diego, Seattle, New York... Is there a connection? At a minimum, it's worth looking at.
Why Should Anyone Obey the Law Anymore? Democrats aggressively support open borders. They no longer think immigration law matters. They want to allow anyone, at any time, to break into our country. And Democrats think that once illegals are caught breaking in, they should be allowed to stay forever without penalty. Illegals have fake IDs and stolen Social Security numbers. Democrats don't think anyone should be punished for breaking those laws. Actually, it's worse. Democrats want to reward criminals. They think anyone who breaks into our country deserves welfare checks, food stamps, housing allowances, aid to dependent children, free school and free medical. That's massive theft from law-abiding American taxpayers directly to criminals.
How Chicago Democrats Created Trump's Border Wall Problem. After World War II outmigration became a concern for all big northern Democrat-controlled cities since the growth of suburbs and the baby boom prompted young couples to leave big cities and seek more space for their families. But this outmigration created a huge problem for the big Democratic cities from Boston to Los Angeles: how to restore and stabilize their city's population and keep control of Congress. The solution was to allow illegal immigration and support them with benefits. Providing illegal immigrants with benefits such as food stamps and housing were crucial, since illegal immigrants were not well educated and did not earn enough income to be self-sufficient. This concern prompted President Lyndon Baines Johnson to establish the Great Society welfare programs, and he himself admitted the programs were intended to strengthen America's big cities. LBJ stopped the agricultural guest worker program, called the Bracero program, just at the time he started the Great Society. This allowed illegal immigrants to come to Chicago and not worry about being educated well enough to support themselves. The lack of income was made up through free benefits.
As Trump vows to shut the border to illegals, Gavin Newsom makes a suspicious trip to El Salvador. [Scroll down] One can just picture how this trip looks from the Salvadoran side of things. Here come Big Daddy, the California governor, the gringo who's already laid out a banquet of goodies for Salvadorans in California, from free health care to free education, to sanctuary state protections to enable illegals to work, coming there supposedly to find out how he can offer...even more goodies to Salvador's uneducated lower middle classes. The idea is to get even more of them to come over. Big Daddy comes down with the Santa sack full of goodies.
No Right to College for Illegal Immigrants. In an opinion handed down earlier this month, a three-judge panel upheld the right of the Georgia Board of Regents, which runs the state-university system, to verify the "lawful presence" of applicants before granting them admission as students to the "more selective schools in the University System." Selective schools are defined as any Georgia college or university that "did not admit all academically qualified applicants" in the "two most recent academic years." That applies to at least three state colleges, including the Georgia Institute of Technology, one of the best-known engineering schools in the country. This policy denies admission to aliens who received "deferred action" under the 2012 DACA memorandum issued by the Department of Homeland Security.
Immigration to America Is Not What It Used to Be. Immigrants today are arriving in a welfare state, where they are assured of food, shelter, and medical care that are, in general, orders of magnitude better than anything available to them in their native countries. This creates a completely different incentive to today's immigrants. In past centuries, immigrants came to America to find freedom and to work. Today they are offered a smorgasbord of taxpayer-funded social services.
Gov. Gavin Newsom touts proposed $25 million in California aid to asylum seekers. Gov. Gavin Newsom and local officials in San Diego on Thursday [1/31/2019] touted a proposed $25 million in state funding to address a growing humanitarian crisis involving migrant families seeking asylum in the U.S. and blamed the Trump administration for manufacturing a problem at the border. With prodding from San Diego lawmakers, Newsom has called for spending $20 million over three years to aid local nonprofits and community organizations that provide services to asylum-seeking migrant families.
The Editor says...
President Trump did not "manufacture" the problem of uncontrolled illegal immigration across the Mexican border. That problem has existed for decades, but in recent years has been exacerbated by the Democrats, who offer numerous incentives for immigrants.
Each illegal immigrant costs US $82G, conservative think tank claims. Every new illegal immigrant that enters the United States will cost more than $82,000 each over their lifetime, a conservative think tank that advocates for lower immigration levels has claimed. The Center for Immigration Studies updated their 2012 analysis which put the average lifetime net fiscal cost of a border crosser at $74,722. In the six years since, the price has jumped to $82,191. The think tank's analysis has come into question however, with multiple outlets pushing back on its numbers and methodology. The new figure by the CIS estimates what it takes to protect the border, educate, house and feed illegal immigrants and makes the assumption they will spend a lifetime on various welfare programs.
Immigrating to the U.S. has become the welfare program for the world. We are told by the apathetic elites who run our culture that illegal aliens can invade our border, force themselves in, give birth to a baby, and steal our American birthright — and there's not a darn thing we can do about it. Moreover, we are then stuck with the welfare, health care, and education tab for people from the most impoverished countries, while we have our own teenage pregnancy and poverty problems. We won't cut a single dollar of the welfare state among Americans. Is it too much to ask that we stop funding welfare for the entire world under the false pretenses of immigration policy?
Trump should shut down the southern border AND the government until we fix our immigration system. By some estimates, the cost of illegal immigrants in the country is costing the American taxpayer between $116-$134 billion annually. Now we find out in the last few weeks that 63 percent of non-citizens, half of which are here illegally, are on some form of welfare — again, funded by the American taxpayer. And the longer non-citizens are in the country, the more likely they are to be on some form of welfare. If they've been here ten years or more, the percentage goes up to 70 percent. For comparison, only about 30 percent of native-born American citizens are on some form of welfare. Now take in those statistics and throw in the fact that over the next 20 years between 7 to 8 million new immigrants will come into the United States via chain migration. Statistics show that those immigrants, by a two to one margin, favor the Democratic Party. Why? Because they want a greater welfare state.
Study: More than 7-in-10 California Immigrant Households Are on Welfare. More than 7-in-10 households headed by immigrants in the state of California are on taxpayer-funded welfare, a new study reveals. The latest Census Bureau data analyzed by the Center for Immigration Studies (CIS) finds that about 72 percent of households headed by noncitizens and immigrants use one or more forms of taxpayer-funded welfare programs in California — the number one immigrant-receiving state in the U.S. Meanwhile, only about 35 percent of households headed by native-born Americans use welfare in California.
Non-Citizens Driving Up Welfare And Uninsured Rolls, Census Data Show. Just how much do non-U. S. citizens cost the rest of the country? Plenty, if you believe census data looking at welfare and the uninsured in America. Those data show that noncitizens are almost twice as likely to get welfare benefits, and more than three times as likely to be uninsured.
70% of Long-Term Non-Citizens in the USA Collect Welfare. A majority of "non-citizens," including those with legal green card rights, are collecting welfare meant for U.S. citizens. An analysis of Census Bureau findings reveals that from 2014, 63 percent of non-citizens are using a welfare program, and it grows to 70 percent for those here 10 years or more. We are inviting the unproductive into the country.
The Cloward-Piven strategy: Overload the system to intentionally break it.
California Democrats plan to extend Medicaid to illegal immigrants. State Assembly member Joaquin Arambula, a Democrat and a doctor, announced the plans Monday [12/3/2018] as the legislature convened at the state capitol, according to the Los Angeles Times. Should the bill advance, California would become the first state to extend Medicaid coverage regardless of immigration status. State projections for last year's bill found that 1.8 million people in California are uninsured and reside there illegally; roughly 1.2 million would qualify for Medi-Cal, the name of the state's Medicaid program.
Census confirms: 63 percent of 'non-citizens' on welfare, 4.6 million households. A majority of "non-citizens," including those with legal green card rights, are tapping into welfare programs set up to help poor and ailing Americans, a Census Bureau finding that bolsters President Trump's concern about immigrants costing the nation. In a new analysis of the latest numbers, from 2014, 63 percent of non-citizens are using a welfare program, and it grows to 70 percent for those here 10 years or more, confirming another concern that once immigrants tap into welfare, they don't get off it.
63% of Non-Citizen Households Access Welfare Programs. New "public charge" rules issued by the Trump administration expand the list of programs that are considered welfare, receipt of which may prevent a prospective immigrant from receiving lawful permanent residence (a green card). Analysis by the Center for Immigration Studies of the Census Bureau's Survey of Income and Program Participation (SIPP) shows welfare use by households headed by non-citizens is very high. The desire to reduce these rates among future immigrants is the primary justification for the rule change. Immigrant advocacy groups are right to worry that the high welfare use of non-citizens may impact the ability of some to receive green cards, though the actual impacts of the rules are unclear because they do not include all the benefits non-citizens receive on behalf of their children and many welfare programs are not included in the new rules. As welfare participation varies dramatically by education level, significantly reducing future welfare use rates would require public charge rules that take into consideration education levels and resulting income and likely welfare use.
How Much Do Illegal Immigrants Really Cost the United States? Our government continues to claim that the war on terror is bankrupting us. But what about these numbers? You do the math:
• $11 billion to $22 billion is spent on welfare to illegal aliens each year by state governments.
• Illegal households only pay about one-third the amount of federal taxes that non-illegal households pay.
• Illegal households create a net fiscal deficit at the federal level of more than $10 billion a year. If given amnesty, this number could grow to more than $29 billion.
• $1.9 billion dollars a year is spent on food-assistance programs such as food stamps, WIC and free school lunches for illegal aliens.
• $1.6 billion is spent on the federal prison and court system for illegal aliens.
• $2.5 billion dollars a year is spent on Medicaid for illegal aliens.
• About 21 percent of the population of U.S. prisons is classified as "noncitizens" from Mexico, Colombia, Cuba and the Dominican Republic. About 5 percent is listed as "unknown."
Asylum caravan's future Democrats dream of life in Land of the Free (Stuff). Thanksgiving's over, so now it's back to covering the ongoing invasion — I mean, the asylum caravan — on the southern border of the United States. Invasion — that's how the lawless mobs seeking the eternal gravy train are described by both the president of the U.S. and the mayor of Tijuana, where the hordes are currently getting drunk and creating their own local crime wave while massing for the upcoming big crossing. It'll be like the 49ers, or the Sooners, only this mob won't be looking for gold or land. They'll be sprinting toward the welfare offices of the gringos.
Trump administration moves to restrict visas, citizenship for immigrants on welfare. President Trump's administration unveiled a new regulation to limit green cards and visas for immigrants who have received a various forms of welfare, the Department of Homeland Security announced Saturday [9/22/2018]. "This proposed rule will implement a law passed by Congress intended to promote immigrant self-sufficiency and protect finite resources by ensuring that they are not likely to become burdens on American taxpayers," DHS Secretary Kirstjen Nielsen said, per NBC. The proposal is rooted in a federal law that restricts immigration for people "likely to become a public charge," according to U.S. Customs and Immigration Services; a "public charge" is someone "primarily dependent on the government for subsistence."
Trump Hits Gavin Newsom: Open Borders + Free Health Care for Illegal Aliens = 500 Million People! President Donald Trump mocked California's Lt. Gov Gavin Newsom from the stage at a rally in Billings, Montana, on Thursday evening [9/6/2018], noting that his twin policies of open borders and free health care for illegal aliens were absurd together. Newsom, the former mayor of San Francisco, is now running for governor in the November elections. He has embraced the "single payer" or "Medicare for all" policy currently in vogue among "progressives" — though he has no plan to pay for it.
Illegals drop out of government programs, welfare bureaucrats hardest hit. Welfare bureaucrats are putting the scream on, with news that President Trump's efforts to enforce U.S. immigration law are incentivizing illegal aliens to drop out of assorted welfare programs. [...] For starters, this whole thing looks funny. The leftist "narrative" up until now is that illegals never take welfare. That looks rather tattered with this report about illegals dropping out of welfare. Actually, it confirms what conservatives have noticed all along: that illegals do take taxpayer-financed welfare, in large numbers, and come here with skills so low that their capacity to succeed in a Western economy is compromised. Meanwhile, the very existence of that welfare, open to all comers, is acting as a "magnet" for more of them to head to el norte, kids in tow.
Illegals Abandoning Welfare Over Deportation Fears. Hilariously, we know this because the center-left magazine Politico reported on the phenomenon as if it was a bad thing (I'm not referring to any legal immigrants affected). According to their report: "Immigrants are turning down government help to buy infant formula and healthy food for their young children because they're afraid the Trump administration could bar them from getting a green card if they take federal aid. Local health providers say they've received panicked phone calls from both documented and undocumented immigrant families demanding to be dropped from the rolls of WIC, a federal nutrition program aimed at pregnant women and children, after news reports that the White House is potentially planning to deny legal status to immigrants who've used public benefits. Agencies in at least 18 states say they've seen drops of up to 20 percent in enrollment, and they attribute the change largely to fears about the immigration policy."
Report: Huge Number Of Illegals Opting Out Of Welfare Programs Fearing Trump Admin Crackdown. Illegal immigrants are opting out of government welfare programs out of fear of Trump Administration crackdowns coming done the pike, reported POLITICO on Monday [9/3/2018]. Due to a proposed Trump Administration rule to deny legal status to illegals on welfare, both legal and illegal immigrants have been inundating health care providers with calls demanding they be dropped from federal assistance programs like WIC. "Agencies in at least 18 states say they've seen drops of up to 20 percent in enrollment, and they attribute the change largely to fears about the immigration policy," says the report. WIC, or the Special Supplemental Nutrition Program for Women, Infants, and Children, is a federally-funded assistance program from the United States Department of Agriculture (USDA), providing health benefits and services for low income mothers and their children.
California craziness: Congress may have to stop state from giving 'free' health care to illegal immigrants. California has escalating crime, cities teaming with homeless people, clogged and crumbling roads, massive unpaid bills, some of America's highest taxes, and some of its worst public school systems. So what's the plan by Gavin Newsom, the Democratic Party's candidate for governor, to improve the situation? On Tuesday he suggested giving free health care to illegal immigrants. Speaking on a left-wing podcast, the former mayor of San Francisco said: "I did universal health care when I was mayor, fully implemented, regardless of pre-existing condition, ability to pay, and regardless of your immigration status. I'd like to see that extended to the rest of the state. San Francisco is the only universal health-care plan for all undocumented residents in America."
Gavin Newsom: I'm Bringing Single Payer To Everyone In California, Regardless Of Immigration Status. Gavin Newsom is currently running for Governor in California and, barring something dramatic, he is going to win. So when he says he plans to bring single payer to California as Governor, there's a very good chance he'll get his shot. Today, Newsom appeared on the Pod Save America podcast where he was asked about his health care plans. Newsom made clear he wants a single paper system that is for everyone in the state regardless of immigration status. "I'd like to see if we can control our own destiny," Newsom said. He continued, "I'm not naive about it. I did universal health care when I was Mayor [of San Francisco], fully implemented regardless of pre-existing conditions, ability to pay, and regardless of your immigration status.
Why California's Gavin Newsom campaigns for free health care for illegals. Gavin Newsom, leading candidate for governor of California, and a Democrat, has a new goodie on offer: free health care for the state's three million illegals. The former mayor of San Francisco said so in this podcast, explaining that there is no reason not to "wait around" to extend Medi-Cal coverage to anyone who asks, regardless of immigration status.
Report: More Than Half Of Foreign Refugees In U.S. Receive Food Stamps. If we can't find jobs for these people, why are we bringing them here?
More Than Half of Foreign Refugees Are on Taxpayer-Funded Food Stamps. More than half of the annual inflow of foreign refugees arriving in the United States are on food stamps, a government report reveals. Since 2008, as Breitbart News reported, the U.S. has permanently resettled more than 1.7 million foreign nationals and refugees through a variety of humanitarian programs like the Special Immigrant Juveniles and the Nicaraguan Adjustment and Central American Relief Act. This is a foreign population larger than Philadelphia, Pennsylvania — a city with more than 1.5 million residents.
Trump's Welfare Ban for Immigrants Would Be $57.4B Tax Cut for Americans. President Trump's ban on allowing welfare-dependent legal immigrants to resettle permanently in the United States would likely save American taxpayers about $1,600 a year per immigrant. As Breitbart News reported, the Trump administration is set to roll out a plan in the next month that bars foreign nationals who need government welfare in order to live from resettling in the U.S. Such a ban on welfare importation through immigration has been eyed by the Trump White House since February.
51% of Immigrants [Legal and Illegal] Use Welfare Compared to 30% of Citizens. A new study by The Center for Immigration Studies finds that 51 percent of immigrant-headed households (illegal and legal) used at least one federal welfare program — cash, food, housing, or medical care — compared to 30 percent of citizen households. The average household headed by an immigrant (legal or illegal) is costing taxpayers $6,234 in federal welfare benefits. It's thousands more than what we pay out for the average native household. Central American and Mexican nationals have the highest welfare costs.
Get ready for the media outcry over immigrants and their right to welfare. The media isn't quite at the sobbing-on-live-national-TV level over the Trump administration's latest move on immigration yet, but the very second a Guatemalan is denied a visa renewal because she's spent the last decade on food stamps and Medicaid, get ready for it. Reports this week said the Department of Homeland Security is soon expected to outline new rules that could end legal resident status for immigrants who take in welfare benefits. President Trump previewed the issue during a speech in Iowa last year, saying that "those seeking admission into our country must be able to support themselves financially and should not use welfare for a period of at least five years." At the time, Rasmussen found that 62 percent of likely voters favored the idea. Just 26 percent opposed restrictions on welfare for immigrants.
No Borders, No Nation. With the huge numbers of people who want to come to the United States — often from Third World countries — it should be evident to all Americans that to accommodate them under present conditions in this country would be simply impossible. First, the country is broke and can't afford the welfare they'd receive. Second, we are at a point in time where "becoming an American" is no longer important to immigrants (it is more important to retain traditional culture and beliefs), and the country is already riven with dissent as each racial and cultural group tries to get its government-issued preferences. Third, the country is many hundreds of billions behind in infrastructure repair, without creating loads of new infrastructure necessary for the influx. And there's more. Yet Democrats — and globalists in general — are against borders because it's "just not right."
Trump's new 'zero tolerance' rules cut welfare-dependent foreigners from taxpayer money spigot. Foreign nationals who need government welfare may find it harder to resettle in the U.S. as the Trump administration is set to roll out a new plan to save American taxpayers money. [...] New rules would be added and old laws would be enforced in the multi-pronged plan that would make it harder for legal immigrant residents who have used any forms of welfare in the past — including Obamacare, food stamps, and public housing — from becoming citizens.
Open Borders Are Not Libertarian So Long As America Is A Welfare State. Slightly over one-fourth of the children in the United States are now either immigrants or the children of immigrants. Since the total expenditures on public schooling in the U.S. is almost $700 billion per year, this cost is far greater than the GDP gains cited by Dalmia, and greater than the $50 billion she cites for "The Wall." It's also greater than the annual $104 billion for food stamps, the $46 billion for Section 8 housing programs, or the $30 billion for Aid to Families with Dependent Children for all residents, citizen or non-citizen. Immigrants also use other social services, but public education for all children residing in the United States is mandatory. In nineteenth-century America, supposedly with the open borders policies libertarians favor, immigrant children were not legally excluded from the labor market or mandated a public education.
Cutting welfare to illegal aliens would pay for Trump's wall. Mexico won't have to pay for the wall, after all. US taxpayers won't have to pick up the tab, either. The controversial barrier, rather, will cover its own cost just by closing the border to illegal immigrants who tend to go on the federal dole. That's the finding of recent immigration studies showing the $18 billion wall President Trump plans to build along the southern border will pay for itself by curbing the importation of not only crime and drugs, but poverty. "The wall could pay for itself even if it only modestly reduced illegal crossings and drug smuggling," Steven A. Camarota, director of research at the Center for Immigration Studies, told The [New York] Post.
Mexican national gets prison time for faking citizenship, stealing $350G in benefits. Andres Avelino Anduaga, a Mexican national who impersonated an American citizen for more than 30 years, was sentenced to 37 months in federal prison for stealing more than $350,000 in government benefits from government agencies, Fox 5 San Diego reported. He was also reportedly ordered to pay back $360,908.85 in restitution to the Social Security Administration, the California Department of Health Care Services and the county of San Diego. The report, citing court documents, said in 1980, he used a birth certificate belonging to a U.S. citizen to obtain a California driver's license and a Social Security card, then used his new false identity to commit a variety of crimes.
How Many Immigrants Are On Welfare? This is the land of opportunity, and anyone who wants the come here can... legally. That's not the issue. For the Trump White House, it's been their stated position to shift our immigration policy toward allowing more high-skilled workers into this country. As for the families of the low-skilled working immigration population in the country, 51 percent (76 percent counting immigrant-led households with children) are collecting some sort of check from our welfare services. Is that good? No. Does that mean we shut it all down? No. That figure comes from the Center for Immigration Studies, who noted the need for the immigration process to be more "selective." At the same time, there are a lot of American households with children that are also getting some form of government assistance.
Scams are overwhelming the US asylum system. People hoping to settle in the United States wait years for a green card to be legal residents. They play by the rules. Yet these law-abiding newcomers must feel like idiots, watching what's happening on the southern border. Hundreds of thousands of Central American migrants are walking right in. They're not waiting in line. They're using "asylum" requests as their E-ZPass. Just 12 percent of requests from El Salvadorans, 11 percent from Guatemalans and 7.5 percent from Hondurans are actually granted, according to the 'Department of Homeland Security. Never mind, the request gets them in the door. It's a shameful distortion of a program intended to provide a haven for true victims of state-sponsored religious, ethnic and political persecution.
The phenomenon on the southern border. Being granted asylum means hitting the jackpot. Asylees get the Refugee Cash Assistance program, including medical care, a housing allowance, and hundreds of dollars a month in cash. All inclusive, as the Sandals getaway ads say. In contrast, immigrants who go the green card route are ineligible for most benefits for years. Half who use asylum as their excuse for crossing the border never even file a claim or show up at a hearing. They're also winners. After all, they made it inside the U.S., unlike the East Asian waiting twelve years to enter as a legal worker.
Paul Ryan's Amnesty to Increase Number of Anchor Babies on Welfare. A plan being pushed by House Speaker Paul Ryan to give amnesty to potentially millions of illegal aliens will increase welfare use by United States-born children who were given birthright citizenship despite their parents being illegal aliens. These children are commonly known as "anchor babies," as they serve as an anchor to their illegal alien parents in the U.S. There are approximately 4.5 million anchor babies across the U.S., Breitbart News reported.
New Jersey Allows Illegal Aliens to Apply for State Financial Aid. The governor of New Jersey signed a law Wednesday allowing illegal aliens to apply for state financial aid programs to help pay for college beginning this fall, and the state has wasted no time in implementing it. The New Jersey Alternative Financial Aid Application for illegal aliens went live on the state's financial aid website as of Thursday, allowing non-citizens not legally in the country to apply for the same financial aid benefits as U.S. citizens.
'Incentives to Break the Law': Student Rips 'Absurd' Bill Allowing Illegal Immigrants to Apply for Financial Aid. A Rutgers University student blasted a new bill that allows illegal immigrants attending college in New Jersey to apply for and receive financial aid. "It's just absurd that we're giving illegal immigrants more and more incentives to break the law. ... I'm going to be paying for that debt after college," Nick Knight said. New Jersey Gov. Phil Murphy (D) called the United States the "world's melting pot" where people come "in the hope of a new life," when he signed the legislation at Rutgers-Newark, according to NJ.com.
Here are 1,366 well sourced examples of Barack Obama's lies, lawbreaking, corruption, cronyism, hypocrisy, waste, etc.. [#212] In 2011, the IRS gave 23,994 tax refunds worth a total of $46,378,040 to illegal aliens who all used the same address in Atlanta, Georgia.
Census: Immigrants on welfare triples, Medicaid doubles. Welfare and Medicaid use by new immigrants, even those with college degrees, has surged to new levels, an indication that the jobs they came to America to take aren't there, according to a new report. The Census Bureau charted the growth in the use of taxpayer-funded programs for financially poor new immigrants and found the biggest rise in the use of welfare, roughly triple over the last 10 years. And, according to an analysis by the Center for Immigration Studies, the use of Medicaid by immigrants has gone up nearly as much.
New Jersey looks to extend college financial aid to undocumented students. Immigrant students stood up when the vote came down — New Jersey's assembly gave the final approval needed to send a bill (A-3467) to the governor's desk that would extend state financial aid for college to undocumented students.
Trump Action Will Reduce Immigrant Medicaid Enrollment. Many Americans are angry about the large percentage of their tax dollars being doled out to immigrants in the form of public assistance, particularly at a time when federal budget deficits are skyrocketing. [...] Medicaid, for example, costs the taxpayers $565 billion annually and, according to a widely cited 2017 report by the National Academies of Sciences, Engineering and Medicine, 46 percent of immigrant households receive Medicaid benefits. The Trump administration is therefore taking action to reduce the number of non-citizens who enroll in Medicaid.
California Medicaid expansion enrolled hundreds of thousands of ineligible people, federal report finds. California signed up an estimated 450,000 people under Medicaid expansion who may not have been eligible for coverage, according to a report by the U.S. Health and Human Services Department's chief watchdog. In a Feb. 21 report, the HHS inspector general estimated that California spent $738.2 million on 366,078 expansion beneficiaries who were ineligible. It spent an additional $416.5 million for 79,055 expansion enrollees who were "potentially" ineligible, auditors found. Auditors said nearly 90% of the $1.15 billion in questionable payments involved federal money, while the rest came from the state's Medicaid program, known as Medi-Cal.
Cutting welfare to illegal aliens would pay for Trump's wall. Mexico won't have to pay for the wall, after all. US taxpayers won't have to pick up the tab, either. The controversial barrier, rather, will cover its own cost just by closing the border to illegal immigrants who tend to go on the federal dole. That's the finding of recent immigration studies showing the $18 billion wall President Trump plans to build along the southern border will pay for itself by curbing the importation of not only crime and drugs, but poverty. "The wall could pay for itself even if it only modestly reduced illegal crossings and drug smuggling," Steven A. Camarota, director of research at the Center for Immigration Studies, told The [New York] Post.
Harsh lesson for taxpayers as illegal alien felon pleads guilty to stealing $361K in benefits. If you are an average payer of federal income taxes, the entire amount of money you have paid and will pay in federal income taxes over your lifetime has been stolen by one illegal alien, with plenty of money left over to pillage from the tax payments of your neighbors. Kristina Davis of the San Diego Union-Tribune broke a story two days ago that now is rightfully garnering national attention.
Mexican man admits he assumed American's identity in 1980 and stole $361,000 in government benefits. It started as a rather straightforward Social Security fraud investigation — a man receiving disability benefits pretending to live in the United States when in fact he lived in Tijuana. What authorities uncovered was a 37-year identity theft scheme by a repeat felon who violated immigration laws and bilked federal, state and local governments out of hundreds of thousands of dollars in benefits, according to a plea agreement entered in San Diego federal court this week.
Mexican man assumed American identity for decades: court records. A Mexican man who was deported twice and had a history of arrests was able to assume the identity of an American citizen and receive more than $360,000 in government benefits for nearly four decades, California court records show. Andres Avelino Anduaga used a fake birth certificate starting in 1980 to develop a seemingly legitimate persona by applying for a California driver's license, Social Security number and U.S. passport, according to documents obtained by the San Diego Union-Tribune. The official U.S. documents identified him as Abraham Riojos, born in Texas in 1958. Anduaga, who's actually 66 years old and a resident of Tijuana, Mexico, pleaded guilty last week in San Diego to theft of public property and being a previously removed unauthorized immigrant in the U.S., the newspaper reported Saturday [3/3/2018].
Illegal Immigrant From Mexico Used Stolen Identity To Rip Off $300K In Government Benefits. A Mexican national stole the identity of an American citizen and used it to bilk federal and local governments of more than $300,000 worth of disability benefits over more than 30 years, according to a plea entered Thursday in San Diego federal court. The man — identified as 66-year-old Andres Avelino Anduaga — admitted that he assumed the identity of a Texas resident named Abraham Riojos in 1980, and then used Riojos' information to apply for a California driver's license, a Social Security number and a U.S. passport.
Illegal immigrant from Mexico pleads guilty to using fake identity to steal $361,000 in government benefits. A Mexican national has confessed to stealing the identity of an American citizen, and over the course of 37 years pocketing hundreds of thousands of dollars in government benefits. Andres Avelino Anduaga, 66 — who hails from Tijuana, Mexico — admitted in San Diego federal court on Thursday [3/1/2018] that he assumed the fake identity of a Texas resident named Abraham Riojos in 1980 after obtaining a fraudulent birth certificate, and then successfully applied for a California driver's license, Social Security number and passport. From 1989 to 2016, according to the plea agreement, he received around $361,000 in benefits — which included Medi-Cal, food stamps and Supplemental Security Income benefits.
Welfare for refugees — my, how the U.S. taxpayer does pay. Taxpayers in the United States are shelling out a reported $867 million each year to support refugees who've been resettled in this country and make sure they have adequate food and clothing and the like. In the overall federal budgeting scheme, that's maybe small potatoes. But at the same time, if we're talking welfare — and we are — then it would seem the more American thing to pay for those already in-country, already legal citizens, before paying for those who are simply visitors.
Study: Welfare for Foreign Refugees Costs U.S. Taxpayers $870M Annually. Every year, American taxpayers pay nearly $870 million on welfare for foreign refugees who are resettled across the United States by the State Department. A new study by the Federation for American Immigration Reform (FAIR) reveals that annually, foreign refugees are being given about $867 million in welfare benefits that U.S. taxpayers pay for. Every year, taxpayers are billed about $1.8 billion for the full cost of resettling foreign refugees, and after five years, American taxpayers will have spent about $8.8 billion on resettling foreign refugees.
Merit-based migration must mean moral merit, too. The White House has listed a phenomenal 15 Jihadis who have been caught in acts of terrorism against the U.S., all because they were let in based on winning diversity lottery slots, or were able to take advantage of chain migration privileges. [...] The White House uses these examples to argue against these two destructive policies, which are already unpopular based on the numbers of poorly educated, ill-adapted nationals from bad countries who have little chance of succeeding in the U.S. and who are unlikely to like it here anyway. Such immigrants are heavy consumers of social services, and as they assimilate into the underclass, eventually become Democratic voters. The whole thing pretty well amounts to importing poverty.
Welfare Use by Immigrant Households with Children. This report has followed the standard practice of examining welfare use by household, focusing on Medicaid, cash, food, and housing programs. The findings show that a large share of immigrant households with children access at least one major welfare program. Based on data collected in 2010, which asked about use of welfare in the prior calendar year, 57 percent of households headed by an immigrant (legal or illegal) with children (under age 18) used at least one welfare program, compared to 39 percent for native households with children. Immigrant use of welfare by household tends to be much higher than natives for food assistance programs and Medicaid. Use of cash and housing programs tends to be very similar to native use. A large share of the welfare used by immigrant households is received on behalf of U.S.-born children, who are American citizens. But even households with children comprised entirely of immigrants (no U.S.-born children) still had a welfare use rate of 56 percent in 2009. Thus the presence of U.S.-born children does not entirely explain the high overall use rate associated with immigrants.
The 7 Factors Turning America From a Great Nation Into an Also-Ran. [#3] Immigration: Because of the Immigration and Nationality Act of 1965, there is no comparison between how much immigration may have helped America in the past versus how much it helps us now. Furthermore, our unwillingness to secure our borders has created a lot of problems with illegal immigrants. Currently 57% of families headed by a legal or illegal immigrant are receiving some form of welfare. It doesn't help America at all to bring people here who are uneducated, work menial jobs and don't pay income taxes, who don't assimilate or who end up on some form of welfare. [...] Contrary to what you often hear, our current immigration system is making America WEAKER, not STRONGER.
Immigration Is Destroying the Welfare State. Recall how the Democrats supported President Obama's Trans-Pacific Partnership, a "free trade" deal that would have gutted American industries. And it is Democrats who oppose President Trump's attempts to stop illegal immigration, which hurts America's poor. The Democrats don't care about American workers. They care about winning elections. At this point, the chorus of "progressive" rhetoric reaches a fever pitch. "But we need immigrants to support the welfare state! We need immigrants to pay for Social Security!" Saying it does not make it so. In truth, immigration is destroying the welfare state, in America and throughout the West. This is happening because immigrants receive more in benefits than they pay in taxes. Of course, this is not true for every immigrant — some never collect government handouts — but it is true for the overall immigrant population. Studies from across the Western world prove this point.
Somali averages are terrible. [Scroll down] Tens of millions of dollars sluice though annually from U.S. taxpayers to the resettlement agencies, most of which have deceptively churchy-sounding names. Then, after refugees have been settled in our country a few weeks, the agencies hand them over to municipal, state, and national welfare services, with untold billions of further costs to the public fisc for healthcare, education, housing, and law enforcement stretching away into the future. That's the process by which the U.S.A. acquired a big population of Somalis — around 150,000, of whom about half live in Minnesota. The Census Bureau estimates that 74,000 people in Minnesota speak Somali. There's the Minnesota connection. Why so many Somalis in Minnesota? It's a combination of things. [...] And then, once the so-called refugee is settled in the U.S.A., he's free to move from one place to another. The most attractive place for him to move to is whichever place has the biggest concentration of his fellow-countrymen. So there's a snowball effect: augmented, once people have been here long enough to get citizenship, by chain migration. Somalis are black; they're also, for the most part, Muslim. So they are twofers for Designated Victim Status, and white Americans better not even hint at anything negative about them.
Keeping 'Dreamers' would cost taxpayers $26B over next 10 years, feds say. Allowing 2 million illegal immigrant "Dreamers" to remain in the U.S. would cost taxpayers $25.9 billion over the next decade, the Congresssional Budget Office says in a report released Friday [12/15/2017]. Dreamers are the prospective beneficiaries of the DREAM Act (Development, Relief and Education for Alien Minors), legislation introduced in the U.S. Senate earlier this year to provide a pathway to citizenship for some illegal immigrants. They would include those who've participated in DACA (Deferred Action for Childhood Arrivals), received temporary protected status, or have fulfilled certain educational requirements. Under the bill, immigrants who benefited from DACA would be eligible for Medicaid, food stamps, education funding, and various other programs, provided that the applicants meet certain requirements.
Keeping 'Dreamers' would cost taxpayers $26B over next decade: CBO. Letting people who came to the US illegally as children remain in the country lawfully would cost taxpayers $25.9 billion over the next 10 years, the Congressional Budget Office estimates. Many of those who benefited from the Obama administration's Deferred Action for Childhood Arrivals, or DACA, program will be eliglble for Medicaid, food stamps, education funding, and other programs, the agency said in a report Friday [12/15/2017]. The outlay would total $26.8 billion over the next decade — but the estimated 3.25 million dreamers would contribute only $0.9 billion to the tab, the CBO said. Trump earlier this year announced plans to axe DACA, which President Barack Obama instituted as an executive order.
CA Dems Proposing Spending $1 Billion Giving Health Care To Illegal Immigrants. Democrats, who have a monopoly of power in California politics, are proposing to spend $1 billion a year to provide health care to illegal immigrants living in the state. Medi-Cal, which is the state's Medicaid program, would eliminate legal residency requirements. The proposal was offered as part of a $4.3 billion proposal from San Francisco Democrat Assemblyman Phil Ting, the head of the Assembly budget committee. According to NBC Bay Area, 7% of people residing in California lack health coverage, many of them illegal immigrants. California has already eliminated legal residency requirements for Medicaid coverage for people under 19; Ting's proposal would extend that to all ages.
Trump may get tax cut bill with more generous credits for illegal immigrants. President Trump has been willing to accept almost anything to close the deal on his giant tax cut bill before Christmas, including staying mum about a measure that would allow illegal immigrants to pocket the more generous child tax credit included in the package. Illegal immigrants have been collecting the payoff from the "refundable" tax credit for years because of an IRS interpretation of how the rule was drafted. The Republican-controlled Congress this fall had a chance to correct that in the tax code overhaul that in the Senate version doubled the child tax credit to $2,000 and expanded eligibility.
President Trump Ends Free Money for Immigrants. The degradation of America coincides with our idiotic immigration policy of "just get here and you're better than our citizens". Well no longer. In his weekly address president Trump announced an immigration bill that will create a merit-based Green Card system. The new system will end the abuse to our welfare system.
Tax Cut Bill to Stop Cash Payments to Illegal Immigrants. Buried in the tax reform bill the House of Representatives passed last week is a small provision — one long advocated by immigration hawks — to close a loophole that allows illegal immigrants to get cash from the government. Congress prohibited such transfer payments in 1996, but the Internal Revenue Service's interpretation is that the prohibition does not apply to a government assistance program created after that statute. Known as the additional child tax credit, the program is designed for low-income people whose tax burden is too low to qualify for the regular $1,000-per-child credit. It allows families, in other words, to get more money back on their tax returns than they originally pay.
Trump's Illegal Alien Crackdown Threatens Obamacare. Representative Joe Wilson was excoriated in 2009 for yelling "you lie!" about Obama's statement that illegal aliens will not receive Obamacare. Politifact went through some serious gymnastics to claim that Joe's statement was false. Of course, we've seen over the years that Joe was correct, and that many states, such as California, have attempted to give illegals Obamacare.
Welfare Use by Immigrant and Native Households. In 2012, 51 percent of households headed by an immigrant (legal or illegal) reported that they used at least one welfare program during the year, compared to 30 percent of native households. Welfare in this study includes Medicaid and cash, food, and housing programs. Welfare use is high for both new arrivals and well-established immigrants. Of households headed by immigrants who have been in the country for more than two decades, 48 percent access welfare. No single program explains immigrants' higher overall welfare use. For example, not counting subsidized school lunch, welfare use is still 46 percent for immigrants and 28 percent for natives. Not counting Medicaid, welfare use is 44 percent for immigrants and 26 percent for natives.
L.A. County hands $1.3 billion to illegals for welfare. Los Angeles County is a massive draw for illegals, with more than a million flocking there and setting up home — and now we know why. Not only is it hallowed sanctuary ground; it's also, apparently, taxpayer-dole-out central. Look at this, from Robert Rector with the Heritage Foundation: "They get $3 in benefits for every $1 they spend," he said, speaking of the costs of education, police, fire, medical and housing that illegals get, compared to what they pay back by way of taxes. This isn't conjecture. It's based on analysis of the Los Angeles County Department of Public Social Services database. Among the findings: In 2015, more than 58,000 families received $602 million in benefits. In 2016, more than 64,000 families received $675 million.
How About E-Verifying Tax Refund Recipients? The Trump administration is said to be thinking about illegal aliens and Social Security. Let's hope the focus of the new people is not on Social Security beneficiaries, as benefits are not supposed to be paid to those without legal status, anyway. This part of the system may not be enforced with zest, but the rules are in place. Clearly such systems could, and should, be tightened. The focus on Social Security and illegal aliens, however, should be on seeing to it that the massive amount of information on the illegals held by the SSA — now rarely shared with other agencies — should be routinely dispatched to other federal outfits that can, and should, do something about it.
Trump Budget Stops Cash Payments to Illegal Immigrants. The president's proposed 2018 budget would put a stop to a government program that has paid out more than $35 billion over the past ten years to illegal immigrants in lump-sum payments, disguised as a "tax credit." The use of the credit by illegal immigrants, which has allowed them to get up to $1,000 for each child they claim, including children who are not theirs and who don't live in the United States, has been referred to as "a multi-billion-dollar fraud scheme" that has taken money out of the hands of hard-working Americans.
Trump calls to cut off tax breaks for illegal immigrants. President Trump will seek to tighten restrictions on some tax credits to prevent them from being claimed by illegal immigrants, a measure that the administration says is necessary to respect taxpayers and balance the budget. Trump's fiscal 2018 budget, set to be released Tuesday, will set higher eligibility standards for the earned income tax credit and the child tax credit, Office of Management and Budget Director Mick Mulvaney said Monday [5/23/2017]. According to the administration, the measures will save $40 billion over 10 years.
Report: Illegal Aliens Forego Food Stamps to Stay off Trump's Radar. Illegal aliens in San Francisco have reportedly begun abstaining from food stamps in the belief it will help them avoid being detecting by the Trump administration. In fact, so many residents have turned against food stamps that "the city is concerned." According to the San Francisco Chronicle, local Human Services Agency director Trent Rhorer has noted that "households with one illegal" are wondering how much information will reach administration officials if they use food stamps, also known as CalFresh. Eligible families also wonder "whether the administration will cut food stamp benefits to immigrants."
Rahm Emanuel Invents New ID to Ensure Illegals Get Their Welfare. Chicago Mayor Rahm Emanuel has moved forward with plans for a Chicago-only identification card specifically designed to ensure illegal aliens in the city can receive welfare benefits with minimal risk of repatriation. The new program was unveiled at a Chicago City Council meeting on Wednesday, and it protects illegal aliens from federal oversight by not collecting any copies of identification documents presented when illegals apply for the identification card. "Applicants bring in the documents to prove someone's identity. They hand them over to specially trained individual who can review the documents and then hand them back ... It's going to capture just the name and the date of birth. It's not going to capture an address," a source close to those officials told the Chicago Sun-Times.
This is the Cloward-Piven strategy in action:
Feds and UN Dumping "Unvetted, Diseased Refugee Men" on Taxpayer. A Missouri woman who has attended official meetings on resettling migrants is blowing the whistle on United Nations and federal schemes that she says are quietly flying in huge numbers of unvetted, diseased "refugees" from across Africa and the Middle East — many of whom do not even have a known name — and immediately handing them passports, Social Security numbers, and a vast array of tax-funded benefits. Noting that the overwhelming majority of the migrants she observed were men, she suggested the schemes were an "intentional device" to "invade the United States of America." Adding insult to injury, said the woman with knowledge of the program, is the fact that state officials and those involved with processing the new arrivals are being encouraged at official meetings to classify as many of the newcomers as possible as being permanently disabled — especially as having chronic headaches and lower back pain. The purpose of this, she was told, was so the "refugees" could qualify for Social Security long-term disability, allowing them to collect taxpayer money for the rest of their lives despite never having contributed to the already-strained system on its way to bankruptcy.
Immigrants are now canceling their food stamps for fear that Trump will deport them. Luisa Fortin sometimes sits up at night, wondering what her clients are eating. She is the SNAP Outreach Coordinator for the Chattanooga Food Bank — but lately she has done less outreaching. Her families, working immigrants in northwest Georgia, are spooked by the political climate, Fortin said. Increasingly, she's being asked to explain how food stamps may impact immigration status, if not to outright cancel family food benefits. Since mid-January, five of Fortin's families have withdrawn from the SNAP program. One, the single mother of three citizen daughters, had fled to Georgia to escape an abusive husband. Another, two green-card holders with four young children, were thinking of taking on third jobs to compensate for the lost benefits. These families represent a small fraction of Fortin's caseload — she estimates she has signed 200 immigrant families up for SNAP over the past six months — but based on the calls she gets from other clients, she fears more cancellations are imminent.
Nonprofits Helping Illegal Immigrants Took $291 Million From Taxpayers. Taxpayers funded eight nonprofits that serve, protect or advocate for illegal immigrants with more than $291 million between 2012 to 2016, according to an analysis of federal spending data and tax documents by the Daily Caller News Foundation Investigative Group. The eight groups — including at least one that endorsed Democratic presidential candidate Hillary Clinton in 2016 — provide a variety of support to illegal aliens, ranging from legal and social services to political advocacy. Ninety-four percent of the public funds — or, nearly $274 million — came from the federal government, according to data obtained from USAspending.gov and 990 tax forms.
Obamacare 2.0 Is All But Guaranteed to Impose Crushing Costs on Voters, Hurt Trump's Base, And Hand Power Back to the Democrats. [For example,] Illegals can get health care through identity theft and fraud, because Obamacare 2.0 makes it impossible to check enrollees' immigration status. The bill incentivizes further illegal immigration by encouraging illegals to come to the U.S. to cut into taxpayer-funded programs meant for citizens. Poll after poll shows Trump's immigration policies prioritizing Americans and their problems over foreigners and their wants are hugely popular with voters. Giving away health care to illegals, while ramping up the price for Trump's core voters, is a slap in the face.
Are We Refugeed Out Yet? There are more Iraqis living in the United States than there are in some major cities in Iraq. 156,000 Iraqi refugees have entered this country in just the last decade. 30,000 of those have ended up in California. In Obama's first year in office, the United States resettled three-quarters of Iraqi refugees. 71% of Iraqi refugees are receiving cash assistance. 82% are on Medicaid and 87% are on food stamps. Compare those atrocious numbers to only 17% of Cubans on cash assistance and 16% on Medicaid. It should be obvious why Obama shut the door on Cuban refugees while holding it wide open for Syrian Muslims (but closing it tightly on Syrian Christians), Iraqis and Somalis (77.4% food stamp use).
Report: 87% Illegal Immigrant Families On Welfare, 72% Of Legal Immigrants On It. The helping hand offered by social welfare programs is being utilized by most legal and illegal immigrant families, the latest sign that many immigrants come to America for the taxpayer-funded benefits like Medicaid, subsidized food and cash, according to a new report based on Census data.
California Goes One Step Beyond ObamaCare, Proposes Single-Payer Healthcare System to Include Illegal Aliens. California Democrats made a surprise move late Friday to foil President Trump's promise to repeal ObamaCare — by introducing a stand-alone, single-payer healthcare system in California. The Mercury News reported that two California lawmakers Friday introduced legislation to replace private insurance with a government-run health care system covering all 38 million Californians — including its undocumented residents.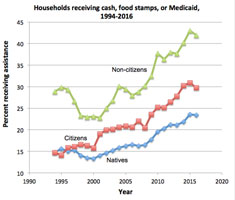 Who Is A Public Charge? Since 1882, the United States has banned the entry of anyone who has the potential of becoming a "public charge." This is how current law reads: ["]Any alien who, in the opinion of the consular officer at the time of application for a visa, or in the opinion of the Attorney General at the time of application for admission or adjustment of status, is likely at any time to become a public charge is inadmissible.["] Since 1903, the United States has allowed for the deportation of immigrants who became a public charge after they entered the country, and this is how the law now reads: ["]Any alien who, within five years after the date of entry, has become a public charge from causes not affirmatively shown to have arisen since entry is deportable.["] Given these very straightforward — and very old — restrictions, it seems puzzling that we would find many immigrants on welfare.
Trump weighs additional immigration restrictions to weed out any who may need public aid. The Trump administration is considering a plan to weed out would-be immigrants who are likely to require public assistance, as well as to deport — when possible — immigrants already living in the U.S. who depend on taxpayer help, according to a draft executive order. A second draft order under consideration calls for a substantial shake-up in the system through which the United States administers immigrant and nonimmigrant visas, with the aim of tightly controlling who enters the country and who can enter the workforce, and reducing the social services burden on taxpayers.
The Editor says...
It's the law. Read 8 USC §1182 for yourself.
The Coming Sanctuary Cities Crackdown. Chicago is one of the best places to live in America if you're one of the millions of illegal aliens present in the country — and free-spending, lawbreaking Mayor Rahm Emanuel is trying his best to keep it that way. [...] Emanuel is so determined to fork over tax dollars to illegals that he's moving forward with creating a municipal identification card to open government coffers to those who have no legal right to be in this country. "Chicago is and has been a city that welcomes everyone, and an individual's background should never be a barrier to participating in the economic, social or cultural life of Chicago," Emanuel said in October. "With this program, we ensure that all Chicago residents have the identification they need to access vital services."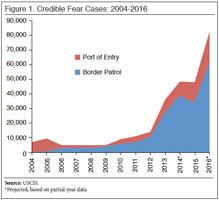 Illegals seeking asylum up 900%, get Social Security, welfare, school loans. The number of illegals seeking asylum to gain easy access to the United States has jumped 900 percent in less than 10 years, greatly expanding the Immigration population receiving Social Security, school loans, green cards, welfare and other taxpayer funded services, according to figures from the U.S. Citizenship and Immigration Services. While about 8,000 mostly Latin Americans in 2009 sought asylum, the number is expected to reach 80,000 or more this year, according to a projection from the Center for Immigration Studies.




California petitions to become first state to offer ObamaCare to illegal immigrants. California's health care exchange is requesting that it be allowed a waiver from ObamaCare regulations in order to allow illegal immigrants to buy insurance on the exchange — which would make California the first state to extend ObamaCare to illegal immigrants. In a Sept. 30 letter to Health and Human Services Secretary Sylvia Burwell, Covered California's Executive Director Peter Lee said that the Affordable Care Act has been "tremendously successful" in the state and has cut the rate of uninsured in half.

Chelsea Clinton Blunder! Admits Hillary Will Give Illegals ObamaCare! As Hillary is also on board to continue to flood the country with illegal immigrants, this in itself could be the death of America as we know it!

California Dems Push For Obamacare For Illegal Immigrants. California Democrats advocated for President Barack Obama to sign a waiver allowing undocumented immigrants to buy healthcare plans through the Obamacare exchanges Wednesday [9/14/2016], claiming the change would not be federally subsidized. California's Democratic delegation sent a letter to the administration Monday pushing to make the state the first exemption from the Affordable Care Act's provision preventing illegals from purchasing plans.

Illegals to Border Agents: 'Obama Said it Was Okay to Come'. [A] new report out of San Diego reveals that 90% of illegal aliens caught along the southern border are subsequently released back on the streets. In fact, they are dropped off at a local bus stop to freely roam about. The most common reason given as to why they are crossing is: "Obama said it's okay to come." KUSI 9 News's Dan Plante recently spent the day at the border and learned that nine out of ten illegals are released back on the streets of San Diego and are more often than not provided with extra amenities.

Report: Some Illegal Aliens Enjoy Food Stamp Advantage Over U.S. Citizens. A new report produced by the Center for Immigration Studies (CIS) shows that people in the United States illegally can in some cases get more food stamps than U.S. citizens. The report, released on Monday by the Washington, D.C.-based organization, reveals that the United States Department of Agriculture's (USDA) Supplemental Nutrition Assistance Program (SNAP) "provides benefits to families with an illegal alien (or other ineligible alien) wage earner in it, while denying benefits to an identical family comprised of only U.S. citizens."

California Reps Urge Obama To Stop California From Giving Illegals Obamacare. House Republicans representing California pressured the Obama administration to stop its plan to expand Obamacare to illegal immigrants in the state Wednesday [6/30/2016]. Rep. Darrell Issa spearheaded the effort in a letter to the Department of Health and Human Services signed by a number of California representatives slamming the plan's potential to further stagnate the economy and increase the burden on taxpayers in the state. The California legislation would allow for a waiver permitting illegal immigrants in the state to buy private health insurance through the Obamacare exchange — allowing an estimated 390,000 more people the option to purchase plans.

House Democrats Want Obama To Expand Education Programs To Children Of Illegals. About 100 House Democrats sent out a letter Tuesday to Obama urging him to give education benefits to young children who were brought to the United States illegally as children, according to reports from the Hill. Backed by Rep. Jared Polis of Colorado, Rueben Hinojas of Texas, and Gwen Moore or Wisconsin, the letter said that children enrolled in Obama's Deferred Action for Childhood Arrivals (DACA) should receive the same benefits from education programs that less advantaged children do who are legal U.S. citizens. Democrats claim that because these benefit are only for legal U.S. children, DACA children are prohibited from getting "life changing services."

Obama Administration Coy on Expanding Obamacare to California Illegal Immigrants. California Gov. Jerry Brown signed a bill to expand Obamacare to cover illegal immigrants, but now it's up to the Obama administration to determine if the nation's largest state will get an exemption related to a specific promise the president made when trying to sell the health care law. The Golden State will be asking the U.S. Department of Health and Human Services for a "State Innovation Waiver" under Section 1332 of the Affordable Care Act, better known as Obamacare. This would allow illegal immigrants in the state to purchase private health insurance plans from the California exchange, Covered California, but would not make them eligible for federal subsidies.

House Democrats Want Obama To Expand Education Programs To Children Of Illegal Immigrants. About 100 House Democrats sent out a letter Tuesday to Obama urging him to give education benefits to young children who were brought to the United States illegally as children, according to reports from the Hill. Backed by Rep. Jared Polis of Colorado, Rueben Hinojas of Texas, and Gwen Moore or Wisconsin, the letter said that children enrolled in Obama's Deferred Action for Childhood Arrivals (DACA) should receive the same benefits from education programs that less advantaged children do who are legal U.S. citizens.

California to ask feds to allow undocumented immigrants to use Obamacare. California could become the first state to ask the federal government to let undocumented immigrants buy insurance under the Affordable Care Act, known as Obamacare. Gov. Jerry Brown, a Democrat, signed legislation Friday that attempts to allow people in the country illegally to purchase the insurance through Covered California without costing the state or federal government anything.

Immigrants Use $6,234 in Welfare Benefits per Household, 41 Percent More than Non-Immigrant Households. Immigrant-headed households use 41 percent more federal welfare benefits than their native-born counterparts, according to a new Center for Immigration Studies analysis of U.S. Census Bureau data. The average household headed by an immigrant (both legal and illegal) in 2012 consumed $6,234 federal in welfare benefits, while the average native-headed households consumed $4,431 in benefits, says the CIS report, which is based on data from the Census Bureau's Survey of Income and Program Participation.

Half of immigrant-led households collect welfare as admission rules go unenforced. Immigrants are supposed to be beneficial to the U.S. — so much so that federal law requires them to prove they won't end up on the public dole if they are legally admitted. But it's a stricture honored more in the breach than in compliance, according to statistics obtained by the Federation for American Immigration Reform, which found that of the millions of legal immigrants living in the U.S. and collecting welfare or other public benefits, only a single person was kicked out of the country over the last three years for becoming a public burden. That seems to fly in the face of federal policies that, dating back to the very first broad immigration law in the 1880s, have demanded that immigrants prove they will be able to support themselves.

Feds to Pay California to Finance FREE MediCaid Health Care for Illegal Aliens. The responsibility of the Fed is to keep illegal aliens out of this country — instead Obama is importing them and giving them "free" health care — while cause honest citizens to pay higher taxes, receive lower quality health care and to crowd the system so honest Americans must wait while the Obama imports get their care.

Muslim Refugees Get $6k/Month In Welfare, Want You To Pay For Something Else. A Muslim family with 9 children entered the West as refugees, refused to enter the workforce, and immediately signed up for welfare, receiving over $6,400 every month. However, the lavish taxpayer benefits just aren't enough, so now they're demanding hardworking citizens pay for just one more thing in their attempt to milk the system. When a devout Muslim couple left Afghanistan to pursue Western life in Austria, the immigration board approved asylum status for them and their 9 children, aging from 5 to 20 years old. The pair soon claimed disability and began receiving $6,406.45 each month in welfare, according to Kronen Zeitung. Now, they're planning on increasing their monthly benefits the best way they know how.

California Looks to Cover Illegal Immigrants Under Obamacare. In an unprecedented move, California legislators look to extend Obamacare health coverage to the state's estimated 2.6 million illegal immigrant population. If passed and signed into law, California would be the first state in the nation to request illegal immigrants be covered through a state exchange, the Los Angeles Times reported. It is against the law for California to allow illegal immigrants to enroll in Covered California, the state's Obamacare health insurance exchange, Sally C. Pipes, president and CEO of the pro-free-market Pacific Research Institute, told The Daily Signal in an emailed response. "The law does not allow illegals to enroll in the state exchanges or the federal exchange Healthcare.gov," Pipes said.

Report: Children of refugees get more federal benefits than poor U.S. kids. America loves kids, but Uncle Sam has a favorite: children of refugees. Among recipients of food stamps, welfare cash and Social Security payments, refugee children receive more in taxpayer-funded aid than children of citizens, according to a new report on federal spending from the pro-immigration Migration Policy Institute.

IRS Giving Tax Credits to Illegals Who've Engaged in Identity Theft. In a typical year, April 15 is Tax Day when hard-working Americans cede over an enormous amount of their income to the federal government so they can redistribute it to all sorts of special interests and protected classes, including illegal aliens. You heard that right. The IRS has admitted to knowingly granting refundable tax credits, which work as back door welfare payments, to illegal aliens who break the law and steal Social Security numbers to obtain employment and file their taxes. During a meeting of the Senate Finance Committee, IRS Commissioner John Koskinen admitted to Sen. Dan Coats (R-IN) that illegal aliens were stealing Social Security numbers and using them to receive refundable tax credits through their annual returns. Worse, he felt it was a good thing they were filing and didn't seem committed to stopping it.

Obama Claims Power to Make Illegal Immigrants Eligible for Social Security, Disability. Does the president of the United States have the power to unilaterally tell millions of individuals who are violating federal law that he will not enforce that law against them now, that they may continue to violate that law in the future and that he will take action that makes them eligible for federal benefit programs for which they are not currently eligible due to their unlawful status? Through Solicitor General Donald Verrilli, President Barack Obama is telling the Supreme Court exactly this right now. The solicitor general calls what Obama is doing "prosecutorial discretion."

Cubans handed cash, Social Security card, food stamps, Medicaid at U.S. border. Thousands of Cubans rushing the U.S. border in record numbers are being greeted with a Welcome Wagon operation the provides them with taxpayer-funded benefits including cash, a Social Security card, food stamps, and Medicaid, according to a review of the latest immigration crisis on the border. During a field trip to the Laredo, Texas crossing point, two experts from the Center for Immigration Studies documented how Cubans are provided with the services free of charge in a storefront operation set up by a Cuban immigrant, who even provides housing and schedules transportation to Miami.

[The Number of] Immigrants Denied Admission to the U.S. Due to Welfare Dependency Risk Plummets. The number of immigrants denied admission to the U.S. as legal permanent residents due to their risk of becoming primarily reliant on welfare for subsistence has plummeted since the late 1990s, according to the Congressional Research Service. Foreigners seeking admission to the U.S. or adjustment of status to a legal permanent resident (or green card recipient) are technically considered inadmissible if they are deemed likely to become a "public charge," or primarily reliant on government assistance.

Chelsea Clinton reveals her mom thinks it is 'important' to extend Obamacare to illegal aliens. [Scroll down] So the billions of impoverished people worldwide now have an invitation to come to America and sign up for what used to be the finest health care system in the world. If you can't afford Obamacare, why no problem. The rest of us will cheerfully pay our taxes and endure further increases in our insurance costs because after all, we owe it to the rest of the world.

Tension Simmers as Cubans Breeze Across U.S. Border. They are crossing the border here by the hundreds each day, approved to enter the United States in a matter of hours. Part of a fast-rising influx of Cubans, they walk out to a Laredo street and are greeted by volunteers from Cubanos en Libertad, or Cubans in Freedom, who help them arrange travel to their American destination — often Miami — and start applying for work permits and federal benefits like food stamps and Medicaid, available by law to Cubans immediately after their arrival.

Senate report: Illegal immigrants benefited from up to $750M in ObamaCare subsidies. Illegal immigrants and individuals with unclear legal status wrongly benefited from up to $750 million in ObamaCare subsidies and the government is struggling to recoup the money, according to a new Senate report obtained by Fox News. The report, produced by Republicans on the Senate Homeland Security and Governmental Affairs Committee, examined Affordable Care Act tax credits meant to defray the cost of insurance premiums. It found that as of June 2015, "the Administration awarded approximately $750 million in tax credits on behalf of individuals who were later determined to be ineligible because they failed to verify their citizenship, status as a national, or legal presence."

U.S. Commits $9.5 Mil to Migrant Education. The money will flow through the Office of Migrant Education which operates under the bloated U.S. Department of Education, Jimmy Carter's brilliant creation. The funds will be divided between the College Assistance Migrant Program (CAMP), which will receive $5,407,472 and the High School Equivalency Program (HEP) for migrants, which will get $4,082,415, according to an announcement in the federal register. CAMP helps migrant and seasonal farmworkers and members of their immediate family pay for college. HEP assists them in obtaining a general education diploma that meets guidelines for high school equivalency. The government will then help those folks gain employment or be placed in an institution of higher education, compliments of Uncle Sam.

Feds Won't Permit Asking Welfare Moochers About Immigration Status. How are you going to use extravagantly generous welfare programs to lure in enough freeloaders from the Third World to displace the native population if they think they might get questioned about whether they are in the country legally? Also, it is important to keep the shrinking core population from knowing exactly how many foreigners we are supporting on a slave basis.

Obama Regime Rolls Out Red Carpet for Islamic Colonists. Have you fallen on hard times as a result of the Obama economy? Why not try traveling to Syria, then returning to the USA as a "refugee"? The taxpayer will set you right up.

Call With 'Refugee Services of Texas' Confirms "Free" Stuff for Incoming Muslims. Barack Obama recently announced he's raising the refugee cap from 70,000 to 85,000 to make room for 15,000 Syrian refugees. His plan for next year involves the cap shooting to 100,000. This means some 45,000 Syrians, most of whom are likely Muslim, will enter the U.S. between now and the end of next year. [T]he State Department spent about $3 billion on refugee services for the fiscal year that ended September 30th of 2015. That amount is expected to increase this year. Again, Obama spent $3 BILLION of our dollars moving foreigners into the U.S. as refugees last year.

Welcome to the USA, Here's Your Free Money. Considering the massive government debt, the extremely low workforce participation rate, and the severe problems we already have with alien populations ripping society apart from within, this is hard to distinguish from treason: ["]The Obama administration has released an updated welcome guide for new immigrants in the U.S. featuring detailed sections about obtaining public benefits including food stamps, welfare, and Obamacare.["] [...] Like most everything Big Government produces, the revamped guide appears to be unnecessary. Already most households headed by an immigrant, whether legal or illegal, report using welfare.

Obama Administration Publishes Alien Welcome Guide Offering Welfare in 14 Different Languages. Through most of American history, immigrants were required to prove they were in a state of sound health and would not become a burden on the state. In fact, the official history of Ellis Island describes the immigration process in no uncertain terms. [...] Today things are very different. The late Nobel Prize-winning economist Milton Friedman once said, "It's just obvious you can't have free immigration and a welfare state" and the Obama administration is doing its level best to prove him right. The national debt stands at $18.5 trillion, more than double the amount when Obama took office. Democrats' massive expansion of the welfare state — from food stamps, to Social Security Disability fraud, to benefits packages for illegal aliens — is a primary reason.

Half of immigrants in state illegally could be eligible for Medi-Cal expansion, study finds. Half of Californians in the country illegally would be eligible for the state's healthcare program for the poor if it were expanded under a proposal by legislators, a new report finds. Some California politicians are pushing to open up the $91-billion Medi-Cal program to people here illegally, since such immigrants are not allowed to sign up for insurance under Obamacare.

Feds' 'Welcome' Guide for New Immigrants Advises on Public Benefits — in 14 Different Languages. The Obama administration has released an updated welcome guide for new immigrants in the U.S. featuring detailed sections about obtaining public benefits including food stamps, welfare, and Obamacare. "You or members of your family may be eligible for other federal benefits, depending on your immigration status, length of time in the United States, and income level," the guidebook reads.

Are they mistaken?
Immigrants caught crossing border think they can stay in US and collect benefits. Nearly a year after the Obama administration launched a massive public relations campaign to dispel rumors of a free pass for immigrant families crossing the border illegally, internal intelligence files from the Homeland Security Department suggest that effort is failing. Hundreds of immigrant families caught illegally crossing the Mexican border between July and September told US immigration agents they made the dangerous trip in part because they believed they would be permitted to stay in the United States and collect public benefits.

Muslim immigrants aren't here to assimilate. They're here for the handouts.
Small Town America Transformed By Somali Migrants. Newly arrived Somali immigrants have transformed small towns and cities throughout the United States into tuulas (Somali villages). The process is underway in such places as Lewiston, Maine; Shelbyville, Tennessee, St. Cloud, Minnesota, Clarkston, Georgia, and Jamestown, North Dakota. The Jamestown Sun reports that 400 Somalis have applied for public housing in the past four months. The Somali immigrants in Garden City, Kansas and nearby small towns have created the Somali Community Center of Southwest Kansas in order to tap into public welfare programs.

Refugee Resettlement Fact Sheet. Refugee access to welfare on the same basis as a U.S. citizen has made the program a global magnet. The federal programs available to them include:
• Temporary Assistance for Needy Families (TANF) formerly known as AFDC
• Medicaid
• Food Stamps
• Public Housing
• Supplemental Security Income (SSI)
• Social Security Disability Insurance
• Administration on Developmental Disabilities (ADD) (direct services only)
• Child Care and Development Fund
• Independent Living Program
• Job Opportunities for Low Income Individuals (JOLI)
• Low-Income Home Energy Assistance Program (LIHEAP)
• Postsecondary Education Loans and Grants
• Refugee Assistance Programs
• Title IV Foster Care and Adoption Assistance Payments (if parents are qualified immigrants — refugees, asylees, etc)
• Title XX Social Services Block Grant Funds
Welfare use is staggering among refugees. Welfare usage is never counted by officials as part of the cost of the program. Yet, when it is included, the total cost of the refugee program soars to at least [$]10-20 billion a year.

Sedgwick County Chairman Richard Ranzau target of recall push by immigration group. The Immigration Advocacy Network announced Monday [10/19/2015] it will seek to recall Sedgwick County Commission Chair Richard Ranzau. "Mr. Ranzau has failed in providing and protecting the health and welfare of Sedgwick County citizens who he was elected to protect," Sandrine Lisk, director of advocacy for the group, said in describing the legal justification for the petition. [...] Lisk said the potential recall is a direct backlash to Ranzau's view that illegal immigrants shouldn't benefit from the federal Women, Infants and Children program.

The Editor says...
The activists behind this recall are squawking about "the health and welfare of Sedgwick County citizens," but they are rallying in support of illegal aliens who are not citizens. Most illegal aliens, in my opinion, would have stayed on the other side of the border had they not been enticed by free stuff like food stamps, TANF, AFDC and WIC.

Cubans retire to Florida — with help from U.S. taxpayers. More Cubans are coming to Florida in their golden years to retire, able to tap U.S. government assistance even though they never lived or worked here. The number of Cubans arriving over the age of 60 grew fivefold since 2010, according to state refugee data. At least 185 made the crossing in their 80s or 90s. Unlike most other immigrants, Cubans qualify immediately for food stamps and Medicaid. If they are over 65 with little or no income, they also can collect a monthly check of up to $733 in Supplemental Security Income (SSI).

Welfare Use by Legal and Illegal Immigrant Households. This report is a companion to a recent report published by the Center for Immigration Studies looking at welfare use by all immigrant households, based on Census Bureau data. This report separates legal and illegal immigrant households and estimates welfare use using the same Census Bureau data as that study. This analysis shows that legal immigrant households make extensive use of most welfare programs, while illegal immigrant households primarily benefit from food programs and Medicaid through their U.S.-born children. Low levels of education — not legal status — is the main reason immigrant welfare use is high.

Two of Three Illegal Immigrant Households Dependent on Welfare Payments. Steven A. Camarota, writing at the Center for Immigration Studies, has some astoundingly useful data to help inform the 2016 Presidential election. Using Census Bureau data, a comprehensive study examined welfare use by all immigrant households. The executive summary: roughly two of every three illegal immigrant households are dependent on one or more types of welfare payment. And more than half are on Medicaid.

The Editor says...
That might be good news. Consider this: If welfare payments to illegal aliens were abruptly cut off, two thirds of them would have a huge incentive to leave the country. Who says 11 million immigrants can't be deported overnight? They'll deport themselves when the gravy train stops delivering free stuff!

Report: Majority of Illegal Immigrant Households On Welfare. More than half of households headed by immigrants in the county illegally, or 62 percent, received welfare benefits in 2012, according to a report released by the Center for Immigration Studies. In the same time period, 49 percent of households headed by legal immigrants received welfare benefits, while 30 percent of households headed by natives received the same. The report evaluates data from the Census Bureau and found that illegal immigrant households benefit mostly from food programs like food stamps and Medicaid through their native-born children.

More Than 90 Percent of Middle Eastern Refugees on Food Stamps. More than 90 percent of recent refugees from Middle Eastern nations are on food stamps and nearly 70 percent receive cash assistance, according to government data. According to Office of Refugee Resettlement (ORR) data highlighted by the immigration subcommittee staff of Sen. Jeff Sessions (R-AL) — chairman of the Subcommittee on Immigration and the National Interest — in FY 2013, 91.4 percent of Middle Eastern refugees (accepted to the U.S. between 2008-2013) received food stamps, 73.1 percent were on Medicaid or Refugee Medical Assistance and 68.3 percent were on cash welfare.

Heavy Welfare Use by Legal Immigrants — Yes, Legal Immigrants. Three-quarters of all immigrant households using welfare are headed by legal immigrants. Legal immigration is a discretionary policy that is supposed to benefit the country; we can allow in or keep out anyone we want. Yet our current legal-immigration system has produced a flow of immigrants in which a large share cannot support themselves or their children.

Immigrant Welfare Addiction. Non-citizens in the U.S. — and especially recent Middle Eastern refugees — are addicted to welfare programs, two newly released studies suggest. Although open-borders propaganda typically claims that illegal aliens are hardworking and industrious, one of the reports unveiled yesterday showed that among illegal alien households with children, a shocking 87 percent accept benefits from one or more welfare programs, compared to just 52 percent of native households. The reports come as a rancorous debate rages in American society over what immigration policies best serve the economic, cultural, and national security interests of the United States. Americans on both sides of the partisan divide are becoming increasingly angry that the nation's borders are porous and that illegal aliens are able to access generous government benefits upon arrival.

Report: Immigrant Households Using Welfare At Vastly Higher Rate Than Native-Born Households. According to a report released Wednesday [9/2/2015] from the Center for Immigration Studies, 51 percent of immigrant-headed households (both legal and illegal) reported using at least one welfare program during the year in 2012. Thirty-percent of native-headed households meanwhile used at least one welfare program. The CIS report analyzed welfare data from the Census Bureau's Survey of Income and Program Participation (SIPP). Included in the center's definition of welfare is Medicaid, cash, food, and housing programs.

Report: More than half of immigrants on welfare. More than half of the nation's immigrants receive some kind of government welfare, a figure that's far higher than the native-born population's, according to a report to be released Wednesday [9/2/2015]. About 51% of immigrant-led households receive at least one kind of welfare benefit, including Medicaid, food stamps, school lunches and housing assistance, compared to 30% for native-led households, according to the report from the Center for Immigration Studies, a group that advocates for lower levels of immigration. Those numbers increase for households with children, with 76% of immigrant-led households receiving welfare, compared to 52% for the native-born.

U.S. Taxpayers Bear the Weight of Anchor Babies. Hillary Clinton scolded Donald Trump for using the term "anchor babies" to describe birth tourism among Hispanic illegals, arguing that they should just be called "babies." Actually, they should be called "welfare babies." According to a Center for Immigration Studies report, a whopping 75% of Mexican and Guatemalan legal and illegal immigrants with children are using federal welfare programs. Primarily they are exploiting Medicaid and the food-stamp and Women, Infants, and Children (WIC) programs. Only immigrants from the Dominican Republic use welfare at higher rates.

He Lied: Obamacare To Be Opened Up To Illegal Immigrants In California. When President Obama was pushing Obamacare, he stated before a joint session of Congress in September 2009 that it would not be opened up to illegal immigrants. Remember what happened next? Representative Joe Wilson yelled, "You lie!" and it caused quite a stir. [Video clip]

Feds' relocation of Somali refugees stresses Minn. welfare, raises terror fears. The State Department has helped to relocate tens of thousands of refugees from the war-torn African nation of Somalia to Minnesota, where they can take advantage of some of America's most generous welfare and charity programs. But the effort is having the unintended consequence of creating an enclave of immigrants with high unemployment that is both stressing the state's safety net and creating a rich pool of potential recruiting targets for Islamist terror groups. [...] Many of the refugees settle near the Twin Cities, with Minneapolis being dubbed "Little Mogadishu" after the capital of Somalia.

Obama Cheapens the Legacy of Our Fallen Heroes. Whether illegal aliens can obtain state benefits is not clear-cut. The short answer appears to be that they are not legally entitled to most benefits, but do in fact receive them. Federal rules generally bar illegal aliens from participation in state and local public benefit programs, unless the benefit is for the treatment of an emergency medical condition, or needs emergency disaster relief or immunization. Otherwise it would seem that illegals do not qualify for additional sate public assistance. But de facto it is an entirely different story. That's because the burden of determining lawful status in the U.S. is on the shoulders of county social services employees who have neither the legal jurisdiction nor the practical ability to determine one's immigration status. Only an immigration official or federal worker whom the Secretary of Homeland Security has so designated has such authorization. Local agencies simply cannot make the determination that someone is an illegal alien. Therefore, the law is usually overlooked and illegal aliens manage to qualify for state and local benefits.

Confirmed: Illegals Flown Here via Obama Amnesty will be Eligible to Milk the Welfare State. Not only will you have to pay for Obama to jet illegals here from Central America, but when they get here they will be eligible for every single welfare program we have. Why? Because they will be considered refugees when they get here and thus will be able to apply for everything:

California Won't Be Able to Pay for All That Free Healthcare for Illegals. California is working hard to facilitate illegal immigration while other states are looking at immigration enforcement. They're giving away freebies, including healthcare. California is a one-party government, like the old Soviet Union, and there's little in the way of effective opposition. They like to spread around other people's money especially to poor illegal aliens. Californians already offer health services free or at low cost to the uninsured, low-income residents who don't get it under Obamacare. Several counties offer the same healthcare to illegal aliens.

Arabic is the Most Common Language of Refugees in America; 91% on Food Stamps. They also skip the paper work and go right to the welfare line. Funded by a government who loots its citizens. Taxation for Islamization. Impeach Obama and every criminal in Congress.

Robert Rector Estimates Lifetime Retirement Costs of Illegals Granted Executive Amnesty at $1.3 Trillion. The lifetime costs of Social Security and Medicare benefits of illegal immigrant beneficiaries of President Obama's executive amnesty would be well over a trillion dollars, according to Heritage Foundation expert Robert Rector's prepared testimony for a House panel obtained in advance by Breitbart News.

Amnestied Illegals May Receive Social Security As Early As 2017. Illegal immigrants who take advantage of President Obama's executive actions on immigration will soon collect another benefit: Social Security. Starting in 2017, the Social Security Administration expects that thousands of undocumented immigrants will begin collecting from the Old-Age, Survivor's, and Disability Insurance (OASDI) program as a direct result of the president's actions. In a letter to Republican senator Ron Johnson, chairman of the Homeland Security and Governmental Affairs Committee, the SSA's chief actuary Stephen Goss indicated that an additional 16,000 people will begin collecting OASDI benefits come 2017, and that the number of beneficiaries would continue to increase for 40 years thereafter, topping out at 695,000 people. Goss's projection may underestimate the number of potential beneficiaries, however, as it assumes that 50,000 fewer illegal immigrants will enter the country each year starting in 2016.

Here's How Much Taxpayer Money Illegals Will Receive Via Obama's Amnesty. President Barack Obama's November amnesty will give $1.7 billion in taxpayers' cash to illegal immigrants, according to a congressional study. The news emerged two days after top Republican leaders overcame GOP opposition to a 2015 budget bill that allows Obama to fund his unpopular amnesty for roughly 5 million illegals. "The program could cost taxpayers $1.7 billion over 10 years, almost all of it in the first five years," according to a report by the McClatchy Washington Bureau. The rebates are allowed by the IRS' interpretation of existing laws governing the Earned Income Tax Credit program, which was designed to subsidize low-wage employment in the United States.

Colleges using coffers for financial aid to illegal immigrants stirs debate on immigration reform. Several U.S. colleges are giving financial aid directly to students who are young illegal immigrants, extending the debate about helping people in the United States illegally at the expense of Americans who are in need of similar opportunities. Such opportunities have opened up since President Obama's 2012 executive action that deferred deportation to millions of young people brought to the U.S. illegally by their parents. However, they still are largely ineligible for state or federal student aid.

IRS defends paying refunds to illegals who never filed taxes. The IRS is defending its decision to let illegal immigrants claim up to three years' refunds on income even if they never paid income taxes, telling Congress in a new letter last week that agency lawyers have concluded getting a Social Security number triggers the ability to go back and ask for previous refunds. President Obama's new deportation amnesty could grant Social Security numbers to as many as 4 million illegal immigrants, making many of them eligible for tax refunds under the Earned Income Tax Credit even for years when they cheated on their taxes, working off the books and refusing to file tax returns.

Illegal Immigrants Amnestied By Obama Eligible For Up To $9,182 In Cash Benefits Every Year. Illegal immigrants who are given work permits and Social Security Numbers through President Obama's amnesty programs could get up to $9,182 in cash benefits from the federal government every year, according to a new later from the Congressional Research Service. Requested by an unnamed Senator, the CRS letter details the maximum Earned Income Tax Credit and and Child Tax Credit payments a family could receive from the Internal Revenue Service without paying any income taxes to the federal government.

The Costly Asylum Racket. We've had a lot of media comment about the bad effects of Obama's executive orders admitting millions (yes, millions) of illegal immigrants and giving them welfare, Social Security, driver's licenses and a path to citizenship. Like many Americans, I realized the importance of this when thousands of unfamiliar people from a foreign country, without any advance notice, appeared in my community.

IRS Confirms Illegal Immigrants Entitled to Back Tax Refunds Under Executive Amnesty. This won't just be the case moving forward; the newly quasi-legalized-by-fiat immigrants also be able to claim retroactive refunds for up to three years — even if they didn't file or pay taxes at the time.

IRS Offers Retroactive Welfare To Illegal Aliens Granted Amnesty By Obama. With all the discussion about amnesty simply being about delaying deportations (we already don't deport people), Obama's amnesty has been about naturalization. That was obvious when we learned amnestied illegals would be given social security numbers. They already have ITIN numbers in order to file taxes, so why is the SSN important? Because you need that to get the Earned Income Tax Credit, which is automatic welfare through a "refund" check from the IRS. In other words, a massive redistribution of our wealth, a reward, to millions of foreigners on our soil. And it will be retroactive for 3 years.

IRS offers extra tax refunds to illegal immigrants granted amnesty by Obama. IRS Commissioner John Koskinen confirmed Tuesday [2/4/2015] that illegal immigrants granted amnesty from deportation under President Obama's new policies would be able to get extra refunds from the IRS for money they earned while working illegally, as long as they filed returns during those years.

'Amnesty Bonuses' in Tax Code: Illegal Immigrants to Receive Earned Income Tax Credit. A recent Homeland Security Committee hearing on immigration revealed an alarming consequence of President Obama's executive amnesty — that illegal immigrants with deferred status may be able to receive the Earned Income Tax Credit (EITC). Moreover, this person, who is here in the U.S. unlawfully, could be able to file an amended tax return for up to the last three tax years, possibly receiving upwards of $24,000 in tax credits.

Guess who else Obama is dumping onto your state welfare troughs? The United Nations high commissioner for refugees has already dumped 200,000 to 250,000 Muslim refugees from Islamic countries to be resettled in the United States. Most of them have come from Somalia and Iraq. But Caliph Obama has been greasing the skids for the Syrian (Muslim only, no Christian) refugees for months and they will soon be dumped on American cities throughout the U.S.

Boehner Omnibus Gives Social Security Benefits to Illegal Aliens Under Obama Amnesty. Pages 958 and 959 of the 1,603-page omnibus spending bill from House Speaker John Boehner include a provision that gives Social Security benefits to illegal aliens under President Barack Obama's executive amnesty. [...] Right after Obama's executive amnesty announcement, the White House confirmed to the Washington Post that illegal aliens who get amnesty from Obama — paid for by Boehner, and any Republican who votes for this omnibus bill — will have access to Social Security benefits.

America: From Super Power to Banana Republic. Robert Rector, Senior Research Fellow with the Heritage Foundation, stated that President Obama's amnesty for four million illegal immigrants will cost Americans about $2 trillion — approximately $40 billion per year — over the next five decades. If all illegal immigrants are granted amnesty, they would receive "... $9.4 trillion in government benefits and services and pay $3.1 trillion in taxes... They would generate a lifetime fiscal deficit... of $6.3 trillion... This should be considered a minimum estimate." Once the wealthiest nation in the world, America has now become a welfare country.

Obama's Monomania. There is a malice and vindictiveness in Obama that has no end. Everything he touches he destroys. Each day more damaging news about ObamaCare is revealed and when January 2015 arrives, Americans will not know what hit them. Dr. Ileana Johnson Paugh writes that in northern Virginia a family of four would pay "at any income a deductible out of pocket of $12,600 and a premium of $7,224 per year." But not to fret, "[i]llegal aliens, who were not 'supposed' to be covered by Obamacare as falsely reported, are getting their premiums for free or $2.71" per month.

Fight brewing over Social Security benefits for illegal immigrants. A new clash over retirement benefits has come to a head following President Obama's decision to unilaterally protect up to 5 million illegal immigrants from deportation. The White House now acknowledges that many of the illegal immigrants spared from deportation under Obama's sweeping executive action will become eligible for Social Security and Medicare benefits once they reach retirement age.

21 Facts That Prove Government Dependency is Out of Control. [#20] According to a report from the Center for Immigration Studies, 43 percent of all immigrants that have been in the United States for at least 20 years are still on welfare.

Obama Shreds Constitution. Illegal immigration is the greatest scheme of political corruption in history and is already the most expensive. Illegal immigrants are given over two dozen benefits and those such as public education are extremely costly and result in skyrocketing property taxes for those who are legal residents of the country. The full extent of the cost of illegal immigration has yet to be fully explored since the greatest costs are not borne by the immigrants themselves but by those government employees who serve them.

Report: Obama's Executive Amnesty Will Give Illegal Aliens Public Benefits. Illegal aliens who get President Barack Obama's likely forthcoming executive amnesty will have immediate access to welfare and other public benefits, according to a new report from the Federation of American Immigration Reform (FAIR) exclusively provided to Breitbart News ahead of its public release shows. "Obama's executive amnesty isn't only unconstitutional but costly; from day one it opens up federal and state benefits to individuals who are still illegal aliens, regardless of the label the President puts on them," FAIR executive director Julie Kirchner told Breitbart News.

Report: 42 percent of new Medicaid signups are immigrants, their children. Immigrants and their U.S.-born children make up more than 40 percent of new Medicaid recipients at a cost of $4.6 billion, according to an analysis of government data. The Center for Immigration Studies, a low-immigration advocacy group, released a report early Thursday [11/13/2014] that found both legal and illegal immigrants and their minor children made up 42 percent of Medicaid growth from 2011 to last year.

Study: 42 Percent of New Medicaid Recipients in the Last Two Years Were Immigrants. Almost half of the low-income Americans who have enrolled in Medicaid in the past two years are immigrants to the United States, according to a new report, suggesting that Obamacare's large expansion in the program will disproportionately benefit immigrants as well. "The data show that immigrants and their children accounted for 42 percent of the growth in Medicaid enrollment from 2011 to 2013," the CIS report says. Because immigrants are more likely to have low incomes or lack insurance from their jobs, they're much more likely to be eligible for the existing Medicaid program — and Obamacare's expansion of it, which began this year.

Texas Grassroots Activists Push To End In-State Tuition for Illegals. On the first day of bill filing for the 84th Legislative Session, Texas State Representative Jonathan Stickland (R-Bedford) filed HB 209, which would repeal a 2001 law allowing illegal immigrants to get in-state tuition at Texas universities if they met certain criteria. The legislation was cheered by conservative grassroots activists, who have long opposed allowing illegal immigrants to pay the lower in-state tuition rates charged to Texas residents as one of the "magnets" that creates incentives for people to illegally cross the border.

Obama: They Still Don't Get Who He is. Fundamentally transforming America as founded requires open borders and granting amnesty to several millions of unskilled needy illegals. Eventually, illegals will be granted amnesty and the right to vote. Then, the Democrats' insidious deception will begin; convincing the new faux Americans that they are victims of racist white rich Republicans. Step two is to seduce/addict them to government handouts. The Step three is a promise to keep their supposed evil Republican Nemesis at bay. And presto, millions of new Democrat voters.

Poll: 71%, Including Majority of Dems, Say No Government Benefits for Illegal Newcomers. An overwhelming majority of likely voters, including a majority of Democrats, believe illegal immigrants from Central America should not be eligible for taxpayer-funded government benefits, according to a new poll. A Rasmussen Reports poll found that 71% "say these illegal newcomers should not be eligible for government services and benefits." Only 16% think "they are entitled to government aid" while 13% are undecided.

"What do you call a man who claims voters' choices have no place in government?"
Brown's Final Nail In Prop. 187 Is Really A Blow To California's Voters. [I]n 1994, millions of California's voters, by a margin of 59% to 41%, voted in favor of denying "free" welfare, education and other benefits to illegal immigrants on the clear logic that a burglar who breaks into someone else's home doesn't have the right to eat the owner's food. It was a legitimate decision for a people to make, given that in any democratic system, the participants have the right to control the purse. But [Governor] Brown's statements and those of his political allies, including those in the press, suggest an imperial contempt for the will of California's voters.

Bring Back The Welfare Stigma. Over half of illegal and legal immigrants from Central America are on some form of welfare; both the Mexican and United States governments encourage illegal aliens to sign up for food stamps. In the mid-90s, Republicans passed and President Clinton signed a "workfare" reform law, which established significant work standards for welfare recipients and reduced welfare rolls significantly — which is presumably why the Obama administration moved to gut these requirements a couple of years ago: if there's one thing at which the Left truly bristles, it's an independent citizenry that can provide for itself without the Left's benevolent help.

HHS Promotes Cash Assistance and Obamacare for Foreign Refugees. Tens of thousands of Central Americans have entered the country illegally since October 2013; most of them will be likely considered "refugees" and ultimately be allowed to remain in the U.S. Consequently, many of the migrants will receive welfare from the federal government, funded by taxpayers. Health and Human Services (HHS) documents, obtained by Breitbart Texas, show that significant federal funds go towards encouraging refugees to enroll in long term welfare programs, and towards administering such benefits directly.

The Obama Endgame Emerges. The events of the past few weeks on America's southern border bring into clearer focus the Obama pledge to fundamentally transform America. By opening our borders to illegal immigrants, and pardoning those illegals already here as he plans through executive order, Obama will create millions of new citizens within a few years to help him transform America into a multicultural vacationland for the world's footloose homeless with free food, housing, education, entertainment, and healthcare as drawing cards. Who will pay for this paradise? The American Middle Class, mostly Republicans, of course, whom Obama despises as narrow-minded clingers.

Busloads of Illegals Shopping at WALMART with EBT Cards. If we were to listen only to the mainstream media and the talking points from the White House, they would have us believe that not only is the government doing everything possible in order to stop the invasion of our Southern border, but those who are crossing are refugee children who can't be turned away. However, a video that was recorded on Sunday by a North Carolina woman places serious doubts on whether or not either of those things are true, as it allegedly shows busloads of adult illegal immigrants getting dropped off at a local Walmart to shop for supplies for their shelter.

USDA Pushing 'Free' Food: Call '1-877-8-HAMBRE (for Spanish Speakers)'. The U.S. Agriculture Department has set a goal of serving 178 million free meals to children now that school is out. That's 10 million more meals than were served last summer. "Admittedly, this is an aggressive goal, and we can't do it alone," Agriculture Secretary Tom Vilsack said in a column posted on the USDA website. "With strong support from individuals, communities, local governments and advocates, we can reach more kids with nutritious meals during their time out of school."

LBJ and Illegal Immigration. [Scroll down] President Obama unilaterally established the Dream Act and some states now allow illegal immigrants to obtain drivers' licenses, effectively enabling them to vote. I have estimated that a Mexican family in Chicago is given at least $80,000 per year in state, local, and Federal benefits and the amount grows constantly. To this day the myth is perpetrated that illegal immigrants are here to pick lettuce and other crops, a remnant of the valid reason for the Bracero program. But Chicago, the first sanctuary city, does not have lettuce fields. The crops illegal immigrants are allegedly here to pick do not grow in the cities and urban areas where they have settled.

For love of country, impeach Obama. Once they are over the increasingly irrelevant line, Obama officials welcome the invading junior armies, shepherding them straight into an enfolding and enlarging federal safety net from which they may never have to emerge. These are just the newest wards of a brave new state that bears no resemblance to the republic as defined by those antique documents kept under glass in the dim light of the National Archives. Meanwhile, "the kids" have hit the jackpot — that jackpot of socialist programs that separates today's "new Americans" from our forefathers. Not so long ago, immigrants came for liberty and opportunity, not tax-supported handouts.

Keywords: Cloward-Piven strategy.
Administration demands equal education for illegal immigrants. Schools cannot require students or their parents to provide Social Security numbers, birth certificates or other documentation showing citizenship status as a condition of enrollment under formal Obama administration guidance issued Thursday [5/8/2014]. The directive to all public school districts, meant to ensure equal access to education for the nation's illegal immigrants, comes amid reports that some children have wrongfully been denied enrollment.

Obama Calls Surge of Children Across US Border 'Urgent Humanitarian Situation'. President Obama today [6/2/2014] declared an "urgent humanitarian situation" along the southwest U.S. border after a sudden surge of hundreds of unaccompanied, undocumented children flowing into the country in the past month. The declaration, made in a presidential memorandum, directs federal agencies to coordinate an emergency response to the situation and provide the children with medical care, housing and transportation.

The Editor says...
They are coming here for free "medical care, housing, transportation, and school lunches. Don't give them free stuff, and they won't come streaming across the border.

U.S. Air Base Provides Comfort and Benefits for 1,000 Illegal Immigrants in Texas. Since May 18, the Lackland Air Force Base in San Antonio, Texas has been home to 1,000 illegal immigrant children, according to a report by the San Antonio Express-News. The decision to utilize the base comes as an overwhelming number of young people have been caught crossing the Mexican/U.S. border during recent months. Children and teens brought to Lackland will be provided with education, foster care programs, and "behavioral treatment centers." The projected cost of such programs, as well as the cost of the housing, has not been disclosed to U.S. taxpayers.

Witnessing surge of unaccompanied minors in McAllen, DHS chief declares emergency. The Department of Homeland Security this week declared a crisis this week after the department's head visiting the Border Patrol station in McAllen, where he saw children packed inside the station. A recent surge in unaccompanied youths, mostly from Central America, prompted Homeland Security Secretary Jeh Johnson to declare a "level-four condition of readiness" in the Rio Grande Valley, according to a report published Friday evening by The New York Times.

The Editor says...
This is a new twist on the old "anchor baby" technique: Now the parents drop the kids on this side of the border, have them enroll in school, and then claim the breakup of the family is causing a hardship which only Big Government can remedy.

Feds Spent $26.2 Million On Medicare Advantage For Illegal Immigrants. The Centers for Medicare and Medicaid Services has improperly paid millions of dollars to Medicare Advantage organizations on behalf of illegal immigrants. In a new report released Friday [4/25/2014], the Department of Health and Human Services' Office of Inspector General (OIG) revealed that for calendar years 2010 through 2012, CMS provided $26.2 million in improper payments to Medicare Advantage organizations for 1,600 "unlawfully present beneficiaries" — or nearly $16,375 per illegal immigrant.

Obamacare Navigators Helping People Enroll At Mexican Consulates. Health Care insurance navigator groups hosted an Obamacare enrollment fair on Tuesday [3/25/2014] in the Mexican Consulate's Brownsville office, The Rio Grande Guardian reported last Friday [3/21/2014], where Mexican nationals among others were counseled about enrolling in the ACA. "The Mexican consulate is a very reliable source of information to the Latino community. And therefore when they host their events, yesterday being the health fair, there are several hundred people that show up," [Enroll America Field Organizer Jose] Medrano said. Under the Affordable Care Act (ACA), undocumented immigrants aren't supposed to be receiving government-run health benefits or subsidized coverage.

Can Rep. Joe Wilson be Vindicated Now? Breitbart News recently reported that Mexican nationals and others were being enrolled at Mexican Consulates all over the United States. This now brings into the question if Rep. Joe Wilson (R-SC) who exclaimed in the House Chamber, "you lie, to President Barack Obama during the 2009 State of the Union when Obama remarked the health care bill would only cover American citizens, was the one who actually told the truth.

Obama to Hispanics: We won't deport relatives because you enroll in ObamaCare. President Obama on Tuesday [3/18/2014] sought to assure legal immigrants that they can sign up for ObamaCare without worrying that "the immigration people" will come for family members who are in the country illegally. In an interview with Univision Deportes, a Spanish-language sports radio show, Obama said immigration officials won't have access to the personal information that consumers provide when signing up for healthcare on the new exchanges.

The Editor says...
I would advise against relying upon Mr. Obama's assurances about anything, since he habitually lies about everything, especially Obamacare.

The Inevitability of Obamacare for Illegal Aliens. You knew it was coming. I knew it was coming. When government expands entitlements, illegal aliens always end up with a piece of the pie. Obamacare promoters relented to GOP pressure to include an illegal alien ban on eligibility and vowed endlessly that no benefits would go to the "undocumented." But denial isn't just a river in Egypt. It's the Obama way. In Oregon this week, officials confessed that nearly 4,000 illegal immigrants had been "accidentally" steered from the state's low-income Medicaid program and instead were enrolled in Obamacare in violation of the law.

Obama Promises Illegals: Obamacare Sign Up Info Won't Be Used for Deportation. In a joint town hall with Telemundo and Univision, President Obama made a pledge that his administration will not use Obamacare sign up data to deport illegal aliens: [Video clip] "Will we hear from you a pledge, a personal promise, that the information provided in the registration process will not be used for deportation purposes in this country?" "Absolutely," Obama said, putting his hand down for emphasis. "It's true that the undocumented are not eligible [for Obamacare], that's how the law was written, but if you are a U.S. citizen or you have a legal presence in this country, you are eligible," he said.

Obama To Latino Families: 'You Are Punishing Yourselves' By Not Signing Up For Obamacare. Issuing a last call for health care, President Barack Obama assured Latinos on Thursday [3/6/2014] that signing up for new insurance exchanges won't lead to deportation for any relatives in the U.S. illegally.

Report: 125,000 immigrants given deferred action eligible for Medi-Cal. A new report shows that as many as 125,000 young California immigrants may qualify for an expansion of Medi-Cal, the state's Medicaid program. The Affordable Care Act bars insurance subsidies and enrollment in the Medicaid expansion for undocumented immigrants, but a wrinkle in California rules does offer coverage for those with "deferred action status." The Deferred Action for Childhood Arrivals program was created by President Obama in 2012 to grant immigrants who came to the country illegally as children — sometimes called Dreamers — legal status and work authorization for two-year periods.

Obamacare Recruiting Illegals in California. In 2009, Rep. Joe Wilson (R-SC) apologized profusely to the White House for shouting, "You lie!" as President Barack Obama told Congress that Obamacare would not cover illegal immigrants. Now it would appear that the White House owes Wilson an apology, as Covered California — the flagship of state Obamacare exchanges — is recruiting illegal ("undocumented") immigrants to sign up for the program, regardless of their eligibility.

If You Liked Health Reform, You'll Love Immigration Reform. ObamaCare is already a fiscal nightmare for the country. Now Democrats, and even some Republicans, want to expand it to ruinous levels by making 12 million illegals eligible for subsidies.

Omnibus Spending Bill Continues Funding Food Stamp Ads in Mexico. The omnibus spending bill before Congress continues to fund U.S. Department of Agriculture (USDA) advertising programs for food stamps in foreign countries like Mexico, Breitbart News has learned. [...] The funding will continue despite claims in a document the House Appropriations Committee published that the bill contains a "prohibition" on such programs.

FL illegal on welfare for 20 years shows others how to milk [the] system. Illegal immigrant Marita Nelson, 50, is a single mother of seven who collects $240 in food stamps, receives child support, and "government funded housing, medication and $700 a month in social security." And she has been getting assistance for the last 20 years. Twenty years. Now Nelson wants others in her situation to know they can get the same help. How she possibly collects social security isn't explained, but Harrigan reported on Florida's federal assistance recruiters who sign people — "clients" — up for "multiple federal aid programs at the same time."

No, Amnesty For Illegals Is Not Urgent, Mr. President. Giving millions of illegals amnesty would flood the job market with competition for low-skilled jobs that those here legally, both immigrants and natives, could do. Adding insult to injury, plenty of them would qualify for affirmative action preferences at the expense of the Americans whose livelihoods they are taking. There are other costs, too. Obama's immigration reform would entitle millions to welfare benefits. A recent study by the Heritage Foundation found that providing amnesty for illegals would cost the U.S. roughly $108 billion a year as the welfare spigot is opened. The average illegal immigrant household, if legalized, would consume $28,000 more in services annually per household than it pays in taxes — a huge amount when spread over 11 million people living here illegally.

Report: IRS sent $4.2 billion in checks to illegal immigrants in one year. The scandal-plagued Internal Revenue Service (IRS) sent $4.2 billion in child tax-credit checks to illegal immigrants the year the agency began targeting conservative groups, according to a new report from Watchdog.Org. The IRS sent illegal immigrant families $1,000 checks totaling $4.2 billion through the federal government's Additional Child Tax Credit program in the year 2010, when the agency's improper targeting of conservative and tea party groups began.

IRS pays illegal immigrants $4.2 billion while stalling Tea Parties. While harrying and stalling Tea Party groups seeking nonprofit status, the Internal Revenue Service mailed $4.2 billion in child-credit checks to undocumented immigrants. Critics say midlevel IRS bureaucrats continue to abuse the Additional Child Tax Credit program by dispensing $1,000 checks to families in this country illegally.

Obamacare's Latino Push May Give Democrats Political Edge. The battle over Obamacare is taking on political importance as Democrats hope a successful roll-out among Hispanics will further bind those voters to the Democratic Party and undermine Republican efforts to build more support before the 2016 presidential election.

Undocumented LA County Parents On Pace To Receive $650M In Welfare Benefits. A projected $650 million in welfare benefits will be distributed to illegal alien parents in 2013, county officials said Monday. Supervisor Michael D. Antonovich announced the latest figures from the Department of Public Social Services, which showed more than $376 million in CalWORKs benefits and food stamps combined have been distributed through July to illegal alien parents for their native-born children.

Joining Forces to Kill Law Enforcement. [Sheriff Joe] Arpaio states "If you cross the borders into Mexico illegally you will be jailed for up to two years. But, if you cross the United States border illegally you could get:
A driver's license
Access to Social Security and Medicare
Access to Food stamps and Welfare
Subsidized rent or a loan to buy a house
Free education for your children
Free health care and Emergency Room visits

Sebelius: Pass Immigration Bill to Boost Obamacare Enrollment. Asked Thursday [8/22/2013] if the Affordable Care Act will help "undocumented individuals," Health and Human Services Secretary Kathleen Sebelius said no — and that's why immigration reform is so important: "Well, the (Obamacare) bill is crafted in such a way that those who are undocumented will not have access to the tax credits or shopping in the (health insurance) marketplace. That has been limited, which is, frankly, why — another very keen reason why we need comprehensive immigration reform," Sebelius told a gathering of Latinos in Philadelphia.

HHS Official: Immigrants on Student Visas Will Be 'Eligible' for Obamacare Subsidies. A Department of Health and Human Services official told the House Ways and Means Committee that immigrants living in the United States on temporary visas are eligible for federally subsidized health insurance under the Affordable Care Act, "depending on their income."

SNAP Shot: Two Food Stamp Recipients Per Job Created. SNAP, the U.S. food stamp program, has become a conduit for redistributing wealth and fundamentally transforming America, as welfare recipients now send food overseas and the White House markets to illegals.

Poll: 77 percent of Americans oppose Schumer-Rubio's welfare benefits for immigrants. According to the latest United Technologies/National Journal Congressional Connection Poll, 77 percent of Americans oppose giving government benefits, like food stamps and Medicaid, to illegal immigrants before they become citizens. Not only do 90 percent of Republicans oppose such a policy, but 65 percent of Democrats do as well.

Big Pill to Swallow: Taxpayers to Pay for Illegal Immigrants' Med School. "The university's Stritch School of Medicine not only intends to waive legal residency as an admissions requirement for applicants but aims to offer a financing plan through a state agency." Yes, that's right, not only is Loyola admitting illegal aliens to its medical school, it is also handing you, the Illinois taxpayer, the bill for their education.

Free food stamps, meds, housing, and retirement income — for illegals. Illegal immigrant and mother of seven, Marita Nelson, receives $240 in food stamps, monthly medications, $700 in Social Security and a housing allowance. She entered the US by swimming the Rio Grande and has been on government assistance for 20 years. No doubt, an Obama supporter. Now she's on a crusade to help other illegals sign up for their free stuff.

GOP Senator preserves loophole giving illegal immigrants immediate welfare access. Sen. Jeff Flake (R-AZ) backed down from a previous promise his spokeswoman made to Breitbart News that he would consider voting in favor of amendments to the Senate's immigration bill that would close a loophole allowing illegal immigrants immediate access to state and local welfare. When Sen. Ted Cruz (R-TX) actually offered an amendment that would close the loophole during Tuesday's Senate Judiciary Committee markup of the bill, Flake joined Sen. Lindsey Graham (R-SC) and all the committee Democrats in opposing the amendment.

Judicial Watch Uncovers USDA Records Sponsoring U.S. Food Stamp Program for Illegal Aliens. The promotion of the food stamp program, now known as "SNAP" (Supplemental Nutrition Assistance Program), includes a Spanish-language flyer provided to the Mexican Embassy by the USDA with a statement advising Mexicans in the U.S. that they do not need to declare their immigration status in order to receive financial assistance. Emphasized in bold and underlined, the statement reads, "You need not divulge information regarding your immigration status in seeking this benefit for your children."

States Work Behind Scenes to Give Illegal Aliens Benefits. As the national debate over immigration reform gets more and more heated, some states are working behind the scenes to give illegal aliens benefits that are supposed to be banned under federal law.

Fleeing Communism only to find it in America. [President Obama] apologized to Mexican college students for our sovereignty and thanked them for helping elect him President. Should Mexico not apologize to us for their lack of social responsibility to their citizens? Should Mexico not at least thank us for feeding, clothing, sheltering, educating, and treating medically for free millions of their citizens who sneak into our country illegally, becoming a burden to the U.S. taxpayers?

Child birth calls ring in from border. San Diego Fire and Rescue crews were called to the San Ysidro border crossing for nearly 160 childbirth emergencies in 2012 — one almost every other day. [...] There are no statistics on how many of the moms being rushed by emergency crews to local hospitals are U.S. citizens, as federal laws prohibit emergency crews and hospital teams from asking. Babies born under the circumstances are U.S. citizens as a birthright.

Come And Get It: USDA Pushes Food Stamps To Illegals. Not content with having more Americans on food stamps than people in Spain, the Obama administration is ringing the dinner bell for illegal aliens. We'll feed you and not check your status.

Food stamps for illegal aliens. It has long been known that the USDA was producing Spanish-language advertisements for the food stamp program. Judicial Watch filed a Freedom of Information Act request to determine how closely this effort was coordinated with the Mexican government.

Case Worker: Illegal Aliens Got Food Stamps by the "Vanload". For decades the U.S. government has knowingly given illegal immigrants food stamps, according to a former certification case worker who denounced the costly practice back in the 1980s but was essentially ordered to keep a lid on it. The retired assistant case manager, Craig McNees, was in charge of vetting food-stamp applicants in north Florida and Indiana in the '80s and says the program was infested with fraud and corruption that was perpetually ignored by management. "Illegals would come in by the vanload and we were told to give them their stuff," McNees said. "Management knew very well they were illegal. It was so rampant that some employees would tell their illegal relatives to come get food stamps."

Somewhat related:
Illegal Immigrants Try To Cash In On Tax Refund Fraud. When a woman named Veronica tried to cash a federal income tax refund check for $8,113 April 5 at a Sampson County check-cashing business, instead of a handful of cash she was greeted by members of the Sampson County sheriff's office who suspected that her tax refund was the result of a fraudulent tax return. Deputies were acting on a tip that the IRS had issued the check to Veronica, who had used a fictitious identity and reported fictitious earnings on her individual income tax return. Carolina Journal independently confirmed that her refund claim was fraudulent.

Incenting [sic] another wave of illegal immigration. It is true that net migration from Mexico fell to virtually nothing during the depths of the Great Recession. That did not mean Mexicans stopped coming to the U.S., but rather that the number of Mexicans entering the U.S. and the number leaving were about the same. But in the last year or so, there have been signs of an increase, and now a new poll suggests many Mexicans would come to the U.S. if they had the chance. And many of them would come illegally if necessary.

The Editor says...
I am unable to find the word incent in any of my many dictionaries. An acceptable alternative would have been induce or attract. Why can't professional writers confine themselves to valid words?

USDA Flyer: We Don't Check Immigration Status for Food Stamps. A government watchdog group has discovered that the United States government is advising Spanish-speaking residents that they need not declare their immigration status to qualify for food stamps.

USDA invites illegal aliens to go on food stamps. Call it whatever you want, but this flyer the Department of Agriculture is planning to circulate in the Hispanic community proudly boasts that you don't have to declare your "immigration status" to get food stamps.

Amnesty as a 'Civil Right'. [Eric] Holder stated in remarks in an April 24 speech to the Mexican American Legal Defense and Educational Fund MALDEF) Awards Gala that "creating a mechanism for [illegal aliens] to earn citizenship and move out of the shadows... is a matter of civil and human rights." Let's just tear down the fence and hand out EBT cards at the border, and bring the American experiment to an end.

The Editor says...
We could tear down the fence along the border if the government would cut off welfare benefits, social security, SCHIP, food stamps, birthright citizenship, "anchor baby" motivators and all other benefits to illegal aliens. Lazy people are lazy wherever they live. After removing the incentives and actually enforcing the border, illegal immigration would not be worth the risk.

USDA to Ineligible Immigrants: We'll Still Give Your Kids Food Stamps. Illegal immigrants can get food stamps on behalf of their eligible kids — without having to disclose their immigration status, according to documents uncovered by Judicial Watch. The food-stamps offer is spelled out in a Spanish language flyer provided by the United States Department of Agriculture to the Mexican Embassy. Judicial Watch said the flyer proves that the USDA is making "no effort to restrict aid to, identify, or apprehend illegal immigrants who may be on the food stamp rolls."

Immigration Reform Becomes A Welfare Welcome Wagon. The nation's dysfunctional immigration laws need reforming. But the Senate bill unveiled last week would explode the number of people on food stamps and ObamaCare. Shockingly, the bill also would put left-wing community organizations in charge of educating immigrants about citizenship — a blatant attempt to herd future voters into the Democratic Party. Sens. John McCain and Marco Rubio, two Republicans pressing for passage, haven't mentioned these shenanigans. Have they even read the bill?

USDA/Mexico Spanish-language flyer: Get kids on food stamps without showing documents. A USDA Spanish language flyer provided to the Mexican Embassy, according to Judicial Watch, reads that if potentially ineligible immigrants want to obtain benefits for their children they "need not divulge information regarding your immigration status in seeking this benefit for your children."

USDA Sponsoring U.S. Food Stamp Program for Illegal Aliens. Judicial Watch today [4/25/2013] released documents detailing how the U.S. Department of Agriculture (USDA) is working with the Mexican government to promote participation by illegal aliens in the U.S. food stamp program. The promotion of the food stamp program, now known as "SNAP" (Supplemental Nutrition Assistance Program), includes a Spanish-language flyer provided to the Mexican Embassy by the USDA with a statement advising Mexicans in the U.S. that they do not need to declare their immigration status in order to receive financial assistance. Emphasized in bold and underlined, the statement reads, "You need not divulge information regarding your immigration status in seeking this benefit for your children."

Magnet on! Amnesty border rush starts. Advocates of immigration amnesty would now like to deny the obvious: that even talk of amnesty is a powerful magnet for more illegal border-crossing.

Most Illegal Immigrant Families Collect Welfare. Census Bureau data reveals that most U.S. families headed by illegal immigrants use taxpayer-funded welfare programs on behalf of their American-born anchor babies. [...] Basically, the majority of households across the country benefitting from publicly-funded welfare programs are headed by immigrants, both legal and illegal.

Welfare Use by Immigrant Households with Children. The findings show that more than half of immigrant-headed households with children use at least one major welfare program, compared to about one-third of native-headed households. The primary reason immigrant households with children tend to have higher overall rates is their much higher use of food assistance programs and Medicaid; use of cash assistance and housing programs tends to be very similar to native households.

Thank you very mooch, NYC! For out-of-towners seeking "four-star" accommodations here, there's The Waldorf, The Pierre, The Plaza — and the city's homeless shelters. "People pay $3,000 for an apartment here, and I get to live here for free!" said Michal Jablonowski, 25, who moved back to the city from his native Poland three years ago and is now staying in a Bowery shelter. "I have food. I have health care. It's great," Jablonowski said. "Here, the city supports you. The city helps you with everything."

Food Stamps for Mexican Illegals Survive Obama Sequester. It's unlikely these illegal grifters are "unaware" of all the goodies they get for sneaking into the country. Why else would they come?

Succinct headline supplied by WZ.
Senate Dems Vote To Provide Obamacare To Illegal Aliens. The Senate's bipartisan immigration working group split along party lines during a contentious budget vote to prevent illegal immigrants who receive legal status from receiving federal health benefits. The Senate early Saturday morning [3/23/2013] defeated the amendment to the budget resolution which would have put the Senate on record as opposing access to health care under Medicaid or the Affordable Care Act for undocumented immigrants who get a green card.

Dems preserve US-Mexico food stamp 'partnership,' while USDA prepares for meat inspector furloughs. It's hard to put a firm price on the cost of the partnership, which was launched under the George W. Bush administration. But an aide to Sen. Jeff Sessions, R-Ala., who has railed against the partnership for months, said it could easily be in the millions. Since 2004, the program has blossomed to include dozens of meetings and conferences and health fairs with Mexican officials — all of which cost money, not to mention the cost to the food stamp program of new enrollees brought in as a result of this partnership.

Where Does the Money Go? [Scroll down] The State Department has now confirmed, as the tireless Jeff Sessions points out, that in 2011 a mere .0033% of visa applications were denied on "public charge" grounds. This wouldn't be so bad if it meant that we are admitting a high caliber of immigrants who aren't going on welfare. Unfortunately, that is not the case. Currently, 36% of immigrant-headed households receive benefits from at least one major welfare program. And many illegal immigrants, too, receive federal welfare benefits. In fact, as we have noted repeatedly, the Obama administration recruits illegals to sign up for the food stamp program.

Food Stamps: Policy or Political Payoff. The [food stamp] program was intended to be supplemental; not a replacement for a family's entire food budget. It follows that an increasing number of families might have difficulty putting food on the table. A closer look at the situation, however, raises some concerns. The first is that people are not necessarily "turning to" food stamps, as much as they are being recruited to receive them. Since 2008, the USDA has produced Spanish language radio advertisements about SNAP, with the expressed goal of increasing the number of Spanish speaking individuals receiving food stamps.

How Democrats Sponsored Illegal Immigration. That 11 million illegal immigrants are present in the U.S. is taken as proof that the system doesn't work. The immigration system is broken, we are told, and in need of reform. But the truth is, those 11 million illegal immigrants did not enter through the system, they violated U.S. law when they bypassed standard immigration procedures. It's important to note that they were not encouraged by business to cross the border; they were aggressively supported by government officials.

USDA/Mexican consulates to immigrants: Don't worry, food stamps won't affect citizenship chances. The United States Department of Agriculture has been working to dispel immigrants' concerns that getting on Food Stamps will harm their chances of becoming U.S. citizens. The USDA addresses those fears in Supplemental Nutrition Assistance Program, or food stamp, brochures it distributes to Mexican consulates as part of its "partnership" with the Mexican government "to help educate eligible Mexican nationals living in the United States about available nutrition assistance."

Why Are We Bribing Welfare Recipients to Come to the US? For more than a century, the law has been that any application for a visa to enter the United States must be denied if the applicant is likely to become a "public charge" on the American people. ("An alien who ... is likely at any time to become a public charge is inadmissible.") Yet the Obama administration has not only ignored this aspect of our immigration laws, it has actively recruited immigrants who have no means of support, deliberately enticing them with offers of generous welfare benefits. Of all of the many scandals of the scandal-ridden Obama administration, this particular lawlessness is, in my opinion, one of the worst.

Living on the minimum wage in the U.S. is considerably more comfortable than life in Mexico or Central America, but some percentage of the people who immigrate to the U.S. are not interested in working. They're only coming here for a free ride.

DHS admits it does not track immigrants who become welfare dependent, pursued zero cases last year. In a response letter to four top Republican lawmakers, the Department of Homeland Security revealed it initiated only one case against an immigrant for becoming a "public charge," or being primarily dependent upon the government, in fiscal year 2012. The case was later withdrawn.

DHS revamping immigrant welcome materials, set to include Obamacare. The welcome materials the federal government directs new immigrants to read — which detail, among other facets of American life, how and where to get government benefits — are in the process of getting a bit of a makeover to increase accessibility for newcomers. The WelcometoUSA.gov website, which bills itself as "the U.S. Government's official web portal for new immigrants," maintained by the Department of Homeland Security's U.S. Citizenship and Immigration Services (USCIS), will soon feature information about President Barack Obama's signature health care legislation, USCIS spokesman Chris Bentley told The Daily Caller.

Immigration reform could boost cost of Obamacare by hundreds of billions. Immigration reform could represent a massive expansion of Obamacare, potentially costing hundreds of billions of dollars over the next decade. As the Washington Post's Sarah Kliff details, legalizing immigrants who are currently in the country illegally could make millions of them eligible for Obamacare.

HHS says it ditched 'exchanges' because word doesn't translate into Spanish. The Obama administration has stopped using the term "exchanges" to describe part of the healthcare law because the word doesn't translate into Spanish, an official said Thursday [1/31/2013]. Anton Gunn, director of External Affairs at the Department of Health and Human Services (HHS), said the rebranding of the insurance exchanges as "marketplaces" was geared toward Spanish speakers who will use the system.

A path to citizenship would establish a path to welfare benefits. In 2007, welfare expert Robert Rector estimated that the McCain-Kennedy amnesty proposal would cost roughly $2.6 trillion due to the eligibility of illegal aliens turned citizens for transfer payments. As Daniel Horowitz points out, the price tag on the Gang of Eight proposal is even steeper due to the easing of welfare reform requirements and the significant eligibility expansions brought about by President Obama.

'Outrage' over fed EBT push for aliens. Local lawmakers are fuming over an Obama administration policy promoting welfare and EBT benefits for immigrants, with a "welcome" package and promotional website that encourage new arrivals to take advantage of the nation's generous government largesse.

"Give me your tired, your poor, Your huddled masses yearning to cash welfare checks..." Federal law prohibits the admission of aliens to this country who are "likely at any time to become a public charge." This is one of many statutes that the scofflaw Obama administration brazenly flouts. Rather than ensuring that immigrants will not become liabilities to the public purse, the Obama administration explicitly lures them to the U.S. with promises of lavish welfare benefits — a policy that is both illegal and perverse.

U.S., Mexico Conspire to Get Mexicans in U.S. on Food Stamps. As part of an effort to encourage Mexicans living in the United States to enroll in the federal food stamp program, U.S. Department of Agriculture (USDA) employees have met with Mexican officials over 150 times in the last eight years, the Daily Caller reports. The result: an enormous increase in the number of noncitizens participating in the program and a concomitant rise in federal spending and debt.

Obama Policy Encouraging Immigrants to Go on Public Dole. FrontPage Magazine has acquired evidence that suggests that the Obama administration is actively promoting a little-known regulation first created by the Clinton administration. In so doing, the Obama administration is actively recruiting immigrants and encouraging them to sign up for things like food stamps, reminding that under this obscure regulation they suffer no marks against them in any future immigration proceeding if they receive food stamps and other non-cash benefits.

U.S., Mexico Conspire to Get Mexicans in U.S. on Food Stamps. As part of an effort to encourage Mexicans living in the United States to enroll in the federal food stamp program, U.S. Department of Agriculture (USDA) employees have met with Mexican officials over 150 times in the last eight years, the Daily Caller reports. The result: an enormous increase in the number of noncitizens participating in the program and a concomitant rise in federal spending and debt.

US importing welfare cases? The Department of Homeland Security missed their second deadline to explain the apparent dilution of immigration law barring those seeking entry to the United States from becoming "primarily dependent on the government for subsistence," or a so-called public charge, to four GOP senators on Monday [10/1/2012]. [...] An applicant's participation in the Supplemental Nutrition Assistance Program (SNAP) or food stamps, housing benefits, energy assistance, child care services, Medicaid and a slew of other programs are all inadmissible, according to current immigration policy, when considering an individual's application for citizenship, visa or a status adjustment.

Obama USDA met 30 times with Mexican gov't to promote food-stamp use among Mexican immigrants. Department of Agriculture personnel in the Obama administration have met with Mexican Government officials dozens of times since the president took office to promote nutrition assistance programs — notably food stamps — among Mexican Americans, Mexican nationals and migrant communities in America.

Arizona taxpayers pay for 53% of births. Arizona taxpayers foot the bill for the delivery of more than half of all babies born here, a growing trend with a $200 million-plus annual price tag that has caught state leaders off guard — even though the numbers have been rising for more than a decade.

58% Think Federal Government Encourages Illegal Immigration. Most voters continue to believe the federal government encourages rather than discourages illegal immigration. A new Rasmussen Reports national telephone survey finds that 58% of Likely U.S. Voters think the policies and practices of the federal government encourage illegal immigration. Just 24% disagree, while 18% more are undecided.

The Obama Administration Pays Illegal Aliens to Come Here. A basic premise of immigration law is that immigrants to the U.S. are expected to be self-supporting. We obviously don't want to attract people who have no intention of working, but simply want to benefit from our generous welfare system. [...] But, as in so many other instances, President Obama has simply changed the law by executive fiat. In this case the administration acted quietly, so that it took quite a while before others understood how badly Obama had subverted the immigration laws.

Slow path to progress for U.S. immigrants. The study, based on 2010 and 2011 census data, found that 43 percent of immigrants who have been in the U.S. at least 20 years were using welfare benefits, a rate that is nearly twice as high as native-born Americans and nearly 50 percent higher than recent immigrants. The report was released at a time when both major presidential candidates have backed policies that would make it easier to immigrate legally and would boost the numbers of people coming to the U.S.

Federal government's open-door immigration policy on welfare under fire. The federal government allows immigrants to enjoy America's vast welfare safety net, from food stamps to housing benefits and Medicaid, and remain immune from repercussions to their immigration status. And on Monday [8/6/2012], ranking Republican members of the Senate Finance, Agriculture, Budget, and Judiciary Committees wrote to Homeland Security Secretary Janet Napolitano and Secretary of State Hillary Clinton demanding to know why. Immigration regulations prohibit individuals "likely to become primarily dependent on the government for subsistence" from legal admittance into the United States. But non-citizens can avail themselves of dozens of welfare programs without the federal government considering them a dependency risk.

USDA meets with Mexico, 'slow-walking' Congress on food stamp outreach to immigrants. While it is already known that personnel from the United States Department of Agriculture (USDA) met with Mexican embassy officials this year to discuss nutrition assistance outreach efforts to immigrants, the agency is "slow-walking" a U.S. Senate effort to obtain information about the USDA's partnership with Mexico to get more people enrolled in nutrition assistance programs. According to both the USDA and the Mexican embassy, USDA personnel meet "periodically" with officials from the Mexican embassy to discuss nutrition "assistance and education" pertaining to 15 domestic nutrition assistance programs, including the Supplemental Nutrition Assistance Program (SNAP), or food stamps.

USDA partnering with Mexico to boost food stamp participation. The Mexican government has been working with the United States Department of Agriculture to increase participation in the Supplemental Nutrition Assistance Program (SNAP), or food stamps. USDA has an agreement with Mexico to promote American food assistance programs, including food stamps, among Mexican Americans, Mexican nationals and migrant communities in America.

Sessions: USDA gets secretive about Mexican food stamp partnership. Sen. Jeff Sessions, R-Ala., said that the United States Department of Agriculture rejected his request for documents pertaining to its collaboration with the Mexican government to increase the number of Mexican nationals receiving food stamps. "USDA rebuffed initial requests from my staff to hand over basic documents concerning the Administration's partnership with Mexico to implement this program," Sessions said in a statement this afternoon [7/19/2012]. "I have now laid out in a letter precisely what information USDA needs to turn over. It should be provided at once."

Fat And Furious: Obama Pushes Food Stamps In Mexico. As if being "food stamp president" weren't enough, Barack Obama's administration is partnering with the Mexican government to make sure Mexican nationals living in the U.S. don't miss out.

Food Stamp Nation goes bilingual. A couple of weeks ago, we learned that the United States Department of Agriculture was encouraging local offices to hold "food stamp parties," to recruit more dependents for the Supplemental Nutrition Assistance Program, which is looking increasingly less "supplemental." These parties would include games designed to teach people how they can get onto the food stamp program. Now Caroline May of the Daily Caller reports that Food Stamp Nation has gone bilingual in a big way. The USDA is "targeting Spanish speakers with radio novelas promoting food stamp usage."

The Food Stamp Program Rewards Households with Illegal Aliens. [Scroll down] Such households have a mix of illegals (often parents) and citizens (usually kids); only the citizens are nominally eligible for the benefits of the program, but if groceries purchased by Food Stamps are on the dining room table, the common-sense assumption is that all members of the family will benefit from it. Yes, all else being equal, a low-income household with one or more illegal aliens in it, is more likely to get Food Stamps than a household with similar income with all members being legally present. In another, related scenario both families are eligible, both have equal incomes, but the one with an illegal alien member seems to get a larger allotment.

Illegals Ripping Off U.S. Taxpayers. The Internal Revenue Code provides for an "additional child tax credit" of up to $1,000 to help working families who have children living at home. It requires that each child live at home for at least six months out of the year. But several years ago illegal immigrants discovered a loophole that allows them to claim as many children as they want — including nieces and nephews — even if they have never stepped foot on American soil. Illegals must pay taxes but they can't obtain a Social Security number. And so to remedy the situation, President Bill Clinton signed into law a solution: Illegals can receive a nine-digit individual taxpayer number — an ITIN — which allows their employers to withhold payroll taxes.

County food stamp program comes under scrutiny. Caroll Wood said she wants to see a better explanation provided in the county's monthly Food and Nutrition Service report on how food stamp benefits are distributed through illegal immigrants. Wood serves on the county DSS Board. She met with her fellow board members on Tuesday [7/26/2011] and questioned why non-qualified alien heads of households were included in the monthly food stamp recipient household report. From April through June, 874 illegal immigrants who are heads of households in Alamance County received food stamp electronic benefit transfer cards monthly.

Obama's Brand of 'Greatness' for America. Apparently America is at the pinnacle of its greatness, because we are giving it all away. According to this report, 50% of Americans are receiving entitlements, and more shocking is this report that shows that as many as 62% of illegal immigrants are receiving them.

Importing Poverty: My colleague Steve Camarota has published a look at welfare use by immigrant families with children, and it's pretty dire. Fifty-seven percent of households headed by an immigrant (legal and illegal) with children (under 18) used at least one welfare program, compared to 39 percent for native households with children (which is alarmingly high in itself). The highest rates are for families headed by an immigrant from the Dominican Republic (82 percent using welfare) and Mexico and Guatemala (75 percent). The states with the highest rates are Arizona, Texas, California, and New York (61-62 percent) — which, unfortunately, are also the top states of immigrant settlement. For immigrant households with four or more children, 81 percent are using welfare, as are 80 percent of households with children that are headed by an immigrant without a high school degree.

If America Were a Free Country, Immigration Would Not Be a Problem. A century of progressive legislation culminating in the money-hemorrhaging Obama administration has resulted in a system of taxation by which approximately half of Americans pay no Federal income tax, and 40 percent actually receive payments from their fellow citizens via the IRS. With this being the case, the majority of new immigrants from poor countries fall into the category that pays nothing and receives benefits that taxpayers are forced to provide.

The Remains of a California Day. [Scroll down] At noon, I drove into the local warehouse supermarket. When I checked out (and I had written about such incidents like this a near decade ago in Mexifornia), the checker and the woman behind me were trying to communicate in Spanish to instruct a young man and his wife (with four small children) about how to use his food stamp card (an anachronism since they look more like ATM plastic).

Immigration vs. gate-crashing. For most of our history, there was a guarantee that immigrants would come here to work. The alternative was starvation. With today's welfare state, there's no such guarantee. People can come here, not work and not starve because the welfare state guarantees that they can live off the rest of us.

Prove You're Here Legally Before Getting Gov't Services, Voters Say. Most voters in the United States want stricter enforcement of immigration laws, and a vast majority say people should be required to prove they are in the country legally before receiving any federal, state or local services, according to a new poll.

"Anchors" away. Any child born in the United States automatically becomes a U.S. citizen. He or she is instantly eligible for panoply of social services, food stamps and other forms of aid. When the child reaches the age of 21, he can petition to have his parents and siblings declared permanent residents. The so-called "anchor baby" phenomenon is a hidden trap door beneath any guest worker program, because a significant number of guest workers will have babies while in the United States and will thus elude any effort to send them home.

Just Shut Up, Go Home, and Take Your Kid with You. You would have thought the United States had committed some unforgivable crime against humanity if you listened to the howls of rage emitting from a horde of liberals whining over the fate of an illegal alien who played them for suckers. Her name is Elvira Arellano and whatever else she may be, she's a master propagandist….

Free School for Illegals: Time for a Supreme Court Review? [Scroll down] Chief Justice Burger, with Justices Rehnquist, White, and O'Connor, responded with a vigorous dissent: "[i]llegal aliens have no right whatever to be here, and the state may reasonably, and constitutionally, elect not to provide them with governmental services at the expense of those who are lawfully in the state"; "the constitution does not provide a cure for every social ill, nor does it vest judges with a mandate to try to remedy every social problem."

Welfare to kids of illegals at $276 million. Los Angeles County Supervisor Michael D. Antonovich said Tuesday [4/25/2006] that he will tell Congress that close to 100,000 children of illegal immigrants in the county collect $276 million in annual welfare benefits. … Antonovich said 98,703 children of 57,458 undocumented parents received Cal-WORKS welfare checks in January, or a total of 156,161 recipients.

Welfare Is the Real Problem, Not Immigration. The idea of people sneaking into the country in order to soak the American taxpayer provokes anger. To be fair, though, native-born Americans are already soaking the American taxpayer and ought to provoke a similar anger. In fact, illegal immigrants account for only a tiny minority of those currently on the welfare rolls. Those who run the gauntlet of fences, guards, and environmental hardships to illegally enter the United States evince a measure of enterprise that would seem to make them unlikely to seek out welfare benefits. An illegal immigrant arriving in America is more apt to avoid contact with government authorities than to try to scam the system.

Immigration and the Welfare State: More and more of my constituents are asking me when Congress will address the problem of illegal immigration. The public correctly perceives that neither political party has the courage to do what is necessary to prevent further erosion of both our border security and our national identity. As a result, immigration may be the sleeper issue that decides the 2008 presidential election. … Amnesty for illegal immigrants is not the answer. Millions of people who broke the law by entering, staying, and working in our country illegally should not be rewarded with a visa. Why should lawbreakers obtain a free pass, while those seeking to immigrate legally face years of paperwork and long waits for a visa?

Stop the Mexico Raid on Our Social Security! RetireSafe Delivers 115,000 Petitions Opposing Social Security for Illegal Immigrants from Mexico. "Social Security is not a welfare program and it should not be turned into a foreign aid program," said RetireSafe President Charles Hardin.

Immigration and the welfare state. Over the past four decades the educational level of new immigrants has fallen steadily relative to that of native-born Americans …. Coupled with very high levels of out-of-wedlock birthrates (among foreign-born Hispanics, for example, the rate is 42.3%), the current illegal population fits the classic profile of a group that, if offered a ready route to citizenship, will consume billions more in welfare benefits than they will contribute in taxes.

Contrary To Amnesty Supporters, Illegal Aliens Drain Social Security. A recent Rasmussen Reports survey revealed that voters remain concerned about Social Security and whether the system can deliver what the government has promised. According to the survey, 58% of U.S. voters lack confidence that the Social Security system will pay them their future benefits. Advocates for amnesty for millions of illegal immigrants like to claim that amnesty will "save" Social Security. They also claim that dramatically increased immigration levels will safeguard our retirements and those of our children because more people will pay into the system. Unfortunately, the opposite is true.

70% in Massachusetts Favor Ban on Public Benefits For Illegal Immigrants. Seventy percent (70%) of Massachusetts voters favor a proposal recently rejected by the state legislature that would stop illegal immigrants from receiving public benefits. A new Rasmussen Reports telephone survey shows that just 17% oppose the proposal to prevent illegal immigrants from gaining access to public housing, unemployment benefits, welfare or workers compensation. Thirteen percent (13%) more are not sure.

L.A. County welfare to children of illegal immigrants grows. Welfare payments to children of illegal immigrants in Los Angeles County increased in July to $52 million, prompting renewed calls from one county supervisor to rein in public benefits to such families. The payments, made to illegal immigrants for their U.S. citizen children, included $30 million in food stamps and $22 million from the CalWorks welfare program, according to county figures released Friday by Supervisor Michael D. Antonovich.

Bienvenido to Obamacare. The Obama administration has unveiled its new Spanish-language website, Cuidadodesalud.gov, as a companion to HealthCare.gov, to fully inform Americans about the new goodies in the Obamacare legislation that the President signed into law in March.

Most Illegal Immigrant Families Collect Welfare. Surprise, surprise; Census Bureau data reveals that most U.S. families headed by illegal immigrants use taxpayer-funded welfare programs on behalf of their American-born anchor babies. ... Basically, the majority of households across the country benefitting from publicly-funded welfare programs are headed by immigrants, both legal and illegal. States where immigrant households with children have the highest welfare use rates are Arizona (62%), Texas, California and New York with 61% each and Pennsylvania (59%).

Illegal Immigrant Additional Child Tax Credit Fraud. Illegal Immigrants otherwise known as Undocumented Workers are using an IRS Tax Loophole to take advantage of the Additional Child Tax Credit to obtain tax refunds. This tax fraud is currently costing U.S. Taxpayers about 4 Billion dollars a year.

Hispanics perpetuate their own stereotypes.
Forget Immigration — It's Big Government Hispanic Voters Want. A mind-blowing 75 percent of Hispanics tell Pew they want bigger government with more services. Contrast that with just 41 percent of the American public that says it wants bigger government with more services. This Hispanic love affair with big government isn't a short-term result of the Great Recession. It isn't a temporary product of the first-generation poverty; immigrants, legal or otherwise, have always struggled through in America. This affection for big government is uniquely cultural for Hispanics, and so strongly embedded that it apparently persists for generations.



---

Leftists are using the Cloward-Piven strategy to bring down the country

Left-wing politicians are signing up and habituating as many people as possible, as explained on page one of this series.



Democrats Using Cloward-Piven as their Midterm Hail Mary Pass. The [Cloward-Piven] strategy uses community organizers to mobilize welfare recipients. Then, "As the crisis develops, it will be important to use the mass media to inform the broader liberal community about the inefficiencies and injustices of welfare." [...] In addition to expanding the welfare rolls internally, another way to overwhelm the system is to import more welfare recipients with the goal of overwhelming the system. This occurs via immigration, both legal and illegal. Think of what the current migrant caravan means in terms of Cloward-Piven. Thousands of poor, unskilled migrants entering the US. They need health care, education, housing, food, clothing, and other basic needs which all cost money. Who pays for this? The migrants arrive with the clothes on their back, not with job offers from Fortune 500 companies and guaranteed self-sufficiency. Trump has other plans. Common sense rather than chaos and doing what's best for America and her citizens, rather than virtue signaling to the world.

Cloward-Piven Everywhere. The Obama administration-driven calamity at this nation's southern border is no naiveté-caused accident. Instead, it's the latest manifestation of what clear-eyed observers must recognize is just one of many concerted attempts to overwhelm this nation's institutions and its social, psychological and physical infrastructure for the apparent purpose of leaving it permanently weakened and fundamentally changed. Conscious or not — and I would argue in most cases that it is quite conscious — what we're seeing is a comprehensive application of the left's long-championed Cloward-Piven strategy.

Barack H. Obama is using the Cloward-Piven strategy.
Perry accuses Obama administration of fueling 'surge' in illegal immigrant children. Texas Gov. Rick Perry is accusing the Obama administration of "perpetuating" a recent "surge" in illegal immigrant children who are crossing into the U.S. from Mexico and Central America without their parents and often falling straight into government care. In a letter obtained by Fox News, Perry wrote to President Obama on Friday [5/4/2012] citing stats that show more than 5,200 "unaccompanied minors" were taken into U.S. custody in the first six months of the fiscal year — a more than 90 percent increase compared with the same period a year ago.

The federal government is doing everything it can to get more people on food stamps a/k/a/ SNAP.
Farmers markets getting money to take food stamps. The federal government is spending $4 million to help hook up farmers and low-income customers.

The Sugar Daddy Has Run Out of Sugar. Barack Obama's big government policies continue to fail. He should put a link to the national debt clock on his BlackBerry. The gears on that clock have nearly exploded during his administration. Yesterday's terrible job numbers should not be a surprise because it all goes back to our debt. Our dangerously unsustainable debt is wiping out our jobs, crippling our economic growth, and jeopardizing our position in the global economy as the leader of the free world.

Holder's Justice Department bullying banks. A cadre of racialists bent on achieving social justice via reparations from banks to minority communities has been installed by Eric Holder in the Department of Justice. They are using legal bullying tactics to intimidate banks into once again loaning mortgage money to people who have no ability to pay it back. Banks have even been forced to post signs in the facilities informing customers that welfare payments can count as income to apply to mortgage applications.

Holder Launches Witch Hunt Against Biased Banks. In what could be a repeat of the easy-lending cycle that led to the housing crisis, the Justice Department has asked several banks to relax their mortgage underwriting standards and approve loans for minorities with poor credit as part of a new crackdown on alleged discrimination, according to court documents reviewed by IBD. Prosecutions have already generated more than $20 million in loan set-asides and other subsidies from banks that have settled out of court rather than battle the federal government and risk being branded racist. An additional 60 banks are under investigation, a DOJ spokeswoman says.




Creating Poverty Through 'Social Justice'. In the story about social justice not working in San Francisco, we witness the creation of special interest groups, via legislation and regulation, which are literally inserted into the free market process to create wealth for entities that would otherwise not be needed in the free market Capitalist economic system. By virtue of San Francisco's social justice legislation and regulation, wealth has been extracted from the taxpayers, unnecessarily, via the process of government procurement, to reward the unproductive. That, ladies and gentlemen, is Progressive, Socialist, Marxist, wealth redistribution fashioned for the Capitalist economic system. It's here and it is happening... right now.

The fight is not over. America was at its zenith in 1958 — universally recognized to be at the height of its power, the peak of its creativity, and the most affluent it would ever become. You might well think, as many did at the time, that America was safe from any threat, foreign or domestic. It seemed like a perfect time to "spread the wealth around," and over the next decade that's just what happened. The invention of the Welfare State didn't begin with LBJ's "Great Society," but it certainly became an inseparable element of public policy at that time, first with Medicare and then with more and more taxpayer-funded entitlement programs.

Barack Obama: Welfare King. ObamaCare is supposed to help about 32 million uninsured Americans get health coverage. Half of those will get it through Medicaid, a means-tested entitlement program. Folks, Medicaid is welfare. Democrats want to put 16 million more Americans on the welfare rolls through Medicaid — and they think that's a good thing!

You can put a tuxedo on a pig, but it's still a pig.
Food stamp program gets a new name: CalFresh. California's food stamp program has a new name, which officials hope will encourage more people to apply for the nutrition benefit: CalFresh. The new name and logo — an abstract representation of the diverse produce available in California — was launched Saturday [10/23/2010] at an event in Long Beach sponsored by first lady Maria Shriver to provide free medical, financial and educational services to low-income women.

Number of Americans Paid Not to Work Growing Faster than Number of Taxpayers. The federal government announced the new, official unemployment rate this week: 8.1 percent, down from 8.2 percent. Far fewer jobs were added in April than expected — 115,000 — so the official rate declined slightly because more people stopped looking for work. The workforce participation rate is now at its lowest rate in 30 years, with 63.6 percent of adults who could work actually working.

How to Keep the Poor Poor. Media personality Tavis Smiley and Princeton philosophy professor Cornell West have just published their latest contribution to American poverty propaganda, "The Rich and the Rest of Us: A Poverty Manifesto." [...] Smiley and West's message is simple. America today consists of a few powerful, rapacious rich people and a lot of unfortunate, exploited poor people. The rich are rich because they are lucky. The poor are poor because they are unlucky. And the only way to solve the problem is activist government to manage the American economy and redistribute wealth.

Yippee! Free government money! Come and get it! As you prepare to send in your income taxes on April 15 — for many taxpayers the amount involved is more than they spend on food and housing combined — remember that other people get paid money when they file taxes, because their incomes are lower than yours. The desperation to spend as much money as possible on taking money from taxpayers and giving it to other people who didn't earn it and who don't pay income taxes is offensive to everyone who works hard, succeeds, and as a result has a bulls eye painted on their pocketbooks.

The Poverty of Equality. The goal of a [society] should not and cannot be to make people equal in outcomes, an impossibility given the individual attributes with which we were each endowed by our creator. It is the opposite of justice and fairness to try to equalize outcomes based on those attributes. It is not fair to the beautiful to force them to wear ugly masks. It is not fair to the strong to punish them by holding them down with excess weights. It is not fair to the graceful and athletic to deprive them of their talents. In the same way, it is not fair to the productive, the risk taking, or the hard working, to deprive them of what they have produced, merely to make them equal to others who have worked less, taken less risk, and produced less.

Pelosi: Food Stamp President 'Badge Of Honor'. Speaking at Jesse Jackson's Rainbow Push Coalition, House Democratic Leader Nancy Pelosi addressed recent comments by Newt Ginginch referring to Obama as the "Food Stamp President" because more Americans have fallen into poverty and had to seek government assistance. According to Ms. Pelosi, this was a "Badge of Honor".

State Gets $5 Mil Bonus For Food Stamp Sign Up. In its quest to promote taxpayer-funded entitlement programs, the Obama Administration has actually rewarded one state with a $5 million bonus for its efficiency in adding food-stamp recipients to already bulging rolls. It's part of the administration's campaign to eradicate "food insecure households" by improving access and increasing participation in the government's Supplemental Nutrition Assistance Program (SNAP).

Obama's 'Hate the Rich' Campaign. It angers me that Obama and his minions in the liberal media have put achievers, risk-takers, on the defensive. It angers me that Obama's followers think that they are entitled to the fruit of someone else's labor. Americans are extremely generous and willing to help people in need, domestic and foreign. But no one is entitled to share in the bounty resulting from someone's risk, blood, sweat, and tears. Any government which confiscates and redistributes wealth is immoral and evil.

Where your taxes all go. If you think the federal taxes you pay go to the run the federal government, think again. This year, every dime (and more) that the feds collect is going out in payments to other people. That is, Washington is redistributing even more wealth than it takes in.

The Folly of Subsidizing Unemployment. The economic "recovery" has been disappointing, to put it mildly, and it has become increasingly clear that the blame lies with the policies of the Obama administration, not with those of its predecessor. In general, the current administration has been too focused on expanding government, redistributing more from rich to poor, and stimulating aggregate demand.

With schools closed, different lunchrooms open. Every school day, about 2.3 million low-income Texas children eat subsidized meals, but the numbers drop dramatically in the summer. This time of year, hundreds of thousands of youngsters statewide go hungry or survive on food that's not necessarily nutritious, officials say. But while fewer children nationwide received summer meals in July 2009 than in the previous July, the figure increased by 5 percent in Texas.

The Cloward-Piven Strategy comes to the lunchroom:
Federal government eying free lunches for all students in high-poverty areas. The federal government could soon be paying for lunch for entire communities of children under a new plan in the U.S. House of Representatives. Christina A. Samuels of Education Week reports that the Improving Nutrition for America's Children Act of 2010 would allow schools in high-poverty areas to be covered under a "community eligibility" option that allows free meals to all students without the traditional paperwork to determine eligibility.

Why Cloward-Piven Will Eat Itself. [Scroll down] This cycle continues until all meaningful revenues dry up and the system essentially chokes on its own largesse and dies. Then, Cloward and Piven would have us believe, a new, bigger government/bureaucracy/candy store of others' labors will arise to make sure everything is fair for everyone forever. This leaves unresolved the question: Now that the government is broke and the productive sector is broke and/or gone, who's going to finance this? No one. We have just entered a state of sociopolitical and economic upheaval.

Why 70 Million Americans Don't Pay Uncle Sam a Dime. While you struggle to meet your deadline, consider that although the law requires you to file a tax return, more than 70 million of your fellow filers will not owe a single penny to Uncle Sam. As the latest news from the non-partisan Tax Policy Center shows, a record 47 percent of tax filers will have no federal income tax liability this year.

Redistributing Our Earnings To Freeloaders. Income tax day, April 15, now divides Americans into two almost equal classes: those who pay for the services provided by government and the freeloaders. The percentage of Americans who will pay no federal income taxes at all for 2009 has risen to 47%. That isn't the worst of it. The bottom 40% not only pay no income tax, but also the government sends them cash or benefits financed by the taxes dutifully paid by those who do pay income tax.

Trickle Down Poverty. Instead of approaching the economy in a way that opens a door through which the poor can use their God-given talents to better their circumstances, Obama plans a state-run economy that will result in trickle down poverty. And for all his talk about "spreading the wealth around," our president is really poised to spread dependence on a discombobulated bureaucracy.

Obama the Racist? The first black president's policies marginalize blacks. It is the cruelest sort of racism, as it robs blacks of hope instead of inspiring it. Blacks were left with the hope that Obama would redistribute money from creators of wealth to those who would gladly take something for nothing. The president, voted for by overwhelming numbers of blacks and guilty whites, has likely been the most destructive force in racial politics since his fellow racist Democrat Bull Connor. And what Obama seeks for blacks — socialism, or the leveling of the playing field — has not benefited blacks anywhere on the planet.

Freedom or slavery? You make the call. Health-care reform? Let's call it what it is — theft. Or if you prefer, "redistribution of wealth." The problem is, no matter what you call it, too many Americans are in favor of requisitioning money from other Americans to pay for the health care of strangers. And they don't care if it is legal or not. That's because most Americans have not bothered to educate themselves about the principles on which our country was founded, nor about the rocks on which it will founder if it abandons those principles.

Spreading the Wealth. When Barack Obama said he wanted to "spread the wealth around," he meant it. A new study from Robert Rector of the Heritage Foundation estimates that Obama's policies would spend $10.3 trillion on welfare programs over the next decade.

ACORN Scandal Has Deep Roots. ACORN is wedded to stale thinking that all too often makes people dependent, crushes responsibility, creativity and our very natures. And the Obama administration only plans to continue to increase welfare spending, ensuring that the system that gave birth to ACORN and its inexcusable conduct will continue to thrive.

Healthcare Crusaders Out To Plunder System. The number of uninsured people is grossly misleading. Just because you are uninsured doesn't mean you have no access to medical care. And just because you are insured under universal systems doesn't mean you will receive care. If you don't think the administration is parlaying the crisis angle, then you must have missed the feigned urgency in Obama's declarations that "reform" must be completed this year.



This is an original compilation, Copyright © 2023 by Andrew K. Dart
---
Negative income taxes
People who pay less than nothing
60 percent of Americans pay less than zero income tax.
'The rich' don't just pay their 'fair share,' they pay almost everybody's share. [Scroll down] Some additional analysis and commentary will be provided here that reveal a yet-to-be discussed major implication of the CBO report almost the entire burden: a) of all transfer payments made to American households and b) of all non-financed government spending, falls on just one group of Americans — the top one-fifth of US households by income. That's correct, the CBO study shows that the bottom three income quintiles representing 60% of US households are "net recipients" (they receive more in transfer payments than they pay in federal taxes), the second-highest income quintile pays just slightly more in federal taxes ($14,800) than it receives in government transfer payments ($14,100), while the top 20% of American "net payer" households finance 100% of the transfer payments to the bottom 60%, as well as almost 100% of the tax revenue collected to run the federal government.
Reaganomics Vs. Obamanomics. Newt Gingrich's Contract with America adopted a child tax credit of $500 per child that reduced the tax liabilities of lower income people by a higher percentage than for higher income people. President Bush doubled that credit to $1,000 per child, and made it refundable so that low-income people who do not even pay $1,000 in federal income taxes could still get the full credit.
Middle Class — Not the Rich or the Poor — Pay Majority of Federal Taxes. Middle-class Americans — not the rich or the poor — pay the majority of annual tax revenues taken in by the federal government, according to data released in a new Congressional Budget Office study. Households earning less than $34,300 per year, meanwhile, actually pay a negative average federal income tax rate.
This next one is a broken link, but I'm trying to track it down somewhere else.
Evaluating the Incentives to Stay in the Welfare System: A family with $12,600 in earnings before taxes pays $1,251 in taxes but gets back an EITC of $2,247 for a total of $13,596.
IRS Gives Billions in Tax Refunds to Illegals. Here's how it works. Illegal immigrants cannot qualify for legitimate Social Security numbers, which would entitle them to work legally in the U.S. and file income tax returns, but the Internal Revenue Service allows them to apply for nine-digit individual taxpayer identification numbers, or ITINs, which also are used to file federal income tax returns. In addition, a provision in the tax code permits illegals to claim "additional child tax credits," which grant families $1,000 per "dependent" child. Roughly three-quarters of tax returns filed by illegals include these ACTCs. With the ITIN, illegals are able to get tax credits and refunds for nephews, nieces and other family members who never have touched U.S. soil.
Investors Flee From 'Change' Obama Hypes. Are Barack Obama's proposed tax increases adversely affecting our financial markets? We say yes, unambiguously. [...] With the bottom 40% of income earners not paying any federal income taxes, such tax credits would not reduce any tax liability for these workers. Instead, since they're refundable, they would involve new checks from the federal government. These are not tax cuts as Obama is promising. They are new government spending programs buried in the tax code and estimated to cost $1.3 trillion over 10 years.
Obama tax cut 'refunds' those who don't pay. To pay for his middle-class tax cuts, Mr. Obama would raise the top marginal tax rate on Americans earning more than $250,000 to 35 percent from 30.6 percent. According to the IRS, the top 5 percent of all income earners in 2004 paid 57.13 percent of all income taxes.
Obama's Tax Cut is Actually a Spending Increase, Says Non-Partisan Group. The heart of Obama's tax cut proposal is in his use of refundable tax credits, which the [Tax Policy] Center describes as "credits available to eligible households even if they have no income tax liability" — in short, refunds available even to those who don't pay taxes. ... These refunds have the ability of reducing a taxpayer's liability below zero, meaning they can get a refund without actually paying taxes.
Obama's 95% Illusion. Once upon a time we called this "welfare," or in George McGovern's 1972 campaign a "Demogrant." Mr. Obama's genius is to call it a tax cut. The Tax Foundation estimates that under the Obama plan 63 million Americans, or 44% of all tax filers, would have no income tax liability and most of those would get a check from the IRS each year.
Searching for Obama's 95 Percent. If Barack Obama can effectively claim that his plan cuts taxes on 95 percent of Americans, then the term "tax cut" has no meaning.
The Case Against Barack Obama, Part 1. Democratic presidential contender Barack Obama promises to "cut taxes for 95 percent of American workers." That's not possible. Why? More than 30 percent pay nothing in federal income taxes.
IRS told employees to ignore potential fraud in program used by immigrants. IRS supervisors ignored employees who tried to warn agency higher-ups of fraud in a program designed to collect taxes from immigrants, resulting in the agency paying out potentially bogus refunds. The Treasury inspector general for tax administration said the IRS even eliminated some methods employees had used to figure out questionable refund requests, and that the agency doesn't have the ability to verify applicants' identity or foreign status. Investigators "found an environment which discourages employees from detecting fraudulent applications," said J. Russell George, the inspector general.
Among the Tax-takers. I worked for the IRS and survived. I learned about taxpayers, but the really interesting part of it was learning about tax-takers. We all have this vague notion of people who don't pay taxes but receive money from Uncle Sam in what euphemistically is called a tax refund. That's what I had, a vague notion, until I was forced to close my business in 2010. I took a seasonal job with the Internal Revenue Service to get some household cash flow going. We "Timmy Geithner warriors" were appalled by what we learned.
IRS pays $513 Million In Bogus Credits Under Stimulus. Weeks after a government audit revealed that the Internal Revenue Service doled out $33 million in fraudulent electric-car tax credits, a separate probe says the agency paid out over half a billion dollars to "homebuyers" who didn't qualify. It's simply the latest of many blunders for the perpetually troubled government agency that's awarded prison inmates tens of millions of dollars in bogus tax refunds in the past decade. Last year alone, more than a quarter of a million prisoners filed tax returns with the IRS and nearly 50,000 claimed more than $130 million in refunds without bothering to report wage information, according to the Treasury Inspector General.
IRS fraudulent refunds total an estimated $318M. Internal Revenue Service gave away $318 million in improper refunds this year because a computer program that screens tax returns for fraud wasn't working, according to a report released Friday [9/1/2006].
Against the Negative Income Tax. The NIT, in plain English, is a government-guaranteed minimum level of income. Sorman makes the classic argument that the biggest advantage of the NIT is that it would eliminate almost the entire welfare bureaucracy, and the tangle of often counter-productive programs that go with it. He dismisses the obvious commonsense objection — that the prospect of a lifetime income for doing nothing might discourage people from slapping the top of the alarm clock every weekday morning at 6 a.m. and going to work [...]
Negative Income Tax. The negative income tax proposals inspired several comprehensive federal plans proposed during the 1970s: President Nixon's Family Assistance Plan, Senator George McGovern's Universal Demogrant Proposal, and President Carter's Program for Better Jobs and Income. Programs to supplement the income of the working poor through the tax system (for example, the Earned Income Tax Credit) are a more recent version of the approach.
The Negative Income Tax: A Different Kind of Welfare. A negative income tax is a viable alternative to the current welfare programs. It allows people earning below a certain amount of income to receive supplemental pay from the government instead of paying taxes to the government. It would be used in conjunction with our current progressive income tax system, and it is important to note that the negative income tax only works if we eliminate all of the existing welfare programs. The negative income tax system is designed to be a one-stop-shop for welfare-esque benefits.
Refundable Credits and Negative Income Tax Rates. The Congressional Budget Office now estimates that because of the large amount of refundable tax credits, the bottom 40% of households now have negative effective rates. Remarkably, the effective tax rate for the middle fifth of households is nearing zero because of the recent expansion of tax credits.
---

SCHIP
Socialized Medicine with a Candy Coating

SCHIP blends right in to the topic of government handouts, because it illustrates how incremental changes only go in one direction — making the government bigger, more expensive and more intrusive. How does that happen? Because supposedly good ideas are usually introduced as something that will benefit "America's children." After all, what kind of heartless politician could vote against the children? In a way, this also illustrates how people make decisions based on emotion instead of rational thinking.



How Congress Made CHIP a Budgetary Boondoggle. It's getting harder and harder not to think of the nation's signature health insurance program for children who aren't quite poor enough to qualify for Medicaid as a "slush fund" to tap for other congressional priorities. Lawmakers are on the verge of wringing another $7.7 billion in budgetary savings out of the Children's Health Insurance Program to finance the discretionary portion of the Department of Health and Human Services' fiscal 2019 budget, among other expenses in the Labor-HHS-Education appropriations conference report. That would bring the CHIP offsets tally to $58.3 billion since the GOP House takeover after the 2010 midterms, according to a review of Labor-HHS-Education spending laws over the past nine years.

New Study Reveals GRAVE Consequences of ObamaCare. As liberals tell us, over 20 million people were insured thanks to ObamaCare. When President Trump repealed ObamaCare's individual mandate (the penalty on people who don't purchase insurance), it wasn't uncommon to see fear-mongering that 20 million people were about to be kicked off their insurance plans. In reality, 14.5 million of the 20 million people who gained insurance through ObamaCare were added to Medicaid and the Children's Health Insurance Program (CHIP). In other words, by just expanding coverage from existing government healthcare programs. Trump did nothing to change this, but it is worth noting that according to a new study, it's still hardly an ideal way of ensuring Americans.

74,531,002 Enrolled in Medicaid/CHIP. As of April, there were 74,531,002 people enrolled in Medicaid and the Children's Health Insurance Program as of April, according to the latest data released by the Centers for Medicare and Medicaid Services. That is up 16,705,235 in the 49 states that reported their Medicaid/CHIP enrollment numbers for both the July-to-September period of 2013 (the last quarter before the Obamacare exchanges opened) and this April. The 74,531,002 enrolled in Medicaid/CHIP as of April includes the numbers for all 50 states and the District of Columbia.

71,777,758 Enrolled in Medicaid and CHIP; Up 14,478,342 Since Obamacare Exchanges Opened; 1 for Every 2 Americans With a Job. As of the end of 2015, there were 71,777,758 individual in the United States enrolled in Medicaid or the Children's Health Insurance Program (CHIP), according to data published by the federal Centers for Medicare and Medicaid Services. The 71,777,758 people enrolled in Medicaid and CHIP as of December, according to CMS, was an increase of 14,478,342 from the average monthly enrollment of 56,274,369 in the period of July through September 2013, just before the "State-Based Marketplaces" opened in October 2013 under the terms of the Affordable Care Act (AKA Obamacare). That means overall Medicaid and CHIP enrollment has increased 25.7 percent since the Obamacare marketplaces opened.

SCHIP Is for Children in Name Only. The [SCHIP] program has strayed far from its original mission. A study by Jonathan Gruber of MIT confirmed that six of every 10 people covered by SCHIP expansions already had private coverage. What this means is SCHIP is extending coverage to previously insured children. It is crowding out private insurance coverage. Further scrutiny reveals that SCHIP has also strayed from its mission of targeting the needy.

Obama Administration Sinking Millions Into Government-Run Health Care for Children. While Democrats and Republicans disagree on establishing a government-run health insurance plan as part of health care reform, such programs already exist — and are thriving. On Monday [2/22/2010], Health and Human Services Secretary Kathleen Sebelius announced that 10 states will share $100 million in federal grants to improve health care quality and delivery systems for children enrolled in Medicaid and in the Children's Health Insurance Program (CHIP).

Sinking SCHIP: A First Step toward Stopping the Growth of Government Health Programs. SCHIP and its larger sibling Medicaid currently enroll many people who do not need government assistance, including some families of four earning up to $72,000 per year. That is a direct result of federal funding rules that reward states for making more Americans dependent on government for their health care.

State Children's Health Insurance Program (SCHIP). The State Children's Health Insurance Program (SCHIP) was created in 1997 as a supplement to Medicaid. It was originally designed to serve as a "safety net" for children in families whose annual incomes exceed Medicaid limits but who cannot afford private health coverage. The program has grown in scope since its inception, and today just over 10 percent of the 6 million enrollees nationwide are over the age of 18.

Does SCHIP Work? Pres. Barack Obama proclaimed in his inaugural address, "The question we ask today is not whether our government is too big or too small, but whether it works." If he was serious, he should veto the $115 billion expansion of the State Children's Health Insurance Program that is soon to reach his desk — and insist that Congress eliminate the program entirely.

Obama and the Liberal Freeloader Culture. Liberals have made freeloading into a way of life — even for the well to do. There's the well-to-do woman who cadges free meds from a physician relative. There's the well-to-do woman who's signed up for her state's basic health plan. There's 2007's S-CHIP poster child whose parents can afford late-model cars and private school tuition but not health insurance.

Subsidized Health Care: a view from the exam room. When serving in the Rural Health Center in my community, my colleagues and I offered free or discounted care for a large number of patients. Many were covered by Medi-Cal or one of dozens of state programs paid for by the taxpayers of California. The following items were commonly seen on patients or carried by their dependent children, who were also covered by subsidized programs:
• Cell phones and "BlackBerry" PDAs, including just-released models with a price tag of $400, plus an ongoing monthly service fee of $65-$150
• iPods and portable DVD players
• GameBoys and handheld electronic games
• Artificial fingernails requiring maintenance every two weeks...
• Elaborate braided hair weaves, $300 per session plus frequent maintenance
• Custom-designed body art...

The Latest Entitlement: The House made its first down payment on President Obama's health-care plans last week, passing 289-139 a major expansion of the State Children's Health Insurance Program. The Senate is scheduled to take it up soon and pass it easily as well. These days tens of billions in new spending is a mere pittance, but Schip is also the Democratic model for a quantum jump in government health care down the line.

SCHIP Expansion Amounts to 'Socialized Medicine' Senate Republicans Say. Senate Republicans say expansion of the State Children's Health Insurance Program (SCHIP) amounts to an attempt by congressional Democrats to socialize the nation's health-care system.

Senators Approve Health Bill for Children. The Senate passed a bill on Thursday [1/29/2009] to provide health insurance to more than four million uninsured children, as a newly empowered Democratic majority brushed aside Republican objections. The vote was 66 to 32, with nine Republicans joining Democrats to support the bill.

Obama breaks five-day pledge. President Barack Obama kept one campaign pledge Wednesday afternoon and at the same time violated another when he signed into law the State Children's Health Insurance Program, which extends health care coverage to 11 million low-income children. The White House views the SCHIP legislation as a down payment on Obama's pledge to provide universal health care by the end of his first term.

Obama's First Tax Hike. President Obama approved his first tax hike today [2/4/2009]. The bill he signed to expand the State Children's Health Insurance Program contains a provision to increase taxes on tobacco by a whopping 155 percent. That means the federal taxes on cigarettes have gone up an additional 61 cents a pack. This brings federal taxes on a pack of cigarettes to $1 per pack total.

Our Spendthrift States Don't Need a Bailout. Last year at this time, many governors and state legislators were imploring Congress to let them spend more money by expanding the State Children's Health Insurance Program. Since the states share the cost of the program with Washington, the expansion would have allowed them to cover families with incomes up to 300% of the poverty level (more in some cases). It also would have meant hundreds of millions in additional state spending, and an estimated $24 billion in additional federal spending. President Bush vetoed the bill. Today, governors and state legislators are singing a different tune.

The SCHIP to Socialized Medicine. The debate on Congressional reauthorization of the State Children's Health Insurance Program (CHIP) is colored by popular myths. The worst of the myths may be the notion that the CHIP debate in Washington is about insurance. But it is actually about expanding a welfare program.

Socialized Medicine for 'Kids'. Democratic Sen. Jay Rockefeller's version would triple SCHIP's current five-year cost of $25 billion to a level of $75 billion. That would grant federal largesse to more than just poor "kids" (as politicians endearingly call children). An estimated 71 percent of all American children in families of four making as much as $82,000 a year would become eligible, with states also continuing present coverage of adults under SCHIP.

Child's Play. In truth, I do love kids. But it's the "the" in The Children that's the problem. It transforms children into a principle for which any violation of limited government is justified. … The idea was as simple as it was brilliant: By making The Children the beneficiaries of welfare rather than the adults, the left could portray any attempt to curb the welfare state as "anti-child."

SCHIP Expansion: Socialized Medicine on the Installment Plan. The State Children's Health Insurance Program (SCHIP) was created by Congress and President Bill Clinton as part of Balanced Budget Act of 1997. SCHIP was intended to give $24 billion in federal matching funds over ten years to state governments for the provision of health insurance to about 5 million uninsured children. Eligibility was supposed to be restricted to children whose parents earned too much to qualify for Medicaid, but less than 200 percent of the federal poverty level. Like most government programs, SCHIP soon exceeded its intent.

SCHIP of State: The battle over the State Children's Health Insurance Program, or SCHIP, is a perfect first example of how Democrats intend to play their spending fights this fall. They're demanding at least $30 billion more than Mr. Bush's own generous $5 billion SCHIP increase. Any congressional Republican who votes against this hike will be accused of leaving "poor kids" to suffer without health care. The goal here, as it will be in all the big money fights to come — appropriations bills, a farm bill — will be to make it too politically hot for Republicans to stand by their spending principle.

SCHIP Expansion Uses Smoke Screen. SCHIP expansion is known by Washington insiders as a blatant effort to incrementally introduce Hillary Care. Its strategic success is founded on the deceptive argument that "it's for the kids and tobacco will pay for it."

SCHIP off the Old Block. The new House bill's "pregnant woman" rule seeks to deny the existence of the child in utero while still covering the adolescent mother. This is a calculated move to open the door to federal taxpayer-funded abortions. In the 17 states that now fund elective abortions (14 of them are forced to do so by court order) this coverage could be used as a license to kill.

The 'S' in S-CHIP is for 'socialist'. There can be no better contemporary example of the creeping crud of socialism than the congressional exploits surrounding reauthorization of the State Children's Health Insurance Program. But it's refreshing to see President Bush has drawn such a deep line in the sand. Whether it's a Maginot line, however, remains to be seen.

Sinking SCHIP: A First Step toward Stopping the Growth of Government Health Programs. Federal lawmakers are considering legislation that could result in millions more middle income families obtaining health insurance from government. Unfortunately, the debate over expansion of the State Children's Health Insurance Program is divorced from the reality of who truly needs assistance and the forces that are making health insurance increasingly unaffordable. SCHIP and its larger sibling Medicaid currently enroll many people who do not need government assistance, including some families of four earning up to $72,000 per year.

SCHIP's Perverse Incentives: Picking the worst government program would be a huge challenge, but picking the worst funding system is much easier. Programs involving joint federal-state funding contain built-in incentives to expand the size of government because politicians at either level can buy more votes by expanding the program, knowing that they only have to pay (depending on the formula) a share of the cost. In other words, lawmakers can promise $1 worth of goodies for, say, 50 cents. This is one of the reasons why Medicaid is a fiscal disaster.

Sink this SCHIP. SCHIP is senseless. Like its much larger sibling, Medicaid, the program forces taxpayers to send their money to Washington so that Congress can send it back to state governments with strings attached. Both programs force taxpayers to subsidize people who don't need help, discourage low-income families from climbing the economic ladder — and make private insurance more expensive for everyone else.

Jindal Care. "I say this with good conscience: every year we don't do anything about the uninsured, we end up, by default, moving closer to a single-payer system," Louisiana Secretary of Health and Hospitals Alan Levine warned TAS in an interview. "Because every year, more people get enrolled in Medicare, more people get enrolled in Medicaid, and more people get enrolled in SCHIP... that by itself is having a death spiral effect on private insurance." And a single-payer system, he added, "would be a disaster."

Eligibility in New Jersey for 'poor' program includes families of 4 making $72,000. President George W. Bush dismissed an agreement reached yesterday [9/21/2007] by congressional leaders to expand the government's children's health insurance program and said he will veto the measure. "Members of Congress are risking health coverage for poor children purely to make a political point," Bush said in his weekly radio address.

Veto May Spur House Struggle Over CHIP Bill. Democrats said they plan to pressure House Republicans to support the bill and hope to vote on overriding the president's veto in mid-October. For some Republicans, it is a dicey political move to vote against a popular spending program and side with an unpopular president.

Abandon SCHIP: Big Government Returns. In just ten short years SCHIP has gone from being a program for struggling families to a permanent middle class entitlement. The alternative — a reform of private insurance to expand coverage for all Americans — has gained little attention during the debate.

The cold cackle of opportunism: Legislation like this makes nearly everybody feel warm and fuzzy, like a supper of beef stew and cornbread on a cold winter's night. Who wants the little children to be sick? And if the government pays for it — the health insurance, not the beef stew and cornbread — it doesn't cost anybody anything. The voters get "free" insurance, the congressmen get free protection against losing an election. It's win-win all around.

The SCHIP Hits the Fan. Hillary Clinton, now seeking the Democratic presidential nomination, has put forth a vision of health care for all the uninsured which would be funded by increasing federal income taxes, raising tobacco taxes and raising capital gains taxes. This would assure a universal health care system, she contends, and move us in the direction of socialized medicine (a term she has been careful not to use).

Why do you hate children so much?! [SCHIP is] bad policy for a myriad of reasons — it doesn't prioritize truly poor children; "children's insurance" actually covers adults; you can make $80,000 dollars a year in some cases and still qualify for it; it will incentivize people to get off of employer insurance rolls and have taxpayers foot the bill; it's funding mechanism — a cigarette tax — is effectively a tax on the poor; the way the proposed program's "funding cliff" is set up will encourage expansion of the program in five years time; it's a step in the direction of socialized medicine;….

Schip Howlers: After President Bush vetoed Congress's major expansion of the State Children's Health Insurance Program, Nancy Pelosi declared: "President Bush used his cruel veto pen to say, 'I forbid 10 million children from getting the health benefits they deserve.'" As far as political self-parody goes, that one ought to enter the record books. It's wrong on the facts, for one, which Speaker Pelosi knows.

Let SCHIPs Chart Their Own Course. The Framers would have insisted on nothing less, as reflected in the Constitution's Health Care Clause. Oh, wait. The Constitution has no Health Care Clause. Nor does it include any other provision that authorizes Congress to spend taxpayers' money on health insurance for the children of the working poor, the grandparents of the middle class, the nephews of the super-rich, or the kin of any other socioeconomic group. Still, Bartlett and Bush deserve some credit for resisting the expansion of a highly popular program that never should have been created to begin with, especially since they knew they'd be accused of being stingy child haters.

Sinking SCHIP: A Defining Moment. The left-wing elite is in high dudgeon over conservatives who have dared to question the wisdom of extending the State Children's Health Insurance Program (SCHIP) to middle-class families, adults and even illegal aliens to the tune of $35 billion — funding dependent on saddling millions of smokers with regressive taxes and maintaining their nicotine addictions.

The Democrats' SCHIP Runs Aground. After smearing a compassionate conservative in their attempt to override President Bush's veto of an overloaded SCHIP bill, Democrats promise to try again. Maybe next time they will tell the truth.

Beating Back S-CHIP: Government policies have made enough of a mess of health care that even middle-class families can have trouble finding affordable health insurance. But the S-CHIP expansion is a perverse solution to this problem. Its design guarantees that it will transfer money from poor states to rich ones, and from poor people to middle-class ones. It will lead to worse health care for some children. It will reduce social mobility by creating a poverty trap (wherein getting raises leads to a loss of benefits and thus of total income).

Attack on President Bush Continues Past SCHIP Veto Override Vote. Democratic Rep. Pete Stark launched a shocking one-man assault on the Bush administration Thursday [10/18/2007], interrupting floor debate before a failed attempt to override President Bush's veto of the so-called SCHIP bill to suggest that U.S. troops in Iraq are getting their heads "blown off for the president's amusement." The vote to override the veto of the State Children's Health Insurance Program bill failed, 273-156, 14 votes shy of the number necessary.

Cigar Tax Up 6,000% to Pay for SCHIP. The increase in federal tobacco taxes that congressional Democrats are proposing to fund their new healthcare initiative is being praised by anti-smoking advocates as an effective way to discourage tobacco sales. … The tax hikes would include raising the federal cigarette tax from 39 cents to one dollar. Additionally, the tax cap on cigars would be raised from five cents to three dollars, a 6,000 percent increase.

The children's crusade — for socialized medicine. The children's health program is the occasion of the biggest domestic-policy dust-up of Bush's presidency. Bush vetoed the Democratic re-authorization of the bill as too profligate. The House upheld his veto, but not without Democrats gleefully portraying the president as an enemy of children's health.

Bush says time wasted on SCHIP. President Bush said yesterday [10/26/2007] that congressional Democrats are "wasting time"passing legislation to expand children's health coverage that they know he will veto, and he also said lawmakers are dragging their feet on a slew of other bills and one key nomination. "This is not what congressional leaders promised when they took control of Congress earlier this year," the president said.

A Moral Case Against SCHIP Expansion: When it comes to SCHIP, even some on the right have lost their moral compass — having fallen victim, perhaps, to the notion that if it involves "the children" then they should abandon both principle and common sense. But with the left's attempt to expand medical entitlement benefits to the middle class, this is no time for compromise. For even compromise will work toward their ultimate goal of incrementally socializing healthcare.

If Congress Truly Wants to Help Children: There has been a whole lot of hoopla over the past few weeks with the Democrats' latest attempt at foisting an expanded socialist encroachment upon the American electorate (SCHIP), via the really-getting-old-now, "It's-for-the-Children," ploy. Nancy and Hillary both need to re-read their worn copies of Alinsky's Rules for Radicals. That ruthless revolutionary knew that once the folks see through your tactic, it becomes not only tiresome, but downright irritating.

SCHIP's Path for Illegal Immigrants: [Scroll down] Across the table sit two dozen House Republicans who have indicated a willingness to "negotiate" over such issues as whether a program designed to deliver health coverage to children in families slightly above the poverty level should cover adults, children from middle-class families earning more than $62,000, and illegal immigrants. Yes, illegal immigrants. This last issue promises to be the most difficult one to resolve.

Bush Sinks SCHIP Again. Saying that the State Children's Health Insurance Program (SCHIP) bill that came to his desk on Wednesday [12/12/2007] was identical to the bill he vetoed in October, President George W. Bush again vetoed a measure that would extend and expand federal funding for the program.

How Can You Oppose Health Care for Children? Congress has again passed an expansion of the State Children's Health Insurance Program (SCHIP), only to have it vetoed again. That has given its backers yet another chance to proclaim how much they care for children and rehash attacks against President Bush, as when Lois Capps (D-CA) called it "denying vital healthcare to some of the most vulnerable in our society," and promise to try again next year.

SCHIP Expansion: Robin Hood in Reverse. The increase in federal spending on health insurance for kids will go largely to children who could have had private coverage anyway. Yet under SCHIP, these children will have less access to care than they currently have. Funding for this effort will come from people who have less income than the families who will benefit.

The President's Proposals for Medicaid and SCHIP: One Step Forward, One Step Back. Last year, the President took a prudent and fiscally conservative approach to reauthorizing SCHIP by proposing an increase of $5 billion over five years. He now proposes spending four times that amount, recommending $20 billion over five years. By 2013, spending on SCHIP would top $46.3 billion, almost doubling its current cost. Moreover, the proposal would dedicate $50 million in FY 2009 and $100 million in each of the next four years for outreach. The goal, as described by the Department of Health and Human Services, is to increase enrollment 3 percent by FY 2009 and 12 percent by FY 2012.
Emphasis added.

The Latest:
Hawaii ending universal child health care. Hawaii is dropping the only state universal child health care program in the country just seven months after it launched. Gov. Linda Lingle's administration cited budget shortfalls and other available health care options for eliminating funding for the program. A state official said families were dropping private coverage so their children would be eligible for the subsidized plan.

Tragedy Averted. Seven months. That's all it took before Hawaii concluded that the only state universal child medical coverage program in the country is unsustainable. Give officials credit for heading off a disaster.

What Do We Really Know About the Uninsured? Next year, when Barack Obama becomes president, he will almost certainly move quickly toward some form of government-provided — and possibly government-mandated — health insurance. A principal reason for this is the oft-cited figure of 46 million uninsured Americans. But what does this number mean? And do we really need to remake our entire health-care system to protect the uninsured? Most people have an incomplete understanding of the uninsured population, which can lead to bad policy choices.



---
Other countries' experiences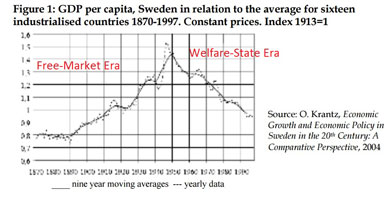 In One Chart, Everything You Need to Know about Big Government, the Welfare State, and Sweden's Economy.




Swiss voters reject 'money for nothing' universal income proposal. Swiss voters overwhelmingly rejected a proposal that would have guaranteed everyone in the Alpine nation an unconditional basic income, according to projections published Sunday [6/5/2016] by public broadcaster SRF1.

Cloward-Piven Strategy Working Perfectly — in Europe. The now-infamous "Cloward-Piven Strategy" outlined by Richard Cloward and Frances Fox Piven in 1966 proposed a clear roadmap to socialism: get so many people addicted to government entitlements that the economic system collapses, and in the resulting chaos the populace will demand and vote for a new economic system in which everyone is supported by the state. Sounds logical (if nefarious), and President Obama seems hell-bent on bringing it to fruition in the United States. [...] The message is clear: Once enough voters are on the dole, regardless of your party's ideology or what label it has, you will win elections if you promise to to keep the free money flowing.

The Utterly Horrifying English Welfare State. I've occasionally commented on foolish public policy in the United Kingdom, including analysis on how the welfare state destroys lives and turns people into despicable moochers. But if you really want to understand the horrifying absurdity of the welfare state, check out these passages from a report in the Daily Mail.

Unemployed man cuts off foot to continue claiming jobless benefits. A scrounger who almost died after cutting his own foot off so he could stay on jobless benefits has been told he might still qualify for work despite his amputation. Long term unemployed Hans Url, 56, had just been told his hand-outs would stop if he did not accept work found for him by job centre staff.

Welfare Reform R.I.P. Even many liberals thought the 1996 reform ended the welfare debate forever. ... At issue was the idea of insisting that millions of people make a transition from the dole to the work force. States were given much more power in running their federally-funded welfare programs, deadlines were imposed on individuals getting back to work, and a lifetime time limit of five years was set for family benefits. Defenders of the status quo warned that more than a million additional children would be condemned to poverty. But what really happened was a 65% drop in welfare caseloads, millions liberated from the government teat and returned to supporting themselves, and a model gratefully followed by other countries.

Welfare's Devastating Effects. To most people, I imagine, welfare seems an obviously good thing. But in fact the corrosive and iniquitous side of welfare has been evident for many decades. It's only now that people are poking their heads out of the trench and daring to say so. You can see the devastating effects of welfare in Britain, for example, in the exponential rise in single motherhood. The figures are astonishing. In the 1950s almost all children in Britain were brought up by their natural parents. Today, only around half the children in Britain are brought up by their natural parents. Half!



---



Miscellaneous news and commentary about homeless people

This subsection has moved to a page of its own, located here.

Back to the Poverty index page
Back to the Home page