The Editor says...
I hope you will notice how much of this news comes from California, and in particular, San Francisco.
Meet the New Dark Age. Perhaps the most conspicuous manifestation of this drift into a new Dark Age is the litter of idle vagrants despoiling our cities and towns. All kinds of statistics show a steady increase in their numbers. Why? After all, economic progress has more or less continued over the past several years — and, yet, we still have increasing squalor and the attendant devaluation of once desirable locations. The answer is simple and completely in tune with the decline of civilization. Our legal and political leaders are being undeservedly nice to these people. They mistakenly believe that coddling street bums is what society wants and doing such will enhance their political popularity. Some years ago, P.J. O'Rourke defined this practice as "compassion fascism." Our political professionals even go to great taxpayer expense to provide these bums with basic amenities while also compelling retailers to look the other way when their merchandise is being pilfered. This does nothing to discourage such obvious pathology. What is needed, instead, is neglect. Let them suffer. Maybe then they'll clean up their acts and rejoin society.
[Self-inflicted] Migrant crisis results in jaw-dropping 2.6 [million] overtime hours for some NYC agencies. Many city workers are racking up jaw-dropping overtime to help tackle the Big Apple's multi-billion-dollar migrant crisis — even as Mayor Adams begins slashing agency budgets for public safety and other critical services. Forty-seven — or nearly half — of the city's top 100 OT hogs work at the Department of Social Services and Department of Homeless Services, whose duties include assisting migrants, according to newly released city payroll records. Each worker accumulated at least 1,937 hours in extra pay for the fiscal year ending June 30. Leading the way was Anthony Pierce, a Bronx eligibility specialist at the DSS — he worked 3,172 hours of overtime, a 142% increase over previous 12 months. That averages out to roughly 14 hours a day, seven days a week.
The Editor says...
I used to work with people who would occasionally pad their timesheets and get paid for hours when they weren't even in the building. But to submit a timesheet that claims 14 hours a day, seven days a week, requires the complicity of at least one supervisor, does it not?
City Fines People For Feeding The Homeless Without A Permit. The city of Shawnee, Oklahoma is set to fine people for feeding the homeless without a permit starting Nov. 16. Free food will soon be forbidden from being handed out to homeless people in the city's downtown area per a new ordinance due to the trash left for locals to pick up, according to KOCO. Feeding events that resulted in an abundance of waste occurred in the past, the city of Shawnee said. [Tweet] "There were two and three groups coming into feed or where groups have left and left trash in the downtown area, which then either city staff had to clean up or nearby property owners depending on which way the trash blew," Shawnee City Manager Andrea Weckmueller-Behringer said. Giving a single meal is not outlawed under the new ordinance, which only applies to "feeding operations," the outlet reported. Anyone trying to feed multiple people on the street without a permit may be issued a first offense fine of $250, according to the ordinance. The second offense fine amounts to $500.
Ten more statistics to ruin your day. [#3] A friend of mine moved to Arizona years ago to escape New York taxes. Though that state is overly hot six months of the year, he liked the place. Now, he says, the highway exit ramps are filled with homeless, and statistics back up his observation: from January 2020 to December 2021, the number of homeless in AZ is estimated to have increased by nearly 30 percent. The National Alliance to End Homelessness says that homelessness rates have been climbing nationally by about 6% every year since 2017. Homeless encampments are growing across the country.
Seattle Soccer Club Ends Season Early Due to Vandalism and Crime From Nearby Homeless Encampment. A soccer field in Democrat-run Seattle serving underprivileged kids was vandalized last week. An unknown person(s) drove around the field, tearing up major portions of the grass. There is an estimated $100,000 worth of damage to the field. The result was that the soccer club had to cancel the remainder of the season and possibly look for another location for these kids. What makes it even worse is there is a homeless encampment next to the soccer field which according to the King County Sheriff's Department has had reports of fires, shootings, and drug overdoses.
Seattle youth soccer club ends season abruptly amid threats of vandalism, nearby homeless encampment. A youth soccer program in Seattle serving underprivileged children in the community ended its season abruptly last week following an act of vandalism that caused more than $100,000 worth of damages. A nearby homeless encampment and the threat of violence and crime has now caused the program to look for a new home all together.
'Homeless' man found sleeping in ceiling of Oklahoma convenience store. The employees at an Oklahoma dairy store got a strange surprise when they arrived at work and discovered a squatter napping in the ceiling of the eatery. Philip Hickman, 41, was caught snoozing in Braum's Ice Cream and Dairy Store in Norman, Oklahoma, on Sept. 9, according to police bodycam footage of the revelation. Employees called police at around 6 a.m. to report a possible robbery after tiles had fallen from the ceiling and the camera system had been damaged, according to News 9. Norman Police arrived and found the homeless man inside the building. [Video clip]
Denver is set to break ground on first 'micro community' to house 1,000 homeless people. Encampment-overrun Denver is set to break ground on the first of many micro-communities designed to house the homeless, with 1,000 taxpayer-funded homes set to open by the end of the year. The site, located on S. Santa Fe Drive, is one of 11 being propped up by the famously progressive city, which is currently in the midst of an unprecedented homelessness crisis. Worsening matters is the fact the homeless are not exactly roughing it, with tent-laden processions complete with furniture and other amenities now a common sight in the Mile High City.
The Editor says...
If the homeless are made comfortable, more of them will show up. This is a lesson yet to be learned in Denver.
Homeless sue over Portland's new daytime camping ban. Over the summer, Portland passed a new camping ban was designed specifically to pass muster with the courts. As we've discussed before, west coast cites are stuck with a 9th circuit decision (Boise) which made it unconstitutional for them to remove homeless campers from the streets unless they had a shelter bed to offer them. But Portland's ban was only in effect from 8am to 8pm. In other words, you could still pitch a tent on the sidewalk in the evening if you had nowhere else to go but you couldn't leave the ten up all day. Even once the law was passed, Portland chose not to enforce it. Instead the mayor announced a "summer of education."
No, It's Not 'People Experiencing Homelessness'. Tampa, Fla., has an overwhelming homeless population. The city would like to believe only 2,040 of its residents are "experiencing homelessness," but the numbers don't add up, considering that 11 years ago the estimate was 16,000. But then again, back in 2012, the GOP held its national convention in Tampa, so it was in the left's best interest to get the highest number possible for the local homeless. [...] The problem with Tampa's numbers traces back to who is in charge: Democrats. They have to look good, especially when they have an openly gay, white female mayor at the helm whose intended legacy is to transform Tampa from a dingy port town to a glittery Miami rival, or something. But how much confetti are the partisan hacks willing to throw over the truth? Look no further than their 2023 Homeless Point-In-Time Count. They took one single day and some volunteers "to sample parts of the county and extrapolate a valid estimate of how many homeless neighbors we have in our community."
Homeless Camp in Denver Features Pop-Up Bar With Rentable Prostitution Tents. Bidenomics is really doing what it was meant to do, as the world's smelliest tavern has officially opened up in the Mile High City! A homeless camp has a decked out open-air bar that also rents out tents for prostitution on the north edge of Downtown Denver, according to police. The city's growing homeless population has turned the sidewalk at 23rd and Champa streets into an encampment that features lounge chairs, umbrellas and Astroturf.
A 'poop' rampage in Wyoming is an important insight into today's homeless. The headline at the Daily Mail was eye-catching: "Squatters take over Wyoming city: Vagrants leave millions of dollars worth of damage to motel and 500 lbs of human feces in downtown area — as Casper fights off a homeless invasion." It was an image at odds with how we think of Wyoming; that is, a clean, naturally beautifully conservative state. But the homeless plague is everywhere, and the situation in Casper reminds us that most of today's homeless are not just ordinary people down on their luck; they are dysfunctional drug addicts who are the inevitable result of 60 years of leftist drug policies.
Squatters take over Wyoming city: Casper fights off a homeless invasion. Squatters have taken over a Wyoming city after some left millions of dollars worth of damage to a motel and others left 500 lbs of feces in the downtown area. Casper, the second-largest city in the state, is home to 60,000 residents but now also has about 200 homeless people. Some have seized various properties that are empty or abandoned, including an abandoned Econo Lodge motel that hasn't operated since November.
Austin fire officials battle blaze at homeless encampment after years of warnings from citizens. Austin firefighters late Sunday night were on the scene of a brush fire that had erupted at a homeless encampment. AFD tweeted photos of the brush fire that had originated in an encampment along I-35 near Stassney. The department did not offer details about how the blaze started, the extent of the damage, or whether there were any injuries.
Man Walking His Dog Is Stabbed To Death By A Homeless Man On The Santa Monica Boardwalk. A man was stabbed to death Monday [7/31/2023] near the Santa Monica Pier, a popular destination for tourists and locals in the Los Angeles area, and a homeless man was under arrest in connection with the slaying. Officers with the Santa Monica Police Department responded to the pier around 2 p.m. after receiving a 911 call about an assault. When they arrived, they found a 27-year-old victim near the beach restrooms with at least one stab wound to the chest, FOX LA reported. [Video clip]
Police bodycam video shows horrid living conditions under Clemens, New York bridge. 18 News is investigating how a nationwide rise in homelessness is being felt in our area. Newly obtained bodycam footage from Elmira Police shows the living conditions in a homeless encampment under the southern end of the Clemens Center Parkway Bridge. 18 News asked police to perform a wellness check after a volunteer who helps feed the homeless entered the encampment last week. [Video clip]
Illegal Seattle homeless encampment [includes a] swimming pool for vagrant 'residents' to enjoy. Residents in an affluent Seattle neighborhood are outraged after homeless people set up a swimming pool at their encampment, which officials refuse to remove. Homeowners in Highland Park, where the median house price is nearly $600,000, say the addition feels like a slap in the face after months of voicing their concerns. Video captured by KOMO shows one woman sitting on a couch next to the pool and smoking fentanyl in broad daylight.
Trump-appointed judges on the Ninth Circuit smack down homeless camping 'rights'. If anything serves as a reminder that elections matter, check out what a Trump-appointed majority on the Ninth Circuit has ruled after a leftist panel of judges said otherwise. [...] There's a such thing as private property, a such thing as public property, and if you're a drug addict making yourself a plague on society, you don't own any of it. Polls repeatedly show that this is the public understanding of the matter, and bums shouldn't be free to take over every public park. But to the Los Angeles Times, that seems to be a bad thing, a conservative thing, a case of stolen identity, given that the Ninth had been historically ruled by the nation's foremost far leftists until President Trump came along and appointed non-judicial activists.
Map shows Austin, Texas' homelessness explosion with 10K living in camps. Liberal policies have led to a shocking explosion in homeless camps across the state capital, with around 10,000 people living in 168 different areas that have popped up across the city, sources tell The [New York] Post. The illegal camps have been visited and mapped by local filmmaker Jaime Hammonds and show how out of control Austin's homeless crisis has become. His map reveals the clandestine encampments have spread to a far greater extent than many taxpaying residents had previously realized — dotting the entire city, including near popular tourist destinations like Zilker Metropolitan Park.
Video shows Austin's 'crown jewel' trail trashed by hidden homeless camps. Jamie Hammonds said city policies have pushed homeless into areas where the public can't see them[.] An Austin, Texas, resident is raising awareness of the city's homeless problem and its unseen impact on greenbelt areas. Jamie Hammonds, an investigative filmmaker who runs the organization Documenting Austin's Streets and Homeless, or DASH, shared videos Wednesday on Twitter, showing a homeless encampment in the Violet Crown Trail after roughly a year of neglect. "It's destroyed. It will never be the same," Hammonds tweeted. A real-estate agent concurred, saying the "environmental damage from these camps is immense."
Portland bans daytime homeless camping. Portland's city council voted Wednesday to pass an ordinance prohibiting camping during daytime hours in most public places as it, like other places in the U.S., struggles to address a longtime homelessness crisis. The 3-1 vote changes city code to say that people may camp in nonrestricted areas from 8 p.m. to 8 a.m., but after that they must dismantle the site until the permitted overnight hours begin again. The ordinance also bans camping entirely near schools, parks and busy streets among other locations.
NYC vending machines cater to drug users with free crack pipes, lip balm — and Narcan for ODs. Big Apple officials unveiled a street vending machine Monday that covers it all when it comes to catering to drug-users, offering free handy paraphernalia such as crack pipes and lip balm — and also Narcan for overdoses. The vending machine, one of four set to be placed in some of the city's most drug-infested neighborhoods, swaps out what would be more typical offerings such as candy bars and potato chips for the drug-related freebies to try to combat the surge in overdoses in the five boroughs, city Health Department bigs said. "Every three hours, we're losing a New Yorker [to drugs]. And it looks like 2022 is on track to be our highest year ever in overdoses," Health and Mental Hygiene Commissioner Ashwin Vasan said at a press conference next to the first machine, which is parked near a nonprofit aimed at offering housing and other support for those in need.
In The NYC Subway, Cops Are Finding Dead Homeless People Everywhere. Video shows NYPD finding a dead, homeless man at the Jamaica Center-Parsons/Archer station. Initial indications say it was an overdose. [Video clip]
Turns out yet another mosque fire in Minnesota was set by a Muslim. A 42-year-old Muslim man, Said Murekezi, has been charged with second-degree arson, second-degree burglary, and fifth-degree drug possession. Murekezi admitted to ATF investigators that he started a fire at the Oromo American Tawhid Islamic Center on Wednesday morning. He said he broke into the center the night before and slept there overnight, "looking for things inside to burn." He told police that he is Muslim and burned the building "as a form of protest," according to the charges, because the vacant building could be used by Muslims in the community who are homeless.
One of the largest homeless camps in the nation will be cleared after a lawsuit. The Zone is the name given to a homeless camp in Phoenix which holds somewhere between 900 and 1,100 people. It had completely taken over the area near Joe Faillace's sandwich shop, Old Station Sub Shop. The place has been in the same location for 37 years but the growing homeless camp has created endless daily problems. [...] The cleanup is set to begin Wednesday and continue through the summer. Where all these people will go isn't clear. There aren't enough homeless shelter beds for all of them but the reality is that many of them don't want the help being offered. What they want is to keep doing drugs, something they can't do in a shelter.
A homeless man was killed by another New York City subway passenger. Governor Karen and the city's Cop Mayor called for justice, which is code for hang whoever they arrest. Where were the police? Why do Democrats allow this to happen? We know why. To cover their tracks. Democrats turned subways into hell and now give good citizens the choice between being the victim of a lunatic who kills them or a lunatic justice system that punishes anyone who stands up to the psychos.
The real surprise here is that New York City still has tourists!
New York City is starting to smell like dirty bong water, disgusting even the tourists. [Scroll down] The bottom line here is that the failure to enforce pot laws and the decriminalization of marijuana use inevitably leads to public consumption and a lot of bums whose lives revolve around pot-smoking as a lifestyle choice, camping out on the streets. The link between homeless encampments and pot smoking is very strong. The failure to clear those encampments or enforce any laws against petty crime means lots more pot stench to breathe in. The other issue is that excessive pot-smoking is linked to a lot of crime. Medical studies have shown that pot-smoking in young men with genetic vulnerabilities, is connected to the emergence of schizophrenia. Many schizophreniacs commit hard, impulsive violent crimes. Virtually all mass shooters are prodigious pot consumers. Pot consumption is a part of this whole dysfunctional picture.
Why Homelessness Is Worse in California Than in Texas. Homelessness has been rising in America's West Coast cities for more than a decade. Entire blocks of Los Angeles, San Francisco, and Portland are occupied by tent encampments plagued by violence, drug overdoses, and disease. But the problem is concentrated in a handful of cities; nationwide the homeless population has been shrinking for a decade. To figure out why some places are so much more successful than others, we took a trip to Texas where the homeless population declined almost 30 percent over the last decade. (It grew by more than 40 percent in California in that same time span.) Today, the Lone Star state counts 90 homeless people per 100,000 residents. In California, the problem is almost five times as bad. Not only does Texas have vastly different politics and policies from the West Coast, but it's also home to three large cities with three very different approaches to homelessness: Austin, San Antonio, and Houston.
Can We Do Anything About America's Decline? How eerie that medievalism — defecting, urinating, fornicating, injecting in the street — is relabeled "homelessness — as if the problem is merely a shortage of apartments or tent cities. Somehow cities developed the notion that it was crueler to be told not to pull down one's pants and defecate in the street than it was for a pedestrian to step into infectious human excrement.
How compulsory arrest and recovery could help homeless addicts. In big cities across America, homelessness has been so bad for so long that many have given up on ever ending it entirely. Last year, federal agencies counted a staggering 582,462 homeless people nationwide — up nearly 20% since 2015. It's not the same everywhere. Homeless figures in California, for instance, increased more than any other state — from 162,000 just before the pandemic to 172,000 last year. And those figures continue to rise, fueling a vicious cycle of homelessness and lawlessness that seemingly leaves no community unscathed.
Armed cops clear out vacant shopping mall turned into open air drug market. Police in Portland spent this past week clearing out a vacant shopping center in the city's deserted downtown [...] The building had been turned into an open-air drug market. Dozens of local police moved in on the vacant retail development Wednesday at around 7:30 a.m. by blocking the surrounding area and stretching out crime scene tape well down the block. An officer said that while they didn't find squatters, there had been people holing up in there in the days before. Police have been running round-the-clock patrols at the building since last Friday. The city's Central Bike Squad showed officers using battering rams to break down doors and access locked rooms in the building, which city officials called 'in crisis mode.'
A Nightmare in the Pacific Northwest. People who say "love is love" are morons. Living in Washington taught me that. [...] My case in point takes place in Bellingham, a once-idyllic college town way north of Seattle. It may have been the colleges that ruined it. One moment they were doing fine, and then someone started asking what they could do for the downtrodden. Next thing you know, the downtrodden are arriving en masse, and people are getting robbed, and feces is darkening the streets, and the mayor gets chased out of City Hall by Antifa. This last part seems like rhetoric, but it's the literal history. You can see things like it on video, and the cops, standing against hordes of ugly green-haired gender-fluid youngsters, stood by and took a beating over it.
Just how gross was it at that San Francisco Whole Foods? Whole Foods on Monday shut down its ritzy new flagship store in San Francisco, after just a year in operation, citing crime and safety concerns. I wrote about that astonishing event yesterday, brought on by the city's failure to enforce its own laws, noting that the company had a good customer base and had shelled out big to make the place attractive, but that was no match for the chaos the one-party government had allowed the area to fall into. [...] Obviously, the bums were taking over, or, as another commentator noted, Whole Foods had become "a food bank for the druggies and homeless." Another said it was "never a good sign to see your grocery store filled with cops and security.["] Fox News commentator Gerald[o] Rivera noted that what went on in that store and throughout the crumbling city amounted to an utter rejection of civilization.
Oregon is dealt a blow. On homelessness, the governor and Multnomah County Chair Jessica Vega Pederson have in the past given their general support to a proposal by Portland Mayor Ted Wheeler to create a large, sanctioned encampment where homeless people can live and access services. But they have yet to provide the money and collaboration to help make it happen. Such little progress on both increasing housing and curbing unsanctioned camping is particularly frustrating, considering the state saw one of the biggest increases in its homeless population in the country from 2020 to 2022. Letting people live in the elements — many of whom suffer from untreated mental illness or substance addiction — without access to services and at greater risk of homicidal violence isn't compassionate. Nor does it consider the justified frustration among residents over a declining sense of safety and weariness over the campers, tents and trash that have taken over sidewalks, trails and parks.
Portland perplexed by homeless cabins built along prime riverside real estate. Residents living near Portland's Willamette River have witnessed a series of homeless cabins and structures being built on prime river real estate with "million-dollar" city views but have so far been unable to get anyone to do anything about it. "Pretty much everyone comes back and says that they don't have jurisdiction because it's Union Pacific, it's a railroad," Ric Scaramella, who owns a condominium on the other side of the Willamette River, told KOIN in a report Sunday. Scaramella told the outlet that people across the river from his home have been building makeshift cabins, complete with doors, windows and sometimes even solar panels, on the banks of the river that feature views of downtown Portland.
Woman Working At Homeless Shelter Is Brutally Butchered By Homeless Woman With An Axe. A homeless woman fatally — and gruesomely — butchered a homeless shelter worker before she was seen wiping blood off her hands, Vermont authorities alleged this week. Zaaina Asra Zakirrah Mahvish-Jammeh is accused of taking a small ax to social worker Leah Rosin-Pritchard inside a Vermont shelter Monday, police said, according to reports. [Video clip]
Downtown S.F. on the brink: It's worse than it looks. The downtown area, the city's primary economic driver, is teetering on the edge, facing challenges greater than previously known, new data shows. The wounds suffered by the economic core are deep, and city officials have yet to come up with a plan to make the fundamental changes that some economists and business leaders argue could make the area thrive again. "A general economic decline is what we're trying to avoid," said Wade Rose, president of Advance SF, a business group that advocates on behalf of several major employers in San Francisco. The group is working with the city on short-term ideas to bring more people back downtown, but Rose agrees that the problem needs a rethink in the long run.
San Francisco, RIP? [S]omething like three-quarters of San Franciscans who deserted the city during covid have not returned. The same phenomenon has been observed in cities like Portland and Minneapolis, while other cities, like Salt Lake City, have rapidly bounced back. But Salt Lake City is not run by liberal goofballs. [...] When you go downtown and you don't feel safe and you see people "using the street as a toilet," you stop going downtown. There is nothing mysterious about this.
Report: Border Crossers Found Living Inside Downtown Chicago Police Station. Border crossers and illegal aliens, recently bused to the sanctuary city of Chicago, Illinois, from Texas, have been found living inside a downtown police station, local reports confirm. Since Texas started busing border crossers and illegal aliens to Chicago last year, more than 5,100 new arrivals have landed in the sanctuary city. Some of those migrants, CWB Chicago reveals, have ended up living in the city's police station.
OR, WA among states with largest increases in homelessness in U.S.. New data show how much Oregon has been impacted by the homelessness crisis since the start of the pandemic, and how we compare with the rest of the county. According to the U.S. Department of Housing and Urban Development, the Pacific Northwest saw some of the highest numbers of people unhoused from 2020 to 2022: nearly 18,000 in Oregon and more than 25,000 in Washington. "Those are lists where you don't want to rank near the top and seeing Oregon there was sad. I can't say I was necessarily surprised, but it was really sad," said Jon Seibert, director of programs at Blanchet House. "We know the issue has been getting worse for a few years and we've seen that reflected in our numbers, as well, and just anecdotally from what I see here on the ground."
Liberal city's 'disgraceful' move before baseball's opening day has activists furious. The city of Denver is facing criticism from homeless advocates after removing encampments near Coors Field ahead of the Colorado Rockies' opening day. "It's disgraceful, and they're not trying to solve the problem," Grant Francis, with the homeless advocacy group Mutual Aid Monday, told Denver7. "They're just trying to provide some optics that make it look like they're trying to do something."
The homeless industrial complex. Homeless people are big business in cities like New York, San Francisco, and L.A. Billions of dollars flow to nonprofits, bureaucrats, and contractors whose job it is to "solve" the homeless crisis. You may have noticed that the homeless crisis is in no way being solved. There are multiple reasons for that, of course, and the biggest one is that people are homeless for a reason. They are often mentally ill, drug abusers, or themselves the victims of abuse. The crisis itself is very real, both for the homeless people themselves and the people who have to live with them. Nearly everybody involved sees their quality of life get much worse, which is why citizens have kicked in billions of tax dollars a year to clean up the mess and help the people. The one group of people whose lives are improved dramatically by the continuation of the crisis, though, gets all the money and makes all the decisions on how to spend it. They are doing very well indeed.
Bill in Oregon Would Give $1,000 Per Month to Homeless People. In the state of Oregon, a newly-proposed bill would see the state government hand out $1,000 to the state's homeless residents, with no limits on how the money could be spent. As the New York Post reports, the bill was introduced by State Senator Winsvey Campos (D-Ore.) and State Representative Khanh Pham (D-Ore.), and would establish a "People's Housing Assistance Fund Demonstration Program." The program would give 12 monthly payments of $1,000 to Oregon residents who are either homeless or about to become homeless. The handouts are also available to those who either spend half or more than half of their monthly income on rent, as well as those who earn 60 percent or less of their area's median income.
Why not $5,000? Why not $10,000?
Oregon bill would give homeless $1,000 a month to spend with no restrictions. A proposed Oregon bill would provide the deep blue state's homeless population $1,000 per month that recipients could use at their own discretion. The bill, introduced last month, would establish a People's Housing Assistance Fund Demonstration Program to give 12 monthly thousand-dollar payments to those suffering from homelessness or who are on the brink of becoming homeless. "Payments may be used for rent, emergency expenses, food, child care or other goods or services of the participant's choosing," the bill states. People who spend more than 50 percent of their monthly household income on rent, and those who earn 60% or less of the area median income would also be eligible for the funding.
Squatters terrorizing Portland family almost set their home on fire. A family in Portland is being terrorized by squatters who have set up camp next door and even set their property on fire. Jacob and Beth Adams live next door to an abandoned home that has been taken over by several homeless people. The couple has caught the homeless people overdosing and stealing from their backyard -- but said the final straw was when the group set their property on fire.
Sidewalks in major US cities are now covered in dog and human feces. If you live in a major city in the US you've probably noticed the amount of poop on sidewalks has rocketed in recent years. Other than being an eye sore — and turning your daily commute into an obstacle course — feces-infested streets can also cause serious harm to your health, experts warn. The problem was highlighted in a study by researchers in NYC last week, which found the city's posh Upper East Side neighborhood is covered in 300 times more poop than what would be needed to close a local beach.
Washington property owner says squatters returned after SWAT raid. Squatters who took over a Washington state property during the coronavirus pandemic were finally removed by a SWAT team this week only to return to the property shortly after, according to the property owner. Roughly 30 officers took part in the Wednesday raid of a Lynnwood, Washington property that had been taken over by squatters as part of a stolen vehicle trafficking investigation. Police say 52 cars, some of them stolen, along with drugs and firearms were found on the property, KIRO 7 News reported. The property owner and neighbors told the outlet they have been dealing with the squatters for several years, dating back to the height of the coronavirus pandemic when evictions were prohibited by the state and federal government.
Stop Calling Them 'The Homeless.' They are criminal vagrants. And this has nothing to do with not having compassion for the people who for one reason or another find themselves without shelter and have decided that they are going to live on the streets of our fair cities across the fruited plain. That's not what this is about. It's not about making them feel bad or shaming them or not being compassionate. In fact, it's quite the opposite. I have great compassion for people who are so desperate that they have to live on the streets, but let's just be clear: our policies right now in this country and in major cities run entirely by Democrats only enable this their behavior. It actually makes their plight worse. If you actually care about these individuals, then you'll want to do something. And instead, what we do is look the other way and we enable them and we encourage them to continue in their destructive behaviors.
Employees At Chicago's O'Hare Airport Say Homeless People Are Taking Over. Almost every major city in America is experiencing a homeless problem right now. In Chicago, where it can get pretty cold in winter, employees at O'Hare Airport claim that homeless people are taking over the place, making a mess and even making workers feel unsafe.
Homeless community growing at O'Hare International Airport, prompting concerns. The number of Chicago's homeless community seeking shelter at O'Hare International Airport is up. As CBS 2's Marissa Perlman reported Thursday night, two employees at the airport say they are concerned for their safety. They shared what they see in the overnight hours. Thousands of Chicago homeless people seek refuge from the cold inside O'Hare. Employees sent us photos of people sleeping on heater vents, using the terminal to dry their clothes, and trashing airport bathrooms. "It's out of control," Chatman said.
Tensions flare as crews dismantle several homeless encampments on Skid Row. Tensions flared Monday morning as crews dismantled several homeless encampments on Skid Row in downtown Los Angeles while police officers stood guard. Video from AIR7 HD showed a dump truck's crane grabbing one encampment's canopy tent, which had apparently been constructed with a raised floor and walls. All of the debris was then hoisted into the truck and hauled away. That sparked an angry reaction from some bystanders, who stood behind yellow police tape at the intersection of Fifth and San Pedro streets.
Who could not have predicted this?
Migrants turn NYC hotel into violent, drug-infested 'free-for-all': employee. A once-trendy Manhattan hotel has become a wild "free-for-all" of sex, drugs and violence after the city began housing migrants there, an employee claimed Tuesday [1/31/2023]. Row NYC worker Felipe Rodriguez — who told The Post earlier this month that migrants were throwing away "tons" of prepared food at the hotel — said the facility has now descended into anarchy. "Chaos, total chaos," Rodriguez told "Fox & Friends" when asked to describe conditions at the hotel. "There's no accountability. There is no daily supervision to show these people that ... 'You don't destroy your hotel. You are only there temporarily. This is not your home.'
Migrants refuse to leave NYC hotel for relocation to Brooklyn. Immigration activists are stirring the pot in New York City. Migrants were scheduled to be moved from the Watson Hotel in Hell's Kitchen on Sunday night, but they refused to leave. They are to be moved to a new shelter in Brooklyn with all the same services they receive at the hotel. It's not good enough. The new shelter is at the Brooklyn Cruise Terminal. Mayor Adams announced last week that the Brooklyn Cruise Terminal would be a migrant mega-shelter. It will hold up to 1,000 single adult men.
Classical Music Cudgel Torments the Homeless. Convenience store chain 7-Eleven has discovered that homeless people don't like opera and classical music blaring in their ears as they beg for money, do drugs, or harass the locals. The practice launched in Canada and then San Francisco and several beach locales in Florida followed suit. Now, it's a mainstream solution for business owners struggling to cope in certain neighborhoods. The immediate problem is that a whole lot of customers who buy Twinkies, lottery tickets, and slushies don't much like that style of music either. Therein lies the rub. "Studies have shown that the classical music is annoying. Opera is annoying, and I'm assuming they are correct because it's working," said franchise owner Jagat Patel of Austin, TX. Patel has had several complaints about the volume but noted that no police have shown up to tell him to turn it down.
Art Gallery Owner Who Was Caught On Video Spraying A Homeless Person Sleeping In Front Of His Business Is Arrested. The San Francisco art gallery owner who was filmed hosing down an unhoused person last week has been arrested, according to police. The San Francisco District Attorney's Office issued an arrest warrant for Collier Gwin on Wednesday afternoon. Gwin has been charged with misdemeanor battery for the alleged "intentional and unlawful spraying of water on and around a woman experiencing homelessness," DA Brooke Jenkins tweeted. [Video clip]
2nd Colorado library closes due to meth contamination. For the second time in a month, a Colorado library has closed its doors to clean up methamphetamine contamination. Officials in the Denver suburb of Englewood shut down the city library last week within a couple of hours of getting test results Wednesday showing that the contamination in the facility's restrooms exceeded state thresholds, city spokesman Chris Harguth said. Other spaces such as countertops also tested positive for lower levels of the drug and will require specialized cleaning, he said. [...] Drug use is not common in the Englewood library, but reports of it have increased in recent months as colder weather led more people to seek shelter there, with only a small number of them using, library director Christina Underhill said. More broadly, the library has attracted more homeless people since fully reopening after closing at the beginning of the pandemic. "We're very accommodating," Underhill said.
24 Hours in Nancy Pelosi's District Will Kill You - This is NOT America. Democrat rule has destroyed California. We travelled to the district of the Speaker of the House, Nancy Pelosi, to see what life is like for her constituents. What we found not only shocked us, but put our own lives in danger. [Video clip]
America's Growing Political Impotence. [Scroll down] Then there are the homeless encampments that now plague urban landscapes. Especially in California, they are virtually small cities filled with the mentally ill who exhibit little respect for public decency or elementary hygiene. Rat-attracting garbage is everywhere and streets are used as public toilets. These homeless destroy local businesses and turn neighborhoods into "no-go" zones. In San Francisco, luxury downtown hotels have removed all lobby furniture for fear of being overrun by squatters. LA recently counted some 42,000 homeless residents. Of the utmost importance, cities blithely ignore residents' demands calling for their removal. Instead cities try to cure the problem by even greater spending on everything from substance abuse programs to job training, which, unsurprisingly, only seems to exacerbate the problem.
Dallas Is Morphing Into Los Angeles With Homelessness And Crime Destroying The City. Dallas is fast morphing into another liberal [dump] thanks to the leadership of Mayor Eric Johnson. This summer, Dallas hit the highest murder rate the city has seen in recent memory despite aggressive efforts by Dallas Police over the past two years to reduce it. There have been many issues with vagrants and junkies in the streets as well. [Video clip]
A year after opening in Los Angeles, a 600-room hotel for the homeless is still mostly empty: Report. Amajor homeless housing project in Los Angeles is reportedly struggling to attract tenants a year after it opened, according to media reports. The Cecil Hotel, built in 1924 and long known for its proximity to Los Angeles's notorious Skid Row district, was debuted in December of 2021 as a re-imagined housing complex for homeless city residents. Yet "two-thirds of the Cecil remains unoccupied" after a year, according to the Los Angeles Times, with roughly 400 rooms sitting vacant there. The Times claimed the project was beset with "a slow-moving bureaucracy and multiple failure points." The Cecil is "one of the few affordable housing projects in Los Angeles of [its] size that is fully privately financed."
The terrible consequences of stolen elections and government corruption. Homeless Americans, nearly all of them mentally ill and/or drug-addicted, are abandoned onto the streets of Democrat-run cities like detritus but Biden ignores them. Cities like San Francisco, Baltimore, Detroit, and parts of Chicago have been turned over to these forgotten and abused people, destroying the quality of life for its law-abiding citizens. The destruction of once-great cities at the direction of Soros-installed DAs and Secretaries of State who have all favored violent criminals over law-abiding citizens continues to escalate. No consequences? More crime, of course. The left craves chaos and knows exactly how to incite it: encourage it, permit it and fail to punish crime. What we have now is orchestrated chaos, crime encouraged and permitted.
Biden Administration Funding Study to Train Drug Addicts to Distribute COVID Tests. The Biden administration will spend $1 million next year to fund a study on how to train drug addicts to distribute COVID-19 rapid tests to other drug addicts. The project summary emphasizes that "people who inject drugs" are especially vulnerable to the outbreak of COVID-19 due to "structural disadvantage, health vulnerabilities, and stigmatization that prevents adequate access to medical care." This issue will be addressed through a "facilitation of rapid testing by people who inject drugs (PWID) via a supported employment program that trains PWID as peer health workers." The study, funded by the National Institute of Health (NIH) and conducted by the University of Oregon, began on December 1 and will last roughly two years. Efforts to distribute COVID tests to drug-infested communities have been studied before, the summary notes, but more information on rapid test distribution is needed.
San Francisco Hotels Demand City Compensate for Damage by Homeless. San Francisco hotels are demanding millions of dollars from the city to compensate them for damage incurred while housing the homeless under a municipal government program launched during the COVID-19 pandemic. Under the program, known as "Shelter-in-Place" (SIP), hotels were used to move homeless people off the streets for fear of spreading the coronavirus in tent cities. Ironically, as COVID became better understood, officials began recommending against clearing homeless encampments, because the virus spread less easily outdoors. However, the practice of housing the homeless in hotels was embraced by Democratic officials in state and local government, though it was expensive, as a temporary way of tackling an ongoing homeless crisis.
Camping Opportunities in Downtown Portland. With the 2022 summer camping season now in the rearview mirror, it's time to examine how it is that downtown Portland has emerged as the most popular destination for those seeking to get as far from civilization as possible. In just a few short years, Portland has become a magnet for adventure travelers eschewing the kind of bourgeois camping experience associated with basic functioning services. In other words, Rose City is not the kind of destination for those campers who put a premium on modern-day luxuries such as public safety or the rule of law. But ask those who choose to pitch their tents in downtown Portland and you'll learn that its appeal lies precisely in its lack of such amenities.
Portland moving forward with $27 million plan to end homeless camping on sidewalks. I've written a lot of posts about the problem of homelessness in Portland over the years. Just this year there have been multiple reports about people planning to leave the area for good because of crime and homelessness. There have been specific reports about dangerous homeless people and persistent homeless thieves who never seem to get taken off the streets no matter what they do. In September and ADA lawsuit was filed against the city by residents who say they can't navigate safely because of all the tents taking up the sidewalks. Earlier this month we learned that fully half of all fires the Portland Fire Department responds to, often six a day, take place in one of the city's estimated 700 homeless camps.
Portland Facing Homelessness 'Catastrophe': Mayor. With the homelessness crisis cited among their top concerns, Oregon voters are taking note of Portland Mayor Ted Wheeler's declaration of a "humanitarian catastrophe" in the state's largest city. Oregon has among the highest homeless populations per capita in the nation. According to DHM Research, nine out of 10 voters statewide identify homelessness as a "very big problem" as Election Day draws near. In the Portland metropolitan area alone, an estimated 6,000 people are experiencing homelessness, according to Multnomah County's 2022 Point-In-Time Count, an annual census of the unhoused. "The magnitude and the depth of the homeless crisis in our city is nothing short of a humanitarian catastrophe," Wheeler said in an Oct. 26 city council meeting.
San Francisco Flushing $1.7M to Construct One Public Toilet. The City by the Bay is not known for being well-run or fiscally responsible. Homelessness, a drug overdose crisis, spiking crime, and ample sidewalk fecal matter have made it a punchline of what leftist "utopias" actually end up becoming in practice when radical Democrat policies are implemented. Now, San Francisco is working on trying to address one issue by constructing a public toilet — that will apparently cost $1.7 million and won't be finished until 2025. Even more comically, California state Assemblyman Matt Haney was set to celebrate the boondoggle with a press conference, but he was forced to cancel his potty party after public backlash. The million-plus dollar price tag is being covered by state funds secured by Haney collected from Golden State taxpayers in order to build, unbelievably, "just one toilet in 150 square feet of space," according to The San Francisco Chronicle.
Our Enemies Walk Among Us. All the poverty you see around you, all the lack, the financial pain in the faces you pass, the lost businesses of the last three years, the titanic risk in the markets, the actual recession, all of it has been engineered. We all, all of us, every single one of us, should be three times as wealthy, and three times as creative. The most visible result of their malfeasance is homelessness. Which has been engineered to shame you. Entirely. 100%. Every time you drive by some poor soul dying on the sidewalk, you are meant to feel
1. Guilt
2. Anger at the system (capitalism) and
3. an urge to vote for the compassionate left who promise to work only for the dispossessed.
It's a psy-op. It is why the homeless population is front and center in the richest, most beautiful city in the world: San Francisco. This fact is meant to shout that no matter how much money private enterprise generates, capitalism means losers, addicts, madmen and women, because our system is brutal and must be changed. San Francisco's beauty and reputation mean that its homeless catastrophe is publicized all over the world.
NYC Tent City for Migrants Includes Free WiFi, Video Games, Popcorn Maker, Foosball Tables. New York City officials have set up a tent city solely for migrants arriving on buses from Texas sent by Gov. Greg Abbott (R) that includes televisions, video games, laundry service, a popcorn maker, and more amenities. Since Abbott and Arizona Gov. Doug Ducey (R) started sending border crossers and illegal aliens to New York City, a sanctuary city, more than 19,400 have arrived on buses — 73 percent of which remain in the city's overcrowded homeless shelter system. To relieve homeless shelters, Mayor Eric Adams (D) has set up a tent city solely for newly arrived migrants on Randall's Island, which sits between Manhattan and Queens. New photos inside the tent city show a host of amenities for migrants, including recreation rooms, laundry services, and a stocked cafeteria, all paid for by New York taxpayers.
'Adams Tent City': Google tags mayor in mapping NYC's new migrant center. Google Translate apparently works on bureaucratic jargon, too! The world's leading search engine appeared Tuesday to have rejected Mayor Eric Adams' official name for his controversial migrant processing center on Randall's Island in favor of something a bit more descriptive. Instead of labeling the site a "Humanitarian Emergency Response and Relief Center," Google Maps simply called it what it is: "Adams Tent City." The term popped up next to the red locator pin for the Icahn Stadium parking lot, where City Hall planned to unveil the new facility Tuesday afternoon.
I guess this is completely off-topic. The writer draws no connection between homeless drifters in the street and the rat problem.
Huge increase in NYC rat sightings. If you live in New York City, it probably comes as no surprise to hear that rats are becoming increasingly visible all across the Big Apple. Sightings of the rodents are up a stunning 70% from this time two years ago, with New Yorkers calling in some 21,557 rat sightings to the city's 3-1-1 service request line between January 1 and September 30.
DC tent cities stain the nation's capital. The marble monuments of the nation's capital have become neighbors to abject squalor — ever-expanding tent cities that are the most disgraceful examples of a trend bedeviling Democrat-led cities around the US. In the past two years, homeless encampments have exploded in Washington D.C., as both the city and federal governments lifted enforcement measures during the COVID-19 pandemic — and made it a no-brainer for itinerants to lay down roots by providing for their every need. A tour by The Post of the district's major tourist areas this week found at least 35 vagrants in residence at a National Park Service site two blocks from the White House; more than 20 in the green spaces surrounding the State Department complex; and five across the street from the infamous Watergate Hotel. And these sites accounted for less than 5 percent of the estimated 120 tent cities in Washington D.C.
NYC relocating migrant tent city to Randall's Island. The Big Apple will relocate — and downsize — its first tent city for migrants from the Bronx to Randall's Island due to flooding issues, according to City Hall. The city has ditched the already-under construction site on Orchard Beach that would have housed 1,000 migrants and will instead erect tents to accompany half that number on Randall's Island, Mayor Adams said in a Monday night statement. The move was prompted by flooding at the Bronx site following this weekend's rain storms. The cost of flood mitigation efforts would be more expensive than the cost of relocation, a City Hall spokesperson told The [New York] Post.
Denver homeless program struggles to reduce death rates. When people who had been homeless for years moved off the Denver streets and into apartments, they were far less likely to end up in hospital emergency rooms or get locked up in jail. But they still died at the same rate as those who lived outside. That's the grim finding from a new study of Denver's social impact bond program, which sends outreach workers to find the highest users of taxpayer-funded services including hospitals, detox centers and the jail. Hundreds of people who were chronically homeless have been housed through the program, which began seven years ago.
The Thinnest Veneer of Civilization. Perhaps nearly a million homeless now live on the streets of America. Our major cities have turned medieval with their open sewers, garbage-strewn sidewalks, and violent vagrants.
Spokane County sheriff invites state officials to open their own homes to the homeless. Spokane County Sheriff Ozzie Knezovich has written a scathing letter to the Washington Department of Transportation about the agency's failure to clear a homeless camp from being established on its local property. "Consider this letter notice to WSDOT that I plan to clear this camp by mid-October," he wrote. "WSDOT's dereliction of their duties to address this matter must not continue." State officials have responded to Knezovich's stated plans to clear Camp Hope of its more than 650 residents with criticism.
Lakewood cuts down trees in town square to discourage homeless from gathering. The township of Lakewood removed all of the trees in the town square last month in response to what town officials described as months of complaints about the growing homeless population at the plaza. The move came as a result of a recommendation from the Lakewood Township Police Department's Quality of Life Unit after dozens of reports from residents, local business owners and township employees, officials said. A spokesperson for the police department declined to comment on the move. "It's been an ongoing problem for many months," Mayor Ray Coles said. "We've been getting complaints from residents and our employees who have had trouble with being harassed verbally. There's been numerous incidents of people going out to their cars in the afternoon and finding human waste on the ground."
The Editor says...
[#1] I sure hope they can buy some carbon credits to make up for all those trees! [#2] Which would you rather have in the middle of your city: An assortment of large old trees and strictly-enforced vagrancy laws, or a homeless camp on every street? [#3] Are there no other ways to make homeless bums uncomfortable in the town square? Might I suggest the nightly use of water cannons and well-trained dogs? This could be followed by a giant "leaf blower" truck that's like a Category-1 hurricane. Like the machine they use to dry off a NASCAR track, but pointed sideways. When the vagrants get uncomfortable, they'll leave.
[New York] City kids seeking therapy after unending exposure to vagrants and addicts. New York City school kids are losing their minds over the zonked-out drug addicts and raving vagrants they encounter every day — and are flocking to therapists to find ways to cope with the stress, The [New York] Post has learned. In neighborhoods such as Hell's Kitchen "a lot" of kids are now in therapy, according to mom Katie Hamill, 43, whose 7-year-old daughter is being treated for anxiety. "My daughter has seen [bad things], you name it, she has seen it. ... consistently and constantly. She is in this constant state of panic," said Hamill, who works in real estate. The little girl gets upset when she sees "the dying people" — the junkies who look dead whom she thinks no one is helping, the mom said. And she sees far too much vile behavior from adults, including one addict trying to rip out his hair after getting high at a West 42nd Street playground.
Denver will pay you $1,000/month to be a transgender vagrant. Denver has its share of vagrants. The rule is evidently that you can illegally camp on the sidewalk and poop in the gutter until a lot of people complain. Once dozens or hundreds of people complain — they don't publish what the requisite number is — the city will tell the vagrants they have two weeks to shuffle down the road to trash some other site. What the vagrants then do, naturally, is leave for a few days and then come back to the same place again, where they stay again until enough people complain again and they get the two weeks' notice again and then they leave for a few days again. I'd say it's a case of rinse and repeat, except these feral humans have not seen a rinse in months.
Could huge Spokane homeless camp Get pushed to Tri-Cities? Spokane is working to clean out the largest homeless camp in Washington with an estimated 600-1,000 people living there. They are trying to provide shelter and homes for them, but can only provide a fraction of what is needed. When they tear down the "tent city" where will all the homeless go? Will some of them move to the Tri-Cities or spread out over the rest of Washington? The Spokane homeless camp is larger then any in Washington state with an estimated 600-1000 people living there. Spokane is estimated to have as many as 1,800 homeless total living in the city limits according to a Point-In-Time survey in 2022. To help battle the problem, Spokane just opened a new shelter on September 6th and is funded through December of 2023 according to news reports. The problem is that it only hold 150 beds right now with more space for beds in the future if needed. That only holds a small fraction of the shelter needed for the homeless camp, so what do the rest do?
Homeless camp fire displaces dozens, worries neighbors. A sanctioned homeless campsite caught fire Saturday night and displaced at least three dozen people. The flames got dangerously close to neighboring homes. The fire department is still investigating the cause and nobody was hurt. The Colorado Village Collaborative, which runs the site, is helping find residents a new spot. One of those residents, Rosemarie Palafox, recalled the chaos as she was packing a moving truck with some of her salvageable belongings.
Bill Walton calls out Mayor Todd Gloria for allowing the homeless to destroy San Diego. As we all know, San Diego's homeless crisis is only getting worse under the leadership of Mayor Todd Gloria, who continues to pretend like he is working to fix the issue. But all his efforts have failed. In downtown San Diego alone, there is a record high 1,609 homeless residents. Back in July 2022, KUSI reported that there was a record number of deaths in our homeless population, and literally nothing has been done.
Denver is set to provide 140 homeless people with $12,000 in no-strings-attached cash to see if it lifts them out of destitution. Denver is set to provide 140 homeless transgender and non-binary people with $12,000 in no-strings-attached cash to help lift them out of destitution — and combat the squalid encampments and soaring crime rates plaguing the Mile-High City. The city has allocated $2 million from the American Rescue Plan Act to fund the program, which will be run by the Denver Basic Income Project to mainly get women, transgender and non-binary people housed. The total program, which will cost up to $9 million, is seeking to help around 820 people, but the $2 million provided by the city will fund around 140 people.
The Editor says...
No strings attached? No income tax? No inquiry about how the money was spent? How will the government know if the program helped? It sounds as if Denver is eager to throw money at this problem just to say they did something. In reality, the homeless will most likely spend the city's money on drugs, and they'll be in a worse condition than before.
El Paso 'Smells of Human Waste' as 1,000 'Street Releases' Camp on Sidewalks Without Toilets. The migrant crisis is worsening in the Texan town of El Paso and conditions have now worsened to near breaking-point. Over 1,000 illegal migrants were released onto the streets of the border town as officials are no longer able to cope with the continual influx of people. The migrants, who are predominantly from Venezuela, were "street releases" by Border Patrol as all the shelters and facilities in the area are already overwhelmed. Conditions on the streets are dire, and hundreds of migrants are having to sleep in makeshift accommodation outside residential homes and businesses.
The Editor says...
Good! El Paso is a solid-blue city that has more in common with New Mexico than with Texas. Let them bask in the inevitable side-effects of the socialist Democrat agenda.
It's not compassion. It is a scam. After decades of failure, New York City homelessness keeps getting worse. The only people who appear to be benefiting are the ones who make a pretty penny "serving" the homeless. The homeless — an ever expanding group in our major cities — are still sleeping rough and dying of overdoses. New York City's homeless population has surged in recent years to 80,000 people, according to The Bowery Mission, a 150-year-old agency serving the hungry and homeless, citing federal data. This despite the fact that NYC spends about $43,750 per year per homeless person — 50% more than it spends on each schoolchild. That adds up to billions of dollars in spending with nothing but disastrous results to show for it. At least that is less than San Francisco, which spends an astonishing $106,500 per homeless person.
Major U.S. city plans to build a homeless megaplex, now residents fight back. Residents of Seattle's Chinatown are fighting back against city officials over their plan to build a homeless megaplex in the center of their neighborhood. The King County Department of Community and Human Services is planning to spend $66.5 million to construct a 24/7 homeless shelter that will house more than 500 people, according to the King County press release. Thousands of Chinatown residents attended a rally Thursday to protest the construction of the homeless shelter.
It's a mental hospital without walls -- and without treatment.
Viral video shows homeless fighting in squalid conditions on San Francisco street. A viral video making its rounds on social media offers a grim new snapshot of San Francisco's surging homelessness crises as two men can be seen brawling amid squalid conditions on a city sidewalk. The shocking scene was filmed and posted to Twitter by J. Terrell Allen, who said he stumbled upon the wild fight in San Francisco's SoMa neighborhood on an evening walk. Video, posted to Twitter Thursday, shows two men — one of whom is shirtless — wrestling on the ground that's littered with debris as the majority of other apparently homeless people look on with little interest.
'We're done with Portland': Residents say they are fed up with crime and homelessness. It has only been about 2 weeks since KGW 8 aired a report about people leaving the city of Portland because of crime and homelessness. A few days ago the site published another story along the same lines. People are just fed up with the city's problems and are ready to abandon ship. [...] Why do drug addicts get to break the law and ruin the neighborhood for everyone who is trying to contribute to society? Probably because there are an army of activists paid to make sure none of these people go to jail. Instead their petty crimes get ignored and they pass through the system like ghosts, using up hundreds of hours of police and fire department time in the process. It's not fair to anyone that these people get treated differently than the people who are expected to tolerate their misbehavior and pay for their care.
NYC banks shutting doors overnight to ATM users to keep out homeless: sources. Banks around the city are locking out ATM users at night in an effort to keep out homeless people — some of whom have been using the vestibules as toilets, sources tell The [New York] Post. Branches of Chase, City National Bank and Citizens have been quietly locking their doors even to customers who have a bank card as early as 10 or 11 p.m. and reopening them in the early morning, The Post has learned. Bank branch employees told The Post that ATM lobbies have become refuges for homeless people who sleep in them overnight or use the space as toilets, leaving "poop" behind and creating a safety hazard for both employees and customers who are afraid to enter the lobbies.
Families Flee Woke City of Portland as Homeless Take Over the Suburbs. Homelessness and crime are taking over woke, left-wing cities thanks to radical policies and defund the police agendas. States such as California and New York have seen a spike in "For Sale" signs as a massive number of people are fleeing to red states for a better way of life. One city in particular, however, is driving families out faster than others due to its rampant homeless crisis. According to recent U.S. Census Bureau data, Portland's population dropped by over 11,000 residents, and that number keeps climbing.
Seattle businesses [are] using concrete blocks to prevent homeless camps from forming. Seattle residents and business owners are fed up with the homeless camps and RVs who set up along city streets and remain until the city gets around to moving them somewhere else. So now they are fighting back by dropping 1-ton concrete blocks, called "eco" blocks along roadways.
NYC Mayor Eric Adams shares plan to house 3,000 illegal immigrants in hotels. NYC Mayor Eric Adams mooted housing 3,000 illegal immigrants who've overwhelmed homeless shelters in hotels — and said he wants taxpayer cash from Joe Biden to do so. During a press conference on Thursday, Adams told a room of reporters that in order to house those who cross the border illegally: 'If we have to get hotel rooms, we get hotel rooms.' Adams also said 'our team has been in constant contact with the White House' and added that he wants the federal government to release funds in order 'to deal with this unprecedented surge' of migrants.
Major City Lets People Urinate, Defecate In Public — And Residents Aren't Happy. Residents of Kalamazoo, Michigan, criticized city leaders Thursday during an appearance on Fox News after a vote to make "equitable changes" in city laws resulted in the decriminalization of littering and public defecation and urination. City commissioners voted to change city ordinances that turned crimes like public defecation, public urination and littering from misdemeanors to civil infractionson Monday, Fox17Online reported. Residents immediately protested the effects of the law change. [...] The Kalamazoo Downtown Project launched the ambassadors program to assist with cleaning, help tourists, connect the "street population" with resources and assist with events, according to an information packet. "The part that really upsetting to us is people are approaching other people, people following some of our employees to their cars, asking them for money," Emery said, describing how in one case, a person threw rocks at cars when employees didn't give him money. The Kalamazoo Mayor's office did not immediately respond to a request for comment from the Daily Caller News Foundation.
This Is The Scene In The Philly Metro With Dozens Of Homeless Camping Out, Feces And Urine On The Floor. The stench in the stairwell hits you before you even take your first step down to the metro at City Center, Philadelphia. This disturbing video shot this week shows dozens of homeless camping out on the concourse with puddles of urine and piles of feces on the floor. [Video clip]
Homeless bunker filled with $100K in stolen loot and guns found in San Jose. California cops found an elaborate homeless bunker filled with more than $100,000 in stolen goods and guns. San Jose police on Tuesday shared photos of some of the loot stashed in the underground encampment — including three shotguns and boxes of ammo. The main bunker had wooden beams, walls and a ceiling, with electrical wires the force said appeared to be "plugged into somebody else's source."
Portland homeless break into vacant homes and police don't have resources to do anything about it. Residents of one Portland neighborhood say as many as 16 people have broken into two vacant houses on their street and are coming in and out at all hours, piling up trash and leaving used needles in the grass. [...] Imagine having to work every day so you can pay the mortgage on your Portland home only to have a bunch of unemployed drug addicts break in next door and drive the value of your property down to nothing. No one is going to want to buy these homes so long as the homeless are camped out next door. But when the homeowners call police, they are told there aren't enough cops to deal with anything as low priority as squatters.
Neighbors say houseless people are breaking into vacant homes in Southeast Portland. A line of RVs sat parked along Southeast 67th Avenue outside of two vacant homes late Thursday morning. Neighbors say the area has become a magnet for members of Portland's houseless community taking advantage of the unoccupied properties. "It's unbearable to watch your whole city become a dumpster fire," said Annette Benedetti, who lives nearby. She described what it's been like since a group of about 16 houseless people moved into the neighborhood.
American decimation: On the front lines of the tearing of our social fabric. When the Hampton Battery was dedicated here in 1871 to a young Civil War soldier who lost his life protecting the Union at Chancellorsville, Virginia, the granite monument was a point of pride for residents of this neighborhood. [...] Today, the battery's founder, Capt. Robert B. Hampton, who was remembered by the men who served under him as a born commander with "the chivalric nature of an honorable gentleman," is now part of a different carnage in America as he stands watch over an open heroin market that has taken over the once grand park. Residents say the Civil War statue is literally surrounded by drug dealers, buyers, and users around the clock. They are getting more aggressive with panhandling, trespassing, and theft. Just yards away, along the old Pennsylvania canal, a man walks down the street, carrying a brand new patio chair stolen from the porch of a nearby home, toward the new and growing homeless camp. Last week, there were two tents or makeshift abodes. Now, there are over a dozen.
Portland Maine increases taxes to help asylum seekers, homeless. With inflation up more than 8 percent, Mainers are now paying record-high prices for food, gasoline, utilities and more. Despite that, the Portland City Council approved a 4.8 percent property tax increase for the fiscal year starting in July. "We realize that people are feeling it at the gas pump, at the grocery store," Portland Mayor Kate Snyder said. "Inflation is real, and it's real here for the City of Portland, too, as we look to retain employees. Costs of everything has gone up. So, these are difficult times." The city's new $269 million budget is up nearly 27 percent over last year, largely due to inflation and the cost of housing about 1,200 asylum-seekers and 500 people experiencing homelessness.
That's okay, the tourism industry was dead anyway.
NY hotels to be converted into housing for homeless. New York has relied on hotels to temporarily house the homeless for years, but now underutilized hotel space will be converted into permanent housing under a new plan announced by Gov. Kathy Hochul on Tuesday. Over the last several years, the homeless crisis in New York City has grown more visible and harder to manage. The coronavirus pandemic shined a light on existing problems: a lack of affordable housing and continued reliance on hotels to temporarily house the homeless. Robin, a homeless New Yorker PIX11 News met on the Bowery, is not a fan. "The hotels, you had no services really, just basically food," Robin said. "That's about it really. And a place to sleep."
The Sovietization of American Life. Everyone knows that the status of our homeless population in Los Angeles or San Francisco is medieval, dangerous, and unhealthy. And everyone knows that any serious attempt to remedy the situation would cause one to be labeled an apostate, counterrevolutionary, and enemy of the people.
Bronx nonprofit head who stole from homeless New Yorkers gets 27 months prison time. The head of one of New York City's largest homeless housing providers was sentenced Monday [5/23/2022] to 27 months in federal prison for pocketing hundreds of thousands of dollars earmarked for the city's neediest residents. Bronx Parent Housing Network CEO Victor Rivera collected the cash through bribes and kickbacks on top of his $453,000 salary during a surge of homelessness between 2013 and 2020, authorities said. The charity head handpicked and overpaid contractors at construction, security and real estate firms for projects at soup kitchens, shelters and affordable-housing facilities — in exchange for some of the city cash he used to pay them.
Apple spent millions to help homeless people it cleared off its property but it wasn't enough. Apple spent million to help a tiny handful of homelessness people who'd set up a camp on their property. In the end, despite all of the effort, most of those people have nowhere to go. The story started last September with a lot of praise for the way Apple chose to handle the situation. [...] I don't think individual companies are responsible for the homeless people who decide to camp on their property without permission any more than I think they are responsible for dealing with people who break into their offices or factories. But in this case, Apple obviously isn't a mom and pop outfit struggling to keep tents off the sidewalk. As one of the most successful tech companies in the world, they have the resources to do more than the bare minimum. [...] Nine months later, the deadline for the transitional hotel rooms is running out and the majority of the people who were moved out of the camp last year still have no place to go.
Tennessee makes homeless camping a felony. States around America, including some of the bluest, have recently taken steps to empty out entrenched homeless encampments on public lands. Even San Francisco and Los Angeles have attempted to break up the makeshift communities where crime tends to flourish and people with drug and alcohol addiction problems congregate. These efforts have not met with a great deal of success yet, but Tennessee has been taking a more confrontational approach this year. Two recent laws, one passed in 2020 and another this year, will make it a felony punishable by up to six years in jail to camp out in parks and on other public lands without a permit. This has both the homeless themselves and advocates working on solutions to the endemic homelessness problem concerned.
Los Angeles Firefighters In Hot Water After Beating The Snot Out Of Homeless Man Who Tries To Rob Them. A shocking video showing local firefighters punching and kicking a person at Los Angeles City Fire Station 6 is going viral. LAPD says that person was allegedly trying to break into the fire station, and station firefighters were forcibly removing that person from their property. Multiple investigations are now underway. L.A. Fire Department Station 6 on Virgil Avenue in Silver Lake, next to the 101 Freeway, is surrounded by homeless encampments, and according to LAPD, a man tried to break into the fire station Friday just before 2 p.m. They say that firefighters assigned to the station literally kicked the man off their property. Apparently this isn't the first time the fire station has had issues with this man. [Video clip]
Put a Fork in Portland. Portland use to be one of my favorite towns to visit. It had fun bars and groovy thrift stores. Now it looks like Detroit on a bender. The difference between my hometown, the Motor City, and Portland is that Portland's death was intentional. Whereas Detroit was murdered by a perfect storm of crotch-kicks from the auto industry and a racist, corrupt mayor, Portland was killed by its own citizens and the Democratic Party. I should have seen what the future of Portland would look like. The last time I was there was in 2010. Everything seemed fine except for the huge homeless population. Note to self: when you have hundreds of drugged-out homeless people living wherever they want in a town, death is nigh.
You Pay Super-High Taxes. You Deserve Nice Things. Why Don't You Demand Them? We Californians pay more for taxes than anyone else in America. We have a nearly $100 billion surplus. And yet we have the worst public services. Just take crime and homelessness. You can't walk safely through many neighborhoods in our largest cities. Street addicts feel entitled to sleep, smoke meth, and terrorize passengers on mass transit and public parks. And despite spending more on homelessness and mental health, per capita, than any other state, homelessness increased 31% in California and declined 18% in the rest of the U.S., over the last ten years.
HVAC Company Refuses to Take Downtown Jobs, Citing 'Needles, Human Feces, Vans Getting Broken Into'. A Colorado heating and air conditioning company is now refusing to provide service to businesses in downtown Denver, Colorado, citing dangerous conditions in the area. Tony Cirbo, operations manager for AC Mechanical and Engineering, explained why his business would no longer service the area in an interview with KCNC-TV.
Hennepin County, Minneapolis homeless shelters facing a $13-million-a-year fiscal cliff. When COVID-19 hit, the U.S. government poured hundreds of millions in pandemic relief money into communities across the nation. Hennepin County took the opportunity to jump-start a gradual overhaul of its homelessness services. Overnight shelters transitioned to 24/7. Some built out smaller-room sleeping arrangements with more privacy. Fees were eliminated. The low-barrier Avivo indoor tiny home village, which offers three meals a day and allows pets and substance use on site, opened in the North Loop. Homeward Bound, a culturally specific shelter with trauma-informed services and 100% Native staff, opened in Ventura Village. The county hired 26 case managers to transition people from the streets directly into housing without necessarily having to go through a shelter.
NYC to increase spending on beds for homeless by $171M per year, Mayor Adams says. The city is boosting annual funding for beds for the homeless and other services, Mayor Adams announced Sunday [4/24/2022], weeks after launching a crackdown on homeless encampments. The $171 million yearly investment will go in part toward 1,400 "Safe Haven" beds for homeless people, he said at a news conference at City Hall. It will bring the total number of Safe Haven beds — located at smaller sites with fewer eligibility requirements than regular homeless shelters — to 4,000, Adams said. "What we are announcing today is the largest investment in the city's history in support of vulnerable New Yorkers experiencing homelessness on our streets and subway," Adams said.
Covid-19 not behind spike of deaths among homeless in LA; cause likely to be found at border with Mexico. A huge increase in drug overdoses, rather than COVID-19, reportedly constituted the primary cause of death among the burgeoning homeless population in Los Angeles County during the first year of the pandemic. This is according to findings from L.A. County's own Department of Health. Making matters worse, self-defeating lockdown policies under far-left Gov. Gavin Newsom may have interfered with potential treatment help for those on skid row, the report also reportedly implied. "Nearly 2,000 homeless people died in Los Angeles County during the first year of the pandemic, an increase of 56% from the previous year, driven mainly by drug overdoses, authorities said, the Associated Press reported. "Between April 1, 2020, and March 31, 2021, the county recorded 1,988 deaths of homeless people, up from 1,271 deaths during the same period a year earlier, the report said." Only 179 destitute persons died from the coronavirus in the year 2000.
The number of homeless people dying on the streets of LA is going up. The NY Times published a story today [4/18/2022] about the rising number of homeless people who are dying on the streets. In a county as large and populous as Los Angeles, there was an average of five deaths per day last year. Some of this death toll is connected to the surge of fentanyl as a cheap street drug. [...] The death toll is particularly high in California where an estimated 4,800 homeless people died on the street last year. Almost every conceivable cause of death is much more likely for people on the street.
NYC pols have let the mentally ill take over our streets. The threat-laced ramblings of alleged subway shooter Frank James, now in custody, have a disturbingly familiar ring, don't they? Sure, they're on YouTube — but bitter mumblings of the same sort are heard all day, every day in New York's increasingly untenable subway system. So the question of the moment is this: How long will the city accommodate — indeed, encourage — aggressive mental illness in its public spaces? Will it ever push back? How many shootings, how many slashings, how many fatal shovings and — disgustingly — how many demented excrement smearings will it take before the penny drops? How many subway cars, train and bus terminals and public parks must fill to the brim with pitiful, helpless and obviously self-destructive people before New York's leaders have had enough?
'Magnets for crime': How one Seattle politician's views shifted on homeless encampments. Recently the freshman Seattle City Councilmember Andrew Lewis was listening to a discussion on the extreme rise in gun violence in the city, and some simple questions were raised that he realized he didn't know concrete answers to. Who's doing the shooting, and where? So he asked police for some data on shots fired in the city, cross-referenced with other factors the cops knew about each incident. The answers that came back have him saying some unusual-sounding things in progressive Seattle, that have some fellow council members "looking at me a little funny," he says. Things like: "It is blatantly evident that a significant amount of the city's crime and disorder is attributable to conditions in homeless encampments." [...] What Lewis found is that more than 18% of all shots-fired incidents in Seattle last year were associated with homelessness, according to police records. This means that "the victim, or suspect, are experiencing homelessness, or the [shooting] occurred at/near a homeless encampment or RV," the police said. These shootings were up 122% in 2021 versus 2020.
The Editor says...
People who live in the street have nothing to lose by moving to the nearest jail. When incarceration is not a deterrent, crime will skyrocket.
Portland Has Now Devolved Into A Giant Homeless Encampment Taking Over Major Roads. Video showing massive caravans of homeless people living inside their campers and tents at the side of major roads in Portland. In February, Portland Mayor Ted Wheeler banned people experiencing homelessness from camping next to freeways and along high-crash corridors. New videos uploaded recently to social media however show massive encampments still up and running at the side of these busy roads.
Scourge of Gramercy Park: Homeless man terrorizes NYC neighborhood. An unhinged vagrant is making life miserable for merchants and residents in Manhattan's Gramercy Park neighborhood with his outrageous behavior — as Mayor Eric Adams was publicly confronted Tuesday [4/5/2022] by a homeless woman who demanded that he "do something" for people living on the streets. The [New York] Post watched the Gramercy Park homeless man spend about 45 minutes Tuesday morning wandering the neighborhood, muttering to himself and waving his hands over his head in between getting barred from entering three businesses. They included a Salvation Army thrift store on East 23rd Street, where the manager later explained why even the iconic Christian charity was turning its back on the obviously troubled soul. "He has pooped outside the store," manager Angela Kelly said. "I keep the peace by keeping him out of the store ... Something's clearly wrong with him."
A homeless man files suit over his accommodations. Until recently, [James] Hellard lived on whatever streets he wished, irrespective of the effect his urban camping had on San Rafael, a city in Marin County, California. Now, though, because the city worked with Caltrans (the California Department of Transportation) to make a more permanent encampment, complete with amenities, under a Highway overpass, he's suing both San Rafael and Caltrans for injuries suffered from noise and pollution. [...] Faced with this problem, rather than disincentivizing homelessness and returning to an earlier era of mental health institutes for people with intractable mental illness and substance abuse problems, Democrat-run cities have done their best to make street living more palatable... and it's still not enough. We've created a generation of homeless people who feel that their rights transcend those of the people who make a city livable: Workers and regular residents, including the families that have a true stake in a city's future.
NYU tour pelted with eggs as homeless continually harass groups in Greenwich Village. Prospective New York University students and their parents are getting an unwelcome taste of the Big Apple's homeless crisis as they tour the college's Greenwich Village campus. The student-led tour groups are being routinely harassed by begging vagrants — and even assaulted. One group was pelted with eggs Monday afternoon [3/28/2022] standing outside the Goddard Hall dorm on Washington Square East. A guide told The [New York] Post this week that he has been hassled for cash and grabbed by a vagrant demanding money. In one shocking display in view of several tour groups, a homeless person laid down in the middle of West Fourth Street in what the guide said may have been a suicide attempt. "Every single day something is happening," the guide said. "Our duty is to sell the school, to showcase our campus and obviously being harassed is not something you want to deal with on a daily basis."
City clears out North Loop homeless encampment, cites safety. The city of Minneapolis cleared out a homeless encampment in the North Loop neighborhood early Wednesday morning [3/16/2022], citing public and safety issues. The city said one of the big issues is the homeless encampment was on private property and the people living there were asked to leave by the owner several times. The city said those living at the homeless encampment were offered services and connected with outreach teams to help them find a new place to live.
With the November elections getting closer...
Liberal US cities change course, now clearing homeless camps. Makeshift shelters abut busy roadways, tent cities line sidewalks, tarps cover broken-down cars, and sleeping bags are tucked in storefront doorways. The reality of the homelessness crisis in Oregon's largest city can't be denied. "I would be an idiot to sit here and tell you that things are better today than they were five years ago with regard to homelessness," Portland Mayor Ted Wheeler said recently. [...] In Seattle, new Mayor Bruce Harrell ran on a platform that called for action on encampments, focusing on highly visible tent cities in his first few months in office. Across from City Hall, two blocks worth of tents and belongings were removed Wednesday [3/9/2022]. The clearing marked the end of a two and a half week standoff between the mayor and activists who occupied the camp, working in shifts to keep homeless people from being moved.
You Think The Walking Dead Is Fiction? Just Look At The NYC Subway. This was the disturbing scene at 34th street A C E train station in New York City as several tweaking drug addicts froze in time in a zombie stance. [Video clip]
Hundreds of people are living in NYC subway stations and tunnels, MTA says. Some 350 homeless individuals were recently found living in encampments in subway stations and tunnels, transit officials said Thursday [2/24/2022]. The individuals were spread between 29 encampments in tunnels and 89 in stations, according to an MTA survey conducted on Feb. 2 and 3 as part of a "track trespass" task force formed in December to address an uptick in track intrusions. Taskforce leader Jamie Torres-Springer said the tunnel encampments "directly lead to track trespassing incidents," which the MTA began tracking in detail in January. MTA bean counters recorded 160 track intrusion incidents in the first month of record-keeping, 40 of which were attributed to mentally ill or emotionally disturbed individuals, Torres-Springer said. Other incidents involved slip-and-falls, intoxication or suicide or attempted suicide, and four more involved shove assaults.
East Village tent man taps utility pole for heat as homelessness surges. He might be penniless, but he's got the power. The city has apparently turned a blind eye to a homeless man siphoning electricity from an East Village light pole for months to his new abode: a tent in Tompkins Square Park. Abdur-Rashiyd "JK" Rivera, 54, has lived the past three chilly winter months in shocking conditions, staking his home down in the trash-strewn south side of the popular park. But he's cozy enough, with a personal heater and lights by which to read his books — while city workers do little to stop him, all thanks to an East Seventh Street electrical pole and about 75 feet of orange extension cords. The tent man said he's been approached some days by as many as four different city agencies, including the Department of Homeless Services, which boasts an annual budget of $2.1 billion. "The only thing the homeless services do, they come here, they ask if you're alright and you say 'Yes' and they say, 'Do you want to go to a shelter?' I say 'no' and they leave," Rivera said. The city cannot legally force people into shelters.
Los Angeles is Spending Up To $837,000 for [Each] Housing Unit for the Homeless. In 2016, voters in California approved a $1.2 billion program to build housing for the homeless. [...] Californians should be applauded for their compassion and generosity. But six years later, only 1,200 units have been built out of the 10,300 that have been paid for. One project under development would cost $837,000 for each housing unit, according to a report published by Los Angeles city controller Ron Galperin. Another 14% of units exceeded $700,000 in cost.
A New Dem Bill Would Make 'Tent Cities' Permanent. Some of the nation's most liberal cities are cracking down on their homeless populations. But Maryland may soon ban police from removing homeless people from public property. A Democratic-backed bill in the Maryland statehouse would prevent police from enforcing Failure to Obey Lawful Orders laws, which critics say would permit homeless camps, known as "tent cities," on public property. The sponsor of the bill, Democratic delegate Sheila Ruth, said in a committee hearing that these tent cities are not harmful or dangerous to communities. "We shouldn't be destroying homeless encampments," Ruth said. Ruth did not respond to a request for comment. Ruth is pushing to permit homeless encampments in Maryland as Democratic politicians roll back on similar policies across the country.
NYC Mayor moves to ban homeless from living in subways. Of the many aspects of criminal activity plaguing the residents of New York City these days, crimes taking place in the subway system have really had Gotham's residents up in arms lately. People are regularly beaten and robbed both on the trains and the platforms. The practice of seemingly randomly pushing people onto the tracks has become something of an unofficial sport, with more than a few being killed in that fashion. Some of the crimes are obviously being committed by gang members or lone-wolf bad guys, but a lot of the mayhem is the responsibility of the city's massive homeless population, many of whom take to sheltering in the subways during the winter months.
In some Seattle neighborhoods, residents, businesses take steps on their own to block RVs. With Mediterranean-style seafood menu and breath-taking views of downtown Seattle, Westward restaurant sits on prime waterfront real estate in the Lake Union neighborhood. But assistant manager Rachel Fream says they are also dealing with a much less appetizing situation across the street: Several RVs that have parked in the area that provide as homes for people living inside. "We sort of feel powerless to do anything about it," she said. Even after a recent sweep by city crews, Northlake Way remains jam packed with dozens of RVs and vehicles that have homeless people living inside.
The Editor says...
They seem to have homes, so they're not homeless, but the problem apparently is that they don't own the land on which their homes are parked.
NYC residents furious over homeless tent encampment in Queens neighborhood. At least five homeless people have turned a stretch of Whitney Avenue in Elmhurst, Queens into an urban camping ground. The encampment has persisted for two years — with the city taking no action, despite 41 complaints made through 311 since Jan. 1, 2020. "Everybody complains. It's too dirty. Sometimes Sanitation comes, sometimes they don't. If they don't come, it's a mess," Steven Li, 45, manager of nearby Getting Well Rx Pharmacy Inc., said. Littered along the sidewalk, gutter, and street are bags of trash, clothes, office chairs, a shopping cart and milk crates. The encampment popped up around the start of the pandemic, Li said. "We call [the police] so many times. The cops don't come. They told us, 'What can we do?'"
Austin Thinks Again. Homeless encampments in Austin, Texas, were legalized in 2021, but the people of this fast-growing tech mecca have had second and third thoughts about what looked like a good idea on paper but turned out to be an eyesore under bridges. Austin politicos have just finished removing virtually all remaining visible homeless camps. Other cities are taking notice. The journey to this current outcome was far from a straight path. Put bluntly, it was a dizzying display of waffling "wokeness." [...] A whopping 10 percent of homeless people died in 2020 alone — with substance abuse being the leading killer. Regrettably, the gruesome run of deaths has gone on unabated.
Federal employees in Portland upset over homeless camp outside office. Federal workers in Portland went off on city commissioners over the 'intolerable' and 'dangerous' conditions of the downtown area outside federal buildings, where they describe having to 'step over discarded needles and people sleeping in doorways to get to work.' On Wednesday, the City Council heard from two people who both live and work in downtown Portland who demanded that the situation be addressed, specifically, the massive homeless encampment outside federal buildings. 'Trash and human waste are everywhere,' Dar Crammond, director of the U.S. Geological Survey's Oregon Water Science Center, said at the meeting.
Serial shoplifter walked out of Seattle Target with 70-inch TV — his 22nd theft from same store in three months. Newly released surveillance video shows a prolific shoplifter arrested in downtown Seattle after he stole a 70-inch television from a Target store last month, which staff claim was his 22nd instance of theft in just three months. Career criminal John Ray Lomack, 55, who is believed to be homeless and has a rap sheet dating back to the '80s, was caught on camera eyeing the TV in the store, loading it into a shopping cart and walking out of the store without attempting to pay. He is said to have nabbed $6,000 worth of property from this one Target location since October; it's unknown what other items he has stolen. At least three security guards are seen trying to stop Lomack from pushing the TV outside, at one point preventing him from going through a revolving door — but they refrain from getting physical with him and he proceeds to walk out a different door.
Deloitte funded group that wants to keep homeless on subways. The corporate employer of tragic subway shoving victim Michelle Go, who was allegedly killed by an unhinged vagrant, helped fund a progressive non-profit that sued to keep the homeless from being ousted from the NYC transit system. [...] Deloitte Financial Advisory Services donated between $25,000 and $50,000 in 2021 to the Urban Justice Center, according to the group's annual report. In February 2021, the Urban Justice Center along with a homeless man and another non-profit, sued the MTA, saying its new transit code of conduct — adopted in 2020 because of the pandemic — had "the effect of excluding homeless New Yorkers from the subway system." The rules barred people from staying in a subway station for more than an hour; from taking wheeled carts bigger than 30 inches long and 30 inches wide into the system; and banned people from staying in a terminal after a train is taken out of service. The lawsuit argued the rules were "arbitrary and capricious." It was dismissed in June. Doug Lasdon, the executive director of the Urban Justice Center, told The [New York] Post that homeless should have the same access to the subway "that I have." Joseph Giacalone, a John Jay College of Criminal Justice professor and a former NYPD sergeant, said the transit system should not be viewed as a homeless shelter.
The Editor says...
Homeless people most likely have no employment, in addition to no residence. Therefore they have little or no legitimate need for public transportation.

AOC reacts after NYPD commissioner Bill Bratton tweeted photo of vagrants on subway. Democratic Socialist Representative Alexandria Ocasio-Cortez of New York has jumped on a tweet sent by former NYPD Commissioner Bill Bratton that went viral earlier this week. In the tweet, Bratton — who worked under outgoing Mayor Bill de Blasio — shared a photo of several homeless people sleeping on a New York City subway train. 'You know why NY's 'recovery' isn't happening? This photo today on the E Train at 6:45 am at 42nd & 8th says it all,' he wrote on Wednesday.
'It's insane': Husband of NYC woman slugged by freed suspect slams court system. The husband of a 50-year-old city woman sucker-punched by a deranged homeless man called it an outrage Tuesday [12/7/2021] that the suspect is still free despite even more than a dozen prior busts. "When does it stop?" the spouse said, asking that he and his wife, who was punched on the Upper West Side, not be identified. "You keep giving him more tries so that he finally kills someone, and then you lock him behind bars? "It's stupid," the irate New Yorker said. "It's broad daylight, 9:20 in the morning, and for someone to just come and punch you, it's insane. It's absolutely not acceptable." Darrell Johnson, a 23-year-old vagrant, was already free without bail on an earlier assault case when police said he slugged two women, including the 50-year-old victim, in unprovoked, random attacks in Manhattan on Dec. 2.
NYC homeless man is arrested for torching News Corp's giant 50ft Xmas tree outside its Manhattan HQ. The 49-year-old 'arsonist' arrested for setting fire to the News Corp's 50-foot Christmas tree will be back on the street in hours because of the city's lenient bail reforms. Craig Tamanaha, who is described as homeless and 'emotionally disturbed', faces six misdemeanor charges for torching the tree and under the 2020 criminal justice reforms that means the judge cannot set bail. Arson is only constituted as a felony in New York if the perpetrator harms or attempts to harm a person or if the act is considered a hate crime. Fox News employees called police after watching Tamanaha climb the tree at 12.14 am Wednesday and set it on fire. He tried to scramble away, but was taken into custody.
The next day...
Fox Christmas Tree Arson Suspect Released Without Bail. The arsonist who allegedly torched the Fox News Christmas tree was freed after his arraignment Wednesday night because his charges were not eligible for bail under new liberal reform laws. "I didn't do it!" suspect Craig Tamanaha, 49, claimed to reporters outside Manhattan criminal court after being asked about the early morning arson that caused about $500,000 in damage outside the Midtown building that houses Fox News, the Wall Street Journal and the New York Post.
LA residents say homelessness crisis is city's biggest problem. Los Angeles residents say the city's homelessness crisis is the biggest problem it currently faces, with many saying they feel unsafe as a result — and that they're now considering moving. A whopping 94 percent of people living in the City of Angels say homelessness is a serious or very serious problem. It was the biggest concern among residents polled, ahead of housing affordability, or traffic, air quality and climate change.
Does anyone think a white male would have skated so easily?
NYC homeless shelter director who stole $2 Million in city funds and splurged at Tiffany's avoids jail. A New York woman has pleaded guilty to taking $2 million of money meant for a homeless shelter she ran in the Bronx and spending it on shopping sprees at luxury stores in the city instead. Ethel Denise Perry, 66, was the executive director of Millennium Care, which was given a $10 million contract by the City of New York to run a 100-person shelter. Yet between 2013 and 2016, Perry used Millennium Care 'as her own personal piggy bank,' according to the state's attorney general, Letitia James. James said Perry illegally took more than $2 million from Millennium Care for luxury shopping sprees at retailers such as Tiffany & Co., Manolo Blahnik, Ferragamo and Bergdorf Goodman, and to pay for her cars, gym membership and other personal expenses.
Los Angeles railroad lined with homeless encampments sees rash of cargo container burglaries. The backlog of cargo containers making their way from the Ports of Los Angeles and Long Beach saw widespread burglaries as they were carried on trains through an area of tracks lined by homeless encampments. Thousands of boxes were seen laying near the train tracks "as far as the eye could see" in Los Angeles' Lincoln Park, NBC4 reported. A FedEx container and several others had their doors wide open and boxes tipping over. The area is lined by homeless encampments on either side of the tracks. The outlet also spotted two men jumping off of a moving train and carrying what appeared to be bolt cutters.
Portland Travel Group Says City Is Too Scary For Tourists. Travel Portland is the name of group that promotes tourism to the city. It describes itself as "a promoter and steward of this evolving city and its progressive values, which have the power to transform the travelers who visit us." But Wednesday [10/27/2021] the group presented a report to the Portland City Council with some bad news. The evolving city and its progressive values have become a big turn off to tourists.
Five sex offenders including two violent pedophiles were placed in homeless shelter within a block of $36k-a-year elementary school in Manhattan. Manhattan parents were outraged when they learned that city officials stuck five registered sex offenders, including two convicted pedophiles, into a homeless shelter last year about a block away from an elementary school. City officials placed registered sex offenders Thomas Libby, Lonzel McNeil, Lee Jackson, Francis Harrison and Curtis Thompson in the Radisson Hotel at 52 William St. in 2020 amid the pandemic. The shelter is a one-minute walk away from the $36,000-a-year Pine Street Elementary School, in Manhattan's Financial District, and both McNeil and Jackson have history of sex offense crimes involving minor.
The new meth and the impact on homelessness. The Atlantic published a lengthy but interesting story yesterday about the history of meth. If you've seen Breaking Bad you might already know a little of this history but the basic point of the article is that there are really two types of meth. Starting in the 1980s and up until the late 2000s, a lot of the meth on the streets was made by cooking batches of ephedrine which came from over the counter cold medicine. That meth was certainly bad news for those who used it but because it had to be made from cold medicine in fairly small batches, the amount of meth on the market was somewhat limited and the price was pretty high. However, there is another way (or ways) to cook meth that doesn't rely on cold medicine at all. This alternative meth can be made from any number of chemicals that are used in various legitimate industries.
NYPD orders cops to stand down, allow junkies to shoot up in streets after decriminalization measure passes. NYPD officials have ordered patrol and beat officers to stop rolling up suspects who are seen shooting drugs on the streets after legislation in the state legislature passed decriminalizing the purchase and sale of hypodermic needles commonly used to inject heroin and other hard drugs. "Effective immediately, members of the service should not take any enforcement action against any individual who possesses a hypodermic needle, even when it contains residue of a controlled substance," says a directive to New York Police Department commanders issued last Friday and obtained by the New York Post. The order to NYPD officers referenced Senate Bill 2523 which outlines the decriminalization.
Moving on Up: LA and Seattle Homeless Will Be Relocated to Taxpayer-Funded Luxury Apartments. Three glistening new buildings in downtown Seattle with 165 studio apartments — originally to be rented at market rates — will instead house the homeless. The Low Income Housing Institute (LIHI) is buying the buildings with taxpayer dollars for about $50 million, with federal COVID-19 relief funds splitting the cost equally. Seattle City Hall is contributing about $25 million, while also using "American Rescue Plan Act" funds. A large portion comes from Washington State's Department of Commerce. Left-wing Seattle Mayor Jenny Durkan, so unpopular she can't run for re-election, claims the deals will house people quickly and cheaply, compared to the time and cost required to develop similar projects from scratch. The three upscale buildings should be occupied by the end of the year.
Portland to Set Up Homeless "Villages" by 2022. Democrats claim must address "root causes" of problems in order to solve them. This approach is reasonable and may bear fruit, but only if the "root causes" are correctly identified. And that is where leftists usually fail and make things worse. As yet another illustration of that, Portland, Oregon, plans to address a growing crisis of homelessness by encouraging it instead of eliminating the true root causes of the problem, namely, poverty, lack of employment opportunities, mental-health issues, and substance abuse. On Thursday [9/30/2021], Portland City Commissioner Dan Ryan announced the first three out of six government-sanctioned homeless camps, which have been dubbed "Safe Rest Village" sites, will be up and running by the end of this year.
Disturbing photos show rampant drug use in broad daylight among the homeless around Penn Station as crime spikes 41%. Disturbing photos show homeless people in New York City's storied Garment District near Penn Station shooting up and dealing drugs in broad daylight as the crime in the area has spiked 41 percent since last year. Homelessness in the area has been a years-long issue but has become more rampant in recent months, with people not even trying to hide their drug use. Photos taken by DailyMail.com show one man with what appears to be drug paraphernalia in his hand, and another slumped over in a wheelchair.
Miami to ban homeless encampments, arrest residents. Bambi Nicole Kuttkuhn was afraid when police came through the I-95 overpass on NW 11th last month, an area where she and some 60 homeless people resided. She said they took some of her belongings, saying they'd been stolen, and forced her and the others to leave. After three weeks living in a vacant lot about a mile away, the 43-year-old is back, but worried about a proposed city ordinance that would give the police new powers and could make such clearings more frequent. City commissioners last week gave initial approval to an ordinance that prohibits encampments on public property and in entryways. It would give police officers the authority to arrest people experiencing homelessness, as long as they'd been offered a shelter bed. The city also allocated $7 million in federal funding for homeless services.
Why Do Doctors Go Along with COVID Panic Porn and CDC Prescriptions? [Scroll down] My group cared for patients of all descriptions, with roughly half of them on Medicare and another batch on Medicaid. Both programs are ultimately managed by the feds, one of the most humorless groups on the planet. They write a whole bunch of rules on how you have to document everything you do. If you didn't document it correctly, it didn't happen, and you won't get paid. But that's not the half of it. Suppose you have one of those patients brought in by the ambulance from under the bridge. His only clothes are the ones he's wearing, and he doesn't have two nickels to rub together. It's more than obvious that this surgery for bowel obstruction will be a charity case. Before Medicare, you'd simply write it off as your good neighbor duty. Now you don't get a choice. CMMS (the actual administrative agency) requires you to send a bill. Twice. Or maybe three times. Whatever it takes to turn the bill into bad debt. Then you have to send it to a collection agency. Your only alternative is for your group to bring it up in its Board meeting and declare it a write-off that gets noted in the minutes.
NYC homelessness up nearly 45% in most notorious subway vagrant spots. The city's subway stations with the worst ongoing vagrancy problems saw homelessness spike nearly 45 percent over the summer, the MTA's safety chief revealed Monday. The eight stations — all but one in Manhattan — were being used as living quarters by an average of 14.7 people in August, up from 10.2 homeless people in May, MTA chief safety officer Patrick Warren said. The stations comprise some of the city's busiest commuter hubs, including Grand Central Terminal, Penn Station, the Port Authority bus terminal and Lexington Avenue/59th Street, Warren said during a monthly meeting of the MTA's Safety Committee in Manhattan. The others are tourist landmarks Times Square and Union Square, as well as Manhattan's Fulton Street and Atlantic Avenue in Brooklyn.
NYC is failing its homeless residents. The tables and chairs on the Times Square piazza were all filled, except for a grouping of about a half-dozen. It was before this invisible audience of empty seats that the man was screaming a profanity-laced political diatribe. Now and then, he slammed his fist down on a tabletop to emphasize his mysterious point; cops stood and watched. Tourists gave uneasy glances. There have always been homeless people in New York City. But over the past few years, especially in the wake of the pandemic lockdowns, something has changed. The city is no longer dealing primarily with souls who fell on hard financial times and sit behind cardboard signs appealing for help. Instead, the streets are awash in aggressive, angry, addicted and too often violent members of society who threaten the social fabric of America's largest city.
The Editor says...
New York City has no obligations to "its homeless residents." Belligerent, drunken street people are a scourge, a blight, and a disgrace to the city. They are not an asset. New York city is failing its tax-paying residents and few remaining tourists by failing to round up and institutionalize the insane and violent hobos and bums on the streets. The solution should be easy: Vagrancy is already illegal, is it not? Now pass a law mandating the incarceration of insane people. Such a law will be immediately challenged in court — by the political left, of course — but this will give the Supreme Court a chance to reconsider Lessard v. Schmidt (1972).
This is apparently a video of the streets of Philadelphia but it looks like a scene from The Walking Dead. You see all those people who are leaning over while standing up like something out of a zombie film? Yeah, that's apparently called the "heroin hunch." This is so sad. We have lost our way as a society. [Video clip]
Upper East Side homeless 'can tipper' has caused unchecked mayhem for years, frustrating neighbors. He's a one man menace, a walking tornado of trash. They call him the "Can Tipper" of the Upper East Side — and he can't be stopped by the NYPD, homeless outreach workers or local politicians. For years, a homeless man has made a habit of knocking over garbage cans on a roughly 15-block stretch of Lexington Ave. around E. 80th St., frustrating business owners and residents who say they've been unable to stop the near-daily mayhem.
Potential jurors refuse to come to King County Courthouse over safety concerns. Safety concerns over the scene in and around the King County Courthouse in downtown Seattle have increased in recent weeks. These are concerns that existed even before a dozens-strong homeless encampment took hold at City Hall Park. It's an issue that pre-dates the COVID-19 pandemic. "Third Avenue for years has been particularly bad. There were some high-profile assaults a couple of years ago on Third Avenue to include folks who were kind of near the bus stop. There was a really terrible assault on an attorney who is walking into the courthouse, and so our court has been concerned for years about the courthouse safety issues that have been going on, in and around the courthouse," said acting presiding King County Superior Court Judge Patrick Oishi.
This Zombie Apocalypse Update Was Brought To You By Philadelphia. Kensington Avenue in Philadelphia, August 16, 2021. [Video clip]
Homeless Zombie Mob Attacks Young Family, Pays the Price. A young couple with a two week old baby in the car was attacked by a mob of armed, homeless people that had previously burglarized the family's vehicle. The couple showed up at the encampment to look for items stolen from their car several days earlier. They found their belongings, shoes and a blue-tooth speaker, and were trying to leave but were prevented by angry members of the great unwashed. That's when things got crazy. The donnybrook began when a vagrant woman ran across the stench camp and punched the mother. Her husband tried to intervene and got wacked with a five foot long conk buster, by a man identified as a 12 time felon. A nine-time loser with a machete attacked the car as the young family tried to drive off, smashing windows, including the rear window where the baby sat in a car seat. The mob entrapped the couple's car like a pack of meth-zombies, as the car circled back and forth, trying to get away.
Elementary school taken over by homeless, community terrified after major threats made. A squalid homeless encampment attached to a Seattle grade school is a petri dish of bacterial pathogens, thanks to the scores of vagrants who are urinating, defecating, sleeping, doing drugs and having sex just steps from where kindergartners are set to begin school next week. Despite outcries from worried parents and frustrated residents, local politicians and the city's left-wing school board do not want the filthy shantytown to be dismantled, claiming that would be "inhumane," according to Jason Rantz of KTTH-AM in Seattle. A flimsy, see-through fence separates Broadview-Thomson K-8 School from the homeless camp.
Denver spends far more on homelessness per person than K-12 students, veterans affairs: reports. The city of Denver spends at least twice as much on homelessness per person as it does on K-12 public school students — and the spending crushes the veterans affairs budget in the state, a new study released Thursday found, according to a report. For comparison, the city reportedly spends between $41,679 and $104,201 on each person experiencing homelessness in a year while only $19,202 on each K-12 public school student over the same period of time. The amount spent on each homeless person in the area is comparable to the average income of area residents. The average rent for a person living in the area is $21,156 per year and the median per capita income is $45,000, FOX 31 of Denver reported.
'River Dave's' cabin at center of property dispute burns to the ground hours after court hearing. A cabin at the center of a legal battle with a man known as "River Dave" caught fire Wednesday [8/4/2021], hours after the man appeared in court for a hearing. The cabin's resident, David Lidstone, will remain in jail for at least another week for not complying with a court order. On Wednesday, the Canterbury Fire Department reported that Lidstone's cabin is a total loss. The State Fire Marshal's Office was called in to investigate the cause of the fire which remains under investigation. "No fire trucks could make access to the scene[. W]e used UTVs," said Chief Mike Gamache with Canterbury fire department. [...] River Dave has lived on the land in Canterbury for 27 years. He said he has a verbal agreement with the property owner to keep the cabin there but has nothing in writing.
The Editor says...
[#1] Wow, there's a lot of clumsy syntax and incompetent writing in that article. [#2] After 27 years of uncontested occupancy, has River Dave created an easement? Is that why his cabin accidentally caught fire?
Sheriff Orders Employees To Work From Home Due To Dangers Created By Seattle Homeless Camp Next Door. Violence caused by the sprawling homeless encampment near the King County Courthouse has become so extreme that the county sheriff has ordered much of her staff to work entirely from home. The King County Sheriff's Office (KCSO) operates out of the courthouse building, which is located directly next to City Hall Park, KTTH reported. The park is the site of a massive homeless encampment that has essentially taken over the area.
Creep was on supervised release for burglary when he allegedly molested girl. A creep in Manhattan allegedly molested a young girl while being out on supervised release from a felony burglary case when he broke into a girl's room, The [New York] Post has learned. Raymond Wilson, a 31-year-old homeless man, appeared in Manhattan Supreme Court Thursday afternoon on charges of sex abuse and burglary in connection to the June 12 assault, court records show. [...] Cops connected Wilson to the sexual assault through the DNA on a water bottle he left behind, the complaint says. Judge Anne Swern set bail at $500,000, according to court records.
Homeless bazaar selling 'stolen' clothes, booze takes over prime Seattle location. COVID mandates resulted in nearly 150 Seattle businesses permanently closing. But as the Seattle economy finally reopens, residents and tourists have a new retail outlet to buy clothing and alcohol. It's a few blocks away from Pike Place Market, occupying prime real estate near Sub Pop Records and trendy restaurants Serious Pie and Shaker + Spear. But there's a problem: It's an illegal bazaar appealing mostly to homeless people. It sells what appears to be stolen goods. And the city hasn't done anything about it yet.
Once Beautiful Portland is Now A Progressive Nightmare. After years of progressive rule, Portland has fallen! Antifa rules the streets, the homeless rule the parks and criminals rule everything in between. After more than a year of allowing most homeless camps to remain intact so as not to displace people during the pandemic, cities across the country are now beginning to confront another public health crisis unfolding on their streets. The number of Americans who are homeless has increased in each of the past five years, according to government data, and for the first time more than half of homeless adults are living not in shelters but in tents or sleeping bags outside. There has yet to be a nationwide homelessness count since the start of the pandemic, but a quarter of Americans now report being at "imminent risk" of losing their homes, and cities up and down the West Coast say they are overwhelmed by an unprecedented rise in homeless people, hazardous encampments and related trash. [Video clip]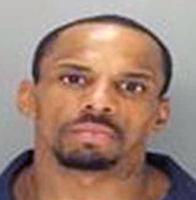 Man charged with vandalizing statue of Christopher Columbus in Lancaster. Police documents say Francisco Rodriguez Jr., 34, knocked down the statue and damaged the bust on Lennox Avenue between the evening on June 29 and the morning of June 30. Damage to the statue was estimated at $7,868. Rodriguez is also accused of other vandalism including:
• Throwing bricks through the front glass doors of the Lancaster County Courthouse.
• Throwing bricks through the front glass doors of the Probation Office on East King Street. Damage to the doors totaled around $1,500, according to the police document. Police said Rodriguez is homeless.
De Blasio Is Turning New York City Into a Toilet. The Rolling Stones song "Shattered" is about all the things Mick Jagger and Keith Richards didn't like about New York City: drug dealers, bedbugs, and people dressed in plastic bags directing traffic. Some kind of fashion. That was nothing. As if a rash of subway slashings aren't enough, straphanger struggles took a nasty turn when a homeless man in a subway station decided to relieve himself in an unsuspecting janitor's bucket — in front of anyone that happened to be passing by. Fortunately for the passersby, the New York subway still has a mask mandate. The man let go on an "L" train (not to be confused with the "El" or "elevated train) subway platform. The "L" train is the line that delivers hipsters to and from the ground zero of woke neighborhoods, Williamsburg, Brooklyn. You get what you vote for, hippies.
Homeless man arrested in connection to stabbing of Eric Adams volunteer. He and his 42-year-old victim, both of whom are homeless, have had an ongoing feud, cops said. It was not immediately clear what the beef was about. The victim, who has been arrested nearly 50 times himself, was repeatedly stabbed around 2:30 p.m. June 20 near East 149th Street and Morris Avenue in a shocking attack captured on video. "I commend the NYPD for making an arrest for this brutal assault, and I continue to pray for the complete recovery of our volunteer," mayoral candidate Adams said after Friday's arrest. "Every New Yorker has the right to walk our streets without fear — and job number one must be ending this pandemic of violence infecting New York City."
The Editor says...
There is no such thing as a "pandemic of violence." Violence is not a medical issue. Violence may be practically everywhere in New York City, but from where I'm sitting, it appears to be a major problem in only a few specific areas.
After Denver sweeps up the vagrants for the All-Star Game, then what? Once-beautiful Denver succumbed to vagrant enablement a few years ago. It was a pathetic attempt not to be outdone by Seattle and Portland — which have long sought not to be outdone by San Francisco. To be a great city, the thinking apparently goes, you have to be a filthy one. And so filthy vagrants overran downtown Denver and hip "LoDo" where they now camp on the sidewalks, poop in the gutters, shoot-up in the streets and assault passersby. The city is finally sweeping them, a little, in anticipation of its hosting of the baseball All-Star Game next month. Aware that the town will be on national TV, so far this year Denver has conducted as many vagrant camp sweeps as all of last year. The tent city is finally gone from the downtown jewel across from the state capitol building, Civic Center Park. The chain link fencing surrounding the capitol itself has finally been taking down, and vagrants are prohibited from camping there. But they still befoul the residential/retail neighborhood that is trying to emerge just east of downtown. And they're still stinking up the sidewalks just two blocks from Coors Field where the All-Star Game will be played. Maybe by the time of the game, the vagrants will be swept from there as well. We can only hope.
Citing 'dire conditions,' 33 King County Superior Court judges urge immediate shutdown of Seattle's City Hall Park. Thirty-three King County Superior Court judges and four court commissioners on Friday signed a letter to Seattle Parks and Recreation Superintendent Jesús Aguirre, requesting that he shut down City Hall Park and relocate residents of a sprawling encampment immediately south of the downtown county courthouse. "We are writing out of deep concern for the safety of jurors, Courthouse employees, the general public and those who find themselves unhoused and sheltering in and around City Hall Park," the judges and commissioners wrote. "As you know, conditions in and around the King County Courthouse vicinity, including City Hall Park, have been in a critical, unsafe and unhealthy stage for years. As a matter of last resort to address these issues, we are requesting that you close City Hall Park."
Hundreds pack emergency meeting to address Washington Square Park chaos. Hundreds of locals packed the basement of a Greenwich Village church Wednesday night for an emergency meeting to address the recent chaos at Washington Square Park — as police officials promised to "address" their growing concerns. The NYPD's 6th Precinct called the emergency meeting amid mounting outrage from fed-up merchants and residents over the nonstop partying that typically escalates with violence at the iconic greenspace. "The park has become a drug den, it's not about the music," fumed one woman during the public comment portion of the meeting. "The criminality has extended to our quaint street. From lewd acts to nudity to drugs, crack being smoked on our street, our children have witnessed people shooting up," she said.
King County promised to end youth homelessness by June 2021. It didn't. This month, youth homelessness was supposed to be solved. Two years ago, members of Pearl Jam joined Seattle's mayor, the county executive and philanthropy leaders representing the wealth of the region to promise that by June 2021, any young person who showed up at a shelter would get permanent housing in 30 days or less. Called the "End Youth Homelessness Now Campaign," and propped up by federal grants and $1.2 million from philanthropy, it was a bold aspiration with the goal of re-imagining the system, including funding and success metrics. Leeze Castro, 21, who emcee'd the event and was a member of the county's homelessness Youth Action Board, didn't think the timeline was realistic, but compared it to beginning to clean a room.
Seattle plans to clear Olga Park homeless camp where man was killed. Seattle city crews plan to clear out a homeless camp where a deadly shooting took place just days ago. Just under 20 tents are pitched on a strip of green space near Ravenna Park. Crime associated with the camp has been mounting in recent weeks, a trend the city confirmed on Thursday [6/3/2021]. Tents have been pitched around an area known as Olga Park for the past few years, but neighbors said the group that has gathered recently is unlike the others. "No one's really safe in this situation. I have young children," said one young mom who lives across the street, and who asked not to be named in this article.
It's the Wild West Village! Neighborhood overrun with graffiti, garbage: locals. It's not just Soho — the West Village is also looking like a throwback to the 1970s and '80s with spray paint covering storefronts and mounds of stinking garbage cluttering sidewalks. Fed-up locals in the once-desirable neighborhood told The [New York] Post on Thursday [6/3/2021] they have no choice but to deal with the unsightly conditions. "It's insane," Katrina Kulyzhka said as she walked along Sixth Avenue Thursday — a day after The Post revealed how Soho has also been overrun with graffiti vandals. "New York City is taking garbage to a whole new level." "What's shocking is it doesn't even surprise you anymore," the 28-year-old Tribeca resident added.
Homeless shelter to open smack-bang in the middle of NYC's 'Billionaires' Row,' Court of Appeals rules. Manhattan's Billionaires' Row will soon feature a men's homeless shelter smack-bang in the middle of it despite a three-year offensive to halt its creation by members of the city's elite, the New York Court of Appeals has ruled. Residents of the city's priciest street fought tooth and nail to halt Mayor de Blasio's $60.8 million plan to open a 150-bed men's shelter in the closed Park Savoy Hotel at 158 W. 58th St., arguing the location would be a dangerous "firetrap" and that crime would inevitably ensue on the ritzy block.
Washington Square Park 'drug den' horrifies Greenwich Village neighbors. A lawless, drug-infested Washington Square Park is horrifying even famously free-spirited Greenwich Village residents. "We may be liberal but this has gone too far," lamented Steven Hill, who has called the neighborhood home since 1980. "There have always been drugs in the park, mostly pot, but what's emerged this spring is like nothing we've ever seen before." Washington Square Park's northwest corner was overtaken in recent months by a crack-and-heroin-filled "drug den," while boisterous, booze-soaked raves around the central fountain have kept neighbors up until the wee hours and left the historic green space trashed each morning.
Austin City Hall Is Now Occupied by a Tent City With Machete-Wielding 'Security'. Mayor Steve Adler's Austin is still getting worse. He led the explosion of homeless camping citywide and the defunding of police. Police are leaving in droves, crime is spiking hard, and homeless camping has spread serious blight all over the city. Now that blight is concentrating downtown, thanks to another of Adler's addle-brained decisions. If you walk or drive around city hall in Austin, Texas, now, you'll see a new tent city. It sprung up after voters in the city overwhelmingly agreed to reinstate the ban on camping on public land on May 1.
Homeless campers around City Hall form their own armed 'security detail'. One Austin City Council member is raising safety concerns about an encampment around City Hall. For weeks, people experiencing homelessness have surrounded City Hall with their tents in protest of Austin voters reinstating the city's camping ban. Council Member Mackenzie Kelly tweeted that she was harassed as she walked out of City Hall on Monday. In the tweet, she said that she saw one man with a metal pipe and at least one knife, making her feel unsafe.
Parents outraged as Seattle elementary school near homeless encampment faces break-in, lockdowns. Parents are expressing their outrage after a Seattle elementary school, located only a few feet from a homeless encampment, experienced a break-in and multiple lockdowns. One Broadview-Thomson elementary school parent, Bryce Nicolls, joined "Fox & Friends" on Tuesday [5/25/2021], and said that the situation has spiraled "completely out of control" after an unknown man entered the school with students present. "They have broken into the school. The school has been on a shelter-in-place lockdown multiple times due to one of the people at the encampment having a gun, and there's fights there constantly," Nicolls said.
Austin's Revolt against a Homelessness Surge. Austin, Texas, enjoys a well-deserved image as a cool and rapidly growing city, with great food, nightlife, a booming tech industry, the University of Texas, and major events such as Austin City Limits music festival, South by Southwest, and Formula 1. But over the past two years it has gained a new reputation: a city with a homelessness crisis, fueled by a misbegotten "camping" policy. On July 1, 2019, a public-camping ordinance took effect that made unregulated, open public camping lawful in nearly all public spaces in Austin. The consequences were profound immediately. Homeless shelters emptied, homeless individuals began traveling to Austin, major intersections had large encampments form, and even Town Lake, among the most beautiful and cherished areas of our city, became overrun with tents and makeshift encampments.
Texas legislators ban homeless 'camping' statewide. Across the blue cities of America, city officials have turned their public spaces into vast and expanding homeless camps. That leaves such cities without public spaces, and puts the quality of life at zero. Portland, San Francisco, Orange County, Los Angeles, Washington, D.C., and New York, all spring to mind. In such places, we have seen whole stretches of places like Venice Beach become a freakish third world tent shantytown, with the camping homeless blocking roads, scaring children, giving cash to drug dealers, getting intoxicated, throwing trash, boosting cars, theatening those who don't want to give them spare change, and doing their bodily functions in public places, if not on private property. The same is true in Los Angeles, New York, and the rest. When the homeless take over, the public has no choice but to stay away.
'Things Fall Apart' With No End in Sight. Around the country, especially in Democrat-dominated states, "homeless" encampments have sprouted up like kudzu. The famed Venice Beach in Los Angeles now resembles the anarchic opening "Dawn of Man" scene from Stanley Kubrick's film, "2001: A Space Odyssey," with vagrants, derelicts, and hobos viciously attacking and beating residents and each other. Meanwhile, across town in Angelino Heights, work crews just removed more than 35 tons of human biological and hazardous waste from the Echo Park Lake and its surrounding park, which is similarly bristling with brand-new tents and, no doubt, cell phones.
Minneapolis church concerned about encampment on its property. A church in Minneapolis is searching for answers after land that it owns was recently occupied by a large homeless encampment. "They have no place to go, but at the same time I don't think it's appropriate to just go and conquer private property," church chairman Andualem Emiru told FOX 9. On Friday, church members posted no trespassing signs on a fence around the property, but tents remained as of Sunday.
Denver Fire Removes Hundreds Of Pounds Of Propane From Homeless Encampments, Worries About Large-Scale Disaster. The Denver Fire Department is sounding an alarm over a growing number of propane explosions at homeless encampments. It says it has responded to more than 200 fires in or near homeless encampments in the last four months alone — more than one a day on average — and in almost every camp they find propane tanks. A 20 pound tank of the highly flammable gas is the equivalent of 100 sticks of dynamite.
More Americans Homeless than Ever; Bring in Impoverished Migrants Anyway. I had no idea so many 'people of color' make up such a large percentage of the homeless. It seems, at least to me, that most photos of homeless people in corporate media reports show White drug-addled derelicts. So why isn't Black Lives Matter supporting their Black brothers instead of encouraging more immigrants who will continue to compete with Blacks for jobs and social services?
Neighbors in shock after shootings, explosion at homeless camp in Albert Davis Park. Neighbors living next to Albert Davis Park in Seattle's Lake City are begging city leaders to do something about a growing homeless camp at the park. The neighbors say they are living in constant fear and apprehension after a recent double shooting and explosion at the camp. She says drugs and crime are rampant at the camp, which took over the park when the pandemic hit over a year ago. She and others say the problems there are out of control and they are demanding solutions from Seattle city leaders.
The Editor says...
Did the residents of Seattle expect some other result from a steadily-expanding mass of irresponsible vagrants and mentally-ill drifters? Where were all the "sustainable development" fanatics when a mass of (plastic!) tents started to accumulate? They were all completely silent! Whether a mental hospital is made of concrete and steel, or it's made of canvas and ripstop, it's still full of people who should not be on the streets.
Austin voters approve proposition aimed at reinstating public camping ban. Austin voters have approved Proposition B, which aims to reinstate the public camping ban that was reversed in July 2019. The results were 57% to 43%, with the majority voting to approve the proposition. The camping ban makes it illegal to camp in any public area not designated by the Parks and Recreation Department; to sit or lie on a public sidewalk or sleep outdoors in and near the downtown area and the area around the University of Texas campus; and to panhandle at specific hours and locations.
Austin, TX voters overwhelmingly reject propositions pushed by progressives. There are signs that the left has created a backlash by overplaying its hand. Even in a stronghold of the left like Austin, Texas, where in 2019 homeless people were allowed to erect their tents on city-owned land, including parks and sidewalks, thanks to the progressive-dominated city council. All the problems any sane person would predict started happening immediately. And that led to a voter initiative to reinstate the camping ban, Proposition B.
Armed security guards work!
Walls erected outside Academy Awards to protect the Hollywood elite. Security fencing was erected around the perimeter of Union Station in Downtown Los Angeles on Sunday to provide protection for the Hollywood elite and their Academy Award ceremony. The red carpet, and the dazzling celebs who walked it, were well secured from the general public. Union Station was cordoned off with fencing, and the entrances were also blocked, with security guards and additional measures. The Post Millennial reported that Union Station is typically home to a high-population of homeless people. Yet the City of Los Angeles forced those city dwellers to move from their temporary digs in order to make room for the Oscars. The city moved the homeless under the alleged threat of destroying their belongings if they failed to comply.
Parents worry as homeless camp keeps growing behind Seattle school. Since July a homeless encampment has been growing behind Broadview-Thomson K-8 School in Seattle's Bitter Lake community. Neighbors and parents continue to call on Seattle Public School to put children's safety first and to remove the encampment. Over the past 10 months the homeless encampment behind the school has been grown into more than 40 tents. Neighbors and parents have repeatedly called on Seattle Public Schools for a solution — but nothing has been done.
Hell's Kitchen residents fear summer of the 'living dead' as homeless multiply. Hell's Kitchen residents fear a summer of the "living dead" as thousands of vagrants the city dumped in the neighborhood over the last year emerge from their homeless hotels. A "sewer" and a "cesspool" is how longtime Hell's Kitchen activist Marisa Redanty described the neighborhood in recent weeks, as the return of warm weather produced a sudden upswing in the presence of drug-addled and deranged homeless people on the streets of Midtown. "This summer will be the night of the living dead," she predicted. NYPD data shows the area's homeless hotels have already become quality-of-life hellscapes.
Drug Lab Inside Denver Homeless Camp Causes Explosion, City Finds 30 Propane Tanks. Denver Public Safety Manager Murphy Robinson could be in trouble with the Tenth Circuit Court of Appeals after he dismantled a drug lab in a homeless encampment without giving notice. Robinson signed an executive order Saturday after the camp in north Denver went up in flames. "Propane tanks were on the scene and started to blow up. No one was hurt and that is of the grace of God," said Robinson in an interview with CBS4's Shaun Boyd. Robinson says more than 30 propane tanks were inside the encampment near York Road and the A Line train route, not far from Clayton Street. It was clear what they were being used for. "Evidence points to some type of drug lab, whether it was hash oil or a meth lab, we are unsure at this time."
Please don't pepper-spray the vagrants. First, no one seriously contends that people can't get a job in this wealthy society bespeckled with help-wanted signs. So why exactly are vagrants on the streets? There are two answers. First, it's because we encourage them. We give them free stuff ranging from free food to free money to free sympathy to free drugs. We declare them to be victims, which in today's culture is a more heroic status than hero. In the old days, we told them to get off the streets else they'd earn a night in the drunk tank, while now we reward, romanticize and glorify them. It's as if we're leaving unsecured trash cans out overnight and then wondering why the raccoons keep coming and trashing the yard. But since they inexplicably do, we deem them heroic victims deserving of more and better stuff. It's illustrated by our lexicon. Vagrants were originally called "vagrants." That wasn't a derogatory term. Merriam Webster still defines "vagrant" as a person "wandering about from place to place usually with no means of support." But the word "vagrant" was canceled for political incorrectness because it became associated with ... vagrancy.
The Invisible Asylum: Olympia, Washington, is a microcosm of the problems created by the emptying of mental hospitals. The story of American deinstitutionalization has become familiar. In a long arc — from President Kennedy's Community Mental Health Act of 1963 to the present — federal and state governments dismantled mental asylums and released the psychiatrically disturbed into the world. Though there were sometimes brutal abuses in the state mental hospitals of the early twentieth century, the closure of the asylums did not put an end to mental illness. If anything, with the proliferation on the streets of psychosis-inducing drugs such as methamphetamine, the United States has more cases of serious mental illness than ever before — and less capacity to treat and manage them. The question now is not, "What happened to the asylums?" but "What replaced them?" Following the mass closure of state hospitals and the establishment of a legal regime that dramatically restricted involuntary commitments, we have created an "invisible asylum" composed of three primary institutions: the street, the jail, and the emergency room.
A Quick Walk Through Kensington Ave Philadelphia. [Video clip]
Seattle students returning to in-person learning are greeted by homeless encampments on campus, school officials demand they remain. Students who returned to in person learning at Seattle Public Schools on Monday for the first time in over a year found homeless encampments waiting for them on the grounds of two of the district's campuses. This, only two short years after state officials debated legislation prohibiting homeless encampments from being allowed to be established within 1,000 feet from a school. Neighbors have even photographed King County needle exchange vans near the properties as well as dead rats in the encampments tied to sticks. [...] Neighbors attribute area crime, trash, waste and needles to the encampments. Seattle Public School officials have refused to address the situation adequately according to neighbors and parents. School board members have even demanded that the encampments remain.
The 10 Radical New Rules That Are Changing America. [#7] Ignoring or perpetuating homelessness is preferable to ending it. It is more humane to let thousands of homeless people live, eat, defecate, and use drugs on public streets and sidewalks than it is to green-light affordable housing, mandate hospitalization for the mentally ill, and create sufficient public shelter areas.
Downtown Portland Is A Dystopia. What is it really like in downtown Portland, Oregon, in 2021? The decades of whacked out liberal rule have finally caught up with the once-great city, as it has devolved into a third-world dump. Sidewalks are lined with homeless tents and garbage, buildings are all boarded up, either to prevent the routine rioters from destroying them or because they have been abandoned. Graffiti is everywhere. Avoid this place at all costs. [Video clip]
Homeless encampment near Capitol Hill middle school grows, while city faces questions. A growing homeless encampment near a Capitol Hill middle school is under fire and while the city said outreach has been done to move some of them into housing options, a few of the campers dispute that contention[.] Miller Park sits next to Meany Middle School. The number of tents there ballooned after a sweep late last year of nearby Cal Anderson Park. With Gov. Jay Inslee announcing districts must come up with options to get kids back in the classroom by next month, there's growing pressure to address the 20-30 campers staying there. "I haven't personally had contact with them or been offered any kind of housing," said Eddie Vallejo, adding that he has been staying at Miller Park since last October. "It's hard to do outreach when you don't know who you're talking to."
The Pandemic, Mental Health, and Addiction. Panhandlers are now positioned on every overpass in my area. This used to be only expected in the city, not the cute little old neighborhood we moved to out in the suburbs. It's a sign of the times; a constant reminder of how badly the economy has been broken by overreactions to COVID-19. People who are unable to support themselves are more susceptible to mental breakdowns. When mental health offices and shelters are closed or operate at limited capacity, people turn to substance abuse, not because they give up, but because they need something to help them through, and we all know that the opioid crisis is raging on. Plenty of us know that most addicts are victims who never learned to properly cope and overcome their issues. Mental health issues perpetuate addiction. Mental health is often less sustained when conditions are unstable.
Washington state's rise in homelessness outpaced the nation's, according to report. Washington saw one of the biggest estimated increases in people experiencing homelessness in the country between 2019 and 2020, according to new national figures from an annual report to Congress. Overall homelessness across the U.S. grew by more than 2% that year, according to the report's estimates, but Washington saw an overall increase of 6.2%, or 1,346 people — the third largest increase in the number of homeless people among all 50 states. But the report also showed that Washington was far from alone in grappling with one of the most devastating and difficult kinds of homelessness to alleviate: chronic homelessness, defined as frequent or extended bouts of homelessness experienced by people with a disability. People who fall into this category often struggle with mental health or addiction issues that make them unable to stay in housing without intense treatment or other supports. Nationwide, 15% more chronically homeless people were counted that year, driven by increased numbers of people living outside.
Looks Like A Zombie Apocalypse, But This Is Actually Philadelphia. This may look like a trailer for the upcoming The Last Of Us movie, but this is actually Kensington Ave in Philadelphia. Kensington Avenue is known for its massive drug problem and has the cities 3rd highest crime rate. The mayor and the local Philly political class have ignored neighborhoods like this for decades and now they are zombie wastelands. [Video clip]
Philadelphia's Skid Row: Dozens camped out along 'largest open-air drug market on the East Coast'. The video looks like a scene from an apocalyptic movie — dozens of disheveled people shivering in the middle of a winter night as they camp out around a trash bin on fire among a street strewn with litter. But the footage isn't a Hollywood production but a candid snapshot of Kensington Avenue in northeast Philadelphia — an area that has been likened to the infamous Skid Row section of Los Angeles. The neighborhood has previously been dubbed the 'East Coast's largest open-air drug market' by DEA officials, according to the New York Times.
Homeless Drug Addicts Make Camp 15 Feet Away From Military Occupation Zone of U.S. Capitol. New photos have emerged showing a homeless camp that has emerged only 15 feet away from the military occupied zone of Washington, D.C., created in the aftermath of the mostly peaceful Capitol Hill protests on January 6. David Hookstead, a reporter for The Daily Caller, posted two images of the military occupation zone, writing "Military lockdown is still upon us. Massive trucks everywhere, military members patrolling and razor sharp wire to keep people far away."
San Francisco is paying $5,000 per month for each homeless tent. Homelessness is really expensive for the people who are paying for it. Last year, San Francisco set up six "safe sleeping villages" during the pandemic, including one right outside City Hall. Basically these sites are sanctioned tent camps where the homeless live on city property with bathrooms and free meals. It turns out the city is paying $5,000 per month for each tent.
TX State Rep. files bill to rename part of I-35 in Austin 'Steve Adler Public Restroom Highway'. Republican Texas State Representative Bryan Slaton has filed a bill in the Texas House of Representatives asking that a portion of I-35 in Austin be renamed the Steve Adler Public Restroom Highway. The portion Slaton is asking to be renamed is the area between 4th Street and 11th Street where those experiencing homelessness reside. Slaton, who represents House District 2, says in a news release that "since the legislature has made it clear it intends to rename some highways and bridges this session, I think it's imperative that we start with a highway that truly recognizes the contributions of (Austin) Mayor Adler."
The Bottomless Absurdity of Ayanna Pressley's Free Public Transit Bill. Should public transit be free? Massachusetts representative Ayanna Pressley thinks so. Her Freedom to Move Act offers $5 billion in grants to entice the nation's transit systems to go fare-free. To qualify for grants, transit agencies would also have to improve safety and quality, particularly in low-income and historically underserved communities. Unfortunately, experience shows that these two goals aren't always compatible. A side effect of getting rid of fares is eliminating fare enforcement, which advocates say disproportionally targets black and other minority riders. Thus, the progressives backing Pressley's bill (and the companion bill introduced by Massachusetts Senator Edward Markey) view fare-free transit as part of a larger social-justice agenda. At least one transit manager is on board with a fare-free future. Phil Washington, CEO of the Los Angeles Metropolitan Transportation Authority, believes that his agency has a "moral obligation" to help the county and region recover from the "once-in-a-lifetime pandemic" and from the "devastating effects of the lack of affordability in the region."
The Editor says...
Pardon me while I state the obvious: Fares are the only thing keeping mass-transit buses and trains from becoming homeless camps on wheels.
Be a tribe of one. Suppose you're a die-hard Democrat. What do you do about such issues as: [...] Urban violence versus urban order. Do you side with radical groups like Antifa and the more extreme elements of Black Lives Matter — overwhelmingly Democrats — who candidly espouse attention-seeking violence for their causes? Or do you side with the urban residents and businesses — also overwhelmingly Democrat — who suffer the results of that violence? The same issue presents with regard to urban vagrancy, er, homelessness, er, persons experiencing homelessness. Do you side with feral humans who seek attention by camping on the downtown sidewalks and pooping in the gutters and their enabling advocates who are overwhelmingly Democrats? Or do you side with the urban residents and businesses — overwhelmingly Democrats — who are trying to live and work a few feet away from those make-shift toilets?
The worst run cities in America. The state of cities around the country is rapidly declining, leading to the greatest rates of emigration since the days of disorder and distress in the 1970s. Eight cities stand out as the worst run in the country, when ranked with markers like costs of living, education, poverty, and crime. These are New York, Los Angeles, San Francisco, Philadelphia, Washington, Portland, Oakland and Chicago. [...] Local mismanagement has also led to poverty. There are 20,000 homeless people in New York, the highest in history, despite more than $360 million sent for efforts to solve the problem annually. In Los Angeles, the toxic mix of restrictive housing policy which drives up costs and outreach programs that employ 800 people yet still cannot keep a clear count of those it aids, there was a 12 percent rise in homeless people in 2019.
Indianapolis Has Fallen: A Red State Capital City Degrades Itself to Blue City Levels. I had known this mid-size metropolis since the seventies when I lived here as a medical student, attending the Indiana University School of Medicine. Then, Indianapolis was referred to as India-no-place or Naptown. [...] This year, Monument Circle swarmed not with tourists and patrons but with a succession of homeless encampments, bedecked with tents, sleeping bags, blankets, cardboard shelters, and, of course, hundreds of vagrants sleeping or milling about. What had been one of the cleanest, most scenic, and safe downtown centers in the country had deteriorated into a third-world, garbage-strewn, threatening urban nightmare. The entrances to the Hilbert Circle Theater and the nearby Indiana Repertory Theater were boarded up and crammed with itinerants, trash, and debris. It was demoralizing and disgusting, an urban cesspool of dystopia and vagrancy.
Defenders of Civilization? The homeless population of more than half-a-million seems to grow ever larger, as they line the boulevards of our major cities. How could a wealthier more sophisticated society of 2020, the greenest in world history, allow feces on its sidewalks, random harassment of its passersby, and garbage, and worse, strewn in its parks? Are there homeless outside the French Laundry restaurant? Do they camp at the curb outside Gavin Newsom's mansions? Why could not our Silicon Valley multibillionaires endow a health campus, or Ivy League campuses translate their abstract caring into concrete welcoming of the homeless into their empty summertime dorms? Americans know that purging the word "vagrant," "liberating" the ill from mental asylums, and allowing public urination and defecation did not solve the problem. They sense they know the solution is the restoration of hospitals and health care halfway houses, but are too weary to hear the furious outcry.
Bright yellow jacket was undoing of suspect in NYC rape: NYPD sources. A homeless man was busted Saturday for the horrific New Year's Eve strangulation rape by a bogus deliveryman, thanks to Manhattan cops who spotted a jaywalker in a canary yellow jacket — the same distinctive color worn by the attacker, sources told The [New York] Post. Public Safety Officers with the 13th Precinct were sitting in a police car near the location of the rape at East 30th Street and Third Avenue in Kip's Bay at 1 a.m., when a man in a puffy yellow jacket fitting the rapist's description walked right in front of them, sources said. They recognized him from surveillance photos, sources said after the arrest of Elijah Kelly, 23, who lived at the nearby and notorious 30th Street Men's Shelter next to Bellevue Hospital.
Police clear radicals occupying motel, chief announces zero tolerance policy. Radical activists with Tacoma Housing Now (THN) are holding a Travelodge motel hostage in Fife while activists are assembling their version of an army to defend the takeover. It's an escalating and dangerous situation. Law enforcement and local politicians are not doing much to stop it. Of course, COVID is also now spreading within the motel as one of the organizers and one homeless occupier apparently tested positive for the virus. This should be called out for what it is: the intersection of deranged activism and domestic terrorism. [Numerous updates]
Understanding the homelessness that plagues West Coast cities. Having worked as a lawyer in San Francisco for two-and-half decades, I spent a lot of time in the downtown area. That meant constantly walking by the homeless. It was apparent that these people were not just down on their luck and stuck in a difficult phase. Instead, they were quite obviously either mentally ill or substance abusers — or both. Additionally, I have a friend who chose a different life path from mine. While she has always worked and is someone of great personal integrity, several people in her social circle are homeless. Knowing their stories, I can tell you with certainty that what drives their homelessness is a combination of mental illness (often from fetal alcohol syndrome or terrific child abuse) and substance abuse. My observations are consistent with the data, which show that most people on the street are indeed mentally ill or have substance abuse problems. And I do wonder if our increasingly permissive drug culture accounts for the escalating number of people suffering these plagues, for a lot of mentally ill people self-medicate.
Republican Mackenzie Kelly Wins Austin City Council Runoff. Local Paper Declines to Cover It. In a stunning upset, Republican Mackenzie Kelly defeated Democrat incumbent Jimmy Flannigan in Austin's District 6 runoff Tuesday. Kelly ran on a platform that includes restoring police department funding and ending the city's permissive homeless camping ordinance. She won with 52% to Flannigan's 48%, a margin of just about 700 votes overall. Kelly's win, and Republican Jennifer Virden's near-win in District 10, may signal a major shift in Austin voters' thinking. The Democrat-dominated city was already up in arms over the homeless camping ordinance, which allows homeless people to camp just about anywhere they want all over the city (except city hall) since the council passed it unanimously in the summer of 2019. That has led to encampments under overpasses and even on the fringes of neighborhoods all over Austin.
Report: Homelessness Soars to Record Heights in New York City. The number of individuals without a roof over their heads is soaring in New York City, according to new figures from 4 NY/NY Housing, a coalition of homeless advocacy groups. A record 21,210 single homeless men and women were in New York City's homeless system in the month of October[.] The number includes an all-time record number of single men, 15,369, and a near-record of single women, 4,841, according to the new data, as reported by CBS News. The number does not include individuals and families living on the streets or those living in private shelters.
Homeless families sue the city over Wi-Fi installation, demand internet by January 2021. A group of homeless families is suing the city over the de Blasio administration's plan to install Wi-Fi in family homeless shelters across New York, arguing the effort won't get students internet fast enough, the Daily News has learned. Filed in Manhattan Federal Court, the lawsuit calls for a judge to force the city to get Wi-Fi in all family shelters across the city no later than Jan. 4, 2021 — the first day of school after winter break. "My son still struggles with completing his classes. One minute he's online, the next he's not," said one of the homeless parents suing, who asked to remain anonymous.
Seattle homelessness explodes, with no end in sight. Homelessness is exploding in Seattle. Tents engulf city parks, kids find needles on playgrounds and many homeless people get violent. The only effective tool the city had to tackle the problem was just gutted by an ideologically-driven City Council. The Navigation Team (commonly known as the "Nav Team") was a specialized unit of Seattle police and social workers connecting the homeless with resources, like shelter or health care, while removing encampments. The latter point earned the ire of the irredeemably progressive City Council, which considers encampment removals to be "inhumane" or against public health interests. Under the defund police movement, the Council gutted the entire team in August.
Anarchy in New York? In New York City, it feels as though things are getting out of control. When wildcat protests can take over the streets, blocking traffic at will while cops indicate they have been ordered to stand down, one observes a lack of order. Homeless drug addicts set up camp on lower Broadway and shoot up openly — a sight hard to imagine not long ago, but now common. Hotels on the Upper West Side have been converted into homeless shelters; when neighbors complain about random crime, public defecation, and harassment, local elected officials excoriate them as racists.
Voting resources available to help Michiganders who face homelessness. Voting resources are now available for Michiganders who face homelessness. The state is providing outreach to help people experiencing homelessness learn more about their voting rights, Michigan Secretary of State Jocelyn Benson announced Wednesday. This includes an online tool kit with information about voting, and training for advocacy organizations that serve homeless Michiganders.
The Editor says...
In my opinion, most homeless people are homeless either because of drug addiction, mental illness, or spending a lifetime making faulty decisions. In any of those cases, they should not vote.
NYC officials reveal plans to permanently move hundreds of homeless men into Radisson hotel near Wall Street. New York City officials are facing renewed controversy after unveiling their plan to relocate homeless men from a luxury hotel on the Upper West Side to another hotel near Wall Street. The city's Department of Homeless Services (DHS) announced on Friday [9/25/2020] that roughly 300 people living at a makeshift shelter in the Lucerne Hotel will be moved to a Radisson hotel in the Financial District after Upper West Side residents complained about drug use and lewd displays taking over their streets. Over the past month Mayor Bill de Blasio has gone back and forth about how to address backlash surrounding his decision to place some 13,000 of the city's homeless population in hotels that were left empty as the coronavirus crisis disrupted tourism.
The Editor says...
Packing the hotels with smelly old bums is likely to disrupt tourism, too.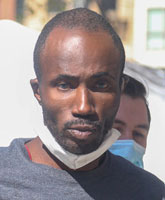 Suspected subway saboteur charged for causing train derailment: cops. The man suspected of causing a Manhattan subway derailment by tossing metal construction debris onto the tracks was hit with a number of charges for the vandalism on Sunday night, police said. Demetrius Harvard, 30, is accused of chucking the material onto the tracks at 14th Street and Eighth Avenue as an uptown A-train was pulling into the station at about 8:20 a.m, authorities said. The suspected subway saboteur was hit with reckless endangerment, criminal mischief, assault and criminal trespass charges in the incident that created delays to the transit system, officials said.
Manhattan subway train derails after 'laughing homeless man throws metal clamps onto the tracks'. Police in New York have arrested a homeless man who placed metal clamps on subway tracks and watched, laughing, as a train derailed, injuring three people. The incident occurred in the West Village, as the uptown A train was entering the 14th St - Eighth Avenue station at 8:17 am. The homeless man had found a pile of tie plates, which are normally used to secure the train tracks to the foundations, on a pile of construction materials at the 14th St. station, police sources told the New York Daily News.
Aurora's Martin Luther King Jr. Library employees see increase in homeless people living outside front doors. An employee at Martin Luther King Jr. Library in Aurora says she and other co-workers have reached a breaking point both mentally and emotionally when it comes to the homeless individuals outside the library's doors. "I don't think you should leave any job and feel haunted," said one employee, who did not want to be identified. "But to leave the library and go home at night and all you can hear are the flashbacks of screams or seeing someone punched in the face..." She was speaking about the increase in people experiencing homelessness who have started living right outside the library's front doors.
The Burning of Minneapolis. [Scroll down] The story of the former Midtown Sheraton is the story of America in 2020. Built to help anchor the redevelopment of the Lake Street area in 2005, it morphed into a volunteer-staffed homeless shelter during the riots as soon as the paying guests evacuated. As many as 300 people moved in almost overnight; the communitarian project ceased just two weeks later when the building's owner kicked everyone out amid reports of drug use and general unruliness. Many evicted residents did the only logical thing and walked about a quarter-mile south to Powderhorn Park, a blindingly green depression in the earth enclosing ballfields and an idyllic lake. Handsome Victorian houses line the surrounding hilltop streets. A large homeless encampment soon formed along the rim of the depression. The parks police initially gave the new arrivals 72 hours to leave, but the parks board did not want to deepen an existing humanitarian catastrophe and opted to suspend enforcement until a solution could be found.
'Serial grifter' avoids eviction from woman's West Village home: suit. A West Villager has been tormented for more than a year by a messy, obstinate roommate who has been refusing to pay rent or move out, according to shocking court papers. Barrow Street resident Heidi Russell's short-term renter, Kate Gladstone, is a "serial grifter" who has become a long-term nightmare, taking over her apartment, repeatedly spritzing her with cleaning chemicals and basically squatting for free, the court papers claim. It's been so unbearable, Russell often flees her two-bedroom apartment during the day, just to get away from Gladstone. "She's turned me into a homeless person during the pandemic," said Russell.
Billionaire's Row homeless shelter on hold again after court victory for neighbors. The battle over a homeless shelter on Midtown's Billionaire's Row has tipped in favor of the neighbors who oppose it. A state appeals court last week overturned a ruling that the 150-person men's shelter — planned for the former Park Savoy Hotel on West 58th Street — could go forward because the building was deemed to be safe. The reversal said more information was needed "on whether the building's use is consistent with general safety and welfare standards," sending the matter back to a lower court for further review.
So much for end to hotel homeless: De Blasio moves men into boutique Brooklyn rooms. Dozens of homeless men were moved into a Downtown Brooklyn boutique hotel Friday — just days after Mayor Bill de Blasio said he's looking to end the city's emergency coronavirus shelter program. During four different times Friday afternoon, The [New York] Post observed four yellow buses drop off more than 40 vagrants with their belongings in trash bags at the Hotel Indigo on Duffield Street, where a sign on the front door read that it "cannot accommodate reservations" for guests and redirected those with reservations to a nearby Sheraton hotel. An NYPD cop on site confirmed to The Post that there were no homeless residents living at the hotel between Fulton and Willoughby streets and city sources said it is being converted into a men's shelter.
Local residents complain neighborhood overrun by homeless, many relocated into West Side hotels. For Hell's Kitchen resident Bernadette Mastrangel, a lunch date with a friend ended ugly — discourtesy of an unhinged and uninvited guest. A bare-chested homeless man, wearing a red, white and blue cowboy hat, flew into a rage when the restaurant manager told him the bathroom was for customers only. "[...]!" he screamed before turning on Mastrangel's pal at a nearby table. "He goes crazy, started yelling at us, gets in our faces," recalled Mastrangel, an eight-year neighborhood resident. "And he spits into her food." The bizarre and unprovoked incident comes as residents of the Manhattan neighborhood complain their streets are increasingly overrun with the homeless, many relocated to local hotels during the pandemic.
'This will bankrupt the city': Nearly 20% of New York's hotels are being used to house 13,000 homeless people. Nearly 20 percent of New York City's hotels are being used to shelter the homeless in a widely criticized initiative that some say will 'bankrupt' the city and drive its wealthy residents out for good. Since the start of the pandemic, 13,000 homeless people have been moved out of shelters and into hotels around the city. Currently, 139 of the city's 700-odd hotels are being used. De Blasio is paying the hotels $175 per person per night, according to sources who are familiar with the scheme, which puts the cost at more than $2 million a night.
De Blasio reveals he wants to buy empty NYC buildings and turn them into affordable housing after moving 13,000 homeless into hotels. Mayor Bill de Blasio on Friday revealed a plan to buy properties around the city and turn them into permanent affordable housing, after moving more than 10,000 homeless people into hotels during the COVID-19 pandemic and shaming rich residents who have left the city as 'fair weather friends'. At a press conference on Friday, he did not say which type of buildings the city had its eye on and the city is refusing to give more details, citing 'privacy concerns'. De Blasio only said there was an 'opportunity to get creative' now when it came to finding housing for New York's homeless. It presents a stark scenario for landlords or building owners who may be struggling to collect rent from current tenants, many of whom — both commercial and residential — have absconded.
NYC 'illegally' housing pedophiles near Upper West Side playground. The city dumped at least six homeless pedophiles, all still on parole, at a luxury Upper West Side hotel just a block from an elementary-school playground — an apparent violation of state law, online records show. The outrage is only the latest slap in the face to residents of the Manhattan neighborhood — who as The [New York] Post reported have had to deal with everything from public urination to open drug use since the city began moving hundreds of homeless into the area amid the coronavirus.
Hundreds of new homeless turn UWS into a spectacle of drugs and harassment: residents. Upper West Side residents say three hotels that are housing hundreds of homeless men during the coronavirus pandemic have turned the area into a spectacle of public urination, catcalling and open drug use. Among those staying at the luxury Belleclaire on Broadway and the Lucerne on West 79th Street, and the more down-market Belnord on West 87th Street, are people who are mentally ill, recovering from drug addictions, and registered sex offenders. Ten sex offenders are staying in a single hotel — the Belleclaire, which is just one block from the playground of PS 87.
Homeless druggies are making life difficult for NYC church. A struggling Manhattan church has been forced to block off the steps to its front door to keep homeless druggies from defiling the sacred space, The [New York] Post has learned. Prayers alone weren't enough to protect the Trinity Presbyterian Church in Hell's Kitchen from temporary residents of The Watson Hotel nearby, so a makeshift barricade built out of a clothes-drying rack and twine now bars the entrance to the house of God. "These people would come and crap all over the stairs!" an outraged church member said Wednesday [7/29/2020].
Apparent junkies turn stretch of NYC's Midtown into a shooting gallery. A cluster of junkies has turned Broadway into a shooting gallery, injecting drugs unhampered in broad daylight and then shuffling around in a zonked-out stupor, seemingly oblivious to the Midtown bustle around them, The [New York] Post has learned. If that wasn't enough, the addicts are peppering the area with used syringes, turning individual planters on 40th Street and Broadway into mini needle parks. "They've taken over the tables, blatantly using needles and shooting up heroin all day long," said a local worker who asked that he only be identified as James. "There's no police action, there's no reach-out. There's nobody preventing this, and you know we've had multiple calls to 311 but nobody really responds. It's becoming a real problem."
Homeless encampment in NYC getting 'bigger' despite de Blasio's 'crackdown'. An entrenched group of homeless people is making life miserable for residents and merchants in Manhattan's East Village — despite Mayor Bill de Blasio's vow to "do whatever it takes" to break up such encampments. The vagrants are living under a stretch of scaffolding along Second Avenue between East Seventh and East Eighth streets, where they've arranged cast-off furniture and set up a tarp under which two men were sleeping Friday afternoon [7/24/2020].
Minneapolis Park Board votes to reduce size of homeless encampments. The Minneapolis Park and Recreation Board on Wednesday night voted to limit the homeless tent camps that have sprung up across the city's parks, including the two sprawling encampments in Powderhorn Park. The unanimous vote sets boundaries to a previous resolution passed by parks leaders a month ago that allowed the homeless to stay overnight in parks in response to the growing Powderhorn encampments. The Park Board will designate a select number of parks for encampments and disband any others that are not permitted. Before Wednesday's [7/15/2020] vote, dozens of residents complained at the Park Board meeting about the homeless encampments, arguing the parks had become dangerous for visitors, surrounding neighbors and the campers themselves. They said they had become the site of constant drug use, violence and other illicit behavior.
Growing number of homeless encampments in Denver alarming to neighbors, schools and families. It may be a colorful spectacle lining the park directly in front of the State Capitol building, but it's hardly home sweet home. "This ain't no good," said a homeless woman who asked us only to identify her as L.D. "This ain't no way to live. It's cliché to say the struggle is real, but it is." "These are people who have no housing," said Terese Howard, homeless advocate with Denver Homeless Out Loud. "They have nowhere else to go." Homeless encampments are growing exponentially in Denver, 'tent cities' if you will — exposing an ugly truth in the Mile High City.
The Editor says...
It's a little late to get agitated now, isn't it? The time to be alarmed and take action is the moment you see the first homeless bum camped on a public sidewalk.
Homeless camp in Denver. This is the scene directly in front of the Denver state capital building. [Video clip]
Close to 20 Percent of NYC Hotels are Housing the Homeless. Since the virus swept through the city in March, the de Blasio administration has been sending thousands of homeless people from large, crowded shelters to hotels where they can practice social distancing in their own rooms. There are about 700 hotels in New York City. One hundred and thirty-nine of them are occupied by homeless people. That means almost 20 percent of the city's hotels are operating at least, in part, as homeless shelters. Sixty-three of those hotels took in homeless people from the city over the last three months because of COVID-19. It's unclear when they will leave.
Accommodating Dysfunction. One recent morning a disheveled, visibly disturbed man ran frantically around the lobby of the Mark Hopkins Hotel, the historic and elegant property located at the crest of tony Nob Hill. As one of San Francisco's designated Front-Line Worker Housing (FLWH) hotels, it's reserved for health-care and public-safety employees working on Covid-19 related matters. But San Francisco is surreptitiously placing homeless people in luxury hotels by designating them as emergency front-line workers, a term that the broader community understands to mean doctors, nurses, and similar professionals. "Do I look scary to you?" the man demanded. "They're trying to evict me because I wanted more towels but I'm homeless! They called the cops on me." He dashed out the door and around the grand circular entrance, where two police officers attempted to resolve the situation. Soon a cab pulled up and an inebriated couple emerged, holding full plastic trash bags. They fought, screaming at each other until the woman entered the lobby and her partner lit a meth pipe in the garage area. More "front-line workers."
Minneapolis neighborhood which vowed NOT to call cops after George Floyd's death is now struggling with a 300-person homeless camp in their local park. A Minnesota neighborhood where many residents vowed not to call the cops on people in their community following the death of George Floyd, are finding it difficult to come up with alternatives after about 300 homeless people have set up camp in a local park. Those who live nearby where Floyd was killed at the hands of cops on May 25 welcomed dozens of tents to Powderhorn Park while the displaced people look for permanent accommodation, urging officials not to evict them for now. But in the past two weeks since they've been using the open space, people living near the park have complained about a heavy flow of traffic keep them up at night as drug dealers. Two people in the encampment have already been taken away in ambulances after overdosing.
Atlanta riot shows the left's downhill in slide in racializing police incidents. As tragic as officer-involved shootings of anyone is, not all of them are worth burning down a Wendy's for. For radical activists and their enablers, this act is getting old fast. [...] [I]n contrast to the George Floyd case, where the victim died pleading to breathe on video with a bad cop's knee on his neck for 8 minutes, we now have someone who was driving while intoxicated (hello, MADD), sleeping on the grounds of a fast food joint, grabbing an officer's taser while under arrest, and using the taser against police. And Wendy's is the bad guy? Police are the bad guys? This looks like the sort of nonsense that goes on at every fast food joint in inner cities every week. Transients and drug users are often found at these establishments because of the low-cost food and availability of public restrooms. Just read the Yelp! reviews of any inner-city McDonald's or In-N-Out burger, there will always be mentions of homeless as part of the user experience.
A Fantasy With a Predictable Ending. Liberals are talking about doing away with police forces. How would that work, exactly? What if someone commits a crime? They have no answers, beyond humming a few bars of "Imagine." In Minneapolis, activists tried to realize another left-wing fantasy, to the cheers of journalists. On June 4, the Star Tribune headlined: "Volunteers turned former Sheraton Hotel in Minneapolis into sanctuary for homeless." [...] Minneapolis police abandoned their own 3rd Precinct station to the mob, which proceeded to burn it, because authorities were afraid of being perceived as "brutal." A lot of good it did them. [...] A lefty filmed what a nice hotel looks like after a few days of being used as a homeless shelter that more or less encourages heroin and meth use: [Video clip]
'Sanctuary Hotel' evicts those given refuge from riots after every room is trashed; squatters plan to stay. The owner of the vacant Sheraton Minneapolis Midtown Hotel opened its doors last week as a sanctuary for people trying to avoid the Black Lives Matter riots, to include left-wing activists and the homeless. The hotel, which was heavily damaged during the riots, quickly became a homeless commune and community organizers launched a GoFundMe campaign to raise well over $100,000, with carloads of other donations pouring in, the Star Tribune reported. But those who took refuge, reportedly over 200 people, are now being kicked to the curb as they've turned the hotel into a shantytown marked by squalor and rampant drug use.
Homeless evicted from former Minneapolis hotel after drug overdose. A report of a drug overdose led to the eviction Tuesday of more than 200 homeless people from a hotel in south Minneapolis that had become a refuge during protests that erupted in the wake of George Floyd's killing in police custody. Residents of the former Sheraton Minneapolis Midtown Hotel, tucked just north of Lake Street on Chicago Avenue, awoke to reports that the hotel's fire alarm was pulled after 6 a.m. following an overdose. The hotel owner, Jay Patel, has ordered the eviction of all the guests, according to volunteers at the site. The sudden eviction marks the second time in two weeks that large numbers of homeless people have been forced to vacate a temporary site, and could hamper efforts by a team of volunteers to find them more permanent housing.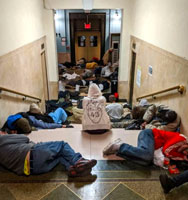 Homeless sleep inches from each other on shelter stairs after they're cleared out of subways. This is what Mayor Bill de Blasio's "historic" success in clearing out the homeless from the subways looks like. The photo [left] was taken at the Bellevue Men's Shelter on Tuesday night [5/12/2020], hours after the mayor touted his office's ability to get the homeless off the streets and into shelters, where they're "accepting help." It turns out that "help" includes curling up on a staircase or on the floor, mere inches from others amid a global pandemic, on makeshift cardboard "beds."
Free Booze, Pot, and Smokes for San Francisco's Homeless. San Francisco officials deny direct involvement in a controversial program, funded by private sources, that provides free alcohol, cannabis, and cigarettes to homeless people living in the city's hotels during the Covid-19 outbreak. After news about the special deliveries was leaked and caused embarrassment on social media, the city's Department of Public Health issued a statement claiming that "rumors that guests of San Francisco's alternative housing program are receiving taxpayer-funded deliveries of alcohol, cannabis and tobacco are false." Except they're not false. DPH, which administers and oversees the program, is staffed by city workers, including doctors, nurse practitioners, nurses, social workers, and security personnel. The department manages, stores, and distributes the substances. Employee time is involved. Thus, the program is financed by taxpayers, even if an outside group provides some of the funding. According to DPH spokesperson Jenna Lane, the philanthropists who helped purchase the substances wish to remain anonymous.
Glitzy NYC hotel takes in homeless from overcrowded shelters. A glitzy Manhattan hotel has opened its doors to the city's homeless to ease crowding at shelters during the coronavirus. Dozens of former shelter residents spent Friday night [5/8/2020] checking into the Bentley Hotel on the Upper East Side, where more than $200-a-night rooms offer stunning views of the East River and 59th Street Bridge. The men marveled at the plush digs as they were processed through the lobby of the luxury hotel, grateful to leave what they described as dangerously crowded, drug-ridden shelters thanks to the non-profit DOE Fund.
Homeless People In San Francisco Hotel Rooms Are Being Given Free Alcohol And Drugs. The San Francisco Department of Public Health (SFDPH) confirmed in a tweet Tuesday that homeless people put up in hotels are being given free alcohol and drugs. A Twitter user named "T Wolf" who calls himself a "formerly homeless addict," sent a tweet this week saying he's heard reports of homeless people getting free alcohol, marijuana and methadone. "I just found out that homeless placed in hotels in SF are being delivered Alcohol, Weed and Methadone because they identified as an addict/alcoholic for FREE. You're supposed to be offering treatment. This is enabling and is wrong on many levels," he said.
This is an open admission that homeless people live aboard mass transit vehicles:
Subway closure 'outright disaster' for the homeless who have few safe shelter options, advocates say. Homeless New Yorkers will face an even more threatening and dangerous situation when the city shuts down the subway system from 1 a.m. to 5 a.m., according to advocates. The shutdown was announced by New York Gov. Andrew Cuomo and Mayor Bill de Blasio in a joint press conference on Thursday [4/30/2020]. Cuomo said closing the subway for those hours would allow the cars to be sanitized every 24 hours during the novel coronavirus pandemic. De Blasio said that it would also benefit any homeless people who ride the subway during that time.
Malodorous bums only, please.
Seattle will reopen 5 library bathrooms during coronavirus pandemic. Seattle will reopen five library bathrooms to better meet some of the hygiene needs of the more than 3,500 people living unsheltered in the city during the coronavirus pandemic, the city announced Tuesday afternoon [4/21/2020]. Restrooms at the Ballard, Capitol Hill, Beacon Hill, University and Central Library branches will be open for public use between 10 a.m. and 6 p.m. every day. The Ballard and Beacon Hill branches will open Thursday, and the other locations will reopen Monday, according to the city. No services other than the restrooms at the libraries will be made available. "Equity is an important value to the Library and I believe we have an opportunity to support our most vulnerable neighbors by providing restroom access during the COVID-19 crisis," Chief Librarian Marcellus Turner said in a statement.
A simple question nobody wants to answer: what percentage of coronavirus hospitalizations and deaths are accounted for by the homeless? Almost everyone acknowledges that the homeless population is at great risk of coronavirus, but so far as I have been able to determine, nobody is telling us the percentage of the hospitalized cases and the deaths are accounted for by that same population — nationally or in specific locales. California's Governor Gavin Newsom authorized funding for housing homeless in trailers and hotel rooms, but so far, few of them have taken advantage of the offer. I know we are supposed to have nothing but compassion for the homeless, and my heart breaks for those of them who are not drug-addicted and irresponsible. But the evidence of my eyes is that many I have encountered in the Bay Area are drug addicts who prefer to shun all responsibilities.
The progressive narrative on homelessness has always been wrong. In recent years, discussion about homelessness has been circumscribed around a set of premises acceptable to progressive opinion. The homeless were thrown onto the streets, we're told, because of rising rents, heartless landlords, and a lack of economic opportunity. Activists, journalists, and political leaders have perpetuated this line of reasoning and, following it to its conclusion, have proposed investing billions in subsidized housing to solve homelessness. But new data are undermining this narrative. As residents of West Coast cities witness the disorder associated with homeless encampments, they have found it harder to accept the progressive consensus — especially in the context of the coronavirus epidemic, which has all Americans worried about contagion. An emerging body of evidence confirms what people see plainly on the streets: homelessness is deeply connected to addiction, mental illness, and crime. Homeless advocates argue that substance abuse is a small contributor to the problem, and that no more than 20 percent of the homeless population abuses drugs. [...] But according to a recent Los Angeles Times investigation, 46 percent of the homeless and 75 percent of the unsheltered homeless have a substance-abuse disorder — more than three times higher than official estimates from the Los Angeles Homeless Services Authority.
As Trump wins praise for effective coronavirus response, blue cities do opposite, threatening its spread it through homelessness. The left's blue cities do all they can to encourage and reward homelessness, amounting to the country's great enabler of homelessness as a lifestyle. Blue cities employ and are expanding gargantuan bureaucracies dedicated to "servicing" the homelessness, which encourages a hunt for more "clients." San Francisco alone spends $77,000 per homeless "client." They also refuse to enforce quality of life laws, such as those against vagrancy, public camping, drug use, public alcohol consumption, prostitution, and public urination and defecation, promoting homelessness even more. Some are encouraging squatting on private property. Others are permitting the homeless to take over public parks and spaces. Some, such as Bill de Blasio's New York, are secretly busing the homeless to other cities to keep them from creating problems in their own cities. It's a massive tax on those who own the overpriced homes in those cities, but taxes are the left's bread and butter. It's a money merry-go-round, all done in the name of "compassion."
Democrats in Ohio, California and Oregon Push Laws Demanding That Private Property Owners Allow Homeless to Camp on Their Land. A very disturbing video was posted on Twitter this weekend. A homeowner in Los Angeles claims the local government is preventing him from removing a homeless encampment from his property. According to local Democrats there is no such thing as private property. The validity of this video was not confirmed. However, this is not an isolated incident.
The Perfect Storm Of Homelessness & Cesspools Of Filth In The Big Cities. It's becoming obvious that the epidemic of "homelessness" in America, particularly in the larger West Coast cities, is out of control. Makeshift shelters and people sleeping on the pavement block sidewalks and spill out onto the streets. We continually see dirty and unkempt people dressed in everything they own, even in the hottest weather, pushing stolen shopping carts (we pay for those when we buy groceries) laden with all their precious possessions, consisting of piles of rags and trash. They soon discard these and wander off to steal more shopping carts and accumulate more treasures, leaving their previous horde to further block the sidewalks and even spill out onto the streets, making driving more dangerous. And the "homeless" tend to jaywalk without looking for oncoming vehicles, making them a tempting target for some of us. And they leave huge piles of trash and garbage on the streets and sidewalks, and, increasingly, puddles of urine and piles of [feces]. The phony environmentalists are okay with this, as excrement washes into drainage ditches, rivers, and the ocean.
What's Really Driving the Homelessness Crisis. For the past decade, progressive political leaders, activists, and media organizations have insisted that housing costs are the primary cause of homelessness. There is some truth to that: It's obvious that in the largest West Coast cities, where a one-bedroom apartment rents for at least $2,000 a month, it's more difficult for low-income individuals to afford stable housing. However, as an emerging body of evidence shows, homelessness in America's West Coast cities — particularly unsheltered homelessness — is not driven primarily by high housing costs, but rather by three interrelated phenomena: addiction, mental illness, and permissive public policies. In cities such as Los Angeles, Seattle, and San Francisco, residents have complained about rampant public drug consumption, psychotic episodes, and millions of used hypodermic needles that have been discarded on city streets. Still, despite the obvious visible evidence, progressive political leaders have insisted on the fiction that addiction and mental illness are only a small part of the homelessness crisis.
Homeless people are pictured all over New York's Grand Central and Penn stations. The scenes at Grand Central Terminal and Penn Station in New York have been pictured amid an apparent homeless crisis that is reportedly making the lives of commuters and tourists a misery. Images show displaced Americans trying to sleep on floors and even trash cans as travelers and business people go about their daily lives, while other photographs captured this weekend show them tucked up discreetly on benches and at food hall dining tables. But some pictures show panhandlers begging for money as people run to catch trains or stop to grab refreshments, and it has reportedly made people dread using the stations in Midtown Manhattan.
On Leaving the Golden State. The fabled Ventura Highway is all that separates my artist loft from the beach where surfing first came to the United States. [...] Once my coffee is brewed, my cat and I go hang out on the patio where I may or may not have to chase someone away that is stealing electricity as for some crazy reason all the homeless have smart phones and other electric gadgets but few means to charge them. From my patio on the 2nd floor landing, I can look down into the central courtyard and, if early enough in the day, sometimes see people crawling out of the bushes so as to relieve themselves against a wall. Making this problem worse is the fact that I live around a bunch of retired hippies and there is no one on Earth less capable of doing anything than a hippie. One thing that many of them have not figured out is that they should lock down their WiFi. Frankly, the quickest way to attract the kind of person that would steal a cat toy, potted plant, bicycle or everything out of your car is to have a neighbor or two broadcasting free WiFi.
This vagrant is why homeless-outreach workers are fleeing Penn Station. The vagrant whose alleged threats got a homeless outreach nonprofit to flee the transit hub in fear last weekend was holding court — and spewing hate at cops — there Thursday [2/20/2020]. Eugene Watts was spotted sipping a brown-bag beer in the station one day after The Post reported that embattled nonprofit Bowery Residents Committee up and abandoned its satellite office there because he allegedly threatened to shoot workers. Watts, who claims to be a former boxer, remained defiant Thursday. "Mr. Eugene Watts, you have five minutes to leave," one of two passing Amtrak cops on patrol at the busy transit hub was heard telling Watts on Thursday. "There is a warrant out for your arrest."
Homelessness in New York City: Here are the statistics. Like several other major cities, New York is feeling the effects of the homelessness crisis. The last homelessness survey was taken in January of 2019 by "Continuums of Care," which passed the data along to the Department of Housing and Urban Development (HUD). Here are the numbers. In 2019, the overall number of homeless residents was 78,604. The vast majority of them, 74,982, were in shelters while 3,622 were not. This represents a slight decrease from 2018 when the total number was 78,676, with 74,965 in shelters or transitional housing and 3,711 being unsheltered. There were 13,806 homeless family households with at least one adult and one child in 2019, compared to 14,261 in 2018. In both years, all of the families were in some type of shelter or housing.
Giving up on getting the homeless out of Penn Station. The [New York] Post just caught the Bowery Residents' Committee once again failing to do its contracted work of "counseling" subway homeless into shelters — half a year after an audit by state Comptroller Tom DiNapoli slammed the nonprofit for persistently delivering far less than its contracts with the city and the MTA require. Post reporters found the BRC office at Penn Station closed and its workers nowhere to be found. They then learned that the nonprofit shut it down "indefinitely" on Saturday after a vagrant who's still at-large made a death threat. So much for BRC's contract with the MTA and Amtrak to do outreach in the transit hub. Workers say they put up a sign directing homeless wanting help to an office eight blocks away. If so, someone tore it down — indeed, we found several homeless sleeping on the office's doorstep.
Las Vegas's homelessness crackdown takes effect. With no state income tax and dwindling federal support for social services, Nevada has long been ill-equipped to treat problems associated with homelessness. Clark county, which encompasses Las Vegas, recently committed $12m in marijuana tax revenue to homelessness prevention. The city, meanwhile, has invested $20m to increase capacity at the open-air Courtyard Homeless Resource Center. Yet no one is claiming those are adequate solutions. Las Vegas seems to accept that it's embarking on a divisive social experiment, one with serious repercussions for displaced people.
NYC Business owners in Grand Central say the homeless have "taken over". Most of the time, when we're discussing the spreading crisis of homelessness here, we're talking about the west coast. But the problem isn't exclusive to California and Washington by any means. There are plenty of homeless across the country, including New York City. But unlike Los Angeles, the Big Apple experiences real winters with snow, sleet and freezing temperatures. That means that the homeless can't just crash on the sidewalks and they need to find a place indoors to stay warm.
Squeegee men, scourge of the '90s, are back in New York. Just when you thought they were washed up, the notorious squeegee men are streaking back to Big Apple streets. The panhandling window-washers, who became the face of former Mayor Rudy Giuliani's quality-of-life crackdown in the 1990s, were back peddling their spotty services in Manhattan over the weekend. A trio of the in-your-face glass swabbers were spotted plying their trade on 40th Street and Ninth Avenue on Sunday — figures from the annals of New York City history that some folks weren't in the mood for.
Lefty feel-gooders conjure up homelessness in Aspen. If we didn't have a "homelessness problem," the left would have to invent one. Which is what they're now doing here in my town of Aspen. The local lefties, which is to say nearly the whole town, have decided to throw more taxpayer money at ending the homelessness epidemic here. "Epidemic" is of course a relative term. Anecdotal and observational evidence suggests that this very, very rich town of 6,500 people holds exactly one homeless person. Everyone calls him "The Homeless Guy." The Homeless Guy doesn't sleep outside. It gets a tad chilly here in the winter for that. He instead has a home away from homelessness. The Catholic church downtown apparently puts him up. The church says he's not alone. They say there are 22 altogether, though they're apparently never all together. I live in downtown Aspen and I haven't seen them.
Governor, mayor battle over Austin homelessness as progressive city's crisis deepens. A growing homeless crisis in the Texas capital has the governor and mayor clashing, and Austin residents say the progressive city in a red state seems to be losing ground. The city's plight has prompted a war of words between Mayor Steve Adler and Republican Gov. Greg Abbott, who has not been shy about criticizing policies he says make the situation worse. Abbott took to his personal Twitter account to say the city's ordinances are "dangerous for everyone" after a homeless man fatally stabbed another man, then jumped off a building and later died from his injuries.
Homeless Coalition Pushing Tax Increase To Alleviate 'Crisis'. Some Denver voters will soon be asked how they would feel about paying increased sales taxes, property taxes and other taxes to raise $50 million to $55 million a year to support Denver's homeless population. The Colorado Coalition for the Homeless said Tuesday [1/28/2020] they are hiring a pollster to begin the process of getting a tax increase on the November 2020 ballot.
Proposal for more sanctioned homeless encampments in Seattle raises public safety concerns. Seattle could see more tiny home villages pop up across the city. On Wednesday, City Council members will discuss a proposal to add dozens more sanctioned homeless encampments. The proposal would allow 40 sanctioned encampments, each having up to 100 residents. The city's legislation would exempt churches and religious groups from acquiring a land use permit, making it easier to set up the tiny home villages and run them.
Homeless deaths spike amid all-time high in population under Mayor de Blasio. More homeless New Yorkers died last year than in any other in the past decade — despite promises by Mayor Bill de Blasio to make their lives better. Homeless deaths from July 2018 through June 2019 totaled 404 — a staggering 39% increase from the previous fiscal year and the highest number since 2006, when the city began recording the deaths. Sixty percent died in a hospital. The rest died outdoors or in other places that the city didn't specify in its annual report, which is mandated by law. The top five causes of the deaths: drugs, heart disease, alcoholism, unspecified accidents and cancer.
McDonald's store blasts bagpipe music for 24 hours a day to ward off homeless people. A 24-hour McDonald's in California blasted bagpipe music in an unsuccessful attempt to ward away homeless people from outside its restaurant, and ended up infuriating neighbors instead. The McDonald's in midtown Sacramento played the Scottish music 24/7, but the homeless people were visibly still sticking around. Finally, the music stopped when neighbors complained.
The Editor says...
If you live close enough to McDonald's to hear their background music, you really should look for another residence.
Street-level view of homelessness. Homeless people wear layers of clothing because they have no closets. They are dirty and may smell because they have no bathrooms. They litter because they don't have a place they care about and have lost the sense of responsibility that comes from living in a structured society. All of this can be changed.
Homeless man turns Manhattan Whole Foods into his personal hot bar. A drooling and pungent homeless man made double-dipping look like child's play at a Midtown Whole Foods, grabbing from the hot food bar with his bare hands to stuff his bearded face — as employees just chuckled and said they were powerless to stop him. A [New York] Post photo editor had just plunked down $17 for a jerk chicken dinner at the store across from Bryant Park Sunday night when he spotted the grungy gourmand ignoring numerous "no sampling" signs to treat the bar like his personal feed-bag.
Las Vegas strip club comes under fire after tents branded with its Logo are erected in the city for the homeless. A strip club in Las Vegas has come under fire for providing hundreds of homeless people with tents branded with its logo. One mother, who wished to remain anonymous, complained that the tents from Deja Vu Showgirls were 'immoral' and 'disgusting,' adding that she was 'taken back' when she saw some tents on Bonanza Road. She said it caused her children asked [sic] about the establishment.
How Salt Lake City upended the system to use police and shelters to fight homelessness. [Scroll down] Greg Hughes, then-speaker of the state's House of Representatives, complained that Utah had become a national joke — particularly because the expanding homeless encampments around The Road Home so obviously disproved the story. His embarrassment crystallized in 2017, when a homeless man's assault on a visiting minor league baseball player made headlines. Hughes parlayed the series of events into a $67-million carve-out from the state budget to deploy the Utah Highway Patrol and the state Bureau of Investigation for Operation Rio Grande. State troopers worked alongside local police, and as many as 100 officers spread out over the quadrant of southwest downtown Salt Lake City near the shelter. Within a month they made more than 1,000 arrests for offenses from jaywalking to drug dealing.
Progressives Gone Wild. Homelessness in Seattle has reached a crisis point. Despite more than $1 billion in public and private spending across King County, more people live on the streets than ever before (a problem that will likely get worse, following the Supreme Court's refusal to address the legality of public camping). But rather than focus on the causes of homelessness — addiction, mental illness, and social breakdown — progressives in local government have waged war against abstract forces of oppression. Last week, the leaders of the homelessness response in Seattle and King County hosted their annual conference under the theme of "Decolonizing Our Collective Work." According to the organizers, the government's primary responsibility in reducing homelessness is to "[interrogate] the current structures of power" and "examine the legacies of structural racism in our systems, and co-design a path towards liberation with black, indigenous, brown and other marginalized communities."
Portland considers "mandatory rest spaces" for the homeless on private property. Portland, Oregon, like many cities on the left coast, is struggling with a growing homelessness crisis. But what can they do about it? One idea that's now being floated is to change the building codes so that all new structures (including private property, not just government buildings) include spaces for people to "rest" and "feel welcome and safe." This understandably has prospective property owners concerned, since the wording is all quite vague and suggests that they will be forced to allow the homeless to camp in and around their buildings.
Supreme Court weighs whether homeless people have a constitutional right to sleep on the sidewalk. The Supreme Court has taken up the question of whether homeless people have the constitutional right to sleep on the sidewalk. The justices on Friday [12/6/2019] were scheduled to hear an appeal of a controversial ruling last year by the 9th Circuit Court of Appeals, according to the Los Angeles Times. In the ruling, Judge Marsha Berzon banned cities from prosecuting homeless people for living on the streets.
Judge closes Third Avenue entrance to King County Courthouse, citing security concerns. A judge ordered Monday [12/2/2019] that the Third Avenue entrance to the King County Courthouse in downtown Seattle will be closed for the rest of the year, citing safety concerns. The court has received continued reports of assaults outside the courthouse, Presiding Judge Jim Rogers wrote in the order. Rogers, who has long been outspoken about what he perceives as a lack of security in the area, said litigants, jurors, attorneys and employees have reported being attacked.
Newark mayor effectively bans NYC's homeless-export program. Liberal Newark Mayor Ras Baraka is taking a page from President Trump's book — by building a virtual wall between the city and Big Apple homeless shelters. The City Council passed legislation introduced by Baraka on Monday that would effectively ban New York City from sending its homeless there under the current state of Mayor Bill de Blasio's controversial "Special One-Time Assistance" program. The move follows an October Post report revealing 5,074 homeless families have relocated to 373 cities with a full year of taxpayer-covered rent since the program's August 2017 inception, according to Department of Homeless Services data obtained by The [New York] Post. Newark has taken in more families than any other city: 1,198 as of Aug. 31.
Council approves $100,000 to bus homeless out of King County. King County Council approved $100,000 in funding Wednesday for a program that would bus the homeless outside the county. Council members earmarked the money as part of $450 million in supplemental funding for the 2019-2021 biennial budget. Other items in the supplemental budget included money for more electric vehicle chargers, a campaign for human trafficking awareness, and extending a gender identity task force.
Denver Business Owner Fined For Not Cleaning Up Vagrant Poo And Used Needles. The city of Denver fined a local business owner after he and his staff refused to continue cleaning up after homeless people behind his building, according to CBS Denver. [...] [Jawaid] Bayzar is heading to court on Dec. 18 to fight the citation. "I'm going to go to court and do my best to argue that the City's treatment of this unfair. This is a public crime issue and a public health issue and the city is the organization that's responsible for that."
Seattle to shut down a tiny homes village for the homeless because residents won't allow city workers inside. A battle between the city of Seattle and homeless advocates over the fate of a tiny home village has been going on for seven months. Recently, the city announced it would shut down Northlake Tiny Home Village for good because the residents there won't allow the city contractors access to the site.
As homeless camps continue to spring up in Austin, Gov. Abbott orders cleanup effort. State agencies are moving in to clean up Austin, Texas after the capital city became a magnet for homeless vagrants, due to laws allowing people to camp out on the streets. The project started on Monday morning [11/4/2019] as cleaning crews used leaf blowers and street sweepers to clear debris while they were guarded by state police.
Report: New York City Exporting Its Homeless People To Cities In Texas And Other States. New York City has a serious homeless problem. Instead of trying to fix it, they are exporting it. They are giving taxpayer dollars to homeless people and shipping them off to other cities in other states.
Just some crazy guy, running around loose, doing what the demons tell him to do:
San Francisco Police Seek Suspect Who Assaulted Woman With Child Near Union Square. Police in San Francisco are looking for an assailant who struck a mother in the head from behind while she was walking her child on O'Farrell Street on October 17th. Police released surveillance video which shows a woman holding hands and walking with her child. They are passed by a man going the opposite direction. But then the man doubles back and comes up behind the woman and appears to punch her in the head.The woman and child then turn and quickly walk away. The woman and child were apparently not seriously injured. [Video clip]
NYC secretly exports homeless to Hawaii and other states without telling receiving pols. New York City generously shares its homeless crisis with every corner of America. From the tropical shores of Honolulu and Puerto Rico, to the badlands of Utah and backwaters of Louisiana, the Big Apple has sent local homeless families to 373 cities across the country with a full year of rent in their pockets as part of Mayor Bill de Blasio's "Special One-Time Assistance Program." Usually, the receiving city knows nothing about it. City taxpayers have spent $89 million on rent alone since the program's August 2017 inception to export 5,074 homeless families — 12,482 individuals — to places as close as Newark and as far as the South Pacific, according to Department of Homeless Services data obtained by The Post. Families, who once lived in city shelters, decamped to 32 states and Puerto Rico.
Officials bolster security after vagrant found in closed courthouse. A homeless man wandered onto the floor at Bronx Supreme Court that houses the judges' chambers Friday morning [10/25/2019], prompting state officials to bolster the building's security, the [New York] Post has learned. Just before 7:45 a.m., a man who appeared to be homeless, entered 851 Grand Concourse Avenue through an unlocked door and rode the elevator to the eighth floor where he sat on a bench. The building doesn't open to the public until 8 a.m. After an alarmed staffer spotted the man in the hallway, he took off.
The Editor says...
Here's an idea: Lock your doors!
Department of Health says hepatitis A outbreak continues in Minnesota. An outbreak of hepatitis A has continued in Minnesota, according to the state's Department of Health. [...] MDH said a vaccination is especially important for those at high risk, including:
• People who use injection and non-injection drugs.
• People experiencing homelessness or unstable housing.
• People who are currently or were recently incarcerated.
The Editor says...
In other words, the Democrat voter base.
Seattle's RV campers dump an estimated 1 million gallons of raw sewage into waterways per year. In addition to the homeless who are living in tents on the sidewalk, Seattle is also dealing with an increasing number of people who are living in RVs. Because these people have no homes, they have nowhere to properly dump the sewage that accumulates in their vehicles. Instead, the waste gets dumped directly into storm drains that connect to waterways.
The Derangement Syndromes of Our Time. Who doesn't feel compassion? Who wouldn't do whatever they can to help someone in need? But there are intractable problems with compassion gone wild. In practice, misguided compassion breeds debauchery and dependence. Anyone wishing to see the former is invited to drive the streets of San Francisco, where they may smell human excrement, tons of which are deposited each week on the sidewalks and gutters by the city's nearly 10,000 homeless. They may witness thousands of intravenous drug addicts buying and injecting this poison in state-sanctioned acts of slow-motion suicide. Anyone wishing to see the latter is invited to tour pretty much any legacy housing project in America, where welfare checks and free rent made the presence of a father not merely unnecessary but economically disadvantageous.
The "Supermarket Sweep". From Seattle to Los Angeles, a "shoplifting boom" is hitting major retailers, which deal with thousands of thefts, drug overdoses, and assaults each year. Since 2010, thefts increased by 22 percent in Portland, 50 percent in San Francisco, and 61 percent in Los Angeles. In total, California, Oregon, and Washington reported 864,326 thefts to the FBI last year. The real figure is likely much higher, as many retailers have stopped reporting most shoplifting incidents to police. Drug addiction is driving this shoplifting boom. In recent years, West Coast cities have witnessed an explosion in addiction rates for heroin, fentanyl, and meth; property crime helps feed the habit. According to federal data, adults with substance-abuse disorders make up just 2.6 percent of the total population but 72 percent of all jail inmates sentenced for property crimes.
Abandoned Newark 'beer baron' mansion apparently set ablaze by squatter. A 32-room Victorian mansion in Newark suffered extensive fire damage on Thursday night [10/17/2019], leaving the homeless who slept in the abandoned building without a place to stay while city officials determine if the building can be saved. Janeal Ferguson, who often slept in the mansion at 176 Clinton Ave., told NJ Advance Media someone set the structure ablaze, but declined to say why. She said a tight-knit group of squatters who often slept there to find a reprieve from the streets would use the fireplaces inside.
Gov. Abbott says Austin's mayor must deal with homeless camping downtown or the state will do it for him. Texas Gov. Greg Abbott is not happy with Austin's Democratic Mayor Steve Adler. Earlier this month, Gov. Abbott sent Adler a letter giving Mayor Adler 30 days to deal with the homeless situation in the city or else.
This city in Idaho is why L.A. can't legally clear its streets of homeless encampments. The homeless men and women who live in Idaho's largest city are well-nigh invisible. You might see a line waiting for the main library doors to open. Or a solitary shape, wrapped in a blanket, sleeping at the base of a bridge along the Boise River. Or maybe a grizzled veteran holding a cardboard sign at a busy corner. But just one. The difference between homelessness in Los Angeles and homelessness in Boise is stark — as in orders of magnitude stark. There is no skid row here, no Tenderloin like San Francisco's, no American River Parkway as in Sacramento. Yet, it is this midsize city with its relatively manageable homeless population that is setting the enforcement standards for its much bigger counterparts in the West.
Crazy and Woke on the Western Front of Progressive Insanity. Thanks to progressive ideology as expressed in laws and court rulings, in California today you cannot arrest and hold vagrants for petty theft or possession of hard drugs; you cannot move them out of public spaces unless you can provide them with free and "permanent supportive housing;" you cannot commit demonstrably insane people to asylums; and publicly funded shelters must offer food and urgent care without any preconditions whatsoever. Testimonials from residents of Venice Beach provide ample evidence of what happens when you impose these progressive policies on an urban area bordered on the west by some of the most inviting beaches and agreeable weather in the world. An estimated 1,200 homeless people have set up permanent encampments in this three square mile beach town. They almost never use actual toilets.
Democrats [are] turning California into a third-world hellhole. Democrats are doing a great job manufacturing poverty and homelessness even as they fail to instill hope in Californians. California has four times more homeless per capita and three times more poor per capita than the rest of America. Half the homeless in America are in California, even though California has only 12% of the U.S. population. Also, blacks are six times more prevalent in the San Francisco homeless population than they are in California in general. The homeless explosion has brought the return of third-world diseases like typhus to California — not to mention streets littered with human feces.
Seattle's homeless crisis. Laura Ingraham addressed the homeless crisis in Seattle during Friday's edition of "The Ingraham Angle," showing exclusive video of the situation as well as reactions from Seattle residents who are concerned about what it's doing to their home. "I take the train in every day," one resident said. "So coming just on my train ride from here to the building, seeing the amount of homeless people that we see every day ... I see needles, I see people struggling — and there's people that are trying to solve it." According to The Seattle Times, a local police officer filed a $10 million claim against the city, alleging he was exposed to an "extremely dangerous man-made toxin" when he was assigned to clean up a homeless camp in the industrial SoDo neighborhood in January.
Seattle police officer files $10M claim against city for exposure to 'toxin' while cleaning homeless camp. A Seattle police officer filed a $10 million claim against the city Wednesday [9/18/2019], alleging that he was exposed to an "extremely dangerous man-made toxin" when he was assigned to clean up a homeless camp in the industrial SoDo neighborhood in January. Timothy Gifford claims he was exposed to high concentrations of the toxic chemical compounds polychlorinated biphenyls, (PCBs) that were once widely used in electrical equipment such as capacitors and transformers, according to The Seattle Times.
Don't Move to Austin. It's Rotting from Within. [Scroll down] Mayor Steve Adler and the leftwing city council passed an ordinance allowing the homeless to camp out nearly anywhere they want, all over town (except at city hall). The day this camping went legal, homeless started sleeping in front of businesses and homes. Tent cities started popping up all over, in medians and under overpasses. Most of the tent cities are just that — tents like you find at the local sporting good store, plus fabric chairs, bicycles and other visual pollution. Mayor Adler and company have paid zero heed to what's happening in Los Angeles after it allowed open camping: demon plagues now beset the City of Angels. Leprosy itself, that disfiguring disease from the first century, may make a comeback too. If Austin doesn't change its ways, soon, these medieval blights may descend on the Texas capital. The tent city I saw on this trip was different. There were no tents. This was a series of wooden shacks hugging a beam supporting the 183 highway above.
Seattle Area Council Member Proposes New Plan For Homeless Problem — Bus Homeless People Out Of The City. Seattle has a massive homeless problem, perhaps only second to Los Angeles, California. The city has already spent a fortune trying various things to solve the problem but nothing has been effective. Now an area council is proposing a new fix for the problem. Bus them to other cities!
Seattle-area council member proposes $1M busing program for homeless. A Seattle-area council member is pushing a $1 million proposal that would bus homeless people out of the state as part of a "family reunification" plan. The plan, proposed by King County Councilman Reagan Dunn, would be a one- or two-year pilot program aimed at helping people who have someone in another state willing to take them in but can't afford the cost of getting there.
San Francisco shopkeeper considers closing his store after being bitten by a homeless person for the second time in four months. A San Francisco shop owner who was been bitten by a homeless man for the second in time in months says he will close his store rather than put up with the 'nuisance'. Gilles DeSaulniers, 67, said he was trying to subdue a homeless man who had pushed his sister after she tried to eject him for the second time that day from their South of Market store. But while holding onto him, the man 'twisted his head' and bit the shopkeeper's arm in an attempt to escape.
The Left's determination to destroy us from within. [Governor Newsom of California], and the rest of the Democrat governors and mayors that destroyed their own states and cities, have not only ruined the municipalities that they control, but have destroyed countless lives — namely, of those who barely subsist on the streets of these cities: Los Angeles, San Francisco, Sacramento, Seattle, Baltimore, Chicago. (Chicago and Baltimore are the murder capitals of the nation. Both have among the strictest gun control laws in the nation.) They willingly promulgate the drug use of their homeless (they pass out free syringes) and seem to tolerate the vast homeless encampments and all they entail: discarded needles, public defecation, crime, disease — in short, the destruction of the cities they've been allowed to take over and ruin.
Los Angeles homeless dying in droves. We've covered a number of stories here dealing with the homelessness crisis in Los Angeles which has been out of control and growing for several years now. Most of these tales have to do with drug addiction, mental illness, crimes committed both by and against the homeless and people using the streets as their bathrooms. But there's another, even darker element to this story featured in the LA Times this week. As it turns out, the homeless are not just living on the streets. They're dying on them and in large numbers.
With more homeless riding San Francisco trains, crime is up and ridership is down. Not surprisingly, the numbers are highest in the winter when the number of homeless people is nearly 300 per every hundred train cars. The increase in the number of homeless riding the trains coincides with an increase in reported crimes, including violent crimes. In June, the Chronicle reported robberies were up 128 percent over five years while aggravated assaults were up 83 percent. Those figures appeared in a Grand Jury report which specifically cited homelessness as a major contributor to declining ridership. And that's the big problem for BART. The train system was never intended to be a living space for the homeless but that's what it is becoming.
Sacramento's business owners tell how they confront naked junkies and streets covered in feces, urine and syringes. Cali Carlisle admits she is a heroin addict — 'but in a healthy way,' she insists, even if the visual evidence belies that claim. Her nose is the brightest shade of red imaginable. She constantly picks at scabs all over her body. Her home is a makeshift bed beneath Interstate 80 in Sacramento. And Monday was her 26th birthday. Not that you would ever guess. Anyone looking at her would think she is at least 15 years older.
Twin Cities light-rail trains shouldn't be rolling homeless shelters. Beginning this week, the 11-mile Green Line light-rail train between downtown St. Paul and Minneapolis will be shut down between 2 a.m. and 4 a.m. on weekdays. Those hours had become peak times for train cars to serve as moving, overnight shelters for the homeless — many of whom were still sleeping as morning commuters came on board. Cutting all-night service was a sensible move by Metro Transit. It allows time for train maintenance without riders on board but also discourages those who would use the trains for sleep because they won't be able to ride uninterrupted through the night. So-called homeless light-rail "sleepers" often take up several seats at a time and test the patience of other riders concerned about safety and cleanliness.
California's Present, Austin's Future. Wonder where Austin's "Let the homeless do whatever they want, wherever they want, except in front of the city council building" plans lead to? [...] And Austin is already spending $28,000 in taxpayer money for each homeless person.
Video Captures Shocking Extent Of L.A. Homeless Crisis In 4 Minutes. The latest video by popular man-on-the-street interviewer Austen Fletcher efficiently captures the alarming homeless situation in the city of Los Angeles, particularly the infamous "Skid Row," wherein reside thousands of homeless people — most of whom are either suffering severe psychological problems or substance addiction, and among whom hundreds of sexual predators roam.
Homeless Surge Hits Oakland, Silicon Valley, San Francisco Suburbs. San Francisco saw its homeless population rise by 17% in the last two years, but the rise in many surrounding counties has been worse. A report Monday [7/22/2019] by Curbed San Francisco summarizing the figures noted: "Five out of nine Bay Area Counties — i.e., all of those not located in the North Bay — saw their homeless counts spike during the same period, with each other county showing worse homelessness surges than SF."
Democratic Party has become a Continuing Criminal Enterprise. The overwhelming majority of the top ten U.S. Metro Areas with the highest homeless rates per 10,000 residents are in cities/states controlled by the Democratic Party. The same general observation is true when homeless is calculated: (a) by state per 10K residents: (b) by percent of homeless sleeping outside: and (c) by number of people in homelessness. The Democratic Party excels in poorly governing significantly destitute populations.
Leftists are ignoring settled science when it comes to the homeless. It is no coincidence that the streets of Los Angeles, San Francisco, and Seattle are full of homeless people, shooting up drugs and discarding their needles on the sidewalks, defecating and urinating wherever they happen to be standing, sitting, or squatting, and accosting passers-by demanding money. The left-wing politicians and their voters tolerate and subsidize this behavior, so they attract people who want to live this way in growing numbers. As the old saying puts it, there's an easy way and a hard way to solve this problem. And a problem it is, because of the settled science of epidemics. Already, homeless encampments have led to a population explosion of rats (feeding off the scraps of food that the homeless can't be bothered to dispose of properly) as well as other disease-carrying vermin.
Collapse of Austin into mass homelessness and filth is a warning for all of America. Leftist-run cities like Seattle, Portland, San Francisco and Los Angeles have been in the news in recent months because of policies that aid and abet homelessness. Essentially, these policies focus on the decriminalization aspect of homelessness: Local police and enforcement agencies are no longer empowered to clear streets and keep public areas free of the filth, debris, trash, drug paraphernalia, disease, rodents, and human waste created by masses of humanity. But West Coast cities aren't the only ones who have exacerbated the problem of homelessness in their communities. Now the liberal enclave of Austin in deep red Texas has joined the ranks of cities about to be overrun with filth and chaos. As reported by CBS Austin last month, the city council adopted changes to existing ordinances that criminalized panhandling and 'public camping.'
America's Homeless Industrial Complex. Government funded programs are rarely considered bargains. And despite prodigious waste, America's military is nonetheless the most fearsome in the world. Similarly, despite mismanaging literally billions in proceeds from bonds and taxes collected to help the homeless, in absolute numbers America's population of homeless may actually have declined over the past 10 years. This surprises a lot of people, but there's a lot more to that story. According to the U.S. Department of Housing and Urban Development (HUD), in 2007 there were 647,000 homeless people in the United States, but by the time the most recent count was released in 2018, that number had declined to 543,000. Why, if so much money is being wasted, and the homeless crisis seems to be more acute than ever, are the absolute numbers of homeless actually falling? First of all, the numbers may be incorrect. These counts may be grossly understated.
San Francisco: wealthy opponents of new shelter claim homeless are bad for environment. The wealthy San Francisco residents who launched a crowdfunding campaign to block construction of a new homeless shelter in their waterfront neighborhood are employing a new tactic: arguing that homeless people are bad for the environment. In a lawsuit filed against the city of San Francisco and the California State Lands Commission, the residents called for the project to undergo an environmental review before breaking ground. "This project will have a significant effect on the environment due to these unusual circumstances, including by attracting additional homeless persons, open drug and alcohol use, crime, daily emergency calls, public urination and defecation, and other nuisances," the lawsuit states.
Austin Goes from Harmlessly Weird to Dangerously Stupid by Legalizing Camping on City Streets. Austin has long been the weird, liberal capital of Texas. The rest of Texas just sort of shrugs and puts up with it. Austin is quirky. Austin is odd. Austin lives in its own little world. Austin is also home to some of the best live music joints anywhere and you have to work pretty hard to find a bad restaurant in the city, so it's not without its charms. [...] Well, Texas' weird cousin just became a threat to itself and others. On June 20, the Austin city council passed what has to be one of the dumbest, most nonsensical ordinances since the city's last idiotic, nonsensical ordinance (they pass a lot of 'em, bless their hearts). The city council made it perfectly legal to camp out on the city's public spaces and sidewalks, under bridges and overpasses and, well, everywhere all over town — except, notably, parks and Austin City Hall.
Austin city council votes to allow homeless camping on sidewalks, except in front of city hall. People who are unable to provide housing for themselves deserve our compassion and assistance, but they do not deserve to take for their own use whatever public spaces they desire. I have long believed that campsites in rural locations, fenced in and featuring tents and basic food such as rice and beans, ought to be available to anyone who declares himself a pauper, indigent, and incapable of self-sufficiency. Basic needs and nothing else are to be provided. Nothing else, for there should be no incentive to let go of personal responsibility and depend on taking the product of others' hard work to live a life of leisure. This would not be prison, even though there would be walls. Leaving the camp would simply require a declaration of personal autonomy, meaning no need to depend on others for provision of life's necessities. With that basic safety net in place, camping out on public property can then be banned.
Democrat homeless disaster killing San Francisco, Los Angeles, & Seattle. A rising wave of homelessness is growing and spreading in the major Democrat controlled cities on the Left Coast. Spreading disease, drug addiction, and social disorder in its wake. From Seattle to San Francisco to Los Angeles the quality of life is plummeting. Democrat municipal and state authorities seem oblivious, placing the rights of the homeless above their duty to their citizens, taxpayers, and public safety.
Homeless set up camp in Walmart parking lot, police say they can't do much about it. I've written a lot about homelessness on the west coast and the property crime that tends to go with it. This story from Garden Grove in Orange County is happening just about five miles from my house. Homeless people have set up a camp of sorts in the parking lot of a local Walmart. There are complaints about harassment of shoppers, break-ins and vandalism of parked cars, and shoplifting from the store itself. And yet, not much is happening to change it. A nearby store has hired security guards to patrol the lot as well as maintenance people to clean up the trash left behind by the homeless but that doesn't solve the crime or other problems. According to KCAL 9, the Walmart where this homeless camp is being set up has refused to ask people to leave and local police say there's not much they can do.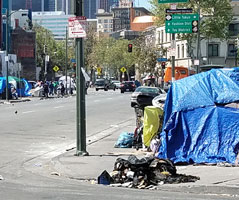 With the Left in charge, Seattle and Los Angeles are dying. It's no secret to anyone paying attention that the liberalism of the left and all its virtues control America's West Coast. However, the warm and fuzzy "progressive" aura that seems so attractive to unschooled is a sham. Sadly, to such voters, the phrase "somebody said so" is often the only proof they need to justify their ballot choices. But, as has is far too evident here in Seattle and in Los Angeles, such myopia has a price. The price of the Left in Charge.
California: Here Be Monsters. California has endured its share of Old Testament calamities in the modern world. Yet at times it seems that it will surely succumb to disasters created by its own hand. There are real monsters loose in the streets. Rats, "an army" of them "millions strong," reports KOMO News, have "overthrown" Los Angeles. Not long ago, "officials briefly closed part of City Hall after reporting that rodents had invaded the building," said California Healthline. "And where there are rats," says KOMO reporter Eric Johnson, "there is disease." [...] Maybe the rats were attracted to the "garbage mountain" that has bloomed in the city and produced quite a few unflattering, but deserving, comments. Hepatitis A, which is spread through feces, and can be prevented through healthy hygiene and modern sanitation, is also enjoying an afterlife, sickening more than 1,000 in Southern California, which includes San Diego, in the last two years. It's been suggested by one physician that the bubonic plague is lurking somewhere in all this.
The left's love affair with public transit collides headlong into its homeless problem in Seattle. It's well-known that the left is all-in for forcing the public out of their cars and into public transit. [...] The virtue-signaling of public transit is no match for the sanitation and smell problems that come of the left's championing of the interests of the homeless. The causes collide. Just as there's no compatibility between open immigration and the welfare state, two other causes the left champions, there's also no compatibility between mass public transit and quality of life issues.
Seattle bus riders rail against 'gagging' human waste smell from homeless. There's a recurring complaint with King County Metro customers: The buses or bus stops smell of human waste. [...] As a frequent bus user, I've experienced some of the same observations on routes 70 and 8. The bus or bus stop can sometimes smell as if it's been used as a toilet.
Why Are There So Many Homeless in Los Angeles? Now everybody knows about the 36,000 homeless on the streets of LA, over 60,000 in the county, replete with human feces and syringes littering the sidewalks, along with rats, typhus and even rumors of bubonic plague. And those figures are what we're told. No one, if you can trust the comments sections in the LA Times or the Next Door app for my old Hollywood neighborhood, remotely believes them. They could be three or four times the number. And how do you take a census of the homeless anyway? They are inherently nomadic. [...] Shelters, some of them well built, have been constructed all over the city but the homeless don't want to stay in them. The reason is these shelters are drug-free zones and the homeless of LA (and San Francisco and Seattle) are anything but drug-free. Most are addicts.
The Denizens of Tentopolis. Identity politics won't mend this mess; it is largely a shredding of individuals that we're watching. Those on that fringe haven't much in common other than rooflessness. We know this because in most of the West Coast cities where homelessness is epidemic, the powers that be run an annual, one-day-only survey of all available street-sleepers. Officials train hundreds of volunteers who interview and count them. Then they tabulate and analyze the data attempting to make sense of it, but that can't really be done. Too many of the designations listed are too intertwined to separate.
Los Angeles shows the state how not to address homelessness. It was a mistake to settle two lawsuits brought on behalf of homeless people by agreeing to create a right to sleep on the sidewalks (Jones v. Los Angeles) and to store mounds of personal property on the public right-of-way (Mitchell v. Los Angeles). But Garcetti is the particular target of public rage. He pushed for the approval of two tax increases for homeless housing and services in 2016 and 2017, and the problem has only gotten worse. The recent Point in Time Count found that 36,300 people are homeless in the city of Los Angeles, an increase of 16 percent from 2018. In 2017, the count was about 34,000, and that was a 20 percent jump from the previous year, when the problem was already disturbing enough that voters approved Measure HHH, a tax increase to build homeless housing.
Can California Be Saved, or Is It Too Late? How did this state, once the envy of all others, become the pathetic, indebted loser state it is today? The answer is simple, single-party Democratic rule. [...] Like all cities run by progressives, our entire state is a disaster of Democratic making. San Francisco, Los Angeles, and San Diego have been overrun by homeless people, most of them drug addicted and/or mentally ill. Entire areas of these cities are befouled by used needles, feces, trash, garbage, rats and now diseases long-thought to be extinct in the West. Persons who work in downtown Los Angeles have contracted typhus! As true in other cites long run by Democrats (Chicago, Baltimore, Seattle, Detroit, Flint) it is the implementation of ridiculous utopian Marxist policies so beloved by progressives that has destroyed these once grand cities.
Scenes from the collapse of a city that's lost control. What century is this? Is it the 21st century in the largest city of a state that ranks among the world's most robust economies, or did someone turn back the calendar a few hundred years? We've got thousands of people huddled on the streets, many of them withering away with physical and mental disease. Sidewalks have disappeared, hidden by tents and the kinds of makeshift shanties you see in Third World places. Typhoid and typhus are in the news, and an army of rodents is on the move.
Medieval diseases spreading in Los Angeles prove twisted Democrat priorities endanger public health. Americans don't have to look as far as Venezuela to see the massive failure of a government incapable of delivering the basics of what people need from their government. A brief look at California shows how the twisted priorities of Democrat political leadership are creating a dangerous environment for the residents of the Golden State. While combatting climate change remains a top priority for Democrat Gov. Gavin Newsom and Democrat Los Angeles Mayor Eric Garcetti, the streets of California's cities are filled with homeless camps, garbage, and disease-spreading rats. In a throwback to medieval times, Los Angeles is facing an infectious disease epidemic caused by flea-borne disease linked to rat-infested streets.
Welcome to Garcetti's L.A.: heaps of trash, hordes of rats and very little leadership. Los Angeles looks as if it's digging out from a hurricane, with hordes on the streets, tents everywhere and armies of rodents on the march, inciting fears of disease. We learned from Dakota Smith and David Zahniser in last week's avalanche of Mad Max news that the rat circus at City Hall was tied to homeless people using the grates around the building as bathrooms. [...] And why do public officials seem so timid about pointing out that a lot of the trash is from the ever-growing numbers of homeless people they haven't been able to help, whether they're physically or mentally disabled, addicted, bomb-rattled from combat or evicted from the shrinking number of available rentals?
Staggering homeless count stuns LA officials. The stunning increase in homelessness announced in Los Angeles this week — up 16% over last year citywide — was an almost incomprehensible conundrum given the nation's booming economy and the hundreds of millions of dollars that city, county and state officials have directed toward the problem. [...] The new homeless count released Tuesday by the Los Angeles Homeless Services Authority showed nearly 59,000 people living in the streets across Los Angeles County, a 12% increase over the prior year; and 36,300 homeless people within the city limits of LA, a 16% increase over last year's count.
California Is The Future The Liberal Elite Wants For You. [Scroll down] Already, petty crime has been effectively legalized. Crooks get a free pass on the first $950 a day they steal. [...] And now pot's effectively legal here, which is spectacular. Just what Cali needed — more people on a drug that makes them dumber and lazier. Take a walk down the street and see the sights! Look, there's a schizo with his cargo shorts around his ankles baying at the billboard informing you about how no human being is illegal! Oh, and there's another homeless druggie muttering to himself about alien carrots stealing his vital essences as he pushes along his stolen shopping cart heaped with refuse. If you're appalled or distressed by this, you're the bad guy. Caring means letting lunatics and addicts wallow in the elements enslaved by their insanity and/or sickness. Shame on you for wanting your kids to be able to play outside. Hypodermic needles and piles of human waste on the sidewalk are just part of the price you must pay to dwell in the sun.
How do we deal with America's mental illness crisis? California is no longer the paradise it was under Governor Reagan. Radical leftism has taken root. It is all but a separate country in many ways. It has its own immigration policy, illegal under federal law. At one point, its governor even floated the idea that the state should produce its own virtual currency in the form of accounting tricks, an action uncomfortably close to secession. Radical leftist policies in California have put on public display the embarrassing appearance of a third-world hell-hole. Swathes of the state, mostly in big cities, are heavily populated by semi-conscious (or even unconscious) drug addicts, and entire city blocks seem to be covered in garbage and human feces. The problem is getting worse. A harsh comedian suggested that conditions are so bad that illegal aliens might return to their native countries as refugees from America.
Dr. Drew says LA public health in 'complete breakdown': 'No city on Earth tolerates this'. The public health situation in the nation's second-largest city is in "a complete breakdown," Dr. Drew Pinsky said Thursday night on "The Ingraham Angle." "We have a complete breakdown of the basic needs of civilization in Los Angeles right now," Pinsky told host Laura Ingraham. "We have the three prongs of airborne disease, tuberculosis is exploding, (and) rodent-borne. We are one of the only cities in the country that doesn't have a rodent control program, and sanitation has broken down."
San Francisco's Quality-of-Life Toll. San Francisco is the nation's leader in property crime. Burglary, larceny, shoplifting, and vandalism are included under this ugly umbrella. The rate of car break-ins is particularly striking: in 2017 over 30,000 reports were filed, and the current average is 51 per day. Other low-level offenses, including drug dealing, street harassment, encampments, indecent exposure, public intoxication, simple assault, and disorderly conduct are also rampant. Many in law enforcement blame the crime wave on Proposition 47, which in 2014 downgraded possession of illegal narcotics for personal use and theft of anything under $950 in value from felonies to misdemeanors. Anti-incarceration advocates disagree with that argument, but theft is indisputably booming, and narcotics activity is exploding on sidewalks, parks, and playgrounds. When compounded with other troubles for which the city is now infamous (human feces, filth, and homelessness, which is up 17 percent since 2017), San Franciscans find themselves surrounded by squalor and disorder.
Make America's Cities Great Again, By Making Homelessness Illegal. A recent business trip to the liberal-run capital city of Texas left me impressed with the food, music, and overall quirky "weirdness" that is Austin, but it also left me generally disenchanted at the difficulty its working citizens must have in enjoying ANY of it. Why? Just take a walk, anywhere, and you can't miss them — sleeping in the streets, sitting on sidewalks and benches or wandering aimlessly about. Stop for a second and, like clockwork, one will probably approach you, begging for some "spare change" or "a couple bucks" to "get home" or "buy something to eat." If you're in a vehicle, one might come at you with a squeegee and a nasty rag, then get angry when you try to wave them off or, worse, refuse to pay the obligatory two dollars for a window "wash" you never asked for. No, it doesn't take very much time at all to figure out that Austin, Texas has a severe homeless problem. But it's not just Austin.
Homeless camp returns one day after being cleared. Tents returned Friday [5/17/2019] to a homeless encampment that was cleared by Seattle police one day earlier. People who work on the same Second Avenue South block say it's a never-ending cycle. [...] On Wednesday [5/15/2019] police started swarming tents in two different South Seattle encampments. Ten people were arrested, over $20,000 in cash was seized and an array of drugs, guns, knives and stolen property was also confiscated.
California's Housing Bubble's So Bad, 100s Forced To Live On Boats. California's housing affordability crisis is getting worse. Affordability in San Francisco is now at 10-year lows, and only one in five households can afford to purchase a median-priced single-family home in the Bay Area. The crisis has driven many people onto the water, living on makeshift boats, outside marinas, and wealthy communities. The floating homeless population in wealthy Marin County, just across the Golden Gate Strait from San Francisco, has doubled in the last five years to over 100. The community of 200 barges, sailboats, and other vessels comprise of people who are employed but can't afford to live on land, jobless folks, the homeless, and some people who are mentally ill.
California homelessness is so out of control, people are turning to boats — Dems are clueless. California is the country's wealthiest and most highly taxed state, but its politicians have utterly failed to tackle the state's most basic problem: homelessness. Estimates place California's homeless population at close to 130,000. To grasp the magnitude of that figure, imagine the entire population of New Haven, Connecticut or Charleston, South Carolina living on the streets. Much has been written about the problems of feces on San Francisco's streets and needles on the streets in downtown Los Angeles. But the problem has expanded far beyond those cities. It has now reached virtually all parts of the state, including, according to reports, the state's water. In Sausalito just north of San Francisco, neighbors are sparring with local politicians over a homeless population floating off its shores in makeshift boats!
Emerald Trash Heap. Over the past few years, Seattle has become a dumping ground for millions of pounds of garbage, needles, feces, and biohazardous waste, largely emanating from the hundreds of homeless encampments that have sprouted across the city. Now, the Emerald City is on the verge of a full-blown public-health crisis. Last year saw a 400 percent increase in HIV infections among mostly homeless addicts and prostitutes in the city's northern corridor. Public-health officials are sounding the alarms about the return of diseases like typhus, tuberculosis, and trench fever. Even the region's famed mussels and clams have tested positive for opioids.
Seattle Collects Far Less Trash From The Homeless Than It Did Just A Couple Years Ago. [A recent] Seattle Times story opens up with a group of volunteers cleaning up garbage around a homeless camp and the homeless person, named Alec, who created all the mess tells us why he, and all of the garbage, is there: [...] A homeless drug addict unable to get his stuff together is why this particular public site is covered in garbage. But why are volunteers needed to clean it up? It seems the answer to that question is a bit of a mystery. Reading through the Seattle Times story you won't find a clear explanation for why the city is doing less trash collection now than it was back in 2017, but clearly, something has changed.
Portland's Plan To Address Homeless People Pooping In The Street Is Not A Hit With Neighbors. One of the problems that cities up and down the west coast are having right now is with homeless people using the streets and sidewalks as a bathroom. Portland and San Francisco both employ special crews of street cleaners that remove the human waste on a daily basis. One proposed solution has been to set up more public bathrooms so the homeless have someplace else to go besides the sidewalk. But an attempt at making that work in Portland isn't proving popular with neighbors.
Denver voters reject 'Right to Survive' homeless camping initiative. Voters in Denver appear to have overwhelmingly rejected a measure that would have overturned the city's ban on camping in public places. As of preliminary results released at 1 a.m. Wednesday, Initiative 300 was headed for defeat with 83 percent of voters saying "no" and 17 percent saying "yes." Results won't be certified until later this month.
Denver voters to decide whether to allow homeless to set up camp in public places. Denver authorities routinely clear out the homeless encampments that crop up in public parks and along sidewalks within the city limits, but that would change under Initiative 300. The measure on Tuesday's [5/7/2019] ballot would allow the homeless — and anyone else — to live, eat and sleep in public places in a "non-obstructive manner," overturning the city's 2012 camping ban and other ordinances that interfere with what the Yes on 300/Right to Survive campaign calls "the right to rest."
The Editor says...
[#1] You have "the right to rest" on your own property, or in a residence that you rent or lease., but vagrancy is not a right. [#2] Hobos, bums, and gypsies have this in common: If you give them an inch, they will take a mile, and you can never withdraw the inch. Once an easement of this sort is granted, it can never be reversed.
Judge signs off on homeless shelter on 'Billionaires' Row'. A Manhattan judge on Monday gave city officials the green light to open a controversial homeless shelter in the ritzy "Billionaires' Row" neighborhood. State Supreme Court Justice Alexander Tisch rejected arguments from the West 58th Street Coalition and other opponents that the former Park Savoy Hotel doesn't meet current safety standards and is unsafe in case of fire. Tisch ruled that while the only way out is through the lobby and the stairwell may be too narrow for both tenants and first responders at the same time, "these are all aspects for which the City and its agencies are supposed to be given deference."
Do Most Homeless People In Seattle Have A Substance Abuse Problem? In the wake of the "Seattle is Dying" news special which aired on KOMO last month, there was some coordinated pushback from Seattle elites. A PR firm was hired to help coordinate talking points in opposition to the conclusions of the special and in favor of some of the programs already operating in the city. Those talking points were then rolled out in a series of seemingly unconnected articles at news outlets like the Seattle Times and Crosscut. One of the arguments made repeatedly in these pieces is that drug use (and also mental illness) are just one part of the problem.
Wealthy Elitists Freak Out As Hordes Of Homeless People Take Over Their Neighborhoods. The elite are very "tolerant" of the homeless until they start showing up in their own neighborhoods. Even though the mainstream media keeps telling us that the U.S. economy is "booming", the number of Americans living on the streets continues to grow very rapidly, and this is particularly true in our major west coast cities. More than half a million Americans will sleep on the streets of our cities tonight, and they need help, care and shelter. Sadly, as economic conditions deteriorate that number is likely to double or even triple. Of course, many among the elite are all in favor of doing something for the homeless, as long as they don't have to be anywhere around them.
In poop-covered San Francisco, the super-rich prey on the left's merely wealthy. San Francisco is a city covered in excrement, and now even the wealthy inhabitants of its Embarcadero are going to experience more of it, up close to home and quite personal. [...] Maybe they should have thought of that before they elected an incompetent weakling like Mayor London Breed based on color considerations, or passed Proposition C in that same election, taxing big businesses to pay for More Homeless programs. The residents aren't the most sympathetic people out there, given their voting patterns. All the same, this could be some kind of watershed, widening a new fault line on the left, given that tech billionaires were the ones behind this, making a sort of warfare on the merely wealthy. After all, in San Francisco, there's no one else left.
Squatting takes on a new meaning in San Francisco. If you're not a resident of the area and are planning to visit the famous City by the Bay but don't have the locals' notorious open-mindedness, where logic falls out and anything else crawls in attitude and want to avoid the excrement, [Adam] Andrzejewski has helpfully included the ZIP codes with the most of it, along with an interactive map of its locations. Other than this, enjoy your visit!
San Francisco sees 'brownout' amid spike in public pooping, reports say. San Francisco's streets have long had a problem with human waste, but new reports show that the Bay Area's public bowel movements are worse than ever. The poop-data was released by Open the Books, a nonprofit government watchdog, which includes all cases closed by the San Francisco Department of Public Works since 2011, Business Insider reported. There were over 5,000 documented cases in 2011, according to the data. In 2018, that number rose more than fivefold to over 28,000 reported cases.
This San Francisco Public Pooping Map Is Gross And Also Fascinating. A group called Open the Books plotted tens of thousands of reported public pooping incidents on a map of San Francisco. The result looks like a cloud of sewage blanketing the city.
D.C. housed the homeless in upscale apartments. It hasn't gone as planned. The SWAT team, the overdose, the complaints of pot smoke in the air and feces in the stairwell — it would be hard to pinpoint a moment when things took a turn for the worse at Sedgwick Gardens, a stately apartment building in Northwest Washington. But the Art Deco complex, which overlooks Rock Creek Park and is listed on the National Register of Historic Places, is today the troubled locus of a debate on housing policy in a city struggling with the twin crises of homelessness and gentrification. Located in affluent Cleveland Park and designed by Mihran Mesrobian — the prewar architect behind such Washington landmarks as the Hay-Adams Hotel — Sedgwick Gardens was once out of reach for low-income District residents. That changed two years ago, when D.C. housing officials dramatically increased the value of rental subsidies. The goal was to give tenants who had previously clustered in impoverished, high-crime areas east of the Anacostia River a shot at living in more desirable neighborhoods.
Medieval Diseases [are] Making a Comeback Due to Feces on [the] Streets. According to a report by Kaiser Health News, "Infectious diseases — some that ravaged populations in the Middle Ages — are resurging in California and around the country, and are hitting homeless populations especially hard." Outbreaks of Shigella bacteria and Hepatitis A, both are which are caused by exposure to feces, are on the increase in Southern California, New Mexico, Ohio and Kentucky, "primarily among people who are homeless or use drugs." Experts are now warning of a "public health crisis" that could see the diseases spread to the general population.
Wealthy 'NIMBY' libs in Pelosi's SF district raise $60G to fight center for city's homeless. Rich San Francisco residents in House Speaker Nancy Pelosi's congressional district have collected more than $60,000 after starting an online crowdsourcing campaign to wage a legal challenge against a proposed center for the city's homeless. The campaign, called "Safe Embarcadero for All," was launched March 20 after San Francisco Mayor London Breed proposed a 200-bed homeless Navigation Center in the city's most desirable location, the Embarcadero along the coast of San Francisco Bay, earlier this month. "The planned location for Mayor Breed's #megashelter is home to thousands of families, visited by millions of tourists and at the center of some of San Francisco's most iconic events, including the San Francisco Marathon, San Francisco Giants stadium and on one of the busiest bicyclist paths in the city," reads the site posted by the group opposing the construction.
San Franciscans raise $46,000 to stop homeless shelter in wealthy area. When residents from one of San Francisco's most desirable neighborhoods launched a crowdfunding appeal to block a new homeless shelter, the controversial tactic drew an angry response from the city's mayor. Their campaign on GoFundMe, best known as a site that hosts fundraisers for medical expenses or victims of natural disasters, has raised around $70,000 from hedge fund managers, executives and authors, which will be used to pay for an attorney. But it also spurred supporters of the shelter to try to beat them at their own game. Since launching on Thursday, a rival GoFundMe has amassed over $73,000. And it had drawn hefty contributions of $10,000 each from the Salesforce CEO Marc Benioff, the Twilio CEO Jeff Lawson and from the company GoFundMe itself.
Leftists Have Turned San Francisco Into A Nightmare Of Drugs And Homelessness. There's no denying that San Francisco is one of America's most beautiful and recognizable cities, but it has been racked with problems thanks to leftist policies that have driven drug addiction and homelessness through the roof. The Daily Wire's Kassy Dillon and Colton Haas traveled to the city by the bay and spoke to experts and homeless people about the conditions that have encouraged the spread of drugs, disease, and more. During their trip, they could see the awful condition the city is currently in.
I Went To San Francisco. What Happened To One Of America's Most Beautiful Cities? Erica Sandberg, a community advocate and journalist, broke it down for us: "Right now the major issue — people always call it homelessness — but the major issue is drugs." While San Francisco has always battled homelessness and currently has about 7,000 homeless people, the drug issue is exacerbating the problem. The city currently hands out more than 400,000 syringes each month but only 246,000 are returned, leaving 154,000 syringes left on the streets. We spent our first day walking around the Tenderloin District, only to see our fellow Americans defecating on the sidewalk, shooting up in broad daylight, and overall living in third-world conditions. In one children's playground we visited, there were wrappers that once held drugs and caps of syringes.
The Crying of Lot 330. The prospect of a 225-bed homeless shelter on the Embarcadero, one of San Francisco's most scenic and economically vital areas, took residents by surprise. Only eight days earlier, the proposal had been unveiled to turn what is now a parking lot — Seawall Lot 330 — into the largest homeless shelter of its type in the city. Neighbors arrived en masse at the Port Commission hearing to express their views. It was standing-room only, with people crowded on floors and in aisles, and spilling out the door. [...] All spoke passionately about their ties to the neighborhood and how the shelter would erode safety and quality of life. They worried that it would intensify drug use and other illegal activity and draw additional homeless people onto their property, leaving more needles and feces behind.
KOMO News' Special: Seattle Is Dying. "People didn't use to use the word embarrassing about Seattle, but they use it a lot now," the narrator to a new KOMO News special titled "Seattle is Dying" says. The focus of the special is homelessness and the ways in which it has changed the city. There's a section featuring angry residents of one area of the city who are screaming at their representatives for action. They want the tent cities managed and they're tired of calling the police only to find out the police can arrest people but those same people will be back on the street, sometimes within hours.
SF libraries as sanctuaries for the homeless. Francisco Martinez likes to read. The Bible, usually. And he likes to ditch his tent a few hours a day for somewhere inside, where it's warm and out of the rain, the people are nice and he can snatch a nap in a chair. There's one place that fills the bill for a homeless guy like Martinez, who at 78 moves more like someone who's 88. The library. "I've got nowhere else but here," he said the other day as he settled into a window chair in San Francisco's Main Library with a Bible study book from a nearby rack on his lap, a knapsack on the floor next to him.
The Editor says...
The article immediately above is apparently supposed to make us all feel sorry for a homeless bum who lives in the public library. I don't know about you, but in my case, it didn't work. The library is not a shelter for vagrants and tramps who have no appointments on their calendars. A public library is supposed to be a collection of books and other materials for reference, study, and the general enjoyment of the tax-paying public. The tables and chairs in a public library are not intended to be slept upon. In the good old days, homeless bums were only seen in railroad yards, and would never have dared to live in a public library any more than they would have camped out at the police station.
L.A. settles homeless rights case, likely limiting ability to clear skid row streets. The Los Angeles City Council on Wednesday [3/6/2019] agreed to settle a pivotal and contentious case on the property rights of homeless people — a decision that is likely to limit the seizure and destruction of encampments on skid row. The 10-2 vote authorizes City Attorney Mike Feuer to settle a 2016 lawsuit, Carl Mitchell v. Los Angeles, brought by civil rights lawyers on behalf of homeless people and two skid row anti-poverty groups. Downtown business groups had opposed such a deal, arguing that settling the case would deter redevelopment, and leave skid row and the people who live on its sidewalks mired in squalor.
Portland Residents Call 911 Every 15 Minutes To Complain About Homeless People. Officials in Portland, Ore. recently estimated it will cost $640 million over the next 10 years in order to help adequately prevent homelessness in the area, but a report out this week shows that many citizens from the City of Roses have simply resorted to calling the police on unwanted vagrants. In fact, authorities say that more any other problem, residents are calling the emergency hotline to complain about homeless people even when immediate danger is not present. Katie Shepherd of the Willamette Week reports that the Portland Police Bureau receives a call from the public on average every 15 minutes per day to complain about an unsheltered person who "frightens or inconveniences them." When lumped together with other calls such as mental health emergencies, police recive calls every 4 minutes for a non-violent issue.
Typhus Epidemic Spreads Across Liberal Utopia of Los Angeles Due to Mountains of Trash, Growing Homeless Population. A typhus epidemic is worsening in the liberal utopia of Los Angeles, California due to a growing homeless population and mountains of rat-infested trash. Nothing says "progressive" more than a medieval infectious disease like typhus fever spreading through a city in the year 2019.
Typhus Is Spreading in Liberal, Rat-Infested LA County. There are a lot of rats in LA, and, NO, for once we don't mean the politicians although many qualify. We mean the little furry creatures who live in squalor and spread diseases. Last September, a documentary called 'Rats' was screened as a Landmark Theatres Exclusive Midnight Event. It was frightening because it's real. Infestations of rats are seen in major cities and elsewhere, and when garbage is left to rot in homeless areas, they become a more serious threat to life.
The high price of refusing to face facts about the homeless. Along with homeless encampments come deadly outbreaks of hepatitis A, typhus and other communicable diseases, driven by attending drug addiction. Some parts of the city [of San Diego] are littered with syringes. A desperate San Diego now steam cleans its streets and sidewalks. Even in expensive neighborhoods, unguarded greenery is often strewn with trash and toilet paper, revealing where homeless people have spent the night. The city tries to keep the squalor at bay with improved shelter programs. It even plans to provide 500 bins where the homeless can stash their belongings, but that effort alone will cost the city about $2 million a year in overtime for the cops who guard the lockers.
Homeless Already Returning To Camp Site The City Of Seattle Cleared Out Last Week. Last week I wrote about a homeless camp in Seattle near the I-5 freeway, just one of the hundreds (the current estimate is 400) in the Seattle area. After two months of complaints from local business owners and residents about threats, trash, and rodents, the city's Navigation Team came to remove the residents and clean up the mess. Today [1/15/2019] a columnist for My Northwest reports a new tent is already up at the freshly cleared site:
Wealth, Poverty, and Flight: The Same Old State of California. [B]oth legal and illegal immigration have also radically changed the demography of the state. It is not just that about 40 percent of the nation's 11 [to] 20 million immigrants live in California, a state in which now one in four residents was not born in the United States. Rather, it is the result of two or three generations of mass influxes of impoverished residents who on average arrive without a high-school diploma, English proficiency, capital, or often legality. California now hosts one of three Americans who are on some sort of federal, state, or local welfare supplement. About a fifth of the state lives below the poverty level. Half of all births in California were paid for by the state-run Medi-Cal program, and 30 percent of Medi-Cal births were to mothers of undocumented immigration status. The San Ysidro border crossing between Tijuana and San Diego is the world's busiest, where some 70 million people cross on foot and in cars into and out of California each year.
Residents of San Francisco are now documenting squalor of city's homelessness epidemic. San Francisco has been battling an ongoing homelessness epidemic for years, but mounting piles of human feces in its streets have become intolerable for many residents — causing citizens to launch their own campaigns exposing the stinky (and dangerous) troubles of the Golden City. Disgusted business owners and residents are using social media to show the magnitude of the tech-town's indigent encampments in hopes that officials will do more to end rampant public drug use and defecation on the sidewalks.
De Blasio's plan to safely dispose of used needles is failing. Mayor Bill de Blasio's plan to have junkies toss their used syringes into special receptacles has failed to clean up drug-infested parks, and the bins are serving more as suggestion boxes — spreading the message that the city is OK with them shooting up there. Official statistics obtained by The [New York] Post from the first six months of de Blasio's controversial program show that parks in the Bronx are still littered with dangerous hypodermic needles, with nearly 60,000 found on the ground compared with just 7,000 in Hizzoner's 44 locked containers.
San Francisco resident says it's a war zone, others post poop and drug pics! In another postcard from one of America's most liberal cities, San Francisco, residents are now posting poop pics from the homeless in order to protest the [dystopia] that city has become.
The impact homelessness and the opioid crisis are having on San Francisco streets. Outside the Ninth Circuit Court of Appeals in downtown San Francisco, a woman urinates on the sidewalk and smokes a crack pipe. Inside her purse are about a dozen used heroin needles. She shoots heroin up to 10 times per day, she says.
Five homeless vagrants face no charges in attack on cop seen in viral video, says Manhattan DA. Attacking a cop has joined fare beating and public urination on the list of subway misbehavior Manhattan DA Cyrus Vance won't bother prosecuting. Officer Syed Ali — an Army combat vet who served in Iraq and Afghanistan — had no trouble fending off five homeless vagrants with his baton and his feet as they came at him one by one on Sunday night. The attack, captured on video, was viewed 4 million times on Twitter.
NYPD officer fights off aggressive drunks in the subway but none of the attackers are charged. While most of us were getting ready for Christmas, NYPD officer Syed Ali was working a transit beat in the NY subways Sunday night [12/23/2018]. This particular night, five intoxicated men were harassing a woman on the platform of the East Broadway station. [...] Officer Ali, who is a combat veteran, was praised by the Mayor and various NY authorities for dealing with the drunks without escalating the situation. [...] But some were upset that the men who harassed the subway rider and tried to fight a police officer were released and won't be charged with anything.
Seattle Under Siege. Seattle is under siege. Over the past five years, the Emerald City has seen an explosion of homelessness, crime, and addiction. In its 2017 point-in-time count of the homeless, King County social-services agency All Home found 11,643 people sleeping in tents, cars, and emergency shelters. Property crime has risen to a rate two and a half times higher than Los Angeles's and four times higher than New York City's. Cleanup crews pick up tens of thousands of dirty needles from city streets and parks every year.
Why won't liberals admit their homeless policies don't work? It's appropriate that the UN special rapporteur devoted to adequate housing has visited encampments in Mexico City, Buenos Aires, Mumbai — and San Francisco, Oakland and Berkeley. The homeless situation in those cities and others around the country is positively Third World, a blight that shows the persistence of human folly, and misery, despite what we take to be our steady progress to greater enlightenment and prosperity. San Francisco is a crown jewel of the new economy, and a sink of vagrancy.
Typhus cases hit 100 in Los Angeles as feral cats and rats spread disease among the homeless. The number of flea-born Typhus cases in Los Angeles has hit 107. So far this year 72 patients have been recorded by Los Angeles County Department of Public Health with a further 15 in Long Beach and 20 in Pasadena. In the 2000s there were around 20 cases recorded per year and analysts are putting the dramatic rise down to a 47 percent increase in homelessness since 2012. One official in Long Beach told NBC News that almost half a million potential cases are 'under investigation.'
$2 Million Art Above Homeless Tent Encampment Highlights DC's Problems. Tents are a permanent fixture beneath the bridges that support the train tracks feeding into Washington DC's Union Station, particularly along the sidewalks in the rapidly developing NoMa neighborhood. Along the portions of M, L, and K Streets that are covered by railway overpasses in Northeast DC are dozens of tents — some taking over the entire width of the sidewalk, forcing pedestrians to step down into the street and dangerously close to oncoming traffic to get by. Camping on public property is illegal in DC, but the police don't typically crack down on tent-dwellers. Every now and again the city cleans things up by sweeping through heavily tented areas, ordering campers to leave and packing up any belongings left behind in storage, which residents can collect from the city up to 60 days later. Residents are given two weeks notice prior to the scheduled cleanup and the tents often return soon after.
San Francisco: Now so bad, it'll make you cry. Twentieth-century San Francisco, Herb Caen's beloved Baghdad by the Bay, has ceased to exist. It has been replaced by a city where the sidewalks around Market Street are, in places, caked in feces, urine, and vomit. The stink as you emerge from the BART batters you like frozen sleet, shocking and overwhelming. The hordes of homeless, sprawled in doorways and sleeping on the sidewalks, are a bitterly eclectic mixture of the mentally deranged; burnt out druggies; dead-eyed hippies; con artists; pickpockets; and hundreds of simply lost, forgotten souls. [...] As I walked the three blocks back to the BART, I was panhandled four times, plus two clumsy pickpocket attempts. I didn't see a single cop in a car or on foot. What could they do? What finally broke my heart were the kids and women, also lying in the streets, drugged, shell-shocked, begging for food.
I Left My Shoes In San Francisco. Enter the search term "San Francisco feces map" into Google and it comes back with 1,040,000 results. Yeah, it's a thing. San Francisco was always grungy — back in the 1980s, I believe it was comic Bobby Slayton who called it "the city that makes its own gravy" — but it has gone from merely unwashed to actively unflushed. Sure, it's funny to the rest of us, in a horrifying and disgusting kind of way, just like the fact that the socialist geniuses in Venezuela are forcing the famished locals to gnaw on its zoo's zebras and gnus for sustenance. You look at these examples of leftism in action and you have to laugh, but what's not funny is that this is not some sort of aberration. This is the future our liberal elite wants for us, and it's doing everything it can to make it a reeking reality.
A Perfect Storm Threatens America's Survival. Except for the rich, American cities are becoming increasingly unlivable as illegal and homeless populations threaten to overwhelm city budgets. It's so bad in San Francisco that the city has funded poop patrols as that once lovely City by the Bay has become a nightmare to citizens and visitors alike. Large groups are canceling conventions. Los Angeles has doubled its homeless budget to $450 million. Los Angeles County plans to spend $374 million. That's 1 percent of a budget meant to service a population of over 10 million going to just 53,193 people.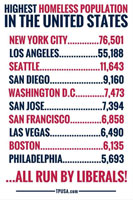 The Highest Homeless Population is in Cities Run by Liberals. [Click to enlarge.]




San Francisco creates 'Poop Patrol' to clean up city's feces-ridden sidewalks. San Francisco's decrepit, feces-ridden sidewalks are the residents' No. 1 complaint — so the city's newly elected mayor is creating a new clean up patrol to deal with "No. 2." The California city, which has been battling increasing homelessness over the last couple of years, launched a new pilot program called the "Poop Patrol," which is set to scour targeted neighborhoods looking for human waste. The city's 311 service has received nearly 14,600 calls about piles of poop, other human waste and dog feces since the beginning of the year.

San Fran Averages 78 Poop in the Street Calls a Day, Others in the Transit System. San Francisco has been working on their homeless problem and have succeeded in cutting the tent encampments in half by offering shelter to the drug addicts, mentally ill, and others lining the streets. The behavior of the homeless hasn't improved, however. The San Francisco Chronicle reports that they are averaging about 78 poop in the street calls a day. There are about 45 syringes in the street calls a day. There are more on the trains. The transit system is littered with syringes, poop, blood, urine, and so on. Since April janitors have cleaned up more than 13,000 dirty needles left behind at the Civic Center and Powell Street stations.

In silly San Francisco disease-ridden needles are A-OK but a plastic cocktail stirrer will soon be illegal. San Francisco has long been a bastion of the far left — and now it's paying a high price for its extreme progressive policies, including once-beautiful streets filled with dangerous syringes and human waste, resembling Third World back alleys. The city has embraced an open drug culture at the same time it spends hundreds of millions of dollars to combat a growing homelessness problem. But no matter what the city does, it seems to have the opposite effect and make things worse. Each year, San Francisco hands out millions of syringes to drug users — 4.45 million to be exact. San Francisco officials do this because they believe this is cheaper than the medical costs associated with injectable drug users getting diseases from sharing needles. Yet as always, politically correct progressive politicians never think about the law of unintended consequences.

If You're Going To San Francisco... Think Again. San Francisco has about 7,500 homeless individuals and is spending $280 million on homeless services for them. Some simple math reveals that the city could give each homeless resident just over $37,000 per year, a figure well above the minimum wage in most other places, and call it a day. If you take out the salaries of all the bureaucrats administering these "homeless services," there would likely be more than $100,000 available for each homeless person. But you know that won't happen in a Democrat-run city, an administrative state, like San Francisco. How can the city discourage the homeless from using the sidewalks as their toilets? In their minds, spend more money.

Ballard's homelessness quadrupled last year, and anger is spilling over. As Seattle's homelessness crisis continues to grow, Ballard is experiencing an influx larger than almost anywhere else in King County. The annual Point In Time count found a fourfold increase in homelessness in central Ballard in just one year, with 214 people tallied there on one night in January. The rise is testing the traditionally liberal politics of Ballard, and the loudest voices are now talking about crime. Fear of crime in south Ballard is higher than the average in Seattle, according to a recent city survey. Property crime rose 11 percent last year, and the number of dispatched calls to 9-1-1 are up in the neighborhood, but the violent-crime rate has been steady since 2015, according to Seattle police data.

New SF mayor will try asking homeless to be nice, instead of penalizing them for pooping on the streets. San Francisco has a brand new mayor, Ms. London Breed, the result of the untimely death of Mayor Ed Lee, and it does not look good for the city coming to grips with a crisis on its streets. The accumulation of human waste and contaminated drug needles posing a severe threat to the health of its residents and visitors is also a challenge to the survival if the city's biggest industry in terms of employment: tourism. A huge medical convention has announced that it will no longer visit San Francisco owing to the health and safety hazards the streets now pose.

The Left-wing Paradise of San Francisco. Represented in Congress by Rep. Nancy Pelosi (D-Calif.) and run for years by almost all Democrats, San Francisco should be a mecca for the left. But the city is fast becoming one of the worst places in the U.S. to live. The homeless problem is out of control. Experts say it "could exceed some of the dirtiest slums in the world." There are around 7,500 homeless people in the city. Human feces is strewn across public areas. The NBC Bay Area Investigative Unit examined over 150 blocks of downtown San Francisco and found 96 blocks littered with feces. San Francisco's new mayor, London Breed, observed, "there are more feces on the sidewalks than I've ever seen growing up here." She says that a cleaning crew will clean up an area, but "right after they leave, maybe an hour or two later, the place is filled with trash again."

San Francisco Is Absolutely Covered in Fecal Matter. Recently elected San Francisco Mayor London Breed says that the city she loves is absolutely covered in fecal matter and "we are not just talking about from dogs — we're talking about from humans." Talking about human feces, folks! Particularly, feces from humans experiencing homelessness right now. Apparently, the city is so overrun by poverty that people are using virtually all public spaces as their toilet because they cannot afford proper lavatories. To this extent, Mayor Breed is asking that homelessness advocacy groups and non-profit encourage those they are helping to clean up after themselves.

San Francisco's crisis looks like New York's future. What happened in San Francisco is obvious. It stopped prosecuting quality-of-life offenses and, unsurprisingly, the quality of life for the city's residents and visitors decreased sharply. In 2015, San Francisco courts stopped enforcing bench warrants for such offenses. Police continued writing up tickets for public drunkenness or sleeping in parks, but when the accused failed to show up to their court appearance a judge simply dismissed the outstanding warrant. New York started following San Francisco's lead in 2016 when Manhattan DA Cyrus Vance Jr. announced his office would no longer be prosecuting offenses such as public urination. Both cities have accepted that they'll continue to have a large number of people living on their streets and inevitably using their sidewalks as a toilet.

Left Coast Lawlessness. Seattle's predicament is emblematic of the broader crises faced by many progressive West Coast cities, where local leaders have forced law enforcement to take a hands-off approach to policing unsanctioned tent cities and vagrancy at the expense of public safety and health. San Francisco, long considered a model of progressive urban policy, is plagued by filth, chaos, and public-safety hazards. Local leaders plan to spend an incredible $305 million on combatting homelessness for the current fiscal year alone, but disorder spreads as the city fails to enforce the rule of law and basic sanitary measures. Block-by-block surveillance reveals the deterioration of downtown San Francisco. Of 153 city blocks surveyed, 41 contained used drug needles and 96 had human feces present. Tourists are dismayed to leave their downtown hotels, to be confronted by mentally ill and aggressive homeless people who are taking control of the streets. University of California Berkeley professor Lee Riley, an expert on infectious disease, observes that some of San Francisco's streets are dirtier than Third World slums.

San Francisco Is, Quite Literally, a Toilet. [Scroll down] The "breaking point" for the main source for the story, a 46-year-old computer programmer named Ernst Schoen-Rene, was the discovery in April of "a black suitcase with wheels on the corner that had clearly been used as a toilet by homeless people." "I actually started crying, I got so frustrated," Schoen-Rene tells the Chronicle reporter. "I flipped out. I started writing to everybody." The trouble for these good San Francisco progressives is reconciling their ideology with reality.

Poop. Needles. Rats. Homeless camp pushes SF neighborhood to the edge. "I don't mind a reasonable amount of urban grit," explained [Ernst] Schoen-Rene, a native of Chico who's lived in San Francisco since 1994, always opting for edgy neighborhoods. He and his wife bought their Isis Street condo in 2010 for $748,000, and by the time he sent the email, he had come to regret it. He felt stuck, unable to afford anything else in today's nutty housing market or the far higher property taxes that would come with a new purchase.

Infant removed from Seattle homeless encampment now in CPS custody. A five-month-old found in a homeless encampment late last month was placed in the custody of Child Protective Services after Seattle Police Department learned methamphetamine use was reportedly occurring in the tent where the child lived. Police were alerted to the infant's situation on May 30 by another person in the encampment, at the 900 block of Poplar Place South just north of the intersection of Rainier Avenue South and I-90, according to a blog post from the SPD. The child was examined and taken to Seattle Children's hospital before being turned over to CPS.

Left Coast Lawlessness. The anarchy and disorder dominating progressive cities across the West Coast recently hit a new low in Seattle. King County officials are looking to roll out a "safe injection van," a legal venue at which addicts could shoot up illegal drugs unhindered and "safely." The first of its kind in the United States, the van would manage to undermine further the rule of law while also doing little to help addicts. Seattle's urban decay goes deeper, though, with skyrocketing rates of homelessness, an explosion in opioid usage and deaths, and spikes in violent crime.

If You're Going to San Francisco. You'll find lots of aggressive vagrants, discarded needles, and a few dead bodies there.

San Francisco Tourists Shocked By Aggressive Vagrants, Discarded Needles, Dead Bodies. San Francisco[,] a Democratic stronghold known for cable cars, quaint architecture and its diverse culture, has become a bastion of squalor and crime as city dwellers and visitors alike dodge aggressive, drug-addled vagrants.

Tourists visiting San Francisco question if they're in 'bad side of town'. Recent social media posts by tourists visiting San Francisco casts a troubling light on the City by the Bay over its homeless issue, open drug use and filthy streets. Since the beginning of the year, reports have surfaced of hypodermic needles dotting the streets, piles of human feces and expanding shanty towns for the increasing homeless population — and now tourists are noticing, SFGate reported. "Is this normal or am I in a 'bad part of town?'" an Australian Reddit user asked the San Francisco Reddit community Wednesday. "Why is this city so terrifying?" a Canadian visitor asked on Reddit Sunday [6/10/2018].

Seattle created its homelessness crisis — Now it's trying to make it worse. Seattle never learns. The city says it has a homelessness problem that is getting out of control and something needs to be done about it. But Seattle's ultra-liberal politicians are making things worse by insisting on more bloated government to solve a problem bloated government created. The housing crisis in Seattle is the fault of its government. The city has been on a nonstop rampage to declare itself the most progressive society in the world for the last few years. During its crusade that is killing jobs and making life miserable, city elected officials have enacted rules and regulations that make it almost impossible to build housing there.

Homeless Crime in LA is Up 50%. You get more of what you subsidize. When you subsidize homelessness as Los Angeles, New York and a number of other cities driving a boom in homelessness have been doing, you get more of it. And you also get more of the crime that comes with it.

Homeless Crime Jumps Nearly 50 Percent in Los Angeles, LAPD Says. The number of crimes in which homeless individuals were listed as suspects increased by nearly 50 percent in the city of Los Angeles in 2018. Crime data provided by the Los Angeles Police Department showed there were 8,906 crime reports between Jan. 1 and Dec. 1 this year in which a homeless person was listed as the suspect, compared with 5,976 for the same time period in 2017. LAPD officials said most concerning were the disproportionate number of homeless individuals listed as suspects in physical attacks that cause serious injuries, described as, "aggravated assaults," in police records.

L.A. Metro May Put Showers for Homeless People near Stations. The Los Angeles Metro may put showers for homeless people near some of its stations, after the board of directors approved a resolution last Thursday to study the issue over the next four months.

Junkies are filling Bronx parks with over 5,000 used needles a week. Junkies have been dumping some 5,000 used needles a week in parks across the Bronx — prompting desperate city officials to install dozens of syringe-disposal kiosks in hopes of cleaning up the dangerous mess. There has been a dramatic gain in the number of syringes found in parks in the Bronx in recent years because of the ongoing opioid epidemic, city Health Department officials say. The 60 kiosks, which will be locked trash boxes placed in the hardest-hit Bronx parks, are part of a $60 million HealingNYC program to combat the drug plague, announced Monday [5/21/2018].

Let's Help Vagrants, Not Use And Enable Them. Alcoholics go to Alcoholics Anonymous, and they can only leave on the wagon. Obese people often go to camps where their caloric use and intake are closely monitored. So why do we encourage vagrants with drug problems to visit "shoot-up parks" to descend deeper into their sewer of dangerous and addicting drugs? For that matter, why do we encourage their vagrancy? This isn't just a big city problem. Here in the beautiful Roaring Fork Valley, we have vagrants. The Glenwood Springs Post Independent recently reported that many vagrants illegally camp on private and public lands on the outskirts of town. They litter the area, defecate and urinate on the ground, often start illegal campfires and frequently panhandle and worse.

San Francisco's many free syringes are littering its streets. San Francisco hands out millions of syringes a year to drug users but has little control over how they are discarded and that's contributing to thousands of complaints.

About those needles littering the streets of San Francisco... The city gave them out. For all of City Hall's tough talk of late about getting needles off the streets, the city itself is responsible for helping fuel the problem — handing out millions of syringes a year with little or no controls over their return. And while the easy access to clean syringes is intended to protect public health, the city's residents are not happy with the situation.

The diseased streets of San Francisco spread to rest of California. We recently took a look at the diseased streets of San Francisco, after local reporters revealed a dangerous mix of drug needles, garbage, and feces spread throughout the city's downtown area. Now, as the number of homeless camps across the state skyrocket, union officials for highway maintenance workers are demanding health and safety protections for state employees who are exposed to the biological detritus while cleaning up roadside encampments.

L.A. Metro May Put Showers for Homeless People near Stations. The Los Angeles Metro may put showers for homeless people near some of its stations, after the board of directors approved a resolution last Thursday to study the issue over the next four months.

Tolerant San Francisco fed up with dirty, smelly streets. Though known for its compassion to the needy, San Francisco may have hit peak saturation with tent camps, stinky urine and trash littering the streets, and the new interim mayor has vowed to do something about it.

SF to get team dedicated to clearing used needles from city's streets. Just days before he rolls out a citywide plan to clean up San Francisco's fetid and filthy streets, Mayor Mark Farrell announced plans to hire a 10-person team of health professionals dedicated to cleaning up used needles. Farrell and Department of Public Health Director Barbara Garcia said on Monday [4/23/2018] that the city would allocate $750,000 to hire the new employees through a contract with the San Francisco AIDS Foundation.

Clean up San Francisco's streets, tourist industry pleads. Sure, San Francisco has great facets worthy of postcards and travel books, but it also has a worsening underbelly that [Joe] D'Alessandro says he can no longer gloss over. People injecting themselves with drugs in broad daylight, their dirty needles and other garbage strewn on the sidewalks. Tent camps. Human feces. The threatening behavior of some people who appear either mentally ill or high. Petty theft. "The streets are filthy. There's trash everywhere. It's disgusting," D'Alessandro said, adding he's traveled the world, and San Francisco stands out for the wrong reasons. "I've never seen any other city like this — the homelessness, dirty streets, drug use on the streets, smash-and-grabs. "How can it be?" he continued. "How can it have gotten to this point?"

Infectious diseases on the rise as homeless population grows. They're diseases that you've never heard of — Shigella and Group A Strep. But they are spreading at alarming rates among people without homes in King County.

Asian immigrants put their foot down at liberals dumping homeless at their door in the O.C.. Liberals were in for a surprise when legal Asian immigrant families fought back at their efforts to dump the homeless of Orange County into their ICity of Irvine community, thinking that since they were Asians, they wouldn't complain. [...] The people they didn't want dumped into their community to mix it up with their school children and tiger moms were these: [Photo at left] According to MyNewsLA.com, the cleanup of this Santa Ana River camp has left 404 tons of garbage, 13,950 needles, and 5,279 pounds of human waste. You kind of wonder who had to count those needles and weigh all the vomit and excrement. Sound like great neighbors for property values and schoolchildren safety. Which of course is why they protested.

San Francisco Is Suffering From The Excesses Of Its Own Liberalism. In November of 2017 alone, 6,211 needles were collected while via the 311 App, 1,498 requests were made to clean up human feces. The public defecation problem has become so intolerable in San Francisco that private citizens have built an online map to track the concentrations of poop in the city, so that pedestrians may know to avoid certain areas. And it's not just poop. The overwhelming smell of urine on parts of Mission Street and Market Street would make your nose bleed. I recall the first time I rode BART (Bay Area Rapid Transit, San Francisco's subway system) and was nearly knocked over by the sheer stench of the station. I was surprised to learn that exiting the station supplied little to no relief — the urine smell hangs heavy in the more populated areas of the city and is nearly inescapable. In a dark twist of humor, the city has had to replace numerous different street poles due to urine eroding the foundation. What drives a large part of the human waste issue is San Francisco's homeless population. The homeless epidemic in San Francisco is tragic and frightening — in a 47-square mile city, we have around 7,500 homeless people, meaning there are approximately 160 homeless people per square mile.

Homeless 'mansion' pops up near Space Needle. A group of homeless people built a tent "mansion" in a small patch of grass between Third Avenue and Broad Street. It's a half a block from Seattle's most famous tourist attraction and surrounded by multi-million dollar high-rise condos.

Calif. Big Cities Face Public Health Issues Caused by Rise in Homelessness. Two of California's biggest and richest cities are facing a public health issue, which centers around the growing homeless problem.

Homeless encampment relocation plan has California residents outraged. A plan to house hundreds of homeless people in a tent city near a popular Southern California park was met with fierce public resistance, forcing an upcoming vote to rescind the scheme. The Orange County Board of Supervisors is set to meet Tuesday to figure out where to relocate people, after a federal judge forced the county to come up with a plan to house the homeless population located along the Santa Ana River. One proposal would place about 400 people near the county-owned Orange County Great Park in Irvine, located 40 miles southeast of Los Angeles. The park, which is home to a farmers market and a hot air balloon ride, is popular with families on weekends.

California Has Become a Disgraceful State. At one time, California was the envy of America, attracting people from around the nation to move to a state offering opportunity and the chance to pursue ambitious dreams. With scenic beauty, the Pacific Ocean coastline, the major cities of San Diego, Los Angeles and San Francisco, California recruited entrepreneurs looking for economic growth. As the home of Hollywood and multitudes of celebrities, California presented an enticing potential to enjoy "lifestyles of the rich and famous." Today, California has become an economic and cultural disaster. The state is home to over 114,000 homeless people, one quarter of the total in the nation. In San Francisco, a health crisis has developed as the homeless have created a mess in the downtown area, littering it with fecal matter, spent needles and piles of trash.

Needles, debris, human waste tallied after cleanup of California homeless camp. Gritty details from the cleanup of a homeless encampment in Southern California were revealed Thursday [3/8/2018] — and the numbers were stunning. According to the figures, public works crews in Orange County collected 404 tons of debris, 13,950 needles, and 5,279 pounds of human waste during a massive overhaul between Jan. 22 and March 3, the Orange County Register reported. The specter of the ever-increasing homeless encampment along the Santa Ana River Trail had drawn the ire of local residents, prompting city officials to take action.

How can a place with 58,000 homeless people continue to function? Homelessness affects the lives of all Angelenos, not just those forced to live on the streets. And it does so almost daily, in ways large and small. Consider the pairs of thick gloves that George Abou-Daoud has stashed inside the nine restaurants he owns on the east side of Hollywood. When a homeless person accosts his customers, Abou-Daoud says, he can no longer count on the police for help; unless there's an imminent threat to safety, he contends, they don't respond quickly and can't just haul the person away. So he's had to take matters into his own hands, literally, by physically ejecting problematic homeless people himself. That's why he has the gloves — to keep his hands clean.

6 Points to Consider in the Debate About Homelessness. Homelessness isn't just an Orange County problem, of course. It's a growing mess throughout California and the nation. I've seen communities of all sizes and political dispositions wrestle unsuccessfully with it for decades. Cities such as San Francisco that throw money at the problem become magnets for homelessness, with sections of the city resembling an outdoor sewer. Other communities, including Los Angeles, have tried to more aggressively roust the people sleeping under freeways, along riverbeds and in public parks.

The Politics of San Francisco's Homelessness Problem. About a year ago, in January 2017, Leilani Farha visited the city of San Francisco and was appalled at the extent of the substandard housing conditions suffered by San Francisco's homeless population. [...] This is particularly disturbing when one considers that California is the most populous and the wealthiest state in the wealthiest country in the world. San Francisco has made some effort to deal with homelessness. The city spent $275 million on homelessness in the fiscal year that ended in June 2017 and is expanding that to $305 million for the year that ends in June 2018. But that is not enough, since there is a long waiting list for nighttime shelters. Visitors to San Francisco are appalled to see persons on sidewalks committing drug crimes such as injecting themselves with needles. And the city has areas now fouled by the smell of human waste.

Orange County's Largest Homeless Camp Cleared Out. Last September I wrote about a homeless camp which had grown up along the bike path which stretches along the Santa Ana River in Orange County, California. Residents in the area complained about trash, human waste, and crime. People living in the camps were constantly in fear of violence from those nearby, many of whom have substance abuse or mental health problems. Last week, after a lengthy legal battle involving the ACLU, a judge ruled that Orange County could begin to clear out the camps so long as people were given a place to go.

'National disgrace': Community fights back as California overrun by homelessness, human waste, needles. The specter of homeless encampments steadily expanding across the downtown streets of San Diego, Los Angeles and San Francisco — bringing with them a public health crisis — has one southern California community taking tough action to dismantle a two-mile-long camp just a short drive from Disneyland. In a departure from the approach taken by other local governments in the state, officials in Orange County, Calif., have started to clear out the camp — by moving occupants and hauling away literally tons of trash and hazardous waste.

A Homeless Camp Sparked The Fire That Ravaged LA's Wealthiest Zip Code. An illegal cooking fire at a homeless camp started the blaze that engulfed more than 400 acres in Bel Air and the surrounding area, according to the Los Angeles Fire Department. LAFD investigators said the Skirball Fire started at a homeless camp just north of Bel Air, which is ranked as Los Angeles' wealthiest zip code. The blaze engulfed 422 acres and destroyed six structures, damaging 12 more since it began about six days ago.

Cooking fire at a homeless encampment sparked Bel-Air blaze that destroyed homes, officials say. The blaze that swept through the hills of Bel-Air last week, destroying six homes and damaging a dozen others, was sparked by a cooking fire at a homeless encampment in a nearby ravine, Los Angeles officials said Tuesday. The encampment was nestled in a canyon several hundred feet from Sepulveda Boulevard and the 405 Freeway, hidden from passing cars. For several years, it had been home to an unknown number of people, officials said. Investigators said the fire had not been set deliberately and they have not found any of the people who lived there. The camp — one of scores of makeshift communities that have grown along freeways, rivers and open space across Los Angeles — was largely destroyed in the fire, leaving authorities with little evidence.

6 Points to Consider in the Debate About Homelessness. Homelessness isn't just an Orange County problem, of course. It's a growing mess throughout California and the nation. I've seen communities of all sizes and political dispositions wrestle unsuccessfully with it for decades. Cities such as San Francisco that throw money at the problem become magnets for homelessness, with sections of the city resembling an outdoor sewer. Other communities, including Los Angeles, have tried to more aggressively roust the people sleeping under freeways, along riverbeds and in public parks.

L.A. County's homeless problem is worsening despite billions from tax measures. Los Angeles County's homeless population is increasing faster than the supply of new housing, even with the addition of thousands of beds in the last two years and millions of dollars beginning to flow in from two ballot measures targeting the crisis, according to a long-awaited report by the region's homelessness agency. [...] As a result, a $73-million annual shortfall in funding for the county's comprehensive homelessness program could more than triple, a [Los Angeles] Times analysis of the report found.

Homeless Crisis in Los Angeles Worst Since Great Depression. The number of homeless people living on Los Angeles's Skid Row is the worst the city has seen since the Great Depression. This year, nearly 2,500 homeless and near-homeless men, women and children were served Thanksgiving lunch on Skid Row and in Pasadena and Canoga Park. "We haven't seen numbers like this since the Great Depression," Georgia Berkovich, the director of The Midnight Mission's public affairs department, told the Los Angeles Times.

Homeless people defecating on LA streets fuels horror hepatitis outbreak, as city faulted. An outbreak of hepatitis A is spreading through Los Angeles County after leaping from a large homeless contingent in San Diego, threatening thousands of people and fueling criticism that local officials have not done enough to contain the deadly liver disease. Hundreds of cases have turned up in southern California as well as Michigan — but conditions in Los Angeles, where roughly 50,000 people live on the streets, have prompted deeper concerns. Reports compiled by volunteer organizations have faulted city officials for not providing enough accessible toilets as the homeless population sharply increased by 23 percent this year.

Colorado tries to fight homeless problem that may have been triggered by pot law. The City of Denver is grappling with a growing homeless problem, and some people blame marijuana legalization for attracting a growing number of drug users now living on the street. Colorado's homeless population jumped 13 percent from 2015 to 2016, despite that nationally, homelessness declined by 3 percent during the same time period, according the U.S. Department of Housing and Urban Development.

Los Angeles votes to tax itself to raise billions to support the homeless. Homelessness advocates in America's second largest city were savoring a seeming double victory after Los Angeles voters appeared to choose to tax themselves to raise more than $3.5 [billion] for homeless services over the next decade, and comprehensively knocked down a second measure that would have slammed the brakes on many housing developments. Tuesday's [3/7/2017] election was the second in a row in which voters aligned with LA's political leadership in calling for a massive funding effort to move tens of thousands of homeless people into permanent housing and provide the "wraparound" services they need to overcome addiction, mental health and other challenges.

Seattle Underbelly Exposed as Homeless Camp Violence Flares. So dangerous is this city's biggest homeless camp, called the Jungle — three ragged miles stitched along the underbelly of Interstate 5 — that if a fire broke out there today, firefighters would not be allowed in without an armed police escort. State lawmakers are considering a razor-wire fence around the camp, separating it from the city at a cost of $1 million.

San Francisco homeless remain in 'unhealthy' tent city despite order to vacate. About 30 tents remained in place Friday [2/26/2016] as the deadline for homeless people to vacate a San Francisco tent city came and went without any action. The homeless living in the encampment had until 5 p.m. Friday to clear out, Sam Dodge, the mayor's point person on homelessness, said. City officials and the San Francisco Police have not said what they intend to do with the tent residents.

San Francisco homeless crisis sparks bitter debate over the tents lining its streets. "A city of tents" — that is how a local government official chose to describe San Francisco, fuelling a bitter divide in a city that is dealing with a mounting number of homeless people. Scott Wiener, who is on the San Francisco Board of Supervisors, is determined to close down the tents for homeless people on the city pavements. Homeless charities, however, say these inhabitants have nowhere else to go. In a Medium blog, Mr Wiener said: "Permitting these encampments is neither humane nor progressive."

L.A. lawmakers to declare 'state of emergency,' commit more than $100 million to fight homelessness. Los Angeles elected leaders announced Tuesday [9/22/2015] that they will declare a "state of emergency" on the growing homelessness problem in the city and commit $100 million toward housing and other services for homeless people. The proposal, which was presented at a City Hall press conference attended by City Council members and Mayor Eric Garcetti, coincides with a Garcetti administration proposal, issued late Monday, that aims to free up nearly $13 million in newly anticipated excess tax revenue for short-term housing initiatives.

The Editor says...
Homeless people in the streets is a chronic problem, but it's not an emergency. It is a condition that has developed over several decades, as a result of left-wing nanny-state policy, driven by emotion rather than reason.

Big Apple Versus Big Toilet. Not long ago, I asked [San Francisco] Mayor Ed Lee what he sees as contributing factors to San Francisco's high P.U. quotient. His answer: The drought means less rain to wash away human waste. Other cities have winters that prompt street people to move to better climates. Development has claimed space that used to house homeless encampments. He also credited "historic levels of drug use" from "people who don't get held responsible for their behavior." Lee has a solid point on each of those factors. I would add another: pride. San Franciscans are proud of the city's vaunted tolerance. Lest they seem intolerant, many locals have been reluctant to complain about the pervasive smell of urine and occasional glimpses of public defecation until conditions become impossible to ignore.

San Francisco uses paint to fight public urination. Public urination has gotten so bad in San Francisco that the city has painted nine walls with a repellant paint that makes pee spray back on the offender.

L.A. councilman takes aim at tiny homes on wheels. Tiny wooden homes on wheels, roughly the size of garden sheds, have popped up on San Pedro streets as a temporary way to house the homeless. [...] But after a handful of similar structures appeared in San Pedro, Los Angeles City Councilman Joe Buscaino said he wants them removed immediately, calling them "a threat in many ways to our public safety."

Avert Your Eyes and Hold Your Nose. Downtown San Francisco feels like a large public toilet without enough janitors. More than once this year, I've seen men drop their pants in public places — including at Fifth and Market — to leave a smelly mess on the sidewalk. You can walk for blocks and never escape the stench of stale urine. At lunchtime, I see street people passed out on high-traffic sidewalks, and I am afraid to walk around them. The homeless have been a problem in San Francisco for as far back as anyone remembers, but to me it seems this year is the worst.

$213 million earmarked to track L.A. homeless by computer, house 1,400. A coalition of public and private agencies announced Tuesday that it is funneling $213 million to house 1,400 homeless people and to expand a tracking and placement system it hopes will end chronic and veteran homelessness in Los Angeles County over the next two years. The placement tool, called the coordinated entry system, is designed to replace a confusing patchwork of entry points to homeless housing and services with a single computerized portal that reaches every corner of the county.

The Editor says...
That's $152,000 per homeless person — enough to buy a house for each of them.

Rise in gay homeless people threatens San Francisco's name as gay-friendly mecca. Thanks to the equality rights work of pioneers such as the politician and activist Harvey Milk, San Francisco has a reputation as the gay capital of the world. But as the city recovers from its 43rd gay Pride festival at the weekend, attended by more than 1.5 million people, it must confront an uncomfortable issue.

Paradise Lost: CA to Provide Free Cell Phones for Homeless. In California, the unemployment rate may be above 10.2%, and the state debt may be above $16 billion, the state's GDP may be in serious trouble and businesses may be leaving in droves due to ever-increasing tax rates, but that isn't going to stop the gravy train for the state's poor and dispossessed. The California Public Utilities Commission is all set to greenlight a new program that would give homeless and low-income people free cell phones — call them Obamaphones — with free service.

Homeless People Shower on New Bus in San Francisco. In May, San Francisco introduced the "Hook-up Truck," providing intimate space for couples on the go. Now, the city is welcoming the "Lava Mae," a public shower on a bus, aimed at the city's large homeless population. San Francisco has been fighting a losing battle with homelessness for decades. City officials concede that they have made little progress over the years despite massive spending, amounting to $34 per homeless person per day.

Oh, good! Now they have the right to urinate in the street.
California lawmaker proposes 'homeless bill of rights'. California law protects its residents from discrimination based on sex, race, religion and sexual orientation. Now a state lawmaker is pushing to add another category to the list: homelessness. New legislation titled the "Homeless Bill of Rights" by Democratic Assemblyman Tom Ammiano of San Francisco is meant to keep communities from rousting people who have nowhere to turn.

The Editor says...
Somehow the writer failed to include words like vagrant and vagabond, and only the commenters used words like drifter and bum and panhandling. Homeless people generally are homeless for a reason — usually a lifetime of bad decisions. This makes them poor candidates for long-term employment, which is apparently the motivation for the proposed legislation discussed in the article above. Please keep in mind that many of the chronically homeless who need protection are really in need of incarceration for their own good. Street-corner beggars pay no taxes, so if they bring in $20 an hour, they're probably better off than you. Even the ones who claim to be hungry will throw away food if someone gives it to them. Give a couple of bananas to a "hungry" roadside beggar and see what he or she does with them.

The Road to Hell. [The San Francisco Chronicle] was practically drooling over a bizarre, new program being launched in San Francisco. The city will be giving a homeless person a four-legged friend to foster: a homeless pup from the pound. But the transient won't get the pick of the litter, but a "problematic" dog. And since California is overflowing with money (LOL), the city will generously throw in a stipend to care for the pet. What could possibly go wrong here? First off, raise your hands if you think that many of these street people will actually use the added income for the benefit of their new best friends? When the call of booze and cocaine beckons, what will happen to Rover's Purina?



These are the 30 posh hotels where NYC places its homeless. The city has used 30 Manhattan hotels to house the homeless, including the iconic New Yorker, the upscale Excelsior and the tourist-friendly The Manhattan at Times Square. The city's use of Manhattan hotels shot up 58 percent in the last year as bookings expanded from the outer boroughs to prime tourist destinations in Midtown and Soho. And the homeless lodging has reached beyond fleabag flophouses to boutique hotels and brand names sought by visitors who don't necessarily want to mingle with the down-and-out. "We rode the elevator up to our room with homeless people who were barefoot," one guest at the Art Deco New Yorker hotel griped on the site Trip Advisor in August.

Homelessness Is the Fault of Liberals. Every major city in the country has seen a dramatic uptick in homelessness and the common denominator are always leftists. Whether it is at the federal, state or local level, liberals in government are the cause of the homeless disaster. In downtown Los Angeles, the famous homeless area known as Skid Row now spans 50 city blocks. Reverend Andy Bales is the chief executive of the Union Rescue Mission, who help those on Skid Row. He says what is happening there is, "the worst man-made disaster in the U.S." The Reverend is indeed correct. Rampant homelessness is entirely man-made.

Hawaii Declares State of Emergency for Homelessness — Guess What Their Solution Is. Hawaii [...] now has the worst homeless problem in the country. What do you suppose causes that? With the highest cost of living in the nation, it is small wonder that if someone falls on hard times that they wind up on the street. It's also a magnet, climate wise, for those who know they will be on the streets. The Hawaiian government is notoriously controlled by Democrats. Their progressive policies have created this mess. But, never fear, they've come up with a solution!

Hawaii declares state of emergency for homelessness crisis. Hawaii Gov. David Ige has declared a state of emergency to deal with the state's homelessness crisis just days after city and state officials cleared one of the nation's largest homeless encampments.

Those Yellow-Stain Blues. It's a lucky thing the driver wasn't crushed when a three-story-tall lamp post fell on top of a car stopped on the corner of Pine and Taylor Streets in San Francisco on a Monday evening last month. The base of the lamp post had been corroded after countless soakings with urine from San Francisco's ubiquitous homeless, prompting a spokesman for the city's Public Utilities Commission to encourage people and dogs alike to water fire hydrants rather than light poles because the fire hydrants are made of stronger cast iron. That collapsing lamp post is a perfect metaphor for urban Democrat governance. If you want to know what inevitably results from allowing the Far Left to run cities cleared of middle-class voters over decades, picture vast armies of homeless bums gleefully micturating on public infrastructure, while public officials merely beg for more clichéd choices amid terror of alienating a prominent, if noisome and not quite sane, constituency, until that piddle-drenched infrastructure inevitably topples. That is, after all, what Democrat cities ultimately put on display.

Derelicts Now Demanding To Live on the Streets As Matter of Right. America's homeless are lawyering up to fight for a "right" to live on the street — your neighborhood and personal safety [notwithstanding]. From Fort Lauderdale to Los Angeles, cities are struggling with a surge in people living in cardboard boxes and doorways. Local lawmakers are trying to ban "camping out" in public and ordering police to clear the fetid encampments. Now lawyers for the homeless are pushing back. They're demanding that "sleeping rough" be legally protected. In Denver, where living on the street is outlawed, lawyers for the homeless want to guarantee vagrants "the right to use and move freely in public spaces without discrimination."

Homelessness up 12% in L.A. city and county. The homeless population jumped 12% in the last two years in both the city and county of Los Angeles, driven by soaring rents, low wages and stubbornly high unemployment, according to a report released Monday [5/11/2015]. In one of the most striking findings, the number of tents, makeshift encampments and vehicles occupied by homeless people soared 85%, to 9,535, according to biennial figures from the Los Angeles Homeless Services Authority.

The Editor says...
High rent and low wages can be blamed on illegal aliens who should have been stopped at the Mexican border instead of being welcomed in. High unemployment can be blamed on Obamacare and other red tape and regulations imposed by Barack H. Obama and his minions. In other words, left-wing liberals are entirely to blame.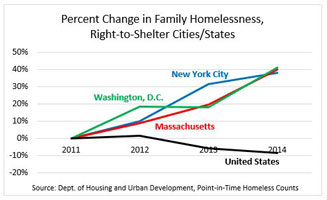 4 charts that expose the invisible side of homelessness. New York City and Massachusetts are legally obligated to provide shelter to all homeless residents year-round, while Washington, DC must do so when temperatures fall below freezing. In all three places, family homelessness increased by roughly 40% since 2011 in the midst a national decrease of 8%. Major cities such as Philadelphia, Atlanta, Houston, Seattle and San Francisco saw no change or even a decrease in family homelessness.


The Streets of San Francisco. If you want to film a zombie movie on the cheap, San Francisco offers a ready-made location overflowing with extras. The mentally ill, addicted, and homeless find a home in the City by the Bay as they do nowhere else in North America. In this walkable Western metropolis, one walks a gauntlet of down-and-outers betraying that unmistakable drug gait and displaying lights out upstairs through their windows' 100-watt stares.

The Editor says...
The article above gives a fairly good description of Hell. Unfortunately the writer is describing San Francisco.

Legalization of Marijuana Increases Homeless Population. Officials at some Denver homeless shelters say the legalization of marijuana has contributed to an increase in the number of younger people living on the city's streets. [...] The Salvation Army's Men's shelter in Denver has seen an increase in the number of 18- to 25-year-olds. An informal survey found that about a quarter of the increase was related to marijuana, including some who moved hoping to find work in the marijuana industry.

Back to the Poverty index page
Back to the Home page